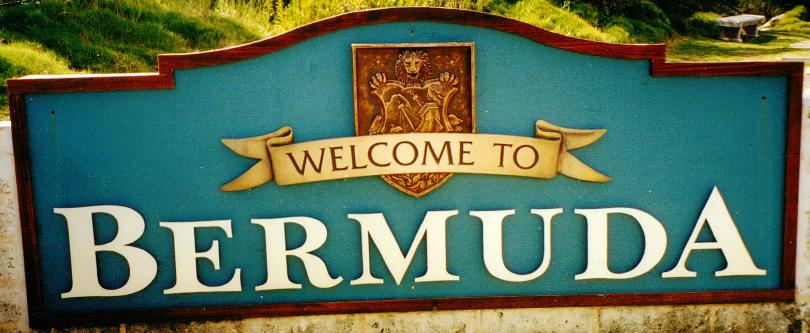 Click on graphic above to navigate the 165+ web files on this website, a regularly updated Gazetteer, an in-depth description of our island's internally self-governing British Overseas Territory 900 miles north of the Caribbean, 600 miles east of North Carolina, USA. With accommodation options, airlines, airport, actors, actresses, aviation, banks, beaches, Bermuda Dollar, Bermuda Government, Bermuda-incorporated businesses and companies including insurers and reinsurers, Bermudians, books and publications, bridges and causeway, charities, churches, citizenship by Status, City of Hamilton, commerce, communities, credit cards, cruise ships, cuisine, currency, disability accessibility, Devonshire Parish, districts, Dockyard, economy, education, employers, employment, environment, executorships, fauna, ferries, flora, former military bases, forts, gardens, geography, getting around, golf, guest houses, highways, history, historic properties, Hamilton, House of Assembly, housing, hotels, immigration, import duties, internet access, islands, laws, legal system and legislators, main roads, marriages, media, members of parliament, money, motor vehicles, municipalities, music and musicians, newcomers, newspaper, media, organizations, parks, parishes, Paget, Pembroke, performing artists, residents, pensions, political parties, postage stamps, public holidays, public transportation, railway trail, real estate, registries of aircraft and ships, religions, Royal Naval Dockyard, Sandys, senior citizens, Smith's, Somerset Village, Southampton, St. David's Island, St George's, Spanish Point, Spittal Pond, sports, taxes, telecommunications, time zone, traditions, tourism, Town of St. George, Tucker's Town, utilities, water sports, Warwick, weather, wildlife, work permits.

Bermuda's Sandys Parish
This western area includes Somerset Bridge, Somerset Village and Royal Naval Dockyard

By Keith Archibald Forbes (see About Us) exclusively for Bermuda Online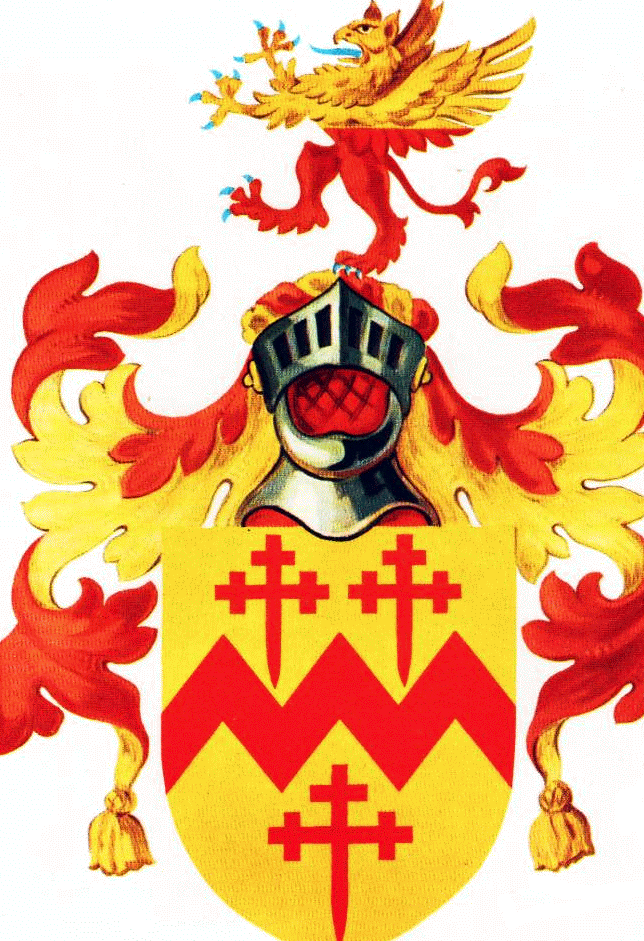 Part of Sandys Parish crest, from Sir Edwin Sandys. His coat of arms, copyrighted by his family, members of which still exist today, is exactly what is shown on Bermuda's Sandys Parish crest. Used with exclusive permission from the copyright owners. Do not copy.
About Sandys Parish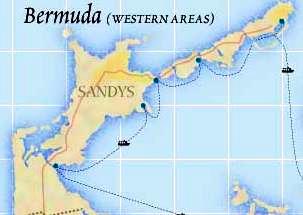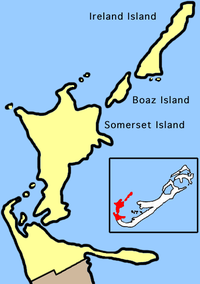 Bermuda's Architectural Heritage: Sandys. 1999. Bermuda National Trust.

Sandys Parish is the westernmost of all nine Parishes each of the same size, 2.3055 square miles.

It includes Somerset Island (named after the English county of Somerset, like Somerset in New Jersey 08873, USA and other places with Somerset in their name, like Somerset in Massachusetts). It also includes Boaz Island, Ireland Island and Watford Island. They are all connected by bridges and serviced by buses and ferries.

It was named in honor of one of Bermuda's Elizabethan patrons, English aristocrat Sir Edwin Sandys (1561-1629).

He was the second son of the Archbishop of the city of York in England.

He was a Member of Parliament for Andover in 1586 and accompanied King James on his triumphal progress through England when he ascended the throne on the death of Queen Elizabeth. Sandys was knighted the same year but his royal favor was withdrawn when it was noted he had nonconformist sympathies. He was a member of the Council for Virginia in 1607 and was personally responsible for the emigration of many families. He was also suspected of encouraging republicanism in those places. He joined the Bermuda Company in 1615 as one of the Gentlemen Adventurers who invested to colonize Bermuda. He was the largest shareholder in Sandys Tribe, later this Parish. In 1621 he was imprisoned, nominally for hiding the truth on the appalling conditions in Virginia for colonists at that time, but probably for his Parliamentary speeches that did not please the King. He was released after a few weeks but died in 1629.

Early settlers called the Tribe Mangrove Bay, from the profusion of mangroves. Mangrove Bay is a sightseeing area. This Parish is both more western in direction than all others and the furthest away from the Bermuda International Airport. It is an expensive taxi ride for visitors. But it is served by Bermuda Government ferry boats in four places to and from the City of Hamilton. It is a nice ride for visitors. It is also served by public transportation buses.

Constituencies in the Bermuda Parliament
Sandys South
Sandys South Central
Sandys North Central
Sandys North

9 Beaches Hotel & Resort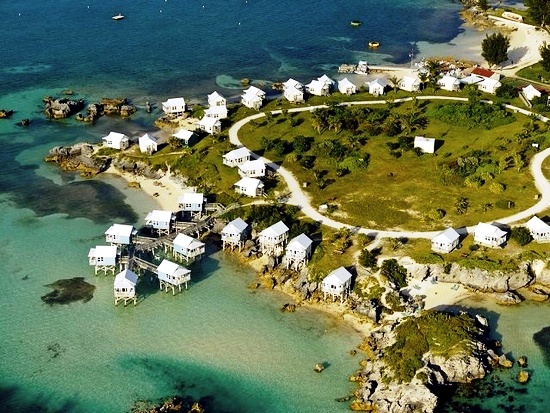 Closed since May 2010. Daniel's Head Road, Sandys Parish MA 03, Bermuda. 18 beachfront acres in a national park and reserve area. The property was used exclusively by Canadian Forces from July 1963 to December 1993. In World War 2, the land was a Royal Navy wireless station. The property began in August 2000 as Daniel's Head Village eco-tourism resort. Nine Beaches opened its doors in 2003. It is so-called because there are nine small but choice beaches, in various sizes, there. There are presently 84 soft-sided cabanas - huts - on stilts, all with views of the Atlantic, with 26 entirely over water.
It is one of the two most far off places to stay from Bermuda International Airport, about an hour's drive away. Re-opened April 2005 and re-vamped after being closed and in receivership. The land is owned by the Bermuda Government and was leased by its agency the Bermuda Land Development Company (BLDC) to IRC - Sandys Limited. Present tenants who have a 240-year lease obtained a Special Development Order on a new Master Plan that will include hotel rooms, condominiums and iconic over-the-water cabanas.
2018. February 28. Daniel's Head is to be marketed to global developers in a bid to revive the former resort location. The Bermuda Land Development Company Ltd is working with KPMG Advisory Ltd to market the site to potential developers. The site was formerly the 9 Beaches resort. "We are delighted to have access to KPMG's professionals," said Francis Mussenden, BLDC's chief executive officer. "This engagement is part of our work to position BLDC as a facilitator of land development opportunities that will yield significant benefits for Bermuda and its residents." KPMG's work will comprise several phases, beginning with an initial assessment of market appetite. The firm will also develop a compelling business case, analyze proposals and support BLDC in finalizing lease terms. "Daniel's Head is a significant asset for BLDC and Bermuda," said Stephen Woodward, managing director and sector lead, KPMG Enterprise. "We look forward to helping BLDC attract a global developer, with a successful track record in the hotel and leisure industry, in order to optimize the value of the property." KPMG will work alongside BLDC property development and marketing manager Michele Renda, who joined the organisation in 2017 to spearhead work on Daniel's Head, Tudor Hill, and Southside. Mr Mussenden said: "Ms Renda has been a valuable asset to our team. Her experience in marketing, civil construction, and real estate development — and as an accomplished entrepreneur — ensures we have significant insight into the targeting and selection of viable developers." Ms Renda, who has led a number of private tours for hotel operators, investors and developers in recent months, said: "We have received a great deal of interest in Daniel's Head since taking possession last year. In particular, a great deal of interest was expressed during the Caribbean Hotel Investment Conference and Operations conference in November 2017, when every major player from the regional hotel industry was in Bermuda." Daniel's Head beach facilities were upgraded in early 2017, and BLDC indicates the site will be open to the public again for the summer season.

Albert Row
Dockyard. Historic terrace of homes outside Dockyard, built in the 19th and early 0th century by the Royal Navy as basic homes for ratings. Albert Row has 16, two-bed homes arranged in four blocks. Some say it should be demolished, others state the row should be preserved. The Bermuda Government's quango, the West End Development entity, has listed the following efforts to date:
2004 — 2006 Wedco attempted to strike a deal with Habitat for Humanity.
August 2010 — Asbestos assessment and testing was undertaken by BWC on behalf of Wedco.
July 2013 — All tenants were vacated or relocated due to the poor condition of the buildings. Wedco could not justify the cost of the required upgrade in order to return them back to residential inventory, which was under rent control with rents between $850 and $1200.
June 2014 — Wedco released requests for Expression of Interest and received a proposal from a local construction company, which was unable to secure funding.
September/October 2015 — Wedco contacted the Bermuda National Trust who declined to take on the restoration project due to the economic viability and staffing constraints.
December 2015 — Wedco's general manager wrote to the Naval Dockyard Society in UK asking for assistance with funding and delivering the project but the society did not offer financial help.
February 2016 — A budget cost estimate was again secured and supported previous estimates that the cost of renovations would be in the region of $10m if every unit was connected to Dockyard infrastructure and brought to Planning code.
February 2016 — A Development Opportunity was advertised and new signage was erected on site. Some proposals were received but all lacked self-financing.
June 2018 — Wedco received a proposal from a local construction company looking to lease and restore Albert Row. After a few months of discussion the financing was not available to complete the restoration.
August 2018 — Wedco received a proposal from local real estate company. The proposal was for Wedco to finance and restore the units and the local real estate company to be offered the sole agency for sales.
Wedco was interested but once again did not have the funds to finance this project.
July 2019 — New signage was erected advertising the development opportunity with a new campaign instigated to attract developers.
September/October — Wedco announced a new appeal for developers to come forward.

America's Cup Village at Cross Island
Dockyard. Man-made in 2015-2016. To accommodate mega-yachts. Announced in November 2009 for construction in 2010. Built under a public private partnership. It included a mix of approximately 200 slips in a variety of sizes, 100 to 250 feet and possibly in excess of 300 feet long, to accommodate both mega-yachts and those smaller in size. The development was deemed a major step in the continuation of the redevelopment of the area where the former Royal Navy Dockyard was one located.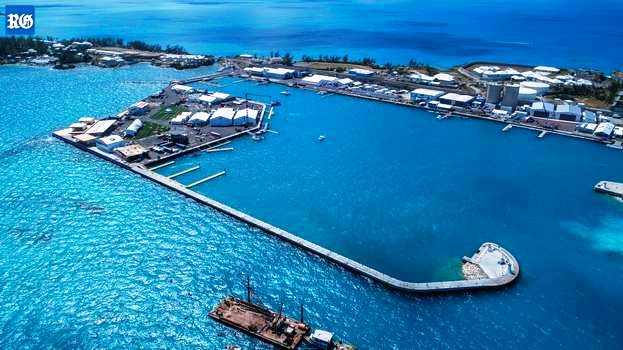 Cross Island, Bermuda - home of the 35th America's Cup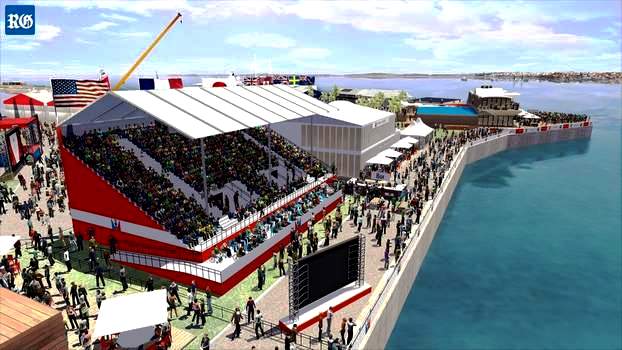 Bermuda's America's Cup Grandstand on Cross Island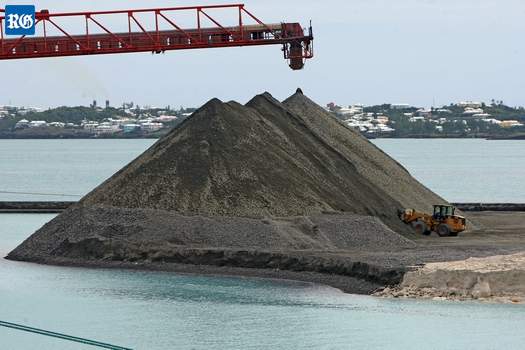 Beaches
For a complete listing island-wide of beaches by Parish, see Beaches of Bermuda.

Black Bay. An alternative to Snorkel Park, adjoins Sea Glass Beach just before the main entrance to the Dockyard. A scenic public area with several small public beaches more apparent when the tide is low, on the northern side of Malabar Road, Ireland Island South. Bus routes # 7 (Dockyard) and # 8 stop in the immediate area. The Black Bay Beach and Park concession provides another attraction for the thousands of Dockyard cruise passengers. Owned by entrepreneur Vic Ball, it offers seasonal snorkeling around the scenic chain of beaches, and rents hammocks, inflatables, chairs and umbrellas. Some food and drinks are also available.

Callaghan Bay. A pretty little public beach, just off Somerset Road, where Ratteray Lane and West Side Road begin. The # 7 (Dockyard) or # 8 bus stop here. Or you can ride a moped north along West Side Road. If so, this is the first beach to encounter.

Cambridge Beaches. King's Point. Five small beaches, all private, for guests at the distinctive property of the same name. Very nice.

Church Bay. The second (after Callaghan Bay) pretty little public beach you come across, if you're sightseeing on foot or via a moped north along West Side Road, off the Somerset Road.

Daniel's Head. In World War 2, the land was a Royal Navy wireless station. A 17 acre coastline area today, Canadian Forces had a military base here from July 1963 to December 1993. They had no facilities for aircraft, but with close ties with the American scientists monitoring Soviet submarines from Tudor Hill in Southampton, they could use of helicopters. No trace of them remains now. The land reverted to civilian tourism use. Destination Villages of the USA opened the $13.5 million Daniel's Head Village cottage tent resort, with 135 units. It was owned by Americans Stanley Selengut and Lew Geyser. But it later closed and reopened under a new name, Nine Beaches, also with new owners. The new name is because of the number of small beaches there, of which this one public and the nine smaller ones are private, hotel-owned.

Mangrove Bay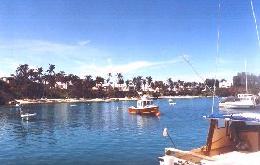 Number 1 on a Bermuda National Parks and Reserves map from a Visitors Service Center. Bus routes # 7 (Dockyard) and # 8 stop here by request. It is a serene and photogenic bay, public beach and former smugglers' harbor, in a sea park.
It has a picturesque country village, Somerset Village, in the immediate area. It is safe and nice for fishing, sailing, swimming and having a scenic picnic.
Until May 2006, when the Bermuda Government demolished it, there was a public dock building here, which serviced the crew and actors working on the film "The Deep." It was once a ferry point for those going to Cambridge Beaches.

Parsons Bay. Craddock Road, Ireland Island. Public. Small, interesting, off the beaten track.

Snorkel Park. Dockyard. One of the very few in Bermuda with bathroom facilities and restaurant. Popular with tourists from cruise ships.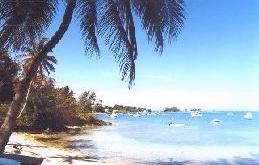 Somerset Long Bay Beaches and Park. Enter via Long Bay Lane off the Somerset Road. Note that bus routes 7 and 8 will take you only part of the way.
Go the rest of the way by one of the ways shown in Transportation for Visitors. A far nicer spot for cruise visitors whose ship is moored at King's Wharf than at any beach at Dockyard. Toilet facilities are primitive but the location is free and splendid for a picnic.
The shallow waters of Somerset Long Bay Beach are safe for swimming, snorkeling and bone fishing. There is a Bermuda Audubon Society bird sanctuary. The mangrove pond attracts local and overseas species.

Willowbank. Ely's Harbor. Two nice private beaches enjoyed by guests at Willowbank

Wreck Hill. Ely's Harbor. Some gorgeous but only private beaches for residents of this exclusive area.

Bermuda Arts Centre
Dockyard, in the Old Cooperage building - building # 28 - (originally built by the Royal Navy in 1831 for navy storage). It is the creative workshop of local (Bermudian and resident foreign) artisans and artists, open 7 days a week. It was established in 1983 by the West End Development Corporation, a Bermuda Government quango, when Christopher Astwood, then WEDCO chairman, was keen to include the arts in the redevelopment of the Dockyard area. In 1984, it was formally opened by Her Royal Highness (the late) Princess Margaret, during her visit to Bermuda. Workshops are also offered both artists and visitors, to upgrade skills and introduce new techniques. Crafts and handicrafts are also included. It began in April 1987 when what was then known as the Bermuda Craft Market opened in the Cooperage building in Dockyard as a retail venue specifically designed to showcase locally-made crafts such as cedar work and jewellery. The ambience was that of a rustic marketplace, with wooden barrels and other bric-a-brac dotted among the merchandise displays. Artists and artisans were on hand to sell their goods, and some also demonstrated their craft. Ideally located to catch the tourist trade, the Centre was also popular with resident shoppers in search of locally made goods. It was run entirely as a co-operative, with each crafter renting their their stall, and thrived.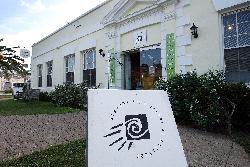 Bermuda Maritime Museum
See National Museum of Bermuda

Bethell's Island
See Islands below

Boaz Island
See Islands below

Bus routes in Sandys Parish
Visitors and new residents who use the Bermuda Government pink and blue buses should always first obtain a free copy of the schedule, to know when the service operates, when it stops and what fares apply.

Dockyard. The # 8 bus service from and to the city of Hamilton on the outward and inward routes services the Middle Road all the way to the end of Parish, but misses out some areas of the Parish. It is the most frequent service. This main road has many interesting attributes, showing off much of typical urban, suburban and rural Bermuda. It's the only Parish stretch of any main road in Bermuda completely inland until Southampton Parish going west (the Parish before this one). Avoid the crowded rush hour buses.

Maritime Museum. The # 7 bus service from and to the city of Hamilton on the outward and inward routes services all the main South Road in the Parish on the way or back. The second most frequent service in the Parish, it has many nice views and sightseeing attractions. Avoid the crowded rush hour buses and other times when cruise ship passengers also jam up the buses to get to and from the South Shore beaches along the route.

Cambridge Beaches Resort
30 King's Point Road, Somerset, Sandys Parish, MA 02. Phone 1- 800-468-7300 in USA or 1-800-463-5990 in Canada or directly at (441) 234-0331. Fax (441) 234-2252. Bermuda's first cottage colony and the most remote of all Bermuda's accommodation for visitors. Stunning location on it's own 25-acre peninsula on the westernmost end of Bermuda, furthest away from the airport. Overlooks Mangrove Bay and Long Bay. For the affluent, up-market visitor on business or vacation, who are demanding and have high expectations. Bermuda's first cottage colony, with one cottage over 300 years old. For tennis, there are 3 all-weather courts, 1 lit (for a fee). It has five small private beaches at King's Point, Mangrove Bay Terrace and Long Beach Cafe for informal meals, Tamarisk Room for formal dining restaurant. Buses do not serve this property. Nor does the regular Bermuda Government Department of Marine and Ports ferry service catamaran vessels. But there is a frequent complimentary ferry service for guests only directly, non-stop, to and from the City of Hamilton.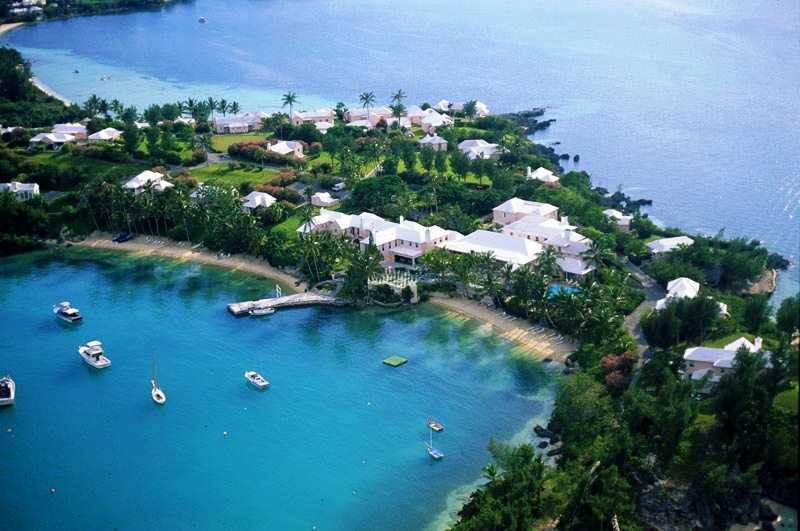 Casemates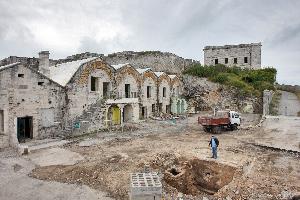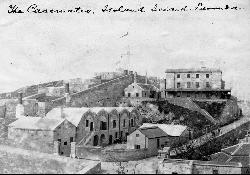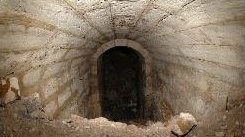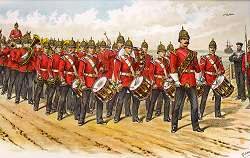 Photo right shows Royal Marine Light Infantry in Bermuda, based at Casemates Barracks Dockyard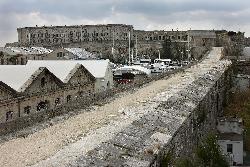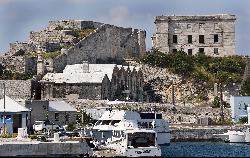 One of the most important historic buildings of the Dockyard. Casemate Barracks was so named for it was originally built in the late 1830s as a barracks and lower and upper ordnance building for the Royal Marines Light Infantry. Their primary purpose was to man the guns and defend the dockyard against any threat of retribution by the United States after the War of 1812, partly also to guard the dockyard against any prisoner insurrection from the prisoners from the UK then imported in bulk as hard labor to build the dockyard. It's roof, vaulted in brick and concrete some eight feet thick, was built to make it bomb-proof against any incoming cannon balls and mortar shot from hostile ships-of-war. It is the second-oldest building in Dockyard after Commissioner's House. In 1848 it became the barracks in Bermuda of the men of the Black Watch the British Army's famed 42nd Regiment of Foot known as the Highlanders, who both provided security and guarded the British prisoners building the Dockyard. Hundreds of British convicts worked on this building alone, while others toiled at other buildings. They lived in pitiful conditions on hulks of former British naval warships crudely reworked to house the imported British felons.
The well that forms the roof has unparalleled views of the Dockyard to the northeast and the building, given its construction, could have been converted into a fort. The two storied building was designed to house 13 officers and 307 men from the marine defense complete with officers rooms, a mess, canteen and offices. The roof of the building with vaulted ceiling (called a casemated roof, hence the name Casemate Barracks) is eight feet thick, made of bricks and concrete so that it could withstand enemy bombings and cannon shots. The walls of the building are also several feet thick and made of hard limestone rocks. The northwest rampart (the wall that runs behind the ship building yard) and the bridge connecting the wall are of special interest. They could view the prisoners at work or in breaks. This walkway was a lookout for soldiers before becoming a water catchment in the 1930s. In World War 2, Casemates was again a barracks and Royal Navy ships berthed below it nearby.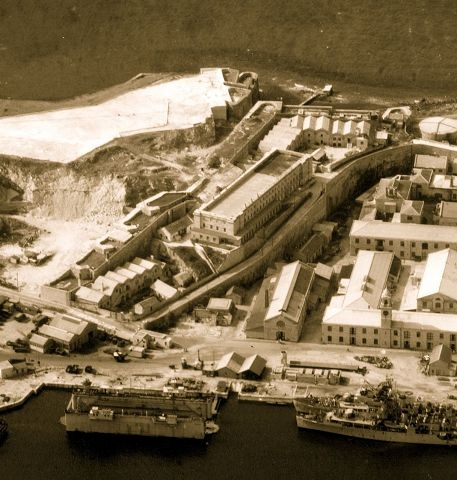 1951. When the dockyard lost its significance as the Royal Naval base and the British Royal Navy left the island, Casemates was left vacant until it was developed into Bermuda's maximum security prison in 1961. It remained as the main prison for decades until 1995 when a new prison Westgate was built on Pender Road just outside the Dockyard.
2019. January 9. Bermuda's former prison is to be reborn as a history research centre. The Casemates buildings in Dockyard would be used to focus on "the Atlantic World from 1415 to 1945 - a multidisciplinary research facility at Casemates comprising a consortium of universities from the US, UK, Canada, Europe and Africa. The museum, formerly called the Maritime Museum, acquired the Casemates property from the Bermuda Government in December 2009. The building has been under restoration consideration for years.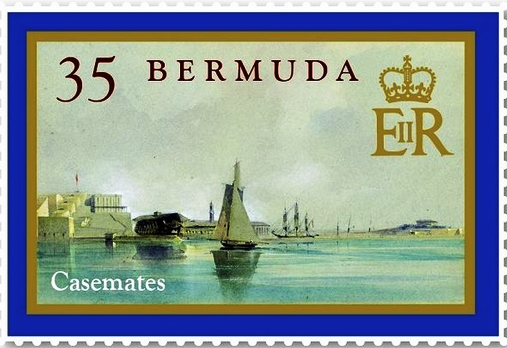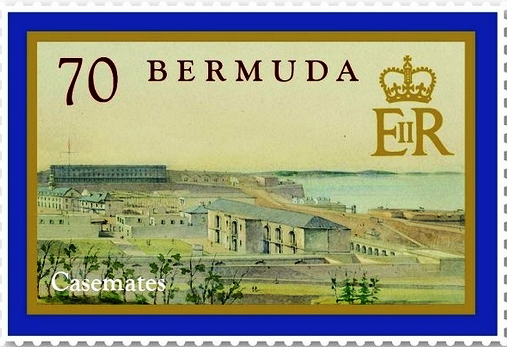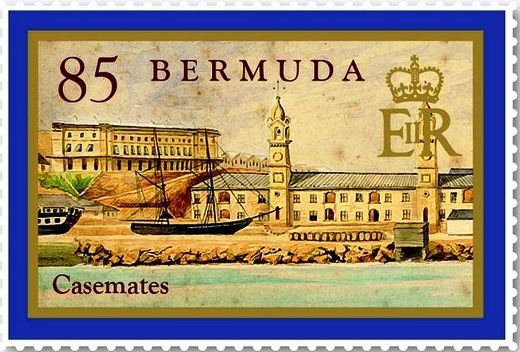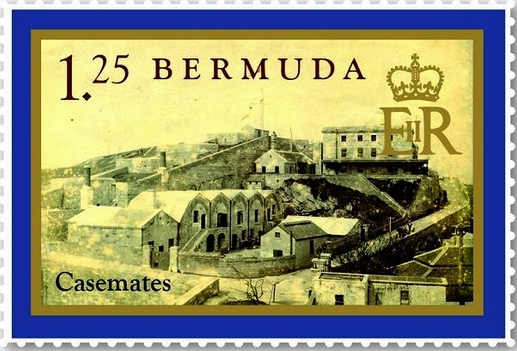 Bermuda postage stamps featuring Casemates, 2011

.
Cathedral Island
See Islands below.

Cathedral Rocks
Gibb's Point, southwest corner of Somerset Island and a most unusual tourism feature of Bermuda somewhat in the manner of the Lorelei Rock on the Rhine in Germany and probably just as geologically old. The waters of Ely's Harbour are adjacent. So-called because the curious shape of this coral formation resembles a Gothic or earlier German DOM (Catholic Cathedral), such as the famous DOM in Cologne. Contrary to popular belief, nearby Cathedral Island was not named in honor of Cathedral Rocks. The scene has been much-photographed by intrigued visitors. A striking photo for the visitor who wants to rent a sailboat or Boston whaler in Ely's Harbour.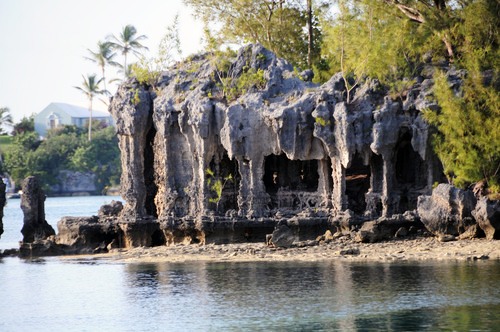 Cavello Bay
Named after the Bermudian way of describing a species of fish once found in abundance nearby. A pretty and secluded area, a picturesque inlet on the south east shore of Somerset Island, popular with artists.

Cavello Bay Ferry Dock
Long Point Lane and Scott's Hill Road. Once one of the Bermuda Government-operated public transportation Ferry stops on the Hamilton Dockyard route.

Clocktower and Clocktower Mall
Dockyard Clock. On display in the Boat Loft building below Commissioner's House. The clock in the clocktower was made by John Moore & Sons of Clerkenwell of London in 1856 and drove four dials which kept time for the Royal Naval Dockyard for 100 years. It was first installed in the south turret of the Clocktower Mall. The clock is no longer where it was originally. It was moved to what was then known as the Bermuda Maritime Museum, now the National Museum of Bermuda, in 1984. The clock chimes every 15 minutes, and is accurate to one-tenth of a second — with minor variations caused by humidity. It was restored in July 2019 by a master clockmaker Edward Cloutman, from Wales. The National Musuem of Bermuda said the antiquarian horologist first repaired the clock 13 years ago.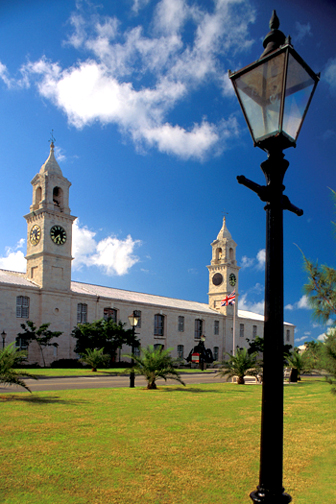 Clocktower Mall, underneath the Clocktower, is a retail shopping mall. Open 10 am to 5 pm when the cruise ships are in from April through October, or 11 am to 4 pm depending on the season. Part of, and the most noticeable landmark in, the former Royal Naval Dockyard. It was originally The Great Eastern Storehouse, huge - with 3 foot walls and 100 foot towers, built in 1856 by Britain's Royal Navy which once has a formidable naval base here. This was then one of the main buildings. The clock on the south tower was cast in England in 1857 by John Moore and Sons. What seems to be a single hand clock on the eastern side of the north tower is a rare "tide clock." In Royal Navy days, the hand was set daily to indicate the time of high tide. Grassy areas lead to deep water berths.

Cockburn's Cut and Cockburn Road

The first, a scenic area near the Dockyard, is a man-made, Royal Navy-ordered, Royal Engineers of the British Army constructed, dug and completed, channel. It divides the former Royal Naval base at Ireland Island from the rest of the island. Somewhat in the manner of a castle moat, it's original purpose when first dug in 1817 was to staunch any military attack from the USA on the more vulnerable landward side. It was filled again in 1823 by British convicts sentenced to hard labor in Bermuda, and re-dug by more convicts in 1843. It was finally opened permanently in 1850 to allow the free flow of water between the Cut and the sea. It is spanned by the small scenic, British Portland stone bridge shown below which connects Cockburn Road to Pender Road. Both the cut and road were named in honor of Sir James Coburn (pronounced Coburn), Governor of Bermuda from 18816 to 1820. He was the brother of Vice Admiral the Right Honorable Sir George Cockburn, GCB, Royal Navy. He was the overall commander of British land and sea forces (Royal Navy ships of war) which from Bermuda attacked Washington DC and burnt the White House in 1814. Admiral Cockburn also commanded the Royal Navy squadron which conveyed Napoleon Bonaparte to his final exile on St. Helena.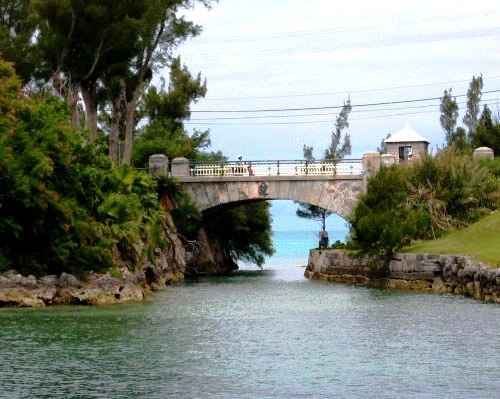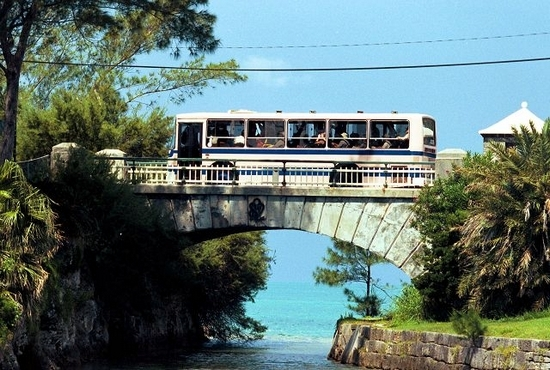 Buses on the way to or from the Dockyard pass over this bridge.

Commissioner's House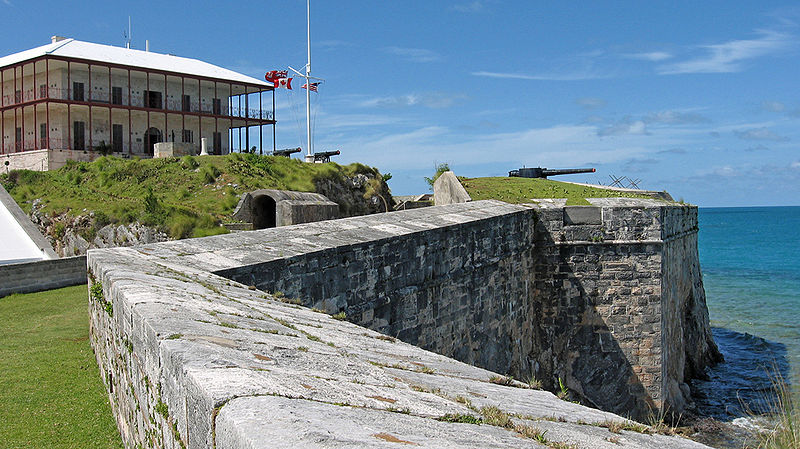 Center of the Dockyard Keep. So-called because, like all Royal Navy Dockyards at the time, some Royal Navy officers or retired officers with the rank of Dockyard Commissioner once maintained their headquarters there. Designed by Edward Holl, it was erected within five years from 1823 as the world's first residence using prefabricated cast-iron for its structural framework. It was severely censured by legislators in London who termed it the most expensive Royal Navy white elephant they had ever seen, because of its cost to British taxpayers. Shortly after it was completed, one of its uses was as the lodging, in quite some comfort, of the senior officer of the Royal Marine Light Infantry unit then providing security at the Dockyard, manning the guns against any attack and also guarding the prisoners. It was a special project of the Dockyard Commissioner of the time, who happened to be a civilian appointee, not a former senior Royal Navy officer. Because no attention was given to protecting it from potential invaders, it became a source of deep worry to the Royal Navy, as a potential landmark military target capable of being attacked by long-range ship-based gunfire that severely prejudiced the Dockyard's otherwise good military defenses. In 1837, because of the latter, the Post of Commissioner was abolished. Mr Ballingall, Naval Storekeeper, assumed charge. He did not live at Commissioner's House but at the Dockyard's Cottage. In 1837, Commissioner's House became the residence for the Superintendent of Convicts. It decayed after the departure of the Royal Navy from Bermuda from the 1950s, but after the Bermuda Maritime Museum took control in 1974, it was finally restored in 2000. Today, it is used to display a number of exhibitions. The basement shows Bermuda's Defense Heritage, a display about Bermuda's defenses and fortifications and the role of local forces in world war I and II. The hall is site of a 2-story History of Bermuda mural by the Bermudian artist Graham Foster. The main floor has a number of themes related to Bermuda's history including slavery, immigration, and tourism. One room is dedicated to the history of the Bermuda nautical Race. The upper floor contains collections of maps, books, coins, maritime art, and exhibits concerning activities of the Royal Navy and the US Forces, specifically during WW II. Other buildings show shipwreck artifacts, local watercrafts and more.
Also see The building of Commissioner's House, Bermuda Dockyard. J Coad, 1983.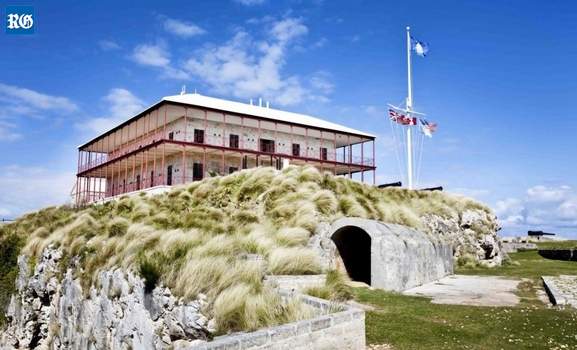 Convict Cemetery
Cochrane Road, Ireland Island. At the west end of Cochrane Road, off Malabar Road, on the approach to the former RN Dockyard. Phone: (441) 236-6483. Bus Routes: 7, 8. Admission is free. This small cemetery, discretely hidden behind a row of houses, served as the burial ground for British convicts imported from all over the United Kingdom (which in the nineteenth century also included all of Ireland. These men, rather than being executed in the UK, were sent to colonies like Bermuda to serve as laborers on the many British Army and Royal Navy fortifications of the 19th century. Of the 9000 convicts sent here, 2000 died. But oddly, there are only 13 marked graves in total here; four are named and nine are unnamed. What happened to the rest is a mystery. It is possible the bones may have been dug up and used in concrete in the building and/or redevelopment of the Royal Navy Dockyard or other fortifications. For more information on the Dockyard and the major role the convicts played in building it see Royal Navy Dockyard.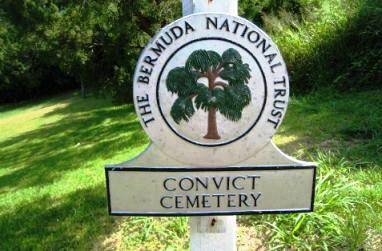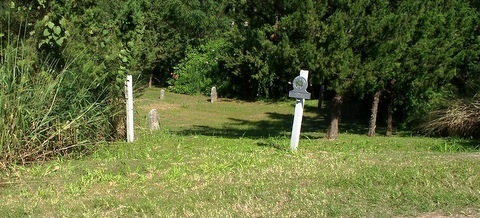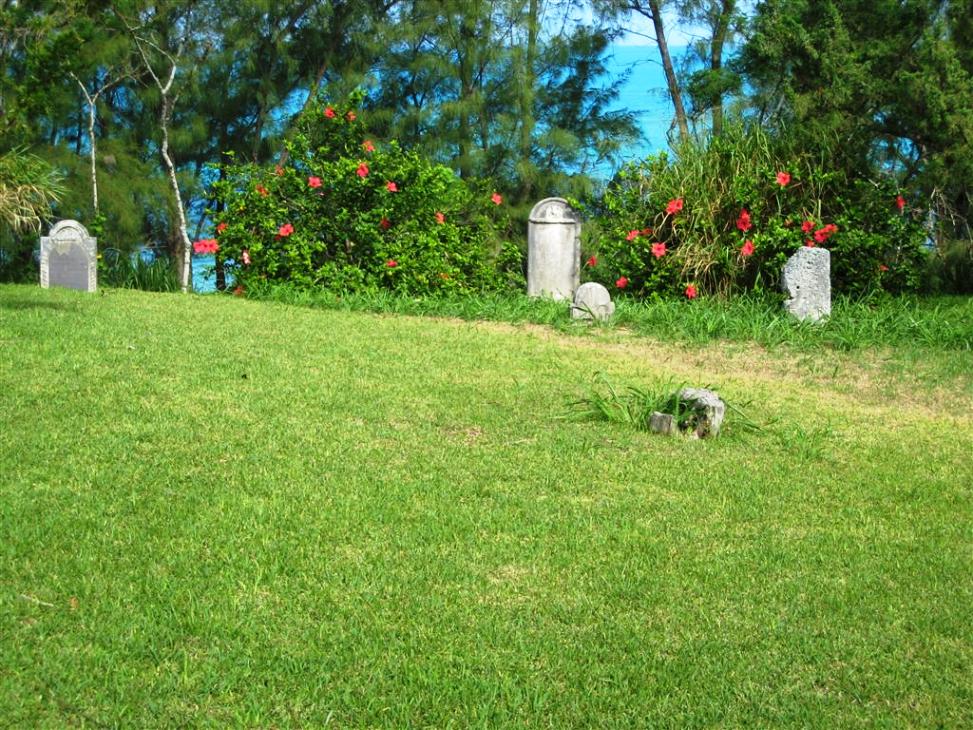 Some of the convict hulks based at Dockyard Bermuda, 1848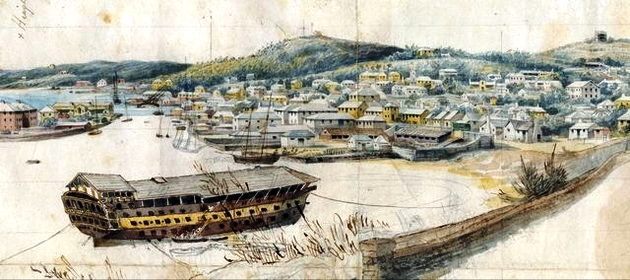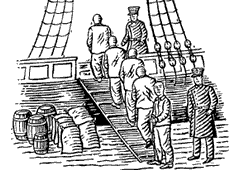 Cottage
Cockburn Road, Ireland Island. A waterfront property with considerable re-development potential, it was built by and once belonged to the Royal Navy, when it owned the Royal Navy Dockyard. It had quite a varied history. In 1827, when the post of Commissioner of the Dockyard was abolished, it became the residence of the Naval Storekeeper. It later became the accommodation and business premises of the Senior Royal Navy Officer. A boutique hotel was originally planned in 2001 as the Cottage Inn but even as late at 2018 has not yet materialized and now may never be.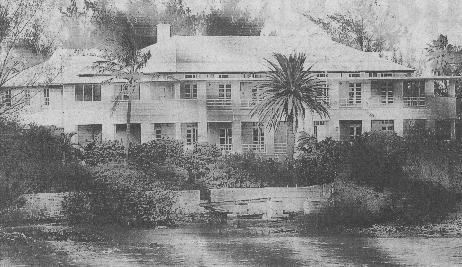 Craft Market at Dockyard
Phone 234-3208. Daily. Cooperage Building opposite Bermuda Maritime Museum.

Crawl Island
See Islands below.

Cross Island Marina
Also see America's Cup Village.
Dockyard. To accommodate mega-yachts. Announced in November 2009 for construction in 2010. To be built under a public private partnership between Wedco and South Basin Development Ltd., a company formed specifically for this project It will include a mix of approximately 200 slips in a variety of sizes, 100 to 250 feet and possibly in excess of 300 feet long, to accommodate both mega-yachts and those smaller in size. The development will be a major step in the continuation of the redevelopment of the area where the former Royal Navy Dockyard was located.
Cross Island totals nine acres of reclaimed land at Dockyard and was financed by a $39 million loan to the West End Development Corporation from Butterfield Bank. The Government provided an unconditional guarantee for the loan so the America's Cup event could be based there.

2019. July 20. The Government launched a lawsuit to recover almost $800,000 of public money it loaned to an entertainment company to create a recording studio at Dockyard, The Royal Gazette can reveal. Papers were filed in the Supreme Court against Anthony Blakey and Danilee Trott, of Savvy Entertainment Ltd, on June 7 for defaulting on $778,204 of an $800,000 loan. The court documents warned the pair to pay the full amount plus interest in 30 days or face civil proceedings. The Government failed to answer questions yesterday about whether the money was repaid in full. Mr Blakey did not respond to phone calls and e-mails. Ms Trott declined to comment. Lieutenant-Colonel David Burch, the Minister of Public Works, announced in February 2018 that Savvy Entertainment had taken over the management of Cross Island, the venue for the 2017 America's Cup, and would use it to host events that did not need permanent structures. He said events held there would have a pre-negotiated fee and any revenue would go to the Government to help defer the $39 million cost of construction. Colonel Burch said Savvy had a charitable arm which would be led in Bermuda by Dame Jennifer Smith, a former premier, who would also join the board of Savvy's international foundation. Ms Trott told reporters that Savvy would also convert Dockyard's historic Moresby House into an "A-class" recording studio. An agreement between the former Ministry of Economic Development and Tourism, and Ms Trott and Mr Blakey, filed at the Registrar of Companies, shows the loan was provided on April 2, 2018, for 36 months "for the purposes of setting up a music studio at Savvy House, 26 Pender Road, Ireland Island, Sandys". The document said: "The loan is made on the strict condition that the loan is to be used for the purpose of setting up the studio, for shipment to Bermuda of recording equipment for your authorized business purpose and for the installation of equipment in West End Development (Wedco) facilities at 26 Pender Road. For the avoidance of doubt, the loan may not be used by you to fund other business, to pay or discharge any other loan, or to make expenditures not directly connected with the studio, and the loan shall be a first charge on the equipment in the studio." The loan, with an interest rate of 4.75 per cent a year, was to be repaid on a monthly basis over a maximum of 36 months. The agreement said Ms Trott and Mr Blakey would have to pay for any costs run up by the Government related to enforcement of its rights under the loan terms. Both signed the agreement, along with Randy Rochester, who was then the Permanent Secretary at the Ministry of Economic Development and Tourism and became permanent secretary at the public works ministry. An appendix was attached that listed studio equipment and installation costs which totaled more than $730,000. Savvy Entertainment's website said it is an Atlanta-based "global entertainment solutions company" which is "also established in Bermuda and Germany". The website features a section on venue rentals, which lists Cross Island as available for a seven-day or five-day rental for a corporate rate of $25,000/$20,000 or a promoter rate of $20,000/$15,000. The Shed, the former home of the British Land Rover BAR America's Cup team, is listed for hire for between $6,000 and $12,000. Savvy organised a New Year's Eve celebration at The Shed at the end of 2018, with free admission or VIP tickets at $250.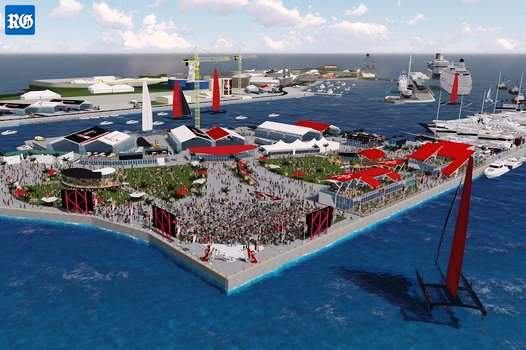 The village on Cross Island will open at 11.30am daily, except for May 26 when it will open at 3pm for the first day of racing from 5pm. The official opening ceremony start at 8.30pm and the village will close at 10.30pm. The closing time of the America's Cup Village will vary throughout the event schedule. On May 27; June 10, 18, 25, 26, and 27 the village will close at 7pm. On May 28, 29, 30, 31; June 2, 3, 4, 6, 7, 11, 20 and 21 the village will close at 5.30pm. On June 12 and 13 the village will close at 8pm. On June 17 and 24 it will close at 10pm. On June 8 it will close at 6pm On most days, when the racing schedule ends at either 3.30pm or 4pm, there will be a range of activities for guests to take part in at the village. These activities include poster signing sessions, a chance to meet the competitors and see them answer questions in the mixed media zone and also live entertainment on the main stage.

2017. April 26. Safety officials have warned about potentially "catastrophic" consequences with Great Sound boaters getting too close to the America's Cup teams. With more inexperienced boaters expected to hit the waters as the weather gets warmer, the Bermuda Water Safety Council urged them to stay near shorelines and give room to the foiling boats. The Bermuda boating public is "getting too close for safety both to themselves and the AC teams", the council said. The ACBDA added that America's Cup yachts — now in high-gear training in the Sound, with the showpiece event less than a month away — travel at up to 50 knots and can change direction very quickly. Paul Doughty, a member of the safety council, told The Royal Gazette: "When there's a good weekend, some occasional boaters come out who might have less experience, and we want them to be looking out. "When a sailboat is sailing, they are not simply going in a straight line. They go about up wind and down with the wind. And with the speed of these boats, even more experienced people say they look around and see the boat a mile away and then they are on top of them. It's hard to gauge because they are so fast. We are not saying that people can't or shouldn't use the Sound, only that they should remain vigilant." In a post on the council's Facebook page, the group stated: "The ACBDA have just informed that the AC boats are now in high-gear training in the Sound. It has been noted that the Bermuda boating public are getting too close for safety both to themselves and the AC teams. Please give the AC boats as much room as you are able and try to stay near shorelines when you are out on the water. The consequences of a collision with one of these foiling boats could be catastrophic. You or anyone involved could also ruin a team's chances of being in the Cup." The post urged the public to spread the message, adding: "The ACBDA understand that the Great Sound is for everyone to enjoy, and not just for the America's Cup teams, but do advise that extra care and caution should be taken at this time. Safety first." Mr Doughty said that he had received comments questioning why America's Cup spotter boats couldn't ask boats to keep a distance. But he argued the spotter boats need to be focused on reacting to emergencies rather than asking spectators to move. "They can't just stop and tell people to move," he said. "It's up to us to be vigilant on the water." An ACBDA spokeswoman said: "America's Cup Class boats can travel up to 50 knots, are much more maneuverable than the AC45Fs and they can and will change course very quickly. The teams may lay temporary marks for their own practice sessions, or they may not — there is no set pattern to this — but the key point is for the general public to give the boats as wide a berth as possible. While it may be tempting to try and take a closer look, please do not do so as proximity dramatically increases the risk of an incident." The spokeswoman also warned that there are no set times for teams to practice in the Sound, saying: "They may choose to go out on the water whenever they can and want to practice, and the advice to stay close to shore to avoid incidents applies whenever one or more America's Cup teams are on the Great Sound."

1850. At Dockyard, the Royal Navy constructed a Magazine on Sober (Cross) Island. (Thus it may have had a far earlier function than that reported above)

Current Island
See Islands below.

Daniel's Head
An area of Bermuda with a fascinating history. The first owner, recorded in Richard Norwood's 1617 survey of Bermuda, was John Delbridge, a shareholder of the Bermuda Company in England and an absentee landlord. Fifty years later, it appears to have passed to a Bermudian owner, a Mr. Bassett, but occupied by Robert Burch. Probably in the 1750s, a small fort was built on Daniel's Island, to guard Hogfish Cut Channel from the open sea, up past Wreck Hill and Ely's Harbour. It is thought the land in the area was purchased by the Royal Navy in 1809, when it acquired Ireland Island for the dockyard, but by the 1870s, it seems again to be in Bermudian hands.
At the beginning of the First World War, the British War Department started to buy up the peninsula, first acquiring the land now Westover Farm. This was followed by the purchase of the properties to the northwest, owned by Walter Barker and C. A. V. Frith. The purpose of those acquisitions was to add "ears" to Daniel's Head, for the new and revolutionary age of "wireless" transmission of information, via radio and Morse Code, had matured into the activities of war. Great masts for the reception of Allied data and the interception of enemy transmissions were erected. Four Bermudians, all members of the Bermuda Militia Artillery and Royal Garrison Artillery, were killed on duty in an accident involving a mast at Daniel's Head on 17 September 1917, when a section of the structure gave way. During the Second World War, the listening station at Daniel's Head worked with those at Halifax, Canada and Derby in England, to cover the North Atlantic in the interception of radio messages from submarines of the German Navy. An additional piece of land just south of the site was purchased at that time, or earlier, for recreation use as the Daniel's Head Tennis Club and is now a cow pasture. Plus, the American Army erected a Base-End Station at the site, one of thirteen around Bermuda for the control of coastal gunnery.
After the conflict, Daniel's Head was let out for farming. In the mid-1960s, the site was leased to the Canadian Forces and reverted to its original military use as a radio station for the next 30 years as CFS Bermuda. Over the period, the station grew to a complement of over 220 personnel, with considerable economic implications for Sandys Parish and the west end of Bermuda. Without the input from the Canadian Government, for example, it is unlikely that Boaz Island Village would have been built, as CFS Bermuda took half the units to house their staff. In February 1992 it was announced that CFS Bermuda would be closed by 31 December the following year, thus ending the occupation of Daniel's Head as a military site. Later, the 9 Beaches hotel was created, but it shut down some years ago.

Daniel's Island
See Islands below.

Ireland Island, a Royal Navy base from 1815 to 1950s. Once protected British Atlantic and Caribbean islands from the USA, a convoy center in WW2, now chief cruise ships port of the three in Bermuda, only one that can accommodate large cruise ships and (after Hamilton, Bermuda's capital city) also a cultural, historic and shopping area.
More than $10 million was invested in renovating historic buildings at Dockyard for the 2017 America's Cup. The money was used to make new office space and upgrade homes. The work was always in the pipeline but was given fresh impetus from an insurance payout from recent hurricanes and the America's Cup. Many of the buildings renovated were used by people from the America's Cup as well as the ACBDA team, but after that they were available to locals at prevailing prices. There was transformation or protection of many buildings in hope that after the America's Cup they will be home to a range of commercial activities adding even more life and more attractions to Dockyard. Some of the major restorations included work on Prince Alfred Terrace which is being renovated and restored to apartments at a cost of approximately $4.5 million. With the renovations, which include a complete interior restoration including additional bathrooms and layout improvements completed, first use went to the ACBDA until the end of the America's Cup. The Spar Lane Apartments were given a new lease of life and once work is finished were again used as homes. Moresby House, or HMS Malabar, was restored as office space. The Sail Loft was restored and available for use after the America's Cup. The old Police Barracks enjoyed a new life as home to Artemis Racing, one of the teams that part in the America's Cup. As well as major work, Wedco tended to less obvious projects including roof upgrades, asbestos removal and electrical, plumbing and painting work. North Basin Building #10 — the Canvas Shop — on Smithery Lane, was restored, as was North Basin Building #14 on Camber Road. The North Basin Building #3 — the Anchor Restaurant — also underwent renovation work including a roof replacement.
Other removals or renovations followed. The old Royal Naval Club, erected in the 1880s, originally an officers club before being turned into a ratings canteen, one part of which had been the HMS Malabar shore station, was leveled and replaced with an apartment building as part of the first phase of plans to restore a cluster of historic buildings at the entrance to Dockyard. The structure was built in the early 1880s. Restored were the Bungalow, Star of India and Moresby House. Two new buildings were built on the Pender Road property, each containing two two-bedroom units and two three-bedroom units. The project included a parking area and a communal outdoor space between the new buildings. Prince Alfred Terrace was first built in the 1840s to serve as married officer quarters for the Dockyard. The building reportedly suffered hurricane damage in recent hurricanes, and the refurbishments were to bring the building to a "low to mid-level standard" for rental purposes. Wedco had previously announced that it had hoped to upgrade the Grade I listed building into 14 three-bed, two-bath units through a $3 million investment.

Dockyard Cruise ship berths and port at King's Wharf and Heritage Wharf
Bermuda may be very small - only 21 square miles (56 square kilometers) in total land area - but it has not one but three cruise ship ports. This one is the largest. accommodating the bigger cruise ships.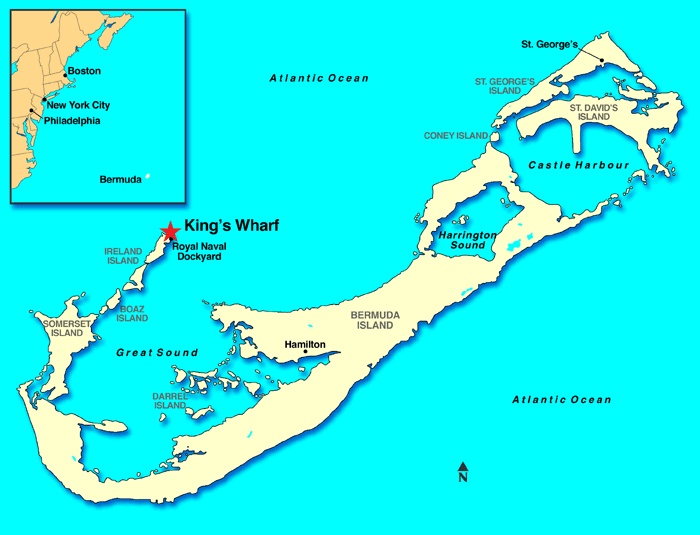 King's Wharf (and Heritage Wharf adjacent) are the most westerly of Bermuda's three cruise ship ports, the only ones in Bermuda that can accommodate large cruise ships. From here, there are frequent public transport ferries and buses to the major shopping areas of the City of Hamilton and historic St. George's.
Bermuda's West End cruise ship berth at King's Wharf here.

Cruise ship at King's Wharf, Dockyard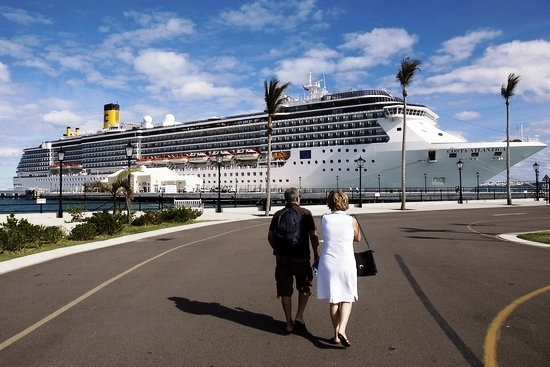 Cruise ship at Dockyard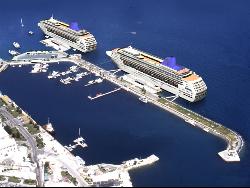 The only port in Bermuda where large vessels can berth. At the former Royal Naval Dockyard, at former islands now joined to the mainland in Somerset, Sandy's Parish. This is the westernmost part of Bermuda. There are frequent but often full buses going west to and east from here and ferries to and from the City of Hamilton, Bermuda's capital. Public-transport ferries are more enjoyable and quicker than the public transport buses. Shopping is mostly at the Clocktower Mall - within walking distance of cruise ships docked here. From this port, the nearest village is sleepy Somerset, going east. Buses go there but ferries do not. Building and subsequent modifications to Dockyard's two cruise ship wharfs, Heritage Wharf and King's Wharf, needed to enable them to accommodate new, larger cruise ships, cost millions of dollars. Heritage Wharf was first opened in 2010 at a cost of $60 million, after originally being budgeted at $35 million. Government also had to repair for a multi-million $ sum, a broken thruster wall. The hole was caused by the thruster engines of the cruise ship that had moored there, and it has been eroded to such an extent that major repairs were necessary. Dockyard is both a Historic Preservation Area under the Planning Act and a Marine Heritage Site under the Historic Wrecks Act, because of the numerous artifacts that have been found in the basin. There are historic wrecks still lying in the mud. It is believed they include a couple of historic convict hulks. British convicts were sent to build the Dockyard for Britain's Royal Navy in the early to mid 1800s. By land from here. See Bermuda Beaches. A really nice beach is Somerset Long Bay, a fair walk from where the nearest public bus stop at Mangrove Bay. Or, if you prefer a more leisurely pastime, walk along a relevant part of the Railway Trail. Or indulge in one of the many Watersports options within reach. By sea from here. Go by ferry to City of Hamilton and/or Town of St. George, a gorgeous way - and the least expensive of all trips by boat - to see the central and eastern parishes. Go fishing, on a licensed commercial fishing boat operating a whole day or half-day service. Some fishing boats, will meet you where your cruise ship docks. Rent a Boston whaler. Ask for a map and directions. Then go, keeping to the 5 knot limit in the harbour. Take a day or half day exploration of Ely's Harbour and then a relaxing swim after the harbour to the small beaches of the Daniel's Head Village hotel. To stay legal, go on any beach up to but not beyond the high water mark. Go at high tide to give you the best chance of evading reefs and shoals.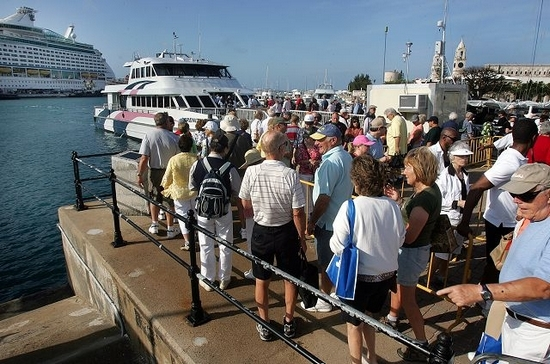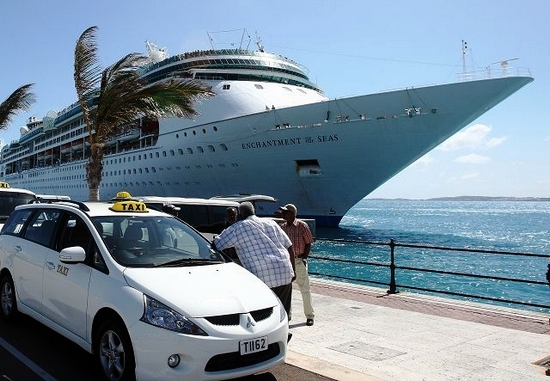 Cruise passengers ashore at Dockyard lining up to board a ferry to Hamilton and taxis line up to take passengers sightseeing.

Dockyard Ferry Dock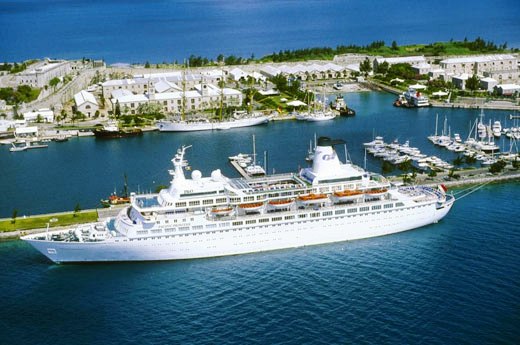 Dockyard Terrace, Sandys. Services residents, visitors including those on cruise ships, taking the Dockyard to Hamilton ferry route.

Ireland Island. With two West End berths (as they are on western end of Bermuda), otherwise known as King's Wharf, or King's Port and Heritage Wharf. Once, Royal Navy and other warships were based here. Of all Bermuda's cruise ship berths, this is the only one capable of taking larger ships. It is operated by the West End Development Corporation (Wedco), a Bermuda Government quango. There is also a cruise ship terminal. Located on the North Arm of the Dockyard, opened in 1990 by the late Princess Margaret. It is big and deep. Cruise ships berth every day and weekends during the cruise ship season. The North Arm Park is nearby. It is within walking distance of all the Dockyard facilities and services.

A second terminal for cruise ships in this area was planned by the Bermuda Government's quango the West End Development Corporation (WEDCO) that owns the Dockyard. It started as a $35 million project but cost taxpayers $60 million. The new pier at Dockyard opened in April 2009 to accommodate the latest generation of cruise ships. It was hailed as critical to the future of tourism in Bermuda and was completed on time but 70 percent over budget. The findings included the design of the thruster wall, a large steel curtain, used as a barrier and shield against sediment surge from ships' propellers and designed to prevent coastal erosion and sediment from infiltrating the nearby Dolphin Quest facility, changed four times, adding millions to the final bill. A part of the original design for the new pier was the thruster wall. The terminal building doubled in price to $3.9 million on design changes. Other issues that contributed to the overrun included new security measures for the terminal, specially made lampposts and changes to the design of the ground transportation area for buses and taxis. Government paid Correia Construction almost $9 million up front 23 percent of the entire original contract price as an interest-free mobilization loan, a move described as "unusual" by one Bermuda contractor. Correia ended up paying more than four times the rental fee on the subcontractor's price list for a crane used in the project, which was charged to the taxpayer. The Ministry of Tourism and Transport stated that Timelines, design changes, pregnant dolphins and development approaches all combined to result in increased costs.

The new dock was originally built for the Voyager class and not the Genesis class of latest and biggest cruise ships, so got redesigned four times.

The original thruster wall was designed to handle the forces exerted by the Panamax class cruise ship, which would berth bow north only.

Dockyard South Basin
Once a key part of the Royal Navy presence in Bermuda from 1815 to 1955.
Hub of operations for the 2017 America's Cup. Include a marina, offices and service area, along with parking, access roads and utilities. The new Marine facility was created to provide the new premises for Government Department of Marine and Ports, a new and modern boatyard facility for the provision of services to the Bermudian public and visiting yachts, as well as a marine school to provide educational services to the marine industry. It involved the reclamation of around 11 acres inside the southeastern corner of the existing breakwater and creation of a gravel surfaced "island". The filled area covered the majority of Cross Island. but with an existing building on the island untouched. On the fill area, the plan included a boat yard with multiple dry storage racks, two parking areas, a marina office building, a building to house the Marine and Ports offices and a larger service building also earmarked for the department. The filled area also included dock specifically for tugs and ferries. The northern side of the breakwater housed a marina with 68 berths. The project is linked to the North Channel Modification Project, which proposed widening the north channel to allow larger cruise ships to visit Dockyard. Spoils from the channel widening would be used in the fill at the marina, saving costs as the spoils would not have to be taken out to sea.
Plans for a new super yacht marina has been set in motion since the House of Assembly of Bermuda approved leases. The first of the leases, between the West End Development Corporation (WEDCo) and the South Basin Development Ltd, will last 120 years and allows for the construction of Cross Island Marina. First announced in 2009 as part of a public-private partnership, the marina was to include a mix of approximately 200 berths - between 100 to 250 feet and some in excess of 300 feet - to accommodate super yachts. Support, repair and club facilities were also to be included to transform the South Basin in Dockyard into a state-of the-art marina and boatyard. Private sector South Basin Development Ltd acquired planning permission for the South arm bridge as well as a lease for the land and legislative approval to complete a land reclamation of up to 11.1 acres.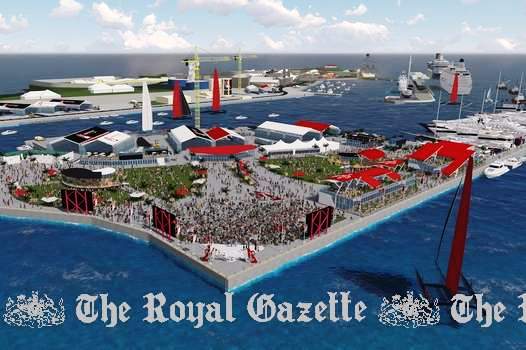 Dockyard South Basin development, see above.

Dockyard Victualling Yard
In October 2016 a new hotel created from the shell of Dockyard's historic Victualling Yard was envisaged but has not yet been built. The development — part of a multimillion dollar plan to make the old Royal Navy base a key hub for tourists and residents alike — was just one part of the strategy, bolstered, in part, by the then-upcoming 2017 America's Cup finals. A $60 million deal agreed with an island consortium, which included a glass dome over the yard to create an all-weather entertainment area as well as a 125-room hotel, was shelved in 2015 after the developers failed to secure funding.

Dolphin Quest Bermuda
Atlantic Bottle nose dolphins imported for the enjoyment of visitors and locals. Despite their name and Bermuda's location in the Atlantic, these mammals are not native to local waters because they would not cross the Gulf Stream. Dolphins here have all-Bermudian names and were bred from their locally-established parents. Where the facility exists now in the Bermuda Maritime Museum was once the Royal Navy's. Ask the current price - expensive but a unique educational and environmental experience.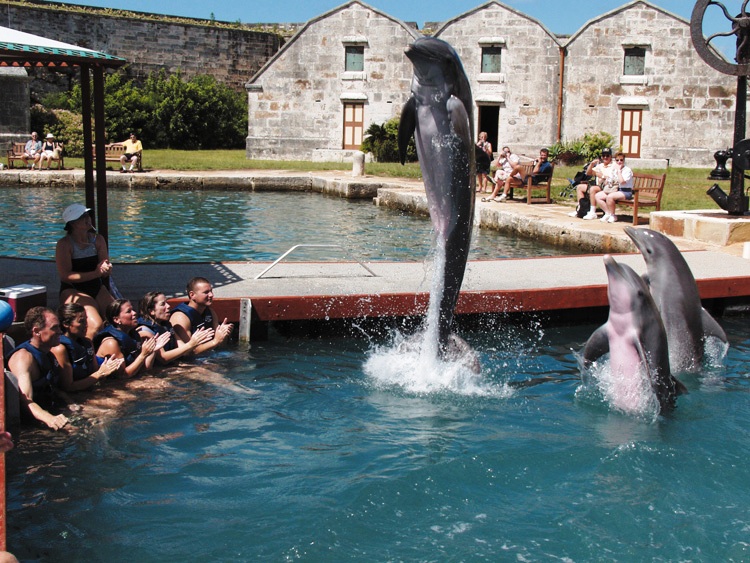 Ely's Harbour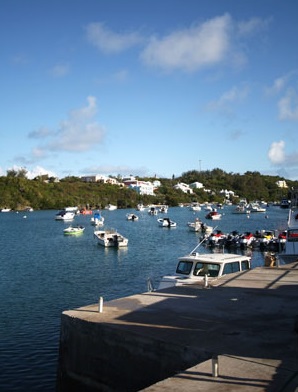 A lovely scenic attraction. So-named after an early local family Ely (an historical name in Britain, for example Ely Cathedral in England). William Ely was an early English colonist who settled in Bermuda in 1621. Includes some islands shown in Islands below. Surrounded by a maze of reefs, Ely's Harbour was a refuge for smugglers and illicit traders who would stop here first before declaring a fraction of their cargo in St. George's.
One form of contraband was rum, crucial for the local tavern keepers who were mostly women whose clients were mariners and local craftsmen. In the 1770s, during the American War of Independence some local residents sympathetic to the Americans so disliked a British military presence so that on one occasion a tavern keeper, John Bethell's wife, refused to provide quarters for soldiers sent to patrol the Somerset coast.
The harbour, a scenic attraction, is placid and protected to the left as you cross Somerset Bridge onto Somerset Island from Main Island. It stretches in a jagged semi-circle from Wreck Road to Wreck Point to Heydon Bay.
The two entrances are at Great Harbour's Mouth between Wreck Point and Bethell's Island and Little Harbour's Mouth between Johnson's Point and Wilson Place. Be very wary, unless you know local waters well, about trying to go between Bethell's Island and Palm Island. Other islands include Bethell, Cathedral and Morgan's.
Explore the beaches at low water for best visibility. The marine scenery here is lovely, this area is one of Bermuda's loveliest, especially from in the harbour. Some areas have mangrove swamps.
Or just spend the day sailing or using a boat such as a Boston Whaler. All areas are approachable by boat but some are privately owned, meaning you cannot land except with permission. But you can beach a rented boat up to the high water mark.
Getting there by road from the airport takes about an hour using Bermuda's legal speed limit of 20 mph.

Ferry stops
The following are in this Parish. Obtain a free copy of the schedule to know when the service operates, when it stops and what fares apply. There is no non-stop service, it is always via one of two ways and a stop at one of these.

Dockyard to and from Hamilton.

Watford Bridge to and from Hamilton..

Somerset Bridge Wharf. To and from Hamilton. This is not part of Somerset Bridge but a separate facility at the end of Wharf Drive, the first turn to the right after Somerset Bridge, going west.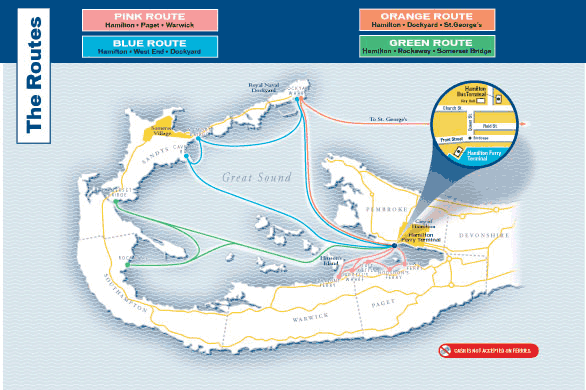 Gunpoint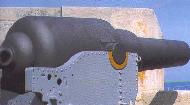 This name and that of the small isle lying off it (see Islands in the Parish below) relate to a shore battery near what is now Wreck Hill, first built in the 17th century. The old fort had a strategic position protecting the West End Channel. It was one of the few passages through the dangerous ring of reefs for sailing ships. In 1777, during the American Revolution, British militia soldiers manning the isolated battery had the presence of mind to exchange gunfire with two armed brigs that advanced in a threatening manner although they then flew British colors. The brigs answered with broadsides from their cannon, lowered their Union Jack flags, hoisted the red, white and blue striped ensign of the United States of America and proceeded to invade Bermuda with landing parties.
To avoid meeting this much bigger force, the Bermuda based militia men retreated from the battery. The Americans spiked their guns and destroyed the walls of the fort but were forced to retreat when more local soldiers and a Royal Navy detachment responded to the alarm. The Americans escaped on their ships. It was the second time Bermuda was invaded.
Scaur Hill Fort and National Park
Off the Somerset Road, on Scaur Hill, the highest hill of Somerset Island. Bus routes # 7 ("Dockyard") and # 8 stop outside the main entrance. With 22 acres of fortified magnificent views, park land, picnic areas and walking trails. It was built in the 1860's and finished in the 1870's by the British Army's Royal Engineers, when the United Kingdom believed hawkish elements in the USA were conspiring to seize the Royal Naval Dockyard in retaliation for the role British ships played in helping the Confederate forces and using Bermuda as one of their ports. The fort protected the "land front" of the Dockyard from any enemy attack from South Shore beaches. An enormous dry moat was cut right across Somerset Island. Troops invading it from the mainland would have crossed under withering fire from cannons and rifles. As an inland fort, Fort Scaur had small 64 pound guns on disappearing carriages. In 1869, Colonel William Drummond, Royal Engineers, British Army, based in Bermuda, wrote his Report on the Defences of Bermuda which included these words about Fort Scaur: "With a view to prevent the capture or destruction of the Naval Establishment by an enemy who might have succeeded in effecting a landing, two positions have been selected, viz.: 1st, a line between the head of Hamilton Harbour and the Navy Wells, on the North Shore, called the Prospect Hill position; 2nd, a line between Ely's Harbour and the Great Sound, called the Somerset position. The latter being only 500 yards in extent, may be most advantageously defended by a continuous ditch and parapet from shore to shore, with a small keep in the centre, to prevent the position being turned. Plans are now being prepared." Guns were mounted on Moncrieff Disappearing Carriages, designed to retract below the parapet when fired. Upon reloading, a great counterweight moved the gun back into its elevated firing position and thus the battle progressed, with the enemy unable to get a "fix" on the gun.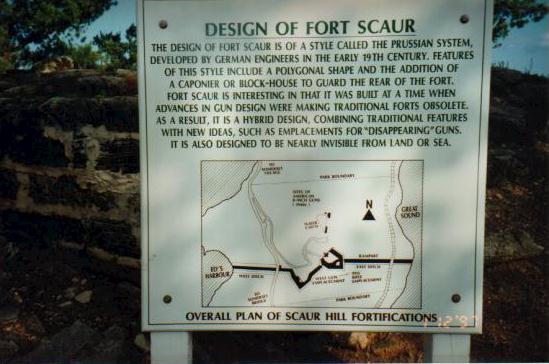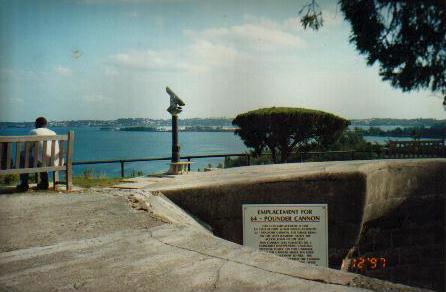 The remains of the latter at the fort are the only known examples. The counterweights for these "disappeared" for years. When they were re-discovered, on the docks in the city of Hamilton, they were promptly returned. Wander around, peer through its now-empty moat through cannon embrasure in the massive stone walls and into some dark gunpowder storage rooms. Stand on its ramparts for views of the Atlantic on one side and the Great Sound on the other.
The fort ditch cuts Somerset in two, though few going over Scaur Hill know that they pass over it, now filled in where once a wooden bridge existed. West of the Somerset Road, the ditch runs downhill to the waters of Ely's Harbour. In 1906, the British Army's 7th Regiment, Royal Engineers were here. A plaque on the Eastern slope of Fort Scaur in Bermuda recognizes this and on its other side says London is 3076 miles away. Also a military fort during World War 2, 1939-45. The US Army occupied the site for several years, from 1941 to 1943. Two large guns mounted on railway carriages on tracks to nowhere sat there next to the large water catchment, waiting for the Germans to come over the horizon. The reefs off this coast extend some ten miles to the west and north.
Follow the fort's eastern moat all the way down to the Great Sound to fish, swim or see the sights such as the Bermuda Weather Stone with its zany message (it never snows in Bermuda) and a milestone with the inscription "London 3,076 miles" on one side. The area is now open to visitors for picnics.

Gladys Morrell Nature Reserve
East Shore Road, Somerset.

Phone:

(441) 236-6483.

Bus routes

7, 8.

Hours of operation:

dawn to dusk. Free admission. This charming small (2 acre) nature reserve is owned by the Bermuda National Trust. It was given to the Trust in memory of Gladys Carlyon deCourcy Morrell, a leader in Bermuda's suffrage movement which succeeded in obtaining the vote for women in 1944. Its entrance is just off the main Somerset Road. With nice views, endemic trees, plants, nesting areas for endangered Bermuda bluebirds, a tranquil place for a picnic. Please leave footprints only, no trash. An April 2006 grant of £44,680 ($89,300) received by the Trust from the Overseas Territories Environmental Programme (OTEP), a joint UK Foreign and Commonwealth and Department for International Development Programme enabled the Trust in late 2006 and early 2007 to carry out extensive nature conservation work including removal of many invasive trees that threatened the survival of native and endemic species and establishment of a habitat restoration project.

Grey's Bridge
Built in 1849, completed in 1850, to connect Ireland Island and Boaz Island for Royal Navy strategic reasons. It was constructed by British convicts serving hard labor, to accommodate the expansionist aims in Bermuda of the Royal Navy. It was named in honor of the Rt. Hon. Henry, Earl Grey, one of Her Majesty's Principal Secretaries of State.

None in the Parish but not far away.

Great Sound
The beautiful, large, body of water going east, all the way to Pembroke Parish. If you take the ferry from any of the Sandys Parish ferry stops to the city of Hamilton, or vice versa, cross it and enjoy the fabulous seascapes. Or rent a sailboat from Cambridge Beaches or at Somerset Bridge and get closer to many small islands. Or take one of the big cruise boat tours operated by several local companies.

Gunpoint Island
See under Forts above and Islands below.

Hartley's Undersea Walk
Based at Dockyard. A unique and wonderful Bermuda underwater experience by an organization with decades of expertise in the business.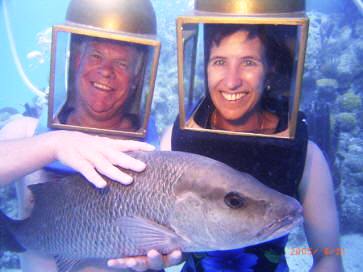 Heydon Bay and area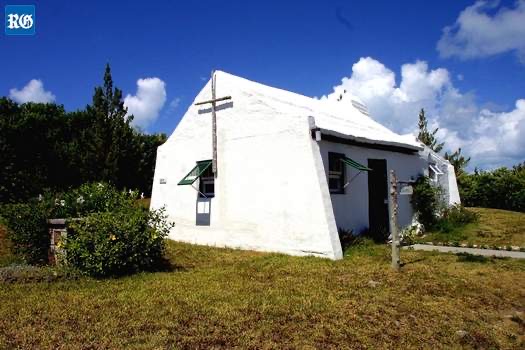 The bay is in the north east portion of Ely's Harbor and was shown on the survey of 1616 by Richard Norwood. The # 7 (Dockyard) and # 8 buses stop nearby. The name first came from Jeremy Heydon, an investor in the Bermuda Company of the early 17th century. Sir John Heydon, a relative, became Deputy Governor then Governor of Bermuda from May 15, 1669. He arrived at Castle Harbor aboard the Bermuda Company ship "Summers Isles Merchant." He was an uncompromising Puritan and tried to inflict his puritanical beliefs on other colonists, much to their annoyance. Although unpopular, he remained in Bermuda after retirement. When 80 years old, he was charged with treason. It was claimed he had allowed Dutch sailors to chart the reefs of Bermuda for a possible invasion by the Dutch and Spanish. Heydon was acquitted and before he died a few years later was charitable enough to apply Christian forgiveness to his neighbors by establishing the Heydon Trust Estate which survives to this day. It derived from Heydon to Dr. John Dalzell who built his fortune and reputation in Bermuda after being shipwrecked on his way to Nevis in the Caribbean more than 900 miles to the south. All the lands of the trust are still intact, probably the largest surviving single estate in Bermuda today, known as The Heydon Trust Estate. It administers and owns the houses, property and land occupying 43 acres, some of which are still being farmed. Most is rural open space with walking trails, views and swimming. The Heydon Trust Chapel, part of the estate, was dedicated to God in 1943, established as such in 1964 but not actually created until 1970 when the Heydon Trust chapel in Sandys Parish was converted to its present prayerful status, from a modest but picturesque 19th century farm laborer's cottage that appears to have been built much earlier.

The 43-acre Heydon Estate, a largely undeveloped tract of land, is managed by a trust. The estate includes The Heydon Cottage, House and Lodge, plus chapel (as pictured right). Volunteers and the trust keep the unique Heydon chapel open every day for prayer and contemplation. Visitors are welcome by day, for the services or at any other time during the day. The rough-hewn stone and open beam interior of the chapel reflect its origins as an early Bermudian dwelling, overlooking the Great Sound. Converted to a non-denominational chapel in the 1940s, it displays a simple wooden cross on its exterior.

The small chapel pictured places a spiritual emphasis on this historically significant place. For years, in the Chapel, three nuns once sang Gregorian chant, in Latin, every morning at about 0730 hours (except Saturdays at 8:30 am) and afternoons at 3 pm. They were not Roman Catholic as the chant implies but members of the ecumenical Community of Jesus based in Cape Cod, Massachusetts. Their local Community comprised persons from many locally represented Christian churches from Roman Catholic to Pentecostal. They supported each other in their common beliefs while maintaining their individual religions. It was the only place in Bermuda to carry on this ancient oral tradition of plainchant dating back to Pope Gregory the Great. It was considered an art form that brought great peace to the soul. Before the Gregorian chant, called Lauds, a priest led an intercessory prayer for all the churches of the world.
Also on the estate is the "Willowbank" hostelry.

HMS Malabar
Former Royal Navy Commanding Officer's residence. When the Royal Navy's big Bermuda Dockyard closed in 1953, the RN retained a much smaller Bermuda presence for 40 years from this building, which also became its offices. The building, sad-looking as the photo below shows, has since been restored with parts of it rented out. In March 2017 this historical HMS Malabar property was a broken shell of a building, slowly crumbling away after lying empty for more than two decades.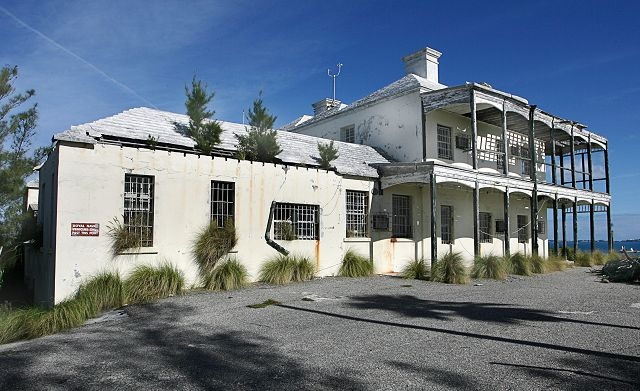 Hog Bay Park and Beach
Off Middle Road, at Hog Bay Level, past the store and the White Hill playing field opposite, great for a picnic, with a parking area for mopeds. The # 7 (Dockyard) and # 8 buses stop nearby. It's the third largest Bermuda public park, Bermuda Government owned. Its 38 acres are bound to the west by the ocean, to the east by Middle Road and to the south by the Woodlawn Road residential area.
It gets its original name from Hog Bay (or Pilchard Bay) at the southern end of Ely's Harbour. It was named for the herds of wild hogs (or boars) found by the survivors of the Sea Venture ship in 1609 who came here by longboat. The hogs were believed to have been descendants of hogs or boars left on Bermuda by Spanish explorers as food for shipwrecked sailors. They were why the first Bermuda coinage was the Hog Penny. Historically, it was part of the overplus of Richard Norwood's 1616 Survey of Bermuda, but by 1623 it was annexed to Sandys Parish and settled. At that time, as Bermuda was heavily focused on the cultivation of tobacco as an export crop, this land was used for this. Then farming played an important role throughout the 18th, 19th and 20th centuries.
It was acquired by the Government for $7.9 million from three different family estates. One was the Fordham Estate in 1986 and two from the James and Mayor Estates in 1990. All three estates had resisted the temptation to build anything more than a few family homes on them, which is why the purchase was possible. The property is protected, to maintain its natural state, buildings and monuments of aesthetic, archaeological and historic value, and to provide open space to the general public.
Prominent Bermudian individuals and families owned sections of the park from the 17th century onwards. They included Sir John Heydon, Captain Henry Tucker, and the Browns, Fordhams, James, Mayors, Outerbridges, and Trotts. The undeveloped nature of the park today offers educational experiences, ideal for the public to learn more about the early rural countryside, geography, nature and cultural history of Bermuda.

Hospital Island
See Islands below.

Inner King's Point Island
See Islands below.

Ireland Island
See Islands below.

Those in the Parish are:

Bethell's. Ely's Harbor.

Boaz. Also Gate's and Yates. 30 acres. The sea views from here on either side are marvelous. Historically important, one of the six principal islands. Now connected to mainland (Somerset Island) via Little Watford Bridge and Grey's Bridge. In 1939, a brand-new Royal Naval Air Station, specifically for the Fleet Air Arm, was constructed here as part of British military preparations for World War 2. Britain's Fleet Air Arm, a specialist flying unit of the Royal Navy, had military aircraft based here, mostly Swordfish and Walrus aircraft. The increased workload at HMS Malabar caused problems due to the limited space available. With so many of the locally-based or in-transit Royal Navy warships carrying catapult-launched seaplanes such as the Hawker Osprey, Fairey Seafox and Supermarine Walrus seaplanes, the need for prompt, efficient and spacious aircraft maintenance was a high priority. Thus, the new station was built. It had two good-size hangers and launching ramps on either side of the island and they allowed continuous operation in any wind direction. With the Battle of the Atlantic over, the station was reduced to care and maintenance status in 1944. Some remnants still survive. The ferry service to and from here finally ceased in May 2005. The nearest surviving one is Watford Bridge. Bus routes # 7 (Dockyard) and # 8 stop in the immediate area. Until early 2005, a ferry stop was here, on the Royal Naval Dockyard to city of Hamilton route. Boaz Island Village. A residential condominium area. 94 residences. Not all waterfront but they're all water accessible. Boaz Island Village Committee presides. All condo owners pay a condo fee in addition to their annual land taxes (property taxes).

Cathedral. Abutting Whale Island, Ely's Harbor. Its name comes from Ely Cathedral in Cambridgeshire, England (still standing since 1200+ AD). It so happened that there was once a local family called Ely, but this was probably incidental. Ely, after the UK cathedral, became quite a common surname for people once from that region, including colonists to North America and beyond.

Crawl. Southeast of Hospital.

Cross Island. See separate mention, above.

Current. North west of Watford Bridge.

Daniel's. Off Daniel's Head. Archaeologists from the Bermuda Maritime Museum and the College of William and Mary investigated the old fort here in the 1990s. The structure was abandoned in the early 1800s and the island was never subsequently rearmed.

Gunpoint. West of Wreck Bay.

Hospital. At the entrance to Crawl Island, Sandy's Parish. 1818. Construction of the RN Hospital near the Dockyard, in the same pre-fabricated manner as the later Commissioner's House, initially as a Quarantine unit. When added to substantially later, in addition to cast iron structural features, such as veranda columns, floor joists, and possibly cast and wrought iron roof trusses, some of the stonework for the building was the hard local limestone. A surgeon, doctors and medical staff were appointed and sent by the Royal Navy. During World War 2, the Royal Naval Hospital, Bermuda, treated and often saved the lives of many brought in from torpedoed ships. The Royal Navy left in 1950s. That hospital building ended its life as an egg farm, then finally was deliberately burnt to the ground by the Fire Department in November 1972. Part of it became the site for Lefroy House, for senior citizens.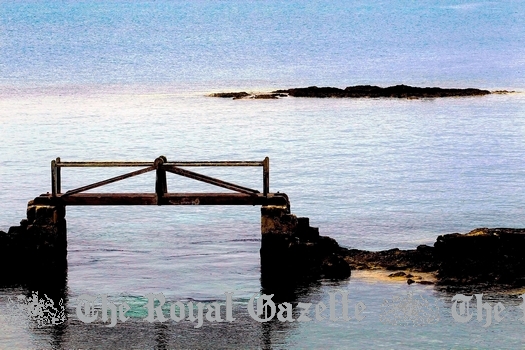 Hospital Island bridge

Inner King's Point. West of King's Point.

Ireland Island. The name has nothing at all to do with the country of Ireland, simply because there was once a British colonist landowner whose name was John Ireland. He owned, lived and farmed on that island in the 1620s. All other Bermuda place names beginning with Ireland also refer to him. In the Great Sound, Sandys Parish. One of the six principal Bermuda islands. It is the narrow serrated island that pushes out into the Atlantic at the extreme north west of Bermuda. Also has Ireland Point and Ireland Narrows, both also after the original owner. It has a completely separate history from the rest of Bermuda. It is historically important. It dates from when a Flemish or Dutch ship went aground in Wreck Bay on the Main Island and sank there in 1618. It was why the original name was Flemish Hill. The captain of the ship had the very English name of Powell and was a notorious Caribbean pirate. The buccaneer ship then had legal status as a privateer. It had sailed against the Spanish under a Letter of Marque by the Dutch prince Maurice of Orange, so was technically not a Flemish ship but a Dutch one. The British Government did not like the presence of Powell in Bermuda so Governor Miles Kendall banished him to the western Bermuda island now called Ireland Island. It was from there that Powell and his men tried to build a new ship. In 1795, Wreck Hill was bought by the Royal Navy - see Royal Naval Dockyard in Bermuda - which considered the Wreck Hill site an ideal one for a lighthouse. But the one that eventually got built at Gibb's Hill instead from 1840 caused the plans for this one to be scrapped. Until it became a major Royal Navy base in the 18th century, there were no roads and few inhabitants. Because there was a fear of leprosy, all those leaving there had to leave this jungle island of cedar and swine and wooden houses thatched with palmetto before the Royal Navy started moving in properly from 1809, from which point the island was destined to become joined to the mainland instead of staying an island. Maria Hill Fort on this island was later the site of the Royal Navy's Single Mechanics Quarters. The Royal Navy stayed until 1952 when the Royal Navy Dockyard there ended, but HMS Malabar continued with a token presence until 1995.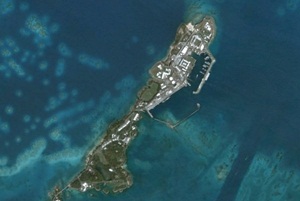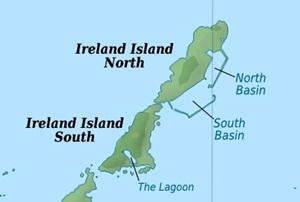 Malabar. North of Boaz. Historically important.

Middle King's Point. West of Inner King's Point.

Morgan's. Ely's Harbour. Home of an endangered species of snails saved from extinction by a breeding programme was released here. More than 11,000 greater Bermuda land snails, bred at a British zoo, have been given a new home here, owned by the Bermuda National Trust. The endemic Poecilozonites bermudensis snails, once plentiful, had been almost wiped out in the late 1970s by introduced predators, pesticides and human expansion. Conservationists presumed the invertebrates were lost until Alex Lines, a Bermuda Aquarium, Museum and Zoo intern, found small populations clinging to life in isolated spots. He had been sent out to search for the creatures during the summer of 2000, in the wake of a December 1999 story in The Royal Gazette. In 2014, the snail species again showed its resilience, when a cluster of them was discovered in a Hamilton alleyway by Mr Lines's father, Bruce. Specimens were sent to London Zoo for a captive breeding programme and Chester Zoo joined in the effort. The first repatriation of snails to Bermuda was made in February. Nonsuch Island took 4,000 of the creatures and this island the balance. Morgan's Island was chosen as a haven because it was not threatened with future development" The island's palmetto forest offers the snails a good habitat and its cover of poison ivy deters visitors from walking on the animals. Considerable resources came from Chester Zoo in England. The snail is one of Bermuda's oldest endemic animal inhabitants. It has survived radical changes to the landscape and ecology on the remote oceanic islands of Bermuda for up to a million years, but, since the 1950s and 1960s, it has declined rapidly. Its demise is mainly due to changes to their habitat and the introduction of several predatory snails. Carnivorous snails imported to control accidentally introduced milk snails and flatworms took a heavy toll on the Bermuda land snails, which are particularly vulnerable because for thousands of years before 1503, they had no natural predators. Morgan's Island does not appear to have any of the predators.

One Tree. West of Mangrove Bay Wharf.

Outer King's Point. West of Middle King's Point.

Palm. Between Bethell's and Morgan's, Ely's Harbor.

Quintons, The. Four, off King's Point.

Regatta. Two, south of The Crawl, Ireland Island.

Somerset. 703 acres, it is one of Bermuda's six principal islands and the most western. It is joined to Main by Somerset Bridge and is connected to Boaz Island, Ireland Island and Watford Island by bridges and serviced by buses and ferries.

Watford. 4 acres, between Somerset and Ireland, connected to both via Watford Bridge and Little Watford Bridge.

Whale. Ely's Harbor and Pilchard Bay.

See "Cruise ship berth" above.

Lantana
Once a gorgeous waterfront property, finest place to stay in Bermuda, with an array of buildings. Sadly, it no longer operates.
2019. October. Not operating, still up for sale
2018. August. Lantana still up for sale.
2015. July 29. The sprawling former Lantana cottage colony is up for sale with a $16.9 million price tag. The ten-acre Sandys property with views of the Great Sound, the venue for the America's Cup in 2017, has been closed for decades. It was bought by US business tycoon Larry Doyle, who also owns the Newstead hotel and Belmont golf course, in 2008. Lantana, the Island's first cottage colony, opened in 1958. In its prime, it boasted extensive gardens, a croquet lawn, tennis courts and includes a private beach. It closed in 1998 and has become derelict in recent years. It is thought Mr Doyle paid between $12 million and $15 million for Lantana seven years ago. Mr Doyle could not be contacted for comment yesterday. The Lantana site is listed by real estate firm Rego Sotheby's International Realty, which said it offered "endless possibilities to be transformed into a new luxury paradise resort in one of Bermuda's most coveted locations". The listing added: "Lantana is ideal for investment and future development. The property is zoned as tourism with a small limited area zoned as agricultural. Previous planning approvals in principle have included 28 hotel condominiums, 13 hotel residences, beach club, two swimming pools and clubhouse. In addition, Lantana offers another option — planning approval had been given for a draft subdivision of 13 lots with the main lot being retained as a hotel component and the remaining 12 lots as residential. This development opportunity offers the discerning investor a rare opportunity to restore Lantana and add to its natural charm." New York-based Mr Doyle, managing director of hedge fund and mutual fund managers Horizon Kinetics also controls real estate investment firm Katierich Asset Management. He bought the Lantana site while on vacation in Bermuda. Mr Doyle said last year that plans to redevelop the Somerset Bridge site were on hold while he concentrated on Newstead, which was in receivership when he bought it last year. But he added he hoped to eventually develop Lantana, which would share ferry and limousine services with its sister properties.
2014. September 30. A US business tycoon bought up the Newstead and Belmont Hills golf course. Now hedge fund manager Larry Doyle — who already owns the old Lantana property — planned to upgrade both the golf course and the hotel, with a new clubhouse at Belmont Hills and more rooms at the Belmont on his agenda. And he added that prices for fractional ownership at Belmont would be slashed to as low as $99,000 for eight weeks. Mr Doyle, who has been linked with the properties for three years, said: "We are very bullish about Bermuda." He declined to discuss the price of the twin properties — but it understood it could be as high as $18 million. Mr Doyle said: "In fairness to the banker and receivers, they got me to pay more than I would have liked — but I still believe I have a very marketable property with the best location in Bermuda. I'm very happy." The news ends uncertainty over the Newstead and Belmont sites, which have been in receivership for three years. New York-based Mr Doyle said he planned to concentrate on the Newstead in Paget and Belmont in Warwick before tacking the Somerset Bridge-based Lantana. Mr Doyle added: "First things first — we're going to aggressively market the fractional units that are there just now. They will start as low as $99,000 for eight weeks. Existing owners will get the deep discounts. but we will be discounting for new buyers as well. Any money that's going to go into it will be the golf course. We're exploring building a new clubhouse and that's probably where our energy will go to initially. There is a phase we might want to develop and build at Newstead before we do Lantana. It doesn't make much sense to redevelop Lantana before selling off the fractional units already built at Newstead. There is talk of raising the tennis courts and adding on more rooms — Newstead is only a 60-bed hotel. If we could take that up to 90 or 100 rooms, it would be a much more efficient hotel." The property developer and managing director of hedge fund and mutual fund managers Horizon Kinetics also controls real estate investment company Katierich Asset Management. He bought the Lantana site several years ago while on vacation in Bermuda and snapped it up despite the resort having closed more than a decade ago. Mr Doyle added that, once the site is redeveloped, it would share service like ferry and limousine services with the Newstead/Belmont operation. "I control both properties now, so it will be much easier to hammer out these details." It is understood that the present Newstead site, which opened in 2008 just as the worldwide recession hit, cost around $70 million to build. Former owner Kevin Petty, who masterminded the redevelopment of Newstead and Belmont between 2001-2008, was in charge when Butterfield Bank put it into receivership. Mr Petty said: "I'm very sad — I'm also realistic and I think Larry Doyle is a decent gentleman who I hope will be able to operate it successfully. It's a great property and I left my soul there." He added that the global recession, which started in 2008, saw plummeting occupancy rates. But he said: "I really believe it was the right thing for tourism and for Bermuda. It's a sad moment for me — my whole life was put into that thing. But, between debt and timing, it really wasn't to be."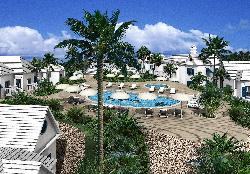 Not open at this time. October 2010-submitted Plans to redevelop the Lantana resort were approved by the Development Application Board (DAB) after changes were made to protect agricultural reserve.
While the plans were praised for protecting the nearby Railway Trail, it also included a croquet lawn and a hotel residence built on what was labelled agricultural reserve in the 2008 Bermuda Plan.
At the October 27, 2010 meeting of the Board, the DAB expressed concern about the intrusion onto the agricultural reserve and deferred making a final decision at that time.
However modified plans were resubmitted on November 2, and approved on November 3. According to the minutes of the November 3 meeting, the developers removed the offending hotel residence.
The minutes read: "They are also prepared to include the reserve land within the proposed Conservation Management Plan to ensure long term protection of the soils within that area, and that this would be included within a recommended condition."
Lantana closed its doors in 1998, but in March developer Kevin Petty said he was confident a new $100 million resort would be built on the 9.4 acre site in the next three years.
Plans for the refurbished resort, featuring 13 hotel residences and 28 fractional units, were submitted in October but drew criticism from the Department of Conservation Services over use of both coastal and agricultural reserve property.

Lefroy House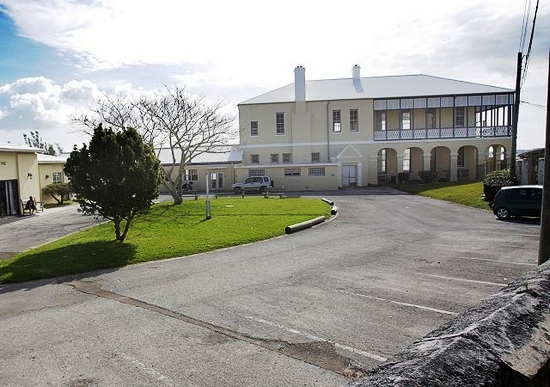 Named after a famous British Government-appointed Governor of Bermuda. Now a Bermuda government-supported senior citizen's residence but the building, now substantially renovated and added to and with an ocean view, has a fascinating history. From about 1825 it was the first-ever purpose-built hospital in Bermuda, built specifically as a Royal Navy hospital serving the Dockyard. It had its own Royal Navy doctors, nurses and staff. It remained in operation as such until 1953 when the Dockyard officially closed as a Royal Navy base.

2019. March 20. Lefroy House, the seniors home in Sandys, is not expected to be relocated "in the near future", according to the Ministry of Health. The move, which came up in the House of Assembly last week, will go to its design and requirements phase in the 2019-20 fiscal year, but building is expected to take four to five years, a spokeswoman said. She added: "The Government has identified an available and suitable parcel of land in Southampton in the Rockaway / Morgan's Point area close to public transport, ferry and bus routes and removed from traffic noise and pollution. The site is government-owned and adequately zoned. The site has proximity to the established safe neighborhoods of Rockaway and Dr Cann Park and there are other shops and facilities including a community physician's office and the fire station in the neighborhood." The site offers better protection from storms than the present location, where the listed historic building, built as a hospital by the Royal Navy in 1890, has suffered hurricane damage. The ministry has scheduled a meeting with family members of Lefroy House regarding its plans

Lodge Point Park and Nature Reserve
Craddock Road. Created as such in 2012. A 4.2 acre plot of land in Dockyard. Was once a Royal Navy residential are until the 1950s, then a civilian one, then deteriorated as an illegal dumping ground once those properties were demolished. Now restored as an open space. An initiative of the West End Development Corporation Bermuda Government owned quango which is also working to preserve an additional 6.5 acres south of Craddock Road through to Lagoon Bridge.

Mangrove Bay
Picturesque and sheltered beach and bay near Somerset Village. Well worth seeing on its own, or on the way to or from the Dockyard area. Until 2016, on the Sunday after Cup Match long public holiday weekend the long-established Non-Mariners Race, organized by the Society of Non-Mariners, was held here. It first began in August 1964 in Hamilton, by amateur non-sailors deliberately launching non-seaworthy and distinctly non-nautical home-made floating in often hilarious unsea-worthy crafts of any type and design as a joke against the well-established and prim sailing clubs of Bermuda and their 1960s sailing correctness. It no longer functions.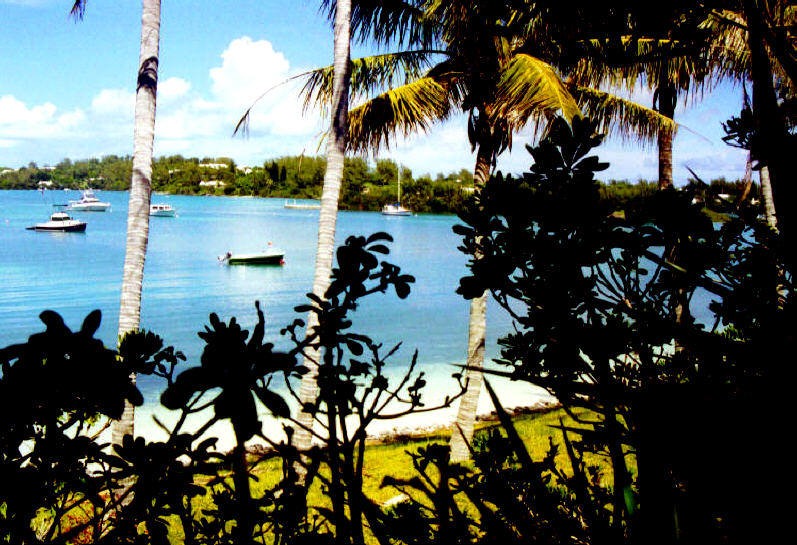 Mangrove Bay, by Keith A. Forbes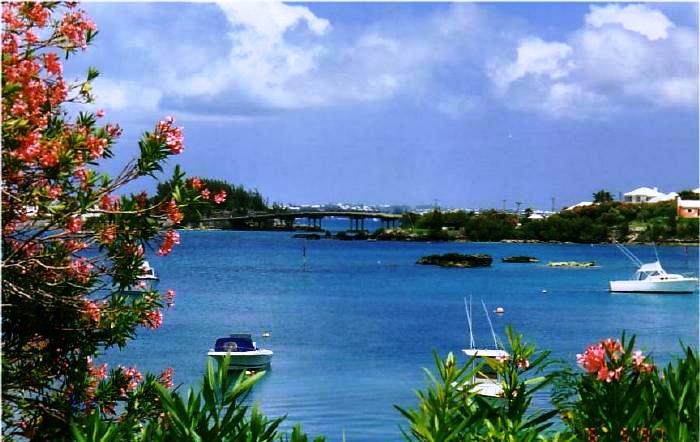 Bermuda Tourism photo

Malabar Island
See Islands.

Messina House
Not for tourists, except with official permission from the Bermuda Government's Department of Youth, Sport and Recreation and with lots of advance notice directly from it. Only campsite on the mainland, between Somerset and Dockyard. Only one group of 30 campers is accommodated at any one time. It has a number of rooms at ground level and several bedrooms with bunk beds, in a dormitory. There is a dock for campers, as well as a small gym behind the main house with washroom and showers; open area on waterfront; with restaurant, shops and ferry service within easy walking distance.

Middle King's Point Island
See Islands.

Moresby House
Dockyard, Somerset. An historic Bermuda Government owned property. Bermuda's West End Development Company (Wedco) quango totally refurbished this historic once Royal Navy property in 2017. The landmark building overlooking the Great Sound has approximately 5,500 square feet of space with parking for ten cars. The property is now rentable by companies. The building was constructed in 1899 as the residence of the Office-in-Charge of Works. Later called HMS Malabar, it had remained empty since the Royal Navy left Dockyard in 1995. Wedco received a $3 million grant from the Government for the project. Mr Dias, who previously told The Royal Gazette that the project would be completed by April 20, said he was "delighted" with the final product. The building was rented as a commercial space after the completion of the America's Cup.

Moresby Playing Fields
Now an area for sports including cricket, but once a quarry from where much of the limestone that created the Royal Navy Dockyard and its fortifications originated. They included, after 1847, the stone for the Clocktower Building, (once the "Great Eastern Storehouse" and the other buildings. All that rock had to be blasted out of the ground, broken into smaller pieces, then chiseled into the stone blocks that account for the grandeur of the Dockyard buildings today. Slaves and British convicts did all the work.

National Museum of Bermuda
Formerly Bermuda Maritime Museum. Old Royal Naval Dockyard. Regular mail: P.O. Box MA 133, Mangrove Bay MA BX, Bermuda. Courier: 1, The Keep, Sandys MA 01, Bermuda. Admission information: 1-441-234-1418. Museum offices: 1-441-234-1333. Fax: 1-441-234-1735. Email: marmuse@logic.bm. Web: www.bmm.bm.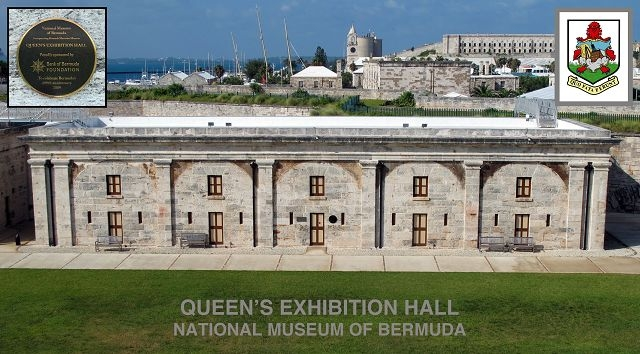 Old Watch House
Historically important Somerset building, restored. In the early 1800s, it was used as a 'lock -up' for slaves found wandering in Sandys Parish. The Bermuda National Trust, Bermuda Maritime Museum and Ministry of the Environment secured a grant under the Ministry's Environmental Grants Fall 2004 Scheme for restoration.

Pitman's Pond
A nice nature reserve, known affectionately by this name, next to the Government Park at Somerset Long Bay, near Cambridge Beaches, and has been visited by hundreds of people, including lots of tourists.

Part of it goes through this Parish

Restaurants in the Parish
See under Bermuda Cuisine and Restaurants.

Royal Naval Cemetery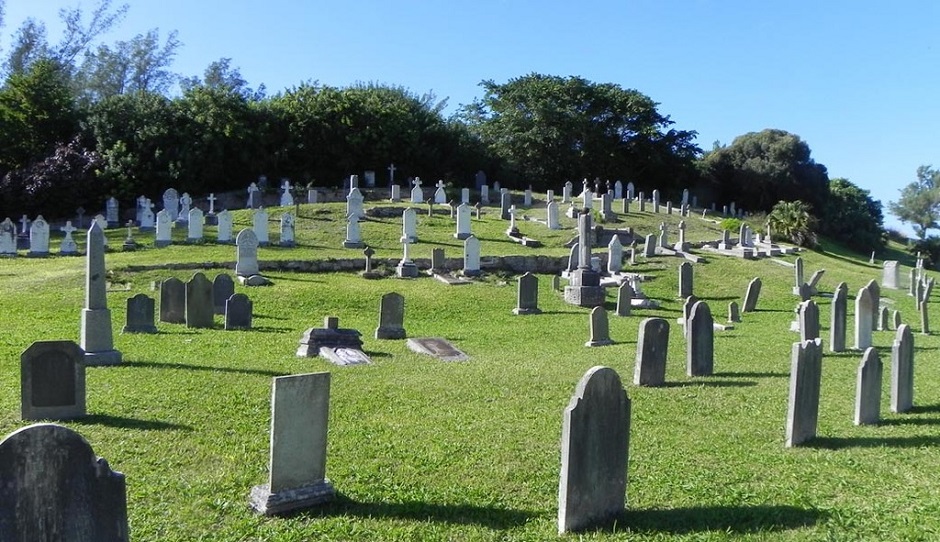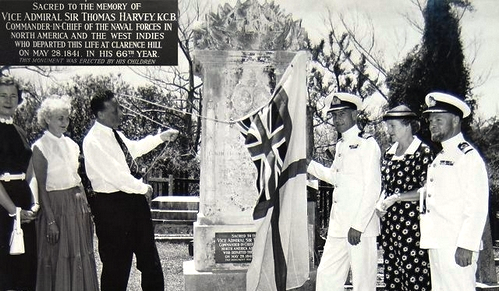 Ireland Island South. On Malabar Road, approaching the former RN Dockyard. Bus Routes: 7, 8. Admission is free. This large naval cemetery, 2.73 acres at the side of the road leading into Dockyard, was once known as the Glade. All of Ireland Island was bought by the Admiralty for the Royal Navy in 1809 and the cemetery was consecrated in 1812. The first burial ground was a narrow strip which is now the central portion of the cemetery; it was enlarged several times, notably after three yellow fever epidemics in 1837, 1843 and 1853. It is estimated that over 1,000 graves rest here. As the cemetery filled up, the categories of people who could be buried there were reduced, starting with the exclusion of convicts in 1849. By 1853 only Royal Naval personnel and residents of Ireland Island could be interred there. January 3rd, 1854 was marked as a day of thanksgiving in Bermuda for those who survived the dreadful scourge. However, it was not the last yellow fever epidemic and it took another thirty years to completely eradicate the mosquito-borne disease in Bermuda.
Some of the many buried here, with their names, dates and ships. See https://wrecksite.eu/refPosView.aspx?180318.
The cemetery lies in a depression, with the earliest graves at the lower centre, and the later graves on the rising ground around them. Five admirals are buried here, as well as children and sailors. The oldest gravestone now legible is that of Sergeant John Kitchener, late Royal Marines, who died in 1816, with its cautionary verse urging the onlooker to prepare to meet his God. At least one Royal Navy admiral is buried here. Several of the older headstones have poetic inscriptions, some personal and others supplied by stonemasons as far afield as Nova Scotia and England. In contrast are the Commonwealth War Graves Commission headstones which stand out in their stark simplicity. The cemetery contains the graves of servicemen from the Second World War, when Bermuda was a transit point in the Battle of the Atlantic, and memorials to some of those who were buried at sea. Overlooking the whole cemetery is the Oration Stand, a reproduction of the original structure from which the funeral oration, or formal speech at a funeral, was given.

The area is now a major historic, tourist and sightseeing attraction.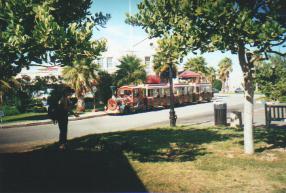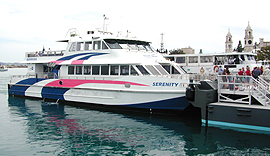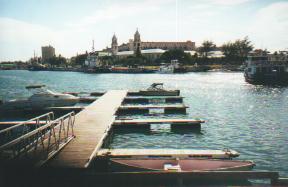 Top left Dockyard Train. Introduced in 1997, it is not really a train but a diesel-fuel road vehicle. (It is not the reincarnation of the train service Bermuda had from 1931 to 1946). It is a miniature frontier replica working train with two passenger coaches and capacity for 40 people. It runs on the road, not on tracks. But it has a train-like whistle. Its engine and two carriages were imported from Florida. There is a fare tariff. But you can walk the whole area easily. At top right, a new ferry boat provides an interesting contrast to a cruise ship (bottom left). Other ways for tourists to see Dockyard include cycle (pushbike), bus, local miniature train or Segway.
All photos by the author

Sandys 360 Sports, Aquatic and Enrichment Centre (closed)
Off Broome Street. Now closed, having failed. See below. The island's first indoor sports, aquatic, fitness and community centre opened its doors to the public in September 2009. On the Sandys Middle School campus. Has a 25-metre indoor 6-lane swimming pool with a viewing platform with elevated bleachers; lifeguards and a swimming instructor; an NCAA regulation-sized basketball court, gymnasium, locker and shower rooms; fitness centre; aerobics suite and more. The $10-million centre can accommodate numerous local and international programmes for athletes. It has cardio and elliptical machines, bikes, free weights and nautilus equipment. The facility was built as an extension of Sandys Middle School but the board of trustees decided it could benefit a larger segment of the community. Designers used the American YMCA and YWCA model for the project.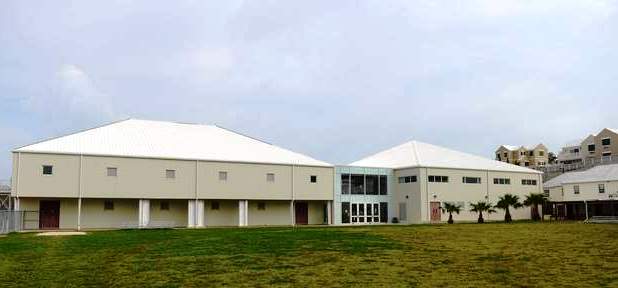 2020. March 10. A Government bid to buy a shuttered sports centre may be scrapped, the House of Assembly has heard. Lieutenant-Colonel David Burch, the Minister of Public Works, said the $1 million sale was still budgeted and approved by the House, but questions had come up about who would run the Sandys 360 centre. Speaking on Friday, Colonel Burch explained a legal opinion suggested the sports centre's Board of Governors would still have a say in the future of the site even after a sale. He added: "If that is the case, and I will put you on notice, we ain't buying it." Colonel Burch said Government awaited a definitive answer from the Attorney-General's Chambers. He added: 'It adds to the challenge as it is deteriorating with each passing day. There was a request for us to do some work there, but we can't do that because we are not allowed to invest public funds into buildings that are owned privately." The Sandys 360 Sports, Aquatic and Enrichment Centre opened in September 2009 but closed in November 2013 because it was unable to make ends meet. A KPMG report into the failed centre revealed that almost $6 million of public money was ploughed into it before April 2014. Parliament approved a plan in March 2018 for taxpayers to bail out the trustees by buying the centre and surrounding land with another $1 million of public money. But it was reported last July that negotiations with HSBC, the mortgage lender, had stalled "as a result of a third party laying a claim to some indebtedness from the trustees of Sandys 360". Colonel Burch also gave an update on the TN Tatem Middle School, which was closed permanently in February after it was hit with severe mould problems. He told the House of Assembly: "The reality is there were three classrooms that had serious issues with mould and the music room." Colonel Burch said the problems with the classrooms had been dealt with, but the music room would take longer as wood flooring would need to be removed. He added that the Ministry has already been contacted by several parties interested in using the former school once work was carried out. Colonel Burch said: "We will get to the stage where the building will be straightened out and we will look at the recommendations for its future uses and make a decision." He said the ministry had worked to teach Government employees about the causes of mould and its prevention. Colonel Burch said: "We started with the schools and we are having success there. The custodians now turn off the air conditioning by 7pm and open the windows in the schools to let fresh air come into the equation." He added that the windows were closed and air conditioning turned back on before pupils arrived in the morning. Colonel Burch also told the House that the Department of Parks Headquarters will move to Marsh Folly in Pembroke after Government abandoned a plan to build a new maintenance yard at the Botanical Gardens in Paget. He added that the area at the gardens would instead used for extra parking.
2019. August 8. Two government agencies have been ordered to draw up a complete list of public grants handed to a failed sports centre. The checks by the Ministry of Finance and the Accountant-General's Department must include the paper trail behind a double grant made to Sandys 360 by mistake. However, the decision issued by Gitanjali Gutierrez, the Information Commissioner, did not require the two offices to release the records. The commissioner has set a deadline of next month for both bodies to finish a "reasonable" search for the payment records. Each office must also issue their decision on whether or not to grant the public access to information request for the documents. The ruling came after a Pati request on payments from January 2007 to May 2016, when more than $5 million was poured into the West End sports complex. The Pati query included a request for records behind the double payment of $807,000 from the Government Reserve Fund, made in August 2011. Sandys 360 shut down in 2013, four years after it opened, because it could not pay its bills. The decision this week from Ms Gutierrez faulted the Accountant-General's office for passing the Pati request over to the Ministry of Finance without first checking if it held the relevant records. The department also failed to notify the Pati applicant that the ministry might have held the Sandys 360 records. Ms Gutierrez's decision, issued on Monday, ordered both offices to check for records and give a new decision on whether to grant access before September 9.
2019. July 29. A construction firm appealed to the Government to settle its unpaid bill topping $1 million for the Sandys 360 sports complex at the West End, an Opposition backbencher has revealed. Calling the failed gym a "black hole", Trevor Moniz, a former public works minister, told the House of Assembly on Friday night that BCM McAlpine, which built the centre, approached him when he was minister in 2013 in a bid to recoup its money. Mr Moniz also told MPs that Walter Lister, the former Progressive Labour Party MP, had been paid $10,000 in connections with Sandys 360, which had been "flagged" in a report by the professional services firm KPMG. He added that "nobody knew what it was about", but said the final version of the report stated there was "no pattern of anything they could see of any untoward payment". Mr Lister told The Royal Gazette, when contacted on Saturday, that he "never received a penny from that institution", adding that Mr Moniz "made this up". Mr Lister was chairman of the Sandys Secondary School Foundation in 2002 when it launched its fundraising drive for the facility, which opened in September 2009. He added: "I've done a lot of work because I believed in it. It will one day return as a shining example in Sandys." Crippling expenses and a lack of revenue ultimately scuppered the centre, which closed in late 2013. Mr Moniz said there had been "no business plan in place that would have made it sustainable". He recalled viewing a preliminary copy of the KPMG report in 2013 during his tenure as minister. Patricia Gordon-Pamplin had taken over the portfolio when the final report was released in April 2014. Lieutenant-Colonel David Burch, the Minister of Public Works, agreed on Thursday to release a redacted version of the report. Mr Moniz told MPs on Friday that Melvyn Bassett, formerly the managing director of Sandys 360, was "the only person paid on a full-time basis" and received "a six-figure sum". Mr Moniz also said that as minister, he had told Sandys 360 trustees that he would not support any government funding to rescue the multimillion dollar facility "if I didn't have this report". But he called it "patently ridiculous" to suggest that he had given trustees a guarantee to bail out Sandys 360 "no matter what the report says".
2019. July 18. A former public works minister said yesterday that it was he who commissioned the report into the finances of a struggling sports centre — not the trustees who ran it. Trevor Moniz, now a One Bermuda Alliance backbencher, explained that he asked for the independent review from professional services firm KPMG in 2013 because he was "under pressure" from high-ranking civil servants to release more public funds for the now-closed Sandys 360 Taxpayers had already forked out millions of dollars for the Sandys 360 Sports, Aquatic and Enrichment Centre, which opened in September 2009 and closed its doors in November 2013 because it was unable to make ends meet. More money had been promised in the form of a government grant, but Mr Moniz said he wanted to cancel the offer, against the wishes of some civil servants. Mr Moniz claimed civil servants "were saying 'Government has made a promise and you have to abide by it.". I was saying 'it's a different government, the conditions have not been met. I'm not going to pour money down a black hole.' It was $30,000 to $40,000 a month on Belco. I was refusing to do that. I was trying to persuade Cabinet and the Civil Service to stop pumping money into this facility that was unsustainable." Mr Moniz suggested some in government wanted the report kept secret because it was an "embarrassment to the Civil Service that all this money had flushed down the drain". The Royal Gazette launched a bid to get a copy of the KPMG report under public access to information legislation in December 2015, soon after the Auditor-General revealed that the centre received a duplicate payment of $807,000 in 2011 that was never recovered by the Government. The report was kept secret by the One Bermuda Alliance administration and was kept under wraps by the ruling Progressive Labour Party. Sandys 360 chairman Stanley Lee said in December 2015 that The Royal Gazette should "approach Government for a copy of the report, since they initiated the process". A Pati request was made to the Government, which asked for the report and for records showing all payments made from the public purse to Sandys 360 and all attempts to recover money owed by the centre to the Government. The request for the report was refused by the Department of Public Lands and Buildings, but Information Commissioner Gitanjali Gutierrez ordered its release in May this year. Lieutenant-Colonel David Burch, now the Minister of Public Works, told Parliament this month that the Government would not release the report because "it was not commissioned by, nor is it the property of, the Department of Public Lands and Buildings". Mr Moniz said: "In my view, all this nonsense about 'it's not a government report' prompts a serious question: who paid for the report?" He said that those in charge of Sandys 360 — the trustees of Sandys Secondary Middle School — had to agree to take part in the review because they held all the information on the centre's finances. But he added: "I would assume Government paid for it because they had no money. We were the ones who started the process." Opposition leader Craig Cannonier agreed yesterday that the report was commissioned during Mr Moniz's time as works minister. But he said he understood that HSBC bank, which was owed more than $9 million by the trustees, asked for the report and paid KPMG for it. Mr Cannonier added: "The trustees had nothing." Mr Cannonier said: "When I became the public works minister in 2015, the report had already been commissioned. I'm almost sure that it did come out under me." He added: "There were no hard, clear financials on Sandys 360 that made any particular sense. Every time we asked them for information it was difficult to get a complete picture of what was going on." Mr Cannonier said that "people were trying to figure out exactly what it was we needed to do" to help the centre stay afloat. He added: "The bank was coming to us for help. We said we can't seem to get any proper direction from those guys." Mr Cannonier said Cabinet decided that the Government should buy the centre from the trustees. He added that the Government could not release the report to the public at the time because it needed to finish negotiations on a price for the centre. Mr Cannonier said he believed Sandys 360 was mismanaged by people with good intentions, which was why he told Parliament last year it was "completely unnecessary" to suggest the centre's financials should be made public. But he added that the report should be released after Ms Gutierrez ordered it to be made public. Mr Cannonier asked: "What's to hide?" KPMG told the Information Commissioner its clients were the trustees and that it agreed to conduct the report on the basis it would only be disclosed to HSBC and the Department of Public Lands and Buildings. The trustees told Ms Gutierrez the report was prepared for the trustees to help them resolve the "financial issues" surrounding the centre, including its potential sale to the Government. Charles Thresh, of KPMG, said yesterday: "We do not comment on client engagements and so I am unable to answer your questions." An HSBC Bermuda spokeswoman said: "HSBC takes the issue of customer confidentiality very seriously and as such is not able to discuss any matters with respect to customers or purported customers." The Ministry of Public Works did not respond to questions on who paid for the report and if Colonel Burch planned to challenge Ms Gutierrez's order in court.
Sandys 360 timeline
September 12, 2009: Sandys 360 officially opens
August 2011: A payment of $807,000 from the public purse is made in "error" to Sandys 360 and never recovered
December 20, 2012: Trevor Moniz becomes public works minister after the One Bermuda Alliance's election victory
November 2013: Sandys 360 closes its doors because of financial difficulties
December 11, 2013: Mr Moniz is replaced at public works by Patricia Gordon-Pamplin
March 2014: Sandys 360 board member Stanley Lee reveals that KPMG is conducting a financial review of the centre and says its report is expected by month end
January 15, 2015: Craig Cannonier replaces Ms Gordon-Pamplin as works minister
July 2015: Sandys 360 managing director Melvyn Bassett tells The Royal Gazette that KPMG has finished its review
December 2, 2015: Asked for a copy of the KPMG report, Mr Lee tells the newspaper: "Maybe you should approach Government for a copy of the report, since they initiated the process."
December 10, 2015: The Royal Gazette submits a Pati request for the KPMG report to the Department of Public Lands and Buildings
February 10, 2016: The department refuses the request. It says: "In respect of the KPMG report, you may wish to make the request directly to the trustees of Sandys 360, as they are the holder of the record. The KPMG report ... was commissioned by the trustees of Sandys 360. It was not commissioned by this department."
March 2016: Mr Cannonier announces $1 million has been allocated in the budget to buy Sandys 360
April 5, 2016: Marva O'Brien, then the public works permanent secretary, upholds the refusal to disclose. She writes: "The report was prepared for KPMG's client, the trustees of Sandys Secondary School."
April 19, 2016: The Royal Gazette asks the Information Commissioner's Office to review the decision
December 16, 2016: the Department of Public Lands and Buildings provides the ICO with a copy of the KPMG report
July 18, 2017: The Progressive Labour Party wins the General Election.
February 28, 2018: The Royal Gazette reveals that Sandys 360 cost taxpayers at least $5.3 million — $1 million towards its construction costs and $4.3 million in further payments
March 2, 2018: The Royal Gazette reveals that BCM McAlpine is still owed more than $1 million from the Sandys 360 trustees. Mr Cannonier tells the House of Assembly "we don't even need to get into all of that stuff" about how much public money was spent. He says of the KPMG report: "People were coming to me at the time saying 'they are not giving up their financials' and the likes. Completely unnecessary for people to carry on in that manner when we were seeking out an opportunity to save that area."
March 2018: Lieutenant-Colonel David Burch, the Minister of Public Works, tells MPs that HSBC is prepared to take $1 million as "full and final settlement" of the $9.24 million it is still owed by the trustees of Sandys Secondary Middle School
May 27, 2019: Information Commissioner Gitanjali Gutierrez orders the Department of Public Lands and Buildings to release the KPMG report and to make a decision on whether to release records showing all payments made from the public purse to Sandys 360 by July 8. The Government has six months to seek a judicial review of her order
July 5, 2019: Colonel Burch tells Parliament the report will not be released.
2019. July 13. The decision to not release a report into a failed sports centre was based on advice from the Attorney-General's Chambers, the public works minister told MPs. Lieutenant-Colonel David Burch said: "I'm not making decisions of this nature on my own. The Attorney-General's Chambers of this island are the ones who actually gave the advice not to release the report." Gitanjali Gutierrez, the Information Commissioner, ordered the Department of Public Lands and Buildings to release the report on Sandys 360 by professional services firm KPMG into the project to The Royal Gazette by July 8. Colonel Burch told MPs last Friday that the Government disagreed with her decision and had advised her "that we will not release the KPMG report, as it was not commissioned by, nor is it the property of" the department. Trevor Moniz, a One Bermuda Alliance backbencher, criticized Colonel Burch over the decision during last Friday's motion to adjourn debate. He accused Colonel Burch of a "scurrilous attack" on Ms Gutierrez and said that the public works minister got his "law entirely mixed up" and was not supposed to get involved with Pati requests. Colonel Burch last night highlighted a comment made by Mr Moniz, the works minister when Sandys 360 was shuttered, that Mr Moniz was "familiar with the content of the report". He asked: "If the Honourable Member was aware of the contents of the report ... why didn't he release it?" Colonel Burch said that he had not seen nor read the report. He added: "A report that was not commissioned or paid for by the Government of Bermuda, in my mind, doesn't give us the authority to release it to anyone." Taxpayers funded Sandys 360 to the tune of at least $5.3 million before it closed its doors because of financial problems in November 2013. Michael Scott, a Progressive Labour Party backbencher, said that he was concerned about "weaponising information" obtained through Pati laws. He added: "This is a deepening and frequent methodology being deployed across all media in the world, and we're not exempt from it. And my major concern has been the misuse of information." The Royal Gazette has also requested information through Pati that deals with the Criminal Injuries Compensation Board, the government body set up to compensate victims of crime. Mr Scott, who sits on the CICB, said that Pati "must not be used to inquire into sensitive information, that is concerned with the kinds of cases we deal with, in a legal context, about persons making applications for compensation". He added that he and Puisne Judge Nicole Stoneham, the chairwoman of the CICB, "were not going to get caught up in bait on the part of the media for the release of all manner of inappropriate information related to CICB". The Pati request from The Royal Gazette asked for the annual reports for the CICB for the years 2010 through 2018, and the annual notices listing the board members of the CICB for the same period.
2019. July 12. The Government's refusal to release a financial report into a failed sports centre that cost taxpayers millions of dollars could end up in court. Information Commissioner Gitanjali Gutierrez told the Department of Public Lands and Buildings to disclose the report on Sandys 360 by audit firm KPMG to The Royal Gazette by July 8, but it did not comply with her order. Lieutenant-Colonel David Burch, the Minister of Public Works, told Parliament last Friday that the Government disagreed with her decision and had advised her "that we will not release the KPMG report, as it was not commissioned by, nor is it the property of", the department. Ms Gutierrez said this week that she would follow the normal procedures set out in the Information Commissioner's Office Reviews Policy and Handbook to enforce her decision, as with any other case. The handbook states that if a public authority tells the ICO in writing it does not intend to comply with a decision, the commissioner "may move immediately to judicial proceedings to enforce the decision at the expiry of the deadline for compliance". If the public authority does not give written notice, the ICO can send reminder letters to the head of the public authority, which in this case is the permanent secretary of public works, allowing a further 15 days to satisfy the order. "Where appropriate, the Information Commissioner may discuss the matter with the ICO's legal counsel and instruct them to initiate judicial enforcement proceedings," states the handbook. It adds that public authorities which object to a decision from the commissioner can seek a judicial review. Taxpayers funded Sandys 360 to the tune of at least $5.3 million, and possibly even more, before it closed its doors because of financial problems in November 2013. Although Colonel Burch referred to the KPMG document in the House of Assembly as the "2016 financial report" it was actually completed in 2014. The Royal Gazette asked Sandys 360 managing director Melvyn Bassett and chairman Stanley Lee on December 1, 2015 for the report's conclusions. Mr Lee replied the next day: "Maybe you should approach Government for a copy of the report, since they initiated the process." His suggestion prompted the newspaper's Pati request for the report, submitted soon after to the Government. Ms Gutierrez issued her decision ordering the release of the KPMG report on May 27 this year. Opposition MP Trevor Moniz took Colonel Burch to task for his statement on Sandys 360 during last Friday's motion to adjourn debate. He accused the minister of launching a "scurrilous attack" on Ms Gutierrez and said Colonel Burch had got his "law entirely mixed up" and was not supposed to get involved with Pati requests." If the Information Commissioner rules that a document be released, it must be released," Mr Moniz said. "An order of the Information Commissioner … has the same weight as an order of the Supreme Court. Government is bound by that order." Mr Moniz was works minister when Sandys 360 was shuttered. He told The Royal Gazette last year that the Government ceased all payments to the centre after the KPMG report showed the state of its finances. He told MPs on Friday: "If it's a report that I commissioned, I see no reason why it can't be released."
2019. July 5. Minister of Public Works Lieutenant-Colonel David Burch announced today that he will not release a report into the finances of the failed sports centre Sandys 360. The Government had been ordered by Gitanjali Gutierrez, the Information Commissioner, to release by Monday the report by audit firm KPMG into the project which cost taxpayers millions of dollars. But Colonel Burch told the House of Assembly that the Government did not agree with Ms Gutierrez's decision. The minister — who referred to Ms Gutierrez by her married name — said: "I must say that it appears to me that the information commissioner Mrs Minors is going out of her way to provide all manner of support to the daily." He added Ms Gutierrez had said: "Government has provided limited rational and factual information concerning its decision-making around Sandys 360, primarily provided during Parliamentary debate." Colonel Burch said: "Such a cavalier dismissal of the proceedings of this House should be as offensive to the other 35 members as it is to me." He said he had outlined Government's decision to purchase the property in March last year. Colonel Burch added: "It was a comprehensive, fulsome and compelling rationale and reasoning for doing so, which is generally supported by the Opposition." He said that Ms Gutierrez had been told that the report would not be released "as it was not commissioned by, nor is it the property of, the Department of Public Lands and Buildings". Colonel Burch said that "a number of legal hurdles" had not allowed the sale of the property to take place. He added: "Once there is a final resolution I will report further to the House." Taxpayers funded Sandys 360 to the tune of at least $5.3 million, and possibly more, before it closed its doors because of financial problems in November 2013. Ms Gutierrez said in May: "Disclosure of the KPMG report will undoubtedly close the knowledge gap in a number of areas for the public concerning the spending and decision-making related to Sandys 360." The KPMG report was commissioned by the trustees of Sandys Secondary Middle School, who own the freehold of Sandys 360, after the short-lived West End sports centre closed down just four years after it opened. The Department of Public Lands and Buildings rejected a public access to information request from The Royal Gazette for the document in February 2016, when the One Bermuda Alliance was in power, on the ground that it was exempted from disclosure because it was provided in confidence. The Gazette appealed the decision to the information commissioner and, during her review, KPMG and the school trustees also objected to the report's release. But Ms Gutierrez decided there was "no express communication or understanding that the report was given in confidence to, and would be kept confidential by, the department or Government". She said: "With respect to the actions the Government may have taken, KPMG and the trustees reasonably could have expected any number of circumstances to have arisen which would have led to public disclosure of some or all of the KPMG report. This includes disclosure during public consultation on the options concerning Sandys 360, in connection with the parliamentary debate on a decision to purchase the land and buildings, and so on. Both KPMG and the trustees were aware they were negotiating with a public body, and that the processes applicable to a public body's financial commitments of this nature may be subject to future consideration or inquiry." The commissioner said release of the report would be in line with the reasons behind the Pati Act, which included the promotion of accountability for public spending and government decision-making. Ms Gutierrez also ordered the department to issue a decision on whether it would share records about payments made to Sandys 360 and the amount the centre owed the Government.
2019. June 3. The Government has been ordered to make public a report into the finances of a failed sports centre that cost taxpayers millions of dollars. Information commissioner Gitanjali Gutierrez, in a decision due to be released today, told the Department of Public Lands and Buildings to provide The Royal Gazette with a copy of the report by audit firm KPMG by July 8. Taxpayers funded Sandys 360 to the tune of at least $5.3 million, and possibly even more, before it closed its doors because of financial problems in November 2013. Ms Gutierrez, noting that the Government is now in the process of buying the centre for $1 million from the trustees of Sandys Secondary Middle School, said: "The Government has provided limited rationale and factual information concerning its decision-making around Sandys 360, primarily provided during parliamentary debate. The public has not received, for example, an executive summary of any assessment, factual information provided in advance of a town [hall] meeting or consultation period, and so on Disclosure of the KPMG report will undoubtedly close the knowledge gap in a number of areas for the public concerning the spending and decision-making related to Sandys 360." The KPMG report was commissioned by the trustees of the middle school, who own the freehold of Sandys 360, after the short-lived West End sports centre closed down just four years after opening. The report was passed to the Government but was never made public. The Department of Public Lands and Buildings rejected a public access to information request from The Royal Gazette for the document in February 2016, claiming it was exempt from disclosure because it was provided in confidence. The newspaper appealed the decision to the information commissioner and, during her review, KPMG and the school trustees also objected to the report's release. But Ms Gutierrez concluded there was "no express communication or understanding that the report was given in confidence to, and would be kept confidential by, the department or Government". She said: "With respect to the actions the Government may have taken, KPMG and the trustees reasonably could have expected any number of circumstances to have arisen which would have led to public disclosure of some or all of the KPMG report. This includes disclosure during public consultation on the options concerning Sandys 360, in connection with the parliamentary debate on a decision to purchase the land and buildings, and so on. Both KPMG and the trustees were aware they were negotiating with a public body, and that the processes applicable to a public body's financial commitments of this nature may be subject to future consideration or inquiry." The commissioner said releasing the report would further the purposes set out in part 2 of the Pati Act, which included promoting accountability for public spending and government decision-making. Ms Gutierrez also ordered the department to issue a decision on whether it would share records about payments made to Sandys 360 from the public purse and the amount the centre owes the Government.
2019. January 3. Taxpayers' money was poured into the failed Sandys 360 sports centre even after its management stopped payment of social insurance contributions and land tax, The Royal Gazette can reveal. Gitanjali Gutierrez, the information commissioner, scrutinized documents that showed cash owed by the centre in a review of the Ministry of Finance's refusal to release the records under the public access to information law. Ms Gutierrez said in a decision due to be made public today: "Weighty public interest considerations in this case favour disclosure of the social insurance contribution and land tax amounts owed." She ordered the finance ministry to release the records by February 7. Ms Gutierrez said: "Public accountability concerning public spending and decision-making is a primary purpose set out in section 2 of the Pati Act. The information commissioner agrees with the position that in light of the substantial amount of public funding involved, disclosure would increase the accountability of the ministry. It would show that public funding was still being given to Sandys 360 when the Government was aware that the company and the Sandys 360 board of trustees were in arrears for social insurance contributions and land tax payments. Disclosure of the actual amounts will allow the public to make informed assessments of the spending decisions made with public funds." At least $5.3 million of public money was given to Sandys 360 between 2007 and 2013. That included a duplicate payment of $807,000 made "in error" which was never paid back to the Government. Hundreds of thousands of dollars were also donated by the corporate sector and the public. The sports centre closed at the end of 2013 after it ran out of money. The Royal Gazette submitted a Pati request to the Ministry of Finance in February 2016 that asked for a list of Sandys 360's debts to the Government, including a total figure and details of any attempts to recover the money. The ministry confirmed it was still owed the $807,000 and revealed that Sandys 360 was "in debt to Government for payroll taxes, land tax and social insurance contributions". But it refused to release the amounts owed and insisted the information was exempt under Pati. A review of the decision by Anthony Manders, the financial secretary, agreed. He wrote: "It has been a longstanding policy of the ministry to not publicly disclose amounts owed to Government by entities." Ms Gutierrez ruled that the Government could withhold information on payroll tax arrears because of a secrecy provision in the Taxes Management Act 1976. But the information commissioner said there was no reason to withhold the records on land tax and social insurance contributions. Ms Gutierrez wrote: "The ministry suggests that information that has been previously held secret as a matter of government custom, rather than as a legislative requirement, should remain secret even after the enactment of the Pati Act. The information commissioner cannot accept this claim. As part of the good governance reforms in the public service to promote transparency and improve accountability, information previously protected as a matter of policy or practice within government is precisely the type of information to which the Pati Act now provides the public access, unless it properly falls within a listed exemption." The information commissioner said that "contrary to the assertion of a longstanding confidentiality policy concerning social insurance contributions", the Government had encouraged people to check if their employers were up to date on payments with the Department of Social Insurance. She pointed out that the public had asked for the aggregate amount of these individual figures for Sandys 360. Ms Gutierrez highlighted a claim by the finance ministry that it held no records on its attempts to recover the funds owed and revealed that she had reviewed relevant documents, which had been withheld from The Royal Gazette. She quashed the ministry's decision in relation to its attempts to recover the money owed and ordered it to issue a "new, accurate and complete" response to that part of the Pati request, also by February 7. A government spokeswoman said last night that it had seen Ms Gutierrez's decision and would "take the appropriate actions as required by the Pati Act".
2018. March 24. The Senate approved the purchase of the failed Sandys 360 sports centre for $1 million yesterday. The Purchase and Sale Agreement Between the Trustees of Sandys Secondary Middle School and the Government of Bermuda was passed with no objections. Andrew Simons, of the One Bermuda Alliance, and James Jardine, an independent, did raise questions about the future management of the centre and liability for unpaid wages. Mr Simons said there had been a "sad legacy of mismanagement". He added that the building's life span was also limited to as short as ten years because it is made of metal. Mr Simons also pointed out Sandys 360, which closed in 2013 after it was unable to pay its way, was within walking distance of another community centre. Anthony Richardson, Progressive Labour Party, said the Government had made no decision on who would manage or operate the centre. He agreed that there were other community centres in the area and that consolidation could be explored. Vance Campbell, also of the PLP, said a report on the financial state of the centre by professional services firm KPMG was not commissioned by the Government and therefore it did not have the authority to release it. The education ministry provided $1 million towards the centre's construction costs and, according to disclosures made to The Royal Gazette by the Ministry of Finance under public access to information legislation, further payments from the public purse totaled $4.3 million.

Sandys Boat Club
In sheltered Mangrove Bay, at Mangrove Bay Road, Somerset. Accepts new members. Telephone 234 2248. With members club liquor license.

Sandys Community Centre
Springfield & Boaz Island, 29 Somerset Road, MA 03. Telephone 234-1275. Fax 234-5652. Bermuda Government's Youth, Sport and Recreation

Sandys Parish Council
Appointed under the Parish Councils Act 1971. See under "Parish Councils" in Bermuda Government Boards. Appointees are political and meetings are not open to the public, unlike in the United Kingdom, Canada and USA where parish or community councils always are.

Seafarers' Centre
Dockyard, behind Media Lounge Cinema, managed by its owners the Bermuda Sailors Home, Serpentine Road, Hamilton. Since August 2019. It was designed to give crews from visiting ships the chance to sit down, go online and communicate with their families overseas. Many of them leave home for long periods of time, most have wives, husbands and children. They miss important and significant milestones like anniversaries, birthdays and sometimes even the birth of their children. Having a facility where they can come ashore and feel a bit at home is important. More and more ports overseas offer a similar service. In Bermuda during the summer season, there are many cruise ship crews on the island. 2020 is the first year of operation and Covid 19 has meant all cruise visits have been canceled until at least August. It is hoped that the centre can be funded for every cruise season. It is quite a financial commitment. The Mission to Seafarers, an international charity that serves merchant crews, financed it until October 2019.

Skeeters Bay and Skeeters Corner
Where Daniel's Head Road meets Long Bay Lane. Where in October 1878 the notorious nineteenth-century murder of the 41-year old black woman Anna Skeeters took place. Her husband Edward James Skeeters was known as chronically unfaithful, one who reacted violently on the occasions when his long-suffering wife was driven to protest his philandering ways. When, after a church service, she disappeared, her friends and neighbours pointed the finger at him but he claimed he was innocent. But exactly a week after Anna's disappearance a small group of men, including Anna's brother, John Evans, a seaman on HMS Spitfire, gathered on the heights above the windswept bay near the cottage and noticed a curious phenomenon. White-tipped waves were racing across the bay, unsettling its surface, except in one spot on the reef, which was much calmer than the surrounding froth. The onlookers, seasoned sailors and fishermen, knew that something unusual in the depths of the Blue Channel was responsible for the eerie sight. On Wednesday, when the high winds finally subsided, a small group of men rowed out to the site of the slick. They brought nets and homemade grappling lines made of rope and fishhooks in order to drag the six-fathom-deep waters.
After several laborious passes, they finally snagged and brought up a gruesome bundle: a skeleton to which still clung some slimy shards of stinking flesh, but that lacked the bones of head, arms and feet. The grisly remains had been anchored to the bottom with rope and an 80-pound stone, whose lack of barnacles indicated it came from land. Similar stones from an old wharf littered the nearby shore close to Edward Skeeters's mooring spot, and there had been a moon starting about 3:00 a.m. on the night of Anna's disappearance. There had been sufficient light for someone to row out and dump a body without a telltale lantern. Anna's sunken corpse was brought initially to the Skeeters cottage after being fished out. The authorities asked Captain Moresby, the British naval officer commanding the Dockyard, to send divers from HMS Terror to the site. One brought up underclothing, including a petticoat (later identified by its distinctive seaming as Anna's), as well as a large hank of her grey-sprinkled hair, still twisted into the knot she had worn that evening at church. Edward Skeeters was speedily charged with his wife's murder. By now, he was already in the Hamilton Gaol near Court and Church streets, shut up there for his protection after a mob, made up largely of indignant women, had besieged the Somerset lockup, threatening to lynch him. In 1879, on July 2, Edward Skeeters of Somerset, earlier found guilty earlier of the murder of his wife Anna, was hanged. The trial, held in Hamilton, had been sensational. Skeeters, through his court-appointed attorney, Solicitor General R. D. (Richard) Darrell, who was aided by prominent young local lawyer Reginald Gray, initially pleaded not guilty.
The sorry story of Anna Skeeters's married life soon emerged in testimony for the Crown, with Samuel Brownlow Gray, the colony's Attorney General, as prosecutor. Anna, who worked as a washerwoman for a Somerset family, had been married to Skeeters for eight years and had a mentally challenged daughter by a much earlier relationship. The girl did not live with the couple despite Anna's affection for and frequent visits to her, and she seldom visited the Skeeters house. On several occasions, especially in the year before her death, an agitated Anna had fled the house for the night, telling her sheltering friends little about why she had left, though marks on her person told the tale in at least one instance. Friends and even in-laws testified that Anna Evans Skeeters was above all a nice quiet woman; too quiet...not quarrelsome at all. Yet even the pacific Anna had been driven to appeal to Magistrate Fowle for help on one occasion, when Skeeters had allegedly blackened her eye. However, in a day when a man's home was considered his castle and domestic violence was considered a private affair, Magistrate Fowle felt he could do little. For his part, Skeeters's own father testified that Edward had once knocked his wife to the ground in front of him. When the elder Skeeters remonstrated with his son, Edward replied that Anna was "his wife and he could treat her as he liked." The all-white jury took just 25 minutes to bring in a guilty verdict. A few days before his execution, Skeeters made a complete confession to the editor of a Bermuda paper, The Colonist, having spent his months in prison writing his account of events. The judge, donning the traditional black head covering, sentenced Edward Skeeters to death by hanging, declaring that he could only hope for mercy in heaven as there could be none for him on earth.
The condemned man had earlier protested his innocence and was led away. Skeeters was hanged in the Hamilton Gaol yard, the area of the gallows blanketed with canvas to conceal it from the large crowd gathered nearby. Skeeters went to the gallows calmly, even reciting a poem on the scaffold about his fate, which ended with a mawkish invocation of his heartbroken mother: "Tell her that her prayer is granted/God has pardoned her darling boy." A few days before his execution, Skeeters made a complete confession to the editor of the Bermuda paper, The Colonist, having spent his months in prison writing his account of events. He claimed the murder had been precipitated by the fact that he had thrown a lit oil lamp at Anna when she had reproached him and he was afraid that she would once again go the magistrate to show the burns on her forehead and scalp. Accordingly, he choked her to death. Skeeters chillingly added that he had reluctantly completed the murder some 10 minutes after the initial strangulation when he discovered Anna still breathing as he prepared to rid himself of her body. He admitted that he was astounded when her submerged remains were recovered after he had drowned her. He had mistakenly thought the sea would hide her "till the great day of judgment." When Edward Skeeters's hanged body was buried on Burt's Island in Hamilton Harbour (where several other executed criminals also lie), the stone that he had used to sink Anna's body was used as his headstone. The case had other Gothic overtones. During the search for Anna, neighbours had consulted a local witch for clues as the police investigation faltered. Fatefully, both Skeeters's sexual partner, Hannah Morris, and her infant died in childbirth the month after he was arrested. The night Edward was hanged, a group of arsonists torched the Skeeters cottage, burning it to the ground.
Much later, Terry Tucker used the case to write her haunting 1972 historical novel "What's Become of Anna." Sadly, Tucker felt that she had to transform the middle-aged Anna into a more marketable twenty-something young wife, as if only young and pretty women were abused. Moreover, Tucker's dramatic account is disfigured with racial condescension toward blacks, especially black men. Nonetheless, Tucker penned a powerful tale. The Royal Gazette had earlier carried an account of the trial in the spring of 1879, and a copy of Skeeters's confession, "The Somerset Mystery", published in booklet form in 1879 by S. S. Toddings, editor of the Bermuda Colonist.

St. James's Church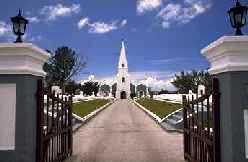 Somerset Road. The parish Anglican (Episcopalian) church, on the Somerset Road. with an interesting church history. Bus routes # 7 (Dockyard) and # 8 stop on Somerset Road, at the junction with Church Valley Lane (left) and Scotts Hill Road (right). You'll see the church's spire on the left, if you're traveling west. It was destroyed by a hurricane in 1780 and rebuilt. mostly in Bermuda limestone. Has a landmark graceful spire, sweeping driveway and imposing entrance. Was regularly attended by some US Navy sailors and airmen from the Navy base not far away until it closed in 1995. Also the place of burial of Bermuda-based US Navy aviators when their aircraft crashed off Bermuda in the 1940s and 1950s.

Somerset Bridge
Noted by the Guinness Book of Records as) the world's smallest drawbridge, officially designated under Bermuda law as an Historic Monument. Officially now a Grade HM, which refers to buildings which are of a level of historic significance and structural interest that makes them of historic importance. Such buildings are considered to be integral to Bermuda's history and to its cultural tourism, and so alterations are avoided and restoration is undertaken on a like-for-like basis.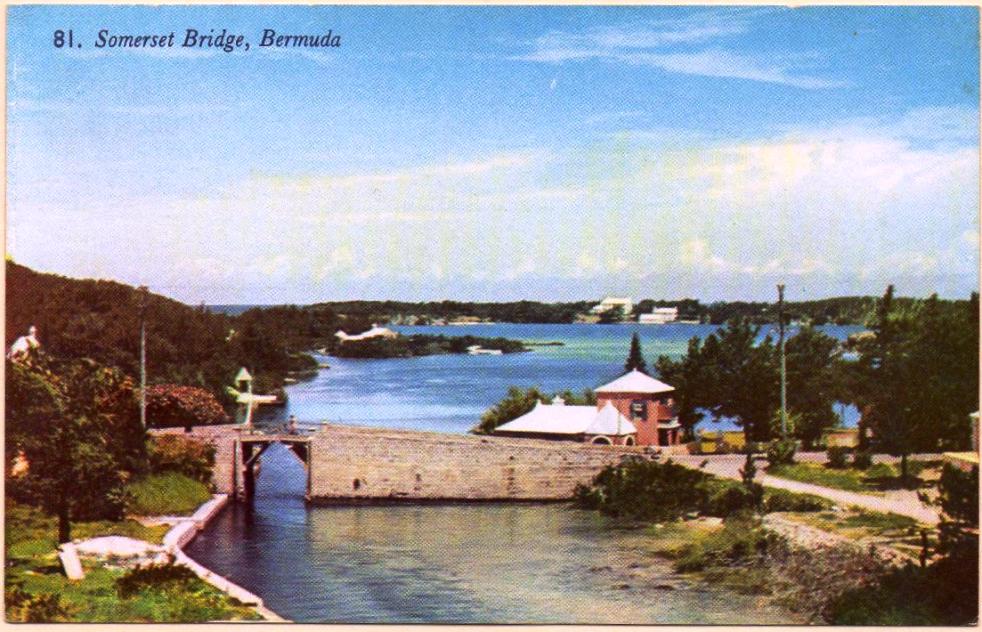 An iconic structure in Bermuda, emblematically Bermudian and appears on the back of a Bermudian $5 note. Its listing it as a Grade HM or Historic Monument Listed Building ensures the protection of the structure for years to come. A nice scenic Bermuda beauty spot. Of the three photographs above, the top one - from a 1950s post card - gives the best idea of the magnificent scenery behind and in front. The large middle photo indicates what it is like today, more built up but still charming and well worth a stop to admire it. The bridge connects Somerset Island to the westernmost part of main island. The bridge serves two purposes three purposes.
It is where Middle Road ends and Somerset Road begins. It is the picturesque crossing for commuters and tourists to go by road or ferry to Somerset, Dockyard or City of Hamilton and beyond. Bus routes # 7 and # 8 and the ferry stop here. It is also the divide between the two bodies of open water, the Great Sound going east and lovely Ely's Harbour going north. Sections 1 and 2 of the Bermuda Railway Trail meet near here. The bottom larger photo is on the bridge itself. This is an example of the simplest form of drawbridge, in which a timber panel is removed from the center of the bridge to allow the mast of a sailing vessel to pass through the 32-inch plank, with not much room to spare. The drawbridge was first built in 1620. When operators of small boats entered the channel, the drawbridge, the world's smallest, was cranked open by hand.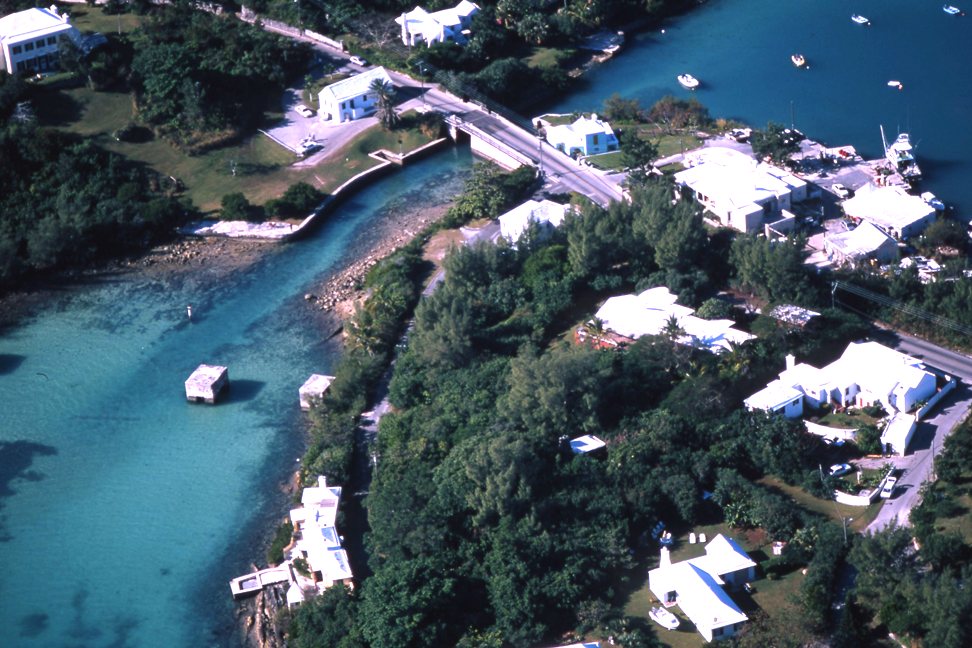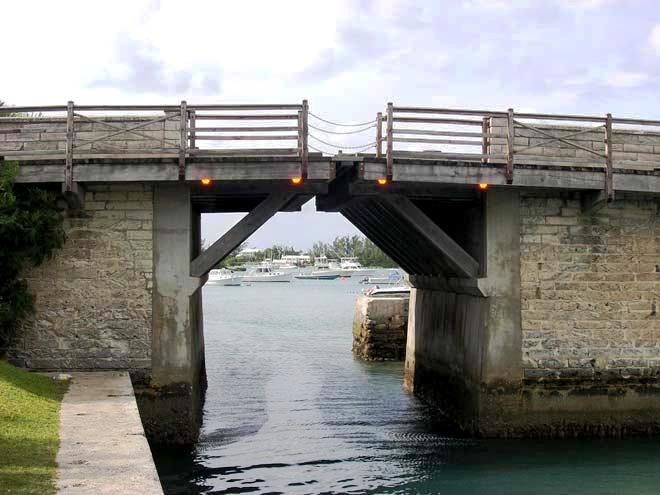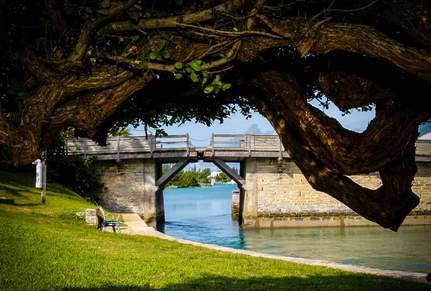 The modern version, rebuilt only a few years ago, has two propped cantilever decks, which do not meet in the middle, with reinforced concrete internal props and timber external props. The cantilevered load is balanced by a reinforced concrete abutment slab which acts as a counterweight. The drawbridge is on the $20 Bermuda dollar bill. Look left for Cathedral Rocks, named for a medieval cathedral. In 1961, a silver charm of Somerset Bridge was issued by a local jeweler, as a tourist and visitor souvenir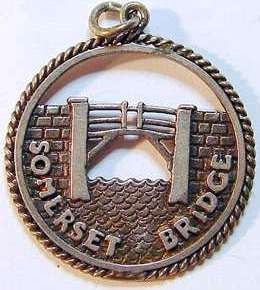 Somerset Cricket Club
A prominent local and island-wide sporting club. One of the oldest Bermuda cricket clubs, one of the two (St. George's Cricket Club in the parish by that name is the other) that features in the annual Cup Match classic at the end of July or beginning of August. It is important to the local social scene that it marks and is the highlight of a 2-day Cup Match public holiday and involves huge crowds. It is played either here or in St. George's.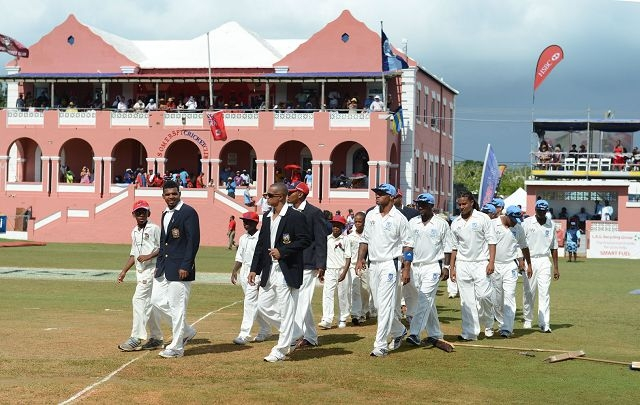 Somerset Island Military Cemetery
Mangrove Bay road, Sandy's Parish, Somerset, on the north side. GPS Coordinates: Latitude: 32.30459. Longitude: -64.85993. Open to the public. On the right of the main road when traveling from Somerset Village to Dockyard, just before reaching Watford Bridge. This cemetery is a tranquil 2.24 acre spot looking out to Mangrove Bay. This so-called 'new military cemetery at Somerset' was consecrated in 1905. Nearby there is a monument to the memory of soldiers from the 4th Battalion British West Indies Regiment, who died in Bermuda of pneumonia in 1916; it used to be next to a small chapel which has since been demolished. There are only 21 visible graves but records indicate that many more people are buried at this site. The The earliest remaining memorial is dated 1904 and the most recent is shown as 1918. Of the 21 visible graves, 13 of the headstones are the British Commonwealth War Graves Commission headstones commemorating soldiers who died in service during the First World War, 1914-1918. The Bermuda National Trust erected a small wall around the cemetery in 1986 which helps to mark the area.

Somerset Long Bay
Superb beach.
Somerset Long Bay East
Somerset Long Bay Nature Reserve. Officially opened on April 22, 2007 by then-Deputy Premier and Minister of Finance, the Hon Paula Cox, JP, MP. It includes Pitman's Pond. It is adjacent to Somerset Long Bay Beach (see under "Beaches"). Parking is available at Somerset Long Bay parking lot on Cambridge Road between Cambridge Beaches and Nine Beaches. The first property brought by Buy Back Bermuda. A freshwater pond, a prime place for many migratory birds. In March 2020 this West nature reserve scheduled a makeover. The Bermuda Audubon Society said a "major restoration project" was launched to tackle vines and cow cane that had overrun the reserve. The vines had completely smothered and killed a number of mature trees on the south side of the reserve including black mangrove, red mulberry and hackberry. In phase one of the project, the vines and dead trees were removed, surviving trees have been cleared of vines and the cow cane has been cut down. A number of other invasive species such as Chinese fan palms and Pride of India, have also been removed. A maintenance programme will be put in place to ensure the invasive species do not take over again if funding can be found. The reserve will remain a wildlife refuge, with restricted access, but the pond can be viewed from the perimeter fence. The Somerset Long Bay Nature Reserve was taken over by the Audubon Society in the early 1970s. The organisation restored a marsh on the site that was filled in with garbage in the early 20th century. The society re-excavated the pond, leaving islands where healthy stands of mangrove had survived. After the pond was deepened in 1979 to prevent it being choked by Sheathed Paspalum grass, it developed a rich freshwater marsh community. Because of its location on the north-west tip of Bermuda, newly arrived migrants, including rarities, are often first spotted here. Moorhens, coots, pied-billed grebes and yellow-crowned night herons have all nested in the reserve and purple gallinule are often seen in the area.
Somerset Long Bay Pond
A large pond in the Somerset Long Bay area. As a wetland area, it has been the cause of concern. There is a potential threat of pollution from rain runoff, from Long Bay Lane, for pollutants such as diesel, transmission oil, etc. Also because of former use of pond area as a garbage dump, metal pollutants such as lead and iron may be present as leachate in the pond. Increased residential and tourism development in area poses potential for cesspit seepage of nutrients into the pond, although there is no significant evidence for this at this time. This pond is separated from the ocean only by low sand dunes therefore the storm or tidal surge experienced during hurricanes, such as that experienced during hurricane "Emily" in 1987, can flood it with sea water, destroying or disrupting the freshwater ecosystem of the pond for many moths. The sea flooding experienced during Emily disrupted the breeding of water birds such as gallinules and American coots. It was many months before the salt water seeped out of the pond. Recently, illegal activities such as long-term camping and motor cycle/ motor-cross "scrambling" have taken place on the reserve in close proximity to the pond. Trash has occasionally been blown or dumped into the pond in small quantities from the camping while the motor-cross usage carries the potential for fuel or oil leaks or spill that could pollute the pond. Stolen motorcycles have also been occasionally dumped in the pond resulting in small spills of gasoline; however these normally disperse quickly.

Somerset Village
A key village in the Parish. Facilities include shopping from branch stores of several local merchants, some nice restaurants and coastal scenes. It takes its name from the county of Somerset in England (as does the area called Somerset near Johnstown in Pennsylvania, USA). In 1962, Cary Grant and Doris Day filmed a small part of "That Touch of Mink" here. But they were wrong when they said that only Bermuda has pink peaches (Scotland and the Bahamas have them also). Scenic parts of Mangrove Bay are a short walk.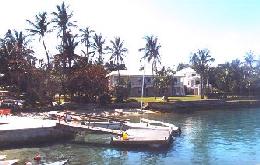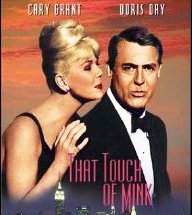 Photograph left by Keith A. Forbes

Springfield and Gilbert Nature Reserve
Somerset Road, Somerset. These are adjacent attractions. Springfield, an historic Bermuda mansion an early 17th century architectural treasure, dates back to the 1740s when it was owned by the Gilbert family. When it was constructed by Ephraim and Mary Gilbert it consisted of a range of three rooms in the wing that is now fronted by the long veranda, a hall, an entrance passage, Bermuda cedar porch and a chamber. Under the front three rooms was a large cellar. Mr Gilbert died in about 1769 and Springfield was inherited by his eldest son Thomas. He followed in his father's footsteps as Captain of the Sandys Militia and in 1788 the property was valued at £500, the second highest in the parish. The house was passed down from one generation to the next and slowly expanded to become a much more substantial property. In 1966 the Bermuda Historical Monuments Trust bought the house and it later passed to its successor, the Bermuda National Trust (BNT). The Bermuda Government leased it and It went on to serve as a library, a nursery school and a community centre before being returned to the trust in 2013. It is in the process of being spruced up by the BNT, with both the main house and adjacent cottages slated to be rented out by the BNT. It is an early 18th century architectural treasure. A main house, courtyard, slave quarters and large buttery indicate it was once a large plantation. The Gilbert Nature Reserve is over nine acres of unspoiled woodland, open space and planting land, originally part of the Springfield property. Reforestation is ongoing at this site and semi mature specimens of Bermuda cedar, olive wood and palmetto are easily observed. Bus routes # 7 ("Dockyard") and # 8 stop on Somerset Road at the entrance to the Gilbert Nature Reserve.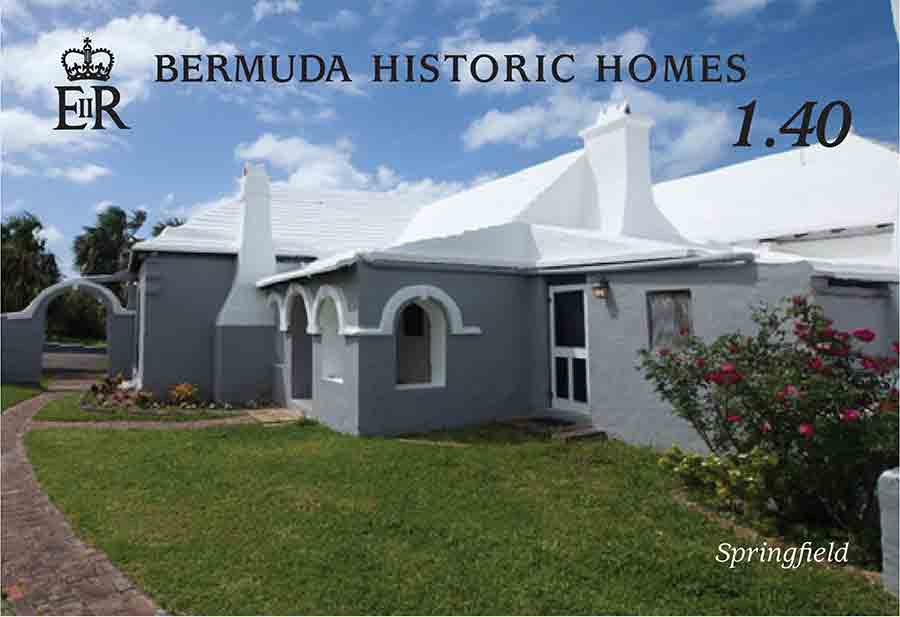 Supermarkets in the Parish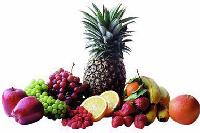 Main one is Market Place, Somerset Road.
Bus route 7 which will drop you nearby, not as frequently on a Sunday. Most supermarkets are open every day, Sunday 1 pm to 6 pm.
Unlike in the UK and USA, liquor cannot be bought on Sunday.
Be prepared and budget in advance for Bermuda food and other prices. Store prices are very high compared to USA.

The Star of India
Dockyard. A Bermuda Government owned historic property built by the Royal Navy in the mid-1930s originally as a bowling alley ror ratings, turned into a club for navy families in 1970. Wedco has refurbished the building, adding a new kitchen, bathrooms, air conditioning, new windows and doors. It has 1,630 square feet of open space and made it available to commercial entities.

Virginia Park
Added to the Bermuda National Parks system in the latter part of the year 2000. It has 3.00 hectares or 7.43 acres.

Visitors Information Centres (VIC)
Formerly the Visitors Service Bureau. Phone (441) 296-9400. Three centres, when cruise ships are docked, one each at
Heritage Wharf pier;
just outside King's Wharf pier;
and at the ferry dock. Offer a friendly, free, quite comprehensive tourist brochures, information services, maps and more to walk-in visitors. Hours: 9 am to 4 pm Monday-Saturday. Closed Christmas Day, Boxing Day, New Year's Day, Good Friday.

Watford Bridge & ferry dock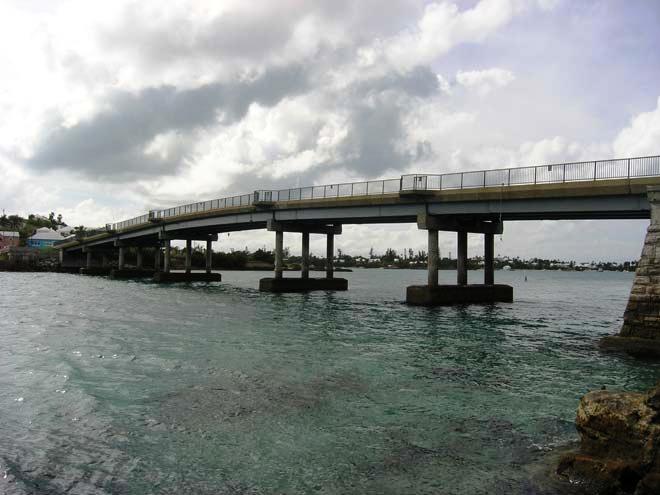 1887. The first Watford Bridge on Watford Island was conceived after a great storm cut communication between Somerset and the Royal Naval islands, it accentuated the need for a bridge. Later, when the Dockyard was to be expanded a "Watford Island Bridge" was deemed essential. Works on the South Yard of the Dockyard and what was intended for the new bridge meant that the descendants of any Bermudian families of today who now live in Somerset first came to Bermuda to be employed on the construction of the South Yard and the bridge.

1903. September 24. The formal opening of the first Watford Island Bridge, begun in 1901, completed in 1902, in heavy rain. Many Bermudian families of today in Somerset first came to Bermuda to be employed on the construction of the South Yard and the bridge. The structure had been started in August 1901 and eventually spanned the 450 feet of the channel. Great cast-iron cylinders were sunk into bedrock and filled with concrete. Some 3,000 tons of local stone, 200 tons of cement and 55 tons of granite were required for the works, along with 433 tons of steel for the bridgework and central swinging span. Before that, a horse ferry, a flat-bottomed boat that could accommodate a horse and carriage had been the only way to cross the channel. "The bright smart-looking khaki of the soldiers quickly assumed the appearance of brown paper; many pretty dresses became limp and bedraggled, and clung affectionately to their fair owners." But the weather cleared for the opening of what was considered the crowning structure in the work of providing continuous overland communication throughout Bermuda following the completion of the Causeway at St. George's Parish in 1871. The people of Somerset had constructed a triumphal arch at their end of bridge and a great crowd gathered. The Governor, Sir Henry LeGuay Geary, KCB, pressed an electric bell and the swing span opened to allow a procession of boats, including as passengers all the schoolchildren of Somerset, to enter Mangrove Bay. This particular Watford Island Bridge lasted for 54 years.

This bridge, now the third, was named after Watford, Ireland, not the English town in Hertfordshire as has long been claimed. It connects Somerset Island with Watford Island, Boaz Island, Ireland Island and the Royal Naval Dockyard. Sea views are marvelous. Bus routes # 7 ("Dockyard") and # 8 stop in the immediate area. There's also the Watford Bridge ferry stop, on the Royal Naval Dockyard to city of Hamilton route. See a British historic military cemetery on nearby Watford Island and another one near this bridge. In 1958 the bridge was rebuilt to provide fishing and pleasure boats a shorter trip to and from the West End. The first bridge was conceived in 1887 after a great storm cut communication between Somerset and the Royal Naval islands of Watford, Boaz and Ireland Islands. It accentuated the need for a bridge. In 1902, a bridge to the mainland, begin in 1901 and formally opened in September 1903, finally spanned the Watford gap. Prior to 1900, a "horse ferry", being a small flat-bottomed boat that could accommodate a horse and carriage, traversed the channel. It eventually spanned the 450 feet of the channel. Great cast-iron cylinders were sunk into bedrock and filled with concrete. Some 3,000 tons of local stone, 200 tons of cement and 55 tons of granite were required for the works, along with 433 tons of steel for the bridgework and central swinging span. The original bridge lasted for 54 years; its replacement from 1957, a mere 23 years. The present Watford Bridge, minus the Island, was built in 1982, and claims to be "one of the most successful tributes to the use of galvanizing in civil engineering." It is supposed to have a "design life" of 120 years.

Watford Bridge Ferry Dock. Watford Bridge, Mangrove May Road, Sandys. Serves residents and visitors. On the Dockyard to Hamilton Route.

Watford Island Military Cemetery
Malabar road, Sandys. A small military cemetery created on Watford Island in 1887 as a graveyard for soldiers and their families. Earlier in the century the whole island had been used as a burial ground for the dead of the army of convict labour that built Dockyard between 1824 and 1863. They lived in rotting hulks of ships moored just offshore, in crowded and filthy conditions; the mortality rate from dysentery and yellow fever was high. Convicts were buried in the Glade, Ireland Island until 1849 when it seemed to be filling up. Then Watford Island was used to bury dead convicts and convict officers. In 1855 it was reported that the island had received 458 bodies and was almost full. For the remaining years of convict labour those who died were buried on Long Island. Perhaps because their graves were usually marked with wooden crosses, tablets commemorating individual convicts are rare. In 1925 the remaining few memorials were taken from other parts of the island and placed together along the north-eastern wall of the military cemetery. On November 5th, 2004 the remains of five men, found exposed after Hurricane Fabian, were reburied in a single grave within the walled cemetery. The military memorials date from 1888 to 1899, with the addition in 1980 of the Queen's Regiment monument of 1866, relocated from Boaz Island. The burials included several children and four young Grenadier guardsmen who died in 1890 or 1891 during the 2nd Battalion's year-long stay.

West End Development Corporation (Wedco)
See http://www.thewestend.bm. A government quango, formed to redevelop the former Royal Navy Dockyard). P. O. Box 415, Somerset, Mangrove Bay MA BX. Phone (441) 234-1709. Fax 234-3411. E-mail marketing@wedco.bm. Dockyard. Established in 1982 to manage and develop 214 acres of Government-owned land in the West End, including Watford Island, Boaz Island, Ireland Island South and North, the small islands forming the Crawl off Ireland South and the North and South basins and breakwaters. Revenue is generated from residential and commercial tenants plus berthing fees from the commercial and cruise ship docks. Mega cruise ships now dock near there. Recent work carried out by Wedco at Dockyard includes the installation of a reverse osmosis plant, the relocation of the marina and the development of ten residential units. Future planned developments include the Victualling Yard, Casemates, the South Basin and the Parsonage.

Westgate Correctional Facility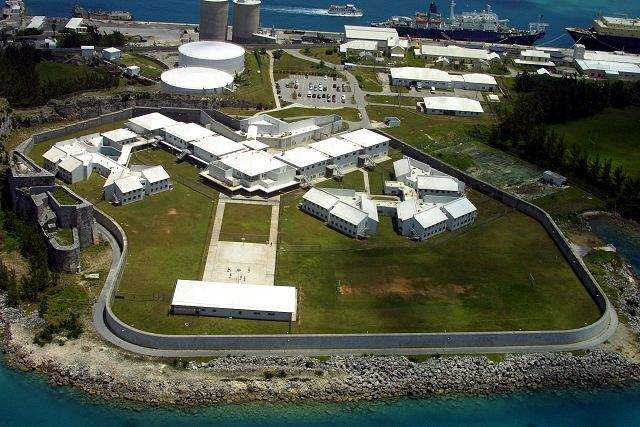 Dockyard. Not a tourist attraction, instead Bermuda's main prison, built on former Royal Navy land. It replaced Casemates. Here is where Bermuda's criminals are imprisoned, including US, Canadian, Bermudian, British/UK and other nationals convicted of drug-related and other offences.
Drone flights ban: A 150 metre circle around Westgate Facility, with the centre being 32°19'28.8"N 64°50'17.4"W
2019. April 30. Westgate Correctional Facility has gone on "indefinite" lockdown, staffed by "a skeleton crew" after officers decided to work to rule in protest against conditions, the Minister of National Security said last night. Wayne Caines said the industrial action came after the Prison Officers Association met yesterday to discuss "working conditions and outstanding issues with reference to the prison service". Prison officers imposed a lockdown last Friday after three officers were attacked by a group of prisoners. Now they have backed a work-to-rule, with no overtime — which means that prisoners will have limited recreation and visits. Education classes at Westgate will also be suspended. Mr Caines said the prison service would be supplemented by 18 police officers, who will transport prisoners to and from court appearances and for medical treatment outside the prison. About 20 soldiers from the Royal Bermuda Regiment are on standby to assist the police if needed. Mr Caines admitted: "This is not an ideal situation — that is why we want to get both sides to the table as quickly as possible." He said: "Our hope is that, as soon as possible, clear heads prevail." Mr Caines declined to give details of the assault and added that a file was being prepared for the Department of Public Prosecutions. He said prisoners "will not be able to leave their cells as freely as they were before the work-to- rule was implemented". Mr Caines hoped that the association would "immediately" accept the invitation of the labour relations manager to hold talks to resolve their concerns. Thad Hollis, lead negotiator for the Prison Officers Association, told The Royal Gazette last month that officers at Westgate were under stress because of low staff numbers, and the lack of adequate training to deal with violent or mentally ill prisoners.
2019. April 27. Westgate prison was on lockdown yesterday after three officers, one of them a woman, were attacked by inmates, it was revealed last night. Prison officers locked inmates in their cells and took away visiting and recreation privileges after their colleagues were attacked yesterday morning. Wayne Caines, the national security minister, said: "The inmates involved in this incident have been put in segregation." Mr Caines said one officer suffered minor facial injuries and had since returned to work. Another officer sustained a back injury and the third injured a knee. Both were treated at the King Edward VII Memorial Hospital "as a precautionary measure". Mr Caines said he was unable to say if a weapon was used in the attacks or how many prisoners were involved in the disturbance. He added that an investigation into the incident had been launched. Mr Caines said that extra security measures would be imposed at the prison if needed. He added: "This matter is under control. We have a contingency plan if things escalate. We do not believe they will escalate." Mr Caines added that the safety and security of prison staff was a priority for his ministry. He said: "We believe that the protection of all of our officers in all of our facilities is paramount." Mr Caines added: "We want to make sure that the officers involved in this are not only getting the support through treatment this afternoon, but making sure they are getting the necessary psychological help that they need directly after." He admitted that the ageing Westgate facility had problems but that options were limited by budget constraints. He said: "We value our correctional officers. We understand that they work generally in a stressful environment. We will do whatever is necessary to make sure that they are safe and that the facilities they work in are put in their best state." However, he admitted that upgrades were a work in progress and would not happen "overnight". He said the prison's alert system and CCTV coverage had been improved. Mr Caines added: "If there are any breakdowns in any of the security elements, we will look at it and it will remain our priority to make sure that our officers are covered and that their safety is paramount." He said that he had met the Prison Officers Association six times and heard their concerns and that a plan was to be implemented to address them. Mr Caines added that acting Commissioner of Corrections Keeva-Mae Joell-Benjamin had drawn up a plan to tackle problems with the ageing buildings, security and how to deal with prisoners with mental health difficulties. He said national security officials were in talks with the Ministry of Health and the Bermuda Hospitals Board to try and set up a forensic mental health unit. Prison officers met last night after the attacks and the acting commissioner is expected to meet the Prison Officers Association on Monday. Officers from the prison system are also expected to hold a meeting next Friday, which was scheduled before yesterday's attacks.

Willowbank Hotel & Conference Facility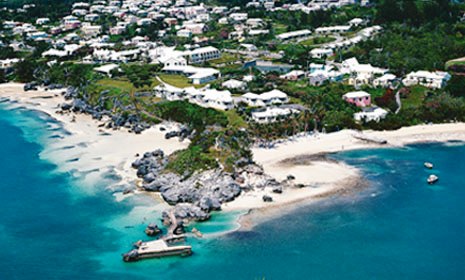 126 Somerset Road, Sandys Parish MA 06, Bermuda. Established in 1960. 2017. March 24. Six years after it closed its doors, the Willowbank Hotel reopened in May. The 56-year-old hotel enjoys stunning ocean views in Sandys. The 64-room hotel closed in November 2011 during the economic downturn. It is a family-run Christian hotel, also a conference centre. Has several beach areas.

Wreck Bay, Wreck Hill, Wreck House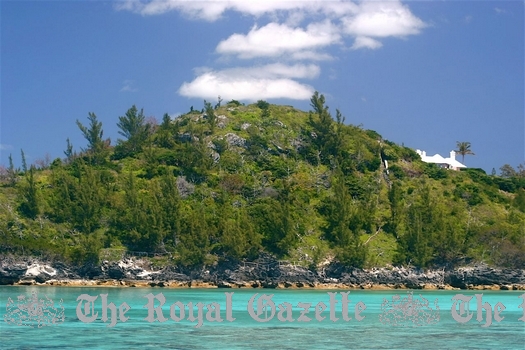 So-named after a Flemish or Dutch ship went aground and sank off here in 1618. It created the original name of Flemish Hill. The captain of the ship had the English name of Powell and was a notorious Caribbean pirate. The buccaneer ship then had legal status as a privateer. It had sailed against the Spanish under a Letter of Marque by the Dutch prince Maurice of Orange, so was technically not a Flemish ship but a Dutch one. The British Government did not like the presence of Powell in Bermuda so Governor Miles Kendall banished him to a western Bermuda island now called Ireland Island. It was from there that Powell and his men tried to build a new ship.

In 1777, Bermuda was invaded briefly by the USA. During the American Revolution, British militia soldiers manned the isolated 17th century battery near Wreck Hill. The old fort had a strategic position protecting the West End Channel. It was one of the few passages through the dangerous ring of reefs for sailing ships. The soldiers at the fort had the presence of mind to exchange gunfire with two armed brigs that advanced in a threatening manner although they then flew British colors. The brigs, thought to include Bermudian expatriates familiar with local waters, answered with broadsides from their cannon, lowered their Union Jack flags, hoisted the red, white and blue striped ensign of the United States of America and proceeded to invade Bermuda with landing parties. To avoid meeting this much bigger force, the Bermuda based militia men retreated from the battery. The Americans spiked their guns and destroyed the walls of the fort but were forced to retreat themselves when more local soldiers and a Royal Navy detachment responded to the alarm. The Americans escaped on their ships in what became only the second time in the history of Bermuda that it was invaded.

In 1795, Wreck Hill was bought by the Admiralty's Royal Navy which considered the site an ideal one for a lighthouse. It was never built. The lighthouse built from 1840 at Gibb's Hill in Southampton Parish caused the Admiralty plans to be scrapped. In the later 19th century, there was a grocery and general store at the bottom of the hill which could be accessed only by boat. American painter Andrew Wyeth - see our http://www.bermuda-online.org/forart.htm - is said to have painted a marine scene from the property as a young man in about 1938.

The entire headland of this hill on the northernmost tip of Main Island is now incorporated into Wreck House, an exclusive 26-acre estate with spectacular gardens, private beach, tennis court and more, once owned by multi millionaire Robert Stigwood who was responsible for the successes of John Travolta, Andrew Lloyd Webber and others and whose guests included Michael Jackson. Australian Bruce Gordon bought the property from Stigwood. T

he latter, an international music, theatre and film impresario, often hosted parties on board his yachts, seen moored alongside The Flagpole on Front Street. Mr Stigwood left his native Australia for London in the 1950s to pursue a career promoting pop acts. His transition from a rock band manager and producer to multimedia entertainment magnate started in the late '60s when he saw the musical Hair on Broadway and decided to produce it in London's West End. He went on to produce the stage and movie versions of Jesus Christ Superstar, a film adaptation of The Who's rock opera Tommy and brokered the deals which repackaged British TV shows Til Death Do Us Part and Steptoe & Son as All In The Family and Sandford & Son on American television in the early 1970s. A 1976 Rolling Stone magazine profile described Mr Stigwood "as constant traveller, a bachelor with homes in Los Angeles, New York and Bermuda … a peripatetic power broker with a penchant for style and a fondness for life in the grand manner." And the New York Times once called the self-made tycoon "a combination of PT Barnum, Mike Todd and Jay Gatsby" — a description which delighted Mr Stigwood and one he often quoted. In 1976 he was planning a slate of new movies when he first arrived. One of those films was a low-budget production based on a New York magazine article about the disco subculture called Tribal Rites Of The New Saturday Night; the film's title was later changed to Saturday Night Fever. Starring a relatively unknown John Travolta, the film told the story of a Brooklyn paint store clerk who escapes his dead-end existence on the disco dance floor. A massive commercial and critical success when it was released in 1977, the film became an international pop cultural phenomenon. It popularized disco music around the world, spawned trends in everything from dancing to fashion to hairstyles and turned Mr Travolta into a superstar. The Saturday Night Fever soundtrack album, released by Mr Stigwood's RSO recording label, featuring four new songs by the Bee Gees and two previously released hits, sold more than 40 million copies worldwide. Some Bee Gees songs from the soundtrack — How Deep Is Your Love, Night Fever and More Than A Woman — were sketched out in Bermuda when the band stayed with Mr Stigwood at Palm Grove in the summer of 1976. And the infectious theme song Stayin' Alive — which topped the US singles charts for a month and was once famously described as "a kind of national anthem for the '70s" — was largely completed here. Speaking to a Netherlands radio interviewer in 2002, the late Bee Gee Maurice Gibb said Stayin' Alive was "really born, I think, more in Bermuda than anywhere else. We finished it off in France." Also while in Bermuda Mr Stigwood produced the '50s-era rock'n'roll movie musical Grease, which co-starred John Travolta and Australian singer Olivia Newton-John, and the West End and Broadway versions of the stage show Evita along with a later film adaptation starring Madonna. He hosted such visiting luminaries as the Duchess of York, Mr Travolta, film director Ken Russell and pop star Cyndi Lauper at his Wreck Road mansion before moving to the Isle of Wight in the 1990s. He died in London in January 2016.

Other Bermuda geographic areas


Authored, researched, compiled and website-managed by Keith A. Forbes.
Multi-national © 2020. All Rights Reserved