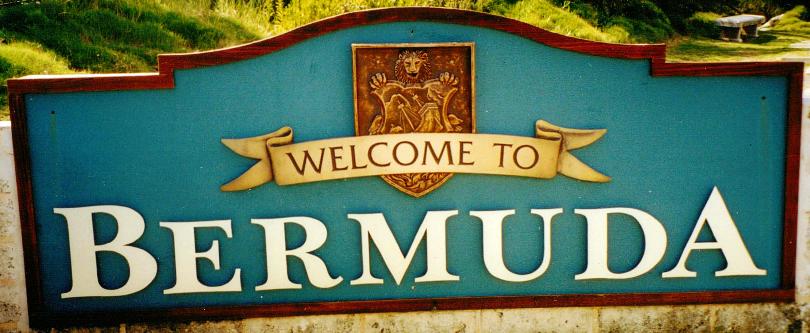 Click on graphic above to navigate the 165+ web files on this website, a regularly updated Gazetteer, an in-depth description of our island's internally self-governing British Overseas Territory 900 miles north of the Caribbean, 600 miles east of North Carolina, USA. With accommodation options, airlines, airport, actors, actresses, aviation, banks, beaches, Bermuda Dollar, Bermuda Government, Bermuda-incorporated businesses and companies including insurers and reinsurers, Bermudians, books and publications, bridges and causeway, charities, churches, citizenship by Status, City of Hamilton, commerce, communities, credit cards, cruise ships, cuisine, currency, disability accessibility, Devonshire Parish, districts, Dockyard, economy, education, employers, employment, environment, executorships, fauna, ferries, flora, former military bases, forts, gardens, geography, getting around, golf, guest houses, highways, history, historic properties, Hamilton, House of Assembly, housing, hotels, immigration, import duties, internet access, islands, laws, legal system and legislators, main roads, marriages, media, members of parliament, money, motor vehicles, municipalities, music and musicians, newcomers, newspaper, media, organizations, parks, parishes, Paget, Pembroke, performing artists, residents, pensions, political parties, postage stamps, public holidays, public transportation, railway trail, real estate, registries of aircraft and ships, religions, Royal Naval Dockyard, Sandys, senior citizens, Smith's, Somerset Village, Southampton, St. David's Island, St George's, Spanish Point, Spittal Pond, sports, taxes, telecommunications, time zone, traditions, tourism, Town of St. George, Tucker's Town, utilities, water sports, Warwick, weather, wildlife, work permits.

Bermuda's 2015 April History and News
Events that made the headlines in the fourth month of this calendar year
By Keith Archibald Forbes (see About Us).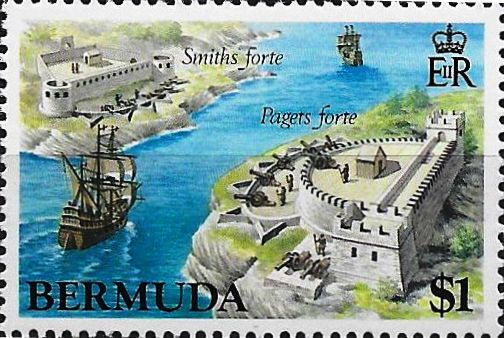 See end of this file for all of our many History files
2015. April 30. Tourism Development Minister Shawn Crockwell has insisted that he remains "very confident" that plans to build a luxury hotel on the former Club Med site will reach fruition this year. He said the developer Desarrollos would be on-Island next month to finalise arrangements and he was hopeful that excavation work on the much anticipated St George's resort would begin by the autumn. Mr Crockwell acknowledged that the success of the One Bermuda Alliance administration, which is approaching its midterm point, was riding on making certain projects such as the St George's hotel a reality. "I have been very pleased with the progress," he told The Royal Gazette. "We have a very enthusiastic and eager developer. All parties have now submitted their position with regards to the lease and the developer will be here on May 6. I am hopeful to be able to give an update to the country sometime thereafter and we will be looking to seal some deals during that trip. Their financials are in a good situation and, all in all, it's looking very good." Government had initially hoped that work on the hotel project could begin as early as this month. But delays prompted by the developers Desarrollos deciding to change the hotel brand meant the proposed start date had to be put back until after the summer. "I am hoping that excavation of this project will begin at the end of summer or early fall, while work will begin in earnest this year," said Mr Crockwell.
April 30. Recollections of Bermuda were shared by the mayor of New Orleans, Mitchell (Mitch) Landrieu, when he met Premier Michael Dunkley. The two men met this week as the Louisiana city hosted the Risk & Insurance Management Society's (RIMS) annual conference. The city's mayor celebrated his honeymoon on the Island in 1987, when he stayed for a week at the Fairmont Southampton. "I remember pink, and I remember it was spectacular," said Mr Landrieu. Bermuda's connection with New Orleans and the US Gulf Coast was strengthened after the devastating wreaked by hurricanes Katrina, Rita and Wilma in 2005. The Island's reinsurers paid 30 per cent of the insured losses incurred as a result of the hurricanes. Mr Dunkley and Grant Gibbons, Economic Development Minister, visited Mr Landrieu at the city hall in New Orleans for an informal meeting where they discussed ties and commonalities between the Island and the city, including tourism, business development, and the perennial threat of hurricanes. The mayor had placed a Bermuda flag in his office ahead of welcoming the Premier and Minister on Tuesday. During the meeting the Premier told Mr Landrieu: "We all share problems in the world, and we Bermudians think of you here in New Orleans." Mr Dunkley, Dr Gibbons and Finance Minister Bob Richards were among the Bermuda contingent at RIMS, which attracted some 10,000 risk management professionals and other senior executives and decision-makers. The Bermuda Business Development Agency, the Bermuda Monetary Authority and more than 150 executives connected with Bermuda's insurance and reinsurance sector attended the conference, which was held in the Ernest N Morial Convention Centre, and which concluded yesterday.
April 30. A Bermuda-based fund administrator has won a top European award. Equinoxe Alternative Investment Services won 'Best Administrator for Client Service under $30 billion' in the HFMWeek European hedge fund services awards. Equinoxe founder and CEO Stephen Castree said: "These awards are a testament to the commitment to excellent client service and delivery that we pride ourselves on at Equinoxe. Our managed growth strategy and increasing global presence has recently seen Equinoxe surpass $20 billion in assets under administration and it is very gratifying to note that this growth has gone hand in hand with such positive client recognition for excellent client service." Alan McKenna, global head of product development, added: "In addition to this recognition for excellent client service, we have seen our institutional asset manager services develop strongly, leading to the creation of the Equinoxe Solutions group." Equinoxe Solutions is designed to provide an institutional technology platform in combination with back and middle office reporting. Mr Castree said: "Coming on the heels of our successful insurance-linked securities product offering with over $3 billion in assets under administration already, we believe that the immediate response to, and success of, the Equinoxe Solutions offering, which itself has swiftly garnered over $3 billion in assets under administration, clearly demonstrates our commitment to continued product innovation. We are confident that Equinoxe will be able to provide tailored solutions to some of the largest and most complex investment managers, whilst retaining the highest levels of client service and controlled growth which have been the cornerstones of our success to date." Equinoxe was founded in 2007 and has offices in various countries.
April 30. A stunning new restaurant to be run by celebrity chef Marcus Samuelsson is to open on May 27, the Fairmont Hamilton Princess said yesterday. The new restaurant — Marcus — takes up the space once occupied by the Gazebo ballroom and features a bar, inside and terrace space and a private dining room. And Hamilton Princess director of sales and marketing, Scott Evans, said: " the new-look lobby bar, scheduled to open on May 15, will be called the Crown & Anchor in tribute to the popular Cup Match gambling game. The relationship the hotel has with the Marcus Samuelsson Group is spectacular. The hotel had been given free rein to create a restaurant that reflected Mr Samuelsson's "sense of style", which includes atmosphere, music and entertainment as well as fine dining. Marcus comes complete with a terrace that rings the entire restaurant, two kitchens and the private dining room. The fun thing about this place is the bar. It is a place you can come to, enjoy a drink and have a couple of starters. Marcus wants people to enjoy themselves. On the other hand, you can come with ten of your friends, have a great time and enjoy everything on the menu. I think they have a good formula here." Marcus will initially be opening for dinner dining only before expanding to lunch and dinner from June 11. Mr Evans was speaking after a media tour of the iconic hotel to update on progress on the $90 million revamp launched after the hotel was bought by the Bermuda Green family. The new restaurant features a white tiled bar with mustard and green geometric patterns, a polished concrete banquette and is expected to seat up to 80 people in the main restaurant, around 60 outside and at least 20 in the private dining room.
April 30. The History of Policing in Bermuda is the first book documenting the evolution of policing on the Island. This is the fourth in a series of articles that will appear in The Royal Gazette in advance of the book's sale at local stores. When the Second World War broke out in 1939, there were only 45 motor vehicles in Bermuda, none of which were police cars. By comparison, there was an estimated 20,000 pedal cycles on the roads and 550 horse-drawn carriages; today there are probably less than three dozen carriages in use. The main cause of accidents at this time was speeding … on pedal cycles! A major gripe of the cyclists themselves was that they kept getting their wheels caught in the railway lines that ran along Front Street. The effect of the war on Bermuda was immediate; tourism, and with it the economy, quickly nose-dived, and the repercussions were soon felt by everyone. Police officers for example, had their salaries cut by ten per cent. Fortunately this state of affairs did not last too long. By 1941 Britain had signed a land lease agreement with the United States, and work began on building two US bases here. The wages of officers were soon returned to their pre-war levels! A major task for officers during the war years was to keep in line several thousand American Navy Seabees, who had been brought over to the Island to construct the bases. Navy court martials were convened at Kindley Air Force Base, and officers were frequently required to testify.
The First Police Car. By mid-1942 the estimated number of motor vehicles on the Island had spiraled to over 1,000, though most were military. To keep up with developments, the police paid £375 for a Dodge sedan motor car. However it was solely for the use of the Commissioner!
Nazi In Our Midst. We return to events in October 1940, when the SS Excambion berthed in Bermuda. Among the passengers on board was a German national by the name of Otto Strasser, who also happened to be travelling on a forged Swedish passport. What made Strasser so interesting to the British military and the Bermuda police was that he was a known Nazi; not just any Nazi, but a founding member of the Party together with Adolf Hitler. He had even helped to develop their platforms and policies together with such figures as Goering, Himmler and Goebbels. Strasser had allegedly broken with the Party and was on the run, and he was seeking political asylum in Canada in exchange for information that he offered to impart to British Intelligence (the United States was yet to enter the war). During his six months on the Island, Strasser was at liberty; he resided for a while in a house opposite the Cathedral in Hamilton. Once word leaked out about his existence, renowned British author and journalist, HG Wells, sailed to Bermuda specifically to interview him. He demanded to know why Strasser, "a bloodstained Nazi, was not in a concentration camp." Wells subsequently wrote a damning article about Strasser, which later appeared in the Miami News. In 1941 Strasser was granted the asylum that he craved, and he sailed to Canada, where he took up residence in Paradise, Nova Scotia.
The Stapleton Murder. Much more shocking and of particular interest to Bermudians at the time (these were the days before television), was the murder of Margaret Stapleton. Miss Stapleton was a censorette, one of a number of young British women brought to Bermuda during the Second World War, who worked in the basement of the former Hamilton Hotel. Their job was to discreetly open and read foreign mail being sent from Europe (via Bermuda) to North America. Basically they were looking for any information whatsoever about planned enemy (Axis) activities. In July 1941, Miss Stapleton visited friends at Bleak House on Palmetto Road, Devonshire (the same residence where in September 1972, Police Commissioner George Duckett was murdered). When it came time to leave, she declined an escort and began pushing her pedal-cycle along the moonlit railway track towards the train stop at Toby's Lane, just east of Dock Hill. However, she never caught the train, and when her flat mates telephoned to say that she had not returned home, her friends began to search for her. Miss Stapleton's half-naked body was later found among the bushes near Prospect Railway Halt. She had been raped and beaten to death. The resultant coroner's inquest in August 1942 named one 23-year-old Harry Sousa, a soldier in the Bermuda Volunteer Rifle Corps, as the murderer. Police knew exactly where to find Sousa; he was lodging next door in the Hamilton jail (now the site of the main post office), having recently begun serving a ten-year sentence for rape. Sousa's trial contained a number of sensational twists and turns, and even the Commissioner was called to testify when it was claimed that he had tried to bribe a witness, which he hotly denied. Sousa was subsequently found guilty and sentenced to hang on the anniversary of Miss Stapleton's death. But that wasn't the end of events. Just hours before the sentence was due to be carried out, Sousa escaped under suspicious circumstances. Less than 24 hours later however, he was back in prison custody after having been flushed out of his hiding place — a cave near Black Watch Pass. He was hung on July 7, 1943, and it would be another 24 years before Bermuda's final executions (those of Erskine Durrant "Buck" Burrows and Larry Tacklyn) took place in 1977. Next week: Read the concluding article in this series, about the first policewomen, the birth of the Marine Section, and the Belco riot from the police perspective.
April 30. The Corporation of Hamilton has launched a lawsuit against the organizers of a black mayor conference in an effort to retrieve funds spent on the event. While Conference of Black Mayors Inc had insisted that the convention would be held in the City this month, the event has yet to come to fruition. A spokeswoman for Home Affairs Minister Michael Fahy — who took stewardship of the Corporation in January — confirmed yesterday that legal actions had been launched "to retrieve monies incurred by the Corporation relating to the conference." The full sum paid by the Corporation to the Atlanta-based organization is unknown, but documents obtained by The Royal Gazette last year said the Corporation had agreed to pay $100,000 to the organizers and had earmarked a further $250,000 for conference-related expenses. The lawsuit is the latest in a series of controversies surrounding the event. Deputy Mayor Donal Smith said in November of 2013 that the National Conference of Black Mayors (NCBM) would bring 400 to 700 people to the Island in October 2014, although it was later revealed that the Atlanta-based organization was in dire financial straits and the leadership was in question. While executive director Vanessa Williams had claimed to be in charge of the organization during talks with the Corporation, a United States judge found that Sacramento mayor Kevin Johnson was the rightful head of the group. Mr Johnson said he knew nothing of the Bermuda conference, and the event would not take place on the Island under his leadership. It was also revealed that Ms Williams was fired by the NCBM after the scale of the group's debt under her management was exposed. Ms Williams reportedly failed to cooperate with an internal audit of the organization, which revealed that she had spent $600,000 of NCBM funds on personal expenses. However, Ms Williams continued negotiations with the Corporation for a Bermuda convention, claiming that the NCBM had changed its name to the Conference of Black Mayors (CBM) but the new body was the same organization. Documents show that the CBM was set up independently by Ms Williams. Despite the issues, Government announced last May that it would lend its support to the event. At that time, Sen Fahy said: "As the Minister responsible for municipalities I publicly advised that, before the Ministry could endorse such an event, I too had to be satisfied that all was in good order and that this event was in the best interest of the City of Hamilton and Bermuda, before we could support the Corporation's efforts. "At my request the Mayor and his team undertook to do their due diligence to the point where I, as Minister, was content with the information provided. Today, I am satisfied with the discussions I have had with the Mayor and his team and therefore thought it was only fitting that I publicly stand in support of the Corporation's efforts." The event was supposed to take place in October 2014, but it was later delayed, with organizers stating it would run from April 12 to 16. In January, it was revealed that the Corporation had written to Ms Williams requesting an account of the funds paid to the organization. Sen Fahy later said it was "highly unlikely" that the event would take place.
April 30. Standard & Poor's Rating Services has downgraded Butterfield Bank as a direct result of the Bermuda Governments credit rating downgrade earlier this week. But even as it cut Butterfield's long-term issuer credit rating to BBB from BBB+, the rating agency noted that Butterfield had much less of a problem with bad loans than its Bermuda market competitors. S&P gave the bank a stable outlook. S&P also commented on the bank having a weaker capital position as a result of the deal that allowed the Canadian International Bank of Commerce (CIBC) to offload its major shareholding. Meanwhile two other rating agencies affirmed the banks ratings in the wake of the CIBC deal. Moody's confirmed its A3 issuer rating on Butterfield, but changed its outlook from stable to negative. Fitch confirmed its long-term issuer default rating at A-, also with a negative outlook. Butterfield's downgrade by S&P comes in the wake of the same rating agency cutting Bermuda's sovereign credit rating from AA- to A+. S&P's rating bakes in a moderately high likelihood of extraordinary Government support for Butterfield, should the bank need it. "Nevertheless, our downgrade of Bermuda implies a somewhat weaker credit benefit to BNTB [Butterfield] from this likelihood, which we now recognise through one notch of uplift to our stand-alone credit profile (SACP) on BNTB, rather than the two notches previously applied." The report, the lead author of which is S&P primary credit analyst Nikola Swann, added that "Butterfield's risk position had improved, as reflected by the bank's sustained outperformance of other Bermuda banks in terms of loan performance in recent years, and our expectation that this will continue. For example, BNTB's December 2014 year-end gross non-performing assets, as a share of customer loans and other real estate owned, were less than one-third of those at HSBC Bank Bermuda Ltd, Bermuda's largest bank and BNTB's primary competitor in the Bermudian loan market. Furthermore, by this measure, BNTB's asset-quality has substantially and increasingly outperformed its Bermudian peers since 2010." HSBC Bermuda's 2014 financial statements showed that more than 17 per cent of its $3 billion in loans was classified as either non-performing or impaired that is, 90 days or more past due. Mr Swann told The Royal Gazette that S&P also rates HSBC Bermuda, but that its A- issuer credit rating would be unaffected by the sovereign downgrade, as the external uplift in its ratings was based on support from the HSBC group, rather than the Government. S&P said Butterfield had cleaned up its balance sheet through significant net charge-offs made in 2010 related to hospitality and construction loans, which included the Newstead development, contributing to better loan performance than its peers. "We now expect this outperformance to continue, given what we consider a now well-established track record (implying stronger underwriting standards than at Bermudian peers, at least on loans made in recent years), even as we expect Bermudian asset quality in general to deteriorate through 2016," the report added. This week, Butterfield announced that it was paying $120 million to buy and cancel 80 million shares from CIBC for $1.50 apiece. CIBC, which helped Butterfield through a difficult time with an investment of $150 million in 2010, sold its remaining 20 million or so shares to private-equity firm Carlyle Group. Butterfield's purchase of the CIBC shares represents a substantial capital outflow for BNTB, and a deterioration in our forward-looking assessment of its capital buffers, S&P stated. "We expect this outflow to contribute to our risk-adjusted capital (RAC) estimate for BNTB falling from its year-end 2014 level of almost 12 per cent to very close to 10 per cent, where we would expect it to remain in the 2015-2016 period, absent further capital withdrawal." S&P's view tally with what Carlyle Group managing director Olivier Sarkozy, also a Butterfield director, told this newspaper five years ago that Carlyle had a five- to seven-year window for its investment in Butterfield. A Butterfield spokesperson said: "Given that S&P factors the potential for Government support of the industry into its ratings of Bermudas banks, their lowering of Butterfield's long-term Issuer Credit Rating (ICR) to BBB from BBB+ was not unexpected following their lowering of Bermudas long-term ICR from AA- to A+. We are pleased that the S&P Research Update recognized Butterfield's improved risk position and sustained outperformance of the Islands other banks in terms of both loan performance and asset quality since 2010, and that S&P changed the outlook on the Bank's ICR from negative to stable as a result." Butterfield's' short-term ICR remained unchanged at A-2. In its commentary, Moody's stated: "The rating affirmation also incorporates Moody's expectations that Butterfield's liquidity will remain strong and that asset quality will improve as Bermudas economy continues to improve." Historically, Moody's had considered Butterfield's strong capital ratio a key credit strength that helped mitigate some of the risks related to the banks concentrations specifically, its real estate concentration. In that light, the change to a negative outlook reflects the significant decline in Butterfield's capital after the buyout of CIBC's equity stake, which reduces the banks loss absorption capacity in the short term from unexpected disappointing earnings performance. The negative outlook also reflects Carlyle's ownership stake: The private-equity firms shorter-term investment horizon increases uncertainty about Butterfield's longer-term strategic direction, including the bank's capital plan. In its rating action statement, Fitch said: "Butterfield's credit performance had continued to improve and its problem loans mix had shifted from commercial to residential mortgages. Although BNTB could face some asset quality pressures, specifically in its residential loan portfolio, Fitch expects net losses to remain manageable." Fitch added that Butterfield's earnings had improved with return on assets (ROA) and net interest margins (NIM) reflecting a positive trend.
April 29. The key role Bermuda's insurance and reinsurance sector played in assisting New Orleans to rebuild and recover after the devastating damage caused by Hurricane Katrina in 2005 was recalled at this week's RIMS event, held in the Louisiana city. Some 10,000 risk management professionals and other senior executives and decision-makers are attending the Risk & Insurance Management Society's annual four-day conference, which concludes today. Bermuda secured a prime location in the conference exhibit hall, in the Ernest N Morial Convention Centre, with its booth styled to appear like a Bermuda home. Premier Michael Dunkley toured the event yesterday and met RIMS president Rick Roberts and chairman of Lloyd's of London John Nelson. Later in the day, together with Minister for Economic Development Grant Gibbons, he visited New Orleans' mayor Mitch Landrieu. Mr Dunkley said he welcomed to opportunity to meet so many people involved in the reinsurance industry, and said it was critical that Bermuda maintains a high profile at such events. "The networking opportunities do not come any stronger. It is a place where we can continue to strengthen our relationships with those who understand the Bermuda model, and a place where we have an opportunity to talk to new people about the benefits the Island offers, and to answer their questions." According to the Association of Bermuda Insurers and Reinsurers, the Island's reinsurers paid 30 per cent of the insured losses incurred by hurricanes Katrina, Rita and Wilma when they struck the southern US in 2005, and $22 billion to rebuild the US Gulf Coast after the 2004-2005 hurricane season. Those facts showed the tangible benefits Bermuda, through its dominant reinsurance sector, has provided to assist the region, noted Mr Dunkley. The Premier, speaking to The Royal Gazette, said there was also excitement among delegates about Bermuda hosting the America's Cup. Finance Minister Bob Richards, who was also at RIMS, said Bermuda had strong links with the New Orleans region due of the large level of reinsurance assistance generated from the Island in the wake of Hurricane Katrina ten years ago. "Bermuda has shown that what we do is not a gimmick. It demonstrates the service and benefits that offshore centres provide," he said. More than 150 executives connected with the Island's insurance and reinsurance industry are attending the event. Many of them are manning their individual company kiosks, but also volunteering time to help at the Bermuda booth. Mr Richards said: "It is heartening that we have encountered a number of companies that want to come to Bermuda because things have not been working out well in the places where they are." He added: "The industry is still in a consolidation phase and the important thing for Bermuda is that companies remain in Bermuda and are stronger because of consolidation." Shelby Weldon, director of licensing and authorizations for the Bermuda Monetary Authority (BMA), was another of the Bermuda officials at RIMS. He was interviewed by AM Best and Captive Review about developments within Bermuda, particularly regarding mergers and acquisitions, regulatory changes and Solvency 2. Those were also topics that came up during conversations with fellow delegates inquiring about Bermuda. "There have been a number of questions about changes to regulations and there have been questions about increased competition in the captive markets. The BMA's role is to support the market, to answer questions about day to day supervision and regulations. Some people have questions about our regulatory framework. We are here to show that the BMA is accessible. It has been an excellent place to network and talk about what we are doing over the next few months and the next few years. There is a great spirit of collaboration. The Bermuda booth is popular, and we also have representatives from the Department of Tourism, which is excellent to see." The Bermuda Business Development Agency (BDA) was at the forefront of efforts to promote the Island as an ideal place for new businesses to locate, or for existing business to redomicile. Last night Bermuda hosted its popular networking cocktail reception at Club XLIV, in New Orleans' Mercedes Benz Superdome. Award-winning Bermudian band Mohawk Radio were due to provide live music and pay tribute to Bermuda's late songwriter Hubert Smith Sr, who wrote the ballad Bermuda is Another World.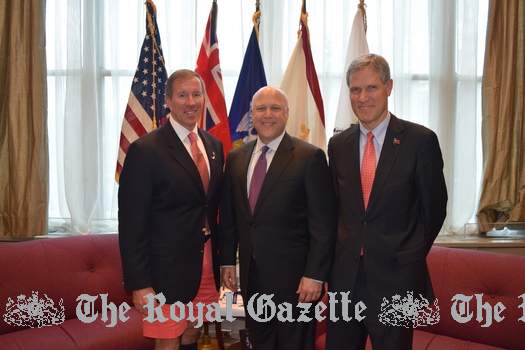 See above article.
April 29. Bermuda's credit rating took a hit yesterday after analysts lowered the Island's ratings. Ratings agency Standard & Poors (S&P) reduced Bermuda's long term issuer credit and senior unsecured debt ratings to A+ from AA-, and said continued weak economic performance, persistent Government deficits and increased debt burden were to blame. The short term rating of Bermuda also decreased — from A-1+ to A-1 and S&P predicted that weakness in the economy and public finances would continue through its two year outlook window. But the outlook of "stable" is up from the "negative" view previously expressed by the ratings agency. S&P's report said: "Bermuda's six-year recession has resulted in declining revenues which has led in turn to fiscal deficits of five per cent of GDP in fiscal years 2013 and 2014. The debt financing of deficits will increase gross interest costs to more than 11 per cent of Government revenues for fiscal years 2015-17. The stable outlook reflects our expectations that positive economic growth will return in the next two years, fiscal deficits will get smaller as revenue growth returns and Government debt will stabilize at slightly more than ten per cent of projected GDP. The Ministry of Finance believes that the contraction in real GDP could be as much as 1.5 per cent in 2014. Real GDP fell 18 per cent by 2014 from the 2008 peak and nominal GDP declined eight per cent. Labour market results were also weak in 2014. Bermuda's unemployment rate rose to nine per cent in 2014 from seven per cent in 2013, compared with eight per cent in 2012. Employment fell in both 2013 and 2014, as it has each year since 2009. By 2014, employment had fallen 16 per cent from its 2008 peak. Despite the poor economic performance of recent years, GDP per capita remains what we consider very strong, at about $88,000. We believe that real GDP growth will be flat in 2015 but increasing to about one per cent growth in 2016. The current governing party and its predecessors have made some progress toward reducing expenditures in the past five years. However, declining revenues have undone efforts to achieve balance. Should the economy continue to contract and Government revenues in tandem, downward pressure on the ratings could emerge. On the other hand, should Government measures, including holding hosting of the America's Cup, place Bermuda back on a higher plane that resulted in a steady decline in the Government debt burden, we could consider a positive outlook revision or upgrade." Between 2009 and 2014, Government revenue dropped by seven per cent. The 2015 budget imposed small increases in payroll, air passenger, commercial property, corporate services and fuel taxes. Government predicts its fiscal deficit will improve to 3.9 per cent of projected GDP in this financial year and to 2.1 per cent by 2017-18, while the annual change in Government debt should be 1.8 per cent of GDP between 2015 and 2017. And the S&P report said the America's Cup competition would "help increase growth in the latter years of the forecast horizon. However our forecasters do not incorporate a direct boost to Government net revenue from the race." Finance Minister Bob Richards yesterday put a brave face on the downgrade news — and said that the ratings drop was "not surprising" given problems in the economy and public sector finances. "We are pleased, however, that S&P has attached a stable outlook to the rating," he said. Mr Richards added that the lower rating was still in the upper medium investment grade with a stable outlook. "S&P continues to endorse the Government's effective policymaking and political stability." And he said it was good news that S&P recognized that America's Cup would boost the Island's profile as an upscale tourism spot and kick-start investment in the hospitality sector. Mr Richards added: "The Government will continue to press ahead with our two track strategy that strikes a balance between responsible growth and disciplined financial management. We will continue work to restore investor confidence to attract foreign dollars back to our shores, opening the Island to job and revenue-creating activities, creating new possibilities for Bermudians to make a living. As the Minister of Finance, I remain committed to creating an economy that works for everyone and returning our public finances to a sustainable position."
April 29. Minister of Home Affairs Senator Michael Fahy has issued the following statement with regards to Par-la-Ville car park: "Over two weeks ago I gave a press conference where I advised the public that the Par-la-Ville car park was in receivership. At that press conference I also laid out a number of issues that were a cause of grave concern to me and the Government of Bermuda in connection with issues surrounding the governance of the Corporation of Hamilton, the placing of the Par-la-Ville car park into receivership and the use of funds that were secured by way of a loan from Mexico Infrastructure Finance, LLC. I undertook at that press conference to update the public when I deemed it appropriate given the sensitivity of the issues involved. To be absolutely clear, I was first made aware of these issues during a meeting with the Corporation on January 22nd, 2015 and since that time I have been diligently making enquiries into the issues in the hope that I could ascertain all of the facts and, more importantly, rectify the situation by identifying the whereabouts of the funds with the obvious aim of retrieving them. As a result of my enquiries, which are ongoing, in all the circumstances I thought it prudent on 12th March 2015 to advise the Bermuda Police Service of my immediate findings. Whilst I do not wish to in any way impede or prejudice the work of the Bermuda Police Service in the light of the way in which some have sought to characterize matters generally, I think it important that the public be aware of the following facts so as to put matters in perspective. As stated above, it was not until January 22nd, 2015 that I was made aware of serious concerns that existed on the part of certain members of the Corporation's Council that the proceeds of the loan by Mexico Infrastructure Finance, LLC to Par-la-Ville Hotel & Residences, Ltd. had been withdrawn from an escrow account and paid over to the principal of Par-la-Ville Hotel & Residences, Ltd., Mr. Michael MacLean. I was also informed that many of the Corporation's Council members were unaware of the transactions at the time that they were entered into and concerns were raised that there was no resolution of the Corporation that authorized the transactions. As a result of receiving this very concerning information, and for other reasons that I have previously articulated, on January 26th 2015, I again assumed Stewardship of the Corporation's affairs. I then embarked upon a series of meetings with both the Corporation's attorneys and the attorneys for Mexico Infrastructure Finance, LLC to obtain a better understanding of the facts. The first meeting took place on February 5th, 2015 and there have been a number of subsequent meetings between myself, the Ministry's attorney, Mexico Infrastructure Finance, LLC and their attorneys, the Receivers, the attorneys for Par-la-Ville Hotel & Residences, Ltd., Mr. MacLean and the Corporation's Mayor and Secretary. I am thus now able to confirm the following facts:
(1) On July 9th, 2014 Par-la-Ville Hotel & Residences, Ltd. entered into a Credit Agreement with Mexico Infrastructure Finance, LLC whereby it borrowed the sum of US$18 million. The loan was described as a "discount loan" with the result that all interest that was to accrue during the term of the loan would be paid when the loan proceeds were dispersed by deduction from the proceeds of the loan. The same was true with respect to the negotiation fees relating to the loan. The purpose of the loan was to provide funds for the payment of expenses associated with a permanent loan which was to be negotiated for the funding of the future hotel development. The loan was to be repaid on December 30th, 2014.
(2) On the same date, the Corporation entered into a guarantee of the loan and, as security for that guarantee, it provided Mexico Infrastructure Finance, LLC with a first mortgage over the land comprising the Par-la-Ville parking lot. At the same time, Par-la-Ville Hotel & Residences, Ltd. executed a Deed of Surrender of the lease that it had over the Par-la-Ville parking lot. This Deed of Surrender was to be held in escrow and would be triggered into effect in circumstances where Par-la-Ville and Residences Ltd. defaulted on the loan.
(3) Also on July 9th, 2014 an Escrow Agreement was entered into between the Bank of New York Mellon, Mexico Infrastructure Finance, LLC, Par-la-Ville Hotel & Residences, Ltd. and the Corporation whereby the net proceeds of the loan after deduction of fees and interest, being an amount of $15,449,858.00, was deposited into an escrow account with the Bank of New York Mellon pursuant to a detailed escrow agreement. These funds were to remain in escrow until such time as Par-la-Ville Hotel & Residences, Ltd. could deliver documentation verifying that it had secured funding for the development of the intended hotel, that funding to comprise a loan of $225 million and an equity investment of $100 million. The funds in escrow were not to be released until copies of the permanent loan funding documents were delivered to the Bank of New York Mellon, as escrow agent, as well as Mexico Infrastructure Finance, LLC. It was an express term of the escrow agreement that the $15.5 million held in the escrow account was to be used only "for the purpose of paying expenses associated with the Permanent Loan".
(4) On or about October 16th, 2014 a meeting was held in London between Mr. Michael MacLean, the Mayor and the Corporation's Secretary with Mr. Robert McKellar, the principal of a Gibraltar company known as Argyle Limited.
(5) As a result of that meeting, on October 20th, 2014 Argyle Limited entered into a Co-Venture Trade and Profit Share Agreement with Messrs. Shane Mora and Matthew Hollis in their capacity as trustees of a Bermuda trust known as the Skyline Trust in Devonshire, Bermuda. Under the terms of that agreement, Argyle was to be paid a one-time irrevocable payment, referred to as a "fee payment", in exchange for which Argyle extended a line of credit to the Skyline Trust. The beneficiaries of the Skyline Trust are understood to be Michael and Yasmin MacLean. The fee payment was to be not less than US$12,500,000 and the line of credit was to a maximum amount of US$125 million. The line of credit was to be used by Argyle to operate a co-venture business arrangement between the parties whereby Argyle would arrange for the purchase and resale of "instruments" for profit. The line of credit was for a period of one year.
(6) On the same day, Par-la-Ville Hotel & Residences, Ltd. wrote a letter to the Corporation certifying that the conditions for the release of the escrow funds held by the Bank of New York Mellon had been fulfilled by virtue of entering into the Argyle agreement and, as a consequence, Par-la-Ville Hotel & Residences, Ltd. requested that the Corporation execute and forward a release notice to the Bank of New York Mellon authorizing the release of the escrow funds. This letter was signed by Mr. Michael MacLean. Par-la-Ville Hotel & Residences, Ltd. provided the Corporation with the requested form of letter to be sent to the Bank of New York Mellon and this letter, signed by the Mayor and the Secretary, was sent on October 24th, 2014. Also on that date, Par-la-Ville Hotel & Residences, Ltd. similarly wrote authorizing the disbursement of the escrow funds to the personal bank account of Michael and Yasmin MacLean maintained at Clarien Bank Limited. It remains unclear as to the basis upon which it could be said that the Argyle agreement fulfilled the necessary conditions of the Escrow Agreement. Certainly, I have seen nothing that could support any contention that there now exists a Permanent Loan Funding Agreement and that a Permanent Lender has been secured for the Par-la-Ville Hotel project.
(7) As a result of receiving these letters, on October 31st, 2014 the Bank of New York Mellon deposited into the account of Michael and Yasmin MacLean the sum of $13,749,858, this being the amount of the escrow funds net of a $500,000 retention and the payment of agreed expenses already incurred in relation to the Par-la-Ville project in a total amount of $1,173,684. Again, I have seen no documents nor received any evidence that support the view that the Bank of New York Mellon was in a position to comply with the request to release the escrow funds. However, it did so.
(8) On the same day, October 31st, 2014 the sum of $499,999.99 was wired transferred out of the MacLeans' account to an entity called Rational Foreign Exchange Ltd. This was followed by a wire transfer to Argyle UAE Limited in an amount of $11,500,000 on November 5th, 2014 and a further wire transfer of $500,000 to Rational Foreign Exchange Ltd. on November 7th, 2014.
(9) Subsequently, on December 31st, 2014 an amount of $869,748.00 was transferred to Par-la-Ville Hotel & Residences, Ltd.
It remains unclear as to how the remaining balance of the escrow funds has been dealt with. Neither the OBA, the Government, nor myself as Minister were aware of any of these transactions until after January 22nd, 2015. The Corporation did not seek or obtain my approval or consent to the entering into or the execution of the documentation that resulted in the escrow funds being released. Neither did the Corporation inform me at any time of the intended arrangement to be entered into with Argyle Limited. It is clear that notwithstanding the Financial Instructions and the good governance procedures that I caused to be put in place in March 2014, the instructions and procedures were not followed by the Corporation and the Government of Bermuda was kept uninformed. It is highly regrettable that having afforded the Corporation the opportunity to enter into guarantees in order to facilitate a much needed, approved hotel project in the City of Hamilton, the Government was then kept in the dark as to these unfortunate arrangements which, on their face, appear to be very unwise. However, the Government was entitled to assume that the elected and unselected officials of the Corporation would have conducted the Corporation's affairs properly and in the best interests of the Corporation. Clearly this has not happened here. In the meantime, Mexico Infrastructure Finance, LLC has commenced proceedings in the Commercial Court against Par-la-Ville Hotel & Residences, Ltd., together with Michael and Yasmin MacLean, and those proceedings are ongoing with a summary judgment application scheduled to be heard on May 26th, 2015. As part of those proceedings, the Commercial Court has issued an injunction freezing the assets of Par-la-Ville Hotel & Residences, Ltd. and the MacLeans up to an amount of $15,449,858. I have been assured by Mr. MacLean that the full amount of $18 million exists and is available to be paid over to the rightful parties. Whilst I have seen no tangible evidence of this, I am in ongoing discussions with Mr. MacLean with a view to the Government's concerns in this regard being alleviated. I have been made aware that both Argyle Limited and Mr. MacLean have sought assistance from local lawyers to have the monies moved to a local escrow account and I believe progress can be made here. I am also in discussions with Mexico Infrastructure Finance, LLC and KPMG in relation to achieving repayment of the $18 million loan and the release of the Par-la-Ville parking lot from receivership. Finally, whilst the issue is of no relevance whatsoever to the $18 million loan arrangements and the Par-la-Ville parking lot, in response to questions from the press as to whether I have had any discussions involving a guarantee for the Par-la-Ville Hotel project with Mr. Steven DaCosta, the answer is yes. In fact I and other members of Government were lobbied by a number of people, including Mr. DaCosta and Mr. MacLean to try and find a way to get the project up and running, including the provision of either a Bermuda Government guarantee or a guarantee by the Corporation of Hamilton. This was all in the context of the Government and myself endeavoring to ascertain the then current state of play insofar as both the Par-la-Ville and Hamilton waterfront projects were concerned, bearing in mind these were issues left over from the previous Government. I am at a loss to understand how we can be criticised for entertaining such discussions in circumstances where we were simply endeavoring to assist a developer realize an important project. Finally, let me make it clear again so there is no doubt in anyone's mind. I had stewardship of the Corporation of Hamilton from December 2013 to mid-March 2014. The Corporation of Hamilton was responsible for its own affairs from mid-March 2014 until I assumed stewardship again in late January 2015. The most recent Stewardship Order was confirmed by the Bermuda Supreme Court in March 2015 as valid. The funds were removed from escrow and various agreements were signed relating to the Mexico Infrastructure Finance LLC loan when the Corporation of Hamilton managed its own affairs. Checks and balances were put in place by the Government in March 2014 which appears to have been ignored. This is partly why a bill was laid in the last sitting of the Senate to further strengthen the Government's oversight abilities and to ensure something like this does not occur again. We will continue to work on a resolution of this matter, but "trial by press" is not the way to handle this delicate situation. When my discussions and enquiries are fully exhausted, I will give the public a further update. I remain hopeful that this matter can be resolved satisfactorily to all concerned parties."
April 29. Senator Michael Fahy moved to quiet the growing unease surrounding the Par-la-Ville car park fiasco with the release of a seven-page statement yesterday that laid bare the details of an $18 million loan deal gone bad. The Minister of Home Affairs, who took over stewardship of the Corporation of Hamilton in January when confidence in its elected officials was lost, included in his missive the revelation that the $12.5 million that went directly or indirectly to Argyle UAE Ltd was in exchange for an open line of credit for as much as $125 million. He also admitted having had talks over the Par-la-Ville hotel project with Steven DaCosta, the business partner of former Premier Craig Cannonier, but, in dismissing concerns from the Progressive Labour Party that there was anything untoward, added that this had nothing to do with the loan or the car park ultimately falling into receivership. "In fact, I and other members of Government were lobbied by a number of people, including Mr DaCosta and Mr [Michael] MacLean, to try and find a way to get the project up and running, including the provision of either a Bermuda Government guarantee or a guarantee by the Corporation of Hamilton," Sen Fahy said in his statement. "I am at a loss to understand how we can be criticised for entertaining such discussions in circumstances where we were simply endeavoring to assist a developer realize an important project." David Burt, the Deputy Leader of the Opposition, had also posed a number of open questions to Sen Fahy — and also to Premier Michael Dunkley in advance of his national address on Monday. Prominent among them was a question to Mr Dunkley that said: "Let the people know what has happened to the money that you assured Parliament and the taxpayers there were appropriate checks and balances in place." Mr Burt also posed specific questions on the Par-la-Ville hotel project: "As part of your due diligence, did you seek assurances from the branded partner for the Par-la-Ville development Starwood? Did you have knowledge of the intent of the Corporation of Hamilton to release the funds in escrow to Argyle Ltd before they were released? Are you aware that no resolution was passed by the Corporation of Hamilton to release funds to Argyle Ltd? Given that is the case, why and how exactly were these funds released? What did the developer show to the Cabinet that satisfied the ministers that the developer was worthy of a change of legislation and gained government support for their plans to use the Par-la-Ville car park as collateral for a bridging loan? There must have been something that was shown to Government in order for them to change the law and say that you can use the Par-la-Ville car park to obtain financing for your project," he said. Sen Fahy's statement chronicles the Par-la-Ville Hotel and Residences Ltd debacle from July 9, 2014, when the company entered into a Credit Agreement with Mexico Infrastructure Finance LLC to borrow $18 million, to his meeting with the Corporation on January 22, during which he said he learnt that the principal, which had been sitting in an escrow account in the Bank of New York Mellon, had been paid into the developer's bank account. He said certain members of the Corporation had "serious concerns" about the transaction and that there was no resolution that it had been authorized. Sen Fahy, who also revealed that he referred the case to the Bermuda Police Service last month, said: "The funds were removed from escrow and various agreements were signed relating to the Mexico Infrastructure Finance LLC loan when the Corporation of Hamilton managed its own affairs. "Checks and balances were put in place by the Government in March 2014 which appear to have been ignored."
April 29. The Public Accounts Committee is set to hold a public hearing tomorrow on the Port Royal Golf Course project. The project ran up a bill of more than $24 million between 2007 and 2011, despite initially being budgeted at $4.5 million. During tomorrow's meeting, the PAC is expected to deliberate on the golf course renovation and facility improvement work, which was the subject of a recent special report by Auditor General Heather Matthews. While Ms Matthews said the project should have been left in the hands of the Department of Public Works, it was delegated to the Cabinet Office from 2007 to 2010, and the Ministry of Tourism and Transport from 2010 to 2012, while Port Royal's board of trustees managed the project. None had the capacity for the oversight or management of such a project, Ms Matthews said, nor did financial instructions permit the management of capital development projects to be delegated. The PAC is comprised of Members of Parliament and is authorized by the House of Assembly to closely examine and report on matters relating to the accounts, showing the appropriation of the sums granted by the Legislature to meet the public expenditure of Bermuda. The committee also investigates findings reported by the Auditor General. The hearing is scheduled to take place inside the House of Assembly library, starting at 2.30pm.
April 29. Tourism ambassadors, school volunteers and "heroes of hospitality" received recognition last weekend for their contributions from the Bermuda Tourism Authority, in tandem with the Bermuda Hospitality Institute. More than 150 members of the hospitality industry were commended at The Fairmont Hamilton Princess as the Island nears 400 people who have attended status as certified tourism ambassadors. The hospitality and friendliness of Bermudians stood out in visitor surveys as the most memorable aspect of their trips, with tourists relying on the recommendations of locals for where to go and what to see and do. According to a BTA statement, the data shows that "positive engagement with residents leads visitors to feel their vacation exceeded expectations". Karla Lacey, chief operating officer of the BTA, said the ambassadors' knowledge of Bermuda's history and its present-day offerings are what drive the Island's success as a destination. The Bermuda Hospitality Institute's "Hospitality Skills — Life Skills" school programme, offered to children at P4, P6 and M2 levels, was also recognized, along with the START programme — a "skills, tasks and results training" certificate programme through the American Hotel and Lodging Educational Institute, which is aimed at high school students aged 16 to 18. In addition, the community group Imagine Bermuda was commended for taking the nomination of April as hospitality month to champion local "heroes of hospitality."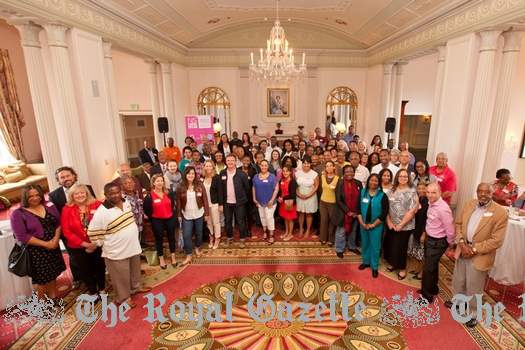 Tourism ambassadors, see above story
April 29. "Your wallet is likely to take a small hit this year and next — but it could see some improvement by 2017." Even so, the Island stands to lose hundreds more jobs this year. Offering the "brutal facts" from the 2015-16 Budget — plus some tentative projections of moderate growth — statistician Cordell Riley gave a guarded economic forecast for the years ahead. However, several audience members last night at the Bermuda College bemoaned the Island's lack of fresh ideas when it came to economic recovery. Businessmen spoke out against local banking practices and bureaucracy, with one lamenting that he considered himself middle class as someone who runs businesses — "but it's all eaten up by taxes. What we have got to do is put pressure on the elected people that are supposed to be working for us," added businessman Nelson Hunt. "This is no longer a popularity contest. We're all broke." The Island has heard several references lately to "green shoots" in the local economy, Mr Riley observed. Premier Michael Dunkley recently used the term, along with several local business and finance heads in the past six months. "The real question is whether that's enough," Mr Riley said. "Sometimes you see shoots coming up and they die; they don't grow. I think from a political perspective, you want to see these green shoots. But when you start to pull back the data and have a clear look, you start is ask the question — is that really going to happen?" Bermuda's population is ageing even as it declines: Mr Riley suggested the Island's numbers could be down to 61,500 come 2020 — a four per cent drop from 64,130 in 2010. "Some are estimating that it's already there," he added, pointing out that the Island doesn't keep net migration figures. Without knowing how many have chosen to try their fortunes elsewhere, Mr Riley said, "the truth is we really don't know". Either way, the stakes are high: 2017 is likely to mark the year that the senior population overtakes the Island's youth population of age 17 and younger, thus increasing the pressure on those of us with jobs. Mr Riley said local jobs had peaked at 40,213 in 2008 and fallen to 33,487 last year. Jobs could fall to 32,800 this year before Bermuda starts into recovery in 2016, he said: "We could bottom out in 2015" — but still lose another 700 jobs. Mr Riley told the audience he preferred the term "rebalancing" rather than cutting when it came to the civil service. Pointing out that all those on the Government payroll are not civil servants, he gave a figure of about 4,200 in that category as of last year. "It's a fact that as overall jobs declined, the civil service jobs haven't declined at the same pace. If they did, we would be at about 3,400 civil servants. But we can't say let's cut the civil service — that's a lesson the Government learnt very recently." The decision not to renew temporary positions when contracts ran out had seen many reversals, he said. Even as jobs continue to fall, retail sales have staged a recent comeback, suggesting a resurgence in customer confidence. It is also possible that the Island has reached the bottom and is starting to climb back out when it comes to air arrivals, which last year stood at 229,484 — a plunge from the 305,548 in 2010. While the Island is down again for the first quarter of this year, Mr Riley said there was a fair chance that Bermuda could hit 250,000 air arrivals in 2016. As for debt, the end is still far: by 2017-18, the Island will reach just under $2.5 billion — although that figure could dip to $2.1 billion come 2019-20. "The operative word is 'could'," Mr Riley added. New taxes in services, as yet unspecified by Finance Minister Bob Richards, remain ahead. Several speakers voiced their frustration at the Island's lumbering bureaucracy. Investor confidence is creeping back, one said, but "they're not going to wait around for a third bite of the cherry." Bermuda has been complacent over embracing money makers like cannabis and casinos, others said. "It's always been said that we're in this together," Mr Riley observed. "I think this is one time it's proving that we are."
April 28. Plans for the proposed redevelopment of the Ariel Sands property have been placed online. The project will include 26 villas, along with a 20-room hotel building, two restaurants, a spa, gym, salon and children's entertainment zone. The villas will be a mix of two and three-bedroom self-contained apartments with facilities such as washer/dryers, bathrooms for each bed and kitchens. They will be available for sale to Bermudians and non-Bermudians, who can then rent them out through an international reservation and marketing group. Celebrated actor Michael Douglas, whose family have owned the Devonshire property since the 1840s, formally announced the redevelopment project last year. Last week, Mr Douglas told The Royal Gazette: "The plans have been refined substantially since we made our initial announcement and we have spent an exorbitant amount of time to get it right. Sometimes plans are submitted in part, but this is complete." The Environmental Impact Statement and Environmental Scoping Report for the project have been made publicly available through the Department of Planning website.
April 28. Premier Michael Dunkley issued a rallying call to Bermudians last night urging everyone to work together to overcome the challenges faced by the Island. During a televised speech, he detailed Government's accomplishments since the OBA came to power in December 2012, but cautioned: "There is much more to do." Mr Dunkley hailed the America's Cup and casino gaming legislation as initiatives that would stimulate the economy and rebuild tourism. He also maintained that efforts to reduce Government spending were beginning to bear fruit. "We are confident the recovery is taking hold, but we cannot do it alone," said Mr Dunkley. "So I appeal to you to think about what you can do to help your Island home. It could be mentoring a child, donating to a charity or helping people in need. Once you decide what you can do, then commit to doing it, commit to the life of the community, extend a helping hand wherever possible. Bermuda, we are a good people being tested in big ways. Let's use this time to come together, to work together, exercising tolerance and respect. Let's use these testing times as an opportunity to make Bermuda better, to make it more open, fair and inclusive." Mr Dunkley insisted that public service reform remained a priority, while he pointed to the new Public Access to Information Act as proof of Government's commitment to transparency and accountability. "By the end of this fiscal year we will have reduced Government's annual deficit by approximately $110 million," said Mr Dunkley. "We will have moved the Current Account, before debt service payments, to a surplus position — the first time in more than seven years. The steps we've taken so far are steps to grow the economy — cutting red tape, passing legislation, adjusting regulations and reaching beyond our shores to create new channels of investment in Bermuda; investment that builds hotels, creates new businesses and sets the stage for making the America's Cup in Bermuda one of the greatest sporting spectacles of all time." During the speech, which aired at 6.50pm, Mr Dunkley praised the work of the Bermuda Police Service and the Department of Corrections, and highlighted the success of projects including the anti-gang GREAT programme, as well as outreach and educational programmes in prison. "With several hundred million dollars in projects lined up over the next three years I am very optimistic about our future," he said. "These projects reflect rising confidence in Bermuda, confidence that translates into jobs, career and business opportunities for Bermudians. The America's Cup will generate fantastic levels of activity and excitement, making Bermuda one of the hot spots on the planet when the racing gets under way."
April 28. Royal Gazette Editorial. John F Kennedy was the consummate helmsman, figuratively and literally. His long political career, first as a Congressman and US Senator, then as America's President, was a case study in steering and trimming his sails to take maximum advantage of constantly changing conditions. He had the instinctive ability to read the ever-shifting public mood, to gauge fluctuating political realities, and to react to them immediately. When his intuition occasionally failed him, as in the disastrous 1961 US-backed Bay of Pigs invasion intended to oust the Soviet Union's puppet regime in Cuba, Kennedy learned from his humiliating experience. He accepted full responsibility for the fiasco, made sweeping changes in the upper echelons of the US national security apparatus and, a year later when confronted by the Cuban Missile Crisis, steered a calm, resolute and successful course through that harrowing exercise in nuclear brinkmanship. Perhaps not surprisingly, he often credited his lifelong love of the sea for the skilled, steady and largely unshowy helmsmanship he brought to public life. Kennedy grew up on the water. The greatest love of his life was arguably the 26-foot sailboat Victura he owned from the age of 15 and he was decorated for gallantry as a result of his military service in the US Navy during the Second World War. So trust Kennedy to invoke the almost mystical connection which exists between all of us and the ocean during some otherwise dry, largely business-like remarks to a dinner for 1962 America's Cup crews. "I really don't know why it is that all of us are so committed to the sea, except I think it's because in addition to the fact that the sea changes, and the light changes, and ships change, it's because we all came from the sea," he said. "And it is an interesting biological fact that all of us have in our veins the exact same percentage of salt in our blood that exists in the ocean and, therefore, we have salt in our blood, in our sweat, in our tears. We are tied to the ocean. And when we go back to the sea — whether it is to sail or to watch it — we are going back from whence we came." He ended by reminding the American and Australian sailors and organizers competing for the Auld Mug in Newport, Rhode Island, in 1962 they might be racing against one other, but they were also racing with one another against the always changing wind and sea, against always unpredictable conditions. He hardly needed to add that much the same applies in other areas of life. The fact we in Bermuda may be in competition against one another in politics, business or some other area does not mean our roles are not actually complementary. We have common goals in mind and common hazards to overcome. The slain President's words should still resonate in modern Bermuda, now to host both the 2017 edition of the America's Cup as well as the qualifying regattas. Every Bermudian, being born within a mile of the water, is bred amphibious, a distinguished chronicler of our people and folkways once famously observed. So we all know that surpassing tie to the sea Kennedy described as well as we know our own names. But whether we spend much time on the water or not, most of us understand the broader meaning of what he was saying — the need for all of us to steer and trim our sails so as to take maximum advantage of constantly changing conditions, the need to demonstrate adroit helmsmanship to reach the most desirable destination. The America's Cup and its Qualifiers present Bermudians with an enviable, world-class opportunity to pursue the common cause, to overcome common obstacles. It is an opportunity for us to put aside the fractiousness and disunity which so often characterizes Bermudian public affairs and so often results in each side pressing its own end to the neglect of the common good — and achieving precisely nothing whatsoever. It is an opportunity to tighten our community bonds by embracing what could be a genuine community-building exercise and then to move Bermuda forward with that renewed sense of confidence and purpose which comes from success. And it is up to all of us to be helmsmen in this undertaking. As someone once said, the pessimist complains about the wind while the optimist simply expects it to change. The genuine leaders adjust the sails and steer windward.
April 28. There is a large question mark hanging over the whereabouts of nearly $400,000 of an $18 million loan made to the Par-la-Ville Hotel and Residences Ltd development company. Documents show that Mexico Infrastructure Finance made a claim against the mortgage on the Par-la-Ville car park, when Par-la-Ville Hotel and Residences apparently failed to repay its debt on December 30. According to an accountant who went through several documents and letters that were also seen by this newspaper, while most of the funds received by Par-la-Ville Hotel and Residences Ltd can be roughly accounted for, the whereabouts of some of that money is still not clear. The accountant explained that about $2.5 million of the original $18 million sum was withheld by Mexico Infrastructure Finance to pay fees and interest. The remaining $15.5 million was then deposited into an escrow account by Mexico Infrastructure Finance at the Bank of New York Mellon, specifically to be used to pay the costs and fees associated with entering into a binding agreement for the permanent financing for the hotel project. The terms of the escrow agreement allowed for a distribution of up to $1.2 million to pay various legal and professional fees that were detailed in the Credit Agreement, a document which clearly states the conditions which had to be met to distribute funds from the escrow account. Additionally, it was stated that $500,000 must remain in the escrow account after the Corporation of Hamilton and Par-la-Ville Hotel and Residences Ltd released the funds from escrow to secure the permanent financing for the hotel and residences project. It appears that $1.2 million was dispersed from escrow to pay legal and professional fees that were detailed in the Credit Agreement, $500,000 was held back in the escrow account, and approximately $13.8 million was dispersed from the escrow account to the Clarien Bank account of Michael and Yasmin MacLean. Correspondence shows that Par-la-Ville Hotels and Residences Ltd were the party that instructed the escrow agent, the Bank of New York Mellon, to release the full balance in the escrow account to the MacLeans' account with Clarien Bank. Further correspondence shows that the Corporation of Hamilton approved the release of the money to the personal account of the MacLeans. It is signed by Mayor Graeme Outerbridge and Corporation secretary Ed Benevides. Sources have confirmed $12.5 million was sent directly or indirectly from the MacLeans' account to a company called Argyle UAE Ltd, a Dubai entity. It is believed that the transfer to Argyle UAE Ltd is directly connected to an agreement with Argyle Ltd, a Gibraltar entity, which received the $12.5 million in the form of a one-time irrevocable fee payment in exchange for a one-year credit facility in the amount of $125 million. The exact whereabouts or use of approximately $400,000 remains a mystery. The Corporation of Hamilton was entitled to a $900,000 fee for guaranteeing the credit agreement using the PLV property, but sources have confirmed that the Corporation of Hamilton has not been paid this fee.
April 28. Corporation of Hamilton Mayor Graeme Outerbridge and chief operating officer and secretary Ed Benevides approved the disbursement of the "full balance" of the Par-la-Ville Hotel and Residences Ltd's multimillion dollar escrow account at the Bank of New York Mellon, according to a letter signed by both men on Corporation letterhead. The New York bank was told to place the funds in the private bank account of Michael and Yasmin MacLean at Clarien Bank Limited in Bermuda, via intermediary bank Wells Fargo Bank in New York. Documents and letters relating to the $18 million bridging loan made to Par-la-Ville Hotel and Residences Ltd and its disbursement have been seen by The Royal Gazette. Mr MacLean has stated in an affidavit that he is the president of Par-la-Ville Hotel and Residences Ltd (St Regis Bermuda). That affidavit was filed for a legal action for $90 million in losses the plaintiffs are claiming was incurred by the voiding of the Hamilton Waterfront development agreement. The money, which is believed to have totaled approximately $13.8 million of the $18 million loan, was deposited in the developer's private bank account. Some $12.5 million of that money is now thought to be held by a United Arab Emirates entity called Argyle UAE Ltd. According to Minister of Home Affairs Michael Fahy, the money had been traced to a Gibraltar company called Argyle Ltd. He said two weeks ago: "It appears that a substantial sum of the bridging loan was at some point paid to a company registered in Gibraltar called Argyle Ltd as a fee to get access to a large line of credit to develop the financing for the hotel and residences development. Both the Corporation of Hamilton, me as steward and the mortgage holder are doing everything possible to obtain further details as to the whereabouts of the bridging loan money." The Royal Gazette reported on April 16 that documents show that Argyle Ltd had declared just £1,000 ($1,486) in assets in December 2013. Its website has been closed down. Very little information about Argyle Ltd is easily available, although the company appears to remain active. It was started in December 2006 by a Robert McKellar, whose residence is stated to be Malaga area, Spain. However, further investigation reveals a seemingly more active entity under the Argyle brand, Argyle UAE Ltd, whose address is listed as Dubai, United Arab Emirates, and whose website describes Robert McKeller as its chairman. A telephone call to Argyle UAE was answered by an automatic paging service asking callers to select either Argyle UAE or Argyle Ltd. Sources now confirm that the money went to the UAE entity. The Argyle UAE website states that the company was formed in 2012. It says: "We invest in fixed income and zero coupon investment grade products and receivables to generate income streams and profits for projects for our own account. We invest globally and have investment opportunities in London, Zurich, Gibraltar, Channel Islands and Singapore. We are particularly interested in clients with cash or near cash assets where we can match these to investments, the profits from which are applied to the client's own projects to increase available equity, or to fund research and development projects where such funding is difficult to raise from traditional sources." The letter from the Mayor and Corporation Secretary supporting Par-la-Ville Hotel and Residences Ltd instructions to the US bank to make the disbursement to the MacLeans' personal bank account in Bermuda has been seen by this newspaper. The day and month that the letter was written have been obscured and only the year, 2014, is legible. Sources put the month as October. The lender of the funds was a company called Mexico Infrastructure Finance LLC. Documents show that the money was to be loaned for a 180-day period, and the Credit Agreement, dated July 9 and signed by the parties to the loan, states repayment was due on December 30 last year. Par-la-Ville car park was put up by the Corporation of Hamilton as collateral for the $18 million loan, but after the failure to repay this, the approximately 79,000 square foot site of prime Hamilton real estate is now in the hands of KPMG receivers. In that Credit Agreement, dated July 9, a condition of loan states the lender should receive "an appraisal addressed to Lender, issued by CBRE Inc, appraising the Land at $29,900,000 or more, as of a date no earlier than April 18, 2013. Documents also show that the borrowed funds were specifically for the purposes of paying expenses associated with securing a "permanent loan" along with fees and costs. The need for the loan is spelled out in the Credit Agreement between Par-la-Ville Hotel and Residences Ltd and Mexico Infrastructure Finance, which states: "Borrower represents to Lender that its agreement with Starwood Hotels and Resorts Worldwide Inc and Sheraton Overseas Management Corporation (Starwood) to develop the project (the Starwood agreements) are not in good standing because Borrower failed to obtain the Permanent Loan at the time required by the Starwood Agreements. Borrower shall use commercially reasonable efforts to (a) bring the Starwood Agreement into good standing, subject to obtaining the Permanent Loan, or (b) enter into a similar development and operation agreement with a hotel company comparable to Starwood." The proposed project is also spelled out in the Credit Agreement. Under "Definitions". It states: "'Project' means the Starwood branded St Regis Hotel and Residences, consisting of a 137-room hotel, 82 residences, retail space and three-level parking garage, planned to be constructed by Borrower on the Land." According to the Escrow Agreement (see below), Par-la-Ville Hotel and Residences was looking for about $334 million. Although the bridging loan was specifically to enable Par-la-Ville Hotel and Residences to secure financing for the project, there was no information about who that lender was to be. A letter from law firm Wakefield Quin, dated December 29, 2014, responding for Par-la-Ville Hotel and Residences to correspondence from the lenders' lawyers, Shutts & Bowen LLP, stated: "PLV (Par-la-Ville Hotel and Residences) is not in a position to supply the Lender with a copy of the Permanent Loan Funding Agreement and that PLV is permitted to withhold same in accordance with section 3.3(c) of the Lender Escrow on the basis of it being subject to strict confidentiality owed to the Permanent Lender. Also, the formation of the Senior Escrow and the terms governing the transfer of the Escrow Property ... are recorded in and form part of the Permanent Loan Funding Agreement and is therefore subject to similar restrictions and exceptions on the basis of confidentiality. Although the specific provisions of the Permanent Loan Funding Agreement cannot be disclosed, PLV wishes to advise the Lender that (i) the Senior Escrow was established in accordance with the definitions set out in section 3.8 of the Lender Escrow and (ii) that the proceeds of the Loan were deposited in the Senior Escrow in accordance with section 3.4 of the Lender Escrow and (iii) that the escrow agent appointed pursuant to the Senior Escrow ... was duly approved by the Corporation of Hamilton." The Royal Gazette has not seen documents showing Corporation approval of a permanent lender or senior escrow. However, it is understood that the transfer of funds to Argyle UAE Ltd is directly connected to an agreement with Argyle Ltd, the Gibraltar entity, which was to provide the funding in the form of a one-time irrevocable payment in exchange for a one-year credit facility of $125 million. The letter from Shutts & Bowen to Mr MacLean and Mr Outerbridge, dated December 15 last year, argues why they believed Par-la-Ville Hotel and Residences was in default. It states that, among other things: "The Borrower's failure to (a) use the proceeds of the Loan only for the purposes of obtaining the Permanent Loan or paying expenses related thereto ... (b) obtain and deliver, to the Lender, the certification and other documents specified by Section 3.3 of the Lender Escrow Agreement as a condition precedent to obtaining a distribution of the Escrow Property, (c) transfer the Escrow property into the Senior Escrow, as required by section 3.4 of the Escrow Agreement, and (d) comply with Section 10 of the Credit Agreement", which lists the reasons that would constitute a default of the loan. The letter ends with a sentence entirely written in capital letters, which states: "The Lender is attempting to collect the indebtedness evidenced by the loan documents and any information obtained by the lender or its representatives will be used for that purpose. "Govern yourself accordingly", it concludes. Documents show that the Corporation voted to approve the loan and guarantee, but there are no documents that this newspaper has seen that showed the Corporation approved the removal of the funds from the Bank of New York Mellon escrow account and the deposit of that money into the MacLeans' bank account. Corporation Councillor Carlton Simmons said last week: "It is important for the public to know that based on the assurances given by our attorneys to the board, $15 million of the $18 million was never supposed to leave a joint account held by the Corporation of Hamilton and the developer. The legal conditions under which the money could have been released were never met. The Corporation of Hamilton's lawyers and the Council were never consulted and therefore did not advise the release of millions of dollars to a third party." Mr Simmons said that if rules and guidelines had been followed then "this tragedy would have never occurred. Someone has to be held responsible." Home Affairs Minister Michael Fahy said last week: "This whole debate is the reason we stepped in. I attended a meeting on January 22 with the entire Council of the Corporation of Hamilton, including the Mayor, and at that meeting, a number of concerns were brought to my attention in relation to the transaction, in respect to the guarantee and the loan." Sen Fahy said that he then took control of the Corporation on January 25, and that between March 2014 and the end of January this year "we had no running of the Corporation".
• Section 3.3 of Lender Escrow Agreement states:
To obtain a distribution of the Escrow Property into the Senior Escrow, the parties shall, subject to section (d) below, comply with the following:
(a) PLV (Par-la-Ville Hotel and Residences Ltd) shall deliver to the Corporation (of Hamilton) (with copies to the Depositor (Mexico Infrastructure Finance) for information purposes only): (a) a certification, signed by an officer PLV, certifying that all conditions precedent have been satisfied for the funding of a loan of $224 million and an equity investment of $100 million or for such substantially similar financing structure from the Permanent Lender in substance reasonably acceptable to the Corporation (in any event in an amount no less than the aggregate of the principal, fees, costs and interest outstanding on the Loan plus the Corporation Expense Payment), to PLV (the "Permanent Loan"); and (ii) copies of the Permanent Loan Funding Agreement, the Senior Escrow Agreement and all ancillary documents, duly executed by the parties thereto, and in form and substance reasonably acceptable to the Corporation; and
(b) No sooner than three (3) Business Days after receipt by the Corporation (and receipt of copies for information purposes only by the Depositor of the items in subsection 3.3)(a) above, the Corporation and PLV shall provide joint written notice to the Escrow Agent (i) stating that the documents delivered pursuant to subsection 3.3 (a)(i) and (ii) above are approved by the Corporation (such approval not to be unreasonably withheld, delayed or conditioned), and (ii) authorizing the disbursement to the Senior Escrow.
(c) PLV's obligation to provide Depositor with copies of the Permanent Loan Funding Agreement in accordance with in subsection 3.3(a)(ii) above will apply insofar as PLV is permitted to release same without being in breach of any confidentiality owed to the Permanent Lender, provided that PLV hereby undertakes to apply its best endeavors to have the Depositor included in a permitted category in the Permanent Loan Funding Agreement as it relates to confidentiality or non-disclosure.
(d) Furthermore and notwithstanding anything to the contrary contained herein, a minimum of $500,000 (the Final Amount) shall at all times remain in the Escrow until the Escrow Agent receives written notice from the Interested Parties that the Loan is paid in full. The Final Amount will be segregated from the remainder of the Escrow Property and kept in a separate deposit account which shall be held by the Escrow Agent subject to the terms of this Agreement. The Interested parties will monitor the balance in the account to ensure that the Final Amount is always in the account.
• Another section, section 3.7, of the agreement states: "Notwithstanding the foregoing, the Escrow Property can be distributed in such manner as may be agreed upon in writing by all the Interested Parties." According to the agreement, the "Interested Parties" are Bank of New York Mellon, Mexico Infrastructure Finance, Par-la-Ville Hotel and Residences, and the Corporation of Hamilton. The agreement also states: "As used herein: (a) the "Permanent Lender" is the lender with respect to the Permanent Loan, which shall be designated by written notice from PLV to the parties hereto as part of the deliverables in accordance with subsection 3.3(a) and subject to subsection 3.3(c) above, (b) the Permanent Loan Funding Agreement is the agreement between the Permanent Lender and PLV which provides for the Permanent Loan to PLV; (c) the 'Senior Escrow' is an escrow to be established by PLV, the Permanent Lender, and Escrow Agent (or another escrow agent reasonably acceptable to the Corporation) for the purpose of paying expenses associated with the Permanent Loan; and (d) the Senior Escrow Agreement" is the agreement among PLV, the Permanent Lender and the Escrow Agent (or another escrow agent reasonably acceptable to the Corporation) governing the Senior Escrow." It also states: "Secured Party Control. (a) While the Escrow Property remains in escrow, the Escrow Agent will permit withdrawals of the Escrow Property only as permitted by Section 3 above. PLV and the Depositor irrevocably authorize the Escrow Agent to disburse the Escrow Property in accordance with Section 3 above, and PLV and the Depositor further agree that they will not have access, now or any time hereafter, to any of the Escrow Property, except in accordance with section 3 above."
April 28. News that the fifth-biggest bank in Canada is to end its ownership stake in Butterfield Bank has been characterized as "a real a show of independence and strength" for the Island institution by Butterfield CEO Brendan McDonagh. "Butterfield Bank is remaining independent, and as we stay independent it gives us great flexibility going forward in the areas we want to grow in and invest in," he said. "I'm sure Bermuda will appreciate having a very strong bank like Butterfield on its doorsteps and managed and led from here. We are charting our own course." At the same time Mr McDonagh thanked Canadian Imperial Bank of Commerce (CIBC) for the support it has given during the past five years. There had been speculation that CIBC might eventually takeover Butterfield Bank. Instead, the Canadian bank, which holds 19 per cent of Butterfield's issued common shares, is to fully divest itself from its partial ownership of the bank when the share repurchases are made, which will be on or before Thursday. Butterfield is spending $120 million to repurchase and cancel 80 million shares owned by CIBC. Finance group Carlyle Global Financial Services will buy CIBC's remaining 23.4 million shares in the bank. The stock is being repurchased at a discount price of $1.50 per share. Butterfield's common shares closed at $1.97 on The Royal Gazette/BSX Index yesterday before the announcement was made. In 2010, CIBC was part of a rescue investment group that pumped $550 million into the bank. At the time Butterfield was struggling due to the economy and toxic loans. It was given a new lease of life thanks to the refinancing. CIBC and Carlyle Group each injected $150 million and took an equal 22 per cent ownership of the bank at the time. The companies bought the stock at $1.21 per share. The new capital allowed Butterfield to de-risk its balance sheet and sell off hundreds of millions of dollars worth of troubled investments that had been backed by US mortgages. The bank yesterday reported a first quarter profit of $26.8 million, a 15.8 per cent improvement on the same period last year. "Our focus over the last five years has been on rebuilding value for shareholders through investment in our core businesses, accretive acquisitions, and carefully managing expenses and risks," said Mr McDonagh, who is also chairman of Butterfield Bank. "In executing this transaction, we will use a portion of Butterfield's excess capital to fund the repurchase and cancellation of shares, and enhance the ownership positions and growth potential of our continuing shareholders. I would like to take this opportunity to thank CIBC for the confidence they showed in Butterfield with their participation in the 2010 recapitalisation, for their continued support during the last five years, and for the contributions of their representatives on the Butterfield Board." Shawn Beber, CIBC's senior vice president, strategy and corporate development, is to step down from the Butterfield board at today's general meeting. He said: "We congratulate Butterfield's management team on the progress they have made in restoring value to the Butterfield franchise. We saw this as a strategic investment five years ago, and we are pleased that we are now able to monetise that investment for our shareholders." In a statement, Butterfield Bank said the repurchase and cancellation of CIBC's shares will result in a 14.7 per cent reduction in the number of outstanding common shares "which will have the effect of increasing all other shareholders' proportional ownership positions in Butterfield." The bank's book value per share is anticipated to fall 5 per cent per share as a result of the transaction, but the bank anticipates this will be earned-back in less than 2½ years. Mr McDonagh said the discounted market price of the repurchased shares reflected the movement of such a large stock with limited liquidity. The repurchase price is 29 cents per share higher than the original purchase price, and CIBC has also accumulated share dividends along the way. "They have done very well. Remaining shareholders will hopefully do even better," said Mr McDonagh. Oliver Sarkozy, managing director and head of Carlyle's Global Financial Services Group, and a member of Butterfield Bank's board of directors, said: "We are grateful for the partnership with CIBC, without which Butterfield's recapitalisation and subsequent progress would not have been possible. We firmly believe Butterfield's future is as full of opportunity as the past five years have been, and out participation in the transaction announced today is a validation of that belief. We are delighted to be able to continue to support Butterfield and its continuing investors in this important next phase in the bank's development."
April 27. Two Bermuda residents are stranded in Nepal after the worst earthquake in 80 years wreaked devastation on the country. Christian Herzog and Kai Hartman were supposed to be trekking to Mount Everest South Base Camp when the 7.8-magnitude quake hit on Saturday morning. "It's been a complete roller coaster all weekend," said Mr Herzog's ex-wife, Christina Herzog. "But they are both fine." Ms Herzog said the men flew to Lukla, in north-eastern Nepal, last Wednesday to attempt the trek, but they went their separate ways when Mr Hartman began to suffer from altitude sickness. The 46-year-old assistant head chef at Docksider Pub & Restaurant, who goes by the name of Barney and lives in Pembroke parish, stayed in the village of Namche Bazaar. Mr Herzog, 48, of Devonshire, and a Sherpa set out for the base camp. When the quake hit, Mr Herzog, the co-owner of Coconut Rock, was near the village of Pheriche — an important acclimatization stopover for climbers and trekkers to the base camp — which lies about halfway between Lukla and the base camp. But Ms Herzog said that it was not until late on Saturday that she finally received word that Mr Herzog was alive and well, although she did not hear from him directly. She explained that the Sherpa with whom he had been travelling had managed to get a message to London, which was passed on to her. Mr Herzog and the Sherpa are now on their way back to Namche Bazaar, and are expected to arrive within two days. Mr Herzog and Mr Hartman, both German nationals who have been living in Bermuda for more than two decades, will be able to determine how and when they will be able to return home. Mr Herzog's business partner, Shane DeSilva, expressed his relief that both men were alive. "We've been a worried mess all weekend," he said. "We haven't just been concerned with them, but all of the people in Nepal." Staff at Docksiders also expressed their relief that their chef was alive and well. At least 19 people were killed and more than 60 others were injured on Everest after the earthquake triggered avalanches that swept through the South Base Camp. Hundreds more are stranded and awaiting rescue. The death toll across the country has now reached more than 4,000.
April 27. The first America's Cup Class catamaran is set to make its debut this week in the Great Sound — venue for the 35th instalment of the "Auld Mug". Oracle Team USA, the defender, are scheduled to launch their wing-sail foiling AC45 on Friday. Over the coming days the team's various engineers will install and test all of the systems in the boat before it resumes sea trials. "We will lift the boat up and put the dagger boards in and then once those are in the guys will get the hydraulics hooked up to everything and just kind of go through the tests with the computer and electronic guys to make sure the computers are all working," Matt Cassidy, the Oracle captain, explained. "We will then wheel it out and do a little load testing to make sure everything is good. "The wing (wing-sail) will then come out and the guys will hook it up and do some preliminary tests with it on the ground but connected to the boat. And once everything is good there the wing goes in the air on to the platform for more tests and then we go sailing." Oracle's AC45 had been a prototype for the AC62, the design to be used for the 2017 America's Cup, as outlined in the original Protocol. However, the majority of teams voted in favour of changing the class rule from the AC62 catamaran to the smaller AC48 as a cost-cutting measure at a competitor forum. It is the first time in America's Cup history that the class rule has been revised in midstream and the smallest boats to be used in the event's history. Emirates Team New Zealand and Luna Rossa both opposed the amendment, with the latter withdrawing from the 35th America's Cup criticizing decisions by organizers as unprecedented and illegitimate. Oracle's team of engineers began assembling various components of the soaped-up AC45 last week, less than two weeks after it arrived on a container ship. "It comes out of the container basically in about five or six pieces," Mr Cassidy explained. "You have the two hulls and the back of the hulls come off and those are attached to the aft beam. Then you have the forward beam which goes on together and then the centre pod, so there's five major pieces for the platform and then the wing will go on once the platform is all set." The AC45 boasts state-of-the-art technology and is believed to have the potential to go three times faster than the actual wind speed. The journey of Oracle's AC45 from San Francisco to Bermuda was interrupted after US marshals arrested the vessel in response to a maritime lien filed by sailor Joe Spooner, whose contract with the US America's Cup racing syndicate was terminated in January. The New Zealand sailor is seeking unpaid wages and damages for alleged wrongful termination of his contract. According to American Maritime law, a vessel can be held until a bond is posted if a sailor is owed wages for work already performed. The United States District Court for the Northern District of California, Judge Joseph C Spero, granted Oracle's request to have their boat released after a hearing.
April 27. A Bermuda team could compete in the next Red Bull Youth America's Cup. Sir Russell Coutts, the America's Cup Event Authority and Oracle Team USA CEO, is believed to be keen to see Bermuda among the teams vying for Team New Zealand's title at the next event, which will begin next year with qualifiers, with the final regatta taking place in 2017. "He wants to help a Bermuda youth team sail in these 45s in the Youth Red Bull Championship during the America's Cup," Alan Burland, who represented Bermuda in the Tornado catamaran at the 1984 Summer Olympics in Los Angeles, said. "What an opportunity for young Bermudians to be coached and trained by some of the best people in the world in the most sophisticated equipment. It's just tremendous." The inaugural Red Bull Youth America's Cup took place just before the first races of the 34th America's Cup in San Francisco in 2013. The event featured ten national teams comprised of sailors aged 19-23 and was an instant success. Peter Burling and Blair Tuke, who were members of Team New Zealand's victorious team at the inaugural Red Bull Youth America's Cup, have since secured jobs with Emirates Team New Zealand, challenger of the 35th America's Cup, who lost to Oracle Team USA in the last America's Cup Match. "This is exactly what we hoped would happen when we first started talking about the Red Bull Youth America's Cup," said Jimmy Spithill, the Oracle Team USA skipper, who was instrumental in driving the project forward. "There are so many good young sailors out there, who just need to know there is a way forward, a path to get into the America's Cup. There are no guarantees. This is sport, but with the Red Bull Youth America's Cup, it's clear that there is a way to break through. Just look at the guys who won last time." Burling, who has replaced Dean Barker as helmsman for Emirates Team New Zealand, won the 2015 International Moth World Championships in Australia last January and more recently defended his world title in the double handed 49er Skiff along with Tuke at the ISAF Sailing World Cup in France at the weekend. The inaugural Red Bull Youth America's Cup was contested in conventional wing-sail catamarans. However, the next event will see sailors racing in modified foiling versions of the boat.
April 27. The potential of purchasing second-hand ferries to bolster the Island's ageing fleet is being explored by Government. Transport Minister Shawn Crockwell confirmed that talks were under way over the prospect of buying used ferries from abroad that were in good condition to ensure that the Island could cope with the large number of visitors expected for the America's Cup. His comments came as the Millennium ferry underwent routine maintenance work in the United States before it returns to Bermuda at the end of the month to work the Dockyard-St George's route. "We are looking at second-hand ferries in good condition for a long-term remedy to this situation," Mr Crockwell said. "The age of our fleet is an area of concern. But our ferries are in good shape considering their age and have been well maintained. We will have to continue to work with what we have got, but it is prudent to start looking for replacements. We have started that process, although we don't anticipate any purchases this summer." This summer's ferry schedule reveals a reduction in the service between Watford Bridge and Hamilton, which is expected to save about $500,000. But Mr Crockwell said that he did not believe the schedule would cause local passengers or visitors too much inconvenience. The Millennium ferry, which has been leased by the Government and has bolstered the fleet over the past three years, is expected to return to Bermuda on April 28 in time to start the service between Dockyard and St George's in the week starting May 4. Mr Crockwell said the Millennium had proved a valuable asset, but dismissed criticism from some quarters that Government would have saved money if it had simply bought it rather than leased it. "The Millennium will be in service for a slightly shorter window of five months this year compared to the six months it was operating last year. It has transported more than 250,000 to St George's since it came to Bermuda and has fulfilled a very important role. I would like to clarify that this boat was never for sale at the time it was initially leased by the Government. It had been previously, but then the owner took it off the market."
April 27. Diversifying and making overseas acquisitions have played a part in Butterfield Bank growing its business during the past year, according to chief executive officer Brendan McDonagh. As he looked forward to the remainder of this year, and beyond, he is optimistic for the bank and for Bermuda. Butterfield yesterday reported improved first quarter profits of $26.8 million, up $3.6 million compared to the same period last year. The bank's first quarter earnings report showed that core earnings improved $5.8 million, or 25 per cent, to $29 million during the first three months of 2015. Shareholders are to receive an interim dividend of one cent per common share. Core cash earnings per share were $0.05, up 25 per cent from last year. Mr McDonagh, referred to the results as strong and said there were three key reasons why core earnings had gone up. One was the acquisition of the Legis trust and fiduciary services business in Guernsey, which was "the primary driver of growth in group trust revenues of $2.3 million", together with the acquisition of select community banking business from HSBC Cayman. "We are starting to see earning flows coming in," said Mr McDonagh. The second reason, he said, was "keeping a good handle on costs. Where costs have gone up, they have gone up as a result of acquisitions. Headcount has gone up, but it's on-boarding." And the third reason for the boost to core earnings is the significant improvement in the bank's loan-loss experience. In the first quarter of 2014 Butterfield made provisions for credit losses of $3.5 million, in the first three months of this year the provision has been reduced to $200,000. Mr McDonagh said the bank did half of its business outside of Bermuda, which played a part in the overall picture, but he added: "It's also a good sign that we have seen a degree of stabilization in the credit performance here in Bermuda. People are paying down debts and less inclined to take out new borrowings." In February, Finance Minister Bob Richards was critical of the Island's banks, when he said: "There is currently no appetite for lending. And to top it off, banks continue to lay off Bermudian staff." Asked for his reaction, Mr McDonagh said the bank had not laid off significant numbers of Bermudians recently. He also said he did not agree with the contention that banks are restricting lending. "Because the economy is not growing fast, because it is in a low-growth phase, it is clients, whether corporate or consumer, that determine what the demand for credit is. We match it with supply. I do not think it is wise for banks to create the demand for credit, because you have seen that in other economies around the world where they entice people into borrowing, and then there is an affordability issue." Mr McDonagh pointed out that the bank has lent "a significant amount of money" to new hospitality projects in the past two years. He also praised the community and customers for being disciplined in their financial management. Looking to the future for the bank, and Bermuda, he said Butterfield Bank was "very much a local community bank, we have a wealth management division, trust division. All those produce very steady earnings, it means that the earnings are more predictable." He added: "Our customers and shareholders like their bank to be stable and predictable to some extent. Going forward, I do not see any storms on the horizon. Five or six years ago we had a need for recapitalisation. The turnaround has been reasonably quick to get back to this level of return on equity." And regarding his outlook for Bermuda in general, he said: "We are very much enthused about he America's Cup. I think it's great for a number of reasons. One is that it is a boost over a sustained number of years and will likely bring permanent benefits. Clearly, if the America's Cup, or something else, brings more people to the Island, then everyone benefits, with more houses built, more apartments rented out, people spending money in supermarkets and buying cars and scooters, and local companies benefiting."
April 27. The succession of last-minute cancellations that has plagued the bus service in the past two months should end once a new schedule is introduced in June, according to Transport Minister Shawn Crockwell. Mr Crockwell told The Royal Gazette that he was hopeful that union members would agree to the schedule that had been presented to them. He insisted the Ministry was doing everything that it could to keep disruption to a minimum, and confirmed that the ad hoc cancellations would not affect cruise visitors to the Island. Acknowledging that the constant series of daily cancellations had been "frustrating", Mr Crockwell said: "We have tried to do the best we can, keeping people informed through media alerts and the website. Last week the average number of cancellations we had was ten per day. Previously, we had been seeing up to 40. There are 300 bus routes a day and we try to make sure that only the least heavily used ones are affected. Government plans to order a further four new buses this summer to add to the 16 buses that have been delivered in the past few years. At present, eight new operators are being trained, while the new schedule is expected to free up a further eight operators. Once we implement the new bus schedule, it will allow us to be more flexible. In terms of sickness over the last month, we have ten operators on long-term sick leave, nine on short-term sickness and 11 operators on vacation. That is 30 operators not available, which makes things difficult. We will be in a very good situation with personnel come June. The goal is not to have any cancellations." The new bus schedule is aimed at establishing a more efficient service and better deployment of operators. It is also designed to reduce the Government's overtime liability that has averaged more than $2 million per year, which Mr Crockwell said was "simply not sustainable." He said he was cautiously optimistic that the new schedule would be agreed to by union members. "I am not sure what the union membership will say, but I hope we can reach an agreement. This has to involve give-and-take and the bus operators have been involved in helping to develop this new schedule. I'm confident we want the same thing and hope we can work together." Although the schedule is not expected to take effect for two months, Mr Crockwell does not believe the recent cancellations will affect visitors to the Island. He also revealed that the ministry planned to explore the possibility of changing the interval between peak-time services from every 15 minutes, as it is at present, to every 20 or 30 minutes. "We always have eight buses set aside for charters when the cruise ships are in and this will remain the same," he said. "Therefore, there should be no disruption to our visitors. All indications are that the system we have in place up in the West End will accommodate the several thousand visitors we get in the peak of the summer. It's no easy task and we had some hiccups last year, but we firmly believe we have a system in place needed to co-ordinate the movement of our visitors around the Island."
April 27. The succession of last-minute cancellations that has plagued the bus service in the past two months should end once a new schedule is introduced in June, according to Transport Minister Shawn Crockwell. He told The Royal Gazette that he was hopeful that union members would agree to the schedule that had been presented to them. He insisted the ministry was doing everything that it could to keep disruption to a minimum, and confirmed that the ad hoc cancellations would not affect cruise visitors to the Island. Acknowledging that the constant series of daily cancellations had been frustrating, Mr Crockwell said: "We have tried to do the best we can, keeping people informed through media alerts and the website. Last week the average number of cancellations we had was ten per day. Previously, we had been seeing up to 40. There are 300 bus routes a day and we try to make sure that only the least heavily used ones are affected. Government plans to order a further four new buses this summer to add to the 16 buses that have been delivered in the past few years. At present, eight new operators are being trained, while the new schedule is expected to free up a further eight operators. Once we implement the new bus schedule, it will allow us to be more flexible. In terms of sickness over the last month, we have ten operators on long-term sick leave, nine on short-term sickness and 11 operators on vacation. That is 30 operators not available, which makes things difficult. We will be in a very good situation with personnel come June. The goal is not to have any cancellations." The new bus schedule is aimed at establishing a more efficient service and better deployment of operators. It is also designed to reduce the Governments overtime liability that has averaged more than $2 million per year, which Mr Crockwell said was simply not sustainable. He said he was cautiously optimistic that the new schedule would be agreed to by union members. "I am not sure what the union membership will say, but I hope we can reach an agreement. This has to involve give-and-take and the bus operators have been involved in helping to develop this new schedule. I'm confident we want the same thing and hope we can work together." Although the schedule is not expected to take effect for two months, Mr Crockwell does not believe the recent cancellations will affect visitors to the Island. He also revealed that the ministry planned to explore the possibility of changing the interval between peak-time services from every 15 minutes, as it is at present, to every 20 or 30 minutes. "We always have eight buses set aside for charters when the cruise ships are in and this will remain the same. Therefore, there should be no disruption to our visitors. All indications are that the system we have in place up in the West End will accommodate the several thousand visitors we get in the peak of the summer. It's no easy task and we had some hiccups last year, but we firmly believe we have a system in place needed to co-ordinate the movement of our visitors around the Island."
April 27. Bermuda Bar Council president Justin Williams is to step down after two years in the role. Mr Williams said the last two years had seen "significant advances", including the introduction of conditional fees, which means failure to win a case means no fee. He added that a self-regulation anti money laundering and anti terrorist financing scheme had also been introduced. And Mr Williams said a proposed framework for Bermudian barristers to become Queen's Counsel had also been drawn up. He added that the Bar Council had worked with the Attorney General on criminal justice reform, including the re-implementation of the Police and Criminal Evidence Act (PACE) committee to deal with detention and questioning of suspects. Mr Williams said restrictions had also been placed on lawyers practising without at least two years of post-qualification experience, while changes to the Notaries Act meant more notaries were available to the public. Other initiatives in the last two years include requirements for all practising lawyers to have sufficient professional indemnity insurance. Mr Williams said: "With a significantly increased number of law firms and thus members, the task for Bar Council to oversee is much greater. There are reporting obligations imposed on members and member firms alike, which must be encouraged and enforced. When I reflect back on where we were, where we are and where we are going as an association, we continue to move from strength to strength serving our members and the members of the public well." The Bermuda Bar Council holds its annual meeting tomorrow.
April 25. Bermuda's Carifta track and field team members will be back in action for the first time since the Games in St Kitts earlier this month when the Bermuda National Athletic Association hosts a meet at the National Sports Centre tomorrow, starting at 1pm. The Island's 12-member team won three medals at Carifta with Kyrah Scraders clinching a silver and bronze in the under-20 girls 800 and 1,500 metres while high jumper medalled again in the under-18 high jump where she won bronze. Scraders, the Junior Girls Athlete of the Year, proved herself to be one of the top middle distance junior runners in the region after stepping up to the under-20 division for the first time. Famous again lived up to expectations despite being one of the younger athletes in her age group. Bermuda's athletes turned in several personal bests and season bests with Keisha Miller, in her first Carifta Games, reaching the long jump final with a PB while Michaiah Robinson achieved a PB in the 800 metres. "We had a small team with varying experience and some athletes who moved into the under-20 division for the first time," said Donna Watson, the BNAA president, on the team's performances. "To come away with three medals is not bad at all and I am very pleased with my team and I expressed this to them in a meeting." Athletes will use this weekend's meet as a qualifier for the Junior Pan Am Games in late July in Edmonton, Canada. The National Championships are scheduled for June 12 and 13. Competition tomorrow will begin with girls and boys shot put, triple jump and high jump, with running events starting at 1.10pm with 1,500 metres and then 100 metres in all age groups.
April 25. The amount claimed from developer Par-la-Ville Hotel and Residences Ltd and the Corporation of Hamilton by Mexico Infrastructure Finance LLC is a total of $17,803,715.99, according to a draft agreement seen by The Royal Gazette. Par-la-Ville Hotel & Residences borrowed $18 million as a bridging loan from lender Mexico Infrastructure Finance LLC, which subsequently disappeared. Par-la-Ville car park — prime real estate long expected to be developed as a hotel — was put up by the Corporation of Hamilton as collateral for the loan, but after the failure to repay that loan by the developer, the property is now in the hands of the KPMG receivers. The draft agreement between Mexico Infrastructure Finance LLC, Par-la-Ville Hotel and Residences Ltd and the Corporation of Hamilton dated January 2015, states that "the Borrower and the Guarantor are in default under the terms of the Credit Agreement and the Guarantee dated 9 July 2014 (respectively) having failed to pay upon demand the entire loan of US$18 million made by the Lender, together with interest and costs to the Lender..." The draft agreement is signed for Mexico Infrastructure, but not for Par-la-Ville or the Corporation of Hamilton. It is not known if one or both of those parties eventually signed the document. It does state that Mexico Infrastructure will give the borrower and the guarantor until 31 January 2015 before taking enforcement action. That amount includes the principal of $18 million and default interest of $243,715.99. It also takes into account $500,000 the document says was not removed from the escrow account, where the funds resided until they were transferred from the Bank of New York Mellon. It was a term of various agreements between the parties that $500,000 should remain in the escrow account, according to other documents this newspaper has seen. But the draft agreement document states: "The Borrower will immediately pay to the Lender the sum of US$1.2 million." It also states: "In addition, the Borrower will immediately provide to the Lender all documentation, satisfactory to the Lender, related to the Argyle Financing including, but not limited to, the underlying land documentation, the trust agreement, the latest account statements, wire transfer records, credentials and track record of Argyle, and any other relevant documents that indicate and support the type of investment and instructions for investing the funds provided by the Borrower to Argyle, or any other party." The lender also demands that Par-la-Ville will "Provide back up (including receipts, invoices, etc) of all payments made from the proceeds of the drawdowns under the Credit Agreement." In return for this, Mexico Infrastructure said they would not take action against the borrower or the guarantor until February 1. The draft agreement also states that borrower agrees that the lender has the right to appoint a receiver over the Par-la-Ville property.
April 25. Oracle Team USA's new Bermuda base at the Royal Naval Dockyard was intended to be the main focus at yesterday's traditional roof wetting ceremony. But most of the discussion and attention centered around the team's impressive wing-sail foiling AC45 catamaran housed inside the boatshed, which stole the thunder. Those in attendance at the ceremony had the privilege of being among the first on Island to get a glimpse of the multihull boat comprising of the latest technology. "It's amazing the extent at which engineering, hydraulics and aerodynamics are all sort of pulled together on these things," Grant Gibbons, the Minister of Economic Development, told The Royal Gazette. "This is an aircraft. This sport has evolved so much and it's so nice to have Bermuda at the cutting edge of how this is evolving." Alan Burland, who represented Bermuda at the 1988 Summer Olympics in South Korea competing in the Tornado catamaran — a forerunner of the America's Cup Class catamarans — said: "It's right at the cutting edge of sailing and I wish I was 20 years of age right now. It's the very best technology; the most advanced systems and technology is in these boats and what the America's Cup now is a race of who can come up with the next best wing or foil." Mr Burland, president of BCM McAlpine, one of the companies involved in the construction of Oracle's Bermuda headquarters, added: "It's absolutely fantastic to see how far sailing has progressed in the last ten to 15 years and I think Oracle, in particular, have to be credited with focusing the world on the really fine-tuning of sailing with the foils, wing-sail and it's showing how efficient sailing really is." Peter Durhager, the America's Cup Bermuda (ACBDA) chairman, was also in awe of Oracle's AC45. "It's cool in the shed but it's going to be even cooler out on the water. When people begin to see these things foiling off the water doing 50 miles an hour it's going to blow their mind." Before moving their operations from California to Bermuda, Oracle's turbocharged AC45 underwent sea trials on San Francisco Bay. "Each day of sailing in San Francisco we went faster and faster and almost hit 46 knots in under 18 knots of breeze — and we were supposed to be taking it easy," Matt Cassidy, the Oracle captain, said. "We weren't supposed to be pushing the boat that hard and we got those speeds so with a little more time in the boat I think you are going to see some really amazing speeds in the Great Sound." The AC45 uses innovative wing sail designs and hydrofoils that enables it to reach high speeds. Once the catamaran reaches speeds of around 20 knots it rises out of the water and the weight is transferred onto carbon fiber foils which reduce drag and allow the boat go between 10-15 per cent faster. The wing-sail catches huge amounts of wind and are shaped just like an aircraft wings. In the same way as an aircraft wing, the sails take advantage of the Bernoulli principle, in which a difference in pressure on either side of the sail will create lift, or in this case forward motion which push the AC45 through the water. It is believed that the modified version of the AC45 has the potential to go three times faster than the actual wind speed. "I've been sailing for a long time and this is by far the most complicated boat I've been on," Mr Cassidy added. "It's a giant computer and it's amazing how complicated this thing is."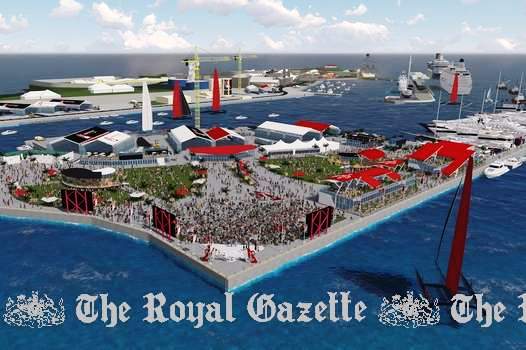 Oracle's base at this developing new facility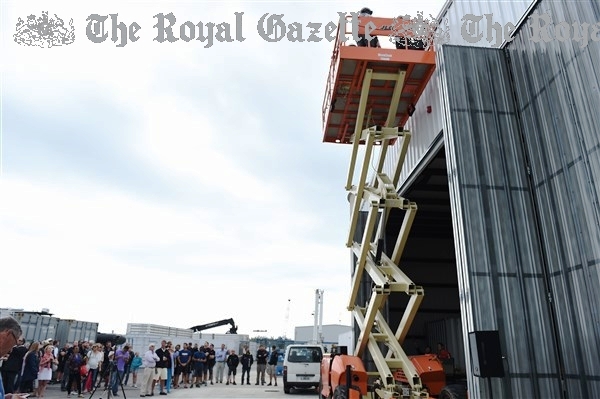 Oracle Roof Wetting, see above story
April 24. Hollywood star Michael Douglas is on the Island and has submitted completed plans for Ariel Sands' redevelopment, saying that work could begin as soon as September. The project already has planning approval to build a wall to protect the beach and stabilize the land behind it, and the bid to construct this is being put out. The final plans, submitted to the Department of Planning, are a slightly scaled down version of the ones released in November last year. Those were unveiled by the actor as he announced the beginning of the redevelopment of the property, which has been in his family since the 1840s. There will be 26 villas rather than the 33 previously announced, with 20 rooms in the main hotel building. The villas will be a mix of two and three-bedroom, self-contained apartments with facilities such as washer dryers, bathrooms for each bed, and kitchens. There will be two restaurants — one in the main building and one in the beach club, and both will be accessible to the general public. Other facilities include a spa, gym, salon and children's entertainment zone. Mr Douglas told The Royal Gazette: "The plans have been refined substantially since we made our initial announcement and we have spent an exorbitant amount of time to get it right. Sometimes plans are submitted in part but this is complete. One of the big attractions is the salt water pool and we are working on a very attractive beachfront restaurant with outdoor terraces that encompass our pools and look over our beach. It should be an exciting place. There are not that many places that have beachfront restaurants in Bermuda." The plans will be advertised in the media and on Government's website for two weeks, following protocol. Mr Douglas is here with his business partner, Seth Weinstein, of New York-based Olympic Property Partners. Mr Weinstein said that the demolition of existing buildings was almost complete and the next phase would be preparing for construction. "We are going to begin construction on the beach and the beach wall in June or July and the rest of the construction hopefully in September. From June to July we will start doing a lot of the site work — we will start cutting in the roads and leveling the site to prepare it appropriately so when we start going vertical in September, we will be able to build very quickly. We need to work quickly because we want to be open for the America's Cup and that only gives us about 16 months to 18 months to build." No decisions have been made on which construction companies will be employed if planning is approved, or whether they will be Bermudian. Mr Douglas said that more than one construction firm may be needed to complete the work on time. Meetings have been held with local residents as well as environmental groups to discuss the hotel's impact. According to Mr Weinstein, no objections to the plans have been raised so far. The villas will also be available for sale to Bermudians and non-Bermudians, who can rent them out through an international reservation and marketing group. Mr Weinstein added: "We have had a lot of interest — you can imagine with Michael involved. A lot of people have come to us. "We have not prepared our sales materials so we can't formally sell product yet but we are compiling a list of interested parties and we've got a very good response so far."
April 24. Bermuda will have a strong presence at the Risk and Insurance Management Society (RIMS) annual conference in New Orleans next week. "Bermuda has always had a special relationship with RIMS, and I'm pleased to be joining my Ministerial colleagues and our insurance and business leaders at next week's conference," said Premier Michael Dunkley. He will be joined at the multi-day event by Finance Minister Bob Richards and Economic Development Minister Dr Grant Gibbons. The Island will also have representatives of the Bermuda Monetary Authority (BMA) and the Bermuda Business Development Agency (BDA) at the conference, which begins on Sunday. Shelby Weldon, director of licensing and authorizations at the BMA, said: "The Authority is pleased to once again be partnering with the BDA at RIMS — easily the largest and most important annual conference for the worldwide risk transfer industry. "Increased competition, the prevailing soft market, and evolving international regulatory standards are all anticipated to be hot topics at this year's conference and the Authority will be happy to answer any questions that prospective Bermuda insurers may have in this regard." More than 150 local industry delegates are expected to attend the conference, which every year attracts close to 10,000 risk management professionals, as well as senior executives and other decision-makers from a wide range of industries. Paul Scope, chairman of Willis Bermuda and a BDA board member, said: "The unrivalled collaboration of the Bermuda public and private sector is never more evident than at RIMS. Volunteers from all levels of the risk industry, complemented by the Bermuda government delegation, provide a strong statement of how important international business is to Bermuda." Mr Scope said Bermuda's substantial presence at RIMS underscored the importance and legacy of the Island's marketplace and the critical role it played in the global economy. Notably, Bermuda's reinsurers paid nearly 30 per cent of the insured losses from Hurricane Katrina, which devastated New Orleans and other parts of the Gulf Coast in 2005. "Bermuda continues to attract quality capital to provide risk capacity to a global demand," he said. "The latest wave is the ILS movement, but it goes back three decades to when Ace was established in 1985. Ace celebrates its 30th anniversary later this year and XL's is early next year. Both Ace and XL have become huge global carriers and have maintained significant presence on the Island." A Bermuda networking event will be held on Tuesday evening at Club XLIV, at the city's Mercedes-Benz Superdome, at which award-winning Bermudian band Mohawk Radio will perform a tribute to legendary local balladeer Hubert Smith Sr. The event, which brings together industry executives, will showcase Bermuda culture, history and traditions.
April 24. A Bermuda reinsurance company has offered a berth to the America's Cup. RenaissanceRe stepped in to provide office space for the America's Cup Event Authority (ACEA) at its HQ on the outskirts of Hamilton. The ACEA, which has been operating from RenaissanceRe's Crow Lane offices since March, is based alongside the Bermuda America's Cup organization ACBDA. Sir Russell Coutts, the CEO of ACEA, said: "Our team has been overwhelmed by the welcome we've received and the amount of local support here in Bermuda for the America's Cup. "Our office is a perfect example of this Bermudian hospitality, with RenaissanceRe opening its doors and welcoming us into their home for the next two-and-a-half years." The RenaissanceRe team on Friday threw an office "happy hour" celebration to officially welcome the America's Cup team to their offices. RenaissanceRe's president and CEO Kevin O'Donnell said: "We are pleased to welcome the ACEA to the Island and to provide a base for the team's global headquarters on Renaissance's campus." Mr O'Donnell added his firm had been based in Bermuda since it was founded more than 20 years ago. He said: "Just as we believe that this is the best place in the world to run our business, we are sure that visitors and competitors will find our Island an ideal location to host the America's Cup. We are proud to join the efforts of our community to help make this prestigious event a success and are looking forward to an exciting few years of world-class sport in Bermuda."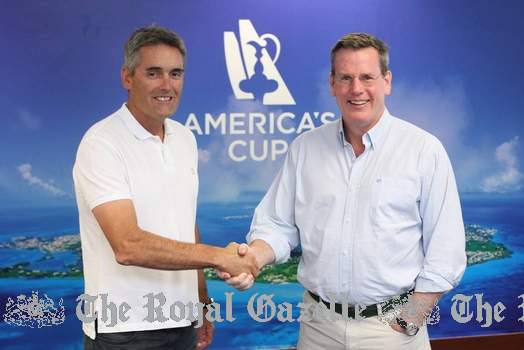 See above story
April 24. Hiking taxes will not deal with Bermuda's massive deficit, a top economist has warned. And Peter Everson, who runs PE Consultants, said there was no "silver bullet" to deal with the Island's debt of around $2 billion. "Many people were looking for a silver bullet. Rather than one great idea we have to execute, it's boring, dull, hard work and not the magic bullet," he said. Mr Everson was speaking at a meeting of Sandys Rotary Club, where he talked to members about the way Cayman Islands, a major competitor of Bermuda, had dealt with its debt problems. He said that the Caymans had moved from a deficit of $81.1 million on their annual budget in 2008-09 to a budget surplus for 2014-15. Mr Everson said that the Caymans had increased its population by importing people, while Bermuda's population had fallen in recent times, largely due to the departure of overseas workers. He told Rotary Club members: "If you have more people working, then, mathematically, production goes up. That's the key thing about Cayman in recent times — the number of people in the workforce." And he said: "If all Bermudians were employed full-time, the Government wouldn't balance its books. There would still be a gap." Mr Everson said that Cayman — which has a different constitution from Bermuda — had had its budget rejected by the Governor in 2009 and a report commissioned into the economy. The external Miller Report concluded that Cayman needed to curb government spending, the civil service was too large and a public sector pensions time bomb was ticking. The Miller Report also said that Caymans' economic base was too narrow, with a heavy dependence on international business and tourism, and that increased taxation on its own would not help the country gets its books out of the red. Mr Everson added: "If you take Bermuda's economy and Caymans' economy and send them off to a DNA lab, you would probably get an 80 per cent match." And he said that both Bermuda and the Cayman Islands watched each other's policies and used each other as "a little bit of a laboratory" before adopting new initiatives. Mr Everson said that the Caymans had opened a new private hospital to cater for medical tourists, hotels were being regenerated, while its infrastructure was being renewed with a new airport and cruise ship terminal. He added: "This is how direct foreign investment is coming through — initially to create construction jobs and gradually coming through to provide more permanent jobs. The big difference is the amount of land they have in Cayman. There has always been a large amount of undeveloped land in the Caymans. The increase in immigration to the Caymans and the increase in its Gross Domestic Product (GDP) were directly linked. There had been "relaxations" in Bermuda's work permit policies recently, but that had not been without controversy and a knee-jerk reaction that Bermudians were unemployed and should be taken care of first. That means Bermudians are either lacking the appropriate skills or they choose not to take a job because it doesn't pay the wages they would like. Bermuda could push alternative energy like wind and solar power to create new industries and cut the cost of power generation. But any new businesses would need both capital and people to work in them. The America's Cup would boost the economy, with investment by government and the organizers as well as assist the hotel industry — but new hotel projects, while "useful" would not generate enough money to generate a Government surplus. We have got a good base in Bermuda but we got to build on that. Whatever we do, Bermuda will be a lot different from what it did five or ten years ago and we need to embrace that. I urge young people — who will be responsible for paying the pensions of the baby boomer birth bulge as they retire — to make their voices heard. They have the biggest skin in the game — it's great to see some of them say they are frustrated and can't find a job, so they're jumping up and down to start their own businesses. That's great and I hope they flourish, but that on its own won't be enough. We need to do something more radical. We've got to put away personal preconceptions, we have to embrace the idea that the changes will be substantial and when we move, we must move with lengthy and substantial strides."
April 24. A top British tax campaigner yesterday predicted that Jersey, a major competitor to Bermuda, could go bankrupt. The stark warning from Richard Murphy of Tax Research UK came after the States of Jersey predicted a shortfall in government income of more than $188 million (£125 million) by the end of 2019. Mr Murphy — a leading campaigner in the UK against the use of tax shelters — said: "One of my recurring themes from 2007 onwards was that Jersey would one day, as a result of its introduction of a zero corporation tax, face an insurmountable financial black hole that would bring its States' finances to its knees." The Jersey Evening Post reported: "To plug the gap ministers have suggested a budget-balancing programme of £130 million in new income — £35 million from a new health charge, £35 million in other efficiency savings including benefit changes and 'user pays' services charges and £60 million in staff savings. The money is needed to combat lower-than-expected revenue, coupled with increasing funding pressures on key areas such as health and education. No measures have been ruled out, with compulsory public sector jobs cuts being considered for the first time in order to save money." Jersey Treasury Minister Alan Maclean, who unveiled the new savings plan at an Institute of Directors lunch, said: "What I'm concerned about is making sure we learn from the past and make sure we continue to have strong public finances. Hindsight is a great thing and it's been proven that our optimism wasn't as justified as it could have been, but we live in a particularly volatile world at the moment." Mr Murphy said that he had predicted a shortfall of $135 million ($201 million) by 2012 several years ago. He added that "I got the timing wrong" but explained that Jersey had headed off a financial crisis through "privatisation, raising reserves and cuts. Such measures cannot hold off the inevitable forever. I repeated the warning many times since then. All were ignored by Jersey's Ministers who said I was completely wrong. The evidence now makes clear who read the runes correctly." Mr Murphy suggested there were several reasons for the crisis — including a lack of tax, tougher scrutiny of the offshore sector and a refusal to change. He wrote: "The first is that you cannot run an economy on the basis of not properly taxing your biggest economic activity, which in Jersey's case is finance. When so many companies using Jersey pay no tax at all and those in the finance sector that do pay tax pay at half the normal rate of course there is going to be a financial crisis in the island. It did not take genius on my part to predict that. It only took an honest appraisal of the data, which is what I delivered. Second, Jersey has remained wedded to a tax haven model for its economy when tax haven activity has come under scrutiny and many of the reasons for using Jersey provided opportunities for abuse have been taken away as a result of the efforts of tax justice campaigners. We said we would win, and Jersey was for a long time the target of much of our comment. We have won, but Jersey was always in denial about the fact."
April 23. King's Square, St. George's, erupted in a cacophony of raucous cries and resplendent color yesterday as 25 town criers went head to head. The competition, which has been held twice before in Bermuda, featured town criers from England, Canada and Bermuda putting their vocals to the test. The participants included male and female criers and all were dressed in colorful period clothing, each hoping to scoop the secondary prize of best dressed. "It's always a lot of fun, wherever we go," said Steve Cunliffe, town crier for Dawlish, England. "This is my fourth time in Bermuda, you can't keep me away. The sunshine, the hospitality — it's just a great place to come. These competitions tend to be the only time that my wife actually listens to me." All 25 contestants performed a 125-word cry in front of a cheerful crowd and a panel of judges in St George yesterday. Today at 11am they will be in Dockyard doing the same, before returning to City Hall for the final round of cries on Friday. The competition has been organized by the Corporation of Hamilton. Roy Goodwin, town crier for Ilfracombe in England, said: "There's a great sense of camaraderie among us all. There's always a few nerves beforehand, but it would not be a competition unless that was the case. This is my first time in Bermuda and I have loved every minute so far. My wife and I have had a fantastic time, and we are looking forward to the next couple of days." The champion town crier will be crowned in Hamilton on Friday.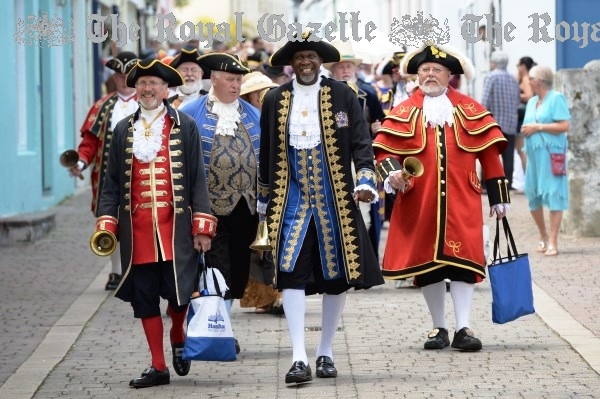 Overseas and local Town Criers in Bermuda in April 2015. See above story.
April 23. The strains of bagpipes echoed through the streets of St George as the town marked one of the oldest traditions in the Island's history. The passing of a simple, symbolic peppercorn from Freemasons Lodge treasurer Richard Moulder to Accountant General Curtis Stovell, and the accompanying pomp and ceremony, attracted hundreds of locals and visitors to King's Square. In brilliant sunshine, schoolchildren watched on and Regiment soldiers stood to attention as Mayor Garth Rothwell and Governor George Fergusson arrived in horse-drawn carriage to continue a ritual that dates back to 1816. Mr Rothwell hailed the town's historic structures and Unesco status as he welcomed the crowd gathered for the annual Peppercorn Ceremony. "Within the town are 170 listed buildings, 10 historic monuments, six forts and one unfinished church. The town of St George is an original and in 2000 gained Unesco status. We need to make better use of this prestigious designation and do more to maintain our historic monuments, especially the forts and the very popular unfinished church." Mr Rothwell said the Corporation was focused on promoting cultural tourism in the East End, and their efforts had already begun to bear fruit. "To the skeptics, this probably sounds like another plan to gather dust on the shelf somewhere. Not so this time. The lists of successful activities and events taking place in this town is now so extensive that I am only going to mention the gunpowder plot re-enactment being planned for August 14. This is totally aligned with the development of cultural tourism and will bring the Sons and Daughters of the American Revolution to the Island. This has huge potential for the future. Revitalization is well under way in the East End but we have a long way to go." As part of this year's Peppercorn Ceremony, the Bermuda Regiment was given the freedom of the town to mark its 50th anniversary celebrations. Mr Rothwell praised the Regiment for their work in the town after Hurricanes Fay and Gonzalo last year. Regiment Commanding Officer Michael Foster-Brown thanked the town for the honour and spoke of Bermuda's history being closely linked with the military. Yesterday's ceremony was attended by a host of dignitaries and politicians, including Premier Michael Dunkley and Opposition Leader Marc Bean. The Mayor of Lyme Regis — St George's twin town — Sally Holman was also present. Mr Fergusson applauded the town's latest efforts to promote its heritage and history to attract new visitors through the gunpowder re-enactment and similar projects. Although he quipped: "Taking the long view, I will overlook the unhappiness of celebrating the theft of the then Governor's gun power. Please don't let it happen again."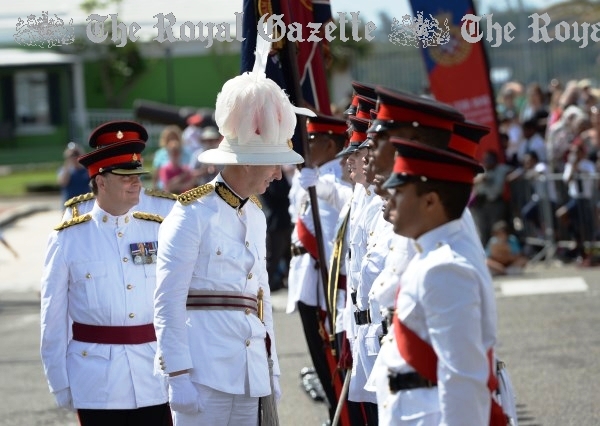 Governor inspecting Bermuda Regiment at 2015 Peppercorn Ceremony. See above story.
April 23. Hamilton Harbour could potentially provide the backdrop for America's Cup World Series racing. During a packed town hall meeting at the Heritage Worship Centre in Hamilton on Tuesday, Sir Russell Coutts, director of the America's Cup Event Authority (ACEA) and Oracle Team USA's chief executive, revealed that organizers have not ruled out the possibility of having part of the event take place in the Island's port of call. "The regatta director [Iain Murray] was investigating whether it was possible to bring some racing inside the harbour," Sir Russell said yesterday. The five-times America's Cup winner said organizers were looking into avenues of having racing conclude in Hamilton Harbour, which annually hosts the Argo Group Gold Cup. A graphic unveiled to the public at the meeting depicts the finish line in front of the Flagpole on Front Street. The World Series is a racing circuit featuring the best sailors in the world, competing on 45ft one-design wing-sail foiling catamarans. The fleet racing series is the first stage of competition in the 2017 America's Cup. The circuit is an early opportunity to put points on the board that carry forward into the next stage of the competition — the Qualifiers. The overall ranking position in the World Series determines the starting points score for the teams involved in the Qualifiers in 2017. All teams have been given an opportunity to host events in their countries. The series will officially commence in Portsmouth, England, the home port of British challenger Ben Ainslie Racing, from July 23 to 26. The next event will be held in Gothenburg, Sweden, home of Artemis Racing, from August 28 to 30, and Bermuda, the only series host without an entrant, will be the venue for the third set of races from October 16 to 18. Four to six World Series events are expected in 2016, including a return to Portsmouth in July and a regatta in Chicago during the summer. Organizers had originally planned to stage four World Series events this year. However, the withdrawal of Italian team Luna Rossa resulted in the proposed curtain-raiser in Cagliari from June 4 to 7 being cancelled. Luna Rossa pulled out in protest against the radical revision of the class rule for the America's Cup Play-offs and the America's Cup Match. The ACEA, with the approval of a majority of the teams, ditched plans for the latter stages of racing being contested in 62ft catamarans, instead opting for a 48ft alternative. This angered Luna Rossa and their protests were supported by Emirates Team New Zealand, who stand to lose government funding as a result, with Auckland being taken off the table as a contender for the Qualifiers venue as part of a deal that results in all of the main racing being held in one venue — Bermuda.
April 23. Oracle Team USA, the defender of the America's Cup, tested the waters in the Great Sound for the first time yesterday. Kyle Langford, Graeme Spence, Joey Newton and Andrew Campbell were the first to get a feel for the local conditions, sailing in two foiling Phantom catamarans. Despite the light air conditions, ranging between 5-8 knots, the Oracle sailors still managed to foil around on the racecourse for the 35th America's Cup. "We didn't have a lot of breeze but we were able to get foiling in the Phantoms and then we were straight into some racing," Langford, the Oracle trimmer, said. "It was our first day out there so it was good to see the racecourse area for the first time. It's a beautiful place, really nice pristine water, and it's great to be sailing in such a cool spot. It looks like it will be an awesome place to sail." Langford described the racecourse as challenging, especially competing in the turbocharged America's Cup Class wing-sail foiling catamarans. "The racecourse is tight," he said. "We're going to cover the distance quickly and get to the edges of the racecourse fast. There's not a whole lot of space out there." Oracle Team USA will continue training in their Phantoms until their AC45 catamaran is ready to make its first appearance in local waters. "We're planning to be out every day we can until we get the AC45 out on the water, which is planned for May 1," Langford said. Oracle Team USA have shifted their operations from Pier 80 in San Francisco to the Royal Naval Dockyard in Bermuda. The first American team to defend the Cup outside of the United States will train out of their new Bermuda base in the lead-up to July's America's Cup World Series curtain-raiser in Portsmouth, England — home port of British America's Cup challenger Ben Ainslie Racing. Ainslie, who was a tactician aboard Oracle's AC72 at the previous America's Cup.
April 23. An estimated $242 million is expected to be generated in direct spend for Bermuda's economy as a result of the America's Cup. This is according to a Potential Economic Impact Assessment (PAC), the results of which were announced yesterday. The report, prepared in October last year by the America's Cup Bid Committee, was released by them ahead of a meeting by the Public Accounts Committee. Members of the PAC — chaired by Shadow Minister of Finance and Opposition Deputy Leader David Burt — raised concerns yesterday about the assessment, including the lack of formal financial instruction in the funding of the America's Cup Event Authority. Any organisation receiving Government funds should have a set of financial procedures in place that are at least equivalent to Government's formal financial instructions. Mr Burt asked the permanent secretary for the Ministry of Economic Development, William Francis: "What is under the purview of this committee in ensuring that financial instructions are adhered to and that value for money, and the Government's purse, is being protected?" Mr Francis said that had they waited for the formal document, the May 1 deadline set by Oracle Team USA for the completion of its Dockyard base would not have been met. "Decisions had to be made and work had to be done. If not, with all the euphoria around Bermuda, as a country we would have failed within a few months if we had not got that job done," he added. The PEI report was based on the economic impact to previous America's Cup host venues, as well as other data. The report suggests that $242 million could be generated from expenditure by the ACEA, the America's Cup Race Management and teams in the run-up to the event, and from additional visitors to the Island as well as other participant spending. Government would need to spend in the region of $77 million, including the AC Village delivery expenses in Dockyard ($10.4 million), event operating expenses ($12.29 million), and AC Village capital improvements ($14.34 million). The Host Venue Agreement also provides $15 million in cash sponsorship, as well as a $25 million sponsorship guarantee to the ACEA. The largest economic benefit for Bermuda would be via spending by the ACEA and race teams — an estimated $94 million. Some $60 million would be generated by "legacy tourism benefits" as a result of the exposure the Island would receive before, during and after the event. Mr Burt picked up on this point during the PAC meeting, saying that previous America's Cup hosts had not included legacy tourism in their impact reports. "I find hard to understand how that becomes considered under the economic impact of the America's Cup itself," he said. The Bermuda Tourism Authority came up with a $20 million figure benefit, raised through exposure from hosting the event and a further $40 million from additional visitors up to three years after the event. No details were in the report as to how this was calculated. An estimated $24 million would come from the AC village in Dockyard, according to the report, with $14.5 million from cruise ship visitors. Super yachts are anticipated to account for $12.8 million. "The PEI is less extensive than a detailed economic impact assessment, which is normally commissioned after an event and this study should not be treated as such," said Mike Winfield, the CEO of the ACBDA. "It is also important to note that this information was compiled during the bid process and since that time it has been announced that Bermuda will host the America's Cup Qualifier series in its entirety. It is anticipated that this will provide additional economic impact as teams, sponsors, visitors, media, etc will be in Bermuda for a longer period than first assumed." The Potential Economic Impact report has been posted online at www.acbda.bm.
April 23. The Shanghai stock market is set for a boom after Chinese government reforms, a top fund manager said yesterday. And Aaron Boesky, CEO of Marco Polo Pure Asset Management, said that investors should look east as China cuts interest rates and pumps money into creating a service economy. "This is a superb moment to enter the market. It's going to be a party in the Shanghai stock market in the next two years." Mr Boesky added that the Shanghai exchange, reopened in 1990, had gone through a series of spikes and slumps. Fortunes can be made and lost in this market, no doubt about it — that's why you need an experienced manager looking after things when you're sleeping." Mr Boesky was speaking at a lunch and learn session organized by financial services firm LOM. He told guests at the Royal Bermuda Yacht Club that the Chinese market was 99 per cent Chinese-owned and investors, with state-limited information, tended to move in packs. He said: "It's very homogenous — they are making the same decision at the same time. There is very little diversity. One of the advantages of this market is you can time it. You can look at this market, watch the Chinese, which we do a lot of at Marco Polo." Mr Boesky said over the last few years, a new Chinese administration had raised its interest rate, currently at more than 5 per cent, compared to near zero in the US and Europe, and cleaned up corruption after years of a building boom, but had now signaled interest rate cuts to stimulate service industries. He added: "The new leadership has signaled to the market that they are essentially satisfied with the clean-up and they now want to see the economy go again. The leaders have a vision, which is spot on, that China will reaccelerate a second boom which will be services-driven." Mr Boesky — cousin of Ivan Boesky, a high-flying New York financial wizard who was jailed for insider trading in 1986 — said that the new approach by the Chinese government had only been in place for six months. "We haven't seen any major results of the GDP number. We haven't seen the numbers up yet, it hasn't popped. But we have seen the stock pop. We had the first pop and it's a good one. But it's not by any means a bubble or overvalued right now. I can say with a high degree of certainty this has just begun. We've now had a second rate cut to 5¼ per cent and these cuts are likely to continue." Mr Boesky said his fund was the longest-established in the market and was up 200 per cent since it started 12 years ago. He added that Marco Polo had "the best track record in Asia" and had turned in double the market rate, while limiting risk for investors." And Mr Boesky said: "This is a superb moment to enter the market. It's going to be a party in the Shanghai stock market in the next two years."
April 22. The Bermuda Aquarium, Museum and Zoo is celebrating the arrival of two new feathered additions to the animal population. Two fluffy tawny frogmouths have successfully hatched and been hand-reared by staff who worked around the clock to feed and care for the birds. For more than four weeks, experts in Bermuda have been in regular contact with specialists in Columbia, South Carolina, and in Orlando and Seattle to ensure the survival of the chicks. It is the first time that these rare birds, which are native to Australia, have been successfully bred in Bermuda. "It's a huge moment for us, especially from the hand-rearing standpoint," said Roma Hayward, animal care and quarantine officer. It has involved a great deal of collaboration with other establishments, including Sea World in Florida, the Riverbanks Zoo in South Carolina, and the Woodland Park Zoo in Seattle. Being part of the Aquarium and Zoo Association allows us to work with these other establishments and maximize the chances of successfully hand-rearing these birds. We also had staff coming in to watch and feed the chicks around the clock, especially in the early days when they had to be fed every two hours." Staff at the zoo removed the first chick from the nest after it had hatched on March 21, as well as a second egg. The second egg hatched on March 28 and the two little tawny frogmouths have been cared for in an incubator at the zoo. "What makes this even more exceptional is the father Kermit's genetics and his age, too," said Patrick Talbot, the zoo's curator. "He has not had offspring before, so his genetics are unique. He is 18 years old and passed the age that these birds normally breed. The parents share the responsibility of raising the chicks; however, as Kermit is a first-time father he is inexperienced. At his age there is also no telling how many more young he could produce and that makes these two offspring extremely important. We decided to pull the eggs to ensure the chicks fared well, which we could better guarantee by hand raising them. It is more than likely that both chicks will be sent to other zoos in North America for further breeding and to diversify their population of tawny frogmouths. The female, Duane, was brought in from Riverbanks Zoo specifically to breed with Kermit. Under the agreement we have with them, the first chick is owned by us now, while Riverbanks Zoo own the second. Where exactly these two chicks will end up, though, remains to be seen."
April 22. The Board of Governors at CedarBridge Academy is falling short on the school's educational priorities, according to a group of longstanding staff who approached The Royal Gazette with their concerns. The staff members — including parents and educators, who requested not to be named to protect themselves — complained of an "autocratic" style on the part of board chairman Jason Benevides. Staff spoke of teachers' frustrations over obtaining basic supplies, while unpopular decisions such as the introduction of paid parking — which was subsequently dropped — were imposed by the board. "From what I see, there is a lot of bricks-and-mortar type stuff that the board does, but there seems to be very little support for educational programmes," one said. The staff described a lack of textbooks, up-to-date equipment such as photocopiers and computers, professional development for teachers, and even paper. The school is being treated like "a money-making venue — rent this, sell that", the staff member said. "It's time for the board to be made up of former educators, not with businessmen and accountants running it. We have plenty of retired principals and ministry executives. Those are the kind of people that need to be on the board. We need a board that has the best interests of the school at heart." Teachers felt under appreciated, another said, while the creation of an accounts centre in the school has taken up extra rooms in an area used by teachers for personal issues with students. "Mr Benevides has been, to my recollection, the first board member to ever get involved in the room situation — that has always been left to school administration," the teacher said. "We have never had any interference. With this, you have a non-academic person now privy to very confidential dealings going on with students and family. There is no way to avoid it." The head of the board of governors took flak from the group for neglecting to attend special occasions at the school, such as graduation. "He came to one staff meeting and that's it. We don't know his stance or vision for the school. We feel he wants to run things like his boardroom." The group, which contained members of staff from different departments of the school, including senior staff, admitted that they had not spoken directly with Mr Benevides about their concerns. However, they maintained that they had not done so because they felt uncomfortable with the climate of administration at the school. "First and foremost, school boards look out for students," one said. "Education is not a line item on the school board's agenda. It is the only item." They said they did not believe the board was sufficiently accessible or accountable. The roles and requirements for boards at aided and maintained schools are laid out in section 19 of the Education Act 1996. The most recently gazetted board list confirms Mr Benevides's role as chairman. Along with principal Kalmar Richards as an ex officio member, ten others sit on the CedarBridge board: Jyotih Bhajan-Darrell, Sahima Choudhury, Jane Correia, Kirstie Outerbridge, Nandi Outerbridge, Peter Sanderson, Leonard Santucci, Andrew Simons, Tim Smith and Dawnelle Walker. The Royal Gazette approached Mr Benevides to explain the concerns expressed. The chairman said it might be difficult to respond to anonymous complaints, and no response had been received by press time last night. Asked if the Ministry of Education had heard from CedarBridge staff over a lack of teaching supplies, a spokeswoman responded that the ministry had not received "any formal complaints from staff members at the CedarBridge Academy regarding the governance of the school".
April 22. Oracle skipper Jimmy Spithill wants to "keep the America's Cup in Bermuda" in the years to come because he believes this event will be the best in its history. He spoke to The Royal Gazette after a town hall meeting last night, where a host of announcements were made about the contest, including plans for Front Street during the America's Cup World Series from October 16 to 18. Mr Spithill, a two-time America's Cup winning captain, said: "Bermuda will get the first right of negotiation if we [Team Oracle USA] are to win. The fact is, we feel responsible for bringing it here — we are the home team. From my past experience, having the home team support, having the people get behind us and cheer us on, I have literally seen my guys lift and react to that and I know it will give us a competitive advantage in Bermuda. This could be the best America's Cup to date when you look at the facility of the village and the fact that the racecourse is in a natural amphitheatre … it's going to be awesome." Asked how soon the next America's Cup could take place, he said: "That is usually determined on infrastructure and timing but typically they have been every three to four years. But who knows, maybe there could be a quicker cycle I know it has been discussed in the past, using that momentum straight away. Already the competitors have agreed to work towards doing a World Series as soon as the America's Cup is over." The meeting was held at the Heritage Worship Centre in Hamilton and was packed with members of the America's Cup Event Authority, the ACBDA, media organizations, and members of the public. Also on the panel was ACEA chief executive Sir Russell Coutts, Economic Development Minister Dr Grant Gibbons, and ACBDA chairman Peter Durhager. Premier Michael Dunkley introduced the meeting as an opportunity for organizers to outline plans and opportunities, while inviting the public to ask questions. Plans were unveiled for the base surrounding the America's Cup World Series stretching along Front Street. It includes a family zone at Albuoy's Point, a fan zone, festival zone and food court, a hospitality area and, closer to the container docks, a technical zone where the boats will be assembled. Sir Russell said there would be opportunities for local businesses to benefit. "Front Street will be closed off during the races and local businesses will have the opportunity to come and participate in the festival zone," he said." We want to create a situation where we give the event a real local flavour." An online application process is due to begin in May and a committee is being established to make final selections by early June. Mike Winfield, ACBDA chief executive, said that some 46 firms had been involved to date, 38 of which were Bermudian. He said: "Some 189 workers have already been working and earning money delivering the Oracle base. To date already $4.7 million has come into this community that, before the America's Cup, wasn't coming into Bermuda." Sir Russell outlined a part of a planned outreach programme initially aimed at children aged eight to 12. It includes a STEM (Science, Technology, Engineering and Maths) learning programme that teaches skills "through the lens of sailing". He said the team would soon be hiring a community outreach sailing director. While details about St George's involvement in the America's Cup were scant, Dr Gibbons did say that the old town could benefit from the tall ships race due to come to the Island around the same time. A fleet of about 30 ships is expected to participate. Sir Russell Coutts said he could safely say that there will be at least five teams taking place in the America's Cup event including Team Oracle and Artemis.
April 22. Clarien Bank bosses have apologized to customers and staff for the doubt and confusion of a 15-month period of upheaval. Their comments come two weeks after the announcement that the Gibbons family through its investment company Edmund Gibbons Ltd (EGL) had retaken 100 per cent ownership of Clarien, just 15 months after selling an 80 per cent stake to CWH Ltd. James Gibbons, a director of both EGL and Clarien, said the partnership with CWH did not work out as planned, and that the Gibbons family had felt that buying back complete control was the right thing to do. In an interview with The Royal Gazette, Mr Gibbons and Clarien chief executive officer Ian Truran said the bank was in active discussions with a number of parties as it looked for a strategic partner to help to bolster its capital base to meet tougher regulatory requirements and also to expand its business lines. Clarien was the new name given to the former Capital G Bank after CWH took control in January 2014. In the tumultuous period since then, a number of senior managers have come and gone. The most prominent of those was Zoran Fotak, a founder of CWH who became co-CEO of Clarien at the time of the takeover but left the role in October. Mr Truran said the bank was working on rebuilding staff morale and recognizing the efforts of employees. Mr Gibbons said: "As EGL, we owe people our staff, our customers and the public in general an apology in that we have sowed doubt and confusion, though unintentionally. The family made a decision to come back to do the right thing and make sure the institution continues on a proper footing. We will be much clearer with future moves, so people understand us better." He added that he could not comment on the internal challenges encountered by the bank over the past 15 months because of confidentiality agreements. "It is a contractual undertaking that the terms of the share repurchase are not disclosed," he added. Mr Truran also conceded the bank could have done things better. "There have been some lessons learned, "the CEO said. "We recognise that some of the decisions made were impactful to both our clients and our staff. We have done our best to make sure where we can that we have adjusted. The response from staff and customers of EGL's return to full ownership has been super positive. Nonetheless, some had expressed bewilderment at the U-turn. Some have said that's bizarre, it's from fiction, while others say they regard it as good news but I really need some more information. That's where we hit the sand, when we get back to that contractual gag. Stricter rules in the pipeline for banks under Basel III were at the root of why the bank had partnered with CWH in the first place and why it was now seeking another strategic partner." Basel III is a new international standard for banking regulation, designed to reduce the risk of bank failure, that has been adopted by Bermuda's financial regulator, the Bermuda Monetary Authority. Banks will start reporting under Basel III this year, while the implementation of its capital requirements will be phased over three years from 2016. "Under the new rules, Clarien is categorized as of systemic importance, because it is home to a quarter of the Island's Bermuda dollar deposits. That requires it to adhere to the strictest standards. The conclusion was that we had to expand our capital base, even with the same community bank model. We needed to run a model with 30 per cent more capital, just because Basel III came along. Growing the capital base would not only meet a regulatory requirement, but also fuel the banks growth in areas in which it has been a minor player so far, specifically corporate banking, for international and local business, as well as the expansion of its international wealth management business. We looked for partners to do that and found CWH, but over the last 15 months that did not work out as planned. As a result and as opposed to saying this is not our problem any more, were a minority shareholder the family felt that we needed to do the right thing, which was to work to effect what we started out to do. As a result we negotiated with the CWH shareholders and repurchased the shares." Mr Truran said: "Bermuda's adoption of the new rules will impact the profitability of the Islands banks as it will require them to hold more low-risk, low-return liquid assets. In turn, banks will be reconsidering their business models to deal with the resulting loss of revenue. Do we choose to shrink the organization and therefore have fewer risk-weighted assets [such as loans] on the balance sheet or alternatively do we try to expand the revenue base into areas that don't so heavily require capital? We are a community bank, so we will continue to lend to the community, and so will continue to consume capital. However, we have a strategy to grow our fee-based income, or non-capital intensive businesses, such as wealth management." Mr Gibbons said there were no plans to change the Clarien name, though he accepted that there was work to do for the public to understand what the brand entailed. "A change back to the Capital G brand, or another name, would involve spending hundreds of thousands of dollars on new signage, letterheads and digital rebranding. Secondly we have to walk and talk about who we are and what we mean and I don't think there's great clarity on that. From a business philosophical perspective, we will continue to do what we did when we were previously fully owned by EGL. We will do that under the Clarien brand, because if we switch it back, it could perhaps cause more confusion." Finance Minister Bob Richards has criticised banks in his past two Budget statements for failing to lend enough in a struggling economy, while also laying off Bermudian staff. Mr Truran said: "Clarien had 197 employees as of the end of March for the past four years the figure had consistently been at around that level." Mr Gibbons said: "The institution is dynamic. Where we have let people go in x area, there is hiring in y area. When you perpetuate employment of people where a job doesn't exist any more, all you do is kick the can down the road and it becomes a bigger problem later. The important thing is to grow so that the aggregate employment increases. Clarien would love to lend more, but in a recessionary environment there were fewer requests for loans. Secondly. the underlying economic fundamentals are challenging collateral values are flat to down and where there is less economic activity, it's harder to underwrite loans. Banks must lend in order for an economy to be healthy. there is no question about that. But the bank's first job is to pay the depositor back. At least 80 cents of every dollar that is loaned out by this bank is other peoples' money. So we have to think about the depositor." As the CEO of a bank, Mr Truran has a good overview of the economy. His optimism is tempered somewhat by the consolidation in the insurance industry, since mergers are leading to job losses, with knock-on effects likely to come in the wider economy and the rental market in particular. "There are green shoots, but no saplings yet," Mr Truran said. "Until such time as the employment rate improves, it will continue to be green shoots. I believe we've just gone from positive sentiment stage into real activity, but that has not translated into improvements in employment at this stage."
April 21. A small group of people gathered on Parliament Hill yesterday to show their support for cannabis reform in Bermuda. The 4/20 rally was organized by Ananda Hill, who says the next step is to lobby Parliament about decriminalizing the drug. Senator Jeffrey Baron, the Junior Minister for National Security, made an appearance at the start of the rally to let those gathered know that he was open to discussions on the matter going forward. About 12 people attended the event, holding up banners carrying messages including: "Who benefits from prohibition, Decriminalization not incarceration and $88,000 cost to jail one person for one year." Mr Hill said that despite calls for the public to "fill the hill" in support of reform, he was happy with the modest numbers of people who showed up. "I'm happy with the numbers already. I have enough names to set up a relatively powerful lobby. We have had some pretty positive feedback from the OBA and the PLP, which is hopeful. I think they recognise it makes more sense to change things up. This rally is the first step of much to come. The next step is we will be lobbying Parliament and the Government in general. Anyone interested in the establishment of laws that make sense and help the people instead of a small number of organized criminals. What I would like to see is decriminalization, regulation and tax. It is the most useful way to handle it in a conservative place like Bermuda. Not only will it stop us locking so many people up and wasting money doing that, we can actually make some money as a country and get rid of our deficit relatively quickly. It's common sense to me. I would like to see cannabis treated in a similar light as alcohol. It's been a reality in Bermuda — cannabis consumption is part of Bermudian culture and it's not going anywhere. Prohibition hasn't stopped a constant flow of marijuana coming into Bermuda; it hasn't stopped people from consuming marijuana. The only thing it seems to do is hurt the general public and waste money from the public purse, which we as the people pay for. In my eyes, it is extremely obsolete and dangerous." People at the rally said it was time for reform. Karriem Sharrieff said: "I wouldn't be opposed to Government-controlled distribution; maybe having dispensaries that are regulated, and then tax. It would help with our deficit and cut out the entire expenditure for criminal activity instead of putting people in jail and it costing $90,000 a year. Give them a fine, make some money and send them home." Kade Stallard said: "This is an inevitable change for Bermuda. I'm glad someone like Ananda is organizing something like this, something that can bring more good to Bermuda." Makeda Simmons said: "There is no real reason it should be illegal. It doesn't harms anyone like alcohol does and it might just help out Government. Also I think we would all be a lot happier."
April 21. A double whammy from Hurricanes Fay and Gonzalo cost insurer BF&M more than $7 million. But the firm still made a profit of close to $22 million last year, despite the massive payout. BF&M CEO John Wight said: "The financial effects of Hurricanes Fay and Gonzalo in Bermuda turned an otherwise great financial year into a good one. But BF&M — which operates in 15 Caribbean islands as well as Bermuda — had made positive earning" from its insurance, investment advisory and pension administration services, despite seemingly endless recessionary pressures that continued to hit the region. While there has been some moderate improvement in certain islands, it is fair to say that there is a new reality for the economies of Bermuda and the Caribbean for the foreseeable future." Mr Wight was speaking after the firm revealed its full-year results for the year ending December 31, 2014. He added that diversification — both geographic and in lines of business — was the key to a successful performance in a difficult economic climate. This diversification is fundamental to why the group has achieved such a constant annual return on equity above our competitors in the Bermuda and Caribbean region. "With the exception of 2014's return on equity of 9.3 per cent, which was impacted by two hurricanes, the company has exceeded 10 per cent returns for 13 consecutive years." Operating expenses for the year rose by 4 per cent on 2013 to $64.5 million. The firm posted 2014 equity attributable to shareholders at year end of $240.5 million, while general fund assets totaled $1.1 billion of which $53.8 million was held in cash and cash equivalents. Gross premiums for the year amounted to $338.2 million, down 2 per cent on 2013. But the value of investments was up $20.3 million as interest rates and credit spreads fell in during the year increasing the fair value of the company's extensive fixed-income portfolio. The firm's statement, however, said: "Offsetting this was a $17.9 million increase in the value of policyholder benefits as a result of the company's asset liability matching programme, which limits volatility of reported earnings as a result of interest rate swings." And commission and other income fell one per cent to $39.5 million, while short term claims and adjustment expenses increased 25 per cent to $27.8 million — mostly due to the two 2014 hurricanes. Life and health policy benefits rose by 51 per cent to $121.3 million — a result of the increase in value policyholder benefits. The 2014 report added that ratings agency AM Best had earlier affirmed financial strength rating of A (excellent) for BF&M's two main Bermuda subsidiaries, the general insurance and life insurance arms. The report added: "There is no insurance company in Bermuda domestic insurance business with ratings this strong." BF&M's Cayman-based Island Heritage Insurance was upgraded to A (excellent) at the same time, while the Insurance Corporation of Barbados retained its A minus (excellent) score.
April 21. Bermuda, meet Iain Murray, the regatta director for the 35th America's Cup to be contested for on these shores in June 2017. Mr Murray is serving a second successive stint in the key role and has been tasked with collaborating with all of the teams as well as with Harvey Schiller, the commercial commissioner, in setting the competitive parameters for the event. The Australian comes highly recommended for the job given his wealth of inshore and offshore sailing experience and expertise in boat design. He won a record six consecutive 18ft skiff world titles between 1977 and 1982, and in 1984 won the Etchell's World Championship. However, Mr Murray is most noted for his appearances at the America's Cup in 1983 and 1987, racing in the old 12-Metre Class Yachts. During the 1983 America's Cup challenge in Newport, Rhode Island, he sailed on Syd Fischer's Advance. Australia II went on to win the Cup to bring America's 132 years of dominance in the event to a grinding halt. After Australia It's historic victory, Mr Murray joined Kevin Parry's Taskforce '87 syndicate and co-designed and skippered their Kookaburra yachts. Kookaburra III won the defender elimination trials against three other Australian syndicates off Freemantle, but lost to Dennis Conner and Stars & Stripes 87 in the America's Cup Match. Mr Murray was also on board One Australia when it sank during the 1995 Louis Vuitton Cup. The Australian, who celebrated his 57th birthday last week, has also carved out a name for himself as a boat designer. The modern version of the 18ft skiff was designed by Mr Murray, who also conceived the Nippa 2.65 meters dinghy for sailors at youth level. Mr Murray was reappointed as America's Cup regatta director by the America's Cup Event Authority competitor forum, then comprised of six teams, last December. He is in Bermuda for the first time since his reappointment, assisting with preparations for the America's Cup World Series event here from October 16 to 18 — and the bigger races to follow. £It looks like a nice place to go yachting," Mr Murray told The Royal Gazette. "Nice breeze and beautiful, clear water." The technological advances in boat design will make for exciting racing, which could potentially surpass the spectacular drama witnessed in San Francisco in 2013. Mr Murray agrees. "Leading into the last America's Cup, there were so many major changes and collectively we learned so much about how to design, build and race these foiling multihulls. Now we have the chance to fine-tune and make adjustments to make it even better. The last time was really the first time the crews were racing flying boats. But this time around I think the acceptance of flying boats, whether it be in the little Moths or the bigger America's Cup cats, the understanding of the technology and the development of the boats and skills of the crews will really take it to a higher level of close competition. There's been a spreading and understanding of the technology, and the teams are working at a higher level of more sophisticated technology. You will see the competition come down more to the players than just the technology — and that's a good thing." A disputed revision to the class rule for the Qualifiers and Match, which prompted the withdrawal of Italian challenger Luna Rossa, will result in the teams competing in 48ft wing-sail foiling catamarans that have the potential to sail faster than the larger AC72 used at the previous event in San Francisco. It was in California where Oracle Team USA retained the "Auld Mug" after pulling off arguably the greatest comeback in sporting history against Emirates Team New Zealand. "We haven't had the electronic clock on them but I think these boats are going to go as fast as the old 72-footers did, and they were doing 30 knots upwind and 40-plus downwind," Mr Murray said. "They are more lively boats, so they are going to be a real handful to sail." Mr Murray's duties as regatta director will include laying out the racecourse for the high-performance America's Cup Class catamarans in the tight confines of the Great Sound. "It looks like an interesting racecourse," he said. "With these boats going fast, there's a lot of opportunities for people to make the most of the conditions, so I think we will see a variance in the winners. There's a limited space of water out there and the problem is these boats go so fast, so they are going to chew up the space pretty quickly. But it's up to us to manage and I'm sure we can get up to two miles in length out there — and that's plenty! These are exciting times for Bermuda; there's this breath of new technology and a very high quality sporting event coming to town. Bermuda is a proud sailing nation. I've spent a lot of time with Bermudians in international competitions and they have always been very proud to showcase this beautiful country. I think they are going to take it to new levels because it's an ideal venue."
April 21. Sir Russell Coutts has no doubt that Emirates Team New Zealand will follow through with plans to compete at the 35th America's Cup in Bermuda in 2017. Team New Zealand's involvement in the next edition of the "Auld Mug" remains in doubt after organizers controversially withdrew Auckland as the initial host venue for the America's Cup Qualifier and with it the likelihood of the team receiving government funding. Team New Zealand, who have also been rocked by the fallout from the sacking of skipper Dean Barker, filed an application to the America's Cup arbitration panel to reinstate Auckland as the venue for the qualifying regatta. They have challenged the revision, favored by the majority of America's Cup teams, based on a signed and accepted bid they claim was announced to the teams in accordance with the original Protocol governing rules for the event. The outcome of the arbitration could make or break New Zealand's campaign to regain the title with John Key, the country's Prime Minister, suggesting that the Government will not fund the team now that it appears there will be no regatta in Auckland. "I think we're at the end of the road really," Mr Key said. "With the event being held 100 per cent in Bermuda, that becomes a really challenging issue to go beyond the $5?million we've already put in." The original decision to hold a pre-regatta in Auckland was strongly opposed by the European challengers, who indicated a preference that all of the racing in 2017 be conducted at a single venue, Bermuda. Cup organizers announced last week that Bermuda will host all America's Cup racing in 2017. Coutts, who led Team New Zealand to its first America's Cup victory in 1995, said it was unlikely Team New Zealand would withdraw. "They have a great sailing team, and this rule favors a great sailing team.. In the unlikely event that Team New Zealand pulled out, Coutts said another New Zealand syndicate would fill the void. Others would put a New Zealand team together because frankly they have the components of a very competitive team." Teams voted in favour of changes to the 35th America's Cup Protocol, which included a reduction in boat size and as a consequence the withdrawal of Auckland as America's Cup Qualifier host city, at a Competitor Forum last month. Team New Zealand and Luna Rossa both protested the format change, with the Italian syndicate withdrawing from the 2017 event, calling the decisions unprecedented and illegitimate. "We are quite frankly in disbelief that the continued actions of the America's Cup Event Authority have lead to the withdrawal of our great friends Luna Rossa," Grant Dalton, Team New Zealand's chief executive, said. "It sends a clear and unmistakable message that the self-serving maneuvering of rules within sports oldest trophy has consequences for not only the America's Cup but also all of sailing."
April 21. George Wardman, described as a self-effacing, humble man who was responsible for bringing the global hotel business to Bermuda, died last Wednesday at 69 after a long illness. Mr Wardman was one of the Island's leading hoteliers as the president and chief executive officer of Horizons Ltd, a four-property group. His wife, Claudia Wardman, said: "He was not just a hotelier in Bermuda — he brought Bermuda into the global world in his incredible way." She added that his involvement in Relais & Châteaux put the Island on the map. "The most important thing about him are the hundreds of thousands of people around the world who he brought to Bermuda." The Relais & Châteaux is an association of the world's finest hoteliers, chefs and restaurateurs, which "set the standard for excellence in hospitality," according to its website. Mrs Wardman said: "He was able to bring two hotels into Relais & Châteaux," an accomplishment she described as unprecedented. The group's Horizons and Cottages and Waterloo House were both member hotels. Mr Wardman was also an active member of the Relais & Châteaux board for 25 years, and retired in 2008. "After his retirement, the board continued to contact him to seek his advice," said his wife. She said her husband was an intelligent man, but also humble. "He was an amazing intellectual — but, he never acted like that — he was just terribly kind, and that, to me, is an amazing gentleman. He was very funny and quite adored because he was so self effacing and so humble. He was intellectually curious — he always was so curious about everybody, and he would always say to young people: "Be curious — think about things. I can't imagine what the island will do without him." A close family friend said: "There are people who have worked for the hotels for forty or fifty years," and added: "So many of his staff really admired him and loved him — and they are grieving at the moment." Nik Bhola, the general manager of Coral Beach, said although he has only been working at the property for about seven months and had met Mr Wardman just twice: "His legacy at Coral Beach is something you encounter every day at the club, through staff members, through the membership, letters he has written — there are daily reminders of how important he has been to Coral Beach, and to Bermuda, over the years." A letter to club members from chairman Rod O'Connor said: "Notwithstanding his contribution to Bermuda overall, and his influence in the community, George was a guiding force at the Coral Beach & Tennis Club throughout his entire life." The Horizons Group included three properties in Paget: Coral Beach & Tennis Club — a prestigious member's-only club, Horizons and Cottages — a cottage colony with a golf course, and Newstead — a hotel which sat on Harbour Road. The property is now part of the Newstead Belmont Hills. Waterloo House, in Hamilton, was the fourth member of the group. The site has been rebuilt with condominiums and offices. Coral Beach & Tennis Club along with its sister property Horizons are in transition having been taken over by New York-based CBC 2013, a subsidiary of Three Wall Capital and ROC Group. Alan Kenders, CEO of Three Wall Capital, said: "Both Bermuda and Coral Beach Club have been synonymous with luxury, service and hospitality for a number of years." Mr Wardman also was on the executive of the US Tennis Association (USTA) until his death. He was an advisor to Bermuda's Masterworks Foundation, a longstanding trustee at the Bermuda Institute of Ocean Sciences (BIOS) and Eckerd College in the US, as well as Phillips Exeter Academy, a boarding school in New Hampshire, and Bishop's College School, a boarding school in Quebec, Canada. A private funeral was held yesterday. Mrs Wardman said: "It was his wish to have a private burial because he was such a very private man. And so that is what we did. But we will, in the next couple of months, have a memorial for all the people who love him." He leaves his wife, his mother Frida Chappell and his four children, George, Tiffany, John and Christopher Wardman.
April 21. A documentary about the plight of a group of Uighurs imprisoned in Guantánamo Bay, four of whom were sent to Bermuda, is making waves in the Britain and the United States. Uighurs: Prisoners of the Absurd, directed by filmmaker Patricio Henriquez, follows 22 Chinese Muslims captured in Afghanistan and held for years in the notorious prison despite being cleared of all charges. Because all of the men were wanted as terrorists in China, the US Government was unwilling to return them to that country and instead spent several years trying to find other nations to take them in. Bermuda was one of several countries to answer the call, taking in four of the Uighurs a move that reportedly upset the British Government, which was unaware of the deal. In the documentary, lawyer Sabin Willett says the US was aware that the British Government would go nuts when it found out about the deal. The film also captures the reaction of the men when they arrived on the Island after years of incarceration. The documentary had its world premiere in Montreal last October, but is now getting international attention, screening in both New York and London as part of the Human Rights Watch Travelling Film Festival. Mr Henriquez, who was born in Chile but now resides in Montreal, has tackled the issue of Guantánamo Bay with two previous films, Under the Hood: A Voyage into the World of Torture and You Don't Like the Truth: Four Days inside Guantánamo.
April 21. A striking Bermuda watercolor by the lauded American artist Andrew Wyeth, who appears to have forgotten that he had painted it, is soon to go on display at a museum in the United States. "On the arts scale of things, this is as big as it gets," said Tom Butterfield, founder of the Masterworks Museum of Bermuda Art. Mr Butterfield corresponded with Wyeth but learnt of only three paintings made during the artist's time in Bermuda. "We're absolutely thrilled to know that a fourth exists", he said. "It adds to the notion that other Bermuda treasures of this magnitude are yet to be found. That's the optimist in me, but I do not believe that we are at the end." Near Wreck House, from 1950, spent most of its existence in a private collection and was only recently donated to the Delaware Art Museum. It shows a figure walking up the lane outside the Sandys estate and, in typical Wyeth style, it is a far cry from another pastel Bermudian pastoral. "He has taken something mundane and turned it into something that makes you see it for the first time, which is why great artists are great," Mr Butterfield said. Wyeth and his wife stayed at the West End estate, the home of their friends Mr and Mrs Crawford Greenewalt, in the early 1950s, along with the painter John McCoy and his wife Ann Wyeth McCoy, Wyeths sister. The piece was quietly obtained by the Delaware museum and Mr Butterfield only chanced to learn of its existence through his contact with the Wyeth Foundation. It had gone largely unnoticed by the art world while it remained in the collection of the Daley family. "Its been very exciting for us were here in Wyeth country and have quite a bit of his work in our collection, but we didn't have a Bermuda one", said Heather Campbell Coyle, curator of American Art at the Delaware Art Museum. Located in Wilmington, the museum is close to Chadds Ford, Wyeth's hometown where he died in 2009. "It's certainly absolutely typical of his watercolor paintings in that period. He was a very deft watercolorist. It looks almost easy. I love how dark the dark elements are. The figure in the lane is almost black and the dark rendering of a palm tree leaning over the wall carries a vague menace. In my favorite Wyeth paintings, there's always this psychological charge, some sort of uncomfortable sense to it," she said. The Delaware Art Museum had borrowed the painting from the Daley's before, but acquired it in 2013. Although excellently preserved often watercolors can end up faded in private collections, Ms Campbell Coyle noted Near Wreck House has been undergoing evaluation and treatment, and should go on the museum's walls soon. It is hoped that the picture can be loaned to Masterworks Mr Butterfield wants to include it in next year's Up Country, Down Country exhibit. Ms Campbell Coyle was intrigued by the notion of the painting slipping off the radar of the arts world. "Wyeth is a famed name, with works in major museums around the globe. I was surprised to hear that," she said of Wyeth apparently having forgotten his creation during his correspondence with Masterworks. "It makes sense if it was in the private collection for so long. We don't yet know the entire history of the picture."
April 20. Lending Club 2 successfully completed an attempt to break the Newport to Bermuda course record with plenty of time to spare. The 105ft trimaran simply obliterated the previous record that had stood for 15 years, taking less than 24 hrs to complete the 635-nautical mile ocean crossing from Castle Hill Lighthouse in Newport to Kitchen Shoal Beacon in Bermuda. The new record, subject to ratification by the World Sailing Speed Record Council, is 23hr 9min 52sec at an average speed of 27 knots. The trimaran, believed to be valued at about $3 million, completed its record attempt at 1:44.32am — shaving a staggering 15 hours off the previous mark set by the late Steve Fossett aboard the catamaran PlayStation. After tying up at the dock at the St George's Dinghy and Sports Club, Lending Club 2's eight-man crew, led by Renaud Laplanche, the Lending Club CEO, and Ryan Breymaier, his co-skipper, celebrated their successful campaign over beer and pizza. "To beat a record like this you really need a great boat, great weather conditions and more importantly a great crew, and that's what we really had," Mr Laplanche told The Royal Gazette. "Everyone was almost 100 per cent almost all the time and that's what it takes to get from Newport to Bermuda in under 24 hours." Mr Breymaier added: "It's always amazing every time you have an opportunity to sail on a boat like this. You just feel like you're privileged because it's unbelievable the feeling that you get; you're almost like an airplane trying to take off all the time. It was faster than we expected as well and we were happy." After waiting for a cold front to pass through the Newport area, the impressive trimaran started its journey at 2.34am yesterday, crawling along at 5.5 knots in gentle breezes before eventually getting up to speed in open seas. "We knew the start would be light breeze and it took us 15-20 minutes to get out of the harbour and then we started getting some breeze," Mr Laplanche said. "We had faith in the model and the weather forecast." Three-and-a-half hours into the passage, Lending Club 2 had reached speeds of 30 knots and by the 12-hour mark was halfway to her destination. The trimaran made her approach to Bermuda on a beam reach the entire way sailing straight down the rhumb line. "We did everything on port tack," Boris Herrmann, the navigator, said. "We didn't do a single gybe or tack; just a reach in and out all the time straight down the rhumb line." Mr Breymaier added: "That's what allowed us to make good time; being able to go straight down the rhumb line because we had wind on the beam so we could control our course perfectly and we came straight here, which is ideal conditions for record-breaking." The most challenging part of the passage was racing along at 40 knots through the Gulf Stream, which made for an uncomfortable ride. "The Gulf Stream was a little bit bumpy for a while, but we just took things easy and got through it as quickly as we could so we could wind back up to full speed," Mr Breymaier said. "There were some big waves and we just tried not to break anything." Mr Laplanche, a two-times Laser national champion in France, chartered the offshore racing trimaran for the 2015 season with the aim of conquering three speed sailing records: from Cowes on the Isle of Wight to Dinard, France; Newport to Bermuda; and the 2,215-nautical mile Transpac (Los Angeles to Honolulu). The 45-year-old entrepreneur had already achieved one of his objectives, having set a world speed record on the English Channel from Cowes to France two weeks ago. Lending Club 2 completed the 138-nautical mile passage in 5:15 at an average speed of 26.36 knots, shaving eight minutes off the previous record that had stood since 2002. With two records under their belts, the crew of Lending Club 2 will now turn their focus to the Transpac Race, which is tentatively scheduled to begin on July 18. "The first two went great but I think the third one will be hard because it's a race, so we are not choosing our start," Mr Laplanche said. "We are going to have to start the same time as everybody else."
April 20. You don't have to venture as far as New Orleans to hear great jazz music. The Blues Beat Band, made up of current and retired members of the Bermuda Regiment Band, are one solid example of that. The five-member group got together over a shared love of music. These days their goal is to get people grooving at corporate, church or community events Island-wide. Tuba player Gerald Swan explains how the Blues Beat Band come about. "The group is made up of five of us — myself on the tuba, Major Barrett Dill and Neilson Degraff on cornet, Henry Smith on the trombone and James VanLowe on the clarinet. We had all actually retired from the Bermuda Regiment Band and didn't want to stop playing, so we would get together on Thursday nights and have a little rehearsal. Then word started to get out and we started performing at functions like birthdays and anniversaries. Our first performances were actually at Christmas time, when we would do caroling at some of our friends' houses. We really enjoyed bringing Christmas cheer to people during the holidays. After that we got together for a birthday performance at one of the Princess hotels and it just went from there. Why do we guys do what we do? What do we enjoy most about it? For us it's all a give-back. We will be playing at a seniors' residence soon and they enjoy us playing blues and birthday songs. For me, personally, one of the best parts is being able to continue on playing music. I did play for 30 years with the Regiment band, so being able to still play and make good music with these guys, and make other people happy in the process is great. Just about everyone in the band has played with the Regiment. " One of the gentlemen, Major Dill, was a Director Of Music in the Bermuda Regiment Band, while the others were Sergeant, Color Sergeant and two were Sergeant Majors. "How did we get started with music to begin with? We all have our different stories, but I got started with music when I was going to the Robert Crawford High School, where I played in the band. I had always played trumpet, but it wasn't until I joined the Regiment band that I was asked by Major Barrett Dill to assist one of the younger players. The major told me he wanted me to sit and play the tuba with him. Funny thing is, I liked it so much I switched instruments and have been playing the tuba ever since. When I tell people I used to play trumpet they wonder why I would switch to the tuba, which tends to be more difficult, but for me I actually found it easier. I could play my tuba from this afternoon to tomorrow morning. I rarely play the trumpet anymore." How is it different playing now that you've retired from the Regiment band? "I would say for all of us the difference is it's a bit more relaxed. I would definitely say we still had fun playing for the Regiment band, but it was a bigger commitment. The blues band has only now started becoming more of a commitment simply because we are getting more and more jobs, but typically it's more laid-back." What would you say has been the best opportunity to come out of playing with the Blues Beat Band so far? "A good time of ours came about when we got to go on-board the cargo vessel Oleander on Christmas Day and play for the crew while they spent Christmas far away from their family. It was great to be able to bring joy to the crew over the holiday. They joined in singing the songs they liked such as Silent Night." How would you describe your sound? "We play everything, but consider ourselves to be more of the New Orleans blues style. Most times when we go out and do a performance, Major Dill does most of the talking and he says we are the blues band flown in from the New Orleans via North Village — that's where a few of us are from. We just try to give everything we do a Bermuda style." What are some of the band's signature/ favorite songs to play? "Wonderful World by Louis Armstrong, LOVE by Nat King Cole and Just Because You Think You're So Pretty by Elvis Presley." To contact the band, call 537-0224.
April 18. Friends and family have paid tribute to a popular sportswoman who died after a suspected double hit-and-run crash in the early hours of Saturday morning. La-Nae Woodley, 22, was driving with a pillion passenger along Middle Road in Warwick when their motorcycle collided with a van, which then left the scene. According to Police, another car then drove through the crash scene, hit Ms Woodley and then continued without stopping. Last night, three people were in custody after being arrested in connection with the crash. Ms Woodley's heartbroken coaches and teammates from the Blazzin Bluebirds netball team told The Royal Gazette of their disbelief at her tragic death. Coach and friend Erika Russell described Ms Woodley as "Miss Dependable" who was always happy to help out her club or her friends. "La-Nae was a very keen and talented netball player, but she also put a great deal into the game through youth programmes and her umpiring. Everyone is completely devastated at the club, her teammates are heartbroken. She was the heartbeat of the club; she was the anchor in our defence, a go-to person and a very popular individual, too. Everyone loved La-Nae. She loved to laugh and always had a smile on her face. People feel cheated by what has happened to her and they feel angry, too." Ms Woodley, from the Friswells Hill area, had previously worked in an after-school programme before recently starting a course at Bermuda College. Bermuda Netball Association president Tracey Sharrieff said: "The BNA would like to send heartfelt condolences and prayers to the family and friends of La-Nae, who was an avid participant in the domestic league of netball. La-Nae played a very important role in the development of netball, as a lead player of Young Men Social Club Blazzin Bluebirds, senior and junior league umpire, junior league coach and role model. She was very reliable, and could be called upon at any time. Her teammates can attest that you could reach out to her at anytime for her assistance. La-Nae's contributions to netball will not be forgotten, and she will be missed very much. May she rest in peace and be granted Paradise." Progressive Labour Party MP Michael Weeks, who visited the Woodley family at the weekend, said La-Nae was "like family. I have known the Woodley family for many years. I watched La-Nae grow from a little girl to a beautifully poised young lady. La-Nae's sister Darrika is our niece and my wife taught both La-Nae and Darrika at the Whitney Institute several years ago. So La-Nae was like family and she is another young person who, regrettably and sadly, has gone too soon. No doubt that she will be greatly missed by her family and friends. As I can attest, having lost my son almost three years ago in a road fatality, dealing with death is never easy. But, to not only lose a child, but to lose a child in such a sudden and tragic manner, is heart-wrenching and difficult to understand and accept. My wife and I were able to visit with the family and to support La-Nae's mother Leah, her grandmother and the extended family. As is to be expected, it was a very somber time. Not much to be said, but praying that your presence helps to ease a bit of the pain even for a minute. I want to take this time to again extend my deepest condolences on behalf of my family to La-Nae's parents and to the entire family." The fatal accident occurred just after 4am on Saturday morning on Middle Road, at the junction with Cobb's Hill Road in Warwick. Ms Woodley was taken to hospital where she succumbed to her injuries, while her passenger was treated for lacerations to a leg. Police later located the van and took into custody a 26-year-old man. In the early hours of yesterday, a 27-year-old woman was detained by officers after Police located the car believed to be involved in the accident. Later the same day, another man was arrested in connection with the investigation. Last night, Premier Michael Dunkley, Transport Minister Shawn Crockwell, and Shadow Public Safety Minister Walter Roban all extended their condolences to Ms Woodley's family.
April 18. A book detailing more than 300 of Bermuda's shipwrecks and 500 years of maritime history hits the shelves today. Shipwrecked traces the Islands role as the shipwreck capital of the mid-Atlantic and is written by underwater archaeologist Gordon Payne Watts, Jr. Dr Watts, from North Carolina, has been a frequent visitor since 1981 and launched a long-running programme investigating Bermuda's shipwrecks that has seen many US students come to the Island. "Bermuda is the most incredible classroom in the world," he said. "If you do the sort of work we do and don't document it, then you really have not accomplished much. I'm very proud of what we have achieved with this book, but a lot of people have made this happen and I'm very grateful to all of them. I'm also extremely grateful to all the Bermudians who have helped me over the years; I really appreciate having been able to come out here and work with them. I have worked in a lot of places over the years, but there is no place that I would rather work." The 278-page book has been published by the National Museum of Bermuda Press and designed by Brimstone Media, and has been eight years in the making. "We hope this book will help to nurture a wider appreciation by Bermudians, residents and visitors alike for the extraordinary heritage that is represented by the 300-plus shipwrecks on the reef platform of the Isle of Devils, as Bermuda was known to the mariners in its early decades, "said Edward Harris, executive director of the museum. The Island has depended on the ocean for resources, commerce and defence but the trade-off has been lost lives and hundreds of vessels claimed by the Islands necklace of barrier reefs. An official book launch was held last night in Dockyard.
April 18. Emirates Team New Zealand's involvement in the next instalment of the America's Cup remains in doubt after it was confirmed yesterday that all racing in 2017 will be held in Bermuda. This means the America's Cup Qualifiers, Challenger Play-offs and the Match will grace the Great Sound for what is expected to the most significant six months in the Island's long maritime history. The announcement was not wholly unexpected, as the teams had already shown their preference for all the serious racing to be held at one venue after World Series events conclude their tour around the world. "At our competitor forum meeting this week, the teams agreed on the details of our race programme in 2017," Harvey Schiller, the commercial commissioner, said. All teams will compete in a double round-robin format in the new 48ft America's Cup Class wing-sailed foiling catamaran. The top four challengers from the Qualifiers will advance to the Challenger Play-offs, which consist of match racing semi-finals and finals. The winner of the Play-offs will meet the defending champion, Oracle Team USA, in the America's Cup Match. A detailed race calendar will be determined by the commercial commissioner in consultation with the competitors and Iain Murray, the regatta director, and published in due course, organizers said. It now remains to be seen how Emirates Team New Zealand will react to the official announcement to stage the America's Cup Qualifiers in Bermuda. The Kiwis filed an application to the America's Cup arbitration panel to reinstate Auckland as the venue for the Qualifiers after a majority of the teams were in favour of changes to the 35th America's Cup Protocol to reduce costs, which included a reduction in boat size and, as a consequence, the withdrawal of Auckland as the America's Cup Qualifier host city. The Kiwis have challenged the controversial revision based on a signed and accepted bid they claim was announced to the teams in accordance with the original Protocol governing rules for the Cup. Luna Rossa, the Italian challenger, withdrew, criticizing decisions by organizers as "unprecedented and illegitimate" and their complaints were backed by the Kiwis. Local sailing enthusiasts will get their first taste of America's Cup action when Bermuda hosts the World Series in October in the modified AC45 catamaran, which has now been equipped with foiling capabilities like its larger cousins, the AC72 and AC62. Yesterday's announcement coincides with the first visit to the Island by Mr Murray. The former America's Cup skipper and multiple world champion has traveled to Bermuda to assist with preparations for the World Series and beyond . "It looks like a nice place to go yachting," Mr Murray told The Royal Gazette. "Nice breeze and beautiful, clear water." The Australian has been reappointed as regatta director having also served in the role at the previous America's Cup in San Francisco in 2013. His duties include nominating regatta officials and collaborating with all of the teams as well as Mr Schiller in setting the competitive parameters for the event. Mr Murray took advantage of yesterday's ideal conditions to assess the racecourse in the Great Sound. "It's always good to look at the racecourse and understand the geography. It looks like an interesting racecourse and I can see it being a lot of different winners because I think you are likely to go out on different breezes, which is a good thing."
April 18. The Carlton Group will file a lawsuit against the Corporation of Hamilton and its leaders "imminently", according to a person close to the action. The action will be filed in the United States District Court for the Southern District of New York, where Carlton's main New York office is located. Carlton, the real estate private equity banker, acted as broker for the deal in which Mexico Infrastructure Finance LLC loaned developer Par-la-Ville Hotel & Residences Ltd $18 million as a bridging loan. It is suing for commission and fees, which should have been paid when the money was released from escrow in a New York bank. The loan was due to have been repaid to Mexico Infrastructure Finance LLC at the end of December last year. The amount is believed to be $900,000, as well as all fees incurred during the process. After the money was released from escrow, Par-la-Ville Hotel & Residences failed to repay the loan, and they also failed to pay Carlton's commission, the plaintiffs in the action say they will allege. The Carlton Group's website says the real estate business was founded in 1991, and that it is an international real estate investment banking firm that specializes in raising large amounts of equity and debt on large, complicated transactions. It adds that the firm also provides investment sale services for either large commercial real estate assets or loans positions held by banks. The source told The Royal Gazette: "We are planning to file a lawsuit in the US District Court of the Southern District of New York, against the Corporation of Hamilton and the parties that authorized the release of those monies from escrow: the mayor, Graeme Outerbridge, and others involved in the transaction." It is understood that the $18 million borrowed from Mexico Infrastructure Finance was held in escrow in Bank of New York Mellon, said the source. He added that an authorization was signed that allowed Bank of New York Mellon to release funds into Michael MacLean's personal bank account before November 2014. "We think the idea was to invest the money for a month or two," the source said. He added that the money was not supposed to come out of escrow and into private hands. "The plaintiffs weren't expecting the money to be withdrawn from the account into someone's own personal account. MacLean didn't withdraw the money himself; it had to be someone on behalf of the guarantor [the Corporation of Hamilton] who authorized the release from escrow." The Carlton Group has filed another lawsuit in the same US District Court, this one against Par-la-Ville Hotel & Residences, along with Mr MacLean, Johann Oosthuizen, Wakefield Quin Ltd and Theodore Adams III. Mr Oosthuizen is a lawyer with Wakefield Quin. Mr MacLean's defence to that lawsuit, which was filed on March 25, in which the Carlton Group is asking for "relief for fraud against defendant Michael MacLean", states: "Further, the defendant avers [alleges as fact], that at all the material times, he was legally advised by Wakefield Quin Limited and through its counsel Johann Oosthuizen and throughout relied on their legal advice." The source said: "We filed the lawsuit in the Southern District of Manhattan in New York because the Carlton Group is located in New York, and also because the agreement was made in New York. It states in the [loan] agreement that any legal action would be commenced in New York." The Carlton Group's website further describes the group. "Carlton has offices throughout the United States and Europe and has consummated in excess of $100 billion of closed transactions. Carlton's expertise includes arranging passive promotable equity for large real estate transactions and typically raises 90-95 per cent of the equity to facilitate client transactions. Carlton also has a growing merchant banking division and owns and manages in excess of three million square feet of commercial, residential and retail space. Carlton frequently coinvests with clients either by participating in putting up deposit money or co-investing in the sponsor equity. Carlton also executes an aggressive international advisory platform which is currently executing well over $3 billion of equity, debt and investment sale advisory business throughout Europe."
April 17. A bid by UK Prime Minister David Cameron to increase transparency in offshore jurisdictions like Bermuda was a stunt designed to deflect an EU tax bid that would have damaged the City of London, a Conservative member of the House of Lords has claimed. Mr Cameron, leader of a Conservative-Liberal Democrat coalition due to face a general election next month, was said by Lord Blencathra, the former Conservative Home Office Minister David Maclean, to have used a crackdown on offshore jurisdictions as a "purely political gesture" designed to head off the EU and the group of industrialized nations G8's attempts to rein in the City. Lord Blencathra made the claims in a submission to the Cayman Islands government last year, which has just been made public, according to UK newspaper The Guardian. Lord Blencathra told the Caymans government: "In the early part of last year, the Germans and others were pushing hard for a financial transaction tax, which would have severely hurt the City of London. It was and is a top UK government priority to head that off. The French were pushing for 'blacklists' of jurisdictions with any tax regime lower than theirs. It was also a UK government objective to head that off." Lord Blencathra — who was found to have breached the House of Lords code of conduct in 2014 by signing an agreement to lobby on behalf of the Caymans — said that Mr Cameron had used the 2014 G8 summit in Ireland to focus on a crackdown on so-called tax havens a priority. Lord Blencathra told the Caymans government in his report that the UK government knew it could not just refuse to consider proposals from other EU nations. He wrote: "It has to present either a genuine alternative or a false initiative which will divert other member states from pursuing their agenda. The UK government had to head off the financial transaction tax and blacklists. The non-governmental organizations had put the UK government under pressure to make changes of beneficial ownership, the media and the public were keen to criticize low tax jurisdictions as operating unfairly and when Starbucks, Amazon and Apple profit-shifting became headline news, that was the perfect opportunity for the UK to exploit these issues and play down the financial transaction tax and blacklists." Lord Blencathra submitted the document to the Caymans government while acting as a lobbyist on behalf of the Caribbean country, but said it had been written in a "personal capacity based on my knowledge of United Kingdom politics." Lord Blencathra's contract with the Caymans ended after its terms were revealed by journalists in March 2014. The Bermuda Ministry of Finance did not respond to requests for comment yesterday. But Finance Minister Bob Richards late last year told the House of Assembly that a UK bid to have its Overseas Territories introduce a public register of beneficial ownership would cause severe damage to Bermuda's economy. The Island already requires companies to provide details of beneficial ownership — a higher standard than the UK — but the register is not available to the public. And Mr Richards told MPs that Bermuda would consider a public register if major nations like the UK, US and Canada introduced one — but not before.
April 17. Insurance companies Aspen and Starr Companies have joined forces in a joint underwriting agreement concentrating on European industrial firms. The joint operation by the two firms, who both have offices in Bermuda, will be called Aspen Starr Property. Aspen Insurance CEO Mario Vitale said: "This is an exciting new venture through which Aspen and Starr Companies will be able to use their extensive underwriting and engineering expertise to serve the insurance needs of European industrial companies with international operations. The initiative will draw on the considerable experience and technical expertise of two strong partners who have a good understanding of global risks." Starr Companies chief executive Maurice Greenberg added: "Starr and Aspen together have substantial experience working with European insurance buyers and the market environment. The joint initiative will serve the partners well."
April 17. One of the biggest shareholders in Bermuda-based reinsurance firm PartnerRe has backed a $6.4 billion rival bid for the company. PartnerRe had agreed a deal to merge with rival Bermuda firm Axis but a surprise bid by Italian investment firm Exor has opened up a race for control of the firm. Franklin Mutual Advisers, the third biggest shareholder in PartnerRe with a 4.6 per cent holding at the end of last year, according to Yahoo Finance, backed the bid by Exor, controlled by the billionaire Agnelli family, over the Axis deal. Franklin Mutual Advisers chief executive Peter Langerman said the Exor all-cash bid by Exor was much superior to the all-share deal PartnerRe agreed with Axis in January. And Mr Langerman revealed that his company had expressed concern over the PartnerRe/Axis merger after it was announced in January. He told Reuters: "We weren't happy with the terms of the deal and we expressed that to the company." The merger proposal was challenged this week when Exor, run by the family behind the massive Fiat Chrysler car group, announced its rival proposition. The Exor bid amounts to $130 a share a 16 per cent premium on the PartnerRe/Axis all-share transaction. Mr Langerman said PartnerRe should engage not only Exor but any and all interested parties to explore whether it can find a better offer. Exor chairman and chief executive John Elkann said his firm intended to keep the existing PartnerRe management and staff and run the company as a stand-alone enterprise. He added that taking the firm private meant it would no longer have to satisfy shareholders looking for quick profits and offer long-term stability. The deal with Axis, however, would be likely to lead to job losses across both firms, who employ around 130 between them in adjoining offices in Pitts Bay Road in Pembroke, as the new joint operation looked to save $200 million a year in costs. Exor's interests include controlling interests in Fiat Chrysler, luxury sports car maker Ferrari and top flight Italian football team Juventus. Axis chief executive Albert Benchimol said on Tuesday the firm remained fully committed to the merger. The PartnerRe board said it would examine the competing bid by Exor to determine the course of action that it believes is in the best interests of PartnerRe and its shareholders and announce its decision later. If PartnerRe walks away from the Axis deal, it would be subject to a $250 million penalty under the terms of the merger agreement.
April 17. St George's Mayor Garth Rothwell will go head to head with his deputy Quinell Francis in the battle for the mayorship of the town. Ms Francis, Mr Rothwell and Alfonso Harris will be the three mayoral candidates for the Municipal elections which will take place on May 7. Mr Rothwell told The Royal Gazette that positive strides had been made during his time as mayor, but more work still needed to be done in the town. "Our infrastructure needs to be improved and we need to do quite a bit more to revitalize the town. But we are in a better position when it comes to funding than we have been in a long time to make these things happen. The focus going forward is collaboration between all the organizations in the town. We have worked with the BTA to create a hub and we are also trying to get a minibus operation up and running. There is lots to look forward to and lots to do." Ms Francis said she had stepped forward as a candidate to help move St George's forward. "I want to build the community and the residential base and get everyone singing from the same page," she said. This is a great opportunity; the people of St George's know what Garth and I are about and I feel the people will make a good decision. I am just looking forward to May 7 and getting to know all the constituents. And then on May 8 if I am elected I will be ready to do the work for the people of St George's." Meanwhile, no elections for the town's councillors will be required in St George's because only eight people put their name forward for the eight positions. The business ratepayers councillors will be Philip John Seaman and Faith Meri-Eve Bridges. The municipal residents councillors will be: Anthony Richardson, Calvin Bean, Phillip Anderson, Eakin McLaughlin, Elizabeth Christopher and Jamie Sapsford.
April 16. New panel displays celebrating the Bermuda Regiment's 50th Anniversary have been unveiled outside the General Post Office in Hamilton. Postmaster General Wayne Smith, a retired Major, said: "Today, the Bermuda Post Office commemorates the Bermuda Regiment's 50 Years of service to the Island and people of Bermuda with the unveiling a new panel display illustrating the roles and traditions of our Regiment. The display highlights the treasured aspects of Bermuda's culture and heritage I congratulate the past and current serving members of the Bermuda Regiment and recognise their valuable contribution over 50 years." Meanwhile Premier Michael Dunkley praised the Regiment's hard work and contributions to the community. "For 50 years, the Bermuda Regiment has been a critical part of Bermuda's security infrastructure, a fact demonstrated recently by their tireless efforts getting the island back up and running after hurricanes Fay and Gonzalo. As the Minister of National Security, I work very closely with the Bermuda Regiment and I am proud to call them colleagues in our mutual goal to protect our island each and every day. I thank them for their important contribution to the island which includes not only their internal security role, but as guardians of tradition and culture and as a driving force for social integration."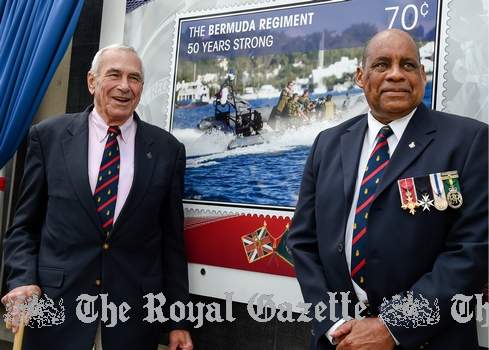 The committee for the Bermuda Regiment's 50th Anniversary, unveils a new panel display outside of the Bermuda General Post Office, with five images depicting the Bermuda Regiment, in celebration of their 50th year servicing the island. Left to right, former Regiment officers Douglas Roberts and Colonel Eugene Raynor. (Photo by Nicola Muirhead)
April 16. Beleaguered Mayor Graeme Outerbridge will step aside on May 7 after the list of candidates running for Corporation of Hamilton seats was finalized. Councilor Carlton Simmons and former mayor Charles Gosling have each thrown their hats into the ring for the top municipal position. Municipal elections nomination day saw Nicholas Swan, Lawrence Scott, John Harvey and Dennis Tucker as the only candidates vying to become Hamilton business ratepayers' Councillors, so they win by acclamation, as there are four seats to fill. Running for the municipal residents' four seats are John Holdipp III, Henry Ming, Carlton Johnson, George Scott, Aaron Scott, Derrick Phipps and RoseAnn Edwards. The new mayor and municipal residents' councillors will be determined on May 7, the day of the election. The current administration has been plagued with infighting and legal battles. Mayoral candidate Mr Gosling, along with Mr Harvey, Mr Tucker, Mr Swan and Mr Scott, who are vying for the business vote, along with Ms Edwards, Mr Johnson and Mr Ming, who are contending for the residents' vote, are running as a team. Mr Gosling, who was the mayor before Mr Outerbridge won the last election for the post, has campaigned with a team before. He said if this year's team is elected "we have got to investigate the current state of the Corporation and will report back to the Hamilton ratepayers and residents". In assessing the mood of the electorate, Mr Gosling said: "The response has been very, very positive so far. People are desperate for a positive change." With their priority being the investigation of the Corporation's affairs, it means their platform "is in some respects a great unknown", said the candidate. "We do want to establish good governance for the city. We said, before when we were in office under the Progressive Labour Party Government, and it is the same thing now — our intention is to work in partnership with Government — there's no denial that the Government is the organization that leads and governs the country. There is no need for us to spend time and money in the courts when we can work together, when we can come together, to find a working resolution. We are putting the Corporation of Hamilton back in safe hands." This will be the first election under new legislation, which involved the introduction of a complex equation to determine the number of seats set aside for the two categories of Councillor. The Aldermans' positions have been made redundant. Municipal voters are registered in two separate categories, and their numbers determine the seat allocation for each of those categories. Parliamentary Registrar Tenia Woolridge said there are 674 residents, and 416 business ratepayers. "The eight Councillors are split up between the residents and ratepayers — four each." A City of Hamilton spokesman said they would have liked to see more businesses registered to vote. The spokesman added that the registration process for business voters was a complex one, and there will be a post-mortem with the Parliamentary Registrar in the aftermath of this election. However, Hamilton residents are on the register automatically. The spokesman explained: "If a person is on the Parliamentary Register as a resident of the City of Hamilton, they are automatically by default on the Register of Voters (for the municipal election). You just show up, and show your identification on the day." Mr Simmons could not be reached for comment.
April 16. Bermudians who travel to the UK for longer than six months and do not have a British passport must obtain a Biometric Residence Permit (BRP), Government confirmed this evening. The new rules, which are being rolled out in other countries including the Cayman Islands, will take effect in Bermuda from May 31. The BRP card is a credit-card sized immigration document that contains a secure embedded chip. Fingerprints and a digital photo within the chip contain biometrics unique to each individual. The BRP provides evidence of the holder's immigration status in the UK. It can be used as proof of right to work, study and access public services in the UK. "While the Bermuda public was alerted to this matter from an announcement made by the Cayman Islands, the actual effective date for Bermuda is May 31," said chief immigration officer, Dr Danette Ming. "Under the direction of the Deputy Governor's Office a formal public announcement in Bermuda was on the point of issuing." As of March 18 BRPs for non-European Economic Area (EEA) nationals travelling to the UK for more than six months began to be issued in phases according to country. Bermudians possessing a British Citizen Passport will not be impacted by the change. "As before, Bermuda passport holders will be able to travel to the UK for up to six months without a visa but, if they want to stay longer, they need to get a BRP," said Dr. Ming. "To completely avoid the requirement for a visa for an intended stay in the UK longer than six months, the remedy is for that person to obtain a British Citizen passport." For more information on how to apply for a BRP go to: www.gov.uk/biometric-residence-permits.
April 16. The ferry service's Green Route, which serves Waterford Bridge and Cavello Bay, will see some cutbacks later this month. The news came as summer ferry schedule, effective from April 27 to November 1, was announced by the Department of Marine and Ports. "In a bid to cut costs, there will be two morning fast ferries instead of three for the West End route," a spokeswoman said. "Both of these ferries will service the Watford Bridge, Cavello Bay and Rockaway stops. There has been a reduction in use of this route and the Department of Marine and Ports does not anticipate any major inconvenience to the travelling public." The schedule will be available at the Hamilton Ferry Terminal from April 17, and can be viewed online at www.marineandports.bm.
April 16. United Airlines has made a series of cuts to its Newark-Bermuda service that will start to bite at the beginning of September. The airline currently operates a daily service, but that will be reduced to a three days a week service from September 8 until November 17. From November 17 United's connection between Newark and Bermuda will end for the winter, but the winter schedule is still subject to further talks with the airline. The move is a blow to the Bermuda Tourism Authority and will have a detrimental effect on the airlift numbers for the end of the year. "United, like many other carriers serving Bermuda, has adjusted its winter scheduling in order to meet softening demand during the November through March period when airlines historically fill only 50-60 per cent of their seats to and from Bermuda," said Aaron Adderley, the airport's general manager. "That is not a sustainable level of performance when the industry average for load factors is in the 80 percentile range. While we can appreciate the need to reduce capacity during the winter, for United, we would have much preferred that rather than suspending service altogether for four consecutive months, perhaps a limited schedule of three to four flights per week would have been better served. Our other airline partners have adopted such an approach and this would have enabled us to at least partially meet the travelling needs of our leisure market, the business sector and residents alike." United Airlines will meet for talks with airport managers before the start of the summer to find ways of having a "more sustained presence in the market". The airline's Newark service to the Island resumed yesterday with a daily service after the winter suspension that started early last December. Mr Adderley added: "It's a tricky challenge because airlines want to see proof of increased demand before allocating additional capacity. On the other hand, it's hard to increase demand if there is no available capacity to begin with. This is proving to be a challenge for the Tourism Authority, especially as the seasonal loss of service out of Newark is thwarting efforts to secure group business, for example. However, when we look at our other air services, there are available seats during the winter especially and we need to prove that we can fill those before we can aggressively seek additional flights. We've been very successful in securing new flights in the past. And there's no question that the airlines will continue to respond and consider Bermuda for new services moving forward, especially when they see evidence of growth potential." Glenn Jones, the Bermuda Tourism Authority's director of public and stakeholder relations, said the BTA was still confident it could reduce seasonality and increase demand. But he acknowledged that was difficult to do when the number of airline seats available had been reduced. Mr Jones added: "Our CEO is looking to rally a coalition of private sector stakeholders to address the airlift issue and then partner with the government to make the strongest possible case to the airlines. "This past winter on the Newark and Philadelphia routes alone we lost 18,000 seats between December 1 and March 31. The airlines made those reductions based on a history of declining demand and those absent flights dealt a heavy blow to our efforts to increase demand in the first quarter. So we've been working urgently with government and other partners to avoid a repeat of this next winter. Meantime as the Tourism Authority increases demand in other parts of the year, it will be more difficult for visitors and residents to find airline seats at reasonable prices, especially if there's a further reduction in capacity. Supply and demand dictates that as planes fill, the scarce remaining seats become very expensive. So that alone makes the airlift issue a matter of importance for every single one of us, not just the Tourism Authority."
April 16. Air visitors to Bermuda have given the Island's public transportation system the thumbs up, according to a new survey. The Bermuda Tourism Authority survey revealed that 89 per cent of the air visitors that took the bus were satisfied with the service. Visitors were asked to rate their experience on a scale of one to 10, with the average score being 8.5 Meanwhile 97 per cent of the air visitors who used the ferry were happy with their experience giving a score of 7 or higher. The average score was 9.3 out of 10. The BTA presented the findings of the survey to unionized public transport workers today and thanked them for their efforts. "Public transportation is a very important link in the tourism value chain because it touches more than half of all air visitors," said BTA CEO Bill Hanbury. "On behalf of the Tourism Authority, and especially during Hospitality Month, we want to congratulate the men and women who work in the public transport sector for the role they're playing in creating a positive visitor experience. Friendly bus and ferry operators who are good at their jobs are true assets to the Bermuda tourism economy." BIU president Chris Furbert said union leadership is "basically pleased with the results of the survey. As president of the BIU, I personally take the time to meet and talk with all of our members, in particular our members who deal with the public, and stress to them the importance of providing optimum service to the public. I believe that all of our members are aware of the importance of tourism to our economy." This spring the BTA will use the visitor exit survey to poll cruise visitors on their satisfaction with public and private transportation options including bus, ferry, taxi and mini bus services.
April 16. Argyle Limited, a Gibraltar company cited by Senator Michael Fahy at a press conference on Friday as the entity into which some of an $18 million bridging loan in connection with Par-la-Ville Hotel and Residences Ltd in Bermuda was paid, had declared just £1,000 ($1,486) in assets in December 2013, documents show. Sen Fahy told media last week: "Both the Corporation of Hamilton, me as steward and the mortgage holder are doing everything possible to obtain further details as to the whereabouts of the bridging loan money." Minimal information about Argyle Limited is easily available, although investigations show that it appears to remain active, and was started in December 2006 by a Robert McKellar, whose residence is stated to be Málaga Area, Spain. A Google cache of the company's 'About' page on its now closed website stated: "Argyle provide corporate structures and investment opportunities to enable investors to participate in a variety of projects, matching their investment risk profile with the relevant project risk. Our business philosophy is to work with our select network of clients to locate and develop projects for investment." Gibraltar's Registry of Companies for December 2013 showed the total assets of Argyle Limited at £1,000. An online zoominfo.com profile purporting to be that of Mr McKellar stated that he has "substantial experience in multi-currency transactions and international funding. He has successfully concluded funding for several multimillion dollar property projects, including raising finance, structuring of corporations and trusts for reduced tax liabilities, together with setting up and administering investment funds raised to maximize returns to the projects. In November 2000, Robert set up the Argyle brand to work in project finance to advise and arrange structuring of private placement bond sales and trustee investment work with Robert acting as consultant and advisor. From November 2000 Robert McKellar ran all business through the Argyle brand and formed Argyle Limited in conjunction with Amstel Securities, a multinational brokerage firm, employing over 103 staff with offices in 10 countries."
April 16. An offshore racing trimaran will make an attempt to break the 15-year-old outright and class speed record for the 635-nautical mile journey from Newport to Bermuda. The 105ft maxi trimaran Lending Club 2, steer driven by co-skippers Renaud Laplanche and Ryan Breymaier, will launch their record-breaking bid from Newport, Rhode Island, as early as Sunday should conditions prove favorable. The pair hope to sail Lending Club 2, which is capable of speeds of more than 40 knots in the right conditions, to a Newport-Bermuda record that is significantly faster than the existing time. The attempt will be observed and ratified by the World Sailing Speed Record Council and Guinness World Records. The yacht is on standby at the Newport Shipyard while the crew observe the weather and wait for suitable conditions, ideally a moderate following breeze, and manageable conditions, to allow for maximum speed. The existing record, achieved in 2000 by the 125ft catamaran PlayStation, stands at 38hr 35min 53sec. The catamaran, driven by Steve Fossett, completed its record journey from Newport to Bermuda at an average speed of 16 knots. Mr Laplanche, a two-times Laser national champion in France, chartered the racing yacht for the 2015 season with the aim of conquering three speed sailing records: from Cowes on the Isle of Wight to Dinard, France; Newport to Bermuda; and the 2,215-nautical mile Transpac (Los Angeles to Honolulu). The 45-year-old entrepreneur has already achieved one of his objectives having set a world speed record on the English Channel from Cowes to France two weeks ago. Lending Club 2 completed the 138-nautical mile passage in 5:15 at an average speed of 26.36 knots, shaving eight minutes off the previous record that had stood since 2002. After their attempt at the Newport to Bermuda record, the crew will take the trimaran to Long Beach, California, for their start in the Transpac Race, which is tentatively scheduled to begin on July 18. Crossing the starting line of the longest ocean race in the world will be the culmination of months of effort, the focal point of this season's two previous record assaults being a win of not only the Transpac course record but also the outright sailing speed record across the Pacific to Hawaii. Lending Club Sailing, headed up by Mr Laplanche, the chief executive, is an international crew with a mix of American, French and German sailors. Training and racing together since the start of the programme, the same team will race all three record attempts. The trimaran, designed by VPLP and built in France in 2006, was originally named Groupama 3. After three failed attempts, skipper Franck Cammas and his crew won the Jules Verne Trophy for the fastest circumnavigation of the globe — 48 days, seven hours, 44 minutes and 52 seconds — in the spring of 2010. The yacht was then modified for solo sailing and has been sailed to victory in the past two editions of the Route du Rhum, from northern France to Guadeloupe. When San Francisco-based Mr Laplanche decided that he wanted to return to break the Transpac course record from Long Beach to Hawaii, after closely missing the fastest time in the 2013 edition, he and co-skipper Mr Breymaier, one of America's most prominent offshore sailors and the holder of the world sailing speed record from New York to San Francisco, negotiated the charter knowing this trimaran was the perfect vessel for their mission. Their first step was to reinstall the taller rig, bringing the yacht back to full power mode, ideal for crewed record-breaking attempts.
April 16. The new information commissioner has hailed a successful "first step" in the implementation of the Public Access to Information Act. Gitanjali Gutierrez announced today that public authorities have upheld their responsibility to provide PATI information statements for the public. One of the first requirements that the Act called for public authorities to provide a detailed information statement describing the authority's functions, powers, duties, organizational structure, services, programmes, types of records held, manuals and decision making documents. The statements also provide the name and contact details for the information officer of each public authority, who is the person responsible for receiving requests and assisting requesters. "The information statements reflect a tremendous amount of work by public authorities," said Ms Gutierrez. "Overall, the obligations under the PATI Act are being taken very seriously. This first step is a good indicator of the public authorities' commitment to the effective implementation of the PATI Act. The information statements themselves give the public a lot details about how Ministries, departments, boards, councils and other public authorities operate and make decisions. Much of this information has not been available to the public before. Today, the ready access to this information is a concrete example of how the PATI Act promotes transparency and good governance. When people look at these statements, the PATI Act will go from being an idea to being something real." The information statements are available on the Information Commissioner's Office website www.ico.bm.
April 15. A lesbian couple who were told they could not marry aboard a P&O Cruises luxury liner because of Bermuda's marriage laws have been left crestfallen. Jacqui Chapman and her partner were told that because the P&O ship is registered in Bermuda, the Island's laws — including the prohibition of same-sex marriages — are applicable on board their ships. A Government spokeswoman confirmed: "Ships that are registered in Bermuda must adhere to the laws of Bermuda which governs marriage ceremonies conducted aboard a ship." Ms Chapman told Diva magazine that she had been travelling with the liner since 2001 and had planned to have her dream wedding aboard one of the ships in September, but now they were having to make alternative arrangements. Ms Chapman told The Royal Gazette: "We were very disappointed when we heard. We had already booked a Caribbean cruise in November for 24 days and it would have been good to have our ceremony then. I have been on 30-plus cruises with P&O and feel irritated to say the least that while they are happy to accept our 'pink pound' they are unable to offer an equal service. I realize the difficulty is around the Bermudian law but it is unfair. They advertise 'marriage on our cruise ships', maybe at the bottom of their adverts contained in the small print it should say 'does not apply to same-sex couples.' We have already booked four cruises with P&O over the next year and I guess I will continue to use this company as there are very few cruise lines that sail from Southampton (UK) but the whole thing leaves a very nasty taste. We have decided to have a small ceremony locally with a handful of invited guests, then lunch and cocktails in our favorite restaurant and then we are having a party for all our friends and family." Members of the lesbian, bisexual, gay and transgender community reacted in anger via a thread on Diva's website, including a CH Brighton who said: "Oh dear. Another country wiped from my list of places to visit and another company whose goods or services I shall not be purchasing, Bye bye Bermuda. So long P&O." According to Diva magazine, P&O's Michele Andjel said: "We welcome all passengers on board. Unfortunately, Bermuda law prohibits us from conducting same-sex marriage ceremonies, but we can certainly offer same-sex vow renewals on board carried out by the captain." Other cruise ships that are registered in Bermuda include Princess Cruises and Cunard Cruises.
April 15. The Italian cruise ship Divina made her inaugural call to Bermuda this week and the ship's captain was presented with a traditional maritime plaque to mark the occasion. Tourism Minister Shawn Crockwell and Minister of Public Works Craig Cannonier met the liner's captain, Pier Paolo Scala. MSC Divina entered service in 2012, and was originally called the MSC Fantastica until the operators renamed her to honour the actress Sophia Loren. The vessel arrived in Dockyard on Tuesday with 3,402 passengers. The Divina will be returning again for her second and last call for this cruise season on May 2. Mr Crockwell said: "I was honored to meet the captain and crew and it was great to get to see such a magnificent vessel. The MSC Divina is a gorgeous ship, one of the most beautiful I have ever been on, and it is easy to see why she is considered a star of the MSC fleet. Bermuda is very fortunate to continue to attract this calibre of cruise ships. Having two premier-class ships this week in Dockyard is indeed a boost to our economy and a great way to kick off our 2015 cruise ship season." Mr Cannonier added: "I would like to congratulate the Works and Engineering team, Wedco and all of the contractors who all did a great job of getting the Heritage and King's Wharfs ready in time for these visiting vessels."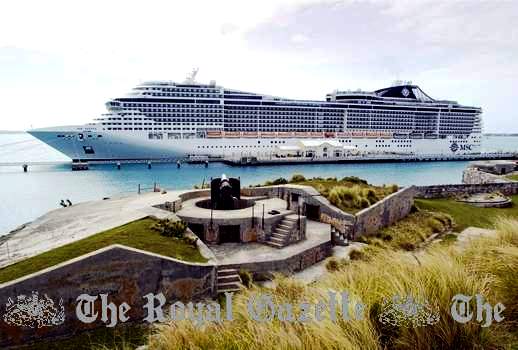 MSC Divina at Dockyard, see above story.
April 14. Plans for the South Basin Marina that will form "a key part" of the America's Cup Event Village at the Royal Naval Dockyard have been approved by planning authorities, Grant Gibbons, the Minister of Economic Development, has confirmed. The application, submitted last December by South Basin Development and backed by the West End Development Corporation, proposes a reclamation of the South Basin — the hub of operations for the 2017 America's Cup — using sheet pile walls and infill. The project would also include a marina, offices and service area, along with parking, access roads and utilities. "A Planning application for the project has already been submitted by the West End Development Corporation and approved by the Planning Board," Minister Gibbons said. "Detailed engineering drawings for the infill site are currently being prepared and, in due course, the construction and land reclamation will be put out to tender, awarded and work will commence." According to the application, which was presented to the Cabinet and Parliament last August and was approved, ten acres of land will be reclaimed inside the southeastern corner of the existing breakwater, creating a gravel surfaced "island". The fill area would cover the majority of Cross Island, but an existing building on the island will remain untouched. On the fill area, the plan includes a boat yard with multiple dry storage racks, two parking areas, a marina office building, a building to house the Marine and Ports offices and a larger service building also earmarked for the department. The fill area will also include a dock specifically for tugs and ferries. The northern side of the breakwater would house a marina with 68 berths. "The West End Development Corporation has had a long-term plan in place to reclaim some ten acres of land in the South Basin at Dockyard through a land infill project," Minister Gibbons said. "The ten acre site will now form a key part of the America's Cup Event Village in 2017 and also provide additional space for team bases along with the South Basin dock currently being used by Oracle Team USA." The newly formed America's Cup Bermuda (ACBDA) is working closely with representatives from Public Works and Wedco to help move this project along, the Minister added. The South Basin Marina project is linked to the North Channel Modification Project, which proposes widening the north channel to allow larger cruise ships to visit Dockyard. "It is anticipated that dredged materials coming from the North Channel widening project will be used as part of the aggregate required for the South Basin infill," Minister Gibbons said. "Government is currently finalizing these dredging arrangements with the Royal Caribbean Cruise Line. The Ministries involved include Public Works, Tourism Development and Transport, together with Finance. Once these contractual arrangements are finalized, it is anticipated that the channel widening contract will go out to tender, possibly before the end of April. "The various operations surrounding this substantial project and preparations for the America's Cup site are running concurrently. We anticipate that the infill project and the event village will be ready in advance of the required use by the America's Cup teams and event organizers." As it stands, Bermuda will host the America's Cup World Series in October of this year as well as the America's Cup Challenger Playoffs and the America's Cup Match in 2017.
April 14. A town hall meeting to discuss the America's Cup will be held on April 21. Minister of Economic Development Dr Grant Gibbons, CEO of the America's Cup Event Authority, Sir Russell Coutts, ACBDA Chairman, Peter Durhager; and Oracle Team USA skipper Jimmy Spithill will be present at the event. The meeting will take place at the Heritage Worship Centre from 5.30pm to 6.30pm. It will provide the public with an update on the progress of the event in the run up to the America's Cup World Series event in October and the main event in 2017.
April 14. A major renovation of the aquarium is expected to be completely finished by mid-June. It had initially been hoped that the aquarium would be open to the public again by the end of this month. But persistent rain storms in February have caused the completion of the project, which involved a major overhaul of the facility and its roof, to be delayed. Curator Ian Walker told The Royal Gazette that half of the aquarium hall would be open by mid-May, while the rest of the building would be finished by mid-June. "We are very happy with the work that has been done so far. The delay has principally been caused by all the bad weather that we had in February, which prevented work from being done. The roof structure has now been completed and the tanks have been installed. We have lots of work to do getting the new graphics on the walls in the coming weeks. There is still infrastructure work that needs to be done inside, and the plans moving forward from here are to install the work platforms and the new lighting." The renovation project began last year, and has involved the complete removal of the old roof as well as interior walls and flooring." Yesterday, Environment Minister Jeanne Atherden joined Dr Walker on a walk around the new structure to check on progress. She said: "I'm very pleased with the way it's looking. We are extremely fortunate to have such a wonderful aquarium and it's great to see all these upgrades taking place. I'm looking forward to seeing it open to the public again very soon and would encourage everyone to get down here and see all the work that has been done." Although the aquarium hall has been closed for many months, with fish and other creatures kept behind the scenes, the rest of the zoo has and will remain open to the public. Dr Walker added: "A lot of people are working very hard to get the aquarium back open again as soon possible. The new building provides us not only with extra storage space but also new money saving technologies. It will be worth waiting for."
April 13. Two British UK nationals were each fined $3,000 in Magistrates' Court this afternoon for using threatening behavior towards crew members on a Mexico-bound flight on Sunday. Jamie Richardson, 38, from Lancing, West Sussex, pleaded guilty to using threatening behavior on Thomson Airways Flight 022 by throwing peanuts and a pound coin at a flight attendant. Daniel Taylor, 37, from Worthing, West Sussex, pleaded guilty to using threatening behavior by hitting himself on the head with clenched fists and taking an aggressive stance towards cabin management. Prosecutor Larissa Burgess told the court that the men appeared intoxicated when they boarded the flight bound for Cancún, Mexico, in Gatwick on Sunday. She said that they were seated apart, but kept moving around asking for drinks and, at one point, Taylor stepped on a flight attendant's foot. The court heard that the men then began shouting and swearing, and upon being told to stop doing so, they exclaimed "we are drug dealers." Ms Burgess added that Richardson then wanted to buy peanuts from a flight attendant and Taylor threw his wallet across the cabin to Richardson — when Richardson threw it back it hit a passenger on the head. Ms Burgess said they were told that this was unacceptable behavior and Taylor proceeded to throw the peanuts and pound coins at the flight attendant, stating that he did not want either. Taylor then refused a final written warning from the flight attendant, who went to notify the pilot of the incident. The pilot decided to divert the flight to Bermuda, where the defendants were arrested and crew statements were taken. In court, Richardson said that he regretted the incident and that he had mixed sleeping pills, which he took because he had a fear of flying, and vodka, which led to his behavior. Taylor, who said he also took sleeping pills, added: "It was the most embarrassing day of my life." Magistrate Khamisi Tokunbo fined both men $3,000 with four months in prison in default of payment. Duty counsel Alexandra Wheatley asked Mr Tokunbo to reconsider the amount because the defendants instructed her that they had only about $700 in cash between them. But Mr Tokunbo refused the request and said: "This kind of behavior is not acceptable. Taking sleeping pills was not an excuse and that the fine was lenient enough. In these times it could be a lot harsher — you can't mess around in the air these days," he added. Both men are in the process of trying to raise the funds.
April 13. A rally to encourage public discourse about cannabis reform is being held this month. Organizer Ananda Hill is hoping that the event will enable dialogue on the subject and encourage people who agree with a common-sense approach to cannabis reform to make a public stand. "Prohibition hurts our populations employment opportunities, bleeds the judiciary of valuable time, and is a huge liability to the public purse to pay for jail sentences, "said local activist Mr Hill, 26. "This type of action is imperative as we are having more Bermudians arrested for cannabis than our populations growth rate. Current cannabis laws are a ticking time bomb for Bermudas livelihood and are unsustainable." Mr Hill said that the 4/20 rally, Fill the Hill for Cannabis Regulation!, will be held on Parliament Hill on April 20 because Parliament represents a place for constructive dialogue and discourse. He said that the term 4/20 was synonymous with the consumption of cannabis in California, the first state to enact reform, and that rallies were held on this date in many places around the world where cannabis is prohibited. "There are many who have lived a large portion of their lives during times of drug propaganda regarding cannabis, and know very little about the plant," Mr Hill said. "With information, I have faith that they will be able to see that not only does prohibition not work, it creates a criminal underworld as people will still consume it regardless. Minors, for example, could easily access the drug because it was unregulated and that convictions for cannabis slashed employment opportunities for many Bermudians, and could lead to crime, abuse and antisocial behavior issues. The rally would focus on recreational and medical consumption. Contact information will be exchanged and a Lobby for Cannabis Reform will be created, so if you are interested in ensuring the reforms will be just, sensible and useful to Bermuda, you should come. Regarding political dialogue, if anyone in Parliament feels that cannabis should stay prohibited in this unsustainable way, I would like to challenge their opinion in a public debate on camera." Mr Hill, who has spoken with the Cannabis Reform Committee, said he hoped to work with the group in future because a common-sense approach to cannabis reform was important. "The only people who seem to be against prohibition, once faced with a certain amount of information, seem to be those who benefit from prohibition as opposed to the rest of the country. I can't think of one reason why any plant created by God should be illegal. In comparison to alcohol and cigarettes especially, I would like to point out that the cannabis death toll is zero. Bermuda must adapt to what makes sense or this ship will keep sinking. If discussion of what makes sense can possibly make some people uncomfortable, then that is a small burden to bear when in contrast to the ramifications. Feelings and comforts change but actions are forever. We can handle it; I have faith in our maturity." The April 20 rally will be on Parliament Hill from 2pm until 6pm. For more details or to volunteer, call Mr Hill on 517-1481.
April 13. A close-to-capacity crowd last night gave the Bermuda Regiment Band and Corps of Drums a standing ovation at the end of a concert to celebrate the military's half-century. The Regiment band led a talented line-up of 130 musicians at the Ruth Seaton James Auditorium — a last-minute venue change for the free Reunion Concert from the gardens of Government House after rain closed in. Musician soldiers joined the Bermuda Islands Pipe Band, the Bermuda Youth Orchestra, the North Village Community Band and the Somerset Brigade Band as well as the Bermuda Chamber Choir and Warwick Academy Orchestra for two hours of musical entertainment to celebrate the formation of the modern Regiment in 1965. Selena Simons, from Somerset, said her saxophone-player son Sediq was on stage with the massed bands. She added: "It's been perfect — wonderful. I was in the Berkeley band way back and we joined the Regiment to play concerts like this. The Regiment is very important because of the support for the community and to help out our sister islands when they are in trouble." The audience, which included Governor George Fergusson and wife Margaret, heard a range of music, from military standards to waltzes and classical music like Zadok The Priest by George Handel. But the repertoire also included pipes and drums and rock and pop hits from the Rolling Stones's Satisfaction to a selection of tunes from Outkast, including their smash hit Hey Yah! Rebecca Perry, from Pembroke, who watched the concert with husband Curtis and sons Andrew, 8, and Stuart, 6, said: "We wanted to hear the bands — it seemed like a great family day out. And the Regiment was very useful with all the clean-up and things after the hurricanes, that's for sure." Retired Regiment Major Stephen Caton, one of the organizers of the 50th anniversary celebrations, said after the concert that 400 tickets had been allocated for the Government House venue and that most holders had come to the alternative site for the concert. He added: "There was a massive mix of people here — including people in their Regimental ties. Without question, it shows the Regiment is still very relevant." Mr Fergusson told the audience the concert was "a fantastic gathering of different organizations which I thoroughly enjoyed."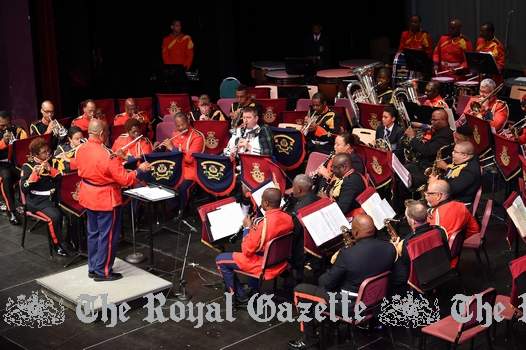 Bermuda Regiment 50th anniversary concert. See stories above and below
April 13. Royal Gazette Editorial. One of the major events to celebrate the creation of the modern Bermuda Regiment took place yesterday. Poor weather forced a change of venue from Government House to the Ruth Seaton James Auditorium at CedarBridge Academy for the Reunion Concert to celebrate the 50th birthday of the Regiment. But the turnout, close to the 400 maximum for the original venue, showed that the Regiment is still a force to be reckoned with after half a century of protecting our Island home from man-made and natural catastrophes. The audience at CedarBridge saw one side of the Regiment yesterday — the music, pomp and circumstance that the Regiment Band and Corps of Drums brings to occasions as varied as the solemn Remembrance Day Parade in November, to the fun atmosphere of Harbour Nights throughout the summer. But what many in the audience yesterday perhaps did not realize was that, over the same weekend, scores of Regiment personnel took part in a grueling series of exercises in the dust and dirt at the back of Dockyard to hone their skills in their equally valuable public order role. Kitted out with helmets, riot shields and flame-proof overalls, Regiment personnel sweated through a series of tests of their skills in dealing with large-scale public disorder. When we add that to the near-universal acclaim the Regiment received for its role in helping to deal with the unprecedented strike of two hurricanes within a few days last year, it is clear the Island's armed service is a valuable resource for the community it exists to serve. And — when we consider that the Regiment is likely to play a major role on land and at sea as part of what will be a major security exercise surrounding the America's Cup — the Regiment's budget, cut by 5 per cent in February, begins to look like a bargain. The Regiment has not been without controversy and never short of critics, especially over conscription, ironically a matter for successive Governments, not the Regiment itself. But the fact that this year's Recruit Camp attracted a record number of volunteers speaks as much of the value people see in Regiment training as it does of the recession which may have influenced some to join up. Commanding Officer Lt Col Michael Foster-Brown, a British Army officer seconded to Bermuda at short notice after the death of Major Chris Wheddon, destined to have been the next CO, while on duty in England, has also played a major part in ensuring the Regiment's continuing relevance. Col Foster-Brown's experience of a modern Army with high standards and expectations and one that had to ensure training was relevant, worthwhile and interesting as it also struggled to attract enough recruits during the boom years of the 2000s, has been invaluable. It is also worth reflecting on the changes the Regiment has perhaps helped to make in the culture of Bermuda, born, as it was, out of the Island's history of racism and segregation. It was, 50 years ago, created out of the largely black Bermuda Militia Artillery and the mostly white Bermuda Rifles. Now men and women, of whatever ethnic origin or nationality, serve on equal terms under a flag and cap badge, which is itself a tribute to its predecessors, both of which served with distinction in two World Wars. At a time when the Island is facing unprecedented pressures, both financial and social, its part in uniting people from all walks of life and instilling a sense of pride and discipline so evident at this year's passing out parade for recruits cannot be underestimated. One Private soldier perhaps summed it up best when he said: "It doesn't matter where you come from, where you are, what your lifestyle on the outside is like — there's only one colour here. Green." So we hope the community can come together to help to celebrate the Regiment's 50th at the many events planned.
April 13. The mother of a drug addict who died after an overdose has called on hospital bosses to act on all of the recommendations of a coroner. Lynn Spencer said she was "disappointed" the Bermuda Hospitals Board (BHB) had not yet followed up on all of Juan Wolffe's advice after the inquest into her son Christopher's death. She also urged anyone still waiting for an inquest into the death of a loved one to continue fighting for their right to a hearing. A spokeswoman for the BHB said the board was still reviewing one of the recommendations relating to whether EMTs should be able to administer Narcan, which reverses the consequences of an overdose, without a doctor's permission. Ms Spencer told The Royal Gazette she would not rest until all the inquest's recommendations had been implemented. "I'm not giving up on this. It's my duty to make sure these recommendations are acted on," she said. "If it saves just one life, it will be worth it. That is why I pushed for an inquest — it was about finding out what happened to Chris but also seeing if lessons could be learned to save other lives. I would urge anyone waiting on an inquest to continue to fight for that right; an inquest has the potential to save lives." Mr Spencer died on October 27, 2012. An inquest into the 25-year-old's death was held at Magistrates' Court last month. At the end of the inquest Mr Wolffe urged the BHB to look at its policies regarding Narcan and said it should reconsider how the drug is used. EMTs in Bermuda are required to get approval from a doctor before administering the drug. Mr Wolffe said reconsidering the policy might save lives. Ms Spencer added: "What I learned that day is invaluable to another person overdosing and the help they should be receiving. Narcan saves lives. It is easily administered and I am not aware of any side effects. The sooner our EMTs are given permission to use this product without having to ask a doctor the better. Narcan is sold over the counter in many US states. I wish I had known about Narcan before Chris's death." A BHB spokeswoman told The Royal Gazette: "Narcan has been carried in BHB ambulances for a number of years so that it can be used quickly, if clinically indicated. We are reviewing the recommendation by the coroner that an emergency doctor is required to give the approval for its use. Physician approval is currently required for all drugs given in the field, not just Narcan. EMTs always remain in close contact with emergency physicians while on an emergency call so there is no significant delay in using drugs when needed, but we take the recommendation seriously and will do what is needed to optimize patient care. As the coroner made clear, however, it would have unfortunately not made any difference in this tragic case."
April 13. Dale Jackson is proving the value of going the extra mile to help secure new business for the Island. Fulfilling a concierge role with the Bermuda Business Development Agency (BDA), he has put to use his background as an engaging "people person" with organizing, scheduling and liaison skills. Those attributes were honed from years of experience with organizations as diverse as the Bermuda Police Service, Government and the Bermuda Basketball Association. As one of the BDA's business development managers, he is a front line figure in its efforts to attract new business to the Island. And he can testify to the positive feedback and results the proactive approach has achieved since the BDA was established last year. "We are getting phenomenal feedback from those who have actually visited Bermuda. Some of them are surprised by how sophisticated we are in our business environment. Once they go back home they send e-mails saying 'That was a wonderful experience, I did not know Bermuda had so many products'," he said. The mission of the Hamilton-based BDA, which is located in the Maxwell Roberts Building, on Church Street, is to encourage direct investment and help bring new business to the Island. It does this by promoting the jurisdiction overseas and acting as a one-stop shop to connect potential new clients with professionals, regulatory officials and key contacts in Government. The agency is primarily funded by Government, which it works closely with, particularly the Ministry of Economic Development. It also has its own focus groups made up of practitioners in the relevant industries who volunteer their time to share ideas. All those efforts are aimed at stimulating growth in the international business sector. Once the BDA team has developed a rapport with a potential client who is considering locating to or placing some business in Bermuda, Mr Jackson's concierge skills are brought into play to move things forward as smoothly as possible. He explained that the prospective client may want to visit the Island to experience Bermuda's culture, community and business opportunities. "We help them plan the trip, from giving them flight details to making hotel reservations for them to transportation from the airport and confirming with the hotel staff that we have a business concierge client staying," he said. That heads up for the hotel helps ensure the visiting client gets the best treatment. The BDA produces a schedule for the visitor, providing them with information and the opportunity to meet with the people who can help them as they decide whether Bermuda is the right fit for their business. "We are really a one-stop shop so that the process is clear and easy for them," said Mr Jackson. By asking a client about their business, the agency is able to use the information to prep for meetings, passing on the details to the service provider they will be meeting. This helps to ensure that the right people are in the room when they get together with the client. Such attention to detail pays dividends, with Mr Jackson reporting great feedback. "They have been impressed with the level of service we are providing, the sophistication of our framework, the professionalism of our service providers," he said. Mr Jackson gave an example of how going the extra mile to fulfill the needs of a prospective client has left a positive impression with one potential prospect who is considering redomiciling a business to the Island. "We had a gentleman down from Asia and we had literally 24 or 36 hours to meet with nine different people. So we had to chase people up to confirm meeting times," he explained. "I had to walk the gentleman to the meetings because there was such a tight window that if we had missed one meeting it would have changed the whole trajectory of the day. So I had to keep him on time, get him to the meetings and follow up with those he met to collect materials that he might need to take back with him." The visit was a success and afterwards the client wrote letters of commendation about the concierge service he had received, and the professional approach of the BDA. A look at Mr Jackson's career background reveals where he has gathered the social and organizational skills that are now proving so rewarding for the BDA. He studied sociology, criminal psychology and anthropology at Dalhousie University in Canada. After that he spent 7½ years with the Bermuda Police Service, performing duties in nearly all departments. However, he found his time with the community policing division particularly rewarding. It was there that he was able to assist young people and families and work in the school system. He then moved on to work as an educational therapist at CedarBridge Academy. "We did some great programmes for young men. It was a fulfilling position," he said, explaining that he was able to instill in them business and educational principles. Working with others and offering support to help them meet their goals is something that features prominently in Mr Jackson's life. "I love working for people, that's my passion. I enjoy engaging with people," he said. An example is his involvement in the Basketball School of Excellence, which he founded and which provides mentoring for young men. "I had maybe 20 young men that I put through the programme who are now at university," he said, explaining that one programme particularly close to his heart is called Go to High School, Go to College. I identified some men in our community that just needed some extra push to make university or college an opportunity for them," said Mr Jackson, who is a former captain of the Bermuda national basketball team and former president of the Bermuda Basketball Association. I took them to Canada where I went to school and they had the opportunity to play football for coaches and trial for basketball teams. I took them around and introduced them to academic counselors and basketball and football coaches so they could maybe get a scholarship opportunity." He did this for five years, in his own free time and personally covering the expenses. Mr Jackson is also a member of Alpha Phi Alpha fraternity, which is involved in many community programmes, from Big Brothers Big Sisters to a mentoring programme for young men in the community, and the "Go to High School, Go to College" programme. Although not involved in the political environment, Mr Jackson was offered and accepted the role of chief of staff to Premier Dr Ewart Brown in December 2009, and later fulfilled the same role for Premier Craig Cannonier following the OBA's 2012 election victory. Both stints provided him with opportunities to hone his skills scheduling meetings, developing business and travelling the world to represent Bermuda. "I got a good feeling for the inner workings of the civil service and the political wheels. I had an opportunity to go to Russia to negotiate the air registrar. I went to India to promote the hospitality industry in Bermuda and to Saudi Arabia, regarding a hotel development with the owners of Elbow Beach. I had an opportunity as a young man to travel as an ambassador for Bermuda and deliver the Bermuda story and the Bermuda value proposition. I worked in Cabinet office alongside three fabulous Cabinet secretaries who showed me a lot when it came to the civil service and policies and the inner workings of government. The intellectual capital of the civil servants is really something to commend." Mr Jackson was also involved in National Security's gang intervention initiative before moving to the private sector with his own business concierge venture. He said: "I was doing a lot of private client stuff, concierge work, helping companies relocate to Bermuda and domicile here. I was working in that space as a private entrepreneur." That led to meetings with Ross Webber, who last August was appointed the BDA's first chief executive officer. The two men knew one another from the time they had worked in Government. Mr Webber was a former Permanent Secretary, and they had worked together on a number of initiatives. "He explained that he was really trying to find the right person to manage the concierge service," said Mr Jackson. "It deals with people and being an ambassador for Bermuda. It deals with understanding the Government regulatory framework and it deals with business and entrepreneurial spirit. All the characteristics that I thought were needed for this position, I had." Four months into the role, he reflected: "We have a great staff here, everyone's motivated. They are all really engaged on the task in hand, which is job growth and growing the economy and making Bermuda a favorable place for those looking to do business — really creating the environment for those interested in domiciling here. If you look at it, a lot of people are coming to Bermuda for the first time, they are really interested but they do not know where to start. So the BDA gives them a starting point and we can connect them to any service that they might need. We could not do this without the support of both our public and private partnerships. We need our Government partnerships to ensure we have our legislative and policy framework and understanding in place, and we have private partners — the business community support and the professional and intellectual framework there to support them — and it has been really working out with the concierge service." Improving Bermuda's standing as a competitive international business jurisdiction is something close to Mr Jackson's heart. "I'm a family man, I have a young daughter, Kaylia. She's my angel. That's one of the major reasons why I took up this opportunity. Working with the BDA you get the opportunity to work directly with growing the economy and growing jobs in the community, and wanting to make Bermuda a better place for my family, so there are opportunities and jobs when she's at age and needs to grow her career." He said that having the opportunity to grow jobs, to help the wider community, gave him a great feeling, and he feels the community recognizes the value of having an agency such as the BDA providing a service to those interested in doing business in Bermuda. "Everyone is coming together for one task, for the betterment of Bermuda and to try to create jobs for Bermudians, so that's a great feeling that you are part of that. You put in the extra hours because you know you are doing something good."
Saturday, April 11. Bermudian Shelley Pearson today made history when she and other teammates rowed and won for one of the UK's two most prestigious universities, Oxford, (the other being Cambridge) on London's River Thames from 4:40 pm British Summer Time (one hour ahead of GMT) for the Newton Women's Boat Race. For the first time in its illustrious history this unique event was a key component of the world-famous multinational-televised Oxford and Cambridge Universities Annual Boat Race that in the past had featured men only. Shelley's father Kevin established himself in Bermuda's May 24 Half-Marathon Derby folklore in 1983 with a daring run to upset perennial favorite Mike Watson. Her brother Erik, a fourth-year senior at the Massachusetts Institute of Technology (MIT) is also a sportsman. What is not generally known is that Shelley Pearson has an aneurismal cyst in her pelvis, which has left her without 50 per cent of normal bone density. She has had nine surgeries since the autumn of 2012 and showed up at Oxford for a one-year course last September on crutches. Her place in this 2015 Oxford versus Cambridge 2015 BNY Mellon Women's Boat Race had earlier seemed improbable but her past successes had justified the faith in her. Despite her handicap Shelley had previously rowed for Peddie School, in Mercer County, New Jersey, with her coxed four crew winning the US Youth National Championships three years in a row before she moved on to Harvard University to row for the Radcliffe team, with whom she won the Ivy League Championship as a junior. In between, she helped capture the gold medal in the United States eight at the Junior World Championships. Shelley arrived at Oxford with the primary aim of writing a dissertation to complete her Masters in childhood development and education, but also to give a better account of herself as a rower after a spring attempt to make the Great Britain team floundered because of her injuries. Oxford, in dark blue, went into the Women's Boat Race as favorites. They rowed over the same course as the men, a 6.8km stretch of the Thames from Putney to Mortlake, called the Tideway. They did so with ease, victorious by 6.5 lengths, before a crowd of well over 250,000 and a TV audience of many millions worldwide. Shelley rowed in the No 3 seat on the stroke side (starboard), with her oar on the right-hand side of the boat. For many years Shelley had been among the 15 million tuned in to the BBC to watch the Boat Race live on television. The women of Oxford endured a punishing regime that included 6.30am sessions on the water of between 80 and 140 minutes nine to ten times over a six-day week. Shelley turns 24 five days later and brother Erik is about to graduate from MIT with a Bachelors degree in mechanical engineering and math. Prominent sponsors of the race were BNY Mellon, otherwise known as the Bank of New York Mellon and Newton Capital Management, the London-based, global investment management subsidiary of BNY Mellon. Both have key Bermuda-incorporated registered offices. One hour after the Women's Race ended in an easy victory for Oxford, the men's team also won over Cambridge, by an equivalent length.
April 11. The revised class rule for the 35th America's Cup has presented team designers with another obstacle to overcome in their quest to build the fastest boat capable of winning or defending the Auld Mug. The majority of America's Cup teams agreed to change the class rule from the AC62 catamaran to the smaller AC48 at a recent competitor forum. Those changes, organizers said, were aimed at significantly reducing costs for the 2017 Americas Cup to be held in Bermuda's Great Sound. It is the first time in America's Cup history that the class rule has been revised in midstream and the smallest boats to be used in the events history. But not everyone agrees with the revision. Luna Rossa, the Italian challenger, withdrew after criticizing decisions by organizers as unprecedented and illegitimate. They were backed by Emirates Team New Zealand whose own involvement in the next instalment of the Cup remains in doubt amid a dispute with America's Cup organizers over the venue for next years America's Cup Qualifiers. The new America's Cup catamarans will feature certain one-design elements, something which ruffles the feathers of sailing purists who feel that the Cup is being mellowed out with this radical approach. Loick Peyron, a designer with Swedish challenger Artemis Racing, views things differently. "There are some one-design elements in the new America's Cup Class, but one area that is free is the appendages and the controls and there is a lot of room to refine and improve here. The main area of importance on this boat is the drag aero and hydro. So the appendages are so much more important. The small little details in shape and surface are problems we need to solve. Getting this right can make such a big difference." Oracle Team USA, the defender of the Americas Cup, and Artemis launched foiling 45-footers this year that turned heads and convinced the majority of teams they would be good enough for America's Cup racing. The class rule change has sent team designers scurrying back to the drawing board to figure out the best approach to the improved hull shape and configuration and tighter restrictions on manual power on the AC48. "Everyone is thinking all the time on how to make things work better," Peyron, a multiple Ocean Racing Multihull Association champion, added. "You have to defend your opinions and test the options and sometimes learn to accept another point of view. But with this process, the best ideas win out and the boat goes a little bit faster." Peyron is well versed in designing multihulls having sailed with Alinghi 5, defender of the 33rd America's Cup, which was then regarded as one of the most incredible boats ever built at the time. "When you look back, it's hard to believe that was just five years ago," the Frenchman said. "We have learned so much since then. Each time the America's Cup becomes interested in something, it forces a huge jump as a lot of clever people focus on that area and start pushing the progress. A century ago we can imagine this was happening maybe with winches and aluminium masts. Today it's foiling. The funny thing with foiling is that speed isn't related to size. In a classic scenario, speed is related to the waterline length of the boat. But the foiling world is different. Speed is restricted by drag and by righting moment. That's why a smaller foiling boat can be quite fast compared to a bigger one. That's why the boats we have today are so much faster than those monster boats we built in 2010, for example. But it all started from there."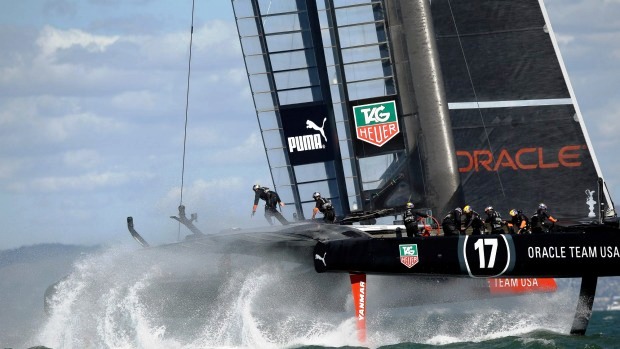 April 11. RG Editorial. Sir John Swan recently proposed Bermuda convene a round table of political, corporate and community leaders to determine common approaches to the common problems now confronting our economy and society. The Island's long-time former leader made the point there are times when Bermudians must set aside minor difference to be allies if only allies of convenience in the face of those menaces with the potential to disrupt all of our lives. And this is certainly one of those times. We need a national conversation on where Bermuda needs to be reducing debt, growing Gross Domestic Product, creating jobs and providing the services and goods the world has need of, he said. Sir John added: "I call on the Government, the Opposition, members of the Bermuda community and community leaders to have conversation about what we must do to make Bermuda a place that is in the real world competing and able to do the things that are necessary. At the moment were doing neither in an effective and functioning way. The country must step forward and stop thinking of self-interest and think of the national interest and thus serve the greater good of its people." A similar initiative was launched by former Premier Ewart Brown in 2009: Bermuda First was a gilt-edged public-private think tank which included the leaders of both political parties, trade unionists, off-shore business chieftains and local movers and shakers from the commercial, public, and charitable sectors. Unfortunately, this well-intentioned undertaking in consensus-building, one which reflected all shades of local opinion and had input from all of the Islands major constituencies, did not survive Dr. Brown's premiership. More's the pity. Set up in the early days of the precipitous recession which continues to bedevil our community, our quality of life and the very viability of our economic model, Bermuda First was a serious attempt to meet the many challenges and take advantage of the few opportunities facing us in a post-slump world. A Government advisory council boasting cross-community expertise, one with a mandate to formulate collaborative and comprehensive approaches to regrowing our economy, retrenching our massively expensive (and ultimately unsustainable) public sector and restabilising our social structure, is more necessary now than ever before. We urgently need to embark on the type of community-wide dialogue which Sir John is proposing and which Bermuda First once provided a forum for. Because the unavoidable reality is that Bermuda literally cannot afford to live in the past any longer. We cannot afford to waste any more time reflecting on former glories, any more money maintaining a bloated, surplus-to-requirement white elephant bureaucracy or any more opportunities to make Bermuda an efficient, business-friendly environment for the overseas investors all of our livelihoods depend on. Working together for the common cause against the common enemy economic stagnation should be a moral and political imperative for all those who are interested in creating jobs, reducing debt and attracting leading-edge businesses to Bermuda. At this time of ongoing economic uncertainty and social stress, we must acknowledge our mutual interests and our mutual dependence upon one another. When it comes to finding solutions to these increasingly pressing woes, initiative, innovation and increased cooperation are required, not further invective and acrimony. For too long the rancorous public debate surrounding Bermudas seven-year economic contraction has brought to mind the old Chinese proverb: There is a great deal of shouting on the stairs but no one comes into the room. Now is the time for all of us to enter the room, to sit down with one another and to reason together. As Sir John said, people of good will and good faith must step forward and start putting the public interest ahead of their own self-interest.
April 11. A historic two-tonne iron cannon has been carefully lowered into its new position at the entrance to Warwick Camp. The Carron cannon, which dates back to 1807, had previously been upright in a wharf as a bollard for mooring boats at Convict Bay. The refurbished cannon and a replica cast iron carriage was moved from Dockyard to Regiment headquarters on a flat bed trailer yesterday as part of the 50th anniversary celebrations of the Regiment. National Museum executive director, Dr Edward Harris, told The Royal Gazette that the island's military heritage had been given a further visible reminder with the placement of the big gun at the front gate of Warwick Camp. "This cannon is almost ten foot long, with a bore of six inches, making it a 32-pounder," said Dr Harris. "It was made during the reign of George III and carries a "King's Broad Arrow", which was a symbol to be placed on anything bought for the British military. For many years, the cannon was used upright in a wharf as a bollard for mooring boats, so the salt water has damaged the bottom half of the gun. Nonetheless, the gun is a good example of the 32-pounder, which was one of the largest guns in the early nineteenth century." The project has been orchestrated by the Bermuda National Museum and the Regiment and has also involved help from local companies. Dr Harris said: "In order to position the gun, a concrete platform was necessary and that was made through the generosity of Island Construction Services. A cast iron replica carriage of an 1840s design was also needed that was provided by a donation from the Oil Group of Companies. The cannon itself is from the Napoleonic period and was made by the Carron munitions company, famous for its unique gun called a 'carronade', two of which adorn the front of Government House." Bermuda has a collection of over 150 historic guns, ranging in age from the late 1500s into beginning of the twentieth century. Commanding Officer, Lt Col Michael Foster-Brown, welcomed the new armament to Warwick Camp. He said: 'We are very proud of the heritage of the Bermuda Regiment since its inception 50 years ago in 1965, and of its forebears the Bermuda Militia Artillery and the Bermuda Rifles, a legacy on display at the Military Museum at Commissioner's House. The placement of the cannon at the entrance to Warwick Camp underscores that heritage and the long and close association of the Regiment with the National Museum. The cannon will be officially dedicated in a ceremony in October wherein other contributing sponsors, including The Bruce Sharpe Family, will be formally recognized."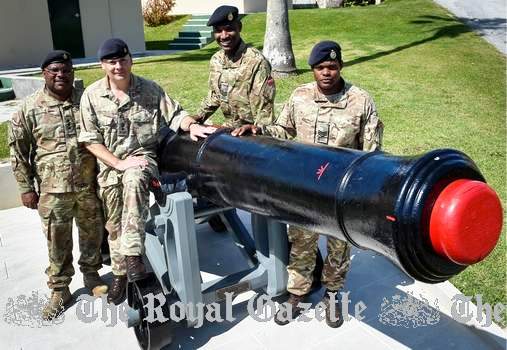 The Regiment's antique cannon now at Regimental HQ. See story above
April 11. The Island's dockworkers have welcomed the chance to be a part of the America's Cup experience and to unload the first batch of cargo in Bermuda. Workers from Stevedoring Services were on hand in Dockyard on Monday and the week before to discharge the Oleander as she brought in supplies for Team Oracle. Warren Jones, the chief executive officer for Polaris Holding Company Ltd, which runs Stevedoring Services, said his team was pleased to play a role in the historic moment. He added: "It has been over 20 years since Stevedoring Services has done any work anywhere other than the Hamilton docks. "It was exciting to be part of the America's Cup in this way. Our staff was engaged from the moment the possibility of this work was made known to them and it was a team effort to plan and safely and successfully land Team Oracle's equipment for the set-up of their local operation. Stevedoring Services Limited has the expertise, experience and specialised equipment for this type of work and we were pleased to provide it to ensure the success of this phase of the America's Cup in Bermuda."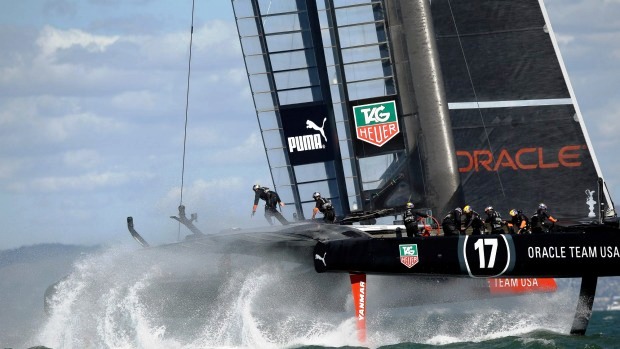 April 10. NEW YORK (BestWire) — American International Group (AIG, which has dozens of Bermuda-registered companies and runs a large Bermuda insurance office) said the US Federal Aviation Administration has approved its request to operate small unmanned aerial vehicles — also known as drones — to conduct inspections for risk assessment, risk management, loss control, and surety performance for customers in the United States. The exemption also permits AIG to implement "a robust research and development programme to explore new and innovative ways to employ UAVs in support of the needs of its customers", it said in a statement. AIG, which received its approval on the same day as the USAA, can now fly drones during the day within line of sight of a trained pilot and aircrew (Best's News Service, April 7, 2015). "AIG is committed to continuous improvement and innovation in providing better, faster, and safer risk and claims assessments to our customers," Eric Martinez, executive vice-president of claims and operations at AIG, said in a statement. "Leveraging cutting-edge technologies like UAVs can enhance our ability to assess and mitigate risks to better help our customers and their communities prepare for and rebuild after a catastrophic event." AIG said it already has established an international UAV research and development programme and conducted flights in New Zealand. It added its New Zealand flights have "provided valuable insights on technology, flight operations, and image collection techniques that will be incorporated into AIG's global UAV strategy." The FAA exemption is valid for drone usage in the United States only. Prior to approval, any test flights in the United States had to be performed at one of six FAA-approved sites around the country. Now AIG will be permitted to conduct research on its own facilities and property, as well as those of its affiliates. AIG is one of just three insurers who have received approval to use drones for commercial purposes. State Farm was the first, having received its authorization in February. Liberty Mutual, Travelers and Erie Insurance are among those with exemption requests pending, according to the FAA website.
April 10. The America's Cup World Series curtain raiser scheduled to be held from June 4 to 7 in Cagliari, Italy has been cancelled, organizers have confirmed. The cancellation is the latest fallout from Luna Rossa's withdrawal from the 35th America's Cup in protest against the radical revision of the class rule for the next instalment of the "Auld Mug" to be held in Bermuda in June 2017. The World Series, featuring the wing-sail, foiling AC45 catamaran, will now begin on July 25 and 26 in Portsmouth, England, the home port of British challenger Ben Ainslie Racing. The majority of teams voted in favor of changing the class rule for the 35th America's Cup from the AC62 catamaran to the smaller AC48 as a cost-cutting measure at a competitor forum. Luna Rossa and Emirates Team New Zealand both opposed the amendment. It is the first time in America's Cup history that the class rule has been revised in midstream and the smallest boats to be used in the event's history. Luna Rossa, backed by the fashion house Prada, said before the vote "it will be obliged to withdraw" if the rules were disrespected, and it was backed by Team New Zealand. In a team statement, the Italian challenger accused the America's Cup Event Authority of breaking the rules governing the 2017 America's Cup. "Team Luna Rossa indeed considers illegitimate the procedure adopted and founded on an evident abuse of process by surreptitious use of procedures to modify the protocol in order to overturn the class rule, which instead requires the unanimity of the teams entered," the team statement read. "This is an attempt to introduce boats that are substantially monotypes and in total contrast with the ultra-centennial tradition of the America's Cup, not to mention a two-month extension period to introduce further modifications to the rules, decided by the majority. All of the above contributes to a lack of credibility and uncertain technical grounds for what should instead be the most sophisticated sailing competition in the world. This radical change also implies a waste of important resources already invested based on the rules that were sanctioned in June last year. This means that the claim to reduce costs reveals itself as a pure pretext aimed to annihilate research and development achievements of some teams, and to favor instead preconceived technical and sporting positions by means of changing the most important element in the competition — the boat". Following a careful evaluation of the serious implications of this unprecedented initiative, Team Luna Rossa confirms that it will withdraw from the 35th America's Cup. "Team Luna Rossa regrets the repercussions that this difficult decision will have on the members of the team, and on the sailing event planned to take place in Cagliari next June, and obviously understands the disappointment of the many fans who have supported Luna Rossa during the last four editions of the America's Cup." The World Series will have further legs this year in Sweden, from August 28 to 30, and in Bermuda, from October 16 to 18. Sir Russell Coutts, director of the America's Cup Event Authority and chief executive officer of defender Oracle Team USA, hinted that a further World Series event may be held in Bermuda in 2016.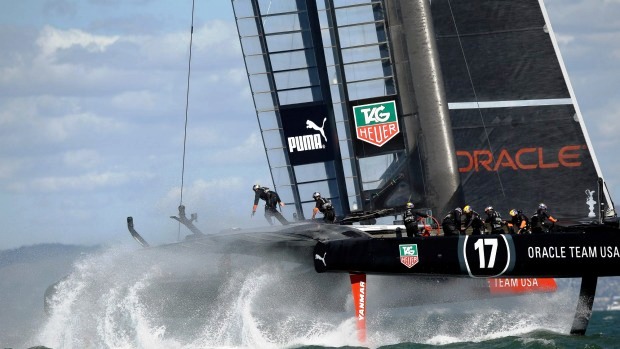 April 10. A last-minute rethink has saved temporary public service posts after parents said that their children with special needs would be put at risk by cutbacks to Government-provided therapy services. Parents of students at Dame Marjorie Bean Hope Academy, which caters to those with physical and cognitive challenges, voiced concerns over cost-saving measures that would have resulted in an essential speech language pathologist leaving the school on Thursday. "Our son and 20 other children at the Hope Academy do not have any full-time therapist in the school, and are not able to receive the dedicated therapeutic service that they all need to thrive," one parent said, in a statement also shared with Education Minister Wayne Scott. "Our son and other children will begin to regress and no longer thrive if this issue is not resolved expediently." The non-renewal of temporary posts was part of a cost-saving arrangement across Government, in accordance with measures agreed with the unions. As of April 1, the school sought to eliminate up to three temporary positions — and the posts remain unfilled under Government's hiring freeze. News of the cuts prompted an alarmed reaction from parents. Jose Lopez, of the Friends of Hope Academy group, confirmed this week that talks were under way between the school's parent-teacher association and Government about saving at least two of the jobs. "The PTA has had some good talks with the Government but it still needs to be advised that the third position — the speech and language pathologist — is also key. We recognise how hard it is to balance everything, but it's more the bureaucracy that needs to go and not key roles." A Ministry of Health spokesman confirmed yesterday that eleventh-hour discussions had salvaged the jobs — news that prompted Mr Lopez to "give credit where credit is due". The spokesman said that the ministry had received approval from Cabinet and the Ministry of Finance to extend the jobs for speech language therapist and on-call physiotherapist positions. The on-call physiotherapist is set to return on April 13, while the speech language therapist is due to be back on April 20, pending temporary work permit approval. "As indicated to the PTA president, these matters are taken very seriously by the Ministry of Health, Seniors and Environment and the Ministry of Education," the spokesman said. "The welfare of the students is paramount as we attempt to strike the appropriate balance between those needs and fiscal management. The ministry has apologized for the time this has taken and for any angst this has caused the parents of the students concerned." The potential gravity of the situation, at least in the eyes of parents, was clear from the account sent to Mr Scott and copied to The Royal Gazette. The couple who contacted us said their seven-year-old son had been beset with "complex medical issues" — but had progressed "tremendously" under a concerted regimen of therapeutic services provided at the school. Originally unable to sit, walk or stand, he can now sit independently, and has progressed to using a walker. The speech language pathologist assisted with basic speaking, sign language, as well as use of hearing aids. The family said their son would require three hours of one-on-one therapy per week to "maintain a significant progress schedule without regression". Such assistance could not be delivered by the travelling occupational therapist who works three days a week and could offer 45 minutes of one-on-one therapy at a time. "It is the collective efforts of the disciplines working together that have produced the constant progress as seen in the example of our son," the parents said. "We are certain that this progress cannot be achieved by having drop-in therapists, because of the lack of consistency and familiarity with each child's individual needs."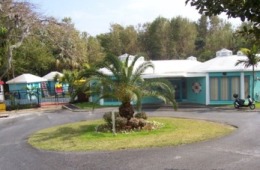 Dame Marjorie Bean Hope Academy, see above story
April 10. A Bermudian driver will stand trial accused of causing the death of a young motorcyclist in England by driving carelessly. Malcolm Griffiths appeared at Worthing Magistrates' Court at the end of last month, when he elected to go to trial on the charge of causing death by careless driving. The 69-year-old from Landmark Drive, Southampton, will go on trial at Chichester Magistrates' Court in the south of England in June. Mr Griffiths was arrested after the fatal road traffic accident on August 24 last year, on the A29 close to the village of Bury, in West Sussex. He was behind the wheel when his car collided with motorcyclist William Ruewell, who was travelling along the road. Mr Ruewell, 20, suffered significant injuries as a result of the crash and died. Mr Griffiths's passenger, a 64-year-old Bermudian woman, suffered whiplash and a broken collarbone in the accident. He was initially arrested on suspicion of causing death by dangerous driving before later being charged with causing death by careless driving. He has now been released on police bail until his trial. A Sussex Police spokesman said: "Malcolm Griffiths, 69, of Landmark Drive, Southampton, Bermuda, appeared at Worthing Magistrates' Court on 24 March charged with causing death by careless driving. He was remanded on bail, with a requirement to provide a security to the sum of £2,000, to appear for trial at Chichester Magistrates' Court on June 18."
April 10. Organizers of a hedge fund event expected to attract around 400 delegates to Bermuda are planning to make a donation to charity. The Global Fund Forum will take place at the Fairmont Southampton from June 22-24 and Lisa Vioni, chief executive of organizing firm Hedge Connection, said it was important to her that there should be some charitable component — although what form it would take has yet to be decided. "We will have a lot of people who have a lot of money coming to Bermuda and we would like to leverage the opportunity to do some good," Ms Vioni said in an interview. She added that she had spoken with some charity sources on the Island, exploring options. This will be the first time Bermuda has hosted the event, which brings together hedge fund managers and allocators, the parties who provide the funds with capital to invest. The format for the event is centered on an intensive schedule of pre-scheduled, one-on-one meetings, in individual suites at the south shore hotel. The forum will also feature speakers and panels, three workshops and "The Pitch" — giving five funds the opportunity to compete for an allocation on the second night of the forum. "It's our version of Shark Tank," Ms Vioni said, referring to the popular CNBC show. Ms Vioni is no stranger to Bermuda, having visited the Island "at least 15 times", but a quirk of fate helped to cement her decision to bring the Global Fund Forum here. While on vacation with her family in Vancouver, Canada, last August, Ms Vioni saw an ad for a video competition run by Fairmont Hotels and Resorts. Her husband Rob Arthurs made and entered his own home video, which turned out to be a winner. The prize was a three-day stay at a Fairmont property somewhere in the world — Ms Vioni's family ended up being sent to the Fairmont Southampton. "One of the things I love about Bermuda is that it's just two hours from New York and it's one of the most beautiful places on Earth," she said. "The people are friendly, the service is wonderful and it's a wonderful experience to go there." From a business viewpoint, she said: "I chose the Island because it has historically been a hedge fund industry hub. A lot of business has been lost to the Cayman Islands over the past ten years, but a lot of people are now involved in a big push to bring back some of that business." Ms Vioni hopes to make the forum an annual event on the Island.
April 10. The resolution of Bermuda's immigration policy is "crucial" for the economy, Shadow Minister of Finance David Burt said yesterday. "This is not an immigration issue, this is an economic issue. Getting it right for the long-term is crucial for sustainable economic growth." Mr Burt was speaking now that the dust has settled on a turbulent parliamentary period that ended in mid-March. The Deputy Opposition Leader, then all of the Progressive Labour Party MPs, walked out of the House of Assembly in protest against House Speaker Randy Horton's controversial decision not to allow debate on an amendment to a motion. Opposition Leader Marc Bean and Mr Horton then had censure motions filed against them, which will be addressed when Parliament reconvenes next month. But yesterday, Mr Burt's focus was on comparisons drawn last month with the Cayman Islands, whose government has relaxed its immigration policy. Those policies have been credited by some observers for subsequent economic growth in the British Overseas Dependent Territory. "The real example for Cayman is their economy is growing, and that is because both sides of the political divide are united on the need for growth. We must return to growth, which will bring additional jobs, which is the No 1 need in Bermuda right now," Mr Burt said. "If immigration changes were enough, then the scrapping of term limits would have seen jobs increase, but that is not the case. This is deeper that just immigration; it must be considered in the context of and economic policy that grows our domestic economy and international business." He added that immigration policy is an emotive issue. "However, getting immigration correct is vital to our economic future," Mr Burt said. "This is why it must be on a bipartisan basis to ensure that the changes made will last and [are] not subject to the variances of an election cycle." Mr Burt differentiated Bermuda's position from that of Cayman Islands, saying the issue here is not increasing immigration. "Cayman and Bermuda are two separate instances — our issues are with Bermudians leaving Bermuda, and less jobs based in Bermuda. We need to get our growth policy right, and a vital part of getting a growth policy right is having a sensible immigration policy that enjoys the support of both parties. Cayman's example in this instance is that both of their parties agreed on an immigration and growth policy. That is what is required in Bermuda. The OBA, however, continues to reject the PLP's approaches and pushes ahead with controversial changes which erode rather than enhance investor confidence. We need to move to a policy that supports growth in our economy. Our people need jobs, we require more investment and we need to grow our GDP. Immigration policy is not just about who comes, but it's also about the proper balance that needs to be struck to ensure that Bermudians are treated fairly in their own country. That applies not only to labour, but also to land. The disadvantage of this approach is that not everyone will get what they want. However, the PLP would support a policy developed in this way. Any mutually agreed policy should be made law. "The point of a mutual policy is that both parties support it." He would not say what, if any, proposals the PLP would be unable to support in developing a new policy. "It's less important to focus on deal-breakers and more important to focus on the matter that until the OBA recognizes this is the correct approach, our economy will continue to be buffeted with uncertainty, which does not bode well for our future." Mr Burt said he would not get into specifics in regard to question of the granting of Bermuda status. "What I will say is that before the election, the OBA said they would not grant status to permanent resident's certificate holders," he said. "Now, after the election, they have changed their mind. This is the type of policy reversal that raises the political temperature and dampens our investment environment."
April 10. An investigation is under way to locate a missing $18 million loan now prime Hamilton real estate Par-la-Ville Car Park is officially in the hands of receivers, Home Affairs Minister Michael Fahy said. The site was used as collateral for the loan, of which the Corporation of Hamilton were guarantors, provided by Mexico Infrastructure Finance LLC to Par-la-Ville Hotel and Residences Ltd. "Sadly, that loan has not been repaid by Par-la-Ville Hotel and Residences Ltd. to Mexico Infrastructure Finance LLC in accordance with the terms of the various agreements," Minister Fahy said at a press conference yesterday, "and as such Mexico Infrastructure Finance LLC has exercised their rights under the various agreements to appoint Joint Receivers over the Par-la-Ville car park to begin recouping the $18 million debt." He added: "It appears that a substantial sum of the bridging loan was at some point paid to a company registered in Gibraltar called Argyle Limited as a fee to get access to a large line of credit to develop the financing for the hotel and residences development. Both the Corporation of Hamilton, me as steward and the mortgage holder are doing everything possible to obtain further details as to the whereabouts of the bridging loan money." The funds were due to be repaid at the end of December 2014, and on March 31 the lenders appointed Mr Mike Morrison and Mr Charles Thresh as receivers. A KPMG statement read: "The mortgage was issued by the Corporation of Hamilton to secure its guarantee of a debt incurred by Par-la-Ville Hotel and Residences Ltd." KPMG and Sen Fahy said that, along with the Corporation of Hamilton, they are working to ensure that there will be no interference with the car park's use and that motorists should continue to use the usual payment options. Sen Fahy also addressed municipal reform in the press conference and said Government was only part way through the process, and that is why the Municipalities Amendment (No 2) Act 2015, was tabled in the Senate at the end of the last session. "There are a number of major items which still need to be addressed. The tabled Municipalities Amendment Act is an important part of this." He said the Bill strengthens oversight by Government of the affairs of the Corporations by allowing the Minister to provide binding directions to the Corporations, and permit the Minister to appoint a public officer as his delegated representative to, among other things, attend meetings of a Corporation. "The appointment would facilitate communications between the Corporations and the Ministry. The Bill would also allow the Minister to delegate functions to any employee or officer of a Corporation which is under the Minister's control or stewardship in order to oversee the efficient execution of its day-to-day affairs. The Minister would be required to support any resolution or ordinance passed by a Corporation either personally or by way of his ex officio appointment." He said it would bring greater clarity on the law on temporary stewardship. "What I've detailed already clearly demonstrates that these reforms are essential to ensure we have properly functioning municipalities in Bermuda," he said, adding: "Let me be absolutely clear — I do not want to play an active role in the affairs of the Corporation. I am plenty busy given the other responsibilities. There had been "significant challenges" posed by the municipal corporations in recent years. Reform of local governance has become acutely necessary in Bermuda as a result of failures of administration that have caused disarray in governance. However, let me make absolutely clear — the failures are entirely because of actions of the Corporation of Hamilton, and not St George's." Sen Fahy said further governance reform is "acutely necessary" because of:
• failures of accountability in awarding of the contract for the Hamilton waterfront development, resulting in a highly critical report by the Bermuda Ombudsman, legislative intervention by the Government of Bermuda, the assumption of temporary stewardship, and an arbitration that may cost many millions;
• concerns about the viability of a co-operative relationship between the two levels of Government during the America's Cup;
• a multiplicity of legal actions, such as the 'clamping litigation' and a myriad of constitutional actions;
• disorder and dissension at the Council level that have been reported in the media which led to the implementation of the current stewardship order;
• inadequate resources to undertake important public infrastructure projects such as the needed upgrade to the sewage system; and
• the Corporation-backed loan of $18 million that had potentially gone sour and which has led to legal difficulties.
April 9. Piracy is widespread, and a threat to our well-ordered ordered lives, those in the shipping industry say. It is also an issue that at least one Bermuda resident, Jens Alers, knows a lot about as the company for which he is managing director, Bernhard Schulte Shipmanagement, looks after 700 ships and 17,000 seafarers who ply the oceans of world. The company manages tankers, container ships and VLCC, or Very Large Container Ships. He will be discussing modern piracy this evening at the Bermuda Underwater Exploration Institute as part of a panel that will include Dr David Saul and James Watlington. The event will include a talk on the history of the policing of piracy by William Zuill, the author of The Pirate Menace, a book on the subject. Somalia is the nation most people associate with modern piracy, but it has been in the news this week with media reports that Saudi Arabia and Iran are intervening in Yemen since the Houthis launched a ground offensive, capturing much of the city of Aden, which is the gateway to the Suez Canal. Iran dispatched a naval destroyer and another vessel to the Gulf of Aden on the Red Sea yesterday, calling it part of an anti-piracy campaign safeguarding naval routes for vessels. NATO has also been active combating piracy in the region. The Suez Canal is crucial for shipping. The artificial waterway in Egypt connects the Mediterranean Sea and the Red Sea. It allows ships to travel between Europe and South Asia without navigating around Africa, reducing the sea voyage distance between Europe and India by 4,300 miles. In 2012, 17,225 vessels traversed the canal, or about 47 per day. Mr Alers, who is also the German Consul for Bermuda, met with The Royal Gazette this week in his Hamilton office. He said: "Bernard Schulte deals with piracy directly. It's been a risk for more than decade, ever since Somalia became what is referred to as 'a failed state' with no control over its enormous coastline." He explained the Somalian coastline stretches from the north of Aden to Kenya to its south. "It is as long as the eastern seaboard," he said, and noted there is no coastguard and no policing of those waters. The people of the region are poor, and are typically fishermen. Piracy, he explained, began when international fisheries began to operate in the waters off the country, and the fishermen wished to do harm to those operations. "That was the genesis of piracy. It quickly became lucrative, and warlords in the region became engaged. The activity of the pirates burgeoned. At one time there were 850 seafarers captured on ships. Bernard Schulte is a remarkable company with 700 ships, and they are exposed to all these threats — in West Africa, the Straits of Aden, and Strait of Malacca." The 2009 hijacking by Somali pirates of the US-flagged MV Maersk Alabama, which was made into a film entitled Captain Phillips, is among the most famous of incidents in the region, but Mr Alers called it "an exception. The pirates attacked a container ship, which is fast, has a high freeboard, and was flying a US flag — so it brought on the naval power of the US." The usual target are tankers, which have a low freeboard and are slower than most other ships. Once the ships are captured, ransoms are demanded, and the amounts have ranged from $150,000 to the highest payout of more than $6 million. "Between 2000 and 2015, at least $350 million has been paid to piracy operations in Somalia. It is very lucrative in a country where a dollar goes a long way. This criminal activity is so well organized that there is a 'broker' based in a northern province of the country. When a ship is captured by pirates, he will call the insurance companies and the Protection and Indemnity Clubs (P&I Clubs), and they pick up the phone on the other end and negotiate the ransom. When a payment has been agreed, a helicopter flies the cash in and drops it on the tanker. While paying the ransom may solve the immediate problem, the more money the pirates gain, the more they are able to project further into the Indian Ocean. They have become increasingly sophisticated, using fishing vessels they have captured as 'mother ships' from which they launch attacks using fast, smaller boats. Authorities are beginning to get to grips with the issue in Somalian waters, and the problem is not as serious as it has been. The US, China, Germany and Nato countries have limited piracy in Somalia during the past few years. It is much reduced. Another reason why it has declined is because shipping companies are protecting themselves, with armed protection teams on board. Often they don't have to shoot — they just show they are on board. Another system is to travel in convoys protected by naval vessels as they plough through the waters of a high risk region. When the risk is imminent, pressure hoses can be used to hose down pirates as they attempt to board, and crews will employ preventive measures to stop the use of their grappling irons. Another successful method has been the introduction of 'citadels' on board ships. If a ship is attacked by pirates, the crew can lock themselves into the citadel, which is secure and locked off from the rest of ship. It has everything the crew needs — water, food, telecommunications — so you can run the ship from the citadel, even if the pirates are on the deck and on the bridge. It's been tested many times — twice by ships in our group. The problem is not over. Now we have other failing countries. West Africa is troubled area, and the Strait of Malacca, through which about 60 per cent of the world's marine traffic traverses, is also a high risk area. If you do something that chokes off trade, it will affect economies. And the Strait of Malacca, West Africa and Somalia are three of the most important choke points." The lecture and panel discussion begins at 7.30pm at Bermuda Underwater Exploration Institute. To reserve tickets call 295-4207.
April 9. Prices rose 0.2 per cent from January to February, the latest Government statistics have revealed. And year-on-year to February, the cost of a standard basket of goods used to calculate the Consumer Price Index went up by 1.6 per cent. The health and personal care sector was the biggest contributor to the increase, going up by 7.3 per cent. Food prices also went up 3.6 per cent in the year to February, while household goods, services and communications rose by 1.4 per cent. The inflation level also increased, after three months of decline, increasing to 0.2 per cent to 1.6 per cent between January and February. The transport and vehicles sector logged a 1.9 per cent increase in February after a 1.7 per cent fall in January. But the capital cost of cars declined by 0.2 per cent. And foreign travel costs, including airfares and accommodation, rose 5.5 per cent between the first two months of the year. Food prices rose by 0.2 per cent in February — with pineapples, fresh wahoo and fresh and frozen pork chops all rising in price. The cost of tobacco and liquor also rose month on month, up 0.1 per cent. A drop in the cost of liquor of 0.4 per cent was offset by an average increase of 0.5 per cent in the price of cigarettes. Rental costs remained unchanged between January and February, although the price of repairs and maintenance increased by 0.4 per cent.
April 9. A Bermuda delegation is to travel to the European Union HQ in Brussels in June in a bid to protect Bermuda's international business. The visit is the latest in a series of high-profile trips to lobby EU institutions over upcoming EU laws which could damage the Island's insurance and reinsurance industry. And Finance Minister Bob Richards said it was crucial to put clear blue water between Bermuda and other small island jurisdictions. A spokesman for the Bermuda Government said, however, that if the Island is successful in gaining equivalence with the EU's solvency II directive governing the financial health of companies, the Island would retain its free access to European markets when the new rules come into force next year. Mr Richards last month made his third visit to Brussels and held meetings with officials from the European Commission, the Presidency of the Council of Europe and the European Parliament. And Mr Richards said — although the meetings went well — they underscored the need to keep Bermuda at arm's length from the "tax haven" tag. He added: "During some of these meetings, we felt it necessary to emphasize Bermuda's contribution to the global and EU economies through our insurance and reinsurance sectors. Many of these policymakers know the history of Bermuda's adherence to international best practices. But there will always be those who don't. We have to continue telling our story. The international community can be hostile. There are those blaming small countries for the problems facing their economies. We must make our case that Bermuda is unique and there is no need for a differentiation in the treatment of smaller island jurisdictions." Mr Richards said that Bermuda had signed its first tax information exchange agreement in 1986 — which kick-started the insurance and reinsurance boom. He added: "Bermuda's Government, the legislature and the financial services regulator the Bermuda Monetary Authority have been doing their part to stand on common ground with Europe on Solvency II. And much work has been done by the Association of Bermuda Insurers and Reinsurers in advancing the cause. At home, there are still further measures that we are putting in place. There are also outstanding matters that must be realized on the continent. We are in Brussels again in June, where we believe the Bermuda story has largely been heard. But we cannot be complacent until we get to the finish line. Bermuda business had stumped up on claims for natural and man-made disasters for many years. It is clear that Solvency II equivalence for Bermuda is not just good for our companies. The Bermuda markets make an important contribution to the European and global economies."
April 9. Temporary public service workers filling vacant or temporary additional posts are not having their contracts renewed — unless the positions are regarded as essential. While figures are not available for the numbers affected, the new policy went into effect across the Bermuda Government from April 1. The Government has also revived its early retirement incentives for public service workers of 55 to 64 years — or, in the uniform services, for those who have finished 25 years' service. For many government workers, that option came into effect on March 31 — although for teachers and persons working in schools, the voluntary early retirement option will not come until June 21, according to Bermuda Public Service Union president Jason Hayward. The measures, along with a hiring freeze throughout the civil service, are part of the savings measures agreed with the Bermuda Trade Union Congress. A Cabinet Office spokeswoman said: "Senior technical officers continue to work with their management teams to determine innovative solutions, to ensure that public services continue to be delivered. In instances where staff reduction has an impact on service delivery, the public will be advised accordingly."
April 9. Government has estimated that the early retirement eligibility plan could result in savings of up to $6.2 million. By June 30, 79 individuals will have taken advantage of the cost-saving measure, which was highlighted in the 2015-16 Budget Statement, according to a statement issued by the Cabinet Office yesterday. "It should be noted that 850 government employees were eligible under the scheme," the statement said. "By June 30, 2015, 79 individuals will have taken advantage of the early retirement initiative. As a result, the Government foresees some $6.2 million in savings from salaries." The plan was targeted at Government employees aged between 55 and 64 years. As of March 31, 93 of the 850 eligible workers had applied to receive early retirement. Forty-eight individuals were approved as of March 31, and a further 31 were approved as of June 30. Twelve applications were denied, one was withdrawn and another voided. Derrick Binns, the Cabinet Secretary and head of the Civil Service, thanked the retiring individuals for their service to the Government and wished them well in their future endeavors.
April 8. The Gibbons family has bought back control of Clarien Bank Ltd, just 15 months after it sold a controlling interest in the institution. The news was announced in an earnings announcement published yesterday. The statement did not specify why Edmund Gibbons Ltd (EGL) had repurchased the 80 per cent stake in the bank that it sold to CWH Ltd in January 2014. Asked the reasons for the Gibbon's' resumption of full ownership, a Clarien spokesman said: "As a result of robust discussion within the bank's strategic planning process it was agreed between shareholders that EGL once again take a sole ownership stake in Clarien Group Ltd (CGL). CGL will continue to explore arrangements with partners to allow for growth, expansion into new product areas, and in planning for Basel III compliance." The terms of the deal were not disclosed. In January 2014, EGL sold a four-fifths stake in the former Capital G Bank Ltd to Bermuda exempted company CWH Ltd. Two of the founders of CWH, Ian Truran and Zoran Fotak, became co-CEOs, but Mr Fotak left the role in October last year. Two months later he took a new post as CEO of CWH — the holding company of the bank's majority shareholder at that time. The Clarien spokesman said the CWH founders who would continue to be involved with the bank were Mr Truran as CEO, Keith Stock as chairman and David Carrick as chief financial officer. There was no mention of any role for Mr Fotak. In the bank's statement yesterday, EGL director James Gibbons said: "On behalf of Edmund Gibbons Ltd and the Gibbons family, we are pleased to report that we have become sole shareholders of Clarien Group Ltd. We remain committed to expanding Clarien Bank Ltd's financial services business by working with strategic partners that will support our overall investment strategy to deliver world-class products and services for residents of Bermuda and international clients from around the world. We will continue to work towards Basel III compliance as it is phased in given the extra responsibility that brings to us as a designated domestically, systemically important institution." Clarien also revealed that net profit in 2014 slumped to $500,000, down from $3.6 million in 2013, representing an 86 per cent drop. The bank said that core earnings, which exclude one-time charges, rose 44 per cent. Net operating income was flat at $51.7 million. Borrowers' struggles were also reflected in the bank's results, as non-performing loans — 90 days or more past due — and impaired loans represented 13 per cent of Clarien's total loans. Loans categorized by the bank as "impaired" totaled $62.4 million and represented 7 per cent of the loan book, up from 5 per cent in 2013. Specific provisions on the balance sheet against impaired loans increased to $18 million last year, up from $11.6 million in 2013. The value of total loans fell by 7 per cent to $876.4 million from $942.6 million in 2013. "Bermuda continues to be challenged by its current economic position as evidenced by some of our clients' inability to service their debt payments," Mr Truran said. As a result, net provisions on loan losses rose by 27.3 per cent from $7.7 million in 2013 to $9.8 million in 2014. We continue to work empathetically with our clients to facilitate their long-term financial successes and early indicators for the year show some improvement in the relevant sectors of the economy." He added that the bank would be "strengthened by the increased support of EGL and the Gibbons family" with their return to full ownership. Mr Truran said the bank's consolidated capital ratio improved to 15.52 per cent from 14.84 per cent. The bank's statement added: "During the year, Clarien Bank undertook a strategic review of its property portfolio and determined that certain premises would no longer be required in the ongoing operations of the company. Therefore the Bank distributed a property to its parent company, CGL, at its carrying value as a common control transaction." On the balance sheet, Clarien's total assets fell by more than 11 per cent to $1.18 billion at the end of last year from $1.33 billion 12 months earlier. Deposits and interest owed to depositors totaled $1.08 billion at the end of 2014, down by more than $140 million or 11 per cent, compared to a year earlier. Summing up last year, Mr Truran added: "In 2014, Clarien Bank achieved its goal of becoming a more operationally efficient bank focused on service excellence, with a greater proportion of non-interest income, resulting in fewer risk-weighted assets on the balance sheet. Clarien Bank saw an increase in total revenues, and the decline in our profit was predominantly due to large, one-off expenses that will not have any continuing effect on earnings going forward."
April 8. Chickenpox in Bermuda has shown an increase of up to one case per week for the past several weeks, a Ministry of Health spokesman has reported — more cases than 2014 overall. Nine cases have been reported to the Epidemiology and Surveillance Unit (ESU): four in January and five over the past five weeks. The ESU has also noted "reports of clusters of gastrointestinal illness in the community", the spokesman added. Chickenpox is a highly contagious viral infection but the disease is vaccine-preventable, and parents should inform themselves of their children's vaccination status, along with their own. Gastrointestinal illness, meanwhile, includes including diarrhea and/or vomiting. "Reports from the hospital and from private physician offices inform the ESU of the possibility of a disease outbreak in the community," the spokesman said. The illness is spread by contaminated food or water, as well as direct contact with an ill person or contact with infected surfaces. A document, "Guidance on infection control in schools and other childcare settings" has been provided to all public schools and is available online at www.health.gov.bm. You can help to prevent transmission of infections by following these general precautions. Washing your hands thoroughly with soap and water or hand sanitizer after using the toilet, changing diapers, or disposing of animal faeces. Washing your hands thoroughly with soap and water or hand sanitizer before eating or food preparation, and after handling raw meat. Washing fruits and vegetables thoroughly. Cooking and storing food appropriately. Keep hot food hot (at 140F or above), and cold food refrigerated (at 40F or below) and protect food from insects. Using bottled water when travelling in countries where the water supply might be unsafe. In Bermuda, the Department of Health recommends that tank water be disinfected before it is used for drinking or food preparation — common methods include boiling, ultraviolet light, and chlorination. You can help to prevent transmission if you or a family member is ill by: Flushing or discarding vomit and/or stool and making sure that the surrounding area is kept clean. Immediately removing and washing clothing or linens that may be contaminated. Disinfecting contaminated surfaces such as kitchen counters and bathroom surfaces. Those showing symptoms should avoid work, and should not handle food for others. Professional food handlers should consult their physician or the Department of Health before returning to work. Food that may have been contaminated by an ill person should be disposed of properly. Children with diarrhea and/or vomiting should not attend school or day care centre until 48 hours from the last episode.
April 8. One family's foray into hospitality proved fortuitous during a key phase of the grass-roots civil rights movement in Bermuda when anti-segregation campaigners found themselves turning to tourists for help. As the Island marks Hospitality Month throughout April, the community group Imagine Bermuda highlighted the surprise role played by two Canadian visitors. It came about in 1959, a time when Gerald and Izola Harvey — two members of the Progressive Group, which had to operate under secrecy — needed to rally support for the cause. The peaceful demonstrations known as the Theatre Boycotts eventually forced Bermuda's segregated cinemas to change their ways, and other establishments found themselves pressed into following suit. "Bermuda was a very prejudiced place at that time — there were certain things we could not do, that we dared not do," said Mr Harvey, who is now 91. The Harveys, then a young couple expecting their second child, had every reason to fear being discovered as members of the Progressive Group — for starters, their mortgage could easily have been recalled as a reprisal. So great was the atmosphere of intimidation that Mr Harvey remembered one would-be member of the group bowed out, leaving them with "his hands shaking with fear." The 19-strong Progressive Group met and planned their demonstrations under strict confidence. Members were helped in that, like the Harveys, they did not fit the profile of black Bermudians who would be viewed as militant. As for the state of hospitality in Bermuda, Mr Harvey came with abundant experience of the racial code obtained in local hotels as well as other establishments. Visiting a friend staying at the old Eagle's Nest Hotel, he was unceremoniously told he that he "couldn't be there", Mr Hayward said — remembering that his host, like many visitors, was appalled by Bermuda's segregation. However, when the time came to organise protests, the Progressive Group faced a problem: getting the word out without getting caught. "We were badly in need of a machine for our group to make posters," Mrs Harvey, 89, told The Royal Gazette. "We knew it would take more than we could make by hand." The Harveys lived in the same Somerset home then as they do now, overlooking the Scaur — adjoined nowadays by two apartments that they rent out to visitors. It turned out that their nearby friends, the Kawaleys, had some guests to host but nowhere to lodge them. The Harveys got their start by putting up the two friendly Canadian women in their home — and it was clear that neither of the visitors approved of segregation. The two readily agreed to take a trip into Hamilton, specifically to Riihiluoma's, to purchase a simple hand-run rolling press for the cause, which Mr Harvey smuggled back to the house in his taxi. It was all achieved with such secrecy that even the Kawaleys never learnt of the role that their guests had played. The flyers for the Theatre Boycotts were duly printed in the Harvey family kitchen. Mr Harvey later secreted them in his overcoat, strolled into a gathering at City Hall car park and surreptitiously dropped them on the ground — where they were swiftly picked up and distributed. The non-violent protests gathered momentum and segregation ultimately collapsed as a result — while the printing machine earned its place in history as an exhibit in the Bermuda National Library. Meanwhile, the Harveys, whom Imagine Bermuda has dubbed "heroes of hospitality" for this month's series, continued taking tourists in at their home, as they still do today. "We have met a lot of nice people, and people who express an interest in coming back," Mrs Harvey said. Through an overseas booking agent, they enjoy hosting guests from Canada, the United States, Britain and elsewhere. Often visitors will drop in to enjoy the view from their porch, or Mr Harvey will take tourists to the shops to buy their groceries. The tale of the secret printing press purchase has intrigued many a guest over the years. "I had one schoolteacher who wanted me to come to New York and tell the story there," Mrs Harvey said. "Many people have been very interested in the stories we have told."
April 8. A heated emergency meeting of Public Works staff convened yesterday at the Bermuda Industrial Union headquarters. BIU president Chris Furbert assured The Royal Gazette that there had been no layoffs. According to workers, staff had been taken by surprise by the introduction of employee performance appraisal forms. Other factors may have contributed. The BIU's meeting room was packed, though overall turnout was difficult to guess. A draft copy of the appraisal form appeared to be a standard document in which the reporting officer assesses respective employees by way of ratings and comments. The reporting officer is then required to present recommendations, which are followed by comments from the employee before the form is signed off by both — with the superintendent signing last. There is also an asterisk pointer at the end that reminds that the performance appraisal is not to be used as a disciplinary tool.
April 8. One week after the Island's new Public Access to Information regime came into effect, the first requests for information have been submitted to the PATI implementation team. Although PATI became law on April 1, the office's website is expected to become live this morning — and some of the information statements required from each public authority are still being reviewed by information commissioner Gitanjali Gutierrez. No official number of requests filed was available yet. "So far, it's all gone very well from my end," Ms Gutierrez reported yesterday. "The vast majority of public authorities have their information statements available now — they are thorough and provide a lot of information so that people should be able to get started in filing requests." The first notices that information statements are available have been gazetted in The Royal Gazette. Those notices signify that the statements — which outline the types of information available and not available, along with the authority's structure and the requisite information officers to contact — have been submitted to Ms Gutierrez's office, as well as to the Bermuda National Library and archives. The bulk of the statements have proven to be "very comprehensive", the commissioner said. Much of Ms Gutierrez's focus over the ensuing two months is likely to be concentrated on reviewing statements in tandem with information officers, to identify gaps or areas needing revision, along with getting her own office fully staffed and running. The commissioner's website, www.ico.bm, is expected to go live today and will be updated as statements are reviewed. PATI information will also be posted on the main government portal, www.gov.bm.
April 7. Italy has taken Bermuda off a tax blacklist. The Island has been removed from an Italian hit list of jurisdictions after Economy and Finance Minister Pier Carlo Padoan axed a provision in the country's tax laws on jurisdictions "should not have a privileged tax regime." The 67-jurisdiction list covered places where expenses incurred in transactions with residents in a jurisdiction would not be deductible. Now the only determining factor is whether countries on the list have an adequate tax information exchange agreement (TIEA) with Italy. Italy hopes that the changes to their tax laws will increase economic ties with other countries. Bermuda is one of 21 countries to be removed from the Italian list, including Channel Island states like Jersey and Guernsey, Gibraltar, and Caribbean countries, including the Cayman Islands. Bermuda signed a TIEA with Italy in 2012 after agreeing a deal two years earlier. Then-Finance Minister Paula Cox said in 2010 that there were "160 entities in Bermuda with an Italian interest" and that the agreement would help to boost trade between the two countries. Among the countries still on the Italian list are Switzerland, Liechtenstein and Monaco.
April 7. The US and Bermuda reinsurance market outperformed Lloyd's of London in underwriting last year, according to ratings agency AM Best. The combined underwriting ratio of 87.5 per cent narrowly beat Lloyd's figure of 88.1 per cent. Lloyd's, however, had a better return on equity for the year, returning a figure of 14.7 per cent compared to 10.6 per cent for the US and Bermuda and 11 per cent for the European "big four" of Munich Re, Swiss Re, Hannover and SCOR. But AM Best, which revised the industry's outlook in August last year from stable to negative, warned that the industry faced continued struggles this year due to price declines, increased commissions and tougher terms and conditions, even though the industry delivered "solid" results for 2014. The report said the 2015 January renewals added further pressure to the outlook for this year, with prices down between five and 15 per cent, dependent on risk and loss experience. It added: "While competition was most pronounced on US property catastrophe programmes, the overflow of capacity to other to other business classes and regions continues to place pressure on business across the board. In addition, on the investment side things do not look much better. The persistent low interest rate environment has continued to put pressure on returns leading to the need for better underwriting returns. That said, some companies have started investing into riskier assets in search of yield. This has been done in a measured manner and we expect that companies remain mindful of excessively risky investments that could damage the strength of rated balance sheets. The spate of mergers and acquisitions that started last year as companies adapted to tougher market conditions was expected to continue this year. Underwriting profits, along with investment income and realized capital gains, had also been solid. That said, returns are starting to show signs of a decline compared with previous years. The sector produced a 2014 return on equity of 11.4 per cent compared to 13.1 per cent the year before. If the reinsurance market turns, rates start to increase and operating fundamentals start to improve, AM Best will consider a revision of its current ratings outlook."
April 7. A visual image of how a spate of mergers and acquisitions will impact the global reinsurance market has been produced by Aon Benfield. It shows a combined XL/Catlin entity moving ahead of Hannover Re, by way of comparison, in rankings based on premiums. Hannover Re reported $12.4 billion in net premium earned last year and has long been regarded as the world's third largest reinsurance company. The Axis/PartnerRe combination will elevate the new entity into Aon Benfield's top ten list of reinsurance companies based on premiums, while the combination of Endurance and Montpelier Re would place the new entity ahead of Allied World and Aspen on the list. The merger of RenaissanceRe and Platinum Underwriter Holdings, a $1.9 billion deal which closed last month, places the resulting entity in the lower reaches of the listings among companies with annual premiums of $5 billion or below. Aon Benfield, which is part of reinsurance intermediary and capital advisor Aon, in its latest "Reinsurance Market Outlook" report points to the emergence of reinsurance-supported growth. Global reinsurance capital now stands at an estimated record of $575 billion, with alternative capital accounting for $68 billion of that total. The report notes that the alternative capital trajectory is on track to hit $150 billion by the end of 2018. The first quarter of 2015 saw catastrophe bond issuance hit a record $1.7 billion. The report said that, as previously predicted, "evidence of the next most likely disruptive move of alternative capital into property insurance (rather than casualty reinsurance) has materialized in the form of new primary carrier and broker partnerships." Ahead of the June and July renewal cycles, Aon Benfield is anticipating "greater reinsurance utilization as insurers capitalize on reinsurance-supported growth opportunities." The report also highlights more private traditional reinsurance and alternative capital featuring in the insurance coverage portfolio of Florida Citizens Property Insurance Corporation. The US government entity has increased its capacity from the reinsurance market substantially for each of the past four years. In 2011 the private risk transfer was $580 million, however a diagram that featured at a Citizen's board meeting last month suggests reinsurance purchases of $4.05 billion this year, according to Aon Benfield. The Florida Hurricane Catastrophe Fund, another government entity, is also evaluating buying up to $2.2 billion of additional risk finance. Last month the fund received approval to explore risk transfer options in the private market, something it has not done since it was formed in 1993, a year after Hurricane Andrew proved to be the costliest hurricane in US history (now the fifth costliest) when it hit the state as a category 5 hurricane.
April 7. A new phishing e-mail directed at Butterfield Group customers is attempting to lure recipients to click on a link. The e-mail begins with the statement: Important notification and reads: "Dear valued customer, we regret to inform you that your account has been blocked/locked for security reasons. This is part of our regular security update. Your urgent attention is required to restore full functionality to your accounts) by updating your profile with us." This is followed by an activate now link for customers to input their details. The email concludes with the Butterfield Banks motto: "Inspired. Motivated. Involved." A Butterfield Group spokesman said: "Unfortunately, fraudulent e-mails purporting to be from Butterfield or other local financial institutions are frequently sent to Bermuda e-mail accounts. As a reminder, Butterfield will NEVER send you an e-mail requesting your personal information, online username or passwords, or directing you to a website where you can update or unlock your online account access. If you receive such an e-mail, know that it is fraudulent and an attempt by criminals to steal your money. Should you receive a suspicious e-mail, ignore the request, do NOT click on any links contained in the e-mail and forward the e-mail to the bank."
April 6. Bermudian Mia Page Chambray and Mohawk Radio, of which she is the lead singer of this 4-person group, just moved a step closer to stardom. They went up against thousands of bands from across the UK in the music competition Rock the House — and won. British MP Mike Weatherly started Rock the House in 2011. His hope was to promote live music and highlight the importance of recognizing intellectual property rights in all areas of the arts. MPs are invited to suggest a talented band or artist as part of the annual event, a panel of international music industry experts and musicians then narrow the finalists down to three. Mohawk Radio was named the winning group following a battle of bands at The Bedford, a live music venue in London. Ms Page Chambray spoke with Lifestyle about last month's big moment. Q: When did you apply for Rock the House? A: In November 2014. Andrew Stunnel, [the British MP for Hazel Grove], put our band forward. Q: What were the qualifications for entry? A: You had to be an original, unsigned band or solo artist which when we applied we were. Q: How'd you find out you were short listed? A: On March 9 [Mohawk's bass player Sean Frankland, drummer Dave Quinn and lead guitarist James Gregory and I] were rehearsing in our basement just as we've done every Monday night for the previous two years [since we left Bermuda for Manchester, England] when an e-mail popped into our inbox from Parliament. We had two days to get to London. Q: Did the journey go smoothly? Was it stressful? A: Dropping everything and rushing down to London with only 48 hours to get there was stressful, but the lure of the prize and meeting with Parliamentarians and industry heavy hitters was too much to ignore. The travel was pretty okay being that we left at the crack of dawn. We had a few little hiccups. London streets are pretty hectic — poor drivers, jaywalking. Pearl, our satellite navigation, was taking us on a wild-goose chase, and at one point while we were trying to find parking in London I thought Gregsy, our guitarist, was going to throw himself out of the van window. But other than that the drive was good. Q: Were you terrified to perform considering what was at stake? Confident immediately after your performance? A: We were very nervous, especially as we could hear our competition! The bands we were up against were amazing, so we were pretty sure we hadn't won. But we were so excited at being selected [as one of] the top three in the country. Three hours and one thundering live performance of our single Lifetime Sunshine in front of four judges — Hon Mike Weatherly MP, Tony Moore, founding member of Iron Maiden, Jon Keats of The Cavern Club and Niki Haywood, competition founder and director — we were called back onto the stage where they announced we were the winners. Q: How did you react? A: When we won, we were stunned. We drove back to Manchester on a cloud! We could not believe our good fortune at winning this incredible competition. We are so humbled by this experience. Mike Weatherly started this competition to raise the profile for intellectual property rights for musicians and all creatives. We could not be prouder to stand behind him and Parliament, in protection of performers' rights. Being able to showcase our music, and even play a cover of Weak for Ace, the Skunk Anansie guitarist, still feels like a dream. We are overcome with the support of our government and peers. We cannot wait to see what the future holds for us. Q: What comes with the win? A: A multitude of prizes — industry contacts, music video in rotation in over 70 countries in Costa Coffee locations, recording time in the same studio that Queen recorded Bohemian Rhapsody, Orange Amps, Festival slots and more. Q: I understand you were invited to perform at the US Ambassador's residence a week later. What did you sing? Any famous people there? A: Celebrities, parliamentarians and major music industry executives were there. It felt like a fairy tale. Ace from Skunk Anansie was there and Rick Wakeman of Dragon's Den Crew and Iron Maiden. Ace presented us with our award and so we thought it would be cool to do a cover of their hit from the 90s. Ace was impressed! We also performed Rock N Roll Heaven, Oblivion and Lifetime Sunshine. Q: You also recently signed a management deal? A: Our management deal was signed four weeks prior to our win — crazy how the universe works! They provide us with, and represent us to a 'higher music' platform — getting us industry interest, building a team around us; for example a record label, touring manager, etc. We will be looking to spend some time in LA recording later this year. Q: Where do you go from here? A: We have a pretty full calendar from now until the end of September — from festivals, to some time in the US and an appearance at Manchester City where local football hero and City legend Shaun Goater will be introducing us. Plus a couple of radio spots including the BBC. We will be looking to spend some time in LA recording later this year [as part of our management deal]. We won't put out albums initially, just EP's to start most likely and then releases based on singles. Winning this kind of competition, with stars like Brian May and Alice Cooper backing it can only mean great things."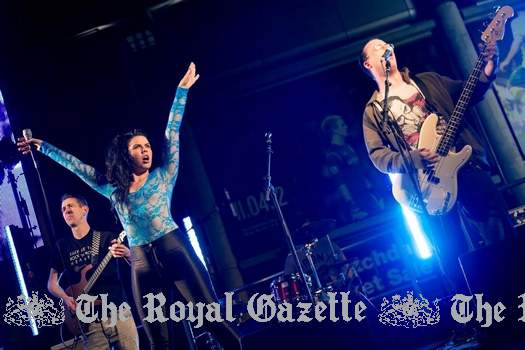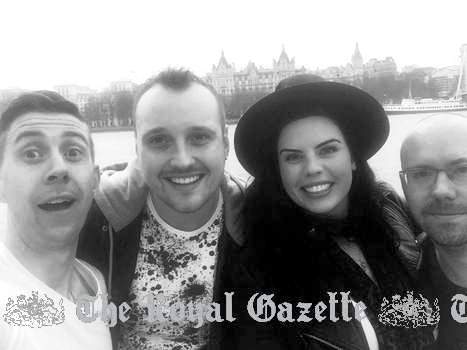 Mohawk Radio members with Bermudian Mia Page Chambray, second right. See above story.
April 6. Bermuda-domiciled bond insurer Assured Guaranty Ltd said today it had completed the acquisition of Radian Asset Assurance Inc for more than $800 million. The planned merger of the two firms, whose primary business is insuring municipal bonds, was first announced in December last year. Assured Guaranty Corp (AGC), a Maryland-based subsidiary of Assured, will merge with Radian Asset, with AGC the surviving company. Assured Guaranty has added a solid book of business that is consistent with our core strategic objectives. Assured Guaranty chief executive officer Dominic Frederico said. "We are pleased to have acquired Radian Asset and to extend AGC's protection to Radian Asset's insured bondholders. The acquisition increases AGC's capital base and policyholders surplus, and the transaction is accretive to Assured Guaranty's earnings, operating shareholders equity and adjusted book value." AGC paid $804.5 million in cash, after certain adjustments, to acquire Radian Asset. As of December 31, 2014, Radian Asset's statutory capital was approximately $1.3 billion. As of February 28, 2015, Radian Asset's statutory net par outstanding was approximately $13.9 billion.
April 6. The new Public Access to Information regime brings "awesome" implications, according to the creators of the Island's first open data website that can assist with the refining of PATI questions. On the eve of PATI's implementation this month, Louis Galipeau and Andrew Simons used their website to collate and post a repository of all the new information statements that will serve as the first line of enquiry. As of the weekend, statements were online at Government's website — but the information commissioner's website was not yet up and running. PATI is intended to roll back secrecy, while the aim of Mr Galipeau and Mr Simons has been to empower Bermuda's public by providing a storehouse of publicly available data. By last night, the two men had information statements for more than 50 public authorities online — each explaining what is available and what can be withheld, along with the requisite information officer to contact with a PATI enquiry. "When we launched our website, one of the points we stressed over and over was the large amount of information about Bermuda created by the Government that is already in the public domain," Mr Simons explained. "It has been open for inspection for years, but it might be on paper records that you have to seek out. Sometimes that additional work presents a roadblock to enquiries. That was the context in which we launched the site — to make this stuff more readily accessible." There are "100 news stories in every Budget book", Mr Simons said — and "100 more when you have a collection of Budget books spanning a meaningful period of time." PATI increases the power of the public to request records, but also stands to change what the two men call the "default assumption", or the culture surrounding Government records. "Previously the assumption was that information would be held and not shared," Mr Simons said. "Hopefully, the new assumption is that data should be open by default." Mr Galipeau added: "This is the beginning of something awesome — not necessarily the ideal, but it's better than nothing." Exactly how long it will take for the ordinary public to come to grips with the new power is anyone's guess, considering that PATI became law just six days ago. For the founders of their website, the worst outcome would be silence. Knowing how to look for data could be daunting to the uninitiated. When approaching the laws governing specific records, Mr Galipeau has been accustomed to looking for the words "open for inspection. If you find those words in Bermuda law, then you know that's the record you need to go after. Even with PATI significantly broadening that scope of openness, the two hope their website can assist in refining a request. As an example, Mr Simons pointed to schedule three of the latest Budget book on page C-25: "Government Department Accommodation Rental". It lists each department's location and estimated rental cost. Mr Simons noted that the Auditor General is based in Reid Hall on Reid Street, and has been budgeted $207,468 for the 2015-16 rental. The Bermuda Department of Land Valuation's website shows different parts of Reid Hall for rent on different floors, so that anyone trying to learn whether too much was being paid would know to frame their question in terms of square footage rented, or which floor. "In the push to shed more light on Bermuda's governance, even the information statements issued now under PATI, and available online, contain valuable new details on the structure of the authorities they represent, "Mr Simons added. Ideally, the two want to see open data licensing rather than information being licensed under restricted terms — although, as Mr Galipeau conceded, "it's asking a lot."
April 6. Veteran jazz drummer Clarence "Tootsie" Bean is to be honored as part of Jazz Appreciation Month. A month of weekly events running throughout this month began on Saturday with the first of five jazz suppers, which are taking place across the Island. One of Bermuda's best known jazz musicians, Wendell "Shine" Hayward, is organizing the suppers through Danji Productions, which has been holding annual jazz events on the Island for 13 years. The week of jazz suppers culminates in a proclamation on April 30 — International Jazz Day — followed by a concert paying tribute to "Bermuda's last living jazz legend", "Tootsie" Bean. Mr Hayward said: "Jazz has played a role in the evolution of just about every single genre of music that we have today. There may be some who feel indifferent towards jazz, but we feel it is important that people are aware of the significant role jazz has had in the evolution of the music that they do appreciate. Tootsie Bean is the last of our jazz legends but we have had very fine musicians such as Ghandi Burgess, Ernie Leader and his big band, Milton Robinson, Triscott Scott ... we have a tradition of great jazz musicians here in Bermuda." Each jazz supper begins at 6.30pm with a cocktail reception then a four-course meal cooked by mobile chef Ramon Dowling, with jazz performances throughout the night. Saturday's event was at the Paradise Lounge on White Sands Road, Paget. Music was performed during the cocktail reception and during dinner there was a performance by Mr Hayward. After dinner there was a screening of a documentary, Legends of Jazz, featuring selected international jazz artists coupled with some history of jazz. This Saturday's event will follow the same format and will take place at Bootsies at the Grand with the same two performers. On Saturday, April 18, the event moves to Sandys Secondary Middle School amphitheatre with The Other Band. Students from the school will perform a mix of jazz and steel pans. On Saturday, April 25, the jazz supper will be at Clearwater Middle School with more student performances, including excerpts from their upcoming spring concert due to take place next month. They will be accompanied by a local jazz band. Proceeds from both school concerts will go towards the respective schools' music department. For International Jazz Day on April 30, there will be a proclamation attended by dignitaries on the steps of City Hall at 12.15pm. Celebrations will move to Spinning Wheel at 6:30pm, with the tribute to "Tootsie" Bean, supper and performances by four local jazz bands, including the Stephan Furbert Quartet. Tickets to Jazz Appreciation Month events are available online and at Piano Plus on Front Street. Tickets for a jazz supper cost $75, tickets for the music without the dinner are $30.
April 6. Profits fell slightly last year for the member companies of the Association of Bermuda Insurers and Reinsurers (ABIR), the industry body announced. The 19 of ABIR's 21 members who agreed to be surveyed racked up a combined $11 billion in net income — down from $11.7 billion in 2013. The companies also wrote more business and ended the year with a larger capital base. ABIR president Bradley Kading said: "As was the case in 2013, the $11 billion in net income demonstrated earnings power in years characterized by low catastrophe losses. But this number was still below net income reported by the membership in 2009. ABIR members reported their largest group total equity base in the nine years in which data have been collected; partly due to lower-than-average catastrophe losses. Last year was characterized by intense market competition as pension-fund capital converged with traditional re/insurance operations. As for this year, the long anticipated consolidation among ABIR members began in early 2015 and the four completed or pending acquisitions will dramatically change the landscape of this underwriting report in 2015." Among ABIR members, RenaissanceRe and Platinum have completed their merger, while other deals agreed are set to result in combinations of XL and Catlin, Axis and PartnerRe, and Endurance and Montpelier Re. These transactions, if they all go through, would reduce ABIR's membership from 21 to 17 companies. The 19 re/insurers surveyed wrote $74 billion in global gross written premium last year out of underwriting centres in Bermuda, Europe, Asia, North America and South America. This marked an increase on the $70.1 billion the group wrote in 2013 on a capital and surplus base of $99.3 billion (up from $95.4 billion in 2013). Ace Ltd led the way, writing $23.4 billion in premium around the world, nearly a third of the group's total. Second-most prolific was XL Group, with $8.09 billion in premium, followed by Catlin Group ($5.96 billion), PartnerRe ($5.93 billion), Arch Capital ($4.84 billion) and Axis Capital ($4.71 billion). Ace, with net income of $2.85 billion in 2014, was also one of three to be able to count its annual profit in the billions. The others were reinsurer PartnerRe Ltd, which made $1.05 billion, and municipal bond insurance specialist Assured Guaranty, which generated $1.09 billion in net income. In terms of total equity, Ace topped the list with $29.59 billion, ahead of XL with $11.43 billion, PartnerRe with $7.1 billion and Arch with $6.13 billion. The best performer in terms of combined ratio — which reflects the proportion of premium dollars spent on claims and expenses and is an indicator of underwriting profitability — was bond insurer Assured Guaranty with 44 per cent. Of the property and casualty re/insurers, it was the catastrophe reinsurance specialists who performed best in a year of lower-than-normal losses from catastrophe claims. RenRe was comfortably the most impressive, posting a 50.2 per cent combined ratio, while Montpelier Re recorded a 65.2 per cent figure. As well as profits, premiums and scale, Ace was also the leader in efficient underwriting. Its expense ratio of 29.4 per cent was the only figure below 30 among the group. PartnerRe managed 30 per cent, while Allied World posted 30.3 per cent.
April 4. The Gilbert Lamb fun day drew crowds from across the Island to St David's Cricket Club for the East End's biggest Good Friday celebration. "That's what it's all about — family," said club president Otis Minors, overlooking the cricket grounds as hundreds of visitors and locals took to the field for kites, cricket, fish cakes and, of course, the go-kart races. The two-mile course from St David's Lighthouse was lined with spectators for the Mohawk grand prix. Back at the club, picnics and tents ranged from Lord's Oval to the hillsides around Little Head Park — and, buoyed by a good southerly breeze, the skies teemed with kites. "I love it — I've been coming here every year since it's been going on," enthused April Minors, enjoying "a little me time" after helping her grandchild fly a kite. "It's nice seeing everybody coming together as a community, having a great day and a great time. I don't have any favorites. I love the whole event." Nearby, a beaming commissioner of corrections Edward Lamb was trying to get his Goddaughter's daughter, Raven, aloft with the traditional Bermuda kite he had made for her. The wind was not helping but Lieutenant Colonel Lamb did not seem to mind. "This is fantastic; I've been here since quarter to seven this morning," he said. "I've been coming here on Good Friday since I was a child. "The community here has always had its Good Friday celebrations with uphill and downhill football, kite-flying and marbles, and then in 1997 we decided to officially name it after Gilbert Lamb, to commemorate the 37 consecutive years that he served at the club. This is part of my heritage — I couldn't be anywhere else today; I've never missed it." Even when he served as aide-de-camp for Governor Lord Waddington, from 1992 to 1994, Lt Col Lamb was there for Good Friday — which meant that the Governor was, too. "Most of the folks here aren't from St David's — it's a great community day for all of Bermuda," Lt Col Lamb said. "This is like the motto of Jamaica: 'out of many, one people'." Nearby, first-time visitor Mike was assisting his four-year-old son, Oliver, with his kite and its knotted string. Other than this whole heap of string getting tied up, it's been great," he said. "They've set it up beautifully." Revelers helped each other out: sitting with friends on the field was Yebei, hoping to salvage a kite stick for her nine-year-old nephew, Leule, while Waymond Hill showed some visitors how to get theirs off the ground. Mr Hill's wife, Earlette Stephens, stood with daughter Ashley at her trademark lemonade stand and remarked on the good turnout of tourists. "Let the string out — don't miss the wind," said Howard Hayward to his eight-year-old daughter Sarai as the two got her Barbie kite airborne. The fun day was a pet-friendly event, and the two were walking their dog, Bella-J. "Good Friday is a family day and it should be fun-filled. But it also should be our time to reflect on what somebody did for us — Jesus. That's why the kite has a cross."
April 4. Kites of all colors, shapes and sizes graced the skies over Horseshoe Bay yesterday as hundreds of residents celebrated the much-loved Good Friday tradition. Locals and visitors soaked up a fun atmosphere at the annual Good Friday KiteFest — and the sunny weather heralded the first days of summer for many beachgoers. "It really is an opportunity for everyone to be competitive," said Gavin "Djata" Smith, executive director and founder of the Chewstick Foundation, the organizer of the event. "We have a variety of competition categories this year, everything from smallest kite to biggest kite, prettiest kite to ugliest kite. This year, everything was a bit touch and go, but thanks to the sponsorship of Logic and the Bermuda Tourism Authority we've been able to pull it off. The weather is gorgeous and I couldn't have asked for better — I was worried there wouldn't be enough wind, but it's a gorgeous, beautiful Bermuda day. It's one of the few holidays that are truly interactive and I hope everyone gets fully involved." Yesterday marked a special day for one couple, who have been married for ten years. "Our first date was right here on this beach eleven years ago," said Stuart Anderson, of Sandys. "It's my favorite holiday in Bermuda," added Sandy Cook-Anderson. "It's a wonderful celebration of our Lord — how many places can you go and look at the sky and see so many beautiful things to remind us that Christ has risen this weekend?" For others, it was their first Good Friday at Horseshoe Bay. Craig Russell, 36, of Paget, and his four-year-old daughter Florence made a kite to celebrate their first Easter in Bermuda. "It's been exciting," Florence said. "I helped make it, but Daddy did the rest." "It's just beautiful here," Mr Russell added. "It's a lovely community day where everyone gets out and has fun." Colette Fitzpatrick, 28, of Warwick, flew a kite for the first time. She said her boss Dr Andrew Madeiros, owner of the Ettrick Animal Hospital, showed her how to make one. "It's pretty special — my parents are Irish, so I made the kite with a shamrock on it," Ms Fitzpatrick said. "They make the kites and I help get them up," Dr Madeiros explained. "We try to do it each year as a work event." Yesterday's event was also a first for Bermuda Regiment Staff Officer Andrew Clarke and his three children. "It's particularly nice that a number of people have put work into their kites and made their own. The real simple ones are the ones winning the day here," said the 42-year-old Warwick resident. Sharon Dawson, of Southampton, remarked on the diversity and colorfulness of the kites on display. "We've got everything from Bermuda kites to modern designer kites, and there are kites that look like they shouldn't be flying but they're going up — it is fantastic." Other beachgoers simply soaked up the atmosphere and relaxed. Sandy Mayor, of Paget, said: "It is perfect weather — a great day for kite flying. There's a nice mix of visitors and locals and it's fun watching the locals help the visitors get their kites up." Pat Simons, of Warwick, added: "It's phenomenal after this bad weather we've had — we needed this badly. It's been a nasty winter — the Easter Bunny brought us this day." For Alex Spence, 30, and Andre Robichaud, 33, the beach atmosphere made for a pleasant change from their native Canada. "There are so many kites — it's really cool and unique," Mr Spence said. "We've definitely never been on the beach before and flown a kite." But for others, flying kites at the beach has long been a tradition. "We come here every year," said Katya Shnurova, 28, of Hamilton Parish. "It's a family event but we still come down and enjoy it. It's a big party with music — it feels like the first day of summer," said Natalia Isaeva, 36, of Pembroke. Early beachgoers were welcomed by a DJ at 11am, and registration for the kite and fishcake competitions began at 12pm. An Easter egg hunt and live performances started at 1pm and more live performances began at 3pm. Competition winners were announced at 3.30pm and Wacky Races were held at 4pm.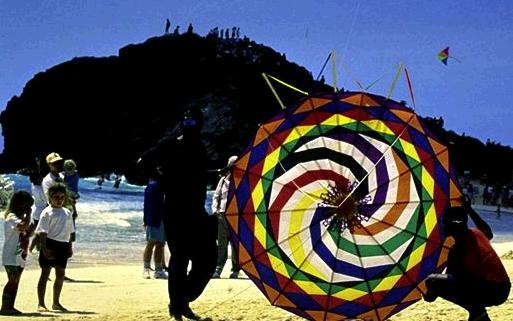 Kite-flying. See above.
April 3. The public have been invited to join the Bermuda Regiment band and other community bands and musicians from 3pm at Government House on April 12 for a reunion concert to mark the regiment's 50 years of service to the Island. The North Village Community Band, the Somerset Brigade Band, the Bermuda Islands Pipe Band, the Bermuda Chamber Choir, the Bermuda Youth Orchestra and members of the Warwick Academy Orchestra will perform. BR50 Committee chairman Stephen Caton said: "It is a thrill for us to bring this free concert to the people of Bermuda as part of our year-long celebrations marking the historic and significant role the regiment has played within our community. We encourage everyone to reunite with us." Governor George Fergusson, the commander-in-chief of the Bermuda Regiment, said: "Mrs Fergusson and I are pleased to host this reunion concert in the grounds of Government House. We are grateful for the support of the community bands and organizations who have joined in with this first event in 2015 marking the regiment's 50th birthday. I also thank the BR50 Committee and the regiment for organizing this special event." Attendees must obtain free tickets in advance at www.bdatix.bm and are encouraged to carpool. Access to the grounds of Government House is by the North Shore Gate only. Gates open at 1.30pm, with limited parking provided within the grounds. Concertgoers are welcome to bring their own baskets, blankets and chairs. Refreshments will also be on sale. Limited seating will be provided for seniors. In the event of inclement weather, please listen to media messages or look for posted signs that will indicate whether the concert has been moved indoors to the Ruth Seaton James Auditorium.
April 3. Emirates Team New Zealand's objection to the rule changes made to the 35th America's Cup has been condemned by most (but not all, for example the Italian team that withdrew in protest) rival syndicates. In addition to being upset with the decision that led to the withdrawal of Italian team Luna Rossa, the New Zealanders are up in arms over a proposal to switch the America's Cup qualifying regatta from Auckland to Bermuda. The majority of the teams expressed a desire to have the event held in Bermuda at a competitor forum that comprised the six original entrants. The New Zealanders have accused the organizers of "illegally withdrawing" Auckland as the venue for the regatta and filed its case with the America's Cup arbitration panel. Switching the event from Auckland could potentially have serious repercussions for Emirates Team New Zealand, whose funding is believed to be connected to the event. However, the manner in which the Kiwis have characterized the rule changes, which include the introduction of a new 48ft wing-sail foiling catamaran as opposed to the 62-footer, does not sit well with the rival syndicates, whose primary motivation is cost-cutting for this America's Cup and in future. "We are disappointed to see how Team New Zealand are characterizing the rule changes that reflect the collective will of the America's Cup teams," read a joint statement from Artemis Racing, Ben Ainslie Racing, Team France and Oracle Team USA, the defender. "During discussions last month, all six teams, including Team New Zealand, agreed on the need to change to a smaller boat to reduce costs. While Luna Rossa supported a less dramatic change, a majority of teams agreed on what has become the America's Cup Class, a new rule written in consultation with all teams, with drafts of the rule sent to all teams for comment and feedback. Each team that voted for this new America's Cup Class made compromises and sacrifices to get this done for the betterment of the America's Cup. Taking these important decisions by a majority vote is something that was insisted upon by Luna Rossa and written into the rules of the event. Regrettably, abiding by the results of the majority vote appears to be something neither they, nor Team New Zealand, are willing to do ... unless they are part of the majority. We hope that Team New Zealand can see a way forward, as we all have, and look forward to racing them in the Americas Cup World Series later this year." Oracle Team USA's most fierce rivals also bemoaned the departure of Luna Rossa yesterday, team principal Patrizio Bertelli coming good on his threat, which has now put in doubt the opening event of the America's Cup World Series, scheduled for June 4 to 7 in Cagliari. "We are quite frankly in disbelief that the continued actions of the America's Cup Event Authority [ACEA] have lead to the withdrawal of our great friends Luna Rossa," Grant Dalton, the Emirates Team New Zealand CEO, said. "It sends a clear and unmistakable message that the self-serving maneuvering of rules within sport's oldest trophy has consequences for not only the America's Cup but also all of sailing." Under the original protocol, the America's Cup class rules could be changed only by unanimous consent, but Oracle Team USA reportedly led an amendment to change the class rule to a majority vote. Luna Rossa have been one of the strongest challengers since 2000, when they reached the America's Cup Match before being swept in five races by Team New Zealand. "Following a careful evaluation of the serious implications of this unprecedented initiative, Team Luna Rossa confirms that it will withdraw from the 35th America's Cup," a team statement said. "Team Luna Rossa indeed considers illegitimate the procedure adopted and founded on an evident abuse of process by surreptitious use of procedures to modify the protocol in order to overturn the class rule, which instead requires the unanimity of the teams entered. "This is an attempt to introduce boats that are substantially monotypes and in total contrast with the ultra-centennial tradition of the America's Cup, not to mention a two-month extension period to introduce further modifications to the rules, decided by the majority." In response to the Italians' action, Harvey Schiller, the ACEA's commercial commissioner, said: "I know all are disappointed with this decision taken by Luna Rossa, especially based upon their significant history in the America's Cup. Since we started the competitor forum, I've worked closely with skipper Max Sirena on many issues facing the America's Cup and our teams. We offered a range of solutions for reducing costs by introducing a new America's Cup Class. Unfortunately, Luna Rossa wasn't prepared to accept the majority decision, as written in accordance with the rules of the event. It's difficult to understand this withdrawal when our shared purpose has been to control expenses, encourage additional entries and build a better future for the Cup. It's even more puzzling as it was Luna Rossa who insisted on the switch to majority rule on these issues. But, looking at the bigger picture, the America's Cup is now more accessible for new teams and, with a new generation of people like Ben Ainslie, Nathan Outteridge, Jimmy Spithill, Franck Cammas and Pete Burling, we have a strong foundation for a very competitive event."
April 2. Italy has pulled out of the 2017 America's Cup, the second country to do so, criticizing decisions by organizers as unprecedented and illegitimate. (Team Australia has already withdrawn). Luna Rossa and Team New Zealand voted today on Tuesday against reducing the size of the catamarans for the second time in less than a year. However, both teams were overruled by a majority of teams, led by two-times defending champion Oracle Team USA. The other challengers were Artemis Racing, of Sweden, Ben Ainslie Racing, of Britain, and Team France. The Americas Cup class rules could be changed only by unanimous consent, but Oracle Team USA last week led an amendment to change the class rule to a majority vote. Luna Rossa, backed by the fashion house Prada, said before the vote it will be obliged to withdraw if the rules were disrespected, and it was backed by Team New Zealand. Luna Rossa have been one of the strongest challengers since 2000, when they reached the Americas Cup Match before being swept in five races by Team New Zealand. Following a careful evaluation of the serious implications of this unprecedented initiative, Team Luna Rossa confirms that it will withdraw from the 35th Americas Cup, a team statement said. Team Luna Rossa indeed considers illegitimate the procedure adopted and founded on an evident abuse of process by surreptitious use of procedures to modify the protocol in order to overturn the class rule, which instead requires the unanimity of the teams entered. This is an attempt to introduce boats that are substantially monotypes and in total contrast with the ultra-centennial tradition of the Americas Cup, not to mention a two-month extension period to introduce further modifications to the rules, decided by the majority. This puts in doubt the opening regatta of the Americas Cup World Series, scheduled to be held in Cagliari from June 4 to 7.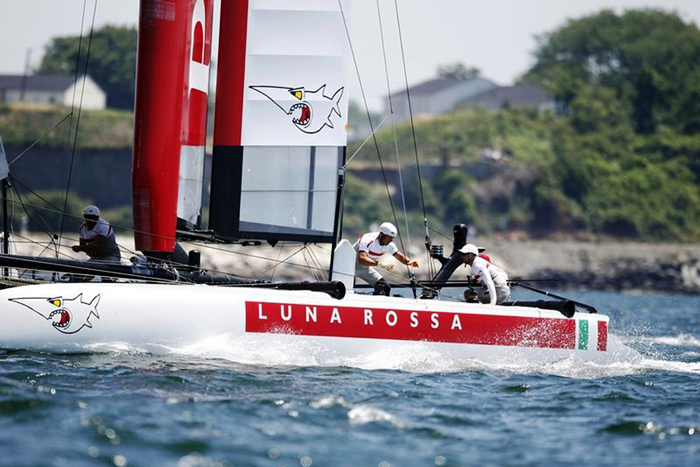 Italy's team have pulled out, in protest. See above story
April 2. Premier Michael Dunkley has launched a webpage that goes live today. The page, which can be found at www.premier.gov.bm, will details ministerial statements, press releases and statements, national addresses, special messages and meetings. There are also links to other departments within the Bermuda Government. The government-built webpage also connects to the Premier's social-media platforms, including Facebook, Twitter and Instagram. "The aim of the webpage is to provide an opportunity for people to follow the progress of the Premier, the Government and in particular the Cabinet Office and the Ministry of National Security of which I have responsibility. In an age where everything is becoming more and more digital and people have unlimited access to technology, I believe this is a very efficient way of ensuring that residents are kept abreast of what their Premier is doing on behalf of the people. I want to encourage people to visit the page and feel free to reach out and contact me."
April 2. Royal Gazette editorial. At one time Bermuda had become so closely identified with this season of rebirth and renewal it was routinely referred to as "The Easter Isle" in the North American press. By the end of the 19th century, Bermuda dominated fully 90 per cent of the Easter lily market in the United States, with much of the Island's 4,000 acres of arable land turned over to that crop. The graceful flower, which seems to be trumpeting a welcome return to the sun after its long winter absence, has been a longstanding symbol of resurrection, purity and innocence in the Christian tradition. "How many lilies are grown in the Bermudas is a difficult question to answer," reported a Baltimore newspaper in 1896. "The figures run way into the tens of millions. They grow like weeds." By the 1890s, lily cultivation was one of the Island's primary industries — Bermuda was called the "Easter Isle", it was said, for a million good reasons: it's estimated that's how many cut flowers and bulbs were packed and shipped to the US every year. Today the Island grows only a relatively small number of lilies for the local market — with the exception of the traditional bunches which are shipped to Windsor Castle annually for the Royal Family's Easter celebrations. But in a broader sense, Bermuda very much remains the Easter Isle. The Easter season is associated with more Bermuda customs and folkways than at any other time of the year. Most famously, perhaps, there is the construction and flying of kites on Good Friday. The tradition is believed to have stemmed from an inspired exercise in creative teaching on the part of a frustrated churchman. When he was unable to interest a Sunday school class in the story of the Crucifixion and Resurrection, he encouraged his young charges to fly kites one Good Friday — saying the cross-sticks were symbolic of Christ's ascension into heaven (while the story may well be apocryphal, it deserves to be true). The activity has been established here for more than a century and the annual kite-flying festival at Horseshoe Bay is now one of the most popular community events on the Bermuda calendar, drawing thousands of participants and spectators. When the South Shore skies are filled with dancing, multicolored and multisided kites and the distinctive singing of hummers, you witness not just an aerial spectacle but a particularly vibrant affirmation of the Bermudian spirit. Codfish cakes, hot cross buns, beachfront sunrise services, the re-enactment of the Stations of the Cross along the alleys and lanes of St George all add to the ambience and atmosphere of a Bermuda Easter. And even though the old Easter (or Floral) Parade, which thrived from the 1920s to the 1960s, is only a fond memory to a dwindling number of older Bermudians, it has left an imperishable worldwide legacy. This annual springtime procession of flower-bedecked floats, bands and equestrians was originally conceived as an elaborate and festive showcase for the Island's lily crop. In 1933, legendary American composer Irving Berlin accompanied by playwright collaborator Moss Hart visited Bermuda during the Easter season to work on the songs and book of an upcoming Broadway revue eventually titled As Thousands Cheer. Among the local influences the partners absorbed and incorporated into their work during the Bermuda sojourn was the idea for a sketch to be staged around a newly written Berlin number. Both the skit and the song were called Easter Parade. This enduring show tune has long since entered the Great American Songbook, spring's counterpart to Berlin's festive season classic White Christmas. Of course, there's more to a Bermuda Easter than just its customs and cultural practices: it is a celebration of new life, second chances and fresh beginnings; a holiday that appeals to the religious and the secular alike. The overriding message of Easter is hope — a renewal of confidence when things have otherwise appeared to be hopeless. Happy Easter, Bermuda.
April 2. Bermudian Shelley Pearson and her Oxford University crewmates survived a scare yesterday in their preparation for next week's BNY Mellon Boat Races when they were overcome by waves while at practice and had to be rescued. The recovery action was performed by a passing lifeboat on the Thames that happened to spot the nine women, including the coxswain who sits at the rear of the boat effectively as a non-rowing captain. Oxford are favorites to win the Newton Women's Boat Race that will precede the blue-riband men's event on April 11, but the mishap was hardly ideal preparation and may provide a boost to the Light Blue crew of Cambridge University. The lifeboat, which was supplied by the Royal National Lifeboat Institution (RNLI) in Chiswick, returned the stricken rowers to Putney, in southwest London. Strong wind against tide had created the unsafe waters and three successive waves poured over the boats riggers, creating an influx of water that could not be managed by the crafts bilge pump, the RNLI said in a statement. The Oxford crew and their cox were boarded on to the Chiswick lifeboat and returned to Putney. The sunken eight was then recovered by three coaches launches and safely returned to Oxfords base ahead of the race next week. Ian Owen, an almost awestruck helmsman for the RNLI, added: "While we have rescued quite a number of rowers over the years, this is the first time I've been involved in helping such a prestigious team. The weather can be unpredictable on the Thames, and the Oxford University team dealt with the situation as safely and calmly as possible. We wish them all the best for their upcoming race." Sinkings are an occupational hazard for Boat Race crews in the tidal waters of the Thames. In 1912, both men's crews sank during the race. Cambridge also sank in 1859, 1978 and 1984, while Oxford sank in 1925 and 1951. Pearson, the daughter of 1983 Bermuda Half-Marathon Derby winner Kevin Pearson, will be the first Bermudian to take part in the world-famous Boat Races. This year's event carries added significance in that the women will race over the same course as the men for the first time and on the same day.
April 2. The secret to a great fishcake? Keep the flavors simple — that's the advice from budding chef Quinn White. He was recently named Bermuda's fishcake king at the City Food Festival where he beat out eight other cooks. "My goal was just to keep it really basic, not trying to go too extreme and just keeping the flavors really simple," the 25-year-old said. "Some people try to add eggs and other things, but I just make a classic Bermuda fishcake with thyme, parsley, garlic and scallions. When I'm mixing it I also use a little butter to keep it moist." Mr White set out to win the competition so he could boost his confidence in the kitchen and see how his recipe measured up. "I also wanted to give the judges something similar to what their mom or grandma would make," he said. On the day of the event he went in to drop off his finished product. A short while later he didn't hear his name called by the judges, so he left feeling disappointed. "I figured they had already named the winner from the names I heard. So I went home to start working on my loquat rum cake. Then a lady called me and said I had won. I drove from Lindo's in Warwick back to town in five minutes. I was just so excited and didn't want them to give my place to the runner-up." The competition proved to be his first big break after a series of setbacks in his cooking career. Mr White had planned to study culinary arts at Bermuda College, but he shattered his ankle and wasn't able to stay on his feet long enough to cook. Another huge blow came when his father died a couple of years ago. "My parents were both really understanding about my desire to cook," he said. "Some people don't want their children to make a mess, but they allowed me to as long as I cleaned up afterwards. Shortly before my dad passed is when I first started baking, but when he died it threw me off for about three or four years. Now I'm just trying to get back to my passion." Mr White went through another difficult bout last year when he was out of work for eight months. But these days it seems like all the opportunities are heading his way at once. He currently has a full-time construction job and has also been accepted into Fairmont Southampton's Culinary Apprenticeship Programme. "I start there this Sunday coming," he said. "It's just Sundays right now, but I'm hoping it will lead to a full-time position. I ultimately want to become an executive chef in maybe five or ten years and own my own restaurant serving soul food with a different twist. Maybe have some Italian or French recipes in there as well." Mr White has been cooking ever since he was a child. He always loved watching his aunt and granny in the kitchen and meal times were always an important time in his household. At age 15 he decided to seriously pursue the interest. "That's when I decided to follow my heart," he said. "I was always cooking at home. Whenever my mom went to church on Saturday, I would cook her lunch for when she got back home. I make everything from monkey bread to lamb stew and fettuccine. I also make up my own recipes as well. For the Food Festival I made my loquat cake and for Christmas I do a pretty good eggnog cake. People also ask me to make different baked goods for them, so I might try a strawberry Merlot cake or something different like that. My brain is wired really different. Sometimes I don't even use a recipe. I just have my own cake base and then I'll add different liquids like strawberry, loquat, lemon or orange juice instead of water." Mr White said he's feeling more optimistic about the future these days. "I have always gravitated towards the kitchen. It didn't matter if I had other jobs, my favorite place was still in the kitchen. I bake a lot in my spare time and I am trying to start my own home bakery, Devario's Delicacies. I feel like in this economy today entrepreneurship is really the only way to go. People just work, sleep and pay bills, but I'm trying to use these opportunities as a stepping stone."
April 2. Insurance and reinsurance giant XL yesterday launched a new venture capital firm aimed at investing in financial technology. XL Innovate, which will be based in California, will be headed by Tom Hutton, the founder and CEO of New Energy Risk Inc, a data analytics and consulting firm in renewable energy and also a former XL director. The new fund will take equity positions in companies that provide new market opportunities for XL around the world and work to forge partnerships outside of traditional underwriting in a bid to capitalize on uninsured risks. Mr Hutton said: "I am thrilled to be partnering with the XL team at a time of both industry transition and great momentum at the company. The proposed merger of XL with Catlin Group promised an even stronger company as a result. We look forward to being a unique partner to entrepreneurs with the vision and ambition to address new risks with new solutions, unconstrained by geography, scale, or traditional thinking." Mr Hutton will be backed by an investment team experienced in identifying and promoting innovations in financial technology and insurance, overseen by a board of directors that will include Sara Street, the current XL chief investment officer. XL CEO Mike McGavick said: "We are very excited to launch this new initiative, which will extend XL's capabilities in existing markets and give us new opportunities to address some of the most pressing and complex risk problems in the global economy. XL Innovate is an important step as we continue to drive our focus on innovation forward and secure the relevance of XL and the industry well into the future. We're particularly pleased to have Tom Hutton and his strong track record of insurance innovation partnering with the XL team."
April 2. In the aftermath of the Island's latest traffic fatality, the transport ministry last night announced the creation of its Road Safety Working Group to address perilous conditions on Bermuda's roads. Transport Minister Shawn Crockwell said that the new group would draw on expertise from a cross-section of residents both inside and outside of Government. Mr Crockwell first pledged to form a swift-acting task force in February, after an emergency summit was called in the wake of a string of collisions and fatalities. Yesterday, the year's third road death was named by Police as 16-year-old auxiliary cycle rider Arai Joell-Johnston, of Paget, who lost his life after his vehicle collided with a car shortly after 11pm on Tuesday. The crash occurred on Harbour Road, west of the junction with Chapel Road. He was pronounced dead at King Edward VII Memorial Hospital shortly before midnight. Mr Crockwell's announcement last night included ?my sincere condolences to the family and friends of Arai Joell-Johnston, adding: "My prayers are with them as they deal with their loss and grief." The Progressive Labour Party joined him in offering support. Mr Crockwell said the Working Group had the commitment of five agencies: the Bermuda Police Service, the Ministry of Public Works highways section, the health department, the Transport Control Department and the Ministry of Education. He added that the group would meet before the end of this month, when its objectives and terms of reference would be confirmed. "Additionally, to ensure that the Working Group is balanced, representation has been made to the private sector in the form of our motor insurers and, of course, the ministry also plans to have our younger generations represented," the minister added. "I am thankful for the service of these representatives and I look forward to the progress of the work and reporting back to the public." Directly after the summit on February 11, Mr Crockwell said he planned to start contacting prospective members of the group over the subsequent two weeks. The silence ensuing caused Shadow Transport Minister Lawrence Scott, an early supporter of the initiative, to question whether it had been put on hold. "I have not been invited to be a part of the minister's road safety task force, nor have I heard any additional information on it," Mr Scott said. "I hope an idea with such merit has not been shelved by the minister, as that would be more than just a shame, it would jeopardize the chances of we, the transportation industry stakeholders, to provide the motoring public with a safer transportation infrastructure in conjunction with individuals actively putting into practice better and more appropriate driving practices."
April 2. In the wake of complaints from drivers, the City of Hamilton has retaliated against motorists openly flouting its parking rules by advertising their lawbreaking with orange windshield stickers. Over three hours yesterday, 182 errant cars at the City Hall, No 1 Shed, No 5 Shed and Par-la-Ville car parks got prominently slapped with the bright-colored stickers. "These stickers are a notification to drivers that they are not going unnoticed," said City secretary Edward Benevides, who assured The Royal Gazette it was no April's Fool's joke. "Although our 2014 ordinance was invalidated, that doesn't mean they get to park for free with no consequences." Mr Benevides was referring to the court ruling that struck down the City's right to clamp cars. With enforcement flagging behind, the notifications were deployed "to tell people they are parking inappropriately, and let people know who is bucking the system". Licence numbers of offending vehicles are also being noted, in the hope of taking further action against rogue drivers. The stickers also come in bright green, Mr Benevides added, but the orange variety comes with more infraction options to check off. For drivers taken aback by the stickers, Mr Benevides said the British equivalents — called penalty charge notices — were considerably harsher. "The PCN is a massive sticker, and it really sticks too," he said. "We're not that bad."
April 2. Emirates Team New Zealand stand between Bermuda and the potential for 2017 to be chock-full of high-quality racing on the Great Sound for the 35th America's Cup. The New Zealanders, who are expected to be the strongest challengers to Team Oracle USA, have appealed to the America's Cup arbitration panel over a decision that led to Auckland being removed from the equation as host for the final qualifying regatta. That now looks to be heading for Bermuda, in keeping with the majority of the teams' wishes that the qualifiers and the America's Cup Match be held at the same venue. It is all part of the plan to cut costs that has so vexed the America's Cup Event Authority (ACEA) and the teams, with a view to making sailing's most spectacular event more affordable for all in future editions. The first sacrifice that was required for this to happen was for the teams to accept a downsizing of the class of boat for the finals, despite some teams having already gone to great expense to prepare their 62ft wing-sailed foiling catamarans — AC62s. It is what has Luna Rossa at odds with the process and has led to the Italians threatening to withdraw from AC35, putting the first event of the America's Cup World Series in doubt. That is meant to be held in Cagliari in June. New Zealand, which has been opposed to Bermuda as a venue of any sort since the start, stood firmly in line behind Luna Rossa, but it is notable that the Italians refused to comment when contacted by The Royal Gazette yesterday. However, in a statement on the Emirates Team New Zealand website, Grant Dalton, the CEO, said: "Emirates Team New Zealand have filed an application to the America's Cup Arbitration Panel in the belief that ACEA has breached their signed agreement and protocol obligations by discarding Auckland. "However, prior to any hearing, Emirates Team New Zealand will continue discussions with all teams and ACEA on the prospect of continuing to bring America's Cup racing to Auckland." The prospect of New Zealand withdrawing appears slim, although it has been made clear that the level of government funding could be affected by Auckland losing out for the qualifiers." Mr Dalton added: "We are fighting to keep Auckland as a qualifier. This isn't about government funding, this is not the end of Emirates Team New Zealand, it's about enforcing a contract and bringing America's Cup racing to New Zealand as agreed by ACEA." When Economic Development Minister Grant Gibbons spearheaded the drive to land Bermuda the America's Cup, it was with a view to hosting the finals match as well as the potential of getting a qualifying event. That had been achieved by December 2 in New York, where, weeks after the Island learnt that a World Series event will be sailed here from October 16 to 18 this year, Harvey Schiller, the commercial commissioner for the ACEA, made the big announcement. Securing the final qualifiers as well, to be contested by the four leading teams from the World Series regattas, would be a bonus beyond all measure — and have local marinas stocked from early 2017 until mid-July when the fate of the "Auld Mug" will have been decided for another four years. The venue decision is now in the hands of the ACEA, which oversaw the majority vote to change the boat class of choice for the finals — from 62ft to 48ft. "The move to the new America's Cup class is a major step forward for the America's Cup," Mr Schiller after the vote. "Collectively, the teams have agreed current costs are neither justified, nor sustainable, and a majority have together taken a sensible course of action to cut costs. I believe this puts the America's Cup on a firm foundation for today and for the future." Crucially, the new class will cost much less over the life of a campaign, with potential savings across design, build and operations, making it a revolutionary cost-saving measure for the sport in both the short and long term. "The changes being made are to reduce the current costs and complexity, which are barriers to new teams wishing to enter the America's Cup," said Iain Percy, the team manager for Artemis Racing. Looking towards the future, the ACEA believes the new America's Cup class will put the event on a path towards economic sustainability. Numerous one-design components will focus the design effort on areas that have an impact on performance, cutting costs significantly, but not diminishing the design challenge. "The America's Cup, like Formula One, has to be a design race as well as a race on the water," said Sir Ben Ainslie, the team principal at Ben Ainslie Racing. "That has always been part of the Cup's appeal. That is what attracts some of the world's best engineers — people like Adrian Newey, who has shown a real passion for the design challenge of the America's Cup." Oracle Team USA skipper Jimmy Spithill said: "This wasn't an easy process. The established teams, ourselves included, were well down the path of designing an AC62. But there is a bigger picture to consider. We needed to bring the costs down, but we had to respect the design component of the event, as that's always been one of the biggest challenges in winning the America's Cup."
April 2. Opinion published in the Royal Gazette by John Hindess. "Myth #34: The new Public Access to Information Act 2010 is a magic silver bullet that resolves all issues related to access to public information. The new Public Access to Information Act 2010 will come into force on 1 April 2015. This Act gives Bermudians and residents of Bermuda the right to access public information. This ground-breaking change means that it is no longer within a public authority's discretion whether to disclose certain information. This shift cannot be downplayed, but there remain many questions surrounding the Act and how it will operate. Having had some experience in the realm of privacy law when practising law in Canada, particularly the public's right to access to public information, I have identified some issues that are worth considering. Under the Act, public authorities are now required to publish certain information. For example, they are required to publish an "information statement" (which must be updated every year) that contains general information about that public authority, such as structure, organization and services as well as the name and contact information of their new Information Officer, who will be handling any information requests. Further, the Act requires each public authority to publish a list of the salary ranges of every public officer on an annual basis, and the details of every contract entered into by the public authority that has a total value of $50,000 or more on a regular basis. Beyond the information that must be published, the Act sets out how Bermudians and residents of Bermuda can request information from the public authorities. The request for specific information is made to the Information Officer of the public authority who must acknowledge the request within five days and then must search and determine if the information can be divulged in part or in whole and notify of the decision within six weeks. If the public authority fails to do so or their response is unsatisfactory, there is a right of appeal to the Information Commissioner, and there is a right of appeal to the Supreme Court from the Information Commissioner's decision. But what entities will be covered by the Act? The definition of "public authority" can be found in the Act's schedule which names 11 specific entities (the Office of the Governor, the Cabinet Office, the Public Service Commission, the Bermuda Police Service, the Bermuda Regiment, the Office of the Clerk of the Legislature, the Department of Public Prosecutions, the Office of the Auditor General, the Office of the Ombudsman, the Human Rights Commission and the Office of the Information Commissioner) but also includes:
(a) "every Department of Government",
(b) "every entity that…carries out functions of a governmental or quasi-governmental nature", and
(c) "every entity that is substantially funded by monies authorized by the Legislature."
While the enumerated list is helpful, one can see how the other definitions may cause issues. For example, who decides what is "quasi-governmental" in nature and what amount of public funding is "substantial" enough to be caught by the Act? This may become clearer with the passage of time and as different requests are made and ruled on. Hopefully, the new Information Commissioner's Office will be publishing an updated list of the public authorities covered by the Act as decisions are made. As you would expect, there are clear exceptions to the public's right to access public information, such as records involving national security or the identity of confidential informants in legal proceedings. But other exceptions may be potentially harder to determine. For example, the "financial or economic" exception, which provides an exemption if the disclosure "could reasonably be expected to have a serious adverse effect on the financial interests of Bermuda or on the ability of the Government to manage the national economy". These less easily defined exemptions may cause issues for people requesting the information who are denied on these grounds as well as the public authorities who have to decide whether a record is exempt. This is where the Information Commissioner will step in. However, as the Information Commissioner acts as adjudicator under the Act, she cannot provide specific advice on a case-by-case basis to either the public authority or the public. She can only provide general guidance to the public authorities in how to interpret the Act and to the public in how to make a request. This is where the advice of a lawyer may be needed as to whether a request was properly denied or whether a decision should be appealed. Although, the line of what should be excluded and what should be provided will have to be walked before we can more clearly see where it lies. Two final, quick notes: first, it is important to be aware of the costs of exercising the right to access information. Public authorities can, and most likely will, charge a fee to provide the information and payment of that fee is required before the information is provided. The amount a public authority can charge is limited under the Act but these rates are much higher (ie $1 per photocopied page and $52 per hour for searching for the information) than other jurisdictions so the cost may be a barrier to some members of the public. Second, Bermuda still does not have substantial or exclusive legislation regarding the individual's right to protect their personal information from improper collection, use or disclosure by public authorities or even corporations. What happens if a public authority wrongly discloses personal information of a third party in its disclosure pursuant to a request? Currently, the Act has no provision for this possibility. This important right to access information has been available for some time in many other jurisdictions such as Canada (since 1985), the US (since 1966) and the UK (since 2000). We can learn much from these jurisdictions, but must also be mindful of Bermuda's uniqueness. While it is a giant leap forward for Bermuda and we should take advantage of this new right, we should be mindful of the limitations of the Act and how it may work in practice." John Hindess is an Associate in the Litigation and Advice Team at Marshall Diel & Myers Ltd. He also sits on the board of the Employee Assistance Programme. This column is for general guidance only and does not constitute legal advice.
April 1. Bermuda-based Hamilton Insurance Group has broken into the massive Lloyd's of London market with its latest acquisition. The firm's deal to take over Sportscover Underwriting Ltd — a Lloyd's managing agent for Syndicate 3334 and Kinetic Brokers, a Lloyd's insurance broker — was confirmed yesterday. Now Syndicate 3334 will use the name Hamilton at Lloyd's in marketing, while Kinetic will retain its name, but also use Hamilton Insurance Group branding. Hamilton chief executive officer Brian Duperreault said: "Since we established our company just over a year ago, gaining a presence at Lloyd's has been a key strategic initiative as it offers a well-recognized international platform. Through our operations in Bermuda, the US and now at Lloyd's we are able to support profitable growth and expansion on a worldwide basis." The former CEO of Torus International Operations, Dermot O'Donohoe has been approved as CEO of the managing agency, to be known as Hamilton Underwriting Ltd. The completion of the transaction follows Hamilton's announcement in November 2014 that it had entered into a share purchase agreement with Wild Goose Holdings Pty Ltd (WGH) the Australian-based holding company for the Sportscover group, to acquire Sportscover's managing agency and Kinetic. The transaction between Hamilton and Sportscover required the approval of Lloyd's, the Prudential Regulation Authority (PRA) and the Financial Conduct Authority (FCA). Mr Duperreault said: "We would like to extend our appreciation to Lloyd's, the PRA and the FCA for the guidance they provided throughout this process and for its positive outcome. We would also like to thank WGH founder and chairman Peter Nash, as well as the members of his team, for their collaboration in concluding this transaction in a timely and efficient manner. We are also very pleased to have Dermot officially on board as CEO of our Lloyd's operations and look forward to working with him to further develop the foundation established by Sportscover."
April 1. A Bermuda-based company has bought a chain of supermarkets in Macau. Dairy Farm, part of the Bermuda-based Jardine Matheson empire, has acquired San Miu supermarkets, which operates 15 large stores in the former Portuguese colony, near Hong Kong. Dairy Farm is a pan-Asian retailer, which, together with associates and joint ventures, operates more than 6,100 retail outlets across the region, employing 100,000 people with total 2014 sales of $13 billion. The firm is incorporated in Bermuda and has a standard listing on the London Stock Exchange as its primary listing, with secondary listings in Bermuda and Singapore.
April 1. Royal Gazette editorial. For the first time in many years, investors in the hospitality sector are looking at the cost/benefit analyses of doing business in Bermuda and deciding the Island is a sound bet. The Green family are pumping millions of dollars into Hamilton's Princess Hotel and the faded dowager of Bermuda tourism has quickly taken on a new vibrancy and an appealing new direction. Work is under way to rebuild and re-brand Pink Beach, a gem of a property nestled along a picturesque stretch of the South Shore, and the stylish Newstead Belmont Hills resort has a new owner. Ground will soon be broken on the Morgan's Point development, a massively expensive project that will include a chic boutique hotel, private residences and a marina. Other properties are upgrading and adding new facilities to meet the expected demand for rooms that will result from Bermuda hosting the America's Cup yachting regatta in 2017. That Bermuda will be the setting for computer mogul Larry Ellison's defence of the "Auld Mug" has, of course, provided much of the impetus for the renewed interest in our hospitality sector — and a slew of new investments already worth hundreds of millions of dollars. Other direct, indirect and induced benefits of the sailing championship will begin to be felt throughout the economy in the coming months. The pending redevelopment of the LF Wade International Airport by a public-private partnership, for instance, amounts to a multimillion-dollar show of confidence in the Island's long-term prospects. The construction sector will soon undergo rapid and sustained growth, driven by developers who want to beat the calendar and have infrastructure improvements to hotels and retail and recreational amenities completed in time for the regatta. And the knock-on effects in other areas of economic activity have the potential to be just as profound. Thanks to the America's Cup, the Island's tourism industry could reap benefits that extend well beyond the duration of the 2017 races. For, with the international media exposure Bermuda will enjoy as a result of the America's Cup being held here, the Island is better positioned than it has been in decades to re-establish itself as a high-end luxury resort. But any such long-lasting recovery is obviously predicated on Bermuda retaining the trust of foreign investors. There's no bigger coward in the world than big money and any hint of instability or heightened political or social tensions can be sufficient to send it scurrying for shelter elsewhere. By and large, Bermuda is obviously considered a stable and safe choice for investors. But recently the continuing fractiousness of Bermuda politics has raised eyebrows — and more than a few concerns — among those investing both their money and their confidence in the Island. The Opposition has been on permanent election footing in the past few months. Its leadership has launched what amounts to a campaign of ceaseless agitation against the Government and its initiatives, one marked by increasingly immoderate language, flamboyant theatrics and sometimes questionable gamesmanship. As a consequence, the Island's political temperature is being kept deliberately overheated; even minor and relatively non-contentious matters on the public agenda are now being routinely subjected to entirely overwrought Opposition scrutiny. The Speaker of the House of Assembly must have been sorely tempted to adjourn some recent sessions of the legislature as "disorderly assemblies" so chaotic and so unnecessarily rancorous have debates become. Even battle-hardened parliamentary observers have commented that it's next to impossible to exaggerate the intensity of the passions now on regular display in Bermuda's Lower House. And last week, of course, a boisterous public demonstration organized by the Opposition spilled over into the Senate Chamber, bringing legislative business there to a temporary halt. Clearly the time has come to lower the political temperature a few degrees. It's hard to fault politicians for being ambitious or an Opposition for zeroing in on a Government's perceived weaknesses. Our Westminster parliamentary system is, after all, largely predicated on the mutually antagonistic relationship between the rival parties. Nevertheless, parliamentarians are always obliged to put the public interest ahead of narrow party interests. No matter how intent the Opposition is on securing victory at the next election, its leaders must accept that not all tactics which they hope will advance this overriding strategic objective are justified. It's certainly not unknown here or elsewhere for politicians to preach their own party political dogma with such unswerving faith that they become blind to the grim realities of objective facts. And the facts Bermuda continues to be confronted with, even after seven years of sustained economic contraction, are indeed grim. The Opposition needs to begin factoring these realities into its political calculations and then proceed accordingly. Moderating the tone and intensity of its criticisms doesn't mean abandoning either its constitutional watchdog role or its goal of retaking the government benches at the next election. Frankly, a more judicious approach to the issues of the day on the Opposition's part would not only shore up confidence in the Island among foreign investors, it may also be the best way for the Progressive Labour Party to regain the trust of Bermudian voters who abandoned it in December 2012.
April 1. In the wake of one sensational America's Cup ruling confirmed late last night, Bermuda's jackpot is about to get rosier with the news that all of the "serious" racing could be held on the Island in 2017. Already confirmed for Bermuda are the America's Cup World Series event from October 16 to 18 this year, plus the America's Cup Match in June 2017 between the defender, Team Oracle USA, and a challenger to be determined from the qualifiers. Those qualifiers are scheduled to be held in the early part of 2017 and will involve the top four challengers at the conclusion of the World Series regattas squaring off for the right to contest the "Auld Mug. The venue decision is now in the hands of the America's Cup Event Authority (ACEA), which oversaw the vote to change the boat class of choice for the finals and which is aware that a majority of the teams has indicated a preference that all of the racing in 2017 be conducted at a single venue — Bermuda. Earlier, the America's Cup teams agreed to make changes aimed at significantly reducing costs for the 35th America's Cup. Central to these changes is the introduction of an exciting new America's Cup Class, the organizers said — a wing-sailed, foiling catamaran between 45ft and 50ft. "The move to the new America's Cup Class is a major step forward for the America's Cup," said commercial commissioner Harvey Schiller after the vote. "Collectively, the teams have agreed current costs are neither justified, nor sustainable, and a majority have together taken a sensible course of action to cut costs. I believe this puts the America's Cup on a firm foundation for today and for the future." Crucially, the new class will cost much less over the life of a campaign, with potential savings across design, build and operations, making it a revolutionary cost-saving measure for the sport in both the short and long term. "The changes being made are to reduce the current costs and complexity, which are barriers to new teams wishing to enter the America's Cup," said Iain Percy, the team manager for Artemis Racing. A majority of the existing teams favored the new class, with the expectation it will be used in the next edition of the America's Cup as well, with a view to lowering the barriers to entry — both technological and financial — to new teams. The proposed rule change for the finals, from the AC62, or 62ft catamaran, created controversy when Luna Rossa threatened to withdraw if the ACEA failed to provide clarity. They even considered the possibility of canceling the first of the World Series events scheduled for Cagliari in June, if their wishes were not met. Their stance was later backed by New Zealand, who have been at odds with the ACEA since Bermuda made the shortlist to host the finals in 2017 — the real prospect of Bermuda for both the qualifiers and finals would have gone down like a lead balloon! Looking towards the future, the ACEA believes the new America's Cup Class will put the event on a path towards economic sustainability. Numerous one-design components will focus the design effort on areas that have an impact on performance, cutting costs significantly, but not diminishing the design challenge. "The America's Cup, like Formula One, has to be a design race as well as a race on the water," said Sir Ben Ainslie, the team principal at Ben Ainslie Racing. "That has always been part of the Cup's appeal. That is what attracts some of the world's best engineers — people like Adrian Newey, who has shown a real passion for the design challenge of the America's Cup." Oracle Team USA skipper Jimmy Spithill said: "This wasn't an easy process. The established teams, ourselves included, were well down the path of designing an AC62. But there is a bigger picture to consider. We needed to bring the costs down, but we had to respect the design component of the event, as that's always been one of the biggest challenges in winning the America's Cup." The savings the competitors will realize in this edition of the Cup may spark additional entries, with at least one potential team from Asia expected to challenge and other international teams considering their options. "To be a global success, the America's Cup needs to be accessible to the best teams, not just the biggest and wealthiest ones," said Franck Cammas, the skipper of Team France. "So we must change in this way." Roland Gaebler, the Olympic medal-winner who has been working to establish a German challenge, said: "While it's true there are a few critics of this move, we have to adjust to the time. This is a rule that provides the essential of the America's Cup — the design challenge, the sport, the athletic spectacle — without such a prohibitive cost. "My focus had been on the next America's Cup but with these changes we may be able to accelerate that." The rule changes were passed by a majority vote of the Competitor Forum, comprising the six teams entered in the 35th America's Cup at present. An updated protocol and a new class rule will be published this week.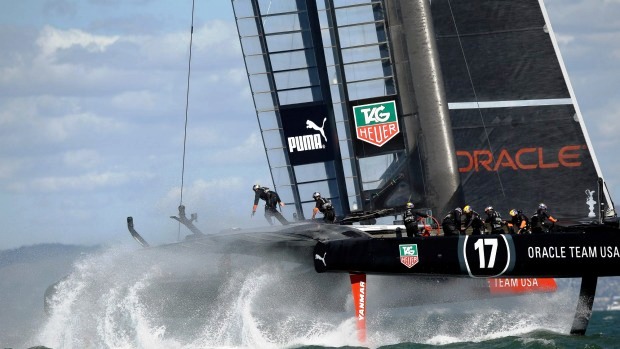 Oracle team, see above story
April 1. After more than a decade of waiting, landmark legislation allowing unprecedented public scrutiny of the Government's affairs has today become law. Public Access to Information, or PATI, has the power to profoundly alter the way the Island conducts its affairs, according to Gitanjali Gutierrez, Bermuda's first information commissioner. "It's a huge change from the way that we have been doing business," said Ms Gutierrez, who noted that confidentiality had been the order of the day under the Island's Westminster system. "It's incredibly empowering for people in the public to have the same information as the decision-makers — and then engage them. I was surprised when I moved to Bermuda that there was not a law like this in place; I'm used to people talking to legislators and being equally informed. I have found that in Bermuda, you have people fighting over the facts instead of everyone having the same facts." An American lawyer who has worked extensively with the Centre for Constitutional Rights (CCR), Ms Gutierrez is no stranger to fighting secrecy. She came to international prominence for her defence of individuals detained by the United States Government at the Guantánamo Bay prison in the aftermath of the September 11, 2001 terrorist attacks. Ms Gutierrez was the first civilian lawyer to visit clients there, and has spoken candidly of her outrage at the torture inflicted on prisoners at the US "Camp Delta" detention facility — including her client Mohammed al-Qahtani, a Saudi national, who is still held there on suspicion of attempting to take part in the 9/11 attacks. She is also one of the plaintiffs named in a 2007 lawsuit by the CCR against then US President George W Bush and the National Security Agency over the surveillance of counsel for persons imprisoned in connection with those attacks. Ms Gutierrez has worked on cases dealing with "significant immigration matters", as well as medical records held by governmental agencies. However, most of her energy in recent weeks has gone into educating the Bermuda public about how PATI will work — and getting her office in order. The information commissioner will work temporarily from the former legal aid office at 129 Front Street before moving to what was the Parliamentary Registrar's office, which is still being renovated. Long in the works, PATI has been at times furiously awaited by activists and politicians, but its implementation has nevertheless managed to come suddenly. "The budget for the information commissioner's office kicks in on April 1, so that's when I will turn to staffing the office," Ms Gutierrez said. Appointed to the post at the end of February, Ms Gutierrez said that it had been "definitely challenging getting the new office set up." Although requests for information could not be filed before today, she said people had already been asking. However, Ms Gutierrez will not be the first point of contact for those seeking information. Those will be handled by the information officers for more than 200 public authorities. Exactly how many such officers will be on the job as of today is not a figure that Ms Gutierrez could provide. "Some of them will double up," she said. "That's permitted by law. Each authority will issue a statement explaining the types of records that will be available." In the interim, Ms Gutierrez has been engaging the public as part of an education campaign aimed at getting people to understand the scope of their new rights. With the office's budget approved, Ms Gutierrez will turn to hiring a high-level office manager as soon as possible, while others will be taken on to deal with the various stages of resolving appeals over information given or withheld. The office's website, www.ico.bm, should be up and running by the end of this week. "There has been some fear that this suddenly means every single drawer or computer will be open to the public, but the PATI law is very balanced between the public's right to know and disclosures that could hurt the country," she said. "People have to remember that." She did not foresee serious risks with the new freedom taking Bermuda's system of administration by surprise. "It will make Bermuda a better country with a more informed public," she said. "The short-term challenges will be outweighed by those benefits." Bermuda is a comparative latecomer to freedom of information. The US led the way with federal statutes approved in the 1960s and various states following suit. Britain's Freedom of Information Act 2000 came into effect in 2005. To our south, the Cayman Islands trumped Bermuda by enacting its own freedom of information legislation in 2007. PATI was an early promise of the former Progressive Labour Party Government under Alex Scott. The law was eventually passed in 2010 and, subsequently, Premier Paula Cox indicated that it would become operational by the end of 2012. Regulations were finally approved last year by the One Bermuda Alliance Government, with Premier Michael Dunkley describing PATI as "the hallmark of a modern democracy." The implementation of PATI and the hiring of a commissioner came with a controversy of its own — one that may well be subject to one of the early requests for information. Ms Gutierrez is the spouse of a Bermudian and has lived on the Island since 2011, but her appointment to the five-year post that will pay her $900,000 over that period sparked a protest from the PLP that a Bermudian candidate had been passed over despite having been at the head of the selection panel's shortlist. Governor George Fergusson had the final say in the selection of Ms Gutierrez, rankling many in the Opposition. The preferred candidate chosen for the role has yet to be named but, in announcing Ms Gutierrez's appointment, Mr Fergusson noted her record in the US and in Britain, as well as her "impressive experience of leading a team in complex areas of legal interpretation and public scrutiny."
April 1. A Caymans business leader yesterday outlined the island chain's recipe for success. Anthony Travers, chairman of the Cayman Islands Stock Exchange and senior partner in law firm Travers Thorp Alberga, said the Caribbean chain had learned from past mistakes. He added: "It is probably true to say that there is now a growing realization in Cayman that the old assumptions, that the expatriate workforce was temporary only and to be replaced ultimately by Caymanians, is flawed, although of course it is one that historically prevailed in many Caribbean islands and indeed Bermuda." Mr Travers was speaking after an editorial in the Cayman Compass newspaper said the country had its highest-ever population — standing at more than 58,200 after five years of "decline and stagnation." The editorial said that the population grew 4.5 per cent last year alone — largely fuelled by 1,800 non-Caymanian residents, mostly work permit holders. But it added that — at the same time — unemployment among Caymanians had dropped 1.5 per cent to 7.9 per cent. Mr Travers said: "The recent statistics have indicated that as the expatriate workforce increases, Caymanian unemployment reduces, which shows that the better understanding is that a viable local economy can support the integration of Caymanians who have developed sufficient skill sets." And Mr Travers said that the controversial "rollover" policy on work permits, similar to the now-axed Bermuda term-limit policy, had affected the country. He added: "Evidently, mistakes were made in the Cayman Islands, particularly with regard to the imposition of the rollover policy, which caused the exodus of a significant number of fund administration jobs to locations such as Canada. It is being recognized after the fact that 50 per cent of the workforce in the fund administration industry was in fact Caymanian. "So lessons have been learned from these mistakes and, although there are those that adhere to the old assumptions, there is now a growing understanding that a less restrictive immigration policy is more likely to boost the local economy. Needless to say, over many years this involves a change to the status quo in the local population, but the alternative appears to be government deficits, widespread unemployment and eventually a downward spiral into crime. Once that cycle is evident, inward investment is improbable." Bermuda economist and consultant Peter Everson told The Royal Gazette earlier this week that the Cayman economy was growing, rather than contracting, and that the islands now had a budget surplus, which meant they could choose between funding major projects and paying off debt. And he said Bermuda needed to look at abolishing barriers to overseas investment and make public services more efficient. Mr Travers said: "There is nothing particularly surprising, however, about the about the need for populations to evolve and develop — no population in history has managed economic development without evolution and change. "It is up to the politicians, though, to show leadership on this issue and to ensure that immigration is managed effectively and with proper checks and balances to minimize concerns." Mr Travers was backed by Bermuda elder statesman and successful businessman Sir John Swan, who said the success of Cayman was "a reflection of them assuming the responsibility of recognizing that their economy was in dire straits and that in order to overcome these problems some major steps had to be taken. Obviously, the legislature is controlled by the Cayman people and with the assistance of the British government, which we don't have any interference from, which they do because of their constitutional position. They elected to take steps to reduce the costs of operation and enhance economic activity and, because they have a free market economy, not obstructed by cartels and policies that might have worked years ago, but are no longer relevant." Sir John said the "restrictive" Bermuda 60/40 rule to guarantee majority Island ownership of businesses did not apply in Cayman. "They have been able to attract capital, competent people and product that allowed their economy to grow and provide jobs and opportunities for their people. We, on the other hand, have elected to procrastinate and prevaricate on every little move that is made, sending a message to the world that we're really are not in business to do business and expect them to do business with us when we're not prepared to do business with the world. You can apportion blame however you want — and it's not all a result of international events — but we have to face up to the reality that our economic condition is not only bad, but appears to be getting worse." He added that an increasing trend towards mergers in the insurance industry, leading to job losses, was not offset by new company formations, while local businesses continued to suffer and often close down altogether. "We need a national conversation on where Bermuda needs to be — reducing debt, growing GDP, creating jobs and providing the services and goods the world has need of. I call on the Government, the Opposition, members of the Bermuda community and community leaders to have conversation about what we must do to make Bermuda a place that is in the real world competing and able to do the things that are necessary. At the moment we're doing neither in an effective and functioning way. The country must step forward and stop thinking of self-interest and think of the national interest and thus serve the greater good of its people."
April 1. Opposition deputy leader David Burt said the PLP is not against budget cuts, while pointing to the PLP's proposal for a joint One Bermuda Alliance-Progressive Labour Party immigration policy as an effective method to resolve Bermuda's financial difficulties. Mr Burt was responding to comments in yesterday's Royal Gazette by economist Peter Everson, who compared increased population numbers and economic resurgence in the Cayman Islands with Bermuda's struggle to attract investors and new residents. Mr Everson had said during his interview in yesterday's newspaper: "We have the OBA which is trying to cut back, but not at the pace of the Caymans, and an Opposition party which believes Bermuda would be better off not cutting back." Mr Burt, who is also the shadow finance minister, asked why investors are not "banging down" Bermuda's door with the OBA's less restrictive immigration policies. He also said Mr Everson was incorrect. "The statement is 100 per cent false. The Progressive Labour Party are on the record supporting the spending and the deficit being reduced. We'd pay more attention to growth. We believe the OBA cutbacks have done harm to the domestic economy." Meanwhile, top Caymans business figure Anthony Travers and Bermuda elder statesman and successful businessman Sir John Swan said that the key to revitalizing ailing economies lay in ending restrictive practices and welcoming investment by outsiders. Speaking from his Dundonald Street office yesterday, Mr Burt said that the PLP had explained where they would make cuts in the budget reply delivered in March, while noting that the OBA's cutbacks are more aggressive than those recommended by the SAGE Commission. He pointed to the budget deficits that Bermuda has experienced, and said: "Cutting back is not going to solve the problem." He added: "The deficit is larger because the economy is weak, (and that is) because the policies are not the correct policies — cutting back on tourism, cutting back on productive investments. The PLP would boost investment on things that would grow the economy." Mr Burt referred to his budget reply, where he said: "Last year we pledged that if we were government we would have reduced current spending by $40 million compared the OBA's stated pledge to reduce current spending by $70 million. The extra $30 million in spending was earmarked for:
• Education — $5 million
• Energy — $5 million
• Tourism Authority — $5 million
• Training, Scholarships & Workforce Development — $4.3 million
• Community, Children & Sports — $3.7 million
• National Security — $3 million
• E-Government — $2 million
• Bermuda College — $2 million
"It was our view that while we needed to tighten our belts we did not want to cut back spending too quickly and choke off any nascent recovery in the economy," he stated in the House of Assembly. Mr Burt said yesterday the Government has made "zero progress" on balancing the budget, and pointed to $300 million deficits for two years. "The deficit is exactly the same. It has not changed. It was $300 million under the first OBA budget at $300 million under the second. We are stuck in a cycle, a cuts cycle" he said. An editorial in the Cayman Compass said that the 4.5 per cent growth in those islands' population in 2014 had been largely fuelled by 1,800 non-Caymanian residents, most of them work permit holders. It added that unemployment among Caymanians had dropped by 1.5 per cent to 7.9 per cent. Mr Burt stated that all members of the Government in the Cayman Island support the same immigration policy, and that is what has driven their economy. "You take the argument that immigration is what you need — then why aren't immigrants banging down our doors? (When the PLP were the Government) the Opposition attacked us because we had a record number of work permits. Back then, immigration practices were restrictive. Now if it is looser, why aren't investors banging down the door? The reason the investor is not banging down the door is that the OBA is a very weak government, and investors are fearful that after the election immigration policies will change. You don't plan your investment strategy based on an election timetable. That's why it's important to have a joint select committee." Mr Burt said the PLP would like to see separate policies for domestic and international business applications developed. "We need to follow the Cayman example — collaboration, and speak with one voice.

History & daily newspaper reports
Authored, researched, compiled and website-managed by Keith A. Forbes.
Multi-national © 2020. All Rights Reserved