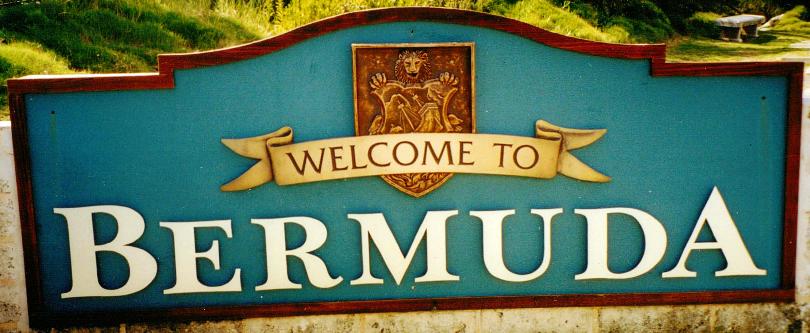 11165+ web files, a regularly updated Gazetteer, overall an in-depth description of our island's internally self-governing British Overseas Territory 900 miles north of the Caribbean, 600 miles east of North Carolina, USA. With accommodation options, airlines, airport, actors, actresses, aviation, banks, beaches, Bermuda Dollar, Bermuda Government, Bermuda-incorporated businesses and companies including insurers and reinsurers, Bermudians, books and publications, bridges and causeway, charities, churches, citizenship by Status, City of Hamilton, commerce, communities, credit cards, cruise ships, cuisine, currency, disability accessibility, Devonshire Parish, districts, Dockyard, economy, education, employers, employment, environment, executorships, fauna, ferries, flora, former military bases, forts, gardens, geography, getting around, golf, guest houses, highways, history, historic properties, Hamilton, House of Assembly, housing, hotels, immigration, import duties, internet access, islands, laws, legal system and legislators, main roads, marriages, media, members of parliament, money, motor vehicles, municipalities, music and musicians, newcomers, newspaper, media, organizations, parks, parishes, Paget, Pembroke, performing artists, residents, pensions, political parties, postage stamps, public holidays, public transportation, railway trail, real estate, registries of aircraft and ships, religions, Royal Naval Dockyard, Sandys, senior citizens, Smith's, Somerset Village, Southampton, St. David's Island, St George's, Spanish Point, Spittal Pond, sports, taxes, telecommunications, time zone, traditions, tourism, Town of St. George, Tucker's Town, utilities, water sports, Warwick, weather, wildlife, work permits.

Bermuda's 2019 May History and News
Events that made newspaper headlines in the fifth month of this calendar year
By Keith Archibald Forbes (see About Us) exclusively for Bermuda Online

Benefit of website linkage to Bermuda Online while traveling
See at end of this file all our many History files
Bermuda's only newspaper, the Royal Gazette, is not published on Sundays or Public Holidays but sometimes has some Sunday and/or Public Holiday news online.
May 26, Sunday

May 25

Thousands of people took over the streets of Hamilton yesterday for the Bermuda Day Parade. Parade watchers took up their staked-out spots with family members and friends for the annual event, which marks the official start of summer. The theme of this year's event was "Bermudian Excellence". Shelly Fubler, 57, said the theme meant doing the best you can. She added: "No matter what your situation, look at the best of it, and try and put your best foot forward." The Warwick resident and self-described "parade veteran" said that the music, Gombeys and entertainment were part of what drew her back year after year. Ms Fubler said her message to Bermudians was to love each other. She added: "Be kind to each other, be respectful of each other — because you don't know what your fellow person is going through." Cindy-Ann Douglas, who is "over 50", said that the theme was one close to her heart. She added: "This is where I was born and raised and schooled. This is where the majority of my family is." The Sandys woman said that her message to Bermudians on the holiday was to "stop the violence". Ms Douglas added: "Everybody wake up." She said that she would like to see more events held throughout the year to bring people together. Her husband-to-be Mark Robinson, 50, said that "Bermudian Excellence" meant a recognition of the past and working towards a better future. Mr Robinson, also from Sandys, added: "It's about coming out, bringing your best, being your best, and doing what you have to do to make your life a lot better." He said the parade's atmosphere and the chance to see people he had not seen in a while was what brought him back to the event year after year. Mr Robinson said his message to Bermudians was "live the life you love and love the life you live". Tricray Astwood, of gospel group Last Call, said the theme was a celebration of "the best of the best". He added: "I believe that Bermudians can compete on any level, in any market, in any field. Right now, we are seeing more and more people winning. We are at the forefront of our industries. It's just that celebration of the excellent island that we are." The 32-year-old, from Hamilton Parish, said it was an honour for he and Adrian Jones, 29, the other half of Last Call, to perform in the parade for the first time. Mr Astwood said: "It's such a great way to give back to the community and to celebrate. We're just glad to be a part of it." Mr Astwood said a sense of community was Bermuda's biggest asset. He added: "We do our best when we stick together. We are a small island. In unity we can really conquer anything, as we are proving." Jim and Christine Osborn, American tourists aged 62 and 60, said they had stumbled on the parade by accident. Ms Obsorn said: "It's wonderful." Mr Osborn added: "It's a great bash." He said the retired pair travelled full time and had sailed to Bermuda from North Carolina on a yacht. Mr Osborn said the pair had received a warm reception. He added: "Bermuda is incredibly kind, and polite, and open. It's a wonderful place." This year's parade included more than 50 different groups, including bands, dance troupes and Gombeys. The parade started on Front Street near Albuoy's Point. Participants travelled along Front Street, up Court Street, left on to Church Street, down Cedar Avenue and ended at Bernard Park.

Primary school principals have met their teachers to discuss the threat of class mergers. A primary school staff member said that teachers at the island's primary schools were this week asked by principals to supply information on the potential to merge their classes. It is understood that principals met on Thursday and were to report their findings to the Department of Education. The teacher said: "Many of the primary schools have been low on numbers. Principals told classroom teachers that they have to determine whether or not they want to be moved and they had to let the principals know by Wednesday. It is not just Primary 1 classes they are looking at — it includes all primary levels and it depends on how many children are in the classes." Danielle Riviere, a former member of the Score committee on schools re-organization, which examined the state of the island's 18 primary schools and looked at the potential for primary school mergers and closures, said there had been "a far lower" registration of primary school pupils for September. Ms Riviere, a former president of West Pembroke Primary School PTA and a parent of a primary school pupil, added: "When I was part of the Score Report committee we decided that schools had to be looked at individually rather than across-the-board statements being made. We have to look at class sizes and school sizes. If the Government look back on that Score Report, they might find some information that helps them to look at this." St David's Primary School, Heron Bay Primary School, Prospect Primary School and Gilbert Institute were all listed as candidates for closure in the report, published under the former One Bermuda Alliance government. The meeting of schools staff came after it was announced that the Primary 1 class at Elliot Primary School in Devonshire could be axed because of low enrolment numbers, although a decision has still to be made. Ms Riviere said that the requirements of pupils with learning problems had to be considered if classes were merged. She added: "There are always concerns because they need to have enough teachers' assistants and Para educators to be able to support children who need additional help. There is a shortage of Para educators — they need more." The teacher backed Ms Riviere's views. The teacher said: "If they are mixed in with regular learning students, there will need to be Para educators or else they will fall behind — they will be more likely to fall between the cracks. You might not be able to reach those children with challenges the way you need to." It is still unclear if mergers would result in job losses among teaching staff. The Ministry of Education sent a letter to Kimberley Creighton, the principal at Elliot, on May 17 about an earlier meeting that had taken place with her and her staff and Diallo Rabain, the Minister of Education, about Primary 1 enrolment for the next school year. The letter, also copied to Valerie Robinson-James, the education permanent secretary, Kalmar Richards, the Commissioner of Education, and Lisa Smith, the interim Director for Educational Standards and Accountability, said the meeting had been productive. But it added that it "did not provide an opportunity for engagement with you and your staff on possible options for moving forward". The letter said: "We kindly request that you develop options for the educational provision of how the P1 students would transition through to P6." The letter asked for options and evidence in support of them to be submitted by Monday. It is understood that next Friday is the deadline for teachers to be told if they will be transferred to other schools. The Ministry of Education did not respond to a request for comment.

Arbitrade is to transfer its purported $16 billion gold bullion agreement to another company after an unexpected change in its ownership rights. The Bermuda-incorporated cryptocurrency exchange and coin company will also no longer have any involvement in the crypto token called "dignity", which was to be backed by gold bullion, nor will it be involved in three other planned bullion-backed crypto tokens. The reason is the discovery that a business deal, announced more than a year ago, never closed due to timing problems and regulatory approvals. As a result, Arbitrade's purchase of partner company Cryptobontix Inc, revealed in March 2018, was not concluded. The two companies have been under the Arbitrade umbrella for more than a year. Cryptobontix owns the family of Arbitrade-associated crypto tokens, including dignity, which trades at about half a cent per token. The nature of the ownership situation between Arbitrade and Cryptobontix came to light in the wake of Sion Trading FZE announcing in January that it would become a major shareholder in Arbitrade. Sion Trading FZE entered into a conditional agreement to acquire the shares in Arbitrade Ltd held by Leila Holdings Lt d, a Bermuda exempted company owned by Arbitrade founder Troy Hogg. But after the revelation that the deal between Arbitrade and Cryptobontix was never closed, Mr Hogg is now working to close the sale of Cryptobontix to Sion, according to a statement issued by Cryptobontix and shared by Arbitrade. Cryptobontix said, "Sion Trading FZE's owners and Troy have now separated themselves from everyone else to finish the final details necessary for closing the sale of the company." The firm added that both parties had agreed to use Canadian-based law firms to complete the transaction. The statement said: "The board of directors, employees, and partners of Arbitrade Ltd no longer have any involvement in this negotiation nor operations of Cryptobontix Inc, its tokens, or the mining operations." Cryptobontix also announced that all the company's profitable crypto mining rigs have been sent to CoinMint, a US-based digital currency data centre, and "all previous mining facilities have been terminated due to lack of service, high fees, or closing of those facilities". Arbitrade announced in November it had received title to 395,000 kilograms of gold bullion, worth about $16.2 billion at today's prices. It has not revealed the name of the independent public accounting firm which is said has verified the SKR, or safe keeping record, for the bullion. The firm said that was because it was bound by non-disclosure and privacy obligations. The bullion is intended to be used to back the crypto tokens dignity, namaste, orectic and honour. However, Cryptobontix said in its statement: "The original agreement for the gold shall be transferred to Cryptobontix as Sion Trading FZE moves to take over control and proceed with conducting business. "Cryptobontix, under the new ownership, will continue procurement of gold, precious metals and further developments of its crypto mining programme, as set forth when the project began." It also said that once the sale was completed it was "understood that Sion Trading FZE would then move the company to another cryptocurrency-friendly country where they can move ahead with the plans and operations on the following tokens". Sion holds a commercial licence in the Ras Al Khaimah economic zone of the United Arab Emirates, where its activity is listed as trading non-manufactured precious metals. It is a subsidiary of Scotia International of Nevada Inc, a mining equipment supply company based in Salt Lake City, Utah. Sion has been acting as precious metals procurement agent for Arbitrade. Arbitrade acquired the Victoria Hall office building, on Victoria Street, Hamilton, as its global headquarters last October. It did so, with Bermuda Government permission, through its subsidiary Arbitrade Properties (Victoria Hall) Ltd. The two listed shareholders of the subsidiary at the time were Mr Hogg and American James Goldberg. Victoria Hall remains vacant. Arbitrade's earlier plans included setting up a cryptocurrency exchange and cryptocurrency mining operations and said last summer that it expected to create hundreds of jobs on the island. Arbitrade has several incorporated entities in Bermuda, but to date it has not listed as a licensed entity on the Bermuda Monetary Authority website. Arbitrade was asked for an update on its plans, but the firm did not respond.

Scientists have predicted a "near-normal" hurricane season this year with the Pacific El Niño counterbalancing warmer Atlantic waters. The US-based National Oceanic and Atmospheric Administration's Climate Prediction Centre said that the Atlantic would experience between nine and 15 named storms, of which between four and eight are expected to reach hurricane strength. Between two and four of the hurricanes could become major. An average hurricane season produces 12 named storms, of which six become hurricanes and three become major hurricanes. A CPA spokeswoman said: "This outlook reflects competing climate factors. The ongoing El Niño is expected to persist and suppress the intensity of the hurricane season. Countering El Niño is the expected combination of warmer-than-average sea-surface temperatures in the tropical Atlantic Ocean and Caribbean Sea and an enhanced west African monsoon, both of which favour increased hurricane activity." The preseason forecast was released on Thursday. NOAA also said this year would be the first the organisation was able to use three new "next generation" satellites, which would help create better forecast models. James Dodgson, director of the Bermuda Weather Service, said: "It does not matter what the seasonal forecast is, whether it is expected to be active or inactive. It only takes one tropical system to make it an active season for Bermuda. Businesses and the community should be prepared for a possible significant tropical impact each and every year." The BWS will team up with the Emergency Measures Organisation to host Hurricane Preparedness Week from June 3 to June 7. The 2019 hurricane season starts on June 1, but the Atlantic has already experienced its first storm with subtropical storm Andrea, which formed southeast of Bermuda earlier this week before it weakened to a subtropical depression.

A couple who honeymooned on the island grabbed a golden opportunity to combine their 50th wedding anniversary with Bermuda Day. Mary Beth and Jack Murphy, who married on May 24 and became repeat visitors, said the festivities were a great opportunity to celebrate their half-century together. The couple, both 74, have visited Bermuda 42 times and said they would continue to vacation here as long as they were able to. Mr Murphy added: "We will continue coming as long as we don't run out of money." The couple have visited many countries, but fell in love with Bermuda. Mr Murphy said: "Compared with most of the Caribbean, the culture and the infrastructure here, the politeness of the people, I consider it outstanding. It stands out above all." Ms Murphy added: "It's clean, the people are nice, the food is good. With the dollar-to-dollar value, there is no moving around of money. It's very convenient. You are made to feel very welcome when you come here." Mr Murphy first visited Bermuda when he was a student and the couple picked Bermuda as their honeymoon destination when they married in 1969. Mr Murphy said: "I love the place to be honest. We play a lot of golf here." The couple, who live next to a golf course in the US, have played many rounds here. Ms Murphy said: "We have been all over the island, from top to bottom." They played their first round of golf at what is now Turtle Hill at the Fairmont Southampton and have since played every major golf course, including the now-closed Riddell's Bay. The couple planned to watch the Bermuda Day Parade as part of their anniversary celebrations. Mr Murphy said: "I like to watch the Bermuda Regiment Band." They will also spend much of their time playing golf. The couple, who live in Sarasota, Florida, have stayed at 15 different hotels over the years. They love the South Shore of the island. Mr Murphy said that there had been changes on the island over the decades — but not many. He said: "The stalwarts remain — Elbow Beach, The Princess and the famous restaurants including Four Ways, Waterlot, Henry VIII and the old standby Portofino." One change he had noticed over the years was that fewer ships docked in Hamilton. He said: "Front Street used to be booming because most of the cruise ships would pull into Front Street." The couple have taken back a lot of Bermuda souvenirs to the US over the years. Mrs Murphy said: "I used to go to the linen shop and buy linen in there. I was a tea cup collector so I use to buy tea cups. I must have 25 or 30 from here." The couple also brought their young children to the island and they have all returned to Bermuda as adults. The Murphys are scheduled to leave the island tomorrow.

May 24 Public Holiday

Bermuda featured as Queen Elizabeth toured the British Airways headquarters at Heathrow airport near London to make its 100th anniversary. The Queen saw artefacts and photographs at BA's Speedbird Centre museum related to her 1953 visit to the island on a Stratocruiser plane operated by BA's predecessor BOAC. The museum also features a photograph of World War Two British Prime Minister Winston Churchill as he prepared to make the first transatlantic flight of a world leader after a 24-hour stopover in Bermuda in 1942. He made the secret visit to address the House of Assembly to thank them for allowing the US to build military bases in Bermuda the previous year. The Queen visited BA's Waterside complex at Heathrow on Thursday.

Political leaders 40th anniversary Bermuda Day messages.
David Burt, the Premier, said the day was the highlight of the spring calendar and, for many, the official start of summer. He added: "Bermudians have united around traditions of the day that include the half-marathon and of course the colorful parade in Hamilton. At the heart of our diverse cultural backgrounds is the unity this day should bring. Bermuda Day can be more than the events and celebrations, it can inspire us to take pride in our Island home and to celebrate what we do well while committing to working together to make things better for the very same children who we applaud running, cycling or marching on Bermuda Day. Led by the immaculate Band & Corps of Drums of the Royal Bermuda Regiment and the exciting, rhythmic beat of our Gombeys, this year we celebrate the 40th anniversary of the Bermuda Day Parade. The 2019 theme, Bermudian Excellence, speaks to the tremendous talent that we have in Bermuda. From the outstanding craftsmanship displayed in our floats, to the extraordinary energy of the performers and the dedication of the many spectators who spend the entire day enthusiastically cheering on marathon runners and parade participants. This year's honorees reflect that Bermudian excellence. These men and women demonstrate the best of Bermuda and their enormous personal sacrifices are testaments to who we are as Bermudians. As we salute them, their diverse paths in life have been marked by international acclaim but Bermuda has always been in their hearts. May 24th is a special occasion for Bermuda, and my family and I look forward to being a part of this wonderful tribute to our heritage. On behalf of the Government of Bermuda, I wish everyone a Happy Bermuda Day. Have a happy and safe holiday."
Craig Cannonier, the Opposition Leader, added: "I would like to offer my warmest greeting to the people of Bermuda as we celebrate Bermuda Day and the Bermuda Day Parade. Bermuda is blessed by an abundance of good fortune from the beauty of our island to the amazing people who make our home what it is today. We are a pioneering people who have successfully weathered many storms to always bounce back, better and stronger. Underpinning that has been a sense of excellence — excellence in spirit, in endeavor and in performance. Bermuda really has, and continues to, punch way above its weight. We only have to look at recent successes such as Bermuda qualifying for the Concacaf Gold Cup and the outstanding results at the recent Carifta Games to see how our people excel. However, while they may get the headlines, there are countless others who strive, often unrecognized, to make a difference in our society, who excel in upholding what is best about Bermuda — its friendliness, its willingness to help others and its innate sense of humanity. We are lucky to live in a place such as this and I would ask you all to pause for a second and think of those whose efforts make our lives better."

May 23

More taxis and minibuses could soon be on Bermuda's roads after the Minister of Tourism and Transport announced plans to increase services yesterday. Zane DeSilva said 20 taxi permits will be offered for new cab owners who will cover late afternoon and overnight shifts. He added that the number of minibuses allowed to operate will be increased and at least 20 of them will be wheelchair accessible. He added: "One of the main issues of concern for many members of the public and our visitors is the reliability of taxis, especially late afternoons and into the night. Under the Motor Taxi (Special Permits) Act 1970 I have the authority to grant up to 88 special taxi permits and I plan to exercise this law. In the first instance, and as a means to monitor and test the initiative, an initial 20 permits will be offered to first-time taxi owners to fill the gap in taxi service levels. I will review the taxi industry on a regular basis to determine if the additional permits are required and if so, how many and when. These special permit-holders will only be allowed on the road between 3pm and 6am Monday through Sunday, including holidays and at the current taxi rates. Government recognizes that technology is modernizing transportation globally and that Bermuda must examine those trends when taking into account the future of public and private transportation." The minister was speaking after he tabled a Green Paper on transport in the House of Assembly last Friday. Mr DeSilva said fees for the permits were under consideration but it was thought they would be about $2,000 for a four-seat taxi and $4,000 for a seven-seaters. He added the new vehicles would have special licence plates to identify them and "to ensure they abide by taxi regulations". Mr DeSilva said anyone with a valid driver's licence who was interested should apply to the Bermuda Public Service Vehicles Licensing Board. He added later that he had consulted "many" taxi drivers and the industry's associations over the additional permits. "We had some robust conversations, there have been some suggestions that they're not needed, there have been other suggestions that they're overdue. The decision that I took was to issue 20 of those and then we will monitor and we'll assess and then we will make decisions going forward." Mr DeSilva added there were "challenges" with the island's bus service and that the Department of Transport was preparing a request for proposals for a new fleet. He said: "In the interim, and to provide some relief to the bus service, the ministry will increase the maximum number of minibuses allowed to operate to 180, which equates to about 6,000 seats. Of this number, 20 minibuses will be wheelchair accessible with a lift or a ramp." He also pointed out recent accomplishments in the Project Ride training programme, which included re-certification of instructors and that 160 students completed the scheme in the first four months of this year. Mr DeSilva said plans were under way to donate out-of-use bikes to public high schools to help train motor mechanics. "On the topic of alternative-powered vehicles, the Government of Bermuda will set a goal date for Bermuda to go green by eliminating the importation of fossil fuel-reliant vehicles, cars, bikes and trucks, recognizing the Government ought to lead by example with respect to its own fleet of vehicles. Through to the end of this year, the ministry will assess the impact of rental minicars on the island's infrastructure and, depending on the outcome of this assessment, increase the number of rental minicars from the existing number of 300 up to a maximum of 500."

A lack of progress has been made on promised immigration reform, a pressure group has claimed. A spokeswoman for Supporting Fair Immigration Reform said that group members were concerned over the lack of headway. She said that Wayne Caines, the Minister of National Security, said in January that the latest report from the bipartisan Immigration Reform Group would be considered by Cabinet. The spokeswoman added that Mr Caines had said that key elements of immigration reform would be debated and passed in the House of Assembly by July. She said: "As of today, we have yet to hear what the Government's plan is for immigration reform other than looking at the categories of work permits. If the Minister expects to keep his word and have the key elements passed by the end of this parliamentary session, it should be public knowledge by now of what is expected of immigration reform, especially if there is to be public consultation. All that is ever mentioned is that they are in the consultation process." The spokeswoman said that the consultation process had taken place for years. She added: "In 2016, the first consultation group was put together. Now in 2019, we are still in the consultation process. There is only so much consultation that can take place before our leaders need to commit to resolving an issue. Endless consultation on the same topic and ideas will become repetitive and contributes nothing to advancing the debate. If we do not move on from consultation there will never be a resolution." The spokeswoman said that the group had expected the Government would have made "much more progress" on immigration reform given "the activities being planned to commemorate the arrival of Portuguese immigrants. The best way to honour this community is to embrace substantive action on such an important policy file. It is surreal that the Government can mark a holiday to celebrate a group of immigrants but fail to expeditiously resolve the issue of divided immigration status within families, which affects that very community so disproportionately. This holiday for many Portuguese is seen as a consolation prize when it should be a celebration of their inclusion into our Bermudian community. We once again implore and urge the Government to fulfil its own stated promise of comprehensive bipartisan immigration reform to correct the injustices and divisions that exist within many families in Bermuda and to not let this holiday pass without concrete action." Mr Caines said last month that changes to legislation to tackle the problem of mixed-status families will be tabled this summer. He said: "We believe that by the end of this parliamentary session, we will definitely be able to have legislation that will go through the parliamentary process on mixed-status families." Mr Caines added that the Government would also be "looking closely on dealing with the belongers issue. We will be looking at the issue, specifically on this occasion, of children that are born to Bermudian parents overseas. So we'll be looking to pass legislation on those things specifically this parliamentary session."

Controversial changes to healthcare financing were passed in the Senate yesterday after two government senators who had excused themselves because of illness returned for the vote. The Health Insurance Amendment Act was resisted by the three One Bermuda Alliance senators, including Nick Kempe, the Senate Leader, who said it was "rushed" and ineffective. The legislation was passed after Jason Hayward and Kathy Lynn Simmons attended the debate, despite illness. Joan Dillas-Wright, the Senate president, said they "got out of their sickbeds to come and support this Bill". Mr Kempe's motion to delay the second reading of the Bill was also voted down five to four. He argued that there had been insufficient time to consider the Bill, which was passed by the House of Assembly last Friday. Mr Kempe's motion was supported by James Jardine, an independent senator, as well as the Opposition, but defeated by the government side. The Bill was drawn up to allow the Government to pay an annual grant to the Bermuda Hospitals Board, capped at $330 million for the coming year, to replace the existing fee-for-service arrangement under the Health Insurance Amendment Act. The block payment will be funded by the Government with a more than threefold increase in the amount it takes from monthly premium payments to health insurers, up from $101.97 to $331.97. The legislation will come into effect on June 1. Anthony Richardson, a Progressive Labour Party senator, earlier tabled the Bill on Mr Hayward's behalf. Mr Richardson said the changes to hospital financing would head off an estimated $20 million increase in healthcare costs. Marcus Jones, an Opposition senator, said the Bill had been brought to the legislature with "speed and reckless abandon". Mr Jones added the legislation failed to tackle rising costs. He said: "That is where the health costs really hit the Bermudian public really hard." Mr Jones added there had been a lack of consultation with insurance companies. Mr Jardine warned that there would be no savings if the hospital over ran its $330 million budget. He also read out a letter he had received from the Association of Bermuda International Companies, endorsed by the Bermuda Chamber of Commerce, the Bermuda Employers' Council, and the Bermuda Hotel Association, that asked him to push for a rethink on the changes. Michelle Simmons, an independent senator, said the Government should "go further" instead of "tinkering with one part of the system". Mr Kempe said the legislation would not cut costs or bring the island closer to universal health coverage. He added: "This simply transfers negative claims from the Government's books to the private sector's books". Mr Hayward said the legislation was the first in a series of moves to "change our broken system". Opposition senators tried to delay approval of the Bill until the next sitting of the Senate on June 5. Independent senators sided with the Government on a final vote, and the Bill was passed by seven votes to three.

Blame for the imprisonment of a man for more than two years as he awaited trial on a drugs charge does not lie with the Crown alone, a lawyer said yesterday. Tanaya Tucker, who appeared for the defendants, the Director of Public Prosecutions and the Attorney-General, told the Supreme Court that the imprisonment of Dennis Robinson was in part because of delays caused by his lawyer and the defence counsel for his co-accused, Rebecca Wallington. Ms Tucker said that over a 24-month period there had been 14 adjournments to the trial. She added that several of the adjournments were as a result of actions taken by lawyers for Mr Robinson and Ms Wallington and that other delays were because of the court's "administrative process". Ms Tucker said: "For this reason, we submit that it is not possible to say that there was a significant delay, which can be said to be both unreasonable and the responsibility of the Crown." She was speaking at the second day of a constitutional challenge launched by Mr Robinson and Ms Wallington. The civil application asks the court to rule that the proceedings against Mr Robinson and Ms Wallington are unconstitutional and for the case to be dismissed. The two were arrested on November 15, 2016 and charged with possession of 418.7 grams of cannabis with intent to supply. Ms Wallington was also charged with possession of 4.93 grams of cannabis — an amount that has since been decriminalised by law. She denied both charges and was released on bail. Ms Wallington is represented by Victoria Greening. Mr Robinson pleaded not guilty to the charge in February 2017 and the pair's trial started in May 2018. But magistrate Archibald Warner, after the conclusion of the trial last October, announced that he had a conflict of interest and was forced to excuse himself, which meant no verdict was delivered. A new trial date of January 29 was scheduled. The constitutional application against the Director of Public Prosecutions and the Attorney-General was filed on January 28. Mark Pettingill, who represents Mr Robinson, agreed that "part, not the majority" of the delay was caused by the defence. But he said: "The point is this: none of it is Mr Robinson's fault."

An extra 50 police officers a day will be on duty over the holiday weekend, it was announced yesterday. Acting Superintendent Tracy Adams said the officers will be deployed to support Bermuda Day activities and the associated night-time celebrations. Mr Adams warned: "Acts of antisocial behavior will not be tolerated." Officers will carry out patrols and checks across the island and roadside breath-test checkpoints will in operation from tomorrow until Sunday. The breath test checkpoints will be in Hamilton Parish, Devonshire, Pembroke, Paget, Warwick and Southampton. Mr Adams added that some roads will be closed on Friday from 8.30am for the Bermuda Day Parade, the half-marathon and the Bermuda Bicycle Association's Sinclair Packwood Memorial Race. The Bermuda Half Marathon Derby and the bike race will start in St George's and finish in Hamilton. Mr Adams also advised people who planned to travel overseas to be at the airport by 8am to avoid delays. He added the marine police presence will also be increased as the weekend marks the traditional start of the boating season. Mr Adams warned boaters to exercise caution around other vessels and to be on the lookout for swimmers. He added: "Speed is an issue not only in maritime collisions, but it also creates a general nuisance that affects boaters at anchor near the shoreline. To that end, the five knot, no-wake zones will be strictly enforced." Mr Adams also asked people not to mix alcohol and boat use. Mr Adams said members of the public should "exercise patience, tolerance and caution" so everyone could have a safe and enjoyable weekend. He added: "We encourage members of the communities that they live in to work together to keep the peace in the neighborhood in an effort to avoid the involvement of the police."

Retail sales declined for a twelfth consecutive month in February, with all seven retail sectors down year-on-year. Adjusting for inflation, the volume of retail sales fell 4.4 per cent. The January figure was also revised from a 2.9 per cent drop to a 3 per cent decrease. This is the longest spell of consecutive months of declining sales volume since an almost four-year long period from May 2008 until February 2012. In value terms, retail sales in February decreased 2.5 per cent to $79.8 million. Imports via courier increased $0.9 million to $11.6 million, while residents returning by air from overseas declared $3.3 million of overseas purchases. Household imports that came by sea were $0.6 million, while those that were via the post office totaled $0.4 million for the month. Motor vehicle sales were down 16.7 per cent in volume, and 17.9 per cent in terms of sales receipts. Apparel Stores saw a 7.2 per cent decrease in sales volume, with the value of sales dipping 4.6 per cent. Sales at service stations were down 5.1 per cent in volume and 5.6 per cent in value, while building material sales were down 4 per cent in volume, and liquor sales dropped 3.3 per cent in volume. The all other store types sector had a 4.8 per cent decline in sales volume. The value of sales of miscellaneous goods plummeted 41.1 per cent. In contrast, sales value at pharmacies was up 0.9 per cent, while sales of electronics, furniture and appliances increased 2.4 per cent. There was a 50 per cent boost in sales value for marine and boat suppliers as a result of higher sales of boat and boat engines compared to February 2018. The Retail Sales Index was 80.3, which is the lowest for the month of February in the six-year snapshot of data in the latest retail sales bulletin from the Department of Statistics. The retail sales rate of inflation in February was 2 per cent.

Robin Hood and former Bermuda footballer Antwan Russell and two other men appeared in Magistrates' Court yesterday over their involvement in fights at a sports club. Russell, 32, from Warwick, along with Rashaad Cooper, 36, and Joshua Place, 33, pleaded not guilty to taking part in brawls at the Southampton Rangers Sports Club. The disturbances are alleged to have taken place in the early hours of February 2. It is alleged that Mr Russell and Mr Cooper were involved in the first fight. Mr Place is alleged to have got into a fight with another man later. Juan Wolffe, the senior magistrate, adjourned the cases until June 10. He released all the defendants on bail and ordered them to report to Hamilton Police Station twice a week. Mr Place, from Warwick, and Mr Cooper, from Pembroke, were also put on a curfew.

Aurum Fund Management Ltd has achieved remarkable things since it was founded in Bermuda on August 11, 1994. The fund of hedge funds management firm has won more than 50 industry awards for earning its investors steady returns, regardless of market direction, and today has about $2.3 billion of assets under management. Even more impressively, Aurum has spent many years quietly ploughing millions of dollars into high-impact environmental and philanthropic projects and charities. The group has offices in Aurum House, at 35 Richmond Road, Hamilton, as well as a significant operation in London, where most of its 54 employees are based. Key members of its team are based in Bermuda including Dudley Cottingham, the president and co-founder, Adam Hopkin, vice-president, and directors Tina Gibbons, Michael Harvey and Nancy Morrison. Longevity is a feature among the staff and almost four-fifths of employees have been with Aurum for more than five years. Aurum held a group meeting on the island this month, as it does periodically, to make key decisions on the business and its future. Kevin Gundle, chief executive officer of the group's London operations, and a founding member of the group, stressed the group's commitment to Bermuda, to its investors and to addressing environmental, social and governance issues. "We were practising ESG long before it became mainstream," Mr Gundle said. "We have a track record of more than 15 years." ESG is part of Aurum's business philosophy on the simple basis that "generating long-term sustainable returns is dependent on environmental, social and economic factors" and that "a business that is not in harmony with the ecosystem within which it functions is doomed to fail". Aurum's Impact Investment solution, which launched in 2002, gives investors the chance to earn investment returns and also make a difference. One hundred per cent of the advisory fees support several charities, including Synchronicity Earth, a sustainability-focused charity based in Bermuda whose founder and chairman is Adam Sweidan, Aurum's chief investment officer. The intention is for these dollars to be directed where they will have maximum impact. "Apple has high ESG ratings, but you won't have any impact by investing in Apple," Mr Gundle said. "Synchronicity Earth supports physical research projects looking at things like oceans, fresh water, forests and species regeneration by the most effective non-profits." Such research can then guide governments or the private sector on pursuing environmental protection or regeneration projects, he added. One local example was a study, funded by Aurum, of Bermuda's waters based on satellite data from 2013 to 2016, looking for signs of illegal fishing. Aurum also helped to fund the Ocean Risk Summit, an event held in Bermuda last year that brought together representatives of business, government and science to discuss responses to unprecedented changes occurring in the ocean. Aurum also works with Ark (Absolute Return for Kids), an international, education-focused charity cofounded by Mr Gundle. Mr Gundle is also a patron of the One to One Children's Fund, a charity that aims to rebuild and transform the lives of vulnerable children. Aurum has cemented its ESG credentials by signing up to the United Nations Principles for Responsible Investment, committing to the six UN PRI principles and its reporting framework. Mr Gundle estimates Aurum has given away well over $10 million to environmental and social causes over the years. To mark the 25th anniversary, the group will ramp up its charitable efforts, with beneficiaries including the WindReach facility in Warwick. Aurum has no concerns about economic substance legislation that was brought in at the end of last year to address EU concerns about companies based in low-tax jurisdictions that lacked operational presence. Mr Hopkin said: "We are a shining example of what constitutes economic substance, in the money we spend here, the directors we have based here, the board meetings we hold here and the strategic decisions we make here. We do not do this because of pressure from the EU, we do it, because it's the right thing to do." Aurum's commitment to doing things properly is exemplified by the firm voluntarily jumping through regulatory hoops to acquire an investment business licence from the Bermuda Monetary Authority, when the group is exempt from supervision by the regulator because its investors are "qualified participants", that is institutions or high-net-worth individuals, under the Investments Funds Act. Aurum manages multi-strategy hedge fund portfolios with the aim of producing returns uncorrelated with the financial markets that cannot be achieved with traditional investments like equities and bonds. The group does not fit the stereotypical image of hedge fund managers, taking big risks in the chase for high returns — just the opposite, in fact. Not only does Aurum drill down deep into the funds and strategies it considers investing in, but it also looks carefully at each fund's operational risks. Any shortcomings found mean the fund is avoided. The result for Aurum investors has been steady growth, even through the recession following the "dot-com boom" in the early Noughties, and suffering barely a blip during the global financial crisis of a decade ago, when the stock market collapsed. Avoiding what Mr Gundle described as the "capital destruction" of market troughs has led to outperformance in the long run, because, as the CEO added, "when you're down 50 per cent you have to climb 100 per cent to get back to where you were". The approach has proved attractive to many pension funds and wealthy individuals among Aurum's clientele and could also work for Bermuda's growing cohort of life reinsurers, Mr Gundle suggested. Winning business from property and casualty re/insurers has proved more difficult, because regulators and rating agencies treat "alternative investments" as risky, an approach that seems ironic when Aurum's track record of successful risk mitigation is considered.

The island's entertainment union yesterday backed the decision to allow a controversial reggae superstar to perform in Bermuda. The Bermuda Entertainment Union said that it "encouraged the public" to support the August concert that will star Buju Benton. A spokeswoman for the union said that representatives for Buju, whose real name is Mark Myrie, had made an application to the union in April. She added: "We were satisfied with the information received, which included confirmation that local artists would be included on the bill, along with payment of the required traveler's dues. We had no problem then and have no problem today with Mr Banton performing here." Wayne Caines, the Minister of National Security, said on Tuesday that he had decided to allow the popular musician to visit the island. Banton was released from a US prison last December after serving eight years of a ten-year sentence for conspiracy to distribute cocaine. The musician, 45, has attracted criticism for his song Boom Bye Bye, written when he was 15 and released in 1992, which called for the murder of gay men. He has since removed the song from his repertoire and from sites he has control over and apologized for the "pain" it had caused Banton is scheduled to appear on August 17 at the National Stadium. Local artists DJ Chubb, Jesse Seymour and Live Wires are also scheduled to perform.

A Bermudian woman who lives in Canada and was reported missing has been found safe and well, police said yesterday. Peel Regional Police said that 32-year-old Siobhan Dobson had been located "in good health". Police added: "The family and police thank the public and the media for their assistance with the investigation." Ms Dobson, from Brampton, Ontario, was last seen in downtown Toronto on May 18, and had been missing for three days.

A legacy of learning has been left by Elizabeth Kitson, the founder of the Reading Clinic, who died last week aged 100. She will be remembered as a mother who taught her children to work hard for their goals and as a "remarkable, amazing" woman who helped countless others fulfil their potential. Susanna Willingham, her daughter, said: "She presented ideals to strive for. She loved learning. She was a leader in so many ways. I learnt that learning was of value and I learnt that you could pursue your dreams or your ideals." Mrs Kitson was born Betty Muriel Gorham in 1918 to Arthur Gorham, a Front Street merchant, and Muriel Masters. She was the fourth of five children and grew up on Pitts Bay Road, Pembroke. She got her first summer job at 17 writing a column for The Royal Gazette and, about then, met the man who became her husband, Commander Geoffrey Kitson, a Scotsman in Bermuda who worked for the Admiralty. The couple married on September 17, 1939 and their son, Kirk, now 78, was born the next year before the family moved to England. They returned to Bermuda a few years after the Second World War with another son, Richard, now 74, and their daughter, now 67, arrived later. Mrs Kitson was drawn to a home on Pitts Bay Road that had fallen into disrepair, which became the Rosedon Hotel that is now run by her grandchildren, Lee Petty and Scott Kitson. Ms Willingham said: "She bought Rosedon when it was a derelict, beautiful house, she thought somebody should do something with that house. She dusted if off and made it into a B&B. She was happy to start something, she loved to have a project, she loved to renovate things. She decorated Rosedon for the first 40 years of its existence." Mrs Kitson returned to studies in New York in her early forties to become a reading specialist and started doing reading assessments back in Bermuda in the 1960s. However, she identified a lack of follow-up services and, in 1968, launched The Reading Clinic, which offered instruction from her home. Some students had dyslexia, others had fallen behind in reading and needed extra help. Ms Willingham recalled: "My father tutored, my aunt tutored, in the early days they all pitched in and it was a fabulous experience because it was successful for the kids." She explained that her mother changed her name "to the less diminutive form" when she was recognized as a Member of the Order of the British Empire in 1980. The Reading Clinic moved into its own space on the Bermuda High School for Girls' property in 1991. Ms Willingham added: "It showed us that we should have tenacity too. We observed that she was hard-working. She also loved beauty a lot, natural beauty, like natural stone, I think we all learnt a love of beauty from her, she was inclined in that way." Ms Willingham said her mother was also a good athlete, played golf competitively and was even a junior Olympic swimmer. She added: "She was not harshly competitive but she cared about doing well. I think it gave us all a sense of striving to do better and also to serve the community, she was also the chairman of the Committee of 25 for Handicapped Children. I can see my mother on the tarmac at the airport with three kids with wheelchairs getting them on to the plane to go to the United States to get help. She was really into helping the less fortunate in that way." Mrs Kitson, who had seven grandchildren and nine great-grandchildren, retired from her work with The Reading Clinic in 2000, having helped hundreds of children. She continued to back scholarships for students of the charity as well as at Bermuda College and schools such as Warwick Academy and Saltus Grammar School. But Ms Willingham said her mother's efforts were carried out "quietly". She added: "Even though she was a leader she didn't really like the public eye. She made speeches about dyslexia because they needed to be given, because it was still a disputed disorder." Her death on May 16, which her daughter said was "completely peaceful", came more than 20 years after the death of her husband, who died aged 80. Glenn Faries, the Reading Clinic's executive director, said: "It goes without saying that Mrs Kitson was an amazing woman, a remarkable woman and I think that her vision for children in Bermuda with learning differences was incredibly influential, it was basically the driving force behind her founding the Reading Clinic and putting it in place 51 years ago." He added that Mrs Kitson was "visionary" in the way she saw children who were otherwise considered "as someone who is never going to be able to succeed" and provided them with the tools to achieve and exceed their potential. Dr Faries added: "She was ahead of her time as far as that goes." A funeral service will be held on June 15 at 3pm at St Paul's Church in Paget.

May 22

Road training should be mandatory for all new road users and speed cameras could be introduced, the transport minister has said. Zane DeSilva added that the training programme Project Ride, or a similar programme, should be compulsory for all riders, not just schoolchildren. He said: "I think it should, because the data is out there that it is not 16 or 17-year-olds that are dying. We want people to do the training because it will protect people." Statistics have shown 16-year-old riders were most at risk of a road crash between 2009 and 2015, but 21 to 25-year-olds were most likely to die in a crash over the same period. Eight out of the 11 fatalities last year were aged more than 30. Mr DeSilva said: "When I was 16 years old we didn't have Project Ride or any of this on board, so we found our own way and many people picked up bad driving habits." Mr DeSilva was speaking to The Royal Gazette's Drive for Change campaign after he tabled a Green Paper on transport in the House of Assembly last Friday. The paper, completed last April, included results of a transport survey completed by almost 2,500 people, as well as the views of 70 interested organisations. A total of 58 per cent of respondents said an advanced, mandated, graduated licensing programme for young drivers should be introduced, but no question was included about the rest of the driving population. Rachael Robinson, the road safety officer at the Transport Control Department, is carrying out work to improve Project Ride, which will include a three-stage re-certification programme for instructors and the creation of a new off-road training centre in Devonshire. Ms Robinson, along with Operation Caution, drawn up by the Bermuda Road Safety Council, is to start road safety education for school pupils beginning at primary school level. The Royal Gazette's Drive for Change was launched a year and a half ago to lobby the Government to introduce a mandatory, graduated, licensing scheme that included on-road training. The campaign also asked for speed cameras and legislation to allow roadside breath-test checkpoints. The first checkpoints were set up last September. Mr DeSilva said he would consider introducing practical on-road training before licensing, in line with Britain, the United States and Canada. Project Ride is at present taught in a car park. Mr DeSilva added: "If things will improve safety, you will never hear me say never." Other interested parties asked for the installation of speed cameras "as soon as possible" and for high penalties for those caught exceeding the speed limit. Mr DeSilva said the introduction of speed cameras was largely a matter for the national security ministry, but he decided to highlight them in his ministerial statement on the Green Paper. He added: "I thought I would mention it because I have mentioned it to the national security minister and I think it is something that we should consider." Mr DeSilva said: "You can't have police out with radar guns 24/7, but if people are speeding, they should be penalized." He also ruled out an increase in the 35km/hr speed limit. He said: "You do have to decide where do you draw the line; do you book someone for doing one kilometer an hour over the limit? I think worldwide police do give you a little grace. I wouldn't want to increase the speed limit because then that grace gets larger." Mr DeSilva said roads bans should be considered for speeders and that he would also consider Uber-style ride-sharing services. The Green Paper survey showed 65 per cent backed a new service to complement taxis, although Walter Roban, the previous transport minister, has said the Government was "not actively exploring" that idea. Mr DeSilva said: "I am not the same, I will look at anything and everything. I am not totally against it, whether or not it would work for Bermuda, I don't know. I would be worried about the taxi industry. If I paid $100,000 for a taxi permit, I would hate to think that someone would come along that cuts my rates. I would think that it would form part of the debate that is coming in the house on the Green Paper." The Green Paper also praised Drive for Change and other road-safety campaigns. It said: "The Royal Gazette's Drive for Change campaign, as well as the film A Piece of the Rock, have done an outstanding job to help bring awareness to bad driving behavior and the severity of road traffic collisions, accidents, injury and death on Bermuda's roads". Drive for Change has a paper and online petition for speed cameras and mandatory road training for all road users.
• The online version is at www.change.org/p/drive-for-change-let-s-make-bermuda-s-roads-safer
Highlights of the public consultation process included:
The installation of speed cameras as soon as possible, especially in frequent collision spots, and the introduction of high penalties for those caught.
Enhanced education and training programmes to produce safer drivers.
The introduction of on the spot fines for drink-driving and the impounding of offenders' vehicles for a year.
Fines for drink-driving should be increased to a minimum of $2,000.
Court appearances for minor traffic offences should be abolished in favour of mailed tickets.
A bigger police presence on the roads and strict enforcement of traffic legislation.
Revisions to the Traffic Code.
The installation of more mirrors at blind spots.
The implementation of incentives for good driving.
TCD traffic officers should carry out routine checks at high schools for incidents of pupils towing and other offences.
Forty per cent of those surveyed said that Bermuda's roads are "somewhat safe for driving". But 37 per cent said they are "not so safe" and 17 per cent believed they were "not safe at all". Forty per cent disagreed that Bermuda's roads were properly maintained and 25 per cent strongly disagreed. Seventy-four per cent thought the level of traffic fines and the demerit system were insufficient deterrents.

A law firm was found in contempt of court yesterday after it continued to represent patients of Ewart Brown despite a judge's order not to. Assistant Justice Kiernan Bell told Mark Pettingill and Victoria Greening, of Chancery Legal, they had disobeyed a Supreme Court injunction issued this month to block the firm from acting for the former premier's patients because of a conflict of interest. Mrs Justice Bell, who earlier ruled that Mr Pettingill, a former attorney-general, and Ms Greening, had a conflict of interest, said: "I do make a finding that Chancery Legal are in contempt of court." She added that the firm could "take no further part in these legal proceedings" unless the Court of Appeal ruled in Chancery Legal's favour. Mr Pettingill asked the court if he was to be taken away in "shackles". Mrs Justice Bell said: "I wasn't intending on making any other further statements." Mr Pettingill afterwards told The Royal Gazette that Chancery would "respectfully appeal" the decision. Mr Pettingill's firm's clients were among 265 patients whose health records were seized during police raids on Dr Brown's two medical clinics, Bermuda Healthcare Services in Paget and Brown-Darrell in Smith's, in February 2017. The raids were part of an investigation by police into allegations that the clinics ordered unnecessary diagnostic imaging scans to boost profits. Dr Brown and BHCS medical director Mahesh Reddy have denied any wrongdoing in relation to the alleged over-scanning of patients and have not been charged with any offences. Chancery acted for 150 patients who were given permission by the Supreme Court to intervene in a civil case brought by Dr Reddy and the clinics against Bermuda Police Service. The patients wanted to stop the police from getting access to their files and to have the medical records returned. Mark Diel, representing the police, asked the court last month to bar Mr Pettingill and Ms Greening, a former Crown prosecutor, from acting for the patients on the grounds that they had access to confidential information in their former roles on a long-running police investigation into Dr Brown. Mrs Justice Bell agreed and ruled on May 2 that Mr Pettingill and Ms Greening had "received confidential and relevant information of the [Commissioner of Police] and the BPS attributable to their lawyer-client relationship" and that there was a risk of that information being disclosed to the detriment of the police. She told Chancery Legal it was "restrained from acting for the ... patients". Mr Diel said yesterday that Chancery breached the order by applying for a "stay" on the injunction on behalf of the patients, filing an affidavit and lodging a notice of appeal with the Court of Appeal. He alleged that the court registry had been "communicating" with Chancery "in order to proceed with the appeal", despite "knowing full well of the injunction". Mr Diel complained that proper procedure for serving legal papers in relation to the appeal had not been followed and said it was a "procedural shambles". He added: "It's bad enough that Chancery Legal are in breach, but what has happened is that the court has now been drawn into this and you will see the mess that has happened." Mr Diel alleged that court staff were involved in "cosy chats" with Chancery. He said: "The court is actively facilitating the breach." He said the proceedings should be adjourned until the patients were represented by a law firm with no conflict in the case. Mr Pettingill told the court that Chancery had sought guidance from the court after the conflict of interest ruling and had acted on the instructions of its clients, who did not want to find alternative lawyers. He said it made sense for the firm to apply for a stay on the injunction and to pursue an appeal. Mr Pettingill said: "All we are seeking to do is in the interests of fairness. It doesn't impact on the respondents one iota to have us deal with the issue of the stay." He added that Mr Diel had "openly accused the Registrar of the Supreme Court" and the Clerk of the Court of Appeal of "being in contempt". Mr Pettingill said there was "a degree of a bullying approach" through e-mails sent by Mr Diel to the court and "the threats going on". Mr Pettingill, a director of Chancery Legal who has sat as a Supreme Court assistant justice, said in his 30-year career at the Bar he had never been "scolded or been in contempt of court". He said after the hearing: "We were candidly surprised at this decision made on the application of Mark Diel, given that we were encouraged to prepare and attend a hearing for a stay application on behalf of our clients." The Registrar of the Supreme Court did not respond to a request for comment.

The Government has refused to say if it has suspended a civil servant accused of an assault on a 17-year-old girl when she refused to board a flight to the United States. The worker is alleged in an official document seen by The Royal Gazette to have assaulted the child at LF Wade International Airport on May 8. Police confirmed that a complaint had been made in connection with the alleged incident and the matter was under investigation. A spokeswoman for the Ministry of Legal Affairs refused to comment on whether the civil servant had been suspended. She said: "The ministry will not be forwarding any comment." Derrick Binns, Head of the Civil Service, did not respond to a request for comment. The teenager did not have legal representation at the time of the incident, but she is now represented by Saul Dismont, a lawyer at Marshall, Diel & Myers. MDM said in a letter on May 12 that it understood the that the assault was alleged to have happened "when our client complained that she did not want to be sent to a secure treatment facility in the US, which is where she was being sent". Mr Dismont said yesterday he was unable to comment further.

Sidewalk barbecues are to be banned from the Bermuda Day Parade, it was revealed yesterday. Dwayne Caines, the chief operating officer for the City of Hamilton, said the ban was imposed on safety grounds. Mr Caines said: "With the congestion expected on the sidewalks along the parade route, one must realize that the cooking of food, especially with an open flame, is a hazard. At the end of the event, those coals are still hot and if not disposed of correctly, can have serious consequences. We're simply but firmly insisting that people leave the barbecues at home. We have had discussions with the Bermuda Fire Service and any barbecues or open flames on City sidewalks or in City streets will be ordered to be extinguished and removed. A clean city is a safe city. We're delighted to welcome people to Hamilton to enjoy the parade as they have done year after year, but we also want to make sure they exercise caution and act responsibly for the benefit of everyone. Spectators, who traditionally line streets throughout the city to watch the parade, should also make sure to take their trash and belongings away with them. The annual tradition of marking out family plots on the City sidewalks, while not endorsed by the city, is well under way and any string or apparatus that has been used, that might impede pedestrian traffic, will be removed. The city asks those members of the public who have used tape to mark spots, to please remove it after the parade. Any spray paint that is used will be removed prior to the parade and, if possible, persons responsible will be prosecuted for vandalism."

An expert on diabetes has been appointed as a consultant endocrinologist by the Bermuda Hospitals Board. Andrew Jamieson, from, Glasgow, Scotland, previously worked to tackle the disease in the United Arab Emirates. Dr Jamieson said: "I am looking forward to serving the community and working to improve health outcomes for diabetics in this beautiful island." He will replace Annabel Fountain, who was director of endocrinology until the end of 2017. Diabetics in Bermuda have an average age of 57, eight years younger than in Britain. Health experts have warned the diabetes rate is increasing because 74 per cent of the adult population is overweight or obese. Dr Jamieson, who came top of his class at the prestigious Glasgow University medical school, has been appointed on an initial two-year contract. He trained in endocrinology in Glasgow and worked as a consultant endocrinologist for NHS Scotland for 17 years before he became deputy medical director of the Valiant Clinic in Dubai. He has also authored many published articles on clinical aspects of diabetes, endocrinology and osteoporosis. Michael Richmond, the BHB chief of staff, said: "We are fortunate to have Dr Jamieson join the BHB team. His knowledge and expertise in diabetes and his experience in managing the disease in Dubai, a high-diabetes-prevalence area, will benefit the entire Bermuda community."

The trial of a man accused of a gun murder was shown CCTV footage said in court to show his movements around North Hamilton on the night of the killing. Kiari Tucker, 22, charged with the murder of Morlan Steede, was said to have been tracked by the police and private CCTV networks. He is further charged with using a firearm to commit an indictable offence. Mr Tucker has pleaded not guilty to both charges. Susan Mulligan, for the defence, questioned how accurately Mr Tucker, 22, could be identified from police and security videos. Detective Constable Christopher Sabean showed clips taken on the night of November 3, 2017, when Mr Steede was chased by a gunman through the Deepdale neighborhood in Pembroke, and shot three times at about 9.40pm. Mr Tucker, from Warwick, was shown on Court Street with a group of friends earlier that night, as well as inside the Spinning Wheel club and walking on Court Street after the shooting. The court was told that a figure seen on CCTV during the half-hour leading up to the murder that covered Deepdale was the alleged suspect. Ms Mulligan cast doubt on identifying the accused by his clothes, such as his trousers, and told Mr Sabean he had "probably seen a lot of young men wearing Adidas track pants". Mr Sabean maintained that a figure caught on camera walking up Two Way Deepdale at 9.14pm, parallel to One Way Deepdale where the victim was chased, was the alleged killer. Footage from minutes after the shooting showed bystanders on Parsons Road, where Mr Steede collapsed. The jury heard that the police cameras were monitored and could be zoomed in to concentrate on scenes of interest. Mr Sabean agreed with Ms Mulligan that one of the onlookers "seemed to be running from the area with a helmet on". Footage was taken from several cameras in the Hamilton and Pembroke areas. The jury heard Mr Tucker was arrested the day after the shooting when firearms officers descended on an apartment in Warwick. Police Constable Che Young said he and other officers were sent to Mr Tucker's last known address, on the parish's Tribe Road No 1. The court heard that members of his family and his godmother occupied apartments next door to each other. Officers went into the home of the defendant's godmother, Jahnika Young, but no one appeared to be at home. Mr Young said he found the defendant concealed under a pile of clothes hidden in a bedroom. Sergeant Minton Gilbert, who was also at the scene, said he helped as other officers handcuffed Mr Tucker. Detective Constable Jeffrey Blair told the court he had taken a mobile phone from Mr Tucker's godmother's apartment. He said he later visited Monique Tucker, mother of the defendant, and his grandmother, Marilyn Franklin at the neighboring apartment. Mr Blair said he was directed by them to a bedroom and he took more than a dozen pieces of men's clothing piled on a bed. He told Ms Mulligan the officers had "known what we were looking for" and took away only the items they were instructed to remove. The trial continues.

A convenience store employee had a knife held to his throat in an armed robbery in Flatts yesterday, a co-worker said. Abdul Shaikh, who was not on duty at the time of the incident, said: "He came inside the counter, put the knife on his neck and told him to open the register and give him the money. Then he just told him to sit down." He said that his co-worker, who has informed him what had happened when he arrived for the night shift, complied with the demand and gave the intruder cash from the register. Mr Shaikh, 35, was speaking after the armed robbery at Belvin's Variety in Smith's at about 11.30am. Police said yesterday afternoon that a 59-year-old suspect had been arrested in connection with the incident. A police spokesman confirmed that a quantity of cash was taken in the robbery. Police earlier said that the raider had left the store empty-handed. Mr Shaikh said the victim had been the only employee on duty when the robber entered the store. He added the incident had left his co-worker "a little stressed". Mr Shaikh said that the employee had not been involved in a similar incident before. The store, located on Middle Road, was robbed in January last year. Police at the time said a man walked into the store and stole money out of the register before he fled with another other man who had waited outside on a motorcycle. No injuries were reported in the earlier incident, and no weapon was seen. An investigation was launched by police after CCTV footage of the robbery found its way online. The store was also robbed by a man armed with a knife in January 2013, but no one was injured. Robberies have also taken place at the other Belvin's locations. A man armed with a knife escaped with cash after he robbed the Belvin's branch on Glebe Road, Pembroke, in December 2017. Police have appealed for witnesses to the latest robbery.

Reggae star Buju Banton has been granted permission to perform in Bermuda, the national security minister confirmed last night. Wayne Caines said that he had decided to allow the popular musician, whose real name is Mark Myrie, to visit the island. Buju was released from a US prison last December after he served eight years of a ten-year sentence for conspiracy to import cocaine. He is scheduled to appear on August 17 at the National Stadium. Mr Caines said: "As the Minister of National Security, which includes responsibility for police, customs, corrections, fire and immigration, I am keenly aware of the challenges that result from the misuse of drugs. As it relates to Mr Myrie's particular situation, he has served his mandated period of incarceration, and has publicly said that he wishes to use his personal experience of incarceration as a way to uplift, motivate and help others." Mr Caines said that his ministry backed "any type of personal, rehabilitation, redemption and social commitment, particularly as we ourselves engage with at-risk young people on a regular basis". He added that Buju has been granted permission to perform in Trinidad & Tobago, Grenada, Guyana, the British Virgin Islands, St Kitts, the Netherlands, Belgium, the Bahamas, Suriname, France and Germany. Mr Caines said: "Due to Mr Myrie's conviction and imprisonment in excess of two years, he must receive permission from the minister responsible for immigration to be allowed to perform in Bermuda. Ultimately, we believe that if given the opportunity to perform in Bermuda, Mr Myrie's performance will have an exceedingly positive effect on our community. I believe that Buju Banton is a musical, social and cultural icon whose message of unity, redemption and love make his immigration circumstances rare and exceptional." Buju also attracted criticism for his song Boom Bye Bye, written when he was 15 and released in 1992, which called for the murder of gay men. He has since removed the song from his repertoire and from sites he has control over and apologized for the "pain" it had caused. Mr Caines said he was "keenly aware of the sensitivities" regarding some of the artist's music recorded decades ago, but said that the social positives of the singer's visit outweighed any negatives. The news came as the organisers of Unity Festival Bermuda, the promoters of the Buju concert, said it had contacted gay rights group OutBermuda in an attempt to heal divisions in Bermuda. A spokesman added: "We are calling for island-wide harmony for this event and we hope that our patrons come in the spirit of inclusion and love that Buju has made his new mantra. Violence, hatred, vengeance, and trauma have thrived in our small island for far too long. It's time to close the wounds of the past and allow healing to happen. With this in mind, the organisers of Unity Festival Bermuda have opened a dialogue with OutBermuda in hopes that redemption for the trespasses of the past is possible within these shores."

Brian Duperreault tops the rankings in terms of executive compensation in the property and casualty insurance industry. Mr Duperreault, a Bermudian and the chief executive officer of American International Group, earned $20.8 million 2018, according to trade publication The Insurance Insider. Evan Greenberg, chairman and CEO of Chubb, and another well-known character in Bermuda, placed second with compensation of $20.4 million. The Insider published the top 50 executive earners, based on its scan of regulatory filings by public companies in the industry. The highest-paid executive with a Bermuda-headquartered company last year was Marc Grandisson, CEO of Arch Capital, whose earnings totaled $12.9 million, enough to place him tenth in the rankings. Mr Grandisson took over as CEO from Constantine "Dinos" Iordanou in March 2018. As part of the leadership succession plan, Grandisson was awarded options to buy 616,284 shares worth $4.5 million. Consequently the former chief operating officer's compensation surged $5.8 million compared to 2017, propelling Mr Grandisson 27 places up the rankings. Kevin O'Donnell, CEO of RenaissanceRe Holdings was the next Bermuda-based leader on the list. His $10.8 million compensation package placed him 15th on the list, up 14 places from 2017. The biggest climber in the Insider's rankings was Mark Watson, who shot up 72 places. Mr Watson earned more than $8.3 million last year, up from $3 million the year before. The increase was a result of performance awards approved by Argo's board in November 2018. The re/insurer has been embroiled in a proxy fight in recent weeks with activist investor Voce Capital in recent weeks. Institutional shareholder proxy firm ISS recommended last week that Argo shareholders should vote against Mr Watson's compensation deal, the Insider reported. Albert Benchimol, CEO of Axis Capital, earned $7.8 million last year, placing him 26th in the rankings, a rise of 13 places. Dominic Addesso's $7.1 million package as CEO of Everest Re, placed him 29th in the rankings, down four spots from 2017.

Today is the 100th anniversary of Bermuda's first aircraft flight. People lined the streets and balconies on the Hamilton waterfront to watch the first aircraft to take flight in Bermuda in 1919. Tom Singfield, the author of Wings Over Bermuda, said the Curtiss N-9H "Jenny" floatplane was on board the freighter SS Elinor, which had served in the First World War as the USS Elinor, when it made an unscheduled trip here because of engine trouble and poor weather. Sir James Willcocks, the Governor, persuaded the pilots to take to the air to give Bermudians their first sight of a powered aircraft. G.L. Richard and W.H. Cushing, two Ensigns from the United States Navy, were at the controls for the historic flight. In an interview by the Bermuda Civil Aviation Authority, Mr Singfield said: "In front of a huge crowd he was rowed out to the aircraft waiting near the Royal Bermuda Yacht Club. Piloted by Richard, they were airborne at 12.45pm, flying towards Dockyard and returned safely to alight in the harbour at 1.30pm. A proposed further trip with his wife was abandoned after the engine began to play up." Thomas Dunstan, the director-general of Bermuda Civil Aviation Authority, said: "The aviation industry has come a long way over the last 100 years, but it is important to remember where it all began. Everyone at BCAA is excited for Bermuda to celebrate this historic aviation milestone." The next flight over Bermuda was made in December 1919, when Hal Kitchener, son of Sir Walter Kitchener, a former Governor of Bermuda, and Rowe Spurling, a decorated Bermudian First World War flying ace, flew their Avro 504 floatplane from the new airbase on Hinson's Island. Mr Singfield, earlier this year called for the Bermuda Post Office to issue a special stamp to commemorate the first flight. He said in a Letter to Editor that the 100th anniversary of the Royal Air Force "was more important".

Post-tropical cyclone Andrea is not a threat to Bermuda, the island's weather agency said last night. The Bermuda Weather Service said that the storm's closest point of approach to Bermuda was expected to be 57 miles to the south-southeast at 10am this morning. The weather service added: "However, this system may move closer to Bermuda after this time period depending on its track." Andrea's maximum sustained winds were 30 knots and it was moving east northeast at 7 knots. A spokesman said that a cold front will move through this morning and winds were expected to veer to the north in the afternoon as a ridge of high pressure slowly builds in from the west. Showers and cloud are expected to continue in the morning and early afternoon, with sun expected by late afternoon. A small-craft warning will remain in force tonight and possibly into tomorrow morning.

Police in Canada are trying to track down a Bermudian woman missing since the weekend. Siobhan Dobson, 32, of Brampton, was last seen in Toronto at about 11am on May 18. Peel Regional Police said: "Police and family are concerned for her wellbeing." She is described as white, slim, with a fair complexion, 5ft 2in tall, weighing 90lbs, with long wavy dark brown hair. Anyone with information can contact police on (905) 453-2121 ext 2233.

May 21

An inquiry into a gunshot fired on Sunday night has been launched. Police said a weapon was fired about 11.30pm on Harbour Road in Paget near Manse Road. Police have appealed for witnesses or anyone who saw suspicious activity after 11pm, especially involving riders on motorcycles, to contact them. Witnesses can call the anonymous and confidential Crime Stoppers hotline at 800-8477.

A murder victim was chased and shot three times, at least once in the back, a jury was told yesterday. Kiari Tucker was accused in Supreme Court of killing Morlan Steede and using a firearm to commit an indictable offence. The 22-year-old, from Warwick, denied both charges, which the court heard were alleged to have happened on November 3, 2017 in the Deepdale area. Karen King, for the Crown, said in her opening remarks to jurors that Mr Tucker was seen in the neighborhood at about 8pm on the night of the killing. She stated the prosecution's case was that Mr Tucker was in the Deepdale area with someone else on a motorbike for "a little while" and left later. Ms King said that at about 9.40pm, Mr Steede was in Deepdale "hanging out" with other people. She added a witness had said in a statement he had seen Mr Tucker in the area. Ms King said the witness added he had later received a phone call to advise him to leave the vicinity. Ms King said: "Shortly after, Mr Tucker was again seen in the area, he had a handgun this time and there was a chase. He chased the deceased. The deceased ran and he was shot in the back, and he was shot no less than three times." Ms King told jurors that Mr Steede ran from One Way Deepdale in Pembroke and collapsed on nearby Parson's Road. She said a police search was carried out at Mr Tucker's home the next day but officers did not find him. Ms King added: "They did find him at that residence but in another apartment and he was hiding in a closet." The prosecutor told the court that Mr Tucker's hands were swabbed while some of his clothes were taken for analysis. Ms King said: "The testing came back and there were particles characteristic of gunshot residue on his clothing." Detective Constable Jewel Hayward later told the court he was on duty on November 3, 2017 when he was "called to an alleged shooting scene". The crime scene investigator said he saw a maroon house on Deepdale Road East where playing cards were strewn about and colleagues had marked out what he believed to be blood. Mr Hayward said his colleagues also pointed out "what appeared to be a spent bullet next to a Red Bull can" on the same street and he took several photographs. The witness told the court he went to Parson's Road where there were more red stains that looked like blood on the road. Mr Hayward said he later attended the King Edward VII Memorial Hospital where he took photographs as an autopsy was carried out on Mr Steede. He explained that during the post-mortem examination three intact bullets were recovered from the body. Mr Hayward, cross-examined by defence counsel Susan Mulligan, confirmed he was not present when the alleged crime scene was marked with yellow tape. Ms Mulligan asked: "As far as when it was put down or whether the scene had been preserved prior to it being put down, you're not able to speak to that?" Mr Hayward said: "That's correct." The trial continues.

A Bermudian lawyer has blamed his bankruptcy on unpaid client bills of more than $1.5 million. Rick Woolridge said yesterday: "I've got $1.7 million worth of receivables in the street. Mr Woolridge explained: "I'm in the process now of suing people that owe me money. I've got just over $100,000 in judgments so far, and I will continue." Mr Woolridge said "hundreds" of clients owed him cash for legal services. He added: "Once I get the money owed to me, I will then be able to pay my bills. I will get out of this; and I'll get out of it shortly." Mr Woolridge was speaking after a bankruptcy order was made against him by Chief Justice Narinder Hargun. The order was published in the Official Gazette last week. The practising certificate of a barrister becomes invalid under the Bermuda Bar Act if they are declared bankrupt. But Mr Woolridge said that he would apply for a temporary certificate. He added: "I'm trying to get clarification on the process." Mr Woolridge said that he had earlier hired a debt collection agency to try to get money he was owed. He added: "They had my accounts for a couple of years and couldn't collect a thing." Mr Woolridge said he was not the only lawyer who had faced problems because of unpaid bills and that the bankruptcy had been sparked by action taken by Linda Swan, who had been a client. I just happen to have a particular creditor that brought the action against me. I wasn't paying her back in time." He was ordered to repay Ms Swan after the Supreme Court ruled in 2014 that he had overcharged her by more than $60,000. Ms Swan complained that Mr Woolridge had billed her at 5 per cent interest a month instead of per year. Mr Woolridge argued at the time that he and Ms Swan had agreed to the higher interest rate and that she still owed him more that $24,000. Ian Kawaley, then the Chief Justice, ruled that Ms Swan and Mr Woolridge had never reached a binding agreement on the interest rate and awarded Ms Swan $63,498.60. Mr Woolridge said that he could not confirm the exact amount that he paid back to Ms Swan. He added: "Money has gotten paid into the receiver's account and how they distribute it I don't know." Mr Woolridge said the bankruptcy order was a "temporary setback. If push comes to extreme shove, I can practice in other jurisdictions." Mr Woolridge added that his intention was to continue to practise in Bermuda. He said: "This is my home." Mr Woolridge got a law degree at the University of Buckingham in England and completed the Bar vocational course at the Inns of Court School of Law, now called City Law School. He was Called to the Bar of England and Wales and is a member of the Honourable Society of Gray's Inn. Mr Woolridge was called to the Bermuda Bar in 2002. Elizabeth Christopher, the president of the Bermuda Bar Association, could not be contacted for comment yesterday.

Subtropical depression Andrea will bring the chance of thunder and strong winds as it passes Bermuda. At noon today, the closest point of approach to Bermuda within the next three days was forecast to be 71 nautical miles to the west-south-west, at 9am tomorrow. Andrea may move closer to Bermuda after that time period, depending upon its track. Andrea was 242 nautical miles west-south-west of Bermuda with maximum sustained winds were 30 knots, with gusts of 40 knots. It was moving north at 7 knots. A small-craft warning is in effect. The Bermuda Weather Service predicted the system will bring patchy rain and scattered showers with fair to poor visibility and a risk of thunder. Forecasters at the US National Hurricane Centre warned the disturbance had the potential to turn into a "short-lived" subtropical or tropical cyclone. The system was expected to merge with a cold front tomorrow, but the NHC advised "interests in Bermuda" to monitor its progress. Hurricane season runs from June 1 to November 30. September is the peak month for storms that affect Bermuda.

Police are marking the third anniversary today of a shooting death with a fresh appeal for anyone with information on the murder to come forward. A police spokesman said the case was still under investigation. Patrick Dill, 26, was shot outside his home on Crossland Lane, Pembroke, at 10.45pm on May 21, 2016 as he got into a car to go to a party. The spokesman said: "The investigating team would like to speak with witnesses in the Crossland Lane area of Pembroke that might have seen persons acting suspiciously in the area before and after the fatal shooting, as well as persons that have information about this callous murder." He added that any information could be significant and could help bring closure to the family and friends of the victim. Mr Dill, a father of two, was killed a few days before his 27th birthday. Police said that the Elbow Beach employee was not affiliated to gangs. Anyone who can help the inquiry should Detective Sergeant Jason Smith on 441-717-0864 or e-mail jsmith2@bps.bm. The spokesman said all information would be treated in the "strictest of confidence". Anyone with information can also contact independent and confidential Crime Stoppers hotline on 800-8477.

City of Hamilton Press Release: " The Bermuda Day Weekend is upon us and the City of Hamilton reminds parade spectators to ensure that after the event on Friday, they take all of their belongings and their trash away with them. The annual tradition of marking out family plots on the City sidewalks, whilst not endorsed by the City, is well underway and any string or apparatus that has been used, that might impede pedestrian traffic, will be removed. The City asks those members of the public who have used tape to mark spots, to please remove it after the parade. Any spray paint that is used will be removed prior to the parade and, if possible, persons responsible will be prosecuted for vandalism. The City of Hamilton also reminds the public that hot coals or any type of barbeque or similar implement for cooking food are not permitted on City sidewalks. Chief Operating Officer for the City, Dwayne Caines stated, 'With the congestion expected on the sidewalks along the parade route, one must realize that the cooking of food, especially with an open flame, is a hazard. At the end of the event, those coals are still hot and if not disposed of correctly, can have serious consequences. We're simply but firmly insisting that people leave the barbeques at home. We have had discussions with the Bermuda Fire Service and any barbeques or open flames on City sidewalks or in City streets will be ordered to be extinguished and removed.' Mr. Caines added, 'A clean City is a safe City. We're delighted to welcome people to Hamilton to enjoy the parade as they have done year after year but we also want to make sure they exercise caution and act responsibly for the benefit of everyone.'

The survivor of a brutal machete attack six years ago after a prowler broke into his home has died. Larry Woolgar, a former manager at the English Sports Shop, was 66. David Hamshere, the president of Tess Ltd, which owns the English Sports Shop on Front Street, Hamilton, said Mr Woolgar, who lived on Richmond Road in Pembroke, was well liked by colleagues. Mr Hamshere added: "Larry was an excellent person who worked with us in a few capacities; it's a real tragedy. Larry was someone who would hold his own in an exchange, and he would push back if he didn't feel my view was the right view. There's no doubt that the trauma affected the rest of his life. He was a man of principle who would make an effort to defend himself." Mr Woolgar climbed the ranks at the English Sports Shop and in 1980 became the first Bermudian to manage its branch of the tailoring firm Alexandre of London. He suffered serious injuries in February 2013 during the break-in. He was hit the neck with a machete, which almost severed a major artery, and also suffered injuries to the face and right hand. His attacker, a 45-year-old man from Pembroke, was later imprisoned for 13 years at Supreme Court after he admitted aggravated burglary and causing grievous bodily harm. Mr Woolgar told The Royal Gazette after the sentencing: "I honestly didn't think I was going to live to see another day." He fought back after the intruder threatened to kill him, and credited his security cameras for the intruder's fast capture. Mr Woolgar added that he felt his attacker's sentence should have been longer. He said: "My solace is that while there was some disturbance in my life, I'm not a drama person. I don't dwell on things."

May 20

Bermuda's Civil Service has been hampered by an "overly bureaucratic environment with a weak execution model", according to Premier David Burt. The Premier was updating MPs Friday on the tabling of the strategic plan for government reform, which will call upon five project management teams with union support to boost efficiency. The report called for a "critical paradigm shift" to strengthen leadership and address performance gaps, with a restructuring of the Civil Service's hierarchy and an assessment of staff's readiness for change. Jeanne Atherden, the Opposition MP, questioned Mr Burt on the Government's "building blocks to enable the service to move towards a shared vision and purpose". Mr Burt said there had been "sobering reflection" on a survey of the island's public officers in comparison with other governments. "We were judged to be under-performing in just about every particular area," Mr Burt told the House. Civil servants struggled against excessive bureaucracy as well as "difficulty in advancing decision-making effectively", he added. Things had to go all the way up the chain before they could come back down the chain," the Premier said, saying the aim was to "make the Civil Service more nimble and flatten the decision-making process".

The Government will promote "a system of greater fairness and equity" through its new Cabinet Committee on Social Development, the Premier announced Friday. David Burt gave the House of Assembly details on the group, which has been tasked with a focus on social issues invoked in the Progressive Labour Party's 2018 Throne Speech. Mr Burt said it met in February to address matters around a living wage, paid maternity leave, mandatory retirement, seniors' rights and a unified family court. The Ministry of Legal Affairs will work on a policy that will prevent the names of minors who appear before the courts from being identified in the media. Other initiatives include strategies for students unsuited to traditional classrooms, affordable housing, and there will be a review of plans to repurpose the Bishop Spencer School building as a homeless shelter. Mr Burt said: "This government will use the considerable mandate received from the people of Bermuda to promote a system of greater fairness and equity, where the potential of Bermudians is limited only by their individual determination to succeed." In response to a question by Susan Jackson, a One Bermuda Alliance backbencher, Mr Burt said the Government planned to bring change to maternity leave "in this sitting of Parliament".

The Premier said he wanted to end controversy over the appointment of consultants and advisers to ministers as he tabled legal amendments in the House of Assembly Friday. David Burt said the Government will be required to publish all appointments and their salaries every year under changes to the Premier and Opposition Leaders Personal Staffs Act. The Premier told MPs: "In an era when phrases like openness and transparency are used more as weapons than genuine encouragement of best practice, this government has determined to demystify the appointments and terms of service of those men and women who bring to bear their talent and expertise in support of ministers and their policy objectives. The Act will see an end to the 'gotcha' nature of ministerial appointments by requiring the annual publication of all such appointments with details of remuneration to be tabled in this Honourable House." Mr Burt said the amendments were in line with the ministerial Code of Conduct. He added: "This government is providing the initiative required to move our political discourse beyond the small politics that so often distract us from the very important issues of true significance to the people of Bermuda. Bermuda is a complex society with a delicate economy and is facing equally complex issues around economic diversification, social change and building a fairer society. We must ensure that ministers of this and future governments can call upon the expertise and support required to properly discharge their responsibilities as demanded by the modern era of public service." The amendments also changed the name of the legislation to the Premier, Ministers and Opposition Leader Personal Staffs Act. He said the Act would also allow the creation of a ministerial private office to remove some of the burden on permanent secretaries.

A controversial Bill to change how Bermuda's hospital is funded was passed last night. The Government is to pay an annual grant to the Bermuda Hospitals Board, capped at $330 million for the coming year, to replace the existing fee-for-service arrangement under the Health Insurance Amendment Act. The block payment will be funded by the Government with a more than threefold increase in the amount it takes from monthly premium payments to health insurers, up from $101.97 to $331.97. Kim Wilson, the Minister of Health, said that the hospital would be held "more accountable" in return for the cash. She added that the Government wanted "better efficiencies and better health outcomes". Ms Wilson said: "We are demanding the best from our hospital and they are taking the progressive and responsible steps to achieve under those demands." She said that the Government was also asking insurance companies to "conduct business differently". Ms Wilson added: "We are looking for each of those companies to use more of the money you are paying in health insurance premiums to pay for your health. We are demanding to put the health of people as a higher priority to the health of profits." Patricia Gordon-Pamplin, the shadow health minister, said the Bill would "turn the healthcare system on its head as we know it". She added: "I believe it deserves more than the short shrift that the Government has afforded it in trying to railroad this legislation through within one week." Ms Gordon-Pamplin said that insurance industry representatives that she had spoken with described consultation with the Government on the changes as "woefully inadequate". She added that the country's need for quality healthcare would not be achieved through the legislation. Ms Gordon-Pamplin added: "We will see that there will be more expense, in terms of premiums outside of the standard health benefit, there will be no guarantees for efficiencies, and there will be no guarantees for positive health outcomes." Wayne Furbert, the Minister for the Cabinet Office, called the arguments made by Ms Gordon-Pamplin "weak". Mr Furbert said that the legislation was "the first step" as part of the Government's promise to lower healthcare costs. He added: "Is this the final stage? Nope, it's part of the beginning of where we are headed." Craig Cannonier, the Opposition leader, questioned how the Bill would combat high costs. He added: "We haven't heard that. We still have not answered the question of how are we lowering insurance costs for Bermudians." Tinée Furbert, a PLP backbencher, said healthcare had been allowed to become a "business of profit. We have to try to figure out how to pull in the reins now, if we don't we are going to be in big trouble Bermuda." Ms Furbert urged the island's residents to "shop around" for healthcare needs. Michael Dunkley, an Opposition backbencher, called the Bill "Sugar Tax No 2". He added: "Sugar Tax No 1 was well-intentioned. Sugar Tax No 1 was done without adequate consultation, no listening, just advising." Mr Dunkley said that the Government was "quietly and conveniently putting an increased burden on the private sector". He added: "This Bill does nothing to address the fundamental cost of healthcare in Bermuda." David Burt, the Premier, said the Bill was a "monumental step. Transformational change is what this government was elected to bring, and that is what we will bring to Bermuda." Mr Burt said that improvements would not happen overnight. He added: "This is the first step to providing a healthcare system that puts the people's interests over the interests of people's profits." The Bill was tabled last Friday. The new system is scheduled to take effect on June 1.

Wayne Caines, the national security minister, has given the public extra time to comment on work-permit policy. Mr Caines told the House of Assembly Friday that policies would be changed to seek "the right balance between the legitimate expectations for Bermudians and the labour needs of businesses". Closed categories have been established to cover airline ground agents, retail floor supervisors, general laborers, office receptionists, painters, salespersons, tourism retail spokesmen, taxi drivers, wallpaper technicians, grocery packers, cashiers and couriers, pot washers and kitchen assistants. The deadline for public opinions at www.forum.gov.bm has been extended to May 24. Mr Caines replied to a question on mixed-status families from Sylvan Richards, the Shadow Minister of Home Affairs and Environment, and confirmed that the problem would be tackled this parliamentary session.

Ottiwell Simmons, the former president of the Bermuda Industrial Union, has called on the Government to follow through on its pledge for an arbitration centre in his name. The labour icon and past Progressive Labour Party MP recalled the standing ovation six months ago when the plan was announced in the Throne Speech of November 9. Mr Simmons recalled: "I was showered with applause; I was surprised at the reaction of people. I have thought little of it since, except for when I am congratulated." He added: "The Government should show their real appreciation for my contribution by completing the building. That's the best way I can put it. But at the end of the day I am pleased that the Government has recognized my contribution and my years with the BIU and representing the workers of Bermuda." The Throne Speech promised an arbitration centre in the old Hamilton Police Station on Parliament Street, honouring Mr Simmons's "unrivalled sacrifice in the service of the labour movement". The disused building, which closed in 2011, had been condemned decades earlier. Lieutenant-Colonel David Burch, the Minister of Public Works, told The Royal Gazette on Friday: "We are still a couple of years away from its actual opening, but we are moving forward with the project." The minister confirmed that the building had been assessed by surveyors, and that its "integrity is sound". The station interior has been gutted, with the removal of its old cast-iron cells the next "major project", he said. Colonel Burch said initial designs had been drawn up for the arbitration centre, including extending floor space, and adding an elevator. But the building overall, was intact, he said, adding: "It's not a tall order to fix it up. If that was the case, I would have knocked it down." Mr Simmons said that arbitration had proven its worth many times during his tenure as BIU president from 1974 to 1996. He also served as MP for Pembroke East from 1976 to 2007. Mr Simmons said: "I have had an almost exhaustive amount of compliments about the BIU's ability to arbitrate situations. We had more arbitration settlements during the period of the 1960s through to the 1990s than we have had since. We learnt the skills. People have to know about the skill of argument. Trade unionism is a professional undertaking, and arbitration is a skill that people do not use every day, but have to be taught or learn — to get to a settlement, rather than extending disputes." He said that teachers and prison officers today faced longstanding and "crazy" standoffs over their gripes. He added: "The Government, union and employers have got to get together and discuss what is best to settle a dispute, rather than it just lingering on." Mr Simmons's term as BIU president covered some of the most tumultuous episodes in Bermuda's modern history, including the General Strike of 1981. Thirty-eight years ago this month, the industrial dispute built into a national crisis before the Government capitulated and offered a pay increase to workers. Mr Simmons, who turns 86 next month, told The Royal Gazette that arbitration could have averted the standoff. He said: "I was told over the phone by a member of the Cabinet, who I will leave unnamed, not to worry; we will agree to arbitration. And there was none. He either would not or could not keep his word. That was disappointing." The 1981 impasse built over demands for "phenomenal" wage increases that were fuelled by rampant inflation, he said. "The wage increase that the union was shooting for was close to 25 per cent," Mr Simmons said. Sir David Gibbons, the finance minister of the day, had envisaged a figure not exceeding 15 per cent. Again declining to give a name, Mr Simmons said that he had not felt that "the Government's negotiator was very truthful". He added: "We simply held out. And before you knew it, we got the unsolicited support of hotel workers, from the Bermuda Telephone workers — it has been reported that we had no less than 5,000 workers on strike." On May 7, 1981, a deal was struck, with the union winning wage increases averaging 20 per cent. Mr Simmons said: "The difficulty is to get a settlement that is pleasing to the parties — but granting no one party everything."

Bermuda's international business sector applauded the decision by European Union to remove the island from its tax blacklist. The EU's Economic and Financial Affairs Council confirmed at a meeting in Brussels on Friday that the island is no longer on the list of non-cooperative jurisdictions on tax matters. "We applaud today's decision and appreciate the expedited review by Ecofin," said Stephen Weinstein, deputy chairman of the Bermuda Business Development Agency. "We're thankful for the efforts of our Premier and finance minister to engage with the EU and provide transparency into Bermuda's world-class regime. Our jurisdiction's updated regulatory and legislative framework mirrors existing practices in our international business market, exemplifying the highest standards of compliance and economic substance. It's important that markets worldwide have access to Bermuda's leading expertise and capacity."
Roland "Andy" Burrows, the BDA's CEO, said: "Bermuda can be proud of our market's long-respected record on compliance and tax-transparency — the island remains a jurisdiction of choice for reputable businesses. "Today's decision is the right one, and we welcome it as a testament to the top-tier reputation we've worked hard to build over many decades. We thank the Government for its proactive response, as well as the regulator and all our industry stakeholders." Bermuda's stock exchange and industry associations, representing sectors ranging from re/insurance, captive insurance, trusts and family offices to asset management and local companies, all echoed those comments and welcomed the EU decision.
Craig Bridgewater, chairman of the Alternative Investment Management Association network in Bermuda, said: "On behalf of the Aima network in Bermuda, we are delighted Ecofin has seen fit to remove Bermuda from the list of non-cooperative jurisdictions for tax purposes. Bermuda has always sought to adhere to the highest standards of tax transparency and other global regulatory standards and sees this quality as a key aspect of the manner in which it conducts business presently and into the future."
Leah Scott, president of the Bermuda Association of Licensed Trustees, said: "Bermuda has consistently demonstrated its commitment to combating money laundering and terrorist financing. "On behalf of the trust industry, I can say we are pleased with the Bermuda Government's efforts to resolve this issue, and remain confident that Bermuda can, in quick order, resume enjoying the benefits of being recognized by the EU as co-operative international financial centre."
Patrick Tannock, chairman of the Association of Bermuda International Companies, said: "Abic welcomes the confirmation that Bermuda has been removed from the EU list of non-cooperative tax jurisdictions. We applaud all involved in bringing this to fruition and are committed to working collaboratively with government and industry stakeholders to ensure that Bermuda remains a leading reputable international business jurisdiction."
Albert Benchimol, chairman of the Association of Bermuda Insurers and Reinsurers, said: "On behalf of the entire business community, we express our appreciation to Premier Burt, finance minister Curtis Dickinson and Bermuda Monetary Authority chairman Jeremy Cox for immediately and effectively marshalling resources to demonstrate Bermuda's long-standing tradition and commitment to meet and exceed international standards. Thank you, as well, to the European Union Economic and Financial Affairs Council for their continued engagement with Bermuda."
Ronnie Klein, senior adviser of the Bermuda International Long-Term Insurers and Reinsurers, said: "Biltir members are proud to work in an insurance-friendly jurisdiction that is both Solvency II equivalent and NAIC-qualified. While being placed on Ecofin's list of non-cooperative tax jurisdictions was disappointing, Biltir members were confident Bermuda would be removed from the list at the earliest opportunity. We are confident our government officials will continue to work with the EU to meet all compliance standards, demonstrating Bermuda's longstanding reputation for transparency and regulatory leadership."
Kathleen Bibbings, president of the Bermuda International Management Association, said: "Bima is pleased Bermuda has been removed from the EU list of non-cooperative jurisdictions for tax purposes. The decision today by the European Union recognizes Bermuda's commitment to full compliance and tax transparency."
Greg Wojciechowski, CEO of the Bermuda Stock Exchange, said: "Removal from this list is a testament to Bermuda's commitment to meet and exceed international standards of regulatory compliance. This development also serves to underscore the seriousness Bermuda places on being a strong partner in the global regulatory and commercial fabric. "At the BSX, we share this view and work regularly with international regulators and market practitioners to ensure our operating platforms are in line with global standards. This is clearly evident in the fact the BSX is a full member of the World Federation of Exchanges and a member of the board of directors of that organisation."
Kendaree Burgess, CEO of the Bermuda Chamber of Commerce, said: "The Bermuda Chamber of Commerce is appreciative of the swiftness of the Ecofin group in altering Bermuda's status and removing Bermuda from the list of non-cooperative jurisdictions. We also want to recognize all the behind-the-scenes work by our government and industry partners in making sure we spoke and acted in a cohesive manner. "The chamber believes this latest move speaks to Bermuda's history and long track record of compliance and transparency."
Keith Robinson, of the Society of Trust and Estate Practitioners, said: "On behalf of Step Bermuda, I welcome the news from Brussels that the EU has recognized that we ought not to be categorised as a non-cooperative jurisdiction. Our trust industry has a long history of high regulatory standards and I am sure the whole industry will join with me in thanking the Bermuda government for its hard work over the last few months."

A body representing Bermuda's leading international re/insurers welcomed the island's removal from the European Union tax blacklist and pointed out the depth of the industry's relationship with Europe. The Association of Bermuda Insurers and Reinsurers said the island had a commitment to facilitate tax transparency and compliance with global standards. Abir also gave details on its members' thousands of EU-based employees and tens of billions paid out in claims to European policyholders. EU finance ministers unanimously decided to remove Bermuda from Annex I of the EU list of non-cooperative jurisdictions in tax matters at a meeting of the Economic and Financial Affairs Council in Brussels on Friday. Albert Benchimol, chief executive officer of Axis Capital and chairman of Abir, praised the efforts of David Burt, the Premier, Curtis Dickinson, the Minister of Finance, and Jeremy Cox, chairman of the Bermuda Monetary Authority, in ensuring Bermuda's rapid removal from the list the island was added to just two months ago. Mr Benchimol added that Bermuda's Economic Substance Act of 2018 further aligns Bermuda's statutory and regulatory framework with both prevailing, world-class business practices and emerging global standards. "As the global centre of risk transfer, Abir believes Bermuda's international business sector meets or exceeds worldwide requirements," Mr Benchimol said. "We applaud the Government's legislative reform package which further enhances that framework, and its commitment to ensuring clients and markets worldwide continue to benefit from Bermuda's critical financial capacity and leading risk management expertise." Abir detailed its impact on the Bermudian economy, highlighting its economic substance credentials. In 2017, Abir members aggregate direct economic impact to the Bermuda economy was $842.6 million, including travel, business, charity giving, construction expenses and compensation paid to Bermudian-based employees. Similar economic contributions from companies in "relevant activities" specified in the ESA has potential to greatly enhance Bermuda's economy, the statement added. Abir said its member re/insurers operate in 20 EU countries, with a total of 15,865 employees in the region. The top five jurisdictions with the most employees included the UK, with 9,762; France, with 1,148; Ireland, with 1,123; Germany, with 814; and Poland, with 453. Abir members also had 1,011 staff in Switzerland. "The European Union is a very important market for Bermuda re/insurers, and our members continue to take on increasing amounts of risk in EU member states," John Huff, chief executive officer of Abir, said. "The Bermuda market has paid $72.8 billion to European Union policyholders and cedents during the past 20 years. Our member companies remain strongly committed to the European market, European ceding companies, and European policyholders. Abir looks forward to continuing to work with the Bermuda Monetary Authority and the Bermuda Government on the Economic Substance Act regulatory guidance to ensure efficient and fair implementation of the standards and to avoid any duplicative regulation while supporting the Bermuda economy", Mr Huff said. "Abir's members are good corporate citizens in Bermuda and in the worldwide markets they serve and are prepared to continue to address the world's critical risk needs."

A 48-year-old man was injured in an industrial accident in the City of Hamilton yesterday morning. Police said a man was refueling a power washer on Church Street, near Washington Lane, when fuel spilt and caught fire. Two men on the lift were uninjured. A spokesman for the Bermuda Police Service said: "Apparently fumes from the fuel ignited and some fuel spilt, which also caught fire, with flames spreading to a nearby hydraulic lift. However, colleagues of the worker involved managed to quickly move the hydraulic lift and extinguish the fire. The 48 year old man is understood to have sustained minor burns to his hands — but declined medical treatment at the scene." He added that the fire was extinguished before the Bermuda Fire and Rescue Service arrived. A video circulated on social media showed flames at the base of what appeared to be a hydraulic lift and thick black smoke in the street. The police spokesman said that the Government health and safety officer had been notified. Temporary traffic diversions were in place as a precaution. The Government Health and Safety Officer has been notified.

Dellwood Middle School students were dismissed early at 1.15pm today after a broken water line shut off the school's supply. Plumbers were called to the Pembroke school and the water pumps was restored at 1.35pm. School will resume tomorrow according to the regular schedule. To prevent a recurrence, the Buildings Section of the Ministry of Public Works has repaired two defective water pumps and will use water from the school's tanks, according to a spokeswoman from the Department of Education.

A Royal Fleet Auxiliary cargo ship, RFA Mounts Bay, has called on Bermuda this weekend. The vessel, which is visiting the island until Wednesday, is on hurricane season patrol. It is part of Britain's rapid response aid for British Overseas Territories in the region. Mounts Bay made its first call on Bermuda in 2017, in the aftermath of devastating hurricanes Irma and Maria hitting the Caribbean. It delivered humanitarian aid to the Overseas Territories of Anguilla, Turks and Caicos Islands and British Virgin Islands, along with Dominica. During its visit, the Mounts Bay will be briefed on the island's emergency planning arrangements, as well as key points requiring support in times of need. The ship is to liaise with the Royal Bermuda Regiment, and members of the Bermuda Cub Scouts and RBR Junior Leaders will also have the opportunity to visit. Twenty soldiers from the British Army 24 Commando Royal Engineer Regiment will join the ship, along with Captain Gordon Emmerson of the Royal Bermuda Regiment. John Rankin, the Governor, said he was "delighted" at the visit. Mr Rankin added: "The ship is a key part of the UK's commitment to providing disaster relief to Bermuda and the Caribbean Overseas Territories in time of need. Mounts Bay is hugely well-equipped and her crew have the skills to make a real difference in assisting local emergency services in time of crisis." The ship's cargo includes tractors, diggers, trucks, quad bikes, command and all-terrain vehicles. The vessel will also take part in anti-drug operations in the Caribbean later this year with partners in the region.

The annual Festa do Senhor Santo Cristo dos Milagres festival was celebrated at the weekend. Hundreds of participants took part yesterday in the annual parade, which began at St Theresa's Cathedral and proceeded through the City of Hamilton. Revellers later took to the car park at the Bermuda Athletic Association for traditional Azorean food, entertainment and prize draws. Eddie Medeiros said that he had first come to the event as a child with his family more than three decades ago. The 37-year-old Smith's resident was joined at this year's event by his wife, Katherine, and young daughters, Sienna and Tatiana. Mr Medeiros said that introducing his own young family to the event was a way to "keep the tradition going". He added that the event helped to recognize the important contributions the Portuguese people have had on the island. Mr Medeiros said: "Portuguese played a big part in the Bermudian community." He added that the event provided an opportunity for Portuguese community members "and all of Bermuda" to celebrate. Mrs Medeiros, who said it was her third year coming to the event, said that it was a good way for their children to learn about Portuguese culture. She said that the food, particularly the malassadas, provide a big pull to getting her back year after year. Headliners Tony Borges & the Euro Band were supported by performances by Caroline Araujo, Jessica Frias, Sarah Medeiros and Amalia Ponte. Music was also provided by DJ Nelson Pavao. The celebration, whose title translates to "Festival of the Christ of Miracles", originated hundreds of years ago on the island of São Miguel, in the Azores. Proceeds from the event will benefit the Portuguese School of Bermuda.

May 19, Sunday

May 18

European Union finance ministers removed Bermuda from a blacklist of non-cooperative tax jurisdictions yesterday. Representatives of the 28 EU countries struck Bermuda from Annex I of the EU list — the "blacklist" — and put the island in Annex II of the EU list, the "greylist", at a meeting of the Economic and Financial Affairs Council in Brussels. Curtis Dickinson, the Minister of Finance, said: "I am pleased with the rapid conclusion of the Ecofin de-listing Bermuda at its very first meeting after March 12. This is by no means the end of the work required to continue strengthening the framework in this area. Bermuda continues to be a leader in insurance and other financial services and so that comes with a responsibility to be ahead of the curve in terms of regulation and best practice." He added in a ministerial statement at the House of Assembly: "The Premier and I, on behalf of the people of Bermuda, wish to thank the members of Ecofin, as well as the EU officials that we met during those critical end of March, early April meetings, for their work in progressing Bermuda's removal from the list at the earliest opportunity. "We will build on our experiences to date and appropriately take the required steps to ensure that Bermuda remains a jurisdiction of choice for quality and compliant business that positively contributes to the economic and social development of Bermuda." The greylist is reserved for jurisdictions that have "tax regimes that facilitate offshore structures that generate profits without real economic activity", but which have undertaken sufficient commitments to reform their tax policies. Bermuda is on the greylist because of EU concerns about the island's legislative framework for collective investments funds. The island has committed to address those concerns by the end of the year. Bermuda was added to the blacklist of non-cooperative jurisdictions for tax matters at a meeting of the EU ministers on March 12. The move came after what David Burt, the Premier, said was a "drafting error" in the economic substance regulations submitted to the EU. The international business community welcomed the move to the greylist. Stephen Weinstein, deputy chairman of the Bermuda Business Development Agency, said: "We're thankful for the efforts of our Premier and finance minister to engage with the EU and provide transparency into Bermuda's world-class regime." Craig Bridgewater, chairman of the Alternative Investment Management Association network in Bermuda, said: "Bermuda has always sought to adhere to the highest standards of tax transparency and other global regulatory standards and sees this quality as a key aspect of the manner in which it conducts business presently and into the future." But Nick Kempe, a senator and the shadow finance minister, added: "Bermuda has consistently demonstrated its commitment to combating money laundering and terrorist financing, therefore it was regrettable that a "minor technical omission" led to a major fail. He added that "despite being removed from the blacklist, we will remain on a greylist for issues relating to collective investment funds". The Ministry of Finance said more than ten EU countries export about $6 billion in goods and services and annual two-way trade is normally $30 billion. Bermuda and Europe partner primarily in reinsurance and finance. Barbados was also moved from the blacklist to the greylist and Aruba was removed from both annexes. A total of 12 jurisdictions remain on the list of non-cooperative jurisdictions: American Samoa, Belize, Dominica, Fiji, Guam, the Marshall Islands, Oman, Samoa, Trinidad & Tobago, the United Arab Emirates, the US Virgin Islands and Vanuatu.

The introduction of speed cameras and a reduction in the use of fossil fuels were among the recommendations in a Green Paper on Transportation tabled yesterday in the House of Assembly. Zane DeSilva, the transport minister, said other suggestions included 20 new special taxi permits and increase in the number of rental minicars to 500. More than 2,400 residents contributed to a survey which was used to draw up the paper, the first comprehensive review of transportation since 2002. Mr DeSilva said the "overarching themes" that came out of the public consultation were safety, reliability and "the desire for frictionless transport experiences". Almost 40 per cent of residents surveyed criticized the condition of the island's roads and said they disagreed that they were properly maintained. A total of 40 per cent ranked the roads "somewhat safe" for driving and 37 per cent said they were "not so safe". Respondents suggested the use of technology to speed up the fines process for driving offences and that the Transport Control Department should be linked to the court system so drivers with unpaid fines could be blocked from renewing their licences. And about 75 per cent of those surveyed said that the fines and demerit points system was not enough to deter bad drivers. A total of 40 per cent of respondents said they were prepared to carpool on their way to work or school to cut down on congestion. Tourists surveyed said that not enough taxis accepted credit cards and that more minicars should be available to rent. The paper agreed that there were several problems with the taxi that also affected residents. It added: "It is known that taxi drivers do not all ensure their taxis are on the road the mandated 16 hours per day. They do not all have second or part-time drivers to cover the 16-hour day." The Green Paper added: "The take up of credit card facilities by drivers has been slow. The East and West Ends of the island, as well as the airport, can be critically short of lift capacity."

Repairs to a cruise ship terminal in Dockyard were completed ahead of schedule, the House of Assembly said yesterday. King's Wharf was refurbished before the April 10 deadline that marked the start of the cruise ship season. Failure to finish on time would have incurred a $500,000 penalty for every ship that was unable to dock. The team, which at one stage was three weeks behind schedule, completed the work in time for the arrival of the Carnival Pride. The new deck at the terminal has an expected life of 75 years because of technological advances since the wharf was built 30 years ago. Lieutenant-Colonel David Burch told MPs that a new terminal building was expected to be completed in July. He added a temporary structure would be in place until the new building is ready. Colonel Burch said the dock is also to be extended to take larger ships, with extra gangways. He praised the team involved in the work. Colonel Burch said: "This is to be our standard going forward." The work was carried out by a team from the ministry, with Dockyard owners West End Development Corporation and Crisson Construction.

A British Army general responsible for commissioning more than 1,000 officers and who wrote the book on military leadership has shared his expertise with the Royal Bermuda Regiment. Major General Patrick Marriott, a former Commandant of the Royal Military Academy, Sandhurst, the training school for British Army officers, visited Warwick Camp while on the island to speak about ethical leadership at a conference organised by asset management firm Schroders. He met RBR Commanding Officer Lieutenant-Colonel David Curley, other RBR officers and senior non-commissioned officers. General Marriott said: "The regiment is unique and I think it does an incredible job in a situation that's changing and evolving. It's evolved very well under Colonel Curley's leadership. He consults people, that's very obvious and that will make the evolution of the regiment so much better." The RBR has re-organised to create two main companies, one trained for humanitarian and disaster relief and the other for more traditional military roles. General Marriott said: "Essentially, the RBR is going to be focused on real public service — disaster relief and crises. There will be great rewards when, sadly, they do need to respond to a hurricane. I think the island is very fortunate to have them here." General Marriott was speaking at the Officers' Mess at Warwick Camp, just before he spoke at the Schroders conference at the Hamilton Princess & Beach Club last weekend. He said: "If I was a young lad or young girl on the island, joining up is a really good thing to do, even if only for a few years. It's putting something into the island in a really good way." General Marriott was Commandant at Sandhurst, where RBR officers are trained, between 2009 and 2012. Captain Paolo Odoli, the new RBR Adjutant, who attended Sandhurst when General Marriott was in charge, said: "It was a real pleasure to once again be able to attend one of his talks on leadership having done so nine years ago at the academy. 'Do as you ought, not as you want' speaks to the heart of ethical leadership, which is a guiding principle for officers who earn a commission in the RBR. We are pleased that he enjoyed his visit to Warwick Camp and thinks so highly of the RBR and the success of our reorganization. We strive to be a modern, forward-thinking organisation that is focused on preparing ourselves for the challenges that we are likely to face in the future." Captain Odoli added that the RBR was still accepting applications for places on the next Recruit Camp, due to be held in July. General Marriott joined the British Army in 1977 and was commissioned from Sandhurst into the 17th/21st Lancers. He has served in combat hotspots like Iraq, Afghanistan, Bosnia and Northern Ireland and also held senior staff command positions, including Director-General of Leadership, and was responsible for the creation of British Army's leadership doctrine. He is still a serving soldier in the British Army Reserve. Schroders made ten spots at its conference available to the RBR free of charge. Lana Desmond, the firm's managing director, said: "I am extremely grateful to Major General Marriott for being the guest speaker at our investment conference last week, and was delighted that we were able to connect him with the Royal Bermuda Regiment during his time here, which allowed him to share his personal experiences with Bermuda's soldiers. It was also our pleasure to be able to host some of the Royal Bermuda Regiment personnel at our investment conference."
Opinion. By Martha Harris Myron CPA CFP JSM: Masters of Law — international tax and financial services. "All Bermuda residents trying to maintain a reasonable budget for their families, along with saving for a rainy day, continue to cope with more cost of living challenges going forward. This time it is another increase in healthcare. Effective June 1, 2019, in an extraordinary, arbitrary government announcement, there will be significant changes (and financial increases) in how medical care will be administered in Bermuda. The debate on this initiative by government and corresponding statements from our health insurers has been discussed and commented on all last week relative to the reallocation of the proceeds of the SHB (Standard Health Benefit) and MRF (Mutual Reinsurance Fund), so it is redundant of me to elucidate on the same. It is very clear that there are numerous issues:
Health insurance premiums are increasing again — is this the second time this year alone?
Under the new system, due to take effect on June 1, more than nine tenths of the SHB previously managed by health insurers, will go straight to the Government in the form of the increased MRF contribution.
The increase will fund the Government annual grant of a capped $330 million to the Bermuda Hospitals Board, but no mention is made whether the annual payment in excess of $30 million per year to Paget Health Services is included.
The changes will mean the Government is taking over responsibility for the administration of hospital benefits, after more than 40 years of joint collaboration between the insurance industry and Government.
The disruption and loss of the claims process by health insurers in the traditional healthcare supply chain will mean far less independent checks and balances for care provided. Further, little disclosure as to how pricing is established, when, where, and how medical care is apportioned, and no independent third parties to monitor accountability of the Government and the BHB while assuring that every dollar paid in is fully utilized in a caring, cost- efficient manner.
There appears to be no provision as to how an annual audit will be timely performed, or when, or even whether, this new administrative process will be included in the Bermuda Government Consolidated Financial Statements. The Bermuda Hospitals Board Audited Financial Statements are still in arrears, with fiscal year 2014, a mere five years late, tabled just last week. The mandated increases in MRF (up 225 per cent) that must now be deducted from our health insurers (and linearly to subscribers) will impact everyone who pays into the health insurance system. Private insurance and its insured clients will see the highest increases, with government civil servants the least. Private health insurance in Bermuda is estimated to cover, according to one commentator, 33,000 individuals. Based upon Government's own gross income statistics (2016), somewhere between 45 per cent and 55 per cent of 33,000 are in the middle-class category, we can assume that once again the middle-class bears the brunt of these increases. Some commentators last week publicly provided personal information, indicating that their annual estimated increases may be anywhere from $2,500 to $5,000 range, annually. How Bermuda's resident working people and businesses will handle this new financial challenge given that the access to good, affordable healthcare is extremely important to everyone, we can only speculate at this juncture.
Families will restrict their spending further: less shopping, less dining out, less entertainment, tighter food control, less of everything that is superfluous to economic survival.
Others may elect to exit the pay health system, and "go bare" (without insurance).
Or, switch to cheaper alternatives.
Businesses may curtail hiring of new employees, and/or reduce existing payroll tax expense as well — by taking on just-in-time employees where mandated health insurance is minimal, or not required; may postpone or completely shelve plans to invest in infrastructure, or adequate inventory; may reduce their existing employee count, or in a worst case, simply wind up. Certainly, no one wants to see this happen, but increased costs in a constrained market can cripple profits.
For some families, this may be the tipping point. They may leave, further decreasing the health pool.
Businesses may transfer more back office administration overseas — as it may still be more cost effective to pay the new foreign services tax rather than the high overhead costs of local employees.
The health insurers themselves may find reorganization necessary. And by the way, comments are rampant regarding insurance company profits. Yes, they have made profits — on their whole multiple business lines. Reviewing consolidated reports broken down by lines of business, the betting is that health insurance coverage is costly, and barely above break even.
And no, I do not receive any compensation from insurers, nor have I spoken to any insurers, nor do I own or pay health premiums to local insurers. Healthcare is very personal. Without the independent oversight of the Bermuda health insurers to fully assess hospital fees and claims, it is now up to you, the health subscriber, to know what you are taking, what medical procedures you are having, how much they cost, why they are necessary, and how the entire new government system will work under full transparency and disclosure of your medical issues. It is your full responsibility now to monitor them. Is the MRF transfer increase another tax in disguise? Time will tell as households adjust to the "new health insurance benefits scenario in Bermuda". However, if it fits the bill as predicted, we'll just add it to the chart published last year on December 8, 2019 in The Royal Gazette article entitled, "There is nothing zero about taxes in Bermuda", by Martha Myron. (http://www.royalgazette.com/Martha Myron/article/20181208/there-is-nothing-zero-tax-about-bermuda ) And if this all sounds confusing, I apologise, because it is. Certainly, statements from the various spokespersons indicate that it appears that no one really knows how all this will work.
Summary: Bermuda resident individuals and families saving for future goals must feel frustration at yet another financial hurdle in the increase in cost-of-living. Those families just getting by, may have reached the tipping point. Adding irony: last week as well, along with this increase in health premiums notice, a local bank announced an increase in fees on cash deposits, foreign exchange, and related services. Next week: further discussions on this issue. Readers, please write to me! Let me know your worries and your calculations as to your future health insurance costs! Confidentiality always! Contact: martha.myron@gmail.com."

Big-hearted Bermudians have helped a father-and-daughter wheelchair team return to racing after the duo crashed out of MS Amlin World Triathlon Bermuda last month. Now Stephan Couture will be able to buy new equipment for his 13-year-old daughter, Chloe, and himself to ride because donors smashed an $18,000 fundraising target to replace their custom-built bicycle and wheelchair combination. The pair, who race as Team Ladybugs, charmed the island's residents when they took to the streets of Hamilton to compete in the event on April 27. But their machine was written off after they crashed on Park Road, Hamilton. Mr Couture heaped gratitude on Bermudians yesterday and said he hoped to show supporters the new equipment during a planned return next year. He said: "As Chloe is fond of saying, 'wow', how can we possibly thank the people of Bermuda enough for all they have done?. Not only have they been so generous in their words of support, but also in less than a week they have achieved the target needed to replace Chloe's racing equipment. Everything is on order and we are hoping to have it all ready to be able to take part in the next ITU World Triathlon Series race in Leeds in June." Mr Couture added: "We loved Bermuda, we loved the warmth, generosity and friendliness of everyone we met. Thank you from all of us seems so little to say but it is said with truly thankful hearts. We hope we will have the opportunity to show you all in person the new kit in action as we hope to return next year to take part in the ITU World Triathlon Bermuda 2020." Team Ladybugs' mission was set up to highlight disabled people's ability to take part in sports events safely with the right equipment and experience the excitement of competition. The pair compete in triathlons in the specially built combination, but the set-up was damaged beyond repair in the crash. Mr Couture suffered a broken rib and Chloe, who has cerebral palsy, suffered minor injuries. He said the pair, who travelled 3,500 miles from their home in Warwickshire, England, to compete in the event, received an outpouring of support from members of the public and organisations, who asked how they could donate towards a new bike and wheelchair. A GoFundMe page was launched on Monday and the $18,000 target was passed by Wednesday afternoon. Comments left by donors included: "I met Stephan at the bottom of Corkscrew Hill two days before the Bermuda triathlon after reading all about him and Chloe. Absolutely gutted by what happened. Let's get them back on the road as soon as possible." Another wrote: "Seeing the joy on Chloe's face when she was out and about was so infectious she spread her joy around the City of Hamilton." Donations from MS Amlin Bermuda and the Green family, which owns the Hamilton Princess & Beach Club, also fuelled the fundraising drive. Mr Couture and his wife, Diane, who have both worked with disabled people, adopted Chloe when she was five after they read her story in a church bulletin. The father said that regardless of the time or the weather, his daughter asked to go out racing in her chair, which she called DD1 — Daddy, Daughter One. Team Ladybugs started a mission to race in all eight ITU World Triathlon Series events and their Bermuda effort was sponsored by Massachusetts General Hospital, the Hamilton Princess hotel and British Airways. Mr Couture said: "Chloe is asking every day to go out in DD1 and soon we will be able to give her the ability to go out in her new chair DD2 (B) — Daddy, Daughter Two (Bermuda). Wow, thank you all again."

One of Bermuda's star musicians who performed in what was dubbed "Bermuda's answer to the Beatles" has died. Howard "Howie" Rego, a gifted drummer, was 69. Rego's music career took him from being a teen heart-throb to working with Sly and the Family Stone and Peter Frampton at the height of their 1970s fame. As drummer for The Savages, he helped build an enthusiastic following among island rock fans and thousands of "college kids" from East Coast universities and he co-wrote with bassist and singer Bobby Zuill what some musicologists consider a classic example of "garage rock" and proto-punk, >The World Ain't Round, It's Square. Rego died last Saturday and a private funeral was held yesterday. The graduate of the prestigious Berklee College of Music in Boston worked abroad as a session musician for more than 20 years. He returned to his homeland and formed several bands on the island and turned his hand to teaching music. The long-haired, svelte rocker, who had a flamboyant stage presence, provided a foundation for all his bands, with a throbbing pulse and great crashes of cymbals. After the break-up of The Savages at the end of 1966, Rego eventually made his way to Boston, Massachusetts, and New York City, where he was introduced to many famous musicians and served a stint with albino rock guitarist Edgar Winter. Bermudian drummer Andy Newmark, who was making his name on both sides of the Atlantic at the same time, got Mr Rego a slot on Broadway for The Rocky Horror Picture Show, behind Meatloaf. Tours followed with jazz and rhythm and blues icon Michael Brecker, a neighbour and friend, and Englishman Frampton, who had shot to stardom in the wake of the success of his seminal album, Frampton Comes Alive. The Frampton band performed before arena audiences as big as Bermuda's population until the disco revolution took the air out of his sales. Rego told the Mid-Ocean News years ago: "Every time my career needed a boost, Andy would pop up out of nowhere and set me with up something interesting." It was a call from Newmark that got Mr Rego a one-year gig with the mercurial funk genius Sylvester Stewart, aka Sly Stone. Mr Rego said their first meeting was nerve-racking. He added: "The audition consisted of Sly asking me to sit down behind the drums and play to some of his recorded music. He liked what he heard, and said, 'prepare yourself, we are going on tour in the next couple of days'." But Mr Rego had to turn down an offer from Swiss pianist Joe Zawinul of the jazz fusion supergroup The Weather Report to take the job. He said: "I often wonder where I would be today if that call had come in first." The Savages formed in 1962, with the amalgamation of The Fugitives, guitarists Paul Muggleton and Jimmy O'Connor, and The Gents, Rego and bassist and singer Zuill. Mr Rego was just 12 years old, three years younger than the others. The Mount Saint Agnes Academy pupil had been encouraged from age 8, by his father, a grocer and amateur musician. With his friend, Roddy Marshall, credited as an influence on the band, Mr Rego saw the Vanilla Fudge, with its wild man drummer Carmine Appice, live in Newport, Rhode Island. Mr Rego said: "Our music immediately departed to a funkier, R&B sound." With businessman and producer Eddie DeMello at the helm, The Savages recorded the local hits No, No. No, No, No and She's Gone over the space of two years. Fans lined the streets to see standing-room-only performances at what is now the Hog Penny on Burnaby Street in Hamilton, Elbow Beach and other venues around Bermuda. The band met or played with The Young Rascals, Tiny Tim, The Doors, and at The Scene Club in New York with Jimi Hendrix. They also allowed Desi Arnaz Jr, an actor and musician, to sit in at Mr Rego's drum kit at the Hog Penny, watched by his superstar mother, actor Lucille Ball. By this time they were also known in the Caribbean, where they performed for large crowds in Barbados and Antigua, where they shared a stage with The Wailers, Bob Marley, Peter Tosh and Bunny Livingston. Musician Tony Brannon said last night that Barbadian musician friends still fondly recall The Savages' tour. The band split up at the end of 1966, but Live and Wild, recorded in February that year at The Hub, a club in the Hamilton Princess in front of an adoring and raucous crowd has survived the decades. Collectors now pay hundreds of dollars for the grungy record.

May 17

Premier David Burt is to announce the formation of a Cabinet Committee on Social Issues today in the House of Assembly. The group, which first met in February, has been tasked with looking at issues ranging from the living wage, extending paid maternity leave, the mandatory retirement age, seniors' rights, and a unified family court and mediation centre. The committee is also examining affordable housing, with Mr Burt expected to announce projects to meet the demands identified by a survey launched in March. The group is to propose new services and care for people with mental health issues. MPs will also debate changes to healthcare financing as the Health Insurance Amendment Act 2019 comes up for discussion. Mr Burt will update the House and table a Bill on staffing for the Premier and Leader of the Opposition. Lieutenant-Colonel David Burch, the Minister of Public Works, is expected to deliver a statement on King's Wharf in Dockyard, which has undergone extensive repairs. Zane DeSilva, the transport minister, will table a transportation Green Paper and Wayne Caines, the Minister of National Security, will make a statement on changes to the immigration system.

The imprisonment of a man for 2½ years while he awaits trial on a drugs charge is unconstitutional, a lawyer told Supreme Court yesterday. Mark Pettingill, who appeared for plaintiff Dennis Robinson, told the Supreme Court that Mr Robinson's fundamental rights had been violated. He added that Mr Robinson had "been in custody waiting to be tried for longer than he would have been if he was convicted of the offence with which he has been charged". Mr Pettingill was speaking at a constitutional challenge launched by Mr Robinson and Rebecca Wallington. The two were arrested on November 15, 2016 and charged with possession of 418.7 grams of cannabis with intent to supply. Ms Wallington was also charged with possession of 4.93 grams of cannabis. She pleaded not guilty to both charges and was released on bail. Ms Wallington is represented by Victoria Greening. Mr Pettingill said there had been an "absolute failure in regards to the constitutional provision for a fair trial in a reasonable time". He added that Mr Robinson had been behind bars for as much time as he would have got if he had admitted the offence. Mr Robinson pleaded not guilty to the charge in February 2017 and the pair's trial started in May 2018. However, magistrate Archibald Warner, after the conclusion of the trial last October, announced that he had a conflict of interest and was forced to excuse himself, which meant no verdict was delivered. Mr Pettingill said that in all his years practising law, he had not come across a similar example of a magistrate recusing himself after the end of a trial. A new trial date was set last December for January 29. The constitutional application against the Director of Public Prosecutions and the Attorney-General was filed on January 28. The application wants to have the proceedings against Mr Robinson and Ms Wallington declared unconstitutional and the case dismissed. Mr Pettingill said that delays to the trial for a "borderline minor cannabis matter" were not the fault of his client and were unreasonable. He added that the court had to accept, at some point, that delays to the court case were "just not constitutionally excusable". Mr Pettingill said: "You have to draw a line in the sand. It's not good enough."

Financial services regulator the Bermuda Monetary Authority has partnered with the charity Tomorrow's Voices to help raise funds in support of programmes and services offered to young people on the autism spectrum. BMA staff wore their wacky socks to work in support of the charity's annual Autism "Rocks Socks" fundraiser on Friday, April 26, and the following Friday, members of the BMA team volunteered their time to help with the Tomorrow's Voices annual tag day. As part of the celebration of its 50th anniversary this year, the BMA is expanding its community outreach and is supporting island charities whose missions address categories including children and families, arts and culture, the environment, education and seniors. Tomorrow's Voices was one of five charities that was identified as a benefactor for a "BMA Day of Giving" — community service projects in which staff provide assistance to local charities through volunteering for specific projects that have been identified by the charity partner as an area of need. In total, 21 non-profit organisations, including Tomorrow's Voices, will benefit from monies raised by staff who participate in the BMA's 'Charitable Fridays' throughout this year. These internal dress down days are scheduled twice per month and staff can wear business appropriate denim in exchange for a minimum donation to the designated charity partner for that date. Shanna Lespere, chief operating officer for the BMA, was among the tag day volunteers. She said: "Over the years, I've had the opportunity to interact with several autistic children and most recently with a neighbour of mine. I know the important role that Tomorrow's Voices plays in supporting Bermuda's autistic children, young adults on the autism spectrum and their families, and that's why I chose to volunteer for this BMA Day of Giving." Mesheiah Crockwell, BMA's Director of Human Resources, highlighted the value of corporate involvement with providing charitable support. "The non-profit sector in Bermuda is a critical lifeline for the wellbeing of all residents, especially those who are the most vulnerable. The more engaged Bermuda's business sector is with the missions and delivery of programmes and services provided by our local charities, the better it is for everyone who calls our island home. With cases of autism and other 'special needs' diagnoses on the rise at alarming rates, it is imperative that we, as a society, do everything possible to invest in teaching and developing skills for those whose abilities may be different. No child should be left behind, regardless of their level of functioning, and Tomorrow's Voices provides critical services that influence their clients' independence and ability to better interact with others in a variety of settings, including school, work and social." Thea Furbert, co-founder and chairwoman for the Tomorrow's Voices board, said: "We are so grateful to have been chosen to partner with the BMA to support two of our Autism Awareness Month initiatives. These fundraising events are key in helping our centre raise funds for the continued longevity of our services to children and families touched by autism and other developmental disabilities in the community. We are extremely grateful for the generosity of the BMA staff as their giving will truly have a positive impact on our centre."

Bank customers with Bermuda dollar accounts will have up to $25,000 of their money protected should their local bank collapse. In such circumstances, they will receive compensation through the Bermuda Deposit Insurance Corporation, providing they fulfil the eligibility criteria. HSBC Bank Bermuda, Butterfield Bank, Clarien Bank and Bermuda Commercial Bank, are members of the scheme, and they are paying in to the pre-funded deposit insurance fund. The scheme provides a safety net for depositors, insomuch that if their bank fails they will get some or all of their deposited money returned, up to a maximum of $25,000 per depositor, per bank. The island is now among 143 countries and jurisdictions around the world that have deposit insurance schemes. Since the financial crisis of 2008, such schemes have become increasingly widespread as a way to give some protection to bank customers. They aim to give public confidence in the banking system and reduce the likelihood that depositors would panic and withdraw funds if there was sudden concern about the stability of a bank. In Bermuda, the idea of an insurance deposit fund was first proposed in 2010, with legislation the following year and more in 2016. The scheme has been working in the background for a few years, and was announced today. However, Bermuda's insurance deposit fund is still in its early days of building up its reserves from premiums paid by the banks, and it is anticipated it could take another 15 to 20 years for it to have sufficient funds to cover its potential financial obligations. When asked what will happen if a bank fails in the meantime, Stephen Todd, chairman of the BDIC, said: "We would not wish to see such an event transpire. We would need to ensure that there is some framework in place, some contingencies to at least avoid such an eventuality. It is a process that really is a work in progress. It is not something that we can necessarily safeguard against, but we wish to ensure we take all the necessary steps to prevent it as best we can." An information brochure that explains how the scheme works, mentions that the Bermuda Government is providing liquidity support to the scheme while the deposit insurance fund is being built up. The Royal Gazette is seeking clarity on what this would mean in terms of depositors being compensated up to the maximum level. The brochure also provides scenarios to show how the scheme works in different circumstances. A simple example would be if an individual has $20,000 in a Bermuda dollar account. If that customer's bank failed, they would be eligible for $20,000 in compensation through the fund. On the other hand, if they had $50,000 in Bermuda dollar deposits, regardless of whether it was split across more than one account at the bank, they would be eligible for a maximum of $25,000 in compensation. The scheme covers accounts of individual and joint account holders, sole partnerships, partnerships, unincorporated associations, registered charitable organisations and corporate small businesses registered with the Bermuda Economic Development Corporation. It only applies to Bermuda dollar accounts, and there are no immediate plans to change that. Mr Todd said Bermuda dollar accounts are the primary and largest concentration of deposits held with local banks. "We feel it is first and foremost our responsibility to look after the Bermuda dollar deposits and then proceed accordingly," he said. Curtis Dickinson, the finance minister, and Thomas O'Rourke, of the Bermuda Bankers Association, also spoke at the press conference where the BDIC and the deposit insurance scheme were announced. In prepared remarks, Mr O'Rourke said: "Public confidence reduces the likelihood that depositors of an individual financial institution will panic and withdraw funds suddenly if concerns arise about the condition of that institution. We have seen examples outside of Bermuda where concerns about one financial institution have at times led to concerns about others, resulting in so-called "contagion runs". Thus, deposit insurance supports the stability and smooth operation of the entire financial system by providing insured depositors with prompt reimbursement or access to insured depositors' funds. Delays in reimbursement can also cause financial hardship for depositors, who may need funds for everyday living expenses. A scheme that provides prompt reimbursement aids in enhancing public confidence in Bermuda's financial sector and economy." He said the Bermuda Bankers Association fully endorsed the scheme, which is mandatory for all licensed banks. The deposit insurance fund is being built up from premiums paid by the banks, currently calculated on qualifying insured deposits at the rate of 0.25 per cent, per annum, and also from earned investment income. In addition to the banks, the Bermuda Industrial Union Members' Credit Union is being integrated into the deposit insurance scheme.
The public can learn more about the scheme from the BDIC brochure, which will be available at scheme members, or by visiting the website https://www.bdic.bm.

Victor Insurance Holdings, the world's largest managing general underwriter, has appointed Anthony Stevens as president of Victor International, effective immediately. Mr Stevens, who was previously head of international development for Marsh's global risk and digital division, will be responsible for advancing Victor's insurance strategy outside North America with a specific focus on innovative insurance products and digital solutions, the company said. Victor has offices in Bermuda, United Kingdom, Netherlands, Germany, Italy, Australia, Canada, and the United States. Mr Stevens is based in London and reports to Christopher Schaper, chief executive officer of Victor Insurance Holdings. He succeeds Paul Drake, who previously announced his plans to retire from the firm in September. The company said Mr Stevens brings a unique expertise in technology, strategy and international growth to this new role, having worked throughout Europe and Asia-Pacific on the carrier, brokerage, and consulting sides of the industry. Mr Schaper said: "A technology-driven leader, Anthony's extensive experience in building next-generation commercial insurance distribution models, as well as international development, make him ideally suited to drive Victor International's ambitious growth plans." Mr Stevens said: "Technology, data, and analytics are globally revolutionizing the way in which the insurance industry transacts business, and managing general underwriters are at the forefront of this transformation. Victor is a new breed of MGU, and is now well established in numerous markets including the UK and across Continental Europe. I'm excited to develop new opportunities incorporating innovative insurance products and digital solutions throughout the international insurance market."

A multimillion-dollar marine research robot will be based in Bermuda from this summer. The hi-tech Remus 100, designed by the Woods Hole Oceanographic Institution in Massachusetts, will be used to collect valuable information on the state of the seas around the island. Bermudians are being trained to pilot the robot, which is also adapted for minehunting and used by several navies, by a former navy autonomous systems expert, before the machine is deployed in July. Choy Aming, a marine conservationist who will be one of the pilots, said: "This is an excellent opportunity for Bermudians. As a Bermudian, this is a really exciting project because we have often been at the forefront of conservation and this is just the latest manifestation of how we will do it in the future. It is going to open up a complete new world." Operators in Bermuda will be trained to programme and process information gathered by the Remus 100, which is equipped with sophisticated sensor and navigation systems to help it carry out detailed sonar oceanographic surveys. The Remus 100, which will be launched from the Bermuda Aquarium, Museum and Zoo in Flatts, can capture crystal-clear video footage, map fish numbers, identify individual species and track currents, temperatures, water salt levels and topography to help in ocean conservation. The machine can collect information at depths of more than 300 feet far faster than human divers. Ocean Tech, a Bermuda-based charity borne out of the marine conservation TV series Ocean Vet, which starred Neil Burnie, who died while free diving in 2014, uses the machine to undertake numerous missions in the waters off Bermuda and donated $70,000 to fund the latest research project. Mr Aming said: "Neil would love that we are continuing the work that we started. Understanding our environment is critically important for our survival so that would have inspired him." The vehicle, now manufactured by Hydroid, a leader in marine robotics, is owned by Cerulean, a Remus 100 leasing company that is run by Henrik Schroder, a joint founder of Ocean Tech. Andy Smith, a fellow Ocean Tech founder and mission manager, said he had put five years of "blood, sweat and tears" into the project, which is sponsored by financial services firm PwC, also a mission partner, and the Lindo's retail group. Mr Smith said: "The more data we have about how the marine system works around Bermuda, the more we are likely to efficiently and effectively conserve what is here. Understanding is the key to making sure that we protect our marine environment. There is a huge lack of understanding about the ocean, so the more we understand, the more we give Government grounds for it to be protected. The fisheries department needs hard data in order for them to act on. We are the only charity in the world that can provide subsidised and free access to a Remus 100. We consider applications from around the world, but the idea is to bring scientists here to study. It is about bringing people to Bermuda and we have plans to involve universities in the UK and US and Bermuda Institute of Ocean Sciences educational programmes." The Remus has the most advanced fish finder in the world and can identify species by sonar signatures. Mr Smith said: "This type of information will be critical for things like understanding how many grouper there are on the aggregation grounds and can give us an assessment of the population every year. It can also assess large areas for the amount and location of invasive lionfish. Lionfish remain a threat to Bermuda endemic species to this is hugely important." One of the first jobs for the Remus 100 will be to map Harrington Sound to produce a three-dimensional, topographical map. Mr Smith said: "In a collaboration with BAMZ, the mission has been funded to map 'the bottomless Harrington Sound' — finally we will know. Harrington Sound is such an important body of water and ecosystem. We will be able to see what the basin looks like, where the reefs are, what the depths there are. Choy will work with scientists, students and schools because he is so deeply passionate. His background is with Ocean Vet and he was involved in tagging sharks — programming the tags and dealing with the data of the tags to understand where they migrate. It is a natural evolution for him." Other local pilots will include Tim Noyes of Bios, Annie Glasspool, of Bermuda Environmental Consulting, and Henrik and Jonas Schroder.

May 16

European Union documents have confirmed that Bermuda will be removed from the bloc's tax blacklist tomorrow. Finance ministers from the 28 member countries are due to convene in Brussels for a meeting of the Economic and Financial Affairs Council. A background paper for the meeting, published by the European Council, said: "As points without discussion, the council is expected to approve an update to the list of non-cooperative jurisdictions: the council should decide to remove Aruba, Barbados and Bermuda from the list." The document backed up Curtis Dickinson, the finance minister, who said in the House last Friday that he expected Bermuda to removed from the blacklist at Ecofin's meeting. Bermuda was added to the list of non-cooperative jurisdictions for tax matters two months ago, after what David Burt, the Premier, said was a "drafting error" in the economic substance regulations submitted to the EU. Mr Dickinson said Bermuda was likely to be moved from Annex 1 of the list to Annex 2, known as the grey list. He added that EU concerns remained over the island's legislative framework for collective investments funds and that the island had committed to address that by the end of the year. Bermuda will be grouped with the Bahamas, the British Virgin Islands and the Cayman Islands on the greylist for having "tax regimes that facilitate offshore structures that generate profits without real economic activity".

Surveillance cameras could help clamp down on illegal dumping at a public dock, a nature enthusiast said yesterday. Jessica Riederer added that "repeat offenders" disposed of waste and that more education would make people think twice before they disfigured the landscape with trash. She said she was pleased that a public works team removed material dumped at the dock at Ely's Harbour in Sandys last week but that more waste had been left at the spot since then. The nature photographer told friends on Facebook that waste collection staff attended "within 48 hours" of the problem being reported in The Royal Gazette. But she said yesterday: "They went and cleaned it and then when I went to photograph it on Saturday, there was more dumping. It seems to be electrical items. The general consensus from people on Facebook is that cameras would help." Ms Riederer said that she came across trash at the site in January and posted pictures on social media to highlight the problem. The images were widely circulated and featured on ZBM News, but the attention did not spark a clear-up until last week. She shared the latest photographs on her social-media page and they prompted suggestions from other users, including an increase in the number of public waste drop-off points. Ms Riederer, 45, from Southampton, believed "most of the island" acted responsibly but a group of people were "the same repeat offenders". She added: "Education is key and unfortunately, if we can't catch those doing it, there are no repercussions, and I think people are going to continue doing what they're doing, why shouldn't they?" Ms Riederer thanked the team that removed items last week. But she said: "From their point of view, it's probably frustrating when they're going up there all the time, and it's an excessive amount of stuff." Anne Hyde, the executive director of Keep Bermuda Beautiful, added that the dock was "one of the problem spots on the island" and public sites — including schools — where skips are based also attracted illegal dumping. She said: "It would be great to find out how we can enforce the law against these illegal dumpers. Some of it might be fairly innocent — people know a trash truck comes there, there's a dumpster there and they think, why can't I put my TV there?" But she added: "That's just not correct disposal of waste." Ms Hyde explained that trash fell into different categories and the proper disposal methods were explained in a chart on the Government's website. She said piles of trash could encourage other people to dump because some felt it was acceptable if they saw someone else had done it. Ms Hyde added: "People are pointing fingers at the Government instead of at the dumpers." She agreed that cameras could help to curb illegal dumping, along with better education. But Ms Hyde admitted surveillance could be difficult as the process to set them up took a long time and the costs to monitor and maintain the technology could be high. She added: "Maybe sending notification out to all truckers to remind them of the rules of what goes where and what's appropriate there and maybe also asking for the co-operation of the people who are normal users of the Ely's Harbour dock or whatever public dock or public schools to keep an eye out and help inform people would assist."

Police said no data was lost after a system breakdown yesterday. The 911 emergency service number was knocked out of service when the communications centre at Prospect suffered a power cut. A Bermuda Police Service spokesman said this afternoon that "most services" were restored, including the 911 and main 295-0011 numbers. He added: "On initial inspection there does not appear to be any data loss and full system restoration is anticipated by Monday, May 20th. However, technicians will continue to closely monitor the BPS data centre over the coming days to ensure system stability. The BPS would like to sincerely thank the technical vendors and our staff for all their assistance — as well as the public, for their patience and co-operation, while the necessary repairs were made."

A digital asset business linked to diamonds that is said to have attracted millions of dollars in pre-orders from institutional investors, could be cleared to transact with its token and exchange by the end of this month. That is according to Cormac Kinney, chief executive officer of Diamond Standard, who spoke last week at a high-profile finance, economics and thought leadership conference in Las Vegas. Yesterday, Bermuda-incorporated Diamond Standard Ltd announced the appointment of James Campbell as its chief financial officer. He has also been named CFO of sister company Bitcarbon Technologies Ltd, which last year advertised for more than 20 positions in Hamilton. The company said it will start recruiting for ten to 12 positions in Bermuda during the coming months, with further positions to be filled later in the year. Diamond Standard is building an electronic diamond exchange in Bermuda. Mr Kinney, the founder, is a celebrated American entrepreneur and software designer with a lengthy track record in successful start-ups and technology-orientated business. His inventions have been cited in nearly 4,000 US patents. At the Salt Conference in Las Vegas last week, Mr Kinney appeared on a panel where he discussed the concept of the Diamond Standard coins, which contain an equal value of diamonds and feature an internal wireless encryption chip, a Bitcarbon Technologies-issued bitcarbon digital token for online trading. Among its proposed uses, the coin can act as collateral to borrow money or asset-back a smart contract, such as a down payment on a purchase. The token is said to be compatible with every blockchain programme. Mr Kinney said more than 90 per cent of the company's initial orders have come from institutions that have never owned a digital asset. He said the majority are multi-trillion-dollar investment managers and ETFs. He added: "We have a lot of institutional investors in the equity of the company that also helped us with pre-orders. We now have several hundred million in pre-orders. We can't actually launch. We've chosen to be regulated and our tokens and our exchange are both regulated by the Bermuda Monetary Authority, so we can't actually transact for about one more week." As of yesterday Bitcarbon and Diamond Standard were not listed as licensed entities on the BMA website. Mr Kinney has been featured in many publications, including Fortune and Forbes. He is the inventor of the heatmaps, which graphically depict financial market information and have been used extensively on Wall Street and beyond since the 1990s. He has raised venture capital from the likes of Intel, Deutsche Bank and Bank Stearns. Meanwhile, in yesterday's announcement of Mr Campbell as CFO of Bitcarbon Technologies and Diamond Standard Ltd, the company said he would lead its local expansion and liaise with the Bermuda Government and the Bermuda Monetary Authority. Mr Campbell, a Bermuda resident, most recently advised the Bermuda Hospitals Board, and previously was CFO of Counterpartylink Ltd, a financial data company based in Hamilton and the UK. He is said to have more than 30 years of financial and operational experience, particularly with technology and telecom start-ups. Bitcarbon is operating from temporary offices at 55 Par-la-Ville Road. Bermudian Heather Kitson is also a director of Diamond Standard in Bermuda. Mr Kinney said: "I am delighted to welcome Jamie to our management team. His impressive qualifications, and past success in leadership roles at technology companies, make him ideally-suited to the role. As a Bermudian financial professional, he is committed to developing the country's role as a world-class fintech hub. He will guide our company's growth in partnership with the BMA and BDA, while building our local team." Mr Campbell said: "I am excited to join Cormac and the Diamond Standard team at this important juncture in their growth. The company's unique offering — the first diamond commodity which is also a digital asset — is the kind of leading-edge fintech investment that Bermuda wants to attract with our industry-leading digital asset legislation and our first-in-class regulatory environment, and I look forward to driving its long-term success."

A 20-year-old man was convicted last night of stabbing a restaurant worker 13 times in an attempted robbery. A jury found Alex Wolffe guilty of wounding, attempted robbery and two counts of intimidation. Borislav Angelov was stabbed outside his Paget home after he was chased on his motorcycle along Harbour Road by two men on a bike in the early hours of October 23 last year. They pursued the bartender into the yard of his Paget home and attacked him. He was stabbed as he fought back against one of the attackers. Mr Angelov sustained serious injuries, including a collapsed lung, and spent ten days in hospital. But he was able to spot the licence plate number of the bike ridden by his attackers. Wolffe, from Southampton, earlier testified that he was at home watching television and listening to music with friends on the night Mr Angelov was stabbed. He also claimed that he had been robbed by two men — one armed with a knife — on the same night. The trial was delayed after Wolffe was stabbed in the shoulder earlier this month. The jury deliberated for almost three hours before it reached a verdict. Wolffe was found guilty on each count by a majority verdict of nine out of 12 jurors. Wolffe was remanded in custody by Puisne Judge Juan Wolffe and a date will be set for his sentencing at the next arraignments session. Defence lawyer Susan Mulligan told the court that her client planned to appeal.

Crowds lined the streets of Hamilton to watch as a giant engine for the new Belco North Power Station was transported through the city. The 280-tonne machine inched its way to the construction site on the back of a remote-controlled transporter, while staff from the electricity company dressed in souvenir T-shirts walked alongside. Members of the public also showed interest and took photographs as a specially imported vehicle crawled along Queen Street to deliver the engine to its destination on Serpentine Road in Pembroke. The trip was expected to take up to 2½ hours. Burmeister & Wain Scandinavian Contractor, the lead contractor on the North Power Station project, chartered the Netherlands-registered MV Jumbo Fairlane to deliver four new engines and their alternators to Bermuda. A spokesman for Ascendant Group, the parent company of Belco, explained that each engine is five metres wide, 6½m high and 11m long. The alternators each weigh 66 tonnes and are five metres long and nearly 4½ metres in width and height. The 109-metre-long ship has two 400-tonne cranes and used moveable ballast tanks to help balance the loading of the cranes as it moved the engines and alternators from the ship's hold to the dock. He said: "BWSC has taken the opportunity to use the remaining stowage space aboard the ship with other materials for the plant, including large electrical transformers, exhaust silencers, radiator coolers and fans, powerhouse cranes, HV switchgear and air compressors. There will be many further material shipments through the regular Bermuda freight lines, as there have been already, as the project progresses. However, the safe arrival and offloading of this shipment marks a substantial milestone for the NPS which is due to be commissioned in the first quarter of 2020." The spokesman said that the engines and alternators were "so heavy and large" that a special vehicle, imported temporarily, was used to carry the goods from the dock to the site. The transporter has 112 wheels, is three metres wide, 27 metres long and moves "at walking speed". It was thought the journey between the dock and the construction site would take between two and 2½ hours. The spokesman added: "The management and staff of Belco appreciate the public's understanding as we work to build an energy foundation that will be safe, efficient and cost-effective for our customers." Engines and alternators were scheduled to be delivered to the NPS during evenings until May 27. More information on road closures can be found on the company's website at belco.bm.

A representative from the United States Social Security Administration (SSA) will visit Bermuda on June 4 and 5 to assist with social security and federal benefits matters. The representative will be available to answer questions from the public about matters including, but not limited to, social security number applications, applying for social security benefits, veterans benefits and any issues concerning monthly benefits. To schedule an appointment please visit: https://www.signupgenius.com/go/70a0d48aea622a6f85-us. If you are not able to sign up with the above link, please contact the U.S. Consulate at (441) 705-0424 between 2:00p.m. - 4:00p.m. Monday through Friday, or send an email to HamiltonConsulate@state.gov.

After four years of showing Bermuda's visitors the food, history and even ghosts of St George's, Kristin White is taking things further afield. This summer the owner of Long Story Short will be offering Norwegian Cruise Line passengers A Taste of St David's. "I wanted to celebrate the history of St David's, the culture and also to tell some stories about the food," she said. "I think St David's has a really strong sense of food history. There is stuff that is made in St David's that isn't made anywhere else across the island." Alexandra Battery, Carter House, Clearwater Beach and St David's Lighthouse will be featured in the three-hour tour, but the highlight promises to be Marta and Hans Olander's farm on Jacob's Point Road. Ms White said the farm is a rare slice of old Bermuda. "It's magical," she said. "I wouldn't have done the tour, if I hadn't been able to get the Olander's farm as part of it." The farm has been passed down in Mr Olander's family, the Brangmans. In previous generations the family grew cassava, but gardening largely stopped there in recent times. Then a few years ago Marta Olander, originally from Costa Rica, started things up again. "I started a little farm only for me, and started to do a little bit of this and that," she said. "I was giving what I grew to my neighbours. They would say you're producing so much, why don't you sell the stuff?" The Saturday morning farmers' market in Paget was a bit far for her to go, so she started selling her produce out of the back of her car, on Kindley Field Road. Things didn't go well, at first. I remember coming home and thinking I have all these vegetables to put in the trash," she said. But as time went on business picked up, and she now has a loyal following. Janet DeBraga will be a tour guide for a Taste of St David's, offering visitors her family stories, and information and history about St David's. The tour will also offer information about the St David's connection to the Native American community in the United States. "St David's is often forgotten by tourism, unless it is Powwow time, or something that interests them," she said. Mrs DeBraga's family, the Foxes and O'Connors, have lived on St David's Island since the 1700s. She said the St David's of her childhood was a neighborly and welcoming one. She remembers often coming home to find her grandmother Jessie O'Connor's house filled with strangers. "Someone could be walking by and think what smells good? She'd say come on in," Mrs DeBraga said. "In the old days, before St David's was connected to the mainland, people would come to visit by boat. Visiting was an all day affair. If you knew a visitor was coming you cooked." She remembered her grandmother cooking suck-rock stew, a St David's Island speciality, but she confessed though that she never ate any, herself. St David's is also known for mullet roe and shark hash. Mrs DeBraga will talk about them on the tour, but they probably won't be on offer. "Something like mullet roe takes a lot of time to make," Ms White said. "But we will have Bermuda specialities like fish chowder and fish cakes for visitors to try." Tour-goers will also be able to sample Olander produce, and purchase Olander-made items such as pickled beets. "We want this to be something that brings some revenue to the farm and introduces people and gives them a glimpse, but it is the Olander's farm," Ms White said. "We don't want it to turn into Disneyland." She said it's important not to lose the spirit of something while you're trying to create a tourism product out of it. "We don't want to turn it into Disneyland," she said. This year, the tour will be offered only to NCL cruise passengers docked in St George's. "We want to keep it really small this year, so we can evaluate if this is something we want to move forward with," Ms White said. Next year they might expand it. Ms White said her other tours have proven to be popular with locals who want to learn more about Bermuda history, taste the food and see parts of the island they've never seen before.
For more information about Ms White's tours, see her website kristendotcom.com or e-mail hiya@kristindotcom.com

The Salvation Army is spreading the message that its work is about much more than handouts. Beverly Daniels, the charity's executive director for social services, said the Salvation Army transformed lives by helping people to set and accomplish goals through its Pathway of Hope programme. Ms Daniels said: "We are not just handing out a bag of groceries. Our primary goal is to take you from where you are to where you potentially could be." The Pathway of Hope programme, which was started in January, was designed to help clients overcome poverty and become self-sufficient. Ms Daniels said people who contributed to the Salvation Army often asked what was done to make sure people did not become dependent on the charity. She said staff worked with clients from the emergency housing complex in Pembroke, North Street Corps and Food Bank, and the Harbour Light life skills centre. Ms Daniels, speaking to the Hamilton Rotary Club at the Royal Hamilton Amateur Dinghy Club in Paget, explained that the Pathway of Hope was a strength-based programme, which helped people to gain their independence. She added: "It means that we look at our clients and the people we serve and we begin from a position of strength." Ms Daniels said: "We have not really impacted a life until we have had the opportunity to move that person from where they are to where they can possibly be." She said the charity helped people achieve their goals in finances, education. housing, and family life. Ms Daniels added that other programmes in the Salvation Army would continue even as the organisation worked to get clients independent of the charity. She added that the Salvation Army could not do its work without support from the public, including employers and landlords.

May 15

A government employee has been accused of assaulting a teenage girl who refused to board a flight to the United States. The civil servant is alleged in an official document seen by The Royal Gazette to have assaulted the 17-year-old at LF Wade International Airport. A police spokesman said last night: "The Bermuda Police Service can confirm that an official report has been made regarding this alleged incident and the matter is currently being investigated. As such, no further comment can be made at this time." The girl had no legal representation at the time of the alleged assault last Wednesday but is now represented by law firm Marshall Diel & Myers. MDM said in a letter to The Royal Gazette, sent in response to questions, that it was contacted by a member of the public about the alleged assault last Friday and a second person later reported the same allegation. The letter added: "We were then contacted by litigation guardian Tiffanne Thomas. She was not involved in the case but had received the same reports and asked if we could check on the girl and represent her if required." The letter said that MDM lawyer Saul Dismont spoke to the girl on Friday afternoon and she asked him to represent her. It added that the girl repeated the allegation of assault and claimed that it happened when she complained that she did not want to be sent to an overseas secure treatment centre. Three sources said the youngster was being forced to return to the institution as part of the Department of Child and Family Services' psycho-educational programme. One source, who spoke to the girl, said the teenager was earlier at the same US centre but told Department of Child and Family Services staff she did not want to go back because it was "horrific". The source added: "She is not even allowed to whistle, hum or sing." The girl was at the airport with two government employees when the assault is alleged to have taken place. The youngster was using her iPad and wearing headphones when the civil servant was said to have told her to board the flight. The government employee was said to have taken the iPad and headphones when the girl refused to get on the plane. The girl, who cannot be named for legal reasons, asked for them back and reached out to retrieve them, which is when the assault is alleged to have taken place. The civil servant is understood to have called police after the alleged incident and officers attended. The police took the youngster to Hamilton Police Station and then to one of the department's care homes. MDM said Mr Dismont attended the children's home on Friday afternoon and was invited in to see her. The letter added: "When he asked the girl whether she wanted him to represent her, she responded that she did. At that moment, she became our client." The letter said that as the child gave instructions to the lawyer outside the home, a DCFS supervisor told her to go back inside, told Mr Dismont to leave and accused him of trespassing. The staff member called police and Mr Dismont did the same in an effort "to prohibit the department's attempt to prevent our client from giving him instructions about an alleged assault". Police, DCFS director Alfred Maybury and a legal aid-funded lawyer all arrived at the scene. The legal aid lawyer said he was there to represent the girl at Mr Maybury's request. Police brought the girl back outside and she confirmed that she wanted Mr Dismont to represent her. The law firm applied on Friday afternoon for the teenager to become a ward of the Supreme Court to prevent her being taken abroad without representations being made on her behalf and for Ms Thomas to be appointed as her litigation guardian. A hearing is expected to take place this week to decide if she has to return to the US institution. The MDM letter said: "In the meantime, we have asked that all staff involved in the airport incident be prohibited from having any contact with our client." The civil servant and Mr Maybury declined to comment on Sunday. A spokeswoman for the Ministry of Legal Affairs, which includes the DCFS, said: "The ministry is aware of this incident and takes note of the allegations raised in the correspondence provided to The Royal Gazette. We will review and determine the appropriate action to obtain the outcome that is in the best interest of the child and all involved." The Family Court has for decades approved requests from DCFS to send youngsters to schools and institutions overseas when social workers have decided they had exhausted all available on-island services. Hundreds have gone abroad but only a fraction of them have had an independent lawyer and a child advocate, known as a litigation guardian, to represent them. MPs heard in March that 17 boys and three girls received treatment at various overseas centres in 2018 for a "complexity of issues" that involved mental disorders.

The final town hall meeting to discuss a living wage will take place at the Somerset Cricket Club tomorrow. The Ministry of Labour, Community Affairs and Sport wants the views of the public on the creation of a Wage Commission and a living or minimum wage. Meetings have already been held in St George's and Hamilton. Panellists for the third and final meeting, which starts at 6.30pm, include committee chairman Rolfe Commissiong, a Progressive Labour Party backbencher, Island Restaurant Group director Philip Barnett, statistician Cordell Riley, lawyer Philip Perinchief and Bermuda Industrial Union president Chris Furbert. A ministry spokeswoman said: "The ministry takes this opportunity to not only thank the panellists for providing their time and expertise on the matter, but also to thank all those who have attended the meetings thus far. Those who are able are encouraged to attend the final meeting and be a part of the conversation." Anyone who wants to make their views known can visit The Citizens Forum at forum.gov.bm.

A call by a patients pressure group for the head of the island's health watchdog to be replaced by a "neutral" non-medical figure has been rejected by the health minister. Kim Wilson said it was "entirely appropriate" for a physician to chair the Bermuda Health Council after the Bermuda Healthcare Advocacy Group questioned whether ophthalmologist Alicia Stovell-Washington should be in the top role. The call came after a member of the public complained to the patients group about being charged for a visit to Dr Stovell-Washington's surgery when the doctor was not present and other staff conducted tests. The patient, who asked not to be named, said they were surprised to be charged a "substantial" copay for the visit and told they would have to return to see the doctor to have their eyes dilated at further cost. The BHAG said it was difficult to see how the patient could have any confidence in the Bermuda Health Council to investigate the concern, as Dr Stovell-Washington was its chairwoman. But Ms Wilson, who appoints the council's board, said there was "nothing unusual" about a physician heading up the council. She added: "This is not the first time the health council has had a physician as its chairman and it is entirely appropriate, just as the chair of the Medical Council is a medical doctor and the chairs of other professional councils are health professionals. Dr John Cann was chairman of BHeC in 2012. There is also precedent of a healthcare provider as a chair of the health council, as was the case with Simone Barton of the Bermuda Heart Foundation in 2015 to 2017." Ms Wilson said she was aware that the health council had rules to deal with potential conflicts, including a conflict-of-interest policy and signed declarations. She added: "I fully support the chairman's integrity and transparency. The allegations regarding billing have not been raised with me at any time by the Bermuda Healthcare Advocacy Group or by anyone else. As a general rule, complaints about healthcare billing should be raised with the provider directly in the first instance and, if unresolved, can be submitted to the health council by the patient. To my knowledge, no such complaint has been made. If it is, my expectation is that it would be investigated as with any other complaint." Ricky Brathwaite, the acting chief executive of the BHeC, said the council's board did not deal with specific complaints so no conflict would arise if a complaint was filed. He added: "No one is provided preferential treatment in the health system. The healthcare advocacy group is more than welcome to file a complaint. Every provider, even Dr Stovell-Washington, would have to go through responding to that complaint if it's made." He said physicians were regulated by the medical council and the health council had oversight of insurance matters. Dr Stovell-Washington said in an e-mail: "I have contacted Bermuda Healthcare Advocacy Group and discussed their concerns. The matter has been resolved between us. I ask that the one patient who had a concern contact my practice directly so we can review their inquiries." The patients group said in a statement that the issue they raised had been "heard, addressed and hopefully resolved". It added: "Bermuda Health Advocacy Group ... agrees that there should be physicians on the Bermuda Health Council to give valid input. However, senior positions should remain neutral."

Proxy advisory firm Institutional Shareholder Services Inc yesterday refused further comment after taking a swipe at Bermuda as a domicile in a report about a high-profile proxy battle. ISS, a subscription service for institutional investors, issued a report about the ongoing proxy fight between Argo Group International Holdings Ltd and activist shareholders Voce Capital Management, holders of a 5.6 per cent stake in Argo. The two groups have been at odds since Voce earlier this year attacked what it called a "spendthrift culture" and "inappropriate corporate expenses" at Argo. Argo has denied Voce's claims. Argo and Voce have each put forward a slate of director nominees in advance of the company's annual general meeting on May 24. In its report, ISS threw its weight behind Argo's slate, citing the strong results that the Bermudian re/insurer's board and management have delivered for shareholders. It also noted Argo's "good overall governance" and said "the board has appropriately refreshed itself in recent years". The report also stated: "For a business that requires constant risk assessment, it's ironic that none of the directors saw the risk in a self-promoting CEO whose interests and hobbies were inextricably intertwined with Argo's marketing budget. Some degree of complacency, perhaps as a byproduct of the company's Bermuda domicile, may have played a role here." ISS yesterday declined to comment about the company's view of Bermuda as a jurisdiction, why being domiciled in Bermuda would lead to a degree of complacency on the part of the board of directors of Argo Group, and what evidence ISS reviewed that led to it making the comment about board complacency. Addressing ISS' comment about board complacency, an Argo spokesperson said: "We don't agree that this is the case." ISS, in operation for more than three decades, has 30 offices worldwide in 13 countries, and has more than 1,800 staff. It claims to produce more than 42,000 proxy analyses annually in 115 global capital markets. The proxy battle war of words continued yesterday with Argo's independent directors sending a letter to the company's shareholders. The letter reviewed the company's total shareholder returns over the last five years, and urged shareholders to vote for the Argo slate of director nominees. The letter said: "We have provided you with objective facts and reasoned analysis, not 'flashy diatribe'." Global governance firm Glass Lewis, a subscription service with more than 1,300 clients, is expected to soon issue its report on the proxy fight between Argo and Voce.

Bermuda-based Sun Life Financial International has launched Sun Global Sentinel, a permanent participating whole life insurance product aimed at high net-worth clients. The company is a unit of Sun Life Financial, the Toronto-based financial-services company with more than $1.01 trillion of assets under management as of March 31 this year. Sun Life has strived to establish itself as a pioneer in ultra-high-net-worth and high-net-worth life insurance markets. Sun Life Financial International focuses on high-net-worth life and wealth solutions for families in Asia, Latin America, the Middle East and Africa, helping families and business owners protect their wealth and fund their business succession plans. "We are pleased to offer Sun Global Sentinel to our high-net-worth clients," Paul Courtney, chief commercial officer of Sun Life Financial International, said. "All our products are a great solution for global clients who seek to protect and grow their legacy for future generations. In particular, Sentinel is designed for those clients who seek a guaranteed lifetime protection combined with potential value accumulation through dividend earnings that can increase the death benefit and cash value." Whole life products — which include a death benefit and an investment growth component — have become increasingly popular with high-net-worth clients in recent years. Sun Global Sentinel affords long-term security through permanent coverage and guaranteed death benefit, offers the potential for growing clients' legacy through bonuses that may be applied to the contract, and offers flexibility of tailoring the contract to one of three benefit plans and choosing a payment schedule that best fits client needs, Sun Life said. "Sun Global Sentinel is a great timely addition to our product portfolio," Niall O'Hare, CEO of Sun Life Financial International, said. "We will continue working on expanding our product offerings, creating more product choices for our high-net-worth clients." The Sun Global Sentinel product is not available to citizens and residents of Bermuda, Canada and the US.

Tourists will become part of the Bermuda Day Parade thanks to a new initiative. They will get to wave at the crowds from within the procession through Hamilton, or watch it unfold from a VIP Front Street viewing spot, under the Bermuda Day Experience from the Bermuda Tourism Authority and Department of Community and Cultural Affairs. BTA chief experience development officer Glenn Jones said: "Bermuda Day is one of our island's most popular cultural events, bringing every facet of island life to the streets of Hamilton in a vibrant kaleidoscope of colour and music and Bermudian heritages. "Our new Bermuda Day Experience gives guests to the island's two totally immersive options: either watching from atop our new Official Visitor Services Centre on Front Street or experiencing the day from beyond the front row by riding on a parade float."
Options include:
• Beyond the Front Row Bermuda Day Access: A behind the scenes tour of Bermuda Day floats and chance to meet the creative Bermudians behind the floats. Ride in the procession and watch the remainder of the parade in a reserved viewing area.
• Bermuda Day Reserved Viewing: Watch the parade in the Official Visitor Services Centre on Front Street.
The Bermuda Day weekend, starting next Friday, aligns with the start of Memorial Day weekend in the United States. To book the new Bermuda Day experiences, visit ptix.bm/bermudaparade.

Giant engines and equipment needed to build the new Belco North Power Station have arrived in Bermuda on a massive cargo ship. The cargo of Jumbo Shipping's Fairlane, moored at Front Street in Hamilton by the Number One Car Park, included four massive generators, spotted yesterday by The Royal Gazette. The Netherlands-registered ship, classed as a heavy-load carrier, has two 400-tonne cranes. The Fairlane is a little more than 110 metres long and transportation of its massive payload will require a series of traffic disruptions to get the equipment to its destination on Serpentine Road in Pembroke.

A "thorough investigation" is under way into a weekend crash that involved a police car, Commissioner of Police Stephen Corbishley said yesterday. A 29-year-old female soldier in the Royal Bermuda Regiment was injured when her motorcycle collided with the police vehicle at the junction of King Street and Reid Street at about 12.20am on Sunday. Police said officers were in pursuit of another motorcycle as it headed the wrong way along King Street when the incident happened. A spokesman said: "It has been established that the police vehicle involved had its lights and sirens activated when the unfortunate collision occurred. The impact resulted in both vehicles coming to a stop just north of the junction. The injured woman is a Royal Bermuda Regiment soldier and accordingly the RBR's Commanding Officer has been notified." Mr Corbishley and Deputy Commissioner designate Darrin Simons visited the victim in hospital. The commissioner said he was monitoring the investigation closely. He added: "We appreciate the public's concern regarding this regrettable incident. Police officers are trained to drive with urgency. However, a thorough investigation is being done and I await the findings to ascertain the full circumstances." A police spokesman added that a 52-year-old man who crashed his motorcycle into a wall at the north roundabout near Trimingham Road, Paget, on Sunday afternoon was in "stable" condition in the King Edward VII Memorial Hospital intensive care unit. Police have appealed for witnesses to both incidents.

Two donors have pledged a total of $75,000 to transform a former rest home into a life-changing centre for homeless families since an appeal was launched last month. The leaders of Habitat for Humanity of Bermuda and the Women's Resource Centre said yesterday that they were "overwhelmed" by the outpouring of support since the project was announced. Their plan for a Transformational Living Centre for Families will result in the former Pembroke Rest Home being turned into a haven that can cater for ten mothers and their children, who would live there for up to a year while they take advantage of programmes and services to help them move on. The charities said the first large donation of $25,000 was made by David Ezekiel and David Pickering from the IAS Foundation. They added that "following that, and again without even making a request", they got a call from Jim Stanard, the cofounder and chairman of Tiger Risk Partners, who pledged $50,000 of his own money. Mr Stanard was a founding member of Bermuda's branch of Habitat for Humanity and sits on the board of directors for the international umbrella organisation. Elaine Butterfield, the WRC executive director, said: "We have been overwhelmed by the support that we have received for this project already and we have not even launched our fundraising campaign yet." Sheelagh Cooper, the chairwoman of Habitat for Humanity of Bermuda, added: "Apart from these two very generous gifts, we have received numerous offers of building materials, doors, windows, flooring and solar panels as well as pledges to provide labour from so many companies." Ms Butterfield and Ms Cooper added: "This kind of enthusiasm and support from both the local and international sector so early in the game is hugely gratifying and really serves to underscore the overall recognition of the need for this kind of safety net for our most vulnerable families. Now that we have possession of the building, the clean-up has started and we have already had three corporate teams come to our assistance." The plan was launched after a think-tank of 18 charities and government agencies in April last year identified significant levels of homelessness among mothers and children, as well as an urgent need to tackle the problem. A steering committee that included people affected by the problem met over the next year and recommended a TLC for Families that would offer not only housing, but counselling, rehabilitation, education, training and other services. Mr Ezekiel, who cofounded professional services firm IAS with partners Mr Pickering and Terence Power, said: "We were happy to support the TLC to such an extent at this early stage because it just ticked a lot of boxes. "Of great importance was that we felt we were contributing to a project as opposed to a charity, given that the goal in founding the TLC was to provide a safe living space for women and their children as a way of enabling them to support themselves. The main beneficiaries from the TLC will be the children in the families that are being assisted, and that meets one of the giving goals of the IAS Foundation. I've also had the pleasure of working with Sheelagh Cooper in the charitable arena when I was chairman of the Family Resource Network and I know that anything she works with has a good purpose and will have a good outcome for those who are being assisted." The total cost of renovations to the former rest home, which is owned by Pembroke Parish Council, was estimated at just over $1.3 million. But the charity leaders said they hoped people across the island would get involved and donate not only cash, but time, expertise and resources to reduce the total cost. Michael Weeks, a government backbencher, implored the House of Assembly last week to prioritise a multi-purpose facility to shelter homeless people. He said then: "This is a bipartisan issue. We can't continue to beat our collective chests talking about our standard of living when we have people, largely black men, living on the streets, doorways and parks."

Students from Ms. Wales' P4 class at Heron Bay Primary School recently visited the Bermuda Monetary Authority for a lesson in Bermuda's currency and tour of the Authority's Museum of Notes and Coins. The presentation and tour were conducted by Ms. Tessa Ingham, Analyst in the BMA's Finance and Currency Department. Numismatics is the study or collection of currency, including coins, tokens, paper money and related objects. The lesson, customized for presentation to primary school children, is aimed at creating a better understanding of currency in general, and more specifically focuses on the history of currency in Bermuda. This fun, interactive presentation exposes students to how Bermuda banknotes and coins are made; reviews the historical landmarks that are present on banknotes; and teaches about currency circulation in the community. Students are also treated to an interactive tour of the museum, where they can have an up close view of the coins and paper notes that were introduced to them during the presentation portion of their visit. The tour also provides an opportunity for additional questions to be answered, which equates to students having a better understanding of the concept of currency. Ms. Wales had this to say about her students and their experiences: "During our economics unit, we have learned quite a bit about the role of money and the importance of saving. A part of my lesson plan this year included introducing the concept of money, so a visit to the BMA tied in well with teaching the children how money is made and circulated. My students really enjoyed the presentation and they were excited to see the money up close. Many had no idea that money is minted in Europe and shipped to Bermuda. They took great interest in the cultural designs on our bills and learned what happens to money when it becomes old and worn out. Thank you to Ms. Ingham and the BMA for hosting us." Ms. Ingham added "I have worked in the Finance and Currency Department for 7 years and one of the things I look forward to every year are visits from the primary schools. The children are eager to learn and always ask interesting questions. One benefit of the BMA offering these educational presentation and tours is that it gives the students a bit of history and knowledge on our island's currency and for me it is great to meet new people…and we are happy to partner with Bermuda's primary schools in offering this educational opportunity to the community." Interested in booking a currency presentation for your primary school class? Contact the BMA's Currency Department at 295-5278 ext 286 or ext 231 or email currency@bma.bm.

May 14

Insurer Colonial is disappointed the Bermuda Government's proposed healthcare reforms are "rushed" and do not address the drivers of spiraling healthcare costs. The company is also raising questions about how the new system will work, as it will eliminate insurers' role in the administration of hospital-related claims. The Health Insurance Amendment Bill 2019 was tabled in the House of Assembly last Friday. The Government is to pay an annual grant to the Bermuda Hospitals Board, capped at $330 million for the coming year, to replace the existing fee-for-service arrangement. Naz Farrow, Colonial Group International's chief executive officer, told The Royal Gazette that her company had some concerns about the changes. "We are disappointed the Government's initiative does not address the real drivers of healthcare costs, including overutilisation, healthcare inflation and an ageing population. These challenges must be confronted if we are to secure a sustainable future for Bermuda's healthcare system." Her concerns echoed those of fellow insurer BF&M, whose chief executive officer John Wight has further argued that regulation of healthcare service providers is a necessary part of efforts to get healthcare cost inflation under control. The block payment to the BHB will be funded by the Government with a more than threefold increase in the amount it takes from monthly premium payments — up from $101.97 to $331.97. The money will go into the Mutual Reinsurance Fund. Under the existing system, insurers collect the part of the premium that covers hospital benefits — known as the standard health benefit — and then pay out claims related their clients' use of the hospital. Under the new system, due to take effect on June 1, more than nine tenths of the SHB will go straight to the Government in the form of the MRF contribution. Ms Farrow believes the Government has failed to consult adequately with the industry. "We would like to see a more inclusive, more consultative approach to the healthcare challenge facing Bermuda," she said. "There is a lot of experience, skill and compassion in the industry and, going forward, it should have a place at the table. To date, we believe the consultation, particularly on the proposed changes, has been inadequate and rushed. The change will mean the Government taking over responsibility for the administration of hospital benefits. This has been a responsibility jointly exercised by the insurance industry and the Government for more than 40 years," Ms Farrow added. The MRF charge will be the same for everyone, regardless of their health status and she argued that this would put upward pressure on premiums for those covered by private health insurance. "For our clients, it means that their total claims experience — whether they use the hospital or not — cannot be factored into their health insurance policies, thereby removing one avenue to lower premiums," Ms Farrow said. Because the set government fee is based on the entire insured community's experience, the fee will be greater than the premium many of our clients would otherwise pay." Under the current system, when an insurer's client is treated in the hospital, the hospital files a claim and the insurer processes it, checking that the treatment or procedure was appropriate and properly priced. That will change from June 1, when the hospital will no longer have to make claims. In a letter to clients, Colonial states: "The change in SHB funding removes two important cost-control elements in the calculation of premiums: insurers will not be able to factor in their total claims experience and the MRF charge will not account of whether or how much privately insured members use the SHB services provided by the BHB." Ms Farrow said: "There are also outstanding questions on how the proposed changes will work in practice for the administration of the standard health benefit, which is being removed from the SHB and transferred to the MRF. Currently insurers administer these claims on their client's behalf and provide value-added services." BF&M has similarly argued that the loss of the claims process removes a "check and balance" from the system. It also deprives insurers of data that helps them to identify changing health trends, helping them to gear their products to clients' needs. Ms Farrow said: "Colonial is making the adjustments necessary to address the proposed changes to the Bermuda Government's healthcare funding plan. Our first responsibility in this exercise is to make sure the healthcare of our many clients is protected and provided as seamlessly as possible." The Government has criticized health insurers for raising their premiums in response to the reforms. In a statement last week, David Burt, the Premier said: "For almost 50 years insurance companies have made millions of dollars in profits from a system that has rarely, if ever, looked out for the average citizen. This Government was elected to make Bermuda a fairer and more just society. A company's only duty is to its shareholders and its bottom line. This Government's responsibility, like its mandate, is owed to the people." Sources have informed The Royal Gazette that the industry standard average return in terms of profit from health insurance is about five cents for every dollar of premium, with 85 cents paid out in claims and ten cents on operational expenses. An actuarial report for the Bermuda Health Council showed that government-backed healthcare programmes pay out more in claims than they collect in premiums. For private health insurance, the opposite is true. In 2017, based on the SHB, the portion of the premium allocated to hospital care coverage, private plans had a loss ratio of 89 per cent, meaning that 89 cents on the dollar were spent on claims and benefits. Government plans had a loss ratio of 143 per cent, meaning premiums fell well short of what was needed to pay claims. The new system will pool private and government sources of funding to spread out the cost of heathcare across the entire insured population. Insurance sources believe this will effectively mean the private health insurance system will be subsidizing public programmes.

New classes of liquor licences have been introduced to widen the amount of businesses that can serve alcohol at special events. Kathy Lynn Simmons, the Attorney-General and Minister of Legal Affairs, said yesterday that the revisions to the licensing law would "usher in much needed reform to modernize Bermuda's liquor-licensing regime". Ms Simmons added: "This will enable more entrepreneurs to potentially participate and provide innovative and creative events for both locals and our visitors." The new legislation has created a special-event licence for private, non-profit events, public events for profit, or non-profit events held to promote a product such as wine tasting. The move came after several organisations were denied liquor licences under the old legislation. Some establishments that did not have a bar could not apply for liquor licences under the old regime. But charities could apply for occasional liquor licences granted for social, charitable or benevolent purposes. There are also new classes of licence in relation to itinerant restaurants and special events and for restaurants that offer outside catering services. Ms Simmons said the amendments were the first comprehensive overhaul of the previous Act, which was passed 45 years ago. She added that the Government wanted to create a balance between protection of people from the dangers of excessive alcohol consumption and the need for entrepreneurs to cater to adult customers. A single Liquor Licensing Authority made up of five members, down from ten, will be established. Ms Simmons said: "This replaces the predominantly geographical focus of the previous three licensing authorities with three members for each of the three districts, plus a predetermined chair." She added that the members would represent sectors such as the law, security, drug treatment, social work, hospitality and retail to make sure all interested parties were represented and offer a streamlined service for on-time applications. The members of the new authority have not been revealed yet. Ms Simmons said recommendations from the senior magistrate, the former chairman of the Liquor Licensing Authorities were taken into account, as well as social, legal and commercial concerns. People who earlier applied for liquor licences will have their applications assessed under the new legislation, which will be run through the Attorney-General's Chambers. Stephen Todd, the chief executive of the Bermuda Hotel Association, said the organisation backed the changes. He added: "This is much welcome news in terms of making the regulations more streamlined, more efficient. believe it is going to provide opportunities for our destination partners to provide the level of amenities and service that are much needed in terms of our visitors and what they expect." Last month, magistrate Maxanne Anderson told several organisations, including the Bermuda Underwater Exploration Institute and the Bermuda Tourism Authority's Visitor Centre, both in Hamilton, to wait for the new legislation because they could not be granted liquor licences under the existing law. Wholesale distributors of alcohol were also told they could not get occasional licences for events such as wine tasting under the previous Act.

A 200 per cent increase in the monthly maintenance fee for statement savings accounts, is among a range of fee increases announced by HSBC Bank Bermuda Ltd. The new fees are effective from July 1, and affect savings accounts, local and overseas payments, cheque cashing for non-HSBC customers, credit card annual fees and late payments, and annual rental fees for safe deposit boxes. The increases, announced in an e-mail to customers, are:
monthly maintenance fee for statement savings accounts rise from $1 to $3;
cashier's cheques for local payments ordered manually from $75 to $100, a 33 per cent increase;
drafts for overseas payments ordered manually from $100 to $125, a 25 per cent rise;
outgoing wires for overseas payments ordered manually on bank stationery from $100 to $125;
cheque cashing fee for non-HSBC customers from $30 to $35;
BermudaCard with MasterCard annual fee from $35 to $60, a 71 per cent increase;
HSBC Advance MasterCard annual fee from $50 to $75, a 50 per cent increase;
Visa Classic annual fee from $60 to $85, a 41 per cent rise;
Visa Gold annual fee from $75 to $100, a 33 per cent increase;
Credit card late payment from $40 to $50;
Safe deposit box annual rental fees have also increased as follows: box type 1, $41.25 to $53.50; type 2, $62 to $80.50; types 3 and 4, $103 to $134; type 5, $196 to $255; types 6 and 7, $216.50 to $281.50; type 8, $350.75 to $456; type 9, $412.50 to $536.25; type 10, $464 to $603. The statement savings account monthly maintenance fee does not apply to Premier customers or seniors, provided the senior account holder maintains a $100 average minimum balance, the bank said. The charges for cashier's cheques ordered manually and drafts ordered manually do not apply to seniors.

The owner of a burgled jewellery store in the Town of St George fears it could be targeted again. Jan Card, owner of the Vera P. Card jewelers in Water Street, said yesterday that the store had been hit by thieves five times since the Olde Towne's police station was closed in 2012 and officers moved to Southside in St David's. Mr Card added: "Since the station relocated, it's ranged from a stupid drunk who picks up a pipe to groups of well-organised young men with guns. We've been in St George's since 1954. There were no burglaries, and one theft when a tray of rings was inadvertently left on a counter." He was speaking after the store was hit by three thieves at about 3am on Saturday — less than two weeks after it reopened for the tourist season. Mr Card said: "The consensus among merchants, and anybody who has been a victim of crime in St George's, is that if we had an active station in town, the vast majority of these would not have happened. I wouldn't have had to throw hard to hit the police station. The simple reality is that, with it active, the response to the siren would have been in the order of seconds." George Dowling III, elected Mayor of St George on Friday, said he had arranged a meeting with Stephen Corbishley, the Commissioner of Police, in "the coming days". Mr Dowling added: "It's not too much that goes on here, but it's always nice to have a police presence." He said he planned to discuss with the commissioner "what we can do to improve our situation here". The re-establishment of a permanent police station in St George has been discussed under successive governments. The House of Assembly was told by Wayne Caines, the national security minister, only a few months after the Progressive Labour Party regained power in the 2017 election that the former station, a listed building, was too rundown and its renovation was "not a likely option". But Mr Card said: "It's not a good picture. Mayors have tried but the merchants could see this writing on the wall. There have been situations where people have run amok in town and done things like throw flower pots through store windows. It's hard to imagine that would happen on Water Street, no matter what the state of mind of the perpetrator, if there were a police station with a working blue light." Vera P. Card, which has five staff, was closed for three months before it reopened on May 1 for the summer season. Mr Card said it looked as though "somebody was paying attention". The raiders, who escaped on foot, were said to be three men in dark clothing. Mr Card declined to comment on the value or types of items stolen, but said the loss was a blow. He added: "We are breathing through a straw anyway. To lose inventory, especially inventory which is difficult to replace, affects our ability to pay wages." Mr Card said the break-in had increased tension in the town's business community. "When it's not you that suffers, you heave a sigh of relief. It contributes to unease — the potential financial risk, the potential physical risk." The store was robbed at gunpoint in July 2016 and Mr Card said the experience "was a difficult thing to get used to. It's not Bermuda. It's certainly not St George's. You're not talking only about staff. Staff have families, and they feel the intimidation and fear as well.- That whole second wave of effects from the actual robbery is not to be ignored. Tracking them down is one thing, but the horse has bolted. The primary and the secondary effects of this are happening whether they get them or not. The kind of political will to get the station back can't come from an individual. It has to come from a group that looks at the situation and jointly decides it needs to be fixed. I'm hoping that becomes a reality." Police have appealed for witnesses, especially drivers and others who may have seen suspicious activity around Water Street and York Street between 2.20am and 3am on Saturday. Anyone with relevant information can also call the independent and anonymous Crime Stoppers hotline on 800-8477.

The Bermuda Cricket Board will announce Cal Blankendal as its executive director today, The Royal Gazette understands. Blankendal, a former Bermuda Football Association vice-president, is expected to be unveiled at a press conference held at the BCB headquarters at Charities House this afternoon. The BCB has been looking to fill the post created by the departure of Neil Speight, the former chief executive. The job first advertised on its website in February. Although Blankendal has limited background in cricket, he does possess a wealth of experience in football administration through his former position at the BFA and established Bermuda's Brazilian Football School in 2009. He is the BBFS chief executive. A former Western Stars Sports Club president, Blankendal has served as the BFA's youth committee chairman, youth technical director of North Village and youth director of Dandy Town, his boyhood club. He holds several football coaching badges and was Dandy Town's assistant coach last season. Blankendal has also been helping the development of the island's student-athletes through the Bermuda Sports Management Group, which he set up last summer. The "one-stop" resource offers life-skills training and assists in securing overseas scholarships, as well as finding employment after graduating. According to the job description posted on the BCB website, the executive director will be responsible for the management and administration to ensure that the board achieves the aims and objectives as set out in its strategic plan. Applicants must have completed a bachelor's degree in business administration or sports management or equivalent, and must have experience working in national and international sports environments.

A father-and-daughter wheelchair team who crashed out of MS Amlin World Triathlon Bermuda last month have inspired a fundraising campaign. Stephan Couture hopes to be able to buy a new $18,000 wheelchair for his 13-year-old daughter, Chloe, after it was written off in a crash on Park Road, Hamilton, during the race. Mr Couture suffered a broken rib and Chloe, who has cerebral palsy, suffered minor injuries in the crash during the races on April 27. The two, who compete as Team Ladybugs, said they had been overcome by the outpouring of support from Bermuda since the accident. Mr Couture said people and organisations had asked how they could donate towards a new bike and wheelchair to get Chloe back on the road. He said: "We're touched by the kindness we've experienced from so many people in Bermuda. Several people have asked us to set up a fundraising webpage so that they can contribute to Chloe's new racing chair. It's unexpected and heart-warming. We're humbled. We would love Bermuda's help, thank you, we are most grateful." The GoFundMe page had raised $1,700 of its $18,000 goal by yesterday. The pair compete in triathlons in a custom-designed bike and wheelchair combination. Mr Couture and his wife, Diane, who have both worked with disabled people, adopted Chloe when she was five after they read about her in a church bulletin. Mr Couture said his daughter had a passion for the triathlon, including racing, training, the speed and the outdoors, that it was "her life". He said: "Regardless of the time or the weather, she asks to go out in her racing chair DD1 — Daddy, Daughter One, as she calls it. She just wants to be out, and it warms our hearts that after every outing she comes home singing and smiling." Team Ladybugs' mission is to raise awareness of disabled people so that they can race in events safely with the right equipment and experience the excitement of competition. The couple also help other families take part in events and fund all of their own equipment. Mr Couture said: "We receive no funding from national sporting bodies because of our very specialized needs and we lack the high-profile races that usually attracts media coverage." But he added: "It is a wonderful feeling knowing that we have made a difference in Chloe and other people's lives."

May 13

he British Government has rejected a parliamentary committee proposal to come up with a timetable for talks that would give British residents in Bermuda the right to vote. It said the Foreign Office did not plan to publish any such schedule but recognized the importance of a "reasonable qualifying process" to allow expatriates a place at the ballot box in overseas territories. In its response to a House of Commons committee report, the British Government also said timetables would be set for the introduction of public company ownership registers and that it planned to hold workshops on their implementation "in the coming months". The Foreign Affairs Committee earlier this year recommended the launch of a consultation that would bring about a plan for a "pathway for all resident UK and British Overseas Territory citizens to be able to vote and hold elected office in territory". Its report, Global Britain and the Overseas Territories: Resetting the Relationship, added that the Foreign Office should set a timetable for the process and "set a deadline for phasing out discriminatory elements of belongership, or its territory-specific equivalents". The UK Government's response was released by the committee today. It said: "The UK Government understands the committee's concerns and continues to impress upon OT governments the importance of allowing people who have made their permanent home in the territories the ability to vote and engage fully in the community, but recognizes the desire of island communities to maintain their cohesion, hence the need for a reasonable qualifying process. We understand the OTs' concerns, sensitivities and historical background on this issue." The response added: "In the spirit of a relationship based upon partnership, we will continue to support and encourage consistent and open political engagement on belongership and its territory-specific equivalents, while respecting the fact that immigration decisions are primarily a matter for OT governments. The FCO does not plan at a future date to publish such a timetable." The committee's report pointed out that relationships between the UK and territories became strained in May last year when the Sanctions and Anti-Money Laundering Act was passed, setting out a deadline to produce a companies' beneficial ownership register available to the public by the end of next year. It added that the committee regretted "public registers may not be published before 2023" and recommended that the foreign secretary, along with overseas territories' governments, should — before the summer recess — lay out a detailed timetable for the publication of registers in each jurisdiction. In its reply, the British Government said it would prepare an Order in Council, which is effectively a decree from the UK, by the end of 2020 with overseas territories "expected to have fully functioning publicly accessible registers as soon as possible, and no later than the end of 2023 We are scoping the assistance the OTs will require and will be holding technical workshops and providing OTs with assistance over the coming months. This will support the OTs in developing publicly accessible registers. The FCO is not currently in a position to lay out detailed timetables for each territory and the timetable for implementing registers in each OT will differ depending on its fiscal position and business model. However, we will do so when this becomes clear." The committee's report also said the British Government should set a date for all overseas territories to have legalized same-sex marriage. Expressing its commitment to equal rights, the British Government added: "Our relationship with the overseas territories is based on partnership and therefore as policy on marriage law is an area of devolved responsibility it should be for the territories to decide and legislate on. As has been demonstrated by recent LGBT cases, the territories' justice mechanisms and processes should be allowed the space to address these matters." The Court of Appeal in November dismissed the Bermuda Government's claim that former Chief Justice Ian Kawaley was wrong to strike down parts of the Domestic Partnership Act, which banned same-sex marriage. The Government later sought permission to take the case to the island's final court of appeal, the Privy Council in London, which has not yet said if it would hear the matter. Tom Tugendhat, the Foreign Affairs Committee chairman, said in response to the British Government's feedback: "The concept of Global Britain, underpinned by shared values and commitments, lies at the heart of our foreign policy. All of the British overseas territories have their own constitutions but, rightly, share a bond with the UK and a pride in their deeply rooted British identities." He believed the report made a number of recommendations that strengthened the bonds but by rejecting certain proposals, the British Government risked "weakening messages of core sympathy for each other's core values". Mr Tugendhat added: "We will hold the Government to their commitment to keep us informed of timetables relating to fully functioning publicly accessible registers for the OTs."

Bermuda's public bus system experienced a "learning curve" over its problems getting a new schedule up and running, the transport minister said. Zane DeSilva told MPs in the House on Friday that the decision to revert to the old bus schedule "was not taken lightly, but was the only recourse to address the concerns of our passengers and operators". Mr DeSilva said that the new 50-bus schedule, which came into effect on March 18, had been "insufficient to meet the demands of our commuters, visitors and students". He added: "Additionally, there were challenges with the rest times between some trips, presenting health and safety concerns for bus operators and the traveling public." Mr DeSilva said that the scrapped schedule "is an advancement to build on as we move forward". He added: "The ministry, unions and Department of Public Transportation have fostered stronger working relations, demonstrated in part by our ability to agree the definition of night work and collectively develop and implement work rosters." Mr DeSilva said that the replenishment of the bus fleet remained a priority and that the average in-service bus count over the last year was up to 65 buses from 50 as a result of new bus purchases, refits and repairs. He added: "We have taken possession of six new buses in the past year, with a further six arriving between June and September." Mr DeSilva said that the DPT had recently completed a request for information for new buses and was in the process of preparing a request for proposal. He said: "We are taking this opportunity to review the bus market and available vehicle types that meet Bermuda's needs, as well as international public transportation standards. This includes consideration for sustainability and the environment, appropriately sized buses, accessibility, on-board features, and total cost of ownership." Mr DeSilva said that the Government would also invest in human resources. He added: "We are in the process of recruiting for a variety of posts including vehicle technicians, operators and support staff." The new bus schedule was first announced at a press conference last December. It was originally set to take effect on January 7 but was postponed twice that month after staff raised concerns about rosters and night work. Canadian company Schedule Masters Inc was paid more than $1.6 million over 17 years to create the new bus schedule, which lasted for six weeks.

The island "desperately needs a multi-purpose facility" to shelter its homeless, government backbencher Michael Weeks implored the House of Assembly. Mr Weeks called upon MPs on both sides of the House "with as much passion as I can muster" to put the issue "on the top of any agenda". Sylvan Richards, the Shadow Minister of Home Affairs and the Environment, backed his call and Martha Dismont, the executive director of Family Centre was "very grateful" last night that the issue had been raised in Parliament. Mr Weeks, who served as Minister of Social Development and Sport for nine months last year, cited the example of "a young man discovered living among the bushes" and displaced by the construction of a new St Regis hotel in St George's. The Pembroke East Central MP added: "Excavators cutting down trees stumbled on his well put-together space. He had rooms he had created with bedrooms for him and his children. This man, who was truly an architect in his own right, had been living in the brush unbeknown to us." Mr Weeks also pointed to a profile by The Royal Gazette of Patrick Henderson, a 58-year-old man sleeping rough on the streets of Hamilton. "Mr Henderson and I are the same age, and he can be seen trying to avoid the elements in the abandoned building across from Victoria Park." Speaking during the motion to adjourn on Friday, he told the House that "these stories could be repeated 100 times over". As a volunteer at the Salvation Army's shelter on North Street in Hamilton, Mr Weeks said he had witnessed its poor state and "heard first-hand of the struggles of this growing segment of our society". The Progressive Labour Party and One Bermuda Alliance administrations have both promised to move the Salvation Army to a newly refurbished Bishop Spencer building on The Glebe Road in Pembroke. However, that plan, first announced in 2014, has never come to fruition. Mr Weeks commended public works for repairs to the existing shelter. However, he said it was "time for us as a country" to invest in a full-time complex to meet the needs of the homeless. "This is not finger-pointing at our government, but a clarion call to both sides and the community at large to assist in addressing this issue of homelessness once and for all. This is a bipartisan issue. We can't continue to beat our collective chests talking about our standard of living when we have people, largely black men, living on the streets, doorways and parks." Mr Richards supported the comments and told the House: "A country is only judged by how we treat and take care of the least of us, and we have a problem in this country, obviously, with homelessness." He spoke about "primarily black men" sleeping on benches and in bushes. The OBA MP said: "It's easy to become immune and almost blinded to the plight of our homeless people, so when the member, MP Weeks, got to his feet earlier today, he touched me with his comments." He urged the Government to provide an update on the Bishop Spencer building, which he said was proposed to include not only housing but also facilities such as drug rehabilitation programmes and assistance with mental health or help to develop life skills. Mr Richards said: "There has been radio silence on that in recent months. This should be a bipartisan effort, this is something that we all agree on. We are put here in this place for a reason and taking care of our homeless is a noble one." Ms Dismont said last night: "I think all of us who are actively problem-solving this issue welcome the fact that it was raised in Parliament. We have multiple needs as a community and this is another one, there are so many priorities." She added: "I am certainly very grateful that it has been raised." Ms Dismont said some conversations about how to tackle homelessness had recently covered the possibility of a day centre that could be run in partnership with the Department of Workforce Development. She said this could be a less- costly scheme than a stand-alone housing facility because a number of agencies could offer their resources. Ms Dismont also explained that assistance could be tailored to individuals so that they could gather skills to sustain themselves independently.

Annual reports for the Bermuda Hospitals Board, which have lagged at the Auditor-General's office, will "soon be completely up to date", the health minister pledged. Kim Wilson tabled the BHB's annual report for 2013-14 in the House of Assembly on Friday. Ms Wilson told MPs that the five outstanding reports would be published over the course of "the coming financial year". In her preamble to the 52-page report, Ms Wilson said that "a lot of accomplishments" were marked by BHB that year, "including improvements in patients' experience, preparing for the opening of the new Acute Care Wing, and careful management of public monies — securing a $46.6 million surplus to reinvest into the hospitals' infrastructure and Bermuda's health system". She added: "The Government is proud of our country's hospitals and indebted to the 1,800 dedicated staff at King Edward VII Memorial Hospital and Mid-Atlantic Wellness Institute who serve our community selflessly — particularly in times of emergencies. We are indebted to the executive team leading BHB's ongoing improvements and cost-containment initiatives." Ms Wilson also thanked the board that served at the time for "overseeing enhancements in governance and policy for the hospital's leadership".

Bermuda-based bond insurer Assured Guaranty played a key role in an bond restructuring agreement that could enable Puerto Rico's power utility to stabilize its finances. Debt-saddled Prepa struck a deal with a group of creditors that seeks to allow the bankrupt US commonwealth to restructure more than $8 billion of bonds, according to an announcement by government authorities on Friday. A group of Puerto Rico Electric Power Authority bondholders, Assured Guaranty, along with the island's government and federally created financial oversight board, reached a restructuring support agreement that would reduce the utility's debt by up to 32.5 per cent. The move paves the way for a plan of adjustment for Prepa, which filed for a form of bankruptcy in July 2017 after a previous restructuring deal fell apart. The latest agreement, which requires support from at least 67 per cent of voting bondholders to materialise, would shed about $3 billion in debt service payments over the next decade. The deal also requires the approval of a US judge hearing Puerto Rico's bankruptcy cases, as well as legislative action. Under the agreement, investors will exchange their Prepa bonds at 67.5 cents on the dollar for new Tranche A bonds and ten cents on the dollar for new Tranche B bonds. The latter would be contingent on full payment of Tranche A bonds and future electricity demand on the island. Prepa will pay off the new bonds through a special charge levied on its customers. The new charge starts at approximately 1 cent per kilowatt hour prior to the deal's closing, increasing to some 2.768 cents per kilowatt hour upon closing and gradually increasing to approximately 4.552 cents per kilowatt hour during the expected 40-year life span of the bonds. Dominic Frederico, chief executive officer of Assured Guaranty, said: "We have long made the case that the solution to Puerto Rico's difficulties is through consensual settlements. We believe the restructuring transaction outlined in this new RSA [restructuring support agreement] can be the foundation for an effective, consensual plan that assures reliable, affordable electric power for the people of Puerto Rico. We are committed to continue working co-operatively with Prepa and other stakeholders to implement such a plan." The deal still lacks the support of other Prepa creditors, most notably bond insurer National Public Finance Guarantee Corp. A spokesman for National declined to comment. National Public Finance filed an objection last month when a deal in principle was announced, saying that "until very recently" it was excluded from negotiations even though it is Prep's largest creditor. National has also asked the court to appoint a receiver for Prepa, support among other creditor remains unclear following Friday's announcement. According to government and board officials, the privatization of Prepa is under way, with transmission and distribution contracts with private companies expected to be in place by the second quarter of 2020. "Now with this agreement we take a monumental step to provide for the restructuring of the debts and obligations of Prepa and finally conclude the bankruptcy process," Governor Ricardo Rossello said in a statement. If approved in federal court, Prepa's restructuring would mark the third major deal in Puerto Rico's efforts to restructure about $120 billion of debt and pension obligations. Deals involving the island's sales tax-backed bonds and Government Development Bank have been approved by US Judge Laura Taylor Swain. Prepa's financial and operational problems were compounded by Hurricane Maria, which slammed into the island in September 2017, decimating an electric grid already struggling due to poor rate collection, heavy management turnover and lack of maintenance.

The man who cofounded Crowdfunder in the US is one of the entrepreneurs behind a proposed digital asset-friendly bank looking to incorporate in Bermuda. Known as Jewel, it aims to be a limited bank that will provide traditional banking services to digital-asset companies in Bermuda. In addition, it seeks to build payment and settlement tools that will provide a gateway between the traditional banking system and crypto assets. American Chance Barnett is cofounder of Jewel. He has been involved in building technology companies for almost 30 years, and helped set up Crowdfunder in the US — a high-level equity crowdfunding site allowing accredited investors to support entrepreneurs and start-ups. Last month, he staged the invite-only B3 Future Banking Summit in Bermuda. The event focused on banking, blockchain and Bermuda, and featured speakers from the likes of IBM, and former executives of World Savings Bank and the London Stock Exchange. Curtis Dickinson, the finance minister, and Sir John Swan, the former premier, also attended the summit in Hamilton. Mr Barnett said the goal was to bring together stakeholders who were focused on bringing the usage and the impact of blockchain and digital currencies to the world. "One of the big bottlenecks to that is just allowing people to take the business that is building part of that impact or usage, to utilize the existing banking and payment systems to be able to function as a real business. Just that piece of the infrastructure does not exist in many parts of the world." The summit brought together legislators, policymakers, entrepreneurs and investors to discuss what is working, what is not, and look at the risks and opportunities. Mr Barnett said participants had valued the experience, the opportunity to network and the feedback from Bermuda representatives and the Bermuda Business Development Agency. The problem of securing banking services for fintech companies has stymied growth in the sector around the world, and been lamented by David Burt in the past. However, in March, the Premier announced that New York-based Signature Bank, a full-service bank, was willing to consider Bermuda-licensed businesses for banking services. The bank was also the first to launch a New York regulator-approved, blockchain-based platform for managing money transfers between clients. Brian Sewell, founder of Rockwell Trades, and a speaker at the B3 summit, explained why traditional banks have shied away from providing services to crypto companies and many fintech enterprises. He said: "It has been difficult for banks to move into this space as there has not been clear regulation for them to act in, so the risk becomes very high for banks. Bermuda has acted quickly and provided some decent regulation, but the banks here in Bermuda have corresponding relationships with banks outside Bermuda, in other jurisdictions that have not opened themselves up to supporting crypto-related companies." He said it was the fear that they would damage their relationship with their overseas corresponding banks that has stopped banks in Bermuda from providing services to crypto and fintech business. Mr Sewell has a financial and banking background. He was an executive at World Savings Bank for eight years, shortly before it was acquired by Wells Fargo. Along with Mr Barnett, he is a cofounder of Jewel. He added: "The banking is an obstacle that is getting resolved, and the Bermuda Monetary Authority is doing a great job in ensuring that Bermuda does it the right way. Bermuda is seeking to maintain a relationship of trust with all other nations, so they can't be reckless in their decisions, so there is a balance between speed and being conservative." Explaining the vision for Jewel, Mr Barnett said it would be a digital-asset-friendly bank to provide traditional banking services to digital-asset companies in Bermuda. He said: "Alongside that, we are going to be building a specific set of payments and settlements tools focused on that by the usage of digital-asset companies." He gave an example of an exchange where customers trade cryptocurrencies, such as bitcoin, and then want to move their money back in to the traditional fiat banking systems, to convert crypto into dollars or another currency that can be used for services such as payroll. "That link largely does not exist from a technical and regulatory perspective, and so Jewel's other role is to provide that bridge or gateway between the traditional banking system for dollars and crypto assets." He said it is a challenge not only for Bermudian companies and crypto exchanges, but also for others around the world. The aim is for Jewel to incorporate in Bermuda as a limited bank then operate the planned payment and settlements structure for Bermudian companies and others that will use it more globally in their payments. When asked how soon that might happen, Mr Sewell said there is a balance to be struck and "the Bermuda Monetary Authority needs to move at a pace at which they are comfortable with". He added: "We anticipate that it will happen within the next eight months." As for the B3 Summit in Bermuda, Mr Barnett said it had been a success. He said: "They [attendees] say they got a lot of value and met people they did not know before. We feel it was a success from the feedback we got from Bermudians, some of the legislators here, and the Bermuda Business Development Agency that was our partner. It brought people here and helped them understand why this is a good jurisdiction." He added: "What attracts me to Bermuda is the legal clarity with Dab [Digital Asset Business Act] regulations, and the new banking regulations. It's the right climate and the right support from the current administration, and other parties here, to develop businesses in a thoughtful and safe way. I like Bermuda's approach to maintaining a pristine reputation, but be a part of driving this innovation in digital-assets." The summit was held in partnership with Jewel, Rockwell Capital, BDA and Fintech Bermuda. Andy Burrows, chief executive officer of the BDA, said: "This type of highly targeted event aligns with our agency's mission to promote inward investment that contributes to Bermuda's economy and social development, and strengthens Bermuda's image as a global strategic business partner. It also bolsters Bermuda's hospitality sector by attracting executive-level business visitors. We were proud to promote an opportunity for wide-ranging thought leadership that will advance Bermuda's ambitions in the fintech arena."

A woman needed hospital treatment after she was attacked and robbed by a man on a motorbike. The 44-year-old was walking on Woodlands Road in Pembroke when she was approached by the stranger near the junction with Canal Road. Police said the rider grabbed the woman's handbag at about 9pm on Thursday. A spokesman added: "Apparently a struggle ensued and the woman fell to the ground, striking her head." He said the rider escaped with the handbag, which contained money and personal belongings. The woman, from Pembroke, was taken by ambulance to King Edward VII Memorial Hospital where she was treated and later discharged. The suspect was described as a man with a dark complexion and about 5ft 10in tall. He wore a grey helmet with a white T-shirt and rode a black motorcycle. Anyone with information was asked to call the Criminal Investigation Department on 247-1744.

A woman was being treated in hospital yesterday after an early-morning crash with a police car in Hamilton. The 29-year-old motorcyclist was hurt in the incident that happened as police pursued another rider who was reportedly traveling in the wrong direction on a one-way stretch of King Street at about 12.20am. A Bermuda Police Service spokesman said the crash happened at the junction with Reid Street as the woman was traveling towards the city centre. He explained that it appeared the police vehicle followed a motorcyclist along Front Street heading east from the junction with Court Street. The spokesman added: "Apparently the unknown rider then turned on to King Street and continued through the junction with Reid Street followed by the police vehicle — which unfortunately collided with the 29-year-old female motorcyclist as she travelled into the city — with both vehicles ending up farther along King Street." Only southbound traffic is permitted on King Street between its junctions with Church Street and Reid Street, but the first rider — who escaped — had been traveling north. The spokesman said: "The police vehicle and motorcycle involved were damaged, with traffic diversions in effect for approximately three hours while the scene was processed." Photographs from the scene showed arrow road markings indicating traffic flow in the opposite direction from where the police car came to a stop. The woman, from Southampton, was taken by ambulance to King Edward VII Memorial Hospital with injuries that were not believed to be life-threatening. She was conscious and talking yesterday but remained in hospital for further checks. The police spokesman said the speed of the vehicles would form part of the investigation so "no comment on that aspect can be provided at this time". Witnesses are asked to call 295-0011.

May 12, Sunday

Today the Ministry of Labour, Community Affairs and Sports shared the 2019 Bermuda Day Parade route – which will be starting along Front Street this year. The Department of Community and Cultural Affairs notes that currently there are just over 50 parade entries – this includes Gombey troupes, majorettes, floats, dance groups, marching bands, music trucks and more. The parade will begin at 1.30 p.m., Friday 24th May. This year, the parade will start along Front Street near Albouys Point, with participants lining up on Bermudiana Road/Par-La-Ville Road/Pitts Bay Road. Parade participants will travel along Front Street, up Court Street, left on Church Street, down Cedar Avenue and conclude at the Marsh Folly Road/Dutton Avenue. The Minister of Labour, Community Affairs and Sports, the Hon. Lovitta Foggo said today, "Bermuda Day is that time of year when we celebrate all that makes us unique. Our heritage, our culture and our pride as a people – these are the things that bind us together. The Bermuda Day Parade is considered to be one of the most anticipated events and by far the biggest cultural event on our calendar. As the public is aware, this year's theme is Bermudian Excellence, which offers us an opportunity to show off our national pride. This is an occasion where we can highlight our excellence in sports, education, philanthropy, advocacy, business, the arts, hospitality and more. Bermudian Excellence is about celebrating every individual in our society who does their part in making Bermuda great. Much work has gone into ensuring that Heritage Month was an engaging, cultural experience, and this includes the preparation and planning for the Bermuda Day Parade. I'm excited about attending this year's parade, and I look forward to engaging and celebrating with all those who will be enjoying this special day."

A motorcyclist was injured in a crash with a police car at the junction of King Street and Reid Street, Hamilton, in the early hours of today. The incident happened as police pursued another motorcyclist along King Street at about 12.20am. Officers say the police vehicle struck a woman motorcyclist who was driving along Reid Street. She was taken by ambulance to King Edward VII Memorial Hospital with injuries that were not believed to be life-threatening. The first motorcyclist escaped. Traffic diversions were put in place while police launched an investigation. Witnesses should call police on 295-0011.

Gates Bay in St George's was temporarily closed for safety reasons after fireproofing materials blew down from the nearby hotel construction site. Renee Ming, MP for St George's North, told The Royal Gazette that "wind gusts on made the immediate closing of the beach necessary" on Thursday. Residents expressed concern after a sign went up outside the beach warning: "Do not enter water." Ms Ming wrote in a Facebook post: "I realize that the sight of the sign caused some angst and I appreciate the 911 alerts that I received. Your safety outweighs your leisure so the move by the Government and the hotel developers was a welcomed necessary action."

Bermudian artists have been invited to exhibit more of their work in Cuba after they took part in an exhibition on the streets of Havana. Lisa Howie, an independent curator and consultant who helped organize Bermudian participation in public art exhibition, said that Juanito Delgado, the exhibition's curator, had asked for more artists from the island. Bermuda artists Jon Legere, Peter Lapsley and Andrea Sundt are featured in Detrás del Muro, (Behind The Wall) which opened last month. Ms Howie, the former director of the Bermuda National Gallery, said the opportunity came after the artists were featured in the BNG's biennial exhibition. Ms Howie added: "Juanito Delgado was impressed with the artists and I will pursue his invitation for Bermuda to return." She said she working to install Bermuda art at a specific location Havana for the city's next biennial and might be able to the same at Sao Paulo biennial in Brazil. Ms Howie added: "This is the first time Bermuda has been represented in the Havana Biennial and they got there thanks to their involvement in the Bermuda biennial." The Detrás del Muro exhibition runs the length of La Malecón, a five-mile esplanade along Havana Harbour and features large scale works. The exhibition features large scale works. Randy Rodriguez, a Cuban engineer, Mr Lapsley and volunteers worked to install the island's contribution.

May 11

Bermuda will be removed from the European Union's blacklist of non-cooperative tax jurisdictions next week, a Bloomberg Law report said yesterday. The news agency added that its report was based on documents obtained by Bloomberg News. The report came only hours after Curtis Dickinson, the finance minister, told MPs he expected the island to be removed from the blacklist next Friday. The Bloomberg Law report said Bermuda, Aruba and Barbados were to be removed from the EU blacklist because they had changed their corporate tax laws. Mr Dickinson told the House of Assembly yesterday that the island was likely to move from Annex 1, the blacklist, to Annex 2 on May 17. Bermuda and nine other jurisdictions were placed on the blacklist in March, joining five countries already on the list. A typographical error in economic substance regulation documents submitted by Bermuda to the EU earlier this year was given as the reason the island ended up on the list. Annex 2, the greylist, is not a list of countries but a list of criteria. Bermuda is expected to join the Bahamas, the British Virgin Islands and the Cayman Islands, which are grouped together for having tax regimes that facilitate offshore structures that generate profits without real economic activity. The EU said that a commitment to tackle concerns about economic substance in the area of collective investment funds had also played a part in the decision to move Bermuda and the other three jurisdictions to the greylist. Mr Dickinson detailed in the House of Assembly the Government's actions to get the island removed from the blacklist when EU finance ministers meet next Friday. He said he and David Burt, the Premier, had met EU commissioner Pierre Moscovici, who is responsible for economic and financial affairs as well as taxation and customs. They also met Lyudmila Petkova, chairwoman of the EU's code of conduct group on business taxations. Mr Dickinson added that there had also been meetings with officials from the German and French ministries of finance. Mr Dickinson said the meetings "permitted Bermuda to further explain in detail the source and reasons for which there was a technical omission in our economic substance regulations submission. This omission was addressed and corrected to the satisfaction of the European authorities." An EU source explained: "Annex 1 is the list of countries that have failed to give sufficient commitments for co-operation with the EU on tax matters. Annex 2 is not a list of countries but a list of criteria — for each of the criteria, the jurisdictions that have not delivered on fulfilling the criteria are listed." Mr Dickinson told MPs yesterday: "When Bermuda is removed from Annex 1, we will be placed in Annex 2 of the EU list. This is because of EU concerns regarding the need for a legislative framework for collective investment funds that meets their expectations." He said the Government had promised to continue to co-operate with the EU over the adoption of a "proper legislative framework" for collective investment funds by the end of the year.

Legislation to change how money is allocated to the Bermuda Hospitals Board is not in the island's best interests, a top insurance executive said yesterday. John Wight, the president and chief executive of BF&M, said that "the healthcare funding reform brought to the House of Assembly today is not the best path forward for Bermuda. We remain convinced that dialogue is essential if we are to achieve improved health outcomes and long-term, sustainable healthcare funding solutions." Mr Wight was speaking after the Health Insurance Amendment Act was tabled in Parliament. The Government is to pay an annual grant to BHB, capped at $330 million for the coming year, to replace the existing fee-for-service arrangement. The block payment will be funded by the Government with a more than threefold increase in the amount it takes from monthly premium payments — up from $101.97 to $331.97. The cash will be put into the Mutual Reinsurance Fund. The new system is scheduled to take effect on June 1. Naz Farrow, the chief executive of Colonial Group International, said the firm had hoped for a "more consultative, more inclusive approach to the healthcare challenge facing Bermuda. The situation is complex, with the potential to deeply affect the lives of thousands of Bermudians across the board. The views of all stakeholders must be carefully considered in order to achieve reforms that are sustainable and that bring about better health outcomes." Insurance firm Argus did not respond to a request for comment yesterday. Kim Wilson, the Minister of Health, hit out at BF&M last week over the firm's claim to clients that an increase in premiums was due to the Government's changes to the system. She said the claim was "unconscionable" and that the premiums hike by BF&M was "to fund their profits". But Mr Wight insisted that the increase was due in part to the proposed healthcare changes. He said that the Government's changes were "an exercise in reallocating funds" and failed to deal with the real factors behind the high cost of healthcare in Bermuda. Mr Wight added: "Premiums will continue to increase as a result of our ageing population and the growing number of adults with chronic diseases." Craig Cannonier, the Opposition leader, said: "My initial comments are that it appears that proper consultation has not been carried out as it should have been as people are still asking questions about this legislation — and we don't really know what the full implications on the health system and on jobs will be."

The retirement age should be increased to 70 over a ten-year period, a Labour Advisory Committee report recommended yesterday. The report, tabled in the House of Assembly, said Bermuda's ageing population had put pressure on pension plans and public sector finances. It also recommended that legislation should be amended or introduced to prevent discrimination against older employees and that a toolkit to help people prepare for retirement should be created. An LAC sub-committee compiled the Reviewing the Retirement Age report, which was tabled by David Burt, the Premier. The sub-committee recommended the creation of a single piece of legislation designed to:
Increase the retirement and pensionable age at the same time from 65 to 70 over a ten-year period, with the retirement age to move to 68 inside a five-year period.
Allow for annual re-employment contracts for five years after the prescribed retirement age.
Ensure early retirement provisions were in place for workplace pensions and Contributory
Pension Fund payments.
Ensure employers were not prevented from the retention of older employees for as long as was wanted after the retirement and re-employment periods.
Mr Burt told the House: "There is a need to stabilize pension funds, to allow working men and women the benefit of greater capacity to earn and therefore better prepare for their eventual retirement, and to use the longer life span in the modern era to the benefit of society and the people of Bermuda." He said that a review of the mandatory retirement age of 65 for public service workers was a Throne Speech promise. Mr Burt added that he hoped the report would win cross-party support in the House and the Senate and that the Government could then return with amendments to the Public Service Superannuation Act to introduce some of the recommendations. The report pointed out that, except for public sector workers, there was no legislation that insisted employees retired at 65. But Mr Burt said that was "the generally accepted practice" in Bermuda and most people agreed to finish work at that age when they signed employment contracts. The National Pension Scheme (Occupational Pensions) Act 1998 said that the "normal retirement date" was no more than a year after a pension plan member's 65th birthday, unless an earlier date was set in the pension scheme. The sub-committee said the island's ageing population had created "additional stress to public pension plans and public sector finances". The report added: "Many persons who reach the retirement age are financially unprepared for retirement. The evidence clearly shows that there is a willingness from persons 65 and over to continue to work. Financial assistance outlays to seniors is extremely high and reinforces the point that a growing portion of our seniors are in dire need of additional financial resources." The sub-committee said: "The reality is that if the problem is left unaddressed, the financial stress on individuals, pension plans and the Bermuda Government will grow." It added that legislation should be created or amended to prohibit age discrimination in the workplace and to make sure people had equal rights in recruitment, hiring, compensation, benefits, training, work conditions and career development. Claudette Fleming, the executive director of Age Concern and part of the group behind the report, said the charity was pleased that the Government had given the recommendations serious consideration. She added: "A variety of industry leaders committed valuable time to consider the issue. The matter of the relevancy of the retirement age in our current existence has been left unresolved for many years." Ms Fleming said: "Sadly, workplace discrimination based on age was not included in the 2013 amendments to the Human Rights Act. We look forward to seeing the extent and boldness to which the current administration will take in extending the opportunity for older adults to work beyond the age of 65 years, should they so choose." Craig Cannonier, the One Bermuda Alliance leader supported the proposals. He said: "By not increasing the retirement age we essentially are not taking advantage of the intellectual capital that exists within that age group. The work experience and life experience that they have had lends so greatly to creating effective leadership within companies. Whether you're in a supermarket, international business, whether you work in the public or private sector, it's vitally important that we take advantage of that. I know 65-year-olds who have far more energy than 35-year-olds, so I think it's a great move."

A Progressive Labour Party backbencher claimed yesterday that Bermuda's longest-serving premier "tap danced" for the "most reactionary and racist elements" in society. Rolfe Commissiong made the comments in the House of Assembly and cited two broadcast interviews with Sir John Swan, who lead the country from 1982 to 1995. He said: "Sir John Swan, when asked about Black History Month, basically opined that white Bermudians were not like the whites in the southern part of the US, after all. He went on to say that they didn't lynch black Bermudians, for example. If you're talking about an insult to black Bermudians, or particularly the black Bermudians of his generation, I don't think you can do much worse than that." He told members that a few weeks ago Sir John was interviewed about immigration in the presence of two white, overseas journalists. Mr Commissiong said he was paraphrasing the former United Bermuda Party premier who had suggested "we need to open up" and referred to "rich white people". The PLP MP added: "I mean, you're 83 years old but you're still doing the tap dance for the most reactionary, racist elements in Bermuda's society." Mr Commissiong said David Burt, the Premier, had pointed out the island welcomed investment "from wherever it comes". He added: "Indian, Chinese, African — come on guys, Bermuda is open for business." But Mr Commissiong said there was a "positive" when interviews with up to nine members of the public, at least half of them white, were broadcast. He said: "To their credit, each one of them repudiated what Sir John Swan said. Every white person they interviewed — no, I don't think that should be a litmus test, in other words, like our Premier said, we should welcome investment from wherever." Michael Dunkley, a One Bermuda Alliance MP, later tweeted an extract from Mr Commissiong's comments and said: "Bermuda's revered national hero Sir John Swan should not be referred to like this."

The seconded Commissioner of Corrections will not return to the crisis-hit prison service, it was revealed yesterday. The news that Lieutenant-Colonel Eddie Lamb would not go back to the job came as the House of Assembly was told that Westgate prison had suffered a total of nine months without hot water. However, Wayne Caines, the Minister of National Security, insisted it was "a false narrative" that the prison was "imploding" as MPs clashed over conditions at the West End jail. Mr Caines said that the Prison Officers Association and the Government were "committed to resolving the outstanding issues", which led to a work-to-rule being imposed at Westgate last month. He added that a list of problems and their priority had been agreed with the POA. Mr Caines emphasised the need for a specialist health unit to help officers deal with prisoners with mental health problems. He said that mould problems had "deeply concerned" prison officers and that a cleanup had been ordered by Acting Commissioner of Corrections Keeva-Mae Joell Benjamin and an air-quality assessment was expected by the end of June. But he added that prison officers' demands for increased salaries and concerns about payments into the Government Employment Health Insurance scheme would have to go to arbitration. Opposition MP Michael Dunkley said "any other facility would have been closed" over the lack of hot water. The former premier and national security minister admitted that the nine months without hot water had not been continuous, but represented "periods" without water. He went on the offensive over Colonel Lamb's removal, telling the House: "Acting commissioners do just that; they act." But Mr Caines said it was "mischievous, if not criminal" to ignore improvements made in the prison service. Mr Caines said these included:
A new industrial water heater and an additional industrial washing machine, to be in service by July;
Upgrades to telephone and alarm systems;
Replacement CCTV cameras installed, with extra cameras also in place; and
The completion of security fencing at the prison farm.
Mr Caines added that security technology would be introduced to combat drones that have intruded on Westgate's airspace, but he said it would be "unwise" to give full details. The minister also gave details on the number of staff and inmates in the prison system. The island had 166 people locked up this week, with 129 at Westgate, 11 at the Co-Ed and 26 at the prison farm. There are 186 prison officers, with 32 positions vacant and an intake of 22 officers expected over the next two months. Negotiations with the POA have been ongoing since Westgate staff took industrial action over concerns that ranged from security to infrastructure at the prison. The prison is no longer on lockdown, but classes for inmates are still on hold. Colonel Lamb was transferred to the post of project manager for the National Anti-Money Laundering Committee in February last year for what said at the time to be a nine-month stint.

More than 20 soldiers from the British Army's elite 24 Commando Royal Engineers are to spend a week helping to hone the disaster relief skills of the Royal Bermuda Regiment in the run-up to hurricane season. The UK soldiers will work with the RBR to share expertise and experience in humanitarian and disaster relief, known as HADR, before they join the Royal Fleet Auxiliary ship Mounts Bay when it docks in Bermuda next week. RFA Mounts Bay, a near-600ft logistics vessel, is scheduled to start a six-month deployment in the Caribbean region to provide rapid assistance in the event of hurricane strikes on UK Overseas Territories. The hurricane season runs from the start of June until the end of November. Captain Tom Booth of 24 Cdo RE, which provides engineering support for the Royal Marines 3 Commando Brigade, said the visit was arranged after RBR Sergeant Major Pete Ramm met soldiers from the unit at a planning meeting for this summer's Exercise Tradewinds, a multi-national disaster relief exercise based in the Dominican Republic and St Vincent & the Grenadines. Captain Booth, 30, from Harrogate, Yorkshire, added: "The RBR seems like a very professional unit and takes its role very seriously, which is very promising. What we can do is give them a different look at how to do things – the RBR has far more experience than we have in hurricanes, but we have a different skill set and it's always good to exchange knowledge. We were extremely keen to do it because we have HADR capabilities that we're constantly developing and Pete was very keen to get the best training for the RBR. We have a wide skill set, from building bridges, demolishing bridges, laying mines, clearing mines, construction and water supply, which makes us ideally suited for the HADR role." RFA Mounts Bay will also transport all the RBR equipment needed for Exercise Tradewinds, including trucks, to the Caribbean at no cost to Bermuda. The 21 soldiers, who arrived on Friday, will work with the RBR's HADR specialists in B Company. RBR Private Va'shonte Wilson, 23, from St George's Parish, said he looked forward to working with the British soldiers. He added: "I think there's a lot we can learn from them and we can help them with hot weather conditions. We're more used to a tropical environment, as well as hurricanes." Soldiers from the RBR and 24 Cdo RE worked together in Operation Ruman, the 2017 relief effort in the Turks & Caicos Islands after they were devastated by Category 5 Hurricanes Irma and Maria. Captain Gordon Emmerson, 36, Commandant of the Junior Leaders programme, who will join RFA Mounts Bay for five weeks as the RBR's liaison officer, said: "I'm very much looking forward to it. It's a great opportunity for growth and development for me and for enhancement of the skills and experience of the RBR. At the end of this, we will be better equipped and with more knowledge, which we can pass on to our soldiers in the future to prepare us for HADR operations at home and overseas." 24 Cdo RE Staff Sergeant Mohan Thapa, 40, from Devon, said he and the rest of the contingent were delighted to be in Bermuda. The former Royal Gurkha Rifles engineer, who transferred to the Commandos in 2010 and is a veteran of Afghanistan, added: "We were told when you wear your uniform here, you're welcomed. We are over the moon to be working with the RBR – for 70 per cent of our soldiers, it's their first time in the Caribbean region. We understand what the RBR is and what they proved they could do during Operation Ruman. I believe we will definitely work well with them and help them out with HADR capabilities." Lance Corporal Matthew Hemmings, 29, from Newport, South Wales, said: "It's a beautiful island – very picturesque. I'm looking forward to working with the RBR and hoping to swap some badges." He added: "The RBR is obviously more experienced in dealing with hurricanes because of the constant threat of them and our only dealings with them are when we're overseas. But we can help with the general running of operations, the control of situations and how to deal with unexpected problems in a methodical way. We also have a lot more specialist equipment." Lieutenant-Colonel David Curley, the RBR's Commanding Officer, said: "This is a golden opportunity for us to enhance our HADR capabilities. These UK soldiers are trained up and ready for deployment in the Caribbean. The end state will be both units will enhance their HADR knowledge and will continue to focus on unit development. We are on line for Bermuda first, but there may be a time when both our units are working hand in glove on HADR operations if the call comes and we are deployed anywhere in Caribbean after the approval process is completed."

A former soldier called to the Bar yesterday said he was impelled to become a lawyer after his Royal Bermuda Regiment brother was killed on duty in a car crash in Britain. Julian Wheddon said his family felt helpless and lacked a sense of closure after the court case six years ago against the British soldier at the wheel of the vehicle when Major Christian Wheddon died was called off when the driver admitted causing death by careless driving. Mr Wheddon, 44, pursued a career in law to prevent himself, and his family from having to go through a similar experience again. He said: "The circumstances of the Crown Prosecution Service case led them to dropping their case on the morning of the trial and accepting a plea. When we were informed, the family had a sense of helplessness and despair, we never really had the opportunity to find out what happened. That was the catalyst that made me vow not to allow myself or anyone in my family to be put in that situation again." Major Wheddon, a 43-year-old father of one, was a passenger in a Mitsubishi Warrior 4x4 that crashed on the A34 in Oxfordshire in September 2012. Driver Netani Kepa was at first charged with causing death by dangerous driving and pleaded not guilty. But he later admitted the reduced charge of causing Major Wheddon's death by careless driving. Mr Wheddon said yesterday: "We were never wanting to see the guy punished or dragged over the coals." But he added: "Because the plea was accepted there was no trial and therefore no closure in that regard." Mr Wheddon, from St George's, served in the British Army for nine years and left in 2007. He returned to Bermuda and joined the RBR and was serving as a training officer when he left in 2012. Mr Wheddon worked as a financial adviser before he began his legal studies in London and Bristol in the UK. He is employed in corporate law at insurance firm Argus where he has learnt from George Jones, the group's general counsel and a family friend. Mr Wheddon was admitted to practise yesterday in a ceremony at the Supreme Court in front of family and friends — including his parents David and Margaret, brother Mark, sister Kim and girlfriend Julia Stephens. Major Wheddon first joined the Bermuda Regiment in 1987, but later moved to the UK for education reasons. He served in the Bermuda Police from 1997 until 2004 and left with the rank of Sergeant. Major Wheddon was the Adjutant at the regiment between 2004 and 2008, and aide-de-camp for the Governor between 2008 and 2011 and was expected to take over as commanding officer. He died while in the UK for final command training, including the British Army command training course, and served as part of the massive military security operation for the 2012 London Olympics.

There has been a recall of frozen Tyson Crispy Chicken Strips and Tyson Fully Cooked buffalo chicken strips owing to potential contamination by metal fragments. Tyson Foods Incorporated decided to expand a voluntary recall originally issued on March 21, 2019 of frozen, ready-to-eat chicken strip products made at one location between October 1, 2018 and March 8, 2019. Local distributors Butterfield and Vallis have recalled the following material codes:
Tyson fully cooked crispy chicken strips, 25oz bag, Bar code on bag #23700-01410
Tyson fully cooked buffalo chicken strips, 25oz bag, Bar code on bag #23700-01409
The products were shipped to Bermuda between November 6, 2018 and March 11, 2019. During that time period, Butterfield & Vallis brought in 184 cases of the buffalo and 253 cases of the crispy strips. Between stock and returns from 21 stores across the island, Butterfield and Vallis have 184 cases of the crispy chicken strips and 86 of the buffalo strips. If consumers have any product with the indicated UPC code, they should return it to the place of purchase for a full refund or exchange.

May 10

Bermuda will be removed from the European Union's blacklist of non-cooperative tax jurisdictions next week, according to a report by Bloomberg Law that was based on documents it has obtained. The report came only hours after Curtis Dickinson, the finance minister, told MPs he expected the island to be removed from the blacklist next Friday. The Bloomberg Law report said Bermuda, Aruba and Barbados are to be removed from the EU blacklist as a result of them changing their corporate tax laws. Curtis Dickinson, the finance minister, addressing the House of Assembly earlier today, said the island was likely to move from Annex I to Annex II on May 17. Annex I is the blacklist. Bermuda and nine other jurisdictions were placed on it in March, joining five countries already on the list. A typographical error in economic substance regulation documents submitted by Bermuda to the EU earlier this year was given as the reason the island ended up on the list. Annex II, the grey list, is not a list of countries but a list of criteria. Bermuda expects to joins the Bahamas, the British Virgin Islands and the Cayman Islands who are grouped together for having tax regimes that facilitate offshore structures which attract profits without real economic activity, according to the EU, and for having committed to addressing concerns about economic substance in the area of collective investment funds. Speaking to MPs, Mr Dickinson detailed the Bermuda Government's subsequent actions aimed at having the island removed from the blacklist when EU finance ministers meet next Friday. He said he and David Burt, the Premier, had met with EU commissioner Pierre Moscovici, who is responsible for economic and financial affairs as well as taxation and Customs, and that he had also met with Lyudmila Petkova, chairwoman of the EU's Code of Conduct Group on business taxations. In addition, there have been meeting with the officials from the German and French ministries of finance. Mr Dickinson said those meetings "permitted Bermuda to further explain in detail the source and reasons for which there was a technical omission in our economic substance regulations submission. This omission was addressed and corrected to the satisfaction of the European authorities". Explaining the difference between the blacklist and the greylist, an EU source told The Royal Gazette: "Annex 1 is the list of countries that have failed to give sufficient commitments for co-operation with the EU on tax matters. Annex 2 is not a list of countries but a list of criteria — for each of the criteria, the jurisdictions that have not delivered on fulfilling the criteria are listed." In his statement to MPs, Mr Dickinson said: "When Bermuda is removed from Annex I, we will be placed in Annex II of the EU list. This is because of EU concerns regarding the need for a legislative framework for collective investment funds that meets their expectations." He said the Government has committed to continue to co-operate with the EU with respect to the adoption, by the end of this year, of a "proper legislative framework" for collective investment funds.

The former chief executive of the Bermuda Health Council claims in an application for judicial review pending before the Supreme Court that the Premier interfered in the running of the watchdog to push taxpayer-funded payments to Ewart Brown. Tawanna Wedderburn alleges in the proceedings that intervention by David Burt also benefited at least one Cabinet minister and some Progressive Labour Party supporters. She also claims as part of the proceedings that Kim Wilson, the Minister of Health, and Alicia Stovell-Washington, the BHeC chairwoman, interfered with the day-to-day operation of the council. The notice of application that started the proceedings was released by the court after a formal request from The Royal Gazette. The document was submitted to the court as part of Ms Wedderburn's attempt to win an order to quash her termination as BHeC chief executive last December. Mr Burt said last night: "The allegations are strongly denied and they will be defended in the appropriate forum." A Ministry of Health spokeswoman added that the respondents in the case "vigorously denied" the allegations and were "robustly" defending themselves in the proceedings. The case started with a hearing last week in chambers. Ms Wedderburn asked for permission to apply for a judicial review against the three individuals and the council in March, which was granted last month. The application shows that Ms Wedderburn sought relief from what she alleged were "continuing" decisions by the Premier, the health minister and the BHeC chairwoman "to interfere with the functioning and day-to-day management of the Bermuda Health Council". The application adds that she wanted an order to quash the BHeC's decision to recommend that she should be removed as chief executive, Ms Wilson's approval of the recommendation, the termination itself, or all three. Ms Wedderburn also wants a ruling that alleged interference by the Premier and the health minister was "unlawful because the council is intended to be an independent health regulator, performing its functions without party political interference". But Mr Burt said: "For the avoidance of doubt and for the information of the public, the Bermuda Health Council is not an independent regulator. This statutory body is, by law, subject to the directions of the Minister of Health." Ms Wedderburn "further or alternatively" asked for the court to rule that the alleged interference by the Premier, the health minister and Dr Stovell-Washington was unlawful "because it was done for the purpose of controlling the council's policy decisions, and/or facilitating government payments and/or other pecuniary awards to specific Progressive Labour Party supporters, a former premier, at least one Cabinet minister, and/or others". Ms Wedderburn's tenure at the BHeC ended in December last year in what the health watchdog said was a "separation of employment". She served as chief executive for nearly three years and had worked at the organisation since 2007 in other roles. The BHeC is responsible for setting MRI and CT scan charges for private healthcare providers. The former One Bermuda Alliance administration slashed fee rates in June 2017. The cuts affected the King Edward VII Memorial Hospital as well as two clinics owned by Dr Brown, a former PLP premier. Compensation expected to total $3.6 million — $2.4 million to Bermuda Hospitals Board and $1.2 million to Dr Brown — is to be paid out by the PLP government. Records released under public access to information in 2018 by the Ministry of Health showed how Dr Brown, the owner of Bermuda Healthcare Services in Paget and the Brown-Darrell Clinic in Smith's, sent a string of angry e-mails and letters about the fee cuts to Ms Wedderburn. He also named her and two other public servants when he announced the closure of the scanner unit at the Brown-Darrell clinic because of the fee cuts in January 2018. Dr Brown said at a press conference: "Remember these names. Jennifer Attride-Stirling, Permanent Secretary at the Ministry of Health. Tawanna Wedderburn, CEO of the health council, and Ricky Brathwaite, so-called health economist. I want you to remember those names." He was not named in the application for leave form that was submitted by Ms Wedderburn, and provided to the Gazette after it asked the Supreme Court registry for access to records, but it is understood he is the "former premier" in the documents. Ms Wedderburn also asked for declarations from the court that the recommendation to terminate her as chief executive was unlawful because the council was "tainted by bias" and that she was not notified of the proposed decision or given the opportunity to make representations on it. The notice added that she wanted: "Further or alternatively, a declaration that the recommendation was unlawful because it was made for improper purposes, namely: because Wedderburn was perceived to be obstructive to certain political intentions; to safeguard a series of unlawful decisions in favour of specific individuals and/or healthcare providers; to make it likely that specific politically motivated policies would be imposed upon the council without any or any adequate obstruction; and/or because of personal animosity against Wedderburn." It was also alleged that Ms Wilson's approval was unlawful for the same reasons or because she did not fully investigate the recommendation before it was carried out. Ms Wedderburn claimed that the alleged refusal of permission for her to join a trade union was unlawful and she said she wanted damages "for the Premier's, minister's, chairman's and/or council's misfeasance in public office". A Ministry of Health spokeswoman said: "The respondents in this matter vigorously deny the applicant's allegations in their entirety, and are robustly defending their position through the proper court process, adhering to its rules. Therefore, further comment cannot be made at this time." Juliana Snelling ,of Canterbury Law, who is acting for the BHeC and Dr Stovell-Washington, said it was "entirely inappropriate" for the council or the chairwoman to comment as the case was before the courts. Canterbury Law said in January that Ms Wedderburn's employment was "terminated lawfully by the council in full compliance with section 18(1)(b) of the Employment Act 2000, the Bermuda Health Council Act 2004 and her contract of employment which calls for one-month notice of termination". The BHeC lawyers added that Ms Wedderburn was paid for her notice period and also offered six months' pay and benefits "in good faith". Eugene Johnston, who represents Ms Wedderburn, declined to comment.

Bermuda's education commissioner has asked schools to let the business world know how they could boost education. Kalmar Richards, in a contribution to The Royal Gazette's Bermuda National School Salute, said public schools could not function or meet the needs of pupils without backing from businesses. Ms Richards said the schools had to provide information about their needs to potential partners. She said: "Businesses do not always know which schools are in need, or what those schools need. Potential partners can use the information to access whether they have the resources to match the needs. Next to support from parents and guardians, public schools need unwavering and sustained business and community support if they and our students are to be highly successful. These business and charitable organisations, many of whom have sustained partnerships with our schools over the years, are helping Bermuda's public schools to meet the diverse needs of students by expanding the variety of teaching and learning resources and establishing programmes to support increased levels of student achievement." The Bermuda National School Salute has focused on sport, academics, the arts, and science, technology, engineering, art and maths this week. Today's edition, which includes Ms Richards's article, was designed to highlight community service.

Police overstepped their authority when they handcuffed a 15-year-old schoolboy in the care of the Department of Child and Family Services and locked him up at the Co-Ed prison last week, a Supreme Court judge has ruled. Assistant Justice Mark Pettingill's written judgment said that police had taken "the draconian step of effectively incarcerating a minor" after the boy skipped his flight to a care institution in Utah and that they had acted unlawfully. The boy, who cannot be identified for legal reasons, was represented by Tiffanne Thomas, a litigation guardian, who asked for the court to rule that he had been unlawfully detained. Mr Justice Pettingill wrote that the boy had been suffering from "family challenges" in March, when Magistrates' Court put him under the care of the DCFS. The boy was placed in a residential centre, but found to be "noncompliant". The DCFS applied to the court to transfer the boy to a Utah institution on April 29. The judgment said the boy at first complied, and "arrangements were made for his immediate transport to the airport". Mr Justice Pettingill noted in his May 3 ruling that the boy had asked to be allowed to pick up personal items. The request, which the judge found was "by no means unreasonable", was denied for time reasons. Mr Justice Pettingill wrote: "It is a significant measure to remove a child out of the jurisdiction to a foreign country, and consideration should be given to anything that may add comfort to such an action." He added the refusal appeared to have "tipped the pebble off the cliff". The boy left the DCFS van at the airport, went to the bus stop, returned to the residential centre and went to school the next day. Three police officers and two social workers went to the school and the boy was handcuffed and taken away. Mr Justice Pettingill found that despite a recovery order being issued, police lacked the legal authority to take a minor into custody. He added that "the court is aware that this is not the first instance of the police acting beyond their powers at the request of the DCFS". By agreement with the Commissioner of Prisons, the boy was taken to the Co-Ed facility on May 1. Mr Justice Pettingill questioned why an emergency application had not been made at Magistrates' Court that same day for an order to send him to the Co-Ed facility. Ms Thomas gave an affidavit that the boy was being held unlawfully in a prison environment. Lawyer Adam Richards appeared for the boy, with Ms Thomas as litigation guardian at the May 3 hearing. Brian Moodie of the Attorney-General's chambers represented the Commissioner of Prisons and the Director of Child and Family Services. Mr Moodie told the court that DCFS staff were sent to the prison to supervise the boy and that he was not under the control of prison guards. Mr Justice Pettingill, although he said that was "some amelioration", said that holding the boy at the Co-Ed amounted to detention in prison — not in an approved residential centre. He added that the circumstances had highlighted the importance of the independent role of litigation guardians. Mr Justice Pettingill said he accepted that the Attorney-General had found the Co-Ed acceptable as a housing facility but he disagreed that that was "sufficient or correct in law". The boy was held at the Co-Ed for several days before he was taken to court last Friday. Mr Justice Pettingill said that by then "the proverbial horse had well bolted". The judge agreed that DCFS had major responsibilities that on occasion required "out-of-the-box thinking". But he said that stronger "checks and balances" were needed. Mr Justice Pettingill added that practical problems that involved minors should be tackled through amendments to legislation rather than "giving a broad interpretation to the existing law". He added that "would be to grant a licence to the authorities involved to act outside of the proper guidelines of the law, allowing for injustices to occur and civil liberties to be violated".

A volunteer police cadet base in Britain is to be named after a Bermudian teenager who was murdered last year. Keishaye Steede, the mother of 17-year-old Lyrico Steede, said it was an "absolute honour" to have the centre named after her son. She added: "I believe that this is a great start for those young individuals who are looking for change. It's a really positive movement." The new volunteer cadet base, aimed at youth aged 12 to 15, is to open in Bulwell, Nottingham, near where he was stabbed. Chief Inspector Suk Verna, the head of Nottinghamshire Police's citizens in policing department, said the decision to name the building for Mr Steede was "to create a legacy for Lyrico and help people to remember him in a positive way". Mr Verna added: "We want to help young people in the area to become good citizens and to make positive life choices. I am excited for this base, as I believe that it will offer a valuable opportunity for the police and young community to build strong relationships for the future." Mr Steede was stabbed 18 times after he was lured to a park at Stock Well, in the Bulwell area of Nottingham on February 13, 2018. He died in hospital five days later. Two teenagers were given mandatory life sentences in January for the murder. Three other teenagers, including a 16-year-old girl, were found guilty of manslaughter. The new centre is for junior volunteer police cadets aged from 12 to 15 from Bulwell and surrounding areas. The cadets are a voluntary youth programme which includes learning about the police, personal and community safety, as well as offering sports events and travel opportunities.

Hamilton's administration remains unchanged after last night's municipal elections. Charles Gosling stood unchallenged as mayor with residential councillors George Scott, Henry Ming, RoseAnn Edwards and Jenefer Brimmer, who replaces Carlton Johnson. Michael Branco, who threw his hat in the ring for business ratepayers, fell just short of success, with sitting councillors Larry Scott, Nicholas Swan, John Harvey and Dennis Tucker remaining in place. Mr Branco told The Royal Gazette he was "very happy" with last night's result, and said he looked forward to working with the administration "in any way I can". He took 119 votes while Mr Harvey secured 138, Mr Scott, 124; Mr Swan, 147, and Mr Tucker 136. Mr Branco added: "A big part of me running was for the next generation. But as a business owner in this city, we all face the same challenges — the rising cost of doing business, and trying to get involved to help those businesses thrive." Earlier, outside the Seventh-day Adventist Hall on King Street, a jovial mood prevailed as the close of polls neared at 8pm. Despite their assured seats, Mr Gosling and the Hamilton councillors turned out to show their support. Mr Gosling said: "Our team believe very much in the importance of local governance. That's why we are here." The administration is to be sworn in today at 9.30am at City Hall.

George Dowling III has been elected Mayor of St George beating Kenneth Bascome by 234 votes last night. The announcement was welcomed with loud applause, as the 41-year-old former town councillor earned 363 votes to the veteran politician's 129 votes. Four hundred and ninety-two votes were cast out of 1,388 eligible voters. Speaking at Penno's Wharf, a beaming Mr Dowling pledged he would stand strong for the people of St George regardless of the Bermuda Government's attempts to replace the island's two municipalities with quangos. He said: "Whether Government takes over or not we are still required to be good trustees of our town." Mr Dowling said that finalizing a town plan is his first priority, and could take between three and four months to complete and said that he hoped to work with the Government on revenue-raising ideas. "There are a few MPs in the crowd tonight so I hope we can network and come to a resolution. We need to generate dynamic revenue sources for our town," he said. "Cruise ships are always a good idea to have in our town." Mr Dowling continued: "I hope that we can get into a position where we are courting smaller cruise ships, we used to have two cruise ships and they used to stay here three to four days at a time, and St George's was booming. If we can get to that space, we will be in a good position to do whatever we need to do going forward." Philip Seaman and Andrew Roberts stood uncontested for the two business ratepayers' councillor seats in St George. Returning unchallenged to resident councillor roles are Elizabeth Christopher, Cyniqua Anderson and Lloyd Van Putten. They will be joined by Andrew Smith Jr and Tania Stafford. The vacant sixth seat will be filled after an extraordinary municipal election to be held within the next two months. Mr Dowling said he was proud of the work he did overseeing the docks and ensuring that parking was available at Hunter's Wharf. His family business, Dowling Marine, is based on the waterfront. He added: "A police station would be good for the town and I will speak with the Commissioner of Police. I have spoken to him previously at the Peppercorn Ceremony and he invited me to meet with him. We are also going to continue to support planning with the Unesco World Heritage Site Management Plan and then we will look to take over the management of the site." Mr Bascome, a former mayor who stepped down to become a One Bermuda Alliance MP, said in an interview this week that a police station would be a priority. He also said that he wanted to improve Duke of York Street as well as late night transport to the town. Mr Bascome said last night: "Remember that I am a St Georgian and I will assist wherever it is possible. I will always be in the mix." Quinell Francis, who endorsed Mr Dowling, recently announced she was to step down as mayor to focus on her surveying business. Ms Francis, who headed up the Corporation of St George for four years, said she would be willing to sit on any committee as a resident. In March, the Government voted in favour of reforming the municipalities by turning them into unelected quangos but senators blocked the move.

OJ Pitcher will make a long-anticipated return to cricket this weekend with St David's, 658 days after collapsing in an Eastern Counties match at Lord's with a heart issue that looked like ending his career. Pitcher has faced many uncertainties since that life-changing day on July 22, 2017 when the St David's and Bermuda captain collapsed on the field with chest pains against Bailey's Bay in a first-round match. St David's eventually lost the match by 61 runs after Pitcher was taken to hospital. He endured a series of tests and doctor's visits in his battle to recover, after missing last season in its entirety. Dr Shane Marshall, his cardiologist, gave him the all-clear late last year. "I've been seeing Dr Marshall for the past year and a half, going to him around every three months for different tests and follow ups," said 35-year-old. "With the condition I had, it was about building my strength back up. In order to do that I started off with light stuff and then over a period of time gradually building it up to get stronger and stronger until it gets to a point where they felt I was strong enough to get back out there. I found out in November that he was very pleased and confident enough to say 'I feel you are able to get back out there playing some cricket. Obviously I was over the moon about that, since then I've been doing my extras and have been feeling really good. I'm looking forward to getting back out there playing some cricket. I still have passion and love for the sport; it is something I was brought up on, coming from St David's, and it feels really good to get back out there and do what I enjoy doing." Pitcher, a professional golfer, used that sport to keep active, playing in the Johnny Walker Classic last weekend on his home course at Ocean View, where he tied for third with Daniel Augustus, just two strokes behind Dwayne Pearman and Chaka DeSilva, who won in a play-off. "I've been competing in some local professional golf events and did pretty good in them," Pitcher said. "It helped keep my hand-eye co-ordination going as well. As we know, golf is nowhere as strenuous as cricket but there are some similarities to golf, like the swing when it comes to batting." Pitcher will feature for St David's against Bailey's Bay on Sunday in a match that will certainly bring back some memories. "I've been putting in a lot of time on my own, the body feels good, I'm in good shape right now and ready to," Pitcher said. "I obviously missed it a lot, it was very hard to be on the side watching. But they can tell you, I was at every game supporting, no matter where the game was. I work weekends in the mornings, but as soon as a knocked off I would go straight to the games and help out in any way that I could. It was hard, but I made sure I was there, backing the boys and supporting them." Pitcher was there last year at Sea Breeze Oval to witness the exciting victory over Cleveland County in the Eastern Counties Cup final, ensuring that St David's will be the defending champions when they host this year's series at Lord's, taking on Bay in the opening round. "Winning the county cup back was a great feeling, great to see, even though we didn't win it back from Bay, but Cleveland," he said. "I was also proud of the boys, too, with how the entire season went. We won not just county, but the T20 league and the Premier Champions Cup between the top two teams in the league, St David's and Rangers. We won three trophies overall and in the 50 overs we won more games than everybody else. It was just the bonus points, which Rangers got a lot of, which helped to carry them ahead of us on points. It shows the depth that we have in St David's when it comes to cricket." Pitcher is hoping to make up for lost time, as he sets his sights on not only reclaiming a place in the St George's Cup Match team but also the Bermuda team, maybe even for this summer's ICC T20 Americas Qualifying tournament, which Bermuda will host in August. I have been training with St David's and have also been to a training session with the [Bermuda] squad," Pitcher added. "I have made myself available for that, as well as for Cup Match, God willing, and if all goes well. I'm anxious to get back out there and really looking forward to it." Pitcher has been moved by the support shown by so many fans following his illness. "The support shown from friends and fans was really something," he said. "It wasn't just the fans and friends in St David's but the entire island. Still today, at times people will ask, 'How you feeling, how you been', especially if they haven't seen me in a while. At one point it did get a bit overwhelming, but I know people meant well. I just want to thank everybody for their support and concerns. I want them to know that I'm doing very good and back doing what it is I love to do. There was a point when I thought I wasn't going to be able to get back out there again. I'm looking forward to being out there with the boys, whether it be St David's, St George's in Cup Match or Bermuda." The St David's match against St George's, originally scheduled for Saturday, has been rearranged to May 18.

May 9

A 20-year-old man was sentenced to two years in prison yesterday after he admitted to taking part in a chain snatching that ended in a road accident. Jerome Bailey told Magistrates' Court that the act was a "mistake" that he regretted making. He added: "I'm just asking for a second chance." The court heard that Bailey and another accomplice targeted Tre Simons during an incident that occurred on September 23 of last year. Crown prosecutor Nicole Smith said that Mr Simons was riding through Middle Road in Paget when Bailey rode next to him on a motorcycle. His accomplice, a passenger on Bailey's bike, then snatched Mr Simons's $2,400 gold chain and pendant from the back of his neck. The force of the action caused the victim to swerve into oncoming traffic, which stopped before striking Mr Simons, and eventually sliding out. Magistrate Tyrone Chin heard that Mr Simons sustained injuries to his arms, hands and elbows as a result. Mr Chin also heard that Bailey was fixed with an electronic monitoring device during the time of the incident, which allowed police to place him at the scene of the robbery. Bailey was later arrested on September 29 at his Devonshire home on suspicion of robbery. Ms Smith said that the incident was an escalation of antisocial behavior, explaining that he committed the offence 41 days after being released from prison for wounding. She added that imprisonment would be necessary to "assure people in this community that there will be no tolerance for these types of offences". However, defence lawyer Kamal Worrell said that his client should be recognized for taking responsibility for his actions and attempting to change. Mr Worrell explained: "This is a person who, outside of peer pressure and society's limitations, is someone who's bound to flourish. This was a stupid mistake that he made because of peer pressure. It was not a plan he tried to mastermind; he was just the driver." Mr Chin sentenced Bailey to two years in prison, with an additional two years of probation after his release. Tyree Greene, 21, who appeared alongside Bailey, denied charges of taking part in the robbery with Bailey. Greene will reappear in Magistrates' Court next Wednesday.

Tourist air arrivals in the first three months of the year dropped compared with the same period in 2018, the Bermuda Tourism Authority said yesterday. But the BTA said the 8.5 per cent drop was partly offset by a 9.1 per cent rise in business air arrivals, but total arrivals fell by 4.9 per cent. Total air arrivals fell from 40,326 in the first three months of last year to 38,349 in the first quarter of 2019. But the figures showed cruise ship numbers almost doubled, up 137 per cent to 11,000 in January to the end of March. The BTA earlier said that it hoped to boost high-value air leisure arrivals, which Zane DeSilva, the tourism minister, said in February should be a priority. Air visitors spent more per person this year, but the overall drop in leisure air arrivals meant total estimated spending was down 2.5 per cent to $32 million. Loss of air capacity, which fell 3.5 per cent, played a role in the drop. The reduction in the number of seats included a 12 per cent drop in capacity from New York's John F. Kennedy Airport. The city is the island's largest source for visitor arrivals. The BTA said the leisure air visitor spending and arrivals for the first quarter of 2019 marked the sector's first down quarter since the fourth quarter of 2015. Fewer visitors also led to lower hotel occupancy, which declined 5.6 per cent. But hotels had "marginally" higher rates, up 2.6 per cent, over the first quarter of last year. The BTA said vacation rentals performed well with a slightly greater share of visitors who opted to stay in private homes, up from 7.8 per cent in the first three months of 218 to 8.2 per cent in the same period this year.

The Bermuda Government's singling out of BF&M for criticism over health insurance premium increases is clouding the bigger picture of the ramifications of healthcare financing reform. That is the view of BF&M executives, who said there was much uncertainty about how the new system would work, with just 3½ weeks to go before its planned implementation. Kim Wilson, the health minister, said last week that it was "unconscionable" that BF&M should blame the impact of government reforms for an increase in premiums. She added that a letter from BF&M to clients was "misleading" and inaccurate. In an interview, John Wight, BF&M's chief executive officer, said the letter to clients was intended to clarify what went into premium rate decisions. "Our primary objective was to educate our customers," Mr Wight said. "This is a normal part of our discussion with clients and we want to be fully transparent." He added that the imminent reforms did nothing to address the drivers of healthcare cost increases. A new system for funding the hospital is scheduled to kick in on June 1. It involves the Government paying an annual grant to the Bermuda Hospitals Board, capped at $330 million for the coming year to replace the existing fee-for-service model. Mr Wight said there seemed to be a lack of understanding in the healthcare industry about how things would operate under the revamped system. To fund the block hospital payment, the Government will more than triple the amount it takes directly from the monthly premiums paid to health insurers from $101.97 to $331.97, with the proceeds going into the Mutual Reinsurance Fund. BF&M has characterized this as an "indirect tax", a description Ms Wilson rejected. Michelle Jackson, BF&M's senior vice-president, group lines health and life, said public discussion should not focus on the Government's attack on BF&M. "There is a much, much bigger picture," Ms Jackson said. "There are wider questions about the $330 million cap and what happens as healthcare costs continue to go up and what that means for future years." The Government had informed BF&M of the planned financing reforms only about three months ago, she said, and now the reforms were just weeks away from being implemented with much uncertainty about many aspects. Ms Jackson said under the present system, insurers manage and process their clients' hospital claims. This gives the insurer data, allowing them to analyze trends, as well as creating a check and balance in the system to ensure treatment of their clients is appropriate and efficient. Under the new system, insurers will no longer manage claims or receive information on claims from the hospital when its clients receive treatment, according to Ms Jackson. Ricky Brathwaite, the acting chief executive of the Bermuda Health Council, said last week that insurers would receive data on their clients' hospital care. Ms Jackson said BF&M had received no guidance on what claims data would be shared. She said health insurance premiums include two components. First, the standard premium rate, which is set by the Government and which covers most hospital services, diagnostic imaging and support of government-administered plans. This component is made up of the standard health benefit, managed by insurers, and the Mutual Reinsurance Fund contribution, paid straight to the Government. Under the reforms 93 per cent of the SPR will go to the MRF, leaving just $23.34 of the total $355.31 be. The second component is comprehensive coverage, the extra non-hospital benefits provided by insurers on most policies, such as prescription drugs, dental care and mental healthcare. In its letter to clients, BF&M states: "We will be increasing comprehensive coverage premium rates by more than in years past as a result of our significantly reduced SHB premiums (approximately 90 per cent less than current). Given current health trends and healthcare cost inflation, we project premiums will not be sufficient to pay expected claims for 2019-20 without this increase." Healthcare cost inflation was running at 6.5 per cent, well above general inflation, a rate that would likely accelerate as the population aged, leading to greater use of health services and higher claims, Ms Jackson said. The Royal Gazette approached health insurers Argus and Colonial, asking whether they had increased premiums and for views on Ms Wilson's comments about BF&M. A spokeswoman for Argus said adjustments to premiums "take into account a number of factors, including but not limited to the rising cost of healthcare". She added: "As per the Aon 2019 Global Medical Trend Rates Report, global medical inflation is currently trending at 7.8 per cent, however, Bermuda traditionally experiences greater increases due to our high incidence of chronic disease and utilization of services. It is important to understand that adjustments vary by corporate client as they are based on the respective claims experience for each client and their particular benefit package. Regardless of changes to legislation, we know that a healthy lifestyle, supported by healthcare professionals, is the key to keeping premiums low and driving down overall costs." No one at Colonial was available for comment.

East End voters will choose a new mayor at the polls in the Town of St George today. The race is down to Kenneth Bascome, a former mayor, and George Dowling III, a councillor, after Quinell Francis announced she was to stand down from the role. Hamilton's businesses will pick four representatives for its corporation out of the five contenders. Charles Gosling, the Mayor of Hamilton, was unopposed, along with the four councillors elected by residents, and will be sworn in tomorrow at City Hall. Ms Francis, who had headed the Corporation of St George for four years, said she was dedicated to the rejuvenation of the Olde Towne, and would "sit on any committee as a resident". She was elected in May 2015 after she was a councillor and alderman for the municipality, but decided against re-election to focus on her surveying business. Ms Francis said last week that the highlight of her service had been getting more people from the Olde Towne involved in its revitalization. She added: "It has always historically been a different type of person involved in the corporation. When I came on board, so many people knew me or my family that they were eager to reach out and ask how they can help me and work with the corporation to bring new life into the town." But she admitted financial constraints had held her back from "a few projects I would have loved to have seen done". These included the renovation of the upper level of the Town Hall, improvements at Somers Gardens, and the resurfacing of streets. Ms Francis said the Government had pledged to help with infrastructure problems to allow the corporation to concentrate on running the town. But she added she was unsure about the municipality's future, in the wake of the Government's drive to change both Corporation of Hamilton and St George into unelected quangos. Ms Francis said there should be more consultation on the plan. She said: "St George's needs the assistance, and it needs change, but it needs to be a collaborative change." Ms Francis added the two municipalities were different and suggested the creation of separate Acts, which could help the Government get public buy-in for the change. She also praised the corporation's relationship with the Bermuda Tourism Authority. She added: "There are many organisations in the town and we should be working together. Everyone is working towards their own goal. We have started to come together more, but there is still more that we have to do." In Hamilton, five people put themselves forward for the business councillor contest: sitting councillors Larry Scott, Nicholas Swan, John Harvey and Dennis Tucker, businessman Michael Branco. Business voters will choose four names out of the five to represent them on the city council. Four resident councillors were uncontested on Nomination Day: sitting councillors George Scott, Henry Ming and RoseAnn Edwards and newcomer Jenefer Brimmer. Polling stations will be open from 8am to 8pm at the Seventh-day Adventist Church on King Street, Hamilton, for the city elections and at Penno's Wharf in St George. The count is scheduled to start as soon as the polls close and the results will be posted on the Parliamentary Registrar's site at www.elections.gov.bm.

One of the world's biggest cryptocurrency exchanges, Binance, which has a Bermuda company, has been hacked and an estimated $40 million worth of bitcoin stolen. It has temporarily suspended all withdrawals on its platform as it investigates the breach, and said it will replace the lost money from a secure asset fund. The company's Bermuda unit is Binance (Bermuda) Ltd, and has plans to develop its global compliance base on the island, creating 40 jobs, and to develop a digital asset exchange in Bermuda "as soon as practicable". Binance signed a memorandum of understanding with the Bermuda Government in April 2018. In a statement this week, Binance said hackers withdrew 7,000 bitcoin from its exchange in a single transaction, having patiently waited to execute "well-orchestrated actions" through a number of accounts. In a social-media video on Periscope and Twitter, Binance chief executive officer Changpeng Zhao said: "We are covered on the funding side. It does hurt very much. Throughout this instance we will try to maintain high transparency." He asked people to forgive the company for the temporary block on withdrawals, which is expected to last for a week. "We want to make sure we are secure and have solved everything before we turn things back on," he said. Trading will continue on the exchange, which is the world's biggest in terms of volume traded, but withdrawals and deposits will be suspended until all security checks are complete. The bitcoin theft is the sixth largest cryptocurrency exchange hack. As part of its MOU with the Bermuda, the company said Binance's foundation will spend up to $10 million on training for Bermudians in blockchain technology development, and the trading company's labs will make up to $5 million available for investment in new Bermudian blockchain business.

The owners of a controversial dairy farm accused of causing a stink could face legal action from neighbours if they fail to meet a June 30 deadline to clean up their act. Almost 400 people have complained about Green Land Dairy Farm in Smith's and problems, including a foul smell, flies, rats and pigeons they claimed were caused by the farm's manure pit. Allan Pelvang, who lives near the farm, said: "There have been 364 complaints since the beginning of the year and it is accelerating quickly, I suspect we will have 500 by the end of June. If they don't do anything by then, the next stop would be a court process. Everyone's quality of life has just dropped. People have said they will not purchase in the area and it has an impact on property values. The schools are affected, Whitney Institute has been active throughout this process. The whole area is contaminated because of this air-quality issue. There is a real feeling that this cannot continue." Mr Pelvang said: "We have been working very closely with the Department of Health and there is now an online complaints procedure." Valter and Lidia Medeiros, who own the farm, said they are confident any problems would be rectified by the deadline. Ms Medeiros said: "We have engineers working on it. We have got word that we will be able to use the top we have on it which is adequate because it is going to be sealed and vented — it has to be vented, as it is explosive. In the long run, the farm will smell, but this may help with some of the smell." The health department said it had imposed the deadline on April 3 because of the volume of complaints and "outstanding planning conditions which had not been met". Residents have complained about problems with the farm for two years and claimed the area around the farm was infested by flies, rats and pigeons as a result of the pit, built to hold manure and urine from the farm's 100-plus cattle. Mr Pelvang said that a residents' group, after a public access to information request, found that the Department of Health had been concerned over the use of an open sewage pit, but the Department of Planning had given planning permission in 2015. But planners said that if there were complaints inside six months of the pit's construction an application for revision should be submitted for the installation of a top to the pit with vents for gas to escape. A top was installed, but area residents said it had made no difference and enzymes used in a bid to minimize odors did not help the problem. A spokeswoman for the health department said: "Unfortunately, no application has been made to the Department of Planning for a revision to the pit. Only a partial certificate of completion and occupancy has been issued from the Department of Planning. No comprehensive manure management plan has been submitted. The operators agreed to research potential solutions and submit a comprehensive manure management plan in an attempt to mitigate this problem. A letter confirming the outcome of this meeting was sent to the operators on April 3. This letter advised that the actions agreed to must be initiated by June 30 at which point the situation will be reviewed. A similar letter has been sent to the operators from the Department of Planning." Residents have photographed and videoed swarms of flies in the area and other footage showed pigeons, some dying. Ms Medeiros denied claims that the waste pit had caused an infestation of flies and rats but said that it might be responsible for some pigeons. She added: "Rats are an island-wide problem, if they have palm trees they will have rats. I have never seen a swarm of flies. We have seen some pigeons at the farm, but the environment department came by to deal with them." The health department spokeswoman said that its vector control team would investigate complaints about infestations of pests.

The cancellation of a school's Primary 1 class could split up brothers and sisters or force parents to move them to other schools to keep children together, a worried parent said yesterday. Teretha Talbot, whose daughter, Brialla, 4, was due to join brother Chanse, 6, and sister Charm, 9, at Elliot Primary School in Devonshire in September, said she was now looking to move all three to another school rather than split them up. She said: "They will all be in the same school together. Truthfully, I'm trying to figure out if I should move my other children." She was speaking after she got a letter that warned that the P1 class at the school could be axed next year because only four children had been enrolled. Ms Talbot said the letter was a surprise. She added: "I was actually in shock, because I had heard quite the opposite." Ms Talbot said that she had heard suggestions that there had been too many applications received by the school. She added she had been happy with the quality of the education her older children, two of whom have now moved on to Whitney Institute in Smith's, had received at Elliot. The letter, from Valerie Robinson-James, the education ministry's permanent secretary, said that the "Minister of Education determines the maximum enrolment for primary schools based on school registration". She added: "While he has not yet made a decision on the maximum enrolment for Elliot Primary School, it is his provisional view that Elliot Primary School should not have a P1 class due to low enrolment in September 2019." Potential Elliot parents were offered places at another school. Ms Robinson-James said that Diallo Rabain, the education minister, would consult parents who decided not to accept alternatives before he made a final decision. Ms Talbot said that she had not accepted the placement offer and she had not spoken to Mr Rabain. Staff at the school said yesterday they had been kept in the dark about the threat to the P1 class and that "morale appears to be at all-time low" due to fears over the school's future. A statement said staff were not told until April 23 that the class might be cut — a month after the letters were sent to parents of potential pupils. It added that staff had "grave concerns about the manner in which we were informed. The school principal, Ms Kimberly Creighton, and the school staff body were not informed of this plan and have not been part of the consultation process." It added that Ms Creighton and other staff members only learnt of the possible class cancellation "due to irate parents who spoke to some staff members about their concerns". The statement claimed that the actions of the education ministry "has led to heightened concerns about the future of the students, school and employment status". It also questioned why staff were not consulted about the possible loss of the class, plans for the future of the school and the possible impact on staff members. The Government announced in March that there was to be a delay in school registration for preschool and P1 pupils because of low enrolment. The education ministry did not respond to a request at the time for the number of applicants this year and last year for the island's 18 primary schools and ten preschools. A government report released last February showed that enrolment numbers for public primary schools were 2,431 in 2016-17, down from 2,585 in 2014-15. Preschool enrolment in 2016-17 was 320 pupils, down from 330 in 2014-15. Plan 2022, the Government's blueprint for education, published in November 2017, listed total enrolment at Elliot at 172 pupils. Mr Rabain did not respond to a request for comment by press time yesterday.

Mobile phone, computer and games repair company iRepair Bermuda has changed its name to CPR Cell Phone Repair Bermuda, and it is more than just a rebranding. By affiliating to the CPR Cell Phone Repair network, it joins more than 750 stores around the world that are part of the network, which is says will bring "new and improved services to customers". In addition, the Washington Lane business has secured the rights to expand the CPR Network in to the Caribbean, which is sees as an opportunity to open additional stores or convert existing small businesses to the CPR brand. Alex Jones, store manager, described CPR Cell Phone Repair as one of the world's largest and fastest-growing mobile repair franchises. "CPR franchise locations specialize in a wide variety of electronics repairs ranging from cracked screens and water damage to battery replacement and more. Bermuda has a large demand for quality device repairs, so we are happy to improve our services with the CPR Network. We are incredibly grateful for all of our customers who have enabled us to grow into this great location in the heart of Hamilton and build one of the best technical teams at any store in North America. The business's apprentice programme is succeeding in providing an entry into IT careers for Bermudians. We believe that the CPR Network will offer buying power, training, and marketing efficiencies, bringing higher quality services to both Bermudian and Caribbean customers. The CPR partnership and our participation in the upcoming Ignite programme will allow us to build a business across the Caribbean from our Bermuda headquarters." Mr Jones's company has come a long way in the last four years. It started as a small kiosk in Washington Mall, when the business was known as direct.bm, before acquiring the iRepair business — and name — and moving in to the shop premises on Court Street. Two years ago it relocated to Washington Lane. The company does various repairs, including cracked screens, water damage, battery and charging port replacements. Mr Jones said that joining with Florida-based CPR would not change the business being 100 per cent Bermudian owned, and said there will be more training opportunities for staff and managers. As for the impact on customers, he said: "By joining the CPR network, we are able to provide our customers with higher-quality replacement parts, an easy-to-use website, and budget-friendly repair services. Additionally, we have completed CPR's corporate ISO certified training programme in order to improve our workmanship and expand our repair capabilities." CPR Bermuda will honour existing warranties.
• The company is encouraging entrepreneurs interested in opportunities in the Caribbean to contact it at its Washington Lane premises, call 297-6464, or visit cprcaribbean.com/bermuda.

A celebration of Azorean culture will be held at the BAA Field later this month. Portuguese-American band Tony Borges and Euro will headline the Santo Cristo festival on May 18 and 19. Local acts include Sarah Medeiros, Jessica Frias, Amalia Ponte, Caroline Araujo and the Vasco da Gama Folklore dancers. DJ Nelson Pavao will play music. The event will be begin on May 18 at 9pm. A mass in honour of Santo Cristo will take place the next day at St Theresa's Cathedral, at 1.30pm, followed by a procession of the sacred image of Christ to BAA Field, where an evening of activities will take place. That will include musical performances, a bazaar with prizes, an auction of animals and produce, refreshments and Portuguese doughnuts. The festival is jointly organised by Vasco da Gama, the Portuguese Cultural Association and the Santo Cristo Committee. Proceeds will go towards the Portuguese School of Bermuda and the Portuguese Pastoral Council of the Catholic Diocese.

May 8

Britain is to reduce the amount of information available publicly on its companies register after thousands complained their data could be used by fraudsters. The move is part of an overhaul of operations at Companies House, which oversees the UK registry of more than four million businesses, after claims that scammers and money launderers are taking advantage of flaws in the system. A report by anti-corruption group Global Witness found that Companies House did not make basic identity checks, meaning criminals could set up a UK company with false details. The reforms come as Britain is preparing to issue an Order in Council at the end of next year. British Overseas Territories, including Bermuda, will have to provide public beneficial ownership registers in operation by 2023. In a statement released on Sunday, the British Government said companies and their owners would be better protected from fraud under a slew of Companies House reforms. "In the last three years there have been almost 10,000 complaints to Companies House from people concerned about their personal details, with worries including fraud and use of personal details topping the list," the statement added. Last year the register was accessed about 6.5 billion times. One of the proposed reforms aims to better protect personal information on the register. The British Government stated: "In a minority of cases the register can be misused to identify personal information, which can then be used for criminal purposes. Under these proposals, directors will be given additional rights over their information, for example personal home addresses, while ensuring this information is still available in a transparent manner to public authorities where appropriate." The Bermuda Government has kept a beneficial ownership register for more than 70 years. It is not open to the public, but its contents are available to government authorities under international information-sharing agreements. David Burt, the Premier, has said Bermuda will be happy to comply with the British demands when public registers become "a global standard". The Government has also argued that the Order in Council from the UK, if not approved by the Bermuda Parliament, would breach the island's constitution. Global Witness's report said the lack of ID verification at Companies House has helped UK companies to become "a conduit for scandal. In among the millions of companies and partnerships created in the last few decades, there are thousands that seemingly exist for no other purpose than to launder money, on a mind-boggling scale. Once incorporated through Companies House, these companies are able to control bank accounts, own property and move money around the world in much the same way as a private person." Under the reforms, Companies House will get greater powers to verify and corroborate identities and submitted information. Global Witness found that about 8 per cent of UK companies declared no "person with significant control", the description given to an owner of a stake of 25 per cent or more. According to Britain's National Crime Agency, "there is a realistic possibility that the scale of money laundering impacting the UK annually is in the hundreds of billions of pounds". On its website, the agency states: "Virtually all high-end money-laundering schemes, and several cash-based ones, are facilitated by the abuse of legitimate processes and services." UK shell companies were found to have played a role in the Danske Bank and "Troika Laundromat" multibillion-dollar money-laundering scandals.

The Department of Communications has remained tight-lipped over fallout from an erroneous statement that drew the ire last week of Curtis Dickinson, the Minister of Finance. However, its protocols were said to be under review to head off a repeat of the incident. The statement, issued last Thursday, incorrectly said that, starting on Monday, a fee would be imposed at a variety of government departments for using a credit card to pay for service. Calling the mistake "inexcusable", Mr Dickinson said on Friday that the release had been issued without approval, and that the charges would be applied only to payroll tax payments. The move had been announced in Mr Dickinson's maiden Budget speech of February 22, when the minister said it was aimed at cutting costs incurred by the Government for credit card charges. The minister said the incorrect statement had hampered the ministry and created "confusion" for the public, and that he expected the code of conduct for the public services to be applied. A spokeswoman for the department told The Royal Gazette: "A regrettable error was made and a press release issued without the minister's approval. Processes and procedures are being reviewed and reinforced to ensure this type of mistake does not occur again. Beyond this, we will not comment on human resources matters." Last night, a former member of staff from the department, who asked not to be identified, said the statement was unlikely to have been sent out without some form of higher approval. The former communications officer said DCI staff were frequently at odds with the code of conduct; as civil servants that meant they are supposed to be apolitical and avoid having direct contact with ministers of government — when, as speechwriters, such contacts were "tough to avoid".

Stroke patients will have access to "the best possible chance at full recovery", thanks to a link-up between the Bermuda Hospitals Board and Johns Hopkins Medicine. The move, welcomed as a "dream come true" by campaigners, will see a primary stroke centre established in Bermuda, with accreditation for acute stroke care in place by 2021. The clinical affiliation with the Maryland-based medical institute will also include improvements in psychiatric care, a continuing medical education programme for physicians in Bermuda and a residency programme. Michael Richmond, Chief of Staff at the BHB, told a press conference: "Stroke treatment and rehabilitation is a key focus. We have four to five stroke cases come to the hospital per week. We want to ensure we are giving every stroke patient the best possible chance at full recovery, and also identifying people at risk even earlier to try and prevent one altogether. We are also looking at psychiatry for opportunities to improve and find more effective ways to structure and deliver our services." Dr Richmond said the aim was to provide treatment that matches "the best of the best". The agreement with Johns Hopkins will cost $1.6 million over two years. Mark Selley, chairman of the Bermuda Family Stroke Association, said of the plans for a stroke centre: "It would be like a dream come true." Mr Selley said that he had lobbied for 26 years for a stroke unit that also deals with road traffic accidents and neurological problems, but that they were "placed on the back burner". He added: "I am happy to see this arrangement. If the BHB can team up with Johns Hopkins, we would be so far ahead in the game." Mr Selley pointed out that the longer it took for stroke patients to get the help needed, the less likely they were to recover. He said rehabilitation by trained specialists was important in the first few days after a stroke. "Like chemo is key to cancer treatment, rehab is key to stroke treatment," he said. Mr Selley said a local centre that addressed all the needs of a stroke patient would also reduce travel costs. Mr Richmond said quality access to education for doctors was also an important part of the agreement. He said: "Our Continuing Medical Education programme is now accredited by one of the world's best known and highly respected healthcare providers, and our first CME was held last night." Venetta Symonds, CEO of the BHB, said: "I'm excited that we are on this journey to improve on-island care for our families, friend and communities with them. It is BHB's vision to deliver exceptional through strong partnerships and support a healthy community. We ran a robust and lengthy RFP process for our clinical affiliate and six highly acclaimed hospitals applied and went through extensive review. Johns Hopkins won not only due to their quality and status in the healthcare world, but their deep affinity to and understanding of Bermuda." Mohan Chellappa, executive vice-president and president of Global Ventures, Johns Hopkins Medicine International, said: "We are honored to contribute to the Bermudian healthcare journey. Johns Hopkins Medicine's mission is to improve the health of the community and the world by setting the standard of excellence in medical education, research and patient care. And the unique community of Bermuda holds a special place in our hearts at Johns Hopkins." He pointed out that one of Johns Hopkins' best doctors, Malcolm Brock, was from Bermuda. He said: "We will support BHB staff with education and training and, together, we're now in the process of establishing a primary stroke centre and preparing for accreditation in the area of acute stroke care in 2021." The affiliation includes a programme for medical doctors who have graduated from an accredited medical school and are completing additional specialist training at Johns Hopkins. Those doctors will complete four-week rotations to Bermuda to perform short-term clinical and quality improvement projects. Dr Chellappa said: "Our clinical affiliation with Bermuda Hospitals Board is an important part of Johns Hopkins's vision to enhance healthcare around the world, by sharing our latest clinical advances and research findings in a way that contributes to local healthcare needs and goals, for many years to come."

Patients whose medical files were seized during police raids on Ewart Brown's medical clinics are likely to appeal a judge's decision to remove two lawyers from the case. Mark Pettingill and Victoria Greening, of Chancery Legal, were barred from representing 150 patients of Bermuda Healthcare Services in Paget and the Brown-Darrell Clinic in Smith's by Assistant Justice Kiernan Bell, in a May 2 judgment. The judge agreed with lawyers for Bermuda Police Service that Mr Pettingill, a former Attorney-General, and Ms Greening, a former Crown prosecutor, had a conflict of interest because they accessed confidential information about a long-running police investigation into Dr Brown while in their previous roles. Mr Pettingill told The Royal Gazette yesterday he had spoken with several patients who indicated they wanted to appeal the judge's decision. "Having been contacted by a few patients, they are certainly wanting us to remain on the case and are hopeful we will appeal," he said. "We are very disappointed for our clients who we have worked with for some time." Dr Brown, a former premier, expressed "shock" at the judge's decision in a statement issued yesterday. He said: "We will appeal this surprising decision. Our fight will continue as long as our enemies are committed to the destruction of my business and the assassination of my character." Chancery Legal's clients were among 265 patients whose health records were seized during police raids on Dr Brown's two medical facilities in February 2017. The raids were part of an ongoing investigation by police into allegations that the clinics ordered unnecessary diagnostic imaging scans to boost profits. Mahesh Reddy, medical director at Bermuda Healthcare Services, contested the seizures in a series of closed court hearings and the medical files were sealed on the orders of a judge. The patients intervened in the civil proceedings brought against Bermuda Police Service by Dr Reddy and the clinics in an attempt to ensure their files were not accessed by the police. In her judgment, Mrs Justice Bell said: "I find Chancery Legal, through Mr Pettingill and Ms Greening, have received confidential and relevant information of the [Commissioner of Police] and the BPS attributable to their lawyer/client relationship, arising from their positions as Attorney-General and Crown counsel. I am not satisfied that there is no risk of disclosure of this confidential and privileged information and any disclosure would be adverse to the interests of the [Commissioner] and the BPS. In the circumstances, Chancery Legal is restrained from acting for the ... patients." Dr Brown said: "The decision to remove lawyers Mark Pettingill and Victoria Greening from their roles as advocates for the patients has come as a shock. Chancery Legal, beginning with the late Shawn Crockwell, has represented our patients for more than two years. The police did not raise the issue of conflict until Chancery Law questioned their integrity. We are surprised that the judge considered [there] to be 'conflicts' justifying the removal of the patients' lawyers — situations which are commonplace in Bermuda." Dr Reddy and the clinics are represented by Delroy Duncan, of Trott and Duncan law firm. Jerome Lynch QC, of Trott and Duncan, has represented the patients, alongside Mr Pettingill and Ms Greening. Dr Brown said it was true that Mr Lynch remained on the case, adding: "But he has always taken instructions from Pettingill and Greening." He said: "Truth crushed to earth will rise again." Dr Brown and Dr Reddy have denied any wrongdoing in relation to the alleged over-scanning of patients and have not been charged with any offences.

A Bermudian, Toronto Darrell, is to be sentenced in Nottingham Crown Court in Britain after admitting he drove dangerously through a housing estate in the UK city. Nottingham Magistrates Court heard that Mr Darrell, engaged in "a high-speed police chase through a built-up area over a substantial distance" in the Bestwood Park neighborhood. Mark Fielding, the prosecutor, added that Mr Darrell, 54, ignored stop signs and drove at 80mph in a 20mph area. Mr Darrell, who also admitted having no insurance, reportedly told the court: "I don't know England".. Mr Darrell was disqualified from driving, and given a sentencing date of June 11. No date for the incident was reported yesterday by The Nottingham Post, but Mr Fielding told the court it had occurred at 10pm when pedestrians were "likely to be about".

Hiscox Ltd reported rate increases for its reinsurance and London market businesses during the first quarter. The Bermuda-based insurer and reinsurer said its gross premiums written grew by 3.3 per cent to $1.165 billion from $1.157 billion in the same period a year earlier. Hiscox Re and ILS, whose main operation is based in offices in Wessex House, on Reid Street, saw rate increases of about 2 per cent across its portfolio, with retrocession and risk excess accounts achieving the highest rate increases. "Rates in US catastrophe-exposed business are up low single digits, while pressure continues in the international book where rates are down slightly in aggregate, despite increases of more than 25 per cent on loss-affected Japanese business at the April renewals. The division's gross written premiums fell by 4.6 per cent to $342.8 million. The main driver of the decrease was a reduction of capital available to be deployed by Hiscox's insurance-linked securities funds after significant losses last year, the company said. For Hiscox London Market, rates rose by about 4 per cent year to date. Hiscox said the cumulative impact of two consecutive years of heavy market losses and the Lloyd's "Decile 10" directive continued to drive rate improvement in the majority of classes. "Cargo, marine hull and US public company directors and officers' have seen the most significant rate rises, all up double digits, while pricing in property lines continues to firm," Hiscox said. "Pricing in cyber and terrorism remains competitive." The company's investment return for the quarter was $84.2 million, or 5.3 per cent on an annualized basis. Assets under management at the end of the quarter totaled $6.334 billion.

Prison authorities failed to reach a decision on whether to release records about sex offenders under Bermuda's public access to information law. But the Department of Corrections said it was now working with the Information Commissioner's Office to "address this matter" after being ordered to provide a proper response to the requester. A spokesman told The Royal Gazette that the department "will be in the position to provide further details at a later date". The Pati request for "records and information relating to sex offenders" was submitted to the Department of Corrections in March last year. The department did not respond with a decision within the statutory six-week time frame. The head of the department, Collin Anderson, the permanent secretary at the national security ministry, also failed to respond to a request for an internal review. Information commissioner Gitanjali Gutierrez said the department failed to comply with the Pati Act in a decision released in February. She ordered the permanent secretary to issue a decision to the requester, whose identity is not known, by April 11. Ms Gutierrez declined to comment on whether the authority met that deadline. She said public authorities generally had to comply within six weeks of a decision and if they did not she would "evaluate whether judicial action is required to compel compliance". The Royal Gazette submitted a Pati request to the Department of Corrections in November 2016 that asked for a list of all sex offenders released from prison in the previous ten years. The department denied the request and Marc Telemaque, then permanent secretary at the national security ministry, said that "careful, individual consideration" needed to be given in each case involving disclosure. He added: "I'm not satisfied that disclosure of the information, as requested by the applicant, is in the public interest." That request is still under review by the ICO.

Medical cannabis will come under the spotlight at an information session today. Debra Kimless, an anaesthesiologist and chief medical director for Maryland-based medical cannabis grower ForwardGro, will discuss medical uses for the drug at a free event organised by Northshore Medical and Aesthetics Centre in Devonshire. Kyjuan Brown, the medical director at Northshore Medical, said: "A significant number of patients in Bermuda suffer from a plethora of conditions that are treatable or can be assisted by way use of medicinal cannabis. For many years, I have advocated on behalf of the many suffering Bermudian patients who can benefit from medicinal cannabis. To that end, we at Northshore Medical believe it imperative to educate the general public on the uses and benefits of medicinal cannabis. We are excited to welcome Dr Kimless to Bermuda. We are both passionate about finding alternative solutions to address the needs of our patients and I invite everyone to come out."
• The presentation will be held at 6pm in the Ruth Seaton James Auditorium at CedarBridge Academy at Prospect

A man who raided his mother's home three times to feed his drug habit was ordered to attend drug treatment court. Magistrates' Court heard on Monday that Paul Williams, 40, stole a 32in television from the Southampton home of Paulette Godfrey on Friday. Magistrate Maxanne Anderson heard that Williams also entered the house on April 25 and 26, but took nothing. But she was told Williams, also from Southampton, caused $130 worth of damage on April 26 when he broke a cordless phone. Williams, who is of no fixed abode and assaulted two police officers on Friday, admitted three charges of trespassing, two charges of assault on a police officer, wilful damage of property and theft of the television. Simone Smith-Bean, who appeared for Williams, said the crimes were committed as a result of his drug problem and asked for court-ordered treatment. Ms Anderson ordered Williams to attend drug treatment court. She adjourned the case and remanded Williams in custody.

The Bermuda Society for the Blind has rebranded and will now operate under the name Vision Bermuda. The charity said the shift will more accurately reflect the services now being offered. David Petty, president of Vision Bermuda, said: "There is a growing population of not only people who are blind, but also low or decreasing vision. Living with vision impairment can be isolating and complex. Our new name is a testament to the support that we pledge to help guide people who are experiencing vision impairment of all forms through their journey to regain independence and make social connections" The registered charity began as a social group in 1954 for the blind and visually impaired before being established as the Bermuda Society for the Blind in 1957, operating a sheltered workshop. After 50 years, the charity has developed the infrastructure to provide public awareness and educational events, rehabilitation services and social activities. Tinée Furbert, Junior Minister of Disability Affairs, said: "It gave me great pleasure to be able to be a part of this recent change and bring forth the private members amendment bill in the House of Assembly. I would like to thank the newly renamed Vision Bermuda team, executive and service users for all of their vision, insight and assistance for the visually impaired community over the past years and the years to come." Senator James Jardine, who supported the name change, said: "Perhaps the most important change was the amendment to recognize a wider more inclusive name to encompass not only those who are completely or partially blind but also others who have some form of vision impairment." Appleby provided its services on a complimentary basis to assist with the legal aspects. Laura Burns, an associate at the firm, said: "It has been a pleasure for Appleby to provide legal pro bono services to the society and to work closely alongside its leadership over the last several years. We wish the society continued success as it now operates as Vision Bermuda." For more information on Vision Bermuda including its work to assist the visually impaired you can follow them on Facebook. The charity plans to launch the island's first assessable website for the visually impaired utilizing the latest technology, which allows the visually impaired to read the website.

Pupils and parents were given advice on asthma when they gathered at an awareness event at City Hall. Asthma charity Open Airways organised "Helping Bermuda Breathe" to mark World Asthma Day and spread the message about the condition, which affects more than 8,000 people on the island. Organisers handed out free pillows, spacers and microfibre cloths.
• For more information about Open Airways, visit openairways.com.

Teachers not informed of a possible class cut at their school were disrespected, the shadow education minister said yesterday. Cole Simons said that parents had not been provided with adequate information about public school enrolment problems. Mr Simons said: "The ministry could have been more transparent when they received the March data from all of the year one primary school intakes across the island." He said that Diallo Rabain, the Minister of Education, could have held a press conference to share enrolment numbers with the public, as well as the Government's plan. Mr Simons added: "The parents could have been put on notice, the teachers could have been placed on notice, and they would have been better prepared for any decision. As a matter of fact, our teachers should have been advised first." He was speaking after some parents were warned in a letter that the primary one class at Elliot Primary School could be axed next year due to low enrolment. The undated letter, from Valerie Robinson-James, the Permanent Secretary of the Ministry of Education, said that the "Minister of Education determines the maximum enrolment for primary schools based on school registration". She added: "While he has not yet made a decision on the maximum enrolment for Elliot Primary School, it is his provisional view that Elliot Primary School should not have a P1 class due to low enrolment in September 2019." Ms Robinson-James said that only four pupils had been enrolled for the P1 class for the next academic year. Mr Simons said that he did not know the letter had been sent to parents. He added that he had been "reliably informed" that teachers at the school, located on Hermitage Road, Devonshire, had been told of the possible class cut by the Parent Teacher Association at the school — not by the principal and the Department of Education. Mr Simons said: "This demonstrates the height of disrespect for those teachers." Jamee Jones, the president of the PTA at Elliot, declined to comment yesterday on the possible loss of the P1 class. She said: "At this moment, I am not in a position to have this conversation." Mr Simons said he was not aware of any similar letters having been sent out in regards to other schools. But he added: "It has come to my attention that the P1 numbers are down in a few other schools as well." The Government announced in March that there was to be a delay in school registration for preschool and P1 pupils owing to low enrolment. The education ministry did not respond to a request at the time for the number of applicants this year and last year for the island's 18 primary schools and ten preschools. A government report released last February showed that enrolment numbers for public primary schools was at 2,431 students in 2016-17 down from 2,585 in 2014-15. Preschool enrolment in 2016-17 was at 320 pupils down from 330 in 2014-15.

Hosting the World Triathlon Series Grand Final in 2021 could be a springboard for improving accessibility, with the Bermuda Tourism Authority aiming to welcome more disabled visitors in time for the event's grand final. A BTA statement said the two-year deadline was "significant because Bermuda will welcome a number of triathletes in 2020 and 2021 who have visual impairments or use a mobility device like a wheelchair". Two disabled teams participated last month in MS Amlin World Triathlon Bermuda: Team Ladybugs from Britain, Stephan and Chloe Couture, and ThumbsUp International, consisting of Kerry Gruson and her coach, Erinne Guthrie. Both were interviewed by an Accessibility Working Group assembled under the National Tourism Plan to draw up an accessibility plan to be released to the public this autumn. The WTS Grand Final is set for October 2021. Tinée Furbert, the Progressive Labour Party MP and chairwoman of the group, said it aimed to "leverage the triathlon events to focus the country's attention on solving a longstanding deficiency in our infrastructure". Ms Furbert added that improving accessibility would leave the island with a "legacy benefit" after the races end. Aided by the BTA, the group will examine accessibility at local hotels and restaurants this month. Its surveys are to show how many establishments can cater to customers of different ability levels, allowing the group to set a target for how many accessible facilities the island could work on for 2021. Transport and vacation rentals, as well as attractions and excursions, would also get a review. At present, visitors arriving by cruise ship faced limited options ashore, and difficulties in getting around Bermuda were also likely to deter potential air visitors, the BTA statement added. LaKiesha Wolffe, an accessibility consultant and activist, called the announcement "awesome". But she added: "Why wait all this time and then fix things only because an event is coming to Bermuda? Why just wait for a tourist event?" She said there were popular restaurants too small for patrons in a wheelchair, adding that many supermarkets had wheelchair ramps that were "far too steep". "I would love to be contacted," Ms Wolffe said. She called the 2021 deadline a realistic one and said: "Many of these things are not as costly to fix as you think. It's not stuff that takes a long time." Glenn Jones, the BTA's chief experience development officer, said that "a more accessible visitor infrastructure equals more visitors". Mr Jones said: "If local businesses lay out the welcome mat for this audience, they will come, they will spend money and they will bring their families. But if there are barriers to a good experience for one member of the family in a wheelchair, the whole family chooses to go elsewhere." The working group's findings are to be posted on the GoToBermuda.com website, and highlighted in the authority's marketing materials. Keith Simmons, the vice-chairman of the working group, said that equal time would be given for solutions as well as defining "where the issues are". He added: "Oftentimes a solution is less costly than business owners think and can generate more revenue for them once the improvements are in place."

Dozens of cameras collected by an enthusiast have been used to create a display to show how photographic technology has evolved. Collection owner Dieter Wälzholz said he wanted to share his hobby with a wider audience and found a home for his cameras at Masterworks Museum of Bermuda Art. He said the focus during more than 30 years of building the collection was equipment that was the first of its kind. Mr Wälzholz, 83, explained: "What interested me particularly was the technical development of the cameras. I tried to buy cameras and accessories that had something for the very first time. It didn't have to be an expensive camera, very often the idea came from very small manufacturers. Sometimes you find those cameras for $20 and the next time you buy them for $100. I found it far more interesting than buying a certain expensive brand because this is the expression of human creativity in the technical sense." He estimated that he had given more than 90 cameras to Masterworks, but more have since been bought and the number is expected to rise. Mr Wälzholz said the collection had outgrown the Pembroke home he shared with Jennifer, his wife of 47 years. He added: "I couldn't display them, I was the only one who could look at them and see anything of them and I thought it was a bit of a waste." Mr Wälzholz and Tom Butterfield, the Masterworks founder and creative director, talked about the cameras and Mr Wälzholz agreed to hand them over to the Paget museum on the condition that the collection would not be sold or split up in his lifetime. A showcase beside the museum's entrance includes examples of the first Polaroid cameras and the first disposable cameras, both from 1948. The earliest camera in the display is thought to be from about 1907. Mr Wälzholz said he hoped the collection was "just the beginning" and that more cameras would be added. Mr Butterfield added it was important for the museum to find "more creative" ways to use its galleries. He said: "It is wonderful that a couple have been so generous to pass on what's essentially their life's work for other generations to enjoy." Mr Butterfield added: "The idea of keeping it intact is exactly in line with what we are all about so future generations really do have something to inherit. It's really as significant as it gets as it's really about passion."

Debris has languished for months at a West End dock with the Government failing to tackle illegal dumping, a Southampton resident has complained. Jessica Riederer said that debris at Ely's Harbour Dock in Sandys had yet to be removed, despite her flagging up the problem almost four months ago. She added that the initial mess, a discarded washer and dryer, had since gained a mattress and an oven, along with plastic and trash. Ms Riederer said: "It's unsightly, we've got a rat problem, we've got a roach problem and nobody wants to walk by massive piles of rubbish." The nature photographer posted images of the trash heap on her Facebook account yesterday. She wrote in the caption: "I seriously can't understand how the large dumped objects haven't been removed by now. I seriously don't understand how people think it's OK to dump their personal s*** on a public dock [or a national park ... ongoing]. I'm so sick of the excuses." Ms Riederer blamed the growing mess on the Government's inaction, which she said encouraged others to dump at the site instead of using waste management facilities. Ms Riederer added: "Unfortunately, we seem to live in a society where people see someone doing something wrong and they think it's OK to do the same thing. From what I've seen, if trash is allowed to accumulate in an area people, unfortunately, are going to continue to add to that area thinking that it's someone else's problem." Ms Riederer said that she came across the debris in January, sharing pictures of the trash on social media to spread awareness. The images were widely circulated, and eventually featured on the ZBM news, but the attention had not prompted any crackdown. She added: "It's the same thing with every public dock. If you were to get into your car right now and go down to the ferry terminals and most of the public docks, you would see the exact same situation. I find it embarrassing when I'm in a public space and talk to tourists, guests of this island, and I feel the need to apologise. We're supposed to live on a beautiful island." Anne Hyde, executive director at Keep Bermuda Beautiful, said illegal dumping on docks had been a constant for years. Ms Hyde said both KBB and the Department of Works and Engineering took frequent dumping complaints. "Waste management may be overburdened with lots of other reports of dumping everywhere else, because Ely's Harbour is not an isolated case." Ms Hyde said that waste pileups were also a public health hazard, drawing pests such as rats and mosquitoes, while trash could migrate to the ocean. "It's not just an aesthetic blight — it's a lot more complicated than that." The Ministry of Public Works did not respond by press time last night to a request for comment. Reports of illegal dumping can be reported to Karlos Burch, of the Ministry of Public Works, at 278-0563 or Keep Bermuda Beautiful at 295-5142.

Bermudian author Lorene Phillips will return to the island at the weekend for a book signing. Ms Phillips, who wrote 29 Keys to Unlocking your Faith at Work and Win and 29 Keys to Parenting and Win, will sign books at Brown & Co at 2pm on Friday. Ms Phillips's husband, Eugene Phillips, will join her for the book signing. The books, available online and at local bookstores, detail paths to success both at home and at work.

May 7

A string of communications over cryptocurrency firm Arbitrade's bid to set up in Bermuda revealed "an embarrassing shambles", the Opposition leader said yesterday. Craig Cannonier added he feared the island's reputation had been put at risk after a worried managing partner of a US-based spice company and investor in Arbitrade wrote to David Burt, the Premier, and asked if Arbitrade was working with Bermuda and in operation on the island. Mr Cannonier said: "The Arbitrade saga has become an embarrassing shambles that cannot be good for Bermuda's reputation." He was speaking after The Royal Gazette revealed that a government official asked Arbitrade to keep its promise to donate $1 million for fintech development on the island. Correspondence received in response to a public access to information request also showed apparent confusion among Cabinet Office figures over whether or not a memorandum of understanding with the company was ever reached. The One Bermuda Alliance leader said: "It is astonishing that there was confusion within Government's own fintech unit about whether an MOU was signed or not. "It [beggars] belief that this specialist department could apparently not find a record of any agreement." Last night, David Burt, the Premier, said: "We are preparing Bermudians for the technology jobs of the future and I will not be deterred by the Opposition leader's myopic focus on one of 80 tech companies that have incorporated in Bermuda since we took office." Mr Cannonier asked: "Why was Government seeking $1 million from the firm when it did not even have a licence to operate? This was clearly an act of desperation as Government knew that without that money, it could not fulfil a key promise on its only economic plan — the creation of a fintech centre, which was, indeed, later scaled down. Government's excuse that it wanted to exercise 'fiscal prudence' over this scheme was clearly an extremely disingenuous statement to cover a failure to deliver on its promises." He added: "I am also extremely concerned that it appears that at least one investor was worried enough to contact the Premier suggesting that Arbitrade was trading on its relationship with Bermuda and asking 'if they are inappropriately trading on a false relationship' with the island. Is this the kind of reputation that Bermuda wants — on top of being blacklisted by the EU due to a basic error in drafting legislation?" Mr Cannonier also asked about the status of other MOUs signed with the Government more than a year ago and how much the companies involved had invested in training schemes. Arbitrade announced plans for the island last summer when it talked about a $1 million contribution for a fintech incubator. The company also said it wanted to donate $125,000 to a variety of projects, including a gang violence reduction scheme that involved young people working on chicken farms, the Mirrors programme, Family Centre, and a programme for active shooter preparedness in schools and charities. Copies of correspondence provided to The Royal Gazette last week showed Wayne Smith, the head of the fintech business unit, wrote to Len Schutzman, the Arbitrade chairman, to ask that "in accordance with the public announcement of July 2018" the company proceeded with its "commitment of a $1 million contribution to Bermuda Fintech Development Fund". The documents revealed that Cherie-Lynn Whitter, the Cabinet Office permanent secretary, earlier asked Mr Smith for a "copy of the MOU that speaks to the commitment", but he replied that he could not find an agreement. They also included an e-mail from Zach Bobker, a managing partner of a US-based online spice delivery service, who said he had invested in Arbitrade cryptocurrency token dignity, or Dig, since February 2018. He asked Mr Burt if the Premier could clarify whether Arbitrade was working with Bermuda and was operating on the island. He said it seemed the company had "completely disappeared" on token holders since January. Mr Bobker added: "Or, if you can't speak directly on the matter perhaps you can gently encourage Arbitrade to get in touch with their token holders." Mr Bobker added: "If they are inappropriately trading on a false relationship with Bermuda, this would be important for us remaining token holders to know." Mr Smith told Mr Bobker that Arbitrade had not been granted a licence to launch an initial coin offering or to conduct digital asset business in Bermuda. He added that the company could not operate from its Victoria Hall building on Victoria Street, Hamilton, until it obtained the required licences. Mr Cannonier said there were questions Mr Burt should answer "urgently". He asked: "Does he still expect Arbitrade to donate $1 million to the fintech centre? If so, when? What about all the other donations that Arbitrade promised, such as the chicken farm? Has it donated the $45,000 it promised? Has the fintech centre started yet? If so, what is happening? Did the Premier reply to the concerned investor? If he did, what did he say?" A government spokeswoman said on Saturday that no money had been paid into the fintech development fund. The Premier explained: "We have an extremely high standard and the Government, in conjunction with the Bermuda Business Development Agency, will continue the work of attracting companies to our shores that can meet the Bermuda Standard. I am fully confident in the Bermuda Monetary Authority's ability to scrutinize companies who wish to operate digital asset businesses in and from Bermuda, and look forward to the pace of job creation in this industry to accelerate as more companies become licensed." Senior executives at Arbitrade have not responded to requests for comment.

Ryan Specialty Group (RSG) and Nationwide have teamed up to form a new Bermuda-based reinsurance company called Geneva Re. Michael O'Halleran will be the new company's executive chairman. Mr O'Halleran is well known in the industry, having previously served as executive chairman of Aon Benfield and as president and chief operating officer of broker Aon. Nationwide is an insurance company based in Ohio, while RSG is a Chicago-based holding company for insurance brokerages and managing general agencies. Each company will have a 50 per cent stake in the venture. Ryan Re, an RSG-affiliated company led by Brian Boornazian, the chief executive officer, will act as the exclusive underwriting manager for Geneva Re. Mr Boornazian is a 37-year veteran of the insurance industry, having previously worked for Gen Re, Guy Carpenter, Cologne Re, NAC Re, XL Re and Aspen Re. In a statement, Geneva Re said it will have the financial strength to immediately accept a diversified portfolio of reinsurance business from Ryan Specialty Group's underwriting programmes. It is anticipated that Geneva Re will be able to begin underwriting business on July 1 this year subject to the approval of the Bermuda Monetary Authority. Nationwide will also appoint Ryan Re as its exclusive underwriting manager for third-party property and casualty treaty reinsurance business flowing through Geneva Re. Mr Boornazian said: "I believe we are bringing an unprecedented proposition to the reinsurance market. Combining the quality and balance sheet strength of Nationwide, the innovation and market presence of RSG, and the well respected and experienced underwriters will uniquely position Ryan Re to provide the security and underwriting insight to our brokers and clients." RSG said the strategic partnership will enable it and Nationwide to grow in the specialty lines market, while expanding upon an already strong relationship. Patrick Ryan, chairman and CEO of RSG, said the companies "share a similar culture, which is critical to entering into a long-term relationship". Mark Berven, president and COO, Nationwide property and casualty, said: "We look forward to furthering our relationship with RSG, who is today one of our largest E&S/specialty distribution partners. This relationship will create new opportunities for both organisations to expand our reach and serve additional niche markets that are currently underserved."

Everest Re Group Ltd made a profit of $348.9 million, or $8.54 per diluted share, for the first quarter. That was up from $210.3 million, or $5.11 per share, a year ago. After-tax operating income was $282.4 million, or $6.91 per share, compared to $219.7 million, or $5.34 per share, for the same period last year. This beat the $5.91 per share estimated consensus of analysts tracked by Yahoo Finance. Dominic Addesso, chief executive officer, said: "During the first quarter of 2019 Everest produced very strong financial results while continuing to expand our market profile with growth in both our reinsurance and insurance businesses. The company delivered $8.54 of net income per diluted common share, equal to a 17 per cent annualized return on equity, driven by both solid underwriting and investment returns. Our underwriting operations are strategically balanced between reinsurance and insurance, allowing us to quickly respond to market conditions across virtually all classes of business and territories in building the optimal portfolio of risks." Gross written premiums were $2.1 billion, up 10 per cent, while worldwide reinsurance premiums were $1.5 billion, an improvement of 7 per cent. The company's combined ratio improved from 93.3 per cent to 88.7 per cent, year-on-year. Catastrophe losses were $25 million, related to the damaging rain and floods in Townsville, Australia. Net investment income was $141 million for the quarter, an improvement of 1.9 per cent. Book value per share rose from $194.43 at the beginning of the year, to $206.68 at the end of March.

The trial of a man accused of knifing a bar worker was delayed last week — because the defendant was stabbed. The Supreme Court heard yesterday that Alex Wolffe was stabbed in the left shoulder last Monday and was unable to appear in court for several days. Mr Wolffe said he was stabbed when he opened his door after someone knocked on it at about 3am. The court was told he needed medical treatment and was given a medical certificate to cover his absence. The prosecution suggested Mr Wolffe's injuries were self-inflicted in an attempt to gain sympathy. But Susan Mulligan, Mr Wolffe's lawyer, said there was no evidence that Mr Wolffe had stabbed himself. She added Mr Wolffe was prepared to come to court two days after he was stabbed, but doctors recommended more time to recover. Ms Mulligan said that concerns were also raised about Mr Wolffe's ability to give evidence only two days after he was injured. Borislav Angelov was stabbed multiple times in an attempted robbery outside his Paget home after he was chased on his motorbike along Harbour Road by two men on another bike in the early hours of October 23 last year. Mr Wolffe, from Southampton, is charged with wounding Mr Angelov, attempted robbery and two counts of intimidation. He denies the charges. Mr Wolffe earlier told the court that he had been in Southampton at the time of the attack on Mr Angelov and that he had been attacked by two men who had taken a borrowed motorcycle from him. The trial continues.

The future of a primary one class is under threat after only four pupils were enrolled for the next academic year. Parents were told in a letter that the class at Elliot Primary School could be axed. The undated letter from Valerie Robinson-James, the Permanent Secretary of the Ministry of Education, said: "Each year, the Minister of Education determines the maximum enrolment for primary schools based on school registration. While he has not yet made a decision on the maximum enrolment for Elliot Primary School, it is his provisional view that Elliot Primary School should not have a P1 class due to low enrolment in September 2019." The letter is believed to have been sent in March to parents of potential P1 pupils at the Hermitage Road, Devonshire school. Ms Robinson-James said that Diallo Rabain, the education minister, believed that a full-sized P1 class would give pupils a "more suitable education and that having a class of only four students would not be an effective use of human, facility or financial resources". Ms Robinson-James told the parents: "However, being in a class of more than four children would allow for an enhanced educational experience, and your child would also have greater opportunities to form relationships that would enrich their interpersonal skills, and help them to learn how to be a member of a team. These are all skills which are acquired from their entire school experience." Potential Elliot Primary parents were offered an enrolment place at another school. But Ms Robinson-James told them: "However, it is your choice whether or not to accept the offer." She said that the Department of Education would arrange for parents to visit other schools and cover the cost of school uniforms. Parents were given a week to accept or decline alternatives and were asked make their decision by March 28. Ms Robinson-James said that Mr Rabain, whose daughter is an Elliot Primary pupil, would consult parents who decided not to accept alternatives before he made a final decision. A spokeswoman for the Ministry of Education said yesterday that the education department was "looking at further options" because of low enrolment numbers at preschool and primary-school levels across the public school system. She added: "We are in the process of consulting with the potentially affected schools and parents who have applied for enrolment into P1 for September 2019. Once that consultation process has been completed, we will inform the relevant stakeholders of the decisions." The spokeswoman declined to comment on whether a decision on the future of the Elliot class had been made, or when the decision would be announced. She also did not respond when asked if similar letters had been sent to parents whose children were due to attend other schools. The Government announced in March that there was to be a delay in school registration for preschool and P1 pupils owing to low enrolment. The education ministry did not respond to a request at the time for the number of applicants this year and last year for the island's 18 primary schools and ten preschools. Questions sent to the Parent Teacher Association at Elliot Primary were not responded to by press time. The Bermuda Union of Teachers also did not respond to a request for comment.

Janice Mullings-George has won the Nurse of the Year award. Ms Mullings-George, 35, who works in the post-anaesthesia care unit at the King Edward VII Memorial Hospital, said she was "humbled" by the accolade. She added: "There are a lot of people who deserve this award who have put even more years of service in so I am very humbled. With pride I will do the very best that I can to hold the baton of nursing and to make a change." Ms Mullings-George said one the most important parts of her job was to work for a high level of health for everyone. She added: "I don't like talk. I like action, so my goal is to be that voice and to see that action." Jamaican-born Ms Mullings-George, from Pembroke, has been a nurse for 13 years. She was awarded a bachelor's degree in nursing from the Northern Caribbean University in Jamaica in 2006. Ms Mullings-George later achieved a master's in public health specializing in healthcare systems from Liverpool University in Britain in 2013. She said she was born to be a nurse. Ms Mullings-George added: "I love to help people. It was a God-given thing placed in me. I am very caring and compassionate. I always say to my colleagues, despite the challenges, because nursing is a very challenging profession, keep shining because the world needs more stars just like you. I say always put the patient first. We often get busy hurrying around, but the patient usually knows best so listen and offer compassionate care. I am a supervisor also. It is also important to listen to your staff because if you get a good work/life balance you get more productivity out of your staff. She said her interest in the profession was sparked listening to friends of her mother who were nurses. Ms Mullings-George said Mattie Crockwell used to tell her and her mother stories about nursing. Pauline DeShields, a nursing assistant, gave Ms Mullings-George her first stethoscope and familiarized her with disabled patients. Ms Mullings-George beat Janice Sealey-Khan, Renée Faulcon and Roxanne Kipps-Jackson for the Nurse of the Year award. Godfrey Nichols, president of the Bermuda Nurses Association, said: "She is the perfect choice. She is respectful, a woman of substance, a woman who is energized and ready to serve the executive and to serve as a nurse to the community. She is a perfect role model for young Bermudian nurses," Mr Nichols explained. The award was presented last Sunday at a special lunch at Blu in Warwick attended by Kim Wilson, the Minister of Health.

A candidate in the race to be Mayor of St George said a police station in the Olde Towne was a priority. Kenneth Bascome, a former mayor who stepped down to become an MP for the One Bermuda Alliance, said he would seek the support of councillors to tackle problems in St George's, and a police station would help. He said: "I have been talking about this for the last nine years. It's something that is needed for the community, and with the development of a hotel, a five-star hotel development, it's even more necessary. My belief is that if you have police on a continuous basis, a lot of problems could be nipped in the bud." The previous police station was closed in 2012 for repairs but never reopened and the area is now covered by the Southside station in St David's. Wayne Caines, the national security minister, said in 2017 that the old station had deteriorated so much it was unusable. Mr Bascome said he decided to throw his name in the hat for Thursday's election when he heard Quinell Francis, the outgoing mayor, was to stand down. He said: "I don't believe that the corporation has done anything other than what was already put on the table by myself and Garth Rothwell. I and other One Bermuda Alliance MPs worked very diligently for the community of St George's in Parliament. The Progressive Labour Party has been in power for two years now and they haven't given St George's anything." Mr Bascome added he had backed the construction of a new St Regis hotel in St George's, despite criticism, which was an example of the OBA's work to boost the East End. He said: "I have gotten all sorts of flak with that project, but now that it's in full swing everyone seems to be embracing it." Mr Bascome added Duke of York Street was in "a deplorable state" and he wanted it resurfaced, as wall as improvements to disabled access around the town. He said he hoped to tackle the problem of late night transport to and from St George. Mr Bascome said: "I will also attempt, with the committee, to meet with all the restaurants and those responsible for transportation to try to bring some sort of resolution to the fact that at night it's very difficult to find transportation to leave St George." He added that he wanted to make better use of the town's World Heritage Site status. Mr Bascome said that finding cash for improvements had always been a problem, but he had worked in the past to overcome obstacles. He said: "I served on the corporation from 1994 up to 2012, and we were always complaining that we didn't have any funding. I spoke to the Minister of Finance and the minister responsible for the municipalities, and they were able to come up with heritage funding through a tax on the fuel coming into the island." He added it was important to aim for goals that were "tangible and achievable". Mr Bascome said he was prepared to work with the Government, which wants to turn the corporations of St George and Hamilton into un-elected quangos. He added: "We will cross that road when we get to it, but I believe it would be to the Government's benefit to work with whoever the Mayor is to make sure the municipality doesn't slide into any more of a state of disrepair."

Watlington Waterworks Ltd made a full-year profit of $2.77 million in 2018. In its full-year financial statements posted on the Bermuda Stock Exchange website, Watlington said comprehensive income fell from the record $3.17 million achieved in 2017. Watlington's utility division sells water via its network of pipelines to the central and western parishes, while its bottled water division prepares and distributes the Pure Water brand. Revenue climbed slightly last year, to $12.15 million from $12.06 million in 2017. However, production, administration and distribution expenses all rose to a combined total $9.42 million, up from $8.91 million in 2017. "The company experienced increased operating costs across the complete spectrum of its operations," Watlington's board said in a statement to shareholders. Watlington said it had invested in upgrades at its seawater reverse osmosis plant and its retail sales and administrative facilities at its Devonshire headquarters. "Future investment to strengthen bottled water infrastructure is planned through the current year," the statement added. Watlington held $8 million in reserve as of the end of last year: $7 million of it earmarked for infrastructure improvements and a further $1 million as a contingency for unexpected future expenditure. Watlington plans to build a reservoir in the West End. "A search for a site on which to build a significant reservoir to improve overall water production, storage and distribution efficiency was found and the company has been steadily making progress as it goes through the regulatory process to receive permission to develop the site," Watlington stated. "It is anticipated that the sale will be completed this year." Watlington added that it had "benefited from having a long-serving, very able team of Bermudians" and that turnover among staff at all levels had been low. "The board feels investment in human resources is even more important to the ongoing long-term success of the company than its physical infrastructure strengthening policy. It is fully committed to the recruitment and development of its personnel. Costs attributed to salaries and benefits for employees are expected to increase in the short-term because of this policy of human resource development and succession planning." Directors declared a bonus dividend of 20 cents per share based on 2018 results to all shareholders of record on March 15, 2019. The dividend was paid on March 29, 2019. Watlington's shares closed at $21.50 on the BSX yesterday, giving the company a market capitalization of $22.84 million.

After an 18-month hiatus Western Union money transfer services are once again available in Bermuda. The company launched a new office in the City of Hamilton on Friday under agents Blue Nile Ltd, run by Jerome Dill and Sasina Mekonnen. Andre Largie, Western Union global money transfer head for the Caribbean, said there was a lot more coming down the pipeline. "Over the next two years there will be a robust set of innovations brought to the market.". He wasn't ready to say what all the new additions would be yet, but he said digital was the most obvious area for development. "Venturing into the digital money movement, the business has traditionally been person to person and cash based. Now globally we work with banks, dotcoms, and phones. Technically, you could even send money through social media." The new office shares space with telecommunications company LiveNet at 1 Burnaby Street. But Mr Largie hinted that the company was already scouting out locations to set up other offices. Typically, Western Union likes to be no more than a ten-minute walk for its customers. "This is the first of a very strong effort to expand the network," Mr Largie said. Western Union has had an on-again, off-again relationship with Bermuda for more than ten years, but Mr Largie was confident they would be able to provide uninterrupted services "from this point forward". Mr Largie said his company was pleased to partner with entrepreneurs who had the right mental toughness, attitude and overlying values. Mr Dill is a corporate lawyer and former United Bermuda Party education minister, and deputy premier, who has worked for companies such as Appleby Bermuda and Validus Holdings Ltd. Ms Mekonnen has been president of Emperial Management (Bermuda Ltd), and co-owner of companies such as Genet Lure and Muse Restaurant Ltd. "They both came to our attention over two years ago and expressed an interest," Mr Largie said. "Over the course of doing due diligence, we felt they had put together the right team that included anti-money laundering experts on their board, and also because of the interest they have in building out other services and businesses and expanding a footprint of financial services here in Bermuda." With the opening, Western Union launched its direct-to-bank service in Bermuda. "It is not something that is currently available on the island from any other player," Mr Largie said. "It acts like a wire transfer, but you can start it from a Western Union office. You bring the account number and routing number, and you can send money to an account. Depending on where you are sending money to a bank, there are fees that not only the sender receives but also the receiver. With us, the only fee that is charged is the fee that is at the point of sending. The receiver has no obligation to pay fees to that bank." He said this service is also faster taking only 24 hours, compared to the week it requires for someone to receive money, in some jurisdictions. "Also we have an attractive fee," he said. "It is $10 to send up to $10,000 from here. That's not a promotional fee, that's the fee." He said customers look like "you and me", but typically might be migrants sending money home, parents sending money to students overseas, or people sending emergency funds to friends or relatives. "We serve a generally under-served community," Mr Largie said. "We're aimed at the blue collar worker who can't necessarily leave the job and get to a banking hall before 3pm when the bank closes. We are aimed at the small business person that is dealing in cash. There is a need globally for services that provide for financial inclusion. Western Union certainly sits right in the middle of that. Ultimately, I think if there is a focus on financial inclusion, economic empowerment and enablement, there is a strong role we can play to further that for individuals and communities, and the country as a whole." The service is available Monday to Friday from 9am to 7pm, and on Saturdays from 10am to 4pm.

One of Bermuda's most expensive waterfront properties has hit the market. The Residence, an eight-bedroom home on 5.5 acres in Hamilton Parish, is listed for $21.5 million by agents Rego Sotheby's International Realty. Situated next door to luxury resort The Loren on South Shore Road, the home features ten full bathrooms, three powder rooms, gym, pool with Jacuzzi, tennis court and what the listing agent says is the largest private beach in Bermuda. A covered bar, outdoor kitchen and verandas allow the homeowner to enjoy the home's exceptional ocean views, a statement said. Exclusive listing agent Penny MacIntyre said: "For those looking for the ultimate privacy within a spacious, relaxing setting, The Residence provides ideal refined living. Sports enthusiasts to spa-minded residents will enjoy the property and grounds whether with family and friends or entertaining guests. The Residence was designed for creating an ambience worthy of private world-class experiences and benefits from a professional chef's kitchen, private pool and media room." The property is the most expensive home listed on the Rego website. Property Skipper, a website that lists properties for sale by multiple agents, features two properties for sale in excess of $15.9 million, but the prices are only available "on application". The properties in question, both in Paget, are an eight-bedroom home overlooking Grape Bay and a 15-bedroom waterfront property on 14 acres. After that, buyers may consider Windsong House, in Warwick, listed at $15.9 million.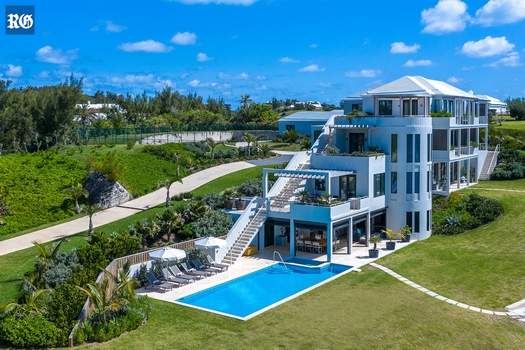 The Residence. see above article

May 6

A two-month fishing ban is today to be enforced over an area of water off St George's to protect a breeding ground for blue-striped grunts. A notice in the Official Gazette said that the minister responsible for the environment was satisfied that there was an "immediate need for the prohibition of fishing" in the spot off the North Shore "for the conservation and protection of the blue-striped grunt", or Haemulon sciurus. Environmental matters are in the portfolio of Walter Roban, the Deputy Premier and home affairs minister. A ministry spokeswoman explained: "Since 2007, an area off Fort St Catherine has been closed to fishing during the months of May and June to protect a spawning aggregation of blue-striped grunt, Haemulon sciurus. Blue-striped grunts are an important prey species for larger predators, therefore, the closure of this site was deemed a necessary step in preventing the overfishing of this species. Significant issues arose in 2001 when it was reported that large quantities of grunt fillets were entering the local market. Investigations by fisheries officers revealed that there could be as many as 50 vessels fishing on the aggregation during peak fishing times." The "fish aggregation area" is closed every year during May and June under the Fisheries Act 1972. The spokeswoman said: "Research was conducted on the site by the marine resources section for many years after the issues arose and results suggested that the aggregation formed primarily during the new moon in May. However, this time period was variable and fish were also taken at the site in June. As a precautionary approach to the management of this important species, it was recommended that no fishing be allowed at the site during May or June." The Official Gazette notice explained that the affected area is a rough rectangle with a north-east border from St Catherine's Point to southern channel marker number 12. The prohibited area runs along the southern boundary of the southern channel to marker number 16, then southwest to a point 32 degrees 23.4 minutes north, 64 degrees 41.4 minutes west, and is completed by a line running south-east to Fort George. Studies by a team from the marine resources division found samples of blue-striped grunts, which are also known as bull grunts, collected from Bermuda between 2001 and 2008 ranged in age from two to 23 years and their sizes varied from about 18cm to 35cm in length. Researchers Joanna Pitt, Tammy Trott and Brian Luckhurst explained in a paper for the 62nd Gulf and Caribbean Fisheries Institute conference in 2009 that the species was "presumed to be relatively important in the local recreational and subsistence fishery".

A spice trader who invested in an Arbitrade cryptocurrency token wrote to the Premier seeking assurances about the company's operations in Bermuda after it "disappeared on" backers earlier this year. Zach Bobker, a managing partner of online delivery service My Spice Sage, told David Burt he feared the firm could be "inappropriately trading on a false relationship" with the island. He said in an e-mail to Mr Burt that he had invested in dignity, or Dig, since February 2018 and had followed Bermuda's emerging fintech industry. Mr Bobker said he had listened to more than 200 hours of Bermuda Parliament sessions and was "impressed". He wrote: "I reach out because of the strange situation Dig/Arbitrade investors are currently in. The few of us remaining that is. Arbitrade has been trading on their relationship with Bermuda since last year." Mr Bobker added: "Unfortunately, the company has gone completely quiet since January. It is impossible to get a response from anyone at the company." He said: "I know this isn't your problem and I'm not trying to make it your problem, as I know listening to Bermuda Parliament you have much more pressing matters at hand. However, given that Arbitrade has traded on the Bermuda name for close to a year now, I was hoping you can clarify if they are in fact working with Bermuda and are still in operation in your country. Or if you can't speak directly on the matter perhaps you can gently encourage Arbitrade to get in touch with their token holders. I would imagine Bermuda does not want companies falsely capitalizing on the Bermuda name, especially in this emerging space. They have completely disappeared on us token holders since January. If they are inappropriately trading on a false relationship with Bermuda, this would be important for us remaining token holders to know so we can both move on with our investment lives and also pursue any appropriate legal remedy." The e-mail was among Arbitrade-related correspondence released to The Royal Gazette by the Government after a public access to information request. Denis Pitcher, a technical consultant in Bermuda's fintech business unit, forwarded the e-mail to Jane Walker, a senior lawyer at legal firm Trott & Duncan, which acts for Arbitrade. He told her his official position was not to disclose the status of applications to protect the privacy of companies. Mr Pitcher wrote on April 1: "Arbitrade at this time have not been granted a licence either to launch an ICO in Bermuda or conduct digital asset business in Bermuda." Mr Pitcher added that getting a licence could take some time and that Omega One, an agency brokerage for cryptocurrencies, had acquired one only two weeks before after it signed a memorandum of understanding in May last year. He pointed out that was "testament to the high standard of requirements". Ms Walker said Mr Bobker's inquiry was not the first and revealed that Mr Burt and Wayne Caines, the Minister of National Security, who had responsibility for fintech at the time, had earlier recommended that public statements about Arbitrade should be limited. She wrote: "As with the Government's policy of non-disclosure in relation to the status of applications other than to regulators or the Government as required we advise our clients [on the advisement of the Premier and minister Caines some months ago] keep all statements in relation to the company to a minimum." Mr Bobker received an e-mail reply from Wayne Smith, the head of the fintech business unit, on April 8, who also said that Arbitrade had not been granted a licence either to launch an initial coin offering or to conduct digital asset business in Bermuda. He added that the company had "successfully passed the vetting process" for permission to buy Victoria Hall, its intended global headquarters on Victoria Street, Hamilton. Mr Smith said: "However, they are not permitted to operate their business from the premises until they have obtained the appropriate licences. We do note that Arbitrade lists on their website that Victoria Hall is the home of their future office, not their current office." A government spokeswoman said the Bermuda Monetary Authority should be contacted for information on digital asset business licences. Omega One is the only DAB licence-holder listed on the BMA website. The Gazette e-mailed senior Arbitrade figures for comment, but there was no response.

An acting Registrar of Companies found "no obvious deficiencies" in a business licence application from cryptocurrency firm Arbitrade, but compliance checkers said there were problems with the company's plan to combat money laundering and terrorist financing. Correspondence provided by the Government to The Royal Gazette in response to a public access to information request showed concerns outlined by a Registrar of Companies team, that found three requirements in Bermuda's initial coin offering regulations were not satisfactorily met. A note to the Fintech Advisory Committee sent from Sameera Hasan Swan, the assistant registrar for compliance dated January 7 said the ROC's compliance unit considered an Arbitrade application to carry out ICO business in December last year. An ICO is an offer by a company to the public to buy or acquire digital assets. The letter said Gladwina O'Mara, the acting registrar, "conducted a review of the application package for completeness". It added: "Noting no obvious deficiencies in the application package as a whole, on 27 December 2018, Ms O'Mara forwarded the application package to Cheryl Mapp, chairperson of the Fintech Advisory Committee to circulate to the whole Fintech Advisory Committee for consideration and review." The letter advised the fintech committee of the compliance team's comments after consideration of Arbitrade's anti-money laundering and antiterrorist financing compliance programme outline, which was dated December 18, 2018, and submitted in relation to the ICO application. It added that responses were based only on the documents reviewed and did not include "an opinion on the quality of the business model" or other matters. The compliance unit said the company should submit a final version of its AML/ATF plans "containing no place holder or bracketed parts". It found the compliance programme outlined by Arbitrade Ltd "sufficiently" addressed regulations on identity verification, measures to cease transactions with an ICO participant if necessary and record-keeping. But the unit said the AML/ATF compliance programme outline did not properly address "how the company will apply enhanced due diligence to business relationships on a risk-sensitive basis" or how it intended to use third parties. It advised that Arbitrade should submit an outline that contained information which had been referenced in brackets to rectify the two issues. The unit also found that the proposal did not sufficiently address requirements to audit the ICO. Two pages of the document were among a number of items provided to The Royal Gazette but the note had no closing remarks or signature, so it was unclear if it was written by Hasan Swan or whether the original included further pages. No response was received to a request for clarification on Friday. The Pati disclosures also contained an e-mail from Troy Hogg, an Arbitrade founder, that revealed he was considering the introduction of a Bitcoin exchange traded fund on the Bermuda Stock Exchange that would make it easier for investors to gain exposure to the cryptocurrency. Mr Hogg told Wayne Caines, the Minister of National Security, who had responsibility for fintech at the time, that he was "curious" as to whether there would be any objection to him "launching another crypto asset in Bermuda". He added in the e-mail on January 14: "If not, I am interested in launching a Bitcoin ETF on the BSX. Since it's an actual traded commodity on the stock exchange, would I need to obtain a digital asset licence in order to launch that on the exchange if the BSX was willing to do it?" The request was forwarded to David Burt, the Premier, Wayne Smith, the head of the fintech business unit, and Moad Fahmi, a senior adviser for fintech at the Bermuda Monetary Authority. Mr Smith suggested a digital asset licence may be needed for Mr Hogg's proposal, but if Arbitrade had already applied for one it might not be necessary. Mr Fahmi said the regulator could not disclose whether or not any such applications had been received. He added that issues related to a bitcoin ETF were "not simple". Mr Fahmi added: "I find the US experience with Bitcoin ETF very telling of the complexity of such products that should be deployed with great care by a sophisticated ETF provider." Several attempts to establish a Bitcoin ETF in the US have been blocked by the Securities and Exchange Commission, the US financial services watchdog, over the past three years because of concerns about a lack of transparency and the potential for fraud and price manipulation. Mr Hogg did not respond to a request for comment on his Bitcoin proposal.

Cryptocurrency firm Arbitrade were urged by the Bermuda Government to keep its promise to plough $1 million into fintech development, despite not having a licence to run a digital asset business on the island. Correspondence obtained by The Royal Gazette showed apparent confusion among leading Cabinet Office figures over whether or not a memorandum of understanding was signed with the cryptocurrency exchange and coin company. And one feared a planned incubator set-up for the new sector would "fall off the radar" if there was no written commitment to donate the money. Arbitrade Ltd is incorporated in Bermuda, along with four subsidiaries, and revealed bold plans for operations here last summer, including a seven-figure contribution towards a fintech development hub later named Project 44 and earmarked for Church Street, Hamilton. It emerged earlier this year that the project was shelved and the Government said in February it wanted to guarantee "fiscal prudence" and to make sure that the proposed centre, expected to include sleeping pods and a gaming area, were not already available in the private sector. Copies of communication received by The Royal Gazette last week in response to a public access to information request showed that officials asked Arbitrade in January to follow through with its $1 million announcement. A government spokeswoman confirmed last Saturday no payment had been made. Wayne Smith, the head of the fintech business unit overseen by the Cabinet Office, wrote to Wayne Caines, the Minister of National Security, who had responsibility for fintech at the time, on December 12, 2018. He asked: "Do we have anything in writing from Arbitrade? Project 44 is about to fall off the radar and the list of initiatives if we cannot find anything. I have nothing." He said "Cherie", understood to be Cabinet Office permanent secretary Cherie-Lynn Whitter, had a sample cheque that was attached to the e-mail. Mr Smith added: "That's not worth anything." A photograph included in the documents provided to The Royal Gazette showed a mock cheque dated June 29, 2018 that suggested $1 million would be paid to The Bermuda Fintech Innovation Hub. It had no payee name and made no reference to Arbitrade, any other company, or individuals. Mr Caines replied: "Yes, we have to ask them directly if they have completed the KYC [know your customer] process and when they will give the money." He directed Mr Smith to Delroy Duncan, the director and head of litigation at Trott & Duncan which acts for Arbitrade, but no correspondence between the pair was included in the documents. Jane Walker, a senior corporate attorney at Trott & Duncan, declined to comment on the exchange when she was approached last Friday. Mr Smith wrote in an e-mail to James Goldberg, an Arbitrade founder, on January 9: "Further to our conversation last evening, we wish to write to you to formally request that you deposit the one million dollars that Arbitrade promised to donate to Bermuda into the Bermuda Fintech Development Fund." Mr Goldberg forwarded the e-mail to Len Schutzman, Arbitrade's chairman and chief executive, Troy Hogg, another founder of the company, and Max Barber, who is understood to be a manager at Sion Trading FZE, a business partner of Arbitrade. Mr Smith also asked for an address where he could send a letter. He added: "I could also bring a hard copy with me next week when it is hoped we can all meet in Miami." Mr Schutzman responded two days later with his Florida address and agreed a meeting could be held the next week. A reply from Mr Smith the same afternoon said he would e-mail the letter that day and deliver a print copy in person. He proposed to meet the following Tuesday at the Kimpton Epic Hotel in Miami before lunch. Mr Smith was also in an e-mail exchange with Ms Whitter over the same period — January 9 to 11 — when he sent her a draft of the letter to review. She answered: "Please amend the language. We cannot write to a company and ask them to 'make good on your promise'. Do you have a copy of the MOU that speaks to the commitment? Your letter should refer to the document that sets out the commitment and direct them accordingly ... please send a copy of the MOU. Wherein the commitment is referenced. Needed urgently." Mr Smith replied: "I'm looking but don't see an MOU anywhere. I will have to check with others but I don't see an MOU. All we have is the check picture you sent and the media coverage." A letter from Mr Smith addressed to Mr Schutzman, said: "Further to our communication over the past few days, I am writing as a follow-up to formally request that in accordance with the public announcement of July 2018, Arbitrade proceeds with its commitment of a one-million dollar contribution to Bermuda Fintech Development Fund." He added: "As also discussed, I plan to be in Miami next week and would like to meet with the Arbitrade team to obtain an update on your progress." Nothing in the documents provided to The Royal Gazette confirmed receipt of the letter or if the Miami meeting took place. A government spokeswoman confirmed that Mr Smith had met Arbitrade representatives "to obtain an update on the status of the Arbitrade Bermuda project". She said that no money had been paid into the fintech development fund and added: "An announcement will be made when it has." The Royal Gazette asked the Government on the evening of January 8 about a procurement notice issued last September that sought architectural and interior design services to transform 44 West Church Street "into Project 44, a premier fintech hub". The e-mail was sent about the same time that Mr Smith spoke to Mr Goldberg on the phone about the $1 million donation. A spokesman said a $74,000 contract was awarded to Clarico Ltd for work on the West Church Street project but the project was "on hold" in a response to The Royal Gazette about 16 days later. Jamahl Simmons, the Minister without Portfolio, later said the Government decided to reallocate funds from the proposed building project to provide fintech training for Bermudians. Mr Schutzman, Mr Hogg, Mr Goldberg and Mr Barber did not respond to a request for comment.

As the Bermuda Electric Light Company (BELCO) prepares to receive new generators for its North Power Station (NPS), the Company today notified the public about traffic delays that will be necessary for the engines' transportation. Canal Road will be closed from May 8 until May 27, 2019 with no access for the duration of this time period. The closure is essential to allow temporary reinforcement of the railway bridge under Cedar Avenue. There will also be some traffic delays and parking disruptions in the City of Hamilton due to the special slow-moving vehicle needed to transport the engines. These delays will take places from 7:00pm to 11:00pm between May 14 and May 27. The affected roads are Front Street, Queen Street, Dismont Drive, Victoria Street, Washington Street, Elliot Street, Cedar Avenue, and St. John's Road. Motorists are advised to use alternative routes during these times. Please see belco.bm for the affected route. The NPS is part of the Company's capital plan with the new power station comprising four 14 Mega Watt (MW) dual-fuel engines that can run on traditional fuel or natural gas and will provide 56 MW of power. Construction on the new plant began in October, 2018 and is expected to be completed later this year with commissioning early in 2020. Other aspects of the capital plan include the 10 MW Battery Energy Storage System (BESS) that was successfully brought online in April, as well as comprehensive upgrades to the transmission and distribution system across the island that are ongoing. BELCO President Dennis Pimentel said: "These new engines represent our commitment to building a foundation for the future and will ensure we can continue to serve the people of Bermuda with safe, reliable and cost-effective electricity for many years to come. The engines that they will replace are between 40 and 50 years old and are becoming increasingly costly to maintain. The ultimate goal is to bring down prices for our customers and these new engines will assist in achieving that goal." BELCO wishes to apologise for any inconvenience and to thank members of the public for their cooperation. Further details are available at www.belco.bm.

Bermuda's Green family have acquired Sugar Beach, a luxury resort on the Caribbean island of St Lucia. Alexander Green announced the purchase on Instagram. A spokesperson for the Green family said: "We can confirm that the Green family has recently finalized the purchase of five-star resort in St Lucia, Sugar Beach, a Viceroy Resort. They are pleased to be in the process of expanding their portfolio, investing at home in Bermuda, with the recent purchase and development of Point House, and expanding abroad with luxury acquisitions such as this one." Sugar Beach sits on more than 100 acres of rainforest on the site of an 18th-century sugar plantation in the town of Soufriere, on St Lucia's west coast. Views are of the Caribbean Sea, and the Unesco World Heritage-listed Val des Pitons, twin volcanic mountains on either side of Jalousie Bay. Resort amenities include plunge pools in every room, butler service and 24-hour in-room dining. The Green family's property portfolio includes Hamilton Princess and Beach Club, the Point House office building on Hamilton's waterfront as well as the Overbay and Waterloo House developments. The Greens purchased the Princess from Global Hospitality Investments in 2012, and embarked on a three-year, $100 million renovation that included a new marina, two additional restaurants, new spa and pool facilities, a revamped retail corridor, renovated rooms, and an original art collection that includes works by Andy Warhol, Banksy and Damien Hurst. Last month, the Greens announced the purchase of the HSBC building on the Hamilton waterfront. Re-named Point House, the 80,000 square foot property is to be re-designed and renovated with a target completion date of December 2020.

Bermuda-based mortgage re/insurer Essent Group Ltd reported net income of $127.7 million for the first quarter, up from $111.1 million a year earlier. Earnings broke down to $1.30 per share, topping the $1.25 consensus estimate of analysts tracked by Yahoo Finance. As of March 31, Essent had insurance in force of $143.2 billion and consolidated stockholders' equity of $2.5 billion, the company stated. "We were pleased with our strong financial results for the first quarter as our operating environment remains favourable and credit continues to perform well," said Mark Casale, Essent's chairman and chief executive officer. "Also, we continue to make solid progress in strengthening our franchise as we successfully rolled out our risk-based pricing engine EssentEdge. Our outlook on our business and housing remains positive and we continue to believe that we are well positioned to continue growing our company." New insurance written for the first quarter was $11 billion, compared to $11.4 billion in the fourth quarter of 2018 and $9.3 billion in the first quarter of 2018. Net premiums earned for the first quarter were $177.8 million, compared to $152.6 million in the first quarter of 2018. The expense ratio for the first quarter was 23.1 per cent, compared to 22.8 per cent in the fourth quarter of 2018 and 25 per cent in the first quarter of 2018. The provision for losses and loss-adjusted expenses for the first quarter was $7.1 million, compared to a provision of $5.3 million in the first quarter of 2018. The provision in the fourth quarter of 2018 included a $9.9 million release of the $11.1 million reserve associated with loans identified as related to hurricanes Harvey and Irma that was established in the fourth quarter of 2017. The percentage of loans in default as of March 31, 2019 was 0.65 per cent, compared to 0.86 per cent as of March 31, 2018. The combined ratio for the first quarter was 27.1 per cent, compared to 28.5 per cent in the first quarter of 2018. The consolidated balance of cash and investments at March 31, 2019 was $3.0 billion, including cash and investment balances at Essent Group Ltd. of $73.8 million. In February, Essent said it obtained $473.2 million of excess of loss reinsurance coverage on mortgage insurance policies written by Essent in 2018. The reinsurance is fully collateralised by ten-year mortgage insurance-linked notes issued by Radnor Re 2019-1 Ltd, an unaffiliated special purpose insurer.

The hundreds of people who have died as a result of road crashes will be remembered as part of Road Safety Week. The week, which starts today, will feature road training and education and Bermuda's road fatalities will be remembered on the last day. Dennis Lister III, chairman of the Bermuda Road Safety Council, said: "We want to invite families and friends of those we have lost to come out. We will be lighting candles to remember them, having a moment of silence and a prayer. We will have signs for each year listing the names." The BRSC and the Transport Control Department's road safety office joined forces to make the UN Global Road Safety Week from today to Friday under the theme "Taking the Lead on Road Safety". Road Safety Week will be launched on the lawn of City Hall in Hamilton at 1pm with speeches from Mr Lister and Zane DeSilva, the transport minister. Representatives of The Royal Gazette's Drive for Change campaign, anti-substance abuse charity Cada, Benji's Driving School and motorbike safety training scheme Project Ride will also be at the event. Rachael Robinson, the road safety officer, will tour schools with members of the BRSC and a representative of Rubis Energy Bermuda to discuss road safety on Tuesday. Projects will range from art programmes at primary school level to discussions on traffic law in more senior schools. They will also promote their Draw 4 Change road safety school art competition. Police officers and EMTs will join the Bermuda Water Safety Council to highlight water safety at Harbour Night on Front Street on Wednesday from 6pm to 9pm. A "Remembering the Angels" event at City Hall will be held next Friday from noon to 2pm in memory of victims of crashes. Mr Lister said: "Each day there will be different exhibits and booths to help educate the public and change culture. For example, on Monday Benji's Driving School will be giving some basic driving instructions to members of the public. We invited Cada because we want people to be responsible when drinking by using a designated driver, getting a cab or a bus or Cada's free taxi service. Traffic officers will be educating the public on traffic infractions and Drive for Change will be highlighting its campaign and work with A Piece of the Rock lobbying for speed control and more robust road training. Mr Lister added: "The campaign has had a big impact on the driving culture in Bermuda. We want to go into the schools because the earlier the better. Children grow up seeing bad behavior from young and we want to counteract that. The theme of the week is Taking the Lead so we are asking all business leaders, sport leaders, political leaders to not only be a leaders in their field but to be leaders in road safety. It is important that as many people, young and old, come out so that everyone can be educated and be aware on road safety in Bermuda and learn how they can do their part." The Road Safety Week tagline is: "Be a piece of the puzzle to be part of the solution." Ms Robinson added: "We are reminded that it takes a community to promote and encourage best practices on our roads. Let's move forward together by supporting each other, curtailing bad practices and educating."

A crowd of hundreds came out for the Axa End-to-End event at the weekend. Fewer than 100 people set out on the 40-kilometre route from St George's to Dockyard at 7am, but the crowds swelled because of hundreds who laced up for the Middle-to-End, which started in Hamilton. Tricia Rice, from New York, said she came to the island to celebrate her 50th birthday and decided to tackle the event. She said: "I heard about it and thought it would be a great way to see the whole country. I've been doing a lot of work to get ready for it, I've been doing about 15 miles a day. I did a test run on Thursday, and that went perfectly. I'm very excited. I have done some walks in New York, but nothing as big as this." Angie Benbow, from Manchester, England, said she did the Middle-to-End last year and decided to come back this year to do the full course. She said: "I have been training all year. I've been over to the island a few times to do walking, but I have not done more than about 16, 17 miles in a go. I have done some walks back home, but we don't have quite the same view in Manchester." Sally Penrose, from Bermuda, said she wanted to come out to support the End-to-End and promote Bermuda High School. She said: "I think it's going to be a great event with a good atmosphere. We're excited." Keri and Tim McKittrick, who cycled the full distance, pulled in at a water stop at Ariel Sands to honks of encouragement from passing cars. Mr McKittrick said: "It's fantastic — we love this. We ride for pleasure, but we do this every year for the camaraderie." He said he had walked the route five times in the past. Ms McKittrick said: "You see people of all different abilities, but everybody is cheering along the way. I've done this every year since I got here in 2014." Armand Trew, 13, a Warwick Academy pupil, was out for his second year for "the rush, and the exercise". Ethan, originally from China and a guest worker from the United States, said it was his first time out walking the End-to-End. He said: "I did it because it's my first year in Bermuda and I wanted to do something different. The End-to-End is amazing — I've never been in a country so small. I'm running on May 24 as well." Claudette Fleming, the director of the charity Age Concern, did the End-to-End on a bike for the first time. She said: "Age Concern is a beneficiary this year, and I always try to participate when that happens, It's a wonderful, beautiful day." Her husband, Keithlyn, added: "We've walked it a few times. I just like meeting new people. Bermuda is still friendly. It's like the island just comes together for this. I've already said 'good morning' a thousand times." Volunteers said many people started from Kings Square in St George early or later than the official start time in a bid to avoid an anticipated crowd. One water stop volunteer said: "We kept on waiting for the rush to come, but it didn't. We were definitely prepared for larger numbers. Maybe more people decided to do the middle to end, but it's a disappointment." Hundreds more walkers and cyclists joined in at the Albuoy's Point start line for the Middle-to-End. Water stops in Paget and Warwick were crowded and walkers were treated to music and Popsicles, as well as water and traditional snacks. Volunteers from financial services firm Deloitte adopted a Star Wars theme at Somerset Bridge in celebration of the End-to-End being held on May 4 — Star Wars Day The water stop featured rows of inflatable Imperial storm troopers and volunteers dressed as characters from the famous film series. Participants were welcomed at the finish line in Dockyard by Ed Christopher, the Hamilton town crier. Chrisanthi Waldron, who cycled with her family, said: "We have been doing this for almost ten years. My son just got a new bike, so we though it was a great time to try it out. The hills were a challenge, but the heat was okay. We kept hydrated and stopped often and now we're here at the finish line." Irving Romaine said the End-to-End was an annual tradition for his family. He added: "It's a little bit of exercise and it leads into May 24. It's just something we have been doing for years now. It's a leisurely ride. It's not a race or anything, so it was great to come out and enjoy it." Mr Romaine said: "There weren't enough water stops on South Shore, I was looking for more doughnuts and cookies." His son, Zuri, said his main concern was hills, especially Scaur Hill in Sandys. The Axa End-to-End has grown from its small-scale start in 1988 and more than 2,000 people took part last year. The event has attracted a total of about 50,000 participants in its 32 years and has raised more than $5.65 million for good causes. This year's recipients will be youth charity Raleigh International, WindReach outdoor centre for the disabled, Age Concern and Friends of Hospice.

A woman who dedicated her life after a cancer diagnosis to help others fight the disease has died. Giovanna Watson, who was 42, died on Saturday after a more than four-year battle against colon cancer. Patrina "Powergirl" O'Connor, a radio host and close friend of Ms Watson's, said yesterday: "She was my guardian angel. No matter what she was going through, she was always looking out for me and others," Ms O'Connor said. "She helped me through some really tough times in my life and for that I will be for ever grateful." Ms O'Connor said the way that Ms Watson had made public her illness and battle against it so that she could encourage people and families touched by cancer "had never been done before" in Bermuda. She added: "She wanted to educate people and help them understand what it was to have and to deal with cancer. I believe she inspired a lot of people. I think she inspired people to be strong, to be encouraged to continue to live their lives. She travelled, she lived her life, she still danced salsa. She didn't let it define her life at all. She had cancer, cancer didn't have her." Ms Watson, who worked at insurance firm Arch Capital, wrote Dear Cancer, Let Me Introduce Myself, which was published in 2017, which detailed her battle. She was the Bermuda Relay for Life anticancer charity Purple Couch Ambassador in 2016 and one of just 37 people honored with the Global Relay for Life Hero of Hope award last year. Ms Watson was just 38 when doctors broke the news in early 2014 that she had the disease, but told The Royal Gazette a few months later she was a fighter — not a victim. She added: "People hear the 'c' word and automatically think death. But life goes on — it has to. I want people to see what I am going through and through it all I'm still me. I don't want cancer to define me, to change who I am." Ms Watson, who said she was told she was the youngest person in Bermuda to have colon cancer diagnosed, decided to hold an announcement party and to share her battle to help others. She added: "I had an announcement party and documented everything. I put a lot of time into taking pictures and recording everything. That was important to me because you always hear of people talking about their experience after the fact and not during and especially not from someone who is so young with a type of cancer that applies to both men and women. My thought was 'this is all new to me, so why not all of us learn together what it's like together?'" Big-hearted Ms Watson, a keen dancer, donated money raised by salsa dancer friends at Latin Vibes Bermuda to Kamala Smith, who died aged 33 in 2016 of leiomyosarcoma, a rare cancer of smooth muscle cells found in her uterus, and to the Bermuda Cancer and Health Centre. Friends of Ms Watson left messages on her Facebook page at the weekend. Yanique Miller wrote: "You were a star that sparkled brighter than most, we will miss you and love you always. My heart goes out to your family. Rest in Peace, love." Wanda Watson added: "Words are so inadequate right now because now you have left us to move forward in life no matter what it brings. And when you get the choice to sit it out or dance ... I hope you dance. Gone too soon."

May 5, Sunday

Sean Trott confirmed he will be one to watch in the Bermuda Day Half-Marathon Derby after winning the "Sir" Stanley Burgess 5K road race and sealing the overall men's title in the Swan's Running Club Legends four-race series. He has twice finished runner-up in the island's signature half-marathon and he is closing in on the form that earlier this decade established him as one of Bermuda's best long-distance athletes. Trott has a string of top five finishes in the Bermuda Day Half-Marathon Derby, including runner-up in 2012 to Chris Estwanik, and again last year when Lamont Marshall won. Two-times champion Marshall has indicated he will race on May 24, while six-times winner Estwanik, who won a 10-mile race on the island last month, is waiting to see if travel arrangements will allow him to compete. After winning the "Sir" Stanley Burgess 5K in Devonshire, Trott is now focused on the Bermuda Day race. When asked if he can recapture the race times that once set him apart from almost every runner on the island, he said: "Looking at some of the times in training and the fast race times this year, I think I'm finally starting to touch some of those times again, so it makes me excited for the future." Trott and Gayle Lindsay were impressive winners in the 5K, and in the process they respectively secured the overall men's and women's titles in the Swan's Running Club Legends race series.

May 4

A press release that gave wrong information on the imposition of credit card service charges for payments to the Government was "an inexcusable error", the Minister of Finance said. Curtis Dickinson added: "Contrary to established protocols, the release was issued without my approval and without that of the minister responsible for communications. This is compounded by the fact that the release provides incorrect information to the public." He added that he expected that conditions of employment and the code of conduct for the public services would be "applied as necessary". The release, issued on Thursday, said that charges would be applied to people who used credit cards to pay taxes to government authorities such as the Transport Control Department, public works and parks, the Department of Public Transportation and some areas of healthcare. Mr Dickinson said: "In the 2019-20 Budget Statement, I referred to the fees incurred by the Government through the payment of taxes with credit cards. Payroll tax payments are the issue and my intention and the Government's policy is to recover these fees by way of a recharge fee for this convenience. The extension of this policy to other areas where members of the public pay for permits and other government services was not authorized by me or at all." Mr Dickinson said the finance ministry had been affected by the release and "confusion created for the public".

The Azores' representative to its diaspora was welcomed to Bermuda this week as celebrations of the anniversary of the first Portuguese immigrants continue. Lovitta Foggo, the Minister of Labour, Community Affairs and Sport, met Paulo Teves, the director of Regional Communities for the Azorean Government, who came to the island to open an exhibition of art, called Azores, in the Washington Mall. Ms Foggo said Dr Teves's visit was "fitting and timely" as the island launched Heritage Month. Ms Foggo said: "In 1849, Portuguese immigrants first arrived on Bermuda's shores from Madeira and the Azores. They have played a significant role towards the social, economic, political and cultural advancement of Bermuda. Our discussions centred around furthering and strengthening relationships between Bermuda and the Azores". Ms Foggo concluded: "We have much in common and against the backdrop of highlighting May as Heritage Month, I was very pleased to join with Bermuda's Portuguese community to welcome Dr Teves and our friends from the Azorean Government to Bermuda."

Sport in Bermuda is to be promoted as part of a drive to boost tourism in the winter months. The Bermuda Tourism Authority said it was working to bring sports conferences and team-training trips to the island, as well as international events. Victoria Isley, the BTA chief sales and marketing officer, said: "We know we can never host the World Cup here, but having teams coming down and training ... we know we can play in that field." She was speaking at a public forum on Tuesday at the National Sports Centre, Hazel Clark, the BTA director of sports business development, said the BTA had looked at what sports would be suited to the island, based on what sort of events could be staged, which sports were most popular in target demographics and what sports are suitable for Bermuda's conditions. She added that island sports bodies was a key asset, along with environmental factors like weather. Ms Clark said: "We found out that it's very important to organisers that they have a resource to go to, so we need to make sure we have strong national governing bodies and resources they can work with." The BTA said it found golf, sailing, endurance sports like triathlons and tennis to be the best for Bermuda. Ms Isley said: "There are some sports that the team can come and do something on their own, like golf. However, there are others like rugby where they want multiple teams here at the same time so they can practice against other teams." The BTA identified showcase events like the Triathlon World Series or the US Open that could be used to highlight Bermuda. Other highlighted sports included rugby, football, swimming, track and field, field hockey and lacrosse. Ms Isley said the BTA had also looked into cricket, but the sport is less popular in Bermuda's American target market and Barbados had already established itself as a cricket destination for the UK market. But she added that work to bring an international cricket conference to the island was under way, along with an international sailing conference in November. Ms Isley said that when the BTA aimed for a minimum of a five-to-one return on investment in events. She added that tourism authority also considered the value of brand exposure, the level of engagement, the environmental impact, the legacy value and the inclusivity of the events. Ms Isley said that partnerships and events that would invest in on-island sports clubs would be difficult to arrange. She added: "There are some opportunities, and I would say they are limited, where if we brought an event with a foundation attached and their job includes diversity, inclusion and legacy, then there might be an opportunity. Realistically, sports bodies are looking to take out of a community. They want to come here and have a soccer field or baseball diamond that is ready for them. They want to play a sport."

At least eight people could have died in incidents at sea last year if rescue missions had not been mounted, it has been revealed. The rescues were among 405 "incidents of concern" logged by the Bermuda Maritime Operations Centre and were highlighted to warn sailors to put safety first in the summer boating season. A spokesman for Marops said: "It is important to remember that boat users need to be familiar with the operation of the boat and how to handle it safely. It is important to understand the 'rules of the road', safety equipment, the navigation markers, and to know your limits with regards to going offshore, the limits of the boat and your own capabilities." Major incidents included a sinking sailing yacht whose crew had to abandon ship 500 miles north-east of Bermuda last December and a disabled fishing boat with two on board six miles offshore in September. Others included a man who fell overboard during the Round the Island Seagull Race in June, and another man overboard a mile offshore in August. The figures covered incidents logged by the centre, but did not include those dealt with by the Marine Police, the Royal Bermuda Regiment's Boat Troop or the Department of Parks lifeguard service. More than 7,000 people were assisted in marine incidents in 2018, which included about 2,500 people who were on board the P&O cruise ship Arcadia when it broke its moorings in high winds in Dockyard in December. A total of 76 marine incidents were caused by disabled vessels, which Marops said were "our bread and butter". There were also three collisions and 18 groundings. Forty medical incidents were recorded, but the majority were caused by pre-existing medical conditions. Marops recorded 217 incidents inside Bermuda's reef line, 70 outside the reef line and 174 more beyond the 12-mile limit. The number of marine incidents increased from 353 to 405, almost 18 per cent, between 2017 and 2018. The 2017 figures were said to have been much lower because of a higher emergency-response readiness as a result of the America's Cup races that year. Marops said the number of marine incidents had been in decline since a high point of almost 600 in 2009. The spokesman added it was important that sailors checked that their boats were serviced before they are put in the water. He said: "Ensure that everything is in good working order: the engine, the battery, bilge pumps, check there is sufficient fuel. Check your moorings; a lot of boats break free, run aground ... some of it is lack of experience. There is mandatory safety equipment when vessels go inshore and offshore. Make use of marine VHF communications. When you go offshore, a lot of people forget that it is a requirement to carry a VHF radio. It enables you to monitor VHF channel 16, the distress and calling channel. Having a VHF on board makes it easier for you to be able to call in an emergency. It also helps if you have it turned on at all times when you are on the water, so that you can form part of the marine community and can offer assistance to other vessels if they are in peril or need help. We also encourage people to call us and file float plans if they are going offshore. It is simple, but it gives you an added layer of safety." The spokesman added: "You can drive a recreational boat without a licence in Bermuda. In many jurisdictions there is compulsory licensing, but that is not the case in Bermuda. There is no doubt that if there is mandatory boating education and licensing, it will make people more aware and less of a liability." Waypoint Marine Consulting will host a water safety session today at the Bermuda Sailors' Home on Richmond Road, Hamilton, from 9am to 11am. The Bermuda Water Safety Council and the Marine Police will hold safety demonstrations at Harbour Nights on Wednesday from 6pm to 9am. The police and the Department of Parks said they would release their marine incident figures in due course. The RBR was not immediately able to provide figures. The Bermuda Water Safety Council did not respond to a request for comment. Mandatory safety equipment for boaters. Safety equipment requirements for a 20 to 30-foot boat going offshore:
One life jacket per person, two oars or paddles, a bailer or manual bilge pump
An anchor, three feet of chain and 200 feet of rope
A horn, a flash light, a lifebuoy and 50 feet of rope
Three red flares, three red rockets, three orange smokes and one dye marker
A mirror and a fire extinguisher.

A group of tourists have notched up a total of 256 years of visits to Bermuda. The eight couples, from the United States and Germany, have been visiting the island for more than 20 years. Peggy Slade and husband Scott, from New England, have been annual visitors for 34 years. Mrs Slade said: "We celebrated our 20th anniversary here and have been coming ever since." She explained that they met the other couples, who now call themselves the Long Tales, when they stayed The Reefs hotel in Southampton. They hit it off and the group, with people between 40 and 90 years old, started to plan their vacations for the same time each year. Mrs Slade said: "As we leave, we sign up to be here at the same time next year. Some of us are in touch when we are not here. We have always been pleased with The Reefs' hospitality and the country." She added: "The things that keep us coming are that there are minimal changes at The Reefs so it feels like we are coming home." She said some staff members at the hotel were there when they made their first visit. David Dodwell Jr, general manager at The Reefs, said: "It's always a pleasure to have all our guests, but it's a real pleasure to have repeat guests. We always enjoy seeing them every year and enjoy helping them to have a great Bermudian experience. We feel so honored that they chose to vacation with us. This speaks to the hard work and commitment of the staff." Mrs Slade said the safety of the island and the short journey from New York was an attraction for many of the couples. She added: "The island being as safe as it is, my husband and I always have a scooter so we cover much of the island." Mrs Slade said some of the Long Tales visited Bermuda more than once a year. She added two of the couples had health problems last year and considered missing this year's trip but "pushed" themselves to join their friends. Mrs Slade said: "It speaks highly of the attraction of Bermuda and the desire to be with the group. We have become quite close and look forward to seeing each other." She added the group had grown to love Bermuda and that a German couple got married here seven years ago after years of visits. Mrs Slade said that the couples hoped to continue the tradition of the annual visit for years. She added: "There have been others who have passed, but hopefully we will continue this group for the next few years." She said the group also organised a special reunion dinner at The Reefs every year. Mrs Slade and her husband added they also attended services at the Anglican church of St Anne's in Southampton while on the island. Nora Bell Kast, who is from Southampton and met the Slades at church, said: "They have been coming for 34 years. I thought that a record. I was thrilled to have been able to meet them."

A 69-year-old due to face child pornography charges was yesterday identified as the man found dead in a car this week. Police confirmed that the body of David Aitken was discovered by a family member outside a house on Hidden Lane, Pembroke, on Tuesday at about 12.40pm. Mr Aitken, who lived in Pembroke, was taken to the King Edward VII Memorial Hospital and later pronounced dead by doctors. A police spokesman said: "Foul play is not suspected and a cause of death is being examined." He added that a family liaison officer had been assigned to Mr Aitken's family. It was earlier alleged in Supreme Court that Mr Aitken had accessed child pornography. It was claimed that he used a peer-to-peer file-sharing network to view 113 videos and 752 images between March 2015 and November 2017. The case against Mr Aitken, which involved two charges, was withdrawn by prosecutors yesterday.

May 3

MPs and senators were told they were on "a public platform" and should behave accordingly as part of talks in a two-day seminar with the Commonwealth Parliamentary Association. Appropriate use of social media and conduct in the House of Assembly were among the topics covered in sessions lead by both Bermudian politicians and visiting experts. The final session was on Parliament and Social Media: Is it a menace or benefit for democracy and parliament? Dennis Lister, the Speaker of the House, explained: "We have to make sure that as elected officials there are standards we conduct ourselves under, whether that's just simple interaction with people or whether that's using social media. We have to remember that our life is no longer just a personal life, we're on a public platform and everything that we do should recognize that and be respectful of the fact that we're on a public platform." He added: "It was not an attempt to limit their use of it, it was an attempt to make sure they know how to use it correctly and in a positive way because it can easily be used negatively and it won't only just harm that individual. In a sense, it harms all of us as a body, in that we all get tainted by any negativity that goes around in our circle as leaders. So all of us have a responsibility to protect the sanctity of Parliament and the Senate." The Speaker said all the island's parliamentarians were invited to the seminar and most attended, although some were off-island on government business or were unable to be there for personal reasons. Mr Lister added after the seminar closed yesterday: "I'm the old man in the room of Parliament and in my 30 years in Parliament we have never done such a session to help show ways for us to improve how we function in Parliament, what's the business of Parliament and what we should be benchmarking ourselves against. That was a key element for me. The other piece of it was to make sure that we get members to understand the relationship between our Parliament and the CPA" The CPA was invited to the island to help increase understanding of the concepts and standards that help to create parliamentary democracies. Akbar Khan, the secretary-general of the CPA, explained that the organisation, founded in 1911, aimed to "promote, develop and connect parliamentarians and their staff" to help them recognize good practice benchmarks and encourage parliamentary democracy. He said: "We're a community of learning and parliamentarians are no different than any other professionals who are seeking to make a difference in public life. The public often forget, in my experience, that parliamentarians come into parliament without any particular qualification or experience about parliamentary life. We expect our parliamentarians to deliver to the highest standards serving their constituents, serving their community, serving their nation, but we don't provide any form of training for that beforehand. That's where the CPA comes in." Shirley Osborne, the Speaker of the Montserrat Legislative Assembly and a CPA vice-chairwoman, said although politicians all over the world can become "excited" during debates, it was often because they were driven to make a change. She said: "Parliaments are filled with people who are passionate about something, who have a cause, who have a policy or something that they're really intent on achieving for their constituents, so that comes out sometimes. One of the older speakers from my jurisdiction warned me 'Parliament is not Sunday school' and I think we need to remember that. Parliament is a place where there are adults who are trying to get something done and how they manage themselves in there is managed by standing orders and by the rules of civil conversation, civil society." Mr Lister said his role was not to stifle debate, but to set boundaries for it. He added: "As long as members stay within those parameters I'll sit back and be quiet but the moment you step over, I'm going to deal with that individual and bring them back into line."

Minister of Legal Affairs, Hon. Kathy Lynn Simmons, JP, today issued AML-ATF Advisory 1/2019 about the risks in a number of jurisdictions arising from inadequate systems and controls to combat money laundering and terrorist financing. The Proceeds of Crime (Anti-Money Laundering and Anti-Terrorist Financing) Regulations 2008 (POCA Regulations) require the Bermuda regulated sector and relevant persons to apply enhanced customer due diligence to high-risk countries.
Regulation 11 (1)(aa) of the Proceeds of Crime (Anti-Money Laundering and Anti-Terrorist Financing) Regulations 2008, requires that a relevant person must apply on a risk-sensitive basis enhanced customer due diligence measures to business relationships with customers in instances where a person or a transaction is from or in a country that has been identified as having a higher risk by the Financial Action Task Force; and
Regulation 11 (1)(ab) requires that a relevant person to apply, on a risk-sensitive basis, enhanced customer due diligence in instances where a person or transaction is from or in a country which represent a higher risk of money laundering, corruption, terrorist financing or being subject to international sanctions.
As the international anti-money laundering and counter-terrorist financing (AML/CFT) standard-setter, FATF regularly publishes statements that identify high-risk countries based on assessments of their AML/CFT regimes. In accordance with Regulation 11 (1)(aa), the Minister for Legal Affairs would like to draw the regulated sector's and relevant persons' attention to the latest FATF publication on high risk jurisdictions.

Action must be taken to ensure that working Bermudians can live with dignity, panellists at a public forum on a living wage have said. Rolfe Commissiong, chairman of the Joint Select Committee on the Establishment of a Living/Minimum Wage, told the dozens in attendance at St George's Cricket Club that many in the workforce struggled to make ends meet. He said he had spoken to a woman who worked at a restaurant in Hamilton, but still had a hard time getting by. Mr Commissioning said: "I came to find out she was working as a part-time worker and she earned $7.50 an hour. As a part-time worker, she had no health insurance, but she had worked over the previous two weeks 96 hours with no overtime. She was paid $720 for those 96 hours. That means after you take out social insurance and payroll tax, she took home $620.90." Mr Commissioning, speaking at a forum held on Thursday night, said there had been a global "race to the bottom" in salaries and the use of low-cost foreign labour had accelerated the trend. He explained that the Government would create a wage commission to look at the creation of a living wage — one that ensures workers a decent standard of living — or a minimum wage. Phil Perinchief, a lawyer, said the wage commission would hold as series of meetings to determine the best course. He added that the cost of living should also be addressed as part of the commission's work. Mr Perinchief said: "A number of questions will arise, requiring precise and accurate answers. Issues such as the establishment of a true and representative poverty data line in Bermuda's circumstances. What constitutes cost of living? What is a reasonable profit margin or markup that a given entrepreneur should make or charge? 100 per cent? 200 per cent? 500 per cent? What's reasonable? The idea is that we are trying to bring down or reduce the cost of living. Then we will be in a better position to pitch the living and minimum wage at a point whereby the two converge." Nathan Kowalski, a financial analyst and commentator, who emphasised that he was speaking in a personal capacity, said inequality levels were the highest they have been since 1929 and inequality damaged a country's gross domestic product. But he said it was crucial for Bermuda to strike the right balance. Mr Kowalski said: "We cannot benefit from a minimum wage if there is no wage to be had." He said a recent study in the US examined the effect of increased wages in restaurants and found that 43 per cent of restaurants cut jobs, 64 per cent of restaurants reduced staff hours and 71 per cent increased menu prices. Mr Kowalski added: "I'm not saying that this will happen for sure, but these are unintended consequences that can happen." Mr Commissiong said later that there had been a lot of discussion about the effect of minimum and living wages, but it was rare that the worst predictions materialized. He said: "In Germany, the economists there were saying there would be 200,000 jobs lost as a consequence of them for the first time putting in place statutory wages about four or five years ago. In fact the economy went the other way. It went into a boom." Mr Commissiong added: "One thing that is always ignored is that fact that when people get more money in their pocket, particularly at the bottom of income distribution, for better or worse, they spend disproportionately more of it. And in a consumer-based economy, that could be good." The St George's meeting was the first of three. The next will be held on Thursday at St Paul's AME Centennial Hall in Hamilton. The last will be held at Somerset Cricket Club on May 16. Both meetings are scheduled to start at 6.30pm.

Bermuda's public health sector is on a "guarded" alert after a resurgence of the measles virus in North America, the Caribbean and Europe, according to Cheryl Peek-Ball, the Chief Medical Officer. She cautioned that there had been no cases of measles reported in Bermuda since 1990, but that a threat remained of a case being imported. The Ministry of Health has advised all residents, especially if traveling abroad, to become informed about the disease, know their immune status, and get vaccinated if at risk. If you have travelled and fallen unwell with fever and body rash, it is important to inform your healthcare professional of your travel history. If you suspect you have measles, seek telephone advice immediately from your healthcare provider before traveling to the healthcare setting. Measles is a highly contagious respiratory illness that can spread be quickly through the air. Dr Peek-Ball added: "Individuals born before 1957 are considered to be immune due to high circulation of the measles virus in that era. Individuals born in 1957 or thereafter, and are uncertain whether they have been adequately vaccinated against measles should discuss their risk with their healthcare provider. A blood test can determine whether you are immune either due to previous infection or through vaccination. If you are not immune, vaccination against measles offers the best protection. The combined vaccine, MMR (measles, mumps and rubella) is recommended as it is scientifically proven safe and effective against the three components. In addition to advising vaccination for all individuals at risk, the Ministry of Health is collaborating with healthcare providers on island to assure that all are on heightened alert to the possibility of measles. A suspected case of measles must be quickly recognized and reported to the Epidemiology and Surveillance Unit for prompt public health action to control the spread. Physicians are reminded to immediately report suspected cases of measles to the nurse epidemiologist jdwilson@gov.bm, 278-6503 or 332-8932. If you or your child has not been vaccinated against measles, contact your physician or visit the Child Health Clinic located at the Hamilton Health Centre, 67 Victoria Street, Hamilton."

The Minister for the Cabinet Office said yesterday Bermuda was not in a recession. Wayne Furbert added the bulletin of statistics for the last quarter of 2018 showed "some positive growth". He said retail sales had been down, but that could not be the only indicator of a recession. Mr Furbert added: "The numbers we have here today are very good news and no we are not in any recession." He said visitor spending increased in the last quarter of 2018 and spending by cruise ship passengers more than tripled from $7 million in 2017 to $23.9 million in 2018. He said the estimated total expenditure by air visitors increased by 5 per cent to $83.7 million over the same period in 2017. Visitors spent $2.7 million more on accommodation and food and $1.2 million more on shopping, entertainment and transport services. Mr Furbert said the statistics indicated economic progress. He added: "These results are a tangible demonstration that this Government's socio-economic policies are bearing fruit and this is good news for Bermuda." One Bermuda Alliance leader Craig Cannonier said visitor increases were due to policies implemented by the Bermuda Tourism Authority and a rise in employment income on construction was due to on-going capital projects started under the OBA. He said: "While employment income rose overall, that is down to two factors: a rise in the number of people employed by Government, which is being paid for by higher taxes, and a significant rise in fourth quarter income in the IB sector. The statistics show that people in international business earned a total of $259.9 million, an increase of $23.3 million, compared to the same quarter in 2017. But what the Minister failed to point out was that for the full year, IB employment income fell by $12.8 million, to $1.14 billion. People are losing their jobs or leaving the island."

Legal arguments in an action brought by the former chief executive of the Bermuda Health Council against her previous employer were heard behind closed doors yesterday. Tawanna Wedderburn said in March that she had asked for judicial review proceedings against the watchdog, as well as David Burt, the Premier, Kim Wilson, the health minister, and Alicia Stovell-Washington, the chairwoman of the council. A case listed as Ms Wedderburn versus the BHeC and others was scheduled to call in the Supreme Court's civil jurisdiction at noon. However, after members of the public and media attended, they were advised the case would be heard "in chambers" and open only to the parties involved. The Royal Gazette was unable to obtain information from lawyers after the hearing. Ms Wedderburn's 11-year career with the BHeC ended last December in what the health council called a "separation of employment". She said earlier this year that she had received "encouraging messages" from people in the Caribbean, North America and Europe and was "bombarded on the streets of Bermuda with well wishes". A law firm acting for the BHeC said in January that Ms Wedderburn's employment was "terminated lawfully by the council in full compliance with section 18(1)(b) of the Employment Act 2000, the Bermuda Health Council Act 2004 and her contract of employment which calls for one-month notice of termination". The watchdog's lawyers added that Ms Wedderburn was paid her notice and offered six months pay and benefits "in good faith".

Prison officers have accused the Government of a failure to act for two decades over safety, security and working conditions. The Prison Officers Association said yesterday that there had been "platitudes, no actions, just promises for 20 years" over "unaddressed adverse matters pertaining to safety, security, and work conditions". The association also carried a vote of no confidence against six senior management staff at the Department of Corrections. The POA spoke out after Wayne Caines, the national security minister, said on Monday that Westgate prison faced "indefinite" lockdown as officers work to rule. The association accused Progressive Labour Party and One Bermuda Alliance governments of a failure to tackle problems that affected the safety and health of prison officers. The POA also criticised the lack of notice, or any official statement, on the secondment of Lieutenant-Colonel Eddie Lamb, the Commissioner of Corrections, who was moved to another department for nine months. Colonel Lamb was moved in February 2018 to work as project manager for the National Anti-Money Laundering Committee. The secondment was said to be for nine months, but prison officers said Colonel Lamb had been away from the job for more than a year. The POA added that its collective bargaining agreement dated back to 2008, with "no increase in salary for a decade, inclusive of any allowance for cost of living adjustments". The POA also slammed the Public Service Negotiations Team, which has been in talks with the association since 2016. A spokesman for the POA said: "The POA recently discovered in discussions that the PSNT did not have a mandate to negotiate in 2016-17 and has not met with management of corrections to discuss the collective bargaining agreement proposals since March 2018." He added that talks had been held with Mr Caines and Collingwood Anderson, the ministry's permanent secretary, and senior managers at the Department of Corrections about "outstanding matters". Three prison officers were attacked by Westgate inmates last Friday and the prison has been on lockdown since. The POA said a unanimous vote of no confidence in department leaders had been sent to Mr Anderson. The statement added: "The POA requests the respect and remuneration so belatedly forgotten and yet well deserved."

A flock of Bermuda kites have been selected to decorate the new LF Wade International Airport terminal as part of a competition. Aecon and Skyport, who hosted the competition, said the 155 entries and more than 200 designs were submitted as part of the competition to select ten winning designs. Lily Mulder-Powell, Mikale Willis and Kiera Wales were named winners in the 12-and-under category, while two entries by Priel Minors were selected as the winners in the 13 to 18-year-old category. Brian Lightbourne, Matthew Tumbridge, Abigail Kempe, Steven Harvey and Jordon Every were selected as winners in the adult category. In addition to seeing their designs hanging in the new airport terminal when it opens next year, each of the winners was presented with a $250 cheque at a special reception. Frank Ross, executive adviser for infrastructure at Aecon Construction, said: "We were so pleased with the creativity, use of colors and uniqueness in each kite. The installation is going to be visually stunning and we are excited to share it with the public once the terminal opens next year." Mikaela Pearman, marketing and communications officer at Skyport, added: "Our winners include children from both public and private schools and a diverse group of adults. We were overwhelmed by the large amount of entries we received in the contest and would like to thank the public for its engagement."

A man who raped a 15-year-old schoolgirl more than 30 years ago was jailed for eight years today. Morris O'Brien, 53, of Pembroke, was convicted of the attack on the teenager, said to be a family friend, in Supreme Court in February. The victim, now 45, had told the court he raped her on the living room floor as her sister slept in a bedroom. At his sentencing today, O'Brien was told time already served would be taken into account.

Argo Group International Holding's denial that it has an executive penthouse apartment above its New York City offices has stirred up more anger from activist shareholders. Because, while the company was correct when it batted away the claim, it did not mention the corporate penthouse six blocks away in Manhattan's Chelsea neighborhood. "Argo should be ashamed for attempting to mislead shareholders by omitting this material from its response," said Voce Capital Management LLC, the San Francisco-based hedge fund that is the beneficial owner of about 5.6 per cent of the shares of Argo. According to Voce, Argo's Manhattan apartment on Ninth Avenue was purchased for $5.79 million, three years ago. It described it as: "Open views and beaming light from the continuous walls of glass pull you from the entry through to the large living room and dining room and out onto the 41-foot-long terrace." It claimed to have confirmed that Mark Watson, Argo's chief executive officer, lives there. However, this has been disputed. A source close to Argo told The Royal Gazette that the apartment is not used exclusively by any single executive, but is used when needed if an executive is in town, or as accommodation during a relocation. Meanwhile, in a 68-page presentation document released last night, Argo said: "Yes, we do have a corporate apartment in New York used by many employees, but it is not the fancy place described by Voce." Argo has previously described Voce's claims directed at the company as spurious allegations that are part of a "misleading" media campaign. The dispute was turned up a notch on Wednesday, when Voce said Argo "desperately needs a culture of respect, not disdain, for shareholders" and that its handling of Voce's questions about the "potential penthouse apartment" where the CEO lives while in New York "demonstrates the company's disregard for shareholders and lack of respect for honesty when engaging with investors". Voce issued a 66-page presentation, titled "Righting the Ship", outlining its plan for how Argo can "unlock substantial shareholder value" by reducing expenses, undergoing compensation reforms, capital allocation improvements, portfolio rationalization and enhancing corporate governance. According to Voce, its ideas could increase the company's return on equity to 13.5 per cent and reduce expenses by $100 million. It claims an additional $20 million of savings could be achievable by "reigning in corporate expenses, including corporate aircraft and housing, vanity sponsorships and CEO compensation". Voce has previously highlighted its concerns about the company's use of corporate jets and its corporate housing programme. It is seeking the removal and replacement of five directors. In reply, Argo published an updated presentation titled "Argo Group: driving growth and value for shareholders", in which it said: "Voce has deliberately avoided the truth in order to engage in a campaign of misinformation and outright falsehoods with the hopes of creating an overwhelming appearance of impropriety as a means to gain board seats." It also hit back at what it claimed was Voce's "sensationalist claims about corporate aircraft programme based on fundamentally wrong analysis", and claimed Voce has "a track record of destroying shareholder value at the companies it targets". Argo said its board was committed to ensuring strong corporate governance practices. It said: "The truth is that our oversight and governance of the company is strong and serves investors well. Argo has the right board and management team to continue our best-in-class performance and stewardship."

Walkers in the annual End-to-End will enjoy a string of improvements to the Railway Trail sections of the route tomorrow. Friends of the Bermuda Railway Trail, in partnership with the Parks Department and D&J Excavating, have carried out work to arrest erosion along the paths. Mike Murphy, co-founder of the charity with his son Tucker Murphy, said work had been done on eight hillsides between Hamilton and Somerset Bridge. Mr Murphy said: "The slopes were smoothed and reinforced with a composite material filling geo-cell webbing, then topped with a skim cap containing minimal cement in the mixture — all the latest design to prevent, or at least significantly slow, the constant hillside erosion from heavy rains. The Friends of Bermuda Railway Trail would like to thank Brad Huntington, Angela Huntington, John Williams and Fiona Williams for their generous financial support, which led to these improvements." The charity rose to prominence in 2013, when work started on a new bridge spanning Bailey's Bay in Hamilton Parish. Other crucial bridges for the trail included crossings at Store Hill, Smith's, and a bridge now in progress over Flatts Inlet. The group invests in the trail itself, as well as structures surviving from the days of train travel in Bermuda. The island's railway shut down in 1948 after only 17 years in operation, leaving 18 miles of routes for runners, walkers and cyclists. Mr Murphy said the Bermuda Tourism Authority had matched funds donated by the Williams and Huntington families for the latest improvements. The charity said the Ministry of Public Works has installed a stoplight and crosswalk near Harmony Hall in Paget, and put a new coat of paint for four former railway stations. Mr Murphy added: "The trail is becoming a more popular attraction for many tourists seeking a unique and active experience of walking, running or pedal biking amid the varied and new vistas opened up along the trail. The Bermuda Hotel Association, and particularly the Fairmont Southampton in adopting the care for the trail passing by their property, have been supportive of the efforts to enhance the tourist experience. In the near future, the Friends of Bermuda Railway Trail hopes to open up and improve some of the overgrown less-utilized pathways connecting the trail to other tourist sites on the west side, which may require assistance from volunteers, as a good portion of the work may need to be done by hand."

May 2

The Bermuda Government is reminding the public that people who use credit cards to pay their taxes will incur a service fee to do so. As announced in the 2019/2020 budget, for many years the government has been incurring millions of dollars in credit card charges due to taxpayers using their credit cards to pay their taxes. Effective from May 6, 2019, the government will start to recover these charges by implementing the 1.45% credit card service fee for all payments made by debit/credit card. The fee will be in effect at the following locations:
Accountant General Cashiers
Transport Control Department
Registry General
Public Works and Parks
Health (Maternal, Environment, Dental, Child)
Department of Public Transportation
The Office of the Tax Commissioner, the Department of Planning, the Department of Customs, and Magistrates and Supreme Courts will be implementing the new service fee in the coming months, after required system upgrades.

The switch from the existing terminal to the new one at LF Wade International Airport will happen overnight. It is a daunting logistical challenge, and even though the change over is more than a year away, major planning is under way. Construction of the new terminal is on schedule to be completed in July 2020. A date for the opening of the 277,300 sq ft facility has not yet been set. Aaron Adderley, president of airport operator Skyport, said: "We are right on target. We are engaging in what we call an operational readiness programme, working with all the stakeholders in planning the transition from the existing terminal over to the new terminal. That transition is going to happen overnight, so there is a lot of planning that goes with facilitating that transfer." He said Skyport is working with other agencies, including airlines, the Government, and customs and immigration, to ready for the switchover. "We are working with everyone who has a presence at the airport to define exactly what the needs and requirements are, to ensure that we have a smooth transition in 2020." Mr Adderley said everything was going "full steam ahead", and he was happy with the progress being made. He said everyone was looking forward to moving in to the new terminal, and added: "From our standpoint, Skyport and Aecon, we are committed to delivering the terminal building on time, and we are well on our way to doing that." The opening of the new terminal might coincide with announcements of a new flight, or flights, to the island. Skyport, the Bermuda Tourism Authority and the Bermuda Airport Authority, are working to attract new flights, according to Mr Adderley. He said: "Collectively we are constantly in dialogue with a number of carriers, not only incumbent carriers but also new carriers. The idea is to look towards getting additional services, whether it be from secondary markets in the United States, perhaps other Canadian gateways, and also the UK/Europe. We have a number of balls in the air, and we are planning and hoping that next summer one of those will materialise and we will have a new flight, or a couple of new flights, [either then] or shortly thereafter."

Bermuda's health minister lashed out this morning at a private health insurance provider which she said had raised its premiums. But the president of BF&M said that premium hikes were in part due to proposed healthcare changes by the Government. Kim Wilson said that she had received a letter from a local business sent from BF&M advising that the company was to increase its insurance rates. She added: "It is unconscionable that BF&M, who recently reported heavy profits, would attempt to blame their premium increases on the efficiencies that the Government is making with respect to healthcare payments of our healthcare dollars." Ms Wilson said that the increase was "significant". She added: "The letter wrongly blames the Government for the increase. The letter is wholly misleading and contains serious inaccuracies that the public must be made aware of. The standard premium rate and the mutual reinsurance fund premium are not a tax. They are actuarially derived premiums to pay for healthcare. There is no 225 per cent increase on any tax. This is wholly untrue." She said that the premium increases made by BF&M were a "business decision based on profit margins and shareholder interests. The extra premium they are charging is not to pay for hospital care, because the Government is protecting that by not increasing the standard health premium rate. The extra premiums they are charging is to help to fund profits." But John Wight, the president and chief executive of BF&M, said that premiums were impacted by several factors "including rising healthcare costs, overall claims experience, as well as the Government's proposed changes to the distribution of standard premium rate. The proposed Government reform is an exercise in reallocating funds and capping hospital funds, and fails to address the real drivers of the cost of healthcare in Bermuda — the third most expensive per capita in the world. Premiums will continue to increase as a result of our ageing population and the growing number of adults with chronic conditions." Mr Wight said that the mutual reinsurance fund is embedded in clients' standard premium rate and that the firm collected it on behalf of the Government. He added: "It is a fact that, as part of the changes to the distribution of the standard premium rate, the MRF is increasing by 225 per cent." Mr Wight said the firm wanted to work with the Government to develop "thoughtful, comprehensive healthcare reform that achieves our shared goals of stabilizing costs, increasing accessibility, and driving better health outcomes. We are in the process of presenting the Government viable alternatives and we are hopeful that those discussions will result in thoughtful solutions."

Personal prejudice played no part in the choice for Commissioner of Education, a lawyer for the Board of Education told Supreme Court yesterday. Delroy Duncan said: "There was no possibility that this process was affected by bias." Mr Duncan was speaking on the first day of a civil case launched against the Public Service Commission and the BoE by Gina Tucker, a former primary school principal who has also worked in several other senior roles in education. Dr Tucker claimed in her affidavit that she had "not been fairly treated or properly considered" for the job, which was given to Kalmar Richards, the former principal of CedarBridge Academy, last September. She said that her relationship with Valerie Robinson-James, the permanent secretary at the education ministry, had soured after a disagreement over a decision to offer the Commissioner of Education post to Paul Wagstaff, a British education expert, in 2016. Dr Tucker added: "It is my view that the permanent secretary has orchestrated this entire matter." Mr Duncan said that there no evidence that the clash between the two had influenced the decision to hire Ms Richards. He added: "It's an assertion that has no basis whatsoever." Mr Duncan highlighted scores awarded to Ms Richards and Dr Tucker by a five-menber panel when the two candidates were interviewed for the job last July. He said: "On everybody's score ... Kalmar Richards outperforms Dr Gina Tucker. Not by a small margin." Mr Duncan added that even if Ms Robinson-James's scores were taken out, Ms Richards "still far and away surpasses the score that Dr Tucker achieved". Mark Diel, for Dr Tucker, said that there was "clearly bad blood" between his client and Ms Robinson-James. He added: "We contend that the permanent secretary set out, and in fact was successful, in orchestrating the appointment of her chosen candidate for the role." Mr Diel said that it was not necessary for his client's case to focus on unfair treatment. He explained: "The real problem here is that, whatever the motivation, the process was not followed in any manner of speaking." Mr Diel added that Ms Richards did not meet the minimum academic qualifications for the job. Richard Horseman, for the PSC, said that the commission had forwarded their recommendation for Commissioner of Education based on information provided by the BoE. He added: "Their recommendation cannot be faulted." Mr Horseman said that if Dr Tucker had a problem with Ms Robinson-James sitting on the panel that interviewed her, she should have mentioned it at the time. Dr Tucker wants the appointment of Ms Richards quashed and an order made for the application process to be held "fairly and in accordance with the Education Act 1996 and the Public Service Commission Regulations 2001", as well as costs. The hearing, which was adjourned to a later date, continues.

A water-quality testing programme has started at the island's most popular beaches. Environmental health officers started the annual check programme last month. A Department of Health spokeswoman said: "Testing started on April 1 and monthly updates will soon be provided from sampling conducted from now until the autumn." The department tests seawater for pollution during peak summer months and started to publish the results on the Government's website in 2014. The move came after reports of so-called "grease balls", which contained human faeces, being washed up on south shore beaches a year before. A 2013 report by the Bermuda Institute of Ocean Sciences found that the waste came from the Hamilton Seabright sewage pipeline. The US Consulate later issued a warning to American citizens that the island's beaches could be a health hazard. Last year's seawater sampling results from 15 different sites showed levels of enterococcus — bacteria present in human and animal faeces — well below the US Environmental Protection Agency's maximum recommended levels. The Bermuda Government uses the EPA yardstick to measure the purity of seawater around the island. The results are posted at www.gov.bm/seawater-monitoring-programme-bathing-beaches.

The owners of the Fairmont Southampton confirmed yesterday that they are in talks with a potential buyer. Kiaran MacDonald, the resort's general manager, said: "The hotel has been actively up for sale for quite some time. We are in advanced discussions with a prospective purchaser," Mr MacDonald added he was "not in a position to share details" of who was involved in the sale talks and dismissed rumors that the hotel had already been sold. Gencom, a Miami-based investment firm, bought Rosewood Tucker's Point hotel in 2017 and are said to have explored additions to their Bermuda portfolio. The company owns, operates and develops real estate properties worldwide with an emphasis on luxury hotels, resorts and branded residential properties. A spokesman at Gencom's head office yesterday said the principal and founder Karim Alibhai and Alessandro Colantonio, the executive vice-president for acquisitions, and Phil Keb, the firm's head of development, were traveling yesterday and not available for comment. French company AccorHotels took over Fairmont Hotels, which owns the Fairmont Southampton, in 2015. The owners are known to have been looking for buyers for the 593-room hotel, Bermuda's largest tourism property. The news came as Bermuda's tourism industry started a renaissance. A record total of 770,683 visitors arrived on the island in 2018, up by 84,775 people, or 11 per cent, on the previous year. The Bermuda Tourism Authority said last year's tourists pumped more than $500 million into the economy. The Fairmont Southampton is considered Bermuda's "convention hotel" as well as being popular with the tourist trade. The hotel features ten restaurants, a spa, the 18-hole, par-three Turtle Hill Golf Club, the Mid-Ocean Amphitheatre, and more than 25,000 square feet of meeting space.

The Prison Officers Association has blasted the Government for "platitudes, no actions, just promises for 20 years" over "unaddressed adverse matters pertaining to safety, security, and work conditions". The group has also sent a vote of no confidence against six members of the senior management at the Department of Corrections. A statement sent out this afternoon, after the announcement on Monday by national security minister Wayne Caines that Westgate prison faced "indefinite" lockdown, accused both the Progressive Labour Party and the One Bermuda Alliance of lagging on addressing officers' "safety and health". The POA also criticized the lack of notice, or any official statement, on the continuing secondment of Lieutenant-Colonel Eddie Lamb, the Commissioner of Corrections, who was moved to another department for nine months. The officers' group said Colonel Lamb's absence was now more than one year. Members are working from a Collective Bargaining Agreement dating to 2008, with "no increase in salary for a decade, inclusive of any allowance for cost of living adjustments". The POA also castigated the Public Service Negotiations Team, which has been in talks with the association since 2016. "The POA recently discovered in discussions that the PSNT did not have a mandate to negotiate in 2016-17 and has not met with management of Corrections to discuss the CBA proposals since March 2018," the statement continued, saying talks had been held with Mr Caines along with Collingwood Anderson, the Permanent Secretary, and senior management at Corrections, over "outstanding matters". The statement confirmed that members had voted to go on work to rule, which was announced on Monday by Mr Caines. Last Friday, officers were assaulted by inmates at the prison, and the POA meeting with the move for industrial action would result in Westgate on lockdown under a "skeleton crew", the minister said on Monday. In the statement today, the POA said its unanimous vote of no confidence in department leaders had been sent to Mr Anderson. The statement closed: "The POA requests the respect and remuneration so belatedly forgotten and yet well deserved."

Bermuda's police helped to snare a man who raped a 15-year-old boy on a cruise ship berthed in Dockyard. Adam Boyd, from Mississippi, has admitted the offence in a US courtroom and will be sentenced this year. Boyd, 32, pleaded guilty to sexual abuse of a minor in a US Federal Court in Massachusetts on Tuesday. He had earlier appeared in Magistrates' Court in Bermuda charged with the offence, but was later extradited to the US. The US Department of Justice said Boyd and the victim were passengers on the Norwegian Dawn, which was berthed in Bermuda in August 2017 when the attack took place. Brendan Fogerty, an FBI special agent, said in an affidavit to the Federal Court that the victim told investigators he met Boyd on the ship's deck after he had been drinking with people he met on the cruise. The teenager asked for help to get back to his cabin and Boyd agreed, but on the way he asked the drunk teenager several times to go to his cabin instead. The affidavit added that Boyd, a hairdresser from Bay Springs, Mississippi, kissed, groped and raped the teenager in a deserted area of the ship's 14th deck. Mr Fogerty said the boy was "too drunk and froze, not knowing what to say or do". The victim and another witness told investigators Boyd knew how old the victim was. The victim afterwards told friends what had happened and they tried to find Boyd to confront him, but without success. The teenager later told a family member about the rape and they reported the attack to the ship's security staff. The crew alerted the Bermuda Police Service, who arrested Boyd for the offence. Boyd was arraigned in a US Federal Court after extradition and released on bail. But he was arrested in Mississippi last November after he violated his bail conditions. He has been held in custody since then. Boyd is expected to return to the court on August 1 to be sentenced. Sexual abuse of a minor in America carries a sentence of up to 15 years in prison, with a minimum term of five years, up to a lifetime of supervised release and a maximum fine of $250,000.

The Ministry of Public Works is advising that effective 6 May, 2019, Blackwatch Pass will be closed to traffic so that construction works to the wall face can be conducted. The closure is expected to last until 20 May, 2019. While Blackwatch Pass is closed the public is encouraged to plan ahead and seek alternative routes to avoid delays. The Ministry takes this opportunity to thank the public in advance for their cooperation and patience while these necessary remedial works are conducted.

A woman has been charged with handling a revolver, a shotgun and 485 rounds of ammunition. Tonae Perinchief-Leader denied four charges related to the alleged handling of a Taurus revolver, a Mossberg 12-gauge shotgun and of ammunition of different calibres at Supreme Court yesterday. The offences were alleged to have happened in July 2015. The case against the 29-year-old, from Sandys, was adjourned to later this month. Ms Perinchief-Leader's $25,000 bail was continued. James Dallas also appeared in front of Puisne Judge Charles-Etta Simmons. He faced four counts of throwing a corrosive substance at police with intent to resist arrest on March 28. Mr Dallas, 69, was also accused of trespass at a building on Happy Valley Road, Pembroke, and using threatening words. No plea was entered and the case was adjourned until May 10. Mr Dallas was remanded in custody.

Bermuda's celebrity seal is doing well in her temporary home at an aquarium on the American East Coast. American Daisy Dohanos, a frequent visitor to the island and author of the blog Smitten with Bermuda, has been keeping track of Lou-Seal, who was washed up exhausted and starving at Tobacco Bay in St George's last month. She checked on the female grey seal's progress at the Mystic Aquarium in Connecticut. Lou-Seal, the first of her species recorded in Bermuda, travelled hundreds of miles from her North Atlantic habitat and made headlines when she reached the island on March 19. The animal was rescued and nursed back to health at the Bermuda Aquarium, Museum and Zoo. On April 10, the airline company Cargo Jet donated a flight to the Mystic Aquarium, which is home to a variety of marine mammals. Ms Dohanos wrote in her April 29 blog that the seal's story "struck a chord in my heart, and rattled my curiosity. How did she wind up in Bermuda? Did she get caught in a current? Did she realize that she was astray?" Ms Dohanos, who lives in Sag Harbor in New York, decided to research grey seals and take a trip to the aquarium to learn more. Dale Wohlbrink, the director of public relations at Mystic, arranged for Ms Dohanos to pay a visit last week to the aquarium's Animal Rescue Centre. Danielle Stone, Mystic Aquarium's animal rescue technician, took the keen blogger and photographer on a tour. Seals are kept quarantined from humans to protect them from catching influenza. Lou-Seal is being prepared for release back into the wild, so keepers at the aquarium keep their distance to stop her associating humans with food. Ms Dohanos wrote: "The professionals at Mystic Aquarium cannot say how Lou-Seal wound up in Bermuda. Any speculation is merely that. Danielle surmised that perhaps she was simply following food. Sometimes, sea mammals will turn around when they reach water temperatures that are not their preferred climate — or they beach themselves. Yet, the veterinarian at Mystic does not believe that the waters around Bermuda were too cold in March." Ms Dohanos reported that Lou-Seal was "still underweight, but on the right trajectory. Having arrived at Mystic Aquarium at 211 pounds, her healthy weight is estimated to be between 300 and 350 pounds. Veterinarians will continue to monitor her weight, and do an ultrasound exam at her next check up to ascertain whether she is carrying a pup." The seal will be fitted with an electronic tracker before she is returned to the sea in the waters off Connecticut, Rhode Island and Fisher's Island. Ms Dohanos added that Lou-Seal "definitely has an uncanny mystique about her".

George Dowling III has promised fresh ideas to revitalize the town and community of St George if elected as mayor. Mr Dowling, who will go head-to-head with Kenneth Bascome in a municipal election on May 9, said that even if the Government replaced the municipalities with quangos, the residents deserved strong leadership. Mr Dowling, 41, said: "Short-lived or not, we are required to be good trustees of our town. Until that time comes, if it comes, someone has to do the job and I will do the job." He added that St George could benefit from changes, but that the majority of residents wanted to be able to elect their own councillors and mayor. He said: "At least 95 per cent are in agreement that they want to elect their town officials. That being said, I'm here to reflect the will of the people." Mr Dowling has a long association with St George and the family business, Dowling Marine, is based on the waterfront. He said he first ran for election as a councillor because he wanted to do something to give back to St George. Mr Dowling said: "A vacancy emerged, I was asked to run and I gave it a shot. It has been an amazing experience acting as a councillor. Seeing where you can actually make a difference, sometimes convincing your colleagues that something will make a difference and pushing them in that direction. I'm particularly proud of overseeing the work we have done with the docks. At Hunter's Wharf there was originally a plan not to put parking back there, but we fought over it and were able to put it back in." Mr Dowling added that it was up to the Government to move the long-proposed St George's Marina project forward. He said: "It would be great if we got it, but it's not necessarily the magic bullet that's going to fix everything in the town. We need to be realistic about that." He said his platform focused on five main points designed to lay the groundwork for the town's future, starting with a new town plan. Mr Dowling said: "The second thing we want to tackle is to support the Unesco World Heritage Site management plan with an end goal of taking complete responsibility for the management of the World Heritage Site, with legislative teeth to protect our historic town and funding for the same." Other objectives in his platform include a bid to reinvigorate the town with residents investing in the town, finding revenue-raising opportunities and improving communication. Mr Dowling said: "A lot of people don't have awareness about the things that are going on in our town. We can communicate better. There are issues like pipes breaking, and a lot of our water is piped, so when a pipe is down people don't want to find out when they go to flush the toilet. These are things that we can communicate better. Once we get these core things in place, than everything else will be possible." Mr Dowling said he would like to see a return of regular cruise ships to St George, but in the meanwhile the corporation and the Government could find ways to encourage more visitors to the East End. "Right now we have the Spirit of St George's, the Norwegian Cruise Line tender, bringing 55,000 to 60,000 people to St George each summer, along with the government ferries bringing their allotment. Of course, it would be ideal if we could have two cruise ships in St George. When I came back to Bermuda in 2004, there were two cruise ships, and they were there Monday to Thursday. Everywhere was vibrant, the nightlife was vibrant. We could bring that back if we caught the right ship. I don't know if increasing the size of the channel is the right way to go or not, but there are ways to increase the number of visitors coming to St George."

A New Jersey artist inspired by Bermuda's rugged coastline hopes an exhibition of his work will lead to more creative opportunities on the island. Jason Bereswill said he had been "pulled to paint" since his first trip to Bermuda in 2017 and repeated visits gave him plenty of material for his show, Rocks, at the Masterworks Museum of Bermuda Art. Rocks combines oil paintings created outdoors with larger studio works that draw on sketches and photographs. Mr Bereswill said: "Close friends of mine, who live here, invited my wife and I to come down for a little vacation to see the island. They knew that I would be interested to paint as soon as I got here and I came ready with paints. Most of my work is travel-based and mainly of islands. The majority of my work has been of St Barts. It has been great to be able to come here on multiple trips, all different times of the year, really getting to know the island and discovering new spots to paint and having people suggest new places to paint. I'm hoping to really dive in deep and that this is maybe just the start of more work here." The artist said he was captivated by Bermuda's "really dramatic rocky beaches" and spent much of his first visit at Horseshoe Bay, then "trying to get farther away from people and into the smaller places. Typically ,the paintings that I make here don't have people in them, they're unpopulated, they're really about connecting with these incredible geological formations and using that to chase down some sort of connection with the forces that shaped the earth. Rocks are a really interesting place to jump in and, especially, I think about painting being maybe the first method of communication — drawings on rocks. Making the rock itself the subject — I think there's an interesting rhythm to that." The artist has already dropped off five paintings at Masterworks, which he said could be "rotated in" during the course of the exhibition, which is scheduled to run until May 28. Mr Bereswill said: "From the moment I arrive on island, I'm pulled to paint, that's why it feels like this is just the start of something, it's so exciting. Having not grown up here and not had the familiarity with the place since childhood, I think I'm drawn to things that an outsider might be drawn to. There are curious views and things that I find fascinating, that had I grown up here I might overlook. That's one of the really exciting things about making travel paintings — getting to know a new place and trying to remain open about whatever you're confronted with." He added: "It's such a beautiful island ... there's something about the coastline here that keeps me coming back. There's an interesting breadth of flora combined with the rocks and there's incredible oceanic life." Rocks featured as part of a double opening event, when John Rankin, the Governor, and Constance Dierman, the US Consul General, unveiled Pairing and Partners: Bermuda and Other Tales, which covers relationships between different works from the Masterworks collection as well as pieces on loan to the museum. It includes paintings by pioneering photorealist Malcolm Morley, who was one of Mr Bereswill's early influences and the two artists shared a friend and mentor in Tony Shafrazi, a New York gallery owner and dealer. Visitors can expect to learn more about the stories that link two otherwise unconnected items. Tom Butterfield, the founder and creative director of Masterworks, said that the pairings exhibition would provide a representative selection of work from the museum's archives. He explained: "It's harking back to the origins of the collection and is a fast-forward to where we are today because of the things that we've been able to acquire. It's a pretty comprehensive show without having to bring out all 1,500 works, so it's a wonderful sample of the whole collection."

James River Group Holdings, Ltd made a first-quarter 2019 profit of $22.7 million, or 75 cents per share. That was a 45 per cent improvement on the $15.6 million, or 52 cents per share, achieved a year ago. Adjusted net operating income for the first quarter was $21.7 million, or 71 cents per share, beating the 64 cents consensus estimate of analysts tracked by Yahoo Finance. The Bermuda re/insurer's expense ratio was 22.6 per cent, an improvement of 2.3 percentage points year-on-year. Gross written premiums were $327.3 million, an improvement of 10 per cent. Robert Myron, chief executive officer, said: "We have begun 2019 with an outstanding quarter, generating a 16.9 per cent annualized adjusted net operating return on average tangible equity. We also grew tangible book value per share inclusive of dividends by 10.4 per cent during the quarter. We had strong earnings contributions across the organisation, as all three operating segments generated positive underwriting income. We were again able to achieve rate increases on our core excess and surplus renewals, which were up 3 per cent in the quarter year over year, and submissions increased 17 per cent. I am pleased that we grew gross written premium 14 per cent across our two primary insurance segments, E&S lines and specialty admitted insurance, as this is where we have been focusing our growth efforts." Mr Myron said investment income increased 47 per cent over the prior year quarter, as the company benefited from the investment markets' rebounding during the first three months of the year.

May 1

Changes to legislation to tackle the problem of mixed-status families will be tabled this summer, the national security minister said yesterday. Wayne Caines said: "We believe that by the end of this parliamentary session, we will definitely be able to have legislation that will go through the parliamentary process on mixed-status families." He added that the Government would also be "looking closely on dealing with the belongers issue". Mr Caines said: "We will be looking at the issue, specifically on this occasion, of children that are born to Bermudian parents overseas. So we'll be looking to pass legislation on those things specifically this parliamentary session." He was speaking as he announced the start of a two-week consultation period to canvass public views about the way work permits are granted. Mr Caines said the request was to make sure any potential changes to the system had public support. He added: "It is hoped that any changes made will assist in skills, job enhancement, training and development opportunities for Bermudians who may be unemployed, underemployed or are looking for a career change. We believe that any decision made will affect us all, so it is of the utmost importance that everyone be given the opportunity and follow through with voicing their concerns, their opinions and providing their feedback." Jobs are classified under four work permit categories: closed, restricted, special and open. Mr Caines said he was often stopped on the street or contacted about concerns about particular jobs going to expatriates. He added: "There are a number of people that have opinions. They believe that certain categories should be changed." Mr Caines said that the Government had pledged that immigration policy would "better reflect our mandate of putting Bermudians first. This includes ensuring that Bermudians can secure employment in their own country." Mr Caines said he had asked the Department of Immigration to make changes to work-permit policies. "We wanted a policy to strike the right balance between the legitimate expectations of Bermudians and the legitimate labour needs of businesses." Members of the public can register their opinions at forum.gov.bm. Written responses can also be dropped of or mailed to the Department of Immigration. The closing date for submissions is May 14.

Millions of tennis fans around the world will get an introduction to Bermuda this summer when the island sponsors the US Open Tennis Championships, it was revealed yesterday. The Bermuda Tourism Authority has been unveiled as the exclusive tourism sponsor of the event, watched by more than 800,000 people at the stadium in New York and broadcast to more than 100 countries. Kevin Dallas, the chief executive of the BTA, made the announcement with the United States Tennis Association. He said: "This strategic alliance is part of Bermuda's sports tourism strategy born out of the new National Tourism Plan. The partnership kicks off with the 2019 US Open this summer in New York City, which is Bermuda's top source market for visitors. Benefits of this new partnership will include court signage, including the Bermuda logo, which will be visible for more than 100 hours of live television broadcast in the US, Canada and the UK, in addition to more than 100 other countries." The collaboration will also allow BTA representatives to meet tennis fans who attend the two-week tournament or the US Open Fan Week. Mr Dallas said the BTA was also working with both the USTA, USTA Player Development, the USTA Foundation and Bermuda's tennis world to bring an event to the island next year, to be broadcast on the Tennis Channel. He added: "This event will feature a pro-am, exhibitions with tennis legends and rising American players and kids clinics for Bermuda's own rising stars. This will bring additional visitor spending to the island and exposure for Bermuda as a premier luxury sports and travel destination." Mr Dallas highlighted Bermuda's role in the introduction of tennis to the US — Mary Ewing Outerbridge, considered the mother of American tennis, was first exposed to the sport when she visited her family's home in Bermuda in 1874 and took the game back to America. Mr Dallas said: "The brand story of Bermuda introducing the sport of tennis to the United States is just one example of how we punch above our weight as a small island out in the middle of the Atlantic. The collaboration also puts Bermuda in the cultural conversation at one of the must-see events in New York City. As summer comes to a close in the city, we will leverage this platform to invite New Yorkers to extend their summer season with active adventure out here in Bermuda." A BTA spokesman said the total cost of the marketing partnership has not been finalized. "There is still activation planning and event budgeting to complete. And even when full costs are known, there will be some portions undisclosed due to agreement restrictions that are commonplace in USTA marketing deals. That said, the BTA is confident this partnership will be fully covered by the organisation's existing budget allocation; no increases in funding will be required. Also, as a general rule, marketing partnerships of this kind must generate at least a 5:1 return on investment for Bermuda to be even considered, so for every dollar spent the BTA seeks at least $5 returned in estimated value or economic impact — and in most cases the ROI is higher than 5:1 when a post-event analysis is completed." Fortune magazine in 2017 reported that brands could pay between "the low seven figures up to eight figures" in sponsorship. The cost was based on the prominence of signs at the court, the amount of promotional space on the ground and the amount of hospitality offered. Gordon Smith, CEO and executive director of the USTA, said: "It's great that Bermuda and US tennis are back together again. Tennis really got started in the US thanks to Bermuda and here we have really come full circle." He added that Ms Outerbridge's brother played a key role in the foundation of the United States National Lawn Tennis Association, which created the US National Championship — the event that became the US Open. Mr Smith, a regular visitor to Bermuda since 1985, said: "But for Mary and her brother, who knows if we would even have a USTA or a US Open?" He added: "We are going to show so many hundreds of thousands, millions of people what a wonderful place it is. We are confident that the power and the reach of the US Open, both in the US and around the world, will give so many others the opportunity to know Bermuda the way I and many others know it." The 2019 US Open will be held from August 26 to September 8 at the USTA Billie Jean King National Tennis Centre in Flushing, New York. According to the USTA, a record 828,798 people attended the event last year. The event was also watched by 44 million viewers in the US on ESPN and ESPN2 and a further 44 million in Europe through Eurosport 1 and Eurosport 2 coverage.

Ten thousand insurance conference delegates in Boston got a surprise as they awoke to news yesterday that a $1.8 billion insurance and reinsurance start-up is being launched in Bermuda. For the contingent of representatives from Bermuda, the announcement was an extra boost to what was already shaping up as another successful attendance at the Risk and Insurance Management Society conference and exhibition. As reported in yesterday's Royal Gazette, Stephen Catlin, who founded Catlin Group, which later became part of XL Catlin and subsequently Axa XL, has a new firm called Convex. It will underwrite insurance and reinsurance in Bermuda and London and is expected to create at least 50 jobs in Bermuda. Speaking from Boston, Curtis Dickinson, Minister of Finance, said: "I learnt about it this morning. It is a fantastic endorsement of the jurisdiction. Stephen has been in Bermuda for a while with his own company. The fact that he has decided to have another go at it, and bring a number of jobs to Bermuda — it is an endorsement of his belief in what the jurisdiction has to offer." Mr Dickinson was expecting the news to create a buzz at a Bermuda-hosted reception last night. Rims attracts risk-management professionals, legal, compliance and finance directors and senior executives from more than 70 countries. The finance minister was attending the conference for the first time. In the company of Mary Roth, chief executive officer of Rims, and the organisation's president Gloria Brosius, he toured the exhibition hall and visited Bermuda companies and affiliate booths. He was also involved in a round of media interviews. One topic raised by reporters was the island being put on the European Union's list of non-cooperative tax jurisdictions in March, as a consequence of a drafting error in its economic substance regulations submission to the EU. Mr Dickinson told The Royal Gazette: "They asked what the next steps were. We are just shy of three weeks from May 17 when Ecofin [EU Economic and Financial Affairs Council] will be meeting to make determinations. We feel confident that at the first opportunity we will be de-listed." He also said Bermuda had been well-received at this year's Rims event. "Our message is very simple, we are a place that is open to business, and we have a long and demonstrated track record of collaboration between industry, government and regulator. When those three things come together it makes us an ideal platform for anyone who is trying to do good business." John Huff, CEO of the Association of Bermuda Insurers and Reinsurers, was also delighted by the news that Mr Catlin was creating a new firm domiciled in Bermuda. He said: "It demonstrates that Bermuda is still a place to start and grow a company. We are thrilled to have Stephen Catlin back and involved. He was a former Abir president. We're optimistic that they will be engaged again with the collective efforts of Abir. Stephen is a great leader, and I look forward to the excitement of a new company." One of the themes being talked about at Rims was cyber-risk. Mr Huff said: "It is the fastest growing line of business, and the Bermuda companies in particular are so well positioned. If you look at the top participants with the new data that is out, those are Bermuda companies. There is energy around cyber growing and emerging lines business." As in previous year, Bermuda had a prominent, two-level booth on the exhibition floor that acted as a meeting place and information point for anyone interested in what the island has to offer, and to meet representatives of Bermuda's business community and institutions. Bermuda's presence at Rims is coordinated by the Bermuda Business Development Agency. Andy Burrows, CEO of the BDA, said: "Interest in the country is good. We continue to be a strategic partner for the US market in particular." He said there has been conversations "around what the next wave of risks are in the world, whether it is trade, cyber or technology — and how the Bermuda market has always been innovative and forward thinking in anticipating the next opportunity to expand the market". US flooding on coastlines and in the mid-West were among talking points. Mr Burrows said: "The climate change conversation is now coming to the fore. There is an opportunity to introduce Bermuda to that space." Regarding Mr Catlin's new venture, he said it showed that mergers and acquisitions did not necessarily cause a decline in business. "It spurs people who have benefited from the island and understand the Bermuda story, love the proximity of the market, love the innovation, and want to continue in this space and are able to reinvent themselves," he said. "So, Stephen Catlin forming a new company, staying in Bermuda and now with a licence to do business and employing 50 people — that in a nutshell is why Bermuda continues to be a strong presence in this space." Another member of the delegation was Jeremy Cox, executive chairman of the Bermuda Monetary Authority. He praised Mr Dickinson's handling of media questions about the EU blacklist. He said: "That question came up, the minister handled it extremely well. He talked about the goodwill that has been established on the latest visits to the EU by himself and the Premier, and the strong hope that very soon Bermuda will be de-listed." Mr Cox was pleased to see new faces helping to get the island's message out at the Bermuda booth. "It's wonderful to see such a diverse group representing Bermuda. Having come to Rims so many times, you get used to familiar faces. Perhaps I'm dating myself, but I don't know anyone any more from the booth. It's a new generation of people who are stepping up and representing Bermuda and that's a positive for the country." David Burt, the Premier, has joined the Bermuda group for meetings with media and state and city civic leaders, and members of the Greater Boston Chamber of Commerce this week.

Former foster children are at greater risk of becoming homeless once they strike out on their own, a community activist warned yesterday. Gina Spence said that many homeless young people had been forced to leave their foster homes after they became adults and ended up on the streets because they could not afford somewhere to live. She explained that foster families that break contact with their former foster children may do so because of a lack of space or financial constraints. Ms Spence added: "I had a situation where a young lady was staying with a foster parent who had taken her from young and the foster parent was a senior now. She just was not able to maintain the life of the young person and herself because it was just the two of them." Ms Spence said that some young people had resorted to drug dealing or prostitution to survive, which could cause feelings of guilt or shame. She added that, because of the situation they were in, many young people were vulnerable to exposure to the elements and violence. Ms Spence explained: "Once you're out there, you're vulnerable to all types of danger, whether it be drugs, whether it be abuse physically, whether it be abuse sexually, whether it be just the threat of somebody knowing that you don't have anywhere to live so they say 'if I give you this space you've got to do this for me'." Ms Spence said that many young people who leave the foster-care system sleep at houses of friends or in a derelict house with others. She explained: "If you have maybe two or three of them that are all in the same position, they would all meet at this house where they can then relax, and then they just take up residency there." A spokeswoman for the Department of Child and Family Services said that officials took several precautions before foster children left the system.
These included:
A year before the child ages out of the system, an assessment of any obstacles the child might face is made
The Ageing Out Youth programme at Bermuda College offers free tuition
The Foster Parents Association provides funding for books and "incidentals" for the Ageing Out Youth programme and advice on scholarships
Foster Care runs a ten-week life skills programme for foster children aged 16 to 18, which provides "the tools to recognize, evaluate, and revise expectations from others and themselves"
The department spokeswoman said that it was common for foster children to remain with their foster parents even after they became adults. She added: "The department can confirm that all children ageing out in 2019, and most recent years, have remained with their foster families post ageing out."

A middle-aged man sleeping rough at an empty office building has a worse life than "a stray dog", a Good Samaritan who keeps an eye on his welfare has said. Deborah Smith, a retired government employee, added that Patrick Henderson, 58, a former foster child "outgrew the system". Ms Smith said: "We need somewhere for these guys to lay their heads and get fed." She was speaking after the deaths of four homeless people in the first three months of the year. Ms Smith said: "Somebody goes to jail for killing somebody or molesting a child and they'll get three meals a day. Any medical attention they need, they get. For such an affluent society, we shouldn't have anybody laying out in the cold streets. We have so many empty buildings." Ms Smith admitted that she sometimes "couldn't even sleep — I even feel guilty eating". She said she had a family member with special needs who was "blessed because she has me and her family and the system to take care of her". She added: "But before her, I knew Patrick. He is not able to take care of himself. But if you don't come under the right umbrella, everybody just passes the buck." The Royal Gazette spoke to Mr Henderson last month at the building at the west end of Victoria Street that serves as a makeshift home. He said he had been on the streets so long, he could not remember exactly when he became homeless. Mr Henderson added: "I have to think — it's been a long time. Probably more than 15 years." Mr Henderson said there were "people who help me out", but that he needed a pair of shoes. He added that life on the street "sometimes gets rough". Mr Henderson used to earn some cash washing cars but now depends on help from others. He said: "I try to get shelter, especially when it's cold. Sometimes I go to the Salvation Army. The people down there are nice." Mr Henderson, surrounded by his blankets and bags of possessions, said: "I come here sometimes, not all the time. Sometimes I'll stay around by Court Street." Martha Dismont, the executive director of the charity Family Centre, estimates that "hundreds" of squatters rely on derelict buildings for shelter. Mr Henderson knew homeless man Reginald "Sonny" Furbert, who died in January, and Keith Peniston, who died in March after he was found collapsed on a city street. He said: "It's rough for them all. Sonny was a good guy — everybody loved Sonny. His mom used to come around Court Street looking for him. It's tough." Mr Henderson said some homeless people were "staying in cars — and a lot of people were staying down at the dump". He added: "I prefer to be on my own. You have to watch out for certain people. The young guys might take stuff." Randy Bean, from Pembroke, began to live on the streets in the 1980s after he was forced to leave his foster home when he turned 18. The 55-year-old started to sell drugs after dropping out of school at 15 and his foster parents threw him out when he became an adult. He said: "I lived on the land, lived in the bushes and I built something to call home. I felt that society didn't really have anything to offer me at that time because I went into the Rastafarian religion, so I was more focused on living off the land, repatriation, and learning how to deal with life skills." However, Mr Bean, who struggled with reading and writing, said his life took a downward spiral after he started to use heroin when he was 22. He explained: "Somebody I was talking to said 'hey look, try this dope out, it'll keep your manhood going', and so I tried it and I liked it, and I got hooked on it. After the heroin is in your system, you need a hit every morning. It was disturbing. I was in a place where I couldn't read, I couldn't even really go out there and get a job because I was embarrassed because I didn't want certain people knowing that I wasn't a good reader. So you've got to depend on what you know — how to get over, how to hustle, how to scheme — just to make ends meet and I was in that category. It took the best out of me. It took the best out of my years. And then I hit rock-bottom, I had nowhere to stay." Mr Bean said he started on the road to recovery after a married couple introduced him to the Church when he was 28. "Somebody invited me to a service at the First Church of God and I gave my heart to the Lord, and from there my life made a U-turn." He lived in Mission House in Paget to get clean until it closed in 2002. Mr Bean now lives with his family in Pembroke, works as a painter and gives motivational speeches to at-risk boys. He said: "Something needs to be put in place so that these guys will hear other guys' stories that have been there. It shouldn't have to take them going to jail to find out that this is what it is and when they go to jail, they even come out worse. They need to know that outside of being on the street corner making money, there is more to life."

A drug addict who stole a pack of socks to fuel his habit has been jailed for 28 days after he refused help for substance abuse. Raymond Robinson, 55, pleaded guilty last month to stealing $24 worth of socks, Magistrates' Court heard on Monday. However, Robinson refused to attend drug treatment court or participate in a Bermuda Assessment and Referral Centre report that could help with his drug problem. Robinson, from Pembroke, said: "The charge that was read out, that's not me any more. I don't need any help." Robinson had stolen the socks from Arnold's Discount Warehouse in Pembroke on March 11. A social report revealed that Robinson had a history of stealing goods to pay for drugs. Jonathan White, Robinson's lawyer, said that the low value of the items stolen should mean a fine. He added: "It would be an awful shame if we were sending people to Westgate over $24 worth of socks." However, Nicole Smith, for the prosecution, argued that Robinson was a repeat offender and did not take part in "helping services", which made prison time a necessary punishment. Magistrate Maxanne Anderson sentenced Robinson to 28 days in prison and made a restitution order for $24.

Amid all the excitement of MS Amlin World Triathlon Bermuda, another of the island's top female athletes was back home for a short, unplanned, low-key visit. Vanessa James, one of the world's top figure skaters, returned for the funeral of her grandfather, Carlton James, last Thursday. She spent some time with her family before departing last weekend to return to her base near Tampa, Florida. "I came back here maybe three years ago for Bermuda Day; I did recognize it a little bit," James told The Royal Gazette. "Before that it had been, maybe, ten years. I was little and only went where my parents took me. I went to my old school [Mount Saint Agnes] yesterday and they had some posters of me up on the wall, which was really nice. I went to talk to some of the teachers there. I have memories more of my school, my cousins and my home, and Horseshoe Bay of course. When you live here you don't get to appreciate what I appreciate now about Bermuda." The James family lived in Devonshire and Vanessa went to Avocado Lodge Preschool and then on to Mount Saint Agnes Academy. James is the daughter of Bermudian Kevin James and was born in Scarborough, Ontario, Canada, before living in Bermuda up to the age of 10 when the family first moved to North Carolina and then Virginia when her father started working in Washington. A lot has happened for the 31-year-old since those adolescent days. She holds permanent residency in the United States and because of her Bermuda ties through her father, holds British citizenship and became a French citizen in December 2009. Her skating partner, Morgan Cirprès, is French. The pair are the 2019 European champions, the 2018 world bronze medal-winners, the 2017 European bronze medal-winners, the 2018 Grand Prix champions and six-times French national champions. They represented France at the 2014 and 2018 Winter Olympics, while James also competed at the 2014 Olympics with previous partner Yannick Bonheur. She is also the 2006 British national champion in single skating. She took up skating with her twin sister, Melyssa, after watching the 1998 Winter Olympics, originally representing the Washington Figure Skating Club. "I picked up skating at age 11, so it has been 20 years now," Vanessa said. "It took some time, but I'm very proud and can see that Bermuda is very proud of my family and very proud of me. It's nice to have that support system back home. The season just finished, so thank goodness I was able to come home. There are many cousins, aunts and uncles that I hadn't even met. Tyler Smith, the tennis player, is my cousin. This year was magnificent, we got our first European title and we were undefeated until the end of the year when I had a freak accident before the world championships. It was our first season that we were undefeated in any competition that we participated in up to worlds. We made history for our fans and obviously for Bermuda." James admits she still has a lot of skating left as she looks ahead to the new season. "In single skating [31] is old, but in pairs skating not really; you have to take the time to develop the couple," she explained. "The women have to be women and not girls and the men have to be developed and strong. Pairs skating starts at a late age and goes on longer, so 34 to 37 for men is the maximum we've seen in the Olympics. I have about three years left in me, which is perfect for the Olympics in 2020. The next goal is to keep it going, keep improving and get that world title and Olympic medal. I can't let my family and Bermuda down!" With a British passport, James began competing for Britain in 2005, showing early signs of her potential by winning the gold at the 2006 British Championships, becoming the first black British figure skating champion. James represented Britain in the 2006 ISU Junior Grand Prix and at the 2007 World Junior Championships. Her last event as a single skater was the 2007 International Cup of Nice where she won bronze. In late 2007 James switched to pairs skating, partnering briefly with British skater Hamish Gaman before teaming up with French skater Yannick Bonheur in December that year. They made their international debut as the James/Bonheur team in 2008 when they placed seventh in the Trophy Eric Bompard. They were ranked tenth at the 2009 European Championships in Finland and that same year finished twelfth at the 2009 World Championships in Los Angeles, the result enabling France to qualify for a spot in the pairs event at the 2010 Winter Olympics. "Since Bermuda doesn't have a rink, which I hope eventually they will, I went to skate for Great Britain," she said. "I was doing pretty well in single skating, but not well enough. I was a very good skater in practice, but not quite as strong in competing, so one day I said 'Mom, I can't do it, I'm done skating'. "My mom didn't want me to finish skating, but she respected my wishes. At that time, thank goodness, there was a British boy [Gaman] who asked if I wanted to do pairs skating and my mom who always pushed me to pursue my dreams, said, 'Go for it, try it'. I still loved figure skating, it was harder for me to be on the ice alone and perform, rather than have somebody next to me and share the stress and ups and downs. We only skated together for about eight months before I started picking it up very quickly and exceeded his level. We decided to stop our partnership and I found Yannick Bonheur, who is originally from Martinique, and we hit it off quite well. The French federation loved what we were doing and were like, 'All right, are you ready to skate for France?' It wasn't the time to think about citizenship, so I went there one week later and started skating for France. We exceeded everyone's expectations, won every competition for France, and then it was time to think about the Olympics because I had moved to France in 2008 and had two years before the 2010 Olympics. Because of my British citizenship it was easy, especially at my level and having won nationals. The federation pushed for my citizenship and I got it in January, 2010, about a month before the Olympics." Her parents have travelled the world to see her perform. "She left for France in 2008 not knowing how to speak French and didn't know anyone there," said James's mother June, who is Canadian. "I consider that courage. We just came back from Japan to watch her in the worlds; before that it was the worlds in Milan and before that South Korea." James believes the key to her success with Ciprès is having the right chemistry. "We started skating together in September, 2010, not too long after doing the Olympics with Yannick," said James, who speaks fluent French. "It's like a relationship, Morgan knows me so well because he is one of the people, other than my parents, who spends so much time with me. We have good chemistry and know each other inside out. We were friends first and made each other laugh on the ice." Surya Bonaly, a black France figure skater, has been an inspiration to James. "When I was figure skating I can't say I had a role model other than Michelle Kwan, because she was the person I watched," she revealed. "What I do respect about Surya is being the only black figure skater at that time. I can't say my life would be so easy without her having gone through so much before me. She is an idol for her persistence and determination and going through solitude as the only black woman and being discriminated against. She deserved gold medals, but was only given bronze; she made my figure skating career easier. It's an honour to travel, motivate and inspire people all over the world." James encourages young female athletes in any sport to believe in their ability. "Just believe in yourself, believe your parents when they tell you can do it," she encouraged. "There were many times that I wanted to stop skating, but if I did, where would my life be? I don't have any regrets today, I'm very proud of my path and what I've done for future skaters of colour. Right now, there are maybe three black skaters, which isn't a lot, but I never felt discriminated against. My dad told me, 'Don't give them the benefit of the doubt; you have to be ten times better than anyone else in order to succeed'. That's always been my drive. I think I'm bringing a different dimension to the sport because of my colour."

A popular bartender at the Leopards Club in Hamilton has died. Walter Brangman was 64. A packed house paid their respects to Mr Brangman yesterday at a memorial service at the club on Cedar Avenue. Mr Brangman, a graduate of the Hotel Training School, was a trained chef and loved to cook, but preferred to work as a bartender and made it his vocation. He worked at several hotels and restaurants around Bermuda, including Elbow Beach, the Hamilton Princess and the Fairmont Southampton, before he settled at the Leopards Club. The memorial tribute from the Leopards Club said Mr Brangman was a man who "loved being a bartender". The tribute added: "It was a career that perfectly suited his personality. He loved people, made friends easily and had that listening ear that any good bartender requires." Mr Brangman was a keen traveler who loved driving and had friends around the world. He had been planning a trip to Manchester, England, to visit his niece, Janay, who was due to give birth on his birthday, and meet his great-nephew, Jace, when he suffered a stroke. The tribute added: "Hospitality has lost a fine ambassador. However, the Brangman family has lost an irreplaceable gem. He will always be remembered and appreciated by all who knew him locally and overseas."


Last Updated: May 26, 2019
Multi-national © 2019 by Bermuda Online. All Rights Reserved