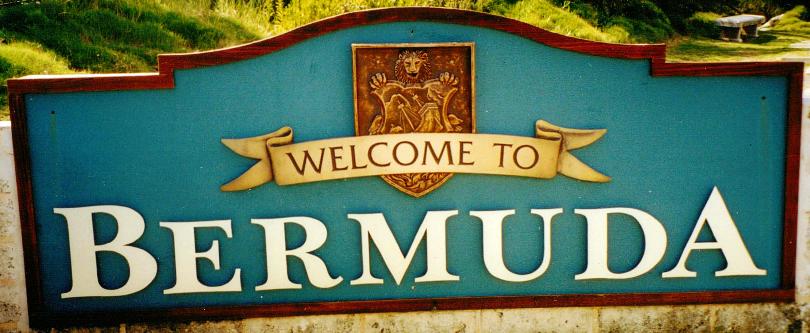 11165+ web files, a regularly updated Gazetteer, overall an in-depth description of our island's internally self-governing British Overseas Territory 900 miles north of the Caribbean, 600 miles east of North Carolina, USA. With accommodation options, aircraft & shipping registers, airlines, airport, actors, actresses, banks, beaches, Bermuda Dollar, Bermuda Government, Bermuda-incorporated businesses and companies including insurers and reinsurers, Bermudians, books and publications, bridges and causeway, charities, churches, citizenship by Status, City of Hamilton, commerce, communities, credit cards, cruise ships, cuisine, currency, disability accessibility, Devonshire Parish, districts, Dockyard, economy, education, employers, employment, environment, executorships, fauna, ferries, flora, former military bases, forts, gardens, geography, getting around, golf, guest houses, history, historic homes, Hamilton, House of Assembly, housing, hotels, immigration, import duties, internet access, islands, laws, legal system, legislators, main roads, marriages, media, members of parliament, money, motor vehicles, municipalities, music and musicians, newcomers, newspaper, organizations, parks, parishes, Paget, Pembroke, performing artists, residents, pensions, political parties, postage stamps, public holidays, public transportation, railway trail, real estate, religions, Royal Naval Dockyard, Sandys, senior citizens, singers, Smith's, Somerset Village, Southampton, St. David's Island, St George's, Spanish Point, Spittal Pond, sports, taxes, telecommunications, time zone, traditions, tourism, Town of St. George, Tucker's Town, utilities, water sports, Warwick, weather, wildlife, work permits.

Bermuda's 2018 November History and Newspaper Reports
Events that made newspaper headlines in the eleventh month of this calendar year
By Keith Archibald Forbes (see About Us) exclusively for Bermuda Online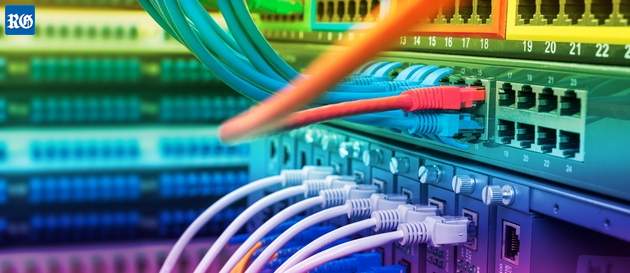 Benefit of website linkage to Bermuda Online while traveling
See at end of this file all our many History files
Bermuda's only newspaper, the Royal Gazette, is not published on Sundays or Public Holidays but sometimes has some Sunday and/or Public Holiday news online.
November 19

November 18, Sunday

November 17

The Bermuda Government could reap an extra $147 million over a two to three-year period if policy recommendations from the Tax Reform Commission are implemented, MPs heard this morning. The commission's report was tabled in the House of Assembly by Wayne Furbert, the Junior Minister of Finance. The seven-member group, which has met over the last nine months, was set the job of reviewing the island's tax regime and looking for "equitable, effective, efficient, competitive and transparent" means to boost public sector revenue from 17 per cent of GDP to a minimum of 20 to 22 per cent of GDP. Mr Furbert said that the extra $147 million would boost the Government's revenue to $1.26 billion. This would stand at 20 per cent of GDP, compared with 17 per cent of GDP in 2017, Mr Furbert said. Recommendations within the report include:
A progressive tax on commercial and residential rentals yielding an extra $41 million;
A general services tax that would bring in $27.5 million;
A "withholding tax" on overseas services that are locally provided, which would result in $27.5 million extra revenue;
Aligning company fees with a company's assessed capital, to the tune of $25.5 million.
Mr Furbert said the Government would consider the commission's findings and consult with stakeholders "before any major changes are made to our tax system".

Premier David Burt blasted the Opposition for its pessimism about the island's economy last night, pledging he would reduce our debt by next year while growing and diversifying the economy. The Premier took to his feet in the House of Assembly after about six hours of debate on Opposition leader Craig Cannonier's Reply to the Throne. "We will, next year, begin to reduce our debt. That is a fact," Mr Burt said. "This year, is the last year that net debt will increase and next year net debt will decrease. It is going to happen. We will grow the economy. We will diversify the economy and we will take on the forces that are holding us back." Mr Cannonier had said in his reply that urgent action was needed to stimulate the "flatlining economy" but Mr Burt accused the Opposition of being agents of the past. He said that those on the international stage were much more optimistic about the potential of the fintech industry than the Opposition. He said that Brian O'Hara, former CEO of XL, said the way that people speak of fintech now reminded him of the way people spoke about the insurance industry in Bermuda in the 1980s. "He [Mr O'Hara] is on the board of a fintech company started up in Bermuda under this government. Doug Soares [managing director of Hamilton-based Expertise] … says that the start-up activity he is seeing in Bermuda is something he hasn't seen in a very long time. It is not going to happen overnight." The Premier's remarks were followed by a statement from Damon Wade, the chairman of the Progressive Labour Party, which noted that the Chamber of Commerce had approved of the Throne Speech's "focus on people caught in the gap between income and expenses". Defending the PLP's plans for the economy in the House, Mr Burt said his party would "jealously guard" Bermuda's reputation globally in the area of fintech. Long-term, sustainable economic growth was the focus of his party, he said. "The way you create that economy is by ensuring that there is equity inside of society. That is the only way you get sustainability. If you reduce costs across the economy people have more money to spend and it creates more jobs because the economy is more productive — that is how you build long-term growth. Anyone can spend $100m on a one-time event [the America's Cup] — what is hard work is putting sustainable things in place to ensure that we have a sustainable future." Mr Burt mentioned the PLP's work in creating a living wage and more competition in the mortgage market to drive down costs as examples. Mr Burt disputed claims from the Opposition that the issue of immigration was controversial, insisting that trust was lost in the former government when it tried to push through the Pathways to Status legislation the day after losing a by-election. "It is not controversial if the people trust what you are doing." Mr Burt added: "This government recognizes that you need to have a bipartisan approach to these problems."

The One Bermuda Alliance called yesterday for urgent action to stimulate the "flatlining economy" and stem the flow of cash overseas. Opposition leader Craig Cannonier said private pension schemes should be made to invest some of their portfolios locally and that all businesses, including exempt companies, must participate in the mandatory private pension scheme in Bermuda. In his Reply to the Throne Speech, Mr Cannonier also called for further amendments to the 60:40 rule to encourage local investment from the rich and new bankruptcy legislation to reduce risks for start-up businesses. He suggested privatizing delivery of some public services to encourage innovation, with civil servants able to take ownership in the new ventures. The OBA further proposed a public register on the use of health services to get to the root cause of soaring costs, an independent education authority and a "big conversation" on women's rights and equality. In a strongly-worded response, his first as Opposition leader since 2012, Mr Cannonier labelled the Progressive Labour Party a "national disgrace" for a string of controversies. He accused the PLP of taking credit for the success of OBA policies it previously attacked, flip-flopping on issues including same-sex marriage and minicars, indulging in a "colonial-style high tea" at Tucker's Point in September, and handing $1.2 million to former premier Ewart Brown through a "friends and family payment". Mr Cannonier also referred to national security minister Wayne Caines asking a young woman server for "titty milk" in a London café and the PLP's criticism of new Chief Justice Narinder Hargun based on his ethnicity. He told the House of Assembly: "It all adds up to a national disgrace. It exposes the true feelings of the Burt Administration about anyone who is not part of their elitist clique." Mr Cannonier said the OBA had strengthened the economy and created jobs during its 4½-year tenure, thanks in part to the airport redevelopment, America's Cup and hotel developments, which were heavily criticized by the PLP. However, he said: "The only positive numbers the Premier can highlight are the OBA's doing. The economy is now flat-lining. Where is our much needed economic stimulus going to come from? The legacy of the America's Cup has been squandered by the PLP. All the capital projects under the OBA will eventually come to an end. The economy seems to be slipping backward, evidenced by the negative trend in retail spending: six months of decline." He warned: "If things don't change, and change fast, Bermuda will be the fallen star of the North Atlantic. The fact is, despite the Premier's cheerleaders lauding his recent policy offerings, we are actually chasing the tail of a recession." Mr Cannonier said the Throne Speech had not spelled out any economic stimulus. He called for more policies to take advantage of the large wealth of international business. "Although international business captures an incredible amount of foreign capital, not enough of this permeates into the local economy," he said. "The highest earners in any economy spend the smallest percentage of their income on consumption. Therefore they can dedicate the highest percentage of their income to investment and savings. Private pension schemes now trail personal savings as the largest category of outbound cash flows from our shores." He said entrepreneurs were struggling partly because Bermuda's banks were "shunning local business loans in favour of investment products. The OBA therefore proposes that private pension schemes invest a portion of their portfolios locally. We also propose that all companies that operate in Bermuda, including those in the exempted space, participate in the mandatory private pension scheme. This will help mitigate the immediate outflow of capital from our shores and drive the development of our local capital market." The 60:40 rule, he said, should be amended again so that "all Bermuda residents may qualify under the 60 per cent ownership portion". He explained: "This will allow more of the wealth already on the island to be invested into our economy, which again increases the availability of domestic capital. This provides more competition for the banks, which will drive better lending rates for Bermudians." New bankruptcy legislation, he said, could help Bermuda become a hub of innovation. He said: "We must create not only the educational programmes, but also the legal framework, so that when business start-ups encounter risk, this need not be life-ending." He added that the Bermuda Monetary Authority should create a specialized economic unit to monitor and regulate bank fees. On healthcare, Mr Cannonier pointed to the controversial $1.2 million payment to Dr Brown for losses at his two medical clinics after fees for diagnostic imaging scans were slashed last year. He said: "Does the Premier not understand that the people of Bermuda know exactly what is going on?" He added: "It is unlikely that there will be any meaningful reductions in healthcare costs until Government is prepared to tackle the main drivers of increasing costs, which are over-utilization and unrestrained provider fees. Let me repeat that the real reason health costs are so high is due to overuse of certain services. We believe that a public register to track utilization across the whole system will lead to a more transparent and meaningful conversation about which services are being over-utilized. This will remove the ability for those with vested interests to divert progress towards a sustainable and affordable healthcare solution for all Bermudians." On education, he said the OBA would budget per term for teachers to buy supplies and equipment, establish an independent standards board equivalent to the Auditor-General to monitor student performance and establish a professional development centre for teachers. The OBA would add learning time by cutting school holidays and extend the school day to allow for more time for the arts, sports and academic support. On social issues, his suggestions included providing more artistic outlets to at-risk young people, and considering a high school diploma for special education.

A boat driver who admitted causing the death of a woman was not convicted of the offence because of a Supreme Court error. Andrew Lake admitted causing the death of New Zealander Mary McKee by reckless driving after passing over her small inflatable boat on a motorboat in June last year. However, the Court of Appeal heard yesterday that the charge was inadvertently "acquitted or dismissed" by the Supreme Court when he was found not guilty of the more serious offence of manslaughter three months ago. Lake, 27, was spared jail in August when he was given an eight-month suspended sentence for causing Mrs McKee's death by reckless driving. He was also handed a six-month suspended sentence for injuring Arthur McKee, Mrs McKee's husband, and yacht skipper Charlie Watson. During the trial, Lake said he was unable to see the smaller boat because it had no lights. He admitted that he was driving recklessly and over the speed limit, but denied allegations that he was traveling at more than 30 knots. Cindy Clarke, Deputy Director of Public Prosecutions, urged the court yesterday to make an order reversing the accidental acquittal, saying that otherwise there would be no punishment for the death of Mrs McKee. Jerome Lynch, who represented Lake during the trial, told the Appeals Panel that he unintentionally misled Puisne Judge Charles-Etta Simmons by telling her she did not need to put the death by reckless driving charge to the jury as he had already pleaded guilty. The Crown did not accept his plea and, because the charge was not put to the jury, Lake was not convicted of the offence. Mr Lynch said: "I clearly did indicate to the court not to leave it to the jury. I believe it was my suggestion to her at one point that, the respondent having pleaded guilty, the charge was not one that the jury needed to consider. The reality is the judge was certainly misled into doing what she did. It's not part of my submissions, and it never has been, that this respondent should escape the liability for that which he has accepted responsibility for from the outset." He suggested that the courts could return the matter to the Supreme Court, but argued that it would be better not to make any orders because the conviction would mean very little to Lake's overall sentence. Mr Lynch argued the court needed to be careful not to set a dangerous precedent by reversing an acquittal to a conviction, even with Lake's admissions. However, Ms Clarke said Bermuda law empowers the Court of Appeal to substitute an acquittal with a conviction if there was an error in law. She argued the Court should take that path and record a conviction against Lake as the acquittal was legally wrong, but agreed that the Court did have the power to remit the charge back to the Supreme Court. The Court of Appeal will release its decision next week.

Flora Duffy, Bermuda's world champion triathlete, is all smiles after collecting her Order of the British Empire medal at Buckingham Palace. A beaming Ms Duffy, a Commonwealth Games gold medal-winner in Australia this year, posted a photograph last night of herself presenting the medal alongside her husband, Dan Hugo. "Now it is official," Ms Duffy shared online from a "very special morning at Buckingham Palace". Ms Duffy was appointed the OBE in June of this year for her sporting achievements.

November 16

As Brexit looms for Britain, with question marks hanging over a deal over its divorce from Europe, the Bermuda Government stated last night that nothing would change in the island's relationship. David Burt, the Premier, is scheduled to hear more on Brexit this month during a trip to London. It came as an unpopular draft deal for the withdrawal from the European Union sparked political turmoil yesterday for Theresa May, the British Prime Minister. May's Cabinet was beset by ministerial resignations, and the pound dropped against the dollar and the euro. A tentative Brexit deal would include a 21-month transition period after the exit date of March 29, 2019. But May's draft agreement with Europe appeared to have slim hopes of winning approval in the British Parliament — raising the specter of a no-deal exit, which would scupper any transition. British trade would be subject to EU tariffs and cross-border travel would likely revert to the days of Customs and passport checks. With Bermuda's legal and business framework tethered to Britain, its departure from Europe has been closely watched. However, a government spokeswoman said: "Any Brexit deal or a no Brexit deal scenario will have no impact on the constitutional relationship between Britain and its Overseas Territories. Any protection of citizen's rights under the withdrawal agreement will equally apply to Bermudians with British Citizenship." She added: "The Premier will be attending the Joint Ministerial Council in London later this month and as part of the agenda for those meetings will be hearing directly from the Prime Minister or a representative of Her Majesty's Government on Brexit."

Two new cases managers will bolster Ageing and Disability Services, the health minister announced this morning. Kim Wilson said the new employees would begin work in January. She told the House of Assembly that the office would also introduce walk-in hours beginning on December 1. Ms Wilson added that ADS is to acquire new software for use with case management and is improving its coordination with police for abuse investigations.

Lovitta Foggo, the Minister of Labour, Community Affairs and Sports, provided updates on the Department of Workforce Development Programmes in the House of Assembly this morning. Ms Foggo said: "Mr Speaker, I rise today to provide this Honourable House with an update on the various initiatives being undertaken by the Department of Workforce Development to assist and prepare individuals for the world of work. The Department of Workforce Development carries out two main operational functions, namely Career Development and Training. The Career Development Section provides assessments, employment assistance and job readiness training while the Training Section administers educational funding programs, manages the apprenticeship and trainee programs and regulates certification standards in four designated occupational trades. Mr Speaker, in 2008 the National Certification legislation came into effect. In December 2017, the Training Section of the Department began National Certification in four specific occupations as required by legislation. This required Welders, Electricians, Automotive Service Technicians, and Landscape Gardeners to register with the Department of Workforce Development and participate in occupational training and assessments in order to achieve the National Certification designation. As of October 1, 2018, the number of registrants for National Certification totaled:
226 Electricians;
30 Welders;
214 Automotive Service Technicians; and
575 Landscape Gardeners
Mr Speaker, there has been a reputable shift in the number of Bermudians who achieved National Certification since December 2017 in the four occupations totaling:
108 Electricians;
15 Welders;
143 Automotive Service Technicians; and
84 Landscape Gardeners.
The remaining non-certified registrants are currently being assessed for approval by the Occupational Advisory Committee as provided under the National Occupational Certification Act 2004. Mr Speaker, the Training Section has been diligently collaborating with the Department of Immigration to deliver an effective Work Permit Policy with respect to National Certification. This Policy remains under review. However, this collaborative consultation process will ultimately result in alignment of the Work Permit Policy with National Certification to ensure:
Uniform advertising for positions that align with Certification criteria thus helping to level the playing field for Bermudians
Certified Bermudians are given a fair chance at any positions in that certified trade,
Employers demonstrate that they interviewed Certified Bermudian workers prior to being able to apply for a work permit, and
potential guest workers demonstrate competency in their respective occupational trade that will satisfy Bermuda's National Certification requirements before a work permit is granted.
Mr Speaker, the Training Section is also responsible for the establishment of Apprenticeships. Apprenticeships combine full-time employment and training under a skilled journeyman and creates a pathway for Apprentices to acquire a qualification. Steady progress has been achieved with a total of forty-seven (47) Apprentices and Trainees registered with the Department of Workforce Development at October 1st 2018. Benefits associated with the establishment of an apprenticeship programme include:
Payroll Tax Waiver for the employer; and
Apprentices receive paid work experience while pursuing a trade qualification.
Mr Speaker, the Training Section awards scholarships based on Bermuda's workforce needs, particularly in occupations of under representation by Bermudians. Scholarships awarded to-date include forty-two (42) students for overseas studies, totaling three hundred eighty-five thousand ($385,000); of which twenty-nine (29) were new and thirteen (13) are continuing students. Fifty-eight (58) students were awarded funding for Bermuda College studies, totaling one hundred seventy thousand ($170,000); of which thirty-four (34) were new and twenty-four (24) were continuing awards. Mr Speaker, the Training Section is currently expanding the Apprenticeship and Training Schemes. To this aim they have begun engaging employers to better understand their needs and how to increase apprenticeship and training opportunities for Bermudians. As a result of collaborating with employers, five new companies have signed agreements with the Department to train Bermudians in the field of Medical Coding and Billing, Computer Programming, Plumbing, Air-Conditioning and Refrigeration and Heavy Equipment Operators. Additionally, efforts to assist employers by providing support to train their existing Bermudian staff for career progress within their respective companies is also underway. The intent is to encourage career advancement and increased entry level opportunities for Bermudians. Mr Speaker, the Career Development Section prepares and supports individuals for work placement, particularly the vulnerable population group. Currently, a total of one thousand four hundred fifty-two (1,452) persons are registered with the Department as either unemployed or seeking alternative employment. Of the total persons registered, three hundred sixty (360) received Career Development services during the five-month period, May to September 2018. These services were varied and comprised of interest and skill assessments, resume development, employability training workshops, job search assistance, career guidance and case management towards job readiness. However, after receiving these services, only fifty (50) individuals actually provided feedback of their success in finding employment in areas such as compliance, hospitality, construction and cleaning. Mr Speaker, recently, the Department hosted an event in the west end community. There were general workshops on "Understanding What Employers Want: Employability Skills", "Your Online Image and Employment", and "Interview Skills: Winning over the Recruiter". Participants also had the opportunity to visit breakout stations and consult one-on-one with professionals on (1) Resume Development and Critique; (2) Bermuda Job Board Registration; (3) Job Leads and Future Opportunities; (4) National Certification; (5) Apprenticeships; (6) Bermuda College Programs; and (7) Funding. Mr Speaker, there has been significant follow-up with persons who attended the event in the west; assisting them with creating profiles on the Bermuda Job Board and arranging to meet further with staff to help them reach their career goals. Three more events of this nature are planned across the island between January and March 2019, taking the Department's services to the community. This will allow the Department to capture details on persons who are unemployed but who would not ordinarily come into the Department to receive services. It is also an opportunity to increase awareness about the Department's services and empower individuals and equip them with strategies to obtain their employment and career goals. Mr Speaker, as a requirement of the 2015 Work Permit Policy, the Career Development Section received requests for referrals relating to two hundred eighty-five (285) positions which were Restricted Jobs since May 2018. There were one hundred seventy-four (174) suitable candidates referred and sixty-two (62) hires during the same period. Currently, the referral process for Restricted Jobs is executed manually. In an effort to increase efficiency and shift to a paperless work environment, the Department plans to adopt a fully electronic referral system by December 2018, utilizing the Bermuda Job Board. The electronic job board will be upgraded to encourage and solicit constructive feedback from employers who consider or hire applicants through referrals from the Department. The feedback on individuals that were not hired is vital to address any development areas applicants may have and subsequently design development plans to position persons with the requisite skill-set for future employment. Mr Speaker, presently there are fourteen thousand, one hundred and thirty-seven (14,137) applicants registered on the Bermuda Job Board, two thousand and fifty-three (2,053) employers and two hundred and twenty-five (225) jobs posted. Since March 2016 there have been two thousand two hundred and four (2,204) hires through the Bermuda Job Board, consisting of nine hundred and sixty-two (962) in 2016; seven hundred and thirty-nine (739) in 2017 and five hundred and three (503) in 2018 to date. The Career Development Section regularly facilitates and offers employability skills workshops in the Department's training room to equip job seekers with the tools necessary for employment success. Since May 2018, only fifty-nine (59) persons participated in specialized workshops such as interview skills, resume development, and self-presentation skills. The low attendance is primarily attributed to 'no shows' and low registration. Recognizing the importance of marketable work skills, employers and human resource professionals have consistently indicated the need for applicants to develop and strengthen their soft skills and life skills. These are critical characteristics needed for employee hiring and retention in the workplace apart from the requisite technical skills. As such, the Career Development Section plans to expand its offerings of employability skills training to include online and evening courses in community clubs, churches and schools. The Department is presently working on a public relations campaign to increase awareness of the Department's services and the advantages of being registered as a client. It is the intent to continue to collaborate with the Department of Communications to develop a marketing strategy that will support and drive the work of the Department. This strategy will focus on greater visibility and engagement with employers and the community through outreach, satellite training, increased education and awareness, career fairs, town hall meetings and social media campaigns. A Marketing Strategy will be completed in December 2018 for immediate implementation. Much of this work is aligned with the National Workforce Development Plan which the Department intends to progress further as we continue to improve internal processes. Mr Speaker, the Department of Workforce Development will continue to assist and prepare persons for the world of work. The public relations strategy will support and drive the initiatives being undertaken by the Department. Once again, it gives me great pleasure at this time to update this Honourable House about the progress of the programs within the Department."

Sir Christopher Clarke has been appointed as the new president of the Bermuda Court of Appeal. The judge, who has served on the Court of Appeal since 2016, is best known for being counsel for the Bloody Sunday Inquiry and is a former senior member of the English Court of Appeal. He replaces Sir Scott Baker. Lawyer Craig Attridge has also been appointed to the Office of the Magistrate, to replace Archibald Warner, who has retired. John Rankin, the Governor, said: "I am very pleased to announce the appointment of Sir Christopher Clarke as the next president of the Court of Appeal and am confident that his legal expertise and experience will continue to serve Bermuda well, maintaining the island's reputation as a legal jurisdiction of the highest order." Mr Attridge has served in Bermuda's courts at all levels, as well as before the Judicial Committee of the Privy Council, the Court of Arbitration for Sport in Lausanne, Switzerland, and the Human Rights Tribunal. In the past eight years, he has run his own legal practice and has served as an Acting Magistrate on occasions since March. Mr Rankin said: "His experience in the field of criminal law and in wider areas, including serving as an Acting Magistrate in civil and family matters, make him well placed to take up this important position within Bermuda's justice system."

Opposition leader Craig Cannonier will give his Reply to the Throne Speech in the House of Assembly today. MPs will hear from the One Bermuda Alliance after the Government outlined its plans for the year last week. Mr Cannonier was expected to deliver his response after parliamentary business, including a series of ministerial statements. The Minister of Finance, Curtis Dickinson, is to outline a report from the Tax Reform Commission and Lovitta Foggo, the labour, community affairs and sport minister is to provide an update on workforce development programmes. Zane DeSilva, the Minister of Tourism and Transport, is expected to give statements on vacation rentals and amendments to the Bermuda Tourism Authority Act 2013. Wayne Caines, the national security minister, is to speak to roadside sobriety checkpoints and Lieutenant-Colonel David Burch, the Minister of Public Works, is to talk about affordable housing. Annual reports for the Bermuda College and the Bermuda Sport Anti-Doping Authority were also expected to be laid before the House. Legislation about merchant shipping and the role of the Chief Medical Officer were set to be tabled. Mr Cannonier previously said the Throne Speech contained "no real mention" of job creation or economic development. He claimed the Government appeared to have "all its eggs in the fintech basket" and that there was nothing to offer small and medium-sized enterprises. Yet he praised plans to ban single-use plastics, a promise to consider increasing paid maternity leave from eight weeks to 13 and the creation of an arbitration centre. Members of the public can hear more about Throne Speech initiatives at a meeting with David Burt, the Premier, on Tuesday at 6.30pm in the Berkeley Institute cafetorium. The Progressive Labour Party leader said: "This year's legislative agenda focuses on the cost of living and economic inequality. The town hall meeting will provide an opportunity to discuss many of the planned initiatives in detail and answer questions from the public."

Bermuda will be visited by both the Carnival Radiance and the Carnival Sunrise in 2020, according to Carnival Cruise Lines. The 2020 season will be the first for the Carnival Radiance, formerly the Carnival Victory, after an estimated $200 million refurbishment. The ship will be used for four and six-day cruises from New York. There will also be trips to other destinations including the Mediterranean and Cuba. The cruise line said the Carnival Sunrise will meanwhile host "long weekend" four-day cruises to Bermuda.

King's Wharf in Dockyard is to undergo extensive rehabilitation, the House heard yesterday. Lieutenant-Colonel David Burch, the Minister of Public Works, said that the wharf's building and deck needed to be "completely rebuilt" in a short window of time during the off season. Pre-cast concrete will be used from a New Jersey firm to aid speedy repairs to the wharf, which is one of two deepwater berths serving cruise ships at Dockyard. A Bermudian company, Crisson Construction, successfully bid for the demolition of the present deck at King's Wharf. The repaired wharf will have a life span of 75 years and a contingency plan is in place should the terminal building not be ready for the start of the next season. Colonel Burch told MPs the wharf had been inspected in 2014 and found to need $20 million in repairs, but that no action had been taken. Although the concrete and rebar could not be salvaged, Colonel Burch said the wharf's piles remained in good condition, and there were "no immediate concerns" for ships berthing. Construction will be held to "very tight timelines" from this month to April 2019. Colonel Burch added that the project's target price was "in the region of $15 million — including contingencies".

A second record-breaking tourism year is expected for Bermuda with almost 560,000 people taking holidays here in the first nine months. The Bermuda Tourism Authority said its latest figures showed an eleventh consecutive quarter of growth for leisure air arrivals and spending. Data released yesterday revealed those visitors have pumped an additional $64 million into the economy when compared with the same period in 2016. Kevin Dallas, the tourism authority's chief executive, said holidaymakers that fly to the island make up the most meaningful performance indicator. He explained: "The measurement we focus on more than any other at the Bermuda tourism industry is leisure visitors by air. Performance in that area is up 26 per cent in arrivals and up 35 per cent in spending since the streak of quarterly growth began back in January 2016. By any measure, that is a remarkable performance that every member of our team and every one of our stakeholders can be very proud of." The figures showed 168,005 leisure visitors by air to the end of September, up from 132,816 for the corresponding period in 2016 and 147,833 last year. It was found that those people spent $245.9 million in the nine months, compared with $181.6 million and $222.3 million over the same time in 2016 and 2017 respectively. When cruise ship passengers were included, 559,238 people had visited the island for holidays and leisure travel by the end of September. That is nearly 82,000 more than the same period in 2016 and an increase of 36,108, or 6.9 per cent, on last year. However, leisure visitors during the month of September alone have been falling over the past three years, from 57,924 in 2016, to 54,191 and 51,209 in 2017 and 2018 respectively. The latest figure represents a 5.5 per cent decrease year-on-year. The BTA said the quarterly statistics put Bermuda on track to follow 2017's record-breaking performance with "another year of record arrival numbers when cruise visitors are factored into the equation". Hotel occupancy and vacation rental stays were also said to have increased when compared to the same period last year. The BTA pointed out that available airline seats to Bermuda appeared to be slowing, with a 2.5 per cent drop in third-quarter capacity, from 189,046 in 2017 to 184,238 this year. However, it said air capacity remains up almost four per cent over the nine months. Mr Dallas said: "Growing airlift has proven to be a precursor to vacation air arrival growth in Bermuda over the past several years. If that trend reverses it would be an obstacle for further growth. It's something we are watching closely as we do our forecasting for 2019." The full 2018 Q3 Visitor Arrivals Report is available on the BTA corporate website.

Commissioner of Police Stephen Corbishley has called for a national discussion about speed limits. Mr Corbishley suggested 35km/h is probably a good limit for Bermuda, even though most people drive up to 15km/h faster than that. But he said an assessment was required to determine the safest maximum speed. "Having lived here now for four months, I have a better understanding of the way road network works," he told The Royal Gazette's Drive for Change campaign. "I actually think 35km/h is not that far away from where it should be or whether it is actually at the right level. We need to get the factor of safety which is the absolute priority — it is not about arriving there quickly, it's about arriving safely. It is one for government but we can inform some of that." Mr Corbishley acknowledged that very few people stuck to the actual speed limit in Bermuda but said that was not a reason to change it. "I've worked and lived in places all over the world, and I don't think there is any location where you can turn around and say people don't go above the speed limit. The speed limit sets the threshold to which enforcement action will be taken. I think the issue is that we shouldn't be raising the speed limit just because everybody drives above it. We need some proper assessment on what the right speed is for Bermuda to enable the best safety. There needs to be a debate around what the speed limit is and again we can contribute to it but at the moment it is set at the level that it is and we will respond to that accordingly." In a wide-ranging interview on road safety, Mr Corbishley said police would be exploring ways in which cameras could help to calm traffic over the next 12 months. Asked whether he believed there was a danger that motorists would simply speed up in locations without cameras, Mr Corbishley said this could be countered by mobile cameras and multiple cameras in different locations that clock average speeds. He said: "I've seen some good partnership models with mobile capability and it gives you flexibility to identify locations that are particularly problematic. Through some of the technology, particularly automatic licence-plate reading, you can calculate the average speed that the vehicle has driven. We also need to look at some of the legislative issues we need to put in place, particularly with motorcycles and the number plates. Transport Control Department is doing a lot of work to enforce the number-plates that are required because that allows us to be able to identify people and manage roads more effectively. Similarly to the roadside sobriety, many factors need to come together." Mr Corbishley said that the introduction of cameras would not happen overnight. There was no mention of speed cameras in the Throne Speech last Friday. He also said he did not want to repeat a past problem in which people were ending up in prison after being unable to pay excessive fines. "Catching and enforcing doesn't change things over night, it is about educating people, looking at when they do offend rather than just giving them a fine and penalty points. What is the rehabilitation you take them through? How do you get them to understand the impact and the dangerous speed? As alternatives to prosecution I am very supportive of training and awareness courses so people understand the consequence of their behavior and that has been seen to be more significant in reducing re-offending than any enforcement process."

A Pennsylvania woman was dealt more than $4,000 in fines after she was caught with cannabis and "magic mushrooms" on a cruise ship. Shanna Deck, 37, from Lancaster County, pleaded guilty to having cannabis, tetrahydrocannabinol, psilocin, an active ingredient in hallucinogenic mushrooms, and drug equipment. Deck was arrested on Monday after she was stopped by Customs officers on the gang plank of the Anthem of the Seas, which was docked in Dockyard. A vaporiser pen and a cartridge were found in Deck's handbag. Asked about the contents, Deck said it contained tetrahydrocannabinol and admitted she had more marijuana. Searches of the purse and her cabin revealed a total of 14.93 grams of cannabis, four cartridges of THC oil, two brownies containing THC and 0.53 grams of a "funguslike material" later confirmed to be magic mushrooms. Victoria Greening, lawyer representing Deck, said she uses cannabis medicinally to treat several conditions. She added that Deck was given the mushroom by another guest on the cruise ship after she complained that the cannabis made her tired and that she wanted be awake for her husband's birthday. Senior magistrate Juan Wolffe said he accepted that the drugs found were not intended to be supplied, but that she should have known better than to bring them to Bermuda. Mr Wolffe said: "It still boggles my mind that tourists bring it in unaware of our drug laws, or choose to ignore them." He also noted the quantity and variety of drugs, adding: "We are not talking about a single spliff." Mr Wolffe fined Deck $1,500 for the cannabis, $750 for the THC oil and brownies, $1,000 for the psilocin and $1,000 for the drug equipment. He added that all of the fines needed to be paid before Deck could leave the island.

November 15

The feasibility of converting Bermuda's bus fleet to electric vehicles will be explored under a new partnership announced yesterday. Walter Roban, the Minister of Home Affairs, said that a memorandum of understanding signed with the Rocky Mountain Institute demonstrated the Government's commitment to a "cleaner, sustainable energy future". He added that the MOU signified the start of the Energy Transition Project, which "seeks to fully transition Bermuda's transportation sector and diversify electricity generation options". Mr Roban was speaking after he and Zane DeSilva, the Minister of Tourism and Transport, signed the MOU with the United States-based sustainability organisation. He added that the work performed by the non-profit out of Boulder, Colorado, would come at no cost to the Government. Mr Roban said: "They raise the funds for their projects outside of the government circle. We're getting top, international-class research, development and advice with no pressure on the government purse." A government spokeswoman said the agreement covers two projects; the first will focus on developing a strategy for transitioning to an electric bus fleet "that will lay the groundwork for a full transition of the transportation sector to electric vehicles". She added: "The second project will identify and prioritise renewable energy projects and look for ways to build a more resilient grid." Justin Locke, director of the islands energy programme at RMI, was on hand for the MOU signing. Mr Locke said that studies would be carried out over the next nine months to a year, with implementation of the plan taking place in year two. He said the studies would look at suitable sites for solar PV and battery storage in Bermuda. Mr Locke added: "Once we have completed this analysis, we plan to support the Government and Regulatory Authority in publishing a tender for an integrated solar PV and battery storage project that will likely include several aggregated sites. In addition, we will work with the Department of Transportation to access the viability of transitioning the public bus fleet to electric buses, that will pave the way to electrify the entire transportation system." Mr Locke said the island's dependence on fossil fuels had "led to a high degree of vulnerability to economic shock". He added: "This reliance on fossil fuels has directly led to a higher cost of doing business — and more importantly — a higher cost of living for Bermuda and its citizens, which has exacerbated the economic gap between rich and poor, as well as made Bermuda less competitive in the global economy." Mr Locke said that Bermuda had the opportunity to set the "global gold standard" on energy transition. He explained: "With declining costs of renewable energy, and the clear economics around electrification of the transport sector, Bermuda can reinvent itself by transitioning to a lower cost, more reliable and cleaner electricity system, making Bermuda a more attractive place to invest, to visit, and most importantly, to live." Mr Roban said that the Government was also "quite committed" to transitioning to electrifying private transportation on the island, including the government fleet. He added that informal discussions had taken place with automotive dealerships about having more electric and hybrid vehicles in the Bermuda's marketplace. Mr DeSilva said that gas-powered buses would continue to be imported as the feasibility of electric buses was studied. He added: "After that feasibility study is done, then we will decide on which way [to go] forward."

Tourism minister Zane DeSilva has dismissed criticism over a Bill to give him extra powers within the Bermuda Tourism Authority as scare mongering. He was responding to claims by Shadow Minister of Tourism Leah Scott that the move amounted to political interference. Mr DeSilva said: "It is unfortunate that the Opposition seems more interested in scare mongering and innuendo than engaging in a substantive debate on the Bermuda Tourism Authority Amendment Act 2018." He said the first appointments to the BTA were "political" and that the authority was set up with a board given the power to reappoint itself with no input from the Government or taxpayers who fund it. "This approach is also not reflective of most other tourism authorities in the region," Mr DeSilva said. "Our position is that this approach doesn't make sense and lessens accountability." He highlighted that if successful, the Bill would give him the right to appoint future members to the board and to appoint future deputy chairmen in consultation with the BTA. It would give him the power to remove future board members and to provide general direction to the aboard in consultation with the BTA. He added that the Bill would not enable him to remove any board member before their term of office was complete, to fire the CEO or any employees, to determine hiring or promotions, or to select grant recipients. Mr DeSilva said his party had won an "unprecedented mandate for change" and is committed to modernize the island's tourism product and enhance entrepreneuralism. "Let us not forget that under the previous government, Bermudian tourism jobs disappeared, while non-Bermudian tourism jobs grew," he said. "The PLP was elected to transform our economy for the future and to implement policies which put development and investment in Bermudians first to yield long-term benefits." Mr DeSilva said he looked forward to a "substantive debate" in Parliament "based on the facts".

In a press release shown below, the Bermuda Trade Union Congress has described the 2018 Throne Speech as "bold, attainable and transformative. It represented the true ethos of a labour government that is progressive, and provided the key elements required to tackle systemic societal inequalities head-on. It recognized that the economic progress and growth achieved in Bermuda has not been shared by all and inequality in Bermuda has been multi-dimensional and intractable. The Government is clearly making a concerted effort to assuage the divide by urgently addressing inequality. Bermuda's labour unions have been championing for policy initiatives such as:
progressive taxation and tax reform;
workforce and pay equity;
extending employment beyond age 65;
reducing healthcare cost;
revising labour legislation;
ensuring persons have access to tertiary education; and,
implementing a living wage.
The Bermuda Trade Union Congress (BTUC) is pleased to see the inclusion of these policy initiatives in the Throne Speech as it underpins an agenda that is both progressive and people-centered. The effective implementation of these initiatives will assure Bermuda's citizenry that their votes were not taken for granted when they voted for a change of Government last year. The Throne Speech demonstrates the Government's ability to not only listen to the voice of the people but to also translate these concerns into effective, transformative policies. The priorities outlined in the Throne Speech are reflective of a major shift from the neo-liberal policies of the past to a balanced, people-focused agenda that is responsive to the needs of the people. Preventing and reducing inequality is a part of Government's social contract with its people and through the Throne Speech, it is apparent the Government plans to address inequality in a clear and deliberate manner. The renaming of the Allenhurst Building (the old Hamilton Police Station) after living labour legend, Bro. Ottiwell Simmons is a genuine embrace of the Government's labour roots. This building will serve as a permanent marker and will ensure that we do not to forget our past and those who fought tirelessly to ensure social and economic progress for the working-class people of Bermuda. Overall, the initiatives presented in the Throne Speech will seek to improve the social wellbeing of Bermudians. The Government must continue to operate with humility and remain persistent in addressing the urgency of present concerns. The labour movement must continue to remain steadfast in its quest to achieve a better and fairer Bermuda."

Insurers will get an extra year to prepare for a new accounting standard. Implementation of IFRS [International Financial Reporting Standard] 17 is set to be put back to January 1, 2022, after a meeting of the International Accounting Standards Board. The decision is subject to IASB due process. Damian Cooper, IFRS 17 leader at PwC Bermuda, said: "Today's announcement of a one-year delay to the implementation of IFRS 17 will be welcomed by many in the insurance community. The additional time will help alleviate some risk from existing plans, however many companies still have a lot to do and cannot afford to press pause." Alex Bertolotti, global IFRS 17 leader at PwC, said, "Some insurers have been lobbying for this delay for a while, as the initial timeframe was exceedingly tight. Others have been requesting clarification over certain aspects of the standard, without which it would have been difficult or prohibitively costly to move ahead. The impact of the one year delay can only be fully assessed after reviewing potential changes to the standard which the IASB board will consider in December. Our message to insurers would be not to stop — there's so much to do. To stand still is to fall behind." IFRS 17 will result in significant changes to the way that financial information is presented, and adoption will require significant planning, PwC added.

With events to mark Global Entrepreneurship Week (GEW) in full swing, the Bermuda Economic Development Corporation (BEDC) will celebrate all things entrepreneurship at the GEW Festival of Entrepreneurship on Sunday, November 25 from 2.00 p.m. to 5.00 p.m. on the grounds of the Cabinet Building. GEW is celebrated worldwide from November 12 -16, but Bermuda has a calendar chock-full of exciting and inspiring events all month long. The Festival of Entrepreneurship will be the perfect place to find out about GEW and how the BEDC supports and encourages entrepreneurship in Bermuda. There will be a line up of speakers showing their support for entrepreneurship including representatives from the Corporation of Hamilton, the Bermuda Tourism Authority, and the 2017 Pitch Green Rocket Pitch winner and owner of Ponda Pits, Surlena Smith, amongst other. The family-friendly event will feature a fun zone, local entertainment, including Place's Gombeys, a selection of local food and beverages, and locally made and inspired products. It will also be an opportunity to network with other entrepreneurs and find out all the ins and outs of entrepreneurship in a relaxed, festive environment. Erica Smith, BEDC's Executive Director, said: "Global Entrepreneurship Week is a time when we highlight the work that our local entrepreneurs contribute to the island. The Festival of Entrepreneurship is the perfect way for us to celebrate those contributions and continue to encourage those interested in starting their own businesses to take the right steps to entrepreneurship. We invite everyone to come out to this free, family event, whether they are an entrepreneur, an aspiring entrepreneur or just simply want to support entrepreneurs and small businesses." The Festival of Entrepreneurship is a free event and perfect for the entire family. For more information, visit www.gew.bm or call 292-5570.

The City of Hamilton has dismissed the Government's claims that it carried out consultation before announcing plans for further municipalities reform. In a Throne Speech pledge last week, the Progressive Labour Party said a Bill will be tabled soon to modernize the municipalities, and noted that consultation with the corporations of Hamilton and St George is "now completed". The Ministry of Home Affairs said last night there will be additional consultation and the minister "intends to meet with the respective corporations soon". A spokeswoman for the City yesterday took issue with the Throne Speech's claim that consultation was complete, stating they had only been involved in a brief conversation. She said: "The Corporation of Hamilton can state unequivocally that while a meeting was held between the City and the Ministry of Home Affairs, nothing in this meeting could in any manner be construed as 'consultation'. This meeting was scheduled less than a week before the public meetings were held. In the hour-long meeting, the corporation answered questions such as how it would 'describe a strong, ideal, positive relationship between the Corporation of Hamilton and the Government of Bermuda' as well as, 'in the current relationship between the Corporation of Hamilton and the Government of Bermuda, what is working?'. Questions of such superficial depth are not devices by which true consultation occurs, it is the cynical means by which a box is ticked." The spokeswoman added that the public meetings were "poorly advertised" with fewer than 25 people in attendance. She said: "We are hoping the newly appointed Minister of Home Affairs will look at this again and engage in a true consultative process which includes all stake holders stating positions, identifying role model municipalities, being able to defend or in turn accepting that there are better solutions available and that a consensual resolution works best." The Corporation of St George was also contacted for comment, but had not issued a statement as of press time last night. Government announced in March that it would defer scheduled elections in the island's two municipalities until after amendments had been made to modernize both. Walton Brown, who was then the Minister of Home Affairs, said there are inconsistencies in how each corporation is structured, with one focused mainly on business and the other on residential. He added: "Municipalities in Bermuda do not deliver social services and the need for social services within the municipalities is growing. The Government believes that the two levels of Government, national and municipal, can no longer operate in economic or decision-making silos." Mr Brown said there would be a six-month consultation process and two public meetings were held, one in each municipality. In the Throne Speech, the Government said it was committed to modernizing the role of municipalities on the island. It said: "Consultation with both corporations began in May 2018 and has now been completed. During this session, a bill will be tabled to implement further reforms to the municipalities setting a platform for their growth and development as centres of commerce, tourism and thriving community life."

Introduced pests posing a potentially serious threat to Bermuda's bananas and other crops were found this week in a load of the fruit imported by United States suppliers. The tainted batch containing the scale and mealybug pests was spotted on Tuesday in a load of Dole bananas that originated in South and Central America. A check at distributors and stores found all imported bananas infested with scale, mealybug or both, a spokeswoman for the Department of Environment and Natural Resources said. Contaminated fruit was pulled from shelves, but mealybug levels were "alarmingly high" and posed "a serious risk" to local bananas, crops and ornamental plants. Also of concern was the scale infestation. Both pests feed on the sap of plants, as well as spreading plant viruses, and are difficult to tackle with pesticides. Anyone who has recently bought imported bananas should dispose of skins straight into garbage bags for trash collection. Composting or recycling poses an environmental threat. The establishment of these pests would require increased pesticide use on local crops. The Department of Environment and Natural Resources has contacted the US Department of Agriculture and the US suppliers of the bananas. US authorities are requesting stricter pre-export inspections to avoid a recurrence. Bermuda's endemic cedar was nearly wiped out by a pest in the 1940s.

Developers are about to break ground on a condominium project in Hamilton Parish that will offer new homes for less than $400,000. Gilbert Darrell's GSpace is the company behind the Haus development on Seon Drive, off North Shore Road, close to Shelly Bay. Six units on the half-acre site are priced at $395,000 each and are designed in a contemporary, townhouse style to optimize use of space and natural light, complete with glass-fronted balconies. Mr Darrell said the project had been ten years in the making and was at last about to come to fruition. He added that a second development was in the pipeline, to build two larger units in a similar style in the East End. The competitive prices for the new units were partly down to a design which lent itself to simple, efficient construction, he said. "The idea was to make them as simple as possible to make the living experience more pleasant," Mr Darrell said. "For young people aged 25 or 30, this gives them a realistic opportunity to buy a new home as first-time buyers. It's a huge opportunity to buy real estate at that age and to get on the property ladder." The largest two units have 765 square feet of living space, while the other four have 725 square feet. The option is also available to join two units together to make a larger home. The developers have been BE Solar to make the units "solar energy ready", wired to ease the implementation of a photovoltaic energy system should the owners want to install one. Another alternative energy feature is that the parking lot will be fitted with electric vehicle charging facilities. The units are expected to attract interest from young professionals, seniors downsizing their living space and property investors. The development has been listed with Fiona Hatfield of Coldwell Banker Bermuda Realty, who said the properties had great potential as online vacation rental units. "The way I like to explain it to people is that if you buy one as a vacation rental unit, you are effectively buying a business," Ms Hatfield said. Based on a 20 per cent down payment, amounting to $79,000, and a 30-year mortgage with a rate of 6.5 per cent, she said the monthly mortgage repayment would amount to $1,997. This, she argued, would compare favorably with the cost of renting a similar property and offered opportunities to make money using it as a vacation rental, an opportunity that has grown in recent years with through websites such as Airbnb. Sub-letting is not allowed under the rules of many condominium associations in Bermuda, but it will be for the freehold units at Haus, she added. The layout of the two-storey units features an open-plan kitchen and living room downstairs, together with a half bathroom and storage under the stairs. Upstairs is the bedroom and a full bathroom, as well as an enclosed washer-dryer and a walk-in closet. Mr Darrell said the units also have effective soundproofing. The units are fitted with LED lighting and stainless steel appliances, as well as a split air conditioning system. There is wood-look tile flooring throughout and quartz countertops. For more information, call Fiona Hatfield at Coldwell Banker Bermuda Realty on 534-9932 or by e-mail at FHatfield@brcl.bm, or visit the website gspacelimited.com.

A change in the mindset of young people is needed to tackle violence in Bermuda, a community activist has warned. Desmond Crockwell claimed an "aggression" that permeates the island lies at the root of attacks with weapons. He believed incidents involving knives were less likely to be linked to gangs, but could be sparked by others who feel the need to protect themselves. Public attention was caught when two alleged blade attacks happened within days of each other last month. However, Commissioner of Police Stephen Corbishley said this week these did not indicate a "sudden explosion" and the number of knife-related incidents has remained stable in recent years. Mr Crockwell, the director of YouthVision Promotions, said: "With the guns, initially it was this gang thing but I would say that with these knife incidents we see a lot of non-violent people getting stabbed." He described a knife as "more of a personal weapon" and added: "I think it's a form of protection, probably young people using it to protect themselves from gang members." The anti-violence campaigner said knives will always be a "weapon of choice" for some. He continued: "It's the frame of mind that definitely needs to change. "It's aggressiveness, these gangs going around pick on people, so people feel they need to be defensive, that's just where we are as a country. People are so aggressive, Bermuda has gone a long way back from where it used to be. Everybody's stressed out. If the parents are stressed out, the children are going to be stressed out." In October, police appealed for witnesses to two alleged knife-related incidents, on Harbour Road in Paget and near Bulldogs Bar in Hamilton, that fell within a week. Mr Corbishley said: "There is a focus by the BPS to address incidents involving knives and obviously we will investigate robustly and bring people to court. The actual fact of the matter is that offences we have recorded are quite low and shouldn't indicate any public concern or sudden explosion that knives are a problem in Bermuda. Consistently over the past three years the number of arrests that we've had for knife-related offences have been around 20 to 25 for the whole year, so you could argue about two a month. In regards to offences of unlawful wounding, a very similar picture; in fact, a slight fall from 2016 when there were 26 recorded offences, 23 in 2017 and so far 23 in 2018, noting that we've still got a period in November and December to go. So I don't expect it to be significantly higher." Mr Corbishley acknowledged knife-related problems in other countries and his experience in Britain. He said: "We're mindful of sometimes the links between knife-carrying and gangs, but it's not something that is apparent. However, we're not complacent about that issue. A lot of our work in relation to gangs is looking at engaging through education, advice to young people, not just around the risks of being involved within gangs but also the risks of carrying any form of weapon. My experience in the past is that quite often the dangerous situation is when people don't necessarily carry a knife to cause injury but they've got this perception that they need to carry a knife to protect themselves, and when that happens, often it can lead to serious if not tragic circumstances." The commissioner said courts "take a strong stance" on people convicted of knife-related offences. He added: "If you choose to carry a knife you expose yourself to significant risks. You are likely to be arrested, you're likely to be convicted and therefore you would receive a criminal record that would significantly impact on your life going forward, particularly if you're a young person. Additionally, if you carry a knife, then the likelihood of you getting involved in a dispute, suffering injury or causing injury, again, is increased." He said analysis does not suggest a link between guns and knives and added that firearms possession on the island is "extremely low". Mr Corbishley said the BPS was aware of the challenges faced by young people but added: "Statistically and in reality, Bermuda remains a very safe place." Gina Spence, a community activist who is the founder and CEO of outreach charity Gina Spence Productions, said: "I would love to see an amnesty for guns and knives because that's going to be one less knife and one less gun that could fall into the hands of someone who wants to take a life. If you can tell me a reason why it wouldn't be good to get those knives and guns off our streets, out of the hands of those that might be involved, then I will shut up, but I don't think anyone could refute that would be a good thing." Wayne Caines, the Minister of National Security, earlier told The Royal Gazette a number of schemes operated to curb gang violence, and a recent discussion with local stakeholders helped shape future efforts. He added: "This continues to be a community problem and we must work together as a community to solve it."

A professional chauffeur company is expanding to help support public transport and taxi services in time for Christmas. HomeSafe Bermuda employs vetted drivers to transport customers home in their own four-wheeled vehicles when they are unable to do so themselves. The driver returns to base on a foldable electric motorcycle that was packed in the trunk of the customer's car after dropping off the customer. The service now has access to at least five more foldable bikes and will be set up along Front Street on the weekends running up to Christmas. During this period, there is traditionally an uptick in road crashes from to impaired driving. It was launched in 2017 by Carlton Crockwell, chief operating officer at Security Associates, after Bermuda Security Group introduced the concept, based on a model in Cayman. Mr Crockwell, a former chairman of the Bermuda Road Safety Council, told The Royal Gazette's Drive for Change campaign: "We are working with the Corporation of Hamilton so that during Christmas and summertime, we can have a booth in Hamilton on Front Street and have a few guys waiting there able to take you home. My team will be there on December 13, 14, 15 and then 20, 21 and 22 through Christmas. We have enough electric, fold-up bikes on the island to accommodate now. We will rent them for the weekends. We will get you home." Drivers for HomeSafe Bermuda are trained security officers who have been vetted and licensed by the Bermuda Police Service. Since the introduction of roadside sobriety checkpoints there have been complaints within the community about a lack of a reliable taxi service during the late hours of the weekends. Taxi drivers pointed to problems with drunk passengers and security, but said the industry was aiming to work to improve service using its existing fleet. Mr Crockwell said HomeSafe does not intend to provide competition to the taxi service. He said: "This is not to infringe on taxis, we are joining the transportation system. We provide a car delivery service, we don't try to take any of their business — we are the only service in Bermuda that does it. The peace of mind I give the taxi drivers is that we are here to partner with you. We are not going to pick people up if they don't have a car with them." Mr Crockwell said he sees potential for jobs to be created if the demand is there. "I see a lot of Bermudians being employed by HomeSafe Bermuda especially during the season. It is definitely a job maker." He is working on a concept where regular customers can leave a spare key with the company in a secure lock so that they can be picked up even when they left their vehicle in a different location. HomeSafe is working on a general campaign to help raise awareness of road safety in Bermuda. It had adverts placed on the big screen at the World Rugby Classic and is working on branded beer coasters to be placed in bars around the island. "Since I stepped down from the Road Safety Council, the deaths went down but they came back up again and can I sit back and do nothing? I don't think I can and this is us doing something. The whole objective is to save lives."

November 14

Oversight of Bermuda's casino gambling industry has been handed to the finance minister as part of the Cabinet reshuffle. Curtis Dickinson took responsibility for the sector, which previously came under the tourism ministry. The newly appointed Minister of Finance counts the Bermuda Casino Gaming Commission among his duties, but the switch raised eyebrows from Opposition members, who feared the industry will never get off the ground. David Burt, the Premier, announced a Cabinet shake-up two weeks ago and brought in Mr Dickinson, who became an MP only in June when he won a by-election in Warwick North East. He also returned Zane DeSilva to the front benches in the role Minister of Tourism and Transport, nine months after he quit as social development and sport minister. The tourism brief was taken from Jamahl Simmons, who became Minister without Portfolio, while Walter Roban, the Deputy Premier, was relieved of his transport duties. Leah Scott, the One Bermuda Alliance deputy leader, said: "Casino gaming has always fallen under the purview of the tourism ministry, starting with the establishment of the gaming commission by the One Bermuda Alliance and continued with minister Jamahl Simmons, under the PLP government. So why has the administration of this important source of potential revenue been taken away from the new tourism minister and his ministry? We have been led to believe that in light of the correspondent bank challenges that Bermuda banks are facing with regard to the processing of gaming proceeds, that gaming would be better suited to come under the auspices of the Minister of Finance. I'd like to know how moving casino gaming from the tourism ministry to the finance ministry addresses the correspondent banking challenge." It was understood Bermuda banks have been hesitant about involvement in the island's fledgling gaming industry and overseas options have been considered. Ms Scott, who is also the shadow minister for tourism, transport and regulatory affairs, continued: "If moving gaming to finance is a means of potentially resolving the correspondent banking issue, then logic dictates that the development of the medical marijuana industry and crypto currency would also fall under the Ministry of Finance. After all, the Bermuda banks have indicated that in addition to gaming, the proceeds that may be generated from medical marijuana and cryptocurrency are also unbankable. The issue with Bermuda's correspondent banks refusing to process gaming proceeds is not a new issue. The Premier is merely playing musical ministries. Minister DeSilva is an extremely capable and successful businessman. Why would gaming be removed from his care and feeding? Does the Premier not think that Minister DeSilva can get the job done when it comes to casino gaming?" Parliament passed an amendment to the Casino Gaming Act 2014 last year that means the responsible minister can fire members of the BCGC and issue policy direction to the regulatory body. Alan Dunch, who had been commission chairman, quit his post after the legislation was tabled. Last month, the BCGC advertised the position of executive director for a third time more than a year after Richard Schuetz, the former holder, resigned. Ms Scott concluded: "Sadly, it is my view that casino gaming will never be a reality for Bermuda. Some 15 months have now passed, and we are still without a casino gaming executive director, despite multiple international adverts being placed in an effort to fill the post. The reality is that when a regulatory body that was intentionally established to be independent, is subsequently required to answer to any politician or political party, the possibility of corruption becomes a realistic probability." A government spokeswoman said: "In order for gaming to become a reality in Bermuda, a solution needs to be found so the proceeds of gaming can be banked. The Minister of Finance, Curtis Dickinson MP, as a banker, understands the industry's needs and the Government's objectives, and will work with all stakeholders to implement a solution for Bermuda's gaming industry."

Political interference has been suggested by the Opposition in legislation granting the tourism minister extra clout over the leadership and the direction of the Bermuda Tourism Authority. The Bill tabled on Friday by minister Zane DeSilva has been criticized by Leah Scott, the shadow tourism minister, as an attempt to curtail the independence of the BTA. Ms Scott praised the authority's chief executive, Kevin Dallas, as a maverick whose team had produced "phenomenal results for our tourism industry". She queried whether the move might have been "the Government's first step in creating an exit strategy for Mr Dallas". Ms Scott pointed out that Mr Dallas, in December 2017, had urged the Senate to reject a Bill replacing same-sex marriage with domestic partnerships — calling it an "unnecessary threat to the success of our tourism industry". Mr Dallas's comments prompted Jamahl Simmons, then the minister, to rebuke the CEO, who he said had acted without the consent of Paul Telford, the BTA chairman, or its board. Yesterday, Ms Scott noted that the Bermuda Government's appeal of a court ruling restoring same-sex marriage had proceeded last week. She said that "time will tell" whether the Bermuda Tourism Authority Amendment Act 2018 was linked to that case and Mr Dallas's decision to speak out. According to the ministry, Mr DeSilva will give details on the Bill this Friday in the House of Assembly. The BTA declined to comment last night. As well as empowering the minister to appoint board members, the Bill would grant Mr DeSilva the power to appoint a deputy chairman from outside the board's ranks. Jessica Mello is the deputy chairwoman of the BTA, which is publicly financed but operates independently. Ms Scott credited the BTA's "immense" success on the authority's freedom from "political interference". She added: "The year 2017 saw 692,947 total arrivals to Bermuda. That is the highest number of visitors to the island in its recorded history, and the best statistical performance dating back to 1965. People like Mr Dallas, who possess creative genius, are non-conventional and outspoken. It appears that when individuals have the ability to think independently, are able to manage successfully what has been entrusted to them, and are unable to be controlled by the Government, the Government feels the need to amend the legislation to empower the minister." Ms Scott likened the step to the Government's tightening of control over the Bermuda Casino Gaming Commission, which was approved by the Senate last December. Calling for the BTA to retain independence, she said the amendments allowing ministerial intervention were "contrary to good governance and best practice". The One Bermuda Alliance MP also went on the offensive over the BTA's predecessor, the Department of Tourism, and its record under government auspices. Ms Scott noted that in January 2008, the Bermuda Sun reported that Ewart Brown, the former premier, had been accused of political interference in the appointment of Emilygail Dill to be the new acting head of tourism for North America. The shadow minister also faulted the contract for the GlobalHue advertising agency, which signed a multimillion-dollar contract with the department in 2006 and prompted "misgivings" by the then Auditor-General Larry Dennis, in a report for the fiscal year ending March 31, 2008. Ms Scott further cited the Progressive Labour Party's hiring in 2007 of Andre Curtis, who ran a programme of "faith-based tourism" for which "visitor numbers were not met and the minimum number of events were not held".

A "call to action" has been made by the team behind an alternative energy plan that would mean nearly two thirds of Bermuda's power comes from renewable sources within 20 years. BE Solar claimed the island is failing to keep up with the international drive to develop schemes that will cut down on harmful gases and tackle climate change. It joined forces with British-based sustainability engineering firm Etude to produce a 56-page report as an alternative to the Integrated Resource Plan already put forward by utility company Belco. The document sets out a proposal for an offshore wind farm with turbines set up six miles west of Dockyard and a rise in the amount of solar projects. It is one of eight alternative schemes that use a range of technologies — including liquefied natural gas and wave energy — filed with the Regulatory Authority of Bermuda, which is seeking responses from the public before consultation closes at the end of this month. Alan Burland, the BE Solar president, said: "What's critically important is that the people of Bermuda clock in on this subject and that they respond to the Regulatory Authority. If they have a view, and they feel that Bermuda can and should do better, they should write in and voice their opinion, they're open to do that but they only have until November 30 so it is a call to action. This is just too important for future generations to be casual and lackadaisical on. It's critical to our economy, it's critical to our social fabric. I can't think of a more important issue on the table at the moment." Mr Burland described the measures in his company's report as "tried and tested ... proven technology". He said uptake of solar and wind energy elsewhere has been "exponential" and added: "Bermuda is seriously getting left behind, we must get up and get cracking." Stuart Kriendler, the BE Solar managing director, said the company came up with the Bermuda Better Energy Plan, as it was concerned that very few island residents were aware of the IRP and that the Belco proposal "locks us into volatile foreign fossil fuels and high electricity rates". He also believed potential businesses were increasingly turning away from Bermuda as operation on the island would not work within their "environmental charters". Mr Kriendler said millennials and "cultural creatives" prefer places such as the Cayman Islands, which is perceived to be "a cleaner destination" that better fits their values. The report's "optimum renewables" scenario suggests an offshore wind farm online in the next five years would "significantly reduce" fossil fuel use in a single project. Capital costs for this were estimated at $300 million although the team pointed out that future projections were favourable as the "fuel is free". Several thousand electric vehicles would feature and by 2038, the proposal states, wind and solar would provide 64 per cent of the island's energy "for a stable cost". The report said about $100 million a year would remain in the local economy that "historically would have been spent importing fuel". Chris Worboys, a Bermudian who works for Etude, said: "We get a 62 per cent reduction in CO² emissions — a big improvement in terms of climate change — and a significant reduction in other air emissions which are harmful to human health." He continued: "Ten years ago, when all this conversation started and the department of energy was formed, back at that time the UK had pretty much no renewable energy. Last week, there was a day when about 47 per cent of the UK's total electricity supply came from wind. When I return to Bermuda and look at the progress, on a sunny day maybe two per cent of the electricity is coming from solar, that really shows the lack of progress." Along with colleagues Dora Ma and Thomas Lefevre, Mr Worboys travelled to Bermuda to deliver a presentation last week at a public meeting hosted by BE Solar and environmental charity Greenrock in Hamilton. Dr Ma pointed out that BE Solar did not request for solar energy to be included in the final proposal and the team "genuinely went on a journey to find out the best thing for Bermuda". Eugene Dean, a Greenrock director, described the Bermuda Better Energy Plan as a "no-brainer". He believed the IRP had a "huge reliance on fossil fuels" and failed to include innovation and new technologies. Mr Dean added: "It seemed like nothing that has been happening in the last ten to 15 years has been incorporated in this, it just looks like more of the same." Other alternatives to the IRP have been made by BCM McAlpine and Bouygues Energies and Services; Bermuda Environment Energy Solutions Group, Louis Berger Power and Corcon; Bermuda General Agency; Brad Sorenson and Arpheion; Enviva and Albioma; Offshore Utilities and Sol Petroleum Bermuda Limited.

Local hoteliers today learnt about energy saving initiatives at a workshop at the Hamilton Princess Hotel and Beach Club. Success stories in the Caribbean region were shared at the Hotels Energy Efficiency Workshop and attendees discussed the challenges and successes here in Bermuda. Loreto Duffy-Mayers, workshop facilitator, has experience in assisting hotels throughout the Caribbean to reduce their operating costs through greater energy efficiency. Walter Roban, the Minister of Home Affairs, said: "The Department of Energy was pleased to offer this opportunity to Bermuda's hotels. Globally, hotels are one of the most energy intensive businesses with correspondingly high energy costs. Energy efficiency may provide savings of 20 per cent or more and is one of the most controllable operating costs. Government is pleased to once again be able to assist our hotels in mapping out ways in which to lower their operational energy costs, allowing them to better and more affordably service their customers in Bermuda."

Bermuda Aviation Services Limited made a loss of $205,000 for the six months to the end of September, compared to a $228,000 loss for the same period a year ago. Its income from continuing operations was $63,000, an improvement on a loss of $476,000 year-on-year. The loss from discontinued operations is attributable to the sale of the company's Efficient Technologies Bermuda Ltd. subsidiary which was completed in June. Companies within the BAS group include BAS-Serco, Besco, CCS, Otis, Weir Enterprises and Eastbourne Properties Limited. The group said its strategic review and resulting plan completed in March is in the implementation phase. In a statement, BAS said management has reduced expenses throughout the group, continues to rationalize product line profitability and has initiated process flow re-engineering to further improve efficiencies and to improve margins at the subsidiary level. Gross margin for the period was $8.9 million, which was flat over the comparative period. Although revenues for the six months were $14.8 million in comparison to revenues of $15.7 million in the comparative period, direct costs declined by $900,000. BAS stated the result reflected efforts to improve margins across the group as revenue growth continues to be challenging in the current market climate. Operating expenses decreased $500,000 compared to the same period in 2017. The company reduced its bank loan by $400,000. Earnings per share from continuing operations were one cent per share, an improvement of 10 cents, year-on-year. The company is continuing with its suspension of dividends for the remainder of the fiscal year. The company also noted that Gerald Simons retired as a director in August. The board thanked him for his many years of service and contribution to the group.

Polaris Holding Company Ltd has made a six-month profit of $1.01 million, or 85 cents per share. That is down on the $1.15 million reported for the same period last year, when the economic stimulus associated with the island's hosting of the America's Cup boosted revenue for the company. However, the six-month performance is significantly higher than the $647,000 achieved in the same period in 2016. In a statement, Polaris said: "Results softened from the company's position 12 months earlier." The prior year's 'America's Cup effect' had Stevedoring Services, like much of Bermuda, benefiting from that short-term high which swelled balance sheets and boosted the island's pride. Current year's expectations were naturally dialed back with management fully grounded in the belief that the current year would be weaker. Indeed, revenue of $6.26 million for the six months to the end of September was down 5.6 per cent. But noteworthy, relative to the more normalized year before the America's Cup phenomena, current year revenue stood 20 per cent improved, a testimony to Polaris' continued fiscal growth as the company moves forward on a trajectory of hope, prosperity and resolve." The earnings report covers the period from April 1 to September 30. In its statement, Polaris said: "Spending year over year fell ($224,00) despite inflationary cost increases, with $50,000 per month carved off the company's expense line. Equipment uptime, productivity, and 'truck turns' [the time taken for shipper's trucker to pick up and depart with their container] were each improved, while repairs and maintenance, overtime, and operating costs were all down." Dividends of eight cents per share were paid to shareholders of record on September 30, the 30th consecutive quarter a dividend has been paid. Dividends are currently earning stakeholders a 6.5 per cent yield.

Bermudian businessman Harold Darrell has again lost a legal fight to have allegations of racial discrimination by a local bank investigated. Mr Darrell had filed a lawsuit against the Human Rights Commission on the basis that it had not properly dealt with his complaint. In the most recent legal action, Mr Darrell argued his human rights claim was unlawfully dismissed through "acts of malfeasance and misfeasance" by the HRC and its executive officer. But the HRC applied for the case to be dismissed as "hopeless" or "otherwise frivolous and vexatious". Assistant Justice David Kessaram ruled that Mr Darrell's case as presented could not succeed. Among his findings were that the HRC was not a "person in law" who could sue or be sued, but instead a group of appointed individuals. He added that too much time had passed for the court to take action. Mr Justice Kessaram said: "These allegations refer to events that occurred prior to the Board of Inquiry's written decision on April 17, 2007 dismissing the complaint. Even if the acts and omissions of the members of the HRC or the body as a whole can properly be described as acts of misfeasance any action for a remedy based on such acts would be time-barred now." The decision was the latest in a series of legal actions launched by Mr Darrell related to his complaint that the Bank of Bermuda discriminated against him based on his race. Mr Darrell has alleged that, in 1996, the bank leaked confidential information about the state of his loans, which he said cost him a $3.2 million business deal. He subsequently said his complaints to the bank were not properly dealt with because of institutional racism, leading him to lodge a complaint with the HRC against the bank's chief executive and board of directors. The Human Rights Board was convened in 2005, but dismissed the complaint in 2006. A written decision released the next year stated that while the bulk of submissions related to institutional racism at the bank, the bank itself was not a party to proceedings. He has since launched a series of unsuccessful actions to have his complaints investigated. Mr Justice Kessaram commented in his ruling: "It is a lamentable fact that to this day — some 18 years after making his formal complaint to the HRC — Mr Darrell has not had his complaint against the bank properly investigated by a Board of Inquiry convened under the Human Rights Act 1981. "It is not the purpose of this ruling to explain why Mr Darrell has not been able to obtain the redress he seeks. The application before the court on which this ruling is given is an application to strike out this claim as disclosing no reasonable cause of action and for other reasons. I am only concerned with determining whether this action should be allowed to proceed to trial with the consequential expenditure of time and legal costs that the defendant will be put to in defending the claim, or whether it ought to be dismissed without a full trial on the grounds that the case is a hopeless one or is otherwise frivolous or vexatious or an abuse of the process of the court." Mr Justice Kessaram concluded that the claims against the HRC were bound to fail, and struck out the writ.

Ten motorists were arrested for impaired driving from Thursday night to early Sunday morning. Eight of the arrests were at roadside sobriety checkpoints and a further two were after crashes elsewhere. On Friday night, an off-duty police officer observed and reported a single vehicle rental scooter crash on Spurling Hill in Hamilton. Patrol officers attended the scene and later arrested the male rider for impaired driving. He was apparently unhurt. On Saturday night, police officers attended a reported single vehicle car crash on Harbour Road, Paget. The male driver was not injured and later arrested for impaired driving. While checkpoints will not be in place this weekend, police warned they will still be looking for impaired drivers. The spokesman said: "Members of the public are urged not to drive or ride under the influence as police officers conducting their regular patrols will be on the look out for any offences, including impaired driving."

November 13

The tourism minister is to be given greater say over the Bermuda Tourism Authority under legislation tabled at the convening of the House of Assembly. The amendments were brought before MPs by Zane DeSilva, the new Minister of Tourism and Transport, on Friday. Previously, the independent but publicly funded BTA's board members were elected by the board in consultation with the minister. The amendment would have board members appointed by the minister, after consultation with the board. A second amendment empowers the minister to appoint a deputy chairman of the BTA. The deputy chairman will no longer be elected by the board, and need not be an existing board member, but must have "suitable qualifications and experience in the travel and tourism sectors", according to the Bill. The Bill also empowers the minister to direct "a general character as to the exercise and performance of the board". It comes a year after former tourism minister Jamahl Simmons warned the Government could step up its control over the BTA if the body ceased to have a "mutually respectful relationship" with the Government. Mr Simmons said at that time: "It must be understood, the tail will not wag the dog in this government. We are providing funding for these entities and while we will respect their independence, which should be based on their expertise in their respective fields, there has to be a measure of policy direction when and if necessary." Mr Simmons had sparked controversy by introducing legislation which allowed the tourism minister to fire members of the Casino Gaming Commission and issue policy direction over it. Other items tabled on Friday include a Bill merging legislation for midwives with the Nursing Act 1997. If approved, the new Act would designate a joint council to regulate both, as well as a committee to field complaints for both professions. A code of conduct will be created for midwives, which had previously been governed under the Bermuda Medical Council. The Nursing Amendment Bill 2018 comes after the Ministry of Health acknowledged that midwifery on the island had been "limited due to an outdated regulatory framework". The conjoined Nursing and Midwifery Council will have its corporate status removed, and the register will have a division for each category. Under the Act, only a registered midwife would be able to attend to a woman in childbirth, unless in cases of emergency or supervised by a registered medical practitioner. Also coming in the session ahead is a Bill for a Customs tariff break on all goods to be used for the housing of seniors. The amendment will cover goods for "enhancing the mobility, safety or comfort of seniors" — either at home, or in residential care. Meanwhile, Curtis Dickinson, the Minister of Finance, tabled the Investment Funds Amendment Bill 2016, clearing operators of class A exempt funds from having to appoint a custodian or prime broker under criteria set by the Bermuda Monetary Authority and published online. In addition, seven pieces of legislation left over from the last session of the House will be dealt with, including financial assistance reform. A working group was tasked last year with tackling the extra burden on financial assistance from the island's ageing population. MPs will also debate Bills for the creation of a Police Authority, and a Bermuda Event Authority. A deferred Bill will amend the National Pension Scheme Act to give equal treatment to Bermudian and expatriate workers. The Throne Speech also proposed legislation to support social enterprises, which featured in the Progressive Labour Party's 2017 electoral platform, as entities conducting commercial operations to fulfil a social purpose. Legislators will debate enhancements to child support, as well as a Bill for incorporated segregated accounts companies.

Re/insurers are digging in for price increases across many lines of business at January renewals after several years of dwindling returns. Scott Carmilani, chief executive officer of insurer and reinsurer Allied World, said at a conference in Hamilton that companies like his were looking for a significant pricing rebound in casualty business. "We need rate across virtually every line of business to varying degrees," Mr Carmilani said at the S&P Bermuda Reinsurance Conference at the Hamilton Princess and Beach Club last week. "When you're talking about specialty professional liability, you need double-digit rate increases and we're only ever seeing less than 5 per cent, although in the last month or so we are starting to see some acceleration of that, but not across the board, in specific spots. Many of our distribution partners, like brokers and MGAs, who've only been in the business for the past ten years have never had to sell a rate increase. They very used to sitting down with their clients and saying: 'How much are we going to take off the price this year? That conversation has to turn 180 degrees to: 'Not only do we not get to decrease this year, but we can't fill your programme if we don't get some kind of increase'." He argued that the economics were there for all to see in carriers' financials and any look at combined ratios, regardless of the line of business, would show that the industry needs rate. The question is: is it 5 per cent, 10 per cent or 15 per cent?" Mr Carmilani said. "Sitting in my chair, I'd argue for 15 per cent rate increase. Sitting in a broker's chair, they would argue 5 per cent." Low interest rates mean re/insurers are making meager returns from their large fixed-income investment portfolios, which means underwriting profitability is all the more important. We're in a relative 2 to 3 per cent interest rate environment. If we can't make 4 or 5 per cent or higher on our investment portfolio — and very few enterprises are doing that — we need at least a 95 per cent combined ratio to make a profit. At a minimum, the industry needs 5 per cent rate increases across the board and in particular lines of business, there's absolutely an argument for double-digit rate increases. Execution will determine the outcome and January is going to be a very interesting time." Also on the panel was Kevin O'Donnell, CEO of RenaissanceRe, fresh from last week's announcement of his company's agreement on a $1.5 billion deal to take over Tokio Millennium Re. Mr O'Donnell said the deal was very different from most of the mergers that have occurred in the industry in recent years, in that it was "a culmination of years of relationship. We have a very strong relationship with Tokio and because of that we could be very transparent about what we needed from the deal and what they needed. It allowed them to focus on stuff that was strategically important for them going forward and for us to advance our business at a time when finding desirable risk is difficult." RenRe, one of the few pure-play reinsurers still in the market, celebrated its 25th anniversary this year and Mr O'Donnell gave some insight into how the company is navigating today's challenging market conditions. "The ability to build portfolios in today's reinsurance market is about orchestrating the most efficient capital and finding the most desirable risk. Pricing was only half the equation and companies needed to be fully aware of how much risk they were taking on. From our perspective, we only keep 50 per cent of the cat premium that we write," Mr O'Donnell said. "There's no magic to that number, other than that's the right balance for us to optimize returns. If we add more risk to our balance sheet, then we get more for taking more risk than we do for transitioning into fees. Just go risk-on, if you want more return. I think this industry is demonstrating an enormous amount of discipline, recognizing that there are challenges and positioning itself with strong liquidity and strong solvency and solid underwriting discipline." Mike Sapnar, CEO of Transatlantic Re, said the gap between losses and what was actually insured presented an opportunity to the industry that a collaborative approach could help to take. "The biggest issue for us is that only a third of economic damages are recovered after an event," Mr Sapnar said. "Insurance is a negative utility product — nobody wants to spend the money and when they benefit, something bad happened to them. We've got to do a better job of delivering value by driving costs out of the system — and that's us collectively as an industry. We've got to try and use new ways of distribution and make better value insurance products that make people want to buy more. We've got to work to get to that point. Cyber is an area in which the industry has an opportunity to step up and solve the problem. I think we have to get together as an industry to decide: 'do we want to cover it in regular policies or do we want to write cyber policies?'" More sharing of information between insurers and reinsurers would help cyber-risk to be better understood, Mr Sapnar added.

Shares of Bermuda-based reinsurer Maiden Holdings plummeted 31.8 per cent yesterday, after the company announced a hefty third-quarter loss when analysts had forecast a profit. The company also continued its ongoing restructuring by striking a loss portfolio transfer deal with fellow Bermuda-based company Enstar Group. Maiden's shares fell $1.12 to $2.41 on New York's Nasdaq Stock Exchange after it announced a net loss of $308.8 million. The operating loss was $235.1 million, or $2.83 per share, compared to analysts' consensus expectation of an 18 cents per share operating profit. Maiden's combined ratio was 150.7 per cent, meaning that it paid out about $1.50 in claims and expenses for every $1 of premium it took in. Under the deal with Enstar, which specializes in acquiring and managing businesses and portfolios in run-off, Enstar will assume loss reserves of approximately $2.675 billion associated with Maiden Re's quota share reinsurance contracts with AmTrust Financial Services. The retrocession will apply to losses arising and claims made on or prior to June 30, 2018; loss reserves assumed will be subject to adjustment for paid losses since such date. The transaction is subject to regulatory approvals and other closing conditions. In August, Maiden agreed to sell subsidiary Maiden Reinsurance North America to Enstar for $307.5 million. This year, Maiden has also sold its US casualty facultative reinsurance team to Sompo International and struck a renewal rights agreement with Transatlantic Re for net proceeds of $7.5 million. Lawrence Metz, Maiden's chief executive officer, said: "While there is still work to do, we believe that much has been accomplished, and we remain committed to completing our strategic review process and to taking the actions necessary to further enhance value to all our shareholders." Patrick Haveron, Maiden's chief financial officer, said: "During the third quarter, we also took the opportunity to materially strengthen our carried loss reserves and position Maiden for profitable future results. Our announcement today with Enstar brings additional certainty and finality to the steps we have taken. Upon completion of all of the strategic transactions announced since August, Maiden's capital position will be dramatically stronger. He added: "We anticipate an improved outlook for Maiden as 2018 heads to its final quarter and into 2019."

Scores of people walked and cycled to Gibbet Island yesterday to celebrate the opening of the new Railway Trail bridge. The trail is the result of work by the Friends of the Bermuda Railway Trail, numerous sponsors, workers and volunteers. Tucker Murphy, president of FBRT, said during a brief ceremony: "You can't build bridges by yourself, it takes a huge team of people to do it. We hope that even more people will use the trail and use the bridges. I wanted to say thank you to all our workers and volunteers." FBRT has sponsored and worked towards the reconnection of isolated sections of the Railway Trail. To mark the opening, supporters made their way to the bridge from other spots along the Railway Trail. The walk showcased some of the efforts undertaken through private investment. Mr Murphy's father, Mike, chairman of FBRT, said the project would bring health benefits for locals and visitors and boost tourism. He said: "When I came here in 1972, it was all tourism. People weren't as lazy or in as bad shape. The horrible thing that has happened with all the success here is they have gotten out of shape with modern diseases from not taking care of themselves. This is free and we are trying to get people out there." He said he hoped people would take good care of the trail. "When you are walking be humble and bring a bag. Keep things clean." Kevin Dallas, chief executive of the Bermuda Tourism Authority, said the project is making one of Bermuda's natural assets more accessible. He said: "It is a fantastic example of what local involvement in our community can achieve." Health minister Kim Wilson urged everyone to invite at least one person to join them on the trail to help combat what she described as Bermuda's health crisis. Ms Wilson said: "As we all know, in Bermuda today chronic diseases are crippling our health and damaging our economic recovery." Sedentary lifestyles contribute to this plague of obesity, with two thirds of adults overweight or obese. Open spaces such as the Railway Trail provide one of Bermuda's most pristine public spaces for exercise and leisure. Thousands of people use them for our popular races; and for daily exercise as runners, dog walkers, cyclists and family leisure. We are grateful to the Friends of the Railway for their longstanding dedication to extend the railway trail connections. These new bridges, like the Bailey's Bay trail bridges, are adding even more life to this beautiful Bermuda asset. It is a wonderful development. The idea that we will soon be able to walk or cycle from Coney Island to Palmetto Road almost uninterrupted is a truly exciting prospect." The bridge was christened with rum because it was described as "the roof over North Shore Road".

A rare print of a watercolor by Charles, Prince of Wales is to go on show at the Masterworks Museum of Bermuda Art. The heir to the throne donated the artwork, which will be displayed with a video message from him to mark Masterworks' decade in its Botanical Gardens home. Charles's artist's proof will later be auctioned off to raise funds for Masterworks. Tom Butterfield, the gallery's founder and creative director, said he was "overwhelmed" by the news and hoped to have the piece in place for a triple birthday celebration. He explained museum curator Elise Outerbridge celebrated her 70th birthday last Wednesday, Prince Charles will turn 70 tomorrow and Mr Butterfield will do the same the next Wednesday. "Of the 70 years that I will soon be having, probably 60 of them have been with the knowledge that His Royal Highness was born a week ahead of me," Mr Butterfield said. "He became our principal patron in 2003 and put his name to our efforts." Mr Butterfield said Masterworks, a non-profit organisation, contacted the Prince's team to ask if he would film a short video to welcome visitors to the 10th anniversary exhibition. He said: "He's a lover of the arts and he's a practitioner of the arts as well. If he weren't king-in-waiting, he would be a very fine artist. He really understands the watercolor medium. I've seen some of his work first-hand and it's very impressive." Over the course of about a year, Mr Butterfield answered questions, including at an interview at Buckingham Palace, about the museum's plans for the footage and why the Prince should be involved. He admitted: "At one point I did not think we were going to get it done." Prince Charles added a characteristic "personal touch". He welcomes "visitors of all ages" and invited them to "appreciate the wealth of artistic creativity these beautiful islands have inspired". The Prince said: "As a very amateur watercolorist myself, but even more as one who admires the artistic skill of others, it is clear to me that the second language of creativity is simply essential to our humanity transcending, as it does, the barriers of place and background. And providing such a fitting showcase for art endeavors, the Masterworks Museum of Bermuda Art has brought the finest work of human hands to a place that nature has already blessed with the greatest beauty." Mr Butterfield was delighted with the clip but became speechless when he received an e-mail last Tuesday with Prince Charles's offer of "one of his limited edition artist's proof lithographs" to display during the exhibition and for later auction. He said: "I was overwhelmed. You take on that sense of humility, being humbled by it because here's one of the leading figures — and a recognized one at that — of the 20th and 21st centuries. I was just beside myself." He added: "There might be 500 of the limited edition, the artist's proof might be somewhere in the neighborhood of ten." Mr Butterfield said he hoped to have the work in place for the exhibition's opening by John Rankin, the Governor, tomorrow. The show is expected to run for about eight months and the museum team is considering a silent auction before a live bidding event. A similar contribution several years ago from the Prince attracted $15,000.

The U.S. Consulate General invited American speaker Stacey Ferreira to participate in Bermuda's Global Entrepreneurship Week activities November 14 - 16. Ms. Ferreira will participate in outreach events facilitated by the U.S. Consulate General as well as events sponsored by the Bermuda Economic Development Corporation (BEDC) and other local partners. On November 16, Ms. Ferreira will highlight Women's Entrepreneurship Day – a worldwide movement supporting female entrepreneurs globally – by participating in BEDC's Women's Conference at Rosewood Tucker's Point. As one of the featured guest speakers, Ms. Ferreira will discuss navigating through a male dominated industry and will join business women in workshops intended to inspire, empower and elevate one another throughout the day. Following the conference, U.S. Consul General Constance Dierman will host a special reception recognizing the achievements of business women and entrepreneurs in Bermuda. During the Association of Bermuda International Companies' (ABIC) annual meeting on November 15, Ms. Ferreira will give a presentation surrounding the theme, "Your Disruption Opportunity." Throughout the week, she will also meet with high school students, inspiring them to pursue their interests while sharing her journey as a young entrepreneur in the tech industry. Ms. Ferreira will visit with students in the Virtual Enterprise International class at CedarBridge Academy and those attending Somersfield Academy, Bermuda Institute, and Bermuda High School for Girls. A special screening of She Started It will be held at Specialty Cinema on November 14 where Ms. Ferreira will talk about her involvement in the movie followed by a Q&A session with entrepreneur Shelley Bell – founder of Black Girl Ventures – and guests. Those interested in attending the movie and networking event must RSVP to info@bedc.bm or 441-292-5570. Ms. Ferreira is part of the U.S. State Department's Speaker Program, which facilitates the travel of American experts to present lectures and conduct workshops for audiences overseas. A special acknowledgement is given to Butterfield Bank, a primary sponsor of Bermuda's annual Global Entrepreneurship Week. Follow the U.S. Consulate on Facebook, Twitter and Instagram for updates @usconshamilton. For details about Global Entrepreneurship Week events, contact the BEDC at info@bedc.bm or 292-5570, or visit bedc.bm.

November 12, Monday, Public Holiday
As Remembrance Day fell on a Sunday.

Dame Jennifer Smith has called for the Progressive Labour Party to remain focused on independence. Speaking at the PLP's Wakanda Royalty Gala celebrating the 20th anniversary of its historic General Election victory, the former premier said members must remember what their predecessors fought for. She said: "They had a vision that one day Bermuda would be an independent country. Our ancestors dreamt it would be an independent country and put it in our constitution so we could not and would not forget." Dame Jennifer, who became the first elected female premier when the PLP first took power on November 9, 1998, said it was important for all leaders to remember those who came before them. She read out a list of all of those who ran for office under the PLP banner between the party's inception and 1998. She added: "I recognize that the list is long, but I thought it was necessary to acknowledge that we do not do what we do alone. Perseverance, endurance and patience are good virtues to have in politics, but even better is to have the trust of the people you serve." The sold-out gala at the Fairmont Southampton brought together party leaders and members with music, acknowledging the PLP's successes and the hard work of volunteers and elected officials. Many participants adopted the event's Wakanda theme — inspired by the fictional African nation from the Black Panther film and comics — by wearing African-style attire and make-up. David Burt, the Premier, said that the choice of theme did not please everyone, as some argued that it would not be inclusive and others were unhappy it highlighted a fictional African country. Mr Burt said: "There will always be noise with whatever you decide, but if you are clear and focused with what you are trying to do, then you must press forward with that agenda. What we were going to do was to ensure that the people who typically do not get to benefit from the shops and sales with everyone getting ready their dresses are able to get some money in their pockets."

November 11, Remembrance Sunday

The commemoration of the 100th anniversary of the end of the First World War ended tonight with a beacon of hope lit at Government House.
John Rankin, the Governor, members of the public and VIP guests, including Heiko Schwartz, head of the political department at the German Consulate in New York, watched as the fire was lit in the grounds by soldiers from the Royal Bermuda Regiment. Mr Rankin told the crowds that "however dark the hour, there is always hope". He added: "It is for that reason I'm particularly grateful to all the young people who have come to participate in this evening's event. You are the future of Bermuda, the future of the world and we are honored by your presence." Mr Rankin added the beacon was "a light of hope" and that "we should rededicate ourselves to keeping that light alive". Mr Schwartz said he was honored to accept the invitation to visit Bermuda for Remembrance Day. He added: "For us, it was a strong signal of our friendship — we have been enemies before and now we have become friends and close allies. That is why this evening is so moving and I'm very honored and glad to be here today." The beacon was one of many lit around Britain, the Commonwealth and in the Overseas Territories to mark the anniversary. As soldiers from the Royal Bermuda Regiment lit the beacon, an RBR bugler played the Last Post and a piper played the Flowers of the Forest, the traditional lament of Scottish Highland regiments for the fallen. The beacon ceremony came only hours after a crowd of hundreds turned out for a Remembrance Day parade designed to mark the 100th anniversary of the end of the First World War. Veterans of other conflicts lined up alongside soldiers from the Royal Bermuda Regiment and other uniformed services to commemorate the Armistice, which came into effect on 11am on November 11, 1918, with two minutes' silence. Canadian visitor Janet Jeffery, who attended the parade with husband Nick, said the Royal Bermuda Regiment had put on a parade to be proud of. Ms Jeffery added: "I'm not surprised. It was what I expected, but I was very much impressed. Everybody was immaculate." Veterans of the services and other conflicts lined up alongside their modern counterparts for the parade and wreath-laying ceremony at the Cenotaph on Front Street. The former warriors got the biggest round of applause as they marched off from outside Cabinet Office at the end of the commemoration. But not all the RBR soldiers were on parade: its chefs had put in two days of hard work to prepare a lunch to honour Bermuda's former military at No. 6 Shed. Sergeant John Lema, an eight-year veteran of the RBR and also a chef in civilian life, said his soldiers had started work at 5.30am to make sure the lunch went with military precision. But Sergeant Lema, 37, from Devonshire, added: "We enjoy it. It's always great to give back to the community and honour our fellow servicemen and women." Mr Rankin, who led the wreath-laying, said afterwards: "It was a very good service. This year is a special one because it's the 100th anniversary of the end of the First World War. Today has been a day to mark that Armistice and to recognize all of Bermuda's veterans, both those who made the ultimate sacrifice and those who survived. All of them played a part in helping us to have the peace and freedoms we enjoy today." David Burt, the Premier, who laid a wreath on behalf of the Government, added: "This is tradition. When you have traditions, you have to consider them. It's an important part of Bermuda's history and something which we will continue to commemorate." Canon Thomas Nisbett, a Second World War soldier in the Bermuda Militia Infantry, which guarded the island against enemy threats, said: "The ceremony was very well done." The 93-year-old retired Anglican priest, who paraded with other veterans, added: "It was beautiful. There are not many veterans left and it was nice to hear the applause as we marched off." Isobel Flood, also 93, served with the Royal Canadian Air Force in the Second World War, said: "Our uniformed services did very well — and I'm still standing up as well." Ms Flood, from Pembroke, added: "It's very important that we keep commemorating these events. Like they say, 'Lest we forget'." RBR Commanding Officer Lieutenant-Colonel David Curley said: "This is one ceremony and parade that we are really honored to do. That's because it's for the veterans. To see them out on parade is awesome and to be able to mingle with them at the lunch afterwards is first class. Without them and their service to their countries and doing what they did in both world wars, we wouldn't have the world we have today." Colonel Curley added: "I was very proud of our troops. It was an outstanding performance and they understand the values and traditions behind it. They felt privileged to be here today and we are honored to have inherited the veterans' ideals of service, commitment and honour and carried them through to the modern RBR we have today." Lieutenant-Colonel Eugene Raynor, a former Commanding Officer of the RBR and its Honorary Colonel, said after the beacon was lit: "Today we celebrate the end of the First World War 100 years ago. But will we ever celebrate the end of war?"

November 10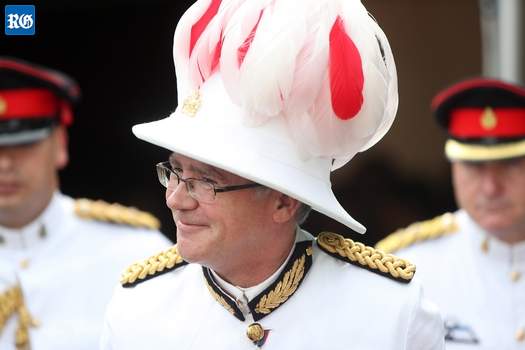 Tax reform designed to reflect people's ability to pay is in the pipeline, it was announced in the Throne Speech yesterday. A livable wage, cheaper healthcare, lower power costs and more competition in the mortgage market to drive down costs are also on the cards. The first measure in tax reform will be a change to social insurance contributions to end fixed-rate contributions in favour of a system based on a percentage of income. John Rankin, Governor, delivered the Throne Speech on behalf of the Government and said: "This change will increase the take-home pay of low-income workers, while ensuring that our pensions fund is sustainable for the future." Mr Rankin added that more changes will be announced in the Budget speech in February. Mr Rankin also announced more relief on mortgage payments, designed to boost disposable income, which can be pumped into the economy, saved or invested. The Government is determined to provide relief to hard-working families through a series of measures, including but not limited to, engaging alternative financing regimes, guarantees to reduce mortgage costs and repayments and where required, legislation. Banks in Bermuda had used American interest rates on mortgages and in some cases raked in a 24 per cent return on equity — four times the average in the European Union. Not all local banks have increased mortgage rates and our tax system should not prevent families from taking advantage of lower rates at a competing bank. To boost competition between existing banks, stamp duty on mortgage refinancing will be eliminated for amounts under $750,000, allowing Bermudians to move their mortgages to a bank that may charge a lower rate without having to pay taxes on that transaction. Lifestyle diseases and inefficient health services delivery had combined to make the cost of healthcare on the island unsustainable. The Government will change the way we pay for healthcare and make it more affordable by expanding access to coverage at better rates. The high cost of health insurance is also expected to come down and entrenched, vested interests in the insurance industry will be taken on. The needs of Bermudians must finally take precedence over insurers' profits. Therefore, upon conclusion of the necessary consultation, the Ministry of Health will advance a national health plan that will put all persons in Bermuda into either one or two health insurance pools, which will reduce the cost of health insurance. This fundamental reform will be the subject of legislation during this session. The massive cost of electricity hits the average Bermudian and deterred investors and developers from doing business on the island. During this session, legislation will be advanced that provides greater powers to the Government to reduce the costs of electricity for the people of Bermuda. Additionally, the Government will change the structure of energy taxes to promote energy conservation by replacing the flat rate of tax on fuel imports with a progressive tax based on energy consumption. It is also planned to boost distributed generation by using renewable energy on a community, commercial and utility scale. A living wage regime will be enacted in this session of the House of Assembly. The latest census showed that black Bermudians had fallen behind in access to higher education and that the Government plans to boost the numbers going to tertiary education. To achieve this, the current financial aid grant will be increased to ensure that even more young and mature students who have the ability, but not the means, are not hindered from attending the Bermuda College. Also during this session, a merit-based College Promise programme will be introduced, which will award scholarships to the Bermuda College to public-school graduates with a grade-point average of 3.0 or higher. Younger people will also get a chance to get their feet on the property ladder with the construction of apartments in Hamilton for sale or rent by the Bermuda Housing Corporation. This will meet the Government's mandate of putting independent living in reach of many of Bermuda's young people who want to own their own place and move out of their family homestead. Older people in the public service will be allowed to work past the age of 65, although the right to retire at that age will be preserved. Other Throne Speech promises included the transformation of two floors of the old Hamilton Police Station on Parliament Street into a centre for arbitration, with "complimentary amenities" on the other floors. The building will be named after Ottiwell Simmons, a former Progressive Labour Party MP and president of the Bermuda Industrial Union." Mr Rankin also promised simpler rules on Bermudian status, the status of permanent resident's certificate holders and status for mixed-status families. "Work-permit procedures will be changed to allow companies with a track record of hiring, training and promoting Bermudians access to a more streamlined process. The scrutiny needed for bad employers should not subject good corporate citizens to delays. Concurrently, companies that discriminate against Bermudians in hiring will be subject to additional scrutiny and graduated penalties.. The cultivation of cannabis for medical use and permission for licensed doctors to prescribe the drug will also be legislated. " The Government also announced a crackdown on plastic waste, single-use plastics such as straws will be banned by 2022, with a charge imposed on their use in the two-year run-up to their elimination. A Unified Family Court and Mediation Centre will also be set up to streamline the legal process, with a single registry and promotion of the use of mediation to solve disputes. "The people of Bermuda must be relieved of the systemic burdens, which are now more than unbearable. These burdens serve to counteract any chance of economic growth for Bermuda and fuel the stresses of simply making ends meet in this society. Legislation had carved out a mandated revenue base for a segment of this community and the system had not changed in decades. Just as legislation was the tool to create these conditions, it is legislation that must be used as a tool to create the justice and equity now demanded in 2018 and beyond."

It was ladies' day as the Throne Speech blueprint for the new Parliamentary session was unveiled yesterday. Colorful dresses added splashes of colour as a crowd assembled on the lawn of Cabinet Office to hear John Rankin, the Governor, read the speech. Tinée Furbert, a Progressive Labour Party senator, was front and centre with a flamboyant, wide-rimmed purple hat topped with fur. She managed to match the hat with a wild print pale yellow suit teamed with black, gold and purple shoes. Jeanne Atherden, former One Bermuda Alliance leader, stood out in a shock red and purple outfit. The backbencher's outfit was balanced and a little adventurous with a leopard skin print and vibrant accents. New faces at the ceremony included Curtis Dickinson, the new Minister of Finance, and MP Scott Pearman of the OBA, as well as OBA senators Dwayne Robinson and Marcus Jones. Crystal Caesar, a PLP senator, was the image of grace with a full-length floral dress matched with burgundy heels. PLP MP Lovitta Foggo, the Minister of Labour, Community Affairs and Sport, looked regal in royal blue. Kim Wilson, the health minister, sported an outfit so bright a Gombey might have blushed. Neon pink and blue feathers in her hat matched her colorful print dress and petrol blue shoes and hat balanced the look. The men, however, were sober-suited and drab in comparison. Zane DeSilva, the tourism and transport minister, flashed a little colour with a Kermit the frog green tie and handkerchief which caught the eye. Kim Swan, a PLP backbencher, was businesslike in pinstripes, stylish dark shades, fedora and black silk tie. Christopher Famous, also a Government backbencher, wore the green and gold tie of his alma mater, The Berkeley Institute. But the tie was a little mismatched with his green silk handkerchief and blue paisley waistcoat. All but three of the PLP men wore ties in PLP green in an apparent show of solidarity — standing strong but not standing out.

Same-sex marriage gives gay couples a "stamp of approval" not provided by domestic partnerships, a lawyer argued yesterday. Mark Pettingill, who argued against a government appeal to reverse a Supreme Court decision to reinstate same-sex marriages, added that the removal of the right sent a clear signal of disapproval. He said: "To remove this recognition is to make a statement that the group from who it is removed is not worthy — that in some way it is wrong for them to be married." Mr Pettingill was speaking as he gave his closing arguments at the end of a three-day hearing in the Court of Appeal, where James Guthrie QC questioned the Constitutional grounds for an earlier ruling that struck down a ban on same-sex unions. Mr Pettingill said that the Domestic Partnership Act that replaced same-sex marriage with civil unions inflicted a "negative social judgment by removing access to legal marriage from one group — and one group only". He added: "It can't help but be seen as lesser. That is what marriage gives and domestic partnership does not — the stamp of social approval and acceptance, and the ability to manifest the highest standard of love." Mr Guthrie claimed Mr Pettingill had interpreted the Bermuda Constitution the way he wanted it — not the way it was. He argued that UK legal cases had protected non-religious creeds such as pacifism and veganism, but did not extend to a belief in assisted suicide. Mr Guthrie said: "What is being protected is not something specific, but something more general. Spiritual or philosophical convictions which have an identifiable formal content." The lawyer also argued that the DPA — including a clause which prohibited same-sex marriage — was not rooted "solely" in religious belief. Mr Guthrie added the belief that marriage should only be between a man and a woman was not linked to any one religion. He said Walton Brown, who tabled the legislation as Minister of Home Affairs, has said the Bill was intended as a compromise to ensure "peace". Mr Guthrie added: "If the purpose of the DPA was political, then it didn't have a solely religious purpose." The Attorney-General's Chambers argued in the initial grounds of appeal that a decision by Ian Kawaley, the former chief justice, was not valid under the Constitution. The document that laid out the Government's case said that Mr Justice Kawaley made a mistake when he found that freedom of conscience, which includes freedom of thought and religion, could be applied to same-sex marriage. The Government's legal team also argued that the Chief Justice stretched the definition of "creed" when he ruled that the DPA, which replaced marriage with a civil partnership arrangement, went against the Constitution. Puisne Judge Charles-Etta Simmons found in May 2017 that a restriction of marriage to a man and a woman was against the Human Rights Act. The ruling made same-sex marriages possible and the One Bermuda Alliance administration in power at the time decided not to appeal. But the Progressive Labour Party government, which came to power in July last year, replaced same-sex marriage with domestic partnerships a few months later. Mr Pettingill took up the case on behalf of Roderick Ferguson, a Bermudian who contested the civil unions as unconstitutional. The case was joined by the charity OutBermuda and Bermudian Maryellen Jackson, both of whom were represented by lawyer Rod Attride-Stirling. Mr Justice Kawaley found that a ban on same-sex marriage was at odds with the Constitution's guarantee of freedom of conscience and creed, and granted same sex couples the right to marry.

A sex offenders' register is proposed under legislation tabled yesterday in the Senate by the Attorney-General. Kathy Lynn Simmons, also Legislative Affairs Minister, was given responsibility for child protection in the new Cabinet announced by David Burt last week. The register, if approved by legislators, will not be open to the public and details will not be available through the Public Access to Information Act. The Bill also included provision for a $10,000 fine for unlawful disclosure of register information. The list would also include offenders from overseas who became residents of Bermuda, with photographs and addresses. The minister would administer the register, with offenders to be listed for ten years or more, depending on the findings of an "offender risk management team". The creation of a register was recommended by a Joint Select Committee at the close of the last session of the House of Assembly. The prisons would be required to notify the minister of an offender's release at least two months in advance. It also proposed stricter requirements for jailed sex offenders to complete rehabilitation programmes before becoming eligible for early release. The fine for revealing the identity of an alleged victim or the defendant in a sex assault would be doubled — up from $5,000 to $10,000. The term of supervision for sex offenders believed to be at risk of re-offending would go up to a minimum of ten years, but would remain at a maximum of ten years for other offenders.

A former union leader got a standing ovation as the Throne Speech was read yesterday after it was announced a new arbitration centre would be named after him. Ottiwell Simmons, former president of the Bermuda Industrial Union and a past Progressive Labour Party MP, will have the new centre, to be housed in the old Hamilton Police Station on Parliament Street, named in his honour. Mr Simmons, 85, who attended the Throne Speech ceremony on the lawn of the Cabinet Office, said afterwards he was surprised at the news. He added: "Somebody said something to me last night, but I didn't really know what it was about. "I feel mixed emotions, to be honest. I feel very proud to be recognized and I know that I did put a lot of effort into making progress for the working class. But I always have it in mind that the achievements of the BIU are not Ottie Simmons alone — it is a team. I think all of the people that I have been working with are entitled to a lot of credit. I want to share it with all my former members and colleagues of the BIU." Mr Simmons has just returned to Bermuda after emergency medical treatment overseas. He almost lost a leg last month after a blood clot formed in his leg and doctors warned he would need an emergency amputation. But daughter Emma Williams insisted on a second opinion and surgeons at a New York hospital were able to remove the clot. Mr Simmons, however, suffered a stroke as he was being discharged from hospital after the first operation and doctors removed a second clot to save his life. John Rankin, the Governor, who delivered the Throne Speech on behalf of the Government, told the Cabinet Office audience: "To recognize his unrivalled sacrifice in the service of the labour movement in Bermuda." Mr Simmons was president of the BIU from 1974 to 1996 and PLP MP for the Pembroke East constituency from 1976 to 2007.

The Throne Speech fell short on job creation and economic development, the Opposition leader said yesterday. Craig Cannonier added the Government missed the opportunity to help people who struggled with the high cost of living and that small businesses could be hurt by proposed tax reforms. The One Bermuda Alliance leader said the theme of economic inequality deserved praise. But he added: "There was no real mention of creating jobs or economic development, which is the best way of helping people cope with the cost of living and inequality. Government appears to have all its eggs in the fintech basket, so to see no overriding emphasis on improving the job prospects for Mr and Mrs Bermuda was concerning." Mr Cannonier said: "We saw some mention of support for technology-based businesses and vertical farms, but plans for economic development were limited to two paragraphs. There was also nothing to offer small and medium-sized businesses, many of whom are just managing to survive and I am concerned they may be further disadvantaged by the plans for progressive social insurance payments. A progressive tax based on energy consumption could also affect businesses and further push up their operating costs which either get passed on to the consumer or which force the business to make redundancies." Mr Cannonier praised plans to ban single-use plastics, a promise to consider increasing paid maternity leave from eight weeks to 13 and the creation of an arbitration centre. But he added: "While we would all like to see lower healthcare costs, there are a lot of questions about the plan to have one or two health insurance pools. This could have very negative effects on employment for our insurers." Mr Cannonier warned: "Economic indicators are all down, the date to balance the budget has been pushed back and Bermuda is still borrowing more. Imagine a Bermuda today, therefore, that did not have the jobs that the airport created, and will continue to create, imagine if we did not have the economic input of the America's Cup, imagine if we did not have the Bermuda Tourism Authority — how much worse would Bermuda be today?"

A top business leader backed the Government's Throne Speech bid to help people who struggled with Bermuda's high cost of living. John Wight, the Bermuda Chamber of Commerce president, said the speech was right to focus on people caught in the gap between income and expenses. He added that reductions in taxes, energy costs, healthcare and mortgages were all covered — but pointed out that details have still to be provided. But Mr Wight said that other "contentious issues" — such as the 60:40 rule designed to limit business ownership by foreigners — were not addressed. He said: "The Throne Speech was largely directed at the many Bermudians who are feeling the economic challenges of today's Bermuda. As we all know, the Bermuda Department of Statistics revealed that thousands of jobs were lost, largely in the 2010 to 2014 period, such that government revenues through payroll and other taxes declined significantly. Meanwhile, costs increased. This is not a sustainable model for any country." Mr Wight added: "While there has been some improvement in the job market recently, far more is needed. Many people either can't find appropriate work, or have a job or jobs but are struggling with the high cost of living in our country. In the Throne Speech, Government prioritized addressing the needs of these people — as it should." Mr Wight, who emphasized he was speaking without referral to Chamber colleagues, said it was "not surprising" that taxes, energy, healthcare, and mortgages were identified as problems. The Throne Speech said "substantive tax reforms" will be announced in the Budget statement next year but will begin with a change to the social insurance system from fixed-rate contributions to an income-based model. Government added it planned to develop legislation that would give it more power to bring down the cost of energy and to offer more relief on mortgage payments. A national health plan is expected to bring down the cost of health insurance. Mr Wight said: "While some information was provided in the Throne Speech, we will need to wait for February's Budget to see the details of how Government intends to address them." He added: "On some matters such as tax reform, Government is likely to garner broader consensus — around developing the tax base to improve fairness and equity, for example. On others, such as addressing healthcare costs by pooling all residents into one pool, Government may encounter more challenge through the absence of a holistic view of the entire healthcare delivery and financing model in Bermuda." Mr Wight said he was generally "impressed with the tone of the speech" and that the Chamber and the wider business community looked forward to more details. Mr Wight said: "I noted the omission of any reference to tackling some of the more contentious issues in the speech — issues that we must address. "For example, there was no reference to revising or eliminating the 60:40 rule. Bermuda needs to create more jobs as well as generate a steady flow of foreign currency. Where does Government stand on, for example, lifting the 60:40 ownership rule just within the City of Hamilton? This would be one way of encouraging new jobs and welcoming foreign investment." Cordell Riley, a statistician, also looked forward to more details on the Throne Speech proposals but said abolition of stamp duty on mortgage refinancing for amounts under $750,000 would be a "big bonus". The Throne Speech claimed local banks had "reaped immense profits" by imposing US interest rate increases on Bermuda's mortgages, which lead to a "drain" of disposable income from hard-working families. Mr Riley said lower mortgages would benefit the entire island. He added: "It would be better to reduce the mortgage rates because you don't end up with houses you can't sell when you need to repossess someone's house. I think it's a win-win."

A plan to make it easier for people to stay on at work after their 65th birthday (currently, employers in Bermuda both public and private can legally require staff over 65 to end their employment) was welcomed yesterday. Age Concern Bermuda said the move was "in the right direction" as the island grappled with an ageing population. But the charity said it wanted more detail on a proposed loan scheme designed to help people grow older in their own homes. Charles Jeffers, Age Concern deputy chairman, said he was pleased to hear a government proposal that would remove the need for public sector workers to get permission to work past their 65th birthday. He said: "That's a move in the right direction. As long as people are in good health they should be allowed to continue to work and they should decide when they want to leave." The Throne Speech added: "During this session, the order will be tabled to perfect the offer of interest-free loans to those who would support seniors ageing in place." Mr Jeffers said: "Certainly, we would have to wait and see what they're talking about because any time we talk about a loan it means pay back and whether it's interest-free or not, it's still got to be paid back. Who is it for and how is it going to be paid back? We need more detail. The moment I hear 'loan' my antenna goes up." Mr Jeffers was speaking after Throne Speech pledges to look at ways to help seniors. John Rankin, the Governor, who delivered Government's blueprint for the new session, said the "greying" of society challenges everyone. He added: "In many cases, the designation 'senior citizen' does not describe our energetic men and women aged 65 and older. The time has come to revise the mandatory retirement age to take account of our longer life span, the necessity to add additional stability to pension funds and to promote greater choice among the working population about when one retires. During this session, the legislature will be invited to discuss options for such revisions to the age of mandatory retirement from the public service, which will preserve the right to retire at 65 but permit a post-holder to work beyond that age without the requirement for permission to do so." A population projections report by government statisticians published last month showed that almost 25 per cent of residents are expected to be aged 65 or older by 2026, compared to nearly 17 per cent in 2016. The number of seniors for every 100 people of working age was expected to rocket from 24.7 to 39.9 over the same period. John Barritt, the Bermuda Housing Trust chairman, said a commitment to help older people live in their chosen place, often their own homes, was a "starting point". But he added people in the island's wider employment marketplace would like to see moves to ensure "it is no longer permissible to discriminate against seniors on the basis of age" and "I hope it will go broader than just the public service." Government departments will "further support the work of the Ageing Well Committee in the development of targeted policies to address the ageing population and its impact on Bermuda. These policies must be means tested, meaning that breaks that are provided to seniors are provided to those in most need of assistance."

The contribution of Bermudian soldiers in the First World War will be recognized this weekend in Belgium. Martin Buckley, department manager at the Bookmart at Brown & Co in Hamilton, organized two wreaths to be placed at the Menin Gate in the Belgian city of Ypres, scene of some of the bloodiest fighting of the war. One wreath bears the cap badge of the Bermuda Militia Artillery and the other the badge of the Bermuda Volunteer Rifle Corps. The BMA and BVRC were segregated military units raised by the Act of Parliament in 1895. Both served on the Western Front during the First World War, and in Europe and North Africa during the Second World War. Mr Buckley said both regiments made a significant contribution to the war effort. They were amalgamated in 1965 at the end of segregation to create the Bermuda Regiment. The Queen granted it the title Royal Bermuda Regiment in 2005 to honour its 50th anniversary. The Regiment and its forerunners have a long history of dedicated and loyal service to the Crown and Bermuda dating back to 1612. Mr Buckley said: "I thought it was really important that the sacrifices made during the First World War are recognized, and that recognition is extended out from just the UK. We hear a lot about the role of British soldiers and the role of Canadians and the Anzacs, but the part played by smaller communities around what was the British Empire is often overlooked. I think it's important that we don't forget that. The expression 'lest we forget' could not be more important. Bermudian troops in the BVRC were the first colonial troops — non-Dominion and non-Indian empire troops — to see action on the Western Front. Not a lot of people know that. It's also very important to recognize the contribution of the BMA. They served with distinction doing a particularly onerous job and were right in the thick of it alongside the Canadian Corps at Vimy Ridge and as part of a British Corps in Ypres." Mr Buckley said before he moved to Bermuda six years ago he and his father, veteran Tony Buckley, would make regular trips to recognize those who lost their lives in the First World War. He said his family had been involved in the conflict, and that two of his ancestors lost their lives. Mr Buckley said: "Every year for 25 years or so myself, my father and some colleagues from his time in the Army, have visited Ypres and other battlefields on the Western Front and for Armistice Day we would take wreaths for his regiment. With the 100th anniversary, I thought it would be nice if Bermuda was recognized in Ypres on that day as well, given the important role the island's two regiments played. I arranged with the Royal British Legion in the UK to have two wreaths made up. My father and his partners took them to Belgium on Thursday night and they will be laid at the Menin Gate Memorial." The Hall of Memory at Ypres contains names on stone panels of 54,395 Commonwealth and colonial soldiers who died in the Salient but whose bodies have never been identified or found Bermuda's veterans will also be celebrated on the day with the annual Remembrance Day Parade on Sunday. Carol Everson, case worker for the Bermuda Legion, said invitations to veterans and their companions for the post-Remembrance Day parade lunch on Sunday had been delayed at the post office, so many ex-Services personnel had not received them. Ms Everson said that veterans and their companions should go to No 6 Shed on Front Street after the ceremony as in previous years.

Police are examining a report that found a former Saltus Grammar School teacher sexually assaulted pupils decades ago. A police spokesman confirmed yesterday that the BPS "is currently reviewing the contents of the report". The spokesman refused to say if an investigation into the allegations had been launched. The spokesman also declined to comment on whether the BPS had been in touch with police abroad about the male teacher, who lives overseas. The news came a day after Saltus revealed an independent investigation had found that the former teacher had engaged in "sexually inappropriate touching of pupils and grooming behavior" in the 1970s and 1980s. The private school added that the teacher's behavior included "showing favoritism to some students, while being unduly punitive to others, instilling fear and uncertainty in his victims". The investigation also found that "an allegation appears to have come to the school's attention and the teacher departed shortly thereafter". The seven-month inquiry, which started in February, was conducted by American-based T&M Protection Resources. The school said a total of 21 interviews were conducted, "including some on more than one occasion". The investigation also included evidence from 12 former pupils at what was at the time an all-boys school at the primary level.

November 9

The Bermuda Government's finances are tracking broadly in line with budget estimates for the first six months of the fiscal year. For the six months ending September 30, the Government's total expenditure was $584.3 million, just under 50 per cent of its full-year projection of $1.18 billion, the Ministry of Finance said yesterday. Total revenue for the six months was $537.5 million, 49.3 per cent of the full-year projection of $1.09 billion. The deficit for the period was $46.8 million, $12.2 million less than for the same period in 2017. The statement said the deficit was financed by a credit facility with a local financial institution and working capital. Gross debt at the end of September 2018 stood at $2.619 billion. Net of the Sinking Fund, debt was $2.466 billion. Debt service costs for the first six months were $93.8 million. This represents $61.7 million in interest payments and a $32.1 million contribution to the Sinking Fund. Debt service to date is on par with last year's spend. Payroll taxes are tracking slightly above budget estimates and $10.4 million higher than 2017 receipts, while Customs duties are tracking in line with budget estimates but $2.3 million below 2017 receipts. Government current account spending to date is $1.4 million lower than the same period last year, mainly owing to lower grants and contributions in relation to the America's Cup, offset by higher salaries and wages. Capital expenditure was down $1.5 million year-over-year. Excluding debt service, the Government recorded a $73.5 million current account surplus for the first six months of the year.

The Government of Bermuda has announced tender offers for up to $424 million of its debt. This means that the Government has offered to return principal to creditors early, at a certain price and time. The offer applies to all of its 5.603 per cent notes due 2020, amounting to $223.935 million. A tender offer will also apply for up to $200 million of the Government's notes due in 2024, which carry a 4.854 per cent coupon. The announcement was made on PR Newswire, a global press release distribution service. The statement indicates that the Government will also be making a new notes offering, intended to settle before or at the same time as the tender offers, indicating that the debt is being rolled over. The amount intended to be raised through the sale of new notes is not specified, nor the interest rate they will pay investors. Curtis Dickinson, who succeeded David Burt as Minister of Finance last week, said in an e-mailed response to The Royal Gazette: "As announced in the 2018-19 Budget, the Government will have to incur new borrowing of $89.7 million to finance the 2018-19 deficit. The Government has also decided to refinance an outstanding $135 million credit facility that matures in 2019, and subject to market conditions, refinance current government bonds maturing in 2020 and 2024. Following an RFP process, HSBC and Citibank have been engaged to manage the issuance of the debt required to meet the mentioned obligations." The tender offers opened yesterday and will expire at 8am on November 15. Two years ago, the Bermuda Government also made an early redemption of senior notes to refinance the debt at a lower interest rate. On that occasion, it returned $276 million of principal to investors of its 5.603 per cent senior notes and sold new ten-year notes with a much lower coupon of 3.717 per cent, saving millions of dollars on debt servicing costs. Since then, interest rates have risen and the US Federal Reserve is expected to raise its influential Fed Funds rate by a quarter of a percentage point next month and another three times next year. The Ministry of Finance may see now as an opportune time to lock in a favourable rate on a large slice of its debt for the next ten years, before the rate rises take effect. According to the Government's debt repayment schedule, outlined in the Budget Statement in February, no debt repayments are due in this fiscal year, but $215 million is due in 2019-20 and a further $100 million in 2020-21.

Proposed rules to crack down on loan sharks are understood to have been revised after public consultation. The Debt Collection Act 2018 will be tabled in Parliament today after an initial draft was reworked to tackle concerns raised by lawyers, businesses and other organisations. Among the measures that appeared to be added are to the legislation were specific caps on fees and commission that could be charged by lenders. The Government said the Bill set out a "comprehensive" regulatory framework that would name the consumer affairs department the licensing authority to enforce rules covering debt recovery action. The Bill was also designed to tackle "inadequate or unfair" practices by, among other measures, making sure debt was verified through documentation, to offer a debtor the right to review paperwork and to supply them with appropriate repayment records. It would make it illegal to engage in "predatory lending", such as applying excessive interest rates and penalties that could cause "substantial financial harm". Phone harassment, deceptive documents and misrepresentation of the amount owed would also be outlawed. The law would make it an offence to hand over a debtor's information to third parties without their consent. The revised Bill will be tabled by Walter Roban, the Deputy Premier, who took over the Ministry of Home Affairs from Walton Brown in a Cabinet reshuffle last week. A six-week public consultation period on the proposed introduction of legal changes to debt collection was launched by the Ministry of Home Affairs in July. Mr Brown earlier tabled the Bill in Parliament, but he has since become the Cabinet Office minister. A government spokeswoman said: "Submissions were received from four organisations representing their members' input, three law firms, five local businesses and one individual. The Minister of Home Affairs wishes to express his sincere thanks to those who took the time to participate in the consultative process. Their contributions were invaluable in helping shape the Bill and amendments have been made where appropriate based on their input. Those who contributed to the consultation will see changes to reflect part or all of their recommendations within the Bill." The new draft of the Bill was understood to be "very different" to the original version but further details on the changes were not available. But Government said a key element was legislation to cap a one-time creditor's commission at 20 per cent of the original debt amount, a limit that did not appear to have been specified in earlier drafts. The Bill also included rules for a maximum two per cent monthly administration fee on the outstanding balance, which would only be payable if costs are incurred by required communication with the debtor in that period. Another significant feature was said to be the right for borrowers in default to lodge a complaint against debt collectors with the licensing authority, which would investigate and "apply the appropriate remedy". Debtors are also to have the right to validate paperwork from the lender and to dispute the amount. Yesterday, on the eve of the Throne Speech, Government said the Bill represented the first set of proposals in fulfillment of last year's Throne Speech commitment to "introduce regulations for debt collection agencies, regulate payday lenders who lend money at extraordinary interest rates, and bring banking, insurance and other financial service conduct under the umbrella of an updated Consumer Protection Act". Further legislation is expected to deal with consumer concerns about banking, insurance and other financial service agencies after consultation with the public and private sectors.

The Government will unveil a "college promise" programme in its second Throne Speech this morning. An excerpt from the speech, released last night, revealed the merit-based programme would offer Bermuda College scholarships to public-school students with a GPA of 3.0 or higher. The excerpt said: "Recent census data revealed that alongside racial pay inequity, black Bermudians are falling behind in gaining access to higher education. Government must and will expand the opportunities available to access a college degree. To achieve this, the current financial aid grant will be increased to ensure that even more young and mature students who have the ability, but not the means, are not hindered from attending the Bermuda College." The programme will be just one part of the speech, to be delivered today by John Rankin, the Governor, in the Cabinet Office grounds. The speech, intended to set out the blueprint for the Government's year, is also likely to outline details of a pledge to legalize the cultivation of cannabis for medicinal use. The economy, tourism and crime are some of the other areas likely to be covered in the Progressive Labour Party's plan for the new parliamentary session. Promises on road safety, seniors and child welfare are also expected. Patricia Gordon-Pamplin, the shadow health minister, called for more information on the Government's pledge to give free healthcare to people aged over 90. She said the pledge questioned "not least whether it is financially sustainable in the long term". The One Bermuda Alliance MP added: "While I appreciate that we must help our seniors in as many ways as we can, we cannot do so unless we are convinced that this is a financially stable and affordable plan. The Throne Speech is coming and I hope the Premier goes into detail about this proposal, to allay concerns that this is just a return to the PLP modus operandi of expenditure of public funds to buy private votes." The PLP's Throne Speech last September, the first of its new term of office, included pledges on the establishment of a living wage, a new plan for public schools, legislation to create a police authority and a review of financial assistance. It also promised a "greater degree of protection and care for children" involved in court proceedings, a problem highlighted in recent times. The speech said: "The Children Act 1998 will be amended to enhance the existing protocol that assigns a litigation guardian to children whose custody, care or control is before the courts." Kathy Lynn Simmons, the Attorney-General, said the "representation of the children and their interests in proceedings before the court will be ensured" but did not elaborate on how the services would be funded, which children's rights campaigners want clarified. Campaigners will also want the treatment of children in care to figure in the speech in the wake of an investigation into the Department of Child and Family Services. Martha Dismont, executive director of Family Centre, said this week: "We can clearly see the evidence in our community, particularly with our young adult males, that care and good treatment hasn't been somebody's priority. These issues are more than concerning, they are indicative of a much larger and dangerous problem in our community." Good governance will also likely be included. David Burt said in July that the House of Assembly had backed a code of conduct for MPs and the establishment of the committees. The Premier said it was now up to the House to introduce them as "from the Government's perspective, we've done our bit". Government also promised in its platform campaign finance reform to publicize political donations, a strengthened Public Accounts Committee, an anti-corruption watchdog, legislation to tackle voter fraud, more power for the Auditor-General to "follow the money" and performance-based pay for civil servants. Gambling was absent from last year's Throne Speech and it has since moved ministries, from economic development and tourism to finance. Today's speech could reveal why Mr Burt has backtracked on a plan to have the island's multimillion-dollar bookmaking industry overseen by the Bermuda Casino Gaming Commission. Parliament was told in February that regulation of the betting shops was being transferred to the commission. But the BCGC became the responsibility of new finance minister Curtis Dickinson in last week's Cabinet reshuffle and the betting sector now falls under the Ministry of Legal Affairs, which is headed by Ms Simmons.

Today is the 20th anniversary of the Progressive Labour Party's "date with destiny" election victory. The party's first triumph at the polls brought the party in from the cold of 35 years in Opposition and gave Bermuda an alternative government for the first time since the party system began. Dennis Lister, the Speaker of the House, reminisced about the 1998 night to remember as MPs returned to the House of Assembly today. Mr Lister said victory for the party, which took 26 seats to the United Bermuda Party's 14, was "in the air" on polling day. He said: "What was clear from the atmosphere was that change was coming and it was real this time. We had times before when it felt close, but this time it was really happening." Mr Lister was MP for Sandys North alongside Eugene Cox under the former two-seat constituency system. He said the 1998 contest was "an easy election. The voting community were very much ready for this change. The response on the doorstep was that this would be the time." The United Bermuda Party, which later combined with the Bermuda Democratic Alliance to form the One Bermuda Alliance, was deposed. The Royal Gazette editorial said after the election that "only the most optimistic" of the ruling party's supporters expected another win. Jennifer Smith, now Dame Jennifer, who led her party to its first victory, gave a victory speech to jubilant crowds in Court Street in Hamilton after the results were announced. Mr Lister said many remembered the sea of young faces outside the PLP's Alaska Hall headquarters. But he said: "My view was that the seniors rejoiced more. People thought they would have died before seeing change come. They were that far along in age, living through the struggles and now on the downside of life, thinking their eyes would be closed before they saw real change happen. Afterwards, I spent a lot of time talking to seniors who were overjoyed talking about what they had experienced to bring that change. It was indescribable — they were so pleased to be alive to see it." The Speaker's role is non-political and Parliament today is expected to carry on as normal. But the party spirit is expected to break out in earnest at the PLP annual banquet tomorrow — with Dame Jennifer among the speakers. Mr Lister said that looking back on the past 20 years was "bittersweet, in that having been part of the victory in 1998, I can't necessarily share in the celebrations as Speaker. That first Cabinet settled in quickly and got down to business. Comparing it to the current government, they have experience from before — the first did not. But we were committed as a team that worked extremely hard and that unity as a team is what drives us to continue to deliver." The PLP's election platform in 1998 promised "a New Bermuda". But Mr Lister said 20 years on, some work remained undone. He added: "In a general sense, there were parts of that original vision that still have to be fulfilled. I would assume that the leadership of the party understands that."
What they said ...
Reactions reported 20 years ago as the Progressive Labour Party took a historic landslide win over the United Bermuda Party:
"It was slaughter, a bloody slaughter" — David Petty, the UBP's Pembroke East candidate, reacts to the final election results.
"They were saying that it was time for a black government and not acknowledging that there are blacks in the UBP government," — Dame Pamela Gordon, the deposed UBP premier.
"This is a sweet victory for us. The country sent a message for a change. They have shown their confidence in a PLP government. I'm so very happy." — Dennis Lister, then the PLP MP for Sandys North.
"Thank God I have lived to see this day. We know now, for the first time ever, that there will be a PLP government. And I can promise that we will govern with all of Bermuda in mind." — Dame Lois Browne Evans, the former Opposition leader.
"Well, that certainly wasn't on the radar." — an unnamed UBP adviser.

A children's litigation guardian has asked for $800,000 as payment for her services, but estimated the real cost for four years of work at about $2.8 million. Tiffanne Thomas, an independent social worker, was told by the Premier's Chief of Staff this year that the Minister of Social Development and Sport was "looking to find the money" to pay her for her work representing vulnerable children since 2014. Owen Darrell e-mailed Ms Thomas on April 25 in response to a request that he bring the issue of payment for her services to the attention of David Burt, the Premier, to help resolve the problem. Mr Darrell told her he would ensure the Premier "sees this today". The Chief of Staff wrote in a second e-mail the same day: "I saw Minister Weeks today in the Premier's office. He admitted that he has correspondence from you that he hasn't followed up on. He asked that I allow him to follow up with you. I will mention to the Premier the contents of your letter, but Minister Weeks has assured us that he is looking to find the money for you." The e-mail correspondence was revealed by a source yesterday. Ms Thomas wrote in her e-mail to Mr Darrell that she had met Wayne Caines, the national security minister, about the money owed to her on February 21 and he promised to "explore it on his end and follow up" with her. She said she had also met Michael Weeks, the social development minister, who was removed from Cabinet last week, on February 28. He "gave a verbal commitment to ensure" the matter of her back pay was tackled, along with a proposal for her company to continue to provide litigation guardian services to youngsters in court. Ms Thomas wrote: "I have never refused a case simply because the Bermuda Government has not determined the way forward regarding ensuring payment for services. Payment has been delayed as many ministers and/or civil servants debate the ministry/department responsible for rendering payment — an issue that I would respectfully suggest does not have any bearing on the fact that payment must be rendered." Another e-mail sent by Ms Thomas in September explained the $800,000 she wanted from Government was based on a $200,000 a year figure, but that the sum could have been much higher. She wrote: "I have been appointed to thirty-two cases in the last four years, several of which are ongoing assignments. I can safely say that the average costs for LG matters to date is approximately $1,900 per month, per case — ie $22,800 in 2014; $182,400 in 2015; $182,400 in 2016; $91,200 in 2017 and $228,000 in the first half of 2018 — an average yearly cost of $141,360. It should be noted, however, that the stated costs per year do not include the aggregate total costs that carry over for active cases from the previous years." She added: "Had I included the aggregate total costs my claim for remuneration would be approximately $2.8 million for the past four years I have dedicated to servicing the Courts of Bermuda, the Bermuda Government and our vulnerable population." Ms Thomas said she offered on several occasions to discuss a fixed salary arrangement with the Government to control costs. She said: "I explained that fees will always be more expensive than salaries — such an approach would not be sustainable or cost efficient. When I noticed that the fees had the potential to get out of hand I reached out to be proactive as, while I am not a cabinet minister, I am a citizen of this country and expect our finances to be managed responsibly." Kathy Lynn Simmons, the Attorney-General, said on Tuesday that the Government had "no legal obligation" to pay Ms Thomas for her work. She told the Bermuda Broadcasting Company: "That matter was before the Supreme Court and the court determined that we have no legal obligation to pay Ms Thomas. Ms Thomas has launched an appeal with regard to that decision and therefore we are not authorized to discuss that any further." But Ms Thomas insisted that she had not started legal action. She said: "Her inaccurate and misleading statement is alarming and made all the worse by the fact that she failed to address or comment on the numerous assurances I was given by her own chambers and assorted ministers that I would be paid for the work that I have performed."

The Government of Bermuda's London Office is inviting Bermudians living in the UK to two upcoming events. On Monday 26th November 2018, Bermudians living in the UK are invited to attend a Bermuda networking reception where the Premier, the Hon. David Burt will be in attendance. The event takes place from 6:30 pm – 10:00 pm at the Clubhouse, 8 St James's Square SW1Y 4JU. This annual event provides a key opportunity for networking in the UK. This year the London Office will also have in attendance key representatives from Bermuda's business industry as well as representatives from the Government. Interested individuals can their attendance to eventslondonoffice@gov.bm or telephone + 44 (0) 20 7518 9900. The second event is specifically for Bermudian students only who are living and studying in the UK. They are encouraged to attend a 'Lunch and Learn' hosted by ASW Law on Thursday 29th November 2018 at 12:00 pm at the Government of Bermuda London Office. Students should can confirm their attendance to londonoffice@gov.bm by Monday 19th November.

Deal activity is expected to remain a factor in the insurance and reinsurance industry as chief executive officers look to gain scale and diversification to stay relevant in the market, the PwC Insurance Summit heard. Insurance deals involving the US market soared to $8.1 billion in the third quarter, a 326 per cent gain compared with the same period last year, according to PwC research. Apollo Global Management announced the acquisition of Bermuda-based Aspen Insurance Holdings for $2.6 billion in the largest deal of the third quarter. The transaction is one of the latest of private equity firms expanding into insurance assets. Speakers at the PwC Insurance Summit, which was held at the Hamilton Princess Hotel and Beach Club, also focused on insurtechs and how they are beginning to reshape the entire insurance value chain — including product creation, marketing, and distribution to data analysis, underwriting, and claims management. According to PwC's Global CEO Survey 2018, insurance company leaders are more concerned about a lack of digital skills than their counterparts in other financial services sub-sectors, with one of every five CEOs at insurers saying it is very difficult to attract digital talent. Several have already aligned with insurtech start-ups and launched more than 300 pilot projects. Speaking at the summit, Eric Andersen, co-president, Aon, said: "The deals I find most interesting are more vertical where people are buying into ownership of alternative capital, reinsurance to insurance, insurance to reinsurance, insurance to alternative capital — because ultimately everybody is trying to capture the value that each of those groups has provided to the market as a way to becoming more competitive in their primary market." Mr Andersen added: "What I am really fascinated by and watching really closely is this alternative capital group and how it ultimately gets to primary. There's a lot of experiments going on. I think these types of acquisitions are going to continue, because ownership of the capital all way through the chain seems to be becoming a priority for a number of the larger players." Mr Andersen also spoke of the industry's critical role in society. He, "Business plays a materially important role in the economics of corporates and countries. Our ability to help people rebuild and protect their assets is a critical component." The "next wave of growth" for the industry, he said, will be how it can help solve new risks such as cyber, and intellectual property and how it can help governments de-risk.

The permanent secretary for a now dissolved ministry has retired, a Government spokeswoman has announced. Wayne Carey, who served for the Ministry of Social Development and Sport, stepped down from Government service today. Derrick Binns, the head of the Public Service, thanked Mr Carey for his "dedicated and committed service". Dr Binns added: "Mr Carey has had a long and effective career in government, and in each capacity he has served, he proved to be an invaluable asset to the public service. I would like to take this opportunity to once again thank Mr Carey for his stellar service and wish him well in his retirement." Mr Carey's career with Government spanned 13 years. He began as the permanent secretary for the Ministry of Environment in January 2005. In May 2007, he was named permanent secretary of the Ministry of Social Rehabilitation. The ministry amalgamated with Ministry of Community and Cultural Affairs in November of that year. Mr Carey holds a Bachelor of Science degree in biology from York University, and a Master of Science in aquatic science from Guelph University, both located in Ontario, Canada. News of the departure came in a press release advising of changes to permanent secretary assignments issued this afternoon. The assignment shake-up comes after number of changes to the Government announced last week. A Government spokeswoman said: "As part of the restructure, the public will note that the Ministry of Economic Development and Tourism was dissolved and its permanent secretary, Christopher Farrow, was reassigned to the Ministry of Labour, Community Culture and Sports. The public will note that during Mr Farrow's time in Government, he served as the chief surveyor for the Ministry of Public Works and also held acting permanent secretary appointments."

The Bermuda National Trust has welcomed government's Throne Speech promise to eliminate single-use plastic in Bermuda by 2022. Bill Zuill, executive director for the BNT, said: "The impact of plastics on the oceans surrounding Bermuda and on our shores is well documented and it is incumbent on all communities, large and small, to play a part in reducing their use. We note also that the manufacture and transport of single use plastic items such as bags, bottles and straws contribute to the amount of carbon in the atmosphere, the primary cause of climate change." Mr Zuill said he agreed with the statement in the speech highlighting that the impact of climate change requires action at both the national and international level and that we must all play our part. The BNT welcomed the government's pledge to educate the community about recycling and reusable items. He added: "As a leading advocate for the environment since 1970, the Bermuda National Trust pledges to do what it can to support this initiative."

An American tourist who claimed to be disabled was fined $2,000 yesterday after he admitted having cannabis for medical reasons. Magistrates' Court heard Sean Finnerty, 48, plead guilty to possession of the drug in his cabin on the Norwegian Escape cruise ship. He told the court he used the drug to treat anxiety, depression and pain after an operation during which he had a cancerous kidney removed. But he admitted neither he or his wheelchair-bound wife, who also used the drug for relief of back pain, had a medical marijuana card. Magistrate Juan Wolffe was told Customs officers found a glass pipe containing a plantlike residue, as well as plantlike material in a plastic bag and also in a clear prescription bottle, a bottle of allergy relief pills and a pre-rolled cigarette in the couple's cabin, The defendant confirmed that the plant was cannabis and that the items were his. The incident happened on November 4. Finnerty told the court: "I sincerely apologise for my ignorance, my lack of understanding the laws, and not doing my own research before coming here." Mr Wolffe ordered Finnerty to pay the fine before he left the island.

A man already serving a sentence for drug possession was given another year in jail after he admitted similar charges. Sabian Hayward, 35, pleaded guilty to possession of crack cocaine with the intent to supply. He also admitted having a set of scales and $3,850 in drug money. Magistrates' Court heard the drugs, cash and drug equipment were seized by police after they raided the home of Hayward's mother in Pembroke, where he also lived. Hayward told officers that there were no drugs in the house, but that money from the sale of drugs was in an envelope inside his bedroom closet. Officers searched the closet and found an envelope containing $2,250, plastic bags holding 7.73 grams of crack cocaine worth $2,425 and the scales. Police also found $1,600 in Hayward's wallet, which he also admitted was the proceeds of drugs. The raid happened on December 7 last year. Susan Mulligan, Hayward's defence lawyer, asked magistrate Tyrone Chin to treat the defendant as a first offender. She explained that the defendant's wife, children, mother, and mentally disabled brother, who all live in the same house, relied on him for financial support. Ms Mulligan added: "He has had every blow imaginable delivered to him, and he has likely learnt his lesson. No one deserves to be judged by the sum total of the worst aspects of their lives." The court heard Hayward was serving a 12-month sentence for cocaine possession after an earlier conviction. Mr Chin jailed Howard for a total of three years — one year for each offence — but ordered that the sentences run concurrently from the end of his present jail term.

A Canadian World Rugby Classic player was fined $800 today in Magistrates' Court after he refused to take a breath test. The court heard that Derek Townsend, 33, was stopped on his motorbike at a breath test checkpoint on Montpelier Road in Devonshire. Officers suspected he had been drinking, asked Townsend to perform a field sobriety test and, based on the results, asked for a breath test. But Townsend refused and was arrested and taken to Hamilton Police Station, where he agreed to take a test. Townsend was found to have 167 milligrams of alcohol in 100 millilitres of blood — more than double the legal limit of 80/100. The incident happened on Thursday night. Cameron Hill, Townsend's defence lawyer, told magistrate Juan Wolffe that the defendant, from Vancouver, was unaware of Bermuda's drink-driving laws and did not know that traffic stops were in operation. But Mr Wolffe said that did not excuse Townsend's behavior. He added: "In fact, I believe the Bermudian traffic stops were modeled after Canadian traffic stops." Townsend was ordered to pay the fine before he left on Sunday and was also banned from Bermudian roads for a year.

A man died after he fell in the water while he fished off North Shore Road yesterday. The 53-year-old was spotted floating face down in the sea near the Railway Trail in Hamilton Parish. Firefighters pulled him from the water at about 11am and rushed him to the King Edward VII Memorial Hospital. However, later doctors pronounced the man dead. An eyewitness said: "Normally he's with his guys, but today he was out there on his own." Police said it appeared the man, from Devonshire, was fishing in the area across from Shelly Bay MarketPlace. A spokesman said: "BF&RS personnel retrieved him and he was rushed to hospital with CPR being performed on him as he was transported." The area was cordoned off yesterday as officers examined the scene. Police have appealed for witnesses.

November 8

A Cabinet shake-up will increase the ministerial salary bill by nearly 20 per cent. The new total is $1,338,964, an increase of $221,851 on the $1,117,113 bill before last week's Cabinet reshuffle. It is also a significant spike compared with the last One Bermuda Alliance administration, which paid about $950,000 to its 12-strong Cabinet in addition to their MP or senator salaries. David Burt, the Premier, said yesterday that efforts to "streamline" the Government had moved forward with a reduction in the number of ministries from 11 to ten. But the new Cabinet now has 12 members. Mr Burt said the changes would bring "greater efficiency and an alignment of responsibilities that reflects necessary priorities. Our aim, in the long term, is to continue to streamline the size of government. We can deliver services more efficiently and a reduction in the number of ministries is a step in that direction." The new Cabinet is made up of Mr Burt, ten ministers and Kathy Lynn Simmons, the Attorney-General, who is a senator and the Minister of Legal Affairs. Two of its members were sworn in by John Rankin, the Governor, last week after the new group was unveiled. These included Curtis Dickinson, who won a by-election in Warwick North East only five months ago and became finance minister, a role held by the Premier since the Progressive Labour Party swept to power last year. The change means Mr Burt will still be paid $151,262 on top of his MP's salary and Mr Dickinson will get an extra $121,010. Mr Dickinson's additional pay is greater than the $100,841 paid to most other ministers. Zane DeSilva was also sworn in for his return to Cabinet as the Minister of Tourism and Transport. The tourism portion of his portfolio came from the responsibilities held by Jamahl Simmons, who has moved to a new role as Minister without Portfolio. Walter Roban, the Deputy Premier, previously counted transport among his duties but now has the home affairs ministry, which has incorporated the Department of Energy. His ministerial salary is $112,942 and the Attorney-General receives $147,022, in addition to her pay as a member of the Senate. Michael Weeks, who was Minister for Social Development and Sport, returned to the back benches because his ministry was abolished. The salaries for the dozen Cabinet members, including their salaries as members of the House of Assembly and Senate, amount to $1,985,584. The Royal Gazette calculated the figures using information contained in the Government's budget estimate book. A government spokeswoman confirmed yesterday all ministers were full-time. Mr Burt said the spending and government efficiency commission, set up in 2013 by the former OBA administration, had recommended only eight ministries. He added: "That report recognized that even their recommendations of streamlining offered 'long-term solutions to duplication, impractical and/or unnecessary programmes' and not necessarily immediate financial savings. As for the increase in the number of ministers, Bermuda will be well served by a new Minister of Finance who has extensive experience in banking and who will continue the focus on debt reduction and the management of public finances." Mr Burt added: "In this era of such diverse communication platforms and the importance of effectively consulting and communicating with the public, the Minister without Portfolio will add a necessary Cabinet-level focus on this critical aspect of governance." Mr Burt explained last week that Wayne Furbert, the junior finance minister, would remain in the role "to assist in the transition of the new minister and through the upcoming budget cycle". But he added that Tinée Furbert, who was a junior minister with responsibility for the disabled, would be stood down because of constitutional limits on the number of ministers and junior ministers, although she would continue to work for the elderly. The Cabinet is made up of the Premier and a maximum of 12 ministers from the House of Assembly, plus at least one minister appointed from the Senate, but no more than two, under the island's Constitution. The minimum number of Cabinet ministers is seven. A Minister without Portfolio — Leah Scott — was included by the OBA when it entered power in 2012 but a year later, Craig Cannonier, then premier, cut his Cabinet from 13 ministers to ten to reduce costs. Two members were later added by Michael Dunkley, who took the helm in 2014. Last year, Nick Kempe, an Opposition senator, said the OBA's 12-minister Cabinet had been made up of seven full-time ministers and five part-time ministers at a cost of $950,000 a year. After the changes to Cabinet last Thursday, Mr Cannonier, now the Opposition leader, criticized the apparent rationalization that the reshuffle reduced the number of ministries from 11 to ten. He said: "The Premier said it was to cut back in the number of ministries, but he took out Michael Weeks and added Curtis Dickinson and Zane DeSilva, which means that he is actually paying more in ministerial salaries."

The battle over same-sex marriage returned to the courts yesterday for the start of a three-day hearing in the Court of Appeal. The Attorney-General will argue that former Chief Justice Ian Kawaley erred in a ruling that reopened the door for same-sex marriage. But same-sex marriage campaigners will maintain the ruling was correct and a clause in the Domestic Partnership Act to specify marriage as between a man and a woman is counter to the Constitution. Arguments will continue in court today.

Bermuda's role in accelerating insurtech innovation was in the spotlight at the PwC Insurance Summit. The island's advances in blockchain, eID and supporting insurtech start-ups were highlighted at the annual conference, presented with the Financial Times. David Burt, in a conversation with Robert Armstrong, US finance editor for the Financial Times, said he sees Bermuda being the world's insurtech capital: "In five years, I think that what you will see, and what I hope to see, is Bermuda being not only the world's risk capital, but also the world's insurtech capital." The Premier said Bermuda has remained an important global hub for insurance and reinsurance by working with industry and its well-respected regulator. "That's why Bermuda has been so successful. Government does not make the decisions on the directions where we want to go. Government works with industry to understand what it is that's needed in order to make sure that we can remain that centre of innovation." Wayne Caines, Minister of National Security, said he was excited about Bermuda's foray into eID [electronic identification]. He also said that placing Bermuda's land title registry on the blockchain was exciting, as was the Bermuda Monetary Authority's insurance regulatory sandbox launch, and an innovation hub, both targeted at insurtech. George Thomas, senior adviser, PwC Bermuda, moderated a panel on blockchain with Mr Caines, Andre McGregor, partner and global head of security of TLDR Capital, and Susan Joseph, North America Representative of B3i. Mr Thomas said: "From our panel, we learnt that the Government of Bermuda is dedicated to being a leader in digital asset businesses, actively shaping the regulatory landscape for this rapidly evolving sector. Due to these efforts and our long-standing gold-standard regulatory reputation, Bermuda is attractive to innovative companies like Andre McGregor's firm TLDR, which is building world-class custody solutions designed to meet the needs of the world's largest institutions and high-net-worth individuals. From our panellist Susan Joseph of B3i, we learnt real world implementation lessons and questions that need to be addressed before embarking on a blockchain initiative. A key point is that insurance and blockchain will be inextricably linked going forward for two reasons. Many of the workflows, processes and data exchanges in insurance readily lend themselves to implementing blockchain as a technology solution. Non-insurance industry related blockchain solutions will require insurance if they are to achieve scale." Mr Thomas noted that it is estimated as many as 81 per cent of insurers today are familiar with blockchain technology and anticipate its widespread adoption across their industry, with 100 per cent of insurers planning on integrating blockchain into their production systems by 2021. However, according to PwC's blockchain report, only 8 per cent had planning to invest in the technology last year. "So the pace of investment will have to pick up significantly over the 2018-2021 period in order to achieve the stated objective," Mr Thomas said. "As a distributed, tamper-proof ledger, a well-designed blockchain doesn't just cut out intermediaries, reduce costs, and increase speed and reach, it also offers greater transparency and traceability for many business processes." Gartner forecasts that blockchain will generate an annual business value of more than $3 trillion by 2030. It's possible to imagine that 10 to 20 per cent of global economic infrastructure will be running on blockchain-based systems by that same year, according to PwC's report.

From asbestos to algorithms, ethical handling of data and loss of sleep — the 2018 Swiss Re SONAR, new emerging risk insights report aims to identify the risks that may have a major impact on the insurance industry in the future. Annette Kurtzweil, chief risk officer, Swiss Re Corporate Solutions North America, presented the report's findings at the PwC Insurance Summit. There was also a deeper discussion on emerging risks with panellists David Bigley, chief underwriting officer and head of global catastrophe insurance, Sompo International; Judy Gonsalves, vice-president, Chubb Group and division president, Chubb Bermuda; and Noel Pearman, cyber product line leader, Axa XL Bermuda. Ms Kurtzweil noted the continuing impact of asbestos on the industry, with millions of metric tonnes of asbestos still being processed and 300 million people in Europe and Central Asia potentially exposed, and Latin America and other regions also at risk. The panel examined this and other risks that are emerging as insurance and reinsurance firms increasingly wade into new underwriting territory, including trends in new product development, climate-related risk, cybersecurity, and other new technologies. The conference heard how insurers and reinsurers are looking at such emerging risks as 3D organ printing, the insurance consequences of algorithms and lack of sleep, the development of products to solve the protection gap and the use of drones for analytics. A PwC report estimates the addressable market of drone-powered solutions in the insurance industry at $6.8 billion, stating: "One excellent example of drone applications in the insurance sector is their use in monitoring areas exposed to natural disasters such as floods, droughts, volcanic eruptions or hurricanes. Other uses include risk assessment and claims management." Swiss Re identifies emerging risks through its proprietary SONAR tool, an internal crowd-sourcing platform that allows for collecting input and feedback from underwriters, client managers, risk experts and others across the company. Swiss Re said the emerging risk themes outlined in the report are based on early signals collected throughout the year. They neither reflect the entire emerging risk landscape of the insurance industry nor that of Swiss Re. They have been categorised according to their estimated impact and potential timeframe to materialise as well as to the line of business where the biggest exposure seems to rest. In the report, which has been publicised annually since 2013, Swiss Re says the 18 new emerging risk themes are complimented by seven emerging trend spotlights, and embedded into a broader perspective on long-term macro-trends. The PwC Insurance Summit was held at the Hamilton Princess Hotel and Beach Club.

A Bermuda-registered tanker was attacked by pirates near Nigeria early Tuesday morning. The Department of Marine and Ports received a report at 2.25am that day from the LNG tanker River Niger stating the vessel was under attack in the Gulf of Guinea. A report said: "Although the pirates opened fire on the vessel, evasive action was undertaken by ship's crew with the attack aborted and unsuccessful boarding of vessel. "The Nigerian navy was dispatched in attempt to trace the source of the attack while the River Niger continued under escort of a security vessel, for pilot and entry into the port of Bonny, Nigeria." No one on board was injured in the attack.

The former social development minister rejected a claim yesterday that he was fired from Cabinet for his handling of an inquiry into allegations that children in care were mistreated. Sources claimed Michael Weeks was ousted because he insisted that Alfred Maybury, the director of the Department of Child and Family Services, should be suspended pending the outcome of an investigation. But yesterday the ruling Progressive Labour Party issued a statement on behalf of Mr Weeks that denied the claim. Mr Weeks said: "The reported comments and speculation surrounding me no longer being a minister of the Government are grossly inaccurate. The actions taken with respect to the Department of Child and Family Services were done with the full knowledge and support of my former Cabinet colleagues. Like them, I am glad that the investigation will continue and my hope is that the outcomes will enhance the work of the Department of Child and Family Services on behalf of Bermuda's children. I will continue to support the agenda of the Government from the back benches as we work collectively to build the better and fairer Bermuda for all of Bermuda's citizens, especially our children." The statement contradicts a source who told The Royal Gazette that they spoke, in person, to Mr Weeks on Tuesday morning about his sacking. The source said that Mr Weeks told them that when he reported to Cabinet on how he had ordered the inquiry into the Department of Child and Family Services and insisted on the suspension of Mr Maybury, he did not get a favourable response from David Burt, the Premier. The source added: "He said 'that's why I was removed as minister'. He then said 'my permanent secretary Wayne Carey has submitted his resignation, effective this Friday'." The inquiry into claims that children were mistreated by Department of Child and Family Services staff and that Mr Maybury ignored their complaints was sparked by a letter from Saul Dismont, a lawyer at Marshall Diel & Myers. The investigation was launched by the Ministry of Social Development and Sport, but the ministry was abolished in last week's Cabinet reshuffle. The Department of Child and Family Services is now the responsibility of the Ministry of Legal Affairs, led by Kathy Lynn Simmons, who is also the Attorney-General. Ms Simmons told ZBM News on Tuesday that the inquiry continued, along with a review of the Department of Child and Family Services by the Department of Internal Audit. Sheelagh Cooper, founder and former chairwoman of the Coalition for the Protection of Children, said last night that she hoped the removal of Mr Weeks and the transfer of responsibilities to the Attorney-General would not compromise the "critical and long overdue review of practices at the Department of Child and Family Services". Ms Cooper said: "In my former role as chair of the Coalition for the Protection of Children, we represented dozens of children over the years in an attempt to investigate what we saw as malpractice. These attempts were often met with hostility or a complete refusal to respond at all. This is also why for the past ten years we advocated for the use of a litigation guardian as a protection from arbitrary or questionable decision-making, as it related to the placement of children. While the vast majority of social workers employed by the department are caring, competent and professional, when children's safety and emotional health are at stake, the management must be open to listening to families that have concerns and be committed to taking direct and meaningful action to address those concerned. This has too often not been the case in the past." Questions to the Premier, about Mr Weeks's sacking were unanswered on Tuesday and The Royal Gazette reported that he had stonewalled queries. His spokeswoman said later that, because of an oversight, Mr Burt had not received the questions. Mr Burt said last night: "Determining the composition of Cabinet is never easy. I count Michael Weeks as a friend and valued parliamentary colleague, and as he indicated in a statement earlier today, the reported comments and speculation surrounding him no longer being a minister of the Government are grossly inaccurate. The investigation into the Department of Child and Family Services is clearly necessary. My hope is that the findings and any recommendations are fully embraced. This department is on the front line of addressing critical social issues and the people of Bermuda rightly demand that it is well managed and focused on the needs of the children and families it serves. The ongoing investigation has the full support of the Cabinet and, under the leadership of the Attorney-General and Minister of Legal Affairs, I am confident that the work will continue and upon completion the department will be better placed to deliver on its mandate in support of some of Bermuda's most vulnerable citizens." Ms Simmons did not respond to a series of questions. Mr Weeks, contacted by phone, said he was unable to speak but would answer questions if they were sent by e-mail. The statement from the PLP was sent later.

The island's doctors have queued up to sign a petition to back The Royal Gazette's Drive for Change campaign. More than 100 medics out of 130 have already backed the three campaign objectives and more are expected to follow. Annabel Fountain, an endocrinologist and president of the Bermuda Medical Doctors' Association, said doctors were affected by the grim toll of death and injury on the roads. Dr Fountain said: "Doctors really feel the trauma associated with our roads as they see it first-hand. Even if it is not members of our family who have been affected, we are the people who are caring for those individuals and caring for their families. We are there for the fallout when something dreadful happens. It is not just once for us, we have to see multiple people." She added: "The orthopaedic surgeons, the radiologists and the emergency physicians are really managing it on the front line but the rest of us have all worked in emergency so we understand." The Drive for Change campaign, launched in January with road safety group A Piece of the Rock, called for roadside breath tests, now introduced, speed cameras and proper training for road users. The online petition signed by 105 doctors will be launched on the Drive for Change site today so members of the public can also show their support. Dr Fountain is pleased that roadside breath tests were now being used, but said their use should be extended and more could be done to stop other bad behavior on the roads. She added: "I don't think the checkpoints should only be on some nights of the week and we shouldn't necessarily be told where they are. I am glad that something is happening but there is still a big problem with enforcement of other legislation such as speed limits. Proper enforcement of laws will probably be most effective, in my opinion." Ayesha Peets Talbot, medical physician at the Mid-Atlantic Wellness Institute and medical director at Ocean Rock Wellness, said she supported the campaign not just as a doctor, but as someone who had lost family and friends on the roads. She said: "Doctors have to see the trauma regularly but it means more to you when you have personally been affected by it. Five years ago, I lost my brother-in-law in a bike accident and I have lost other family members who are really close to me in bike accidents. I have seen this from when I was a child — when my brother was about 16 he lost two of his best friends when they collided head on. It overwhelms you and it takes its toll on the community, so, for me, signing up for Drive for Change was easy." Dr Peets Talbot has also seen a link between crashes and addictions. She explained: "I deal with patients who have substance abuse issues and very commonly they have past traumas like bike accidents. Sometimes they are chasing chronic pain and I see they start using drugs to comfort that." Benjamin Lau added: "I have seen far too many tragedies and long-lasting effects on individuals and families that it is urgent that change happens now. Head injuries and long bone fractures are too much a commonality in the emergency room — they just shouldn't happen on that scale. It affects everyone and not only impacts us emotionally but also financially." Joseph Froncioni, an orthopaedic surgeon and a former chairman of the Bermuda Road Safety Council has been a road safety campaigner for 30 years. He said: "It is my impression that the present lobbying effort is one of the most powerful I have seen in the 30 years that I have been involved in road safety. There are a number of groups who have formed a synergy — they have all gelled together to form a powerful lobbying group. These three measures we have always agreed on — graduated licensing with a proper motorcycle riding course, speed control and impaired driving. We know that the biggest contributory factors are inexperience, speed and alcohol. There are obvious solutions to decreasing that. For a campaign to be effective you have to pick the targets and hit those nails hard."

A former Saltus primary teacher who touched students in a sexual manner decades ago used favoritism and fear, an investigation has found. The report concluded that the male teacher "engaged in sexually inappropriate touching of students, and what we now understand to be grooming behavior" in the 1970s and 1980s. A newsletter issued by the private school this morning added that the teacher's behavior included "showing favoritism to some students, while being unduly punitive to others, instilling fear and uncertainty in his victims". The investigation also found that "an allegation appears to have come to the school's attention and the teacher departed shortly thereafter". The findings come from the investigation conducted by American-based T&M Protection Resources. Julie Freudenheim and Laura Kirschstein served as the lead investigators. The seven-month investigation was launched in February. A total of 21 interviews were conducted, "including some on more than one occasion", according to the newsletter. The investigation also included the reports of 12 former school pupils. The newsletter, signed by Deryn Lavell, Saltus head, and R. Gil Tucker, chair of the Board of Trustees, said that the scope of the investigation included "pursuing any allegations of a similar nature against any other faculty or staff members that may have emerged during their investigation". It added: "They reported that no other issues were raised regarding any other teacher of staff member." The newsletter said that the school was "grateful" to the former pupils who shared their experiences. It said: "Only the truth will allow us to learn, improve and protect the safety of students today and in the future. It was the silence of the past that enable such predators." The newsletter said that the investigation was launched as a responsibility of the school to its pupils. It added: "We owed them the respect to hear their stories and seek the truth. In today's world, when we are much more knowledgeable about the darkness that exists, and the reverberating impact it can have on victims — well into their adulthood — we can understand how traumatizing this must have been. We also believe that only by coming to terms with the truth of our past, can we move forward as a community. We are responsible for the safety, wellbeing and happiness of our students, and we must ensure that we do everything in our power to prevent this unforgivable situation for ever happening again."

A teacher working at Saltus decades ago engaged in inappropriate sexual behavior, an investigation has found. But the school has decided not to name the teacher involved or to publicly release the full report in order to "protect the identities of the victims". Deryn Lavell, Saltus head, said that the school was "saddened and appalled by what happened to our students — young innocent children victimized by a trusted adult". Ms Lavell added: "While it occurred long ago, the impact of this kind of behavior reverberates for many, well into adulthood. We hope that their courage to come forward now, and the subsequent investigation, brings some comfort and closure." A statement released this morning by the private school said that the teacher in question engaged in "grooming behavior". It comes after an investigation conducted by T&M Protection Resources, a US-based company. The investigation included seven months of investigation and reports by 12 former pupils. A school spokeswoman said that T&M's mandate included to investigate any other allegations that might arise based on their research. She said no other allegations were discovered. The spokeswoman added: "Everyone who reached out to T&M was interviews, and all individuals were promised anonymity as a condition of coming forward." She said the decision to not name the teacher or release the full report was also made "to keep the confidentiality promised to witnesses". The spokeswoman added: "In addition, we do not wish to inadvertently jeopardize any future action on the part of authorities." She said that the Bermuda Police Service and "relevant Bermuda authorities" had received the final reports. Ms Lavell said that the school was a "stronger, safer community because of these brave individuals who came forward to share their stories". She added: "We continue to actively build a culture that insists upon integrity and respect — both in terms of what we show others and what we demand for ourselves. Students must feel safe to speak up, knowing that they can trust their community and will be supported."

A phone and computer repair business has grown since it relocated to the heart of Hamilton. Formerly situated on Court Street, iRepair Bermuda moved to Washington Lane early last year, and has benefited from its larger premises and central location. It also boasts an experienced team of technicians who can repair broken devices that many other companies would turn away. Alex Jones, who owns the business, is pleased with the way things have progressed for the iRepair. The store repairs smartphones, particularly iPhones and Samsung, and computers, although it no longer does Macs. He said one of the things that separates iRepair from others is its ability to repair motherboards on phones. "We can fix just about anything; things that no one else [in Bermuda] can. We don't charge for diagnosis," said Mr Jones. The most common request is to fix broken screens on phones. Such repairs usually have a turnaround time of two hours. The business also sells a lot of used phones that have been improved to run updated software. Since moving to Washington Lane, iRepair has increased its staff to ten. Last year it received a boost in business due to the America's Cup, and that included a few members of the international sailing teams coming in as customers. "The America's Cup was a nice boost for us as we were growing," Mr Jones said. Regarding the move from Court Street to Washington Lane, he said he missed aspects of being located on Court Street, such as the people, the food and the fact that the business was "breaking down barriers by being there". However, iRepair has benefited from the move, with a larger repair shop space and customer service counter, and more technicians. Mr Jones added: "I'm proud of the work the front desk have done for our reputation. Shalquante Riley has done a fantastic job with our customers." He also praised another Bermudian staff member, Gary Williams, who has been trained as a technician. Other technicians in the team hail from the Philippines, and have reached a high level of proficiency with about ten years of experience. Mr Jones said the business supports staff who go on training courses. Looking to the future he said: "We still have a way to go. There are exciting plans for 2019."
iRepair Bermuda is located at 27 Washington Lane, opposite La Trattoria.

November 7

Same-sex marriage advocates have said their "eyes are on the prize" as the issue comes before the Court of Appeal today. The hearing, scheduled for three days, will cover the Government's appeal of a Supreme Court ruling that the Domestic Partnership Act was unconstitutional. That June 6 landmark judgment was the latest twist in a legal saga dating back to July 2016. Roderick Ferguson, a Bermudian who contested the civil unions as unconstitutional, said: "The DPA is a discriminatory law, plain and simple. Discrimination is a hostile action and that hostility wreaks damage on the recipients. We may not be able to eradicate discrimination against LGBT Bermudians in our society, but we mustn't enshrine it into law, and I am shocked by the vigor with which the Government is trying to do just that." He added that he remained grateful for the original decision, and hoped it would be upheld by the Court of Appeal. In a joint statement, he and co-applicant Maryellen Jackson, said: "We are humbled by the support given to us beginning with our original trial and we are staying our course in defending this appeal by the Government. There is much work to be done on the island to advance diversity and inclusion. This is one way that we are able to help affirm the experience of gay and lesbian Bermudians who recognize the importance of the institution of marriage for protecting their families." Adrian Hartnett-Beasley, spokesman for OutBermuda, added: "We have one aim: equality under the law for all loving Bermuda couples and our families. This week, we believe our highest court can only reach the same decision the Supreme Court made in June, when it ruled the Domestic Partnership Act violates our Constitution protecting not only our freedom of conscience but also by outlawing discrimination on the basis of creed. All our eyes are on the prize of equality." The legal battle started when Winston Godwin, a Bermudian, and his Canadian fiancé, Greg DeRoche, were turned down by the Registrar-General's office when they tried to file marriage banns two years ago. Puisne Judge Charles-Etta Simmons found in May 2017 that a restriction of marriage to a man and a woman was against the Human Rights Act. The ruling made same-sex marriages possible and the One Bermuda Alliance administration in power at the time decided not to appeal. But the Progressive Labour Party government replaced same-sex marriage with domestic partnerships in December 2017. Ian Kawaley, the former Chief Justice, found that a ban on same-sex marriage was at odds with the Constitution's guarantee of freedom of conscience and creed, granting same sex couples the right to marry. That ruling was put on hold for six weeks to allow the Government time to review its options and the Attorney-General's Chambers filed an appeal weeks later. According to court documents, the Government will argue Mr Justice Kawaley erred when he found that freedom of conscience — which includes freedom of thought and religion — could be applied to same-sex marriage.

A second inquiry has been launched into the island's child protection agency in less than three months. The Government revealed yesterday that the Department of Internal Audit was conducting a review into the Department of Child and Family Services. A spokesman said: "The review will follow the professional standards for internal audit and the necessary agencies will be notified as required, based on the findings." He did not respond to a question on what prompted the review. News of the audit follows the launch of a separate investigation in August by the Ministry of Social Development and Sports into allegations that children in care were mistreated by Child and Family Services staff and that director Alfred Maybury ignored their complaints. Questions sent to David Burt on whether he fired Michael Weeks over the inquiry into the mistreatment of children got no response. Two sources told The Royal Gazette that they understood the Premier was unhappy that Mr Weeks, former Minister of Social Development and Sports, ordered the suspension of Mr Maybury, pending the outcome of the inquiry. Mr Burt announced a reshuffle on Thursday, removing Mr Weeks from the Cabinet and getting rid of the Ministry of Social Development and Sports altogether. The Premier reassigned responsibility for Child and Family Services to the Ministry of Legal Affairs, led by Attorney-General Kathy Lynn Simmons. The first source, who asked to be anonymous, said: "It is understood that the minister was kicked out for being a threat to the Government, as he was insistent on investigating allegations of assault [and] negligence of children ... at the Department of Child and Family Services. There was resistance from the Premier and the Attorney-General in relation to the suspension of the director. [Mr] Weeks wanted an investigation of the director and the department. There was resistance from the Premier and the Attorney-General in relation to the investigation. Now [Mr] Weeks is out and his portfolio has been reassigned to the Attorney-General." The second source, who also asked not to be named, claimed Mr Maybury was suspended at Mr Weeks's insistence, after a preliminary inquiry found substance to allegations set out in a letter to the minister from lawyer Saul Dismont, an associate at Marshall Diel & Myers law firm. The letter claimed that Mr Maybury, in addition to failing to protect children in the department's care from allegedly abusive and negligent staff, unlawfully obstructed independent social worker Tiffanne Thomas, who was representing one of the youngsters in the role of a litigation guardian. Mr Weeks gave an interview to the news website Politica, which broke the story of Mr Maybury's suspension, in which he confirmed that an inquiry had been launched and would be "conducted by an independent party not yet identified and completed as quickly as possible". He also pledged not to "dilute the duties of the litigation guardian" because he said he recognized the "need for having a voice for our children". The second source said: "Michael Weeks made Cabinet aware of what's going on with the department. The Premier didn't respond well to that." The source added that social development permanent secretary Wayne Carey resigned after Mr Weeks was fired, although this could not be confirmed yesterday. An e-mailed request for comment from the Premier on why he got rid of Mr Weeks and whether Mr Carey had quit went unanswered by press time. Mr Burt's spokeswoman said today he never saw the questions as, due to an oversight on her part, they were not forwarded to him. Announcing the reshuffle at Government House last week, Mr Burt said: "Let me first extend my sincere thanks to former minister Michael Weeks who brought a valued empathy to the former Ministry of Social Development and Sports. His commitment will continue to serve the country and the party well." A request for an update on the Maybury investigation got no response from the Ministry of Legal Affairs. But Senate leader Ms Simmons told ZBM last night that the inquiry was ongoing and the Government was "committed to ensuring the wellbeing of our children". The Attorney-General added: "The Department of Internal Audit is engaged in determining whether the department's policies and procedures are followed and their findings will be provided to the permanent secretary." Mr Weeks could not be reached.

The new sugar tax could steer customers away from locally made products in favour of international competitors, according to some local businesses. The Government introduced exemptions for home bakers but small businesses have seen the cost of sugar rise sharply and have had to put up their prices. Raymond Packwood of Crow Lane Bakery has already received complaints from customers about some of the cost increases and expects more to come as the holiday season approaches. He said: "Some of the new prices I haven't even put up yet, and I know we are going to get complaints. They do that now — they are expecting things to cost the same year to year — but the cost of a major ingredient in their cakes and cookies has increased significantly." Mr Packwood does not believe the tax will steer people away from sugary foods, but simply encourage people to buy imported products. He said: "This is going to increase the price of locally made products, and locally made products are actually better for you. What they are doing is making the imported products more attractive. I don't believe that was the intention, but that's the effect." Peter Jovetic of Alex and Pete's Artisan Ice Cream raised similar concerns. He said: "There is a limit to what people will pay. If they can go and get Talenti Gelato, Häagen-Dazs or Ben & Jerrys at a price a lot lower, then they will." Mr Jovetic argued the tax as written is intended as a revenue generator rather than a means to improve Bermuda's health. "It's just another punitive tax. The country is broke, and this is just another way to glean some money from the residents. If I thought for one moment that all of the money gleaned from the sugar tax would go towards educating the population, subsidizing programmes like share food gardens for our students so they develop a relationship with the food they eat, then I would absolutely support this tax." He added that he had also seen some businesses increase the price of products such as coffee which are not subject to the tax. Mr Jovetic said: "The cost of these sugared items that the tax is on is already being spread on to everything else, which negates the point." Bruce and Fred Barritt of beverage importer John Barritt and Sons Ltd said it was too early to tell what the impact of the sugar tax will be on their sales. The tax came into effect on October 1, but Bruce Barritt said they only increased the price of their products last week. He said: "There's confusion in the market right now, big stores and little stores, about what they should do. People keep asking us what they should sell our products for. All I can say is what our prices are. We have a regular price, a diet price. We had to change the prices of juices because 100 per cent pure juice has 5 per cent duty whereas juice drinks are now 50 per cent. We used to have all one price for Welch's juices, but we can't do that now." Fred Barritt said that while some stores might differentiate their prices based on what has been taxed, others may not. He said: "If you're a big store and you can scan things, you can put it in the system that Diet Coke is different. In a smaller store you have to remember which is which, what is 100 per cent juice and what isn't. Some may say they will just put one price for everything." Fred Barritt noted the sugar tax was one of three legislative changes that have increased the cost of business in recent months. He said: "Our land tax went up by a five-digit figure. Tens of thousands of dollars more than it was, at the swipe of a pen. The payroll tax has also had an impact. It probably helped the staff, given the way the tiers work, but that's all part of the cost of business. At the end of the day, it all comes down to if we make enough to cover our costs and, if we don't, we have to reduce our costs. And our biggest cost is payroll." Fred Barritt said the tax may harm sales of sodas for a period of time, but similar taxes elsewhere have not sparked a lasting change. He also expressed doubts the tax would make a lasting change to health on the island, but Bruce Barritt said it might — if the revenues were put entirely into health education. "If all the money raised from the sugar tax is used for education — and that's crucial for any initiative, especially when it comes to health — it might," he said. Bruce Barritt added that while many have suggested the revenues could be used to reduce the cost of healthy foods, such changes are easier said than done. He said: "Government did make an announcement in the Throne Speech that they want to drop the duty on fruits and vegetables. That was a drop from 5 per cent to zero, which probably won't make an appreciable difference in the cost chain. The reality is all fruits and vegetables are imported, apart from what's grown here, which means we are at the whim of a lot of different factors. And with the local produce, how do you tell a local farmer that they need to drop the price on the broccoli they have spent hours, days and weeks growing?"

Land has been cleared for a team of young people to grow crops in a scheme designed to keep them away from crime. Three acres are now ready for planting as part of the Government's "Redemption Farm" scheme. Wayne Caines, the national security minister, said staff training was under way and confirmed talks had taken place with local farmers, as well as other organisations in the community. Mr Caines told The Royal Gazette: "Phase one of the 'Redemption Farm' initiative continues to proceed. The three acres of arable land donated by the Ministry of Public Works has been cleared of obstructions, irrigated and is ready for planting. We are completing staff training and finalizing our long- term plan. This is an exciting initiative in its early stage and I look forward to sharing further developments with the public." The initiative was announced by Mr Caines in September, when he said the "phenomenal opportunity" would offer therapy and support, as well as teach entrepreneurial skills. Mr Caines added that the programme would involve up to ten young people, who would be "given opportunities to learn about how to live their life without being connected to violent activities". The land is in Devonshire, near CedarBridge Academy, and the minister said those taking part would have access to mental health professionals, a case manager and help to find employment. Work on the farm was expected to include crop cultivation and raising chickens, whose eggs will be sold at markets. Michael Dunkley, a One Bermuda Alliance MP, questioned if Mr Caines had spoken to members of the island's agricultural sector to look at ways to include island farmers in the project. He claimed "sources" had told him they had not been approached. Mr Dunkley said: "Assuming the minister hasn't contacted anyone from the local industry, I am more than willing to work with the minister to contact some of the farmers so that they can get involved in the programme if that is what Government would wish. It makes prudent good sense if the local farming industry is interested to use their experiences because we know that they are challenged in finding the local labour required. This could be a real win-win situation." But Mr Caines said: "In planning this initiative, I recognized the need and can confirm that we have and will continue to consult with local farmers, many of whom are considered experts in this field. Their inclusion in this process is giving us the necessary guidance and insight that has proved instrumental in creating this initiative. The farmers understand and appreciate the purpose of what we are doing, and the individuals selected to participate will have an excellent opportunity to receive the necessary training and experience, that will enable them to secure future employment in the farming industry. I have also reached out to other individuals and community organisations."

The $100 billion insurance linked securities market has proven to be both relevant and reliable after the spate of heavy catastrophe losses around the world in 2017 and 2018. That is the view of David Gibbons, PwC ILS leader, who was part of a panel of ILS industry leaders at the PwC Insurance Summit. "The ILS market has shown itself to be both relevant and reliable. After the tragic natural disasters in 2017 and 2018, the ILS market has been there to pay claims and there continues to be an influx of capital to back the renewals of these covers. So far in 2018 there has been over $10 billion in catastrophe bond covers written, the ILS fund market stands at well over $100 billion, and expanding the definition of ILS to P&C and Life run off books, shows even more growth as both of these segments show the highest level of incorporations in the Bermuda market." Also on the panel were Jay Green, managing director at GC Securities, Richard Lowther, chief operating officer at Hiscox Re Insurance Linked Strategies, and Laura Taylor, managing partner and chief financial officer at Nephila Capital. The panel discussed innovation in the sector and the growing role of ILS within the re/insurance market — and in assisting in global humanitarian efforts. Bermuda has the largest depository of ILS listings, $30 billion, or more than 80 per cent of global capacity at September 30, according to Bermuda Stock Exchange figures. Mr Gibbons said: "Further, innovation in the ILS sector has assisted in global humanitarian efforts in light of natural disasters. Parametric triggers combined with advanced data analytics and modelling allow the payment of claims at a far faster pace than traditional loss contingent covers so that money can be distributed as soon as it is needed after droughts, hurricanes or earthquakes. Two very meaningful examples of this already happening include the African Risk Capacity Insurance and the Caribbean Catastrophe Risk Insurance Facility. This alternative capital isn't quite as alternative. It's an increasingly large portion of the insurance and reinsurance market globally. And it's a true form of capital that's supporting a large part of the globe against significant disasters."

Shadow legal affairs minister Scott Pearman has called on Attorney-General Kathy Lynn Simmons to explain to the public why she has been named as a codefendant in five civil lawsuits. The five writs are among 14 cases filed in the Supreme Court since 2008 against her husband Myron Simmons, senior Crown counsel in the Attorney-General's Chambers, as revealed by The Royal Gazette last week. Senate leader Ms Simmons is listed as codefendant in one of the most recent cases, brought by HSBC Bermuda in February 2017. According to legal papers, the case involves three mortgaged properties in Sandys, to which the bank laid claim. The Attorney-General is also named in four other writs, filed in 2009, 2011, 2014 and 2015. Mr Pearman said: "It is a fundamental principle that every person is innocent until proven guilty. Against that background, we should all exercise caution until more is known about these allegations made against the Attorney-General, her husband and their [former] law firm [Lightbourne & Simmons]. It is also fundamental that Bermuda lives or dies by its reputation as an international financial centre. Our chief law officer must be beyond reproach. No doubt the Attorney-General will now want to clarify publicly whether the allegations have any merit and what explanation she has to assure the public that nothing improper has occurred." Ms Simmons has not responded to requests for comment from The Royal Gazette but she told ZBM earlier this week that it was a private matter. David Burt, the Premier, told the news station: "I am not concerned about that report. What I would say is it's unfortunate that people would like to drag people's family into the news and the press. But that is the modus operandi for The Royal Gazette and so I'll just leave it at that."

An American tourist said yesterday that people everywhere should be more like Bermudians after a group teamed up to track down his lost phone. The Massachusetts-based construction contractor said "panic struck" when he realised the phone — with the contact details of all his clients — was missing, but it was found within minutes. Michael Shastany, 60, said: "We need the world to be more like Bermudians. Send one Bermudian to every town in America." Mr Shastany and his wife Debbie, 56, arrived on the island last Friday to attend a relative's wedding. The couple became engaged at Elbow Beach 29 years ago but married in their home state of Massachusetts. They were busy raising their children, James, now 24, and Samantha, 21, and so never got the chance to return. They enjoyed the wedding celebrations on Saturday afternoon and Sunday morning at The Loren and later took a bus to the Hamilton ferry terminal for a trip to Dockyard. Mr Shastany said the couple found themselves chatting to a local woman, Sharon Riviere, from Pembroke. He added: "She was just being friendly, asking us where we're from, just taking the time from her day to be inquisitive." The pair discovered common ground as Ms Riviere had worked in Boston and Mr Shastany reached for his phone to show his new friend some photographs that might interest her. But after he checked his pockets and backpack, he realised it had gone. Mr Shastany said he was shocked when he discovered he had lost his phone. He explained: "Your phone's your world, I'm thinking about my clients' phone numbers. It had all my e-mails, texts and pictures. Debbie was thinking about the wedding pictures. Sharon is still casually chatting away; I apologized to her and said I needed to focus on finding my phone. "She said 'We will find your phone'." Ms Shastany contacted relatives at The Loren hotel to find out if it was there and Ms Riviere, 73, called the police and the department of transport and "within two minutes" staff at the bus depot confirmed they had the phone. The businessman said he and his wife had been at the back of their bus and it appeared either the driver or a passenger had handed the phone in at the Hamilton terminal. The couple decided they would collect the phone later and took the ferry to Dockyard as planned, along with Ms Riviere.They invited her for lunch and said they were delighted to watch her talk to "anyone and everyone". Mr Shastany said: "She's really like an ambassador for Bermuda. We were coming in on the ferry, there were three names on boats — Patience, Faithful and Powerful and I said, that's Sharon. Those three words right there are really just Sharon and your whole island of people." Ms Riviere later gave the couple a ride to collect the phone and then took them to Elbow Beach. Mr Shastany said: "At the same time she told us the whole history of Bermuda." He added: "You have a true ambassador of Bermuda. I've asked people about her and everyone knows her or has heard about her." Ms Riviere said: "I had hoped to find the person who handed in the phone, it's not about me, it's about them, they were honest. We are indeed special, Bermudians are really special. I travel, I work with the poor all over and I'm in all sorts of countries. I'm always a Bermudian ambassador." Mrs Shastany also thanked everyone else who helped recover and return the phone. She added: "We remember from 29 years ago that the country was clean, pristine and friendly."

Scott Franklin of Rugby Canada had his "faith in humanity restored" only hours after losing his passport, keys, money and phone on Sunday night. The visiting athlete's jacket, containing his most crucial possessions, had fallen off his bike into the road and he presumed it was lost. But Mr Franklin, who is on a week's visit for the Rugby Classic from Medicine Hat, Alberta, was delighted when his jacket was returned and met his savior in person to thank her. Last night, he presented Wanda Francis with a token of gratitude for going the extra mile to reunite him with the jacket. On the same night that he discovered he had lost the jacket, Mr Franklin heard that it had been handed in, along with all his things, at Hamilton Police Station. "I did a touchdown dance there in the station — thank you so much," Mr Franklin told Ms Francis, presenting her with a bouquet of flowers. "My life was in that jacket." Mr Franklin explained that he was on his way home after the game at North Field in Devonshire to stay with his host Jane Vickers. The Vickers family have hosted Mr Franklin several times during his eight trips to the island. Just as the rugby player was leaving the National Sports centre, Ms Francis was leaving Devonshire Seventh-day Adventist Church in Roberts Avenue. She said: "I saw him ahead of me. Just at the junction with Parsons Road, he went down. He popped back up pretty quickly and rode off." But he had left his jacket with all his essentials in the road and had disappeared by the time she picked it up. Ms Francis turned it in at the police station and said the duty officer found "everything you need in a foreign country" inside. Meanwhile, a despairing Mr Franklin had gone back to the scene, recalling only that "somebody had honked at me". A call to the police confirmed that the jacket had been handed in. After getting everything back, Ms Vickers turned to Facebook to track down the Good Samaritan and thank her in person. "People said it was typical of her to do something like that," Ms Vickers said. "Nowhere but Bermuda would this happen."

A Jamaican court ordered the arrest of a Bermudian facing cocaine charges. The Jamaica Gleaner reported that Paulos Francis, from Devonshire, failed to attend St James Parish Court on Thursday. Mr Francis was on bail for charges of possessing, dealing in and attempting to export 3,500g of cocaine. The court heard he left the island on October 21, despite an order from the courts. Mr Francis was reportedly arrested on April 1 after he allegedly checked in at the Sangster International Airport in Montego Bay, St James, for a Belgium-bound flight. While he was preparing to board the flight, detectives carried out a search of his suitcase and found a false compartment with a rectangular shaped parcel inside. The package was found to contain a white powdery substance, which investigators later confirmed to be cocaine worth an estimated $4.3 million Jamaican ($33,746 US).

November 6

The Bermuda Government's legal grounds to revoke same-sex marriage can today be revealed in The Royal Gazette. The case, set to go before the Court of Appeal tomorrow, is scheduled for three days. The Attorney-General, represented by James Guthrie QC, a prominent English barrister, will challenge the constitutional basis for an earlier ruling that struck down a ban on the unions. Ian Kawaley, the former Chief Justice, found that a ban on same-sex marriage was at odds with the Constitution's guarantee of freedom of conscience and creed. The landmark judgment, on June 6, was the latest twist in a legal saga dating back to July 2016. But the notice of appeal, obtained by The Royal Gazette, argued that the grounds for Mr Justice Kawaley's decision were not valid under the Constitution. The document that laid out the Government's case said that Mr Justice Kawaley made a mistake when he found that freedom of conscience, which includes freedom of thought and religion, could be applied to same-sex marriage. It also maintained that the Chief Justice was wrong when he used previous cases that "depend on an element of compulsion or coercion which is absent in the present case". The Attorney-General's Chambers will also challenge Mr Justice Kawaley's decision to "ignore European case law" that the prohibition of same-sex marriage does not go against the European Convention on Human Rights — and that "social policy will normally be for Parliament, and not the court, to decide". The Government's legal team also argued that the Chief Justice stretched the definition of "creed" when he ruled that the Domestic Partnership Act, which replaced marriage with a civil partnership arrangement, went against the Constitution. The government appeal argued that the Constitution exempted marriage from laws designed to prevent discrimination. The legal battle started when Winston Godwin, a Bermudian, and his Canadian fiancé, Greg DeRoche, were turned down by the Registrar-General's office when they tried to file marriage banns two years ago. Puisne Judge Charles-Etta Simmons found in May 2017 that a restriction of marriage to a man and a woman was against the Human Rights Act. The ruling made same-sex marriages possible and the One Bermuda Alliance administration in power at the time decided not to appeal. But the Progressive Labour Party government replaced same-sex marriage with domestic partnerships in December 2017 and civil unions became law in February. Mark Pettingill, the lawyer who represented Mr Godwin and Mr DeRoche, took up the case on behalf of Roderick Ferguson, a Bermudian who contested the civil unions as unconstitutional. The case was joined by the charity OutBermuda and Bermudian Maryellen Jackson, both of whom were represented by lawyer Rod Attride-Stirling. Mr Justice Kawaley's ruling in June overturned the ban, and gay couples were once again granted the right to marry. But the ruling was put on hold for six weeks to allow the Government time to review its options and the Attorney-General's Chambers filed its appeal only weeks later, The controversy set religious groups against gay rights campaigners and the island was criticized in overseas media for its anti-same sex marriage stance and for being the first country in the world to legalize same-sex marriage and ban it again, Chris Bryant, a Labour MP in the British Parliament in January asked Boris Johnson, then the Foreign Secretary, to block the "entirely retrograde step" to backtrack on marriage equality.

The public have been kept in the dark about government plans for immigration reform, it was claimed yesterday. A spokeswoman for pressure group Supporting Fair Immigration Reform said the lack of progress was a broken promise by the Government. She added: "It has now been 12 months since the Consultative Immigration Reform Working Group submitted their report to the previous minister of immigration." The spokeswoman said that Walton Brown, the former home affairs minister, who had responsibility for immigration, had promised legislation would be passed by February. But she said: "Since February, we have constantly questioned the ministry on progress since no meetings or interim reports have been released. The failure to communicate anything leaves us to assume that no milestones have been reached. We were advised in July that the committee was in the final stages of producing recommendations to be included in their document to be reviewed by Cabinet. Nothing further has been released to the public about immigration reform besides yet another promise of more information down the road." The spokeswoman said that population growth was essential to the future of the island. She added: "With recent headlines concerning a declining birthrate, shrinking working population, and greater demand to be placed by seniors on pension funds, the need to grow our population is clear. It is in the interests of all Bermudians to have more people paying into our seniors' social safety net and to ensure that future generations are protected." Wayne Caines, the national security minister, took over responsibility for immigration from the home affairs ministry last week in a Cabinet shake-up. The spokeswoman said that Mr Caines had "a big role to fill" and that the public had "no knowledge about the current state of immigration reform". She added that a simple solution would be to make it easier to obtain Bermudian status for long-term residents, "especially those that were born here or who have known no other home. These are people who have already demonstrated a commitment to Bermuda. They are already here and have contributed to our society. Many of these people also have immediate Bermudian family members and have grown up as a Bermudian." Mr Caines said in a statement today: "It was the intention of this government to deliver legislation in February, however as a result of ongoing critical analysis by the Bi-Partisan Immigration Working Group, it was advised this be postponed to ensure delivery of comprehensive legislation that fully encompasses Bermuda's needs. As the minister now responsible for immigration, moving this legislation forward is a priority for me. I will continue the good work of Mr Brown and put forward sound legislation that is in the best interest of all Bermuda." Sylvan Richards, shadow home affairs minister, backed the group. He said: "It is clear that this issue is one of the business community's main concerns and the extended delay in announcing any meaningful reform to immigration is only adding to the economic challenges this Government is facing. Additionally, it is unacceptable that so many local families are being left in limbo regarding their immigration status, and they deserve better." Mr Richards added: "I am also concerned that moving the immigration department to the Ministry of National Security, which already encompasses a very large portfolio, will only add to the delay." Mr Brown said last month that the Government was still working on comprehensive immigration reform. He added: "We have come to a position on a number of key issues involving mixed-status families and we will be unveiling that in due course, in the next few weeks." Mr Brown said in July that he hoped legislation would be tabled by this month. Mr Caines said in a statement last night he had met with a range of industry stakeholders and immigration officials after taking on the responsibility for immigration. He said: "I made it clear in this meeting that my office is always open and available to meet with them to discuss any concerns they may have regarding any application process." Mr Caines added: "The key point I spoke of is maintaining the delicate balance of ensuring transparency, fairness and a seamless process for expatriate workers while ensuring Bermudians are given the opportunity to grow and develop in local and international business. Bermuda will be a place where everyone has equal access to opportunity thus ensuring a co-operative relationship between businesses and Bermudians."

A pastor appointed as Bermuda's gang violence reduction co-ordinator has had his contract renewed until 2020, The Royal Gazette can reveal. Leroy Bean took up the job in October 2017 for 12 months and has just accepted an extension to his $92,000-a-year role. Community activists yesterday praised Mr Bean and his efforts, but one claimed his government post was unnecessary and another questioned the budget available to allow him to work in an effective way. Wayne Caines, the Minister of National Security, said: "Pastor Bean is an integral component in our efforts to stem the tide of antisocial behavior in Bermuda. As such, I offered to extend his contract for a further two years, which he accepted. Pastor Bean's compensation was not changed and is available in the public domain." Desmond Crockwell, an anti-violence campaigner, said yesterday that the national security ministry had "failed" and work to tackle gangs had been focused in the wrong direction. Mr Crockwell added: "I think Pastor Bean is a good man, and one of the most knowledgeable people in the fight against gang-type behavior and lifestyles, but he should never have gotten involved with the government position." Mr Crockwell, the director of Youthvision Promotions, said: "In my opinion, the Ministry of National Security got it wrong. I believe that they focused on the wrong aspect of gang-type behavior and activities. I believe that they focused on the social rehabilitation of the individual, which many programmes are currently doing. The Ministry of National Security has not, to date, put a piece of legislation or law forward to directly combat the gang-type activity. This is where they are going wrong. The nation does not feel secure, so the Ministry of National Security has failed in that aspect." Mr Crockwell claimed Mr Bean was a good "relationship builder" and suited to "social rehabilitation or social development" where he could have a greater impact. He said: "I believe Pastor Bean would rather stay out of the spotlight, but Minister Caines likes the spotlight and the responsibility of being a public figure and when they first started working together, I believe Pastor Bean was in the spotlight more than he would have liked to have been." Mr Crockwell added that the gang co-ordinator's position was not needed. He explained: "I believe the position was a sign that the ministry needed help with the gang-type activities, so it looked like a desperate move, so no, I do not think the position is necessary. I also believe that it was a position to ease the minister up so he could focus on the bitcoin area of interest, but now he has been relieved of that responsibility, he can focus more on the national security job at hand and ease Pastor Bean up." Mr Crockwell said there should be a bigger police presence and better surveillance at identified trouble spots. He added: "I strongly believe that we need the Royal Bermuda Regiment to be a support organisation for the police. We need a local anti-gang force, which can be made up of skilled police and Bermuda Regiment soldiers." Although there appeared to be a "lull" in gang violence earlier this year, recent months have seen violence return to the streets. A man was shot dead on Court Street in July and another died of stab wounds after a brawl erupted outside Southampton Rangers Sports Club. Police recently appealed for witnesses to four firearms incidents in a mile-and-a-half radius in the central parishes between September 20 and October 21, which left a man injured. Mr Caines earlier told The Royal Gazette that Mr Bean was "in the midst of the storm" every day and could have more than 260 meetings a month with people affected by gang violence. Gina Spence, a community activist, said she had worked with Mr Bean and that he had "put in some good efforts". She added: "I don't know what sort of budget they're going to give him to work with this year and what resources — that would be my main concern. In order to have the impact that I know he desires you need money, you need resources, you need specialized people and so I would be interested in seeing what resources and funding he's given." Ms Spence said that Mr Bean had the grassroots connections needed to reduce gang violence, but that the role was a "big responsibility". She added: "I don't like the title. To expect one individual to reduce gang violence to me is crazy." The Government did not respond to a request for details on the team's budget by press time but it was understood to be regarded as sufficient for the work. Mr Bean said last night he was unable to comment at this time. But Mr Caines responded that Mr Bean's role was needed and a great deal of his work was carried out away from the public eye. He said: "I believe that whenever there is a shooting in Bermuda the tensions rise in our community. What people do not see is the proverbial eye of the storm — the people that are meeting with the gang nominals, stakeholders, getting out of bed at one or two in the morning and going to gang locations." Mr Caines added: "When there are clandestine meetings to be had ... oftentimes the person at the fore of that is Pastor Bean. Sometimes there are things going on that the average person cannot see and does not understand. The person that's dealing with the underbelly of this country is Pastor Leroy Bean and his team." The minister highlighted the importance of the community working together. He said: "The Government will continue to look at long-term and short-term solutions to assist in balancing our society and ending the scourge that is gang violence in Bermuda."

American space agency Nasa opened its new tracking station yesterday. The station, on Cooper's Island in St David's, will be used to monitor Nasa space missions as a predecessor did from the same site in the 1960s, when rockets from Cape Canaveral in Florida were tracked by radar from the island. Constance Dierman, the US Consul General, said: "Now, as then, Bermuda is helping make possible new advances in space flight and in advancing science, engineering, technology and maths education objectives. We are delighted they are here to recognize and further our important US-Bermuda relationship," The ribbon-cutting ceremony was watched by Walter Roban, the Deputy Premier, Sir John Swan, a former UBP premier, as well as representatives of Nasa. These included Sam Scimemi, the director of Nasa's international space station, Bill Wrobel, director of the Wallops Flight Facility in Virginia. Mr Scimemi and Mr Wrobel will take part in a series of events organized by the US Consulate to highlight Nasa's contribution to space exploration, science technology and aeronautics to schools and other groups, Other Nasa officials will speak to civic leaders on how the station will support the agency's work.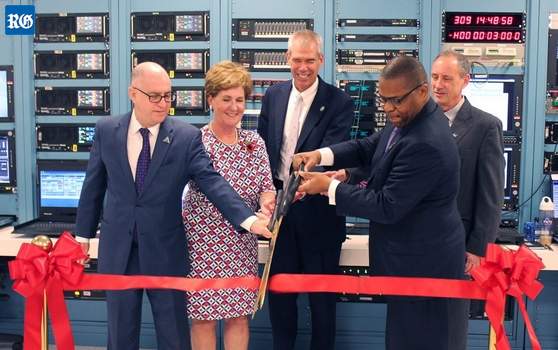 See above story

Arbitrade Ltd has stated it has "title" to 395,000 kilograms of gold bullion, a total that would be worth $15.6 billion. However, the company's short statement does not mention who has given it title to the gold and under what conditions, nor where the gold is, or the name of the "independent public accounting firm" that it says has verified the account. The cryptocurrency exchange and coin company last week announced it had bought the seven-storey Victoria Hall office building in Hamilton as its global headquarters. Attempts by The Royal Gazette to gain further information directly from Arbitrade and its US-based media partner, both last week and yesterday, have so far been met with silence. In its statement, Arbitrade said that Len Schutzman, its chairman, had announced the company has "received title of gold bullion stored at independent security facilities in the amount of 395,000 kgs with a current market value in excess of $10 billion" and as such "has completed the required regulatory gold vaulting verification compliance". The statement continued: "As mandated, an independent public accounting firm has verified the account in good standing, confirmed Safe Keeping Receipt 'SKR' totaling 395,000 kgs of gold, by direct confirmation from the independent secure vaulting company". Mr Schutzman is quoted as saying: "Since most cryptocurrencies are not backed by gold, this feature should make purchase of Arbitrade's coins and tokens more attractive to the blockchain community." Explaining how the gold bullion transactions will work, Arbitrade stated in July: "As Arbitrade pays off the gold bullion debt, the gold can be traded for the appropriate metals backing each token before being shipped to the vault in Bermuda, where it will be audited once a year as the reserves build up." In an earlier explanation of its gold acquisition process, Arbitrade said it was similar to a house purchase and a mortgage. It stated: "In a nutshell, the entities that are selling us the bullion are giving us title upon closing, meaning we own it like a person would if they purchased a house. Then they place a debt against bullion under a structured financing over a certain period of time, which would be similar to a mortgage. Fifty per cent of the daily mined proceeds is applied to that debt. The only difference between a house mortgage and the Arbitrade bullion acquisition is that every day a certain amount of the bullion becomes wholly owned by the tokens each of the four bullion represents." [Arbitrade previously spoke of utilizing gold, silver, platinum and palladium bullion]. Arbitrade has stated its intention to pay for the bullion through cryptocurrency mining operations, and in May said it was lining up "the largest deal ever placed for mining rigs in the history of the industry". Mining rigs are computer units that are used most commonly to validate and process cryptocurrency transactions by solving complex mathematical equations. Digital tokens of the currency that has been validated are used as payment for the service. The profitability of cryptocurrency mining has been brought into question this year after the fall in value of the likes of bitcoin, which is now valued at less than $7,000, compared with its peak of around $19,000 in December. Yesterday's gold bullion statement was released through a press release distribution service and was initially posted and shared by individuals on Twitter many hours before appearing on the official Arbitrade Exchange account on Twitter. An attempt to contact Arbitrade's US-based media partner, Creative Management Partners, which has offices listed in New York and Beverly Hills, ended up at an anonymous automated voicemail service, apparently in Massachusetts, while an e-mail bounced back undelivered. The same lack of response was encountered last week following Arbitrade's announcement that it had acquired Victoria Hall. Similarly, there was no response to an e-mail sent to Stephen Braverman, Arbitrade's chief operating officer. In June, during a conference call where no questions were allowed, Arbitrade said it intended to back five crypto tokens with $10 billion of gold and precious metal bullion. At the time it claimed it was in partnership with Sion Trading FZE of Dubai — which he described as "the only licensed gold trader on the Dubai Gold Exchange" — would be granted $10 billion worth of physical gold to be used to back its tokens. However, enquiries by The Royal Gazette subsequently revealed that Sion Trading was not a member of the Dubai Gold & Commodities Exchange and had no affiliation or relationship with it. A company called Sion Trading FZE does hold a commercial licence in the Ras Al Khaimah economic zone, United Arab Emirates. There is no gold exchange in Ras Al Khaimah. Sion's activity is listed as trading non-manufactured precious metals, while its address is a "flexi desk" at the Rakez Business Zone. When Arbitrade last week announced it had acquired Victoria Hall — a vacant property that had been on the market for $6.5 million — Mr Schutzman said: "Once its subsidiary, Arbitrade Exchange (Bermuda) Ltd is licensed under the Digital Asset Business Act 2018, it intends to commence its hiring process, which will create numerous training and employment opportunities for Bermudians." David Burt, the Premier, said: "We thank Arbitrade for this tangible sign of commitment to Bermuda and look forward to further announcements as the island continues to set the pace for the world in fintech." Arbitrade's "dignity" crypto token rose more than 40 per cent in value yesterday in the wake of the gold bullion statement.

The Bermuda market's relevance to the global reinsurance industry remains undiminished, even as the number of companies on the island has shrunk through consolidation. That is the view of Arthur Wightman, PwC Bermuda leader and regional insurance leader, who points to the greater size, strength and influence of the companies that remain, as well as the innovations in areas such as insurance-linked securities. Last week, RenaissanceRe agreed to buy Tokio Millennium Re in a proposed $1.5 billion deal, the latest in a series of takeovers and mergers that has roughly halved the number of Bermudian-based, publicly traded re/insurers over the past six years. The likes of Alterra, Allied World, Endurance, Flagstone Re, Montpelier Re, Partner Re, Platinum, Validus and XL Group have all been acquired by larger organisations, as well as Ariel Re and Ironshore. However, remaining Bermuda-based companies like Arch, Athene, Axis, Enstar, Everest Re and RenaissanceRe have grown, partly through acquisitions, inside and outside Bermuda. In an interview, Mr Wightman said the consolidation was a natural progression for a market as reinsurance came into line with the norms of other industries. "It tends to be the case that for a company to be successful in any given industry, they either need to be a scaled, multidisciplinary organisation, i.e. a large company that offers its customers various different things, or they tend to be a niche player," Mr Wightman said. "Players trading in the middle either tend to have to become a niche player or scale up. What we've been seeing over the past five or six years is the reinsurance market starting to move to that model of scale or specialization." He said that in the past, many Bermudian companies had market capitalization's in the $2 billion to $6 billion range, but now they were getting either larger or more specialized. He added that consolidation inevitably impacted employment as well. "I always look at the Bermuda market in terms of how relevant it is to the world economy and society at large," Mr Wightman said. "While we have fewer companies, we have much larger organisations that actually have much greater influence over the reinsurance market worldwide. Similarly, our own innovation and evolution, which has come mainly through alternative capital, really underscores the importance of Bermuda to the world market for risk transfer. We've also seen changing markets in decades past and this is just an evolution in which Bermuda does seem to be retaining its importance in the world reinsurance market." Mr Wightman was speaking on the sidelines of last week's PwC Insurance Summit, where there was much discussion of technological change in the industry. While greater use of technology could reduce the need for people in some areas, it could also open up new opportunities, he said. "In those areas where the industry has a lot of data and access to technology to analyze it, those corners will become more commoditised," Mr Wightman said. "That will take out some, if not all, of the need for human intellectual capital, which is a very positive thing because it frees the intellectual capital within the industry to be harnessed in other areas. There are significant risks in the world that aren't insured at all and risks that are underinsured. This is a massive opportunity for the industry." Some insurance leaders are uneasy about competition from giant technology companies, such as Google, making them more conscious of the need to innovate. "Industry outsiders who may be more proficient at grabbing data and more proficient at technology and analytics can come in and disintermediate the existing industry," Mr Wightman said. "Insurance executives are very much intent on preserving their role in the insurance market and in society, but they realize they have to do that either in partnership with the technology companies, or invest much more in digital talent within their organisations." In order to attract such talent, the industry had to better communicate its value to the world to purpose-driven millennials, he added, and also to better define the roles for that talent to fill. "We as an industry need to be thinking about digital talent, technology capability, data analysts and being much more actuarially driven," Mr Wightman said. "Those are the types of people the industry needs to be drawing in much greater numbers. There's a fear that started at the top end of organisations around change — that fear is less felt by younger people. I give the example of a company installing a new system. It seems to be the more mature demographic and the C-suite who struggle with that, but the implementation seems to go much better with younger people. The question is: how do you harness that change agility that sits within your organisation to better enable that change to perpetuate?" Chief financial officers speaking at the PwC Insurance Summit expressed optimism about growth in the reinsurance market, but said the industry must be more innovative and aggressive in developing new products and solving the insurance protection gap. CFOs on the panel included Jeffrey Sangster, former CFO of Validus Holdings, Mario Bonaccorso, CFO of PartnerRe, and Stephen Robb, CFO of Axa XL. According to PwC's 2018 CEO Survey: Insurance, over 90 per cent of reinsurance and insurance chief executives are confident about their own organisations' revenue prospects over the next three years. Matthew Britten, PwC insurance partner, said: "In reflecting on the panel I am going to walk away with a sense of growing, but cautious optimism, built upon the view that the industry is poised to capitalize on the potential that technological advancement can bring to solve important problems such as narrowing the protection gap, and developing and pricing the products that are needed to address the emerging, intangible risks that customers are facing. However, insurers and reinsurers need to increase their flexibility and willingness to experiment and take risks to ensure that these advancements do not remain only around the edges. There are significant growth opportunities for insurers and reinsurers in assisting governments in de-risking, narrowing the protection gap, and developing new products to address emerging intangible risks, such as cyber."

Hiscox Ltd, the Bermuda-based insurer and reinsurer, has set aside $125 million to cover losses from major storms. The company's trading statement, published today, also highlighted double-digit growth in gross premiums written across all segments of the business. Hiscox said $125 million had been reserved to cover claims and reduced profit commissions resulting from hurricanes Florence and Michael, which made landfall on the US East Coast, and typhoons Jebi and Trammi, which impacted Japan. Since a benign first half for losses, Hiscox said it had seen a more active environment for claims, including a $13 million marine loss. Hiscox added: "Hiscox USA has experienced a higher frequency of D&O claims, and Hiscox UK & Ireland has seen an uptick in subsidence claims following a particularly dry summer, as well as a continuation of escape of water claims." Gross premiums written through September 30 totaled $3.04 billion, up 14.3 per cent from the $2.66 billion written in the corresponding period in 2017. Hiscox's head office is based at Wessex House, on Reid Street, which is also home to its Hiscox Re & ILS division. Hiscox Re & ILS wrote gross premiums of $782.4 million, up by 10.9 per cent on the $705.4 million recorded in the first nine months of 2017. The report did not include details of net income. Bronek Masojada, Hiscox's chief executive officer, said: "We have had strong growth, but as the market remains challenging, we will remain disciplined, and I expect our growth to moderate over the balance of the year. It has been an active third quarter for claims across the group, both from large losses and catastrophes, and I am pleased with how we have responded." The company's growing retail insurance division generated $1.6 billion in gross premiums, up 16.8 per cent from last year. Its London Market operation wrote $664.1 million of premiums, up 12.5 per cent from 2017. Hiscox Retail continues to benefit from investment in the brand, and we were pleased to welcome our one millionth retail customer," Mr Masojada said. Hiscox also commented on its preparations, and their cost, for Britain's impending exit from the European Union and said its new Luxembourg-based subsidiary was fully operational and expected to start writing business from January 1, 2019. "Our plans have always assumed a worst-case scenario 'hard Brexit' and we are prepared, irrespective of the outcome of the government's negotiations," the report states. The financial impact of re-organising the business in preparation for Brexit is $15 million across the group in 2018, and we will inject incremental capital of approximately €40 million in the new entity."

Greenrock and BE Solar will be hosting a public meeting on Bermuda's energy future this Thursday, the 8th of November, at St Paul's AME in Hamilton, corner of Victoria and Court St. People are encouraged to join from 5:30pm for discussion, with presentations and questions to follow at 6pm, refreshments will be provided and door prizes are available. The meeting will feature presentations from Etude, a UK based Sustainability Engineering Firm who were commissioned by BE Solar to develop the Bermuda Better Energy Plan, and the Chamber of Commerce's Kendaree Burgess who will share the findings of a recent university study into Bermuda's economy as it relates to energy. Presentations will be followed by a question and answer session. Eugene Dean, Director of Greenrock said "the Energy IRP Process was created to develop a plan that will govern energy generation and distribution in Bermuda for the next 20 years. BELCO was required to write the plan and Etude have produced an alternative, the Bermuda Better Energy Plan. What does the outcome of the IRP mean for our children? Is the IRP process something we all need to learn about? What do the proposed plans entail? How can Bermuda residents have an influence on the final decision? As an organization, Greenrock aims to raise awareness and educate the broader community on critical issues relevant to sustainability and as a result we are hosting the meeting this Thursday night. If you need answers to any of the aforementioned questions please be sure to join us. We fully endorse the plan submitted by Etude and having them on the island to present is an opportunity that we cannot afford to miss. This is about our future Bermuda, and if we have learned anything from our recent history, we would know just how important it is for us all to get involved, before it's too late." If you are interested in learning about the Bermuda Better Energy Plan and the Energy IRP please join us with your family, work colleagues and friends. For more information or to arrange interviews and media coverage please call 516.4226 or email eugene@greenrock.org.

Bermudian actor Julia Frith has been robbing banks across the UK — and loving it. Ms Frith, 23, is on a British and Irish tour of the hit show The Comedy About A Bank Robbery. She said: "The amount of times I've heard people remark that they haven't laughed like that in years — if ever — has really shown me how important it is to create shows that give people a chance to express their pure unfettered delight. I can't get over the fact that it's my job to make people cry with laughter." Ms Frith added: "Another highlight is that being on tour means I'm getting paid to travel all over the UK, Wales, Scotland and Ireland. I get to explore the towns, castles, forests, and perform in some of the most beautiful theatres, not to mention getting to know the people along the way." Ms Frith said the play was about a bank robbery complicated by love triangles, mistaken identities and hidden agendas. She said: "I play Caprice Freeboys, con artist extraordinaire and leading lady of the show. She is constantly trying to fix the messes her fellow robbers are creating, using her wit, charisma, aerial singing charm and surprising charades skills." The show, already a hit in London's West End, was created by the Mischief Theatre Company. Ms Frith said she had not seen the show before she won her part, but was aware of the company's previous productions, including the international success The Play That Goes Wrong. She said: "I dreamt of one day working in their shows. It was one of those 'Gosh, maybe one day after I graduate I'll be working with Mischief' kind of dreams. All of their productions were incredibly physical, fast-paced, smart, hilarious. I took my brother to see The Play That Goes Wrong, and my partner and I saw Peter Pan Goes Wrong. They were the funniest shows I'd ever seen. We cried with laughter, along with every other audience member watching with us." Ms Frith said she met Sooki McShane, the play's casting director, while she studied at London's Rose Bruford College and contacted the theatre company on her advice. She auditioned three weeks later. Ms Frith said: "From there it was a typical audition process. I went through three rounds of acting in front of the directors, writers, producers, founding company members and potential cast. It was intense, and before I knew it I had gotten my first job, two months before graduation, with one of the best comedy shows in London." Ms Frith added that the production was demanding, with countless props and quick fire jokes. She said: "I am onstage for a lot of the show, and when I'm not, I'm in a quick change, grabbing props, or climbing ladders for the next bit. The energy output is huge. Being able to do that and still have breath to shout, sing, and connect with the emotion of the story is the ultimate goal. I'm learning a lot about consistency. I've gone from doing only four shows in a run, to doing eight shows in five days, every week for a whole year. So far we've done over 80 shows and to keep up the same amount of energy and fresh zest for every show is something I'm still learning how to do." Ms Frith is far from the first in her family to take to the stage. Her relatives include international musician Heather Nova and celebrated puppeteer Michael Frith. She said anyone interested in the performing arts, or any profession, had to commit to their passion and take action. Ms Frith said: "People will give you all the reasons in the world why you shouldn't live the life of your dreams. I was terrified of writing to Mischief, I was scared of auditioning, and even now I'm afraid as I write to agents inviting them to my show, but every time I was scared and made the choice to do something anyway, I've seen amazing results in my life. I've become a fire spinner, an aerialist, Bermuda's first professional mermaid and just graduated from the best drama school. I now have an amazing job and am truly living the life of my dreams every day."

One of the island's top drummers has died. Charles "Jiggs" Douglas was 89. Dale Butler, a former Progressive Labour Party MP and music historian, said Mr Douglas's death was "a great loss to Bermuda's music heritage". He added: "He was an absolutely outstanding conga player who established a reputation all over the island." Atlantic Publishing, owned by Mr Butler, gave an award to Mr Douglas last year to mark his contribution to the island music scene. Mr Butler said "Jiggs" made a trio of conga-drumming greats with musicians Freeman "King" Trott and Gene Steede. He added: "It's a sad occasion. He was a very quiet, humble man who often freelanced, showing up to perform at venues like Hubie's." The Angle Street bar, a popular spot for jazz, closed in 2010. Mr Butler said he was lucky to have seen the performer in action at the legendary Queen Street bar the Jungle Room, where top local talent was showcased. He added: "I saw him in action there with the Fiery Limbo Dancers group. I also saw great performances at the Southampton Princess. He was part of that hotel circuit." Mr Butler's book, Music on the Rock, said Mr Douglas started performing at age 19. He played with notable acts such as Graham Bean and the Tropicanos, as well as Hubert Smith. Lance Furbert, a drummer during the heyday of Bermuda's live music scene, said Mr Douglas was a mentor to younger musicians at the Jungle Room. Mr Furbert added Mr Douglas was "an incredible drummer". He said: "I worked with him with Bryan Butterfield's Fiery Limbo Dancers. He used to do a great solo with all kinds of action as he played, talking to the audience — he could crack people up." Mr Furbert added Mr Douglas's music was "like thunder — it was incredible how much rhythm he had. It was a deep booming sound that took over everything. As a person, he could be really comical. What I liked about him was that he was always helpful. To those of us who were younger than him, he was really a teacher. In the early days, the Jungle Room drummers were teachers to the younger guys coming up." Mr Douglas's death came about a week after Ernest "Tojo" Philpott, a guitarist and singer, died aged 81.

November 5

A new round of breath test checkpoints is to start on Thursday, police said today. Officers will be manning checkpoints in Hamilton Parish, Devonshire, Pembroke and Paget from Thursday to Sunday of this week. The checkpoints will be mobile and police said they can pop up in any parish listed at any time over the specified period. The checkpoints coincide with the World Rugby Classic, which is underway at the National Stadium in Devonshire and one of the biggest social events of the year. The latest checkpoints were announced in the Official Gazette last Wednesday.

The widow of veteran politician Quinton Edness has launched a court case to get a $100,000 loan repaid. Vicki Edness, whose husband was a long-serving minister in United Bermuda Party governments, lodged a writ against Gregory Wilson and Brenda Spencer as directors of the Cold Coast Company. Mr Edness is also listed as a principal in the Bermudian company, which was registered in 2011. The Supreme Court writ claims the defendants, along with Mr Edness, obtained the loan in 2012 from Capital G Bank, now Clarien Bank. The loan is said to have been guaranteed through cash in Mr Edness's account at the bank, which was held as security. The summons claims that the loan became delinquent, the bank took the security money and that the defendants had failed to repay the loan as of September 2018. Mr Edness, who died in January aged 86, was an MP for 30 years and headed several ministries, including home affairs, during his time in Parliament.

Vulnerable children involved in court proceedings will have no legal representation because of the Government's refusal to pay for the services, it was alleged yesterday. Tiffanne Thomas, a freelance social worker, said she was withdrawing as a litigation guardian from 17 active cases involving "at risk" minors because she had not been paid for her work for the past four years. Ms Thomas explained she decided to quit to pursue legal action against the Government for the money owed to her for the court-approved services she has provided since 2014. She said: "It was not an easy decision to come to. I wrestled with the decision tremendously, primarily because I knew that no one else would be providing the service and because I know the risks and the needs of the children. To provide this service for four years has severely impacted the safety, security and stability of my family. I can't advocate to protect the children of Bermuda by compromising the wellbeing of my own family." The Children Act 1998 grants every child who needs it the right to representation in court and allows litigation guardians access to files held by the Department of Child and Family Services on the children in its care. But Ms Thomas said for the first 16 years after the law was passed the courts failed to appoint any litigation guardians. She was the first to be appointed, by magistrate Nicole Stoneham, and has since provided her services to 35 children on the basis that she would be paid from the public purse. Ms Thomas said: "Unfortunately, despite the Bermuda Government's repeated assurances that I would be paid for my services, payment has not been received for any of the children that I represent." Saul Dismont, a lawyer who has worked with Ms Thomas on some cases and has also not been paid, said only a small fraction of children involved in court cases in Bermuda got the benefit of legal representation because the courts usually did not appoint litigation guardians, despite the Children's Act. He said the "vast majority" of youngsters under the care of the department were removed from their parents, held at the Mid-Atlantic Wellness Institute, sent overseas to secure units, forced to take medication or dealt with by the court without anyone speaking on their behalf. Mr Dismont added: "For the 16 years where no litigation guardians were appointed ... we don't know what has happened to those children in the system. In some of those cases, a child simply has to say 'I don't want to do that' and then everything stops and they can't force someone to go abroad, for example, or to have treatment. We know that some of the children were told if they were going abroad that they were going snowboarding and going camping and then they ended up in a secure treatment facility for three years. None of those children at the time had the benefit of a litigation guardian. It's extremely likely if they had, they would not have ended up where they ended up." Mr Dismont said Ms Thomas's decision meant he could no longer take instructions from her and represent the children in court. He added: "Since Ms Thomas has been involved, we have done appeals, judicial reviews, constitutional claims and human rights complaints. Who is going to make those legal arguments or initiate proceedings for children moving forwards? Nobody. All of those children going through the system, who is protecting their legal rights? How do we know that their legal rights are being protected? How do we know they are being sent abroad lawfully or taken from their parents lawfully? We don't." Ms Thomas, director of Therapeutic Consulting Services, blew the whistle on allegations that government child protection staff abused and neglected youngsters earlier this year. Her allegations led to the suspension of Alfred Maybury, the Child and Family Services director, over his handling of the complaints, which is now the subject of an investigation, along with other staff members. Mr Dismont warned in a letter to Michael Weeks, the former social development minister, in August that there were likely to be a number of civil claims by children in relation to Mr Maybury. Last week's Cabinet reshuffle meant the Department of Child and Family Services moves to the Ministry of Legal Affairs, with the Ministry of Social Development and Sport abolished. The Government did not respond to a request for comment.

A veterinarian warned pet owners to take extra care yesterday after he treated two dogs who had eaten rat poison. Andrew Madeiros, of Ettrick Animal Hospital, said the clinic sometimes dealt with animals who had been exposed to rat bait, but it was unusual to see two cases in quick succession. Dr Madeiros said: "There has been a lot of coverage about rats and more rat activity. Possibly as a result, there's a lot more rat bait being put out." He said one dog was brought in after the owner saw the animal eating something in Hog Bay Park in Sandys, while the second was seen chewing an object in the yard of a home. Both were treated early and are recovering but Dr Madeiros warned pet owners to be alert. He said there were two types of rat poison on the market — one an anticoagulant, which stops blood clotting and leads to bleeding, bruising and difficulty breathing. The other affects the brain and causes symptoms such as wobbling, seizures and paralysis. Dr Madeiros said both types of poison required fast treatment. He added: "If there's a known exposure, we want people to find out what it is because that helps us. "There is an antidote for the anticoagulant ones. Within the first four hours, we will want the animal to vomit, but if they are already showing signs of bleeding or bruising it means the exposure was days before and we start treatment. There is no antidote for the neurological poison. The thing is to get them to vomit it up as soon as possible and give them activated charcoal to bind it in their intestinal tract. If they are already showing signs, all we can do is supportive care and medication to control seizures and tremors." Dr Madeiros said that even animals that had not been exposed to rat poison could suffer from secondary effects if they ate rats that have been poisoned. He also warned people who use bait block to make sure it is properly secured because rats can move the blocks to areas where pets can reach them. In a Facebook post, the Warwick veterinary surgery advised pet owners to keep a close eye on their animals while they are outside to keep them away from poisoned bait. The post said: "When walking, we strongly recommend your dogs are on a short leash so you can make sure they don't get any and if they do, you will know and be able to get them to us to make sure they are treated appropriately."

Young people's questions at a weekend forum on the history of racism in Bermuda showed "an absolute thirst" for understanding, one of the event's organisers said. Lisa Reed, executive officer of the Human Rights Commission, said: "It's the recognition that if we do not connect our collective existence, then how are we to make Bermuda better?" Ms Reed was speaking after the Race and Resistance: Understanding Bermuda Today event at Bermuda College on Saturday. The daylong event included three panel discussions and featured more than two dozen local and international contributors "dedicated to honoring Bermuda's history". The event's goal was to "provide an accessible contribution to the telling of Bermuda's experience of race and racism through the lens of resistance". Ajala Omodele, a writer and father of two, said that Bermuda's youngsters were the key to "imagining a different world". He said: "Our children have to be the architects of the destruction of the systemic injustices that lays all of us low." Rajai Denbrook, an actor and performance artist, said that the arts "hit the viscera, they hit the heart, and they hit the mind, all at the same time" in response to a question during the final question and answer session. Mr Denbrook added: "That power of communication and that power of truth that is inherent in artistic practice could not be more important to this kind of conversation, and could not be more important to young people." Theodore Francis, an assistant professor of history at a Texas university, agreed that the arts "were critical". He added: "Music, poetry, performance have been a way in which our stories have been conveyed, especially in the pre-literary era." Dr Francis was asked by a schoolgirl what young people could do to tackle the island's race relations problems. He said young people should work to "build community". Dr Francis added that young people could start with a focus on a single problem that bothered them. He added: "Continue to build until you can work on that issue, so that you can change society." One of the organisers, Alexa Virdi, who is in her final year of a law degree at Oxford University, said that one of the goals of the event was to "try and make Bermuda's history accessible". She added: "I certainly know, as a Bermudian, that I wasn't taught any of this at school. Bermuda's history is one of slavery and segregation. In an island where the current situation we are in is a direct product of slavery and segregation, if information is not known about that, I think that is a huge cause of a lot of the problems that we have." Ms Virdi said that she hoped event participants left with a desire to learn about Bermuda's history. "It's a responsibility for all of us, who live on this island that we love and is beautiful, to learn about what happened." Phyllis Curtis-Tweed, vice-president for academic and student affairs at Bermuda College, said that Bermuda "needed to regain control of our narrative. We have to be able to tell the story of our history." Organisers said the event, set up by the Human Rights Commission, Bermuda College and the Oxford Centre for Global History, was held in honour of writer and equality campaigner Eva Hodgson "with gratitude for her example, both as a courageous activist and an ever-curious academic".

Schoolchildren are suffering more mental health problems, educational experts have warned. Llewellyn Simmons, director of academics for the Ministry of Education, said: "Without a doubt it's a growing problem." He added: "There's a lot of stress and distress, and anxiety issues that we are beginning to witness more and more in young people — especially in adolescents." Dr Simmons, a member of the group Men in Action, was speaking as the three-strong organisation prepared for an event to highlight the need for closer attention to the mental health of youngsters at the Bermuda Institute in Southampton. The group, formed in 2011, aims to provide mentoring for young people — especially boys. It is made up of Dr Simmons, Anthony Peets, a counselor at Prospect Primary, and Phil Maybury, an education specialist. The group provides free services, including counselling, consulting and professional development. The organization's Facebook page is used as a platform for other groups working with youngsters. Dr Simmons said that access to mental health services was a problem for some people. He explained: "For a certain segment of our community, they don't have access to certain persons in those roles — because there's a certain cost factor. Not everyone can afford the expensive psychologist." Dr Simmons said that the problem Bermuda faced was how to work out how to provide mental health services "to those persons who have the least resources for the service that is in great demand". Mr Peets, the director of MIA, said: "All that we do impacts the mental health of our nation. If you have some intentional, targeted practices, you typically get intentional, targeted results." His presentation at the event will focus on what parents can do to help promote mental health in their children. Mr Peets added: "All of their actions impact their child's mental health." He said that parents should make the mental health of their children "a top priority". Mr Peets added that after targeting Bermuda's schools to help deliver its message, MIA planned to work with sports clubs. He said that two clubs had already contacted him to report mental health problems that had affected their behavior. "They're getting hostile over certain things. They have to deal with all these other issues before they can kick the ball." Tonight's event, organized by the school's Home and School Association, will run from 6.30pm to 7.30pm.

The contribution of the Bermuda Militia Artillery during the First World War was honored yesterday. Dignitaries and uniformed services laid wreaths at the BMA memorial in St George to mark the 100th anniversary of the end of the conflict. Fred Richardson, president of the Royal Artillery Association, said: "It's very important to remember those who served, particularly this year. "It was a long time ago, but that makes it even more important to remember them." Mr Richardson thanked John Rankin, the Governor; Walter Roban, the Deputy Premier; Craig Cannonier, the Opposition leader; Quinell Francis, the Mayor of St George; and Constance Dierman, the US Consul General, for their part in the ceremony.

Munaluchi Bride Magazine, the number one multicultural wedding publication in the United States, is bringing its annual retreat to the island in what is described as a "profile-raising opportunity for Bermuda". The Coterie Retreat is a three-day conference, launched in 2014 by the founders of the magazine. The event next month will feature more than 100 wedding and event professionals. It is being hosted at the Hamilton Princess Hotel & Beach Club. "People are excited. They're ready to pack their bags and get here," said Munaluchi Bride Magazine sales and marketing director Nicole McKenzie. "I can tell you the buzz is extremely high. We ended our retreat in South Africa and everyone was trying to figure out where we would be going next. How will we top South Africa? We made the announcement we were coming to Bermuda and we have received positive responses from day one." Victoria Isley, Bermuda Tourism Authority chief sales and marketing officer, believes the BTA has a dedicated strategy for growing the destination weddings space and attracting groups like the Coterie Retreat. She said: "The Munaluchi community is influential so the quality of its Coterie Retreat in Bermuda will be critical towards attracting future wedding and honeymoon business. Alongside our local tourism partners, we will be working hard to show off all that Bermuda has to offer in the area of romance travel." Jacqueline Nwobu, chief executive officer and editor-in-chief of Munaluchi Bride Magazine, said: "The purpose of the conference is not only to educate, but to expose Bermuda to the destination wedding industry. We really want our planners to connect with the locals here in Bermuda. We want to be able to put Bermuda on the map in terms of romance travel." The mission of the conference is to raise awareness for the fast-growing multicultural wedding and event industry in Bermuda, and to bring multicultural weddings to the forefront.

November 4, Sunday

November 3

A top London barrister will argue the Government's case against same-sex marriage despite an objection from the Bar Council, The Royal Gazette can reveal. James Guthrie QC will appear on behalf of the Crown next week when it appeals against a Supreme Court ruling that struck down parts of the Domestic Partnership Act. The move came after at least one lawyer for the other side challenged a request for the UK counsel to conduct the hearing. The Bar Council also backed a refusal and said the Attorney-General's Chambers had failed to show there were no local barristers with the expertise to argue the case. But Chief Justice Narinder Hargun granted the order for Mr Guthrie's special admission to the Bar after a hearing last month. Walton Brown, then the home affairs minister, confirmed in July that the Government would appeal against the landmark court judgment that reversed the same-sex marriage ban. Former Chief Justice Ian Kawaley ruled in June that parts of the Domestic Partnership Act, which aimed to replace same-sex marriage with civil partnerships, were unconstitutional. A request for a special practising certificate must be made to the Bar Council for an overseas lead counsel before they can appear in Bermuda courts. Permission was sought for Mr Guthrie, a member of London-based 3 Hare Court, to act for the Crown. The website of his London chambers said Mr Guthrie, who has appeared in local cases in the past, was a "leading silk in civil liberties and human rights work". Legal teams acting for the respondents, including Rod Ferguson, Maryellen Jackson and gay rights charity OutBermuda, were given the chance to object to Mr Guthrie and at least one challenge was submitted. The Bermuda Bar Association does not comment on special admission applications. But it is understood the Bar Council, which is made up of nine elected members, as well as the Attorney-General in an ex officio capacity, felt the Attorney-General's Chambers failed to meet the required criteria. The Bar Association website has an outline of the procedure for hiring an overseas lawyer. The website said: "Under the guidelines, Bar Council review the propriety of the use of foreign leading counsel for each hearing in which a client wishes them to appear before the Bermuda courts and for each application for a work permit from the Department of Immigration. If Bar Council determines that the use of foreign leading counsel is appropriate, then it issues a special practising certificate to that counsel for that hearing." The home affairs minister consults the Bar Council for its view on whether an overseas lawyer will be admitted. The council must consider the legal complexity of the case and its importance before deciding if there are "exceptional circumstances" that need foreign expertise. It also takes into account the availability of local counsel who can "adequately present the case". The application was granted by Mr Justice Hargun last month after submissions were made by representatives of the Attorney-General's Chambers and the Bar Council. It is believed a work permit has also been secured but no comment was received from the Ministry of Home Affairs after requests from the Gazette. Bermuda is the only country in the world to have allowed same-sex marriage then banned it. The Domestic Partnership Act reversed a Supreme Court ruling from May last year, which had paved the way for gay couples to marry in Bermuda and on island-registered ships around the world. But Mr Justice Kawaley ruled the legislation was at odds with the Constitution, which protects the right to freedom of conscience and outlaws discrimination on the basis of creed.

An Opposition party member broke ranks yesterday over the appointment of senators after the announcement of an all-male line-up. Marcus Jones, a former Progressive Labour Party election candidate, and Dwayne Robinson will join Nick Kempe in the One Bermuda Alliance benches of the Senate. They were appointed by new Opposition leader Craig Cannonier, who took the role after eight of the party's MPs backed a vote of no confidence in Jeanne Atherden. Leah Scott remains the deputy leader. An insider said some members were worried about the direction of the party and concerns about gender balance were backed by Alexa Lightbourne, chairwoman of the PLP's women's caucus. The OBA source said: "After a month of anticipation, a lot of members are starting to question the decision-making of Craig and Leah, and by extension the coup members. It's been very noticeable that all the women and youth within the party are those who are getting purged, not the United Bermuda Party types, which was their and Nick Kempe's vision. We went from having a woman leader to a male leader, and an all-female Senate team to an all-male Senate team. This is not the direction or history that I believe the party should be heading towards. As a woman, the deputy leader should have stood up, but it's being made very clear internally that not only does she want to be the top female, she's making moves to be the only female, and that's deplorable." The insider added that it appeared that women and longstanding party members had been sidelined in favour of "individuals who just became party members and supporters and one of those individuals is a former PLP member. It just looks like desperation. I know that during off-site meetings the group that is now in control talked about forming an all-black party so that in their minds they can compete against the PLP. If they are heading down this path of becoming more PLP-like then I feel that the future of the party is perilous." Ms Lightbourne said it was "unfortunate" that the OBA had "made Senate appointments which show a lack of gender diversity". The trio are expected to take their Senate seats when Parliament resumes this month. Mr Jones stood for the PLP in the 2012 General Election, when he came second with 127 votes to the OBA's Susan Jackson, who took Pembroke South West with 654 votes. He said yesterday: "I can appreciate the diversity of the OBA. My ideas for economic prosperity are also more in line with the OBA than the PLP. A big part, also, is Craig Cannonier. His passion and vision for this country got my attention and prompted me to offer my assistance. I am concerned for the future of the next generation; having a strong economy that can create jobs and entrepreneurial opportunities; and paying off our debt. Despite the challenges facing us, Bermuda has a great future and I see opportunities for Bermuda to reinvent itself, diversify its income streams and reform its immigrations laws to satisfy the wide cross-section of its residents." Mr Robinson, 24, is one half of It's That Type of Party, an online political comedy show co-hosted with Trae Cannonier, the son of the OBA leader. Mr Robinson said: "I wanted to get involved because I believe I can bring a different perspective to the political arena and can advocate for the underrepresented younger generation and the arts community." Mr Robinson floated the possibility of a political career with the OBA after a party caucus meeting in September. He said he would step down from hosting the "politically independent" Facebook-based show if he was successful in joining the ranks. But a party spokesman said yesterday Mr Robinson was "reviewing his role as the business looks to expand". Mr Cannonier said: "The OBA is a diverse party that believes in inclusion and I welcome Marcus with open arms. He is an experienced and astute person. I have known Dwayne for many years and I have been greatly impressed by his knowledge, enthusiasm and ability. Alongside Nick Kempe as Senate leader, Dwayne and Marcus gives us a very talented Senate team."

A 21-year-old Bermudian who stabbed a rival drug dealer to death in Britain was jailed for life yesterday. Zandrae Smith, 21, who lived in Bradford in West Yorkshire, must serve at least 22 years in prison for the attack, which he claimed was in self defence. The judge, Keith Cutler QC, told Smith: "You came from Bermuda with the intent of making your life better and doing your education. Inevitably there were financial pressures and you took a wrong decision. You agreed to get involved with the supply of drugs for money. Rather than walk away, you reacted and it was clear in the jury's verdict and the facts of this case your reaction was one of anger, an act of revenge — you had been humiliated and you wanted to strike back." Winchester Crown Court earlier heard Smith, a drug dealer, had been robbed by Tommy Ferris, 28, from London, before he knifed him at about 1am on April 13. Mr Ferris died in an alley in the Hampshire town of Andover. The Bermudian was robbed of his mobile phone as well as money and drugs and left the scene. He later returned and stabbed Mr Ferris four times. Smith was arrested in Bradford three days after the killing. The court also heard that Smith had attempted to take back his stolen possessions from his victim as a police officer performed CPR on Mr Ferris.

Jeremiah Dill was sentenced to 35 years in jail last night after he was convicted of the murder of a 34-year-old man as he left a sports club. Dill was jailed for 25 years for the shooting of Perry Puckerin and will also serve ten years for the use of a firearm, with the sentences to run consecutively. Puisne Judge Carlisle Greaves said there were no winners in the case, only two families who had lost sons. He said: "A family lost a son and father and felt the pain when Mr Puckerin was murdered. Today, a family lose a son and feel the pain when the defendant is sentenced." Dill maintained his innocence and told the court: "I didn't commit the crime." But Nicole Smith, for the prosecution, said the killing was "a planned execution" and Dill followed an order from the Parkside gang without hesitation in a feud with rivals 42. Ms Smith said: "There was no specific target. Just anyone from 42. The attack showed a reckless disregard for life." The murder happened at Hamilton Parish Workman's Club on January 3, 2010. Prosecutors earlier alleged that Dill, 35, shot Mr Puckerin as part of a feud between the two Pembroke gangs. One witness, who cannot be identified for legal reasons, told the court that she recognized Dill as the gunman, despite his face being hidden by his jacket. Another witness said he heard the late Prince Edness, the "ringleader" of Parkside, organize the murder and that Dill later bragged about the killing. The jury also heard statements from several witnesses at the bar on the night of the shooting and watched CCTV footage of the gunman waiting outside as the club closed for the night. The jury handed in a verdict after more than five hours' deliberation. The court heard Mr Puckerin had been drinking at the club with friends identified as members of the 42 gang. He suffered two gunshot wounds to the left side of his body in the attack. The witness who identified Dill left the club just before Mr Puckerin appeared in the doorway. She told the jury she recognized the gunman's face, despite his camouflage. She said she knew who it was from his eyes, as well as his voice. Mr Dill did not take the stand during the eight-day trial and called no witnesses in his defence. But Craig Attridge, his lawyer, challenged the reliability of both witnesses. The defence argued that the witness who identified Dill as the gunman only had a glimpse of his eyes and wanted someone to be held accountable for the killing. He accused the witness who claimed to have overheard the murder plot of making up a story to save his own skin because he had been arrested for shoplifting while on probation. Carrington Mahoney, for the prosecution, argued that the identification of Dill as the gunman by a witness was sufficient on its own to secure a conviction. The verdict brought an end to one of the island's longest-standing unsolved murders.

Five new bright sparks joined the electrical and mechanical engineering section of a government ministry yesterday. Lieutenant-Colonel David Burch, the public works minister, said the new staff meant that the section now had an "almost full complement" of staff. Colonel Burch added: "As you will readily see, there are five success stories standing before you today — a testament to both the training regime within the ministry but also the personal interest that is taken by the chief engineer in their recruitment and development. The current chief, Mr Yves Lorite, has almost single-handedly been responsible for the progress we have made this year in the recruitment of Bermudians in the engineering department." Remi Subair, principal electrical engineer, first entered the programme in 2004 after graduating from Western New England University. After working in Edmonton, Canada in 2008 for a year, Mr Subair returned as an electrical engineer and was promoted in 2017.Van Dyke Bean, an electrical engineering assistant, has been with the ministry since 2012 and is technical assistant to an engineer in the department. Mr Bean, along with Mr Subair, was one of the first of the new recruits to join the ministry's electrical engineering section. Daniele Bortoni, an electrical engineer, rejoined the ministry this year after he worked for Building Design Partnership Ltd, one of the leading design engineering firms in Manchester, for about two years. He spent most of his time working on new hospitals and university campuses. Zeeko Johnstone joined the section in April as its only mechanical engineer. He graduated cum laude from Florida International University in 2017 with a Bachelor of Science in mechanical engineering. Jamar Dill, an electrical engineer, joined the ministry in May as the newest recruit. He worked at Belco as an electrical fitter before going to Glasgow Caledonian University in Scotland in 2012. He earned bachelor's and master's degrees in maintenance management, and is now working towards a professional engineering licence. Mr Dill said: "This has been a great opportunity — the workforce development programme is an absolutely amazing programme because it gets your foot in the door. We're going to have a nice opportunity to run to Toronto for our licences. Once we get our licences the next step is to look to fill our boss's shoes."

November 2

Taxpayers will be on the hook for a bigger salary bill following today's Cabinet shake-up, the leader of the Opposition said last night. Craig Cannonier criticized a claim made by David Burt, the Premier, that the reshuffle would reduce the number of ministries from 11 to ten. He said: "The Premier said it was to cut back in the number of ministries — but he took out Michael Weeks and added Curtis Dickinson and Zane DeSilva, which means that he is actually paying more in ministerial salaries." Zane DeSilva returned to Cabinet today as Minister of Tourism and Transport and Curtis Dickinson will take over the finance portfolio, which was held by Mr Burt. Michael Weeks, who was Minister for Social Development and Sport, will return to the back benches as his ministry was abolished. His sport responsibilities will be taken over by Lovitta Foggo, former government reform minister, who will become Minister of Labour, Community Affairs and Sport — a new ministry. Mr DeSilva takes over tourism from Jamahl Simmons, who becomes Minister without Portfolio, as well as the transport brief from Walter Roban, the Deputy Premier. Walton Brown, who was Minister of Home Affairs, was replaced by Mr Roban. Home Affairs will gain the Department of Energy and lose immigration, which will move to the Ministry of National Security under Wayne Caines. Mr Brown will be Minister for the Cabinet Office. Financial Assistance, which was part of Michael Weeks's social development and sport ministry, will be taken over by Kim Wilson, the health minister. Responsibility for information technology policy will be shifted to the Premier. Mr Cannonier described the changes as a "fundamental shake-up" and questioned how the new Cabinet would address "the issue of a declining economy, and a lack of new jobs and increased burdens placed on Mr and Mrs Bermuda". He added: "Unless they do, this exercise is just a game of musical chairs." Mr Cannonier also questioned one of the appointments. He asked: "Why has Mr DeSilva, who resigned from Cabinet in a row over his friend Ewart Brown who has since been compensated to the tune of $1.2 million, been brought back? I take note that he will be in charge of gaming. The Premier has 24 other MPs to choose from, but he picks someone who quit Cabinet just ten months ago." Mr Cannonier praised the Premier's decision to hand over responsibility of the Ministry of Finance to Mr Dickinson. He said: "Combining the two is too big a job for one person and can lead to opportunities being lost, mistakes and delays. Hopefully, Mr Dickinson will be able to concentrate on balancing the Budget, which the PLP has promised, but failed, to do. In addition, I hope the minister who now has responsibility for immigration will finally publish a report on immigration reform, which is taking too long to happen. It is a critical issue that has been highlighted by businesses recently. There is a general consensus that our population needs to grow and that the immigration process is too slow." The Opposition leader added that the Cabinet shake-up appeared to show "some very significant demotions".

The new Minister of Finance said yesterday if Bermuda's Budget is not balanced this financial year, it will be in the next one. Curtis Dickinson said: "We are still working through the numbers, but we definitely need to balance the Budget and if we don't get it this year, then certainly it will be next year. Some work is being done. I haven't been working as shadow on this issue, but tomorrow is a new day, and I get in with the team and talk about what it is we are planning to do." The Progressive Labour Party's election manifesto last year contained a commitment to balance the island's books by 2019. He was speaking after he was sworn in by John Rankin, the Governor, at Government House, alongside Zane DeSilva, the new Minister of Tourism and Transport. Mr Dickinson, who won a by-election in Warwick North East just five months ago and has taken the portfolio held by David Burt, the Premier, said a top priority was next year's Budget. He added: "The Budget is next on the agenda. "I am looking at the economic substance issues around the European Union which is topical and I'm looking at the debt situation. Those are the three biggest priorities." Mr Dickinson said: "We need to grow the economy and I think the Government needs to look at how we can do our jobs more efficiently. That doesn't necessarily mean getting rid of people, but about how we can improve our processes and help our stakeholders and wider community do things in a faster and more efficient way." Mr Burt also reshuffled responsibilities among his Cabinet. Michael Weeks, who was Minister for Social Development and Sport, will return to the back benches as his ministry was abolished. His sport responsibilities will be taken over by Lovitta Foggo, former government reform minister, who will become Minister of Labour, Community Affairs and Sport — a new ministry. Mr DeSilva takes over tourism from Jamahl Simmons, who becomes Minister without Portfolio, as well as the transport brief from Walter Roban, the Deputy Premier. Mr DeSilva said: "In tourism we have to increase the numbers — we need more tourists and heads in beds. It's nice to have all the cruise ships coming, but we all know that heads in beds produce more jobs and income for our people." Mr DeSilva said that he also was keen to improve road safety. He added: "All of us are very concerned with the number of deaths and serious accidents and the huge effect that they have on Bermuda. We in Cabinet, caucus and the country as a whole can have a deep discussion about penalties — maybe they are not steep enough. If the time fits the crime, then you may find that you get fewer people who commit the crime. Anything that we can do to deter people from speeding, I am supportive of, including speed cameras. We also have to talk to all our taxi drivers. We have to try the best we can to have alternative transport." Walton Brown, who was Minister of Home Affairs, was replaced by Mr Roban. Home Affairs will gain the Department of Energy and lose immigration, which will move to the Ministry of National Security under Wayne Caines. Mr Brown will be Minister for the Cabinet Office. Financial Assistance, which was part of Michael Weeks's social development and sport ministry, will be taken over by Kim Wilson, the health minister. Responsibility for information technology policy will be shifted to the Premier. Mr Burt said the changes were part of a reshuffle of responsibilities which has reduced the number of ministries from 11 to ten. He added: "After 16 months in office, we have accomplished much of what we set out to do, but there remains plenty of work to be done. Today represents an opportunity to approach the task ahead with a team with whom the people of Bermuda can continue to have confidence." He added, departments had been realigned "to fit with the policy aims, objectives of the Government".
The New Cabinet:
Minister of Public Works: Lieutenant-Colonel David Burch
Minister for the Cabinet Office: Walton Brown
Minister of National Security: Wayne Caines
Minister of Tourism and Transport: Zane DeSilva
Minister of Finance: Curtis Dickinson
Minister of Labour, Community Affairs and Sport: Lovitta Foggo
Minister of Education: Diallo Rabain
Minister of Home Affairs: Walter Roban
Minister of Legal Affairs: Kathy Lynn Simmons
Minister of Health: Kim Wilson

Deputy Commissioner of Police Paul Wright retired today after a 34-year career in uniform. Mr Wright worked with Humberside Police in England for six years before he joined the Bermuda Police Service. He has worked in community policing, criminal investigations, Special Branch, intelligence and serious crime. Commissioner of Police Stephen Corbishley thanked Mr Wright for his "dedicated" career. A police spokesman said: "A successor will be announced in due course and the Bermuda Police Service wishes Mr Wright all the best in his future endeavors."

Human remains would not have been unearthed in the West End if proper procedures had been followed, an island conservation body said yesterday. A spokesman for the Bermuda National Trust said that the charity was concerned about the excavation carried out at the West End Sailboat Club in Somerset. He said that the unearthing of the remains "demonstrates why it is in everyone's interest to follow planning regulations and rules". The spokesman added: "This incident highlights the need for following procedures when human remains are discovered." He said that human remains were protected under the Coroners' Act and Public Health Act. The spokesman added: "Had the proper procedures been followed in this case, this tragic incident would have been avoided." He said the trust believed the remains were probably from unmarked convict graves outside the eastern boundary of the Watford Island Military Cemetery. The graves date from between 1848 and 1863. The spokesman said the top of the hill was established as a military cemetery in 1880, and was now cared for by the trust. He said the surrounding area was the property of the West End Development Corporation. The spokesman said the area was identified as a burial site after an archaeological assessment was carried out by the Bermuda National Trust Archaeological Committee in 2004. The hillside was later designated as an Historic Protection Area. He explained: "As such, any excavation or work in this area should only have been carried out with planning permission and following guidance from the relevant heritage professionals." The spokesman said the trust and the National Museum of Bermuda expected to take possession of the human remains, which "will receive an archaeological assessment and will then be interred with respect and dignity in the military cemetery. The National Trust intends to engage in constructive discussions with other stakeholders to prevent a repetition of this incident in the future."

2018. November 2. NEW YORK — Investors aren't blaming Brian Duperreault for the forces of Mother Nature. American International Group shares surged as much as 8.1 per cent yesterday, the biggest increase in almost seven years, as the insurer showed improvement in a key metric for chief executive officer Duperreault's turnaround strategy. That overshadowed a surprise third-quarter loss from natural catastrophes in Japan and the US. The results reported on Wednesday evening showed that AIG had fallen short of analysts' expectations for a fifth straight quarter. The adjusted loss was 34 cents a share, while analysts had been expecting a profit of nearly six cents. Duperreault, who joined last year as CEO, has been given the task of restoring confidence in a company that had suffered losses and an exodus of talent. He's declared 2018 the "year of the underwriter" with a goal of having AIG post an underwriting profit by the end of the year. He reiterated that pledge after announcing third-quarter results. "We are making progress towards positioning AIG for the long-term," Duperreault said yesterday on a conference call discussing the results. "We continue to work deliberately and thoughtfully and with a sense of urgency to improve our core underwriting capabilities, reduce volatility, deliver an underwriting profit." A ratio that shows the amount of losses that AIG has to pay out relative to the premiums it earns on policies improved to 63.6 per cent in the company's general insurance business, which offers property-casualty coverage. That was a "long-awaited" improvement, according to Keefe, Bruyette & Woods analyst Meyer Shields. The change was one of the biggest positives in AIG's third-quarter results, Wells Fargo & Co analyst Elyse Greenspan said on Wednesday in a note to clients. AIG shares rose as high as $44.63 earlier yesterday, their biggest increase in intraday trading since the end of November 2011. They pared gains to close on $43.12, a gain of 4.4 per cent. Executives laid out further actions, including tweaking reinsurance coverage and expanding the duties of AlphaCat CEO Lixin Zeng to help with underwriting in the general insurance business. The comments from AIG's new chief actuary for general insurance, Mark Lyons, added to the positive nature of the conference call, given his endorsement of AIG's underwriting actions despite Lyons being a "self-described cynic", Shields said. Still, some analysts expressed scepticism about other aspects of the earnings report. Other units, including the life and retirement business, reported slightly weaker-than-expected results, according to RBC Capital Markets analyst Mark Dwelle. AIG also added to reserves tied to losses from last year's California wildfires, a move that might "bring back the question of turnaround strategy," according to Buckingham Research Group's Amit Kumar. Hurricane Florence and the typhoons in Japan hit AIG harder than its rivals. The insurer reported $1.6 billion in catastrophe costs for the period, the midpoint of the range AIG had announced last month. The loss was about three times larger than initial forecasts from Morgan Stanley analysts. Old disasters also came back to haunt AIG. The insurer added $170 million to reserves in the third quarter, as costs from last year's wildfires in California climbed higher than the insurer anticipated. Duperreault said the insurer remains on track for a key metric in his turnaround effort: an underwriting profit by year-end. In reporting its earnings, AIG broke out the catastrophe costs from one of its newest additions, Validus. That unit's losses from storms totaled about $200 million and were mostly tied to Japan. Private-equity returns are providing a lift to insurers such as AIG and Travelers. They helped fuel a 1.4 per cent gain in AIG's net investment income, which includes legacy insurance portfolios, to $3.4 billion.

Athene Holding Ltd has reported a profit of $640 million, or $3.23 per share, for the third quarter. That is up on the $274 million, or $1.39 per share, recorded for the same period last year. Adjusted operating income was $381 million, or $1.95 per adjusted operating share, up on last year's third quarter figure of $231 million. Jim Belardi, chief executive officer of Athene, said: "Our record third-quarter financial results reflect our continued focus on delivering superior value. We are extraordinarily well positioned with a multi-channel distribution platform that provides sustainable and opportunistic growth at very attractive ROEs [return on equity]. With a current portfolio of more than $100 billion, ongoing organic growth capabilities, and identifiable inorganic opportunities in excess of $100 billion, we have an abundance of opportunity in front of us. Importantly, we remain patient and disciplined in our approach to building shareholder value, which has resulted in a 23 per cent year-over-year increase in adjusted book value to approximately $46 per share." The Bermuda-based company is a provider of retirement savings products. Its adjusted book value per share was up 8 per cent, quarter-over-quarter, at $45.94. That was a 23 per cent improvement year-over-year. Mr Belardi added: "In recognition of our superior financial performance, market leadership, capital growth, and improved business diversification, S&P upgraded the financial strength ratings of Athene's operating companies to 'A' on August 16. This ratings upgrade will accelerate the strong momentum of our business, and we look forward to establishing new partnerships and engaging as a financial solutions provider to a broader market."

Soldiers will line up with other groups to mark 100 years since the Armistice that ended "the war to end all wars". Troops from the Royal Bermuda Regiment will join forces with churches, Government House and the Government in a series of events designed to commemorate the armistice agreement that ended the First World War fighting at 11am on November 11, 1918. Government House will organize a beacon lighting on, November 11, open to the public who want to pay their respects to Bermudians and others who fought in the conflict. The beacon will be lit at sunset and guests are asked to be in place in the gardens of Government House by 4.45pm. John Rankin, the Governor, said: "It's an event that's taking place across the UK, the Channel Islands, the Isle of Man and the Overseas Territories to mark the anniversary and the peace that was declared on the eleventh hour of the eleventh month." Mr Rankin added that churches across the island will be invited to ring their bells at 3pm on the anniversary as part of the commemoration. He said: "Church bells that had been silent throughout the war rang out to mark the Armistice." Mr Rankin, who is Commander-in-Chief of the RBR, added: "This is a joint effort with the German Government to ring bells at that time." The Governor will also take part in the traditional wreath laying at the Cenotaph on November 11, as well as a wreath-laying ceremony at the Bermuda Militia Artillery war memorial in St George at 10.30am on Sunday, November 4. Mr Rankin will also attend a wreath-laying ceremony by the Bermuda Sea Cadets at the memorial to the Second World War's HMS Jervis Bay, a convoy escort which left Bermuda as part of a convoy and was sunk with most of her crew off Iceland in November 1940 in battle against a German cruiser. The ceremony will take place at the memorial to the ship at Albuoy's Point in Hamilton on November 11 at 9am. Alison Crocket, the Deputy Governor, will attend a wreath laying at the Bermuda Volunteer Rifle Corps memorial in Hamilton's Victoria Park on the morning of November 11. The segregated BMA and the BVRC were combined in 1965 to form the modern Royal Bermuda Regiment. The traditional commemoration service at the Cenotaph on Front Street will start at 10.30am on November 11 and feature the Regiment, other uniformed services and veterans on parade. The Anglican Cathedral on Hamilton's Church Street will unveil a renewed historic First World War stained glass window, installed in 1925 and restored at a cost of more than $76,000 by specialists in the UK. Canon Norman Lynas of the cathedral said: "The window is Bermuda's national war memorial to the dead of the great war. It was to all of the Bermudians who died and I think there are 85 names listed from the various units that left Bermuda to fight in the Great War." The window, a crusader on a horse flanked by servicemen, was created by Scottish artists Alice and Meredith Williams, who also created the Scottish War Memorial in Edinburgh Castle. Canon Lynas added: "We will hold a special service on November 10 at 4pm when the stained glass window will be rededicated in the presence of the Governor, the Royal Bermuda Regiment and other dignitaries." The cost of the repairs and reinstallation was met with help from the Royal Bermuda Regiment, the Royal Bermuda Regiment Trust, the Corporation of Hamilton and a bequest from the late Ross Manders to maintain the fabric of the cathedral. First World War uniforms, including one owned by Joseph Watlington, who was killed in action in 1917 serving with the Royal Flying Corps, which later became the Royal Air Force, will be displayed at the cathedral. A uniform of a Lincolnshire Regiment officer, the unit soldiers from the BVRC served in during the war and a Royal Navy uniform of the period will also be on show. Lieutenant Colonel David Curley, the Royal Bermuda Regiment's commanding officer, said: "Among the many roles the Regiment performs is ceremonial duty and we will be honored to march on Remembrance Sunday to commemorate those who served. We are proud to preserve the golden thread that links our distinguished predecessors with the modern Royal Bermuda Regiment and to honour their memory through discipline, self-sacrifice and dedication to duty." He added the First World War was the start of modern warfare and lessons learnt then are still applied in RBR training. Colonel Curley said: "I wish to honour the many Bermudians who fought alongside allied forces for their valuable contributions and service in the Great War. We are truly grateful to them for allowing us to live in the freedom they protected." Wayne Caines, the national security minister and a former RBR officer, added: "Bermuda will join other nations around the world in recognizing the 100th Anniversary of Remembrance Day. Bermuda had veterans and volunteers who served with the Allied forces in the First World War and we are obliged to remember and honour their sacrifice and their service."

Forgotten stories of the First World War have been given pride of place at the Bermuda Historical Society's museum. The relics from the epic conflict, which ended 100 years ago with the Armistice of November 11, 1918, have been highlighted as the society prepares to explore Bermuda's links to the conflict. The BHS will deliver a lecture on the role the island played in the war, followed by two documentaries, from 5.30pm until 8pm at the Bermuda National Library in Hamilton's Queen Street next Thursday. Andrew Bermingham, president of the BHS, thanked Ellen Hollis, a senior librarian and a committee member of the society, for helping to organize the night's events. He added: "Over the last 20 years, we have added to the museum's older items with more topical pieces from modern history over the last 100 years. As well as Bermudian memorabilia of the 20th century, we have collected items from prisoners of war who were kept here. The idea of this First World War display is to remember the end of the war and give recognition to the less known features of the war in Bermuda. Very few people know about the German prisoners of war, or that Gladys Morrell was a veteran as well as a suffragette." German prisoners, kept on Ports Island in the Great Sound, carved cedar canes and other trinkets, identified by the marking "GPOW" for money. Their handiwork is now on display at the museum, close to a display of Ms Morrell's medals from her stint in France caring for wounded soldiers. Another display at the museum on Queen Street commemorates Frank Dolan, a Bermudian veteran of the Boer War who joined the Merchant Navy at the outbreak of the First World War and a Boer War medal. Mr Bermingham explained that Mr Dolan's medal was only awarded to white troops, but that he had been given it as the authorities were unaware he was black. He said: "He was recognized for serving in the Royal Engineers." The museum will also display the medals won by John Moore, who served in the Bermuda contingent of the Royal Garrison Artillery. Moore was sent to France in 1916 and returned home the following year. Mr Bermingham said Mr Moore's medals were donated by "a relative who walked in one day off the street and gave them to us". However, not all the stories are Bermudian. Lieutenant Walter Tull, the British-born son of a Barbadian, was the first black footballer to play in the top flight of English football, 50 years before our own Clyde Best. Lieutenant Tull, who served with the Middlesex Regiment, was killed in action in 1918. A new acquisition is a headstone for Private George Wellington Linford, which has been recovered and renovated. Private Linford's grave is at Prospect and his broken and discarded headstone was recovered from the airport dump, repaired, and put on display. Private Linford, who served with the East Yorkshire Regiment, died in a bid to rescue seven-year-old Thomas Stone from the sea off North Shore in June 1918. Both were drowned. Mr Bermingham said: "We don't have a huge amount of items from the First World War. But what we do have is very special for Bermuda. "It tells the stories from a time in our history that no one remembers now."

An official book of condolence will be available for signing in tribute to Gilbert Darrell today and on Monday at the Cabinet Office. The former MP and cofounder of the National Liberal Party died last week. He was 95. David Burt, the Premier, offered condolences to Mr Darrell's family and friends. Mr Burt added: "The people of Bermuda owe a debt of gratitude to Mr Darrell who served his country with determination, dedication and conviction." The public can call on the building from 10am to 4pm to sign in the book.

A former Government road safety officer today pleaded guilty in Supreme Court to three sexual offences involving an under-age boy. David Minors admitted showing a pornographic picture and a pornographic video to the child and sexual exploitation of a young person while he was in a position of trust. The offences took place between March 27 and July 14, 2018. Minors, 43, of Sandys, denied three other charges, including touching the child in a sexual manner. The prosecution accepted Minors' pleas and the three other charges will remain on file. Puisne Judge Charles-Etta Simmons released Minors on bail for psychiatric and social inquiry reports and adjourned the case until January 8 next year.

November 1

The steel structure of the new St Regis hotel in St George's is expected to start to go up this month, it was revealed yesterday. The news came as Jamahl Simmons, the tourism minister, delivered a progress report on construction at the building site. Mr Simmons emphasized that the development, with a hotel, casino and two condominium buildings, would keep the beach at Fort St Catherine "open and accessible to the public". He said workmen were busy on elevators and staircases and that concrete retaining walls behind the hotel had been completed, as well as two water tanks. Mr Simmons added the resort's steel structure would start to go up early in November and be completed by April of next year. Foundation work will start for the first residential condo building before the end of the year and construction should start in February 2019. Mr Simmons said the 55-strong construction team was made up of 36 Bermudians and 19 work permit-holders from developers Hotelco. A total of 14 of the island staff are from St George's and one of the project's three subcontractors is ACL, a St George's company, which has seven workers on site. In addition, eight homes for 22 workers have been rented in St George's for site staff. Mr Simmons added seven more homes for 38 extra staff are expected to be rented in the first quarter of next year. He predicted that the project would bring a brisk trade to the East End and highlighted the Somers Supermarket, which provided daily meals for construction staff. Kim Swan, the MP for St George's West, who has pushed for the reopening of the town's golf course, said he remained "in touch with the developer to get a date for when this will take place".

A top Crown counsel is being sued for an alleged failure to pay back more than half a million dollars to a "self-help" club set up by a group of friends in North Hamilton. Club 10 Foundation Ltd claimed that Myron Simmons, a senior lawyer in the Attorney-General's Chambers, still owed the organisation $547,000 after he took out a series of loans a decade ago and failed to repay them. The lawsuit is the latest in a series of legal actions against Mr Simmons, 56, husband of Kathy Lynn Simmons, the Attorney-General, in the past ten years. Supreme Court records revealed 13 other cases filed against Mr Simmons since 2008. Five of them named Senate leader Mrs Simmons as a co-defendant. The outcomes of the cases have not been made public, but documents first published on the Offshore Alert website show that the most recent matters are of a financial nature. As a lawyer in the Attorney-General's Chambers, Mr Simmons is a legal adviser to the Government and appears in court on its behalf in civil cases. He declined to talk about the Club 10 case and the other lawsuits. Mr Simmons said: "These are personal matters. These are business dealings that I had over ten years ago." The latest writ, filed on behalf of Club 10 Foundation by law firm Marshall Diel & Myers on August 27, claimed that Mr Simmons took out four loans with a total of $870,274 from the organisation between October 2007 and March 2010. Three of the loans were made out to him, with two for property restoration and no reason given for the other. The fourth loan, for $294,000, was made out to the law firm he ran with his wife, Lightbourne & Simmons, and was "to enhance cash to finance an emergency with son". The lawsuit said that Mr Simmons paid back $332,004 but stopped making payments after September 2014. He signed an agreement with Club 10 in March 2016 that he still owed $538,279. He paid back a further $2,000 but has "not made any further payments" since April 2016, legal documents claimed. The outstanding amount of $547,000 includes interest. Joseph Christopher, former vice-president of Club 10, told The Royal Gazette the group was set up in 1971. Dr Christopher, who is no longer involved with the club, said: "It's a group of people who got together to set aside funds on a regular basis and to loan those funds out to each other as needed. Each person decided how much to pay on a monthly basis. It's a revolving fund. Mr Simmons became a member very early in the process in order to get a loan." He added the organisation tried to sort out the problem of the unpaid loans several years ago without going to court. Dr Christopher said: "I think the new executive decided to move on it. From their point of view, they have a responsibility to their remaining members to get all of the funds which are eventually due to them." Mark Fields, who is understood to be president of the Club 10 Foundation, did not respond to an e-mail request for comment. Christine Herrero, lawyer for Club 10, said: "We appreciate your reaching out to our firm but we have no comment." Two lawsuits were filed against Mr Simmons in 2017. The first, by law firm MJM on behalf of bankers HSBC and filed in February that year, named Mrs Simmons as a co-defendant. The writ involved three mortgaged properties in Sandys, which the bank laid claim. The case was raised in the House of Assembly by Attorney-General Trevor Moniz, who is now an Opposition MP, in June 2017. Mr Moniz claimed that media "networks" had been "threatened" in an attempt to avoid reports on the proceedings and that they were "cowed to the extent that they were afraid to report it". Dennis Lister, the Speaker, pulled Mr Moniz up for the comment and told him to stop discussion of it unless he had any evidence of a threat. The second 2017 case was filed in November by the Burgess Family Law Practice on behalf of Raphelita Clarke and involved the estate of the late Noel Clarke. The submission asked for court orders to make Mr Simmons, who formerly traded as Lightbourne & Simmons, pay the stamp duty on Mr Clarke's estate and produce a statement showing the "balance in hand" from the $290,000 sale of a lot of land in Warwick. Ms Clarke could not be contacted for comment. The four other writs which named Mrs Simmons as co-defendant were from 2009, 2011, 2014 and 2015. There was no response to repeated requests for comment from the Attorney-General's Chambers. A Cabinet Office spokeswoman also declined to comment. The Bermuda Bar Association said privacy regulations meant it could not comment on whether any complaints had been made to its professional conduct committee about Mr Simmons. The association only publishes information on suspended or disbarred lawyers and Mr Simmons's name does not appear on that published list. An HSBC Bermuda spokeswoman said: "HSBC takes the issue of customer confidentiality very seriously and as such is not able to discuss any matters with respect of customers or purported customers."
The writs
August 2018 — Club 10 Foundation Ltd v Myron Simmons — case #294 of 2018
November 2017 — Raphelita Clarke v Myron Simmons — #413 of 2017
February 2017 — HSBC Bank Bermuda Ltd v Myron Simmons and Kathy Lynn Simmons — #57 of 2017
March 2015 — Clarien Bank Ltd v Myron Simmons and Kathy Simmons - #101 of 2015
September 2014 — Yelena Packwood et al v Myron Simmons — #347 of 2014
June 2014 — HSBC Bank Bermuda v Myron Simmons — #221 of 2014
June 2014 — HSBC Bank Bermuda v Myron Simmons — #219 of 2014
February 2014 — HSBC Bank Bermuda v Myron Simmons and Kathy Simmons - #67 of 2014
August 2013 — Lois Audrey Voight Stockey v Myron Simmons — #248 of 2013
November 2011 — Capital G Bank Ltd v Myron Simmons and Kathy Simmons — #446 of 2011
March 2010 — Mary Harris-Lynch v Myron Simmons — #110 of 2010
August 2009 — Martin Athol Rigg v Myron Simmons — #285 of 2009
May 2009 — Erica Williams (trading as Premier Properties Real Estate Agency) v Myron Simmons and Kathy Simmons — #125 of 2009
February 2008 — RoseAnn Careen Tucker v Myron Simmons (trading as Lightbourne and Simmons) — #38 of 2008
Source: Offshore Alert

A 16-year-old girl denied allegations that she helped to set up the murder of Bermudian teenager Lyrico Steede. Prosecutors at England's Nottingham Crown Court allege that the teen, who cannot be identified, lured Mr Steede to a park in Bulwell in February. While there, Mr Steede was set upon by four teenage men, who prosecutors said chased and fatally stabbed him. Asked in a Police interview how the attackers would know he would be in the park if she had not told them, she said: "I don't know." She told police that she had sat in the park with the victim for about an hour before about five men arrived and "ran Lyrico down". She said the men also stole an iPad she had borrowed for a friend. The defendant told investigators she looked for Mr Steede afterward, but went straight home when she could not find him. She also told police she could not identify any of the men who had chased Mr Steede. Jurors previously heard she gave a prepared statement through her lawyer in which she denied any involvement in the fatal stabbing. The girl is one of five charged with the murder, along with Kasharn Campbell, 19, Remmell Campbell-Miller, 18, and two 17-year-old men who cannot be identified for legal reasons. The trial continues.

Bermuda's cahow nesting season got off to an early start this year as breeding pairs returned to their burrows quicker than usual. Jeremy Madeiros, the Government's principal land conservation officer, said: "Many of the birds are returning a week ahead of normal, possibly because of favourable weather and good amounts of food in their traditional feeding grounds in the cold waters north of the Gulf Stream. The remaining breeding pairs should be returning by the first week in November and all the birds examined thus far are in good condition which bodes well for a good breeding season." Mr Madeiros said he hoped that last year's record number of 124 breeding pairs will increase to at least 130 breeding pairs this season. He added: "This would represent a significant recovery, thanks to an intensive management programme, from the original number of just 17 to 18 pairs in the 1960s." Bermuda's national bird has undergone an intensive management system on the Nonsuch Island Nature Reserve and surrounding islets. Cameras in their nests mean they are watched by hundreds of thousands of people around the world. The birds are filmed in their underground nests using live-stream, infrared cameras that cause little disruption to the birds. Jean-Pierre Rouja, of LookBermuda, said: "Our star CahowCam pair were among the first to return with the female arriving on the night of the 25th and her mate on the 26th. The new upgraded HD camera system was already live streaming which allowed our followers from around the world to get a preview of the reunited pairs' courtship activities after having spending several months apart." Charles Eldermire, Cornell Lab of Ornithology bird cams project leader added: "Viewers have been asking when the Cahow Cam would return, and we're excited to share these intimate views of the cahow pair during their November courtship." The CahowCam pair returned on October 25 and 26. The CahowCam network is run by LookBermuda with the Cornell University's Lab of Ornithology in New York.

Police launched an investigation yesterday after a flasher exposed himself to a horrified woman near a school in Smith's yesterday, An area resident said his wife was walking their dog when the man exposed himself. He told The Royal Gazette: "My wife was not carrying her mobile phone at the time, but it was about 7.25am. A neighbour said this has been happening for about six months and he has still not been caught. Apparently he sees people walking and then goes forward to prepare for his flash." The incident happened on the parish's St Marks Road. A police spokesman said: "Officers promptly responded to the area and conducted a search for the suspect. However, he was not located." The spokesman added: "From time to time we get reports of this nature. We are reminding the public that if an incident like this happens, don't put yourself in harm's way. Get a detailed description of the individual and make contact with the police. There have been consistent reports in the South Road, Paget, and Devonshire areas. We are chasing all leads. Reports say he has been seen in the early hours of the morning targeting runners and walkers. We suggest running or walking in pairs and to stay in a well lit, well travelled environment." The Smith's flasher was described as black. Police appealed for witnesses to the latest incident or for anyone with information that could help the inquiry to contact them.

Public perception of the elderly should change in an attempt to stop them feeling "invisible", the chairman of a specialist housing trust has said. John Barritt, the Bermuda Housing Trust chairman, added it was important to pay attention to seniors and for families to be involved in their care. Mr Barritt said there also had to be a shift in the general view of what over-65s can offer, and better understanding of the problems they face as the island's populations greys. Mr Barritt told The Royal Gazette: "One of the things that needs to change I think — this is a personal opinion — is the societal perception of the value and worth that we assign to older people. I don't mean that people are fighting that or resisting it, it's just a difficult thing to do because it's one more challenge, one more problem on the plate, but it's one that has to be faced." He explained: "Sometimes, and you will hear seniors say this, that it's almost as if they are treated as if they are invisible, that there's not an appreciation of the challenges they face on a daily basis and what's needed. Sometimes they get what they view as people being condescending when they really want to have dignity and respect. You've also got the problem where a number of people feel they are discarded at the age of 65, certainly in the workplace, and there's no longer any value in them. I think we need to recognize the challenges that they face and what needs to be done to help them meet those challenges." Mr Barritt explained the BHT, which provides housing for seniors, wanted to be involved in discussions on care of the elderly, which he said needed to be addressed "on so many levels". He added: "We are in the trenches — we are very much on the frontline of addressing some of the challenges that are coming our way with seniors." Mr Barritt said it was important to provide older people with the appropriate "tools" so they can "live a life of dignity, independence and with respect". The BHT is to examine how it can add to its five locations — where nearly 200 seniors are accommodated — with a sixth property that will allow for the transition from self-reliance to dependence, possibly with professional support. A population projections report released by the Government showed nearly a quarter of people on the island are expected to be 65 or older by 2026. Mr Barritt said: "More and more people are going to be living longer and hitting 65, as the expression goes, 'he who feels it, knows it'. One of the things that we face, and one of the hardest things that any son or daughter faces, is when a parent ages and requires greater attention and care. It's a difficult thing. First of all, you have to accept that and accept that's normal as well. The other part is, what am I going to do? What am I able to do for mum or dad in terms of time, attention and money? It's a challenge that some people find difficult to cope with because they're leading their own lives but that's one of the things that we have to change as a community. You simply can't park mum or dad on the sidelines and expect Government or someone else to deal with it, you've got to be prepared to come to the wicket yourself and, in some instances, work with various institutions." Mr Barritt said the care of aged family was an emotional topic and could be "very demanding", particularly with conditions like dementia. He added changes to the law could help prevent discrimination against older people who want to continue to work would be a "big boost". Mr Barritt said the younger population should consider not only what it can do for seniors but what older people can do for the community, as some would like opportunities to "give back".

Tourists waited up to an hour for public transport yesterday as Bermuda welcomed a record number of cruise ship passengers. Long queues formed at bus and ferry stops in Dockyard, where two cruise ships were berthed and a third was anchored at nearby Grassy Bay. Hamilton and St George's each had one vessel at the same time — a total of five. A sixth was due at Dockyard later in the day but had to sit at Murray's Anchorage until a berth at Dockyard was clear. It meant up until the Carnival Conquest left at 4pm, a record one-day total of 9,341 cruise ship passengers were expected around the island. Some were caught in long queues as they waited for transport from Dockyard to Hamilton or the South Shore beaches. Cao Wilson, from New York, said: "The bus is not frequent enough for a place like this — they should have constant buses. It's ridiculous. The infrastructure is not up to the standard for all these tourists." Ms Wilson claimed she had arrived at the bus stop at 10am and did not leave until almost 45 minutes later. Sara Kitts, 42, from Raleigh, North Carolina, and her husband, Rick, 44, spent their honeymoon in Bermuda and returned on the Disney Magic yesterday with children Richie, 12, and Jesse, 10. They queued for transport to Horseshoe Bay but when a bus arrived it filled up with passengers before they had a chance to embark. Ms Kitts was told another bus would collect them, which was expected to mean a total wait of nearly 45 minutes. She told The Royal Gazette: "We kind of expected some wait and some chaos, a little bit, especially getting out of the port, so we're not too disappointed." But she said: "We will be if we miss the next one." Ms Kitts said the couple's happy memories of their honeymoon and the island had drawn them back. She added: "The people, how small it was and the beautiful waters, the shops and the local artists." Don Shaver, among a group of Carnival Conquest passengers from Michigan and Florida, said the island was "nice and clean". But he added he had a "long" wait of almost 50 minutes for a ferry to Hamilton. It was at least another ten minutes before the ferry left Dockyard. The 78-year-old added: "I thought we were going to be no more than half an hour." Hundreds of people waited to board at the Dockyard ferry terminal as tourism ambassadors assured them "another one's coming". But The Bermudian, which has a capacity of 700, managed to clear most of the queue when it set sail at about 11.25am. One worker at the port said the movement of the influx of tourists and traffic had been "so far, so good". But he admitted: "There has been a few little hiccups, people don't want to wait." The man added: "We've got three ships in, you can't service everybody at the same time. Everybody's got to wait to some degree." Jerome Robinson, a minibus operator who was director of transport for the America's Cup, was part of a large fleet ready to take visitors across the island. He explained it was important to recognize the different needs of cruise ship passengers as some, like those on the Disney Magic, were more likely to arrange tours and activities before they disembarked, which meant less pressure on transport services. Mr Robinson said: "When everyone was talking about 'six ships' I didn't feel that it was going to be a problem. If we have a transportation plan for the day, for whatever is coming to Bermuda, it shouldn't be a challenge, and it's not." He added that some of the drivers had not picked up the hires they had expected. But minutes later Mr Robinson and a colleague co-ordinated a private hire pick-up from a public bus stop. He explained: "When you hear that sometimes people are up here waiting for the Government bus for one or two hours, the mini bus drivers always make a sweep around the Dockyard." Mr Robinson said private hire drivers were aware tourists could be annoyed by delays and did their best to step in and pick up any excess. He explained: "They're already frustrated, they've got their kids who are getting frustrated, so sometimes we just say, 'let's just get the people to the beach for $5 a person'." The Bermuda Tourism Authority said by noon, reports from operators were "all positive". Glenn Jones, the director of strategy and corporate communications, said crowds were moving "reasonably well" and public transport was running at full capacity but not overwhelmed. Conditions meant some water activities were cancelled so visitors were directed to other island attractions and cruise passengers were said to have enjoyed a "smooth process" connecting with land-based tour operators. The BTA thanked everyone "who played a role in preparing for this enormously high traffic day". Mr Jones said that Stacey Evans, section head of the Transport Planning Team at the Ministry of Transport and Regulatory Affairs, and her colleagues were "especially effective at co-ordinating all the relevant people and organisations to ensure the day was as well planned as possible". The Ministry of Transport said it worked with WEDCO, the coordinator of transport at Dockyard, to address "some minor challenges" relating to demand throughout the day. A spokeswoman said reports showed at about 11.30am there was a queue for ferries to Hamilton which was quickly addressed by the Marine and Ports Department through the provision.

A fundraising drive launched by a local doctor for a patient saddled with rental arrears has already netted thousands of dollars. Kyjuan Brown started a GoFundMe page for Natasha York, who suffers major seizures, at the weekend with a goal of $22,800. By last night more than $10,000 had already being provided by about 100 donors. Dr Brown, a general practitioner, said the support was "phenomenal". He added: "I'm just absolutely floored by the response that we have received. It really just goes to show the Bermudian spirit." Dr Brown said that in addition to funds committed on the website people had also made donations for Ms York at his clinic, North Shore Medical & Aesthetics Centre. He said that the $22,800 goal represented Ms York's rental arrears dating back ten months, as well as couple of months worth of rent for the future. Dr Brown said Ms York lost her financial assistance in January. She was jailed for three months in May after she pleaded guilty to importing 1,430 grams of cannabis products into Bermuda to treat her condition. Dr Brown said in a statement read at Ms York's trial that medical marijuana had given her relief from the seizures. She was granted permission to use medical marijuana months after her arrest. Dr Brown said Ms York was "an upstanding citizen. She's just a lady that developed a medical condition — like anyone of us can. Anyone of us can have our lives torn apart by seizures or a medical condition." Dr Brown said that Ms York's situation was not unique in Bermuda. He explained that he had several patients who had medical conditions that left them unable to work. "As a result, they don't have the health insurance. They are failing into financial disarray. We really do need to highlight this and as a society we need to be able to do something about it." Dr Brown said that Ms York had began experiencing seizures a few years ago. "Prior to that, she was a normal, single parent taking care of her two lovely daughters."

Black Bermudians with cancer symptoms are more at risk of death because they put off seeking medical advice, a leading British doctor has said. Jonathan Makanjuola, a specialist in urinary tract diseases, explained: "In my experience, people from African and Caribbean communities with possible symptoms of cancer tend to seek help late, potentially making the outcome much worse. "There are often cultural and religious reasons preventing black people from seeing their doctors early and this needs to change so that more lives can be saved." Dr Makanjuola, a consultant urologist and lead clinician on bladder cancer at King's College Hospital in London, was speaking as he prepared to visit Bermuda for consultation at the North Shore Medical & Aesthetics Centre in Devonshire next week. He said both men and women should "look before they flush" to check the colour of their urine as blood in urine is a key symptom of bladder and kidney cancer. Dr Makanjuola said that more than 10,000 people a year in England are given diagnoses of kidney cancer and about 8,000 people fall victim to bladder cancer. He added that more than 250 churches in England, including black majority churches and mosques, had backed a "Be Clear on Cancer" campaign designed to get people to check their urine colour. Dr Makanjuola said: "You should visit your doctor if you have blood in your urine, even if it's just once." He added: "The chances are it isn't cancer, but it could be a sign of something else that needs treatment. If it is cancer, the sooner it is diagnosed the greater the chance of successful treatment. That's why it's important to pay attention to anything unusual happening to your body," Dr Makanjuola is a consultant urologist and lead clinician for bladder cancer at King's College Hospital in London. Dr Makanjuola was the first recipient of the British Association of Urological Surgeons/World Congress of Endourology fellowship. Dr Makanjuola is a member of the American Urology Association, the British Association of Orological Surgeons, and the European Association of Urology. He will be at the North Shore Medical & Aesthetics Centre from November 7 to 16.
• For more information, call 293-5476.

Wheelie bins will soon become mandatory in the City of Hamilton, according to the municipality. Fines could soon be introduced to penalize those who put out trash early or in inappropriate containers in the city. A spokeswoman for the municipality said the body has been working with the Government to address issues with waste collection in the city. The spokeswoman said: "After consultation with [the Government] and the Attorney-General's Chambers, it has been determined that the production of regulations under the Waste and Litter Control Act 1987 can meet the objectives of the corporation, which is working alongside the Government, to this end." Patrick Cooper, city engineer, said the legislation includes rules covering enclosed wheeled dumpsters, wheelie bins , which would prevent rats and other vermin from getting in garbage. He said: "There will also be teeth in the Act enabling fines to be imposed upon those putting out their garbage early or in inappropriate containers, especially cooking oils and grease. The wheelie bin project has been in place for several years now where businesses, retailers and also residents can apply to the city for lidded bins as a way to keep garbage contained, not only keeping it free from rodents and other vermin, but they also serve to make the collection of the garbage easier, as they can be lifted by the refuse trucks and their contents deposited into the truck hopper, thus minimizing any injury to the refuse collectors." The news comes after two incidents in which rats were seen running through high-end Hamilton storefronts. The city spokeswoman said there has long been policies and procedures to control waste collection, but a lack of effective enforcement has caused problems. She said: "The city encounters violations including waste being deposited outside of designated collection times, inappropriate items deposited on sidewalks, wheelie-bins being incorrectly used, liquid and semi-liquid items improperly deposited and items being improperly separated. The result is a sanitary and orderly city being compromised with unhealthy, unsightly and obstructive situations on city sidewalks that can adversely affect the public as well as increase health risks to the city refuse collection crews." The spokeswoman added that many retailers and restaurants in Hamilton have taken up the offer for wheelie bins, but the offer remains open for others. She said: "Wheelie bins will be made mandatory in the near future so businesses are urged to plan ahead and apply. As an incentive, the city is offering the first wheelie bin for any business free of charge. Those businesses currently using wheelie bins are reminded that all of their refuse should go into the bins, trash bags should not be left on the sidewalks."
• To get a wheelie bin, businesses can e-mail dbean@cityhall.bm or call 292-1234, extension 203


Last Updated: November 19, 2018
Multi-national © 2018 by Bermuda Online. All Rights Reserved