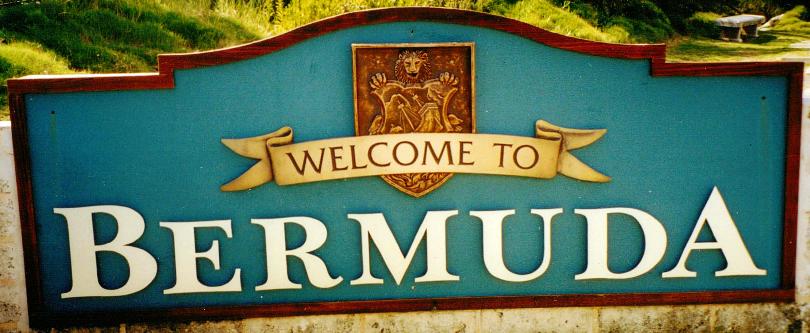 Click on graphic above to navigate the 165+ web files on this website, a regularly updated Gazetteer, an in-depth description of our island's internally self-governing British Overseas Territory 900 miles north of the Caribbean, 600 miles east of North Carolina, USA. With accommodation options, airlines, airport, actors, actresses, aviation, banks, beaches, Bermuda Dollar, Bermuda Government, Bermuda-incorporated businesses and companies including insurers and reinsurers, Bermudians, books and publications, bridges and causeway, charities, churches, citizenship by Status, City of Hamilton, commerce, communities, credit cards, cruise ships, cuisine, currency, disability accessibility, Devonshire Parish, districts, Dockyard, economy, education, employers, employment, environment, executorships, fauna, ferries, flora, former military bases, forts, gardens, geography, getting around, golf, guest houses, highways, history, historic properties, Hamilton, House of Assembly, housing, hotels, immigration, import duties, internet access, islands, laws, legal system and legislators, main roads, marriages, media, members of parliament, money, motor vehicles, municipalities, music and musicians, newcomers, newspaper, media, organizations, parks, parishes, Paget, Pembroke, performing artists, residents, pensions, political parties, postage stamps, public holidays, public transportation, railway trail, real estate, registries of aircraft and ships, religions, Royal Naval Dockyard, Sandys, senior citizens, Smith's, Somerset Village, Southampton, St. David's Island, St George's, Spanish Point, Spittal Pond, sports, taxes, telecommunications, time zone, traditions, tourism, Town of St. George, Tucker's Town, utilities, water sports, Warwick, weather, wildlife, work permits.

Bermuda's 2016 September History and News
Events that made headlines in the ninth month of this calendar year
By Keith Archibald Forbes (see About Us).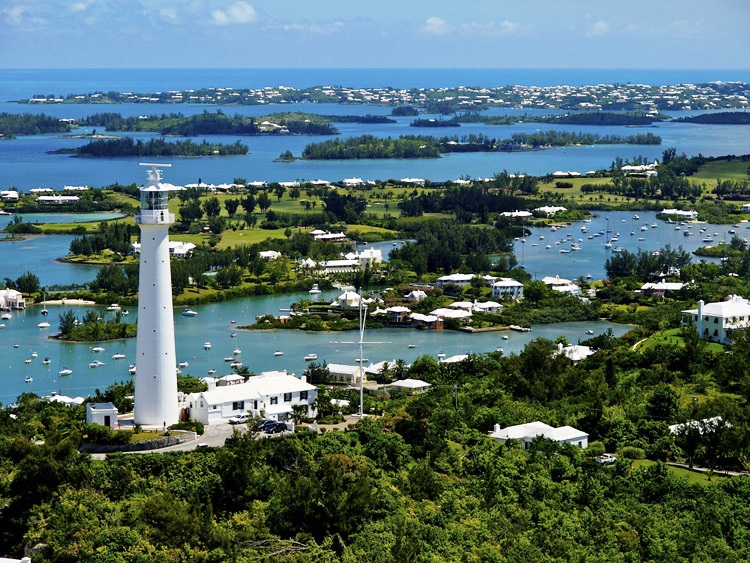 Gibb's Hill Lighthouse, Southampton Parish
See end of this file for all of our many History files
Bermuda's Royal Gazette newspaper is not published on Sundays or Public Holidays.
September 30. Europe is set to bail out its "zombie banks" within the next few months, a banking industry expert told an audience of asset management professionals in Bermuda yesterday. Lawrence McDonald, who witnessed a bank's collapse from the inside when he was vice-president of distressed debt at Lehman Brothers when it folded in 2008, said Deutsche Bank's situation now is eerily similar to his former employer's plight shortly before its demise. Mr McDonald, the head of global macro strategy at ACGA and a contributor to US business channel CNBC, was speaking at the World Alternative Investment Summit at the Fairmont Southampton. Deutsche Bank's shares took a pummeling after the US Justice Department announced its intention to fine Germany's biggest bank $14 billion over matters relating to the sub prime mortgage crisis. This has rekindled fears over the bank's stability. Mr McDonald said the problems were similar in some other big European banks. "Deutsche Bank has about $16 billion of equity and $162 billion of debt," Mr McDonald said. "In the US, Hank Paulson [the former US Treasury Secretary] got the big bank CEOs around a table in 2008 and said 'you're taking this money'. They took the pain and did the bailouts. That did not happen in the same way in Europe and this has been building up for years. The truth has been coming out one drop at a time. Soon six or eight banks will be forced to sit around the table. We expect a major recapitalisation to happen within the next three months. Zombie banks were not capable of financing the needs of an EU economy of more than 500 million people." The German government has stated it does not intend to give Deutsche Bank any help, but Mr McDonald brought up charts that he said suggested that matters were coming a to a head. One graph showed that when the market believes the Deutsche Bank's debt is getting riskier, the same applies to Germany's debt — an example of "credit spread contagion", Mr McDonald said. There were clear signs that banks trusted each other less when lending between themselves — as occurred in the run-up to the global financial crisis — as signified by a widening spread between the Libor rate and the Fed Funds rate, he added. Mr McDonald, the author of the New York Times bestseller A Colossal Failure of Common Sense: The Inside Story of the Collapse of Lehman Brothers, specializes in identifying political and systemic risk leading to actionable trade advice. He said the US presidential election was another source of market risk and that he had seen a clear correlation between Donald Trump's fortunes and stock market volatility. At times when Mr Trump has risen in the polls, the VIX, a measure of S&P 500 Index volatility sometimes known as the "fear index" has risen too. The big banks, in particular, were seen as having a lot to lose if the Republican Party candidate wins in November. Regardless of whether Mr Trump takes the White House, it is possible that over the coming weeks the perceived likelihood of him winning may increase, offering trading opportunities. Another strong risk emanates from Asia and particularly China. Credit default swaps on major Asian financial institutions — indicating their perceived level of riskiness — had risen sharply just before the past two double-digit declines in the S&P 500 Index, Mr McDonald said, and they could likewise be an indicator of future dips. Years of low interest rates had left investors craving yield, he said, and he saw a "hot bubble" inflating in the commercial real estate sector and strong demand for high-yield bonds. "I had lunch with a fund manager from BlackRock, who told me that German and Japanese insurance companies are buying up high-yield bonds," Mr McDonald said. "He said it's like nothing he's ever seen." That was one of the market-warping effects of negative interest rates that exist in both Europe and Japan, he added. Central banks were creating potentially "catastrophic, unprecedented bond volatility" by keeping rates so low for so long, he said. The markets were functioning strangely, he warned, with an unusually high correlation — about 23 per cent — between stocks and bonds, which traditionally move in opposite directions. The conference, which was opened by Michael Dunkley, the Premier, also featured Ross Webber, the chief executive officer of the Bermuda Business Development Agency, who said: "Bermuda's economy is on the upswing — the recession is behind us." Mr Webber said much work had been done to bolster Bermuda's asset management industry and that was now bearing fruit. Centaur Fund Services set up an office on the island earlier this year and he added that other managers and service providers were making plans to set up in Bermuda. Mr Webber said there was a tendency among overseas politicians and media to lump all offshore financial centres together as an "axis of evil" and use them as a scapegoat. Some offshore jurisdictions deserved their bad reputation for ignoring the changing regulatory landscape and embracing secrecy — but Bermuda was not one of them, he said. Pointing to Bermuda's success in the international reinsurance markets and its lengthy record of reliable claims-paying, he added: "Bermuda is a place to raise capital, not hide it. The likely exit of Britain from the European Union makes Bermuda even more attractive as a jurisdiction for fund managers," Mr Webber added, particularly as the island has applied for "passporting" rights to gain free access to EU markets.
September 30. Premier Michael Dunkley will not be travelling to Britain for the upcoming Conservative Party Conference, Cabinet Office announced today. The Premier was scheduled to travel this weekend to the event, to network and meet with UK Cabinet members. However, those meetings were not confirmed, so Mr Dunkley will instead aim to schedule any meetings during the Overseas Territories Joint Ministerial Council Meeting, in Britain at the end of October. The Bermuda London Office's planned Birmingham networking session for next Monday has now been cancelled and confirmed attendees notified. Bermudians living, working and studying in Britain are instead encouraged to attend a networking session on October 31, at the London Office, located at 6 Arlington Street, London, SW1A 1RE. They will have an opportunity to have face-to-face dialogue with the Premier. Environment minister Cole Simons will attend next week's Conference and plans to hold discussions with UK officials and organisations about Bermuda's marine environment. For more information about the London Office networking session, e-mail eventslondonoffice@gov.bm or call 020-7518-9900.
September 30. A business perspective on the digital changes impacting the world now and in the future, has been presented by Microsoft to executives in Bermuda. The first Microsoft CXO event on the island was an opportunity for the technology company to present innovations and solutions that are helping its partners navigate the shifting digital landscape. The event was given the title "Bermuda Empowered". Microsoft speakers Ricardo Agosto, Rita Picarra and Renatto Garro presented aspects of how the company is working to "empower businesses for the digital transformation". Monique Ragbir, marketing lead for Microsoft WI, said: "Digital transformation is not the future, it is happening today in companies large and small." She explained that in a survey half the respondents said that by the end of 2016 they expect their company to be completely digitized; by 2019, this number should have reached 83 per cent. "It's not a traditional large scale, one-off transformation, it is a pivoting to a mindset of ongoing innovation, updates and continual growth. The changes are not going to happen overnight, but every journey starts with a single step." The event was held at the Hamilton Princess yesterday. Many of the attendees were senior managers and executives. Ms Ragbir said digital transformation may be considered the next industrial revolution, "providing the catalyst for new businesses, models, products, services and experiences, that impact not only businesses, but society as a whole. To date it has been largely focused on operational efficiency, but the potential is much greater. Digicel business is the creation of new businesses designed by blurring the physical and digital worlds If your company is to survive you must adapt these thinkings and practices." Ms Ragbir said there were three key messages. "The first is that during this digital transformation we have to innovate for the future and stay a step ahead to meet the transformation for our customers, and Microsoft is here to help you with that. The second is we will simplify the transformation for you the customers and focus on key areas: engaging your customers, empowering your employees, atomizing processes and transforming your products. The third message was to show how Microsoft's solutions will offer greater choice and flexibility that are easy to get started on and are affordable and powerful". Mr Agosto, Microsoft's territory manager for Bermuda, spoke in more detail about the digital transformation and how it is reflected in changing business models from Uber, to Amazon's ambitions to achieve deliveries with drones, and Microsoft's shift from software licensing to subscriptions. Ms Picarra, financial controller for Microsoft LatAm New Markets, demonstrated efficiencies and high-performance analytics that can be achieved through the company's Power BI data tool. Other speakers were representatives of Microsoft partners in Bermuda, namely Fireminds, Arcos Technologies, Inova Solutions, Emergence Corporations, and SoftwareONE. The companies sponsored the event, alongside Bermuda Microsystems Group and The Certus Group. Microsoft viewed the forum as part of its investment to help guide its customers to go digital. In a statement it said the agenda was to "address practical concerns such as how to use technology to empower employees, engage customers and local technology partners will feature presentations offering localized perspectives on digital transformation and process optimization".
September 30. Confidence in Bermuda's economy is marginally up, according to a poll commissioned by The Royal Gazette. The Global Research survey this month found 30 per cent of people had faith in the direction the economy was heading — up from 25 per cent three months ago, but still short of the 36 per cent achieved last December. In keeping with trends from previous polls, those most likely to be happiest with the economy were whites (51 per cent, compared with 15 per cent of blacks), men (34 per cent, compared with 26 per cent of women) and people aged over 65 (44 per cent, compared with 14 per cent of those aged between 18 and 34). The economy also retained its place as the leading issue facing Bermuda. Some 53 per cent of people named the economy or unemployment as the island's top concern, down from 58 per cent in March. Education (14 per cent), crime (12 per cent) and racism (6 per cent) retained second, third and fourth positions, respectively. The telephone survey of 402 registered voters took place between September 6 and 12, and has a margin of error of +/- 5 per cent. Yesterday, this newspaper reported how, last year, Bermuda experienced inflation-adjusted growth for the first time since 2008 thanks to expansion in international business and retail.
September 30. Attorney-General Trevor Moniz aims to modernize Bermuda's dated bribery and fraud laws when the House of Assembly resumes in November. Mr Moniz attended a conference from September 20-22 in the Turks and Caicos Islands alongside his counterparts from other Overseas Territories and Crown Dependencies. A variety of topics were discussed at the conference, also featuring UK Solicitor-General Robert Buckland, relating to the rule of law and administration of justice in the OTs. Mr Moniz said that he hoped to bring Bermuda into line with the United Nations' Convention Against Corruption and the Organisation for Economic Co-operation and Development's Anti-Bribery Convention. "Our bribery and fraud laws are very old and outdated. We're trying to bring them up to modern standards, so we can comply with these conventions and have them extended to Bermuda," he told The Royal Gazette. Mental health legislation in the OTs was also discussed at the conference, again aiming to reform antiquated laws as well as ending the use of prisons as safe havens for those with mental health conditions. "We don't have a top-class psychiatric unit," Mr Moniz said. "We need one, but it's more economically feasible in larger jurisdictions. It's a problem of scale, and we're seeking answers to that." Regarding the UN Convention for the Elimination of Discrimination Against Women, the Attorney-General said there was "no major problem" in Bermudian law to prevent it from being extended to the island. "There may be one or two small areas where we have to tweak the legislation, and that's in process," he added. Child safeguarding, human rights and government procurement were among the other issues discussed at the 25th Conference of Attorneys-General from UK Overseas Territories and Crown Dependencies, which looks likely to be held in Bermuda next year. Mr Buckland also welcomed developments in legislation for same-sex marriage in St Helena, the British Antarctic Territory, Jersey and Guernsey. Mr Moniz admitted that Bermuda has had its "struggles" finding a satisfactory route to extend mandated legal rights to same-sex couples. "We have an obligation under the European Convention to establish a legal framework for same-sex partners," the Attorney-General said. "We have not done that, not for a lack of trying, because we haven't been able to get anything through the House of Assembly. It's a work-in-progress for us."
September 30. Ewart Brown, the former Premier, may claim privilege and refuse to answer questions when called as a witness at the Commission of Inquiry. The second day of the tribunal began yesterday with an unsuccessful application from his lawyer, Jerome Lynch QC, for a subpoena issued to Dr Brown to be set aside. Mr Lynch asked whether it was fair for the commission to compel someone to give evidence in relation to matters "which we know he is being investigated about by police". And he said it was possible he would advise his client to claim privilege in court if he was compelled to attend. "What I'm not prepared to do, as you will understand, is allow anybody to subject themselves to the dangers that inevitably exist when there's an extant police investigation," Mr Lynch said. Dr Brown has been the subject of a long-running police inquiry since June 2011, costing at least $2.2 million of public funds and prompted by allegations of corruption made under oath in the Supreme Court by disgraced financier David Bolden. Mr Lynch said that placed the former Premier in a "very different capacity from everyone else [giving evidence] in this inquiry. He has spent five years being investigated on the back of a witness, a convicted liar, having made assertions about corruption," said the lawyer. "He has never been arrested, he has never been questioned, never been asked to provide a single piece of evidence to the police. They have made it clear that they are continuing their investigation and it concerns the very matters with which the [Commission of] Inquiry is concerned." The commission rejected the request for the subpoena to be set aside but adjourned the date for the former Premier to give evidence to Monday, November 28, to give him and his lawyer what Mr Lynch called "sufficient time to prepare". Yesterday's hearing heard that Dr Brown was told in a letter in June that he "may" be asked to give evidence to the tribunal and that a box of documents was delivered to a house guest at his Bermuda residence the following month, when he was out of the country. Mr Lynch said Dr Brown did not see the "750 pages" of material, covering six topics, until August 19 and on August 25, Mr Lynch wrote to the commission to ask for eight weeks to consider it. He said Dr Brown would have needed to look beyond the material and it was "not something, we submit, that could be done in short order". During a testy hour-long exchange with commission chairman Sir Anthony Evans, he said the commission had "not exactly been speedy itself", having originally been given a 20-week timeframe to conduct its work when it was formed in February, a deadline since extended to the end of this year. "You yourself told the public yesterday that there was a vast amount of material to deal with," he said. "You have a team of lawyers. He doesn't have a team of lawyers. He has me. It wasn't an unreasonable request." Mr Lynch said the commission refused the request and issued a subpoena to Dr Brown on August 31. Sir Anthony said in his opening statement to the tribunal on Wednesday that some of the government contracts to be scrutinized by the tribunal were also under investigation by police. "With regard to our limited resources, I pause here to note that the commission has had no investigators at our disposal, forensic or otherwise," the chairman said on Wednesday. "Our budget did not provide for this. I should add that we have not had access to any police files of any matters, which are [or have been] under active police investigation, although we have been made aware that some of the contracts into which we are inquiring are [or have been] the subject of those investigations." Mr Lynch said if the commission knew which contracts the police were looking at, and if they were the same as the ones it planned to probe, the commission should not require Dr Brown to give evidence. He said Dr Brown had "rights in relation to privilege" and Sir Anthony replied: "I only know of one and I won't mention which one it is." The commission, which heard evidence yesterday afternoon from the first of its 20 witnesses, Cabinet Secretary Derrick Binns, will conclude its hearings by Tuesday, October 11. It has until December 31 to report its findings. Sir Anthony pointed out to Mr Lynch that by adjourning Dr Brown's evidence, there would be a "penalty" to him as the panel may already have drawn some conclusions after hearing the evidence of the other witnesses.
September 30. Paula Cox objected to a proposal by Ewart Brown to hire an overseas company as consultants on a $400,000 a year retainer, the Commission of Inquiry heard yesterday. The idea for the Ambling International Consultancy contract was brought to Cabinet by the Premier and Minister of Tourism and Transport, according to commission lawyer Narinder Hargun. Mr Hargun said: "The Premier told Cabinet that the Minister of Finance had been consulted and did not support the memorandum. This is one of the rare situations where the minister was not in favour of this engagement. The finance minister told Cabinet she had difficulty supporting the memorandum because the contract had not been put to tender. Her objection was that there was no tender." All government contracts worth $50,000 or more require Cabinet approval and the Ambling deal was agreed, despite Ms Cox's objection. Mr Hargun said Eddy Benoit, from Atlanta-based Ambling, "was known to Cabinet" and the focus of the consultancy would be the Department of Works and Engineering. "It is difficult to see what the Ministry of Tourism has to do with it," said the lawyer. "It's very marginal." The $400,000 contract with Ambling was signed by Department of Tourism chief William Griffith. "They will receive this [amount] whether any consultancy services are received or not, this is the retainer," Mr Hargun said. During yesterday's hearing, he detailed another Ministry of Tourism contract under scrutiny by the commission, involving US-based company GlobalHue, for $11.4 million a year. The Auditor-General criticised the company's contract for not being tendered in a report released in February 2009 and soon after it was renewed for another two years. GlobalHue used a sub agent called Cornerstone Media to place broadcast ads and the Auditor discovered that Cornerstone's "mark-up" when it billed GlobalHue was sometimes as much as 186 per cent. Both contracts will be probed further during the commission's witness hearings over the course of the next week and a half.
September 30. A "concerted effort" to change the culture within the civil service regarding financial rules has been made of late, Cabinet Secretary Derrick Binns told a hearing yesterday. Giving evidence to the Commission of Inquiry, Dr Binns said: "The attitude and the culture and the means to monitor and achieve compliance with financial instructions has changed considerably of late. The decision to do so has been taken by the civil service executive." He said he could not say for certain if it was the first time such measures had been taken but added: "I can say we understand the issues and we have made a concerted effort to change the culture and the regime." The island's top civil servant was giving evidence on the second day of the commission's public hearings at St Theresa's Church Hall in Hamilton, which are expected to last until October 11. The tribunal is probing the misuse of public funds between the years 2009 and 2012, as identified by Auditor-General Heather Jacobs Matthews in a report last year. Dr Binns is the first witness to have been questioned by commission lawyer Narinder Hargun and the panel itself, comprising of chairman Sir Anthony Evans, Fiona Luck, Kumi Bradshaw and John Barritt. Today, fellow senior civil servants Marc Telemaque, Anthony Manders and Cherie Whitter are due to give evidence. Mr Hargun asked Dr Binns about two projects from the time when he was permanent secretary at the Ministry of Works and Engineering: the Heritage Wharf cruise ship pier at Dockyard and the Dame Lois Browne-Evans court and police building in Hamilton. Mr Hargun said the pier — which cost taxpayers $60 million — was one of the largest civil engineering projects undertaken on behalf of the Government of Bermuda, yet was managed by the Ministry of Tourism and Transport, rather than the Ministry of Works and Engineering, which had the expertise. Dr Binns said it was sometimes necessary for projects to be outsourced and the pier project was on a tight deadline, as it needed to be ready for the visit of a large cruise ship in April 2009. He said in such circumstances it wasn't unusual to engage outside help, which was what Tourism and Transport did, in relation to the pier. Mr Hargun referred to Dr Binns's witness statement to the commission, in which he said he was asked by Mr Telemaque to sign a contract between the Bermuda Government and Correia Construction regarding the pier. "If the project was being managed by the Ministry of Tourism, why couldn't they sign it?" asked Mr Hargun. Dr Binns replied that his Ministry had been asked to review the contract, as it had reviewed such contracts before, and that he "sought to provide the assistance" required by the Ministry of Tourism. In relation to the court building contract, Dr Binns told how he was "unable to ascertain" the rationale of Public Works Minister Dennis Lister when the latter rejected a recommendation from ministry technical officers on which firm should get the $70 million contract. Mr Lister preferred a different firm, Landmark Lisgar, and told Cabinet he was satisfied it was the right company for the job, the hearing heard, without telling them about the recommendation from the technical officers. Landmark Lisgar was awarded the contract. "There are many decisions that are made within the Ministry based on advice but for a project as complex as this it would be uncommon for the Minister not to accept the advice," said Dr Binns. He was asked by commission chairman Sir Anthony Evans if it would be helpful if ministers were obliged to put recommendations from technical officers regarding contracts before the Cabinet. "I see no harm in that," replied Dr Binns. The tribunal continues.
September 30. A Pembroke man has been arrested in connection with a series of armed robberies, including two in the past week. A police spokesman said the 40-year-old was assisting police with three separate incidents. Among them are the robbery at Wok Express on North Street on Sunday night and a robbery on Tuesday night at Pasta Basta on Elliott Street. In the incident on Sunday, a man wearing a scarf covering part of his face, brandished what appeared to be a firearm at Wok Express and stole an unknown quantity of cash. He then made good his escape, east along Parsons Road on a motorcycle cycle. Meanwhile, in the incident on Tuesday, a black male entered Pasta Basta, brandishing what appeared to be a firearm and demanded money from staff. The suspect stole an unknown quantity of cash and left the scene on a motorcycle. The same suspect is also speaking to police about a separate robbery at the same Elliott Street restaurant which occurred on March 13. In that incident, a black male entered the restaurant with what appeared to be a firearm and demanded money from staff. He was described as being about 6ft tall, wearing a red mask, black pants and brown top. He reportedly stole an unknown quantity of cash and left the scene on a white motorcycle in a northerly direction on Washington Street North. The police spokesman said: "A file is being prepared for Department of Public Prosecution charge approval and it is anticipated that the suspect will be appearing in Magistrates' Court on Monday." Anyone with additional information about the incidents or who may have witnessed the robberies are urged to contact Dave Greenidge on 247-1185 or the confidential Crime Stoppers hotline on 800-8477.
September 29. Mexico Infrastructure Finance maintained that an $18 million guarantee issued by the Corporation of Hamilton for a hotel project was valid, during a Supreme Court hearing. The municipality claimed during a hearing on Monday that it was not empowered to issue the guarantee for the Par-la-Ville hotel project because it was not for "municipal purposes". However, addressing the court yesterday, Lord David Pannick, QC, representing MIF, said the project was intended to benefit the city and its residents, and as a result the guarantee had a municipal purpose. "The guarantee in this case was an essential part of the scheme," he said. The dispute revolves around a guarantee issued by the corporation to Par-la-Ville Hotel and Residences Ltd, a developer who intended to erect a luxury hotel on the present site of the Par-la-Ville car park, to help them secure a bridging loan. While the developer subsequently received the loan from MIF, it soon defaulted and the funds have not been recovered, leaving the Corporation of Hamilton on the hook. The courts later approved a consent order from the corporation, but the municipality has applied to have the order set aside on the grounds that the guarantee itself was "ultra vires" — beyond the power of the corporation to issue. Barrister Michael Beloff, QC, representing the corporation, further argued that amendments intended to allow the guarantee had been ineffective as they had not touched on the requirement of municipal purposes. Making submissions yesterday, Lord Pannick, however, noted that the amendments had included a reference to guarantees in a section of the Municipalities Act which would allow the body to act with legislative approval for "specific purposes". "The legislation expressly recognizes that the corporation may, with legislative approval, give a guarantee for specific purposes," he said. "At the very least, it recognizes that the power exists, otherwise it would not state the corporation is entitled to guarantee for specific purposes. The section of the legislature after amendment is that broad powers are enjoyed if the minister approves or if legislative approval is conferred." He also argued that the court should, where possible, interpret the legislation in a manner which would not frustrate the intentions of legislators. In this case, he said the amendments were meant to remove the perceived barrier preventing the corporation to issue the guarantee. "It is well established that, as far as it is possible, the court will seek to advance the purposes of the legislature, to arrive at a conclusion that secure the legislature's intentions," he said. While Mr Beloff had noted the terms of the guarantee itself had stated it was intended for "private and commercial purposes", Lord Pannick maintained that it was undisputed that the corporation sought to move forward with the project to benefit the municipality. "There is no dispute that the corporation entered into this guarantee because it believed it was for the benefit of the local area and its inhabitants," he said. "There is no suggestion whatsoever in any of the evidence that there was a private purpose. They were not doing this to make some private financial gain."
September 29. Tourism figures were up 7.9 per cent in August, according to statistics released yesterday by the Ministry of Tourism and Transport. Some 94,555 people visited Bermuda for leisure this August, compared to 87,646 last August and 80,267 in August 2014 — representing a rise of 17.8 per cent in two years. The biggest increase was for cruise ship visitors which went from 59,562 in August 2014 to 70,854 in August 2016. Air vacation and leisure visitors increased from 20,705 in August 2014 to 23,701 in August 2016. Out of the total number of air visitors to Bermuda in August 2016, the most common purpose of their trip to Bermuda was vacation and leisure which made up 77 per cent of the total, while 12 per cent of air visitors were visiting friends and relatives, and business travel made up 10 per cent. Business arrivals also increased year-on-year, with 3,042 people arriving in August compared to 2,977 during the same period last year. The figures show that one of the largest increases in total air arrivals came from the United States, with 20,926 visitors coming to Bermuda from the US in August 2014 and 24,242 coming to the island from the US in 2016. Meanwhile, there was a 46.7 per cent increase year over year in the total number of air arrivals from Asia for the month of August. Hotel occupancy was also on the rise, with 76.9 per cent occupancy in August compared to 71 and 67.3 per cent in August 2015 and 2014 respectively. Michael Fahy, the Minister of Tourism, Transport and the Municipalities, said he was impressed and encouraged by the results, adding: "It really bodes well for next year with the America's Cup getting under way and provides us with strong momentum heading into the off-season in Bermuda. "There is much still to do but these numbers are certainly an indication that Bermuda is getting traction once again with travelers. I want to congratulate the Bermuda Tourism Authority for their efforts to attract visitors to our shores — efforts which are clearly paying off."
September 29. Ground was officially broken this afternoon on the Azura Boutique Hotel and Residences at the former site of the Surf Side Beach Club. Addressing the media and invited guests, John Bush, of the Clearwater Development Group, said he believed the project, which will allow local and international buyers to purchase units and rent them out in whole or in part through the Azura hotel management company, will be a sustainable success. "Our desire is to create something that is exciting to our visitors, but is also a sustainable hotel property, and we believe the business model we have here will make it very successful. I am, and my colleagues are, passionate about Bermuda. We believe in it. We love it. Tourism wants to work, tourism will work and I can tell you tourism will work on this site." The resort will initially include 18 hotel residences with up to 46 hotel rooms, some of which he said have already been purchased despite only coming onto the market days ago. The first phase of the project will also include a spa and a poolside restaurant, while planning approval has already been granted for a second phase of development, bringing the number of potential hotel keys to 69. A statement by Clearwater Development Ltd explained: "One major benefit of purchasing in this development is that the hotel concessions that have been granted allow owners participating in the hotel programme to receive the very attractive purchase pricing, have land tax waived for five years, and enjoy duty free pricing on furniture, fixtures and fittings. And for overseas buyers, the property license fee is waived. The first order of business for the development team is under way and includes landscape and common area enhancements, expansion and improvements to the pool and restaurant area, and major restoration and reinforcement of the cliffs and beach area, including renovations to the sea walls and construction of elevated and protected beach areas. This initial scope of work will be completed over the next three to four months." Many of the existing buildings on the site are set to be retained and "thoroughly renovated", but three small buildings are set to be demolished and replaced by a new three-bedroom villa. An additional two story building, containing five 3-bedroom villas, is also planned, featuring vegetated "green" roofs to increase green space for guests. Mr Bush added that the development team behind the project was entirely Bermudian, along with the lender and 80 per cent of investors. "This is a locally done project, and we are excited about it," he said.
September 29. Eight universities and colleges from the Atlantic Canada region are to visit Bermuda next week to meet with prospective students. The region is made up of the four most eastern Canadian provinces of Nova Scotia, New Brunswick, Newfoundland and Labrador and Prince Edward Island. This visit builds on previous visits and events that have attracted Bermudian students to institutions throughout the Atlantic Canada region. Katherine Cross, visit coordinator and assistant registrar at Dalhousie University, said: "We're excited to return to Bermuda and help local students learn more about their postsecondary options in Atlantic Canada. "From actuarial science and business to social sciences, engineering and health related programmes, the eight institutions who will be visiting Bermuda on this trip are well positioned to help students thrive in their postsecondary studies and achieve their academic and career goals." Students, parents and community members are invited to attend the Atlantic Canadian Education Fair next Monday at Bermuda College, from 6.30pm to 8.30pm. Postsecondary representatives will also be visiting a number of high schools on the island during their visit. Recent St Francis Xavier University psychology graduate Shandae Simons said she loved her undergraduate experience in Canada and is now studying occupational therapy. "Some of my most cherished memories were made during my four years at St Francis Xavier," she said. "Looking back at my experience, I can truly say that although St Francis Xavier is a university it feels more like one big family; one that I am proud to be a part of." Atlantic Canadian institutions offer a wide variety of programmes to prepare students to enter graduate studies or begin their careers in Bermuda or abroad. "After graduation, I returned to Bermuda, worked full-time at Ernst and Young and started studying for the chartered accountant designation," said Caroline Berlo, a 2013 graduate of St Francis Xavier. I passed my CA exams in 2015 and was promoted to an audit senior position at EY. I'm proud to be part of one of the firm's biggest audit teams." Matt Coelho, a two-time graduate of Dalhousie University, said he felt at home on campus. "I chose Dal because I loved the programme, it was close to Bermuda and it was sort of a familiar environment," he said.
September 29. Tropical Storm Matthew has been upgraded to Hurricane Matthew, the National Hurricane Centre announced this afternoon. The hurricane, which is not a current threat to Bermuda, is located 150 miles north-northeast of Curacao, has maximum sustained winds of 75mph and is heading west at 17mph. The NHC's five-day forecast sees Matthew heading towards Jamaica, Haiti, the Dominican Republic, Cuba and the Bahamas early next week. Bonaire, Curacao and Aruba are continuing their Tropical Storm Watch for Matthew, the fifth hurricane of the season. According to The Jamaica Observer, the country's National Meteorological Service has issued a severe weather alert as it closely monitors Matthew.
September 29. "Please stop using us as a rubbish dump". That's the plea from staff at The Barn who are regularly forced to spend $200 a week to get rid of broken and unusable items that have been left outside the Devonshire thrift shop. Manager Barbara Brown told The Royal Gazette that donations dropped off outside the store gates by members of the public on days when it was closed were often ruined by the rain. "It's important to stress that we really appreciate all the items that people donate to us. But the trouble we are increasingly facing now is that people are using us as a dump. The key thing for us is that items are firstly usable and secondly in a decent condition. We have had some people literally leave bags of rubbish outside our gates, and some mornings when we arrive we can't open the gate because people have piled up bags, mattresses and all sorts of other things outside." Mrs Brown added: "People seem to think that they can drop off electronic goods like hoovers and DVD players that do not work, mattresses with springs sticking out of them and dirty underwear. But we do not have the time or the expertise to repair these kind of donations. As a result we have to hire trucks to pick up dumpsters to take to Tyne's Bay and also take electronic goods that are beyond repair up to the airport dump. It's costing us about $200 a week at the moment." The Barn on Devon Spring Road is open for donations on Tuesday, Thursday and Saturday mornings between 9am and 11am. Mrs Brown says that one of the major challenges faced by her team of volunteers is the build-up of donations and bags that are left on days when The Barn is closed. She urged members of the public to drop off donations on mornings when the store was open. "We are extremely grateful to people who take the time to drop off items that we can then sell on, we are just asking people be a little understanding. Dropping the items outside the gates on days when we are closed just makes even more work for us and the bags are often so heavy we can't even pick them up."
September 29. The 2016 book Border Crossing Brothas: Black Males Navigating Race, Place and Complex Space is a book that should resonate with many people here, if only because it tells the stories of our own. Bermudian Ty-Ron Douglas, an assistant professor and affiliate faculty member of the Black Studies programme at the University of Missouri, is the author. The book draws on the experiences and journeys of 12 black Bermudian males, sharing their educational experiences in places such as the school house, in barbershops, local sports clubs, the Church and the neighborhood. Ty-Ron Douglas is a keynote speaker at the 5th Annual International Colloquium on Black Males in Education, which opens Wednesday. He will sign copies of his book at Brown & Co at 6.30pm on Tuesday.
September 29. July's rate of inflation jumped to the highest level since January as an increase in land tax and electricity bills pushed the cost of living higher. Consumers paid 1.6 per cent more in July 2016 than they did a year before for the basket of goods and services included in the Consumer Price Index, the Department of Statistics said today. The level of inflation rose 0.8 percentage points from the 0.8 per cent measured in June 2016. The biggest driver of the increase was the rent sector, in which prices rose 1.4 per cent, due primarily to changes in land tax that resulted in residents paying more on average. Electricity bills climbed as the fuel adjustment rate rose for the first time in 12 months, resulting in a 4.3 per cent increase in fuel and power costs. The food sector edged up 0.3 per cent in July following on from its 0.2 per cent rise in June. Key contributors to the increase were fresh oranges, up 4.3 per cent, eggs, up 3.4 per cent, and tinned soup, up 2.5 per cent. Transport and foreign travel also cost 2.5 per cent more, as the average cost of air fares shot up 13.9 per cent from the month before. Average prices at the pump fell 2.1 per cent from June, however. The basket of goods and services that cost $100 in April 2015 now costs $102.20.
September 29. Bermuda's economy grew in real terms last year for the first time in seven years, according to government statistics released today. Gross domestic product — the value of all the goods and services the island produces — was $5.9 billion last year, up 4 per cent compared to 2014. After being adjusted for inflation, the increase was 0.6 per cent, the first time real GDP has risen since the 1.1 per cent increase in 2008. The rise in economic growth translated into a 4.1 per cent gain in GDP per capita which was measured at $96,018 per person in 2015. The growth was broad based, with 13 of the total 15 industries recording growth in value added, led by international business and retail, which produced the largest increases by dollar value. The figures also provided evidence that the massive makeover of the Hamilton Princess Hotel and America's Cup-related projects boosted the economy, as the construction sector's contribution to GDP grew by 6.7 per cent. International business activity represented 28 per cent of the island's GDP and the sector's value added rose 5.3 per cent from 2014 to $1.66 billion, driven by increases in wages, salaries and benefits, and investment compensation. Ross Webber, chief executive officer of the Bermuda Business Development Agency, said: "This is a very encouraging milestone. The fact that this is real GDP growth, led by international business, is reassuring and underscores the BDA's mission — to raise GDP and create jobs. Through the BDA Concierge Service, we are certainly seeing more companies establishing in the jurisdiction across industry sectors, and we will continue our efforts to keep the trend on track." After international business, the next biggest sector was real estate and renting activity, which climbed 2.1 per cent to $983.55 million. The wholesale, retail trade and repair services segment saw strong growth, with value added increasing 10.9 per cent. Within this industry, growth in value added was led primarily by sales and repairs of motor cycles, up 43 per cent, sales of motor vehicles, up 32.3 per cent, and sales by food stores, up 12.9 per cent. Grocery stores' sales increases were probably helped by the reduction of the 10 per cent Wednesday discount to 5 per cent, as of March last year. Value added by businesses selling household appliances and equipment rose 27.2 per cent, while businesses trading in hardware, paints, glass and other construction materials increased 11.9 per cent. Value added for hotels and restaurants was 3 per cent higher in 2015. Restaurants saw a $7.3 million, or 7.1 per cent, improvement over the previous year, despite a 2 per cent decline in visitor arrivals last year. Public administration's contribution to GDP fell 1.2 per cent, as the Bermuda Government's reductions in wages, salaries and employee overheads continued. The statistics also highlight the sectors that pay out the most in employee compensation. International business leads the way, having paid out $1.44 billion to its staff, while financial intermediation, including the banking industry, is in a distant second with $356.4 million and business activities in third with $347.4 million. Public administration forked out $327.4 million in compensation. The figures also show the value of the wholesale and retail ($272 million), hospitality ($232.9 million) and construction ($124.5 million) sectors as major employers. The summary from the Department of Statistics also provided information on "gross national disposable income", defined as "the income that can be used by households for consumption or savings as well as the income not distributed to owners of equity for non-financial and financial corporations", which increased 3.4 per cent year over year to $6 billion. Gross national savings were measured at $1.9 billion, representing a 6 per cent increase year over year. Of the total savings, $704.2 million was spent on investment in capital goods.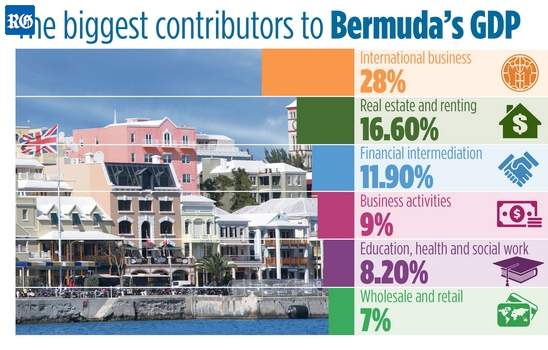 Top sectors: the biggest sources of economic activity in 2015 (Graphic by Byron Muhammad)
September 28. American International Group, Hamilton Insurance Group (Hamilton), and affiliates of Two Sigma Investments, LP today announced they have reached agreement to form Attune, a technology-enabled platform to serve the $80 billion US small to medium-sized enterprise (SME) commercial insurance market. The agreement follows a memorandum of understanding the three companies signed in April to form this partnership. Terms of the deal were not disclosed. In a joint statement today, the venture partners said Attune will use data science and advanced technology to meet the risk needs of small businesses. Partnering with retail and wholesale insurance brokers, agents and other intermediaries, it will provide small business owners with a broad, flexible range of products. The ultimate goal of Attune is to streamline risk submission and the insurance underwriting process for small businesses. Attune will combine Hamilton's small business knowledge and underwriting expertise with AIG's scale, extensive data, and longstanding distribution network. Technology and data science capabilities for Attune will be developed and managed by Two Sigma, a company that applies its technology platform and artificial intelligence capabilities to reveal unique data insights. Two Sigma co-founder David Siegel said: "At Two Sigma, we have shown how a technology and data-science platform can help discover value in the world's economic data. The insurance industry is ripe for change, and we are excited to partner with AIG and Hamilton on this new venture." Hamilton chairman and CEO Brian Duperreault, who will serve as chairman of the board of Attune, said: "Attune has the potential to transform underwriting in the SME market, and what we learn in building Attune's technology platform can be applied to any size risk. We're on the cusp of true innovative change in our industry. Being able to partner with AIG and Two Sigma — leaders in their respective industries — makes this venture all the more exciting." Peter Hancock, AIG CEO, said of the venture: "Attune represents an important way forward for the insurance industry as it adapts to the disruptive forces of data analytics and the powerful technology supporting it. By combining our industry expertise, knowledge, and capabilities with the advanced data technology of Two Sigma, we play a critical role in determining how these forces will shape the way we work with our brokers and agents in the SME segment. We will gain an even deeper understanding of how to harness the power of analytics for the benefit of our company, our clients, and our shareholders."
September 28. Economic theory is rooted in the assumption that people generally behave rationally when they make financial decisions — but in reality, it seems we don't. Companies that strive to understand humans' irrational quirks will be better positioned to sell their products and services, according to a behavioural economics expert who spoke at an insurance conference yesterday. Evelyn Gosnell, of Irrational Labs, who specializes in the psychology of money, said: "We like to think of ourselves as rational, but we are heavily influenced — although in predictable ways. There was growing evidence that suggested that even when we have the information needed to make a rational financial decision, we are still likely to choose irrationally. Selling ideas that challenge the basis of economic theory gets a mixed response in the business world. Some get the behavioural economics bug as soon as they hear about it. Others are slower to catch on. The many common assumptions out there are a strong force to work against." Irrational Labs is a non-profit organisation that applies behavioural economics — why we do what we do — to product, marketing and organizational design problems. In her keynote presentation yesterday at the Bermuda International Life and Annuity Conference at the Fairmont Southampton, Ms Gosnell showed delegates some of the evidence that humans are just not logical when it comes to money. She highlighted studies concluding that even though most people said they wanted financial security and could specify three things they could do to help achieve it, they tended to stop short of actually acting on this knowledge. "Some of our irrationality is driven by our tendency to think of money in relative rather than absolute terms, Ms Gosnell said. She gave the example of seeing a pen in a store priced at $25, but then hearing that the same pen was available for $7 loss in a store five minutes' walk away. Most people would take the walk and buy the cheaper pen, she said. However, if someone was buying a $450 suit and was told they could purchase the identical item for $7 less at a nearby store, they would be less likely to make the effort — even though the $7 saving was the same in each case. She then described "mental accounting" the process by which we categorize money into specific "buckets". She gave the example of the city of Boston's tax rebates. When the rebate was described as "bonus income", the recipient was more than twice as likely to spend it as when it was described as "withheld income". The same process of mental accounting can happen, she said, when funds for the future are specifically labeled. For example, it would be harder to withdraw money from "Dave's College Account" than it would be from "Savings". Our process of evaluation can also be easily influenced. She gave the example of a choice of annual subscription options for The Economist. When there was a straight choice between online access at $59 and print plus online at $125, most people plumped for online only. However, when a third option — the print edition only for $125 — was added, 84 per cent of people chose print plus online. Effectively the third option had indicated a value for the print edition in the readers' minds and had made the print plus online deal look like a bargain. The perception of value is often tied to effort. If it is apparent that you or someone else has put in a lot of effort into creating a product, then we are more likely to value it highly than if the effort involved is not so apparent — internet service, for example. Ms Gosnell highlighted one of the challenges for the life and annuities industry — that it is selling something whose benefits are far in the future. Our tendency is to discount, sometimes heavily, for time, she added. It is among the reasons people struggle to save enough for retirement. The BILTIR conference was a one-day event which also featured sessions on the capital markets, cyber security in the insurance sector, predictive analytics and the state of the reinsurance market.
September 28. Actions carried out by the board of trustees of Port Royal Golf Course were "straightforward fraud", the Commission of Inquiry heard yesterday. Commission chairman Sir Anthony Evans made the remark after the tribunal heard how the board of trustees paid $10,000 of public money to a company awarded a contract for goods, so the company could in turn pay that money to board of trustees member Delano Bulford as a "finder's fee". The board, according to commission lawyer Narinder Hargun, then agreed to ask the company to produce an invoice which did not mention Mr Bulford's name in case the transaction was "frowned upon by the Auditor-General". Sir Anthony said: "It's straightforward fraud." He asked Mr Hargun on whom the fraud was committed and the lawyer replied: "If it's an inappropriate payment, then it's fraud on the Consolidated Fund [the public purse]." At the time, Progressive Labour Party MP Zane DeSilva was a member of the Port Royal board; businessman Wendell Brown was its chairman. In her special report into the Port Royal project in 2014, Auditor-General Heather Jacobs Matthews wrote that the board of trustees authorised and paid $10,000 in excess of the invoiced price to a company which was awarded a contract for goods. Ms Matthews stated: "The board of trustees' minutes indicate that this payment was to enable the company to pay a 'finder's fee' of $10,000 to a board of trustees member. It is not clear what relationship, if any, the board of trustees member had with the company to earn such a payment." The redevelopment of Port Royal was one of a number of historic government projects which came under scrutiny at yesterday's hearing; others included the emissions testing centres for TCD, the Heritage Wharf pier at Dockyard and the new Magistrates' Court and police building. The four-person panel heard from Mr Hargun about massive project cost overruns, ministerial interference, failures to follow financial rules by civil servants and lack of Cabinet approval for contracts. The lawyer spent yesterday setting the stage for a series of witness hearings, due to start today, which will explore the mishandling of public funds from 2010 to 2012, as outlined by the Auditor-General in a damning report which prompted Michael Dunkley to form the Commission of Inquiry. Although some of the projects occurred before the financial years covered in the Auditor's report, Sir Anthony said the commission took the view they were relevant to provide context for what was to follow. He said the commission also believed it was right to include the current airport redevelopment to find out the current culture within government in relation to complying with financial instructions. The Government has formally objected to the inclusion of the airport deal and is expected to make a submission to the commission today at 10am, when the hearing resumes at St Theresa's Church Hall in Hamilton. Yesterday, the panel heard how the Ministry of Works and Engineering was repeatedly "sidelined" when it came to managing capital projects during the years that Ewart Brown was Minister of Tourism and Transport. Mr Hargun said despite Works and Engineering having the expertise to ensure quality and value for money for the public, major projects were delegated to the Ministry of Tourism and Transport which had no experience and, in turn, paid external consultants to manage projects and hire contractors. The lawyer said the result was the Government ceased to have "any control" over those projects and costs spiraled, with no proper checks and balances in place. The tribunal also heard how Derrick Burgess, when public works minister, went against the advice of technical officers on which firm should be contracted to build the Magistrates' Court and police building. Mr Hargun said Mr Burgess failed to share the recommendation of the technical officers with Cabinet, instead outlining his own choice, Landmark Lisgar, which was ultimately chosen. Sir Anthony said in his opening statement that the commission had identified the senior civil servants and ministers responsible for some of the contracts being probed by the tribunal — but not all had been willing to provide witness statements. "Each person identified was requested to make a witness statement," he said, adding that free legal advice was also offered. A few declined to produce any witness statement before the hearing." The commission has the same powers as the Supreme Court to subpoena witnesses and relevant documents. Witnesses can claim the same legal privileges available to them in court. Sir Anthony said if a witness refused to give evidence or produce documents, the commission would hear legal submissions on how to proceed. Referring to such refusals, he said: "To a limited extent, that's already occurred." Lawyer Venous Memari is representing members of the Bermuda Public Services Union, including Cabinet secretary Derrick Binns, financial secretary Anthony Manders, Accountant-General Curtis Stovell and permanent secretaries Marc Telemaque, Cherie Whitter and Randy Rochester. Those attending the hearing in the public gallery for Sir Anthony's opening statement yesterday included Mr DeSilva, Opposition backbencher Walton Brown, BPSU general secretary Ed Ball and BIU president Chris Furbert.
September 28. The island's first Commission of Inquiry in more than 15 years is due to properly get under way today, but the scope of the investigation has yet to be determined after the Bermuda Government formally objected to the inclusion of its controversial airport redevelopment deal. The commission issued a statement yesterday highlighting that Government had not made written objections regarding the airport contract sooner; it said it would now have to consider those objections before making a decision. The statement noted a press conference held on Friday on the subject by acting attorney-general, senator Michael Fahy, and said the formal objection was received "subsequent" to that. "Government has now followed proper procedure which the commission established for those who wish to make objection to any matter which the commission proposes to examine as part of its inquiry. Written objections to the inclusion of the airport were received yesterday from the Attorney-General's Chambers on behalf of the Government. In accordance with our published rules, the commission must deliberate on those objections and proposes to make a decision shortly. Because the issue has been raised publicly, the commission also wishes to state publicly that no undertaking was ever given to the Government that we would not inquire into the airport project." The independent Commission of Inquiry was formed by Michael Dunkley in February this year with a remit to inquire into issues raised by a damning report from the Auditor-General on how civil servants mismanaged public funds during the financial years 2010, 2011 and 2012. The scope of the commission, as outlined by the Premier in the terms of reference, was to "inquire into any potential violation of law or regulations, including the Civil Service conditions of employment and code of conduct, financial instructions, and ministerial code of conduct, by any person or entity, which the commission considers significant and [to] determine how such violations arose". Mr Dunkley said the Auditor-General's "disturbing" report necessitated the Commission of Inquiry, since it concluded that official government financial controls were regularly overridden or ignored and those responsible were "seemingly immune" to any sanctions. Four commissioners — Sir Anthony Evans, Fiona Luck, John Barritt and Kumi Bradshaw — were appointed by the Premier and they announced in June they would look beyond the years 2010 to 2012, probing into government contracts awarded both before and after that period. Commission chairman Sir Anthony told the first public hearing that the Government's airport redevelopment contract would be investigated, along with contentious projects of the past. Mr Dunkley gave the commission power to consider "any other matter" which it considered relevant to the scope of its inquiry, but Mr Fahy told Friday's press conference that the LF Wade International Airport project — the subject of much criticism from the Progressive Labour Party and the People's Campaign — was not within that scope. He said: "Government has been consistent in its representations to the commission that the LF Wade project is not within their terms of reference or scope. The commission has persisted in requesting documents and has asked civil servants to provide information about the airport project." Mr Fahy added: "Civil servants need not reply to requests for information that is not relevant to the terms of reference." The Minister said the Government asked the commission to hold off on requesting documents until the commercial close of the $250 million project with the Canadian Commercial Corporation. But the commercial close was delayed so the commission, according to Mr Fahy, went ahead with its requests to civil servants. This is the second time an oversight body has sought to get the Government to disclose further details about its agreement with CCC. The bipartisan parliamentary Public Accounts Committee has repeatedly tried — and failed — to obtain nine schedules which explain how the deal would work. Mr Fahy said on Friday: "Certain documents relating to the project are protected by public interest immunity. They are contract documents subject to negotiation ... They contain information and documentation that is proprietary to the developer. Until the negotiations are finalized, Government cannot release those documents." A recent Supreme Court judgment considered how far the commission would be able to stray from its terms of reference, with Chief Justice Ian Kawaley finding that "there can be no serious contention that the COI has been given a roving brief to investigate whatever it sees fit". He said the commission's legal mandate was "primarily anchored to the financial years 2010, 2011 and 2012" and matters in the Auditor's report. "This finding may (not must) have implications for the range of documents falling outside this time period which can properly be sought. It may also have implications, as I observed in the course of the hearing, for the COI's evinced intention of investigating the current airport project." The commission has until the end of the year to submit its final report and recommendations. It is budgeted to cost taxpayers more than a half a million dollars. The most recent commission of inquiry in a British Overseas Territory was prompted by allegations of government corruption in the Turks and Caicos Islands in 2008/9 and resulted in the British Government imposing direct rule. Later, former Premier Michael Misick was arrested on suspicion of corruption and his trial is still ongoing. The last commission of inquiry in Bermuda was opened in August 2000 to look at serious crime and was sparked by the botched investigation and prosecution of the case against two men accused of the July 1996 murder of schoolgirl Rebecca Middleton, although the commission's terms of reference did not mention the Middleton case. Previous commissions looked at the drugs squad and the last-minute postponement of the referendum on independence. Until December 2014, only the Governor could form a commission of inquiry in Bermuda. Legislation was passed that month giving the Premier power to do the same. Today's public hearing is at 10am at St Theresa's Church Hall, Laffan Street, Hamilton.
September 28. The Corporation of Hamilton yesterday argued that its $18 million guarantee of the Par-la-Ville Hotel project was not valid, during a hearing in the Supreme Court. At the in-chambers hearing before Puisne Judge Stephen Hellman, the municipality claimed that despite amendments to the Municipalities Act, it could not legally issue the guarantee for the project as it was not for a "municipal purpose". However, lawyers for Mexico Infrastructure Finance LLC, the firm that issued the loan to the project developer, argued that the use of municipal land and the approval of the relevant minister meant that the guarantee — and a subsequent consent order from the corporation — was valid. They further argued that it was an abuse of process to raise the matter so late in proceedings. The case relates to a bridging loan issued by MIF to Par-la-Ville Hotel and Residences Ltd who sought to erect a luxury hotel on the site of the Par-la-Ville car park. In order to support the project, the Corporation of Hamilton agreed to guarantee an $18 million bridging loan from MIF. Amendments to the Municipalities Act were approved purportedly to allow the corporation to issue the guarantee using municipal land. The guarantee was issued and the bridging loan approved, but the developer subsequently defaulted on the loan and efforts to recover the funds have been unsuccessful. While the corporation subsequently approved a consent order acknowledging the guarantee, it has since filed an application to set aside the consent order on the grounds that it was not valid, as the guarantee had not been valid. Barrister Michael Beloff, QC, representing the corporation, said that while such a ruling might be "unattractive", he added: "The case law is crystal clear that this is the inevitable consequence." He argued that the project was not for a municipal purpose as required by statute and, as a result, the guarantee for the project was "ultra vires" — beyond the corporation's legal power. He told the court that the guarantee itself stated that it was intended for "private and commercial purposes", which he described as the antithesis of municipal purposes. And Mr Beloff argued that even though property at the heart of the project was corporation land, this did not necessarily mean that the project had a municipal purpose. "They cannot do something not on their land, but it doesn't mean everything connected to their land is of a municipal purpose," he said. On the subject of the amendments intended to allow the guarantee, Mr Beloff said that while the amendments extended the corporation's ability to issue guarantees, they did not touch on the municipal purpose requirement. And he refuted the suggestion that the application was an abuse of process, stating that the issue was only recently identified and the corporation acted as soon as practicable. "They thought that the problem had been cured," he said. "Until this was raised, no one thought there was any problem. We didn't delay once we knew there was this point and we had ministerial approval."
September 28. NEW YORK (Bloomberg) — Former American International Group (which has many Bermuda-incorporated subsidiaries) chairman Maurice "Hank" Greenberg says he got personally involved in an "insignificant" business deal at the insurance giant 18 years ago to teach some managers a lesson. Now, that deal is part of a fraud claim that could prevent the 91-year-old from serving as an officer of a public company. Greenberg took the witness box yesterday in a Manhattan courtroom to defend against claims that he and former AIG chief financial officer Howard Smith orchestrated two sham deals to hide the insurer's financial condition from shareholders. One was a transaction involving Capco Reinsurance Co, allegedly to hide more than $200 million in underwriting losses from an auto-warranty business started by Greenberg's son, Evan, who is now chief executive officer of Chubb Ltd. Greenberg testified that he became aware of serious problems in AIG's auto-warranty business as early as 1998. He said he began taking steps to correct them the following year, while disagreeing with New York Assistant Attorney General David Nachman's characterization that he was a "hands-on CEO". "This was a small part of our business," said Greenberg. "It was insignificant. It wasn't so insignificant that you tried to insert yourself personally into these matters?" Nachman asked. "I was trying to teach a lesson to some managers who were involved with it," Greenberg said. "This was a non-event at AIG. There are other things that are far more important than this." "You regard other things are more important than a fraud charge against you?" Nachman asked. "That's why I'm here to defend against it," Greenberg said. Greenberg was dressed in a dark-blue suit, a white dress shirt and a light-blue tie. His exchanges with Nachman were sometimes congenial, sometimes contentious. Home Depot co-founder Kenneth Langone, a friend of Greenberg's who has called for the state to drop the case, attended the beginning of Greenberg's testimony. The current attorney general, Eric Schneiderman, is seeking to bar Greenberg and Smith from serving as officers or directors of public companies and force them to give up more than $52 million in bonuses. Schneiderman dropped his demand for $6 billion in damages in the case after Greenberg and other executives paid $115 million in 2009 to settle suits filed by AIG shareholders. The trial, which is being heard without a jury, is likely to last through January. Greenberg had asked the US Supreme Court to review a June decision by New York's top court allowing the trial to proceed, arguing the state claims are pre-empted by federal law.
September 28. A luxury home in exclusive Tucker's Town with a list price of more than $13.9 million owned by the widow of a late billionaire oil and gas tycoon is set to be sold. Winsor House, set on a cliff-side estate, is owned by Katie McClendon, an heiress of the Whirlpool appliances family and the wife of former Chesapeake Energy Corporation chief Aubrey McClendon, who was killed in a car crash earlier this year, Sinclair Realty, which is selling the home, confirmed yesterday that the property was under contract. But — despite its huge price tag — the house will need major renovations or demolished and replaced with a new-build house. Ms Sinclair said: "While good news and a vote of confidence for Bermuda, Winsor House is actually just one of several non-Bermudian sales in 2016 pending completion which demonstrate the island's attractiveness to the discerning international homebuyer." She added: "Subject to planning and environment approvals, a purchaser could work with the existing footprint, but the condition of the existing structures are such that either a total renovation or a tear down, redesign or rebuild would be required." The McClendons bought the six-bedroom home, set in 1.26 acres of grounds for $11 million five years ago. Sinclair Realty said on its website: "As waterfront building lots in the coveted Tucker's Town peninsula simply do not exist — and Bermuda Government policy restricts non-Bermudian purchasers from acquiring vacant land — Winsor House represents an extremely rare opportunity to own a world-class beachfront home site. This is literally one of the very best beachfront settings in Bermuda." The main house has an annual rental value of $216,000, while the apartment's ARV is $33,600. The grounds also contain a two-level guest cottage and two-level garage. Mr McClendon, 56, founder of Chesapeake Energy Corporation, died when his SUV hit a bridge embankment in Oklahoma City in March. The crash came a day after he was charged with rigging bids for oil and natural gas leases in Oklahoma. It was feared at first that the death was suicide — but a medical examiner later ruled that the death was accidental. Mr McLendon founded Chesapeake Energy in 1989 and at one point the firm was valued at $35 billion, with Mr McClendon's personal wealth estimated at $1 billion. In addition to buying several Bermuda properties, Mr McLendon held a stake in basketball team Oklahoma City Thunder. But he left Chesapeake Energy in 2013 amid a governance scandal which led to a shareholder revolt and cost him his annual bonus and chairmanship in 2012. He was charged in March by a federal grand jury in Oklahoma in connection with an alleged scheme involving two "large oil and gas companies" to not bid against each other for leases in the northwest of the state. The scheme was said to have operated between 2007 and 2012. Mr McClendon denied the charges and said they were "wrong and unprecedented." He died in the car crash the next day. If convicted, he would have faced up to ten years in jail and a $1 million fine.
September 27. The Bermuda mansion owned by Hollywood superstars Michael Douglas and Catherine Zeta-Jones is up for sale with a price tag of more than $10.6 million. Mr Douglas is the son of Diana Dill, a Bermudian who became an actor and model in the US and who died last year and American movie legend Kirk Douglas. He is also co-owner of the now-closed Ariel Sands cottage colony in Devonshire, which is scheduled for redevelopment. The historic Warwick mansion boasts eight bedrooms, eight bathrooms, while the grounds of more than three acres contain a gated pool, a tennis court with covered viewing pavilion and an orchard. Lyndy Thatcher, listed as the Rego Sotheby's International Realty agent for the sale, confirmed the property was listed this month, but declined further comment. Mr Douglas and Ms Zeta-Jones bought the house, then a five-bedroom home, 15 years ago for a price understood to be around $2.5 million. The listing on Rego SIR's website said: "This spectacular celebrity-owned, gated private estate, with stunning harbour views is a park-like oasis. The centerpiece of the property is a large elegant, yet informal, 1827 ivy-covered home. The beautifully restored main house has a large, spacious living room with fireplace, dining room, gourmet kitchen and children's suite containing two bedrooms, two bathrooms, music room and den. The upper level of the house boasts a huge master suite with views over Hamilton Harbour, plus a second en suite bedroom, office and large media room. Outside, there are two 50ft cedar verandas, also offering harbour views. The basement area has a gym, including shower, locker room, bath and sauna, as well as a storage area and commercial-size laundry room. The grounds of the estate also contain a two-bedroom guest cottage, a 100-year-old apartment and a two-bedroom caretaker's cottage.
September 27. A formal objection has been made by the Bermuda Government to the investigation of the airport redevelopment project by the Commission of Inquiry. The commission — which will hold a public hearing at 10am tomorrow — said in a brief statement this afternoon that the Government had "now followed proper procedure" and sent written objections, days after acting Attorney-General, Senator Michael Fahy, held a press conference declaring that the LF Wade International Airport deal was outside the scope of the inquiry. The commission's statement said: "Subsequent to the Government press conference and statement last Friday, Government has now followed proper procedure which the commission established for those who wish to make objection to any matter which the commission proposes to examine as part of its inquiry. Written objections to the inclusion of the airport were received yesterday from the Attorney General's Chambers on behalf of the Government. In accordance with our published rules, the commission must deliberate on those objections and proposes to make a decision shortly. Because the issue has been raised publicly, the commission also wishes to state publicly that no undertaking was ever given to the Government that we would not inquire into the airport project." The independent Commission of Inquiry was formed by Michael Dunkley, the Premier, in February this year with a remit to inquire into issues raised by a damning report from the Auditor-General on how civil servants mismanaged public funds during the financial years 2009 to 2012. Four commissioners — Sir Anthony Evans, Fiona Luck, John Barritt and Kumi Bradshaw — were appointed and they announced in June that they would look beyond those years, probing into government contracts awarded both before and after the period in question. Commission chairman Sir Anthony told the first public hearing in June that the Government's current airport redevelopment contract would be investigated, along with contentious projects of the past. But Mr Fahy told Friday's press conference the airport project was not within the commission's terms of reference and civil servants who received requests from the commission for information relating to the airport "need not reply. Government has been consistent in its representations to the commission that the LF Wade project is not within their terms of reference or scope. The commission has persisted in requesting documents and has asked civil servants to provide information about the airport project. Civil servants need not reply to requests for information that is not relevant to the terms of reference." The Minister said the Government asked the commission to hold off on requesting documents until the commercial close of the $250 million project with the Canadian Commercial Corporation. But the close was delayed so the commission, said Mr Fahy, went ahead with its requests to civil servants. Tomorrow's hearing is at St Theresa's Church Hall, Laffan Street, Hamilton.
September 27. Veteran political figures have faulted the leadership of both parties for electoral disillusionment exposed this week in a poll by The Royal Gazette. Disgruntled voters from "right across the spectrum" regularly voice dissatisfaction to a lunch group of former MPs that includes Progressive Labour Party veteran Reginald Burrows. Meanwhile, David Saul, the former Premier, pointed to a fatal slippage in support for the governing One Bermuda Alliance, even as members of both sides publicly air frustrations with their teams. Ewart Brown, the former Premier, likened the years of struggle between the OBA and the PLP to "the Western movies where two combatants engage in a knock-down, drag-out fight and are found hours later in a stupor, having forgotten their original missions." None were surprised at the figures in Monday's edition, in which more than half of registered voters said both parties had too much internal strife to run the country. "People from all walks of life come over to say they wish we were back in Parliament; you would be surprised," Mr Burrows said. "They are not happy with their representatives." Many looked back on times of a more civil atmosphere when rival MPs generally got on well, he said, even outside Parliament. "I'm not sure that still happens," Mr Burrows added. Voter frustration came as no surprise to Dr Saul, who laid the responsibility squarely on leadership. "The leader's job is to put everyone on an even keel. By definition, everyone in the population feels comfortable." However, Dr Saul did not place blame on discontent lingering from the One Bermuda Alliance's narrow win in the 2012 General Election. "If it's close-fought, those in the Opposition start to slowly lose support — assuming that those in the Government are doing a satisfactory job, you will find people who will drift the other way. But that isn't happening in this case. The Government are losing their own supporters. That is not a good thing." Dr Brown called himself "not shocked or even surprised by the results of the poll. Both political parties have never recovered from the last election. The OBA won almost four years ago through a multiyear campaign of vilification and demonisation. They have reaped the whirlwind, and now find themselves scrambling to maintain a majority in the House." Asked if he envisaged any sort of workable alternative to the often antagonistic Westminster system, Dr Saul replied: "No; that's not at all possible. It's even more of a problem in a small country like Bermuda. I doubt the average person could see us going back to the old days where everyone ran as an independent." Mr Burrows echoed that view, saying he saw no other system of government that could serve the island much better. "People are not happy with either one of them; the system doesn't make that much difference," he said, pointing to the unpalatable presidential contenders now facing United States voters. Warning that "the electorate gets disgusted very easily", Mr Burrows said yet another election could get decided based on whose supporters stay at home. While the OBA seemed better at presenting a unified front, "when they were in Opposition they criticised the PLP for so many things and are now doing the same things, which makes matters even worse". "Sometimes the PLP were wrong. But two wrongs never made a right." Dr Brown said his own party had assumed "the unusual posture of apologizing incessantly for the PLP record over 14 years. In our present state of uncertainty, we are not showing voters that we are the party to lead Bermuda out of its current paralysis." And Dr Saul cautioned that, in the political arena, "public perception is reality". "As soon as one election is up, you start preparing for the next one. You keep your team spirit up. The man in the street wants to know that the people in charge are a team working together — thrashing things out and then coming out as a team. Anything that makes the average person think there is dissatisfaction in the ranks is bad. The leaders should be seen as one; then the rest of the party feels confident."
September 27. Contentious legislation aimed at regulating private healthcare providers and the equipment they use is due to be re-tabled in Parliament in November but some doctors fear they still won't be happy with the re-worked Bill. The Royal Gazette understands that after a number of meetings between Bermuda Health Council and a physicians' working group over the summer, the Bermuda Health Council Amendment Act 2016 has been altered to alleviate some of the concerns which led to the bill being withdrawn from the House of Assembly in July. But the council is said to have dug its heels in on various sections of the bill and doctors still aren't clear which pieces of equipment will fall under the Act. The legislation originally tabled in the House referred to "high-risk technology" and listed CT scanners, MRI machines, X-ray machines, radiation-emitting equipment, diagnostic imaging machines, laser or surgical equipment, medical imaging equipment, nuclear medical instruments or devices, dialysis machines, and equipment that uses sound waves. But a source, who spoke to this newspaper on condition of anonymity, said a clear enough definition of what high risk meant was missing from the Bill and still hadn't been shared with physicians. "There are some points they have agreed with but there's a few in there which they simply won't change," said the doctor. "[For example], the jail sentence for a doctor who imports a piece of medical equipment without permission. It's heavy-handed and the definition of what constitutes 'high-risk' technology has still not been decided upon. The medical community is being asked to approve of something for which critical definitions have not yet been finalized. An MRI machine is simply not an example of high-risk equipment. It may be expensive and hi-tech but not any more dangerous than an ultrasound. The examples [the health council] gave weren't high risk at all. They want to try to limit technology. It's medieval. They are rushing this through and it needs far more input and time to get it right than a few months of consultation. There's a consensus out there that this is heavily biased and is very oppressive to private medical institutions in Bermuda." The Act and two accompanying sets of regulations are aimed at giving the health council powers to control the entry of high-risk technology and monitor "self-referrals", ie instances where doctors making referrals for tests financially benefit from the tests. Ricky Brathwaite, programme manager for health economics at Bermuda Health Council, said earlier this month that current checks being conducted on medical equipment were inadequate and did not guarantee public safety. But Ewart Brown, the former Premier and owner of two clinics which have MRI and CT scanners, said the proposed new regulations were unnecessary and an attempt to hurt black-owned businesses, including his — a charge vehemently denied by Dr Brathwaite. The source who spoke to this newspaper said the health council stood to make a great deal of money from the 2.5 per cent fee it was proposing to charge medical facilities each time they applied to import a piece of "high-risk" medical equipment, with no guarantee that their application would be approved. He said MRI scanners would typically cost about $2 million, meaning the council would get $50,000 apiece. That extra cost could deter doctors from making the investment, claimed the source, arguing that more scanners would surely drive down the cost of an MRI scan. King Edward VII Memorial gets about $1,600 from insurers for every scan it conducts and private practitioners get $1,300. Dr Brathwaite has said the regulations are aimed in part at tackling rising healthcare costs but the source said that didn't make sense since local physicians only made up six per cent of total health expenditure on the island, according to the health council's own figures. "I ask myself what's driving this legislation," said the doctor. "It just doesn't make sense to go for the thing that is not your biggest cost." Tawanna Wedderburn, the health council's chief executive officer, was offered the opportunity to comment on Thursday. She said an update on the changes to the Bill and regulations would be provided in the next few weeks. "The health council is still making changes to the legislation and it would be premature to comment on the changes at this time."
September 27. By Michael Dunkley, Premier of Bermuda and the MP for Smith's North (Constituency 10). The One Bermuda Alliance was elected to provide Bermuda with more transparent, more accountable and more responsible government. With those goals before us, we have made big strides in progressing freedom of information, transparency, accountability and responsible spending. It is a work in progress because we are trying to reverse a culture of secrecy, red tape and waste built up over many years. In light of the sports minister's trip to support Bermuda's young Olympians in Rio, let's look at the record so far:
In the 2009-10 fiscal year, the Government's travel budget for all ministries was $6.3 million. The travel budget this year is $3.1 million, less than half what it was in 2009-10.
As Premier, I am responsible for all Cabinet Office activities. In 2009-10, its travel budget was $612,000. This year it is $177,000, down by 71 per cent
We ended the questionable system that allowed ministers a daily travel allowance without requiring them to submit their spending stubs
In 2014, we made Public Access to Information a fact of life in Bermuda — a first — anchoring the relationship between citizen and government to principles of accountability and transparency
In 2015, we implemented a Code of Conduct for government ministers. All ministers have signed this document that requires them to meet the highest standards of governance
In 2015, as Premier I set up the webpage travel.gov.bm, enabling the public to see the cost of travel by government ministers. They are instructed to post their costs as soon as possible after the travel, and this has been done without fail
It is through this travel website that the public were able to learn about the cost of the Rio trip — exactly as the webpage was intended to work, with government ministers reporting back to the people. This is the backdrop against which the Rio trip took place. To the many who have weighed in on this matter, I say: "We hear you. We get it." And, I would add, "We're actually on the same page."
What the situation says to me is that despite our progress, we still have a way to go to make the system work as intended. In this instance, we got caught between the cost of a relatively late booking because of ministerial changes, an extremely expensive destination owing to the Olympics and our duty to support Bermudians competing in the world's biggest sporting event. Have we learnt from this episode? You bet, no question. The concerns expressed are well founded. There was clearly room for more oversight and cost efficiency, and this will be discussed at the Cabinet table and with the Civil Service executive. Our aim is to make the system of government work better. To get us there, the Government needs to be open, making it possible for people to get the information they need to hold their representatives to account. That is exactly what happened in this instance, by virtue of the transparency measures we put in place. It is an outcome that challenges us to be better and more vigilant. That is the system we are building and we wouldn't have it any other way. We will continue to do more in light of this situation, strengthening the process governing ministerial travel with even more accountability. People's concerns on this point are well founded."
September 27. By David Burt, Deputy Leader of the Opposition, Shadow Minister of Finance and MP for Pembroke West Central (Constituency 18) "Mr Speaker, there is no doubt that the biggest threat to the future prospects of the way of life we enjoy in Bermuda today is the problem of the Government deficit and public debt." — Bob Richards (2016 Budget Statement). Bob Richards is on record as stating that the biggest issue we have to confront as a country is the country's deficit. We in the Progressive Labour Party agree that we must get our budget deficit under control. With that stated, it boggles the mind that the Minister of Finance, who claims to be committed to deficit reduction, and the One Bermuda Alliance, which was elected with promises of balancing the budget, continue to press ahead with the untendered privatization of our airport. The OBA's 30-year privatization of our airport to Canadian company Aecon, which will earn a taxpayer-guaranteed return of 16 per cent, will add at least $33 million to our annual budget deficit. Over 30 years, this means an additional $990 million of debt will be added to our already $2.4 billion national debt. If inflation were considered, this number would easily exceed $1 billion of additional debt. I will break down the numbers, as it is important that the taxpayers of Bermuda understand exactly what Mr Richards will ask Parliament to approve in November. The L.F. Wade International Airport, according to the 2016-17 budget, earns $37.2 million a year in revenue at present, while expenses are only $20 million a year. This results in a $17.2 million surplus annually. That's right — our airport, as old as it is, turns a healthy profit every year. However, under the existing agreement that the OBA has signed, Aecon will get all of the $37.2 million in revenue, but will assume only $11 million of expenses. Taxpayers will still be responsible for $9 million of present airport expenses annually. This means that instead of making $17.2 million of profit a year on the airport, we will be spending/losing $9.8 million a year, meaning that the negative net impact on the Government's consolidated fund will be $26.3 million a year. This $26.3 million annual hole in our budget does not take into account the estimated $107 million of taxpayer-funded electricity over 30 years. It also does not take into account the exemption that Aecon has been granted from payroll taxes and work-permit fees. Further, taxpayers will incur $3.6 million in additional annual expenses for the proposed new airport quango. This means that the Minister of Finance, who has done his best to convince voters that he is a sound steward of the public purse, will ask MPs to approve a contract that will increase our budget deficit by at least $32.6 million a year.
These facts paint a different picture than what the minister said last year about the airport: "The net effect on the consolidated fund is minimal." – March 31, 2015. I am sure that the taxpayers of Bermuda will agree that $33 million a year is not minimal. Thirty-three million dollars is more than the Government spends annually on tourism. It is larger than the budget of five of the 12 cabinet departments listed in this year's Budget Statement. The Minister of Finance has repeatedly said that Aecon will also assume the expenses of the airport; however, as the figures in the chart show, they will assume only half of the expenses. The rest of the expenses will be the responsibility of Mr and Mrs Taxpayer. That $33 million will have to be found somewhere, and the only way it will be found is from increased taxes, cuts to government services or additional borrowing — all of which can have a negative economic impact on Bermuda. As taxpayers read this — and scratch their heads in disbelief — we must ask ourselves why Mr Richards is so committed to this project. Why would he press ahead with a project that will increase our deficit, requiring us to borrow more money and thus increase our national debt? What possible motivation could the Minister of Finance have to push through a deal that makes our financial position as a country worse? One answer could be that the OBA is looking for a short-term boost in employment in advance of an election; however, we must ask at what cost? Is $33 million of extra money borrowed each year for the next 30 years, which will increase our debt by at least $990 million, worth three years of jobs? Is it right to pass on this $990 million of debt to future generations? Should we be handing over our airport to a Canadian company that will earn a guaranteed return of 16 per cent, while we struggle to maintain our schools and bridges? We need to do something about our airport. The PLP has put forward a less expensive and fiscally responsible plan that extends the useful life of our existing structure, creating immediate jobs that can be filled by Bermudians, while keeping airport profits here in Bermuda, which will assist us in getting our fiscal house in order. Mr Richards's airport privatisation is a bad deal for Bermuda and will compound our financial problems. We implore all taxpayers to contact their OBA MP and tell them to vote no on this deal that will grant a taxpayer guaranteed return of 16% to a Canadian company while saddling our children with at least $990 million of extra debt."
September 27. Artemis Racing, the Swedish challenger for the 35th America's Cup, celebrated a second victory in three weeks after claiming the RC44 Cascais Cup in Portugal at the weekend. They did so in dramatic fashion, coming from behind on the final run in the final race to pip RC44 Fleet Racing Championship leaders Team CEEREF for the honours. The triumph was Artemis's first in the one-design RC44 keelboat in nearly a year and arrived on the heels of the yacht racing syndicate's victory at the Louis Vuitton America's Cup World Series Toulon. Torbjörn Törnqvist, the team skipper and owner, and crew gained a huge advantage after their nearest rivals were pegged back after encountering spinnaker problems in heavy breezes gusting to 25 knots. "That is amazing after one week of racing," Törnqvist said. "And it was all coming down to the last run — it was incredible. Obviously there was a bit of luck involved, but it was our lucky day." Victory in the final race of the 11-race series capped an impressive fightback by Artemis, who found themselves in last place at the end of the opening day of the regatta. Also on board the victorious boat was Francesco Bruni, the team tactician and 2013 King Edward VII Gold Cup winner, who attributed the team's success to the well-drilled crew. "For sure we wouldn't have won without them," said Bruni, who joined the Swedish team from Italian challenger Luna Rossa Challenge last year. "We reacted to problems better than the other teams. Today was probably the best day Artemis Racing has ever had." Trimmer Christian Kamp, a member of Artemis's team that won the World Series Toulon, competed in Portugal at the weekend. The team's latest triumph arrived on the same day Kalle Torlen, the team trimmer, celebrated his birthday. Meanwhile, Team CEEREF and Team Nika rounded off the podium in Portugal. The series, which started in Bermuda in March, concludes with the final regatta to be held in Malta from November 23 to 27. The RC44 is a high performance one-design racing yacht co-designed by five-times America's Cup winner Sir Russell Coutts, the Oracle Team USA chief executive officer, with naval architect Andrej Justin.
September 27. Unconscious bias drives company bosses to pick employees who are most like them, insurance industry veteran Brian Duperreault was scheduled to tell a conference in London today. Mr Duperreault said that managers had to find a way to deal with innate bias when it came to picking candidates for jobs. He added: "Implicit or unconscious bias prompts our brains to make snap judgments without even thinking about them. It's easy to see how this can affect hiring and promotion decisions." Mr Duperreault, head of Hamilton Insurance Group, was speaking at the launch of the Dive In Festival, an international drive to promote diversity in business, in which Bermuda will also today be taking part, with Hamilton Re CEO Kathleen Reardon leading a discussion on unconscious bias today. Mr Duperreault said that Inga Beale, CEO of Lloyd's of London, who launched Dive In last year, had warned that unconscious bias "makes managers hire in their own image, missing out on the perspectives and insights that come from people with different backgrounds, gender, cultures, sexuality and physical impairments". He added: "And there's the rub. For all the intellectual support we give diversity and inclusion, we still haven't found a way to confront the innate bias that each one of us has. Ultimately, it's people like me who have to commit to making a difference because the buck stops with us. The most obvious way for industry leaders to tackle unconscious bias — and perhaps the easiest — is to challenge our management to build diversity metrics into recruitment, hiring and promotion policies. This doesn't imply that qualifications, education and experience don't matter or should be discounted. But it formalizes and embeds a focus on diversity and that's important. We can make sure our work places are inclusive." He added that measures included looking at offices to see if people with a physical impairment could work there easily and asked if corporate policies on neurodiversity, for example opportunities for people with autism, were in place. "Hamilton partners with a company called Two Sigma, one of the world's foremost technology companies. The pool from which they draw talent can include employees on the autism spectrum. Two Sigma has created a working environment that makes these employees feel welcome and valued." Mr Duperreault told the audience that to those who had been on the receiving end of discrimination, the idea of unconscious bias "sounds much too convenient. In other words — don't hide behind the excuse that your preconditioned brain made an unfair hiring decision. This is a fair comment. I'm not saying that our industry's management is so evolved and self aware that conscious decisions to discriminate have been eliminated from the workforce. We know that's not the case." And he said that, if managers accepted unconscious bias, they needed to learn how to compensate, "so that the diversity and inclusion balance tips in the right direction. Creating a diverse and inclusive industry is the right thing to do. It's always been the right thing to do. It's never been the easy thing to do. As I said earlier, it's much easier to stay with the same than choose the different." Mr Duperreault said that he had been brought up by a devoutly Catholic single parent mother, who was separated from his father, and that the Catholic Church and community had judged her "less than" due to still-in-force rules on marriage. Mr Duperreault admitted: "These are difficult memories for me. But as difficult as they are, they gave me a compassion and an empathy for what it feels like to be excluded. But if we can hold on to the compassion and empathy those memories generate, I believe we can begin to overcome the unconscious bias that's inhibiting our progress towards a diverse and inclusive industry."
September 26. The reinsurance industry is ready to transform into a more efficient and data-driven industry — and participants who fail to realize that will struggle to survive. That is the view of Kathleen Reardon, chief executive officer of Hamilton Re, who believes that only those who embrace the technology that can improve the way the industry does things will thrive in the future. Ms Reardon was speaking with The Royal Gazette after returning from the Rendezvous event in Monte Carlo, a get-together for the industry and its service providers. "Data science is the way of the future and this industry needs to evolve or go bust," Ms Reardon said. I believe the industry is about to transform. Some will embrace it and others will be left behind." Reinsurers' profitability is under pressure from a downward trend in rates, driven by a glut of alternative capital coming into the industry amid relatively low catastrophe occurrences, as well as a prolonged period of low interest rates squeezing returns on investment portfolios. In Monte Carlo, Ms Reardon said, there seemed to be a growing appreciation that greater use of technology was needed. There were many discussions about non-industry participants with useful expertise becoming involved to help the transformation happen, she said. "The principles of the traditional way of underwriting don't go away, but the question is: 'How do you supplement that with technology to make better decisions?'" Ms Reardon added. Underwriters already use data analytics, but Hamilton believes it can set a new standard in this area, helped by the expertise of technology and investment partner Two Sigma. Ms Reardon and her colleague, Brian Duperreault, CEO of Hamilton Insurance Group, have frequently argued that the effective gathering and analysis of data will allows reinsurers to better evaluate risks. Ms Reardon argues that this will translate into products that are not only relevant to clients' needs, but also fairly priced. In an interview with Insurance Day in Monte Carlo, Mr Duperreault said: "In my experience, in the business of underwriting, you select a risk and then you price it. When technology is applied, it is more powerful in the risk selection process and in the understanding of the risk. It allows us to see the risk but without being as clouded. Once you apply the technology, the pricing becomes easier to do and, as an underwriter, if you can better understand the risk, you can outperform your competition, so that's where we're concentrating our efforts."
September 26. Public indignation over the $38,000 bill to send three Bermuda Government officials to last month's Olympic Games was "well-founded", Michael Dunkley has conceded. However, the Premier defended the One Bermuda Alliance's overall travel budget and highlighted its efforts to improve transparency on spending. Last week, the OBA expenses website revealed that sports minister Sylvan Richards spent $31,566 of taxpayers' money visiting Rio de Janeiro with his permanent secretary Wayne Carey for the Olympics. The high cost of the trip prompted anger, especially the two business-class flights purchased at $10,145 each. On Saturday, The Royal Gazette then revealed that former sports minister Patricia Gordon-Pamplin had also attended the Olympics — spending $6,312.09 of taxpayers' money, which was not listed on the OBA expenses website. Ms Gordon-Pamplin, now Minister of Home Affairs after an OBA reshuffle in May, said that she had booked both her flights and hotel while she was still in her previous post, and that both were non-refundable. Yesterday, Mr Dunkley said that Government had heard and understood people's concerns on the matter. "In this instance, we got caught between the cost of a relatively late booking due to ministerial changes, an extremely expensive destination due to the Olympics and our duty to support Bermudians competing in the world's biggest sporting event. The concerns expressed are well-founded. There was clearly room for more oversight and cost efficiency, and this will be discussed at the Cabinet table and with the civil service executive." But the Premier pointed out that the Government had made "big strides in progressing freedom of information, transparency, accountability and responsible spending" since the OBA came to power in 2012. The travel budget for all ministries this year is $3.1 million — less than half what it was in 2009-10 ($6.7 million)," he added. Nonetheless, he admitted that the furore which stemmed from the Rio revelations had challenged the Government to be more vigilant in its use of the public purse. "Have we learnt from this episode? You bet, no question," the Premier said.
September 26. After Tropical Storm Karl, national security minister Jeff Baron has encouraged the public to remain vigilant for the remainder of storm season. TS Karl brushed past the island on Saturday. Although 816 Belco customers were left without power, the storm's impact on the island was otherwise minimal. Senator Baron reiterated his thanks to the emergency services and the general public for their diligence in handling TS Karl. "Although this was what some would call a non-event, it's important that we always remain prepared to respond to any weather event, spontaneous or pre-planned," he said. "Bermudians are very good at remaining aware, and not letting complacency set in when faced with a storm. That's evidenced by the amount of activity in the week leading up to Saturday. From shopping to social media, people were looking at this as a serious event and preparing for it. We still have another six to eight weeks of storm season. It's really important we continue to have that awareness throughout."
September 25. This Sunday marked a special occasion for Oracle Team USA, holders of the America's Cup. It was the third anniversary of the racing syndicate's successful defence at the 34th America's Cup in San Francisco in 2013 after producing what many regard as the greatest comeback in sport. Pushed to the brink of defeat, Oracle clawed their way back from an 1-8 deficit to pip Emirates Team New Zealand, the challenger, in the first to nine points series. Oracle will rest their title on the line in Bermuda in June 2017, the first time a defender has defended outside of home waters by choice.
September 24. Tropical Storm Karl brushed past the island with minimal impact, but more than 800 Belco customers were without power this morning — and the Department of Parks is advising swimmers to avoid waters on all South Shore beaches, as the surge remains high. Buses resumed normal service at noon. While there were no major outages during the height of the storm, which was about 64 miles east of the island at 9am, further outages are expected, according to a spokeswoman for the utility. "As of 7.40am, a total of 816 customers are currently without power," the spokeswoman said. "The majority of these, 739, are out as a result of a mainline fault occurring at 7.19am in the Middle Road, Southampton areas, between Evans Bay Road and High Point Drive." She added that crews are on-site and working to restore power as quickly and safely as possible. "I am pleased to advise that there were no major outages during the height of the storm and at 5.30am this morning 15 customers were without power on Seabright Avenue," Twelve units at Shelly Hall in Hamilton Parish also lost power yesterday evening. However, Belco crews were on site effecting repairs by 10pm. However, the spokeswoman added: "Given the amount of rain that fell through the night, we do anticipate further outages as tree branches become very heavy and hit or lean against overhead power lines." According to the Bermuda Weather Service's 9am advisory, Karl was heading northeast at about 18mph. The closest point of approach within 72 hours had passed, with the US-based National Hurricane Centre stating that the storm would now accelerate away from the island. Some strengthening is forecast during the next 48 hours and Karl is expected to become a hurricane by tonight. According to a spokeswoman for the Government's Emergency Measures Organisation, the hurricane watch had been ended for Bermuda, although the earlier tropical storm warning would remain in effect throughout the morning. "Winds are gradually expected to back into the north-northwest by mid-morning with a steady improvement forecast for the afternoon," she said. The highest winds recorded were east to east-northeast at between 34mph and 52mph, with gusts of more than 62mph. According to the BWS, the storm was still boasting maximum sustained winds of more than 63mph this morning with higher gusts. Tropical storm-force winds are likely to continue until about 10am or 11am, and in the marine area as late as noon. Showers, thunderstorms, squalls and dangerous surf remain likely, with conditions set to improve this afternoon. According to the NHC, tropical storm-force winds still extend outward up to 100 nautical miles from the centre of the storm, which is expected to produce between three and five inches of rain over Bermuda through today. Isolated tornadoes remain possible this morning. In a statement this morning, the Emergency Measures Organisation said it was safe to start moving around. However, it urged "extra caution" as there may be loose wires and low hanging branches along with standing water in low-lying areas. In the East End, damage from the storm appeared very minor this morning, limited to large puddles on roads and small branches fallen off trees, with the Causeway unaffected and operating as normal. BF & M will be open this morning from 10am to help with any queries or claims advice. "We at BF & M are happy that Bermuda seems to have weathered the storm as Tropical Storm Karl moves away," the company stated. "BF & M would like to remind you that a tropical storm warning remains in effect, so please continue to be vigilant."
September 24. The Emergency Measures Organisation has announced that it is safe to start moving around. However, it urged "extra caution" as there may be loose wires and low hanging branches along with standing water in low-lying areas. It comes as Tropical Storm Karl has started to turn to the northeast, accelerating away from the area. "I'd like to thank all those men and women who worked through the night and who were ready to respond to any emergency," Senator Jeff Baron, the Minister of National Security, stated. "Thankfully, there have been no reports of injury or property damage. I also express my thanks to the public for their co-operation and support overnight by staying off the roads and allowing emergency services full access as needed." Speaking during a live update interview on The Weather Channel this morning, Mr Baron said "Bermuda is open for business". "We are working," he added. "And the Bermuda tourism industry is open." According to the EMO, there have been no reports of trees down or power outages. The Department of Public Transportation is doing a final assessment before the buses start running. Further updates will be issued throughout the day as services return to normal. Meanwhile, a Belco spokeswoman advised yesterday that crews had been stationed across the island in case of power outages. "In order to move into restoration mode quickly once the storm has passed, trucks and equipment have been stationed at the east and west ends of the island as well as at the Central Plant. Once the storm subsides and it is safe to work, crews will begin the restoration process. Crews will not be sent out during the height of the storm as it is not safe or practical to do so. During this time, we ask that customers not call 955 as phone lines must remain open for emergency calls." She added that regular updates on outages and restoration work will be provided through the media and social media on Belco's Facebook page and Twitter. The company also advised the public to prepare for the coming storm, recommending that they:
Have flashlights, batteries and a manual can opener ready. Also, fill bath tubs, sinks and jugs with water
Set refrigerators and freezers to the coldest settings before the storm
Never touch downed wires since they may be live even if you can't tell by looking at it — if you see a downed wire call Belco at 955
Never pull fallen trees away from lines or try to carry out repairs by yourself
Stay away from areas with a lot of debris or fallen trees, there may be concealed wires hidden in the debris
Avoid chain-link or metal fences, they may have become energized by fallen wires.
September 24. Tropical Storm Karl brushed past the island with minimal impact, but more than 800 Belco customers were without power this morning — and the Department of Parks is advising swimmers to avoid waters on all South Shore beaches, as the surge remains high. Buses resumed normal service at noon. While there were no major outages during the height of the storm, which was about 64 miles east of the island at 9am, further outages are expected, according to a spokeswoman for the utility. "As of 7.40am, a total of 816 customers are currently without power," the spokeswoman said. "The majority of these, 739, are out as a result of a mainline fault occurring at 7.19am in the Middle Road, Southampton areas, between Evans Bay Road and High Point Drive." She added that crews are on-site and working to restore power as quickly and safely as possible. "I am pleased to advise that there were no major outages during the height of the storm and at 5.30am this morning 15 customers were without power on Seabright Avenue." Twelve units at Shelly Hall in Hamilton Parish also lost power yesterday evening. However, Belco crews were on site effecting repairs by 10pm. However, the spokeswoman added: "Given the amount of rain that fell through the night, we do anticipate further outages as tree branches become very heavy and hit or lean against overhead power lines." According to the Bermuda Weather Service's 9am advisory, Karl was heading northeast at about 18mph. The closest point of approach within 72 hours had passed, with the US-based National Hurricane Centre stating that the storm would now accelerate away from the island. Some strengthening is forecast during the next 48 hours and Karl is expected to become a hurricane by tonight. According to a spokeswoman for the Government's Emergency Measures Organisation, the hurricane watch had been ended for Bermuda, although the earlier tropical storm warning would remain in effect throughout the morning. "Winds are gradually expected to back into the north-northwest by mid-morning with a steady improvement forecast for the afternoon," she said. The highest winds recorded were east to east-northeast at between 34mph and 52mph, with gusts of more than 62mph. According to the BWS, the storm was still boasting maximum sustained winds of more than 63mph this morning with higher gusts. Tropical storm-force winds are likely to continue until about 10am or 11am, and in the marine area as late as noon. Showers, thunderstorms, squalls and dangerous surf remain likely, with conditions set to improve this afternoon. According to the NHC, tropical storm-force winds still extend outward up to 100 nautical miles from the centre of the storm, which is expected to produce between three and five inches of rain over Bermuda through today. Isolated tornadoes remain possible this morning. In a statement this morning, the Emergency Measures Organisation said it was safe to start moving around. However, it urged "extra caution" as there may be loose wires and low hanging branches along with standing water in low-lying areas. In the East End, damage from the storm appeared very minor this morning, limited to large puddles on roads and small branches fallen off trees, with the Causeway unaffected and operating as normal.
Updates
Today's talks celebrating the contributions of black Anglicans to the life of the Church have been delayed by one hour. Featuring the Reverend Rose Hudson-Wilkin, Chaplain to the Speaker of the House of Commons, the free event in the Cathedral Hall had been due to start at 10.30am. All are welcome and refreshments are available although attendees are encouraged to bring a packed lunch if they are planning on staying for the second session on the subject "We are the Body of Christ". The talks will be followed by a further event on "Race and the Bible" at 4pm on Sunday.
BF & M will be open this morning from 10am to help with any queries or claims advice. "We at BF & M are happy that Bermuda seems to have weathered the storm as Tropical Storm Karl moves away," the company stated. "BF & M would like to remind you that a tropical storm warning remains in effect, so please continue to be vigilant."
September 24. Bermuda Industrial Union president Chris Furbert has said he is still waiting an update from the Bermuda Government regarding the status of the Reverend Nicholas Tweed's work permit renewal. On Labour Day, Mr Furbert accused immigration minister Patricia Gordon-Pamplin of tampering with the work permit file of Mr Tweed, who he described as "someone dear to us". Ms Gordon-Pamplin at the time called his allegations "incorrect and misleading" and that she was well within her rights as minister to consider the extension of a work permit. She added that she found it "interesting" that the union leader would "be advocating for a work permit-holder in one breath while asking for government to ensure that Bermudians are considered first and foremost for employment in their own country". Asked for an update on the issue, Mr Furbert told this newspaper: "I have been giving government some time to deal with it. We [the union] talked about it on Labour Day. I don't know what the update is on it and I haven't spoken to him [Mr Tweed] about it in a few days so there is really nothing else I can say on it at this point." Ms Gordon-Pamplin said she could not comment on individual applications, clarifying that previously she had only commented on the process.
September 24. Patricia Gordon-Pamplin has admitted attending the Olympic Games in Brazil last month, raising the Bermuda Government's expenditure on the event to nearly $38,000. The Paget West MP said that her $6,312.09 in expenses for the trip, which were not listed on the One Bermuda Alliance's expenses website, would be formally logged. The acknowledgement comes after Ms Gordon-Pamplin's successor as sports minister, Sylvan Richards, sparked anger this week for spending $31,566 of taxpayers' money also visiting Rio de Janeiro for the Olympics. Ms Gordon-Pamplin, now Minister of Home Affairs after an OBA reshuffle in May, said that she had booked both her flights and hotel while she was still in her previous post, and that both were non-refundable. When contacted by The Royal Gazette regarding her Brazil trip, Ms Gordon-Pamplin released the following statement: "Following the reassignment of Cabinet portfolios, the Ministry [of Social Development and Sport] reimbursed me for my airfare and accommodation, which had been booked and paid for on a non-refundable basis when I was the minister responsible for sport. I will have the costs posted on my travel website. The [flight] was $2,585.11 business-class return from New York via Toronto, and the hotel was $3,726.98." Ms Gordon-Pamplin traveled to the Olympics alone, while Mr Richards and his permanent secretary, Wayne Carey, both flew business class to the international sporting event, with their tickets costing $10,145 apiece according to the OBA's expenses website. A Ministry of Social Development and Sport spokeswoman attributed the high cost of Mr Richards's and Mr Carey's flights to late booking, although she did not clarify why the tickets were not purchased further in advance. "The Government cares deeply for and supports all of our athletes, as they are ambassadors for Bermuda," the spokeswoman said. "At the same time, we are also mindful of travel costs and do whatever we can to keep these costs down." Michael Weeks, Shadow Minister of Health and Community Affairs, criticised Mr Richards for spending tens of thousands of dollars, which he argued could have been put to better use. "Government has been talking for so long about budget cuts and how they're short of money. Some vital programmes have seen cuts, and that $31,566 could have been used on any of them." Of Ms Gordon-Pamplin, Mr Weeks added: "Her government ran their platform on transparency and being upfront with the people. Do what you say you're going to do. That's all I'm asking." Next week, this newspaper will submit a Public Access to Information request to the Government, to discern a detailed breakdown of costs accrued during Ms Gordon-Pamplin's trip.
September 24. Tahira Baker, a 25-year-old Bermudian woman who lost her life to a fire last year in Britain, is believed to have died in her bath after breathing in carbon monoxide, an inquest heard. Ms Baker, 25, died in her Sheffield flat on September 23, 2015, after a candle started a fire in her front room, according to The Sheffield Star. Philip Lumb, a pathologist, told the inquest that an autopsy showed evidence of drowning and smoke inhalation. Fire investigation officer Graham Toms told the inquest that the blaze had spread swiftly after fabric came in contact with the naked candle flame. Towels were found on the bathroom floor, which could have been placed in an attempt to block smoke, while marks on the bathroom door showed that it had been opened during the fire and then closed. Mr Toms said the Ms Baker may have opened the door in an attempt to get out. "Carbon monoxide can have very quick debilitating effects on the body," he said. "I have ingested smoke and it does have a very quick effect. If she staggered backwards, she may have fallen back into the bath." Ms Baker was described by neighbors as a "normal, happy" person with an untroubled history, and the inquest heard there was no evidence of suicide or foul play. Louise Slater, the assistant coroner, ruled it an accidental death.
September 23. Tropical Storm Karl is expected to hit Bermuda at 4am, causing disruptions to the island's schedules. The Royal Gazette provides updates on businesses that will close, and events that have been postponed or cancelled.
Advice
Freisenbruch-Meyer Group is to open a dedicated claims centre over the weekend, with staff managing the reception hall and call centre to assist clients. To report a claim or if you have any questions, call 296-3600, e-mail claims@fmgroup.bm or use the e-claims mobile application available on Google Play and the iStore.
Argus is reminding clients to contact the Customer Service Centre on 298-0888 with any questions regarding insurance cover and for preparation advice and support. For hurricane preparedness tips, visit the Argus website or click on the PDF under "Related Media". After the storm, clients can contact the Argus Claims Hurricane Hotline at 298-0888 for the latest update or to leave claim information.
Colonial Insurance will open from 9am to 1pm today, provided that the EMO has deemed it safe to be on the road. Those unable to reach the insurer for first notification of claims can call 296-3700 or call or text their emergency numbers 747-3700 or 707-3700.
Air Care customers can call 292-8181 in case of service emergencies over the weekend. "Should the island be majorly impacted and technicians stood down for safety reasons, they will resume attending to emergency service issues once it is determined that it is safe to do so," a spokesman said.
The Hamilton Princess & Beach Club has some rooms available for local residents. Reservations can be made by calling 295-3000. Crown & Anchor and Marcus' restaurant will be open until 10pm with the bar open until 1am.
West End Development Corporation emergency pager number is 699-0871 — enter your telephone number for a response.
Closures & Cancellations
Flights: Both American Airlines flights into Bermuda yesterday evening and outbound from Bermuda this morning have been cancelled. Today's afternoon AA flights will operate per schedule. Those travelling are encouraged to check with their respective airlines to confirm their travel plans.
Ferry service: Blue, Green and Pink routes are expected to resume Sunday morning. The Orange route is expected to resume on Monday.
Washington Mall closed at 4pm yesterday and will remain closed until 10am on Monday.
The Barn and The HAB Gift Shop at King Edward VII Memorial Hospital will be closed today.
Dockyard shops will reopen at "their discretion" later today after assessing storm damage. Normal hours to resume on Sunday.
Esso service stations closed at 9pm yesterday but will reopen today after they have been assessed, with an announcement to be made by 10am.
The National Sports Centre closed at 3pm yesterday and will stay shut today.
Magnum Power Force Gym and Diet Centre will be closed today. It is set to reopen at 9am on Sunday. Updates will be available via Facebook.
Studio One gym in Hamilton will also be closed today. It is set to reopen at 8am on Sunday.
DanceSations will be closed today. Classes resume on Monday.
In Motion School of Dance will resume classes at noon.
Masterworks Museum will be closed today but will reopen Sunday.
Bermuda SPCA closed early yesterday but the charity intends to reopen at 11am.
Tumble Tots and Parent and Tots are cancelled today.
Staying open
The Causeway will remain open and will be assessed throughout the night.
The Lamb Foggo Urgent Care Facility will also remain open throughout the storm.
The Bermuda Aquarium, Museum and Zoo intends to be open this weekend, with the Bermuda Zoological Society Open Day scheduled to proceed as planned on Sunday. However, local weather conditions or facility conditions may lead to postponement. The public are advised to phone 293-2727 before visiting.
Postponements
Bermuda SPCA's "Whiskers & Wine" fundraiser has been postponed to November 19. However, the raffle draw will still take place today and all sold and unsold tickets can be returned to the SPCA's shelter in Paget by 4pm tomorrow.
Masterworks Museum's Super Saturday event has been postponed until October 1.
The Driving Horse and Pony Club of Bermuda has postponed its first harness racing event, which was to take place today, to 7pm on October 1 at the National Equestrian Centre on Vesey Street, Devonshire.
Today's inaugural Teen Haven Golf Tournament has been rescheduled for October 29. Registration for the charity event at the Belmont Hills Golf Course, $110 per person, remains open for teams of four. For information and registration, call 238-0520.
Today's Royal Bermuda Regiment open house has been postponed until 2pm on October 1.
The Department of Community and Cultural Affairs has rescheduled tomorrow's annual Seniors Awards Luncheon at The Fairmont Southampton until 2pm on October 9.
September 23. Documents linked to the Bermuda Government's airport project plans remain confidential, and would harm the island's reputation if released before commercial close, according to Acting Attorney-General Senator Michael Fahy. The independent Commission of Inquiry, which is tasked with investigating allegations by Auditor-General Heather Jacobs Matthews that public funds had been mismanaged in the fiscal years ending 2010-12, announced in June that the proposal for a new terminal at LF Wade International Airport would be among the projects investigated. However, Mr Fahy this afternoon said that the commission and the Government "disagree" on the airport, and that the commission would have to make a ruling on the matter. "It is our view that the commission will decide in our favour," he added. Mr Fahy was commenting in the wake of a communication within the civil service advising that questions on the airport be held in abeyance. "The Government has been consistent in its representations to the commission that the LF Wade project is not within their terms of reference or scope. The commission has persisted in requesting documents and has asked civil servants to provide information about the airport project. Although the Government has advised that civil servants must co-operate with the commission, our position has not changed that the LF Wade project is not within the commission's terms of reference." Commercial close on the project has been delayed, although Mr Fahy declined to specify when the deal might be complete. "Certain documents relating to the project are protected by public interest immunity. They are contract documents, subject to negotiation." He added that the Government had not made any undertaking to the commission, but had asked that it hold off on its requests. Mr Fahy described the information as "proprietary to the developer", and said the Government would violate its non-disclosure agreement by releasing it before commercial close. "After this process is completed, we look forward to working with the various parties to provide relevant information." A similar clash of views occurred when the Public Accounts Committee sought to obtain the schedules of the airport agreement, with the Government insisting that the full documentation could not be released until the signing of a definitive agreement on the project. The public-private partnership with Canadian Commercial Corporation has been defended by the Government as the only means of building a new terminal for the airport, but has been repeatedly criticised by the Opposition, along with grass roots groups such as the People's Campaign.
September 23. A Warwick man was this morning jailed for three years after admitting importing more than 5kg of cannabis. Damion Smith, 44, was arrested at the LF Wade International Airport on August 28 after 12 packages of the controlled drug were discovered in his luggage. The court heard that Smith had arrived on a British Airway's flight from London Gatwick and collected two suitcases before a K9 unit directed customs officers to the checked bags. One of the suitcases were X-rayed, revealing six rectangular objects. The suitcase was then opened and several black packages were found in a bottom compartment. Each of the heat-sealed packages were wrapped in carbon paper and contained plant material. A further six packages were discovered in his second suitcase. In total, the packages contained 5,036.99g of cannabis, which prosecutors estimated could fetch as much as $265,289 if sold on the streets of Bermuda. While Smith denied the offence in an initial appearance in court, he reversed his plea this morning, pleading guilty. Prosecutor Alan Richards suggested a sentence of four years in prison, noting that while Smith had admitted the offence he had previously been jailed for conspiracy to supply a controlled drug in the United Kingdom. However defence lawyer Elizabeth Christopher argued that a sentence of no more than three years would be appropriate, saying that Smith had accepted responsibility for the drugs at the airport and would miss the birth of his child. Addressing the court himself, Smith asked the court for leniency saying that he had made a bad decision in an effort to support his family. "I wasn't looking at it as a get-rich-quick scheme," he said. "I was looking at something to provide for my family." He explained that he had found it impossible to find permanent work because of his previous convictions, including a 1997 manslaughter conviction in connection with the death of Reginald Chesterfield Wilson. "Ever since I have been in jail, the only thing I have been able to do is hustles," he said. Asked by senior magistrate Juan Wolffe what he expected to get out of the importation, Smith indicated that he was going to be paid $4,000. Mr Wolffe sentenced Smith to three years behind bars, saying: "Your history doesn't look too good. This was a very serious offence. You should have known better, and a lot of the problems you have had are self inflicted." Noting Smith's children, he said: "They have got to have someone to look up to and frankly you can't do that dressed in orange. I'm hoping that you are going to do better, work hard and do what's best for your children."
September 23. Progressive Labour Party MP Walton Brown has been given the go-ahead to sue Craig Cannonier for revealing that he submitted a Pati request. Justice Stephen Hellman told Mr Brown at a Supreme Court hearing that he has "an arguable case" against Mr Cannonier and Public Works civil servants, which would proceed to trial. Mr Brown's civil lawsuit follows comments made by Mr Cannonier, the Minister for Public Works, while answering parliamentary questions about stones taken from Blackwatch Pass in May last year. In his response to the House of Assembly, Mr Cannonier disclosed that Mr Brown had submitted a Public Access to Information request on the issue. The Pati Act states that the identity of a person who makes a request for information under the legislation must remain confidential. In April this year, the Opposition backbencher launched a civil action against the minister, the permanent secretary for the Ministry of Public Works, the Cabinet service executive and the Cabinet secretary over the error. At court on Wednesday, Shakira Dill-Francois, representing the Ministry of Public Works and the other parties, argued that Pati does not provide for a private law cause of action. But Mr Justice Hellman ruled that Mr Brown, who is representing himself, had an arguable case and the matter should proceed to trial. "There are arguable questions about how this Act works," Mr Justice Hellman said. "Mr Brown, you have an arguable case of a breach of a statutory duty under the Pati Act, in that section 12 provides the identity of a requester remains confidential. I am satisfied there is an arguable case with respect to the leaking to the minister, and I am satisfied there is an arguable case with respect the minister using that material in Parliament." At the time of the incident the PLP described the error as "disconcerting" given that ministers are not involved in the Pati process. A party statement suggested that Mr Cannonier would have had to have been informed of the identity of the requester by someone else in the ministry. Mr Cannonier later apologized, saying the incident was an honest mistake. A date for the trial will be set in due course.
September 23. The new book Recollections Of 19th Century Bermuda is a gallery of pen-sketches of the island during the Georgian and Victorian eras, a collection of first-hand accounts that bring an immediacy and vividness to our understanding of the history of those times. The volume was compiled by Horst Augustinovic, the world-class Bermuda philatelist. In recent years, his own interest in learning more about the periods when the postage stamps, letters and postcards he collects were issued has led to what might be called a thriving "Bermuda cottage" industry in books about the lesser-known byways of our history. Recollections of 19th Century Bermuda follows from such recent efforts as the three-volume What You May Not Know About Bermuda series and The Golden Age of Bermuda Postcards. In this latest effort Mr Augustinovic has drawn together eight distinctive narratives chronicling life in Bermuda between 1808 and 1897 from a rich variety of contemporaneous sources. Included are pieces by two pre-eminent 19th-century writers holding violently, almost ridiculously contradictory views of Bermuda: Mark Twain and Anthony Trollope. Twain sings Bermuda's praises with gusto and characteristic charm in his Atlantic magazine series Some Rambling Notes On An Idle Excursion, now considered a minor classic of early travel writing. Originally running over four issues of that magazine in 1877 and 1878, Twain discussed — and extolled — almost every aspect of life on the island which would become his second home and sanctuary. Twain, who once called Bermuda "the biggest small place on earth", went to considerable pains in this 15,000-word piece to catalogue the unique customs of folkways of this miniature mid-Atlantic world unto itself. Twain brought the journalistic voice of authority, a self-trained anthropologist's eye for detail and the spirit of gentle irreverence to bear on traditions as diverse as the placing of tiny cedar saplings atop wedding cakes to the Bermudian habit of sawing the building materials for their homes out of the living rock so "perhaps you fancy that [houses] grew out of the ground." The limestone whitewash of Bermuda houses and roofs he described as "the whitest white you can conceive of, and the blinding-est" for those unused to the glare. In fact, after much deliberation and surmising, he finally determined the "unique white of a Bermuda house [is] exactly the white of the icing of a cake, and has the same un-emphasized and scarcely perceptible polish. The white of marble is modest and retiring compared with it." He wrote with his combination of bemused levity and shrewd insight about the central role the island's leading export and cash crop, its namesake onion, had assumed in local life and culture by the 1870s: "The onion is the pride and joy of Bermuda. It is her jewel, her gem of gems. In her conversation, her pulpit, her literature, it is her most frequent and eloquent figure. In Bermuda metaphor it stands for perfection — perfection absolute. The Bermudian weeping over the departed exhausts praise when he says, 'He was an onion!' The Bermudian extolling the living hero bankrupts applause when he says, 'He is an onion!' The Bermudian setting his son upon the stage of life to dare and do for himself climaxes all counsel, supplication, admonition, comprehends all ambition, when he says, 'Be an onion'!" Some modern readers may conclude they've been presented with a depiction of 19th-century Bermuda only slightly less whitewashed than one of the island's houses based on these carefully curated vignettes (Twain never made any claims to being objective about the island he had fallen in love with at first landfall in 1867). If so, there is an extreme palliative for them in the form of Trollope. For that British writer leaves in no doubt his profound distaste for many of the same aspects of island life which so charmed his American contemporary. In marked contrast to the whimsical take on Bermuda presented by Twain, Trollope's view of the island taken from his 1860 book West Indies of the Spanish Main is critical to a fault. He fulminates and thunders about Bermuda so incessantly, readers can be forgiven if they think they detect the sulphurous whiff of recently discharged lightning rising from the pages. Hugely popular in his day for his seemingly endless Chronicles of Barsetshire series and other family sage novels, Trollope, nevertheless, continued to work as an inspector for the early British postal service even as his literary star was already in the ascendant. It was in his capacity as a postal employee that he was sent to the West Indies and Bermuda in 1858 to "cleanse the Augean stables of our post office system there". He seems to have taken his instructions very much to heart and clearly would have liked to have cleansed Bermuda in its entirety. Writing in the ponderous, overly ornate style that was the literary equivalent of High Victorian Gothic architecture, Trollope excoriated every imaginable facet of life in Bermuda. Despite saying at the outset that "it seems to me there can be no place in the world as to which there can be less said than there is about this Island," he proceeded to devote more than 20 densely typeset pages of his memoirs to his two-week inspection of Bermuda. Trollope disliked the food and the climate, the insects and the entire administrative structure of the island's colonial bureaucracy; he complained about the backwardness of local agriculture despite the opportunities afforded farmers, the islands having "many gifts of nature to recommend them". But his most wrathful condemnations are reserved for Bermuda's people, who he considered chronically indolent and irresponsible. "Perhaps, I should add," he remarked, "that on the whole she is contented with her poverty. And if so, why disturb such contentment? [The] sleepiness of the people appeared to me the most prevailing characteristic of the place. To say that they live for eating and drinking would be to wrong them. They want the energy for the gratification of such vicious tastes. To live and die would seem to be enough for them. To live and die as their fathers and mothers did before them, in the same houses, using the same furniture, nurtured on the same food, and enjoying the same immunity from the dangers of excitement." The other commentaries collected in Recollections of 19th Century Bermuda — by travelers, military men and even the pioneering Methodist missionary Joshua Marsden — tend to fall between the two polarized extremes represented by Twain and Trollope. Taken together, these perceptive and generally reflective individual pen portraits provide a panoramic overview of the cultural, social and even natural history of Bermuda in the 19th century. The writers touch on everything from the island's increasing strategic importance to the Royal Navy to its development as a winter market garden and fruit orchard for East Coast cities to the emergence of the nascent tourism industry to, of course, the lingering impact of slavery (in the immediate post-Emancipation period of 1835, Susette Harriet Lloyd yearned for "that glad day [when] the industry and energy of the negro shall no longer be checked by the withering influence" of that only recently abolished institution and be allowed to reinvigorate what she saw as a somewhat listless and directionless community). Horst Augustinovic would be the last person to ever describe himself as a professional historian. But, he could be called a top-ranking amateur. And, it's the amateur's boundless love for his subject which informs and illuminates his projects. Consequently, Recollections of 19th Century Bermuda is yet another comprehensive, well-organized and finely produced volume which will appeal to both researchers into this period and lay readers alike. Recollections of 19th Century Bermuda, compiled by Horst Augustinovic, will be available in local bookstores later this month.
September 23. A prisoner rarely, if ever, receives a request from a Premier. But for Dwayne Signor an invitation from Michael Dunkley to carve a cedar gift for the Pope has proved to be a "milestone moment" in his life, and one that he hopes to build on as he prepares to be released. But just as important for Mr Signor is that the project has made his 13-year-old son, Dante, extremely proud of him, and even prompted his mother, Olive, to shed tears of pride. "My mom cried when I told her what I had been asked to do," Mr Signor said. "It's a milestone I never thought I would accomplish. It's hard to explain just how much it means to me. I have friends and family in Brazil and Singapore that contacted my family when they saw it on the news. My son was so excited saying "look what my dad has done". He has put me on a pedestal. I sit up and I think about it all the time. It feels good to make my son proud. It's really important now that I have been granted parole to build on this and move forward." Mr Signor had just five days to create the engraved cedar Bible after Mr Dunkley proposed the idea to corrections staff last month. Principal Officer Sandra Gomes turned immediately to Mr Signor, knowing his talent for carpentry. Mr Signor then spent the next three evenings in the woodwork stall at The Farm, after returning from charity work in the community, working on the cedar Bible. The following weekend he racked up a further 16 hours on the project to get it finished in time. The 35-year-old carpenter, who was jailed for ten years in 2010 for opening fire at the Royal Artillery Association Club, presented the completed cedar piece to Mr Dunkley exactly a week after the request had been made. Earlier this month Mr Dunkley passed on the carved cedar Bible to Pope Francis during a general audience with the pontiff at the Vatican. "It did not really hit me what I was doing until I went up to see the Premier," Mr Signor said. "Then my heart was really beating. I have done lots of cedar pieces while I have been in prison, especially since I came here to The Farm a year and four months ago. Cedar has kept me busy while I have been inside and I intend to continue my work with it." Mr Signor now plans to carve a cedar Arsenal emblem to hang up at the RAA club, which he says is a notorious stronghold for Gunners supporters.
September 23. Logic Communications has urged customers with complaints about internet speeds to contact them so they can address the issues on a case-by-case basis. But Frank Amaral, chief executive officer of KeyTech, Logic's parent company, admitted this week that the issues were "nothing new". And he said the company was looking to credit the bills of customers hit by an e-mail outage. Problems have been reported recently from a number of users island-wide. "This is a commonly reported issue with both us and other companies here, the US and the rest of the world," said Mr Amaral. "We are already moving forward with a huge investment to basically redo a huge part of the outside plant, but it's a multi, multi-month process across the entire island. We know there are issues, for sure, and we have a huge investment planned to fix this in the long term, but in the meanwhile it's something we have to deal with on a case-by-case basis. We are also doing a full review of the cable television product. I think people should be quite happy with what comes out of that, but these are long-term investments we are talking about, and in this industry these things take a while to put together." The company has come under fire by customers on various online forums for a number of issues. Complaints have been voiced on slow internet speeds, "blocked" football matches on CableVision and even the company's technical assistance. One customer complained that he was paying for 8mbps and receiving 1mbp along with outages over the last weekend, while another complained about a lack of open communication about football coverage. More recently, the company faced several issues its e-mail system starting with a "critical hardware failure" on September 4. While service was partially restored the following day, it ran in a "degraded" state for several days until equipment could be replaced. The issue was followed by a second temporary outage, which struck customers on Monday morning. Mr Amaral said the company was looking at giving some form of credit to customers impacted by the e-mail outages. He said they would be reaching out to customers affected by the recent outages soon. "Our current systems are a bit tough to get through in terms of getting data about which customers were impacted," he said. "A part of the trouble is that e-mail is a free service. If you have ISP service, you get e-mail, so one part is trying to establish a value about what the stand-alone e-mail service is. The bulk of what people pay for when they get ISP service is the internet part, not the e-mail part, so that is a challenge. We want to give something that is meaningful, that won't insult people when they are notified. We are going to be implementing a communication to those affected about what the service credit is all about. There will be a credit going through to people's bills." Mr Amaral added that a new e-mail system was being established in the coming months to ensure such outages do not reoccur. "It's something that has been planned for a while, which will be a brand new platform with full redundancy that will alleviate the issue that we had over the long weekend and keep it from happening again," he said. He also responded to common criticism about internet speeds and service across the island, saying such issues are often limited to certain areas or even specific homes and so customers should report their issues so they can be addressed. "There are things we can check from the office, but often it may require a truck to go to the customer's home," he said. "And a lot of the gear sits outside and things like the coaxial cable runs all the way to a person's home." Mr Amaral noted complaints that CableVision had received about coverage — particularly with regard to English Premier League football. The company has announced that it would be making Flow Sports free to all customers until the end of October and introduce Flow Sports Premier soon to increase the number of matches aired on the island. Mr Amaral also denied the suggestion that cable services have been affected by the company's merger with CableVision. "Nothing has been changed in terms of how we source our content, how we rebroadcast it," he said. "The people running our networks are all the same people. There are comments that the CellOne service is different but that network is totally independent, the people working on it are completely independent. It's really just a perception thing, but the e-mail issue was a real issue and we have a plan to put in a brand new platform over the coming months."
September 22. W. Roger Davidson, a tenacious businessman who steered The Royal Gazette's parent company through some of its most significant decades, has died at the age of 78. An ardent believer in the free press, Mr Davidson oversaw the newspaper's evolution to modern printing and guided key business decisions across more than 40 years on the board of Bermuda Press (Holdings) Ltd. Joining the company in 1965, at the age of 28, Mr Davidson swiftly ascended the ranks, becoming vice-president a year later and president in the year after. Under his tenure, the company made the leap from traditional hot metal typesetting to modern printing and branched into commercial real estate and other businesses that proved crucial for its endurance. He retired in 2008. "The Royal Gazette has been serving Bermuda for close to 190 years, and was struggling in the 1960s when my father and his peers got involved to modernize both the organisation and its outlook," said his son, Stephen Davidson, who is the vice-chairman of the board. "Dad had a heartfelt belief in the importance of a strong and independent newspaper for Bermuda. Some of my earliest memories are of late-night visits with my father to watch the print runs at the grimy old Linotype presses next to the bus terminal, followed by the change to the modern new facility on Par-la-Ville Road. His commitment to The Royal Gazette remained undiminished through the decades. He cared deeply about the media's civic role in Bermuda — it went far beyond the operation of the actual business." Mr Davidson joined when the newspaper, along with the Mid-Ocean News, was printed at its headquarters on Reid Street, on presses acquired from The Gleaner, in Jamaica. New presses were bought and the newspaper re-housed on Par-la-Ville Road, with the new premises officially opening in 1974. Later, Mr Davidson led the move to branch out with real estate. Leases for the Colombia House property, and particularly Crown House on Par-la-Ville Road, were decisive in restoring the company's finances. Mr Davidson also devoted his career to the iconic department store, HA & E Smith's, rising from costing clerk to menswear buyer to president. At the height of business, it employed more than 200 people and Mr Davidson traveled the globe purchasing its luxury stock. Among the close relationships he forged with major international manufacturing families, Mr Davidson linked up with the Cheung family in Hong Kong, which supplied Smith's custom-knitted garments. He was also closely involved with its outlets in Charlottesville and Alexandria, Virginia, which ran for nearly 20 years. An enthusiast for local history with a keen knowledge of old Bermuda maps, Mr Davidson also used his travels to seek out rare editions featuring the island. He led moves to reposition Smith's as falling tourism numbers hit its business. He sought to implement policy changes, including amendments to import and sales tax, and allowing local retailers to partner with international brands, in an attempt to make the island more competitive. Smith's was sold in 2003 to its rival, Trimingham's. Although the combined operation closed for good in 2005, HA & E Smith Ltd endures as a real estate management company. Board member Dudley Cottingham recalled Mr Davidson as "first and foremost, a family man — he was very much a business person who did not suffer fools lightly; he knew what he wanted and was very determined, but he put family first. Along with Arthur Morris, a senior partner who was his lifelong friend, he was passionate about maintaining a high-quality newspaper for Bermuda, and ensuring its survival." Mr Davidson's business interests ranged far: he served as a director of the Bank of NT Butterfield, Argus Insurance, West Pembroke Holdings — previously the Bermuda Bakery — Bermuda Broadcasting Company, Aurum Fund Management and Mutual Insurance, one of the largest providers of libel insurance for North American newspapers and other media. Jonathan Howes, chief executive of Bermuda Press Holdings, said the company family had been deeply saddened to hear of his passing. "He became president at a time when the group was in financial difficulty, and set the path with his other colleagues to establish a long-term plan and the financial viability of the group. He cared passionately about the organisation and its staff, and was a pleasure to work with. He will be truly missed." Steve Thomson, chairman of the board, remembered Mr Davidson hiring him as a 15-year-old for a summer job in the men's department at Smith's. "He was a tremendously loyal person and very much a gentleman," Mr Thomson said. "The company we serve now would not exist without him. He was around the printing presses from an early age; it was in his blood. Not only did he end up being a friend, he was a great mentor who remained a good counsel and sounding board after he stepped down." Christopher Whittle, who succeeded Mr Davidson after his retirement, said the company's meager assets had totaled about £12,000 when Mr Davidson took the helm. "Under Roger's leadership, we turned it around," Mr Whittle said. "He was an inspiration, very determined, and the newspaper was his pride and joy. He saw it as the conscience of the community. The survival of Bermuda depended on it. It was in everyone's best interests to have a strong and independent Royal Gazette and he lived for that. He was also a role model for anyone in business or personal life." As a testament to Mr Davidson's legacy, the Bermuda Press renamed Colombia House, on the corner of Burnaby Street and Reid Street, home to the Stationery Store, in his honour. William Roger Davidson is survived by his wife, Lee, his son, Stephen, and his daughter, Jennifer.
September 22. A new look for The Royal Gazette's mobile website is to be unveiled tomorrow. And the revamped site promises to be easier to navigate and brighter than its predecessor. Jonathan Howes, chief executive officer of Bermuda Press (Holdings) Ltd, the parent company of The Royal Gazette, said: "We have rebuilt the site to improve its functionality. The redesign for the mobile site makes it more user-friendly and will enhance the delivery of our content to our readers. We are excited to be updating the product and we're looking forward to updating other products in the near future." Readers who use a mobile device to access the website, www.royalgazette.com, are directed automatically to the mobile site. The new site has taken away the carousel of stories, replacing it with lists by category and is more image-driven than the old site. But The Royal Gazette hasn't forgotten its traditional readers — the newspaper is to increase its print footprint with an expanded delivery service in the St David's and St George's areas. Vivian Sailsman, circulation manager at The Royal Gazette, said: "We want the entire East End to know that The Royal Gazette can be delivered to their homes and it will only cost 99 cents per day, as opposed to the normal $1.50 cover price. We have got around 40 people we deliver to in St David's and St George's already. Not everyone in that area has had the luxury of home delivery and we want to make the fact that we can deliver there more widely known." To sign up for home delivery, contact The Royal Gazette circulation department on 278-0172.
September 22. Sports minister Sylvan Richards and his permanent secretary Wayne Carey flew business-class to Brazil to attend last month's Olympic Games, a spokeswoman has said. The Royal Gazette contacted the Ministry of Social Development and Sports after details of Mr Richards's Rio de Janeiro trip were posted on the One Bermuda Alliance expenses site, prompting an angry online response amid claims of profligacy. The cost totaled $31,566 for nine nights (August 5 to 14): $20,290 on flights, $10,991 on accommodation, $130 on ground transportation, $105 on meals and $50 on miscellaneous expenses. When this newspaper published the figures on Friday, the $10,145-per-person air tickets stirred incredulity among readers, with many of the 120-plus comments querying the high cost of the flights. The Ministry of Social Development and Sports initially refused to comment on whether Mr Richards and Mr Carey had flown first-class, while a request to interview the sports minister did not come to fruition. When pressed for a response, a spokeswoman replied that they had traveled on business-class tickets. "It is noted that during events like the Olympics, the cost of travel increases to these destinations," she said. "Government ministers are mandated to always look closely at travel costs. However, due to the lateness at which these travel plans were made, it was difficult to take advantage of any early bird costs." Although the Olympics did cause price increases, this newspaper yesterday researched the current cheapest cost of a return flight from Bermuda to Rio de Janeiro at short notice. Three noted online booking sites were selected — priceline.com, edreams.net and expedia.com — flying one week today (Thursday, September 29) and returning two weeks later (Thursday, October 13).
At priceline.com, an economy-class ticket cost $1,095.62, a business-class ticket cost $5,397.02 and a first-class ticket cost $10,389.52.
At edreams.net, an economy-class ticket cost $1,082.27, a business-class ticket cost $3,921.36 and a first-class ticket cost $10,793.98.
At expedia.com, an economy-class ticket cost $1,100.02, a business-class ticket cost $5,397.02 and a first-class ticket cost $7,785.02 (price reduced due to possible class mixtures on connecting flights).
Averaged out between the three websites, an economy-class ticket cost $1,092.63, a business-class ticket cost $4,905.13 and a first-class ticket cost $9,656.17.
Yesterday, a Public Access to Information request was submitted to Government, to discern a detailed breakdown of costs accrued during the trip. Responding to The Royal Gazette's initial request, the Ministry of Social Development and Sports spokeswoman pointed out that Bermudian sports ministers have represented the island at many previous Olympics. "As is customary for the sports minister, Mr Richards attended several events in which Bermudian Olympians were competing, in order to cheer them on and encourage them to do their very best. The Government cares deeply for and supports all of our athletes, as they are ambassadors for Bermuda. At the same time, we are also mindful of travel costs and do whatever we can to keep these costs down." Overseas travel costs have long been a bone of contention in Bermudian politics, with both parties accusing one another of wastefulness. In November 2009, the Progressive Labour Party government ordered severe cutbacks on trip expenses — with Cabinet sending a memo to all ministries and departments. The memo warned: "Travel is to be cut back to essential business travel only for the remainder of this year; and all travel must be ECONOMY CLASS, no matter the distance." Three months later, it was revealed that Ewart Brown, the then-Premier, and his travelling companions had spent $265,000 in nine months on foreign trips. Shortly after winning the 2012 General Election, the One Bermuda Alliance pledged to reduce spending on "consultancies and travel". However, in February 2014, it was revealed that Craig Cannonier, the then-Premier, and his associates had spent $180,000 on 17 official trips since assuming office. Later that year, the OBA set up a website to outline its travel costs.
September 22. The Consultative Immigration Reform Working Group will hold its next meeting at the Berkeley Institute on Wednesday, September 28. The session, from 6pm to 8pm, will focus on mixed status families — with interested parties welcome to attend and share their opinions. Group chairman William Madeiros revealed that the meeting's purpose was to "inform the public of important statistical information and clarify the definition of a mixed status family". "During the last series of meetings, the public said they wanted more data in order to make informed decisions on this topic," Mr Madeiros said. "We hope this information session will answer many questions that the public may have." Submissions can be made by calling 500-4664, e-mailing immigrationbda@gmail.com or visiting the group's drop box on the ground floor of the Government Administration Building on Parliament Street.
September 22. The Mayor of St George, Quinell Francis, is to provide updates on key projects at a town hall meeting next Tuesday. According to a press release, the event at Penno's Wharf will provide an update on corporation initiatives while the Bermuda Police Service will give information on policing issues. Ms Francis stated: "These are exciting times for the town and we need for the community to be excited and informed about the future. "As always I encourage all businesses and residents of St George's to come out and participate. Our town hall meetings provide an excellent opportunity for our constituents to hear first-hand about all the exciting things that are in store for the town." The meeting starts at 6.30pm.
September 22. Michael Dunkley and Minister of Education Wayne Scott threw themselves to the gym floor at Dellwood Middle School yesterday morning and performed 22 push-ups to inspire children to embrace a new island-wide fitness and nutrition programme. Much to the amusement of the students, teachers, health and education professionals present, they took up the challenge to introduce the Premier's Youth Fitness Programme launched under the Premier's Council on Fitness and Nutrition. With all of the public schools on board, the hope is to extend the programme to include private schools in a bid to reduce obesity and promote good health and nutrition. Mr Dunkley said: "It is my hope that this programme will help you on the path to a lifetime of good health. That means a life in which regular exercise and healthy eating are part and parcel of your day-to-day activities. "Many of you will be wondering what all the fuss is about. You're healthy, you play sports, you move, you're active and perhaps you think you eat well. But we know that many young Bermudians are not as active as they should be. The Premier's Council wants to change that ... to focus your attention on fitness and nutrition. It wants you to learn what your bodies need in order for them to work better for you." The fitness and nutrition programme will monitor the amount of exercise performed by each student using various tools including a heart monitor. The Premier's Council Fitness Gram test will measure students' abdominal and upper body strength, flexibility, weight, body mass and aerobic capacity and then guide them towards improvements that will take that student into what has been dubbed a "healthy fitness zone". Each student will be provided with a portfolio where they can record their progress and a website stepitupbda.com has been launched to help students, teachers and parents keep up with the students' development. Prizes will be awarded to the island's best-performing students as an added incentive to do well. Co-chairman for the Premier's Council on Fitness, Sports and Nutrition Arnold Manders said the programme would provide additional benefits to regular PE schedules that are limited in some schools. "The best way to combat obesity is to do it through the schools and trying to encourage physical activity outside of school," he said. "Students can record their activity and they can keep track. The ministry has mandated that we test in every government school from P5 to S3 by October 31 in the first assessment and by May 31 for the second assessment." Mr Dunkley added: "As Premier, I am very excited about this programme for a few reasons. I've been around long enough to know how important good health is to all aspects of life — on the job, in school, pursuing your dreams, making friends and in the home — being a good son or daughter, being a parent or a role model. It requires energy to live life well and it requires fitness to live a long life. This is very much a part of what the Premier's Council is aiming to achieve in you." The Premier went on to explain how fitness plays an integral role in his day-to-day life — rising at 5am each day to attend the gym to get his "heart pumping", to be more alert and to better able to get through busy and stressful days. "This is my habit — my lifetime habit. This is a great opportunity. Seize it and move forward with a clear head, a sharp eye and a spring in your step."
September 22. Bermuda is now on a Tropical Storm Watch as tropical depression Karl continues towards the island. The Bermuda Weather Service formally announced the watch at noon in advance of the storm, which is expected to pass the island early Saturday as a Tropical Storm. According to the BWS noon update, Karl was still 457 nautical miles southeast of the island. The storm is considered a potential threat, and is expected to pass 88 nautical miles to the southeast of Bermuda at its closest point of approach at 3am on Saturday. In a special warning issued this afternoon, the BWS stated: "Karl's forecast remains very uncertain but strong winds (higher in exposed and elevated areas), showers, squalls, thunderstorms, and very rough seas creating hazardous surf are still expected as it passes Friday night through Saturday morning." As of noon today, the storm was moving northwest at 17mph (15 knots) and boasted maximum sustained winds of 35mph (30 knots). The system is expected to gain strength as it approaches Bermuda, likely returning to Tropical Storm strength later today. According to the US-based National Hurricane Centre, the island has a 20 to 30 per cent chance of experiencing Tropical Storm force winds, and a less than 5 per cent chance of feeling Hurricane force winds.
September 22. A teenager has been arrested in connection with Tuesday's armed robbery at M. Soares and Son. According to a police spokesman, an 18-year-old man has been arrested in connection with the incident, which took place at the Spanish Point grocer at around 3pm. It was previously reported that two men had entered the store, brandishing what appeared to be a firearm and made demands of money. They later fled the scene on a motorcycle after receiving an undisclosed amount of money. Officers are also investigating an aggravated burglary that took place at Valley Road in Paget at around 10.30am yesterday. "The four males arrested in connection remain in police custody pending further inquiries," the spokesman said. "They range in age from 21 to 25 years old. While it was initially stated that the occupant, a 38-year-old Paget man, was taken to hospital for treatment after being assaulted by the intruders, the Paget resident actually only required treatment at the scene by ambulance EMTs." Anyone with any information about either incident are urged to contact the Criminal Investigation Department at 295-011 or the confidential Crime Stoppers hotline at 800-8477.
September 21. Housing the island's burgeoning senior population, who face increasing financial pressures, will require the private sector to pitch in, according to Age Concern. Assisted-living communities were suggested as a solution during yesterday's gathering of the charity membership. "We have a massive problem in front of us as a country," realtor Michael DeFontes told an audience of about 200 seniors, as he took the stage with John Barritt, of the Bermuda Housing Trust, and Desiree O'Connor from the Bermuda Housing Corporation. Costs greatly outweigh pensions, deputy chairman Charles Jeffers noted, saying many elderly residents faced "a paradox of being asset rich and cash poor". Concerned at covering costs such as medication and food, many were turning to the sale of their property, looking to more modest accommodation as options. Reverse mortgages were unlikely to catch on, Mr DeFontes said, as local banks are reluctant to become "landowners or landlords. A lot of seniors have nothing left over. The only thing they have is their property. We need to consider selling and moving into a facility — if we had enough to house them." The Government and private sector would need to collaborate on developing "any creative thing that can be done to help seniors with their cash flow", he said, pointing to the highly limited property sizes available in Bermuda. Shared-living options are not always palatable, Mr Barritt said, but assisted living could prove workable: communities where services come to the residents. The forum heard repeatedly that seniors overwhelmingly wanted to keep their independence, preferring to live on their own as much as possible, with Mr Barritt emphasising that the growing elderly population translated into greater electoral power. "There's going to have to be some strong advocacy to get it going in the right direction." According to Ms O'Connor, BHC does not receive large numbers of applications from seniors, preferring to steer requests to the BHT. Roughly half of current tenants are over 50, with applicants today averaging the age of 40 to 45. Seniors seek studio apartments and one-bed units, driven by affordability, she said — but the corporation is often challenged by their mobility issues. "No one wants to live in a rooming house facility," Ms O'Connor added. "But if we can do some form of shared accommodation, even a smaller unit for two people who share housekeeping responsibilities, that's something we could do with the properties we currently have." Quizzed by the audience on the island's substantial numbers of derelict properties, the forum heard from Major Barrett Dill, of the BHC, that the possible acquisition of such lands had stalled in the Attorney-General's chambers, as the majority were caught up in family disputes. "It's time for the BHC and local real estate agents to work together," he said. "It's just a matter of having the courage to do it."
Age Concern, the senior's advocacy charity, is running a tighter ship in the face of tough economic times. Unveiling the 2016 annual report, executive director Claudette Fleming said staff had taken a 20 per cent cut in pay. The charity fields about 1,600 contacts a year, mainly to do with financial assistance. For the year ending April 1, 2016, Age Concern gave financial support to 98 seniors, through assistance with food, healthcare and electricity costs. Support with electric bills remains the highest hardship support that the charity provides.
September 21. A Romanian guest worker was fined this morning after he admitted trying to use a foil-lined bag to shoplift. Paul Vasiliniuc, 33, pleaded guilty to two counts of theft and one count of having an item intended for use in theft. The court heard that on August 20, Vasiliniuc was seen on security camera entering Gibbons Company with a Calvin Klein bag. He went to the men's section, where he placed several packages of underwear in the bag and then walked out of the store, past the cashier without paying. Security staff chased Vasiliniuc, eventually cornering him. A search of the bag revealed four packages of underwear and two shirts from AS Coopers, which he also admitted stealing that same day. Officers searching the bag also noted that aluminium-covered cardboard had been placed in the lining of the bag. Questioned, Vasiliniuc said that the foil was supposed to help him get past the security scanners without them going off. "I was running low on money and a friend back home told me to do this," he said. The total value of the stolen underwear was estimated to be $118, while the two shirts had a retail value of $74.50. After pleading guilty, Vasiliniuc apologized for his actions, saying that he committed the theft because he had lost money betting on football. "It was stupidity," he said. "A moment of weakness. Someone gave me the idea and I was curious if it would work." Asked by senior magistrate Juan Wolffe if the foil lining had actually worked, Vasiliniuc responded: "Not really." While Mr Wolffe said that he would usually order a social inquiry report given the facts of the case, he said he would not do so on this occasion because of the likelihood that Vasiliniuc would have to leave the country because of the conviction. Noting the defendant's early guilty plea and genuine remorse, he fined Vasiliniuc $500 for the theft of the underwear, $250 for the stolen shirts and $500 for his use of equipment to assist in the theft.
September 21. A man was injured during a burglary in Paget today. A struggle took place after a number of men broke into the property on Valley Road at about 10.30am, according to the Bermuda Police Service. The occupant was assaulted by the suspects and was taken to King Edward VII Memorial Hospital with non-life threatening injuries. The suspects left the area, but officers carried out a search and found an abandoned motorcycle a short time later and arrested four men. According to a police spokesman, the suspects are believed to have got into a car after abandoning their motorcycle, and that car was later seen parked in the Happy Valley area of Pembroke. At noon, at least a half dozen officers were seen near a yellow property in Happy Valley Road, and at around 12.10pm a man in a white shirt was seen being placed in the back of a car in handcuffs. Witnesses or anyone with information should contact CID on 295-0011 or the confidential Crime Stoppers hotline on 800-8477.
September 21. Tropical Storm Karl weakened overnight into a tropical depression — but the system is expected to strengthen again in the coming days. With the system still a "potential threat" to Bermuda, the Emergency Measures Organisation is set to meet tomorrow afternoon, the Minister of National Security said. According to the Bermuda Weather Service's 6pm update, Karl was around 704 nautical miles south-southeast of the island and moving west at about 12mph. While the storm at present has maximum sustained winds of 35mph, it is expected to reach Tropical Storm strength again by Friday morning. The BWS is still listing the storm as a potential threat, with the system's closest point of approach in the next 72 hours forecast to be 149nm to the southeast at 9am on Saturday. The US-based National Hurricane Centre is estimating the island has about a 20 to 30 per cent chance of experiencing Tropical Storm force winds within the next five days, but a less than 5 per cent chance of facing hurricane strength winds during the same period. Responding to the latest advisory, Senator Jeffrey Baron said: "Although Karl has been downgraded to a tropical depression, forecasters indicate that it remains a potential threat to Bermuda. "The BWS updates the forecast every six hours and so I would recommend that residents continue to watch the development of this system. The Emergency Measures Organisation is set to meet tomorrow afternoon and further advisories as necessary will be issued after that meeting and based on subsequent forecasts." Meanwhile, Tropical Storm Lisa was around 1,926nm from the island at 6pm and is not considered a threat to the island.
September 20. Local insurer Freisenbruch-Meyer is monitoring Tropical Storm Karl, which is expected to reach hurricane strength as it approaches the island later this week. William Madeiros, executive vice president of the Freisenbruch-Meyer group, said the company was urging its clients to ensure they are fully prepared. "Please do not hesitate to contact us immediately to ensure your policies are up-to-date and that all values are accurate," Mr Madeiros said. "We are fully operational and open for business in our original location at 75 Front Street in Hamilton. Weather permitting, we will remain open as normal until Friday to assist clients with their various insurance policies." The Bermuda Weather Service is keeping a close eye on the storm, listing the system a "potential threat" to Bermuda. Senator Jeffrey Baron, the Minister of National Security, yesterday advised that a meeting of the Emergency Measures Organisation will likely be convened this week. As of the BWS 6.00pm update, the storm was located about 895 nautical miles southeast of Bermuda and moving west at about 12 mph. The closest point of approach to the island within 72 hours is forecast to be 198 nautical miles to the south-southeast at 6pm on Friday, by which time the storm is expected to reach hurricane strength. However, the storm is expected to strengthen and to come closer to the island over the weekend after making a sharp northeast turn, potentially passing to the island's southeast as a Category 2 hurricane. Mr Baron stated that the Ministry of National Security is "closely monitoring the forecast track of the storm. Although this storm is some distance away from Bermuda, we are paying close attention to its development. A meeting of the EMO is likely to be convened this week to confirm our preparations are in order and to ensure we communicate that to the people of Bermuda. In the meantime, residents should check their hurricane supplies and keep an eye on the forecast through www.weather.bm and alerts from the Bermuda Weather Service." According to the US-based National Hurricane Centre, the storm boasted maximum sustained winds of 40mph this morning, with some strengthening forecast during the next 48 hours. That service has estimated Bermuda has a 60 to 70 per cent chance of experiencing tropical storm force winds in the next five days and a 10 to 20 per cent chance of experiencing hurricane force winds during the same period. Meanwhile, Tropical Depression 13 has strengthened this morning, becoming Tropical Storm Lisa. As of 6.00pm, the system's closest point of approach to Bermuda within 72 hours is forecast to be 1,488nm to the east-southeast at 6.00pm on Friday, but the storm is expected to weaken in the coming days. The system is "not a threat at this time", according to the BWS.
September 20. An American visitor is in the Intensive Care Unit of King Edward VII Memorial Hospital after a rental cycle crashed yesterday. The 42-year-old man and his 43-year-old female pillion passenger, from Ohio, were both hurt when the vehicle struck the curb on South Road, Paget, near the junction with St Paul's Lane, at about 8pm. This morning, police said the man remained in a stable condition, although the woman was treated and discharged from hospital last night. Witnesses should call police on 295-0011.
September 20. The Department of Social Insurance has apologized to the island's seniors after it was discovered that some were being short-changed on their pensions increase. The matter arose when a reader complained to The Royal Gazette that he and his partner had received a 4.7 per cent increase to their Contributory Pension Fund benefits — as opposed to the 5 per cent boost promised by finance minister Bob Richards. "Can government explain where the other 0.3 per cent went?" said the reader, who asked not to be named. "I'm pleased to see that we finally got our pension increase, but the promised 5 per cent is an exaggeration." A spokesman for the Ministry of Finance attributed the shortfall to a clerical mistake. "The Department of Social Insurance is aware of a reduced percentage received by some pensioners on September 15 of approximately 4.7 per cent, due to a rate input error," he said. The spokesman added that the matter only affected those receiving either a contributory pension or a widow's or widower's allowance. "The Department is currently making the necessary corrections and will pay the difference due in the next pay period on October 15. The Department apologizes for any inconvenience," he said. The implementation of the pensions increase also caused confusion last month. Mr Richards declared that the 5 per cent increase would be "effective August 2016" in the House of Assembly in June. However, seniors saw no difference in their August pension packets. The uncertainty around the matter led to another clarification from a Ministry of Finance spokesman. "Increases in contributions to the fund were effective August 1, and the increase in pension benefits for seniors will be effective August 16," he said. "Benefit increases will first be reflected in the September 15 benefit payments."
September 20. The One Bermuda Alliance is clinging on to a one-point lead over the Progressive Labour Party — with both receiving a thumbs down for their performance. The OBA has a 38-37 advantage on the PLP in a poll commissioned by The Royal Gazette this month, compared with its 38-36 lead in the previous survey in June. With 25 per cent of people refusing to back either party, both the OBA and the PLP found voters were much more likely to say they disapproved of their performance. Just 25 per cent of people said they approved of the ruling OBA's performance, with 44 per cent saying they disapproved; 23 per cent of people approved of the Opposition PLP's performance, with 46 per cent disapproving. However, the leaders and deputies of both parties all saw their own performance approval ratings improve, with Michael Dunkley, the Premier, still in front with 42 per cent. The telephone survey of 402 registered voters by Global Research took place between September 6 and September 12 and has a margin of error of +/- 5 per cent. A breakdown by race shows that both parties are continuing to rely on their traditional bases. Among whites, 78 per cent said they would vote OBA, down from 87 per cent three months ago; and 4 per cent would vote PLP, up from 2 per cent. Among blacks, 14 per cent said they would vote OBA, up from 13 per cent; and 63 per cent would vote PLP, up from 53 per cent. The OBA still has the male vote and the PLP has the female vote. Among men, 41 per cent picked OBA and 31 per cent said PLP; among women 35 per cent voted OBA, with 43 per cent picking PLP. Mr Dunkley's approval rating is a two-point improvement on his rating three months ago. He gets support from 68 per cent of whites and 27 per cent of blacks; from 40 per cent of men and 45 per cent of women; and 55 per cent of people aged between 55 and 65. Marc Bean, the Leader of the Opposition, who went on medical leave in March, has a performance approval rating of 23 per cent, up from 22 per cent three months ago. He gets backing from 8 per cent of whites and 35 per cent of blacks. Bob Richards, the Minister of Finance and the OBA's deputy leader, has a performance rating of 25 per cent, up from 23 per cent. He gets support from 44 per cent of whites and 11 per cent of blacks. David Burt, the Shadow Minister of Finance who has been Acting Leader of the Opposition in Mr Bean's absence, has a performance approval rating of 37 per cent, up from 32 per cent. He gets support from 11 per cent of whites and 55 per cent of blacks. In addition, favourability ratings were recorded based on how much people liked the politicians. Mr Dunkley scored 44 per cent, Mr Bean 27 per cent, Mr Richards 31 per cent and Mr Burt 39 per cent.
September 20. Two armed robbers struck at M. Soares and Sons supermarket in Spanish Point this afternoon. The pair brandished what appeared to be a firearm and demanded cash, before leaving with an undisclosed sum shortly before 3pm, according to police. They are said to have left the scene on a motorcycle. No injuries were reported. Bermuda Police Service spokesman Dwayne Caines said: "It appears that two males walked into the store and brandished what appears to be a firearm and made demands of money. "The suspects were given an undisclosed amount of cash and then left the area on a motorcycle. An investigation into this matter is now under way and police are seeking the public's assistance in identifying two males riding on a motorcycle acting suspiciously in the area or anyone who may have any information." Witnesses should call Sergeant Renee Rock on 295-0011.
September 19. Bermuda is "a step ahead" of the UK as it grapples with its exit from the European Union. Ariane West, a partner in law firm Taylors, in association with Walkers, said the island's self-negotiated Solvency II equivalency status in Europe and work to gain an Alternative Investment Fund Managers Directive passport on a third country basis from the EU would continue as Britain unravels its relationship with the rest of the continent and attempts to build a working relationship with its former partners from outside the EU. She added: "Because of the nature of Bermuda's relationship with the UK and because we are very much a self-governing territory, and we're already operating as a third country and have our own bilateral relationship with Brussels, we now have the opportunity to continue to build on this and take advantage of the fact that the UK finds itself in a very uncertain place which will likely continue for a considerable period of time. Bermuda has the advantage of offering consistency in what its relationship with the EU will look like. We're certainly one step ahead in this context. Usually, when you speculate, you can take it in a lot of different directions, but I think the reality is the UK is going to be seeking a positive and productive relationship with the EU going forward and Bermuda wants the same thing with both the UK and EU. I don't think speculation about terms or scenarios are something worth investing a lot of time or thought in — all parties will be seeking the most beneficial arrangements for their people and their economies." Ms West was speaking at the first "Breakfast Bites" session on Friday organized by the Bermuda branch of the international Alternative Investment Management Association, which has corporate members around the world. She added that an AIFMD passport could "certainly be a boon to Bermuda's asset management industry. Solvency II does provide a significant degree of comfort in terms of insurance groups domiciling themselves in Bermuda. That certainly bolsters Bermuda's position for the foreseeable future as a stable domicile." Earlier, she told the meeting that the UK had always had a sceptical attitude to "the European experiment. The fact that the UK public has elected to leave the EU has sent shock waves through the market. Europe has experienced its first setback of this magnitude." And she said that many of the political drivers behind the UK Brexit vote were "not aligned with the financial services industry, who voted overwhelmingly to remain in the EU". Ms West said that Bermuda, as a UK Overseas Territory, was also recognized as Overseas Territory of the EU, and Britain's exit would mean the island would no longer have that access to that direct channel of communication through Britain. But she added that Bermuda had a long history of negotiating on its own behalf in the international arena and would continue to do so. "The opportunity and uncertainty and even instability caused by Brexit may be a source of opportunity for the Bermuda market." Around 90 people attended the breakfast session and AIMA Bermuda chairman Craig Bridgewater, a managing director at professional services firm KPMG, told the meeting the rejuvenated organisation was on the lookout for new members. He added: "There are 1,700 corporate members around the world and we would like to see more Bermuda-based members as well."
September 19. Butterfield Bank is eyeing acquisition opportunities in the trust industry after a successful debut for its shares on the New York Stock Exchange. Michael Collins, Butterfield's chief executive officer, said the money the bank raises from the initial public offering will be used for "general corporate purposes". But he added that Butterfield is seeing opportunities to grow its fee-generating operations at a time when income from interest-rate-related products has been pressured by a long period of very low rates. Last Friday's first day of NYSE trading ended with Butterfield's share price at $24.75, 5.3 per cent above the IPO price target of $23.50. The aim of the IPO is to sell 10.6 million shares and raise $250 million. Mr Collins said Butterfield is seeking to raise $140 million from the primary portion of the IPO, which involves the sale of new shares. The secondary portion, which involves existing shareholders partially cashing out, is set to raise $110 million. Mr Collins said: "There's a real opportunity in the trust business. Many of the big banks are selling their trust companies and we think we can grow our scale in this area. We want to grow those businesses, because it increases our access to ultra high net worth individuals." Butterfield has made three acquisitions in the past two years that have strengthened its position as an independent, offshore private wealth manager, with a focus on acquiring wealthy clients. These were the Legis trust and corporate services business in Guernsey, HSBC's private banking, trust and wealth management business in Bermuda and part of HSBC's corporate and retail banking business in the Cayman Islands. Mr Collins said the bank had focused on becoming a leaner and more efficient operation over the past five or six years but now its focus was on growth. Banks stocks have struggled in recent years, as low interest rates, the damage caused to them by the global financial crisis and tighter regulations that require them to hold more capital and burden them with more paperwork, combine to limit profitability. But Butterfield's successful IPO indicates that investors see a bright future for the bank. The rush of money flooding into Butterfield stock left the bank with a share price more than 25 per cent higher on Friday night than 24 hours earlier when it closed at $19.30 on the Bermuda Stock Exchange. Mr Collins, who had spent the two weeks before the IPO with the Butterfield road show, talking to prospective investors in several US cities, said there were several attractions. These included the strong balance sheet, high capital ratio and relatively liquid investments, as well as Butterfield's deep-rooted corporate and retail banking businesses in Bermuda and Cayman. "Also fee income makes up about 40 per cent of our revenue, which is more than with the traditional banking model," Mr Collins said. The bank's longevity may also help to increase investor confidence in its shares. "We are the oldest bank trading on the New York Stock Exchange," Mr Collins said. "What the IPO shows is that a bank with roots in Bermuda can compete on the world stage."
September 19. John Rankin, the former British Ambassador to Nepal, has been named the next Governor of Bermuda, filling the post left by George Fergusson in August. According to a Government House spokeswoman, Acting Governor Ginny Ferson will continue to hold the post until December, when Mr Rankin is expected to arrive on the island. In a statement, Mr Rankin said: "I very much look forward to taking up the role of Governor and working in partnership with the elected Government in the interests of the people of Bermuda. Bermuda has a well-deserved reputation as a vibrant place to do business and an attractive place to live or to visit. That vibrancy will be all the more evident as we approach the America's Cup next year and Bermuda has the opportunity to showcase itself to the full on the world stage" Mr Rankin joined the Foreign Commonwealth Office in 1988 as a legal adviser, working in both Britain and Geneva and assisting with the Northern Ireland peace process. He later served as the British High Commissioner to Sri Lanka and the Maldives, Consul-General in Boston and Head of the America's Directorate. In his most recent post, Mr Rankin served as the Head of Mission of the British Embassy in Katmandu, which was rocked with a 7.8 earthquake just six days after he arrived in April last year — something he later described as a "baptism by fire". Speaking to The Telegraph about the disaster, Mr Rankin said: "I think first of all you saw some buildings intact and some places where the walls had fallen down and you saw the damage, but the initial thing was seeing people. Seeing people in a confused condition, people standing there not really knowing what had happened, people trying to get themselves to open ground. When you do see what has happened to some people — the fact that I was in a retrofitted building, the fact that I have got a security team to assist puts us in a position where hopefully it means we can help people. But I can appreciate how terrifying it must have been for people who were in a more exposed situation." In the wake of the disaster, more than 150 British and Commonwealth citizens flocked to the embassy grounds, with many being given shelter in tents. The lawn later became temporary home for British medics and firefighters who traveled to Nepal to assist with recovery efforts. Prior to joining the FCO, Mr Rankin practised as a solicitor in Scotland and was a lecturer in public law at the University of Aberdeen. Michael Dunkley, the Premier, welcomed Mr Rankin's appointment, stating: "We are pleased to see that the FCO process of appointing a Governor for Bermuda has been completed. We note Mr Rankin's wide range of expertise, which we consider could be an asset to Bermuda's growth in the next few years."
September 19. The Bermuda Hospitals Charitable Trust has named Lisa Sheppard as its new development director. Ms Sheppard, a former reporter at The Royal Gazette, will be tasked with fundraising for both the BHCT and the Bermuda Hospitals Board after being promoted to her role from within the Trust. "I am very excited by this opportunity to give back to my community," said the Bermudian in a statement. "There are so many great initiatives being under taken by the BHB. Healthcare is so important for all of us, and it's an honour to be able to help in such a tangible way." BHCT chairman Jonathan Brewin said: "I am delighted that Lisa has strengthened our team, as we strive to maximize support to the BHB. She has already demonstrated great energy and commitment to the development of the BHCT, and I look forward to working closely with her." BHCT executive director Ralph Richardson added: "Lisa's maturity, experience and temperament have been the key influencers in our decision to promote her to this new role. "We are looking forward to great things from her."
September 19. A JetBlue aircraft bound for Bermuda had to make an emergency landing at Logan Airport in Boston this morning after an apparent lightning strike. Flight 1731 left John F Kennedy Airport in New York when the pilot reported a possible lightning strike after the plane's radar went out at around 9.30am about 15 miles outside of Boston. United States media reports say the plane landed at Logan at 9.44am without incident. No one was injured on board. Passengers have been put on another flight to Bermuda as maintenance crews inspect the plane, according to JetBlue.
September 19. A cruise ship accident that killed a crewman from the Norwegian Breakaway has claimed a second life, after another man seriously injured on July 20 succumbed to his injuries. The man has been named as Ben Buenaventura, of the Philippines, who had been in the intensive care unit of Jackson Memorial Hospital in Florida. Mr Buenaventura was among four crewmen who fell after a lifeboat came off the side of the vessel during a safety drill, killing 41-year-old Diogenes Carpio, also from the Philippines. He sustained a serious head injury, along with broken bones. A waiter for Norwegian Cruise Line for more than a decade, Mr Buenaventura leaves behind a wife and five-year-old son.
September 19. Opinion, by Senator Georgia Marshall, JP, Bermuda Government's Senate spokeswoman for justice. "My colleague, Minister Wayne Scott, wrote recently about the way the Combined Opposition changes its story as its objections to the airport plan are proved, one by one, to be false. I'd like to try to demonstrate how that works by showing that a recent Christopher Famous article, published in The Royal Gazette, was riddled with misinformation. Mr Famous, a staunch supporter of the Combined Opposition, was trying to say that compared to Islands in the Caribbean which are also redeveloping their airports, Bermuda was paying too much. Among the examples he gave were airport developments in Antigua and St Maarten. Antigua was only paying $98 million for its airport, he said, and St Maarten only $117 million. The People's Campaign used the same examples. One part of the reason is that they were, in both those cases, quoting the cost of only a single phase of these airport development projects, and ignoring the cost of previous and subsequent phases. In so doing they were comparing apples to oranges. But there are other reasons the cost is higher. In Bermuda, we are raising the site to protect against storm surge. The foundation structure requires pilings sunk to a depth of 107 feet. The cost of professional services, materials and labour in Bermuda is much higher than in the Caribbean. And there is a requirement here to build US Customs Pre-clearance facilities, which do not exist in the airports he cites in his article. The $117 million figure he gave for the cost of the St Maarten airport was actually the cost of Phase II of their plan, which was completed in 2006. Phase I was completed in 2001, and the current Phase III is being developed with an additional $132 million in financing. If Phase III is completed on budget, the combined cost will be over $240 million, more than double the amount Mr Famous cited for Phase II works. In Antigua, he said, VC Bird International cost only $98 million. That's certainly the figure the authorities there use, but it doesn't paint the whole picture. Phase I of that country's airport development plan was awarded in 2007 to a consortium consisting of a Brazilian construction company and the Antigua-Barbuda Investment Bank. In 2011, the Antigua Government was unable to meet a $28 million payment to the Brazilian company, which abandoned its work on the project. The investment bank collapsed, and the government's default was certainly one reason for that collapse. After the US opposed an IMF funding package for Antigua, perhaps because of Antigua's poor record of repayment, the Antiguans got a $95 million loan from Credit Suisse, some of which is at 13 per cent interest, with a ten-year moratorium on the repayment of principal, secured by the imposition of a $37.50 per person tax increase on both arrivals and departures, payable to Credit Suisse. Part of the Credit Suisse money — $50 million in total — had to be used to compensate the Brazilian company and local Antiguan investors. The Antiguan Government has now had second thoughts about that loan, and is trying to renegotiate it. Their aviation minister, Robin Yearwood, recently told the Observer newspaper: "The loan that they (the United Progressive Party government) had signed for me — since I became the Minister — I don't like it. I think reason will prevail. You can't get no 13 per cent and 10 per cent interest in a world like this." Phase I of the work involved renovations and expansion of the existing terminal, and some work on the airfield. Phase II involved the building of a new terminal on land seized from jailed American financier Allen Stanford. New loans had to be taken out to fund construction of the new terminal. They are said to have totaled between $75 million and $137.9 million. The Chinese became involved, completing the project in 2015 using all Chinese materials and all Chinese labour. Financing also included Chinese government "grants" which in theory do not have to be repaid. However, the Antigua Government recently handed over another large parcel of prime beachfront real estate seized from Allen Stanford to a Chinese investment group, including the 455-acre Guiana Island and some smaller islands nearby. The Chinese financing of the airport deal is complicated and not at all transparent, but you get the picture. The true cost of Antigua's new airport is a very, very long way above $98 million. Mr Famous didn't mention the airport at St Vincent, which services fewer than 80,000 visitors a year. I bring it up because it is instructive in this context. Ground was broken for the new Argyll International Airport in 2008 supported by funding from Taiwan, Iran, Cuba and Venezuela, among others. It was due to open in 2011, but the St Vincent Government missed completion dates in that year, in 2012, 2013, 2014, 2015 and are thought likely to miss again in 2016. The cost, initially expected to be $240 million, after more than five years of delays, is currently estimated to be around $350 million! Anybody who thinks the team at the Bermuda Ministry of Finance is going to allow this kind of shambolic situation to characterize our management of this new airport project is mistaken. Bermuda is serious about getting this done quickly, efficiently, intelligently, carefully and without wasting so much as a penny if we can help it. We keenly feel our responsibility to get this done in a way that will make us all in Bermuda proud. In fact, it's a strategic decision to have CCC as a government partner to guarantee the project will be delivered on time, on budget and on spec. We have found a way of doing it that doesn't add to Bermuda's debt burden, freeing us from the necessity to squeeze the annual budget and increase the economic pain Bermudians are feeling. We have found a way of doing it that guarantees delivery on time and on budget — free of cost overruns. We have found a way of doing it that allows us to maximize the participation of Bermudians in the project, before, during and after construction. And as we've all seen in the architects' renderings, we've found a way of doing it that is going to give us an architecturally attractive, first-class, modern, efficient airport, one that will both project our first-class reputation and help us in our economic recovery. It's one of the great tragedies of our time that the Combined Opposition can't see what is in front of their noses. They have wasted countless hours and boundless energy searching fruitlessly for some evidence of wrongdoing on the government's part over the last two-and-a-half years. Just think what they might have accomplished if they'd put that time to helping Bermudians in their time of need."
September 19. Plans to redevelop parts of the St George's Harbour shoreline to prepare for the return of regular cruise calls next year have been submitted to the Department of Planning. The proposals will see a major facelift for Hunter's Wharf to the east of Penno's Wharf, to accommodate the two new Norwegian Cruise Lines ferries that will bring visitors to the East End from Dockyard. The work is part of a major project to upgrade and improve several wharves in St George including Market Wharf, Ordnance Island and Penno's Wharf. Quinell Francis, the Mayor of St George, told The Royal Gazette the Market Wharf plans included replacement of the dock edge, new seating and shelter for arriving visitors and a change in the parking layout. "We are putting fresh water lines into Penno's Wharf and plan to fix up the building in time for the arrival of cruise ships next year. We also need to do some major improvements to Hunter's Wharf, which is where the two NCL ferries as well as the Millennium will dock because there will be a cruise ship at Penno's. We want to provide shelter for the visitors and ensure the area reaches the required safety requirements. The plans were submitted on Friday and depending on the funding available we hope to start this work in January." Ms Francis also revealed that there were plans to initially repair and then later replace damaged parts of Ordnance Island and Market Wharf. Twelve extra cruise ships are to call on St George's each year from 2017 to 2022 as part of a deal between the Government and Norwegian Cruise Lines. The agreement also includes bringing two catamaran ferries to the island for the run from Dockyard to the East End, along with a yearly investment of $150,000 by NCL to sponsor tourism enhancement in co-operation with the Bermuda Tourism Authority. Ms Francis said that business owners were excited about the prospect of more cruise calls in 2017. "It's an exciting time for the town. The new calls will allow us to be more vibrant and showcase the town to more people. The businesses are on board and preparing for next summer. The corporation is also working to ensure we are ready for this influx and all the signage is in place by April next year."
September 17. Bermuda made its mark on the New York Stock Exchange yesterday as Butterfield Bank sold its first US shares, a troupe of Gombeys took to the trading floor and Michael Dunkley rang the opening bell. It was all to mark Butterfield's initial public offering of shares, a historic milestone for the 158-year-old Bermudian bank, which was aiming to raise $250 million. Mr Dunkley, the Premier, who brandished a yellow Gombey tomahawk as he stood with the Butterfield group on the balcony of the NYSE, said he was "excited and proud" to have had the opportunity to officially open Wall Street's trading day. "I've been blown away by the organisation and commitment that this Bermuda community bank has shown to make this happen," the Premier added. "It's a wonderful occasion and a great day for Bermuda." The trading day ended with Butterfield's shares at $24.75, 5.3 per cent higher than the IPO pricing of $23.50 per share. Trading volume was almost 4.9 million, putting Butterfield well on the way to its target of selling 10.6 million shares. Michael Collins, Butterfield's chief executive officer, said he was "delighted" with the smooth launch of the IPO, with the opening trade of $25.10 some 7 per cent above the asking price. "We've been working on this for more than a year — it takes that long to put together the prospectus," Mr Collins said. "We've spent the past two weeks on a road show around various American cities, having six or seven meetings a day and telling the Bermuda story." The Bermuda Tourism Authority grabbed the chance to promote the island to the wealthy types who frequent Wall Street. Traders coming to work were greeted with all the noise and colour of the Gombey Evolution Troupe, a pink Vespa parked outside the NYSE building and some of their trader colleagues wearing Bermuda shorts. Regular watchers of US business channel CNBC's Squawk on the Street programme could not have failed to notice the distinctive peacock feather Gombey headdresses moving around behind the head of presenter Jim Cramer. "These traders have never seen a day like this," added Mr Dunkley, who said the occasion was an excellent opportunity to showcase the Bermuda brand. Of the 10.6 million Butterfield shares being sold, $140 million will be raised by the bank from the sale of new shares — which Mr Collins said it would use for "general corporate purposes" — and $110 million from existing shareholders selling off some of their stock. The bank's shares hit a first-day high of $25.38 at around midday in New York and even a dip below $25 in the last half-hour of the trading day could not take the shine off a successful IPO launch. It was also a satisfying day for some of the institutional investors who had come to Butterfield's rescue with a $550 million injection of capital in 2010 at a time when the bank was reeling from soured investments tied to US residential mortgages in the wake of the global financial crisis. The Carlyle Group, a US private equity firm, owned 22.7 per cent of the bank before yesterday and is looking to sell off 1.4 million shares to reduce its stake to 17.5 per cent, while the Wellcome Trust is selling about half of its 3.7 million shares. These investors bought in at a stock split-adjusted price of $12.10 six years ago and more than doubled their money on whatever shares they sold yesterday. Shareholders who bought in more recently will also be smiling — at the close yesterday the bank's share price was more than 25 per cent higher than the $19.30 closing price on the Bermuda Stock Exchange just 24 hours earlier. The bank will continue to trade on the BSX as well as the NYSE.
September 17. Sylvan Richards' trip to the Rio Olympics cost the taxpayer a little over $31,000, it has been revealed. Details of the sports minister's nine-day trip to Brazil to represent the Government at the Olympic Games were posted on the One Bermuda Alliance expenses site. Mr Richards, who was accompanied by his permanent secretary, spent $20,290 on air travel and a further $10,991 on accommodation. The total cost of the trip was $31,566, which included $130 on ground transportation, $105 for meals and another $50 on miscellaneous expenses. Meanwhile details of Michael Dunkley's recent trip to London to meet with ministers from the new British Government have also been released showing the trip cost $6,279. The Premier's expenses included $4,339 on air travel and $1,940 on accommodation. Mr Dunkley was accompanied by Derrick Binns, secretary to the cabinet, for the two-day trip and met with MP Robin Walker from the Department for Exiting the European Union, to discuss the implications for Bermuda of the UK's decision to leave the EU.
September 17. The first phase of the new St George's marina is unlikely to be completed in time for next year's America's Cup. Developers are still waiting for legislation to be passed by the House of Assembly that will cement the lease between St George's Harbour Marine Ltd and the Corporation of St George's. Quinell Francis, the Mayor of St George, said it was "disappointing" that the initial stage of the project would not be finished in time for the international sailing spectacle next summer. "The marina is progressing a little slower than we would have anticipated," Ms Francis said. "We are still waiting for the legislation to confirm the lease between the developers and the corporation to come before the House of Assembly. We expect that to happen in the next session and we have been assured that this will happen in November. Once we get that done we can move forward. It's not going to be completed in April as we first imagined but it should follow soon after the America's Cup late in 2017. It is disappointing that the marina will not be completed before the America's Cup but we are working with the developers still to make sure we use all the dock space available for the event." The final agreement between developers, St George's Harbour Marine Ltd and the Corporation of St George for a marina to be built in the harbour was signed at the end of last year. In July of this year an amendment to the law that provides relief on customs duty for materials for a new marina was passed in the House of Assembly. The Customs Tariff Amendment Act 1970 allows temporary relief for materials and goods needed for the structure and facilities of the St George's Marina Development Project. Ms Francis had previously stated that it was hoped that the first phase of work would be completed in time for the America's Cup in 2017. The first phase of the work will include a breakwater as well as the yacht berths. It will also include renovations and improvements to the old terminal building on Ordnance Island.
September 17. Bermuda should have planned ways to cope with its ageing population "a long time ago", an advocate for seniors has claimed. At lunchtime on Tuesday, Charles Jeffers from Age Concern will moderate a discussion focusing on the myriad housing problems faced by the island's elderly residents. "We're talking about accommodation for seniors — and the lack of it," he told The Royal Gazette. The discussion on affordable and appropriate housing for seniors will form part of the non-profit organization's annual meeting, taking place from 1pm to 2.30pm at the Evangelical Church Hall in Paget. The talk will feature John Barritt, of the Bermuda Housing Trust, Desiree O'Connor, of the Bermuda Housing Corporation, and Michael Defontes, of Coldwell Banker Bermuda Realty. "Bermuda's population is getting older, and we should have started thinking a long time ago what we're going to do about it," Mr Jeffers said. "There are a lot of questions and concerns. "We're going to talk about what's available, what should be available and how we can resolve some of these issues. "We'll be looking for ideas and opinions as to where we need to go." Call Age Concern on 238-7525 for further details.
September 16. A proposed levy dubbed the general services tax will not come into effect for the next fiscal year starting April 2017, according to Bob Richards, the Minister of Finance. While he was not prepared to divulge new details on the 5 per cent charge put forward in the 2015 Throne Speech, Mr Richards said an April launch was "not possible as we go through the consultation period. It's a whole new tax, a new concept. We are making a lot of progress with payroll tax reform. The general services tax is more difficult and taking more time." Consultation on the tax's design and implementation commenced in May. A stimulus package of new hotels, the America's Cup and the airport terminal redevelopment remains at the heart of the Government's medium term economic plans, concurrent with holding back spending. "The transformation from ideas to realities is never fast enough for me, or for Bermudians," Mr Richards said. "It's frustrating, but these are the frustrations of life." Shovels are expected in the ground for the project at LF Wade International Airport, which the minister expected to bring "in excess of 400 jobs for construction and 50 jobs in operations — and not just retail. The overwhelming majority of those jobs will be Bermudian. That's one of the reasons we are doing it." Mr Richards defended the public-private partnership model as protecting Bermuda on the dual fronts of construction and financing, whereas the acute care wing at King Edward VII Memorial Hospital, the island's other P3, had only given cover on the latter. "Our track record as a country for significant capital projects has been really bad, and not restricted to any one government," he said. "We just cannot afford to underwrite expensive mistakes." And Mr Richards told The Royal Gazette that his ministry would be "going back to the market and looking for more money" in as little as a few weeks' time. "Officials will be physically going to financial markets, the likes of New York, Boston, Los Angeles, London, to promote a new bond issued for the Bermuda Government. We are fortunate that lenders want to loan to us, but that depends on our performance in the conduct of our business. The issue for me is not to try and get money because it is available, but for us to manage ourselves so that it will always be available when we need it. That is why the financing of this airport is key, since it does not negatively affect our ability to raise money in financial markets."
September 16. Independence from Britain might be feasible, should the UK's withdrawal from the European Union jeopardize Bermuda's business interests, said finance minister Bob Richards. "We still don't know which way is up," Mr Richards cautioned of Brexit — the UK's shock referendum result of June 23. "It's my opinion, not the opinion of the Bermuda Government, and it is the same as it was in the late 1990s; it has not changed — but I have more context to put it in from my experience with this job over the last four years. We don't know how this is going to pan out as it relates to Overseas Territories. We can speculate, but we don't have any evidence. My view is that if the external situation affecting Bermuda should change, so that our way of life and business and our ability to feed ourselves is threatened by UK policies, whether inside or outside Europe, then I would not hesitate to go for independence. It's our duty to protect Bermudians." The minister said he had discovered during his tenure that "on a number of issues, we are not on the same side" when it came to Britain. "The tax haven issue is one that was visited upon us by the UK; the Cameron Government was on a crusade to do something about tax havens. I happened to be in London for a demonstration so large it stretched from the Bank of England to Parliament." A "groundswell" of anti-haven sentiment in recent years has led some to believe that Bermuda was somehow "taking money out of their pockets. We have had to react to all kinds of initiatives that posed risks to our business model ... if a confluence of circumstances arise with the Brexit issue, our responsibility as a government would be very clear." The past few years have seen sharply worded responses by Mr Richards and Michael Dunkley, the Premier, to charges of financial impropriety from across the Atlantic. While Mr Richards said the island was "a long way" from such a drastic move, tides could turn. "Up until recently, we have been in a sweet spot where our business partners feel comfortable. We're English speaking, we have the rule of British law, and with relatively low taxation. It's our role as Government to keep us in that sweet spot." As far as Brexit's true implications go, Mr Richards said the island was in the early days. "The UK, I've heard, may not be in a position to start talking to the EU about Article 50 until possibly the end of next year," he said — referring to the section of the Treaty of European Union that covers the breaking of ties." Recent speculation had the invocation of Article 50 possible by the close of 2016.
September 16. Government lawyers will argue in court that the Registrar-General was right to refuse to marry a gay couple because marriage is not a "service" as defined in the Human Rights Act. Acting Solicitor-General Norman MacDonald told a Supreme Court hearing yesterday that the Bermuda Government would contest a legal bid by Bermudian Winston Godwin and his fiancé Greg DeRoche to have the Registrar's decision overturned. The couple, represented by former Attorney-General Mark Pettingill, claim the Registrar breached the Human Rights Act by refusing to process their marriage application in July. The Act outlaws denying "goods, facilities or services" based on a person's sexual orientation and Mr Pettingill, in his application to the court, said the Registrar had failed in his duties as the Registrar of Marriages. But Mr MacDonald told Chief Justice Ian Kawaley: "It's the Crown's position that the marriage service is not a service that is covered by the Human Rights Act." Mr Pettingill had earlier told the court a full hearing on the issue should be held as soon as possible. "This is a human rights matter and I respectfully submit that it's gone on too long and one day [more] on a human rights issue is too long, where there's a certain segment of society which is not being allowed its fundamental human rights," said the lawyer and government backbencher. "That's something that must be addressed in earnest. It is clear as a pikestaff that services must be allowed for all people." All of this is . . . not convoluted. I would urge upon the court that we are ready to go today. I'd be more than happy; let's argue it today." Mr Godwin and Mr DeRoche are seeking an order of mandamus from the Supreme Court which would compel the Registrar to act in accordance with the Marriage Act and post their marriage banns. They also want a declaration that same-sex couples are entitled to be married under that law. Mr Pettingill likened their application for judicial review to an urgent writ of habeas corpus, seeking to have a person released from custody. "I put it in the same bracket," he told the court, adding: "This issue should be clarified and heard in short order." Mr MacDonald asked for 21 days to file a reply affidavit and for any court hearing to happen in November or December. He said: "The issue is not clear as a pikestaff, as he says." Mr Justice Kawaley said he would give the Attorney-General's Chambers 14 days to file its affidavit, adding that the full hearing should take place in October on a date to be set. Mr Godwin and Mr DeRoche, who are being represented pro bono by Mr Pettingill, filed their civil suit just days after the June 23 referendum on same-sex relationships, when the turnout was less than 50 per cent and the questions were deemed unanswered. Of those who voted, 69 per cent were against same-sex marriage and 63 per cent were against same-sex civil unions. If the couple's case is heard next month, a decision from the court could come before MPs return to Parliament on November 4.
September 16. Somers Ltd, parent company of Bermuda Commercial Bank, intends to buy a majority stake in Australian financial institution Resimac Ltd for $88.5 million. The Bermudian-based company announced it had agreed to acquire a 79 per cent stake in Resimac from Ingot Capital Management Pty Ltd. The deal also involves Somers issuing a loan note to Ingot, convertible into 4,984,210 Somers shares. The result will be that Ingot will have an interest of around 29.2 per cent in Somers. Somers shareholders will have their say on the proposed deal in a special general meeting to be held on September 28, at 34 Bermudiana Road, Hamilton. Notice of the SGM is being sent to shareholders. Resimac's main business involves originating, servicing and scrutinizing mortgage assets. It was the first issuer of Australian residential mortgage-backed securities in 1988. Since then it has issued more than A$19 billion through 36 domestic and international RMBS issues. Resimac has had 136 full-time equivalent employees across offices in Sydney, Melbourne, Perth, Newcastle and Auckland. For the 12 months ended June 30, 2016, Resimac made an after-tax profit of A$13 million (US$9.9 million) on revenue of A$70 million (US$53 million). Resimac had unaudited shareholders' funds of A$82 million (US$63 million), as of June 30 this year and total assets of A$5.4 billion (US$4.1 billion). Resimac is in the final stages of a proposed merger with Homeloans Ltd, an Australian Stock Exchange-listed company. Under this scheme of arrangement, shareholders in Resimac will be issued new shares in Homeloans and Homeloans will remain listed on the ASX. Shareholders of Resimac will end up with 72.5 per cent of the enlarged group and Homeloans shareholders will have 27.5 per cent. This merger is scheduled to complete in about a month. Commenting on the acquisition, Warren McLeland, chairman of Somers said: "The is a major investment for Somers and fits in with the stated strategy to make corporate investments and acquisitions in the financial services sector. The acquisition of Resimac will complement Somers existing investments and the benefits from the acquisition will accrue to all Somers Shareholders. Somers is acquiring a well-run, profitable business which will diversify Somers' investments and significantly increase the scale of Somers."
September 16. Westgate Correctional Facility will be a safer place to work and reside following this week's now-resolved dispute, the president of the Prison Officers Association has said. Timothy Seon added that the guards' suspension of certain services had been a last resort to ensure the facility's management addressed their ongoing security concerns. On Monday morning, officers gathered in the parking lot — with some continuing their shifts within the facility to ensure that it could still operate, albeit at a bare-bones level. The impasse eventually ended on Wednesday evening when prison management and officers agreed an action plan to tackle the outstanding concerns, which included staff shortages and the facility's structural integrity. Neither side would elaborate on the specifics of the safety concerns to the media, deeming it to be security-sensitive information. "Under the Occupational Health and Safety Act, the employer is responsible for the health and safety of its employees," Mr Seon told The Royal Gazette yesterday. "We were having issues with the safety and security of all those behind the walls of the facility, and that became an issue." Mr Seon, who works in Westgate's maximum security wing, added that the new action plan would help inmates and guards. "We are in charge of individuals who have transgressed against the law, and some are particularly dangerous," he said. "The security measures are in place to protect inmates from harming themselves and others, as well as for the safety of the officers." Commissioner of Corrections Edward Lamb also voiced his support for the agreed new measures. "I am happy to confirm that we have reached a resolution. We are confident that it will benefit the entire department and, consequently, operations are back to normal," Colonel Lamb said. Senator Jeff Baron, the Minister of National Security, said: "Both sides were committed to open and frank dialogue and should be supported in the way in which they have approached these discussions. The ministry will support the Commissioner and the Prison Officers Association in the implementation of the items from the action plan."
September 15. A major conference on the state of the reinsurance industry is to be held in November. Bermuda Reinsurance, the eleventh of its kind to be held on the island, will feature top figures from the industry discussing issues like the impact of the UK's decision to quit the EU, a soft market and how insurance-linked securities and alternative capital are impacting reinsurance. The event, to be held at the Hamilton Princess between Monday, November 7 and Tuesday, November 8, is a joint venture by professional services firm PwC and ratings agency Standard and Poor's.
September 15. The insurance industry has to get leaner and make greater use of technology, according to industry veteran Brian Duperreault. Mr Duperreault, chairman of Hamilton Insurance Group, said: "Our delivery of our product is grossly over-expensed. We are not doing our insureds any favors in how we deliver that service. We take too much money out of the premium dollar to cover the cost of actually delivering the service as opposed to the service itself." Mr Duperreault was speaking to AM Best TV at the Rendez-Vous conference in Monte Carlo. He added that his group had teamed up with insurance giants American International Group and Hamilton's existing partner Two Sigma to create a new insurance platform targeting small and medium-sized businesses in the US. Mr Duperreault said: "AIG suggested we look at the SME space together which I thought was a great idea. The idea is to get away from everything that has been done and start afresh in this joint venture and create a company that is specially purposed, specially built, to do just this in the new way in a way where we're using data science, technology capabilities to really provide a better service to the insured, which is ultimately what we do. We enlisted the aid of Two Sigma who were and remain our technology partner and investment partner — they got very excited about doing this with AIG. We see it as a great way of exchanging information, intellectual property, developing new intellectual property and really making a difference in this area of business. A lot of companies want to make a change, I don't care who you talk to, if you say 'what do you think about technology?' we're interested, we're doing what we can, but I think most companies are trapped in what they are, the existing infrastructure, the company that's been built over time. There's tremendous value in that and it's not easy to take that, throw that out and try something completely different. The real difference is we will start from nothing, which is a great asset to have, I've always said that. You start from nothing and build it in a way that makes sense now, with the digital world we are in. If you look at our business, and there is much to be proud of in what we do, we provide a tremendous social service, we protect individuals, corporations, countries, but, frankly, it hasn't evolved in the same way other industries have evolved in this digital world." Mr Duperreault said that Blue Marble Microinsurance, set up by Hamilton Insurance Group, AIG, Aspen, Guy Carpenter, Old Mutual, TransRe, XL Catlin and Zurich to provide the developing world with insurance products, could also help regenerate the mainstream industry. A statement on a partner website said: "We share a vision of collaborating to develop insurance supply to benefit underserved communities worldwide. Blue Marble will incubate the launch and operations of new solutions, including unique distribution methods, local partnerships and product development." Mr Duperreault said that "reverse engineering" applied to traditional businesses using lessons learnt from Blue Marble could lead to greater efficiency. He explained: "It's being done in a different way ... a virtual company using the resources of all the consortium members." And he said: "This is a real effort to do real business, create a for-profit approach, create a market, but really provide a service. If you can solve the problems of micro, you have got to deal with distribution, you have got to deal with transactions electronically and digitally, you have got to be able to handle claims and do other services all in a way that's enormously efficient because there isn't enough money to go around. That knowledge, if it doesn't do anything more than give you an insight into what you're doing in your existing business, it probably will give you actual solutions to what you're doing in your existing business along these lines and we're all trying to solve that."
September 15. Representatives from the Bermuda Monetary Authority and ten major reinsurance companies took part in a recent brainstorming session led by global blockchain technology consortium R3. The workshop, held at Bermuda Business Development Agency offices last week, brought together technology, underwriting and regulatory experts to explore ways that revolutionary distributed ledgers, based on blockchain technology, could fundamentally change their business — and give Bermuda a leading role in a rapidly-evolving digital economy. "This isn't a vendor choice or a technology choice issue that requires a take-it-or-leave-it decision — this is going to be a wholesale move by large parts of the market," said Tim Grant, managing director of R3 and chief executive officer of its Lab and Research Centre. "What it translates into as a corporate advantage or loss is hard to say at this stage, but the opportunity cost of not being at the table could be significant." Blockchain technology, originally built for crypto-currencies like bitcoin, has enabled the development of "smart contracts" designed to automate business processes. The mechanism streamlines transactions, eradicating duplication, avoiding the need for reconciliation of different industry systems, cutting costs and authorizing contracts in real time. Dubbed "The Fourth Industrial Revolution" by the World Economic Forum's Klaus Schwab, distributed ledger technology provides a record of consensus using a cryptographic audit trail maintained and validated by separate entities. Multiple parties can submit information to a network and agree on and track complex transactions — a process projected to have applications across global economies and industries. With units in London, New York, Seoul, Shanghai, Sydney, Tokyo and Toronto, R3 leads a fast growing consortium of more than 60 central banks and other major financial institutions with the aim of developing ground-breaking DLT commercial applications for the financial services industry. Members brought together in its Lab and Research Centre experiment with design and engineering of the new technology with the goal of turning it mainstream. With 66 partner institutions to date, including JP Morgan, Goldman Sachs, HSBC, MetLife, Bank of America, Barclays, Ping An and AIA, R3 now hopes to extend its membership to include Bermuda re/insurance multinationals. "Bermuda is a perfect ecosystem for fintech innovation and reinsurance is an industry with 'pain points' that DLT technology may be well-suited to remedy," said BDA consultant Stafford Lowe. "When members are brought together in R3's collaborative lab, working prototypes can be developed quickly, knowledge is shared efficiently and a faster route to production can be achieved." Lowe said ideas and feedback from R3's workshop at BDA helped generate "several important hypotheses about where distributed ledger technology could offer Bermuda's commercial re/insurance market significant benefits. One of our existing R3 members, a major insurer, has estimated it will be able to cut operational costs by up to 50 per cent and has told us they are eager to start collaborating with future Bermuda members. "We are also very excited to welcome the BMA into our regulatory membership programme, which will allow them to follow projects in our lab and network with a large number of fellow regulators from around the world," Lowe added. Ross Webber, the BDA's chief executive officer, said the agency was pleased to host the three-hour workshop which provided participants with background on distributed ledgers and blockchain as well as R3 and its technology. The forum encouraged discussion on how the technology might be applied to current commercial re/insurance processes. "DLT is a disruptive technology that could ultimately improve the efficiency of capital by lowering frictional costs," Webber said. "It's a paradigm shift. If Bermuda gets on board, it could propel our jurisdiction to the forefront of innovation across financial sectors. We have been working on attracting appropriate fintech companies to the jurisdiction for a while now and we are excited about the possibility of R3 working with industry here to ensure Bermuda remains a global centre of excellence for re/insurance innovation." Participants welcomed the session's peer collaboration and several noted their companies were already looking at DLT and its applications. "Distributed ledger technology presents a fascinating opportunity for improving the operating efficiency, consistency and transparency across the insurance and reinsurance segment of the financial services industry," said Hanni Ali, vice-president Risk and Analytics, at Hamilton Re, one of the attendees. "A collaborative effort provides a sensible, open approach in which the Bermuda reinsurance market could take a leading role," Ali said. "Ultimately, the concept of a shared perception on top of a shared ledger could reduce the arduous reconciliation processes common in our industry. It could improve consistency and accuracy across participating entities and significantly lower costs." R3 will present its findings from the workshop to the next board meeting of the Association of Bermuda Insurers and Reinsurers at the end of the month. "This was encouraging and fruitful," R3's Mr Grant said of the workshop. "What I heard from the industry present was a treasure trove of new projects. There was more than enough enthusiasm, collaborative spirit, and an appetite to potentially disrupt the status quo — that, to me, is a slam dunk."
September 15. Butterfield Bank's initial public offering of shares on the New York Stock Exchange is scheduled to take place tomorrow morning. And tonight the bank announced that the 10.6 million shares to go on sale will have an asking price of $23.50 per share. Butterfield is selling 5.95 million common shares, with expected net proceeds of approximately $127 million to be used for general corporate purposes. In addition, some of the bank's major shareholders, including private-equity firm the Carlyle Group, will sell a combined total of 4.68 million shares in the offering for approximately $110 million. "Certain of the selling shareholders have granted the underwriters a 30-day option to purchase an additional 1,595,744 shares at the initial public offering price, less underwriting discounts and commissions," the bank said in a statement published tonight by the Bermuda Stock Exchange. "The shares are expected to begin trading on September 16, 2016, on the New York Stock Exchange under the ticker symbol 'NTB'." The offering is expected to close on or about 21 September 2016, subject to customary closing conditions. Goldman Sachs & Co, Citigroup and Sandler O'Neill & Partners are acting as the joint book-running managers, and Keefe, Bruyette & Woods, Raymond James and Wells Fargo Securities are acting as co-managers for the offering. In a separate announcement tonight, the BSX said it had suspended trading in the Butterfield's shares at the request of the bank pending the expected IPO in New York tomorrow. "The purpose of the suspension is to facilitate the orderly opening of trading in the ordinary shares on the BSX on Friday, September 16, 2016 concurrently with the opening of trading in the ordinary shares on the NYSE. "The BSX has been advised by the bank that the bank expects to be in a position to request the trading suspension be lifted by the BSX by 11:30am on Friday, September 16, 2016."
September 15. Bermuda's healthy population of parrotfish, colorful reef grazers that have all but vanished in many islands, are under new study. Reefs depend on them for survival: without foraging parrotfish, corals smother under seaweed and sponge. Thanks to a collaboration between local scientists and the University of the Virgin Islands, Bermuda's parrotfish are being tracked in greater than ever detail. "We want to learn more about their ecology, since they have been fished out from most of the Caribbean," explained Rick Nemeth, a research professor of marine biology at the University of the Virgin Islands. The species in question are the Rainbow, Blue and Midnight parrotfish, which Dr Nemeth is helping to fit with acoustic transmitters. Sending out a ping each minute, to be picked up by listening devices, the fish are continually followed. Four were tagged in July 2015, and four more this August. The data give clues to their habits or, in the case of one of last year's fish, which covered 30km in six days, its possible fate as a shark's meal. "We wanted to understand what part of the ecosystem the United States Virgin Islands lost when these large species were fished out," said Dr Nemeth. By tracking how much algae parrotfish chew with their powerfully beaked mouths, and the areas covered, scientists underscore their value, and can offer tips to speed up their recovery. Hungry Bay in Paget, secluded behind a narrow entrance and with abundant mangroves, provided the tagging site — but the fish are also surveyed across the island. Implanting the transmitter resembles a deft piece of minor surgery, complete with antibiotics to protect the fish from infection. Once released, the tagged fish speeds away into the sea — but shows up, complete with identification, whenever it passes in range of a listening station. It turns out that Hungry Bay's parrotfish are swimming inshore from about 7am to 7pm, sticking to the bay 60 to 80 per cent of the time. Once they were spotted leaving each day, however, extra receivers were placed outside. The Rainbow and Blue varieties were also seen setting out from the bay for about two weeks a month during the winter. Bermuda boasts a thriving stock of parrotfish, a protected species that Dr Nemeth, a grouper expert, noticed teeming in the shallows of Tobacco Bay during a 2006 visit. "These species used to be very common in the Virgin Islands, but are now rare due to overfishing," he said. The parrotfish project is a collaborative study with other UVI scientists, Tyler Smith and Marilyn Brandt, and will extend to Curacao later this year. Local scientists include Thad Murdoch, Struan Smith and Gretchen Goodbody-Gringly. Dr Smith, a curator at the Natural History Museum, pointed to a host of other local studies: Dr Murdock's ecological monitoring, supported by the Bermuda Zoological Society, examines the entire fish community and the status of corals at more than 40 sites around Bermuda. Andreas Ratteray, a local student, is another studying local parrotfish, while the black grouper has been tagged for years by Tammy Trott, of the Department of Environmental and Natural Resources. Tracking ultimately enables better management, Dr Smith said: if the tagged parrotfish stick to the same areas, then surveys elsewhere are likely accurate for a particular reef's population. "If we find many parrotfish in an area, and there appear to be increases in their abundance, we can be confident that populations really are growing — and not just the fish moving around a lot."
September 15. Bermuda Emissions Control's bid to avoid an investigation by the Commission of Inquiry may have been scuppered by the Supreme Court. A legal effort to prevent the investigation has been ruled invalid. However, according to a Supreme Court judgment, the court has agreed to stay the effects of a summons issued by the commission on the company until further legal arguments can be heard. BEC contends that the decision of the Premier to appoint the COI is invalid, as is the decision by the COI to investigate the TCD emissions centre. Prior to a court hearing, a summons had been issued ordering the BEC to appear before the commission and produce documents. In that hearing, lawyer Eugene Johnson, representing BEC, argued that the scope of the COI was too broad, and any commission which was so broadly framed as to purportedly empower it to determine the scope of its own jurisdiction is unlawful. However, Chief Justice Ian Kawaley found that there was "no serious contention" that the commission was given a roving brief to investigate whatever it saw fit. "There is on what I consider to be a proper reading of the COI's commission no credible basis for concluding that the commission is invalid because, as is contended, 'the Premier unlawfully delegated the power to set the scope of the public inquiry to the Commission, pursuant to paragraphs 1 and 9 of the Commission's Terms of Reference'," he wrote. On the basis of that ruling, he said the claim that the COI could not investigate the TCD emissions centre also failed. "At the practical level BEC complained that it contracted with the Government before the period covered by the Auditor-General's report," the Chief Justice continued. "The COI very convincingly counters that its contract is potentially relevant because, pursuant to the governing contract, funds paid to the applicant are referenced in the relevant section of the report as amounts not approved by Cabinet in 2011. While there may be room for argument about the scope of documents to be produced pursuant to the summons (which is an entirely different matter), the suggestion that the emissions decision is wholly invalid on relevance grounds is in my judgment unsustainable." However, he allowed BEC's argument regarding the summons to proceed, noting questions that had arisen about the handling of the summons. "The summons required the production of documents at a hearing which only one commissioner was present," he wrote. "Was that a lawful hearing? The COI has yet to publish procedural rules to explain to the recipients of summonses what its quorum procedures are. It is arguable that the COI has no power to fix a special quorum for different categories of meetings because that power is vested in the Governor/Premier alone. These complaints are both technical and of practical importance for the further conduct of the COI's work, this court having decided that the commission is lawfully established. Even if the COI can summon a witness to produce documents before a single commissioner, what procedure will be followed if disputes about production arise and have to be determined? In the present case, for instance, it is not clear to what extent BEC can (in the first instance at least) be required to produce documents outside of the three financial years covered by the Auditor-General's report." Given the findings, Mr Justice Kawaley ruled that the proceedings related to the summons should be stayed until final determinations can be made. The commission, an independent body, was tasked with investigating several allegations made by former Auditor-General Heather Jacob Matthews concerning government spending between 2010 and 2012, including the Port Royal Golf Course, Government's contract with GlobalHue and the emissions centre project, which was condemned by Ms Matthews for its cost overruns and a claimed lack of oversight. It later announced that it intended to examine contracts made before and after the period encompassed by the report, including the controversial airport redevelopment project. The commission is not tasked with resolving criminal issues, but to look into government affairs, refer potential violations of law or rules to the appropriate agency — and ultimately to be "assured that Government has learnt and moved on from any past mistakes about its own internal processes".
September 15. Artists are bringing a splash of bright colour to the streets of Hamilton in preparation for the City Arts Festival next month. The main event, which will take place on October 15 at Queen Elizabeth Country Park, will showcase a wide range of local artists, musicians and street performers. In the meantime colorful hands and traditional Bermuda scenes have begun to pop up on walls around the city.
September 14. Reinsurance pricing is not sustainable, Axis president and CEO Albert Benchimol warned yesterday. Mr Benchimol said, however, that the subject was not being discussed as much as he would like at Monte Carlo industry conference Rendez-Vous. He added: "If I had one point to make, I wish there was more discussion about how the current pricing environment is really not sustainable and we really need, as an industry, both the primary and reinsurance industry, to look to ways to improve the profitability of our industry. I think people are being very polite — they are not addressing the subject." Mr Benchimol was speaking to AM Best TV at the Monte Carlo conference. He said that the industry, without reserve releases, was "probably a mid-single digit return on equity proposition. That is not acceptable. We need to do better and I think that, at the end of the day, it within ourselves to be able to make sure that we focus on the right risks and charge the appropriate pricing for the risk. I wish we were talking more about that. Major changes had affected the industry since last year's conference. If I were to focus on three things, I would say number one is increasing use and interest in data analysis by industry. Investment in financial technology — fintech — was $800 million two years ago, but $2.8 billion last year and that it would continue to affect all parts of the industry, particularly distribution. Third, I would say efforts by many parts of the industry at disintermediation, trying to short-circuit previous distribution channels to try and get closer to the business. Axis had been an early investor in data and analytics in the specialty commercial sector. Certainly, data and analytics have been very large, very big, in personal lines and life insurance — less so in specialty commercial, but that is really picking up steam." Axis, had upped investment in the area over the last three years and worked on improving the way we look at our books of business." On fintech, Mr Benchimol said: "It's still very early. There will be opportunities to partner with different start-ups in that area to make sure we're abreast of developments in that area."
September 14. Reinsurance capital globally hit a new peak of $585 billion in the first half of this year, a jump of 4 per cent on the 2015 full year figure. To put that capital pile in context, the ten-year median average for global insured losses is $46 billion. Today's sector capacity is a number of times larger than the approximately $130 billion of insured losses racked up in 2011, an exceptional year when a major earthquake and tsunami in Japan contributed to the heaviest insured losses seen during any single year in the past decade. For the first eight months of this year insurance-related catastrophe have been trending higher than pervious years and are on track to match the ten-year average. The estimate of current global reinsurance capital comes from Aon Benfield, which noted that overall reinsurance supply has increased by more than 70 per cent since 2008 when it dipped to $340 billion. The company has also highlighted a narrowing of the capacity gap as demand grows. Insurer capital was $4.2 trillion, up 3 per cent on 2015, and matching the level seen in 2014 before the strengthening dollar impacted earnings last year. "The gap between reinsurance supply and demand has narrowed over the past year, driven by the improved economics of purchasing and reassessment of the core value of the product. However, ample capacity remains available to support current growth aspirations and risk transfer needs," stated Aon Benfield in this month's Reinsurance Market Outlook publication. It said that last year there had been a small uptick in the cession ratio for the global property and casualty industry, and a further increase is considered likely this year. "The lower pricing points delivered by alternative capital are clearly a factor, but the broader point is that reinsurance is growing in relevance as a proven mechanism for sharing risk, managing capital and controlling earnings volatility in the current environment," Aon Benfield said. "This is partly explained by the global trend towards risk-based regulatory regimes, which fully recognise the beneficial impact of reinsurance on cedents' capital positions." Poor underwriting results in certain casualty classes, out-sized losses from regional exposures and the introduction of Solvency II have all been catalysts for the increase in demand. One area of growth has been US mortgage credit. Aon has helped Freddie Mac place $5 billion of reinsurance in this area since 2013. Looking at market specifics, for the first six months of this year traditional reinsurance capital accounted for $510 billion, up 3 per cent. This was driven mostly by unrealized gains on bond portfolios associated with declines in interest rates. A second factor was the modest weakening of the US dollar relative to other currencies. Alternative capital rose by 5 per cent to $75 billion, reflecting more collateralised reinsurance structures. Catastrophe bond issuance slowed to $3 billion during the half-year period, despite a record first-quarter. So far this year, severe convective storms in the US have caused insured losses of $17 billion. There have been further insured losses associated with storms in Europe, the Kumamoto earthquake in Japan and the wildfire in Fort McMurray, Canada. Aon Benfield also pointed to last month's earthquake in the Umbria region of Italy, where anticipated insured losses of hundred of millions of dollars will be "a mere fraction" of the overall multibillion economic costs. The company stated: "Homeowners insurance in this part of Italy does not typically cover earthquake damage, and the majority of residents do not own separate insurance policies." This gap between insured losses and economic losses was lamented in the report's executive summary, where Aon Benfield said: "Rarely spoken about is the critical societal role of reinsurance in rebuilding communities in a post-loss environment. Aon Benfield remains committed to closing the 'protection gap' between economic and insured losses around the world. At a time of plentiful capital, it is sad to note that only a fraction of the losses from the recent earthquake in Italy will be recoverable, demonstrating that this is not just a feature of developing markets."
September 14. In line with the evolving threat of terrorist attacks around the world, an expanded terrorism risk model has been announced by AIR Worldwide. The model will allow insurers, reinsurers and others to test likely terrorist attack scenarios in 28 countries, including the US, Britain, France, Germany, China and Japan. For instance, a target can be chosen and a weapon type selected, such as a truck bomb, and then run through the modelling program to estimate potential losses to insurance and workers' compensation policies. The catastrophe risk modelling firm collaborated with a team of counter terrorism experts with experience working with the FBI, CIA, US Department of Defence and other government bodies, to incorporate updated and detailed threat assessments to estimate attack frequencies. About 100 'trophy' targets associated with a higher probability of attack, and an expanded database of more than 64,000 potential targets, including US corporate headquarters, sports stadiums, prominent buildings and hotels, are featured in AIR's US Terrorism Model. The Boston-based company said the Terrorism Model will help companies assess the impact of different attack scenarios on their portfolios and better manage their global terrorism risk. "The AIR Terrorism Model now supports deterministic modelling of conventional weapon attacks in countries across the globe," said Shane Latchman, assistant vice-president at AIR Worldwide. In addition, in this latest release, estimates of the frequency of attacks in AIR's probabilistic US Terrorism Model have been updated to reflect the current threat. Together, the updated model provides a comprehensive view of the global terrorism risk landscape." Explaining how the platform works, the company said: "Users can select a property from within their own portfolio, one of the targets in AIR's US landmark database, or any user-identified target and then select a weapon type, such as a truck bomb, to test 'what if' scenarios. "AIR has developed robust damage functions to help companies understand the impact on their insured exposures given the size of the blast and urban density indices. The loss estimation functionality complements existing accumulations management capabilities within Touchstone, including dynamic ring analysis, for property and workers' compensation exposures." AIR has integrated terrorism risk index maps from its sister company Verisk Maplecroft as a "hazard layer" into Touchstone. The indices provide an assessment of terrorism risk at a sub national level based on terrorism incident data and severity of attacks during a specific reporting period. Rob Newbold, executive vice-president at AIR Worldwide, said: "Modelling this complex and dynamic global threat requires a comprehensive solution. A complete terrorism risk analysis must include three components: accumulations analysis, deterministic analysis, and probabilistic loss analysis. Touchstone offers all three."
September 14. Officers at Westgate Correctional Facility remained in dispute with management yesterday after hours of attempted negotiations. An atmosphere of defiance prevailed as officers stayed in the car park of the Dockyard prison, having downed tools over working conditions related to staff shortages among other concerns. The dispute resulted in the facility being secured early yesterday as officers gathered outside. Leaving the building at just after 2.50pm, chairman of the Prison Officers Association Timothy Seon told The Royal Gazette: "We have some concerns about security at the facility that I cannot disclose at this point. There are several outstanding issues that have not been resolved. Staff shortages is one issue. We have been told there are more people scheduled to join us sometime before the end of the year, but we are grossly short due to government austerity and cutbacks. It is understood that negotiations are ongoing today. We will update with any new information as it becomes available." While Commissioner of Prisons Lieutenant Colonel Edward Lamb would not comment on what the dispute was related to yesterday, one source told this newspaper that staff were not only fed up with a lack of staff but also with the bullying tactics of a certain member of staff. The source said: "It's a bullying issue ... it's like we're walking on egg shells. People are tired." Mr Lamb said earlier in the day: "I can confirm that there is an issue at Westgate with staff and we are currently working through it. The facility remains secure — all inmates are secured inside — and our staff are working through the issues. We hope to resolve them quite shortly." But last night there was no sign of a resolution. Prisoners are believed to have missed out on their regular programmes and activities as a result of the action. Early in the afternoon, union representatives and senior members of correctional staff addressed some 20 staff members who had gathered in the parking lot where they discussed matters for about an hour. A statement from the Ministry of National Security said: "The ministry advises that senior management are working with corrections officers to bring about a resolution. "The Minister of National Security, Jeffrey Baron, is being kept fully abreast of developments regarding the matter."
September 14. Bermuda Cancer and Health Centre will benefit from a half-a-million-dollar donation from two local companies as it prepares for the installation of new radiation therapy equipment. BF&M Limited and the Argus Group are each giving $250,000 to support the new BCHC building, which will house Bermuda's first radiation facility. Patients who require radiation can presently only get the treatment overseas. John Wight, president and CEO of BF&M Limited, said: "As leading healthcare providers on the island, we have a responsibility to make a difference in the quality of treatment offered locally to our community. "We commend Tara Curtis and her team at Bermuda Cancer and Health Centre for leading the radiation therapy initiative and extend our wholehearted support, as this will now facilitate treatment being available to more residents, and provide relief to families who will be able to support their loved ones right here at home." Alison Hill, chief executive officer of the Argus Group, added: "We are proud to support Bermuda Cancer and Health Centre in their initiative to house Bermuda's first radiation facility. "Providing this cutting-edge treatment in Bermuda delivers compelling treatment options for those dealing with cancer and as major healthcare insurers we are committed to improving the quality and access of care for our community." Tara Curtis, executive director of BCHC, said: "Bermuda Cancer and Health Centre truly appreciate the financial support received from BF&M and Argus in helping us to achieve this important Radiation Therapy Initiative. Over the past ten months, BCHC has worked closely with the Dana Farber/Brigham and Women's Cancer Centre, which is ranked fourth in the USA for cancer care, for the design and construction of the facility and recently BCHC signed a contract for the Truebeam treatment system, the latest technology available for radiation therapy treatment."
September 14. A West End man has cried foul after his insurance failed to cover him for accident damages, even though he was cleared in court of wrongdoing. However, according to his insurer, the case illustrates the value of getting the broadest package of coverage. The crash in March left Jah-Rome Hill, a construction worker, with an injured left hand and a badly damaged motorcycle. "I just feel like I have been the victim in all of this," said Mr Hill, who disputed the circumstances of the collision with another motorist. The two had an accident on the night of March 16, with the other driver stating he had slowed down to make a turn on Middle Road, Southampton, near Port Royal Golf Course, when his car was struck by Mr Hill's motorcycle. Charged with driving without due care, Mr Hill argued his case successfully in Magistrates' Court before Khamisi Tokunbo and was acquitted. Mr Hill claimed that he was not provided with CCTV footage that could have proven his case, insisting also that marks on the road backed up his account. "Colonial Insurance said they could not prove who was wrong, so I can't get compensated for my losses," he said. "It was a brand-new bike in the second year of its licence. I just got back my money from closing my insurance. The other driver was able to claim off his insurance. Why can't I claim off his too? Somebody has to be right or wrong." A spokeswoman for Colonial said the case illustrated the need for comprehensive motor insurance, regardless of driving record, saying the assumption that a careful driver would get to claim off the other party's insurance was not a reliable one. "Accidents are not always straightforward when it comes to determining who is at fault," she said. "Instances arise when the insurer gets "insufficient evidence to accurately confirm who is liable. In these cases, the norm is for each person to claim on their own insurance." Police were called to the scene and "for reasons unknown to us, they determined there was cause to charge one of the drivers for driving without due care and attention. It's important to understand that a dismissal of charges is not necessarily confirmation that the other driver involved was responsible for the collision. It just means the judge felt there was insufficient evidence to prove the accused was driving below the required standards. In this case the other party in the accident was not on trial — the case was not about finding who was at fault for the accident. This is exactly the sort of incident where we are left with insufficient evidence to determine who is at fault, when the parties are encouraged to each claim on their own insurance. However, if you do not have comprehensive motor insurance, if you have only third party cover, you would have nothing to claim against." Comprehensive motor insurance includes mandatory third party coverage as well as insurance for damage to the insured's own vehicle, she said — regardless of fault.
September 14. Former Bermuda nurse Pauline Cafferkey will not face charges of dishonesty at a misconduct hearing in Edinburgh for concealing her body temperature at an Ebola screening. Ms Cafferkey, who worked at King Edward VII Memorial Hospital from September 2005 to February 2007, was infected with the deadly virus while working in Sierra Leone in 2014 yet survived. According to a BBC report, the Nursing and Midwifery Council alleged she "allowed an incorrect temperature to be recorded" on December 29, 2014, during a Public Health England screening and intended to conceal from Public Health England staff that she had a temperature higher than 38C. The BBC reported that the NMC investigating her conduct found that while she did allow the wrong temperature to be recorded on her return to Heathrow Airport and left a screening without highlighting it, she had no case to answer over charges of dishonesty saying her judgment had been impaired due to her condition. As a result, the NMC will now make submissions on two charges — that she allowed the wrong temperature to be recorded and left the screening without reporting to medics. The NMC has the power to strike workers off the professional register. The hearing was adjourned and was due to continue today.
September 14. Bermuda's beekeepers are getting back on their feet after the plague that struck their hives in 2008. The tiny varroa mite preyed on local honey bees eight years ago, causing the number of beehives to fall from 350 to about 125. But according to the campaign group The Buzz — set up to tackle the dwindling bee population — the message is slowly getting out to the community to create the right environment to help them thrive. And Randolph Furbert, the longstanding former president of the Bermuda Beekeepers Association, is hopeful that the Bermuda Government's move to import queen bees will make a difference. "We had a scientist come down here to look at our bees and he recommended that we import some queen bees that are sensitive to varroa," Mr Furbert told The Royal Gazette. "So the Government brought in five that were very expensive, $250 each, and I have one of them. It's going to take around four or five years to get them around the island to get rid of the other bees we have now, but we're working on it." Mr Furbert, 82, has been keeping the insects for more than 40 years and is regarded by many as the island's king of bees. He is well known for his appearances at the Agricultural Exhibition. "I'm trying to get more Bermudians interested," he said. "There are only about four or five of us that are seriously into studying them. You have to have a passion for beekeeping. Since varroa came there's been a whole different way of keeping bees in Bermuda. However, it is a worldwide problem. I used to have 300 beehives from St George's to Somerset and at the moment I only have 25." Government statistics from last year indicated that the average value of the island's honey crop was more than $170,000 between 2000 and 2009, but had dropped to $50,000 by 2010. However, the Bermuda Beekeepers Association is slowly seeing a change due to the use of new methods. President Thomas Sinclair said: "As of January there are approximately 150 hives on the island. This spring we had a pretty good swarming season — this is when the hive gets full so the bees create a new queen. We do make increases by swarms throughout the year and the number would raise another 30 to 40 hives." Judy Moyter, chairwoman of The Buzz, said: "We decided to see how we might highlight the issue and help to identify any other threats contributing to the decline. While the varroa mite is certainly a big part of the problem, we also understand that the bees are often more susceptible to the mite given that their health is weakened or compromised by other things, such as the ingestion of pesticides. There is a family of chemicals and pesticides, known as systemics, that are more heavily implicated in the danger to bees. These pesticides are taken up by the plants and are then present in the pollen and nectar of the flowers and subsequently absorbed by the bees in their foraging. We continue to identify and promote healthier ways to live that will also have a positive impact on the environment and, in turn, we hope will allow the bee population to increase to 2009 levels and perhaps even better. It can be a challenge to help people see that this is worth the effort and, indeed, future generations are counting on us." For Mr Furbert, however, there's another reason to keep bees. "They don't talk back to me," he said. "I keep bees because they don't go work late mornings and they don't call in sick. That is why I let go of my other business and work with my passion. Now I have tours with tourists, summer day camps and schools to educate boys and girls about the importance of bees. They do a much bigger job than just producing honey for us to eat. They pollinate our vegetables and our fruit so we can get more and better food to eat. As a matter of fact, a third of what we eat on our tables every day is a direct or indirect result of the honey bee. They're very vital to our survival. No bees, no food."
September 14. Laying bare every detail of her personal finances is nothing but stress for one great-grandmother who feels she has no other choice to ensure her financial survival. The 66-year-old has lost her job and fearing that her age will hinder her ability to find new employment, is dreading having to ask the Bermuda Government for financial assistance again. According to Age Concern executive director Claudette Fleming, her situation is symptomatic of a much larger problem where seniors cannot afford to live in Bermuda and in some cases are choosing to move abroad. And Sheelagh Cooper, founder of the Coalition for the Protection of Children, which runs the local branch of Habitat for Humanity, said it was receiving "significantly" more calls from seniors. "I hate to think that I have to go up there," the West End resident, who asked not to be identified out of fear that it would jeopardize her ability to receive help, told The Royal Gazette. "You're going up there for help and it's very stressful. But where else am I supposed to go? If your rent is not paid, your landlord doesn't want to hear that — he'll put you out on the street. Michael Dunkley, he is the Premier, he is the head of it all. He needs to work it out. Something has to be done because people are struggling and suffering here." She added that the powers that be need to come together, "sort it all out" and find a better system or hire "somebody else up there who really enjoys helping people." Mrs B has been "off and on" financial assistance about six times over the past 15 years. After losing her job, she will have to go through the "demeaning" process yet again because her pension does not cover her expenses. She said she was previously required to bring her passport, bank statements and outstanding bills as part of the intake process. Every week she had to take in her electricity and telephone bills along with her pay stubs, as well as her bank statements every three months. "That's personal and to take in your bank statements — that's bad. You don't know who's looking at this stuff. "It's nothing but stress. I am stressed out and I am tired. It's really sad. Bermuda never used to be like this." Mrs B receives a monthly pension of just under $800. "If your rent is $1,600 how are you supposed to pay your rent and get groceries? You just can't make it. It's terrible. I can remember years ago you can go to the grocery store and get a bag of groceries for $50 and get change back! Bermuda needs a wake-up call because there are so many people stressed out in this country." Mrs B wants to find more work but she questioned her chances as a senior citizen. "I hope I can find something. But it's hard to get a job at 66." According to Ms Cooper, Habitat Bermuda is receiving significantly more calls from seniors "who are living in houses that are virtually uninhabitable, meaning that roofs or floors were caving in or broken, non-functioning windows or doors. So far this year alone, eight of our projects have involved seniors. Indeed, many of those involved multiple generations; often three generations living in what to most people often would look like an abandoned home." And Dr Fleming said more needs to be done for senior citizens in Bermuda, stressing that Mrs B's situation is part of a bigger problem. "Bermuda is becoming a place where seniors can't afford to live. And that has got to concern people; that has got to concern the Government of the day. They need support. We have this responsibility not to turn them into paupers who have to beg for money. As we see the number of these cases growing, we have to question how effectively we are managing the ageing of our population." She also questioned if the help provided by the Government was reaching those who need it. "You're leaving this middle group with no other choice but to go completely broke, completely destitute before they can get help," she said. "They don't want that. I see more and more older people; they can't do it in this economy." She added that seniors were having to make the choice to live in other countries because the "current system on the island is challenged to support them with dignity". To help support them, she suggested greater subsidies for health insurance, particularly medication. In addition, more alternative and affordable housing options, especially for those needing long-term care, as well as more work opportunities and concessions for groceries. "And those that have money can pay more for those that don't in terms of taxation," she said. But she added that these were the "things people don't want to hear". The Government was asked for comment but no response was received.
September 13. A group of lobster divers found themselves in trouble at the weekend after finding their boat was taking on water. According to a Bermuda Radio incident report, at about 9.35am on Saturday they received an urgent call from the Fly About, which was about 200ft off Fort St Catherine's Point. "The four persons on-board who had been lobster diving in the area, were now instructed to don life jackets as assistance was arranged from the shore," the report stated. Pilot Boat St David was dispatched from Ordnance Island to assist, but by the time they arrived on the scene the Fly About was already receiving assistance from another boat. The vessel was reportedly bailed out successfully and recovered by a trailer for repairs at St George's Harbour.
September 13. Senator Jeffrey Baron presented Team StreetSafe with a $40,000 cheque yesterday as part of the Cash Back for Communities programme. "We are determined to invest in Bermuda's young people," the Minister of National Security said. "Too often we write off those young adults who may have made poor lifestyle choices. If Bermuda is to succeed we need all of our citizens engaged and productive. Team StreetSafe meets these young men and women where they are and works incredibly hard provide them with the tools to make positive choices." The programme provides direct intervention with those young people involved in the gang lifestyle and antisocial behavior, connecting them with services including education, apprenticeships and employment. Cash Back for Communities is made possible through the confiscated assets or proceeds of crime initiative, where seized funds are given back to organisations doing good work in the community. Yesterday's presentation took place at the Department of Youth and Sport's Community Centre on Angle Street.
September 13. Tips for heading off violent crime are to be shared tonight amid police concern at younger recruits continuing to join gangs. Sharing the latest crime statistics, Police Commissioner Michael DeSilva said that while more than a dozen cases were ready to go before the courts, "the gang members coming to our attention now are newer, and younger". Figures show crime generally has declined, although there has been a spike in the second quarter of this year. Four helping agencies will accompany Mr DeSilva at a forum aimed at discussing "what works", Mr DeSilva said: Martha Dismont from Family Centre, Kimberley Jackson from Mirrors, Gina Spence from the Champions Programme and David Lovell from Men on a Mission. The public meeting is from 6pm to 8pm, at the Heritage Worship Centre in Hamilton "There seems to be a lot of focus lately on naming and shaming, and attributing blame, when it comes to violent crime," Mr DeSilva told The Royal Gazette. "That comes from wanting to make sure that people are held accountable. We have to balance that with coming up with solutions." Gun crime has fallen over the past three years." Mr DeSilva cautioned against "comparing quarters" with the second quarter increase. "Total crime is less than 1,000 per three months. When something goes up 10 per cent or 5 per cent, these are not statistically significant events." While crashes are down overall, fatal collisions have been an area in which "we are just not having the impact that we hoped", he conceded. Serious crashes have tended to be "quite horrific". However, yesterday's announcement focused on gangs and violent crime: police have had an "incredibly busy summer" with Community Action Teams pulled back from their primary functions, and likely to remain so until the start of next year. "It ebbs and flows," Mr DeSilva said. "We have said before that Bermuda cannot arrest itself out of this problem. Since 2010, we have had more than 50 convictions for murder, attempted murder and firearms offences with sentences being handed down for life, and minimum imprisonment terms of 25 years. Concurrent with policing, it was equally important that the community is fully engaged in tackling the conditions that lie beyond the influence of law enforcement. We come across a lot of agencies that are doing a lot of good work. We want to get these agencies talking about what works, what their experiences are and what they need to have their efforts replicated. We want to contribute to a positive dialogue free of destructive criticism." Appearing alongside Ms Dismont, who urged as many people as possible to attend tonight's meeting, Mr DeSilva said officers had charged people as young as 18. "It's clear that their gang life at that age started before then." Police decided to hold the forum in part after a detailed assessment: numbers of incidents, as well as the levels of tension in the community. Part of what drives gang violence is called "the three R's", Mr DeSilva said: respect, revenge and revenue. "It is almost entirely about revenge, and almost entirely starts with a respect issue," he said, pointing to 2009 as the year that tit-for-tat violence started to snowball. His observation that younger gang members were being noticed by authorities was echoed yesterday in this newspaper by Jeff Baron, the Minister of National Security. Senator Baron will be attending tonight's forum, along with Walter Roban, the shadow minister. "This will be a solutions-driven conversation that will appeal to everyone who wants to make a real difference in tackling gang violence and making Bermuda safer," Mr DeSilva said. "The meeting is open to everyone, and I hope to see you all there."
September 13. Thousands of gallons of raw sewage from St George is still being dumped out at sea every day with no fixed timeline for improvements, The Royal Gazette can reveal. The Ministry of the Environment told this newspaper, in response to questions, that about 35,000 gallons of untreated sewage was discharged daily from a municipal outfall on North Shore which serves the town of St George. The wastewater disposal does not appear to have affected the quality of the bathing water this summer at Tobacco Bay, a popular beach for tourists and locals close to the old town, according to routine testing done on seawater samples taken by the Department of Health. Results posted online by the Department from May 1 to August 14 show levels of enterococci — a group of bacteria used as an indicator of pollution or faecal contaminants — far below the maximum accepted levels recommended by the Environmental Protection Agency in the United States. But St George's North MP Kenneth Bascome, who promised that something would be done about the raw sewage when he ran for Parliament in 2012, has admitted the problem was "unacceptable" and must be fixed. "You have to be aware that that is a not easily fixable situation," the One Bermuda Alliance politician said. "At this stage, that's an ongoing process. I would say there are many folks in town that are not really aware. There have been some improvements but the fact that the raw sewage is still being pumped, it's unacceptable." This newspaper asked the Ministry of the Environment to reveal how much untreated waste per day was being released into Bermuda's waters, in the wake of the latest "sewage balls" to wash up on Grape Bay last month. A spokeswoman said that as well as the 35,000 gallons of untreated sewage from St George, another 600,000 gallons of treated wastewater was discharged daily into the sea from the Seabright municipal outfall, just west of Hungry Bay, which serves the greater Hamilton area. About a sixth of that — some 100,000 gallons — comes from King Edward VII Memorial Hospital and is, according to the spokeswoman, "treated to the highest, or tertiary, level". The remaining 500,000 or so gallons from the Hamilton sewerage system goes through preliminary treatment; it is "filtered through 3mm pore screens" to remove grease and solids, following an upgrade on the Front Street waste water plant in summer 2015. The spokeswoman said: "There is a plan proposing additional treatment to improve the quality of effluent at both outfalls, though timelines are not fixed. A full range of options is under consideration." The Ministry of Public Works has commissioned a Canadian consultancy firm, Associated Engineering (International) Ltd, to conduct a $225,000 study into how to improve the water system in the parish of St George's, including dealing with sewage. Their report is due by March next year. St George town manager Candy-Lee Foggo said the Corporation of St George was responsible for the sewage from the Olde towne and was awaiting the outcome of that study before deciding how to proceed. "It doesn't make sense to replicate efforts," she said. "We are a part of the parish. For us to go and do a separate study, it's not a good use of our very finite resources." Ms Foggo said Southside already had a sewage treatment plant, as did the airport, and one possibility was to "bring all the systems together. It's got to be a holistic approach and then come up with a solution. Any new or improved sewage treatment facility for St George would not pay for itself and how to fund it would need to form a key part of the consultants' report, along with who will build it, who will manage it". In the meantime, the municipality is encouraging restaurants in St George to comply with a new law passed in the House of Assembly last month requiring them to fit grease traps, to reduce fats, oils and grease in the island's waste stream. "They are moving in the right direction," Ms Foggo said. "We don't have 100 per cent compliance yet." Mr Bascome pledged in October 2012 that under an OBA government: "We will no longer be pumping raw sewage into the ocean." He said yesterday the government had commissioned the parish study but responsibility for the town's sewage lay with the Corporation of St George. "It's my hope that before the next general election, something concrete will be done," said Mr Bascome.
September 12. Reinsurers could save up to $10 billion in costs by using a new way of collating information. Arthur Wightman, head of professional services firm PwC Bermuda, said that blockchain — a computer file underlying a mutual distributed ledger where blocks of information added in sequence cannot be changed or deleted — had huge potential to transform the reinsurance industry. Speaking at the Rendez-Vous conference in Monte Carlo, Mr Wightman said: "Blockchain technology is still a new and uncertain area for reinsurers but has the potential to deliver millions in operational savings, improve efficiency and accuracy and improve client satisfaction within reinsurance. Proactive reinsurers are looking at front end underwriting and market potential where the technology could be most disruptive." He was speaking as PwC unveiled a report in Monte Carlo which said that reinsurers in line to build some of the biggest blockchain applications outside the payments sector could save between $5 billion and $10 billion a year. The report added that reinsurers able to build, assess and refine blockchain applications would steal a march over the rest of the industry and "raise the bar" for competitors. PwC estimated that, by simplifying reconciliation and multiple data entries, blockchain methods could slash expenses by 15 to 20 per cent. And the report said that blockchain technology could speed up claims processing verification and also allow primary insurers to cede or retrocede risk using an application specially designed to process treaties, notify all parties and process premium and commission payments. PwC said it had worked on a number of proof of concept applications to show the potential for blockchain in reinsurance and insurance and how the technology could be applied in practice. The firm added: "We believe it's important to show that blockchain applications not only work, but provide the right solutions to important business problems."
September 12. BF&M has reported net earnings of $13.2 million for the first half of this year. That is a $1.8 million improvement on shareholders' net income, year-on-year. It also represents an annualized return on shareholders' equity of 9.9 per cent. However, the company acknowledged that a large fire claim will be recorded in its third-quarter financial statements. BF&M insured the Ann Cartwright DeCouto Building on Front Street, which was gutted by fire on July 21. Regarding the financial results for the year up to June 30, John Wight, chief executive officer said the performance was "strong". He added: "The core operating earnings were largely in line in the first six months of 2016, exclusive of fair value accounting for movements in the company's investments and reserves, with the corresponding period in 2015." About half of the company's earnings were generated in Bermuda, while the rest came from its operations in 15 islands in the Caribbean. The split is also 50-50 between property and casualty business, and health, life, annuities, pensions and investment advisory services. BF&M has four main insurance operating companies. BF&M General Insurance Company, BF&M Life Insurance Company, and Island Heritage Insurance Company are all rated A (excellent) by AM Best, while the Insurance Corporation of Barbados is rated A- (Excellent). Mr Wight said "there is no domestic insurance group in Bermuda or the Caribbean with stronger ratings". Gross premiums written for the period were $183.5 million, an increase of 1 per cent from the corresponding period in 2015. Equity attributable to shareholders at the end of June was $266.9 million. General fund assets totaled $1.1 billion, of which $113.2 million was held in cash and cash equivalents. Investment income for the six months reflected an $18.9 million increase in the value of investments for the period on falling US interest rates. The company said this interest rate decrease positively impacted the fair value of extensive fixed income portfolio. Offsetting this was a $21.6 million increase in the value of life and health policyholder benefits as a result of an asset liability matching policy which looks to limit volatility of reported earnings as a result of interest rate swings. BF&M said commission and other income was in line with the prior year at $20.4 million. Short term claims and adjustment expenses increased 14 per cent to $12 million due to increases in reported motor and miscellaneous accident claims as well as more unfavorable development on that group of claims compared to the prior year. Life and health policy benefits, which are recorded at fair value, increased by 64 per cent to $75.7 million, primarily as a result of the previously mentioned interest rate decreases and the BF&M's asset liability matching policy. The increase can also be attributed to higher local health claims reported in Bermuda. Operating expenses increased by 4 per cent to $33.3 million.
September 12. An award-winning international film company has set up shop in Bermuda. And Wishing Step Pictures is believed to be the first to use the island's segregated accounts company structure to create a business — and it is hoped other filmmakers will follow suit. Neil Glass, an island resident and co-founder of the Bermuda International Film Festival, said: "Although SACs are commonly used in Bermuda's insurance-linked securities and investment funds industries, we believe this is the first time one has been used for a film-production company." Mr Glass, an accountant and former head of the Bermuda Business Development Agency's asset management industry group, formed the documentary-making company with Kim Carter, company president and also a resident, and Zabi Yaqueen, from Toronto. The company will operate from Bermuda and the Ontario capital. Mr Glass said: "We plan to roll out numerous projects over the next few years and we feel the SAC route is the most efficient for our investors. "We particularly like that Bermuda's SAC laws allow for one cell to invest in another, so once a particular project is over, investors may choose to invest in another film in a tax-efficient manner." John Narraway, a consultant with the BDA, said: "We feel this could be a win-win scenario because Bermuda can provide a well-respected, sophisticated corporate platform which companies, including film companies, can leverage to reach a global audience. Bermuda offers a blue-chip jurisdiction that allows businesses to keep agile and innovative. We congratulate Wishing Step for breaking new ground and we hope it attracts more film production companies to follow suit." The company's first project, When Elephants Fight, a documentary about the exploitation of conflict minerals and its impact on the people of the Democratic Republic of Congo, was narrated by House of Cards star Robin Wright. The production won best foreign film at the HUMANdoc festival in Poland and was chosen as the opening night documentary at the Edinburgh Film Festival, one of the largest celebrations of film-making in the world. The film is now being shown in the US, South America, Europe, Africa and the Middle East and can also be bought or rented from retailers like Amazon and iTunes. Ms Wright is also taking part in the associated "Stand with Congo" campaign, which is running alongside the film and is targeting universities. Mr Carter said: "When Elephants Fight helped us to get established as a film-production company. We've subsequently forged excellent partnerships for our next project. We've been able to create some innovative ideas in marketing and distribution as well, which we feel could inspire other companies." The company's second project, authored by Mr Yaqueen, is film and campaign on modern slavery, being produced under the working title of ABOLISH. Wishing Step is again working with Ms Wright and verse.com to produce interactive media to support an app which will allow consumers to scan bar codes on products to avoid buying goods made by slave labour. The Bermuda Tourism Authority also welcomed the new business to Bermuda. Bill Hanbury, CEO of the BTA, said: "As the official film commission for Bermuda, the BTA is working with a variety of local partners to make our destination more attractive to film industry producers, directors and financiers. We're especially pleased when new allies like Wishing Step Pictures comes along with their deep reservoir of experience and a social consciousness that all of us can be proud of. The BTA welcomes Wishing Step to the neighborhood and looks forward to partnering with them to make Bermuda a valued power player in the world of film."
September 12. Bermudian actor Earl Cameron is set to be honored in the UK, becoming the first inductee in the Screen National Hall of Fame. According to The Voice Online, The Screen National Foundation is set to launch the first hall of fame for black film and television in October. The 99-year-old actor has appeared in numerous films over the past 70 years and has been credited as one of the first actors to break the colour barrier in the UK. During his career, he appeared in more than 90 films including Pool of London, Sapphire, Flame in the Streets, Thunderball and The Interpreter. Charles Thompson, the chairman of Screen Nation Foundation, was quoted as saying: "I am proud that the incredible legacy of the extraordinary contributions gifted by these outstanding veteran screen talents to the British film and TV industry can now finally be honored through the hall of fame."
September 12. The familiar sound of Gombeys echoed throughout the W.E.R. Joell Tennis Stadium this weekend at the annual Gombey Festival. The event, hosted by the Department of Community and Cultural Affairs, drew hundreds of spectators to watch performances by four of the island's Gombey troupes — Gombey Warriors, Gombey Evolution, H&H Gombeys and Places New Generation Gombeys. Attendees were also given some information about the history of the Gombey tradition and their attire, and heard live music by Mitchell "Live Wire" Trott. At the heart of the event was the honoring of H&H Gombeys troupe founder Tyrone "Funk" Nesbitt, who was recognized for his lifelong contribution to the art form. Sylvan Richards, Minister of Community and Culture, even joined in the spirit of the event by dancing before the crowd. "I enjoyed the performances of the various gombey troupes that were on display at the annual gombey festival," Mr Richards said. "I was also honored to be able to celebrate the contributions made to our gombey culture by Tyrone 'Funk' Nesbitt. The public turnout at the festival was also much appreciated and the audience participation was both enthusiastic and appreciative. The Gombeys are an important component of Bermudian culture and the annual Gombey Festival continues to celebrate the Gombeys' contribution to our culture."
September 12. American President George W. Bush's plans to convene a meeting of coalition partners in Bermuda to set the deadline for the Iraq war was vetoed by Britain and Spain, it has been revealed. As the world yesterday marked the fifteenth anniversary of the September 11, 2001, terror attacks in the US which led to the invasions of Afghanistan and Iraq, a new biography of the 43rd president details plans for the scuppered Bermuda summit. "With the attack on Iraq imminent [in March 2003] Bush decided it would be useful to meet once more with British Prime Minister Tony Blair," says biographer Jean Edward Smith in his best-selling new account of the 2001-09 Bush presidency, simply titled Bush. "Without Britain's support, America would be virtually alone and Bush wanted to support Blair [against domestic British opposition to the pending war] all he could. Bush had originally suggested they meet in Bermuda, where President Eisenhower had met Churchill and later Harold Macmillan, but the British believed Bermuda was geographically too close to the United States and thus symbolically suspect [in the eyes of British antiwar politicians and activists]." Bush's father George H.W. Bush, the 41st American president, had also held back-to-back meetings with British Prime Ministers Margaret Thatcher and John Major in Bermuda in 1990 and 1991. Author Smith, emeritus professor of political science at the University of Toronto and the John Marshall Professor of Political Science at West Virginia's Marshall University, says the summit venue was hastily changed to the Azores. Meeting there on March 16, Bush and Blair were joined by Spanish Prime Minister José María Aznar and Portuguese leader José Manuel Durão Barroso, both of whom also backed the American president's plans to attack Iraq. It was the Spanish leader Aznar who suggested the Azores as an alternative to Bermuda for that final pre-invasion meeting, explaining to Bush: "The name of those islands is associated with an article of dress [Bermuda shorts] that isn't exactly appropriate for the gravity of the moment we find ourselves in." The US's stated intent for commencing plans to invade Iraq following 9/11 was to remove "a regime that developed and used weapons of mass destruction, [harbored] and supported terrorists, committed outrageous human rights abuses, and defied the just demands of the United Nations and the world." In the lead-up to the invasion, the US and its chief ally Britain argued Iraqi dictator Saddam Hussein was developing weapons of mass destruction and posed a threat to both his Middle East neighbors and the broader international community. Along with Iraq's alleged development of WMDs, another justification for invasion was the purported link between the Saddam Hussein government and terrorist organisations including al-Qaeda, responsible for orchestrating the devastating 9/11 attacks on New York and Washington, DC. As with the argument that Iraq was developing biological and nuclear weapons, evidence linking Hussein and al-Qaeda was later discredited by multiple US and international intelligence agencies. In the Azores, Bush convened what was in effect a council of war with his closest allies in what he called "The Coalition of the Willing" — those countries which supported US plans to disarm Iraq and depose its leadership by way of military intervention. President Bush announced the long-threatened invasion would commence 48 hours after he issued a final warning to Iraq following the end of the Azores meeting to say military action was imminent. "This is our last effort," said Bush, who argued all diplomatic avenues to resolve the crisis had been exhausted. "Everyone has to be able to say we did everything we could to avoid war but this is the final moment, the moment of truth." The US-led invasion commenced a few days later on March 20. Direct American and coalition military involvement in Iraq extended until 2011, with a smaller US force being deployed there in 2014 to help battle an ongoing sectarian insurgency. It is estimated more than 200,000 people have died since the Iraq war began and that it will end up costing the US $2.2 trillion, including substantial amounts for the care of wounded veterans through at least the middle of this century. The decision by the US and Britain to go to war in Iraq was hugely controversial at the time, splitting the international community and pushing traditional pro-Washington allies such as France, Germany and Canada into an anti-war bloc that included China and Russia. Professor Smith, who has been called today's foremost biographer of formidable figures in American history, is the author of previous well-received books on Dwight Eisenhower, Franklin Roosevelt, Ulysses Grant, among others. He concludes his biography on the 43rd president saying: "Whether George W. Bush was the worst president in American history will long be debated, but his decision to invade Iraq is easily the worst foreign policy decision ever made by an American president." Bush by Jean Edward Smith is published by Simon and Schuster and can be ordered through the Bermuda Bookstore or the Bookmart.
September 12. Artemis Racing became the second team to secure three regatta victories at the Louis Vuitton America's Cup World Series Toulon yesterday. The Swedish challenger were the most consistent in the light-air conditions, finishing five-points clear of second-placed SoftBank Team Japan, whose impressive fight back fell just short of glory. Land Rover BAR, the only other team with three regatta wins, placed third to extend their lead in the overall world series standings to 14 points over nearest rivals Oracle Team USA, the America's Cup defender. With skipper Nathan Outteridge at the helm, and tactician and sailing team manager Iain Percy calling the shots, Artemis posted a first, third and fifth which was good enough to secure a second regatta victory this year having also triumphed at the World Series Chicago in June. "Very happy indeed!" an elated Outteridge said. "To come away with a win in Toulon in what were very light, difficult conditions is good. Our boat handling skills in light winds were a bit of a weakness and we've been preparing for a while now for dealing with exactly these sorts of conditions so when you've put that much time and effort into preparing for a certain wind range, you kind of want it, and that's what we got this weekend. A lot of teams were disappointed with the weather, but we were excited as it gave us a chance to put into practice what we've been working on, so to win as we did is just great." Outteridge and his team-mates dominated the opening day of racing on Saturday, reeling off two firsts and a third in light winds. "We had a very good day on Saturday but to back it up with another strong performance on Sunday is obviously very pleasing," said Outteridge, who won the silver medal with Artemis team-mate Iain Jensen in the 49er class at last month's Olympic Games in Rio de Janeiro. "We're very happy with the decision-making in the races between Perc [Iain Percy] and myself and we couldn't be happier with how we're sailing the boat right now. I think we've made some big strides in how we sail the boat and how we deal with the racecourses and the race format." Team Japan also thrived in the light-air conditions, going from last to second. "We're really happy with how this weekend has ended," Dean Barker, the team skipper, said. "To be on the podium is very pleasing, and that's obviously the goal, to keep improving. These events are the chance we have to measure the performance of the team, to see where we're performing and improving as a group." Land Rover BAR were also on the move with the points doubling on "Super Sunday", climbing from fifth to third to rebound from a poor start to the regatta. The British challenger started the final day of racing tied with Oracle in the world series standings but managed to distance themselves away from the America's Cup defender. "All credit to the team, it was a big improvement on yesterday and it needed to be for those double points on the Sunday," said Sir Ben Ainslie, the team principal and skipper. "It was a good day for racing, a better breeze than yesterday. We would have liked to have got closer to winning — I think Artemis sailed really well — but to increase our lead in the world series going into the final event in Japan in November is a big deal for our team." Regatta hosts, Groupama Team France, finished fourth in front of their own fans. "It was amazing this weekend," Franck Cammas, the team skipper, said. "To find out that many people wanted to come and support us was something special and we will use that as extra motivation to keep pushing everyone in Groupama Team France." The sixth and final world series event for this year will be held in Fukuoka, Japan, from November 18 to 20.
September 12. The communities and individuals affected by gang and gun crime in Bermuda can play a vital role in helping to tackle the problem, according to senator Jeff Baron. The Minister for National Security told The Royal Gazette that enforcement agencies had made engagement with residents and families touched by gang violence the "pivot" of their strategy. Mr Baron's comments come after a recent spike in gang and gun violence that has seen three young men killed in just three months as well as several shooting incidents. "There is reason to be optimistic and the best chance we have of success is if people affected by this violence take the lead," Mr Baron said. "At a funeral for one of the young men who recently died, his friends, as has become the custom, poured drink on the casket as a kind of send-off. At first the police asked them to desist, they took no notice, then a member of the clergy did the same with the same result. It was only when a woman or mother-figure who had been involved in helping to bring up this young man spoke with his friends and said it was disrespectful that the friends listened. This shows volumes to me and we have made engaging the community our pivot because that is the best chance we have of success. It is the people who have endured this loss that we are sitting down with; they are more impacted than anyone in the community by this trend and if we can get them to say 'stop' we will see a big difference." Mr Baron acknowledged that those now involved in the island's gang structure were much younger than six of seven years ago and some lacked the "the contextual understanding" of the roots of the rivalries. He said that while the recent spate of gang-related shootings was unacceptable, it was not "surprising" given the dynamic nature of gangs and their subculture. "It is tremendously shocking, unfortunate and sad that it has happened, it is beyond unacceptable," Mr Baron said. "We have to continue to look at energizing parts of our strategy; we continue to work at reducing gang crime but also the attractiveness of that lifestyle. There are other issues at play; socio-economic ones and historic. There are some individuals that have been involved in the gang conflicts for a decade. But as a whole they are much younger now." Mr Baron told The Royal Gazette that there was no single reason for the recent rise in gang activity, but numerous factors. "Tensions can be increased or decreased by sending a message on social media from abroad, that is the nature of the challenge facing police and their partners in Bermuda today. We have seen how rap videos are used here in Bermuda too; that itself speaks to so many different things. We have to look at the digital arena a lot these days and we do. There are often launching episodes that can be a chain snatch or simply taunting in a video on Instagram or Facebook."
September 12. The Transport Control Department has resolved an issue with four types of motorcycle already on Bermuda's roads. According to a statement, the various models — around 100 of which are on the road locally — were believed to be too powerful according to regulations. "In the interest of public safety, TCD conducted its own research, which confirmed that all four of the models did not exceed the 15 horsepower limit as prescribed in legislation," the statement continued. "TCD advises owners of the model of motorcycles in question to take their vehicles to the testing centre for examination in the normal way. TCD apologizes for any inconvenience this may have caused but stressed that road safety is of utmost importance for all road users."
September 10. What a difference a day makes. After experiencing full-on foiling conditions 24-hours earlier, the six teams competing at the Louis Vuitton America's Cup World Series Toulon were left frustrated by light breezes that prevented yesterday's official practice races from being held on the Mediterranean. "It was beautiful beach weather, but unfortunately the wind didn't fill in enough, so no racing today," said Tom Slingsby, the Oracle Team USA helmsman. The day before in stronger winds, the Olympic gold medal-winner endured a baptism of fire at the helm of Oracle's AC45F catamaran in the absence of skipper Jimmy Spithill, who is recovering from an elbow injury. Slingsby suffered minor injuries after flipping head over heels and bouncing off a winch during a bear-away maneuver. "We had just come off the mooring, and that was my first bear-away on a foiling AC45F, and I got it a little bit wrong," he said. "I have a few bumps and bruises down my left hand side from hitting the winch. I got a bit of a knock on the head too, but fortunately I had my helmet on." The light air conditions are expected to continue throughout the weekend, something which could play into the hands of regatta hosts Groupama Team France, who have posted their strongest results in non-foiling conditions. "Our strong point is light airs," Franck Cammas, the team skipper, said. "We've had good results in those conditions. Our progression curve is going up, but we need to be more consistent. Throughout the events, we've had ups and downs. I hope Toulon will be one of the ups! We've worked a lot for this. Anyhow, we're especially motivated to do well. We're dead set on giving a good image of what we're made of here, to show these boats and this racing to our public. Our goal is to create a team with a true French spirit for the next ten years." Land Rover BAR, the British challenger, lead the overall World Series standings by a point over nearest rivals Oracle Team USA, the America's Cup defender. The event is the first stage of competition for the 35th America's Cup to be held in Bermuda next year, with all racing taking place in the Great Sound, which hosted the World Series last October.
September 10. Local sailors Tim Patton and Jesse Kirkland will be looking to finish the Etchells World Championship in Cowes, Isle of Wight, on a positive note with their respective teams during today's final day of racing on the Solent. Patton, who is making his 26th appearance at the event, is the island's sole representative and is competing with Tom Herbert-Evans, the America's Cup's community sailing manager, and Richard Percy, the brother of Artemis Racing tactician and sailing team manager Iain Percy, on Thrash. Kirkland, who represented Bermuda with brother Zander in the 49er at the 2012 London Olympics, is serving as tactician on American Jane II, helmed by skipper Scott Kaufman, of the United States. With one race remaining, Patton sits in eighth in the Corinthian Division and 46th overall while Kirkland and his team-mates, who posted a victory earlier this week, are fifteenth overall.
September 10. The island's supplies of OxyNorm, a powerful painkiller used by patients with conditions ranging from cancer to severe migraines, have run short. As an opioid, the pharmaceutical is a controlled drug and therefore requires special clearance to be imported. "My husband has spoken with several pharmacists because as each pharmacy ran out, they would send you to another one," the wife of a man with chronic back pain. "They were quite frustrated and concerned, so it's not just the patients." She said a friend with cancer depended on the easy-to-swallow gel caps and struggled with alternative pills. Long-term patients are also subject to withdrawal symptoms if their regimen is interrupted. According to John Turner, the pharmacy manager for Bermuda General Agency Limited, the shortage emanated from a delay with the preparation of clearance documents in the UK. "Unfortunately, it's out of our control, but we are working with the vendor to have the product expedited to us," he said. While the island had a supply of the controlled release product, Mr Turner said everything was being done to resume supplies. "There are many facets in the supply that are outside of our direct control, and it can be easy for a problem to occur."
September 10. A cherished book lifted from the rubble of the late Ann Cartwright DeCouto's office was among the tributes shared at a Supreme Court special sitting held for her. The veteran lawyer's chambers at 79 Front Street was among the offices consumed in the epic blaze of July 21 — just weeks after the former Deputy Premier and minister died at the age of 71. A wealth of anecdotes emerged at yesterday's ceremony, recognizing her character, her role as a founding figure of family law in Bermuda, and her public service. Reflecting on her "big-sisterly warmth", Chief Justice Ian Kawaley drew laughter as he recalled the fear she instilled as a formidable matrimonial lawyer. "It's a difficult time for all of us," Trevor Moniz, the Attorney-General, told the room. "You realize how much you had when it's gone." Mrs Cartwright DeCouto's picture looked on, alongside Dame Lois Browne-Evans and Shirley Simmons, the other two pioneering female members of the Bermuda Bar — a trio dubbed "the Three Musketeers". Bermuda has grown accustomed to rancorous demonstrations, Mr Moniz noted, but his old colleague was marched upon and physically threatened when, as Minister of the Environment, she pushed forward the fish pot ban that ultimately brought Bermuda's fish stocks back from ruin. "She made good decisions, and stood by them," he said. Director of Public Prosecutions Larry Mussenden recalled her sharp wit on another occasion for which Mrs Cartwright DeCouto became infamous: her staunch opposition to the bid to bring the McDonald's franchise to Bermuda. Telling her in passing on the street that he wanted a hamburger, Mr Mussenden was treated to the reply: "You can get bloody homemade ones here in Bermuda." Karen Williams-Smith, the vice-president of the Bermuda Bar Council, told Mr Justice Kawaley that her old mentor and friend had "paved the way for all females in this profession — and also advanced the rights of women, who felt empowered". Her colleague, Wendell Hollis, showed the courtroom the volume he had retrieved from the ruins of the fire he had watched bring down the building where Mrs Cartwright DeCouto set up her office in 1972. Her name was still stamped inside its cover. Impressively well versed in a wide range of law, Mr Hollis said she drew the line at only one area: international business. Mrs Cartwright DeCouto was a force to be reckoned with in the 1995 Independence Referendum, he recalled: the ill-fated vote coincided with Hurricane Felix. The Government sought to postpone the referendum, he said, but the application for an order that it to go ahead was swiftly drafted by candlelight in Mrs Cartwright DeCouto's kitchen. Patricia Harvey hailed her as "a driving force behind pivotal legislation impacting family law and other areas", while Georgia Marshall, another colleague who joined her firm after being Called to the Bar by her, saluted her work ethic and gift for teaching. She was famously comfortable with keeping things as they had been, senator Marshall added, recalling having to push her into bringing fax machines into the office. "I have learnt much that I did not know," Mr Justice Kawaley concluded. "I will be comforted that her spirit clearly lives on in the Bermuda Bar, and in wider Bermuda."
September 10. Devonshire residents have called on the Bermuda Government to sort out the mountain of blue bags being stored at the old recycling facility. With the Material Recovery Facility in Hamilton Parish only working "sporadically" since March, a backlog of recyclable waste is still being kept at the Devon Springs site in Devonshire. While Government said the MRF plant would be repaired "shortly", Greenrock's executive director stressed that the "unfortunate" situation was damaging public confidence in the recycling process. "All I see them doing is storing stuff, not taking anything away," one area resident told The Royal Gazette. "Something should be done." The man, who asked not to be named, said he had heard other area residents complain about "big rats" in the area, although he had not seen any himself. But he added that the area was also "drawing men, who sit up there every day drinking". However, he said the situation had not put him or his neighbors off recycling, adding "we still do what we have to do". Another area resident noted that the building had deteriorated since being damaged by Hurricane Gonzalo in 2014, with no efforts made to repair the damage. "It's been like that for years. It's an eyesore. It's not healthy — I'm worried about the rats." His wife added: "It's ridiculous because all of that causes problems with rodents. It's annoying because sometimes it smells. We don't know what's in the blue bags." According to a Government spokeswoman, the MRF has only been processing about half the island's recyclable waste since March, with the rest stored at the Devon Springs location. The plant has had similar problems in the past, with the Ministry of Public Works announcing on September 3 last year that it was experiencing technical difficulties. "The MRF has been operating sporadically since our last report due to intermittent mechanical issues," the spokeswoman said. "A dedicated senior staff member will now be on site to undertake the required repairs and as such, it is anticipated that the plant will be operating at full capacity shortly." While she did not specify an exact timeline, she said this should be "clear in a few weeks" once the plant was running at full capacity. "Reducing the backlog has had it challenges because the plant still has to deal with the incoming recyclables on a daily basis." This newspaper first reported on the pile of blue bags used for recyclable trash in December last year. By March, the mountain had grown and it remains visible from the roadside. While Greenrock executive director Jonathan Starling was not aware of the present problems at the MRF plant, he said the situation was "unfortunate". "For one, it undermines all the education work and awareness that has been or is being done to encourage people to recycle — and the storage at Devon Springs no doubt hurt that a lot because people were seeing the blue mountain of bags growing there and it undermined confidence in the recycling process. It would have been better to store them at the Government Quarry or somewhere less visible until the repairs were complete." Mr Starling added that despite the education that has been done, "there is a lack of trust in the recycling programme". And while there "is always more that can be done", ensuring the MRF is operating smoothly "is key in maintaining confidence in the recycling system", he added. While Government said it would be "premature to comment" on the future plans for the facility because they have not been finalized, a Department of Health spokeswoman reiterated that Vector Control regularly checked the area. "The Department of Health received complaints of rodents in that area earlier in the summer. Traps were set in June 2016 and re-baited in July 2016. The area continues to be checked regularly by Vector Control. The public is asked to report concerns about rodents to Vector Control at 278-5397 or envhealth@gov.bm."
September 10. The island's incinerator is burning dirty recyclables that cannot be processed by the recycling plant. According to Keep Bermuda Beautiful's executive director, the Material Recovery Facility in Hamilton Parish is not equipped to handle severely contaminated tin, aluminium and glass. However, Anne Hyde stressed that these materials were likely "just a drop in the bucket" compared to the recyclables that are not separated from regular waste before being discarded at Tynes Bay. This newspaper received reports of tin, aluminium and glass routinely being taken to the waste-to-energy facility as Bermuda remains unable to cope with its recycling load. And the Bermuda Government admitted that "rejects" and "contaminated recyclables" are sent to Tynes Bay for "thermal destruction". In response, environmental charities Greenrock and KBB noted a lack of faith in the recycling system and stressed that more needs to be done to encourage residents to sort their waste. A government spokeswoman said: "'Rejects' and contaminated recyclables — unwashed cans and bottles — are sent to Tynes Bay for thermal destruction. The metals are removed from the ash during the ash processing. We typically do not find blue bags in the general waste stream as truckers and the public comply with separation rules and take blue bags to the public drop-off. There are inspections which take place at the weighbridge and by staff within the tipping hall to ensure only the correct wastes are being processed by the plant." Ms Hyde explained that "unwashed" means "really dirty" items, such as glass bottles from underwater clean-ups that are full of mud, or tins that are half full of food. "The Materials Recovery Facility does not have the resources (manpower or washing capabilities) to deal with dirty TAG to make it clean and more saleable. So the only solution at this time is to reject it and send those items to the Tynes Bay facility to be burnt." While unable to estimate the amount, Ms Hyde made "an educated guess that it isn't even a drop in the bucket in comparison with what does not get separated out from people's, companies', Government's trash and all the TAG that goes to the Tynes Bay facility inside black trash bags. Less than a third of residential households participate in the Government recycling programme. We can do better than that." Ms Hyde explained that Tynes Bay enabled Bermuda to safely dispose of the island's burnable waste while generating power. But she explained that the recycling programme focuses on the non-burnables because these "do not burn and reduce Tynes Bay's ability to efficiently create electricity". Jonathan Starling, executive director of Greenrock, added that their presence in the waste stream can "also contribute to breakdowns there, necessitating more frequent repairs". Vanese Gordon, the waste-management education and enforcement officer, said in 2009 that "burning cans and bottles detracts from the Tynes Bay Waste to Energy facility's ability to generate power for Bermuda and contributes to costly breakdowns and inefficiencies in the system that all residents end up paying for". Mr Starling added: "Greenrock encourages members of the public to actively recycle TAG, and ensure that TAG materials are removed from black bag trash destined for the incinerator's waste stream. Recycling helps make waste management in Bermuda much more efficient, reducing the overall cost to the taxpayer, while also contributing to a reduced carbon footprint for Bermuda as a whole." Ms Hyde added that recycling was important for sustainability of raw materials, critical for the efficient operation of the incinerator, expected by visitors and harmful to the environment and marine life if not done. "It's also so easy to do," she said, adding that a population-wide mindset change is needed. She also expressed disappointment in the "lack of faith" in Bermuda's recycling programme. "It seems that people lose faith if they see one instance of recycling sent to the wrong place, or a government employee who disposes of it at Tynes Bay," she said. Ms Hyde and Mr Starling both stressed that education was key and suggested recycling could be made mandatory. Mr Starling also reiterated that a bottle deposit system could work, along with more recycling bins around the island. He also reminded the public to "reduce, reuse and recycle" and encouraged businesses to set up "Green Teams". Event organizers could also contact the Green Co-operative for further advice, he added. And Ms Hyde suggested the Government provide a reliable and transparent recycling service, run a recycling awareness campaign and make data on the results of the recycling efforts public. KBB also wants to see recycling bins for all public spaces and events, compulsory recycling for certain sectors, and for waste management and parks employees to understand their role in making recycling a success.
September 10. Tradition is important to Tyrone Alexander "Funk" Nesbitt. It's an affirmation that's in contrast to his character — this veteran Gombey dances to the beat of his own drum. "I was always the Gombey way out in front like a wild Indian," said Mr Nesbitt, who will be honored at the annual Gombey Festival today. Rather than a will to stray, it was a bid to lead — to keep the pace, he said. "It came to a point that they were holding up the parade. We were supposed to be right behind a float and they were about 10 or 15 feet from the float. His love for the culture began with the beat. Mr Nesbitt became a Gombey when he was 10, after years of following Place's Gombeys with his friend Leon Place and cousin David Saunders. "I was dancing from there on," the 66-year-old said. "One day the drummers weren't there, so Mr [John] Pickles Spence told me to put on the drum and play. It encouraged me. As the years went by, I improved, improved, improved. It wasn't something that I was taught — I listened and I learnt." He has witnessed many changes over the years, noting that the Calypso influence of the early days is making way for a fast-paced soca beat. "The music is different now. Our beat was slower because the way they played the bass drum was much slower." He said that, while the soca beat stands out much in the same way as the gombey beat, they were culturally driven in the past, a relevance he worries will be lost. "When you look at a lot of other cultures, they hold on for years. Why is ours changing? When you make that change, it will be lost. We're all connected to the islands and their beats, but this is our culture. What I've learnt has been going on for years, so we try to teach them the old way. Back in the day, when we went out, this whole street would be filled with people. It's a spiritual type beat that gets in you. And you feel it. We went through hard times back in the day, but the Gombeys lifted up a lot of people's spirits." He said the change isn't only evident in the sound, but in the costumes, the masks and the new dances. An accomplished artist and artisan, Mr Nesbitt has made a name for himself creating vibrant costumes with significant meaning. "I was about 20 years old when I made my first costume. I met a young lady and she showed me how to do the embroidery. Everything else was history. It just went from there. Back in the day they used to use embroidery thread, but I used wool to make everything look uniform and eventually I got recognized." The artist was no stranger to design. His paintings and abstracts hang around his Court Street apartment. His love for Bermuda's heritage can be seen in his brightly-hued designs. Embellished with Bermudian and African symbolism, he colorful moon gates, wisdom knots, flags and local flowers that adorn his capes each carry their own meaning. His masks have his signature fish scales and he still uniquely uses wool instead of embroidery thread. "They're just ideas that come to mind, from wanting to make something different," he said, adding that it is important for costumes to contain symbolism and meaning. A skilled carpenter too, he makes bows from spice trees and hatchets created in a traditional fashion using four separate pieces. After a two-year hiatus in the 1990s, Mr Nesbitt create his own group, H & N Gombeys, which stood for Hendrickson and Nesbitt. That group is now known as H & H Gombeys. He occasionally performs with and assists Warner's Gombeys with Alan Warner, last year's honoree. When asked to share his hopes for future Gombeys, he said: "I don't know where they're going to but I hope they do their best. All I can say is that if Gombeys stick to tradition, it will go further. Some people try to exploit the culture, but it is important for us to remember the roots of where it comes from and to be an ambassador to Bermuda when performing. It is about community."
September 9. The flag that became a symbol for America after the World Trade Centre 9/11 terrorist attack was yesterday returned to the site by insurance firm Chubb. Evan Greenberg, Chubb's chief executive officer, said: "The raising of this American flag was a powerful symbol of hope, strength and resilience at one of the most trying moments in our nation's history. "As we prepare again to pay tribute to those who were lost, this flag is a timely reminder of the spirit of our heroes and the resolve of a great city and a great nation. "Chubb is honored to donate the flag to its new, permanent and proper home in the 9/11 Memorial Museum." Firefighters raised the flag taken from a yacht berthed at the nearby World Financial Centre over the ruins of the twin towers on September 11, 2001, after both were hit by hijacked jets, killing thousands of people in the towers, in the jets and on the ground. The photograph of the event was used worldwide, but the flag disappeared only hours after it was hoisted. Chubb insured the yacht and the owners later made a claim based on the "significant" value of the now-historic flag. What was thought to be the original flag toured the world, but later investigations found it to be larger than the one in the iconic photograph. The whereabouts of the original was unknown until two years ago, when a mystery man handed it into a fire station in Everett, Washington State — nearly 3,000 miles away from New York. He told firefighters that a widow of a 9/11 victim gave the flag to a worker at the National Oceanic and Atmospheric Administration, who later gave it to him. The flag was subjected to a battery of tests and analysis of dust in the fabric, which matched the site, and photographs proved it was the 9/11 flag. As Chubb had paid the claim, it was the legal owner of the flag and the company, with the help of the original owner, donated it to the museum set up to honour the victims of the attack. Bermudians Boyd Gatton and Rhondelle Tankard died in the New York attacks, as did former Saltus Grammar School pupil Robert Higley, a US citizen who grew up in Bermuda. A hijacked jet hit the US defence complex in Washington, the Pentagon, while another plane crashed in a field in Pennsylvania after passengers attempted to overpower its hijackers. Ace Ltd took over Chubb last year in a deal worth more than $28 billion and the combined company, which has offices in Bermuda, took the Chubb name.
September 9. Bermuda has been asked to play a leading role in defining international conservation guidelines, according to the Ministry of the Environment. According to a spokeswoman, Cole Simons, the Minister for the Environment, was invited to speak at the International Union for the Conservation of Nature at their world congress, which was held in Hawaii last weekend. The IUCN — a membership union composed of both government and civil society organisations — is dedicated to providing public, private and non-governmental organisations with the knowledge and tools that enable human progress, economic development and nature conservation to take place together. In addition to being invited to make a presentation, Mr Simons received an invitation by the body for the island to play a "leading role" in defining guidelines for marine and terrestrial environment conservation in the wake of the 2010 United Nations Convention on Biological Diversity, which called for the protection of ten per cent of the world's coastal and marine areas by 2020. Mr Simons said: "I believe that defining these conservation guidelines represents a unique opportunity to celebrate Bermuda's present and historic conservation achievements. The conservation discussion will take into account our healthy reefs, terrestrial parks and wreck dive sites, affording us future opportunities to generate funding for important science projects and the promotion of tourism. Let me be clear: this exercise involves valuing other effective forms of conservation that we already have in practice and law — these may include our endemic species protections, some of our fisheries regulations, and our protected wreck sites, all of which protect nature but are not included in the definition of marine protected area or terrestrial national parks. It is about valuing what is successful about Bermuda's terrestrial and marine environment in ways that will stimulate public awareness on the island." Mr Simons added: "The discussion about conservation measures will be new and internationally important. It puts Bermuda back in its rightful place as a leading player in the global conservation debate. It enables Bermuda and her people to celebrate and reinforce the protections for nature she already has."
September 9. A podium finish proved out of reach for Jessica Lewis who came sixth in the T53 100 metres final at the Paralympic Games in Rio de Janeiro. Lewis said she threw everything she had into last night's race at the Olympic Stadium, making a blistering start and was in second place until the 60 metres mark. The slightly-built 23-year-old was unable to fend off her more experienced and physically stronger competitors during the business end of the race and admits that she simply ran out of steam. "I had a really good start and was up in second for much of the race and managed to hold them off until the very end," Lewis said. "It was pretty awesome to be up there with the big girls and now I just need to improve my power, strength and stamina." Lewis harbored hopes of adding to her impressive medal collection, having won bronze at last year's IPC Athletics World Championships in Doha and gold at the Parapan Am Games in Toronto, but can take comfort from knowing her best years are firmly ahead of her. "I'm still at the beginning and I've only been doing this for six years," she said. "I've got a long career ahead of me. I threw everything I had into it and know I'll refocus for the 400 and 800." Lewis could not better her personal best of 16.81sec, finishing in a time of 17.25, with China's Lisha Huang, who set a word record in the morning's heats in 16.19, winning her second successive Olympic gold in 16.28. Her compatriot Zhou Hongzhuan placed second in 16.51 and Australia's Angela Ballard came third in 16.59. Also finishing ahead of Lewis were Hamide Kurt, of Turkey, in 17.01 and Samantha Kinghorn, of Britain, in 17.13. Lewis said she was unhappy with her display in her heat when she finished fourth in 17.42 and was determined to iron out some technical faults in the final. "I was disappointed with my heat and I had a really slow start," she said. "I had to refocus for the final and felt I did a lot better." With seven of the athletes' personal bests within half a second of each other, Lorri Lewis, Jessica's mother and Bermuda's chef de mission, said she expected an extremely close race. "It was an awesome, awesome race," she said. "She performed incredibly well and was very pleased as was her coach [Ken Thom] who is already thinking about the next four-year plan. These were the best T53 women in the world and she's number six, and that's not too shabby! We're all extremely proud of her." Lorri said her daughter struggled to match the raw power and stamina of the top three as they approached the finish line. "She's so little, just 68lbs, and she was up there with the best in the world. It was just a matter of the size difference and stamina to get over that finish line. She's getting there, though; just give her a couple of more years." Slow ticket sales overshadowed the countdown to the Paralympics, which has been downsized with venues being closed and services cut. Lorri, however, described the first day of the Games as "wonderful" and was taken aback by the feel-good atmosphere at the stadium. "There were some empty seats at the stadium but there were a lot more people than we thought there would be. It's been amazing so far and the crowd was just incredible. They were cheering everybody and there was plenty of noise. The Athletes' Village is beautiful and everybody has been really helpful." Lewis's performance was a marked improvement on her showing at the London Paralympics in 2012 when she finished eighth in 19.38. She returns to action in the 400 heats tomorrow at 12.40pm Bermuda time. The finals will be held on Sunday at 5.30pm. Also representing Bermuda in Rio is Yushae DeSilva-Andrade in boccia. Her event starts tomorrow.
September 9. A health watchdog has warned that checks being carried out on "high risk" medical equipment in Bermuda are inadequate and do not guarantee public safety. Ricky Brathwaite, programme manager for health economics at Bermuda Health Council, likened a proposed new system for inspecting such machinery to the health and safety checks carried out on restaurants. "No one complains about the inspections and the regulations that restaurants have and that's just for the food you eat," he said. "This is the same thing that we are looking to do with this regulation of the healthcare system and we think healthcare is even more important than the restaurant industry. We are talking about healthcare as a life-and-death thing and the tests that are received and given, how are you going to ensure that there are some kind of standards in place so everyone can trust the system?" Dr Brathwaite told The Royal Gazette that though the Department of Health was responsible for inspecting equipment which emits ionizing radiation, such as X-ray machines, it was "not enough" and other machinery, such as imaging equipment like MRI and CT scanners, did not have to be regularly checked under legislation. Proposed new regulations, which have drawn criticism from some doctors and are now under review, would require the island's 300 or so healthcare providers to pay an annual fee, based on their workload and regardless or not of whether they have any high-risk equipment, to the health council. The fees would go into a pot used to pay for a formal inspection system for high-risk health technology and other regulation of the healthcare industry, such as reviewing complaints about quality. The proposed annual budget for such a regulatory system is $250,000. "The cost would be spread across the facilities on an annual basis, so some people would pay $500, some would pay $1,000," said Dr Brathwaite. "They are putting into a pool that would add up to $250,000. These are proposed [fees]. The idea is that everyone would contribute." King Edward VII Memorial Hospital, as the island's largest healthcare provider, would be the biggest contributor to the pot and Dr Brathwaite said there had been "no pushback" from the hospital regarding the proposals. Some physicians have "pushed back", however, and the regulations and associated draft legislation were temporarily withdrawn from the House of Assembly in July by health minister Jeanne Atherden to allow for further consultation. One vocal critic was Ewart Brown, the former Premier, who claimed aspects of the bill were specifically aimed at undermining his businesses, Bermuda Healthcare Services and the Brown-Darrell Clinic, the only medical facilities other than the hospital to have MRI and CT scanners. Dr Brown told this newspaper the system already in place for checking machinery such as X-ray and ultrasound machines was enough. "Long before the health council came into being, the health minister will not issue a certificate of safety to anyone who operates radiation equipment without a physicist coming to check," he said. He said all his equipment was regularly checked for safety and described the proposed regulations as "unnecessary". "On the one hand, you want to save money, but you want to shift a cost to the operators — that's unfair." But Dr Brathwaite said: "The current system is inadequate in that it does not cover all the types of equipment that need to be maintained to ensure high levels of accuracy and safety in their function. There are inspections that are done by the Department of Health. Typically, if a concern is raised, there is someone who can go out and check. There may not be the resources in place for them to do regular inspections." He added: "The system right now is not adequate . . . it's not enough. I don't think it's enough to ensure public safety 100 per cent. We do need some additional resources, we do need some additional expertise, by which we can have regular checks. There are technologies that, if you don't maintain them properly and you are using them for diagnostic reasons or treatment reasons, they can cause harm to a patient. It's any piece of equipment that if you don't maintain or calibrate properly, can pose a risk to a patient or public safety. We are not talking about scalpels, we are not talking about stethoscopes. We are talking about things that, if you don't maintain them right, may cause issues." He said there had been "stories about X-ray machines [that] have leaked radiation in the past into public settings", adding: "It's not that these things happen on a regular basis, but we do need to put standards in place." Dr Brathwaite said the healthcare system in Bermuda needed "resetting" and it was recognized globally that certain equipment should be closely monitored by regulators. "The Department of Health does have an inspector that they use. He is a person that is used now. Whether he has the capacity or has had the capacity in the past to fully cover all the different areas, that is a very good question, [as is] whether the structure is in place to ensure that if a complaint or a red flag is seen that he is prioritizing or guiding in the right direction and whether we do need additional resources. I know fees have been an issue with the legislation. [But] unless you have some funding to bring in the proper people and to ensure public safety, then you are just grabbing at straws. The council is continuing to collaborate with physicians to review components of the legislation. This review does include, specifically, parts related to health technology. As the discussions for review are ongoing with physicians, we are all working collaboratively towards a system that is best for Bermuda." The US Food & Drug Administration classifies medical devices based on the risks associated with the device as either class I, II or III, with class I being low risk and class III being the highest risk. The health council is proposing to regulate class II and III devices and term them "high risk". The Department of Health is responsible under the Radiation Act 1972 for annually inspecting and licensing equipment that emits ionizing radiation. A spokeswoman said the last inspections were in March and April this year and the next were due in spring 2017.
September 9. Two curious middle-schoolers discovered a loaded semi-automatic pistol under some dead leaves by a Sandys railway trail, the Supreme Court heard yesterday. Gariko Benjamin's DNA was found on both the firearm in question and the bandanna it was wrapped inside. Prosecutor Takiyah Burgess outlined the facts of the case in her opening statement. Ms Burgess said that at about 1pm on Saturday, April 23, 2011, two female middle school students spotted a man fiddling with something in the trees as they walked through the railway trail near Sandys Community Centre. Later, they inspected the area where they had seen the man and found a gun wrapped in a black and white bandanna under some dead leaves. The girls ran away and called police, who attended the scene at about 1.41pm and discovered both the bandanna and the firearm. PC Garwin Phillips from the Bermuda Police Service's firearms unit described how he removed the gun's magazine, which had several live rounds, as well as a live round from its slide. It was then sent for forensic testing. Candy Zuleger, lab director of Trinity DNA Solutions in Florida, explained that Mr Benjamin had been the major DNA contributor to the gun's inside barrel, which had a mixture of at least two contributors. She added that the likelihood of the DNA belonging to another black Bermudian was 1 in 2.9 quadrillion (a number containing 15 zeroes). Ms Zuleger said that Mr Benjamin's DNA had also been found on the bandanna, which had at least three contributors, with a 1 in 950,000 chance that the DNA in question belonged to another black Bermudian. Mr Benjamin denies handling the weapon. The case continues.
September 9. A Warwick man has denied attempting to import $265,289 worth of cannabis into Bermuda. Damion Smith, 44, was stopped at LF Wade International Airport on August 28 after sniffer dogs identified two suitcases, which were then X-rayed. The suitcases were found to contain 5,032.99 grams of cannabis in 12 square packages. Magistrate Khamisi Tokunbo released Mr Smith on $100,000 bail, and told the defendant to return to court on September 23 for disclosure and to set a trial date. He also ordered Mr Smith to surrender all travel documents, and to report to Hamilton Police Station daily until his next court appearance.
September 8. A total of $31 billion was held by 102 ultra-high-net-worth individuals (not identified by name) living in Bermuda in 2014. That is one of the facts included in a new booklet that highlights Bermuda's attractiveness to the trust industry and wealthy clients. The trust industry supplement, published in Britain, is being distributed to 20,000 trust and estate practitioners. It is the third annual Society of Trust and Estate Practitioners (STEP) Journal supplement and has been titled Trust Bermuda. It highlights the island's hosting of next year's America's Cup, and the appeal of both Bermuda and the sailing spectacle to high-net-worth clients. It features a cover image of America's Cup action along with the words: "Bermuda, host of the America's Cup 2017, is about to show the world why it's a winning destination for wealthy families." The 28-page booklet, sponsored by the Bermuda chapter of the Society of Trust and Estate Practitioners, features a number of articles and includes a two-page information graphic detailing the benefits and advantages Bermuda offers for family offices and high net-worth clients. The graphic highlights the fact that Bermuda was the first offshore jurisdiction elevated to the OECD's "white list" having substantially implemented internationally agreed tax standards, putting it on a par with G8 and G20 nations. It also notes that Bermuda has about 30 trust companies and 70 law firms. One article in the booklet examines the reasons why the island was selected to host the 35th America's Cup, and there is a column by Ross Webber, chief executive officer of the Bermuda Business Development Agency, which looks at how the America's Cup will showcase Bermuda's merits on a global stage. The booklet is being distributed to 20,000 STEP members worldwide as a separate publication in conjunction with this month's issue of STEP Journal. It is a collaboration between the BDA, the Bermuda Association of Licensed Trustees, and STEP Bermuda. Other contributors to the booklet include Appleby's Ashley Fife, on why the island is a leading location for family offices; Dana Philanthropy founder Gina Pereira, who explains Bermuda's regulatory appeal to foundations, charities and donors; and Simon Taube QC of Lincoln's Inn, Alec Anderson and Anna Bruce-Smith of Conyers, and Jonathan Conder and Emma Jones of Macfarlanes on new trust legislation and latest cases. Meanwhile, John Riches of RMW Law comments on Bermuda's compliance strengths, and Hamilton Princess owners Alexander and Andrew Green explain their top five reasons to invest in Bermuda. A digital version of the supplement can be accessed at step.org/digital/bermudasupplement2016.
September 8. Accusations of politically motivated obstruction over the Rev Nicholas Tweed's work permit continued yesterday from Chris Furbert, president of the Bermuda Industrial Union. Mr Furbert confirmed he had been speaking of Mr Tweed on Labour Day, in which he charged that a minister tampered with the file of someone "dear to us". He sharply rebuked people who wanted the non-Bermudian clergyman off the island, and claimed the One Bermuda Alliance had a vested interest in blocking the permit. Home affairs minister Patricia Gordon-Pamplin should have recused herself, Mr Furbert added, as she had a conflict of interest after ceasing to attend Mr Tweed's services two years ago at the St Paul African Methodist Episcopal Church. Mr Tweed's three-year appointment there had been renewed in March at the AME annual conference, but his work permit, which expired on July 19, has not yet been renewed. Responding on Tuesday, Ms Gordon-Pamplin said that an application had not been received when she was referred to Mr Tweed's permit. The pastor continues to work with ministerial permission, and she said there had been nothing untoward in seeing his file in the absence of further information. According to Mr Furbert, the application was sent to the Department of Immigration on the day before the work permit expired. "At some point, somebody needs to say what the internal process has been. There are some things I have been privy to that say things could have been handled a lot better." According to "internal rumblings", he said the union had been aware that the OBA wished to block Mr Tweed's permit. A prominent member of the People's Campaign group, the pastor has been a strong critic of the administration. Mr Furbert said it was appropriate for an AME pastor to take political stands, calling it in keeping with the church's history. "This man has Bermuda connections; his father was run out of here 50 years ago," Mr Furbert said, alluding to the pastor's father, Kingsley Tweed, who campaigned against racial segregation in Bermuda. Those who want Mr Tweed out should "kiss where the sun doesn't shine", Mr Furbert added. "It had to be said — because they are nasty. You've never heard me make any kind of statement like that all the years I have been president. They are going too far." Meanwhile, supporters of the Pathways to Status immigration proposals weighed in on the issue, saying Mr Tweed, like other non-Bermudians, was entitled to the protection of law. The group said it expected the Government to deal with "any work permit renewal in a procedurally fair manner. While we may disagree with Rev Tweed's position on Pathways to Status, it is not for us to say whether he should or should not be allowed to remain on a work permit. Like the members of the People's Campaign, we believe in a work permit regime which serves the legitimate work aspirations of Bermudians in Bermuda. Our main difference seems to be who should be considered Bermudian. Our position has been consistent. Anyone who is born here or who arrives here at a young age should be able to at least apply for Bermudian status at some point in their life. We believe in an immigration policy which protects people who know no other home than Bermuda. We have always stood against arbitrary cut-off dates that divide families. We will continue to advocate for immigration policy which brings Bermuda in line with global standards and its international human rights obligations."
September 8. Education minister Wayne Scott said yesterday he hoped to see a "plan etched in stone" that would see a Bermudian take the role of education commissioner. His comments came after a news report on ZBM on Tuesday evening revealed non-Bermudian, Dubai-based educator Paul Wagstaff had been recommended for the job. Mr Scott said it was the first time he had heard the name. While the minister explained he had never been involved in the hiring process for the position, he had made his position on the matter very clear. The Board of Education makes a recommendation on the appointment of a commissioner which is then considered by the Public Service Commission. Mr Wagstaff, who was said in the report to have confirmed he had been recommended but that no contract had been signed, has a history of school improvement and advisory services in the UK including on the Curriculum Division of Ofsted — the UK's education standards watchdog. But of utmost importance, Mr Scott said, was that even if an overseas candidate had to be initially appointed due to a lack of a homegrown skills set, he would hope that a Bermudian would be trained up to eventually take the position. Mr Scott told The Royal Gazette: "My position has been very clear all along — I think that the position of education commissioner is a position that should be Bermudianised. I have also said that if there is a compelling argument for a skill set that exists outside of what we currently have — like if we need to modify the education system — I would like to see, etched in stone, a development plan in place ahead of time for the training of one of our local people. What many of us have seen in the past is when non-Bermudians are brought in to do a job, the training of Bermudians doesn't then adequately take place." Speaking of the TV news report that Mr Wagstaff had been recommended, Mr Scott added: "I listened to the evening news with interest because yesterday was the first I had heard that information. I have stayed out of the process even though my position has been made clear — that I would want to see a development plan in place ahead of time as much as I can influence that." Acting education commissioner Dr Freddie Evans also said it was the first time he had heard of the recommendation, adding that he did not know how far into the hiring process the board was. Mr Wagstaff was responsible for leading "major evaluations of government initiatives including a major review of the teaching and reading" according to Ruskin Education where he is currently chairman. His biography adds: "Paul was appointed the national director of the Primary National Strategy in 2006 and led a major revision of the UK's National Literacy and Numeracy strategies, a major initiative aiming to raising standards in state primary schools across the UK. Paul moved to CfBT in 2011 to help establish a new regional structure and successful strategy for growth in the role of regional director before moving into his current role at Ruskin Education LLC." On the appointment of education minister Wayne Scott in January, 2015, Premier Michael Dunkley said the appointment of a permanent secretary and an education commissioner was "imminent". Valerie Robinson-James was made permanent secretary the following month but the commissioner's seat remained empty. The hiring was said to have been delayed as no agreement could be made with the leading candidate on the "economic terms of the appointment". The previous commissioner, Edmond Heatley, had a short tenure. He took up the role in August, 2013 and resigned after eight months.
September 8. Belco's decision to reduce the amount paid to solar power producers who put electricity back into the grid will effectively stop average customers subsidizing wealthier ones. That is the view of Walter Higgins, the power utility's chief executive officer, who added that solar contributors would still be compensated for excess power despite the end of the six-year "net metering" incentive programme — but at a lower rate that was fairer to other Belco customers. Belco applied to the Energy Commission on August 15 to change its rates for residential net metering and commercial renewable energy. Special rates were adopted in 2010 to encourage the development of solar power, allowing residential customers to send their excess electricity into the grid at the highest tier retail rate plus fuel adjustment charges. The incentive, initially set for 200 new customers, ultimately gained 325 participants by last month when Belco proposed switching to a compensation of "avoided cost" for new installations — mainly covering the cost of fuel. Based on the August fuel adjustment rate, Belco said solar producers would receive 17.36 cents per kilowatt hour for their excess — roughly half the price paid under the previous incentive scheme. The scheme's existing members will continue to receive the higher rate, but newcomers will receive the new "avoided cost" rate. Denton Williams, Belco's chief operating officer, said the net metering plan had met its objectives by encouraging people to adopt solar energy. "When net metering gets very big, you have to think about how it affects others," Mr Williams said. "That price includes the costs of distribution and transmission and all the fixed costs associated with Belco. The result is that people who can afford to put in these systems are going to be subsidized by someone else." Mr Williams estimated that the value of this effective subsidy had totaled about $500,000 over the six years of the scheme. Some, including Judith Landsberg, Greenrock director, have suggested that the change will put people off installing solar systems and damage the renewable energy industry. Belco argues that those who install systems that meet their own power needs would see no difference, as the solar power produced would offset the kilowatt hours they would otherwise have bought from Belco. Belco estimates that an appropriately sized solar power system with an expected life of 25 years would have a payback period of roughly eight to ten years, or 9 per cent to 11 per cent internal rate of return. In a statement, Belco suggested that "too often, we fear, solar installations are being sold to Bermuda customers not on the basis of either good economics or the customer's needs, but rather based on the artificiality of selling excess power to the utility at a price in excess of what the power cost to produce." Only those with larger systems intended to generate an excess supply will see their returns fall, Belco added. Tim Madeiros, chief executive officer of solar energy firm AES, declined to comment until he had studied Belco's proposals more closely. Another green energy firm, Be Solar, put up a message on its Facebook page on August 18, stating that a solar system "is still just as great an investment as it has always been, especially with the recent Belco rate increases and the hot summer weather. The updated version of the current net metering programme simply encourages clients to invest in a suitably sized solar system, which can still result in reduced, zero or negative Belco bill." Mr Higgins said: "If you are an average customer, it probably costs you a few extra dollars a month to have solar panels on the roofs of rich people. We are agnostic about this. As a regulated utility, we are an agent of the government and we will act according to government policy." Grant Gibbons, the Minister of Economic Development, has called for a commission of inquiry on the ending of the net metering scheme to ensure that a range of perspectives had been considered. Dr Gibbons has requested the inquiry's findings by the end of this month, and appointed Raj Barua as a special adviser to the commission for the inquiry's duration.
September 8. Telecoms firm Logic concedes it has "a lot of work ahead" to repair its relationship with disgruntled customers. Frank Amaral, the CEO of KeyTech, the parent of Logic, acknowledged the impact of major disruptions to the service which has led to numerous complaints in the past few days. Mr Amaral admitted his statement was "overdue", and pledged to provide more updates on Logic's attempts to put things right. In a press release this morning, Logic said an internet outage was reported on Friday of last week, which impacted customers that evening and again the following morning. That was fully reinstated within 20 hours, but a secondary outage then took place between Sunday morning and Monday evening. On Sunday, e-mail services for @northrock.bm customers were then impacted with services partially restored by late evening on Monday. This has resulted in the current degraded service level of delayed e-mail transmissions and slow web mail access. Critical hardware failures were the cause for both service disruptions, said the statement. The press release began: "As of this notice, Logic would like to advise customers subscribing to our e-mail services utilizing the @northrock.bm address, that efforts are still under way to reinstate their services to full capacity. Mr Amaral stated: "Our team of engineers have been working around the clock to fully resolve the equipment failures. While we continue to solve the problem, we have a lot of work ahead of us to repair the relationship with our customers. We recognise this statement is overdue and will be providing more frequent updates. We understand the impact these outages have on all of our customers. The questions and comments have been heard and we aim to get our e-mail service back to full capability as soon as we can." Logic asked its @northrock.bm customers to avoid calling the call centre as updates will be provided through its Facebook page, Channel 100 for TV subscribers and the status.logic.bm webpage.
September 8. Pope Francis has been invited to visit Bermuda by Premier Michael Dunkley. The invitation was extended yesterday when the Premier attended a General Audience with the pontiff at the Vatican, pointing out that Bermuda had a large Catholic population. During his audience — arranged by Wesley Spiewak, head of the Roman Catholic Church of Bermuda — the Premier also presented the Pope with a cedar plaque carved by a Westgate prison inmate. Currently on holiday in Italy with his family, Mr Dunkley handed over the plaque, which he said was "beautifully crafted" by Dwayne Signor from the correctional facility in Dockyard. "I explained who made it, and he seemed very touched," the Premier, a former altar boy at St Michael's Church in Paget, told The Royal Gazette. Last September, the Argentinian-born Pope made headlines when he prayed for Bermuda's citizens as his plane flew over en route to Cuba. The Premier added: "I thanked him for his continued blessings on the people of the world, but also his blessings for Bermuda. He said, 'And don't forget to bless me in your prayers as well'. "I was struck by how genuine and humble he was. He keeps the message simple, he truly cares and I think he gets a lot of enjoyment and satisfaction from what he does." After Mr Dunkley met the Pope in St Peter's Square, Bishop Spiewak took them into the Basilica for a tour before the church opened to the public. "It was a very humbling experience for myself and my family, and one I'll never forget," Mr Dunkley added. Explaining his choice of gift, the Premier said that he was "well aware of the talent of many incarcerated inmates" after serving as Minister of National Security. "Obviously the inmates have made some poor decisions, but I've always tried to allow them the opportunity to grow," he said. Mr Signor visited the Premier's office last week to present his plaque, where Mr Dunkley told him that it "took my breath away. I said that the Pope would be truly touched, and he was when he saw the artistry and the craftwork. I also told him that everyone makes mistakes in life, but he has a proven talent. He was very grateful for the opportunity and I was pleased to give it to him, because this type of experience can be life-changing." Mr Dunkley returns to the island on Monday. Pope Francis would be the second Pope to set foot in Bermuda if he comes. Pope Paul VI made a brief visit to the island in 1965.
September 8. Tomorrow marks a bittersweet day for the popular Caribbean restaurant Rotis, which will be closing its doors to the dismay of loyal customers. For five years the hideout on Court Street has offered diners a congenial place to drop in and chat as well as enjoying the cuisine. Charlene and Owen Martin will be thanking their guests with a customer appreciation day, saying they have been "truly humbled" by their patronage. One such devoted customer is Mike Charles of the Bermuda Union of Teachers, who joked that he wanted to call a protest to keep his weekend retreat open. "That's my favourite Saturday haunt for breakfast; you met a lot of folks there — it's going to be a big miss," he said. "They would graciously prepare breakfast for me. I wouldn't order a dish, they would just present me with something from the Caribbean, and there was always good conversation." Growing up in Trinidad left Mr Charles with a special fondness for Rotis cuisine. The Martins hail originally from Guyana, where the food and culture are very similar to that of Trinidad — including the restaurant's signature dish. "I would always leave there with a bag of food," he said. "All good things come to an end." Rotis' menu comes from the couple's own family recipes, explained Mrs Martin. "Almost everything we did was in-house, made by all of us involved in the restaurant — all personal recipes that we have had for ever and use in our own cooking." Their business was built on the premise of delivering "the most authentic Caribbean rotis that there are", but it also served dishes such as doubles, or the Guyanese speciality of cook up rice — peas and rice with chicken, which Trinidadians call pelau. "We hope we have met that objective of having a welcoming place where people could drop by," Mrs Martin said. "The truth is, our customers have been so incredible, it has been unbelievable for us. People will tell us when they're going on vacation. Some customers' children we have watched growing up over the last five years." Tomorrow offers a final opportunity to show the love, she added. "It will be all day long — at least until we run out of food."
September 7. Bermuda's major international insurance companies believe the island needs a new airport to replace the current "decrepit" structure. The Association of Bermuda International Insurers and Reinsurers this morning issued a statement saying it did not take a position on the Bermuda Government's airport redevelopment plan but added that it was clear the existing facility needed to be replaced. "Abir members recognise that Bermuda's lifeline to the rest of the world — the 70-year-old Bermuda L.F. Wade Airport Terminal — is decrepit, subject to extraordinary maintenance costs, and at enormous risk from sea level rise and hurricanes," Abir said in today's statement. "The sewage system is antiquated and subject to malfunction due to tide and wind conditions thus creating a potential public health hazard to workers and visitors. A consensus is emerging that the airport terminal is beyond repair and that a new facility is needed. We are not experts on Bermuda's infrastructure priorities, but we believe that the current airport facility needs to be replaced and that such replacement will benefit Bermuda." Abir's members include some of the island's largest employers, who had a combined payroll of around 1,500 people in Bermuda as of the end of 2015. Their clients and employees are major users of the airport. Although Abir said a new airport was needed, the organisation stopped short of backing the Government's proposed scheme to build a new terminal in collaboration with Canadian government agency, the Canadian Commercial Corporation. But it warned against the dangers of taking on extra public debt. "We don't take a position, pro or con, on the Government's proposed rebuilding plan," Abir stated. "It is not for us to opine on what the financial structure or management should be of the airport project, but we do recognise the Government has come forward with a financing plan that avoids additional debt, has protections against troubling cost overruns and follows a model that has been used elsewhere on infrastructure projects. After six years of a devastating recession, Bermuda's debt is a serious concern; it seems clear the government cannot take on much additional debt without imperiling essential services and receiving another sovereign debt rating downgrade. Before a decision is made, we understand that the Government will make the required public disclosures as called for under the entrustment agreement with the UK so that Bermuda's voters are afforded a full airing of the financial details. With that information in the public domain it should be possible for an informed decision to be made about the airport project and its impact on the Government's finances."
September 7. A legal action has been launched by Bermuda Emissions Control against the Premier, the Attorney-General and members of the Commission of Inquiry. The move comes months after the commission announced that it would be looking into allegations of mismanagement of government funds in connection to several projects — including the construction of the Transport Control Department's emissions centre. A recent writ, filed in the Supreme Court by law firm J2 Chambers, lists BEC as the applicant and the Premier of Bermuda, the Attorney-General and commission members Sir Anthony Evans, John Barritt, Fiona Luck and Kumi Bradshaw as respondents. It states that the matter is concerning an application for Judicial Review and the Commission of Inquiry Act 1935. A Bermuda Government spokeswoman contacted about the legal dispute declined to comment, stating that the matter is before the courts, and no official comment was received as of press time from a spokeswoman for the commission. Meanwhile, Donal Smith, the owner of Bermuda Emissions Control, said he would prefer to have his lawyers speak on the matter as it was related to an active court matter. Efforts to contact J2 Chambers were not successful as of press time yesterday. The commission, an independent body, was tasked with investigating several allegations made by former Auditor-General Heather Jacob Matthews concerning government spending between 2010 and 2012, including the Port Royal Golf Course and Government's contract with GlobalHue. However, it later announced that it would also examine contracts made before and after the period, including the controversial airport redevelopment project. The commission is not tasked with resolving criminal issues, but to look into government affairs, refer potential violations of law or rules to the appropriate agency — and ultimately to be "assured that Government has learnt and moved on from any past mistakes about its own internal processes".
September 7. A British TV network has reported that a "rare eel from its native Bermuda" has been found in a canal near Birmingham in the English Midlands, after swimming nearly 3,500 miles across the Atlantic. ITV said the three-foot animal had traveled from the Sargasso Sea, where eels are believed to breed. Estimated to be more than 20-years-old, the eel was discovered by charity workers cleaning the waterways in the Midlands. "Canal & River Trust workers hauled the 5lb 10oz eel from the canal while investigating a pollution incident," said the TV report. "The eel — native to the Sargasso Sea in the middle of the north of the Atlantic Ocean — is thought to have swam nearly 3,500 miles to make its home in West Bromwich." According to the report, John Ellis, national fisheries and angling manager at the Canal & River Trust, described the discovery as "pretty amazing. I'm delighted we've had a chance to admire this wonderful creature. Eels are such a fascinating animal, they start life as a little egg in the Sargasso Sea near Bermuda and make an epic 4,000 mile journey across the Atlantic Ocean to end up in canals and rivers across Europe and North Africa. Once they enter in the canal they will spend their life growing and maturing before returning to the Sargasso Sea to breed." The eel has now been returned to a nearby canal.
September 7. The Rev Nicholas Tweed, a pastor and prominent community activist, has found himself at the centre of controversy after the Bermuda Government was accused of interfering with his work permit. Patricia Gordon-Pamplin, the Minister of Home Affairs, called the allegations from Chris Furbert, the president of the Bermuda Industrial Union, "incorrect and misleading", adding that she was not at liberty to identify the person in question. "I don't have a problem with criticism, but I have a serious problem when you malign my integrity," she told The Royal Gazette last night. The minister added that she had no personal access to individual files, saying: "If I need to have information, I ask my technical officers. I was asked to consider the extension of a work permit that was about to expire, prior to the receipt of a replacement application. As such, it was my job as minister to examine the file, and I had every right." While Mr Furbert declined to name the individual "very dear to us" in his Labour Day address, The Royal Gazette understands it concerns Mr Tweed, who as a top member of the People's Campaign has often criticised the Government's conduct. The clergyman is a leader in the grassroots group along with Mr Furbert and Jason Hayward, president of the Bermuda Public Service Union. Mr Tweed's permit is said to have expired on July 19, with the pastor not yet notified of its extension. In a pointed warning, Mr Furbert said on Monday that a minister had taken a file from the chief immigration officer — and told the Government not to "play games". According to an immigration spokeswoman, a permit holder is generally permitted to continue working, but with the permission of the minister. Dismissing Mr Furbert's suggestions, Ms Gordon-Pamplin yesterday said the Government "looks out for Bermudians", voicing concern at Mr Furbert's remarks on "the responsibility for or the status of any work permit application." She also told this newspaper that she had no cause to take a file directly off Danette Ming, the chief immigration officer. The minister said that under section 61 of the Bermuda Immigration and Protection Act, the minister had "full authority to issue work permits — however that responsibility is usually delegated to the Board, unless the minister's input is required. Therefore, it is entirely appropriate for me to have access to any file where the minister is needed to resolve a particular issue. I do not keep any files in my possession once my input is given, and any further information that may be required is sought by the technical officers." Mr Tweed declined to comment when asked yesterday about the issue. The Department of Immigration does not comment on specific cases, but Ms Gordon-Pamplin called it "interesting" that the union head would "be advocating for a work permit holder in one breath while asking for government to ensure that Bermudians are considered first and foremost for employment in their own country". In the past, Mr Furbert has called for a moratorium on work permits in the face of rising unemployment. Ms Gordon-Pamplin said his remarks on Labour Day raised "questions as to his ulterior motive". Mr Tweed, whose father Kingsley Tweed was a key civil rights campaigner in Bermuda, said in a 2014 interview that being non-Bermudian should not lessen his public stand on behalf of Bermudians, adding he was "definitely here for now".
September 7. A Devonshire man has been fined $1,600 after being caught with cannabis, cannabis resin and cocaine. Malik Outerbridge, 44, was stopped in Pembroke at 5.31pm on February 7, after police officers spotted that he was carrying something in his hand and grew suspicious. Upon opening his hand, the defendant from Cedar Park Road revealed two clear bags with plant material in them. The officers then performed a further search on Outerbridge and discovered a tin of mints in his jacket pocket, which contained a brown paper twist with a substance which looked like cocaine. After being seized and analyzed, the three bags were found to contain cannabis (28 grams), cannabis resin (0.11 grams) and cocaine (0.86 grams). In Magistrates' Court, the defendant, who has previous convictions, pleaded guilty to possessing the drugs and asked for lenience as they were for his personal use only. Magistrate Khamisi Tokunbo fined Outerbridge a total of $1,600 — $300 each for the cannabis and cannabis resin, and $1,000 for the cocaine. He ordered the defendant to pay the fine in full by October 7, or face 100 days in prison in default.
September 6. Objections have been filed against the proposed St Regis project in St George's, with the location of estate lots being one area of contention. A series of estate lots are included in the fifth phase of the hotel project, located to the west of Tobacco Bay and southwest of Achilles Bay. In one letter of objection, Kenneth O'Connor wrote: "I'm objecting because I would like to see the surrounding areas to these two open spaces to remain as open green space. I believe the rezoning of these areas to allow future development will be detrimental to the experience of the fort and Tobacco Bay beach area." The Bermuda Environmental Sustainability Taskforce also filed an objection, expressing a need for additional time to review the 880-page application. Kim Smith wrote that it was "impossible" to review all of the documents within the usual two-week objection period, saying the deadline limited the ability of BEST or concerned members of the public to identify objectionable elements within the proposal. In subsequent e-mails, BEST suggested extending the deadline until September 9 while a representative from the developer said they would be happy to work with the charitable organisation. While a planning official stated that they were not able to extend the deadline, they said BEST should submit any concerns about the plan in writing even past the 14-day period, stating that out-of-time objections would be forwarded to the Development Applications Board before they make their decision. Plans for the St Regis Hotel project, which include a 122-room hotel, hotel amenities, a casino and several condominium buildings, were submitted to the Department of Planning on August 1 and are available for public viewing both on the department's website and at their offices in the Dame Lois Browne-Evans building.
September 6. The pace of deal-making has slowed this year in the Bermuda reinsurance market — but more mergers are likely in an industry "ripe for additional transactions." That is the view of industry analyst Brian Schneider of Fitch Ratings, the New York-based credit rating agency that has issued a report highlighting conditions of "challenged profitability" for the group. Fitch states in its report that it expects mergers and acquisitions activity to pick up after a relatively quiet period, although not on the scale of 2015. Mr Schneider, senior director with Fitch, told The Royal Gazette: "Reinsurance-sector mergers and acquisitions activity has slowed down due to increased valuations and reduced interest from foreign buyers as they digest recent deals. Nevertheless, we expect M&A activity to pick up again in the not-too-distant future as market conditions remain ripe for additional transactions — companies continue to face limited organic growth options and are looking to enhance scale and diversification." Some of the biggest deals agreed last year on the island included XL Group's purchase of Catlin, Ace Ltd's acquisition of Chubb, and the buyout of Ironshore by Chinese investment firm Fosun International, as well as the purchase of PartnerRe by Italy's Exor. The wave of merger activity has led to some job losses, but as Bermuda Executive Services director Bill Zuill told this newspaper last week, the hit to local employment has not been as great as many had feared. However, the Fitch report, which describes a market struggling to maintain a healthy level of profitability amid intense competition from third-party capital, falling reinsurance rates and investment income squeezed by a prolonged period of ultra-low interest rates, suggests more M&A activity is likely. The report describes the Bermuda market as having delivered "favourable but tempered operating results" with combined underwriting profits of $4.4 billion, a combined ratio — the proportion of premium dollars spent on claims and expenses — of 86 per cent, and a net income return on equity of 10 per cent. Asked what it would take to improve the prospects for the group, Mr Schneider said: "It will be challenging to improve the profit outlook for reinsurers in the near term, as we expect premium prices and investment yields to continue to decline, weakening profitability. The next hard market will have to be driven by a sizeable reduction in industry capital that can push price increases." Lower than normal hurricane losses over the past decade have dampened reinsurance rates, as has the abundance of capital pouring into market via insurance-linked securities such as catastrophe bonds. Hurricane Hermine was the first hurricane to make landfall in Florida in 11 years last Friday, but early estimates from Karen Clark & Co suggest losses in the region of $500 million — not enough to make a serious dent in the industry's capital. Fitch noted that the Bermuda group's reported written premium volume decreased by 7 per cent in 2015 over the year before, while the aggregate investment yield was 2.1 per cent, marking the seventh straight year of declining yields. The report found that some companies were allocating more of their investment portfolios to equities and alternative investments. "While some companies have increased risky assets, it is not to a level that would cause us any rating concern at this time," Mr Schneider said. The US Federal Reserve has indicated its intention to raise interest rates within the coming months — with the next increase potentially coming as soon as next week. Higher rates would likely result in a fall in the value of the fixed-income securities that dominate the investment portfolios of most of the island's property and casualty reinsurers. But Mr Schneider believes that most of the market is well positioned to withstand such a shock. "We would consider most reinsurers prepared for a rise in rates as they are maintaining short-duration portfolios that can be reinvested relatively quickly into higher-rate investments," he said.
September 6. Two new members have joined the think-tank set up to advise Government on financial stability. Dame Amelia Fawcett and Gil Tucker have both been added to the Financial Policy Council. Bob Richards, the Finance Minister, who is also chairman of the council, said: "Since its inception last year the council has been developing an important role in advising the Government and the Bermuda Monetary Authority on the vulnerabilities and risks in the global economy and the Bermuda economy that might impact Bermuda's financial sector. Dame Amelia and Gil will bring extensive experience and wisdom to the council's work." Dame Amelia, a British and American national, is a former banking executive and chairman of the Hedge Fund Standards Board in London and a non-executive director and chairman of the risk committee of State Street Corporation in Boston. She is a former vice-chairman and chief operating officer at Morgan Stanley International in Europe and was also chairman of the Guardian Media Group. Dame Amelia is chairman of the Prince of Wales' Charitable Foundation and deputy chairman and member of the governing body of the London Business School. Mr Tucker, a chartered accountant, was managing partner for Bermuda with professional services firm Ernst & Young and later chairman. Although retired, he is active on a number of boards, including Government advisory boards and was three years ago made a Fellow of the Institute of Chartered Accountants of Bermuda. The two new appointees will join Sir Andrew Large, who acts as deputy chairman, Jeremy Cox, the Bermuda Monetary Authority CEO, Sir Courtney Blackman and Michael Butt on the council.
September 6. Home affairs minister Patricia Gordon-Pamplin has defended her right to access immigration files following allegations made by union leader Chris Furbert. During yesterday's Labour Day speech, Bermuda Industrial Union president Mr Furbert claimed someone "very dear to us" was facing work permit difficulties, and that "a minister has taken a file from the Chief Immigration Officer" which "should be concerning to everyone". Responding today, Mrs Gordon-Pamplin questioned why Mr Furbert, who has fought vigorously for Bermudians to come first for jobs, would now be advocating on behalf of a work-permit holder. She also accused Mr Furbert of "incorrect and misleading information. As minister responsible for immigration, this Government indeed looks out for Bermudians and it concerns me that Chris Furbert would issue incorrect and misleading information to his audience regarding the responsibility for or the status of any work permit application," she stated. The minister said Section 61 of the Bermuda Immigration and Protection Act gives her full authority to issue work permits, adding that responsibility is usually delegated to the board, unless the minister's input is required. She continued: "Therefore, it is entirely appropriate for me to have access to any file where the minister is needed to resolve a particular issue. I do not keep any files in my possession once my input is given, and any further information that may be required is sought by the technical officers. While it would be inappropriate to comment on any specific case, what is interesting is that Mr Furbert would be advocating for a work-permit holder in one breath while asking for government to ensure that Bermudians are considered first and foremost for employment in their own country. To do this on Labour Day raises questions as to his ulterior motive."
September 6. The Royal Gazette Wahoo Tournament was hailed a success, with more boats than usual bringing their catch to the weigh-in this weekend. While John Allan Barnes said many competitors came home only with stories about the one that got away, the overall quality of the catch was high. "It was good," he said. "We had more boats weighing in than last year, and a higher percentage of boats that signed up came to the weigh-in. Usually you only get around a quarter or a third of the boats bring something in, but this year we had around 36 boats and 16 weigh-ins. The numbers of fish were not terribly high, although we heard from some boats that they would have caught ten, but they got away. The quality of the fish this year were good with plenty in the 30lbs to 40lbs range." While high swells provided an additional challenge for the competitors, Mr Barnes said he received few complaints. "There were a lot of swells out there with all of the hurricanes around, but most of the people were pretty happy," he added. The presentation night is scheduled for Monday, September 12 at Spanish Point Boat Club.
September 6. The 2016 Gombey Festival comes to the W.E.R. Joell Tennis Stadium this Saturday. The event is held annually to honour Bermuda's cultural heritage — mixing dance, drumming and colorful attire. Expect to see a wealth of performance styles from the different troupes participating, such as the freedom dance, cockfights, biblical stories and the snake dance. Doors will open at 5pm, with the festival on Marsh Folly Road starting at 6pm and the finale at around 8.30pm — where the peewee Gombeys from each troupe will perform for three minutes apiece. Also during the celebration, H&H Gombeys troupe founder Tyrone "Funk" Nesbitt will be honored for his life's contribution to the art form. Sylvan Richards, Minister of Social Development and Sports, called the festival "an opportunity not to be missed". "With all the intricate costumes that have been created for each troupe, it will be a visual kaleidoscope of colours," he added.
September 6. Customers using Logic Communications complained of a difficult weekend as the former Northrock e-mail system crashed. According to Logic's Facebook site, problems also hit the domain name system, which affected internet navigation. The DNS server was restored yesterday morning as engineers continued to work on restoring full e-mail access. John Tartaglia, the CEO of MM & I Technology Group, said his company had lost e-mail and web mail on Saturday. "Companies such as mine rely on e-mail services for our business, and to support clients 24/7 across the world. Although it might be a public holiday in Bermuda and the United States, we still support US and local clients outside of business hours. And it is not a holiday in Europe and other parts of the world — they are open for business." Another customer who contacted this newspaper felt the situation had worsened as "the controlling company has now bought CellOne. All of our communication on island is slowly heading into the hands of one company. No competition, no need to make their service worthwhile. A monopoly is not what we need in Bermuda." KeyTech and CellOne joined forces in May. The company was unable to provide technical details for the outage, but kept customers updated via its Facebook page.
September 6. The Bermuda Zoological Society is looking for teams of researchers to help survey coral reefs around the island. "Reef Watch" will take place on Saturday, September 24, and/or Sunday, September 25, and organizers are calling on participants to join the sea-bound adventure for one or both days. Each team of four will be assigned two reefs and will be provided with training to conduct a survey on their health. Teams must provide their own water transport out to the reefs and are also asked to raise funds of at least $500, which will go towards reef conservation. A post-event barbecue will be held at the Bermuda Aquarium, Museum and Zoo, during which time prizes will be awarded to those who collected the most sponsorship money. Over the past three years, Reef Watch has raised more than $60,000 to research and conserve the island's reefs via the Bermuda Reef Ecosystem Analysis and Monitoring programme. Thaddeus Murdoch from Bream said: "Bermuda relies on an ecologically healthy and resilient reef for its economic, social and ecological well-being. "It is of extreme importance that we make Bermudians aware of both the vitality of Bermuda's reef system, and its extreme fragility." For more information or to enter a team, visit crowdrise.com/reefwatch or e-mail development.bzs@gov.bm. Training nights are scheduled for Monday, September 19, and Tuesday, September 20.
September 6. Department of Health's clinical laboratory has achieved accreditation from COLA, a US-based independent, non-profit accreditation organisation. According to a Department statement, COLA accredits almost 8,000 medical laboratories and provides a programme of education, consultation, and accreditation. The local facility, located at the Hamilton Health Centre on Victoria Street, routinely deals with clinical specimens — samples from human clients — when a Health Centre physician requests tests be performed to aid in the diagnosis of illness. A specimen of blood, urine or other sample is taken from the client and sent to the laboratory for testing. In addition to routine testing of clinical samples, the lab also serves as a public health laboratory during an outbreak or epidemic and manages specimens for testing in Bermuda or abroad. "Two medical technologists and a laboratory director work in the clinical laboratory," added the statement. "They perform between 10,000-25,000 tests annually under four specialties — microbiology, hematology, general immunology and routine chemistry. The laboratory director is a medical officer, and the senior medical officer is section head. Completing COLA's accreditation programme means the Department of Health's clinical laboratory is in compliance with US federal CLIA requirements. In the US, Clinical Laboratory Improvement Amendments (CLIA) regulate laboratory testing and require clinical laboratories to be certified and accredited before they can accept human samples for diagnostic testing." Minister of health and seniors, Jeanne Atherden, congratulated the team, saying: "Accreditation of the Department of Health's clinical laboratory assures Bermuda's public of the quality of laboratory medicine and patient care associated with the lab's day-to-day operations." COLA accreditation leads to improved patient safety as laboratory testing errors are reduced, any weaknesses in workflow, processes, and procedures are identified and addressed, and overall operations are aligned with accepted practices, said the Health Department. "This is an ongoing exercise, and the laboratory will be reassessed by COLA in two years' time. All 12 clinical laboratories in Bermuda are accredited, which attests to the high quality of laboratory services and laboratory personnel in Bermuda."
September 6. The Gibbs Hill Lighthouse temporarily stopped spinning last week, forcing repairs at the 172-year-old landmark. According to a spokesman for the Department of Marine and Ports, an issue arose with the system used to rotate the lighthouse's lens. "As a result, while there was illumination, there was no rotation of the light," the spokesman said. "During a site visit by a Marine and Ports Services electrician last Monday, the problem was rectified. Bermuda Radio has confirmed that the lighthouse was functional and the light was rotating correctly." One of Bermuda's leading tourism attractions, the light's focal plane is at 354 feet above sea level and aircraft can see its flashes from over 100 miles away.
September 5. Union leaders lamented the state of the island on Labour Day yesterday, accusing the Bermuda Government of misfiring policies and misspending money when the people are struggling. Hundreds of people gathered at Union Street ahead of the annual march, huddled beneath umbrellas amid the rain as leaders delivered speeches urging them to stand together. Shannon James, president of the Bermuda Union of Teachers, took the lead three days before the island's public schoolchildren return to the classroom after the summer holidays. Mr James compared the status of the island to Babylon, noting a range of issues including the airport redevelopment project, the lack of an education commissioner and the decision to repair the Cabinet offices before schools. "Something is wrong," he said. "The biblical scholar will say these are the end of days. These things will happen. The conservative person will say the system is broken. The revolutionist will say the system is alive and well. It's just doing what it's supposed to do." He noted the number of Bermudians leaving the island looking for opportunities, calling it a sad day. "Didn't we transform Dockyard?" he asked. "Didn't we create nine acres that were not in existence last year at this time? And you are telling me it's too hard to fix education? It's too hard to give our students the schools they deserve?" Chris Furbert, president of the Bermuda Industrial Union, meanwhile questioned the decision to invest money in renovations to a minister's office while union members have not seen a pay increase in five years. He reiterated calls for the establishment of a living wage in Bermuda and addressed the issue of pay disparity. "We need to have a hard conversation about how we are going to move this whole thing about a minimum wage and wage disparity in the right direction," he said. "All around the world they are having conversations about having a living wage. About how you can be above the poverty level and not be begging for this or begging for that." Mr Furbert also noted immigration issues, saying that someone "very dear to us" had his work permit expire in July and has yet to hear if it will be extended. While he said he would not identify the person in front of the media cameras, he said: "The government is not supposed to be interfering with work permits. When you hear a minister has taken a file from the Chief Immigration Officer, that should be concerning to everyone. Everyone. If the government thinks they can play games with this one, then the house of cards will come tumbling down. We will do everything in our power to make sure that this will not happen. Make no mistake about it, this is a very serious matter." Jason Hayward, president of the Bermuda Public Service Union, also lamented the status of the island, saying that a number of people no longer view Bermuda as paradise. "It is a very sad state we are presently in," he said. "Something is fundamentally wrong with our system. The government has failed to put policies in place that increase employment. They have failed to encourage the private sector to create jobs. The latest job numbers will show that Bermuda has lost jobs again. This is alarming, because when Bermuda loses jobs, it means less employment opportunities for our people. When we look at the numbers, what is equally alarming is the fact that while Bermudians lost jobs, our expatriate brothers and sisters increased in their job numbers." He said that many have already given up, and that even many of those who are employed are struggling. "We used to call it living paycheque-to-paycheque," he said. "Sometimes people can't even make it to the next pay-cheque without asking someone for a loan just to get by until the end of the month." And Leroy Simmons, president of the Bermuda Entertainment Union, questioned why the recent Troika production of The Colour Purple that featured an entirely Bermudian cast was unable to get funding from the Bermuda Tourism Authority, but the BTA invests funds into the Bermuda Festival which features international performers.
September 5. A new form of labour relations is called for in times of economic urgency, according to Marc Bean, the Leader of the Opposition. In a 2016 Labour Day public holiday message for the Progressive Labour Party, Mr Bean called the movement "one that highlights the strength, resilience and determination of our people. Throughout history equality, economic parity, improved benefits and better working conditions have had to be fought for, vehemently, so that we could enjoy the benefits in the workplace that we do today. The position we currently find ourselves in, characterized by a struggling economy, a deteriorating social fabric, and often a devaluing of laborers, requires us to rethink our approach going forward. Simply put, the urgency of now requires a new type of labour relation with both government and the private sector. Even more than pay rises and increased benefits, our people must also be empowered so that they can begin to help and do for themselves. The truth is that legislation cannot change the attitudes of many within the private sector, and to have the opportunities we so desire will require us as a community to come together and provide opportunities for ourselves. In the face of calculated moves to halt and diminish our progress, our unity will remain our strength. Our ability to look out for one another will be what carries us through, and our ability to stand in the face of adversity continues to increase our abilities. As leaders, we must also recognise the responsibility that is upon each of us to ensure that our progress continues. Clean hands, a pure heart, integrity and wisdom are the minimum that are required from us all, and these virtues are what will carry us forward. With stagnant wages, continued job loses, and the suffering of our people continuing, Labour Day serves as a sobering reminder of how far we have come, and how far we still must go to ensure the dignity of our people is upheld. To every union member, and each of us that now enjoy benefits bestowed upon as a result of the labour movement, I wish you all a happy Labour Day, and urge that we continue on in the spirit that has brought us to this point. Be blessed and continue to look out for one another."
September 5. The Anthem of the Seas arrived safely in Bermuda this morning, despite a rougher than expected journey. The Royal Caribbean cruise line reportedly suffered high winds and large swells on its voyage to the island from New Jersey as a result of the remnants of Tropical Storm Hermine. According to comments posted online by passengers, the ship was battered by swells starting yesterday morning, with a few passengers recording a video of the waves. However the cruise line was credited for keeping the passengers aware of the situation, and the ship was greeted with calm waters this morning.
September 5. A Bermudian visitor to New Orleans has been reported as injured in an apparent hit-and-run early on Saturday, according to news sources in the city. WWLTV reported that Zina Jacobs, visiting the city with her family on a seven-day cruise from Bermuda, had been knocked down and hurt while crossing a street. Ms Jacobs, who disembarked to go sightseeing in New Orleans with her husband and others, was injured at about 2.30am. "It's just surreal to me right now that somebody would hit you and just keep on going," she said of the incident, which took place in the city's Warehouse District. Half way across a junction, Ms Jacobs was struck by a white pick-up truck that turned into her path — and then drove away. "I could hear my husband and my friends screaming and I was just trying to stay still and just keep them calm," said Ms Jacobs. The vehicle was caught on street surveillance camera as it knocked her over. Ms Jacobs was left with a large gash to the forehead, injuries to her teeth, and bruising along the left side of her body. Her cousin, Wendy Trott, was quoted as calling for the driver to come forward. "All we're asking is that please, just come out and say, 'I made a mistake, I did something wrong'," said Ms Trott.
September 5. St David's players huddled together in the middle to pay a moving tribute to late team-mate Fiqre Crockwell moments after clinching the Logic Premier League at Lord's on Saturday. An emphatic 127-run triumph over Western Stars earned the home side a fourth league title in six seasons, which was promptly dedicated to Crockwell, who was fatally shot in June. "We said a prayer and again dedicated the season to Fiqre and his entire family," said OJ Pitcher, the St David's captain, who missed the final game of the league season because of a knee injury. "It's been a rough season for us and we have been through a lot losing our close friend and colleague Fiqre. There's going to be a lot of emotions over the next few days. We have had our ups and downs this season and for the guys to pull through means that much more to the community and this [league title] is for the whole community." St David's won the title with a dominant display that Crockwell would have certainly been proud of. They piled up 287 for three in their allotted overs after being put in to bat, with Delyone Borden and Justin Pitcher both blasting swashbuckling centuries. The two early-order batsmen put a blunted Stars attack to the sword, with Pitcher blasting 104 and Borden hitting 100 to keep the scoreboard ticking over. Together the pair added 172 runs for the second wicket to virtually bat the visiting side out of the match. Borden reached his century in the 32nd over off 90 balls in 126 minutes while Pitcher's arrived three overs later off 72 balls in 95 minutes. "In the last few years Justin has come up short with the bat but today he proved himself," Pitcher said. "Delyone has been consistent for us all season at the top of the order and today once again proved his worth." Shannon Rayner chipped in with 32 and along with Borden added 70 runs for the first wicket before the fireworks began. Swayne Campbell and Khiry Furbert bore the brunt of the carnage as they both went for 17 runs in a single over as Borden and Pitcher cut loose and found the gaps with ease. Makai Young was Stars' most economical bowler, conceding 36 runs in his allotted seven overs. Stars were pegged back early in their reply after openers Temiko Wilson and Swayne Campbell were removed cheaply and a middle-order collapse, which included five wickets tumble inside of three overs, certainly did not help their cause. First-change seam bowler Rudell Pitcher was the catalyst behind the slide as he ran through the order with ease on the way to match-winning figures of five for 34. He put the ball in all the right areas and exploited the lateral movement on offer with devastating effect. Pitcher opened his account by having Young caught in the covers and struck again four overs later after taking a return catch to dismiss Kanaz Tuzo. Justin Robinson hung around for a while before Pitcher found the edge to have the Stars captain caught at slip. The all-rounder then removed Seth Campbell, who got squared up to a gorgeous delivery that jagged back off the seam and crashed into the stumps, and completed an impressive five-wicket haul by bowling tail-ender Akeem Talbot. "Rudell once again proved he is a big-day player for us," Pitcher said. "He's struggled all season but today he got five wickets for us. The guys stepped up to the plate and words really can't express how I feel right now. I am just happy for the boys." St David's had to beat Stars to make certain of the title after losing recent matches against Stars and second-place Bailey's Bay. "We had a few hiccups along the way as far as the league," Pitcher said. "But we achieved our goal and you have to give credit where credit is due. We would have loved to have won the league earlier, but it came down to today and we pulled it off and we are just grateful. This is sweet." Furbert led the Stars resistance with an unbeaten 49 from 46 balls, Young blasted 32 from 25 balls and Treadwell Gibbons 20 from 19 batting at No 10 after arriving late because of work commitments. George O'Brien, who led St David's admirably in Pitcher's absence, claimed two for 38 with the new ball. "George has done a great job," Pitcher said. "The guys have done a great job and have now achieved the goals we set out to achieve at the beginning of the season. The [Eastern] Counties and the league was our main focus and anything else is a bonus." Bay thrashed relegated Willow Cuts by 162 runs at Somerset Cricket Club in the Premier Division on Saturday. Derrick Brangman and opener Coleridge Durham both scored half-centuries as Bailey's Bay scored 353 against ten-man Cuts. Bay, who needed to beat Cuts and Western Stars to defeat leaders St David's in order to win the league, had bonus points in their mind as they piled on the runs against relegated side Cuts after winning the toss. They lost Azende Furbert in the first over before a second-wicket stand of 65 in eight overs between Durham and Tre Manders proved the launching pad for their biggest total of the season. A stand of 120 for the third wicket between Durham and captain Rodney Trott, who scored 57, kept the runs flowing for Bay, with Durham hitting 14 fours and a six off 93 balls. The partnership ended when Durham hit his wicket off Sheroy Fubler's bowling for 83. Trott departed the next over, 188 for four, stumped by wicketkeeper Ramar Simmons off Dwight Basden. He hit nine fours and a six. Sinclair Smith (44) and Brangman added 89 for the fifth wicket as Bay moved towards 300. Smith hit seven fours and a six and Brangman 11 fours and four sixes before he was last out in the second-last ball of the innings. His 92 came off 75 balls. Solomon Burrows, the eighth bowler used by Cuts, claimed three for 31. Cuts were heading towards a heavy defeat at 140 for eight before a last-wicket stand of 51 carried them to 191 with Qwasi James, batting at No 9, the last out for 101. James hit eight fours and eight sixes. James dominated the last-wicket stand with Shemar Gomes who scored just two singles off 24 balls. Trott led the Bay bowling with four for 40 while Kyle Hodsoll claimed three for 41. St George's clinched the play-off spot in the First Division when they beat Somerset Bridge by six wickets on Saturday. Bridge were dismissed for just 38 and St George's reached their target with the loss of four wickets. They will now meet Cleveland County this Saturday to determine which team plays in the Premier Division next season.
September 4. Junior Maynard Dill, the chairman of the Progressive Labour Party and a lifelong staunch trade unionist, has died at the age of 61. A former president of the Bermuda Trade Union Congress, Mr Dill had also presided over the Electricity Supply Trade Union. His death falls just short of Labour Day, an event at which he often addressed crowds. Mr Dill, who assumed the post after the Opposition's electoral defeat in 2012, took on a "daunting challenge", according to a statement from party leader Marc Bean. "During his tenure, he served with integrity and honour, upholding the tenets of the party and supporting the call for service with clean hands and a pure heart. We are thankful for his work, grateful for his contribution and join his family and loved ones in mourning his loss. To his wife, Wilma, his children, and family, we extend our deepest sympathies and thanks. We thank you for allowing Maynard to spend time with us as he strived to modernize our Party and build a Bermuda that works for Bermudians and residents." Condolences were echoed by Michael Dunkley. "On behalf of my colleagues, I wish to extend sincere condolences to the family and friends of Mr Maynard Dill," the Premier said. "Mr Dill was a devoted family man and a passionate and dedicated labour activist. His energy and commitment to our community will be greatly missed. May he rest in peace." A statement also followed from Lynne Woolridge, the chairwoman of the One Bermuda Alliance: "It was with sadness that we learnt this Labour Day weekend of the passing of PLP chairman, Maynard Dill. On behalf of OBA parliamentarians and executive and everyone in Bermuda, I offer condolences and sympathies to Mr Dill's family and friends and his PLP Family. Mr Dill was passionate about serving Bermuda and Bermudians and he leaves a lasting legacy through his work as plant foreman at Belco, as a passionate trade unionist, sports enthusiast, father and grandfather. We thank him for his contribution to Bermuda's history and join all Bermudians in celebrating his life whilst mourning his passing."
September 4. Bermuda's 21st annual sand sculpture competition took over Horseshoe Bay Beach yesterday with a menagerie of creations. Participants of all ages took to the sands, with the team of Hannah Emmerson and Mikal Thomas ultimately taking the day's top prize. The eye-catching event, sponsored by the Hamilton Princess Hotel in tandem with Alexandra Mosher jewellery, once more proved a hit with locals and visitors alike - and the weather obliged with a sunny day.
September 3. Bermuda has become the first British Overseas Territory to initiate direct talks with the UK over the impact of its withdrawal from the European Union. Along with discussing the repercussions of the June "Brexit" referendum, Michael Dunkley's two days of meetings in London encompassed the appointment of the next Governor, and the surprise decision by Massachusetts to stop accepting Bermudian driver's licences. With British authorities still grappling with the consequences of Brexit, the Premier said that it would "probably take until the end of the year for Article 50 to be invoked". This was in reference to the section of the Treaty on European Union that covers notifying the European Council. A two-year negotiation period will follow. "I wanted to make sure that Bermuda's interests are at all times at the forefront, as well as to obtain a better understanding of the process," said Mr Dunkley, stressing that it was still "too early to speculate what we might see", but that he was "confident that we have direct access". The Premier anticipated "minimal" impact on the island's business dealings in Europe. "We want to be sure that we are involved whenever the UK is at the table and our interests have to be protected." Less certain was the ease of movement and travel that Bermudians enjoy at present within the EU, but Mr Dunkley again said it was impossible to know at this point. Some have questioned whether the Brexit move could come with unintended consequences for the right of abode within Britain that Bermudians enjoy as British citizens, but the Premier said he didn't see that being an issue "at all". "Brexit could impact their ability to live in Europe, but not in the UK." The London meetings included talks with Baroness Anelay, Minister of State for the Commonwealth, as well as British MP Robin Walker, a junior minister in the Department for Exiting the European Union. The Premier also spoke with a reporter at The Economist on business and political issues. The appointment of a new Governor after George Fergusson stepped down this summer was discussed, and Mr Dunkley said there should be "an announcement coming quite shortly". Mr Dunkley, who said that the former government administration had first learnt of the issue in 2010, added that he was "optimistic" at finding a solution for restoring driving rights for Bermudians in Massachusetts — where many locals travel for educational and medical reasons. "We don't underestimate the business that goes back and forth as well. It's a very important area for Bermuda, and we are trying to deal with it on two fronts." Getting Bermuda on to a driving treaty dating back to the 1940s would take time to investigate, with Government House likely to be involved. Another option was a memorandum of understanding directly with the Massachusetts Governor's office.
September 3. The controversial airport redevelopment project, lack of employment for Bermudians and the need for a living wage were all high on the agenda in the 35th Annual Labour Day Banquet speech last night. Keynote speaker Chris Furbert, president of the Bermuda Industrial Union, opened his speech by asking what would happen to working class people if the decisions of the Bermuda Government were not questioned. One of the biggest questions being asked by the union, he said, was why the whole agreement for the airport deal had not yet been shared with the public. He told the audience packed into the Poinciana Ballroom at the Fairmont Southampton Resort: "With all that has been discussed with regard to this airport project, the people of Bermuda have yet to see how this whole agreement will benefit Bermuda and its people. "The Public Private Partnership, which is a contract between government and a private company, is the model that this current government is attempting to use. "What this means is a private company finances, builds and operates some element of the public service and in turn gets paid over a number of years (in this case Aecon for 30 years) either through concessions or payments from the public authority (government) or both. "Is this what Bermuda wants? No! The people have spoken and their voices continue to go unheard. This is a very bad deal for Bermuda. Once again Bermuda labour is at the disposal of foreigners." Speaking on employment, Mr Furbert questioned why Bermudians are struggling to find work, saying that according to the Employment Brief released by the Department of Statistics, the number of jobs filled by Bermudians declined by 52 per cent from 2008 to 2015. He said what was also a concern was that the drop in non-Bermudian jobs was only 48 per cent in the same period. "So you tell me ... how this government has allowed this to happen to Bermudians, whilst the business sector continues to overlook Bermudians during their hiring practices?" He then quoted Martin Luther King on "our glorious fight for civil rights", and recalled the March 2016 protest against the proposed Immigration Protection Amendment Act 2016. "The OBA [One Bermuda Alliance] government, who failed to follow the proper consultation process, and were prepared once again to put Bermudians second." With regard to a living wage he said now that the government had addressed the issue he hoped all would participate in the process. "I look forward to making sure that Bermuda as a country will start to address this imbalance in wage earnings between blacks, whites and others. The idea of a working wage is that workers and their families should be able to afford a basic but decent lifestyle that is considered acceptable by society at its current level of economic development," he said, citing the International Labour Organisation. Mr Furbert also touched on the leaders of our future — young people — and he highlighted some of the opportunities that are open to them. He spoke of action groups, such as the Skill Development Programme, that help to get young people into horticulture as well as numerous religious and sporting youth groups that are doing positive things in our community. In closing, Mr Furbert said: "I trust that I have given you food for thought ... the time has come for us to create a pathway to unity that will truly bring back unity to the community".
September 3. Next year's America's Cup is building up to be the best in the history of the sailing event, according to Sir Russell Coutts. The CEO of the America's Cup Event Authority told The Royal Gazette that preparations for next summer's sporting spectacle were well ahead of schedule. He also hailed the success of the Endeavour Programme and the community outreach project associated with the America's Cup. "We have had fantastic reports back from the parents," Sir Russell said. "Children with no previous experience on the water have really made the most of it and it has helped build their character and confidence. Oracle have also developed a project within the programme to take some old Optis that were destined for the rubbish tip, restore them and allow these children to continue to develop their love of sailing. The community outreach has gone incredibly well with some great results. We will look to refine the educational and practical side of this programme in the coming months and improve the system. I'm really excited about that. The programme has worked better in Bermuda than ever before; we have put more focus on it this time and have a team of highly motivated teachers. We have got the right combination." Sir Russell maintained that the legacy of the America's Cup after the event remained of critical importance to the organizers. He said he hoped stakeholders would safeguard the Endeavour Programme for the next decade. "The legacy side of the America's Cup is critical," he added. "From day one we have worked to make the outreach side of this event sustainable beyond 2017. The industry support we have received has been vital in ensuring this and we have made great progress there. I want to see this programme fully funded for the next decade after the event. We are not there yet, but we are getting there. I want to see businesses take that next step and I think they will. They have seen the results of the contribution they have made." Construction work on the South Basin landfill project where the America's Cup village will be based continues apace and ahead of schedule, while superyacht berths for the event have almost reached capacity. The latest news comes as the Bermuda Tourism Authority urged those interested in travelling to the island for the event to make arrangements before it was too late. "We are in a great position and well ahead of schedule," said Sir Russell. "The South Basin project for example is two-and-a-half months ahead of schedule. I can't think of anywhere else where this would happen. Another example is the superyacht berths; ACEA is managing 50 berths at Dockyard, Front Street and the Hamilton Princess, and 48 berths are filled and six boats are vying for the last two. We have nine J-Class boats coming now, which is the most we have ever had. These are the old traditional America's Cup boats, and will create a great fusion of new and old. I don't think people have any idea of the scale of that. I don't think there is any doubt it will be the best America's Cup yet. There will be challenges, obviously accommodation is limited, but it is going to be all about delivering quality over quantity and I have no doubt we will do this." Looking ahead to the racing, Sir Russell said it was almost impossible to choose a winner, but he hinted that an Oracle win could mean the event staying in Bermuda. "From a sporting perspective it is very exciting too," he said. "Usually there are just two or three teams with a chance of winning it, this time I believe there is at least five teams that have a real chance. I would not be able to pick a winner. If Oracle win there is a high chance that the America's Cup will stay here, so there's plenty for Bermudians to cheer for."
September 3. Minister Cole Simons has hit back at suggestions that Bermuda has suffered from overfishing due to a lack of "localised and international protection". Mr Simons, the environment minister, responded to a feature in the British The Guardian newspaper about underwater research off the island on August 17, which was repeated in The Royal Gazette. Guardian environment reporter Oliver Milman, who took part in an underwater expedition to investigate the reef and coral off Bermuda's coast, had stated in the article: "Localised and international protections are also lacking. Bermuda has been largely denuded of marine life due to overfishing." Responding in a statement, Mr Simons argued that the island has been a leader in marine conservation. "I can tell you that Bermuda has created strong policies to curtail overfishing, has developed strong and successful regulations for sustainable fishing and has long shown leadership in conservation of our surrounding ocean and coral reefs. Bermuda is one of only seven locations in the region, including the Caribbean islands, that has healthy reefs in terms of high coral cover and high herbivorous fish populations. Bermuda recognized the problem of overfishing on our coral reefs by the late 1980s and, in 1990, imposed a ban on the "fish pots" that had traditionally been used to catch fish. Their overuse in the latter half of the 20th century led to sharp declines in commercially valuable fish and they also caught all types of fish indiscriminately. This was followed by the protection of all parrotfish in 1993. These herbivorous fish are critical to the health of coral reefs. Other recent scientific publications in 2013 and 2015 by former Bermuda Government Senior Fisheries Officer, Dr Brian Luckhurst, and colleagues further highlighted the recovery of our reef fish populations, especially parrotfish, since 1990." Mr Simons also noted the island's Marine Protection Areas, first created in 1990, which protect habitats, separate fishing and diving activities and reduce fishing pressure. Meanwhile, spawning areas for species such as red hinds have been protected since the 1970s and seasonal protections for black grouper spawning sites were strengthened in 2005. "Red hinds, black groupers, and other commercially important reef fish are much more common on reefs today," he said. "Solid management measures, including daily catch limits and minimum size restrictions, allow for sustainable harvests. Rather than denuded, I assert that Bermuda's reef fish populations are in an ongoing period of recovery." While the article stated that the government had shelved a plan to create a new ocean reserve "despite overwhelming public support", Mr Simons said the island remained committed to the sustainable management of its fishery. "The Bermuda Government has advocated for an economic assessment of a Marine Protected Area in the EEZ before making a commitment to any new reserves. Bermuda is a member of the International Commission for the Conservation of Atlantic Tunas and follows the catch quotas allocated for pelagic fish species, such as tuna, and supports the catch-and-release of billfish, such as marlins. In addition, Bermuda does not license foreign industrial-scale fishing vessels to fish in her EZZ. In 2010, Bermuda supported the formation of the Sargasso Sea Alliance, and led the formation of the Sargasso Sea Commission in 2014, to advocate for greater international collaboration and co-operation for the protection of international waters and the fish and other migratory species found there. Six countries and Overseas Territories have signed the Hamilton Declaration in support of the broad goals of the Commission."
September 3. Flood-prone Pembroke businesses are counting the cost after a persistent backlog of dirty water once again drowned a section of Cemetery Lane. "It's never been this bad," said Jennifer McCarron, of Animal and Garden House, surveying the days-old water in front of her shop. "This last couple of weeks, it floods as soon as it rains, and it just sits there for days. It's had a big impact on our business." Worse hit was the neighboring door and window outlet, Treecon, where trucks were grounded yesterday and customers couldn't get in. "We lost one of our older trucks the other day," said businessman Keith Rowntree: the vehicle had to be scrapped after water flooded its engine. "It's brackish water from the canal, too; it's got salt, so you wouldn't want to drive through it." The low-lying stretches along Pembroke Canal, which empties into the sea via Mill Creek, constantly fall victim to flooding — but both businesses said drainage recently had been particularly bad. A downpour on August 24 left standing water in the road for nearly a week, Ms McCarron said. Former MP for the area Wayne Perinchief said it would fall on affected businesses to "bite the bullet" and deal with it themselves. "The Government will not foot the bill because it runs through commercial and private areas," said Mr Perinchief, who is familiar with the problem going back decades. It's never been resolved. They've got to get their heads together and put in a pump over a one-way dam." Rainy weather kept the road under water yesterday, and the next month's autumnal high tides will also put drainage to the test.
September 3. Bermuda's Emergency Broadcast System is expected to be up and running this weekend, according to government. Jeff Baron, the Minister of National Security, said issues with the system were discovered at the start of the hurricane season, and that Government had been working to find alternative arrangements in the event of a storm. Last week, he stated that the necessary part to repair the system was set to arrive on the island, and it was hoped the system would be operational again before the end of August. Speaking yesterday, a spokeswoman said: "The Ministry of National Security can confirm that the Emergency Broadcast Facility has had its new transmitter and new antennae installed. "Aside for some testing of the system, it is anticipated that the EBS will be fully operational this weekend."
September 3. Flora Duffy is just one race away from a maiden ITU World Triathlon Series title after finishing fourth in a race dominated by the United States in Edmonton on Sunday. Duffy leads the rankings with 4,124 points ahead of Katie Zaferes, of the US, who is breathing down the Bermudian's neck after a podium finish in Alberta, on 3,650 and compatriot Gwen Jorgensen third with 3,325. Jorgensen, the reigning two-times champion, decided to miss Sunday's race having stormed to victory at the Olympic Games in Rio de Janeiro two weeks ago. Duffy is expecting a tough battle to protect her position as the leader in the Columbia Threadneedle Rankings heading into the Grand Final in Cozumel, Mexico, where points count for double. "I think there will be a little bit of math done to see what needs to be done in Cozumel," said Duffy, competing for the first time since finishing eighth in Rio. "I would love to win the series, it's been really cool to have strong numbers all year. But realistically, I never expected it. So whatever happens in Cozumel, it's been a fantastic year." Duffy, whose splits were 9:01 for the 750-metres swim, 29:03 for the 10km bike and 17:17 for the 5k run for an overall time of 57:10, just missed out on the podium after being chased down by Zaferes who came third. For the third time in history, the US women completed a clean sweep with Summer Cook claiming victory in her first visit to the podium and Sarah True taking second. "For me a lot of today was just finding the mental willpower to keep myself in the race and put myself in the position to have a strong result," Cook said. "I DNF'd last year with hypothermia. I knew I had to come in today extra prepared for the conditions. I didn't think I had a chance at all on the last curve on the last lap and then I started to believe that I had a chance." The US team shone from start to finish in Edmonton, with five of the top-ten women out of the swim — including Duffy — sporting the red, white and blue uniform. Midway through the bike, the chase, which included Britain pre-race favorites Vicky Holland, Non Stanford, and Jodie Stimpson, chipped four seconds off the gap to pull within 26 seconds. However, the leaders undid the chasing group's hard work on the next lap for a 31-second advantage going into the bell lap. A slow transition cost Duffy a five-second deficit, with Kristen Kasper the chief beneficiary, with the US athlete taking top position before her team-mate True began to push the pace early on. Desperate to turn last year's Edmonton silver into gold, Duffy did plenty of work to catch up to the US women, running as a trio until True took off. However, a surge from Cook, who had struggled to stay in the lead group on the bike, enabled her to run the field down late on. As she passed Zaferes, then Duffy, she had only to pick off True, which she did in the final 500 metres. True sealed second to redeem a disappointing performance at the Olympics, where she was forced to withdraw. The WTS Cozumel will be on September 17, with 1,600 points awarded to the winner, 1480 for second and 1370 for third.
September 3. Tyler Smith and Erica Hawley both finished seventh in their triathlons in the Canadian Junior Elite Series in Edmonton, Alberta, on Saturday. Smith, 17, competing in the 16-19 junior men's race, posted a time of 58min 11sec — a little more than a minute behind winner Pavlos Antoniades, of Canada, who crossed the line in 57:02. Smith completed the 750-metres swim in 8:53, the 20km bike in 30:52 and the 5km run in 16:46. He had been hoping for a top-five finish after his impressive fourth-place at last month's Quebec Provincial Championships, an event turned into a duathlon because of the poor water conditions. Brennen Smith, of Canada, came second in 57:07, with his compatriot Luke Hanson completing the podium in 57:16. Hawley finished in 1:06:11 in the junior women's race — more than four minutes behind winner Desirae Ridenour, of Canada, in 1:01:57. Sophie Malowiecki, of Australia, was second in 1:02:08 while Hannah Henry, of Canada, placed third in 1:03:10. Hawley finished the swim in 10:08, the bike in 34:22 and the run in 19:54. The 18-year-old, who recently started as a freshman at Boulder University, has had several top-ten finishes this season.
September 2. Britain's decision to opt out of the European Union was discussed by Premier Michael Dunkley during a London visit that also covered the announcement of the island's next Governor. The Premier addressed the extradition process between the Overseas Territories and the UK, and the recognition of the Bermuda driving licence in Massachusetts. See tomorrow's edition for further details, with Mr Dunkley noting that Bermuda was the first Overseas Territory to discuss with UK officials the implications of the "Brexit" move out of the EU. The aim of the two-day trip was to "build an open line of communication with the new UK administration under Prime Minister Theresa May", he said. The Premier's first meeting took place yesterday at 9 Downing Street with MP Robin Walker from the Department for Exiting the European Union. "This was a very key meeting which focused on issues of concern for many Bermudians as a result of Brexit," Mr Dunkley said. "It was an opportunity to discuss how the Government will maintain an open line of communication to ensure Bermuda's interests are part of the UK's overall negotiation process." The island will be kept updated on developments that could have an impact on Bermuda. The Premier also spoke with Baroness Anelay, Minister of State for the Commonwealth, UN, and Overseas Territories. Mr Dunkley had breakfast today with "friends of Bermuda": Lord James Borwick, Lady Victoria Borwick and Lord Chadlington, to discuss Ms May's new administration and her vision for the UK. The Premier was then hosted at a luncheon including key industry figures at XL Catlin, based in London, and conducted an interview with The Economist. Mr Dunkley was accompanied by the Secretary to the Cabinet, Derrick Binns, and Kimberley Durrant, UK representative and director of the London office.
September 2. Insurers including likely those Bermuda-incorporated will be bracing for loss claims associated with the explosion of a rocket and its satellite payload on a launch pad at Cape Canaveral in Florida yesterday. A SpaceX rocket was being prepared for a test firing when it blew up. No one was injured, but the Falcon 9 rocket and its payload, an Amos-6 satellite, were destroyed in the explosion. The satellite was to be used by Facebook to deliver internet to communities and businesses in Sub-Saharan Africa. It was valued at $200 million, according to Spaceflight Now. It is the second Amos satellite to be lost in the past 12 months. Israel's Spacecom Ltd operates the Amos series of satellites, and lost contact with the orbiting Amos-5 in November. At the start of this year the company said it expected full insurance payout of $153 million for the lost satellite. It has not yet been reported which insurers and reinsurers have exposure to the SpaceX rocket and Amos satellite destroyed yesterday. Aon International Space Brokers is one of the players in the sector, and since it was created has collected more than $3 billion in satellite claims. A spokeswoman said that due to company policy it was unable to confirm client relationships or comment on yesterday's event. Spaceflight Now reported that Spacecom Ltd had not confirmed if the satellite was fully insured for loss before lift-off, however two industry sources said standard satellite insurance policies should cover risks to the spacecraft during the static fire test. The cause of the explosion is under investigation. A video shows an initial fireball erupting in an upper portion of the Falcon rocket. The rocket did not appear to be firing at the time. The static test was being conducted ahead of the scheduled launch, which had been due to take place tomorrow. In a statement, SpaceX said there had been "an anomaly" on the launch pad. The company was founded by billionaire entrepreneur Elon Musk, who is also CEO of Tesla Motors. As with the Amos satellites, this is the second major setback within a the past 18 months for the Falcon 9 rocket. Last June, an unmanned Falcon 9 rocket exploded a few minutes after launching from Cape Canaveral. Regarding yesterday's loss of the Amos-6 satellite destined to be used by Facebook, the company's CEO Mark Zuckerberg, said in a Facebook post: "As I'm here in Africa, I'm deeply disappointed to hear that SpaceX's launch failure destroyed our satellite that would have provided connectivity to so many entrepreneurs and everyone else across the continent. "Fortunately, we have developed other technologies like Aquila that will connect people as well. We remain committed to our mission of connecting everyone, and we will keep working until everyone has the opportunities this satellite would have provided."
September 2. Ewart Brown has dismissed allegations that a doctor at his medical clinic has ordered excessive, medically unnecessary tests for patients in order to profit the business. Mahesh Reddy was arrested by detectives after an early-morning raid at his home in May and has since launched a civil claim for damages against the Bermuda Police Service. The investigation into Dr Reddy, chief medical officer at Dr Brown's Bermuda Healthcare Services, is understood to centre on accusations that he ordered MRI and CT scans to be carried out at the clinic for his patients when they did not need them and then billed insurance companies for the procedures. Bermuda Police Service has not commented on the reason for Dr Reddy's arrest, other than to say it was "in connection with an ongoing financial investigation". Dr Reddy, who has since been bailed, says in an affidavit to support his civil claim that he was quizzed about alleged fraudulent activity in relation to ordering excessive tests. Dr Brown, the former Premier, confirmed to The Royal Gazette that Dr Reddy regularly ordered more tests than the other doctors who make referrals for diagnostic imaging scans to Bermuda Healthcare Service but said that wasn't a criminal offence and wasn't a matter for police. "I know that he orders more," he said. "Some months he is the highest. He has more referrals to MRI and CT than anyone else of the 50-something doctors who refer patients. He makes very good use of the diagnostic imaging available to him. Dr Reddy is considered one of the best doctors in Bermuda and even his detractors will admit that. I haven't heard [concerns about Dr Reddy's referrals] from the insurance companies, I haven't heard it from patients and I haven't seen it from my work overseeing the practice. Why would the police be concerned with medical tests? What do they know?" Asked what he believed was the real focus of the police inquiry, he replied: "Me. They believe that Dr Reddy has some information, that if pressed hard enough, he will reveal. That's all I can think that they believe." Ricky Brathwaite, Bermuda Health Council's programme manager for health economics, told this newspaper there was currently nothing in law to stop a physician ordering as many tests as they saw fit. But new regulations recently tabled in the House of Assembly — and then temporarily withdrawn for further consultation — would give the health council powers to monitor referrals in cases where the doctor making the referral financially benefits from the tests. Such referrals are described as self-referrals or financially vested referrals. Dr Brathwaite, in an interview about the regulations, said: "There's nothing in the [proposed] legislation that says a physician can't refer and a patient can't have a test. This is actually about choice. "If we can create standards and we can also ensure transparency about things like financially vested referrals, [we] at least give a patient an option and allow them to be more informed about the choices that they make and when and where they receive their healthcare and let everyone compete on quality." The regulations would require physicians to seek permission from the health council when making self-referrals and give the quango power to impose penalties if the regulations were breached. A register of interests would be established showing the financial interests of healthcare providers and insurers would be given permission to require doctors to prove financially vested referrals were necessary. Tabling the regulations, health minister Jeanne Atherden said there had been "increased utilization of some procedures without medical justification" in the "profit-led" healthcare industry. "While it is clear that some self-referrals are appropriate and improve access for patients, close monitoring of utilization and referral patterns have made it evident that some unchecked self-referrals can lead to unnecessary use of some procedures, which is not good for patients and increases healthcare costs." Dr Brathwaite said numerous overseas studies have shown that doctors order more tests when they own the testing facilities and other jurisdictions have introduced measures to deal with that. He has been assessing health claims data for the past year-and-a-half to determine an "ordering rate" for physicians in Bermuda, i.e. which ones order the most tests. The results are likely to be made public soon, though not by individual doctor.
September 2. Mahesh Reddy claims he felt fearful and helpless as a result of "intimidation and harassment" by the Bermuda Police Service. In an affidavit filed with the Supreme Court, Dr Reddy states he was asked sexually explicit questions during the May 9 raid on his home by police investigating his activities at Bermuda Healthcare Services. Dr Reddy, who was arrested on suspicion of ordering excessive studies with no medical necessity before billing insurance companies, is a longstanding physician with the company, founded by Ewart Brown, the former Premier. A lawsuit against the Bermuda Police Service was filed on Dr Reddy's behalf in July, seeking a judicial review and damages for trespassing and unlawful arrest in relation to the raid. Dr Brown has repeatedly claimed Dr Reddy's arrest was illegal and politically motivated, and was part of a five-year investigation into claims of corruption against the former Progressive Labour Party leader. Within the affidavit, shared with The Royal Gazette by a source on condition of anonymity, Dr Reddy claims that a law enforcement agent asked him about fraudulent activity at Bermuda Healthcare Services and told him that if he did not provide a testimony against Dr Brown he would be arrested, jailed and prosecuted before being deported back to his native India. The affidavit states that the agent suggested Dr Brown had orchestrated the alleged fraud by instructing him to order unneeded diagnostic tests, and used a tone described as "aggressive and unnecessarily confrontational". Regarding the police raid on his home, Dr Reddy states he "was awoken by forceful knocks on the door". He was arrested and told it was in relation to allegations of fraud and money laundering, the affidavit says. Dr Reddy says he was shown no warrant, and was neither cautioned nor told of his rights. He states the sexually explicit questions were posed by officers before they seized documents, an iPad tablet and patient files containing "confidential and sensitive information". One of the questions purportedly asked of Dr Reddy was whether he had bought his son a Porsche. He was later released on bail. He states that during the raid on his home he felt "intense fear and helplessness" and was emotionally and psychologically impacted by the experience. He says it was not only demeaning, but also unnecessary because he had offered to be interviewed by police voluntarily on a previous occasion. In his affidavit, Dr Reddy also states that he believes the Bermuda Police Service enlisted the aid of the US and Homeland Security, and that he had no evidence of fraud taking place at Bermuda Healthcare Services. He adds that the BPS caused the Bermuda Medical Council to inquire into the authenticity of his medical credentials. Dr Reddy, who is the treasurer of the Bermuda Medical Doctors' Association, describes himself as "an upstanding citizen with a keen sense of civic responsibility". The Royal Gazette asked the Bermuda Police Service whether it would share any affidavit it has filed on the case, and for a response to the claims in Dr Reddy's affidavit. A spokesman replied: "This matter is actively before the court at this present time for adjudication. It would be grossly inappropriate for the BPS to make a public comment before the court has had a chance to hear all the evidence."
September 2. A Smith's man this morning denied a charge of importing more than 3.5kg of cannabis to Bermuda. Brandon Frank, 29, pleaded not guilty to charges of importing the controlled drug and possessing it with intent to supply in an incident on March 16. Prosecutor Alan Richards told the court that the charges were related to around 3.5kg of cannabis and 100g of cannabis resin, and the drugs could fetch more than $150,000 if sold on the streets of Bermuda. Magistrate Khamisi Tokunbo released Mr Frank on $60,000 bail with a like surety, ordering that he surrender all travel documents and report to the Hamilton Police Station three times a week. The matter is set to return to court for trial on December 2.
September 2. One of the island's oldest fishing tournaments will be back for the 50th time on Sunday. About 36 boats and 150 anglers are set to compete in the Royal Gazette Wahoo Tournament, the last big tournament of the season. Robert "Bobby" Rego, one of the organizers, said: "It's probably the most popular fishing tournament on the island." It attracts a lot of participants because it is held at the same time every year, focuses on one species and is a Light Tackle Tournament, he explained. "It's one of the oldest continuous running tournaments. It's completely open to residents and youngsters, who have to be under 16." Mr Rego also noted that this year's entry numbers were a "nice improvement" to last year's 39 boats and 142 anglers. And the tournament's weigh master, John Barnes, added: "It's always been very popular because it's the last big tournament of the season. It's traditionally been a real locals tournament." According to Mr Barnes, the wahoo is a "challenging" and "great light tackle fish", that helped put Bermuda on the map for salt water fishing. "It's powerful — it's one of the fastest fish in the sea," he said. Mr Barnes and Mr Rego have both been involved with the event, which was first held in 1967, for more than 25 years. The inaugural tournament was organized by Mid-Ocean News sports reporter Alan Harman, keen sportsman and former International Game Fish Association representative for Bermuda, Tom Smith, and captain Russell Young. When the Mid-Ocean News closed shop, The Royal Gazette took over sponsorship.
September 2. Plans by Belco to adjust its rates for customers who install solar power are to be reviewed. The utility company made its request to the Energy Commission on August 15 to change its rates for residential net metering and commercially renewable energy. Special rates were adopted in 2010 to encourage the development of solar power, allowing homes and businesses to send their excess electricity into the grid at the same rate paid for power. The incentive, initially set for 200 new customers, ultimately gained 335 participants by last month, when Belco proposed switching to a compensation of "avoided cost" for new installations — mainly covering the cost of fuel. Grant Gibbons, the Minister of Economic Development, has called for a commission inquiry to ensure that a range of perspectives had been considered. Dr Gibbons has requested the inquiry's findings by the end of this month, and appointed Raj Barua as a special advisor to the commission for the inquiry's duration. Under the Electricity Act 2016, the regulation of electricity is ultimately to be handed over from the Energy Commission to the Regulatory Authority of Bermuda.
September 2. Former Olympian Patrick Singleton has taken the helm at the island's biggest TV broadcaster. Mr Singleton has been appointed chief executive officer of the Bermuda Broadcasting Company, stepping up from the post of chief operating officer. Mr Singleton, who competed in luge and skeleton, said: "I am excited about the opportunities ahead. This is a legacy media company with a proud history and I believe it has an important role to play in our community. So we must position the company to be relevant and add value, especially in light of how the local media industry has changed over the past decade. There will be challenges ahead as we embrace new technologies, streamline operations and position the BBC as a progressive 21st-century broadcaster." Mr Singleton takes over from David Hills, who will remain with the company and who has been acting CEO. Christopher Perry, chairman of the BBC, said: "We are delighted to have Patrick at the helm. He has a wealth of experience and the energy and insight necessary to help the company grow and thrive in a challenging economy. His appointment as CEO is good for the BBC and good for Bermuda." Mr Singleton was behind the BBC's Olympic app, which allowed island residents to access multiple channels of live action from the Rio de Janeiro Olympics. He has two decades of experience in broadcasting and journalism and worked for a major newspaper before helping to develop a Bloomberg News presence in the Asia-Pacific region, producing and directing Bloomberg television and radio operations in both Tokyo and London.
September 2. Vanosdelle "Van" Swan Sr, one of the island's pioneering welders who took part in the construction of some of Hamilton's greatest buildings, has died at the age of 90. With his late brother Arnold, Mr Swan founded the welding company Swan Brothers, later named Swandell. A trailblazing business that faced racial discrimination early on, the company went on to assemble the steel framework for major builds across the island, from Fairmont Southampton Hotel and Bank of Bermuda building at Albuoy's Point. Mr Swan passed on his trade as a teacher at the Bermuda Technical Institute. He also liked to recall marching with the civil rights leader Martin Luther King Jr, whom he had met in Philadelphia. "Be somebody, no matter what," he remembered Dr King telling him. According to his son, Van Swan Jr, he passed away on Tuesday "peacefully, beautifully at home in his own bed, looking out at his favourite body of water, Mullet Bay. He was soft-spoken, but a man of strong convictions when it came to his children. He believed in discipline, but at the same time he could be soft. We were always able to melt his heart. He was accepting of the many different attributes and personalities of his family and his workers, some of whom stayed with him for more than 30 years, whether prince or pauper. Everyone knew him as 'Swanny'. If you knew him, you had a friend." Charles Dunstan, president of the Construction Association of Bermuda, described him as "a lovable guy, salt of the earth — he was one of our very well-known old time tradesmen and entrepreneurs. There was a limited number of welders in the industry who went out and did site welding." With his wife Diane, Mr Swan had four children. Along with his namesake, he had a son, Robin, and twin daughters Mayalene and Vanessa. Their names were commemorated in his prized 48ft cabin cruiser, the Vanessa May, in which Mr Swan often took his family out camping.
September 2. A 41-year-old St George's man has been arrested after numerous vehicles around Hamilton were vandalized yesterday. Several cars belonging to staff at Dellwood Middle School were damaged when someone threw white paint on the vehicles after jumping over a wall onto school property. More vehicles were similarly vandalized at Par-la-Ville parking lot and Elliott Street parking lot. Todd Fox, Deputy Principal of Dellwood Middle School, told The Royal Gazette: "We're not exactly sure what happened here, we're hoping that the cameras are able to catch everything that happened. We just know that someone jumped over the wall earlier with a tin of paint and threw paint on three cars. That's about all that we know right now. It makes me really angry seeing something like this, especially on the first day back. It's normally a joyous day but to have it completely ruined by this act of vandalism is really frustrating to see. We are hoping that the cameras picked up who it was and that the person is brought to justice." The Royal Gazette visited the scenes and found that blue paint had been splattered on cars at Elliott Street and orange paint at Par-la-Ville. Ronda and Chris Smith were cleaning the paint from their car at the Elliott Street car park when we arrived. Mr Smith said: "I mean it's ridiculous, what can we really say? It's irritating to get a phone call from someone saying that there's paint spilt all over your car and you don't know who's done it. Luckily, we got here in time to clean it up before it actually dried. These other people may be messed right up if that paint on their cars dries before they get here."
September 2. Sports minister Sylvan Richards has issued a message of good luck to Bermuda's two paralympians as they prepare to head to Brazil. The island will be represented in Rio by Jessica Lewis, a T53 Wheelchair Track athlete, and Yushae DeSilva-Andrade, who will be competing in Boccia in the BC2 Category. Mr Richards, the Minister of Social Development and Sports, said in a statement: "On behalf of the Government and people of Bermuda, I want to congratulate and thank Jessica and Yushae for putting in the dedication required to represent Bermuda at the Rio 2016 Paralympics. "We are so proud of them and can't wait for the world to see what they can do. Jessica's talent has taken her to competitions all around the world; she has featured in international magazines and is an inspiration to everyone she meets." Ann Lindroth, president of the Bermuda Paralympic Association, stated: "I am so proud to see both Jessica and Yushae participate in the Paralympics this year. I have heard many reports from their coaches about the staggering amount of training they have put in to get to where they are today and on behalf of the Bermuda Paralympic Association I want to wish them the best. We will be cheering for you!" The Rio 2016 Paralympic Games take place from Wednesday next week until Sunday, September 18.
September 1. Residents have been warned by police and the Office of the Tax Commissioner to ignore any phone calls they may receive regarding payment of overdue land tax. "We are aware that some residents have already received calls from unknown persons claiming to be with the Office of the Tax Commissioner or the Bermuda Police Service," said a police spokesperson. "These callers demand payment of overdue land tax within two hours to avoid arrest. This is a scam and if such a call is received, no payment details or personal information should be given." For any questions or concerns regarding land tax matters, contact the Office of the Tax Commissioner at 298-6351, 297-7537 or e-mail taxenquiry@gov.bm. Any incidents of suspected fraud should be reported to the Financial Crime Unit on 247-1757 or via the e-mail address fraud2@bps.bm.

Land tax Bands and Rates
September 1. The number of venues that civil marriage ceremonies can be conducted has been expanded by the Registry General with the passing of the Marriage Amendment Act 2016. Under the Marriage Act 1944, civil marriage ceremonies were only permitted to be conducted in the Registrar's office. The Ministry of Home Affairs has advised that marriages contracted before the Registrar General can now be held at alternate approved locations which include: Admiralty House Park, Arboretum, Astwood Park, Blue Hole Hill Park, Botanical Gardens, Chaplin Bay, Church Bay, Clocktower Mall Dockyard, Devonshire Bay Park, Elbow Beach (the public beach as accessed from Tribe Road 4B Paget), Ferry Point Park, Fort St. Catherine beach, Great Head Park, Gibbs Hill Lighthouse Park, Horseshoe Bay, John Smith's Bay, Jobson's Cove, Scaur Hill Fort Park, Shelly Bay beach, Somerset Long Bay, Spanish Point Park, Stonehole Bay, St. David's Lighthouse Park, Tobacco Bay, Victualling Yard in Dockyard, and Warwick Long Bay. Parties wishing to contract marriage in the presence of the Registrar for these venues must submit the fee of $450 to the Registry General, at least 14 days prior to the proposed date of marriage. The fee is in addition to $368 fee which is required to be submitted with the Notice of Intended Marriage Application form. A Ministry of Home Affairs spokeswoman said: "The onus is on the parties to be wed to obtain written permission from the owner or occupier of the venue (eg Wedco or Ministry of Public Works) and notify the Registrar accordingly of the date. The time will be confirmed by Registry General staff. In addition parties are responsible for arranging the logistics of set-up and any other features related to the wedding. The Registry General Office will only be responsible for providing a table, chair and relevant documents for signature. In the event of inclement weather, prohibiting an outdoor wedding, the alternate venue for the marriage will be the Registry General." In such cases, the marriage ceremony fee will be reduced to $245 which is the fee applicable to marriages conducted within the Registry General. For more information on fees associated with civil marriage ceremonies visit https://www.gov.bm/content/apply-marriage-licence).
September 1. Motorists convicted of drink-driving could be referred to Drug Treatment Court by judges for the first time after a ground-breaking decision by the Supreme Court. Chief Justice Ian Kawaley ruled that section 68 of Criminal Code, which provides for the Drug Treatment Court (DTC) programme, embraced alcohol addiction and allowed magistrates to sentence those convicted of traffic offences to DTC. His judgment followed a legal challenge by two residents with a history of impaired driving who sought to overturn their sentences to access rehabilitation at DTC. Lawyer Saul Dismont, who represented two individuals, told the court his clients suffered from addiction to alcohol and attributed their offending behavior to their substance misuse. "At sentencing they revealed their addictions but their requests for Drug Treatment Court were refused," Mr Dismont said. After the judgment Mr Dismont told The Royal Gazette: "Despite increasingly harsh punishments people are still drink-driving, even some that have been disqualified for the third time and know they are facing imprisonment. "On most occasions that has to be evidence of a drinking problem, and now with this ruling such individuals can be diverted to Drug Treatment Court to address the cause. "With DTC's phenomenal success rate, estimated to be above 75 per cent, the roads are likely to become safer than just taking someone off the road, who invariably continues to drive during that period anyway. Some may say that DTC will be an easy ride, or that it will be easily manipulated, but consider that the court already has a vast experience of dealing with individuals suffering from addiction. Also, any person participating in the DTC programme is electing to be subject to very strict requirements. If they breach the requirements they can be sent to prison for up to 20 days and they can be terminated from the programme and re-sentenced. Though the ruling opens DTC's door to DUI offences, my clients have not been accepted into the programme yet. That opportunity is the next stage. It should be recognized that this was not a legal aid case. My clients felt so strongly about the importance of having DUI offences in DTC that they paid for the case themselves, and not just for their potential benefit but for all of those that suffer from the same affliction, and to help keep our roads safe." In the ruling that was released on Tuesday, Mr Justice Kawaley declined to consider the practical question of whether or not a suitable DTC treatment programme could be prepared in relation to alcohol. The Chief Justice said that issue was a question for the Magistrates' Court to decide in each case after determining if an offender was eligible for DTC. "In my judgment it is important to distinguish between two questions," Mr Justice Kawaley said. "The first is the question of whether section 68, properly construed in conjunction with the Eligibility Notice, includes or excludes traffic offences. The second question is whether or not as a matter of legislative or executive policy, traffic offences ought to be excluded. Only the first question is a matter for this court and falls to be determined in the context of the present scheme. The second question is a matter for the Legislature and the Executive. There is no ambiguity in the scope of section 68 and the Eligibility Notice and in my judgment there is no credible basis for this court finding on the basis of mere argument unsupported by evidence that the inclusion of eligible traffic offences in the DTC regime would be obviously unworkable." The Chief Justice added: "The Magistrates' Court in two separate cases declined to consider referring the appellants' cases to the Drug Treatment Court on the explicit or implicit basis that section 68 of the Criminal Code does not apply to traffic offences. This court has concluded not without some difficulty that this jurisdiction does in fact exist and that, as was tacitly agreed below, section 68 embraces alcohol addiction as well. This conclusion is based upon interpreting section 68 of the code in conjunction with the current version of the Eligibility Notice issued by the Minister. Whether the appellants are suitable candidates for the DTC can now be considered on the merits for the first time by the Magistrates' Court."
September 1. Overseas engineers are on the island assessing the potential risk of falling rocks in road cuts and cliffs round the island. The work is being conducted under the Ministry of Public Works after a large chunk of limestone from the wall crashed on to the road last year at Black Watch Pass in Pembroke after a downpour. At the time public works minister Craig Cannonier said his ministry would look into the "most feasible solution of dealing with this issue". He has since made it apparent that the safety of Black Watch Pass is one of several areas of concern in terms of public safety. He told The Royal Gazette: "The infrastructure of this island continues to be of concern and we have professionals involved who are looking out for public safety. Last year when we were looking at Black Watch Pass we were trying to figure out where the falling rocks came from and why it happened. It triggered us to pay even closer attention so we investigated and took a look at how these things were cut back in 1934. We now need to do more frequent inspections of all of Bermuda and its Bermuda stone make-up. We have these guys looking at the island on a regular basis — you have Scaur Hill, the other side of Black Watch Pass near Marsh Folly — the great big wall that goes toward Devonshire Rec where you have people who have built all along there. These are the things that we are concerned about. The solutions are several — I am waiting for the engineers to come back to us and tell us specifically, as they drive through the island, where they see potential problems and where they do see immediate risk and what should we do about those risks." Bob Lortie, visiting engineer for Public Works said: "It is a monitoring process so we are doing visual inspections — our first and only priority is safety so whenever we have a doubt we go and do an inspection. If after the inspection we need to do some other work we will find the proper work. Monitoring will be complete by about mid-September." Following initial inspections at Black Watch Pass the minister has said he is confident it is safe although he added "it is likely that sand and small rocks could fall during rain events." Quizzed further about how he could be sure the rocks likely to fall would be small he responded: "Nothing is 100 per cent. Looking at it right now it is highly unlikely but there is no guarantee in life — you can't say for sure that that is the case." Mr Cannonier said there had been no reports of falling rocks at Black Watch Pass since they fell last September. He said once monitoring was complete a more solid decision could be made about whether any further work — aside from regular inspections — is required to take place. "We don't know what initiated the fallen rocks — we are making assumptions there is something wrong with the wall. There hasn't been the necessity to gunite or put a block wall. We need to make sure the scientists get in and look at this stuff with a real critical eye — we have never really had the full expertise that we do now — we do have our Works and Engineering guys and we have our engineers here and they have so far said that this place is safe. We have the scientists here now and they are looking at it — we will wait for the recommendations from them. It is important that we should get it right."
September 1. The Bermuda National Trust has named Bill Zuill as its new executive director. Mr Zuill succeeds Jennifer Gray, who stepped down in July after nine years in the post to pursue other interests. Trust president, Lt Col William White, said Mr Zuill had been appointed after an extensive search which attracted a number of very strong applicants. "We are delighted that Bill has agreed to join the Trust," Mr White said. "We are very grateful to Jennifer for her dedicated service to the Trust and believe Bill will build on her great work. The Council of the Trust looks forward to working with Bill to continue the Trust's mission of conserving and raising awareness of Bermuda's built and natural heritage including its beautiful open spaces." Mr Zuill has spent the last three and a half years working with his wife in their Queen Management Services group of companies. Mr Zuill, a former reporter and editor of The Royal Gazette, said: "I am deeply honored to have been selected for this important role. In some ways, this role means that I am coming home as I feel that I grew up with the Trust since my father was director 1972 until the early 1990s and I spent a lot of time on Trust properties. Ever since I have had a great passion for Bermuda's history and environment and look forward to utilizing my experience as a journalist and as a manager to make the Trust an even better organisation than it is today."
September 1. A 40-year-old Canadian national has denied importing and possessing cannabis with intent to supply. Appearing at the monthly Supreme Court arraignments session this morning, Marcus Snow, from Toronto, entered not guilty pleas to two charges. It is alleged that he imported the drug and had possession of it with intent to supply on July 8. A trial date has been fixed for November 14 and Mr Snow was remanded in custody. Also in court, 59-year-old Denis Davis denied wounding with intent to cause grievous bodily harm and possessing a knife in a public place in Devonshire on April 23 last year. Mr Davis also denied stalking two people between January 1, 2014, and April 23 last year. He is due to appear again in court at the October arraignment sessions. In another matter, a 31-year-old man, who cannot be named for legal reasons, denied intruding on the privacy of a woman on July 7. He was remanded in custody and a trial date was set for October 4.
September 1. Two women who traveled through Bermuda on a luxury cruise liner this summer have been arrested on suspicion of drug smuggling after a huge stash of cocaine was found in a cabin when the liner berthed in Australia. Melina Roberge and Isabelle Lagace, both in their 20s and from Quebec, had spent the past two months on the Sea Princess on a round-the-world cruise from England to Australia. The pair, who documented their voyage on their Instagram accounts, arrived in Bermuda on the morning of July 23 from New York on board the vessel and left later the same day bound for Colombia. While in Bermuda they visited the South Shore beaches and posted a series of photographs with caption including: "Bermuda was amazing" and "Gone to a place very peaceful, leave a message after the tone". But on day 51 of the 68-day cruise, when the ship berthed in Sydney en route to its final destination in Fremantle, the Australian Federal Police boarded the vessel. A search of two passenger cabins by officers uncovered locked suitcases full of 95 kilograms of cocaine. The discovery led police to charge Ms Roberge and Ms Lagace, as well as their fellow Canadian traveller Andre Tamine, 63, with trying to import the drugs into Australia. The Sydney Morning Herald newspaper has reported the Australian Border Force as saying the trio were working with a "very well-organized syndicate".

History & daily newspaper reports

Authored, researched, compiled and website-managed by Keith A. Forbes.
Multi-national © 2020. All Rights Reserved