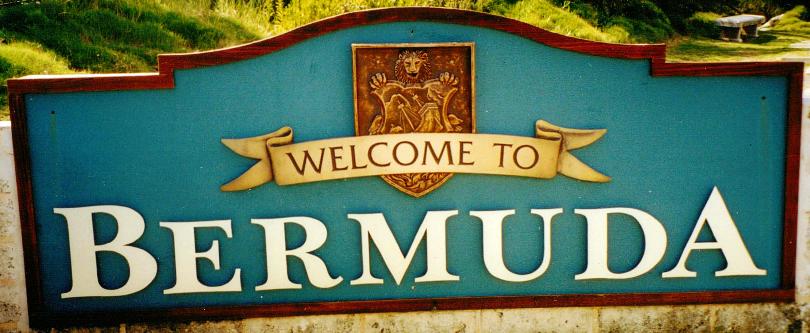 Click on graphic above to navigate the 165+ web files on this website, a regularly updated Gazetteer, an in-depth description of our island's internally self-governing British Overseas Territory 900 miles north of the Caribbean, 600 miles east of North Carolina, USA. With accommodation options, airlines, airport, actors, actresses, aviation, banks, beaches, Bermuda Dollar, Bermuda Government, Bermuda-incorporated businesses and companies including insurers and reinsurers, Bermudians, books and publications, bridges and causeway, charities, churches, citizenship by Status, City of Hamilton, commerce, communities, credit cards, cruise ships, cuisine, currency, disability accessibility, Devonshire Parish, districts, Dockyard, economy, education, employers, employment, environment, executorships, fauna, ferries, flora, former military bases, forts, gardens, geography, getting around, golf, guest houses, highways, history, historic properties, Hamilton, House of Assembly, housing, hotels, immigration, import duties, internet access, islands, laws, legal system and legislators, main roads, marriages, media, members of parliament, money, motor vehicles, municipalities, music and musicians, newcomers, newspaper, media, organizations, parks, parishes, Paget, Pembroke, performing artists, residents, pensions, political parties, postage stamps, public holidays, public transportation, railway trail, real estate, registries of aircraft and ships, religions, Royal Naval Dockyard, Sandys, senior citizens, Smith's, Somerset Village, Southampton, St. David's Island, St George's, Spanish Point, Spittal Pond, sports, taxes, telecommunications, time zone, traditions, tourism, Town of St. George, Tucker's Town, utilities, water sports, Warwick, weather, wildlife, work permits.

Bermuda's 2019 August History and News
Events that made newspaper headlines in the eighth month of this calendar year
By Keith Archibald Forbes (see About Us).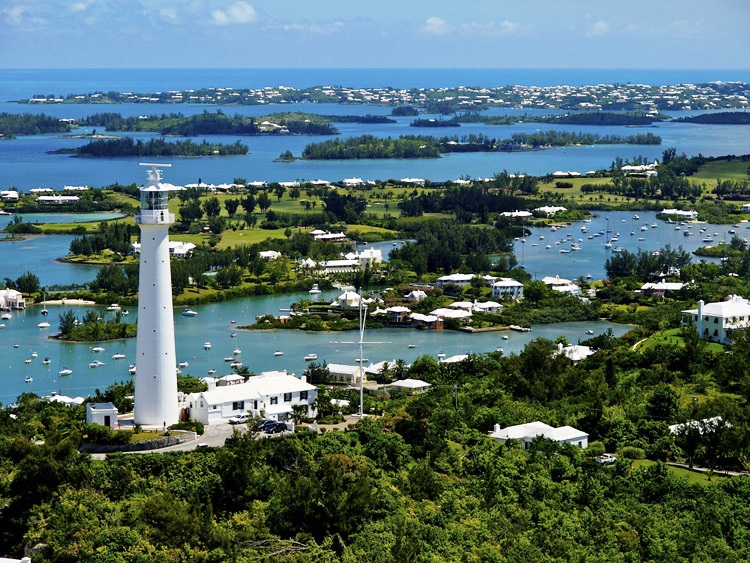 Benefit of website linkage to Bermuda Online while traveling
See at bottom of this page a listing of our many History files
August 31

The Government is looking for partners to help it abolish Bermuda's middle schools. Diallo Rabain, the Minister of Education, said yesterday that a request for proposal would be put out today to find organisations to "plan, manage and execute the school redesign process". He explained the massive change would require schools to be redesigned and rebuilt and new signature schools designed. "Issuing an RFP will provide us with the benefit of using an effective, existing, structured school redesign process that can be tailored to the needs of the Bermuda public school system. This will also allow the officers within the Department of Education to continue to focus on the day-to-day work of public school education. I encourage the public to review the RFP, which will be available online under the Office of Project Management and Procurement section of gov.bm." You will see our sincere intention to be collaborative by giving you the opportunity to help transform public education in Bermuda." Mr Rabain expected to have responses to the RFP by the end of September. He said discussions on how the island could phase out middle schools had already started, but that the Government was aware it would require thought, research and consultation. Mr Rabain added that the Government had already notified parents, teachers, staff, the Board of Education and unions involved in education about the RFP. He said: "To carry out this work in a way that is meaningful for our children means not only restructuring our school system with the phasing out of middle schools, but also redesigning or rebuilding existing schools and designing new signature schools. I thank all of the critical players for their diligent contributions towards executing what I have outlined here today; however, much work remains ahead. I am encouraged by the path we are on to transform Bermuda schools and the Bermuda public education system. I invite all members of the public to participate in the transformational process when called upon and thank the public for their patience and commitment to our children and their future."

"Revolutionary" changes are needed in the island's education system, according to the general secretary of the Bermuda Union of Teachers. Mike Charles told a crowd at the 38th Annual Labour Day Banquet last night that the Government had allowed a "second-class" public education system to continue unchanged. Mr Charles said: "A country that does not educate it's people well will relegate its citizens to being second-class citizens in their own country. Our Government today is making the mistake, continuing out of habit a pattern of education that was built by design. This mistake, this lack of vision to revolutionise how we raise up our young people, raise them up to believe in their potential and their ability to lead this country, this mistake of refusing to modernize our schools and support our programmes, is allowing an age-old design of a second-class education system to continue. The population of Westgate is not by chance. It is by design. So for those of us here and everywhere, it is time for us to put our money, our time and all our energy to where our mouth is and make public education in Bermuda second to none." Mr Charles said that despite the success of labour governments at the polls throughout the Caribbean, unions in the region still find themselves going head-to-head with their governments. He suggested that some elected officials may have the right intentions, but are not experienced being on the other side of the table during union negotiations. Mr Charles said: "How many of our current elected officials have been active participants in any of the island's trade unions? How many have experienced the trials of negotiations or the tensions in the room when a motion to strike comes forward. "I make this comment not to suggest that the elected officials intentions are not well directed, but rather to highlight that their ability to connect, their ability to connect with genuine understanding will only be limited if they have never set on the other side." The veteran educator also took aim at the One Bermuda Alliance, who he said vilified unions when they sought to extend furlough days. Mr Charles said: "We took the country on our backs, sacrificing our personal wages to stabilize the Government books. We collaborated. Even more so, we came with solutions, offering our sacrifice when the experts were out of ideas. Fast forward 18 months — 18 months of significant personal sacrifice — we helped the OBA government save face. We put billions of dollars back into Bermuda's books and when the terms of agreement came to an end, we were vilified. Many of the people of Bermuda accused us of not co-operating for the good of all when in fact it was they who were not keeping their word." Mr Charles added that it was easy to feel bitter, but the island's union members should instead feel pride that they were on the right side of history. Despite the conflicts with governments, he said true collaboration is necessary to create better outcomes for everyone on the island. Mr Charles said: "Collaboration is more than an empty trail of letters and e-mails that do nothing more than say 'I told you so'. Collaboration is more than the empty meetings that pretend to gather input, only to push forward with the original plan. And collaboration is more than just giving lip service to find solutions only to have the same challenges persist month after month." He said unions around the world needed to support one another and to stand up when needed for the benefit of all, particularly in the face of a changing world. As unions, we find ourselves returning to the same challenges over and over and over again. Our watch must be vigilant so as not to lose the rights and privileges that we have secured. We have seen a rise in populism, a rise in racism, more abuse of power by politicians and the erosion of human rights. Governments are attempting to dismantle trade union rights and the influence over government decision making by big business decision making continues to grow. Grass roots democracy is being attacked. For many of our colleagues around the globe, these are difficult times indeed."

It was unclear last night if a school hit with an asbestos problem will be able to open for the new school term. Diallo Rabain, the Minister of Education, said AC Management and Bermuda Water Consultants had carried out removal work and collected air samples at Clearwater Middle School in St David's and an overseas lab had found the samples were free of asbestos. But floor tiles, suspected to contain asbestos, were damaged during the removal, which meant extra work had to be carried out. Mr Rabain said: "We have had a conversation with the Department of Health and the Department of Health has agreed that they have examined what is going on at Clearwater and they are in the process of determining, because of this new thing that has popped up, they are in the process of determining whether the school can be operating while this work is being undertaken. "We expect to hear from them today, in fact." A government spokeswoman previously said that asbestos was discovered in the ceiling of the cafeteria and closet spaces in June. Remediation work was carried out over the summer and completed on August 5. But the Government said last week that further air samples had been sent overseas after concerns were raised about floor tiles at the school. Mr Rabain said yesterday: "The results were submitted to the Department of Health who issued a health certificate of completion — the final step in any asbestos abatement process in Bermuda. Further abatement work was needed because the original abatement work that was carried out damaged some floor tiles. That work is currently under way." He added: "Under any other circumstances, finding asbestos at any school is an issue that would be quickly addressed and dealt with by the Ministry of Public Works and third-party licensed contractors. However, in keeping with my promise to be transparent and open with my communication with relevant stakeholders, I deemed it critical to provide this update." The minister said the department had pledged to work with parents and staff at schools to deal with questions and keep them aware of work being done at the school. Mr Rabain added: "Our approach is simple. We will focus our efforts where they are needed and communicate with those that are affected as soon as practicable. This morning, the ministry and department received a report on the readiness of schools, and I am pleased to report that the majority of Bermuda public schools will be ready to receive teachers and staff on September 3, and students on September 10." He said the Government had yet to receive confirmation from two schools, but that was expected before the end of yesterday. Mr Rabain added: "What we are waiting for is indication that the schools have been cleaned and are ready for teachers. We have the majority of them — all but two schools — that they will be set up and ready for Monday."

A series of promotions and appointments have been made at the island's tourism authority. Kevin Dallas, the CEO of the Bermuda Tourism Authority, said the changes recognised the had work and dedication of the organisation's staff. Mr Dallas added: "Their efforts provide critical support and help progress the goals of the National Tourism Plan. Along with the rest of our team, they also underscore the high level of talent we're lucky to have on board as we mark five years of enhancing Bermuda's tourism product, supporting stakeholders and growing the industry." Erin Smith has been promoted to the post of chief information officer. Ms Smith was a member of the original BTA team as director of research and business intelligence. Alastair Jack has been made the new assistant director of sports marketing and Tashae Thompson has been appointed as assistant director of experience development. Both are five-year veterans of the BTA. Kristin McSweeney was promoted to the post of manager of customer relationship management and systems. Leonard Williams, who started at the BTA as an intern in 2016, has been appointed to the post of experiences satisfaction coordinator. And Shannen Talbot, who started as a BTA intern in 2017, has been made an assistant Shannen Talbot will provide administrative support for public relations and Clintel Jones will provide administrative support for destination services. Ms Talbot joined the BTA as an intern in 2017 and Ms Jones had fulfilled several temporary assignments at the authority. The BTA earlier announced the appointment of Ishmael Kolthoff as director of sales and business development.

A boater charged with causing the death of his passenger on New Year's Day appeared in Magistrates' Court yesterday. Mikado Burchall, 31, was charged with the unlawful killing of Adrian Hassell, 24, with an alternative charge of causing his death by reckless and dangerous driving. Mr Burchall was also charged with operating a boat while impaired. Mr Burchall was not required to enter a plea as the case must be heard in the Supreme Court. Senior magistrate Juan Wolffe released Mr Burchall, from Smith's, on $20,000 bail and adjourned the case for the October arraignments session at Supreme Court.

Thousands of people took to the streets of Hamilton in an explosion of colour and joy in Bermuda's first Pride Parade today. Huge numbers joined a boisterous procession — estimated by police at more than 5,000 people — which at one point stretched along Front Street from the Birdcage to the Cabinet building. Large numbers of visitors celebrated with local supporters, creating an upbeat carnival atmosphere, with many people wearing rainbow attire and carrying banners promoting love and equality. Organisers and supporters expressed their delight at the turnout from the community, including Rod Ferguson whose case was responsible for the re-legalisation of same-sex marriage in Bermuda. Mr Ferguson told The Royal Gazette: "We ourselves did not know how much support we had until today. This is why this is so hugely important." Pride supporter Barbara Maguire said: "I'm here to celebrate my brother here and our entire community today." Her friend Paul Minnick said: "It's remarkable how quickly the facilitators here have moved this mission forward. It's been a concern of mine for many years as a Bermudian. I've felt a bit of an outcast in my own home. This is a huge stride forward." Joanne Bawden said: "I am so excited. Like a lot of Bermudians living abroad, I support this. It has been an embarrassment seeing what's gone on, with people here and tourists not feeling they can be who they are. I'm very proud. It's kind of a birth — people coming together to celebrate Bermuda." Shanon Stovell said her cousin, the late Sharand "Oopie" Ming, was an amazing, funny person who was killed in a hate crime. She said he would have loved to see so many people come out in support of Pride. "Today is a day to celebrate, to be you and to be proud," she said. A minute's silence was held before the parade set off, with Ed Christopher, the town crier and emcee for the event, telling the audience: "For those who went before us, we see your footprints — we are going to walk in them and make them deeper." Mr Christopher added that Bermuda Pride was all about love. He urged marchers not to argue with any protesters, adding: "This is about love. If they cannot hear it, let them argue among themselves." Carlita Lodge said: "Celebration in any community is important. I'm a member if the Rainbow Alliance and I've represented Bermuda at World Pride in Toronto. I feel so proud of my country and my people here celebrating intersectional diversity." Kim Walton said: "There's overwhelming love and support for everybody. You hear people say they're in support of LGBTQ but you don't physically see them. This is overwhelming, beautiful — it means so much." No protests were in evidence, although Elizabeth Christopher, one of the organisers, voiced regret that the rainbow decorated pedestrian crossing at the junction by the Daylesford Theatre had been defaced with green paint and profanities. Ian Hind, senior engineer for the Corporation of Hamilton, said that two crossings at Queen Street had also been defaced in a similar manner, and that he had been requested to report the vandalism to police. A protester holding up a sheet stood on Cedar Avenue as the parade filed past. The day started with a series of Pride activities at Victoria Park from 9.30am, including synchronized yoga stretches and live entertainment led by Joy Barnum. Celebrations and more entertainment at Victoria Park will run from 12.30pm to 7pm.

A jubilant crowd took to its feet last night to welcome the country's first Pride event today. A panel of Caribbean activists discussed the history of LBGT rights in their countries and their experiences of organising similar parades in their homelands. Nastassia Rambarran, from Guyana, told the audience at the Hamilton Princess: "You're trailblazing, in a way. We're really excited to come." Ro-Ann Mohommed, from Barbados, dismissed claims that Pride events were an "imported" phenomenon. The organiser of Barbados's LGBTQI Pride told the audience of about 200: "Sexuality is not the import — homophobia is." The panellists also discussed the role black and other ethnic people played in the Pride movement. Zakiya Johnson Lord, deputy chairwoman of gay rights charity OutBermuda, asked the speakers for their views on the multicolored rainbow for the Bermuda Pride flag, which includes black and brown. Jaevion Nelson, from Jamaica, said a key aspect of Pride was to "challenge notions that our community has to look one particular way". Suelle Anglin, who runs Pride Jamaica, said the emphasis on inclusion helped counter the commercialization of Pride events. She added: "We are not just here partying." And Rudolph Hanamji, the chairman of Pride Trinidad & Tobago, praised the thought and effort that Bermuda had put into the organisation of the parade and that it had "given us that moment of pause". All four guest speakers were from countries that have already held Pride parades. Linda Bogle Mienzer, a Bermudian activist, told the panel there had been a "pushback from the black community — they can't move past how they feel that racism has been ignored by the sector of our community that has embraced Pride". Mark Anderson, another activist who performs as drag artist Sybil Barrington, said Pride should include respect for one another, including the gay community and wider society. He added: "We have to respect each other's opinion and come together to deal with this." The audience included many younger people. A 16-year-old girl, who identified herself as Eliza, asked the international panellists how their countries "empowered queer youth". Ms Anglin said that activists were prohibited by law from offering support to people under 18 in Jamaica. She added: "We try to have partners in different agencies that might have these interactions and try to build their capacity." An 18-year-old female Bermuda College student, who said she was bisexual, told the panel: "I have not been in a female relationship — people always try to use that against me." Ms Mohammed told her: "You do not owe anything to anybody and you do not owe them an explanation about your sexuality." Renée Webb, a former Progressive Labour Party MP and minister, asked the panel how trailblazers in human rights had been honoured in their countries. Ms Webb, who led an unsuccessful campaign to have protection on the grounds of sexual orientation added to the Human Rights Act in 2006, said: "We have a lot of people who fought to bring this day about." Ms Anglin said: "The first thing to do is document our history."

Becoming a bishop was a calling made known to Roxanne Haynes nearly two decades ago. This month it finally came to fruition as she became the first female bishop in Bermuda. "I just want to give God thanks for fulfilling a prophetic word that was released over 17 years ago, concerning my elevation to bishopric," Dr Haynes said. I want to give God the glory and the honour for doing such a mighty work in my life. It reminds me that whatever God has spoken about our lives, He will complete and fulfil it. I feel blessed and honoured that God has entrusted me with the mandate to serve in this sacred office." The mother of four has been faced with a handful of personal challenges in recent years including the death of her husband, Bishop Christopher Haynes, in June 2013. Losing her long-time partner in ministry and best friend forced her to "deepen her resolve in Christ" in order to continue pastoring their church, Restoration Fellowship, without him. "My husband and I were a team in ministry for over 37 years. It was definitely an adjustment not having him with me, but I knew the work of the Lord had to continue regardless of any circumstance or situation," Dr Haynes said. "Reflecting back on that period I can now see my husband's passing as a transition rather than a loss. The Word of the God says in 2 Corinthians 5:8: 'To be absent from the body is to be present with the Lord.' My faith was greatly tested during that time. I had to learn I was capable of continuing the work without him and how to rely on the Lord and trust that He was leading me, and the flock that I covered, in the right direction. I've seen the scriptures come to life in new ways. For example in 2 Corinthians 12:9 the Word says 'In my weakness His strength is made perfect.' Meaning that I will never be without strength as long as I remain in Him. I certainly have seen God show His strength at work in me over the last few years." Dr Haynes was ordained at the Fellowship's annual holy convocation in Raleigh, North Carolina, on August 17. She wore bishopric garments and carried a staff during the ceremony, which was conducted by Archbishop David J Billings III, the chief apostle of the United Fellowship of Churches International. A spokesperson from the religious denomination said: "Bishop Haynes is the first female bishop in the UFCI and to our knowledge, Bishop Haynes is the first female bishop in Bermuda." Dr Haynes will be formally installed as bishop over Bermuda and the Caribbean regions in November. Through this role, she is charged with ensuring all churches under her guidance are growing, developing and doing well. "I will also be required to look out for opportunities in communities we don't currently serve and to train, mentor and prepare others for ministry in the Kingdom of God." She said that it had always been her desire to bless the lives of others — no matter her title or position in the church. "I have served God earnestly from the moment I accepted Him as my Lord and Savior over 40 years ago," she said. "While I'm incredibly honoured to be elevated into the bishopric and don't take this position for granted, my focus on accomplishing the work of the Lord hasn't changed from the moment I acknowledged the call of God on my life. My prayer and desire is that God will continue to use the gifts and the anointing that is on my life to help increase the Kingdom and bless the life of people everywhere." In order to become a bishop, the Council of Bishops has to first consent to offering the individual a position in the bishopric. The candidate then has to be consecrated as bishop-designate, serving in that capacity for approximately a year. During this period the Council of Bishops examines the person's life to ensure they are of "upstanding character" and trains the candidate in the catechism. It is only then that a person can finally be consecrated into full bishopric. The accomplishment would not have been possible without support from her close family, friends and God, Dr Haynes said. She encouraged anyone going through challenges and difficulties to hold tight to God and "cling to His promises and His Word. It is during these times we need to employ and put into practise all of the lessons and strategies that we've learnt," she said. When you feel the walls closing in on you, reach out to God in prayer and worship. But it is also important to remember that this Christian walk is not to be done in solitary. We are a community, a body of believers, who should be able to rely on one another, encourage one another and help one another. Having said that, in reaching out to God we still need each other to make it through these kinds of situations."

August 30

The island's financial regulator and currency issuer has struck new coins to celebrate its 50th anniversary. The Bermuda Monetary Authority has issued triangular coins featuring a compass rose and a map of Bermuda which is available in $5 in gold, $2 in silver and 25c in cupronickel. The authority has also issued a Bermudiana coin, the first in a series of six designed to feature the island's national flower. The Bermudiana commemorative coin has two colour versions that highlight the distinctive purple petals and yellow centre of Bermuda's national flower, as well as gold, silver and cupronickel denominations, The BMA is responsible for currency and also regulates the financial services sector. The coins are available at market prices from the Note & Coin Exhibit at BMA House, Victoria Street, Hamilton, Monday to Friday, 9am to 4pm. For more information on the BMA's Commemorative Coins, call 295 5278.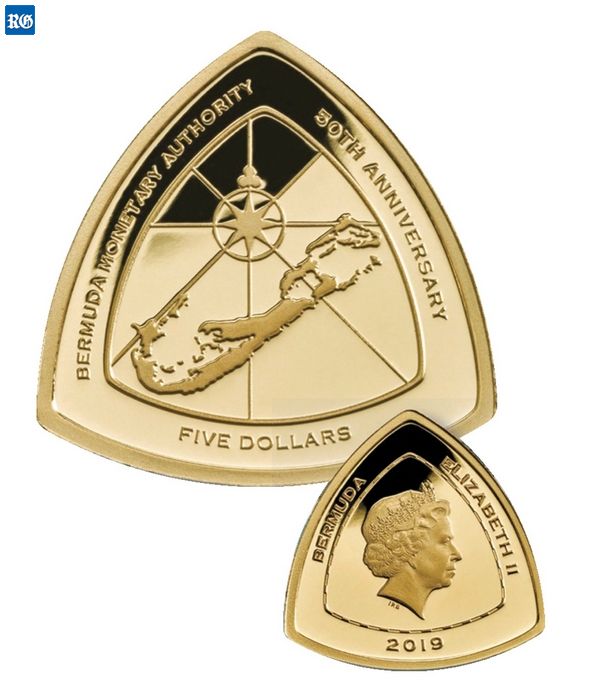 On the eve of the Pride event and parade in Hamilton, the Opposition leader said he would vote in favour of same-sex marriage, after his thoughts changed in wake of a referendum on the subject three years ago. Craig Cannonier added that he recognised the rights of individuals to control their own lives and to be happy. The One Bermuda Alliance leader explained: "I voted against it and a large part of that had to do with the fact that, historically, I grew up in the church as a Christian man and, still, I'm an ardent believer in the Lord. It has been something that the church has frowned on, yet we have so many other sins that are going on around in Bermuda ... men abusing young women — underage — and young boys, that we need to stamp out. These people have walked through the halls of our churches, they have gone to the front and prayed, and have led in our churches." He added: "I recognize that what we need to do, is get on with loving one another and put the judging behind us, aside. So with that journey, I recognised that it is important to embrace the community." The non-binding referendum in 2016 recorded a majority vote against the introduction of both same-sex marriage and civil unions. However, the vote had a turnout of less than 47 per cent, with 14,192 against same-sex marriage and 6,514 in favour. Mr Cannonier said: "I met with several pastors and at the end of the day, I came to the conclusion that, the greatest commandment is love." He added: "I think we have way too many issues within society, because we have judged people on things that we shouldn't have, not understanding the history, not understanding where people have come from. That goes for even members of the LGBT community judging someone like myself, who did not agree with same-sex marriage. The beauty of it is that upon reflection, upon listening and upon continuing to want to grow in the process of becoming a better human being, I have come to the conclusion, that they have the right of self-determination, they have the right to happiness, as long as it's not breaking any laws." Mr Cannonier said the introduction of a Pride celebration in Bermuda was "an historic time. I believe that the message that the LGBT community, the Pride community, have given is a message of love, unity, harmony and, quite interestingly enough, diversity as well, which is the spice of life." The MP said he felt in the past that LGBT people had "not stood together as strongly as they should have". He added that the Pride celebration was an opportunity for people to come together to "spread the message of love. I'm appreciative of the message, because it is a message that should be screamed as loud as possible around the world; that we are all human beings, and that if we treat each other with the foundation of love, we can come to conclusions a whole lot better, and we can heal a whole lot quicker." Mr Cannonier called for both spectators and participants to be "respectful" and for everyone to "conduct themselves with decorum, respect in pride in who they are", without casting aspersions or judgments. He added he could not attend the parade because he will be at a family funeral.

A third of public primary schools were ranked as poor in maths based on average pupil scores over three years, it has been revealed. The detailed Cambridge Checkpoint assessments for 2015 to 2017 were released after a public access to information request from The Royal Gazette to the education ministry. Bermuda's annual assessment was designed to rate Primary 6 pupils on English, maths and science. The Cambridge system uses scores from 0, ranked "very poor", to 6, graded "excellent". Scores from 3 to 4 are classified as "Good, about average for Cambridge Primary Checkpoint students". Scores between 2 and 3 are deemed "OK, but below average for Cambridge Primary Checkpoint students". Scores from 1 to 2 are rated as being "poor". The Pati request asked for the average pupil score, by school, in the three subject categories. The average pupil score in each of the three subject areas in each year was added together and divided by three to get the average pupil score over the three-year period. The exercise found that the average pupil score in maths at six of the island's 18 primary schools scored below 2 — labelled "poor". The lowest-ranking primary schools were Francis Patton, Hamilton Parish, (1.97), the Gilbert Institute, Paget (1.87), Harrington Sound, Smith's, (1.97), Heron Bay, Southampton (1.93), Paget Primary (1.80) and Victor Scott, Pembroke, (1.57). Victor Scott was the only school where the average pupil score was below 2 for all three years. The average pupil score in maths was below 2 twice in the three-year period at Gilbert (2015 and 2016), Harrington Sound, (2015 and 2016), Heron Bay (2016 and 2017) and Paget (2016 and 2017). Francis Patton had an average pupil score in maths below 2 only in 2015. An average pupil score for maths was not given for East End Primary for 2016. The school's average pupil score for the three-year period — 2.50 — was calculated using the average scores from 2015 and 2017. Three primary schools had an average pupil maths score of 3 or more over the three-year period — Dalton E Tucker, Southampton (3.20), St David's (4.27) and St George's Preparatory (3.50). The Bermuda national average maths score in 2017 was 2.4 and the international average was 3.8. The island's national average for maths was 2.2 in 2016, compared with an international average of 3.9. The Bermuda national average maths score was 2.4 in 2015, 2.6 in 2014, 2.7 in 2013 and 2.9 in 2012. The international averages for 2015, 2014, 2013 and 2012 were 3.8, 3.9, 4.1 and 4.0 for the same years. The results of the 2018 and 2019 Checkpoint exams have not been released. A spokeswoman for the Ministry of Education said that results for both years would be released in October. Diallo Rabain, the Minister of Education, did not respond to a request for comment yesterday. Mr Rabain was asked what the Ministry of Education was doing to bring up maths scores at the schools where they were found to be poor, and whether recommendations made by Cambridge representatives who visited Bermuda in 2018 had been implemented. Mr Rabain said in February last year that the results of the 2017 assessments showed "a need to continue to focus our attention on improving math scores". Cambridge Curriculum assessors conducted a review of maths classrooms and ran teacher training sessions a month later. Mr Rabain told the House of Assembly afterwards that two Cambridge representatives visited ten schools and observed 500 pupils. "A primary observation pointed out to the department was the missed opportunity for our students to engage in deeper learning in many of the classrooms. Some of the practices that we have been implementing have not been the best practices. We recognize this, and now we endeavor to improve the practices to do better." The Cambridge assessors recommended several improvements, including an increased pace of learning, increased pupil workload, and more challenging assigned work. Mr Rabain said that the training was needed. "We will endeavor to ensure that this type of training is ongoing as we move ahead. Mr Rabain added: "It is recognised that providing our teachers with constant professional development will help to enhance and build on the standard of teaching and learning in the classroom and ultimately improve the Cambridge score results for our students." Mr Rabain said that a "comprehensive delivery plan" would be developed that would "action steps, timelines and accountability measures for the improvement of mathematics across the system". He added that the education department would "report out on a monthly basis the progress being made in our mathematics curriculum". The Primary Checkpoint was first used in Bermuda in 2012 and the island is the only public school system in the world to use Cambridge to administer these assessments across the education system.

Results for public school children's exams sat more than a year ago will be revealed in the autumn, an education ministry representative has said. The spokeswoman added that the Cambridge Checkpoint results for the 2017-18 academic year would be unveiled in October. She added that the results of the 2019 exams would be released at the same time. The response came after Diallo Rabain, the education minister, was asked about the status of the exam results this week. Mr Rabain was asked when the results of the 2018 exams had been received by the Government and why they had not been released to the public. He was also asked if recommendations made by Cambridge Curriculum assessors who visited Bermuda in March last year had been implemented. Recommended improvements included an increased pace of learning, increased pupil workload, and more challenging assigned work. Mr Rabain did not provide responses by press time yesterday. Primary 6 and Middle 3 public school pupils, the classes who take the Cambridge Checkpoint exams, are assessed annually in three areas; English, maths and science. A report on the 2017 exam results was delivered by Mr Rabain in February 2018, ten months after pupils sat the test. He said then: "In the past, we've reported the results in October. However, the technical staff at the Department of Education have taken time to prepare a more parent-friendly and community-friendly report." Mr Rabain added that the Bermuda Public School system "is the only public school system in the world to use Cambridge to administer these assessments system wide". Mr Rabain told MPs in a ministerial statement in the House of Assembly in March 2018 that he had told the public the month before "that our students were not performing at the expected standards for English, maths and science". He added that maths results provided the "greatest concern".

Two police officers accused of gross misconduct will go before a disciplinary tribunal that will include a senior colleague, the Supreme Court has ruled. Both officers claimed in the Supreme Court earlier this year that the tribunal formed to review the allegations against them would be biased, if a fellow officer sat on the three-member panel. They asked for an order to prevent the Commissioner of Police Stephen Corbishley from setting up the disciplinary hearing. The tribunal was ordered after Police Constable Oswin Pereira was accused of the use of excessive force in the arrest of a teenager in 2017 and Police Constable Joshua Boden was accused of failure to tell superior officers about the incident. Chief Justice Narinder Hargun refused the application from the two constables in a judgment delivered on August 19. The complaints against the officers stemmed from an incident in 2017 when they were involved in the arrest of Talundae Grant, who died in an unrelated motorcycle crash earlier this year, aged 19. The court heard that Mr Pereira was involved in a high-speed pursuit of Mr Grant's motorbike on May 13, 2017. Mr Boden, who responded to a request for assistance, arrived at a wooded area off Eastdale Lane, Southampton and saw Mr Pereira enter the trees on foot. The Chief Justice said: "PC Boden also entered that wooded area and eventually saw PC Pereira attempting to subdue the suspect by means of a Taser stun gun. PC Boden moved to assist PC Pereira and attempted to place handcuffs on the suspect, who offered resistance as PC Boden attempted to subdue him. While attempting to place the handcuffs on the suspect, PC Boden observed a swinging motion in his peripheral vision, and later observed that PC Pereira was holding a police-issued ASP baton." The officers were both told the incident was under investigation on October 2017 and it was decided they would undergo a tribunal for alleged gross misconduct last December. It was alleged that Mr Pereira used excessive force. It was further alleged that Mr Boden failed to act with honesty and integrity, had abused his powers and did not report his colleague's misconduct to his superiors. The case was scheduled to be heard by a tribunal, but the officers asked for a judicial review over the appointment of the three-strong panel. A tribunal should include a barrister, a layman and a police officer, but Mr Pereira and Mr Boden argued that the presence of a police officer would lead to the appearance of bias. Allan Doughty and Marc Daniels, lawyers for the two officers, said that the appointment of a police officer to the tribunal would go against natural justice. Mr Justice Hargun said: "The core legal argument, as set out in the applicants' written submissions, is that a reasonable observer, fully informed of the relevant facts, would have concern of bias; because, a serving member of the tribunal is appointed by the prosecuting authority and will be under the direct command of the prosecuting authority, while acting as a judge during the court of proceedings. It is said that if the third member of the tribunal must be under the command of the prosecuting authority, it follows that the third member will, by definition, always be an 'interested party'. It cannot seriously be suggested that the mere fact a police officer is a member of the disciplinary tribunal necessarily means that the tribunal can no longer be considered as independent. Furthermore, the mere fact an officer is part of the command structure within the BPS does not disqualify that officer from serving on a disciplinary tribunal determining complaints made against other officers of the service." The Chief Justice said that it would be a benefit to have a member of the BPS on the panel because of their experience in the police service in Bermuda. A BPS spokesman said yesterday: "A disciplinary tribunal will now take place in regards to the matters relating to two BPS officers at a date to be agreed. The outcome of this tribunal will be released at a point when the process has been concluded."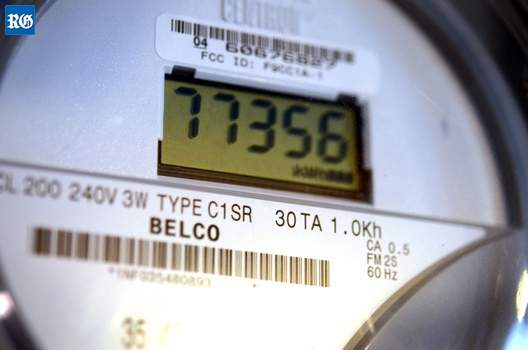 You're not seeing things when your monthly Belco bill charges for more than a month's worth of usage. In some instances, those additional days can tip a customer deeper into a higher rate tier. Belco is in the process of installing meters fitted with a small computer chip and radio that transmit information about a customer's electricity usage to the company. This will overcome the problem of monthly readings exceeding 30 or 31 days. As an example of the problem currently encountered, a resident found their bill jumped significantly from June to July even though their energy consumption barely altered, with one month's bill covering fewer days than the next. When they queried this with Belco, they were told "excess days" had been charged at the top kilowatt hour rate. However, when contacted by The Royal Gazette, a Belco spokesman said there is no "excess days" charge applied to monthly bills. He explained that while the company endeavors to keep the monthly meter-reading cycle to approximately 30 days, sometimes the period is extended by a few days. This happens as a result of delays, such as public holidays when meter readers are not out-and-about gathering readings. "Belco's billing cycles are determined by meter reading cycles. The company's meter readers start in the eastern end of the island at the beginning of each month and work their way westward, finishing in Dockyard at the end of the month," the spokesman said. "Normal meter reading cycles are between 25 and 35 days, however every effort is made to complete reading cycles of approximately 30 days." He said that between March and the end of September there are "significant challenges" in the meter reading cycle due to public holidays and staff vacations. "Meter readers work Monday through Friday, and on occasion, may work on Saturdays in an effort to balance out any challenges presented by the public holiday schedule. This means that some reading cycles are shorter and others are longer based on when routes are read." He gave an example of what can occur to a customer who uses 20 kWh per day.
If the monthly bill covers 28 days they would pay a total of $233.39, inclusive of additional charges and fees such as the fuel adjustment and Regulatory Authority fee. The first 250 kWh of energy cost 15.75 cents per kWh, and the remaining 310 kWh is charged at 24 cents per kWh.
If the monthly bill covers 30 days they would end up paying for an additional 40 kWhs (two days usage) at the 24 cents per kWh rate. This, together with incremental increases to the fuel adjustment and Regulatory Authority fee in relation to the higher usage, would result in a bill of $248.68.
Belco's energy charges are split into tiers: the first 250 kWhs at 15.75 cents per kWh, the next 450 kWhs at 24 cents per kWh, and the remaining kWhs at 33.62 cents per kWh. The spokesman pointed out that during the months of July and August energy usage tends to increase as air conditioning units work harder to cool rooms compared to the months either side. He added: "We are currently in the midst of an AMI meter deployment programme which will facilitate remote readings of our meters. Once full deployment has been achieved, Belco will be able to offer different reading cycles which will not require movement of our meter readers from one end of the island to the other."

The families of two Florida firefighters missing at sea yesterday asked for Bermuda deep sea fishermen to help in the search for them, and offered a $70,000 reward for information. Justin Walker and Brian McCluney set out in a Robalo 24ft centre console boat, early on August 16 from Cape Canaveral, Florida. Experienced boaters, the pair were expected to return home by 6pm, but never returned to port. Mr Walker is a firefighter in Fairfax County, Florida and Mr McCluney, an Iraq War veteran, is a firefighter in Jacksonville, Florida. Both have been trained as paramedics. Natasha Walker, Mr Walker's wife, said: "They have been good friends since college. They both have really good survivals skills. They grew up in Florida, so they grew up on the water. They take this fishing trip every year." She added that even items that washed ashore in Bermuda could help trace Mr Walker and Mr McCluney. Don Harding, a family friend, added: "They have done the most extensive search in history off of Florida. Basically, they still have a few grids to be searched to finish up the coast, but we have an expert who is saying it's likely if the boat is still floating, it's coming this way. We were hoping to charter a boat and get an aircraft, but it's not something that's readily available, so we are trying to get the word out to the fishermen. There are fishermen who go out 100 miles. We want them to keep their eyes open. We want to resolve this somehow. We know this might be a long shot, but if one of these fishermen are out there and they spot something, there is a $70,000 reward. We are trying to get some awareness out there. We are working to get an aircraft out here, and we will be going to the marinas next. These guys are heroes and we need to get them back." Mr Harding said three days after the pair disappeared a fishing bag was found and identified. "From that, they were able to re-grid and the Coast Guard was saying if they could find one more thing they could re-grid again, but because that was the lone clue, as the days went by, it became less useful." Mr Walker and Mr McCluney were last seen on CCTV footage as they backed their boat down a boat ramp at 11.30am on August 16. A mobile phone ping was later recorded at 1pm, which showed the men were 31 miles off Brevard County, where they planned to fish. The US Coast Guard searched more than 146,000 square miles for six days, but did not find the men or their boat.

DropIt Delivery, the island's new grocery delivery business, has announced revised pricing for its cost-saving annual membership. The service, which entrepreneurs Carl Vincent and Leanne Evans describe as "Lindo's grocery store, Warwick, online", has attracted more than 500 registered users since launching nine weeks ago. DropIt is now offering an annual "time-savers" membership for $129. Members pay an $18.99 delivery fee on top of the cost of their food order, or may pick up their order at Lindo's for a fee of $12.99. Guest users can register online, and pay a $24.99 delivery fee or a $14.99 fee for in-store pick-up. The business, the owners say, is evolving quickly to meet demand. DropIt has added hundreds of items to its inventory since launch, while creating focused categories for special dietary items such as gluten-free, lactose-free, dairy-free, vegan, and vegetarian. The DropIt founders say it has been rewarding for them to serve customers who, due to age or disability, are unable to go grocery shopping. Ms Evans said: "It almost allows them to shop for themselves again." In addition to individual users, DropIt says several organisations depend upon the business to serve their guests and staff on a regular basis, including Rego Sotheby's International Realty, The Loren at Pink Beach, and The Reefs Resort & Club. For the next month, DropIt says, a promotion will offer new users and existing customers one free delivery.

August 29

A general agency meeting was held yesterday ( 28 August) at BUEI for the more than 65 agencies that are members of the Emergency Measures Organisation (EMO) to provide an update on the latest hurricane forecast for this season and some of the web tools that are available on the Bermuda Weather Service website. The meeting was opened by the National Disaster Coordinator, Steve Cosham, with keynotes given by the Chair of the EMO, the Minister of National Security, the Hon. Wayne Caines, JP, MP. Minister Caines invited members of the Disaster Risk, Reduction and Mitigation Team onto stage to be recognised for the planning work they have completed for the various hazards that face Bermuda. An understanding of tropical cyclone development and characteristics was presented by Michelle Pitcher, the Deputy Director of the Bermuda Weather Service (BWS), and an overview of the latest hurricane prediction was presented by James Dodgson, the Director of the BWS. This year the forecast is for a slightly above average hurricane season with 13 named storms, six hurricanes and three major hurricanes being predicted. The public is reminded of the five themes of hurricane preparedness:
Personal preparedness
Family safety
Financial and insurance security
Strengthen your home
Check on your community and neighbours
The final presenter was Aderonke Bademosi-Wilson who gave an overview of the new Government alert application called Treefrog. The Treefrog app which is available from Google Play and the App Store is free to download and enables user's to receive a variety of Government news and alerts as they are published. The user can customize the content with one exception, and that is the Public Safety alerts. These alerts will be sent to all subscribers, including EMO alerts.

The Bermuda Post Office (BPO) is reminding the public that it is currently undergoing an internal systems upgrade. To accommodate the upgrades the BPO's sub post offices will close for a half day at 12 noon on the following dates outlined. Regular postal service will resume following day. The BPO thanks the public for their patience and apologizes for any inconvenience during this period of system implementation. Mangrove Bay Post Office — closure date at 12 noon — Wednesday, Sep 4th. Southampton Post Office — closure date at 12 noon — Wednesday, Sep 11th. Crawl Post Office — closure date at 12 noon — Wednesday, Sep 18th.

The number of recreational lobster diving licences has been cut by 75 to 375 for the new season in a bid to conserve the crustaceans. The move by the home affairs ministry came after statistics for the 2018-19 season showed a 2 per cent decrease in the number of inshore lobsters compared to the average for the previous 20 years. A spokeswoman for the ministry said: "The number of lobsters caught per trap in the commercial fishery is a standard measure that is an indication of the lobsters' abundance. According to catch data from the past 20 years, this past season was the sixth consecutive season of below-average commercial catches." Delvin Bean, of the Bean family fishery, said recreational lobster divers posed a threat to the commercial trade. He added: "I would most definitely like to see the recreational divers cut back a little more. Of course, it's a threat to our income." Mr Bean and his family, who carry out business from their boat, Nothing's Easy, sell most of their catch of fish and lobsters to restaurants. Mr Bean warned that some recreational divers misused their licences for profit. He said: "We do have people breaking the rules. Right now you have a bunch of recreational divers out there that are making it into a business. They are catching lobsters by day and they're selling them. It has been brought to the attention of the appropriate people to deal with it."

Bermuda is to take part in a around-the-world yacht race — as a port of call and as team partner for the just-named clipper GoToBermuda. Kevin Dallas, the Bermuda Tourism Authority CEO, christened the vessel yesterday at St Katharine Docks in London just before the launch of the 2019-20 Clipper Round the World Yacht Race. GoToBermuda will compete against 11 other Clipper 70 racing vessels in a 40,000 nautical mile race to start in London on Sunday. Mr Dallas said: "This is a really exciting partnership and we are proud to be a part of the Clipper race for the first time. Sailing is part of our DNA. In Bermuda, we live life differently. Set apart, not only by our location, but also the way of life, sailing has always been a part of who we are, so we're really excited to invite romantics, explorers and adventure-seekers like our Clipper race crew, to Bermuda next June." The City of Hamilton will be one of 15 ports for the race fleet — on the epic journey's final leg from New York to Londonderry, Northern Ireland in July 2020. Other places the boats will stop over include Panama, Portimao, Portugal, Cape Town, South Africa, Fremantle, Australia and Qingdao, China. The race teams are made up of a professional skipper and mate, and crew from all over the globe. The BTA will offer the opportunity of a lifetime for a Bermudian to compete in the final leg, as part of the GoToBermuda crew, as part of a forthcoming promotion. The Clipper race is the only event of its kind for non-professional sailors, training everyday people to make six ocean crossings. The race was founded in 1996 by Sir Robin Knox-Johnston, who was the first person to sail solo and non-stop around the world 50 years ago.

More than 50 police officers will be deployed to tackle any trouble at Bermuda's first gay Pride event, it was revealed yesterday. But Acting Superintendent Hashim Estwick said he expected Saturday's celebration to be "very safe". Mr Estwick said: "What the Bermuda Police really want people to do is to celebrate in a safe environment and have some fun. We have in excess of 50 officers that will be available and there is a squad of marshals that will also be there to ensure that everybody's safe. The persons involved in the parade are important and the protesters are important as well. The message is, come out, be peaceful, kind and considerate to each other." Mr Estwick said three areas will be designated for protesters, but it was up to individuals if they wished to use them. He added: "The police is not here to corral any person into a protest area. We believe that these areas are safe for the protesters. There is a separation where people can protest carefully and kindly and also to allow the process to go on." But Mr Estwick warned that the BPS was "more than prepared to respond to any threats. We have mined social media, we have conducted a barrage of investigation into possibilities and, based on our investigations, we believe this is going to be a very safe event.. The churches, the main protest groups, have been telling their members to stay away. They do not want to draw more attention to it than it needs." David Northcott, one of the Bermuda Pride 2019 organisers, explained the reasons behind the parade and other events, which will include a panel discussion at the Hamilton Princess tomorrow evening. He said: "First and foremost it's an unapologetic, public celebration of the LGBTQI+ community in Bermuda. We are here, we belong and we are tremendously grateful for the support that we have received. We want to be visible and we want to have our allies visible as well." Mr Northcott said it was also an opportunity to "remember those who have gone before us". The date was chosen to mark the 25th anniversary of the Stubbs Bill, which in September 1994 decriminalised sex between consenting adult men. Mr Northcott added: "We also remember those who have lost their lives along the way. Sometimes in Bermuda it has been a very difficult place to be open and free with who you are. There is bullying, there is harassment, there have been suicides and there has been murder. We want to remember those who have gone before and honour them and thank them for the work that they've done." Lorraine Shailer, co-chairwoman of the Bermuda Chamber of Commerce's retail division, said that Saturday was the traditional busiest day for back-to-school shoppers. She added: "We are completely open for business and ready for all your shopping needs, whether it's back-to-school or any other shopping." Ms Shailer said disruption to on-street parking would be kept to a minimum and all car parks will be open throughout the day. She added: "The retail division is certainly looking forward to the Saturday festivities and we positively encourage our shoppers to come out and enjoy a day in the city." Chen Foley, another Bermuda Pride organiser, explained that the Victoria Park venue was chosen because it was wheelchair accessible. He added that the Bermuda Musical and Dramatic Society's Daylesford Theatre had made its toilets available for wheelchair users. Mr Foley said that anyone who took part in Pride was expected to be "respectful of those who might not agree. Our ask is that you not engage with them. Save your energy for having fun with us. The journey for the queer community in Bermuda has been difficult. Pride might be emotional for some of the participants so we just ask you to be sensitive and a good neighbour to anybody who might be a little emotional throughout the events that take place."

A lawyer denied a charge of assault in Magistrates' Court yesterday. Kamal Worrell, 38, pleaded not guilty to the unlawful assault and wounding of Chavelle Dillon. The incidents were alleged to have happened on June 1 in Warwick. Magistrate Maxanne Anderson released Mr Worrell, from Warwick, on $5,000 bail and ordered him to stay away from the alleged victim. The case was adjourned until October 7.

A game-changing course based on Singapore methods has been delivered to maths teachers at public and private schools. Training, from the international firm Maths No Problem, was provided to Warwick Academy teachers, as well as public primary and middle schoolteachers. Andy Psarianos, chief executive of the company, said the programme was based on the successful education system in Singapore. Mr Psarianos said: "Singapore's success was quite remarkable — unheard of. Singapore is at the top of the league tables, but they didn't used to be. The small southeast Asian republic is an outlier in education. When they changed their system of education, they shot to the top in 1995. A decade before, they were at the bottom." Singapore, which has a population of 5.6 million, is also top for ease of conducting business and ranked the world's most competitive country. Maths No Problem, a British-based professional development and textbook company, sends its trainers worldwide to run events such as this week's three-day seminar at Warwick Academy. The course was sponsored by professional services firm Deloitte. Mr Psarianos said: "We help jurisdictions like Bermuda adopt methodologies that are used around the world, but especially in Singapore." About 70 teachers were trained by Yeap Ban Har, a consultant who heads the company's professional development unit, from Monday to Wednesday. Jill Finnigan, a senior teacher at Warwick Academy, said three teachers from the school who were sent in 2017 to a course in London with Dr Ben Har had come back "raving about their experience. We decided then and there to bring Dr Ban Har here to share knowledge not only with our school but other educators." Members of the Bermuda Council of Teachers of Mathematics, headed by Rebeka Sousa, joined the programme. After a team from Warwick Academy met Kalmar Richards, the Commissioner of Education, the course was advertised to teachers in public primary and middle schools. Ms Finnigan said teachers who took in the course part had to be members of the BCTM or join the group to "make sure there was a continuation of the ideas learnt on the course". Dr Ban Har said the research-based method used in Singapore combined a variety of techniques in the classroom for more effective learning. "It encourages teachers to let students explore problems and discuss it in class instead of teaching maths in one way." He added techniques from around the world are combined in the "Singapore strategy. Teachers are teachers and the same everywhere. From the responses I get, many are still teaching not in the way we are describing, but maybe still doing things traditionally." Margo Furbert, the primary maths co-ordinator at Warwick Academy, added: "If we could get our key stakeholders in education aware of this approach, we could revolutionise teaching in our island." Ms Furbert added: "I wish that I had been taught this way."

A woman who went for a vacation hairdo was left horrified after her hair fell out and her eyes were injured. Leanna Ming, 53, said huge clumps of hair fell out after a trip to Nadz Beauty Salon, Hamilton, and claimed it was because the hairdresser mixed the wrong chemicals for hair-straightening treatment, and left the mix in her hair for too long. She added a beautician at the salon also attached false eyelashes too far up her eyelids, which caused days of irritation and swelling. Ms Ming said: "I was so traumatized about the hair loss, I didn't even want to see it." Nadine Dillas, the owner of the Court Street salon, insisted her staff were not responsible for the hair loss. Ms Ming, a nurse from Warwick, said she went to the salon in July for a makeover, before she travelled to Barbados. She said that the hairdresser left perming cream in her hair for more than 15 minutes and that "something didn't feel right". Ms Ming added: "I told her my hair was burning, so she began to wash my hair out. I put my hand in back, to touch my scalp, and hair came out on my hand." Ms Ming said that she suffered hair loss on the back and sides of her head, which she insisted were caused by chemical burns from the cream. "I felt the back of my head and my fingers went straight to my scalp. She didn't notify me of how much breakage I had in my hair. She just told me that my hair broke because I hadn't permed it in a long time. I went and got some lashes done and the lashes were put inside the red area of my eyelids. The glue was too much and I couldn't take them off, so I had to use mascara to push the lashes out of my eyes." Ms Ming, who studied at a beauty school in the United States, said that chemicals used to perm hair breaks down hair proteins and has to be neutralized with a special agent. She claimed that was not done and the perming cream broke down her hair. Ms Ming added that the addition of peroxide-based colour to the mix applied to her hair worsened the effects. Ms Ming explained: "I was told by the technician that it's going to burn. It should never burn; not to the point where it causes your hair to break. They didn't have the expertise to even understand that you don't put in a peroxide-based colour with a relaxer. It's all over the internet, for people who don't have training, but I've been to school, so I know the difference." Ms Dillas said that the beautician who applied Ms Ming's false eyelashes had not been trained in the technique she used, and had been fired. She maintained that Ms Ming's hair fell out because she often wore wigs that weakened it. Ms Dillas said: "If you're wearing a wig, or even a cap, every day, it's going to leave a mark in that spot and it's going to take hair from there. Her hair was weakened in some spots, and when the hairdresser added the chemicals to it, then it would take some hair from around there." Ms Dillas, who has owned the salon for more than ten years, said that she has given the hairdresser advice on how to work with sensitive hair, and planned to do the same with future employees. She added that she will also introduce competency tests for new employees, to make sure they can carry out treatments correctly. Ms Dillas said that she planned to give Ms Ming a refund. She added: "I do not like the way she chose to go about this." Ms Ming said that she was angry over the way her complaint was handled and that she had had poor customer service. She added: "I've owned my own business for 18 years and any time I've had a customer that doesn't feel happy about a service, I would almost get down on my hands and knees. Instead, she's turned this into me pleading and begging with her, and I don't think that that's good business ethics." She added that she now felt humiliated and embarrassed and depressed, by the state of her hair. Ms Ming said: "My hair has still been coming out, that's why I feel like this story should be heard, by other people." And she told other clients of salons: "Make sure that you ask your cosmetologist what they're using in your hair beforehand, so you won't fall in this problem that I've fallen in."

A diving club took the plunge last weekend as part of a massive marine cleanup effort. A total of 15 divers from the Bermuda Sub Aqua Club, about a quarter of its membership, combed Harrington Sound to collect trash. A spokeswoman for the club said: "There were many dive sites on BSAC's cleanup list and Harrington Sound School dock is on top this year, mainly because we often dive around these waters to conduct training activities. "It's the same reason that we have done cleanups by the Devil's Hole and Clarence Cove in previous years. These areas are close to our hearts and we want to keep them clean and safe for all its dwellers and users. We are keen to do more clean-up sites any chance we have." The spokeswoman added that the club worked with Keep Bermuda Beautiful in its clean-ups to help maintain Bermuda's marine environment. She said: "The rubbish we collect may not only prevent accidents and make for a healthy ocean. The data collected also contributes to the global statistics which are important to science studies." Among the items pulled from Harrington Sound were two beach chairs, a motorcycle, three motorcycle frames and a laptop. The divers also recovered nine bags of bottles, four tyres and about 250 metres of abandoned fishing lines.

Bermuda's Jessica Lewis capped off a memorable Parapan American Games in Lima, Peru, by clinching gold in the T53 100 metre final in a record time, to secure her third medal of the Games. Heading into the race as the reigning 100m champion and Parapan American Games record holder, Lewis blitzed her previous record time of 17.67 seconds, set in Toronto four years ago, crossing the line in 17.36 sec, ahead of Kelsey LeFevour, of the United States in 17.81 and Anahi Lucero Vazquez, of Mexico, in 19.51, to clinch her second gold medal of the competition. Yesterday's success completed an impressive haul for Lewis at the Games following the gold she won in the T53 400 final on Saturday and the silver medal she clinched in the women's T53 800 metres final on Monday. The 26-year-old made a scintillating start to the Games after storming to victory in the 400 metres final. She finished in a time of 1:01.95, a second faster than Yen Hoang, of the United States, who came second in 1:02.95. Compatriot LeFevour completed the podium places, finishing third in 1:02.97. Lewis returned to the track at the beginning of this week and won her second medal, claiming silver in the women's T53 800 metres final. More accustomed to the shorter distance races, Lewis, came second in a time of 2min 08.99sec at the Athletics Stadium at the Videna Sports Complex. Hoang, of the United States, won the race in 2:08.99, with Yadira Soturno Diaz, of Venezuela, finishing a distant third in 2:35.46. Lewis was guaranteed a medal before the starting pistol with the only three athletes entering the race. Winning a pair of medals in the longer distances represents a major breakthrough for Lewis, as she has often struggled for sustained power in the 400 and 800. She has credited her improved form to switching to a pair of harder gloves. The remainder of Bermuda's contingent at the Games will be kicking off their quest to add further medals to the nation's haul as the boccia competition starts today. Steve Wilson, Yushae DeSilva-Andrade and Omar Hayward will all be in action with Wilson competing in the BC1 classification pool and DeSilva-Andrade and Hayward going head to head as part of the BC4 classification pool. Wilson and DeSilva-Andrade have previous experience at the Games, having represented Bermuda in Toronto four years ago, while for Hayward the event marks his debut in the competition, having already gained major international experience including at the 2018 world Championships in Liverpool. For Wilson, who at the age of 70, upset the odds to clinch gold at the Buenos Aires Regional Open in Argentina last year, overcoming the sport's top players from North, Central and South America, he is adamant about his ambition for the Games. "I'm going for gold, that's what I want to go for," said Wilson. "I've played most of the guys out there and beaten them before, it is just a case of fine-tuning my game and make sure I hit my shots. I love the Pan Am Games and I'm just itching to get back there and do what I do. I've been before and it was huge for me back then. I can learn from that experience and do what I have to do this time around. All three of us stand a chance of winning a medal and it would be incredible if we could do that." DeSilva-Andrade echoed her compatriots sentiments as she also targets a place on the podium. "I'm really excited about going to the Pan Am Games this time around because back in 2015 I was in the wrong division and so this time around I'm a little more hopeful of doing well," she said. "I'm hopeful of placing in the medals, that would be amazing."

A Bermudian artist who joined the Royal Navy in the Second World War and was assigned to top-secret work to crack Nazi codes has died. Pamela Darrell, the 93-year-old widow of Owen Darrell, a Bermudian who also saw wartime service in the Royal Navy, was just 17 when she joined Britain's largely female team of cryptanalysts at Bletchley Park, a mansion in Buckinghamshire that became the nerve centre for the Allies' cryptanalysis effort. The job was so classified that Ms Darrell only received a citation for her work from the British Government in 2009. Ms Darrell, originally from Oakham, Rutland, joined the Women's Royal Naval Service, known as the Wrens, for different reasons. She told The Royal Gazette in 2010: "I wanted to go to sea. Bletchley Park was right in the middle of England." Hundreds of Allied codebreakers worked to crack German ciphers, including the Enigma code, which the Nazis believed was unbreakable, at the secluded mansion near Milton Keynes. Ms Darrell said the Germans often changed their codes and the team had to "work like blazes to figure out what the new code was". The work at Bletchley Park was essential in the defeat of the U-boat menace in the Battle of the Atlantic and other British naval victories. It was also vital to success of the North African desert campaign against Field Marshal Erwin Rommel's Afrika Corps and for the 1944 D-Day landings in Normandy. After the war, Ms Darrell met and married Mr Darrell, who only learnt of her wartime occupation when restrictions were relaxed in the 1970s. Ms Darrell said: "I wasn't able to tell my family for a long time — I just told my husband that I did secret work. I didn't really understand why we couldn't talk about our work after the war. I think they were concerned about the Russians." Mr Darrell, who had served on a minesweeper, died in 2013. A keen painter, Ms Darrell was a founding member of the Bermuda Society of Arts and served as its curator from 1967 to 1980. The couple were also members of the Garden Club of Bermuda.

August 28

First-quarter gross domestic product (GDP) rose 3.7 per cent, after being adjusted for inflation, in the first quarter of this year. It was the fastest growth in quarterly GDP since the third quarter of 2015 and was helped by strong growth in construction work done. GDP reflects the monetary value of the island's goods and services over a period in time and is regarded as an indication of economic health. A report issued this evening by the Department of Statistics showed that GDP at constant prices in the first three months of the year was estimated at $1,339.5 million, 3.7 per cent up from the same period in 2018. The main driver was a $30.9 million increase in gross capital formation, or fixed assets. The construction element of these assets saw a 15.6 per cent increase during the period. The report cited Belco's new North Power Station and ongoing work on the new airport terminal, as well as new residential construction, road and bridge refurbishments and hotel development. After adjusting for inflation, household final consumption increased 0.5 per cent year over year to $624 million. During the period, households spent more on services such as accommodation services, catering services and insurance but less on durable goods such as motor vehicles. Government final consumption rose 1.2 per cent, due to higher wages and salaries, offset by a reduction in spending on goods and services. The net surplus on trade in goods and services increased $11.7 million, or 3.8 per cent, mostly because of a rise in services exports, which rose 5 per cent during the period. There were increased earnings from the export of travel services, legal and accounting services. Goods imports, which have a downward effect on GDP growth, grew 10.7 per cent due mostly to imports of machinery, fuel and finished equipment. Payments for the imports of services rose 1.3 per cent due to construction and engineering services. GDP in current prices, which does not adjust for inflation, rose 4.8 per cent to $1,816.2 million, up 4.8 per cent year over year.

Dubai-based International General Insurance Holdings Ltd, the subsidiaries of which include Bermuda-based re/insurer IGI Bermuda, has reported a net profit of $13.75 million for the first six months of 2019. That result compares to a net profit of $11.02 million for the same period last year. Gross written premiums rose 12.2 per cent year-over-year from $165.87 million to $186.12 million. The group recorded an overall underwriting profit of $25.88 million for the six months ending June 30 2019, a nine per cent increase over the 2018 result of $23.75 million. IGI reported growth in most major lines of business, with casualty, engineering, ports & terminals and financial lines contributing the most in dollar growth. Annualized return on equity for the period was 8.7 per cent, compared to 7.2 per cent for the same time period in 2018. IGI's book value per share grew to $2.358 at the end of June 2019 from $2.271 at the end of 2018. Investment income was $7.3 million for the first half of 2019, compared to $4.88 million for the first half of 2018. IGI posted a combined ratio of 92.84 per cent, compared to 91.28 per cent for the same time period a year ago. Wasef Jabsheh, vice chairman and chief executive officer of IGIH, said: "The insurance market is in a healthier position than it has been for a long time. Rates are continuing to gradually rise, and the outlook remains positive for the rest of 2019. Our results reflect a clear strategy of disciplined underwriting and profitable growth as IGI continues to move ahead with its diversification and expansion strategy, which has kept us strong in challenging times." He added: "We are working on a number of exciting developments and business expansion projects, which are expected to materialise in the near future." IGI Bermuda, a class 3B re/insurer regulated by the Bermuda Monetary Authority, is the principal underwriting entity for the group, the company said. Registered in Dubai, the holding company also has operations in Jordan, United Arab Emirates, Malaysia, Morocco and a wholly-owned subsidiary in the United Kingdom. The group also has a branch in Labuan, Malaysia, registered as a second-tier offshore reinsurer. The IGI group underwrites a worldwide portfolio of energy, property, engineering, casualty, legal expenses, directors and officers, financial institutions, general aviation, ports & terminals, marine liability, political violence, forestry and reinsurance treaty business. The holding company had assets in excess of $950 million as at June 30, it said.

Nicholas Garside has been promoted to head of Bermuda property at Liberty Specialty Markets, which is part of Liberty Mutual Insurance Group. He takes on the role on Monday, and reports to Steve Horton, president, Liberty Specialty Markets Bermuda. Mr Horton said: "Nick is an exceptionally capable executive who's amassed considerable experience in both the Bermudian and international property markets. His skills and in-depth knowledge will be of tremendous value." Mr Garside joined Ironshore Bermuda as senior vice-president of property last year, prior to its rebrand to Liberty Specialty Markets. During his 15-year career in insurance, he worked for Novae Bermuda as deputy head of direct and facultative property. He also brokered property risks for Willis in London, Sydney and Bermuda.

August 27

David Altmaier, commissioner of the Florida Office of Insurance Regulation, has been added to the line-up of speakers and keynotes for the annual PwC Insurance Summit, presented by the Financial Times. Mr Altmaier will be part of a panel with John Huff, president and chief executive officer of the Association of Bermuda Insurers and Reinsurers, at the November 7 event at Hamilton Princess and Beach Club. Keynote speakers who have been added to the conference line-up include Hiscox chairman Robert Childs, Legal & General Re CEO Thomas Olunloyo, and industry innovators Karen White, former Silicon Valley executive and current CEO of RMS, and Paul Brand, deputy CEO of start-up, Convex Insurance. Panel discussions on ILS and the island's growing life reinsurance sector will feature Michael Millette, founder and managing partner, Hudson Structured Capital Management, and Chip Gillis, chief executive of Athene Life Re, organisers said. Also joining the conference line-up are top executives from the world's largest reinsurer, Munich Re. Marc-André Giguère, president and CEO at Munich Re, US (Life and Health) and Mary Forrest, president and CEO at Munich Re, North America (Life and Health), will participate. Previously announced participants include Brian Duperreault, president and CEO of AIG, who will deliver the opening keynote, as well as Sompo International CEO Nigel Frudd, and RFIB group executive chairman Dennis Mahoney. Bermuda market veteran Mr Mahoney, the former CEO of Aon UK, said: "I am looking forward to being part of a great line-up of speakers at PwC's annual summit. The risk landscape is fast evolving and my keynote will touch on the topic of inclusion in the industry, and how in an increasingly divisive world, the historic broker-carrier relationship is becoming even more symbiotic." Curtis Dickinson, the finance minister, will be interviewed live by Financial Times insurance correspondent Oliver Ralph, who will be on-island along with Robert Armstrong, the FT's US finance editor. Some 300 attendees are expected this year, organisers said, including C-suite executives and senior professionals from more than 75 global companies and organisations, including 50 re/insurers, offering attendees networking opportunities. Arthur Wightman, PwC Bermuda leader, said: "We are building on the success of our event last year with a stellar line-up of inspiring and thought-provoking speakers and keynotes and a fast-paced agenda that will address the most pressing issues in the market today, including technology, cyber-risk, regulation, climate change and sustainability."

A man who fought a 14-year legal battle after he was humiliated in public over gay porn has been given $125,000 in compensation. The Supreme Court ruled that Dwight Lambert, who was cleared on charges of importation of obscene material in Magistrates' Court, deserved compensation for the breach of his human rights. Mr Lambert said in a written submission to the Supreme Court that he felt "skinned alive" by the trial in the lower court and the subsequent media coverage. He said: "These were very private and intimate details of my life, that I had never expected to share with anybody. It was complete and utter public shame and humiliation." Assistant Justice Kiernan Bell, in a decision released on August 21, found that Mr Lambert had suffered because of the charges and the publicity. Ms Justice Bell wrote: "I accept the evidence of the plaintiff, that he has suffered severe emotional distress, humiliation, embarrassment, loss of personal dignity and hurt feelings, as a result of the infringements of his Constitutional rights. I find that his suffering was severe, for an extended period of time, particularly in the lead up to and during the trial. I further find that it is an aggravating factor that counsel for the prosecution, at the trial, advanced its case based on allegations that the content of the DVDs would incite sexual deviants and child molesters. The counsel have aggravated the injury by what they argued in court. These actions certainly increased the hurt feelings, embarrassment and injury suffered by the plaintiff." Magistrates' Court heard at Mr Lambert's 2007 trial that had brought DVDs featuring gay sex to the island in 2005, but that they were seized by customs officers on the grounds that they were obscene under the Obscene Publications Act 1973. He was told to surrender the discs or face prosecution. Mr Lambert, however, insisted the legislation did not define "obscene". But he was in 2006 charged with three counts of the importation of obscene articles, but magistrate Khamisi Tokunbo ruled the prosecution had not proved the DVDs were obscene. Puisne Judge Stephen Hellman found in 2017 that Mr Lamberts's right to a fair hearing and freedom of expression had been breached as he could not have foreseen the DVDs would be classed as obscene. Mr Lambert later launched legal action against the minister responsible for telecommunications at the time. He said in his statement to Supreme Court that his packages were seized because of bigotry as there had never been a prosecution under the 1973 Act before. Mr Lambert added that he was convinced straight pornography would not have been treated the same way. He said that because his case was newsworthy, he received embarrassing publicity and felt shamed when his picture appeared in the media. Peter Sanderson, Mr Lambert's lawyer, argued in Supreme Court that Section 15 of the Bermuda Constitution allowed for redress for breaches of constitutional rights. He added that Section 15 said that "persons carrying on their life in Bermuda should be free from unjustified interference, mistreatment or oppression from the state". The section added that "if a person has suffered damage from such unjustified interference, mistreatment or oppression, that person is entitled to compensation". Michael Taylor, for the Attorney-General's Chambers, did not dispute the facts of the case, but said there should be either no damages or nominal damages. Mr Taylor told Supreme Court there should be no redress for distress caused by the publicity of the trial and suggested Mr Lambert should take legal action against the media that reported on the case and Magistrates' Court, which did not order the hearings to be held in private. But Ms Justice Bell wrote: "I do not find these arguments persuasive. The plaintiff has no recourse against the court or any third parties such as the press who were simply reporting accurately on proceedings in open court. In fact, the plaintiff's only available avenue for redress is in the constitutional arena." The judge ruled that the breaches of Mr Lambert's freedom of expression and his right to freedom from interference were compounded by the infringement of his right to a fair trial. Ms Justice Bell added: "These are significant constitutional rights and it is appropriate to recognize and uphold the importance of these rights with a vindicatory award. In the end, Constitutional redress can only go so far — and the court is mindful that no sum will truly compensate the plaintiff for the distress, humiliation, embarrassment, loss of personal dignity and hurt feelings he has suffered and continues to suffer as a result of the infringements of his constitutional rights." She awarded Mr Lambert $100,000 in compensation and a further $25,000 "vindicatory award" for the human rights breaches.

Police have renewed calls for information today as the island marks the one-year anniversary of the murder of Danshun Swann. Mr Swann was stabbed to death on South Road, Southampton, outside the entrance to the Southampton Rangers Sports Club, just after midnight on August 27, 2018. A police spokesman said: "The murder of Danshun Swann was senseless and a cowardly attack by unscrupulous individuals. Justice demands that those responsible are prosecuted." He added: "This investigation is an active investigation and detectives are renewing their appeal for witnesses to come forward. Investigators are aware that there was a large crowd present at the time that Danshun was stabbed and many people witnessed this stabbing. "The investigators are also aware that many of those witnesses were recording a fight that was taking place and investigators are interested in speaking with those witnesses that have footage. Police were grateful for those who have already come forward with information. This appeal is for more to do the same. Investigators are aware that some witnesses are reluctant to come forward and would like to remind the public that the information that you share will be treated in the strictest of confidence. All information is important and has the potential to solve Danshun's murder." Two men were arrested by police in connection with the murder of Mr Swann, but both were released on bail as the investigation continues. Anyone with information is urged to contact Detective Chief Inspector Arthur Glasford on 247-1739 or Acting Detective Inspector Jason Smith on 717-0864.. Anonymous tips can also be given by calling the independent and confidential Crime Stoppers hotline 800-8477.

A security guard at a club was attacked by a group of men after he asked for proof of age, police said yesterday. The 39-year-old suffered injuries to his face and body after he asked members of the group for identification at the East End Mini Yacht Club in St George's. A police spokesman, who appealed for witnesses, said the security guard was taken to hospital for treatment and was later released. He added a 38-year-old St George's man had been arrested in connection with the incident and released on police bail pending further inquiries. The incident happened on Saturday about 12.30am. Witnesses or members of the public with information or video footage should contact the Criminal Investigation Department on 247-1744.

Polaris Holding Company Ltd, parent of Stevedoring Services Ltd and recently-acquired East End Asphalt Company Ltd, has reported a net profit of $801,000 for the fiscal year ending March 31, 2019. Operating profit was $1.07 million, the company said, before taking into account acquisition costs of $210,000 and start-up losses of $56,000 in relation to Polaris' acquisition of EEA in March. This marked the fourth consecutive year of operating profits in excess of $1 million, the company said. After accounting for the EEA acquisition and start-up costs, Polaris reported a gain of 90 cents per share, with a return on equity of seven per cent. At the current 32 cents per share annual dividend distribution and based on Polaris' most recent BSX price of $5.10, the company said, its dividend yield was 6.3 per cent. A company spokesman said: "Polaris has demonstrated once again that it is a steady pair of hands — true to its motto — 'quietly powering Bermuda'. Without interruption or disruption, Polaris through its subsidiaries has ensured that the goods and products that are required by and for its community are delivered safely in a timely and efficient manner. With the recent acquisition of EEA, Polaris is primed for growth in another service industry where its proven management experience, coupled with the expertise of the EEA staff will ensure that entity to be another successful performer in the Polaris portfolio." In addition to Stevedoring Services and EEA, Polaris owns and operates Mill Reach Holding Company Ltd, which holds real estate located at Mill Reach Lane, Pembroke and Equipment Sales and Rentals Ltd, which owns and leases heavy operating machinery and equipment to Stevedoring Services.

The head of a company that pledged to create fintech jobs in Bermuda has stepped down after bizarre comments in a series of media interviews. Patrick Byrne, founder and CEO of Overstock.com, resigned on Thursday after he told several news outlets he had been an FBI operative and helped the agency commit "political espionage". He also claimed the agency had instructed him to pursue a relationship with Russian spy Maria Butina. Mr Byrne made headlines on the island in April last year when he signed a memorandum of understanding with Bermuda to create jobs and educational opportunities for Bermudians through Medici Ventures, an Overstock.com subsidiary formed to incubate, launch and invest in blockchain. A government spokesman said the company would make Bermuda its "laboratory" for blockchain investments and would create at least 30 jobs in three years. Medici Ventures has not responded to a request for comment sent last Friday on whether the change in leadership of the company would affect its plans for Bermuda.

August 26

Bermuda's surplus in economic transactions with the rest of the world narrowed to $204 million in the first quarter of this year. One of the drivers of the $116 million fall in the current-account surplus, compared to the first quarter of 2018, was a $24 million rise in goods imports. The island imported goods worth $255 million in the first three months of this year, compared to $231 million in the same period last year. Notably, there was a $37 million rise in imports from the US, wile imports from the UK also grew by $4 million. Goods imported from the Caribbean fell by $15 million year over year, while imports from Canada dipped $2 million. Machinery imports climbed $11 million, fuel rose by $6 million and finished equipment gained by $5 million. The island's services account surplus fell $4 million in the first quarter to $75 million. A report from the Bermuda Department of Statistics showed there was a $16 million fall in the surplus for "other business services" due mostly to payments related to construction and engineering services. Meanwhile, the surplus on government services climbed by $6 million to $50 million. The primary income account surplus dropped by $88 million to $419 million. The primary income account reflects balances on compensation paid to non-residents and income from investments and payroll tax paid by non-resident companies to the Government. "This decline reflected primarily a negative balance on net investment income compared to a surplus in the first quarter of 2018," the report stated. At the end of the first quarter 2019, the stock of foreign assets held by Bermuda residents registered above its stock of foreign liabilities by an estimated $3.054 billion. The net international investment position increased by $483 million over the fourth quarter of 2018.

The inflation rate fell to 0.3 per cent in May, according to Bermuda Government figures. A 3.6 per cent drop in average property rental prices, for properties not subject to rental control, was a contributing factor. Inflation had been 1 per cent in April. Month-on-month analysis in the Consumer Price Index bulletin showed price increases in the fuel and power, food, tobacco and liquor, and the education, recreation entertainment and reading sectors, while the health and personal care, and clothing and footwear sectors were unchanged. There was a 2 per cent decrease in the rent sector overall, attributed to the aforementioned fall in the cost of rental properties outside rental control. The transport and foreign travel sector was down 1.6 per cent as the average cost of airfares and premium fuels dropped 2.3 per cent and 2.2 per cent, respectively. The household goods, services and supplies sector fell 0.2 per cent, with the average cost of household appliances such as microwaves, dishwashers and air conditioners down 10.6 per cent. In the fuel and power sector, prices rose 1 per cent due to a 3.1 per cent increase in the fuel adjustment clause. Food prices were up 0.3 per cent on average, with salad dressing up 4.1 per cent, and the price of potatoes up 3.3 per cent. In the tobacco and liquor sector prices were up 0.8 per cent, with the average cost of wine rising by 2.6 per cent. In year-on-year analysis, the health and personal care sector was the largest contributor to inflation, increasing 2.3 per cent. The major contributing factor was the average cost of health insurance premiums. The Consumer Price Index was released by the Department of Statistics.

The Bank of Jamaica has warned its customers that it will no longer exchange Bermuda dollars from today. A statement from the country's central bank, released last Friday, said it would stop exchanging Bermuda bills at its counters because it has been unable to "repatriate this particular foreign currency". A bank spokesman said: "In that regard, after giving value for the Bermudian dollar to the public at our banking counter, the bank cannot obtain value in return. Given this development, the only recourse at this time is to cease accepting the Bermudian dollar." The spokesman said the bank viewed the exchange of currency as a "public good" and added: "After accepting the Bermudian dollar at its banking counter in exchange for Jamaica dollars over the years, we regret any inconvenience caused by this decision." The bank did not state when the problem arose or how much it had cost the bank. Efforts to contact the bank for comment were unsuccessful yesterday. The Ministry of Finance did not respond to a request for comment.

A "phenomenal" project on the arrival of slaves in America has sparked a call to boost discussion about history in Bermuda. Cheryl Packwood, the former director of the Government's Washington DC office, said that further embracing the island's past would help the country to progress. It came after The 1619 Project was launched by The New York Times Magazine to observe the 400th anniversary of the beginning of slavery in Virginia, when Angolan people were stolen from Spanish traders and delivered to Virginia and Bermuda. Ms Packwood said: "In order to go forward, we need to understand our past. We can't ignore what has happened in the past, we have to embrace it, we have to understand it and everybody needs to know because it's all of our history." The New York Times initiative aimed to "reframe the country's history" and place "the consequences of slavery and the contributions of black Americans at the very centre of the story we tell ourselves about who we are". Ms Packwood said that although there were precursors to 1619, the year had become a marker to "rally around". She explained: "It's an iconic date, it's a date for education, for publicizing all of this." The businesswoman, who earned a bachelor's degree in history from Yale University, added: "It was one of the first recorded dates, historically, for blacks being in the mainland United States, so when history was taught to children, that was one of the first things they talked about; these first African men that landed in America." She described The 1619 Project as "phenomenal" because it provided historians, academics and cultural commentators with a vehicle for talking about the issues. The daughter of the late historian and librarian, Cyril Packwood, said that there were plenty of occasions that Bermuda can use to do the same. She added: "There are all sorts of dates that we could think of to commemorate ... the ending of the British slave trade, emancipation." Ms Packwood explained: "We can look at emancipation, we can look at getting ready for 2034, which will be the 200th anniversary of emancipation. August 1, 2019 would have been the 185th anniversary of emancipation in Bermuda and we all ignored it. We do commemorate emancipation with Cup Match every year, but we could have had interviews, articles, but it's not too late, the whole year can be used. We can be talking about it in schools this year, we can do special projects, bring in special speakers perhaps." Lovitta Foggo, the Minister of Labour, Community Affairs and Sport, noted the 185th anniversary of the abolition of slavery in Bermuda when she highlighted commemorative events last month in the run-up to Cup Match. Ms Packwood added: "Bermuda is a place where the wider community loves history, we don't always look for stuff that's new. People would listen to a regular panel, every month or every week." The work of John Thornton, a Boston University professor, identified that the Africans who were taken to Jamestown, Virginia, and Bermuda in 1619, hailed from the southern African nation of Angola. They were captured during warfare in their home country and placed in the São João Bautista, a Portuguese slave ship bound for the Spanish colony of Vera Cruz in modern-day Mexico. That vessel was attacked by the White Lion and the Treasurer, English privateers, which went to Jamestown and traded Africans for provisions. The Treasurer continued on to Bermuda, where more slaves were landed. Professor Thornton believed that a majority of Bermuda's early influx of African slaves came from Angola. A spokesman for the Blue Flag Ambassador course explained: "The significance of the slaves being from Angola is relevant, and their impact evident today by virtue of our Gombeys. The word Gombey is Buntu, the language of Angola, and means rhythm. It is curious that the English had tried to settle in Virginia from 1607 and although they had multiple setbacks, they did not import slaves until that unexpected arrival of '20-odd Negroes' in 1619, 12 years later. Conversely, Bermuda was established in 1612 and slaves were sought out only four years later in 1616. Between 1616 and 1619, Bermuda quickly surpassed Virginia in importance to the Crown, and by 1622, Bermuda's population was greater even though it had only been colonized a decade earlier." A packed schedule of events took place in Hampton, Virginia, over the weekend to mark the landing of the enslaved Africans at Point Comfort, now Fort Monroe, in late August 1619. Clarence Maxwell, a historian, credited Professor Thornton's work for increasing awareness among American scholars of the links with Bermuda. He said: "I think the US is getting more and more aware of it, they're more interested in Bermuda's relationship with Virginia." Dr Maxwell, who teaches Latin American and Caribbean History at Millersville University in Pennsylvania, added: "It's good that they're being linked together ... as we get more knowledge about the relationships, as the US gets more aware of Bermuda, then hopefully at some point we will be able to talk more about it." A new education strategy developed by the National Museum of Bermuda is expected to reflect multiple perspectives of the island's history and diverse cultural heritage. Elena Strong, the executive director, said earlier this year that the blueprint was a "formal response" to calls from the community. The museum is working with the Department of Education to promote the new approach to teachers, who contributed to discussions on the change of focus, and to work out how it can be integrated into the history curriculum in schools. Ms Foggo noted Emancipation Day activities had focused on the legacy of abolitionist hero Mary Prince. Ms Foggo added: "The ministry from a broader perspective is seeking to ensure that Bermuda's historical milestones receive the attention and public awareness they deserve. We were extremely encouraged by the interest expressed by members of the public who attended our events to learn more about our collective history. In fact, so well received were our events, that we had to provide additional activities to satisfy the public's demand for historical information." She added that the department supports many programmes and events that provide awareness about Bermuda's culture and history.

Bermuda College has adopted a new flag and brand as part of its Vision 2023 Strategic Plan. The college has unveiled a new turquoise and white logo intended to symbolise the various paths that bring students to the institution and reflect its strategic direction. Duranda Greene, the college president, said the almost yearlong journey to develop the school's new brand had been transformative. Dr Greene said: "Once all of the data from our focus groups, surveys, meetings and discussions came together, we realised how transformative Bermuda College is to so very many that have entered our gates. It's not just the fact that our teaching faculty are more highly credentialled than most in comparative community colleges. This goes way beyond that. Our faculty and support staff really care about our students in a way that shows up in our data. In our most recent graduate survey, we had nearly nine out of ten graduates said they would recommend Bermuda College to someone. That speaks volumes not only about how we do what we do; it also speaks to our relevance to this community and internationally." A spokeswoman for the college explained that the logo was designed to be "trendy and timeless". She said: "The new colours are indicative of Bermuda's landscape, reflecting the vibrant tropical hues and refreshing tones of the island. They are as distinctive as the college's resilience and relevance to our community. And our commitment is renewed to continue to deliver excellent opportunities and access to further education and career goals for students from all walks of life." Peter Sousa, the chairman of the board of governors, said he was confident that the new brand reflects the new shift of the college. Mr Sousa said: "I am firmly convinced, that the college is well-positioned to continue to provide a standard of education, second to none, for Bermuda's residents, and that it will continue to be recognised internationally, offering unparalleled opportunities and access to our students, to set their feet firmly on paths to further education or career goal success." Dr Greene added: "There are so many opportunities available here, that quite frankly, are not available to students overseas. Transfer pathways to more than 30 accredited and recognised institutions in Canada, the UK, US and the Caribbean; new career opportunities in emergent fields, such as compliance; new internship experiences with our business and industry partners; and more online studies to gain professional designations from quality external providers. Bermuda College truly offers many pathways. We're inviting the community to discover their own with us."

Bermuda-based Frontline Ltd, one of the world's largest oil tanker operators, is to buy ten newly built Suezmax tankers from commodities trader Trafigura Group. Under the terms of the deal, Trafigura will get between $538 million and $547 million in cash as well as 8.48 per cent of Frontline shares worth about $128 million. The agreement announced on Friday validates Trafigura's 2017 decision to back a $1.55 billion order for 16 Suezmaxes and 19 oil-product tankers fitted with units known as scrubbers, which are needed to comply with new environmental regulations coming in 2020 to reduce sulphur emissions from shipping. In addition to Frontline paying as much as $675 million in cash and shares for ten of those Suezmaxes, the tanker operator, which is backed by Norwegian billionaire John Fredriksen, has the option to buy four more of the vessels. The deal is expected to close between November and March. "This marks a continuation of an approach that has long been integral to Trafigura's strategy, namely investing in infrastructure assets in support of commodity flows and then collaborating with a market leader like Frontline to maintain sufficient access to those assets for our trading business," Rasmus Bach Nielsen, Trafigura's global head of wet freight and a driving force behind its recent moves in shipping, said in a statement. Nielsen sees significant upside potential for the stake in Frontline due to rising US oil exports, an ageing global shipping fleet and low vessel orders. In the past, Trafigura has used its commodity-sector knowledge and access to relatively cheap capital to invest in the construction of pipelines and ports, eventually selling stakes in those assets while maintaining access for its commodity flows. Handling about 5.5 million barrels of crude and products per day, Trafigura is the second-biggest independent oil and metals trader. Freight rates have been rising ahead of implementation of the International Maritime Organisation's 2020 sulphur regulations. The cost of hiring a Suezmax tanker is currently close to $13,000 per day, according to data from the Baltic Exchange. Rates have increased since the start of the month and are at their highest on a seasonal basis since 2015. As part of the deal with Trafigura, Frontline agreed on long-term charters for all ten vessels until the deal closes at a price of about $23,000 a day. That is "loss making on current spot rates" but "fair given the outlook for the balance of the year", analysts at Fearnley Securities AS said in a note to clients. Over the course of this year, about 2,200 ships globally will install so-called scrubbers, allowing them to keep burning high-sulphur fuel oil once IMO 2020 comes into force. Much of the work is being crammed into the fourth quarter, threatening to drain capacity from the global fleet. Fearnley says the deal will make Frontline the largest Suezmax operator in what it rated "a very positive transaction" for the shipping firm. The deal will provide Trafigura with a cash boost amid pressures about its debt levels and criticism from short-seller Iceberg Research about how it values some assets. Trafigura is highly leveraged, with adjusted net debt standing at nearly $7.6 billion at the end of March, equal to nearly 4.5 times its annual earnings before interest, tax, depreciation and amortization in its fiscal 2018 year. Separately, Trafigura this month struck an agreement with Frontline and another Bermudian-based company, Golden Ocean Group Ltd, a dry bulk shipping firm also backed by Fredriksen, to form a marine-fuel joint venture.

A teenage woman has been arrested in connection with an early-morning stabbing at Horseshoe Bay. A police spokesman said a 19-year-old woman, believed to be from Paget, was this afternoon in custody for the attack, which left an 18-year-old woman with multiple stab wounds. The spokesman said the injuries to the victim were not believed to be life-threatening. Another teenager, an 18-year-old Devonshire male, suffered an arm injury in the incident, but police said the injury was "not consistent with a stab wound." The spokesman said: "It is believed that he fell on some rocks in the area around the time of the stabbing incident. The investigation continues and detectives encourage anyone who has video footage of the stabbing to come forward. Any information provided will be treated in the strictest of confidence." Police said the female victim had been involved in a dispute with another young woman at the Rum Bum Beach Bar on Saturday night. She then left the bar when it closed, and was standing with a group of people near the bathrooms and outdoor showers at around 12.30am when she was repeatedly stabbed. The victim was taken to King Edward VII Memorial Hospital by motorcycle and was admitted to a general ward for treatment of non-life-threatening stab wounds about her body and arms. A spokesman for the Rum Bum Beach Bar said: "It has come to our attention that there was an incident at Horseshoe Bay during the early hours of Sunday morning at 12.33am. We were hosting a special event, an electronic dance music party, which had finished at midnight, and security guards had escorted patrons off the premises. Soon after, as staff members were cleaning and breaking down equipment, the police were on scene and notified us of the incident which occurred in the bathroom and parking lot area." The spokesman added: "After police arrived, they spoke with the on-duty manager and our security staff who allowed access to our video surveillance cameras. We are assisting local officials in their inquiries." Witnesses should call the Criminal Investigation Department on 247-1744 or Crime Stoppers anonymously on 800-8477.

A ferry brought to Bermuda to transport cruise ship passengers has been out of action for more than month after it hit a reef, The Royal Gazette can reveal. But the owners of the Spirit of St George's said the ferry was scheduled to be back in operation today. The catamaran, used by Norwegian Cruise Lines to ferry its passengers between Dockyard and the East End, has been out of commission since July 18, when it struck a reef as it left St George's Harbour through Town Cut. Beau Evans, owner of the boat's operator Cruiseport Ferry Management Ltd, said repairs had now been completed. Mr Evans added: "What happened was we hit a reef in Town Cut back on July 18 and suffered some damage. The boat has a considerably long bulbous bow on each of its two hulls, and we hit the port side one. All the repairs are now done and we will be starting up again with passengers on Monday." A spokeswoman for NCL confirmed the boat had struck an "underwater obstruction" while leaving St George's on July 18. The spokeswoman added: "The ferry immediately returned to St George's for assessment. Several guests were treated for minor injuries." Mr Evans said the injured passengers were all treated quickly and all the passengers were returned to Dockyard on a government ferry while the Spirit of St George's remained in the East End. Mr Evans said: "We have been extremely busy, bringing about 1,000 people to and from St George's every day. It has been a very successful service, and then we had this incident. In the meantime, we approached Government and they allowed us to use their ferry to fulfil our service to NCL that we promised." Mr Evans said he could not confirm how much it had cost to fix the damage to the boat. A government spokeswoman said the Department of Marine and Ports Services had launched an investigation into the crash. The spokeswoman added: "In the interim, the government ferry service provides lift on a day-to-day basis while the Spirit of St George's is out of service. Government's core service was not impacted." NCL brought the Spirit of St George's to Bermuda in 2017 at its own expense to ferry passengers on round trips to St George's as part of a 2016 agreement between the cruise line and the Government. As part of the agreement, the cruise line committed to provide the tender service until 2022. Cruiseport Ferry Management Ltd was subsequently awarded a contract to operate the service by NCL after an open RFP. Michael Fahy, then the Minister of Tourism, Transport and Municipalities, said the service would double ferry lift to St George's during the cruise ship season. The Spirit of St George's, a 400-seat, 133ft high-speed charter vessel, boasts a 5,200 horsepower motor and a top speed of 25 knots. The vessel has run passengers between Dockyard and St George's since 2017 while NCL cruise ships are in port. The Corporation of St George has said the service had helped to increase visitor numbers in the town.

August 25, Sunday

Jessica Lewis made a scintillating start to the Parapan American Games in Lima, Peru, after storming to victory in the women's T53 400 metres final on Saturday. Lewis executed the perfect race, making a flying start and finishing in a time of 1min 01.95sec, a second faster than Yen Hoang, of the United States, who came second in 1:02.95. Kelsey LeFavour, of the US, placed third in 1:02.97. The Bermudian is eyeing a sweep of medals in all three of her events in Lima and will return to action in the 800 final tomorrow. "It's such an honour to bring home a gold medal again to Bermuda," said Lewis, the reigning Parapan Am T53 100 champion. "I felt like I had a great chance of winning the race, but I knew that it was going to be a fight with the US girls. I am quite thrilled that I managed to be that far ahead of them." The gold medal represents a major breakthrough for Lewis, as she has often struggled for sustained power at the longer distances and believes her switch to a harder pair of gloves has made a huge difference. "I have transitioned into using the hard gloves which have definitely helped me get stronger in the longer-distance events. I had the best start I have ever had in these gloves, so everything just came together for the race." Lewis's main race, the 100, will take place on Wednesday, with the 26-year-old hoping to shatter her Parapan Am record time of 17.67, which she set in Toronto in 2015. She is, however, expecting stiff competition from her main rival LaFevour, who previously raced in the T54 and has beaten Lewis on occasions since moving classifications. Also representing Bermuda in Lima, are boccia players Steve Wilson, Yushae DeSilva-Andrade and Omar Hayward. Wilson and DeSilva-Andrade have previous experience at the Games, having competed in Toronto, while Hayward will be making his debut in the competition. All three represented the island at the Bisfed World Boccia Championship in Liverpool in 2018. Wilson will compete in the BC1 classification pool and DeSilva-Andrade and Hayward are part of the BC4 classification pool. The boccia competition starts on Thursday.

Yahoo News, London. A billionaire Duke with scores of Bermuda-registered companies for tax avoidance reasons plans to demolish council homes in London and replace them with luxury flats. The property group run by Hugh Grosvenor, 28, the seventh Duke of Westminster, wants to knock down Walden House in Westminster and build shops and homes, which would include social housing. But 40 families in existing council homes say they were only told of the plans in March, seven years after private tenants in neighboring flats, the Sunday People newspaper reported. The Duke is the world's richest person under 30 with an estimated wealth of up to £10 billion.

August 24

Flights to and from the UK are set to be cancelled next month after the British pilots' union announced strikes yesterday as part of a long-running dispute over pay. The British Airline Pilots Association put British Airways on notice of its plans for members to take industrial action on September 9, 10 and 27. One source, who said he was due to fly from London's Gatwick Airport to Bermuda on September 10, was notified yesterday that the flight had been cancelled. The union warned the three days could cost the airline almost $150 million. BA claimed the industrial action was "unjustifiable" and said it was working to limit disruption to passengers. Balpa said it had proposed a number of packages that would have avoided a strike during several days of talks with the UK's Advisory, Conciliation and Arbitration Service. The union added: "BA did not accept any of these packages and it is clear following discussions with members over the last few days that BA's most recent offer will not gain the support of anywhere near a majority of its pilots. In these circumstances, with a 93 per cent vote in favour of taking industrial action, and with no prospect of any further meaningful talks, we have no choice but to call this action." Balpa estimated every day of strike action would cost BA almost $50 million. It said the "gap" between the airline's position and that of the union's was about $6 million. The union said: "Our proposal remains on the table should BA wish to reach agreement prior to strike action. British Airways is an extremely profitable and successful company and pilots have been proud to play their part in that. Over recent years BA pilots have made sacrifice after sacrifice to assist the company such as taking a pay cut, productivity increases, closing the final salary pension scheme, giving up annual leave days, a new rostering system, and reducing flying pay. In what is British Airways' centenary year, this will be the very first time its pilots will go on strike. They do so as a last resort and with enormous frustration at the way the business is now being run. Our ballot is valid until January, and more dates may be announced until such time as this matter is resolved." BA said that a proposed pay deal of 11.5 per cent over three years was fair and had been accepted by the members of other trade unions, which represented nearly 90 per cent of employees including engineers, cabin crew and ground staff. A spokeswoman for the airline said last night: "It is unacceptable that the Balpa union is destroying the travel plans of tens of thousands of BA customers with this unjustifiable strike action." She added: "We are extremely sorry that after many months of negotiations, based on a very fair offer, Balpa has decided on this reckless course of action. BA is now making changes to the global schedule. BA will do everything possible to get as many people away on their journeys as possible." The airline was "exploring options" to supplement its fleet with aircraft and crew from other companies. It was also working with partner airlines to schedule larger aircraft to take the maximum number of customers The spokeswoman said: "In addition to basic pay, pilots also receive annual pay increments and regular flying allowances. BA continues to pursue every avenue to find a solution to avoid industrial action and protect customers' travel plans."

Air samples from an area of an East End school, where floor tiles suspected to be contaminated with asbestos were removed, were yesterday sent to an overseas lab for analysis, an education ministry spokeswoman has revealed. The spokeswoman said the tiles were found in a classroom at Clearwater Middle School, during routine cleaning, after the school was given the all clear. She added: "Results are expected back next week, after which the corresponding health certificate will be issued, from the Department of Health." The spokeswoman also said that asbestos removal was carried out on the cafeteria ceiling and the ceiling of closets. The news came after an insider warned earlier this week, that parents, pupils and teachers had not been given the full picture on asbestos at the school, and that the scale of work that had been carried out this summer had not been made public. Diallo Rabain, the education minister, announced earlier this week that the green light had been given to start classes on September 10. Mr Rabain told broadcaster ZBM that work at the school involved floor tiles, but did not identify the cafeteria or closet spaces as areas of the building where other asbestos abatement had been done. An inside source said work that had been done to tackle asbestos at the school was a "Band-Aid fix". The source added: "No one has been in there and done a thorough inspection and been through the whole school." The insider said staff were still concerned about the safety at the school, despite Mr Rabain's assurances. The Royal Gazette's source continued: "I don't know how in the world they can say it's clean." The spokeswoman said the latest find was made after asbestos removal work was completed, in other parts of the St David's island school, built in the years after the Second World War by the US military. She said that the cancer-causing material was discovered in the ceiling of the cafeteria, and the ceiling of closet spaces, in June. The spokeswoman said that AC Management, a licensed asbestos removal contractor, dealt with damaged material that contained asbestos, and that the material was "encapsulated or removed and replaced with non-asbestos materials". She added the work was completed on August 5. Air samples of the areas where asbestos was found were then collected by Bermuda Water Consultants and sent overseas for analysis. The spokeswoman said: "The lab results came back, and the areas were deemed safe and asbestos-free. Lab results were submitted to the Department of Health and a certificate of completion is in progress, as a final assurance that the tested areas are safe, for students and staff. The ministry notes that no health issues have been reported regarding asbestos exposure. The ministry also notes that, in regards to concerns expressed regarding asbestos discovered in 2018 in the custodial main storeroom area at Clearwater, abatement works were conducted and completed, in December 2018." Mr Rabain repeated an apology to parents and staff made earlier this week "that they were not notified of these works in a timely fashion. It is our aim to be transparent and forthcoming, with all information, in regards to school facilities and work being conducted that relates to health and safety. Protocols are being put in place, to ensure that the ministry has all parent's correct e-mail addresses and contact information, to allow for notices of this nature to be sent out quickly and efficiently." Mr Rabain said that the ministry encouraged school staff to highlight health and safety problems. He added: "When necessary, licensed contractors are brought in to evaluate and recommend solutions. While their methods may not be familiar to, or understood by, persons outside of their licensed technicians, we rely on their expertise to ensure the safety of our schools." Cole Simons, the shadow education minister, said that the full report on Clearwater should be made public. He added that the ministry always apologised, when it had been "caught out". Mr Simons said: "This government shares information with the people on a need-to-know basis, or when their backs are up against the wall. Transparency does not come easy for them." Nakisha Burgess, the president of the Clearwater Parent Teacher Student Association, did not respond to a request for comment.

A 68-year-old cruise ship passenger from the United States who died on Thursday while on a jet ski ride with her husband was named by police yesterday. Kathleen Emam was on a tour off Daniel's Head in Sandys when she fell off the back of the jet ski and lost consciousness just after 2pm. Life-saving efforts were carried out as she was taken by boat to Mangrove Bay public dock. Resuscitation efforts were continued on shore by the Bermuda Fire & Rescue Service and by ambulance personnel as she was rushed to King Edward VII Memorial Hospital. But Ms Emam was later pronounced dead by doctors. The couple, who were on the Norwegian Escape, travelled from their home in New York. A liaison officer has been assigned to assist the family. A police spokesman said there did not appear to be any suspicious circumstances and the cause of death was being investigated. A Norwegian Cruise Line spokeswoman said last night the company was "saddened" by the death of its passenger. She added: "The guest sustained fatal injuries as a result of a jet ski incident during an island excursion organised independently in Bermuda. Our thoughts and prayers are with the deceased's family and friends during this difficult time."

The number of jobs in Bermuda increased last year compared to 2017, but the number held by Bermudians dropped, Department of Statistics figures revealed. The Job Market Employment Briefs report said there were 33,810 positions filled at the time of the survey in 2018, an increase of 151 or 0.4 per cent on the previous year. It showed that posts held by Bermudians, who accounted for 70 per cent of the total number of jobs, dropped by 92 from 23,671 to 23,579. The figures also revealed that the gap between black and white median salaries increased over the period. Wayne Furbert, the Cabinet Office minister, said: "The Employment Briefs provides a broad count of all jobs in the Bermuda labour market by selected demographics, industrial and occupational groups." He explained that the hotel sector recorded an increase of 186 filled posts. Of the 2,383 workers in the category, which included guesthouses and other accommodation, 1,573 were Bermudian, 132 were non-Bermudian spouses of Bermudians, 630 were listed as "other non-Bermudian" and 48 were permanent resident certificate holders. Mr Furbert said: "The median gross annual income for employees who worked in establishments with ten or more filled jobs climbed by $1,088 from $64,250 to $65,338." The report showed that the $1,088 increase was equivalent to 2 per cent. It added: "In comparison to the moderate rise in median earnings, the annual inflation rate in August 2018 was 0.9 per cent. The profile of median income by race shows that white job holders earned $90,416 in 2018. On average, black job holders earned $59,006 while job holders of mixed and other races earned $54,979 per year. The pay disparity between the two major racial groups exceeded $31,000 in 2018. This gap was caused by disproportionate shares of white workers and black workers in higher paying roles such as senior officials and managers and in professional occupations together with uneven shares of blacks and whites in lower paying jobs such as service workers, skilled agricultural and fisheries workers and workers in elementary occupations." The report added that in 2017 the median annual income for black employees was $58,204 compared to $88,557 for white workers — a difference of $30,353. The number of people employed as service workers and shop and market sales workers grew by 138 to 7,249. Posts in the construction industry increased by 6.4 per cent from 2,008 to 2,136, fuelled in part by 18 more women in the sector. Women had 49 per cent of the overall employment market — the same as last year. But they held 56 more positions in 2018 at 16,594, compared to the 17,216 jobs filled by men, which was up by 95. The report's introduction explained that it was based on information collected from the 2018 employment survey, which used August 26 to September 1 last year as its reference week. It said: "The information collected from the survey is the primary source used for analyzing employment trends in Bermuda for government, commerce and the general public." The report warned against making direct comparisons with the Labour Force Survey and census results, which it said were not comparable. It added: "Other non-Bermudian employment increased by 223 filled jobs, from 7,340 to 7,563. The number of Bermudian job holders decreased by 92 filled jobs, while non-Bermudian spouses of Bermudians and permanent resident certificate holders gained a total of 11 and nine more filled positions, respectively. The share of filled jobs held by persons of mixed and other racial heritages grew by 236 positions, while whites recorded a decrease of 80 filled positions."

The fence around the site of the former Canadian Hotel has been covered with a rainbow of roses in time for the island's first gay Pride parade. Artist Robyn Hooper, along with volunteers, has been hard at work painting a bright Love is Love Community Mural project along the orange wooden barrier at the junction of Reid Street and Court Street. The mural should be finished before the Pride parade on August 31, which helped to inspire the project. Ms Hooper said: "I'm always looking for a place to do art, but when I got involved in Pride, I wanted to help in any way that I could. I tried to organise bits and pieces with the parade, and this just worked out." She said she received permission from Richard and Thomas Powell, who own the property, to put up a mural on the barrier. Ms Hooper said: "Richard Powell reached out to me when I put out a call to see if there were any spaces to paint. He said I could paint everything that was orange. At least I hope that's what he said." She explained that she wanted the community to be involved in the project, so she put out a call for assistance online. Ms Hooper added that she hoped the finished project would resemble a garden of roses in the colours of the Pride flag. Work started last week with the painting of a rainbow banner along the fence and on Thursday Ms Hooper started to add outlines for the roses. Ms Hooper said: "I thought about different ways to do this. At first I wanted to blend all the colours, but, this way is quicker, so we can bang it out, before the parade. "This way, I can chalk it out and when people come, they can copy over the lines and it gets everyone together even more. The more the community is a part of it, the more they will enjoy it, hopefully. There was a really good answer to the call for help." Yesterday, Ms Hooper began to incorporate words into the mural to break down the meanings of the stripes in the Pride rainbow. Pride flags originally included six coloured stripes: red for life, orange for healing, yellow for sunlight, green for nature, blue for harmony and purple for spirit. Some groups and events, including Bermuda Pride, have included black and brown stripes, to symbolise diversity and inclusivity. Ms Hooper said the public appeared to approve of the mural. She added: "People driving by seem to be enjoying all the colours so far. I think the people who are excited about the parade are also excited about anything that is showing support." Ms Hooper said: "I think every community needs more public art. Art expresses the cultural values of a community and there is always room for more art. The city is doing a great job to encourage it, and I have been grateful to have had the opportunity to do some murals for them, but this one is on my own."

August 23

Bermudians were called on to "dare to invent the future" at a packed forum last night on national independence. The call came from panellist Ryan Perinchief, who brought the audience to its feet at the Bermuda Industrial Union's EF Gordon Hall. Mr Perinchief, founder of the Future Leaders Programme, added: "It is time for us as Bermudians to set forward a new vision, before we are thrust into someone else's." The final of the five speakers prompted Alex Scott, who served as premier from 2003 to 2006 and appointed the Bermuda Independence Commission in 2005, to tell the room: "Ryan gives me hope, but despair in that I let him down. It was under my watch that we brought out the basis of going independent — but were unable to move it forward." Mr Perinchief spoke of Bermuda's "colonial predicament" as an island viewing itself as far from the Caribbean nations that embraced independence decades earlier. He said: "Due to this disconnect, we have consistently told ourselves we are out here on our own, another world, and not ready for independence." Organisers of the forum highlighted Mr Perinchief as the night's youngest speaker. Calling for Bermudians to connect with their identity and embrace "a psychological shift", Mr Perinchief grounded the island's decades of hesitation over national sovereignty in its colonial status. He said: "I lament that it is impossible to have a unified conversation on independence as Bermudians. Bermuda is fundamentally, as the oldest British colony and the first to import African slaves, a tribalist state." Voicing regret at his inability to move independence forward, Mr Scott said: "When I listen to young Ryan, it's like a race car being kept in a garage or being made to go at 20 miles an hour." Mr Perinchief told the audience a referendum on independence was unlikely to succeed unless opinion was tilted by interference on the part of Britain. He said: "A unique opportunity that might have the potential to change is with the UK's recent announcement that they want to legislate for Bermuda on beneficial ownership — as well as with Brexit." Mr Scott opened the talks with an overview of the UK's brewing political chaos over leaving the European Union. To applause, he said: "Bermuda will not become a democracy until the majority of Bermudians make it one." He added that the push for sovereignty was being made primarily by the Progressive Labour Party and black Bermudians. Cordell Riley, a statistician and vice-president of Citizens Uprooting Racism in Bermuda, said reports and papers on independence went back to the civil unrest of the 1970s. Mr Riley said: "When I hear people say we need more information, I don't know how much more information we need." Issues surrounding independence were catalogued in the Bermuda Independence Commission's report, he said. Several speakers noted Bermuda's racial divide, both socially and on the issue of independence. Lloyd Williams, a Bermudian living in the independent Caribbean country of St Kitts and Nevis, said he had been disturbed at the racial divisions he had witnessed back in Bermuda. Mr Williams said: "When I walked around on the 24th of May, it was a black Bermudian parade. This is supposed to be a Bermuda parade." He told the gathering of hundreds: "We have been preconditioned to think of black and white; colonialism not only brought us the government system, but it brought us a religion which perpetuates racism. Unless we see these truths, we won't be able to address that properly and see ourselves as human beings." The room at the BIU had filled to capacity before the forum had begun last night, with attendees listening in the hall outside. David Burt, the Premier, was present along with a host of government MPs, and Michael Dunkley, an Opposition backbencher. The event, organised by activists LaVerne Furbert and Raynol Todd, also heard from Phil Perinchief, a former attorney-general and a vocal advocate for independence. He is also the uncle of Ryan Perinchief. Mr Perinchief questioned people who had opposed independence 20 years ago by saying "yes, independence — but not at this time". He added: "When asked the question again, they say the same thing. So when? And what time?"

There's a buzz at the Hamilton Princess & Beach Club — and it's not just from its beehives. The hotel has stepped up its sustainability programme, including finding ways to reduce its impact on the environment and bring benefit to the community. That's the buzz, and it is producing results. For example, the hotel has phased out plastic straws and replaced them with drinking straws made from hay. It has increased its purchases of local food produce, while reducing food wastage, and it is in the process of switching to energy-efficient LED lighting. The hotel also recycles glass, and its used office paper is shredded and given to a local pet supplier to be used as bedding. Meanwhile, ten beehives at its beach club property are producing honey that can be served to guests or used as an ingredient by the hotel's restaurants. These and other socially responsible and environmentally beneficial actions are under way or being considered. Hotel guests and staff have welcomed the steps, which have been given added impetus from AccorHotels. In 2015, the group became the parent company of Fairmont Hotels. The Hamilton Princess is managed by Fairmont. D'esta Ascento is maintenance manager and Planet 21 manager at the hotel. She said: "Planet 21 is the Accor group's sustainability umbrella. They have mandated each Accor company or hotel to meet six social responsibility initiatives. The pillars are our staff, guests, communities, food and beverage side, our buildings, and who we partner with. Under each of the tiers were 16 things we have to complete by 2018, which we did." Other ideas have been instigated by the hotel's owners under their own steam. "We looked at our central plant — our boiler room infrastructure — to see if we could reduce and cut back on energy usage. Three things implemented were the condensed water heat recovery; air handling recovery and air compressor heat recovery. These back-of-house initiatives decrease the amount of energy we use on a daily basis." All the hotel's outdoor lightning has been replaced with LED instalments. LED lighting is also being introduced internally in corridors, public spaces and rooms. Not all the ideas come from management, some are suggested by staff members. Ricardo Cera, executive chef, said: "The different departments take their own approach and try to play their part. We have a commitment for 2020 to reduce the food waste in our kitchens to 30 per cent." Reducing the use of plastic is also part of the drive. Mr Cera said: "We started last year with phasing out plastic straws. The first solution was a paper straw, but we read that they still have micro particles of plastic. So we found a second option, which is hay straws. They are 100 per cent natural and biodegradable. A lot of guests find them funny, and they really appreciate the initiative. Also, we have stopped putting straws automatically in drinks, by guests' request, to prevent extra consumption." Takeaway containers are being replaced by biodegradable alternatives, and the hotel is increasing its use of locally produced food. "We are trying to go more with local produce from farmers and fishermen to help reduce our carbon footprint," said Mr Cera. "In the first four months of this year, we increased by 30 per cent our local purchases." Ideas suggested by staff and put into action include using orange peelings as an ingredient to enhance chutney, while excess pastries go to the Salvation Army. Another chef has recommended that instead of disposing of coffee grind it can be put it into the hotel's fertilizer. That idea is being looked into. The hotel adopted two beehives at its south shore beach club property earlier this year. That has been expanded to ten hives. They are looked after by Spencer Field, of Passion Fields Maintenance and Beekeeping Ltd. Guests can experience local honey production, and some of the honey ends up at the hotel to be served up or included as an ingredient in menu items. The island's bee population is fragile and suffered a huge die-off a few years ago as a result of pesticides and parasites, including the varroa mite. The population is recovering, helped by proper maintenance of hives on the island. The addition of the hotel's ten beehives is welcome, said Mr Field. "Any appreciation goes a long way," he said, adding it is important for corporations or businesses considering having beehives to ensure they get specialized help to maintain them. There are about 250 beehives on the island and on average each has 20,000 to 25,000 bees. The hives can be harvested for honey once or twice each year, depending on hurricanes. While the hotel's share of the honey harvested from its hives will not meet all its needs, it does reduce the amount of honey sourced from elsewhere. By implementing the various social responsibility actions, there is a positive impact on the hotel's bottom line. There has been a decrease in its electricity consumption and there is likely more to come as the hotel looks at the possibility of solar battery power storage and food waste composting. However, beyond the dollars and cents there are wider considerations. Ms Ascento said: "Everyone from ownership down is creating an atmosphere of doing what's right for the environment. We are sharing that with guests so they are aware of what we are doing, and so they can get the 'buy-in'." While Mr Cera said: "It is no longer just awareness, it is an obligation for all of us." He said the hotel has a role to play educating and giving as much information as it can to create awareness among guests and employees. "We have some funny stories. Some wondered why we were doing it and asked 'is it just to save money?' No, it is to save the planet. We are using more than the planet can regenerate. Our goal is that they take these measures to their homes — so it is a trend, not [merely] a phase."

A tourist died yesterday after an incident during a jet ski tour. The 62-year-old American woman was a passenger on the machine when she fell off and "became unresponsive", police said. Emergency crews were called to the incident in waters off Somerset at about 2.10pm. A police spokesman said: "She was immediately brought to shore and rushed to King Edward VII Memorial Hospital via ambulance." He added later: "Sadly, despite life-saving efforts the female visitor has been pronounced dead at the hospital." The spokesman said no more information about the woman would be released until her next of kin was notified. Police are continuing to investigate the incident.

A new home is being sought for an antique organ from an historic Bermuda church built by enslaved worshippers. The organ at Cobbs Hill Methodist Church dates back to around 1883. "It carries a lot of our history with it," said church elder Earlston DeSilva. Mr DeSilva added: "It has a beautiful sound, but we have not been able to play it for some time." The church in Warwick, which dates back to 1827, is Bermuda's oldest standing Methodist building. A group photograph on the wall showing the centennial includes the preacher Thomas Stowe Dill, who is the great-grandfather of Mr DeSilva as well as Sheila Conyers, an adherent member. Ms Conyers said of the organ: "That's my baby. My mother was an organ player for 50 years; it's beautiful and powerful. But to have something that we can play, I would suggest something like the organ at the Peace Lutheran Church, which can convert to a piano." Edna Simmons, the church secretary, said: "It's difficult for us to part with it, because it's a treasure. But we have to go with the times." The church has 22 core members, but every week is joined by visitors both local and overseas, drawn by its history. That history has influenced the neighborhood around it: Moonlight Lane, where the church stands, takes its name from slaves building the edifice by moonlight. The corner down the hill at Middle Road is nicknamed Amen's Corner from the sound of singing from the church. Ms Simmons credited the African Diaspora Heritage Trail, a charity dedicated to Bermuda's African history, for bringing visitors and tours. Gloria Ray, chairwoman of the trustee and management committee, said the congregation had decided on a new instrument as part of "trying to modernize". She added: "We don't have anybody to play it; a lot of people can't use the foot pedals. If it could be sold, we would gladly accept that." They estimate that a modern keyboard organ could cost the church up to $25,000. Berlene Smith, the deputy chairwoman, said: "We have had people from the National Museum of Bermuda come to look at it and we are hoping they can take it. They will have to have a meeting of their board before any decision is made. It would be great at the museum because it would fit so well." The decision remains a difficult one. Mr DeSilva said: "As we move it, we are moving out part of our history." The organ was built by William Henry Davis & Son of New York City. Its first home in Bermuda was believed to be Christ Presbyterian Church in Warwick. In about 1900, it went to Grace Methodist Church in Devonshire, and was acquired by Cobbs Hill Methodist Church in 1957. It was dismantled and restored in 1988..

August 22

A proposed walk-in medical clinic in Hamilton has been refused planning permission by the Development Applications Board. However, Marico Thomas, chief executive officer of Bermuda Medical Specialties Group, said yesterday that the plans for the Health Express Urgent Care clinic, which have cost close to $1 million, were approved in February — but he was told he had to resubmit the application because of an administrative error. Mr Thomas added that the company was told "in no uncertain terms" it could continue work on the Reid Street building — but planning permission was denied in June. He said: "It was supposed to open on July 1. We spent the money and then we were held back because of something that is not of our doing. There is pain. There is pain and aggravation." The company proposed a change of use for 5 Reid Street, which was categorised as retail space, to a walk-in clinic. Mr Thomas said the company had spent $400,000 on renovations to the former P-Tech electronics store and had committed another $500,000 on staff for the clinic. He added that the delay meant that two Bermudians who would have been hired were not. He said: "There is a massive hole in our bank book that needs filling and this was not planned." Mr Thomas said that despite the problems, he hoped the clinic would be able to open its doors to patients inside the next two weeks. Blackhawk Consulting, part of Mr Thomas's business group, filed a second application on behalf of BMSG in April. But the DAB's June sitting rejected the plans after they found the proposal contravened the City of Hamilton Plan 2015 because it did not contribute to the "vitality and interest of the principal shopping area". The meeting's minutes said: "The technical officer cited the example of nail boutique Polished and noted while this is not a retail use, it does add vitality to the area and encourages movement of pedestrians around the city, which is better than vacant spaces. The general consensus was the doctor's office should not be fronting on Reid Street and the wrong location had been chosen for this use." Board members also highlighted the risk of traffic congestion if patients were dropped off outside the clinic. They added if pedestrianisation of parts of Reid Street was to be introduced, the clinic would face problems. The minutes said: "The board inquired about the pedestrianisation of Reid Street and commented the approval of a clinic in the area would go against pedestrianisation as the clinic would argue that drop-offs are required for its business. The technical officer advised she could not speak to this, but access will always be required along Reid Street for delivery to existing retailers and for emergency access purposes." BMSG already runs a medical centre on the third floor of Reid Hall, also on Reid Street, with a mix of full-time doctors and visiting specialists intended to offer "a comprehensive primary care GP and specialist physician service focused on longevity and quality of life". Mr Thomas said the new addition was designed to meet public demand and ease the pressure on the emergency room at King Edward VII Memorial Hospital. He added: "From what I have heard, the ER has a three-hour wait. Sometimes it goes up to four. It isn't just Bermuda's ER — the average wait in the US is three to four hours. The interesting thing is 50 per cent of those visits can be treated somewhere else." Mr Thomas said the clinic aimed to limit waiting time to less than 45 minutes, would be open seven days a week and from 8am to 8pm Monday to Friday. He added the clinic also planned to use a high-tech electronic medical records system to improve efficiency and treatment. Mr Thomas said: "Bermuda has incredible doctors, but the system that we have ... sometimes we have paper records, duplication of information, contradictory information and that all has to be managed."

Unresolved matters at the heart of a deadlock over police officers' work conditions could be settled by conciliation, the Government said last night. Wayne Furbert, the Minister for the Cabinet Office, explained that the public sector negotiating team advised the Bermuda Police Association of its intention to refer certain issues to the ministry responsible for labour. The BPA was expected to hold an emergency meeting today for its members to consider a way forward. Mr Furbert said: "While the public sector negotiating team is essentially responsible for leading our union negotiations, the Government is keen to conclude the Bermuda Police Association's discussions for a new collective bargaining agreement in a timely fashion. While the parties have made progress in reaching agreement on some matters, regrettably, negotiations have reached an impasse." He added that the PSNT sent a letter to the BPA last Friday "advising that negotiations had stalled". Mr Furbert said: "The letter also gave notice that the PSNT is in the process of referring certain outstanding matters to the Labour Relations Section of the Ministry of Labour, Community Affairs and Sport for settlement by conciliation. "I can advise that both parties are eager to conclude the negotiations. For our part, this Government will continue to work in good faith with the BPA to settle outstanding issues related to the terms and conditions of service." The Police Act 1974 defines conciliation as "any method or process used, including mediation, in order to settle a dispute amicably or to bring about an agreement". Sergeant Andrew Harewood, the BPA chairman, said on Tuesday that talks included a call for officers to be provided with legal cover if they become the subject of an investigation into an incident during the course of their duties. Other problems still to be settled include government employee health insurance contributions.

Workers at a cleaning firm were urged to take any complaints to the Government's Labour Relations section after it was claimed that some staff had not been paid for up to three months. Lovitta Foggo, the Minister of Labour, Community Affairs and Sport, said the ministry was aware of "a current dispute concerning a local cleaning company". She explained: "The Labour Relations section has the ability to investigate and mediate such complaints brought to its attention, as well as refer unresolved disputes to an arbitration or tribunal panel for adjudication. As it relates to this specific matter I must caution that all complaints and inquiries made to the Labour Relations section are confidential. However, as a general note, the non-payment of wages is contrary to the Employment Act 2000 and employees who have concerns over late or non-payment of wages are strongly encouraged to contact the Labour Relations section and consult with a Labour Relations officer." Ms Foggo also reminded workers to review the Act, which sets out employees' rights and obligations. She added: "Employees within a unionized environment should contact their respective shop stewards and, or union representatives directly. Employers are also reminded that they too can use the Labour Relations section as a resource when faced with having to make difficult decisions as a result of financial hardship." Ms Foggo said: "As we prepare to observe Labour Day, I think it's critically important to remind the community that we are here to support both our workers and employers. We encourage anyone who may be facing challenges in the workplace to contact the Labour Relations section so that we can assist where we can." An employee at Just Cleaners Ltd told The Royal Gazette this week that some staff had been hit by non-payment and late payment of wages. The worker complained that, in some cases, people had not received their wages for up to three months. Management at Just Cleaners, based on Midsea Lane, Pembroke, did not respond to earlier requests for comment. The Labour Relations Section can be reached by calling 297-7714 or 297-7716 or by visiting its office at 23 Parliament Street between 8.45am and 5pm on weekdays.

Opinion. By Michael Dunkley is the former Premier of Bermuda, an Opposition backbencher and the MP for Smith's North (Constituency 10). "On March 1, 2019, finance minister Curtis Dickinson provided the House of Assembly with a statement "Update on the Work of the Bermuda Casino Gaming Commission". I was naturally interested in this update, as gaming is an amenity that can benefit our hospitality industry and Bermuda. In addition, there has been an evident lack of progress on making gaming a reality, since the Progressive Labour Party became the government in July 2017. The BCGC has lacked the leadership and driving force required for this initiative after the departure of the former chairman (Alan Dunch) and executive director (Richard Schuetz), and we have seen unacceptable ministerial interference. In his statement, the finance minister said the first priority was to secure a correspondent bank. This was always expected to be a critical challenge to overcome, but one that the One Bermuda Alliance believed could be attained, with solid and well-drafted casino gaming regulations. Without these regulations, a correspondent bank will not be achieved. So why in more than two years of a PLP government have these regulations not been tabled? A comprehensive draft was completed by the former chairman of the BCGC and his team, it was blessed by the Attorney-General's Chambers, approved by Cabinet, and was ready to be tabled under the negative resolution procedure, until the election was called, owing to the antics of certain MPs. Why has the PLP to date failed to act on this critical component? Second, Mr Dickinson stated another critical priority was the recruitment of an executive director. He said the services of an executive recruiter would be engaged to assist in securing a "qualified leader", for the commission. When questioned four months later, in July about the progress, the minister admitted no executive recruiter was engaged, the BCGC would do it on its own and, while a candidate had been identified, no other details could be provided. This begs the question as to why, 18 months after the departure of the former Mr Schuetz, this critical leadership position remains vacant? During a July 2019 sitting of the House, I questioned the finance minister on the cost to run the BCGC from April 1 2018 through to the end of June 2019. I was informed that the total cost for that period was $2,513,062 broken down as follows:
Salaries and wages $1,373,413
Consultants and service-provider fees $336,573
Administrative costs $426,035
Rent $267,171
General overhead $88,552
Other expenses $132,320.
This is a significant amount of money, and, while this is not a comment directed at the staff of the commission, it must be questioned how spending of more than $2.5 million can be justified with no results. Gaming, and the millions of dollars invested, appears to be at this point, dead in the water under the PLP. Before the 2017 election, the Hamilton Princess & Beach Club was granted a provisional licence, which, I suggest, the lack of action by the PLP has rendered moot, and the legislation itself was amended to allow Desarrollos a licence, which it now cannot implement. The known interest in gaming by both the Hamilton Princess and the St Regis project in the East End, has hit a roadblock, and the PLP government has sent a bad message with its handling of gaming. One must question whether we are open for business and if investors have the confidence to take a "gamble" on Bermuda under PLP leadership. David Burt, the Premier, said recently that all good ideas would be considered. Well, here is one: make gaming a reality. Desist from any political interference and allow capable and experienced professionals to get the job done."

Hamilton Insurance Group Ltd has jumped into the top 15 syndicates at Lloyd's of London after completing its acquisition of Pembroke Managing Agency Limited. The transaction and the acquisition of Ironshore Europe DAC, both from Liberty Mutual Group Inc, were completed on Tuesday. It brought a boost to the size of Bermuda-based Hamilton, which was founded in 2013, doubling its gross written premiums on a pro forma basis to $1.1 billion. It also added 200 employees, enlarging the group to more than 350 staff. While the numbers are important, Pina Albo, chief executive officer, said expanding the group's global footprint and diversity was as significant. "This acquisition was the perfect expression of the execution of our strategy, which is to build a global diversified speciality insurance and reinsurance company. This acquisition fits squarely in there and does a number of things to advance us in the further achievement of this strategy." Speaking to The Royal Gazette, she said the closing of the acquisitions "vaulted us in the Lloyd's market to one of the top 15 syndicates". At Lloyd's, Pembroke Management Agency manages a portfolio of specialty insurance products through syndicate 4000, while Hamilton Underwriting Ltd is managing agency for syndicate 3334, acquired by Hamilton in 2015. "The Pembroke Management Agency is a very strong, speciality insurance franchise, and this fits very squarely in our further development of our speciality insurance business, so it catapults us in the speciality space much higher, and allows us to build our reinsurance franchise," said Ms Albo. Hamilton had also been looking for a non-Lloyd's platform, and fulfilled that with the acquisition of Ironshore Dublin, giving it passporting rights to write business throughout the European Economic Area and to provide capacity in the US. "That platform allows us to expand our reinsurance franchise throughout the EU and the US. From that extent it is incredibly strategic and gives amazing optionality, particularly as the US E&S licences are going to allow us to expand our speciality insurance offering. And we have a one-third interest in an MGA called Attune, and it now writes small commercial business in the US. With our own E&S licensing capabilities, we are going to look at ways of expanding our collaboration with this very capable insurtech platform." Hamilton now has operations in Dubai, London, Dublin, Shanghai, Bermuda, New York, Miami, and Los Angeles. Its strategy remains to build a global, diversified insurance and reinsurance platform. "We have three businesses, essentially the speciality insurance business, which has been catapulted significantly with this acquisition; we have a strong reinsurance franchise through Hamilton Re, which we are going to continue to expand; and we also have a new unit which we formulated called Strategic Partnerships, and that is the one that Jonathan Reiss will be heading when Tony Ursano takes over as the group CFO," Ms Albo said. Mr Reiss, one of the founding members of Hamilton Insurance Group, has been appointed to head the new business unit Strategic Partnerships. He will continue in his role as chief financial officer until Mr Ursano takes on that role next month. Ms Albo said: "That platform is a fee-generating platform. We have some fee-generating in our group all ready through our ownership of Attune, and some of the things we were all ready doing in the ILS space through Hamilton Capital Partners. But with this acquisition and the management of third-party syndicates, it made sense to make a unit out of that dedicated to fee business." She said Mr Reiss knows Hamilton's business inside out, and also the wider insurance and reinsurance world and developments that are taking place. "When we did this acquisition it was like the stars aligned. There was a perfect opportunity for Jonathan to leverage his skill set, knowledge and market access, to build a new platform for us. I'm excited and so is he." Ms Albo said the timing could also not have been better as Mr Ursano had decided to leave TigerRisk Partners LLC, where he was president. "I have known Tony and worked with him very closely since my inception at Hamilton. He has a very longstanding insurance industry experience, and also in the banking world. We are incredibly happy to have Tony with his contacts and strategic vision on board to help us as we continue to execute our strategy." Ms Albo said that going forward Hamilton sees its growth in Lloyd's as being primarily organic, and while she is not excluding further acquisitions she does not see any more this year. Speaking about the insurance and reinsurance market in general, she said: "We are seeing an uptick in both insurance and reinsurance rates in the lines that we are in, and certainly an uptick that has been more sustainable, and we believe it will be more sustainable going forward. So having this acquisition and being a much larger player, it feels as if the wind is at our back as we are now at a market cycle that is more beneficial to grow and write new business."

The number of people who sought help from a charity over abusive relationships has already surpassed the annual average, the agency's leader said yesterday. Laurie Shiell, the executive director at the Centre Against Abuse, explained that requests for assistance spiked in the first three months of 2019. She said: "The year started off very fast. We noticed January was above average and February was above average — we were seeing 30 clients for the first two months and then 20 in the third. We've definitely seen a greater increase in clients this year than we've ever seen before and we believe it's due to getting information out there about our services and the work we do. We think it's a good thing that people are getting help." She said that numbers had returned to the more typical 12 to 15 clients a month, but the early uptick meant about 120 had been seen so far this year, compared with a yearly average of 100. Ms Shiell said the figures did not suggest the sudden increase was connected to new relationships and that "many of them have been going on for some time". But she added: "I would say perhaps 90 per cent of the clientele has been first-time clients." Ms Shiell said the first quarter of the calendar year also brought more requests than usual from men, with one a month compared with about five annually. She explained: "There are men that are looking to get help. Our services are not just for women, we do assist men who are survivors of abusive relationships whether it's harassment, verbal abuse ... they need to get away from their partner that just won't leave them alone. We are here to help set boundaries, to obtain that healthy relationship." Ms Shiell encouraged anyone struggling in an abusive relationship to seek help. She said that clients who successfully escape their circumstances find "freedom, a new lease on life". Ms Shiell added: "If you know of someone that's in a situation and you're not sure what to do, give us a call."

Air-conditioned buses should be a must on longer public routes, a senior user of the service said yesterday. Elizabeth Adams, 71, said she was at her "wits end" over the failure to use AC-equipped buses on long runs. She said that the buses in use on long-haul journeys "have their windows open, the driver is burning up, and the passengers are uncomfortable". Ms Adams added: "We have politicians that are supposed to be doing their job. I don't understand why they would have these short routes air-conditioned and not the lengthy routes when these people are suffering. It's just wrong. Where is the mentality? Where is the thinking?" Ms Adams, a volunteer with three island charities, said that she depended on the bus service, which she often used several times a day. She added that the lack of air conditioning on some buses, combined with summer humidity, triggered her asthma. Ms Adams said: "The air conditioning does help. As soon as I walk into my house I put the air conditioning on. I stay in as much as I can in the afternoon." She said that a "second look" should be taken at how buses were deployed. Ms Adams added: "I believe that if they are going to be using air conditioning, they should use it on the lengthy routes — from Hamilton terminal to St George's and Hamilton terminal to Dockyard." Roger Todd, the director of the Department of Public Transportation, said yesterday that an "air-conditioning campaign" had been launched by the department. He was speaking at a press conference held by Zane DeSilva, the Minister of Transport to publicize an increase in the number of buses on the roads. Mr Todd said that some models of bus in the fleet were "particularly problematic". He added: "We have a programme in place to address that, as well as the older units. Our position is that if it has an AC unit on the roof, it should be working." The transport ministry did not respond to a request for comment yesterday.

An East End school has been given the green light for classes to go ahead after concerns about suspected asbestos, the Minister of Education said. Diallo Rabain apologised to parents of students at Clearwater Middle School for not alerting them to the potential risk earlier. He was interviewed on ZBM and said that abatement work was already completed when the broadcaster first aired the story. Mr Rabain said: "We were waiting for the overseas report to come back and give the all clear. I have contacted the Department of Health and they have received the report and they're in the process of issuing a certificate to say that the school is safe to enter. In this particular case, there were some tiles that are on the floor that were found to possibly contain asbestos. As soon as that happens, that area was shut off and ... an abatement company that's licensed in Bermuda was brought in to do the actual work. They did the work and after that samples are taken by a third party ... and those are sent overseas to be analyzed. Once those come back giving the all-clear, that is the only time that the rooms can be then occupied." The minister added that he wanted to apologise to parents for "not reaching out to them and letting them know what was going on" when the suspicions first arose. Teachers and relatives of students voiced their concerns about conditions at the St David's school this week. A spokeswoman for the Department of Education said then that the school would be inspected by a third party to make sure it was safe. She added that further details would be released once the inspection report was handed in.

August 21

Bermuda commuters have benefited from a 40 per cent boost to public bus service, the transport minister said this morning. Zane DeSilva said that improved maintenance projects had brought the average number of daily in-service buses from 50 up to 70. Mr DeSilva said the boost had led to "far fewer service cancellations". He said the Department of Public Transportation had worked "tirelessly" to boost bus service with the addition of new vehicles and through maintenance and repair of the current fleet. Mr Desilva added: "I am pleased to report that nine new buses have entered the service over the past year and three more buses are scheduled to arrive between September and November this year." He said the new vehicles included USB charging ports, on-board CCTV, and signage which complied with the Disability Discrimination Act. Mr DeSilva said that 14 buses were recently given a "midlife refit" that would extend their life "by a minimum of five years". He added that another project would look to fix emissions problems with 16 vehicles. Mr DeSilva said that school bus service would resume on September 9, one day before the start of the new public school year. He said that the safe and timely transport of pupils to their schools was of "paramount importance" and that the DPT would continue to send daily e-mails about after-school bus service. Mr DeSilva said that a hiring drive had been launched to fill operational and technical positions in the DPT. An advertisement for 15 bus operator jobs was posted last week. Roger Todd, the director of the DPT, said that the new operators were needed to drive the increased number of buses on Bermuda's roads. He added: "This compliment will help to ease some of the burden on the overtime." Mr Todd said that work on problem air conditioners was being done. He added: "Our position is if it has an AC on the roof, it should be working."

A former premier who appointed the Bermuda Independence Commission in 2005 has asked young people to turn out for tomorrow night's special forum on the topic. Alex Scott, who served as premier from 2003 to 2006, said: "The political times here and internationally require us to think soberly about what are going to do." Mr Scott added that the discussion was like taking part in a family conference. He said: "If you are a young person becoming an adult and you wish to have an influence and a place that you really feel is home, you should join the discussion. A people cannot have total authority if another parliament can take your decision and thwart what you want." Mr Scott added that Bermuda "was and still is a divided community" that remained split along racial grounds on independence. He said: "It is the penultimate step for the sovereignty of a community. Bermuda has one of the most advanced constitutions in the remaining British territories. To paraphrase the BIC's report, there is no other country more prepared for independence than Bermuda. There has been occasion when the British have given us the nudge towards independence, which was the case with the White Paper on independence in 1979." Mr Scott sat on the Pitt Commission, appointed to investigate Bermuda's inequalities in the wake of riots that engulfed the island in 1977. He said: "Out of its report came a call for Bermuda to move towards independence. The commission came out of the series of disturbances before it, but there has never been a riot since. The commission's prescription for Bermuda, from a governance perspective, has worked. That was the beginning of the end for the vice-like grip that the United Bermuda Party had on Bermuda The political pendulum swung towards the PLP, and 20 years later the Government was transferred to the PLP for the first time." Independence was put to the public as a referendum in 1995 by Sir John Swan, a former UBP premier, who resigned from office when it was rejected. Mr Scott suggested that, if white people had supported Sir John's push for independence, the UBP might have remained in power. He added: "He could have written the rules and constructed a constitution that would have probably sustained the UBP for far longer." Mr Scott said independence was "relevant to now, as opposed to just historic — the discussion is not independence for independence's sake. All informed observers feel Bermuda is ready." Independence has been a goal of the Progressive Labour Party since its formation in 1963. However, Mr Scott traced Bermuda's push for self-determination to earlier decades, including the work of activist E.F. Gordon and the labour movement in the 1940s. The forum, entitled Independence for Bermuda — Now, or Never? will be held from 6pm to 8pm at the Bermuda Industrial Union on Union Street. The topic of independence will be up for discussion at a forum tomorrow night. Panellists scheduled for a "now or never" review will examine self-determination for the island from 6pm at the Bermuda Industrial Union headquarters in Hamilton. The panellists are:
Phil Perinchief: a political activist and former Progressive Labour Party attorney-general, Mr Perinchief was a member of the Bermuda Independence Commission set up in 2005
Ryan Robinson Perinchief: founder and director of the Future Leaders Programme to mentor and develop Bermudian students, Mr Perinchief is a law graduate of Durham University's in England
Cordell Riley: a statistician and former president of Citizens Uprooting Racism in Bermuda, Mr Riley has served since 2014 as the Bermuda College's institutional and research co-ordinator
Alex Scott: a former premier under the PLP, Mr Scott initiated the creation of the Bermuda Independence Commission, and served on the Pitt Royal Commission investigating the social and economic roots behind the civil unrest of 1977
Lloyd Williams: Lives in St Kitts and Nevis. He is a musician and hydroponic farmer in Nevis but in Bermuda as a caregiver for his mother. He was invited to speak as a Bermudian living in a small independent nation

Teachers have "grave concerns" about pupils and staff at an East End school contaminated by asbestos, the head of the Bermuda Union of Teachers said yesterday. Shannon James, the president of the BUT, said that the union demanded the highest standards of safety in school buildings for staff and pupils. He added that news that asbestos had been found at Clearwater Middle School in St David's had disturbed the profession. Mr James said: "To hear that there has been asbestos in areas of Clearwater, when we know the danger that exposure to it brings, causes grave concerns regarding the students who go in and out of each class and especially for the staff who are stationed in the affected rooms and are there for the majority of the day." He added that school staff, parents and pupils needed to be shown how this problem had been eradicated, if it had been fully addressed or what the plan was if there was a need for extra work to be carried out at the school. Mr James said: "To be this close to school opening and not knowing what is happening is definitely not a good thing." He said that the union had asked for certificates of occupancy for public schools that showed they had been maintained and that problems had been fixed. He added: "This further demonstrates the need for such an inspection to be carried out to ensure the safety and health of a school family. We can't imagine what must be going through the minds of the faculty and students of Clearwater Middle School, knowing that they may have been exposed to such harmful material." He was speaking after the Government confirmed that work to remove asbestos had been carried out at the school this summer. A spokeswoman for the Department of Education said that an independent inspection was being carried out "to ensure the school is safe to occupy". She added: "A further statement will be made once the third-party inspector has submitted the final report." A two-day inspection of the school carried out in August 2017 by the Office of the Safety and Health Co-ordinator revealed that "suspected asbestos" had been found in a storeroom. A report note said: "Confirmation testing requested; results being awaited." Inspections of all public schools were completed last year between September 17 and October 17. The survey at Clearwater found that there were "ongoing potential asbestos exposure concerns" over the storeroom. The findings of both reports were released to the public in March.

An autism spectrum disorder programme for preschool children will welcome its first pupils next month. The new programme at Prospect Preschool in Devonshire will open on September 10 — the first day of the new school term. Sherri Bucci, the assistant director of early childhood at the Department of Education, said that the programme and training was "not about putting a label on a child, but about addressing individual's needs". Diallo Rabain, the Minister of Education, added that a "specially designed and resourced" classroom would serve the pupils. He said: "This programme will close the gap in our ASD programme offerings between the child development programme and primary school as we have ASD programmes in the primary, middle and high school levels. It will not only offer specialized early intervention and support for students on the ASD spectrum but include students who may have similar support needs. With a 1:2 teacher-student ratio, the programme itself will provide focus on the social and emotional elements of development, while at the same time utilizing the preschool curriculum that is taught in other schools, according to the child's level of functioning." Mr Rabain added that teachers, support staff and Department of Education employees were taking part in a two-day training session this week. Curtis Dickinson, the Minister of Finance, announced in the 2019-20 Budget Statement in February that some of the $327,000 earmarked for preschools would be used to create an ASD programme. Anthony Peets, then president of charity organisation Bermuda Autism Support and Education, said after the Budget announcement that early diagnosis was "imperative" and that "specific intervention programming is welcomed". Mr Peets added: "What is more than imperative is having trained personnel who implement the day-to-day interventions. Working with children on the spectrum is way more than just having awareness of a diagnosis. Interventions are tailored and targeted for that child." Tinée Furbert, the Junior Minister of Disability Affairs, said in an op-ed in April that services in Bermuda for people with autism had "come a long way". She added: "We will continue to work hard to improve access and services for persons with autism and their families." An information session for families and professionals will be held tonight at the Bermuda Underwater Exploration Institute from 6pm to 8pm.

Students studying subjects ranging from medicine to law and criminology have won $25,000 scholarships. Zoe Exon, Sydney Rego, Casey Schuler, Chrysda Smith and Shayla Smith won Nicholl Scholarships, named after Albert Nicholl, a philanthropist who left most of his estate to promote education in Bermuda. Zoe, 18, from Pembroke, said the award was "a great honour — I was very happy and appreciative to learn that I was selected as a recipient". She will start a medical degree this September at St Barts and Queen Mary University, part of the University of London. Zoe said: "Once qualified as a doctor, I hope to return to Bermuda to aid with the medical care of my community. Thanks to the generosity of the committee, my financial burden has been lightened and I am one step closer to achieving this goal." Shayla, 21, from Warwick, has already graduated from Dalhousie University in Canada with a double major in philosophy and Spanish. She said: "I will be commencing the two-year LLB Law graduate programme at the University of Leeds in the fall. It is both an honour and a privilege to receive this scholarship as I pursue my dream of becoming a lawyer." The awards were handed out on July 31. Chrysda, 18, from Hamilton Parish, is to study for a Bachelor of Arts degree in criminology at York University, Canada. She will also play on the university's field hockey team. Chrysda, who was a 2019 Most Outstanding Teen special awardee, said: "I am extremely grateful for the faith that the Nicholl Scholarship committee has exhibited in me." She added: "This award demonstrates that hard work does pay off." Chrysda follows in the footsteps of her aunt, Wendy Woods, who was a recipient of the same scholarship in 1990. Casey, 20, from Hamilton Parish, is embarking on the third year of a double major in justice and peace studies and theology, with a minor in Spanish, at Georgetown University in the United States. She said: "I have chosen my majors out of an interest and desire to be an active participant in the betterment of my communities. This scholarship is one of my greatest achievements alongside being accepted into Georgetown. Like many US universities, the tuition is exceptionally high compared to universities in Canada or the UK, and so this scholarship has lessened that financial burden; I am honoured to have been chosen. Seeing all of the students who have won scholarships in the past makes me proud to be a part of such a talented generation of Bermudian students." The final winner was Sydney Rego, who will study for a Bachelor of Arts in psychology at Queen's University in Canada. Rick Spurling, one of the trustees administering the awards, said funds were "back in a good financial situation" after some years with only two awardees. Mr Spurling said: "We try to give away virtually all the income, which we maintain through investment as well as the income of the fund itself." All of this year's awardees were female, and Mr Spurling said trustees hoped to see more male applicants. He added: "We see the top- of-the-line candidates. It's exciting — they are very impressive young people, and it's very encouraging, especially when you see some of the problems out there in the world." Mr Nicholl, known as Nicky, arrived in Bermuda from England in 1917, during the First World War, as chief examination officer of the Royal Navy Reserve at St George's.

As Bermuda's marketing partnership with the US Open gets under way next week, the Bermuda Tourism Authority is encouraging entrepreneurs, museum curators and artists to come up with ideas to showcase the island's fascinating tennis history. The best proposals could receive funding from the BTA's Tourism Experiences Investment Programme, which provides grants to home-grown ideas to help them either start up or expand. Tennis is one of four areas of focus for the programme's fall 2019 application process. Others are: food tourism experiences, re-purposing cultural sites and natural assets and experiences and services for superyacht tourism. While those areas of focus are of particular interest to the BTA's strategic priorities for 2020, all home-grown tourism ideas are welcome for consideration. The process begins on August 28 and 29, when interested applicants can participate in a free BTA prep workshop offering tips on how to submit a winning presentation. Bermuda's link to tennis heritage gets the spotlight this month during the US Open, which begins August 26 at the USTA Billie Jean King National Tennis Centre in Flushing Meadows, Queens, New York. The BTA hopes the event will inspire some creative local thinking around the sport. "This is the first time we have specifically called upon applicants to think about sports history as a tourism experience in Bermuda," said chief experience development officer Glenn Jones. "Almost 150 years ago, Mary Outerbridge introduced tennis from Bermuda to the United States. It's a story our marketing team will share with tennis fans during the US Open. When those fans come to Bermuda, we should offer them a memorable experience that illustrates our country's connection with the sport they love." Ms Outerbridge is credited by the International Tennis Hall of Fame as the 'Mother of American Tennis'. She was born in America to Bermudian parents, and first came across the game while visiting her family's Bermuda home in 1874. She learnt tennis from British officers stationed on the island. She later took tennis equipment back to New York, introducing the sport to her home borough of Staten Island. Today, a mural there tells her story. The BTA's strategy is for Bermuda to devise its own form of storytelling on this historic milestone. "I'm confident the island's entrepreneurs, museum curators and artists can come up with something brilliant that brings to life this little-known piece of Bermuda's past," Mr Jones said. Tourism experience applications are accepted from September 1 to 30. Decisions are announced in late October. Successful applicants are encouraged to launch their ideas in the first or second quarter of 2020.

Beauty and fashion entrepreneur Aerin Lauder, a granddaughter of Estée Lauder, has been singing the praises of Bermuda. She has joined Rosewood Curators programme, on behalf of Rosewood Bermuda, to share travel tips and insights about the island for Rosewood destinations around the world. In addition, she has partnered with Rosewood Bermuda to bring to the hotel an amenity line, which features six coral palm-scented bath and body products and a fragrance bar. The AERIN hotel amenity line was launched when the luxury hotel reopened after undergoing $25 million of renovations last year. Ms Lauder is the founder of AERIN, a luxury lifestyle brand that offers curated collections of beauty, fashion and home decor products. She honeymooned in Bermuda in 1996 at the urging for her grandmother, who cofounded cosmetics company Estée Lauder. Ms Lauder has made return visits to the island and has shared some of her insights in an interview that features as part of the online Rosewood Conversations website. She gives travel packing tips and recommendations for what to do when you arrive at your destination. In a question and answer interview, she said one of her favourite memories of Bermuda was on her last trip. "I spent a perfect day on the beach with my girlfriends at Rosewood Bermuda's Beach Club. They have one of the most beautiful private beaches in Bermuda. We drank rosé, ate fish tacos and French fries, and just relaxed," she said. While in Bermuda her favourite flowers are Bermudian freesia and oleanders, and she said the traditions, scents and colours of the island inspire her work. "I particularly love the bright colours of the island — from the pink sand beaches, to the blue water and candy-coloured homes. Everything is just so vibrant and beautiful. What's more, it feels like you're a million miles away, but it is so easy to get to. If you're located on the east coast, you can easily go for the weekend and have two full days at the beach." As well as her own AERIN line of perfume, cosmetics, fashion and furniture, Ms Lauder is the style and image director for Estée Lauder Corporation. Her complete curator interview, including destination and travel trips, can be found on Rosewood Conversations, the brand's online travel digital platform. The Rosewood Curator programme was launched in 2013 and includes fashion icons Anna Dello Russo and Iris Apfel, prima ballerina Tan Yuan Yuan, designer Zac Posen, Academy award-winning actress Allison Janney, and art expert Emmanuel Perrotin.

Three people have been deceived by a new social media scam this week. Police issued a warning about the scam, in which residents are recruited through an Instagram account belonging to a person purporting to be Jessie_Jae_Allen. Victims are urged to transfer no less than $200 to Jamaica via Blue Nile Services, an agent of Western Union. The person transferring the funds is then informed that any monies sent will be invested in currency exchanges and that they can expect immediate payouts of up to $7,500. After sending the funds to Jamaica, the individual sending the money is provided with a tracking number, which they are told can be used to collect their investment funds. A police spokesman said the tracking number is fictitious and any attempts to recover monies are unsuccessful. Blue Nile Services reported the scam to police and are assisting with inquiries. In a separate recurring scam, one person has recently reported being deceived by a phishing e-mail that appeared to be from a local bank. An example follows:
Dear Valued Customer, Please be advised that your online banking profile has been migrated to the new Online platform, you are required to complete a mandatory verification To continue using the new Online services. Enter here to continue >>> Note: account not verified soon may be disconnected from online service. Kind regards, Online Help Desk Reference Number is 706874.
Police urged members of the public to disregard any e-mail claiming to be from a local bank that requests verification of online banking credentials or username and password details because of software upgrades. They said one person has also recently reported being deceived by a phishing e-mail that claimed to be from a local internet services company. The deceptive e-mail provided a link for the recipient to apply e-mail settings to avoid being locked out of their e-mail account. A spokesman said the phishing e-mails are used to obtain personal information and other sensitive data and should be ignored. Any incidents of suspected internet fraud should be reported to the Financial Crime Unit on 247-1757.

Sailors have welcomed a crackdown on people who own more moorings than boats. The enforcement of the "one boat, one mooring" rule by the Government aims to tackle the problem of people making a profit from extra spots. A spokesman for the Ministry of Tourism and Transport said: "If someone owns three boats and all are registered with [the Department of] Marine and Ports, they can own three moorings. He added: "Owning one boat and multiple moorings is not allowed." The spokesman said the policy had been in place for some time. Boat owner Ben Outerbridge agreed that enforcement of the policy was reasonable. He said: "I only heard about it within the last month or so. I suppose it makes sense. If you own a boat but can't get a mooring and there's someone else who has ten moorings and no boat, that wouldn't feel very fair. There's only so much space, so I understand the frustrations." Another sailor added: "I don't think it's new. I think it's just that it's finally being enforced." He said there were people who paid a series of small fees to get several moorings and rented them to other boaters for a profit. He added: "People shouldn't be making financial gains like that. Most places are full and there are people who can't find a mooring anywhere. I think it's a good thing that Marine and Ports is actually cracking down on this stuff." The ministry spokesman said the law on moorings had not changed. However, he did not respond to questions on whether the Government had adopted a get-tough policy for owners of multiple moorings. The spokesman also warned boat owners to keep up to date with their mooring fees or risk loss of their anchorages. He explained: "Boat mooring owners that have not paid their annual fee are sent a late notice requesting payment, plus a late fee, within 30 days. If payment is not received, the owner risks the mooring being cancelled. Between 200 and 250 notices of non-payment were issued every year."

A blueprint for the funding of major projects to boost job numbers and the economy should be a priority, an economist claimed yesterday. Robert Stubbs said a "chronic weakness" in how major work was funded was a key reason for stunted growth in the Bermudian job market. Mr Stubbs is a cofounder of Seed Bermuda, a new organisation which plans to ask the public to help come up with a plan for how the island could look in the decades ahead. He added that a comprehensive development plan to shape short-term infrastructure goals was needed. He said: "Chronic weakness in Bermuda's fixed-investment spending for a full generation now is a major contributing factor to our weak economy and lack of job growth. One of Seed Bermuda's primary objectives is stimulating greater fixed-investment spending by both the public and private sectors. In addition to advocating for an economic stimulus plan and identifying specific new investment opportunities we view as commercially viable for Bermuda, in the coming months Seed will be engaging the public in helping us produce a master plan or Vision Bermuda 2050 plan. Such plans in many ways are the quickest but also the most important to produce. They identify principles and practices we would like to embrace in determining long-term sustainable urban development and public transportation goals for Bermuda, which could then be used to inform and prioritise shorter-term infrastructure planning. Such planning offers the island a unique opportunity to overcome difficulties across a range of challenges we've created for ourselves." Mr Stubbs added that Seed — social, economic, environmental development — aimed to "undertake, disseminate and debate" non-partisan research. He highlighted that Bermuda's fixed-investment spending as a percentage of gross domestic product over the past three years had been, on average, lower than Caribbean countries such as the Cayman Islands and Jamaica over the past three years. Mr Stubbs said the Bahamas was the only country in the region to have weaker government capital spending than Bermuda. But he added that money ploughed into fixed investment from the private sector in the Bahamas "more than makes up for it". Mr Stubbs explained: "Generally speaking, fixed investment covers expenditure on items which are used repeatedly by households, businesses and governments in the production of goods and services for themselves or others throughout the year." He said that included construction of homes, offices, hotels and schools, new transport, heavy machinery such as cranes and generators, as well as computers. Mr Stubbs added that fixed investment could also include software, mobile phones and even intellectual property such as films, television programmes, music and books. He said: "All infrastructure spending by government is classified as fixed investment and is recorded under capital expenditures in the Government's budget. In addition to infrastructure spending, government capital expenditures includes spending on heavy machinery and transportation equipment such as buses and ferries." The 2019-20 Budget showed that capital spending was $56.6 million in 2017-18, with a revised estimate of $61.6 million in 2018-19. It is forecast to be $64.7 million this year. Construction industry sources backed the view of Mr Stubbs that a plan for upgrades and repairs across the island was needed. One construction insider said: "As far as roads, bridges and sewage works go, I don't know; nobody knows. Government would probably have to have a Green Paper, then a White Paper — they would have to initiate a survey first and then come up with a plan." Another added: "There's no island-wide survey of what is in need of repair, that we are aware of." Alan Burland, the president of BCM McAlpine, said Bermuda should always think about ways to improve what it had to offer. He added: "As we strive to upgrade such things as infrastructure, we should always try to add value, with an eye towards long-term quality and durability." Mr Burland said that areas of infrastructure the country "could and should address" included energy-efficient, affordable homes and retirement housing. Mr Burland added: "If these are in urban areas where people can live, work and play, the stress on the environment is less, with less need to use the roads every day." He said that pollution-reduction efforts could include increased use of urban sewage treatment plants and improvements to storm water basins such as the Pembroke basin. Mr Burland added: "We applaud the Regulatory Authority for producing the recent Integrated Resource Plan, which projects a far greater use of renewable energy. Add to this an increase in use of electric vehicles, smart energy-efficient appliances and energy storage or management to further improve value and help the environment." Mr Burland said that moving Hamilton docks would allow redevelopment of the waterfront area to include "a mix of residential, office, retail, marina, recreation and parkland uses". He added: "Perhaps, with appropriate planning and community consultation, we could consider allowing the city to grow to the north." Curtis Dickinson, the Minister of Finance, said in his Budget statement in February that the most significant items of capital development expenditure were upgrades to the Mid-Atlantic Wellness Institute at $4.5 million, school maintenance at $3 million and road works scheduled to cost $1.5 million. He added: "While most of the planned investment is related to construction projects, there is capital acquisition provision of $20.6 million for IT developments across government, and new public buses and other vehicles to support public service delivery."

A cryptocurrency derivatives exchange has added Bermuda to its list of places where local customers are not allowed to access or use its services. BitMEX has put the island, along with Seychelles and Hong Kong, on its list of restricted jurisdictions. The list also includes the US, Canadian province Québec, and a number of other countries. The company said it had taken the decision as a proactive move to ensure continued compliance of its bitcoin mercantile exchange platform. BitMEX is owned and operated by Seychelles-headquartered HDR Global Trading Ltd. In a statement, the company said the cryptocurrency landscape has changed and companies such as BitMEX are working with regulators to create standards "that will help it go mainstream". It said it believes fervently in the goals of regulators, adding "we understand that nothing is more sacred than the safety of your funds and the stability of the platform. For this reason, we have decided to restrict access to BitMEX for users in the jurisdictions in which HDR-affiliated employees and offices are located. Seychelles, Hong Kong and Bermuda will be added to the list of jurisdictions already restricted from access to BitMEX. This change will have no financial impact on the business and will affect very few people. The BitMEX team will be reaching out to those who are affected." In Bermuda, HDR Capital Limited and HDR Global Services (Bermuda) Ltd are registered companies. In its statement, BitMEX said: "We believe success in the cryptocurrency space lies in the ability to think long-term, not short-term. And in that long-term view, we believe this course of action affords us the best opportunity to engage regulators in deep, thoughtful, and productive explorations of the risks and opportunities present in the cryptocurrency market." BitMEX will be among technology companies at the five-day Bermuda Tech Week in October.

James King, a former surgeon and political candidate who played key roles at some of the island's top businesses, has died. Dr King was 80. Dr King spent the 1990s and 2000s as chairman of several boards, including Bermuda College, the Bermuda Telephone Company and Argus Insurance. He was a director at the Bank of Butterfield from 1978 to 1997, and chairman of its board from 1997 to 2007. Dr King also served as chairman of the ruling United Bermuda Party from 1990 to 1993. He ran as a candidate in the Progressive Labour Party stronghold of Devonshire North in the 1993 and 1998 General Elections. However, he was understated about his accomplishments and told The Royal Gazette in 2007: "I prefer to do things quietly and not in the headlights." Dr King died on Friday after a long illness, with friends and family at his side. Sir John Swan, a former UBP premier, said Dr King was "a highly competent surgeon and an astute businessman who reached across the spectrum of Bermuda's community". Sir John added: "As chairman of the UBP, he did a sterling job. He was a big thinker, someone who understood the value in building relationships, and who could well represent Bermuda in whatever he did." Dr King trained at the University of Toronto as a specialist chest surgeon, but also excelled outside his field. Venetta Symonds, the president and chief executive of the Bermuda Hospitals Board, said she had worked with him when she was a young radiographer and it was "nerve-racking, because he was always considered a great doctor who was strict, direct and intolerant of nonsense". She added: "He was serious, with high standards, but this was balanced with his kind words and all-knowing smile." In the early 1970s, Dr King was among the first to set up practice close to the hospital with a group that included fellow surgeon Delmont Simmons. Dr Simmons said: "Jim was a diligent, hard-working colleague who I could call at any time to help with a problem, which I did, many times. I could be operating on a Sunday afternoon, need a surgeon, and if I called Jim, he would be there in 15 minutes to help. He was a general surgeon and when he started there were not many people who could do that." Wilbert Warner, a friend and also a surgeon, said Dr King was "a superb surgeon who could have practiced his craft anywhere in the world, but decided to serve the Bermuda community". Dr Warner added: "He certainly was one of the best surgeons I've worked with both here and in Canada. He did all the tough cases." He said Dr King had tackled the "very rare, very risky" operation to remove a tumor in the adrenal glands — pheochromocytoma. Dr Warner said: "I don't believe another such surgery has been performed at King Edward since that time." Among Dr King's friends was Dennis Fagundo Sr, a co-director at D&J Construction. Mr Fagundo said: "He was a business partner and close friend. We worked on business ideas and travelled together; when he left the medical field 20 years ago, he got a lot more involved in business. He was very caring and quiet and probably the best surgeon in this country." The Bank of Butterfield experienced major growth under Dr King's leadership. Dr King told colleagues when he stepped down as chairman: "The thing I am most proud of is having had the opportunity to see the bank continue to prosper and do well." Charles Marshall, a former senator, was Dr King's running mate in the 1993 and 1998 elections. Mr Marshall said: "We took on the Opposition leader's district. We lost both times, but we enjoyed it greatly. Dr King could walk into a house and tell many of them that he had brought them into the world. He made a very valuable contribution to Bermuda and its advancement. It wasn't easy, particularly in the days of segregation. If it was not for people like Dr King, we would not have the lifestyle we are used to today." Dr King was predeceased by his son, Peter, and leaves his wife, Lauren, his son, James Jr, and siblings Ann and Paul.

August 20

A government backbencher has been sworn in as the temporary health minister. Neville Tyrrell will act in place of Kim Wilson, who is off the island until September. The Warwick South Central MP was sworn in last Wednesday. David Burt, the Premier, said: "The Bermuda Constitution affords me the right to name members of the legislature, who do not sit in Cabinet, to act for ministers while they travel. This has happened in the past when the Junior Minister of Finance acted for various ministers while they were abroad. Mr Burt added that Mr Tyrrell worked closely with Ms Wilson and that he was sure he would "ably perform in this post for the next two weeks".

A government contract for the delivery of sand to fill golf course bunkers should be reissued after it was awarded to a company run by a Cabinet minister, the Opposition leader has claimed. Craig Cannonier, the leader of the One Bermuda Alliance, said David Burt, the Premier, should step in and order that the opportunity went back out to tender. But the Government insisted yesterday that the procurement process was "above board and followed all legal guidelines". Island Construction Services, led by Zane DeSilva, who is also the Minister of Tourism and Transport, successfully bid in response to a request for proposal to import thousands of dollars' worth of sand to the government-owned Port Royal Golf Course before a major tournament in the autumn. Mr Cannonier said Mr DeSilva should have recused himself from the RFP — or been ordered to. He added: "If David Burt cannot see how bad it looks to award this contract to a Cabinet colleague and someone who has been embroiled in a civil suit in relation to another Port Royal contract, then not only is he out of touch with the people, he is not fit to be Premier. He must step in and demand that the RFP for this work is reissued so that small Bermudian firms who are desperate for work can benefit." Port Royal is preparing for the first PGA Bermuda Championship, which will run from October 31 to November 3, and the procurement notice posted last month asked for proposals for 4,000 tonnes of sand. Mr Cannonier said: "This is a minister who was only recently answering parliamentary questions about the budget for improvement work. He said he would provide a budget for the work as well as an itemized list of work to be done. Under these circumstances, surely it was only appropriate that he should not have bid for this contract or that his bid was rejected." However, Jamahl Simmons, the Minister without Portfolio, said: "As a former Minister of Public Works, the Opposition leader should recall that ministers play no part in the procurement process. In the case of sand for Port Royal, the RFP was issued in accordance with the Office of Project Management and Procurement requirements. Bids were received and evaluated against a matrix developed by that office. Public officers from the Ministry of Public Works evaluated the bids and determined that the bid from Island Construction, which was the lowest price, presented the best value for money and that the company was best placed to provide the service required. Based on the technical officers' strong recommendation of Island Construction, the Cabinet approved the award of the contract. The Leader of the Opposition's suggestion that a minister should be recused from bidding on a government contract is ridiculous. In fact, it is laughable. Had that standard been applied to the UBP and the OBA, the Government of Bermuda would never buy a car, a sheet of paper, water, milk or even paper clips. Honest, fair criticism is welcome, as this government is not perfect and nor do we claim to be." But he said: "Divide-and-conquer tactics based on innuendo and deception, however, contribute nothing of value to the public debate." In June, Mr DeSilva, the president and chief executive of Island Construction, helped to announce the tournament. He and Wendall Brown, a businessman, were listed in a 2017 civil case that alleged they profited from their former positions as trustees of Port Royal by "causing or permitting" construction contracts at the public course to be awarded to their own companies. Both denied the claims and Mr DeSilva pledged at the time he would fight the lawsuit "to the end" and insisted the trustees "did everything by the book". Mr DeSilva did not respond to a request for comment yesterday.

The grandmother of an 11-year-old girl due to start at an East End school next month said she was concerned about asbestos in the building. Mary Faries heard a radio report last week about the presence of the cancer-causing material at Clearwater Middle School in St David's. She said that she was worried about the possible health impact on pupils and staff. Ms Faries, 66, said: "We cannot expect our children to be going to an environment like that. There could be other families whose children are starting on September 10. They are away right now just like my family is, and haven't heard the news. It's just not good enough. Asbestos is serious." Diallo Rabain, the education minister, has stayed tight-lipped about what work was being done to remove the asbestos risk and if the school would open as scheduled for the new term. Ms Faries, from Pembroke, has just bought new school uniforms for her granddaughter. She said she had contacted the Department of Education about the issue yesterday and that the public deserved more information on what was happening. She questioned whether remedial work at the school would be completed in time for the new school year and if the building would be safe. Ms Faries said she feared that pupils would have to be relocated. She said that pupils and staff should only return to the school if their safety could be guaranteed. Ms Faries added: "I would like to think they would have experts going and reviewing this work." She added that she had raised the concerns not only for her family but for others as well. Ms Faries said: "The more people that complain, maybe we might hear something." A two-day inspection of the school carried out in August 2017 by the Office of the Safety and Health Co-ordinator revealed that "suspected asbestos" had been found in a storeroom. A report note said: "Confirmation testing requested; results being awaited." Inspections of all public schools were completed last year between September 17 and October 17. The survey at Clearwater found that there were "ongoing potential asbestos exposure concerns" over the storeroom. The findings of both reports were released to the public this March. Mr Rabain was asked several questions about Clearwater last week. They included questions on what work was being carried out, who the work was being performed by and if the school would be open on September 10. Mr Rabain was also asked if any health problems that could be linked to asbestos had been reported. Last night, a spokeswoman for the Department of Education said the material had been removed this summer by "a licensed abatement firm". She said the school would be inspected by an independent third party to ensure the school was safe to occupy. She added that further details would be released once the inspection report was handed in. Nakisha Burgess, the president of the Clearwater Parent Teacher Student Association, said questions on "this very sensitive matter" should be sent to the education department. She added: "We are all looking for answers, and I believe this is where you should start." Cole Simons, the shadow education minister, said there was "real concern" that the asbestos-removal programme at the school was "woefully inadequate and should be better managed". He added that the problems at Clearwater were not new and highlighted that the school was not opened on time for the start of the new school year in 2010. Mr Simons said: "The delay resulted because the then PLP government's health and safety reports alleged that there were maintenance issues at the school, which included mould, asbestos, rotten wood in a room, and open ceilings to the air conditioner in the hallways." Mr Simons added that the teachers, pupils and staff at the school should not be exposed to health risks. He said the Government should provide an update on work at the school.

Some staff at a cleaning firm have not been paid for up to three months, an employee has claimed. The staff member said "hard-working and dedicated" staff at Just Cleaners Ltd had been hit by non-payment and late payment of wages. The worker, who asked not to be named, complained that several staff members had not received their wages for months. The source added: "Workers are not being paid on time and not being paid at all." The employee said that, in some cases, employees had not received wages for up to three months. The source added that at least seven employees had experienced problems with pay. The staffer said: "I'm sure there are more." The employee added the problem deserved attention "because this is the habitual behaviour of this company". The employee said no explanation had been given for late payments. The staffer added: "No one gets a reason. It's 'you will get paid on this day' — and the day comes and goes and still no pay. I just listen to other employees being told that they are going to be paid on a certain day and it never happens. This is repetitive every month." The employee said that staff had not contacted anyone outside the company over the payment problems. Just Cleaners' clients include the Bermuda Police Service, Butterfield Bank and power firm Belco. Management at Just Cleaners, based on Midsea Lane, Pembroke, did not respond to repeated requests for comment. The firm's Facebook page said the company was "a one-stop shop for Bermuda's residential, commercial and industrial cleaning". It added that the company "are certified green cleaners" and offer services including maids, corporate contracting, steam cleaning and window cleaning.

An unannounced charge for ID cards for seniors sparked complaints yesterday about government communication. A senior in his seventies, said the ID cards, used to get seniors free public transportation, were once issued at no cost but will now have an $8.11 fee slapped on them. The senior, who asked not to be named, found out about the charge this month when he went to get a new driving licence and renew his ID card. He said: "The driving licence was free, but the senior's card cost $8.11. What I found strange was that my new driver's licence was free. Why charge for one and not the other?" The man, from Pembroke, said that the charge did not create a financial problem for him, but that it was "another bill for seniors to pay". He added that the pass had been free for 11 years and he had not been told of any changes to the policy until he went to get a new pass after he changed address. A spokesman for the Transport Control Department said that an administrative fee of $8.11 was imposed at the start of June to cover the production costs of seniors' ID cards. He added that the ID cards cost TCD $16.22 to produce but an internal audit ruled it was "foregone revenue". But the tourism and transport ministry ordered the cost to be passed on to seniors. A spokeswoman for the Ministry of Tourism and Transport said that the $16.22 charge was halved for seniors by the Motor Car Act 1951, which entitled seniors to a 50 per cent reduction on all licence charges. She also confirmed that a public announcement on the change was not made and that seniors were told when they went to collect new ID cards. Charles Jeffers, the deputy chairman of senior advocacy group Age Concern Bermuda, said the failure to publicize the new charge was another example of a lack of government communication. He added that the extra expense, as well as a land-tax increase, which caused seniors to worry about how they would make ends meet after it was implemented this month, was a "great concern". Mr Jeffers said: "We live in the communication age. The fact that we have to search and investigate for answers over changes to public fees and taxes is a problem. Sometimes an explanation is all that is needed." Drivers' licences for people aged over 65 will continue to be issued free of charge.

Everest Insurance has appointed Kyle Adams to lead its Bermuda operations. "In this role, Kyle will focus on establishing and growing Everest's Bermuda insurance operations — a growing and innovative market for our clients and trading partners," said a spokesman from the company. Mr Adams comes to Everest with over 20 years of experience, including a decade operating in Bermuda. Most recently, he held the title of co-chief executive officer for JLT Specialty Bermuda and led JLT Bermuda's financial and professional lines practice. Prior to his time at JLT, Mr Adams spent 19 years with Aon's Financial Services Group in Bermuda and the United States. He has a Bachelor of Science in business administration-finance from the University of Vermont. He also has his chartered financial analyst, chartered property casualty underwriter, and registered professional liability underwriter designations. "Kyle brings a wealth of knowledge, expertise and strong, well-developed relationships in the Bermuda market to Everest," said Mike Karmilowicz, president of Everest Specialty Underwriters. "The addition of Kyle and the establishment of our Bermuda operation signify our commitment to becoming a world class speciality diversified insurance company, and allow us to further expand our distribution footprint and capabilities to help better serve the needs of our clients."

A top reggae star claimed yesterday that a dispute with promoters over his backing band was to blame for his failure to perform at a weekend music festival. But the organisers of Unity Festival Bermuda said they "strongly disagreed" with comments made by Wayne Wonder on the reasons for his no-show. Wonder told The Royal Gazette that he was approached by event organisers to appear with reggae superstar Buju Banton, the headline act, and agreed. The singer, whose real name is Von Wayne Charles, added he was later asked to perform a full set at the concert. But he said the promoters appeared to reject his condition that his band had to appear with him and suggested he use backing tracks instead. Wonder told online Caribbean news outlet Loop Jamaica that he would "not use tracks on a big show like that". Wonder added: "I didn't hear back from them." He added that he was never sent an airline ticket to attend the event. Wonder disputed the claim made by festival organisers that he had backed out of the show in an interview with Loop Jamaica. He said: "They never follow up back. They put out something say 'my inability to perform', but they never reach out to finalize the thing." But festival organisers said Wonder's comments were "inconsistent with any correspondence and/or legal documentation". A spokesman added: "We, however, believe it would be counterproductive to engage in a back and forth over this, as it will only undermine the essence of the event and all of those who worked so hard to bring Bermuda a first-class event. We look forward to having meaningful discussions with Wayne Wonder and his team in the near future, as we believe ultimately that in the reggae community we must work together and resolve our differences in an honourable manner." Organisers announced on Friday that Wonder would not perform at the event at National Sports Centre, in Devonshire, because of circumstances beyond their control. A spokesman added at the time that Wonder "was scheduled and confirmed and his inability to perform was due to an external conflict that has nothing to do with Unity Festival organisers". Wonder confirmed his withdrawal from the festival in an Instagram post on Friday. It was estimated that 7,000 people attended the weekend event. Another Jamaican musician was also involved in a dispute over a concert appearance this month organised by a different promoter. The publicist for reggae artist Vershon said afterwards that his client had been denied entry into Bermuda as a tourist after the last-minute cancellation of a show. However, Vershon, whose real name is Kemar Brown, denied that version of events. He said he had not travelled to the island and apologised to the Government and people of Bermuda.

The son of the "King of Soul" is to star at Family Centre's annual Beach Bash fundraiser next month. Otis Redding III will be part of the entertainment at the Fairmont Southampton Ocean Club beach. He said: "I am very excited to come to Bermuda again, I am so honoured to be a part of a special event that will definitely benefit so many families in Bermuda." The musical line-up will also include Working Title, One SOULution, Mia Chambray and James Gregory, Chris Finsness and Spencer Wood, with a guest appearance by Rowdy Piper. Martha Dismont, the executive director of Family Centre, said: "This is Family Centre's largest annual fundraiser and we are always extremely grateful for the support of our sponsors and the community's generous support. The demand for our services continues to rise. The sponsorship and support we receive enables families to receive our successful therapeutic services and programmes without financial worry. We look forward to another successful community fundraiser and an opportunity to mix and mingle with our guests." The event will have the theme Vitamin Sea, and guests should wear bright summer colours and ocean blues. Thania Redman, the relationship development director at Family Centre, said: "The decor is taking a citrus spin this year — thanks to Select Sites Group's Starla Williams, our creative team at RBK Advertising and our incredible volunteers. I think everyone is going to love it." The event, on September 14, will feature food stations and a buffet on the beach and a raffle draw. Patrina "Power Girl" O'Connor and Rajai Denbrook will cohost. Family Centre provides counselling, community programmes and training services. Ms Dismont said 158 families received counselling services last year and 117 children were given supplementary support. The centre also runs a social skills group and therapeutic specialized camps. About 218 children are enrolled in the centre's community programmes. Seats at the Beach Bash are $250 per person at tables of ten. For more information and to reserve a seat or table, contact 232-1116.

A master carpenter from the West End whose career spanned more than 60 years has died. Charles Rupert "Pine" Smith was 87. Mr Smith's family said he was "hard-working, stubborn, opinionated, funny, current with all news, determined and immoveable". His obituary was released after a funeral service and celebration of his life at St James' Church in Somerset yesterday. Mr Smith was taught the trade that became his "first love" by his father, Arthur, from whom he also inherited another of his nicknames, "Gov'nor". He attended the West End School as a child, but had to put education aside after primary school to learn carpentry. Mr Smith drove a taxi and worked as a prison officer after he married Vida Virgil in 1956. The couple had three children, Gregory, Michael and Crystal. The family said Mr Smith's workshop on George's Bay Road in Sandys turned out "everything", from furniture to doors. He also built roofs and was known for his confident walking around rooftops on construction sites as if he was on the ground. Mr Smith's shop served as a neighborhood hangout and club for friends to discuss the news of the day. His obituary said: "A Somerset Cricket Club lifetime member and a Progressive Labour Party man to the bone, he would never shy away from expressing his views." A keen traveler, Mr Smith also coached a women's softball team. Christopher Famous, now a PLP MP, wrote about a visit to Mr Smith's workshop in a 2015 column for The Royal Gazette. Mr Famous said Mr Smith was a "living legend". He added: "As he proudly displayed his vast array of carpentry tools, one could sense the pride of workmanship that permeated the air and oozed from the nearly 100-year-old Bermuda stone walls." He said Mr Smith was a prime example of the Bermudian hospitality "that has you leaving as family, no longer the stranger who first walked through the door".

August 19

The challenges and opportunities presented by Bermuda's healthcare system will be among the topics explored by discussion panels at the annual conference presented by the Bermuda Insurance Institute. The conference on October 3 has chosen "transformation" as its overall theme. Matthew Irvine, Axa XL's Bermuda professional lines chief underwriting officer, is the conference chairman. He said: "When we pick the topics for the conference, we ensure they fit in with the conference theme. So this year it is areas, products or industries that are experiencing dramatic transformation. The topics, however, also need to be in areas that our members will find of interest both professionally and personally. Therefore, we always look for topics that our members are already thinking about themselves, with the goal of providing insight and education in these areas of interest." Kim Wilkerson, of Axa XL, will moderate the healthcare panel and will be joined by panellists Michelle Jackson, of BF&M, and Ricky Brathwaite, of the Bermuda Health Council. Other panel discussions are: "Opioids (How much pain can we take)", moderated by Kirstin Beasley, of Willis; "Cannabis (How high is the cost)", moderated by Mark Simons, of Marsh; "Wellbeing in the Workforce (The benefits to a healthy work force)", moderated by Jacqueline Perreault, of Colonial; "Climate change (The storm approaches)", moderator to be confirmed; and "CEO panel (The view from the top)", moderated by Rees Fletcher. The keynote address will be given by John Gale, CEO, Reinsurance Bermuda of Axa XL, on the topic of the "Insurance Gap". Mr Irvine said every generation feels that their period in time is seeing great change in the world. "That is typically true, usually affecting one or two key areas, whether it be financial, political, technological, regulatory, economical or territorial. However, the unprecedented speed of the transformation in all of these key elements is what really differentiates the world now from prior periods of change. Transformation was typically at a steady pace, which allowed for trial and error, but with the rapid change we now experience, we often do not have the luxury to ask ourselves whether the transformation will always make sense, either financially or socially. At the BII, we always try and choose themes for our annual conference that will interest our members, attract high caliber speakers and will have the conference attendees engaged. Our goal is always to make the BII conference a must attend event. Bermuda as a re/insurance marketplace has always been at the forefront of transformation to find solutions for its clients, both in products and efficiencies so it seemed like a perfect theme for a conference that will be of great interest to all our members and other stakeholders in Bermuda." Conference tickets are available by contacting the BII office on 295-1596.

The Department of the Registry General and the Office of Intellectual Property are reminding the public to take the necessary steps to protect their intellectual property rights. Intellectual property (IP) qualifies as something novel or the intangible creation of the human intellect. An idea alone is not intellectual property. A commonly used example is an idea for a book, which is not intellectual property, but actual written words do count. Having the correct form of intellectual property protection will protect the right holder from unlawful use or duplication:
The names of products or brands
Inventions
The design or look of products
Things an individual has written, performed, recorded or produced
There are various effective ways to protect an intellectual property. Having IP protection gives owners the right to take legal action against anyone who attempts to use or duplicate their work. Suitable protection will depend on the type of intellectual property or rights associated with an individual's created work and whether protection was applied for. The types of intellectual property protected in Bermuda include:
Trademarks: Trademarks are the means by which a trader identifies their goods or services (e.g. product names, logos, jingles).
Designs: A design consists of the visual and/or ornamental characteristics applied to an article of manufacture or the outward appearance of an article of manufacture. It can apply to the shape, configuration, appearance and/or surface ornamentation of a thing.
Patents: Patents are a monopoly right granted to the inventor or discoverer of any new and useful process, machine, manufacture, or composition of matter, or of any new and useful improvement for a process, machine, manufacture or composition of matter.
Copyrights: Copyright protects the original expression of a creative work (e.g. book, movie, picture, song, broadcast or website).
Register your Domain Names: Domain names are the addresses you use when navigating the internet or sending emails.

The $88 million Bermuda Infrastructure Fund was set up to provide capital for private companies as well as public projects, one of its co-founders has explained. But the only known cash injection since its launch more than 14 months ago — when it was suggested that upgrades to roads and bridges would be among early contenders for the money — has been $1.5 million to an electric vehicle-rental company. Don Mackenzie, the chairman and owner of New Venture Holdings, said last week that the fund was created as a way for international businesses to provide finance amid limited borrowing opportunities. He explained: "BIF has a flexible view as to what constitutes infrastructure and sectors include transportation, energy, healthcare and telecommunications. To date, BIF has met a number of local groups and companies seeking investment capital. BIF has also had discussions with Government about funding certain public sector projects." The fund was devised by Mr Mackenzie, Brian Duperreault, the chief executive of American International Group, and Preston Hutchings, the chief investment officer at Arch Capital Group. A launch announcement in May 2018 claimed that almost $100 million had been raised. It added: "In the first instance, the types of projects the fund will consider are ports, docks, roads, bridges, industrial facilities and healthcare facilities, among others." Mr Mackenzie said: "The purpose of the fund is to work with the international and local insurance companies to provide capital to support a platform that provides the Bermuda public and private sector with foreign direct investment." He explained: "Bermuda as a whole needs to attract FDI to support businesses and projects where local financing is scarce or not available. The international businesses sector has a large pool of capital to invest and, prior to BIF, international companies in Bermuda were precluded from investment in local projects." Mr Mackenzie said the fund offered equity and debt finance that "might otherwise not be available on the local financing markets". He added that the fund's goals were to assist projects and companies that improve Bermuda's infrastructure, stimulate the economy and create jobs. David Burt, the Premier, said in November 2017, when he was also the Minister of Finance, that it was hoped the fund would attract $100 million from Bermudian-based insurance companies. He said then that examples of the "many potential investment opportunities" that might be considered included "upgrades to Bermuda's energy infrastructure, sewage treatment, new port facilities at Marginal Wharf, redevelopment of the Hamilton waterfront" and the construction of mixed-use residential and commercial buildings in the city. The Ministry of Finance said in June that the fund, which started operations in June last year, had raised about "$88 million in capital commitments from limited partners including the Government of Bermuda". The response explained that a "small loan" was made to a new electric vehicle-rental business in April last year to help it acquire assets and that a $1.5 million investment in the same firm was expected to be completed in June. Beverley Connell, from Pembroke, said in a Letter to the Editor last week that she had asked about use of the fund as part of a public access to information request. The response to her, as well as details given to Dwayne Robinson, the Opposition public works spokesman in the Senate, revealed that a term sheet was signed to invest up to $10 million with a new fixed wireless internet provider and that the BIF was evaluating a $35 million indoor vertical farm with an accompanying solar development. Mr Mackenzie said that Fortress Investment Group, which has its headquarters in New York, managed the fund and was responsible for "locating and analyzing projects". He added that the BIF was "primarily a private sector venture" and that the private investors bear all of the risk. Management fees are payable twice a year in advance, in an amount equal to 0.75 per cent of capital invested, with a minimum annual fee of $1 million. If the fee is less than $500,000 over the period, the Government must pay the difference and that amount represented an interest in the fund. The Government's commitment to make up any shortfalls is capped at $3 million. Mr Robinson said last week there was "structural decay" in buildings such as schools. He added: "I believe that we definitely are in need of an actual infrastructure fund. This infrastructure fund is currently operating as a venture capital one in a country where capital is very stringent and there are not many options. I'm not opposed to providing relief for Bermudian entrepreneurs to receive a large amount of capital. However, this infrastructure fund should be used to repair our ageing infrastructure." A finance ministry spokeswoman said last week: "The Bermuda Government remains committed and supportive of the fund, and at times provides guidance and necessary assistance."

Almost two thirds of properties bought from a top estate agent this year were bought with cash. Coldwell Banker Bermuda Realty said the number of buyers who did not need a mortgage had grown "exponentially" since 2010. The firm's midsummer update also said that the market for $1 million properties had strengthened. The realtor said its team was able to collect a "tremendous" amount of information and found "several noteworthy trends". The firm explained: "The most astonishing data is the number of cash buyers. Our agents have seen this number grow exponentially since 2010 when we recorded only 3 per cent of buyers with cash. Last year, 43 per cent of our buyers used cash to purchase their homes. During the calendar year so far, 62.5 per cent of our purchasers were cash buyers." The estate agent said its data over two decades showed that "the island's real estate sales have been relatively flat for the past five years" and that the average number of units sold annually was about 300. The report added: "We anticipate seeing an improvement in transactional activity in 2019. Our data indicates that the $1 million-plus market segment is strengthening, as is the $750,000 to $999,000 price range. Based on the recent notable price reductions, it appears that buyers are now finding these prices more attractive." Analysis carried out by the Coldwell Banker team showed that prices were dropped for 111 properties throughout Bermuda between January and April. The realtor said that the figure equated to about 22 per cent of the market, based on about 500 properties currently for sale on Property Skipper, an online portal. The report explained: "The adjusted prices seem to have caught the attention of buyers because Property Skipper reports show inquiries were up by 14 per cent this April, compared with April 2018, in the sales, rentals and commercial market segments, and traffic overall in Bermuda for June was up 19 per cent compared with the corresponding period from the previous year. In fact, our most recent in-house demand analysis, tracking qualified buyers, indicates that our Coldwell Banker agents are actively working with 25 per cent more buyers than they did six months ago. Although we are continuing to see list-price erosion, buyer demand this summer appears to have been relatively robust."

An amateur photographer caught a "spectacular" waterspout on camera when it appeared off North Shore yesterday. Adrian Cunningham rushed to grab his zoom lens after he was alerted to the phenomenon by his wife, Victoria, at their home in Smith's. The 40-year-old software developer said: "It's not often you get to see some weird weather like that, so it's a very rare opportunity when you get the chance to take a picture." He added: "I've seen a few this year, but that was the most spectacular." Andrew Bufalino, a Bermuda Weather Service meteorologist, said: "What occurred was an isolated thunderstorm that tapped into perfect conditions to produce a waterspout." He explained: "What commonly causes this localized phenomenon is when two primary wind regimes move towards each other. If these wind regimes continue to strike one another and begin to interact, they can produce a localized circulation of air over the water, sometimes compared to a merry-go-round or carousel. If these circulations get caught up in an updraft that is linked to nearby building clouds, showers or thunderstorms then they can help promote a concentration of rising air that circulates, thus a waterspout." Mr Bufalino added: "Today's waterspout was a perfect example of how benign and inactive weather conditions can quickly change." He said the opposing wind systems stemmed from the wind flow typically found in everyday weather — which was forecast, and another wind regime that developed from a nearby shower. Mr Bufalino added: "These small-scale events are almost impossible to predict, particularly in Bermuda."

An 18-year-old student has won a scholarship worth up to $36,000 to study at a top Canadian university. Eden Robinson was awarded this year's Dudley & Deborah Butterfield Scholarship and will attend McGill University in Montreal, Canada, to study psychology and management. Ms Robinson was granted the scholarship by the McGill Bermuda Scholarship Trust, set up to provide support to Bermudians who attend McGill. A spokesman for the trust said: "The scholarship trust is looking to find people who are not just strong academically but are outgoing and demonstrate leadership characteristics. Ms Robinson is very confident and as a young 18-year-old she has demonstrated that she is leadership material, interested in the world around her and will be a contributing member of society." Ms Robinson, from Paget, studied at Warwick Academy between 2006 and 2016. She volunteered for the Eliza DoLittle Society and attended the Somerset School of Dance, where she passed several examinations in classical ballet. She moved to Trinity College School in Ontario, Canada, in 2016. She achieved the status of academic scholar at Trinity for three years. Ms Robinson also won awards for school spirit and the Rigby Prize, the highest honour in social sciences, and became an Ontario Scholar. She continued community work overseas and volunteered with child mentoring programme Big Brothers Big Sisters in Ontario and was a fundraiser for Black Lives Matter Toronto. Ms Robinson was also a member of several diversity groups, a peer support counsellor and a member of Trinity College's Master Key Committee, which gives tours of the campus to prospective pupils. The scholarship, established in 1998, provides $9,000 a year for up to four years.

A star pupil has picked up more than $90,000 in scholarships to help fund his law studies at a top British university. Conor Hay, 17, graduated from Warwick Academy as this year's valedictorian after he scored 43 out of a possible 45 points in the International Baccalaureate programme. He is scheduled to start a law degree at King's College London in the autumn. Conor said: "They are significant financial contributions, which enable me to study law at university. I really appreciate the opportunity and support they provide. I am really excited to be attending university in September. It will be quite a significant change from studying at Warwick Academy, but I am looking forward to studying in London." Conor, from Southampton, said that his work ethic was fuelled by his enjoyment of his courses at school. He explained that he was stimulated by the IB programme and was encouraged to push himself beyond the average. Conor said: "I try to always put my best effort into everything that I do. I find that if I enjoy something, it is easy to stay motivated to work hard. I enjoy essay-based subjects, which involve the formation of an analytical response. Law is a fascinating subject and I feel that the skills I developed at school will be useful when studying it at university. I chose to attend King's College because of its strong reputation for providing an academically rigorous and world-class legal education. I was also attracted to the location — the law course is based in Central London, close to large law firms and the Inns of Court." Conor studied hard for his IB exams to make sure that he had enough points to be accepted into King's, rated as one of the top ten universities in the world. He also gained experience in legal work through a summer internship at the Attorney-General's Chambers and several law firms. Conor was thrilled when he won a scholarship from law firm Conyers in July. The bursary is $30,000 a year for up to three years. Conor won the scholarship a week after he was awarded a Bermuda Foundation for Insurance Studies overseas scholarship. He has also picked up a bursary from law firm Appleby.

A 29-year-old trainee doctor proved that age was no barrier after he won a three-year medical scholarship. Matthew Sinclair was awarded the JJ Soares Medical Scholarship to help fund his studies at the University of Limerick in Ireland. Mr Sinclair, who is due to start his third year in medicine, said that the scholarship would provide him with $10,000 a year for three years. He added that the bursary was one of the few scholarships that he was eligible for because of his age. Mr Sinclair said: "A lot of the scholarships are limited so you have to be young or over 35, so this is kind of a grey area. There are many older students now in medical school so I don't necessarily feel that I'm much older, but many scholarships have age restrictions, usually around 25." Mr Sinclair, from Pembroke, first pursued a career in business after he graduated from William & Mary University in the United States in 2013. However, after he worked with insurance firm Hiscox for a year and Mount Saint Agnes Academy for two years, he realised that he had made the wrong choice. Mr Sinclair explained: "I was working at a desk and it just wasn't very fulfilling." He said his interest in medicine was sparked when he signed up with L'Arche International, an organisation that works with people with mental disabilities, in Cape Breton, Canada, for two years. Mr Sinclair explained that the programme allowed people to live alongside people with mental disabilities to help them through day-to-day life. The experience reminded him how much he enjoyed helping others and reaffirmed his interests in medicine, particularly in the field of care of the dying and care of the elderly. Mr Sinclair said: "A lot of medicine is curative, which I think is awesome, but I like geriatric and palliative care because you're really focusing on quality of life. You can make simple adjustments that have a big impact on their lives. The whole idea of being well rounded is very important to me and I think that's what caused the shift towards medicine. It's not just the relational aspects of medicine but also the fact that medicine is ever changing, ever-evolving and that there's so much to learn."

An abandoned car has sat outside a Bermuda Housing Corporation property for more than a year, the head of the residents' association said yesterday. Charles Jeffers, who lives at Lily Park in St George's, said the car was an eyesore and had been used for dumping trash. He was worried it could be a hazard to children, but has struggled to get the vehicle moved. Mr Jeffers said: "The car is not just an eyesore. It's a danger, especially to little children who might climb up on it and fall through the broken windscreen." He added: "We also have concerns about mosquitoes and rats. My first correspondence with the Bermuda Housing Corporation was June 2018." However, Mr Jeffers said that despite e-mails, calls and visits to the corporation's office, he had been unable to get the BHC to move the silver Suzuki Swift. "I spoke to an officer at the Transport Control Department who said that they used to tow vehicles, but that they no longer could because the oil has to be drained before it could be taken away. I have suggested a solution to the powers that be. Give people notice to move the vehicle. If they don't, then Government moves it, bills them and tells them they can't get their driver's licence renewed until they pay the moving fee." Mr Jeffers added that the vehicle's licence plate was still attached, but declined to reveal the number. He said: "It should not be difficult with the licence to track down the previous owner. But in the meantime, it has just remained sitting where it is." Mr Jeffers added that abandoned vehicles had become a problem elsewhere in Bermuda. He said: "There are abandoned cars in various places all over the island and yet seemingly nothing much can be done." The Lily Park development, off Redcoat Lane South, has about 30 residents. The BHC did not respond to a request for comment.

Not everyone has the luxury of a long lunch break, which is why a new bistro in Hamilton is focused on efficient service and menu items that can be prepared with minimal waiting time. A month after opening, the set-up at JC's Bistro is proving to be to the liking of customers. "We have got great comments. It is a people place," said owner Jean-Claude Garzia. It is at the location of the former Victoria Grill, at 29 Victoria Street, next door to JC's Café, which opened a year ago. Customers can sit inside or on the outdoor patio area, and lunch is served Monday to Friday between 11am and 2.30pm, while dinner is served Thursday through Saturday from 6.30pm to 9pm. The bistro attracts office workers at lunchtimes. It has tailored its offerings and service to meet the requirements of customers who often have only a limited amount of time to sit down to eat. "We understand that most of the customers are office people," said Titas Sukys, who is maitre d'hotel at Beau Rivage Restaurant. "You are not going to have to wait too long [for your food]." The bistro is the sister restaurant of Beau Rivage at Newstead Belmont Hills Hotel and Spa. They are both owned and managed by the J&L Group Ltd, as are Bistro Zanzibar and JC's Café. Cesar D. Domingo, executive chef of J&L Group, said: "We are having healthy menu, tuns, multigrain breads. We are offering the light-dressed salad, and mouthwatering pies." Also on the menu are appetisers, including tuna carpaccio, crab cake, as well as soup of the day and gourmet sandwiches. The dinner menu includes steak, lamb, salmon, catch of the day and pasta dishes. Food is only part of the story. Award-winning chef Mr Garzia opened JC's Café last year with the intention of also reopening the adjacent restaurant space once it had secured a licence to serve alcohol. During the past 12 months the old restaurant has been visually transformed by Mr Garzia's wife Veronique. The look and feel of the eatery owes much to her designs and selections, including eye-catching multi-colored hardwood floor, tables and chairs, lighting, table mats and large monochrome and colour wall images of Paris. The restaurant is on one floor. An old elevator that once connected to other parts of the building now houses a display cabinet. Mr Garzia, owner of J&L Group, is a celebrated chef. He won the Best Chef of France title in 1996. He is delighted with the new restaurant and the feedback from customers, saying the feel of the place reminded him of Le Figaro, the Reid Street eatery that closed in 2003. Duane Villagracia, chef in charge at JC's Bistro, said the restaurant's reputation was quickly spreading through word of mouth. While Mr Garzia added: "It's simplicity, but elegant food. It is very cool. It's an 'everybody place. Here at JC's Bistro, we do everything with passion, love and commitment. We always do our best for our guests to satisfy their needs."

August 18, Sunday

Thousands of reggae fans danced and sang as reggae superstar Buju Banton shone at the national stadium last night. Banton told the crowd at a packed Unity Festival Bermuda: "Tonight is the reunification of Buju Banton and Bermuda. I want to fall in love with you like you are a brand new girlfriend." The Jamaican artist was backed by a live band which included three backing singers, a saxophonist and percussionist. The one hour and 20 minute set included several fan favourites, including Love Sponge, Wanna Be Loved, Driver and Murderer. Organisers earlier said up to 8,000 people were expected to congregate at the festival at the National Sports Centre in Devonshire. Concertgoers predicted musical fireworks before Banton's performance. Georgina Francoeur, 50, said that being able to see Banton for the first time in Bermuda "means the world. This is a 50th birthday present from my girls, and it's a bucket list to see him live — and to see him live in Bermuda is amazing. It's a big deal." The organisers of the festival said the event provided "an opportunity for all of Bermuda's estranged communities to put down their articles of discord and come together in peace, love and unity". Ms Francoeur, from Pembroke, said the message was an important one. She added: "Music speaks to you in a way that all barriers are broken down and everyone is just together." Athanasius Smith, 39, said that the message of the festival organisers "was more important than ever. Music brings everybody together. It's a common language. I'm looking forward to a good night, a peaceful night, a fun night." Mr Smith said that he had been a fan of Banton's since high school. He added that seeing Banton perform live would "take me back almost 30 years". He was joined for the concert by girlfriend Sherika Parfitt, 29, also from Southampton. But Bermudians were not the only ones excited for Banton's performance. Michael Mitarotonda, from Franklin Lakes, New Jersey, said that news of the concert had come as a special surprise. He explained: "I saw the picture of Buju on an advertisement as we were going through Customs at the airport. I had no idea he was here this weekend." Mr Mitarotonda, 50, said he was a "huge fan" of the artist. He added: "I've seen him four or five times in Manhattan." Mr Mitarotonda, at the show with wife Mary Anne, said that he liked Banton's style of music and the energy he brought to performances. Banton arrived in Bermuda by private jet on Friday afternoon. He waved to fans as he stepped off the plane surrounded by a small entourage. Banton said "Love Bermuda" before he got into a waiting Bentley limousine.

August 17

A company run by a Cabinet minister has won a contract to import thousands of dollars worth of sand to improve a golf course's bunkers in the run-up to a major tournament. Island Construction Services was the successful bidder after the Government issued a request for proposals as Port Royal Golf Course prepares for the first PGA Bermuda Championship in the autumn. Zane DeSilva, the president and chief executive of Island Construction, is also the Minister of Tourism and Transport. A government spokeswoman said yesterday that the firm made the best submission and was the lowest bidder. She added that all government contracts worth more than $50,000 were published. The spokeswoman said: "The tender process was open and transparent and in accordance with the financial instructions guidelines. Submissions received were reviewed and closely scrutinized by technical officers. After a thorough review, a prudent decision was made based on the best submission and lowest bidder." No information was provided about the value of the contract or how many submissions were received. The RFP was open for ten days last month with a deadline of July 25. It said: "Following the recent announcement that Bermuda will host a PGA Tour event at Port Royal Golf Course in October, the Government is now seeking proposals from suitable qualified and experienced entities for the 'turnkey' importation and delivery of both bunker sand and top dressing sand to Port Royal Golf Course." The contract details said the 3,000 tonnes of bunker sand must comply with United States Golf Association recommendations and that the colour of 1,000 tonnes of top dressing "shall be clearly identified, for approval by the ministry". The RFP said that laboratory test reports on the size of the sand particles would be required. Samples of the sand would also have to be sent for analysis by the Department of Agriculture and Fisheries "to obtain official approval to import the sand to Bermuda". Mr DeSilva told the House of Assembly last month that he would provide an itemized list of the work to be done on the Southampton course, along with the budget for the improvements, in response to questions from Michael Dunkley, a One Bermuda Alliance MP. The Opposition member had highlighted that the sand traps lacked sand. Mr DeSilva said then: "The itemized list is being finalised as we speak. As the member with his past experience knows, these things take a little time. As soon as we have those completed, I will gladly bring all those details to this House by ministerial statement." Mr Dunkley, during the motion to adjourn a week later on July 26, said: "If sand has to be replaced in all the traps, it's going to be a significant expense, probably in excess of a couple hundred thousand dollars. It would take some time to get here, unless we have sand on the island and I'm not aware that we do have sand on the island." He added that he had seen Island Construction vehicles "in the sand traps doing some work". Mr Dunkley said then: "I would like to know what the budget will be, what contracts have been given out for the work, what's the scope of the work that has to be done, what challenges we face with the irrigation system, with the water supply or anything like that." Mr DeSilva was not in the House of Assembly at the time and MPs heard he had been off the island on business. Mr DeSilva did not respond to requests from The Royal Gazette for comment this week. A special report issued in October 2014 by then Auditor-General Heather Jacobs Matthews faulted a $24.5 million restoration project at Port Royal and criticized the awarding of contracts worth $1.6 million and $1.2 million to one company without being put out to tender. The report pointed out that a board member, who was also a Member of Parliament at the time, had owned the company. A Public Accounts Committee later heard that the excavation contract went to Island Construction, the only company that submitted a bid. Mr DeSilva is a former trustee of the course and at the time was an Opposition MP. The Bermuda Championship is expected to involve professionals who do not qualify for this year's World Golf Championships-HSBC Champions event in China. It will run from October 31 to November 3 and have a $3 million purse.

A first-time tenant said the Office of the Rent Commissioner admitted it could not help after her landlady backtracked on an agreement to return her deposit after she quit her apartment. Yesterday, the woman, who asked not to be named, said the department had told her this month that the owner of her Devonshire apartment was "completely in the wrong". However, she added: "It turns out that the rent commissioner, due to recent restructuring, no longer deals with these matters, so I was on my own." The 25-year-old was $850 out of pocket after she vacated an apartment on Morning Glory Drive at the end of July. She said that withheld deposits appeared to be "the norm" in Bermuda. She said: "This is an issue that a lot of people experience." The Royal Gazette has seen a document from her landlady that agreed to return the deposit after a satisfactory inspection of the premises on July 25. The woman said: "I cleaned and painted the apartment as outlined by my lease and my landlady confirmed it as satisfactory. The inspection was quick with some minor items to improve. Once I resolved the items, I advised my landlady and she confirmed, in writing, that she would return my deposit once she replaced a set of blinds — so a maximum deduction of $30." She added: "I handed over my keys and figured that I had closed that chapter. How wrong I was." The Office of the Rent Commissioner, which deals with rent increases, unlawful rental charges and unlawful evictions, was merged with the consumer affairs department in 2015. A spokeswoman for the Ministry of Home Affairs said that legislation did not allow for rent controllers to enforce payment at the end of a tenancy. The spokeswoman added: "That is a matter for the courts." The former tenant said she had been e-mailed with complaints that became "more and more ridiculous" after the premises were inspected and approved. Complaints continued from her landlady after a new tenant moved in. The woman added: "On top of that, the apartment I had been living in had not been registered for at least three years, so she was facing potential fines. That made sense to me, as there were clear safety hazards in the apartment that I only noticed a few months into my lease." The woman said she felt she had "a pretty black-and-white case" when she took her correspondence and pictures of the apartment to the rent commissioner last week. However, she added: "The system, as it currently stands, favours and encourages exploitative landlords and landladies. I have two options here — get a lawyer and pay higher fees than my deposit is worth, or depend on the goodwill of my landlady. So in other words, I am not going to get any money back." The woman said: "Is this really the best that we can do? Are we meant to simply accept this? Is there no way an enforcement agency can be formed to prevent and condemn this type of behaviour? In the end, I guess I only have myself to blame. I was told by a friend at the beginning of my lease that there was a high, if not 100 per cent, chance of me losing my deposit. Perhaps I should have done a better job of managing my expectations."

Massive support for Bermuda's first Pride parade has forced an earlier start time. Bermuda Pride 2019 said that organisers had been "overwhelmed with the support and goodwill from the community". A spokesman added: "The event promises to be extremely well attended and bigger than expected, which is fantastic." The parade will now start at 11am on August 31 — three hours earlier than scheduled. The move was made to give everyone "more time to complete the parade and enjoy the park, entertainment and community gathering after". The spokesman added: "This will also ensure that we are mindful of supporting the businesses of Hamilton, many of whom are very supportive of Pride." The event is being organised by Elizabeth Christopher, Chen Foley and David Northcott. The organisers predict that up to 1,000 people could turn up. They added: "When we first planned Pride, we did not really know how many people would attend. We were hopeful for a good turnout, but we really had no idea. What really mattered to us as we planned Pride was creating and claiming a public space for LGBTQI+ Bermudians and residents. Diversity and inclusivity — as indicated by two of the eight colours in our logo — matter particularly for a community that has often been marginalized or ignored." The group said that as the event approached it had become clear "that holding Pride in Bermuda has created what we hoped for — space for the LGBTQI+ community and for allies in particular to show their support". They added: "We are sure that as the day approaches we will see even more Pride flags and messages of inclusion. More than the desire for Pride, we would say the level of support shows the need for Pride." The group said the public should attended for several reasons. It said: "Not least because this is an historic event, but also for a sense of working together, showing the world that Bermuda is a diverse, warm and accepting place for our LGBTQI+ residents and visitors alike, and also just to come and have fun." The organisers said that Bermuda was "moving to a place of true openness and acceptance of the LGBTQI+ community". They added: "It is our hope that Pride will raise the awareness for everyone about the importance of diversity and inclusion and the need to tackle homophobia." The parade will still depart from Victoria Park and end at 12.30pm. A Pride Ceremony at the bandstand will be held after the parade. Victoria Park will be open from 9am to 7pm.

Reggae superstar Buju Banton touched down in Bermuda yesterday. The headline act for this weekend's Unity Festival arrived by private jet at the airport at about 4.15pm. Banton waved to fans as he stepped off the plane accompanied by a small entourage and walked across the tarmac at LF Wade International Airport. He said "love Bermuda", before he got into a waiting car. Banton's arrival came after another top reggae star cancelled his appearance at the last minute for today's Unity Festival. Organisers said Wayne Wonder was no longer on the bill "due to circumstances beyond their control". They added that his inability to perform was caused by "an external conflict that has nothing to do with the Unity Festival organisers". A spokesman apologised but said all the other acts were on schedule to give "an amazing show full of additional surprises". The artist confirmed his withdrawal in an Instagram post addressed to "all my Bermuda fans" and said the cancellation was beyond his control. Wonder, whose biggest hits include No Letting Go and Saddest Day, was due to appear alongside the headline act at the event, which is expected to attract thousands of music fans. The concert is scheduled to start at the National Sports Centre at 9pm, with gates opening at 7pm.

A major hair show with international experts will be held this weekend. The Bermuda Hair Show, organised by hair and beauty firm Natural Blessings Always and Northshore Medical and Aesthetics Centre, will feature information sessions by island and international stylists, samples of products, a fashion show and items for sale from Bermudian businesses. Nicole Famous, owner of Natural Blessings Always, said the proceeds from the show would be donated to six bereaved senior citizens, who will get pharmacy gift cards and grocery store vouchers. Ms Famous added: "When we give these gifts to the seniors, we're letting them know that we care about them and love them. I want to see our senior citizens smile more." The main sponsor of the event, to be held at CedarBridge Academy, is Design Essentials, an Atlanta-based cosmetics company. Ms Famous said: "We support one another until we make it in the industry." International guests will include French cosmetics expert Craig Carter as part of a two-year commitment to the annual show. Bermudian experts in the field will include hairdressers Luxury Cuts, the Salon Shop, as well as Hamilton boutiques Mystique and 27th Century. Kyjuan Brown, of Northshore Medical and Aesthetics Centre, will give a hair restoration tutorial. The Garden Market store in Pembroke has donated products that can be used to promote healthy hair, such as apple cider vinegar and olive oil. Ms Famous said that tickets for the show were selling "crazy fast" and that VIP passes had already sold out. Proceeds from last year's show, which attracted about 350 people, were used to give a young woman whose family had hit health and money problems a full scholarship to Bermuda College. Ms Famous said: "Her mom had been diagnosed with cancer and her father had been made redundant." Ms Famous, who started to work on natural hair when she was 8, said that she continued to put on the event to show people that: "God made our hair a certain way. We should treat it like a tree — water it, nourish it, and take care of it, because it's our DNA." The event will be held at CedarBridge tomorrow between 1pm and 6pm. General admission tickets for the show are still available at ptix.com for $35.

August 16

A special election will be held in the Town of St George next month to fill a vacancy left by the departure of Tania Stafford as a councillor. A notice in the Official Gazette published on August 8 said Ms Stafford resigned on July 23. She joined the corporation on April 25 as one of six municipal resident councillors. A government spokeswoman said an extraordinary election for the seat will be held on September 19. The polling station will be at Penno's Wharf cruise ship terminal. Nomination day will be September 5. The spokeswoman said: "This election is only for municipal residents of the municipality of St George. Registration for this election will close on August 21 at 5pm."

A Bermuda-registered plane crash landed outside Moscow in Russia yesterday morning after a bird strike. The Ural Airlines Airbus 321 was en route from Moscow's Zhukovskiy Airport to Simferopol in Crimea, when it hit a flock of gulls just after take-off. The pilots brought the plane down "safe but hard" in a corn field a short distance from the airport. At least 74 of the 226 passengers were injured. Bermuda Maritime Operations said it received "almost-simultaneous" distress alerts from the aircraft at 1.15am Bermuda time, and contacted the airline. The BMO added: "Although not on the runway, the aircraft evacuated all 226 persons to safety."

The Honorary Colonel of the Royal Bermuda Regiment is to step down after more than 20 years in the role and almost 60 years in the military. Lieutenant-Colonel Eugene Raynor, appointed as the first black commanding officer of the Bermuda Regiment in 1980, will be replaced by another former CO, Lieutenant-Colonel David Gibbons. Colonel Raynor, who joined the segregated military as a private in the Bermuda Militia Artillery in 1961, said: "Being involved, in one way or another, has been pretty much a way of life. To be the Honorary Colonel of the Royal Bermuda Regiment is an honour very few people will have. It's been a good time and I've enjoyed every minute of it." Colonel Raynor achieved the rank of corporal in the BMA before he was commissioned in 1964. He was one of the founding officers of the integrated Bermuda Regiment, formed from the BMA and the Bermuda Rifle Corps in 1965. Colonel Raynor stood down as CO in 1984, but later joined the Defence Board and was made honorary colonel in 1999. His role was to advise a series of governors, who act as the Commander-in-Chief of the RBR, and the regiment on military matters and to promote military service. Colonel Raynor said: "Even though I'm not hands-on, I have been aware, and made myself aware, of what was going on. I hope I have been useful, especially with the different governors I have met. I believe I have been useful there, to some extent." Colonel Raynor's military experience started as a toddler — his father, Vernon, was a soldier in the Bermuda Militia Infantry assigned to protection of the island's military installations in the Second World War. He said in an interview as an adult that he remembered being mesmerized by his father's .303 Lee Enfield rifle when he came home on a break. He said: "Another one of my earliest memories was watching parades — that was a major influence on me." Colonel Raynor later joined the BMA Cadet programme, even though he was three months short of the minimum age of 14. He went on to sign up with the BMA and rose rapidly through the ranks. Colonel Raynor was also one of the soldiers picked for the regiment's first overseas camp in Jamaica in 1968. He was appointed as aide-de-camp to the governor in the 1970s and rose to the highest rank in the service less than a decade later. Colonel Raynor said: "It's been a good time and I've enjoyed it." But the 77-year-old, awarded an OBE for his military service, added that he was aware of his advancing years and wanted to reduce his responsibilities, so decided to stand down from his honorary role and from the Defence Board. Colonel Raynor added he would miss the camaraderie of the RBR most and the interaction with the ranks. He said: "I've enjoyed that. With people over the years, I was hands-on. What the soldiers were doing, I was doing and I found that the soldiers really appreciated having me around. I was just as dirty coming out of the field as them. Later on, as honorary colonel, it was always my intent to visit them in the field and spend as much time with them as possible. Being with the troops at all levels was the best experience I had as a soldier." He added that being appointed the first black commanding officer was a pivotal event. Colonel Raynor said: "It was a proud moment for me and for the whole island, really. It was a great ceremony at Police Field and the whole regiment turned out." He added that the RBR had changed in many ways — but that the commitment to service to the island in internal security and disaster relief was a constant. Colonel Raynor said: "The regiment in its present state has had, over the past few years, the opportunities to improve its standard of operations and training and the chance to take part in major international exercises. The opportunities surpass the Jamaica exercise I was on in 1968. The regiment has been a major benefit to Bermuda. The RBR offers an opportunity for military training. Recruits will be doing things very different from their normal lives. People will find out there is a niche there that they can enjoy and that benefits individuals and the community. It will be tough and starts being tough simply by being immersed in a disciplined activity. But when people come out after three years, they have things they can recall and use to guide them out of other problems life will throw at them." John Rankin, the Governor, thanked Colonel Raynor for his long service. He added: "His advice, drawing on his long and distinguished experience, has played an important role in developing the regiment's work in support of the security and defence of Bermuda. I, and my predecessors as Governor, have been grateful for all he has done for the regiment throughout his career, not least during his service as commanding officer from 1980 to1984. At the same time I am very pleased to appoint Colonel Gibbons as his successor and look forward to working with Colonel Gibbons as the regiment continues to grow and develop in the post-conscription period."

Ben Adolph has moved to the Bermuda office of Leadenhall Capital Partners LLP. Leadenhall is a London-headquartered insurance and reinsurance-linked investment manager. Mr Adolph's transfer from the London office will give Leadenhall's a senior presence on the island, the organisation said. Mr Adolph, managing partner and head of non-life portfolio management, has worked for Leadenhall since 2013. He said: "This exciting development for Leadenhall will help advance a more complete coverage of the market by generating additional contact points with Leadenhall's strategic counterparties in the major insurance-linked and reinsurance hubs, but it does not signal a shift away from Leadenhall's current investment-sourcing channels which it will continue to develop further." The transfer was reported on cat bond, insurance-linked securities and alternative reinsurance capital website, Artemis. The ILS manager has around $5.5 billion of reinsurance-linked assets under management. It has offices in London, Bermuda and the United States, Artemis reported, but also benefits thanks to its joint venture with MS Amlin that provides it a presence in the major reinsurance hubs including London, Bermuda, Zurich, Singapore, the US and Japan.

The Bermuda office of international fintech firm Circle has begun to advertise for staff. Circle CEO Jeremy Allaire said last month that 30 people would be hired for the operation on-island in the next two years. Now, the first job advertisement has appeared on website, greenhouse.io, with solicitation of resumes for the position of director, finance operations. Circle was founded in 2013 by internet entrepreneurs Mr Allaire and Sean Neville. It is a crypto-finance company built on blockchain technology. In its job advertisement, the company said it is seeking someone with more than 12 years of experience in financial operations and financial reporting, including five-plus years of experience leading a team. The candidate who is hired will act as general manager for the "Bermudan office", the ad said, working with Circle's treasury team to ensure that liquidity and net capital requirements are met. The company stated in the job advertisement: "This will be a key initial hire for Circle's recently announced Bermuda office. You will be the senior representative and point of contact for the Bermuda Monetary Authority, manage local financial operations in Bermuda, and work with Circle's accounting team in Boston to report on financial performance." When the opening of a Bermuda office was announced Mr Allaire said the entity will service non-US customers, with the company planning to roll out new crypto-asset listings, advanced trading products and other innovations in the coming months. Roles the company will offer in Bermuda will be in areas including general management, risk, compliance, trading and customer operations.

A US-based firm of consultants has been signed up to help boost air arrivals, the head of the Bermuda Tourism Authority revealed yesterday. Kevin Dallas, the chief executive of the BTA, said the organisation and the Bermuda Airport Authority had joined forces to recruit Ailevon Pacific Aviation Consulting, in a bid to increase airlift to the island. The company, whose headquarters are in Atlanta, Georgia and which also has an office in Sydney, Australia, was hired with government approval after a request for proposal process. It is understood a major factor was their experience of work with smaller airports. Mr Dallas said: "We selected APAC for its successful track record with helping other relevant destinations increase their air capacity, including places such as Hawaii, Palm Springs, California, Savannah, Georgia, and Asheville, North Carolina, whose size or criteria align with Bermuda and our National Tourism Plan. "By undertaking this initiative, we'll be working with the BAA to spearhead a realistic strategy that examines our island's diverse needs in the context of key cities and target audiences, then works with airline partners to achieve the highest airlift possible throughout all seasons of the year." He added: "I'm certain from the RFP process that we have hired the best people on the market. We hired them with an expectation that over time, they will help us get results." Mr Dallas said representatives from the company will be in Bermuda next week to work with interested parties to develop a plan to attract the most suitable flights and airlines to Bermuda. A BTA spokeswoman said: "Consultants are speaking with both authorities' teams, and will also meet with key stakeholder groups, including the Bermuda Government, Skyport, global business associations, the Chamber of Commerce and travel agents to gather diverse perspectives on airlift challenges and needs as they affect Bermuda. The collaborative initiative is focused on identifying the best airlift strategy for Bermuda, along with potential opportunities in negotiations with airlines." Mr Dallas added that airlift was a key element in visitor air arrivals as it can affect the cost to travel to and from Bermuda. He said: "There's clearly a correlation between the number of leisure air arrivals and air capacity. Every Bermudian will be aware that the costs to fly have been higher this summer than they have been the last couple of years. That has the same impact on visitors as it has on residents." He was speaking after it was revealed earlier this week that year on year tourist air arrivals had dropped by 5 per cent. Mr Dallas said much of the decline was due to airline schedule changes that reduced the number of flights between Bermuda and New York. Visitor air arrivals from the city — Bermuda's largest tourism market — fell by more than 12 per cent in the first half of the year with 3,182 fewer tourists from the area compared to the same period in 2018. The figures also revealed a 4.4 per cent drop in hotel occupancy rates in the first half of the year. Stephen Todd, the CEO of the Bermuda Hotel Association, said hoteliers were warned about the potential effect of the decline in airlift and taken steps to prepare themselves. Mr Todd added: "We knew that was going to have an impact on the number of visitors, so we were able to prepare ourselves. We have been working with the Bermuda Tourism Authority to offset some of those losses. One of the things we are always focused on is to ensure that our employees and partners stay gainfully employed, so we try to get the occupancy numbers as high as possible." He said the hotels worked with the BTA to encourage visitors to the island — and to extend the stays of those who did choose Bermuda as their destination. Mr Todd added: "We try to look at how we can attract guests and make sure that we have guests stay for as long as possible. If we can encourage them to stay five or six days instead of a weekend, that's only going to benefit us." Mr Todd said he was confident that efforts to improve airlift and boost visitors to Bermuda in slower shoulder months would pay off. He added: "We have been assured that efforts are being made by all parties to not only encourage airlines to increase their lift, but also to attract new airlines to Bermuda. With the work that the BTA is doing to attract guests, we are optimistic that the strategy used by the BTA to implement the National Tourism Plan is going to start to reap rewards. We believe it is going to get traction and provide greater incentives for visitors to come to Bermuda and hopefully stay in our hotel rooms." Mr Todd said the BHA had no fear that a decrease in hotel occupancy would hit new hotels due to open in the near future. He said: "They have done their research. They will be offering products that will be quite attractive and well supported by visitors."

Not every business needs or can afford a full-time IT expert as part of its team. However, on occasion such expertise is needed and often at short notice. That's where newly formed Gnosis can step in. The Bermuda-based company provides managed IT services through its on-island team. It is differentiating itself from the competition by adding touches such as the flexibility of rollover hours, so that a business with unused hours on its IT managed service agreement can roll them over from month to month. That's an example of the "building the right solutions for our clients" approach adopted by Gnosis, said Neil Lupsic, chief executive officer. Gnosis is pronounced with a silent "G" and is a Greek word for knowledge, which reflects the company's call that "knowledge is power". With offices on Front Street, it provides IT services and solutions through its on-island team. Among its services and areas of expertise are IT managed services, networking, compliance, cybersecurity, virtualization, and migration to the Cloud. Mr Lupsic has an extensive background in IT and telecommunications. He is a former chief technology officer at Digicel Bermuda. He worked on the building of 2G, 3G, 4G-LTE and fibre to the home, as well as services used at the 2017 America's Cup in Bermuda. After that, he looked for new challenges and that led to the formation of Gnosis. "We thought the market was a little static in how IT services were provided," he said. The team includes Corey Brunton, chief operating officer, and Glenn Malcolm as senior systems engineer. Mr Lupsic said that with continuing advancements and changes in areas such as cybersecurity, Cloud, and compliance, there is a need for businesses to have a trusted partner in the IT field for guidance and direction. He said Gnosis provides an on-island solution to "combat the increasing trend of moving IT service abroad". It is sometimes hard for a company to warrant spending money on having a full-time IT expert on staff, he said, but by choosing an on-island consultancy company that has that experience "it saves a lot of money in the long run". He added: "We're driving to have experienced engineers on-island at the right price point to save businesses going overseas. We pride ourselves on being proactive rather than reactive. Our approach is more where we are monitoring the environment all the time and we are proactively maintaining it." It offers flexibility with managed service agreements that allow unused hours to be rolled over from month to month. "We appreciate that IT demands differ from month to month, and we allow our clients to migrate their monthly support hours from month to month," Mr Lupsic said. He explained it is similar to the approach "that revolutionized the telecoms space with rollover data for mobiles". Managed service agreements also mean a client can allocate budgets in advance. "The other thing that differentiates us is that we know Bermuda. We know all the nuances between how everyone connects to each other, and we can develop solutions that suit our clients." Gnosis is owned by Steven Petty, who is its president. He retired from Butterfield & Vallis last month after more than 30 years. With a keen interest in technology and how it is applied in the business world, he is keen to build Gnosis into a full-service IT consultancy for clients big and small. He said: "We are not just looking at reinsurance and cyber. We will be working with a diverse range of clients in Bermuda, who have very different needs and require IT help and consultation but may not need someone [in that capacity] full-time." Mr Lupsic said: "Some small entities may only need an IT person for five hours a month — it does not make sense to have an on-site person doing that work. We have the ability to work with clients and offer flexible contracts which guarantee that, for example, the patching is being done, and we are delivering an IT road map for them which we consistently manage as part of that contract." Gnosis started in December. Mr Lupsic said: "We're building something really special on the ground in Bermuda and we've enjoyed tackling the challenges we faced in our first few months of our startup journey. We've been able to establish frameworks and our clients are happy with how we are performing." He is excited to offer quality and cost effective solutions to clients, and also by the growth of fintech, cybersecurity and compliance requirements. In addition, he is enthusiastic about bringing new technology to the Bermuda market and using automation to assist in managing IT infrastructure. As the company grows it intends to bring in and develop young Bermudians in the technology sector. The Gnosis team this month volunteered its services to assist the Technology Leadership Forum.

Bermuda will be aiming to clinch further glory at the third annual Carifta Triathlon and Aquathlon Championships in Montego Bay, Jamaica, starting tomorrow. The 15-member team will be looking to build on the momentum of 12 months ago in Tobago, where Bermuda clinched a second-place finish overall in the medal table, with Jasmine Hasselkuss and Nick Pilgrim both adding gold to the overall haul. The majority of team members from last year's success return for this year's competition, which kicks off with the 16 to 19 age group aquathlon (swim followed by a run), followed by the 11 to 12 and the 13 to 15 age group triathlons. On Sunday, the younger age groups will compete in the aquathlon followed by a sprint distance triathlon for the 16 to 19 age group. This year the event organisers have also added have an open, sprint-distance triathlon to proceedings in which Neil De Ste Croix, the team's coach, and parents Clive Langley and Arthur Wightman will be competing. Rounding out the event will be a mixed team relay aquathlon, which will comprise teams of two males and two females, with each team member swimming 250 metres and running 2½ kilometres before tagging the next team member. Ahead of their departure, the athletes were handed a welcome boost, with De Ste Croix revealing that two-times world champion and national hero Flora Duffy, fresh from her gold medal-winning return to action at the Tokyo Olympic Test Event on Wednesday, took time to give her well wishes to the team. "The athletes are all extremely focused and have trained exceptionally hard to get to where they are fitness wise," said De Ste Croix "They were given a huge boost on Thursday morning with a video message from world-class triathlete and local treasure, Flora Duffy, from Japan where she had just won the Olympic test event. As a coach I am immensely proud of each and every athlete and am excited to see them perform over the weekend."

Scott Barnes has stepped in as a replacement for navigator Matthew Smith and will team up with pilot David Selley in the Rubis Around the Island Power Boat Race on Sunday. Smith will be off the island for the annual race, which was postponed last weekend because of unfavorable weather conditions. Despite having to switch navigators, Selley is confident of striking up a quick understanding with Barnes and said the pair were "prepared to go to battle" when they take to the start-finish line at Ferry Reach. "Unfortunately, Matthew had to go away and is pretty bummed out about that, so Scott Barnes will be jumping in the boat," Selley said. "He knows what he needs to do and he's raced before. He's also light, which is good, as the boats are weight sensitive. Scott is a 'race-head' so he'll be fine. You don't want someone who disagrees with you. You want someone who is prepared to go to battle and encourage you and not slow you down." Selley and Smith set a new A Class record on their way to clinching both class and line honours after circumnavigating the new 54-mile racecourse in a time of 55min 11sec last year. They broke the previous record of 55:46, set in 1992 by Andrew DaCosta and co-pilot Chris Smith, the older brother of Matthew Smith, although Selley said the two records were akin to "comparing apples with oranges". He said: "Ours was a new A Class record under the new A Class rules. We have more horsepower than they used to have." Selley and Barnes, the island's top karting driver, are one of only two boats competing in the A Class along with Errin Butterfield and navigator Shane Medeiros. "The goal is go out and beat our record and try to be the first boat back," Selley added. "You're only ever racing your class, but it's an added bonus if you're the first boat back. There will be some good competition. Shane Madeiros and Errin Butterfield's A26 boat is almost identical to ours. Those guys are fast and we're pretty evenly matched. It could be anyone's day." The B Class boasts the largest racing fleet with nine boats. Among them are the father and son team of Craig Nesbitt Sr and Jr and 57-year-old Ernie Mello, who has come out of retirement to make an appearance 40 years after making his race debut. Mello is set to compete as a navigator on the 19-foot Phantom he owns along with pilot Cleveland Maybury. The S Class features the second-largest fleet with five boats, among them top contenders Steven Eversley and navigator Brandon Franks and the pair of Andrew Cottingham and Henry Talbot. The C Class has the smallest fleet with Chad Sutherland and navigator Terance Rance the sole boat having entered. The D Class is slightly larger with Shawn Butterfield and navigator Jermal Woolridge and the pair of Stuart Durham and Kaya Stewart the only two teams having entered. The race starts at 2pm, with the A Class the first scheduled to come off the start-finish line.

August 15

Proposed reforms to health benefits should not be examined to a tight deadline, an insurance industry leader warned. Peter Lozier, the executive vice-president of group insurance at Argus Group, said that "health reform of this magnitude and complexity requires comprehensive input from a breadth of stakeholders". He added: "As many details are yet to be determined, we encourage the adoption of a flexible, rather than fixed, consultation period to ensure all stakeholders have the opportunity to be heard." Mr Lozier was speaking after plans were unveiled last week for a revised package of health insurance benefits designed to cut out-of-pocket expenses for the public. Kim Wilson, the Minister of Health, said that the Bermuda Health Plan 2020 would replace the Standard Health Benefit coverage for all the island's 65,000 residents. But the level of coverage, as well as who will administer the scheme, remain unclear. Ms Wilson said that consultation documents on the plan would be released "over the coming weeks" and that there would be a four-month consultation period on what the plan should include and cost. Responsibility for administration of the plan will also be discussed. Mr Lozier said that the company had a responsibility to help lower healthcare costs on the island. He added: "We support solutions that better balance affordability and quality care. We remain an active contributor in the Health Financing Reform Stakeholder Consultation Group and welcome further consultation by the Government as they develop the Bermuda Health Plan." Mr Lozier said that healthy lifestyles, backed by healthcare professionals, "is the key to driving down overall health costs. This is why Argus continues to invest in chronic disease prevention and care management to improve the financial and physical wellness of Bermuda residents. We are committed to working with the Government to provide health management tools and programmes that improve the population's health." Naz Farrow, the chief executive of insurance firm Colonial Group International, said last week that the company agreed with the "high-level goals" proposed in the BHP. But she warned: "The proposed creation of a 'new healthcare system' will be a massive and complex undertaking requiring the highest degree of technical and financial planning, co-ordination and community co-operation." Ms Farrow said the company welcomed Ms Wilson's "commitment to meaningful and effective consultation with stakeholders". She added: "We also appreciate the minister's statement that the road map to achieving the 2020 plan, as she framed it, is 'complicated' with much to be made clear on economic, administrative and transitional questions that will have material effect on the viability of the plan itself." Insurance firm BF&M did not respond to a request for comment. Ms Wilson said last week that the unified system was "best suited to achieve efficiencies, economies of scale and cost savings. A unified system means that all residents will be in the same basic insurance pool, sharing health costs throughout all of Bermuda's residents." The government website estimated the prospective plan could cut health expenditure for a family of four from $25,536 a year to $17,068 compared to the present system. A hypothetical model for a single adult showed the annual cost of $7,058 going down to $6,308, with suggested savings such as:
Copay per visit to a GP, for two visits a year, cut from $80 per visit to $25
Copay for a single yearly visit to a specialist, from $200 to $50
$400 coverage annually for prescription medicines.

A serial conman who defrauded his friends of thousands of dollars was jailed for three years yesterday and ordered to make reparations to his victims. Puisne Judge Charles-Etta Simmons said Jonathan Ratteray had multiple chances to change his mind about his schemes but instead relentlessly pursued more money. And she said he had lost the benefit of a guilty plea by making allegations, rejected by the court, that his victims thought they were investing in criminal activities. Mrs Justice Simmons told Ratteray: "You used various degrees of coercion and intimidation to scam people over a prolonged period of time. You could have come to your senses and stopped your criminality at an earlier point." Mrs Justice Simmons added: "You took nothing positive away from your previous convictions and sentences. The three years in prison should be followed by two years of probation with a reparations order to come into effect six months after probation begins. It's up to you now, Mr Ratteray." Ratteray, 32, from Smith's, pleaded guilty to two counts of fraudulent inducement to invest between November 2017 and January 2019. He was set to be sentenced on Monday, but the hearing was adjourned after he made scurrilous allegations that his victims believed they were investing in the drug trade. But at a special "Newton" hearing in the trial yesterday morning, both complainants fiercely denied the allegations and maintained that Ratteray had claimed their investments were above board. Bryon Sheppard, a former co-worker of Ratteray conned out of more than $26,000, said he was promised his funds would be invested in cryptocurrency through a Hamilton-based underwriter. And Chae Powell said he was told his $6,650 would be put towards a plan to invest in foreign currency and that he did not believe that Ratteray, a family friend, would defraud him. Both said they trusted Ratteray, only to lose their entire investments. Mrs Justice Simmons found that both the victims were consistent, believable and truthful in their evidence. She added: "The courts reject the defence version of facts and will sentence Ratteray based on the Crown's case." Larissa Burgess, for the Crown, said Ratteray had attempted to manipulate the court for a more favourable sentence, and in the process he victimized the complainants again. She added: "The defendant has done nothing more than to show himself as being untrustworthy and now, in his latest stunt, he attempted to con the courts." Ms Burgess called for a sentence of between two and three years, along with reparations for the victims, given his history of similar offences. Elizabeth Christopher, for Ratteray, argued a sentence of between 18 months and two years followed by a period of probation would be more suitable. She also argued against a reparations order, which she said would amount to a "life sentence" for her client. Ms Christopher added the complainants should have expected that any investment comes with a risk. Mrs Justice Simmons said: "But you don't expect someone like Bernie Madoff. You don't expect someone to give you false reports on earnings." Ratteray himself apologised to his victims and the court. He said: "These people didn't deserve the things I did to them. There is a deep-rooted issue that I need to get sorted out. I'm just asking for some help in that direction. Paying them back ... I don't know how I'm going to come about it, but I will try my best." Ratteray was previously sentenced to 18 months behind bars in 2013 after he admitted ten counts of dishonestly obtaining property. He told his victims he would invest the money and guaranteed quick returns, but used the cash to pay his bills and defrauded two victims of $17,000 over a two-month period. As part of his sentence he was ordered to pay back $13,940 — but still owes more than $10,000. Ratteray also spent a year in jail for defrauding former cricketer Barry DeCouto of $74,600. At that time, he told the senior the money would go to a friend who needed help to pay his mother's medical bills.

Massive increases of up to $880 in six-month land tax bills have left seniors worried over how they will make ends meet. Seniors were shocked when they got their invoices which were much higher than six months ago. One homeowner told The Royal Gazette: "We opened up our land tax bill and noticed that it had gone up significantly. When I looked back at the last bill I saw it had gone up $887.50. We are over 65, way over, we do get $900 exemption but the increase has basically wiped out the exemption." She added: "The Government needs to rethink this latest insult to the people of Bermuda." The woman explained that she and her husband, of Devonshire, had earlier owned retail businesses in Hamilton and had always hired Bermudians. She said: "We have saved for our retirement and live on a very fixed income, just getting by, in this very expensive country." The 76-year-old added: "We've done everything right, and now this. I have not taken anything from Government, ever." Curtis Dickinson, the Minister of Finance, announced an annual $300 base charge on all homes in the 2019-20 Budget in February. The changes to land taxes, which are determined by annual rental values, also included zero rates on properties with ARVs up to $22,000. Fees on homes with ARVs between $44,001 and $90,000 jumped from 12 per cent to 17 per cent, and those in the next bracket, up to $120,000, increased from 25 per cent to 30 per cent when the new rates came into effect at the start of last month. Mr Dickinson said seniors would continue to get an exemption on properties with an ARV of $45,500 or less. The woman explained that the couple had earlier paid $2,130 in land tax on their home, which has an ARV of $81,000, and the most recent bill was for $3,017.50. She said: "We could barely pay the $2,000 and now we're being asked to pay $3,000, how can someone on a fixed income afford that?" Her husband added: "The biggest problem with Bermuda right now is there's not enough people to pay taxes and keep the country running, everybody's got to pay more. We don't have a problem with that, but I think they have to treat the seniors a little better." Another woman said she was alarmed by the $150 surcharge on each of the four rental properties connected to her home. The 68-year-old, from Hamilton Parish, said she benefited from land tax relief on the apartment she lives in through the seniors' exemption. But she said she covered the land taxes on her rented properties, only two of which are occupied, and that she tried to keep rents low in fairness to the tenants. The homeowner said: "As a black person, when you retire, real estate is the thing to have because you've got an income, you can't live off the government pension, you save your money and you buy property. All my apartments rent for less than $2,000 because I try not to overcharge people but I still have to pay house insurance, land tax and things ... me and my husband won't have enough money to live off. I know they say you can pass the land tax off to the tenants so now I'm wondering if I should go to rent control, get all my rents raised and pass all this money off to the tenants, which is unfair to them as well." Age Concern Bermuda said that an explanation was needed for the $150 surcharge included in the latest bills and that better communication from the Government would have helped homeowners to plan their finances. Claudette Fleming, the organisation's executive director, said a member alerted the organisation yesterday to the surcharge" which had "no definition or description" but appeared to be attached to the senior's rental unit. She added she had contacted the finance ministry to ask for more information on the reason for the extra charge, but had yet to get a reply. Dr Fleming said: "The senior in question, also called the land tax department and they were unable to explain the nature of the surcharge." A government spokeswoman confirmed that the $150 was the half-yearly installment of the $300 base charge introduced by Mr Dickinson in his Budget earlier this year. Dr Fleming added: "The devil is always in the details. There should be a description of the charge on the demand notice and a related communications plan to ensure that seniors in particular understand how the tax will be practically administered. In addition, language should be clear and consistent, for example 'base charge' is identified in the minister's statement but the language 'surcharge' is used on the demand notice or invoice. Most of us won't have connected the two, that is if we even recalled what the minister said way back in February. Mr Dickinson said in February that land tax was expected to raise $85.4 million in this financial year. Tax rates on homes with an ARV of between $22,001 and $44,000 remained unchanged and owners of properties with ARVs of more than $120,000 saw the rates rise from 47 to 50 per cent.

Independent Lloyd's of London broker Tysers has announced the launch of a Bermudian-based affiliate. Tysers (Bermuda) Ltd will be headed by Richard Tomkins, who has relocated from London to become managing director of Tysers Bermuda. He was managing director of reinsurance at Tysers, and has more than 30 years of insurance brokerage experience and has covered both mainstream and specialty areas, predominantly in the treaty and binding authority lines of coverage, the company said. In 2006 he joined Integro Insurance Brokers Ltd, which now trades as Tysers, along with Nick Harrap to grow the firm's reinsurance business. Mr Harrap is the new managing director of reinsurance for Tysers, following Mr Tomkins's move. "I'm excited to build the Tysers Bermuda office. Tysers Bermuda will provide access to additional insurance markets for our independent broker relationships globally," Mr Tomkins said. "We see particularly attractive opportunities that will complement our specialty focus in both insurance and reinsurance, along with providing additional capacity for our clients globally, where other markets are not responding to the demand." He added: "Overall, this will provide our clients with the best possible solutions. We are also actively seeking to build our broking capabilities and expertise in Bermuda to match our needs as we grow the office." Jason Collins, co-head of Tysers, said: "Tysers sees the expansion of the office in Bermuda, to serve its worldwide clients, as an important part of our overall strategic plan. Our commitment to Bermuda is demonstrated by moving Richard, an important leader of Tysers, to lead this new venture. He has supported the growth of our London business over the last 13 years and is the ideal person to execute this part of our strategy." London-based Tysers employs more than 500 people and handles upwards of $2 billion in annual premiums working with leading re/insurance markets worldwide to deliver risk solutions to a global client base, the company said.

Axis Re has named Gino Smith as head of property for EMEA LatAm. The Bermudian will take on the role in November, overseeing Axis Re's property treaty reinsurance business in Europe, Middle East and Africa, as well as Latin America. Mr Smith joins the company, which is part of Bermudian-based Axis Capital Holdings Limited, after 19 years in underwriting roles at Axa XL Re in a number of locations including Bermuda, Brazil, Argentina, Colombia and Mexico. A graduate of Berkeley Institute and Bermuda College, Mr Smith went on to study at Saint John's University, the Royal Military Academy Sandhurst, and Harvard Business School. He speaks English, Spanish and Portuguese. In his new role he will be based in Zurich and report to Andy Hottinger, president EMEA LatAm. Mr Hottinger said: "Gino is a talented underwriter with a diverse professional background and underwriting experience that spans multiple geographies, including Europe, Latin America, the Caribbean and the United States."

Flora Duffy made an astonishing winning comeback in a controversial Tokyo Olympic Test Event last night, with a performance she described as "best-case scenario". Although Duffy finished third behind Jessica Learmonth and Georgia Taylor-Brown, the Bermudian was later awarded the win after the British pair's were disqualified for trying to finish the race in a tie. Competing for the first time in 14 months because of a career-threatening foot injury, Duffy beamed as she crossed the line and pumped her fist in a celebratory gesture after passing her first test with flying colours. At times it was almost like Duffy had never been away, particularly during the 40-kilometre bike, where she showed glimpses of her hard-charging best, leading the front pack for long periods and dictating the pace. "This was my first race in over a year, so there was a lot of cobwebs to blow out," said Duffy, speaking before Learmonth and Taylor-Brown's disqualification I felt very rusty out there and it was hard from the start for me. I haven't done this intensity for a year, but I'm just happy to be back. There was a lot of time during the past year when I didn't think I would be back, didn't think I would run again, didn't think I'd ever be back at the point end of the race. This is best-case scenario. I loved the course and it was just great be racing with girls again and feel like myself." Duffy completed the Olympic-distance race, including a run reduced to 5km because of the searing morning heat, in a time of 1hr 40min 19sec — 11 seconds behind Learmonth and Taylor-Brown. Alice Betto, of Italy, was second in 1:40:54 and Vicky Holland third in 1:41:11. Duffy said it was important to familiarize herself with the course at Odaiba Marine Park, where the Olympics will be held next summer. "The whole point of coming here was to check out the venue, check out the course and see the conditions," Duffy added. "I love racing in hot and humid weather and that felt pretty good today. I'm just lacking a bit of race fitness. That was the hardest part for me. It was a great course and I look forward to next year." She will now switch her focus to the ITU World Triathlon Grand Final in Lausanne, Switzerland, where she will take the next step in her recovery in two weeks' time. Katie Zaferes, who has dominated the World Triathlon Series in Duffy's absence, did not finish after being involved in bike crash with her United States team-mate Kirsten Kasper.

Nobel Prize-winning author and academic Toni Morrison was a "mesmerising" speaker 30 years after she visited the island to help mark the 150th anniversary of the Bermuda National Library. Ruth Thomas, a former government cultural affairs officer, said she was a regular guest for dinner at Ms Morrison's home in New York state with people like film-maker Spike Lee and poet Amiri Baraka after they were introduced through a friend. Ms Thomas accompanied her friend, the American playwright Shauneille Perry, to New Year's Day dinners at the author's home in the 1970s and 1980s. She said: "She was always in the middle of a book, and her use of language was mesmerizing to listen to," Ms Thomas said. "She also cooked wonderful meals. She would get annoyed with us because we could never eat it all." Ms Morrison, who died on August 5, aged 88, will be honoured by the Bermuda International Film Festival with a second showing of Toni Morrison: The Pieces I Am at 6.30pm on Wednesday at the Specialty Cinema in Hamilton. The documentary was shown on the island two days after Ms Morrison's death. Ms Morrison started the 1970s with the publication of her debut novel, The Bluest Eye, and as her fame grew, so did the roster of guests at her dinners. Ms Thomas said American writer James Baldwin was a no-show one year because he insisted on being driven to the house. She added: "Toni would have writers and actors there and would hold forth — I don't think I said a word; I would just listen to her. She was very sensitive and hated injustice. She was very concerned about the plight of blacks in the past. She had a vibrant face and thick hair like a lion, with a very powerful expression, very intuitive and discerning. Racial discrimination stalked Ms Morrison's guests on their journeys to her house in an upmarket area. Her home was in a very secluded, wealthy, white area, and most of her guests were black and would have come from far away. One year [poet] Amiri Baraka walked in furious, because the local-area police had stopped him. The police watched you the whole time you were in the area. I remember being followed." Ms Thomas met Ms Morrison again in 1989 when she picked her up at the airport with the late politician Louise Jackson, who threw a party for the author at her home. Cyril Packwood, a historian and then the head of the library, had suggested bringing Ms Morrison to the island to mark the library's milestone. Ms Jackson, a board member who had attended Washington's prestigious Howard University at the same time as Ms Morrison, orchestrated the visit. Ms Morrison's bestseller, Beloved, had won a Pulitzer Prize the year before and Ms Morrison was at the height of her fame. Ms Thomas said: "She was sizing the place up. She'd never been here before, and she was fascinated by the ocean, the colour of it." Florenz Maxwell, a historian and former head of the Youth Library, also met the author. She said: "There was something about her presence that awed you." Ms Maxwell said The Bluest Eye was her favourite of Ms Morrison's books. She added: "She was famous, and I was in my glory meeting her. I liked the emphasis she placed on the positive side of liking your blackness. She inspired me as a writer, and writers need as much inspiration as they can get, particularly in an isolated place like Bermuda. She wrote in the same vein as I wanted to." She added the two might have met years earlier because she was offered the chance to attend school in Lorain, Ohio, where Ms Morrison, one year her senior, was born and raised. Ms Maxwell said: "A woman who came to our church conference heard me recite a poem I had composed, and asked my father if she could take me to the high school at Lorain. My father didn't want me to go. Later I realised I would probably have gone to the same high school as her."

August 14

As part of the celebrations to mark its 50th anniversary, the Bermuda Monetary Authority (BMA) has expanded its community outreach this year to boost five on-island charities through its "Days of Giving" programme. One of those charities is Family Centre. BMA staff assisted with the charity's Cup Match tag day and through denim day donations. This year the BMA is partnering with five registered charities with missions that address areas such as children and families, arts and culture, the environment, education and seniors. In addition, 21 Bermuda charities will benefit from monies raised by staff who participate in the BMA's "Charitable Fridays"— internal dress-down days held on the second and fourth Friday of each month in exchange for a minimum donation benefiting the selected charity.

Angry contractors plan to sue for millions of dollars in unpaid bills for work on the stalled Caroline Bay development at Morgan's Point, two construction firms involved in the project said yesterday. The two warned legal action was "imminent" and one estimated that between $5 million and $10 million was owed to about 25 firms. One said the majority of the contractors had taken legal advice on an action against Brian Duperreault, the chairman of Caroline Bay Limited. He added: "The feeling is that Mr Duperreault could easily pay off the contractors and call it a day." He highlighted a scaffolding supplier owed $170,000 who was now struggling to pay his children's school fees. He said: "It's always the small guy who gets hit the most. It's been six months of just empty answers, nobody is saying the right thing and guys have realised they have no recourse." Another contractor warned: "It's imminent. Writs will be dropped in a matter of weeks. There is a majority team that has taken advice and another splinter group that's taken different advice, but I'm sure everyone will join in on the action." He said one contractor was owed more than $1 million. "There are some in the range of $300,000 to $500,000 and a lower tier within $100,000. All in all, it could go to $5 million to $10 million." He added: "There are people who have missed mortgage payments and can't make insurance commitments because of that development." The development on the former United States military base was put on notice last month by Curtis Dickinson, the Minister of Finance, who told the House of Assembly that "the economics of the development must be recast". Both contractors said the project had been poorly managed and had run short of finance on a regular basis. The Ritz-Carlton Caroline Bay hotel resort at Morgan's Point was heralded as a bonanza for Bermudian firms at its groundbreaking in 2016. But Parliament heard last month that developers had advised the Government in February 2018 of "significant financing issues" that jeopardized construction. Work on the hotel phase was halted in March last year, but limited work continued on the site's residential units. The two contractors who spoke to The Royal Gazette said work at the site had been at a standstill since late last year. One said that several residential units were unfinished and that metalwork was "at risk of rusting because of the salt air". He added: "I don't think all the windows are in place. There was a lot of metal used in the interior." The second said: "Some of what's there will have to be redone." The man continued: "Anything exposed to the elements, whether it's foundation with rebar or the windows and doors and exterior items sitting with no service and maintenance. If it's not being used, it will deteriorate." A third contractor said the site was "in varying stages of completion with some buildings with no roof and some metal studs exposed to the elements". He added: "A few of the units are fully complete and even furnished for show. And there is everything in between." The contractor said the site had "components that are just sitting there not being used, including electrical, plumbing and heating, ventilation and air conditioning systems, doors and windows". He added: "With no use or maintenance happening, for sure product is deteriorating." Mr Dickinson highlighted Caroline Bay's reliance on a guarantee from the Government "to the tune of $165 million" last month. Caroline Bay's board announced in June "an agreement which will provide the financing to continue construction". But Mr Dickinson told MPs that "a term sheet or draft terms of agreement do not represent irrevocable financing and should not be termed as such" and said the development needed to be "devised with a realistic view of the world economy". Neither Mr Duperreault nor a Caroline Bay spokesman responded to a request for comment yesterday.

A former Bermuda resident has been jailed in Prague over a credit card debt in the Middle East. South West News Service in the UK said that Alan Stevenson, from Manchester, England, was arrested in June on his way to visit his mother in the UK. Mr Stevenson is understood to have worked at the Bank of Bermuda in the mid to late 2000s. A spokeswoman with HSBC Bermuda said yesterday: "HSBC takes the issue of confidentiality very seriously and as such is not able to discuss any matters in relation to existing or former employees." Mr Stevenson was an avid golfer during his time in Bermuda, taking part in a number of tournaments. The news agency said that Mr Stevenson's name appeared on an Interpol list for an outstanding credit card debt that he had racked up while in Qatar six years earlier. It was not clear how much the debt is for. SWNS said that Mr Stevenson has been kept on 23-hour-a-day lockdown in Pankrac Remand, a notorious Prague prison, since his arrest. Mr Stevenson's health was said to have suffered and that he had lost more than 20lbs. The British-Australian dual national now faces extradition to Qatar. Mr Stevenson worked as an IT manager in Doha in 2013. He opened a bank account which required him to submit a blank cheque to act as collateral against the card and to be used to cover any outstanding funds if he ever failed to pay. The news service said that Mr Stevenson had been forced to return to the UK after his mother became sick. He notified the bank and tried to work out a payment plan on the cash owed. But the bank attempted to cash the cheque which bounced. Mr Stevenson was convicted in his absence over the insufficient funds cheque and reported to Interpol, which classified him as a wanted person. His family members are said to have contacted the British and Australian embassies in the Czech Republic and have been told his case is being reviewed.

A renewable energy company has predicted it will exceed expectations with a new solar farm on a disused airport runway. Saturn Solar Bermuda 1 explained its objectives in a string of documents submitted as part of a licence application posted on the Regulatory Authority website. The firm, part of Canadian-based Saturn Power, said it aimed to develop a six-megawatt power plant on the unused "finger" at the airport. It said in a Bulk Generation Licence application: "The goal of the project is to produce clean, emission-free, and sustainable power through the conversion of sunlight into electricity therefore reducing Bermuda's dependence on dirty diesel power generation. This project provides the island of Bermuda with a price-stable and cost-efficient source of electricity with predictable supply. Saturn Power's mission is to ensure the safe, efficient and timely installation of the project and long-term operation of the project to exceed the expectations of the Government of Bermuda, the citizens of Bermuda and local agencies." The application showed the ownership structure of the company. It added: "At Saturn Power Inc, this same team has been responsible for the development, permitting, engineering, financing, and construction of over 70MWs of solar facilities in Canada and internationally. The company was founded over ten years ago and has seen great success with renewable energy development." Walter Roban, the home affairs minister, said: "I am pleased that the project has progressed from a proposal phase towards becoming a reality." He explained in June 2018, when he was the Minister of Transport and Regulatory Affairs, that Saturn Power had submitted the lowest bid out of nine proposals, six of which were Bermudian, and offered a rate of 10.3 cents per kilowatt hour. The Bermuda Government will collect rent for the site, although the licence application said that the lease was "in the process of being amended between the parties". Portions of the company's submission were removed from the documents released to the public, including the expected capital cost for the installation as well as anticipated annual expenses, which were predicted to rise in line with inflation each year. The application said that a local contractor would be used to build the solar power station with imported equipment for specialized parts such as "solar modules, inverters, racking, transformers and other electrical equipment". Mr Roban said last year that the deal included an agreement that all bidders "were required to have Bermudian content in regards to labour during construction and operations, and maintenance personnel post-construction". He explained then that the project will "create an opportunity for sustainable and sensible competition in the electricity sector". Mr Roban added that it would stabilize a portion of ratepayers' electricity bills for the next 20 years. He said that the replacement of oil fuel costs with solar power would keep an estimated $20 million or more in the island's economy over the project's lifetime. The Government's Official Gazette said that comments on the proposed development could be submitted up to 21 days from the date of the application notice, which was on Monday.

Visitors to St George's can meet characters from Bermuda's 1775 Gunpowder Plot over the next few weeks. The Bermuda Tourism Authority and Norwegian Cruise Line is marking the role the scandal played in the island's historical heritage with a cultural tourism initiative. Today marks the anniversary of the Gunpowder Plot, which tested Bermudian loyalty to the Crown and underscored islanders' close family and commercial ties with America. The Plot also highlighted Bermudians' support of George Washington's Continental Army during the 13 colonies' Revolutionary War against Britain. On the night of August 14, several dozen men broke into an unguarded ammunition magazine above Tobacco Bay, stealing more than 100 casks of gunpowder for delivery to American ships waiting offshore. The stolen powder made it safely to Washington's troops, convincing the Continental Congress to lift its crippling wartime embargo on food and supplies to the island as a British colony. Local actors, dressed in period costume, are helping bring the episode to life by regaling town visitors with facts and anecdotes about the event that exploded tensions between Bermuda, its colonial governor and the English government. They are portraying characters such as staunch imperialist governor, George James Bruere, and Colonel Henry Tucker, long believed to be a conspirator in the plot, in a demonstration from now until Labour Day week, on Mondays and Wednesdays, between 9.30am and 2.30pm. BTA chief experience development officer Glenn Jones said: "The feedback from store managers and visitors so far has been very positive. We're excited to introduce these initiatives to St George's and it's encouraging to see this level of support from stakeholders." NCL guests who browse St George's shops featuring Made in Bermuda artisans will be rewarded with a Bermuda gift. Other activities include a daily Unesco World Heritage Walking Tour, a behind-the-scenes tour of St Peter's Church and the daily historic re-enactment of the Ducking Stool. Corporation secretary Candy-Lee Foggo said: "We are working to make the town more lively, with craft stalls in King's Square, including Ashley's Lemonade, with its refreshing drinks, plus buskers playing throughout the town, which all adds to the ambience." The Bermuda National Trust has also opened Tucker House, the historically preserved home where local conspirators were believed to have met, on Mondays and Wednesdays this month, from 10am to 4pm. More information is available at the Visitor Services Centre, York Street, from 10am to 4pm.

August 13

Air visitor arrivals dropped by 5 per cent year-on-year in the first half of 2019, with the sharpest falls in the number of younger visitors and arrivals from New York, the tourism authority said yesterday. However, the air arrivals spent 7 per cent more per person — a 1.4 per cent increase in total air visitor arrival spending. Kevin Dallas, the chief executive of the Bermuda Tourism Authority, said: "In the hospitality business, visitor spending is a metric most closely tied to profitability. "We're very pleased to see economic growth in the first half of the year. However, we remain concerned airlift challenges will continue to negatively affect air arrivals in 2019. We raised this red flag at the start of the year, and since then, our team has closed the deal on big-brand event partnerships, including the US Open and the PGA Tour's inaugural Bermuda Championship. These are purposeful steps that can help us offset the constraints on airlift." Figures released by the BTA showed the number of air visitor arrivals fell from 66,604 to 64,175 in the second quarter, with the greatest loss — 1,974 people — in the 25 to 34 age bracket. Combined with a decrease in air arrivals in the first quarter, total air visitor arrivals fell from 92,920 to 88,263 — 5 per cent — in the first six months of the year. The lower number of leisure air visitors also caused a decrease in hotel occupancy, which fell 3.3 per cent year-on-year in the quarter and 4.4 per cent in the first half of 2019. But the visitors who arrived in Bermuda by air between April and June spent a total of 2.4 per cent more on the island — $98.5 million compared with $96.2 million in the same period last year, an increase of $2.3 million. Air visitors spent a total of almost $132 million in the first six months of the year. Mr Dallas explained: "After twelve consecutive quarters of leisure air arrival growth dating back to January 2016, the sharp increases Bermuda experienced over the past three years are leveling off. This is not unexpected and not overly worrying, because our overall trajectory is strong. In fact, statistically, 2019 is outpacing 2017, which at that time was a record-breaking year." He added: "With new hotel inventory, new marketing partnerships and new on-island experiences on the way in the next several years and visitor spending on the rise, we believe the future for Bermuda's tourism industry remains the brightest it's been in a generation." The decline in air visitors was also blamed on a drop in the number of seats available from New York to Bermuda in the first half of the year. A BTA spokeswoman said: "At the BTA's Outlook Forum back in February, officials warned that while 2018 leisure air arrival numbers had reached a 16-year high and third consecutive year of growth, business and visiting friends and relatives travel had declined sharply — down more than 30 per cent since 2007. This scenario is impacting the amount of inventory airlines assigned to Bermuda." Cruise ship passenger arrivals were up in the first half of the year, with a 15 per cent year-on-year increase, up from 201,179 to 231,495 — 30,316 people. The cruise ship passenger increase meant boosted tourism figures in the first six months of the year, with 319,758 total leisure visitors this year compared to 294,099 in the same period in 2018 — a total of 25,659 people.

A drop in the number of younger visitors hit leisure air arrivals between April and June, the Bermuda Tourism Authority said yesterday. The largest decline in visitors was in the 25 to 34 age bracket, which saw a 13.5 per cent decline over the period — 1,934 people. The numbers in the 18 to 24 age bracket fell 8.3 per cent and the number in the 35 to 44 age bracket dropped by 5.6 per cent. The total drop in the number of visitors in the three age brackets amounted to 2,871. The first quarter experienced similar declines in the same age groups, a total of 4,670 fewer visitors in the first half of the year. Despite the decline in overall leisure air arrivals, the number of visitors over the age of 55 grew by about 2 per cent with 403 additional visitors in the second quarter and 552 in the first half of the year. New York, Bermuda's largest tourism market, suffered the greatest decline in visitor air arrivals. A total of 3,182 fewer visitors came to the island in the first six months of the year compared with the first half of last year — a drop of more than 12 per cent from 26,294 people to 23,112. Boston, Hartford/New Haven, Baltimore, Chicago and most US West Coast locations also suffered declines. But the number of tourists flying from Philadelphia went up by 407 and the number from Washington increased by 210 people. The number of people who flew to the island for concerts and carnivals rose slightly, from 311 to 361. But destination weddings guest figures dropped from 3,397 to 2,854, and the number of visitors who came for sporting events fell from 994 to 813. The BTA also reported that the average visitor spend an additional $90 in the quarter compared to last year — an average spend of $1,534 per person. Leisure visitors also stayed slightly longer, with the average duration of stay extending from 5.19 days to 5.28 days. Yacht arrivals fell by more than one third from 3,591 to 2,208, with declines in all size categories.

Tourists and residents have called for public toilets at three South Shore beaches to be cleaned up. The bathrooms at Jobson's Cove, Chaplin Bay and Elbow Beach all came in for criticism from beachgoers when The Royal Gazette toured South Shore beaches last week. But visitors gave the thumbs up to Horseshoe Bay, which has been renovated to include extensive facilities and is cleaned by staff three times a day. Cruise ship visitor Alex Camboa said he was appalled by the "gross" state of the bathroom at Jobson's Cove. He found it to be littered with toilet tissue, discarded lighters and cigarette butts. He added the bathroom smelled and the taps and soap dispensers did not work. The 23-year-old, from New Jersey, said he would have to wash his hands in the sea. He said: "I love your island, but this is disgusting." Shai Richardson, a camper at Chaplin Bay, said the bathrooms there had no lights. She said: "You can't even use them at night because it's completely dark. It can be a little bit scary. We don't like bringing the little kids down there at night." Ms Richardson added that regular maintenance was needed to keep the bathrooms in good condition. She said only some of the sinks worked, but that they were "useless if there's no soap". Joanne Simmons, 62, a veteran of 44 years of camping, said the Chaplin Bay bathrooms were "much better" than they used to be and were clear of cockroaches and flies. But she added: "There is always room for improvement." Ms Simmons said: "There are no trash cans whatsoever, none outside, none inside. You can't even wash your hands when you're finished using the bathroom." Nelson Brangman, originally from Bermuda, visited the island from New Jersey with American Tatiana Medley. Mr Brangman said that the public bathrooms at Elbow Beach needed to be better monitored and cleaned on a regular basis. He added: "It doesn't have to be anything fancy, but every day the bathrooms need to be cleaned by somebody." Ms Medley said the Elbow Beach portable toilet was "unsanitary" and that "I have a fear that everything is dirty in there". Horseshoe Bay had the only toilets that won praise. Leonardo Hickney, a tourist from New York, said the was "satisfied" with the condition of the bathrooms. He added: "I've definitely seen much worse. They're good quality — there's enough stalls, everything works fine." The Department of Parks said that the bathrooms were serviced every other day. A spokeswoman said: "The Department of Parks makes a concerted effort to proactively address complaints regarding the condition of these facilities within a 24 to 48-hour time frame." The spokeswoman added: "The Ministry takes this opportunity to urge the community to be respectful of these public facilities as their purpose is to serve the entire community who seek to enjoy Bermuda's public beaches and parks."

An elderly Bermudian man who collapsed in Florida while on a cruise with his family said staff at Port Canaveral saved his life after he collapsed with a heart attack. Peter Rego, 72, had just left a cruise ship when he collapsed, but was helped by a group of port employees and medical professionals. Mr Rego said in a video posted online after his release from hospital: "God bless them all. Deep in my heart I appreciate what they did for me and I will never, ever forget it." The Bermudian said the last thing he remembered was his sight becoming blurred as he talked to his daughter at the bottom of the ship's gangway on August 4. Sean Summers, a port worker, said he ran to help Mr Rego after he heard people scream. Mr Summers said: "I noticed a man sprawled out on the ground. I grabbed a radio and said I need paramedics, 'Asap'." His co-worker, Josh Clayton, ran to get a portable defibrillator and another port worker, Stephanie Dobson, stayed with Mr Rego. Ms Dobson said: "We were doing CPR. There was no pulse noted. Josh was running back with the defibrillator from the terminal. We shocked him once and there was a return of the pulse." She added: "If he had been in a shuttle on the way home or to the airport, it might have been a different outcome." Mr Rego, from St George's, said he was told after he awoke that he had had two blocked arteries and that surgeons had put in four stents to correct the problem. Kathy Longworth, Mr Rego's daughter, said in a video posted by the port authority: "Thank you for being there — for being at the right place at the right time. Thank you for just stepping in, and not thinking twice about what you were doing. You saved his life."

Three police officers have successfully completed a training programme. The officers — two women and one man — completed the close protection officers course and were recognised at a ceremony last Friday. The 4½-week course provides training in protecting Government officials and other important figures. The names of the officers who completed the course were not provided by the Bermuda Police Service due to their professional responsibilities. Four male officers from the British Virgin Islands also took part in the training programme. A police spokesman said: "Though the BPS has provided this training to local officers over the years, Friday marked the first time that local female officers and overseas officers successfully completed the training." Darrin Simons, the acting deputy commissioner, said that "hearty congratulations" were in order for the seven officers. He added: "It is especially pleasing to highlight Bermuda's first female close protection officers, as well as the first overseas close protection officers trained in Bermuda from BVI. This would not have been possible without the hard work of the training centre staff, who are to be commended for their efforts. We look forward to hosting future specialist training opportunities for local and overseas officers."

A man yesterday switched his plea to four charges of bank fraud to guilty. Angelo Toussay, 35, admitted the theft of $2,350 from HSBC and an attempt to steal a further $8,590. He also pleaded guilty in Magistrates' Court yesterday to possession of plastic cards with magnetic strips and a machine designed to make false credit cards for the purpose of stealing money in St George's. The offences took place between July 20 and 24. Toussay, from the Dutch Caribbean country of St Maarten, on Saint Martin, denied the charges when he appeared in Magistrates' Court on July 29. Magistrate Maxanne Anderson remanded Toussay in custody for sentence on August 16.

A store owner and cancer survivor said yesterday she almost cried after a man stole a charity box set up to help sufferers from the disease. Bernette Forde, of Bargain Hunters Hardware Store in Sandys, said she was "stunned" when she discovered the donation box for cancer charity Pals had been stolen last November. She said: "I was so upset I nearly cried. I'm a two-time cancer survivor and Pals had helped me when I was sick, so when we opened up our business in July I wanted to give back to Pals." Ms Forde added: "If he stole a bag of chips, I would've been willing to leave it alone, but, because it was a charity box and it was for a good cause, that meant a lot to me. It kind of hurt my feelings." She was speaking after Jean Rouget, 54, pleaded guilty yesterday in Magistrates' Court to the theft of the box on November 19 last year. The court heard that Ms Forde, 62, noticed that the donation box was missing when she was opening the store on November 19 last year. She reviewed CCTV footage and saw that Rouget had come into the store four days earlier and walked out with the box under his shirt. Ms Forde said: "We had not been in business that long and I was just stunned that this whole thing had happened." She contacted police and Rouget was arrested on a few days later. The court heard that Rouget, from Sandys, told officers: "Yes it was me. There was only $25 in the red charity box." Ms Forde said that she had been collecting money for cancer patients and hair loss research since September and planned to donate the proceeds to Pals once the box was full. She added that in the nine months since the theft the store had made back less than half the amount that was stolen. Ms Forde said that the box, which cost $30, had been destroyed when Rouget broke into it. She explained that she had contacted PALS soon after the theft to get a more secure box, but had not heard back from them. Ms Forde added that Rouget had not offered to repay the cash. She said: "I haven't gotten anything; not even an apology from him." Rouget told the court that he had drug and psychiatric problems. He added that he went into the store to buy something, but saw the donation box and stole it. Alan Richards, for the prosecution, said that Rouget had a history of shoplifting, but added that "stealing from a charity takes things to a new level". Magistrate Maxanne Anderson ordered a social inquiry report, a mental health assessment and a drug assessment on Rouget. He was also referred to today's sitting of the drug treatment court. Ms Forde said that she was pleased Rouget had been caught, but that she wanted him to get treatment. She added: "I would have forgotten the whole thing, because I kind of felt sorry for the guy. I heard he was on drugs or something, so I even considered not pressing charges, but then I really didn't know what to do. I would suggest people not steal at all, but if you're going to steal, leave the charity box alone; at least because it's for a good cause."

Bermudian lawyers Henry Tucker and Kyle Masters have been relocated to the Hong Kong office of international law firm Carey Olsen. Their arrival in Hong Kong gives the office Bermuda law capabilities, the firm said. The office now boasts British Virgin Islands, Cayman Islands, and Bermuda-qualified lawyers. The two Bermudian lawyers were members of the dispute resolution and litigation practice at Carey Olsen Bermuda prior to heading to Hong Kong. Mr Tucker advises on all aspects of offshore commercial and trust litigation with a specific focus on arbitration, enforcement and insolvency issues, the firm said. Praised for being "client-centric in every aspect of his legal practice" in the most recent edition of Chambers Global, he has more than ten years' experience before the Commercial Court, Supreme Court and Court of Appeal in Bermuda. Mr Masters has extensive experience in regulatory and compliance law, internal and external risk mitigation, corporate governance and enforcement actions, the firm said. He has appeared before the Supreme Court and Court of Appeal in Bermuda, undertaking a wide variety of commercial and civil litigation. Michael Hanson, managing partner of Carey Olsen Bermuda, said: "Establishing a Bermuda offering in Hong Kong represents yet another important building block not only for Carey Olsen Bermuda, but also the wider Carey Olsen group. We have witnessed and experienced significant interest in our Bermuda services from Hong Kong-based clients in the past year and are delighted to now be able to offer this capability going forward on the ground in Hong Kong." He added: "Similarly, it is pleasing as a firm that we are able to provide exciting opportunities like this to talented Bermudian lawyers such as Henry and Kyle as they continue to progress their own careers." The ability to provide Bermuda legal advice in Hong Kong follows the launch in July of Carey Olsen's corporate practice in the jurisdiction with the appointment of Michael Padarin, the firm said. Mr Padarin, who practices BVI and Cayman Islands law, specializes in the formation, operation and restructuring of private investment funds, primarily private equity and venture capital funds, and their related fund sponsor vehicles. Commenting on the arrival of Mr Tucker and Mr Masters, Mr Padarin said: "They each bring with them a great amount of expertise and knowledge and we are delighted that Henry and Kyle are joining us at such an exciting time for Carey Olsen in Hong Kong." He added: "The size of our team continues to grow in response to client demand and the ability to now offer Bermuda law advice on the ground in Asia further strengthens our offering."

Competitors will dig in to the 2019 Bermuda Sandcastle Competition this month with $3,500 of prizes up for grabs. An overall prize of $500 will be awarded to the most impressive sandcastle at Horseshoe Bay on August 31, with a further $3,000 worth of cash prizes to be won across four resident categories. And visitors will be eligible to enter the competition in a special category intended to offer a unique experience to guests. Hannah Emmerson, the organiser of the annual event, said free workshops will be held on August 24, 28 and 29 from 5.30pm at Horseshoe Bay in the lead-up to the competition. She said: "In these sessions, participants will learn how to create a masterpiece in sand from past champions, discover quick tips and tricks to keeping sand in place and other details." Entry into the competition is free, but teams should register online at website sandcastle.bm to ensure a place is available. On the day of the event, competitors will check between 9.30am and noon, with the building beginning at 10am. Participants will receive free beverages on the day of the competition though a partnership with John Barritt and Sons. Ms Emmerson said: "Each team will be assigned a building plot of 10ft by 10ft and will be supplied with a large mound of sand to work with to give them a head start. All sandcastle building tools must be downed by 4pm, at which time the judges will arrive on the beach and commence judging." This year's judges will include Jamal Hart from the Department of Youth, Sport and Recreation, N'zingha Ming from the Bermuda Society of Arts Gallery, Tim Morrison from the Hamilton Princess and Beach Club and David Thomas from the Bermuda Tourism Authority. Ms Emmerson also said that this year Hamilton Princess had stepped forward as title sponsor for the competition, with Alexandra Mosher Studio Jewellery, Digicel and the OIL Group also offering sponsorship. Mr Morrison, general manager of Hamilton Princess, said: "We are thrilled to be able to support the Bermuda Sandcastle Competition yet again this year. The event is a fantastic spectacle for locals and visitors alike and makes for a wonderful day at the beach. We can't wait to see what the competitors come up with." Ms Mosher said: "We incorporate Bermuda's iconic pink sand into our products, so we look forward to seeing how the teams use it to create their sand sculptures at Horseshoe Bay."

A Bermuda restaurant chain might have the most exclusive extra virgin olive oil in the world — the entire production of a former island resident who bought an olive farm in Italy. Françoise Lepercq, who still owns a home in Bermuda and is a regular visitor, bought a working olive farm in the picture postcard province of Tuscany five years ago after a decade in her homeland of France. And, through a friendship with Emilio Barbieri of the Little Venice Group, she struck a deal to sell the bulk of her oil to the restaurant chain. Ms Lepercq said: "I found this place in Tuscany with three thousand olive trees. The former owner was producing oil, so I decided to continue and that's how it started." She added: "I didn't know anything about olive oil, but I was lucky enough that the person who worked with the former owner stayed on — everybody in Tuscany has olive trees, so they know how to take care of them. They bring the olives to the mill and they have enough for their family. What I do is just on a larger scale. I have known Emilio for 25 years. It was just by chance I mentioned I was buying this property and I was going to produce olive oil. I brought some so he could taste it and he loved the fact it was organic. That's how it started." Now Mr Barbieri takes almost all the olive oil that Ms Lepercq's Poderecogna farm produces, an average of more than 2,000 litters a year, although she said she kept some for friends and family. Ms Lepercq said: "It's a small production, but at the same time, it's large enough to be commercialized. I was always going to try and sell it but the lucky thing was that Emilio had so many restaurants, that's taking almost all of it. I'm very lucky I didn't have to work so hard. I just care for the trees and do the best I can. It's funny when people in Tuscany ask what I do with the olive oil. They're very impressed when I say it goes to Bermuda." Ms Lepercq explained Tuscan oil used early harvested olives, picked just before they started to change from green to black, which gave the product a stronger flavour with hints of "artichoke and asparagus" unlike varieties produced in the south of the country. She added: "It's very green and spicy. That's the way people in Tuscany like it. Further south, they wait until the olives are mature, so the oil is softer." She said that she kept up another tradition of the former owner — organic production, but also installed her own olive press and bottling plant so she could control production every step of the way. Ms Lepercq said: "It's very important after the harvest to process the olives as quickly as possible. If they're not, the oil would be too acidic and not qualify as extra virgin olive oil." She said her oil was also high in antioxidants, like polyphenols, which are regarded as having healthy properties. "It was tested in a Canadian laboratory to see what the polyphenol content was, and it had a very high level. We got a comment from the person who looked at the results and they said it was very high quality. So it's not only got a good taste, it's good for your health." Mr Barbieri said: "People love it and we get so many compliments. People often ask after dinner if they can buy a bottle and we try to oblige." Ms Lepercq said Bermuda was likely to stay her main customer. She added: "I don't really have plans to expand because most of the land we have is already planted. The rest of it is a forest and we're not allowed to change that. That's why Tuscany is so beautiful. They try to preserve the forest. It's vineyards, olive trees and forests." Ms Lepercq, 59, who lived on the island with her family for about a decade until 1998, said: "I come back to Bermuda probably three or four times a year. I still have strong links to Bermuda — my daughter loves it here and I love spending the summer here. I also have good friends who are like family."

A trio of American couples who met on honeymoon in Bermuda 50 years ago have returned to the island to celebrate their golden anniversaries. Marie and Howard Dupee, Camille and Bill Duncan, and Karen and Bob Netherton were all married in the United States on October 11, 1969 — but only met when they all chose the Elbow Beach Hotel for their honeymoons and have been friends ever since. They returned to the resort in October 1994 for their 25th wedding anniversaries, but picked a cruise to the island a few weeks in advance to celebrate their latest milestone. Mrs Dupee, who married in Pennsylvania, said: "I guess it is unusual. But, we're not just friends any more, we're family. I think it's really remarkable that we've been able to maintain this relationship for 50 years. We've all had such a good friendship for so long, and we want to come back and spend our time here. We could have chosen to go anywhere else, but Bermuda's been a really big part of our lives since we were first married. We went back to Elbow Beach yesterday for a champagne toast. After we told them the story they brought out a plate with 'congratulations' on it." The couples were first introduced by Bob Allen, the social director at Elbow Beach at the time, at a cocktail party. They were surprised to learn they had all married on the same day in different parts of the Northeast US and two of the weddings had the same bridesmaids' dresses. Mrs Dupee said: "We did all sorts of activities together. The beaches, the lighthouse, Crystal Caves, the Botanical Gardens, snorkeling, even helmet diving." The six have since met every year in different destinations such as Alaska and the Mediterranean. They have also visited each their homes in Florida, South Carolina and Pennsylvania and attended the weddings of their children. After they returned to Bermuda for the landmark silver anniversaries, they decided major marriage milestones would always be celebrated with a trip back to where it all started. Mrs Netherton, who married in New Jersey, said the six hoped to return to Bermuda for another milestone anniversary. She added they might have to do it before their 75th celebrations. Ms Netherton said: "I want to know that I'm here." The couples said that they had not seen much change in the island over the years. But the Duncans, who married in New York City, said they fell victim to changes in travel procedures on the 25th anniversary trip. Mr Duncan said: "Back in 1969, you didn't need a passport to get into the island, just a photo ID. So in 1994 we showed up at the airport with our drivers' licences. They wouldn't let us on, so we had to go home and get a flight the next day." The couples said a taxi driver told them to contact The Royal Gazette after they told him their story. Mrs Dupee said: "The taxi drivers here are like ambassadors for the island. That's something we love about the island — the people are wonderful." Kevin Dallas, the chief executive of the Bermuda Tourism Authority, said: "We send a warm welcome to these couples, and hope they enjoy celebrating the fun and friendships they first shared together out here. Their story perfectly underscores Bermuda's genuine allure to romantics — a story we continue to build on as we activate a new generation of experience seekers."

A war veteran's family are owed $20,000 in unpaid benefits and are struggling to make ends meet, they said yesterday. Kerrie Aubrey, whose 86-year-old mother Maureen has spent the last month in hospital, said the family have been forced to pay interest only on the mortgage for their home. She said she believed the War Veterans Pensions Commission was "using any excuse to delay making payments". Ms Aubrey said yesterday: "This can't go on. It used to work fine, but since March it got worse." Her mother is the widow of Elliot Aubrey, a Second World War veteran who died in 2002. Her family said she was entitled to $7,000 a month in pension and other benefits, but only a fraction had been received. The Aubreys were one of three families who said they were grateful for an increase in veterans' pensions, which will go up from $800 a month to $1,000 in October. They questioned why some of their benefits took so long to reach them. One family, who asked not to be identified, said they often waited months before they got their benefits and that they still had not been given their June payment. An 82-year-old widow, who also asked not to be named, said she had been waiting for a $128 copay from a dermatologist's appointment in March. She said: "Social insurance said they would pay it, but they have not. When I e-mail them, I don't get a reply. Everything used to work like a dream, it seems that copay for a medical specialist, is not getting paid." Her husband, also a veteran of the Second World War, died in 2013. She added: "The doctor has been waiting for his payment and has been extremely patient about it. But I feel like paying it myself so that I don't have my conscience bothering me the next time." Parliament approved the pensions increase last month, with new benefits such as psychiatric services and visits to chiropodists added. Derrick Burgess, the Deputy Speaker and seniors' advocate for the Progressive Labour Party, at the time accused commissioners of withholding benefits from veterans. Mr Burgess told MPs that veterans who went into rest homes were denied their pensions. He added: "No Act gives you the power to take a pension from somebody." Mr Burgess said: "I have had complaints from some families that they have not been paid in a few months. I have not been able to verify them. But I do know we have people receiving a pension and they stop paying the pension when they go into a rest home. They don't have the authority." Mr Burgess said he had met with the commissioners and was "still awaiting answers". He added: "I have told them that if they have ceased paying, folks need to get their pensions as soon as possible." Ms Aubrey said she was living "day to day, penny to penny" I owe my caregiver. We have no internet and no transportation. We've been paying for things out of our own pockets and not getting reimbursed." Ms Aubrey added: "I'm an educated person. I've got all my faculties. I feel bad for others who might be confused or not able to follow what's going on." Carol Everson, a case worker for the Bermuda Legion, said: "The veterans are now in their 90s, and most are vulnerable and frail." She added that "a number of veterans' families report delays of several months in receiving pensions". Ms Everson said: "There should never be a lack of response or a lack of respect and courtesy to inquiries, and there is no excuse for pensions, which have been provided monthly for years, falling behind by several months, putting severe financial pressure on families and veterans." She added there was a lack of information on the Government's website on benefits available to veterans. Ms Everson said: "The criteria for eligibility and benefits should be clearly laid out, including the procedure for applying for a pension or transferring benefits to a widow on the death of a war veteran." She added the legion had a leaflet on benefits. The Ministry of National Security said it would be unable to comment until today.

August 12

A grassroots movement in Bermuda could spark the Cabinet to take the lead on independence if island-wide talks reveal enough support for the cause, political sources have claimed. It was believed that interest in a formal break from Britain had grown in recent months and restless voters wished to prompt government leaders into action. The Progressive Labour Party told The Royal Gazette its sights were set on an independent Bermuda, but the vision was not shared by a majority of residents. A public forum on the topic scheduled for next week at the Bermuda Industrial Union is thought to be one of several that could gauge support. Cordell Riley, a statistician among the five panellists listed for the event, explained: "It was said to me this has to be a grassroots movement. "If it's a grassroots movement, so there are different shoots at different areas in the island, the Government will start to take notice and say, we have to take the lead on this and have something formal, such as a commission." He added: "When the people do not see the Government move in the direction that it would like, people start to take it on their own initiative. If there is significant support, it starts to grow and that's when Government will come in and either take the lead or shut it down." Mr Riley welcomed the opportunity for a "healthy" discussion and said he planned to cover the potential costs of independence as well as "irrational concerns" about Bermuda going it alone. He said: "I am aware that people are talking about independence more, particularly with what's going on in the UK with Brexit, and the impact it would have on Bermuda. Also with regards to the economic substance Bill that was passed, and was seen as something that was perhaps enforced upon Bermuda. We hear other talks, in terms of we have a Governor from the UK, he appoints a British police officer as Commissioner, and I've even had officers tell me privately there seems to be an increase in recruitment from the UK." Mr Riley said that although he had yet to conduct a poll on independence this year, results from earlier surveys over the past decade suggested about two thirds of the population, between 60 and 67 per cent, were opposed to a split from the UK. He added: "I don't think at this point there is a significant movement towards independence. I think there are people saying, 'Let me have a look at it', but that doesn't mean you can't educate people, that people won't change their minds." One source agreed that talk of independence among PLP supporters and the wider community had increased. The source said: "There seems to be more interest around the issue from more rank-and-file members, there's a little buzz. I'm not saying it's a groundswell, but more than it has been in the past couple of years. A grassroots group may indicate that this effort is not just coming from the top down but from the bottom up." Another observer told the Gazette that there was a perception among some people that the PLP leadership was not doing enough "to push the independence agenda". The source added: "They took the view that we're going to proceed, party or not, by putting together like-minded people to get out and drive the issue." It was thought that a non-partisan group could test the temperature of the country before approaching government leaders. The source said the aim would be to indicate to ministers "it's time that you take the independence issue and move it along ... otherwise there is an independent group who will drive this issue and the party will be embarrassed into moving ahead". A PLP spokeswoman said on Friday: "Independence remains a core value of the Bermuda Progressive Labour Party and we do envision a day when Bermuda will become independent. At this time, however, the people have shown no indication that their feelings on this matter have altered. What is clear, however, is the people of Bermuda's desire to see greater fairness, greater opportunity, more affordable healthcare and a better quality of life, for themselves and their families. While we fight to tackle those issues, we will continue to educate our people on the benefits of independence and continue to push for our vision of an independent Bermuda, that one day we believe more Bermudians will share." The PLP's constitution states that the party's purpose included it would "serve as a vehicle in moving Bermuda to independence". However, the subject was not included in its 2017 General Election platform. Jason Hayward, a PLP senator and the Bermuda Public Services Union president, said after the party's landslide victory two years ago that it was time to "look at independence as a viable option". A week later, Jamahl Simmons, then the Minister of Economic Development and Tourism, dismissed the suggestion when he told the Bermuda Captive Conference: "It was not in our platform, we have not discussed it." David Burt, the Premier, explained in the House of Assembly in November 2017: "Independence is inside of the PLP's constitution, so whenever we have a meeting that matter is discussed." Yet he confirmed the following May that although the "groundwork in constitutional reform" should be laid to allow for self-determination in the future, "independence is not part of our current mandate". Phil Perinchief, a political scientist and former PLP attorney-general, was also among the list of speakers for next week's talk, which was advertised to be held at the BIU headquarters from 6pm on August 22. He explained: "I hope to discuss with the panel and the attendees the issue of self-determination, what it means in the lead-up to it and apprise the group about international relations and how we might make our own way in the world with the 193 other independent countries in the UN." Mr Perinchief added: "I've heard the rumblings from different quarters and I would fight for independence or self-determination anywhere, including Hell. I believe that all right-thinking and ambitious people should fight for self-determination and independence because it's the ultimate expression of who we are and who we would want to be as human beings, in concert and harmony, with other free and loving human beings."

The Bermuda Monetary Authority and National Association of Insurance Commissioners discussed issues of mutual regulatory interest when they met for a seventh official regulatory dialogue since the signing of a memorandum of understanding in 2015. The NAIC is a US-based standard-setting and regulatory support organisation created and governed by the country's chief insurance regulators from the 50 US states, the District of Columbia and five US territories. Topics discussed included: NAIC Credit for Reinsurance model revisions and Bermuda's 2019 Qualified Jurisdiction re-evaluation; International Association of Insurance Supervisors insurance capital standard developments; catastrophe risk; and innovation and technology initiatives in both jurisdictions. The dialogue took place on the sidelines of the NAIC's summer national meeting held last week in New York City. According to the Association of Bermuda Insurers and Reinsurers, Bermuda is the largest supplier of catastrophe reinsurance to US insurers. Craig Swan, managing director, supervision (insurance) at the BMA said: "The relationship between the Bermuda and US markets is an important one. Bermuda commercial property and casualty (re)insurers and alternative capital structures have paid over $200 billion in claims to US policyholders in the past decade, including 30 per cent of the claims arising from the 2017 hurricanes Harvey, Irma and Maria." Abir hosted a reception at the NAIC summer national meeting. The gathering included US state insurance regulators, NAIC executives and global (re)insurance industry participants to recognize the BMA on its 50th Anniversary. The NAIC delegation at the dialogue included: NAIC president and Maine superintendent, Eric Cioppa; NAIC president-elect and South Carolina director, Raymond Farmer; NAIC vice-president and Florida commissioner, David Altmaier; and NAIC secretary-treasurer and Idaho director, Dean Cameron. NAIC CEO Michael Consedine and COO Andrew Beal also participated. The BMA delegation included Mr Swan; Ricardo Garcia, chief actuary; Yvette Pierre, director, policy; Natalie Stevenson, assistant director, international affairs; and Cara Philip, graduate trainee.

A leading American securities official says her country can learn from the approaches taken in Bermuda and other jurisdictions concerning the regulation of cryptocurrencies. Speaking at a convergence forum hosted by the Singapore University of Social Sciences, US Securities & Exchange commissioner Hester Peirce said "crypto regulation affords international regulators the opportunity to learn from one another". She added: "I often have expressed my concern that the US will fall behind other countries in attracting crypto-related businesses unless we are more forward-leaning in establishing a regulatory regime with discernible parameters. The US SEC can look to our counterparts overseas for ideas in untangling some of our most difficult legal and policy questions in this area." Stressing that the views expressed were her own, and not necessarily those of the SEC or her fellow commissioners, Ms Peirce said regulators in jurisdictions including Singapore, Thailand, Japan, Hong Kong, Malta, Switzerland, France and Bermuda were addressing difficult questions concerning cryptocurrency regulation. She said: "Bermuda is one of the only jurisdictions to address the custody question in detail. In conjunction with a regulatory regime for digital asset businesses, the island also released draft guidance for crypto custodial services, which addresses such difficulties as how to store private keys for hot and cold storage while preserving necessary liquidity, what safeguards should be in place to prevent unauthorized access, and how to frame internal audit of transactions to ensure their integrity." Referring to the efforts of Bermuda and other countries to innovate, she said: "These 'laboratories of regulation' operated by our international counterparts have me thinking about possible paths for the US to become more welcoming of crypto innovation." She added: "I look forward, for example, to learning more about Bermuda's custody framework to see if we can draw from it as we think about how our custody rules apply in the crypto context." Ms Peirce concluded: "Whatever direction we go in the United States, continued communication among the world's financial regulators will be important. While I believe a single global regulatory framework would be unwise, regulators can create a healthy environment for this new market to grow by sharing information that will smooth cross-border transactions while stamping out fraud and other harmful activity. We also can continue to learn from one another to fill the gaps in our own regulation and borrow, when appropriate, from frameworks developed and tested in other places." Ms Peirce's comments were made on the same day that the founder and chief executive officer of a fintech firm that is to set up on the island told a US Senate Banking Committee that the regulatory approach taken by the Bermuda Government "can and should be emulated by other countries". Jeremy Allaire's fintech company, Circle, will create more than 30 new jobs in Bermuda over the next two years, he said recently. Mr Allaire said an uncertain and restrictive regulatory environment has led many digital asset projects and companies to domicile outside of the US and to block US persons and businesses from accessing products and technologies. In Circle's case, he told the Senate committee, the firm has begun the process of moving its international-facing products and services into a licensed Bermuda entity. "Bermuda's forward-looking Digital Asset Business Act provides a comprehensive regulatory framework for companies offering this new type of financial service," he testified. We believe that the approach the Bermuda Government has taken can and should be emulated by other countries." Mr Allaire's crypto-finance firm was the first to get a full licence under DABA, which came into force last September.

Bermuda's health watchdog has started the search for its next chief executive. The Bermuda Health Council has invited applications for consideration for the role of chief executive. And the regulatory body is also on the hunt for a health economist. Ricky Brathwaite has served as acting chief executive since December. He joined BHeC as programme manager for health economics in 2014 and later became director of health economics. Dr Brathwaite was made acting CEO of the regulatory body after former chief executive Tawanna Wedderburn was fired. He did not respond to questions about the job postings by press time yesterday. Advertisements of the posts were published last week. The council said that the role of chief executive was appointed by the BHeC board and reports to the board through the chairman. It added: "The CEO recommends and participates in the formation and revision of policies and programmes by the council and is responsible for implementing and directing, through effective leadership of staff and operational supports, the policies and programmes approved by the board, in accordance with the council's strategic goals as determined by the board. The CEO is responsible for the successful management of the organisation to meet the goals and objectives as set out by the board." The successful applicant will, among other responsibilities, be required to oversee day-to-day operations, communicate with the health ministry as well as other community and stakeholder groups, and lead the recruitment, hiring, training and termination of staff. The person will hold a master's degree in the healthcare or management field, as well as a minimum of ten years' post-qualification experience in a manager or director's post. Business and management experience, experience with the development of public health policy, and experience with a regulatory organisation are considered assets. The health economist "provides advisement and guidance ... on health system costs, opportunities for efficiency, implications of system change, and the forecast of demand within the healthcare system". The job description adds: "The health economist collaborates with local and international partners on research in the areas of health economics, profits and loss, insurance market dynamics and consumer preferences — working towards a more affordable health system that will produce more healthy lives to help grow Bermuda's economy." The successful applicant will be responsible to develop and implement strategies, develop and execute projects and programmes, and monitor the status of programmes. The successful candidate will hold a postgraduate degree in economics, finance or a field related to health economics and a minimum of seven years of post-qualification experience in the health system. Ms Wedderburn revealed in March that she would take legal action over her termination which ended an 11-year career with BHeC. Ms Wedderburn said that she had asked for judicial review proceedings against David Burt, the Premier, Kim Wilson, the Minister of Health, her former employers and Alicia Stovell-Washington, the chairwoman of the council. The health council was set up to regulate private health service providers, ensure the provision of essential health services and to promote good health. The BHeC told The Royal Gazette its policy is not to respond or discuss HR matters or personnel issues.

A coding problem with Bermudian passports is to blame for "distress and disruption" experienced by some travelers, the national security minister said yesterday. Wayne Caines said that he was aware that some Bermudian BOTC passport-holders had experienced "additional questioning or delays" at some borders. He added that the problem was not as a result of changes with the United States Customs and Border Protection procedures or US immigration law. Mr Caines explained: "The problem has arisen from the electronic coding of Bermuda BOTC passports, which for security reasons are now issued from the UK. Despite guidance issued by the International Air Transport Association confirming that Bermudian BOTC passport holders remain eligible for visa-free travel to the US, difficulties continue to be encountered with some airlines and airline agents." He said that a joint working group with the Passport Office in Britain had been created to try to fix the problem. Mr Caines said: "It is clear that the current situation has caused distress and disruption in a number of cases and Government House is in close touch with the Foreign and Commonwealth Office on this matter." He added that his ministry "has given resolving this matter urgent priority". A document which explains the US visa exemptions for Bermuda can be found on the US Consulate website. Mr Caines advised all Bermudian passport holders to visit the website to print a copy of the exemption to carry with their passport "until a solution is found". He warned: "Please be mindful that presenting the card does not guarantee action by an airline representative or immigration official. Travelers have still experienced difficulties, including being denied boarding and/or missing flights, even after presenting this document." Mr Caines said that another option for Bermudian passport holders was to consider applying for a US visa. Instructions on how to obtain the visa can be found on the US Consulate's website.

The Bermuda Tourism Authority is backing six local organisations and entrepreneurs to provide cultural experiences for visitors to the island. Glenn Jones, the BTA's chief experience development officer, said PinkSand Entertainment, Eettafel, the Urban Culture Exchange, the Supper Club, the Bermuda Sandcastle Competition and St Peter's Church were unveiled as successful experience investment applicants. Mr Jones said each of the awardees will offer a uniquely Bermudian experience for guests in the coming months. PinkSand Entertainment, headed by Jonathan Tankard, hosts the Made in Bermuda Nights events series on White's Island with a range of local musicians. Eettafel organizes full-service luxury picnics at iconic Bermuda locations and vistas, while the Supper Club, organised by Scott Nearon, hosts dinners at Elbow Beach. The Urban Culture Exchange, organised by promoter John Lee, will offer visitors a range of Bermudian cultural experiences. The BTA also announced its support for the Bermuda Sandcastle Competition and St Peter's Church, which will this year offer a "Mysteries and Majesties" tour of the historic St George's church. The BTA said it would host free entrepreneur workshops on August 28 and 29 to help new and existing businesses create initiatives that align with the BTA's objectives and the wants of visitors.

Film fans were warned of an internet scam that is designed to steal credit card details. The Regulatory Authority of Bermuda said an advertisement circulating on Facebook suggested a programme called MovieFlix can offer a streaming service like Netflix, but free of charge, if customers sign up before today. It warned that the promotion leads users to an article that claimed Netflix has "lost thousands of Bermudian users this week because of the new competing service". A spokeswoman for the RA said that although the MovieFlix website appeared to be legitimate, every tab on the page linked to the same online form asking people to sign up for a trial membership. She said the hoax had already appeared on posts in Australia and New Zealand with identical messaging and other countries targeted included Canada and Ireland. Denton Williams, the RA chief executive, said: "Our role as an independent regulatory body is primarily to protect consumers and industry stakeholders. MovieFlix is an example of a phishing scam, designed to steal credit card details, Mr Williams explained. "Often these scams are linked to international organised crime and we strongly recommend that if consumers have already subscribed for the service, that they monitor their bank accounts or cancel their cards before their information is taken."

The Canadian company that intends to take over Ascendant Group sees an opportunity in Bermuda to replace fossil fuel energy generation with renewables, as it is doing elsewhere. That was among the comments made by Ian Robertson, chief executive officer of Algonquin Power & Utilities Corporation during a second-quarter earnings conference call on Friday. He spoke a few hours after Ascendant Group shareholders met and voted overwhelmingly to accept Algonquin's $365 million offer for the group, which includes energy provider Belco. The amalgamation transaction is expected to close later this year, subject to the granting of regulatory approvals. Algonquin has reported adjusted net earnings of $55 million for the second quarter, or 11 cents per share, up from $50.9 million for the same period in 2018. Revenue fell six per cent, year-on-year, to $343.6 million. During Friday's conference call, Mr Robertson responded to a question about the Ascendant transaction and said that while Belco is "a great utility in a highly stable and fairly well-off socioeconomic service territory, what really enthused us about it is the fact that, believe it or not, that the utility supplies almost 100 per cent of its energy from fossil fuel resources." He said there are two consequences of that. "Obviously, I don't think Bermuda is achieving its objectives from an ESG [environment, social and governance] perspective. And second of all, maybe where the real opportunity comes in, energy is very expensive in Bermuda, like 40 cents a kilowatt-hour with almost 20 cents of that being attributed to fuel. The company sees an opportunity to do in Bermuda what it is doing in the US Midwest in terms of replacing fossil fuel energy generation with renewables. And gosh, when you're paying 20 cents for the energy alone — there's a value proposition there." He also mentioned the Regulatory Authority's preference for renewable energy projects, as laid out in its Integrated Resource Plan, published last month. Mr Robertson said: "You can imagine that was the underpinning of our interest in Bermuda and music to our ears. From our perspective it has advanced the timing of our expectations of continued investment to replace fossil with renewables. So I think it's great news." Regarding debt within Belco, Mr Robertson said it is a "relatively low levered utility".

Bermuda's first all female drum band will participate in the Pride Parade this month. Coral Beats said the theme of the Pride Parade, "We Belong" was especially important to their band, which welcomes diversity. The percussion group will play at Victoria Park and participate in the parade on August 31, from 2pm. A spokeswoman said: "We are made up of a group of ladies from all backgrounds that come together once a week to practice the samba, reggae rhythms of Brazil on their drums and various other percussion instruments." Coral Beats formed in March 2017 and has played at birthday parties, weddings, the Bermuda Festival, the Queen's birthday at Government House and for TEDx. Band member Nicky Gurret said: "Our group is excited to be playing in the parade in support of the LGBTQ community and present our music to the parade watchers."

August 11, Sunday

Two lawsuits filed in New York courts have been withdrawn after Bermuda Chief Justice Narinder Hargun upheld claims by Bermuda-based Athene Holding Ltd that such matters are the exclusive jurisdiction of the island's courts. A US-based investor in Athene, Central Laborers Pension Fund, made a derivative complaint against private-equity firm Apollo Global Management LLC and Athene Asset Management LLC. The plaintiff, on behalf of Athene shareholders, demanded damages for what it described as "looting" of Athene through "extravagantly expensive" fees paid for managing the reinsurer's investment portfolio, according to the complaint, filed in the Supreme Court of New York on June 18. The fees agreed for managing the portfolio of about $130 billion run into hundreds of millions of dollars per year. Athene maintained that the suit should have been filed in Bermuda as the case hinged on the conduct of its directors, the Financial Times reported. According to the company's by-laws, the FT said, any such matters must be resolved in Bermuda courts. Mr Justice Hargun granted an ex parte temporary injunction on July 5, ordering a halt to the CLPF action in New York. Thereafter, Cambria County Employees Retirement System — a public pension fund in Pennsylvania — launched a separate New York action, which made no reference to the conduct of directors. Cambria also sought an order from the New York court preventing Athene "from attempting to interfere with" the suit, according to a report in the FT. However, before the matter could be heard in New York, Athene again sought relief from the Supreme Court of Bermuda, and Mr Justice Hargun ruled in favour of Athene. The plaintiffs in the two matters subsequently withdrew the suits, citing the Bermuda injunctions, according to the FT. Apollo, the co-defendant in both matters, said the claims were "completely without merit and would fail in any jurisdiction", the FT reported. Calling the dismissals "a routine application of Athene's by-laws, which clearly provide that Bermuda is the proper forum for litigation", Apollo added that the two cases were brought by the same law firm and "were ultimately nothing more than a failed attempt to forum-shop", the FT said. A spokesman for Athene said the company had no comment.

August 10

Cabinet minister Zane DeSilva lost a court battle with his sister-in-law and niece after it was ruled that his company wrongfully fired them. The Supreme Court upheld a decision by the Employment Tribunal that Island Construction was wrong to dismiss Barbara Phillips and Rebecca Phillips over allegations of theft and dishonesty. Archibald Warner, the counsel for Mr DeSilva and the company, argued that the tribunal should have pushed back their hearing until after a police investigation could be carried out. But the request for an adjournment was denied and, despite an invitation to make further applications in person, Mr DeSilva and his counsel did not attend the hearing. Puisne Judge Shade Subair Williams said the failure of the Minister of Tourism and Transport and his company to appear at the tribunal meant they were "hardly entitled to later complain" that they did not get a fair hearing. Mrs Justice Subair Williams supported the decision of the tribunal in written reasons delivered on July 29. She said: "It is difficult to envisage what kind of evidence would have been available to the tribunal had they granted the appellant's adjournment request. Mrs Justice Subair Williams added: "Equally, it appears that the tribunal was not given any indication by the appellants on the likely time frame needed to resume a hearing if the matter adjourned. Perhaps these are matters which might have been made clearer had the appellants and/or their counsel sensibly accepted the opportunity to appear before the tribunal in person to address the tribunal on their request." Mrs Justice Subair Williams concluded: "Having relinquished the opportunity to appear, and having willfully absented from the full hearing which followed, it is hardly open to the appellants to now complain that they were deprived of a fair hearing, based on an adjournment refusal." Counsel for the Phillips's were contacted, but did not comment by press time last night. Mr DeSilva declined to comment on the matter, but indicated that an appeal against the decision would be launched. According to the written reasons, published online this week, Island Construction fired the pair on April 27 last year on the grounds of serious misconduct, making accusations that one stole gas and received money for unworked hours, and the other acted dishonestly. The mother and daughter brought the matter to the employment tribunal and, through lawyer Peter Sanderson, argued they had been wrongfully dismissed. The tribunal held a hearing on December 4, 2018, and ruled they were wrongfully dismissed. In the Supreme Court, Mr Warner argued Mr DeSilva and Island Construction were deprived of a fair hearing, but there were arguments about what, if any, police investigation was under way. Mrs Justice Subair Williams wrote: "Peter Sanderson, counsel for the respondents, expressed grave doubt about the activeness of an ongoing investigation and informed the court that his clients have never even been approached by police in relation to their employment. On the return date for the continuation of this appeal hearing, Mr Warner shared that he had spoken with Police Constable Pitt who advised that the police investigation was under way and that there would likely be an arrest. Mr Warner himself described this information as terse." Mr Warner also argued the tribunal wrongly accepted the Phillips's version of events without making a "full enquiry" about the complaints against them. But Mrs Justice Subair Williams said: "Where an employer elects not to appear for the final hearing before a tribunal, that employer is hardly entitled to later complain that the tribunal failed to intervene with questions in the examination of a witness. It's obviously correct that the tribunal had an infallible duty to ensure that it conducted the proceedings fairly. In my judgment, the fairness of the proceedings was not compromised by the tribunal's acceptance of the employee's uncontroverted evidence." She dismissed the appeal by Island Construction and Mr DeSilva, and affirmed the decision of the Employment Tribunal.

The Bermuda Tourism Authority will launch a new initiative to draw visitors to cultural sites — and encourage the sites to stay open. Glenn Jones, the chief experience development officer at BTA, said the Discovery Days initiative will focus activities in St George's, Hamilton and Dockyard on different days, which will help volunteer-staffed museums and attractions be open at the right times. Mr Jones said: "It can be labour intensive and expensive for a cultural tourism site to be open all the time. For the most part they are managed by volunteers, and when we started to dig into this problem volunteer shortage was the main barrier to a good cultural tourism experience at our museums, galleries and other sites. Sometimes visitors would be sent to a cultural site or museum and it would just be closed. And the person who sent them there really had no way to know it would be closed. There's no way really to recover from a concierge sending someone to that museum. The trust breaks down and the concierge stops sending visitors to that museum because they don't want to disappoint anybody and we are in a vicious cycle." Delivering a presentation to stakeholders on Wednesday evening, Mr Jones said the Destination Day initiative would put focus on Hamilton on Fridays, St George's and St David's on Saturdays and Dockyard on Sundays, with the goal of ensuring attractions are open on those days. He said: "We are not saying stay closed on the other days of the week, but especially focus on these days of the week to put a good foot forward." The BTA also announced that it would roll out a number of tour options that focus on Bermuda's architecture, heritage and culture in response to the demands of visitors. It will launch walking architecture tours in Hamilton, St George's and Dockyard in October, timed to take place during the Destination Days in those areas. Tours will also be launched to highlight day-to-day Bermuda culture, taking visitors into residential neighborhoods, Government estates and Bermuda National Trust properties. These tours will also be aligned with Destination Days, focusing on the western, eastern and central parts of the island and will end at iconic Bermuda properties such as Aberfeldy in Somerset. Another cultural option will help visitors explore "secret artefacts", providing unique experiences to guests at the National Archives, the National Gallery, the Freemason's Lodge and the National Museum. Another set of cultural experiences will focus on the island's black heritage and the African Diaspora Trial. In October, the BTA will celebrate the tenth anniversary of the Sally Bassett statue at the Cabinet Office with a series of nightly events, including a theatrical performance at the Cabinet Grounds. Other cultural tours will be launched in Dockyard and St George's. The BTA also said it will introduce more Bermudian culture into Restaurant Weeks 2020 with a series of special dining opportunities in unique cultural locations. Restaurant Week 2020 will launch on January 16 with a luxury rose garden picnic at the Waterville Rose Garden. And on January 24 Eric Adjepong, a celebrated chef and former Top Chef contestant, will create a meal intended to tell the story of the African slave trade in a dinner near the historic Cobbs Hill Methodist Church. Restaurant Week will also feature a fish fry at the Transportation Museum in Dockyard, which will boast live music, local beer and Bermuda fish, including lionfish. David Skinner, the head of the Bermuda Festival, added that the 2020 festival will also find ways to educate and inspire as part of the BTA's initiatives. Mr Skinner said Naturally Seven, an acappella group, will also entertain crowds at the rose garden picnic. Alda Dizdari, a classical violinist, will partner with local performers for shows in Dockyard and St George's.

The publicist for the reggae performer Vershon has disavowed an earlier statement issued on behalf of the artist claiming that he had been unfairly turned away from Bermuda. The Jamaican artist, Kemar Brown, complained he was refused entry as a tourist at LF Wade International Airport on August 2, after the plug was pulled on the concert the next day in which he was scheduled to perform. But Wayne Caines, the Minister of National Security, responded on Thursday that no record existed of Mr Brown submitting an application for a permit to perform in Bermuda, and that his name did not appear on any flight manifests for that day. The minister said Mr Brown was "never refused entry into Bermuda because he never travelled to Bermuda". His publicist, Shuzzr PR, last night retracted the earlier statement criticizing the refusal and calling for an apology. The spokesman said that in light of Mr Caines's statement, it was "only prudent that we withdraw our initial stance". He added that he offered "our sincerest apologies and our co-operation in any investigating being carried out", saying the firm would assist with repairing any damage done to the island's reputation. The spokesman said the firm had made "a conscious decision to release reggae-dancehall artist Vershon from our roster and any contractual obligations", adding: "To the people of Bermuda, our apologies."

Reggae artist Vershon has confirmed that he was not barred from entering Bermuda this month. And he has apologised to the Government and people of Bermuda for a statement "erroneously put out by my publicist" last week. The Jamaican performer, whose real name is Kemar Brown, said that he had been contracted to perform at the BDA Summer Music Festival on August 3. Mr Brown said that he and his party had arrived at John F Kennedy International Airport, in New York, on August 2 for a connecting flight to Bermuda. He told the website Bernews.com that it was there that he was advised by telephone, the show had been cancelled. Mr Brown said: "At no point did I enter Bermuda and subsequently left New York for Jamaica. "On the 5th of August, a statement was erroneously put out by my publicist, causing embarrassment to me personally, the Government and people of Bermuda, and to my fans. I want it to be categorically known at no point did the Bermudian Government deny me entry into the country because I have never been there before." He also offered an "unreserved apology" to Wayne Caines, the Minister of National Security. The publicist for Mr Brown said at the weekend that an earlier press release which said that Mr Brown had been denied entry as a tourist at LF Wade International Airport on August 2 was issued "at the direction of our client". A statement on the Shuzzr website added: "Even after the release was crafted, Vershon approved the dissemination of said release, and remained silent since. It's irresponsible for him now to say 'a statement erroneously put out by my publicist' when it was done at his direction and approval." Mr Caines said last week that no record existed of Mr Brown having submitted an application for a permit to perform in Bermuda, and that his name did not appear on any flight manifests for that day. He added that Mr Brown was "never refused entry into Bermuda because he never travelled to Bermuda". The original press statement from Shuzzr claimed Mr Brown had the documents legally required to visit Bermuda as a tourist, and had wanted to bring positive publicity to Bermuda tourism. It called for an apology from Bermuda. In a statement on Friday night, the company said: "Considering the statement made by the minister of security for Bermuda, Wayne Caines, which refutes the artist's claim, it's only prudent that we withdraw our initial stance, offer our sincerest apologies and our co-operation in any investigating being carried out, and assist with repairing the damage done to the island reputation." Shuzzr said its credibility was at stake and added: "As such, we have made a conscious decision to release reggae-dancehall artist Vershon from our roster and any contractual obligations. To the people of Bermuda, our apologies."

Plans for a broader, cheaper standard health coverage package to encompass all the island's residents were given a cautious welcome yesterday. Charles Jeffers, the deputy chairman of the seniors advocates Age Concern, called a proposal to revamp the Standard Health Benefit "long overdue". Mr Jeffers said: "Age Concern has pushed for this for years. We need to get basic benefits under one banner and away from insurance companies dealing with the extras. If we don't, there's nothing to stop insurance rates continuing to go up. They are in the business of making money and satisfying their shareholders. If we have our basic benefits under one set of administrators, we stand to benefit. We are looking at this proposal closely, because a lot of pensions are being taken up with health insurance. We're hoping the Government is prepared to do whatever is necessary to bring down costs." The present coverage of the Standard Health Benefit has limited cover for doctors' visits, prescription drugs or dental care. The revised benefits, tentatively planned to begin late in 2020, are anticipated to bring savings by combining residents in a single unified pool. However, a veteran industry insider, requesting not to be identified, predicted "heavy jobs losses" for the health insurance industry. He said: "A universal health programme means insurance benefits being taken over by the Government and taken out of the hands of private insurers. We are not the first country to do it — Bermuda is late to the universal health insurance game. But everything comes with pros and cons. Hopefully, it leads to coverage for everybody from the womb to the tomb. But the bad thing about universal insurance is it causes queues. Emergency care is pushed up the line. If you're waiting on knee surgery, you can be pushed down the line. This is a known fact — it's happened in every area where universal insurance has been implemented." He questioned how it would be paid for: "Countries with universal health insurance have high taxes. All these things have to be factored in." Mark Selley, the chairman of the Bermuda Healthcare Advocacy Group, was skeptical. He said the planned four-month consultation period was "not giving us enough time". He added: "There's no doubt that healthcare needs to be fixed, but I don't think this is going to work the way the Ministry of Health is planning. Will this be a huge loss for the private insurers? The co-pay is not legislated at the moment. Will there be an uproar from doctors if the Government puts that control in place? There's a lot of questions about this. We have not received any prior warning. Until we're told more about how they intend to move this forward, we don't have any idea how it will work."

Bermuda has been hit by a confirmed imported case of dengue this year, a government official said. The spokeswoman for the Ministry of Health added that there had been a further three suspected imported cases of the virus, but emphasised there was no significant risk to public safety. The announcement came after an outbreak of dengue in the Philippines was declared a national health epidemic. The South-East Asian country's Department of Health said that 146,062 cases had been reported from January to July 20, up 98 per cent from the same period last year. More than 600 people have died. Bangladesh has also been hit by the country's worst outbreak of dengue, where tens of thousands of cases have been reported this year as well as several deaths. Requested information on where the cases originated was not provided yesterday, although it is understood they did not happen this month. Dengue is a mosquito-borne viral infection that causes flu-like illness, and can develop into a potentially lethal complication called severe dengue. The World Health Organisation said global incidence of the disease had grown dramatically in recent decades, with about half the world's population now at risk. The virus is found in tropical and subtropical climates, mostly in urban and semi urban areas. It is transmitted by female mosquitoes, mainly of the species Aedes aegypti. The spokeswoman said that Bermuda had maintained "good control" over the types of mosquitoes capable of transmitting the virus. She added: "As a result, Bermuda does not have the vector most competent in spreading dengue." The spokeswoman said the island was prepared to handle confirmed and suspected cases of the virus. She added: "Public education about mosquito control continues, including within the setting of the airport for travellers to areas where mosquito-borne diseases are problematic. Community physicians and hospitalists communicate with the Epidemiology Surveillance Unit on case management of suspected cases. Actual cases would be managed by supportive care by community physicians, or in hospital as required by hospitalists and infectious disease specialists." The spokeswoman said that the King Edward VII Memorial Hospital's Emergency Department and community physicians work together in early identification and treatment of suspected cases. The Public Health Act requires residents to keep their property free of water build-ups where mosquitoes can breed. The spokeswoman said properties should be scanned once a week in the summer, and water should be emptied from items such as buckets, plant pots, saucers, tyres, wheelbarrows and plastic tarps.

A celebrated Little Venice waiter, famous for regaling customers for decades with singing and practical jokes, has died at 64. Originally from Modena, the northern Italian city famous for its sports cars, Antonino Astarita became known to generations of Bermuda diners as Tony or "Crazy Tony". The senior waiter and wine steward's inexhaustible hospitality was "from the heart", Mr Astarita told The Royal Gazette in 2011. Speaking on the Hamilton restaurant's 40th anniversary, he added: "I come here to enjoy people. We treat people right and they are satisfied. I love the job. Sometimes in the morning I can't wait to come into this place." Mr Astarita had his own colourful back story for coming to the island, saying he had been poached from a Capri nightclub in the 1970s by friends from the Little Venice. He recalled: "They said 'why don't you come with us to Bermuda'. And then a week later, I was in Bermuda." His quick and personable service came with a trademark laugh and supply of comedic props, including rubber chickens, Viking helmets and a suit of armour. Awarding Mr Astarita a Best of Bermuda as a waiter in July 1997, The Bermudian magazine remarked: "Still crazy after 18 years, for him every day is carnival, every meal an opportunity to perform." Emilio Barbieri, the managing director for the restaurant's operating company MEF Group, said his original business partner Gioacchino "Jacky" DiMeglio had orchestrated Mr Astarita's arrival here on September 18, 1979. "Tony came as a waiter, and he wanted to be a sommelier, which eventually he was," Mr Barbieri said. "He was very happy with what he was doing. His conversation was always to the point, to make people laugh. That's what made him unique. If you said something he didn't understand, it was his big laugh that told you, somehow, he understood. His personality was bigger than himself." Mr Astarita's repertoire of practical jokes included warning patrons the coffee was dangerously hot, then pretending to spill it on them. The cup, which would be empty, was secretly held in place with a spoon through the handle. One party routine entailed a doctor's costume, and checking patrons with a stethoscope to ensure it was safe to continue serving them alcohol. Mr Barbieri said: "He was the only one who could get away with it." Mr Astarita was also known as "the singing waiter", rendering "Happy Birthday" for guests deliberately out of tune. Mr Barbieri said the waiter's favourite had been the opera favourite Nessun dorma from Puccini's Turandot. "That was his forte, the one he really enjoyed," he said. Mr Astarita is survived by his wife, Sue, and stepchildren Harry, Alice and Charlie. A memorial service will be held next Saturday at St Theresa's Cathedral on Cedar Avenue in Hamilton.

August 9

Attorney-General Kathy Lynn Simmons released a ministerial advisory today on anti-money laundering and antiterrorist financing systems.

Lieutenant-Colonel David Burch, the Minister of Public Works, expressed "complete shock and disgust" after trash collection workers found human waste in garbage bags placed out for collection on Tuesday. Colonel Burch said: "We are having increasing incidences where our waste collection staff are finding human and animal waste and other contraband placed in residential garbage bags. This most recent incident occurred at Cedar Hill, Warwick. I think the entire community will agree with me that this is not only absolutely unsanitary and abhorrent, but more importantly, it poses a significant health and safety risk to our workers. It's amazing that we actually have to remind the public not to dispose of human and animal waste via the weekly garbage, but here we are. I am urging members of the public who are engaging in this type of disgusting behaviour to stop. Please have some respect for the hard-working men and women of our waste management section, who diligently do their jobs daily, often under thankless conditions, simply to ensure that our island maintains its cleanliness and beauty." Colonel Burch advised that the disposal of paints and other hazardous waste items through residential collection was also a rising concern. All of these items can be disposed free of charge at the Tynes Bay Waste to Energy Facility. For more information regarding residential waste collection, recycling or hazardous materials disposal, visit gov.bm.

Complaints over a $5 post office fee on non-dutiable packages have been listened to by Wayne Furbert, the Minister for the Cabinet Office. Yesterday, Mr Furbert said he had contacted the Bermuda Post Office to request that "this fee not be charged on non-dutiable goods". The clearance and processing fee has been in place since 2012 for dutiable items, but was recently extended to cover non-dutiable packages, Mr Furbert explained. "The public will be aware that over the last several months, the BPO has been undergoing an extensive reform process. This includes closely reviewing its business processes and services and updating its services to provide greater financial management of its resources." Unhappy customers took to social media over the charges after the post office began enforcing the charge on August 1. Nick Kempe, the shadow finance minister, branded the fee "a back-door tax by Government". Mr Kempe called the BPO's stated wish to improve the client experience "complete nonsense". He added: "How does a $5 charge 'enhance the client experience'? This is just a revenue-raising exercise. It makes you wonder what Government is planning next. Maybe a $5 charge to pass through the duty-free line at the airport?" Mr Furbert also reminded the public that the $5 for dutiable packages could be exempted if they completed the form themselves. The forms are available from the Department of Customs site on the government portal, gov.bm.

A revised package of health benefits could cut out-of-pocket expenses for the public, according to plans unveiled by Bermuda's health minister yesterday. However, specifics on what the new plan will provide, as well as who will administer the scheme, remain unclear. Kim Wilson said that the Bermuda Health Plan 2020 would replace the Standard Health Benefit coverage for all the island's 65,000 residents. She said that the proposed unified system "is best suited to achieve efficiencies, economies of scale and cost savings". The minister told a press conference: "A unified system means that all residents will be in the same basic insurance pool, sharing health costs throughout all of Bermuda's residents." The government website estimates the prospective plan could chop annual expenses for a family of four from $25,536 to $17,068 compared with the current system. A hypothetical model for a single adult shows the present yearly cost of $7,058 potentially dropping to $6,308, with suggested savings such as:
Co-pay per visit to a GP, for two visits a year, cut from $80 per visit to $25
Co-pay for a single yearly visit to a specialist, from $200 to $50
$400 coverage annually for spending in prescription medicines
Naz Farrow, the chief executive of Colonial Group International said yesterday that the company supported a scheme to improve health and reduce costs, but warned the creation of a new system was a "massive and complex undertaking". Ms Wilson said that the new benefits package "will be designed to help make us healthier and result in real savings by placing caps on co-payments while ensuring healthcare businesses can be financially stable". She added that a new draft plan for public consultation includes "access to doctors and specialists, home-care services and basic coverage for medicines, dental, vision and overseas care". Ms Wilson said that it was estimated the BHP could be provided for $514 a month for adults and $178 a month for children. She added: "This would be $257 each, when shared between employer and employee. It would replace SHB and, therefore, includes everything already in SHB." Responsibility for administering the plan had yet to be decided, she said. It would be part of a twofold consultation expected to last four months. Ms Wilson explained: "One, it will be to decide what does that Bermuda Health Plan 2020 look like — what type of benefits should be included. The second part of the consultation will include the development of a road map as to how we will effectively transition our health financing from the current, disjointed, expensive methodology towards a unified system." Ms Wilson did not rule out a possible quango arrangement to administer the plan, in addition to private and government-run schemes. She was tight-lipped on whether one administration model was preferred over another. Ms Wilson said: "The consultation period will allow members of the public and private sector to participate in this process. It is very important that they are fully engaged. No decisions are final." Ms Wilson said that health insurance providers had been "intimately involved" with consultation to date. She said that a stakeholder consultation document that detailed feedback from health insurance providers and other groups would be available in "due course". Ms Wilson issued a "caution" to Bermudians in her speech. She said: "There will be members of our community who will be content with the status quo, not wishing to advance the reform measures I have just spoken about, and who think that the fundamentals of our healthcare system in place for the last 50 years should continue. This government does not agree." Ms Wilson did not provide an answer when pressed on what specifically would be opposed in the new plan, She said: "I can anticipate, without looking in a crystal ball, that if we change a system that has systemically disserviced a large segment of our population for over 50 years, that there are likely going to be detractors." Ms Farrow said that Colonial agreed with the "high-level goals" proposed in the BHP. She added: "The proposed creation of a 'new healthcare system' will be a massive and complex undertaking requiring the highest degree of technical and financial planning, co-ordination and community co-operation." Ms Farrow said the company welcomed Ms Wilson's "commitment to meaningful and effective consultation with stakeholders". She added: "We also appreciate the minister's statement that the road map to achieving the 2020 plan, as she framed it, is 'complicated' with much to be made clear on economic, administrative and transitional questions that will have material effect on the viability of the plan itself." John Wight, the president and chief executive of BF&M, said the company had no comment for now. Questions sent to insurers Argus Group were unanswered by press time yesterday. However, Patricia Gordon-Pamplin, the Shadow Minister of Health, called the announcement a "flavour of the month". She said the plan was a move by Ms Wilson "to show their relevance and to attempt to dupe the public that something is being done to control costs" and that it came amid "a total lack of transparency concerning the vision for healthcare and curtailed costs". Ms Gordon-Pamplin added: "In the past parliamentary year, the minister has announced and passed legislation to effect several piecemeal changes to the healthcare system, which has resulted in increased health insurance costs as there is a clear lack of understanding of the drivers of healthcare costs."

Opinion. By Leah Scott, the Deputy Leader of the One Bermuda Alliance and the Opposition MP for Southampton East Central (Constituency 30). "The Premier, David Burt, was quoted as making the following comment in the House of Assembly on July 12: "I don't think economic reasons are the main reasons that people leave Bermuda. The main [reasons] revolve around education and issues inside our community around violence and gang violence." My One Bermuda Alliance colleague, senator Dwayne Robinson, recently shared his views about the Premier's comments, highlighting that he is clearly out of touch with both reality and the community. I, too, have concerns about the Premier's detachment from the economic struggles and issues that many in our community find themselves facing daily. But beyond that struggle, which is very real, the Government put in place a Violence Reduction Team to combat the risk factors that can set our young people, particularly our young men, on a path towards gang involvement. In July 2017, the Ministry of National Security's Violence Reduction Team was formed and the Government promised the people of Bermuda that it would "give reducing gang violence the priority it deserves". Wayne Caines, the minister, said so in a ministerial statement to the House of Assembly in November 2017. In that same statement, he also provided the House with some statistics. He said that since 2009 "35 young black men have been shot and killed; 92 people have been injured by illegal firearms; and over 400 of our young people are deemed at risk of falling prey to the gang lifestyle". Nowhere in that statement did the minister include the number of people who are leaving Bermuda because of gang violence. The VR Team's core goals and objectives are to:
Change the pattern of behaviour of individuals involved in group and gang violence, and reintegrate them into mainstream society
Prevent young people from joining gangs and engaging in antisocial behaviour
Connect at-risk youth, men and women with the necessary helping agencies that will aid in addressing mental and social health issues
Create opportunities of employment for those who may have been previously deemed "unemployable" because of their past.
None of the above-listed core goals and objectives include stopping or minimizing gang violence so people will not leave Bermuda. One would expect that if gang violence was indeed the cause of people leaving Bermuda, stopping or reducing such an exodus would have to be stated as a core goal, or objective of, the VR Team. On November 23, 2018, Mr Caines, delivered a further statement updating the House on the activities that the VR Team had been engaged in. Specifically, he noted that the VR Team is supported administratively by the Ministry of National Security headquarters staff, and that it works in conjunction with the Inter-Agency Gang Enforcement Team. The VR Team also works with the administration and student services teams at both CedarBridge Academy and the Berkeley Institute, in conjunction with the Bermuda Police Service, to provide much needed support services for at-risk students. Mr Caines stated that the VR team worked with the Department of Public Transportation to develop plans to get students home safely, and has been in the schools to co-ordinate mediation sessions between students involved in rival gangs. The VR Team also supports a wide range of community groups that align with its goals and objectives, such as Mothers on a Mission Bermuda, the Clergy Working Group and Living Legends Community Group. In addition, according to the minister, these interventions by the VR Team have resulted in a marked decrease in gang-related conflicts at the schools and during after-school hours. So, there are several people and agencies who are working diligently to address and alleviate our gang culture and gang violence, not the least of whom is the Gang Reduction Co-ordinator, Leroy Bean, who is tireless in his efforts working with gang members and their families. Contrary to what people may think or believe, his role is not limited to the hours of 9 to 5. This man gets up and out at any hour of the day or night. He sacrifices his personal family time to address the needs of the members of our community. Notwithstanding the foregoing, the most important remark in Mr Caines's November 2018 statement was this: "The work of the Gang Violence Reduction Team is important and should not be understated. The ongoing, gang-related tensions in the community have not been ignored. Rather, this government and the Gang Violence Reduction Team have been steadily working to co-ordinate resources to best address the issues and we are seeing results." I will repeat what Mr Caines said in his statement: "We are seeing results." So what is the basis for the Premier's remarks about Bermudians leaving Bermuda because of gang violence? I am sure the Premier is updated at Cabinet about the successes that the VR Team is achieving. I am sure that, aside from Cabinet, the Premier must have meetings with his minister to discuss whether the goals and objectives of the VR Team are being achieved. And if they are not being achieved, what is the strategy to ensure that they are achieved? Quite frankly, if I were Mr Bean, or the minister, a gang member, a member of any of the VR Team, a member of the organisations assisting the VR Team, or a person leaving Bermuda because I just can no longer economically survive here in my own country, I would be deeply disturbed and offended by the Premier's remarks. Mr Burt effectively said that the VR Team, led by Mr Bean, under the auspices of the Minister of National Security, has not been effective, and their efforts to tackle gang violence have come to naught. Essentially, the Government is wasting its money and the gang reduction efforts, and all those associated with those efforts are failing. Because, surely, if the efforts were coming to fruition, then people would not be leaving the island. Now, to be clear, there are persons who are gang-affiliated who do leave Bermuda to start over elsewhere, anonymously. However, the number of persons who do so certainly do not make up the bulk of emigration. In the November 2017 ministerial statement referred to earlier, Mr Caines said that "the systemic devaluation of black men in this country is so pervasive that we must start by shifting how we raise our sons in this Bermuda. When we value them more and show it by ensuring that there is a place for them to execute their aims and aspirations for life, then they will value themselves". The minister consistently highlights and acknowledges the important work done by the Ministry of National Security's Gang Reduction Team, under the leadership of Leroy Bean. He believes in and supports the VR Team, and he believes in our young men and their value to our community. I believe in the VR Team, the efforts of Mr Bean, the affiliated support groups and the Minister of National Security. Unfortunately, Mr Burt's remarks reflect that he does not believe that the efforts expended by Mr Bean and Mr Caines in respect of addressing gang violence and antisocial behaviour have brought about significant results. He has also vocalized what he thinks about gang members and their impact on our country and community. So, the Premier makes these disparaging remarks in the House on July 12, and then, it is reported that the Premier gave the first eight young men to participate in the government-funded Redemption Farm support and encouragement. Isn't there some level of hypocrisy here? I mean, it's fine if the Premier believes that gang violence is responsible for the hike in Bermudians emigrating from Bermuda; and, if he believes that, then he must substantiate his comments. The Premier admitted that there is no empirical evidence to support his statement about gang violence being a main driver of emigration. But, if he cannot substantiate his comments, and the aggregated data proves his statement is disingenuous and unfounded, then don't you think that the people of Bermuda are owed a sincere and genuine apology? In my mind, it's either an apology to Bermuda for making such an erroneous statement, which he himself noted is not supported by any empirical evidence, or, it's an acknowledgement by the Premier that his Progressive Labour Party government, with its imposition of taxes on the small man, the lack of job creation, the abysmally slow evolution of fintech as a business line, the lack of direct foreign investment, absolutely no capital projects waiting in the wings, the exorbitantly high cost of living, and the lack of a viable plan to address, mitigate or change any of these issues, are the real reasons that people are leaving Bermuda."

The Weather Channel is likely to get more attention in the offices of Third Point Reinsurance Ltd in the future. That observation was cause for a light-hearted chuckle, but it was more than a throwaway line for chief executive officer Daniel Malloy. Third Point Re is beefing up its presence in property catastrophe and specialty lines. In the first six months of this year it had gross premiums written of $402.2 million, of which property catastrophe totaled about $57 million. The reinsurer yesterday reported second-quarter profit of $53.1 million, or 57 cents per share, up from $19.6 million a year ago. Although it made a net underwriting loss, the gap has narrowed, reflected in a combined ratio that has dropped from 103.6 per cent a year ago, to 101.1 per cent. Mr Malloy said the company is on target to hit its goal of underwriting profitability, subject to catastrophe events, by year end. "This will be an important milestone for the company and a validation of our strategy to deliver value from both sides of our balance sheet," he said. We have continued to build out our underwriting team over the past year, where we have successfully recruited talented underwriters, to allow us to expand our portfolio into new profitable lines of business including property catastrophe and specialty. We are encouraged with our progress to date with the build out of our team and portfolio positioning going better than expected." He became CEO of the Bermudian-based company in May, following the resignation of Robert Bredahl. He also continues as CEO of Third Point Reinsurance Company Ltd, a position he has held since 2017. Speaking to The Royal Gazette, he said the caliber of people that have joined the company on the underwriting side meant it now punched above its weight. He mentioned the teams and new hires in Bermuda and the US helping to drive its property catastrophe and specialty lines. Tracey Gibbons joined in April and leads a specialty team for Third Point Re in Bermuda. She has been a lead in the class for 15 years and "clients and brokers want to trade with her", said Mr Malloy. The company has also added a senior risk modeler. Asked about the increased presence in property catastrophe and specialty lines, Mr Malloy said: "We are seeing, on the property catastrophe market, reinsurance capacity being withdrawn due to the losses in 2017 and 2018. That has given us an opportunity to step in. I'm excited by our prospects, watching the plans we started 12-plus months ago roll out. I'll be watching The Weather Channel now, that's something new for us. In a way we are inching a little bit closer to what is a more typical offering for a Bermuda reinsurer, but we still understand our roots and our DNA, which includes a relationship with Third Point [LLC], and they have been great producers of very profitable investment returns over the years." Third Point Re's investments are managed by Dan Loeb's Third Point LLC hedge fund. The reinsurer's investment return for the first six months of the year was 10.3 per cent. As it released its second-quarter results, the company announced that Sid Sankaran, formerly chief risk officer and chief financial officer at AIG, has joined its board.

Thousands of dollars worth of sand is expected to be imported to fill bunkers before the first PGA Bermuda Championship in the autumn. A notice on the government website invited proposals for the supply and delivery of 4,000 metric tonnes of sand to Port Royal Golf Course. It gave a detailed breakdown of specifications and explained that submissions should include laboratory reports and that samples will be needed for tests on island. Greg Maybury, the golf course general manager, said the bunkers needed to be filled regardless of the upcoming competition and that the sand will meet US Golf Association standards. He explained on Wednesday: "Even if we weren't having this event, we would look to have this type of sand. The sand has been depleted over the years, we needed it anyway." Mr Maybury said that the last delivery was about ten years ago, before the PGA Grand Slam of Golf was held at the course between 2009 and 2014. He explained that play and stormy weather contributed to the loss of sand from bunkers. He said: "The sand gets blown out, we haven't been able to replenish it, we're putting the sand back, if you wish. Typically, golf courses fill their bunkers every year, we haven't been able to do that." The request for proposals was issued by the Ministry of Public Works last month. It said: "Following the recent announcement that Bermuda will host a PGA Tour event at Port Royal Golf Course in October, the Government is now seeking proposals from suitable qualified and experienced entities for the 'turnkey' importation and delivery of both bunker sand and topdressing sand to Port Royal Golf Course." Project particulars showed that 3,000 metric tonnes of bunker sand must be "fully compliant with applicable USGA recommendations". The notice explained: "Bunker sand shall be silica sand, white in colour, very angular and with a low degree of sphericity." It said the hydraulic conductivity — the rate at which water moves through the sand — must be 24 inches an hour or more. And a "fried-egg lie test" will determine the likelihood of any balls becoming partially buried in the bunkers. Requirements for 1,000 metric tonnes of topdressing sand included that more than 60 per cent of the particles will be fine, medium and coarse, between 0.15mm and 1mm. The notice added: "The colour of the sand shall be clearly identified, for approval by the ministry." It said: "Laboratory analysis reports for both the physical analysis and particle-size analysis of the sands from an accredited laboratory are required. Proponents must be prepared to provide additional documentation verifying the material properties and performance characteristics, on request of the ministry." The material was expected to be delivered to the golf course no later than September. The notice added: "The successful proponent will be required to submit samples of the sands to the Department of Agriculture & Fisheries (Plant Protection Section) for local analysis and testing, to include nematodes testing, to obtain official approval to import the sand to Bermuda." No suggested budget was provided in the notice and it was understood costs vary depending on quality and shipping arrangements. One New Jersey supplier said premium bunker sand could cost up to $40 a tonne — which is less than a metric tonne — with some damp topdressing sand priced at about $20 a tonne, although it was thought that dry sand could be a better option because of the delivery distance. Freight and delivery costs would be additional. The Bermuda Championship is expected to involve professionals who do not qualify for this year's World Golf Championships-HSBC Champions event in China. It will run from October 31 to November 3 and carry a $3 million purse. The Royal Gazette asked for further information about the RFP, which had a submission deadline of July 25, but the Ministry of Public Works declined to comment.

Shareholders of Ascendant Group Ltd have approved a takeover bid by a Canadian utilities group. They gave overwhelming backing to the bid from Algonquin Power and Utilities Corp, in a meeting at the Hamilton Princess Hotel and Beach Club this morning. Peter Durhager, the chairman of Ascendant's board of directors, told shareholders in attendance that of those who voted 99 per cent had supported the transaction. Ian Robinson, the chief executive of Algonquin, said the company was "very pleased" by the strong support for the acquisition. He added: "We look forward to developing deep relationships with employees, customers, and the Bermuda community and look forward to being a part of the exciting future for Bermuda Electric Light Company Limited and Ascendant's non-regulated businesses." Algonquin had offered $365 million for the shares in Ascendant, which includes electricity supplier Belco, AirCare Ltd, iEPC Limited, IFM Limited and Ascendant Properties Ltd. Shareholders will receive $36 per share, a premium of 20 per cent over yesterday's closing share price of $30 per share. Ascendant's board of directors previously voted unanimously in favour of accepting the bid. Mr Durhager told attendees prior to the vote that Algonquin "have the capital resources, the operational knowledge and the experience in renewable innovation necessary to advance the company's efforts to provide cleaner and more cost-effective electricity to our community". The company currently operates 54 energy facilities, about 90 per cent of which are renewable. They operate in 13 states in the United States and one province in Canada with 2,300 employees. He said that there would be expectations on Algonquin to reinvest profits in Bermuda. He added: "A smart owner will both invest in the infrastructure that they own, and also in the community in which they are operating." But Mr Durhager said: "At the end of the day, it is their prerogative what they do with their profits." He said that the issue of the 60/40 rule would be examined after the takeover was backed. Mr Durhager added: "The Government regulators, in this case the Ministry of Finance, the Bermuda Monetary Authority and the Regulatory Authority, will have to get involved. Certainly the BMA and the Ministry of Finance will be making a determination to issue a licence to any non-Bermudian owner that would own more than the relevant portion. So there's no difference in this transaction than any other business in Bermuda." The bid by Algonquin will require regulatory approval before going ahead.

Greenpeace will team up with the Government for a forum on the oceans plastic crisis. The international environmental charity will highlight its research on plastics in the Sargasso Sea at Plastics Night Aboard the Esperanza on Monday. Home affairs minister Walter Roban will speak about Bermuda's commitment to fight plastic pollution. Other panellists include Vanese Gordon, of the Government's waste management team; Anne Hyde of the Bermuda Marine Debris Task Force; Celia Ojeda-Martinez of Greenpeace Spain; and Micah Richardson, 17, of GreenTeam Bermuda. Arlo Hemphill, a senior oceans campaigner for Greenpeace USA, said: "Due to its location in the centre of the North Atlantic gyre, Bermuda, and the broader Sargasso Sea, is a depository of plastic pollution coming from countries all around the Atlantic Ocean. It's important that we all work together to address this crisis, and protect this special ocean environment." The event will take place from 6pm to 9pm on the deck of the Greenpeace ship Esperanza, which has travelled the world to expose environmental injustice and push for solutions. It will be docked at Penno's Wharf. The event is open to the public, but attendance is limited to the first 100 who register.

The chances of a busy hurricane season have increased, according to the National Oceanic and Atmospheric Administration in the United States. Noaa has forecast ten to 17 named storms for 2019, of which between five and nine will reach hurricane strength. Of those, two to four are expected to reach major hurricane status with winds of 111mph or greater. Conditions have become more favourable for hurricane growth as the El Niño phenomenon had ended, forecasters said in their midseason update. Noaa's Climate Prediction Centre said the likelihood of an above-normal Atlantic hurricane season had grown to 45 per cent, from 30 per cent in its May forecast. The likelihood of near-normal activity fell from 40 per cent to 35 per cent, and the chance of below-normal activity dropped from 30 per cent to 20 per cent. So far this season, subtropical storm Andrea dissipated before making landfall in May, while Hurricane Barry hit Louisiana as a Category 1 in July. The Atlantic experiences 12 named storms and six hurricanes in an average season, of which three become major hurricanes. Gerry Bell, the lead seasonal hurricane forecaster at Noaa's Climate Prediction Centre, said: "El Niño typically suppresses Atlantic hurricane activity, but now that it's gone, we could see a busier season ahead. This evolution, combined with the more conducive conditions associated with the ongoing high-activity era for Atlantic hurricanes that began in 1995, increases the likelihood of above normal activity this year." Pete Gaynor, the acting Fema administrator, said: "Today's updated outlook is a reminder to be prepared. We urge everyone to learn more about hurricane hazards and prepare now, ahead of time, so that if state and local authorities announce evacuations in advance of a storm, you and your family will have planned where to go and what to do to stay safe." Kim Zuill, a meteorologist at the Bermuda Weather Service, said the waters around the island have been warmer than usual for the time of the year — something that can encourage storm growth. She said: "The sea temperature around us is running at least a couple of degrees above normal for this time of year. If a tropical system approaches our area, it will have an increased heat source to aid in intensifying the system — remembering that this is only one ingredient in the recipe of tropical system evolution." She added that, regardless of the outlook, only one storm is needed to make the season busy for Bermuda. Ms Zuill said: "Bermuda has experienced damage from tropical systems that have formed in seasons where the actual seasonal statistics are below average, normal as well as above average. There is not a direct correlation between any forecast or changes to a seasonal forecast and landfall statistics for any landmass in our region, including Bermuda. As always, the best advice we can give is to keep informed through BWS about the tropical activity in our region, and once a tropical system forms, keep updated on its progress and community effects."

Reggae artist Kemar Vershawn Brown, who goes by the stage name Vershon, was "never refused entry into Bermuda because he never travelled to Bermuda". Wayne Caines, the Minister of National Security, weighed in on the issue after a spokesman for the performer complained he had been refused entry as a tourist. It was claimed Mr Brown was turned away after being told that the BDA Summer Music Festival had been cancelled — invalidating his work permit. But Mr Caines responded that concert promoters had been told "weeks in advance" that Mr Brown needed a work permit to perform on the island. On Friday, the Department of Immigration was made aware of three Jamaican nationals who said they had come to perform at the same concert, but who did not hold valid work permits. The festival had been scheduled for Saturday, but was cancelled. Mr Caines said the three were allowed entry to Bermuda as visitors — but that Mr Brown had not been among them. He added that there was "no record of Mr Brown in our system", or of an application for him to perform. No Jamaican nationals were refused entry to the island on Friday and Mr Brown's name did not appear on any flight manifests for that day, said Mr Caines. He called the confusion "unfortunate" and said concert organisers had failed to inform entertainers and take responsibility for the mistake. Mr Caines added: "Furthermore, I am disappointed that they have allowed both international and local media to misplace blame on Bermuda and the hard-working people at the Department of Immigration."

August 8

The planning department needs to do more to back "the growth of the country", the home affairs minister has told the Development Applications Board. The minutes of the board's meeting last month said Walter Roban attended to discuss plans to streamline the planning process and improve the public image of the department. The minutes said: "The minister indicated that it was important for the department to continue in providing guidance to the public to enable their goals to be realised when it comes to development projects, while at the same time protecting the environment. The minister further stated that in order to improve the department's reputation, it was important for rebranding to take place and in doing so, make the planning process less bureaucratic to improve efficiency." The record added: "The minister stressed that the public should not feel the need to involve an agent for every type of application. To conclude, the minister reiterated the need for the department to operate in a manner that is more conducive to supporting the growth of the country." Mr Roban said yesterday the meeting was one of a series of discussions he had organised to discuss government objectives. He added: "I visited the board as part of my goal to meet with all of my boards under my ministry — I had not met with the planning board yet. I wanted to talk to them about an ongoing campaign by the ministry about work to streamline the planning process so it can be more efficient. There is a role the board can play in that." He said one policy under development would allow the board to delegate some planning decisions to the director of the department. Mr Roban added: "We are discussing with the DAB what they can to do make the planning process more efficient and about the goal of the Government to stimulate economic activity by ensuring that projects will contribute to that particular goal. "We are looking at the development and planning process to contribute to greater economic activity, growth and job creation in the economy. The meeting was to let them know the Government's policy objectives around planning and that they will play a role with some of the proposals on how we can streamline the process." Both the Progressive Labour Party and the One Bermuda Alliance governments have in the past called for improvements to planning process to encourage construction projects and job creation.

The widow of a computing tycoon and philanthropist has won a legal battle to allow her to buy Agar's Island. The Supreme Court ruled that Lillian Martin, an American, should have been granted a licence to acquire the island, where she lived with her husband, James Martin. Last night, Wayne Caines, the Minister of National Security, said the Government was taking advice on whether to appeal against the decision. Assistant Justice Ian Kawaley said in a written judgment: "The arrangements initiated in 1997 would not now be lawful. But, objectively viewed in light of the object and purpose of the governing provisions, they were designed in a transparent way to enable Dr Martin, and his widow after his death, to apply for a licence to buy the property which they quite openly treated as their home before the purchase was completed." Mr Justice Kawaley said "positive evidence" was needed to dispute legally binding documents entered into by law-abiding citizens. He said in the July 31 ruling: "In this case, the minister assumed the heavy burden of persuading the court that on their face the agreements were not what they seemed, and the reality was informed by a sly 'nudge-nudge, wink-wink' understanding. Looked at superficially through the lens of hindsight, the series of five-year leases commencing in 1997 did excite suspicion that there was a scheme to renew the leases until Dr Martin obtained a licence or abandoned the scheme when the application was first effectively made in 2014. But this cynical first impression does not withstand careful and objective scrutiny because the arrangements entered into were not artificial or commercially inconsistent with Bermuda Transportation Company Limited retaining legal and beneficial ownership of the property after the 2007 amendments came into force." Dr Martin, who died in 2013, aged 79, was a major influence in the development of computer science and his work included the creation of some of the building blocks of modern IT systems, as well as teaching other businesses how to benefit from technology. The English-born businessman and author moved to Bermuda in the 1980s and built a home on Agar's Island in the Great Sound off Point Shares in Pembroke. The Supreme Court heard that in 1997 he entered into an agreement which contemplated the purchase of Agar's Island if he was able to obtain a licence. The arrangement also said he would occupy the island as a tenant under a five-year lease and finance the development of the property. Mr Justice Kawaley explained in his judgment: "The development was needed to raise the value of the property to the requisite land valuation threshold, which would enable a restricted person to obtain a licence to purchase the land under the Bermuda Immigration and Protection Act 1956." The Government announced a moratorium on any further licences for non-Bermudians to buy land in 2005 as part of an effort to end the practice of "fronting". Dr Martin did not apply for a licence until after the moratorium came into effect in 2007 and he died in 2013. Ms Martin, his widow, applied for a licence in July of 2014, after the moratorium had ended. But the application was refused. Government lawyers, acting for the Minister of National Security, claimed that there were suspicions that parts of Bermuda's immigration law had been breached by Dr Martin's arrangement. Mr Justice Kawaley said the case turned on "a bland point of statutory construction". He added: "They were in my judgment obviously lawful arrangements when initially made. The critical legal question is, therefore, whether the arrangements, taking into account the way in which Dr Martin — and the applicant after him — occupied the property, were caught by the more restrictive regime introduced by the 2007 Act and became unlawful as a result." Mr Justice Kawaley found that the arrangements would have aroused suspicion "at first blush" in 2014, but were still lawful when the 2007 Act came into full effect. He said legislation did not prevent people from entering into sale and purchase agreements before they obtained a licence to purchase land. Mr Justice Kawaley added: "If it is permissible to enter into a sale and purchase agreement without a licence, it is impossible to identify any free-standing prohibition on occupying land as a tenant prior to making the licence application or while an application is pending. He said: "A tenant does not cease to be tenant merely because they are also a prospective purchaser of the property being leased. It is important to remember that the Department of Immigration had notice of the fact that Dr Martin was occupying the property he had contracted to buy and was a mortgagee of as long ago as 2010 and was unable to identify any straightforward basis for criticizing these arrangements." Wayne Caines, the Minister of National Security, said: "The Government is taking advice and considering its options in relation to the decision by the Supreme Court in this matter, including whether to appeal." It is understood that the Martin case was the first ruling on the meaning and effect of the 2007 legislation, which was designed to prevent non-Bermudians from buying property illegally by the use of a resident as a "front". It was revealed in 2010 that the Bermuda Housing Corporation had obtained a $1.5 million waterfront property near Five Star Island in a settlement after suspicions of fronting were raised. As part of the settlement, the Government agreed to rent the home back to the family, who had to pay $10,000 a month for five years. Lieutenant-Colonel David Burch, the Minister of National Security when the settlement was made, said at the time: "I am not aware of all the details in this case, but clearly we got to the point where everybody agreed 'OK, you got me'."

Two government agencies have been ordered to draw up a complete list of public grants handed to a failed sports centre. The checks by the Ministry of Finance and the Accountant-General's Department must include the paper trail behind a double grant made to Sandys 360 by mistake. However, the decision issued by Gitanjali Gutierrez, the Information Commissioner, did not require the two offices to release the records. The commissioner has set a deadline of next month for both bodies to finish a "reasonable" search for the payment records. Each office must also issue their decision on whether or not to grant the public access to information request for the documents. The ruling came after a Pati request on payments from January 2007 to May 2016, when more than $5 million was poured into the West End sports complex. The Pati query included a request for records behind the double payment of $807,000 from the Government Reserve Fund, made in August 2011. Sandys 360 shut down in 2013, four years after it opened, because it could not pay its bills. The decision this week from Ms Gutierrez faulted the Accountant-General's office for passing the Pati request over to the Ministry of Finance without first checking if it held the relevant records. The department also failed to notify the Pati applicant that the ministry might have held the Sandys 360 records. Ms Gutierrez's decision, issued on Monday, ordered both offices to check for records and give a new decision on whether to grant access before September 9.

Arbitrade Ltd has terminated its gold trading agreements with Sion Trading FZE and divested itself of all interests in the gold which was provided to it by Sion under the agreements. The Bermuda-registered company has also stated it never assumed any liabilities for the crypto tokens called dignity, namaste, honor and orectic. Arbitrade said its business and contractual relationships with United Arab Emirates-registered Sion have now been assumed by Cryptobontix. In its statement, Arbitrade made no mention of its future plans. It acquired Victoria Hall, on Victoria Street, last October as its global headquarters, but the building has remained unused. The company's relationships with Sion and Cryptobontix have featured a number of turns. Arbitrade announced in March 2018 that it was to acquire Ontario-registered Cryptobontix Inc, which owned the suite of crypto tokens. Since then Arbitrade has made numerous mentions of its tokens, and also a multibillion dollar gold agreement to back its tokens with precious metals. In November it said its directors had secured "in excess of $10 billion in gold to back their tokens". This was in relation to a safe keeping receipt, or SKR, for 360,000 kilograms of gold that was said to have been verified by "an independent public accounting firm". The identify of the accounting firm has never been publicly revealed. In January, Arbitrade said it had completed the purchase and vaulting of an additional $3.8 million of hallmarked gold bars through Sion. It issued photographs of some gold bars next to a card featuring Arbitrade's name and the names of the crypto tokens dignity, namaste, honor and orectic. Len Schutzman, Arbitrade's chief executive officer, said: "With our alliance with Sion, and their gold-mining network, we are able to expand our family of precious metals-backed crypto coins". Also in January, Arbitrade's gold procurement agent Sion announced it was to purchase a major shareholding in Arbitrade by acquiring the shares in the company held by Leila Holdings Ltd, a Bermuda exempted company owned by Arbitrade founder Troy Hogg. However in May, Arbitrade announced it had never completed the 2018 purchase of Cryptobontix due to "timing issues and regulatory approvals", and that Mr Hogg was working to close the sale of Cryptobontix and its tokens to Sion. The following month Sion announced the completion of that deal. In an announcement from Arbitrade's directors, released yesterday through Bermudian-based law firm Trott & Duncan Ltd, further information was given on the history and background to the deal. It said Cryptobontix issued the digital asset tokens, or ingot tokens [dignity, namaste, honor and orectic], which were designed to be backed by precious metals. "It was intended that once Arbitrade had been set up in Bermuda, Cryptobontix, which was in majority common ownership with Arbitrade, would be brought into the Arbitrade group and as part of this the ingot tokens would also transfer. In preparation for this Arbitrade contracted with Sion to provide gold in order to back the ingot tokens," Arbitrade said in its statement. Arbitrade's agreement to acquire Cryptobontix was conditional with the major condition being adequate proceeds from an initial coin offering. Following a number of regulatory challenges and approval delays, generally being faced in the fintech market in Bermuda, along with market conditions affecting the ICO market, the proposed ICO was not undertaken, the acquisition of Cryptobontix did not proceed and consequently the ingot tokens remained squarely with Cryptobontix. As a result, Arbitrade has never owned Cryptobontix nor assumed any liabilities for the ingot tokens." Regarding the gold agreements, the company said: "With Arbitrade having no requirement for gold in relation to any exchange, mining or other business activities that it might undertake, negotiations for Sion to move all contractual obligations in relation to the gold to Cryptobontix were aligned when Sion identified a business opportunity in the ingot tokens and indicated their desire to acquire the shares in Cryptobontix. As a result, Arbitrade's business and contractual relationships with Sion have now been assumed by Cryptobontix." Trott & Duncan provided legal advice on the transaction. Arbitrade's announcement comes two weeks after newly-formed Dignity Holdings LLC, registered in Delaware, claimed its subsidiary Dignity Gold had acquired Cryptobontix and its tokens and would continue the relationship with Sion through the SKR for 395,000 kilograms of gold. That amount of gold would be worth $18 billion at today's prices. The CEO of Dignity Holdings is Stephen Braverman, the former chief operating officer of Arbitrade Exchange (Bermuda) Ltd. In a court document in January, Mr Braverman also referred to himself as being an officer and director of Cryptobontix. Investment and real estate businessman Kent Swig is chairman of Dignity Holdings. He is also president of New York-based Swig Equities LLC and Helmsley Spear LLC. During the past two weeks, requests by The Royal Gazette to Sion, Dignity Holdings, Dignity Gold, and Cryptobontix for information about the reported acquisition of Cryptobontix by Dignity Gold have not been answered.

Film fans were warned this afternoon of an internet scam that is designed to steal credit card details. The Regulatory Authority said an advert circulating on Facebook suggested a programme called MovieFlix can offer a streaming service like Netflix but free of charge, if customers sign up before Saturday, August 10. It warned that the promotion leads users to an article that claimed Netflix has "lost thousands of Bermudian users this week because of the new competing service". A spokeswoman for the RA said that although the MovieFlix website appeared to be legitimate, every tab on the page linked to the same online form asking people to sign up for a trial membership. She said the hoax had already appeared on posts in Australia and New Zealand with identical messaging and other countries targeted included Canada and Ireland. Denton Williams, the RA chief executive, said: "Our role as an independent regulatory body is primarily to protect consumers and industry stakeholders. MovieFlix is an example of a phishing scam, designed to steal credit card details. Often these scams are linked to international organised crime and we strongly recommend that if consumers have already subscribed for the service, that they monitor their bank accounts or cancel their cards before their information is taken."

Skyport has reached out to the public for used luggage to test baggage equipment at the new passenger terminal building. A Skyport spokeswoman said those who donate luggage will be given "tags" for a monthly draw, with prizes to include gas vouchers, grocery vouchers and gift cards. Mikaela Pearman, marketing and communications officer at Skyport, said: "A fully functioning baggage handling system is an integral part of an efficient airport terminal. Skyport, along with its partners in the programme will be conducting tests and trials of the system and we encourage members of the community to donate old luggage they are no longer using, so that we can test the system efficiently. The testing of equipment brings us one step closer to opening a world-class airport for Bermuda." Skyport said the new baggage system was installed by Glidepath, a New Zealand-based company with nearly 50-years of experience in delivering airport baggage handling and integrated security screening systems. The Skyport spokeswoman said: "The baggage handling system is used to carry bags checked in by passengers, from the flight check-in desks to a holding area where they are then driven to their plane on baggage carts. The complex system is rigged in the ceilings of the first floor of the new building. It consists of 242 Conveyors totaling almost 3.5 kilometers in length traveling up to 1.8 meters per second. In addition to transporting bags to the flight loading location, the system software will maintain the passenger information for each bag and monitor its position along the conveyor belts." Those interested in donating baggage are asked to call 299-4832 by December.

A conservation charity is on the hunt for a new head. Bill Zuill confirmed yesterday that he has quit as executive director at the Bermuda National Trust. Mr Zuill said the departure had been amicable. He added: "I've had a good three years there, and, now, I am interested in doing some other things. I'm looking at some opportunities." Mr Zuill said the BNT was "a wonderful organisation with some great people doing extremely important work for Bermuda". He directed further questions about the circumstances of his departure to Alana Anderson, the president of the BNT. Ms Anderson said that Mr Zuill had resigned from the post on Tuesday to pursue other business opportunities. She added: "We definitely wish him all the best and we do hope that he will be able to continue to be involved in the trust." Ms Anderson said that Mr Zuill had been responsible for "numerous successful ventures" in his time at the trust, including the International Conference of National Trusts, held in Bermuda this year. The event brought representatives from conservation organisations in 37 countries to the island in March. She added that it had been a pleasure to work with Mr Zuill. Ms Anderson said: "He has an incredible knowledge of Bermuda's history, both built and natural heritage, which was an asset to the trust. We wish him the best in his future endeavors." She said that a search would be launched to find a replacement. Vincent Chaves, the trust's director of finance, will become interim executive director. Mr Zuill was appointed to the role three years ago. He took over from Jennifer Gray, who held the post for nine years. Mr Zuill, a former Editor of The Royal Gazette, said at the time of his appointment that he was "deeply honoured" to take over. He added: "In some ways, this role means that I am coming home as I feel that I grew up with the trust, since my father was director from 1972 until the early 1990s and I spent a lot of time on trust properties. Ever since, I have had a great passion for Bermuda's history and environment and look forward to utilizing my experience as a journalist and as a manager to make the trust an even better organisation than it is today."

The Bermuda Sailors' Home has opened a new centre in Dockyard to cater for the crews of cruise ships. Ilya Cherapau, manager at the Bermuda Sailors' Home in Hamilton, said the Seafarers' Centre was a logical move because of the distance between Dockyard and the home, on Serpentine Road, Hamilton. He added: "This Dockyard expansion was an organic thing to do. Even if they know where this place is and we provide everything, even if we pay for their trip, it may still be impossible for them to come because the time they have off is limited." Mr Cherapau said that the new centre, expected to be open until the end of cruise ship season in October, opened last month without publicity, but had already attracted up to 50 crew members a day. He added: "The official ceremony was on July 29, but on the 20th I stopped by to see how it was going. We hadn't advertised it, just put a little sign outside to say it was a Seafarers' Centre. They showed me the log book and I was shocked. Without telling anyone, just by putting the sign out, we had between 30 and 50 people daily registering and using the facility." The centre, behind Media Lounge Cinema and managed by its owners, was designed to give crews from visiting ships the chance to sit down, go online and communicate with their families overseas. Francis Richardson, the CEO of the Bermuda Shipping and Maritime Authority, said the centre was an important addition to services for sailors on visits to the island. He added: "They make great sacrifices by working at sea. Many of them are leaving home for long periods of time, they miss important and significant milestones like anniversaries, birthdays and sometimes even the birth of their own children. It's a tough world. There are upsides to it, but it is certainly a sacrifice. Having a facility where they can come ashore and feel a bit at home is extremely important and in Bermuda during the summer season, we have a large volume of crew on the island." Shakira Hayward, also of the Bermuda Shipping and Maritime Authority, added: "When you are on a ship, all you want to do is keep in contact with your family members. You get a lot of seafarers with wives, husbands and children. They want somewhere safe and somewhere clean to reach out to their families." Mr Cherapau added it was hoped that the centre could be operated for every cruise season. He explained: "This is the first year and we didn't quite know how everything was going to work out. There were several things that could go wrong, but I think for a first year it's a great success both for us and the seafarers. Because we had no idea what the feedback would be and it involves a financial commitment, we said let's open for a limited time and set aside three months of funds. The Mission to Seafarers, an international charity who serve merchant crews, financed another month of operation, so it will go to October, which is pretty much the end of the cruise season." Mr Cherapau added: "Next year, we will look to see how much funds we can guarantee and we will try to reach out to the local and international community to see if we can fund the full season." He said the Seafarer's Centre could offer additional services to seafarers, such as shuttle buses and the ability to use the centre as a mailing address, if sufficient funds were available.

A Jamaican reggae singer demanded an apology yesterday after he was refused entry to Bermuda when the concert he was scheduled to perform in was cancelled. A spokesman for 28-year-old Vershon, whose real name is Kemar Vershawn Brown, said he was told at the airport that, because of the cancellation of the BDA Summer Music Festival, his work permit was "null and void" and he would not be allowed to enter the country as a tourist. The spokesman said: "While we understand that Vershon needs a work permit to work on the island, and the Government right and decision to cancel the event and permits, the artist still had the legally required documentation to visit the island as a tourist, which was ignored." He added: "It's unfortunate that those who seek to bring positive publicity and aid in the economic development of Bermuda's tourism sector are refused entry even with the proper documentation. The artist, who is a brand ambassador for reggae-dancehall music, is owed an apology for the way it was handled." The BDA Summer Music Festival was scheduled to be held at Snorkel Park last Saturday, but was cancelled at the last minute because of immigration-clearance problems. Azia Toussaint, a rapper and reality TV star who was also scheduled to perform at the concert, was able to enter the country and blogged about her time in Bermuda in glowing terms. The national security ministry, which is responsible for immigration matters, did not respond to a request for comment.

A child protection charity has condemned a decision to release a serial pedophile from prison four years early. Kelly Hunt, executive director of the Coalition for the Protection of Children, said last night that it was "unfathomable" that Jomar Akbar Caines had been released before he had served his full 12 years behind bars. Ms Hunt said: "This individual has proven that he is not only dangerous, but has the propensity to re-offend." She highlighted that Caines was "someone with multiple, violent offences against children". Ms Hunt said the courts should consider sentences of 20 years or more for these kinds of offences. She added: "It is of note that the Commissioner of Prisons has the authority to forfeit the two-thirds remission for good conduct and ensure that the full term was served, particularly when no specific treatment or ongoing assessment was received while incarcerated." She was speaking after Caines, 43, was released from Westgate prison after eight years yesterday for an attack on a ten-year-old schoolboy in a restaurant toilet. Kathy Lynn Simmons, the Minister of Legal Affairs, issued a public warning of his release, as a sex offender "considered to present a risk of significant harm to the health or safety of the public, an affected group of people, or an individual". Ms Hunt said: "We hope that prior to release, victims and their families were informed that this perpetrator was due to re-enter society. Our anticipation is that this announcement comes hand in hand with the news that a sex offender management team has successfully been implemented for the protection of our children." Ms Simmons said she reached the decision after consultation with Commissioner of Police Stephen Corbishley. She added: "The minister has determined that the Ministry of Education should be provided with information regarding this offender, to ensure that relevant schools are notified about his impending release." Caines was jailed after a March 2011 attack in the Pasta Basta restaurant in Hamilton. The court heard he went into the restaurant and asked the child where the bathroom was. The boy, who was holding his younger brother, walked Caines to the foyer of the restaurant, which led to the bathroom. Caines told the victim to put his brother down, grabbed him by the shirt and pulled him into the men's bathroom. The terrified boy screamed for help and banged on the bathroom door as Caines began to touch him in the chest area. Two members of the public heard the shouts and banged on the bathroom door. Caines rushed out of the bathroom with a claw hammer and begun to swing it and throw punches at the customers who had stepped in to save the boy. The court heard he punched one man several times as he tried to shield a toddler. Caines was chased by several customers as far as Hamilton Police Station, where police arrested him. He was charged and convicted of a sex assault on a minor, deprivation of liberty, assault and common assault. Prosecutors said at Caines's trial that he had been in counselling and had shown a "noticeable change in behaviour" in the months after his arrest. He received an additional year for each offence as the offences were committed in an increased penalty zone. Caines was also ordered to serve at least half of his sentence before he was eligible for parole and to take part in sexual, psychological and drug rehabilitative programmes while in jail. Caines apologised to the victim and society for his actions before he was sentenced. He told the court: "At the time I wasn't taking my medication. I feel that any help that is necessary, I'm looking forward to it." Caines was convicted and jailed in 2010 for an attempt to provoke a young man to perform an indecent act. He was released from prison just five months before the restaurant sex assault. Caines was sentenced to a year in prison in 2002 for burglary with intent to commit sexual assault on a young man. And he was jailed for four years for sex assault, unlawful carnal knowledge and deprivation of liberty in 1997 for an attack on a 13-year-old boy.

August 7

A new $5 fee slapped on duty- free items posted to Bermuda has sparked fury. Angry post office users said they had been hit with the fee when they collected birthday cards. One woman wrote on the Maj's List Facebook page that she was charged $20 to pick up birthday cards addressed to her son. The charge, introduced on August 1, means anyone who fills out a Bermuda Customs declaration form — required to collect all packages — has to pay the "processing fee". Another customer said that she was warned about the change last week when she went to collect a letter from overseas. She added: "Had I left it until this week, I would have been charged. I was more concerned about the fact that the contents are confidential and that they would want to look. And to be told that even if no duty has to be paid a form has to be completed and a charge for $5 made, that is ridiculous. Fair enough for packages, but not for letters and cards." She added: "Christmas is going to be either very busy at the post office or they will be thumb-twiddling, as no international mail will be coming in. Also, what happens with our international businesses and law firms? Are they going to have to go through the same process? I don't think this was very well thought out." A spokeswoman for the Bermuda Post Office said the fee was introduced as part of the mail service's efforts to upgrade services "to create a more efficient, modernized customer- service experience. We are always looking to improve and enhance the client experience. This involves modernizing our processes, some of which took effect August 1. Customers should be aware that the BPO's customer service representatives act on behalf of HM Customs in the collection of customs duty and must adhere to their process and procedures. The BPO assists its clients with completing the Bermuda Customs declaration form. The person collecting the package must sign the BCD as the declarant and pay the duty. The BPO will process your BCD and customs duty fees directly to customs. There is a $5 BPO processing fee for each BCD. Gifts, duty-free items or items attracting a zero rate of duty still require a BCD to be completed with printed invoice/receipt and valid photo identification as per customs requirements." The spokeswoman warned customers that anyone collecting packages must be authorized to do so and have valid photo identification. She said: "A printed invoice/receipt is required for all goods and merchandise, inclusive of gifts. Customs requires the BPO to submit a printed invoice/receipt attached to the BCD, whether the goods or merchandise are dutiable or not. If unable to provide an invoice/receipt the customer can provide an equal representation of the items with pricing."

"Demoralised" police were considering their options last night after a further delay in negotiations with the Government on pay and conditions, their representative body said. Sergeant Andrew Harewood, the chairman of the Bermuda Police Association, said officers feared that the Government's refusal to honour a partial agreement struck in May was linked to residual ill will from the clash between police and demonstrators outside Parliament in December 2016 led to protesters being pepper-sprayed. He was speaking after he warned on Monday that negotiations were at risk of breaking down. Mr Harewood said the incident, in which officers were assaulted and pepper spray was used on members of the public, might have caused "the Government's ill feelings towards the Bermuda Police Service". He said that the police service were still criticized over the confrontation with protesters, who were angry about the public-private partnership deal to redevelop the airport. He said: "That's all we hear about in the papers and public statements. It's unprofessional for the Government to be bashing the police for no apparent reason." Talks have been held over the past 18 months through the independent Public Sector Negotiation Team on terms of employment for police. Other problems still to be settled include Government Employee Health Insurance, and legal coverage for police officers. Mr Harewood said there had been progress in talks in the wake of an emergency meeting held by the BPA in April. He insisted that the partial agreement later reached with the PSNT was legally binding and that it was "bad faith" that the Government had refused to accept it. Mr Harewood added: "Part of the issue is that we do not have a union where we can go on strike. We feel that Government tries to take advantage of police." Wayne Caines, the Minister of National Security, said yesterday that the police were of "value". However, he added: "All outstanding contractual matters, including salary and contractual negotiations, fall outside of my remit and come under the minister with responsibility for labour. Outstanding matters are with the Public Sector Negotiating Team and are still being negotiated." Mr Harewood said the BPA hoped to hold a general meeting next week to discuss its options. He said: "The members are not happy. This is not a job; it's a duty and we need a high morale to do our job. What causes a police officer to stand in front of a person and take a bullet so that person can live? It's about morale and a sense of duty. When you take that from officers, it makes the job dangerous for them and for the public." Mr Harewood said if talks did break down the negotiations could be referred to the Department of Workforce Development for "settlement by conciliation". He added: "That process takes 14 days. If not, then the matter goes to arbitration." Lovitta Foggo, the labour minister, did not respond to a request for comment.

A 44-year-old woman has been charged with the theft of more than $2,700 worth of prescription drugs. Fiona Iris was accused of using invalid prescriptions 41 times to obtain codeine and atasol painkillers. Prosecutors alleged in Magistrates' Court yesterday that Ms Iris, from Pembroke, stole $2,448 worth of codeine and $280 worth of atasol from pharmacies across the island. Ms Iris was also charged with possession of codeine between December 2017 and last November. Magistrate Maxanne Anderson adjourned the case until September 9 and released Ms Iris on $2,500 bail.

A former attorney-general and expert in space law claimed yesterday that a comprehensive plan was needed for Bermuda to capitalize on its satellite slots. Philip Perinchief said the country had to have a more aggressive approach to make sure the island was not left behind as technology in the $277 billion industry evolved. He was backed by Sara Langston, a visiting expert who highlighted that Bermuda was well placed to make the most of its good international relations. Four satellite orbital slots — areas where a satellite can operate — were allocated to Bermuda by the International Telecommunication Union in 1983. One slot hosted its first satellite in 2013 but it is understood there have been none added to any of the slots since then. Mr Perinchief said: "In my view, we have been going along a path which is somewhat disjointed and inconsistent. I think we have to put out there a consistent and coherent policy to commercialize all of our slots but, in particular, the one that we have a satellite in because from 2003 or 2004 up to now it has been fits and starts and we really need something consistent, coherent and connected. Competition is so high in this industry that if we don't adopt a more aggressive approach and a consistent approach, others will come in and fill the void and that, in my view, is what's happening even with Jamaica right now. Jamaica have it in the works to develop a slot. Hopefully, it won't be a threat to Bermuda's commercialization." The State of the Satellite Industry Report 2019 said the global space economy was worth $360 billion last year. Of that, 77 per cent, or $277.4 billion, was generated by the satellite industry, with telecommunications the biggest sector. Mr Perinchief said that expanding Bermuda's participation was likely to boost the public purse and create jobs. He explained: "It's renting real estate in the sky. Government's coffers will be filled and we'd be better positioned to look after our budget." He added that there could be opportunities to create partnerships with other countries or private companies, but political will to achieve that was needed. Mr Perinchief suggested that an agency set up to harness domestic and foreign expertise could work alongside aviation and shipping bodies and that Bermuda could expand its maritime work through the use of surveillance or reconnaissance satellites. Mr Perinchief and Dr Langston, an assistant professor in space flight operations at the Embry-Riddle Aeronautical University in Florida, delivered a presentation to about 25 lawyers and interested others in Bermuda last week. They explained some of the problems in keeping up with space law as the industry progressed. Dr Langston said yesterday that she had learnt about the island's "long history" of strong ties to the UK, the US and Europe and that these were a good foundation for development. She added: "Bermuda, historically has been a strategic place in between continents, but this adds a further layer." The professor, who was a classmate with Mr Perinchief when the two studied air and space law at Leiden University in the Netherlands, said that it was important to establish a "niche expertise". Dr Langston added: "It also gives industry a chance. As you're still developing, this is an optimal time for industry to give their input because if you just build the regulations separate to the needs of the industry — and the industry is dynamic — then they're going to be outdated by the time it comes to implement." She explained that Bermuda must work through the UK, which makes sure that its Overseas Territories comply with the Outer Space Treaty and legal regimes, which are supported by international negotiation and co-operation. Dr Langston added: "The industry needs stability of policy. It's really hard for them to act when they don't know from administration to administration what's going to happen." Mr Perinchief said: "We have to broaden our vision, with respect to our regulations — one here and there and in a limited fashion is not quite enough to service a burgeoning industry that's growing leaps and bounds almost daily. The new technologies are phenomenal, so we need an organisation to keep its finger on the pulse, both locally and abroad." The pair explained that the satellite industry affected most aspects of modern living, including paying for groceries by credit card, using social media or satellite television, delivering weather forecasts and monitoring climate change. Mr Perinchief added: "Look around us and you can't see any item that's not affected by satellite technology. We're trying to bring space down to Earth." The Ministry of Home Affairs recently launched a website designed to support the industry's development. It includes information about the Bermuda Space and Satellite Policy Advisory Group, which was established last year[2018] to give advice on the sectors, and "to serve as a vehicle for guiding Bermuda's advocacy efforts on behalf of the satellite industry in international policy matters". Home affairs minister Walter Roban released the following statement today. "This government is committed to diversifying and growing Bermuda's economy to promote job creation for Bermudians in existing and new emerging industries. Through decades of involvement, Bermuda is recognised as having the necessary experience and well-earned reputation in the global space and satellite industry. This is exemplified by the fact that over the years, global leaders in this industry (Intelsat, SES, EchoStar) have made Bermuda their home. The government is well aware that the global space industry is approaching $300 billion and predicted to become a trillion dollar industry by 2040. It is for this reason we are leveraging our excellent reputation and success in the insurance/risk industry to capitalize on this opportunity. Our goal is to attract and encourage global investors and high net worth individuals in this industry, to bring their business and key personnel to Bermuda, and offer training opportunities for Bermudians. To that end, the Space and Satellite Policy Advisory Group was created to develop our strategic plan and ensure Bermuda is well positioned to benefit from the growing space and satellite industry. For information on Bermuda's Space and Satellite Administration and the Space and Satellite Policy Advisory Group please visit the official hub of Bermuda's Space and Satellite Administration website. For further information on what government is doing to capitalize on opportunities in the space and satellite industry, please refer to my ministerial statement on Emerging Space Economies and the press release on the launch of the Space and Satellite Website.

The Bermuda Health Council has asked people for "innovative solutions" to help fight against serious diseases. The Council is developing a Chronic Disease Innovation Programme, which will fund initiatives to address high rates of non-communicable chronic diseases and associated disabilities. It has launched an online survey to get suggestions from the public. Tiara Carlington, the project manager, said: "In some way, we are all impacted by the growing burden of chronic disease in Bermuda, whether as patients, friends, family members, employers, health insurers or health providers. However, we are not of the belief that the status quo is the only pathway to the future. We imagine that through a collaborative approach we can do much better and enable better health for all. This fund creates an opportunity for the system to explore new ways of reducing the burden and improving the health of the population." A BHC spokeswoman said: "Health professionals, community leaders and groups know what is needed to support and strengthen the health of the population. Given this existing knowledge, there are valuable resources within the community that are in an ideal position to propose interventions that align with Bermuda's national strategies for improving public health." The spokesman said that all members of the public can submit ideas for health interventions. The BHC will then put out invitations for formal proposals. Funding for the programmes will be based on the evidence which supports the proposal, the scale of impact, the projected and supported return on investment and sustainability of the benefit. Initiatives will also be considered based on their ability to address risk factors that are common across chronic conditions, such as smoking and obesity. The spokeswoman added the initiative is funded through insurance, with a portion of this year's Standard Premium insurance rate going towards the programme. She said: "All funds will be used to support public health interventions that consider local context, are derived within the local environment, and can complement the health system in addressing this major health system issue of chronic disease. The BHC will provide programme oversight, and all reporting of the use of awarded funds and outcomes resulting from the funded initiatives will be made public." Ricky Brathwaite, the acting CEO, said there has been a deliberate shift of focus to find ways to prevent and manage chronic diseases in Bermuda. Dr Brathwaite said: "We are thinking about long-term investments in our communities and expecting improvements in health and cost reductions. Over time, there have been some really great ideas that have been brought forth by members of the public, and we are excited that we now have an opportunity to empower our communities."

Commercial office space in some of Bermuda's most historic properties has come onto the rental market. Moresby House, the Star of India and the upper level of the Clocktower Mall, all in Royal Naval Dockyard, are now available. Wedco totally refurbished Moresby House two years ago. The landmark building overlooking the Great Sound has approximately 5,500 square feet of space with parking for ten cars. Meanwhile, The Star of India, built in the mid-1930s and originally a bowling alley, was turned into a club for navy families in 1970. Wedco has refurbished the building, adding a new kitchen, bathrooms, air conditioning, new windows and doors. It has 1,630 square feet of open space. The upper level of Clocktower Mall, completed in 1857, has 4,500 square feet of space which is divided into meeting rooms and offices. The current configuration can be altered to suit, Wedco said. Joanna Cranfield, business development manager at Wedco, said: "This is a chance for a business to position themselves in one of the busiest locations and most iconic buildings in Bermuda. Dockyard has excellent transport links, good parking, a wide range of restaurants, stores and services, even some apartments to live in. The office space is in some of the most historic buildings in Bermuda dating back more than 150 years." She added: "It is not often that these locations become available and we are hopeful that the right business with the right fit will see the benefit of locating their offices in the Royal Naval Dockyard." For more information, call Joanna Cranfield on 239-0514.

Ascendant Group Ltd, which is the subject of a takeover bid by a Canadian utilities company, has reported a loss of $1.9 million for the first six months of the year. That compares to reported earnings of $3.1 million for the same period in 2018. The company said earnings were impacted by the changes to core earnings from operations, as well as $4.6 million in restructuring charges related to the sale of the company. Shareholders of the company will meet on Friday to consider a $365 million offer by Algonquin Power and Utilities Corp for the shares in Ascendant, which includes Belco. Shareholders would receive $36 per share under the proposed deal, which is backed by the company's board of directors. In its financial statement, Ascendant said its core earnings from operations during the first six months were $2.7 million, compared with $4.1 million a year ago. It said the decrease was largely the result of lower electricity demand at Belco, in addition to a small increase in depreciation expense. This was partially offset by 21 per cent growth in Ascendant's non-utility businesses and $2.2 million lower corporate expenses. Cash flow provided by operations, before changes in non-cash working capital balances, decreased $4.3 million, to $9.8 million for the six- month period that ended on June 30. The decrease was primarily driven by decreased Belco revenues and restructuring charges, offset by cost savings at Belco and Ascendant. Capital expenditures for the six-month period were $73.1 million compared to $36.5 million for the same period of 2018, reflecting execution of the company's capital plan including Belco's replacement generation, battery storage and transmission and distribution modernisation projects, the company said. The company's share repurchase programme was suspended on April 1 as a result of the invitation for proposals for the purchase of the company. Trading was suspended on June 3 in anticipation of the announcement that the company had signed an agreement for the sale of the company, pending shareholder and regulatory approvals, and resumed on June 4. The company's board of directors has declared a quarterly dividend of 11.25 cents per common share. Year-to-date, the company has declared dividends totaling 22.50 cents per common share. Ascendant said its capital plan progress continued in the first half of the year with engines delivered for the North Power Station and ongoing upgrades to transmission and distribution infrastructure. The company said continued cost reductions were made through operational efficiencies and implementation of an early retirement programme. Sean Durfy, chief executive officer, said: "The company has identified a prospective buyer, Algonquin Power and Utilities Corp, that has a long track record of renewable energy generation in the North American market and has the capital resources, operational knowledge and experience in technological innovation to bring more renewable energy to Bermuda. The board is in support of Algonquin purchasing the company and is asking shareholders to approve the sale." Dennis Pimentel, president of Belco, said: "Belco is continuing the construction of the $120 million replacement generation and commissioned the battery storage project at the North Power Station. We also continue to invest in upgrades to the transmission and distribution grid to ensure reliability of the system but also to allow the integration of more renewables as per the release of the much anticipated Integrated Resources Plan by the Regulatory Authority on July 25. The company supports the IRP and all efforts to improve Bermuda's environment and reduce greenhouse emissions wherever possible. Belco is currently in the review process to determine how it can work with the Authority to implement this aspirational plan and ensure a continued supply of safe, reliable and cost-effective power for our customers." Mr Durfy added: "In addition, the company's efforts to reduce costs are bearing fruit. Considering declining sales, these costs savings are critical to keeping rates in check. Our non-regulated businesses continue to perform well and experienced healthy growth of 21 per cent compared to the first six months of 2018." Should Ascendant shareholders approve the deal on Friday, the bid by Algonquin would require regulatory approval before going ahead.

Bermuda-based Argo Group International Holdings Ltd has reported net income for the second quarter of $28.8 million, compared with $41.8 million for the same period a year ago. The second-quarter net income included pre-tax charges of $32.3 million related to an increase in current and prior accident year losses of $10 million and $22.3 million, respectively. In addition, the quarter included approximately $7.5 million of expenses associated with proxy solicitation and related activities. The speciality re/insurer said that given the unique and non-recurring nature of the events that gave rise to those expenses, they are not included in the its definition of adjusted operating income and, as such, not included in the calculation of the combined ratio. There were no comparable costs incurred during the 2018 second quarter. The expenses relate to a proxy battle between the company and activist shareholders Voce Capital Management LLC. Mark Watson, chief executive officer, said: "For the first half of the year, Argo's book value per share growth plus dividends paid was 10.6 per cent and our annualized return on shareholders' equity was 13.1 per cent, which reflects strong contributions from our investment portfolio." He added: "We continue to deliver strong shareholder value creation despite some isolated claims volatility impacting the second quarter of 2019. Our focus on increasing efficiency through digital enhancements and growing profitable business lines continues to yield positive results, with 10 per cent gross written premium growth in the quarter." Gross written premiums grew were $772.9 million, compared to $702.8 million for the same period last year. Combined ratio increased to 103.4 per cent, compared with 96.3 per cent in the second quarter of 2018. Net investment income for the quarter was up 28.9 per cent at $42.8 million, while book value per share was $56.28, up by 10.6 per cent from December 31.

A company owned by Bermuda's longest-serving premier has thrown its weight behind Bermuda's first gay pride march. Sir John Swan has pledged that his landmark Seon Place office block in Hamilton will fly the Pride flag in the run-up to the August 31 event. Sir John said: "It's the right thing to do. If you believe in human nature and the equality of man, then why should people have to make those choices here in the 21st century? Bermuda has to be on the right side of where things are going and for the right reasons." The support of Sir John's real estate firm Swan Group was revealed after Tony Brannon, a supporter of Bermuda Pride, published a statement from the company on social media yesterday. Sir John said that the decision was made after a number of tenants in the ten-storey Seon Place approached him to ask if his business empire planned to support the parade. He added that Seon Place was an appropriate spot to fly the flags and it had become a tradition to use the flagpoles outside the building to publicize major events. Sir John said: "We have the six flagpoles at the building and they've always symbolized something significant to the country. Therefore we had two choices — we keep the existing flags there, which means we don't identify with what's taking place, or we put the Pride flags up." Sir John added that he was prepared for criticism of the decision but was not deterred because "life is full of backlash. In life, you will always have someone who disagrees with you and people are entitled to their disagreements. I respect their disagreements, but you can't just decide your life on the anticipation of backlash. The country is no longer run by seniors any more; it's run by the younger people. They don't see Bermuda as the same way as our ancestors and if we want to be a part of what's going on in the world, we have to grow up." Sir John said that he would attend the Bermuda Pride celebration in Victoria Park, Hamilton, on August 31. The event will also include a panel discussion on August 30 and a parade through Hamilton at 2pm the next day. The Bermuda Hotel Association has also backed Pride. The organisation said it supported events that helped to boost tourism and that "we are pleased to support Bermuda's inaugural Pride parade as a sponsor". A spokesman added: "We hope that the event on August 31 is a success as it marks the beginning of a new annual tradition for Bermuda as an international travel destination for our visitors."

An endangered species of snail saved from extinction by a breeding programme has been released into the wild. More than 11,000 greater Bermuda land snails, bred at a British zoo, have been given a new home on Morgan's Island, which is owned by the Bermuda National Trust. A spokesman for the BNT said the endemic Poecilozonites bermudensis snails, once plentiful, had been almost wiped out in the late 1970s by introduced predators, pesticides and human expansion. Conservationists presumed the invertebrates were lost until Alex Lines, a Bermuda Aquarium, Museum and Zoo intern, found small populations clinging to life in isolated spots. He had been sent out to search for the creatures during the summer of 2000, in the wake of a December 1999 story in The Royal Gazette. In 2014, the snail species again showed its resilience, when a cluster of them was discovered in a Hamilton alleyway by Mr Lines's father, Bruce. Specimens were sent to London Zoo for a captive breeding programme and Chester Zoo joined in the effort. The first repatriation of snails to Bermuda was made in February. Nonsuch Island took 4,000 of the creatures and the BNT's island in Ely's Harbour, Sandys, received its first batch last month. Mark Outerbridge, the wildlife ecologist for the Department of Environment and Natural Resources, said Morgan's Island had been chosen as a haven because it was "not threatened with future development". The island's palmetto forest offers the snails a good habitat and its cover of poison ivy deters visitors from walking on the animals. A team of Trust members freed the snails on July 17 with Dr Outerbridge and Alison Copeland from the department, as well as Amber Flewitt from Chester Zoo. Gerardo Garcia, the curator of lower vertebrates and invertebrates at Chester Zoo, said the snail was "one of Bermuda's oldest endemic animal inhabitants. It has survived radical changes to the landscape and ecology on the remote oceanic islands of Bermuda for up to a million years, but, since the 1950s and 1960s, it has declined rapidly. Its demise is mainly due to changes to their habitat and the introduction of several predatory snails." Carnivorous snails imported to control accidentally introduced milk snails and flatworms took a heavy toll on the Bermuda land snails, which are particularly vulnerable because for thousands of years before 1503, they had no natural predators. Nonsuch Island's fauna and flora are culled from imported species and Morgan's Island does not appear to be home to any of the predators. Dr Outerbridge said: "I am profoundly grateful to the Bermuda National Trust for allowing us to introduce these unique snails to Morgan's Island." He added: "The creation of such island refuges is extremely important to the long-term survival of this species." Bermuda's land snails were the basis of research by the late Stephen Jay Gould, a prominent Harvard University paleontologist, who, as a graduate student, completed his doctorate on them. Their fossils were one of many influences on his controversial evolutionary theory, punctuated equilibrium. Dr Gould, who died in 2002, also provided a record of the near extinction of the greater Bermuda land snail species, after he had earlier found thousands of live snails when he visited Bermuda in the 1960s. He wrote that he could find none after a 1973 visit. Dr Outerbridge said the public would be unlikely to find the Poecilozonites variety of snails on the mainland. He said that if any were discovered, the Department of Environment and Natural Resources would accept specimens to add to the breeding programme to boost the genetic diversity of its stock.

Two Cup Match legends say it is time for the clubs to take a stand on bad behaviour by players in the island's premier sporting event. Excessive appealing and acts of dissent towards the umpires, most significantly St George's batsman Allan Douglas Jr knocking a stump out of the ground after being given out on the second day at Wellington Oval, have come under severe scrutiny. Dean Minors and Dennis Wainwright, both former St George's wicketkeepers of great repute, have plenty to say on the issues of behaviour and time wasting at Cup Match. Minors, a member of the Voice of Summer commentary team and president of the Cup Match Former Players/Officials Association, reminds that any show of poor deportment is there for the world to see now that the match is live-streamed. He said: "The game is televised worldwide, people are taking pictures and posting them and the players have to be very mindful of their behaviour on and off the field. Whatever they do can be televised. This should be a warning to the players to be very careful and it is a recommendation before selecting the team that the clubs have a word with the players about the dangers of social media." Minors recalls the protocols in place when he played for Bermuda at the highest level. "We were warned prior to the World Cup [in the West Indies in 2007] that any dissent shown to the umpires, we could be in breach of the rules," he said. Bermuda is set to host the ICC Americas T20 World Cup Regional Qualifier from August 15 to 25, when players' deportment will be monitored closely. Emmerson Carrington and Alex Knight, standing in his first Cup Match, were put under a lot of pressure last Thursday and Friday, and had to contend with long delays while supporters and team-mates came on to the field to celebrate a player reaching a half-century. There were six fifties over the two days and each celebration, a tradition unique to Cup Match, lasted about seven minutes — still some ways short of the interminably long 12 minutes it took for the field to be cleared when Onias Bascome scored his maiden century in Somerset last year. "It was more of a party atmosphere than it was about cricket," Minors said. "People are paying too much money for camps and sponsorship not to get a full day's cricket or a quality product. I congratulate the umpires for two days of being very professional. I don't think they get the accolades they deserve." The umpires' reports have yet to be received, but it is highly likely that Douglas will be charged with a Level 2 offence for serious dissent towards an umpire's decision. "We just have to await the umpires' report," Wainwright, who attends Cup Match every year, said. "We are in a discipline mess! Behaviour wasn't as bad this year as I've seen in past Cup Matches, but still Cup Match is our premier game. If we don't stand up as seniors and say openly 'this is not on' then it is not going to get any better. People take for granted this is the way it is supposed to be. I'm one who will speak out against bad behaviour — if it is wrong, it's wrong. Let's work towards cleaning up this game. The onus falls on management; they are the people responsible for the club." Dalin Richardson, of Somerset, became the first reserve to win the Cup Match Safe Hands Awards when he was presented with the award yesterday by Wainwright and Mahesh Reddy, the medical director of Bermuda Healthcare Services. Richardson took a catch above his head on the mid-wicket boundary to dismiss Onias Bascome on the first day. Richardson was presented with the Cal "Bummy" Symonds plaque. "Even though the award is not based on the best catch, the best catch is not excluded," Wainwright said. "It is based on all-round fielding, but the fielding was so poor, with so many catches dropped, that this young man stood out with the judges." The award was first introduced in 1998 with Allan Douglas Jr, who held three catches this year, winning it the past three years.

August 6

Suppliers of low-emission buses are being invited to submit bids to provide transport in Bermuda. The Ministry of Tourism and Transport and the Department of Public Transportation issued a Request for Proposals for "appropriately sized, accessible, and low emissions buses" for the island. The RFP specifies two sizes of bus and is open to electric, diesel and hybrid diesel-electric vehicles. It comes after the DPT teamed up with sustainability group Rocky Mountain Institute to carry out a feasibility study on reducing the carbon footprint of the public transportation fleet. A transport ministry spokesman said: "The findings were encouraging and highlight the opportunity to acquire buses that meet local regulations and customer needs, while being both environmentally and financially sustainable." The RFP document is on the Government website and the closing date for submissions is September 16.

Nearly three-quarters of Bermuda residents believe immigration benefits the economy, according to a new survey. The poll found 72 per cent of people think immigrants help expand the economy by increasing the number of jobs on the island. The remaining 28 per cent said immigrants do not help the economy because they take jobs from existing residents. A sample of 400 people, including Bermudians and non-Bermudians, were quizzed over the telephone in the survey by Total Research Associates. The poll also found 97 per cent of people believed immigration is important to Bermuda's economy. Asked to grade the importance of immigration to Bermuda's economy, the results were:
Critically important: 63 per cent
Important but not critical: 34 per cent
Not very important: 2 per cent
Not important at all: 1 per cent.
The non-commissioned survey took place from July 2 to July 13 as part of the quarterly Total Research Associates Bermuda Omnibus. Results are accurate to within 4.9 percentage points, 95 times out of 100.

The Bermuda Tourism Authority will unveil a new cultural tourism programme at a public stakeholder meeting tomorrow. A BTA spokeswoman said the programme would put a spotlight on the island's diverse cultural tourism attractions including its distinct architecture, food culture and black heritage. Glenn Jones, BTA chief experience development officer, said: "We all appreciate how interest in Bermuda's culture and heritage peaks around Cup Match, but we also know visitors want an elevated cultural experience all year long. With the help of our stakeholders, we now have an action plan that considerably raises the profile of cultural tourism in the visitor experience Bermuda offers." The programme is said to be the result of more than a year of research and consultation and will include "an exciting menu of experiences" to give visitors an authentic look at the island's history, culture and lifestyle. Mr Jones added: "Visitors can start participating in the new experiences this October. Meeting the desires of experience enthusiasts — a key target segment identified in the National Tourism Plan — is the primary objective." The stakeholder meeting has been oversubscribed, but the BTA has said a recording of the presentation will be made available to the public on Friday. The BTA spokeswoman said: "In addition to hearing about the strategic approach for cultural and food tourism Wednesday, stakeholders will learn how they can align their own ideas to the overall strategy. Attendees will also learn details about new visitor events, as well as innovative promotions starting in January to connect existing events, including the Bermuda Festival of Performing Arts and Bermuda Restaurant Weeks."

A homeless man who messaged death threats to David Burt and his family has had his sentencing postponed at the Supreme Court. Jared Gordon, 30, has pleaded guilty to sending the threats to the Premier in e-mails in 2017 and 2018. The messages included threats to "put a bullet" in the Premier's head. Gordon appeared at yesterday's arraignments session, where his sentencing was held off for the completion of a neuropsychological report. Gordon was given a mention date of August 22.

A British man was fined $1,000 yesterday after he pleaded guilty to cocaine possession. Magistrates' Court heard that police officers spotted Fardin Mohammadi, 23, acting suspiciously with another man near the flagpole on Front Street. Officers approached Mohammadi and found a small plastic bag filled with 0.34 grams of white substance when they searched him. The incident took place on July 6. Mohammadi, from Brighton, East Sussex, UK, apologized to the court.

An American tourist who attacked a woman at a bar was fined $800 yesterday. Lauren Soto, 21, pleaded guilty to a "shameful" assault on Sherry Flanagan at the Hamilton Princess & Beach Club. Magistrates' Court heard that Ms Flanagan was with her husband at the hotel bar when Soto approached them. She complimented Ms Flanagan on her dress but started to shout abuse at her when she ignored her. Soto lunged at Ms Flanagan and scratched her before other bar users pulled her away. However, Soto attacked Ms Flanagan a second time and inflicted bruising and scratches before she was escorted out of the bar and arrested. The incident took place on Friday. Soto, from Miami, Florida, said: "It should have never happened. It was shameful and embarrassing." Soto was ordered to pay her fine before the end of the day.

The trial of two people accused of a murder 13 years ago was adjourned yesterday and the jury released. Cleveland Rogers, 52, and Katrina Burgess, 48, have denied the premeditated murder of Marcus Gibbings in 2006. Mr Gibbings, originally from Trinidad, was found stabbed to death at an apartment at Derwent Lane, Devonshire, on October 26 that year. A trial in Supreme Court began early last month, but the case was adjourned. Mr Rogers and Ms Burgess returned to the Supreme Court yesterday for a new trial date. The case was adjourned again until August 15 and a trial date is expected to be set for later this year.

British workers contracted for Belco's North Power Station downed tools on Saturday after a delay in their pay cheques. Last night a spokesman for Belco's parent company Ascendant Group said that the contractors' payroll was delayed through their UK-based employment agency. The industrial action involved an unknown number of staff at the project in Pembroke. The spokesman added: "The issue was resolved within 24 hours and staff returned to work."

Opinion. By Sir John Swan, a businessman, former Premier of Bermuda between 1982 and 1995, and a former Belco board member and Michael Murphy, a former attorney for American International Group. He was the chairman of the Association of Bermuda Insurers and Reinsurers between 1985 and 2005. "We would like to endorse and commend the Regulatory Authority of Bermuda for its decision in the recently released first Bermuda integrated resource plan to reject liquefied natural gas as an option and for committing Bermuda's electricity generation programme to using at least 75 per cent renewables to be put in place by 2035. The RA's foresight and courage in making this decision, if properly developed, could lead to the creation of brand new industries, many new jobs in Bermuda for Bermudians, local investment opportunities, huge foreign exchange savings leading to fossil fuel independence, and no longer being held hostage to the whims of the global oil market. Even Belco now supports the IRP in principle. In light of the IRP's high commitment to the specific kinds of renewables that fit Bermuda's unique topography, Bermudian Ascendant shareholders should be questioning if this opaque, proposed, one-time payout to shareholders for their stock really makes sense for the future of our country. This is a proposed sale to foreign owners, a loss of cyclical revenue and a potential exodus of significant assets that Bermuda will never get back. This is also our chance to lead ourselves in the right direction for the many and not the few. Let's establish Bermuda as a leader in technology, policy and innovation to attract new talent and competition, rather than give up our right to choose our own destiny. The revolution happening now in the electric car market, the increased excess capacity to store rooftop solar or other electricity in their battery packs and either sell it to Belco's grid or use it in our homes in the evenings through the use of a two-way charging system could rapidly make the recently acquired Belco generators at the North Power Station a partially redundant asset. Moreover, if properly and intelligently set by the RA, customer costs of purchasing electricity would be reduced and the Bermuda people could see the details of how they may participate in this cost reduction directly on their bills. The Renault project in Porto Santo, in the Madeira islands, is an example that shows how the benefits of the electric car with large battery packs could satisfy most of Bermuda's power needs in the near future. With this IRP decision, Bermuda has now entered a new paradigm where the best path to lower electricity costs has been chosen to be an aggressive pursuit of new clean-energy sources where we must all play our part to attain the result. The "build more, profit more" model of the arcane power monopolies such as Belco is now bankrupt — a dead duck. This defunct model is the basis for their proposed sale at a very high premium price and can only lead to significant increases to customers' costs of electricity. Instead, the right incentives to align utility, distribution and customer needs must be carefully chosen by the RA and the Bermuda Government so that the Bermudian people committed to the future of the island are all pulling in the right direction. Does Bermuda now even need to consider a foreign buyer for Belco at this strategic moment of change in energy source direction? The IRP decision should also force a complete detailed analysis by the RA and by the Bermuda Department of Energy of Ascendant's proposed sale to Algonquin Power & Utilities Corporation, especially since the entire process since early 2019, which eliminated many prospective bidders, has been fatally flawed. No one, not even Belco knew six months ago of the IRP decision to commit to at least 75 per cent renewables and to eliminate LNG as an option. How could bidders intelligently make a fair estimate of the value of Belco before the IRP was issued? Many of the more careful, potential quality bidders were surely left behind by the flawed process of putting the cart before the horse. The Ascendant shareholders who vote on whether to accept the APUC offer on Friday, along with the RA and the Bermuda Government, who have the ultimate say on whether the proposed foreign buyer is acceptable, must carefully consider what if anything APUC offers Bermuda to meet its renewable objectives as provided in the IRP. The bottom line is that Bermuda needs to reduce the cost of electricity for Bermudians and ultimately the cost of living on the island. There are recent precedents of regulatory authorities in Hawaii and other locations of rejecting bids from power-generating companies at premium payout prices to shareholders for a variety of reasons — many of which appear to exist in the APUC-proposed purchase. We have recently reviewed most of the public information available surrounding the proposed purchase of Belco by APUC, including the public announcements of the proposal, Securities and Exchange Commission fact sheets, investment expert analysis of the APUC transaction and its impact on APUC, and the recent financial statements of both APUC and Ascendant/Belco. We have concluded that the proposed purchase by APUC offers little if anything to satisfy Bermuda's long-range electricity objectives and reduction in customer electricity costs, as recently expressed in the IRP. Bermuda may be better off if Ascendant, with the right management attitude and its new vision embracing the IRP, continued without a foreign takeover bid being considered until it is determined what can be delivered by Belco and other Bermudian investors to meet the IRP objectives. It would be the most inopportune time for Ascendant insiders, senior management and foreign shareholders — collectively at least 22 per cent of the company ownership — to be permitted by the RA/Bermuda Government to bail out, take more hard currency out of Bermuda or realise large incentive payouts to senior management at a time when management focus on the future of renewables is most needed. In the interest of brevity, we have summarized our reasoning in arriving at these conclusions, but are prepared to provide details to any interested or concerned parties. Papers prepared for the shareholders meeting on Friday provide some vague statements expressed by the outgoing board about long-term savings to ratepayers evolving over time in moving towards renewables and lots of legalese on why two-thirds voting shareholder approval by an amalgamation mechanism to eliminate minority shareholders objecting to the transaction was the way to go. Ascendant directors emphasised the many ways that the $36-per-share cash offer was a wonderfully high premium price for the shareholders to receive from APUC. Algonquin eventually must recoup the premium it proposes to pay, most likely from customer ratepayers' increases, part of which Belco already applied for with the RA in March this year, just before any sale or bidding process to sell Belco was announced by management. A proposed $420 million rate base was submitted by Belco in its request for a rate increase. No details were laid out by APUC as to how, when and in what amounts the customer ratepayers would have savings on their bills, only a statement that the transaction itself would not increase rates. Is APUC the right potential purchaser to be considered to meet the IRP renewables' 75 per cent minimum objective? While APUC and Ascendant management are presenting the potential buyer as a state-of-the-art renewable conglomerate, almost all of the renewables APUC owns are in hydro-electrical power, concentrated solar power, land-based wind generation and large, land-use solar fields for utility production — none of which would apply to Bermuda's topographically unique power-production renewable needs. No specific information has been provided about who will own Ascendant within APUC, other than "an affiliate of APUC" or the corporate-governance chain of command or decision-making process affecting Ascendant within an extremely large and complex buyer such as Algonquin. The press releases state that the Ascendant head office would remain in Bermuda, which could be a self-serving tax position. It appears that the "affiliate" will be AAGES itself, a joint venture between APUC and telecommunications company Abengoa, where each of Algonquin and Abengoa have only minority interests. We do not know Abengoa's objectives, but do know it almost went bankrupt in 2016. Are these risks of possible economic instability, complex ownership and partially defined corporate governance acceptable to ratepayers, the RA and the Bermuda Government? According to our research:
Neither Abengoa nor APUC has any experience generating or delivering electrical power in hurricane-prone jurisdictions While Abengoa operates wind generators from platforms in the River Plate area between Uruguay and Argentina, these do not appear to be state-of-the-art, nor are they designed to withstand hurricane-force winds for which Bermuda must be prepared. Also, APUC's other experience with wind generation is all land-based, which would be hard to adapt with Bermuda's limited space.
Neither Abengoa nor APUC has experience or expertise with integrating electric vehicles into a distribution grid, which soon could be a game-changer for our island's energy economy. Any potential buyer should explain how batteries in some new electric cars or buses equipped with two-way charger plugs could be integrated into Bermuda's electricity grid. The car battery can store solar power from residents' rooftops and feed the excess to the electric company grid. With a gain of as few as 3,000 electric vehicles over the next decade, we will soon have more energy stored on board our cars than the entire island needs in its most demanding hour.
Neither Abengoa nor APUC is focused on the most recent technological advancements or distribution systems that enable customers to generate solar power that could both reduce their costs and feed the grid. While subsidiary Abengoa Solar has been a world technological leader in developing, owning, and operating vast fields of mirrors that concentrate the Sun's power, this land-intensive technology is not applicable to Bermuda. In reviewing public information about APUC's solar-renewable activity, it has been hard to find where its past use of solar would meet Bermuda's space limits and the need to use existing rooftops and already developed areas in creative ways to generate renewable energy. Clear, detailed answers to the issues raised heretofore must be provided by APUC or by any other prospective buyer to the Bermuda public, the RA and the Department of Energy before a proposed sale of such magnitude could be possibly considered to go forward.
Electricity is a fundamental need, publicly regulated, and is required to maintain lives, cost-effective businesses and the comforts of all Bermudians, and should be treated as such. The days of an old-line monopoly and foreign profiteers dictating exorbitant rates to the Bermuda people are over."

When Michael Hanson set about creating a law firm from scratch, he had a clear idea about how to approach the task. In November 2017, the Bermudian lawyer left a partnership position at Appleby and the next day registered as a sole proprietor trading as Carey Olsen Bermuda, the local outpost of an international firm with offices in British Virgin Islands, Cayman Islands, Guernsey, Jersey, Cape Town, Hong Kong, London and Singapore. Today, less than two years after starting up, the Bermuda firm has 14 lawyers — including eight Bermudians. The firm has 25 overall staff and is hunting for new office space having outgrown its digs at Atlantic House on Par-la-Ville Road. The firm's rapid growth has validated Mr Hanson's belief that the market was ready for more competition. "Doing something from the ground up, without an existing structure, was extremely attractive to me," Mr Hanson, 39, said. "I certainly felt it was a huge risk. We could be sitting here with one person. But I felt that focusing on the Bermuda market, and being competitive in this space, would bear fruit." To become competitive he knew that he wanted to create a culture of excellence, a talented, hard-working group who provided top-level service. To do so, he naturally was interested in experienced lawyers working at well-established firms. But he also took a less well-travelled path, reaching out to Bermudian lawyers working in other jurisdictions, and attracting lawyers on-island who were not working in a traditional law firm environment. "We tried to find out where the good Bermudian lawyers were who had left the island," Mr Hanson recalls. "We didn't want to be Conyers, or Appleby. We wanted people who had not worked in Bermuda to help build our culture here. We sniffed it out. Also, some lawyers had heard of us and contacted us. We also targeted Bermudian lawyers who were not in law firms, who were working in-house. Having lawyers who have worked inside companies as general counsel, or as compliance officers, gives us a unique selling point. They have walked in the shoes of our clients. Our business model was to attract the local market, and the way to do that is to get the best lawyers in the local market. We recruited staff using a benchmarking test versus the UK. We put less emphasis on who you know, and where you went to school. You had to pass the test, and the interview process, which was quite rigorous. We also let people know that it would be hard work here." Seasoned lawyers Keith Robinson and Gavin Woods have joined from Appleby, while Mary Ward left Conyers to join the firm. All are now partners at Carey Olsen. Bermudian counsel Henry Tucker joined the firm, Adam Bathgate arrived from Carey Olsen's Cayman office, while Ashley Fife came over from Appleby, and Bermudian Sam Stevens returned home from a position in London. Senior Bermudian associates Kyle Masters (Digicel) and Cheri Minors (Colonial) moved to the billable hours environment from in-house positions, while Bermudian Jay Webster arrived from a London firm. Bermudian associate Michelle Falcucci returned from London, too, while fellow Bermudian associates Keivon Simons and Jennifer Woods also joined the firm. The firm's practice focuses on corporate, trusts, litigation, and employment matters. The biggest growth area has been litigation, Mr Hanson says, while the corporate practice is gaining traction, too. The association with international firm Carey Olsen has proved beneficial. Mr Hanson said: "We get fantastic support without being told what to do. The Carey Olsen group tries to support each jurisdiction in what it wants to do. They think that the people who know best are the people here on the ground. The group respects and supports that. In Bermuda, we do what is necessary to build the business here and have the full assistance of the firm. It has proved correct to focus on the Bermuda market and compete on the international stage with a proper brand behind you." Mr Hanson expects the office will have a total of 50 staff within the next two years. That is a far cry from the firm's beginnings; Mr Hanson initially worked out of his garage, not moving to the firm's current 5,000-square foot space until February 2018. A move to a larger office is imminent. "Our lawyers are sharing offices, and our pods are full," Mr Hanson said. "We want to move asap into a space that is 10,000 to 15,000-square feet. Of course, that is not what we budgeted for. But it's a good problem to have." Some of the firm's future growth may be at the expense of its competitors, Mr Hanson acknowledged. "We are respectful and friendly with other firms," he said. "We are not going out of our way to annoy them. My kids play with the partners of other firms' kids. We do things properly and ethically, but we are here to compete."

A Bermudian film-maker has won top honours at an international film festival in the US for a sitcom pilot with a touch of Bermuda. Alex Scrymgeour, producer, creator and writer of Eddie's, said he was "beyond thrilled" to take home the best pilot prize at the Long Island International Film Expo. He said: "People who have seen the show enjoy our feel-good story and characters and say that it's a welcome break from all the negativity on television. I am working to get the show picked up so Eddie's cast and crew can get back to work so we can continue to entertain and make people laugh and smile." Eddie's stars Eddie McGee, a veteran of shows including NCIS: Los Angeles and Chicago Med, as the owner of a beach bar in Venice, California. But Scrymgeour, a former reporter with the Mid-Ocean News, made sure the show had a Bermudian flavour, with a Bermuda flag displayed in the bar and a regular — George Wendt, who played Norm Peterson in the long-running hit show Cheers, also set in a bar — drinking Dark 'n' Stormys. He added that he wanted to create a positive, wholesome show with a diverse cast led by McGee, an amputee who lost his left leg to cancer. Scrymgeour said: "Eddie's is a fun, happy show with a strong diverse cast and Mr McGee as star and producer is giving voice to 25 per cent of the population who have no strong presence on TV or in film as, for all the talk of diversity in Hollywood, there is no discussion regarding diversity and disabled actors. He added: "On June 19, CBS signed a pledge to audition more disabled actors to give opportunities to disabled actors and producers who have no voice or who only continue to fill stereotypical negative stigma roles that aren't reflective of the one in four US adults with a disability." Scrymgeour said the show had not yet been picked up for distribution by a network, but it had already gained fans internationally through film festivals. He added: "Eddie's is screening in Spain on August 11 at the Madrid International Film Festival. It has been nominated for three awards at that festival — Best Actor for Eddie McGee, Best Director for Michael Lange and Best Editing for a short film/pilot. We have won three awards for best pilot at various festivals across the United States — Best Pilot at the California Film Awards 2019; a Gold Remi Award for Best Pilot at the 52nd annual WorldFest Houston; and now Best Pilot at The Long Island International Film Expo. We are also waiting to hear about the New Orleans International Film Festival and should know in the next ten days or so." Scrymgeour is also working with McGee on another project, a short film called Kill Switch. He added: "We are raising funds now to shoot in the fall/winter. I'm also writing a new dramatic action thriller one- hour scripted television show. I'm always creating and working on something."

An all-star group of celebrities and Instagram influencers travelled to Bermuda for the annual Cup Match celebrations. Among the visitors were television personalities, actors, entertainers, musicians and models. They included La La Anthony, an American TV star with more than nine million followers on Instagram. Ms Anthony is best known as the host of several reality shows on TV channel VH1. She posted a collection of photographs from this year's Bacchanal Run on Instagram. The caption read: "Bacchanal Run in Bermuda is on my list of the top-ten things I've ever done." She added: "I love Bermuda" on the post, which was liked by 53,000 users. The guests were said to have been in Bermuda to celebrate US actress Meagan Good's birthday. Ms Good, the star of the movie Think Like A Man, who has five million followers on Instagram, also posted a collection of photos, which earned her almost 30,000 likes. The group was joined by actor Terrence Jenkins, known as Terrence J, who also appeared in Think Like A Man. Mr Jenkins was also the anchor of E! News and has 2.9 million Instagram followers. He hash-tagged "cupmatch2019" on his Instagram account, which also had @davidburtmp tagged. Lance Gross, an American actor, model and photographer, who stayed at the Hamilton Princess & Beach Club, also joined the party. He tagged @princessbermuda in his post to his 1.8 million followers. Mr Gross also posted a picture with Mr Burt at St George's Cricket Club with the caption "Thx for having us in Bermuda for The Cup Match". The guests also included Amy Correa Bell, who recently released an album called Disguise/Gotta Love. The musician's photo taken at the Botanical Gardens read "Found what I was looking for". Mr Jenkins told interviewer Qian Dickinson, of Bermemes, that he will "always be here at Cup Match". But he added that he would maintain a "neutral" position on support for St George's or Somerset.

August 5

A joint-services marine team rescued six US tourists after their rental boat capsized in heavy waves yesterday. The Royal Bermuda Regiment and police team on police boat Rescue 2, deployed as part of the marine security element for the traditional Non-Mariners raft-up at Mangrove Bay, swung into action after the Boston Whaler, about 13ft long, overturned in Cavello Bay in Sandys at about lunchtime. RBR Private Keeshun Best, a member of Boat Troop and part of the Rescue 2 crew, said: "There were a few people holding on to a capsized boat, which was sinking. "We got them out of the water and took them to Somerset Bridge — they were very grateful we turned up." The 26-year-old from Smith's added: "I've done training for this kind of thing, but never had to do it before. But I knew exactly what to do and kept calm." Lance Corporal Donavin Trott-Burchall, who piloted an RBR rigid-inflatable boat on patrol in Mangrove Bay and also answered the distress call, said: "The water was a bit rough for such a small boat and it tipped over. We were going to tow the boat back, but a jet ski that was with them did that, so we resumed our patrol." The 26-year-old from Devonshire, also a Special Constable, added that he had enjoyed his stint on the water over the holidays. He said: "It's just making sure everyone is safe and keeping a presence out there. People are less likely to act up if they see us and we're here to assist people if something goes wrong — I'm OK with that." Private J.D. Symons, who crewed the RIB with Lance Corporal Trott and Bermuda Reserve Police Section Officer Jeffrey Benevides, added: "This is the reason I got into the regiment." The 22-year-old from Devonshire, a diving instructor with Fantasea in Sandys, added: "Just getting out on the water and policing it — it's great. We are extra hands to help out in rescues and things like that. It's definitely worthwhile. A lot of what we do is training to look out for people and this is exactly what we're doing —keeping an active watch." Section Officer Benevides, a 21-year veteran of the BRP and a government animal control officer when out of uniform, said: "We wouldn't have been able to have such a high-profile presence this year without the RBR. I enjoy working with them. I've cross-trained with them and done some weekend camps with them. The Reserve Police works really well with the regiment — I guess because we're all volunteers. We're all here for the same reason. We want to give something back to the community." Private Best and Lance Corporal Trott-Burchall were two of nine RBR soldiers deployed on a five-strong fleet of Boat Troop and police boats for the raft up, including 41 Juliet, a derelict boat brought back to life by RBR marine specialists and only commissioned last Wednesday. Sergeant Major Jeffrey Patterson, the officer-in-charge of Boat Troop, said: "It's been a very positive experience. There were fewer boats and it has been quieter than last year." He added that the joint patrols had assisted other boats that got into trouble amid high winds and strong waves. Sergeant Major Patterson said: "We have worked very well with the police and we look forward to continuing to work with them in the future."

SOBC DARAG has announced its new office in Bermuda as it expands its US and Bermuda-based operations. It is owned by DARAG Group investors, and is the principal vehicle for North American legacy transactions. It said the Bermuda team will provide "a full suite of finality solutions to clients, including the acquisition of insurance entities in run-off, assumptions, novations and retrospective reinsurance". Dan Linden has joined as head of the Bermuda office. Joel Neal, Ryan Heyrana and Lucy Foster have also joined as executive vice-president, vice-president and financial controller/ captive manager, respectively. Tom Booth, chief executive officer at DARAG Group, said: "I am delighted to welcome the new Bermudian team. This team brings further expertise and capacity to help grow SOBC DARAG in Bermuda and North America and will benefit from access to our extensive capital resources".

Arbitrade's chief operating officer Stephen Braverman has left the company and is leading a new business that owns the crypto tokens once controlled by Arbitrade. Separately, a gold company in the US said it stopped doing business with Sion Trading FZE, a gold procurement agent for Arbitrade, very soon after the business arrangement was announced in December. The future plans of Bermudian-registered Arbitrade, now bereft of what it thought were its crypto tokens, are unknown. During the past three months The Royal Gazette has made repeated attempts to contact Arbitrade, but has received no response. Arbitrade's former COO, Mr Braverman, is now president and chief executive officer of newly created Dignity Holdings LLC. Investment and real estate businessman Kent Swig is the chairman. He is president of New York-based Swig Equities LLC. Dignity Holdings said that through its subsidiaries it had acquired Cryptobontix and its tokens. It intends to grow into "one of the largest, most stable global cryptocurrencies". The company and its subsidiaries are registered in Delaware, with offices in New York City, according to a July 25 statement. There has been no update on Arbitrade's future plans since January. A year ago the cryptocurrency exchange and mining company said it would create hundreds of jobs on the island, that it had "title" to billions of dollars of gold bullion to back its crypto tokens, and that it would store bullion in Bermuda. It acquired the seven-storey Victoria Hall office building, on Victoria Street, in October to be its global headquarters. However, ten months later the building remains unused and in darkness. At the end of June its website was cleared of all information, including a list of officers and directors, and replaced with a "coming soon" message. Arbitrade is still listed as active at Bermuda's Registrar of Companies. The company does not have a licence to operate a digital asset business on the island. Arbitrade lost control of Cryptobontix Inc and its family of crypto tokens in unusual circumstances. It was thought it had acquired Cryptobontix in March 2018, but in May this year it was announced that deal was never completed due to timing problems and regulatory approvals, and that Sion Trading FZE was to acquire Cryptobontix. That new deal was said to have been completed in June. Arbitrade previously claimed it had "title" to 395,000 kilograms of gold bullion, which would be worth $18 billion at today's market price, and that the bullion would be used to back its crypto tokens. It claimed that in partnership with Sion it had secured title to the gold through an SKR, or safe keeping receipt. Arbitrade never revealed who had given it title to the gold and under what conditions, nor where the gold was, or the name of the "independent public accounting firm" that it said had verified the account. The gold bullion SKR was to be transferred to United Arab Emirates-based Sion with its acquisition of Cryptobontix in June. Four weeks later, the situation surrounding Cryptobontix changed again, according to the July 25 statement from Dignity Holdings that announced it had acquired Cryptobontix and its tokens. It said its subsidiaries, Dignity Mining Group LLC and Dignity Gold LLC, had "acquired Cryptobontix, a family of tokens backed by Sion Trading FZE's gold in Dubai". According to the company, Dignity Gold owns the crypto tokens called dignity, namaste, honor and orectic, and will "continue the relationship with Sion Trading FZE through the safe keeping receipt for 395,000 kilograms of gold in addition to the tokens". The Royal Gazette has reached out to Sion for comment on the development, and to Dignity Holdings for further information, but has not received any response. In December, Sion announced it had secured a precious metals contract with Don David Gold Mexico to purchase "metal dore" from its Oaxaca Mining Unit. It planned to allocate precious metals, including those bought from Don David Gold Mexico "to further enhance Arbitrade's existing gold assets". Don David Gold Mexico is a wholly owned subsidiary of Colorado-based Gold Resource Corporation. Gold Resource said it quickly ended its relationship with Sion due to "red flags" that included questionable procedures, weight confirmations and payment of invoices. Max Barber, owner of Sion, disputed that and said it was his company that was unsatisfied with the weight and purity documentation for the gold provided by the mine. In reply, Jason Reid, CEO and president of Gold Resource, said his company has been selling gold for years to reputable buyers in the industry without encountering any of the issues claimed by Sion. He said Gold Resource has since closed out the deal and terminated its relationship with Sion.

Robert Myron has stepped down as chief executive officer of James River Group Holdings Ltd due to ill health caused by Lyme disease. He has taken on the positions of president and chief operating officer, and remains on the board of directors. J. Adam Abram, a former CEO of the Bermudian-based company, will return to that role. The shift in management duties is effective from today and is expected to be permanent. Mr Abram said: "The Company has performed extremely well under Bob's skilful leadership. Indeed, the results from our most recent quarter demonstrate his success as CEO. However, lingering effects from a case of Lyme disease make it impossible for Bob to perform all the duties of CEO to his satisfaction. In consultation with the board of directors, he has asked me to return as CEO. Bob and I, and the broader management team, have worked together in this configuration before, and we return to this arrangement with confidence. Our focus will remain on continuing to seek to deliver strong underwriting results, profitable growth and earning industry leading returns on equity." Mr Myron said: "I have enjoyed being CEO of James River and have great confidence in our future. I look forward to working with Adam and our team to build on our momentum." On Wednesday, the company reported a $20.3 million profit, or 66 cents per diluted share, for the second quarter. That was up from the $17 million net income achieved for the same period last year. Adjusted net operating income for the quarter was $20.2 million. Mr Myron said: "James River had another strong quarter, generating a 95.2 per cent combined ratio while our largest business, core E&S [excess and surplus], experienced an increase in gross written premium of 81 per cent with every division growing. Our core E&S gross written premium was $247 million for the first six months of 2019, which represents a 42 per cent increase over the $175 million of premium we wrote during the first six months of 2018. For the ninth consecutive quarter, we were able to achieve rate increases on our core E&S renewals, which were up 5.4 per cent in the quarter year over year, and submissions increased 20 per cent. New business pricing was also very strong."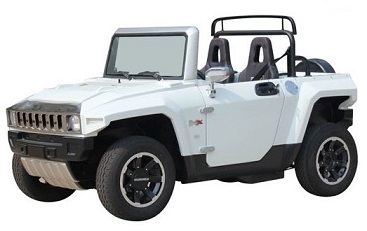 Renters of electric minicars in Bermuda now have a more muscular option to consider. Rugged Rentals has launched, offering the Hummer HXT, an electric twist on the iconic American vehicle built by Hummer which until 2012 was owned by General Motors and was then spun off. It has a restricted top speed for safety purposes, and a range of 70 to 90 miles on a single charge. The Rugged Rentals company is co-owned by Tallent J. Clark, who has left a position with HSBC to work full time in the business, and Justin Robinson, who is an underwriter with BF&M. Both men say they have long harbored entrepreneurial ambitions. Rugged has eight vehicles on-island, with a further ten expected by the end of the year. The owners say their full complement of 50 vehicles will be here by the end of March. The vehicles arrived in Bermuda a month ago, and have been turning heads ever since, Mr Clark said. "Anyone who passes in their vehicle turns to point and look," he said. "When you park on the street, or at the beach, everywhere we go, the vehicle is a magnet. Everyone wants to see what they have to offer." The fleet was fully booked for Cup Match weekend. "Before we launched, we took the vehicles out for a couple of weekends to let people see them, feel them, sit in them and that, coupled with social media, has meant that demand has been phenomenal," Mr Clark said. Mr Robinson added: "We are having to turn people away already, and that's with eight vehicles. We need to get more vehicles here. Part of the appeal of the Hummers is that they are more "car-like" than other electric vehicles. They are a more sturdy, rugged, and spacious vehicle. Everyone who sits in one is in awe that they are so much more spacious." While Mr Clark added: "The comfort of them is also attractive. People want to cruise in style, especially Bermudians. They want to be seen." Mr Clark and Mr Robinson said the market is both local and visitor. Already, overseas travel agencies have been in touch to discuss how to rent the vehicles. Individual vehicles are available, or can be rented as a fleet, pending availability. "We have had enquiries about fleet rentals," Mr Robinson said. "Corporates have been in touch to discuss team-building events, taking the fleet for a scavenger hunt, or just to have a fun day in them." The left-hand drive vehicles are equipped with side-by-side leather seating, a Pioneer brand radio with auxiliary jack, removable canvas top, a lithium-ion battery, a defogger, and an eco-drive feature to limit battery usage and speed. Vehicles arriving in the next shipment will have air conditioning, Mr Clark said. The vehicles can be charged at 110 volts, which corresponds with most household outlets, or 220 volts. Rugged's 220-volt charging network will be fully operational within two months, Mr Clark said. Until then, local renters can charge the vehicles at home, if required. It takes six to eight hours to charge the battery on 110 volts, he says, and half that time for a 220-volt charge. Mr Clark invited private vendors, including Airbnb property owners, to contact Rugged regarding provision of a complimentary charging station. Rugged's rental location at Tiger Bay in St George's will be operational this week, according the owners, who expect to set up additional rental sites as the fleet grows. Bookings will eventually be possible via Rugged's website at ruggedrentalsbda.com. Until then, bookings can be made by phone, e-mail, or in person. Rugged is the first company to benefit from the $88 million Bermuda Infrastructure Fund, which was set up last year to stimulate economic activity and create jobs. "We are appreciative of the administration to start the Bermuda fund to allow young locals the opportunity for job creation," said Mr Clark, who turns 36 today. He anticipates that Rugged 2 seater edition (it can accommodate up to four but not in Bermuda) will have 12 full-time staff and five part-time workers once the company has a full complement of vehicles.
Hummer HXTs are available for $170 per day, which includes insurance. For more information, or to make a booking, call 705-RENT (7368).

The stocks in the Town of St George could soon have a new home. The Corporation of St George has submitted a planning application to move the stocks, pillory and whipping post from King's Square to nearby Ordnance island. It is planned to set them up in front of the replica of the ship Deliverance. The application, received on July 12, also proposed to narrow the Ordnance Island roundabout to prevent tour buses and taxis from stopping on it. Planning documents included in the application said: "Some block traffic as they load and unload passengers in the middle of the roundabout." The stocks and pillory, replicas of those used in the 18th century for those convicted of petty crimes, are a popular tourist spot.

Obsolete parts from the clock at Sessions House were handed over to the National Museum of Bermuda for preservation and possible display. The components were removed from the timepiece when its mechanism became electric. Elena Strong, the museum's executive director, explained that Bermuda has five historic turret clocks ranging from the late 1700s to 1924. She said: "These public clocks played an important timekeeping role in local society, as before the middle of the 20th century, many people did not own clocks or watches. The Sessions House clock was made in 1862 by Gillett & Johnston, a clockmaker in Croydon, Greater London. It is similar in design, albeit much smaller, to that of the famous London attraction Big Ben. The clock was converted to electrical drive several decades ago and now, thanks to the Government, the historic components that were removed for electrical mechanization are at the museum for conservation and preservation." It was thought the historic parts could go on display at the museum alongside the original Dockyard clock, which dates back to 1856. Ms Strong said the island's other turret clocks included the Whitney Institute clock, from the late 1700s, the St Peter's Church clock, dated 1814, and the Manchester Unity Hall clock, from 1924. A ministry of public works spokeswoman explained that the Sessions House clock parts no longer worked and due to the "age and historical nature of the mechanisms, it was agreed the National Museum of Bermuda could take possession of the old parts". The existing timepiece at the parliamentary building has been out of order since at least April. The spokeswoman said last week: "The ministry undertook to extensively clean the Sessions House clock mechanisms and surrounding areas and will now begin the process of assessing the clock to source new specialized replacement parts. The ministry is also in the process of sourcing a qualified individual to make the repairs, as it is a unique task. Again, the ministry regrets any inconvenience caused to the public due to the inoperability of the Sessions House clock."

A Bermudian artist whose work was recently exhibited at a charity gala run by Beyoncé's mother stressed the importance of staying true to oneself. Gherdai Hassell, who was raised in Southampton Parish and now works in China, was talent-spotted by the team behind Tina Knowles Lawson via social media and invited to exhibit at her Wearable Art Gala at the Waco Theatre Centre in Los Angeles this June. Her paper collage fetched more than $6,000, and Ms Hassell will this month be displaying more of her works including oil paintings at the Emerging Artists exhibition at the Bermuda Society of Arts from August 9. "Beyoncé's mum holds a charity art gala, which raises money for arts programming for young people," Ms Hassell explained. "Social media is interesting, I am all the way in China, and they found me and invited me to come. I couldn't attend, but they had my artwork shipped over. The piece sold for $6,000 which is awesome, it was my largest acquisition and has added a lot of value to my work. I prefer to work in collage, although I do enjoy oil painting. I would consider myself a multimedia artist. The collage work, which I call 'alibi' are an exploration of self as an exploration of materials. My biggest dream is to live authentically as myself, and to be able to draw a direct line from my life to my work. If I can live my highest, truest expression of myself, all the bells and whistles of being an artist are sure to follow." Following her dream didn't come easily. Born in Bermuda, Ms Hassell, 28, graduated from the Berkeley Institute in 2009 and putting aside her lifelong love for art, she studied public health at the University of North Carolina with a minor in business. Despite high academic achievements, Ms Hassell tried to get a job and set up a business in Bermuda to no avail. Instead, she decided to try out law school, studying a legal practice course at the BPP University in Manchester, UK. She quickly realised that she was not being true to herself. "I would be in class drawing and trying to figure out how to get art supplies," she said. "After two months in the course, the art took over. For as long as I can remember, I have always been an artist. I could no longer fight the urge to put my art at the forefront of my life and I haven't looked back since." Ms Hassell applied for numerous overseas jobs, before landing a position teaching English at a school in China where she has lived for three years. "I was lost for a really long time and felt like I needed to be alone to find myself. I needed the space, time and clarity to be able to do that so I wanted to go somewhere where I was not familiar. It was a rocky time — the first day I got there my bags were lost, didn't know the translation apps, and I'd missed a flight. When I got to my hotel, I sat on the floor and cried my eyes out. I told myself to get through the first week, then the first month, six months and a year. It has been the best decision I have made in my entire life. An opportunity came up to teach art at a school in Guiyang in the Guizhou Province, which I have been doing for the last year and a half, and I am now planning to do a Master in Fine Art here. I feel like, if I hadn't gone to China, the opportunities wouldn't have come. Sometimes, you have to set yourself up and put yourself in positions, for the doors to open." Ms Hassell is back in Bermuda for six weeks, and although this is her first time seeing friends and family members in three years, she hasn't stopped working. Aside from preparing for her show, she has been teaching art at the St George's Community Centre and erecting her artwork in the Government Administration Building. She also delivered a speech at the Berkeley Institute's graduation ceremony. "The speech was about the power of asking; asking for something that you want in your life, and asking despite foreseen obstacles," she explained. "At the end of the day, it is either a yes or no, but if you don't ask, you don't know. My entire journey has been completely about that. We should all ask for the things that we want, when we do, we'd be surprised when it comes to us. If we are continuously putting our intentions out, it will come back."
The Emerging Artists exhibition at the Bermuda Society of Arts runs for a month from August 9. The show also features works by Kayley Gibbons, Miniya Wainwright, Shanna Hollis and Terrina Nolan

Sunday, August 4

August 3

Cup Match had a dramatic finish yesterday at Wellington Oval when batsman Dion Stovell was struck in the head on the first ball of the Somerset second innings and taken to hospital. Somerset, who started their innings at 7.16pm, had been set an unlikely winning target of 136 to win in the remaining nine overs of the final 20. Somerset dismissed St George's for 153 in 44 overs in their second innings, after leading by 18 in the first innings. They looked ready to take up the challenge when Stovell attempted to hook the first delivery from Justin Pitcher which was short, and was struck in the side of the head. He dropped his bat which subsequently hit the wicket, but all that became irrelevant once it was noticed that Stovell, lying on the ground, had been seriously hurt. After several minutes waiting for a stretcher to be brought on to the field, the umpires called off the game with the stumps pulled at the bowler's end, the mood around the ground quickly changing from anticipation to somber. Stovell was discharged from hospital last night. "We knew it was a serious injury as soon as it hit him on the temple," said Lionel Cann, the St George's captain, who was fielding at slip. "As soon as somebody gets hit, especially if they don't have a helmet on, it affects you immediately. I had nothing to do with the game being called off, which was the right decision with everybody's frame of mind. It was good that they took up the challenge, that's what Cup Match is about. There is always a chance you could chase down 13 runs an over on a small field like this." Terryn Fray, who took over the captaincy of Somerset in the St George's second innings after Jordan DeSilva suffered a calf injury during his innings of 76, admits it was a sad way to end the two days of cricket. "Dion is a tough cricketer and I'm sure he'll bounce back," Fray said. "We just hope it is not as serious as everyone thinks. He is one of the best players I've ever played with in Bermuda, so I give him the utmost respect. You can always call on him to bat or bowl and he'll do the job." Yesterday, the Somerset first innings ended at 2.52pm, batting 76.1 overs for their 315 which was led by Stovell's top knock of 79 from 73 balls, hitting eight fours and two sixes. Captain DeSilva scored 76 from 135 balls at No 7. The pair put on 105 for the fifth wicket after Stovell, who went off injured on Thursday evening, returned at 123 for five yesterday. Stovell was caught and bowled by Pitcher who led the St George's bowling with four for 94 from 22.1 overs while Macai Simmons claimed two for four from four overs late in the innings. St George's dropped several catches in the Somerset first innings, including DeSilva being missed on 21 by Zeko Burgess at deep mid-off as the fielding began to get sloppy. Wicketkeeper Temiko Wilson then put down an easy chance off a DeSilva edge after he had reached 50. Captain Cann was also guilty of missing an easy catch when he dropped Malachi Jones's skied shot at mid-wicket off Pitcher. Some of the St George's batsmen batted irresponsibly in the second innings to give Somerset a faint hope of victory after they were reeling at 71 for five. Knocks of 21 and 25 by Allan Douglas and Lionel Cann helped bring up the hundred after Douglas was controversially given out lbw by umpire Emmerson Carrington, the batsman indicating that he hit the ball. Cann and OJ Pitcher added 21 for the eighth wicket when Cann skied to deep mid-wicket where Greg Maybury held a good catch. Justin Pitcher added a valuable 15 in the tail end before he was caught, sweeping, on the square leg boundary by colt Alje Richardson. Derrick Brangman claimed four for 48 from 15 overs while Stovell and Jones took two wickets apiece. St George's, sent in by Somerset on Thursday, scored 297 for six before they declared in the first innings on Thursday. They batted for 66.3 overs before Somerset replied with 119 for four at the close, eventually batting for 76.1 overs. Chris Douglas hooked the first delivery of the Somerset first innings from Justin Pitcher for six to signal their intention as they began their run chase. He and Fray put on 49 for the first wicket in 13 overs, before Douglas was run out for 25 after driving a Mackih McGowan delivery through extra cover where Treadwell Gibbons got his hand to the ball before Justin Pitcher followed up to throw to the wicketkeeper Steven Bremar with Douglas caught well short after being sent back by Fray. Fray added 23 before he was caught on the square leg boundary by Justin Pitcher, giving colt Mackih McGowan his first wicket in Cup Match, the score 61-2. Richardson, who had a nervous start after replacing the injured Stovell, was caught at short leg by Macai Simmons off a no-ball from Pitcher before settling down to play some impressive boundary strokes, getting off the mark with a four off Pitcher and then next ball lifted the ball over mid-wicket for a six. He was soon out for 30, caught at the square leg boundary by Allan Douglas off Onias Bascome. He hit four fours and two sixes. Greg Maybury and captain Jordan DeSilva are the two overnight batsmen, both in single figures after two wickets went down in the space of just two runs as St George's fought back before the close. Earlier, they had four batsmen reach 50s after losing opener Treadwell Gibbons in the second over of the game, caught and bowled by Malachi Jones after he tried to turn the ball onto the on side and got a leading edge. Rodney Trott (68) and Temiko Wilson (66) had the perfect response, adding 138 for the second wicket. It was Wilson's first 50 in Cup Match after making his debut last year. Onias Bascome and Macai Simmons picked up the scoring pace in the middle order, both scoring 54 after Allan Douglas failed to score. Bascome hit two fours and two sixes and Simmons three fours and three sixes. He and Justin Pitcher were together when the declaration was made at 4.23pm. Pitcher blasted 28 from four sixes. Jones claimed three for 49 and spinner Derrick Brangman two for 48 for Somerset.

Graffiti threatening to shoot police is being investigated. The offensive graffiti appeared around Pembroke on Thursday. One example, found on Happy Valley Road, said: "Shot shot kill cops for Cup Match." A police spokesman said: "The offensive graffiti, which threatened violence to police officers during Cup Match, was found spray painted at Dundonald Street, Happy Valley Road, at the junction of Beacon Street and Angle Street and on Cedar Avenue. The graffiti was documented, and inquiries continue."

Public school staff will be responsible for keeping their school websites up to date, a ministry spokeswoman said. She added that the Ministry of Education's website and individual school websites would be updated for the start of the new school year. Diallo Rabain, the Minister of Education, said last month that work had begun to update the Ministry of Education website. He said: "Currently, the Department of Education is training school staff to operate the back end of the site. We look forward to unveiling the website for the upcoming 2019-20 academic year." The spokeswoman confirmed that school staff would be told to make sure individual school websites in the education ministry domain had regular updates. She said: "Each school is expected to keep information on the website up to date utilizing the calendar function. Updating the website is considered part of the administrative staff's regular work as it is a method of sharing information from the school with parents and students." The spokeswoman said that "designated school staff" were being equipped "with the skills to operate the back end of the website and the process for updating information on a regular basis". She added that staff at the education department would be responsible for their website and ministry staff for its site.

A lighthouse keeper and a member of the public turned heroes after a man threatened to jump from the top of Gibbs Hill Lighthouse. The two talked to the 58-year-old man until police negotiators arrived at the Southampton landmark and talked him down from the 117ft-high structure. A police spokesman thanked the lighthouse keeper and the member of the public who assisted for their "prompt and brave action". The spokesman said: "The lighthouse keeper and a member of the public intervened until police officers arrived on the scene a short time later, with police negotiators eventually getting the man to come down from the lighthouse without incident. He was then taken to King Edward VII Memorial Hospital for medical assessment." The incident at about 3pm on Wednesday was not the first of its kind. In December 2015, a 72-year-old man died after falling from the top of the lighthouse. Police were unable to confirm if the incident was an accident or if the person had jumped.

A man filmed naked on the roof of a house on the first day of Cup Match was taken to King Edward VII Memorial Hospital for assessment. A police spokesman said that officers received a report of a man on the roof of a home in Wellington Back Road, St George's, at 9.15am on Thursday. He said: "At first the 24-year-old male resident was apparently on the roof naked, which was captured on video and shared on social media. However, when police arrived and spoke with him, he was fully clothed and came down from the roof without incident. The man was transported to KEMH by a family member in a private vehicle for medical assessment."

Friday, August 2 Cup Match Public Holiday 2

Thursday, August 1 Cup Match Public Holiday

Wellington Oval, St. George's (first day of two; Somerset won toss): Somerset, with six first-innings wickets in hand, are 178 runs behind St George's. Cup Match is evenly balanced after the first day at Wellington Oval as bat dominated the ball. St George's, sent in by Somerset, scored 297 for six before they declared going into the tea break. They batted for 66.3 overs before Somerset replied with 119 for four at the close. The first three hours of play today will have a huge bearing on the outcome of this match, with St George's looking for early wickets, while the champions know that occupying the crease up to lunch will work in their favour. Somerset have considerable batting depth with Dion Stovell retiring hurt yesterday as St George's picked up the wickets of Chris Douglas, Terryn Fray, colt Alje Richardson for a fluent 30, which included two sixes, and Stephen Outerbridge. Douglas hooked the first ball of the innings from Justin Pitcher for six to signal Somerset's intent as they began their run chase. He and Fray put on 49 for the first wicket in 13 overs before Douglas was run out for 25 after driving a Mackih McGowan ball through extra cover where Treadwell Gibbons got his hand to it before Justin Pitcher followed up to throw to wicketkeeper Temiko Wilson with Douglas caught well short after being sent back by Fray. Fray added 23 before he was caught on the square-leg boundary by Justin Pitcher, giving colt McGowan his first wicket in Cup Match, the score 61 for two. Richardson, who had a nervous start after replacing the injured Stovell, was caught at short leg by Macai Simmons off a waist-high no-ball from Pitcher before settling down to play some impressive boundary strokes. He got off the mark with a four off Pitcher and then next ball lifted him over mid-wicket for a six. He was soon out for 30, caught at the square-leg boundary off by Allan Douglas off Onias Bascome. Grey Maybury and captain Jordan DeSilva are the two overnight batsmen, both in single figures after two wickets fell in the space of two runs as St George's fought back before the close. Earlier, the home side had four batsmen reach fifty after losing opener Treadwell Gibbons in the second over of the game, caught and bowled by Malachi Jones after he tried to turn a sharply rising ball to leg and got a leading edge. Rodney Trott (68) and Temiko Wilson (66) had the perfect response, adding 138 for the second wicket. Bascome and Macai Simmons picked up the scoring pace in the middle order, both scoring 54 after Allan Douglas was out for a duck. Bascome hit two fours and two sixes, and Simmons three fours and three sixes. He and Justin Pitcher were together when the declaration was made at 4.23pm. Pitcher blasted four sixes in his unbeaten 28. Jones, clearly showing the effects of an injury he carried into the game, claimed three for 49 and left-arm slow bowler Derrick Brangman two for 48 for Somerset.

Thousands of people braved the heat to soak up the Cup Match atmosphere at St George's Cricket Club this weekend. Spectators filled the stands at Wellington Oval to watch the game, take on the "stock market" at the Crown and Anchor tables and socialise with friends and family. The game ended in a draw after Somerset batsman Dion Stovell was struck on the head by the first ball of their second innings and taken to hospital. He was later discharged. The result means Somerset, who won the annual match in 2018, retain the trophy for another year. Dorothy Cann, from Sandys, said that the annual match was the highlight of her summer calendar. She added: "There's a great feeling of togetherness. It's a celebration of our history, of who we are and how far we have come, and sometimes how far we still need to go. We have been through darkness, but we can see the light ahead." Ms Cann said the heat was always a problem, but that she came prepared. She added: "It always feels like this is the hottest time of the year. But I've got my water, I've got my fan and I've got a little shade." Robert White, from Hamilton Parish, was impressed by the level of competition this year as St George's mounted an effort to retake the Cup on their home turf. He said: "I'm glad to see it be a more competitive game than some of the past years. St George's came out swinging, and I don't think everyone expected that." Mr White said that although thousands of people showed up for the game, the crowd seemed smaller than previous years. He added: "It seems a little quieter up here than usual. Maybe it's the heat, but it's a little disappointing. I had thought more people might come since it's a closer game." But he said: "It is good to see all the tourists out and about, though. If they can sort out a cruise ship in St George's the next time the game is up here, can you imagine? This place would be packed to the rafters." Douglas and Shirley Waters, from Stone Mountain, Georgia, travelled back to Bermuda specifically for Cup Match after they missed it last year. Mr Waters said: "My wife and I missed out on last year's Cup Match by about three weeks and everyone was telling us about it, so this year we decided to fix that mistake. It's fun. I can't say I understand the game at all. A couple of people have tried to explain it to us, but I'm still having a great time. I got my head around Crown and Anchor. Not that it helped me win anything." Mrs Waters added: "We love Bermuda. Everyone has been really sweet to us. We have been to a few places around the Caribbean but this place is special. Its like a little bit of southern hospitality in the middle of the Atlantic. Everything is so bright and colourful. The water, the houses. It's awesome." Lori Williams, from Smith's, said the Cup Match atmosphere — and the opportunity to meet friends — drew her to the game every year. Ms Williams said: "It's the biggest party of the year. Honestly, I don't really watch much of the cricket at all. It's more about seeing my friends, unwinding and soaking up the positive vibes. I always forget how expensive it can be, but thankfully I'm not much of a gambler, so it goes a little farther for me." Alex Wolfe, from St George's, praised the Cup Match spirit of togetherness and friendly rivalry. Mr Wolfe said: "I love Cup Match. It's the music, the food, the atmosphere. Everyone puts all their personal stuff aside and come together for two days. Suddenly the biggest argument is red and blue or blue and blue. And that's pretty good." Occasional showers on Thursday did little to dampen spirits in St George's, where crowds began to gather early to enjoy the game. Paul Daniels, a St George's supporter, was optimistic despite his team's poor record in recent years. Mr Daniels said: "Somerset has won for what, five or six years in a row now? But ask half of those Somerset fans, they grew up without ever seeing their team have a victory. They went 20 years without winning, so they can chat all they want nowadays." Mr Daniels, whose family has been blue and blue "for generation after generation after generation", said he and friend Robert Coddington had been to every Cup Match for about four decades. He added: "We got here at seven o'clock and we'll be here bright and early tomorrow." Charlie Marshall, a St George's batting legend, said: "I love coming to Cup Match. It's very exciting and one of my favourite holidays of the year. As you get older, Cup Match becomes better than Christmas." He added: "This is Bermuda, this is the gift — all the support from Bermudians of all different cultures coming out."

A team of soldiers joined forces with police officers today as part of a massive safety and security operation at Cup Match. A total of eight Royal Bermuda Regiment troops were deployed alongside the Bermuda Police Service to patrol St George's Cricket Club, this year's host of the annual East v. West cricket match. Private Keno Fox, 27, from St George, said: "It's been great. The atmosphere is electric – St George's is trying to prove itself this year." The kitchen porter at The Loren at Pink Beach in Tucker's Town added: "I have worked with police a lot and we're all trying to enjoy ourselves while doing our job to keep everything safe. It's a family event, so it's important to interact with people." Private Kirk Wilks, who works for a family catering company, said: "It good to see people celebrate and see people I haven't seen in a while. It's a good atmosphere. The 20-year-old from Devonshire added: "The police are cool and it's something different for me." Private Shanday Tannock, 23, a child care worker from Sandys, said: "It's lovely. You can't complain. It's a bit hot, but we've got to do what we've got to do. I've never done Cup Match before, but I have worked with the police previously. It opens your eyes a little bit more and helps you to understand all the work that goes on behind the scenes." She added: "The crowds are very friendly, but if you have a happy, jolly face, and your tone of voice is good, everything goes well." Lance Corporal O'Neil Nelson, 43, a barber from Somerset, said: "It's been nice. It's very relaxed and civilized and I'm enjoying working with the police. It's a pleasure." Inspector Kuhn Evans, the BPS bronze commander at the ground, welcomed the green addition to the thin blue line. He said: "It's very useful because they will know people we don't and they have that interaction. We don't have the manpower we used to have, so they're valuable extra resources. It's also advertising for people to join up because they are very visible." Lieutenant Colonel David Curley, the RBR's Commanding Officer, who visited the match with Regimental Sergeant Major Jason Harrell, said he had walked around the ground with Commissioner of Police Stephen Corbishley. Colonel Curley added he also planned to visit soldiers from Boat Troop, who will be on patrol with members of the BPS marine unit over the holiday. He said: "Things have gone extremely well. We have made a commitment to support the Bermuda Police Service and we will have joint operations on land and sea right over the Cup Match weekend."

Cup Match festivities got under way at the St George's Cricket Club today as spectators gathered to celebrate Emancipation Day. The Wellington Oval was abuzz with energy as people filled the stands from early this morning to watch the game, bet on crown and anchor tables, listen to soca music, enjoy refreshments, and mill about greeting fellow game goers. Supporters of both teams seemed unbothered by intermittent rain showers that punctuated the sunny periods throughout the morning. Paul Daniels, who supports St George's, remained optimistic despite his team's poor record in recent years. Mr Daniels said: "Somerset has won for what, five or six years in a row now? But ask half of those Somerset fans, they grew up without ever seeing their team have a victory. They went 20 years without winning, so they can chat all they want nowadays." Mr Daniels, whose family has been blue and blue "for generation after generation after generation", has attended Cup Match every year with his friend Robert Coddington for about four decades. He said: "We got here at 7 o'clock, and we'll be here bright and early tomorrow." He added: "The cricket is the best part. The first day is Emancipation Day, it is very important. The older people remember the meaning of Cup Match, the younger people don't seem to." Somerset supporter Tucker Powell, 21, said: "Before Beachfest, I always come to the game to enjoy the camaraderie and the sportsmanship out here. It's a tradition that I come with my dad. It used to be the whole family but it slowly got less and less and now it's just the two of us. I've been coming to the opening ball every year for the past 15 years" Mr Powell added: "Coming to see the game with my dad every year is definitely one of the biggest highlights of Cup Match for me. When I'm older I plan on coming to the game with my dad as well as with my kids, so that we can have this same bonding experience that we've had for a while." He said he would return with his friends tomorrow to "hit the crown and anchor tables". Charlie Marshall, a Cup Match batting legend for St George's but now a supporter, said: "I love coming to Cup Match. It's very exciting and one of my favourite holidays of the year. As you get older, Cup Match becomes better than Christmas. This is Bermuda, this is the gift, all the support from Bermudians of all different cultures coming out." John Rankin, the Governor, said: "Everyone's very excited about the start of Cup Match on the first day. The sun is shining, a bit of grass on the pitch so it's good for the bowlers." Mr Rankin added: "It's an important day that marks emancipation. It's right that the island comes together to remember that and to look forward as well. I just hope everyone's safe, everyone has a good time, and that it's a good, competitive match.

History & daily newspaper reports

Authored, researched, compiled and website-managed by Keith A. Forbes.
Multi-national © 2020. All Rights Reserved