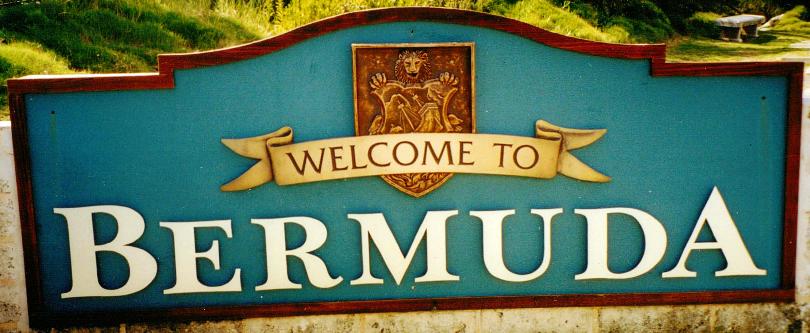 Click on graphic above to navigate the 165+ web files on this website, a regularly updated Gazetteer, an in-depth description of our island's internally self-governing British Overseas Territory 900 miles north of the Caribbean, 600 miles east of North Carolina, USA. With accommodation options, airlines, airport, actors, actresses, aviation, banks, beaches, Bermuda Dollar, Bermuda Government, Bermuda-incorporated businesses and companies including insurers and reinsurers, Bermudians, books and publications, bridges and causeway, charities, churches, citizenship by Status, City of Hamilton, commerce, communities, credit cards, cruise ships, cuisine, currency, disability accessibility, Devonshire Parish, districts, Dockyard, economy, education, employers, employment, environment, executorships, fauna, ferries, flora, former military bases, forts, gardens, geography, getting around, golf, guest houses, highways, history, historic properties, Hamilton, House of Assembly, housing, hotels, immigration, import duties, internet access, islands, laws, legal system and legislators, main roads, marriages, media, members of parliament, money, motor vehicles, municipalities, music and musicians, newcomers, newspaper, media, organizations, parks, parishes, Paget, Pembroke, performing artists, residents, pensions, political parties, postage stamps, public holidays, public transportation, railway trail, real estate, registries of aircraft and ships, religions, Royal Naval Dockyard, Sandys, senior citizens, Smith's, Somerset Village, Southampton, St. David's Island, St George's, Spanish Point, Spittal Pond, sports, taxes, telecommunications, time zone, traditions, tourism, Town of St. George, Tucker's Town, utilities, water sports, Warwick, weather, wildlife, work permits.

Bermuda's 2015 August History and News
Events that made newspaper headlines in the eighth month of this calendar year
By Keith Archibald Forbes (see About Us).

See end of this file for all of our many History files
August 31. A gaming senior executive from the United States has been appointed executive director of the Bermuda Gaming Commission. Richard Schuetz will leave his post as commissioner for the California Gambling Control Commission to start work on the Island on September 1. According to a statement from the Bermuda commission, Mr Schuetz has worked as a senior executive in the gaming markets of Las Vegas, Atlantic City, Reno/Tahoe, Laughlin, Minnesota, Mississippi, and Louisiana. He has served on the boards of Shuffle Master Gaming, the Stratosphere Hotel and Casino, where he was also president and CEO, and Casino Publishing. He also sat on the International Advisory Board for the Institute for the Study of Gambling Commercial Gaming at the University of Nevada, Reno, and was the Co-moderator of the Institute's Executive Development Program. Commission chairman Alan Dunch stated: "All of us at the Commission are thrilled to have Richard join us in helping to introduce casinos to Bermuda. His extensive experience as both a casino operator and as a regulator make him ideally suited to ensure that the Bermuda casino experience operates with a high degree of integrity, and offers an additional world-class tourism amenity for Bermuda. In addition, Richard's strong background in teaching and publishing on the subject of casino gaming and its regulation is exactly what the Commission needs to assist us in educating the people of Bermuda about the benefits of this new industry to the Island as a whole." Mr Schuetz stated: "It is a true honour to be entrusted with such an important task, and I am thrilled to be able to work hand-in-hand with the people of Bermuda to usher in this new chapter of Bermuda's tourism and economic development." The Commission's task is to execute the Casino Gaming Act 2014, designed to increase employment and investment through casino development.
August 31. By columnist Nathan Kowalski CPA, CA, CFA, CIM, Chief Financial Officer of Anchor Investment Management Ltd. "In Part 1 we briefly went through the theory and history of innovation on employment. Then we covered two aspects that affect Bermuda: the pace of change and the occupational risk mix. Today we will look at the implications for Bermuda.
Implications for Bermuda. Are we actually seeing this disruption? Is all this heralded change actually manifesting itself on our island? The short answer is maybe. One will never be able to prove definitely that Bermuda's job market is succumbing to the "race against the machine", but some aspects suggest it could be happening. In fact it may eventually lead to monumental change. One thing to track would be the trend in employment versus production. Nominal GDP per employed worker is hitting new highs while the number of employees continues to fall. More is being done with less. Admittedly this is a crude measure, but it does point to a concerning trend. This is the "efficiency gap": fewer workers are needed to produce more goods and services. I would suggest this is largely due to technological innovation and global labour arbitrage (potentially due to advancement in telecommunication technologies). Bermuda's high cost of living has resulted in companies moving lower skilled jobs and some middle management positions to low cost jurisdictions.
Inequality. The economic benefits of recent technological advancements have not been shared widely. Productivity has increased globally but real median wages in various regions of the world (notably the US) have stagnated, leading to a large reduction in labour's contribution to GDP. The resulting consequence has been the widening gap between the rich and the poor, or inequality. Essentially, this is because capital tends to be concentrated in the hands of the wealthy. In fact a 2013 study by Loukas Karabarbounis and Brent Neiman suggested that 42 out of 59 surveyed countries have actually experienced a fall in labour's contribution to GDP. It's worth noting that about half of this decline is the result of the substitution of capital for labour because the latest price has declined relative to the former with advances in technology. There are no definitive stats on Bermuda's level of inequality, such as the Gini Coefficient; however we have developed what we feel is a reasonable proxy for what does appear to be a widening gap between the rich and the poor — at least when it comes to income. In taking the highest paying median subset of jobs from the Bermuda Employment Briefs (senior officials and managers) and comparing it to the lowest median income group (service workers and shop and market sales workers) we can see a concerning trend. Since the recent peak of employment (2008), those with top paying median incomes have seen wages climb nearly in a straight line. The nearly 3 per cent annual advance in median income has kept pace with Bermuda's consumer price inflation rate which has annualized about the same. The lower tier of median workers, however, has constantly seen lower median wage growth than inflation and even suffered a three-year period of non-existent median income growth. Although this is only one simple measure, it would suggest empirically, at least, that the gap between the rich and poor has widened. This measure, however, does not take into account capital owned by the wealthy. In Bermuda, the level of capital wealth lost over the last six years may have been disproportionately large, owing to the collapse in real estate prices and local equity shares. It would be incorrect to suggest that the wealthy here have not suffered: they have done so immensely through capital losses in holdings of local real estate and local shares. If, however, they were prudent enough to diversify internationally they may have escaped this devastation of wealth. While the true level of wealth disparity may be impossible to calculate, it is rather evident that certain higher-level income jobs have not suffered as much as those at risk of automation and computerization, as discussed previously. As technology continues to advance and capital continues to substitute labour, inequality is likely to only increase with polarization in relevant jobs and wages. Worker Opportunities Bermuda is no different from any other nation, neither is it immune to shifting global trends. Bermuda has recently suffered from the offshoring of a whole series of positions, with many in middle management or administration that have been sent to less expensive or more productive jurisdictions. This has been assisted, in a large part, by enhanced global communications, technology and computing power. The sheer expense of living in Bermuda has made many such positions obsolete and uncompetitive. In a business, quite simply, labour competes with capital. The higher the cost of labour, the more attractive capital investments in productivity (ie, robots, machines etc) becomes. Labour may have little in the way of upfront costs, but does have relatively large, ongoing, hourly costs associated with wages and benefits. In other words, when a manufacturer hires an assembly-line worker, there is typically no large upfront cost to "acquire" the employee, as they only need to pay him or her on an hourly basis for when that employee performs work (excluding any union contract issues, of course). In contrast, technology has high upfront acquisition costs, but relatively low ongoing, variable costs (energy, maintenance, and depreciation). Unfortunately, Bermuda is not benefiting from the new jobs that are often created by innovation and progression. Secretaries and admin positions have shrunk, but we do not see a wave of computer programmers and web designers popping up locally. This pressure on job creation is not likely to be alleviated anytime soon because we do not have any major industrial sources of jobs for which these forces will benefit and create jobs. Our bigger concern is that offshoring is only a weigh station on the road to full automation. Innovation is great news for the human experiment and for the privileged minority in developing countries ... but it could be terrible news for the vast number of people in Bermuda who do not have the skills to participate in this new economy. Without a focus on developing newer industries on the Island in the areas of "STEM" (science, technology, engineering and math) or "BRAIN" (Biotech, Robotics, Artificial Intelligence and Nanotech) industries, it is increasingly likely that Bermuda will miss the train of future job growth. The past has proven that technological advancement has not actually led to fewer opportunities for workers, as labour's ability to adopt new skills has almost always proven successful, and workers have transitioned to new industries. As computerization accelerates and becomes ever more sophisticated, however, this may become increasingly more challenging and the opportunity even smaller.
Winner-Takes-All. One aspect that is likely a major cause of inequality, and which is limiting opportunities for Bermudian workers, is the winner-takes-all phenomenon. The advent of an age where innovation and growth are largely the constructs of information technology has in some ways made it easier to achieve monopolistic market positions. Digital innovators can scale up faster, far cheaper and with fewer workers than many traditional business models. The winners tend to build enormous scale with massive economic moats that stymie start-ups or competitors. Google's sheer dominance in search is an example. Amazon's online retail dominance is another, in which their dismissal of near-term profits is blowing up brick-and-mortar stores daily. As a result, workers win when they are at the winning firm, but if not, they struggle. This is not to say incumbents cannot be unseated — they can, of course; yet the scale effect of the winners makes this more difficult in various industries. Sadly, it is not enough to be in the right industries, but you also have to ensure the ones that you are in are the best. Otherwise, you could run the risk of obsolescence as an effect of hyper-competitive consolidation of value. Bermuda is no stranger to competitive consolidation — our largest industry — reinsurance — is negotiating through a massive-scale adjustment thanks in no small part to the innovation of the capital markets. Bermuda companies and industries will need to be winners now more than ever. While we should continue to support our current industries, we will slowly become more irrelevant to the future areas of job growth if we do not push our economy into future areas of progress and diversify away from more stagnant or non-innovative sectors. We must try to develop/attract the winning companies and industries of the future, or accept stagnation and/or low growth in the economy and job market over the long run. In Part 3 we hope to offer some policy options."
August 31. Four new benefits and one improved benefit will be introduced for HIP and FutureCare policyholders tomorrow — but premiums will also go up for 2015-16. The Health Insurance Department today issued a reminder about the changes, stating that these "mark a strategic shift in our delivery of health services which is designed to provide better patient outcomes and population wellness in relation to the significant investment made by Government into the health of our citizens. "Ultimately, our aim is to return the health system to a sustainable level with the appropriate level of accountability." The changes include a new personal home care service aimed at reducing the length and number of hospital stays by enabling the elderly to age at home. To improve chronic disease management, an increased number of specialist visits will be offered and health and wellness benefits will be introduced for preventive care management. And through a new youth coverage benefit, children up to the age of 21 will also be covered for specialist, dental and overseas care, when medically necessary and unavailable in Bermuda. The HIP premium will be raised from $390 to $433.31 and the FutureCare premium will increase from $450 to $504.21, whereas a new HIP Youth premium will be $190. Addressing the House of Assembly on July 17, Jeanne Atherden, the Minister of Health, Seniors and Environment, said that premiums have had to increase because of escalating healthcare costs, a significant rise in claims and an increase in the Standard Health benefit rate. The Health Insurance Department has also made changes to an existing benefit for policyholders by introducing a new overseas preferred provider network. "HID has developed an Overseas Preferred Provider Network in response to the escalating cost of overseas treatment," Ms Atherden said. Within the network, HIP will continue to pay 60 per cent of usual and customary charges and FutureCare pays 75 per cent. However, 10 per cent less will be paid for HIP and FutureCare claims that are out of the preferred provider network and elective treatments, second opinions and experimental treatments are not covered." Ms Atherden told the House that "substantial savings will result from this policy with no degradation in quality of care and patient outcomes."
August 31. The Louis Vuitton America's Cup World Series baton was officially handed over to Bermuda in Gothenburg yesterday. Bermuda will host the next event in the series, the first stage of competition of the 35th America's Cup, from October 16 to 18. Representing the Island at yesterday's ceremony at the race village was Grant Gibbons, the Minister of Economic Development, whose bright yellow traditional Bermuda shorts proved popular among the crowd. "As you can see I brought my Bermuda shorts and brought the Dark 'n' Stormy ... we left the Bermuda Triangle at home, however," said the minister, who led Bermuda's successful bid to host the contest in 2017. Dr Gibbons praised the organizers of the World Series event in Gothenburg, and said they shared a common bond with Bermudians. "I think it's been a fantastic few days here and I would like to thank the mayor and the people of Gothenburg for such gracious hospitality. It's been a terrific two or three days here. I wasn't sure how the Government arranged such wonderful weather, but it's been very good. I hope we can learn from that in Bermuda. Gothenburg and Bermuda are very similar, I think, in some respects. We both have sailing in our DNA and we are an island nation and have been sailing for a very, very long time, so it's something that we are very proud of as well. It's great to be here and we certainly look forward to welcoming all of you to Bermuda in October and hopefully for 2017 for the finals as well."
August 31. Emirates Team New Zealand replaced Land Rover BAR at the top of the Louis Vuitton America's Cup World Series pecking order in Gothenburg yesterday. Team New Zealand came from behind to win the fourth and final race that left them four points clear of overnight leaders Oracle Team USA. Land Rover BAR placed third, a further two points adrift of Oracle, who looked to be in control until they were undone by a double whammy on the first beat. The unbridled joy among the victorious Team New Zealand demonstrated just how much victory meant to them, particularly for Peter Burling, the challenger's helmsman, who appears to have made a seamless transition at this level. "I'm definitely stoked to go there and take the win today," Burling, the multiple world Moth and 49er champion, said. "For us, as a relatively new crew, to be able to come up with the goods was exactly what we were aiming at." Fans were left on the edge of their seats as the four-race series drew to an exciting climax with Team New Zealand, Land Rover BAR and Oracle Team USA in a three-way tie at the top of the leader board heading into the final race. Oracle led the fleet on the short reach to the first mark and extended their advantage after making considerable gains on the first run to the bottom gate. But the defender's hopes all but ended on the next leg when they relinquished the lead after getting on the wrong end of a wind shift and then lost further ground after sailing into spoiled air coming from SoftBank Team Japan's wing-sail trying to cover Team New Zealand. Burling and company managed to take full advantage, sailing under Oracle and Team Japan on the layline to the marker and led the rest of the way. Sailing around a tight course littered with holes in light breezes presented a challenge for the teams. Team New Zealand, though, seemed to have things all figured out. "It was a tricky afternoon, but our guys had a forecast for it being light like this, so we've been preparing for it," Burling added. "We just kept the boat in more breeze than anybody else to keep it going fast and minimizing maneuvers. That's obviously really tricky sailing in that lighter stuff. We're really happy to put together two solid races today and to perform under pressure in that last one is very satisfying." Artemis Racing won yesterday's first race by a landslide, with team New Zealand taking second and Land Rover BAR third to make things interesting at the top. Back-to-back victories on the opening day saw Oracle go into the final races with a slim lead over Land Rover BAR. But in the end the title would elude the defender who struggled in the light air. "We were having a very difficult time speed-wise and with our technique in the lighter winds," Jimmy Spithill, the Oracle helmsman, said. Sir Ben Ainslie, team principal and helmsman of Land Rover BAR, also endured a day he would rather quickly put behind him. "It wasn't one of our best days today," Ainslie said. "It's frustrating, but that's the nature of the sport." Land Rover BAR slipped to second in the World Series behind Team New Zealand after two stages. Oracle Team USA remain in third.
STANDINGS (after 2 events)
Emirates Team New Zealand 72
Land Rover BAR 65
Oracle Team USA 64
SoftBank Team Japan 56
Artemis Racing 53
Groupama Team France 50
August 31. Former soldiers rolled back the years to put on a concert marking the 50th anniversary of the Bermuda Regiment. Veteran bandsmen, some of whom were among the original Regiment band in the 1960s, performed a "give back" show in Hamilton's Victoria Park yesterday. The event was a partnership of the Bermuda Regiment Alumni Band and the Blues Beat Band, which is also made up of former soldiers. Donations were made to the Bermuda Regiment Charitable Trust during the afternoon.
August 31. The Human Rights Commission has called on discrimination laws to be expanded after a case involving "inflammatory" comments online. While the commission said it was disturbed by the comments made by Desai Jones against Mark Anderson, it was unable to deliver a "just verdict" because, although the law prohibits racially discriminatory writings, it does not prohibit written discrimination on other grounds. A written judgment stated: "As human rights commissioners, it is our duty to propose and petition for amendments to the Bermuda Human Rights Act until the residents have a document which truly protects the rights of all people living and working in Bermuda. We therefore recommend that [the Act] be amended to encompass the written word such as articles and statements and that [the Act] be amended to offer protection for all prohibited grounds of discrimination." The tribunal had heard that on March 11 last year Mr Anderson — a bus operator and female impersonator — was driving a bus towards Somerset when he stopped near Manse Road and Mr Jones got on. Mr Jones told Mr Anderson that he had only a $50 bill, but Mr Anderson allowed him to take a seat anyway. As Mr Anderson continued to drive, he realized that Mr Jones had said the same thing to him on two previous occasions and he had allowed him to ride both times. When Mr Jones later went to exit the bus, Mr Anderson spoke to him, telling him he would not be allowed to ride the bus again without paying the correct fare. Several days later, Mr Anderson was told by a friend that Mr Jones had made several comments on Facebook about the incident containing derogatory comments about Mr Anderson and his sexual orientation. In the comments, Mr Jones wrote that Mr Anderson was fortunate he did not "rip off his bra and panties" adding: "You know I hate your kind with a passion." Mr Anderson subsequently filed a human rights complaint against Mr Jones about the comments. He later filed a second complaint complaining that Mr Jones was attempting to intimidate him into dropping his first complaint. During a hearing in March, Mr Jones told the tribunal that when he wrote "I hate your kind", it was an expression of his view on homosexuality and that it should not exist. However, he said the comments were directed not to Mr Anderson but to Sybil Barrington — the stage name used by Mr Anderson as a female impersonator. The tribunal, however, said the existing legislation disallows only discriminatory "notices, signs, symbols, emblems or other representations", and that the courts had found that definition did not include the written word. It also noted that while section 8(1)(a) of the Act prohibits publishing written words which are threatening, abusive or insulting on racial grounds, the section does not expand to other areas of discrimination. As a result, the tribunal was required to dismiss the first claim. Regarding the claim of intimidation, the court heard that Mr Jones posted a picture of documents linked to the human rights complaint on his Facebook page. Mr Anderson argued that this, combined with information given to him by other people about how Mr Jones treated people with Mr Anderson's sexual orientation, amounted to intimidation. The tribunal was also shown online comments by Mr Jones stating: "Just don't try to stand toe to toe with me ... cause I'll go out of my way to hurt you real bad." Questioned about the comment, Mr Jones said he was speaking hypothetically using a boxing reference. The tribunal dismissed the second claim, finding that Mr Jones did not post the documents to intimidate Mr Anderson, noting that while he posted them publicly there was no way he could know Mr Anderson would see them. It also found that subsequent online comments, while "distasteful, derogatory and vitriolic", did not indicate a desire to intimidate the complainant. The judgment stated: "The tribunal has heard the facts of this matter and were greatly disturbed by the inflammatory comments, language and opinions expressed on Facebook by [Mr Jones] in this case. [Mr Anderson] had twice before, in addition to this instance, acted as a Good Samaritan by allowing [Mr Jones] to ride the bus when he had no other means of transportation. Unfortunately, his good deed did not go unpunished. We regret that the law as it stands in relation to the first complaint renders this tribunal powerless to return a just verdict in this case since the Bermuda Human Rights Act has not been amended to include the written word. Similarly, we regret that the Human Rights Act has yet to be updated to encompass sexual orientation and all prohibited grounds under section 8(1)(a)."
August 29. Preparations for the Louis Vuitton America's Cup World Series in October are on track, according to Grant Gibbons, the Economic Development Minister responsible for the 35th America's Cup. "The organization is coming along very nicely," said Dr Gibbons, who is attending this weekend's America's Cup World Series in Gothenburg, Sweden, to gather ideas ahead of the Island's turn to be host. "The whole of Front Street down as far as Court Street will be closed off, and it will be nice to have that open space with the crowds out there." The minister said the upcoming sailing spectacle would be a "dress rehearsal" for the main event in 2017. He is confident that the Island will put on a good show and live up to its expectations as host. "There will be a lot of Bermudian hospitality in terms of both vendors and others," Dr Gibbons said. "It will be typically Bermudian in its own way and I am very excited. October's America's Cup World Series had been sparking the interests of potential visitors who might not otherwise have traveled to the Island. I hear there's going to be a lot of people coming to visit Bermuda to have a look at it," Dr Gibbons said. "I'm hearing a lot of interesting people — sponsors and senior people associated with the teams — will be coming, so we should do very well, which is great because it exposes Bermuda to probably a lot of people who wouldn't be here before." Gothenburg is the home of the Swedish Challenger, Artemis Racing. Explaining his visit to the city, the minister said: "The purpose of my trip is to get a better understanding so that we can prepare as best we can for the October World Series. The pier out here is a little bit like Front Street, where we intend to set up the VIP Centre and also all the hospitality. Gothenburg is an almost better model for Bermuda and it will also be interesting to see how they manage the dynamics with the city and also the sailing. We saw the British approach in Portsmouth and here we are getting a sense of how the Swedish manage it — it's a good layout." The minister's agenda in Gothenburg includes promoting October's America's Cup World Series in Bermuda. "Another reason for me being here is to keep the interest of Bermuda up and to obviously represent Bermuda and I am delighted to be able to do that," Dr Gibbons said. "It is hard work, but somebody has to do it." As for a weekend of sailing that will feature the six America's Cup teams competing in the foiling AC45F catamaran, Dr Gibbons said: "It should be very interesting, good fun and I look forward to getting out on the water as well." Accompanying the Minister in Gothenburg is Adam Barboza, who is attending on behalf of the America's Cup Bermuda.
August 29. Oracle Team USA stamped their authority at the Louis Vuitton America's Cup World Series in Gothenburg today. The defender won both races on opening day to close the gap on overall points leaders Land Rover BAR. Oracle Team USA led every leg in both races to underline their dominance and emphatically claim bragging rights back at the race village. "The guys on board the boat did an awesome job today," Jimmy Spithill, the Oracle skipper, said. "Tom [tactician Tom Slingsby] sailed really well tactically in the first race and really made some key calls under pressure. Second race was very encouraging because that's the best we've sailed as a team. We were fast, we had great manoeuvres and Tom was just tactically really at another level." Oracle moved up from third to second in the overall points standings. Ben Ainslie, the Land Rover BAR skipper, was satisfied with two second place finishes. "It was a good day for us," Ainslie, a two-times King Edward VII Gold Cup winner, said. "We are happy with two second places. It was a tough old day out on the course and Jimmy and the guys at Oracle sailed really well and got themselves out ahead. But we battled through and got two good second places and I was really pleased with how we sailed." A pair of thirds had Emirates Team New Zealand slip from second to third in the overall points standings. "Today was a fun day and the racing we had here was probably some of the closest we've had in quite awhile," Glenn Ashby, the team New Zealand skipper, said. "The guys done a great job getting the boat around the track. We haven't had a huge amount of training time between the two events, so to come here to Gothenburg and be able to mix it up with the big boys that have been putting a lot of time and effort in is really nice." Artemis Racing, the home team, found the going tough and had to settle for a fourth and sixth. "Obviously we didn't have a good day on the results card and we had some damage between the two races," Nathan Outteridge, the Artemis helmsman, said. "But we were really happy with how we were starting. Starting in race one was good and starting race two was actually even better. But unfortunately with a damaged foil we didn't have any boat speed." Groupama Team France posted a fifth and sixth and Softbank Team Japan a fourth and fifth. Racing continues tomorrow with points doubled.
August 29. Artemis Racing and Emirates Team New Zealand are hoping their fortunes take a turn for the better when Louis Vuitton America's Cup World Series racing starts in Gothenburg today. The two Challengers were forced to return to port prior to the start of yesterday's official practice races, with Artemis's AC45F catamaran capsizing and Team New Zealand's suffering a minor breakdown. The crew of Artemis went for an unscheduled swim in Frihamnen Harbour after a gybe set went horribly wrong. "We were doing a bit of routine training before the start," Nathan Outteridge, the Artemis skipper, said. "We did a good gybe and then we thought we would do one more and the calls weren't very clear as to what the next move was. We're all out there pushing hard and that's what happens when you push too much." Artemis' one-design catamaran suffered minor damage to its wing sail while the crew escaped injury. "Unfortunately, we didn't get to line up with anyone today. It was a little bit disappointing. But that won't slow us down and we'll be ready to go tomorrow. We are really excited to be here and more importantly excited to put on a good performance." The crew of Team New Zealand also spent most of the afternoon on dry dock after their AC45F also had to be hauled out of the water for repair. "Very disappointing," Glenn Ashby, the team's sailing team manager, said. "We all love sailing these boats in good conditions and today was perfect with flat water and good winds, so we're thoroughly looking forward to tomorrow to getting stuck in with these guys." Land Rover BAR and Oracle Team USA both laid down early markers after claiming a victory in each of the day's two practice races. It was just the start that America's Cup World Series points leaders Land Rover BAR, led by former Oracle tactician Sir Ben Ainslie, was looking for. "We've all seen how close the racing was [in Portsmouth] and one mistake makes all the difference," Ainslie, the Land Rover BAR skipper, said. While team confidence is high, Ainslie knows he and his team-mates have their work cut out. "With the race course being that much tighter, all of the teams are getting more experience, it's getting harder to stay ahead on the development curve," he added. A pumped-up Jimmy Spithill, the Oracle Team USA skipper, is champing at the bit to mix it up with the world's best sailors. "It's always good to be pushed and go up against the best," he said. "We love competition, we love being pushed and that's what we're going to get this weekend." Softbank Team Japan and Groupama Team France were the remaining teams that sailed in yesterday's 16-20 winds, which provided a test for some of the crews with no experience sailing the AC45F in strong conditions. "Yesterday and today was good for us as it was windy, for the first time for us on these boats," Franck Cammas, the skipper of Team France, said. "We're still in a learning process." Dean Barker, the skipper of Team Japan, who finished second in both practice races, added: "It was good to be back out racing."
August 29. Finance Minister Bob Richards has reiterated his case for the need to draw investment into Bermuda, responding to a suggestion by economist Craig Simmons that the strategy was skewed and over-reliant on overseas capital. In The Royal Gazette yesterday, Mr Simmons called on the Bermuda Government to direct more of its efforts into stimulating local investment spending. "We have to work on getting foreign exchange in here," Mr Richards said. "Small businesses do not earn foreign exchange. Some do, but most don't." Mr Richards has said more than $900 million should come into the Island's flagging economy as a result of major works such as hotel construction, projects linked to the 2017 America's Cup, and a proposal to redevelop the terminal at LF Wade International Airport. The minister has repeatedly made the case that the Island's cash originates abroad, whether from visitors or through investment. Yesterday, Mr Richards made the additional case for incoming investment countering the loss of jobs caused by consolidations. "We need to have this incoming foreign capital in the projects I have mentioned because of the consolidation going on in international business, and reinsurance in particular," he said. "It's totally outside of our control. It's not threatening our industry but it is shedding jobs, and to counteract that we have had to put programmes in place — our plans for projects, big ones and small ones, and those that are in between." Mr Richards said he believed there was "capital out there that would like to invest in Bermuda — but we have to find something for that capital to do. We are talking about putting foreign capital to work in Bermuda. By putting it to work, we put people to work. We have to do what we can to create activity in Bermuda so that Bermudians can go back to work. I'm not trying to suggest that the same people who work in international business would work on a construction site, but with more investment in Bermuda, there are all sorts of spin-offs. We will continue to look for foreign investment — all money in Bermuda is foreign-sourced and we need to have more of it here." The reluctance of local banks to give loans has been lamented by many business owners, but Mr Richards said he saw light at the end of the tunnel. "Here in the Ministry of Finance, we have been working hard on trying to get the banks to be more accommodating, and that work continues — it's a slog, but I believe we are getting somewhere, in so far as banks being more interested in lending money," he said. The turnaround might not yet be evident in economic figures, the minister added, but the Island was "turning the corner in terms of banks lessening their tight grip on lending. That will really help local businesses — their biggest problem is that they can't get financial help. I see a glimmer of hope, but it's not yet obvious in national statistics."
August 29. By Lars G. Josefsson, chairman and chief executive officer of BioElectric Solutions AB, Sweden. "The national electricity sector represents the backbone for any modern society. When Bermuda's energy system emerges from its continuing transition, oil and diesel will have been replaced by more modern sources of energy. Bermudians will have to live with these new sources for generations to come, for good and for bad. The universal requirements for a forward-looking energy system are affordability, reliability and sustainability. It is imperative for the welfare of present and future generations that any proposal is evaluated against these criteria. Bioenergy is the world's largest source of renewable energy, constituting about 10 per cent of all energy consumed. About half is modern, efficient use, eg, for transportation fuels, electricity and heating. The other half is traditional, inefficient use for cooking and heating. Unlike wind and solar power, bioenergy has several similarities with fossil fuels: both are chemically bound energy that can be easily stored, transported, processed and used for electricity, heating and transportation. This makes it easier to replace fossil fuels with bioenergy than with solar and wind. When processed into a commoditised form, eg, wood chips or pellets, bioenergy can be transported and traded between markets and countries as in between Europe and North America. It essentially acts as a renewable type of fossil fuel, combining the flexibility and controllability of coal with the sustainability of wind or solar. As such, bioenergy is an ideal source of base-load electricity, even for countries with limited forest or agricultural resources, as is the case for Bermuda. Adding shares of wind and solar power is easy, but with increasing shares come an increasing need to balance the variability, eg, cover demand when wind and solar are scarce or to handle surplus. Rising shares of intermittent, renewable sources such as wind or solar are accompanied by rising total costs and technical difficulties with stabilising the grid. Instead of relying on fossil fuels, biomass can play this balancing role and thereby take us closer to an energy system based on renewable energy only. A modern biomass plant has full controllability and can easily and automatically handle the gap between the actual consumption and the generation from variable and non-controllable sources, such as wind and solar. As noted in the Clean Power Plan, released on August 3 by the Obama Administration, there are different views on the sustainability and carbon neutrality of biomass. Fundamentally, the photosynthesis is "the technology" enabling the existence of bioenergy. Obviously, a tree that is combusted releases carbon dioxide and, unless compensated by a balancing plant growth, the action would mean a net addition of carbon to the atmosphere. Therefore, sustainable forestry and agricultural practices must go hand in hand with bioenergy use. When done properly, high biomass use for energy and carbon neutrality can be truly mutually inclusive, as is the case for Sweden. Since 1990, the use of biomass for energy has doubled and now covers one third of the total energy demand, which is a significant contribution to lowering the country's carbon footprint. The bioelectricity is delivered by 91 power plants with an average capacity of 30 MW. Bermuda could benefit greatly from the development of a modular biomass power plant. Each module should comprise some 15 to 20 MW, with the total number of modules to be determined by the share of wind or solar in the system. The system could retain some oil/diesel capacity to cover peak-load consumption. Our in-depth analyses of introducing bioelectricity on the Island to replace oil and diesel as base load:
• Show lower end-user prices compared with known alternatives (ie, "affordability")
• Enable attractive long-term supply contracts for wood pellets from the US (ie, "reliability")
• Reduce climate gas emissions significantly compared with any other available and adjustable source of energy (ie, "sustainability")
• Secure competitive returns for investors (ie, "profitability")
Furthermore, bioelectricity will be on the grid no more than 24 months after the last permit is in place and carries no risks out of the ordinary, neither technical nor commercial.
August 29. Water truckers in Bermuda have been relying on the other services they provide to endure this summer's unpredictable weather. The drought-like conditions the Island experienced in June and July brought a high demand for water, leaving truckers scrambling to service customers with limited supply. Now, with 4.5 inches of rainfall so far this month, a quarter of it in the past week, they have the opposite problem: fewer people need their water. The total rainfall this year is slightly above average. Farad Furquan, of Wet and Wild Water Service, told The Royal Gazette: "Some of us have standing order work, so it does tend to mess with us. Heavy rainfall does hinder water truckers during the rainy seasons but, to be honest, my business is busy all year. We go out even in the rain. Some truckers actually clean tanks and provide other services to keep busy during the slow months. It just all depends on the individual business and what services they provide." Brent Burgess, owner of Alex's Water Trucking Service, said that dealing with the weather came with the business. "Business this season has not been too good, actually over the last three years, because we've had nothing but rain during June, July and August," he said. "We offer other services that come in handy when things are slow but the main service we rely on is water trucking. In July, we were expecting the plants to be open because there was a slight drought and now it's been raining, the plants are open, but we don't need the water." While bad for the water service business, others are benefiting from the recent heavy downpours. Tom Wadson, chief farmer at Wadson's Farm, said: "There are not really many disadvantages of the rainfall we've had this month. Our farm is right on Pond Road and they don't call it that for no reason, so we anticipate flooding. June is our dry month and now the weather is changing and we're definitely seeing peaks. We usually observe and record the trends and plan ahead at least eight to 12 months at a time when farming." Julie Greaves, from Aberfeldy Nurseries, said that her business was blooming thanks to the weather. "The plants love the rain. Things are looking gorgeous. It has been exceptional compared with last season. Everything all around the Island is looking great, the plants and the grass are green. You can stand and water plants for eight hours a day but there is nothing like natural rainfall. It does them so well. If you ask any of the farmers, the heavy rain may have been too wet for them and their crops, but for the plants at Aberfeldy everything is looking lush."
August 28. Artemis Racing's AC45F has capsized during a practice sail today. The Swedish Challenger's foiling catamaran capsized in strong winds in Frihamnen Harbor. All of the crew are reported to be safe while the team's multihull racing yacht is back upright and being towed back to the Louis Vuitton America's Cup World Series Race Village. It now remains to be seen whether Artemis' boat will make it back out for any of today's two scheduled practice races. Artemis are the hosts for this week's second stage of the America's Cup World Series in Gothenburg featuring all of the six teams, including Oracle Team USA, the defender.
August 28. Artemis Racing have been granted planning permission to begin construction on their fully operational base at Morgan's Point. The Department of Planning has approved the Swedish challenger's application to build several temporary structures near the end of the Southampton peninsula, with a floating dock structure to the south. "It's exciting that we are able to move forward with the build phase of our new base," the team said. "Our aim is to be fully operational in Bermuda by early next year and, with this good news, we are certainly on target to achieve that." Artemis's new headquarters will include three aluminium-framed buildings to be erected on an area already paved with concrete. Two of the buildings will be used for storage, housing the team's sailing equipment, while the third will include the main team office. A mobile crane will be placed on the site to aid with the boat-launch process. All of the structures are intended to be removed after the America's Cup has ended. Artemis reached an agreement with Morgan's Point Ltd to relocate their home base to Bermuda, and specifically to Morgan's Point in the spring. The developers welcomed the America's Cup team and granted them 8½ acres of land on the point overlooking the Great Sound. This strategic location, which is very close to the racecourse, allows for ease of access for the team's AC45 boats to be brought on shore and stored. The point is being enhanced to include a parkland and hospitality areas for VIPs and the team's growing fan base. "We were happy to provide this much-needed space for Artemis Racing to be able to set up their operations in Bermuda," said Craig Christensen, the president and chief executive officer of Morgan's Point. In addition to the sailing team, Artemis intend to bring their research and development team to the Island from California to help with preparations for the 35th America's Cup. This activity is critical to the development of America's Cup technology to be used by the team, and fundamental to their operation in Bermuda, as prototypes will be investigated, tested and adjusted in real time with feedback from the team. "The relocation of the team from San Francisco is a great boost to Bermuda's economy with the increased amount of personnel moving to Bermuda to design and assemble the AC yacht," Mr Christensen said. "This is an historic event, having an America's Cup boat assembled right here in Bermuda. Bermuda should be very proud and honored to be a part of this." Artemis, who are hosting this week's Louis Vuitton America's Cup World Series in Gothenburg, formally announced their intended move to Morgan's Point in June.
August 28. Economist Craig Simmons believes that relying exclusively on foreign investment to boost Bermuda's finances is a "grossly unbalanced" strategy and wants more encouragement to be given to smaller, local investors. In a detailed Q&A with The Royal Gazette, he addresses some key topics on the shape of the economy.
• How do you assess the current state of Bermuda's economy? The economic cycle, unlike the lunar or seasonal cycles, is far from predictable: it doesn't move in any pattern that one can detect. My sense is that the economic pendulum has changed direction and is now firmly heading in the direction of recovery, albeit an anemic one. But this is to be expected given that the boom that gave way to the recession was debt-fuelled. Historically, recoveries that follow a credit crunch are long, slow and have a higher-than-normal probability of bumps along the way. Most of the main indicators — retail sales, gross domestic product, planning and work-permit approvals, visitor spending — are improving and the Government's debt reduction plan is proceeding, more or less, on schedule. The financial services sector, however, is failing to help in the recovery effort: non-performing loans as percentage of capital remains stubbornly high (40 per cent); the money supply continues to shrink (-2 per cent), along with bank lending (-6 per cent) and bank deposits (-2 per cent). Lack of lending, whether in the form of debt or equity, to small and medium-sized businesses is arguably the largest single barrier to sustaining a meaningful recovery. The Government's approach to stimulating the economy through private spending is grossly unbalanced in favour of foreign direct investment. There is no doubt that, to quote the Finance Minister, we need "to restore investor confidence to attract foreign dollars back to our shores". But it is difficult to get shovels in the ground for large projects — whether private or public. The small projects listed in the Budget Statement 2015/16 are either completed or well under way. Five small projects of, say, $30 million each are likely to have a greater impact on the recovery effort than reliance on one $150 million project because all one's eggs aren't in one basket — it's a sensible way to manage uncertainty. Why can't we walk and chew gum at the same time. The over reliance on foreign direct investment diminishes the potential impact of small-scale local investment spending — fast nickels are better than slow dollars. The same reduction in red tape afforded foreign investors should be extended to local entrepreneurs. At the very least, a concierge service that makes it easier to get a local business up and running is needed for local entrepreneurs.
• Do you have hope that things are getting better or will get better soon? There are tremendous opportunities available to Bermudians who are willing to wade into the asset market in general and the real estate and equity markets in particular. Pessimism is pervasive, just as optimism was excessive in the run-up to the recession. At the psychological level, humans are awfully similar to cattle: they blindly follow what everyone else is doing. How else can you explain pre-recession property and equity prices, on the one hand, and recession prices, on the other — we're essentially talking about the same assets in the same country. Excessive exuberance during a boom sows the seeds for a bust. We're presently in a vicious cycle: people from all walks of life feel that things will only get worse. Asset prices have never been so depressed as now. That's why now is the time to buy: there are condominiums on the market for $150,000 and equities trading at a fraction of pre-recession valuations. It's a contrarian view, but this is a strategy that distinguishes successful market players from the crowd. In ten years or so, many will look back and wonder why they didn't seize the opportunity to buy assets at today's prices. This recession has been highly disruptive to the existing distribution of wealth. The recession has opened up economic gaps that will be filled by the business leaders of tomorrow.
• To what extent are you seeing an inequality gap at the moment? Has it changed since you last aired concerns in our newspaper a year ago? Ordinarily, inequality changes very slowly. In democratic societies, one cannot expect to see change in the distribution of income or wealth in anything less than a decade. Further, history suggests that revolutions are no more successful at dismantling oligarchies and oligopolies. New leaders with promises of radical change tend to bring nothing but more of the same. Based on the sample of countries in the World Top Incomes Database, perhaps the lesson we need to learn is that the distribution of income and wealth in Anglo-Saxon-type economies — UK, USA, Canada, Australia, Bermuda — will remain very unequal for the foreseeable future. Typically, in Anglo-Saxon economies the top 10 per cent earn 50 per cent of all income. And not surprisingly, over 50 per cent of income from capital goes to this group. Since the recession, capital income has decreased the most. It may seem counter-intuitive, but the rich have seen their income decrease more than any other group. And, if you accept that losses loom larger than gains, then the rich have "suffered" the most. The middle 40 per cent of the population, which represents the middle class, earn 30 per cent of all income and the bottom 50 per cent or working class earn a paltry 20 per cent of all income and less than 10 per cent of capital income. For working class people, capital income is synonymous with income from one's pension. Traditional means of dealing with inequality include a minimum or a living wage; financial assistance — conditional assistance has proven particularly effective in Brazil; food and housing subsidies; and private school vouchers.
• Why is this situation significant and what can be done about it? People on low incomes have fewer options in terms of healthcare, education, leisure, etc than middle-or-upper class people. Those limited options translate into limited freedoms to, say, live a long life. Black Americans, for example, live shorter lives than the average Chinese person does. And, urban black American men have shorter lives than the average Bangladeshi man. Thus despite living in one of the richest countries, it can be argued that urban black American men have a Third World standard of living. Low income is often a case of limited capability to earn higher income. Recognition of an individual's (in)capabilities allows a society to focus on the factors that limit an individual from earning a higher income. For example, improving a student's literacy and numeracy will increase the probability that an individual will be able to thrive in modern-day Bermuda. Improving literacy and numeracy are therefore indispensable to raising an individual's quality of life. We observe lower GCSE pass rates among public school students. There is little doubt that lower GCSE pass rates will limit public school graduates' capability of achieving basic goals like securing work that will pay a livable income, of participating in political processes or of having access to healthcare. Location is another factor that limits an individual's capabilities. For a young man, living in Middletown can severely limit his ability to move freely around the Island to work or chill. As a community, we are unable to provide many boys and young men with the protective security they need to be free citizens. What this suggests is that the economic data on income, unemployment, etc understates actual inequality. It is not enough to say that working-class Bermudians should be grateful for the standard of living they are privileged to enjoy. They earn relatively and absolutely more income than most working-class people elsewhere do. And, on the face of it, they appear as well-fed, well-clothed and well-entertained vassals, to use a term coined by Amartya Sen. This argument fails to acknowledge the fact that being a part of the Bermudian community requires an individual to take part in the life of the community. That may require one to own a smart phone or to take an annual overseas vacation. The latter activity will appear luxurious to most living outside of Bermuda. Much of the frustration of working-class people stems from a conflict between traditional ways of living and ways that people have reason to believe are just, on the one hand, and the demands of a global economy, on the other. The global economy is largely corporate: it is not rooted in a system of natural ethics but instead follows the logic of a balance sheet. Managing the local economy's interface with the global economy is fraught with difficulties largely because of the disruptive effects of creative destruction. The changes associated with creative destruction are imposed not negotiated. Book-keepers were summarily displaced by electronic spreadsheets; backyard mechanics need the latest computer software and equipment to make simple repairs; and high-speed data is making the outsourcing of accounting, customer service, information technology and other business functions a serious option for both international and local businesses. The next wave of disruption will likely come from corporations like Uber and Airbnb. Uber, a transportation company, could make traditional ways — taxi — of moving visitors and locals around the Island redundant. Similarly, Airbnb poses a serious threat to traditional ways — hotels and guesthouses — of accommodating visitors. The way in which workers organise themselves through unions and the power they are used to wielding will change dramatically. Similarly, owners will view the challengers' new business model as grossly unfair.
• In a recent Royal Gazette survey, more than half of Bermuda residents said they were against Government's proposal to increase the Island's population to try to improve the economy. Do you think such a policy would work? And why do you think so many people are against such a policy? When looking at economic performance over a decade or more, three factors drive growth: more capital — plant and equipment, better technology, and a growing and better-trained workforce. International growth data suggest that these factors are of equal importance. Increasing the size of the workforce is not necessarily synonymous with more foreign workers. There are hundreds of highly qualified Bermudians working in academic, business, medical and technical fields around the world, who could be persuaded to contribute to our development effort. And, given the state of information technology, it isn't necessary for all of them to have a full- or part-time physical presence. If the Government could demonstrate its commitment to economic development without exclusive reliance on outsiders, then perhaps the scepticism over Government's population growth policy could be abated. In the present climate, it is assumed that more foreigners will make it harder for Bermudians to earn a living.
August 28. A $100 million catastrophe bond to cover Turkey against earthquakes has been set up in Bermuda. Now the Turkish Catastrophe Insurance Pool (TCIP) plans to continue to build its relationship with the market. The Bosphorus Ltd bond provides reinsurance protection across three years on a per-occurrence basis for earthquakes in the Istanbul area. The transaction — the second of its kind — was completed with the support of reinsurance broker Guy Carpenter's investment banking and ILS unit GC Securities. Suha Cele, executive board member of Eureko Sigorta, the insurer that manages TCIP, said: "In view of the constantly growing portfolio of TCIP, our co-operation with the capital markets will continue in the near future, which would allow TCIP to diversify its reinsurance buying and utilise multiyear capacity at a stable price." He added: "We are proud to be the sponsor of Bosphorus Ltd. Our previous bond, Bosphorus 1 Re was a real success story as it is the first cat bond covering Turkish perils. "We are pleased to see that the second bond is also well accepted by the capital markets, which is showing us also that the bond programme of TCIP is well-established." The TCIP risk pool has now sourced $500 million in total of catastrophe bond capacity from capital market investors, following the $400 million Bosphorus 1 Re Ltd deal in 2013. The transaction's trigger is based on ground motion measurements captured by seismometers that are part of the Istanbul Early Warning and Rapid Response System, operated by academic institutions in Turkey. GC Securities global head of ILS structuring Cory Anger said: "We are delighted that TCIP has elected to utilise catastrophe bond-based protection for a second time to complement its traditional reinsurance programme and build upon the success of its initial use of catastrophe bonds." She added: "The use of an unsubordinated, unsecured note issued by the International Bank for Reconstruction and Development as the collateral solution balances giving investors superior investment yield and diversifying the type of collateral solution that are most common in catastrophe bond transactions while maintaining high investment quality for TCIP."
August 28. Reinsurance firm PartnerRe, a Bermuda entity, has topped a list of America's 50 most trustworthy financial-services companies drawn up by a prestige business magazine. Insurer and reinsurer Axis, which came fifth on the list, also featured in last year's top 50. The Forbes list, which concentrates exclusively on banks and insurance companies, rates entrants who corporate governance practices are among the most transparent in the industry. Researchers looked at more than 700 publicly traded North American companies with market capitalization of $250 million or more for the year ended in March. Companies were given an "aggressive accounting and governance risk" (AGR) score based on their performance in the assessment. Forbes said that PartnerRe scored an average AGR of 97 out of 100 over the past four quarters. A statement from Axis said: "Axis Capital received an average AGR score over the last four quarters of 87 out of a possible 100, including a 91 in the first quarter of 2015. These results reflect the company's ongoing commitment to financial transparency, corporate governance and its disciplined approach to risk management." Axis earlier this year failed in a bid to merge with PartnerRe after Italian investment firm Exor made a rival offer of around $6.9 billion for the company. Two other Bermuda insurance market companies also featured on the mid-cap segment of the list, Aspen and Allied World.
August 28. Superintendent Martin Weekes has been promoted to Assistant Commissioner of the Bermuda Police Service, taking up the portfolio of crime and intelligence. The promotion comes on the recommendation of the Police Service Commission and has been approved by Governor George Fergusson, a police spokesman said. Mr Weekes joined the Bermuda Police Service in 1988 having served in Kent Constabulary in Britain. During his time in Bermuda, he has served on uniformed patrol, been a part of the child victims unit, a school liaison and a parish constable for Smith's. As an inspector and chief inspector, he was assigned to St George's and Southside Police Stations, and later served as the superintendent in charge of the Island's police stations, with a responsibility for community policing.
August 28. A newly announced golf tournament to be held at the Mid Ocean Club will provide a fourth-quarter tourism boost, according to the Bermuda Tourism Authority. The four-day Nike Golf PGA of Canada Team Championship, to be held from October 26 to October 29, is expected to bring 52 pairs of visiting golfers, along with their families, tournament officials and PGA executives. A spokesman for the BTA said the tournament could give the local economy a $220,000 to $250,000 boost while providing a gateway to the Canadian golf market. Bill Hanbury, the BTA CEO, said: "This one is right in the sweet spot for the tourism economy. We estimate 140 visitors and 400 to 500 room nights on this piece of business alone. And we expect the impact to be felt across the tourism value chain. Canada has been a sluggish market for us this year given the country's currency challenges. This fourth quarter activity will help us recover a little bit, while also educating the Canada market about the world class travel experiences we have available to Canadian visitors year-round." The event is also expected to put a spotlight on Bermuda as a golfing destination with Canadian journalists reporting on the championship. Bermuda's hosting of the event reportedly came about through the BTA's sponsorship of the Grey Goose World Par 3 Championship, where PGA executives were invited to a round at the Mid Ocean Club by head pro Chris Grantier, a PGA of Canada member. Mr Grantier said: "The Team Championship became a reality so quickly because Nike and the PGA of Canada love The Mid Ocean Club and Bermuda. We are very excited to be hosting this inaugural event, exposing many PGA of Canada Professionals to our golf course, facilities and beautiful island." The BTA sales and marketing team worked alongside on-island partners and the PGA of Canada to solidify the championship's inaugural event in Bermuda. The Fairmont Southampton, which hosts the Grey Goose tournament, will be host hotel for this event as well. Shelley Meszoly, the hotel's regional director of sales and marketing said: "Fairmont Southampton is thrilled to partner with Nike and our good friends at the PGA of Canada to be the host hotel for such a fantastic golf programme. Events like this are a critically important part of Bermuda's golf strategy and we look forward to hosting the players in October."
August 28. "Children must come first," was the message from Minister of Education Wayne Scott yesterday as he welcomed a court decision allowing teachers and principals to go ahead with their transfers. Mr Scott spoke to The Royal Gazette outside the Civil Court yesterday after an interim ruling let the transfers go ahead, as well as the enactment of new Parent Teacher Association rules. The Bermuda Parent Teacher Student Association had filed an injunction against the moves by the Ministry of Education on the basis that parents were not properly consulted. However, individual PTAs have said they were adequately consulted and that their views did not reflect those of the BPTSA. Puisne Judge Stephen Hellman said: "The stays [blocks] involved the transfer of 30 teachers and six principals. To halt them now would cause disruption in the schools." Mr Scott told The Royal Gazette: "We are pleased that the stays were not granted. We have been working in the best interests of our children, the system and will continue to do that. We are looking forward to a successful start of the school year on September 8." Asked whether he felt that the ministry had carried out proper consultation with parents, as they are obliged to do, he added: "We have always said that the changes we have to make in our education system are things that affect the whole community and we want the input of the community. We have demonstrated that. From day one I have had multiple public meetings, I have been engaging with PTAs, I show up at schools and talk to parents, students, faculties and we are all in this together. There are always concerns with education, especially with the number of ministers we have had over the past couple of decades, and the focus of all of our discussions has to be anchored on children first. Talking to and getting feedback from people is one thing. Making decisions and moving forward is another, and we have to recognise they are two distinct pieces." The transfers are still subject to a challenge and there will be a substantive hearing in due course as evidence is gathered. The BPTSA's injunction also aims to block potential school closures and consolidations. Freddie Evans, the acting commissioner of education, said: "At this moment my principals and my teachers can go in the schools and I know that they won't be disrupted. Now they can prepare to deliver quality education to the children of Bermuda. "This is going to be a marathon and not a sprint. We have a lot of work to do but our focus now can be that we can deliver quality education and we are excited about that. We are ready to start school uninterrupted." One member of a school PTA told The Royal Gazette: "We are happy with the decision today. Could there be more consultation? Sure. But the only thing we want is consultation on principals and involuntary teacher transfers. If a teacher wants to move, who am I to tell them they can't move? That doesn't make any sense. It shouldn't be the Ministry of Education coming to us and saying, 'I'm going to consult with you even though you don't have any issues. There can be improvement though. If we are asking for consultation then having a framework for that consultation would be a good idea. That is important." The member questioned who would bear the financial burden if the BPTSA was required to pay court costs. On that matter, lawyer Eugene Johnston, representing Mr Matthie, told the court: "My instruction is to say there shall be no concern about the cost aspect. There are various members of the BPTSA who are willing to back this action with their finances to whatever degree is necessary." He said he would take a "full and wholesome" approach to the issue, adding, "there is no real concern." The substantive hearing on the case will take place in the coming weeks.
August 28. The transfers of some 30 teachers and six principals are hanging in the balance less than two weeks before the start of the new school term as arguments rumble in the courts over whether parents were properly consulted about the moves. The Bermuda Parent Teacher Student Association is taking action in the Civil Court to block plans by the Ministry of Education to shift teachers and principals, implement school closures and consolidations, and enact new parent council rules. Representing the ministry, Delroy Duncan, of law firm Trott and Duncan, argued that a block, or stay in legal terms, would cause "chaos" and "disruption" to the children at the schools affected. The issue of the transfers took precedence in the case because of the imminent start of the school term — on September 8. Representing the BPTSA yesterday, Eugene Johnston argued: "The lesser evil is to stop the transfers as the method is questionable. There was no adequate consultation. A balancing exercise has to be done. On the one side is a clear, firm and consistent public interest in moving the education system away from its normal moorings or, in the words of the Chief Justice in 2012, 'to bring about a paradigm shift in the leadership of management culture in the education system." Parents were given more say in the reform of public schools by the Education Amendment Act 2015 after a landmark ruling in 2012 that overturned the ministry's attempt to transfer two principals against the wishes of students and parents. Mr Johnston continued: "On the other side is a murky, alarmist and unsubstantiated set of claims that this will cause chaos in the system." He argued that the teachers had not yet transferred to new schools. "If it happened after the term had started they might have a case," he said, a claim that was contested by Mr Duncan. Mr Duncan said the transfers were already under way and that some principals had started work on the coming academic year. They have been preparing education plans, student plans, and moved lock, stock and barrel to the new schools," he said, adding that "the plans" were not transferable between schools so would not "be done in time for the school year and that is an injustice." To outline the disruption the move would cause he said: "Lesson plans have been prepared, classrooms have been set up, teachers and principals have physically relocated and moved supplies in preparation for the next academic year. They have met with personnel at the new schools to prepare for the academic needs for the next academic year. Principals have met with PTA presidents. The work that has been done would have to be redone. Some of the transfers were to fill vacant posts and if it is reversed there will be no one to fill the posts. The transfers took place on the basis of the analysis of specific students' needs at particular schools — some of which were not just academic but psychological and emotional. The time that went into consideration of the transfers can't be redone before the start of the next academic year." Mr Duncan said he would prepare overnight an evidence-based affidavit in relation to these concerns. Mr Johnston argued that they could stay in place like they had done for the past three years, during which time the ministry had put a block on transfers. "It is exactly the same position they were in 2012 and 2013. There was no chaos in stopping teacher transfers then," he said. He also noted that every principal had a deputy who could act in their place. Mr Johnston argued that certain teachers and principals had a vested interest in wanting the transfers to go ahead, pointing out that due to the ministry's three-year block, they were now desperate to move into new positions. "If we can keep the individual aspirations of teachers on hold for one year then so be it," he said. "Even if it results in chaos, justice must be done." The question was raised over Harry Matthie's right as chairman of the BPTSA, an unincorporated organization, to be taking such a strong stance on the matter. Puisne Judge Stephen Hellman asked: "Who is Mr Matthie to come in if teachers are happy with the transfers?" Mr Johnston replied: "That is a red herring. It doesn't matter if you like the transfers or not." He added that any "spirited individual" had the right to contest it. The question was raised as to whether Mr Matthie would incur the costs of the case if he was to lose or whether members of the BPTSA — many of whom do not support the action being taken by its chairman — would also bear the brunt. Mr Duncan said; "An order can be made against members of the body for costs. They need to know their position before proceedings should continue." The heading of the action would have to be changed or an application made for the security of costs. In the case of reorganization, including closures and consolidation was "not so worrisome", according to Mr Justice Hellman, as the timing was not so urgent as the transfers, which were just days away. The same was said for the formation of PTA councils and the formation of new PTA rules, although Mr Duncan said it would stop the changes the ministry was looking to put in place. The case continues.
August 28. A surprise placement among the top "island museums" has been bestowed on the Masterworks Museum of Bermuda Art by the popular newspaper USA Today. In an article on August 21, Bermuda's unconventional gallery was ranked alongside Jamaica's Bob Marley Museum, the George Washington House in Barbados and the National Museum of Fine Arts in Havana, Cuba. "It took us all completely by surprise," said an elated Tom Butterfield, the founder of Masterworks The creative director has been walking on air since he found out about the endorsement by the most widely circulated newspaper in the United States. "It's the company that we are keeping, the variety of choices, that impressed me," said Mr Butterfield of the travel piece headlined Caribbean curiosities: the best island museums. "Both in terms of the company and the competition, it shows us that we're doing well. I love that idea. I can't tell you how thrilled I am with this. They made independent choices; it wasn't influenced by one thing or another." A special point of pride is the article's celebration of maverick and innovative places to see, as it opens with the line "Move over stodgy headphone tours and all that quiet perusing through boring exhibits." Masterworks has consistently striven for a balance between modern media and the classic medium of paintings, Mr Butterfield said. The gallery appears on the list of nine with the likes of the Bob Marley Museum in Kingston, Jamaica, the Heritage Museum Collection in Anguilla, the Aimé Césaire Museum in Martinique, Tobago Historical Museum, and the National Museum and Art Gallery of Trinidad & Tobago. "All of us here are very surprised — we have circulated it to the board of directors as well," Mr Butterfield said. "What it might mean is that those who are supporting us can take great pride, and continue to invest in us through their membership."
August 27. Senior Magistrate Juan Wolffe is prepared to join lobbying efforts to put pressure on legislators when it comes to updating Bermuda's laws dealing with mental health. Mr Wolffe spoke candidly with The Royal Gazette on the introduction of restorative justice to the Island, as well as the development of a pilot mental health court system. Judges have their hands tied when people appear before the courts who are clearly suffering from mental disorders, he said, adding: "It's very frustrating." Mr Wolffe noted the Human Rights Commission's efforts to get discrimination against the mentally ill set out as unlawful. "You could amend the Human Rights Act very simply — that's an easy fix," he said. "In terms of the Mental Health Act of 1968, the question is, do you need to amend it or repeal it for a wholesale change in the Act? I don't understand why it is difficult, why it's taking so long. This topic has been discussed for many years." The majority of people who are mentally ill do not commit crimes, Mr Wolffe said, adding: "What we've been crying out for is a designated forensic unit at the Mid-Atlantic Wellness Institute to deal with individuals who do need help." Mr Wolffe recalled the case of an individual hanging himself while in custody. "He needed treatment and he didn't get it," he said. "We are clearly deficient in having a unit that can assist in dealing with cases such as chronic schizophrenia or severe episodes of bipolar disorder." The Island needs "a legislative and procedural basis for a magistrate to say that it's clear someone suffers from a mental issue and should be admitted to MWI right now so he can get help immediately", Mr Wolffe said. "But our hands are tied because the legislation says we have to get them assessed, that we need two psychiatrists — it's too much of a wait. We need to get rid of that procedural roadblock." While the drug treatment court has many tools at its disposal, Mr Wolffe said little could be done without a legislative foundation for a mental health court. "The pilot programme has been in place for two years; it was supposed to be a pilot for one year. I do understand this issue is on the front burner, but until that happens, our hands are tied." Restorative justice has no legislation in place, he said, although the alternatives to incarceration initiative, of which drug treatment court is a part, contains many elements. "Before we make a decision to incarcerate, we have to be satisfied that there is no alternative. The easiest and quickest way of dealing with somebody is to lock them up, but that's not the answer. How is locking somebody up going to improve society? We have to find a way to highlight the wrong, of course, but also to assist so that it does not happen again. There is a certain pattern of persons coming out of prison and going back again. That's where restorative justice comes in, in restoring that individual." He does not believe that most victims who appear before Bermuda's courts want to see the perpetrators of crimes incarcerated. "They want to see that person get help," Mr Wolffe said. "Particularly in the drug treatment court, part of the treatment is that they have to make amends. What I find interesting, every time a person commits a criminal offence, is that they all have a story. For many of them, something happened in their life. It might have been some traumatic event such as a dysfunctional upbringing or sexual abuse. When you start hearing the stories of how people got on that road, you start feeling a little bit of empathy. Not enough is being done to restore the victims. One of the failures in the criminal justice system is that we don't do enough to deal with the issues that are suffered by victims of crime. We do not have enough programmes or counseling. I would like to see an agency that specifically deals with the victims of crime and their families. That's where we are lacking in our restorative justice, and where we can do a lot more. We have a witness care unit at the Director of Public Prosecutions' office doing a good job assisting during a case. I wonder whether or not we can have one person on staff, maybe in the Department of Court Services, who will just deal with victims. I don't think everything should come down to money. We can be creative in finding a way." Mr Wolffe said a similar resourcefulness could be brought to bear in coming up with a residential facility for the mental health court. "We have the Nelson Bascome residential facility in Dockyard, which is a multipurpose facility that has been doing well in assisting addicts," he said. "It has had challenges but is doing fairly well. There is another place in St George's, called Jerry's House — Sandy Butterfield and her people made it happen. A facility like that where persons can be treated humanely can exist. We would need a facility that could house six to ten people with a manager on site, a psychiatrist who can come in and out and someone who can help with life skills. I think it's possible." On the need for reform, Mr Wolffe said: "There has to be some level of judicial activism on this. Judges and magistrates can be very persuasive. We see people with mental health and drug abuse issues on a day-to-day basis. Our say should carry a lot of water in legislative reform and change. The Chief Justice is very much on board when it comes to restorative justice and human rights issues. That's one thing I want to do as Senior Magistrate: highlight issues with mental health and hopefully persuade him to make recommendations. If we stay in our own silos, we'll never make things happen."
NB: Progress in developing a mental health court in Bermuda has been "incredibly slow," activist and journalist Liana Hall has observed. Ms Hall, who speaks frankly of her own experience with bipolar disorder, contrasted Bermuda's attitude to mental health with her experiences in Britain. "What I get in the UK is not available in Bermuda. I have gone through a mental health crisis, and instead of being put in hospital, they sent people to my house every day for two weeks to check on me. They gave me my medication every day, and I had a 24-hour hotline that I could call. In Bermuda, it's one thing or the other; it's like the opposite. You get institutionalized or you get nothing." On Bermuda's pilot mental health court programme, Ms Hall said: "My concern is that it specifically says it's for non-violent, minor offences. I would like to know more about what it actually covers." She acknowledged the stereotype that "mentally ill people are violent", but said that with no residential facility and a court geared for milder offences, people would inevitably be excluded. She recalled widespread discussion over the need for a mental health court after Lorenzo Robinson, a man suffering from schizophrenia, went on trial for stabbing a tourist on Front Street in 2002. "Even his victim said that he needed help," she said. "It was inhumane for him to be kept in Westgate." Prison officers spoke out over the incarceration of the mentally ill after Mr Robinson stabbed an officer in 2005. He took his own life in prison in 2008. "I remember the debate around that, and it was a long time ago," Ms Hall said. In Britain, she said, people could be "sectioned" or detained under the Mental Health Act, much more easily than in Bermuda — and with a view to protecting people from themselves. Such measures come into play when people with mental illness lapse in their medication, she said, pointing out that she had experienced the urge herself. Bermuda's legislation lags so far behind that under the terms of the present Act, Ms Hall said it was possible for her to be blocked from getting married here, as someone with a disorder. "I found that out while I was researching for marriage equality — a marriage is void is either party is suffering from a mental disorder under the terms of the Mental Health Act," she said.
August 27. The One Bermuda Alliance says the Island is "on the road to recovery" after new retail sales figures showed continued growth. However, the Progressive Labour Party accused the OBA of "twisting statistics" to support their political narrative, stressing the need for diversification. According to the Retail Sales Index for June, Bermuda recorded a 7.1 per cent increase on June 2014, which translates to 5.3 per cent when adjusted for inflation. Lynne Woolridge, an OBA senator, pointed out that this marks the eleventh straight month the RSI has increased with all sectors recording growth after "six years of steady decline". Vehicle sales again recorded strong growth, increasing by 36.7 per cent compared with the same month last year, after an increase of 51.1 per cent in April. Sen Woolridge said: "This is an important economic indicator as vehicle purchases are an expensive investment which shows confidence in the economy going forward." Meanwhile, construction supplies saw a 12.6 per cent increase: the sixth consecutive monthly increase. Linking the rise to residential projects, Sen Woolridge said: "This is supported by local realtors who have reported a marked uptick in demand for all properties — single family homes, duplexes, multiple family dwellings, land, commercial property and condos. The continued and strengthening upward trend in the RSI is a welcome indication that our economy is growing, especially when viewed alongside the recent report that showed Gross Domestic Product (GDP) rising 3.7 per cent in the first quarter of 2015 (2.1 per cent when adjusted for inflation), and the recent Labour Force Survey that showed unemployment is down to 7 per cent from 9 per cent. While there remains some way to go in terms of growing the economy and more jobs for Bermudians, these figures indicate the Bermuda economy is well on the road to recovery. The policies put in place by the OBA have taken time to root, but with foreign investment starting to return to our shores through hotel developments, international business growth and the America's Cup, it is clear these policies are starting to bear fruit to the benefit of Bermudians across the Island." However, David Burt, the Shadow Minister of Finance, said: "The fact that the OBA continues to trumpet 150 less people working in Bermuda in 2015 that in 2014 shows that they will twist any statistic to fit their political narrative. The Bermudian jobs crisis that exists under the OBA continues unabated with layoffs continuing in the local and international business sectors. Any positive move in retail sales is welcome, however, for any economic recovery to be sustainable in the long term, we must diversify our economy so that Bermudians are able to find work in their own country."
August 27. The Bermuda Parent Teacher Student Association claims the Ministry of Education wants to "fatally wound" it with planned changes to the education system. Harry Matthie, the association's chairman, said the ministry intended to turn the BPTSA and other Parent Teacher Associations into "puppet bodies" of the ministry. The ministry, he claims, refuses to be accountable and wants "unfettered control over the future of our children." The BPTSA is taking action in the Civil Court to block ministry plans to transfer teachers and principals, implement school closures and consolidations, and enact new parent council rules. Mr Matthie claims parents were not properly consulted. In a statement to The Royal Gazette, he said: "To settle the issue of consultation, years ago the BPTSA presented the ministry with a proposed consultation process, which it has ignored. The latest of the ministry's efforts to deny parents meaningful involvement in the public education system include the enactment of the Education Amendment Act 2015 and the rules concerning parent councils. "These enactments appear to have been designed to splinter PTAs and fatally wound the BPTSA, and then spin those vibrant parental organizations off into puppet bodies of the ministry itself. The BPTSA believes these efforts have been undertaken for one reason: so that the ministry can maintain a status quo, where they are accountable to no one, and where they have unfettered control over the future of our children. That status quo is a recipe for failure. No parent concerned with the well-being of their children and this Island's future can stand back and allow it to remain." The hearing opened on Tuesday with representations from the BPTSA's lawyer, Eugene Johnston. No one from the ministry attended, with a spokeswoman telling this newspaper: "The Ministry of Education was not legally required to attend the ex parte hearing." Public schools are due to reopen on September 8. Puisne Judge Stephen Hellman gave Mr Johnston leave to seek the judicial review on Tuesday. The case continues.
August 27. The One Bermuda Alliance has refuted claims by the Progressive Labour Party that it "wants to privatize the airport." "It's amazing the Opposition misleads with such conviction," an OBA spokesman said. "It's because they either really don't know what they are talking about or because they're deceitful." The OBA said yesterday it was progressing with plans to build an airport terminal through a public-private partnership, "as the PLP government did in building the new hospital wing." The spokesman added: "Instead of acknowledging the PPP fact, the PLP say the Government wants to privatize the airport, to hand over ownership of the terminal to a private company. That is factually wrong, and one more example of Opposition disinformation. The depth of the PLP's deception is further underscored by their diversionary attack against privatization." The spokesman noted that the PLP privatized a number of government activities, such as Health Department and Transport Control Department functions, as well as critical airport operations including ground electronics, weather service and air traffic control. He urged consideration for "pro-privatisation comments" made by David Burt, the Shadow Minister of Finance, when he was the Junior Minister of Finance. Mr Burt was quoted as saying: "It is my hope that, as the Government looks to open up the budget process and looks to medium-term planning, we take a serious look at what government services may be able to be provided by the private sector in a more efficient manner. It is my belief that, as this Government considers all of the available options, there may be room for some government services to be privatized." The OBA spokesman said: "Sounds like hypocrisy is at work." He added: "One question worth asking is why the Opposition is so bent out of shape by the planned airport PPP when they weren't for the hospital PPP they put in place while in government? ... the Opposition is not playing straight with the people." The spokesman said: "The airport was about creating much-needed jobs for Bermudians now and career opportunities in the long term, as well as building an asset that would serve Bermudians and the economy for decades, all without adding to the public debt. The Government will sign a deal with the Canadian Commercial Corporation that will deliver the project on time and on budget, replacing a very costly hodgepodge of failing buildings with a terminal complex that will uphold Bermuda's image as a first-world destination," he added. Mr Burt described the OBA statement as "another failed attempt to mislead the public while trying to build support for the privatization of Bermuda's airport". He also noted differences between the proposed project and the hospital. "The PLP "conducted a rigorous public tender process which was hailed as having the highest standards of ethics and transparency and there was no private company operating the new hospital wing. Revenue and profits of the hospital were the property of the people of Bermuda, unlike the OBA's plan for the airport, which will see 30 years of revenue and profits go to a Canadian company." Mr Burt said that if the OBA wanted to follow the PLP's plan for the hospital to construct an airport terminal, the PLP would be supportive. "But the OBA know that they cannot do that because it means Aecon will have to compete with other companies who may be able to provide Bermuda a better deal," he added. He said the OBA's declaration that the Government will sign a deal with the Canadian Commercial Corporation indicated that the OBA Cabinet have already made up their mind to go along with Minister Richards's personal political project to privatize the Bermuda airport. All Bermudians should be concerned that a project of this magnitude is being awarded without Aecon having to compete with anyone, without the Bermudian people knowing they are getting value for money, and without regard to the highest standards of ethics and transparency," Mr Burt said.
August 27. A JetBlue flight was diverted to the Island yesterday afternoon after a passenger encountered problems with her oxygen tank. According to an incident report on the Department of Marine and Port Services website, RCC Bermuda was contacted by Bermuda Air Traffic Control at around 4.45pm about the emergency diversion of an aircraft with 94 people on board. "A 51-year-old female passenger was experiencing oxygen tank problems and required assistance while the aircraft crew reported mechanical problems with the cockpit floor suffering distortion suspected to be caused by heat," the report stated. The aircraft, which had been en route from Boston to Puerto Rico, was already eight minutes from landing at LF Wade International Airport at the time of the report. The plane was successfully landed without incident by Bermuda Air Traffic Control Tower just before 5pm.
August 27. Bermuda has been named on a list of 39 tax havens by the District of Columbia in the US. The Island is joined on the list by other offshore centres like the Cayman Islands, Jersey, the British Virgin Islands, the Bahamas and the Isle of Man. The change in the District's Budget Support Act was signed by the Mayor earlier this month for the purposes of "water's edge combined group rules" which includes the entire income and apportionment factors of any member doing business in a tax haven. Originally, the District defined tax havens as a jurisdiction with no effective or a nominal tax on the relevant income and had laws and practices that prevented the exchange of tax information with other governments. Other factors listed were a lack of transparent, facilitated establishment of foreign entities without a local presence or impact on the local economy, excluded local residents from taking advantage of the tax regime's benefits and created a tax regime "favourable for tax avoidance". But the original legislation did not identify specific jurisdictions. The changes in the law will have to be reviewed by the US Congress before becoming law.
August 27. A favorable trip to London by Michael Dunkley has been notable for what did not come up in talks, the Premier said. "One thing that never came up was the European Union blacklist," Mr Dunkley said of his meeting with British Cabinet ministers. In June, the EU's executive commission included Bermuda in a list of jurisdictions that had failed to take sufficient action on tax avoidance. "That seems to have faded from the radar," Mr Dunkley told The Royal Gazette. He added that he had been "delighted" by the appointment of Sir David Amess to chair the Britain-Bermuda All Party Parliamentary Group. "With his experience and connections in the House of Parliament, this will work well for Bermuda," he said. Also absent from the agenda was the Island's evolving airport terminal deal with the Canadian Commercial Corporation, the subject of repeated concerns raised at home by the Progressive Labour Party. Mr Dunkley met yesterday with the British Foreign Secretary, Philip Hammond, who he said had been "intricately involved" in the letter of entrustment sent to the Island by the British Government on the redevelopment plan. "There was no real concern over there," Mr Dunkley said, adding that Mr Hammond was "well aware" of the issues entailed in the proposal. During a 45-minute talk, the two discussed benefits to the Island to be gained from hosting the America's Cup, as well as "what we are trying to do to turn the economy around and make our Civil Service more effective." Mr Dunkley added: "We also discussed an issue that has been prevalent with the UK for some time, which is the matter of the public register for beneficial ownership. They understand our position, and acknowledge that we were ahead of them on that." A furore on beneficial ownership was sparked this year when Ed Miliband, then Leader of the British Opposition, threatened that a Labour administration would brand the Island a tax haven unless Bermuda published a list of the beneficial owners of offshore firms. "I look forward to continuing dialogue on our efforts to remain an effective, transparent and well-regulated jurisdiction in all regards," Mr Dunkley said. "I was excited to meet with two Cabinet ministers, both very senior. This puts Bermuda in a good position going forward. It has been some time since we have talks with ministers on that level." Also part of the discussion was the upcoming Overseas Territories Joint Ministerial Council meetings in November. As with his previous meetings with British ministers, the Premier presented the Foreign Secretary with a pair of traditional Bermuda shorts and knee socks. "I also had the run of the media, which is an effective way to keep Bermuda on the map, talking about where we stand in business and tourism," Mr Dunkley said. He conducted interviews with BBC Radio 4, BBC Business Live and CNBC UK Closing Bell. In each instance the topics of discussion included Bermuda's reputation in financial services, with Mr Dunkley providing clarity about Bermuda's tax regime. It is anticipated the CNBC interview will air today while the BBC interviews will air next month. Mr Dunkley is accompanied in his London meetings by the Secretary to the Cabinet, Derrick Binns, and the Bermuda Government's London Office director and representative in Britain, Kimberley Durrant.
August 27. Bermuda-incorporated Blue Capital Global Reinsurance Fund Ltd saw the net asset value of its ordinary shares increase by 1.9 per cent in the first half of this year, after accounting for dividends declared. The company had $212.9 million invested in Blue Capital Global Reinsurance as of the end of June. That represents all the company's capital, excluding amounts retained for working capital purposes. In a statement, the company said it had benefited from a low level of loss activity during the first half of 2015. Montpelier Re Holdings, the parent company of Blue Capital Management, completed a merger with Endurance Holdings on July 31. Looking ahead to the second half of the year, the company said: "While little direct reinsurance will be bound prior to the January renewals, the investment manager will continue to look for opportunities to improve our portfolio and position for the upcoming renewal season."
August 27. David Darrell, Tahje Taylor, Tiara DeRosa and Susanna Armano will represent Bermuda at next month's Commonwealth Youth Games in Samoa, the Bermuda Olympic Association have confirmed. Darrell, Taylor and DeRosa are track and field athletes while Armano is a squash player. Calvin Simons, the chef de mission, will accompany the quartet to the competition, which runs from September 5 to 11. "The Commonwealth Youth Games are a fantastic opportunity for our younger athletes who may be on the path to elite status to compete internationally and test their skills against some of the best young athletes in the world," Judy Simons, BOA president, said. "The Games will also provide these four, young Bermudians with a unique opportunity to meet and interact with peers from around the globe. We know David, Tahje, Tiara and Susanna will do us proud." Donna Watson, the president of the Bermuda National Athletics Association, who just returned on the weekend from China where she voted in the International Association of Athletics Federations (IAAF) elections, said it will be a good experience for the athletes. Darrell will compete in the 800 and 1500 metres, Taylor in the 100 and 200 and DeRosa in the shot put and discus. "The age group they were looking for we didn't have a big pool of athletes," Watson said. "Tahje had qualified for Carifta but pulled his hamstring the week before so he didn't go. We were also looking for athletes who can present themselves well and Tiara has been steadily improving, David won the Front Street Mile and is improving and Tahje ran a really good time before he got injured. "I'm pleased with the athletes chosen, it is a great opportunity for all three of them. With these events we want it to be an eye-opening experience for our young people so that they can see what is out there and what is available." Added Watson: "Hopefully they have been watching the World Championships so that they can see where they can go, so from our standpoint it is not always about the best but giving athletes the opportunity. It is a strange time, with school starting, so we had to write to the schools. too. These three were available and are quite excited about the opportunity. I talked to Tahje this morning and he's tickled pink as he's brand-new in the programme. For him it is fantastic to get an opportunity like this." Bermuda first sent a team to the 2004 Commonwealth Youth Games in Bendigo, Australia, and competed in subsequent Games in India and the Isle of Man. Watson left Beijing prior to sprinter Tre Houston and long jumper Tyrone Smith competing in the World Championships. "Right now they are probably both disappointed because neither probably met their goals, but I'm sure they gave 100 per cent," she said.
August 27. An upward trend in sales receipts for retailers sharpened further in June, and has been hailed as "a positive shift in consumer confidence." The retail sales index notched up an eleventh consecutive month of improvement, year-on-year, in June. It rose 7.1 per cent compared to the corresponding month in 2014. Once adjusted for the retail sales rate of inflation, which was measured at 1.7 per cent, the volume of sales was up 5.3 per cent. "The June retail results indicate a positive shift in consumer confidence. Retailers are preparing for the fall season and anticipate higher activity during the America's Cup event in October," said Paula Clarke, chief executive officer of Gibbons Company and chairwoman of the Bermuda Chamber of Commerce retail division. By sector, sales of motor vehicles had the largest increase, up 36.7 per cent. Motor vehicle stores have seen double-digit improvements in sales, both in terms of value and volume, for eight of the past 12 months. However, it should be noted that the level of sales in June is still only 65 per cent of the level recorded in 2006, which is the base period reference point for the index. Glen Smith, managing director of Auto Solutions, said the latest figures at the firm showed a massive 73 per cent increase in sales for July, year on year. He added: "I think it's a lot of things — there are a lot of cars which have come to the end of their useful life, so they are being replaced. We've also seen some new people moving to Bermuda, which could be either working for the offshore industries her or the America's Cup. We've also seen the commercial division grow — there are businesses reinvesting and purchasing new vans and trucks. At the end of the day, I see it as there being more confidence in the market. People are having confidence in their businesses. We're extremely excited and encouraged and it's not just one auto dealer — we're all growing." And Mr Smith said commercial vehicle buying had been helped along by increases in the building materials sector. Building material stores had a good month with gross receipts up 12.6 per cent, marking the tenth consecutive month of improved results. The increase in sales has been linked to more residential projects being undertaken. The sector remains at only one-third of the sales level recorded in 2006. Bermuda Motors general manager Michael Butler said sales had been consistently up every month this year and July's figures promised to be better than June. But he added that increased passenger vehicle sales was largely down to people replacing older cars. "There are a lot of vehicles on the road now which are more than ten years old. It's older vehicles coming off the road rather than an increase in the number of vehicles on the road. There was a 60 per cent drop in sales after 2007 — really, all we are doing is playing catch up." Mr Butler said that Bermuda Motors had not seen a spike in commercial vehicle sales. He added: "If the number of commercial vehicles was going up, which I don't think they are, that would be a sign that business was picking up. From that, you could say maybe that the economy, once you see truck sales go up, is picking up." A high demand for sales items was one of the factors that helped lift apparel stores' revenue 6.2 per cent by value and 8 per cent by volume. Residents returning from overseas declared purchased goods valued at $4.3 million, which was the same as in June 2014. The total value of sales for the month, both locally and overseas purchases, was $99 million. The retail sales index data was released by the Department of Statistics.
August 27. An online campaign to highlight the Island asks potential visitors to "choose their own adventure." The initiative, by online travel agency Expedia and the Bermuda Tourism Authority, is intended to show visitors the range of experiences available in Bermuda. The focal point of the campaign is an interactive video, created using specially designed, wearable cameras, to give viewers a first-person take on a holiday here. An Expedia spokeswoman said: "Video viewers can choose from three initial ways to enjoy Bermuda — Chill, Mix it Up and Thrill — and watch as their ideal day plays out before them. The ads are filmed in first-person as if you are the one spelunking in an underwater cave to a spa oasis, cliff-jumping in the clear blue waters or taking in the local culture and flavors of the nightlife. Viewers can share the video with their friends, and download the itinerary with information on each location. The video aims to immerse travelers into this vast and beautiful island destination that is rich with culture and activities just waiting for exploration. It is designed to increase tourism interest, specifically aiming to appeal to a younger demographic, while bringing to life the Island's hidden gems and beauty." The campaign also includes landing pages on Travelocity and Expedia in the United States, along with Expedia in Canada and Britain, making it easier for interested viewers to book their trip. "This is just one way Expedia group is working to shine a spotlight on the destination of Bermuda," the spokeswoman said. "The market management team works closely with hotel partners on the ground to help them to increase demand through tools like mobile, packages and promotions. In the first half of 2015, demand to Bermuda via Expedia group sites increased nearly 20 per cent year over year." The BTA announced this year that it had joined forces with Expedia to promote the Island in Britain through a campaign "combining interactive outdoor locations around London with digital and social media channels, directing consumers to the Bermuda booking page on Expedia". The website also put the spotlight on the Royal Palms Hotel, which topped a list of exclusive properties in the Expedia 2015 Insiders' Select rankings.
August 27. The Bermuda Parent Teacher Student Association claims the Ministry of Education wants to "fatally wound" it with planned changes to the education system. Harry Matthie, the association's chairman, said the ministry intended to turn the BPTSA and other Parent Teacher Associations into "puppet bodies" of the ministry. The ministry, he claims, refuses to be accountable and wants "unfettered control over the future of our children". The BPTSA is taking action in the Civil Court to block ministry plans to transfer teachers and principals, implement school closures and consolidations, and enact new parent council rules. Mr Matthie claims parents were not properly consulted. In a statement to The Royal Gazette, he said: "To settle the issue of consultation, years ago the BPTSA presented the ministry with a proposed consultation process, which it has ignored. The latest of the ministry's efforts to deny parents meaningful involvement in the public education system include the enactment of the Education Amendment Act 2015 and the rules concerning parent councils. These enactments appear to have been designed to splinter PTAs and fatally wound the BPTSA, and then spin those vibrant parental organizations off into puppet bodies of the ministry itself. The BPTSA believes these efforts have been undertaken for one reason: so that the ministry can maintain a status quo, where they are accountable to no one, and where they have unfettered control over the future of our children. That status quo is a recipe for failure. No parent concerned with the well-being of their children and this Island's future can stand back and allow it to remain." The hearing opened on Tuesday with representations from the BPTSA's lawyer, Eugene Johnston. No one from the ministry attended, with a spokeswoman telling this newspaper: "The Ministry of Education was not legally required to attend the ex parte hearing." Public schools are due to reopen on September 8. Puisne Judge Stephen Hellman gave Mr Johnston leave to seek the judicial review on Tuesday. The case continues.
August 27. The Bermuda Union of Teachers has joined the number of unions speaking out against a Bermuda Government lawsuit against Jason Hayward. Bob Richards, the Minister of Finance, formally launched a defamation lawsuit — to be paid for by the Government — against the Bermuda Public Service Union (BPSU) over comments made during a paid broadcast on ZBM. Yesterday, the BUT condemned what it described as a "vulgar move" by Government after slashing public education and requesting the extension of furlough days. "Rather than tool us with an envious economic recovery plan that creates real jobs for the masses, the Government prefers to fool us with legal schemes to enrich a chosen few under the pretence of defending its reputation in the name of the people," the union said. "The appalling news of the recent impending court case, Bermuda Government vs president Jason Hayward, suggests that the government wants to impose a gag order on the average Bermudian. This despicable decision continues a history of indifference and fear-mongering by this administration. When it comes to funding public education, safeguarding teachers' salaries, prioritizing students' needs, and giving workers their fair share, this government merely flirts with competence. Most unfortunately, this lawsuit puts all union members and their resilient leaders on red alert." The BUT added that the lawsuit against Mr Hayward demonstrated the administration had cultivated a "rare intolerance for responsible public advocacy. This thin-skinned mentality and self-serving political ambitions are far more important to this regime than the prosperity of students, teachers, and all hardworking Bermudans," the union said. The statement follows one by the Bermuda Industrial Union (BIU), which fiercely criticised the One Bermuda Alliance, saying it appeared to be "engaged in nothing less than a systematic plot to destroy the trade union movement in Bermuda" and silence public discourse. The union said this week: "The fact that the OBA government has authorized the funding of all the legal fees for Minister Richards is something that should be of very great concern to every Bermudian because it means that the Government, even during these challenging times when workers are struggling to make ends meet, are prepared to put all of the resources at their disposal for nothing less than an effort to undermine the fundamental democratic rights." The BIU said that if the lawsuit was successful, it would hinder the unions' ability to be effective advocates when defending the interests of their members. The BPSU has also voiced its unwavering support of Mr Hayward, labeling the lawsuit as an attack on free speech. Mr Richards, meanwhile, defended the decision for the Government to fund the lawsuit, telling the House of Assembly that it entailed allegations made against him while carrying out his duties, and Cabinet had concluded that funding this civil action to be a government purpose. However, he added that, as of that time, no money had been spent and any payments would be "fully transparent and documented."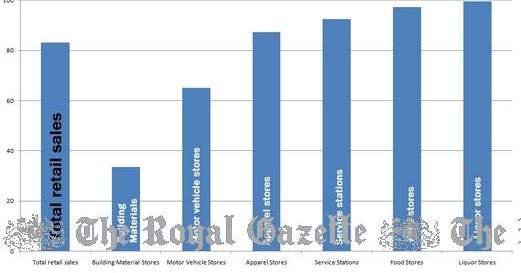 See above story
August 26. The Bermuda Government has expressed satisfaction with a Supreme Court ruling that struck out several legal claims linked to the Hamilton Waterfront project. A spokeswoman noted that Chief Justice Ian Kawaley found the claims from developer Michael MacLean an abuse of process and "a gross misuse of the constitutional processes of the Court." Allied Development Partners Ltd and Allied Trust launched a legal action against the Minister of Home Affairs and the former Attorney-General this year after contracts to develop the waterfront were voided by Parliament. This week's ruling struck out claims that the voiding of the lease was unconstitutional, with the court finding that the developers had abandoned their right to challenge the validity of the voiding process and were bound by their choice to pursue compensation. The spokeswoman also noted that the allegations made by Mr MacLean that three people — Senator Michael Fahy, MP Craig Cannonier and former Attorney-General Mark Pettingill — had solicited bribes were both strenuously denied by the ministers and found by the courts to have "no relevance" to the application. "The result of this judgment is that the matters relating to the waterfront development will return to the arbitral process where they belong, and it is hoped that the matter can be resolved promptly," the spokeswoman said.
August 26. Part of a legal action against the Bermuda Government over the Hamilton waterfront has been struck out by the Supreme Court. Waterfront developers Allied Development Partners Ltd (ADPL), headed by Michael MacLean, launched legal action against the Minster of Home Affairs and the Attorney-General after their lease for the property was voided. While the legal action alleged that the voiding of the lease was unconstitutional and sought compensation, an application was made by lawyers for the government ministers to strike out parts of the claim on the basis that the developers had accepted the validity of the voiding during arbitration. In a judgment released this week, Chief Justice Ian Kawaley partially struck out the developer's legal action, finding that ADPL had not seriously sought to unwind the voiding process and instead focused on getting compensation. The hearing on the matter, which took place last month, led to the release of a series of affidavits containing allegations that three people — Senator Michael Fahy, MP Craig Cannonier and former Attorney-General Mark Pettingill — had solicited bribes. All three produced their own sworn affidavits fiercely denying the allegations. The court had heard that ADPL and the Allied Trust had entered into a series of agreements with the Corporation of Hamilton to develop the city's waterfront. In December 2012, the discussions culminated in the Trust being granted a 262-year lease for the property. However, subsequent amendments to the Municipalities Act, passed in October 2013, gave the legislature the ability to reject any agreements made by the corporation after January 1, 2012. The waterfront lease was debated and rejected on March 7 last year. The legislation included the option for affected parties to appeal the voiding of an agreement or negotiate a settlement, potentially leading to arbitration, within 42 days. ADPL and Allied Trust took the matter to arbitration, but in January the developer sought a declaration from the court that the voiding had not been valid or constitutional or, in the alternative, that the developers were owed $90 million in compensation. In a written judgment, dated August 24, Mr Justice Kawaley found that ADPL had clearly indicated that they were seeking compensation rather than appealing the decision to void the lease. Mr Justice Kawaley wrote: "Not only did they positively assert that the agreements had been voided in their carefully drafted statement of case, their initial pleading actually contained an express reservation of the right to seek constitutional relief, which was clearly limited to challenging the adequacy of the compensation recovered in the arbitration." The Chief Justice said that contention was supported by transcripts from conversations, purportedly recorded by Mr MacLean and presented before the court. "In a transcript exhibited to the second affirmation of Mr MacLean purportedly recording his own subsequent discussions with the minister in April, Mr MacLean indicates that in the absence of a quick settlement he is leaning towards 'taking my chances in arbitration' However, remarkably, in an earlier transcript purportedly recording his discussions with Mr DeCosta on September 24, 2013, when the 2013 Act was about to be passed, Mr MacLean, in apparently discussing a draft of section 14, is focused solely on the compensation remedial option, 'but how much I'm willing to settle for is the question'. This supports the other more formal evidential record in demonstrating that for the applicants, the loss of their rights under the agreements is 'all about money', and has never seriously been about seeking to reverse the voiding process." Mr Justice Kawaley said there was no evidence before the court that ADPL did not have adequate time to consider its options within the 42-day time limit, and Mr MacLean's affidavit expressly stated that arbitration was abandoned only because of the vigor with which the Government fought the claim. As a result of the facts of the case, he found that the developers had abandoned their right to challenge the validity of the voiding process, and it would be an abuse of process for them to seek relief on those grounds. The Chief Justice further found that it was too late for ADPL to seek to unwind the voiding of the agreements, but that the right to seek appropriate constitutional relief at the appropriate time was not being denied. The judgment concludes: "The applicants can no longer seek to challenge the validity of the voiding of the agreements and may only seek constitutional relief with a view to obtaining adequate compensation. Such relief can only be pursued on the basis that, having exhausted their statutory remedies in the arbitration under the 2013 Act, the relief obtained falls short of the constitutional standard or they are for other reasons entitled to additional constitutional compensatory relief."
August 26. A judge has questioned the timing of an attempt to block teacher and principal transfers — two weeks before the new school term. The Bermuda Parent Teacher Student Association was in Civil Court yesterday to seek a judicial review against the Ministry of Education's decision affecting at least seven schools from September 8. Puisne Judge Stephen Hellman, who heard arguments from Eugene Johnston on behalf of the BPTSA, reflected on the timing of the injunction, saying: "It is not an ideal way to do it." Mr Johnston replied: "A judicial review was a last resort — we tried amicably before." After hearing Mr Johnston's claim that proper consultation was not carried out before the switches were announced, Mr Justice Hellman gave him leave to seek the judicial review. The BPTSA's action is also aiming to block school closures and consolidations, and the enactment of new parent council rules due to be enforced next month. The BPTSA wrote to the ministry last month to voice concerns over proposed transfers announced by the ministry for Prospect Primary, Port Royal Primary, Heron Bay Primary, West End Primary, Paget Primary and East End Primary. Clearwater Middle School is to undergo six changes, including the principal and vice principal. Parents were given more say in the reform of public schools by the Education Amendment Act 2015, after a landmark ruling in 2012 that overturned the ministry's attempt to transfer two principals against the wishes of students and parents. Mr Johnston yesterday referred to a ministerial promise made on September 16, 2011, that the statutory role envisaged for school governing boards in the running of maintained schools would be played by Parent Teacher Associations. Applicants expected, as a matter of public law, that they would be consulted by the Commissioner of Education before deciding to transfer the principals in question. It is unclear whether the BPTSA is the official body to be consulted as each school is also represented by a PTA president. Towards the end of the hearing, the PTA president at Prospect Primary, Freedom Charles, informally addressed the judge. She said that she had been adequately consulted over the proposals. No one from the Attorney-General's Chambers appeared at Civil Court yesterday morning. The office was not legally required to attend the ex parte hearing. The judge said: "The Attorney-General's office could not attend because they have no instructions from the ministry. If the Attorney-General had knowledge that there are PTAs that oppose this action [by the BPTSA] they could have been here and they could have been helpful." Mr Johnston said he did not believe there was adequate consultation as all that his client received was an invitation to attend an information session about the rules. "Instead of a legitimate consultation exercise, the rules were shoved down their throat," Mr Johnston said. The judge said Mr Johnston had an arguable case and gave him leave to go forward and seek judicial review. It is understood that some of the teacher and principal transfers were voluntary and, if the injunction stands, they may have to remain in their positions against their wishes.
August 26. Mary Prince, a former slave and one of Bermuda's national heroes, has come to new prominence in Britain for her key role in the campaign to abolish slavery. The group Historic England is championing the cause of the women whose contributions to the fight against slavery have been overshadowed by more famous men such as William Wilberforce. Prince, born in Bermuda in about 1788, was integral in the movement to abolish slavery in Britain, particularly with her life story, 'The History of Mary Prince'. Prince, along with the Quaker abolitionist Elizabeth Heyrick and Sarah Parker Remond, an American slave who obtained her freedom and lectured across Britain, has been held up by Historic England in conjunction with the International Day for the Remembrance of the Slave Trade. Such women were "instrumental in bringing about an end to slavery, yet their own stories have been lost", according to Rosie Sherrington, a policy adviser for the group. "We want to celebrate these women and remember their contributions." Slavery was struck down in Britain's colonies in 1834, with immediate consequences for Bermuda. For the thousands of people on the Island who had been brought here as slaves, emancipation meant freedom — even if just a first step on the long fight to achieve equality. Prince's book riveted England when it came out in 1831. It was the first black woman's autobiography to be published there. An unflinching account of her life after being born into slavery, the book recounted how she was sold no less than four times. Its descriptions of the brutality endured by slaves — which included descriptions of the floggings meted out in her native Bermuda — appalled readers. According to Clare Midgley, a professor at Sheffield Hallam University who has researched the role of women in the abolition movement, Prince's story transcended her own life by portraying "how this was typical of women's oppression, sexual abuse, physical violence, overwork." The International Day for the Remembrance of the Slave Trade was marked on Sunday, bringing the story of Mary Prince to the pages of British newspapers. Prince, who was repeatedly suggested as a candidate for National Heroes Day in Bermuda, was formally recognized in 2012. Historic England, which was formerly known as English Heritage, is a public organization dedicated to protecting England's heritage and educating the public on the country's history.
August 26. "Keep calm and stick to your investment plan." That was the advice from two leading Bermuda investment professionals yesterday, as more wild swings on Wall Street ended in a sixth successive down day. Robert Pires, chief executive officer of BIAS, and Nathan Kowalski, chief financial officer of Anchor Investment Management Ltd, advised investors to stick to their plan amid the topsy-turvy trading on global markets. After some early respite from the selling, as the 30-stock Dow Jones Industrial Average shot up by 440 points, the market capitulated in the final hour, leaving the Down 204.91 points down. The broader S&P 500 Index initially surged 2.9 per cent higher, but closed 1.4 per cent lower amid the volatility, and has shed 11 per cent of its value in the past five days. "Although scary, we have been through numerous meltdowns and know that in the long term these things play out in your favour," Mr Pires said. "The operative words are long term and unless an investor is committed for at least 18 months, but preferably three to five years, they should just stay out of stocks." Mr Kowalski offered some similar thoughts. "Unless you're planning on needing all of your money in the next year or two, it's no reason to panic. In fact money you need within five years should likely not be invested in risky assets. And if your investment time horizon is in excess of ten years, the odds of losing money in a diversified portfolio are extremely low. Maintaining your composure and making rational investment decisions is always paramount." Mr Pires said the slide in share prices was partly the reaction to a meltdown in the Chinese stock market that the authorities had been unable to calm. The Chinese central bank yesterday loosened reserve requirements for lending which helped to fuel yesterday morning's rally. "An additional factor has been the prospect of a US Federal Reserve interest rate hike next month. With markets unsettled this is unlikely to happen until December at the earliest and possibly as late as March." Mr Pires said BIAS saw some buying opportunities amid the market mayhem. "We have used this sell-off as an opportunity to fully position ourselves in growth stocks in which we have the strongest conviction, as well as increase our holding of high dividend-paying REITS [real estate investment trusts] which have recently been overlooked and as a result are yielding between 6 and 10 per cent. Our dividend income fund strategy, for which we received two awards, is most useful in times of market turmoil as the consistency of dividends creates a cushion during sell-offs. This does not mean that prices don't fall but they fall less than the overall market. We monitor the performance of all our strategies on a daily basis and are delighted to report that this strategy has so far outperformed the market." Some are suggesting that a period of extended declines may be due after the six-year bull market in stocks. "We don't know the answer to this question, the truth is no one does," Mr Kowalski said. "We do know that making investment decisions based upon short-term news is not a winning strategy. In times like this it's important to remember your investments are designed to carry you through decades not days or weeks. It's important to stay focused on the long term." The markets and the media tended to attribute declines to specific issues, he added. The Greek debt crisis, the Ebola outbreak and the "taper tantrum" were examples in recent years. "The important takeaway is that markets frequently deal with uncertainty and re-price lower in the short-term as they digest new information, but ultimately, in the long-term, market and economic fundamentals take over," Mr Kowalski said. "This happens because the world economy grows over time due to technological, financial and human capital coming together to grow profits or make a new series of profits. Investing relies on this single optimistic premise and over the market history diversified portfolios have been rewarded for believing this." The steep declines of 2008 and early 2009 were "emotional scars we all bear", he added, but he added that such dramatic downturns were rare." It took the S&P 500 four years to regain the losses during the financial crisis but the index is now 22 per cent above the 2007 high, even after the recent sell-off. After an extended bull run, many investors have become complacent and have forgotten that it is normal for stock markets to periodically see intra-year declines in the 5 to 10 per cent range. According to Evensky & Katz, 5 per cent declines happen, on average, four times per year with an average recovery period of two to three months. Ten per cent corrections happen on average about once per year with an average recovery period of eight months." Studies had shown how poor the average investor was at making smart long-term decisions, tending to buy high and sell low — at times when stocks were effectively on sale. It's important to remember that any investment advice is completely worthless when it's not used within the context of an actual plan or well defined process," Mr Kowalski added. Trying to create a plan on the fly when markets are in freefall by mashing together a bunch of different tactics and sources of advice is a great way to make things even worse. To be honest, most investors don't need advice in times like this — they need a psychologist."
August 26. Meteorologists are expecting Tropical Storm Erika to strengthen, but the system is not considered to be a threat to Bermuda. As of press time last night, the storm was 1,197 kilometers southeast of the Island and moving in a westerly direction. It is set to turn in a northerly direction and strengthen during the week, potentially reaching hurricane strength, but is not forecast to approach the Island. Tropical Storm watches were in effect for Montserrat, Antigua and Barbuda, St Kitts and Nevis, Anguilla and several other Islands.
August 26. Work on erecting a new pedestrian bridge over Store Hill in Smith's has begun, with the bridge expected to open next month. The project, developed by the Friends of the Bermuda Railway Trail, is intended to link two sections of the trail that are broken by the road. Tucker Murphy, who together with his father, Mike Murphy, have been at the forefront of the effort, said the project was an extension of the work already done at Bailey's Bay. "It's been going pretty smoothly so far," he said. "We had D&J Construction here lifting in the centre piece in the torrential rain, and we've had a few good volunteers here helping out." He said the project was due to be completed by mid-September or October at the latest, warning the public not to try to use the bridge until it was finished.
August 26. St George's MP Kenneth Bascome is urging constituents to keep an open mind to the potential of modifications to Town Cut. The former mayor has long supported the idea of limited changes to the entrance to St George's Harbour so that small cruise ships would be able to berth in the town. However, recent speculation that dredging was being considered to Town Cut has prompted the launch of a Facebook campaign dedicated to protecting the channel from major modifications. The page, 'Save St George's Harbour', was created after it was revealed that fresh studies investigating the possibility of dredging the area had been carried out this summer. "I support modifications to the Town Cut channel," Mr Bascome said. "But I would not support total destruction of the islands that was proposed previously. I understand that this group is voicing concerns, but it seems that every time there is something proposed to be done in St George it always ends up in controversy." The Save St George's Harbour Facebook page had garnered nearly 1,000 likes, with numerous commentators voicing their concerns about the idea of modifications to the Town Cut channel. But Mr Bascome insisted that a regular cruise ship was still a realistic hope for the town if minor modifications were to be carried out. He also said he was confident that the Bermuda Government would listen to public concerns. "Modification needs to happen," he said. "I have had the opportunity to talk with one of the cruise-line principals and know that there is still interest out there in bringing a cruise ship to St George. It is my hope that before the end of the year there will be some further consultation on what the new studies have found and what needs to be done moving forward. It is amazing to me that all along everyone has been wanting a cruise ship, and that now we are making headway there seems to be more scepticism."
August 25. A new range of swim shorts with a Bermuda theme has been launched. The Bermies range of skin shorts were the brainchild of Uki Deane, based in the United States, but with strong family ties to Bermuda. The 25-year-old explained his first business venture was inspired by summer and winter breaks at his family's home on the Island. He said: "I pretty much grew up in Bermuda — it's my second home. Bermuda is the only thing I looked forward to every single year. Every time I leave Bermuda, I feel like I want to take something from Bermuda with me." Mr Deane, whose father is American and his mother is Argentine, was brought up in Buenos Aires and now lives in Miami after graduating from Duke University in North Carolina. He said his love of the water and his degree, which included business, but also arts subjects like visual arts and film production, pushed him towards his own line of swim shorts. Mr Deane added: "I've got an artistic and creative side and a business side and I hope they've fused together with this." The range — complete with a logo including the outline of the Island — features names and colorful designs evocative of the Island like "Pink Beach", "Longtail" and "Bermuda Triangle". Mr Deane said: "Everything about Bermuda was always a big inspiration in my life. "I'm a big outdoors guy and I love boating, fishing, swimming, surfing and diving. Everything that involves the water is my line." But he said — although he owned a lot of swim shorts — were either too plain or had "weird" patterns. Mr Deane added: "There was nothing crazy out there in a swim trunk I could grab and say 'wow." I started looking into different types of swim trunks. I was impressed by famous French designer brand Vilbrequin — but the $200-$300 price tag was too steep. I'm 25 and I couldn't be purchasing things at that price. I couldn't find cool designs or they were too expensive or didn't have a brand or lifestyle I could relate to — so I decided to design my own." Mr Deane's website went live little more than a week ago and he plans to introduce the shorts to stores in the US, Bermuda and Argentina. "It's only one week, but I'm already getting a lot of people from different places contacting me. Right now, I'm an online business and trying to get the ball rolling from there. I'm looking for investors and to have them stocked in stores in Bermuda and elsewhere. By next summer, I hope to have them in Bermuda." Mr Deane said that he hoped his line would boost awareness of Bermuda as the brand grew. He explained: "Bermuda is not very well known around the world — when I talk about it, some people think it's in the Bahamas or mention the Bermuda Triangle. It's ridiculous such a beautiful Island with such wonderful people and nobody really knows about it. It's a culture that should be shared with the world." Mr Deane's designs, all priced at $49.99, can be found at bermies.com.
August 25. Family, friends, colleagues and members of the sailing fraternity have paid tribute to Reid Kempe, who passed away on Sunday morning surrounded by his wife and children. He was 64. When Reid's name comes up you may think of a former Olympian and giant in the sailing world, but he was also known as a perpetual learner and jack of all trades. He fought a six-month battle with cancer but his positive attitude shone through to the end and before his death he was adamant that he would study at Harvard if everything worked out. In his life he was politically active, a poet and musician, a teacher and marketer, champion sailor and boat restorer, but, above all else, he was a dedicated family man. The fourth-generation Bermudian met his wife, Lucia, 44 years ago at University College London, where he was doing a thesis on the Anglo-American poet W.H. Auden. Lucia said she had found her "soulmate" and the couple later moved to the Island, where they had three children, Justin, Zoe and Jonathan. "He was a bit of a ladies' man, but not in a bad way," she said. "He was always good to me and true to me. We were the quintessential hippies. I was his lifelong sweetheart and he mine." Daughter Zoe recalled her father's boisterous nature. "I was Daddy's little girl, but he had that perfect balance," she said. "In one room he could be having a pirate sword fight with the boys, then he would take off his pirate hat and come in and be having tea with me and my dollies with his tiara on. He nicknamed me 'Gorge', which was short for gorgeous and it stuck. Dad always believed in doing the right thing. 'Don't take short cuts, always look out for the underdog and make a difference in this world'. He would say 'you only have a short stint on this planet, so you should help others and make an impact'. I think that is why he had so many friends." Sailing was in his blood. His father, Jimmy, built his young son a little sailboat and Reid later became the head sailing instructor at the Royal Bermuda Yacht Club. Inspired by his father, who competed at two Olympic Games, Reid and his brother, Jay, launched their eight-year Olympic campaign and represented Bermuda in the Tornado class at the 1992 Barcelona Games. Before his death, he was able to fulfill a dream that was years in the making when he built a luxury catamaran Zara along with sons Justin and Jonathan. The project spanned seven years and he was able throw up the sails and embark on a voyage from South Africa to St Maarten. Justin said: "I started the project with my dad in 2008. We went to South Africa [where Zara was built] and I remember going on some amazing trips with him in the African countryside. We had many great family times." Jonathan added: "I was more of the sailor in the family — he made me sail and took me to regattas around the world. I was always so scared, but he would say to me 'it'll be fine, Champ'. He was very proud of us boys for what we had achieved; he put a lot of faith in us." It is not the only significant boat project he tackled — his 24-year restoration of the 1926 Chicane was hailed a magnificent feat for the level of detail and historical accuracy in the work. Boat enthusiasts from around the world came to see the end result. According to his close friend and "kindred spirit", Malcolm Kirkland, Reid Kempe was a co-visionary of reviving the King Edward VII Gold Cup, which laid the foundations for the 35th America's Cup to come to Bermuda, with a World Series event taking place in October before the Qualifiers, Play-offs and Match are sailed in 2017. "Never did we imagine that the [Gold Cup] itself would be here," Mr Kirkland said. "The vision was to invite 1987 America's Cup syndicates to come to Bermuda to compete in a spectator-friendly event in the one-on-one jousting that is the America's Cup. But it did require introducing the RBYC to its first experience with corporate sponsorship. Reid not only imagined this, but was part of the implementation team to run the event ... and to even sail in it." The pair also worked on a Bermuda National Trust documentary called Which Way Bermuda? "God knows we will miss his great friendship and liberal arts mind," Mr Kirkland added. Reid was passionate about Bermuda's natural environment and, along with Mr Kirkland, was an instrumental member of environmentalist Stuart Hayward's campaign election team from 1988. It led to Mr Hayward becoming the first MP to be elected as an independent. Mr Hayward described Reid Kempe as an "astute intellectual with an infectious enthusiasm". He added: "He had a good grasp of the politics and he played a leadership role. He was a very gentle soul and he did his best to enjoy what he was doing. He would often put in an idea that was more humorous than essential and that was part of his style — to make it fun and not a drudge. We will all miss his humor and very strong care for our little Island of Bermuda." Mr Kempe also taught at several schools, including Somersfield Academy, where he taught English, humanities and Bermudian history — a subject he felt needed more attention on the Island. Another career path was marketing during the 1980s with XL, then a fledgling reinsurance company. "Reid could write very clearly and he had a great creative streak, which made a really good combination for marketing," former XL chief executive Brian O'Hara said. "He was one of the leaders of the greatest marketing team in Bermuda at the time." While Mr O'Hara respected Reid's professionalism, he fondly remembers his fun side. "When we would be in another city after a marketing event, we would go to popular hot spots. He was really good at passing himself off as Paul McCartney. He could effect the accent — after a while, maybe he thought he really was him." Edwin James "Reid" Kempe had been receiving treatment in Boston, but was mainly cared for at home by his wife and daughter, although the family expressed gratitude to PALS, in particular nurse Julie Harrington.
August 25. An independent analysis of the Bermuda Government's proposal to redevelop the terminal at the LF Wade International Airport lays bare how bad the deal is, according to Diallo Rabain of the Progressive Labour Party. However, One Bermuda Alliance senators told the Upper House that the report had been commissioned by the Government to identify gaps in the tentative agreement, which yesterday reached phase two of a four-point process. Senator Rabain said the report showed a government "being led by the Canadian Commercial Corporation telling them what they want to hear, and a minister content to believe it". He pointed to an unflattering assessment of the project's value for money, along with various commercial and financial cases, that countered Finance Minister Bob Richards's depiction of it as the "deal of a lifetime." Sen Rabain also pointed out Mr Richards's warning of the hidden costs associated with public-private partnerships in a 2009 United Bermuda Party Budget reply, when he was Shadow Minister of Finance. Michael Fahy, the Minister of Home Affairs, argued in reply that the terms of the report — which follow those of the British Government's "Green Book" regulations — were far tougher than local financial instructions. "At no time has Bermuda signed up to the Green Book way of doing business," Sen Fahy said. The penalties for Bermuda backing out of the deal would be mild, he added, covering only the costs undertaken thus far. The agreement is only starting at "the value-for-money stage", the minister said. The Senate heard that the airport now has 1,359 people working on its premises, with Junior Minister of National Security Jeff Baron hazarding a guess that 1,000 of them were Bermudian. OBA senator Lynne Woolridge said the aim of the report was to "further the development project — to find out what's missing". The Deloitte report, which was not debated in the House of Assembly, came to the Senate through a take-note motion brought by Sen Rabain.
August 25. A 65-year-old man denied conspiring with others to import cocaine to Bermuda when he appeared in Magistrates' Court yesterday. Giovanni Vimercati, from Lomazzo, Italy, allegedly committed the offence between a date unknown and August 17. With the help of an interpreter, he pleaded not guilty and elected to be tried in Magistrates' Court. Magistrate Archibald Warner remanded Mr Vimercati into custody and adjourned the matter to September 8 for mention.
August 25. A traveler's account of six days of baggage tribulations has prompted another to speak of similar issues with the airline. "When you see how frustrated other people are, you want to voice your support," said Merle Doars, after a difficult experience with US Airways. The company merged with American Airlines in 2013, and US Airways will cease as a brand later this year. Ms Doars contacted The Royal Gazette after reading an account from local traveler Roma Burcher, who described days of repeatedly lost luggage. For Ms Doars, who flew to Washington, DC on July 30, the situation was compounded by the fact that she was accompanying a 14-year-old back to her home in St Catharine's, Canada. "They told us our flights were cancelled — there were so many people that by the time I got to the desk, they were out of vouchers for hotels. They couldn't fly me anywhere. Basically, I was told there was nothing they could do. Originally I had been going to let the young lady fly by herself, but I wasn't comfortable doing so. I'm so glad that I didn't." Beleaguered staff at the airline desk were clearly frustrated and unable to help, Ms Doars said, so she decided to "go on faith" and find a different way to reach Canada. No stranger to cancelled flights, Ms Doars found a different story when it came to her luggage: sent to a different part of the airport to collect it, she was told it had been sent on to her final destination. With the next possible flight days away, the two went to Union Station. Unable to catch a train, they resorted to taking the bus, setting out at 4am on Friday, July 31. Two days later, in Canada, her luggage had not arrived. Ms Doars said she was told that it had been sent to LaGuardia in New York. "Another said it was still in DC," she recalled. She had to buy new clothes as she was travelling back home on the Sunday. Her young charge's baggage had made it to Toronto. Instead of the luggage being sent on to Bermuda, Ms Doars said that she got home to a message saying her bags were in Toronto. She was reunited with her baggage on August 5. The American Airlines office in Bermuda, which was contacted by The Royal Gazette, is unable to field complaints. Ms Doars said she had written twice to the airline's customer service office in Phoenix, Arizona. Both letters have been returned. "I've got all my tickets — I'm going to see if my family can write from the US and have better luck," she said. "I had to pay $400 for tickets. I would just like for somebody to acknowledge the fact that it was not our fault; it was theirs."
August 25. NEW YORK (Bloomberg) — The Standard & Poor's 500 Index fell into a correction for the first time since 2011 in one of the most volatile trading days ever, as a rout in global equity markets deepened. It was a day of wild swings as equities plunged at the open before staging a sharp rebound, with the Nasdaq 100 Index by midday nearly erasing a 9.8 per cent drop. The Dow Jones Industrial Average dropped 1,000 points in the opening minutes of trading yesterday, while the S&P 500 tumbled 5.3 per cent and then pared declines before an afternoon wave of renewed selling. The S&P 500 dropped 3.9 per cent to 1,893.21 at 4pm in New York, and closed 11 per cent below its May record. The Dow lost 588.40 points, or 3.6 per cent, to 15,871.35, after sliding as much as 6.6 per cent. The Nasdaq Composite Index retreated 3.8 per cent to its lowest level since October 27, trimming an early 8.8 per cent skid. "Investors in China have lost confidence in the central bank, and it's a very alarming and difficult situation for the markets," said Bruce Bittles, chief investment strategist at Milwaukee-based Robert W Baird & Co, which oversees $110 billion. "It ultimately depends on whether the China situation results in a severe economic slowdown. It that happens, it's going to ripple through the US." About 14 billion shares traded hands on US exchanges, the most in more than four years. It was the second-highest value traded ever, according to Ana Avramovic, a US strategist at Credit Suisse. The Chicago Board Options Exchange Volatility Index rose 45 per cent to 40.74, after an early 90 per cent surge that temporarily sent the index to its loftiest level since January 2009. The gauge known as the VIX closed at a nearly four-year high after more than doubling last week. The Dow's 1,089.42-point swing from its session low to its high is the biggest one-day net point swing in the average's history. The 7.1 per cent move between Monday's high and low is the largest since the flash crash of May 6, 2010. Both the S&P 500 and the Dow posted their largest two-day declines since December 2008. The S&P 500's rout sent valuations tumbling. The price-to- earnings ratio for the gauge sank to 16.76, the lowest level since the October pullback. Then, the measure bottomed just above 16.50, the cheapest since January 2014. The less-expensive shares enticed some buyers, as equities sharply trimmed their opening losses. "As prices go lower, we see selective opportunities to buy as opposed to a provocation to become more bearish," said Bruce McCain, chief investment strategist at Key Private Bank in Cleveland, the private-banking unit of KeyCorp that oversees more than $25 billion in assets. "We're emphasizing large-caps relative to smaller ones," and within the US, companies that are less export-oriented. Calm in the US market shattered last week, with volatility soaring by the most on record as the Dow entered a correction and investors dumped the biggest winners of 2015. Shares succumbed to a global sell-off that's wiped more than $5 trillion off the value of equities around the world since China's shock currency devaluation on August 11. The S&P 500 is on track for its worst August decline in 17 years. It sank the most since 2011 on Friday amid signs China's economy is weakening, capping its single 5 per cent decline of the year after spending the previous seven months locked in a trading range that had no precedent in a century of market history. Moreover, speculation had been building all year for the Federal Reserve to raise interest rates in September for the first time since 2006, following the end of quantitative easing in 2014. Traders are now pricing in a less than one-in-four chance the central bank will act next month, from about 48 per cent just before the yuan devaluation, as the rout in equity markets has shaken confidence that the global economy will be strong enough to withstand higher US rates. "The chickens are coming home to roost," said Thomas Thygesen, SEB's head of cross-asset strategy in Copenhagen. "We've been too hopeful that Fed tapering didn't matter, that they could hike interest rates and we'd still have a healthy economy. Since the Fed stopped bond purchases, they've been choking the life out of global manufacturing and that matters most for commodities and emerging markets." The retreat in global stock markets bears resemblances to losses that hit equities in 1998, when financial stress from Asia to Russia sent the S&P 500 down 19 per cent, only to recover in three months, said Laszlo Birinyi, the president of Birinyi Associates in Westport, Connecticut. "I wouldn't expect a mirror image but my point is that for all the negative things I've read this weekend, almost all of these have been comments by people who were bearish to begin with," Birinyi said yesterday in an interview on Bloomberg Radio. "This is a short-term painful correction but when you have a situation where the market is well aware of the issues, the market has ability to correct."
August 25. Amlin is not looking for a buyer, its chief executive officer Charles Philipps said in a conference call yesterday. The London-headquartered insurer and reinsurer, which has an office in Hamilton at 141 Front Street, has been the subject of buyout rumors amid a mergers and acquisitions spree in the industry. But during the first-half earnings call with analysts, Mr Philipps asserted that Amlin was strong enough to remain a stand-alone company. "We are not for sale, we are not running a sale process," Mr Philipps said. "I am running a company that has big ambitions and we are trying to deliver on our strategy, full stop." Last month, Mr Philipps denied a report by British trade publication The Insurance Insider in July that said Amlin would be open to a sale if a buyer was willing to pay as much as $5 billion. The earnings call came after Amlin reported pretax profit of £143.3 million in the first half of this year, down 3.5 per cent from a year earlier. Gross premiums written rose by 6.2 per cent to just over £2 billion from £1.89 billion in the first half of 2014. But Amlin said it saw "continued pressure" on reinsurance prices, with rates down 6.4 per cent on average. US and international catastrophe rates fell by an average of 8.5 per cent and 10 per cent respectively, the statement showed. In Amlin's marine and aviation business, rates tumbled 17 per cent for energy insurance and 5.9 per cent for liability. "We have a compelling strategy and have the ability to fly as a stand-alone business," said Philipps, who completed a restructure of the business in 2014 and is looking at other markets for growth including the Middle East. "We do not see urgent need to partner or team up with anybody else."
August 25. Zane DeSilva, the Shadow Minister of Tourism, has applauded progress on the Morgan's Point Resort project, but stressed the Bermuda Government still has much work to do. Last week, the Development Applications Board formally granted planning approval for the first phase of the multimillion dollar project, including an 84-key hotel, 77-slip marina and 149 residential condominiums. In a statement this afternoon, Mr DeSilva said: "We are pleased to see that there seems to be movement on the Morgan's Point project that will culminate in Phase one construction. Bermudians are hurting for employment and the sooner the project takes off the better. We anticipate that there will be a significant number of jobs in the construction of this hotel on this site. "We must be cognizant though, that it is as important, if not more, that the Bermuda Tourism Authority and the Ministry of Tourism allocate the sufficient funding to market Bermuda as a destination to the rest of the world. A beautiful hotel is not worth much, if it is unoccupied. In this economy, it has been challenging to fill our current beds, so we hope that there is an active push in these areas to increase air arrivals and to put heads in the beds. America's Cup 2017, with all of its merit, is a one off event, whereas these hotels must be able to sustain themselves for decades." Mr DeSilva noted the Government's $165 million guarantee for the project, saying: "We cannot let this guarantee be in vain. All stakeholders must work to ensure the money is well spent and that we have a first-class hotel, with Bermudians employed at all levels, involved in the construction, delivery and running of the hotel. We pledge our support behind this project, with the hope that it plays a significant part in the restoration of tourism as one of our major economic pillars."
August 25. A property sales incentive has been passed by the Senate despite being resolutely opposed by the three Progressive Labour Party members. The Bermuda Immigration and Protection (Land-Holding Charges) Regulations Amendment 2015 postponed a hike in land fees to maintain sales stimulated by a relaxation of the regulations governing the sale of land to permanent residents and non-Bermudians. Diallo Rabain, the Opposition leader in the Senate, questioned when the breaks would be rescinded, adding: "People out there are looking at this, watching it — they are losing confidence that these things are being put in place to assist them." Michael Fahy, the Minister of Home Affairs, called concerns "misplaced", saying the measures were in place simply to "stimulate a market that was in the doldrums". The amendments passed, with Sen Rabain voting against along with senators Marc Daniels and Renee Ming.
August 25. The Bermuda Islander ship ran into difficulties in the Delaware River yesterday, running aground near Salem City, New Jersey. The Netherlands-flagged cargo vessel, which regularly carries goods to and from the Island, reportedly hit shallow water yesterday evening and became stuck after losing power. A spokesman for Meyer Freight Ltd this afternoon said: "We can confirm reports that the Bermuda Islander lost power and propulsion briefly Monday night, likely as a result of water in the auxiliary fuel supply. Without power, the vessel grounded in a shallow area adjacent to the main shipping channel, where she remained until high tide this morning. "The ship was successfully refloated and returned under her own power to the Salem pier where the United States Coast Guard and class surveyors are performing inspections. All going well, the Islander is expected to sail later today and arrive in Bermuda on Friday morning."
August 25. Martha Dismont has challenged Bermuda's politicians to demonstrate the leadership behavior needed to tackle a multitude of social problems. The executive director of Family Centre noted that Michael Dunkley has continuously called for Bermudians to come together to overcome the Island's challenges. However, she said: "If they are the leaders, they have to demonstrate leadership behavior. "We're looking for individuals in the community who will be models of the leadership behavior that is necessary. We're all looking for that and at the end of the day to get us all depolarized and get us together we need emerging leaders to come forward. "So it would be nice and helpful for our parliamentarians to give us an understanding of what that is." Mrs Dismont said she had heard the Premier say, "let's all work together" — a sentiment he has repeatedly expressed, including in a televised speech to the nation on April 27. As he issued a rallying call to Bermudians, urging them to come together to overcome challenges faced by the Island, he said: "Let's use this time to come together, to work together, exercising tolerance and respect." Mrs Dismont now wants all parliamentarians and adults to step up and set a good example. "All the adults in the community need to think about leadership, because if you're a strong leader and you're taking care of your child, you'll be a responsible parent." Mrs Dismont's comments came as the Family Centre celebrates its 25th anniversary — and there is a growing demand for the organization's services. Yesterday, The Royal Gazette reported her call for Bermuda to agree on a set of core values that will help determine how to address the Island's social problems. By outlining Bermuda's fundamental beliefs in a national plan, Mrs Dismont said they could become goals that the Island can then collectively work towards. But Mrs Dismont believes that strengthening relationships is the key to solving problems such as unaddressed trauma, poor education and a lack of life skills. According to Mrs Dismont, these problems were not caused by the recession — in fact, she said, the economic downturn exposed underlying social weaknesses. Offering an example, she said: "If you're not strongly tied to your wife, you lose your job and all of a sudden the relationship breaks down." She referenced a comment by Bob Richards, the Minister of Finance, who quoted investor Warren Buffett: "It's only when the tide goes out that you find out who has been swimming naked. Mrs Dismont said there were a lot of uneducated people in Bermuda in the past but "they could get along", with men, for example, often getting well-paid construction jobs when they graduated from high school. "Now we're in the 21st century and you have to be educated and the tide has gone out and you're not ready — so we are an unprepared nation. We have to rebuild our relationships, we have to strengthen our education system and we have to make sure we take care of those who are without skills. I've always said, it's not what happens to us, it's what we do about what happens. If we were strongly tied together as a country, even with all that has gone on, we would have been able to deal with this problem."
August 25. Police are looking for two men who snatched a purse from a tourist couple. According to a spokeswoman, the visiting couple were travelling south on Duke of Clarence Street in St George's at around 2pm yesterday when two men on a motorcycle travelling in the opposite direction grabbed the purse from their bike basket. The purse contained the victim's cellphone, along with other personal items. "The suspects were described as being black males in their late teens, wearing dark clothing and black helmets on a black scooter type bike," the spokeswoman said. Police are asking anyone who may have information regarding this incident to call 295-0011 or the confidential Crime Stoppers hotline on 800-8477.
August 24. Bob Richards, the Minister of Finance, yesterday signed interim agreements with the Canadian Commercial Corporation for the redevelopment of LF Wade International Airport. While the minister said the contracts did not guarantee the controversial project will move forward, he described them as another step in the incremental contract development process. "The Letters of Agreement contemplates that a further agreement, called the Airport Development Agreement (ADA), must be entered into in order to set out and describe the ambit, principles and subject matter of the project's final and definitive agreements," Mr Richards said at a press conference at the airport. "Phase one of this incremental contract process, which consists of exploration, scoping and data completion, has now been completed. This ADA marks the beginning of phase two, which will complete negotiation of definitive, detailed terms to oversee the project's implementation and move it to financial close. "This will include the framework definition, design and detail costing, finance and detail finalization of the contracts, commitments and liabilities, the independent fairness assessment, local tendering and the addressing of legal issues. This means moving the project forward with Aecon and CCC to finalise the design and financing of the airport's redevelopment, including construction, operation and maintenance." He added that phase two is expected to take about a year, after which there will be a final contract which must be signed before construction can commence. The minister also defended the Bermuda Government's handling of the project, which has come under fire repeatedly due to a lack of tendering and concerns that the deal would amount to privatization of the facility. "The alternative to what we have done so far is no airport," he said. "The only alternative is no airport at all. We are committed to developing Bermuda, to providing jobs, to constructing a new strategic asset which is needed, and the only way we could go forward with this is this way. "The traditional tender process which everyone keeps talking about would result in the Government increasing the debt by over a quarter of a billion dollars, which is not something this Government will allow. The alternative being what it is, this is the way to go." Minister of Tourism Development and Transport Shawn Crockwell, meanwhile, said the existing terminal was not meeting the first-class standard that visitors and residents expect. "This Government, your Government, has put together a plan that provides so many benefits for Bermudians. Importantly, it will take a hodgepodge of buildings which we have been using since the 1940s, together with additions and Band-Aids here and there, and replace it with Bermuda's first purpose-built terminal for civilian air traffic. We have been fortunate in finding such high-end partners to help us achieve this objective." Martin Zablocki, president and CEO of CCC, said the corporation was excited to be working with Bermuda on a project which will create jobs for Bermudians, both through subcontractors and add-on business, while Aecon Group executive chairman John Beck said it would take great care to deliver infrastructure which supports Bermuda's economy and society. "We are confident that we can do this for Bermuda through a collaborative and affordable process using Aecon's award-winning airport development expertise," he said. "Using a whole-of-country approach, we will work alongside other companies to maximize employment opportunities for Bermudians and bring best-in-class safety, construction and environmental standards to the project." The Progressive Labour Party has repeatedly criticised the One Bermuda Alliance's approach over the airport redevelopment, and last week suggested the creation of an airport authority that would allow Bermudians to take advantage of projected revenues. Mr Richards, however, dismissed the claim that the deal would cost Bermuda $620 million in revenue over the course of the next 30 years, dismissing the figures as speculation. "These are coming from people I like to call number bombers," he said. "They can speculate, they can pontificate, they can prevaricate. They can do that because they don't have to deliver anything. As ministers of this government we have to deliver, so we can't throw numbers around willy-nilly. The people who know these numbers are the people who are in this room. The people have to ask themselves do the people in this room, Aecon, CCC and the Minister of Finance, know more about this than people who have never built anything? Aecon built the CN Tower. And the new terminal at the Toronto Airport. We are dealing with experts here. I really think the number bombers need to let us do the deep dive into the data to prove the economics of this project, and that's what phase two is. A commitment to do a deep dive into the details of this project, to come up with the economics of this projects. The number bombers are going to continue to speculate, pontificate and prevaricate, but we are getting on with the people's business here."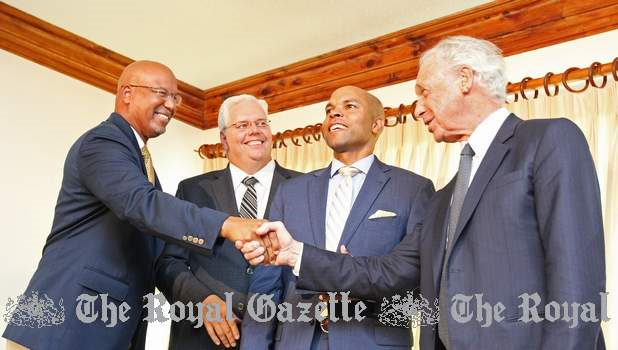 Airport deal signed, see above story
August 24. The Bermuda Police Service have made three arrests in connection with the murder of Johnathan Darrell — all of whom have been bailed. At a press conference this morning, police revealed several men were brandishing bottles, helmets and other projectiles during an "all-out brawl" that ended with the 27-year-old being fatally stabbed in the chest. Officers said between 50 and 60 people were congregating in the Rural Hill Plaza, Paget, when the incident happened at about 4.15am on Saturday: some purchasing food at the Ice Queen and others sitting in cars or socializing. Police urged witnesses or anyone with any information about the incident to come forward and assist with the investigation. Detective Superintendent Inspector Sean Field-Lament said that some people on the scene of the crime were known to have taken video footage with cellphones and other electronic devices and he appealed to them to share this potentially crucial evidence with officers. "Those persons have assisted with the investigation and have subsequently been bailed. There are witnesses out there who can assist us there are videos out there that can help us. We have been informed that there were persons present who had cellphones and that those were recording. There is footage there. We need to speak to you we need to hear from you. You have to be bold, you have to step forward and we have to put a stop to this violence. Already officers are following up on some promising lines of inquiry. We know there were numerous witnesses to this senseless crime. It is incumbent on those who have information to step forward and provide it to the police. If you know something, say something. It is up to us as a community to step forward and put an end to this type of antisocial behavior." The BPS said there was no evidence that the incident was gang-related so far and that Mr Darrell was not known to the police. Officers said there was "absolutely no suggestion" that gunplay was involved. Mr Field-Lament said: "At this stage we do not believe this was gang-related. We are open to all avenues and certainly when the public speaks to us we will act on that information." He also passed condolences to Mr Darrell's loved ones, saying: "The BPS would like to express our heartfelt sympathies for the family and friends of Johnathan Darrell. Our thoughts are with them during these very difficult times." Acting Detective Inspector Jason Smith said: "During the altercation there was a large group of men and women who were involved in what can be described as an all-out brawl. "Several men were brandishing bottles, helmets and other projectiles. This melee ended with 27-year-old Johnathan Darrell being stabbed in the chest. He was subsequently taken to the King Edward Memorial Hospital where he was pronounced dead at about 4.28am. During the time of the incident there were between 50 to 60 individuals that were congregated in the area. Some were in line purchasing food at the Ice Queen while others were sitting in cars or socializing. The BPS would like to make a very specific appeal and we would like to communicate with anyone who observed the incident as it unfolded, no matter how insignificant it may seem. We would also like to speak with anyone who was involved in the melee. This is your opportunity to come to us. We are aware that there were several people who were filming this melee with the use of cellphones and other electronic devices. It is important to us that we also hear from you. We are asking for people in our community to be bold and help us to give closure to the family of Mr Darrell. It is a community that we all live in and all of us must do our part to bring closure and to restore peace and safety on our Island." A family liaison officer has been assigned to the family. Anyone with any information should contact Mr Smith on 247 1218 or the Confidential Crime Unit on 800 8477.
August 24. The Duchess of Gloucester will make an official visit to Bermuda in October. As Colonel-in-Chief of the Bermuda Regiment, she will attend the Bermuda Tattoo as part of the regiment's 50th anniversary and visit headquarters at Warwick Camp. During her time on the Island, between October 23 and 25, the Duchess will visit Windreach Bermuda and attend a briefing given by Family Centre and the charity Saving Children and Revealing Secrets (Scars). The Duchess, whose royal assignments have included visiting Basra seven years ago to check on British troops during fighting in Iraq, will also see the America's Cup facilities during the third leg of the World Series, which will be held in Bermuda. Government House announced the news today and said further details would be made available nearer the time of the visit.
August 24. Legislation setting the stage for a long-anticipated resort in St George's has been approved in the Senate. However, the St George's Resort Act, which allows leases and concessions in connection with the development, faced sharp scrutiny from the Opposition. Senator Michael Fahy, the Minister of Home Affairs, said the public could take heart that developer Desarrollos Group aimed to put $70 to $90 million of its own money into the hotel and casino at the former Club Med site. The Progressive Labour Party criticised passing the Act separately from the master development agreement — but Sen Fahy said the agreement would be tabled for debate in due course, calling this move a first. While the two sides continued to debate the extent to which locals workers stood to gain from the deal, the minister said that existing immigration policies would ensure that Bermudians got access to jobs. "I don't see how you can put in place an Act that says the hotel must have 65 per cent Bermudians," Sen Fahy added, asking if the hotelier would then be fined or punished if the necessary qualified Bermudians were not available. After a lengthy debate watched by both Tourism Minister Shawn Crockwell and Shadow Minister Zane DeSilva, the Act was ultimately passed over objections from PLP senator Renee Ming. It was brought before the Upper House by One Bermuda Alliance senator Vic Ball, the Junior Minister of Tourism Development and Transport. Sen Ball called the project "an emotive subject" — particularly for the residents of St George's, where a resort was first opened on the site 42 years ago as a Holiday Inn. Opposition senator Marc Daniels queried what returns for the resort had been pitched to Desarrollos. "Where is the real, overarching perspective into this development that gives us a little more detail?" Sen Daniels asked, noting there had been public concerns over possible "negative back-room dealings" behind the selection of Desarrollos. Echoing PLP concerns raised earlier in Parliament, Sen Daniels also said that the master development agreement for the resort should have been tabled with the leases and the bill itself. He asked what protections were in place should the developer seek to sell the resort, or run into financial trouble. The Senate heard that concessions had created the right environment for investment, with Sen Ball saying the substantial investment by Desarrollos showed that the developer would not be inclined to drop the project. Responding to suggestions that the deal had been linked with the Jetgate scandal, Sen Ball said the agreement had "absolutely no connection" to the US developer Nathan Landow. Sen Ming, an East End-based politician, noted that the beach at Fort St Catherine had been privatized under previous developments. "If the Government wants a fight on their hands, they will have it when it comes to Fort St Catherine beach," Sen Ming said. She also questioned why the map for the development included the beach in the six acres zoned for the hotel. Sen Daniels, along with Sen Ming, queried the Act's wording, noting that it says the public shall have "reasonable access to any beach and foreshore on the property". Sen Ball said rowdy behavior such as a 2am beach party would be considered "unreasonable", but that otherwise the beach would remain public. Independent senator James Jardine said he was no fan of the 262-year lease, calling it excessive. Sen Jardine said the developer's ten-year exemptions from taxes should be attached to some form of expenditure, and to have that link in the Act, as it is for the Morgan's Point development. However, in giving his support to the Act, Sen Jardine said he took comfort from the minister's assurance that the training of Bermudians at the resort, advertising expenditure and the hiring of local entertainers would be part of the master development agreement. Jeff Baron, the Junior Minister of National Security, told the Senate that there had been no plans in the pipeline to revitalize St George's during the last decade that would achieve it as this development would. Sen Baron told the Senate he was fully confident that Bermudians would be trained and employed. He cited his own experience with the Rosewood Tucker's Point, where there are now 182 staff, including only 8 per cent expatriate. All have gone through significant hospitality training. "This is a win for Bermuda, not politics," Sen Baron said. However, Diallo Rabain, the Opposition leader in the Senate, pointed out that nothing had been signed thus far committing the developer to anything. "The biggest bone of contention that I see is we seem to be doing anything by any means necessary to get this hotel built — we have removed conditions from the Act and say we're going to put them in the master plan, but we have not seen the master development plan," Sen Rabain said. "What in this particular Act stops the Desarrollos Group from walking away tomorrow?" Sen Rabain added. Until the agreement is tabled, "we are just spinning our wheels", he said.
August 24. St George's MP Kenneth Bascome has hailed the proposed hotel development on the old Club Med site as the "real thing." Mr Bascome said he understood that some might still be skeptical about the project given the number of false dawns residents had endured over the years. But he told The Royal Gazette that he believed the community needed to allow the process to take its course for the rewards to be reaped. Mr Bascome's comments come after the legislation paving the way for a luxury St Regis hotel to be built in St George's was passed by the House of Assembly last week. It is scheduled for debate in the Senate today. Opposition MPs had voiced "serious concerns" about the St George's Resort Act, claiming that late amendments to the Bill would penalize Bermudians. But Mr Bascome dismissed the suggestions, maintaining that the multimillion-dollar project would provide employment and training opportunities to Bermudians. "At this stage the naysayers are going to find every conceivable notion they can conjure up to throw a spanner in the works," said Mr Bascome. "I am hopeful that the developers don't become discouraged by the amount of negativity swirling around at the moment. I find it very difficult to believe that a developer would come to Bermuda and expect to be successful if he does not provide opportunities to Bermudians." Shawn Crockwell, the Minister of Tourism Development, has pledged that after nearly three decades of lying fallow, construction work on the East End's vacant hotel property will begin before the end of the year. Plans include 122 hotel rooms, six estate residences and a possible 90 condos, renovations for the St George's Golf Course and — subject to Gaming Commission approval — a casino. Concessions for the development, which the One Bermuda Alliance has called the most important hotel development in 40 years, are expected to add up to $30 million over the course of ten years. Mr Bascome said: "My understanding is the kind of concessions given to the developers now are in principle very similar to the concessions granted to Bazarian. I have been assured, and the Minister has told the House, that the golf course will remain public and the beach will also remain public. This development is hugely significant to the town of St George that has been allowed to linger in the doldrums for long enough."
August 24. Almost 40 women with prominent positions in the insurance and reinsurance sector in Bermuda have been featured in a special edition of the trade magazine Bermuda: Re+ILS. In its 'Influential Women of Bermuda' edition, the magazine profiles 38 women in the insurance and reinsurance industry "who have smashed through the gender glass ceiling." The magazine asks them how they entered the industry, the challenges they have faced and what they still want to achieve. Among those featured is Leila Medeiros, who is senior vice president and deputy director of Abir, the Association of Bermuda Insurers and Reinsurers. A further 15 members of Abir, who all hold executive positions at their respective companies, are also featured. The publication discusses the contribution the women make to their employers, and their value as role models and mentors. "Abir members benefit enormously from these talented female executives. They include CEOs, CFOs, general counsels, chief actuaries and underwriting managers. We're glad these women are working in Bermuda. They'd be recognized as top talent and incredibly valuable to employers wherever they worked," said Bradley Kading, Abir president and executive director. Leila Medeiros has worked with Abir since 2006. She's a terrific public policy leader who has made an invaluable contribution to Bermuda's insurance regulatory landscape in that time," said Mr Kading. "She enjoys talking to students and is a great example of a Bermudian guiding and mentoring young people interested in insurance careers."
August 24. You don't need big bucks or a large loan facility at a bank to build a successful business. If you want the proof look no further than Michelle and George Wales. The couple own and operate CV Café in St George and have built up a business that has attracted glowing reviews from customers near and far. The café has a homely feel, with its mishmash of armchairs and sofas dotted around the place. The rustic, comfy feel is partly a fortuitous byproduct of a cautious approach to business expansion adopted by Mrs Wales. "It's called shopping by eMoo," she said with a laugh, referring to the online classified website. "I did not want to get anything that I could not afford. I did not want to be lumbered with a loan, so I put things together by spending a few bucks here and there over time and gradually upgrading things." When The Royal Gazette visited the café, the mixture of furnishings was finding favour with a steady stream of customers who kept the serving staff busy. "I wanted that friendly and happy vibe, and for everyone to feel comfortable," explained Mrs Wales, who is also a teacher at St George's Preparatory School. She originally opened the much smaller Conscious Vibes shop in 2009, selling a variety of Fair Trade products, such as sandals, jewellery and hand creams. It was next door to what was then Café Latte, run by former town mayor E. Michael Jones. The economic downturn was just beginning and the town started to suffer as retailer after retailer closed down. "The economy was going to the dogs. My shop was soon the only one open around here. In this part of the East End there was no economic activity." Having lived in London, England, for many years, Mrs Wales had seen how devastating an economic slump could be for inner city neighborhoods. She and her husband were determined to keep the business operating, even though it soon became a rare beacon of light in a town where many business were shuttered or in darkness. "I was trying to do something for the town. Money was not my motivation. Customers kept asking for my Fair Trade coffee. The café next door had been empty for a year and a half and we decided to expand into one half of it and sell coffee and ice cream." It turned out to be a good move. As trade grew CV Café expanded again to occupy the entire building. It serves breakfasts in the morning and lunches during the day, and it continues to promote Fair Trade products. Homemade cakes are made exclusively for the shop by Karen Ann Woolridge, who is an aunt of Mr Wales. The café has a certificate of excellence from TripAdvisor, in recognition of four- and five-star ratings it has been given by customers who have praised its friendliness, service and menu items. "The major thing is that it is relaxed, and everyone says they like the coffee. We serve simple, accessible food and I've had quite a few catering students from the Bermuda College working here, and they've all been good. I would encourage others to give them a chance," said Mrs Wales. The large lounge room, which was previously the Conscious Vibes shop, allows customers to spread out and relax. It has also been used for special events, including hosting Chewstick, a wedding reception and a book club meeting. "There's no charge for the room. All we ask is that whoever uses it supports the café," said Mrs Wales. CV Café occupies a corner location of the lower SE Building to the rear of No 8 York Street. It has an outdoor patio area with steps leading down to Water Street. Outside the café is a replica red phone box containing shelves of used books. Always open, it operates as a free book exchange, where anyone can come and pick a book or two and leave behind any books they have finished with that someone else might like to read. The café has wi-fi internet service for customers who want to go online as they enjoy a snack, and Mrs Wales is planning to open a teachers' resources retail section. She is pleased that the town has undergone an economic revival in recent times, with most shop units now occupied. Mrs Wales, who is involved with the St George Olde Town Market enterprise, said there is good camaraderie among the local businesses and a general willingness to help one another out. While the town is enjoying improved levels of trade in the summer, it can still be a struggle for the café between the end of October and the start of April, according to Mrs Wales. "There are no big offices here, so even with the locals there isn't the volume of customers." The café adjusts for the quieter months by tapering its opening hours during the winter. Mrs Wales said there have been moments in the past when she has wanted to cry and wondered about giving up, but when she sees regulars come in during the barren winter months, giving the café a community centre feel, she knows the business is adding to the quality of life of the local people and to the fabric of town in general. And she also knows summer will soon return and with it the tourists and crews from visiting yachts who flock to the café to purchase refreshments, sit down and enjoy the relaxing ambience.
August 23. Michael Dunkley is in London for meetings with British Cabinet ministers. The Premier is due to have talks with Philip Hammond, the Foreign Secretary; John Whittingdale, the Secretary of State for the Department of Culture Media and Sport; David Gauke, the Financial Secretary to the Treasury; and Sir David Amess, the newly appointed chairman of the Britain-Bermuda All Party Parliamentary Group. Discussions will focus on areas of mutual interest between Bermuda and Britain, according to a spokeswoman for Mr Dunkley. The Bermuda Government's London Office facilitated the arrangement of the visit and the meetings with the British Government dignitaries. Mr Dunkley is being accompanied by Derrick Binns, Secretary to the Cabinet.
August 22. Three cruise ship passengers on the Norwegian Breakaway have been left stranded in Bermuda after they missed their departure back to New York. The passengers missed the ship from Dockyard and they were put in a taxi by the cruise line's local agent while the ship was outbound. The agent instructed the taxi to make its way to Ordnance Island in St George. The duty officer at Bermuda radio told us: "The plan was to get them on the pilot boat and transfer them to the ship when the pilot was disembarking at the sea board. Unfortunately, they did not make it on time and the captain was unable to detain the vessel any longer for the transfer." The three passengers worked with the agent to arrange overnight accommodation and a flight to New York where their ship was heading. In 2013, a young couple on the Breakaway nearly missed their boat home, arriving at the pier just after the ship had dropped lines and moved away. They were more lucky as the local tug picked them up and they were able to transfer via pilot's ladder.
August 22. The Bermuda Tourism Authority has applauded news that the Morgan's Point resort has been granted planning approval. A spokeswoman for the BTA said yesterday the announcement was excellent news for the Bermuda hospitality industry. "We congratulate the development team and their diligence in getting this important project across the finish line," she said. While the spokeswoman added that the additional hotel rooms and marina facilities would be helpful in hosting the surge of visitors expected to travel to the Island for the America's Cup, there are plans in place in case the hotel is not ready in time for the 2017 event. There is a plan under way that combines the resources of local hotels, vacation rentals, cruise ships and yachts which gives us the inventory needed to assure the strong economic impact we are expecting from the event is fully realized," she said. "If for some reason the hotel project is not completed on time, Bermuda can still adequately accommodate our AC visitors." The Morgan's Point Resort project has been the subject of conversation for several years. The developers first agreed to receive the land — the former home of a US Naval Air Station — from the Government in a land-swap arrangement in 2008. The development was announced as a $2 billion luxury tourist complex including three hotels, residential units and a marina for visiting superyachts. However, before work could begin, the Government was tasked with cleaning up the brownfield site, which was reportedly heavily polluted with asbestos, metals, petroleum products and other chemicals. The handover was made official in June 2012, at which point remediation work began in earnest. Planning applications for the first phase of the project were submitted earlier this year, detailing an 84-key hotel, a 77-slip marina and a total of 149 residential condominium units on the Southampton property, along with a range of hotel amenities including a spa and three restaurants. The Development Applications Board formally approved that application on Wednesday, giving the developers a green light to move forward with the project. The first phase is set to include Craig Christensen, the CEO of Morgan's Point Resort Ltd, expressed his excitement about the decision on Thursday, stating that it is hoped to break ground on the project soon. However, he said the entirety of the first phase might not be completed in time for the 2017 America's Cup, stating that the development team is looking at how to best move forward with the project.
August 22. Oracle Team USA have tweaked their crew ahead of next week's America's Cup World Series in Gothenburg. The defender of the America's Cup have made one change to their crew from the one that competed at last month's World Series opener in Portsmouth, with seasoned Cup campaigner Joe Newton replacing Kinley Fowler as headsail trimmer aboard the team's foiling AC45F catamaran. Newton has no experience on the one-design boat, and will have very little time to make the adjustment as the teams are only permitted two days of practice. To help overcome this obstacle, the six -times America's Cup campaigner has been sifting through video of Oracle's performance at last month's event in England with Philippe Presti, the team coach. "I've never been on the one-design boats we're racing in the World Series, so it's going to be a challenge," Newton said. "On these boats everybody forward of the wing trimmer spends a lot of time working on getting the daggerboards up and down, so it's a pretty physical role." Returning as Oracle's crew are Jimmy Spithill, the team skipper, Tom Slingsby, the tactician and sailing team manager, Kyle Langford, the trimmer, and Louis Sinclair, the bowman and grinder. Last month's regatta in Portsmouth was the first time Oracle's crew have competed on the AC45F. "These boats are so physical — it's a real workout," Spithill said. "There's times where you're just hanging on, you're on the edge of control." Oracle Team USA secured a third-place finish in Portsmouth and are looking to improve on that performance next week in Sweden. "From what I understand we were going very well in the training in Portsmouth, and the results on the one day of racing there might not be entirely reflective of where the teams are," Newton said. "So I think we just need to keep plugging away and with a few more races, we'll get some better results." Meanwhile, home team Artemis Racing have also announced their team for next week's event in Gothenburg. The Swedish Challenger's team comprises of Nathan Outteridge, the skipper, Iain Percy, the tactician and sailing team manager, with Iain Jensen, Chris Brittle, Luke Parkinson and Kalle Torlén making up the remainder of the team. New recruit Torlen has replaced the injured Freddy Loof who will serve as the team's coach instead.
August 22. Royal Bermuda Yacht Club skipper Alec Cutler will be among the 22-boat fleet competing for top honours at next week's Melges 32 World Championship in Trapani, Italy. This year's Melges 32 Worlds boasts the best helmsman, amateur and professional sailors, including Jason Carroll, the two-times and current world champion. The championships begin on Monday.
August 22. By Glen Smith, a One Bermuda Alliance backbencher, the MP for Devonshire North West (Constituency 14). "The St George's Hotel Bill, which passed in the House of Assembly on Monday, paves the way for a new hotel to be built — a development the Old Towne and the people of Bermuda have been waiting to see happen for almost 30 years. It is a project that promises to create hundreds of jobs and career opportunities for Bermudians for years to come, revive the East End economy and provide a shot in the arm for our tourism industry. But if you listened to Opposition MPs during Monday's debate, you would have not heard any of that. Instead, you would have heard a shameless, political attack designed to sow doubt about the proposed development. Opposition MPs started their remarks with the obligatory statements about supporting a hotel for St George's before airing false and misleading information about the project. It seems that each speaker had been given a line of attack against the project, no matter how wrong, outlandish or offensive it was. One Opposition member was clearly tasked with sullying the developer, Desarrollos Hotelco Group. It was claimed Desarrollos was subject to criminal prosecution for participating in a Ponzi scheme — an entirely false allegation. Despite several government MPs repeatedly standing on points of order and clarification to stop the member misleading the House, the member carried on repeating the false information. An Opposition senator made similar spurious claims this year and claimed a principal of the Desarrollos Group had been imprisoned for participating in a Ponzi scheme. The senator later retracted and apologized for the statement, but only when threatened with a lawsuit. The facts are that the Desarrollos Group was not involved in a Ponzi scheme. It received a $15 million loan from a Connecticut-based hedge fund that was to be used to complete a $300 million Ritz-Carlton being built in Aruba. We understand that once it was discovered the funds stemmed from fraudulent activity, they were returned. No criminal charges were ever filed against Desarrollos. An even more ludicrous claim was made that because a similar corporate structure that was used for the project in Aruba would also be used for Bermuda, the likelihood of fraud was increased. By what logic does that follow? The irresponsible maligning of the developer, driven by shallow political motives, threatens to undermine Bermuda's working reputation. If the Island is seen as a difficult and unfriendly place to do business, developers will simply invest their hundreds of millions of dollars elsewhere. Desarrollos has built at least three hotels for the Marriott Group. It has built a Ritz-Carlton in Aruba with a second soon to break ground in Turks and Caicos. These hotel companies would not engage any entity without conducting due diligence to make sure they were dealing with reliable and trustworthy people. For the St George's development, Desarrollos is investing $70 million of its own money, with Butterfield Bank providing $50 million. To form a local company to move forward with the development, approval was required from the Bermuda Monetary Authority (BMA), which conducted thorough due diligence, including requiring beneficial owners to be identified. Butterfield Bank carried out similar due diligence as did the Ministry of Tourism Development and Transport for the request for proposal (RFP) process. No red flags were raised. All approvals were given. As the Premier, Michael Dunkley, said during the debate on Monday, he recently met with one of the top executives of the Ritz Group in Toronto who said Bermuda was in "good hands" with Desarrollos. To be clear, Desarrollos went through a rigorous RFP process, and has been vetted by the BMA, Butterfield Bank and the Bermuda Government. It has a proven track record of developing hotels in the Latin American and Caribbean regions, is injecting substantial amounts of its own money into the project and is committed to hiring and training Bermudians. It has secured the luxury St Regis Hotel Group to run the resort and is committed to embracing and enhancing the Unesco World Heritage site of St George. After 14 years of failing to get a hotel built, it seems the Opposition's only option is to carry on with its campaign of misinformation, disinformation and criticism. That may be OK for our local politics, but when it attacks international developers who want to invest more than $100 million in a resort that will make a positive difference in people's lives for generations to come, it is playing a dangerous, risky game with the future of Bermuda. I call on Bermudians to support this important development that will lead to the first major hotel being built in Bermuda in many decades. The tourism minister and others who have been working diligently on this project for the past two years should be congratulated. The new hotel in St George's will be concrete proof that Bermuda is revitalizing and reinvesting in our tourism product and, as a result, we will hopefully, once again, be a must-visit location for visitors from around the world."
August 22. David Burt, the Shadow Minister of Finance, highlighted several shortcomings in the Bermuda Government's airport redevelopment project published in the Deloitte Report — including there being no guarantee of value for money. At a town hall meeting at Warwick Workmen's Club on Wednesday evening, Mr Burt outlined a raft of issues raised over the development in the report as well as from the Progressive Labour Party's own findings. The report investigated several aspects of the project including the commercial case which Mr Burt said "poured cold water on" Government's claim the current approach could guarantee value for money. "We identified key gaps in evidencing that the sole-source procurement approach that was selected will offer the best VFM," the report said. Mr Burt told an audience of almost 100 people that suppliers Aecon could receive in excess of $2 billion in revenues over the 30 to 35 years it would retain control over operations. He said the airport collected $25.2 million in revenues and had $20.56 million in expenses which equates to an annual surplus of $4.67 million. According to his estimates, the OBA will need more money to give to Aecon to repay its loan, some of which will come from the solar farm, airspace revenue and tax increases. He said: "There is no such thing as a free lunch — something has to give. There is no way we are going to get a new terminal for free. Given current revenue, $8 million of additional profit/surplus must be found to finance a $200 million airport project." While the Government is expected to raise $11.5 million in new taxes, Mr Burt said the airport turns a $16m surplus annually which will go to Aecon. "As a result Aecon stands to collect in excess of $2 billion." The One Bermuda Alliance has outlined plans to build the new terminal through a public-private partnership with the Canadian Commercial Corporation (CCC). Mr Burt continued: "The report was very critical of the OBA Government's approach to the airport redevelopment and highlighted key and integral steps missing from the economic case." He highlighted a section of the report saying one thing lacking was "an economic assessment of a defined list of options to identify the most economically advantageous solution for Bermuda and some specific Green Book and wider best practice considerations such as use of a public sector comparator and optimum bias assessment." Finally, he touched on the report's evaluation of the airport project's financial case which read: "While there has been a great deal of work on the affordability of the project, it has been developed by the Canadian Commercial Corporation as opposed to the Government. The main element missing from the affordability of the project is that the perspective it has been developed under leaves several cost components of the Government amiss. Requires further development." "We keep on hearing that the Government is not going to borrow any money. Aecon is going to borrow money for us and use our revenues to pay the money back. It doesn't matter if we borrow the money or if Aecon borrows it — the only difference is that it doesn't show up on our budget book but yet the money is still being borrowed against our airport and we are still paying back against the revenue of our airport." Shadow Minister of Transport Lawrence Scott outlined the PLP's alternative plan to create an Airport Authority that would allow Bermudians to take advantage of projected revenues generated by the airport, as reported in yesterday's Royal Gazette. He also raised the issue of job security saying that, under the OBA's plan, the 48 existing jobs were not guaranteed to be safe. Transport Minister Shawn Crockwell received our request for a response to Mr Burt's presentation but said the ministry would be holding a press conference on the issue in due course.
August 22. For Sue and Richard Vokes holiday means just one thing: Bermuda. The New York couple have been coming back to Island for the last 40 years always making sure they stay on their beloved South Shore. Their love affair with the pink beaches and turquoise sea began back in 1975 when they stayed at the old Mermaid Beach Club with their two-year-old daughter, Christine. "I had always wanted to come to Bermuda," said Mrs Vokes. "In fact I wanted to come here for our honeymoon. But we were told that Bermuda would be too cold in October and so we chose Jamaica instead. I was very disappointed so I made sure we came to Bermuda in 1975. When we did we just fell in love with the Island and the South Shore. I told my husband: I am not leaving here until you promise to bring me back." The couple have returned to Bermuda more than 20 times in the last four decades, often with their two daughters; Christine and Heather. In 1978 they stayed at Elbow Beach for the first time, and then returned to the same hotel every year for the next 16 years For the last three years they have stayed at Coco Reefs and are planning to return in 2016. "It's the people that keep us coming back," said Mrs Vokes. "We have made so many marvelous friends we feel like we know half the Island. If you meet someone in Bermuda they are your friend straight away, that is what we love about the country. Obviously things have changed over the years as the corporate world has arrived in Bermuda but that same friendliness exists. Unfortunately there does seem to be a lack of family-friendly, reasonably-priced places today, but we have always had a marvelous time." Last year Mrs Vokes, a 72-year-old retired nurse, fell ill and had to be admitted to hospital. But she says even her experience at King Edward VII Memorial Hospital was a good one. "I have worked in the world of medicine all my life and I was really impressed with the level of care I received," said Mrs Vokes. "When I returned to the hotel everyone was there waiting to greet me. They could not do enough for me. That is the level of service and hospitality that we have got used to in Bermuda."
August 22. An Iranian-born British citizen who was denied a permanent residency certificate has won an appeal against the decision in the Supreme Court. Mehyrar Sharifi moved to the Island in September of 1998, but was forced to leave the Island in April 2008 after his work permit was not renewed. While he moved back to London with his family, he regularly returned to the Island and applied for permanent residency in July 2010. The application was subsequently rejected by the then-minister responsible for immigration on the grounds that he had not been ordinarily resident in Bermuda for the required ten-year period. He appealed the decision to the Immigration Tribunal, arguing that he had been ordinarily resident on the Island since 1998. The tribunal heard the matter in 2014 and upheld the minister's decision, but Mr Sharifi took the matter to the Supreme Court. During a hearing, lawyer Eugene Johnston argued that the tribunal had acted on the assumption that Mr Sharifi voluntarily left the Island in 2008 as they did not hear evidence that Mr Sharifi had applied to renew his work permit. Mr Johnston argued that this unfairly left his client with the "heavy burden" of proving to the tribunal that he did not give up his ordinary residence. In a recent judgment, Chief Justice Ian Kawaley said that the tribunal had taken the wrong approach to the case due to the lack of information about Mr Sharifi's work permit application. "It was legally impossible for the minister to unilaterally bring the appellant's ordinary residence to an end simply by failing to renew his work permit," he wrote. "The proper question for the tribunal and minister to ask was whether, bearing in mind the appellant's undoubted ordinary residence in Bermuda for over nine years, his involuntary 'decamping' back to the United Kingdom could fairly be viewed as bringing that prior undisputed period of ordinary residence to an end. The evidentiary burden on the appellant ought properly to have been viewed as somewhat light rather than very heavy in all the circumstances of his case." He said that "ordinary residence" on the Island is a complicated concept which does not turn solely on where a person spends most of their time, and that neither the minister nor the tribunal gave proper weight to the fact that Mr Sharifi left the Island involuntarily when his work permit was not renewed "virtually on the eve of his qualifying for PRC status." Mr Justice Kawaley subsequently set aside the decisions of the tribunal and the minister, remitting the matter back to the minister to be dealt with according to the law.
August 21. The first phase of a hotel development at Morgan's Point has been given the go-ahead by the Development Applications Board. According to planning applications, the first step of the project will include an 84-key hotel, a 77-slip marina and 149 residential units on the Southampton property, along with a host of amenities including three restaurants and a spa. President and CEO of Morgan's Point Ltd Craig Christensen said the decision, made on Wednesday, was "great news" for the development of the project. "This gives us the green light to move forward on this project." While he said he was unable to pin down a date for ground to break on the project, he believes work could begin soon, although the entire project may not be completed before the America's Cup in 2017. "I don't know if we can make all parts of it ready by America's Cup," Mr Christensen said. "We have to do things efficiently. We are still working on the exact time frames. We have been looking at how we would develop and carry out the plans because it's a big project. We have been working on that throughout the summer. We should have parts of it up by then, but we have got to decide what type of construction we want to have going on during the America's Cup." The project had been granted in-principle approval by the Morgan's Point Resort Act 2014, however stipulations included in the act required that several elements of the project be approved by the DAB prior to final approval being granted. An environmental impact study (EIS) was also necessary for planning approval, along with details of any measures intended to mitigate any negative environmental impact. The application focused on the first phase of the project, which included the construction of multiple buildings on the "mainland" western side of the property, overlooking George's Bay and the Great Sound, rather than the peninsula. The hotel element of the project is situated to the south of the peninsula. The 45,924 sq ft main hotel building will host the reception area, along with an event pavilion, children's club and restaurants, while the hotel units will be spread across a series of separate two- to three-storey buildings along the coast of the sound. The spa building will meanwhile be erected near the southern edge of the property. Three restaurants are described in the application, including a 60-seat main restaurant, a 40-seat bar and grill, and a 100-seat signature restaurant which will boast three "seating pods" erected over the waters of George's Bay and accessible by wooden deck. Further work around the George's Bay area will include the removal of a man-made resentment to the north of the bay, intended to improve water circulation, and the instillation of a new boardwalk. The application also stated four planned beaches on the property, although the developers were still working to source local sand. Meanwhile, the southern side of the existing causeway on the property has been earmarked for the marina, which will feature 77 slips on three floating arms. The project also includes a large number of residential condominiums, which will be built around George's Bay and on the northern side of the peninsula. Of the 149 units, 50 will be two-bedroom, 83 will be three-bedroom and the final 17 will be four-bedroom. A waste treatment facility meanwhile will be erected to the immediate south of the main entrance to the property. The board report, included in the planning documents, recommended that the application be approved stating: "The EIS shows the impact would be manageable and any negative impacts are compensated in ways that have the potential to improve environmental conditions." The developers behind the project had previously expressed hope that groundbreaking for the project would take place this summer so that the hotel will be ready in time for the 2017 America's Cup.
August 21. One Bermuda Alliance MPs Sylvan Richards has called on former Tourism Minister Wayne Furbert to respond to allegations he deceived the House of Assembly over the St George's hotel plans. Mr Furbert responded by accusing the OBA of trying to resurrect a petty battle from three years ago while working Bermudians are struggling. During Monday night's sitting for the St George's Resort Act 2015, OBA MP Mark Pettingill pointed to comments made by Mr Furbert in his former role in September 2012. He recalled the Progressive Labour Party MP had stated he had issued a notice of termination to developer Carl Bazarian who at that point was lined up to develop the former Club Med site. However, the following day Mr Furbert issued an official statement to say he had "misspoke", and that Mr Bazarian and his Addax Holdings team were actually travelling to Bermuda for talks on the project. Mr Richards continued the argument by releasing a statement saying: "Given what we know today from the definitive wording of Government of Bermuda documents, this 'official statement' by Mr Furbert is a deliberate falsehood. "Why Mr Furbert misled the public is a question he needs to answer. One can speculate that after telling Bermuda on ZBM News that the much-heralded project had been terminated, someone told him that that was an unacceptable message to St George's and Bermuda on the eve of a general election. One can also speculate that the PLP Government thought it would win the 2012 election and that the notice of termination would never see the light of day. I leave it up to Mr Furbert to address these possibilities. Whatever the answers, he needs to explain himself." Mr Furbert responded: "It is a fact of record that the PLP terminated the agreement with Addax Holdings in 2012. If the OBA wish to argue petty battles from three years ago, that is their call, but that pettiness will not increase jobs, reduce the cost of living, educate our children, and care for our seniors. While the OBA are busy sending press releases from their surrogates to distract from their poor record of working for Bermudians, the PLP is in the community educating 100 voters about the OBA's airport redevelopment plans. These are the same plans that an independent commentator said would result in a Canadian company making $620 million while Bermudians are being punished with the OBA's austerity. The PLP will continue to educate the electorate on an alternative vision for the future of Bermuda, one that puts Bermudians first in their own country. It is our job to hold the Government to account and we will continue to do our job as the Bermudian people deserve a better standard of governance that they are getting from the OBA."
August 21. The holding company for two Bermuda firms is to discontinue in Bermuda and base itself in Switzerland. Canopius Holdings Ltd announced it would make the move in a statutory notice in The Royal Gazette this week. But Stephen Hartwig, CEO of Canopius in Bermuda, said: "As a result of this, there won't be any jobs leaving Bermuda." Mr Hartwig added that the change was part of an "overall restructuring" taking place across the multinational Canopius Group in the wake of the buyout of the group by Japanese insurance giant Sompo Japan Nipponkoa Holdings Inc two years ago. Canopius owns two companies in Bermuda: Canopius Reinsurance Limited and Canopius Underwriting Bermuda Limited. Canopius Reinsurance Limited is a Class 3A reinsurance company with capital of more than $600 million. It writes structured reinsurance treaty business sourced via Canopius Ireland. The company also provides capital support to Canopius Group's underwriting operations at Lloyd's. Canopius Underwriting Bermuda Limited is a wholly-owned Bermuda-based underwriting agency that operates as a Lloyd's-approved coverholder for Syndicate 4444 and underwrites excess casualty business. The $594 million acquisition of Canopius in 2013 by Sompo, one of the largest insurance groups in Japan, was one of the biggest buys ever made by the company. Canopius, which is incorporated in Guernsey, also has offices in Britain, US, Holland, Switzerland and Singapore. It employs around 700 people worldwide.
August 21. The weakness of the Canadian dollar is a likely contributor to the drop in Canadian visitors to the Island, according to the Bermuda Tourism Authority. "We can't say that with 100 per cent certainly until we've seen more travel and economic data from Canadian officials later this year," a BTA spokesman said. "However, historically speaking, when the Canadian or UK currencies are significantly down, the impact is reflected in travel numbers from that country." Second quarter tourism statistics released this week showed an 18 per cent decrease in the Canadian market, which supplies a significant number of the Island's tourists. Canada's dollar, known fondly by Canadians as the "loonie" because of the loon icon on the $1 coin, has dropped to its lowest level in years. It has fallen to 76 cents to the American dollar, to which Bermuda's dollar is fixed. It is the first time it passed the 77 cent mark since 2009. The slump has boosted Canada's own tourist industry, as seen last month at the Pan Am Games in Toronto.
August 21. Land Rover BAR made the perfect start to their campaign to bring the America's Cup back to British shores with victory at last month's America's Cup World Series in Portsmouth. The British challenger, led by Olympic great and multiple Argo Group Gold Cup winner Sir Ben Ainslie, were declared the winners after the final day of racing was cancelled due to gale-force winds. Now Ainslie and crew will be keen to build on that success heading into the second stage of the World Series in Gothenburg, Sweden next week to enhance their chances of facing off against Oracle Team USA, the defender, for the 'Auld Mug' in Bermuda in 2017. However, while confidence may be running high in the camp, Jonathan Macbeth, the Land Rover BAR Sailing Team Manager, is well aware that there is still work to be done in terms of trying to achieve the team's primary objective of being the first British team to win the oldest trophy in international sport. "Gothenburg will be the second leg of a long tough series," Macbeth, a three-times America's Cup winner, said. "Portsmouth was a great regatta for us, yes it was a good start but by no means was it an indication of the final standing, we have a long, long way to go. As a team we have our feet firmly on the ground, we understand the level of competition. We are certainly not going into Sweden thinking that we're favorites. When we started this series, I didn't think there would be one team that dominated, the fleet is just so strong. It is going to come down to the sailors minimizing mistakes. If you look at the way the races developed in Portsmouth there were big gains and losses on the racecourse throughout the build-up and during the weekend. But, at the end of the day, it was the same principals of yachting racing that won or lost races, good tactics can win you the race, poor boat handling could lose you the race. The other thing that was quite evident is that you can never give up. Just when you thought someone was dead and buried, they would come ripping through and be at the front of the fleet again." Macbeth, who traveled to Bermuda with Land Rover BAR earlier this year for a series of training camps, believes conditions in Gothenburg will "throw up a little bit of everything. Traditionally it looks like it's quite a light wind venue, but in the daily forecasts that we have been looking at so far there might be a mix of conditions," he said. "It can be anywhere from 7 — 20 knots, sometimes you can get nothing, on the flip side I have been racing there and experienced quite a lot of wind. So we're gearing up for everything. It will be a sailor's racecourse for sure. This regatta will be all about extracting the most from the boat, ensuring that you have good speed in and out of the maneuvers, making sure that the boat is going as fast as possible all the times." The America's Cup World Series in Gothenburg will be held from August 27 to 30 and will feature all six America's Cup teams, including home team Artemis Racing. NB. ESPN has acquired the exclusive multi-platform rights to the 35th America's Cup. Under the agreement, ESPN International will air live racing and highlights of all events in the 35th America's Cup, including the America's Cup World Series in 2015 and 2016; the America's Cup Qualifiers and Challenger Play-offs; the Red Bull Youth America's Cup; and the America's Cup Match in Bermuda in May and June 2017. "We're happy to be working with the ESPN team again to build on the strength of what we achieved together in the last America's Cup," Harvey Schiller, the America's Cup commercial commissioner, said. "This agreement will bring America's Cup racing to millions of fans in Mexico, Central and South America, as well as the Caribbean." ESPN will air this month's America's Cup World Series in Gothenburg, Sweden, with racing on August 29 and 30.
August 21. Schools face "utter chaos" at the start of term if an attempt to block teacher transfers succeeds, according to union leader Mike Charles. The Royal Gazette understands the Bermuda Parent Teacher Student Association has filed an injunction to challenge the Ministry of Education's proposal for principal transfers involving at least six primary schools for the beginning of the 2015/16 school year. The injunction also aims to prevent any movement on school closures and consolidations, and the enactment of new parent council rules. It is understood the association is challenging the ministry's decisions on the basis that proper consultation was not carried out. Responding yesterday, Mr Charles told this newspaper: "Why did they wait until this time? School will start in utter chaos — this is what will happen. It would be chaotic if the court is to uphold this injunction simply because you have teachers with letters in their hands instructing them where to report in just over a week. Where would people go if the injunction is upheld? Where would they report and what would happen to the system? These transfers were announced before the end of school, why did they wait until this time? I don't know if they were asleep. It baffles me as to the timing of it and what really it could cause. You have to wonder whether or not they have the best interests of the schools at heart. If they say they are doing it for a better school system then what is going to happen on September 1 or 8 when school begins?" Earlier this summer, principal transfers were announced for Prospect Primary, Port Royal Primary, Heron Bay Primary, West End Primary, Paget Primary and East End Primary. Meanwhile Clearwater Middle School is to undergo six changes, including the principal and vice principal. In June, Harry Matthie, the chairman of the BPTSA, wrote to members claiming the Bermuda Government came "nothing near" to the consultation it is required to conduct before making decisions on personnel transfers. Parents were given more say in the reform of public schools by the Education Amendment Act 2015, following a landmark ruling in 2012 that overturned the ministry's attempt to transfer two principals against the wishes of students and parents. Commenting yesterday, Becky Ausenda, director of the Bermuda Education Network, said: "This injunction should be thrown out — the original case was referring to involuntary transfers. These are voluntary transfers. To my knowledge, the BPTSA has not consulted with any schools apart from Clearwater. They are also not the national PTA. People in the Department of Education have made good choices and decisions regarding these transfers. It's going to make a lot of people very angry if the BPTSA manage to create a delay on an action that can have a positive impact on Bermuda's schools. The community should recognise that we can't have it both ways — we can't complain that the Department of Education does not take enough action to improve our schools, and then start screaming if they do. This inconveniences our own children. We can't try to protect the status quo if we really want to see improvement in our schools." Addressing the issue of school closures and consolidations — planned by the ministry for the preschool and primary school system — Mr Charles added: "The school closures and consolidation is something that can be discussed down the road that is not effecting the opening of school in September. That is something we can all engage in as we go forward." The new rules being introduced for government schools regarding the establishment of parent councils will take effect September 15. The process asks for three parents at the school to establish a provisional council who then call a meeting of all parents to vote on whether a parent council should be established. The parent council replaces the PTA as the body to be consulted on school governance issues. Mr Matthie did not respond to our questions by press time. The Ministry of Education declined to comment last night.
August 21. The St George's Foundation has launched a new fundraising campaign to raise $75,000 for upgrades and improvements to the World Heritage Centre and the Deliverance replica. The community group has already raised 20 per cent of its target through individual and corporate donations, but is now embarking on a fresh drive to raise the rest. The Deliverance replica on Ordnance Island sustained major damage to its structure including its two masts as a result of the two back-to-back hurricanes that hit the Island last year. "The St George's Foundation has operated the World Heritage Centre since we raised over $9 million to transform it from an empty 1860s warehouse into an orientation and education centre," said chairman Rick Spurling. "The World Heritage Centre is the first stop for informing over 25,000 visitors, residents, and students annually about the incredible history of the East End. Over the last year we invested in roof repairs, and are now looking to upgrade our signage, electrical system, and exhibits. There are other operational expenses we also are seeking to fund." The Deliverance was built in 1967 through funds raised by the Bermuda Junior Service League. However, it had fallen into disrepair when the St George's Foundation agreed to take on the refurbishment and ongoing management. The foundation's development director Kristin White added: "The Deliverance is an icon. Tourists and residents alike have strong memories of visiting this replica ship that tells the story of the 150 Sea Venture survivors who sailed out of Bermuda to Jamestown in 1610. However, it requires ongoing and costly maintenance. We invested a great deal into the ship last year: fixing rot, upgrading electrical systems and more. When Hurricanes Fay and Gonzalo came through, she was battered and lost two masts and all her rigging." The repairs to the masts are unlikely to take place this year according to the foundation. Ms White added: "For 2015 we will focus on the below-deck structural repairs, while we continue developing our plan for phase two — the mast and rigging repair and long-term sustainability for Deliverance." Anyone interested in donating to the campaign and/or volunteering should contact Ms White via e-mail development@sgf.bm or call 297- 3686. Mr Spurling told The Royal Gazette: "I believe that things are improving and that the future is actually quite bright. There are new businesses opening, the Bermuda Tourism Authority has invested in co-ordination and new activities, and the America's Cup is coming. We are eager to upgrade our cultural attractions and help enhance St George's and improve the experience we offer for visitors and residents alike. While we earn admissions and rentals income, and have member and donor support, our hope is that the wider community will support this appeal. Deliverance and World Heritage Centre are community resources, built and maintained to provide engaging learning experiences and highlight the unique history and heritage of St George's. These spaces belong to all of us."
August 21. The popular city centre Lemon Tree Café on Queen Street in Hamilton has gone into liquidation. The café, owned by former Fairmont Southampton chief concierge Brendan Huttick, has been shuttered for some time. A notice in the window now confirms that Gourmand Ltd, trading as the Lemon Tree Café, is in liquidation and the receiver is the Registrar of Companies' Stephen Lowe. Mr Huttick took over the café seven years ago from founding owners Lee Uddin and Jean-Claude Garzia, who in 2002 turned what was once a Scottish wool shop into a café and created the patio area at the rear of the building. The café and patio became a popular Friday night happy-hour spot. But the pair decided to sell the business after they took over the lease for the Beau Rivage restaurant at the Newstead-Belmont Hills resort. Under Mr Huttick, the Lemon Tree garnered several Best of Bermuda awards, including best deli take-out for 2010 and 2011 and happiest happy hour in 2008 and 2010. Mr Huttick could not be contacted for comment yesterday.
August 21. The new-look Ewing Street was reopened yesterday evening at a celebratory block party attended by residents and dignitaries. The area has been undergoing an enhancement project for more than a year, which has included the planting of a selection of fruiting trees. The project has faced hurdles along the way: residents and businesses opposed initial plans by the Corporation of Hamilton to remove French oak trees from the upper part of the street, with resident Sherma Simmons acting as a human shield to prevent the row of 50-year-old trees from being pulled up. The Corporation later agreed to keep the oaks in place and then planted more trees in another section of the road. Henry Ming, the owner of Architectural Planning and Research and now a Corporation of Hamilton councilor, helped to formulate a new plan for the street. "It has been a positive ending to what I would consider to be a struggle at the outset, but everybody wins with this — the business owners win, the residents naturally win and the Corporation has something that they are indeed very proud of," he said. Steven DeSilva, the superintendent of the Parks Department, said: "We've remained true to our promise to create attractive, shaded streets that encourage people to enjoy the outdoors. We want city streets to be for people, not just cars, and Ewing Street is a great example of what the City of Hamilton works hard to achieve in creating a vibrant, safe and attractive, user-friendly city. We were very selective about the species of trees we planted in the Ewing Street project — we decided on a guava and a loquat tree. These are mature trees that are likely to fruit next summer and it is our hope that the neighborhood will really enjoy them. We envision children going there to enjoy the fruit, or some of the young entrepreneurs might start selling the fruit." Also new to the street were two Puerto Rican hat palms and two false ebonies — a signature tree for Bermuda. Among the dignitaries in attendance at the event were Mayor Charles Gosling, Governor George Fergusson and councilor RoseAnn Edwards As well as a celebration of the completion of the project, the block party was thrown as a "thank you" to the residents and businesses that were inconvenienced by the work, which is part of a continuing plan to enhance North Hamilton. "Today is a celebration as we take note of what was once a picturesque yet tired street and has now transformed into an icon for North Hamilton and Bermuda as a whole," Mr Gosling said. "What we see today was well beyond our imagination and members of the [former Mayor Graeme] Outerbridge administration should be thanked by the neighborhood residents for their numerous efforts to follow through with multiple scenarios and a truly well-spent budget to bring a beautified and iconic city boulevard, one that I hope its residents are proud of."
August 21. The Progressive Labour Party last night outlined its vision for the future of L.F. Wade International Airport at a public meeting. The One Bermuda Alliance has outlined plans to build a new terminal through a public-private partnership with the Canadian Commercial Corporation (CCC). But during the meeting at Warwick Workmen's Club, Lawrence Scott, the Shadow Minister of Transport, told an audience of nearly 100 people that his party suggests the creation of an airport authority, which would allow Bermudians to take advantage of projected revenues generated by the airport. He said this was a better alternative to the Bermuda Government's plan to "privatise" the airport, a claim the One Bermuda Alliance has consistently refuted. Flanked by David Burt, the Shadow Minister of Finance, Mr Scott said: "With my knowledge in aviation, what I realize is that we can get to the same goal but by taking a different route. If we were to create an airport authority, meaning the Department of Airport Operations would become a quango somewhat similar to Wedco, they would then become separate from the Bermuda Government. "That means the overhead needed to run the airport operations would actually come off the books. The taxpayers would no longer have to foot the bill for what it costs to run the airport." He said this would allow Bermudians to maintain operational and managerial control over the airport rather than handing control over to CCC. The MPs also reiterated concerns raised in the House of Assembly and elsewhere about the lack of open tendering and that with the loss of operational control, the 43 jobs at the airport could not be guaranteed to be safe. They also highlighted the need for a new Causeway and to focus on tourism before committing revenue to an airport.
August 20. The Island is seeing growth in property sales to non-Bermudians, but realtors have warned the Bermuda Government to defer a hike in property fees, citing $124.5 million in land transactions that are "in train" at present. The growth in purchases from international buyers and Permanent Resident's Certificate (PRC) holders was confirmed by Rego Sotheby's International Realty. Executive vice president Penny MacIntyre told The Royal Gazette that agents were "absolutely experiencing an uptick in business this year. International buyers largely recognise there are current buying opportunities that make Bermuda real estate valuable in the long term," she added. The figure of $124.5 million was given in the House of Assembly on Monday by Bob Richards, the Minister of Finance, as he tabled the Bermuda Immigration and Protection (Land-Holding Charges) Regulations Amendment 2015. That legislation is set to go to the Senate for approval next Monday, brought by Senator Michael Fahy, the Minister of Home Affairs. The amendments follow the Bermuda Immigration and Protection Amendment Act 2015, which was tabled in the Senate in March by Sen Fahy. The Act, which aimed to boost stagnant property sales by relaxing some of the rules for sales to PRCs and non-Bermudians, proved controversial, prompting a march on Cabinet in which protesters came into the Senate Chamber. Marchers viewed the legislation as catering to foreigners while not enough was done to help struggling Bermudian families — but Sen Fahy insisted the measures were strictly aimed at improving the Island's economy. Those sentiments were echoed this week, as Mr Richards said the moves had been designed to "stop the bleeding of property values, spur growth in the property market and help create jobs for Bermudians". However, Mr Richards said, industry representatives had subsequently approached the Government, urging for a scheduled increase in land fees to be delayed as it had the potential to "derail activity." As a result, the latest amendments seek to delay a proposed increase in land holding charges by a further 18 months, so that they come into effect on March 31, 2017, instead of on September 30, 2015. Responding in the House for the Opposition, David Burt, Shadow Minister of Finance, said the first round of legislation appeared to have been ineffectual thus far. The new amendments, which were brought before MPs at 2.15am near the close of business, were not strongly opposed by the Progressive Labour Party. The legislation targets property fees, which are set to increase automatically to between 6 per cent and 12.5 per cent of the value of the land. These cover charges must be paid by applicants before the minister will issue a land licence for a non-Bermudian to own property.
The increases are as follows:
• For permanent residents: 4 per cent of the value of the land, to rise to 6%.
• For other non-Bermudians: purchasing a residential unit, 8 per cent of the value of the land, to rise to 12.5 per cent; purchasing a condo, 6 per cent of the value of the land, to rise to 8 per cent.
Commenting yesterday, Sen Fahy said that there would continue to be no landholding charge payable for land purchased by the spouse, child or parent of a Bermudian. "In addition, the landholding charges for tourist accommodations and hotel residences will remain unchanged by these regulations," Sen Fahy added. "It should be noted that since the passage of the Landholding Amendments in March 25, 2014, there have been strong signals of activity in the real estate market. This demonstrates that the Government of Bermuda is on the right track." However, Ms MacIntyre said the changes in fees ran the risk of sending the wrong message to prospective buyers. "All this talk of whether to raise the licence fees or not this year should not be the conversation taking place. These potential fluctuations make an international buyer see Bermuda as inconsistent and irrational. Who wants to buy somewhere they feel rushed to make a decision because of a potential looming licence fee hike? Then there is the exit risk for any seller who can't sell their property in a world-class market against other islands that do not have these random licence fee changes. We strongly recommend Bermuda focus on simply setting the licence fee, then monitoring the effectiveness of the fee rate and adjust with a year advance notice, if market conditions warrant the change. After all, that is the intention of the licence fee reset in the first place: to stimulate our economy in a competitive global market, and balance the interests of protecting land for Bermudians if international buyers flood our country. This would be a welcomed problem to solve."
August 20. A blitz on the use of tax havens is to be launched by the Australian government. Joe Hockey, the Liberal party treasurer in the ruling coalition government, pledged to bring new legislation to go after companies that use offshore jurisdictions to cut their tax bills. Mr Hockey, the equivalent of a finance minister, told Australia's ABC radio that around 30 companies who are not paying their fair share of tax would be targeted. The move comes as an Australian senate committee prepares to release a report which is expected to ask the Australian government to name and shame companies that avoid tax. During a series of hearings by the committee, Bermuda was one of the countries mentioned as a jurisdiction used by companies doing business in Australia. Top executives from global firms like Google, Apple and Microsoft all appeared before the committee. Google came under fire last year for funneling billions to Bermuda after the firm revealed nearly $12 million had been sent to the Island to avoid paying tax on its profits. The firm, based in the US, used differences between the US and Irish tax codes, which means it is seen as an Irish company by the US tax authorities, but as a Bermudian firm by the Irish taxman. Google's tax arrangements — although legal — have been condemned in the UK and other European companies and prompted an international look at a crack down on corporate profit shifting. Senate committee chairman Sam Dastyari, a member of the opposition Australian Labor Party, said: "These companies do care about their reputations and they do care about their market share. "Exposing some of the worst practices, I believe, puts a lot more community pressure on these companies. Whatever the government comes up with, the Senate will be in a much better position to consider that legislation given the forensic look we've had at this whole issue." Under current law, privacy provisions means that companies do not have to disclose specifics of their tax arrangements. Senator Dastyari said: "It's time we named them and we shamed them, and it's time that we actually gave the Australian public an opportunity to know who these companies are, to know the practices they are engaged in, to not allow them to hide behind what currently exists as privacy provisions." The Australian government in May announced it would become the third country in the world to enter into new transfer pricing documentation standards to crack down on multinational tax avoidance. The Australian senate committee is also expected to recommend that all companies should disclose every year how much money they made in Australia, how much tax they paid, tax deductions and other government write-offs.
August 20. A new Facebook campaign has been launched dedicated to protecting Town Cut from major modifications. The page, 'Save St George's Harbour', was created after it was revealed that fresh studies investigating the possibility of dredging the area had been carried out this summer. As of yesterday afternoon, the page had garnered more than 860 likes with numerous commentators voicing their concerns. A 2011 study highlighted on the campaign's Facebook page investigated what work would be required to allow larger cruise ships to dock in St George's. That study found that in order to allow tier one, two and three Panamax ships, Town Cut would have to be significantly widened, removing 90 per cent of Higgs, Hen and Horseshoe Islands. In addition to the direct environmental impact, the report warned of increased coastal flooding in the town in the event of an easterly-tracking hurricane. Mayor Quinell Francis and St George's MP Kenneth Bascome have both voiced support for modifying the cut to some degree. A spokeswoman for the Ministry of Public Works confirmed in July that a fresh study on the channel had been conducted. She stated: "There was recently an environmental impact study conducted of the North Shore shipping channel. Since they were here we requested that they also do a study in St George's as well. The results of this study will assist in determining if we dredge and how much we can dredge the Town Cut."
August 20. The Corporation of Hamilton will reclaim control of its own affairs today as the Ministry of Home Affairs lifts a stewardship order. Announcing the move yesterday, Senator Michael Fahy, the Minister of Home Affairs, pointed to a new-found confidence in the City's management since Charles Gosling returned as mayor in May. Mr Gosling said it brings an end to a turbulent period for the corporation, which was embroiled in a string of controversies under the leadership of his predecessor, Graeme Outerbridge. However, he warned there is some way to go before the troubled organization is completely back on track. Sen Fahy, who will formally lift the stewardship notice at 5pm, said in a statement: "I would like to take this opportunity to thank the new Mayor of Hamilton, Charles Gosling, his new council and the secretary for the corporation, Ed Benevides, for bringing about a swift and refreshing approach to operating the Corporation of Hamilton and I look forward to our ongoing dialogue as you take the corporation forward to the betterment of Bermuda." Mr Gosling said the announcement was a step back towards normalcy for the municipality, which has been under stewardship since January 26. I think the removal of the stewardship order is a positive step, taking the minister away from the day-to-day management of the corporation, bringing it back to a more general oversight. This is the first of several steps which are needed to get the corporation back to some semblance of what it once was. We hope that the orchestra leader will pick up the pace a bit because we have much we still have to accomplish." He said that as soon as he and his council were elected in May, they met with Sen Fahy to discuss the challenges facing the corporation, including the stewardship notice. "He advised us of the current situation, both in terms of its financial issues and the many issues he had," Mr Gosling said. "I think we proved from the get-go that we want to work with Government. There is a significant difference between local government and national government and we want to perform our role in whatever way will be best for the City." Mr Outerbridge described news of the handover as "excellent". He said: "The more important business now is to get on with doing the Local Government Act that everybody has input into so that we can cease this interference by national government into local government affairs." Sen Fahy first claimed stewardship of the Corporation in December 2013 after allegations of good governance violations by the council that was in place at the time. Financial controls were largely returned in March 2014, but stewardship was returned this January, shortly after five members called on Mr Outerbridge to resign over his handling of the $18 million loan for the Par-la-Ville hotel development. Under the notice, Mr Benevides had been tasked with the day-to-day operations of the corporation, while significant financial or operational decisions were overseen by the ministry. The council subsequently launched a legal action against the minister over the constitutionality of the notice but complications, including questions about who was legally representing the corporation in court, led to the matter being pushed back. Last month, it was revealed that the corporation's net debt was more than $30 million, including the $18 million loan, and was 50 per cent greater than its $20 million statutory limit.
August 20. The Bermuda Tourism Authority aims to target a new generation of visitors, starting with collegiate and national sporting teams. Pat Phillip-Fairn, the BTA's chief product and experiences development officer, today spoke of plans to expand and promote Bermuda's unique ability to offer a spring training ground in order to attract sports people during traditional shoulder seasons. They anticipate seeing more golf, swimming, rugby and lacrosse teams using the facilities that are available on the Island, Ms Phillip-Fairn told a press conference. "Sports tourism in general is a big area for us. We have established a partnership with the National Sports Centre," she said. "As we said before spring break for Bermuda is not Cancun — we can't deliver on that and so we have developed experiences that are targeting sports teams to come here for spring training and that is already delivering results. There is a lot of interest and already some bookings ahead of the January through March period of next year." The BTA has come in for criticism this week after new figures showed year-on-year tourism arrivals were down 1 per cent for the second quarter of 2015. Giving a presentation of some of the BTA's ongoing marketing efforts yesterday, Ms Phillip-Fairn said it has supported more than 50 different experiences through its new product and experiences application process. "Some of those experiences have been targeting the millennials, some targeting the adventure seekers and they have really been expanding a great scope of what Bermuda can offer," she said. New activities include hydro bikes at Daniel's Head and haunted history and fort tours in St George's. Ms Phillip-Fairn said that by repurposing existing experiences like Marathon Weekend and Bermuda Heroes Weekend, they can become key occasions in Bermuda, generating hundreds of visitors.
August 20. The latest tourism arrival figures may be down, but the Bermuda Tourism Authority is doggedly selling the Island for future visitors, according to its chief sales and marketing officer. Average spend per visitor in 2014: $1,121. Average spend per visitor in 2015: $ $1,196. Year-to-date air arrivals: down 2 per cent. BTA sales and marketing this year $16.4 million. BTA salaries, benefits this year: $5.4 million. "Through the first six months of the year, the BTA's sales and marketing efforts have directly influenced $18.1 million in visitor and group spending," Victoria Isley told The Royal Gazette. Bermuda has fallen off the radar for the majority of prospective visitors overseas, she said, posing a challenge for the BTA to generate new narratives to sell the Bermuda experience. Whereas the Island once prompted a wealth of mental connections for would-be visitors, nowadays many people planning their holidays think of Bermuda as "the place that their grandmother went for her honeymoon". In courting future travel, the authority has been able to track the spending through "promotions, bookings via gotobermuda.com or future group bookings", Ms Isley said. She pointed to efforts to rebrand the Island such as a partnership with Nadia Aly, founder of the magazine Scuba Diver Life, who was recently brought to the Island to create a four-minute video showcasing the Island. "In one week, that video got 100,000 views and 313 shares," Ms Isley said. "Nadia got 50 inquiries from people who want to come to Bermuda next year." The remarks came as the BTA refuted an accusation from Zane DeSilva, the Shadow Minister of Tourism, that it had spent on in-house bonuses at the expense of advertising Bermuda overseas. Karla Lacey, the BTA's chief operating officer, said that the organization's budget allocation for compensation was less than 20 per cent — well below the best-practice axiom that compensation should not exceed 33 per cent of budget. "In government, for example, salaries and benefits typically make up 50 per cent of the budget, or about one half," Ms Lacey added. Along with arresting the Island's slumping air arrivals and reversing its outdated image, the BTA has focused on "creating the Bermuda story" and getting visitors to buy into it, Ms Isley said. "We're focusing on matching Bermuda's authentic experiences with the consumer's desire — what's that authentic Bermuda connection that's different from anywhere else?" She said that one of the Island's unique selling points could be seen in the second-quarter tourism statistics showing revenue rising by seven per cent even as air arrivals marginally dropped. "At the end of the day, what we want to do is get city sophisticates, who like to spend money on 'me' time, to feel that Bermuda is a place for them right now, and show them what proper fun is," Ms Isley said, referring to a campaign launched in December 2014. The Proper Fun initiative targeted the British leisure market before moving on to video clips, golf promotion and the New York market. "Proper Fun is not just a tag line; it presents Bermuda as a proper playground, a safe and friendly place for people to go and explore," Ms Isley said. "That's a difference with Bermuda as a location. Visitors aren't just staying in the hotel. It's safe to rent mopeds and go out and have an adventure." Social media and internet campaigns have featured heavily, but Ms Isley said it had not usurped traditional advertising or retail offers such as a third or fourth night free in a hotel. "It's social at the core — I would not say it's using social media as the lead. No one can comment on a print ad, but you can have a conversation with social media." The North American "Selfie Yourself to Bermuda" campaign promoting Gosling's rum got 573 entrants and 380 opt-ins, she said, while the BTA's promotions at the America's Cup races in Portsmouth connected thousands of prospective tourists to Bermuda. Ms Isley pointed to public relations efforts such as the visit by singer and model Solange Knowles, sister of star Beyoncé, whose pictures on Instagram quickly made their way into the media. "That trip, which the BTA sponsored, was orchestrated in tandem with local fashion consultant Shiona Turini. It very naturally built some third-party credibility for Bermuda. We were in the background, and we're happy to be in the background. It's better, more authentic, to have people sharing their experiences." The BTA has continued working with Ms Turini to contribute to the magazine Condé Nast Traveler. Other campaigns aimed at getting Bermuda into the "travel dreams" of potential visitors, include linking the Island to "summer Fridays" — when American workers get an early start on a weekend holiday. Targeting gateway cities at the East Coast, the campaign pushes Bermuda's proximity by plane. Ms Isley said it was 87 days from the first selection of a destination to a visitor's actual arrival, and 56 days from the booking of a hotel — meaning the BTA was constantly looking ahead. "Just today, it was announced that the Nike Golf Team Championship in Canada is coming here in October," she said. "Another one on our sales team signed a group for October 2016 for 1,250 room nights." Building the year-round experiences to entice tourists even entails researching water and air temperatures — and marketing little-known features like the springtime whale watching.
August 20. Progressive Labour Party MP Derrick Burgess has labeled economist Bob Stewart "out of touch" for writing an opinion piece criticizing Bermuda politicians who "play on irrational fears about immigrants." The article, 'The Ambivalence of Bermuda Immigration', which appeared in yesterday's Cayman Financial Review, states: "It would be surprising if some of Bermuda's politicians failed to take advantage of the opportunity to earn votes by playing the fear and race cards in the political process." Mr Stewart — the director of several Bermudian companies and the former chief executive officer of the Royal/Dutch Shell Group of companies in Bermuda until his retirement in 1998 — goes on: "This was recently seen in March 2015 when a Senate session was interrupted by chanting mobs furious at changes liberalizing immigration laws. "The tragedy is that democratic politics makes it a successful strategy for politicians to play on the gullibility of an ill-informed electorate. "In 1989 the then Opposition Progressive Labour Party political platform defined one of the major issues facing the country as the 'restoration of the Bermudian birthright through tightened immigration policies, the need for an immediate moratorium on the granting of status, and a more effective programme of Bermudianisation. When it came to power in 1998, it followed through on its promise to the long-term detriment of the economy." Mr Burgess, a former Minister of Immigration and a former president of the Bermuda Industrial Union, hit back by saying that Mr Stewart would do well to talk to average Bermudians for their opinions. He told The Royal Gazette: "Being former president of the union we represented many workers. Regardless of where they were from, we gave them the representation they deserved. Mr Stewart has never experienced the racial and economic injustice particularly black Bermudians have faced. He seems to write about us from a distance. I have never seen him write anything positive about us. I welcome and know the value of foreign capital. I know we need foreign folks here. We don't have enough human capital to take care of international business and our businesses. We know that and appreciated them. I want all workers, regardless of where they are from, to be treated fairly. We say, 'Let's all sit down and address the immigration policy'. It needs to be addressed by both political parties so everybody is treated properly. He always writes inflammatory articles about Bermuda but he needs to stop that, get among the people and find out how they live and talk."
August 20. Several employers have been removed from a list of companies suspected by the Bermuda Health Council of operating without health insurance. Options Electrical, Serenity Gardens Nursing Home and Byrdies Ltd are no longer listed as having inactive health insurance policies as of this month, while Zippy Lube 2 is no longer listed as having a terminated policy. However, one company, Hunts Food and Supplies Ltd, has been added to the list, with the website saying the company's policy had been terminated. The status of several other employers remains unchanged, with eight employers remaining on the list. The Health Insurance Act 1970 requires employers to maintain an active health insurance policy for all employees and their non-employed spouse — something monitored by the BHeC. The BHeC officially began publishing the names of employers with "unverified health" insurance policies on its website last month. Since then, the list has seen several changes, with various employers being added and removed. Under the scheme, employers are contacted by a variety of means and, failing to give a response, they are issued with a warning giving seven days to provide proof of an active policy. The employers' names will remain on the website until proof of an active policy is provided by the employer and verified by the insurer. The companies labeled as having inactive policies as of yesterday afternoon were AJW Construction, Bull's Head Car Care Centre, DeSilva Real Estate and Rentals and Gourmand Ltd. Meanwhile, Impact Mentoring, Inner Harbour Ltd and Tamerry Dental Healthcare Centre have been listed as having terminated policies. The BHeC list can be viewed at www.bhec.bm.
August 19. NEW YORK (Bloomberg) — Insurance claims filed by US farmers for crops they couldn't plant have jumped 48 per cent this year, government data show, the latest indication of how adverse weather is curbing production of corn and other crops. Total claims so far in 2015 related to 6.45 million acres (2.61 million hectares), the US Department of Agriculture's Farm Service Agency said in a report. Corn farmers filed claims on 2.301 million acres, compared with 1.608m acres a year earlier. Soybean farming claims more than doubled to 2.17 million acres. Corn and soybean futures prices rose in early Chicago trading. "This reduction in acres takes production down," Michael McDougall, senior vice president at Societe Generale in New York, said in an e-mail. "This caused the early morning firming in prices." Harvests in the US, the world's largest grower and exporter, are heading for a decline after two successive record years. The growing season began with higher-than-normal moisture in parts of the Midwest, followed by unusually dry weather in other areas. While there's agreement that output will be lower in 2015, estimates differ over the extent of the decline. Last week the USDA unexpectedly raised its corn and soybean output estimates from a month earlier, citing higher yields than those seen previously. On Monday corn for December delivery was 0.1 per cent lower at $3.75 a bushel on the Chicago Board of Trade after earlier rising as much as 1.1 per cent. Soybeans for November delivery rose 0.3 per cent to $9.19 1/4 a bushel, erasing earlier losses. The record payout to farmers who didn't sow crops took place 2012, according to USDA data. Growers are required to file a report on all cropland eligible for benefits. (Bermuda-based Insurers often take on risks such as that above).
August 19. Bermuda's reinsurers may face huge payouts in the wake of a massive chemical explosion in a Chinese port that claimed more than 100 lives. Ratings agency Fitch estimated that losses from the Tianjin event could hit $1.5 billion. Leila Madeiros, senior vice president and deputy director of the Association of Bermuda Insurers and Reinsurers, said: "As with any catastrophic event such as the explosion in Tianjin last week, we are saddened with the loss of life and destruction of property experienced." She added that the $1.5 billion estimates remained "speculative." Ms Madeiros said: "In that regard, it's even far too early to make determinations of the costs to be borne by the Chinese domestic market and the global commercial insurance and reinsurance markets including the impact to Bermuda companies. "As the company loss assessments and disclosures continue over the coming days and weeks, the picture of the extent of both insurance and reinsurance losses will become clearer. Commercial insurance markets are global and large losses like this likely will be distributed through those markets. Unimpeded cross border trade helps make such markets competitive." A report by Fitch said: "The high insurance penetration rate in this area could make the blasts one of the most costly catastrophe claims for the Chinese insurance sector in the last few years." It added: "Claims from the blasts could be shared with both local and international reinsurers, which could mitigate the direct impact on the Chinese insurance sector." Losses of vehicles are estimated to be between 8000 and 10,000. The report said: "Aside from motor excess of loss treaties, in which the reinsurers indemnify the ceding companies for losses that exceed a specified limit, it is common for Chinese insurers to use quota share reinsurance treaties to mitigate their solvency strain due to the strong growth in recent years from the motor insurance book of business." And the International Union of Marine Insurance (IUMI) warned that accumulation risks — when a single event causes and exceptionally large group of related losses — continued to grow. IUMI president Dieter Berg said: "To evaluate worst case scenarios we need to fully understand the value of the goods in the port and all potential exposures before we can calculate adequate premiums. "This is becoming more of a challenge as these facilities continue to expand." Lloyd's agency network estimated that more than 10,000 vehicles were destroyed in a series of blasts at one of the world's busiest ports last Thursday. IUMI cargo committee chairman Nick Derrick said: "With average retail values of $30,000, this could result in a loss of $300 million for vehicles alone. "Container losses are likely to be spread among many marine cargo insurers but motor vehicle insurance is a specialist sector and so that market is likely to be hit hard." The Fitch report added: "The majority of claims will come from motor, cargo, liability and property insurance." It added that — although medical and life insurance claims were also likely to be "substantial" — these would be covered by Chinese government-supported schemes and individual medical and life insurance policies.
August 19. The Bermuda Government pulled in $8.4 million more in revenue in the first quarter of this financial year than the same period last year. The first quarter figures released today showed that income totaled $223.2 million — a 3.9 per cent increase on 2014 figures. The main reasons for the increase were said to be higher customs tax collection, up $4.4 million, increased payroll tax collection, which netted $2.7 million more than the previous first quarter and $2.3 million hike in stamp duty receipts. A report on the figures said: "When compared to Budget estimates, total revenues are tracking slightly higher." But the cost of servicing the Island's $2.185 billion debt went up year on year by $2.1 million to $42.4 million for April to June — attributed to higher debt levels than the year before. A total of $29.4 million went on interest payments, while $13 million went to Government's borrowing sinking fund, around 25 per cent of the $52.3 million annual contribution. And current expenditure, excluding debt service, went up to nearly $232 million — $2.9 million up on to the first three months of the 2014-15 financial year. Total Government expenditure for the first quarter of 2015-16 was $5 million higher (1.8 per cent) than the corresponding period last year. The report said the increase was "mainly due to the furlough initiative not being extended, partially offsetting all other Budget reduction measures taken in the 2015-16 Budget." Capital expenditure — which stood at $9.25 million — is in line with the first quarter of the last financial year. The report said: "In general, current expenditures are presently tracking on par with Budget estimates," The deficit for the first three months stood at $60.4 million, which was financed by withdrawals from the sinking fund.
August 19. The Bermuda Tourism Authority today responded to Opposition charges that it had lavished more on in-house compensation than on promoting the Island to the world. During Monday's sitting of the House of Assembly, the BTA came under fire from the Progressive Labour Party for spending too little on advertising — and it was yesterday accused by Zane DeSilva, the Shadow Minister of Tourism, of "paying more for staff costs and bonuses than they spend annually on advertising Bermuda overseas". "At no time in the BTA's history or in its 2015 budget will compensation outspend the allocation for marketing Bermuda," the authority responded, in a statement sent out this afternoon. According to the organization's financials, the BTA spent $9.9 million, about 50 per cent of its budget, on sales and marketing for the period of April to December 2014, versus $3.9 million on salaries, benefits and incentives, at 20 per cent. For 2015, the BTA has budgeted $16.4 million, or 57 per cent of its funds, for sales and marketing — and $5.4 million, or 19 per cent, on salaries, benefits and incentives. The statement follows: "The BTA's percentage of budget allocated to compensation — less than 20 per cent — is well within business best practices, which dictate compensation should not exceed 33 per cent of total budget," said COO Karla Lacey, who has oversight of BTA's HR and finance practices. In the Government, for example, salaries and benefits typically make up 50 per cent of the budget, or about one half. For the BTA, the compensation portion, including performance incentives and benefits, is less than one fifth." Meantime, on the Opposition's call for the Tourism Authority's strategic plan, the BTA would like to remind the public of its Tourism Summit this past January where its strategic plan was shared widely. Members of the Opposition, the Government and hundreds of industry stakeholders attended the summit. The next Tourism Summit, detailing the strategic plan for 2016, will be held this November. Additionally, the sales and marketing division today shared a progress report on its 2015 strategies with local media. Tomorrow, the product and experiences division will share a similar local media update.
August 19. Bermuda Tourism Authority chief executive officer Bill Hanbury has hit out at those criticizing his compensation package pointing out that after tax deductions it equates to that of most permanent secretaries working in Government. The American citizen was speaking on the day the authority released figures showing that year-on-year tourism arrivals were down 1 per cent while revenue spend per person was up for the second consecutive quarter by 7 per cent. The BTA also released its annual report this week showing Mr Hanbury received a salary of between $225,000 to $295,000 last year with a "performance incentive payout" of between $31,000 to $88,000. Mr Hanbury told The Royal Gazette after a press conference outlining the BTA's second-quarter figures: "There are certain performance criteria that are completely unrelated to these numbers. "In the past year we have built an outstanding organization from scratch — we now have 39 employees, we've built HR systems, IT systems, governance systems, accounting and finance systems, we have a clean audit for 2014 and received the designation from Destination Marketing Association International as an accredited destination marketing organization.
August 19. After nearly three decades of lying fallow, the East End's vacant hotel property will get "site work" before the year's end, with groundbreaking for a new resort to commence in the first quarter of 2016. Plans include 122 hotel rooms, six estate residences and a possible 90 condos, renovations for the St George's Golf Course, and — subject to Gaming Commission approval — a casino. Concessions for the development, which the One Bermuda Alliance has called the most important hotel development in 40 years, are expected to add up to $30 million over the course of ten years. Shawn Crockwell, the Minister of Tourism Development and Transport, told the House of Assembly that once an agreement was completed in the next few weeks, town hall meetings would follow at the East End to inform residents. An epic debate on the long-anticipated development took up the bulk of a special sitting of Parliament on Monday, with Mr Crockwell questioned at length by Opposition Members of Parliament. Meetings with the people of St George's are to be held once the developers, Desarrollos Hotelco Group, come to the Island after settling their agreement. The developers will answer concerns of area residents, as well as negotiating with the Corporation of St George over shared sewerage facilities. Responding to parliamentary questions from shadow minister Zane DeSilva, Mr Crockwell told the House that the lead principals for the company are Walter Stipida Sprecase and his son Roberto Stipa Tenreiro. The firm is Venezuelan, and Mr Crockwell said the family travel with interpreters: Mr Stipida Sprecase does not speak English, while his son does. A local company, Hotelco Bermuda Holding Limited, was incorporated on July 17, and ownership figures are not yet available. While the deal comes with substantial concessions for the developers, Economic Development Minister Grant Gibbons stressed that the Island's existing concession laws, dating back to 2000, were out of date. A financial memorandum given to legislators said that the developer intended to invest "upwards of $120 million in the construction and development of the St George's resort". An estimated break on the importation of building materials and supplies over a ten-year period is expected to be between $8 and $10 million, including materials for renovations in year seven of the resort's opening date. Supplies that qualify for a full relief from customs import duty range from air freshener and toiletries to stationery, cups and other standard items stocked in hotel rooms. From its opening until its tenth anniversary, the resort is estimated to receive at least $15 million relief on the hotel occupancy tax, which is a fee paid by guests, at 7.25 per cent of the room rate, upon checking out. Similarly, over ten years, the resort will reap an estimated $5 million on concessions for the employer's share of payroll tax — although numbers will vary according to the staff. Land tax concessions have not yet been determined, and the property is to be valued upon completion of the development. That figure is not included in the overall $30 million concession estimate. Many details have yet to be settled on the development, which will cover the old Club Med site on land to the south of St Catherine's Point. A ground lease and master development agreement will be tabled before legislators when the House of Assembly resumes in November. Questioned throughout Monday night's debate, Mr Crockwell told the House that the residential component of the development may include fractional units. No firm decision has been made but the developers wish to retain the option, and Mr Crockwell said that residences alongside the St George's Golf Course would not have an impact on the course itself. The developer and operator are keen for "as much volume as possible" on the course, he said, and are "hopeful that a lot of people in the public are going to come and use the golf course." Meanwhile, there will be no restrictions placed on access to the public beach, the minister added. Directors and shareholders for Desarrollos Hotelco Group have been listed as: Maria de Stipa, Isabel Stipa Tenreiro, Elisa Stipa Tenreiro, Miguel Purroy Unanua, Pedro Vera Puente, Roberta Scivani, Maurizio Scrivani, Ms Zanoletti [sic], Mauricio Zanoletti, Giancarla Stipa, Diegio Freyre, Mauricio Zanoletti and Jose Guerrero Gil.
Tabling of lease agreement: November 2015
• Estimated groundbreaking: early 2016
• Estimated value of concessions offered: $30 million
• Time period of concession: ten years
• Lease: 262 years is "commercial acceptable term"
• Size of property: 50.51 hectares, or 124.81 acres
August 19. The Island's first home dialysis service is up and running — and could save Bermuda's healthcare system up to $2 million a year. Bermuda Home Dialysis Service (BHDS) has been a dream four years in the making for local nurse Irena Ashton. "Dialysis has never been done outside of the hospital in Bermuda," Mrs Ashton said, showing off her new premises on Woodbourne Avenue in Hamilton where up to 40 patients could ultimately be treated. BHDS stands to alleviate the pressure at King Edward VII Memorial Hospital's unit in the acute care wing, where about 170 patients receive dialysis. Dialysis is the only recourse for people who have lost kidney function, and chronic kidney disease is on the rise in Bermuda. In traditional haemodialysis, a patient's blood is filtered through a machine. BHDS offers peritoneal dialysis, a procedure that patients can perform on themselves and at home — often scheduling the daily procedure to run while they are asleep. "It's a good option for new dialysis patients — it's gentler and more natural," Mrs Ashton explained. "Haemodialysis is now traditionally looked at as the last resort. Controlling their own treatment empowers patients, while they continue to receive one-on-one time with healthcare staff. They will come here for training at the beginning, which is usually anywhere from a month to a month and a half," Mrs Ashton said. "Then they start dialysis at home and come here for check-ups once a month." The 27lb device that administers the treatment, known as a Cycler, "fits into a suitcase", meaning local patients can take theirs with them when they travel. "The same applies to people coming to Bermuda — we will finally have a service that we didn't have before," Mrs Ashton said. As healthcare costs climb year over year internationally as well as in Bermuda, she said peritoneal dialysis has become "mainstream." Mrs Ashton estimates that the service could cost $50,000 less each year per patient, and that as many as 40 per cent of patients could be eligible for it. Moves to introduce peritoneal dialysis to Bermuda caught some political flak earlier in the year. Mrs Ashton's service had been approved by the Bermuda Health Council. She subsequently liaised with the hospital, which sought ultimately to offer its own peritoneal dialysis service. Ms Ashton was taken on as a consultant by the hospital, but the contract was dropped after it came under fire in the House of Assembly. Several Opposition Members of Parliament objected to the consultancy, suggesting a conflict of interest because Mrs Ashton's husband Michael Ashton is head of infectious disease and hospital epidemiology at Bermuda Hospitals Board. Mrs Ashton said her husband's responsibilities and line of work had no bearing on her consultancy with BHB. Confident that the new service will prove beneficial for Bermuda, Mrs Ashton called for existing dialysis patients or persons about to start on dialysis to contact her at 295-8999. BHDS cannot self-refer, and the service is offered in conjunction with patients' nephrologists and primary care physicians.
August 19. A fee increase for hospital medical and dental procedures has gone before legislators. Jeanne Atherden, the Minister of Health, stressed that physicians have not seen the annual fees order change in the last two years, even after the sector fell by 13 per cent in 2013. Meanwhile, the Bermuda Dental Association sets its fees in accordance with Ontario Dental Association guidelines. This 2015 Order, brought before the House of Assembly, sets a 3 per cent increase for medical procedures and sets dental rates at the Ontario standard.
August 19. Reporting issues have rendered recent financial statements for the Health Insurance Department "unauditable" by the Auditor-General. However, Jeanne Atherden, the Minister of Health, said that "better days are ahead", as the department has advanced greatly in its claims administration and other procedures. Restoring confidence in the department's accounting has been "a long and arduous process, spanning almost six years." Modernizing the department exposed "serious deficiencies in intra-Government reporting", and it was agreed in a May 2014 consultation with the Auditor-General that there would be a denial of opinion on the records. However, Ms Atherden told the House of Assembly that regular audits of the department are to resume with the 2014-15 fiscal year. The minister tabled financials for the fiscal periods ending March 31 2011, 2012, 2013 and 2014, representing "the last major legacy issue faced by the department."
August 19. Progressive Labour Party Member of Parliament Zane DeSilva called unsuccessfully for Yahaira Richards, wife of One Bermuda Alliance MP Sylvan Richards, to be removed from the House of Assembly's public gallery. Mr DeSilva objected to the presence of Ms Richards, miming for Speaker of the House Randy Horton the threatening gesture that he has alleged she made in his direction during the parliamentary debate on December 5, 2014. However, Mr Horton declined, telling Mr DeSilva during Monday's House sitting: "That matter has passed; we can't go back to matters over and over ­— I appreciate your position."
August 18. Bermudians wanting to work for the St George's hotel will receive training despite the requirement being removed from the legislation, the One Bermuda Alliance has promised. Concerns about the role that Bermudians would play in the East End hotel dominated the marathon debate, which ran for more than 12 hours. Ultimately, the St George's Resort Act 2015 passed in the House of Assembly shortly after 2am with substantial amendments. A lease agreement with the developer is to be tabled in November, when the House resumes. The Act received lukewarm Opposition support: while Progressive Labour Party MPs agreed that the resort was necessary, many suggested that the legislation had been rushed; others called for tougher conditions committing the developers to hiring Bermudians and using local entertainers. Yesterday's special sitting of the House came after the PLP held a press conference last week claiming that the Bermuda Government displayed a "stunning lack of commitment to Bermudians" in proposing to remove the requirement from the Hotel Concessions Act. However, tourism development minister Shawn Crockwell hit back in the House, claiming the move is intended to make Bermuda's tourism industry more competitive. Mr Crockwell said that while the requirement had been removed from legislation, the training of Bermudians would remain a requirement of the Master Development Agreement. The only difference he said was that the requirement was not attached to the concessions "which should be attached to the investment that is made" by the developer. "Bermudians can rest assured that they will have preference for construction jobs and jobs for the operation of the hotel and those who are interested in training will receive training. I know that members of the management company are already scouting in Bermuda looking for the best talent. We believe that concessions should be attached to the investment that is being made. If we turn around and say there are other terms and conditions before you can get any concessions, then that becomes a disincentive, and that is why we have not had development on this site for 27 years." In response, Marc Bean said: "Why not enshrine it? Who cares about an agreement when you can enshrine it in legislation?" Little was mentioned by the Government about the removal of the requirement for local entertainment to be employed. Bob Richards, the Minister of Finance, pointed out that other hotels in Bermuda received a tax holiday without being required to offer training. "Why are we telling a new investor bringing hundreds of millions of dollars into to this country to jump a higher hurdle than people who are here," he said. "It is nonsensical and it renders us less competitive." The issue of concessions was hotly debated, with Mr Crockwell branding the existing concessions Act "outdated, antiquated and uncompetitive." Mr Crockwell said it was inconsistent with other Caribbean destinations. The proposed amendments to the Act would give ten years of concessions to the developers. "To some it may appear we are giving away too much for too long a period," he said. "But the decision is the result of very extensive research on this subject. There is a reason why we have not seen new hotel development in this country for years. Our system, our structure is not competitive enough. I am aware of a deal that was brokered in one of our competitive jurisdictions where the concessionary period was for a 40-year period." He said the Government had researched other island jurisdictions, including Bahamas, Barbados, Cayman Islands and the Dominican Republic. "The concessions and their duration provided in this Bill are consistent with other island destinations that have had measurable success in attracting and securing foreign investment, with the exception of Barbados, that just amended their concession relief to 25 years in 2014." Walton Brown, the Shadow Minister of Immigration, asked whether Bermudians could be encouraged to enter careers in hospitality by receiving free hotel accommodation as an incentive, while shadow culture minister Michael Weeks suggested there be a provision for the developers to facilitate free hospitality education for Bermudians through the Bermuda College. The Opposition highlighted the 262-year lease agreement contained in the St George's Resort Bill, which Mr Crockwell said was in line with the lease outlined in the Park Hyatt agreement brought by the PLP. Mr Crockwell asked: "So what is the problem?" Shadow Attorney-General Michael Scott, among other Opposition MPs, raised the issue of allegations made against the developer Desarrollos, including its alleged involvement in a corrupt Ponzi scheme. "I would ask him [Mr Crockwell], while he is on the topic of the Opposition's concerns, to publicly address the fact that Desarrollos are currently under investigation in a Federal Court for, among other things, setting up subsidiaries to conceal fraud," Mr Scott said. Mr Crockwell said the developers had been incorporated, adding: "In order to be incorporated, the principals have to be vetted by the Bermuda Monetary Authority. Government has done its due diligence. That development is clear evidence that substantial due diligence has been done in ascertaining that the developers are fit." Responding to remarks across the aisle on the Jetgate affair, Patricia Gordon-Pamplin, the Minister of Community, Culture and Sport, told MPs that out of the 12 expressions of interest submitted for the St George's site, none had come from the American developer Nathan Landow. Zane DeSilva, the Shadow Minister of Tourism, retorted that Mr Landow had missed the deadline and had been dropped, while Mr Crockwell interjected: "So he did not submit anything." However, it was the need to get Bermudians working and committed to the development that consumed much of the deliberations. Closing his remarks, Opposition MP Jamahl Simmons urged the government side: "If you will not put this in legislation, put this in your hearts and make it a priority that Bermudians come first — I guarantee you, we will succeed."
August 18. Thunderstorms dumped at least an inch of rain yesterday and knocked out power at a few locations, with more stormy conditions forecast for today. Bermuda's weather is being affected by an upper-level low, a low pressure system that started north- west of the Island and is approaching with stronger winds, rain and more thunder. The low pressure disturbance is so called because it extends high into the atmosphere, a Bermuda Weather Service meteorologist explained. Rainfall as of yesterday stood at 2.24in — which, including the recent showers, is roughly in line with the August average. A lightning strike shortly after 10am yesterday hit a main power line near Gibbs Hill Lighthouse, Southampton. It knocked out electricity for about 255 customers for about an hour, Belco advised. There were three other "isolated weather-related outages" across Sandys, Warwick and Smith's.
August 18. Allegations that Speaker of the House Randy Horton accepted a politically motivated $45,000 bribe have been firmly refuted by Mr Horton. Speaking at the opening of Parliament yesterday, Mr Horton said he was rising to assure the public that "no allegation could be farther from the truth." His comments were in reference to the July 17 debate over an Opposition motion to have the Speaker censured, in which the allegations surfaced. In that sitting of the House, in which Mr Horton was said to have gone by the alias of "master chef", MPs also heard that the Speaker had threatened Marc Bean, Leader of the Opposition, because Mr Bean had planned to reveal that the payments, which he said had come from the developer Nathan Landow. Yesterday, Mr Horton said he had been duty bound not to take part in that debate, which ended with the defeat of the motion. "The House has spoken, and I take note of all that was said. We move on with the business of the country. But there was one matter concerning myself about which I feel I must speak from the chair today. I believe it's important that the members of this honourable House and the people of Bermuda know exactly where I stand with respect to that matter. There was an allegation which was made about myself that is simply not true. During the debate on the motion of censure, it was alleged that I had been given or that I had accepted a $45,000 payment from the One Bermuda Alliance or from an agent of the OBA Government. No allegation could be farther from the truth. For the record, I state categorically and emphatically that I have never received even one cent from the OBA or any agent of the OBA. Those unfounded utterance are just that — unfounded. They are totally, completely and utterly false." Mr Horton called them "fabrications, and nothing more" before continuing with the day's business.
August 18. Two Bermuda-registered companies have been named in a complaint document filed by US regulators surrounding an alleged $100 million fraud. The Securities and Exchange Commission (SEC) claims that traders mostly based in the Ukraine used a string of companies around the world in a hacking scheme that broke federal securities law. Island-based Concorde Bermuda and Jaspen Capital Partners are named in the filing. Both firms are registered at law firm Appleby's office at Canon's Court in Hamilton's Victoria Street. The Royal Gazette asked the firm if it was aware of the lawsuit and if the US authorities had asked them for assistance. But a spokeswoman for the firm said yesterday: "Unfortunately, we wouldn't be able to comment on that." The SEC filing in the US District Court in New Jersey named a total of nine people and companies around the world alleged to have been part of a group who accessed newswire services and company reports before they became public and traded on the information. The SEC filing said Concorde Bermuda "purports to be a hedge fund established in Bermuda with its principal place of business in Kiev, Ukraine." It is alleged in the filing that a group hacked into at least two news agencies over a period of five years to dishonestly obtain confidential financial information then traded on exchanges based on unpublished press releases. The SEC said that press releases were stored on the agency websites before release — leaving "a window" for fraud, which varied between minutes and days. The SEC filing said: "From 2010 until 2014, the hacker defendants electronically intruded — hacked — without authorization, into the newswire services' computer systems and stole more than 100,000 press releases before they were publicly issued." It is alleged the hackers used a variety of ways to break into servers, including stolen usernames and passwords, malicious computer code designed to delete evidence, concealing the identity and location of the computers they used and using "back- door access modules. The trader defendants' trading activity mirrored the access and focus of the hacker defendants." The regulator asked the court: "The commission respectfully requests that this court enter an emergency, temporary and preliminary order freezing the assets of those defendants subject to the motion for a temporary restraining order and preliminary injunction, including but not limited to brokerage accounts and bank accounts, both known and unknown, requiring those defendants to repatriate amounts equal to their ill-gotten gains derived from the scheme, as alleged in the complaint, prohibiting the destruction of documents and ordering alternative means of services." The SEC asked the court to enter a final judgment "permanently restraining" the defendants from further violations of securities law, return gains from the scheme and to impose a civil penalty up to three times the amount of profits from the scheme.
August 18. The Island's new tourism offerings reflect the "fresh approach" brought by the Bermuda Tourism Authority, according to the group's 2014 annual report — which remains insistent on the imperative of boosting stagnant air arrivals. The BTA's new marketing strategy for the Island has been a "seminal milestone", according to chief executive officer Bill Hanbury, who said the selling of the Island had shifted to a focus on experiential travel. "These are bold changes that we hope can get us out of the rut we were in, of not listening to what Bermuda's customers really wanted," wrote Mr Hanbury, in his CEO's letter. Bonuses awarded to BTA staff and top brass have repeatedly drawn fire from the Opposition, while Tourism and Transport Minister Shawn Crockwell has defended the salaries awarded to tourism officials as being in line with those of other countries. The annual report tabled yesterday showed that Mr Hanbury received a salary of $225,000 to $295,000 last year, with a performance incentive payout of $31,000 to $88,000. Salaries for directors range from $130,000 to $150,000 for Bermuda-based staff and $115,000 to $130,000 for out-of-island employees. Bonuses in that department ranged from $14,000 to $16,000. Mr Hanbury has stated on several occasions that the success of the investment made in the BTA would rest on this year's air arrival figures. "As we move into 2015, the entire team is focused on three primary objectives, all of them growth oriented: increasing air arrivals, increasing visitor spending into the local economy and increasing room nights in hotels and vacation rentals," Mr Hanbury wrote. "We trust our new marketing strategy will help us grow leisure air arrivals and room nights, while visitor spending will go up as we improve our arsenal of unique, authentic on-island experience and culinary offerings."
August 18. Bermuda has much to gain if the Government can secure an air service out of Heathrow airport, said Tourism Development and Transport Minister Shawn Crockwell, who attends a major airline conference next month in South Africa. "I have been assured that the meetings are going to be very productive and have a great deal of potential for Bermuda," Mr Crockwell told The Royal Gazette. Interest has been shown by a new carrier to serve the Island from Britain, the minister told MPs yesterday in the House of Assembly, although he declined to specify which company was behind the talks, calling it "premature" to do so. "There is an airline carrier that we really feel has potential," he said — with members of Opposition telling this newspaper they knew Virgin to be the carrier in question. Outside of Britain, there has been no overture by a European carrier, Mr Crockwell said, and there has been no "viable interest" expressed in providing a service between Bermuda and Europe since 2012. Mr Crockwell acknowledged that the existing service from British Airways to Gatwick had lately drawn some complaints from travelers, and said competition would be in the Island's best interests. "Heathrow has connectivity with Europe," he said. "Right now you have to travel between Heathrow and Gatwick to get to Bermuda. Today's traveler does not like to go through that kind of hassle. We think it would be very useful to attract airlines coming out of Heathrow, particularly with the America's Cup coming in 2017, when the volume of people travelling to Bermuda will be quite significant." Leader of the Opposition Marc Bean said that Norwegian Airlines, a major low-cost European service operating 787 aircraft, was "the one we should be targeting." Mr Bean noted that when Zoom Airlines had provided an alternative service to the Island, there had been no loss felt by British Airways but a substantial extra uplift from the UK. Aer Lingus, Ireland's flag carrier, came in at second place on the Opposition leader's list, as a hybrid of mixed fare services, with Virgin coming in third. Shadow minister Lawrence Scott said he believed both Virgin and easyJet had shown interest in Bermuda as a destination. "From my knowledge, I don't think easyJet has the equipment to service the Bermuda market, particularly with our geographical location," Mr Scott said. "Virgin might find Bermuda more attractive." The minister refused to be drawn during questions in Parliament. Asked by the Opposition if interests had been shown by Virgin or easyJet, Mr Crockwell replied: "I am aware of one." Zoom Airlines had coexisted well with the British Airways service, Mr Crockwell told the House of Assembly, but the budget airline had become a casualty of the fuel cost crisis that plagued the industry. Zoom folded abruptly in 2008, leaving British Airways as the only carrier servicing the Island from Britain.
August 18. Bermuda's business regulator has linked up with the US National Association of Insurance Commissioners (NAIC) to improve the exchange of information. The Bermuda Monetary Authority (BMA) has signed a new memorandum of understanding with the association that is expected to boost collaboration on regulation. BMA CEO Jeremy Cox said: "It's a tremendous vote of confidence in the value of Bermuda. The US continues to be our largest trading partner and our longstanding collaborative relationship is vital to Bermuda success as a reinsurance and insurance centre." He said the BMA's relationship with the NAIC stretched back 20 years and had been productive and beneficial, adding: "Many NAIC initiatives have shaped how insurance risk is supervised worldwide — and Bermuda has been at the table working with our NAIC colleagues." The NAIC is the US standard-setting and regulatory support organization created and governed by the country's chief insurance regulators. The agreement was signed in Chicago at the weekend. NAIC president Monica Linden said: "Given the importance of Bermuda's reinsurance community to US companies, we are very excited to sign this co-operative agreement with Bermuda. The framework for collaboration allows for the exchange of information that will strengthen both of our insurance markets." Bermuda, along with the UK, Germany and Switzerland, was given qualified jurisdiction status by the NAIC at the start of the year, which reduces collateral requirements for Bermuda reinsurers and improve cross-border operations for Island firms with US counterparts. Mr Cox added: "This is a testament to a longstanding relationship and certainly recognizes the trust we both have for our respective jurisdictions. I think the work that was done just over a year ago on the qualified jurisdiction approach was very useful." Leila Madeiros, senior vice-president of the Association of Bermuda Insurers and Reinsurers (ABIR), said: "Abir applauds the BMA in reaching yet another significant milestone in its continued commitment to international co-operation and supervisory collaboration that further enhances policyholder protection and strengthens the global insurance and reinsurance marketplace." Bermuda has a network of similar agreements with more than 24 other regulatory bodies around the world.
August 18. The Supreme Court forced the Commissioner of Police to grant two men permission to operate Crown and Anchor tables at this year's Cup Match after a judicial review. The commissioner reportedly refused both Kenneth Bulford and John Jefferis from being able to manage gaming tables at this year's event at the St George's Cricket Club. Both men argued, through defense lawyer Larry Mussenden, that the commissioner had no right to carry out criminal record checks on prospective operators and, if they did, the men said they had no criminal record which would lead to them being refused permission. They subsequently applied for judicial review and inter alia orders to quash the decision. The court heard that both Mr Jefferis and Mr Bulford were refused permission to operate Crown and Anchor tables on July 24 under a concession operated by Fun Tyme Entertainment. During a hearing on July 29 — the day before Cup Match — both applicants argued that the commissioner had no right to refuse permission on character grounds, previous "spent" convictions or on the basis of undisclosed reasons based on confidential information. However, in an affidavit, the commissioner cited the Liquor Licence Act 1974, which states Crown and Anchor "cannot lawfully be carried out on licensed premises without a permit issued by the commissioner. Lawyer Brian Myrie, representing the commissioner, conceded that the men did not have a criminal record, but held that the commissioner was entitled to refuse permission based on "confidential police intelligence which could not be disclosed." In recently released reasons for judgment, Chief Justice Ian Kawaley noted that both Mr Jefferis and Mr Bulford had been before the courts recently, but both men had been found not guilty. "It is a matter of public record that [Mr Bulford] was alleged to be a senior gang leader in a major money-laundering trial where he was acquitted and [Mr Jefferis] was charged with involvement in a major drugs conspiracy of which he was acquitted," he wrote. "So the fact that they are both regarded as persons of bad character by the Police is neither a surprise nor a secret." The Chief Justice held while the Act did grant the commissioner some vetting abilities, the use of confidential police intelligence as part of the vetting process was an "astonishing proposition. It would be a bridge too far to find that, by necessary implication, one must read into the permit-granting power the ability to deploy secret intelligence when vetting proposed table operators," he wrote. "That sort of power would more likely to be inferred in the context of reviewing the lawfulness of an arrest or a search, powers that properly fall within the domain of police operations which the courts are reluctant to trespass in. It is entirely understandable that the [commissioner], having regard to the very broad terms in which the relevant statutory power is drafted and the character of his office, would have in good faith assumed that this was simply another area of policing operations in which traditional policing decision-making techniques could lawfully be used. On the other hand, the reliance in the present case on a far higher level of vetting than was contemplated in the [commissioner's] own Crown and Anchor permit form, in the face of an unprecedented challenge to regulatory system which appears to generally work well, constitutes an impermissible form of 'mission creep'." The court noted that it was only in exceptional circumstances, such as where national security interests were involved, that the courts would uphold decisions made by the executive branch of Government justified solely on the grounds of undisclosed secret intelligence material. Mr Justice Kawaley subsequently granted the judicial review, ordering the commissioner to approve the men's application.
August 18. The cruise ship Liberty of the Seas returned to port in Bermuda just hours after leaving this weekend owing to an injured passenger. According to the Department of Marine and Ports website, at around 9pm on Saturday Meyer's Agency contacted the Bermuda Maritime Operations Centre reporting that the ship would be returning to the Island. "The ship had left Bermuda at 5.12pm and had got 60 miles south en route to St Maarten, when a 74-year-old lady had reported a hip injury and hospital treatment was necessary," a spokesman said. "This patient was accompanied ashore by a ship's medical professional and landed safely by the Pilot Cutter St David to an awaiting ambulance minutes after midnight. The ship departed again for its next port." The 1,112ft Liberty of the Seas, a Royal Caribbean International vessel, is scheduled to visit Bermuda again next Monday.
August 18. A Paget man has been released on bail after admitting possessing cannabis and cocaine with intent to supply. Morris Sousa, 52, pleaded guilty to both charges in Magistrates' Court on Tuesday, along with three charges of possessing drug equipment, specifically grinders. The court heard that at 5pm on September 19 last year, Police stopped him as he drove along Front Street. A search of his vehicle uncovered plant material and an off-white, chalky substance in twists. Asked about the items, he said: "It's my stuff, sir." Officers later searched his Treadway Lane home and found cannabis and cocaine freebase, known as crack cocaine, and four grinders with traces of plant material. Police seized 71.6 grams of cannabis and 2.5g of cocaine freebase from Sousa's property. Prosecutor Karen King said the cannabis could fetch as much as $3,575 if sold on the streets of Bermuda, while the cocaine could fetch $750. After pleading guilty, Sousa expressed his remorse, saying he did not use cocaine himself, but had been using cannabis for 18 months for leg pain. Magistrate Tyrone Chin ordered a social inquiry report and a drug assessment, releasing Sousa on $3,000 bail until his sentencing date.
August 17. Bermuda Radio launched a search operation for a missing fishing boat in the early hours of Saturday after the crew failed to return home on time. A concerned member of the public called the Maritime Operations Centre at just before 3am saying that her son and brother were overdue from a night fishing trip off of Penhurst Park, North Shore. When the last contact with the vessel was made the crew reported that the vessel's engine would not start. Bermuda Radio started VHF radio call-outs to try to contact the vessel and also tried calling the owner's cellphone, but without luck. The watch officer then called Police who sent a land unit to the area and reported back that they could see a vessel's running lights offshore. The concerned mother later told Bermuda Radio that the vessel was being towed back into land. An incident report statement said: "Bermuda Radio spoke with the owner of the vessel and stressed the importance of keeping adequate communication with shore contacts if any changes of plan occur. "It is also helpful for vessels who intend on overnight fishing to file a float-plan with Bermuda Radio, therefore in the event of urgency, full details are on hand for RCC Bermuda to assist accordingly."
August 17. Hundreds descended on Tobacco Bay on Saturday evening to witness the first re-enactment of the theft of the Governor's gunpowder supplies more than two centuries ago. About 300 locals, visitors and a 50-strong delegation from the Sons, Daughters and Children of the American Revolution attended the event to mark the 240th anniversary of the Bermuda Gunpowder Plot. Governor George Fergusson as well as a host of local dignitaries watched on as the barrels were carried down to the beach by characters in period dress, loaded onto a pilot gig and taken out to a waiting yacht at sea. In 1775 St George Tucker and Thomas Tudor Tucker informed leaders of the American cause that a lightly guarded magazine in Bermuda contained about 100 barrels of gunpowder. Consequently Benjamin Franklin and other leaders in Philadelphia were able to convince a few Bermudians to steal the gunpowder and have it loaded on to American ships waiting off of Tobacco Bay. Organizers of the re-enactment hailed the event a big success and say they hope to make it an annual fixture in the St George's diary. Rick Spurling, president of the St David's Island Historical Society, who helped direct the re-enactment, told The Royal Gazette: "It all went very well indeed, and everyone who took part in the event did a great job. "We were very pleased with the number of people that turned out; it was a lovely mix of locals and visitors." MP Kenneth Bascome, who was part of a St George's delegation that traveled to Jamestown and met with representatives of Sons of the Revolution in 2014, told The Royal Gazette he hoped the event could attract global attention in years to come. "The event was well-attended, but I believe we can build on it and encourage people internationally to come to Bermuda. This is something that the Bermuda Tourism Authority can take on board and put in the calendar of events to benefit the whole Island."
August 17. A Jamaican prisoner who claimed his constitutional rights were infringed because he was not allowed to apply for parole after serving a third of his sentence has won a landmark victory in the Supreme Court. Leighton Griffiths was convicted in 2007 of importing 480g of cocaine that was hidden inside an air compressor. He was initially sentenced to 14 years in prison that was later reduced to 12 years by the Court of Appeal. Earlier this year Griffiths, who is married to a Bermudian, launched a legal action because as a foreign national he was denied the opportunity to be released on licence after serving a third of his sentence even though he was otherwise qualified for such early release. He claimed that the provisions of the Prison Act 1979, which set down the rules surrounding prisoner's access to parole, breached section 12 — that prevents discrimination on the grounds of place of origin — of the Bermuda Constitution. In a written judgment released at the end of last week Chief Justice Ian Kawaley ruled in favour of Griffiths saying his constitutional rights had been infringed. Chief Justice Kawaley said: "The provisions of the Prisons Act 1979 relating to parole as applied to the applicant as a Jamaican national who presently has no opportunity to apply for any form of early release discriminate against him on the grounds of his place of origin in contravention of his rights under section 12 of the Bermuda Constitution." Bermudians and people with an unrestricted right to reside and work in Bermuda are able to apply for release on licence in Bermuda after serving a third of their sentence. Nationals originating from some countries — including the United Kingdom — are also able to obtain an early release on licence because their governments have agreed to supervise them on their return to their countries of origin. However, Jamaica has not agreed to accept prisoners released on licence. As a result Griffiths was required to remain in prison for twice as long as those prisoners who were able to obtain parole. In his 27-page judgment Mr Kawaley said: "The Bermuda legislative and administrative scheme for parole in relation to foreign nationals who have no right to reside in Bermuda and no means of being paroled to their country of origin seems less than satisfactory for two main reasons. "Firstly, such prisoners have no prospect of being released until they have served two thirds of their sentence, while those for whom parole is available may be released — albeit subject to potential recall — after having served only a third of their sentences. Secondly, the only possibility of such foreign nationals obtaining earlier release depends on whether or not the Bermudian Executive decides to propose to the Legislature some form of early release scheme designed to give foreign nationals who are ineligible for parole — in Bermuda or in their country of origin — parity of treatment." Mr Kawaley described the present parole regime that applies to nationals who cannot access any form of release before they have served their full sentence as "not a coherent or rational one. It was discrimination by default or by omission. The significance of the failure of the Executive to take meaningful steps to remove the causes of differential treatment in terms of its impact on the applicant cannot be ignored. It is a notorious fact that prisoners place considerable importance on clarity surrounding their release dates. The sanctity of the duration of a prisoner's sentence being determined by reference to the sentence imposed by the court is implicitly based in part on this consideration. Because of uncertainties surrounding the applicant's special husband status and his eligibility for parole combined with the delay in making a decision on the deportation process, his ability to understand the effect of his sentence on the likely duration of his detention was undermined ..."
August 17. Green turtle hatchlings discovered on an East End beach have been labeled Bermuda's "natural history event of the century." One of the tiny baby green turtles was found crossing Barry Road, St George's, by a member of the public who then alerted the Bermuda Aquarium, Museum and Zoo. A team of conservationists then visited the nearby beach to search for a nest. In total 15 hatchlings were found on the beach at Alexandra Battery — 12 of which have been released into the water. Former Government Conservation Officer David Wingate said: "From my perspective I regard this as the Bermuda natural history event of the century. "This is a momentous event in sea turtle research and conservation because it is the first confirmed case of recolonisation of a green turtle rookery in the world that I am aware of and may, indeed, be a belated result of the egg translocation project conducted here between 1968 and 1978." Commenting on Facebook, Jennifer Gray, the chief executive of the Bermuda National Trust, said it was the first time hatchling green turtles had crawled down a beach and swum into the ocean off the East End in more than 100 years. "We were able to rescue a total of 11 that were found caught in long grass and along the base of a wall at the back of the beach. These were seen safely into the ocean and watched intently as they swam out toward open ocean. A moment, an hour, a day, a memory I will treasure for the rest of my life." Yesterday, the Department of Parks informed the public that the beach is closed to public use due to a turtle nest in the middle of the beach. A spokeswoman said: "Staff from the Bermuda Aquarium, Museum and Zoo are currently stationed at the beach to monitor the hatchlings and, along with Parks rangers, will advise anyone who visits the site of the closure. "Maintenance staff from the Department of Parks have been instructed not to rake the beach until receiving clearance from the Department of Conservation Services." The beach will be closed until at least tomorrow and the public will be informed when it is reopened for use.
August 17. By Nathan Kowalski CPA, CA, CFA, CIM. "A flurry of statistics has hit the wires over the last month. The data dump comes in the middle of summer when most would rather be hitting the beach and not the keyboard for inputting data into spreadsheets. I'll hit the keyboard for you. What follows is a brief commentary on a few of the recent reports. Labour Force Survey. In short, it wasn't good. Although the headline drop in the unemployment rate from 9 per cent to 7 per cent would seem to paint a positive picture, the underlying aspects were not favorable. It looks like the entire "gain" in the unemployment rate is due to the fall in the labour force, i.e. there was a decline in unemployed workers of 984 people, which corresponds to the 1,133 drop in the overall labour force. So what happened? Well a few things could have happened:
1) 1,133 workers suddenly died.
2) 1,133 workers retired and removed themselves from the labour force.
3) 1,133 workers left the Island.
4) 1,133 are "marginally attached" or have essentially given up looking for work for now.
What is likely, however, is a combination of all the four above. Typically, a very constructive and healthy labour market involves the following:
1) The participation rate is rising (it's not; it's falling)
2) Hours worked are rising (they're not; they're falling)
3) The total number of filled positions or jobs is rising (it's not; it actually fell 150 positions)
The median wage did tick up but this simply means that for those fewer people working, they are making more in median terms (queue the inequality debate). Bottom-line: the headline drop in the unemployment rate is masking the underlying dynamics of the labour situation in Bermuda, which are not as positive as may be expected. Are we at risk of a jobless recovery? I don't really think so, (as jobs will flow after more investment) but for now the job market still needs improvement.
Balance of Payments (BOP)
The current account surplus increased $33 million in the first quarter of 2015. The increase in the current account surplus mostly reflected an improvement in the primary income surplus due to increases in employee compensation which correlates well with GDP (see below). The large drop in energy prices has helped improve the imported goods position by $10 million. This year-over-year benefit of lower prices will begin to wane as we come near the end of 2015. A small commentary in the report states "Imports of clothing, food, and basic materials also contracted during the period". This would normally suggest domestic activity is weak but it doesn't really jive with the strong series of retail sales we have seen so far this year, nor the slight uptick we are seeing in freight. The positive current account surplus is a major plus for Bermuda in a number of ways. The surplus helps achieve stability in our peg to the US dollar. Positive terms of trade or a surplus also assists in our potential to reduce debt. The following accounting identity helps explain this:
Private Debt Reduction + Government Debt Reduction - Trade Surplus = 0
So with a good trade surplus (or current account balance), you can proceed to reduce private sector debt and even government debt. Without a trade surplus things become more difficult. Bermuda has good potential here.
Q1 2015 Gross Domestic Product (GDP)
First quarter GDP was commendable. Real GDP grew 2.2 per cent (second highest reading in six years). It's worth noting, however, that in the prior five years, when Q1 did record positive results, the year still ended in negative territory. I suspect from recent data, however, that Q1 will finally herald a year of overall positive growth for Bermuda. The main engine of growth was the export sector. In fact this was really the only engine. All other components fell in real terms. The 12.4 per cent surge in net trade was mainly due to the huge jump (+22 per cent) in the export sector. The largest component of this increase was the jump in exports of services (think international business) of some $32.5 million. Part of what correlates with this is employee compensation (when you look at the BOP we saw an uptick of about 7 per cent.) A couple aspects to also chew over:
1) Consumption (which is the largest component of GDP at about 63 per cent) would suggest the "domestic" economy is stabilizing but not really improving. This is again at odds with the retail sales stats which are portraying a much more robust recovery (2 per cent vs. 1 per cent nominal GDP consumption growth). We aren't likely to see much help from Government as it continues to try and balance the budget. End demand will need to be seen from households which would improve with a growing labour force and more jobs. I'm not sure whether we have yet seen the bulk of the effects from the reinsurance consolidation on the job department, so it will be interesting to see how Q3 and Q4 shape up on the consumption front.
2) Investment (gross capital formation) continues to fall. The big delta here comes with new hospitality development. The commencement of a significant project will help turn the momentum in a positive trajectory and the mechanism of jobs leading to consumption leading to more jobs can't be understated. Overall, the economic landscape in Bermuda is improving but we are still being fed mixed messages. Employment continues to stagnate while growth does appear to be stabilizing-to-improving slightly. Overall, I suspect 2015 should turn out to be the first year of positive growth for the Island in six years."
August 17. The Bermuda Health Council investigated complaints representing more than 4,200 employees in 2014, according to Minister of Health Jeanne Atherden. Last year the BHeC, in its capacity of enforcing employer compliance, saw that more than 60 per cent of the workers regained active insurance compliance as a result. More than $80,000 was received in Standard Health Benefits owed, and there were three criminal convictions prosecuted through the courts, Ms Atherden told the House of Assembly.
August 17. An order will be put before the House of Assembly for a Commission of Inquiry into "serious allegations of extortion" made against three members of the One Bermuda Alliance who were then sitting government ministers. The notice was given yesterday morning in Parliament by Opposition MP Wayne Furbert. Mr Furbert told the House the special commission, which would probe claims against Craig Cannonier, Senator Michael Fahy and Mark Pettingill, would consist of a minimum of three individuals "chosen from outside these aisles." On Sunday evening, Michael Dunkley accused the Progressive Labour Party leadership of self-serving political motives and a sustained programme of disinformation over the issue. Responding in a statement yesterday, Mr Furbert said: "The response by Premier Dunkley is proof positive that he was only paying lip service to elevating the level of political discourse in this country. "The PLP believes that getting to the bottom of serious corruption allegations and protecting the reputation of our island home is more important than political point scoring. We offered the One Bermuda Alliance the opportunity to come together with us and unite against corruption for a Bermuda that's reputation is as pristine as her people. Instead of coming together, the Premier responded with anger and vitriol. The Premier's latest tirade may play well with his political base, but is it in the best interest of the country? We think not. We urge the OBA to do the right thing, place the country first and come together with us and let's address these serious corruption allegations."
August 17. News that the Bermuda Government would foot the bill for a defamation action taken by Bob Richards has been greeted with raised eyebrows by Progressive Labour Party MP Derrick Burgess. Mr Richards, the Minister of Finance, told Parliament yesterday that his suit against Jason Hayward, the president of the Bermuda Public Services Union, entailed allegations made against him while carrying out his duties. The minister added that Cabinet had concluded that funding this civil action to be a government purpose. "That was the same thing that the PLP Cabinet and Government agreed to, and the Auditor-General came out with a report calling it a misuse of public funds," said Mr Burgess. He recalled the 2010 hiring of a lawyer by himself and former Premier Ewart Brown for a suit against Canadian architects who they accused of creating false cheques to tarnish their names. Mr Burgess said he had provided documents to the Public Accounts Committee stating that any proceeds from the case would go to the Government. "The only reason that it came under our names was that in Canada you cannot have a defamation case in just the Government's name," Mr Burgess said. Ultimately, Dr Brown and Mr Burgess had to carry on the case by themselves, and Mr Burgess was unable to afford continuing it. Mr Richards defended the use of taxpayer funds to pursue the case but also told MPs that no payments had been made so far. Lawyer Saul Froomkin represented the Government in the action, the minister said, telling MPs that "any payments made would be fully transparent and documented."
August 17. Michael Dunkley launched a broadside against the Progressive Labour Party last night, accusing its leadership of "undermining the system to serve its narrow-minded, self-serving political motives." The attack came after PLP MP Wayne Furbert announced he would table legislation in Parliament today to create a Commission of Inquiry into allegations of bribery made against two government ministers and a former Attorney-General. Mr Furbert told a press conference last Friday that "in the interests of public welfare", he wanted the inquiry to conduct a special investigation against the OBA's Craig Cannonier, Senator Michael Fahy and Mark Pettingill. But the Premier claimed Mr Furbert was "just following orders" and his call for an inquiry was part of the sustained PLP programme of "disinformation and criticism." Mr Dunkley said: "What does matter to Mr Furbert and his colleagues is doing whatever they can to raise doubts about the Government to distract people's attention from the progress we are making on their behalf and to drag the whole system down into their gutter. The Government will not allow the Opposition to undermine the system in order to serve its narrow-minded, self-serving, political motives. Their sustained programme of mud-throwing has nothing to do with serving the best interests of Bermudians and nothing to do with progressing the Island's economic recovery that can help so many. As for Mr Furbert's motion, we will deal with it accordingly when it comes up in the House of Assembly." Last Friday Mr Furbert urged Mr Dunkley to use the power of his office to direct his party to support his motion to establish a Commission of Inquiry. "From the Jetgate scandal that saw three OBA ministers violate the ministerial code and led to the resignation of Premier Cannonier, to the serious allegations before the courts of attempted bribery in the waterfront scandal by OBA ministers and insiders. "From Day 1, the OBA government's tenure has been characterized by scandals, broken promises and lack of transparency. When ministers are accused of accepting favors and payouts from casino developers or attempting to obtain bribes from waterfront developers, it casts a serious shadow over our reputation as a clean, modern, sophisticated jurisdiction." But the Premier, while making pointed references to developer Michael MacLean as "the man", responded by saying that Mr Furbert's call for a formal inquiry was typical of the PLP leadership's "anything-goes political motives. It is now a well-known fact that they are carrying out a "sustained programme" of "disinformation and criticism", as directed by a former PLP leader. "It does not seem to matter that the court case in which the hearsay allegations were made is not yet finished. It does not seem to matter that the man did not provide the court with any direct or corroborating evidence to support the allegations made. It does not seem to matter that the man's own lawyer made not one reference to the allegations, or indeed anything in the man's affidavits, during the course of arguments presented to the Chief Justice. It does not seem to matter that there were four affidavits countering the man's allegations, including one from a lawyer-consultant with the Attorney-General's chambers. It does not seem to matter that until the case is resolved, the issues are sub judice with the result that an additional and alternative form of inquiry would be wholly inappropriate and, indeed, might be construed as indicating a lack of confidence in the judicial process. None of these things seem to matter to the PLP leadership."
August 15. Scores of people gathered at Port Royal Golf Course yesterday afternoon to remember the actions of two Bermuda-born patriots. An historic plaque honoring St George Tucker and Thomas Tudor Tucker was officially dedicated in front of a delegation of more than 50 US citizens from the Sons, Daughters and Children of the American Revolution. The ceremony, which is part of a series of events this weekend to mark the 240th anniversary of the Bermuda Gunpowder Plot, took place at just after 4.30pm. It was held at the golf course because both men were born close to Port Royal. In 1775 St George Tucker and Thomas Tudor Tucker informed leaders of the American cause that the lightly guarded magazine in Bermuda contained about 100 barrels of gunpowder. Benjamin Franklin and other leaders in Philadelphia were then able to convince a few Bermudians to take the gunpowder and have it loaded on to American ships waiting off of Tobacco Bay. The Bermuda gunpowder helped ensure that Charleston's port remained open to shipments of weapons, gunpowder and other goods from American allies until 1780, thus altering the course of the war in favour of the patriot cause. Yesterday, members of the Sons, Daughters and Children of the American Revolution also attended a reception at Government House as part of the anniversary celebrations. This afternoon a second remembrance ceremony will be held in Town Square in St George followed by an historic re-enactment of the rolling of the barrels of gunpowder down the hill towards Tobacco Bay.
August 15. Bermuda's upcoming tobacco restrictions are draconian and possibly the strictest in the world, according to a tobacconist who will have to take 161 products off his shelves. "There is not another country in the world that is banning so many products," said Smoke Shop proprietor Michael Heslop of the Tobacco Control Bill 2015. Jeanne Atherden, the Minister of Health, has defended the changes to the law that are set to kick in this December, saying they follow World Health Organization protocols. "I have found after hours of research that is not correct," Mr Heslop said. "There is no other country that is implementing all of these laws. This is barbaric and outrageous that she is trying to implement laws that no other country in the world is implementing." Mr Heslop has already spoken out against the legislation, which seeks to keep tobacco from being promoted in any way to youngsters. The store owner had held out hope after it emerged that premium cigars would be exempt as they are not cigarettes. The law bans flavored tobacco. Mr Heslop sells shisha, which is flavored hookah tobacco — but he said he was told this too would be banned. "Countries are just banning flavored cigarettes, not all flavored tobacco," he protested. "They are not banning shisha, tobacco wraps, tobacco rolling papers, blunts, cigarillos, or bidis," Mr Heslop conceded that Ms Atherden had taken the extra step of visiting his store, along with David Kendell, the director of the Department of Health. "I have to say I was very thankful they made the effort to come and see us," he said, adding that the minister had seemed taken aback by his claim that nowhere else in the world appeared to be enacting such sweeping laws banning so many products at once. "Just the Smoke Shop alone will have to take 161 products off our shelves if this Act goes through," he said.
August 15. A water trucker was sentenced to 3½ years behind bars yesterday for stashing more than $200,000 of cannabis in his home. Clienty Butterfield, a 36-year-old father of six, pleaded guilty earlier this year to two charges of possessing cannabis with intent to supply, although he said that he had purchased the drugs for $500 to help him deal with pain caused by a medical condition. The court heard that Butterfield was stopped by police while driving along Spring Benny Road in Sandys on the evening of October 30 last year. During a search, officers discovered a bag containing four twists of plant-like material and $230 in cash. Asked about the twists, he told the officers: "It's just a little poke." Later that evening, police searched his Woodlawn Road, Sandys home. Inside the kitchen they found a glass jar, which was later found to contain around 534g of cannabis. The officers also discovered a duffel bag in his bedroom which contained four plastic packages of plant material. Tests found the packages to contain just over 4,000g of the drug. In a subsequent police interview, Butterfield said that the cannabis found was his, but said it was for his own personal use. He said that he had purchased the drugs from an unknown person for $500 to help him deal with the pain caused by his sickle cell anemia, although he would occasionally share some with his friends for free. During a sentencing hearing yesterday, prosecutor Loxly Ricketts said that the drugs seized, if sold on the streets of Bermuda in half gram twists, could fetch around $230,000. Based on the quantity of drugs seized Mr Ricketts argued that the drugs were not just for personal use. While he noted Butterfield's early guilty plea and his lack of previous offences, the prosecutor said the defendant had shown little remorse and had attempted to minimize the severity of the offence while a social inquiry report was carried out. Mr Ricketts said a sentence of between three and five years in prison would be appropriate in all of the circumstances, but defence lawyer Dantae Williams suggested that any jail time could be suspended given Butterfield's personal circumstances. He described his client as a hard-working father battling a serious medical condition who turned to cannabis to treat his pain. "There are times when he needs help to get out of his bed," Mr Williams said. "The effect of the sickle cell has on him is a serious effect and many times it's actually a grave effect. This isn't an excuse to do something illegal, but he did use cannabis as a method to decrease the pain." Asked if Butterfield had been prescribed drugs to manage his pain, Mr Williams said his client had found the prescribed drugs had "serious side-effects. The pain that he was in was the reason he resorted to cannabis to alleviate the pain, not with standing that it's a controlled drug." Butterfield himself apologized to the court for his actions. Acting Justice Juan Wolffe said that based on the facts of the case a custodial sentence was appropriate, and that Butterfield's personal circumstances were not enough to suspend such a sentence. He sentenced Butterfield to 3½ years in prison for the drugs found in his bedroom and six months for the drugs discovered in his kitchen, ordering that both sentences run concurrently.
August 15. Bermuda's lost sailors were remembered during an historic ceremony at sea organized through the Guild of the Holy Compassion in partnership with the Department of Marine and Ports. The Royal Gazette was invited to witness and document yesterday's events that specifically commemorated working seamen. The memorial is held each year in memory of three separate events connected to Bermuda's maritime history. Firstly was the sinking of the pilot gig Ocean Queen II which, along with its St George's crew members, was lost off St David's Head in January 1927. The men were not found but the gig itself was found floating upside down off Elbow Beach. Then, in 1988, there was the sinking of the Lloyd Bermuda en route to the Island from New Jersey. During rough weather, the cargo on the container ship shifted and the ship toppled, resulting in the loss of life. Finally, the day's events commemorated former slave and King's pilot James "Jemmy" Darrell who piloted the HMS Resolution — a large Royal Navy flagship — through the narrow channels some 200 years ago. This was a big responsibility for a former slave — if the ship was not successfully piloted, the admiral in charge, George Murray, would have been returned to England and hanged. The admiral was so impressed he requested Darrell be made a free man. On Darrell's release he became the first slave to buy a home on the Island. For the second year running, Marine and Ports deputy pilot warden Mario Thompson dressed as Darrell and piloted container ship Bermuda Islander, captained by Dirk Veldhuijsen, through the same route Darrell would have done. Mr Thompson said: "I am very active in St George's, most of the industry partners know me. I think it is very honourable. The Jemmy Darrell story came back to life about ten years ago — it is one of the big maritime stories that I can reflect upon as a harbour pilot. "The second ship that they highlight today is a ship I piloted as part of my young career as a first-class pilot. What is significant is that I know the captain and officers from the ship that perished. "Traditionally we like to use a container ship because the Bermuda Islander was just like the Lloyd Bermuda. It will provide the backdrop for the replaying ceremony that will take place in the Five Fathom Hole area where we disembark." Leaving the cargo dock in Hamilton at approximately 8.15am, the Bermuda Islander made its way through Two Rock Passage towards the Dundonald Channel. Making courtesy calls to Harbour Radio along the way, we then approached the South Channel and into Murray's Anchorage. As we neared the Spit Buoy off St David's Head, there was one of three new pilot gigs recently brought to Bermuda and it turned out, quite aptly, to be the one named after Jemmy Darrell himself. The ceremony took place on a pilot boat with father David J Addington of St Peter's Church leading the proceedings. Also aboard the boat were members of Marine and Ports, the founders of the Guild of the Holy Compassion Derek Tully and Henry Hayward, retired seamen, and relatives of some of the seamen being commemorated. After delivering the Lord's prayer, Father Addington read out the names of those lost saying: "May God, who commands the winds and the sea, make peace in your hearts and prosper the work of your hands and the blessing of God Almighty. The Father, Son, the Holy Spirit be with you now forever more, Amen." The wreaths were then laid in the sea. Father Addington said: "I am always honored to be asked to do this ceremony. It is a privilege. We are glad we had a cargo ship today as what we are honoring are the working seamen. The merchant seamen, the pilots — all those whose work it is to go out to sea in ships. We remembered our brethren pilots." Aboard the pilot boat was Richard Brangman, nephew of George Brangman who lost his life on the Ocean Queen II. He said: "It takes me back in time — I never really knew my uncle but I was told about him. Before I came out here we used to meet up at the graveyard on Cemetery Hill. When I was young my mother said you have to go and honour somebody in the family. I started back then and now it has ended up here. It is a very special occasion for my whole family." Heading back to shore Dr Tully reflected on the day's events. He said: "Bermudians are a seafaring race — we always have been. Seafaring and agriculture is what made Bermuda plus the Royal Navy. Everybody is connected and we are happy to do this ceremony because it encompasses the whole community."
August 15. Wayne Furbert, the Shadow Minister of Business Development, intends to table legislation in Parliament on Monday to create a Commission of Inquiry into allegations of extortion and bribery made against two government ministers and a former Attorney-General. Mr Furbert said that "in the interest of public welfare", he wants the inquiry to conduct a special investigation against the One Bermuda Alliance's Craig Cannonier, Senator Michael Fahy and Mark Pettingill. Mr Furbert said: "From the Jetgate scandal that saw three OBA ministers violate the ministerial code and led to the resignation of [then] Premier Cannonier, to the serious allegations before the courts of attempted bribery in the waterfront scandal by OBA ministers and insiders. "From Day 1 the OBA government's tenure has been characterized by scandals, broken promises and lack of transparency. When ministers are accused of accepting favors and payouts from casino developers or attempting to obtain bribes from waterfront developers, it casts a serious shadow over our reputation as a clean, modern sophisticated jurisdiction. Any right-thinking Bermudian would agree that corruption in any form has no place in our country. If it happened in the past it was wrong, if it happens in the future it is wrong and if corruption is happening today, right now, within the OBA government, it is wrong." Mr Furbert then pointed out that in 2006, after calling for a Royal Commission, Mr Dunkley said: "When those who hold public trust for private gain, the effects are too far-reaching and too serious for anyone to ignore. How we deal with it in the weeks ahead would say much about us as a country, our political leadership and public standard, and the example we set for our children. In making this call we are asking the Premier himself to use the influence of his office to make it happen." Mr Furbert added: "I am asking the Premier, the Honourable Michael Dunkley, to stand where he stood in 2006, and to use the power of his office to direct his party to support the motion and make it happen."
August 14. Bermuda's reputation as an ideal sailing destination has been further enhanced with confirmation that the Island will host an RC44 Championship Tour event next year featuring America's Cup sailors in high-performance monohull yachts. The Tour comprises of 12 international teams including two from Artemis Racing, challengers for the 35th America's Cup, that compete in one-design racing yachts at some of the most beautiful sailing venues around the world. The international racing circuit was founded by Sir Russell Coutts, the fives-times America's Cup winner and Oracle Team USA chief executive, who is delighted to have Bermuda host an event that has established itself as a key series since its launch in 2007. "It's a great thing that Bermuda is back on the radar for many of these Grand Prix classes like the RC44," Coutts, who won a record seven King Edward VII Gold Cups between 1990 and 2004, said. "The owners vote on which venues they would like to race at each year, so it is a pretty big endorsement for Bermuda that they have chosen to come here in 2016." Coutts, who won the coveted "Auld Mug" with three different racing syndicates including his native New Zealand, believes that Bermuda could potentially host other RC44 Championship Tour events beyond next year. "After they experience Bermuda, I'm certain they'll want to come back in subsequent years and I would expect many of the owners to visit again during the 2017 America's Cup." Bermuda's ideal sailing conditions has attracted a lot of interest from overseas sailing organizations since the Island won the bid to host the America's Cup. New additions to this year's international sailing calendar are two regattas featuring the foiling Flying Phantom catamaran and foiling International Moth dinghy, while next year will see Bermuda host the 2016 Viper 640 North American Championships. Olympians Anders Gustafsson and Kalle Torlén are the newest members of Artemis Racing's sailing team, the Swedish challenger has announced. The pair come from different backgrounds as Gustafsson competes in Canoe Sprints while Torlén sails in the 49er Skiff. "When recruiting for this campaign we looked across numerous endurance sports for elite athletes who would have the physical characteristics that we were after; a combination of aerobic fitness, strength, power, and importantly the right attitude and desire to transition into a new sport at the highest level," Pete Cunningham, the Artemis Racing's exercise physiologist, said. "When we tested Anders we were blown away by his fitness results on the grinding tests." Gustaffsson and Torlén could potentially be in action when stage two of the Louis Vuitton America's Cup World Series is held in Artemis Racing's home port in Gothenburg, Sweden, this month.
August 14. Walter Roban, Shadow Minister of National Security, has criticised Michael Dunkley for being "out of touch and taking Bermuda in the wrong direction." Mr Roban accused the Premier of attempting to carry out a miscarriage of justice against Marc Bean over comments he made against former senator Toni Daniels while failing to answer allegations of corruption within his party. Last night Mr Dunkley dismissed Mr Roban's comments as part of the Opposition's strategy of "disinformation and criticism." In a statement released yesterday Mr Roban leveled a string of criticisms at the Premier including the lack of action against the male videoed having sex with a minor at Cup Match, as well as remaining "strangely silent" over a recent shooting. After outlining these complaints, Mr Roban continued: "This is the same Premier Dunkley who found time to lecture us about political language and conduct and has never apologized for his profane and nasty remarks directed at Cindy Swan. The same Premier Dunkley that says he wants to elevate political discourse stood silent when his OBA colleague MP Suzann Holshouser was berated and brought to tears for voting her conscience instead of with her party. When it comes to Premier Michael Dunkley, the pattern is clear. On the real issues that matter to Bermudians, he has a tendency to disappear. His latest pronouncement cannot conceal the fact that he has been AWOL on several key issues and lacks the moral authority to lecture Bermudians on any subject. We encourage the Premier to focus his energy in getting Bermudians back to work, diversifying our economy and expanding opportunity instead of twisting the truth and ducking the real issues." Last night Mr Dunkley responded saying that he could "answer each and every prevarication that Mr Roban lists and knock them for six. Instead, I would ask Bermudians to consider this latest PLP attack in the context of the words of a former PLP Leader who outlined a strategy to take out the OBA Government through a 'sustained programme of disinformation and criticism'. That is what's in play with Mr. Roban's statement today. The reality is just the opposite. My focus as Premier and the focus of my colleagues has always been on getting our people back to work, diversifying our economy and expanding opportunity. That's what we were elected to do, that's what we've been doing and the benefits are starting to spread. That's a fact. But we know there remains a long way to go. We've turned the economy toward positive growth and the push is on to grow that momentum. Monday's special session of the Legislature is one phase of that push. Passing legislation that will set the stage for a new hotel in St George's that will help us get Bermudians back to work, strengthening the economy and expanding opportunity. Everything else about the statement released by Mr Roban is political exhaust from a party leadership that really doesn't want this government to succeed. I nevertheless want to thank him for the opportunity to remind Bermuda what really matters."
August 14. Jack Whitney was just 5 when he made his first musical instrument from a roast beef can, a piece of wood, some nails and string that he pinched from the screen door. It was the beginning of an illustrious career that saw the naturally gifted and popular musician perform his unique brand of country and western tunes at venues and events across the Island. Mr Whitney passed away last Saturday at the age of 90 and will be buried this weekend with his beloved mandolin. His daughter Beth Trafford and wife Loraine led the tributes to the respected musician who played no less than eight stringed instruments and entertained thousands as part of the renowned Jack Whitney and the Bermuda Plowboys in the late 1940s and early 1950s "There was always music in the family home when I was growing up," said Mrs Trafford. "My father was the soundtrack to my life. He always had his guitar in hand, and taught me to play the guitar as a child too. He was a wonderful family person and involved me in all of the things he enjoyed; his music, his horses and chickens and also his gardens." Mrs Whitney described her husband as a "wonderful person" who took pride in everything he did. She added: "He took great pride in his music — it had to be just right. He was a real animal lover and had prized chickens that had to be just perfect. He also put a great deal of work into his beautiful gardens" Mr Whitney was raised in the Riddell's Bay area of Bermuda and attended Warwick Academy. At 17 he ran a small A1 grocery store in Riddell's Bay and went on to form Jack Whitney and the Bermuda Plowboys in 1947. The group regularly performed at Rowley's Guesthouse in Southampton as well as other venues on the Island. Mr Whitney also worked as an actor double for US star Sandy Kenyon in the US television series Crunch and Des that was filmed on Darrell's Island in Bermuda. He married his first wife Verna Legge in 1956 and the couple had one daughter, Beth. After his first wife passed away, he later married his second wife Loraine in 2002. Up until a few years ago Mr Whitney and his musical friends including Jean Howes would entertain residents at care homes across the Island and patients at the hospital. Long-time friend and fellow musician Bobby Barton told The Royal Gazette: "I had known Jack for many years through music; he was one of Bermuda's best guitarists in western style. He loved cowboy music and the memories I have of him are him playing his one string bass with me on the harmonica."
August 14. A taxi driver known as "Night Rider" for his late-night service has defended his reputation against the charge that he was abusive to two female passengers. The driver said that their complaints about the night of August 1 amounted to character assassination. Earlier, the two had reported the confrontation to the Bermuda Tourism Authority. They accused the driver, who had collected them from Café Lido at Elbow Beach, of swearing at them and forcing them out of his cab when they refused his request to use their credit cards to pay for his gasoline. The two said the driver repeatedly demanded that they fill up his tank before aggressively ordering them out at the end of the drive, before South Road. "For them to say that about me, cursing and carrying on, is a slap in the face, not just to me but to all taxi drivers," said the driver of taxi T1756, who asked that his name not be used. "A lot of people know me, and everybody knows that I do not use profanity — I am a Christian and I do not curse. Just recently my pastor was telling the church that he didn't know many people with a bigger heart than mine." He said he has driven his luxury Mercedes cab, nicknamed "The Guardian Angel", for more than a decade, collecting passengers from remote locations and at all hours. I get a lot of corporate work," he added. "People have called my boss telling him how good my work is." He said that after a busy night during the Cup Match holiday, he had been bent on reaching the 24-hour gas station in Hamilton for diesel. He said the two passengers had got aboard as he was dropping off two others, requesting to go to The Fairmont Southampton Hotel. He added that he felt they were unresponsive and curt with him. With his tank running low, the driver said he had told them he would not be able to make it without their assistance in getting diesel from the Warwick Rubis station. Although closed, its pumps would have been accessible by credit card. "I offered her $20 and said she could swipe her card at the gas pump for $20 gas," he explained. "Otherwise I would not be able to get that far. If your tank runs out of diesel, you're in big trouble. It's bad for the engine." He attributed the lateness of the hour, combined with alcohol, to the misunderstanding in which his passengers refused to pay and ultimately called the police. The driver said he had asked them to get out, as he did not want to drive back to Elbow Beach, and told them they would be best off flagging a cab at the main road. They caught another cab in his presence, adding that he had conducted himself in a professional manner. According to the Transport Control Department, the Public Service Vehicles Licensing Board is continuing to investigate the incident.
August 14. The Progressive Labour Party has expressed "deep concerns" with new amendments to legislation that will pave the way for the construction of a five-star luxury hotel in St George's. Zane DeSilva, the Shadow Minister of Tourism, claimed the Bermuda Government had shown a "stunning lack of commitment to Bermudians" in the changes to the St George's Hotel Act. Mr DeSilva told the media the amendments reduced opportunities for Bermudians and said the Government was allowing developers Desarrollos to "create subsidiaries as they desire". But Shawn Crockwell, the Minister of Tourism, Development and Transport, rounded on the Opposition last night accusing the PLP of deliberate misinformation and hypocrisy. "The developer has already made a full commitment to employ and train Bermudians and they expect there to be far more Bermudians on site," he said. "Every positive project that creates jobs and stimulates economic activity that this Government has proposed the Opposition has undermined. This is clearly their strategy irrespective of the benefits it has for the country. This project will take years to complete, it will create hundreds of jobs during the construction phase and hundreds of jobs on the operational side. It will provide new opportunities for St George's and the golf course will be redeveloped." Mr DeSilva claimed the amendments removed the requirement for the employer to train Bermudians and for local entertainment to be employed, as well as allowing for the sale of Crown land. He said: "We need a hotel that will bring jobs and opportunity for Bermudians. That's why we are deeply concerned about the stunning lack of commitment to Bermudians being displayed by the One Bermuda Alliance on their hotel project and the lack of transparency surrounding the awarding of this contract." Mr Crockwell told The Royal Gazette he met with Mr DeSilva and Wayne Furbert, the Shadow Minister of Economic Development, to discuss the amendments as a courtesy before the Bill is debated on Monday. He said the amendments were designed to remove "cumbersome" terms and conditions that imposed administrative burdens not present in other jurisdictions. Mr Crockwell added: "The reality is that the developer would like the option of being able to build fractional units on this project. Because this is leasehold we received legal advice that fractional units can not emanate from a leasehold agreement. They can only operate from a freehold. So we are putting in the Act the ability for Government to convey a quarter of an acre so they have that option. They will be operating a St Regis hotel and their clientele will be well suited to fractional units, but this is not a guarantee." In yesterday's press conference Mr DeSilva called on the Government to release details from the Master Development Agreement governing the project. He said: "We refuse to sit by idly and let a flawed process continue without saying something. The OBA wants Parliament to grant this 262-year lease and planning permission without even sharing the plans for the development or the Master Development Plan Agreement that will govern the project. How can Parliament be expected to give its approval to something we haven't even seen that will tie the hands of Bermuda for the next 262 years? The Minister of Tourism must stick to these issues and explain why the Government has taken the stance it has." Meanwhile, Mr Furbert questioned why developers Desarrollos had still not begun work on a hotel they had been given permission to build in the Turks and Caicos Islands. But Mr Crockwell defended the developers and said there was no precedent for releasing the Master Development Agreement, which was a commercial agreement between the Government and the developer. Responding to Mr Furbert's question he said: "They were only given permission to start that project this year. They have successfully built a Ritz Carlton in Aruba and other hotels in the Caribbean. This is a developer that works with high-end brands and is putting $70 million of their own money into this project and yet we have an Opposition recklessly undermining and demeaning their reputation." Mr Crockwell added: "This is historic for Bermuda and St George and this Government will continue to be focused on creating these kind of opportunities This site has remained undeveloped for 30 years because the proper incentives were not in place. Countries like Barbados are offering 25 years of tax breaks, while others are offering indefinite incentives. We are still well below the norm compared to our competitors."
August 14. Global insured losses for the first half of this year have plunged to $16.5 billion, which is close to half the ten-year average of $29 billion. That is the finding of Swiss Re, the world's second-largest reinsurer, in its preliminary estimates for the first six months of 2015. And experts say there are signs that the Atlantic hurricane season, traditionally the biggest driver of global insured losses, may have entered a relatively quiet period that could last for ten to 15 years. This is the third consecutive year that insured losses from natural catastrophes during the first six months of the year have been below the average for the 2005-2014 period. Conversely, the global insurance industry covered almost half of economic losses caused by natural and man-made disasters during the first half of this year, a full 45 per cent, which is well above the ten-year average of 27 per cent, according to Swiss Re's data. A lack of disasters and catastrophes in regions with strong insurance market penetration has resulted in declining levels of insured losses since 2011, the year that saw the double disaster of the Tohoku earthquake and tsunami in Japan. It has been a record-equaling ten years since a major hurricane (Category 3 or above) made landfall in the US. The last was Wilma in 2005. Aon Benfield, which is part of reinsurance intermediary and capital adviser Aon, commented on the falling trend in insured losses in its latest reinsurance outlook report. It said: "Should current trends from the first half of the year continue, there are currently no regions of the world on pace to surpass their ten-year average in 2015." Florida is the US state that has historically been most affected by hurricanes and tropical storms. Since 1871 there have been only five occasions, including the current one, when a ten-year period has elapsed between Category 3 hurricane landfalls. According to the Florida-based National Hurricane Centre mid-August traditionally marks the start of the peak hurricane season in the Atlantic, but this year has yet to see its first Atlantic hurricane. Jim Lynch, chief actuary at the Insurance Information Institute in New York, said the big insured losses tend to come from hurricanes striking the southeast US. "The hurricane cycle tends to be a good indicator for the industry. There has been nothing significant in Florida since 2005. In terms of hurricanes it has been a fallow time. The hurricane forecasters are starting to think we are moving into a period of lower hurricane activity that could last for the next ten to 15 years. That's what they are thinking at the moment, although the science is not exact. There is a cyclical pattern and we were in the peak period during the past ten years." The hurricane cycle is known as the Atlantic Multidecadal Oscillation, or AMO, and is influenced by the sea surface temperatures in the North Atlantic. When the sea temperatures are cooler there tends to be less hurricane activity. Since 2012 the AMO has been negative, with cooler sea temperatures, according to Colorado State University scientist Phil Klotzbach, who spoke on the matter with the Houston Chronicle in May. Insured losses attributed to hurricanes have waned for most of the past decade, with the exception of Hurricane Sandy, which caused $65 billion of damage when it hit the northeastern US in 2012. That said, natural disasters have not gone away. They have shown up in places with much lower levels of insurance penetration. The earthquakes in Nepal, in April and May, claimed more than 9,000 lives and caused economic losses of at least $5 billion, of which only $160 million were insured losses. "The tragic events in Nepal are a reminder of the utility of insurance," said Kurt Karl, chief economist at Swiss Re, in a note on the company's preliminary sigma estimates for the first-half of this year. "Insurance cover does not lessen the emotional trauma that natural catastrophes inflict, but it can help people better manage the financial fallout from disasters so they can start to rebuild their lives." This point was picked up by Mr Lynch, who said insurance penetration rates were low in the Nepal earthquake region, and in the Philippines where some large typhoons have struck this year. He said the insurance industry was looking at how to increase coverage in those markets. However, he does not feel it is the lack of big insured losses, and the consequential soft market conditions, that are driving the wave of mergers and acquisitions among insurers and reinsurers. "What is driving that, more than a lack of catastrophes, is the emergence of new capital. You have collateralised reinsurance and cat bonds. And when the companies are booking profits they have to find ways to deploy that capital," he said.
August 14. Bermuda has signed up for an international catastrophe insurance scheme designed to cover the Island and the Caribbean for natural disasters. The Island is one of 16 members of the Caribbean Catastrophe Insurance Facility (CCRIF), a not-for-profit scheme which offers cover for events like hurricanes, flooding and earthquakes. The CCRIF this year offered a 50 per cent discount hurricane and earthquake policies and a 15 per cent discount on excess rainfall policies. Bermuda holds only a hurricane policy, triggered on model losses from wind and storm surge. The US National Oceanic and Atmospheric Administration (NOAA) has predicted a below-average number of hurricanes this season, which ends on November 30. But that still means there is a likelihood of six to 11 named storms, three to six hurricanes and up to two major hurricanes for the Atlantic area. CCRIF was developed by the World Bank and with a grant from the government of Japan. Capitalization came from a multi-donor trust fund set up by the Bermuda Government in alliance with the UK, Canadian, Irish and French governments, the World Bank, the European Union and the Caribbean Development Bank, as well as membership fees paid by participating governments. Since it was set up in 2007, the CCRIF has made a total of 12 payments totaling around $35.6 million to eight member states. The fund made payouts in the Caribbean in the wake of Hurricane Gonzalo last year, which also hit Bermuda, but the Island's policy did not reach the required trigger for compensation.
August 14. HSBC Bank Bermuda has been named as the Bermuda winner of Global Finance's best digital banks competition. In the North America section of the contest, HSBC was one of three winners announced in the first round of the contest. Citi has been declared the US winner, while Scotiabank is the Canada winner. One of the three will go forward to the next round as overall North America regional winner. "This industry recognized accolade is one that we are extremely proud of at HSBC, as it clearly represents not only the high calibre of our digital offerings but also the way in which our clients have embraced this technology," said Richard Moseley, CEO of HSBC Bank Bermuda. "We are also extremely fortunate, through leveraging the wider HSBC Group network and through the dedicated efforts of our employees, in being able to introduce to Bermuda the type of digital solutions that are our customers have been looking for, e.g. the HSBC Mobile App (now with Global View and Global Transfer for Premier and Advance customers)." This is the sixteenth year Global Finance has named the World's Best Digital Banks and details on all first round winners will be in the publication's September issue. Winning banks were selected based on the following criteria:
— strength of strategy for attracting and servicing digital customers,
— success in getting clients to use digital offerings,
— growth of digital customers,
— breadth of product offerings,
— evidence of tangible benefits gained from digital initiatives, and
— web/mobile site design and functionality.
August 14. Requests for express passport renewal will only be accepted in cases of medical emergency, the Department of Immigration has advised. The public is reminded to check the expiration dates of their passports. If they have expired, they should be renewed as soon as possible. A request for a express passport in an emergency should have documentation from a medical practitioner.
August 14. A 79-year-old St George's woman has been fined $300 for keeping a dog that repeatedly barked, annoying neighbors. Appearing in Magistrates' Court this morning, Yulisse Tucker-Carlington pleaded guilty to the offences, which took place between March 27 and May 5 in St George's. Tucker-Carlington admitted that her Yorkshire Terrier "Cutie" was perhaps not as well trained as he should be and that the noise he makes can be annoying.
August 14. The unemployment rate has fallen by two percentage points, according to the latest government figures. Total unemployment fell to 2,502 people in 2015 — from 9 per cent to 7 per cent. And the number of unemployed Bermudians dropped by 936 people from 3,214 to 2,278 over the same period. But the working population of the country is shrinking — down by 150 people to 35,328. Between 2014 and 2015, there were 170 fewer males in the workforce, while there were 19 more women. The number of working Bermudians and non-Bermudian spouses of Bermudians fell by 651 people and 129 respectively. But the number of expatriate workers grew by 136 people, while the number of permanent resident certificate holders increased by 43 people. At the same time, the youth unemployment rate dropped six per cent from 29 per cent to 23 per cent. The news came in the preliminary report of the Labour Force Survey carried out by Government. The survey found that median gross income also rose, up by $2,840 to $63,399 between 2014 and this year. Year on year, the unemployment rate among Bermudians fell by more than 29 per cent. Broken down by ethnic origin, the unemployment rate was down 33 per cent among black people and up 1.3 per cent among whites. The total labour force contracted by 3 per cent — 37,830 people in 2015 compared to 38,963 the year before. And the labour force participation rate fell by two per cent from 88 per cent last year to 86 per cent in 2015. Finance Minister Bob Richards said: "The Government has been working hard to create the environment of greater business confidence and one in which inward investment would lead to projects that get Bermudians back to work." Mr Richards added: "We expect that large building projects, like the new hotel property in St George's, will soon get under way." And he said the House of Assembly would hold a special meeting on Monday to introduce legislation "that will move the process forward". Mr Richards added: "This is good news. It indicates that we have turned Bermuda's economic momentum towards positive growth. But we also know there are people — families — still stranded on the sidelines of this progress and they tell us we've got to keep the pedal to the metal, keep pushing forward to create new jobs, new opportunities for more and more Bermudians." But Shadow Finance Minister David Burt said the figures showed the economy was still stagnating. "The total number of people working declined year over year — that can't be a good thing. There are 150 fewer people working in Bermuda than there were last year. For the OBA to call this something positive, they're either trying to mislead the public or they're deluded. The report confirms that the Bermuda economy under the OBA continues to move in the wrong direction. There are fewer people working in Bermuda, a sharp decline in Bermudians in the workforce. Furthermore the drop in unemployment is not a result of more jobs, but a result of Bermudians either giving up looking for work or leaving Bermuda entirely. This report is proof positive that the OBA's economic policies are failing Bermuda and especially Bermudians." The survey used a sample of around 1,500 households and has a margin of error of plus or minus 2.5 per cent.
August 13. Maintenance costs at LF Wade International Airport are rising "exponentially" and each time a major hurricane hits the Island taxpayers will incur millions of dollars in repair costs, Finance Minister Bob Richards has warned. The vulnerability of the airport to storms is one of the major arguments for the Bermuda Government's plans to build a new airport terminal in a less hurricane-prone location, Mr Richards said. The $250 million project will be financed by a private-sector developer — meaning there will be no need for Government to add to its debt — who will then take over management of airport operations for a 30-year period. Government has signed a memorandum of understanding with the Canadian Commercial Corporation, a branch of the Canadian government, which has in turn selected Canada-based Aecon Group Ltd as the developer and concessionaire. However, in an update on the project in response to questions from The Royal Gazette, Mr Richards said Government is still more than a year away from signing any contract and that ground will not be broken before the second half of next year. The opposition Progressive Labour Party (PLP) has raised concerns about the airport revenue that will be lost over 30 years, but Mr Richards said expenses would be offloaded too. "The current terminal is in the worst possible location insofar as hurricanes are concerned — too close to Castle Harbour and vulnerable to storm waves riding storm surges," Mr Richards said. "That's what happened with Fabian, with seawater up to the ceiling. Spending good money, $12.5 million after Fabian and over $2 million after Faye and Gonzalo, will be repeat events if the terminal is not moved to a safer location and higher elevation. As our principal gateway to the world we cannot have an airport so vulnerable to hurricanes. The new terminal at its proposed locale will lower that risk materially." Taxpayers made a small loss on airport operations in the fiscal year through March 2015, according to government figures. The Department of Airport Operations took in $10.7 million, from sources such as landing fees, commercial passenger charges and aviation security fees. When $13.4 million of airport departure taxes are included, total revenue was $24.1 million. Airport expenditure, including compensation for 43 staff, maintenance, energy and professional services, totaled $24.4 million. In the 2015-16 fiscal year, an increase in the departure tax from $35 to $50 per passenger will increase total airport revenue to $30.8 million, while expenses are projected to fall to $19.3 million. As no deal has been struck with a concessionaire, it is not yet clear whether Government would maintain any share of those future revenues or expenses. Deloitte was brought in to analyze the project and to compare it with UK government "Green Book" standards for procurement. Deloitte found gaps between what the Government has done so far and the UK standards, required to make a "full business case". Since the UK is responsible for Bermuda's external affairs and the airport project has involved working with a Canada government entity in the shape of CCC, Government House was consulted on the project. Last month the UK Foreign and Commonwealth Office sent a letter of entrustment to Governor George Fergusson, stating that "the United Kingdom Government and the Government of Bermuda must agree on what measures are required to address the deficiencies that are identified by Deloitte." Mr Richards said: "Government is in the process of promulgating responses and information that will satisfy the gaps relative to HM Treasury's Green Book as outlined by the Deloitte report. When this is complete we will fulfill the requirements of the entrustment letter. Nowhere in the Deloitte report does it refer to 'deficiencies'. This word can only be found in the entrustment letter. In so far as Bermuda law and regulations are concerned there are no deficiencies. Considering where we are in the process, the findings in the report are not surprising and we still have opportunities to close the gaps identified in the Deloitte report before entering into any contracts." Mr Richards said Government had agreed voluntarily to the Deloitte review, in the belief that its findings would improve the project's value for money and reduce risk. "Merely because Deloitte did not find lengthy memoranda or explanatory documents regarding, for instance a 'full business case', does in no way indicate that such matters were not considered, discussed and deliberated on in the Ministry of Finance or the Cabinet, because they definitely were," the Finance Minister stressed. "Bermuda Financial Instructions (FI), the set of rules that govern financial procedures under which the Bermuda Government operates, do not require or even suggest that such memoranda or documents be prepared." Such documents were "not boxes that we have to tick in the process mandated by FI", he added. Under UK guidelines, a "full business case" would be required before making a "Gate 3" decision, or a final investment decision. "It is important to note that the Government is not yet ready to make a Gate 3 investment decision," Mr Richards said. "We are over a year from making this decision. So we have the opportunity to close the gaps that have been identified before entering into contracts for the concession with the selected private sector supplier. The project will not break ground before the second half of 2016." Some observers have questioned whether Bermuda needs a new airport terminal right now. Mr Richards said storm vulnerability, the benefits of economic stimulus from the project and keeping up with competitors were all valid reasons. "During the 1930s the US borrowed billions and built iconic structures like the Golden Gate Bridge, the Hoover Dam, the George Washington Bridge and the Empire State Building to reduce unemployment," Mr Richards said. "We need to similarly stimulate our economy, but we don't have that proportionate borrowing capacity. With the project financed in this way, this Government can stimulate the Bermuda economy during difficult economic times, create construction jobs and longer-term retail jobs in the process. This terminal is an integral part of our recovery strategy." Rival international business centres and tourism destinations were building new airport terminals, he added. "Bahamas has just finished one. Cayman is building one in phases. Barbados built a new airport some time ago. If we are to compete and live up to our brand, 'First Tier, First Class, First World', we cannot have a third-world airport. While you may say nobody will come to Bermuda because of the airport, people's overall impressions of the jurisdiction will definitely by colored by their travel and airport experience. Being First Tier demands investment to make it so." When private-sector operators take over public-sector facilities, there are numerous instances of jobs, wages and benefits being slashed. Mr Richards said this would not be the scenario with Bermuda's new terminal. "If you look at the Quito, Ecuador airport, which CCC/Aecon built, the scenario you described did not happen," he said. "The jobs and compensation of the staff at our airport will be protected. In fact, more jobs will be created there. In the Quito airport, 99 per cent of the jobs there were filled by locals." The Finance Minister argued that taxpayers would get value for money. "Bermuda will acquire a strategic asset that its residents as well its customers will enjoy for many years to come," Mr Richards said. "It will be more efficient, both in terms of energy use as well as operationally. It will enhance the retail opportunities offered to travelers. It will be handicap friendly and protect travelers from the vagaries of the weather. It will reduce maintenance costs which are currently on an exponential growth curve. It will offer easy expansion options should that need arise."
August 13. Recent figures show a drop of more than 28 per cent in the Island's ranks of unemployed. Finance Minister Bob Richards said the Labour Force Survey, based on data collected in May and June of this year, also showed the unemployment rate dropping from nine per cent to seven per cent, based on the same period in 2014. "A breakdown of the figures shows unemployment among Bermudians has decreased, year over year, by more than 29 per cent," Mr Richards added. "Unemployment is down more than 33 per cent among black workers, while it is up by 1.28 per cent among white workers." The minister said that youth unemployment had fallen from 29 per cent to 23 per cent. "We expect that large building projects, like the new hotel property in St George's, will soon get under way," Mr Richards said. "We are bringing the House of Assembly back for a special sitting on Monday to pass a measure that will move the process forward." Unemployment fell to 2,502 people in 2015, the survey said. According to the document, released today by the Department of Statistics, the number of unemployed Bermudians fell to 2,278 from last year's figure of 3,214. The figures are the most up-to-date yet issued showing the level of unemployment in Bermuda.
August 13. The trial of Marc Bean over comments made at a polling station ended yesterday with the court finding that the Opposition Leader had no case to answer. While former One Bermuda Alliance senator Toni Daniels had alleged that Mr Bean had called her a "political whore" in the November 6 incident, defence lawyer Charles Richardson argued that in context, the words did not amount to offensive or insulting words under the law. After submissions by both Mr Richardson and prosecutor Cindy Clarke, magistrate Archibald Warner ruled that Mr Bean had no case to answer and dismissed the matter. Speaking on behalf of Mr Bean after the decision, Mr Richardson said the information should never have come before the courts, describing the charges as politically motivated and a waste of taxpayer funds. "I think the charges should have never, ever been brought because of the simple fact that, even as the Opposition Leader, Mr Bean has the right to express his views to everyone, especially a rival politician who personally attacks the politicians in his party," Mr Richardson said. "That's all it was. It was spirited political exchange. This prosecution was in my mind clearly brought out of political motives. Somebody wanted to damage Marc Bean and the PLP but it didn't work. We knew from the outset that it would be thrown out. I went through some similar things, I said some things about a police inspector, and I knew what the court's constitutional position would be. Do you know how much money we just wasted upstairs pursuing this out of political motives?" During the trial, which started last Friday, Ms Daniels told the court that Mr Bean had repeatedly shouted that she was a "f***ing political whore" outside the Somers Lodge, where advanced polling for a by-election was taking place. She further claimed that he had said he would pay "ten cents a lick" and pass her around to others. Meanwhile, OBA MP Nandi Outerbridge, who was also present at the polling station, testified that she heard Mr Bean refer to her and Ms Daniels as "those political whores", but said she did not recall him using profanity or repeating the comment. Both Mrs Outerbridge and Ms Daniels said they were offended by his words, with Ms Daniels saying that she responded by calling Mr Bean "disgusting and inappropriate." While Mr Bean did not take the stand, his police statement was presented to the court as evidence. In the statement, he said that he told the women that they were behaving in a manner "akin to political whoredom" and had challenged Ms Daniels's relationship with Home Affairs Minister Michael Fahy and Sean Collier. At the close of the Crown's case, Mr Richardson called for the court to find Mr Bean had no case to answer, arguing that even if the court found that the words alleged were spoken, they would not be offensive as they were comments "uttered by one politician to another on a political occasion at a location which could be deemed to be a political location for the day". He also noted the importance of freedom of expression saying that such prosecutions should only be pursued in "egregious cases" that disturb public order or public morality. Ms Clarke, meanwhile, argued that the comments were personal attacks with sexual undertones rather than political attacks and that the evidence had fit the requirements of the law. Delivering his ruling, Mr Warner said: "Having heard counsel for the Crown and for the defence, having heard all the evidence tendered, having carefully considered all the evidence and having heard full submissions on the law and the evidence as it relates to the counts, I rule that there is no case for the defendant to answer." The ruling led to brief applause from a handful of supporters present.
August 13. The Italian company that won a bidding war for Bermuda's PartnerRe reinsurance firm has bought up a $448 million stake in a prestigious British business magazine. Exor, controlled by the billionaire Agnelli family, has become the largest shareholder in The Economist magazine after former owners Pearson sold its half of the 172-year-old publication for $731 million. The Exor move boosted its share in the Economist Group to 43.4 per cent from 4.7 per cent. The stake in The Economist held by the Rothschild banking dynasty also increased, from 21 per cent to 26 per cent, while Pearson's remaining holding will be repurchased by the Economist Group for $284 million. Exor earlier this year beat off a rival bid by Axis for control of Partner Re, which it bought in a near $7 billion deal, the largest transaction by Exor in more than 100 years. The Economist stable includes the magazine, the Economist Intelligence Unit and other titles like CQ Roll Call. Ian Whittaker, a media analyst at Liberum Capital in London, said: "The families that own these stakes see themselves as protectors of The Economist and its values. They see themselves as guarantors of a legacy." Exor added that, subject to a shareholder vote, the governance rules of The Economist would be amended to limit the voting powers of any single shareholder to 20 per cent, and to ensure that no one individual or company can own more than 50 per cent of the group's shares. The Economist Group reported $93.6 million in profits on sales of sales of $512 million in the year to March. The flagship The Economist, which has been edited in London since 1843, has a circulation of around 1.6 million. The deal further reduces the reliance of Exor, which controls the giant Fiat Chrysler auto group, on the vehicle industry. Exor CEO John Elkann said: "Our strong belief in the merits of this investment is all the greater given The Economist's decision to join us by investing in its own shares." He added: "We are convinced of the huge potential that still lies ahead and particularly in The Economist's ability to seize the many development opportunities linked to the digitisation of the media industry. The Italian firm also controls Turin-based daily newspaper La Stampa and is the biggest investor in the Italian RCS Media Group, which publishes the country's biggest newspaper, Corriere della Serra.
August 13. NEW YORK (Reuters) — Bermuda-based insurers may be among the bidders as US bank Wells Fargo & Co prepares to divest its crop insurance business, one of the biggest in the USA. According to sources with knowledge of the matter, the bank has launched an auction for the business, which could sell for more than $1 billion. The sources cited Bermuda-based pair PartnerRe Ltd and Axis Capital Holdings Ltd as potential buyers. Wells Fargo said it is reviewing strategic options for its Rural Community Insurance Services (RCIS) subsidiary that may include a sale, excluding the Wells Fargo Insurance Crop Agency, its brokerage arm. "Wells Fargo regularly evaluates the strengths and strategic fit for each of its businesses. As our model continues to evolve, we are more focused on increasing cross-sell and growing the distribution side of the insurance business," a Wells Fargo spokeswoman said in a statement. Bidders for RCIS could include reinsurers seeking exposure to the primary insurance market such as PartnerRe or Axis, the sources said. Munich Re or Allianz SE are also potential buyers, the sources added. Axis and PartnerRe declined to comment, MunichRe and Allianz did not immediately respond to a request for comment. Crop insurance helps farmers protect themselves from financial ruin when drought, disease, freezing temperatures, hail, or wind destroy their crops. About 90 per cent of planted farmland is covered by insurance every year. A combination of low interest rates and extreme weather such as flooding and drought have combined to make the business unattractive to many financial institutions and companies of late. OneBeacon Insurance Group Ltd and Monsanto Co are among those to have sold their crop insurance arms in recent months. Banks have been under increased pressure from US regulators to strengthen their balance sheet and take on less risk, and this has also weighed on their ability to participate in the insurance business. Goldman Sachs Group, for example, sold its Global Atlantic Financial Group Ltd insurance unit in 2013. Wells Fargo now plans to be active in crop insurance through its insurance brokerage arm. RCIS collects more than $2 billion in premiums annually from farmers. It has more than 4,000 licensed agents.
August 13. The Department of Statistics released the 2015 Labour Force Survey Preliminary Report. This report provides findings on employment and unemployment with comparisons for the years 2010 to 2015, excluding 2011 when data was not collected. According to the 2015 Labour Force Survey, the working population slipped by 150 persons from 2014. There were 35,328 employed persons counted in 2015 compared to 35,478 in 2014. Between 2014 and 2015, there were 170 fewer males in the workforce. In contrast, the number of working females rose by 19. In terms of Bermudian status, the number of working Bermudians and non-Bermudian spouses of Bermudians declined by 651 persons and 129 persons, respectively. In contrast, the number of employed guest workers and permanent resident certificate holders increased by 136 persons and 43 persons, respectively. Highlights of the 2015 Labour Force Survey Preliminary Report
• Unemployment fell to 2,502 persons in 2015
• The number of unemployed Bermudians fell to 2,278 from 3,214 in 2014
• The unemployment rate was measured at 7% in 2015
• The youth unemployment rate declined from 29% in 2014 to 23% in 2015
• The working population decreased slightly to 35,328 in 2015 from 35,478 in 2014
• The labour force declined 3% to 37,830 persons in 2015 from 38,963 in 2014
• Labour force participation rate fell by two percentage points from 88% in 2014 to 86% in 2015
• Median gross annual employment income climbed 5% from $60,559 in 2014 to $63,399 in 2015.
August 13. Ratings agency AM Best has withdrawn its rating on Bermuda-based hedge fund-backed reinsurer PaCRe at the company's request. PaCRe, backed by the John Paulson hedge fund and Validus Re, was placed under review with negative implications in January due to a shortfall in performance caused by poor investment returns at the hedge fund. AM Best rated PaCRe as A- (excellent) on financial strength and a similar issuer credit rating. At the same time the ratings were removed from under review with negative implications and given a negative outlook. The firm removed PaCRe from its rating process after the company said it no longer wanted to participate. AM Best said: "The negative outlook reflects PaCRe's focused business profile in what has become a competitive property catastrophe reinsurance market and the overall performance of its alternative asset strategy relative to its original projected business plan. The company has not achieved its projected premium volume due to the current competitive market environment in property catastrophe reinsurance. However, it has produced positive underwriting results since inception despite a few significant loss events, which is a testament to the solid underwriting and strong cycle management capabilities of the underwriting manager. Additionally, the alternative asset strategy has not performed as expected during PaCRe's operation history, producing unrealized investment losses. Although management has made changes to the investment strategy in a an effort to reduce the volatility, it will take time for these changes to inure to the benefit of PaCRe." AM Best did not give reasons for why PaCRe asked to have its ratings withdrawn. The joint venture reinsurer is one of the companies targeted by the US Treasury's crackdown on hedge fund-backed reinsurers. AM Best added: "PaCRe's business plan will be challenged by established reinsurers as well as other alternative investment reinsurers entering the market and more property catastrophe capacity into an already overcapitalized reinsurance marketplace could pressure underwriting margins."
August 13. A portion of Hamilton's financial district was thrown into chaos yesterday morning after a bomb threat was reported at Butterfield Bank's Rosebank Centre. Nearby buildings were evacuated and roads surrounding Bermudiana Road where the bank is located were closed off for several hours as members of the Explosive Ordnance Disposal Unit scoured the building. Staff members from several businesses lined the streets trying to shelter from the summer heat as they waited to hear news. First responders were on the scene at 9.52am after a member of staff received a phone call, believed to be from a female, saying there was a bomb in the building. The call centre agent at Butterfield Bank who took the call spoke to The Royal Gazette about her ordeal. Dawnelle Brangman said a woman called and told her that if she touched her keyboard, the bomb would explode. "She said that there was a bomb in the building, and she specifically said Rosebank Centre [on Bermudiana Road], and said if you press any keys on your computer, it will blow up. I went over to my supervisor and when I came back they were gone. I have only been here a year and a half and it was the first drill like this I have had to deal with — I jumped up so fast out of my chair, my co-workers said I looked white like a ghost. They could see that something wasn't right and so we just got out of the building." Bermudiana Road and Par-la-Ville Road were immediately closed as Police and the Bermuda Fire Service carried out emergency procedures. Traffic was later kept off Church Street west of the Queen Street junction and Richmond Road. The bank, along with nearby businesses HSBC, Clarendon House and the Tiger Esso Gas Station, were evacuated. The Explosive Ordinance Disposal Unit entered the building at about 11.40am, while Butterfield Bank staff were moved to the company's main office on Reid Street. Confirming that a threat had come in, police media relations officer Dwayne Caines said the road closures has been carried out in the abundance of caution. "All persons are accounted for; all protocols are in place," he said. The bomb squad scoured all four floors of the building which was reopened at 1pm. It was the second bomb scare on the Island this summer: on June 1, the Whitney Institute Middle School had to be evacuated after a caller claimed a bomb was inside the building. An investigation is under way and anyone with information is asked to contact Chief Inspector Calvin Smith on extension 247-1032.
August 13. The crash that sent Round the Island Power Boat Race pilot Derek Simons to the hospital with minor head and neck injuries on Sunday was not caused by human error. A Bermuda Power Boat Association inquiry into the accident has determined that the crash stemmed from the racing conditions, which threw Simons's C Class Batboat off course and on to rocks near Castle Islands. "Our findings have revealed that due to the conditions where the crash occurred, it was not at the fault of the driver or co-pilot. It was a racing accident," Kim McCallan, the BPBA vice-commodore, told The Royal Gazette. "Both men have over 30 years' experience in racing in both local and overseas waters." A brief video clip that surfaced on social media reveals the final seconds before Simons's boat collided head-on with the rocks. The boat suffered extensive damage during the mishap and had to be towed back to shore, while Simons was taken to hospital by ambulance for observation as a precautionary measure and subsequently discharged. "It could have been worse if they were not in a capsule," Ms McCallan added. "Both Mr Simons and DeShields and the Power Boat Association executive committee would like to thank B16 [Ryan Davidge and Andrew Osbourne] and the gentlemen that were in the crash boat that assisted. Both the driver and co-pilot are OK and are recovering nicely and the investigation into this matter is now closed." Sunday's accident evoked memories of the 2002 race when Stuart Smith, of New Zealand, was killed after his C Class boat flipped on the South Shore. Meanwhile, safety concerns have arisen after some of this year's race participants were alleged to have been racing dangerously close to the shoreline. In a letter sent to this newspaper and copied to Michael Dunkley, British resident Giles Verity claimed the proximity of the boats to the shoreline put swimmers at Elbow Beach in harm's way. "This year was truly extraordinary with three of the boats coming closer to the shoreline at Elbow Beach than I have ever seen before," Mr Verity wrote. "Indeed, it was dangerous, pure and simple. The safety of those on the beach was severely compromised by the first three boats during this year's race." In response, Ms McCallan said: "Our course was sanctioned and approved by marine police and Marine and Ports, and all drivers were made aware of the course route that they had to take. Notices were put out by the Bermuda Police Service and the public were notified by newspaper, radio and TV. Other than that, we will have to look at any footage taken at Elbow Beach and then go from there."
August 13. The man accused of opening fire outside Somerset Cricket Club injuring four men has been cleared of all charges. It took a jury just 50 minutes this afternoon to find Princeton Shantoine Burrows not guilty of shooting at the men with intent to cause grievous bodily harm, along with charges of possessing a firearm and five rounds of .40 calibre ammunition in connection to the attack. The 24-year-old had always denied the charges, but chose not to take the stand during his trial. Prosecutors had alleged that Mr Burrows opened fire at a group of men sat outside the cricket club on November 11, 2014 injuring four men.
August 12. The vast majority of aggregate that will be used in the South Basin development will come from abroad, the West End Development Company (Wedco) quango has confirmed. When plans for the America's Cup village and the South Basin initially went before the Development Applications Board it was thought that landfill material used in the development would come from the North and South Channels. But Wedco expects most of the aggregate for the landfill to be imported from Canada. Andrew Dias, Wedco's general manager, told The Royal Gazette that he hoped the move, which was first announced last month, would be seen as a positive change within the environmental community and potentially improve the project timelines. "While we are in the value engineering process we are keeping our options open to ensure that the project is completed within the established budget," said Mr Dias. "We envisage that the vast majority of aggregate will come from abroad, but we are open to taking the aggregate from the dredging of the North Channel by Royal Caribbean Cruises because it make sense for all stakeholders. At present our focus is on importing the required fill material provided it is financially viable, so at this juncture the plan has shifted from dredging the South Channel." Mr Dias's comments come as the Bermuda Environmental Sustainability Taskforce (BEST) announced that it would be taking its challenge against the South Basin proposals to the courts. BEST maintain that environmental impact assessments conducted for the development are flawed and inadequate, and that the end uses for the site have been rushed through. The environmental group has also expressed concerns over the initial plans to dredge both the North and South channels. However, the Bermuda Government has pledged that the plans for the South Basin in Dockyard will be "environmentally sound."
August 12. RG Editorial. "Ours is not a time of robust self-confidence and national pride. The prevailing mood is one of muted pessimism and concern; fatalism and resignation have largely replaced faith in ourselves and our country. For decades the buoyant Bermudian self-image had been rooted in the seemingly unending economic growth spurt which got under way after the Second World War. This almost uninterrupted, decades-long upward trajectory brought with it increased equality of opportunity, social progress and belated political and institutional reforms. As recently as the late 1990s and the early years of the 21st century, when the economy was still expanding at a breakneck clip, Bermuda was widely considered an island of "unlimited impossibilities" as one wag glibly — but not entirely inaccurately — put it. But this historically unprecedented economic boom finally did come to an abrupt and particularly jarring end in 2007/08. And when that happened, Bermuda and Bermudians inevitably entered into a period of self-doubt and uncertainty. However, our current deflated self-image is not likely to last long. We are heirs to a long and proud tradition of boldness, innovation and enterprise. Our forebears, after all, created masterful new ways to harness the insubstantial wind with ingenious sloop and rigging designs. By doing so they transformed remote Bermuda into what has been called "the eye of all trade" in the Atlantic maritime economy of the 18th and 19th centuries. So it seems all but certain we will find ways to manage and overcome our present woes. A will to achieve the seemingly impossible, a resilient and resourceful temperament, these have always been the hallmarks of the Bermudian character. Adversity eventually spurs us to action, it has never permanently crippled us; hardship has always forced us to critically evaluate our choices, learn from our errors and retrench and recalibrate where necessary. Clearly we have a period of reflection and reappraisal ahead of us. Equally clearly we will be faced with some decisions we would rather not have to make. But they cannot be postponed indefinitely. In simple terms Bermuda must make the shift back to a robust, private sector-driven economy, with Government providing essential support services and infrastructure to facilitate such growth. Unessential services will have to be eliminated, trimmed or privatized because we can literally no longer afford to pay for them. Over the last decade, while the size of the Bermuda population has dwindled and the economy has softened, the Government added 860 new public sector jobs. The total number of white-collar workers went from 4,907 in 2003/2004 to 5,767 in 2011/2012. As has been pointed out more than once in recent weeks, that is the equivalent of adding an entire Fire Department (103 staff), Police Service (481) and Department of Corrections (278) to the Government payroll at a time when public revenues were going into free fall. Government, it should be remembered, only creates the conditions for businesses to create wealth; it does not generate a single penny of economic activity by itself. Private sector tax dollars are required to pay for every public service salary and every public sector outlay. Bermuda is faced with a shrinking tax base, stagnant economic growth and increased borrowing and deficit-spending to close our budget gaps. The rapid — and financially unsustainable — rate of growth in the Civil Service and an attendant increase in red tape both mitigate against private sector investment and new employment opportunities. So we have no option but to reform and restructure the bureaucracy, to introduce the sort of efficiencies we are now free to choose and craft and shape for ourselves. For in the not too distant future they may well be imposed on us. Outside lending agencies and regulatory institutions will inevitably balk at continuing to loan Bermuda money it can never hope to pay back without a comprehensive overhaul of its public sector and a renewed emphasis on facilitating private sector economic growth. Continuing to deny that a crisis is pending will not make it go away. Facts, as Aldous Huxley said, simply do not cease to exist because they are ignored. Bermuda could do worse than to retrieve the Spending & Government Efficiency (Sage) commission's recommendations from the unmarked grave where they were quickly consigned when it was clear a political backlash was brewing in the public sector. Every practising politician interested in re-election is, of course, concerned with the possibility of alienating votes — particularly such a key bloc of votes as the Civil Service. And every civil servant is naturally concerned with keeping his or her job. But the magnitude of the crisis we are facing demands courage and selflessness on the part of our politicians, realism and pragmatism on the part of our public sector unions and a degree of trust, cooperation and flexibility on both of their parts which Bermuda has not experienced in recent years. Bermuda can be an island of "unlimited impossibilities" again — but the first impossible thing we must achieve, as a matter of urgency, is the building of confidence between Government and the white-collar unions."
August 12. A hail of limestone chunks has collapsed from the walls of Black Watch Pass onto the pavement. "If it would have hit somebody they would have been killed, I am sure," area resident Gene Ray told The Royal Gazette. "A lot of it piled up there with some big rocks." Mr Ray said he walks down the narrow road every right for his evening stroll, estimating the fall happened some time on Sunday. He discovered the collapse just north of the arch that carries the driveway up to Government House. The cliffs up the side of Black Watch Pass show the test of time: excavation began in the 1920s to create Pass, linking Marsh Folly Road with North Shore Road. The roadway opened in 1934.
August 12. A tour operator is locked in a row with the West End Development Corporation over his business methods in Dockyard. Michal Tucker, owner of Affordable Ride Minibus Tours, claimed Wedco is using his vehicle being off the roads as an excuse to get rid of him because he sells cheaper tickets. But Wedco's general manager Andrew Dias said this "couldn't be further from the truth". Mr Dias added that Mr Tucker is not following procedure and is soliciting business without permission. But Mr Tucker said: "That is total fabrication and doesn't make any sense. I think that because of my personality and aggressiveness, they feel like I am soliciting business." Mr Tucker said his troubles began when a new beach shuttle service was started by Wedco and the Bermuda Minibus Association. He said he became "their worst enemy" because his service was cheaper and he encouraged visitors to buy one-way tickets instead of the round-trip they offer. "It was kind of a loophole for them to say 'his vehicle is not working, so here is our chance to exclude him from the property'," Mr Tucker said. Mr Tucker, who has been working with other vendors to accommodate his pre-booked tours, said he has been repeatedly questioned about his bookings and that other drivers have been told not to work with him. He also claimed he was approached by a Wedco employee, who "lambasted" him for not having a greeting sign in front of his biggest client two weeks ago. "It was totally embarrassing," said Mr Tucker. "I felt more embarrassed for Bermuda than myself." Mr Tucker said he was given a letter two days later that said he would not be allowed to operate in Dockyard unless he prints out his tour details and brings a greeting sign. "I'm not saying I am perfectly right about everything. I know I bend the rules and push the envelope like everyone else," Mr Tucker said. "But if the policy is for me, it should be for everybody." Mr Tucker, who prides himself on offering a unique, informal service, does not see why he needs a sign and why he cannot take last-minute bookings if people come looking specifically for him. "Who are they to tell me when to take a booking and what vendor to use?" But according to Mr Dias, the problem is that Mr Tucker is "not actually being a tour operator". "He is soliciting business on the property and he does not have permission from us to do that." Mr Dias said Mr Tucker's actions are "in conflict" with those of Wedco, the Transport Control Department and Visitor Information Centre staff. He added that taxi drivers have complained because Mr Tucker will call a taxi out of the waiting line. Despite making "every effort to come up with a compromise" and having explained the system to Mr Tucker, Mr Dias said he "chooses not to follow it. Eventually we will have to take him out of the area because he is not working with us."
August 12. Insurance giant XL Catlin has bought up a US-based insurer specializing in entertainment. The firm's XL America has acquired Allied International Holdings, the holding company of Allied Specialty Insurance and THE Insurance, a leading insurer of the outdoor entertainment industry in America. XL Catlin CEO Mike McGavick said: "The acquisition of a leader in a niche specialty risk business with deep longstanding client relationships and strong customer loyalty is perfectly aligned with the complex underwriting expertise of XL Catlin. "Now, as part of the XL Catlin team, together we look forward to new opportunities to further grow the business and build upon Allied's exceptional customer service and solid underwriting performance." Allied International is a leading provider of property and casualty insurance to the entertainment industry, The company's 3000 clients include carnivals, concessionaires, amusement parks, waterparks, fairs and festivals, as well as fireworks events and family entertainment centres. Mary Chris Smith, chairman and president of Allied Specialty Insurance, said: "After decades spent building our brand and deep knowledge of our clients' needs, we're proud of our track record and incredibly excited to be taking the step towards new growth and opportunities with XL Catlin. In XL Catlin, we have found our partner for long-term success and resources to help us innovate for our clients' evolving needs in this growing entertainment space." The deal, which is subject to regulatory approvals, is expected to close in the first quarter of next year.
August 12. An educator who ran a five-week summer camp in information and communications technology has said he is concerned by inadequate standards in the public school system. ICT educator Darren Burchall was invited by acting commissioner of higher education Dr Lew Simmons to work with the public school system on STEM (Science, Technology, Engineering and Math) learning. During his visit, Mr Burchall noticed a "vast" disparity between the levels of education in the public and private middle schools. The private schools, he found, benefited from well-stocked ICT resources such as reliable wi-fi and smart screens while the public schools were lagging with slow internet connections and smart boards being used as "glorified projector screens." He believes that the ICT infrastructure must be improved and has submitted a proposal to the Education Ministry. It suggests integrating STEM education into the curriculum, better collaboration between the private and public schools, the establishment of a National Training Institute for embedding new technologies, and overhauling one middle school into a "digital 21st century learning hub". Mr Burchall is also preparing a proposal for Education Minister Wayne Scott to create a working group that will invite key people in public and private schools to make and share strategies. He currently lives and works in Sao Paulo, Brazil as head of ICT for teaching, learning and assessing at St Nicolas School where he is responsible for the ICT curriculum and strategy. He previously taught ICT in England and recently launched the company Great4Learning, which promotes and facilitates ICT and STEM learning. He told The Royal Gazette: "There is a vast difference between the private and public schoolchildren. I taught a group from the gifted and talented children of the public schools and I think we have some questions to answer to as educators. "We did a robotics camp where the children used a platform to create a computer game. The public schoolchildren had a lot of problems and having spoken to some teachers they said, 'our children just don't do this type of thing. It is not their fault — I think it is due to the curriculum they are being given and the teachers don't have the freedom to embed the technology. I have teachers who tell me they have interactive boards in their classrooms but haven't been trained to use them. Programming and coding is the literacy of the 21st century — we are almost 20 years into this and Bermuda hasn't even started yet." Mr Burchall said that one public school he visited had no internet connection and another banned the use of cellphones on campus. "These phones are actually computers that can save the ministry money on budget. I speak to head teachers and ask how many laptops they have in their school and they open their eyes and realize they are banning technology that children could use every day. There needs to be some collaboration because the private schools are flying so high — there must be a way we can tap into and share knowledge, share procedures and share processes. It is much easier and cheaper than we think. They can start small by using Google Apps, Google Docs, the Google spreadsheet programme Sheet, and Google Classroom, which has taken the world by storm. It is fantastic and this stuff is free." A ministry spokesperson did not address specific questions we sent with regards to Mr Burchall's findings and proposal but did offer the following statement: "The Ministry of Education is committed to integrating STEM education in our public school. It is the vision for the Department to integrate all subjects to have a STEM component. The Department is putting more focus on teaching and professional development that teaches how to do inquiry/problem-solving through interdisciplinary teaching with critical thinking and project based learning. As such we are implementing a Mathematics Literary Strategy in the fall. In addition, we have the NASA Globe initiative in primary schools as well as the America's Cup programme for M1 and M2 students instructing them on STEM education through their outreach programmes."
August 11. Two robbers marched a man to an ATM in Hamilton over the weekend and forced him to withdraw money for them. The pair approached their victim on Reid Street at 3.45pm on Sunday and took him to the nearby HSBC Bank of Bermuda Branch. Police are appealing for anyone who witnessed the incident to contact them. "It appears that two men approached a complainant on Reid Street, near the Vasco Da Gama Club, and demanded that he hand over his money," a spokesman said. "Under duress these men escorted the victim to the HSBC Bank of Bermuda, Reid Street compelling him to withdraw an undisclosed amount of money from the ATM machines located inside of the building. These suspects are described as being brown skinned, between 18 and 22 years of age and wearing red shirts or hoodies. One was riding a red Yamaha motorcycle." Anyone with information should contact police at 247-1252.
August 11. Environmental due diligence has and will continue to be done for the development of the South Basin, according to the Bermuda Government. In a statement released last night the Government said that the accelerated programme to meet America's Cup deadlines would result in an "environmentally sound development." The pledge came after the Bermuda Environmental Sustainability Taskforce (BEST) announced that it would be going to court to challenge the South Basin plans. "The Ministry of Home Affairs was advised today that BEST has filed an Originating Motion in the Supreme Court in connection with the land reclamation, America's Cup Event Village and Marine & Ports Facility and commercial marine activities in the South Basin of the Royal Naval Dockyard," a Government spokesman said. "However, it is premature to respond to the details of the motion until such time as the Attorney-General has had an opportunity to review it. Notwithstanding, the ministry notes that, in its media release, BEST is of the view that additional environmental assessment is required for both the event village and the proposed end uses of a new Marine & Ports facility as well as other commercial marine activities. The Ministry certainly recognizes and acknowledges that further studies and information must be supplied as additional applications are submitted for future phases of the development." BEST claims that environmental impact studies that have been conducted for the 11-acre landfill and development of the South Basin are inadequate and flawed. However the Government spokesman said that it was anticipated that additional information will be required for the event village and the future Marine & Ports base. "Given the very compressed timelines for realization of the 35th America's Cup, the Development Applications Board granted planning permission for the uses but with conditions attached relating to the further information requirements, including the operational details, of the event village and the other marine facilities and activities. This will include information on parking and traffic management, solid waste management, hazardous management, emergency and hurricane preparedness. For the landfill itself, the board has already required the submission of a Construction Environmental Management Plan that must contain details of a dust minimization plan, construction waste management plan, oil and/or fuel spill management plan and a contamination management plan."
August 11. The Department of Environmental Protection is investigating a report of potential illegal spearfishing at the weekend. According to the Maritime Operations Centre, staff were contacted at about 1pm on Sunday by a member of the public, who reported seeing a boat with three people on board wearing wetsuits. The people on the boat appeared to be putting away spears, but the boat was in an area where spearfishing is not permitted. A report on the Department of Marine and Ports website stated: "From the registration numbers provided the boat is determined to be a rental vessel. "With the vessel under way through Town Cut, St George's towards Ferry Reach, fisheries wardens are contacted and a rental boat matching the description is later spotted at a dock in the Ferry Reach area." A spokesman for the Department of Environmental Protection confirmed that the Fisheries Department is looking into the incident, stating that the investigation is still in the early stages. Spearfishing in Bermuda requires a licence, and is not permitted within one nautical mile of the shore unless the fish is a lionfish for which special permissions have been granted as they pose a threat to Bermuda's native and endemic fish species. Spearfishing is further limited to two fish per species per day except for rockfish for which only one per boat per day is permitted. In July the Fisheries wardens responded to a report of a snorkeller behaving suspiciously. While the suspect escaped, wardens discovered a spear attached to a string of 42 dead parrotfish — a species protected under the Fisheries Act. Last night a spokesman for the Ministry of Health, Seniors and Environment added: "As the number of persons using a spear increases there can be some enforcement risks associated. The Ministry has always sought to weigh the risks against the potential benefits. "Allowing spearfishing for lionfish is a reflection of the concerns to control this species. We are looking at all practical means of controlling the species and we are continuing our research on trapping while collaborating with other jurisdictions to identify additional tools." Anyone with information about illegal fishing activity should contact the fisheries wardens on 705-3474 or 293-5600, or send an e-mail to fisheries@gov.bm.
August 11. A total of two new companies were registered in Bermuda last month. TDL Bermuda, a Class 1 firm, and Class D Old Mutual (Bermuda) Re joined the ranks of the business world. The two brings the number of new company registrations so far this year to 47. There were 38 insurers added by the Bermuda Monetary Authority (BMA) and 11 intermediary firms. The BMA said it looked at four insurance applications last month. Two were approved, one application was deferred and one was declined, while a further application was deferred from previous months.
August 11. Somerset may have had the edge on the cricket pitch but on the water it was the St George's team who came out on top in the inaugural Cup Match pilot gig boat race. Last night the St George's gig team were presented with a special trophy carved out of 200-year-old cedar at the East End Mini Yacht Club. The Blue and Blue crew crossed the finish line on Ferry Reach in the Pilot Jemmy Darrell gig ahead of their red and blue rivals on the Thursday of Cup Match to claim the coveted Cedar Thole Pin Trophy. The thole pin, which is the historic oar lock used by gigs, was presented to the winning team by retired US businessman and part-time Bermuda resident Frank Raines, who donated $1,000 to the Bermuda Pilot Gig Club. The club was formed earlier this summer after three pilot gigs were imported from the UK to Bermuda. The project was spearheaded by the St David's Island Historical Society and supported by local residents as well as the Bermuda Tourism Authority, Argus Insurance Group and the Bermuda Diabetes Association. "We had around 75 people attend the presentation, which was the first social event held by the club," said Rick Spurling, chairman of the society. The boat race was a huge success. It was a beautiful day and we had lots of people along Ferry Reach cheering on their sides. We hope to make it an annual Cup Match fixture, and next year we envisage having teams who have trained together for a long time specifically in preparation for the race."
August 11. Charities have expressed their joy after the police background check fee was waived. Michael Dunkley announced that charities would no longer be charged to get background checks on their volunteers. "There will be no charge for police background checks on people who volunteer to work for charities," the Premier said. "As a result, fees for the vetting of their volunteers will be waived. This clears the air and I'm glad of it." This comes after concerns were raised about the impact the $100-per-volunteer fee would have on organizations. The fee derived from the Charities Act 2014, which required charities to vet their volunteers. Higher government fees were passed in 2011. In July, the Centre on Philanthropy called for charities to be exempt in a letter written to Commissioner of Police Michael DeSilva, Finance Minister Bob Richards, and Patricia Gordon-Pamplin, the Minister of Community, Culture and Sports. Ms Elaine Butterfield, executive director of the Centre on Philanthropy, wrote that the decision presented "serious constraints on the already challenged charitable sector" and that the fees could lead to charities having to cut staff or close entirely. Ms Butterfield told The Royal Gazette: "On behalf of the over 200 non-profit members of The Centre on Philanthropy we are most pleased with the Premier's decision to waive the vetting fee for charities seeking volunteers. "This will have a dramatic impact on those charities who provide mentoring services and where volunteers interact with their clients, especially children. With several other fee increase initiatives recently implemented, it is encouraging to have this kind of support. It's impact could actually mean in some cases the difference between some charities' ability to continue to exist. The Centre on Philanthropy is most pleased to see this kind of support for our charities from our government. The Centre on Philanthropy continues to advocate for a strong and effective non-profit sector." Meanwhile, Clare Mello, YouthNet executive director, said: "This is great news for all Bermuda's charities. For YouthNet, it means we can continue to focus on our goal of recruiting 60 new volunteer mentors to the programme at no additional cost." Tina Nash, executive director of Raleigh International Bermuda, added: "Premier Dunkley's decision to waive the police fee for charities is fabulous. It is the greatest gift ever for all charities. Many of our helpers are volunteers and alumni and this really makes a big difference. When I heard that this would happen back in July I was so concerned, I called the police station and the Government hoping that they wouldn't charge us. The Government definitely made the right decision. It makes a huge difference for charities with a large number of volunteers. This is a huge victory, especially from the SCARS prospective — trying to protect the children." Jon Brunson, SCARS chairman, said. "This means that volunteers and helpers are free from putting children at risk, making sure that anyone interacting with them has been vetted but at no cost to us. This is a victory for all charities."
August 11. The pilot and co-pilot of a boat that collided with rocks near Castle Islands during Sunday's Round the Island Power Boat Race are lucky to have escaped with their lives. A brief video clip surfaced on social media yesterday and reveals the final seconds before the C Class Batboat driven by veteran pilot Derek Simons and co-pilot Desmond DeShields collided head-on with the rocks and then became wedged between them several feet above sea level. The boat suffered extensive damage during the mishap and had to be towed back to shore, while Mr Simons was treated for minor head and neck injuries at King Edward VII Memorial Hospital and later discharged. Mr Simons and Mr DeShields could not be reached for comment yesterday. However, sources close to Mr Simons said the veteran pilot remained in "good spirits and is resting comfortably" in the aftermath of his harrowing ordeal, which could have had far more serious consequences. "They were very lucky and I can't for the life of me understand what went wrong," Inspector Robert Cardwell, of the Bermuda Police Service marine unit, told The Royal Gazette. There is speculation that the windscreen on Mr Simons's boat might have been blurred by the salt spray, thus reducing the pilot's visibility as he approached the hazardous rocks. But this could not be confirmed yesterday amid an investigation into the incident launched by the Bermuda Power Boat Association. "This was a sanctioned powerboat race and I have been in contact with the executive of the Bermuda Power Boat Association and they are looking into the crash," Mr Cardwell said. "The Bermuda Police Service is not conducting any investigation." Sunday's incident evoked memories of the 2002 race when Stuart Smith, of New Zealand, was killed after his C Class boat flipped on the South Shore. Mr Simons, meanwhile, was only one of two pilots admitted to hospital during Sunday's event. Veteran pilot Craig Nesbitt suffered a seizure before the start of the race and was rushed via ambulance to hospital, where he was treated and discharged several hours later. Only six of the 13 boats that started this year's event reached the finish line, with the D Class powerboat driven by Steven Eversley and co-pilot Brandon Franks taking class and overall line honours in 43min 22sec. It was the second straight year that the pair have won their class and the first time leading the overall fleet across the finish line.
August 11. The value of imported goods fell 1.4 per cent to $217 million in the first quarter of the year. The latest Government balance of payments statistics show that there was a $17 million drop in imports from the Island's largest trading partner, the US. But that was offset by a $6 million increase in the amount of goods coming in from Canada and a $4 million rise from Caribbean. The balance of payments report said: "Among the commodity groups, the decline was reflected primarily in the imports of fuel, which fell $10 million below the corresponding period of 2014. "Imports of clothing, food and basic materials also contracted during the period. Revenues earned from the export of goods remained unchanged at $3 million during the quarter." The Bermuda current account recorded a surplus of $248 million for the first quarter, up $33 million compared to the same period last year. The Government report said: "The increase in the current account surplus reflected mostly an improvement in the primary income surplus due to increases in employee compensation and lower payments of investment income." And the deficit on the goods account narrowed by $3 million to $214 million, while services transactions realized a surplus of $76 million in the first quarter of 2015. Receipts from services transactions went up $2 million to $300 million over the period. Travel services receipts went up $7 million and receipts from business services increased by $4 million — put down to bigger takes from the provision of insurance and telecommunications and computer and information systems. But receipts from Government services and transportation services dropped by $4 million and $1 million respectively during the first quarter.
August 10. Google Inc, which has a number of Bermuda-incorporated companies, announced plans to create a new public holding company, Alphabet Inc. It is being created to restructure Google by moving subsidiaries from Google to Alphabet, narrowing Google's scope. The company consists of Google, Nest Labs and Calico as well as other businesses including X, Google Capital and GV.
August 10. The Bermuda Environmental Sustainability Taskforce will go to court to challenge plans to develop the South Basin in preparation for the America's Cup. BEST maintains it is fully behind the 2017 sporting spectacle and that the group had tried to fulfill its obligations with minimum disruption to the event. But chairman Stuart Hayward said it would be "negligent" for the group not to act against aspects of the development, which he said violated standards of best practice. "We have met several times with ACBDA head Mike Winfield and or members of his team and have jointly attempted to reach resolution on those portions of the application that directly affect the America's Cup organization," Mr Hayward said. "Unfortunately those attempts were not successful." BEST claims that environmental impact studies conducted for the 11-acre landfill and development of the South Basin are inadequate and flawed. Mr Hayward said: "At the heart of the dispute is the Environmental Impact Study (EIS) conducted for the project that was found to be critically flawed, so much so that ACBDA sponsored an emergency addendum EIS just a few days before the application was to be vetted. However, this emergency EIS categorically only covered the landfill, a mere one third of the project's components. The interim uses of the landfill — to house the America's Cup event village until AC35 departs — and the end-uses of the landfill — a commercial boatyard, consolidate Marine and Ports operations and a marina for luxury yachts — were categorically not covered by the emergency addendum EIS and inadequately covered by the original EIS. That state of affairs is unacceptable." BEST had previously appealed against the decision of the Development Applications Board (DAB) to grant approval for the proposed reclamation on the Dockyard site. Planning inspector Mark Hornell recommended that the Dab's original decision should be upheld and this was then approved by Michael Fahy, the Minister of Home Affairs. Mr Hornell stated: "The Board's decision to approve the filling of 11.1 acres of South Basin and the end-uses, even if not made clear in either the Board report or the minutes, is moot: the decision was already made by virtue of Parliament's approval of July 18, 2014, under the Land Reclamation Act 1964." BEST has called on the public to back its challenge and said there was still time for a proper and full assessment of proposed end uses of the land filled site. Mr Hayward said: "The interim- use as the event village for AC35 also needs some level of assessment for all that will be required to accommodate the transport, entertainment and waste of the anticipated throngs of people who will be wooed to use the space to enjoy the AC35 activities. AC34 held in San Francisco in 2012 proceeded under the banner of several environmental oversight regimes. Does Bermuda deserve any less? We think not. AC34 prides itself as the first carbon-free America's Cup. Should the America's Cup environmental reputation be tarnished because Bermuda won't do its due diligence? We should hope not. We invite the Government to show the AC35 sponsors and participants that we care no less about Bermuda than the city managers cared about San Francisco for AC34. We encourage the sailors and managers of AC35 to intervene if necessary to ensure that their legacy reputation in Bermuda equals or surpasses what they achieved in San Francisco. Further, as it relates to both the interim and end-uses for this new land filled area, we urge the Bermuda public to insist that existing protections for our environment be upheld, not sidestepped."
August 10. Supported by the Bank of Bermuda Foundation, the National Museum of Bermuda Press has recently published the fifth volume of Heritage Matters — the popular and informative historical essay series by Edward Harris. Heritage Matters was first launched on March 4, 2005 with an article on the history and potential of the abandoned Casemates Prison in the Mid-Ocean News. Garnering a dedicated audience, the series quickly became a popular must-read and continued for another decade. As the essays' popularity grew, it was decided to make the series available in a series of books, each volume constituting a year's worth of articles. Dr Harris's essays are illustrated to help give readers a visual of the topic at hand, with topics ranging from bus shelters to matters such as the importance of cultural tourism to the local economy. Heritage Matters volumes one through five are available for $20 each at the National Museum and bookstores island-wide. For more information, contact info@nmb.bm or (441) 234 1333.
August 10. The Progressive Labour Party has called on the Premier to step up the manhunt for a suspect wanted in connection with an incident of sexual misconduct over Cup Match. Police today said progress was being made, after releasing a picture of the man they want to question in relation to the incident, which involved a minor. But Walter Roban, the Shadow Minister of National Security, lamented that the man had not been caught. He said the incident was disrespectful to the meaning behind Cup Match and everyone who went to the sporting event. "Over the last ten days we have been inundated with calls and messages from Bermudian parents who are highly concerned that the male involved in the sexual incident at Cup Match has not yet been apprehended," Mr Roban said. "Many in our community are duly concerned that even with a clear shot of his facial image and CCTV at St George's Cricket Club, that the Bermuda Police Service, nor members of the general public, have yet to identify this perpetrator. Whether he was a resident of Bermuda, or a guest, there is a database of passport photos and drivers licenses, upon which facial recognition software could be run. There is simply no logical excuse as to how this person has not been identified, and as to why this person is still free. There is nothing that can be said that could excuse this behavior and while other Bermudians tried to stop this behavior in a variety of ways, the participants continued on in blatant disrespect. We call upon the Premier & National Security Minister, Michael Dunkley, and Junior National Security Minister senator Jeff Baron to step up the manhunt for this wanted individual. The Bermuda Police Service comes under their remit and we call on them to address this incident and to update the public on what is being done to bring these participants to justice. We urge anyone in the public who may know this person to contact the BPS as soon as possible." A Police spokesman said today that they still trying to identify the man in the video. He added that they are "following several lines of inquiry and active progress is being made. We are aware that a family member, friend, colleague and or an associate may know the identity of this individual and we are appealing for anyone that can assist us in the identification process to come forward." Police are appealing for anyone with information to contact Inspector Mark Clarke on 247-1086. Alternatively, call Crime Stoppers on 800-8477.
August 10. Planning the logistics for this week's elaborate re-enactment of the Gunpowder Plot, the first of its kind, has grown into a plot of its own. The team gathered yesterday at Tobacco Bay for some on-site preparations to recreate the infamous 1775 conspiracy, which is hoped to grow into a regular event. Organizer Rick Spurling of the St David's Island Historical Society showed The Royal Gazette the sequence set for Saturday night. "We're going to have a guard with a red coat and musket posted at the corner across the bay," said Mr Spurling, pointing across to Naval Tanks Hill. The barrels of gunpowder will be pulled up behind him. Then the Tucker conspiracy group will mug him, and take the barrels down to the beach, where the pilot gig will be waiting." "How real do you want it to be?" queried pilot Steve Lock, on the question of life jackets for the vessel, a replica of the traditional boats that navigated the Island's reefs. Mr Lock will man the gig Jemmy Darrell along with partner Yvette Barkin and Debbie Jones of the Bermuda Diabetic Association. Sacks were suggested as camouflage. A GoPro camera would also be discreetly planted on the vessel, as the recreation is being filmed. "We don't want anything too modern, or bright-colored," said Mr Spurling, who was still sourcing the appropriately loose white shirts that would resemble period costume. The re-enactment has a maximum budget of $15,000, with sponsorship split between the Bermuda Tourism Authority and the Corporation of St George's, explained Peter Frith of the Bermuda National Trust. Recreating the powder kegs did not come cheaply, but Mr Spurling was optimistic that he would come in under budget. "I don't know yet if we'll be able to have a fife and drum," Mr Spurling added. "Those are the sorts of expenses we don't know about yet." Actor Robbie Godfrey will play the role of St George Tucker, one of the main architects of the conspiracy, explained Adrian Kawaley-Lathan of RockFire productions. Tucker made sure he was absent, with an alibi, on the night of August 14, 1775, when the conspirators raided the British supply of gunpowder and sent it out to the waiting Americans. The conspiracy, which aided the rebels in the War of Independence, preserved trading ties that were vital for the Island. "Tucker was one of the key figures in the whole plot, so Robbie will be here as the lead actor and narrator — I'm thrilled to have him," said Mr Kawaley-Lathan, who has spent long hours researching. "It's so fascinating, how they got away with all this. You couldn't make this stuff up. In the one sense, it was treason; in another you're dealing with an island that had all these deep ties with America." Adam Gauntlett will play Governor George Bruere, effectively the villain of the occasion. In a short performance in King's Square, St George, he will be presented with a bottle of rum by Tucker. "He knew Bruere would drink it and sleep all night," explained Mr Spurling. "Bruere's home was the closest to the magazine." The group planned for an outraged Mr Gauntlett to come running after the departing boats, waving his fist and climbing into a punt to pursue them — only to fall into Tobacco Bay. Meanwhile, Mr Lock checked on how close the reefs come to the surface on their path out to Jerry Correia's sloop Ocean Spirit, which will stand in for the American vessel Lady Catherine — complete with the appropriate revolutionary flag with 13 stars. "We're cheating when it comes to the barrels," Mr Correia noted. "Ours will be light. Imagine hauling those down and rowing it all out. That had to be a hell of a rowing job." A host of events and re-enactments will accompany the 240-year commemoration, for which a 50-strong delegation from the Sons of the American Revolution, Daughters of the American Revolution and Children of the American Revolution is travelling to the Island. They will dine with Michael Dunkley at the Premier's official residence, and be received by Acting US Consul General Linda Rosalik, as well as Governor George Fergusson. Belcario Thomas from the group the Beach Boys Ltd, which is the beach experience management company operating Tobacco Bay, said that as the descendants of the rebels, the group may be presented with a bill for the stolen gunpowder. The Tobacco Bay performance will also serve as a venue for author Michael Marsh to present his definitive history on the Gunpowder Plot, Mr Thomas said. The night will close with music and a bonfire. "This could be part of a recurring re-enactment," Mr Thomas said. "We don't want winter to be the off-season; it's the art and culture season. It also ties in with slowly converting Tobacco Bay into a performance venue, which will benefit all of St George's."
August 10. A proud St Georgian who fought in the Korean War has been remembered as a dedicated family man. Dalton "Cuba Kid" Stovell passed away last Wednesday at the age of 83. Mr Stovell, who was born and raised in the East End, went to school at East End Primary and worked as a doorman at the St George's Hotel from the age of nine. At 19 he and a friend left Bermuda to join the Canadian Army and Mr Stovell completed two tours of duty in the Korean War. He served in the 25th Brigade, 1st Commonwealth Division taking part in transport convoys tasked with supplying ammunition and other supplies to forward units After he left the army Mr Stovell lived in Germany before returning to Bermuda in 1963. "He was very proud of where he came from, but he lived a very interesting life abroad too," said his granddaughter, Simone Bowen. "He got the name 'Cuba Kid' as a child because his dad was a sailor and often went down to Cuba. Over the years he became well known in the town of St George, but also Bermuda as a whole." After returning to the Island in 1963 Mr Stovell worked as a truck driver at the US Kindley Field Base and went on to get a job with Works and Engineering. He then worked at the Fairmont Southampton for nearly two decades, ending up as the hotel's head of security. Mr Stovell retired in 1994, but continued to work in the security industry for Arnold's and Swinging Doors. Former St George's MP Kim Swan, described Mr Stovell as a "great man" who did everything to provide for his family. "He led by example and was very proud of what he has accomplished in his life and the homestead he has built and paid for that houses his dear offspring," Mr Swan told The Royal Gazette. "Cuba Kid' was a truly amazing man and a family man par excellence. He had an extremely interesting career in the Canadian military and I still remember how his home was decorated with awards he had received, as well as a picture of two young Korean children whom he had helped get home during that war. He was very proud of what he did during the Korean War. When he came back to Bermuda he was known for his strong work ethic. "Cuba Kid" valued his family greatly and did everything to provide for them. I was always intrigued to speak with him, and often I was a benefactor of his wisdom. You could not help but gain strength from him when you spoke with him. I will miss him greatly." A keen political observer, "Cuba Kid" was a life member of the Progressive Labour Party who often called on Mr Swan and welcomed me in with open arms in 2014. Notwithstanding our previous years of political differences, we enjoyed a special bond between two men through mutual respect, that I cherish," Mr Swan said. Mr Stovell had chosen the Canadian Army because he could not bring himself to serve in a segregated force in Bermuda, he added, saying the proud soldier had received a certificate of appreciation from US President Richard Nixon in December of 1971. Ms Bowen called her grandfather "a very caring, loving person who would do everything for his family. We have two houses that he built himself because he wanted to provide for his family."
August 10. New Bermuda book, Bermuda Gold — Lee Slonimsky (Moonshine Cove Publishing). When small-time private detective J E Rexroth agrees to investigate threatening calls made to the wife of a hedge fund manager it seemed like just another job that would bring in some income and help keep the wolf from the door of his downbeat office in Manhattan. But little did he know it was far from a regular case, and the tentacles of evil reaching out for his new client were bearing down on his world from another direction. Rexroth is soon caught up in a murky world where big money, murders and a terrorist plot collide. As creeping paranoia takes hold, he discovers that all he values in life is on the line as he tries to unravel a sinister scheme before it is too late. Bermuda Gold author Lee Slonimsky has drawn upon his real-life background as a New York hedge fund manager and former educator at a justice college to create a compelling detective thriller that will have readers' nerves jangling as much as those of the characters caught in a web of fear, threats and deaths. Slonimsky expertly weaves together seemingly unconnected threads as he builds suspense and ensures the reader is with Rexroth every step of the way, from New York to Bermuda and back again, as he tries to evade shadowy, menacing adversaries. Using his knowledge of the hedge fund industry to carve out believable scenarios that could lurk in the secret world of big money investment deals, coupled with familiarity of police procedures informed from his time at John Jay College of Criminal Justice, the author has created a fast-moving and compelling detective thriller. The vulnerabilities of the characters are well observed, as are the descriptions of the streets of Manhattan, the splendor of the greater New York environs, and the beauty of the sun-kissed island of Bermuda. Sprinkled throughout are evocative imagery and turns of phrase worthy of a poet's mind. There are some books that you never quite get to the end of, while others so grip you that set aside extra time to read them, eager to discover how they will end. Bermuda Gold falls squarely into the latter category. It is a rewarding and thrilling read. Available from The Bookmart at Brown & Co, and online from Amazon.
August 10. Enstar Group Ltd's net income plunged by more than two thirds on investment losses. The Bermuda-based insurer, which specializes in buying companies or units that have stopped writing new business and managing their assets and ongoing obligations, made $14.5 million in net income for the April-through-July quarter. The earnings broke down to 75 cents per share and compared to $51.8 million, or $2.68 per share, in the corresponding quarter of last year. For the first six months of this year, Enstar made net earnings of $59.4 million, compared to $81.4 million in 2014. Net premiums earned were flat during the second quarter at $212 million, compared to $217 million in 2014. The net realized and unrealized investment loss of $11.25 million, compared to a gain of $38.4 million in the prior-year period was the principal reason Enstar's earnings fell. Many Bermuda insurers have suffered mark-to-market losses on fixed-income investment holdings as interest rates rose in the second quarter. Enstar's shareholders' equity has climbed by nearly $100 million this year, from $2.305 billion at the end of 2014 to $2.399 billion at June 30. During the second quarter, Enstar completed the acquisition of two Delaware-based subsidiaries of Bermuda-based life reinsurer Wilton Re for $173.1 million. Enstar said the first instalment of $89.1 million was paid on closing and was financed in part by borrowings. The second instalment of $83.9 million, due on the first anniversary of closing — May 5 next year — is expected to be funded from cash on hand.
August 8. For a number of years, Suzann Roberts-Holshouser has been entertaining the St George's crowds with her role as the "nagging, gossiping wench" in a popular historical re-enactment. For the show, the St George's town crier conducts a 18th-century trial, sentencing the wench to the dunking stool — submerging her under water multiple times until she admits to her crimes. For her dedication and passion towards Bermuda and its visitors, doll-maker Marion Macpherson, also known as Dottie the Clown, created a doll that is a replica of Mrs Roberts-Holshouser. "Suzann is really generous and does a lot for the tourists and Bermuda, which is why I thought I should make a doll that is a complete replica of her. She is the best at what she does and I can appreciate talent when I see it," said Mrs Macpherson. "I worked on the doll for four to five days and even put the little green outfit that she wears as the wench on it. It looks just like her." Mrs Macpherson started making dolls when she first came to Bermuda more than 30 years ago. She was introduced to the Bermuda Gombey and knew instantly that she could replicate it, selling 175 miniatures to tourists and locals. A year ago she and her husband spotted a doll in the airport and from there she decided to start making them again, 30 years later. She said: "Now I'm making dolls 24/7. I just love creating and I can see something and copy it or make it better, even though it can be difficult at times. I can't sleep until I figure something out. Creating the dolls nowadays is hard, especially finding materials and supplies that will make all of the detail come to life. I used to be able to go to the Women's Shop and get all sorts of things. Now I get most of the things from the fabric store in the Walker Arcade. When Marie Gleeson finished making her dolls made out of Bermuda plants, she gave me all of her supplies. That's where the hair came from on the wench doll." Mrs Roberts-Holshouser was ecstatic when the doll was presented to her right before the dunking re-enactment yesterday afternoon. She said: "Thank you Marion, I cannot tell you how special this is to me. The doll is just beautiful. You have to have the personality to be able to interact with the visitors and you have to love it. I love this."
August 8. Former One Bermuda Alliance senator Toni Daniels took to the stand yesterday as the trial of Opposition Leader Marc Bean began. Mr Bean has denied charges that he used insulting and offensive language towards Ms Daniels outside a Sandys polling station on November 6 last year. As the trial began in Magistrates' Court, Ms Daniels testified that at about 2pm that day, she was outside the Somers Lodge where a by-election was taking place involving PLP candidate Jamahl Simmons and Georgia Marshall, of the OBA. She told the court that she was approached by a man wearing a football jersey who appeared to be intoxicated. Ms Daniels said the man asked her who she was, where she lived and where she worked before moving on to other OBA members, asking them similar questions about her. Eventually, she said the man moved towards a separate pop-up tent, where PLP politicians and supporters, including Mr Bean, were standing. "The man was asking several individuals what my name was and at some point someone said my last name," Ms Daniels said. "Mr Bean referred to me as the OBA fixer or 'Band-Aid.' He seemed relaxed. The drunk fellow was continuing to press people to who I was and Mr Bean referred to me as the OBA political whore." Asked about Mr Bean's demeanor, she said: "He thought it was a bit of a joke. He said it loudly enough for the rest of his group and certainly myself to hear. Several members of the PLP began to laugh and giggle, to which Mr Bean began to laugh. "I was shocked. I was offended. I believed that Mr Bean was egged on by my reaction to it. He repeated the words to me being the OBA f***ing political whore." She said Mr Bean continued, saying he would pay "ten cents a lick". Ms Daniels said she eventually told Mr Bean that he was "disgusting and completely inappropriate", but the "tirade" continued. "He likened me to something else you puff and pass," she said. "He would have a lick and pass, and they thought it was hilarious. He repeated it multiple times. I believe he did so because the members of his camp really thought it was amazing. They were laughing. I believe my obvious distress was also egging on the repetition." However, defence lawyer Charles Richardson attacked Ms Daniels's testimony as inconsistent, noting that the words she attributed to Mr Bean were not the same as those in her police statement. During cross-examination, Mr Richardson suggested that Mr Bean had never cursed during the incident or called her an OBA "Band-Aid" or "fixer." He also suggested that Mr Bean had told the "impaired man" to ask Ms Daniels about "Cosmic Consultants" and challenged her about her connections with Sean Collier and Michael Fahy, which Ms Daniels denied. Mr Richardson also noted an opinion column written by Ms Daniels less than a week before the incident, in which she said Mr Simmons lacked political philosophy and would "advance any political policy" for personal gains, putting to Ms Daniels that she had essentially described Mr Simmons as a political whore. The defence lawyer further suggested that Mr Bean had approached both Ms Daniels and OBA MP Nandi Davis, who was present throughout the incident, telling them that the men of the OBA valued them both like they were worth ten cents on the dollar. Ms Daniels responded: "He didn't say that to me." The trial will resume next week.
August 7. The Island's hospitality and beauty will be showcased to sailing fans worldwide thanks to a partnership between the Bermuda Tourism Authority and the 35th America's Cup. The deal is expected to be a big boost to tourism efforts, the BTA said yesterday. The move comes as the authority launches partnerships and promotions designed to introduce the Island to a wider audience as part of their global effort, "Race to Bermuda", which began with the Louis Vuitton America's Cup World Series event in Portsmouth that took place from July 23 to 26. "The America's Cup Event Authority is engaging the next generation of sailing enthusiasts with its powerful foiling boats, while at the same time the BTA is reaching a generation of travelers focused on adventure and experiential travel," said Bill Hanbury, the BTA's chief executive officer. "The target audiences are perfectly aligned. We were thrilled to launch the Race to Bermuda in Portsmouth last month and look forward to building greater momentum on the way to 2017 and beyond." Harvey Schiller, commercial commissioner of the America's Cup, said: "The Bermuda Tourism Authority's strength as a sales and marketing organization was evident during the bid process, and its efforts were a significant contributing factor to Bermuda coming out on top. "We are pleased to work in partnership with the BTA over the next two years to help to reach a new generation of travelers and grow the tourism economy in Bermuda." The partnership agreement includes prominent branding and space at each America's Cup venue this year, next year and in 2017, as well as commercial airtime promoting Bermuda on US TV broadcasts of the America's Cup in 2017 on NBC Sports. Additional partnership benefits for marketing Bermuda will be realized on the AC35 website, app and on social media. The BTA is also planning to work with other ACEA brand partners to leverage exposure and increase demand. Mr Hanbury said: "The previous America's Cup was broadcast to over 200 territories worldwide, and we are already seeing better distribution this time around. We are pleased to have secured significant exposure for Bermuda on the international broadcasts for every event in 2015, 2016 and 2017 for the Race to Bermuda. We are also pursuing new opportunities over the next two years with other ACEA partners, to increase exposure and leverage our investment for Bermuda." Victoria Isley, chief sales and marketing officer for the BTA, said innovative brand partnerships would be the hallmark of the Race to Bermuda strategy. "Through existing partners like Gosling's to new ones like British clothier Henri Lloyd, the BTA will link premium lifestyle brands with the Bermuda story to get new audiences dreaming about travel to the Island," she said. "Meantime, on social media we launched #RaceToBermuda last month in Portsmouth. We will use this platform to engage with an even wider audience about Bermuda's travel story." In the run-up to Portsmouth's sailing celebration, the BTA worked with its partners to harness excitement about Bermuda by engaging with UK consumers. Cup enthusiasts were exposed to Bermuda's heritage and style, invigorating experiences, stunning locations, welcoming culture and authentic Island lifestyle. The BTA said it showcased the destination and its unique selling points by combining a variety of travel trade and fashion brand partnerships, consumer campaigns, charity support, media initiatives and social media campaigns.
August 7. About 20 years ago James Tucker fell in love with goats. He soon found out they weren't great as pets but somehow things worked out for all concerned. There are now seven goats living the good life at Tucker's Farm just off Hungry Bay. As for James, he's Bermuda's only commercial cheesemaker. It's quite a change of pace for the architect, who decided to go into the cheese business after the construction industry went south. "After 2008 I wanted something I could stay busy at," he said. "I wanted to make this a business." Grocery stores don't hang on to the 56-year-old's popular goat cheeses for long; restaurateurs would likely insist they're why cheese plates are making a comeback. Tucker's Farm cheeses came about because of a severe case of goat-envy. "About 20 years ago my neighbor had goats," James said. "My children were small and some kid goats are very cute and so we decided we wanted a goat as a pet. My neighbor gave us one but we found that goats make terrible pets, to tell you the truth. People think they'll keep the grass down but you have to fence them in. They're so destructive when it comes to landscaping; they're like locusts basically. But they're incredibly affectionate animals and very intelligent. So from that standpoint they're okay as pets but really, they're herd animals. You can't have one. You need a number so they can create their own family and their own social world." The Tucker family decided to keep their "pet"; James did a bit of research to learn more about their habits and preferred habitats. "Finally I was directed to a gentleman by the name of 'Ducky' Lindo. To tell you the truth, it was the first time I realized these animals had any utility. Ducky had all the magazines, the glossies, the newspapers [about goats] and they were all talking about making cheese. Before that I had no concept of goat cheese, of cow cheese; cheese to me was a yellow block that tasted good." He hunted down cheesemaker for their advice and supplemented that with what he found online. The information fuelled a passion that exists to this day. Tucker's Farm began selling its cheese every Saturday morning, from a tiny stand at the foot of Lagoon Drive in Paget. "I got obsessed with cheese," James said. "Every time we were on vacation, I would look up cheesemaker. It kind of took over my life. I guess there are worse things than being obsessed with cheese but you can spend your whole life making cheese and trying to make it better. In Europe, there are generations of cheesemakers and you understand why. It is artistic, it's a science." And then, "life interrupted". Said James: "I put it on the shelf for a while. In between then and when I started back up, I worked out what I would do if I decided to do it again — what space was needed, the housing that was needed." Tucker's Farm goat cheese is now available in several restaurants and grocery stores. Look for 6oz tubs at The Supermart, Wadson's Farm, Windybank Farm, Lindo's stores, Miles Market and Harrington Hundreds. Although he's cornered the local market, James is willing to share his expertise with anyone who wants to break into the business. At the moment, he's the only family member on board. "I don't want to make more cheese than I can make with my own hands 60 hours a week," he said. "I know the market is bigger than what I'm reaching right now but I don't want the business to grow beyond that. This year we started selling milk in stores but, to tell you the truth, it sucks. The packaging is too expensive; the expiration period is too short. I much prefer making cheese. My wife, Judith Howe Tucker, is very supportive but she doesn't want to milk goats or make cheese. The kids are the same way. They love the goats, they love the cheese, but nobody's chomping at the bit to take over the family business." His plan is to take a formal course in cheesemaking in Vermont later this year. He hopes it will teach him how to ensure his cheese is more uniform. "Everybody here is very encouraging," he said. "Everybody says the cheese is fantastic and world-class but actually, it's because it's the only local farmhouse cheese they can get. I figured out to do it my own way. It was a good way to start but I need somebody to show me how to get that consistency. "I've got a long way to go. I haven't arrived yet. I've got a lot to learn but as long as it's fun and I continue to enjoy it I want to continue to learn."
August 7. Shoppers paid 2.1 per cent more in June for goods and services than a year before. And the Island's inflation rate went up 0.9 percentage points from the 1.2 per cent measured in May. Health and personal care notched up the largest increase year on year — up 8.5 per cent, driven by increased costs for health insurance, medical care and medicines. The cost of food and transport and foreign travel also increased. Transport and foreign travel rose 5.9 per cent in June, which followed a one per cent decrease the previous month. And the average price of airfares and premium fuel also went up — by 4.2 per cent and 6.7 per cent respectively. But the average cost of motorcycles dropped, down 4.5 per cent. Food costs rose 0.1 per cent between May and June, following a 0.4 increase in May. The jump was attributed to a hike in the price of eggs, margarine and canned evaporated milk. The cost of rent was static for June, despite average prices for rent-controlled properties going up by 0.1 per cent. The price of tobacco and liquor remained steady month-on-month from May to June. A 0.2 per cent increase in the average cost of beer was offset by a 1.3 per decrease in the price of spirits. The education, recreation, entertainment and reading sector went up by 0.5 per cent in June, while boat repair and maintenance costs rose by 2.6 per cent due to increased fuel prices. The figures mean that a basket of goods and services that cost $100 in April now costs $100.70.
August 7. A quarry has been refused permission to carry on its work for failing to provide planners with a "comprehensive assessment" of the operation. The quarry, on Harrington Sound Road, Smith's, was granted temporary permission to excavate slate after Hurricanes Fay and Gonzalo. At the end of last year, full planning permission was applied for. However, the Development Applications Board (DAB) refused to allow the continuation of the operation because a "comprehensive assessment is required to determine if the quarry operation is appropriate for the location". The DAB's minutes state: "The applicant has failed to provide the board with a plan to illustrate the final use of the site once the quarry operation ceased. Therefore, the board is unable to determine if the new grade levels created by the current operation will be compatible with a suitable use and development of the site." The ruling prompted the applicants, Katherina Harlow and Heyward Burnet, to appeal to Michael Fahy, the Minister of Home Affairs, against the DAB's decision. They claimed that the refusal was "heavy handed" and "overly bureaucratic", adding: "We urge the minister to set aside the decision of the board and grant a renewal of planning permission for quarrying this site to preserve a viable Bermudian business." However, Sen Fahy sided with the DAB and dismissed the appeal. "In my view a series of temporary permissions, which were granted in exceptional circumstances due to severe storm damage, is not a substitute for a full and comprehensive application for final planning permission," he said. "A comprehensive application could have been prepared, submitted and processed by technical officers prior to the expiry of two temporary permissions. The details associated with this quarry operation must be finalized through a further application."
August 6. A free yoga therapy programme designed to benefit Bermuda's seniors is being launched. The four-month, one-on-one programme aims to demonstrate how yoga and yoga therapy counseling can help with some common health issues that affect our ageing population. Information will be gathered about mental and physical stress, anxiety, chronic pain, sleep issues, posture and other concerns. The free Yoga Therapy and Ageing programme is being organized jointly by Age Concern and the Bermuda Association of Yoga Therapists (BAYT). Age Concern director Claudette Fleming said: "In the Western world, there is a growing and unprecedented emphasis on personal responsibility in old age. We are expected to take care of ourselves first, before we seek the assistance of others. The truth of the matter is, however, that as human beings we are always in a state of interdependency — that is, we will always need the presence and support of others to help fulfill our goals and aspirations. While we are in support of the 'personal responsibility' healthcare and ageing message, we are also acutely aware that environmental conditions must be supported for ageing and health outcomes to be effectively achieved by older adults. We hope the programme and programme outcomes will inspire more of our members to take advantage of the offering, should we be able to offer it again. We also hope that persons in the wellness industry will be inspired to offer discounted services for Age Concern members as a means of opening doors for those who might not normally have access or information on the many ways that are possible to support wellness in old age." BAYT chairwoman Joanne Wohlmuth added: "The intention of the project is to draw the spotlight on concerns for the elderly and the rising cost of healthcare and our need to look at alternative, low-risk and low-cost health methods as an adjunct to allopathic medicine to help seniors heal or stay healthy. The intention, also, is to raise awareness and respect for yoga therapy and its benefit to our Bermuda community at this time of impending doom and gloom, vis-à-vis the state of our healthcare system." There will be an introductory session at Charities House on Wednesday, August 12, from 1pm to 2.30pm. The programme runs between September and December of this year.
August 6. Legislation laying down a raft of new smoking restrictions has come under fire from the owners of specialized tobacco businesses. However, the Ministry of Health revealed last night that the sale of premium cigars would still be permitted at public events. The Tobacco Control Bill 2015 was tabled in the House of Assembly in June by Jeanne Atherden, the Minister of Health. But its introduction before Parliament has sparked criticism from firms that specialize in selling tobacco products for threatening their livelihood. Business owners told The Royal Gazette that they were disappointed to have never been consulted when the Bill was drawn up. "It's appalling that the businesses that this really affects were never even asked to contribute their thoughts when the Bill was drafted," said Alfonso Harris, the manager of Churchill's in St George's. "I am all for keeping cigarettes and tobacco away from minors, but this legislation has repercussions for those of us in the industry that don't seem to have been considered at all." Since the original legislation contained no mention of an exception for cigars, Mr Harris questioned whether his business could still operate cigar stalls for tourists at Dockyard, or at sporting events such as the Rugby Classic and Harbour Nights. Section 18 of the Bill states: "No person shall employ or authorize anyone to promote cigarette products, tobacco products or smokeless tobacco products at any place where the public is invited." Cigar-roller Grant Kennedy, who owns the Bermuda Cigar Company, told The Royal Gazette: "If there are no changes to the legislation that has been tabled — which relates to cigarettes and tobacco products — then my cigar rolling in public is promotion and that would pretty much end what I do. Having said that, I am hopeful that a differentiation will be made between cigars and cigarettes in the proposed legislation that would allay these fears. Meetings have taken place between the stakeholders and Government with this in mind, and I would like to see that consultation process continue." According to the ministry, cigars are exempt because, unlike cigarettes, they are composed wholly of the leaf of the tobacco plant. So while the promotion of cigars at an event such as Harbour Nights would be banned, their sale would not be. In a statement, the ministry said the Bill was necessary to implement obligations under the World Health Organization's framework convention on tobacco control. "In the last decade, international controls of these known carcinogens have escalated, and Bermuda's tobacco control laws are being updated in accordance with international standards," the ministry said. The Bill makes it illegal for a person to "display or promote" a tobacco product by an advertisement that depicts such a product. It also provides that smoking is illegal in any "enclosed public place, workplace or public conveyance." Michael Heslop, who manages in the Smoke House in the Victoria Mall, believes that the new regulations will lead to a 30 per cent decline in his sales. "This will have a knock-on effect on a lot of businesses other than the specialized tobacco ones. It is heavy-handed and has not been thought through. What's worse is they have not even asked the people who work in this industry in Bermuda when drafting the legislation. This new legislation effectively bans all of our wraps, our shisha, our flavored cigars — some of which are made in Bermuda, our hand-rolled Indian bidis and other products. We all understand and appreciate the need to restrict aspects of the tobacco industry and I believe the minister wants to do the right thing. But there are consequences of this legislation that have not been thought through, such as preventing stores importing cigarettes from Canada because they come in packs of 25, or selling single cigars. There are lots of little things in this Act that just mount up. However, what is most disappointing is the lack of consultation." The Bill bans the smoking of electronic cigarettes indoors and the sale of flavored tobacco products. The proposed legislation prevents retailers from displaying cigarette products, tobacco products, smokeless tobacco products or rolling papers in a shop. It also bans the sale of cigarettes other than in pre-packaged quantities of 20 in their original packages, while sales from vending machines is prohibited.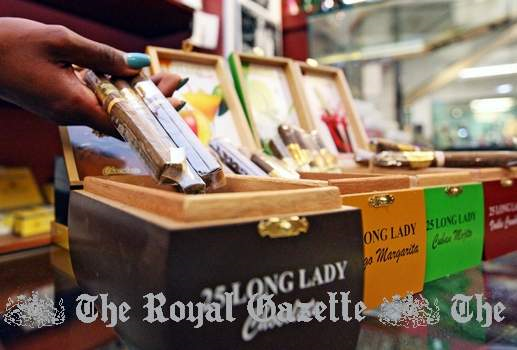 Cigars available in Bermuda, see above story
August 6. Government dental services have been scaled back temporarily due to financial constraints, the Department of Health said yesterday. The Oral Health section of the Department provides dental health services for school-age children, special patients, prisoners and seniors. But, as revealed in The Royal Gazette yesterday, the service is only available for existing clients and emergencies. There are usually four dentists working out of the Hamilton Health Centre, Somerset Health Centre and St George's Health Centre. The service to new patients was cut off 11 days ago and three dentists are trying to cover a large backlog of work before two of them end their tenure, leaving just one. A department spokesman said the Bermuda Government was "actively seeking" a locum to help to ease the strain on the remaining dentist. The recruitment process to fill the vacancies had been approved but it could take up to a year to get staffing levels back up to full capacity. The spokesman said: "Avoiding gaps between employment of all clinical staff has been the continuous goal, but the reality of hiring freezes, due process involved in recruitment and approvals, and the career choices of incumbents, means gaps are sometimes unavoidable. This is compounded when overseas recruitment is required which prolongs the process further. We are conscious of the impact on patients and every individual at the front line and behind the scenes is working tirelessly to remedy the situation within the constraints of the existing economic environment. The Department of Health is actively seeking a locum and anticipates to have one full-time locum and one part-time. The department is restricted in its ability to fill all the positions but has worked tirelessly to meet patients' needs with limited resources. In the interim, urgent cases will take priority. There is no guarantee that immediate replacements will be available to take over the work". Some 8,000 people use the government-funded dental service although active use varies. Last year there were 4,434 visits to the dental clinics and 2,358 screenings, not including health fairs. At the last count, there were 504 patients on the waiting list. Most of these were children — 37 were special patients and 87 were seniors. The service has been taking patients off the waiting list to see the new dentist, when possible. The spokesman said: "There are people who come to the clinic but are ineligible for the service. However, for some time, of those who are eligible we have been encouraging some to go to private practice when they have insurance coverage. The Hamilton Health Clinic does not have access to any kind of financial assessment. Every effort has been made to meet the most pressing patient needs with limited resources, and we believe the public can appreciate Bermuda's economic reality and the impact of the fiscal space on service provision. With respect to the dental services, the ministry is seeking to put in place a service complement within the reality of recruitment and approval processes." The waiting period for routine oral health services could be as long as six to eight months. The department advises: "In patients' best interests, where the family has insurance, it is advisable to seek services through a private practice rather than the government clinic at this time. This would alleviate pressure on stretched services. The public is reminded that from September 1, 2015, parents on HIP will be able to put their children on HIP at a lower premium designed for dependents. Priority is being given to eligible patients who, upon triage, are determined as requiring urgent or emergency care. If an emergency should arise notify the dental clinic or contact a private practitioner."
August 6. Debbie Bean, the new owner of Grannie's Kitchen, is working to enhance the restaurant's reputation as the place to go for home cooking and Bermuda fishcakes. The establishment on North Shore Road, in Pembroke, has been operating for many years. However, it is now under new management. Ms Bean and her family team re-launch the business this week, and there is a clear vision for what Grannie's should be. "I want people to associate Grannie's with fresh Bermudian fishcakes and home cooked meals," said Ms Bean. She has always loved to cook and bake, and would sell her homemade items to friends and colleagues. For a time she cooked once a week at The Spinning Wheel, on Court Street. "The clientele loved it. But it was not enough," she said. "My dream has always been to own a restaurant." When she saw an advert in the newspaper announcing that Grannie's Kitchen was for sale, she contacted owner Allan Martin and struck a deal. The kitchen restaurant officially reopened on Monday. However, Ms Bean has been serving up food in the evenings during July so that she could get a feel for the business and make customers aware Grannie's would be extending its opening hours into the evenings on most days. Grannie's has a breakfast bar-style counter where customers can place orders and have a bite to eat. The kitchen area is on the other side of the counter, customers can therefore watch their order being prepared while chatting with staff. In one corner there is a wall-mounted TV, while elsewhere there are a couple of small tables where clients can sit and enjoy their food. Grannie's also caters for customers who pop by to collect a takeaway or a snack. The menu features many Bermuda favorites, including fishcakes and fish sandwiches, omelettes, burgers, chicken tenders and wings, sandwiches, hot dogs, fries, together with fish, shrimp, chicken and seafood platter dinners. To beat the summer heat some thirst-quenching slushies, made by another local entrepreneur, is on sale. Expanded opening hours now allow Grannie's to serve breakfasts, lunches and dinners. Ms Bean hopes to win new customers with the welcoming feel of Grannie's, together with its home cooked menu of Island favorites. She has already seen an increase in repeat customers during the restaurant's limited opening in July. "The response has been very good. It's wonderful to see repeat customers," she said. When asked to sum up Grannie's, she said: "It's a very easy-going place. It feels like home. We'll have specials and fast food, but our emphasis is on the home-food side, and we try to maintain reasonable prices." There is a small parking space next to the business, and customers are also allowed to use the parking lot at the First Church of God on the opposite side of the road. Grannie's Kitchen is one of 40 restaurants entered in Bermuda's Best Fish Sandwich competition, organized by the Bermuda Tourism Authority. Ms Bean is particularly proud of her fishcakes. "Fishcakes were one of my best sellers at The Spinning Wheel. I only use Bermuda fish," said Ms Bean. The business is very much a family affair with Ms Bean's mother and aunt both busy in the kitchen. After launch week is over, Ms Bean will return to her day job at the Bermuda Paint Company, but she intends to help out at Grannie's in the evenings when she will prepare many of the home cooking menu items, such as the fishcakes and the rolls and breads which are all baked on the premises. She has a vision for the future which could involve a delivery service and an outdoor seating area beside the water's edge. But for now she is focused on making Grannie's renowned for its friendly service and home cooking delights. She said: "I'm excited and pleased when I see people coming in." Grannie's Kitchen is open Monday to Saturday from 7.30am. Most days it stays open until 8pm. On Mondays it closes at 5pm, while on Fridays it stays open until 10pm. On Sundays it is open from 6.30am until 11am.
August 5. Wi-Fi for the City of Hamilton is to be put out to tender next year when the Corporation's contract with TeleBermuda International comes to an end. City Secretary Ed Benevides said the Corporation could not comment specifically on the America's Cup, but said requirements were under discussion for "potential events". The network went live in 2012, and the service can be accessed using vouchers. The City owns the network while TBI is the service provider. "The initial concept of a city Wi-Fi was proposed in a partnership proposal from the vendors which was approved," Mr Benevides said. "This allowed for a shared cost of implementation which can be used to expand our camera needs as well as a revenue sharing agreement which also provided services to City occupants. It was clearly outlined that upon the expiration of the contract, the ISP portion would be put out to tender." Hamilton's wireless network does not link in with Police security cameras, though the Corporation initially offered to connect with the system. The City has a limited number of its own cameras in place, although Mr Benevides said their installation had fallen behind schedule. Asked if there were any snags posed by enhancing the network, Mr Benevides said there should be "no issues that the currents providers would not be able to address". A Request for Proposal will go out to vendors when the TBI contract concludes in 2016.
August 5. The University of Oxford has acquired a collection of books about the history of race and resistance in Bermuda, with an event being organized to celebrate the exchange. Five Bermudian authors will give readings from selected books from the newly acquired collection, followed by a question and answer session. The event, being held at the end of the month, is being organized by Bermudian lawyer and PhD student at the world-class university, Alexa Virdi. Ms Virdi is a member of the Oxford and Cambridge Society of Bermuda, and the Oxford Research Centre in the Humanities, Race and Resistance Network. The network was launched in January 2013 to bring together researchers in the fields of history and literature, as well as the culture of anti-racist movements in Africa, Asia, the Caribbean, Europe, Latin America, and the United States. Ms Virdi has already hosted a Bermuda-themed event at Oxford — a screening of the civil rights documentary When Voices Rise, by the late film-maker Errol Williams. The film tells the story of the Progressive Group and other key players in the drive to desegregate Bermuda's theatres, restaurants and hotels. Professor Stephen Tuck described Ms Virdi's screening as "an excellent opportunity for the students to discuss issues of democracy and justice". The race and resistance event will take place in O'Hara House at 1 Bermudiana Road on Monday, August 31, from 6pm to 8pm. The public is invited to make donations to the Bermuda Oxford and Cambridge Society either at the event or online at Capital G 4710911602. Contributions will go towards Bermuda and Caribbean panel speakers on issues of race and resistance, expanding Oxford's Caribbean history library collection, and establishing an online resource with a focus on the history of Bermuda and the Caribbean.
August 5. A Bermudian student is taking an unprecedented look at the origins of the Island's distinctive dialect. Rosemary Hall has spoken to dozens of residents and trawled through the archives as part of her extensive MPhil thesis on the evolution of "Bermudian English." Ms Hall was yesterday presented with $5,000 from the Bermuda Historical Society to help her to continue her studies on the topic. The 35,000-word thesis will form the first chapter of Ms Hall's PhD on the subject, and the 26-year-old Oxford University student hopes her work will one day be turned into a book. "No major thesis has been published on this subject since 1933, so I saw there was a void in this particular area," she said. "I'm from Bermuda and I'm in a position to fill that void. I also felt that I had a responsibility to fill that linguistic gap, too. It is a shame that attitudes towards regional dialects tend to be negative, and that one way of speaking is better than another, when language and dialect should be celebrated, especially as Bermuda's dialect is a reflection of our rich and unique culture." Ms Hall returned to Bermuda last Easter and conducted a series of interviews with 30 people of various ages from across the Island. She then meticulously studied the recordings, looking at accent, acoustics and phonology. Her findings form the basis of her thesis on the subject that she recently completed for her MPhil qualification. "I focused on older Bermudians during my field work as the first step in understanding dialect is capturing the strongest version of the dialect," she told The Royal Gazette. "Bermudian English is a very distinctive part of our history and our culture, and a product of it. I hope as part of my PhD to look more at the social meaning of our dialect and also the way dialect has changed and whether young Bermudians are speaking differently from the older generation. Our linguistic history is shrouded in mystery, but I hope to put Bermudian English on the map in the academic community at the same time as helping Bermudians to celebrate their dialect through collaborative projects, publications and cultural initiatives." The Bermuda Historical Society's education award will help Ms Hall continue to pursue her exploration of Bermuda's dialect as a PhD at Oxford University, which she hopes to complete in 2018. The society's president, Andy Bermingham, said: "Rosemary Hall is a very deserving recipient of this award given the fascinating work she has done. We are very grateful to the corporation to be able to have this museum, and this award is part of our mission to encourage students to explore the county's history." Executive member Shirley Pearman, who is part of the committee that chooses the recipient of the biannual award, added: "Ms Hall's work will help enlighten people and we are very pleased to be a part of that."
August 5. The three Government-funded dental clinics that subsidies services for children, seniors, prisoners and those with special needs has stopped taking on new patients amid staffing shortages. The Hamilton Health Centre told The Royal Gazette that its services, used by some of the most vulnerable members of society, are only available on an emergency basis for the foreseeable future until more dentists are recruited. At full capacity, there are four Government dentists working from the Hamilton Health Centre, Somerset Health Centre and St George's Health Centre. Three dentists are now trying to cover a large backlog of work before two of them end their tenure, leaving just one. It is unclear whether the Department of Health is planning to bring in locums to help to ease the strain. Single mother Susan Simons told how she was "blown away" after discovering that she could not get her five-year-old son a routine check-up — mandatory for him to transfer from preschool to primary school next month. She said she was advised by the Hamilton Health Centre to take out insurance and use a private dental practice. Ms Simons told The Royal Gazette: "My son attends Warwick Pre-School, who told me their screenings were done in February. I am a first-time mom here, I didn't know. I called up Hamilton Health Centre and I was asked whether I had insurance. I am on HIP, which doesn't cover children. I was told there are no dentists available now and, at the moment, there wasn't a time frame they could give me for my son to be seen. I am going to pay out of my own pocket because I recognise the fact that it is so important. It is disheartening — I am a single mom doing everything by myself. I am going to have to break the bank and get private insurance so he can be fully covered." Martha Dismont, executive director of Family Centre, which cares for vulnerable families, said the move would add another financial burden on those already struggling. "This is part of a larger picture that we are really concerned about, which is affordable healthcare," she said. "When we have higher costs on top of reduced services, that is a double whammy." Mrs Dismont said she was also concerned about a lack of consultation by the Bermuda Government concerning the service issues. "Government should advise the public well in advance so people can figure out what to do rather than suddenly being met with limited services and higher costs. It seems like there is a continued barrage of increased cost to the consumer." Charles Jeffers, of Age Concern, said the move "appeared to be a backdoor measure for Government to save expenditure. We realize that Government has a wide variety of things to do, but certainly there must be somebody in charge of this very vital service? They must have been aware of what was happening. Are they using stalling tactics to save costs? If they can delay the appointments by three or four or six months, then they can make a significant saving. How long has Government been aware that this was happening, and what concrete steps are being taken to rectify it immediately? Seniors are getting hit all around — the lack of increase of pensions, increases in medical insurance, prescription costs, food prices are not stable, and at the same time the Government has not moved through the Human Rights Commission to stop discrimination in the workplace against seniors. Where do we go from here? Seniors are negatively affected once again." Asked what he thought about the advice given to take out insurance and use private practice, Mr Jeffers said: "That is an insult and another blow for seniors who are facing financial problems in just trying to get the basic health coverage. Now you want to add dental on to it?" The Royal Gazette tried to contact the Prison Fellowship Bermuda for their take on the issue but could not get through by press time. The Government was approached for comment but a response had not yet been received by press time last night.
August 5. New hand baggage restrictions have been introduced by British Airways to ensure that aircraft depart on time. The carrier announced that the number of customers travelling with oversized baggage had increased. The rules allow for two items of hand baggage: a cabin bag of 56 centimeters by 45cm by 25cm, and a personal bag of 45cm by 36cm by 20cm. Cabin bags remain the same, but personal bags are to be reduced to 40cm by 30cm by 15cm. Smaller bags that fit the new maximum sizes must be marked with yellow tags, except for passengers in First and Club World. British Airways said that on "very busy flights", passengers without yellow tags could be asked to check baggage if overhead lockers were full.
August 5. Former minister Quinton Edness has implored the Bermuda Government to impose cuts rather than draw on its $200 million loan agreement with Butterfield Bank. Mr Edness warned last night that incurring further debt on top of the existing $2.185 billion would prove "disastrous" for the Island. "We should do what has happened in the past — a ten per cent cut in salaries," Mr Edness said, calling on similar cuts in the private sector to be passed on to the Government by way of tax. "I know we have had cuts almost everywhere, but it will be a heck of a lot worse if our debt exceeds possibly $2.5 billion — it will still mean that we will have to find the funds. It's still going to come from the taxpayer. It would be better to do it now when our debt is as it is." Mr Edness conceded that low-income workers could be exempted from salary cuts that would otherwise impose undue hardship on families. "There is still huge earning taking place in a number of areas — they can afford to pay 10 per cent to help the Government," he said. "I don't earn any more; I am retired and on a pension, but I believe people like me would be able to give up five or ten per cent. I do not want to see us put in the disastrous position of increased debt, where we would be subservient to all kinds of financial conditions and our borrowing capacity and credit rating would go down." The loan agreement, approved last month by Parliament, has been likened to an overdraft by Bob Richards, the Minister of Finance, who said it would be acted upon only when "absolutely necessary" to meet financing for 2015-16, as well as reducing the 2016-17 deficit.
August 4. Bermuda has increasingly featured on China's radar this summer, but coverage from the America's Cup stands to boost our profile "dramatically." The world's most populous country will view Bermuda up close for the races, Harvey Schiller, the America's Cup commercial commissioner, told The Royal Gazette. With the island's scenery highlighted as much as the races, Dr Schiller agreed that securing Chinese coverage represented a coup for local tourism. "I would suggest that for Bermuda, its effect will not just be on tourism, but on future business interests — it will be dramatic," he said. The television deal, announced last month, represents "a tremendous addition" for the Cup, which organizers expect will be broadcast in "almost every country in the world." Preparations for the event have been gathering pace, with the Hamilton Princess and Beach Club now named the official hotel for the Cup. Key events will be hosted at the renovated waterfront premises. Dr Schiller said that the America's Cup chief commercial officer, Dan Barnett, had been courting broadcasters worldwide, including coverage for more than 50 French-speaking countries. China, not known for its interest in sailing, may even contribute its own team to the America's Cup, which the securing of a broadcast deal could support. China's recent stock market performance has alarmed economists, but the summer has gone well for the Asian giant's business interests. Last week, the White Mountains Insurance Group, based in Bermuda, agreed to sell its Sirius reinsurance branch to Chinese investors in a deal worth $2.23 billion. "It's a very positive thing for Bermuda — different areas of the world are looking to the Island as a platform to support their business, and this new deal emanating from mainland China speaks to the level of experience and traction that Bermuda has developed in becoming a centre of excellence," said Greg Wojciechowski, chief executive officer of the Bermuda Stock Exchange. Last month, a new healthcare insurance vehicle was announced for Bermuda, to be established by Guangdong Wing Yue Investment Co — and Panda Re, the first China catastrophe bond set up on the Island, appeared on the Bermuda Stock Exchange.
August 4. The Bermuda National Athletics Association will send four of their top athletes to the North America, Central America and Caribbean Athletic Association Senior Championships in San Jose, Costa Rica. Aaron Evans, Tre Houston and Lamont Marshall all competed at last month's Pan Am Games in Toronto, while Jah-Nhai Perinchief has represented Bermuda at the Youth Olympics and several Carifta Games. Shaquille Dill, the 800-metres runner, has withdrawn from the Championships because of a death in the family. Bermuda's team leaves the Island tomorrow, with the competition running from Friday until Sunday. The event is a qualifier for this month's IAAF World Championships in Beijing, which will be held between August 22 and 30. Houston has already qualified for the Championships in the 200 metres, as has Tyrone Smith in the long jump. Smith decided against travelling to Costa Rica as he is focusing on the World Championships. Donna Watson, the BNAA president, believes it is important for Bermuda's best athletes to compete at NACAC. "We are trying to make this an event where we showcase our top athletes in our region," Watson said. Evans, 25, will look to improve upon his showing in Toronto, where he finished sixth in the 800 final in a 1min 49.07sec, as will Dill, 21, who failed to reach the final, finishing seventh in his heat in 1:52.25. Houston, who has also qualified for next year's Rio Olympics, placed fourth in his 200 heat in Toronto in 21.00, missing out on reaching the semi-finals. The 25-year-old will run both the 100 and 200 in Costa Rica. The Toronto Games proved to a baptism of fire for Marshall, who finished last in the 1,500 final in 4min 0.28sec. It was the middle-distance runner's first showing at a major international competition. Perinchief is the least experienced member of the team, although he did win gold in the high jump at the 2013 NatWest Island Games in Bermuda, as well as claiming silver in the under-18 division at last year's Carifta Games in Martinique. He finished fifth at this year's Games in St Kitts, recording a season's best leap of 2.08 in the under-20 boys' division. Travelling with the athletes will be Freddie Evans, Aaron's father, as the team manager, and Rohaan Simons as coach. The NACAC congress will be held during the Championships, with Watson hoping to be re-elected as a council member.
August 4. Aspiring litigator Madeleine Fox has been awarded a prestigious scholarship by law firm Conyers Dill & Pearman after being accepted to read law at Oxford University. Ms Fox already holds a BA in Psychology from the University of California, Berkeley, and is passionate about criminal rights and social justice — she will be attending Oxford University (Lincoln College) after interning at Conyers. The legal scholarship is given annually to a Bermudian who is currently enrolled in a law degree course, leading to a Commonwealth legal qualification and subsequent admission to the Bermuda Bar. "For me, receiving this scholarship is an incredible honour. Being recognized by such a prestigious firm and such high-performing lawyers confirms to me that all of the hard work I have put into my academics has been worth the long hours and dedication. I used to think that I was definitely going to be a criminal defence lawyer, however interning at various firms that specialize in other legal concentrations has made me less sure. I know that I definitely want to be a litigator, but I want to remain open to experiencing different concentrations during my legal education." Ms Fox hopes to return to Bermuda to work in the future as she said she "feels a sense of obligation to contribute to the place that has given me so many opportunities." During her short internship at Conyers Dill & Pearman her mentors, Kent Smith and Mary Ward have ensured that she has been getting a lot of exposure to Corporate and insurance-related law here in Bermuda. "I have been researching the basics of and recent developments in Corporate law, re-drafting memos, sitting in on meetings and have also been given the chance to spend some time at Codan Management Ltd," Ms Fox added. "The experience is practical, relevant and very valuable, and I would encourage any aspiring lawyers in Bermuda to check out the programme." The law firm has offered scholarships and bursaries for over 30 years, giving more than $100,000 annually. Since the inception of the awards the Firm has given more than $2.5 million in awards. David Astwood, the chairman of the Conyers' Scholarship Committee and a director in the corporate department, said: "Madeleine was an outstanding candidate for the scholarship. "I think that whatever type of law she chooses to practice she will be extremely successful and if she chooses to come back to Bermuda she will be an outstanding addition to the Bermuda Bar."
August 4. Competitive paddleboarder Joanna Bilancieri didn't expect Bermuda's waters would provide such a challenge. The 41-year-old from Oahu, Hawaii had faced everything from enormous sharks, to 20ft waves in her paddles at home. The Bermuda experience, however, threw her for a loop. She completed the 42-mile paddle using only a board and her arms. It took her eight hours and 50 minutes to finish her journey on July 26. "My arms were just so tired," she said. "After the bad weather the day before, the water was still quite choppy. There was also a strong current in many places which sometimes caused me to ricochet between rocks. I would be coming down at a pretty good clip then 'boom!'. I would feel like I got hit and I would come to an almost screeching halt, because of the current." In Hawaii, she's often looked down into the water to see the shadow of a shark passing under board. On her Bermuda journey the most she saw were turtles. "I was stung by jelly fish a few times," she said. "But that's normal." The physical therapist has won several paddleboard races across Hawaii's 32-mile Moloka'i Channel, one of the roughest crossings in the world. The feat here, done facedown on the paddleboard, was her longest paddle yet. Dr Bilancieri was in Bermuda to bring attention to her campaign against sexism in women's sports, "Bad Ass, Not Bare Ass". She started it last year because she felt the winner of a paddleboard competition got more than the standard amount of press because of her skimpy clothing. "Women, particularly in sports like volleyball, swimming and paddleboarding, shouldn't feel pressured to dress a certain way to get attention," she said. "Their athleticism should be the draw." She is developing a line of sports wear with her slogan, as part of the campaign. Dr Bilancieri chose Bermuda to circle, after seeing a friend's vacation photos on Facebook. "I wanted somewhere where I could paddle more than 32 miles in a day," she said. "Bermuda was so beautiful and is also the apex of the Bermuda Triangle. I thought, 'Perfect'. Getting her board from Hawaii to Bermuda was her first challenge. She struggled to get concrete information on Bermuda Customs' requirements. Once here, she needed the help of Bermuda Forwarders and the Department of Tourism before Customs would release her paddleboard. She then had to pay a $1,000 tariff. Once she finally got the board she discovered it had been badly damaged on the flights from Hawaii. Blue Hole Watersports helped to patch it up with epoxy. "The board was not as aerodynamic as I would have liked, and we did not have the tools to sand the epoxy properly," she said. "The extra epoxy made the board heavier in the water." Despite all that, she had a great time in Bermuda. "I can't wait to come back," she said. "We could start a 'choose your weapon' event here, and people could circumnavigate in whatever vessel they choose." Dr Bilancieri grew up in Marlborough, Massachusetts, and was always a water rat. "I moved to Hawaii so that I could be in the water all year around," she said. She cross-trains for paddleboarding 20 to 30 hours a week and took on the Moloka'i channel challenge after seeing friends do it on different vessels. "I got myself a paddleboard and started training. It was so simple and pure." She'll race in the Hawaii State Stock Class Prone Paddle Board Championships at the end of this month. She's already won it five times. Look for photos of her Bermuda paddle on Facebook: Bad Ass, Not Bare Ass.
August 4. Insurance firm XL Catlin yesterday revealed operating earnings of nearly $246 million for the second quarter of the year. The results are the first since XL and Catlin combined under the XL Group banner. The $245.8 million operating profit reported for the second quarter is down $33.8 million on the figure of $279.6 million for the same period the year before. But the quarter to June included $27.8 million in costs related to the merger of the two companies, as well as $59.9 million in catastrophe losses — up from $34.6 million logged in the second quarter of 2014. Chief executive officer Mike McGavick said: "We are pleased with our progress in the major areas that we view as key to unlocking the value created by XL's combination with Catlin, notwithstanding continued market headwinds. First, our top line results demonstrated the strong support our clients and brokers have shown for the new XL Catlin. Second, we are on target with respect to synergies and expenses and will continue to manage those with discipline." Mr McGavick added: "We delivered on our capital management commitment through resumed share buy backs and finally, XL Catlin's culture continues to take on the best parts of what each of our companies brought to the transaction. We were one company for only two months of the second quarter and in that short time, my belief that we can meet and exceed the expectations we set for the company has only grown. We are very excited about where we are and what lies ahead for XL Catlin." XL Catlin's statement for the second quarter reported 84 cents of operating earnings per share and delivered an annualized operating return on equity excluding unrealized gains and losses on investments of 10 per cent.
August 4. Axis Capital failed in its bid to merge with rival PartnerRe after Italian investment firm Exor won a bidding war — but the firm is $315 million better off as a result of a massive break fee. The firm accepted defeat after PartnerRe's board yesterday announced a U-turn and backed the $6.9 billion cash offer from Exor, controlled by the billionaire Agnelli family, over the $11 billion merger deal with Axis. Axis CEO and president Albert Benchimol said: "Our proposed transaction with PartnerRe stood to create a powerful mix of two financially strong and independent companies with compelling insurance/reinsurance franchises. While I am disappointed that the merger will not proceed, I have no doubt that the best days for Axis Capital our employees, clients, brokers and shareholders lie ahead. We have built a powerful global platform on which to continue to advance our hybrid insurance model with three diversified businesses in specialty insurance, reinsurance and accident and health." Shares of Axis yesterday closed up 3.8 per cent at $59.77. Axis also announced that, in the wake of the failed merger, it will restart its share repurchase programme, which has nearly $750 million authorized by the board and which runs to the end of 2016. A $300 million accelerated share repurchase is expected to start in the near future and continue through to the end of this year. Mr Benchimol said: "We are prepared to move ahead with our fiscally disciplined growth strategy and a commitment to return excess capital to shareholders in the form of dividends and stock repurchases. Since becoming a public company, we have repurchased approximately 92.8 million shares of Axis Capital stock for a total of $3.3 billion. As we go forward independently, I would like to thank our employees for their diligent efforts over the past several months and for their ongoing focus on the 'business-of-the-business.' We have learned a great deal from this process and we intend to apply what we have learned to make Axis Capital a better company in the months and years ahead." Axis chairman Michael Butt said: "Prior to PartnerRe reaching out to us last December to discuss a combination of our companies, we were confident in continuing with our strategy as a stand-alone company, building our three strong businesses incrementally. We will now proceed with that strategy, with strengthened resolve. We have been very conscious of our responsibilities to our shareholders throughout these negotiations and believe we have demonstrated prudence and financial discipline in our approach." Axis was previously linked to a buyout by rival insurer Arch and reports said the firm was prepared to offer at least $65 a share. Axis yesterday declined to add any further comment on its future.
August 4. Endurance will keep on nearly half of the worldwide staff of its new acquisition Montpelier Reinsurance, The Royal Gazette has learned. The deal closed on Endurance's takeover of its fellow Bermuda-based insurer and reinsurer last Friday. Montpelier had 185 full-time employees as of the end of last year, according to a regulatory filing. About a third of those are based in Bermuda. Talks are going on this week between Endurance bosses and their newly acquired workforce at Montpelier. Endurance chairman and chief executive officer John Charman sent out a letter to employees last Friday, the day the acquisition deal closed. "While it has taken a lot of effort to get to this point, there is still much to be done," Mr Charman wrote. "As you are aware, we have been working diligently to plan the integration of our two organisations for several months, and we will now begin the immediate process of integrating staff, underwriting operations, infrastructure and processes so that we can execute the transition as quickly and seamlessly as possible for all parties. Over the next few days, we will be meeting with each Montpelier employee to discuss their employment status. While we have identified a number of areas of overlap and opportunities to streamline the organization, we have identified areas in both our underwriting segments and corporate functions where the skills and capabilities of Montpelier staff will be of great value to our company." While sources have revealed Endurance will retain nearly half the Montpelier staff overall, this newspaper was unable to obtain more specific information on the Bermuda-based employees. Montpelier had three underwriting segments — Montpelier Bermuda, Montpelier at Lloyd's and Collateralised Reinsurance — and it would seem that most of the overlap with existing Endurance operations will be in Bermuda, where the company focuses on writing on writing short-tail US and international catastrophe treaty reinsurance under the Montpelier Re name. Having a presence in the Lloyd's of London market is something new for Endurance. Syndicate 5151 will do business as Endurance at Lloyd's. The collateralised reinsurance segment is marketed under the name of Blue Capital, which manages third-party capital and which has its own listing on the Nasdaq Stock Exchange as Blue Capital Reinsurance Holdings Ltd. Montpelier also had some subsidiaries in the US, including MTR, which provides a range of back-office operations to much of the rest of the group from its New Hampshire offices, and Cladium, a managing general agency based in Florida.
August 4. The West End Development Corporation is "forging ahead" to restore buildings in Dockyard and Sandys in the run-up to the 35th America's Cup. "We have made progress," said Wedco's general manager, Andrew Dias. "We are doing the best that we probably can do at this time and we don't give up — we keep forging ahead and pushing and pushing to get it done." As part of a $10 to $12 million dollar investment in the area over the next five years, Wedco announced that it was planning to restore three buildings on the old HMS Malabar shore station. The site will be turned into short-term visitor accommodation with a pool, patio and restaurant. Wedco chairman Raymond Charlton said: "Moresby House is progressing — the group that responded to the request for proposal (RFP) and are developing that area have submitted new plans to the Planning Department. "The plan is to keep the main architectural features of the two-storey building and to renovate the cottage and to make any other buildings there fit with the period in which those buildings were created," Mr Charlton said. He added that additional structures would be erected "slightly down the hill." "We are happy to see that being put to good use and we are also seeing that as the entrance to Dockyard being tidied up," he said. Asbestos at the old base has been removed and Wedco is hoping that the developer-funded project will be completed next year. To save three buildings on the site, Wedco has agreed to sacrifice the delisted Fleet Club building. "With the Fleet Club involved the business plan didn't work. We had the choice of not agreeing to the Fleet Club and losing potentially all the buildings, or agreeing to the Fleet Club and saving the more iconic buildings," Mr Charlton explained. "If we had our wish, we would have loved to have saved all of them." Construction work within Dockyard is also progressing, with building North Basin (NB) Nine — now home of Oracle Team USA — having already been turned over to the ACBDA. The group was planning to take over NB Four, but needed the space sooner than expected. Wedco concentrated on readying NB Nine "instead of putting our efforts and our funds into restoring both buildings", Mr Charlton said. Although internal work still needs to be done on NB Nine, Wedco is turning its attention to NB Four, which needs a new roof, windows and doors. Mr Dias said: "We are working with ACBDA to determine what the best uses will be for that." Building NB Six, however, has been converted into storage space for vendors, who previously used warehouses in the South Basin. "We're finding a use for a building which was previously underutilized," Mr Charlton said. "The roof was in poor shape and the asbestos needed to be abated." Wedco is also planning to upgrade the Grade I listed Prince Alfred Terrace, which was extensively damaged in last year's twin hurricanes, into 14 three-bed, two-bath units through a $3 million investment. Plans to renovate the Grade II listed Albert Row and unlisted Victoria Row have also gone out to RFP. But Mr Charlton said they had no viable business plan and urged people to get in touch if they saw a potential use for the buildings and could secure funding. He added that it was possible Victoria Row would have to be demolished if no developer is found. "To leave it there as a derelict — I'm not sure that's the image we would like to be portraying for the America's Cup," he said. Mr Dias said that over the coming five years, "Wedco will have looked at putting $10 to $12 million into the community." This does not include the $39 million budget for the land reclamation in the South Basin, which would bring the total to about $50 million. Some $2 million has already been put towards the $6.3 million worth of damage caused by the hurricanes, and work on the TS Venture building, the cruise ship terminal and Messina House has been completed. But there is more to be done and plans are under way for additional projects in Dockyard and the surrounding area. "Confidence in the Dockyard continues to grow, especially with the America's Cup coming," Mr Charlton said.
August 4. St George's North MP Kenneth Bascome is accusing the Bermuda Land Development Company of dragging its heels over developing Marginal Wharf — and warns that if work does not begin soon, America's Cup visitors will face an "eyesore." The quango's plans for the site have been going through "a difficult period" since the resignations of at least two BLDC board members, according to its chief executive officer Francis Mussenden. Landowners opened up the area for development last September and the BLDC began looking for entrepreneurs to provide "innovative development proposals." Eight applicants were selected and have been asked to submit business plans to the BLDC in accordance with phase two of the expression of interest process. Mr Mussenden told The Royal Gazette: "There was a difficult period over the past few months when the board hadn't been meeting, so it hadn't progressed. "One or two board members stepped down and they were awaiting the appointment of additional board members. There probably won't be any change until late September — that will be when the board will meet again to address the matter." Craig Cannonier, Minister of Public Works and responsible for hiring members to the board, said: "The appointment of new board members has little to do with the length of time it's taken to get to this point. The development of Marginal Wharf has many implicating factors for the surrounding areas — those being the city of St George's, the residents of St David's, and the airport. So whatever is done must take into consideration the need for an infrastructure that ties in with other areas and their plans. Working in a silo is not an option." OBA MP Mr Bascome, who has long described Marginal Wharf as a potential "gold mine", said "St George's has lingered in the doldrums long enough. The OBA has been in Government now for 2½ years but something concrete needs to be done with that particular piece of property. It is taking an extraordinary length of time. I would have expected that something concrete would have been determined by now. In Bermuda we have a tendency to prolong issues anyhow. The opportunity is there and if we start to do something now there is the possibility that it could be at least partially complete by the beginning of the America's Cup. There are probably some logistics that need to be looked upon but I believe you could choose a developer and do the fine tuning after the developer has been chosen. I continue to say that the opportunities are there for development and that could all form a part of the modifications to the town cut channel, the improvement to Penno's Wharf and Marginal Wharf. [This] is the opportunity for the community of St David's and St George's to share in the economic prosperity of the Island." Speaking about the rusting hull of the Niobe Corinthian that lies in the berth, Mr Bascome said: "Government needs to move that dilapidated boat and they can make an artificial reef out of it. That's the first thing. I look at it every morning and the Corinthian is an eyesore. Hopefully with the prospects of the America's Cup, St George's Harbour will be a mecca for yachtsmen who will come to Bermuda."
August 4. After discovering she had ties with Bermuda dating back 400 years, Arlene Eason and her fiancé Rob Searle decided there was no better place to get married. The couple wanted a destination wedding, but it was not until they discovered Ms Eason's historic connection to the Island that they settled on Bermuda, the 'Chicago Tribune' reported on Friday. "In 1609, my great [times 11] grandfather, Edward Eason, boarded a 300-tonne merchant ship called the Sea Venture that was bound for the troubled Jamestown with a large group of colonists and cargo," Ms Eason told reporter Heather Augustyn. "It was caught in a storm and shipwrecked on the uninhabited island of Bermuda with 150 passengers and one dog that were aboard. All lives were saved. The survivors spent ten months on the Island building two new ships and, during this period, in March of 1610, Edward Eason and his wife gave birth to the very first baby boy born on the Island, Bermudas Eason." The couple married at St Anthony's Church, Warwick, on June 27, with a reception at The Fairmont Southampton. More than 150 people traveled here for the wedding. "Bermuda was the perfect place to get married, not only because of how much we loved the Island and all of the people, but also to honour my late father, who passed away in 2003 and had a direct family lineage to the original colonists," Ms Eason said. "We visited the site of the Sea Venture and my family's name is on the memorial."
August 4. Plans to cash in on a surge of Cup Match visitors to St George's were hindered by misinformation from cruise ship staff, according to several shops in the East End. Kelly Diel, of Seaglass Art on Water Street, said that while she and other businesses remained open over the holiday, cruise passengers had been told by ship staff that the stores in the town would be closed. "I had people coming by saying that people on the cruise ship, the cruise directors, had told them on Wednesday night that everywhere was going to be closed in St George's and Hamilton and they should just stay in Dockyard. The cruise directors misled all of the passengers. Thursday wasn't too bad, but Friday was dreadful. We really need to do something about it, otherwise what's the point of staying open? People were walking in and asking why we were open. On the upside we had tonnes of locals up here because of the game." Terry Roberts, of Paradise Gift Shop, said he had also been told by customers that the cruise ships had steered visitors away from the town, but the visitors that did show up made the decision to stay open worthwhile. "It was a little quiet but it was worth being here," he said. "All of the visitors that we had come in seemed to be grateful that we were open because they had been told on the cruise ship that everywhere in St George's would be closed. It's unfortunate, and it's not the first time it has happened. Most of the shops did open over the holiday, although a few did close early on Friday. The visitors were happy to see that the shops were open." Meanwhile, Christine Harrell, at Whistlin' Frog, said that the weekend proved something of a mixed bag. "Thursday was good; Friday was a bit slow because of the cruise ships leaving. It was worth it staying open on Thursday, but not Friday." Asked if she would keep the store open next Cup Match, she said: "I would give it a try, depending on the cruise ship schedule. For my shop, it's more about the tourist business. I guess we will have to see." Cathy Roberts, of Bermuda Gifts and Linens, agreed that Thursday had been the busier day of the holiday, but she had hoped more visitors would have made it to the shop overall. Alfonso Harris, of Churchills, said that business was pretty good over the holiday, although not as good as he had hoped. "It was not too bad. I thought it would be busier, but it was definitely better than being closed. We might have over-ordered a bit, but I'm not too concerned about that."
August 3. The gap between Bermuda Government's revenue and expenditure narrowed during the first three months of the year compared with the same period a year ago. Government reported revenue of $244.6 million between January and March, up 3.7 per cent, while expenditure rose to $286.4 million, an increase of 2 per cent. The data was released in a quarterly bulletin issued by the Department of Statistics. Employment income was up 2 per cent, or $17.6 million, with payroll tax increasing in all industries except for construction, banking, insurance, real estate, transport and communication. The value of imported goods fell by just under 1 per cent to $216.1 million. During the first three months of the year gross receipts for cottage colonies and housekeeping improved by $1.7 million, however receipts for hotels and guest houses edged lower. The interest on public debt paid by Government increased from $32.2 million to $42 million for the quarter, year-on-year. Revenue generated from vacation and business visitors was up $13 million compared with the same three months in 2014. The boost was equally split between air visitors and cruise passengers.
August 3. PartnerRe has agreed to be bought out by Italian investment firm Exor in a $6.9 billion deal. The reinsurer has scrapped its previous plan to merge with fellow Bermuda firm Axis Capital. Exor, which is controlled by the wealthy Agnelli family, will pay $140.50 per share including a special pre-closing dividend of $3 per share. In its announcement today, PartnerRe said the company would continue to be headquartered in Bermuda and the deal is likely to mean that existing staff and management will be kept on. Axis and PartnerRe have cancelled their respective shareholders' meetings that had been scheduled for Friday to vote on the two companies' merger plan. The termination of the merger plan means Axis will receive a break-up fee of $315 million. The agreement includes a "go-shop" period during which the PartnerRe board can solicit competing offers and enter talks with other suitors on proposals made before September 14, 2015. PartnerRe chairman Jean-Paul Montupet said: "We are pleased to reach this agreement with Exor, which we believe is in the best interest of our shareholders. Since Exor made its initial offer to acquire the company in April 2015, the PartnerRe board has been focused on maximizing value for our shareholders while positioning PartnerRe for long-term success. "We have carefully and thoroughly evaluated each development over the past several months, and believe that this thoughtful and deliberate approach was critical to delivering a transaction that represents a significant improvement in the price and terms of Exor's original proposal. Importantly, Exor is committed to ensuring that the unique culture, brand and business that our dedicated employees have successfully built over the past 20 years remain intact." John Elkann, Exor's chairman and chief executive officer, said: "Today's agreement is very positive for PartnerRe and Exor. Under our stable and committed ownership, PartnerRe will continue to develop as a leading independent global reinsurer.
"Exor looks forward to working with the board of directors and the management of PartnerRe to ensure a successful path forward." The transaction is expected to close in the first quarter of 2016, subject to approval by PartnerRe shareholders, regulatory clearances and other customary closing conditions.
August 3. Police have embarked on more than 70 internal investigations in the past five years, with six officers being thrown off the force. The results of a Public Access to Information (Pati) request submitted to the Bermuda Police Service by The Royal Gazette lift the lid on sanctions imposed on officers for an array of misdemeanors on the job since 2009. This newspaper was given more than 100 pages of handwritten and typed documents detailing internal complaints made against police officers and the results of those internal inquiries, although the names of the officers concerned were redacted. Of the 74 complaints that have been investigated since the start of 2009, about a third were closed because of a lack of evidence or time issues, while there are still nine active investigations. The sanctions imposed on officers range from verbal warnings to severe reprimands and immediate discharges. The Pati request reveals that, in 2011, 24 internal investigations resulted in five officers being discharged from the force, one resigning and a further three officers being reprimanded or cautioned. Four of the officers were discharged for "discreditable conduct" that included allowing a disqualified "priority and prolific offender" (PPO) to drive the officer's vehicle, and an officer "purporting to be someone else to communicate with a known PPO while he was in police custody". Other disciplinary sanctions outlined in the documents provided to The Royal Gazette include:
• March 2009: officer given severe reprimand for "discreditable conduct" — specifically non-declaration of goods
• August 2010: officer resigned after investigation into breach of security at the Premier's official residence
• September 2010: officer given severe reprimand for harassment
• October 2010: female officer discharged for disobeying lawful order and for neglect of duty
• January 2013: officer paraded in front of senior officer and made to apologies for communication with complainant via BPS e-mail in an unacceptable manner
• May 2014: officer resigned after investigation into complaint of overseas travel without permission and for being absent without leave
• November 2014: officer reprimanded for discreditable conduct
The nine internal complaints that the Professional Conduct Unit is investigating include allegations of sexual harassment, discreditable conduct, insubordination and falsifying annual leave.
August 3. The Boat Troop from the Bermuda Regiment joined forces with Marine Police to help to keep the annual Non-Mariners Race safe. Four soldiers from the Regiment's seagoing specialists backed up officers over the holiday weekend, carrying out patrol duties around the Island on Saturday before the Non-Mariners event at Mangrove Bay, Sandys, yesterday. Boat Troop veteran Lance Corporal Raymond Brangman said: "It's important that the Regiment is visible at these major events and helping the police as much as we can." The soldiers carried out patrol duties around Mangrove Bay, using smaller police patrol boats linked to the seagoing vessel the Guardian, which anchored in the bay. Regiment soldiers also spotted and helped to rescue a young woman who had drifted away on a lilo from a party boat, could not find her way back and had become distressed and exhausted. L/Cpl Brangman, a 27-year-old Marine & Ports employee from Paget, added: "We got her on to the Guardian then on to one of the smaller boats to deliver her safely back to her boat." Corporal CJ Richardson, a qualified marine mechanic who works at Marine Locker in Hamilton, said: "I enjoy this work because I like helping people. Making the ocean safer for people to enjoy is our aim. "We are extra eyes and that definitely helps, especially when you're navigating through dense crowds like this." Police Sergeant Paul Watson, who has spent 20 years in the Marine Police, said the Regiment increased police manpower at peak times. He added: "It's good to have the Regiment guys out there with us – it helps us to be more visible and stop the antisocial stuff before it happens." Colour Sergeant Leslie Spanswick, a bartender at the Country Squire in Somerset, worked on Saturday alongside Private Cameron Harris and police boat crews. Clr Sgt Spanswick said that he had worked most Non-Mariners events and was still happy to give up his holiday time. He said: "It's fine – somebody's got to do it. People are pleased to see us and speak to us. It's flying the flag and also, for safety reasons, there is that extra manpower available if something was to happen." Tractor-trailer driver Pte Harris said this was his first Non-Mariners Race as a member of Boat Troop. The 23-year-old, who races power boats in his spare time, added: "It's reassurance for the public to see us out there with the Police. Some people don't abide by the rules on the water, so we have to be out there – it makes people feel more at ease." The Regiment will be hosting an open night for potential recruits on September 19 at Warwick Camp. For more information, call 238-1045 or visit www.bermudaregiment.bm.
August 3. Bermuda's celebration of maritime eccentricity and makeshift sailing cast off for its 43rd year from Mangrove Bay, Sandys, closing the Cup Match holiday in typical style. "It's the usual non-crazy event," deadpanned Sandys Boat Club Commodore Jaime DeSilva, surveying the crowded waters around the start of the Non-Mariners Race yesterday Not many registered, but a dedicated few could be found assembling their boats on the sand yesterday while a flotilla of inflatable craft and visiting vessels massed offshore. The colorful bash, with plentiful libations to assist with improvised boat building, reminded visitor Kathy Rible of "a Jimmy Buffet concert", she told The Royal Gazette. The novice non-mariner was visiting from Boston with her mother and brother, Sue and Ted Knowles, plus daughters Ashleidh and Kyra. The family had been invited by the Bermuda Arts Centre in Dockyard to paint the Wild Chicken entry float. "The Non-Mariners Race always allows people to get creative," said arts centre administrator Heidi Cowen, as the tribute to "Bermuda's unofficial national bird" tested the water. "It's a real joint effort." A Brazilian contingent was reportedly in attendance, with their own inflatable brought from home, joining Jereme Ramsay of the Bermuda Business Development Agency. Irreverence rather than seaworthiness is a prerequisite for the non-race, which invariably works in references to current politics. Mariners Rugby Club didn't disappoint, with a float plastered with a year's worth of in-jokes: the Non-Hamilton Waterfront; the Non-St George's Rejuvenation Plan; Non-Mammograms, and "Bean's Casino Tencent Slots". "We had so many non-ideas, we decided to use all of them," one said. The team from the cable ship in Dockyard, also Non-Mariner's regulars, have appeared in various guises with "Castaway" as the theme. This year's vessel, put together from Carley float inflatable life rafts, was dubbed Final Castaway: the group remain uncertain of their contract for next year. "This isn't built on the beach; it's assembled on the beach," one crew member said. "Other people have been far more adventurous." Alex Jones, who has sailed every year since 2004 — minus one — stayed true to the slapdash spirit of the non-race: with barrels from a dumpster outside Bermuda Waterworks for flotation, Mr Jones was dismantling wooden pallets similarly salvaged from trash. "Last year we marched on the Non-Mariners demanding the judges resign for their obvious corruption," he said. "This year we've committed to not start the non-race unless Bruce Barritt is no longer the MC." With the help of tin foil, Mr Barritt planned to create a high-performance catamaran in tribute to Bermuda's securing of the 2017 America's Cup. Past creations have included Transparent Government and an SOB Refugee Raft. The Non-Mariner's Race became official at the boat club in 1972, but its origins lie a decade or so further back in a smoky pub readers may recall from Queen Street in Hamilton: the Horse and Buggy. Over drinks, a group of friends concocted a plan for some weekend fun, and ended up setting off into Hamilton Harbour in a vessel built from a baby carriage. The rest was history — though Ms DeSilva noted that entry levels have declined over the years. "Numbers are dwindling," she said, as small prizes were tossed down from the office to the crowd on the dock below. "We're going to have to do something to get more people."
August 3. A major project to restore and upgrade the seven miles of fence around the airport perimeter could be completed in the coming months. The initiative is part of an ongoing programme to ensure LF Wade International's continued compliance with aviation security requirements. An Airport Aviation Security spokesman told The Royal Gazette that the project was a "massive undertaking" and had been accelerated due to the extensive damage caused by Hurricanes Fay and Gonzalo last year. "Airport Operations has focused its resources on the Clearwater end of the runway; in and around the hangar facility at Apron 3; security control gates and along the perimeter surrounding the new executive jet facility at Southside," the spokesman said. "New fencing has also been installed around the Air Traffic Control Tower and the Bermuda Weather Service. A-1 Fencing is in the process of installing privacy slats along the perimeter fence at the new executive jet facility. These are designed to help mitigate jet engine blast and to provide a degree of noise abatement." The spokesman said "new aircraft parking and positioning procedures may need to be considered to further mitigate any noise pollution". He added: "Once in place, Airport Operations will monitor noise emanating from the apron which, due to the southwest prevailing winds, is affecting some communities in the St David's area." The next stage of the project will focus on the section of fencing along Kindley Field Road between the flight kitchen and the Swing Bridge roundabout. The spokesman said: "Airport Operations installed privacy scrim along the fence line to reduce the visibility of the unsightly illegal dumping that had been rampant in the area of land formerly managed by BLDC. However, this was significantly damaged by the storms. The restoration works are designed to utilize upgraded fencing materials and to replace areas that have been severely corroded by the salt water environment. Additional fencing was installed around the baseball fields located opposite of the Double Dip Ice Cream parlor. This new fencing and restricted access has helped considerably in minimizing the illegal dumping that was rampant. When funding becomes available, a substantial clean-up effort will be required to fully restore the area near Gate One."
August 2. Endurance Specialty Holdings has completed its acquisition of fellow Bermuda-based reinsurer Montpelier Re Holdings. The $1.83 billion cash-and-shares deal was announced in March when the boards of directors of both companies unanimously approved the merger. With the granting of all necessary regulatory approvals, the acquisition was completed at the end of last week. Shares of Montpelier Re ceased to trade when markets closed on Friday. Three directors of Montpelier have been appointed as non-executive directors on the board of Endurance. The new combined company will be run by Endurance's senior management team from its headquarters in Waterloo House on Pitts Bay Road. Endurance CEO and chairman John Charman said in a statement: "Endurance's strategic acquisition of Montpelier combines two strong underwriting businesses resulting in an organization with increased scale, scope and more relevant market presence. "The acquisition materially expands our breadth of distribution with the addition of a good-sized and scalable Lloyd's platform and a third-party capital insurance and reinsurance investment product business. We expect the transaction to enhance the long-term value of our business for shareholders with accretion to earnings per share and return on equity." When first announced the cash-and-shares deal was worth $40.24 per Montpelier Re share, with Montpelier shareholders to own just under one third of the combined company. Montpelier shares closed up 14 cents at $42.65 on Friday, their last trading day. Montpelier directors Morgan Davis, Nicholas Marsh and Ian Michael Winchester have been appointed non-executive directors of Endurance. Mr Charman said: "I am delighted to welcome our new directors. Their knowledge of Montpelier's business and their broad experience across the insurance and reinsurance industry will be great assets to our board, as we continue to transform Endurance into a larger and more globally relevant industry leader." Mr Davies is a director of White Mountains Insurance Group and OneBeacon Insurance Group. He was formerly managing director of OneBeacon. Mr Marsh worked for Atrium Underwriting Group for 40 years. Before he retired in 2013 he was director of corporate underwriting and director of underwriting review. He is on the board of HCC International Insurance Company, holding the position of non-executive chairman of HCC International and HCC Underwriting Agency. While Mr Winchester also has an extensive background in the industry and is a managing partner and chairman of the investment committee of BHC Winton Funds, an investment fund which focuses on providing capital to syndicates operating in the Lloyd's market.
August 2. A pleasure craft ran aground in Emily's Bay on Friday. An anonymous caller in St David's reported the vessel after hearing signs of distress and suspecting that it was sinking. "Marine Police were nearby on Heron II at the Swing Bridge and when contacted by Bermuda Radio, attended to discover the 38-foot pleasure craft Sin Bin had grounded and had been ferrying persons ashore in the area after poor navigation rendered a two-foot hole in the vessel hull," a Bermuda Maritime Operations Centre spokesman said. "Once everyone was determined to be safe and accounted for and ashore, the registered owner stayed on board Sin Bin gaining access to a local resident's dock." The boat was kept afloat overnight using pumps, and arrangements were made for the vessel to be hauled out of the water on Saturday morning. "At 10.50am, the marine contractor confirmed Sin Bin was being stabilized on a trailer for haul out and repairs," the spokesman said.
August 1. Action is needed on the "stalled" debate over decriminalizing drugs, which community group the Young Progressives says could defuse the Island's gang-related tensions. "Every time we lose someone, every time a young man is murdered, politicians come out and give their condolences," said group member Cleveland Simmons. "It bothers me, because we put forward the idea way back with the Progressive Labour Party, when they came together with a joint committee that heard references to the decriminalization of drugs, and yet nothing has been done about it. It's stalled." Decriminalization was one of the topics heard by a joint select committee on gang violence, called in 2010, but Mr Simmons said nothing had come of this. Meanwhile an Opposition bill for the decriminalization of cannabis lingered on the order of business for the House of Assembly throughout the latest session without being debated. Mr Simmons said the lucrative trade in illegal drugs fuelled the Island's troubles with gang violence. "The bottom line is, I'm upset with the way that both parties have addressed our situation with violence," he said. "They took the guns out of Somerset a couple of weeks ago when they made that bust but that made no difference." Mr Simmons was referring to a series of raids last month in which three firearms and ammunition were seized along with drugs and cash. This was followed on July 21 by the murder of Job-Solomon Tucker, 23, a Sandys resident who died after he was stabbed outside a house on Woodlawn Road, Sandys. Fellow group member Michael Markham voiced dissatisfaction with the medical cannabis legislation passed by the House of Assembly in December last year. The act approved the use of cannabis-derived drugs such as Marinol. "We haven't even dealt with medical cannabis, let alone decriminalization," Mr Markham told The Royal Gazette. Dissatisfied with the slow pace of the Island's political progress, the group is called for "more accountability for the permanent secretaries," Mr Markham said. "The permanent secretaries are the ones who run policy. We propose that all permanent secretaries declare and publish their financial interests on the same register where the MPs put theirs."
August 1. A number of small-scale construction projects have been freed up from Planning regulations in an effort to boost the industry. The changes were part of an overall review of Planning application processing, aimed at speeding up construction, according to the Home Affairs Minister, Michael Fahy. Amendments for jobs such as renovations or additions were approved by the Senate under the Development and Planning (General Development) Order 2015. It broadens the scope of works covered by a Permitted Development Permit, without the requirement of permission from the Development Applications Board. "Despite what some say, that the Department of Planning is a mire of regulations, things are going very well in terms of speed," Sen Fahy said. The order allows for 500 square feet of site coverage for a new addition to a residence, instead of 250 square feet, and a permitted floor area of 1,000 square feet instead of 500. Similar dimensions are permitted for non-residential buildings. Among other amendments, the order also relaxes permit requirements for the construction of skylights, swimming pools, driveways, patios and barbecues, as well as excavation works and building repairs, and the installation of solar energy units. It was passed with the full approval of the Upper House.
August 1. The Bermuda Police Service are aware of a video clip circulating on social media purporting to show two persons engaging in sexual activity in public at Cup Match. Police are looking into the matter and would ask anyone that can assist with the inquiry to contact Inspector Mark Clarke on 717-0282 or mclarke@bps.bm. The public are reminded that offences under the Telecommunications Act are committed even when only sharing material such as this. Instead of passing on the material, the public are advised to delete it on receipt.
August 1. Perhaps no one was more relieved than Joe Bailey to watch Somerset finally put an end to their Wellington Oval drought. Before yesterday Somerset had not beaten St George's at Wellington Oval since 1981 when Bailey led the West Enders to a famous nine-wicket victory. "I am so proud and happy for all of them ... I can't really put it into words," said Bailey, who congratulated Jekon Edness, the Somerset captain, in the team dressing room. "We came close on the last three occasions down here to winning the cup and it's good to finally get the job done. The way it all went you could see the guys were out there to win this match. I took a lot of licks down here before we won handsomely, but these guys have won even more handsomely today and I am glad they did." There was unbridled joy in the Somerset dressing room moments after Edness scored the winning boundary that ended the champions' 34-year drought in the East End. "This is sweet," Janeiro Tucker, Somerset's most senior player, said. "This is my 20th Cup Match and to finally win in St George's after all those years is really sweet. We are going to celebrate this victory for the whole year." Terryn Fray, who top scored with an unbeaten 61 and featured in an unbroken 44-run third-wicket partnership with Edness that carried Somerset across the line with a session to spare, added: "It feels great to win at Wellington Oval for the first time in 34 years. Every day is an experience with these guys, they are a good bunch of players." Yesterday's victory was Somerset's second straight after last year's equally convincing win at Somerset Cricket Club. Bailey believes the best is yet to come from the champions with an abundance of young talent keen to break into the team. "St George's better be careful because Somerset are going from strength to strength," said Bailey, whose great nephew Justin Donawa was a reserve for Somerset this year. "They have some good young guys up there and they are fighting hard to get in the side."
August 1. Jekon Edness ended his stint as Somerset captain with a bang, hitting the winning boundary to earn the champions a first triumph at Wellington Oval in 34 years. "I knew we only needed four to win but I thought somebody was still out there [on the boundary]," Edness said. "I didn't even see that OJ [Pitcher] had brought the field in. I was just going through for one and then I got halfway down the crease and looked again and it was crazy." Somerset thumped St George's by eight wickets with a session to spare to claim a first win in the East End since 1981, with Edness and Terryn Fray anchoring the cup holders to victory with an unbroken 44-run third-wicket partnership. "It doesn't get any better than this, and it was all written because Stephen [Outerbridge] got injured, so I had to go in at four and then Tre [Manders] got out and I said 'well, I guess it's really my time' and everything worked out perfectly today. You could not have asked for a more perfect display with bat and ball from my team. It was awesome and the victory hasn't sunk in yet." The game remained in the balance heading into the final day with Somerset clinging to a 41-run first-innings lead after 20 wickets fell on the opening day. "St George's put us under pressure yesterday and we didn't bat the way wanted to," Edness said. "We were disappointed in ourselves yesterday that we didn't put the game to bed earlier. But I guess we are a second day team because the past couple of years we have played poorly on the first day and then dominated the second day. Hats off to my team, the coaches and everybody that's made this happen. For the whole month of July I have been consumed with winning down here. And to finally achieve it there's no better feeling. It's an amazing feeling." Jeff Richardson, the Somerset coach, agreed. "This is one of the most special moments of my post-cricketing career," he said. "I have had a son born since then, I've remarried since then and this is right up there with those moments. This is a very special victory. You are talking about 34 years and some of these guys were not even born. If one or two were born, that's it. Things didn't quite go to plan, but we got the job done." Somerset will now have to figure out who is going to captain them next year. Edness said before the game that this would be his last match as captain, although he intends to continue playing in Cup Match. "It is something I've been thinking about since last year, trying to figure the right time to let someone else take over," Edness said. "I felt the best time was this year so if a new captain comes in then he would come in, in Somerset where you have a lot more control." Edness replaced Jacobi Robinson as Somerset captain, following his uncle Andre Manders as captain of the West End side.

History & daily newspaper reports
Authored, researched, compiled and website-managed by Keith A. Forbes.
Multi-national © 2020. All Rights Reserved