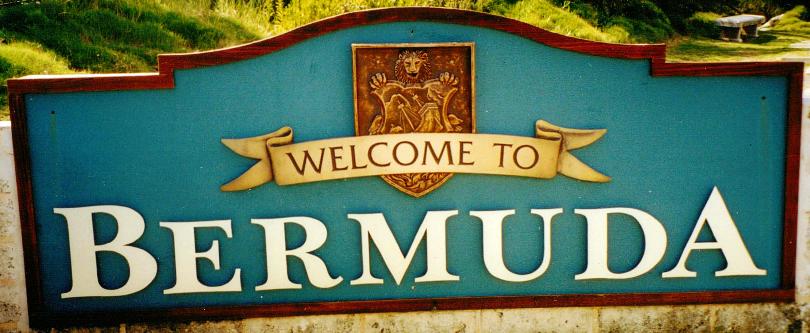 11165+ web files, a regularly updated Gazetteer, overall an in-depth description of our island's internally self-governing British Overseas Territory 900 miles north of the Caribbean, 600 miles east of North Carolina, USA. With accommodation options, airlines, airport, actors, actresses, aviation, banks, beaches, Bermuda Dollar, Bermuda Government, Bermuda-incorporated businesses and companies including insurers and reinsurers, Bermudians, books and publications, bridges and causeway, charities, churches, citizenship by Status, City of Hamilton, commerce, communities, credit cards, cruise ships, cuisine, currency, disability accessibility, Devonshire Parish, districts, Dockyard, economy, education, employers, employment, environment, executorships, fauna, ferries, flora, former military bases, forts, gardens, geography, getting around, golf, guest houses, highways, history, historic properties, Hamilton, House of Assembly, housing, hotels, immigration, import duties, internet access, islands, laws, legal system and legislators, main roads, marriages, media, members of parliament, money, motor vehicles, municipalities, music and musicians, newcomers, newspaper, media, organizations, parks, parishes, Paget, Pembroke, performing artists, residents, pensions, political parties, postage stamps, public holidays, public transportation, railway trail, real estate, registries of aircraft and ships, religions, Royal Naval Dockyard, Sandys, senior citizens, Smith's, Somerset Village, Southampton, St. David's Island, St George's, Spanish Point, Spittal Pond, sports, taxes, telecommunications, time zone, traditions, tourism, Town of St. George, Tucker's Town, utilities, water sports, Warwick, weather, wildlife, work permits.

Bermuda's 2019 July History and News
Events that made newspaper headlines in the seventh month of this calendar year
By Keith Archibald Forbes (see About Us) exclusively for Bermuda Online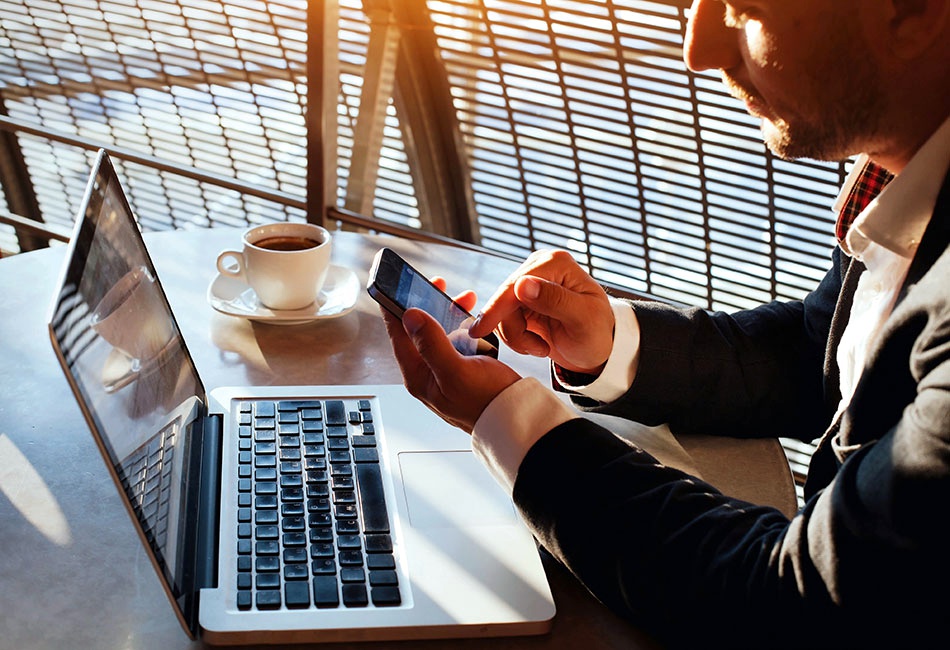 Benefit of website linkage to Bermuda Online while traveling
See at end of this file all our many History files
Bermuda's only newspaper, the Royal Gazette, is not published on Sundays or Public Holidays but sometimes has some Sunday and/or Public Holiday news online.
16-29 July 2019 essential Bermuda Online maintenance. During this time all files will be available to read but there will likely be some delay in posting updated information to files including this one.
July 23

July 22

A man who hurled abuse at cabin crew and forced his flight to make an emergency landing in Bermuda was fined $6,500 today. Magistrates' Court heard that Edward Mongan, 42, was aboard a TUI Airways flight from England to Mexico last Sunday when he was heard to swear at his wife by cabin crew. Cabin manager Anne Marie Evans confronted Mongan about his language but he told her: "F*** off. Get out of my sight." Senior magistrate Juan Wolffe was told Mongan walked to the back of the plane and confronted Barry Murray, another member of the cabin crew. Loxley Ricketts, for the Crown, said that Mongan started to shout at Mr Murray when he tried to calm him down and swore at him several times. Mongan's wife also tried to convince him to return to his seat, but he spat in her face. Ms Evans tried to give Mongan a violation but he pushed her away and shouted at her. The plane's captain decided that Mongan was a threat to passenger safety and diverted the flight to Bermuda. Police officers arrested him on arrival. Mongan, from Manchester, Britain, pleaded guilty to the use of abusive words, threatening behaviour and interference with the duties of a flight attendant. He said: "What I did was uncalled for and I'll never do it again." He added: "My wife is in Mexico. I just want to see my wife and kids." Senior magistrate Juan Wolffe told Mongan that his behaviour terrorized the passengers and crew of the plane. He said: "One can only imagine what was going through the passengers' minds while this was happening." Mr Wolffe ordered Mongan to pay the fine by the end of the day.

July 21, Sunday

July 20

Legislation to raise the mandatory retirement age for Public Service workers by three years was passed with unanimous support in the House of Assembly yesterday. Curtis Dickinson, the Minister of Finance, said the Public Service Superannuation Amendment Act would increase the mandatory retirement age from 65 to 68. Police officers, firefighters and Bermuda Regiment soldiers will not be affected by the change. However, Mr Dickinson said that discussions were under way with representatives of the uniformed services to decide what changes could be made. He added that the island's ageing population and a predicted reduction in the number of working-age people meant action had to be taken. Scott Pearman, the Shadow Minister of Finance, said the Opposition backed the legislation. Mr Pearman added that many seniors could hold down a job despite their age. He said: "The idea that certain people in the workforce must have a forcible departure because of the year they were born is nonsensical." Mr Pearman said that, while some might be concerned that an increase to the retirement age might slow the ability of younger workers to move up the ranks, that concern was outweighed by other factors. Derrick Burgess, the Deputy Speaker, added that many seniors had suffered unfair treatment and that there was no place for age discrimination in modern society. Mr Burgess said the legislation did not force seniors to work past the age of 65, but gave them the option to do so if they wanted. He added: "This doesn't effect your social insurance cheque. That social insurance cheque you get at 65 will continue. The only cheque you won't get is the superannuation cheque." Michael Dunkley, an OBA backbencher, said: "Seniors have a lot to offer. They have that experience. They built up relationships, not just within the workplace, but also outside the workplace." Leah Scott, the deputy Opposition leader, said seniors could benefit from remaining in the workplace because it kept their minds and bodies active. Claudette Fleming, the executive director of charity Age Concern, added that the amendment was a "victory" for seniors. She said: "While Age Concern would like to have seen an amendment to the Human Rights Act abolishing age as a basis of discrimination in the workplace, the amendment to the Superannuation Act represents a significant benchmark for change community-wide." Dr Fleming added: "senator Jason Hayward and fellow members of the Retirement Age, Labour Advisory Committee are to be commended for the thorough research and groundwork that was done to provide policymakers with the necessary recommendations to make an informed decision regarding the necessity of the amendment. Our hope is that the increase in the retirement age will allow those who wish to work longer the opportunity to do so and, for those who may not be in a financial position to retire, the opportunity to continue to be gainfully employed for a longer period of time in their senior years." Dr Fleming added that the Labour Advisory Committee report contained other recommendations that she hoped the Government would adopt, including mandatory retirement education and financial literacy programmes. She said: "Such initiatives remain necessary to maximize the social and financial benefits of continuing in the workforce past traditional retirement years."

One person received $48,000 among government payouts to demonstrators hit by pepper spray during the airport protest of December 2, 2016, the House of Assembly heard last night. It was said to be among 28 settlements made in money drawn from the Royal Bermuda Regiment's contingency fund. Michael Dunkley, who was the One Bermuda Alliance premier at the time of the demonstrations over the new airport terminal, told MPs a "concerned Bermudian" received the figures in response to a public access to information request. He spoke as members debated a report produced by the Parliamentary joint select committee after it carried out an inquiry into the clash between police and demonstrators, when several protesters were pepper-sprayed by officers. The Ministry of National Security said earlier this year that an undisclosed settlement had been agreed with complainants who were seeking legal action against the Police Complaints Authority. Mr Dunkley said last night the Pati response showed 28 payments were made on February 12. He explained that the requester asked about the value of each payout and the information showed 27 were for $4,200 and one was for $48,000. Another question was about which government department and budget head the funds were taken from. Mr Dunkley said: "The answer was, the funds were paid from the contingency fund of department number six — the Bermuda Regiment." He added: "Money is taken from the Bermuda Regiment to pay out protesters." A statement on the payments from Wayne Caines, the national security minister, was postponed at the request of Dennis Lister, the Speaker, in February because the JSC had, at that point, still to deliver its findings. The report was tabled by Kim Swan, a Progressive Labour Party backbencher and chairman of the committee, earlier this month. Earlier yesterday, he had lodged a "formal complaint" during the debate after he said a sitting parliamentarian had breached House rules. Although he did not name the individual, it was understood his comments related to Mr Dunkley. Mr Swan said the bipartisan committee initially suffered a setback. He explained: "It had been brought to our attention, first by letter and also through the media, that the committee had not been ratified in the Senate, and that was rightfully so. It proved problematic. It was challenged publicly as well by a sitting member of the legislature and this matter caused us a bit of concern, because the matter, in our respectful opinion, should have been dealt with clearly as a matter for this particular House. In my submission, we had an honourable member in breach of our own rules." Mr Swan asked the Speaker to consider his comments as "a formal complaint" from him in his position as chairman. Mr Dunkley wrote to Mr Lister in February 2018 that it was his "understanding that a resolution to establish this joint select committee has not yet been passed by each House of the Legislature" in accordance with the Parliament Act. The former premier added that standing orders of the House allowed for a joint select committee to be appointed at the request of either Parliament or the Senate with the approval of the other House. Mr Dunkley said then that "to the best of my knowledge this has not been done". He added: "Thus, in my view, it is not properly constituted and, until it is, it has no jurisdiction or authority to commence any proceedings with the result that no work should be done".

Environmentalists protested outside the House of Assembly yesterday in a bid to highlight the need for action on climate change and pollution. More than 40 people gathered outside the House at lunchtime carrying placards with slogans such as "People over Profit", "There is no Planet B" and "If not now, then when?". Eugene Dean, the chairman of environmental charity Greenrock, said it was expected the protests would be a regular event. He added: "The young people here are making a statement. The commitment is to have these rallies on a monthly basis until we see action from the Government. We can continue to raise awareness, which we will do, but the reality is we will need legislative change to make the kind of impact that is required." He said the demonstrators wanted the Government to come up with a plan to reduce reliance on fossil fuels, ban single-use plastics and declare a climate state of emergency. Mr Dean said: "Countries around the world have done that. For most people, they think climate change is something we can attend to when we have the time for it. The reality is our house is on fire, and we have to deal with it like that. We need a sense of urgency around any initiatives to address climate change." Jamahl Simmons, the Minister without Portfolio, and other MPs spoke to the protesters when the House of Assembly rose for lunch. Mr Simmons said the Government had heard the concerns of the demonstrators and that action was being taken. But he warned that progress could be slow. Mr Simmons said: "It takes time, but we do take note of your message." Walter Roban, the Deputy Premier, said: "I encourage and welcome an open dialogue regarding sustainability and the preservation of our island and world. "This was a show of democracy at work, and I will continue to foster an inclusive and transparent process around what the Ministry of Home Affairs is doing to address the concerns laid out today, and previously. I too, am personally invested in seeing a more sustainable Bermuda come to fruition and will continue to advance various initiatives and projects within this ministry to ensure this becomes a reality." Mr Roban highlighted a series of government projects including the Bermuda Ocean Prosperity Project and plans to eliminate single-use plastics, combat invasive species and conserve Bermuda's natural resources.

A man has been arrested in connection with a social media music video that promoted violence against police officers, it was revealed yesterday. Commissioner of Police Stephen Corbishley said the "drill music" video — which glamorizes gangs and the use of automatic weapons — was a serious concern. Mr Corbishley said: "This video is most concerning and the BPS have already made one arrest and are actively searching to detain others involved. There are many positive aspects of urban street music to express views in a constructive way, but drill music is not one of them, not least as it is indicative of associated gang violence. Therefore, the circulation of this video has given the BPS the opportunity to now investigate any criminal behaviour by those involved, not least in relation to potential offences related to the lyrics of the track." He added that police were also looking for people who appeared in the video and for those involved in its production. Mr Corbishley said the lyrics of the song contained threats of violence towards police, judges and others, though no individuals were named. He added that the Bermuda Police Service did not see the video as a genuine threat of future acts of violence. However, he said that threats of violence or offensive words had the potential to indicate criminal activity. Mr Corbishley added: The BPS welcomes people who want to be engaged in community activities and often music is a good way of bringing people together and also expressing views. But this type of music is extremely violent. It is not something we tolerate and, of course, it advocates the use of violence and other aspects of gang-related criminality. While freedom of speech is protected under law, inciting violence is not and we thoroughly condemn the message being promoted in this video — or any communication that suggests or threatens violence against any member of the public. What we really do need to do is concentrate on dealing with gangs through community outreach, both from the police and parish constables, but also alongside the Ministry of National Security's team, Pastor Bean and others, that do work each and every day in the community to engage with gang members and steer them away from violence." The arrested man, who has not been named, is in custody pending further inquiries. Mr Corbishley was backed by Wayne Caines, the national security minister. Mr Caines said: "I am sure many people have seen the 'drill' music video on social media, depicting young men promoting violence towards members of the Bermuda judiciary, police service and Department of Public Prosecutions. This video is reprehensible and should be denounced by all right-thinking Bermudians. There comes a time in society where we must collectively rise up and show our disdain for such behaviour. These young men must not be given safe harbour in our community. We must rise and stand against this awful and deplorable act." A police spokesman added that anyone with information on the people in the video or those involved in its production should contact the Criminal Investigation Department on 247-1744. Information can also be passed on through the independent and confidential Crime Stoppers hotline on 800-8477 or at crimestoppers.bm.." The arrested man, who has not been named, is in custody pending further inquiries. Mr Corbishley was backed by Wayne Caines, the national security minister. Mr Caines said: "I am sure many people have seen the 'drill' music video on social media, depicting young men promoting violence towards members of the Bermuda judiciary, police service and Department of Public Prosecutions. This video is reprehensible and should be denounced by all right thinking Bermudians. There comes a time in society where we must collectively rise up and show our distain for such behaviour. These young men must not be given safe harbour in our community. We must rise and stand against this awful and deplorable act." A police spokesman added that anyone with information on the people who appeared in the video or those involved in its production should contact the Criminal Investigation Department on 247-1744. Information can also be passed on through the independent and confidential Crime Stoppers hotline on 800-8477 or at www.crimestoppers.bm.

A footballer was jailed for five years yesterday after he caused the death of a young father when he punched him. Rakeem DeShields, 26, attacked Dejon Simmons in an early morning incident near the Cosmopolitan nightclub on Front Street, Hamilton on March 18 last year. The Supreme Court heard that the 30-year-old victim hit his head on the kerb. Mr Simmons was knocked out by the impact and never regained consciousness. DeShields, a PHC Zebras player, pleaded guilty to a charge of manslaughter in April and appeared for sentence yesterday. Loxly Ricketts, for the Crown, told the court that an argument started between the two men and DeShields approached Mr Simmons "aggressively". He said the pair stood "chest to chest ... squaring up to each other" and DeShields punched the victim in the face and threw at least two more punches. The court heard Mr Simmons, a bartender and father to a two-year-old boy, fell backwards and hit his head. Mr Ricketts said officers performed first aid with help from members of the public. He added: "It was further noted that the deceased had a gaping wound at the left side of his head which was bleeding profusely." Mr Simmons was rushed to the King Edward VII Memorial Hospital but died three days later in the intensive care unit. Mr Ricketts read victim impact statements from members of Mr Simmons's family, who said he was a devoted father and talented artist. One said: "People have to suffer the consequences of their actions. As good as a person might seem to be, there is always that one incident that they should have thought about, that they should have walked away from." Another, from the victim's brother, told how that Mr Simmons loved sport and had played football with a young Nahki Wells during neighborhood practices. He added: "My brother was working that night to take care of his family. He didn't deserve to die." Mr Ricketts said reports indicated that DeShields believed Mr Simmons was reaching for something with his free hand. The prosecutor added: "The court can see from the CCTV footage that his free hand was always up in the air in a non-threatening posture." Charles Richardson, for the defendant, said: "Let me be the first to say that the circumstances of this particular case are a very sad reminder that it only takes one decision to change an entire lifetime." He added that Mr Simmons shared the same interests as many young men, was "of decent temperament" and not a known troublemaker. Mr Richardson told the court: "On the other hand we have Mr DeShields — and we have to consider both sides — who by all accounts is equally well-liked, well-mannered and well-loved." He said: "In most cases a fight is usually a fight. However, in this case the tragic circumstance is that after the punch that my client threw, Mr Simmons fell awkwardly on uneven ground on the sidewalk and that's what caused the injury ... not the force of the punch, not the punch itself." Mr Richardson said DeShields, from Paget, maintained that "there was some form of provocation", but that he was "extremely remorseful". He added: "He knows that he's going to have to live with this for the rest of his life." DeShields told the court that he accepted responsibility for his actions and "the only reason" he punched the victim was because he believed Mr Simmons had reached for something in his back pocket. He added: "I would like to apologise to his family. I know words will not suffice under these circumstances." Puisne Judge Carlisle Greaves said he considered the case to be one of "medium culpability". He added: "He could not have intended, in my view, to have caused the death of the deceased." Mr Justice Greaves explained that CCTV footage played in court showed the two men in a verbal exchange that started "pretty calmly". He said bystanders seemed to be concerned enough to put themselves between the pair, but DeShields "aggressively" made his way around the other people and threw punches at Mr Simmons. Mr Justice Greaves said that the first strike was of "significant force" and that it was followed by at least two more. He ordered that time DeShields had already spent in custody should be taken into account.

The owners of the former Riddell's Bay Golf Course have applied to break up the land into 22 lots. A subdivision application, submitted to the Department of Planning by Castile Holdings earlier this month, proposed the creation of new lots on the recreation-zoned land as part of a plan to create luxury homes. The proposed subdivision at the Warwick site would create seven homes on the western side of the land, nine on the eastern edge and another two on the southeast side. The centre of the property would remain undeveloped with four lots made up of 14 acres of open space, 12 acres of open-space woodland, 18 acres of nature reserve and 22 acres of land zoned for recreational use. The master plan for the project said Riddell's Bay Gardens and Nature Reserve will "create a unique and unprecedented model of conservation management in Bermuda". The document said: "The Riddell's Bay project aims to reconvert and rehabilitate more than 66 acres of land, formerly occupied by a bankrupt golf course. More than 38 acres will benefit from increased conservation zoning in areas identified as having prime ecological value. The financing to maintain and convert this extensive area into a combination of nature reserve, open space and recreational space will be entirely private and funded through the addition of low impact residential lots. In addition to restoring a once heavily treated area of open space, the proposal will allow for limited public access." A report from Bermuda Environmental Consulting said 51 per cent of the property would be a combination of coastal reserve, nature reserve and open space, with another 22 per cent retained as recreational land. The report added: "Private funding for the initiative will be achieved through the sale of three existing lots, plus the creation and sale of 18 new, low-density recreational lots through an endowment, to be set up through those sales coupled with monthly homeowners association fees." Residential lots will cover 23 acres, or 24.5 per cent of the site. The report said that the proposal, if approved, would reduce the amount of recreational land, but that the remainder of the land would receive greater use. It added: "As there is no current formal recreational use installed on the land, this change in zoning does not impact any user group or functionality, but primarily impacts the zoning pattern as articulated in the Draft 2018 Bermuda Plan. In fact, public access will be enhanced and neighborhood access will be formalized and both these groups will be able to utilize the site for passive recreation, thereby increasing the recreational functionality of the site over the current baseline. Therefore, though reduced in size, any material perception of loss of recreational-use lands is not expected given that 66 acres will, for the first time, be available for passive open-space activities by the area community." The report said there had been consultation with residents and environmental groups, such as the Bermuda Environmental Sustainability Taskforce, and some changes to the plan had been made as a result. It said one lot that had been earmarked for residential development was included in the nature reserve after David Wingate, a veteran conservationist, said it was "critical" to do so. Riddell's Bay, Bermuda's oldest course, closed in March 2016 after nearly a century because the club could not meet its operational costs. The Royal Gazette revealed later that year that a group of island-based investors had banded together to buy the golf course and planned to create a conservation zone with a limited amount of land used for residential lots on "the outer fringes" of the area. The subdivision application can be seen at the Department of Planning offices in the Dame Lois Browne-Evans Building on Court Street, Hamilton.

July 19

Legislation designed to set up a commission to examine the creation of a minimum wage is to be debated in the House of Assembly today. The Employment (Wage Commission) Act 2019 is among six Bills expected to be discussed in what was predicted to be a long session for MPs. The legislation would create a six-strong Wage Commission, which would include two ex officio members from the ministries responsible for labour and finance. Its main function would be the recommendation of a minimum hourly wage and a living wage. The proposed legislation defined a living wage rate as the "amount of income necessary to afford an employee and his household a socially acceptable standard of living" and covered food, clothing, housing, medical treatment, childcare and transport. A motion from Kim Swan, a Progressive Labour Party backbencher, for the House to support the Parliamentary Joint Select Committee's report on the picketing of Parliament over a public-private partnership deal to build a new airport, will also be discussed. Police used pepper spray on demonstrators on December 2, 2016 and several police officers were injured as the two sides clashed. Several ministerial statements are expected. Zane DeSilva, the tourism minister, will discuss the Bermudiana Beach Resort project created from the failed Grand Atlantic housing development. The House will also hear from Mr DeSilva on Michele Bean, a Bermudian project manager who will oversee the technical aspects of the development of the new airport terminal. Diallo Rabain, the education minister, will talk about scholarships and awards, and Lovitta Foggo, the Minister of Labour, Community Affairs and Sport, will discuss Mary Prince, a former slave in Bermuda who became a major figure in Britain's movement for the abolition of slavery. The Child Safeguarding (Miscellaneous Amendments) Act 2019, which was passed in the Senate on Wednesday, is to be tabled by Kim Wilson, the Minister of Health. MPs are also expected to debate the Money Service Business Order 2019, Fund Administration Provider Business Act, Dental Practitioners Amendment (No 2) Act, and the Public Service Superannuation Amendment Act.

A longtime child welfare campaigner welcomed a proposed law to improve protection for youngsters yesterday, but said it lacked a guarantee of funding for independent legal representation for vulnerable children in court. Sheelagh Cooper said: "I am very pleased to see the proposed amendments to the legislation designed to better protect children." Ms Cooper added: "In particular, the Government is commended for recognizing the need for greater attention to the need to protect children who testify, and to remove the antiquated need for corroboration of child testimony. Additionally, I am pleased to see an emphasis on the need to deal expeditiously with these cases." The campaigner, who founded the Coalition for the Protection of Children, added: "However, noticeable by its absence is any reference to the funding of representation for children, either through legal means or through a litigation guardian. Seems to me that's the elephant in the room." Ms Cooper was speaking after the Senate approved the Child Safeguarding (Miscellaneous Amendments) Act 2019 on Wednesday. The Bill was designed to prevent sex abuse and exploitation of children, protect the rights of victims and promote co-operation between agencies in Bermuda and overseas. The legislation is still to be debated and approved in the House of Assembly. The proposed law updates the Children Act 1998, but not section 35, which deals with the appointment of litigation guardians, independent advocates, for children in certain court proceedings. Nick Kempe, the Opposition leader in the Senate, asked if the Children Amendment Act 2018 would return to Parliament in its present form after it was tabled in the House of Assembly last November. The Bill proposed to change section 35 of the 1998 legislation, replacing the word "shall" with "may" in relation to the requirement for a court to consider the appointment of a litigation guardian in cases that involved children. A family law expert said last December that the planned amendments would "undoubtedly erode the legal rights" of children to obtain independent legal representation and have appointed litigation guardians. Mr Kempe asked if the Children Amendment Act would be removed or brought forward for consideration, "seeing as that waters down the protection of children". Kathy Lynn Simmons, the Minster for Legal Affairs, said: "I will say categorically that the intention of the ministry is always to ensure that we have the best model for any initiative and the Bill that was tabled is a very narrow amendment. I have undertaken to ensure that, in reviewing the scheme appropriate to litigation guardians, it will be the best scheme, that will reflect the best standards, for that particular protection that's afforded children in the court process." She advised senators to "stay tuned and rest assured" that "international best practices" will be adopted for Bermuda's children. Mr Kempe asked for further clarification on if "it was the Government's intention to proceed with that Bill as is". Ms Simmons said: "That's not a matter for the Senate, at this time." The Court of Appeal ruled last month that Government has shown a "flagrant disregard" for children through a failure to pay for them to have independent legal representation. The panel ruled that ministers had been in breach of obligations under the Children Act 1998 for some time because they had not introduced a scheme to fund litigation guardians. The Government earlier said the Children Amendment Act 2018 would provide for the regulatory oversight of litigation guardians and create a framework for their licensing, regulation and appointment. A spokeswoman for the Ministry of Legal Affairs said last month: "Prior to the tabling of the Bill there was no legal framework that would allow payment for litigation guardian services. In addition to the Bill, the need to achieve a more financially sustainable model was apparent, given the incredibly high fees demanded by some litigation guardians. Therefore, a working group was established within the ministry to develop the policies, procedures and recommend legislative amendments necessary to support the establishment of an independent litigation guardian office."

Hilton Worldwide today announced the company's debut in Bermuda with the signing of Bermudiana Beach Resort, Tapestry Collection by Hilton. Also representing the brand's first hotel in Bermuda and second development in the Caribbean region, the 111-room resort is slated to open in 2020. Owned by Bermudiana Development Company Limited, Bermudiana Beach Resort will sit on a cliff overlooking the pristine pink-sand beach and turquoise waters. With an enviable location, Bermudiana Beach Resort, Tapestry Collection by Hilton will welcome guests with an array of vibrant amenities including a family-friendly swimming pool and an infinity pool, an indulging spa, fitness center, and an immaculate and secluded beach accessible via a two-car funicular elevator. Guests will be welcome to enjoy the terrace with its signature restaurant, bar and ocean views. The hotel will also offer flexible space for meetings and events, as well as a beautiful outdoor space perfect for weddings. The Tapestry Collection by Hilton™ is advertised a gathering of original upscale hotels that caters to guests seeking reliability and value in their independent hotel choices, with each stay backed by the reassurance of the Hilton name and award-winning Hilton HHonors program. In Bermudiana Hotel Resorts case, this is obviously an exception.

Work to remove an asbestos-riddled roof at a former preschool was halted yesterday, amid confusion over neighborhood notification that the work was to take place. Staff downed tools at the site in St David's because it was claimed residents and a nearby nursery had been given no notice that the process would begin. The Bermuda Housing Corporation plans to convert the former preschool on Battery Road, as well as a building next door, into studio apartments. An asbestos removal specialist said he was assured notification had been sent to residents, but he ordered the operation to cease after neighbours raised concerns. The former preschool is close to The New Sunbeam Nursery, which caters for 30 infants and children aged from three months to four years. Its owner said yesterday: "Across from my nursery, the housing corporation put in an application for planning. "Myself and everybody else around here are concerned about the asbestos roof. No one has informed us of anything." The businesswoman explained: "I just came out to get some supplies for my nursery and the men were on top of the roof." She said: "I'm hearing bad things about asbestos. I don't want my parents hearing about this and that I haven't done anything about it. I just feel like the neighbours and myself should have been informed." She added: "If it is asbestos, let us know when they're going to do it." The nursery owner said she would keep the children indoors, where the rooms were air-conditioned, until the situation was made clear. One of the crew later advised the woman that the work had stopped. Loren Belboda, of AMR Services, said his asbestos abatement company was contracted by the BHC, which owns the building, to carry out the job and he was told by the corporation on Wednesday that nearby residents were aware of the work. He said: "It's just a matter of informing people and letting them know what the situation is because people overreact when they see people with masks. It's not going to be a big health issue, it's just a matter of informing them and letting them know. You just consider other people in the area — it's a precaution. I got an e-mail from the housing corporation saying all the neighbours have been notified, you can go ahead and start taking the roof off tomorrow morning. I went down there this morning to start taking it off and a lady came over and said she hasn't been notified, so I told my guys to stop working and I'm trying to get in touch with the housing corporation." Peggy Burns, who has lived in the area for 20 years, said advance notice was given to householders when the roof of a Salvation Army building, which also contained asbestos, was removed several years ago. The 71-year-old added: "I'm not privy to anything." Denise Hollis, the president of the St David's Condominium Association, which works with residents in the area, said: "I didn't receive any notice or anything saying they would be doing work up there and I wasn't aware of any asbestos." She added: "I would have thought they would have at least made sure we got some sort of notification." The BHC referred questions to the Ministry of Public Works but it did not respond to a request for comment.

An independent art curator and consultant has launched an online art gallery to develop international awareness of the contemporary visual-art movement in Bermuda. Lisa Howie, formerly executive director of the Bermuda National Gallery, has started Black Pony Gallery on website artsy.net, an online, free-access platform that showcases art galleries, art fairs, and auctions from around the world. The site, Ms Howie said, is a virtual marketplace that connects to global art collectors, and gives the gallery access to an entirely new demographic. Black Pony partners with emerging, mid-career, and established artists whose artwork challenges perceptions of "island art", Ms Howie said. Artists featured on the site include James Cooper, Graham Foster, Jayde Gibbons, Teresa Kirby Smith, Kevin Morris, Carlos Santana Dill, A.B. Wilson, and Charles Zuill, all of whom are based in Bermuda. Ms Howie said: "For many years, I have been focused on strategies to bring international awareness to the talented contemporary artists in Bermuda and one solution now exists with this online gallery. The three key opportunities with having a gallery on artsy.net are limited overhead costs, global outreach to a target audience of collectors and art patrons, and the professional structure of the online platform. The site looks appealing, is easy to navigate, and allows collectors (or wanna-be collectors) to follow artists and artwork according to one's personal interests. It is quite a fascinating new territory." Ms Howie said she hopes that Black Pony will also strengthen creative opportunities and partnerships in the Atlantic/Caribbean region. She said: "Ideally, Black Pony will represent artists from several islands in the Atlantic corridor, from the Azores to Trinidad and Tobago. The present focus is on Bermuda however, with sights on involvement in international biennials such as Havana, Venice, etc, and relevant art fairs or art events that value artistic talent from alternative locations." Artsy, the organisation's website says, features the world's leading galleries, museum collections, foundations, artist estates, art fairs, and benefit auctions, all in one place. The outfit's growing database, Artsy says, features one million works of art, architecture, and design by 100,000 artists. Artsy says it spans historical, modern, and contemporary works, and includes the largest online database of contemporary art. Artsy, the organisation says, is used by art lovers, museum-goers, patrons, collectors, students, and educators to discover, learn about, and collect art.
• Black Pony Gallery can be found at website artsy.net/lisa-howie-projects.

Campbell Patton will be looking to make a late surge in the standings during the final day of racing at the Youth Sailing World Championships in Gdynia, Poland, today. The Bermudian sits in 21st with a best finish of fifth among a 57-strong Laser Radial fleet heading into the two scheduled races. Patton, who is studying in Sydney, Australia, qualified for the Youth Sailing World Championships after finishing fourth at the Laser Youth Easter Meeting regatta on Lake Garda, Italy, in April. Yesterday, the lead swapped hands as Zac Littlewood, of Australia, replaced son of the surf Tytus Butowski at the top of the pecking order. Littlewood holds a slim one-point advantage over Butowski with Yigit Yalcin Citak, of Turkey, ten points behind in third. The Youth Sailing World Championships was first held in Sweden in 1971 and it has been held every year since. It is one of the key events of the federation to help promote top-level youth participation. Bermuda hosted the championship in 1995. Past notable winners Sir Ben Ainslie, of Britain, include the four-times Olympic gold medal-winner and America's Cup skipper.

Bermuda crashed to a heavy defeat in their Cayman Basketball Festival opener at the John Gray High School in the Cayman Islands yesterday. The men's national team went down 85-49 against the host nation who capitalized on their opponent's poor execution on both ends of the court and turnovers. Kai Robinson and Joshua O'Garro led the Caymans' scoring with 23 and 22 points. Bermuda's Jorel Smith led all scorers with 24 points. "The Cayman Under-19 team are a good team, [but] the scoreline is not reflective of the game," Kent Tacklyn, the Bermuda head coach, said. "The Bermuda team had a four-point second quarter, not reflective of the Caymans' defence, we just didn't execute the way we should have. We turned the ball over too many times. In the second quarter, the players lost focus and Cayman capitalized." Bermuda will be looking to bounce back when they meet Port Arthur, Texas, the remaining team competing at the event, in their second match at the John Gray High School today. They will also play Cayman again today before closing out against Port Arthur tomorrow. Port Arthur were scheduled to face Cayman in their tournament opener last night. The top team at the end of the double round-robin tournament will be crowned champions.

July 18

An affordable housing development failed because campaigners wanted to keep black people off the South Shore of the island, the public works minister claimed yesterday. Lieutenant-Colonel David Burch said the Grand Atlantic scheme was a victim of "sabotage". He added: "Black people are not supposed to have beach access on South Shore Road. That's the bottom line. And so you have all of these people railing against housing development that would have provided that access to black people in this country. The fact that it failed was a direct result of sabotage by certain people and I think that we have refashioned this." Colonel Burch's outburst came after a ribbon-cutting ceremony was held to relaunch the site as a hotel and condominium complex to be called the Bermudiana Beach Resort. Environmental charity BEST, one of the most vocal critics of the Grand Atlantic development and then headed by Stuart Hayward, could not be contacted for comment last night. Campaigners against the complex said that erosion could pose a risk to the site and that work needed to be done to shore up the nearby cliffs. The resort, created from the former apartment blocks and scheduled to open in July next year, will have access to the marketing and reservations system of global hotel chain Hilton as a result a deal struck with the developers. A total of 71 of the 78 condominiums are being refurbished with new kitchens and bathrooms, additional windows and new floor coverings. The remaining seven apartments will be converted into a reception area, bar, restaurant, meeting room, commercial kitchen, spa and operations support areas. Elevators will also to be installed in eight of the nine condominium blocks and two swimming pools will be built. The developers will also install two Hill Hiker trams to provide access to the beach below and add stability to the cliff face. Grand Atlantic was launched by an earlier Progressive Labour Party government in 2011 as a hotel and affordable housing development. But the scheme was branded a failure when only two out of the 78 condo homes were sold and the hotel was never built. The former One Bermuda Alliance government confirmed in April 2014 that it had signed a contract to "upgrade and reposition" the complex as a holiday destination with MacLellan & Associates, a Caribbean-based tourism and leisure firm, headed by Robert MacLellan. A memorandum of understanding was signed with the then One Bermuda Alliance government, but the deal fell through because of problems in securing financing. Colonel Burch said that MacLellan & Associates was now hiring Bermudians to staff the resort. He said: "The hotel developer, Mr MacLellan, has a track record of hiring local people throughout all of his properties in the Caribbean. There have been discussions with the Bermuda College already about those people that are in the hospitality industry in the hotel to look to recruit them for this property." Colonel Burch said at the ribbon-cutting ceremony: "It was soon after the 2017 General Election, August 14, 2017 to be exact, that I held my first meeting on this proposal and on March 28, 2018 that I first publicly announced the partnership to convert the Grand Atlantic site into a new mid-market boutique hotel to be renamed the Bermudiana Beach Resort." The Royal Gazette reported in February 2017 that the Bermuda Housing Corporation had reselected MacLellan & Associates to redevelop the site into a resort. The report added that "final negotiations" were under way with an "international boutique hotel brand". Colonel Burch said that the properties were built on stable land despite claims that cliffs close to the resort were unstable and could collapse on to a beach area below. He explained: "We're built on the same piece of property and real estate as the reefs and if you come down the entire South Shore every property that's build on the same shoreline is going to be faced with the same challenges. And I think if you go to the back of the building you'll see what the buildings are a considerable distance away from the actual cliff face itself. We have very stringent planning rules in the country generally and I don't think that planning would allow anybody to build these units with the risk of them falling into the South Shore. It's a red herring." Colonel Burch said that projects to build additional condos and affordable housing complexes elsewhere were in the early stages of development and declined to comment further.

A new $2 million weather radar system was officially launched with a ribbon-cutting ceremony on Cooper's Island in St David's yesterday. Zane DeSilva, the Minister of Tourism and Transport, said the new Doppler radar system will improve the ability of the Bermuda Weather Service and came in $30,000 under budget. Mr DeSilva added: "To have a reliable radar system is critical for us, and of course coming in under budget is fantastic. We don't ever want to get caught on the short end of the stick with regard to hurricane predictions. We have seen them do some serious devastation all over the world, so to have a system that we can rely on is crucial. The Bermuda Airport Authority did a wonderful job installing the system with minimal outage time and under budget at a cost of $2.01 million, versus the capital budget cost of $2.04 million." Mr DeSilva added: "Given the importance of accurate weather to Bermuda, particularly during the hurricane season, I think we are all relieved and happy to have our weather radar back in place with increased reliability." The former radar system was installed in 2004, but had to be replaced because of "reliability issues". The old radar was retired in March and dismantled to provide space for the new and more advanced doppler system. Adam Shanks of German firm Leonardo, the manufacturer of the radar, said the new system will provide more accurate forecasts. He added the system was also designed to deal with problems caused by Bermuda's isolated location and climate change. James Dodgson, director of the Bermuda Weather Service, said: "The old radar essentially scanned in one plane horizontally while this one scans in two planes. It scans in the horizontal and the vertical. That gives the radar better definition of what we call 'hydro meteors', which is the rain and hail that falls from the sky. It gives a better idea of the size and intensity and that gives us a better idea of the rainfall amounts hitting the ground." He added the radar scans, viewable online at weather.bm, are used by people across the island. Mr Dodgson said: "It's certainly one of the most popular parts of our website. That's the feedback I get. A huge amount of people will access that radar imagery on a daily basis, whether they are going out for a run in the morning or going out on the boat, just to plan their daily outdoor lives in this wonderful place, Bermuda." A spokeswoman for the Bermuda Airport Authority said the installation work was fully completed on Monday. She added: "The BAA has been assured a 95 per cent reliability rate for the weather radar system for the next 15 to 20 years, with the exception for times when the radar will be taken down for preventive maintenance."

A former public works minister said yesterday that it was he who commissioned the report into the finances of a struggling sports centre — not the trustees who ran it. Trevor Moniz, now a One Bermuda Alliance backbencher, explained that he asked for the independent review from professional services firm KPMG in 2013 because he was "under pressure" from high-ranking civil servants to release more public funds for the now-closed Sandys 360 Taxpayers had already forked out millions of dollars for the Sandys 360 Sports, Aquatic and Enrichment Centre, which opened in September 2009 and closed its doors in November 2013 because it was unable to make ends meet. More money had been promised in the form of a government grant, but Mr Moniz said he wanted to cancel the offer, against the wishes of some civil servants. Mr Moniz claimed civil servants "were saying 'Government has made a promise and you have to abide by it.". I was saying 'it's a different government, the conditions have not been met. I'm not going to pour money down a black hole.' It was $30,000 to $40,000 a month on Belco. I was refusing to do that. I was trying to persuade Cabinet and the Civil Service to stop pumping money into this facility that was unsustainable." Mr Moniz suggested some in government wanted the report kept secret because it was an "embarrassment to the Civil Service that all this money had flushed down the drain". The Royal Gazette launched a bid to get a copy of the KPMG report under public access to information legislation in December 2015, soon after the Auditor-General revealed that the centre received a duplicate payment of $807,000 in 2011 that was never recovered by the Government. The report was kept secret by the One Bermuda Alliance administration and was kept under wraps by the ruling Progressive Labour Party. Sandys 360 chairman Stanley Lee said in December 2015 that The Royal Gazette should "approach Government for a copy of the report, since they initiated the process". A Pati request was made to the Government, which asked for the report and for records showing all payments made from the public purse to Sandys 360 and all attempts to recover money owed by the centre to the Government. The request for the report was refused by the Department of Public Lands and Buildings, but Information Commissioner Gitanjali Gutierrez ordered its release in May this year. Lieutenant-Colonel David Burch, now the Minister of Public Works, told Parliament this month that the Government would not release the report because "it was not commissioned by, nor is it the property of, the Department of Public Lands and Buildings". Mr Moniz said: "In my view, all this nonsense about 'it's not a government report' prompts a serious question: who paid for the report?" He said that those in charge of Sandys 360 — the trustees of Sandys Secondary Middle School — had to agree to take part in the review because they held all the information on the centre's finances. But he added: "I would assume Government paid for it because they had no money. We were the ones who started the process." Opposition leader Craig Cannonier agreed yesterday that the report was commissioned during Mr Moniz's time as works minister. But he said he understood that HSBC bank, which was owed more than $9 million by the trustees, asked for the report and paid KPMG for it. Mr Cannonier added: "The trustees had nothing." Mr Cannonier said: "When I became the public works minister in 2015, the report had already been commissioned. I'm almost sure that it did come out under me." He added: "There were no hard, clear financials on Sandys 360 that made any particular sense. Every time we asked them for information it was difficult to get a complete picture of what was going on." Mr Cannonier said that "people were trying to figure out exactly what it was we needed to do" to help the centre stay afloat. He added: "The bank was coming to us for help. We said we can't seem to get any proper direction from those guys." Mr Cannonier said Cabinet decided that the Government should buy the centre from the trustees. He added that the Government could not release the report to the public at the time because it needed to finish negotiations on a price for the centre. Mr Cannonier said he believed Sandys 360 was mismanaged by people with good intentions, which was why he told Parliament last year it was "completely unnecessary" to suggest the centre's financials should be made public. But he added that the report should be released after Ms Gutierrez ordered it to be made public. Mr Cannonier asked: "What's to hide?" KPMG told the Information Commissioner its clients were the trustees and that it agreed to conduct the report on the basis it would only be disclosed to HSBC and the Department of Public Lands and Buildings. The trustees told Ms Gutierrez the report was prepared for the trustees to help them resolve the "financial issues" surrounding the centre, including its potential sale to the Government. Charles Thresh, of KPMG, said yesterday: "We do not comment on client engagements and so I am unable to answer your questions." An HSBC Bermuda spokeswoman said: "HSBC takes the issue of customer confidentiality very seriously and as such is not able to discuss any matters with respect to customers or purported customers." The Ministry of Public Works did not respond to questions on who paid for the report and if Colonel Burch planned to challenge Ms Gutierrez's order in court.
Sandys 360 timeline
September 12, 2009: Sandys 360 officially opens
August 2011: A payment of $807,000 from the public purse is made in "error" to Sandys 360 and never recovered
December 20, 2012: Trevor Moniz becomes public works minister after the One Bermuda Alliance's election victory
November 2013: Sandys 360 closes its doors because of financial difficulties
December 11, 2013: Mr Moniz is replaced at public works by Patricia Gordon-Pamplin
March 2014: Sandys 360 board member Stanley Lee reveals that KPMG is conducting a financial review of the centre and says its report is expected by month end
January 15, 2015: Craig Cannonier replaces Ms Gordon-Pamplin as works minister
July 2015: Sandys 360 managing director Melvyn Bassett tells The Royal Gazette that KPMG has finished its review
December 2, 2015: Asked for a copy of the KPMG report, Mr Lee tells the newspaper: "Maybe you should approach Government for a copy of the report, since they initiated the process."
December 10, 2015: The Royal Gazette submits a Pati request for the KPMG report to the Department of Public Lands and Buildings
February 10, 2016: The department refuses the request. It says: "In respect of the KPMG report, you may wish to make the request directly to the trustees of Sandys 360, as they are the holder of the record. The KPMG report ... was commissioned by the trustees of Sandys 360. It was not commissioned by this department."
March 2016: Mr Cannonier announces $1 million has been allocated in the budget to buy Sandys 360
April 5, 2016: Marva O'Brien, then the public works permanent secretary, upholds the refusal to disclose. She writes: "The report was prepared for KPMG's client, the trustees of Sandys Secondary School."
April 19, 2016: The Royal Gazette asks the Information Commissioner's Office to review the decision
December 16, 2016: the Department of Public Lands and Buildings provides the ICO with a copy of the KPMG report
July 18, 2017: The Progressive Labour Party wins the General Election.
February 28, 2018: The Royal Gazette reveals that Sandys 360 cost taxpayers at least $5.3 million — $1 million towards its construction costs and $4.3 million in further payments
March 2, 2018: The Royal Gazette reveals that BCM McAlpine is still owed more than $1 million from the Sandys 360 trustees. Mr Cannonier tells the House of Assembly "we don't even need to get into all of that stuff" about how much public money was spent. He says of the KPMG report: "People were coming to me at the time saying 'they are not giving up their financials' and the likes. Completely unnecessary for people to carry on in that manner when we were seeking out an opportunity to save that area."
March 2018: Lieutenant-Colonel David Burch, the Minister of Public Works, tells MPs that HSBC is prepared to take $1 million as "full and final settlement" of the $9.24 million it is still owed by the trustees of Sandys Secondary Middle School
May 27, 2019: Information Commissioner Gitanjali Gutierrez orders the Department of Public Lands and Buildings to release the KPMG report and to make a decision on whether to release records showing all payments made from the public purse to Sandys 360 by July 8. The Government has six months to seek a judicial review of her order
July 5, 2019: Colonel Burch tells Parliament the report will not be released.

Progressive Labour Party Press Release. "As we celebrate the second anniversary of our historic 2017 General Election, the Progressive Labour Party has joined with other community leaders to give back to our community. Recognizing that there are many families facing hardship, yesterday we took the opportunity to assist with the St Paul's feeding programme, which provides those in need with hearty dinners on Wednesday evenings. It is our fervent desire that the numbers using this programme will diminish as we continue the difficult work of getting Bermudians back to work and into gainful employment. We are working diligently to ensure more opportunities are available for Bermudians, and while we know that for those in need, an extra day of unemployment is one too many, we are not deterred nor dissuaded from the task at hand. We thank the voters of Bermuda for this awesome responsibility of governance. Two years into this term, we are making steady progress. We are ever grateful for your words of encouragement, and support!"

A former independent senator and long-serving chairwoman of the Public Service Commission, Jeanette Cannonier, has died, aged 76. David Burt, the Premier, yesterday expressed his condolences to Ms Cannonier's family. He said that Ms Cannonier had served as the chairwoman of the PSC for 14 years and retired in 1997. Mr Burt added: "After many years on the PSC, Ms Cannonier again answered the call to public service as an independent senator. "She was an early voice in support of mandatory seatbelts in Bermuda and spoke regularly to highlight the need for better care of seniors. On behalf of the Government and the people of Bermuda I wish to express sincere condolences to her husband, children and family." Funeral arrangements will be announced later. She is survived by husband George Cannonier and children Duane and Melanie.

A Bermudian father locked in a transatlantic custody battle after allegations of sex abuse overseas has been told he can keep his two daughters until a hearing on their future is held. The Court of Appeal heard the pre-teenage girls, who cannot be identified for legal reasons, told their father the younger daughter, referred to in court papers as T, was the victim of a sex assault after their US-based mother left them in the care of a man in the United States. The father said in an affidavit to the court: "The children told me that their mother made a police report and that the man was arrested and spent two or three weeks in jail ... Their mother did not tell me anything at all about this incident and I was shocked to be hearing it for the first time from the children. I am extremely concerned to think about what happened and what might have happened and I am concerned that the children have not received any professional services following this incident. I am forced to wonder what else she has not told me if she has kept this terrifying incident from me. It makes me also question the level of supervision being provided by their mother. What checks did she undertake before allowing the girls to go with this man? Although she is not directly responsible for the actions of this man, the events seem to form part of a general malaise towards the care of the children, where they are being left unsupervised to fend for themselves." The court heard that the girls' mother, a US citizen, had custody of the girls, but that they travelled to Bermuda for their summer holiday last year. Legal action was launched against the father after he refused to send the girls back to their mother at the end of the agreed time. Sir Anthony Smellie of the Court of Appeal wrote in a judgment released last Friday that the father felt it was in the best interests of the children to keep them in Bermuda. The judge said: "According to the appellant, he refused because both girls clearly and firmly expressed to him that they did not wish to be returned to live with their mother. Most serious among the concerns raised by the girls, was that T had been sexually molested by a mere acquaintance in whose charge both girls had been placed by their mother." The girls' mother accepted that the girls had told her about the sexual abuse and that she had gone to the police. The court heard the case is scheduled for a Grand Jury investigation in New York. The girls also told social workers in Bermuda that they had been physically abused by their mother and did not want to return to the US, but they said they were willing to stay in touch with her. Sir Anthony said: "Both girls provided handwritten letters, seeking to explain why they did not want to be returned to live with their mother, but wished to remain with their father, in Bermuda. These letters express their concerns regarding the care they were receiving, and about the incidents of sexual and physical abuse described to their father and the social workers." The Supreme Court ruled in May that the girls should be returned to their mother. The father launched an appeal based on the grounds that Puisne Judge Nicole Stoneham had failed to take the children's objections to a return to the US into account. The Court of Appeal found that the judge had an obligation to explain why she had rejected the concerns and objections of the girls. Sir Anthony wrote: "This the learned judge simply did not do to the extent that this court might be satisfied, that she exercised her important discretion properly, giving adequate consideration to the concerns and objections of each of the girls. On the contrary, what appears, for instance, from the ruling is a basic misunderstanding of the concerns of the girls, with their willingness to visit their mother, being confused with a willingness to return to reside with her." The Court of Appeal ruled that the girls should stay in Bermuda until a custody hearing decided where they should live. Sir Anthony said: "We note that there are, already, in this regard, such proceedings instituted both in the United States by the mother and in this jurisdiction, by the father. A result of our decision is that these custody issues will be determined in the proceedings in Bermuda." Sir Anthony added: "It will be in the best interests of the girls, that their mother be allowed to participate fully in the proceedings and so, to extent that she may not have the means to fund her own legal representation, we would regard it as imperative that she be allowed legal aid, for those purposes." Adam Richards of Marshall Diel and Myers represented the father at the hearing, while Brian Moodie represented the Attorney-General's Chambers.

A luxury harbour-side picnic and "dine in the dark" experiences are among the schedule of events for a revamped food festival in Hamilton. Taste of Bermuda, organised by the City of Hamilton and the Bermuda Tourism Authority, will feature family favourites as well as the chance for people to step outside their culinary comfort zones. Jessica Astwood, the City of Hamilton event project manager, said: "We are especially thrilled that through our partnership with the Bermuda Tourism Authority we have pulled out all the stops to ensure that we are providing Bermuda and her visitors with the latest in culinary trends as well as condensing the best of our island's gastronomy in one weekend. We've even timed the street festival event to coincide with a ship in port on Front Street to allow our food vendors to get the most out of their time. Organisations the world over combine efforts in creating their nations' food festivals into a peak source of pride and we at the City intend on doing just that." The event is a replacement for the City Food Festival and will run from October 11 to 13. The festival will also include the annual bartender competition and a bartending masterclass and the activities will culminate in a Front Street "tasting village". A call for vendors and chefs who would like to take part is scheduled to made in the next few weeks. For more information and an event schedule, visit the City's website. Tickets are expected to be available on Ptix from September 1.

An all-woman panel of four Bermudian academics and an American professor presented research on Bermuda as part of a two-day conference at the prestigious University of Oxford. Dana Selassie, Rosemary Hall, LeYoni Junos and Alicia Kirby talked about black Bermudian history at a discussion on race in colonial and post-colonial Bermuda. Their panel was moderated by Bermudian Kristy Warren, a research associate at the University of Leicester. Ms Kirby, 23, the youngest panellist, said that important Bermudian history had been left out of school curriculums. She added: "I am hopeful that by continuing to come together, Bermudian academics can become a major part of a movement to create a much needed, robust Bermuda curriculum to help shape our national identity." Ms Kirby was speaking after the conference, which was held at Oxford on June 27 and 28. The conference explored the treatment of black people around the world and also featured speakers from South Africa and the United States. Ms Junos, an independent researcher and member of the Civil Justice Advocacy Group, said Bermudian historians should take control of research into the island's history. She added that historians should try to identify the unknown mother of Bermudian slave and abolitionist Mary Prince. Dr Selassie spoke about how the Bermudian media shaped the identities of black Bermudians before and after the 1959 Theatre Boycott. She was awarded a doctorate in Film and Television Studies from the University of Nottingham after she studied the growth of the Bermudian media in the 1940s to 1960s. Dr Hall, who completed her doctorate at the University of Oxford, discussed how racial stereotypes were reinforced by white Bermudians who mocked the island's distinctive English. She completed her doctorate in 2018 and is now an assistant professor of English Linguistics at the Norwegian University of Science and Technology. The women were joined by Sydney Hutchinson, an associate professor of ethnomusicology at Syracuse University in New York. Dr Hutchinson discussed the reconnection of the Warwick Gombey Troupe to the Pequot Indian diaspora. Alexa Virdi, a Bermudian studying for a doctorate in law at Oxford and who helped with the conference, said: "It was great that Oxford brought together such incredible researchers all working within the same space yet who had not been previously connected. The panel impressed conference attendees and we hope to share educational resources from the event in the near future."

A Bermudian artist has given a historic whisky brand's logo an island flavour. Jaylaka Jayathunga painted a statue of the 111-year-old "striding man" logo used by global Scotch whisky firm Johnnie Walker as part of worldwide drive to create customized versions of the Regency dandy. Ms Jayathunga used a palette of bright shades of turquoise and pastel colors to Bermudianise the statue, whose original colour was gold. Ezekiel Stoneham, of Burrows Lightbourn, distributor of the brand, said the company kept one of its three statues and gave the other two to Bermudian artists to customize for last month's Bermuda Carnival celebrations and for later display at the Masterworks gallery in the Botanical Gardens, Paget. Mr Stoneham said that he was on the lookout for "young, hungry artists," and contacted Ms Jayathunga on Instagram. He added: "I didn't give her any directions, just a chance to personalize and localize the statue, as long as it represented Bermuda." One of the statues, painted by Alshante Foggo, was damaged during Carnival and was unfit for display. Mr Stoneham said the commission was difficult for Ms Jayathunga because she started work just a week before Carnival was to begin. A Burrows Lightbourn spokesman said: "To provide a little context behind why we are so appreciative of the artist and the artwork shown. Ms Jayathunga was contacted a few weeks prior to the Bermuda Carnival to inquire if the Johnnie Walker statue could be completed in time for Carnival, as it was earmarked to be displayed at GLOW Bermuda, one of the headliner events for the weekend. She gladly agreed, but said that due to her studies abroad, she would not be back on island to complete the project until two weeks before the deadline. And, unfortunately, the statue was still in the process of being repaired due to damage incurred when she arrived." But the spokesman said Ms Jayathunga began work on the statue on a Tuesday and was finished by the Friday. He added: "The statue became ready a week before the event. Jaylaka then arrived at our warehouse with nothing but a bag of brushes and spray paint, armed with an EZ-Up canopy and a few bottles of Icelandic water. Jaylaka spent three days from 8am to 6pm in the blistering Bermuda summer heat completing the project." Burrows Lightbourn said it was happy with the result.

A man who lost his wife, three children and his mother-in-law in a plane crash in Ethiopia in March accused the aircraft's manufacturer (Boeing, which has several Bermuda-incorporated corporate entities) of wrongful conduct yesterday. Paul Njoroge said that Boeing had "shifted focus" from the design flaws of the 737 Max aircraft which had caused the fatal crash and one five months earlier in Indonesia to "foreign pilot error". He added: "This distracted from correcting the real causes of the crashes and is an insult to humanity. Boeing and their apologists want to shift scrutiny from their single-minded quest for short-term profits over safety and place it on foreign pilots, who like domestic American pilots, were left in the dark by Boeing." He questioned whether Boeing would have used the term domestic pilot error if the crashes had taken place in the US. Mr Njoroge said: "The term foreign pilot error is utter prejudice and a disrespect to pilots and Boeing customers across the world." He was speaking as he gave testimony to a United States congressional inquiry into the Boeing crashes. Mr Njoroge lost wife Carol, 34, son Ryan, 6, daughters Kelli, 4, and Rubi, aged nine months, as well as mother-in-law Ann Wangui Quindos Karanja, when Ethiopian Airlines Flight 302 from Addis Ababa to Nairobi, Kenya, crashed on March 10. His family lived in Hamilton, Ontario, Canada and were on their way home to Kenya when they died. Mr Njoroge, a Kenyan-born banker, was expected to join them later. None of the 157 passengers and crew members on board survived. The 737 Max was globally grounded in March after the crash in Ethiopia and a similar crash in Indonesia five months earlier. Lion Air Flight 610 from Jakarta to Pangkal Pinang crashed into the Java Sea 12 minutes after take-off on October 29. All 189 passengers and crew members were killed. Mr Njoroge said that Boeing had used the "fallacy of foreign pilot error" to avoid grounding 737 Max aircraft after the crash in Indonesia. He added: "That decision killed my family and 152 others." Mr Njoroge said that the Federal Aviation Administration had "recklessly left Boeing to police itself". He testified that he thought about the final moments of his family member's lives "a lot". Mr Njoroge added: "My wife and my mom-in-law knew they were going to die. They had to somehow comfort the children during those final moments knowing they were their last. I wish I was there with them." Mr Njoroge said that he had not received a personal apology from the plane manufacturer. He added: "They know who the next of kin of these victims are, but they have not come to us and they have not apologized in person. It's hard to trust Boeing with their apologies given that they have not reached out to us." Boeing announced this month that it would provide $100 million over several years to local governments and NGOs to help those affected by the crashes. The company said yesterday that it will dedicate half of the $100 million fund to provide payments to families who had members killed. Boeing said the $100 million would be independent from the outcome of any lawsuit. Mr Njoroge this week thanked the people of Bermuda for their support during "testing times". In a letter sent to The Royal Gazette, Mr Njoroge said: "Through your prayer, contributions, sessions and services, as well as your messages in the condolence book, we have come to feel your love and warmth, which no doubt has helped us through this stage. We are going through an extremely difficult time in our lives. Our wellbeing and little strength come from your words and actions of encouragement, and your messages of hope. I cannot, therefore, thank you enough for your expressions of sympathy, good thoughts and prayers. I can only wish you God's blessings every day of your lives."

July 17

Legislation to make a government financial advisory body exempt from public access to information laws was passed on Friday. The Public Access to Information Amendment Act 2019 excludes the Financial Policy Council from Pati. Wayne Furbert, the Minister for the Cabinet Office, said the amendment was needed "to protect the financial stability of the country". He added: "To suggest otherwise is without merit." Mr Furbert said the records of the council contain "very sensitive, technical matters, which could have adverse effects on the country, and be subject to misinterpretation, or rumor, if released under Pati". He added that the council, the Bermuda Monetary Authority and the Ministry of Finance all had "major concerns" about the possibility of the disclosure of FCP records. Mr Furbert said problems from disclosure of documents could include "the undermining of the Bermuda dollar paid to US dollar, or a sharp and sudden withdrawal of deposits from Bermuda banks". He said that the proposed change to the Pati law had been discussed with Gitanjali Gutierrez, the Information Commissioner. The Information Commissioner's Office of Bermuda said last week that Ms Gutierrez believed "that records related to the financial and economic interests of Bermuda are already adequately protected under existing exemptions under the Pati Act, including Section 31". Mr Furbert said the Government "respects" Ms Gutierrez's position and is "still of the view that it is prudent to make this exemption". Mr Furbert said the council met three times a year and that a document was published after each meeting which included key issues discussed. He said that the FPC "will consider an appropriate additional transparency arrangement". Mr Furbert added: "This issue will be discussed during upcoming FPC meetings." Scott Pearman, the legal affairs shadow minister, said that the Opposition supported the amendment. However, he questioned the timing of the legal change. Mr Pearman asked: "Why are we now deciding to put the council's records beyond the watchful eye of Pati? Has there been a Pati request made of the Financial Policy Council, and is that the real reason for this amendment?" Mr Pearman also asked Mr Furbert to provide a time frame for when "protective legislation" covering the council would be in place. Walton Brown, a Progressive Labour Party backbencher, said that the Pati legislation was among the most important laws passed in the past 20 years. He added: "It is critically important that we have this legislation. It is something that we should value and something that we should treasure." Curtis Dickinson, the Minister of Finance and the chairman of the council, said there had been "robust" conversation with the ICO about the amendments, but that it was important that the FPC be able to give frank opinions. He added that the Government supported transparency and would look at ways they can release information about the council's work. Mr Dickinson said: "We have to be responsible in communicating what we think is appropriate so it doesn't do anything to create unintended consequences." The FCP was created in 2015 to monitor potential risks to the island's economy and to advise the Government on financial stability.

An Opposition MP has questioned why audit experts were ordered to carry out an investigation into the Department of Child and Family Services. Scott Pearman, the Shadow Attorney-General, claimed it made "no sense" to have the Department of Internal Audit look into allegations that Alfred Maybury, the director of the DCFS, ignored allegations that his staff mistreated vulnerable children. Mr Maybury was suspended last August, but returned to work in January after the Government said a "thorough investigation" had found the claims against him were "not substantiated". Mr Pearman asked: "Why Internal Audit? It's such an odd choice. Internal Audit looks into financial irregularities, not allegations of abuse and neglect of children. Was someone intentionally using Internal Audit to ensure the ... report does not become public?." An inquiry into Mr Maybury's conduct was started by the Ministry of Social Development and Sport, then under former minister Michael Weeks, which had responsibility for the DCFS. Mr Weeks was later removed from the Cabinet in a reshuffle and Child and Family Services was moved to the Ministry of Legal Affairs. The Government revealed last November that the Department of Internal Audit was conducting a review into the Department of Child and Family Services. However, the Government has since refused to release the findings of the internal audit inquiry to The Royal Gazette under public access to information legislation on the basis that records it obtained or created as part of its remit were exempt from Pati. It has also refused to say if a full report into allegations of misconduct against Mr Maybury existed. A government spokeswoman said on Monday that the internal audit department was asked, in 2018, to carry out the review by the now-retired Wayne Carey, who was the permanent secretary for the social development and sports ministry, which had responsibility for DCFS. The Royal Gazette asked the Government on January 30 this year under Pati for the "full report into allegations of misconduct against Alfred Maybury, which was conducted by the Ministry of Legal Affairs and Department of Internal Audit". Legal Affairs refused to disclose if the record existed because the ministry claimed it would "add unnecessary confusion to misinformation which is already present in the media and public domain". The ministry added investigations of that kind had to remain confidential so as not to prejudice or undermine future investigations. Marva O'Brien, the permanent secretary at the ministry, did not respond to a request for a review of the decision in the six-week time frame required by the Pati Act. She issued a decision on June 21 that upheld the refusal from the Ministry of Legal Affairs. The Department of Internal Audit said it would withhold the report because "all audit and compliance reports produced by the Internal Audit Department are exempted from disclosure under Pati". Marc Telemaque, the Cabinet Secretary, confirmed the decision after an internal review. Information Commissioner Gitanjali Gutierrez is now reviewing the refusals from the Ministry of Legal Affairs and the Department of Internal Audit at the request of The Royal Gazette. Mr Pearman quizzed David Burt about the DCFS inquiries in the House of Assembly last Friday, when the Premier told MPs he "would only assume either the Secretary to the Cabinet or the head of the public service" would have asked the Department of Internal Audit to get involved. Mr Pearman asked if the House could conclude that Mr Burt had no involvement in the decision. Mr Burt said: "Not to my recollection." He added: "The Department of Internal Audit does not fall under the remit of the Premier." Mr Pearman said on Monday: "You would think someone would know whether or not they were involved in such a strange decision involving this serious issue. And what a botched decision it was. We are told internal audit did not even interview the complainants. The public deserves answers. And the children involved deserve a full and proper investigation."

A failed housing development will be launched as a hotel-style complex today. The Bermudiana Beach resort is the reincarnation of the Grand Atlantic scheme on South Shore, Warwick, where a ribbon-cutting ceremony is scheduled to take place.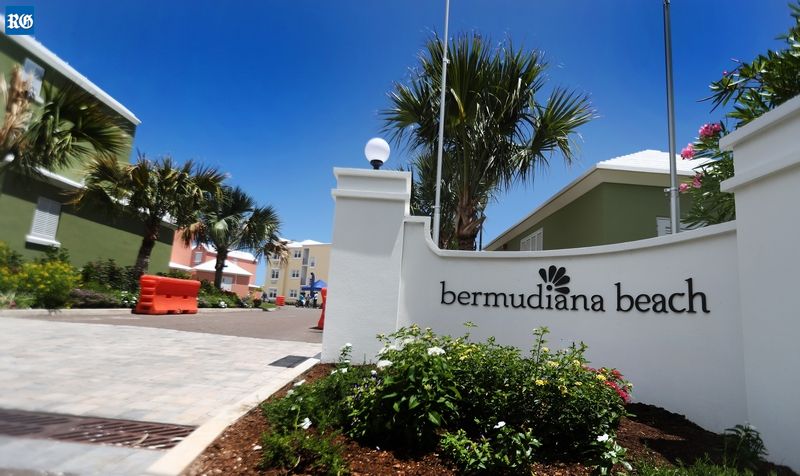 A sign with the new name has been erected at the site, which has undergone renovations in recent months. Lieutenant-Colonel David Burch, the Minister of Public Works, is expected to welcome dignitaries to the property today, when he will provide more information about the development. Grand Atlantic was created by a previous Progressive Labour Party government as a hybrid hotel and affordable housing development. The scheme was branded a failure when only two out of the 78 condo homes built in 2011 were sold and the hotel was never built. The former One Bermuda Alliance administration confirmed in April 2014 that it had signed a contract to "upgrade and reposition" the complex with MacLellan & Associates, a Caribbean-based tourism and leisure firm. The sale of the property fell through due to difficulty securing financing, but a new agreement with the same developer was announced in February 2017. The House of Assembly heard last December that the property, owned by the Bermuda Housing Corporation, would become a "mid-market condo/hotel consisting of nine buildings with additional leisure facilities". Zane DeSilva, the Minister of Tourism and Transport, told MPs at the time that the BHC had enlisted a specialist team, including MacLellan & Associates and Bermuda Realty Company, to convert the development into a resort with 105 rooms and suites. He said the 78 apartments would become 71 units for sale featuring "new and improved fixtures consistent with a four-star hotel". Outdoor amenities were expected to include two pools, including an infinity pool, as well as a funicular lift to the beach below. Mr DeSilva said: "External elevators will be added to the buildings as part of the hotel operator requirements. Seven of the existing units will be converted into communal facilities to include a reception area, restaurant, spa, gym, back-of-the-house support, and food and beverage areas." He told MPs that the development was scheduled to be carried out over two phases, with the second expected to be completed by May next year. Mr DeSilva explained that the complex "will be operated as a resort under a major international hotel-branded franchise". Colonel Burch added during the House sitting last December: "We will expect an announcement early in the new year, once the show units have been completed. At that time it will also trigger the announcement of who the hotel partner is. What that will also trigger is access to their worldwide network of reservations and advertising and whatever else to be able to market this project." Colonel Burch said the resort was expected to "go a long way in assisting in the revitalization of tourism, and also the creation of jobs for Bermudians in this country".

A murderous gunman who chased down and shot a man in 2017 was sentenced to life behind bars yesterday. Kiari Tucker, 23, was jailed for a minimum of 35 years for the murder of Morlan Steede, a Jamaican-born father of one. Tucker was told he must serve at least 25 years before he is eligible for a parole hearing on the murder charge, and given an additional ten years for use of a firearm. Puisne Judge Carlisle Greaves said Tucker stalked Mr Steede, chased him and shot him four times as he ran for his life. Mr Justice Greaves said: "Despite his utterances, in his allocution that he is an innocent man, and despite his effort to mislead his family, his friends and others that he was, somehow, wrongly convicted, I think this is a case in which the defendant should take his responsibility, not only for taking Mr Steede's life, but for throwing away his own. He had all opportunity to chart a proper course, but the evidence, and his record, shows he has chosen to live a life that has landed him, eventually, in the predicament he is now in. He is totally responsible for the situation he finds himself in today." The judge said Tucker had the benefit of a good education in Bermuda and overseas, but, by his own admission, decided to spend his days selling crack cocaine. Mr Justice Greaves said video footage from Court Street showed Tucker in a "celebratory mood" after the killing. Tucker, of Warwick, was found guilty in the Supreme Court last month by a unanimous jury verdict of the murder of married father of one Mr Steede, who was 30. The jury heard that Mr Steede was chased through the Deepdale area of Pembroke on the night of November 3, 2017. The gunman shot him three times in the back and once in his arm. Mr Steede, known as Clappa, was rushed to the King Edward VII Memorial Hospital, but died of his wounds. He was the 35th gun death in Bermuda since 2009. Tucker was arrested for the murder the next day after he was found hidden under clothes in a closet in his godmother's apartment. Tests later showed particles consistent with gunshot residue on his hands and on clothing found at his home. Prosecutors also put forward evidence from a "gait expert" who said there were similarities between the way Tucker and the gunman walked. Tucker denied involvement and said had spent most of the evening of the shooting selling crack cocaine, although he admitted he had gone to the Deepdale area to buy cannabis. Victim impact statements from family members said Mr Steede was a loving father and a provider for his family, who avoided conflict. Prosecutors said Tucker had "hunted" the victim, and that he went to Deepdale before the shooting to "scope out" the area. The court also heard Tucker was jailed for unlawful wounding with a knife in 2016. He was released from prison just two months before the murder of Mr Steede and was still on probation. Susan Mulligan, for Tucker, said the defendant felt a great deal of sympathy for the pain suffered by Mr Steede's family, but maintained that he had nothing to do with the shooting. She argued that Tucker was a young man with the potential for rehabilitation and urged the court not to impose a sentence that would "crush him". Ms Mulligan said: "He is now 23. He was 21 at the time the offence for which he has been convicted was committed. He's an intelligent young man. He has a family who care for him. There's no reason why he would not benefit from the rehabilitative services available to him." She suggested a total sentence tariff of between 20 and 25 years before eligibility for parole and said the court should not make the sentences for the murder and the firearm charge consecutive. Tucker accused prosecutors and police of lying, said his lawyers failed him and claimed he was framed for the murder of his friend in a statement from the dock. He said: "I never killed Clappa; I had no reason to. You are going to make me out to be a monster. All the statements you are about to make are lies." Tucker added: "PS. F**k you. You will be brought to judgment."

The Eastern County Cricket Association will be hosting the first round of the Eastern Counties Cup on Saturday at St David's County Cricket Club. The ECCA would like to inform the public that, like Cup Match, no knives will be allowed inside the grounds on the day. We ask that any food that needs to be cut is bought pre-cut. All vehicles entering the grounds of St David's County Cricket Club will be liable to be searched. In addition, all bags and coolers will be searched upon entry to the field. If any knives are found during the searches they will be confiscated. The ECCA would also like to inform the public that we have secured Clearwater Middle School for parking for the match. We would like to inform the public that the police will be ticketing vehicles that are illegally parked along St David's Road. The ECCA asks for patience when entering the field as there will be longer waits then normal as the security process is completed. Please be reminded our patrons safety is paramount as we want everyone to enjoy the game in a safe atmosphere.

Billionaire part-time Bermuda resident Ross Perot, who died last week, was buried yesterday in his home town in Texas. A service to mark the life of Mr Perot was held at Highland Park Methodist Church after his burial. Ross Perot Jr said yesterday that the Perot family had been "deeply moved by the outpouring of love and support" since his father's death last Tuesday at his home in Dallas. He added: "The expressions of sympathy have been a wellspring of hope for our family, and we want to express our appreciation to so many. "It's been an extraordinary gift to hear of the experiences and special memories of those who knew Ross Perot." Mr Perot also thanked those who had taken part in the ceremony to remember his father. He said: "Whether you worked alongside Ross or simply found inspiration in his example, rest assured that he loved you." Mr Perot said that his father "did his duty to God, his country, his family, his friends".

A 16-year-old schoolboy is to take part in a summer internship at a prestigious Ivy League school. Kairo Morton will attend an invitation-only internship programme at Yale University this month. He will take part in an artificial intelligence PhD project administered by Ruzica Piskac, an assistant professor of computer science. Kairo's skills caught the eye of a Yale faculty member at the Code 441 Bermuda Hackathon event held last December. David Burt, the Premier, presented Kairo with a $2,500 donation last Friday to help him attend the placement. The Government's donation was matched by IT consultants CCS. Mr Burt said that he was "extremely pleased to acknowledge the talent and hard work" of the teen. He added: "His passion and skill in the areas of computer science and artificial intelligence have been recognised by Yale and the Bermuda Government is extremely proud of his accomplishments thus far. We will also assist the family by covering Kairo's airfare under this government's new frequent flyer programme set up to enable students to attend opportunities such as this." The Morton family were joined at the presentation by Lloyd Fray and Azeem Khan, of CCS Limited. Mr Fray said that the company believed in "innovative and disruptive technologies with AI and coding of the forefront of the technology revolution". He added: "Kairo is leading the charge." Kairo is too young to live on campus alone, so he must be accompanied by a family member and funds are needed to cover the expenses. Anyone who can assist should contact Kairo's father, Scott Morton, at srjkmorton@gmail.com for more information. The four-week Yale programme will run from July 22 to August 16.

An all-girl debating team has notched up Bermuda's best performance at an international competition yesterday. The Independent Bermuda team was pipped at the post in the finals by South Korea at the Heart of Europe debating competition in Olomouc, Czech Republic. The team won several individual awards, including best overall speaker for Hailey O'Donnell, of Bermuda High School. Schoolmate Genevieve Lau got the third best speaker award and Kate Tobin, of Somersfield Academy, took the fourth spot. Kate's mother, Krystalle Tobin, who is the primary coach for the island team, said: "We are incredibly happy for the team to have made it into the finals and commend the girls for their hard work which resulted in this fantastic result. We are also grateful for the outpouring of support that we received from home." The trio advanced to the quarter-finals of the competition on Monday when they beat host nation the Czech Republic's CDS Red team. The girls then conquered the Bulgarian team in the semi-finals after a 3-2 split decision by the judges. Independent Bermuda lost out to South Korea yesterday morning in the final on the motion that "This house would ban the use of a space programme for any military or covert purposes". The Independent Bermuda debate team was also assisted by Coy Kijaun Millet, a national debate team coach. Mr Millet said: "The team have worked hard and represented Bermuda well. This is the highest international achievement Bermuda debate has seen to date, so we are very proud of the girls and celebrate their accomplishments, both as a team and individually as top speakers." Also competing in the competition were team Dynamic Debaters, including Raina DeFontes, 15, and Christopher Jackson, 16, both enrolled at the Berkeley Institute and Bermuda College, with 15-year-old Salayah Stange from Bermuda High School. The Dynamic Debaters team's coaches are Kimberley Jackson and Gladstone Thompson.

July 16

Legislation to amend the Health Insurance Act 1970 was approved at the weekend. The change will allow the health minister to make any additional benefit "subject to criteria, including means test criteria, and authorize the Health Insurance Committee to determine the criteria". Kim Wilson, the Minister of Health, said that amendment will allow the ministry "to continue to provide all persons in Bermuda access to health insurance by ensuring the plans we provide are affordable, focus on quality and ensure access to benefits". She said the Act will allow for the Health Insurance Committee to provide additional benefits outside of the legislated requirements of the plans, including the home-care benefit. The benefit allows for payment to people caring for elderly and disabled people in their homes. Ms Wilson said that the ministry had to ensure that additional benefits are available to the people most in need. She added that the amendment "provides for the establishment of some criteria for these additional benefits that would include means testing". Ms Wilson said: "The HIC would also be authorized to determine what the criteria will be for these benefits." The Health Insurance Amendment (No 2) Act 2019 was passed by MPs in the House of Assembly on Friday. It amends the additional benefits orders made under sections 13(2) and 13B (2) of the Act in respect of the Health Insurance Plan and the FutureCare plan. Ms Wilson said that means testing will only apply to policyholders who apply for HIP and FC after the start of the means-testing provision near the end of the month. She added that 341 people used the home-care benefit at a cost of about $6 million a year. Ms Wilson said: "We want to ensure the viability and sustainability of these plans. To do so is to ensure that the population that needs them the most have access to them. "We cannot do that without establishing some criteria and ensuring there is a process for persons to show they are eligible." Ms Wilson added the legal change allows the HIC "the ability to do just that". She said the amendment also reduces the amount reimbursed from HIP and FC for services by overseas providers outside of the Health Insurance Department's preferred networks. Ms Wilson added that the reimbursement rate would remain untouched for providers inside the network. Jeanne Atherden, a One Bermuda Alliance backbencher, said that it was important to consider those who would be most affected by the change. She explained: "The people who first started to use HIP and FC were those who couldn't afford private plans." Ms Atherden added: "Changes today ... are going to affect some of the people that, at this point in time, we really wouldn't want to affect." She questioned what the Government was doing to reduce costs. Ms Atherden said: "I don't see enough to indicate where we are in terms of reducing the utilization. I don't see enough to indicate where we are with educating people on the role that they play in healthcare." Michael Dunkley, another OBA backbencher, compared the amendment to "putting a half-inch Johnson Band-Aid on stab wounds". He added: "It's not even going to last in the time we put it on."

Free fresh foods are to be distributed by the Bermuda Health Council as part of a drive to boost public health, it was revealed yesterday. A spokeswoman for the BHeC said "Fresh Food Fridays" would be held around the island and would also be used as a forum for people to "engage with the council on how we can best work to create sustainable solutions for our communities". She added: "The council believes that a healthier Bermuda begins with providing access to healthier choices. Healthy choices are critical to individuals at every age. Through forums and phone calls, the health council has heard that healthy choices can sometimes be difficult to afford or find. The inability of some to obtain the important ingredients of a healthy lifestyle motivated the council to act. It is the council's viewpoint the equitable access to health is a right and if it requires outside investment to ensure that this right is protected, then such investments will be made." The council said that the "pop-ups" will be held every Friday and that dates and locations would be announced on the council's Facebook, Twitter and Instagram accounts. The spokeswoman added that a pilot programme was run with Glenn Fubler of community group Imagine Bermuda and that its success had convinced the council to continue. She said that other organisations had also contributed to the fresh food drive. The spokeswoman added: "These partners have demonstrated that they believe in the overall goal of a healthier population. We hope that through these types of collaborative efforts we can create and environment in Bermuda where no one has to choose to skip a healthy meal in favour of unhealthy products because of income. We are committed to improving access to goods and services that positively impact the health of the population. We understand the social determinants and health risks that end in chronic illness and life-changing health events. Fresh Food Fridays is a small part of that commitment, and hopefully a symbol to those seeking health that their journey is supported by their community."

Developers are hoping to complete a comprehensive makeover of St George's Golf Course before the end of next year. Hotelco Bermuda Holding Ltd, which is building a new hotel and residences near St Catherine's Beach, is also revamping the former government golf course, which was closed down by the club's trustees more than a decade ago. Now the group is asking for the public's support in keeping motorized vehicles and horses off the course as work progresses on the reconstruction of key course features, including green and tee boxes. December 2020 is the target for the completion of the course overhaul. Meanwhile the 120-room hotel, which will be operated by St Regis, is about 30 per cent complete, according to Hotelco Bermuda's general manager Laura Purroy. She added that the residences are about 15 per cent complete and that Hotelco hopes to have a model room and a model residence built before the end of this year. There are 128 workers on site, of whom 68 are Bermudian. Another beneficial economic side-effect of the project is that Hotelco rents 25 homes in the area to house some of its guest workers. It also buys 60 meals a day from Somers Supermart and a further 30 meals from the St George's Club. On February 18 this year, the Hotelco team began clearing vegetation including small trees from the overgrown golf course. Five months later, the clearing work is now 90 per cent done and the team is already working on the next phase: reconstruction of key features, including tees, greens and bunkers. Ms Purroy said: "This work has been a pleasant experience for all the team, especially thanks to the kindness of the people of Bermuda and the beauty of this wonderful island. We are grateful for the support we have received from our neighbours to preserve the work already done at the course. As we advance our efforts to restore this beautiful course to its former glory, we would like to request the support of the public in refraining from driving motor vehicles or riding horses on the golf course. As work progresses, certain golf cart paths will be restricted for the transit of private vehicles. The public's understanding in this regard will help our efforts to create a first-class golf course, which will be enjoyed by the people of Bermuda and our visitors alike for many years to come, a course for the island to be proud of." Salomon Valles, landscape and hardscape supervisor and the chief engineer for the project, said: "It is very important to mention that this is mostly a restoration project with just two new holes and the upgrading of the greens contours done by Steve Weisser of Reeds Jones golf architects. "Our main mission is to make this golf course environmentally friendly, socially responsible and economically sustainable, and with that in mind we are going to use materials that are available in Bermuda, many of them recycled materials." Recycled glass, for example is being used in new drainage trenches, while the sand dug out during work on the hotel is being used in golf course reconstruction work. Alexander Capitillo, the golf course redesign supervisor, said there would be a change in the route of the course, with the old 18th hole becoming the new first hole, and the 18th now being down near the hotel. He said the tenth, which follows a stretch of spectacular coastline, will be the course's signature hole. A 120-space parking lot will also be provided, close to a practice area, ideal for players to practise their short game. The course will total about 3,600 yards and will be par-60, with 12 par-three holes and the rest, par-fours.

Wood waste deliveries to the Tynes Bay plant have been halted until further notice, the public works ministry announced today. A spokeswoman for the ministry said: "This is due to a large influx of wood waste to the facility in recent days which has caused a large backlog in the tipping hall." She added: "All truckers and haulers are therefore being requested by the Ministry to hold their bulk deliveries until the Tynes Bay wood waste backlog can be cleared." The spokeswoman said it was expected the logjam would be cleared inside the next two days.

A 30-year-old man was sentenced to 2½ years in prison yesterday after he was found guilty of a string of child pornography charges. Daniel Rocha was jailed after conviction on seven charges of accessing pornographic images and videos. Puisne Judge Carlisle Greaves dismissed a defence plea for a suspended sentence. Mr Justice Greaves said: "It is well established in this jurisdiction by the authorities that an offence of this nature brings about an immediate custodial sentence." He added: "Persons who access and possess this type of material, provide the market for those who make it, who commit the sexual acts against children, and who market it. Without those willing to access and possess it, then maybe there would be less of those who are prepared to make it and distribute it." Rocha, from Devonshire, was found guilty of the offences in Supreme Court by a unanimous verdict in March. Javone Rogers, for the Crown, told Mr Greaves yesterday that a sentence of three to four years was appropriate. He said that child pornography was "condemned in all civilized societies. There is a contempt and an abhorrence that is felt towards offences of this nature and for good reason." Mr Rogers said that people who produced child pornography exploited the most vulnerable members of society. He added: "Without those that access such material there would be no market for its production." Mr Rogers said that Rocha had sought out the child pornography with a "zealous fervor. His offences were the result of a conscious effort to access some of the worst material known to society." Mr Rogers highlighted that Rocha had used multiple peer-to-peer networks to access the material over several years. He said: "It is clear that this offender did not see any reason to stop his offending behaviour." However, Jerome Lynch QC, Rocha's defence counsel, suggested an 18-month suspended sentence for his client. He said that his client and his family were "absolutely devastated". Mr Lynch added Rocha was "very anxious to try, as best as he can, to put this behind him. The way in which he might achieve that is through the assistance of a clinical psychologist and being given the kind of help he clearly needs, in an individual environment." Rocha told the court: "I still find it very difficult to believe this situation." Mr Justice Greaves ordered that time Rocha has spent in custody since conviction should be taken into account.

A man was today sentenced to life behind bars for a 2017 gun murder. Kiari Tucker, 22, was sentenced to a minimum of 35 years for the shooting of Morlan Steede. He was told he must serve at least 25 years before he is eligible for parole on the murder charge and given an additional 10 years for use of a firearm. Tucker, of Warwick, was found guilty last month by a unanimous verdict of the murder of Mr Steede, who was 30. Supreme Court heard that Mr Steede was chased through the Deepdale area of Pembroke on the night of November 3, 2017 by a gunman who shot him at least three times. Mr Steede was rushed to the King Edward VII Memorial Hospital, but died of his wounds. The Jamaican-born married father of one was the 35th gun death in Bermuda since 2009. Tucker was arrested for the attack the next day. Police found him hidden under clothes in a closet in his godmother's apartment. Tests later showed particles consistent with gunshot residue on his hands and on clothing found at his home. Prosecutors claimed Tucker was the man seen on CCTV to walk through Deepdale and chase Mr Steede. They said mobile phone records placed Mr Tucker in the area at the time of the murder and evidence from a British forensic gait expert identified similarities between his walk and that of the gunman. They told the jury that Tucker stalked and killed Mr Steede before he returned to Court Street, where he was seen without a jacket he had worn earlier in the evening. But Tucker denied the allegations and said he was not involved in the murder. He claimed he had spent most of the evening of the murder selling crack cocaine on Court Street, but admitted he had gone to the Deepdale area to buy cannabis. Tucker said he saw the victim there, but returned to Court Street after he bought the drugs. The defendant said shortly after he returned he walked to Curving Avenue to prepare more crack for sale and left his jacket at a "gambling spot" on his way back to Court Street. He admitted that he had hidden from police, but insisted it was because he was afraid of going back to jail, not because he had shot Mr Steede. Tucker also said he had no idea how gunshot residue could have got on to his clothing.

A woman who caused a crash that took the life of her long-term boyfriend was shown mercy by a court yesterday. Kelly-Ann Damasio, 30, was given an 18-month suspended sentence and banned from driving for five years after she admitted causing the death of Rakai Augustus by careless driving. Puisne Judge Carlisle Greaves said: "It is always a sad case when a young person loses their life so early. It's really sad indeed when it comes about due to the driving of loved ones." The court heard that Damasio and Mr Augustus, 30, went to a wedding on October 28, 2017 at the Unfinished Church in St George's and then to a wedding party at a restaurant in the town. The couple left the party at about 11pm and were seen on CCTV cameras walking to a car parked in Kings Square, where Damasio got into the drivers seat. The car was seen traveling high speed near the junction of York Street and Rose Hill a short time later. Police found the car faced west in the eastbound lane of Wellington Street just past the junction with Rose Hill. Damasio was injured in the driver's seat and Mr Augustus was unconscious in the passenger seat. Emergency medical technicians attempted CPR and Mr Augustus was rushed to King Edward VII Memorial Hospital, but he was pronounced dead at around 12.30am. The court heard that a toxicology report carried out on Damasio after she was pulled, injured, from the driver's seat after the crash showed she was not impaired at the time of the collision. Keisha Bassett, Mr Augustus's cousin, said in a victim impact statement that the deceased was a big man with an even larger heart. She said: "He was a gentle and compassionate young man. He was kind, caring, loving and a real gentleman. No one spoke ill of him." Ms Bassett added she and Mr Augustus were close as children and his death had devastated their family. She said she had to identify his body and break the news to his mother. Ms Bassett added: "That moment haunts me often. It was one of the worst tasks I have ever been asked to fulfil." She said Mr Augustus's mother "gave up" after his death and died herself just a few months later. She added: "I believe Damasio owes my family a full explanation of what happened that night. There are so many questions I have, but I have been left to my thoughts." Charles Richardson, the defence counsel for Damasio, said she had contacted Mr Augustus's family after the crash but stopped after she took legal advice. He added alcohol had not played a part in the crash, but exhaustion could have. Mr Richardson said: "If there is carelessness, it was in the form of fatigue. Most people don't realise that being fatigued is worse than being impaired. You actually stand a better chance than when you are tired." He added Damasio and Mr Augustus were in a long-term, committed relationship and that she felt huge remorse. Mr Richardson said: "In fact, she is just as grief-stricken, if not more so, than anyone else, because she does feel responsible. She does have to live with this for the rest of her life." Mr Richardson and Nicole Smith, the prosecutor, said a suspended sentence would be appropriate because of the relationship between the defendant and the victim, along with a lack of impairment. Ms Smith added: "Having to live with the consequences of the commission of the offence in and of itself may be described as a significant sentence." Mr Justice Greaves said as he passed sentence: "I hope that some reconciliation is found between the defendant and the relatives of the deceased. Both suffer tremendous loss."

July 15

The Premier tabled a posthumous pardon for a pastor jailed after he exposed horrific work conditions for West Indian workers at the former Royal Naval Dockyard more than 100 years ago. David Burt said John Rankin, the Governor, had granted the "full and free" pardon to African Methodist Episcopalian Church minister the Reverend Charles Vinton Monk after he had asked him to consider the case more than a year ago. Mr Burt added: "I wish to thank the Governor for thoughtful and thoroughly researched consideration of this government's request. I saw the working file on this case and it was considerable," Mr Burt said. "This is no flight of fancy, but a decision made on the strength of the facts presented and one that finally does justice after 116 years." The US-born pastor was in charge at the Allen Temple African Methodist Episcopal Church in Somerset near the end of the 19th century. Work crews were brought to Bermuda from the West Indies, particularly Jamaica, in 1902 to complete work on the Dockyard extension. A report in the National Museum of Bermuda's MariTimes magazine said that riots against working and living conditions broke out on Ireland Island in June that year. Several Jamaican people were arrested and eight, claimed to be the ringleaders, were jailed for up to six months. An editorial by Mr Monk in The New Era newspaper demanded better working conditions and the pastor blamed the deaths of two workers on the building contractor, which filed a charge of false and defamatory libel against him. A second piece on the subject led to a criminal libel charge brought by Reginald Gray, then the Attorney-General. The pastor was unrepresented in court after his counsel died the day before the trial date — amid speculation he was poisoned. Sir Brownlow Gray, the trial judge, was the father of the Attorney-General who prosecuted the case, and the pair were also related to the assistant justice. The Crown called just two witnesses compared with more than 100 called to defend Mr Monk's reports. Mr Burt said there was "an inextricable link" between the AME Church and the pursuit of social justice. Members of the AME Church, including the Reverend Nicholas Tweed of St Paul AME, attended a presentation ceremony of the framed writ on Friday. Mr Burt commended Mr Tweed for his leadership on the issue. Mr Tweed said it marked "a tremendous and historic moment in the life of Bermuda. It is ironic that the same chamber where Monk was described as a dog and dehumanized, now provides a platform that vindicates him and acknowledges the justness of his cause. Reverend Monk's posthumous pardon is a victory not only for his defence of exploited workers, but also for his courageous rejection of racism and injustice, and a defence of the freedom of the press." The Right Reverend Gregory Ingram, the Presiding Prelate of the First Episcopal District of the African Methodist Episcopal Church, said he was "elated and immeasurably pleased" about Mr Monk's pardon. He said that Mr Monk "fulfilled his calling by championing the cause of a people who had no voice, and suffered dehumanizing discrimination". Bishop Ingram added: "This pardon, albeit over a after his trial and conviction, represents a victory for truth and justice."

Questions ranging from the emigration of Bermudians to the island's surging rat population were fielded by David Burt during Premier's Question Time on Friday. Mr Burt took opening queries from Craig Cannonier, the Leader of the Opposition, on the "prevalence" of Bermudians leaving the island for overseas. Gang violence and further education, rather than the island's high cost of living, were the top reasons for leaving, Mr Burt told the House. He told the House that "empirical evidence is not currently being collected, it's something I know the Department of Statistics is grappling with". The Premier said: "I don't think economic reasons are the main reasons that people leave Bermuda. The main revolve around education and issues inside our community around violence and gang violence." When asked if he had rescheduled the number of parliamentary sessions, Mr Burt said "the short answer is no". Mr Burt said the House had met more often in the Progressive Labour Party's first two years back in government than during the same time frame for the previous administration. Mr Cannonier then asked whether "the proliferation of rats in Bermuda was an island-wide problem". Mr Burt said Cabinet had discussed the issue, saying rats had increased food sources from boom in vegetation blamed on the reduction in the use of Roundup herbicide. He said he would bring the scientific evidence backing the claim to the House in a report filed by government technical officers. Mr Cannonier asked if the Government would reintroduce a twice-weekly trash collection schedule. But Mr Burt said it would not be reinstated until there were adequate trash collection resources. Susan Jackson, a One Bermuda Alliance backbencher, noted the strike this week over health insurance cuts at Gorham's hardware store, and said that the Matilda Smith Williams senior residence, as well as the Summerhaven home for the physically challenged, were "experiencing difficulties with health insurance". She questioned whether businesses were being hit by the Government's healthcare reforms, entailing a block grant to the Bermuda Hospitals Board that impacted insurers — but Mr Burt said he could not comment on private businesses. The Premier confirmed, in response to questions from Michael Dunkley, of the OBA, that a grant of $75,000 would be allocated to St George's Cricket Club for Cup Match this year, as was done last year for Somerset Cricket Club. Mr Burt also revealed that the Government was partnering with the Western Stars Sports Club in Pembroke to help to redevelop the facility. Ben Smith, an Opposition backbencher, asked the Premier if he agreed with PLP MP Michael Weeks, who "seemed to suggest that permission be denied" for a gay pride march in Bermuda during last week's session of Parliament. Mr Burt replied that he had not been in the House at the time, adding: "On August 31, the members of this community are holding a parade, and the parade will happen." Asked if he would attend, the Premier said he planned to be in Florida with his wife and children. Scott Pearman, the Shadow Attorney-General, asked Mr Burt about allegation of "abuse and neglect" under investigation at the Department of Child and Family Services, and asked who had been ordered to investigation. Mr Burt said he "would only assume either the Secretary to the Cabinet or the head of the public service" would have made the decision. Mr Pearman asked if Mr Burt had no involvement in the decision, to which Mr Burt responded: "Not to my recollection."

A potential new executive director for the Bermuda Casino Gaming Commission has been identified, with the gambling watchdog in the "early stages of discussion as to their suitability for the role". Curtis Dickinson, the Minister of Finance, said in the House of Assembly that the BCGC had opted not to use a recruiter to find its next executive director. He said the commission had "identified the candidate on their own and engaged in conversation on their own". Mr Dickinson was responding to parliamentary questions from Michael Dunkley, an Opposition backbencher. The commission has been without an executive director since Richard Schuetz resigned acrimoniously in December 2017. General counsel Deborah Blakeney took on the position in an acting capacity before stepping down in February. The finance minister also provided a list of monthly figures for the wages, consulting fees, administrative costs, rent and general overheads for the commission. The costs given covered 15 months, from April 1, 2017 through June 20 of this year. He said the commission ran up a total cost of $2.51 million, averaging $167,545 per month. As of June 30, the commission had six full-time staff, Mr Dickinson added. They comprise a chief financial officer, a director of problem and responsible gambling, one legal analyst and one business analyst, as well as two administrative staff. Mr Dickinson said the commission had not yet taken in any money for licensing, telling MPs the payment had been "deferred by the folks who have provisional licences".

Butterfield Bank has announced completion of the acquisition of ABN AMRO (Channel Islands) Ltd, the Channel Islands-based banking subsidiary of ABN AMRO Bank NV, following receipt of all regulatory approvals. Effective today, ABN AMRO CI has been renamed Butterfield Bank (Channel Islands) Ltd, the company announced. Over the next 12 months, Butterfield said it anticipates that BBCI will be fully integrated with Butterfield Bank (Guernsey) Limited, which has operated in the Channel Islands for more than 45 years, and all of Butterfield's Guernsey banking clients will be served by the combined bank. Michael Collins, Butterfield's chairman and chief executive officer, said: "We are excited to close the acquisition of ABN AMRO's banking business in the Channel Islands, which is progressing generally as planned and consistent with our expectations announced on April 25, 2019. Butterfield's combined and expanded banking presence in Guernsey and Jersey now represents a substantial part of our group's banking business and supports our view of the Channel Islands as a leading international financial centre and a growth market for Butterfield." He added: "I am particularly pleased to welcome our new colleagues in the Channel Islands to Butterfield. The team has a well-earned reputation for innovation and excellent client service, which we intend to continue in our goal to deliver superior products and service to our customers. As we initiate our integration plans and bring together our teams and systems, we remain focused on delivering a seamless transition to employees and customers. We are committed to communicating with stakeholders our integration progress in a transparent and timely manner. We look forward to growing Butterfield in the Channel Islands together." The statement said that BBCI will operate within the Butterfield group as integration plans for clients and personnel within a combined Butterfield Guernsey bank are being rolled out. Consequently, the company said, there are no immediate changes to relationship management contacts, products or services.

TeleBermuda International has announced the launch of an updated logo and refreshed website. The company said the new website, which can be found at telebermuda.com marked the successful completion of its acquisition transition phase, and a new chapter in its evolution. Nearly 19 months ago, Bermudian companies East End Group and Celeritas Ltd partnered to purchase TBi. TBi is a provider of high-quality voice, internet, and managed IT services, as well as the owner of the wireless internet service provider, Bluewave, the company said. The fresh look for TBi reflects its future direction as the parent company of a diverse group of fibre and wireless communications services providers, the company said. Nick Faries, chief executive officer of TBi, said: "Since December 2018, the management and staff have worked hard to leverage the strategic alliance and synergies between TBi and Bluewave, Bermuda's newest wireless ISP. We have built on each entity's core competencies to solidify their positions as reliable providers of innovative products and services." He added: "We have invested millions into improving the network, operating infrastructure, new integrated billing system, and enhancing the customer experience for all TBi and Bluewave clients. The new website is the next step in our strategic plan to grow and diversify TBi into Bermuda's most trusted telecommunications company." The website was created, the company said, to inform Bermuda and the world about its mission and vision for the future. The East End Group is a diversified holding company with business interests spread among different lines of business. This strategic diversification spreads the company's risk and helps the group to achieve economic benefits, the company said. Celeritas Ltd is a privately-held telecommunications investment company and a subsidiary of the Mayfair Group.

MiniMax Forwarders and Island Shippers have announced an agreement whereby MiniMax will integrate Island Shippers' customer list with its own to offer sea and air shipping service to Bermuda. The agreement, a statement from the two companies said, takes immediate effect. Island Shippers will no longer provide small package services. The Queen Group, owner of Island Shippers, will now exit client-facing shipping services to focus on its other lines of business, particularly Atlantic Caregiving Ltd and consulting services, the statement said. An Island Shippers spokesman said: "Beginning in 2017, Island Shippers and MiniMax have been building a relationship in which we have worked to provide affordable shipping services to our customers by sharing containers and achieving efficiencies through automation, including using Island Shippers' custom-built Doblonstar shipping software. We have now reached a point where it makes sense for the services to operate under one brand and we expect that this will lead to even better service for all of our customers." MiniMax owner Casey Burgess said: "We are pleased to be integrating Island Shippers' clients to our customer base and look forward to providing them with seamless and affordable shipping services for everything from small packages to full container loads, as well as specialty shipping services." MiniMax offers a wide range of transport and logistics services including general trucking, home and office moves, relocations, Customs clearance and air and sea freight services, the statement said.

Members of Bermuda's NatWest International Island Games squad returned home last night after an encouraging weeklong competition in Gibraltar. Bermuda's 48-strong team competed in nine sports and won 14 medals at the biennial event, including six silver and eight bronze, to finish seventeenth out of 22 islands in the standings. Shianne Smith came closest to capturing gold as she was leading the 400 metres hurdles before clipping her final jump and had to settle for silver. Bermuda's bowlers enjoyed a successful competition, with Lamar Richardson coming second in the singles, David Maycock and June Dill taking silver in the mixed doubles and Damien Matthews finishing runner-up in the masters. Also winning silver were the men's team of Richardson, Blake Raynor, Matthews and Maycock. Richardson also won bronze in the masters, as did Matthews and Maycock in the doubles, while Dill, Flo Simons, Patrice Tucker and Jennifer Stovell placed third in the women's competition. In tennis, Gavin Manders and David Thomas took silver in the men's doubles. Manders also won bronze in the singles, while Bermuda's men's team of Sam Butler, James Finnigan, Manders, Thomas and Scott Redmond placed third. Kalin Hillier, Scott Mello, Adriana Penruddocke and Jordon Etemadi won bronze in the sailing team event, shooter Adrienne Smatt won bronze in the women's 50 metres Smallbore Prone, while Rachel Barnes and Anthony Fellowes finished third in the mixed doubles. Sean Trott, was among the athletes who returned to the island last night, and said he was delighted with his displays in the half-marathon, 10,000 and 5,000 metres. "I had top-ten finishes in all three events," Trott said. "I'm just glad my body held up. I finished fourth in the 10,000 and that was my second-fastest time. Bermuda had some really strong performances and the level has definitely increased since I last competed in 2011 in the Isle of Wight." Badminton player Aaron Simmons, who reached the round of 32 in the singles event, said: "This was my first Island Games and hopefully I can win a medal next time The competition was much better than I expected." Hiral Parekh, a member of the women's doubles badminton team with Zoe Wang, added: "This was an experience of a lifetime and we had such a great time. It's was such a proud feeling to represent Bermuda and it was a wonderful experience. We were pleased with our performances."
Teens whose childhoods were spent in foster care are now pursuing their dreams thanks to big-hearted donors. Tylasha DeSilva, 17, and 18-year-old Sierra Brangman, have been awarded $30,000 and $20,000 for their education by the Foster Parents' Association. A third girl, 18-year-old Kal-Shae Matthews, also received $10,000 from the charity towards her studies. Tylasha, who just graduated as head girl at the Berkeley Institute, said she was exposed to "mental, physical and sexual abuse" over her life. "It was hard, I had to witness a lot of things young children should not see," she said. "I was born into the system and moved from different foster homes through my whole life." Her journey from home to home included eight months on the Brangman Home in Devonshire, a girls' residence run by the Department of Child and Family Services. Tylasha, who now resides with her grandparents in Devonshire, said she was initially "very rebellious; I didn't think they would keep me". She added: "I realised recently that my nana wants what's best for me. I am about to age out of the system and she still wants to take care of me. But it was definitely a struggle. Other homes, I moved out for financial reasons or because they could not get on with my parents." Lindsay Simmons, president of the Foster Parents' Association, told The Royal Gazette: "I try to emphasize that foster children are the most unique children in Bermuda. Even when they are placed in a safer home, they want to go back home, whether it is abusive or not. It can take years for them to feel comfortable." Ms Simmons added: "I know that as a foster parent right now. You're taking someone that's broken and trying to fix them. What touched me about Tylasha is that when she graduated, she said people thought she would end up pregnant and on the streets. She said 'Look — I made it'." A singer, Tylasha heads off this month to tour with the educational performance group Up With People. Ultimately, she dreams of obtaining a master's degree in teaching children with special needs. She said: "I'm actually grateful for everything I've been through. I can't imagine where I would be. I would not have that hunger for success." Ms Simmons said the foster care system in Bermuda contained "so many hero stories". Sierra, who has been in foster care since she was five months old, is in her second year on a scholarship at the United World College in Hong Kong, an International Baccalaureate school. She said: "I'm a social science person; I like history and global politics. I want to go to law school. I don't know where I'm going to study yet, but it's something I've always wanted to do. Without this help, I wouldn't be able to do it." The Foster Parents' Association is a small charity, Ms Simmons said, but thanks to dedicated donors and volunteers it does "everything it can to help these amazing children, some of Bermuda's forgotten". Ms Simmons said: "This year we have been able to give away $60,000 to help children who deserve a break in life." Ms Simmons stated the island's official tally of foster children, as recorded by the Department of Child and Family Services, was 73. But she estimated the total in care could be closer to 85, since some fell under the responsibility of different departments. "Children may be in Brangman home or the boys group home and technically that falls into another department," Ms Simmons said. Also, there is a division that deals with family preservation, which sometimes moves children to foster homes for a period. But, because it is not formally 'foster care', as ordered via the court, it would not be in the 73." Foster children move out of the system at age 18, but can face difficult choices on their own: Gina Spence, a community activist, warned this year that those who "age out" were at greater risk of becoming homeless.
• To donate or learn more about the Foster Parents' Association, call 505-7764 or e-mail fosterbermuda@gmail.com.

July 14, Sunday

July 13

Legislation to encourage superyachts to visit Bermuda passed with all-party support in the House of Assembly last night. Zane DeSilva, the Minister of Tourism and Transport, said the Superyachts and Other Vessels (Miscellaneous) Act would help to make Bermuda a more attractive destination for owners and captains. Mr DeSilva said the legislation would end departure tax for pleasure craft and allow superyachts to apply to operate as charter vessels in Bermuda through island agencies. He said any revenue lost through the loss of departure tax would more than be made up by the cost of permits and charges on charter fees. The Act will also reduce the time it takes for local tour boat operators to receive fuel rebates. The minister said the legislation, drafted with consultation from the Bermuda Tourism Authority and island charter businesses, was intended to support domestic businesses and create new opportunities for Bermudians. Cole Simons, the Shadow Minister of Education, said the legislation helped to build on what was started by the America's Cup. He told the House of Assembly the OBA had done the "heavy lifting", but he was happy to see the PLP "cross the line" with the amendments. Mr Simons said: "We thought it was important that we have a larger presence in this space and that is one of the reasons we are supporting this legislation." He added that a "world-class" infrastructure will need to be in place to ensure the growth of Bermuda as a superyacht destination, but there is great potential for job creation. Jamahl Simmons said the Government had ensured the legislation would benefit a broader section of the population as only 16 per cent of those who said they profited from the America's Cup were black. Mr Simmons said: "The America's Cup benefited the few, not the many. The first thing we wanted to do was make sure the existing boat operators were fully consulted so they wouldn't be squeezed out. We sat down with the Bermuda Economic Development Corporation and asked what wasn't done that gave us that result and what can we do to make sure the many benefit, not the few." Several MPs, including Kim Swan, Rolfe Commissiong and Craig Cannonier, said that plans for a marina in St George's should be a priority.

Nearly $5 million has been spent on investigations into Ewart Brown, a former premier. The figures were revealed in the House of Assembly by Wayne Caines, the Minister of National Security, in response to questions from Derrick Burgess, the Deputy Speaker. More details on the legal costs, the firms used and legal fees associated with a lawsuit against Lahey Clinic, which was linked to the investigation, will have to wait for next week, because time ran out for the question period in the House. Police launched investigations in 2011 after allegations of corruption against Dr Brown. A civil lawsuit was also filed by the Government against Lahey that accused Dr Brown of profiting from unneeded diagnostic tests at his medical practices. The allegations have been denied by Dr Brown and he has not been charged with any offence. MPs yesterday heard some of the breakdown in costs for the investigation.
For man hours in Bermuda and overseas: $4,688,184
For airline and ground transportation: $64,445
For accommodation in Bermuda and overseas: $80,000
Dr Brown declined to comment yesterday on the investigation, which he has branded a political witch-hunt. Michael Scott, a Progressive Labour Party backbencher, delivered the questions in the absence of Mr Burgess, who is overseas on government business. Mr Scott protested after time ran out and said there was "extreme public interest" at stake. He asked Dennis Lister, the Speaker of the House, to suspend the rules and allow questions to continue. He was advised to request that his questions would be deferred until the next sitting of the House.

The Ministry of Health has launched an investigation into a suspected case of ciguatera fish poisoning on the island. It is suspected that the case was caused by a large amberjack eaten between June 30 to July 5. The case, if confirmed, would be the first incidence of ciguatera poisoning this year. Symptoms of ciguatera poisoning include diarrhoea, itchy skin, numbness, burning skin, nausea, vomiting, pain to limbs and fatigue or weakness. Another telltale sign is the reversal of hot and cold sensations. A government spokesman said: "Ciguatera poisoning is caused by toxins or poisonous substances from microscopic marine plants, which build up in large predatory fish. An older or larger predatory fish that has eaten many herbivorous fishes over a period of time has a greater risk of carrying CFP toxins than a younger or smaller fish of the same species." The toxins do not change the smell or taste of the fish and are not affected by cooking or freezing. Anyone who is experiencing or has experienced symptoms of ciguatera poisoning after eating fish should contact a doctor.

The decision to not release a report into a failed sports centre was based on advice from the Attorney-General's Chambers, the public works minister told MPs. Lieutenant-Colonel David Burch said: "I'm not making decisions of this nature on my own. The Attorney-General's Chambers of this island are the ones who actually gave the advice not to release the report." Gitanjali Gutierrez, the Information Commissioner, ordered the Department of Public Lands and Buildings to release the report on Sandys 360 by professional services firm KPMG into the project to The Royal Gazette by July 8. Colonel Burch told MPs last Friday that the Government disagreed with her decision and had advised her "that we will not release the KPMG report, as it was not commissioned by, nor is it the property of" the department. Trevor Moniz, a One Bermuda Alliance backbencher, criticized Colonel Burch over the decision during last Friday's motion to adjourn debate. He accused Colonel Burch of a "scurrilous attack" on Ms Gutierrez and said that the public works minister got his "law entirely mixed up" and was not supposed to get involved with Pati requests. Colonel Burch last night highlighted a comment made by Mr Moniz, the works minister when Sandys 360 was shuttered, that Mr Moniz was "familiar with the content of the report". He asked: "If the Honourable Member was aware of the contents of the report ... why didn't he release it?" Colonel Burch said that he had not seen nor read the report. He added: "A report that was not commissioned or paid for by the Government of Bermuda, in my mind, doesn't give us the authority to release it to anyone." Taxpayers funded Sandys 360 to the tune of at least $5.3 million before it closed its doors because of financial problems in November 2013. Michael Scott, a Progressive Labour Party backbencher, said that he was concerned about "weaponising information" obtained through Pati laws. He added: "This is a deepening and frequent methodology being deployed across all media in the world, and we're not exempt from it. And my major concern has been the misuse of information." The Royal Gazette has also requested information through Pati that deals with the Criminal Injuries Compensation Board, the government body set up to compensate victims of crime. Mr Scott, who sits on the CICB, said that Pati "must not be used to inquire into sensitive information, that is concerned with the kinds of cases we deal with, in a legal context, about persons making applications for compensation". He added that he and Puisne Judge Nicole Stoneham, the chairwoman of the CICB, "were not going to get caught up in bait on the part of the media for the release of all manner of inappropriate information related to CICB". The Pati request from The Royal Gazette asked for the annual reports for the CICB for the years 2010 through 2018, and the annual notices listing the board members of the CICB for the same period.

Tre Manders has been ruled out for the rest of the season through injury. The Southampton Rangers batsman broke his ankle in a motorcycle accident on Wednesday to bring a premature end to his campaign. Manders has played a key contribution in Rangers' dominance so far this term and had been pushing for a place in Bermuda's team for the ICC T20 World Cup regional qualifiers at home next month. The 24-year-old was also expected to feature for Somerset in Cup Match and as a guest player for Bailey's Bay in the Eastern Counties. Dion Stovell, the Rangers captain, said the team will be going all out to defend their Western Counties title in their second-round match against PHC at PHC Field today before trying to clinch the Premier Twenty20 title against St George's tomorrow at Lord's in "out of respect" for their team-mate. "It's a blow that we lost one of our main batsman due to an accident, so out of respect we just have to go out there and play hard for him," Stovell said. "This guy has had a good season; I think we need to play our hearts off to make sure that we go and win the title." Manders played an integral role in Rangers' 234-run triumph over Somerset Bridge in the opening round of the Western Counties at PHC Field last weekend, stroking a maiden century in the competition (102) and featuring in a 158-run third-wicket partnership with Stovell. Losing Tre, even for Cup Match, and I guess him trying to play for Bailey's Bay in Eastern Counties, is a blow to any side. The Rangers team are just wishing him a speedy recovery and hoping he comes back full strength." Rangers hold a five-point advantage over second-placed Bailey's Bay, the only team still in the title hunt, going into the final round of the Premier T20 championship with St George's at Lord's tomorrow. "It's been a competitive T20 season and to have the league decided on the last day is good for the competition," Stovell said. Bay are going into their final match against Cleveland County at Sea Breeze Oval clinging to their own hopes of glory. "Anything is possible and we are just going to do our part and play Cleveland like we have approached every game this season," Terryn Fray, the Bay captain, said. Last year's champions St David's host Flatts in the remaining Premier T20 contest at Lord's tomorrow. A full slate of First Division 50-overs matches, starting at 11am, are also scheduled for tomorrow. Warwick Workmen's Club host Somerset Bridge at Southampton Oval, Willow Cuts and PHC will do battle at Somerset Cricket Club, while Devonshire Recreation Club are at home to First Division T20 champions Somerset Cricket Club at Devonshire Rec. Western Stars have a bye. Meanwhile, Jordan DeSilva has been named as the One Communications and Bermuda Cricket Board Player of the Week for his career-best innings against First Division rivals Somerset Bridge at Somerset Cricket Club last weekend. The Somerset captain struck 165 and featured in a 138-run fourth-wicket partnership with Greg Maybury (52) that steadied the ship and all but clinched his team's comfortable 135-run victory. "It's always feels good to get a big score, but even more when your team really needs it," DeSilva said. "We were in early trouble. Somerset Bridge had us three for three in the third over before Greg and I got us out of trouble."

July 12

A $2 million plus weather radar system will be operation next week, the transport minister told MPs this morning. Zane DeSilva said the Doppler radar system, on Cooper's Island, had been completed on time and under budget. Mr DeSilva said a new system was needed because the ageing radar equipment had suffered a series of breakdowns. The German-built system was installed with the help of island technicians and weather service staff were trained in the use and maintenance of the radar gear. Mr DeSilva said: "Together with a the planned life cycle maintenance programme, this training will help ensure an expected 95 per cent system reliability over the life of the system." He added the Airport Authority, set up in 2017, to monitor airport operators Skyport and manage air navigation services, had identified the need for new weather radar as "mission critical".

A stalled hotel development in the West End needs a major rethink, the finance minister said today. Curtis Dickinson told the House of Assembly that the Caroline Bay project, at Morgan's Point in Southampton, had to be "recast and devised with a realistic view ..." Mr Dickinson said: "The land at Morgan's Point continues to represent an important opportunity for Bermuda to renew its claim to being a luxury destination. The economics of the development must be recast and devised with a realistic view of the world economy and the value proposition we need to present in order to be successful in tourism, business and economic diversification.. This opportunity is too important to squander. We do not do justice to the people of Bermuda by continuing to shore up a vision that no longer matches reality and which cannot be sustained on any applicable metrics. It is well past time to approach this development differently." Mr Dickinson said earlier that the former government and the developers wanted to renegotiate the terms of its financial agreement as long ago as 2013. But he added: "What the people of Bermuda did not know was that even before the marina had opened, the Caroline Bay project was experiencing difficulty. This had to have been known to the then Cabinet and the developers who persisted in providing public updates on the project which were inaccurate." He added that in early 2018 "the developers asked to meet with the then Premier and Minister of Finance to advise that there were significant funding issues and that in all likelihood work would slow down and eventually cease without an injection of capital." Mr Dickinson said that Caroline Bay had announced it had secured financing, but that any offer had to comply with regulatory requirements and get "the approval of the Government of Bermuda who, through the terms of the guarantee, is a full partner at the table in matters related to the financing of this development." He added that a term sheet or draft terms of agreement "do not represent irrevocable funding and should not be termed as such". Mr Dickinson said that reports that work had stopped at the site and that contractors and sub-contractors had not been paid were "disturbing", although that was not a Government responsibility. He highlighted that much of the lending for the construction of the development was "founded, unfortunately, in a Government of Bermuda guarantee to the tune of $165 million". Mr Dickinson said that the Government would support developments that provided investment opportunities for Bermudians, employment, growth for small and medium-sized businesses and "an increase in economic activity arising out of a sensible, fair immigration policy". He added: "Where these ideals are embraced by developers, existing or prospective, we are open to working together."

The Government's refusal to release a financial report into a failed sports centre that cost taxpayers millions of dollars could end up in court. Information Commissioner Gitanjali Gutierrez told the Department of Public Lands and Buildings to disclose the report on Sandys 360 by audit firm KPMG to The Royal Gazette by July 8, but it did not comply with her order. Lieutenant-Colonel David Burch, the Minister of Public Works, told Parliament last Friday that the Government disagreed with her decision and had advised her "that we will not release the KPMG report, as it was not commissioned by, nor is it the property of", the department. Ms Gutierrez said this week that she would follow the normal procedures set out in the Information Commissioner's Office Reviews Policy and Handbook to enforce her decision, as with any other case. The handbook states that if a public authority tells the ICO in writing it does not intend to comply with a decision, the commissioner "may move immediately to judicial proceedings to enforce the decision at the expiry of the deadline for compliance". If the public authority does not give written notice, the ICO can send reminder letters to the head of the public authority, which in this case is the permanent secretary of public works, allowing a further 15 days to satisfy the order. "Where appropriate, the Information Commissioner may discuss the matter with the ICO's legal counsel and instruct them to initiate judicial enforcement proceedings," states the handbook. It adds that public authorities which object to a decision from the commissioner can seek a judicial review. Taxpayers funded Sandys 360 to the tune of at least $5.3 million, and possibly even more, before it closed its doors because of financial problems in November 2013. Although Colonel Burch referred to the KPMG document in the House of Assembly as the "2016 financial report" it was actually completed in 2014. The Royal Gazette asked Sandys 360 managing director Melvyn Bassett and chairman Stanley Lee on December 1, 2015 for the report's conclusions. Mr Lee replied the next day: "Maybe you should approach Government for a copy of the report, since they initiated the process." His suggestion prompted the newspaper's Pati request for the report, submitted soon after to the Government. Ms Gutierrez issued her decision ordering the release of the KPMG report on May 27 this year. Opposition MP Trevor Moniz took Colonel Burch to task for his statement on Sandys 360 during last Friday's motion to adjourn debate. He accused the minister of launching a "scurrilous attack" on Ms Gutierrez and said Colonel Burch had got his "law entirely mixed up" and was not supposed to get involved with Pati requests." If the Information Commissioner rules that a document be released, it must be released," Mr Moniz said. "An order of the Information Commissioner … has the same weight as an order of the Supreme Court. Government is bound by that order." Mr Moniz was works minister when Sandys 360 was shuttered. He told The Royal Gazette last year that the Government ceased all payments to the centre after the KPMG report showed the state of its finances. He told MPs on Friday: "If it's a report that I commissioned, I see no reason why it can't be released."

Royal Gazette Editorial Opinion. "Bermuda's public access to information regime faces its biggest challenge since it was passed into law nine years ago. The announcement by Lieutenant-Colonel David Burch, the Minister of Public Works, that he will not release the KPMG report into Sandys 360's finances brings him and his government into direct conflict with Information Commissioner Gitanjali Gutierrez. It's likely now that the dispute will head to court. It has always been a paradox that politicians in Opposition are the staunchest defenders of freedom of information. It is remarkable how fast their tune changes when they come into government. Indeed, former British Prime Minister Tony Blair said his biggest mistake was introducing freedom of information legislation in the United Kingdom. This from the man who brought Britain the Iraq war, which destroyed his credibility and premiership. The Bermuda experience is similar. It is fair to note that the One Bermuda Alliance government first refused to release the KPMG report, requested by this newspaper in December 2015, on the basis that the Government had not commissioned it, so had no right to release it. Colonel Burch has used the same reasoning. It's also noteworthy that both the trustees of Sandys Secondary Middle School, who commissioned the report, and KPMG, which produced the document, have opposed its release on the basis that it was a private matter. But was it? In 2015, the operators of Sandys 360 refused to release the KPMG report to The Royal Gazette and referred the newspaper to the Government, saying the Government "had initiated the process". Release of the report would clarify that contradiction, at the very least. Much of the funding for Sandys 360 — at least $5.3 million — came from taxpayers. And the Government said last year it intended to buy the failed sports centre for a further $1 million, although that sale is not yet complete. There is also the question of a further $807,000 paid by accident to the sports centre, which has never been recovered. The KPMG report, which was commissioned in the wake of the centre closing after four years in operation, was certainly passed on to the Ministry of Public Works and presumably was used in the ministry's deliberations over whether to buy the centre, which now means that if the sale proceeds, the Government will own all of the land on which Sandys Secondary Middle School sits. None of this means that the Government is wrong to spend a further $1 million, but the point is not whether it is right or wrong to do so, but that the public have the right to know what happened to their money, what other options were explored and all of the reasons for the centre's failure. Further, the public are entitled to know what due diligence and investigation were carried out before the subsidies began. Was this good money after bad or was there good reason to think that the centre could turn itself around? Colonel Burch argued in the House of Assembly a week ago that all the necessary information was shared when the purchase of Sandys 360 was announced and approved in the House. Three people spoke in that 2018 "debate" — Colonel Burch and Opposition MPs Trevor Moniz and Craig Cannonier. Colonel Burch went on to say that the OBA supported the decision, which it did. He appeared to suggest also that since both parties supported the decision, there was no need for further disclosure. But that is not correct. The PLP and the OBA are not the only voices with a right to be heard in Bermuda, and the purpose of having an autonomous Information Commissioner is to ensure the public have access to information about how tax dollars are spent. In this case, Mr Moniz and Mr Cannonier, in their former roles as Attorney-General and public works minister, would have had access to a great deal of information that was not in the public domain and may well have felt that they should not share it. Beyond that, the public know very little about how Sandys 360 got into difficulty, other than the unsurprising explanation from Colonel Burch that its expenses exceeded its revenues, virtually from the beginning. But there was no information on what efforts, if any, were taken to set the centre on a more stable footing or why the government of the day subsidised it for four years. There are, or should be, lessons to be learnt here. Sandys 360 was apparently started with good intentions — to be a community centre in the West End — but failed. Without knowing how and why it failed, Bermuda runs the risk of repeating the same mistakes, at vast cost to taxpayers who are already paying plenty for the mistakes of the past decade and more. There is the further and greater risk that if the Government is successful in defying this Pati order, it will be emboldened to defy more in the future. That the report may have been commissioned by trustees who are separate from government — and even that is not entirely clear — is not enough to say it is private. The report was shared with the Government, which spent millions of dollars of public money subsidizing the programme until the plug was pulled. For these reasons, this newspaper urges Ms Gutierrez to ensure her order is enforced. The future of public access to information and the ability to hold governments in the sunshine of public scrutiny may depend on it."

The white elephant flagship of the marine police fleet was a waste of money, the national security minister Wayne Caines told the House of Assembly today. Mr Caines said the MV Guardian, which cost $1.7 million 13 years ago, had spent most of its time tied up in dock. He said the patrol boat was never fit for purpose and that the police service had failed to carry out a proper analysis before it was bought from an Australian boat yard in 2006. He added it also cost about $24,000 a year for mooring fees at Dockyard. Mr Caines was speaking after The Royal Gazette revealed that the vessel had been sold for a knockdown price of $69,000 to construction firm Crisson. He said: "Simply put, the BPS could not afford to maintain the boat any longer." Mr Caines added the patrol boat, which has a range of more than 200 miles, was not suitable for inshore work, which meant it would be of no use to the Royal Bermuda Regiment's Boat Troop. He said the Government put the boat up for sale last December rather than "continuing to pour good money into a bad investment " Mr Caines added the boat was assessed last year and it was found its value had decreased to between $300,000 and $350,000 under normal market conditions. But police were told it would cost up to $100,000 in repairs to make the boat seaworthy. Mr Caines said without the $100,000 in repairs, the resale value would likely not be much more than $50,000. Two bids were received for the boat, which was listed without a reserve price, and went to the highest bidder under financial instructions. Mr Caines added the saga was "an expensive lesson learned" by the Bermuda Police Service.

Lieutenant-Colonel David Burch, the Minister of Public Works, updated MPs on the Department of Land Valuation this morning in the House of Assembly. Colonel Burch told MPs that the department had been one of the first to become a paperless office, and no longer maintains a physical filing system, which was completed in 2018. This feature also applies to documenting "pertinent verbal discussions", he said, which proved valuable in legal matters, and there is now "zero risk" of losing files. The department's filing cabinets have been removed and distributed elsewhere in government, freeing up 10 per cent of its office floor space. Four tonnes of paper were taken away. Colonel Burch said the 2020 valuation list, undertaken every five years, would cover 36,000 units. With property values declining overall, and some falling more than others, he said the exercise would "re-level the playing field". The list is to be published on December 31, 2020. It will be the last valuation in which paper survey forms will be issued, the minister added.

An update on a stalled hotel development in Southampton will be made in the House of Assembly today. Curtis Dickinson, the finance minister, will make a statement to MPs about the troubled Caroline Bay development at Morgan's Point. Mr Dickinson warned last month that the Government would be "on the hook for $165 million" if a financing deal for the resort failed to materialise. The sale for $69,000 of the little-used flagship of the marine police will be discussed by Wayne Caines, the Minister of National Security. The MV Guardian was bought for $1.7 million in 2006 but proved unsuitable and has now been sold to a construction company. Mr Caines is also expected to talk about the Pensions (War Service) Order 2019, which was tabled in the House last week. Mr Caines is also scheduled to update MPs on methods used to combat gang violence. Lieutenant-Colonel David Burch, the Minister of Public Works, will speak on land valuation, and Lovitta Foggo, the labour minister, will table the National Training Board's annual report. David Burt, the Premier, will give a statement on the Governor's posthumous pardon for the Reverend Charles Vinton Monk, a pastor jailed in 1903 after he exposed abuse of Jamaican workers brought in for construction work at the Royal Naval Dockyard. Mr Burt will also speak on the charter of rights for seniors signed this week. Zane DeSilva, the transport minister, will tell MPs about the airport's upgraded radar system. The House will also hear about the qualifications of Michelle Bean, a Bermudian project manager, to oversee the technical aspects of the development of the new airport terminal. Three Bills will come up for debate. Legislation to boost the island's superyacht industry will come up for discussion. MPs will debate an amendment to the Public Access to Information Act designed to remove the Financial Policy Council from bodies subject to Pati requests. The advisory body monitors Bermuda's economy and assesses potential risks to the island's financial security. Also up for consideration is the Health Insurance Amendment (No 2) Bill, which was drawn up to modify benefits from the Health Insurance Plan and FutureCare.

Bermuda's sports anti-drug body tested 83 people with four positive results for cannabis, the sports minister told MPs today. Lovitta Foggo said there were also "two adverse findings" reported by the Bermuda Sport Anti-Doping Authority. Ms Foggo was speaking as she tabled the 2017-19 financial results for the authority in the House of Assembly. She said the BSADA remained "fully compliant" with international standards and that there had been "extensive compliance" with tests over the year. The authority was allocated $271,590 for testing for the use of performance enhancing substances and $133,407 for screening for illegal drugs. The minister also tabled annual reports for the National Training Board for 2017 to 2019.

The president of a company linked with Arbitrade's past claim to have "title" to $16 billion of gold bullion, has been named as a defendant in an unrelated US civil court action that involves the alleged non-return of a $4 million deposit. Utah-based Scotia International of Nevada Inc, and its owner Max Warren Barber, have been named among defendants in a complaint filed at the District Court for the Eastern District of Pennsylvania. The Evolant Blind Trust is the plaintiff, and the complaint involves an allegation that a $4 million deposit paid to Scotia has not been returned, and that a surety bond linked to the deposit and guaranteed by another named defendant, Wyoming-based SubGallagher Investment Trust, has not been paid. The Evolant Blind Trust is represented by law firm Bochetto & Lentz, PC, and has demanded a trial by jury. As of yesterday, there was no listed counsel for the defendants. The Royal Gazette was unable to reach SubGallagher Investment Trust, and did not receive a response to an e-mail inquiry to Mr Barber at Scotia International about the case. Mr Barber is president of Sion Trading FZE, a subsidiary of Scotia International of Nevada. A year ago it was named by Bermudian-registered Arbitrade as its partner in securing "title" to 395,000 kilograms of gold bullion to back four crypto-tokens. Details of the case were first reported by the OffshoreAlert website.

Thousands of people including Hollywood heavyweights have shown their support for the island's first Pride celebration. Tony Brannon, a co-creator of the Bermuda Pride Supporters Facebook group, said that Michael Douglas and Catherine Zeta-Jones had agreed to add their names to the public list of backers. He said he expected the gathering next month to be "amazing" and offered to do whatever he could to support its organisers. Mr Brannon, a campaigner for same-sex marriage, said a friend suggested making a group for people who support the Pride event and he agreed. He added: "We created this and, like a lot of things in life, it caught on, so we have a lot of followers in the space of just ten days. I am happy to do all I can to support the organisers of Bermuda Pride 2019. The Facebook support group is a wide variety of people including folks who visit Bermuda — people that support the cause in general." Bermuda Pride Supporters had more than 3,800 members yesterday — and the page included a photograph of actors Mr Douglas and Ms Zeta-Jones dressed in Bermuda-branded clothes ready to play golf. It was captioned: "Catherine and Michael are proud to be supporters." Mr Brannon said: "I am delighted that Michael and Catherine have agreed to support Bermuda Pride 2019 weekend. Michael e-mailed me early today agreeing to support and that we could use the image we created for him and Catherine. Michael and I have known each other for many years, we are both Bermudians, so to have the support of Michael and Catherine — Bermuda's Hollywood couple — is really great." Mr Brannon added a string of Bermuda businesses had been "hugely supportive". He said: "I think the first Bermuda Pride parade will be amazing." Members of the Facebook group have shared ideas for logos that can be used on T-shirts and flags and several companies have confirmed their support. A call was made for healthcare professionals to unite for the August 31 event. One healthcare worker said: "It is so important that we recognize the specific needs of our LGBTQ community and that our LGBTQ patients know they can reach out to their healthcare professionals in a safe and supportive setting." Commissioner of Police Stephen Corbishley earlier confirmed that the Bermuda Police Service supported the island's LGBTQ community and that officers would attend the event. He said last month: "We are there to protect people, but also we are there to build confidence and trust." Mr Corbishley added that "being LGBTQ is both normal and an important part of the fabric that makes Bermuda a great — and safe — place to live, work and socialize". However, Mr Corbishley's stance was questioned by Michael Weeks, a government MP, last week. Mr Weeks said: "What message is he sending to the many who oppose same-sex marriage by throwing his support to this event? Should it not be a neutral stance by the Commissioner of Police like the rest of the civil servants are asked to do on a daily basis?" He was speaking during the motion to adjourn in the House of Assembly last Friday. He said members of the public had expressed unhappiness about the event and that voters made their opinions clear about "same-sex marriage and all it encompasses" in a 2016 referendum. The majority of those who took part in the poll voted against same-sex marriage and civil unions, but less than 50 per cent of the electorate voted. Mr Weeks told MPs: "I have been approached by many, some of whom are my constituents, who have made it clear to me they are not in support of this kind of event being held on our island. Some have also reminded me of the result of the referendum in 2016 and what that stood for. Some will argue that we live in a democracy and if people want to live their lives as such and march, then they have every right to do so and defend it. I venture to say there are some in here tonight that maintain that view. I understand. Why? Because on that same principle of democracy, those against have the same right to stand and oppose it, without the threat of being bullied into silence or called homophobic, hateful or biased." Dwayne Robinson, a One Bermuda Alliance senator, said yesterday that Mr Weeks's comments were "extremely careless" and that he thought the remarks reinforced a notion that people who were homosexual, bisexual or transgender needed acceptance from a heterosexual majority. He said: "I believe that most of the LGBTQ+ community would love acceptance, but to me they do not necessarily need it. What they do need is equal access to marriage equality and the ability to express themselves openly in their community in which they live and work. For the LGBTQ+ community, this parade will be a signal that they can be themselves in their home." Mr Robinson added that governments had a duty to "protect minorities, their wellbeing and their rights". He said: "By definition, a minority can never succeed against the majority and this is where governments should govern and step in to ensure their protection and rights."

A mid-sized Bermudian construction company has closed down. Gulf Stream Construction Ltd, founded by Marcelino Ferreira in 2003, has been wound up. Mr Ferreira, identified on the GSCL website as the company's owner and technical director, advised the company's clients on April 26 that the company was planning to cease operations. "It is with great regret that I write to inform that due a few under performing and slow paying projects with the continued increasing costs of operating in today's local construction industry, GSC finds itself in an ever-increasing tough position to continue operating, GSC have been advised by its lawyers to strongly consider winding down its operation. As a result of this advice and having reviewed our options. The directors and shareholders under the legal advice are starting the process of closing its operation and winding down Gulf Stream Construction Ltd according to the local business laws afforded. This process will take place with effect from April 30, 2019 being the final day of operation. GSC request that we have access to your project to collect all tools and equipment. We have been informed that a liquidator will be assigned and should be in contact with further news and directions." A winding-up order was subsequently granted in the Commercial Division of the Supreme Court in respect of GSCL on the basis that the company acknowledged its insolvency. Paul Harshaw of Canterbury Law Ltd, representing GSCL, presented the petition to the Court, which was unopposed. The Court appointed the Official Receiver as the provisional liquidator of GSCL. It is expected that the Official Receiver will advertise a meeting of individuals or companies claiming to be creditors of GSCL. Some of them were in court on the day of the winding-up hearing, or had representatives in attendance. Alex Potts QC of law firm Kennedys appeared on behalf of supportive creditor Rodney Burrill, who had given the required notice to appear at the matter but did not oppose the winding-up. Lawyers Richard Horseman of Wakefield Quin, Jordan Knight of Appleby and Jennifer Haworth of MJM attended the winding-up hearing on "watching briefs". All said they represented creditors of GSCL. Anthony Madeiros of BS & R Group, which has filed two actions in the Supreme Court against GSCL, was also present. H & H Plumbing and Mechanical Ltd has also filed an action against GSCL. GSCL is described on the company's website as a mid-sized general contracting and construction management company with a target market of mid-to-high-end residential construction and low-to-mid-size commercial projects. Mr Ferreira operated the company with the assistance of the outfit's general manager, Jonathan Carter.

A St George's jewelers was burgled yesterday — the third time the premises have been hit in three months. Police said that two men broke in to the Vera P. Card store on Water Street, at about 3.45am and stole jewellery. The burglary is the latest in a series of crimes that have plagued the store this summer. Jan Card, the owner of the store, declined to comment on the latest break-in. Less than two weeks after the store reopened for the tourist season, three men broke into the store and stole unspecified items at 3am on May 11. The shop was targeted again two weeks later when three men broke in during the early hours of May 24 and stole jewellery. Mr Card said after the second incident that the burglaries had cost the business "thousands of dollars" and that both crimes had the same hallmarks. He added: "It's pretty clear this time from the timing that these guys waited until the patrol vehicle left St George's and then went to work. For someone selling precious metal jewellery in St George's — and there are only two of us left — it makes you very nervous and it makes you consider no longer selling precious metal jewellery." He warned: "If something doesn't change, we have to take away the items that they want to steal, the jewellery, and the result of that to the business would be disastrous. If there's not a change in the level of deterrence, then we cannot continue to do the business that we are doing in St George's. That will leave only one jeweller for them to prey on, so you know what will happen next." Last night George Dowling III, the mayor of St George, told people at a town hall meeting that Stephen Corbishley, the Commissioner of Police, remained committed to increasing the police presence in the town. Mr Dowling said: "We are working to find space in the town to house him and his unit. We will have a police presence in St George's as soon as practicable." Police asked people who saw anything suspicious or retailers with CCTV footage to contact Detective Constable Seymour Foote on 717-2282 or Detective Constable Mark McCormack on 717-2207, or the confidential Crime Stoppers hotline at 800-8477.

The United States Coast Guard sail training ship Eagle will visit Bermuda next week. The ship, used to train USCG officer cadets, will be moored in Hamilton from July 18 — 20 and will be open for free public tours. Cadets from the Eagle will participate in community and youth outreach activities with WindReach and the Sandys Boat Club Youth Sailing programme. They will also visit the Bermuda Underwater Exploration Institute and explore the island while they are stationed. The Eagle is the only active-duty sailing vessel in the United States military. Cadets in the United States Coast Guard Academy spend a minimum of six weeks aboard the ship to learn technical, leadership and teamwork skills. Public tours will be available on:
Thursday, July 18 1:00pm — 7:00pm
Friday, July 19 12:00pm — 7:00pm
Saturday, July 20 10:00am — 7:00pm

July 11

A charter of rights for seniors - see http://www.royalgazette.com/assets/pdf/RG405863711.pdf - is a "landmark achievement" for Bermuda, the Premier said yesterday. David Burt said: "Three overachieving themes drive the charter we have signed today — dignity, rights and responsibilities. "As a society, we should be judged by how we take care of our most vulnerable. Today marks an important step in creating a greater awareness around a key and growing demographic in our community." He was speaking at the signing of the Bermudian charter of the rights and responsibilities of the elderly and adults in need of long-term care and assistance. Mr Burt said that the charter included ten articles, including the right to dignity, physical and mental wellbeing, freedom and security; the right to self-determination and the right to high-quality and tailored care. He added that the document was developed based on international and Bermudian standards and had been adapted from the European charter of the rights and responsibilities of older people in need of long-term care and assistance. Mr Burt said that "significant input" had been provided by the Ministry of Health to make sure the charter would "complement existing regimes as intended". The Government's goal is to "recognise and respect the rights of people who became more dependant on others due to ageing, illness or disability, and to ensure they lead lives of dignity and independence". The charter will be tabled in the House of Assembly on Friday. Mr Burt signed the document with Derrick Burgess, the Deputy Speaker and chairman of the Ageing Well Committee, and Molly Burgess, who represented Bermuda's seniors. The Premier said Ms Burgess was a "champion of the rights of workers and all people in this country". He added: "It is only right that her decades of fearless service are marked in this way." Mr Burgess said that the Government wanted to protect seniors from abuse. He added: "Most times the abuse comes from someone that knows them." Fredrick Hassell, the director of the Bermuda Senior Islanders' Centre, which hosted the event, thanked the Government "for regarding the rights of people who become dependent on others due to ageing, illness or disability". The Progressive Labour Party promised in its 2017 election platform to "review the laws to reflect international best practices to enact a Charter of Rights and Responsibilities for seniors".

A pastor jailed more than a hundred years ago after he wrote about the unfair treatment of Jamaican workers in Bermuda was granted a posthumous pardon - see http://www.royalgazette.com/assets/pdf/RG405864711.pdf - by the Governor yesterday. Government House confirmed that John Rankin had pardoned the Reverend Charles Vinton Monk — thought to be a modern-day first for a British Overseas Territory. Mr Rankin said: "Posthumous pardons are only granted in the most exceptional of cases. After careful consideration, I am satisfied, however, that in exercising his freedom of expression, the Reverend Monk was seeking to serve the public interest. That fact, together with the likely truth of what he wrote and the evident procedural irregularities in the trial, justify the grant of a pardon in this instance." Mr Monk was imprisoned for libel in 1903 after he exposed poor conditions endured by people brought to the island to work on the Royal Naval Dockyard. The pardon came after David Burt, the Premier, told the House of Assembly in June last year that he had asked the Governor to consult the Advisory Committee on the Prerogative of Mercy about the possibility of a pardon for the pastor and journalist. Mr Rankin said: "This is an historical case and we can recognise today that the act for which the Reverend Monk was convicted was an act of courage in drawing attention to the unacceptable working conditions to which the Jamaican nationals in Bermuda were being subjected. Today is an opportunity to acknowledge Reverend Monk's work in seeking to remove an injustice which was then taking place." Mr Burt last night said the pardon was a "significant and historic decision. The injustice of Mr Monk's trial and the actual injustice he was determined to expose make this decision a landmark recognition of the importance of the rights of workers and of a free, responsible media. Today, the legacy of a tireless journalist shines even brighter. The late Ira Philip recorded this story and his work has been proven invaluable." Power to grant a pardon is delegated to the Governor under Section 22 of the Constitution after consultation with the advisory committee. A Government House spokeswoman said last month that Mr Rankin had "carried out extensive research" after he received the request to pardon Mr Monk. The American-born pastor was in charge at the Allen Temple African Methodist Episcopal Church in Somerset near the end of the 19th century. Work crews were brought to Bermuda from the West Indies — particularly Jamaica — in 1902 to complete work on the Dockyard extension. A report in the National Museum of Bermuda's MariTimes magazine said that riots against working and living conditions broke out on Ireland Island in June that year. Several Jamaican people were arrested and eight claimed to be the ringleaders were jailed for up to six months. An editorial by Mr Monk in The New Era newspaper demanded better working conditions and the pastor blamed the deaths of two workers on the building contractor, which filed a charge of false and defamatory libel against him. A second piece on the subject led to a criminal libel charge brought by Reginald Gray, then the Attorney-General. Mr Burt told MPs last year: "Instead of accepting the truth of the obvious state of the workforce, the rampant disease and dangerous working conditions at the site, the principals of the company saw to it that Monk was arrested and charged with criminal libel." He added then: "A review of the case indicates that the whole affair was laced with shocking bias." The House heard the pastor was unrepresented in court after his counsel died the day before the trial date — amid speculation he was poisoned. Sir Brownlow Gray, the trial judge, was the father of the Attorney-General, who prosecuted the case, and the pair were also related to the assistant justice. The Crown called just two witnesses compared to more than 100 called to defend Mr Monk's reports. The MariTimes article, published in 2011, said: "Despite the many witnesses who corroborated Monk's claims about conditions on the work site, he was found guilty on December 16, 1903, fined heavily and jailed for four months." An account of the trial was given in the book Freedom Fighters: From Monk to Mazumbo, written by Mr Philip. A writ signed by Mr Rankin yesterday said that he granted "free pardon to the Reverend Charles Vinton Monk in respect of his conviction for criminal libel in the Supreme Court on 16 December 1903". The pardon came as the UK and Canadian governments co-hosted a Global Conference for Media Freedom in London. The event was said to be "a major milestone" in the UK Foreign and Commonwealth Office's campaign "to protect journalists doing their job, and to promote the benefits of a free media worldwide".

National Security Minister Wayne Caines will make a ministerial statement tomorrow about the sale of the "white elephant" flagship of the marine police fleet. Mr. Caines did not respond to questions about the sale of the Australian-built patrol boat MV Guardian, bought in 2006 for $1.7 million and sold for less than $70,000. However, he told another media outlet that the vessel was expensive to maintain and that its value had dropped to between $300,000 and $350,000 by last year — and as much as $100,000 of repairs were needed to make the boat seaworthy. The boat was advertised for sale last December and two offers were submitted. The highest offer was $69,000. The Royal Gazette reported on Tuesday that the 54-foot vessel was bought by Crisson Construction for "less than $70,000". The high-tech boat has a range of 200 miles and was designed originally for the New South Wales Water Police in Australia.

Two prison officers were put behind bars in the space of a week for smuggling contraband into Westgate prison, The Royal Gazette can reveal. Art Simons, 43, was jailed for two years after he was convicted of taking cannabis and cannabis resin into Westgate hidden inside toiletries with intent to supply. Simons, from Devonshire, was jailed a week after Kadeem Abraham, 30, was imprisoned for nine months for an attempt to take a mobile phone to a Westgate prisoner. However, Wayne Caines, the national security minister, said he was confident that the vast majority of prison officers had integrity and discharged their duties well. Simons, who was also charged with an attempt to take contraband into the prison, was sentenced on Monday in Magistrates' Court. Simons won a Supreme Court appeal in 2018 that overturned his original conviction in Magistrates' Court. But the higher court did not dismiss the charge and ordered that Simons stand trial again before a different judge. The case was sent back to Magistrates' Court, where Simons was convicted in March before magistrate Khamisi Tokunbo. Simons was convicted of possession with intent to supply of 5.66 grams of cannabis worth $287. He was also found guilty of having 0.62 grams of cannabis resin worth $50, also with intent to supply. Simons was also found guilty of attempting to bring into the prison a shower gel container and a deodorant container, which had Scotch tape, cigarette papers and a twist of tobacco hidden inside. The court heard that the toiletries were left in the shower area of the prison. The offences happened in January 2015. Simons was sentenced to a year on the first charge, nine months on count two, and six months on the third count. Each sentence carried an extra 12 months for offences inside an increased penalty zone, which includes Westgate. But the judge ordered that the sentences should be concurrent. Abraham, 30, from Warwick, was sentenced on July 1 in Magistrates' Court. The officer was caught in July 2016 with a small mobile phone inside a mayonnaise packet hidden in his pocket. Abraham admitted to senior staff that the phone was intended for an inmate in maximum security. Magistrate Tyrone Chin sentenced him to nine months' imprisonment. Mr Caines said yesterday: "We have full confidence in the integrity of our corrections officers. Where officers are found in breach of the law, they can expect to be held accountable for their actions."

Royal Gazette Editorial Opinion. "If it wasn't already obvious, Friday's session of Parliament made the Progressive Labour Party's distaste for public access to information, and, let's face it, accountability, abundantly clear. Despite being the party that tabled and passed the legislation in July 2010, the PLP doesn't much like being told to comply with its own sunshine law. Hence, we had Lieutenant-Colonel David Burch, the Minister of Public Works, stating that he had told a government department to defy an order by Information Commissioner Gitanjali Gutierrez and withhold from the public a report about the spending of millions of taxpayer dollars on a failed sports centre. Colonel Burch was so appalled that the Government might actually have to account for why it ploughed so much money into the doomed venture, that he launched an attack on The Royal Gazette for daring to submit a Pati request, and on the commissioner for coming to the outlandish conclusion that the public have a right to know where their cash went. Referring to Ms Gutierrez by the last name of her husband, Fabian Minors, a former One Bermuda Alliance election candidate, was a clumsy, cheap and misogynistic potshot, which is unlikely to have rattled the former global human rights lawyer too much. It was par for the course for Colonel Burch, who resorts to belittling others when he has nothing of substance to say. But his allegation that Ms Gutierrez was "going out of her way" to assist this newspaper was deeply concerning. The keystone of the PLP's Pati Act is the notion that publicly held records belong to us all and should be available to us all, unless there is a compelling reason for them to be withheld. The commissioner is an independent arbiter, tasked with ensuring that very principle is upheld. Ms Gutierrez published a detailed decision regarding her order that the Sandys 360 report be released. Colonel Burch provided no evidence to show she had overstepped her authority or come to her conclusion because of a bias in favour of The Royal Gazette. There is a proper process for public authorities and Pati requesters to follow if they disagree with the commissioner's decisions, and it doesn't involve snide, baseless insinuations made under the protection of parliamentary privilege. But Colonel Burch wasn't the only government politician who used their valuable time in the House of Assembly on Friday to bemoan the normal operations of a free press in a developed democracy. Michael Scott, the PLP backbencher and former Attorney-General, delivered a brief and barely coherent outburst at 9.30pm because he had been sent some questions from a reporter in his capacity as deputy chairman of the Criminal Injuries Compensation Board. The board met only five times between January 2017 and December 2018, according to information released under Pati, and the reporter had the temerity to ask Mr Scott and other CICB members if they had received any payments from the public purse for sitting on the board. The response provided under Pati said they had not received payments and the reporter sought to double-check that fact. Specifically, Mr Scott was asked if he was referring to his role on the CICB when he told the Supreme Court last year that he would be paid $5,715 a quarter for a board position. The answer was no; it was the shipping board. But it would have been too easy for thin-skinned Mr Scott to simply reply to the reporter to say that. Inexplicably linking the CICB questions, Colonel Burch's statement on Sandys 360 and a newspaper report on plummeting business confidence, he told Parliament: "This whole Pati-Royal Gazette dance that's going on is getting a bit sick, really, and I call on ... The Royal Gazette just to stop it. To just stop it. I don't intend to answer you." Mr Scott's remarks are embarrassing and not just because they make little sense. He stood up in the House and suggested that it was an affront for a reporter to seek information about a publicly funded board and to ask questions about payments to members of that board. But perhaps we shouldn't be surprised. Leadership comes from the top and Mr Scott is no doubt taking his cues from David Burt, the Premier, who verbally attacked a journalist from The Royal Gazette in Parliament in February, for reporting on a sports betting company's attempts to hire staff here. Yet Mr Burt said in the House of Assembly in June 2018: "Journalists have a job to do, and where they do it, no matter how uncomfortable it may be, their work should be respected. A truly democratic society cannot be said to prosecute, persecute or move to silence the media." When the PLP passed Pati in Parliament, Ewart Brown, then the Premier, heralded it as the "fulfilment of the Government's longstanding pledge to operate in the light of public scrutiny". But maybe Colonel Burch, Mr Scott and others are finding the light a little too bright. Perhaps the PLP thought it could pass a sunshine law in a great show of commitment to good governance, although it was ultimately brought into force under the OBA in 2015, but secretly suspected no one would bother to use it. How else to explain Colonel Burch's bizarre claim that we have tried to "litigate death all aspects of the arrangements surrounding" Sandys 360, when what we have actually done is submit a few Pati requests to try to find out what compelled successive governments to hand over at least $5.3 million and where that money went. Worryingly, legislation to exempt the Government's Financial Policy Council from Pati was tabled on Friday, a move opposed by the Information Commissioner's Office in the absence of a "robust and formal transparency framework" for the advisory body. Should we expect more amendments to come, in a drip-drip attempt to neuter the law? The reporter attacked by Mr Scott has asked him for an apology, also to be delivered in Parliament. In an e-mail to him, the reporter wrote: "Contrary to what you suggested in Parliament, there is nothing untoward about reporters asking questions about the spending of public money. It is normal practice and I would respectfully suggest that you are aware of that fact ...If you want to tell the public about the good work being done by the CICB and give clarity on the confusing and seemingly inaccurate figures provided for the CICB in recent Budget books, I will be glad to meet with you." We would further urge Mr Scott and his party colleagues to make better use of their time in Parliament, cease trying to bully reporters and quit portraying every question about public spending that comes their way as politically motivated. We call on them just to stop it. To just stop it. We intend to keep using Pati as a vital tool in our reporting and to keep holding public officials accountable on behalf of our readers."

Opinion. By Vic Ball, a One Bermuda Alliance senator from November 2014 to July 2017. "No more sweet talk from the hypocrites ... can't take your slogans no more." — Bob Marley. "During the 2017 election campaign, the Progressive Labour Party's slogan was: "it's time to put Bermudians first". What may not be recalled, is that the One Bermuda Alliance had very similar language in its own platform. It stated that one of the overriding principles of the OBA was: "we will put Bermuda first". Two years later, we are now reaping the results of the decisive election victory of the PLP ideology over the OBA's. Soberly, we now have an opportunity to revisit the election result to determine the difference between the two positions. We should also determine what course the country is on so that we can be better prepared for when the next election decision confronts us again. The primary goal of the OBA's 2012 tenure was to improve an economy on life support after the severe financial crisis it inherited from the PLP. The twofold strategic plan for the betterment of Bermuda was to attract foreign investment and to streamline the expenses of the Government. Within five years the OBA was able to:
Create and establish the Bermuda Tourism Authority for the improvement of tourism
Start and complete the Loren hotel
Secure cruise ships into the Town of St George and the City of Hamilton
Lay the groundwork for the development of the St George's hotel
Secure financing for our new airport to be built
Attract the America's Cup with ongoing stimulus
Entice the World Triathlon Series to our shores
Reduce the expense of running the Government
Stimulate growth to the economy
One can also clearly see how these projects benefited Bermudians by creating meaningful employment. The PLP slogan of putting Bermudians first suggests that the primary issue faced by Bermudians is competition between "Bermudians" and "others" for jobs. The "others" are out-competing Bermudians for jobs, therefore the Government needs to tip the balance in favour of Bermudians. You may remember, this is not the first time that the "Bermudians first" ideology has been used by the PLP with devastating effects for Bermuda. During its first tenure, it instituted term limits on expatriate workers. After six years, expatriates would be forced off island and they had to be replaced. This shortsighted move was warned against many times by the international business community, but it fell on deaf ears. That community explained that its employees build relationships and acquire specific and sensitive information over time, especially those in management and higher positions. Additionally, companies indicated they could not recruit the best employees if they could promise only six years of employment. It was this lack of understanding that would cause the PLP government to expect companies to fire expatriate workers every six years and jeopardize the company's relationships with suppliers, customers, clients and strategic partners. More concerning is that after this employee was forced to leave, they could take important clients and strategic information to their new employers. The international business companies warned they would have to move whole companies or departments out of Bermuda if the PLP continued with its ideology. When the PLP refused to listen, 5,000 expatriate jobs left Bermuda and thousands of Bermudians lost their jobs. As an unintended consequence, many Bermudians lost their homes. The net result was a decline in our International Business sector and a significant loss of Bermudian jobs. To mask the massive exodus of jobs off the island and the dramatic unemployment at home, the PLP government hired more workers into the Civil Service. This simply worsened the unintended consequences of its poorly thought-out ideology. Government borrowing and our taxes had to increase to fund these schemes. At present, the Bermuda economy is being held together by the very OBA stimulus of the Bermuda-first ideology from its tenure from 2012 to 2017. These are the same projects that the PLP railed and fought while in Opposition. Projects that not only helped Bermuda as a jurisdiction but also helped Bermudians to secure employment. They are the saving grace of its government today. You may recall their shameless, roof-wetting airport construction ceremony upon taking office, after trying desperately to shut down the project from becoming a reality. The PLP has also returned to adding hundreds of jobs to the Civil Service, paid for by borrowing and raising taxes on Bermudians and "others". In a sleight of hand, it has provided pay raises to civil servants, but the taxes imposed on them totally negates any potential benefit. They have accomplished little to stimulate the economy through foreign investment to benefit Bermuda or Bermudians. The question now needs to be asked: who benefits from the slogan of "putting Bermudians first". Recently, it was revealed that politicians are being paid twice to do their jobs and the PLP has added vocal party supporters as government consultants. Other than party-connected people, one is hard-pressed to see how Bermudians are benefiting first or at all. One may conclude that with the additional taxes dumped upon us, Bermudians are being put first in reverse. Our economy is shrinking, with retail stores closing at an alarming rate and home prices heading down. More people are collecting financial assistance. There is a lack of consumer confidence and business confidence has hit record lows. The PLP land tax, sugar tax, foreign currency tax, etc, are zapping the little disposable income that Bermudians have by drastically raising the cost of living. Health insurance rates have risen dramatically. There are escalating problems in the public-education system with no answers in sight 21 years after the historic, 1998 General Election victory. Schoolchildren were dispersed throughout the island to complete the school term. Prison officers are being forced to work by court order, although serious health and safety concerns exist. New bus schedules are implemented and reversed. Fintech promises have not materialized. Ministers refuse to release reports for public review. Soon, the PLP is going to exempt from the public's view records obtained or created by the Financial Policy Council. The PLP refuses to provide advocates for our vulnerable children who are abandoned overseas and then refuse to discuss it. Is this what putting Bermudians first means? In conclusion, putting Bermudians first is a wonderful slogan. However, we are learning that if there isn't a plan to put the nation first; the slogan simply stirs emotions and raises false hopes. Putting Bermuda first is another wonderful slogan. However, a lesson for the OBA is that Bermudians are demanding a prosperous country where everyone feels that they are a part of that prosperity. Time reveals all, so let us remain vigilant and keep our eyes open because the next big election decision will be confronting us soon."

Bermuda-incorporated Chubb, the USA's largest commercial insurance company, has joined a trend among insurers and reinsurers to pull away from the coal industry, a move hailed as a "game-changer". It is the first major US-market insurance company to adopt a restrictive policy towards coal-related underwriting and investment. Bermuda-based Axis Capital has told The Royal Gazette it also expects to reduce its exposure to coal. A United Nation's report has found that one pathway to limiting global warming to 1.5C by reducing carbon emissions requires phasing out coal power worldwide by 2050. Chubb's move follows similar action by insurers and reinsurers in Europe and Australia, including Axa, the parent of Bermuda's Axa XL. Chubb is headquartered in Zurich and has offices in Bermuda on Woodbourne Avenue. It will no longer underwrite the construction and operation of new coal-fired plants or new risks for companies generating more than 30 per cent of revenues from coal mining or energy production from coal. Existing insurance coverage for coal-plant risks that exceed the 30 per cent threshold will be phased out by 2022. In addition, it will not make debt or equity investments in companies that generate more that 30 per cent of revenues from thermal coal mining or energy production from coal. Evan Greenberg, Chubb's chief executive officer, said: "Chubb recognizes the reality of climate change and the substantial impact of human activity on our planet. Making the transition to a low-carbon economy involves planning and action by policymakers, investors, businesses and citizens alike. The policy we are implementing today reflects Chubb's commitment to do our part as a steward of the Earth." Mary Anne Hitt, director of Sierra Club's Beyond Coal campaign, said: "Chubb is the largest commercial insurance company in the US, and this move sends a signal that insuring coal isn't just the wrong thing to do for our climate but also bad for business. We applaud Chubb for making this commitment, and we'll pressure other US insurance companies to follow their example." Ross Hammond, senior strategist for Insure our Future, the US-branch of the Unfriend Coal campaign, said: "A major US insurer like Chubb restricting insurance for coal projects and companies is a game-changer. Now the company needs to strengthen its policy to exclude new coal mines, fully phase out coal across all underwriting and investment activities in line with the Paris Agreement, and stop insuring the destructive tar sands sector." Lindsey Allen, executive director of Rainforest Action Network, said: "We are encouraged to see Chubb taking real action to address climate change and insure a healthier future." The Beyond Coal campaign goals include closing all coal plants in the US and replacing the majority with clean energy solutions, such as wind and solar power. Chubb's move is likely to improve its standing in the insurance industry scorecard compiled annually by the Unfriend Coal campaign. The survey assesses 24 major insurers and scores their policies on coal insurance and divestment, and other aspects of climate leadership. On the 2018 list, Chubb and Axis Capital achieved no points for their coal insurance and coal investment stance. Others who scored no points included American International Group, Liberty Mutual, Sompo and Tokio Marine. In contrast, Swiss Re topped the list for its policies, with Axa also among the "leaders". Lloyd's of London achieved a mid-table position. The Royal Gazette asked Axis Capital for an update on its position regarding underwriting and investment related to the coal industry. In a statement, it said it is growing its corporate social responsibility programme, with creating a positive environmental impact as one of our core pillars. The company said: "Axis will introduce an environmental policy with the expectation that we will reduce our exposure to coal. We are presently conducting extensive research that includes engaging with our internal and external stakeholders to shape a policy that aligns with our collective aspirations and values." Axis said it is committed to supporting the increased adoption of renewable energy as an alternative to fossil fuels, adding: "This includes continuing to invest in our renewable energy business, where Axis is already a top-five global player." John Huff, chief executive officer of the Association of Bermuda Insurers and Reinsurers, said the island's insurance and reinsurance market "has long been a leader to addressing climate risks from changing weather patterns generally to adapting to increased storm severity and frequency in the 150 countries where Abir members do business". He said: "As a global hub known for expertise in underwriting natural catastrophe risk, Bermuda's extraordinary reliance on ever-improving science related to the climate is unparalleled. Generally, insurers and reinsurers are making individual choices on their underwriting appetite and preferences on insuring certain industries including energy." In its Mining Risk Review 2018, Willis Towers Watson highlighted the impact of the retreat from coal underwriting by some major insurers and reinsurers. It said finding insurance for coal is "likely to become increasingly challenging — especially if North American insurers begin to follow the European lead". That trend is evident in Unfriend Coal's report which shows the market share of non-life insurers that have limited support for coal increased from 3.1 per cent to 7.3 per cent from 2016 to 2017, while for reinsurers the change was 3.8 per cent in 2016 to 33.4 per cent last year. Unfriend Coal said: "Insurance companies are in a unique position to accelerate and scale up the required transition to a low-carbon economy. As risk manager, they play a silent but essential role in deciding which types of project can be built and operated in a modern society ... if a project is not insurable, it's not bankable." Last week, Moody's Investors Service warned of environmental, social and governance exposure risks to insurers and reinsurers, such as environment-related regulatory and social pressures from increased public concern for "climate change issues". It said insurers with large investment portfolios are at risk of losses from "stranded assets" as tightening carbon regulations and a decline in demand for some fossil fuels increases the risk that fossil fuel-related assets become economically unviable. It points to the International Renewable Energy Agency, which estimates there could be $10 trillion of stranded assets by 2050 resulting from efforts to reduce CO2 emissions to prevent global temperatures from rising more than 2C above pre-industrial levels — an objective of the 2015 Paris Agreement.

An American cruise ship passenger was fined $3,000 after he admitted two drug importation charges. Frederick Hall Jr, 50, pleaded guilty to the importation of cannabis and THC, a psychoactive component of cannabis. Magistrates' Court heard that customs officers were called to the Anthem of the Seas after crew members suspected drug use. Officers searched Hall's cabin and found cigarettes, rolling papers, an e-cigarette containing a coloured oil and plastic bags filled with a plantlike material. Hall was questioned by customs officers and he admitted that the drugs were his. He told them: "I use them to get high." Customs alerted police and Hall was taken to Hamilton Police Station and charged. The court heard that the plastic bags contained a total of 19.62 grams of cannabis. The e-cigarette found in Hall's cabin contained less than one millilitre of THC. Hall, from Connecticut, apologised to the court and explained that he took the drugs for anxiety. He said: "I took them to fall asleep. We were staying in a small cabin and I get claustrophobic. There was no way I could sleep in there." Jason Outerbridge, for the defence, told the court that cannabis was legal in Hall's home state and added that his client was unaware of the island's laws on cannabis. But the Crown said that cruise ships gave visitors a spoken and written warning about Bermuda's strict drugs laws. Senior magistrate Juan Wolffe fined Hall $2,500 on the cannabis charge and $500 for the THC importation.
Editor's note: cannabis in the US state of Connecticut is illegal for recreational use, as is the case in Bermuda, but possession of up to 14 grams is decriminalised. Medical usage is permitted.

A plague of rats could spread killer diseases, the Bermuda Hospitals Board chief of medicine warned yesterday. Michael Ashton said rats could transmit serious diseases to humans — and that some could be fatal. Dr Ashton explained: "Rats are known vectors for many bacteria and viruses. In Bermuda, we would be most concerned about bacteria such as salmonella — which can be transmitted through faecal contamination of food or water then consumed by humans. Salmonella can cause severe gastrointestinal and systemic infections in humans." Dr Ashton added: "Another pathogen of potential concern is leptospirosis, which is a bacteria transmitted through urine. Rodents can be reservoirs of leptospirosis and transmit the pathogen to other animals and humans by urinary contamination of food or water. Spread of the disease can be a particular problem in warmer climates. Human cases can be fatal and difficult to diagnose." Dr Ashton said leptospirosis had been found in animals in Bermuda, but that no human case had been diagnosed. He added: "It is important for the public to understand that an increased rat population poses a risk to humans and other animals due to their potential to harbour and transmit infectious diseases." Dr Ashton was speaking after residents across the island reported an increased number of rats in their areas. He said: "Prevention through public education and systems management is paramount with infectious diseases. Any potential rise in the rat population has implications not only for animal and human health, but also for our economy due to its dependence on a healthy and clean environment." Richard Walker-Talbot, from Sandys, said rat numbers had "absolutely" increased since trash collection was reduced to once a week. He added: "Once a week is just not enough for the pick-up and it's obviously just giving foods to the rats." But he said: "People aren't going to conform. They're going to put their trash out before pick up days". Mr Walker-Talbot said that he spotted "at least two rats daily" in his neighborhood. He added: "I have young children so it doesn't make me feel comfortable to see rats running around the playground." And Mr Walker-Talbot said: "It's bad for Bermuda's tourism industry — the last thing a tourist wants to see after getting off the cruise ship or out of the hotel is rats everywhere". A Smith's householder, who asked not to be named, added that the rat problem had increased "certainly within the last ten years". The man said: "There are a hell of a lot more rats than I'm used to seeing. I don't think it's ever been as bad as it is now." The resident, who has lived in Smith's since he was a child, added: "Back in the Sixties, you hardly saw rats" And he warned: "The epidemic will grow. If left unattended it will get worse and we will have more and more rats." The man said that the Government had to do more to tackle the problem. He added: "They're not following up and that's the biggest part of doing any particular practice." Charles Langton, from Devonshire, said that the rat problem was "certainly getting out of control, there's rats everywhere". Mr Langton claimed that Vector Control "doesn't seem to care". He said: "I tried to call Vector Control about ten times, but nobody ever answered the phone. Vector is not doing their job right now, that's the bottom line." He added: "Each bait box used to contain six units of poison, now they only put two."

A Liberia-registwred gas tanker delivered an injured crew member yesterday. The Gaschem Orca contacted Bermuda Radio yesterday afternoon after a 42-year-old Filipino national suffered a severe hand injury on board. At the time the vessel, which was traveling from Houston, Texas, to Teesport, UK, was about 300 nautical miles west of the island. Bermuda Radio said: "The master of Gaschem Orca was given medical advice, and the patient was safely transferred to the pilot/rescue boat St David at 9.20am and transferred to the King Edward VII Memorial Hospital by ambulance."

Two passengers injured yesterday in a collision between two buses near Barnes Corner in Southampton were treated in hospital and discharged, according to police. A spokesman said that other passengers reported being hurt in the crash, but did not require an immediate medical assessment at the hospital. The injured passengers were both said to be from Sandys: a 68-year-old woman and a 55-year-old man. The buses collided at about 1.20pm at the junction of Middle Road and South Road, as the eastbound vehicle attempted a turn onto South Road. Traffic in the area was delayed for about an hour after the crash, the spokesman added.

Two motorcyclists were fined $1,000 each and banned from the roads for 18 months after they were caught in separate incidents at the same roadside breath-test checkpoint. Reggie Lowe, 34, and Rahiem Steede, 24, both pleaded guilty to impaired driving yesterday. Magistrates' Court heard that Lowe was stopped at a breath test checkpoint on Middle Road, Southampton, on June 15. Lowe, from Southampton, told officers: "I had a couple of drinks, but I'm not drunk." A breath test showed that Lowe had 168 milligrams of alcohol in 100 millilitres of blood — more than twice the legal limit of 80mg/100ml. Steede, also from Southampton, was pulled over soon after Lowe. He told police: "I've had three drinks." A breath test showed that he had 147 milligrams of alcohol in every 100 millilitres of blood.

The trucking industry spoke, and Auto Solutions listened. The St John's Road, Pembroke auto dealership has begun importing the Volvo UD Croner dump truck, and dump and crane truck. The vehicles, made by Japan's UD Truck Corporation, have long been the trucks of choice for the industry in Bermuda — but have not been imported to the island for about a decade. Seeing an opportunity, Auto Solutions reached out to the trucking industry here for feedback, and have ordered the trucks to Bermuda-appropriate specifications. The trucks are a newer version of the vehicles that many in the industry presently operate. Harry Andrews, sales and operations manager at Auto Solutions, said: "Truckers here love the UD brand — it's dependable, a good-size truck for what they need to haul rubble, block, palm trees - you name it. The trucks have been here for a week and a half, and we have had lots of positive feedback. People like the construction of them, and they like the size of the dump — it can hold close to seven yards of material, so you get more load per run, which is what the industry is looking for." The 2019 model year trucks have 5,100cc inline four-cylinder diesel engines. They have a manual, six-speed transmission and a wheelbase of 3,750 millimeters. The dump truck has a tare of 12,584 pounds, while the dump and crane has a weight, when empty, of 14,762 pounds. The dump truck has a fuel capacity of 170 liters, while the dump and crane fuel capacity is 100 liters. The latter has a Tadano model crane with a capacity of 3,030 kilograms at 2.5 metres. The truck sports a fully-powered telescoping boom of pentagonal box construction. The winch is hydraulic motor-driven. The vehicles are HC class for TCD purposes. Auto Solutions has imported one of each truck. The dump truck, retailing for $89,995, has been sold — but won't leave the lot for another couple of weeks for anyone wishing to drop by the dealership for a look. The dump and crane truck sells for $125,995. Glen Smith, managing director of Auto Solutions, said the dealership will take special orders for the vehicles, which are made in Thailand to the dealership's specifications. From order to arrival will take about six months, Mr Smith said. Mr Andrews said: "When we create an order, they are producing a truck. The trucks are not sitting on a shelf, aging." Mr Smith said the UD trucks can also be configured as box trucks, or as trash trucks. Mr Andrews said: "We're really excited — this is the make of truck that the industry here has been calling for, for a few years."

A petition for the winding-up of telecommunications services firm TeleBermuda International Ltd revolves around a purported debt that the company disputes. The court action was presented at the Supreme Court last month by law firm Carey Olsen Bermuda Ltd, on behalf of the Bermuda Telephone Company. A spokeswoman for TBi told The Royal Gazette she was unable to go into detail about the dispute as it is before the courts. However, she said that in TBi's view "the petition is without merit and TBi expect it to be dismissed in the very near future". BTC, a Digicel company, has been approached for a comment on the matter. A response is awaited.

Bermuda won yet another bronze medal at the NatWest International Island Games, in Gibraltar, increasing their tally to five. Following on from David Maycock and June Dill winning bronze in the bowling mixed doubles on Tuesday, another duo, Rachel Barnes and Anthony Fellowes matched that achievement in the squash mixed doubles, overcoming Stuart Copland and Joan Smith, of the Shetland Islands, 2-1 yesterday. Barnes and Fellowes missed out on challenging for the gold medal, after suffering a straight-sets 2-0 semi-final defeat by top seeds Cameron Stafford and Marlene West of the Cayman Islands, in the previous round. Meanwhile, Bermuda agonizingly missed out on two further bronze medals in both the men's and women's doubles. In the men's semi-finals, Greg Fitzgerald and Stephen Smith lost 2-0 to Anthony Brindle and Christian Navas, of Gibraltar, before going down to the same scoreline in the bronze-medal play-off against Scott Gautier and Anthony Harkin, of Jersey. It was the same story for Meagan Jackson and Judith Furtado in the women's draw, where they lost 2-0 against Guernsey's Karen Robinson and Natalie Dodd in the semi-finals before suffering the same fate in the bronze-medal play-off, losing to Fleur England and Amelie Haworth, of the Isle of Wight. Bermuda's medal hunt was further enhanced with a number of promising performances in tennis, sailing and bowling. On the tennis court, Gavin Manders secured his place in men's singles semi-final after beating Minorca's David Riera-Pons in straight-sets, 6-3, 6-3. Manders also reached a second semi-final, as he and partner David Thomas reached the final four of the men's doubles after beating Riera-Pons and partner Miguel Albert-Fuster 6-0, 6-4. The Bermudian No 2 seeds, who beat James Buxton and Robert Comber 6-1, 6-0 in the round of 16, will face No 3-seeded Otto Byman and Henrique Norbiato, of Aland, today. Meanwhile, Sam Butler missed out on a place in the men's semi-finals after suffering a straight-sets 6-0, 6-1 loss to second seed Oscar Mesquida-Berg, of Minorca, while in the Junior Plate competition, Scott Redmond went down to a hard-fought, three-set 6-3, 2-6, 1-0 defeat by Daniel Reid, of the Cayman Islands. Redmond also joined forces with James Finnigan in the men's doubles, where the pair enjoyed a 2-6, 6-4, 1-0 success against Regan Matthews and Harry Wilmott-Stanton, of the Isle of Wight, in the round of 16, before suffering a straight-sets 6-2, 6-1 defeat to top seeds Stuart Parker and Michael Watson, of Jersey. In the bowling, Bermuda remain on course to add to the team's own medal haul with the men's team of Maycock, Damien Matthews, Blake Raynor and Lamar Richardson sitting second in the men's team event with 2,468 pins, behind leaders Aland on 2,526 pins, with three games remaining. Meanwhile, the women's team of Dill, Florence Simons, Jennifer Stovell and Earlene Tucker sit in third place in the women's team event with a total of 2,029 pins, behind Aland in second with 2,148 pins and leaders Gotland on 2194 pins, with three games remaining. The nation's sailing team also sit in bronze-medal position in the team event, with Adriana Penruddocke, Jordan Etemadi, Kalin Hillier and Scott Mello amassing a total of 169 points after four rounds of competition, with six remaining. In the singles Laser Radial Rig competition, Penruddocke remains in fifth position with 31 points after seven rounds of competition, while compatriot Etamadi is fifteenth with 78 points with three rounds remaining. Also after seven rounds in the Laser Standard Rig competition, Hillier remains in medal contention, sitting fifth with 30 points, while Mello is twelfth with 72 points, with three rounds remaining. Bermuda also narrowly missed out on a further bronze medal in athletics, where Brianna Mendes finished fourth in the women's 5,000 metre race in a time of 18min 54.66sec, slightly under 25 seconds behind Rebekka Fuglo of the Faroe Islands. Meanwhile, Quincy Kuzyk finished tenth in the men's 1,500 metres heats in 4:29.70, while Sean Trott had to settle for an eighth-place finish in the men's 5,000 metres, crossing the line in 16:11.34. There was further disappointment in the badminton men's doubles where both Bermudian pairs suffered defeats in the round of 16. Mark Haugen and Danial Hughes lost 2-0 to Niklas Hojgaard-Eysturoy and Bartal Poulsen, of the Faroe Islands, while Andy Lau and Denzel Simons went down to the same scoreline against Albert and Eric Navarro Comes, of Minorca.

July 10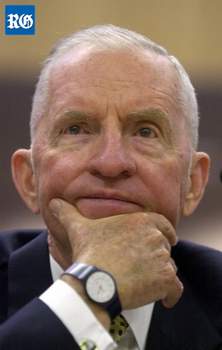 Ross Perot, a billionaire part-time Bermuda resident and maverick former US presidential candidate, died yesterday at home in Dallas, Texas. Mr Perot, who had leukemia diagnosed five months ago, was born in 1930 and was 89 at his death. He first visited the island in 1957 with his wife, Margot, while he was on leave from the United States Navy, where he served as an officer. Mr Perot's daughter, Carolyn Rathjen, said the couple "thought it was the most beautiful place they'd ever seen". They bought a luxury beachfront property in Tucker's Town in 1985 and the family have been regular visitors since. Ms Rathjen added: "The family still maintains a property on the island. It is everyone in the Perot family's favourite place. His last visit was Easter, where he enjoyed sitting on his deck, transfixed by the sound of the waves and the spectacular view." The family said Mr Perot loved boats, as well as windsurfing and water-skiing. Ms Rathjen added: "Ross also loved meeting and visiting with the year-round residents as well as the summer residents. He would always comment on the fascinating collection of extremely interesting people with amazing depth and interests." Sir John Swan, a former premier, said Mr Perot's strong links to the island were "a win-win situation". His Ross Perot Foundation supported an underwater archaeology project to work on the wreck of the Warwick, which sank off Bermuda in a 1619 storm. Mr Perot also backed other island organisations, including the Masterworks Museum of Bermuda Art and the National Museum of Bermuda. He also made donations to the Bermuda Aquarium for the preservation of Trunk Island. Sir John said: "He quietly did a lot of things that people would not know about. Ross used his plane to help medivac people out. His wife, Margot, was a jewel. They didn't shut themselves away — they brought a lot of people here as friends and guests. Ross also played that role of helping to define us in the world of geopolitics." Mr Perot's 1992 run for president brought international media attention to the island. Mr Perot ran as an independent candidate for president in 1992 and won 19.7 million votes in the best third-party candidate showing since 1912, when former president Theodore Roosevelt took 27 per cent of the vote. He ran again four years later, but was less successful. Sir John said Mr Perot's first presidential bid "tipped the balance of American history — he helped dislodge President George H Bush, my dear friend". He added: "That was a turning point — America became busy domestically, not internationally. Events took place after that which might have gone differently." Mr Perot, the founder of Electronic Data Systems Corporation and Perot Systems Corporation, attracted international headlines when a reef off his estate was blown up without permission so his yacht could be moored closer to his mansion. A later investigation by the Government found that Mr Perot knew nothing of the 1986 destruction and had not authorized it. Sir John said Mr Perot was "a naturally tough man with a big heart". He added that Mr Perot was "put in the forefront" in 1979, just before the Iranian Revolution, when two Electronic Data Systems staff were held captive in the country. Sir John said: "He organised an operation to rescue them, which put him in the public eye." He added: "He was no-nonsense when he was working and could be a lot of fun casually. He and his wife became good friends with me and my late wife." Sir John said: "He was a friend of Bermuda who gave us prominence at a time when Bermuda was on the move. "These are the type of people we can benefit from, that take our message overseas in their sphere of influence." He added: "I extend my sympathies to his family and to Margot in particular." Mr Perot is also survived by the couple's five children.
For more details about this extraordinary man see https://en.wikipedia.org/wiki/Ross_Perot

No order was given to use pepper spray on protesters outside the House of Assembly during a clash with police in 2016, the island's senior policeman said last night. And he denied an accusation that the gold commander at the incident had failed to answer a summons to appear before a parliamentary joint select committee set up to examine the confrontation after a crowd blocked the entrance to the House of Assembly in protest over the public private partnership deal to build a new airport. Commissioner of Police Stephen Corbishley, who took over as commissioner after the protest, said that a finding by a parliamentary joint select committee that officers were told to use their Captor pepper spray misinterpreted video footage from an officer's bodycam. Mr Corbishley added: "The referenced video footage has been mis-characterized as a command and/or an order as distinct from an on-the-spot reaction of one officer to the impending peril that he or she felt alongside the threat fellow officers were facing in the height of the affray that was mounting. The fact remains that the use of Captor spray was an independent decision left to each of the officers in question, a decision that was to be reached based upon their individual assessment of the situation that they were facing at any given time. Public-order policing is a complex issue where there will inevitably be lessons learnt. It is essential to note that the officers involved in this operation faced hitherto unprecedented threats of violence and intimidation from protesters. Officers made independent decisions to use their Captor spray in light of this threat. There is no evidence that a senior command order was made to action this use of force. The finding by the PJSC that 'an order was given to officers to deploy Captor spray' is a central theme of its report. However, the finding is erroneous and there is no evidence to support this." Mr Corbishley said it was "factually incorrect" to suggest that the gold commander failed to comply with a summons to appear before the committee. The gold commander attended at the required time, date and place specified in the summons, but was prevented from having any representation to assist him and advise him on how to deal with the unspecified questions to be presented to him by the PJSC — questions which may well have necessitated the invoking of immunities and privileges in the public interest and the interests of national security." Mr Corbishley said that the PJSC's approach "conflicted with the due process" that should have been observed. He added: "The fact is that the PJSC then released the gold commander from his attendance after he complied with the summons to attend. Subsequently, the gold commander provided, through myself, written answers to all of the written questions thereafter posed by the PJSC." Mr Corbishley highlighted that a report prepared by Assistant Chief Constable Chris Shead on the behalf of the UK's National Police Co-ordination Centre, which has international recognition for its work in investigations of police conduct, was given to the committee. And he underlined the operational independence of the island's police service. Mr Corbishley said: "The NPoCC review, alongside the investigation by the independent Police Complaints Authority, found no evidence to suggest that there was any third party direction given to the Bermuda Police Service in relation to its operational decisions on how to address and deal with the events of December 2, or indeed otherwise. That is because no such direction was given. The conduct of the BPS operation was internally driven through an independent police command structure and in no way was externally influenced. Any suggestion to the contrary is wholly without merit and is incapable of substantiation. Mr Shead's report had contained ten recommendations to improve the Bermuda Police response to public protests and disorder. These recommendations have been addressed and I offered to the PJSC to attend and describe in detail the BPS response to these findings, but this was not taken up. The PJSC report also suggests that I, and the BPS, were uncooperative with its inquiry and that I myself interfered with the process. I disagree with this suggestion and would highlight the extent of the material that was provided by the BPS, including the former commissioner's detailed written statement and the attendance of the former deputy commissioner to give oral evidence, together with my own offers to the committee. Mr Corbishley said the service was preparing "formal correspondence" for Kim Swan, the PJSC's chairman, on the report. He added: "I welcome the overall report and its findings. It is essential that the BPS learn from this event in ensuring that protests in future are lawfully conducted with consistent engagement with the parties involved and that any use of force is minimized. However, it is my position that the officers involved in the events of December 2, 2016 performed their role under extremely difficult circumstances and were professional throughout." Kim Swan said last night: "The report has been tabled in the House and Members will have the opportunity to debate it at that time."

Gay rights activists hit out yesterday after a government backbencher told the House of Assembly that many on the island did not want a Gay Pride march in Bermuda. Adrian Hartnett-Beasley said the speech by Michael Weeks was out of order. He wrote on the Bermuda Pride Supporters Facebook page: "This is why we march. MP Weeks makes it clear that it's not just Pride or marriage equality, it's all that this issue represents ... everything about the LGBTQ community. He even has the audacity to go on to say that he and his constituents understand why we feel underrepresented and unseen and unheard because his constituents are being called out for being homophobic ... hateful ... biased." He added: "Well, if it walks and talks like a bigot ... I surely say it's probably a bigot." Mr Hartnett-Beasley was speaking after Mr Weeks spoke about the Pride event, scheduled to be held on August 31, during the motion to adjourn at last Friday's sitting of the House of Assembly. Mr Weeks said members of the public had told them they were unhappy about the Pride parade and that the voters had made their opinions clear about "same-sex marriage and all it encompasses" in the 2016 referendum on same sex marriage, which rejected gay marriage. The majority of those who voted in the 2016 referendum voted against same-sex marriage and civil unions, but less than 50 per cent of registered voters cast a vote. Mr Weeks told MPs: "I have been approached by many, some of whom are my constituents, who have made it clear to me they are not in support of this kind of event being held on our island. Some have also reminded me of the result of the referendum in 2016 and what that stood for." He added: "Some will argue, that we live in a democracy and if people want to live their lives as such and march, then they have every right to do so and defend it. I venture to say there are some in here tonight, that maintain that view. I understand. Why? Because on that same principle of democracy, those against have the same right to stand and oppose it, without the threat of being bullied into silence or called homophobic, hateful or biased." Mr Weeks also criticized Commissioner of Police Stephen Corbishley, who said he and the Bermuda Police Service would support the parade. He asked: "What message is he sending to the many who oppose same-sex marriage by throwing his support to this event? Should it not be a neutral stance by the Commissioner of Police like the rest of the civil servants are asked to do on a daily basis?" Derrick Burgess, a Progressive Labour Party MP and Deputy Speaker, backed Mr Weeks. Mr Burgess said: "The commissioner, who is here on contract, shouldn't be making the statements he made. He's here for law and order. If he's got those persuasions, I don't have a problem with that there, but he should be neutral. He never took a position and said he was going to come out and support the Labour Day march. He's never supported the Heritage Day march, but he can come out and make a statement about this march, right?" He also criticized TV station ZBM for its decision to air footage of men kissing in their coverage of the parade story. Mr Burgess said: "Some families watch TV as a family. Children there. What message are you sending to our children? My job as a male, as a parent, as a grandparent is to protect my children. When they get of age, whatever choice they make is on them. They are just shoveling it down people's throats." Mr Corbishley said yesterday that he stood by his support of the parade. He said: "As articulated in my comments within The Royal Gazette article on June 25, 2019, the BPS will be supporting Bermuda's Pride Parade, as we represent all communities in Bermuda. We are there to protect people, but also we are there to build confidence and trust."

Bermuda and its people punch well above their weight, a top American diplomat visiting Bermuda said yesterday. Robert Wood Johnson, the United States Ambassador to the United Kingdom, added: "One of the things that I think really surprises an outsider coming into Bermuda ... is the unbelievable capability of this small island. You can't think of anything that's quite like this. Everything that I see is excellent." Mr Johnson was speaking on his first visit to Bermuda as an ambassador, although he has visited in a private capacity. He said that the trip was to "see what's happening ... both on a prosperity and economic side, and also some of what's happening socially". Mr Johnson met David Burt, the Premier, Craig Cannonier, the Opposition leader, and John Rankin, the Governor. He said he had discussed Bermuda's plans for the island. Mr Johnson added that the relationship between Bermuda and the US was "very solid". He said: "I think you would even call it a special relationship." Mr Johnson added that he did not think the UK's decision to quit the European Union would damage links between the US and Bermuda. He said: "Brexit is something that will not affect the long-term relationship, because of the strength, because of the 400-year history." Mr Johnson also met representatives of the island's insurance industry. He said: "I was once again extremely impressed by the talent that you have — both the industry itself, and the governance and the regulators of that industry, I think are world class. You've really got something to be proud of." He added that Bermuda's insurance industry leaders were "looking into the future". Mr Johnson said that the relationship between the UK and the US is "as solid as it has ever been". He added: "I see that up close and personal." Donald Trump, the President of the United States, yesterday said on Twitter that the US "will no longer deal with" Sir Kim Darroch, the UK Ambassador to the US. Mr Trump later said Sir Kim was "wacky" and a "very stupid guy". He added: "I don't know the ambassador but have been told he is a pompous fool." Mr Johnson declined to comment on Mr Trump's views. He said: "That's something that's playing out, and we'll see how that progresses." E-mails leaked at the weekend showed that Sir Kim had called Trump "inept," "insecure" and "incompetent". But Mr Johnson claimed that Mr Trump was viewed "very favorably" in the UK "despite what one might read". He added: "One of my jobs is going around the country — all around the UK — and talking with the people and getting their views. And I hear nothing but positives about the President and what he's accomplished in the US — the growth, the optimism, the jobs." Mr Johnson claimed the favourable opinion was shared by British politicians. He said: "I talk to the leadership quite often, and I hear positive things. They look to what he's accomplished in just a little over two years, and I think they would have liked to have accomplished the same thing." Mr Johnson was nominated by Mr Trump for the job on June 22, 2017. He has served for more than 30 years as the chairman and chief executive of The Johnson Company, and the chairman and chief executive of the New York Jets since 2000. Mr Johnson donated $1 million to Mr Trump's inaugural fund. He said that his close friendship with the President helped him to perform in his post as ambassador. Mr Johnson added: "I've known him for so long — I know who he is and what is he. I can interpret what he is saying. He's misinterpreted quite frequently. Part of what I do is interpret his policy and what he's doing and try to have people understand where he's going, and what he's doing, and why he's doing it."

A man stabbed to death 13 years ago was lured to his death by an ex-girlfriend, a Supreme Court trial was told yesterday. The body of Marcus Gibbings, 32, was found at an apartment at Derwent Lane, Devonshire, on October 26, 2006. Katrina Burgess and Cleveland Rogers are charged with the premeditated murder of Mr Gibbings. Both deny the charge. Larry Mussenden, for the Crown, told jurors that Mr Gibbings, originally from Trinidad, was the ex-boyfriend of Ms Burgess. He said that Ms Burgess and Mr Gibbings were involved in a relationship for "several years" and had lived together "in a few places", including an apartment at 10 Derwent Lane. Mr Mussenden said that on or about October 20, 2006, Mr Gibbings moved out of the apartment and into another he had found earlier that month. He told the court that Mr Gibbings was "lured" by Ms Burgess to meet her at the apartment they had shared "to discuss some things" on the night of October 25, 2006. Mr Mussenden said Ms Burgess was not at the apartment. He added: "When Marcus Gibbings went to 10 Derwent Lane, he met his death. He was ambushed and stabbed multiple times. He was found the next day, late morning, by some coworkers when he didn't show up for work." Mr Mussenden said that Ms Burgess was out in Hamilton with a friend on the night of the alleged murder. He explained: "She stayed at work late, having some drinks with a friend." Mr Mussenden said that Ms Burgess and the friend then went for dinner and drinks in the city. He added: "We say that what she was doing was establishing an alibi, having lured Mr Gibbings back to the apartment where he was killed. We say that Cleveland Rogers was the man that ambushed him and stabbed him to death." Mr Mussenden told the courtroom that Ms Burgess and Mr Rogers were half-siblings. Constable Eric Woods, a crime scene investigations expert, told jurors that he had taken photographs and video footage at 10 Derwent Lane in the days after Mr Gibbings's murder. The court heard that fingerprints were taken from items in the apartment and some pieces of furniture were taken to be examined. The jury saw pictures of red stains at the entrance to the apartment and Mr Gibbings's body lying on the floor. Mr Woods said he had also taken photographs at a post-mortem examination performed on Mr Gibbings at King Edward VII Memorial Hospital. The trial continues.

The owner of a Bermuda- based international life insurance company wanted on allegations of misuse of millions of dollars of investors' money was arrested yesterday in the Netherlands. An international manhunt was launched for Ramesh Dusoruth, beneficial owner of St George's Ltd, after he failed to appear in Magistrates' Court in March to face the allegations. He was arrested after an Interpol red notice was issued and police in Bermuda are now liaising with the Dutch authorities to have Mr Dusoruth returned to Bermuda. Acting Detective Superintendent Nicholas Pedro said the arrest came as a result of good teamwork between Bermuda police officers and their international counterparts. He added: "In today's world of transnational organised crime, the ability for law enforcement to co-operate globally sends a clear message that one cannot easily hide from justice and accountability." Mr Dusoruth faces a charge of fraudulent inducement to deposit or invest and another of transferring criminal property. He is also charged with three counts of transmission of false information to the Bermuda Monetary Authority. Mr Dusoruth was known to have business interests in Cyprus, Malta and the Netherlands and has homes in London and Antwerp in Belgium.

Boutique global insurance and reinsurance broker i-intermediary Ltd, has had its registration confirmed by the Bermuda Monetary Authority. It is the third broker registered with the BMA this year. The company is backed by Bermuda-based specialty insurance investor Primary Group, and offers reinsurance placements, insurance placements for MGA's, in-house reinsurance capacity and access to investment capital. Its chief executive officer is Michel De Lecq Marguerie. During June, the BMA also confirmed the registrations of Daiichi Sankyo Reinsurance Limited, a Class 1 insurer; Trivision Reinsurance Company Ltd, and Sugaree Insurance Company Ltd, both Class 2 insurers; Oswals Affinity (SAC) Ltd, a Class 3 insurer; and Canopius Reinsurance Limited, a Class 3A insurer. In addition, Trivision Reinsurance Company Ltd, had Class B registration confirmed; and HSBC Insurance SAC 1 (Bermuda) Ltd, had Class A registration confirmed. There were two SPIs with registrations confirmed in June, and one agent, Arch Credit Risk Services (Bermuda) Ltd. For the year to the end of June, the BMA has confirmed new registrations for 32 insurers and five intermediaries.

A New Jersey man was fined $16,000 after he offered to pay off a customs officer who found drugs on him. Paul Rodrigues, who is understood to be a prison guard in the United States, admitted having a quantity of tetrahydrocannabinol, the active ingredient of cannabis, destroying evidence and attempting to bribe a customs officer in Magistrates' Court on June 28. The cruise ship passenger was arrested on June 26 in Sandys after the drugs were discovered. The court heard that Rodrigues asked a temporary customs officer to discard the drugs found on him, and said: "I'll even splash you some cash." He was also able to destroy a quantity of "lemon lightning" vaporiser cartridges by pulling them from a sealed evidence bag and flushing them down the toilet. Senior magistrate Juan Wolffe fined Rodrigues $10,000 for attempting to bribe a customs officer and another $5,000 for his attempt to destroy evidence. He additionally was fined $1,000 for the importation of a controlled drug. Mr Wolffe ordered Rodrigues to pay the full fine before he is able to leave the island.

July 9

Progressive Labour Party backbenchers have called for a fresh discussion on independence. Walton Brown said the need for a debate had become more important because the British Government had forced social and financial policies on Bermuda. He told the House of Assembly last Friday: "Since 1999, we have had the UK Government devolving power back to itself and we have had a series of challenges in that regard. We have the UK Government putting pressure on us to do things in our social policies that we have resisted, we have had pressure in terms of financial disclosure that we are resisting and need to continue to resist." Mr Brown said: "We have to fight this onslaught of the UK Government as much as we can. It is untoward, it is inappropriate and it is highly offensive and we need to come together to address this issue." He added: "I know there is a lot of fear out there just to raise the topic itself, but we should have no fear of such an important issue. We should take the bull by the horns and address the issue forthrightly." Backbench colleague Rolfe Commissiong backed Mr Brown's views and said the subject of independence was far from dead. Mr Commissiong added: "In many ways it's maybe even more relevant now for due consideration than it has been for the last one or two decades. It may indeed be time for that topic to come back upon the national stage for a new generation to join us old folks in examining the issue." Mr Commissiong added independence would create a "truly national identity" and "real citizenship" for Bermuda.

A six-man Wage Commission set to establish a Bermuda Minimum Wage will include two ex officio members from the ministries responsible for labour and finance. The news came as legislation to set up the commission was tabled on Friday in the House of Assembly. Its main functions under the Employment (Wage Commission) Bill 2019 will be the recommendation of a minimum hourly wage and a living wage, as well as the pay period to which they would apply. The commission will also be given the power to carry out inquiries and conduct research for a report. The legislation defined a living wage rate as the income necessary for an employee and their household to enjoy "a socially acceptable standard of living" that covers essentials such as food, clothing, housing, medical and childcare, and transportation.

An investigation into delays in the payment of compensation to victims of crime is at the "fact-finding stage", it has been revealed. Victoria Pearman, the Ombudsman, said "that the potential harm of maladministration at the Criminal Injuries Compensation Board was grave enough ... to pursue inquiries with the Ministry of Legal Affairs on the board's administration". Ms Pearman noted that the ministry was told last December that an investigation into the CICB was to be launched. She added that she would not be in a position to decide if the findings of the investigation would be made public until it was finished. Ms Pearman said: "The investigation remains in the fact-finding stage." She added that she launched the inquiry after she "grew concerned" that the victims of crimes and their families were facing "long periods — sometimes years — of uncertainty" as they waited for the CICB to make determinations on applications it received. Ms Pearman said: "Some victims had suffered injuries that prevented them from working on a full-time or part-time basis. For the Ombudsman, it is in the public's interest to investigate possible maladministration that impacts vulnerable members of our society, such as the victims of crime." She became aware of the problem last October through a news story published in The Royal Gazette. The article highlighted the fight by a former construction worker who was shot several years ago to get a CICB hearing. Victims of crime can apply to the CICB for compensation on several grounds, including coverage for expenses related to their injuries and for financial loss because of a total or partial inability to work. The maximum payout for a claimant is $100,000. The CICB was established by the Criminal Injuries (Compensation) Act 1973. The Ombudsman's office last year handled 309 cases, including 166 new complaints and 98 new enquiries. A total of 45 complaints remained open from the previous year. The Ombudsman Act 2004 requires that the Ombudsman submit an annual report to the Speaker of the House, with a copy to the Governor and the President of the Senate, within the first six months of the year.

The government body set up to compensate victims of crime has failed to reveal the size of its "serious backlog" of cases under public access to information. The Criminal Injuries Compensation Board told the Court of Appeal last November that it had 37 outstanding applications from those who have lost a loved one or been injured themselves because of a violent crime. But the board was criticized by the panel of judges for failing to provide enough detail on whether most cases were dealt with in a timely fashion. Now the board has sidestepped a Pati request from The Royal Gazette, which asked for records "showing the number of outstanding applications to the CICB — ie, claims received that have not been processed yet — and the dates on which those applications were submitted". The board's administrator said that it met four times in 2017 and considered 39 applications and met only once in 2018 and considered 17 applications. The response did not reveal how many victims who have applied to the board for a payout were still waiting on a decision and how long they had been in the queue. The administrator wrote: "Following 2016, 2017 and 2018 reviews of all outstanding applications, clear administrative instructions were issued by the chairperson to the appointed administrative officer assigned, for the time being, to carry out duties in relation to each outstanding CICB application filed." The Royal Gazette reported in October that a gunshot victim who suffered permanent injuries that hampered his ability to work had been waiting for three years for an answer from the board, despite at least 15 attempts by his lawyer to find out when his claim would be heard. The story sparked an investigation by Victoria Pearman, the Ombudsman, into possible maladministration. In a separate case, which went to the Court of Appeal, the judges heard how Lionel Thomas, another firearms victim, applied for compensation in October 2014, but did not get a decision until March 2018. He was awarded $5,750 but the appeal judges increased that to $10,000 plus $1,500 in legal costs. Appeal judge Maurice Kay criticized the board's failure to fulfil its statutory duties in the court's ruling. The judge wrote: "It appears that no annual reports have been submitted to the Attorney-General for the years 2016 or 2017 and nor is there any plan for disposing of the serious backlog of claims. If the Government is to provide a scheme for the compensation of the victims of crime, as it currently does under the Criminal Injuries (Compensation) Act 1973, it must be properly funded with adequate administrative support. This is ultimately the responsibility of the Attorney-General." The Royal Gazette also asked the CICB for the annual notices that listed the members of the board between 2010 and 2017, but was only provided with the most recent notice, from August last year. The board's membership is chairwoman Puisne Judge Nicole Stoneham; deputy chairman Michael Scott, a Progressive Labour Party MP and lawyer; doctors Panagal Chelvam and Kyjuan Brown; and lawyers Tawana Tannock and Paul Wilson. The administrator wrote that the last time an annual report was submitted to the Attorney-General was in April 2016. The CICB was asked for the dates on which the board had met since January 1, 2017 and minutes of the meetings. The administrator said that no minutes were taken at CICB meetings. He added: "The board was properly organised as of January 1, 2018. The board simply did not meet to consider their application during the eight-month period January 1, 2018 to August 2018." He said that no fee payments had been made to board members from January 1 this year to date. We have asked Mrs Justice Stoneham to review the Pati decision. The Royal Gazette sent board members e-mailed questions on Thursday, when we asked for the number of outstanding applications for compensation. We also asked why they met only once last year and whether they had received any payments for sitting on the board. Ms Tannock was the only one to acknowledge the email but said she was not in a position to respond as she was off the island. She added: "I will ask that your e-mail be forwarded to the appropriate party." Mr Scott raised the e-mailed questions during the motion to adjourn in the House of Assembly last Friday. He said the newspaper already had "answers to all" the questions about payments to the board and should not have used Pati-gained information to put "these kinds of questions" to him "along with dozens of other questions". The former Attorney-General said: "This whole Pati-Royal Gazette dance that's going on is getting a bit sick, really, and I call on ... The Royal Gazette just to stop it. To just stop it. I don't intend to answer you." Shadow Attorney-General Scott Pearman highlighted the CICB in Parliament in March and asked for an update on the "considerable backlog" of cases. Kim Wilson, the health minister, referred his questions to the board chairwoman. Mr Pearman said: "I accept that it is a statutory board, but my understanding is that it is also an appointed statutory board and, therefore, there is an oversight function. And sometimes if people are not meeting, people need to ask them why they are not meeting." Kathy Lynn Simmons, the Attorney-General and Minister of Legal Affairs, did not respond to a request for comment by press time.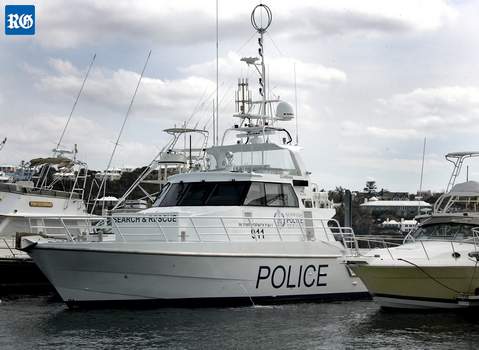 The white elephant flagship of the marine police has been sold at a knockdown price, The Royal Gazette can reveal. The Australian-built patrol boat MV Guardian was bought almost 13 years ago for $1.7 million. But, after it spent much of its career tied up at Dockyard, the 54-foot search-and-rescue vessel is now in private hands. It is understood the boat, designed for a crew of four and up to eight passengers, was bought by Crisson Construction for less than $70,000 — a monumental discount of more than $1.6 million on the original cost. The high-tech vessel, capable of traveling more than 200 miles out to sea, was put up for sale with no reserve price. It was put on the market in December and a police spokesman said that "the cost of maintaining it outweighs the benefit of retaining it". The Guardian was bought by the Bermuda Police Service in 2006 to replace the old Blue Heron. The boat was berthed in Dockyard, where it required regular maintenance because of its complex electronics. The Guardian was used for anti-drug patrols and served as a command platform for large events such as the America's Cup, the Non-Mariners race and major holidays such as Cup Match. But problems with the boat included high overtime costs for long patrols and inadequate pilot training for police, which kept the boat in dock for long periods. The Royal Bermuda Regiment is also expected to take over the maritime security role from the police in the near future. Charles Crisson, the head of Crisson Construction and Crisson & Company Real Estate, declined to comment yesterday and the police did not respond to a question on the sale price of the boat. The Guardian is part of a class of offshore patrol boats designed for the New South Wales Water Police in Australia. It was intended to become Bermuda's main search and rescue and surveillance vessel. The boat has a range of about 230 miles and high-tech communications equipment, including GPS. The Blue Heron was only equipped with radar and a radio. The Guardian suffered technical problems only months after it arrived and the Government said in 2008 that the boat was rarely used. The Royal Gazette reported at the time that the vessel had been out of port for fewer than two days a month, partly because police officers were not comfortable piloting it due to a lack of training. The Government came in for more criticism when it was revealed the boat was taken out of the water as Hurricane Bill approached in 2009. But the police said the boat was never intended to be used during hurricanes. A police spokesman said last night: "The Bermuda Police Service can confirm that MV Guardian was recently sold through a government tendering process."

More than 250 gospel singers from around the globe entertained crowds in Hamilton yesterday. Visitors from the United States, Caribbean, Britain and Africa sang on the steps of City Hall to celebrate the 49th Annual Caribbean Lectureship. It is the first time Bermuda has hosted the event, which is held in a different location each year. Gladys Miller, 55, travelled from the Bahamas to attend the conference. She has attended more than 20 of them. She said: "As long as I am alive, I wouldn't miss it." Ms Miller attended the conference with members of the congregation from the Church of Nassau and has visited the United States and Caribbean countries. This was the first time she has visited Bermuda and she has enjoyed the trip. Ms Miller said: "The people are friendly and it's easy to get around. The heat is about the same, but when I came I wasn't expecting so many bikes and large buildings." The conference, held at the Fairmont Southampton, started on Sunday and ends tomorrow. About 580 people attended the first day, including David Burt, the Premier. Bruce McLarty, 62, the president of Harding University in Arkansas in the US, was invited to give a lecture at the opening ceremony. He said that it was an "exciting experience" because it was his first time at the conference. Dr McLarty said: "It was an honour and a great start — I couldn't have asked for better." It was the first time he or his wife Ann had been to Bermuda. Dr McLarty said: "People here have been so incredibly friendly and welcoming. It's just a joyous and sweet experience." He added: "Because it's here in Bermuda, a large portion of the people are from here, so we get to experience a bit of that culture. I'm glad to be here for the conference and I look forward to coming back sometime when we're just on vacation."

Local charities have reaped a surprise bonus from this year's donations from the Bermuda End-to-End event. Four good causes were expected to get $30,000 each from the annual walk — but the figure was boosted to $45,000 apiece because of the high level of support. This year's charities were WindReach, an outdoor centre for the disabled; Age Concern; Friends of Hospice; and young people's development organisation Raleigh Bermuda. The charities were given their cheques at a presentation ceremony at the Hamilton Princess & Beach Club. The total raised for charity by the End-to-End over 32 years now stands at almost $6m. Anne Mello, the chairwoman of the Axa End-to-End, said planning had already started for the 33rd End-to-End next year. She added: "I am so happy to be able to donate this extra money and I cannot thank enough those who took part as well as our extremely kind and generous sponsors." Ms Mello thanked title sponsor Axa XL, an insurance giant, platinum sponsor Deloitte, a professional services firm, and gold sponsors eMoo Online, a sister company of The Royal Gazette, and the Hamilton Princess & Beach Club. Patrick Tannock, the president of Axa XL's philanthropic arm, the XL Foundation, said: "As the title sponsor of the End-to-End for more than a decade, we are extremely pleased to see that this monumental fundraising event has stood the test of time in bringing together every sector of our community to benefit those most in need." Anna Burns, a partner at Deloitte, added: "It provides Deloitte Bermuda with the opportunity to collaborate with those of remarkable passion and ability to raise funds each year for worthy local charities and in doing so, making an impact that matters to our society as a whole." Michael Grier, the commercial director at BP Media, which runs eMoo, said: "eMoo is thrilled with the fundraising success of this year's End-to-End. As an organisation that serves the Bermuda community, we're proud to support such a great initiative that benefits our fellow residents. Our eMoo mascot, Emma, had a wonderful time cheering and congratulating event participants and is honoured to have won the End-to-End Team Spirit Award." Mr Grier added: "We look forward to supporting again in 2020 and hope that more sponsors will join us." Tim Morrison, general manager at the Hamilton Princess & Beach Club, said the resort was "delighted that the End-to-End has raised such an incredible amount of money for four vital charities".

A World Bank report on waste management has found that Bermuda produces more waste per head than any other country. Bermuda topped the world in per capita waste creation, with an estimated 4.56 kilograms a person every day. But those figures were rooted in an estimation — based on 2012 figures — that the island would have a population of 62,000 and produce more than 100,000 tonnes of waste in 2016. Anne Hyde, executive director of Keep Bermuda Beautiful, said Bermuda does produce a lot of waste per person, but that the situation had improved. Ms Hyde said: "We do probably throw out an awful lot. If you went down to Tynes Bay and saw what people are throwing out instead of donating or passing on, you would be shocked. But I think more people are getting a better understanding and we are beginning to have a swing in a good direction. We are becoming more educated about it. We are in the middle of a gyre and we see what gets washed up on our shores. We are seeing more trash coming from other countries and it's something that brings the message home. Single-use containers had become a problem, but increased awareness around the world had helped make progress. I think in modern society there has been more and more availability in the market of disposable, single- use things and we are combating that." She added that Bermuda was already ahead of many other countries in how it handled its waste with the Tynes Bay waste to energy plant, but further progress could be made. The report found the North American region — Bermuda, Canada and the United States — produced the most waste per capita. It said: "All three countries in North America are high-income nations, and as such, waste management and disposal practices tend to be advanced relative to global trends. Waste management systems generally operate in an environmentally sound manner, have high capacity, serve nearly all citizens and enjoy more consistent financial stability and fee collection than systems in lower-income countries." The report relied on 2012 figures that Bermuda had a population of 64,798, and produced 82,000 tonnes of waste. Based on those figures, the report writers estimated Bermuda's population would fall to 62,000 while the amount of waste produced in Bermuda would increase to 102.261 tonnes. But the 2016 Population and Housing Census said Bermuda had a population of 63,779 in 2016. The 2017-18 Budget Book recorded that Bermuda incinerated 58,000 tonnes of waste in the 2016-17 budget year at the Tynes Bay waste to energy plant. Another 1,020 tonnes of recycling was collected, along with 600 tonnes of e-waste. The report said: "As an island state with high tourist activity, Bermuda is the highest waste generator per capita in North America. Canada generates the least amount of waste, although it is not far behind the United States on a per capita basis." The study found the world averaged 0.74kg of waste per head a day, while in the North American region, residents produced an average of 2.21kg of waste a day. The study stated that in 2012, Bermuda's 64,798 people produced 82,000 tonnes of waste — 1.2 tonnes per person. The writers found the countries with lower incomes generated less waste per head and sub- Saharan Africa produced the least.

An Irish company is to install an aeration system in the slurry pit of a farm at the centre of a row over bad smells and pests. Green Land Dairy Farm in Smith's said Dairy Power Equipment had been recruited to install a new system in its manure pit in an attempt to cut down on foul odors, which have annoyed neighbours. Lidia Medeiros, who runs the farm with husband, Valter, said she was confident the new system would solve the problem. She added: "According to the engineers, this is what the farm needs. We are in the process of finding out lead times. They are coming from Ireland and they have all the dimensions. The application for planning is in and we are waiting." Ms Medeiros said: "It is an aeration system that will be built into the pit. There will be a top on the pit, but it will not be completely sealed — you can't seal it because it is toxic and is explosive. The system is supposed to eliminate 50 to 60 per cent of the odor." Ms Medeiros admitted: "It will never take away the smell of the farm, but it will minimise the odor coming from the pit. We are very happy with the engineer and how he came up with that system. It is a better system and is fairly cost effective. It may take a few months. It could be less, but I can't say for sure." The couple were ordered by the Government to come up with a solution to the smell problem by June 30. The deadline was imposed after 500 complaints about the stink from the manure pit, which residents said had caused infestations of flies, rats and pigeons in the area. A government spokeswoman said that the Department of Health and the Department of Planning had a revised planning application, which was being reviewed. The pit was built to hold manure and urine from the farm's 100-plus cattle. Nearby householders have complained about problems with the farm for more than two years and threatened legal action if the deadline was not met. Allan Pelvang, who lives near the farm, said he was pleased by the news. But he added: "The proof is in the pudding. We are excited that something is happening. When it is all operational, it will be a case of testing whether it is effective. No one expects there to be no farm smell, but we are looking for a material improvement."

July 8

The Bermuda Government has issued draft general principle guidance notes to assist members of the business community in understanding how to satisfy the requirements of the island's economic substance legislation. The notes also provide guidance regarding how the Registrar of Companies will measure and assess the criteria for meeting the ES requirements. The Economic Substance Act 2018 became operative on December 31, 2018. The purpose of ES laws in Bermuda is to "ensure that Bermuda does not facilitate the use of structures which attract profits but which do not reflect real economic activity that is being undertaken in Bermuda". The legislation was enacted in the face of pressure by the European Union's Code of Conduct Group, made up of tax officials from EU countries. Bermuda promised to pass legislation to address the group's concerns about tax avoidance by multinational companies. Entities incorporated, formed and/or registered in Bermuda that are engaged in a "relevant activity" are subject to the ES requirements. The "relevant activities" are banking, insurance, fund management, financing, leasing, headquarters, shipping, distribution and service centres, intellectual property, and holding entities. An entity will meet ES requirements if it is managed and directed in Bermuda, its core income-generating activities are undertaken in Bermuda, it maintains an adequate physical presence in Bermuda, there are adequate full-time employees in Bermuda with suitable qualifications, and there is adequate operating expenditure incurred in Bermuda in relation to its "relevant activity". Entities licensed under the Insurance Act 1978 and the Banks and Deposit Companies Act 1999 "are generally considered to operate in Bermuda with adequate substance", according to the guidance notes. An entity may be subject only to "minimum economic substance requirements", the notes say, where the entity is a "pure equity holding company" or is a local entity. All entities must file an annual declaration with the Registrar, which will "take a practical approach to the interpretation and application of the ES requirements". Further, the Registrar "will have regard to the nature, scale and complexity of the entity's business, and will apply criteria such as 'adequacy' in that context." When considering whether an entity is "managed and directed in Bermuda", the guidance notes say the Registrar will assess whether the entity holds meetings in Bermuda where strategic or risk management and operational decisions are made, and has an adequate number of senior executives, employees or other persons in Bermuda who are suitably qualified and responsible for oversight or execution of the entity's core income-generating activities. Those meetings, the notes say, "may include board meetings, managers' meetings and partnership meetings in the case of companies, LLCs and partnerships respectively, as well as senior executive/management and committee meetings". The Registrar "would normally expect at least a majority of such key meetings to be held in Bermuda". However, "it is not always necessary for all such meetings to be held in Bermuda or that the quorum always be present in Bermuda, where the circumstances of the entity reasonably require the holding of some meetings outside of Bermuda (provided that the entity is able to evidence such circumstances)". The core income-generating activities of an entity in respect to any "relevant activity" must be undertaken in Bermuda, the guidance notes say. Where those activities are outsourced or undertaken by an affiliate of the entity, they must also be undertaken in Bermuda. The requirement that an entity has an adequate physical presence in Bermuda "does not imply a positive obligation on an entity to acquire or occupy premises if no such premises are reasonably required for the business of that entity", the notes say. "If the entity, either itself or through monitored outsourcing arrangements with a service provider or an affiliate, has an adequate physical presence in Bermuda to undertake the relevant activity, this requirement will be satisfied." An entity must incur adequate expenditure in Bermuda, the notes say, in relation to the relevant activity it is engaged in. Expenditure must be adequate "relative to the core income-generating activities undertaken in Bermuda and proportionate to the nature, scale and complexity of the business of the entity". Such expenditures will be expected to include business expenses, fees, goods, services and employment costs paid to individuals or entities located in Bermuda, the notes say. The requirement that entities in Bermuda should have adequate full-time employees with suitable qualifications in relation to its relevant activity "does not imply a positive obligation on an entity to hire full-time (or any) employees if no such employees are reasonably required for the business of that entity", the notes say. If an entity itself, or a service provider or affiliate of the entity, "has adequate employees to carry on the relevant core income-generating activities, this requirement would be satisfied". Moreover, the notes say, "a 'full-time' employee does not necessarily mean an individual working on a full-time basis in connection with a relevant activity. The staffing requirement may only need a portion of an employee's time to fulfil the requirements of his/her function in order to be adequate". Where directors of an entity, or their equivalent, perform core income-generating activities for the entity, in addition to executing their fiduciary duties, "this will result in the reduction or possible elimination of the entity's need for full-time employees or an outsourcing arrangement. In such cases, the Registrar may consider evidence of the core income-generating activities performed by the directors in Bermuda". An entity may outsource its core income-generating activities to an affiliate or service provider provided those outsourced activities are undertaken in Bermuda, the notes say, and several other conditions are met. An entity that establishes to the Registrar's satisfaction that it is resident for tax purposes in a jurisdiction outside Bermuda will be considered a non-resident entity and therefore outside the scope of the ES requirements provided that jurisdiction is not included in Annex 1 of the EU's list of non-cooperative jurisdictions for tax purposes, the notes say. Where an entity does not satisfy the ES requirements in respect of its "relevant activities", or is engaged in a "high-risk IP-related activity with an affiliate outside Bermuda", the guidance notes say the Registrar must provide to the Minister of Finance a copy of the entity's declaration form and related information. The Registrar is also obliged to send to the minister evidence of a non-resident entity's claim to be tax-resident elsewhere. In both instances, the minister must provide that information "to his counterpart in the relevant EU member state or other jurisdiction in which the relevant entity or non-resident entity has its holding entity, its ultimate parent entity, an owner or beneficial owner, or where the relevant non-resident entity claims to be resident for tax purposes". The Registrar has a duty to ensure that every entity satisfies ES requirements. Sanctions for non-compliance include an escalating series of civil penalties and, ultimately, the Registrar's power to apply to the court for an order to regulate the conduct of the entity's business, or restrict the entity from carrying on business, or authorize the Registrar to take proceedings under the relevant legislation, including strike-off. For the purpose of determining whether an entity has complied with ES laws, the notes say, the Registrar "will consider whether that entity has followed the principles" set out in the guidance notes. However, the notes warn, they "are not intended to be prescriptive or to provide an exhaustive list of all matters that an entity should consider when assessing compliance with the ES laws". The Registrar will have an e-registration system to accept and manage information and data collected pursuant to the ES laws. That system is scheduled to launch in the second quarter of 2020, the notes say. Government says that additional sector-specific guidance notes will be circulated after further consultation with representatives of each specific sector. Those notes will provide further detail with respect to the application of the adequacy test to particular "relevant activities", the notes say. In the meantime, Government invites comments/feedback on the first draft notes no later than July 26 at esguidancenotes@gov.bm. That date is some 25 days after the original deadline set for compliance with the ES laws.

MPs agreed the Government's performance had to be improved as they debated the findings of a bipartisan Efficiency Committee on Friday. But the two sides clashed on the $122,000 paid to members of the committee, which the Opposition said should have been declared at the start of its work. Wayne Furbert, the committee chairman, told the House the committee had recouped $12 million and found $354,972.90 of uncashed cheques in a desk at the Office of the Tax Commissioner. He said $315,579.77 of those funds had been recovered by May. Mr Furbert said: "Most of the cheques sitting in drawers were made by law firms for clients. They are supposed to keep [the money for] their cheques in a trust account so they could not tell us they didn't have the money. That's why we were able to collect most of that money quite quickly." He also told the House that the tax commissioner's office had an $8 million backlog in stamp duty. Mr Furbert said that a lack of staff had presented the office with challenges, but by filling vacant spaces the Government was able to recover more than $3 million in old debt. He said there remained an issue with companies — particularly construction companies — who had not paid their payroll tax. Mr Furbert said: "One particular construction company owes $1.9 million. The courts ordered that they pay $500 per month. It would take 360-some years for them, their children, their grandchildren and their great-grandchildren if they were liable to pay for it." He told the House that the Government's complicated approach to alien licences — required for non-Bermudians to buy land — had potentially cost the Government millions because potential buyers became frustrated. Mr Furbert added that efficiency improvements had to be a continuous process. "It's not about trying to blame one particular government or minister or individual. Efficiency can be improved overall from time to time. The things we put in place for efficiency will one day become inefficient because things change. It's important that we all continually look at improvements. There is still a lot more to be done." Craig Cannonier, the Opposition leader, said the Government needed to find ways to improve communication between departments. He said that performance appraisals were not carried out in some areas of departments and more training was needed — particularly in the area of those who make purchases. Mr Cannonier said that as a minister he discovered parts in storage that had been ordered by mistake and were completely unusable. He said: "We couldn't put them in anything in Bermuda. How we wound up with them, I have no idea. I was shocked. I have no idea if it started under the UBP or the PLP. All I know is it's a problem and we need to get right on to these things." However, he and several other OBA MPs challenged payments issued to Mr Furbert for his work on the committee and claimed it had not been declared at first. Mr Cannonier said: "The scrutiny on the minister was because he hadn't declared it. When it was declared, we found out it was even more money than was initially said. A number of $60,000 was put out at the time — not by himself — but it came out in Parliamentary Questions when you looked at the dates, the period of time was longer than was stated and it was more than was anticipated." But Derrick Burgess, the Deputy Speaker, said the cost of the committee was "money well spent". He also suggested the Auditor-General take a look at the Office of the Tax Commissioner after the discovery of the uncashed cheques because such a thing should never have happened. Mr Burgess said: "That office has got to be very proficient. We are talking about government money. This is something that is not acceptable. If this was a private company the entire department would be let go, along with the CEO." Mr Burgess also said that overtime across the Government needed to be monitored. He told the House: "Some people know how to create their own overtime. A lot of department heads in government are not managing the way they should and they need to pick it up."

Long-awaited legislation to encourage superyacht visits to Bermuda has been applauded by the Bermuda Tourism Authority. Kevin Dallas, the BTA chief executive, said the Superyachts and Other Vessels (Miscellaneous) Bill 2019 tabled in the House of Assembly on Friday could support a branch of tourism primed for growth. Mr Dallas said: "It drives fresh opportunities to our stakeholders and partners, including Bermudian entrepreneurs who will service this high-end tourism sector as it grows. Not only do the vessels consume high volumes of products and services locally, but our research indicates their captains, crews and charter guests spend far more per person than any other kind of visitor — benefiting our economy, from retail and restaurants to small businesses like taxi operators, chefs, and florists. Mr Dallas added: "After the America's Cup, we highlighted a new legal framework for superyachts as critical to the advancement of Bermuda's tourism economy. We applaud legislators for moving in this direction and look forward to the realization of this AC35 legacy because it makes Bermuda more competitive with other jurisdictions, stimulates spending in the local economy, and creates increased job opportunities for Bermudians." The Bill, as tabled, creates new transit and cruising permits for pleasure craft and superyachts, along with charter permits for superyachts. It also removes passenger departure tax for pleasure craft. Similar regulations designed to allow superyachts to charter out while docked in Bermuda were relaxed for the America's Cup, but the changes were temporary and ended with the conclusion of the competition. The BTA previously expressed hope that the superyachts — which can each pump as much as $127,000 a week into the economy — would make Bermuda a regular stop.

Records of the Financial Policy Council will be exempt from public access to information requests if newly tabled legislation is passed. Gitanjali Gutierrez, the Information Commissioner, said the move would mean the council would be the first financial public authority whose non-administrative records were removed from Pati. A statement from her office said: "It is the Information Commissioner's view that records related to the financial and economic interests of Bermuda are already adequately protected under existing exemptions under the Pati Act, including section 31. This section protects the disclosure of records which could have a serious adverse effect on the financial interests of Bermuda or on the ability of the Government to manage the national economy, unless their disclosure is in the public interest." The statement said that in jurisdictions such as Britain, records related to financial operations or monetary policy were exempted from public disclosure, but such exemptions were balanced by a "formal transparency governance framework" to ensure appropriate information was made public. The statement added: "It is the Information Commissioner's view that, from a public access to information perspective, the proposed framework for the Financial Policy Council does not meet the same standards as the formal transparency governance frameworks adopted by other jurisdictions, including the United Kingdom. If the Amendment Bill is adopted as proposed, the Information Commissioner strongly urges that it be supported by a robust and formal transparency framework for the Financial Policy Council, to ensure that the public's right to access information is protected." The Public Access to Information Amendment Act 2019, tabled in the House of Assembly on Friday would put any records obtained or created by the Financial Policy Council outside of the scope of Pati requests. Legislation already exempts records of the Auditor-General, the Ombudsman, courts and tribunals, and the Attorney-General's Chambers from Pati. The ICO statement said: "The functions of those public authorities fall into three categories; oversight over other public authorities, judicial functions and the provision of legal advice to the Government. The Information Commissioner notes that the Financial Policy Council does not fall into the above categories, nor are its functions and responsibilities outlined in any provision of law."

The build-up to a confrontation at a December 2, 2016 demonstration against the new airport plan outside the House of Assembly was outlined in evidence to a parliamentary joint select committee set up to look at the background of the clash. A police officer said he feared for his safety during the protest and afterwards. Constable Dominique Simons gave written evidence about his time on the police front line from 7am on December 2 three years ago at the South Gate to Sessions House for a report released last Friday. He told the committee: "The whole situation was unreal. I was fearful not only for my own safety, but the safety of the other police officers." Mr Simons said it was the first time in his police career where a situation had "demanded the deployment of Captor". He added: "Since this incident, I am constantly looking over my back in case people try to attack or kill me." Mr Simons said that a small crowd had gathered by 8.30am to block access for government staff. He added that he saw an assault on Inspector Scott Devine at about 10am when a man in the crowd, Edmund Smith, hit the officer on the legs with a stick and was arrested. He said: "Several of the protesters pointed at me and called me skinny, nerd and made comments about how they couldn't believe I was a police officer because of my size." Mr Simons detailed the advance of the Police Support Unit on the crowd that had blocked the South Gate at 1pm. He said protesters ignored orders to disperse, linked arms, and resisted efforts to move them. Mr Simons added that his training suggested that Captor pepper spray "was now necessary in this situation", as the crowd's behaviour was "escalating and becoming more aggressive". A female protester who had held on to the gate fell on her back after an officer pulled her off. Mr Simons said he used pepper spray on two separate men who had grabbed officers by their jackets as the confrontation grew worse. Mr Simons added that he "reassessed the situation and put my Captor away" as aggression increased and police abandoned an attempt to force their way through the protesters. He said: "Several members of the crowd identified me as one of the officers that deployed Captor and began pointing and shouting at me, threatening to kill me in various ways. They shouted that I was going to get shot, I was going to get beat up, I was going to be sprayed with Baygon and set on fire." Mr Simons added that another man told him he would "throw acid on me and have his sons beat me up". Mr Simons said he had turned in his Captor spray as evidence at Hamilton Police Station. The mother of a female MP said she feared for her daughter's safety after she saw her being assaulted. Deborah Brown, the mother of One Bermuda Alliance MP Nandi Outerbridge gave a police statement on the events when she took her daughter in her work van to the House of Assembly. Ms Brown said at first "things were still calm", but protesters shouted: "Surrogate, go across the other side" when Ms Outerbridge left the van. Ms Brown said she spoke to Jason Hayward, the head of the Bermuda Public Services Union, and a family member. She added: "It was at this time I heard Nandi's voice saying 'Take your hands off me'." Ms Brown said she stood between the crowd and her daughter until police intervened. She added: "I went home and felt hyped by what had happened. I never thought I would witness my daughter being assaulted, just for her trying to do her job and go to the House of Assembly." One protester told the committee that he struggled to breathe after he was hit in the face by pepper spray. Dornielle Farrel said in a written statement: "I have no problem with a new airport but I am definitely not happy about the whole situation and the way it came about." He added that "riot police" approached the South Gate at about 1pm and started "pushing and pulling people away from the gate". Mr Farrel said he saw a female bus driver fall and went to help, but "another lady was squashed up against the wall, and she grabbed hold of me and asked me to get her out". He added: "At this point my hoodie fell forward and suddenly I saw two canisters, and I was sprayed straight in the face." Mr Farrel said he "immediately" started to retch and when he tried to cover his face, he was sprayed again. He added that a police officer pulled him from the crowd as he fought for breath. Mr Farrel said he had to throw away the clothes he was wearing "because the pepper spray didn't come out". He added: "I do not feel the actions of the riot police were justified as we were not protesting violently at any point." Statements from police, protesters, MPs and members of the public were taken for the special report by the JSC. An anonymous witness told the committee she could not "walk or drive by Parliament Street without feeling traumatized all over again". The statement of Constable Marina Jean-Pierre said she saw "a large crowd about 200 or more persons, shouting and ranting". She said she was in a state of fear as the crowd pushed back. Ms Jean-Pierre added: "At this point I felt I was in harm's way. We were outnumbered by far and our goal was unachievable." Twenty statements by police are included in the annexes of the report; most of them from officers.

Leaders of both political parties have traded punches over people who did not give evidence to a committee that examined a 2016 conflict between police and protesters. Premier David Burt said a lack of co-operation from the police had "deprived" the public of the full details of the clash outside the House of Assembly. Mr Burt said: "It is disturbing to learn that the police who we rely upon to enforce the laws of the land disregarded the law and failed to appear before the committee. The report speaks to serious differences in reported accounts of that day which could only be resolved by the police giving testimony like so many others did. The shocking subtext of the report describes a Government out of touch with the people, deliberately isolated from the advice of senior civil servants and engaged in clandestine discussions which seem to have led to these events." But Craig Cannonier, leader of the Opposition, said Mr Burt should have been called to give evidence to the Parliamentary joint select committee. Mr Cannonier said: "As the then Leader of the Opposition, the Premier was present during the demonstration. It was also reported that Mr Burt sent an e-mail encouraging people to demonstrate outside the House. Why didn't Mr Swan call him? Why indeed didn't the Premier volunteer to attend? He had a front seat on the day. He was willing to take a lead in this demonstration, why didn't he take the lead and take part in this investigation and volunteer information?"

Legislation designed to streamline the process for complaints against doctors was passed in the House of Assembly. The Medical Practitioners Amendment Act will increase the size of the committee responsible for dealing with complaints and allow for alternates. It was passed with no objections.

2019. July 8. Legislation to increase the mandatory retirement age for some civil servants - but not yet anyone in the private employment sector which via the Payroll tax on private employers is the Bermuda Government's single biggest source of income - has been tabled in the House of Assembly. The Public Service Superannuation Amendment Act 2019 would, if approved, change the compulsory retirement age from 65 to 68 for some public offices. Officials can also continue to work until they are 70, provided that they are deemed fit to continue by a doctor and the head of department every year. The legislation will not affect teachers, police officers, firefighters, prison officers and Royal Bermuda Regiment soldiers. A Labour Advisory Committee report released this year called for the mandatory retirement age to be increased to 70 over the next ten years. The move was deemed necessary because of the increased pressure Bermuda's ageing population had put on pension plans and public-sector finances. Claudette Fleming, the executive director of Age Concern and part of the group behind the report, previously voiced her support for such changes. She said: "A variety of industry leaders committed valuable time to consider the issue. The matter of the relevancy of the retirement age in our current existence has been left unresolved for many years."

The opening night of Destination Dockyard, featuring vendors and entertainment, kicks off this evening. The summer-long weekly entertainment event, held on the North Lawn, has a special theme each night. Vendors Night, with more than 20 businesses ranging from wood fired pizzas to eKarts to local fashion and jewellery designs, runs from 6.30pm to 9.30pm. It will also feature live acts, DJs, entertainment, arts and crafts, and food. Destination Dockyard will be held on Monday evenings through August 26. The series had to be cancelled last week due to poor weather. But Stephanie Rodill, the marketing and events manager for the West End Development Corporation, said the delay "made us even more determined to put on a brilliant show today". Entertainment will include DJ iBreeze, the Hindsight Band and Bermuda Dance Academy. Wedco has partnered with PinkSand Entertainment and the Bermuda Tourism Authority to run the event. Jonathan Tankard, head of PinkSand, said that canceling last Monday had been a difficult decision. He added: "We are treating this as our opening night and we are raring to go and put on a great show that all the family, locals and visitors will enjoy. Dockyard is a must go-to destination tonight." Along with tonight's events, shops in the Clocktower Mall will stay open until 9pm.

The clock is ticking once again in Dockyard after restoration work by a master clockmaker. The Victorian clock was restored by Edward Cloutman, from Wales, who volunteered his time. The National Musuem of Bermuda said the antiquarian horologist first repaired the clock 13 years ago. Dr Cloutman reported that the clock was in "excellent condition". It has been maintained by the museum's facilities manager, Andrew Harris, on a schedule developed by Dr Cloutman during his earlier visit. The schedule sets out a strict checking, oiling, greasing and cleaning regime. Dr Cloutman said: "The clock has given very little trouble over the years and has kept good time." The clock was made by John Moore & Sons of Clerkenwell of London in 1856 and drove four dials which kept time for the Royal Naval Dockyard for 100 years. It was first installed in the south turret of the Clocktower Mall. The clock was moved to what was then known as the Bermuda Maritime Museum in 1984. The clock chimes every 15 minutes, and is accurate to one-tenth of a second — with minor variations caused by humidity. But the island's climate took its toll on the clock mechanism, and it developed a problem which caused it to stop. Chris Roque of SparYard Marine Solutions and his welder Rolly Jino also donated their time and expertise to fix the timepiece. Dr Cloutman proved popular with visitors during his work and fielded questions from schoolchildren visitors to the museum. Dr Cloutman was also able to repair a clock from the Whitney Institute which had suffered from corrosion. The Whitney clock, made in the 18th century by London clockmaker Edward Tutet, has a birdcage movement made of wrought iron. The Whitney clock was brought to the museum for conservation and preservation. The museum thanked the volunteers for their time. The Dockyard Clock is on display in the Boat Loft building below Commissioner's House.

Belco has once again met an international standard for its environmental management systems, the power company announced. The International Organisation for Standardization, based in Switzerland, publishes international standards for industries worldwide. The ISO, which has members from 161 countries, adopted tighter requirements in 2015 for its ISO 14001 standard. In addition to meeting legal obligations, the standard helps Belco to improve resource efficiency, reduce waste, and manage its environmental responsibilities. Belco was able to meet within the three-year transition period. The utility was first certified for the standard in 2010. Jan Locke, Ascendant Group's occupational health, safety and environment system coordinator, said the company was "extremely proud" to have maintained its certification. She added: "Belco is committed to environmental sustainability and this updated certification demonstrates how our environmental management system has become embedded in our corporate culture. There are many interested parties where Belco is concerned. The 14001:2015 Standard helps us to meet the expectations of our employees, customers, shareholders, and industry stakeholders."

Bermuda-based global financial services provider Apex Group Ltd has announced the successful closing of the acquisition of the Corporate and Private Client Services and Throgmorton businesses of Link Group's asset services division. The acquisition of CPCS and Throgmorton adds more than 600 employees and 6,000 clients to the Apex Group, across multiple markets, and bolsters Apex's corporate services capabilities adding specialist hubs in the United Kingdom, Jersey, Ireland, Luxembourg, the Netherlands, Hungary and Switzerland, the company said. Peter Hughes, chief executive officer and founder of Apex, said: "I am very proud of what we have accomplished at Apex. The addition of CPCS and Throgmorton solidifies the final pillar of our four core service segments through integration of their well-established corporate services offering. We are now able to offer our clients a truly comprehensive solution across the full ecosystem of third party providers, global asset managers and allocators would usually use." Matt Claxton, former chief executive officer of Corporate & Private Clients for Link, and now global head of corporate services and private clients for Apex, said: "Apex has achieved phenomenal growth and advanced in so many ways to become an impressive global financial services provider. As part of the Apex Group, both CPCS and Throgmorton clients will benefit from enhanced global expertise across the broadest range of solutions in the industry. Our businesses add an additional layer to Apex's market-leading capabilities. I am delighted to be part of this impressive organisation and look forward to contributing to, and being part, of its ongoing success". Over the past 18 months, the company said, Apex has successfully executed a programme of strategic acquisitions to deliver on its ambition to offer a unique end-to-end solution for global asset managers and allocators. The acquisitions, which include Deutsche Bank's fund servicing business and M M Warburg & Co's asset management and servicing business in Luxembourg, have enabled the firm to deliver a full suite of products beyond core fund accounting with the firm now offering four key service areas: open-ended fund administration, private equity and real estate fund administration, banking and depositary plus corporate services solutions. Macquarie Capital served as financial advisor and Willkie Farr & Gallagher LLP provided legal counsel to Apex for the just-closed transaction.

Bermuda's stagnant economy has had a knock-on impact on the island's commercial real estate market. Forty commercial properties are listed for sale on the Property Skipper website, some of which have languished on the market for prolonged periods. The most expensive property checks in at just under $10 million, while some 21 properties are available for less than $1 million. Real estate agents surveyed by The Royal Gazette said that annual total dollar sales volume is well off the highest yearly figures of the last 14 years. Scott Powell, an agent with Coldwell Banker Bermuda Realty, said the number of transactions during that period peaked in 2008 at 20, but otherwise annual sales have been in the single digits or low double digits. The highest sales volume during this period, he said, occurred in 2006 at just more than $90 million, while 2013 saw $80 million in sales. "Sales figures in both number of transactions and dollar volume have oscillated with the low of the market flagged in 2017 with the total number of sales transactions at nine, and selling at 'bargain prices'," Mr Powell said. "In 2018, the market bounced back nicely with figures doubling and volume nearly tripling. Having said that, the total dollar volume is still very low compared to 2013. "As tenant demand has softened over the years, and vacancies have grown, prices have dropped. We find owner occupation more of a motivator than speculation. There are few properties available with rent-rolls that are attractive enough to attract some of the prices being asked. There is scant interest in development or redevelopment." Brian Alkon, of Brian Alkon Real Estate, said the market has been in a prolonged downturn. "I personally have sold three commercial properties in the last two years," he said. "All real estate in Bermuda, commercial or otherwise, dropped in value in 2008 by 25 to 30 per cent. It has been a buyer's market for the last 11 years." Rosanna Cox, an agent with The Property Group, said very little commercial real estate is being sold in Hamilton apart from recent purchases by the Green family, owners of Hamilton Princess and Beach Club. The Green family's market activity, Ms Cox said, is "wonderful as they will keep Bermuda looking in good shape". However, she said the Greens purchased commercial properties "at very low prices [and] it has influenced comparable prices in Bermuda and made it difficult for owners to sell at a price they feel is correct for their property, even taking into account the downswing in prices in recent years, because purchasers can use those sales prices as a comparable reference point". Sales activity is price dependent, Mr Powell said. "The real estate market is very much price driven. Therefore, each property is unique, but if a property is priced according to market conditions, it can and does sell quite rapidly and in some cases there are price wars. Days on the market can be protracted depending on location, price and demand." An uptick in the commercial property market will only happen when Bermuda's economy expands, Mr Powell said. "There is no question that the flood of companies/people looking to Bermuda as the domicile of choice has fallen off substantially from that of ten or more years ago. An uptick will come when we roll out the red carpet in welcoming these opportunities and making their move as hassle-free as possible." Ms Cox mirrored this view. She said: "We need to see more overseas companies being welcomed to Bermuda to start up business. Their work permits should be processed faster and [there should be] a lowering of stamp duty on leases which has been hugely raised just recently especially on high end rentals that have a number of years on the lease." While he specializes in the residential market, agent Will Kempe of The Property Group said from the outside the commercial market "looks pretty dire, we need a more Cayman like immigration policy and therein hopefully more people".
• What is on the market
The most expensive commercial property listed for sale on the Property Skipper website is the five-acre Munro Beach Cottages, which overlook the south shore near Port Royal Golf Course in Southampton. The property, which includes a private beach, is listed by Rego Sotheby's International Realty for $9.95 million. Rego is marketing the property as a "rare opportunity to acquire an exclusive resort destination redevelopment site". Zoned tourism and coastal reserve, agent Penny MacIntyre says on the website that the property "offers the chance to develop a truly unique resort and/or condominium offering and currently consists of nine individual units which have recently been refurbished". Staying with golf-adjacent properties, the former clubhouse of now-closed Riddells Bay Golf and Country Club is available for $2.85 million. Listed by agent William Kempe of The Property Group, and agent Daina Outerbridge of Rego Sotheby's, the property having a lot size of 1.93 acres is zoned recreational. Two adjacent cottages are offered for sale along with the purchase of the clubhouse, priced separately at $600,000 and $850,000. Alas, Mr Kempe reports "little to no interest" in the property to date. In Hamilton, the most expensive listing is 19,000-square-foot Magnolia Place, situated at the intersection of Victoria Street and Parliament Street. Built in 1969, the three-storey building is listed by Barry DeCouto of DeCouto & Dunstan Real Estate for $6 million. The building is configured with storefront/retail on the ground floor with offices on the other two floors. The basement level can be used either as an office or for retail, the agent says. Second spot in Hamilton goes to Veritas Place at 65 Court Street. Having seven floors, the building is listed for sale by agent Scott Powell of Coldwell Banker Bermuda Realty for an asking price of $4.66 million. Tenants currently occupy more than 6,000 square feet of office space on the fifth and six floors. The second and third floors have not been fitted out, while the fourth floor is fitted out but vacant. Total vacant space available for an owner occupier amounts to 14,582 square feet, the agent says. The building at 71 Front Street, which houses Crisson & Hind African Gallery, is available through Herb Crisson at Crisson & Company Ltd for $2.99 million. Having 23 feet of street frontage in Hamilton's retail district, the three-storey building was built around 1930, the agent says. The ground floor has nearly 2,900 square feet of space, while the upper two floors each have approximately 1,150 square feet. The agent says the City of Hamilton Plan allows for retail, restaurants, cafés and similar on the ground floor. The upper floors may be used for office space, retail, residential, or entertainment, the agent says. At 27 Queen Street, a 6,000-square-feet of space over two floors is available in the Bermudiana Arcade. Agent Rosanna Cox of The Property Group represents the property, which is listed for $2.3 million. Other commercial properties available in Hamilton include The Rego Building on Reid Street (Brian Madeiros, Coldwell Banker Bermuda Realty, $2.05 million), Reid House (Scott Powell, Coldwell Banker or Ben Rego, Rego Sotheby's, $1.5 million), the former Flying Chef property at 54 North Street (Brian Alkon Realty, $1.3 million), a combined commercial/residential property on Court Street that houses Bulldogs bar (Ambika Scott, Moongate Realty, $1 million), a combined commercial/residential building at 52 Angle Street that formerly housed Hubie's jazz club (Brian Alkon Realty, $912,000), and a combined residential/commercial property at 40 Court Street with four commercial units and four two-bedroom apartments (Hasan Durham Realty, $880,000). In the East End, the building on Kings Square, St George that has housed several pub-like operations over the years, is awaiting buyer interest. Represented by multiple agents, it was first listed for $1.47 million, was reduced to $1.25 million — and is now available for $975,000. On Slippery Hill, overlooking the town, a purpose-built residential home is listed with Dale Young Properties for $1.3 million. The building has two floors with a staircase along with an electric chair lift giving easy access to the top floor, the agent says. Some of the rooms have a bath en suite and others share a bath. There is a large industrial kitchen, several sitting areas along with a reception. In the West End, Charing Cross restaurant, on Cambridge Lane in Sandys, is available. Established in 1792, the property is composed of two lots of land with a bar with two bathrooms, liquor store with one bathroom, two finished storage rooms below and a large warehouse, the agent says. There is space for up to 50 cars and a newly renovated two-bedroom apartment. It is listed with Brian Alkon Realty for $1 million. A mixed commercial/residential property on Watlington Road in Devonshire had an asking price of $980,000, and has a pending offer. Two commercial units include the Devonshire Laundromat, while there are also three residential units on site. The property is represented by Bermuda Longtail Real Estate Ltd.

Farms lose more than $5,000 a week to thieves who target their crops, a farmer claimed yesterday. Rowland Hill Jr, the owner of J&J Produce in Devonshire, said "night farmers" not only stole produce, but ruined even more as they trampled crops as they carried out raids. Mr Hill said: "This is an ongoing thing. Every day, every farmer has to deal with this. I'd say a good $500 every day is stolen from me and that's just from vegetables. If I had to take a guess, I'd say $5,000 a week is stolen from all of the farmers together, if not more." He added: "They might steal 50 pounds of broccoli, but they damage two or three hundred dollars worth of broccoli in the process of them stealing, so they damage more than they steal." Mr Hill said he had faced crop theft throughout his 40-year career as a farmer — but that the frequency and brazenness of raids had increased in the past ten years. He added: "It was a petty thing before, but now it's almost become a business. And it's not just what they call the night farmer — the night farmer doesn't come out at night any more, he's out during the day." Mr Hill said that fences were not an option for most farmers because their fields were rented. He added that many in the industry had installed security cameras, but they did not always capture useable footage of the thieves. Carlos Amaral, the owner and manager of Amaral Farms, also in Devonshire, backed Mr Hill and said he had been targeted by opportunistic thieves for years. Mr Amaral added that the biggest hit he took was in 2014 when he lost more than 600 ears of corn in a single night that had been grown for supermarkets. He said: "We had picked a block of our field so we knew what sort of volume was left to be picked and literally the next day it was gone. "In that particular case it was close to 60 dozen rows of corn, or about a quarter of the field, and cost us $500 in wholesale price." Mr Amaral said that much of the stolen produce would be sold to restaurants or individuals at a cheaper price. However, he said the stolen produce could be a health risk because of time limits on pesticides used by farmers. Mr Amaral explained: "Because of the nature of our business we have to treat the crops with insecticides and fungicides to protect the crops and wait within a time frame to harvest. But when people come in before its time and steal crops to resell, they're jeopardizing the lives of others. Then we as the farming community face potential backlash." Tom Wadson, the owner of Wadson's Farm in Southampton, said that most people who targeted farms were probably people in desperate circumstances. He added that farmers who were victims of theft were often left without compensation even if the thieves were caught and charged. Mr Wadson said: "The irony is that people get convicted and fined, but the farmer lost Lord knows how much money and what does he get? Nothing. How does that work?" He added: "If the chef expects to get 16 cases of lettuce a week from me and somebody steals ten heads and mashes up 20 cases-worth in the process, you're screwed."

Bermuda claimed two more medals at the NatWest International Island Games in Gibraltar today, winning bronze in bowling and tennis. Damien Matthews and David Maycock added to the silver won by Lamar Richardson in the men's singles on the opening day on Sunday, finishing with a total of 2,144 pins in the men's doubles team event. Blake Raynor and Richardson placed sixth in the doubles event on 1,922 pins. In the women's doubles, Gloria Dill and Earlene Tucker finished fourth with 1,746 pins, while Jennifer Stovell and Florence Simons came sixth with 1,629 pins. Bermuda's other medal yesterday was a bronze in tennis after the men's team advanced to the semi-finals of the competition, losing 3-0 to Menorca. Gavin Manders lost 6-1, 6-0 to Oscar Mesquida-Berg, while Sam Butler was beaten 6-1, 6-4 by Alex Mesquida-Berg. Menorca won the doubles by walkover. In the men's singles, David Thomas defeated Jake Booker, of the Cayman Islands, in straight sets, while James Finnigan beat Alec Arho-Haven, of Gotland in straight sets. Manders received a bye. Anthony Fellows lost his men's singles third-round match in squash 3-0 to Michael Pinggera, of Gibraltar, before beating James MacNaughton, of Shetland Island, 3-0 in the fourth round. Greg Fitzgerald lost his third-round match 3-0 to compatriot Stephen Smith 3-0 and also suffered a 3-2 defeat in the fourth round to Wayne Clement, of Cayman. Smith overcame David Sutherland, of Shetlands, 3-0 in the fourth round. In the women's singles, Rachel Barnes lost 3-0 to Natalie Dodd, of Guernsey in the third round before losing 3-2 to Joan Smith, of Shetlands, in the fourth round. Judith Furtado lost 3-2 to Kerry Pottinger, of Shetlands, in the third round. Megan Jackson beat Hannah Dixon, of Isle of Man, 3-0 in second third and Michelle Smith, of the Isle of Man, 3-0 in the third. Shianne Smith finished fourth in the semi-final of the 100 metres heats in 13-11sec, missing out on the final. In the women's group stage of the beach volleyball, Megan Calhoun and Elisabeth Rae lost 2-1 to Isabella Gawlicka and Karolina Zablocka, of Jersey. Allison Lacoursiere and Allison Settle lost 2-0 to Vanessa Bravo and Magda Severa, of Menorca. After four races in the Laser Radials Rig Final, Adriana Penruddocke is in third place with 21 points, while Jordan Etemadi is sixteenth with 56 points. In the Laser Standard Rig, Kalin Hillier is sixth with 24 points and Scott Mello is ninth with 42 points. Bermuda's badminton team won their first group semi-final, a 4-1 win over Ynys Mon, and then defeated Falkland Islands 3-2 in the thirteenth/fourteenth play-off game.

Bermuda capped the first day of the NatWest International Island Games, in Gibraltar, by winning their first medal of the competition. The success came in the men's singles bowling event where Lamar Richardson impressed, to finish second overall with a total of 1,127 points, to win silver. Meanwhile, there was also encouraging displays from Damien Matthews who finished sixth overall with 1,071 points with David Maycock a further place behind with 1,067 points, while Blake Raynor finished in nineteenth place overall with a total of 853 points. Gloria Dill finished as the highest-placed female for Bermuda in the women's singles event, finishing seventh overall in the standings with 873 points, followed by Florence Simons in tenth on 823 points, Earlene Tucker in twelfth with 793 points and Jenifer Stovell in seventeenth with a total of 741 points. Bermuda are also guaranteed at least a bronze medal as the men's tennis team booked their place in the semi-finals of the men's team event after comfortably overcoming Guernsey in the quarter-finals. Sam Butler put Bermuda ahead with a 6-2, 6-0 victory over Pieter Roninson, before Gavin Manders secured a hard-fought 6-4, 6-2 success against Thomas Turner. The pair were awarded a walkover in the doubles encounter to wrap up proceedings. Meanwhile, Sean Trott narrowly missed out on adding to the nation's medal tally. Competing in the 10,000 metres, Trott, who finished runner-up in the Bermuda Half Marathon Derby in May, finished fourth overall in the newly built 30,000-seat athletics stadium, in a time of 32min 50.02sec, slightly behind Fred Gronwall, of Gotland in 32:16.13, to just miss out on a place on the podium. Alan Corlett, of the Isle of Man, claimed the gold medal in a winning time of 32:06.26, with Gronwall's compatriot Daniel Antononsson finishing second in 32:15.41. Elsewhere, in athletics, Shianne Smith progressed into the semi-finals of the women's 100 after finishing third in her heat in a time of 13.31. Smith also finished seventh overall in the long jump, leaping 5.45 metres. Kärt Õunapuu, of Saaremaa, claimed gold with a winning distance of 6.19. In the squash, Bermuda's athletes suffered mixed fortunes. In the men's singles, Greg Fitzgerald suffered a 3-0 defeat to Henry Birsch, of Guernsey, before going down to a 3-2 loss to Alexander Cleminson, of the Falkland Islands. Stephen Smith went down 3-0 to George Shoulder, of the Isle of Wight, and Anthony Harkin of Jersey, while Anthony Fellowes fared slightly better, drawing 0-0 with Guernsey's Mark Le Conte, before beating Ian France, of the Falkland Islands 3-2. In the women's singles, Judith Furtado beat Hannah Dixon, of the Isle of Man 3-0, before suffering a 3-0 defeat by Joan Smith, of the Shetlands Islands. Meanwhile, Megan Jackson suffered a 3-0 defeat by Jersey's Beth Garton, while Rahel Barnes eased to 3-0 success against Gibraltar's Jessica Gomez. There was disappointment in the first day of competition in the badminton as Bermuda slipped to three straight defeats in the group stages of the team event, with successive 5-0 losses to Guernsey and Minorca being followed by a narrow 3-2 defeat by Aland. Fortunes were not much greater in beach volleyball. In pool one of the men's group, the pairing of Keiran Hamilton and Kyle Hamilton, suffered back-to-back defeats, going down in straight sets 2-0 to Jose Figueira and Andre Fortunato, of Jersey, and 2-0 to Richard Campbell and Nathan Dack of the Cayman Islands. In pool two, the second men's pair of Daniel Fiddick and Joshua Malpas also suffered defeat in their only game of the day, going down narrowly 2-1 against Gibraltar's Henry Earle and Jakub Prudzienica. There was mixed fortunes for Bermuda in the women's group stages. In pool four, Meghan Calhoun and Elisabeth Rae went down 2-0 against Marissa Harrison and Lleann Powery, of the Cayman Islands, in their opening encounter, but there was greater joy for Allison Lacoursiere and Allison Settle, who secured a straight sets 2-0 victory over Kristina Sokic and Dominika Thomas, of Jersey, in pool two. Elsewhere, in the triathlon, Tucker Murphy finished 37th in the men's individual race, in a time of 2:32:14.

July 7, Sunday

The founder and former director of the National Museum has been given an award by the oldest archaeological group in the world. Dr. Edward Harris was honoured by the Society of Antiquaries in London for his Harris Matrix and associated methods which set the standard worldwide for recording archaeological excavations. The Society of Antiquaries Salon internet magazine said Dr Harris "became the founding director of what would later become the National Museum of Bermuda, a 16-acre site and one of the largest such institutions in the Americas" in 1979. "He was elected a Fellow of the society in 1982 and was awarded the Society Medal in 2018 in recognition of his significant contribution towards the society's research grants." Dr Harris was awarded the medal in London last month.

July 6

Police were told to pepper-spray protesters at a December 2, 2016 airport demonstration outside the House of Assembly, a special report into the disturbance revealed yesterday. A parliamentary joint select committee found that officers were apparently ordered to: "Captor now, all of them, all of them". The news came after an investigation by the Police Complaints Authority, released the following year, said the spray had been used by officers "only when they properly believed that it was necessary" and that no order was given to use the pepper spray, called Captor. The PCA found that the officers were guided by "use of force policy". But the findings of the JSC, headed by Progressive Labour Party backbencher Kim Swan, "uncovered that an order was given to officers to deploy Captor spray". The report, tabled in the House by Mr Swan, said the JSC had "astonishingly" discovered the order during a review of video footage taken from an officer's body camera. The report said the PCA finding was "untrue", and that an officer could be heard on the tape to say: "Get out of the way or you will be sprayed." But the officer was heard to tell colleagues: "If you're going to use Captor, Captor one at a time." Another officer later gave the order: "No more Captor spray." The report added: "The findings of the Police Complaints Authority must be nullified, as it is based on a totally erroneous premise. The committee's discovery is conclusive that the use of Captor was the result of a clear directive to officers at the southern gate to the House of Assembly." Pepper spray was used against protesters in an effort to clear the gates — even though Randy Horton, the Speaker of the House at the time, had already decided that the House of Assembly would not sit at 1pm. Mr Horton's "indecisive" actions that morning came under fire in the report. The Speaker at first said that the House would not sit that day if MPs were not present by 10am. But only Mr Horton and One Bermuda Alliance MP Sylvan Richards were inside Sessions House by the deadline because other legislators had been kept out by protesters. Mr Horton changed his mind later that morning, which the report said put senior police officers "under pressure, to react in haste". The report said the former One Bermuda Alliance Government "must accept some responsibility", for influencing Mr Horton to change his mind from having the airport redevelopment legislation debated at 1pm "thereby contributing to the climate of confusion". Members of the Progressive Labour Party, then in Opposition, were present among the demonstrators, and the report said that "would have been seen as a validation of the protests". The report highlighted "shortcomings" by both political parties, and said there should be a comprehensive code of conduct to govern the behaviour of MPs. The clash, Bermuda's worst civil unrest in decades, was among 26 protests held from 2012 to 2016. The JSC, which started its work in January last year, pledged to operate with "fairness, transparency and sensitivity", but ended up holding its sessions behind closed doors. It was revealed in February that an undisclosed settlement — said to be about $225,000 — had been agreed with complainants who had considered legal action against the PCA. The JSC also recommended that police should be trained in "de-escalation versus escalation techniques". A police spokesperson said: "Bermuda Police Service is currently reviewing the 146-page report of the Parliamentary Joint Select Committee regarding the December 2, 2016 incident outside the House of Assembly."

A government financial advisory body will be exempted from public access to information laws if legislation tabled in the House of Assembly yesterday is approved. The amendment to exclude the Financial Policy Council from Pati was brought to the House by Wayne Furbert, above, the Cabinet Office minister. The council was created in 2015 as a public authority to monitor potential risks to the island's economy and to advise the Government on financial stability.

A British accountant who once worked for the Bermuda Government and was jailed in the UK after he conned the Bermuda Government out of $2 million will have to pay back $820,000 after his assets were seized. Gambling addict Jeffrey Bevan lived a life of luxury — he drove expensive cars, enjoyed extravagant holidays and bought shares in racehorses on the back of a fortune swindled from the public purse. The 52-year-old Welshman was jailed for seven years and four months in Britain in January last year after he pleaded guilty to the elaborate scam. Bevan was back in Cardiff Crown Court for a Proceeds of Crime Act hearing yesterday and Judge Michael Fitton QC ordered him to repay the amount inside three months or face another five years behind bars. He was prosecuted in Britain with the co-operation of the Bermuda authorities because he took the money home with him. Bevan started his job as payments manager for the Bermuda Government in January 2011 on a salary of $100,000 a year. Timothy Evans, for the prosecution, said he worked in the Accountant-General's department for two years as a "trusted" member of staff. The father of two was employed to implement a new finance system in which he was an expert and used that know-how to cover his tracks. Bevan built up a small property empire in Britain after he invested a big chunk of the cash in houses and penthouse apartments. He also lived the high life and attended top horse racing tracks as a VIP. Bevan and his family also enjoyed regular lavish holidays in the Caribbean, United States and Europe. But his gambling addiction took a huge toll and he lost $600,000 after he placed more than 18,000 online bets between 2009 and 2014. He pleaded guilty to three counts of transfer of criminal property and ten counts of conversion of criminal property. Judge Fitton told Bevan when he sentenced him that he had been "driven by greed". Bevan cheated his mother out of $62,000 after he arrived back in Britain in 2013. Lavinia Bevan, who died last year in her seventies, was persuaded by her son to part with her money after he lied to her that he was going to invest it. Cardiff Crown Court heard how he pocketed the cash after she wrote him a cheque. Bevan was jailed for an additional 18 months by Judge Fitton after he was found guilty of theft following a trial. He was also ordered to pay his mother's estate $42,000 at the Proceeds of Crime hearing.

A man accused of theft from a bank and an attempt to steal a further $74,000 is expected to appear in Supreme Court next month. Tuan Nguyen, 34, was charged in Magistrates' Court yesterday with the theft of $6,080 from Clarien Bank and an attempt to steal a further $74,907. The incidents are alleged to have taken place between June 22 and July 2. Mr Nguyen is also charged with attempting to steal an unknown amount of money from HSBC on June 22. Mr Nguyen, whose home country is unknown, did not enter a plea as the case must be heard in the Supreme Court. Magistrates' Court heard yesterday that the offences were allegedly carried out through fraudulent gift cards. Senior magistrate Juan Wolffe remanded Mr Nguyen in custody and adjourned the case until July 12 for a bail hearing. Mr Nguyen is expected to appear in Supreme Court in August.

Four runners competing in the NatWest International Island Games in Gibraltar have spoken of what they hope to achieve in the weeklong championships that start today. The group have had their travel expenses to attend the games partially covered by a donation from the Mid Atlantic Athletic Club (MAAC). They are among Bermuda's 52-member team at the event. Sean Trott, Brianna Mendes, Tilly Norman and Quincy Kuzyk will compete in middle and long-distance races. Trott, who finished runner-up in the Bermuda Day Half Marathon in May, will compete in the 5,000, 10,000 and half-marathon. He said: "Being provided with this assistance was a very pleasant surprise as, unbeknown to me, Victoria Fiddick had put my name forward for consideration. The majority of the athletes traveling to the games, including myself, have been required to pay for our own airfare and various additional costs. To hear that I would be getting back a portion of that and that MAAC had chosen to support me provided me with greater motivation to put my best foot forward in the games." Trott's first event is the 10,000 tomorrow. Speaking of his ambitions in the three distances he will compete, he said: "Having looked at prior games results and assessing my current level of fitness, I believe that if I run to my full potential within each event, I am capable of being a medal contender in all three. "Following May 24, I have continued to train at a high level and I feel that my fitness has improved. I look forward to testing myself against some higher level competition." Middle-distance runner Mendes will compete in the 1,500 and 5,000. She said: "I am very grateful for MAAC's continued support of my athletic pursuits. I hope to race well and run fast and am excited to have the opportunity to represent Bermuda again." Meanwhile, Kuzyk will compete in the 1,500. He said: "My main goal is to qualify for finals and to run a personal best. During this season, I was sidelined with an Achilles injury from August until February. I haven't raced much this year, but I am confident that I will be able to perform well. "I am extremely grateful to have the backing of MAAC; I wouldn't be the athlete I am today without the MAAC Juniors and MAAC track training programmes." Norman, the fourth athlete helped by MAAC, represented Bermuda in the 1,500 and 3,000 at the Carifta Games last year.

July 5

Paid maternity leave could be extended by five weeks before the end of the year, the House of Assembly heard today. Labour minister Lovitta Foggo, the labour, community affairs and sports minister, told the House of Assembly that maternity leave will be increased from eight weeks to 13 weeks for women who have been employed for a year or more. Fathers, who had no provision for paternity leave, will be entitled to five days paid paternity leave and five days unpaid. Ms Foggo also said Government will aim to adopt zero tolerance of violence and harassment in workplaces.

Pension benefits for Bermuda's war veterans are to be increased, the national security minister said yesterday. Wayne Caines told the House of Assembly that Bermuda had a "long history of military and war involvement". But he added: "Unfortunately our veterans have not always gotten the respect and recognition they deserve due to a myriad of racial and economic injustices that were inscribed into the laws and policies of the day." Mr Caines said that pension problems arose for veterans who had volunteered for service but were not sent overseas. "Until amendments to the War Pensions Act in 2007 brought forth by the then PLP administration, these soldiers were denied benefits and even the title of war veterans." Mr Caines said the Government was "committed to advancing policies that help to fight this wrong". He said that the War Pension Commissioners, a group made up of former military members, had submitted a proposal to increase the monthly benefit from $800 to $1,000 in 2019. Mr Caines said that the Government had accepted the recommendation. He said the proposed increase would cost about $162,000 in fiscal year 2019-20 and added: "Partial budgetary provision has already been made within the Budget allocation for the war vets programme administered by the Department of Social Insurance. The additional cost will be funded from savings within the current Ministry of Finance Budget allocation. The Government was "sympathetic" to the financial needs of veterans. "These men, and some women, served their country in this capacity because it was the right thing to do. They have never sought handouts, and deserve to be honoured at every opportunity. The Government is hopeful that this increase will assist not only the veterans themselves, but will also offer some relief to the family members who care for them."

A report on a clash between protesters and police outside Sessions House on December 2, 2016 was tabled in Parliament today. Progressive Labour Party backbencher Kim Swan presented the Report of the Parliamentary Joint Select Committee Examining the Events of the December 2, 2016 Incident at the House of Assembly. Mr Swan has also given notice of a motion that the House of Assembly supports "recommendations and sanctions" presented in the report. The committee focused on the events surrounding a protest against the redevelopment of the airport, in which several protesters were pepper-sprayed by police officers. The group, which started its work in January last year, had pledged to operate with "fairness, transparency and sensitivity", but ended up holding its sessions behind closed doors. It was revealed in February that an undisclosed settlement — said to be about $225,000 — had been agreed with complainants who were seeking legal action against the Police Complaints Authority.

Minister of Public Works Lieutenant-Colonel David Burch announced today that he will not release a report into the finances of the failed sports centre Sandys 360. The Government had been ordered by Gitanjali Gutierrez, the Information Commissioner, to release by Monday the report by audit firm KPMG into the project which cost taxpayers millions of dollars. But Colonel Burch told the House of Assembly that the Government did not agree with Ms Gutierrez's decision. The minister — who referred to Ms Gutierrez by her married name — said: "I must say that it appears to me that the information commissioner Mrs Minors is going out of her way to provide all manner of support to the daily." He added Ms Gutierrez had said: "Government has provided limited rational and factual information concerning its decision-making around Sandys 360, primarily provided during Parliamentary debate." Colonel Burch said: "Such a cavalier dismissal of the proceedings of this House should be as offensive to the other 35 members as it is to me." He said he had outlined Government's decision to purchase the property in March last year. Colonel Burch added: "It was a comprehensive, fulsome and compelling rationale and reasoning for doing so, which is generally supported by the Opposition." He said that Ms Gutierrez had been told that the report would not be released "as it was not commissioned by, nor is it the property of, the Department of Public Lands and Buildings". Colonel Burch said that "a number of legal hurdles" had not allowed the sale of the property to take place. He added: "Once there is a final resolution I will report further to the House." Taxpayers funded Sandys 360 to the tune of at least $5.3 million, and possibly more, before it closed its doors because of financial problems in November 2013. Ms Gutierrez said in May: "Disclosure of the KPMG report will undoubtedly close the knowledge gap in a number of areas for the public concerning the spending and decision-making related to Sandys 360." The KPMG report was commissioned by the trustees of Sandys Secondary Middle School, who own the freehold of Sandys 360, after the short-lived West End sports centre closed down just four years after it opened. The Department of Public Lands and Buildings rejected a public access to information request from The Royal Gazette for the document in February 2016, when the One Bermuda Alliance was in power, on the ground that it was exempted from disclosure because it was provided in confidence. The Gazette appealed the decision to the information commissioner and, during her review, KPMG and the school trustees also objected to the report's release. But Ms Gutierrez decided there was "no express communication or understanding that the report was given in confidence to, and would be kept confidential by, the department or Government". She said: "With respect to the actions the Government may have taken, KPMG and the trustees reasonably could have expected any number of circumstances to have arisen which would have led to public disclosure of some or all of the KPMG report. This includes disclosure during public consultation on the options concerning Sandys 360, in connection with the parliamentary debate on a decision to purchase the land and buildings, and so on. Both KPMG and the trustees were aware they were negotiating with a public body, and that the processes applicable to a public body's financial commitments of this nature may be subject to future consideration or inquiry." The commissioner said release of the report would be in line with the reasons behind the Pati Act, which included the promotion of accountability for public spending and government decision-making. Ms Gutierrez also ordered the department to issue a decision on whether it would share records about payments made to Sandys 360 and the amount the centre owed the Government.

Opinion about the proposed buyout of BELCO. By Sir John Swan, a businessman, a former Premier of Bermuda between 1982 and 1995, and a former Belco board member and Michael Murphy, a former attorney for American International Group. He was the chairman of the Association of Bermuda Insurers and Reinsurers between 1985 and 2005. "The sale of Bermuda's electrical grid to any buyer can only move forward with approval by Bermuda's independent Regulatory Authority. For that reason, the recent offer from Algonquin Power & Utilities Corporation to pay $360 million to shareholders of Belco's existing owner, Ascendant, is not a done deal. Non-shareholders, especially Bermuda's ratepayers and residents, may wonder what is in the deal for them — and, ultimately, that may depend on the integrated resource plan for the utility, which is also subject to regulatory approval. For those who have a stake in Bermuda's energy future, public statements by APUC, a Canadian company that has formed a joint venture with a Spanish company called AAGES, are worth attention and interpretation. Here is a key passage from their release about the proposed acquisition: "APUC will work closely with the Bermuda Government and the Regulatory Authority to ensure a seamless transition so that the residents and businesses of Bermuda will continue to receive the same safe, reliable and cost-effective utility service that they currently enjoy. APUC is committed to maintaining the existing local management and operations teams. Customers should not expect any impact to rates from the acquisition. AAGES' project implementation experience is available to support the major generation rehabilitation programme under way at Ascendant and help accelerate Bermuda's commitment to reducing carbon intensity." First, APUC implies that Belco customers enjoy existing electricity prices. They are some of the world's highest rates, yet the company describes them as "cost-effective utility service". This speaks for itself. Related to rates, it is rational for APUC to seek to extract from Bermuda every dime it pays for Belco — and more. By paying an extraordinarily high per-share premium to buy the Ascendant stock, the price of electricity to the consumer is most likely to increase to eventually pay for the cost of the premium purchase price paid by APUC to Ascendant shareholders. APUC states "customers should not expect any impact to rates from the acquisition", which would suggest they see enormous profit potential with the present rates and that they expect no relief from high rates even if their cost basis for power declines in the future. Importantly, the Regulatory Authority that oversees Belco rates has not yet disclosed whether it has approved or will approve a rate hike requested in April 2019, which Belco appeared to attribute in part to massive LNG infrastructure investments that have neither been accepted by the RA or hundreds of participants in the regulatory proceeding about that proposal. The LNG investments were proposed in the original Belco Integrated Resource Proposal, which a recent statement from Belco senior management indicates was never being considered by Belco. APUC also states: "AAGES project implementation experience is available to support the major generation rehabilitation programme under way at Ascendant and help accelerate Bermuda's commitment to reducing carbon intensity." This vague statement appears to still leave LNG on the table for Belco since it could reduce the carbon footprint of Bermuda. However, it would not be a net benefit to world climate change because of the extreme adverse impact of methane gas released from the production sites all the way to delivery. Efforts by the Bermuda Government since 2011 through the issuance of position papers and other studies to make a major policy commitment to have substantial solar power and wind power in place by 2020 have been ignored to date. We are anxiously awaiting the release of a new plan from the RA for Belco's energy resource development that will set a course in this direction, and it should make clear for both economic and health reasons that LNG is not a part of Bermuda's electricity generation future. As an island country, where it is so important now and in the future to demonstrate to our tourists Bermuda's commitment to protecting our environment, we must be leaders on clean energy and climate change. From the information released to date, APUC has not clearly and simply taken LNG off the table in Bermuda's future, and without that clarity, our energy sector could drag the entire economy to the wrong side of this vital set of issues. If our commitment were substantially to renewables to produce electricity, we could set another example of smart investment and sustainability for the world like the Hawaiian island of Kauai, instead of becoming a fossil-fuel demon. Is APUC/AAGES the potential buyer Bermuda needs or wants in its electricity future? Bermuda customers, the energy department of Government and the RA, in particular, need to focus in detail on some of the history of the potential buyer and specifically the strengths and weaknesses it brings to Bermuda. It appears from fact-sheet filings required for the New York or Toronto Stock Exchange that APUC expects to buy Belco through a joint venture with Abengoa, a huge international utility company that just three years ago was also the largest Spanish company ever to have nearly gone bankrupt. In fact, Abengoa had at least two Delaware subsidiaries that were given bankruptcy-court protection in Delaware for at least nine months to give them time to reduce debt and find new capital and partners as part of a workaround. APUC appears to be one of the opportunistic new Abengoa partners who set up at least two entities where neither APUC nor Abengoa own a majority controlling interest in AAGES. Nevertheless, it appears that both companies would seek to determine the terms upon which renewable energy resources would be developed in Bermuda, and whether Bermudians themselves would be able to benefit. Bermuda's best interests may not be a factor in future business decisions made by a potential buyer, and that should be carefully considered by the Bermuda Government now when it decides whether or not to approve APUC's offer to Ascendant shareholders. What experience qualifies potential buyers of our electric grid to help Bermuda achieve a renewable energy future? We raise the following points in summary format, suggesting the RA and Bermuda Government should explore each at length with APUC and Abengoa as the potential buyer of Belco to seek detailed answers in their due diligence: Neither Abengoa nor APUC has any experience generating or delivering electrical power in hurricane-prone jurisdictions While Abengoa operates wind generators from platforms in the River Plate area between Uruguay and Argentina, these do not appear to be state-of-the-art, nor are they designed to withstand hurricane-force winds for which Bermuda must be prepared. Also, APUC's experience with wind generation is all land-based, which would be hard to adapt with Bermuda's limited space. Neither Abengoa nor APUC has experience or expertise with integrating electric vehicles into a distribution grid, which will be a game-changer for our island's energy economy. Any potential buyer should explain how batteries in some new electric cars equipped with two-way plugs will be integrated into Bermuda's electricity grid. The car battery can store solar power from residents' rooftops and feed the excess to the electric company grid. As we gain 3,000 electric vehicles over the next decade, we will soon have more energy stored on board our cars than the entire island needs in its most demanding hour. Neither Abengoa nor APUC is focused on the most recent technological advancements or distribution systems that enable customers to generate solar power that could both reduce their costs and feed the grid. While Abengoa Solar is a world technological leader in developing, owning, and operating vast fields of mirrors that concentrate the Sun's power, this land-intensive technology is not applicable to Bermuda. In reviewing public information about APUC's solar renewable activity, it has been hard to find where its past use of solar would meet Bermuda's space limits and the need to use existing rooftops and already developed areas in creative ways to generate renewable energy. Neither Abengoa nor APUC details how or through what programmes they expect to deliver consumer savings as the cost basis for clean energy continues to decline far below our present rates. Costs are falling rapidly for rooftop solar, offshore wind, high-efficiency heat pumps and electric-vehicle batteries. All of these can add value to Bermuda's economy by improving the performance of our electricity grid. In short, the proposed acquisition of Bermuda's monopoly owner of our electrical grid and generating systems should not be approved by the RA and the Bermuda Government unless the investment plan it will follow is compatible with the Integrated Resource Plan developed, debated and accepted by Bermuda itself. The first step will be finishing an IRP consistent with Bermuda policy goals and approved by the RA, and only then, a second step would be considering whether a potential buyer is able to implement that plan on terms that are good for our economy and the people of Bermuda."

Plans to have signature schools open in a little more than a year's time are "very aggressive", the education minister said yesterday. Diallo Rabain added that members of team that would lead the Government's plan to axe middle schools and introduce senior-level signature schools had not been selected. He said: "That is still being worked on. As we move along, we will furnish updates of what's going on with that process." Mr Rabain said that "some preliminary work" had been done, but that the task to assemble the team will not "be as easy at it seems". He explained: "There are specific skill sets that we do want on this particular team and so that is the process we are going through now — who can be on that team. We realise that this is not something that our employees can do on a part-time basis. This is something that we are actually going to have to bring people in from different parts of the Government and actually second them to do this for us." The Department of Education had 314 full-time equivalent employees in 2017-18 according to the 2019-20 Budget book. Mr Rabain said that the number, location and focus of the signature schools had "been discussed". He added: "There are potential scenarios that have been pushed forward. When we are ready to start the consultation process, that's when we will come out with the various scenarios." David Burt, the Premier, told MPs in May that it was hoped that "school year 2020-21 will be the first with signature schools". He said that the school year starting in two months' time will "ideally" be the last "under the current system". Mr Burt added that the Government "will not rush this just to make this particular timeline". Mr Rabain said that he could not yet say if the time frame was possible. He added: "What I can tell you is that that is the aim — and we will always look to hit our mark." Mr Rabain said: "It is critical to get this transformation right the first time. So we will go at the necessary pace to ensure its smooth transition. We will be guided by what is right for our students first and foremost." He reiterated that consultation will take place before a final plan for the school system change is decided. Mr Rabain said last July said that a three-pronged process, expected to last 18 months, would be used to develop proposals for signature schools. He said that the first would involve consultation and the second phase would develop proposals. The final phase would involve a review of the proposals. Mr Rabain said at the time that he expected each phase would last about six months. The promise to phase out middle schools and introduce signature schools was made in the Progressive Labour Party's 2017 election platform.

Arbitrade's future plans in Bermuda are a mystery after its website was cleared of information. It is a year since Arbitrade announced plans to create a "world-class cryptocurrency exchange and coin company" in Bermuda, training Bermudians and eventually having 400 employees on the island. However, its global headquarters, the seven-floor Victoria Hall, on Victoria Street, remains in darkness nine months after being acquired, and its website has reverted to a "coming soon" message. Arbitrade was separated from a family of crypto-tokens and crypto-mining operations due to a business deal involving two other companies. That deal was completed last week. It has also been indicated that the crypto-currency exchange and coin company will no longer possess its purported "title" to gold bullion worth $16 billion, which Arbitrade said would be used to back the crypto-tokens. Arbitrade's website became devoid of information a week ago. A list of directors and officers vanished, along with details of its plans, including those regarding the creation of a cryptocurrency exchange called the Bermuda Block Exchange, and photographs of its global headquarters Victoria Hall, on Victoria Street. The website now shows the words "coming soon" and the e-mail address support@arbitrade.io. It is a similar situation at the website of Cryptobontix Inc. Cryptobontix was thought to have been acquired by Arbitrade in March 2018, until it was announced two months ago that the purchase never closed due to timing problems and regulatory approvals. Cryptobontix Inc, a Canadian-based company, has now been acquired by United Arab Emirates-based Sion Trading FZE. That deal was completed on June 28, and included all assets belonging to Cryptobontix, including its family of four crypto-tokens. A claimed gold agreement giving Arbitrade "title" to 395,000 kilograms of gold bullion, to be used to back the crypto-tokens, was to be transferred to Cryptobontix ahead of the closing of its acquisition by Sion Trading FZE. Arbitrade has never revealed the name of the independent accounting firm it said had verified the safe keeping receipt for the bullion. Sion Trading FZE had been acting as the precious metals procurement agent for Arbitrade. Last week, a day before the deal between Sion and Cryptobontix was completed, Cryptobontix issued an apology for a technical error that had resulted in 1,200 e-mail addresses on a private directory of subscribers to its website being made publicly visible for a short time. The message was shared by Arbitrade. It was at about this time that the websites of the two companies reverted to "coming soon" messages. Last Friday, Max Barber, president of Sion Trading FZE, in a statement said: "Sion Trading FZE [has] completed the purchase and acquisition of all shares and assets of Canadian crypto firm, Cryptobontix Inc. The transference of assets includes the tokens — Dignity, Namaste, Honor, and Orectic. Subscribers and token holders can look forward to more exciting news following the upcoming holiday period in the United States and Canada." In light of the changed circumstances surrounding Arbitrade, The Royal Gazette has sent it a request for information about its future plans. Arbitrade is not listed as a licensed entity on the Bermuda Monetary Authority website.

There's nothing that businesses hate more than uncertainty, so the adage goes. But, as experienced businessman Chris Maybury told a business audience this week: "If you don't feel uncertain, you're going to go out of business." Mr Maybury's provocative remark came as he spoke on a panel after the presentation of the Bermuda Business Confidence Index survey results, which suggested widespread pessimism about Bermuda's economic future among business leaders. "Business uncertainty was the theme to come out all the way through," Mr Maybury said. He then went through a series of illustrations of how fast the world of commerce is changing. "What's the largest hotel company in the world?" he asked the audience. "Airbnb," was the answer from the floor. "How many hotels do they own?" "None." (Correction, it is one). He followed up with the largest car company in the world, Uber, which owns virtually no cars. And the world's largest retailer, Alibaba, which owns no stores. "Did you ever think you'd see a construction worker wearing a hard hat queuing up for a skinny latte with a mochaccino shot when you were selling jars of instant coffee that he used to drink?" he asked, to a roomful of chuckles. "Did you ever think you'd do financial transactions on your cell phone, wherever you are? We live in the most dramatically changing times that anyone's ever seen. If you understand what your marketing person is doing and your marketing person is over 25, you're losing business, I guarantee it." Again there were chuckles, but this time nervous chuckles. The world is changing so fast because of technology. Guess what, if you're not uncertain, you should be uncertain, because someone's going to eat you up. There have been more billionaires made in a shorter time than in any other generation in history. So get with it guys, if you're not uncertain and you're not worried, you're going to go out of business." Mr Maybury is a Bermuda resident and a board member of the Bermuda Economic Development Corporation, who has an impressive business pedigree. He is a former chief executive officer of Times Newspapers in the UK and has sat on the board of retail giant Marks & Spencer. He was also CEO and a shareholder of the Institute for International Research, which grew into the world's largest conference and performance improvement company under his leadership, before its sale to Informa in 2004 for $1.3 billion. He is also one of the investors to have agreed a deal to buy out Bermuda Commercial Bank this year. After the event, he told The Royal Gazette that uncertainty was a global theme for businesses, whether as a result of technological disruption, political instability or other factors, but the island was well equipped to cope. "Bermuda is always reinventing itself," Mr Maybury said. "We have the tools and the expertise to do that. Certainly there are things that we'd want to change and certainly there are things that are not right, but I think that we have, in a small community on a small island, enough expertise and knowledge to look at what we're doing well and look at what we're doing badly. And to look at what we're not happy with in government and to get that dialogue going to change things. We've already done that and we can do it again." He said there was never a better time for someone with a good idea to launch a business. "With the BEDC, with the legislation that the Government put through to remove red tape and taxation and with Don Mackenzie's incubator [Ignite], I think there is more help provided with less red tape than for someone who is prepared to work hard and start their own business than there ever has been. That doesn't mean it's easy, but we're still in a 2 per cent growth economy, which is much better than the UK, miles better than Germany and only slightly behind the US." The BCB deal, involving investors Mr Maybury and New York-based Permanent Capital, is awaiting approval from financial-services regulator, the Bermuda Monetary Authority. Mr Maybury declined to speak about plans for the bank and added there was no news on approvals for now. "The regulators are doing what they should be doing and that's being very thorough and diligent," he said.

A Bermuda Triangle-themed park is set to take shape in the heart of Hamilton. The Corporation of Hamilton City Hall, said it planned to revitalize Albuoy's Point park and rename it to make it "more dynamic and user-friendly". A spokeswoman for the local authority added: "It will also encapsulate aspects of the Bermuda Triangle, a story that reverberates around the world, one of myths and legends, that has put Bermuda in the global spotlight. The reinvigorated space will be known as Point Pleasant Park." She added the new park would provide open space for outdoor activities and entertainment events. The spokeswoman said that a decision to move the Bill Ming sculpture Against da Tide to the park from outside the former HSBC building on Front Street, which is being redeveloped, helped spark the plan to revitalize the area. She added that when the statue was donated to the city, plans for a revitalized park, to include the artwork, were drawn up. The spokeswoman said: "Improving upon elements already in the park, the City will look to install improved seating areas, shade elements, public artwork as well as a new layout." A model of the proposed design has been set up in the Corporation of Hamilton offices at City Hall. The spokeswoman said: "The city welcomes comments from the public as it strives to bring a refreshing look to a well-worn public park and provide an enhanced, energized space for all to enjoy." The executive committee of the Royal Bermuda Yacht Club, which faces on to Albuoy's Point, said they had been contacted about the plans and supported the proposals. A spokesman for the RBYC said: "They had reached out to the club earlier this year to advise us what they were planning and we were excited about what we heard. These changes, along with the redevelopment of the old HSBC Bank of Bermuda building, are a welcome addition to this special area of the City of Hamilton."

One of the most popular sports broadcasters in the Spanish-speaking world has worn Bermuda's distinctive pink national football shirt during his Fox Sports TV show. Argentine-born Fernando Fiore, cohost of the programme and known as "El Presidente", said: "I was watching the Women's World Cup and I liked the pink jersey from the Scottish women's team. I said that I liked it then I said that Bermuda men's team jersey was similar." Mr Fiore said that colleagues from Score Sports saw the broadcast and a Bermuda shirt, like the ones worn by the island's Concacaf Gold Cup squad last month, arrived a few days later. He added: "I have a huge collection of soccer jerseys ... more than 400 including jerseys signed by Maradona, Pelé, Messi and many more. Now I'm proud to have Bermuda's. I love it." He sported the shirt as part of his Goal Celebration Charades segment on Fox Soccer Tonight last Wednesday. Mr Fiore re-enacted classic Women's World Cup goal celebrations and other members of the Fox Soccer Tonight team had to guess the occasion, including Maurice Edu, the former forward for Rangers, of the Scottish Premiership. Mr Fiore pulled off the Bermuda shirt and swung it around his head like US player Brandi Chastain in 1999, who bared her sports bra after she scored the penalty that clinched a US victory in the World Cup final. Mr Fiore said he was proud of the Bermuda team's performance in the Gold Cup, the first time the island has qualified for the tournament. He added: "I'm very proud ... it was a great victory over Nicaragua, it was really good. First, two close games with more experienced teams like Costa Rica and Haiti, and then the first victory against Nicaragua ... good run." He added he had visited Bermuda in 1990 after Argentina were beaten in the World Cup final by what was then West Germany and that he would like to return. Mr Fiore said: "After Argentina lost the final of the World Cup I was really mad and I didn't want to talk about soccer with anyone, so I went on vacation to Bermuda for five days. It was a great vacation. I remember I rented a scooter and had a great time in and around Hamilton. I would love to go back soon — 30 years is a long time." Mr Fiore, a two-times Emmy award winner, is known for his work at Univision with Sofia Vergara, a Colombian-American actress and model. He is also a spokesman for brands such as Coca-Cola and telecoms firm AT&T and was the host of US Spanish-speaking sports show Republica Deportiva for 15 years. Mr Fiore was voted Favourite Soccer Personality for US Hispanics in a poll in 2014.

July 4

Bermuda's bipartisan immigration reform plan is to be tabled in the House of Assembly next Friday, the Minister of National Security said yesterday. Wayne Caines said that the plan would take into consideration the needs of business and the needs of Bermuda as a whole. Mr Caines said he yesterday heard a panel discussion on the findings of a Business Confidence Survey conducted by the Bermuda Chamber of Commerce and HSBC across 198 companies. The survey found that restrictive immigration policies were among the biggest concerns for Bermuda-based businesses. Mr Caines said: "This is something that our ministry, in fact our government, realizes is a significant challenge and it is something that is being worked on as a priority. The interesting thing about listening to the business community talk today was that they were just focused on the business part of it. The government has the responsibility to include the social elements, to include Bermudians. We believe that this outlines the challenges that we have in Bermuda, highlights a plan that we have going forward and we believe it is a robust plan not just for business but for every element that is required in Bermuda. It just doesn't focus on the needs of the business community, it focuses on the opportunities for Bermudians to be given training and development opportunities in Bermuda." Walton Brown, a former Minister of Home Affairs, formed the Bipartisan Committee on Immigration Reform in 2017. Mr Caines said it was "myopic" for businesses to only focus on the immigration problems that they faced. He added: "We have to have the right conversation, we have to have a historic conversation, we have to look at past inequities and how people have been treated in this country. Of course we will look at ways to make the processes and procedures in immigration work better, that is a part of it. But we can't allow the business community to go away and be the only beneficiaries of immigration reform. We believe that high tide raises all boats."

Senior civil servant Major Marc Telemaque asked immigration officials to find a way for Bermuda to issue travel documents to the four refugee Uighurs, but was rebuffed. Major Telemaque sent a "high importance" e-mail in January 2011, the day before he was announced as the new Permanent Secretary at the Ministry of National Security, to ask a ministry official to research whether travel documents could be prepared. He wrote: "I am advised that the UK Government issues 'certificates of travel' for individuals unable to obtain passports from their own national authorities. The Government of Bermuda has probably never done so, but I wish to be advised on the potential for doing so and in what circumstances it might be done. The aim would be to issue a certificate of travel by the minister to an individual who is resident in Bermuda with the minister's permission but who does not have and cannot receive a passport from their national authority." Major Telemaque appeared to have been referring to David Burch, a former national security minister and the politician who helped Ewart Brown, the former premier, to bring the Uighurs in secret from a US detention centre in Guantánamo Bay, Cuba, to Bermuda in June 2009. Dr Brown said at the time the decision was "the right one from a humanitarian perspective". Danette Ming, then the Acting Chief Immigration Officer, told Major Telemaque that the minister could not issue a certificate of travel because it could be done only by Government House or the Foreign Office. Bur Major Telemaque said: "Government House has kicked this to us, so there is no need to consult them. Is there no provision for the minister to issue a 'certificate of travel' indicating, for example, the individual's purpose for travel, a guarantee to the receiving country of their ability to return and perhaps an acceptance of the costs of repatriation if the individual breaches the terms upon which the certificate is issued?" Dr Ming replied: "The answer is no. The airlines will not accept." She asked Major Telemaque: "As a point of clarification, any costs of repatriation would be from public funds?" Major Telemaque did not answer the question, but wrote: "Let's assume the individuals travel by private jet and the usual protocols surrounding 'readable documents' are waived. Can you produce a form in draft?" Major Telemaque's e-mail and other correspondence about the Uighurs was released last week by the Department of Immigration after a public access to information request from The Royal Gazette. The department at first disclosed personal information in error about the men's relatives, which The Royal Gazette agreed not to publish. A redacted dossier has now been provided by the department. The documents showed that Dr Ming sought advice from Rozy Azhar, then the Chief Immigration Officer, but who was seconded elsewhere in government. Ms Azhar told her: "This one can stay in the ministry. We will not involve ourselves." She added: "Make sure that [the ministry employee's] work is not comprised of getting Immigration staff to do it for him. Send him to the website and let him do all the work. The minister can produce his own document. This should NOT be an Immigration initiative." The Royal Gazette reported on Monday that the Pati dossier showed how civil servants tried to make the Uighurs' unusual arrival in Bermuda, and their subsequent requests to bring women here to marry, work inside the framework of the island's immigration laws. Richard Horseman, lawyer for the four Uighurs, wrote to Major Telemaque in April 2012 to tell him one of the men had asked permission to bring his girlfriend to Bermuda "with a view to meeting face-to-face" and "if all goes well, proposing to her". Mr Horseman wrote: "Once we have that permission, we can attend to the detail." In an apparent reference to another Uighur who was yet to bring a prospective wife to the island, he added: "3 down 1 to go." Mr Horseman also said: "On a side note, my wife and I had a delightful dinner at Cafe Cairo with the Uighurs and their wives. It was an extraordinary experience and quite a fun night. Perhaps when this is all over, we can all have a diner night!" The lawyer asked two weeks later if he could start to make plans for the woman to visit Bermuda. He said: "This will be another visa job which we will need Dr Ming to be on the lookout for when it comes through. Then we are done with this stage and we can work on the status [smiley face]." Major Telemaque, who was Cabinet Secretary when the Uighurs arrived and was appointed to that position again in February last year, replied: "Can't see why not." The Uighurs became British Overseas Territory citizens last year, which made them and their children eligible for passports and gave them "belonger" status.

People going to live, work or study in Canada will be able to have their biometric information collected in Bermuda for the first time, it was revealed yesterday. The Ministry of National Security has launched a trial programme to allow residents to get their permits finalised in Bermuda rather than having to travel to the US for biometric information to be collected. The Consulate General of Canada will have a team in Bermuda from July 9 to 11 to collected the needed information. Applicants who have completed the online process must bring the biometrics instruction letter from Immigration, Refugees and Citizenship Canada with them as well as a valid passport to submit their biometrics. Wayne Caines, the Minister of National Security, explained: "Bermuda residents who have applied online or by mail for a work or students permit of permanent residence can have their biometrics collected in Bermuda and avoid the expense of travelling overseas." Mr Caines said that those who are still to apply for Canadian visas would be unlikely to be able to complete their applications before the Canadian team arrived. But he added they should complete the process as soon as possible. The Canadian team will operate from the Department of Immigration, Government Administration Building, Parliament Street, Hamilton, from 9am to noon and from 1pm to 5pm.

Police have launched an international manhunt for a Bermuda-based international life insurance company owner accused of investor fraud involving millions of dollars. Ramesh Dusoruth, owner of St George's Ltd, faces a charge of fraudulent inducement to deposit or invest and another of transferring criminal property. He is also charged with three counts of transmission of false information to the Bermuda Monetary Authority. Mr Dusoruth was arrested and charged with the offences, but failed to appear in Magistrates' Court on March 21 and an arrest warrant was issued. Acting Detective Superintendent Nicholas Pedro of the Bermuda Police said: "Inquiries indicate Mr Dusoruth absconded from Bermuda and his current whereabouts are not known." He added Mr Dusoruth is known to have business interests in Cyprus, Malta and Holland and has homes in London and Antwerp in Belgium. Interpol has been notified and the alleged fraudster has been red-flagged for arrest and return to Bermuda to face the charges in court. Anyone with information on Mr Dusoruth's location should contact the police specialist investigations department on 295-0011.

Criminal charges involving $1.8 million have been approved against the former chief financial officer of a Bermuda-based reinsurance company, it was revealed yesterday. Yuval Abraham, who worked at Hiscox and whose whereabouts are unknown, faces eight counts of obtaining a money transfer by deception and nine counts of false accounting. He is also charged with an attempt to obtain a money order by deception and one count of money laundering. Acting Detective Superintendent Nicholas Pedro said an arrest warrant had been issued for Mr Abraham, who was said to have "absconded" from Bermuda. He added that Mr Abraham has links to the UK, South Africa, Poland and Israel. Mr Pedro said that anyone with information on Mr Abraham's whereabouts should contact the specialist investigations department on 295-0011.

Business leaders', both local and international, confidence in Bermuda has plummeted for a second successive year. The Bermuda Business Confidence Index fell 23.6 points to 62.8, completing a drop of more than 42 points over the past two surveys. The 198 respondents from a broad range of business sizes sectors appeared to have more confidence in the future of their own enterprises than in the Bermudian economy as a whole. The index hit its lowest point since the survey began in 2014. The results of the survey, conducted by Total Research Associates partnering with Canadian firm Narrative Research, were presented at sponsor HSBC's Harbourview building yesterday morning in front of a business audience. Members of Government were also present, including Curtis Dickinson, the finance minister, and Wayne Caines, the national security minister. Also revealed was a 13-point fall in consumer confidence to 84, as measured by Total Research's long-running Omnibus Survey. Taxation and tax increases was the top issue for businesses, cited by 43 per cent of respondents. Taxation was not mentioned as an issue in the first survey in 2014. This was followed by the cost of doing business (38 per cent), government and politics (33 per cent) and poor immigration policies (27 per cent). Only 41 per cent of business leaders believed the economy was moving in a positive direction or stable, down 43 points from 2018, while 31 per cent were confident in the island's economic future, down 18 points. But the falls were less pronounced when leaders were asked about their own expectations for next year's revenue, as 69 per cent expected it to be stable or to increase, down eight points from last year. Furthermore, 72 per cent said they expected capital expenditure for the next year would be unchanged or higher, down six points from a year ago. Asked which changes would improve the business environment, the top answer was immigration and work permit process improvements, cited by 39 per cent of respondents, followed by business development, growth and foreign investment (31 per cent), better taxes (22 per cent) and better government leadership and political stability (20 per cent). Margaret Chapman, a partner at Narrative Research, who made the results presentation said that the survey period — March 19 to April 10 — came just after Bermuda had been blacklisted by the EU over a drafting error in its economic substance legislation. To gauge whether the timing had an effect and with Bermuda now off the list, Ms Chapman said her researchers had carried out a "pulse survey" this week, which produced results that were nearly unchanged. A panel of businesspeople reflected on the challenges of their sectors and stressed the need for more discussion and collaboration between the business sector and the Government. Chris Maybury, a board member of the Bermuda Economic Development Corporation, said: "Those figures were terrible, there's no doubt. Certain sectors are going to have a difficult time, retail especially. We've got to be innovative and landlords have got to cut rents. And Bermuda has the double challenge of the Amazon phenomenon, home delivery, which is going to hit us later than everywhere else." He added that red tape had been removed and support for start-ups had grown from organisations like the BEDC and the small business incubator, Ignite. "There's never been a better time for someone who has an idea and is prepared to work hard to start up," Mr Maybury added. The need for collaboration with the Government shone through in respondents' comments. "We need to get that dialogue going, as a business community, and we need to be specific, not just say, 'it's not good'," Mr Maybury said. "The onus is on us to make sure we have asked the right questions in the right form to the right people." Dennis Fagundo, president of the Bermuda Chamber of Commerce, said the survey results were "not a surprise. The sentiment in the community is somewhat negative," Mr Fagundo said. "There's a lot of external pressures that we don't have a lot of control over, with economic substance and public ownership registries being two examples." He added that policy actions to address business challenges needed to be carefully thought through. "You can't take a broad-brush approach without considering the details," Mr Fagundo said. "Now is the time for careful contemplation for considered moves and we need to work together and make sure the moves we are making are moving us in the right direction and not making bigger problems for us down the road." Simon Tully, president of the Construction Association of Bermuda, said high-end residential business was holding up because of immigration changes that gave Permanent Residency Certificate holders greater property rights, sparking renovation and rebuilding work. "We need to breed wealth, we need people to come here and have the confidence to buy an expensive piece of property," Mr Tully said. "Contractors are feeling the pinch from the rising taxes and overheads are really biting into margins of small businesses in all sectors." People were struggling to find qualified people to work, with many Bermudians more interested in going into financial services than the trades, he added. Andrea Jackson, a Bermuda Business Development Agency board member and deputy head of trust services at Conyers Trust Company, highlighted challenges that were out of businesses' control adding to uncertainty. She said the trust sector had been "under attack for over a decade". "The trust industry is demonized all the time," Ms Jackson said. "We're labelled a tax haven, the French call us a 'coconut jurisdiction. We're used to dealing with that and making the argument that we're complying with international standards, but we're never going to win that argument with the press and the man in the street onshore. Our industry has been drowning in compliance costs and we can't pass those costs on." She backed up Mr Tully's view that young people gravitated towards financial services creating skills shortages in the local workforce in other sectors. "Bermuda has really benefited from reinsurance, but it's also been disadvantaged, because that's what young Bermudians aspire to and those are the salaries they aspire to and that's not realistic for the rest of the economy," Ms Jackson said. "That's a real challenge." She urged the business community to discuss concerns with the Government, and added: "I know it's difficult sometimes to get out of the office, but we all have to get out of our silos and do that." Bermuda's blacklisting by the EU for a two-month period had created a knock-on effect in international business, she said. "Getting off the blacklist was critical, but now we're a few months behind in the clarity that we need for businesses to make decisions: are we staying or are we going?" she said "How do we make decisions in this uncertain environment?" Nick Kempe, the shadow finance minister, who was among the audience, said the "increased size of the government machine" was being shouldered by taxpayers. "The more you tax people, the less they have to spend and it becomes more difficult to run a business as the costs go up," he said. "And the recent healthcare moves shifted $20 million of government claims history onto the private sector and its workforce." Mr Kempe said the Government needed to adopt a more business-friendly approach. There's an unwillingness to tackle government spending and passing the buck onto the private sector and there's also the rhetoric vilifying the private sector for simply looking to get a return on risk." Immigration reform needed to be tackled with urgency, Mr Kempe added. "There's two sides to it: the first is getting new people here, having companies want to transfer jobs here and that comes down to the cost of doing business," he said. "The more you tax, the less competitive Bermuda is. The other half is that you have job and wealth creators who have been here ten or 20 years. Why would they stay and spend their savings if they're not afforded some mechanism to anchor themselves here? Government's burying its head in the sand on both of those."

Construction firms remain unpaid for their work on the stalled Caroline Bay hotel and homes development, two sources said yesterday.
One contractor, who asked not to be named, said he had "heard nothing official and received no money". The news came three weeks after the developers of the West End resort on the site of the old Morgan's Point US military base, Caroline Bay Ltd, announced an agreement to refinance the project. The contractor said any refinancing agreement would probably be provisional as a new Special Development Order, which would have to be backed by Parliament, would be needed to finalize the arrangement. ZBM reported on Tuesday that early financial backers of the project, Arch Reinsurance and Axis Capital, were unhappy with the refinancing and wanted to pull out. The firms were said to have taken on lawyers in a bid to recoup their investments. The contractor said: "It will probably be the same for Arch and Axis, after radio silence at Caroline Bay's end, they have run out of patience." He added: "Not much has changed. The only information I received from the developers was that they had signed a new deal." More than 25 sub contractors are said to be owed money for the development, which also includes a superyacht marina, as well as a Ritz-Carlton hotel. Caroline Bay Limited announced last month that they were to obtain new backing. New financing was said to be in the works from a British-based financial services group, Ma Neil. Both Arch and Axis declined to comment last night. The developers did not respond to a request for comment by press time.

A child safety campaigner has called for urgent investment in more courtroom space so young victims of sex crimes do not have to wait years for their cases to be heard. Debi Ray-Rivers, the founder an executive director of charity Saving Children and Revealing Secrets, wrote in an opinion piece for The Royal Gazette: "We have a very limited number of courtrooms available for criminal, matrimonial and appeal cases. That's unacceptable. Cases are delayed, which subsequently causes delays in children receiving counselling for the trauma they have endured. It's my understanding that alleged child abuse victims are not offered counselling before or during trials of child sexual abuse cases, for fear of tainting the evidence. What does that mean? It means that children cannot receive healing for their pain, caused by someone else, because we don't have adequate courtrooms available for these cases to be heard in a timely manner." She added that the lack of courtroom space was "ridiculous and inexcusable". Ms Ray-Rivers was speaking in an op-ed published today after last week's conviction of pedophile William Franklyn Smith, 26, who was found guilty by a jury of unlawful carnal knowledge of a girl under 14 and sexual exploitation of a young person by a person in a position of trust. The offences were reported to the authorities in 2017 but his Supreme Court trial has only just been held. Ms Ray-Rivers said: "The leadership of our island must pool their resources with a sense of urgency to rectify this shortfall to avoid irreparable damage from continuing to the hearts and minds of child sexual abuse victims. The sooner they get help, the quicker they will be put on a path to, hopefully, recovery." Ms Ray-Rivers told The Royal Gazette in an interview: "When a child has been scarred from child sexual abuse it affects their soul and their emotions. They don't even understand what has happened to them. It is scary and it is confusing. For there to be such a long delay in child sexual abuse cases is just not good for the child. In a case like this, we need to do everything we can in our power to ensure that the child receives healing immediately from the trauma of child sexual abuse." She said the victim in the Smith case was a "hero" and her family should also be applauded. Ms Ray-Rivers added: "Most children do not report child sexual abuse until they are in their late thirties or forties, till they become an adult, so the bravery it took for this child to disclose what happened to her was huge. She had such a support of adults in her life that empowered her and supported her and advocated for her ... that's key." Smith is to appeal his conviction and an application by his lawyer for bail is expected to be heard this week. But Ms Ray-Rivers said convicted child sex offenders awaiting sentence should not be bailed. She wrote: "Giving William Franklyn Smith temporary freedom before he suffers the consequence of his crime against a young child is a reward and this should never happen. He has been found guilty in a court of law of committing a sexual crime against a child. If he is free, he could continue to be a risk to our children. Why would we, as a community, take that risk?" The judiciary highlighted that a lack of court space had contributed to a backlog of criminal cases in its annual report issued earlier this year. It is understood that criminal Supreme Court cases are only being heard in the courtroom on the ground floor of Sessions House and in Magistrates' Court 4 in the Dame Lois Browne-Evans Building. The Sessions House courtroom will permanently close once renovations begin on the 200-year-old building in August. Two other courtrooms which heard Supreme Court and Court of Appeal cases have also closed.

A central parish has been hit by a plague of rats, residents said yesterday. Residents in the Appleby Lane area of Paget said the neighborhood had been overrun by "brazen" rodents. Ian Adderley, who lives in Appleby Lane, said: "I'm not blaming anybody, but I think that we need to try to find a solution to a higher infestation than we've ever had before in the past," Other residents said the rats, larger and less timid than they had seen before, were first noticed about two months ago. Mike Parrish, also of Appleby Lane, said: "I've lived here for nearly three years and it's never been this bad before. Over the last few months, the numbers have really increased, I've noticed one or two before but nothing like this." Mr Parrish, 58, said he had seen "eight or nine at a time" in his backyard. He added he had shown photographs of the rats to others. Mr Parrish said: "I showed a lot of people last week and they couldn't believe it. They reckon it looks like a cat. Mr Adderley, 72, added the rats in the neighborhood had started to act like "pedestrians. The rats used to come out at dusk and run up the power lines. Now they just go ahead and cross the street in the middle of the day. We never used to see that." Residents said they agreed with the Environmental Health Department that the problem could only be tackled by a combined effort by Vector Control staff and more responsible attitudes by members of the public. People in the area were divided on whether less frequent trash collection had contributed to the increased number of rats. Mr Adderley said: "The trash collection has contributed to the rat problem since they stopped collecting it twice a week. If you can stop the intrusion of rats from getting into your trash by putting a lid on it, do it. You see people putting their trash out days before it gets picked up which will just attract more and more and more rats. People have to do their part." However, Mr Parrish insisted: "I don't believe that its entirely related to the once a week trash collection. The trash collection has been once a week for two years now and I've only noticed the increase in the past few months, so I don't think it's that." But the two men agreed that Vector Control staff had done their best to eradicate the rat infestation. Mr Adderley said: "They've come up here so many times, I've called them so many times because of the situation. The young man in charge of this area says he cant keep up." Mr Parrish added: "I imagine they're overworked. We've got to put the effort in like everybody else." Armell Thomas, a senior Environmental Health Officer, said that Vector Control got between "20 to 50 calls per day. We're understaffed right now, we're at 20 and are usually at 24 to 26. We just brought on two new guys and hopefully can get a few more, but that doesn't address the issue of people's behaviour. We need everyone's support here. You can't just expect to call Vector Control and have the problem solved." Mr Thomas explained that warm weather had contributed to increased sightings. He said: "People are probably seeing more rodents in the summer months because it's very hot in the ground, so they're coming out. People are also doing things like having barbecues outside and not cleaning up immediately. We need to work together with the public, that's the bottom line. We only have 20 people, and there's no way that 20 people can service about 22,000 homes." Mr Thomas said the public could help prevent rat infestation "by keeping their yards clean, keeping their trees cut back, making sure they have bins and lids for their trash, waiting for the trash days before putting trash out and cleaning up the barbecue right away". But he added: "It's important for areas to be on the same page, you could be doing all the right things to your property, getting bait boxes and such, but your neighbour might not be getting bait boxes. I would like to encourage the public to continue to work with us instead of just looking at us as if we're just going to solve everything, we can probably solve about 80 per cent of the problem, but the other 20 per cent we need the help of the public." Vector Control can be contacted at 278 5397.

A Canadian artist who has painted princes and prime ministers has donated some of his work to a Bermuda art gallery. Bernard Poulin, whose subjects have included the Royal Family's Prince William and Jean Chrétien, a former Canadian prime minister, as well as Bermudians, has gifted four of his paintings to Masterworks Museum of Bermuda Art. Mr Poulin, 74, a regular visitor to the island, said he decided to make the gift to Bermuda two years ago on the 50th anniversary of the start of his career. He added: "I have done approximately 118 portraits and about 250 paintings of Bermuda and 95 per cent have sold — I think I owe Bermuda. I am saying thank you. I am at the point now where I am painting the children of the children that I painted years ago. Mr Poulin said he also started his autobiography on his 50th anniversary. He added: "My book is due to go to press this summer and will be published in September. It will certainly feature Bermuda and some of the Bermudians I have painted." Mr Poulin's Bermuda commissions include Dame Jennifer Smith, a former premier, Stanley Lowe, a former Speaker of the House of Assembly. Mr Poulin has also painted the late Dame Lois Browne- Evans, a politician, lawyer and the country's first woman attorney-general. He has also painted William Boyle, Sutherland Madeiros, and Jay Bluck, all former Mayors of Hamilton. Mr Poulin said he loved visiting and painting in Bermuda. He added: It's a place that compels you to come back — the colors are incredible and the people are out of this world. It has been a very big part of my life. I was sent there for the first time in 1967 by friends who told me I needed to rest. I liked it very much. Eventually, my wife got me an agent through Bluck's Bermuda and I began painting portraits, landscapes and seascapes. I will be painting for the sheer pleasure when I am there." Mr Poulin, of Windsor, Ontario, will visit the island for the unveiling of his four oils at Masterworks, in the Botanical Gardens in Paget, on July 14. The Masterworks show will be held under the patronage of Dame Jennifer, also an artist, in recognition of his 46 years of work on the island. Mr Poulin's portrait subjects have ranged from top figures from the corporate, artistic, sport and religious worlds to private family and child portraits. His clients have included the governments of Bermuda, Canada, and Ontario as well as institutions such as the Royal College of Physicians and Surgeons of Canada and the Royal Collections at St James Palace in London, where his portrait of Prince William is housed, and Windsor Castle. Tom Butterfield, the founder and executive director of Masterworks, said: "I have known Bernard Poulin for a very long time. In that time I have found his generosity is matched by his talent which in turn is matched by his passion for his art and art wherever it may be found.. He is a true ambassador and advocate, believing that art is the root and cornerstone of civility. We have been blessed with his support to help us fundraise and now most recently a gift of his art in perpetuity trusting in our custodial duties." Mr Poulin's work has been exhibited at the galleries of the now closed Bluck's, the Crisson & Hind Gallery, Windjammer Gallery, the Desmond Fountain Gallery. Mr Poulin was awarded an honorary doctorate from the Laurentian University of Sudbury in Ontario last month to mark his career as a visual artist and author.

July 3

Changes to the management of sex offenders in prison are working, the Attorney-General and Minister of Legal Affairs said this morning. Kathy Lynn Simmons told the Senate: "Sex offenders who do not complete the required programmes during incarceration are not released at their earliest release date, nor released on parole. We are pleased to note that this occurred in the case of at least one serious sex offender who was scheduled to be released from incarceration two months ago. Hence his release has been deferred until he completes the required programme. This is evidence that our operational framework is being adhered to." She was speaking after high-profile offender Junius Carman Caines was released from prison last month. Caines was sentenced to three years and four months in prison last July for an sex assault on a woman in August, 2016. Ms Simmons said while the release of sex offenders was emotive the revised framework was working. She added that the Ministry of Education is told about the release of sex offenders to help protect pupils, in addition to public notification. Ms Simmons said moderate or high risk offenders whose crimes were against children will be fitted with electronic tags. She added the release of a "high risk" offender had attracted media attention. Ms Simmons added: "I would like to stress that systems are in place to monitor the offender under the current framework, taking into consideration the offender's risk issues and overall treatment needs."

A computing tycoon was "caught out" when Parliament tightened laws on non-Bermudian land ownership, a court heard yesterday. James Martin, an English-born businessman and philanthropist, was said to have taken a risk when he entered an agreement to buy Agar's Island in 1997 at the same time as he became a tenant. Myron Simmons, a senior Crown counsel, told the Supreme Court's civil division that the legal position changed when Government introduced amendments to the Bermuda Immigration and Protection Act in 2007. He made arguments during an application for judicial review hearing after lawyers for Dr Martin's widow, Lillian, a US citizen, filed a motion to ask for a decision on her application for a licence to acquire the island, which the couple had made their home. They also asked for an order or declaration that licence would be granted, or compensation paid, as an alternative. The court earlier heard that Dr Martin entered a sale and purchase agreement for the island in 1997 and occupied it under lease from the Bermuda Transportation Co with the expectation that he would buy it when he got a restricted person's licence. Mr Simmons, on behalf of the Minister of National Security, the respondent in the action, said that an unknown risk assumed by the parties was government intervention, and in 2005 a moratorium on the purchase of land by non-Bermudians was introduced. He added: "One of the ways, as an attorney, you will mitigate a loss, when there is an unknown, is, execute quickly. If you believe that there might be that risk, you get in and you get out. If you look at the structure of this arrangement, they were looking to do just that." The court heard later from Ms Martin's legal team that four consecutive five-year leases were granted and that a planning problem at first prevented Dr Martin from applying for a licence before the end of his first rental period. Mr Simmons said that the Bermuda Immigration and Protection Act was amended in 2007. The new legislation made it unlawful for a restricted person to "appropriate land", assume ownership rights, with the intention of occupation, or use or development of the land for profit. Mr Simmons explained that there was a transition period of three-and-a-half years for people to "regularise" any arrangements if needed. He said: "I mention this because there seems to be some sense that the applicant and her husband were not treated fairly and I'm trying to stress this was a historical move; it wasn't something that was ... a surprise attack." Mr Simmons added: "Between 2012 when the moratorium came to an end and his death in 2013, there was a year when nothing was done." He added: "He took a risk, the Government made steps to put things in place and, unfortunately, he was caught out." Lauren Sadler-Best, also for the respondent, earlier told the court there were reasons to suspect another section of the legislation was breached. That related to participation in a scheme that allowed a restricted person or trustee to hold, acquire or appropriate land in contravention of the law. Michael Fordham QC, for Ms Martin, argued that the landlord maintained autonomy throughout the lease arrangements. He told Assistant Justice Ian Kawaley: "In the end, you are back to asking whether, viewed objectively, in these arrangements you can find or see a scheme to extend the terms beyond five years, and there's none." Mr Fordham claimed that to fall foul of the law, any prohibited scheme would have had to be entered after 2007 and continued to Ms Martin, who the court heard earlier only became a party in the arrangement in 2012. He said that it would need to be the case that "she's getting those leases not because a landlord is granting them, but because she has a behind-the-scenes entitlement to them". Mr Fordham added that the judge would have to find that the contract documents did not reflect what had been agreed. He said: "The question is whether there is a basis for reaching that conclusion in this case and we submit that there is not." Mr Justice Kawaley reserved judgment.

Nine students have been awarded a special scholarship to help fund their studies. The students all won scholarships set up in the name of Barbara Ball, a pioneer woman doctor and fighter for social justice. Kim Wilson, the Minister of Health, said: "This government is proud to support Bermudians in their pursuit of careers in public health services. These nine new scholarship recipients join a long line of health professionals that have benefited from the Dr Barbara Ball Public Health Scholarship and gone on to personal and professional success." Ms Wilson added: "There are a great many number of job opportunities in Bermuda for health professionals to enjoy a challenging and rewarding career. I encourage eligible students pursuing a career in public health and in need of financial assistance to apply for the scholarship next year." The awards committee grants the scholarships based on a combination of factors, including academic achievement, financial need and the need for specialists in the applicants' area of study. Priority is given to nursing, allied health and social work and a total of 19 awards have been given since the annual scholarship was launched. The 2019 scholarship winners were Toriah Smith, mental health nursing at Kingston University, Kyla Sinclair, physiotherapy at Bournemouth University; Taylor Hill, speech and language at Dalhousie University, Sasha Maybury, nursing at Southampton University, Candice Albuoy, social work at the University of Georgia; Crystal Dill, forensic psychology at Walden University, Annisha Peets, psychology at Walden University, Ter-Rae Morrison, nursing at Manchester University and Ivy Ingham, nursing at Advent Health University. Dr Ball, the first woman doctor in Bermuda, was born on the island in 1924 and graduated from Liverpool University in 1949. She returned to Bermuda in 1954 after working in the UK and devoted her life to the poor and marginalized.
• For more information on the scholarships, visit www.gov.bm/barbara-ball-scholarship.

Heritage Nights are to return to the Town of St George next week after a decade's absence. Businesses, restaurants and historic sites will welcome visitors on Friday nights. George Dowling III, the Mayor of St George, said last night: "We took to reviving Heritage Nights, to engage both locals and tourists alike, to provide an experience in our town, to serve as a catalyst to promote St George and generate more excitement in our nightlife." Courtney Trott, town administrator for the Corporation of St George, said the popular fixture had ended when regular calls from the Norwegian Majesty cruise ship stopped in 2009. Mr Trott added: "Businesses are coming on board. They all see tremendous opportunity in bringing this back to the town." He said the corporation "upped the ante this year" through a partnership with events organizer Pink Sand Entertainment for Heritage Nights. Mr Trott added that the town's Unesco World Heritage sites would open late and guests will be able to experience the cultural treasures of the East End at places such as the fort and the National Trust Museum. Businesses will be open late with live music, tours, vendors, food, and a kid's zone, which will operate from 7pm to 10pm. Cyniqua Anderson, a councillor for the Corporation of St George, said: "Everyone makes the joke that you need a passport to come to St George. This year, you actually do." The free passports can be picked up from vendors, businesses and cultural sites from next week. Visitors can get their passports stamped at each site they visit and later exchange them for raffle tickets in Kings Square for a prize draw. Heritage Nights will run on July 12, 19 and 26, and on August 9, 16 and 23. The festivities will include bands, DJs including Twinn Starr, DJ iBreeze, DJ Rusty G and dancers. The Kings Band will open the festivities on July 12 and One Solution will perform at the final Heritage Night.

Convex Group Ltd, the new Bermuda-based insurer launched by industry veterans Stephen Catlin and Paul Brand, has signed a contract with an outsourcing company to deal with its back-office needs. The agreement entails India-based WNS (Holdings) Ltd becoming a long-term strategic partner of Convex, the companies said in press release today. WNS will build what the company describes as a "Platform + BPM [business process management] as-a-service", including support services relating to operations for insurance, reinsurance, claims, finance and human resources. In an interview with The Royal Gazette in April, Mr Catlin said the new specialty insurer and reinsurer would employ "upwards of 50 people" at its Bermuda headquarters, once up to full staff by November. He said then that the company would "do an enormous amount of outsourcing on a horizontal basis", meaning there would be one outsourcer for everything. "Lots of people outsource bits and pieces, but nobody in insurance does a horizontal outsource, as far as we're aware," Mr Catlin said in the interview. "It saves us about 3 per cent on expenses." WNS has nearly 40,000 employees, 11,000 of whom work in insurance, working for 350 clients around the world and state-of-the-art technology. The upshot of the outsourcing is an absence of back-office jobs in Bermuda, although the island gains many higher value roles. "Employment costs here are as high as they are anywhere," Mr Catlin said. "Any people you employ here, or in London, have got to be adding value to the balance sheet. Those servicing the balance sheet can do it from elsewhere." Convex, which has an A- rating from AM Best, will also have an underwriting operation in London. In today's press release, Adrian Spieler, group chief operating officer of Convex, said: "Our team at Convex is excited to be building the 'insurance company of the future' free from legacy systems and processes. We believe WNS has the operational excellence needed to support the execution of our business strategy. We are building a platform which is flexible, scalable and efficient and WNS will be a great partner to support us on our journey." Keshav Murugesh, group CEO of WNS, said: "This is indeed a proud moment for our combined teams and a culmination of the focused efforts and collaboration, towards co-creating a unique end-to-end 'Insurance in a Box' product solution and unique value proposition for the Convex Group. We are delighted to have been chosen as the strategic partner by the Convex Group and I am confident that we are going to set new industry benchmarks together." The new insurer's invested capital comes from the Convex management team and Onex Partners V, a fund of Toronto-based private-equity firm Onex Corporation, as well as Canadian-based pension investment manager PSP Investments, in addition to a consortium of co-investors.

A hairdresser suffered minor burns to her wrists yesterday after a fire broke out at her salon. The blaze happened in a bathroom as the woman staff member refilled a spray bottle with flammable liquid near a lit candle. Another employee at the salon, who asked not to be named, said that she was braiding a young girl's hair when she heard a scream from the bathroom. She added that she turned around and saw that the sink and floor of the bathroom were on fire. The employee explained: "When I saw it, I thought 'is this really happening?'. It was quite a frightening experience." The incident happened at the Maxilous Salon on Friswells Road, Pembroke, at about 9am. The injured hairdresser was given first aid at the scene by an off-duty nurse before she was taken to the King Edward VII Memorial Hospital. She was treated and released from hospital in the afternoon. The injured woman's colleague said that she took the child through the back door of the salon as soon as she saw the fire and returned to help tackle the flames. The nurse, who also asked not to be identified, said that she was helping the hairdresser with the girl when the fire broke out. She said: "I was in the corner, so I didn't really realise what was happening until everybody started screaming. As soon as I saw it, I was out, checking for stuff to catch water to throw on it." The woman, who works at KEMH, added that everyone in the building worked together to put the fire out. The blaze was extinguished before firefighters arrived. The nurse said: "It started so fast but we reacted quickly. We tried to extinguish the flames so it wouldn't spread beyond where it was. The staff member who started the fire complained about her arm when the fire was out. I assessed it and it didn't look like it needed immediate help or anything like that, so we just managed to keep the area cool with some cold water, until the ambulance came." She added that she was not worried about a danger to clients because of the quick work by the staff and her experience of emergency situations. The nurse said: "I don't usually panic, I just get stuff done. That's just how I am." The uninjured hairdresser said it was the first emergency at the salon in the four years she had worked there. Firefighters cleared the building of smoke and checked the four adults and the child in the building when the fire broke out for breathing problems caused by smoke, but none required treatment. Maxine Simms-Famous, the salon's owner, said spray bottles were normally refilled elsewhere in the building to prevent the risk of accidents. She added: "She usually did not handle the chemicals, so this was not something she was familiar with." Ms Simms-Famous said the injured hairdresser was "very professional and highly trained. She has worked here for years and she's been in the industry for well over 15 years." Ms Simms-Famous, who has owned the business for eight years, said all her employees were trained to work with chemicals as part of their education. She added that the salon had emergency equipment for fires, including a smoke detector, fire extinguishers and fire exit signs. Ms Simms-Famous said she planned to hold a Bermuda Fire and Rescue Service fire safety workshop in the near future to remind staff on how to tackle emergencies. Ms Simms-Famous said that the fire had left scorch marks on the walls and ceiling around the bathroom sink. She added that the injured employee had spent the rest of the day at home to recover. Ms Simms-Famous also thanked people from the area around the salon for their help with repairs and good wishes. She said: "Most of our clients are from within the surrounding area and they've been very supportive."

Bermuda's swimmers finished the Central American and Caribbean Championships in Bridgetown, Barbados, with a total of 29 medals after winning seven more medals during the fifth and final day of competition yesterday. The team claimed five silver and two bronze medals to finish with six gold, 16 silver and seven bronze. Imojen Judd and Bella Howes in the 11-12 girls 50 metres freestyle finished joint third to earn bronze medals after clocking an identical time of 28.70 seconds. Logan Watson-Brown won the silver in the 15-17 50 metres freestyle when she finished second in 27.10. Maddy Moore, in the 18 and over age group, also claimed the silver in the 50 metres freestyle with a time of 26.72. Also placing second in their events were Taylor White in the girls 13-14 and Jack Harvey in the boys 15-17 200 backstroke. White recorded a time of 2min 29.42sec while Harvey touched the wall in 2:11.92. Bermuda's other silver medal came in the girls 11-12 4x100 medley relay where the team of Judd, Giada Dudley-Pun, Pippa Charleson and Howes clocked a time of 4:52.75. Also picking up a bronze medal on the final day was the boys 11-12 4x100 medley relay team of Harlan Watson-Brown, Rhys Insley, Elijah Daley, Brandon Adkins who finished third in 4:39.62. The team added to their medal haul with seven medals on Monday when they won two gold, two silver and three bronze to reach 22 medals after the first four days. There were also some fourth and fifth-place finishes yesterday as Elan Daley placed fourth in the 50 freestyle while Judd, Elijah Daley and Adam Young placed fifth in their respective 200 backstroke events. Judd clocked 2:35.63, Daley 2:33.24 and Young 2:15.46. Giada Dudley-Pun placed fifth in the 100 breaststroke in a time of 1:21.97 while White was fifth in the 13-14 girls 400. Sam Williamson was seventh in the 100 breaststroke in 1:10.74 and eighth in the 400 freestyle in 4:21.71 yesterday. Reflecting on the team's success, Ben Smith, the national coach, could not hide his delight. "Having our swimmers step up to this challenge over the five days was impressive," he said. "There were ups and downs with some swimmers disappointed with their results and others shattering personal best times. Overall, it was a team effort and we are extremely proud."

The winner of Bermuda's Best Healthcare Professional award said he was told as a child he did not have what it took to be a doctor. Kyjuan Brown added: "During my educational pursuits, especially in primary and high school, I was always told that I was best suited to be a blue-collar worker. These guys do very important work, but I've wanted to become a doctor since the age of 5. I wasn't the brightest spark in my class. I had a learning impediment and it took me a lot longer to retain the information. When I got to college, I realised that I had to find ways of overcoming my challenges, so when I recognised that I had an impediment, I developed a solution to fix it. Once I adapted, my whole life changed around my academic pursuits — I went from being a C average to graduating magnum cum laude with a 3.6 GPA." Dr Brown, the medical director of Northshore Medical & Aesthetics Centre, was given the title after a public vote for the annual Best of Bermuda Awards. The June edition of The Bermudian magazine, which organizes the awards, said Dr Brown understood "the importance of mental and physical wellbeing in harmony". Dr Brown, from Pembroke, said that mental and physical health were closely linked and the most effective treatments tackled both. He said: "Their trauma, the effects of that, social issues, all of that has a part to play in regards to how they perceive illness and how they're going to manage their illness. As clinicians and scientists, we have to help patients bridge the gap so that they can understand the link between their behaviour and the disease." Dr Brown said the problems he faced as a youngster had helped develop the approach he had to medicine. He explained that creative thinking was vital for science and medicine to help develop a better understanding of people's health problems. Dr Brown added: "We've come to learn that patients' trauma has an adverse effect on their physical health and this is why I've created this centre, to focus on the whole person and not just their illness."

Sometimes it really pays to read the fine print. During the month of May, Joshua Bate Trading Company offered a $500 cash prize, or $750 in store credit, to potential customers who read the fine print in their terms of sale agreement. If they read to the end, they'd find notice of the competition, and information on how to claim the prize. "Customers did not have to buy anything to qualify, they simply needed to receive a quotation from us," said Matthew Gerardo, vice-president of sales of the Marsh Lane, Devonshire store. "Quotes are free. That quotation could be anything from appliance parts, furniture, flooring, lighting, or appliances. The terms of sale gets attached to any quotation for anything we sell, which is essentially everything and anything except for cabinets and countertops." He thinks he gave out about 400 quotations that month, but only one person responded on the very last day. "The customer's e-mail was hilarious," Mr Gerardo said. "She said: 'I know it is probably too late. I am sure someone has already done this'. I called her to let her know no one else had and she was really surprised." In fact, even Mr Gerardo was surprised when she first e-mailed him; it was the first he knew of the promotion. He'd read the sales terms so many times he didn't think he needed to read it any more. "I missed the last line of it," he said. "I called our operations manager, Jill Hanson, and said, do you know anything about this?" As it turned out, Ms Hanson had organised the promotion, partly out of frustration. "I wanted to stress the importance of reading what we send people," she said. "We felt this promotion was very interesting, to see if our customers actually read our terms of sale, which we include with all quotations and acknowledgments. We work very hard to provide the most excellent service to our customers, making sure we communicate all details from start to finish, yet we constantly have customers who complain and say, 'you never told me that'." She felt that people are reading less and less these days. "It is a weekly battle to receive replies from vendors after we send an e-mail more than three sentences long," she said. "I simply believe that attention spans are getting smaller and smaller." Ms Hanson said people not reading their documentation caused all sorts of problems. For example, it says in the terms of sale agreement that Joshua Bate can hold an order if the customer is not yet ready for it just yet. Customers just have to let them know. Still, when they send out e-mails confirming the eminent arrival of an order, they often get panicked responses saying the client isn't ready yet. "We are constantly following up on details," Mr Gerardo said. "This is not only with individual consumers, but architects and contractors and people doing massive projects. If people read what we give them the amount of mistakes it would save customers and ourselves would be incredible. I spend half the day dealing with issues like this." Mr Gerardo said the winning customer, who did not wish to be named, chose to accept a $750 store credit. "She's putting that towards furniture," Mr Gerardo said. The store credit also comes with a $250 donation to the charity of the winner's choice. The winner was still picking the charity. Ms Hanson said it says on the Joshua Bate website 'It's all about the details. We work hard to give our customers exemplary service, but when they don't provide us with the details, after reading all the information we provide, or answer our questions, we get upset when they are not pleased with our service, even though we did all we could," she said. "It took almost a month for someone to find that sentence, even though we have multiple sales per day. People just don't seem to read, which causes disappointment, on both sides."

July 2

A computing tycoon's widow is "in limbo" because of uncertainty over a government decision on her application to own the island she shared with her husband, a court heard yesterday. Michael Fordham, an English QC, told the civil division of Supreme Court that Lillian Martin's health had been affected by a five-year delay on a ministry ruling on Agar's Island, a "haven" and where her daughter was married. He was speaking after an application for judicial review was called yesterday. Lawyers for Ms Martin, widowed in 2013 when her husband, James, drowned aged 79, earlier filed a motion to ask for a decision on her application for a licence to acquire Agar's Island, off Point Shares, Pembroke, where the couple had made their home. They also asked for an order or declaration that a licence would be granted, or compensation paid as an alternative. But government lawyers, acting for the respondent, the Minister of National Security, claimed yesterday that there were suspicions that parts of Bermuda's immigration law had been breached. Mr Fordham told the court that Ms Martin, an American, applied in July 2014 for a licence she needed as a restricted person under the Bermuda Immigration and Protection Act to acquire the freehold to Agar's Island, where she had lived with her English-born husband since 2000. Dr Martin, a world-renowned IT innovator, entered a sale and purchase agreement for the island in 1997 and occupied it under lease from the Bermuda Transportation Co until a licence could be secured. Mr Fordham highlighted written evidence from Ms Martin. He said: "She is in limbo, that's her word, and she is suffering, that's my word, the serious impact and implications of the position that she is in." He added: "Agar's Island is a place of peace and contemplation. It was a haven and it still is. They turned it from a place of rocky isolation to a place of blossoming treasure where they lived together, where Mrs Martin, who sits behind me, witnessed the marriage of her daughter, Leila, who sits behind her in court, and it was the place where Dr Martin sadly drowned on his daily swim six years and one week ago. As she tells you, it is troubling and upsetting, causing a serious impact to her state of mind and indeed her health to have her application dealt with in the way that it has been. And she tells you how hard it would be for her to leave 'at my age', in case you haven't picked her up, she is 77, 78 later this month." Lauren Sadler-Best, of the Attorney-General's Chambers and for the national security minister, said that "it is the case that the facts point to the possibility that there is a breach of section 78 and section 81" of the Immigration and Protection Act. The two sections deal with the appropriation of land through the assumption of ownership rights by a restricted person and participation in a scheme that allowed a restricted person or trustee to hold, acquire or appropriate land in contravention of the legislation. But Mr Fordham told the court: "Does an arrangement by means of a sale and purchase agreement by which a restricted person will obtain the freehold only on obtaining a licence breach the legislation? Of course it doesn't." The hearing, before Assistant Justice Ian Kawaley, continues.

An attempt to improve communication over bus cancellations has been launched, the Ombudsman of Bermuda has revealed. Victoria Pearman said that the investigation was in the public interest "given the number of people impacted and the cumulative effects for the most vulnerable members of our society". She added: "The investigation remains in the fact-finding stage." She was speaking having raised "significant concerns" last September about communication of an interim bus schedule to the public. She said earlier that after "extensive consultation" with the Government an investigation was launched last November into whether the Government "effectively and sufficiently communicated bus cancellations to the public". Ms Pearman added: "Some of Bermuda's most vulnerable people depend on bus service, including seniors, children and those who cannot afford private transport. We believe these groups are less likely to complain about the impact of daily bus delays and cancellations." The comments were contained in Ms Pearman's annual report for 2018. The 48-page document was presented to Dennis Lister, the Speaker of the House, two weeks ago. Ms Pearman said that the Department of Public Transportation had admitted that it had struggled with a smaller fleet of buses than was needed to provide a service in line its schedule. Ms Pearman said: "Primary efforts to reduce cancellations have focused on replenishing the available fleet, including new bus purchases, out-of-service repairs and midlife refurbishments." She said that the Ombudsman's office was "hopeful" that the new bus schedule that came into force in March "would provide a more consistent and predictable service". Zane DeSilva, the transport minister, announced the next month that the new schedule had been scrapped after just six weeks. Mr DeSilva said the decision was made after complaints from the public and operators. Ms Pearman said that the old schedule was reinstated "with some changes, including that it no longer listed those trips which had been routinely cancelled". She added: "By relying of an online platform, the department may not have been effectively communicating with its users. It should not be assumed that all bus users can access the department's online updates." Ms Pearman said that some users do not have smartphones or home access to the internet. She said the department is making changes to how it communicates. Ms Pearman added: "It is now working to notify the public about cancellations through CITV announcements and a phone-in recording, which would be updated multiple times per day." The Ombudsman's office last year handled 309 cases, including 166 new complaints and 98 new inquiries. A total of 45 complaints remained open from 2017.

Consumers paid more for goods and services in March than they did in the same month in 2018. The Consumer Price Index rose 1.2 per cent, year-on-year. The level of inflation increased by 0.1 of a percentage point from the 1.1 per cent measured in February. The rent sector was the largest contributor to the year-over-year change, increasing by 2 per cent. The major contributor to the annual increase was a 2.7 per cent rise in the average cost of rental properties not subject to rent control. There was a 2.9 per cent increase in both the health and personal care, and food, sectors. The transport and foreign travel sector declined by 3.5 per cent. In the month-to-month changes, the transport and foreign travel sector rose by 2.1 per cent due in part to a 6.1 per cent increase in the average cost of overseas airfare and a 2.7 per cent increase in the cost of premium fuel. The rent sector had a 0.9 per cent increase, with the average cost of rental properties not subject to rent control increasing by 1.8 per cent. The tobacco and liquor sector climbed by 0.4 per cent, with the average cost of wine increasing by 1.9 per cent, while both the health and personal care sector and food sector dipped by 0.1 per cent. A decline of 7.4 per cent in the average cost of boat repairs and maintenance, and a 1.8 per cent decline in the average cost of pet food, fuelled a 0.4 per cent decrease in the education, recreation, entertainment and reading sector. There was no price movement in March in the clothing and footwear, fuel and power, and household goods, services and supplies sectors. Data was compiled by the Bermuda Government Department of Statistics.

US insurer Liberty Mutual has utilized its Bermuda-based special purpose insurer Limestone Re Ltd to raise $240 million of new reinsurance capacity. The company said in a press release that the transaction was comprised of $135 million of Bermuda Stock Exchange listed 2019-2 notes issued by Limestone Re and the remainder of the capacity provided via private placements. James Slaughter, executive vice-president and chief underwriting officer of Liberty Mutual's Global Risk Solutions strategic business unit, said: "This result reaffirms the quality of risk which insurance-linked securities investors can access via Limestone Re. "Third-party capital will continue to be a growing presence in the re/insurance market, and the Limestone Re platform remains an integral component of Liberty Mutual's strategy for accessing this capital." Arno Gartzke, vice-president and director of ILS, Liberty Mutual, the transaction successfully replaced the expiring Limestone Re 2018-1 placement and had an overall lower target size due to a revised portfolio composition. "The continued support from our key capital markets partners enabled a successful placement despite a challenging ILS market, and provides a robust foundation for the Limestone Re platform going forward," Mr Gartzke said. "The strong performance of previous Limestone Re placements relative to the broader ILS market through 2017 and 2018 is reflected in this solid base of support." Liberty Mutual has underwriting operations in Bermuda, having acquired Ironshore two years ago.

Randall & Quilter Investment Holdings Ltd has agreed a deal worth at least $25 million to purchase Bermuda-based reinsurer Sandell Re. London-listed R&Q, which is headquartered in Bermuda, said its subsidiary Randall & Quilter II Holdings Ltd had signed an agreement to acquire Sandell Holdings Ltd, parent company of Sandell Re, a Class 3A segregated account company that was incorporated in Bermuda in 2014 to write general business insurance and reinsurance. Legacy acquirer R&Q said residual liabilities comprise primarily of contractor's liability exposures arising in the US. Sandell Re had net technical reserves of $48.3 million as at December 31, 2018. The deal is subject to approval by regulator the Bermuda Monetary Authority and cash consideration payable at closing by R&Q is $25 million, "with further amounts payable subject to certain conditions being met". Sandell Re's net assets were $40.8 million as of the end of last year. Sandell Holdings recorded a loss of $2.7 million last year. Ken Randall, executive chairman of R&Q, said: "This is another sizeable acquisition for R&Q following on from our recent completion of the Global Re deal. R&Q takes pride in providing finality for owners and we expect to announce a number of additional acquisitions during the rest of this year."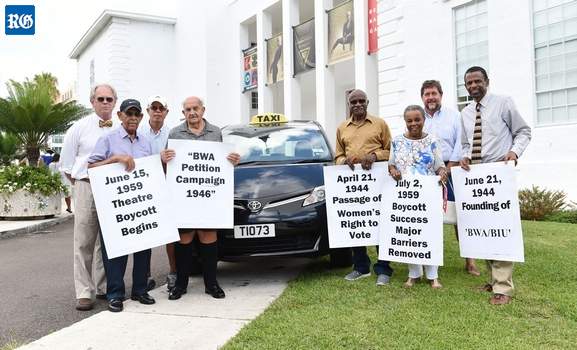 Bermuda should have an annual celebration of the anniversary of the Theatre Boycott, one of the activists who ended segregation in cinemas and other public places 60 years ago said yesterday. Vera Commissiong, one of the quiet heroes who campaigned as part of the secret Progressive Group with her husband, Rudolph, said: "We should have a holiday to commemorate it. "What we achieved has lasted. Nobody has to put up with the things we did. We are really free now." She was speaking on the eve of the anniversary of the day Bermuda's cinemas reopened as integrated establishments in 1959 after two weeks of anti-segregation picketing. Hotels and restaurants followed soon afterwards. Ms Commissiong and fellow activists Leroy Looby and the Reverend Erskine Simmons joined Glenn Fubler, of community group Imagine Bermuda, to talk about the day that began the island's slow march to equal rights. Mr Looby said he was inspired by the speeches of the late Richard "Doc" Lynch, better known as "Comrade Lynch" He added: "People were looking for progress, put it that way. 'Doc' Lynch and Kingsley Tweed said we were going to do it without any violence." Mr Looby said he heard James Pearman, the head of the Bermuda General Theatre Company, dismiss the protests outside his businesses. He added: "He said 'all those black hooligans will soon be back'. That was right before the final phase." Segregation was complete in Bermuda, from theatres to schools to the Civil Service, at the time protests started with placards on June 15, 1959. Mr Looby said he held a sign that read "all closed, thank you" outside one of the cinemas. He added: "That was when the theatres decided to close. But people did not give up." Mr Simmons said: "Did we get everything we hoped for? We achieved a lot. Jobs in the Civil Service opened up for black people. The hotels opened up. A lot of barriers came down." Mr Simmons added: "Sometimes for the young people it's ancient history. I was asked to talk to primary school children about it, and I thought that young people cannot really comprehend the type of community that we had. They can't imagine it. It was total segregation. Business opportunities for black people were limited and banks did not give black people amortized mortgages. That was the way it was." Ms Commissiong, then a teacher at Elliot School, said: "It was terrible. I went to school in the American South and I used to brag about Bermuda being so open minded in comparison. But I didn't really know, because I was so young." She studied in Virginia, where black cinema patrons had to sit upstairs. Ms Commissiong said: "I came back to Bermuda and black people had to sit downstairs. I made a joke that segregation here wasn't even done right. Those were the types of things black folks had to deal with. Just because of the colour of your skin, there was so much frustration you had to put up with. It was so unfair. We changed that." She admitted she had felt "sort of scared" as she put up posters with her husband to publicize the protest. Ms Commissiong said: "They would rip them down and we would put them back up. I saw something in the newspaper saying they would take you to court if they found you putting them up." She added her family had to get special permission for her son, Rolfe Commissiong, now a Progressive Labour Party MP, to attend the traditionally white Mount St Agnes private school in Hamilton. Ms Commissiong said: "Life is so completely different now. We had a good group with the Progressive Group. At the beginning some of the people were afraid, but we stood together." The activists remained anonymous for decades but were given public recognition in 1999. Mr Simmons said: "Everything changed, but people's own children didn't know about it." Mr Fubler added the example of the Progressive Group continued to inspire. He said: "They did what they did and they did it quietly. They didn't have any victory celebration." Mr Fubler added that civil rights campaigner Roosevelt Brown, who led to drive for universal adult suffrage in the 1960s, "would never have been able to do what he did had it not been for the Theatre Boycott". He said: "His movement collaborated with some of the Progressive Group without even knowing it. That's the genius of it." Mr Fubler earlier called for members of the public to drive with their headlights on today as a mark of respect to the quiet heroes who helped to change Bermuda.

Video recordings on social media of a weekend brawl on a boat are believed to show an incident at a Sunday raft-up off Morgan's Point, according to police. A spokesman said last night that its circumstances were "unclear". One film shows a boat packed with revelers before a fight breaks out between at least two men. Three people on the boat were seen to fall overboard, to the apparent laughter of onlookers on a nearby vessel, from which the fight appeared to be filmed. Police asked for witnesses to contact the main police number at 295-0011.

Young people who want social change should "try and convince people mentally and not physically", one of the quiet heroes who ended segregation in theatres said yesterday. The Reverend Erskine Simmons, of Bright Temple African Methodist Episcopal Church in Warwick, added the campaign 60 years ago that forced Bermuda's cinemas to end segregated seating started with "a simple group of people on a nice summer evening. There was no need to make any show of strength. There was a collaborative atmosphere — it was not a charged atmosphere. You have to appeal to their senses. If we have people demonstrating over climate change, then there is a scientific approach you have to take. Some people will look at the science and say that they still don't see it, but you have to suit it to the time in which you live." He added the Progressive Group "emphasised the protest should be peaceful" and that "some who took it upon themselves to make sure it did not get out of hand. Would it work today? Yes, if you start on the premise that you are going to have a non-violent situation. We have had clashes in Bermuda on several occasions between police and demonstrators." He highlighted the December 2016 standoff outside Parliament, where demonstrators opposed to a plan to build a new airport terminal under a public-private partnership deal were pepper-sprayed by police. Mr Simmons added: "Things become violent in Bermuda when the police intervene. In the Theatre Boycott, they did not. They never came out in force and tried to clear people off the street. There was harmony on everything." He said the anonymity of the 1959 boycott organisers, used to protect themselves from an establishment backlash, helped to fuel later campaigns for social change. Mr Simmons added: "It didn't happen all at once, although many things happened around the time of the Progressive Group. One side effect of that event, since nobody knew who the people in the group were, was that anybody in the community could invoke the Progressive Group name."

July 1

A lawyer for Bermuda's four Uighurs has raised concerns after the Government mistakenly released highly confidential records about the men's relatives under public access to information. The Department of Immigration initially provided only eight records about the Uighurs to The Royal Gazette in response to a Pati request lodged in January 2017. The newspaper appealed the limited disclosure to the Information Commissioner's Office and last Tuesday the department released 117 pages of records, mainly comprising internal government e-mails. Some of the records contained detailed personal information about the men's relatives. The department recalled the e-mail disclosure on Thursday and has since said the personal information was included in error. The Royal Gazette has agreed not to make public any of that personal information. Richard Horseman, the men's lawyer, said: "We were surprised to learn that documents containing personal information of the Uighurs were released. Under the Pati legislation, no personal records should have been released to the RG or, at the very least, our clients should have had notice of any pending release of any such information, in accordance with the regulations. This would [have] afforded our clients the opportunity to object to any dissemination of the information." Mr Horseman said the error "could have had serious repercussions for our clients". He added: "We understand that this was an administrative error and I think everyone recognizes that care must be taken when handling these type of requests. Had this information fallen into the wrong hands, it could have placed the Uighurs and their families at risk of harm. We do understand the public interest in the Uighurs, but their right to have their personal information kept private should be respected." Information Commissioner Gitanjali Gutierrez has repeatedly urged the Government to give civil servants proper guidelines on how to deal with public access to information requests. Ms Gutierrez has recused herself from any ICO review regarding the Uighurs because of a conflict related to her previous role as a lawyer for Guantánamo Bay prisoners. The ICO said in a statement that public authorities had to consult and notify people before making a decision to disclose their personal information under Pati. It said it appeared that the immigration department made the disclosure on the Uighurs "without the appropriate procedures being followed for consultation and notification to the concerned individuals under the Pati Act. Once personal information is disclosed under the Pati Act, it is challenging for individuals to remove it from the public domain," the statement said. "The Information Commissioner is mandated to ensure that, where necessary, individuals' personal information remains protected under the Pati Act and an individual's right to challenge a disclosure of personal information is safeguarded." The Department of Immigration declined to comment.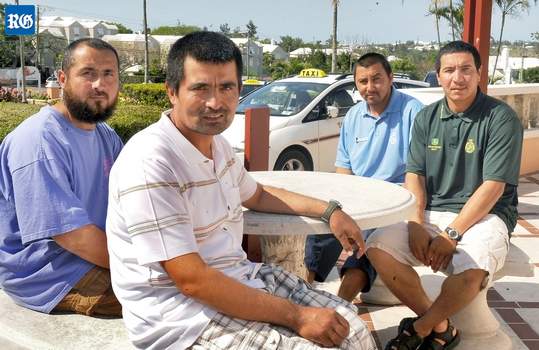 A dossier of official correspondence about the Uighurs and their relatives has been released by the Government, ten years after the four men came to the island from Guantánamo Bay at the invitation of then-Premier Ewart Brown. The e-mails reveal how Bermuda's top immigration official first heard about their arrival on a newscast and how civil servants have since tried to make Dr Brown's "humanitarian" gesture to provide sanctuary for the men work within the framework of the island's immigration laws. One exchange shows how Lieutenant-Colonel David Burch, the Cabinet minister who helped the former premier to bring the men here in secret, reacted when one of the Uighurs asked for permission for a visitor to come to the island, and then married the woman in an informal religious ceremony upon her arrival. The men's lawyer, Richard Horseman, wrote to tell the minister in November 2010 that Chief Immigration Officer Rozy Azhar had ordered the woman to leave once her 21-day visit to the island was up. Mr Horseman wrote: "I need to know if there is any wiggle room for permission for her [to] stay on." Mr Horseman explained that, if not, court action would be considered, although it would be a "last resort" because the Uighurs "certainly do not want to issue against the Bermuda Government, as the Bermuda Government has been their friend". Colonel Burch replied that the woman would have to leave and that he was revoking permission for other women due to visit the Uighurs. "It would seem as if I am the only one who did not know the women were not coming to simply 'visit', but that the plan all along was to marry," Colonel Burch wrote. "To say I am disappointed would be an understatement, particularly in light of numerous conversations with the men [when] I restated that the priority should first be securing jobs, then sorting out their status, then marriage." The records were released to The Royal Gazette by the Department of Immigration last week in response to a public access to information request filed in January 2017. The Uighur men, Khalil Mamut, Abilikim Turahun, Abdullah Abdulqadir and Salahidin Abdulahat, came to Bermuda on June 11, 2009, arriving in the early hours on a private jet from Guantánamo, where they had been held as prisoners for more than seven years after fleeing religious persecution in their homeland of China. Colonel Burch, then the Minister of Home Affairs, accompanied them on the aircraft and they were presented to the media at a press conference later that day, during which Dr Brown said the decision to bring them to Bermuda was "the right one from a humanitarian perspective". The correspondence released under Pati begins the next day, on June 12, 2009, when Deputy Governor Mark Capes wrote to Cabinet Secretary Marc Telemaque to ask on what legal basis the Government had allowed the men to enter Bermuda and whether they were considered stateless, as Dr Brown had told reporters. Mr Telemaque asked newly appointed Ms Azhar to assist with answers. She wrote: "I cannot answer these questions as I was not informed of their arrival until I heard it on the news. In addition, I was not privy to any information before these gentlemen arrived and no information after they arrived, except what the minister shared with me at a meeting at 2.30pm yesterday. I have absolutely no paperwork on these gentlemen, not even their names, so I would be at pains to answer them accurately." Ms Azhar added that the minister had the authority to land anyone, with or without conditions, and that the men were not stateless, but refugees. In an e-mail exchange from July 2009 about a revised permission letter for the men, Ms Azhar wrote that she wanted it to include that any employer would have to satisfy the Department of Immigration that they had considered Bermudians and spouses of Bermudians before giving jobs to the Uighurs. Dr Brown stepped down as Premier in October 2010 and the next month the row broke out about the Uighurs' fiancées. The Pati disclosure shows that before he left office, Dr Brown acted to help relatives of the Uighurs come to the island for a visit, even offering assurances to Britain to enable them to travel through that country. According to an e-mail about a female visitor, from his executive assistant, dated October 13, 2010, Dr Brown pledged "on behalf of the Government he will guarantee her or anyone else's passage through the UK, or other transit countries, by offering to pay for a guard [armed if necessary] to escort them through the process". Derrick Binns, the home affairs permanent secretary, wrote to Colonel Burch the next month to say the female visitor had arrived, that one of the Uighurs had "married" her in an informal ceremony conducted by another Uighur, and that permission was now being sought for her to remain in Bermuda. "I advised him that this was most problematic, and contrary to what you had advised — job, status, then wife." Referring to Ms Azhar, who was copied in, Dr Binns added: "Madam Chief, you must be loving this." Ms Azhar responded: "I am not loving this at all! It was not disclosed to us that they are fiancées ... This is a real issue. If she remained and they had children, their children will be stateless. Their status must be sorted out first ... This is just making a bad situation even more complicated and problematic to the Government and the UK. Minister, what say you?" Colonel Burch wrote that he was revoking the visas for the other women due to visit, but Ms Azhar told him: "They all had visa waivers courtesy of the former premier Brown." In 2013, Deputy Governor David Arkley wrote to Ms Azhar's successor, Danette Ming, with more questions about the Uighurs and the law that was used to allow them to be brought here. Dr Ming said there was nothing on record that made use of the Bermuda Immigration and Protection Act for the landing of the Uighurs in 2009. She wrote: "With nothing on file aligned to the Act, it seems that allowing the Uighurs to enter/land in Bermuda was more humanitarian-focused than legislation-focused." She told Mr Arkley that the Uighurs wives were free to "come and go" from Bermuda. Mr Abdulqadir publicly appealed to the British Government for help in 2017 after his sick five-year-old son was unable to go overseas for medical treatment because he had no travel documents. The issue was resolved last year when the Uighurs became British Overseas Territory citizens, making them and their children eligible for passports and giving them "belonger" status. The Department of Immigration initially released just eight documents about the Uighurs to The Royal Gazette in response to a Pati request for records of any "permission they or their dependants have to live and/or work in Bermuda". After being asked to conduct further searches by the Information Commissioner's Office, it released another 117 pages of records last week. In a decision due to be made public on Thursday, the Acting Information Commissioner found that the department did not conduct a reasonable search when processing the Pati request. The department was found to have conducted a reasonable search during the ICO review.
Uighurs are a Turkic Muslim minority from the Xinjiang province of far West China. Human rights activists say they are brutally repressed by the Chinese Government but are not considered threats to the US or any other Western country. The men were in Afghanistan in the autumn of 2001 when the US invaded after the September 11 terrorist attacks and conducted an extensive bombing campaign against terrorist group al-Qaeda and the ruling Taleban. In order to flee the bombs, the men made their way into Pakistan. They were captured by bounty hunters near Tora Bora and turned over to the US for a cash reward. They deny any connections to terrorism.

A deal has been signed for the purchase of a ladder truck to replace the fire service's 21-year-old Bronto. The ageing vehicle was plagued with electrical issues that left it out of action during the Front Street blaze in 2016. Firefighters were told last July that negotiations for the truck were nearing an end, which came more than a year after earlier assurances it was on its way. Now, they will wait at least another 12 months for the vehicle's manufacture. A spokesman for the Ministry of National Security said on Friday: "There has been progress in this area. The contract was signed today." He had said earlier in June: "Once the contract is signed, manufacturing of the truck, which is expected to take over a year, will commence and we anticipate receiving the vehicle in the 2020-21 fiscal year." Allan Wilkinson, the president of the Fire Service Association, said last week: "We finally made some headway. We've been kept abreast by our management team because they knew it was a real bone of contention — particularly the availability of it for the Front Street fire, which was a real issue. Us and our management were on the same page; it was more or less trying to secure the finances with regards to Government giving us the nod for us to be able to pay for it." The Government said the cost of the vehicle was estimated to be $1.3 million. It was thought the manufacturer, British-based Angloco, would receive a percentage of the money as a deposit before work started to make the truck to Bermuda's specifications, which are determined by factors like the size of the island's roads. Mr Wilkinson said: "If they build a particular model on the assembly line, they would have to make all sorts of adjustments to build something special for us. They are aware because they did build the one we have." The ailing Bronto gets its name from the Bronto Skylift aerial ladder platform, which can extend to 110ft, allowing teams to spray water from greater heights and access taller buildings. The Bermuda Fire and Rescue Service bought the existing vehicle in 1998, but it was notably absent after a problem with its electrical circuitry when a major blaze hit Front Street in July 2016. It took 16 vehicles and more than 30 personnel to battle the smoke and flames that erupted at around 4.30am and destroyed a number of buildings. At the time, sources told The Royal Gazette that the ladder truck had been out of service and that a host of other mechanical problems had grown into a longstanding source of frustration for firefighters. The BFRS later reported that nearly $50,000 was spent on repairs in the preceding financial year Jeff Baron, who was national security minister under the former One Bermuda Alliance administration, said in March 2017 that talks with a supplier in Europe were complete and it was hoped a new hydraulic ladder platform vehicle would be on island "as soon as possible", upon approval of the 2017-18 budget. The Progressive Labour Party took the helm of government four months later and Mr Caines told the House of Assembly last July that negotiations to secure a replacement truck were nearing an end. A spokeswoman later added the appliance would be bought by the close of 2018-19. Mr Wilkinson explained last week that the Bronto underwent more repairs [within the past year], but it has recently been operational and although the truck had not been required for emergencies since then, it was used for training and to provide assistance to other organisations such as the Corporation of Hamilton.

Regulation poses the greatest threat to the global insurance industry due to the volume of change and associated cost, according to Bermuda-based respondents to a survey of insurance industry professionals. One survey respondent said that regulation is "strangling of our ability to operate effectively across jurisdictions and leverage our capital. [This] is a huge and expensive problem". The Insurance Banana Skins global report, issued biennially since 2007, is published by the Centre for the Study of Financial Innovation in association with professional services firm PwC. This year's analysis is based on 927 responses from 53 territories, including 32 Bermuda respondents. Fourteen were from the reinsurance sector, while there were nine non-life respondents, two life respondents, and one composite respondent. Six respondents identified themselves as 'other'. While Bermuda-based respondents ranked regulation as the greatest threat, the world ranking for regulation was fourth. Technology, meanwhile, was ranked as the number one threat by respondents globally, while Bermudian-based respondents had technology at number five on their list. Bermuda also gave a higher score to political risk (sixth v eleventh in global ranking). That, the survey organisations said, was "because of the island's vulnerability to political actions in the United States (tax), the European Union (blacklisting) and the United Kingdom (Brexit)". Climate change was another higher-than-average scorer among Bermudian-based respondents, perhaps due to the proportionally high number of respondents from the reinsurance industry as that sector bears the brunt of catastrophic events. What follows is a selection of quotes by Bermudian-based respondents to the survey:
Capital availability: "Surplus capital will continue to erode margins and result in adverse economics in the short to medium term."
Climate change: "[Concern about] the ability of the industry to deal with the liability, physical and transitional risks associated with a changing climate."
Investment performance: "Recessionary event in the US combined with continued political upheaval globally [will combine] to produce weak investment returns."
Social change: "Social demands will continue to put pressure on the industry, but not in isolation from governmental interactions and policies."
Change management: "Lloyd's failure to innovate and the advancing march of Chinese capital [will] shift the marketplace."
Bermuda produced the second-lowest score on the Banana Skins Index, implying a low level of risk anxiety. The index measures the average score given by each of the 32 countries with ten or more respondents to the 21 risks, or "banana skins", listed in the questionnaire. The higher the score, the greater is the implied "anxiety level". The top three scores were posted by Turkey (3.64), Malaysia (3.59) and the Philippines (3.55). Bermuda (3.19) was more anxious than only Denmark (3.15). The global score was 3.33. Meanwhile, Bermuda produced an above average score on the Preparedness Index, implying a high level of preparedness. The index measures the average response given to the question: "How well-prepared do you think the insurance industry is to handle the risks you identified?" The continuum runs from "poorly" to "well". The higher the score, the greater is the implied level of preparedness. Bermuda was ninth of 32 countries on the preparedness index at 3.28, behind only Spain (3.47), South Africa (3.46), Switzerland (3.40), Turkey (3.35), Portugal and South Korea (3.33), Germany (3.31) and Malaysia (3.29). The global score was 3.11. The Bermuda rankings, with the corresponding ranking globally in brackets: 1, Regulation (4); 2, Cyber-risk (2); 3, Climate change (6); 4, Change management (3); 5, Technology (1); 6, Political risk (11); 7, Human talent (8); 8, Macro-economy (9); 9, Competition (7); 10, Cost reduction (12); 11, Investment performance (5); 12, Quality of management (16); 13, Reputation (13); 14, Social change (18); 15, Capital availability (20); 16, Brexit (21); 17, Guaranteed products (14); 18, Corporate governance (19); 19, Business practices (15); 20, Interest rates (10); 21, Credit risk (17).

Mailboxes Unlimited has acquired New Jersey-based freight-consolidating company, Corporate Forwarding Services of America LLC, after years of working side by side with them. Kenny Thomson, Mailboxes Unlimited's president, officially took over last night after owners, Jack and Karen Gannon, retired. "They have been amazing over the years," Mr Thomson said. But he said there was a need to modernize. "It was very manual up there," Mr Thomson said. "It was very pen and paper and we would input in the data down here. We had discontiguous databases, one that was cloud-based and one that was local. The two companies need to be reconciled under one umbrella and the data flow needs to be reconciled under one web-based system." Mr Thomson took over the role of president of Mailboxes Unlimited from Steve Thomson, his father, on September 31 last year. "My father is phasing out into retirement," Mr Thomson said. "In the beginning it was 80 per cent him and 20 per cent me and now it is probably the inverse of that. Everything has been happening gradually. It wouldn't have worked so well if we'd just gone cold turkey." The acquisition of Corporate Forwarding Services is one of Mr Thomson's first major acts, but he has a lot of other plans for Mailboxes Unlimited. "Everything needs to be pushed to the next level in terms of technology," he said. "The reason for that is the whole process becomes more efficient from beginning to end. That allows us to manage costs and efficiencies. The knock-on effect of that is that we can lower costs and be more competitive." He's even improving the company's Instagram profile, @mailboxes.bm, making it more of a lifestyle page. "We are more focusing on the out-of-the box lifestyles that can be supported by Mailboxes," he said. "It is more intended to be a reminder of when things aren't available in Bermuda there is a good option." They recently posted a picture of two dogs surfing to remind people they can order their pet supplies through Mailboxes Unlimited. "After that there was a pick-up in dog collars and dog toys coming in," he said. "People were like, 'I forgot there was something specific I wanted for my dog, an engraved dog tag or something'." Being a young-looking 26 he admitted that there were times when he was mistaken for a summer student. "But maybe looking young will work out for me one day," he laughed. His father started the business in 1991 and he was born in 1993. "There is a box in the corner that holds packing peanuts," he said. "It still has little drawings on it from when my older brother Nick and I used to play in that corner." After studying at the University of Reading in England, Mr Thomson spent two years working for Tishman Speyer in London, one of the world's largest real estate development companies. Now he hopes to take what he learnt about business and technology to Mailboxes Unlimited. Mr Thomson said his company has threats and competition that simply didn't exist a few years ago. His fear is that if they don't up their game, they'll get left behind. "Amazon will ship directly to Bermuda now," he said. "MyUS Alternative has been banging their drums in Bermuda recently. There are more overseas options that have scale and the resources to be efficient. To stay ahead you just need to keep evolving. If we sit still too long something will happen. I think this is probably one of the most rapidly evolving industries in the world." Steve Thomson, who is chairman of Bermuda Press (Holdings) Ltd, the parent company of The Royal Gazette, was excited to see the next generation taking over. He was also happy about the changes coming to the company. He hoped it would make the Mailboxes Unlimited services more seamless. "You'll be able to say, 'hold my blouse until my shoes come in'," he said. "You'll be able to communicate with us much better."
• For more information about Mailboxes Unlimited call 292-6563.

The "remarkable richness of the Russian piano repertoire" is the theme of a music festival taking place this week. Alex Tuchman, founder and artistic director of the Bermuda Piano Festival, which is now in its third year, said he chose the theme to help broaden the public's appreciation of Russian composers. Mr Tuchman, a prize-winner of the Bartok-Kabalevsky-Prokofiev International Piano Competition, said: "There will be works by composers that everybody knows and loves like [Pyotr Illyich] Tchaikovsky and [Sergei] Rachmaninoff, but also many by composers that people don't know, but who I am sure whose music they would love if they had the chance to hear it. We thought to programme these very household names alongside lesser-known composers of the Russian repertoire. It is really beautiful music — we have not only solo and duo performances, but for the first time we have a classical piano trio with cello and violin." The festival features professional US-based musicians Mr Tuchman, Eteri Andjaparidz, Jeanelle Brierley, Sung-Soo Cho, Stephen Cook and Eliza Fath, who will provide master classes to interested music students. The repertoire will also include pieces by Sergie Prokofiev, Nikolai Medtner and Dmitri Schostakovich, Alexander Scriabin, Anton Arensky and Igor Stravinsky. While the island has for years hosted the Bermuda Festival for the Performing Arts and the Bermuda Guitar Festival, Mr Tuchman saw room for a musical showcase that catered to the many piano students and enthusiasts here. The 27-year-old was born in New Jersey, but moved here when he was 15 after his father, Bob, was hired to work in the local reinsurance industry. In 2017, he was interested in launching the Bermuda Piano Festival and approached the Bermuda School of Music who supported the idea. Mr Tuchman said: "Since then, it has been a team effort putting together a programme and master classes. Our goal is to provide a cultural event for residents of Bermuda. One of the real motivations behind the festival is to connect with young students or anyone studying music. I remember as a young student how it really was very helpful to have the chance to play for someone who I didn't take a lesson from every week, to get a fresh perspective and to hear different people performing. It is a wonderful way to grow and learn as an artist. We hope that by offering young students the chance to play for the musicians, the performing artists, they are inspired to take music wherever they want." Mr Tuchman started taking piano lessons at the age of 5. When he was 13, he studied in New York in the honours programme at Mannes Prep before continuing on at the Mannes School of Music at the New School. He then earned a master of music degree from New York Steinhardt as a member of the adjunct faculty. He has performed here with the Bermuda School of Music and at City Hall. He has also appeared with the Bermuda Philharmonic at the Ruth Seaton James Centre for the Performing Arts. He said: "It is my passion to perform and organize events that bring performers together. I am finishing my doctoral degree in piano [performance from the Cleveland Institute of Music]. I plan to continue to perform solo and chamber music and I would love to teach at the university."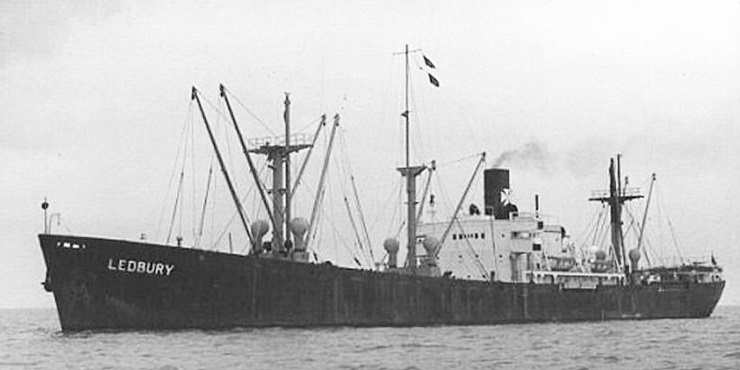 A former junior officer on a cargo ship that endured the "worst ever" voyage to Bermuda 60 years ago has returned to the island for the first time since his stormy trip. Terry Blake, 79, who revisited Bermuda last month, said the SS Ledbury arrived in January 1960 after "a marathon 26-day voyage". The former apprentice deck officer, then aged just 19, said: "From start to finish the voyage was a battle against the elements, an endless round of gales, storms and hurricane-force winds which at times raised fears that we were all destined for a watery grave, like many of those unfortunate early voyagers to Bermuda and the New World in their tiny sailing ships." The Royal Gazette reported after the arrival of the Ledbury: "Streaks of rust down her sides bore mute testimony to the battering she underwent in the storm-lashed North Atlantic." Mr Blake contrasted the experience with his "uneventful" seven-hour air journey from Gatwick. His ship, which was under charter to Royal Mail Lines, arrived in Bermuda 13 days late after weeks of non-stop storms. Mr Blake said the cargo included luxury Jaguar cars, cases of spirits, and "two pairs of prize rams and ewes". He added: "It would be interesting to know whether there are any descendants on the island of those prize rams and ewes which we eventually delivered safely, apparently none the worse after their epic voyage or if any of those Jaguars, also surprisingly still intact on arrival, ever got to exceed 20 miles per hour." He said: "I doubt whether there are any of the bottles of spirits still remaining." Mr Blake and another apprentice were responsible for looking after the sheep, carried on deck in two pens lashed to the ship's bulwarks. The Ledbury set off from London on December 18, 1959, and steamed into its first gale force winds in the English Channel — with worse to come. Mr Blake wrote: "For much of the voyage, we were battling mountainous seas, the air filled with spume whipped from the foaming crests of the waves. As we confronted each wave, we would heave our way up an almost perpendicular wall of water, balance precariously on the crest, the propeller racing as it came clear of the water, sending shudders through the ship, before tipping forward and sliding down precipitously into the trough, the bow burying itself deep into the sea before lifting ponderously to repeat the whole process, wave after wave, hour after hour, day after day." The ship had none of the modern navigational aids and cloud cover prevented the crew from plotting her course by the stars. The ship's radar was also knocked out of commission. The crew managed to find the island and spotted Gibbs Hill Lighthouse, which helped her limp into port. Mr Blake, who stayed with his daughter, Alice, at Glencoe in Paget, and returns home to Britain today, said he remembered little of his first visit. He said: "It does seem to be a lot busier now than I remember it then, particularly on the roads." But he added: "What I particularly remember about Bermuda 60 years ago is that it was like a little piece of paradise, with its blue skies, emerald and blue seas, white and pink sandy beaches and coves, and lush green vegetation. Set among all this were the delightful, pastel-coloured houses with their white roofs, in pristine condition with beautifully manicured gardens. None of that has changed. To me, coming from England, it is still like a little piece of paradise."


Last Updated: July 23, 2019
Multi-national © 2019 by Bermuda Online. All Rights Reserved