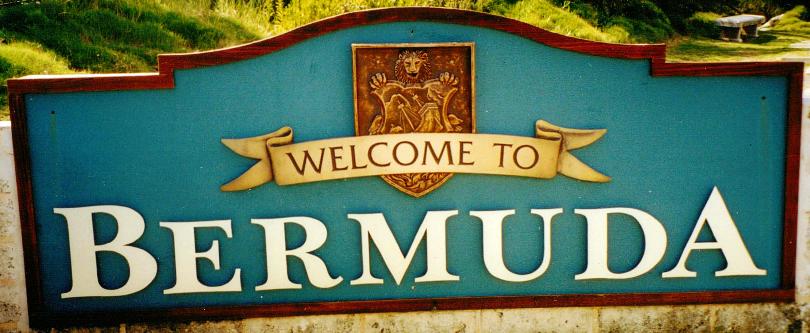 Click on graphic above to navigate the 165+ web files on this website, a regularly updated Gazetteer, an in-depth description of our island's internally self-governing British Overseas Territory 900 miles north of the Caribbean, 600 miles east of North Carolina, USA. With accommodation options, airlines, airport, actors, actresses, aviation, banks, beaches, Bermuda Dollar, Bermuda Government, Bermuda-incorporated businesses and companies including insurers and reinsurers, Bermudians, books and publications, bridges and causeway, charities, churches, citizenship by Status, City of Hamilton, commerce, communities, credit cards, cruise ships, cuisine, currency, disability accessibility, Devonshire Parish, districts, Dockyard, economy, education, employers, employment, environment, executorships, fauna, ferries, flora, former military bases, forts, gardens, geography, getting around, golf, guest houses, highways, history, historic properties, Hamilton, House of Assembly, housing, hotels, immigration, import duties, internet access, islands, laws, legal system and legislators, main roads, marriages, media, members of parliament, money, motor vehicles, municipalities, music and musicians, newcomers, newspaper, media, organizations, parks, parishes, Paget, Pembroke, performing artists, residents, pensions, political parties, postage stamps, public holidays, public transportation, railway trail, real estate, registries of aircraft and ships, religions, Royal Naval Dockyard, Sandys, senior citizens, Smith's, Somerset Village, Southampton, St. David's Island, St George's, Spanish Point, Spittal Pond, sports, taxes, telecommunications, time zone, traditions, tourism, Town of St. George, Tucker's Town, utilities, water sports, Warwick, weather, wildlife, work permits.

Bermuda's 2015 March History and News
Events that made the headlines in the third month of this calendar year
By Keith Archibald Forbes (see About Us).

See end of this file for all of our many History files
2015. March 2. The notorious pirate Blackbeard once threatened to turn Bermuda into a pirate's den. So claims historian William S Zuill in his new book, The Pirate Menace. "He was a rogue with a vivid personality," said the 84-year-old. "In the height of battle, Blackbeard would light slow-burning matches and put them into his hair to create a wreath of smoke around himself. "This made him more frightening." Blackbeard's real name was Edward Teach, and his origins are unknown. Some historians believe he was from Bristol, England, while others think he was from a wealthy family in Jamaica. In 1718, Blackbeard successfully blockaded Charleston, North Carolina. By taking hostages, he forced the town's people to hand over a large quantity of money and a medicine chest. Reports reached England that he was threatening to take over Bermuda. "In June that year Blackbeard set sail and steered towards Bermuda," Mr Zuill wrote. "Pirate threats were always a matter of concern, and Blackbeard had shown what he could do when he blockaded Charleston. In fact, news that he was sailing towards Bermuda probably never reached the Island." Blackbeard became distracted by plunder on the high seas and did not carry out his plan. One of his ships, was the sloop Bermuda, gifted to him by another pirate, Benjamin Hornigold. Blackbeard renamed it Adventure. Mr Zuill said the information about Blackbeard comes from an account written by a Captain Charles Johnson, thought by some to be a pseudonym for Daniel Defoe, author of Robinson Crusoe." My own guess is that Defoe was Captain Johnson's editor," said Mr Zuill. "Captain Johnson remains a man of mystery. Movies like Pirates of the Caribbean and novels like Treasure Island have really romanticized pirates. They make it seem like pirates were really good people. In reality, there was nothing romantic about pirates. There was cruelty to men and women who fell into piratical hands. The pirates took sadistic pleasure in tormenting the officers and crew of captured ships." In one case, he said pirate crews tied captives to ropes and hoisted them high above the ship, and then let them drop to see their bones break. Blackbeard was said to have 14 wives including the 16-year-old daughter of a plantation owner. After he married her he invited his favorite crew members to rape her. There is no evidence that Bermuda was ever a stronghold for pirates, but a few Bermudians did join the ranks. One example was Nathaniel North.Mr Zuill said he had thought about writing the book for the last 30 years, but only started writing it recently. "Whenever I passed a library I would go in and look for pirates in the card catalogue for things related to pirates and the time period," he said. He was surprised by many of the things he learned, such as New York being a popular hangout for pirates in the 1700s. It was in New York that looted treasures were bought and sold. His granddaughter Zoe Brady, helped him source visual material for the book. She is currently studying artifact conservation at the University of Cardiff in Wales. "I want to thank my granddaughter for reinvigorating me to push on with completing the work," Mr Zuill wrote in his book. Mr Zuill is a former editor of The Royal Gazette and the retired director of the Bermuda National Trust. He has written several other books. He'll sign copies of his book at Brown and Company on Saturday at noon.
March 2. Premier Michael Dunkley had his second meeting in the past six months with Prince Abdullah Khaled, a prominent member of the Saudi Arabian royal family that own the Elbow Beach Bermuda hotel. The meeting provided an opportunity for the Premier and Prince Abdullah to further their previous discussions on several matters, including tourism, the Elbow Beach property, hotel development in Bermuda and the America's Cup. Mr Dunkley noted that the discussions this time around were "fruitful and productive", and he remains encouraged by Prince Abdullah's continued dedication and commitment to ensuring that the landmark South Shore property is a world-class resort. At the same time, the pair and the management and staff of Elbow Beach recognized the long service of Shirley Hunt, the hotel's former bell captain. Mr Hunt, who has contributed 58 years of service at the hotel, received a Queen's Certificate and Queen's Badge of Honour in the 2008 New Year Honours List. Before joining Elbow Beach in the late 1950s as a night man and relief switchboard operator, he was employed at the former Harmony Club. Mr Hunt, who began as a bell captain in 1968, was called a "true tourism ambassador for Bermuda" by the Premier.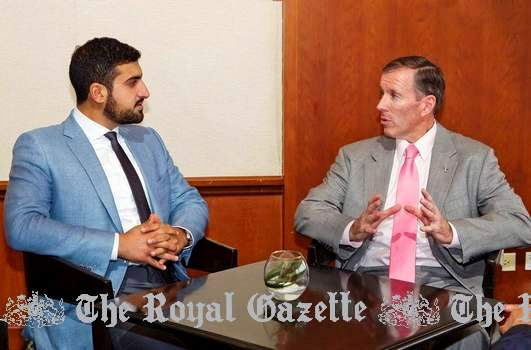 The Prince and the Premier. See above story
March 2. ACBDA, the America's Cup in Bermuda entity, have submitted new planning applications for Dockyard in advance of the 2017 America's Cup. A pair of applications were received by the Planning Department last week proposing a new service road to Moresby Plain Field, and alterations to a building near the entrance of Dockyard. The proposed new service road would use the same road that services the Westgate Correctional Facility. In addition to the road itself, the application proposes the erection of a new security gate and gate house for the facility, along with the relocation of several pole-mounted security cameras. The entrance to the road from Pender Road would meanwhile be widened, and a parking Island outside the prison would be removed. A draft master plan included in a previous planning application suggested that the field, also known as Malabar Field, would be used for parking and utilities storage during the America's Cup. The second application proposes the removal of an overhead roller shutter door and some fill-in concrete masonry from Chicare Building number 2, a listed building located at 1 Smithery Lane. The project would also include the erection of new RC columns and steel beams to create a larger opening to the building with a new, larger roller shutter.
March 2. A French master sommelier will reveal the results of his investigations into the origins of wine discovered on board the wrecked Mary-Celestia, at the Charleston Wine + Food Festival this week. The Bermuda Tourism Authority (BTA) said the wine will complete its 150-year journey at the Charleston event, which will take place on Friday, March 6, at 4pm. "During the height of the Civil War in 1864, a blockade runner ship, the Mary-Celestia, was on her way from Europe to South Carolina via Bermuda. She sank under mysterious circumstances off the coast of Bermuda, but a storm in 2011 revealed one of her secrets. Hidden in her bow lay a personal haul of contraband including a case of fine wine that was incredibly still intact. The rest of the story' will be revealed as the wine completes its 150-year journey and is delivered to Charleston during the Festival." Bermuda's Custodian of Wrecks, Dr Philippe Rouja, who was on the 2011 dive that recovered the wine, will also make a presentation to festival goers at the $50 per ticket event. This, the BTA stated, will promote "Bermuda's lure as a world-leading shipwreck dive destination". There will be two sold-out Bermuda-focused culinary and cultural heritage events, which the BTA describes as the result of a promotional partnership. "Wine, wreck diving, intrigue and storytelling are on tap at one wine event, while culinary talent, musical entertainment and celebration will be served up at the Sunday Gospel Brunch." BTA chief sales and marketing officer Victoria Isley was quoted stating: "As foodies from around the world converge on the historic American city, they will savor Bermuda's flavors and hear about one of the Island's modern-day treasure hunt stories. This type of experiential marketing and storytelling brings the Bermuda experience to life for potential travelers. In addition to Bermuda's underwater heritage, the Island's culinary legacy will also be on display at the popular Sunday Gospel Brunch. The BTA is the sponsor of the brunch, where Bermuda and Charleston chefs will create a family-style feast under the joyful hum of a live gospel choir along with the soulful sounds of Bermuda's own Joy T Barnum." Bermuda's side of the brunch menu are represented by Michiko Campbell, of Royal Bermuda Yacht Club; Andre Greene, formerly of Greg's Steakhouse, Karsten Krivenko, of Tribe Road Kitchen and Douglas Sisk, of The Reefs. The statement said the BTA's strategy is to strengthen arts and culture tourism in Bermuda, including the island's shipwreck heritage and culinary traditions. "The Charleston Wine + Food Festival was identified as a strategic opportunity to further these objectives based on a number of factors:
• The profile of visitors to Charleston and Bermuda are aligned, as well as Festival attendees
• Festival attendees hail from Charleston, Atlanta (supporting Delta's direct service from Atlanta to Bermuda), Charlotte (seasonal American/US Airways), Washington, DC (seasonal American/US Airways) and New York City (multiple airlines)
• The cultural and historical links between Charleston and Bermuda — from the intriguing story of the Mary-Celestia to the Bermuda limestone that helped create the foundation for the city."
Perfume was also discovered on the same wreck, and has since been recreated and is being sold by Lili Bermuda. The Mary Celestia fragrance, which features citrus, rosewood and amber notes, was found in two intact bottles of perfume embossed Piesse and Lubin London, in the bow of the Mary-Celestia.
For more information go to charlestonwineandfood.com/events/from-deep-below/.
March 2. RenaissanceRe Holdings Ltd's acquisition of fellow Bermuda reinsurer Platinum Underwriters Holdings Ltd is expected to close today. The $1.9 billion cash-and-stock merger deal was announced in November. Platinum shareholders were invited to choose between receiving either RenRe shares, cash, or a combination of RenRe shares and cash, in exchange for their Platinum shares. Shareholders had until Thursday to elect their preference. On Friday, RenRe announced the preliminary merger consideration election results. Shareholders who collectively owned the largest percentage of outstanding Platinum shares opted for the shares-only option. Accounting for approximately 53.9 per cent of the company's outstanding shares, they chose to receive 0.6504 RenRe common shares, subject to proration, in exchange for their shares. Other shareholders opted for either the cash-only or shares and cash options.
March 2. Around half of the 37 Bermuda-based employees of Platinum Specialty Underwriters Holdings Ltd have accepted redundancy packages after the reinsurer was bought out by RenaissanceRe Holdings Ltd, The Royal Gazette understands, while the other half accepted job offers from RenRe. Of the 37, who worked in Platinum's offices in Waterloo House, about two-thirds were offered either permanent or temporary positions by RenRe. The offers of temporary roles were offered on a three- to 15-month basis to help with the integration process, with the possibility that some of those roles could become permanent. It is understood that RenRe has also held off filling vacancies in its Bermuda office to allow Platinum staff the opportunity to fill them. The acquisition deal, first made public last November, closed today. RenRe chief executive officer Kevin O'Donnell told The Royal Gazette: "Ultimately, this acquisition strengthens the RenaissanceRe franchise and our local presence on the Island. Our headquarters remain in Bermuda and we are more committed than ever to our community. Today, through the combining of RenaissanceRe and Platinum, we are able to offer greater underwriter expertise, more product lines and enhanced capital solutions to both existing and new clients. As separate companies, we each had a proud heritage going back many years of providing outstanding service to clients. That focus will continue to underpin all that we do going forward." The completion of the acquisition follows the receipt of all necessary regulatory approvals and approval of the transaction by Platinum shareholders, which was obtained at a special general meeting of Platinum shareholders held last week. Effective as of market close yesterday, Platinum shares will cease trading on the New York Stock Exchange.
March 2. A Seniors Advisory Council has been set up by the Bermuda Government to help to improve the standards of care for the Island's elderly. The council will be made up of 15 individuals including, Dr John Cann as its chairman and Marian Sherratt as it deputy chairwoman. Minister of Seniors Jeanne Atherden made the announcement this afternoon at a press conference. "As a Government, we have an obligation to set policies and plan for the future, and we have a responsibility to ensure that the people who live and work in Bermuda have the knowledge they need to plan for their own future. We need to make sure that today's young people are prepared for their old age. We don't want them to be elderly and reliant on the Government for their housing and care. I will be asking the Seniors Advisory Council to work with our government department and our civil servants to develop a comprehensive National Ageing Plan for Bermuda. Part of that plan will, by necessity and as a matter of priority, need to address the issues surrounding long-term care." The frequency of the council's meetings will be determined by its members. Mrs Atherden said group would form subcommittees, which will invite the participation of individuals who are not on the council, but have expertise relevant to the subcommittee. "Caring for this growing population of Alzheimer's and dementia sufferers is, even now, putting a strain on caregivers, families and our long-term care facilities. This strain will only get worse in the future, so another of the tasks for the council will be to review the need for and development of what I am calling an Alzheimer's and dementia care strategy." The members of the council include Lorraine Beasley, Lauren Bell, Charles Jeffers, Joanne Tucker, Valerie Pethen, Susan Jackson, Winifred Fostine-DeSilva, Sharon Swan, Dr Htay Myint, Rosheena Masters, Judy Canale, Elizabeth Stewart and Jane Collis.
March 2. The position of local construction chief Michael Butt on the board of Aecon, the Canadian giant in line for the Island's airport redevelopment, has been cited as a major concern by the Opposition. Bob Richards, Finance Minister, maintained that Progressive Labour Party did not want to see Government succeed in its public-private partnership the Canadian Commercial Corporation (CCC), which still has not been cemented. Mr Richards clashed with Shadow Minister of Finance David Burt over the project during Friday's House of Assembly, when Mr Burt presented Members of Parliament with the Progressive Labour Party's response to the Budget. Government's sidestepping of a request for proposal over the selection of Aecon prompted Mr Burt to question the OBA's governance, telling Mr Richards it was "hugely coincidental" that the chairman of a prominent local construction firm sat on Aecon's board. Mr Butt is the chairman and chief executive officer of Somers Construction Limited, and holds the same position for Toronto-based general contractors Buttcon Limited. Mr Butt is active on the board, as chairman of Aecon Group's corporate governance, nominating and compensation committee, as well as a member of the audit committee. Mr Burt did not identify him by name during the Reply to the Budget — a session that concluded shortly before 3am on Saturday. However, Mr Richards told MPs he had approached the Shadow Minister to ask the identity of the person he had alluded to. Mr Richards added: "He told me the person is a company — and companies don't sit on boards, as we all know. I don't care who it is, because I know I haven't met him. I don't even know who he is." According to Somers Construction, Mr Butt has served as chairman for the Ontario General Contractors Association, the Canadian Construction Association and the Greater Toronto Airports Authority. Somers also said they draw on the resources of Butt. com. Aecon's website lists him as an independent director. According to May 2014 documents produced by Aecon for their shareholders, Mr Butt's declared number of common shares makes him the third-largest shareholder of the directors sitting on that board. His shares number 283,000 and were valued at more than $5 million Canadian dollars in the documentation. Responding to Mr Burt's suggestion that Government has awarded the airport redevelopment project to Aecon, Mr Richards said that decision has lain wholly with the Canadian Commercial Corporation. "CCC chose Aecon, not the Bermuda Government," the Minister said. "They chose Aecon because they're one of the biggest developers in Canada, and they've got experience in doing this kind of thing. Throwing some kind of mud to see what sticks is not the kind of behavior that a group of people who say they support our project in principle would do. They don't support the project and they're trying to trash it wherever they can." Marc Bean, the Opposition Leader, objected when Mr Richards told the House that the PLP wished to see the development projects fail. "They say it's a straw man, they say it's a fairy tale — I think the listeners can make up their minds for themselves," Mr Richards responded, prompting PLP MP Jamahl Simmons to tell the House that the minister had no idea how the Westminster Parliamentary system worked. "The Opposition's words do not have the power to stop people from investing in profitable ventures," Mr Simmons added. The two sides also clashed on the amount of revenue generated by LF Wade International Airport — a topic that caused some confusion in the Senate last November. That same month, Aaron Adderley, the head of the Department of Airport Operations, cautioned that the layout of Budget figures was deceptive, and gave the wrong impression that LF Wade was a money-losing venture — telling The Royal Gazette that it produced a small profit of $3 to $3.5 million annually. Mr Burt cited a figure of $11 million, pointing to $10.8 million in airport fees listed in the latest Budget plus $20 million in departure tax, versus $19.3 million in airport expenses. However, Mr Richards called the assertion "totally false", maintaining that Bermuda loses a small amount of money on LF Wade. Departure tax, which Government is increasing, goes directly into the Consolidated Fund, the Minister said — and he dismissed without comment Mr Burt's assertion of a profit. Consolidated Fund receipts, according to the Budget book, include "aircraft registration and air terminal fees".
March 2. All employers seeking short-term or standard work permits must first register the position on the Bermuda Job Board, says the Department of Workforce Development. A press release making the statement said that with implementation of Bermuda's new work permit policy, as of March 1, all employers are now required to advertise all available posts, before applying for a short-term or standard work permit, for a minimum of eight consecutive days on the Bermuda Job Board at www.bermudajobboard.bm. The statement says: "The work permit policy (section 3.7) also requires that in addition to advertising on the Bermuda Job Board, employers filling vacant posts for 'Restricted job categories' must check directly with the Department of Workforce Development for a suitable candidate before applying for a work permit application. The Bermuda Job Board is an online platform available to Bermudians seeking employment or a change in career in a user-friendly and interactive manner. Its main objective is to consolidate and centralise jobs available in the Bermuda market and allow jobseekers to explore hundreds of local jobs from the convenience of their laptop." The statement also said there are many advantages of the Bermuda Job Board and gave the following examples —
• It's free
• Online recruitment is quick and easy
• There is a broad spectrum of available jobs
• It provides employers with access to the most suitable and trained jobseekers
• It allows for a better chance of success (as the ad runs as long as you desire)
• Online recruitment gives you a wider audience to choose from
• It is easy and user friendly
• You can tailor your resume for specific jobs
"Once employers register and log in to the Bermuda Job Board they will be able to create job opportunities, view candidate applications and search the database for suitable candidates," explained George Outerbridge, the director of the Department of Workforce Development. "Candidates who have registered can search for jobs, create a profile and upload supporting documentation. I encourage all individuals looking for work to register on the Bermuda Job Board and at the department in order to increase your chances for finding available job opportunities." Applying on the Bermuda Job Board does not replace the requirement to actually register on the department's internal database — they are two separate processes. The Department of Workforce Development said it will provide support to both employers and candidates as they become familiar with this new tool. Restricted job categories include bank teller; general bartender (customer facing); carpet installer; commercial cleaner; entertainer/musician; fisherman; photographer; technical salesperson; travel agent/consultant; general carpenter; administrative assistant; room attendant; kitchen porter; dish/pot washer/kitchen assistants or roles similar; landscape gardener (entry level); and general mason. For assistance with using the Bermuda Job Board, please contact the Department of Workforce Development help desk directly at 297-7714 or by e-mail to dwd@gov.bm.
March 3. The war of words over the Bermuda Government's new work permit policy has rumbled on, with both sides continuing to trade blows. Yesterday morning, Walton Brown, the Shadow Minister for Immigration, castigated the policy, saying "permitting the children and partners of guest workers to compete for jobs with our children and partners is a slap in the face to every right-thinking Bermudian". But Home Affairs Minister Michael Fahy, who is in the Bahamas on government business, was quick to respond and to accuse Mr Brown of using "deliberate and inflammatory language that serves to confuse. For the avoidance of doubt, dependent children of work permit holders are unable to seek employment." The clash followed a heated debate in the House of Assembly that went late into the night on Monday. The new policy was officially rolled out at the beginning of this month after public consultation. "In the House of Assembly, Walton Brown alleged that the new work permit policy is designed to allow dependent children of work permit holders the right to seek employment," Sen Fahy said. "This is completely incorrect. The department has made this very clear in all the presentations to stakeholders. The policy has been available for public consultation and this point has never been raised. Why? Because all parties know dependent children can't seek employment. It has, prior to the OBA administration, always been the case that spouses of work permit holders could seek employment. It is important to note that such persons will always be subject to the regime put in place by this Government. Frankly, I expect better from MP Brown. He has had every opportunity to raise concerns. Instead, he waits until the policy rolls out. I would hope that next time there is doubt, MP Brown reaches out in the spirit of collaboration espoused by the Shadow Minister of Finance [David Burt] rather than use deliberate and inflammatory language that serves to confuse." Sen Fahy said that an extra provision stating "sponsored dependent children are only given permission to reside, not seek employment," would be added to the policy to avoid any further confusion. Meanwhile, in yesterday's press statement, Mr Brown called for a comprehensive reform of immigration policy that ensured that Bermudians come first in the job search. "The One Bermuda Alliance's new work permit policy represents nothing less than a betrayal of Bermudians. Many Bermudians are unable to find full, part-time or summer employment and, with the strong anti-Bermudian sentiment among some employers, the OBA's policy adds yet another stumbling block to fairness and opportunity for all Bermudians." Mr Brown said the exploitation of cheap foreign labour needed to be addressed. "The PLP is pushing for a joint select committee on immigration reform to allow for the intellect and ability of both parties to be united on getting immigration right for our people. The OBA has rejected this proposal. We encourage Bermudians to let their voices be heard and let the OBA know that this policy is bad for Bermuda and terrible for Bermudians." Members of Parliament from both sides of the political table spoke at length on the new immigration reforms on Monday night. Junior Minister for Home Affairs Sylvan Richards said: "There is a process to go through under the new policy where dependents of work permit holders can seek employment. They still need a work permit — they are still under immigration control." But members of the PLP claimed that the policy was anti-Bermudian. Mr Burt said: "The labour force survey conducted last year says 3,486 unemployed persons in Bermuda is the highest number on record ever. Against that backdrop, we see the OBA making it easier for persons to come into Bermuda to seek permission to seek a job. Nobody on the government benches has denied that this is a change on policy. What is now possible was not possible previously. Previously, if you were the child of a work permit holder, you were not able to come to Bermuda and find a job."
March 3. A Jamaican national has become the first person to feature on a wanted poster on the Department of Immigration's web page. Robert George McFarlane, 46, is believed to be residing in Bermuda illegally, according to the department. The poster states that if anyone has any information on the whereabouts of Mr McFarlane, they should contact the department on 297-7950. It also states that it is an offence to Harbour an illegal immigrant. Last month, Home Affairs Minister Michael Fahy announced that online wanted posters could soon be introduced to locate those in Bermuda illegally. Speaking in the Senate, the Home Affairs Minister said: "The Department of Immigration is searching for at least one foreign national who is in Bermuda illegally. "To this end, the department will be seeking the general public's assistance." He stated that the "posters" would appear on the Department of Immigration website, usually when other avenues to find the suspects have been exhausted.
March 3. Bermuda and other international financial centres are "routinely attacked and demonized" in Europe, according to Bermuda's top financial regulator. Jeremy Cox, chief executive officer of the Bermuda Monetary Authority, said in opening remarks in the BMA's Business Plan 2015, published today, that it was "time for Europe and Bermuda to decide whether their relationship can ever be one built on mutual trust and understanding." Mr Cox was speaking as the BMA prepares its final push to gain "third-country equivalence" with the European Union's Solvency II insurance regulations, which are scheduled to take effect at the start of 2016. The BMA also today hinted at an expansion of its role to include helping Government to work on fiscal stability and to increase understanding of the Island's role in the global economy. In the Business Plan document, Mr Cox said the BMA found itself at a crossroads. "So why do I believe we are at a crossroads?" he said. "The answer, quite simply, is that despite a massive investment on our part in framework revisions which not only work for Bermuda but are designed to secure support from Europe, we are still fighting for survival in a world in which international financial centres such as Bermuda are routinely attacked and demonized. For the past 30 years, Bermuda has played a major role in furthering the risk-shifting capabilities of Europe's developed economies. Billions of dollars of risk have been moved from Europe's balance sheet to Bermuda's. Billions of dollars in claims have been paid to European policyholders. Yet we are still treated with suspicion. We still hear the mantra: Offshore financial centres are a threat to our economies. I believe it is time for Europe and Bermuda to decide whether their relationship can ever be one built on mutual trust and understanding." Bermuda had left no question about its "unreserved commitment" to meeting Solvency II equivalence standards, Mr Cox said, but the question remained over what the relationship with Europe would look like after equivalence. "In what is likely to become a post-equivalent environment in the first quarter of 2016, the challenge for the BMA will be to decide whether we have friends and colleagues in Brussels and London or whether we should simply assume the worst and recognize this will always be a strained and uneasy relationship at best and a hostile one at worst." The BMA wanted and needed "sensible working relationships" with counterparties around the world, he added. Solvency II equivalence would ensure that Bermuda-based international insurers are not put at a competitive disadvantage when doing business in the European Union. The BMA has campaigned hard in Europe for the captive sector — with its lower risk profile — not to be subject to the same stringent standards of oversight as commercial third-party insurers under the Solvency II equivalence regime. Separately, in an executive briefing at the Fairmont Hamilton Princess, Mr Cox told a business audience that in 2015, the Authority would become "more closely identified with the Bermuda Team." "This will mean working alongside the Bermuda Business Development Agency (BDA), the Finance Ministry and the Economic Development Ministry," Mr Cox said. "It will mean the Authority becoming more involved in helping the Government develop Bermuda's fiscal policies. We must come together, we must come together now, and we must develop a more cohesive and better coordinated strategy that puts Bermuda in a position to win." Mr Cox said that as the BMA completes international equivalence exercises this year, its challenge will be to adopt an approach that is simultaneously both conservative and radical. "Conservative in order to preserve the gains and progress of the past, holding to the best while continuing to deliver on prior promises and undertakings, and radical enough to cope with and to lead change," Mr Cox said. Following his keynote address, Mr Cox took part in an expert panel discussion including Finance Minister Bob Richards, Economic Development Minister Grant Gibbons, Association of Bermuda International Companies chairman Patrick Tannock, and BDA CEO Ross Webber. Premier Michael Dunkley also spoke at the event. In conclusion, Mr Cox said: "In 2015 the Authority will remain committed to the wider jurisdictional effort to increase understanding about Bermuda's vital role in the global financial services industry. Believe me, in the current global environment, this has never been a more important exercise."
March 4. The appointment of Gitanjali Gutiérrez to the $180,000-a-year role as Bermuda's first Information Commissioner begins "a seismic shift", as former Premier Paula Cox described the legislation creating the position in 2011. However, it has been a five-year process until the appointment of the Commissioner last week as provided for by the Public Access to Information (PATI) Act 2010, which for the most part is not yet in force. The commissioner's mandate is to promote public access to information, with the proviso that it is in accordance with the Act. It also states that the commissioner should raise public awareness and their understanding of the public's access to information. She should also do this by providing guidance to public authorities about the obligations imposed on them by the PATI legislation. PATI describes itself as giving the public the right to obtain access to information held by public authorities "to the greatest extent possible," although with some exceptions. The legislation is designed to increase transparency and to shed unnecessary secrecy in regard to information held by public authorities. It will increase their accountability and provide the public with additional information about their activities, including how they make decisions. They will also be expected to provide information through "various means of communication" so that "the public needs only to have minimum resort to the use of the Act to obtain information." The commissioner has also been given powers by the PATI Act to hire personnel to assist in fulfilling her functions, and it states that she and her staff must also keep confidential the information and documentation that they receive. There is also legal protection for the commissioner and her staff — the Act states that no proceedings, either civil or criminal, can be brought against them. Former Premier Alex Scott first promised PATI in 2003 and Ms Cox had warned that implementing it would be a lengthy process. The legislation was passed in Parliament on July 23, 2010, when Dr Ewart Brown, then the Premier, said to expect implementation within two to three years. The only sections in force as yet are 50 to 55, which provide for the office of the Commissioner, and 60 to 62, which provide, in part, for a code of practice. Ms Gutiérrez has previously been a senior staff attorney with the Centre for Constitutional Rights in the United States.
March 4. Government has released its budget brief outlining in detail where there was spending and saving in the Cabinet Office, the Department of Human Resources and the Office of Project Management and Procurement. The total current expenditure for the Cabinet Office for 2015-16 is estimated at $6,296,000, which represents a decrease of $696,000 or ten per cent on the last fiscal period. Some $4.6m is allocated to general services — almost $700,000 less than the previous year and is allocated to six cost centres within the Cabinet Office. They include general administration or head office ($2.7m, down 10 per cent on the previous year), professional development and travel ($168k, down 16 per cent), protocol and hospitality ($450k, down 24 per cent) and Public Access to Information ($113k, down 23 per cent). The second programme is Economic Policy and Foreign Affairs. This programme includes the London Office which has been allocated $1,032,000, down $5k, and the Washington DC Office ($648,000, up 1 per cent). One extra staff member was taken on in the Washington Office following the formation of a director's post — the salary has not yet been determined. Salaries are reduced by 12 per cent due to the $143,000 resulting from the discontinuation of the furlough day policy. A further $143k will be saved through the hire freeze and $180k through the transfer of an assistant Cabinet secretary to an existing post. Other salary savings included a reduction in overtime ($56k), a decrease of political staff ($228k), and the freezing of a post in the PATI unit ($144k). As for savings through wages, the freezing of the housekeeper post at Clifton House amounted to a $68k saving among other smaller savings. Other savings came through a reduction of two political staff posts and three posts from the Central Policy Unit due to the discontinuation of an internship programme for Bermudian university undergraduates. Additional costs came through the hiring of a legal advisor in the PATI unit ($94k). The budget brief included details on the Public Service Reform launched in the 2014-15 fiscal year as a model for the implementation of the Sage recommendations in reducing costs and making Government more cost effective. In 2014, Government accepted and agreed to implement 16 recommendations. They included an amendment to the Ministerial Code of Conduct which is awaiting final review in the Attorney General's Chambers. Government implemented recommendations to retain an independent body to negotiate with unions, the delivery of Government's first Public Service Handbook standardizing human resources practices, and the consolidation of departments and programmes. Bermuda has joined more than 90 countries worldwide in the implementation of some form of freedom of information legislation with Public Access to Information. The legislation provides a statutory right for the public to request information from public authorities. While it was proposed that there would be a central PATI office charged with handling requests it has been determined that a "more efficient and meaningful" model would be to have queries handled by the organization that holds the information rather than going through another organization. A team will remain in place several months after the legislation is introduced on April 1 to assist them. Ms Gitanjali Gutierrez has been appointed as the country's first Information Commissioner. Reporting to the Governor, she will be in office for five years. As for Human Resources, total expenditure was $3.8m, down 5 per cent on the previous year with major savings made through wage deductions of $71k. An increase of five per cent ($113k) was funding replaced as a result of furlough days ending. Funding for travel in this unit was down 46 per cent to $37k while $124k extra was spent on the hosting, support and licence costs for Government's first Human Resource Information Management System. Office of Project Management and Procurement has $868k allocated — a decrease of 5 per cent on the previous year with major savings made in training and development ($11k) and repair and maintenance ($27k).
March 4. One of the first true reinsurance sidecars, Olympus Re Holdings Ltd, is being voluntarily wound up 14 years after it was created. The pioneering firm was set up in Bermuda in 2001. It was initially backed with $500 million in capital from investors that included Franklin Mutual Advisors, money managers Third Avenue, hedge fund Och-Ziff Capital Management, and some executives of White Mountains Insurance Group. Olympus Re was among the first of a flurry of new companies established on the Island to fill an insurance capacity gap created in the wake of the 9/11 terrorist attacks. It had a quota-share agreement with member companies of White Mountains. Olympus Re took a near $100 million hit from insured losses incurred as a result of hurricanes Charley, Frances and Ivan in 2004. Worse followed in 2005 when losses resulting from hurricanes Katrina, Rita, Wilma wiped out almost all of Olympus Re's investments. The late John Byrne, the-then chairman of White Mountains, who had put some of his own money into the sidecar, said at the time: "We have been wiped out. It gives me no great pleasure to say that." New investors were found. However, in 2006 further liabilities relating to losses from the previous year's hurricanes threatened to finish off Olympus Re. To prevent the new investors being wiped out, White Mountains agreed to reimburse nearly $140 million of claims. Olympus Re proved to be a lesson in the dangers sidecar financial structures faced when their solvency was compromised by heavy losses from multiple disasters. Mr Byrne, in a conference call in the summer of 2006, said of the sidecar enterprises that Olympus Re had pioneered: "The theory is still sound, but it's been a sorry chapter." Olympus Re suffered ratings' downgrades as a result of the 2005 losses. On February 23 this year a general meeting of members of Olympus Re Holdings resolved that the company be wound up voluntarily. John McKenna has been appointed as the liquidator.
March 4. Travelers looking to fly with Air Canada can also gain insight into what it is like to taste an Art Mel's fish sandwich or take a bike ride on the Railway Trail. The online version of the airline's in-flight magazine, enRoute, carries a major feature on the Island under the headline, "Seven things to do in Bermuda Beyond the Beach." The editorial, which may appear in print later in the year, highlights a host of attractions, from the Royal Naval Dockyard in the West End to the Bermuda Perfumery in the East End. It also makes reference to diving tours, museums, hotels and sporting events. The feature is part of the Bermuda Tourism Authority's drive to boost air arrivals from North America, and Canada specifically. "The placement of this article in enRoute did not cost anything because it's not an advertisement, it's editorial," said Glenn Jones, the BTA's director of public and stakeholder relations. "It's a result of the BTA's aggressive, proactive media relations programme in key markets, including Canada. Articles like this are generated by pitching story ideas to editors and writers, carefully following all media, hosting writers on-Island, and in-market media missions to gateway cities like Toronto. Our sales and marketing team is doing all of these things on a regular basis to win editorial coverage for tourism industry stakeholders. Ultimately, editorial coverage increases the likelihood of a reader booking a trip to Bermuda."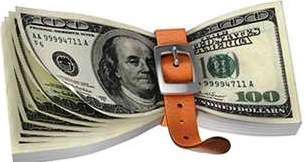 Belt tightening in Bermuda, see story above
March 5. A Bermuda-based firm has created space history with the blast off of the first all-electric satellites. A communications satellite owned by Asia Broadcast Satellite (ABS) joined a twin satellite from French-based Eutelsat Communications in the launch from Cape Canaveral Air Force station on Sunday. The satellites — the first fitted with lightweight electric engines rather than conventional chemical propulsion systems — were launched by a 22-storey booster rocket owned by private space firm SpaceX to take them into orbit. ABS — which currently operates six satellites — will position the new one to serve customers in Europe, Asia and the Middle East. The two companies will team up again to launch two more satellites later this year. ABS and Eutelsat joined forces to share development of the satellites, made by US aircraft giant Boeing, and launch costs, thought to be more than $60 million. Although electric engines are lighter, the satellites will take months rather than weeks to reach their operational orbit 22,300 miles above the earth. ABS is headquartered in Bermuda and also has offices around the world, including the US, Dubai, Germany, Singapore and Hong Kong. The firm is majority owned by the Permira funds, which are advised by European private equity firm Permira, which bought a controlling interest in 2010. ABS was set up to meet demand by broadcast and telecoms operators in Africa, Russia, Asia and the Middle East. The company in 2006 bought up the Lockheed Martin Intersputnik-1 satellite, which was renamed ABS-1.
March 5. The House of Assembly has voted to increase departure tax, despite concerns by the Opposition that it will hinder growth in the tourism sector. The Miscellaneous Taxes Amendment Act 2015, presented by Finance Minister Bob Richards, will increase departure tax at LF Wade International Airport from $35 to $50. Noting the criticism to the proposed airport development project and the lack of tendering associated with it, he stated that more than 600 jobs will be created through the proposed airport redevelopment project, 400 of which will be long-term jobs. "While some people may say we are not going the normal way, we have gone the extra mile to protect the public purse and Bermuda in general against the risks associated with that project," Mr Richards said. "The risk of overruns, the risk of lateness, the risk of jobs not materializing. All of these risks are being either eliminated or mitigated." While the One Bermuda Alliance said the tax increase would help fund the 2017 America's Cup, Opposition Leader Marc Bean argued that the act was sweetening the pot for the proposed redevelopment of the terminal building. Mr Bean said the tax increase goes directly against the push to rebuild the tourism sector. "If tourism is the new focus and hotel development is the new stimulus, how on Earth do you tax the blood stream of both strategies?" he said. "We know it's not to reduce the deficit, it's to fatten the calf for CCC. In one instance this evening, we tax property in a depressed property market. Then we tax labour in a depressed market with increasing unemployment. Then we go ahead and tax the goose that lays the silver eggs. Tourism. Not gold, but silver, but we tax it." Tourism and Transport Minister Shawn Crockwell said that when the increase was first broached, he said the increase would not make costs prohibitive and that total airport fees would remain in a competitive range. With the increase, total airport fees in Bermuda will be $58.31, compared with $63 in the US, $70 in the Turks and Caicos and $82.91 in Jamaica. "This is not ideal, but I understand it and it's not going to impede progress going forward," he said. Shadow Tourism Minister Zane DeSilva, however, said that the comparison with other jurisdictions was misleading as it did not account for the high cost of tickets to Bermuda and Shadow Transport Minister Lawrence Scott said that the tax hike will result in a higher cost of business for airlines. "Maybe it's not the right time to raise departure tax when you have days that only two airlines will fly to the Island. Actually, some days it's only one airline with two flights to the Island. This is not the time to raise departure tax." Several PLP members re-raised concerns about the airport project, particularly the lack of tendering for the capital project. Shadow Finance Minister David Burt said that a new airport will not draw in new tourists, saying the money would better be spent investing in tourism and marketing. "What we need is to increase our air arrivals, and increasing departure tax and increasing the cost to come to Bermuda is not something that is going to increase air arrivals," he said. He also questioned where 400 long-term jobs could come from at the airport project, saying the airport now employs 43 staff.
March 6. A US asset management firm has opened a reinsurer in Bermuda — and it could lead to a jobs boost for Bermuda. Sandell Asset Management, which has offices in New York and London, has launched Sandell Re in a bid to increase long-term investment cash. The firm's founder, Tom Sandell, said: "We have been evaluating reinsurance opportunities for several years and I believe this offers a unique permanent capital vehicle for the firm. Our goals remain aligned with our investors and we are committed to offering the best possible products and services to our clients. Reinsurance will provide one more option moving forward." Sandell Re will use the Sandell hedge fund to oversee its assets and use the existing Multi-Strat Re platform. Multi-Strat Re chairman and CEO Bob Forness said: "We are excited to welcome Sandell Re to the Multi-Strat platform and look forward to supporting the growth of the company through our focus on speciality underwriting. Sandell Re is the fifth reinsurer to join the platform and the first for 2015. It's the intention for each grow in time and hopefully that will mean employment opportunities in the future. Multi-Strat Re writes reinsurance business, then allocates it to participating reinsurers. It's like a hub and spoke structure. It's an attractive structure for Bermuda and hopefully we will be able to build some attractive business over time." Sandell joins hedge fund managers David Einhorn and Daniel Loeb, who owns Third Point Re, in the reinsurance sector, where firms take on risks from insurance companies and invest premium revenue before claims come due. Sandell was founded in 1998 and uses an events-driven investing strategy similar to Mr Loeb's Third Point. The Sandell fund uses a "best idea approach" where capital is invested opportunistically on a global basis across various sectors. The firm has in the past invested in areas as diverse as restaurant chains and pipeline operators and used its shareholding to push for board changes and spin-offs.
March 6. A new valuation list for all the Island's properties is to be drawn up, taking into account changes in rents since the last list was made at the end of 2009. The next revaluation is due on December 31, the land valuation department announced. For revaluation, the department has to gather property details, including rents, for a new 2015 list. Residential rental survey forms are being sent to all land taxpayers on the Island, along with prepaid return envelopes. A department spokesman advised that the forms should be returned within 21 days of receipt. "Please check your forms carefully as every form sent out will have the assessment number, specific to the valuation unit but may not include the name of the building or apartment," he said. If the name of the premises is not listed, taxpayers should consult www.landvaluation.bm or call 297-7964 to confirm the unit name to which the assessment number on the form relates. The unit name, as shown on the website, should then be handwritten clearly on the form. Checking is crucial because each form is unique to a specific unit in the Valuation List identified by the assessment number, unit name and address. For assistance, call 297-7964 or take forms to the Department of Land Valuation, on the second floor of Global House, Church Street, Hamilton.
March 6. Craig Cannonier appeared last night to backtrack on the decision to close Bermuda's recycling plant for a year. Twenty-four hours earlier, the Minister for Public Works had said the move to suspend the Material Recovery Facility service had been made to cut spending. "The MRF is not a money-making entity and has not been running fiscally efficient for a number of years," he said at the time. But last night a government statement said: "The ministry can advise the public that the facility will not close at this time and a more thorough review of our recycling operations will be undertaken to ensure that everyone concerned has had the opportunity to be involved in the discussion." Mr Cannonier added that "no firm date on suspending operations at the MRF has been determined but there is a sense of urgency to better utilize the facility". He said: "This is a great opportunity to study and determine the most efficient recycling methods for Bermuda and to focus on restructuring the MRF so that the process is sustainable and affordable, to better reflect this Government's interest in an environmentally sustainable Bermuda. The Government will work in collaboration with private and public sector stakeholders to develop a comprehensive recycling infrastructure." The apparent about-turn came not long after the first of the public dissenters made their feelings known about the decision. Anne Hyde, the executive director of Keep Bermuda Beautiful, expressed dismay when interviewed by The Royal Gazette on the understanding that the facility would close at the end of this month, "We are shocked by the news," she said. "But we don't have all the information yet and are waiting for further details from the ministry. It is my understanding everything will continue as normal until March 31. "That pertains to normal recycling collection and the Special E-Waste event at Tynes Bay this Saturday. "We understand that Government needs to make some tough decisions and cut spending, but KBB would like to urge the Government to reconsider because we think that the recycling programme is essential." With hindsight, that is what appears to have happened, with consultation at the top of the agenda. Ms Hyde said any decision to close the facility would represent a "giant 23-year step backwards". She said: "We would ask that they consult with environmental experts and financial brains, and find another way to cut costs without the loss of this essential service. KBB has always supported the Government's recycling programme. This is part of our education programme in the community and at schools to teach why it's important to remove items that will not burn from the normal trash that goes into the incinerator. If Government sticks with the plan to suspend recycling at the end of the month, KBB would be interested to know what their long-term plan would be for reintroducing recycling in Bermuda."
March 7. Elderly patients are being abandoned at King Edward VII Memorial Hospital, causing a shortage of beds that has led to the postponement of surgeries, Health Minister Jeanne Atherden told the House of Assembly. "Our hospital is being used as a residence for seniors who do not need to be there. All 90 beds are full at the new Acute Care Wing, along with the entire General Ward, forcing the hospital to add additional beds. If the beds were full because we had a sudden influx of acutely sick patients, I would understand — but this is not the case. The problem, and the source of my distress, is that there is a growing trend for the families of these elderly Bermudians to refuse to take them back home. They refuse to take responsibility for their grandparent, their parent, their sibling — telling the hospital that they are unable to cope with an ageing relative, or don't have the appropriate resources at home. There are more than 30 long-stay social admissions burdening the hospital and who do not need to be there. These ladies and gentlemen do not need to be in the hospital. They should be at home with their families, in familiar surroundings that provide a degree of comfort." Although the majority of families looked after their elderly relatives, sometimes at great sacrifice, she said she was aware of cases in which children working in good jobs had refused to cover the cost of their elderly parents' care. As a result, that expense was being foisted on the system: for a 75-year-old senior on FutureCare who has been in the hospital more than 15 days, the cost is $34,000 a month, at a cost of $27,200 to the taxpayer. Opposition Member of Parliament and former Health Minister Zane DeSilva suggested such funds be used to house the seniors in homes such as Lefroy House, while Progressive Labour Party MP Kim Wilson proposed that the hospital request guarantees or credit card deposits off of the next of kin before admitting them. PLP MP Derrick Burgess advised the minister to look at using the money to assist families with looking after seniors. Ms Atherden responded that she was looking at all the options. Ms Atherden said she did not believe legislation was the remedy for the situation. "I don't have the answers right now, but I am asking my new seniors advisory council to look into the problem on my behalf," she added.
March 7. Bermuda Tourism Authority staff who meet performance objectives are eligible for bonuses of five to 30 per cent of their baseline salary, Tourism Minister Shawn Crockwell told the House of Assembly yesterday. "As of this morning, I was advised that no one in the executive of the BTA, including the CEO, has received a bonus. There have been bonuses paid to staff based on their contract." Responding to questions from Progressive Labour Party Member of Parliament Derrick Burgess, the minister said the CEO, Bill Hanbury, was technically qualified for bonuses of 30 per cent. Mr Hanbury recently revealed that he earns $295,000 per year, and gets a $75,000 annual housing allowance. Stressing that the BTA was an independent body and that he did not control its accounts, Mr Crockwell was unable to give the precise number of staff who had taken bonuses under the authority's performance incentive programme.
March 7. Bermuda's failure to meet its own goals for spending cuts is "unfortunate" and "will not play out well with rating agencies and our creditors", according to Grant Gibbons, the Minister for Economic Development. Under the middle-term expenditure framework, the Bermuda Government had committed to reducing spending by 5 per cent, but instead can only generate a reduction of 3.5 per cent. The Island's debt is approaching $2.31 billion, Parliament was told, while Government will seek spending cuts of 4.6 per cent in the 2016-17 fiscal year. Dr Gibbons said that decision-making by Cabinet that did not take cash flow into account had been "behind the financial crisis that the Government finds itself in". Basing decisions on available revenue is "what meant by living within one's means", Dr Gibbons continued yesterday. "We are still living beyond our means." The ministry must work to reestablish a "prudent benchmark", he told the House of Assembly. Dr Gibbons read the brief on behalf of Finance Minister Bob Richards, who was unable to attend Parliament yesterday because of illness. The statement includes a defence of the multiyear borrowing plans that the Opposition condemned as a "bad bet", based on an assumption that interest rates were going to rise when a loan of $800 million was approved in 2013. Dr Gibbons said the minister stood by it, despite interest rates remaining low. He said that in previous years, the former government had used local banks for much smaller loans that resulted in higher transactional and interest rate costs. By accessing the international market "where size has a direct bearing on interest rates", both transactional and rate costs had been reduced. Bermuda has "in general maintained our credit ratings when various other countries have been downgraded", Dr Gibbons noted. One cost-saving initiative has been to cancel the Island's contract with Fitch, leaving only two credit rating agencies to grade Bermuda's financial performance.
March 7. Despite a new fuel charge introduced in the latest Budget, electricity rates will not rise, according to Economic Development Minister Grant Gibbons. Dr Gibbons cited the recent drop in oil price, which reduced the electricity cost to Belco customers from a high of 44.9 cents per kilowatt hour to 37.9 cents per kWh — a decrease of 7 cents per kWh. He said that the impact of the fuel duty going into effect on April 1 would be offset by lower oil prices. The electricity utility has informed Government that if oil prices remain low, residents can expect further decreases, as older, more expensive oil is used up. Dr Gibbons said: "In response to concerns in the media about duty increases on fuel and higher electricity costs, I approached Belco's parent company CEO, Walt Higgins, to better understand the real impact on customers. There is no doubt that the Budget's proposed five cents per litre increase in the fuel import duty will have the effect of increasing the fuel adjustment component of the electric bill. But in actual cost terms, this amounts to an increase of about 1.1 cents per kWh, which is more than offset by the 7 cents per kWh reduction that Belco customers are experiencing due to the drop in oil prices."
March 7. Shadow Finance Minister, David Burt has condemned Government's strategy of "across the board cuts" to tackle Bermuda's financial problems. He also accused the One Bermuda Alliance of "a stream of policy reversals in the last 72 hours" that proved cuts alone would not solve the Island's problems. Pointing to the latest developments concerning the proposed closure of the recycling plant and the planned consolidation of schools as examples of these "policy reversals", Mr Burt urged Government to focus on "efficiency." Mr Burt was responding to a breakdown of the Ministry of Finance's budget, which was provided by Economic Development Minister, Grant Gibbons, who was standing in for Finance Minister, Bob Richards, at yesterday's House of Assembly sitting. "I find it very interesting when the Ministry of Finance and the OBA talk about a two track strategy, of reducing expenditure and growing the economy," said Mr Burt. "It seems to be just one track, and we continue to see economic contraction. It is most important for Government to focus on efficiency. We have seen a stream of policy reversals in the last 72 hours and it shows that you can not cut across the board and think it is going to work." Mr Burt claimed that Government was guilty of "doubling down" in their budget, which he said would only cause more weaknesses in the economy. "It's important we talk about the overall direction. I challenge the Minister of Finance to look at the experience of the Progressive Labour Party and other Governments. I can promise you that the Minister of Finance is not the first to inherit an economy in recession. He does not have to reinvent the wheel. This stuff has been done before. There is a way you increase your budget targets, but not by cutting budgets across the board. We have found out from experience this does not work." Responding to Mr Burt's claims Mr Gibbons dismissed the idea that Government had implemented cuts across the board in its budget. He said: "Does the decrease in spending by Government impact on the economy? I suspect it does to some degree. But what we have said is that when you have an economy in free fall it takes a while to turn it around. To suggest that is down to the budget is a bridge too far. We do have a two track strategy and it is imperative we reduce the deficit." Mr Gibbons detailed the loans that Government had taken out in recent years and stated the interest payments on Bermuda's debt were $117.6 million. He added: "It is wrong to suggest there are across the board cuts. Every ministry was asked to look and see where they could affect savings. There are a number of areas that have increased, while others have been decreased quite a bit. But until we can eliminate the deficit we are never going to pay down the debt."
March 9. LookBermuda is working on a film charting the discovery of a stash of bottles untouched by human hands for almost 150 years on the sunken civil war blockade runner Mary Celestia. The five sealed and apparently well-preserved bottles were discovered during an excavation on the Bermuda wreck in 2011. The Mary Celestia was leaving Bermuda in 1864 with supplies intended for the Confederate south when it struck a reef and sank within minutes. Last week, one of the bottles was opened at the Charleston Wine and Food Festival with a select group of wine experts, including master sommelier Paul Roberts and wine chemist Pierre Teissedre, waiting anxiously to test whether its potentially priceless contents were intact. Sadly, time had taken its toll and, while the contents still contained alcohol, it tasted predominantly of saltwater, sulphur and gasoline. The story of the bottles, believed to contain wine, began in 2011 when LookBermuda accompanied a small team on the excavation of the Mary Celestia. Custodian of historic wrecks Philippe Max Rouja orchestrated the excavation team led by James Delgado, former principal marine archaeologist for the legendary Titanic. The bottles were discovered along with other items in the unusual location of the bow of the ship in the boatswain's locker LookBermuda's JP Rouja told The Royal Gazette: "The film is going to present to its audience Bermuda's role in the civil war and also the role of blockade runners in the war which has never been told on network TV. "One of the things that makes this film so important is that it is going to highlight the historical and cultural connections between Bermuda and Charleston. The descendants of one of the key characters in the film still live in Charleston and we have connected with them while we are here. They have been assisting with our research and are as excited as we are to explore these connections." The film is expected to be released this year and will be aired on American Public Broadcasting Service. As with all of LookBermuda's films there will be an educational element and it will likely be screened in schools across the Island. A small team of Bermudians attended the Charleston festival including the two Roujas, Geoff Gardner of the Bermuda Underwater Exploration Institute and excavation team member Stuart Joblin along with members of the Bermuda Tourism Authority. Philippe Rouja described the project as: "An ideal combination of world-class infotainment and the highest level of science. This has become a transnational multidisciplinary project involving experts in marine archaeology, conservation, social cultural analysts, historians, and economists, both local and international. This current manifestation of the rescue archaeology project started with local explorers, divers and pilots, and now reaches international wine experts. In each area the full range of possibilities has been explored. The fantastic part of this last part of the story is that it rests on the most advanced scientific analysis of one of the bottles recovered — artifact MC 008. Provided to the world's leading wine chemist at the University of Bordeaux's Institute of Wine and Vine — professor Pierre Tesseidre — it has been subjected to the most rigorous scientific analysis possible. The data we were given privileged access to at the event in Charleston set the stage for further analysis along with the insight from the world-class sommeliers on the panel." The story, and Bermuda's role in it, has attracted the attention of the world's media over the weekend with photographs being circulated by news agency Reuters. For more information, go to Mary-Celestia.com
March 9. The Development Applications Board has approved the proposed base of operations for Team Oracle in advance of the America's Cup. According to the planning application, submitted by ACBDA, the base will take up about 7.2 acres on the northern side of the South Basin dock. Included on the site will be four new buildings to house boats and sails, two tents, seven containers, a 160-foot crane, an ancillary building to house fiber-optic infrastructure, and two floating docks. An existing structure on the property will meanwhile be adapted into shower and toilet facilities. The application went before the DAB on Wednesday with a recommendation of approval. According to the minutes of the meeting, the board questioned a technical officer if the nearby cement facility, operated by Maxcem Bermuda Ltd, will remain in operation during the event. When the officer confirmed that the facility will continue to run, the board expressed some concern about the impact of dust produced from the facility on boreholes included in the project. While the technical officer told the board that the concern had not been brought up by the relevant government consultee, the minutes stated that issue was discussed with Maxcem representatives subsequent to the meeting. Several measures to curb the dust issue were presented, including new infrastructure at the plant, having trucks loaded inside a building on the site instead of outside and installing a trench to catch escaping sediment. The board voted to approve the application. However, that approval is set to expire at the end of 2017, meaning that the approved infrastructure must be removed before 2018 unless an extension is granted.
March 9. The Bermuda Monetary Authority plans to get more involved with Government in ensuring the Island's financial stability — but it will steer well clear of politics. That was the firm message from chief executive officer Jeremy Cox, who was speaking after he accepted the invitation from the BMA board of a second five-year term at the helm of the Island's financial regulator. In a wide-ranging interview with The Royal Gazette, Mr Cox stressed that there would be no breach of the BMA's independence as it worked alongside Government bodies. He also addressed the reasons why the fee-funded BMA's payroll had more than doubled to around 170 people over the past few years and also the challenges of dealing with the perception of Bermuda as a tax haven when he meets with overseas bureaucrats and politicians. Mr Cox said credibility, professionalism and value for money are the three ever-present objectives that guide what the BMA does. Last Tuesday, the BMA set out its Business Plan 2015, spelling out its objectives for the year. Mr Cox hinted then at an expansion of the BMA's role as it works more closely with the Finance and Economic Development ministries, and with the Bermuda Business Development Agency (BDA).
March 9. Bermuda Press (Holdings) Ltd (which owns this website also) made a $905,000 profit in its last fiscal year — slightly down from $922,000 in the previous year — as revenues edged higher for the first time since 2008. In its annual report for the year ended September 30, 2014, BPH, which owns The Royal Gazette, as well as commercial printing, retail and real estate interests, outlined plans for the launch of a tablet app for the daily newspaper this year and a new online classified advertising platform. The report also revealed that the deal to acquire Island Press Ltd and Bermuda.com Ltd from MediaHouse last year was worth $2.39 million, funded mainly by new debt in the form of a $1.85 million loan from Butterfield Bank. Operating revenue was $25.3 million, up from $25.15 million in 2013. The report attributed the revenue growth to the amalgamation of Island Press and Bermuda.com late in the fiscal year, but added that print growth was offset by a decline in publishing and retail revenue. The last time BPH revenue grew was seven years ago, when it peaked at $36.53 million. Since then the company's revenue has slumped by more than 30 per cent, as the printing and publishing businesses have been significantly hit by the Island's economic slump and disrupted by new technology. Since 2008, the company has also slashed expenses by $10.5 million — or more than 30 per cent — nearly enough to keep pace with the falling revenue. Operating expenses were $24.3 million in 2014, slightly up from $24.14 million in 2013. The publishing and retail division posted a loss of $457,000, while the printing division lost $1.38 million. However, rental income from BPH's real estate holdings, which include the Crown House office building on Par-la-Ville Road, more than offset these losses, as the "rental and other" segment generated net income of $2.75 million. Deputy chairman Stephen Thomson spelled out in the report the reasons why the Island Press/ Bermuda.com deal made sense for BPH. "Island Press Ltd and Bermuda Press Ltd operated as competitors in a contracting print industry for many years," Mr Thompson wrote. "The amalgamation of these companies will lead to reduced overheads and will introduce economies of scale for these operations that are labour and capital intensive. The consolidation of the manufacturing operations into a single location is under way and will be completed during 2015." The addition of Bermuda.com to the BPH stable has led to the merging of the Bermuda.com Guide and This Week in Bermuda into a single publication called Bermuda, targeted solely at the tourism audience. Mr Thomson noted that BPH now owned the Island's only surviving newspaper and its largest commercial printer after a decade of contraction for the printing and publishing industries. "Your company has weathered the storm," he told shareholders. "However, the future will continue to present challenges and we plan to face them head on, with innovation, consolidation and creative forward thinking." The Royal Gazette tablet apps will work with Apple, Android and Kindle operating systems and are due to launch later this year. Mr Thompson said the key strategies driving BPH's publishing division were the delivery of content to targeted audiences, as well as the expansion and enhancement of content delivery media. "To successfully complete these strategic goals, we will be required to expand our content delivery into radio and television, as well as enhancing our print and digital products," Mr Thomson added. The report also noted the death of BPH chairman Michael King last month. Mr Thomson said Mr King had "worked tirelessly to serve your company and guide it through some challenging years" and added that his contributions would be missed. BPH suspended its dividend last September and has been using the cash for restructuring costs related to the mergers. "The board continues to review the ability of the company to pay dividends and anticipates reinstating the dividend in the future," Mr Thomson stated.
March 9. Ally Lusher Tatem cracked open the Bermuda Historical Society's photography collection and was stunned by the gems she found. She is now helping to share the treasure by making reprints available for sale for the first time. "Most of the work in this first group being made available was by my great-great grandfather, Nicholas Ethelbert Lusher," Mrs Lusher Tatem said. Her relative was unusual in his day because he took photographs of people from all walks of life. "At that time having your photograph taken would have been something more available to the upper class. The range is geographically and demographically diverse." Mrs Lusher Tatem, the Society's photographic collections consultant, said getting the old photos and postcards ready for reprint was no small task. They all had to be selected, restored and photographed," she said. The images available will change quarterly. The first set includes scenes from Rosemont in Hamilton, a lily field in Paget and a stone quarry. Society president Andy Bermingham said the collection had been stored in the Bermuda Archives, and was previously inaccessible to the public. "It really hasn't really been accessible to the general public, unless someone was looking for something very specific," said Mr Bermingham. The Society had made coffee table books in the past, but never individual reprints. Mr Bermingham said this was a great opportunity for the general public to own a little piece of Bermuda history. "We feel we have a duty to allow the public access to the collection through production of these images and bringing them onto the open market," he said. This wouldn't normally be an option for people, as the Bermuda Archives has a very strict policy about copying and photographing stuff. The Society was trying to modernise and raise its profile in the community. We want to be a bit more progressive. It is not about making a huge profit, it is about after so many years of being under-utilised." To this end, Mrs Lusher Tatem has created a website and Facebook page for the Society where images can be viewed. They can be purchased at the Bermuda Historical Society. Boxes of 12 postcard reprints are available for $30, and matted prints are $60.
March 10. Shadow Health Minister Kim Wilson has called on Government to consider penalizing families who abandon elderly relatives in hospital and providing incentives to those who look after them. The call comes after Health Minister Jeanne Atherden revealed that King Edward VII Memorial Hospital was being used as a residence for seniors who did not need to be there. She said that the refusal of some residents to take responsibility for family members had left a shortage of beds in the Acute Care Wing and had resulted in postponement of surgeries. Yesterday Ms Wilson urged Government to look at other options to tackle the problem, which is estimated to be costing taxpayers $27,200 a month. "Granny dumping is not a new phenomenon. It has been happening for 30 years. We have a brand new Acute Care Wing and it is full. One would have thought that Government and the executive would have come across ways to address this issue." The PLP MP and former Attorney General then suggested a raft of ideas that she said could be considered to tackle the problem. "On admission to King Edward obtain signatures of the patient and or their guarantors responsible for the cost not covered by insurance or a credit card deposit. We have to look at other options." Her comments came during the budget debate in the House of Assembly yesterday after Health Minister Jeanne Atherden had outlined spending within the department. Ms Wilson told the House that some US legislation allowed for civil action to be taken against individuals for failing to support a parent. "In some states in the US there are criminal sanctions. The legislation has found much success in parts of the US making children responsible for impoverished parents and children refusing to take their parents home. Government could consider an incentive programme for families to receive payment for receiving home care services. That would be a marginal fraction of the $27,000 that is being paid out each month now, and additionally it would improve the person's quality of life because they are staying at home."
March 10. A drastic overrun on the allocated budget for overtime in public transport has led to the severe disruption in bus routes, according to Bermuda Industrial Union president Chris Furbert. A group of unionized drivers and mechanics met for nearly two hours yesterday at the Department of Public Transportation (DPT), but ultimately the question of whether to accept reduced overtime was not put to a vote. "I'm sorry if I am insulting the minister or director or permanent secretary, but we can't have a situation where the department is budgeted $150,000 for overtime for 2014-15, and eight months in they spent $1.5 million in overtime," Mr Furbert said. The BIU president added that mechanics are also frustrated with the bus fleet being improperly maintained, leading to breakdowns. A small group turned out yesterday for the union meeting, which did not disrupt public transport — although cancellations today will affect three runs: the No 8 at 7.35am from Dockyard to Hamilton, the No 10 at 7.30am from St George's to Hamilton and the 7.30am school run from St David's to CedarBridge Academy. Some bus operators expressed anger that more members had not turned out for the meeting as a show of solidarity. One member who stepped outside the meeting at about midday characterized the discussion as a "deadlock". The talk was called to address cancellations and the ban on overtime, both of which are set by DPT management. The sticking point was whether to accept a reduced overtime when called upon to work on a day off. Mr Furbert said he didn't put the question to a vote because "we didn't want to divide the membership down the middle." Asked if more cancellations were on the way, Mr Furbert said: "I'm hoping that the minister and Government will honor what the collective bargaining agreement says. If they need people to cover others, they need to be paid the appropriate overtime." Last night, a DPT statement confirmed that the ban on overtime was implemented because the budget had been exceeded. "At the same time the DPT experienced an unprecedented high level of absenteeism due to illnesses, long term medical leave, training and vacation leave," a spokeswoman said. "The DPT was unable to cover all of the staff shortages and experienced some delays and cancellations of bus runs. At the time the DPT proposed to pay overtime at time and a quarter but that was rejected by the union." According to Dan Simmons, the Director of Public Transportation, overtime cannot be paid when there is an "unprecedented large number of operators out, as we are experiencing now. The department was unable to cover their shifts, resulting in run cancellations." Subsequent to the bus disruptions last week, Government agreed to pay the overtime at time and a half and an offer was presented to continue paying all overtime at time and a half which the DPT union members would be required to vote on. However, many workers remain disgruntled at being asked to work extra for time and a half instead of the mandated overtime, particularly in light of the perceived mismanagement at the department. Divisional organizer Louis Somner said mechanics had also expressed frustration at not being allowed to do extra work on buses, leading to shortages of working vehicles. While no vote came from yesterday's meeting, the BIU group said it had helped defuse tensions among workers. "There was a lot of uncertainty, a lot of unrest and the president calmed the situation," said Glen Simmons, the BIU's vice-president and chief shop steward.
March 10. Government has passed amendments to partially suspend matching contributions to the Public Service Superannuation Fund. The Public Service Superannuation Temporary Amendment Act 2015 will temporarily reduce the matching contribution to the fund to 6.75 per cent, saving around $5 million. Detailing the amendment, Finance Minister Bob Richards said the legislation would provide short term relief for the Government's deficit reduction plans, noting that the contributions will eventually be paid into the fund and there will be no impact on member's pensions in the future. Shadow Finance Minister David Burt said the Progressive Labour Party supported the amendments, but noted that Mr Richards had spoken out against an identical proposal by the party three years ago. "It's interesting that once again, the OBA is now doing something that the PLP did that they once attack," he said. Mr Burt said that while he understood the reason to make the decision, the move might not have been necessary if the OBA had not put forward a "reckless budget" last year. Responding, Mr Richards said: "The thing is in principal, I'm still against this, but I have a responsibility and all of us have a responsibility. We have to set priorities and the priority for this Government is to break the back of the deficit. We have to make tough choices and this is one of them. We have done this because we have no choice at this point because we didn't get the savings that the furlough [days] would have manifested."
March 10. Rival MPs clashed yesterday in the House of Assembly over Opposition claims that Home Affairs Minister Michael Fahy was overstepping his powers. Former deputy leader of the Progressive Labour Party, Derrick Burgess, accused Sen Fahy of not following the Labour Relations Act when dealing with industrial disputes, although he did not specify to which incident he was referring. But OBA Junior Minister for Home Affairs, Sylvan Richards, quickly defended the Minister saying he did follow the legislation. The row came during the budget debate as Mr Burgess responded to Mr Richards' Home Affairs budget presentation. "There is a Labour Relations Act, the Minister does not follow that Act," said Mr Burgess. "Before you as Minister can appoint a panel you must consult with the employers and the employees. That has not be done. That is in the Act; it says 'shall'." Mr Richards swiftly interjected accusing the PLP MP of misleading the House and using "generalities." But Mr Burgess responded saying: "I am not misleading the house. They don't like it when you speak the truth. You must bring the two sides together. If you send a case to arbitration you must get terms of reference and work them out between the parties. The judge does not do that." Mr Richards then entered the fray again insisting that Senator Fahy was aware of the legislation and followed it. The dispute grew increasing tense until the time allotted for the debate elapsed.
March 10. Senator Michael Fahy, the Minister of Home Affairs, last night hit back at claims that the Bermuda Government had spent nearly $1.5 million in legal fees to seek guidance on how to void the Hamilton Waterfront lease. Opposition Senator Marc Daniels had made the claim yesterday, saying the expenditure was as "an affront to every Bermudian." But Sen Fahy rejected the allegation and branded the claims "misleading and false. He said that "less than half the requested amount" had been spent by Government. "Senator Daniels has made inaccurate statements regarding legal fees in respect of the Ministry of Home Affairs. To ensure public clarity, the ministry has requested supplementary sums for the fiscal year 2014-15. This measure is designed to cover legal fees expended and fees possibly to be expended in respect of the waterfront arbitration, for fiscal year 2014-15. In addition, it is anticipated that the measure would cover costs for the constitutional challenge to the changes to the Municipalities Act 1923 currently before the Supreme Court of Bermuda, again, for fiscal year 2014-15. As an added note, a small portion of the requested allocation relates to funding a guarantee through the Bermuda Economic Development Corporation. The supplementary request is based on best estimates and the fee request and billings to date are vetted by the Attorney-General's Chambers. Contrary to the Opposition Senator's statement, the ministry has not spent $1.5 million to obtain advice on voiding the waterfront leases. Such assertions are completely misleading and false. Fees have been spent on overseas counsel, expert advice, preparation of pleadings, witness statements and other litigation expenses. To date, less than half the requested amount has been spent. It's quite regrettable, as Senator Daniels should know better than to issue such inflammatory and speculative statements, particularly when the matter is scheduled to be debated in the House and Senate during the Budget debate." Last night the PLP released a further statement on the matter which stated: "In his haste to evade the truth, Minister Fahy neglected to reveal which company looks to receive nearly $1.5 million taxpayer dollars in legal fees. The fact is that the OBA has set aside $1.5 million dollars of your money to fight a legal case that is likely to generate even higher legal bills. That's nearly $1.5 million that could have been spent on our students or on bringing tourists to our shores. We call on the OBA to stop evading the truth, come clean and reveal which law firm has benefited from so much of our tax dollars and if there is any connection with members of the One Bermuda Alliance."
March 10. Oracle Team USA's AC45 catamaran is expected to arrive on schedule in Bermuda this Spring — despite the multihull yacht's seizure by US Marshals in San Francisco yesterday. Marshals were authorized to seize Oracle's AC45 in response to a lien filed by sailor Joe Spooner, whose contract with the American syndicate was terminated in January. The warrant was issued late last Friday by clerk Richard Wieking of the US District Court in San Francisco. Spooner, who was a grinder with Oracle during its America's Cup victories in 2010 and 2013, is seeking at least $725,000 in unpaid wages and damages for alleged wrongful termination of his contract. According to American Maritime law, a vessel can be held if a sailor is owed wages. In admiralty law terms, the boat was arrested. Marshals Service spokesman Frank Conroy said the containers were stickered and locked. Spooner's contract was to pay him from July 1, 2014, until seven days after the 35th America's Cup to be held in Bermuda in June 2017. He also was to have received a bonus of not less than six months' salary if Oracle Team USA successfully defended the America's Cup. The team deny any wrong doing. US Marshals seized several shipping containers housing different components of an Oracle AC45 at the syndicate's compound at Pier 80 yesterday morning. US Marshall Christian Hanson reportedly called Oracle's lawyer and advised him that no containers with the vessel were to leave Pier 80 otherwise the syndicate would be in contempt of the court's order. Chief Magistrate Joseph Spero denied Spooner's initial request to seize Oracle's AC45 but said he could file an amended complaint. Spooner's attorney, Patricia Barlow, filed an amended complaint for an emergency order with a court clerk last Friday. In a statement to The Associated Press on the weekend, Peter Rusch, spokesman for Oracle Team USA, said he doesn't "believe anything has materially changed in the case" and the team is "hopeful the judge will overturn the arrest order". This would pave the way for the syndicate's AC45 to begin the journey to its Bermuda base — presently under construction at Dockyard — and arrive on Island by May as originally planned.
March 10. Government's pension fund for civil servants remains under review, but its cost of living adjustment, suspended last year, will stay off the table "until further notice." Presenting the actuarial report into the Public Service Superannuation Fund (PSSF) to Parliament, Minister of Finance Bob Richards said the working group looking into pensions and benefits had presented several options. That working group is "a child of the SAGE Commission", Mr Richards said, referring to the Spending and Government Efficiency task force. An actuarial valuation of the pension fund found assets of $575.7 million as of the end of this month, up from $502.2 million in 2012. The fund's assets to liabilities or funding ratio was 41.4 per cent, up from 2012's 33.4 per cent. Up for consideration is changing the PSSF's definition of final average earnings from the salary payable immediately preceding retirement to an average of earnings over the final five years. The working group also suggested increasing the age at which an unreduced pension was payable from 60 to 65; applying actuarial reductions on early retirement prior to 65; applying a 10 per cent reduction to the amount payable to a retiree with a spouse who chose the joint and survivor option; increasing contributions, and decreasing the pension accrual rate for active members from 1.5 per year to a lower rate. The pension remains under funded, but Mr Richards warned that "just because it is under funded does not mean it is in danger of collapsing. I wish to assure current and future pensioners that the Government is sensitive to the challenges facing pension plans of this nature, and will take appropriate steps to preserve the long-term viability of the fund..
March 10. HSBC Bank Bermuda Ltd posted net profit of $48 million in 2014, up $3 million from 2013, the bank said today. Revenue also climbed to $261 million, an increase of $19 million, or 8 per cent from the previous year. Net profit from operations in Bermuda was $71 million, up by $29 million, or 71 per cent from the previous year. The bank sold off parts of its corporate and retail banking business in the Cayman Islands to Butterfield Bank during last year, which incurred restructuring costs and a goodwill write down. The bank improved efficiency during the year, trimming operating expenses by $7 million, or 4 per cent, to $193 million.
March 10. A specialist reinsurance broker has appointed a new head of its Bermuda operation. Capsicum Re, which has offices in Bermuda and London, has signed up Neville Ching as managing partner for the Island and he will also lead its retro insurance division. Mr Ching said: "Capsicum Re is a fast-growing business and at an exciting stage of its development. This is a great opportunity to build and develop the Bermudian arm and I am looking forward to working with the team to take advantage of the opportunities for Capsicum Re in the US and Bermudian markets." Mr Ching joins Capsicum from the Bermuda branch of Aon Benfield, where he was managing director for retro. He previously held senior positions at Aon in London and at Towers Watson. Capsicum managing partner Rupert Swallow said: "Our Bermuda operation enables us to provide our customers with a better global service and access to the US markets and Neville, with over 20 years' industry experience and an in-depth understanding of the key markets, is ideally suited to lead this business. He is another example of the fantastic talent we are attracting to our team."
March 10. An award-winning American craft beer with a distinctive Bermuda flavour is set to make its debut on the Island. A range of beers from the Devils Backbone brewery in Virginia — the brainchild of hardware store Gorham's chief Rod Ferguson and wife Martha with a US partner — is soon to hit bars and supermarket shelves. And even the distinctive Devils Backbone logo and packaging has a Bermuda touch — they were created by US-based Bermudian graphic designer Jason Farrington. But Mr Ferguson said the brewery only got off the ground after he chose a builder to build a vacation home in Wintergreen, Virginia, in the Blue Ridge Mountains.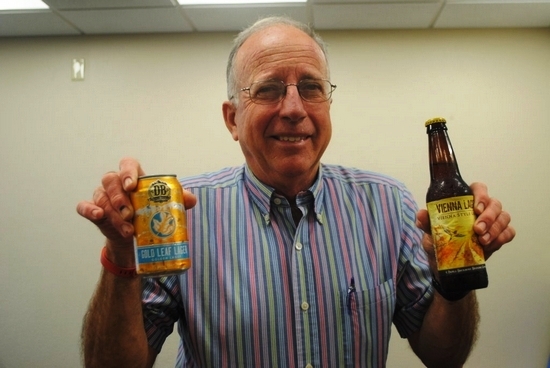 Mr Gorham and his brew, see story above.
March 11. Many homeowners continue to struggle to make payments on their mortgages as Bermuda grinds through what has been described as its deepest credit crisis in at least half a century. Financial results released by HSBC Bank Bermuda Ltd yesterday revealed the scale of the problem. Impaired or non-performing loans — described as 90 days or more past due — made up 17.4 per cent of the bank's $3.06 billion in total loans and advances, an improvement from the 20.7 per cent reported last year. The bank's consolidated financial statements for 2014 show that the bulk of the problem is with mortgages. The breakdown shows that 26 per cent of loans bearing mortgage interest are impaired. These loans are worth $497.8 million of the bank's $1.87 billion of total mortgages. In an interview yesterday, HSBC Bermuda executives stressed that they were working hard to keep people in their homes. Chief financial officer Michael Schrum said: "Bermuda is going through a very, very deep credit cycle. Certainly in the last 50 years we have not seen a cycle like this." A mixture of falling property values, lower rents and unemployment had left many unable to service their mortgages, he added. "We're spending a lot of time with people, restructuring loans and there have been some voluntary sales of properties in order to downsize," Mr Schrum said. "There is still a large backlog of borrowers who are struggling." Lurking on the horizon is the prospect of the Federal Reserve, the US central bank, raising interest rates — something that many experts consider likely to happen at some point this year and which has often in the past been a precursor to Bermuda banks raising their lending rates. HSBC Bank Bermuda chief executive officer Richard Moseley said that in the event of a US interest rate rise, the bank would consider the full picture carefully before charging borrowers more. "We are sympathetic with the many borrowers who have challenges," Mr Moseley said. "At the moment, we are going through discussions with many borrowers to try and keep them in their homes." Against that backdrop, he said, any decision on lending rates would be appropriately measured. Overall, Mr Moseley felt rising interest rates would benefit the Bermuda economy. The Island's huge insurance sector, which holds billions of dollars in liquid assets, would be able to gain higher returns on them, and so could banks like HSBC Bermuda. So a rising rate environment would help companies take the focus off costs and think more about growth. Mr Moseley said he saw "green shoots" in the economy and growing interest from many potential home buyers amid lower property prices. "Many people are looking for single-family properties, in the $1 million to $1.5 million range," he said. "And they are very specific about where they want to live. They may be qualified for financing but they are focused on a particular area, where it may be difficult to find those properties." Mr Moseley said the bank was keen to lend to qualified borrowers and had plenty of capacity. He added: "All of our colleagues can take pride in the Bank's response to challenging times across the spectrum of our customer base from individual households to corporate customers." He said the bank had focused on providing thought leadership. It sponsored the first Bermuda Business Confidence survey, complete with the views of private-sector decision makers, which has gone down well in the community and which the bank hopes can be repeated every six months. It also brings in HSBC experts from overseas to share their views on key economic and investment areas with bank clients. And it continued its community work. Mr Moseley said HSBC employees had volunteered more than 8,000 hours of community service since launching its Staff Volunteer Community Action Day Programme in 2006. The bank has also upgraded its hi-tech offerings, increasingly demanded by a tech-savvy community. "Customer preferences are changing and our personal mobile banking application launched in 2013 has grown significantly in popularity as we made additional improvements to internet banking convenience and security features as well as increased our social media presence," Mr Moseley said.
March 11. The head of Argentina's tax authority has petitioned the Bermuda Government for information after it demanded embattled bank HSBC return $3.5 billion in offshore funds. Ricardo Echegaray of tax body AFIP — at a briefing at the Argentinian Embassy in London — claimed the bank had helped its clients in the South American country to dodge taxes and threatened the stability of the country's government. He said the country had approached tax authorities in the British Virgin Islands and Uruguay, as well as Bermuda. Mr Echegaray said: "HSBC built a platform to help clients evade tax. Without collection, there is no government, there is no public policy, there is no state, that is to say there is no country." The move came after the Argentinian regulator last November accused HSBC of helping more than 4,000 clients evade tax — which HSBC Argentina denied and added the bank respected Argentinian laws. But the Argentinian government filed a criminal complaint against the bank for tax evasion and illegal tax association, which carry penalties of up to ten years in prison. And Mr Echegaray revealed that on Sunday police had raided HSBC's Argentinian offices in search of documents. Police are said to have found documents that indicated most of the paperwork associated with the accounts were stored at a firm called Iron Mountain, which was the victim of an arson attack in February last year. According to a Reuters report, Mr Echegaray said: "We would like to know if HSBC Holdings PLC supported the behavior of the authorities of the Argentine branch. Secondly, we expect the repatriation of funds by HSBC Holdings PLC that to our knowledge amount to $3.5 billion." The UK authorities have also asked Argentina for information about its probe into HSBC. HSBC said in a statement it was cooperating with the Argentinian investigation. HSBC Bermuda chief Richard Moseley said yesterday that he was not aware of any request for information from Argentina in relation to this matter. HSBC last month admitted failings in compliance and controls at its Swiss private banking after leaked documents suggested it had helped rich customers hide millions of dollars of assets in a period up to 2007. The bank added it had improved controls at the private bank and closed many client accounts. HSBC also faces a probe by the US — which has stepped up efforts to find out if it helped American citizens evade taxes. The bank three years ago paid out a record $1.9 billion fine after US authorities said it had become a favorite financial institution for drug traffickers and money launderers between 2005 and 2010. Neither the Ministry of Finance or the Bermuda Monetary Authority responded to requests for comment yesterday.
March 11. Bermuda's ship registry has just logged its biggest single transaction of 14 ships. The ships are owned by Team Tankers International, the new holding company for Eitzen Chemical shipping group, which last year decided to domicile in Bermuda and re-brand its fleet as Team Tankers International. And the move could also bring a jobs boost as the firm is considering basing senior members of staff here as well. Team Tankers has also listed its shares on the Oslo Stock Exchange — the Oslo Bors — after announcing the closing of a deal valued at around $300 million. Department of Marine Administration (DMA) chief surveyor Captain Pat Nawaratne said: "We are delighted that the Team Tankers International group chose Bermuda as its new home for the 14 vessels, previously registered in Singapore, that were registered earlier this year. "We convinced the client that we were up to the challenge of meeting their requirements including the registration of multiple vessels at the same time pursuant to the terms of the restructuring and we were very pleased that we were able to deliver." John O'Kelly-Lynch, president of Delphi Management and an expert in private international shipping and private equity investment, has worked with a variety of Eitzen companies over the years played a large role in bringing the group to Bermuda. He said: "This group could have literally relocated itself and its vessels anywhere but they chose Bermuda because of the high quality of the jurisdiction as a domicile and the great reputation of the Bermuda ship registry, exemplified by the outstanding service that the group received from Captain Pat, Ed Robinson, the Registrar of Shipping, and the entire team at the DMA." Following the restructuring of the firm, Team Tankers launched an exchange offer that was backed by most shareholders, followed by successful retail and employee share offers that resulted in the shares of the new Bermuda holding company being approved for listing on the Oslo Bors. Marcello Ausenda of legal firm Conyers Dill and Pearman said it had advised on several Bermuda company issuers on the Oslo Bors and also worked with Team Tankers International.
March 11. A comprehensive freeze on hiring within the Department of Health has made staffing the ministry a "serious concern" for the next financial year. This according to Health Minister Jeanne Atherden who told the House of Assembly this week that 14 posts had been frozen to meet the department's cash limits. She also provided a breakdown of grants provided to charities and organizations by the department saying: "Unfortunately, we were not able to provide all the funding that was requested". Mrs Atherden added: "Unfortunately the savings that could not be realized when the furlough was stopped had to be found through freezing selected posts, because it is the fact that most programmes only have marginal operating budgets above salaries. In short there was no fat to cut in the Department — only posts. The Department took the difficult decision to freeze 14 posts in order to make its cash limits. In the last fortnight a comprehensive freeze on hiring has come to pass for the Public Service making the staffing of the Department in the next financial year a serious concern." Mrs Atherden told the House that the grant for the Bermuda Health Council had been reduced by $44,000 for the 2015/16 fiscal year. But she revealed plans for the council to publish the names of employers with inactive health insurance policies as part of its enforcement role. "The council will continue to step up its enforcement actions to ensure employees are aware of their policy status and receive their coverage entitlements. A more efficient deterrent has been identified and approved, and in 2015 the Health Council will be granted authority to publish the names of employers with inactive health insurance policies for their employees. This measure is expected to reduce the need for prosecution and enable employees to stay abreast of any irregularities in their coverage. Three employers have been successfully prosecuted, and we will continue to step up the enforcement action to make sure employers are aware of their duties." This financial year the Health Ministry will provide $3 million to the LCCA for Overseas Medical Care, $48,000 for The Nursing Council, $40,000 to Age Concern, $44,000 for Admiralty House Senior Islanders Club, $10,000 for The Sexual Assault Resource Team, $72,000 for Public Health Scholarships and $14,000 for Tomorrows Voices. Mrs Atherden said: "These organizations provide valuable services, in some cases essential services, to the community and the Ministry of Health, Seniors and Environment. Unfortunately, we were not able to provide all the funding that was requested." The Health Minister told the House on Monday that the new Home Medical Services had resulted in over $100,000 in savings. "This has enabled patients to receive select medical procedures such as IV therapy and wound care in their homes, payable by all private and public insurers. This service helps to ensure patient safety and to contain health costs, by providing care in more appropriate settings. Preliminary evaluation indicates that over the first six months of implementation the Home Medical Services benefit yielded savings of over $103,000 to the health system and was successful in enabling care to be delivered outside the acute-care setting. This is an encouraging start, and the Health Council will look to expand this programme in the future."
March 11. The Bermuda Hospitals Board is expected to run out of cash "in the near future" — and must find $40 million to pay for additional costs owing to the new acute care wing during the coming fiscal year. Minister of Health, Seniors and Environment Jeanne Atherden told the House of Assembly on Monday evening that the BHB has major financial challenges. Speaking during the budget debate, she said: "Last year the minister reported on the dire financial situation being faced by Bermuda Hospitals Board. It was, at that time, predicted that Bermuda Hospitals Board would run out of money in the current fiscal year. This clearly was not an acceptable position so it worked hard to manage its cash and prolong, as far as possible, the time when it would become cash delinquent. The minister said that measures were put in place rapidly. A ten per cent reduction in operating expenses was successfully implemented in the last fiscal year, and a 15 per cent cut was put in place for this fiscal year. The Bermuda Hospitals Board is well on its way to achieving this. However, financial pressures are increasing. On top of monthly payments of over $2 million per month for the new acute care wing, Bermuda Hospitals Board has responded to the national financial crisis the Government is dealing with, even though this has significantly reduced its revenues. Last year, the Bermuda Hospitals Board forecast it was going to run out of money at the end of 2014. It has taken all the steps it can, and while it has been able to postpone this day, at some point in the near future cash will be exhausted. The BHB faces further problems. In the coming year there are some uncertainties which will have to be managed. The coming on stream of the new acute care wing is a very welcome event for the country as a whole, but as we all know the facility will have to be paid for. The additional costs per annum of the new acute care Wing to the Bermuda Hospitals Board will be in the order of $40 million. This amount is too great to be absorbed by the Bermuda Hospitals Board and it's unfair for the public to expect to benefit from the new facilities without any additional charges. The Bermuda Hospitals Board, the Bermuda Health Council and my ministry are carefully examining the options with a view to bringing forward proposals shortly." Ms Atherden said that hospitals around the world face the same difficulties that the BHB is facing. "What is different is that the Bermuda Hospitals Board delivers Bermuda's only medical and mental health hospital services. It has to provide a wider range of services to the community than most other hospitals as there are no other options, and it is the place of last resort for people who cannot get access to healthcare anywhere else."
March 11. Bus drivers, faced with a proposal to cut down on their overtime, fear that such reductions are being considered across the whole of Government. Chris Furbert, president of the Bermuda Industrial Union, made the remark after a meeting of unionized bus drivers and mechanics discussed plans to compromise on their negotiated benefits. Monday's meeting followed days of bus route cancellations called by the Department of Public Transportation (DPT), which has exhausted the current fiscal years budget for overtime. Mr Furbert said the budgeting quandary, announced by public transportation director Dan Simmons, was nothing new. "You have to ask yourself the question why it is that just in 2015 we have this problem.. This has existed for quite a while now." Mr Furbert said the BIU had been notified of overtime shortages for the past six years. "BIU workers agreed to give up overtime for straight pay from July to December of 2011, saving about $4 million for the Government, in addition to a wage freeze since that year and 19 months of furlough days. They are questioning why they should do double time for time and a half,, while entities like the Bermuda Tourism Authority were receiving taxpayer money while their people are getting bonuses." Mr Furbert said the DPT got the least amount of overtime budgeted out of government departments: $150,000 for the current fiscal year, followed by Parks, at about $183,000. However, he said that by November 27, 2014, DPT had spent $1.5 million on overtime. Another issue for bus workers has been sick days, which can range from five weeks at full pay or 25 days, to 14 weeks, or 70 days, for more senior staff. With roughly 140 operators, the loss of roughly ten operators to long term sick days puts the system under strain. Mr Furbert said he did not believe there were many cases of sick leave being abused, and said the union had requested a printout from management of the first quarters sick leave so that possible instances of abuse could be discussed. These are negotiated benefits. We have asked our members, please don't take it for granted."
March 12. Eyewitnesses described several lucky escapes after a bus carrying nine nursery schoolchildren smashed into parked cars on East Broadway before ploughing into a utility pole. Eight people were injured, including two visitors and a few children. None was hurt seriously. The impact caused an explosion of sparks, sending live wires into the street and knocking out power in the vicinity. Persons at the scene said the children, from Warwick Preschool, were left with some bumps and cuts. The school's administrator contacted parents immediately, and most returned to the school. They had been coming back from a trip to the National Gallery and Bermuda Society of Arts at the time of the crash. Teacher Linnal Simons, who was accompanying the students, was commended by acting commissioner of education Freddie Evans for capably handling the situation. A frantic parent said she had been petrified after being diverted toward the scene to help only to realize that her 32-year-old daughter and four-year-old granddaughter were on board the crashed bus. "They were inside and couldn't get out," she said. "We were trying to break the window with a fire extinguisher. I didn't know if the bus was going to explode. I was horrified wondering if this bus was going to blow up with my children on it." She said the fact that people on board were unable to open the emergency window was something that needs to be addressed. Witnesses described the no. 8 bus exiting Spurling Hill at speed, clipping the side of a car parked by the store Great Things, hitting a second parked vehicle and pushing its more than 30 feet into two others. "It was like a domino effect," said plumber Eugene Smith, who was driving into Hamilton when he saw the bus lose control. Mr Smith and others pulled over to walk around downed wires and help children off the bus. He said the driver, a woman, was in shock, with the engine still running. Parents and teachers were on board, along with children. Passengers sheltered in nearby RenaissanceRe, while all traffic on East Broadway was closed off. Office staff said a woman had been about to get into her car after using the RenaissanceRe gym, just before it was struck. For 84-year-old Thelma Wilson and her son, Leroy Curly Wilson, it was an especially close call: Mr Wilson's was the first car hit, as the two returned to it after leaving the store with their shopping. "I am fine, just shook up," Mrs Wilson said. "I have torn my blouse, my glasses are gone and my purse was under the bus." She said she pushed up against the wall to avoid the falling wires. Another motorist said the impact was strong enough to send coverings dropping off nearby street lights. "I saw the bus come down the hill and hit a car, swerve out, then go back in and hit the other car and knocked it into the pole. Sparks and fire came off. All those cars hit, one after the other. We jumped out of our cars everybody was kind of timid at first, because of the sparks. Then we went to get the children off." Initially about 40 Belco customers were left without electricity. The damage, which included underground lines, was being repaired by evening, with a new pole put in place while a crane was brought to remove the badly damaged bus. Lunch hour traffic was backed up in many areas. Spurling Hill was closed all afternoon, and no incoming vehicles were allowed through Crow Lane. The Bermuda Police Service are asking for anyone who has information on the crash to contact Pc Mervin Homer on 295-0011
March 12. Life reinsurance company Beechwood Re has set up a Bermuda-based affiliate, the company announced today. Beechwood Bermuda International Ltd will be headed by chief operating officer and head of underwriting Graham Mackay, who has joined Beechwood from Ernst & Young. The new company will be based in Cumberland House, 1 Victoria Street, Hamilton, will support both Beechwood's reinsurance business that provides capacity to life, health, and annuity insurance companies and Beechwood's wealth management business that offers direct-written investment products to non-US investors. David Lessing, executive vice-president of Beechwood, said the new office "represents an important next step in Beechwood's commitment to offering unique solutions for our clients. It allows us to more effectively leverage the world-class infrastructure and expertise available in Bermuda." Mr Mackay has provided reinsurance solutions and services to clients for more than 30 years, covering the full range of products written by life and annuity insurers in key global markets. At Ernst & Young, he led the firm's Life Reinsurance Practice serving clients in Bermuda, the Cayman Islands and the US. Before working for EY, he held senior management and technical roles with global reinsurers including Mercantile & General Reinsurance, Lincoln Reinsurance, ING Reinsurance, Imagine Re, and Duncanson & Holt and established Milliman's life actuarial practice. Mr Mackay is a Fellow of the Society of Actuaries and the Canadian Institute of Actuaries, and a Member of the American Academy of Actuaries.
March 12. The search has begun to find the best employers on the Island. The Bottom Line magazine is seeking to recognize the very best of them in the seventh annual Bermuda Top Ten Employers Awards. And this year there is a big additional benefit for companies that take part — they will gain an insight into what their employees think they do well, and what they might improve upon. The people-based survey endeavors to find which of the Island's companies offer the most rewarding work environment across a number of key employment areas. "It is an anonymous survey. People tend to me more open and willing to share when it is anonymous," said Paul Loftus, a Montreal-based industrial and organizational psychologist. "The survey makes an awful lot of sense. The more feedback companies can get from their employees. When it is done externally people are more willing to share. Feedback is so important to any organization. Without it you can only be operating at partial effectiveness." Mr Loftus has, as a consultant, assisted with the Top Ten Awards since they were established in 2009. This year will be the first time that every company that enters will get a free employment satisfaction report created from the anonymous feedback, outlining key recommendations for improving satisfaction. Mr Loftus said this is something that should be a great incentive to attract even more participating companies this year. The feedback will allow companies to see what they are doing right and where they can offer improvements. Mr Loftus has seen similar surveys carried out in other countries, producing beneficial outcomes. "An organization needs to know how it is doing," he said. For the past three years, the survey has been sponsored by professional services firm PwC Bermuda. And this is the fifth year the awards have partnered with Global Research, one of Bermuda's leading quantitative research firms, to create the online survey and provide statistical analysis of the key measurement areas. "It's all done by computer, so it is totally objective," Mr Loftus said. The survey focuses on generating data from employees regarding a number of key employment areas including staff benefits, hiring rates, workplace safety and conditions, internal communication, compensation, corporate culture and overall satisfaction, among other areas. International and local companies vie for top Honours and those that emerge from the survey with the highest ratings will be honored at an awards ceremony later this year. In the 2014 survey, it was FedEx who ranked number one, closely followed by reinsurer Validus Holdings, air conditioning experts Air Care, Argus Group and law firm Marshall Diel & Myers. Montpelier Re, Bacardi, Fairmont Hamilton Princess, BF&M and Freisenbruch-Meyer Group made up the rest of the top ten. This year's top ten will also be featured in an issue of The Bottom Line dedicated to the survey. Do you think your company has what it takes to be a top employer in Bermuda? Companies can enter now. The survey will be conducted in May. Companies must have 25 employees or more to be eligible to enter. To enter the 2015 survey, contact info@bottomline.bm or call 278-0147.
March 12. A final report by a Euro regulatory body has backed Bermuda's bid for "third-country equivalence" with the EU's Solvency II rules. EIOPA, the EU's insurance regulators, continued to favor Bermuda in the final version of their report, submitted to the European Commission yesterday. The report, however, which also recommends Japan and Switzerland for equivalency, must still be approved by the European Commission. Failure to get approval would have put Bermuda-based insurance and reinsurance companies at a competitive disadvantage when doing business in the European Union. Bermuda Monetary Authority (BMA) CEO Jeremy Cox said: "We are happy to see the EIOPA report finalized, but note that this is phase one of a longer process." He added: "There is no question about our unreserved commitment to securing third country equivalence for Bermuda under the Solvency II Directive. Everything we have done and said points to our unequivocal pursuit of this objective. We are hopeful that the final decision will be favorable, because of its importance to Bermuda — and in fact, by extension, to the global (reinsurance market." EIOPA revealed last December that it had endorsed key parts of the Island's own regulatory regime and asked for comments. The final report included the views of the BMA and industry bodies on-Island and internationally. The Association of Bermuda Insurers and Reinsurers (ABIR) told the review body: "Our members highlight the exceptional job that the BMA has undertaken in developing a modern and robust regime, already recognized by the US National Association of Insurance Commissioners as a qualifying jurisdiction and which, it would appear, is making significant strides towards being acknowledged as equivalent to the Solvency II regime. "The BMA has developed a sound and competitive regime that attracts a supply of capital that ultimately provides reinsurance and insurance policy holder protection and delivers value to policy holders as well as to ceding companies and their underlying assured." The Federation of European Risk Management Association (FERMA) added that Bermuda was vital in ensuring the coverage of risks for large European corporations remained available and affordable." FERMA said: "It protects also their resilience thanks to important catastrophe post-loss benefits as large claims payments are made into the EU economy." It added: "Therefore, it is of the utmost importance for FERMA that some of its members, European industrial and financial business entities, have a continued access to important commercial insurance and reinsurance capacity from well-capitalized Bermuda commercial insurers and reinsurers." Lloyd's of London added: "It is evident from this report that the Bermuda Monetary Authority (BMA) has made significant steps to update the internal regulatory system so as to align it to the Solvency II framework." Lloyd's said: "Commercial insurers and reinsurers in Bermuda retain a stable position in the global reinsurance market and provide important commercial insurance and reinsurance capacity to EU markets."
March 12. The Registrar of Companies Department is predicted to bring in more than $65 million in revenue in the next financial year, according to Economic Development Minister Dr. Grant Gibbons. He told the House in his Budget presentation yesterday that the total number of new company registrations for the year was more than 1,200. He also pointed to the successful bid of the registrar to hold the International Association of Insolvency Regulators Conference in September 2015 as another positive sign in the industry. "We had seen a steady trend of local and international company registrations in 2014. The total number of new company registrations for the year was 1,201, which is the highest number since 2008-2009 and a 3 per cent increase over the 1,169 reported in 2013. The increase was represented by 179 new local registrations, a 6.5 per cent increase over the 168 in 2013, and 1,022 new international companies and partnerships, a 2 per cent increase over the 1,001 in 2013. The budget for the Registrar of Companies for the next financial year is $2,845,000. This represents a decrease of $326,000 or 10 per cent less than the original budget of 2014/2015. The estimated revenue from registrations is $64,780,000 and represents the majority of the total revenue anticipated for the Department. The balance of the revenue is derived from the Licencing and Insolvency Cost Centre. The department is forecasting overall revenue of just over $65 million. This is approximately $4,956,000, or approximately an 8 per cent increase in projected revenue over the revised revenue estimate for 2014/15. As the increase in company registrations has been steady, the Department has taken a conservative approach by forecasting its increase in revenues based on actual audited revenue figures available for the fiscal year ended 2013/14."
March 12. Emerging from the ocean dripping wet after a 20-foot cliff jump, Bill Hanbury explained that adventure is what the young millennials are looking for in a vacation. The Bermuda Tourism Authority chief executive officer joined a team of his employees to take the plunge at the popular cliff jumping spot Admiralty Park to highlight Bermuda winning the accolade of Best Island in Outside magazines annual Best of Travel awards. Mr Hanbury said he has done cliff jumping in Bermuda on many occasions and says it is just the sort of activity that the young, adventurous traveler is seeking and that Outside magazine has recognized in its selection. He told The Royal Gazette: It's great fun and this is typical of what people can do when they come to Bermuda. The whole island is a tremendous adventure experience and I think Outside magazine's recognition is really important to us, this is a global magazine, a global audience and to have that kind of designation is really powerful stuff. This type of experience is aimed at what we call the young millennials who are the new generation of visitors to Bermuda. What they want is an experience that is not curated, that they can just go out and do without having to take a tour because the global visitor doesn't want structure. That is why Bermuda is so great because the whole Island is a resort in itself. From a safety perspective and an adventure perspective' it just doesn't get any better than this." Bermuda picked up Outside magazines top Island accolade after travel veterans, largely made up of travel writers and editors, scoured the globe and made their final submissions. The magazine, which sells almost 700,000 copies per month, gave a glowing account of Bermuda. It said: "With a mild year-round climate located less than two hours from numerous East Coast cities, Bermuda has become a mecca for those seeking diverse adventure on land and water. Thrill-seekers cannot miss cliff jumping and cave diving; other visitors are enamored with SUP yoga and snorkeling. Bermuda has also increasingly become a training destination for both amateur and professional athletes, with a series of races and competitions attracting entrants from around the world. The Island most recently won the distinction to be home to the 35th Americas Cup in 2017. Events begin on-island this year, with the Americas Cup World Series racing event from October 16 to 18." Outside editor Chris Keyes added: "Outside has been covering the adventure-travel beat for nearly four decades. We know this terrain, and now we've narrowed your choices of hotels, destinations, outfitters, and travel gear from approximately 10.6 million to 40. The final choice is still on you, but now the task is at least manageable. The full list of winners will appear in next months issue and will appear soon. The magazine edition will be available on March 17.
March 12. The construction of a resort at the former Club Med site will not commence in May but later this year, Tourism Minister Shawn Crockwell informed the House of Assembly. The timeline announced in December for the long-awaited development changed due to extended negotiations, Mr Crockwell said. Questioned at length by Opposition Members of Parliament yesterday, Mr Crockwell said: "We are still looking to have ground broken this year — hopefully toward the end of summer." His remarks followed extensive questioning about the Bermuda Tourism Authority that sparked a rebuke from Speaker of the House Randy Horton. Mr Crockwell told Zane DeSilva, the Shadow Minister for Tourism, that a switch from the original brand company to the new St Regis hotel brand had delayed the Club Med development from starting as soon as hoped. A deadline for full financing of the development has been set for "the early part of May." Starwood Hotels signed an operator's agreement with the developer, Desarrollos Hotelco Group, "within the last few weeks", Mr Crockwell told the House. He said he was informed at the time by Ronald Sutherland, the American consultant who represents the Bermuda Government. Mr Crockwell also told MPs that the Government was not privy to all details of the agreement between the developer and the hotel brand. He said the agreement was based in part on unspecified development and operating concessions for the project in St George's. Questioned by Opposition Leader Marc Bean, the minister said a government contingent had met recently with local banks to discuss the debts in connection with the development. The developer has committed more than 50 per cent equity in the property, Mr Crockwell added. "There are discussions between the brand and the developer in terms of equity, which I am not in a position to discuss," he said. It closed a lively round of questioning in which Progressive Labour Party MPs reacted with surprise when the tourism minister told them that the landlord for the Bermuda Tourism Authority had not disclosed to the Government the square footage of the space rented to the BTA. Mr Crockwell said the landlord, Washington Mall Properties, had declined to share full details with him because it was "commercially sensitive information", but he agreed to an Opposition request that he ask the BTA to measure the space themselves. Repeated questions about the BTA's $180,000 interest-free loan to the Whitfield Group to replace its Front Street venue tent, which was destroyed in last October's hurricanes, were eventually turned down by Speaker of the House Randy Horton, who said PLP members were asking the same questions repetitiously. Protests from Mr DeSilva eventually prompted Mr Horton to summon the sergeant-at-arms, whereupon Mr DeSilva took his seat. Opposition MP Derrick Burgess told him: "The reason we get so many questions is we don't get any answers. We have an obligation to the people of Bermuda." Mr Horton responded: "If the answers are not what you expect, or if there is no answer, we can move on without receiving answers. The people will be able to judge." In particular, PLP MPs queried why insurance had not been in place for the tent. Mr Crockwell said he did not know where such information had come from, but told the House that the BTA had given out many loans for tourism-related services. Whitfield Group had more than 20 events planned when the tent was destroyed, and needed assistance quickly, he said. The loan, which covered the cost of a new tent plus shipping and equipment, will be repaid by April 30. Asked about gaming commissioners, the minister said three were working without pay; a total of five will be appointed. He said he did not believe the current commissioners would be retroactively paid. An overseas commissioner has not yet been identified, but will not reside on the Island — instead travelling to Bermuda for meetings. Regulations for the gaming commission are still being drafted.
March 12. HSBC Bermuda chief executive officer Richard Moseley says the bank welcomes competition after Finance Minister Bob Richards said he was looking at ways to restructure the banking sector. For a second successive year in the national Budget statement, Mr Richards claimed banks were not lending enough at a time when the economy needed more credit to grow. "As Bermuda has no central bank, the influence Government has over the lending practices of banks is very limited," Mr Richards said. "That is why it is so important that other sources of capital be brought to bear to fuel recovery for Bermuda's economy. Government is studying various options to restructure the banking sector and it continues to be in discussion with the banks about these and other relevant issues." In an interview, Mr Moseley said he would not be concerned about other banks being invited to set up on the Island to compete with HSBC Bermuda and the three other local banks Butterfield, Clarien and Bermuda Commercial Bank. "We would welcome competition but we need to ensure that the competition increases the size of the pie. If it's merely moving the existing revenues around, it will not add to employment for the Island. Additional revenues are critical for Bermuda. If newcomers offer services that are now offered outside Bermuda, then that would be net positive for the Island." Mr Moseley conceded that it would unrealistic to think that companies within the Islands huge international business sector could have all their financial services needs met by the four domestic banks. "Suitcase bankers were already travelling to the Island and doing business with large firms," he added. "We go head to head with the suitcase bankers day to day. Where we win is that customers like dealing with someone they see locally. If they have a problem, they know they can talk about it. With the suitcase banker, its a more remote relationship. We would ask that anybody coming in should be on a level playing field with existing banks. This meant that they should be required to offer a range of services to the community and not be allowed to focus solely on more lucrative international business banking. The costs of running a bank in Bermuda were high. For example, were a small local bank, but we offer 20 currencies. That is expensive to do. A small local bank somewhere in the US would not offer that. Anybody coming to Bermuda would have to support local as well as international business. One of the benefits of having a global bank like HSBC in Bermuda was the career development opportunities it afforded to Bermudians. Several Bermudians had benefited from secondments overseas within the HSBC network, and had then returned to the Island to take up higher-ranking positions in the bank." He cited the examples of Jill Virgil-Smith, Renee Bullock-Cann, Neville Grant and Shannon Burgess, as Bermudians who were all occupying management roles at the bank after secondments overseas.
March 13. A top executive of Third Point Reinsurance Ltd has stressed that the Bermuda-based firm is a "real insurance company" as US tax authorities seek to clamp down on what they consider to be hedge fund investment vehicles masquerading as reinsurers. Third Point, founded by Dan Loeb's fund of the same name, is one of several reinsurers founded by hedge funds in Bermuda, a group that tend to take more risk than traditional reinsurers with their investments and less risk on the underwriting side. The US Internal Revenue Service is weighing tightening regulation for these companies. "Anyone that spent a day in our office would clearly see that we're a real insurance company," Chris Coleman, Third Point Re's chief financial officer, said at a conference in Boston yesterday, according to Bloomberg News. Hedge fund managers like Mr Loeb, John Paulson and Steven Cohen have pushed into the Bermuda reinsurance market to access additional capital for investing while gaining tax advantages. The IRS is weighing whether to impose minimum standards for reserves or premiums to distinguish the companies that rely most on underwriting from those that depend more on investing. Third Point Re wrote $613.3 million in premiums in 2014, a 53 per cent increase from the previous year. The company would pass proposed standards for sales, while just missing on potential reserve requirements, Mr Coleman said. He said there are "significant flaws" to some regulations under discussion, because they would apply to too much of the industry. "There's actually quite a few other companies that would equally fall below the threshold, especially among insurers that shoulder risks tied to infrequent events, such as natural disasters," he said. The US Treasury Department said last year in a letter to Senator Ron Wyden that it's considering ways to end a "loophole" that allows companies to route investments through low-tax countries. "I'm going to bulldog this until this is resolved," Sen Wyden, an Oregon Democrat, said earlier this year. "These are people that are taking advantage of the law-abiding taxpayers that we're talking about." Third Point Re's Mr Coleman said the industry may get direction from the government in the next 30 or 40 days, and that he's looking forward to receiving clarity. "The rules have never really been challenged, so in some ways, we welcome the news from the IRS." Third Point Re, whose investment portfolio is overseen by Mr Loeb, sold shares for $12.50 a piece in an initial public offering in 2013. Yesterday, the shares closed at $14.29 in New York trading. "By investing in our company, you are gaining access to Dan Loeb's Third Point investment strategy," Mr Coleman said. "Because his funds are closed to additional investors, this is the only way to gain that exposure."
March 13. New customs duty legislation designed to raise revenue for Government has been passed by the House of Assembly. The Customs Tariff Amendment Act 2015 will raise fuel duty by five cents a litre from next month, generating $9.6 million in additional revenue, according to Government. It also provides tax breaks for people wanting to import "mushroom spawn, strawberry plants and trees of kinds that bear edible fruits or nuts", to encourage local food production. The increase in fuel duty was the subject of intense criticism in the House of Assembly on Wednesday by Progressive Labour Party members including leader Marc Bean and Shadow Finance Minister David Burt, who described the move as "not good economic policy". But Finance Minister Bob Richards said that while he had "hesitated" about the move in the past, it was needed to "break the back of the deficit". The legislative amendments included more incentives for commercial food production in Bermuda. Mr Richards said: "To encourage and support local food production, it is proposed to introduce a zero rate of duty for mushroom spawn, strawberry plants and trees of kinds that bear edible fruits or nuts. This is consistent with the zero rate of duty that has traditionally applied to other generative materials, such as seed potatoes and seed for sowing. As a further incentive to local commercial food production, the Bill proposes to subsume all existing commercial food production reliefs in one harmonized end-use relief. There are five separate reliefs for goods for local food production. These include relief for the poultry industry, the dairy industry, commercial fishing, commercial aquaculture, and commercial farming. The new duty relief for goods for local food production will extend to all goods imported for use in connection with the local commercial production of animal or vegetable products for human consumption."
March 13. Non-Bermudians owned 2,174 acres of Bermuda's land as of October 31, 2014. However, the figures do not include holders of permanent resident certificates. Junior Minister of Environment Sylvan Richards provided the numbers in the House of Assembly in response to questions from Derrick Burgess, the Progressive Labour Party Member of Parliament. Between December 20, 2012, and October 31, 2014, 15 licences were issued to PRCs to purchase condominiums. During that same period, 27 licences were given to non-Bermudians, excluding PRCs.
March 13. The construction of Bermuda's first solar farm near the airport is still potentially on the cards, Economic Development Minister Grant Gibbons has revealed. Dr Gibbons told the House of Assembly on Wednesday that the Department of Energy would develop a "request for proposal" for a utility-scale solar photovoltaic development at "the finger" at LF Wade International Airport. The minister also maintained that the regulatory reform project would remain a priority for the department in the upcoming fiscal year. "Developing new energy options requires a new framework of policy, legislation, and regulation. The current framework, developed when liquid fossil fuels were the only viable option, lacks the flexibility to integrate new options. The updated framework must also ensure that the benefits of introducing new technologies into Bermuda are shared by the consumers, the utility and the Government." Dr Gibbons told the House that the Department of Energy's budget for the upcoming year would be $988,000. He said the decrease of $52,000 from the previous fiscal year was attributable to several factors, most notably the termination of the Solar Rebate Initiative. "There have been over 200 photovoltaic systems installed, for an installed capacity of approximately one megawatt. There have also been approximately 100 solar thermal systems installed during this time. The department has paid out over $540,000 in rebates for both initiatives over the last two years. It is therefore safe to say that these rebates have achieved their goal of encouraging the uptake of residential-scale renewable energy systems, with the added benefit of creating construction jobs in the economy." Dr Gibbons said the department was keen to co-host another Energy Summit this year and would focus on creating a transmission and distribution licensing framework, so that the rules of engagement with Belco by independent power producers became more well- defined. In the coming financial year, the department will also attempt to create a licensing framework for utility-scale renewable energy facilities, review the duty rates on fuels to introduce incentives for the use of high-energy, low-carbon emitting technologies, and explore the viability of LNG as an alternative energy source.
March 14. Members of Parliament are to debate their salaries for the coming year on Monday. Legislators are likely to be closely watched during the talks, held on the last day of the exhaustive post-Budget committee of supply meetings. The earnings of Cabinet Ministers and MPs have been a politically sensitive topic in recent years, and with the latest Budget dominated by spending cuts, the scrutiny continues. There will be no changes to the Ministers and Members of the Legislature (Salaries and Pensions) Act, under which Michael Dunkley as Premier is paid $151,181 a year. Bob Richards as Deputy Premier earns $112,942. For Members of the House of Assembly, a year's wage is $56,023. For Senators, it is $30,367. Ministers in the House or Senate both take the same annual wage of $100,841. Neither Mr Dunkley nor Mr Richards takes extra pay for their other jobs as Minister of National Security and Minister of Finance respectively. However, Mr Richards receives the higher of the two salaries: the Minister of Finance's yearly wage is $121,010. After telling Parliament that he would move the salaries resolution at the next meeting of the House, Mr Dunkley pointed out that the salaries for the Premier, Deputy Premier, Minister of Finance, Attorney General and other ministers had been higher in 2012: $168,069, $125.491, $134,455, $163,358 and $112,046 respectively. That was true up until April 1, 2012: under the former Progressive Labour Party Government, those wages were reduced by 5 per cent, effective for one year. They had also been reduced a year earlier. In 2011, then Premier Paula Cox was earning $224,000 annually. The then-Opposition MPs under the United Bermuda Party had been calling for wage cuts since 2010, and in that year the Bermuda Industrial Union's members took up the call, as civil service workers began to feel the squeeze. Ms Cox initially turned down union requests for pay cuts, but later said she would take a reduction if other senior civil servants followed her example. Meanwhile, with the formation of the One Bermuda Alliance, Mr Dunkley — then an Opposition Senator — said he would support pay cuts of up to 20 per cent. Ultimately, a 5 per cent cut went before the House and was passed. Those cuts only remained in effect until the general election that December, as stipulated in legislation. Wages went back up, but were cut once more, this time by 10 per cent, under OBA legislation approved in March 2013. They have remained at this level and are set to stay until March 31, 2016. Who earns what in Parliament...
• President of the Senate: $15,181
• Speaker of House of Assembly: $26,569
• Vice President of Senate: $3,308
• Deputy Speaker of House of Assembly: $13,285
• Premier: $151,262
• Deputy Premier: $112,942
• Minister of Finance: $121,010 (as part-time minister): $60,505
• Attorney General: $147,022
• Other ministers in the House of Assembly: $100,841
• Other ministers in the Senate: $100,841 (as a part-time minister): $50,421
• Opposition Leader: $30,367
• Junior ministers in the House of Assembly: $11,387
• Junior ministers in Senate: $11,425
• Party whips: $7,593
March 16. A total of ten new insurance firms have registered in Bermuda in the first two months of the year, according to Bermuda Monetary Authority figures. And the BMA also approved a new broker, Winklevoss Ltd. The list includes four special purpose insurers, Cenuturiae Re, Valins, Securis Re LCM and Skuld II Re. There were seven registrations in January and four in February.
March 16. A Bermuda squad of 12 athletes has been named for the Carifta Games to be held in St Kitts and Nevis next month. As is the case in most of the Island's Carifta squads in recent years, the majority of the athletes will compete in the jumping and middle distance events. The Island's team includes Sakari Famous, high jump, Kyrah Scraders, 800m and 1,500m, and Jahnai Perinchief, high jump, who all won medals at last year's Games in Martinique. Bermuda won five medals at that event, with Dage Minors also winning a bronze in the boys' under-20 1,500. Scraders, who will be competing at the under-20 level for the first time, won gold in the girls' under-17 800 and silver in the 1,500 last year. Several athletes will be making their Carifta debuts, including Keisha Miller, long jump, Mikayla Wilson, high jump, Aaron Jacobs, 800, and David Darrell, 1,500. Accompanying the team will be coaches Jarita Vickers and Rohan Simons. Donna Watson, the Bermuda National Athletics Association president, said that she was confident the athletes would make the Island proud. "The Bermuda National Athletics Association are pleased to announce our Carifta team. We are very excited about this team of 12 athletes and have no doubt they will represent Bermuda at these games very well. We are pleased with these athletes as they have performed very well during the interschool sports and our last Carifta trial. Our goal this year was to make sure the athletes were competing and training consistently right up to the time the team was selected. The coaches are all in agreement that each athlete that has been selected has met this criteria and is well prepared for Carifta." The Carifta Games, which were first held in 1972, will run from April 4 to 6. They consist of track and field events including sprint races, hurdles, middle distance track events, jumping and throwing events, and relays. There are two age categories: under-17 and under-20. Only countries associated with Carifta may compete in the competition.2015 Squad are Under-18 women, Tiara Derosa (shot put and discus); Sakari Famous (high jump); Mikayla Wilson (high jump). Under-20 women, Kyrah Scraders (1,500m and 800m), Keisha Miller (long jump). Under-18 men, David Darrell (1,500m), Aaron Jacobs (800m), Michaiah Robinson (800m and 400m), Elisha Darrell (high jump). Under-20 men, Jah-Nhai Perinchief (high jump), Ethan Philip (long jump and triple jump), Kionje Somner (200m and 400m).
March 16. Boxing administrator Vic Richmond was remembered fondly over the weekend by those he assisted throughout his long service to the sport. The president of the Bermuda Boxing Commission died last Thursday at the age of 69. As well as serving as an administrator, Mr Richmond made many other contributions as a referee and judge, and played an integral role in raising the sports profile in Bermuda. He served as a judge during the World Boxing Council-World Boxing Association middleweight unification bout between Bermudas Teresa Perozzi and American Tori Nelson in October 2012, which ended in a draw at Fairmont Southampton Resort. He was also fight commissioner for the rematch four months later, this time for the WBC title at the Berkeley Institute gymnasium, the result was another draw. Mr Richmond's death prompted an outpouring of tributes from the local boxing community, which was trying to come to terms with the loss of an individual who gave so much to the sport. Ms Perozzi said: "He was one of my biggest supporters. I always knew I could count on him. Vic was the reason my transition to professional boxing went so smoothly here in Bermuda. He went above and beyond to help me in any capacity when he knew I had a fight here or overseas. He will truly be missed and my heart goes out to his family." Clarence Hill, who remains Bermudas lone Olympic medal-winner after claiming bronze at the 1976 Montreal Games, said Bermuda's boxing had lost one of its greatest ambassadors. "Vic's passing has taken a lot from local boxing. He really did a lot for boxing in Bermuda. He always had his heart in it and to lose someone who has their heart in boxing in Bermuda, period, is a major loss. He was a good man and I took a liking to him. He helped me out a whole lot by always encouraging me. I send my heartfelt condolences to his family and everyone who knew him." Anthony Mouchette, a local amateur boxing referee, echoed Mr Hill's sentiments. "We have lost a great icon as far as the boxing fraternity is concerned," said Mr Mouchette, who also worked with Mr Richmond on the Bermuda Police Service. He is going to be a big miss and whoever steps in to fill his shoes has some big shoes to fill. He was very instrumental in getting the Police gym up and running, and also instrumental in getting boxing in Bermuda on the cards." Later on, he advanced and became professional, and took up the professional arena as far as being an administrator and a judge. Troy Darrell, the former world-ranked professional middleweight boxer, also spoke highly of the late BBC president. "I knew Vic through boxing and throughout the years he judged a lot of my [amateur] fights. I got to know him personally and he went on a few trips with us when Clarence Hill qualified for the Olympics. He was a good guy. He kept boxing alive in Bermuda for a while with the Bermuda Amateur Boxing Association and I am very saddened to hear that he has passed." Leon Raynor, a professional boxing referee, added: "This is a big loss to boxing in Bermuda. He was a good guy and made his mark and we learned much from him. I was there in the beginning when the Police used to have their events up there in Prospect and Vic was the one who encouraged me to get involved."
March 16. Amending the caution policy for simple possession of cannabis and the introduction of fixed penalties for minor offences will be part of a diversion from prosecution focus by the Ministry of Legal Affairs and the Ministry of National Security, according to Attorney-General Trevor Moniz. Mr Moniz outlined the plan while reporting on the Ministry of Legal Affairs initiatives for 2015-2016, saying legal reform was a key priority. While describing criminal justice reform on Friday, he said the Ministry would work on Throne Speech commitments. "We will work with the Director of Public Prosecutions and the Bermuda Police Service to amend the formal caution policy to permit greater discretion on the part of officers when dealing with first-time offenders who might otherwise have been charged with simple possession of cannabis." The Government will also examine the ramifications of fixed penalty notices for certain minor offences. Fixed penalties allow Police to issue on-the-spot fines to persons committing an offence, giving them the opportunity to pay the fine out of court. Fixed penalties can ease the burden on the criminal justice system through the elimination of unnecessary court appearances. Other diversionary options under consideration include the possibility of conditional cautions and deferred prosecution agreements, both of which are recent innovations coming out of the UK. Mr Moniz told MPs that during coming legislative sessions, a key priority of the Ministry would be legal reform, which should lead to cost savings through the processing of cases and legal aid. "Our first plank of reform will concern the criminal justice system in Bermuda. A commitment [was] made in Governments recent Throne Speech to review criminal procedure for the purpose of modernizing the administration of justice to make it more efficient and effective. Such reform took an important first step recently with the introduction of the Criminal Procedure Rules in 2013. Those rules mandated a criminal justice system which abides by an overriding objective to deal with cases justly. This includes acquitting the innocent and convicting the guilty; dealing with the prosecution and defence fairly; recognizing the rights of the defendant; respecting the interests of witnesses, victims and jurors; and dealing with the case efficiently and expeditiously. The Ministries aim in the coming months is to give the Bench the tools needed to enforce their overriding objective to do justice. Much of our criminal legislation is based on Victorian-era precedents and is no longer fit for purpose in the 21st century. Criminal trials have become unjustifiably delayed, which in turn affects fairness. We have seen complex trials last many weeks. This state of affairs places considerable pressure on the public purse, and we will be looking to reforms which have been tried and tested overseas and adjusting them to the Bermudian context. When these reforms come into force, they will require a major shift in the culture of all who practice in the criminal justice system, bar and bench alike. Once given these new tools, judges and magistrates presiding over criminal trials should take full advantage of them to actively manage trials in a manner which is fair to all." The Attorney-General told MPs the Chief Justice had discussed Bermudas relatively high levels of incarceration. "Honourable Members will note the success of our electronic monitoring device programme, also popularly known as ankle bracelets, he said. These are available to those on bail and on probation. This has resulted in a decrease in the number of spaces that are being occupied in our correctional system, which in turn, feeds further savings into the budgets of both the Ministry of Legal Affairs and the Ministry of National Security."
March 16. Attorney General Trevor Moniz stated an increasing number of multi defendant and factional cases in the Supreme Court present "a potentially unsafe environment for staff, Judges, Magistrates' and the public at large, and expressed hope a purpose built facility could be planned for. He made the statement on Friday afternoon during his presentation of the Ministry of Legal Affairs' Budget Brief for the Bermuda Judiciary in the House of Assembly. Mr Moniz told Members of Parliament: "Should the increase in multi defendant and factional cases continue, we shall have to consider more permanent measures for our Supreme Court." He also called the current facilities for jury trials unsuitable and inadequate, adding: "Hopefully a plan can be developed in the medium term for a purpose built facility." We have dealt with a few multi-defendant trials without incident, but are increasingly faced with a growing number and in size," and added that the Ministry continue to monitor the level of security threat " ... in respect of individual trials where appropriate. Due to the increasing number of violent high risk individuals being brought before our Courts for gun and weapon offences, coupled with the presence of friends and family members, along with those of their victims, presents a potentially unsafe environment for staff, Judges, Magistrates' and the public at large. We continue to review the needs for extra security devices including cameras and additional metal detectors and in view of recent crime, we have taken extra measures where necessary and installed temporary metal detectors provided by private security on a case-by-case basis. We continue to monitor our needs to protect our Courts and the people and public who use them. In the Supreme Court, where we don't have permanent security personnel in place we continue to work with the police and private security to ensure that adequate measures are implemented." The Shadow Minister Michael Scott in his reply to Mr Moniz's report, acknowledged the issue. He noted: "The Chief Justice wishes to have the courts and the staff be adequate for purpose." The Attorney General also reported that there is no backlog with criminal cases in the Supreme Court. "The listing of cases has been maintained at three months where possible, and on some occasions during the year within one month of the arraignment session. This optimum level is dependent on the number of indictments filed, the number of multi-defendant trials and the length of individual trials." The trials also arose during the Department of Public Prosecutions (DPP) budget report, with the Attorney General calling 2014-2015: " ... another demanding year for the DPP." He said: "The department's staff continued to experience an unusual increase in workload due to the increase of serious/complex trials including those which are gang related as well as gun crimes. Increasingly we are experiencing trials with many defendants and thus requiring many defence counsel. Further, serious trials involve increasingly complex forensic evidence and sometimes now require the use of protected witnesses which can lengthen trials." He said the department's Crown Counsels are working on back-to-back prosecutions of cases, but said they have had: " ... considerable success in the prosecution of most of these serious/complex crimes."
March 17. A top insurance industry boss believes that a tax on company profits is inevitable — and would be in the long-term interests of the Island's people and its economy. John Charman, the chairman and chief executive officer of Bermuda-based Endurance Specialty Holdings Ltd, said the levying of corporate tax would disarm international critics who regard the Island as a tax haven. If phased in over the long term after consultation with the business community, Mr Charman believes it would not lead to a mass exodus of companies, but could potentially create a more sustainable international business environment — if accompanied by the removal of protectionist barriers.
March 17. Public Access to Information (PATI) will go into effect on April 1 in "one big massive swoop" but with some initial delays possible, according to the new Information Commissioner, Gitanjali Gutierrez. Ms Gutierrez, from the United States, outlined her office's role as an independent, fair and unbiased body, along with the procedures for requesting information and cases in which details would not be released. The implications of PATI are "incredibly exciting" for Bermudians and Bermuda residents who wish to request recordings held by public authorities, she said. The commissioner's office, which comprises only Ms Gutierrez, will open at 129 Front Street before being moved to new premises in a few months' time. More than 200 bodies are subject to the Act, ranging from Government ministries and departments to quangos and the Corporations of Hamilton and St George's. Each will have an information officer to field requests, with information statements listing the type of information available. Requests will be kept confidential, but the commissioner can report on the numbers of requests filed and how they were handled. The office will also resolve disputes over information given, and will give rulings on why they were disclosed or not. Those eligible to make requests will need to provide proof of eligibility as a first step. Requests should be spelled out clearly, particularly if there are implications with regards to public interest. "Fishing expeditions are to be discouraged," Ms Gutierrez said: "requests should be specific — although there is no need to explain why an individual is seeking certain information." There is no fee to submit a request, but there may be fees attached to collecting certain sorts of information. The officer will have five days to acknowledge receipt of a request, and six weeks to find the information requested, and determine whether or not it can be released. Sixteen criteria can be invoked to withhold information, such as information that would harm an individual's health or safety if disclosed. Personal information, sensitive commercial information such as trade secrets, information received in confidence, international tax agreement records, Cabinet documents in which officials record their deliberations, or documents that would undermine the ability of ministers or public authorities to have free and frank open debate, would all be off-limits. Certain sensitive records relating to operations of public bodies are exempt, as well as information that would harm national security, the disclosure of the Governor's communications with Britain, and law enforcement details that would prejudice investigations or enforcement. Information protected by legal professional privilege is exempt as well. Exemptions will only stand for 30 years after the creation of a piece of information, excluding personal information and details covered by other legislation. There are also administrative grounds for turning down requests — such as cases in which information is already to be made public within three months. Problems with the information provided can be taken up with the heads of authorities, followed by the Commissioner's office, which can give orders with a similar binding authority to those of the Supreme Court. Request for a judicial review is a final recourse. "In many countries throughout the world, the public's right to access to information held by the government is a critical part of a robust democracy — information has been called the currency of a democracy," Ms Gutierrez said. "When the public can get information as a matter of right, rather than as a matter of discretion, it allows everyone to engage in public policy debates and participate in a democracy in an informed manner. This ultimately leads to better decision making, accountability, and policies."
March 17. Life is literally a beach for Tony Plant. He spends his days creating art on sands around the world. The downside, of course, is watching his painstakingly crafted pieces disappear with the tide. Mr Plant, who lives in Newquay, Cornwall, finds beach art meditative and grounding. The 52-year-old has been raking enormous geometric shapes across the world's beaches for the past 20 years. He'll teach the skill to others in a workshop this week as part of the Fourth Annual Bermuda Beach Art Festival. "Beach art really helps people to engage with the marine landscape," he said. "They help people to see how much trash is on the beach. They help people see the state of things." He believes the large scale drawings act as a way of slowing people down, in a positive way. "People are so hectic these days that it is not often that they have the chance to stop and appreciate where they are," he said. Mr Plant frequently conducts workshops and believes they help to raise environmental awareness. Lately, he's been working on Porthcurno Beach, in Cornwall. "This is one of the last beaches in England before Bermuda," he said. "From Porthcurno, Bermuda is 3,210 miles away. It is just beautifully wild there. I keep looking out and thinking Bermuda's on the other side. I am so excited about coming to Bermuda." He believes that some of the trash that washes up on the beaches of Cornwall actually comes from Bermuda. "I haven't seen anything specific," he said, "but I know the current brings things up past Bermuda and to Cornwall. We get the tail end of a lot of the storms you've had." Mr Plant graduated from the Chelsea College of Art and Design in London in 1990. It was there that he was inspired by a professor to take up beach art. "The professor would burn pieces of drift wood on the beach to make shapes," he said. Some of Mr Plant's pieces are 60ft long and can only be fully appreciated from above. "It's one thing to draw on paper but when you are moving a rake through sand the drawing is always behind, you are always having to think forward into space. You also have to think about what the piece will look like when the tide comes up and also when the shadows hit it hours later." He loves the way people come up with their own narrative when they see his work. "They just look at it and come up with all these stories," he said. Mr Plant, who is also a painter, has worked in France and Australia and will go to Iceland later this year to work with photographer Tim Nunn. There, he plans to create art on black volcanic beaches encrusted with snow and frost. The Bermuda Beach Art Festival will be held on March 28 at beaches around the Island. Mr Plant's workshops will take place at Horseshoe Bay on Saturday from 3pm to 5pm and on March 24 and 25 from 5.30pm to 6.30pm.
March 17. Randy Horton emphasized his right to maintain order in the House of Assembly this morning, but said that on "careful reflection" a different course could have been taken on Friday evening to avert a mass Opposition walkout. As Parliament opened in the wake of a stormy weekend of press statements and counter statements, the Speaker of the House turned back the clock on his decision to halt debate on an amended version of a motion. The motion was brought by Walton Brown, the Progressive Labour Party Member of Parliament, to create a joint select committee to review immigration policy. The amendments by Attorney-General Trevor Moniz were about to be voted on without debate when David Burt, the Deputy Leader of the Opposition, stood to make a point of order. It was the fourth time that Mr Burt had taken to his feet in the course of a heated session, and Mr Horton called the sergeant at arms to assist in his removal from the House. Before that could happen, Mr Burt and his PLP colleagues staged a mass walkout, leaving the Government MPs to pass the amendments unchallenged. "In my haste to move the debate along, I allowed it to be brought to a vote," the Speaker said this morning. "Upon reflection and with the benefit of hindsight, I should not have allowed the amendment motion to be brought to a vote at such an early stage." The Speaker made the admission during a statement that he gave to launch today's proceedings. He said: "Upon careful reflection I believe I could, and should, have taken a different course of action on Friday evening. It certainly was not my intention to prevent or shut down debate on the original motion or the amended motion. I had heard some argument on whether the amended motion should be allowed and I ruled. I thought it could be 'put' and I stand by that decision. In my haste to move the debate along, I allowed it to be brought to a vote." Noting that Mr Burt had made a statement to the media in the aftermath of the walkout, he said: "I presume that the Honourable Member's remarks were reported accurately. The Honourable Member then wrote a letter of complaint to me and shared that letter with the press for publication. This action was more than disappointing, for it completely cut across, if not undermined, the procedures by which this House is to be governed and by which it is meant to govern itself. Further, I view this action as a violation of a Member's duty to the House, its rules and procedures for addressing matters of the House even where a Member feels that he is right and that he is justifiably aggrieved. It is wrong and unhelpful. Some of the reported remarks were at the very least disrespectful and, whether intended or not, bordered on being contemptuous of the Speaker, the House and how we govern ourselves. I understand that the Honourable Member and others of his colleagues were aggrieved and angry that night as a result of my decisions." The Speaker said that did not believe that MPs can "avail themselves of the rights and privileges of Standing Order 13 in respect of any grievance or complaint they may have with him or any of his decisions, and called it a "non-starter," explaining that Standing Order 10(3) states in part: "The Speaker shall not take part in any debate before the House." Mr Horton said the matter should be referred to the House's Standing Orders Committee, which would make recommendations in regards to further action that should be taken. "I shall refer this entire matter to the House's Standing Orders Committee which is empowered under our rules to consider and report on matters which appear to affect the powers and privileges of the House. The Standing Orders Committee will be free to recommend what sanctions, if any, should be imposed. It may be that some further guidance will emerge — for Honourable Members and for me as Speaker of the House. I would like to believe that we can sort these contentious matters out as Honourable Members collaboratively and make recommendations with respect to further actions that should be taken." While the Speaker said he would defer to the Standings Orders Committee, one of that number — Opposition Leader Marc Bean — has called his position "untenable."
March 17. In the wake of a dispute between Opposition Leader Marc Bean, Opposition Deputy Leader David Burt and the Speaker of House of Assembly Randy Horton on Friday night, which led to the Speaker to order the ejection of Mr Burt from the House, the Opposition Leader and the Speaker face censure motions, which will be considered the next time the House sits. The censure motion moved by Mark Pettingill, of the One Bermuda Alliance, called for Mr Bean to be suspended from the House of Assembly. His three-point motion read: "One, condemns and expressed disgust at the words and actions of the Member from Warwick South Central, the Leader of the Opposition, on Friday, March 13, and censures the member accordingly; two, abhors the action of the member for Warwick South Central in verbally threatening Members of the House and showing total disrespect to the Office of the Speaker of the House, and by this action, seriously reflecting upon the honour and dignity of the House; and, three, suspends the member for Warwick South Central from the service of the House. In addition, the Opposition Leader failed to acknowledge the seriousness and gravity the behavior identified, which is not the type of behavior that should be associated with Bermuda's Opposition Leader, or any Member of Parliament." A motion moved by Progressive Labour Party MP Michael Scott, accused Mr Horton of displaying "woeful ignorance and lack of understanding of Standing Orders." He called the issues "very grave in connection with your role as Speaker." His motion states that the House censures Mr Horton "for bringing the democracy of these Islands of Bermuda and its Parliament into disrepute, by his misconduct of suppressing debate in the House of Assembly, on an amendment to an Opposition motion, of public importance, and in breach of basic tenets of Parliamentary procedure; a) bringing Parliament into disrepute, by his misconduct of refusing to both acknowledge and take a point of order and refusing to allow and hear a point of privilege by the member for Pembroke West Central [David Burt], who rose on a point of privilege, in breach of the Standing Orders of the House, ... bringing the Parliament into disrepute, by the misuse and abuse of his authority as Speaker, by ejecting the Member for Pembroke West Central immediately after the Member rose on a point of privilege without any lawful or justifiable grounds to eject the Member; c) displaying a woeful ignorance and lack of understanding of Standing Orders of the House of Assembly and basic Parliamentary procedure thereby bringing the Parliament into disrepute."
March 17. The Progressive Labour Party has rescheduled its 52nd Founders Day and Drum Majors Awards Celebration from March 29 to April 12. The change has been made to avoid a clash with the second leg of Bermuda's World Cup qualifying round tie against Bahamas at National Stadium on the earlier date. The Founders Day festivities will get under way at 4pm at the Sweeting-Ball Memorial Hall of the Bermuda Industrial Union. Attendees will be treated to a keynote address by Jamahl Simmons, the Sandys South Member of Parliament and newest member of the parliamentary team. Tickets are $30 and are available from PLP headquarters. The number to call is for tickets is 292-2264. The PLP has requested that those who had made plans to attend to original date, instead turn out for the World Cup qualifier.
March 17. The 120th anniversary of the birth of National Hero Dr E. F Gordon will be held this week. The event, hosted by Imagine Bermuda with the Department of Community and Cultural Affairs and the Chewstick Foundation, will take place from noon on Friday at City Hall. The celebration will honour Dr Gordon and the many residents who played a part in the movement he inspired. His courage and selflessness helped to galvanize the way for a democratic Bermuda. The event at City Hall will include music and spoken word presentations by students from the Berkeley Institute, Bermuda High School, CedarBridge Academy, Mount Saint Agnes Academy and Saltus Grammar School. As well as this focus on youth, the iconic Gene Steede will perform. In 1944, Dr Gordon responded to a request from artisans who were building the US Naval Bases and who had formed the Bermuda Workers Association to address matters of pay. With visionary leadership, he expanded the conversation to address the big picture. At a time when the electorate was restricted to fewer than 3,000 voters, that movement involved more than 5,000 residents considering a variety of issues. The matters of pay, segregation, education, health and the right to vote were addressed in a petition, which Dr Gordon took to London in 1946. A mural of Dr Gordon with the slogan United we stand, divided we fall was painted by the Chewstick Foundation at the BIU Headquarters in February as part of events marking the 50th anniversary of the 1965 Belco strike.
March 18. Developer Desarrollos Hotelco Group has signed a statement of intent with Starwood Hotels and Resorts, Tourism Minister Shawn Crockwell told the House on Monday. He made the statement while clarifying an answer he gave to the question in an earlier session of Parliament, when he stated that the Starwood Group had an operator's agreement with the developer. Progressive Labour Party MP Lovetta Foggo had asked in the March 11 session what commitments the Starwood Group had made regarding the development of a new hotel at the former Club Med property, officially called the St George's tourism development site. Mr Crockwell said on Monday: "I provide clarification that the Starwood Hotels and Resort and Desarrollos Hotel group, the chosen developer for the St George's tourism development site, have a signed term sheet and [the parties] are working towards finalizing the hotel management and related agreement over the coming weeks." It was explained that "term sheet" could be defined as the parties' statement of intent. The Desarrollos Hotelco Group was selected from five companies to redevelop the 124-acre Club Med site. It maintains a low profile and does not appear to have a website. The proposed development includes a 238-room hotel and the renovation of the 18-hole, Robert Trent Jones-designed St George's Golf Course. The resort will also include:
Sixteen hotel residences
Twenty-four golf villas
Sixteen estate residences consisting of three and four-bedroom residences
Spa and fitness centre
Meeting rooms and ballroom
Casino
Swimming pools
Pool bar and grill
A specialty restaurant
Attempts to develop the property included plans by Bazarian International Financial Associates for a Park Hyatt Resort, which was supposed to open in 2012. In October 2012, the contract was terminated and the Park Hyatt Hotel Act was repealed. Originally built as a Holiday Inn, it changed to Loews and was then taken over by Club Med. It closed in 1988 and was imploded in 2008.
March 18. The first phase of the old Grand Atlantic's transformation into a condominium hotel should be completed by the 2016 tourist season, according to developers. Representatives of MacLellan & Associates were recently on the Island to provide Government with a memorandum of understanding presentation pack on how the Bermudiana Beach Resort project on Warwick's South Shore will move forward. Robert MacLellan, the chief executive officer, told The Royal Gazette that he hoped the development would prove that "other mid-market properties are viable as ongoing resort operations." "The Bermudiana business plan does not call for a 'super luxury' resort like the planned Ritz-Carlton and St Regis, where development costs will be very high. Instead, it is a much needed new mid-market boutique hotel product for Bermuda. This is made possible because the buildings exist and, while the resort conversion costs are substantial — including condo elevators, two pools, funicular elevator to the beach, bar, restaurant, spa and meeting room — it still allows the condos to be sold at very competitive whole ownership prices." Government is in the process of reviewing the MOU conditions before conversion works to build the new development begin. The Bermudiana Beach Resort is believed to be the first example of residential property being converted to a resort in Bermuda. Mr MacLellan added: "Resort development in all of the islands is only just starting to recover after the 2008 great recession and, while Bermuda has unique qualities, it also has higher development costs and operating costs than many other destinations. The vast majority of hotel developers prefer to own an urban business hotel rather than a resort on an island. The business hotel has a natural market, driven by commercial activity in its immediate vicinity, while the island resort has to drive business to come to it, in competition with thousands of other leisure tourism destinations around the world. The Bermudiana condo hotel project involves only the 78 condos currently built. In Bermuda, many resorts have been converted to residential use, partly explaining the huge loss of hotel inventory over the last decade." The Grand Atlantic redevelopment will be undertaken in a series of phases and is expected to net condo owners a "reasonable rental income" when they are not in residence. Mr MacLellan said: "The resulting hotel accommodation can, therefore, be priced at rates similar to Coco Reef and Grotto Bay and still provide reasonable rental income for the condo owners when they are not in residence. Each Bermudiana condo owner will be restricted to 90 days' maximum annual owner occupancy, but our consultancy's experience from previous projects is that owners will occupy their condos for only about half that time and are keen to derive income from the condo's use as hotel accommodation. After the conversion, eight condos become resort public areas and operations areas, and the 70 remaining condos provide 104 hotel suites and rooms. The conversion will be undertaken in phases. Phase one is planned to include all the resort facilities, with a minimum of 21 condos or 31 hotel suites and rooms, ready for the 2016 tourism season."
March 18. The cost of the Grand Atlantic housing development to Government appears to be in dispute, even as legislators approved a $1.8 million overspend in the early hours of yesterday morning. The South Shore property, originally conceived as low-cost housing, cost $42 million, according to former Public Works Minister Wayne Scott, but is today worth $17 million. Opposition MPs reacted incredulously to news that the developer, Bermudiana Beach Resort, had acquired the property for $9 million, to be paid over four years. The revelation prompted Progressive Labour Party MP Zane DeSilva to rise and offer to buy the beleaguered Warwick site himself, for $1 million extra. The sale of Grand Atlantic has yet to be agreed, and new Public Works Minister Craig Cannonier was chastised by his Opposition counterpart, Dennis Lister, who told him to do his homework before bringing matters before the House. It came near the end of a five-hour debate on supplementary estimates for the 2014-15 fiscal year, in which several One Bermuda Alliance ministers were accused of coming to Parliament unprepared. At about 2.15am, Mr Cannonier brought a $1.8 million supplemental on the Bermuda Housing Corporation (BHC), which he described as covering the reclassification of the housing grant for Grand Atlantic from the operational budget to capital budget. The Grand Atlantic loan stands at $36.7 million. "It is anticipated that the agreement with the new developers for Grand Atlantic will be completed, and BHC will receive $9 million over four years for the sale of the property," Mr Cannonier said. "Again, this is money that was already allocated; we're just moving it from one area over into capital budget, because it is anticipated that the property will be sold, which is proper and better accounting practice." This began a wrangle with Mr Lister over how much BHC would actually receive in the latest deal for the site. Grand Atlantic, which was opened to acclaim under the PLP government in 2012, has been consistently reported as leaving BHC owing $36 million to Butterfield Bank. Mr Lister said the latest deal for the property, in which only one housing unit was sold, amounted to "$9 million on a $36 million property." Mr Cannonier agreed, but said BHC would have to "ensue then with an agreement with the bank for the rest, which would be $27.7 million. BHC would have to work out a plan, perhaps over 15 or 20 years, that was still under negotiation." "So, in a sense, the new developer, Bermudiana Beach Resort, have acquired the Grand Atlantic property for $9 million," Mr Lister replied. "No, certainly not; that's not what I'm saying," Mr Cannonier said, prompting Mr Lister to ask again. The minister said: "As I understand it right now, $9 million over the next four years, which is what will be paid to BHC." Eventually Mr Cannonier apologized, adding: "I still haven't seen any contracts or anything of the sort, so I need to clarify this myself." Rising on a point of clarification, Mr Scott told the House that the deal was a work in progress, and its contracts "are not etched in stone." Notwithstanding the amount that the previous government had paid — which Mr Scott said amounted to roughly $42 million — its generally accepted market value now added up to about $17 million. "Yes, the government will get approximately $9 million," Mr Scott said. "It's estimated that there will be another $9 to $10 million over the next few years in taxes and fees, et cetera, and the BHC will also keep a couple of units, so that the Consolidated Fund will ultimately get back what the property is actually valued at today. Part of that being discussed is that the bank will have to participate in the reality of what that property is worth today. Let's not confuse what was paid for something versus what something is worth. Because those are two completely different things." The two sides once again clashed over the premise behind Grand Atlantic: Finance Minister Bob Richards declared it "a very expensive miscalculation" by the PLP, while Mr DeSilva said OBA and environmentalist fear-mongering over the cliff face had doomed sales from the outset. BHC's capital grant was finally approved at 3am. Earlier in the day, MPs heard that the single family living in the Grand Atlantic complex would move out soon, but had been delayed because "the deeds for where they were moving had been lost", according to Mr Cannonier. "We have found those deeds," the minister added. "BHC is working with them to make sure they're comfortable, and probably within the next week or two, they will move out."
March 18. A trio of first-time conferences is set to attract hundreds of high-spending delegates to Bermuda, the Bermuda Development Agency (BDA) has revealed. It is hoped that the conferences will boost the Island's reputation as a business base hot spot among the influential delegates. Bermuda will play host to two conferences in April and one in June, attracting key players in a range of financial services, after the BDA worked to sign them. The Island will see the Regulatory Compliance Association (RCA) 2015 symposium next month, which is expected to attract at least 400 alternative investment and asset management executives. The Transcontinental Trusts' Bermuda Forum a few days later will bring a further 150 delegates and speakers from the trust and private clients industry. Sean Moran, BDA business development manager for the asset management and trust and private client sectors, said: "Both these prestigious events will showcase Bermuda as a centre of excellence in these two important industry sectors and provide opportunities for our local participants to network and build relationships. We're also excited about the positive financial benefits of these events to our economy, from the immediate revenue boost for hotels, restaurants, taxi operators and merchants to the longer-term impact of future business that comes to Bermuda as a result of us being the host country." The Global Fund Forum in June will bring together hedge fund managers and wealthy investors for panels, workshops and one-on-one meetings. The forum, founded last year and organized by hedge fund marketing body Hedge Connection, held its inaugural event in Atlantic City. Hedge Connection CEO Lisa Vioni said: "We chose Bermuda for our second event because it has historically been a centre of business for the hedge fund industry. In addition, Bermuda is less than two hours from New York City and one of the most beautiful places on earth. The Global Fund Forum attendees want a venue that complements their business needs as well as offering a beautiful destination." BDA conferences and events manager Nicola Conrad Morrison said the business-boosting agency had lobbied hard for the two April events and provided on-Island support for both, as well as acting as key sponsors and seeking additional sponsorship. She added: "The BDA is actively looking at other top international conferences. These established events, bringing influential delegates, have a huge benefit — not only for the Island's business community, but also for our hospitality industry. We're working to attract more of these types of events to the Island." The RCA Symposium will feature Premier Michael Dunkley and Economic Development Minister Grant Dr Grant Gibbons as speakers, as well as the Bermuda Monetary Authority's Shelby Weldon and Island lawyers and fund management experts. The Transcontinental Trusts' forum will include a joint welcome speech by Mr Dunkley and BDA CEO Ross Webber, and also feature Chief Justice Ian Kawaley and "at least ten" experts from Bermuda trust and law firms.
March 18. One of Bermuda's most talented and successful road runners, Peter Lever, died on Monday evening at his home in St George's. He was 68. His elder brother, Harold, who is visiting the Island, was beside him when he collapsed. He was rushed to hospital by ambulance but pronounced dead shortly afterwards. Yesterday, tributes poured in for the athlete, who had enjoyed success overseas and on the Island, which had been his home for some 40 years. After an impressive career as an athlete, he turned his attention to administration, organizing and volunteering at a number of events. He was race director for the 10K at this Januarys Bermuda Marathon Weekend, and had also been heavily involved with the Front Street Mile. Bermuda National Athletic Association (BNAA) executive committee member Bob Oliver, who had known Mr Lever since he first arrived on the Island in the 1970s, said: "He was a talented athlete but a fun kind of guy to be around. He often reminisced about the old days and loved to tell jokes. I always respected him as a runner in the heyday of Bermuda road running. He was not an elegant athlete but one who was not afraid to hurt and he ground out 100 per cent effort every time. Besides being a very good runner, he did a lot for the sport. Along with Jimmy and Debbie Butterfield, he helped to found the Mid Atlantic Athletic Club and worked closely with the Bermuda Track and Field Association. But he was never afraid to make unpopular decisions. He will ll be sadly missed."
March 19. The number of patients receiving dialysis treatment at King Edward VII Memorial Hospital has risen by 207 per cent in a little more than decade — and is expected to increase further. The facility is treating 166 patients, compared with 54 patients in 2002 and 2003. The annual cost of dialysis treatment is about $200,000, which does not include the medication, consultations and cost of other complications an unwell patient might have. A hospital spokeswoman, who gave the figures, confirmed that the number of patients had risen during the building of the new Acute Care Wing, where the stations are housed. "In 2009 [when the specifications for the new building were developed] the year-end census was 103, although it was anticipated this number would rise," said the spokeswoman. According to the National Kidney Foundation in the US, dialysis is needed when a person has lost about 85 to 90 per cent of their kidney function. It removes waste, salt and extra water, keeps a safe level of certain necessary chemicals in the blood, and helps to control blood pressure. "We had 19 stations in the old unit, which were much closer than in the new unit," the spokeswoman said. "We now have 22 stations and can do 16 more treatments per day than in the old unit." She said they operated for longer hours, from 4am to 9pm, Monday to Saturday. According to medical professionals, about half of Bermuda's dialysis patients suffer from uncontrolled hypertension and a significant proportion of the remainder have diabetes. The high cost of healthcare arose in the House of Assembly during debate on the Budget focusing on the Ministry of Health, Seniors and Environment, which finished in the early hours of last Tuesday morning. Health Minister Jeanne Atherden told MPs: "The issues surrounding chronic disease management, in particular diabetes, continue to put enormous strain on the Bermuda Hospitals Board. "Dialysis services are projected to grow and, on the hospital's current best estimates, at a rate of 9 per cent by the end of the current fiscal year and by up to a further 10 per cent in the year 2015. The Bermuda Hospitals Board is entitled to be paid fairly for all the services which it properly provides, but it has continued to provide care even when payment has not been possible and this impacts its revenues. On many occasions during the last year, the Bermuda Hospitals Board has also provided skills and experience, facilities and equipment, to assist with national issues at no charge, and it will continue to fulfill this public commitment. But to do so, the Bermuda Hospitals Board has to carefully manage its resources to ensure that its core mandate of providing acute care services is not endangered. In short, choices have to be made and if the funds are not there, these additional "free of charge" services will no longer be able to be provided." Dietitian and diabetes educator Sara McKittrick, of the Bermuda Diabetes Association, said: "We estimate there are a minimum of 8,000 to 9,000 people living with type two diabetes, which is linked to genetics, lifestyle and obesity. There are also fewer than 150 patients with type one diabetes, which is not linked to obesity or lifestyle. As many as 18 to 20 per cent of the population are affected by diabetes if we include those with pre-diabetes. Type two diabetes rates in Bermuda are huge and that dealing with the issue is an uphill battle. It's to do with poor dietary habits, sedentary lifestyles and the genetic predisposition. To reduce the burden of diabetes, intervention is critical for those at risk to delay or prevent the development of the disease. Any programme you put into place to prevent diabetes will help that." In a speech to the Hamilton Rotary Club last September, Dr Michael Weitekamp, the chief of staff of the Bermuda Hospitals Board, said that the Island had one of the highest healthcare costs per capita at $10,562, according to the National Accounts in 2012. But he said there was little to be proud of in the health outcomes, noting that Bermuda has one of the highest global rates in obesity, diabetes, dialysis and limb amputation, as well as a high incidence of road traffic accident deaths and life-altering injuries. He said that socioeconomic, environmental and behavioral determinants of health took a back seat to acute interventions, and added that under investment in socioeconomic, environmental and behavioral spheres comes back to haunt Bermuda in the form of higher spending on acute care interventions.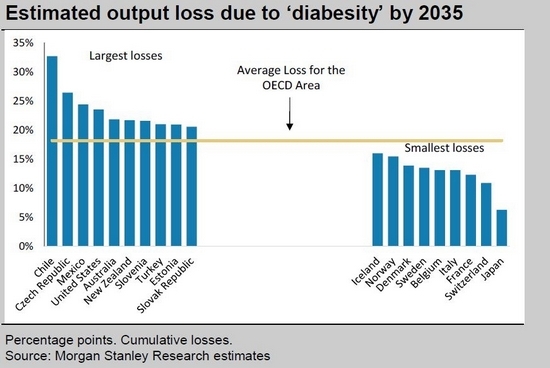 See above story

March 19. Britain has launched a bid to muscle in on Bermuda's money-spinning insurance-linked securities business. Bermuda is a leader in insurance-linked securities (ILS) — but yesterday UK Chancellor of the Exchequer George Osborne signaled that Britain would change its rules in a bid to attract ILS business. Mr Osborne used the British budget speech as a platform for a bid to make London a global centre for catastrophe bonds and other non-traditional insurance business. And he said the UK Treasury will put forward a series of tax and regulatory changes to create an environment for ILS, used to cover risk from hurricanes and other disasters. London remains second only to New York as a world financial centre and its insurance and brokerage businesses contributes around $45 billion to the British economy, a fifth of the total generated by the City of London. But the Financial Times said yesterday that the centuries-old Lloyd's of London market was falling behind its rivals and that Bermuda had emerged as "a dominant centre" for alternative types of reinsurance. But Richard Lowther, the chief operating officer for ILS at Bermuda-based Hiscox Re, said: "We welcome the announcement by the Chancellor of the Exchequer George Osborne supporting the growth of ILS in the UK. As a Bermuda-based company with strong ties to the UK, we understand that the markets can be complementary. Certain ILS products may have relative structural advantages, depending on the domicile and appeal to a defined investor base. Our Kiskadee ILS platform is Bermuda-domiciled and we're proud of the growth in assets under our management." KPMG managing director and head of ILS Jason Carne said: "The use of third-party capital is continuing to grow and we're getting more convergence between traditional capital and third-party players. If anything, it might stimulate and grow the overall market and Bermuda will continue to participate in the larger market. Britain could potentially become another competitor, but I actually look at it as an endorsement of the third-party capital model." Bermuda Stock Exchange CEO and ILS Bermuda chairman Greg Wojciechowski said: "It is logical that the global insurance and reinsurance centres, Bermuda included, should be focused on the development and growth of this industry segment in order for us to remain competitive as jurisdictions." The global stock of ILS at the end of 2014 was $25.2 billion.

March 19. Sustainability groups have welcomed Government's move to provide tax breaks for people who want to grow their own food. The Customs Tariff Amendment Act 2015 provides duty relief for people wanting to import "mushroom spawn, strawberry plants and trees of kinds that bear edible fruits or nuts", to encourage local food production. The legislation, which was passed this month, has been applauded by the Bermuda Environmental and Sustainability Taskforce. "BEST is highly supportive of efforts to encourage greater food production locally," said chairman Stuart Hayward. "While it is unlikely that Bermuda will ever again be self-sufficient in production, if it ever was, we can only applaud even small steps that will make it easier for Bermudians to have food gardens. We are also supportive of the duty reductions that favor commercial farmers. Most important is the need to preserve all arable land and encourage its productivity, maybe through incentives to private landowners who allow farmers to work arable land that is presently unfarmed." The new Act, which also provided for a five cents a litre rise in fuel duty, was debated in the House of Assembly. Finance Minister Bob Richards said: "This is consistent with the zero rate of duty that has traditionally applied to other generative materials, such as seed potatoes and seed for sowing. As a further incentive to local commercial food production, the Bill proposes to subsume all existing commercial food production reliefs in one harmonized end-use relief. There are five separate reliefs for goods for local food production. These include relief for the poultry industry, the dairy industry, commercial fishing, commercial aquaculture, and commercial farming. The new duty relief for goods for local food production will extend to all goods imported for use in connection with the local commercial production of animal or vegetable products for human consumption."

March 19. Rare century-old Bermuda scenes richly captured in an early photographic technique have gone on display at the Masterworks Museum of Bermuda Art. The creations are from Karl Struss, the American photographer, cinematographer and inventor who worked with some of the greatest stars of the 20th century, including Cecil B DeMille and Charlie Chaplin. In 1912, Struss visited and fell in love with Bermuda, exposing thousands of negatives during his stay, and by 1914 the Bermuda Trade Development Board had offered him work taking photographs for a tourists guidebook, Bermuda: Natures Fairyland. Struss was present for, and tied to forever, the dawn of tourism in Bermuda. The pieces on display at Masterworks include a contemplative scene, set in a corner of the gallery's mezzanine, in which the artist sits with his back to the viewer, gazing on to the City of Hamilton. A three-dimensional streetlamp stands between the image and the viewer a bright reminder that both the show and the museum aim to offer an experience far from one-dimensional. Tom Butterfield, the museum's director, prefers the shows at Masterworks to be interactive and engaging. For the works of Struss, the museum incorporates installation and interactive formats, along with the more traditional wall exhibit. Struss was a formative figure in the development of pictorialism, a movement that favored enhancing the dramatic or expressive elements of a photograph. He became a master of the platinum print and achieved great contrast in the depths of shadow and light. His photographs were some of the first to be recognized as fine art rather than straight photography or documentary. On display are 11 vintage platinum prints of Bermuda: ten from Masterworks own collection and a print borrowed from a French private collector. They are lined up on three walls, each sequence displaying a different level of contrast, texture and depth achieved by Stress's masterful technique and artful eye. Struss was a cultural luminary of the 20th century. He inspired and worked alongside famous photographers such as Alfred Steiglitz and Clarence White and he believed that being an independent artist and a commercial photographer were not mutually exclusive. To assist in connecting visitors with that time, the Masterworks display has incorporated a variety of curious ephemera a historical echo of what may be found stashed away in a suitcase after travelling to a foreign land. Items include a picture book of Bermuda, circa 1905; an illustrated personal journal from 1900; a Sea-Gardens certificate stamped 1910, and a dinner menu from the Princess Hotel dated back to 1899. Interactive elements include a striking Autochrome set in Bermuda, using another early technology that Struss employed, which reveals itself at the push of a button. The show contains one of the first processes of colour photography and invites guests to play tricks on their minds by looking through the stereoscope an eyeglass device that renders scene in 3D, a technique that Struss helped to pioneer later in his cinematic career. Struss's interests turned from still to moving pictures. He won the first Oscar for cinematography, alongside Charles Rosher, moving on to a career spanning decades. Although his name has remained largely in fine print after all this time, the exhibit sets out to magnify his accomplishments and place in art history all of which is tied to the Islands own beauty forever.

March 19. Improved high speed broadband internet for Bermuda is on the horizon with Bermuda Telephone Company (BTC) proposing to introduce access speeds of 50 Mbps (megabit per second) and 100 Mbps. Presently the best residential (download) internet speeds on the Island are 25 Mbps. That could change in the near future with BTC and Bermuda CableVision both indicating a desire to push forward with greater broadband offerings. CableVision struck first with a January giveaway prize promotion of 50 Mbps and 100 Mbps for one month only, which was awarded to four customers. However, the company is still in the testing stage as it aims to provide faster residential internet services. Now BTC has taken a firm step towards delivering a super fast option. It is seeking regulatory approval to offer data-only 50 Mbps at $180 per month, and 100 Mbps at $260, or data, voice and features at $225 and $305 per month, respectively. While those speeds would not be widely available for some time, the company is seeking the green light from the Regulatory Authority of Bermuda, the telecoms watchdog, in anticipation of future capacity.

March 19. HSBC Bermuda is scrutinizing its account holders in a bid to crack down on tax evasion and money laundering, The Royal Gazette can reveal. The bank responded to questions from this newspaper after it was revealed its arm in Jersey, a UK Crown Dependency off the coast of England, had started weeding out customers who do not live on the island. A spokeswoman for HSBC Bermuda confirmed: "We have been reviewing the details we hold on our customers to ensure we have the information we need to protect them, together with wider society, against fraud and other financial crime. With financial crime becoming more sophisticated, keeping accurate, up-to-date information on customers such as complete proof of identity or address, helps us monitor transactions effectively for potential fraudulent activity." The BBC reported that HSBC Jersey was closing accounts on the island held by UK residents part of a wider move by UK banks to check the identity and addresses of thousands of customers who have accounts in the Channel Islands. HSBC Jersey customers were told in a letter: "We've taken the difficult decision to close all Jersey accounts for customers who don't live there. This is to comply with HSBC Group standards." But the bank said that customers in the UK with HSBC expatriate accounts, which are also registered in Jersey, would not be affected. The move came amid mounting pressure by the UK government to crack down on people hiding cash from the UK taxman. According to the BBC, many of HSBC's Jersey customers had been told to attend local branches with their passport and proof of address or their accounts could be closed. Jersey's Chief Minister Ian Gorst told the BBC said that banks had to comply with the self-governing island's legislation. He added: "They strongly have to know who their customer is, where the funds have come from and what they are doing with the funds. If they are not able to satisfy themselves around those regulatory issues they have to take decisions to close those accounts." Banks have already been investigated over allegations that offshore or foreign accounts have been used to dodge tax. And in 2012 the UK tax authority HM Revenue & Customs (HMRC) launched a probe into a data leak from HSBC Jersey, which led to allegations UK customers may have used the islands bank system to launder money or evade taxes. The UK's Daily Telegraph reported at the time that more than 4,000 customers with accounts at HSBC Jersey included a drugs baron and bankers facing fraud allegations. Her Majesty's Revenue and Customs (HMRC) the main UK tax authority. are examining 170 accounts at HSBC Jersey and expects to raise 10-20 million in unpaid taxes and penalties. The Jersey financial regulator JFSC has carried out an investigation into the island's HSBC operation and found isolated examples of criminality. JFSC Director General John Harris said: "We were satisfied the controls the bank were operating were generally good and up to standard." HSBC Jersey said in a statement it had conducted a full review and cooperated with JFSC investigation and made changes to prevent tax evasion and money laundering. The bank added: "We have exited clients who do not meet those standards or where we have concerns in relation to tax compliance."

March 19. The first phase of construction of Oracle Team USA's base at Royal Naval Dockyard has been completed. Construction workers have poured the concrete slab that will support the boat shed where Oracle's 62ft and 45ft catamarans will be housed when they arrive on the Island. Oracle officials remain optimistic that the project will be completed on time and plan to be operating from their Bermuda base "in about six weeks". Jimmy Spithill, the Oracle skipper, said: "We're looking at the beginning of May for sailing in Bermuda. It's really important to get the base up and running by then, and I'm sure the guys in Bermuda are working as hard as they can to make that happen for us. From our side, all of the guys are really looking forward to getting over there and getting set up with their families in our new home. It's an exciting time." Oracle's base, which was approved by the Development Applications Board this month, will take up about 7.2 acres on the northern side of the South Basin dock at Dockyard. Included on the site will be four new buildings to house boats and sails, two tents, seven containers, a 160ft crane, an ancillary building to house fibre-optic infrastructure and two floating docks. An existing structure on the property will be adapted into shower and toilet facilities. Oracle is the defender of the 35th America's Cup, which Bermuda will host in June 2017. The Island will also host a World Series event featuring modified wing-sail AC45 catamarans from October 16 to 18. All racing will take place in the Great Sound.

March 20. The municipal elections for the corporations of Hamilton and St George's have been set for May 7, the Parliamentary Registrar announced yesterday. At last count, 155 businesses had signed up. The deadline for registration is Wednesday at 5pm. Business ratepayers and municipal residents can check their registrations at the Hamilton post office, St George's post office, Hamilton Police Station, their respective corporations of Hamilton or St George's, and the Parliamentary Registry Office located on the third floor of Craig Appin House, Wesley Street. Municipal residents can register and check their registration details online. "The Corporation of Hamilton continues to receive registration forms from the commercial property business rate owners and occupiers in the City of Hamilton," a City spokeswoman said. "With the registration deadline less than a week away, now is the time to get your company or commercial property registered so that you have the opportunity to exercise your right to vote on May 7. We have a lot of companies that have received the registration form, so it's our hope that they register swiftly so that we have an equal representation of business ratepayers and residents on the next Council. Registrations will not be accepted after the 5pm deadline on March 25." Polls will be held at the Seventh-day Adventist Church Hall on King Street. Nomination day is set for April 16, with advanced polling day to be held on April 30. For more information about the municipal elections, visit the Parliamentary Registry website, www.elections.gov.bm.

March 20. Celebrated local musician and original member of popular band The Bermuda Strollers, David Moniz, has died. He was 68. The Bermuda Strollers reached international fame in the 1970s and 1980s, playing iconic songs such as Bermuda Buggy Ride, Bermuda is Another World and Yellow Bird. The group, led by Ted Ming, also performed regularly on the annual Jerry Lewis Telethon, giving them exposure across the east coast. Mr Moniz was inducted into the Bermuda Music Hall of Fame last year. Dale Butler, author of Music on the Rock, said yesterday: "David was a very talented bass player who recently played with the great Freeman "King" Trott. They seemed like brothers. He played a key role with the Bermuda Strollers and College Weeks and will be sorely missed." Entertainer Tony Brannon said that the Island had lost a "great Island music ambassador" in Mr Moniz. "I remember several seasons when David played bass guitar for the Bermuda Strollers at the 40 Thieves Club. David loved his cars and his bass. His big, bold, red afro really stood out back in the day, and he had a load of energy on stage. David played his music in his latter days with The Bermudians. Bermuda has lost a vibrant musician who was also not afraid to speak his mind, and he certainly did with me, but we would always high-five regardless." Mr Moniz's funeral service will be held on Monday at St Mary's Anglican Church, Warwick.

March 21. New legislation has been introduced by Home Affairs Minister Michael Fahy to broaden the properties available to Permanent Resident Certificate holders in a move aimed at boosting the Island's housing market. Speaking to The Royal Gazette after yesterday's Senate session, the minister acknowledged that liberalizing real estate for PRCs could be a sensitive topic for some Bermudians. "It's emotive, but it need not be when you see what we're trying to achieve," Senator Fahy said. "It's to assist and boost the Bermudian economy." The Bermuda Immigration and Protection Amendment Act 2015 will most likely be debated at next Wednesday's sitting of the Upper House. "We believe that this legislation will help boost the property market in Bermuda," Sen Fahy said. "There is a cap of 2,500 acres for restricted persons to purchase property, and that remains in place, which is an important point." Sen Fahy later clarified the amendments proposed. The Bill will permit PRCs to purchase homes or condos of any ARV. The total number of properties they can purchase will be capped at two, and PRC holders will still be liable to pay the landholding charge for a licence. This is set at 4 per cent of the total value of the land and property purchased, and it will rise to 6 per cent on September 30. PRC holders will not be eligible to buy in developments such as Loughlands, where there has been Government assistance. When asked the purpose of the legislation, Sen Fahy said: "We have Bermudians waiting to sell but with no one to buy. We're also lowering the minimum annual rental value, or ARV threshold available to non-Bermudians and non-PRC holders for house purchases, from $177,000 to $153,000, which is the level it was at a number of years ago. That should open up the higher-end market for restricted persons." The lower level was put in place by the former Progressive Labour Party administration before being raised again in June 2012. The Bill will also allow non Bermudians and non PRC holders to purchase condos with a minimum ARV of $32,400 or higher. The total number of properties they can purchase, whether residential unit or condo, will again be capped at two. It proposes to lift the current restrictions on time periods that buyers of fractionals and other tourist accommodation can stay in those units in any one calendar year. However, they will still be subject to immigration control, in that they will be required to seek residential certificates from the Department of Immigration. It will allow the minister to extend time for estate representatives to deal with probate matters under exceptional circumstances. Finally, the legislation proposes to remove parish restrictions on acreage ?held by non-Bermudians, while keeping the cap Island-wide at 2,500 acres. The level was raised to 2,500 from 2,000 by the former PLP government. PRC purchases will remain in the acreage count. "There are other minor and technical provisions," Sen Fahy said. "However, it is important to note that these initiatives will encourage hotel development and boost the property market by liberalizing restrictions in that market." Sen Fahy said that given his standing as a substantive minister, it made sense for him to bring the Act before the Senate rather than waiting to take it to Parliament. During his Immigration Brief, the minister touched on the vexed issue of PRCs who recently qualified to become fully fledged Bermudians. There were 636 applications for Bermuda status in 2014, up from 150 the year before, as a result of the Supreme Court's landmark ruling allowing certain PRCs to request status. Sen Fahy estimated that as of yesterday there had been about 635 applications emanating from that legislation, which were subject to processing delays as the Department of Immigration lacked sufficient staff to deal with them all at once. Immigration records show that there are approximately 1,455 persons that would fall into this category, Sen Fahy said. Including cases where their children could potentially qualify, the department's estimates place the total number of eligible candidates below 2,000. He emphasized that the decision opening the way to status had lain with a ruling from the independent Immigration Appeals Tribunal, and not the Bermuda Government. However, the issue remains a vexed one for many Bermudians — and yesterday's Senate closed with Sen Fahy criticizing The Royal Gazette columnist Christopher Famous for writing that the One Bermuda Alliance had allowed the move to go ahead. "It was a court judgment that was given on legislation that was in place under the previous government," Sen Fahy said, telling the Upper House he wanted to tackle misinformation. He also branded "patently false" the column's statement that he as minister had abolished term limits, or that he had amended immigration policy to allow children of work permit holders who were under the age of 19 to obtain summer work without a permit. The proposal was published for consultation as a draft policy, and later dropped. "I accept it's an opinion piece, but it has to be based on some semblance of fact," Sen Fahy said.

March 21. Questions persist after passengers who struggled to escape from last week's crashed bus maintain there was so emergency exit from the stricken vehicle. The driver of the bus from the March 11 crash on East Broadway has been arrested and released on police bail, but not charged. The vehicle was outbound from Hamilton with a nursery school outing on board when it struck the side of a parked car, leading to a series of collisions with other parked vehicles, but no serious injuries. Witnesses described confusion after the bus came to a stop, as passengers were unable to exit. The Royal Gazette reported last week that the customized hammer for shattering the emergency escape window had been removed. A long-serving bus operator said the tools had been taken off all emergency windows to prevent them from being misused. Passengers and bystanders repeatedly tried to break free before finding a single window to pass children out to safety. "I feel like the buses are death traps — we could not get out," said an adult woman passenger who sustained torn ligaments in the collision. "I was on the back and I handed children out to people one by one. There was no way we could go through the door. It was all smashed in; there was glass everywhere." She said she only found the window that opened fully after a passenger jumped out to safety. The passenger, who asked not to be named as she relies on the bus for daily transport, said she was able to crawl out after the children had been helped out through the window. Questions were put to a Department of Transportation spokeswoman about the missing breaking device for the main emergency window, but no response came. "I can't believe that in 2015 we have buses that don't have any exit for the people on board," she said. "People could have died. Every time I go down Spurling Hill, I go through it all over again. I'm just imagining what those children are going through."

March 21. The uncertainty surrounding the origins of the Island's mulberry trees has been solved thanks to a combination of tireless conservation work and cutting edge technology. The question over whether the mulberries that grow in Bermuda today had been introduced or were native species had perplexed conservationists for decades. The tree's ambiguous beginnings stopped Dr David Wingate from planting it on Nonsuch Island as he turned the Island into a living museum of pre-colonial Bermuda's flora and fauna. But once he retired in 2000 he turned his attention back to his "Cinderella plant" to see which mulberry species grow in Bermuda today and if the red mulberry, which was referred to by the Island's first settlers, was indeed native to Bermuda. His work brought him into contact with Dr Kevin Burgess, a leading authority on mulberry trees and the DNA bar coding of plants. In 2013 the pair traveled from one end of the Island to the other collecting specimens from mulberry trees, which were then sent away to Dr Burgess's lab at Columbus State College. The results prove beyond doubt that the red mulberry was a native flora in Bermuda and that there are still some pure red mulberries in Bermuda. Furthermore the tests show that both red and white mulberries exist in Bermuda today and that the plant has hybridized to create red mulberry hybrids and white mulberry hybrids. Dr Wingate told The Royal Gazette: "The problem with the red mulberry was not so much that its native status was in doubt as several members of the Sea Venture party specifically stated that a mulberry was common on the Island three years before human settlement began, so the American red mulberry species was the only possible candidate. Rather, the problem was that inspired by its presence on Bermuda, the Bermuda company settlers were encouraged to think that silk culture would be possible as an industry on the Island, so they deliberately introduced the white and black mulberry from Europe as early as 1612-1616 and most settlers were required to plant many from seed or cuttings on each of the shares of the Norwood subdivision as the native forest was cleared for agriculture. As all three species are especially difficult to tell apart, many subsequent botanists were ambiguous about their identification and some even came to doubt that the red mulberry had ever been native, attributing all mulberries on the Island to those introduced by the settlers from Europe. Unfortunately, I was equally confused by this ambiguity and the difficulty of making reliable identifications, so not wishing to plant an introduced mulberry in the Nonsuch project, I neglected to plant any at all. After my retirement in 2000 I decided to focus on this species as a special project and make up for this neglect." Both Dr Burgess and Dr Wingate have worked tirelessly on the mulberry project and the DNA bar coding tests were undertaken at the end of 2014. Dr Burgess was invited back to Bermuda just last week by Anna Fulton to give a presentation with Dr Wingate to the Garden Club of Bermuda monthly meeting held at Horticultural Hall, Bermuda Botanical Garden on the mulberry project. Dr Burgess said: "Our preliminary results indicate that red mulberry was likely a component of the native flora before colonial settlement. Based on our genetic analysis we were able to not only confirm that red mulberry is present in Bermuda but that hybridization between red and white mulberry has probably been occurring between these two species for quite some time. Because these results are preliminary, we plan to continue analyzing the genetic composition of additional mulberry in Bermuda to further elucidate patterns of red mulberry dispersal as well as the extent of hybridization with the introduced white mulberry."

March 21. The City of Hamilton regrets to announce that the City Food Festival, scheduled for today from 3pm until 9pm in City Hall car park has been postponed due to inclement weather. The City Food Festival will resume tomorrow in City Hall Car Park at 3pm. For updates on the City Food Festival and other City events visit the city's website at www.cityofhamilton.bm.

March 22. A 48-year-old man critically injured in an industrial accident at the Botanical Gardens on March 5 was in stable condition on the general ward at King Edward VII Memorial Hospital as of 7am today. Police also said a driver sustained minor injuries after driving into a wall on North Shore Road, Devonshire at about 10.30am yesterday, near the junction with Dock Hill. A 34 year old Hamilton Parish woman was assessed as a precaution at the hospital. Both the wall the car were damaged, and the vehicle was later towed from the scene.

March 23. NEW YORK (Bloomberg). American International Group, prominent in Bermuda with its many Bermuda-incorporated subsidiaries, won court approval of a $970.5 million settlement with investors who accused the insurer at the onset of the financial crisis of misleading them about risks tied to sub-prime mortgages. The investors, urging a federal judge to approve the accord, called it one of the largest securities class action recoveries stemming from the 2008 financial crisis. AIG was sued that year by investors who said the New York-based company misstated its exposure to the sub-prime mortgage market through its securities lending programme and its credit-default swap portfolio. "Its a great settlement and we are extremely gratified to have been able to achieve this result," Jeffrey Golan, a lawyer for one of the lead plaintiffs in the case, the State of Michigan Retirement Systems, said in a phone interview. AIG, bailed out by the US government during the crisis, will pay $960 million while the accounting firm PricewaterhouseCoopers LLP will pay $10.5 million, according to a Manhattan federal court filing. Lawyers for the lead plaintiffs on Friday also won approval of almost $116.5 million in legal fees, plus other litigation expenses, according to court filings. US District Judge Laura Taylor Swain set a May 5 deadline for investors to submit claims under the agreement.

March 23. Nearly 200 professionals from Bermuda are set to attend the insurance industry's largest annual conference next month. The Risk and Insurance Management Society (RIMS) conference, to be held in New Orleans, is expected to attract 10,000 delegates, as well as around 400 exhibitors. Ross Webber, CEO of the Bermuda Business Development Agency (BDA), which orchestrated the Island's presence, said a strong presence was vital to maintain the Island's profile and attract new business. He said: "Bermuda is welcomed at RIMS, thanks to our renowned reinsurance and insurance industry sector, one of the top three in the world. This event is an important one for reinforcing the Island's long-held reputation as the world's risk capital. The insurance sector is a sizeable provider of jobs for Bermudians and this sort of work by the BDA helps companies' ability to preserve those jobs and grow more job opportunities." Premier Michael Dunkley, Finance Minister Bob Richards and Economic Development Minister Grant Gibbons will also attend, alongside Shelby Weldon of the Bermuda Monetary Authority (BMA) and Island-based companies. Mr Weldon said: "The Bermuda Monetary Authority is pleased to be part of Team Bermuda at this year's RIMS. Though our risk and insurance industry is a world leader, competition is fierce and we cannot afford to rest on our laurels. The RIMS platform gives us the opportunity to brief delegates about Bermuda's well-respected risk-based regulatory environment." The event will also feature a BDA booth, a two storey structure featuring traditional Bermuda architecture, with staff from the agency and industry representatives available to brief attendees about the Island. BDA business development manager Jereme Ramsay said: "Our BDA booth is very visible and highlights Bermuda as the cornerstone of the risk industry. We're home to 15 of the top 40 reinsurers and we're the leading jurisdiction for both captives and ILS industries. We look forward to bringing home new business for the Bermuda marketplace." Representatives from scores of Bermuda firms will participate, including Ace, Aon, Appleby, Artex, Bermuda Commercial Bank, Canopius Underwriting Bermuda, Chubb Atlantic Indemnity, Conyers Dill & Pearman, Endurance, HSBC, Markel Bermuda, R&Q Quest Management Services, and XL Insurance. The RIMS conference will be held between April 26 and 29 at the Ernest N Morial Convention Center, in the city's Convention Center Boulevard.

March 23. AQR Re Management Ltd is to wind down its operations after three years in business as a result of the reinsurance industry's consolidating market dynamics. Some people will consequently lose their jobs at the firm, which works out of offices at 3 Bermudiana Road, Hamilton, as the firm stops writing new business. But some will remain to oversee the run-off business. AQR Re is affiliated with Greenwich, Connecticut-based investment adviser AQR Capital Management, which had $122 billion of assets under management as of the end of 2014. The fundamentals of the reinsurance industry have changed significantly since AQR's entrance into the business in 2011, a spokesman for AQR Capital Management said: "While the diversification benefits and relative returns of reinsurance as an asset class remain attractive, we have come to the conclusion that due to consolidating market dynamics, it will become increasingly difficult to put larger amounts of capital to work to achieve attractive risk-adjusted returns for our investors, and ever more important to be in multiple lines of business, many of which we are not currently in. Accordingly, we have decided to wind up the AQR Re business and will cease writing any new or renewal business after April 1." AQR Re's portfolio comprises about $440 million of assets under management, of which about $400 million is from outside investors. The spokesman said that each of AQR Re's two funds had been profitable. "We are pleased that AQR's reinsurance business has performed consistently across both of its funds, having provided investors with annualized net returns of 4.7 per cent and 15.8 per cent respectively, since inception. We thank chief executive officer John Lummis, chief underwriting officer Martin Vezina, chief actuary Lester Pun and the entire reinsurance team for their dedication and contributions to the firm." The spokesman did not specify how many people worked in the Bermuda office, but said a core team of employees will remain to oversee the run-off business. AQR Re's reasons for winding down its business reflect the wave of consolidation sweeping through the industry. In Bermuda, RenaissanceRe has acquired Platinum Underwriters Holdings, while mergers of XL Group and Catlin Group, and Axis Capital Holdings and PartnerRe have also been agreed. A growing consensus among reinsurance leaders suggests that scale is a significant competitive advantage in today's market. Lower-than-normal catastrophe activity in recent years, as well as a surge of alternative capital pouring into the reinsurance industry in the form of insurance-linked securities have led to a decline in rates, most markedly in property-catastrophe lines. At the same time, low interest rates are squeezing returns on the reinsurers investment portfolios. Reinsurers are responding to competitive pressures by merging with each other. The convergence between the capital markets and the reinsurance industry continues to happen. As reported in the Business section of yesterday's The Royal Gazette, global insurer Ace Ltd and BlackRock, the world's biggest money manager, are seeking to raise between $800 million and $1.3 billion for new Bermuda-based reinsurance venture ABR Reinsurance Capital Holdings Ltd.

March 23. Bermuda has been overstating the number of companies registered on the Island for more than a decade, Government revealed yesterday. Economic Development Minister Grant Gibbons said the errors had been spotted by officials at the Registrar of Companies. Restated numbers going back to 2004 were published yesterday evening. The total tally for the end of 2014 is 16,187 companies — meaning that more than 2,000 companies have effectively been trimmed from the register. At the end of the second quarter of 2014, Government reported a total of 18,668 companies on the register. Dr Gibbons stated that errors were discovered in the way company registration statistics were being extracted and compiled from the raw data stored in the Registrar of Companies' database. "Over the past few months, officials within the Ministry have worked together with subject matter experts to trace the source of the errors and to resolve them," Dr Gibbons said. "Extracting the necessary data from the Registrar of Companies' system is a complex process. Mistakes in the technical queries used to obtain the required data was the primary cause of inaccurate information being reported. A substantial number of man hours have been dedicated to correcting this issue which has existed for more than ten years. Following a thorough review, we have made changes to the queries and processes used to extract the data and have produced corrected figures." Dr Gibbons added that including the Finance Ministry, the Department of Statistics and the Bermuda Monetary Authority all relied on this data in generating their own reports. "We have worked very hard to ensure that the information we release going forward is accurate," he said. In the fourth quarter, the number of new registrations totaled 307, down from the 322 that registered in the same period of 2013 The 1,178 total new registrations for 2014 showed a three per cent increase over the 1,143 new registrations in 2013 and a 21.5 per cent increase over the 969 new registrations in 2012. Dr Gibbons stated, "The corrected data shows positive signs for our economy with continuous growth in the number of registrations since 2012." Registrations for local businesses increased by 37 per cent from 2012 to 2014 while registrations of international businesses have increased by approximately 19.5 per cent in the same period.

March 23. The Bermuda Police Service's oldest pensioner, Inspector Arthur Rose, died last Tuesday at the age of 90. Born in Hastings, England, on March 27, 1924, Insp Rose joined the Bermuda Police Force, as it was known then, in April 1951, where he served for 28 years before retiring as an Inspector in the Police Traffic Department. "Arthur was just a few weeks short of his 91st birthday and was the oldest Bermuda Police pensioner," President of the Bermuda Ex-Police Officers Association Roger Sherratt said. "He was an extremely well-liked policeman and known for always whistling while he worked. Although Arthur left Bermuda a few years ago, he will be fondly remembered by all those who knew him." Insp Rose, who at the age of 18 enlisted with the Lancashire Fusiliers and served mainly in India during the Second World War, started his career with the Bermuda Police Force on the beat in the City of Hamilton. Two years later, he became a station constable at Hamilton Police Station and a year later he was made a parish constable in Paget before being promoted to sergeant and serving in Hamilton and St George's. After his promotion to Inspector, he spent the rest of his service in the Police Traffic Department. Mr Sherratt said that Insp Rose played in the first Police football team as centre half and the first Police rugby team during the early 1950s, and he was an avid squash and tennis player. "We had a very good Police squash team and used to play against visiting teams," Mr Sherratt said. "He was a key player." Mr Sherratt added that in 2013 he interviewed Insp Rose about his time in Bermuda for an article on the Bermuda Ex-Police Officers Association website. Insp Rose said: "After arriving in Bermuda I had started playing football, first for BAA (Bermuda Athletic Association), and then we formed a Police team. Prior to this the only football game the Police ever played was the annual 'Cops versus Robbers' match against members of the business community. I think it was me who first organized the Police football team. I can remember that when we started we used to play in our under vests — no football shirts," Insp Rose said, adding that one of the team's supporters was Mr Dunkley, grandfather of Premier Michael Dunkley. "I remember him asking one day why we played in under vests. When we told him it was because we couldn't afford shirts he went out and bought us all blue shirts, which we really appreciated. I don't know what it's like in the Force now but during my time I felt that we had a great spirit and camaraderie. I worked with some great guys and, in fact, I would say that most of the men and women I came across in the Bermuda Police Force were a pleasure to work with." After leaving the Bermuda Police Force, Insp Rose spent a decade working for Stevedoring Services before moving back to England. He spent 57 years in Bermuda. For the past seven years he had been living with his sister Mrs Jean Wright in Hastings, Sussex. A funeral service will be held at the Hastings Crematorium on April 7 at 11am.

March 23. If you were worried that free bus travel for students would be taken away in the latest Budget, rest assured that the student exemption stands — but other fares are set to rise on April 1. Multi-day passes bear the brunt of the fares increase. An adult pays $3 in cash for a three-zone bus trip, which will rise to $3.50 next month, while a book of three-zone tickets is to go up from $20 to $25. A one-day pass will go up from $15 to $19; a two-day from $25 to $31; a three-day from $35 to $44; four days, $44 to $48.50, and seven days from $56 to $62. Shadow Transport Minister Lawrence Scott said the Opposition appreciated the need for the Government to raise revenue, and said he had "no major concerns" with the move. The same fares hike is set for monthly, quarterly and multi-day passes on the Island's ferries. At present, an adult pays $4.50 in cash for a West or East End ferry service; that fee will rise to $5. For children, it will jump from $2.50 to $2.75, while a $30 book of 15 tickets covering 14 zones will go from $30 to $37.50. Taking a motorcycle on a ferry, which costs $4, will rise to $4.50. The fares increases, which are soon to go before the Bermuda Senate for final approval, emerged from a fares review last month. Fares were last increased in 2013.

March 24. The last remaining member of the iconic group who picketed the Bermudiana Theatre in 1951, setting in motion a chain of events that would eventually see racial segregation banished in Bermuda, has passed away aged 89. Carol Dowling Hill was one of four who organized the boycott of the Bermudiana Theatre Club, whose policy it was not to sell tickets to black people. The club, which put on theatre productions akin to what can be seen now at City Hall, was later forced to end the practice following further pressure from the UK Government and US Actors Equity Guild. Ms Hill stood in solidarity with her sister-in-law Georgine Hill, with whom she was a member of the New Theatre Guild, Georgine's husband Hilton, and Eva Robinson. The boycott is only one element of a life dedicated to the arts, education and the community at large. Ms Hills teaching career spanned almost 40 years and earned her both the Queens Certificate and Badge of Honour and, in 2000, the Most Excellent Order of the British Empire (MBE) for services to education and the arts in Bermuda. Many remember the Theatre Boycott of 1959, which resulted in the abolition of segregation in Bermudas hotels, movie theatres and restaurants, but the boycott of Ms Hill and her group represented a smaller blow against segregation that is seen as an important precursor. It was, at the time, a quickly forgotten street protest against the Bermudiana but the victory was fortunately documented in Errol Williams award-winning film 1959 Theatre Boycott, When Voices Rise. The protest also triggered a decade-long debate on the future of Bermuda and, following the victory, they joined forces with a group of activists to write An Analysis of Social Problems calling for change in Bermuda. Author and historian Dale Butler said of Ms Hill: "She had a kind, humanitarian spirit and did things very quietly even to the point when she picketed the theatre. At that time it was a very significant, daredevil move and I believe they helped to create the early foundations of change. She was involved in the publication of the underground pamphlet along with Edward and Marion Dejean, Georgine Hill, Wilfred Allen, Eva Robinson and David Critchley. They were the principal people in the room who wrote the document that was never made officially public but was left at barber shops in and around Bermuda." Kingsley Tweed, the father of Reverend Nicholas Tweed, found these pamphlets and was so enthralled with them he would be quoting them at the Island theatre not knowing who had produced them. Shadow Immigration Minister Walton Brown, whose book included a segment on Ms Hill and the 1951 picket, said: "Carol Hill was a strong, quiet yet committed activist. She played an important role in the campaign for a more just Bermuda alongside a dedicated group of Bermudians. I will always treasure the moments I spent with her listening, learning and gaining greater insight into Bermuda. We have lost an elegant and graceful treasure. Ms Hill was an important figure in theatre circles having directed numerous productions at Prospect Secondary and theatres across the Island. She sat on the Bermuda Arts Council with special responsibility for the National Youth Theatre; she was a founding member of the Festival for the Advancement of the Performing Arts; and was a founding member of the New Theatre Guild. She was also involved with the Bermuda Music and Dramatic Society, The Companion Theatre, The Studio Theatre and Church Productions." Historian, author and actress Ruth Thomas worked with Ms Hill and appeared in some of her plays during the 70s.

March 24. A Florida politician yesterday launched an attack on Bermuda amid a bid to transfer more than $2.2 billion into the private reinsurance market. Representative Frank Artiles said moves to transfer the risk from the state-run Florida Hurricane Catastrophe Fund should be blocked by the State cabinet, which meets today. Mr Artiles, a Republican, added that the proposed transfer by Florida Cat fund was "corporate welfare" and claimed it would lead to higher property insurance rates for Florida residents. And he said: "If Cat Fund chief operating officer Jack Nicholson is permitted to gift $2 billion into the private reinsurance market, the only beneficiaries would be the reinsurers themselves, mostly based in Bermuda. These are people who actually hope for catastrophes so that they can demand higher rates and larger profits." Mr Artiles, a former US Marine turned lawyer and politician, launched the attack in an opinion article sent to Florida newspapers. Brad Kading, president of the Association of Bermuda Insurers and Reinsurers declined to comment on Mr Artiles' outburst. But he pointed to support for the $2.2 billion transfer from a range of Florida bodies, including the Florida Consumer Action Network, the Florida Chamber of Commerce, the American Consumer Institute and Florida TaxWatch. Mr Nicholson said the proposal was designed to maximize the state's ability to pay claims in the event of a major hurricane. But — as Mr Artiles noted in his article — Florida Governor Rick Scott and trustees of the Cat Fund rejected a similar proposal last year. Mr Artiles wrote: "They should shut him down this year too."

March 24. Government has submitted plans to renovate two unused buildings in the City of Hamilton, including the former police station. According to planning applications received by the Planning Department on March 13, Government intends to carry out work at both the Allen Hurst Building on Parliament Street, which used to house the police station, and the Teucer House building on Cedar Avenue. The Allen Hurst Building has been unused since the Police moved into the Dame Lois Browne Evans building, while Teucer House had housed the Department of Education, Probation Services and Teen Services before falling out of use. It suffered extensive damage in an October 2013 fire. The Teucer Building application proposes the removal of the roof, along with internal walls, doors and partitions, all of which were fire damaged. New support beams and columns would be installed, with the rest of the building restored to its original state. The application for the former Allen Hurst Building is more extensive, with the single-storey northern side of the building extended to a four-storey height, matching the southern side of the building. Almost all internal walls would be removed, creating open office space. Additionally, the plans include the installation of an elevator and new bathrooms on every floor. Government announced last March that it would review its ageing buildings, including Teucer House, the Allen Hurst Building and the Bishop Spencer School. Then-Public Works Minister, Patricia Gordon Pamplin, said at that time: "The importance of properly planned maintenance has been highlighted by ongoing discoveries of mould. Most major Government buildings were constructed at least 30 years ago. Over the past 20 to 30 years, many of our facilities have received only basic reactive maintenance and no planned or programmed maintenance. This practice has resulted in a portfolio of buildings that are currently facing major refurbishment needs, with their physical plant and major systems having reached the end of their life cycle. The evaluation as to whether such buildings should be refurbished or even demolished will be assessed through the Estates Management Plan."

March 24. Commuters leaving Hamilton during rush hour this afternoon had their journeys interrupted by another crash involving a bus. Only a matter of a few hundred yards from where a bus ploughed through parked cars and brought power outages along East Broadway a fortnight ago, this time a single vehicle was hit on King Street during the turn on to the Reid Street extension. There were no injuries but the private vehicle sustained significant damage to its front fender. After initial traffic delays, a normal flow resumed.

March 24. Serious delays of more than 12 hours left passengers to Bermuda fuming on Delta's flight from New York JFK this weekend. The Saturday trip, which generally sets off around 9.15am and lands at about 12.45pm, ultimately left shortly before midnight and touched down in Bermuda at 2.45am on Sunday. "The first delay that they announced was for de-icing, which was totally understandable," passenger Bernard Reverdin, a New York resident who travels often to the Island, told The Royal Gazette. "Departure was put off until 11am, then noon. That was still OK with most people. We boarded the plane, which was an old one, but instead of leaving there was a problem in the cockpit." Repairmen came on-board and the passengers deplaned, but tempers began to fray after the aircraft was sent to La Guardia for repairs, with a 3pm departure, and did not return. "Finally, at about 6pm, the plane came back, and we were told there was a problem with the crew — the captain had decided to leave the plane and the crew refused to wait," Mr Reverdin recalled. "So they announced they would get another plane and another crew, and the plane would leave at 9pm." Come 9pm, passengers were told there was no crew — at which point Mr Reverdin opted for a hotel. "People were furious," he said. "The reason for it all was that when Delta flies to Bermuda they use old planes. If it had been going to fly to Paris or Brussels, they would have had an immediate replacement — but for Bermuda, no." An inquiry at Delta's corporate headquarters received no response by press time last night.

March 25. Delta Air Lines has apologized to passengers who spent 14 hours waiting for their flight to the Island from New York's JFK airport. Icy conditions precipitated Saturday's delay, which was compounded by equipment and staff problems. The flight, which would have left shortly after 9am, didn't set out until just before midnight. Passengers were told that the aircraft's radio had a possible malfunction with implications for a flight over water. "Delta apologizes to those customers on Delta flight 485 from New York JFK to Bermuda who were inconvenienced following a weather and aircraft maintenance delay," a Delta statement read. "Customers were provided vouchers and a gesture of service recovery. The safety of our customers and crew is Delta's number one priority."

March 25. NEW YORK (Bloomberg) — Maurice "Hank" Greenberg's Starr International Co and the US filed a second set of post-trial papers in a lawsuit over the terms of the government's bailout of American International Group Inc, setting the stage for next month's closing arguments. There are a number of Bermuda subsidiaries or affiliates of AIG. Starr's lawyer, David Boies, in a brief filed on Monday, repeated arguments from last fall's trial that AIG stockholders were cheated by onerous terms of a government loan carrying an interest rate of 14 per cent and a demand for 80 per cent of the stock. Starr sued the US in 2011 in US Court of Federal Claims in Washington. "The government sought to punish the insurer through the conditions of the 2008 bailout," Boies wrote. In the US filing, Justice Department lawyers wrote that the Federal Reserve acted within its authority when it sought equity in AIG as a condition for an $85 billion rescue loan. Closing arguments in the non-jury trial before Judge Thomas Wheeler are scheduled for April 22.

March 25. Bermuda reinsurers could benefit after the Florida hurricane catastrophe fund yesterday backed the transfer of $2.2 billion in risk to the private sector. And Brad Kading president of the Association of Bermuda Insurers and Reinsurers (ABIR) said: "ABIR's members are global leaders in property catastrophe protection. "Florida is an important market for us and we have paid more than $35 billion in reinsurance and insurance payments to our US catastrophe insurance customers in the last 14 years — we've made good on demonstrating our value to our customers." The Florida move means that — for the first time — the state-backed catastrophe fund can go to the markets with reinsurance brokers and assess options for private risk transfer, including traditional reinsurance and new players like insurance-linked securities (ILS) and other alternatives. Approval to go to the market came despite a bid by Florida state politician Frank Artiles to block the plan. Republican Representative Mr Artiles said that transfer of the risk would be "corporate welfare" and claimed it would lead to higher premiums for Florida residents. And he said that going to the private market would mean "the only beneficiaries would be the reinsurers themselves, mostly based in Bermuda". He added: "These are people who actually hope for catastrophes so that they demand higher rates and larger profits." But the Florida State Board of Administration, headed by Governor Rick Scott, ignored Mr Artiles and backed the proposal from state Cat Fund chief Jack Nicholson. Mr Nicholson had earlier argued that the proposal was designed to boost the state's ability to pay claims in the event of a major hurricane. And his stance was backed by a range of Florida bodies, including the Florida Consumer Action Network, the Florida Chamber of Commerce the American Consumer Institute and Florida TaxWatch. Mr Kading said: "The Florida Cat Fund now has authorization to search the market for private reinsurance protection. If they find a good economic bargain they may buy reinsurance coverage for the first time. If they do so they would be making the same sound economic decision made by the California Earthquake Authority, The Texas Windstorm Insurance Association, the UK Pool Re, and the New Zealand Earthquake Commission." Mr Kading added: "Reinsurance provides good value to consumers, for a premium we take on risk that others don't want. We pay our claims quickly. We help Florida avoid use of bond debt which has to be paid back with interest. Florida has just finished paying off nine years of bond debt and billions in interest costs. Reinsurance can help avoid the assessment of such future hurricane taxes on Florida citizens. Kudos to the Governor, the Cabinet and the Cat Fund staff for being willing to search the market and put together a deal that will save Florida's taxpayers billions in future interest costs."

March 25. Bermuda could carve out a huge chunk of a new market for cyber insurance, experts said yesterday. They were speaking after the UK government issued a report on joint initiatives with the insurance sector to tackle cyber risk — and make the UK a world centre for cyber security insurance. But KPMG Bermuda director Tom Kelly said that Bermuda was well-positioned to add the sector to its existing roster of risk. Mr Kelly added: "With the ever-growing dialogue around the decline in property catastrophe pricing, cyber insurance would seem like a strong candidate for the next wave of risk management innovation that Bermuda could take a significant role in." But he said that capitalizing on a new market would need Government, the insurance and reinsurance industries and the Bermuda Monetary Authority to work together to create "the right framework, incentives and skill sets to attract and appropriately manage this business". Mr Kelly said the UK report, "UK cyber security: the role of insurance and managing and mitigating the risk", had three main themes — alerting companies to the threat of large-scale computer attacks, helping the insurance industry to establish cyber insurance as part of its armoury and establishing London as a global centre for cyber risk management. With this document the British government has put out, they see a good opportunity for the London market to take the lead, but Bermuda has always worked very closely with the London market. Maybe the dialogue has to get louder that Bermuda has capacity and as these risks emerge, Bermuda is a key place to absorb these risks. Cyber attacks could cripple major electricity networks or supermarkets chains — which could affect a number of jurisdictions It's a global issue and it's only in its infancy at this stage." KPMG IT expert Chris Eaton said that he had yesterday chaired a Chamber of Commerce business tech division briefing for the Chamber's retail division at Butterfield Bank as a follow-up to a recent breach at a local retailer. He added that there had been 80 million separate cyber incidents affecting the massive Microsoft Windows network in 2013 — and that was expected to more than double to 200 million this year. Mr Eaton said: "That's happened quite quickly — it's growing exponentially at the moment to where we have this massive amount of malware out there." And he warned: "Cyber risk is one of the most significant issues facing all sectors of the economy today. This is no longer 'script kiddies' showcasing their skills to secure employment, but more typically well-organized, advanced, persistent threats monetising cyber crime, fraud and the theft of intellectual property."

March 25. Hamilton's hosting of the National Conference of Black Mayors is greatly in doubt, according to both the City and Home Affairs Minister Michael Fahy, who said he is assessing the situation. "At this stage, it is highly unlikely the event will proceed," Senator Fahy said — a verdict that was confirmed by a spokesman for mayor Graeme Outerbridge's administration. Vanessa Williams, the purported head of the United States organization delivering the event, has insisted that the convention is to go ahead next month. However, the City has requested an accounting of the funds already sent to the NCBM. The full sum paid out thus far to the Atlanta-based organization is unknown, but documents obtained by The Royal Gazette last year said the gathering was initially budgeted for $100,000. Neither the City nor Sen Fahy responded to questions over whether they had been in touch with Ms Williams, however. Contacted recently by this newspaper, the NCBM's executive director maintained that the international gathering would run in Bermuda from April 12 to 16.

March 25. Heedless drivers and lax enforcement are leaving irate Hamilton motorists with nowhere to park but the City has said it's not standing idly by. In the wake of Mondays report on the flouting of parking rules, motorists contacted The Royal Gazette imploring the Corporation of Hamilton to crack down on blatantly wrongful parking. For Donna Barnes, who has a three-year-old grandchild, the suggestion that she rely on the Bulls Head car park for a space was not acceptable. "I went to the No 1 Shed at 8.30am and it was already full.. There were cars parked in cycle bays, in the space where mini buses are supposed to park, and where there is no parking whatsoever. They're only supposed to park there for three hours, but they're there all day because they know they can get away with it. As I went out of there, I saw a car without any handicapped sticker parked in a handicapped space. Making matters worse, a parking enforcement van drove around in a loop and then left without doing anything. The officer used to have clamping [powers], but I don't know if they're able to ticket now," Ms Barnes said, referring to the Supreme Court ruling in November that overturned the City's clamping enforcement. I don't like the Corporation of Hamilton's attitude. Surely to goodness they could work with Police or the parking wardens to do something about it." Edward Benevides, chief operating officer and secretary for the Corporation of Hamilton, said the City's administration was engaged in sampling to check its patterns of car park usage. Mr Benevides confirmed that the City's loss of clamping powers had taken the teeth out of its parking enforcement. "The use of clamping to change behavior works very well, and has proved successful since 2007. However, the recent ruling determining that it is unlawful under current laws, which invalidated some resolutions and ordinances, has removed this consequence and deterrent to bad behavior. The City's own staff do not have the legal power to issue parking tickets, even in Corporation-owned car parks. Under the Island's laws, only the Bermuda Police Service which includes traffic wardens has the power to write tickets. It is illegal to park without paying, and subject to enforcement. Remember, enforcement is not used as a revenue generator; it is used to correct bad behavior. Unfortunately, until we can have the ordinances passed by Parliament, only the Police can deal with the illegally parked vehicles."

March 25. Irreplaceable relics of Bermuda's heritage have been left "dumped" at the mercy of the elements, according to an anonymous complainant who contacted The Royal Gazette. However, their custodian said the old carriages, formerly housed in a museum, were already damaged beyond repair, while better preserved carriages were being kept safe in storage. Horse-drawn carriages, once the vehicle of choice on Bermuda's roads, have largely vanished. The carriages in question, which are owned by the Wilkinson Estate, were once held at the Carriage House in St George's, but were dismantled and put into storage in Southside after the building was badly hit during Hurricane Fabian in 2003. Photographs of the decaying remains of old carriages were sent by a visiting enthusiast from the Carriage Association of America, after they were found lying in the open on the Hamilton Parish estate. "This blatant disregard for these wonderful old icons of our Bermudian heritage is tantamount to criminal, and should be investigated and exposed in the hope that by shaming the powers-that-be, there will still be time to save the other carriages and find them a home," the writer told this newspaper. Not all the carriages in the museum originally belonged to the Wilkinson family, the writer added; some were donated to ensure their preservation. David Summers, the Crystal Caves proprietor who is in charge of the Wilkinson Trust, did not dispute that about six carriages were falling apart in the open. "The ones that are out in the rain are not roadworthy," Mr Summers said. They're riddled with termites. They're part of the estate of Josephine Wilkinson and have been in storage since Fabian. They are just not in decent or reasonable shape." Some carriages that are in better repair remain in storage inside containers, but restoration is costly work, he added. A number of historic carriages were repaired decades ago at personal expense by the late William "Cheese" Ray, but Mr Summers said the trust could not continue to pay for their storage. Nor was he able to foot the bill for them to be sent overseas for full restoration. "We are in the process of discussing it with an enthusiast who may want to take this on as a benefactor, but during times like these, benefactors are not too common," Mr Summers said. Many varieties of carriages were used before the advent of the motor car. The surrey, a two-seater with a fringed cover, was the most popular, and could be drawn by a single horse. Other, more formal, carriages were larger and some were ceremonial or employed as hearses. The Carriage House Museum, a modest operation, was heavily damaged by Fabian and lost its roof. The premises were since converted for restaurant use and now house the Tempest Restaurant.

March 25. An alliance of talented Bermudians teamed up to secure the position of communications partner to the ACBDA for the 35th America's Cup. The ACBDA Communications Committee selected the COMM Group from among 11 expressions of interest and eight formal responses to the ACBDA's Request For Proposal (RFP) issued in January. The group's primary role will be to be help keep the public informed and engaged with the various aspects of hosting the event, set to take place in Bermuda in 2017. "We were extremely pleased with the level of interest expressed in our RFP and we received a number of formidable proposals," Peter Durhager, the ACBDA chairman, said. "After careful review, the COMM Group was selected based on the diversity of skills and perspectives they bring to the table as a team, their passion for the event and professional experience." Mr Durhager added of the selection process: "The COMM Group's approach to the RFP illustrates how multiple Bermudians can benefit from the America's Cup through spirited collaboration and partnerships. Their team is clearly excited about the event and welcome the opportunity to share it with Bermuda. The ACBDA is looking forward to working with them to not only keep the public updated on the impact and opportunities related to the America's Cup, but also to tell the amazing story of Bermuda hosting this world-class event." The COMM Group is an alliance of Bermudian communications professionals who between them offer services in multimedia production, digital media production, social media management, public relations, event management, creative content development, web development and market research. The COMM Group members are Crimson Multimedia, LookBermuda, Shane Mora, Shooter and Scribe Productions, Total Marketing and Communications and Total Research Associates. Mr Durhager said. "Their support is representative of the enthusiasm we have seen from across the community towards the America's Cup." Peter Backeberg, the project leader for the COMM Group, said: "Hosting the America's Cup is a fantastic opportunity for Bermuda. The members of our group have collaborated on a number of media projects over the years and we knew our bid was stronger as a team than as individual companies."

March 26. Hundreds of protesters interrupted last night's sitting of the Senate to demand a "bipartisan, collaborative dialogue" on immigration reform. Police ordered the public to leave the Cabinet Building after Senate president Carol Ann Bassett brought proceedings to a close for two hours. The sitting resumed at around 8pm, with Ms Bassett cautioning the 25 members of the public looking on not disrupt proceedings or they could be removed, but otherwise offering them a "clean slate". The seats in the viewing area remained full throughout the ensuing debate without any problems. Government senators left the room as a chanting, singing crowd packed into the chamber of the Upper House, shortly before the debate was to commence on The Bermuda Immigration and Protection Amendment Act. More than 500 gathered outside Cabinet at 5.30pm, organized in 24 hours via social media by Walton Brown, Shadow Minister of Immigration, who called for "a campaign of civil disobedience demanding a halt to proposed new immigration laws." Hailing the event a victory for "people power" after the crowd had filed back out of the building, Mr Brown told them: "You tonight have demonstrated that we can make the Government pause and listen." Although he said both parties needed to join together in ending the Island's divisions over the sensitive issue of immigration, Mr Brown pulled no punches. I'm hoping that Government is listening — hoping we do not have to step this activity up," he said, to whistles and applause. "If we have to, we will." In an unusual move, the latest piece of immigration legislation was tabled in Friday's session by Michael Fahy, the Minister of Home Affairs. Senator Fahy said he was within his right as minister to bring the Bill before the Senate, characterizing it as an urgently needed boost for the Island's stagnant real estate market. "I'm disappointed that the Opposition felt the need to organise this protest tonight, especially at the same time as we discuss legislation that is designed to assist Bermudians and boost our flagging housing market," he said. Asked if he would agree to sit with the Progressive Labour Party for a collaborative discussion, Sen Fahy said he enjoyed "a very good, collaborative, open relationship" with Mr Brown. "I think we need a discussion based on fact, not innuendo," Sen Fahy said. "Calling for civil disobedience because you don't get what you're looking for is no way forward, and it's not collaborative. I am more than prepared, as is this Government, to engage in a collaborative approach, but the rhetoric and deliberate use of misinformation needs to stop." Sen Fahy agreed that immigration was a sore topic for many Bermudians fearing for their livelihoods. "It's one thing to say that there is this massive underlying issue in Bermuda, but the Opposition has every opportunity, both in the House and Senate, to make their points," he said. "Rhetoric without facts is dangerous." However, Mr Brown said the One Bermuda Alliance's advantage of numbers gave the government carte blanche to pass whatever legislation it pleased. "There needs to be a comprehensive dialogue which asserts as a principle that Bermudians should come first in their own country," he said. He conceded that in such a dialogue, both sides would have to compromise. Bermuda was "fundamentally divided as a country" when it came to immigration, Mr Brown added. "The whole question is immersed in 50 years of race and nationality. The only way to break this is with a consensus. Maybe neither side gets what they want." Shortly after 6pm, Mr Brown led hundreds into the Senate Chamber, filling the building while protesters chanted "Power to the people" and sang "We shall not be moved". Ms Bassett called a halt to the Senate, as protesters were on their feet in the chamber, contrary to Senate rules. After the crowd returned outside and Police closed off the staircase, PLP Member of Parliament Glenn Blakeney confronted them, demanding to see the article of law allowing access to be denied. PLP Senator Diallo Rabain announced that Ms Bassett had agreed to allow protesters in when the Senate resumed, but only if they were quiet and remained seated. "How can we stop the debate?" an onlooker shouted to him. "This shouldn't be happening." "You cannot stop the debate," Sen Rabain responded. Mr Brown congratulated protesters, but suggested they claim their victory for the time being — adding: "They will pass it tonight. We have six weeks to work on a campaign." During the Motion to Adjourn shortly after midnight, Senators from both sides of the floor praised Ms Bassett for her handing of the crowd. Opposition Senate Leader Diallo Rabain said he was happy to see the public come out to make sure that their voices were heard, while Ms Bassett herself said she was pleased to see that after she explained the rules of the Chamber there were no further issues. "I look forward to when I come back and seeing some of there faces here where they can take a more active role in making sure their voices are heard," she said. However Sen Fahy voiced concerns about the behavior of elected members of the lower House, who he claimed refused to assist Ms Bassett in controlling the crowd.

March 26. Legislation that sparked a march on the Cabinet Building was approved by the Senate last night despite Opposition criticism. The Bermuda Immigration and Protection Amendment Act 2015 expands the ability of Permanent Resident's Certificate (PRC) holders to purchase property, lowering the average rental value (ARV) threshold from $177,000 to $153,000. The legislation also allowed PRC holders to purchase up to two homes and loosened 90-day and 120-day annual restrictions on tourist accommodation and the division of fractional units, so that those holding licences for tourist accommodation would get up to six months annually. Home Affairs Minister Michael Fahy said the legislation was intended to help boost the economy by increasing property values, creating jobs and encouraging foreign investment. While he said that immigration is an emotive issue, he said the legislation would not impact existing laws against fronting and would not increase the amount of land that can legally be sold to non-Bermudians. The Progressive Labour Party, however, argued that the move would only worsen the economic divide, supporting the real estate lawyers and realtors rather than Bermudians. Opposition Senate leader Diallo Rabain called on the Bermuda Government to rise and report progress on the legislation in flavour of comprehensive immigration reform, saying the tabled legislation was another example of the One Bermuda Alliance's "charade of collaboration." Independent Senator James Jardine expressed support for the legislation, noting the plummeting value of houses and condominiums in recent years. "It's because there are no buyers," he said. "It's the law of supply and demand. People are having to drop their prices lower and lower to sell their houses." The senator added that the legislation could help Bermudians to sell their property if they want or need to. PLP Senator Marc Daniels, however, expressed a concern that some groups have begun amassing foreclosed homes at below-market rates specifically so they can cash in when legislation such as this comes into effect. He called on the Government not to rush forward with the legislation, suggesting that they take some time carrying out further consultation. Independent Senator Joan Dillas Wright, meanwhile, said that she had not heard anything that would lead her to believe that she should not support the bill, noting the present state of the economy. Responding, Sen Fahy suggested that the PLP never pursued comprehensive immigration reform for the same reason the OBA has not: because it wants to provide economic stimulus now rather than in two years. "This is a bold move," he said. "It may not be a popular move, but it's a bold move. If it works, Bermudians will benefit. If this uptick in sales isn't what we hope it will be, Bermudians won't be disadvantaged by this at all." He also noted that the ARV rates could have been gazetted and altered without debate by negative resolution, but the Government had decided to bring the issue forward for debate.

March 26. A beacon of fine dining is set to shine again from tomorrow. For the Dining Room at Gibbs Hill Lighthouse in Southampton is to reopen tonight after severe damage caused by Hurricane Gonzalo last October. And Odilio Angeli, boss of Dining Bermuda, which also includes Rustico in Flatts and Gulfstream on South Shore Road, said the staff were keen to get back to work after Gonzalo ripped the roof off last year. Mr Angeli added: "We will be up and running for Friday at lunchtime, so we're back in business. The entire roof was damaged and it all had to be replaced." He said the dining area only needed a major clean-up — but that the kitchens had been extensively revamped with new equipment. "My perspective on things is if you're away, people might tend to forget you. But we have a lot of reservations already and I think people are looking forward to us reopening — I'm sure that people will come back. The staff are all ready and eager to start. They've had enough vacation. Reopening tomorrow meant that the restaurant would also catch an upturn in visitor numbers. We're going into the season — I would have worried if we were opening in November instead of the end of March and start of April. I can see an increase in people coming to the Island and I'm feeling positive. Definitely, we're not back to the 80s or 90s, but I would suggest we're definitely on the increase." And Mr Angeli said the upcoming America's Cup series of races would also provide a boost to the west end area as sailing teams in the west end prepare for competition in advance of the 2017 main event. "For sure, everything that happens in Bermuda of that calibre will be a boost for the economy, not just restaurants. With our location, especially with the views we have, we will have a lot of people coming for lunch or dinner and watching the races from up top." Mr Angeli said that he was grateful for the work carried out on the damaged Government-owned building by staff from Works & Engineering. He added: "They worked very hard, sometimes in high winds and difficult conditions, to get the restaurant open for business again." The restaurant — which offers casual dining and a wide-ranging cuisine, including trademark pizzas and gourmet burgers, opened six years ago in the premises once occupied by a long-running tea room. The restaurant, which features regular menu changes, can seat 50 people, with extra space on the outdoor terrace available during the summer months. The Dining Room is open for lunch from Thursday to Saturday from 11.45am to 2.30pm and for dinner every day from 6:00pm to 10:00pm. Breakfast on Sundays is also available from 10.00am to 2.30pm.

March 27. The America's Cup will generate significant extra business for its official healthcare provider BF&M — and the insurer's boss says the Island needs to grasp this unique opportunity to ensure the whole community benefits from it for years after the sailors have gone home. John Wight said the world's most prestigious sailing competition was probably "the biggest event Bermuda will ever host" and the BF&M chief executive officer added that it presented a huge opportunity for the Island to re-launch its tourism industry. "There is no other event globally that can put the spotlight on Bermuda as hosting the America's Cup can," Mr Wight told The Royal Gazette. "As a tiny Island with a population of about 60,000 people, Bermuda did not have the infrastructure to host any other sporting event with such global appeal. We will have hundreds of millions of people globally viewing Bermuda in 2017 for the finals and for the lead-up to the finals. As Bermuda's success depends upon a strong tourism product, if we can all work together to ensure its success, the financial benefits to Bermuda will be felt not just between now and the end of 2017 but even more importantly beyond 2017. The initial focus in the four months or so since we got the news of Bermuda's selection as host has been on how we get prepared for the event. But I think that a dialogue has to take place before 2017 about the America's Cup legacy that Bermuda wants to realize. It's a discussion for all of Bermuda to have. Discussion around the economy had been much more positive since the America's Cup venue announcement last December. There is no question there will be benefits for every sector of the community, we just need to work collaboratively to make the most of the opportunity. The event represented a unique chance to showcase the Island's tourism product and raise awareness of Bermuda's beauty around the world." The 112-year-old insurer overcame the challenge of local rivals to be selected as the official healthcare insurer for Oracle Team USA as well as the 35th America's Cup itself. Mr Wight said although it was not yet certain how many teams would be participating, the number of new policyholders BF&M would gain from their affiliation with the event would run into the hundreds. "The opportunities go beyond medical coverage as some of those connected with the America's Cup will also be seeking other types of coverage, such as auto and boat insurance. We view the America's Cup selection of BF&M as an independent validation of the high level of services that demanding groups of customers require of their health insurer. As you can imagine, sailing teams consist of world-class athletes with high expectations for medical coverage and services." The insurer has gone a step further by signing up as a sponsor of the America's Cup, joining a host of global brands. The value of the deal cannot be disclosed under the terms of the contract. "As we were selected as the healthcare provider to the event, and because this is the biggest event Bermuda will ever host, we wanted to give something back," Mr Wight said. "For us, it was a natural extension. It will allow for some corporate hospitality opportunities for policyholders to engage with some prominent people who will be here for the America's Cup. All in all, we're very excited to be partnering with the America's Cup Event Authority and the Oracle Team USA for what promises to be a very special event for our Island as we enter the world stage."

March 27. A stand-off appears likely between America's Cup organizers and challengers – including Team New Zealand – over proposed changes to the event in Bermuda in 2017. Italian syndicate Luna Rossa has threatened to pull out of the regatta if a proposal to downsize the boats is put into place. Yesterday America's Cup Commercial Commissioner Harvey Schiller said the organizers and teams were planning to make changes to the event aimed at reducing costs, with a smaller boat the primary target. "We have a responsibility to think of what is best for the long term health of the America's Cup as well as improving the value equation for team principals and partners. Racing a smaller boat in 2017 and beyond is a big step in the right direction" said Schiller via a press release. A number of Cup teams are sailing modified AC45s in preparation for the AC World Series which is due to get underway in Sardinia in June. The one design boats have been modified to foil, following on from the spectacle in San Francisco in 2013 when Oracle Team USA beat Emirates Team New Zealand to retain the cup in the bigger and faster AC72. But the performances teams have obtained from the smaller AC45s have led organizers to believe the same results as the bigger AC62 proposed for the Cup in Bermuda in 2017. "After reviewing prototypes of the new AC45 sports boats being tested on the water over the past several months, it is clear that if we raced smaller boats in 2017, we could dramatically reduce costs without sacrificing any of the spectacle or the design, engineering and athletic challenge fundamental to the America's Cup," said Schiller. The press release included support from Ben Ainslie Racing, Artemis Racing and Team France, and said Team New Zealand had in favor of the move when it was discussed last year. But a post on Team New Zealand's Facebook page indicated that is no longer the case. "Since then time has passed with teams well advanced in their design process now and any ideas around change will need the full consultation and support of all the teams," said the post. That seems unlikely after Luna Rossa issued a statement saying they do not support any change to the Protocol accepted by all the challengers in June 2014. "If the principle of unanimity of all challengers required to change the Class Rule were not to be respected Luna Rossa will be obliged to withdraw from the 35th America's Cup. "Team Luna Rossa trusts that the Defender will quickly announce a public clarification, also to avoid jeopardizing the organization of the America's Cup World Series."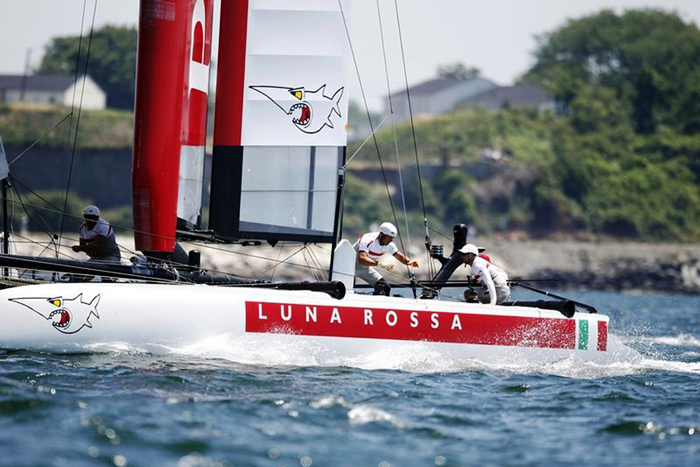 Italian racing team Luna Rossa, see above story
March 27. New Zealand news sources. America's Cup teams are being asked to consider a further reduction to the size of the foiling catamarans for the next event to be staged in Bermuda by 2017, leading Luna Rossa to threaten a boycott. The next America's Cup is being thrown into disarray with Team New Zealand backing Italian challenger Luna Rossa's opposition to proposals to reduce the size of the boats to be used in Bermuda in 2017. The Italians are threatening to pull out of the next America's Cup if the unexpected plans to make the foiling catamarans smaller are given the green light. Luna Rossa released a strongly-worded statement on Friday, a day after America's Cup bosses indicated they wanted to reduce the 62-foot foiling catamarans to 45-foot versions in a cost-cutting measure. The Kiwis upped the ante later in the day. While they gave no indication they were ready to pull out of the problem-plagued regatta, they made their feelings clear, saying: "Emirates Team New Zealand agrees with Luna Rossa Challenge. It would be unfair to change the rules at this stage unless all America's Cup teams agree to do so." The complex cup protocol needs the unanimous agreement of the teams to make changes at this late stage. That is now looking very difficult. The proposals are being drafted and America's Cup bosses have indicated they want a vote on the controversial changes by the end of the month. The Italians are significant players in the next regatta. Long-time competitors in sport's oldest contest, they took up the role of Challenger of Record when Team Australia surprisingly withdrew, opting for a committee approach. But it seems they are frustrated with the constant changes in the rules being adopted by holders Oracle Team USA which go against the rules of the protocol. "Team Luna Rossa Challenge is distinctly opposed to the proposal – announced today on the official web site of the America's Cup – to change the Class Rule for the 35th America's Cup and therefore the boat that was previously accepted by all challengers on June 5th 2014," the syndicate said.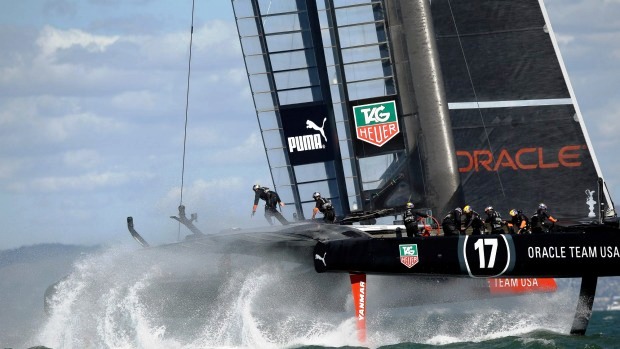 Oracle, causing frustration among opposing teams for trying to apply its own rules. See story above
March 27. A new four-day cultural event has been launched embracing a carnival atmosphere and celebrating Bermuda's heroes. The Bermuda Heroes Weekend has been a work in progress for many years but has finally come to fruition, thanks to the support of the Bermuda Tourism Authority and various other sponsors. The event, which will feature international soca acts, a Caribbean carnival-style parade and a boat raft up, is costing in the region $200,000 which includes performance fees and an overseas marketing campaign that hopes to attract carnival goers from the States and Caribbean. Bermuda Heroes Weekend Ltd is headed by Jason Sukdeo, aka "D'General", who has a long history as a DJ and putting on events in Bermuda. His team is comprised of avid carnival-goers with a collective 15 years' experience in producing events. The new committee, made up of Mr Sukdeo, Sandra Richards-Vance, Nalton Brangman, Jumaane Davis and Akbar Lightbourne, aims to hold a carnival in Bermuda on an annual basis. Mr Sukdeo said the company will be monitoring how many visitors the event attracts to the Island through online registration figures for parade participants, as well as through two surveys to be taken during and after the event. Pat Phillip-Fairn, chief product and experience officer of the BTA, said: "Carnivals around the world draw international visitors and Bermuda Heroes Weekend has the potential to do the same here in Bermuda. Importantly, we also recognise that Jason and his team are ensuring that Bermuda's event is sufficiently differentiated from others by highlighting local cultural elements. Bermuda Heroes Weekend will help introduce a new generation of visitors to what Bermuda has to offer, while celebrating an important national holiday." Mr Sukdeo added: "We are very excited to launch Bermuda Heroes Weekend. We feel that Bermuda will provide a phenomenal backdrop for this spectacular Signature Tourism Experience, which will rival those held overseas. As this is the event's inaugural year, we look forward to providing both locals and visitors with a unique experience never before seen in Bermuda." This year's event runs from June 12 to 15 and kicks off with a free soca show on Front Street, featuring a raft of international artists, including Kes The Band, Kerwin du Bois and Lyrikal. Local acts are the DIA Band and DJ Rusty G. The event starts at 7pm and ends at 1am. On the Saturday there will be a Parade of Bands starting at noon at the Morgan's Point property and guests are able to purchase costumes through the BHW website. Registration is required to participate in the parade and entrance to the venue for non-participants will be $10. A full list of bands is to be released in due course. The event will be followed by the J'Ouvert Celebration of Our Heroes, which runs through the night from 3am to 8am at the same venue. Organizers said: "This will be an epic standing J'Ouvert party where we will also recognise this year's hero. We look to watch the sunrise while partying to the sweet soca music." Part proceeds from this event will go towards the Chewstick Foundation. The event is for over-18s and identification will be required. On the Sunday, BHW will work with a number of promoters to provide entertainment to the public, including the Pans in the Park event at Victoria Park, in Hamilton. The concert will be made up of local and international pan players. The weekend will culminate in a Raft Up Day, which coincides with the Edward Cross Long Distance Comet Race on National Heroes Day. The race will begin in the west of the Island and end in the east with a finish in St George's Harbour. The raft-up will take place on North Shore outside of Admiralty House and Deep Bay. There will be entertainment and raft-up party boats leaving Hamilton at 11am.
March 27. The enlisting of a British lawyer as a prosecutor has raised renewed questions about hiring practices at the Director of Public Prosecutions' office. The secondment of Alan Richards to the role of Crown counsel comes at a time when Bermudianisation at the DPP's office is already contentious. In January, lawyers conspicuously showed their disapproval of the non-appointment of a Bermudian to the office of DPP by walking out of a special sitting of the Supreme Court. The appearance of Mr Richards this month as a prosecutor in Magistrates' Court elicited surprise from some counsel. Mr Richards' profile at the website for London barristers Five Paper states that he has been seconded to Bermuda's DPP, and will not be available in the UK until September 2016. The Royal Gazette spoke with Bermudian defence counsel Elizabeth Christopher, who questioned how Mr Richards was able to hold the post — unless he has been appointed as an officer under the Bermuda Constitution. "There is someone appearing on behalf of the DPP's office and I am not exactly sure under what authority. I don't recall that job being advertised. I also understand he may be here as a consultant, which makes me question by what right he appears in court. Is he a consultant or Crown counsel? If he is a consultant, then I don't understand why he is appearing in court, with junior counsel helping him do plea court. My concern is that there must be a Bermudian capable of doing a job at that level. Under section 71 of the Bermuda Constitution, the powers of the DPP could only be delegated to persons subordinated to him. The hiring of a consultant does not need to be advertised, which also raised eyebrows.". Questions over the appointment received no response from the Ministry of Legal Affairs, which encompasses court services and the DPP's office. A spokesman for the Bermuda Bar Association offered limited comment, replying with the following: "Bar Council is not in the practice of commenting to the press regarding individual members. However, I can tell you that Crown counsel employed with the DPP and the AG's Chambers do not need to meet the 12 month residency requirement prior to admission to the Bermuda Bar. They do not require a physical Practising Certificate from the Association, however they are required to become a member of the Association and pay membership dues."
March 27. Veteran insurance chief Richard Brindle is set to head up a new $2 billion insurance venture on the Island. Mr Brindle — former CEO of Bermuda-based Lancashire Holdings — will lead Fidelis Insurance Holdings, according to reports. The new firm is backed by Los Angeles-based Oaktree Capital and other investors and — according to documents seen by Bloomberg — Fidelis aims to hold an initial public offering within five years. Mr Brindle's operation can "capitalise on opportunities that neither the traditional insurance model nor the hedge fund reinsurance model effectively capture", according to the document. The Goldman Sachs pitch document said that investors will have the potential to exit through an initial public offering in three to five years if market conditions permit. The document added that Fidelis "expects to pay low corporate income tax." The founding investors, including Oaktree, previously backed the London-based Lancashire, which was led by Mr Brindle until he retired last year.
March 27. Bermudian Paul Telford has been appointed managing director at the luxury Rosewood Tucker's Point resort. Mr Telford moves up from his present post as resort manager, a job he had held for two years, with a total of seven years at the St George's Parish hotel. He said: "I am beyond proud and humbled to be given the opportunity to serve as managing director of Rosewood Tucker's Point. The past seven years at this exceptional resort has been a tremendous experience and I look forward to taking on my new role." Mr Telford will replace Duncan Graham, who has decided to leave the job to take a year off to explore Italy. A company spokeswoman said: "Mr Graham has been a tremendous asset to Rosewood Hotels & Resorts over the past 11 years with the company, serving as managing director at three Rosewood properties." Mr Telford, from Somerset, previously worked in a series of senior management roles overseas, including a stint with the Four Seasons group in Washington DC and Punta Mita in Mexico. He followed his father into the industry and is a current board member of the Bermuda Tourism Authority. Rosewood President Radha Arora said: "Paul has done an outstanding job during his seven-year tenure at Rosewood Tucker's Point. We are extremely proud of his success and strongly believe that his passion for his native Bermuda will inspire our associates and delight our guests."
March 28. Morgan's Point Ltd chief executive officer Craig Christensen is convinced that the hotel planned for the property will go ahead. The company yesterday announced details of the first phase of development, which includes the building of an "ultra high-end" 84-room hotel, a marina with 77 slips and 149 residences. The project is pending planning permission in June. When asked whether he had any doubts it would go ahead, the businessman replied: "No. Groundbreaking is due to begin in June. That is our schedule so that is what it will be unless something unforeseen happens, but we want this to go ahead quickly." There is pressure to get at least part of the project completed for the America's Cup, which takes place in Bermuda in June 2017. Asked whether Morgan's Point Ltd was prioritizing any parts of the project to be completed by that date, he said: "I don't see one element being prioritized, per se, over the other — everything really needs to go up together. So maybe the hotel would go up with some residencies, perhaps 35 out of the 149. We are looking at currently determining what we can do efficiently to try to have some impact and get some benefit out of America's Cup." Morgan's Point Ltd has submitted an environmental impact study to Government and to environmental charity the Bermuda Environmental Sustainability Taskforce (BEST). The study — which is being reviewed — looks into the traffic impact of the development, and includes marine studies on the bays surrounding the site and a discussion of the economic impact or benefit for Bermuda. Mr Christensen said: "We brought in foreshore and coastal experts from Smith Warner to help with the study. Morgan's Point doesn't have a tremendous amount of natural shoreline, so we have to look at how best to protect the shoreline and enhance it because it is a brown field site. We have to do studies of plant material, the impact of the marina etc and provide all the supporting documentation. We have had initial feedback from BEST prior to us submitting the scoping documents and we took those comments on board. There are always questions about how are you going to manage this or that, but they have been very helpful and supportive." Although BEST said it was too soon to make a substantive comment on the study, chairman Stuart Hayward told The Royal Gazette: "We can say that MPR's engagement in the process of impact assessment is a good sign. We trust they will cast their consultation net wide to include other NGOs, particularly the Bermuda National Trust and the Bermuda Audubon Society. We do have a concern that Morgan's Point have chosen a fragmented approach to environmental impact assessment. We are very aware that some aspects of the development may aggravate the environmental impact in other areas of the property. Initially, we will have to depend on planning and the Development Applications Board to ensure that a piecemeal assessment approach does not result in avoidable injury to the environment." The study is with the Department of Planning for review and approval. Others involved in the preparation of the study included architectural firm Cooper Garden and US-based SB Architects. Mr Christensen said that going forward, "developers have been diligent in their desire to keep the impact of the project to a minimum and to be as environmentally sensitive as possible." Water conservation, insulation, and solar and geothermal energy are some of the practices under consideration. "The hotel is being newly built so we can put through a lot more energy efficiencies than if it was a retro fit. We are looking at geothermal for cooling and solar is particularly; y helpful in heating of water — that is probably the best efficiency. We have a lot of plunge pools so we are looking at all of that." As for jobs for Bermudians, Mr Christensen said: "We are currently reviewing that whole make-up so I don't have anything further to add at this point other than there will be jobs availability at Morgan's Point."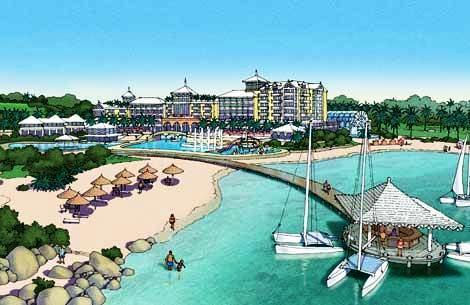 Morgan's Point Causeway, see above story
March 28. An impending $40 million to be paid for the new wing of King Edward VII Memorial Hospital in the coming fiscal year has many in the community wondering who will be called upon to pay. However, even though the Bermuda Hospitals Board (BHB) is out of cash, and the Bermuda Government is on an austerity budget, hospital charges are not set to rise. Jennifer Attride-Stirling, CEO of the Bermuda Health Council, said there had been encouraging signs that the imperative to cut costs had a positive impact in 2014-15. "For example, the Home Medical Services Benefit, which was implemented with great cooperation from BHB to redirect patients from acute care to the community, resulted in health system savings. Revisions to the standard benefit package for 2015-16 are being targeted to reduce unnecessary hospital stays, which should bring down claims and health spending." In the wake of ominous revelations this month by Jeanne Atherden, the Minister of Health, Ms Attride-Stirling said her council was collaborating with the minister, BHB and others to roll out the new benefits later this year. Giving a grim appraisal of the hospital's financial straits, Ms Atherden said it would be "unfair" for the public to benefit from new health facilities without expecting any additional charges. A BHB spokeswoman pointed out that the hospital's predicament was nothing new. "The financial shortfall that was commented on in the minister's budget brief and has been discussed publicly by BHB for two years. BHB's plans to address this shortfall do not include significant fee rises, but focus on improved efficiency and effectiveness internally and supporting improved public health to reduce the need for all healthcare services. BHB is committed to do all it can to make the necessary changes to meet its obligations." BHB does not set its own fees or add new ones without Parliament's approval, and the spokeswoman affirmed that there had been a consensus that the Island "cannot afford significant fee increases." The BHB chairman, Jonathan Brewin, announced in February that the organization had launched a formal Modernization Project — not merely to cover its monthly payments for the new acute care wing. BHB will continue to invest in its services, along with maintaining the ageing facilities at the Mid-Atlantic Wellness Institute and the general wing of KEMH, even as the costs of drugs and equipment continue to rise. "Achieving financial sustainability requires change in how we operate and work, and could reshape our service profile, but our focus will be on protecting the safety and quality of front line services and maximizing our effectiveness and efficiency," the spokeswoman added. "It is important to note that hospital fee increases alone do not drive premium increases. Cutting BHB costs alone does not resolve the hospital or the country's challenges around healthcare premiums. Premiums pay for all healthcare costs — and 56 per cent of costs are not hospital related. "The biggest driver is utilization across all local and overseas services. For the country to address premium costs, we need to look at public health, better prevention and management of chronic diseases, as well as better coordination and collaboration throughout the healthcare system. Even when there has been no increase in hospital fees, such as in 20013/14, healthcare premiums have still gone up."
March 28. The Government is seeking an injunction against the Bermuda Trade Union Congress "further to the events of January", when the two sides clashed over furlough days. The BTUC released a statement saying it had been given notice, in the form of service of legal process, seeking a permanent injunction. The union group has sought legal advice and will respond "in due course." January's standoff brought thousands of public service workers marching to Cabinet after the unions refused to agree to extending voluntary furlough days. In return, the Government said it would be "forced" to take steps to reduce expenditure. The statement went on to say that the BTUC "has a responsibility on behalf of its membership to ensure that one of the issues raised for determination before the Supreme Court is the lawfulness of the conduct of the Government of Bermuda in this whole process of dealing with furlough days and cuts to the public service."
March 30. Veteran insurance chief Richard Brindle is set to return to the business as part of a new $2 billion insurance venture on the Island. Mr Brindle — former CEO of Bermuda-based Lancashire Holdings — will become head of Fidelis Insurance Holdings — a hybrid company seeking to use the best of underwriting and the hedge fund reinsurance model. He will also act as chief underwriting officer for both the insurance and reinsurance arms of the new company. Mr Brindle will work with Neil McConachie, also one of the founders of Lancashire, who will take on the chief financial officer role. Mr McConachie was president at Lancashire until 2012 and previously worked for Montpelier Re as treasurer and chief accounting officer. The new firm is backed by Los Angeles-based Oaktree Capital and other investors and — according to documents seen by Bloomberg — Fidelis aims to hold an initial public offering within five years. Mr Brindle's operation can "capitalise on opportunities that neither the traditional insurance model nor the hedge fund reinsurance model effectively capture", according to the document. The Goldman Sachs pitch document said that investors will have the potential to exit through an initial public offering in three to five years if market conditions permit. The document added that Fidelis "expects to pay low corporate income tax." The founding investors, including Oaktree, previously backed the London-based Lancashire, which was led by Mr Brindle until he retired last year. According to business website Artemis, the Fidelis model will feature "an innovative structure to tactically shift capital between insurance and investments based on prevailing market dynamics." Fidelis will underwrite both insurance and reinsurance risks, with a focus on speciality classes of business, where its team has significant experience. And the new company will partner with Goldman Sachs' Alternative Investment and Manager Selection (AIMS) group. So, instead of using a single asset manager in line with existing hedge fund-backed reinsurers, Fidelis will use managers to manage the cycle and match the investment strategy and income more closely with underwriting cycles and liabilities. Private-equity firms Oaktree, Crestview and Pine Brook are lined up to take 25 per cent of the common equity of Fidelis, with the balance of the $2 billion to come through two fund structures, Fidelis Investors LP and Fidelis Investors Offshore LP. Artemis said the that Fidelis aimed to make the most of major changes in the reinsurance market, with the firm optimizing its balance sheet across the underwriting and asset management sides, allowing it to allocate capital where it can provide the best return and best match assets to liabilities. Fidelis said that the traditional insurance model has failed to maximize shareholders' returns as the focus tends to be on either assets or liabilities, while mainstream firms have problems with low fixed income investment returns. But Fidelis said it can achieve attractive returns on both the asset and liabilities arms of its business and — with both sides diversified — it should also be able to protect itself against financial market impacts that could come from using a single asset manager. Fidelis said it expected to work with asset and hedge fund managers like Blackrock, York Capital and Crabel Capital among others. Blackrock is working with Ace on ABR Re, while Blackrock has its own reinsurance vehicle.
March 30. Representatives from the Caribbean Public Health Agency have been in Bermuda to help conduct data analysis from a survey with the purpose of tackling chronic diseases in Bermuda. The Ministry for Health, Seniors and the Environment initiated the STEPS to a Well Bermuda survey in November 2013 to gather critical information on the population's health. Almost 1,200 people were surveyed using a combination of self-reported data and objective measurements to identify certain local risk factors for chronic diseases including diabetes, heart disease and cancer. Data gathered from the survey will now be analyzed and will help to inform new health programmes and initiatives while helping to inform future legislation. The survey is one of 12 national surveys conducted in the region as part of the Pan-American Health Organization's STEPwise approach to chronic disease — "a simple, standardized method for collecting, analyzing and disseminating data for chronic disease risk factors." A "risk factor" is anything that increases the likelihood of developing a chronic non-communicable disease. The study builds on previous studies conducted here which were based on self-reported data only. When it is released Bermuda's data can be compared to all other countries as the results will feed into a regional Caricom survey as well as global surveys. Glennis Andall-Brereton, epidemiologist and senior technical officer for non communicable diseases and life course at the Caribbean Public Health Agency, said: "This survey is being done as a means of identifying the risk factors for chronic diseases because what we are aware of is that many of the chronic diseases that we see — heart disease, diabetes, cancer and chronic respiratory diseases — have the same risk factors. If we could impact the risk factors we would in fact be impacting those diseases themselves in the long term. "That is why we are doing the surveys so we can have that information on the risk factors in their specific population so that they will be able to develop interventions to target those risk factors within the populations." There are three parts to the STEPS programme. The first gathers data on key risk factors, the second takes in simple physical measurements and the third collects more complex clinical samples for biochemical analysis. Ms Andall-Brereton said that there had been positive results in the other countries surveyed. "The history of risk factor surveys for our region dates back to 2007. It is still a relatively short period but people have been able to develop policies to impact problems at the national level. Smoking is a major risk factor for health and persons have been able to put in policies that restrict smoking in public places as a direct result of this survey. We were able to identify what sectors of the population are affected by both second hand smoking, and primary smoking. Countries have implemented policies which would impact on smoking as a direct result of the data they saw. Other countries have initiatives to do with restricting use of some foods in schools." The results will be fed into the Well Bermuda Health Promotion Strategy and will assist public health partners and the Ministry of Health in developing programmes and initiatives to combat anything alarming found in the results. Ms Andall-Brereton added: "We hope Bermuda will press ahead and finalize their results, prepare the survey report and then move to the phase where they use the results to develop some intervention for implementation in Bermuda."
March 30. Government has confirmed, following its Budget announcements, that bus and ferry fares are to be increased as of April 1. The increases are applicable to non-exempt passengers travelling via Government buses and ferry's across the Island. An adult three-zone bus and ferry fare, currently $3 in cash, will increase to $3.50. Three zone tokens currently costing $2.50 will increase to $2.75. A booklet of three-zone tickets will increase from $20 to $25. An adult one-day pass will increase from $15 to $19; a two-day pass from $25 to $31.50; a three-day pass from $35 to $44; a four-day pass from $44 to $48.50, and a seven-day pass from $56 to $62. A spokeswoman for Transport Department said: "These passes are primarily used by our visitors providing multiple options between bus and ferry schedules." The 14 zone adult bus fare or West End to East End ferry is currently $4.50 in cash. This fare will increase to $5. For a child, it will increase from $2.50 to $2.75, while a $30 book of 15 tickets covering 14 zones will go from $30 to $37.50. Taking a motor cycle on a ferry, which costs $4, will rise to $4.50. A one month transportation pass is currently $55 and will increase to $69.00 for unlimited interconnectivity between buses and ferries. All students will be required to show their bus pass in order to ride the buses and ferries.
March 31. The debate over who said what during a meeting on immigration reform held between Premier Michael Dunkley and Walton Brown, the Shadow Minister of Immigration, continues to rumble on as both sides refuse to back down. Despite wanting to avoid a "he said, he said" parlance, Mr Brown hit out at the Premier yesterday, claiming that he made "deliberately misleading comments" against him. Mr Brown attended a meeting with the Premier last Wednesday, hours before a scheduled protest on the grounds of the Cabinet Building. The Premier claimed in an editorial carried in yesterday's Royal Gazette that during the meeting Mr Brown approved his immigration legislation, which had previously sparked a march on the Senate. But Mr Brown, despite refusing an earlier invitation from this paper to respond to the comment, came back after publication of the full opinion piece to say the Premier's comments about his approval were "not accurate." The dispute originated after a protest over the Bermuda Immigration and Protection Amendment Act 2015 (BIPA), which was approved in the Senate. The Premier wrote: "In that meeting, which included Home Affairs Minister [Michael] Fahy, Mr Brown said he had no problem with the proposed legislation and that he wanted to avoid an escalation in political rhetoric." Making his case clear, Mr Brown sent a lengthy response to this newspaper outlining his position. "The meeting was primarily about the need for collaboration," he said. "As I indicated to the Premier, the proposed immigration legislation provided the lightning rod for the protest. It was clear to me that the Premier and Minister Fahy understood this. When speaking specifically about the legislation, I said while I think there is great merit in allowing PRC holders to purchase a greater range of properties and avoid a class bias benefiting the wealthy, so typical of OBA policies, there were other aspects of the legislation I had grave concerns about. When it was clear no commitment to a bipartisan effort would be announced before the planned start of the protest, I indicated the protest would go on as planned. The Premier and Minister Fahy did commit to engage in a process with the PLP over the ensuing weeks to see if we could come to an agreement over key principles that would shape a collaborative undertaking. The Premier asked that I begin to set out my views on some key guiding principles. I left the meeting with that clear understanding." Contacted again, Mr Dunkley stood firm, saying there was no doubt in his mind over what Mr Brown said and that he had probably "changed his tune" because of pressure within the Progressive Labour Party. He told The Royal Gazette: "Yesterday he [Mr Brown] was very brief in his comments and about the only substantive thing he had to say was that my comments were inaccurate. "Now he has changed his tune, which tells me one thing: that he is under pressure and needs to clarify himself. Referring to the legislation that was due to be debated in the Senate on Wednesday night — the BIPA Amendment Act 2015 — Minister Fahy asked him, 'With regards to the legislation that will be debated in the House tonight, do you have any concerns with that?' "He said, 'This particular piece of legislation I do not have a problem with.' You can't misconstrue that in any way. I wrote it down and he saw me writing it down."
March 31. The Cayman Islands, Bermuda's competitors in offshore business and tourism, are pulling themselves out of recession on the back of increased immigration. And yesterday economist and consultant Peter Everson said Bermuda could take a leaf out of the Cayman book and do more to cut the country's debt and boost inward investment. Mr Everson said: "The government in the Cayman Islands, partly by luck, perhaps, but also by dint of what they have done, is everything Bermuda said we should have done." Mr Everson was speaking after an editorial in the Cayman Compass said the Caribbean island chain had its highest-ever population — standing at more 58,200 after five years of "decline and stagnation." And the editorial said that the 4.5 per cent growth in population in 2014 had been largely fuelled by 1,800 non-Caymanian residents, most of them work permit holders. It added — at the same time — unemployment among Caymanians had dropped by 1.5 per cent to 7.9 per cent. Mr Everson said: "They've got a growing economy — expanding not contracting — and they now have a government budget surplus which means they can choose how much they spend between capital projects and how much they put towards paying the debt." The editorial added: "As most recent statistics illustrate, nearly all of Cayman's new residents will arrive by airplane at the Owen Roberts International Airport, not by stork at the Cayman Islands Hospital. As time goes on, expatriates will account for a greater and greater proportion of the Cayman population. Actuarially that redistribution of demography is ordained and inevitable." Mr Everson said: "The issue is the difference in reaction to foreigners, both individually as people and as investors. The Cayman Islands had a far lower standard of living than Bermuda as recently as 35 years ago. They had very little in the way of tourism and very little international business. They've grown both sectors of the economy in 35 years. They had a population about half the size of Bermuda 35 years ago, but a land mass several times the size of Bermuda. They had a lot of unused land — that means they always have land they can build on." Mr Everson said that foreign investment — particularly from one foreign investor — had boosted the economy over the last ten years. He added: "He effectively built a new town on the main island. Cayman — despite lacking the natural beauty of Bermuda — had also attracted major investment in new hotels and refurbishments, had extremely aggressively worked to establish a framework for hedge fund administration to complement its existing banking businesses. That became the backbone of their success in the 1990s and 2000s." He added that the Governor of Cayman, backed by the UK government, had refused to sign off on a bill to allow the Caymanian government to borrow more money unless it made major reforms. "It wasn't as though the islands' representatives sat around the table and said 'we have got to cut back'. We have the OBA which is trying to cut back, but not at the pace of the Caymans and an Opposition party which believes Bermuda would be better off not cutting back. We should be actively seeking foreign direct investment to stimulate the economy and construction jobs. And we should be looking to remove any barriers to foreign business setting up in Bermuda and then, obviously, continue to rationalize Government services to make them as efficient as possible."
March 31. Endurance Specialty Holdings Ltd has agreed to acquire fellow Bermuda-based reinsurer Montpelier Re Holdings Ltd in a $1.83 billion deal. The new combined company will be run by Endurance's senior management team from its headquarters in Waterloo House on Pitts Bay Road, Endurance said in a statement today. Endurance chairman and chief executive officer John Charman said the acquisition represented a good deal for his company's shareholders, and would add a Lloyd's of London franchise and a third-party capital management business to the company. The cash-and-shares deal is worth $40.24 per Montpelier Re share and Montpelier shareholders will own just under a third of the combined company. Both boards of directors have unanimously approved the merger and Montpelier Re's largest shareholder, Charlesbank Capital Partners, has agreed to vote in flavour of the deal, which is expected to close in the third quarter of this year. Between then the two companies wrote $3.6 billion in premium last year. Endurance expects the efficiencies created by the deal to result in annual cost savings of about $60 million. There was no word on how many jobs may go in Bermuda, where Montpelier employed 67 people as of last summer. According to reports by The Insurance Insider, the deal is the culmination of an auction process and other bidders including Aspen, Hamilton Insurance Group and the Chinese group Fosun. "Endurance's strategic acquisition of Montpelier represents a compelling value creation opportunity for Endurance's shareholders, with accretion to earnings per share and return on equity," Mr Charman said. "As a result of the transaction, we expect to achieve meaningful transaction synergies through cost savings and greater capital efficiencies. Importantly, the acquisition materially increases our breadth of distribution with the addition of a good-sized and scalable Lloyd's platform and an attractive property catastrophe business that complements our existing reinsurance portfolio. The acquisition also provides Endurance with a natural introduction to the business of managing insurance and reinsurance investment products for third-party capital investors. Montpelier's historic high-quality portfolio reflects a disciplined approach to underwriting that is consistent with Endurance's strong risk management and underwriting culture." Endurance will pay $9.89 in cash and 0.472 shares of Endurance for each Montpelier share. The total consideration is $450 million in cash and approximately 21.5 million Endurance shares. The cash portion of the consideration will be funded through a pre-closing dividend paid by Montpelier to its common shareholders. Endurance common shareholders' equity will increase from $2.8 billion to $4.1 billion, while total capital will rise from $3.7 billion to $5.5 billion, and total cash and invested assets will increase from $6.7 billion to $9.3 billion on a pro-forma basis. Montpelier CEO Christopher Harris said: "This transaction with Endurance provides significant value for Montpelier shareholders through upfront cash and an equity interest in a combined Endurance with enhanced scale, greater market presence and substantial product and geographic diversity. The combination of our balance sheets, our diverse underwriting platforms and high-quality books of business is a compelling opportunity for our shareholders, customers and distribution partners." The Endurance board will be expanded when the deal closes to include three of Montpelier's current directors. Consolidation is sweeping across the reinsurance industry and Bermuda has been the epicenter of mergers and acquisition activity. RenaissanceRe has completed its merger with Platinum, while XL-Catlin and Axis-PartnerRe mergers have been agreed. Endurance's financial advisors in connection with the transaction are Morgan Stanley and Jefferies, and its legal counsel is Skadden, Arps, Slate, Meagher & Flom. Montpelier's financial adviser in connection with the transaction is Credit Suisse Securities (USA) LLC, and its legal counsel is Cravath, Swaine & Moore. In Bermuda, Appleby also advised Montpelier.
March 31. The defending America's Cup champions today started arriving in Bermuda, with cargo for Team Oracle being unloaded in Dockyard. Multiple custom containers, each more than twice the size of a normal 20ft container, as well as high-speed support boats and equipment, were delivered by the MV Oleander, according to a statement released by Neptune Group Management. "Following the discharge of this week's refrigerated and dry containers and roll-on/roll-off cargo in Hamilton, BCL's vessel, the MV Oleander, initiated the delivery of Oracle Team USA's base camp from San Francisco to Dockyard," the statement said. "The containers were lifted and the trailers were driven off the Oleander in Dockyard. When BCL was asked whether shipping to Bermuda from around the world was possible, BCL communicated that Bermuda could compete with any global destination and that BCL would do its part to help Bermuda with its bid. BCL offered attractive service and price features to the America's Cup organizers and syndicates enabling seamless, cost-effective shipping to Bermuda from around the world." The Oleander has been providing weekly service from Port Elizabeth, New Jersey, since 1979 and this week marks its 1,800th voyage to the Island.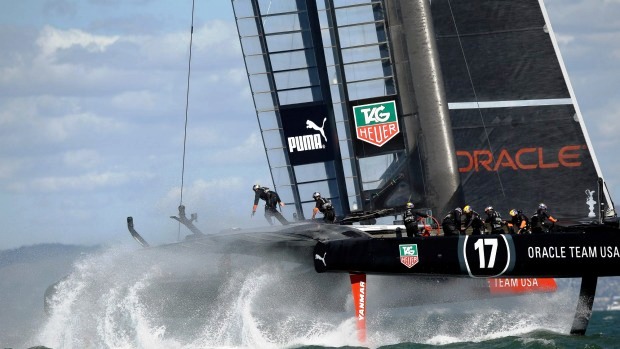 History & daily newspaper reports
Authored, researched, compiled and website-managed by Keith A. Forbes.
Multi-national © 2020. All Rights Reserved