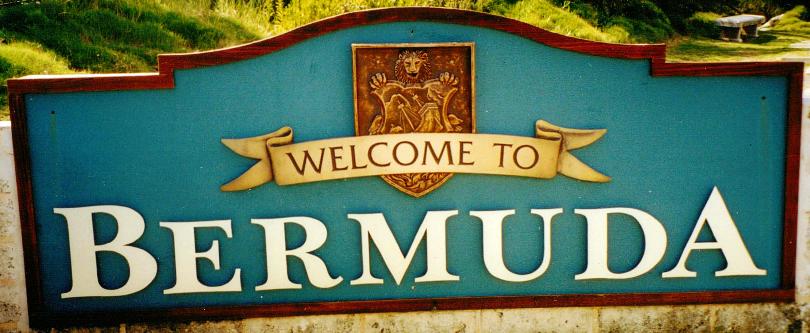 Click on graphic above to navigate the 165+ web files on this website, a regularly updated Gazetteer, an in-depth description of our island's internally self-governing British Overseas Territory 900 miles north of the Caribbean, 600 miles east of North Carolina, USA. With accommodation options, airlines, airport, actors, actresses, aviation, banks, beaches, Bermuda Dollar, Bermuda Government, Bermuda-incorporated businesses and companies including insurers and reinsurers, Bermudians, books and publications, bridges and causeway, charities, churches, citizenship by Status, City of Hamilton, commerce, communities, credit cards, cruise ships, cuisine, currency, disability accessibility, Devonshire Parish, districts, Dockyard, economy, education, employers, employment, environment, executorships, fauna, ferries, flora, former military bases, forts, gardens, geography, getting around, golf, guest houses, highways, history, historic properties, Hamilton, House of Assembly, housing, hotels, immigration, import duties, internet access, islands, laws, legal system and legislators, main roads, marriages, media, members of parliament, money, motor vehicles, municipalities, music and musicians, newcomers, newspaper, media, organizations, parks, parishes, Paget, Pembroke, performing artists, residents, pensions, political parties, postage stamps, public holidays, public transportation, railway trail, real estate, registries of aircraft and ships, religions, Royal Naval Dockyard, Sandys, senior citizens, Smith's, Somerset Village, Southampton, St. David's Island, St George's, Spanish Point, Spittal Pond, sports, taxes, telecommunications, time zone, traditions, tourism, Town of St. George, Tucker's Town, utilities, water sports, Warwick, weather, wildlife, work permits.

Bermuda's 2017 January History and Newspaper Reports
Events that made newspaper headlines in the first month of this calendar year
By Keith Archibald Forbes (see About Us)

See end of this file for all of our many History files
Bermuda's Royal Gazette newspaper is not published on Sundays or Public Holidays.
January 31. The Canadian Consulate has issued a message of solidarity to Canadians in Bermuda and around the world in light of the mosque shooting in Quebec City that claimed the lives of six people. According to the consulate an estimated 3,000 to 3,500 Canadians are living in Bermuda. Juan-Pablo Valdes, head of advocacy and communications for the Consulate General of Canada in New York, told The Royal Gazette: "Our message to Canadians in Bermuda is the same as our message to Canadians in Canada and the rest of the world: we grieve with you. We are grieving together as Canadians at this tragic event and this tragic loss of life. We condemn it in no uncertain terms and we reiterate that senseless acts of violence have no place in our communities or in our country. We grieve together with the Canadian community in Bermuda and everywhere — we are together and will remain together." Mr Valdes added: "Not surprisingly we were completely distraught, shocked and saddened when learning of the fatal shooting in Quebec City. We echo our Prime Minister's [Justin Trudeau] comments in condemning this terrorist attack on the Muslim community in the centre of worship and diversity. Religious tolerance are values that we in Canada hold dear and this is an attack on that. We are distraught and saddened and angered by it."
January 31. Chris Furbert, president of the Bermuda Industrial Union, emphasized at a press conference this afternoon that no meetings had been held to determine whether a protest would take place regarding Government's airport development project. Parliament is set to reconvene this Friday, with two pieces of legislation relating to the project to go before MPs. The debate has been on hold for two months in the wake of protests by the People's Campaign group, which culminated in a clash with police at the entrance to Sessions House. Asked if the BIU planned to hold a general council meeting before Friday, Mr Furbert said the decision lay with the executive board to call one tomorrow or on Thursday "if they're interested". He would not comment in his People's Campaign capacity. Mr Furbert accused Bob Richards, the Minister of Finance, of a "completely false" statement when he said the Government had been transparent and collaborative on the transaction. "The only reason why the minister has decided to be a bit transparent is because of the challenges from the People's Campaign, the PLP, Move and the protest that took place on December 2," Mr Furbert said — questioning the assertion by Mr Richards that MPs would not be voting for "for or against the project". The union head also disputed Mr Richards' statement that all options had been considered — and charged that business organisation had only supported the airport development because it had been put forward by a One Bermuda Alliance administration. Mr Furbert took issue with a range of recent statements by both Mr Richards and Michael Dunkley, the Premier. He also noted statements in 2009, when Mr Richards was the Shadow Minister of Finance, in which he was highly critical of public-private partnerships in the context of the new acute care wing for King Edward VII Memorial Hospital, saying they generally added extra cost and there was "no such thing as a free lunch". Mr Furbert charged that, while the Government had defended the airport PPP as a way of avoiding adding debt, "the OBA Government has doubled debt in four years".
January 31. Parliament's debate on two pieces of legislation pertaining to the airport redevelopment project has been postponed by one week, according to Randy Horton, the Speaker of the House. MPs were due to return to the House of Assembly on Friday, taking up the legislation that was suspended on December 2 after protesters blocked the gates of Sessions House. Parliament will indeed resume on Friday, Mr Horton said, but will proceed with other legislation, allowing MPs extra time "to read through and consider the Draft Project Agreement in advance of the debate". Mr Horton said that he had hosted a discussion yesterday between Bob Richards, the Acting Premier and Minister of Finance, and David Burt, the Leader of the Opposition and Shadow Minister of Finance. He said the aim was to "chart a way forward for debate on the Airport Development Concession Act 2016 and the Bermuda Airport Authority Act 2016". Mr Horton added: "Both pieces of legislation relate to the redevelopment of LF Wade International Airport. The Government, Canadian Commercial Corporation and Aecon have agreed to release and to provide hard copies of the Draft Project Agreement to all parliamentarians in advance of the legislation's debate in the House of Assembly." That debate is now set for February 10, allowing MPs "sufficient time". The move means that the Budget Statement has been pushed back a week to February 24, with the Opposition now expected on March 3. Since the Budget must be approved by March 31, the Committee of Supply debate may have an extra session to meet that deadline, Mr Horton said. "We look forward to healthy, robust and respectful debate when the House resumes its business on Friday," he said. It came not long after a police press conference to address the possibility of protests on Friday was cancelled. The announcement came as a police press conference on any protests to be held on Friday was cancelled. Meanwhile, David Burt, Leader of the Opposition, said that Progressive Labour Party MPs had not received "critical financial details" about the project despite assurances from Mr Richards. He reiterated calls for full disclosure of all contract details before the debate in the House. Bob Richards, the Minister of Finance and Acting Premier, said the rescheduling would allow Opposition MPs more time to review documents related to the project, but challenged the criticism of the Opposition. "Despite this unprecedented level of transparency, the Opposition Leader continues to cry foul even though he is in possession of virtually every detail of the draft agreement and relevant project information," he said. "I would simply urge him to get focused on the project, not the politics, so we can move Bermuda forward. The decision to reschedule the debate to February 10 followed a series of meetings this week and last with the Speaker and the Opposition Leader to calm community tensions before the resumption of Parliament."
January 31. The Bermuda Environmental Sustainable Taskforce is hoping to fight off its financial troubles by collaborating with fellow environmental watchdog Greenrock. President Stuart Hayward, who said he had been uplifted by the community reaction since BEST revealed its cash shortage at the end of last week, believes joining forces with Greenrock could help balance the books by sharing the burden of some expenses. The two organisations have been in talks under the Centre on Philanthropy's Collaboration Initiative, which aims to help cash-strapped groups pool their resources during the economic crisis. Mr Hayward told The Royal Gazette: "There's already a degree of collaboration but we are very willing to explore if there's room for further opportunity. This is not something that non-profit organisations do very often in Bermuda, but the Centre on Philanthropy will assist in helping us understand what's possible. There may be greater sharing we can do." Jonathan Starling, executive director of Greenrock, said: "Greenrock and BEST have a long history of working together and collaborating, and we are excited about the opportunity presented by the Centre on Philanthropy to explore options for closer collaboration. "At the moment we don't know where this will lead, nor do we have a set timeline, but we believe that it is worth exploring opportunities to build on existing collaborations between our two organisations. Charitable funding is both less available and under greater demand than in the past and we are exploring every avenue to ensure that our work on environmental sustainability continues. It is evident that streamlining charities with so many common objectives makes sense. As our conversations proceed we are optimistic that the outcome will be beneficial for both organisations, our stakeholders and our island community as a whole but it is far too early to assess exactly how that outcome may look." Last week, BEST chairwoman Gail Miller wrote to the organisation's supporters, pleading for donations so it can continue operating while it considers its options. Donations have fallen during the economic downturn, BEST said, leaving it struggling to pay consultancy fees and for office space. Reflecting on the community reaction to the news, Mr Hayward said yesterday: "We have received numerous reach-outs ranging from those wishing us well, to offers of office space at reduced rates, to donations of varying sizes. "Most encouraging has been the outpouring of validation for the watchdog role we have in the community, especially for the courageous yet level-headed stances we have taken, sometimes against seemingly overwhelming odds. It has been comforting to know that we are appreciated not only for what we do but also for the way in which we go about doing it. We will now have to regroup, become even leaner in our operational expenses — if that's possible — and put additional effort into building strong new relationships and strengthening even further the existing relationships between BEST and the generosity of the people in the community we serve. There is no doubt that given Bermuda's limited size and the exquisite combination of mostly friendly people, unmatched beauty and glorious weather, the pressure for additional terrestrial and marine development will persist and likely increase. If not BEST, there will still be a need for friendly but tenacious entity to monitor, analyze and advocate for the preservation of those environmental assets that make Bermuda so attractive in the first place. We are taking the initial outpouring of words and actions of support as a welcome validation and endorsement of BEST. We will do our best to continue to earn that support."
January 31. The City of Hamilton has partnered with the Bermuda Heart Foundation to promote heart health. As part of February's Heart Disease Awareness Month, the city will be hosting the 'My City Heart' Instagram contest. Through the contest, people can take a picture with a large heart cut-out that will be placed on the lawn of City Hall. They can then post the picture on Instagram, with the person who earns the most likes winning a prize. Sionna Barton, Marketing and Development Manager at the Bermuda Heart Foundation, said: "This February is Heart Disease Awareness month, and we are encouraging everyone on island to be proactive about their heart health. "A sedentary lifestyle may increase the risk of heart attack almost as much as smoking. We need Bermudians to adapt easy-to-embrace ways to significantly lower their risk of heart disease and improve their heart health. "Get active. You don't have to join a gym or run in a 5K. Start small by incorporating physical activity into your daily routine more and more: Take the stairs instead of the elevator, park at the farthest end of the parking lot or use your lunch break to take a quick walk." Meanwhile, mayor Charles Gosling said the corporation was excited to help raise awareness of heart disease, the leading cause of death for men and women in Bermuda. "We sincerely hope that everyone will participate and have some fun while educating themselves and making a difference," he added.
January 31. A satellite study of the island's Exclusive Economic Zone has revealed little evidence of illegal fishing, according to the Ministry of the Environment. A statement by the ministry said that they had recently received a preliminary analysis of three years worth of Automatic Identification System (AIS) data, which showed the probability of illegal fishing was low. The study was carried out by Satellite Applications Catapult, a UK based company, who reviewed data collected between 2013 and 2016. The data was collected inside Bermuda's 200 nautical mile exclusive economic zone and a surrounding 100 nautical mile buffer zone, which constituted the Bermuda Area of Interest. The study was funded by Aurum Fund Management Limited — a Bermuda based investment manager. A ministry spokeswoman said: "Catapult analyzed AIS signals broadcast from commercial vessel over 300 gross tons as well as fishing and pleasure vessels. Vessel identification, distribution and speed were examined to determine likely fishing activities in an area. "Preliminary results show that there are no strong seasonal or spatial trends in AIS activity that could potentially be associated with illegal fishing. A total of 12,700 unique vessels were identified during the three-year review period." The spokeswoman noted that any foreign vessel that was convicted of fishing illegally in Bermuda waters faces a fine of up to $1 million and confiscation of both the vessel and the fish. Cole Simons, Minister of the Environment, described the report as welcome news, thanking Aurum Fund Management for funding the study. "This analysis gives us a much deeper understanding of what is happening in our Exclusive Economic Zone," Mr Simons said. "The Department of the Environment and Natural Resources, guided by the Marine Resources Board, will now review the report and propose recommendations for the appropriate level of monitoring needed to confirm suspicious fishing activity within our EEZ going forward. "Ultimately, we want to conserve Bermuda's resources for Bermuda's sustainable use." Meanwhile, Dudley Cottingham, president of Aurum, said that the company had made marine stewardship a high priority and supported several conservation projects since being founded in 1994. "We believe that Bermuda is uniquely placed to play a leading role in marine conservation," he said. "Preliminary results show that this is good news for Bermuda and the study provides an important benchmark that can be used when analyzing future activity."
January 31. A new educational award worth a total of $90,000 is to be set up to mark the 40th anniversary of the Association of Bermuda International Companies education scheme. The ABIC Educational Awards Alumni Award will be funded by a "give back" campaign which aims to raise $30,000 a year for three years to fund mature students who want to change to a career in international business. Patrick Tannock, chairman of ABIC and an ABICEA recipient, said: "As part of our celebration of the anniversary we have invited ABICEA alumni to contribute to this special award that will help mature individuals, who are interested in upgrading their skills sets so that they remain relevant in an ever-evolving, highly-competitive global marketplace, to pursue new educational and career goals. "Through the ABICEA give back campaign we plan to raise funds directly based on financial donations from our alumni, many of whom have excelled in their professions and have made significant contributions to the island's business sector." A spokeswoman for ABIC added: "The award is designed to attract mature students who can demonstrate a successful employment history and wish to retrain for a career in international business or for those who have plans to pursue an undergraduate degree leading to a career in international business." Since the ABIC awards scheme was set up in 1977, more than 570 students have benefited, with in excess of 60 per cent of recipients working in international business and support services, many at executive and senior management level. Applications for this award have a closing date of April 7.
January 31. Retail sales hit $96.4 million last November — a 4.9 per cent increase on the $91.9 million for same month in 2015. All sectors in the Retail Sales Index survey experienced increases, with the exception of clothing stores, where sales revenue declined slightly by 0.7 per cent. The biggest winners were building materials stores, which saw sales go up by more than a fifth. Overseas shoppers declared $6.2 million in purchases, a drop of 4.8 per cent on the $6.5 million declared in November 2015, giving a combined spend for the month of $102.6 million. After adjustment for inflation, which stood at 0.9 per cent last November, the volume of sales went up by 4 per cent. November is an important month for retailers, as it includes the Black Friday push to launch the holiday shopping period with a flurry of deals. The 20.9 per cent increase in receipts from building materials was attributed to improved inventory and a higher demand due to residential projects. When adjusted for inflation, the building materials sales volume increased by 12.1 per cent. Motor vehicles sales also registered a large increase — up 15.3 per cent compared to the same period two years ago, although with inflation taken into account, the sales volume increased by 14.5 per cent. Sales of fuel at service stations also went up, by 4.9 per cent. After adjustment for inflation, the figure was 4.6 per cent. Receipts in the liquor and food store sector also rose, up 4.3 per cent and 3.6 per cent respectively. But the sales volume of liquor stores declined by 1.1 per cent compared to November 2015, while food stores sales volume went up by 2.1 per cent. The all other stores types category, which includes pharmacies, furniture shops, marine and boat suppliers, furniture stores and electrical and appliance outlets, registered a 3.2 per cent increase in sales receipts for the period. Pharmacies reported an 11 per cent gain in gross receipts and furniture, appliances and electronics showed a 1.7 per cent increase. Marine and boat suppliers experienced an 11.9 per cent drop in sales. Although clothing stores saw a small drop in sales revenue, after adjustment for inflation, the sales volume for the month increased by 6.7 per cent.
January 31. Bermuda's national bird will be showcased to an international audience after LookBermuda's award-winning Nonsuch Expeditions CahowCam project teamed up with the Cornell Lab of Ornithology. Cornell has an extensive network of live streaming cameras and an audience of millions of viewers. The partnership will allow LookBermuda, a local production company with an emphasis on education and research, to bring a renewed focus on the cahow conservation efforts in Bermuda starting with the 2017 cahow nesting season. Now in its fifth season — the Nonsuch Expeditions CahowCam is broadcasting live and allowing people to see the birds' behaviors undisturbed and as never seen before. The Cornell Lab's Bird Cams project leader, Charles Eldermire, said of the partnership: "Given their precarious future and their out-of-sight lifestyle, the cahows seemed like a perfect fit for the bird cams. "The previous efforts and expertise of the Nonsuch Expeditions team made us even more confident about the opportunity that this partnership presented." Cole Simons, the Minister of Environment, Planning and Parks, added: "This collaboration with The Cornell Lab of Ornithology brings the World Wide Web of viewers to Bermuda on a daily basis to witness, as Jane Goodall characterized the project — 'a reason for hope' — an ongoing successful conservation and restoration project, which is a rarity in today's world. "Fifty years of care and commitment by the Bermuda Government, scientists, donor partners and the people of Bermuda can now be witnessed, through cutting-edge communications technology pioneered here in Bermuda through LookBermuda. This allows us to demonstrate our commitment and success to the world. It heralds a new era of international partnership for Bermuda, and is an example of co-operation that is needed across all of the natural resource management challenges we face today. With the right partners and level of commitment, hopefully they can all be as successful and promising as the Nonsuch Island cahow project." The birds' underground nesting chamber is lit by a custom-built 940 nanometer military grade infrared lighting array in an award-winning design by LookBermuda for the Nonsuch Expeditions project. The system has been upgraded to include a side-view camera angle. Jean-Pierre Rouja said: "This design is proving to be even more effective with this season's camera upgrades. The new camera was installed underground and drilled through the limestone side of the nesting chamber. Head Terrestrial Conservation Officer Jeremy Madeiros and I spent a few days over the Christmas break excavating around the underground burrow, and in the end used a chainsaw to cut a vertical shaft in the limestone alongside the chamber, then drilled a shaft into the chamber to give the new camera a nest-level view into the nest."
January 31. A police press conference regarding the scheduled reconvening of parliament on Friday was hastily cancelled this afternoon. It was expected that Commissioner of Police, Michael DeSilva, would address the potential for another protest regarding the airport redevelopment deal. However, no explanation was given for the cancellation which came only 20 minutes before the conference was set to begin. It was the second press conference cancelled today with the PLP calling for a meeting with the media, regarding the airport project. That, too, was called off this morning.
January 31. Island-based Validus Holdings has splashed out $127.5 million to buy up a US specialist crop insurer. The firm and American Archer Daniels Midland Company have struck a deal for Validus to take over its Crop Risk Services arm, based in Illinois. CRS wrote $548 million in gross premiums last year and has more 1,100 agents in 36 US states. Ed Noonan, Validus chairman and chief executive officer, said: "CRS is a high-quality crop insurance provider that has achieved excellent growth in recent years. "Validus will benefit from CRS's commitment to provide superior customer service to agents and farmers via their leading technology capabilities. The addition of CRS complements Validus' existing agriculture book and participation in this market is a logical step as Validus continues to expand our presence in US primary specialty lines. We are excited by the long-term partnership with ADM as this transaction further provides the unique opportunity of a marketing services agreement with one of the largest agricultural processors in the world." Joe Taets, president of ADM's agricultural services business unit added: "We're pleased to have reached an agreement that includes a marketing services agreement that will allow ADM and Validus to work together to continue to offer customers a full array of crop insurance products as well as ADM's grain marketing services. We are pleased to have found a buyer in Validus that is committed to running — and growing — the business, and we look forward to continuing to work with Validus and the CRS sales team and their customers across the country." Validus, which will fund the acquisition with cash on hand, said its new arm would operate as part of the Western World Insurance Group after the closure of the deal, expected in the second quarter of this year.
January 30. The Bermuda Government has remained tight-lipped over whether controversial Public Service Commission Regulations, which critics claim will politicize the body, will be taken off the table. The Royal Gazette has repeatedly asked the Government to clarify the status of PSC Regulations after senior civil servants demanded the 2016 amendments be revoked this month. Yesterday afternoon, a spokeswoman said: "The Cabinet Office is aware of the concerns raised by the Bermuda Public Services Union. At this stage, the matter continues to be under review." On January 12, the BPSU claimed that Michael Dunkley, the Premier, had stated the regulations were published in error "on at least three occasions" and that they would be revoked. The union's statement also called for "full transparency and openness" in the revocation process. "The permanent secretaries and heads of departments are eager to have this matter resolved quickly, and call on the Governor and the Premier to address the revocation order immediately," a BPSU spokesman said. "More than a month has passed since the PSC Regulations were gazetted and to date Bermuda citizens have not seen the revocation order." Previously, former senior civil servant and cabinet secretary Donald Scott expressed concern at the 2016 regulations, which was in turn echoed by the Progressive Labour Party. Mr Scott stated in a letter that the regulations would extend the role of the Public Service Commission from an "impartial appointing authority" for senior civil servants to a "politicised semi-executive body" that will set performance goals for senior civil servants. "The change is so fundamental it raises the question of whether the Governor is stepping beyond the authority given to him by the Constitution," he wrote. But not everyone is against the new regulations: Tom Conyers, the former chairman of the Measurement and Metrics Committee of the Sage Commission, insists that the changes are needed. "The changes are quite simple," Mr Conyers said. "The amendments would make the cabinet secretary and the permanent secretaries accountable to the Public Service Commission for their performance. Are the amendments required? Absolutely. One need look no farther than the work being done by the Commission of Inquiry into the Auditor-General's Report for the years 2010 to 2012 to see that the prior institutional arrangements were unable to prevent widespread political interference and inadequate control over spending of the public's money. It is simply not acceptable to continue the old arrangement where the cabinet secretary, who holds both the offices of Secretary to the Cabinet and Head of the Civil Service, and to whom the civil and public service are accountable, is, himself, accountable to no one. A reformed Public Service Commission, with the cabinet secretary being responsible to them in respect of the efficiency and effectiveness with which he and the civil and public service carry out the mandate set out by the Government of the day is sensible, reasonable and critical to Bermuda's long-term well-being."
January 30. Construction work on upgrades to the St George's Harbour shoreline has got under way in preparation for the return of regular cruise calls to the town this summer. The redevelopment project will include a major facelift of Hunter's Wharf to accommodate the two new Norwegian Cruise Lines ferries that will bring visitors to the East End from Dockyard as well as improvements to Penno's Wharf. Mayor Quinell Francis told The Royal Gazette that crews had made good progress and that work was anticipated to be completed by the end of March in time for the first cruise arrival on April 6. "Crisson Construction started work on January 16 and so far it is going well," Ms Francis said. "The work on Hunter's Wharf is to restore the sea wall that was destroyed by Hurricane Fabian. This wharf is going to be the new location for the ferries and the NCL tender." The $2 million project will also involve extensive improvements to Penno's Wharf, including bollard replacements, refendering and dock resurfacing. "Work on both Hunter's Wharf and Penno's will be completed by the end of March," Ms Francis added. "The project has been funded thanks to a $1.4 million grant from the Government, while the Corporation is putting forward the rest of the budget. While work is ongoing we would remind people that they cannot park in this area. If you are visiting the restaurants and shops in the west of the town, you should park in Tiger Bay, while if you are in the east of the town you should park in King's Square of Market Wharf." Twelve extra cruise ships are to call on St George's each year from 2017 to 2022 as part of a deal between the Government and Norwegian Cruise Lines. The agreement also includes bringing two catamaran ferries to the island for the run from Dockyard to the East End, along with a yearly investment of $150,000 by NCL to sponsor tourism enhancement in co-operation with the Bermuda Tourism Authority.
January 30. The lawyer for a gay couple fighting for the right to marry in Bermuda has urged the court to write the final chapter in the protection of gay rights. Mark Pettingill, acting on behalf of Bermudian Winston Godwin and his Canadian fiancé, Greg DeRoche, told the Supreme Court that the Human Rights Act took primacy in Bermuda and protected his clients' rights to marry. Mr Godwin and Mr DeRoche have brought a civil case against the Registrar-General for rejecting their application to marry. They are seeking an order from the Supreme Court to compel the Registrar to post their marriage bans, in accordance with the Marriage Act. They also want a declaration that same-sex couples are entitled to be married under that law. This morning, Mr Pettingill addressed Judge Charles-Etta Simmons before a packed courtroom of more than 60 people at the beginning of the case. He said the case encapsulates "the right to happiness, the right of all people to seek love and happiness", adding: "The applicants say that religious arguments bear no relevance on civil contractual marriage. This is a matter of statutory interpretation." In his opening address, Mr Pettingill also questioned why the Attorney-General and the Minister of Home Affairs were named as respondents in the case. "I don't understand how the respondents are even here," he said. "There are three respondents listed: one [the Registrar-General] has withdrawn his position, and the other two have supported the applicant's position. I understand it's politics and a lot of heads can get stuck in the sand but this is a court of law. These two respondents [the Attorney-General and Minister of Home Affairs] objected and voted against provisions that would override the primacy of the Human Rights Act. Why are we here?" Describing the referendum on same-sex marriage and civil unions as "folly" Mr Pettingill added: "It's a minority rights issue. It is time for the courts fully armed with the legal protection of the Human Rights Act to write the final chapter in the protection of the rights of gay people of secular orientation and all the rights that everyone enjoys to be the same." Mr Godwin, who was in court for today's proceedings, wore a T-shirt saying "Some dudes marry dudes. Get over it." Mr Pettingill insisted that the primacy of the Human Rights Act protected his clients' right not to be discriminated against on the basis of their sex or sexual orientation. He said: "It is not just about Bermuda, it is about right thinking countries and people now at least embracing this concept, and in embracing this concept we cannot in Bermuda operate in a vacuum or create artificial arguments to obviate the position in human rights. The law is clear." Preserve Marriage, which has campaigned to maintain marriage as between a man and a woman, has been allowed to join the case as an "intervener" in the proceedings. The group is represented by Delroy Duncan, and the defendant by the Attorney-General's Chambers. The case, which is expected to last several days, is taking place in Court Four of the Dame Lois Browne-Evans building before Judge Charles-Etta Simmons. Those in attendance include the Progressive Labour Party MP Wayne Furbert, an outspoken opponent of same-sex marriage, and Tony Brannon, who has been at the forefront of the campaign in favour.
January 30. Wayne Furbert has said he will bring amendments solidifying marriage as between a man and a woman back to the House of Assembly as the debate over same-sex marriage prepares to return to the courts. Speaking last night at a prayer rally organised by Preserve Marriage on the eve of a court hearing on the subject of same-sex marriage, the Progressive Labour Party MP said he would continue to push the amendments forward. "I don't know what the courts will do, but I will bring it back in June," he said to applause. Urging the hundreds at the rally to speak to their representatives in the House about their views, he said: "Don't give up the fight. Don't think this is over. The battle is not over." Mr Furbert originally tabled amendments to the Human Rights Act to limit marriage as between a man and a woman last year. The amendments were approved by the House of Assembly, but later rejected by the Senate by a vote of six to five. The comments came less than 24 hours before Bermudian Winston Godwin and his Canadian fiancé, Greg DeRoche, are set to appear before the courts to fight for same-sex marriage. The couple have brought a civil case against the Registrar-General for rejecting their application to marry, claiming the refusal breaches the Human Rights Act. They are seeking an order from the Supreme court to compel the Registrar to post their marriage bans, in accordance with the Marriage Act. They also want a declaration that same-sex couples are entitled to be married under that law. Preserve Marriage, which has campaigned to maintain marriage as between a man and a woman, has been allowed to join the case as an "intervener" in the proceedings. Mr Godwin and Mr DeRoche are represented by Mark Pettingill, with the Attorney-General's Chambers for the defendant. Speaking last night, Mr Pettingill said that the case was expected to last several days in court as both sides present their arguments, stating the courts might not make a final decision this week. "We are saying that as the law stands it's lawful for same sex couples to seek a marriage licence," he said. "We have a very strong, arguable case on the face of the law." While a ruling in the favour of his clients would open the door for other same-sex couples to apply for marriage licences, he said he would potentially seek an appeal if the decision goes against his clients.
January 30. Harvard's Hasty Pudding Theatricals is set to return to the island in March, continuing a 52-year tradition. This year's musical production, Casino Evil, will bring the all-male cast to 1930s Nevada for comedy, singing and the HPT brand of chaos. A spokeswoman for the theatre company said: "The show follows a crew including senile sharpshooter Grannie Oakley and her Oz-tounding granddaughter Ruby Slippers as they fight to Western saloon town afloat against Al Calzone and his nasty new casino." Formed in 1844, HPT have put together 169 original productions, with Bermuda serving as the last stop on the tour since the 1960s. Amira Weeks, tour manager for HPT, said: "The actors and crew would tell you that our trip to Bermuda is what they most look forward to every year. This year we are especially excited to be staying at the beautiful Elbow Beach resort. First-time Pudding show watchers will be astounded by standout singing, a laugh-out-loud script, colorful and expertly designed costumes and set pieces, and an incredible ten-piece live band. Not to mention, the kick line dance number that ends every show will leave you astonished at how high our all-male cast can kick. It's a must see." Casino Evil will be performed at Earl Cameron Theatre at City Hall March 15, 16 and 17 from 8pm to 10pm. Tickets cost $20, and are available at bdatix.bm.
January 30. Jahni Outerbridge, a popular resident of Cedar Park in Devonshire, was identified by police yesterday as the victim of a fatal shooting on Sunday night outside the Mid-Atlantic Boat Club. Recalling him as sociable and free-spirited, regulars at the establishment gathered last night for their usual congenial evening — and said the incident, which is being investigated as a murder, reflected nothing of their club's welcoming atmosphere. "I was at the bar and I didn't hear anything," said one man, who had been drinking with Mr Outerbridge. "All of a sudden I just saw everybody acting weird. My boy was out laying on the ground." He called him "a guy that was loved from Somerset to St George's". The 31-year-old was shot at about 11.20pm in the parking lot of the venue on North Shore Road, Devonshire, on a night when police said that about 50 patrons were gathered. He was taken to King Edward VII Memorial Hospital, where he was pronounced dead. "Bermuda has lost another man at the hands of senseless, unscrupulous young men," Acting Detective Inspector Kenten Trott said, calling for anyone who might have been in the parking lot at the time to contact the authorities. The assailant "arrived and left on foot", he said. Police also wish to speak with anyone who drove along North Shore Road from the western part of Spanish Point to Barkers Hill roundabout between 11pm and 11.30pm — as well as anyone who came into contact with Mr Outerbridge on Sunday. Asked if there were suspected gang links to the shooting, Mr Trott said: "It's very early in the investigation; it's too early to call that at this time." Mr Outerbridge's death marks the first murder of 2017, and the year's second firearms incident. It is also the second time that someone has been shot dead in the parking lot of the club: in October 2012, Michael Phillips lost his life there. A second man fired several shots inside the club, sending patrons scrambling for cover. That incident came a month after a 29-year-old man was injured in a shooting there, while Julian Washington was shot and injured in the car park in August 2010. The club, which last night held a meeting of its executive, responded in 2012 by ramping up security, including bringing in swipe cards at the door. Security guards were keeping watch over the doors on Sunday night. "It's a welcoming place," a female member of the club's committee told The Royal Gazette. "It's very diverse, and it's just unfortunate that this happened here on our property, but we have measures in place. It's a members' club and I don't want anybody thinking it's not safe. This was not anybody who hung at the boat club." Patrons said they believed Mr Outerbridge had been followed to the premises by his assailant. "What's sad is the boat club had just built back up again after what happened," one man said, referring to Mr Phillips's death. "We had just started to get over the hump." Mr Outerbridge had dropped in for the Sunday Fun Day, said a woman who described him as "the life of a party — if you wanted know where the party is, you'd call Jahni". "This guy's death has had a lot of people react — you can see the outrage, the love," another man said. "It affected people everywhere. He was free spirited, a joker, and he got around with everybody." He added: "I wasn't even going to come tonight. But I felt a need to." According to Mr Trott, CCTV cameras were in operation on North Shore Road. "Another mother and father now have to bury their son, and the extended family and friends of Jahni are grieving," he said. "Jahni truly has gone too soon and as a community we are calling on you to help ensure that justice is served and that Jahni's family have closure."
January 30. Scott Ciscon first fell in love with Bermuda while working on a cruise ship. "In 1997, the Song of America docked in Hamilton weekly during the summer months," he said. "I was singing in one of the on-board productions. Between the beaches and the golf and the fact that I was in my 20s and had a few days off every week to spend exploring the island, it was a like being on a constant holiday," he said. But when the gig was up, he never returned. "It was a different time in my life," said the 44-year-old. But he never forgot Bermuda. When he heard about the Bermuda Festival, a few years ago, he was determined to get his singing group Tenors Un Limited on to the programme. The UK group perform worldwide. "I always keep a look out for new venues, festivals, and so forth for us to perform," he said. "I had a look at what's on during the festival and thought that our show would fit in well in the line-up." But it took a few years. "Somehow the timing was never quite right," Mr Ciscon said. But next month it is finally happening; Tenors Un Limited will perform in the festival. "I am so excited," said Mr Ciscon. The group, consisting of Mr Ciscon, Paul Martin and Jem Sharples, calls themselves "the rat pack of opera". They are a "classical-crossover man band" with a rich selection of much-loved classic hits from opera, musical theatre and pop. But Mr Ciscon confessed that some fans have jokingly referred to them as a "dad band". The label is accurate as they all have young families. Mr Ciscon has two children, ages 7 and 9, in Brighton, England. "We try to do three weeks of touring, four at the max, and then we come home to spend time with our families," he said. "Luckily, we have pretty understanding wives and children." Mr Ciscon was raised in Chicago, Illinois. "We've all been singing since we were kids," said Mr Ciscon. "I did shows in high school and was in the choir." But he didn't take it very seriously, at first. He went to the University of Illinois to study mechanical engineering. "Engineering didn't go so well," he said. He was more interested in performing with a university A Cappella group. In the end, he graduated with a liberal arts degree. While still in university he tried out for Totally Television, a stage show at Busch Garden in Williamsburg, Virginia. "It had a crazy mix of modern songs and television theme songs," he said. "For the audition I did everything you're not supposed to do. I turned up at the last minute, unshaven and with no sheet music. I didn't have a picture of myself with me." He got the job. "It was my first paid job in the business," he said. "It was lots of fun and I was young. I hadn't even left college at that stage." Three years later he went to Germany to do Broadway shows like Grease. "By that time I had done two years on the cruise ship and one in a theme park," he said. "When I went to Germany I found out that there was this whole other world over in Europe. I never went back to live in the US." He moved to London in 2000 and helped to start Tenors Un Limited in 2002. "We all had careers in musical theatre," he said. "We decided to put them on hold. Fourteen years later they're still holding. We continue to grow and perform around the world." Tenors Un Limited have several albums out, including their latest The Journey. They sang at the memorial service for the football legend, Sir Bobby Robson in 2009, at Wembley Stadium at the 2011 FA Cup Final and took part in the Queen's Diamond Jubilee tour in 2012. They have also had appearances on Friday Night is Music Night (BBC Radio 2,) Top of the Pops, SKY and ITV Sport. Mr Ciscon said the best thing about being with Tenors Un Limited is the camaraderie. "That might sound cheesy," he said. "But the three of us are really good friends. Sometimes we disagree, but most of the time we get along like a house on fire. We are lucky we have each other to do this. Solo artists travel and sit by themselves. Who do you talk to or share a meal with? We are amazing socialisers. We have got that down to a fine art." Mr Ciscon said the hardest thing about the entertainment business was the uncertainty. "This business is brutal," he said. "Because we are looking after ourselves in a lot of ways, we never switch off. We are like any self-employed people. When you are on vacation not earning money you are constantly thinking about work." But he wouldn't change his career for the world. "I think I'm most proud that in the twenty years since we graduated from university we've been able to make a living from singing. That's quite an achievement," he said. Tenors Un Limited will perform on Friday and Saturday at 8.30pm in the Mid-Ocean Amphitheatre at the Fairmont Southampton. Tickets are $80 for adults and $40 for students.
January 30. A 31-year-old man has been killed in a shooting at the Mid-Atlantic Boat Club in Devonshire. Police said the incident happened shortly before 11.20pm. The man was taken to King Edward VII Memorial Hospital, where he died from his injuries. A Bermuda Police Service spokesman was unable to confirm whether the shooting happened inside or outside the club. A description of the suspect was not available in the early hours of this morning. Police taped off the area surrounding the venue in North Shore Road and a handful of officers remained at the scene. Witnesses, or anyone who saw suspicious activity in the area of the club, should call police on 295-0011.
January 30. The sales office has opened for luxury homes at The Cove, part of the massive redevelopment of Morgan's Point in the West End. And the first of what will be 149 Ritz-Carlton Reserve Residences at the renamed Caroline Bay resort is expected to be completed by September. Craig Christensen, of developer Morgan's Point Ltd, said: "Caroline Bay is a major milestone for Bermuda and will not only completely transform the Morgan's Point peninsula, but the island in general. I have lived on this island my entire life — we are only 22 miles long and what this development will do for Bermuda will greatly impact our history. It is what our island needs — we are providing jobs for the locals and at the same time helping with Bermuda tourism. I am incredibly excited to bring Caroline Bay, Bermuda, to life." Prices for homes on the site, which range from two-bedroom homes up to four-bedroom penthouses, run from $2.5 million to $3.9 million. The development will also feature a marina for up to 33 superyachts, as well as 80 berths for the exclusive use of Ritz-Carlton Reserve Residence owners and a yacht club. The marina is expected to be finished in time for the start of the America's Cup yacht races in June, with spaces still available for event. A 79-room Ritz-Carlton Reserve hotel will form the centerpiece of the 182-acre site, with other amenities including two pools, beaches, a spa, a children's club and water sports activities. Mr Christensen said: "The last new development that Bermuda saw was the Fairmont Southampton and that was completed in 1972. I knew that Bermuda was ready for its comeback and Caroline Bay was going to serve as the catalyst of the revival." The first phase of the development will include the marina and The Cove, a 35-home development with waterside locations. Morgan's Point, the former US Naval Annex, was left derelict for more than two decades after the US Navy ended its presence in Bermuda. The site was taken up by Morgan's Point Ltd, which includes Mr Christensen, insurance industry veteran Brian Duperreault and businessman Nelson Hunt. Groundbreaking at the site started last June and the developer, along with Coldwell Banker Caroline Bay, the exclusive sales and marketing firm for the site, recently hosted a sales gallery opening event. The Cove was designed by SB Architects, a world-renowned firm with more than 50 years of experience in creating homes and hotel resorts.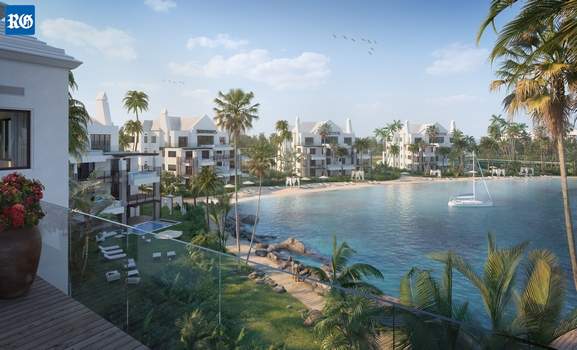 Caroline Bay, Bermuda, coming soon
January 30. The Green family has donated $500,000 to support the Bermuda Cancer and Health Centre's new radiation therapy facility. Once constructed, the facility will be capable of treating almost 190 cancer patients annually who could benefit from radiation treatment. Glen Gibbons, chairman of the board of directors at Bermuda Cancer and Health Centre, said in a press release: "Peter and his two sons, Alexander and Andrew, have been strong supporters of Bermuda Cancer and Health Centre for many years and we are very thankful for their support in the past. "This donation towards the building of the Centre's new radiation therapy treatment facility is greatly appreciated and will go a long way in helping the Centre to achieve its vision of building healthier lives free of cancer and disease. This facility is a comprehensive and unprecedented effort to deliver a new, transformative model of cancer care in Bermuda." Alexander Green, on behalf of the Green Family, stated: "Bermuda Cancer and Health Centre's radiation therapy facility is a game changer for Bermuda. No longer will cancer patients need to travel off the Island for this important treatment. By bringing radiation therapy to Bermuda, the quality of life and treatment standard offered locally greatly increases. It is our hope that people living with cancer in Bermuda can continue to live as normal lives as possible while receiving the highest level of care locally, surrounded by their family and friends." The radiation therapy facility is set to open in the middle of this year. Bermuda Cancer and Health Centre has a clinical affiliation with Dana-Farber/Brigham and Women's Cancer Centre, which is ranked fourth for cancer care in the United States by the US News and World Report, ensuring that patients receive the highest quality of care, meeting international standards.
January 30. They have conquered New Zealand. Next stop: the world. Ahzai Smith, 12, and Christopher Raymond, 13, are due to return to the island today after their triumphs in the inaugural O'pen Bic National Championships this month. The pair, who have clearly enjoyed their taste of competitive sailing action, told The Royal Gazette they now have aspirations to become world-class sailors. Ahzai, from Warwick Academy, and Christopher, from Mount Saint Agnes, won the opportunity of a lifetime to travel across the world free thanks to their participation in the America's Cup Endeavour Programme. It turned out to be even better than they expected, as Azhai claimed the Gold Fleet and Christopher the Silver Fleet in Dunedin. Ahzai, whose father worked on the ferries and encouraged his son to watch his colleagues practising in the harbour, said: "I would like to compete in the America's Cup, and to represent Bermuda at the Olympics." Christopher, who was first introduced to sailing through the Endeavour programme, said he wished to "continue sailing and be the best I can in Bermuda. The America's Cup would be cool, too." They had been nominated by instructors from the island's East End and West End programmes, based on student performance and attendance at the national championships. Speaking on their selection to compete in New Zealand, Ahzai said: "It's exciting because I get to sail in new places and against people I have never sailed against before. It's also the first time I've done any sailing events outside the Opti. It initially made me nervous, as I had never travelled so far." As for Christopher, while he too was nervous about the long journey, he said he was extremely excited to be given the opportunity. Earlier in the month, the boys competed in their first regatta in Wanaka, where Ahzai was the top performer in the Championship Fleet, and Christopher topped the Green Fleet during Nationals. Both sailors said that their experience with the Endeavour programme had taught them never to give up during difficult times. Speaking on what has inspired him to come this far, Ahzai said: "Meeting new people at different regattas, learning about New Zealand and getting the opportunity to do activities I wouldn't be able to do in Bermuda." Asked what they would say to other young people to encourage them to try sailing, Ahzai said: "Do it. The water may appear scary but sailing is a fun, safe sport. You meet a lot of new friends through sailing and it teaches you a lot of lessons about yourself." Christopher advised: "Do it and don't be afraid to capsize. It's so much fun. It's a once-in-a-lifetime, fantastic opportunity. I also like to visit new places and meet new people."
January 30. Long-time fishing tackle store owner Bobby Rego is to retire — and he's put his 40-year-old business up for sale. Mr Rego, a prize-winning fisherman, said at the age of 72, it was time to cut bait and sell off his Flybridge Tackle. He added: "After 40 years and hard work, I need a rest." But Mr Rego said he would have some regret at leaving the business he started in 1977. He added: "It's been part of my life for 40 years, but when you run out of energy, it's time to say goodbye. The big thing is just to slow down, smell the roses, so to speak." Mr Rego will continue to operate the Church Street, Hamilton, business, advertised for sale in last Thursday's edition of The Royal Gazette, as a new owner is sought. He said: "It's a profitable business, it does well. It's got a good location and hopefully I'll get someone to take it over. We get a lot of tourists in the summer as well. They tend to buy the smaller lures and T-shirts by Guy Harvey, a marine biologist turned marine artist, are very popular as well." And Mr Rego added that he was looking forward to spending more time travelling, walking and — of course — fishing. He said: "I'm a fisherman and an angler and I've fished many worldwide tournaments." He plans to travel to Costa Rica in April to compete in the Offshore World Championships, a competition he won in 2003. Mr Rego said the tackle business had changed a lot over the years, with hi-tech materials like carbon fibre used to make rods, while the fashion for custom-made rods had declined as they grew more expensive and off-the-shelf designs improved. He added: "There have been changes in colours and designs over the years, but they all do the same thing — catch fish." Mr Rego said that business was brisker during April to October, but that shore fishermen and people stocking up on their gear kept the store busy all year. He explained: "The business can be seasonal as far as the weather goes, but we have built up a good clientele. A lot of people fish from the shore or docks and fishermen get gifts and replenish their kit. The weather can make a difference — if the summer isn't that good or a hurricane comes and people take their boats out of the water and decide to leave them there. But since 2011, business has been pretty level. The big drop was 2010, so it's been fairly consistent since." Mr Rego is also organizer of The Royal Gazette Wahoo Tournament, a past president of the Bermuda Anglers Club, a member of Sea Horse Anglers Club and one of two local representatives on the International Game Fishing Association. And — like most fishermen — he has stories of the one that got away. Mr Rego said: "It was probably this year in the annual Light Tackle Tournament. I was fishing with 12lb tests. I fought a fish for more than three hours, a yellowfin tuna which I guess was probably 60 or 70 pounds. It pulled the hook, but that's all part of the sport. If you caught them all, it wouldn't be fishing, it would just be catching." But he added: "The fish of my life was a blue marlin — 653lbs on a 80lb test. That took 25 minutes."
Sunday, January 29. The Airport Project Agreement has now been released to all MPs, according to Bob Richards. Speaking this evening, the Minister of Finance said that he did not regret the decision not to release the document sooner, calling the release "highly unusual. The normal course of business is to keep contracts confidential," he said. "We agreed to release it under a non-disclosure agreement to the Blue Ribbon Panel, and they accepted that. We tried to do that with the Public Accounts Committee and the Leader of the Opposition [David Burt], but they didn't accept that. The executives from CCC and Aecon didn't want people to think they were hiding anything, and they have nothing to hide, so they spoke to me and they said they would release these, even though it is highly unusual." He added that the documents were released without a non-disclosure agreement, meaning that those who received them could discuss the information contained. However he maintained that all of the material points of the agreement had already been released to the public. Mr Burt this evening confirmed that the PLP received eight copies of the airport agreement on Saturday without signing a non-disclosure agreement, but that not all of the necessary information was included. "Sadly, the documents provided to us are missing critical financial information on the minimum revenue guarantee, revenue sharing and the financial model," Mr Burt said. "When questioned by me earlier today on live radio, Mr Richards stated that he was unaware the financial details were missing, but made assurances that the Opposition would be provided with this crucial information. The PLP looks forward to the receipt of these figures in a timely fashion. Until this information is received, MPs will not be able to give this 30-year privatization agreement the scrutiny that a modern democracy demands. These developments are a partial victory for democracy and transparency, but the people's representatives still require the full financial details before we can assure voters that MPs are fully aware of the agreement they are being asked to approve."
January 28. Opposition leader David Burt and the Public Accounts Committee have rejected an opportunity to view the Project Agreement for the airport redevelopment project, according to finance minister Bob Richards. In a statement yesterday, Mr Richards said the Bermuda Government had offered them copies of the document on Tuesday, following repeated accusations of a lack of transparency. He said they declined the invitation two days later. That allegation drew a strong rebuttal last night from Mr Burt, who said the offer came with "conditions which are wholly unacceptable if we are to be completely transparent". The requirement that Mr Burt and the PAC sign a non-disclosure agreement would "defeat the democratic process" by allowing only certain MPs to have sight of the agreement, Mr Burt said. Wayne Furbert, the chairman of the PAC, insisted he had not been included in the invitation and dismissed Mr Richards' statement as "absolute lies". Mr Richards stated that by "proactively" releasing the agreement to the PAC, members would be put at ease and "misleading" statements reduced. However, permission would have been required from partners Canadian Commercial Corporation and Aecon, since the document contained would be subject to non-disclosure. "It remains a confidential draft document, which cannot be final until the transaction closes," Mr Richards said. The conditions would have been similar to those placed on the Blue Ribbon Panel tasked with assessing the project. In response, Mr Burt told The Royal Gazette that he had been called to a meeting on Monday of this week by Speaker of the House Randy Horton, along with Michael Dunkley, aimed at "trying to find consensus on a way forward" over the airport project. Since then, I have been in communication with the Premier, and I have been doing whatever necessary to keep it out of the press. The PLP have been consistent in pressing to ensure that all MPs have access to complete information so that an informed decision can be made in parliament. For this statement to be issued shows that the Premier and the OBA are playing divisive politics on this issue. It's a very dangerous game. I have placed two calls to the Premier and I await his explanation. It's disappointing that the Premier, who so often says that we have to act in a more mature fashion, would issue this statement without responding to our latest written communication. It misrepresents our position and it is regrettable that the OBA are unwilling to build consensus to reduce the understandable tensions on this issue." Meanwhile, Mr Furbert said he had not been contacted. He added that "if Mr Richards says we have, that's absolute lies. Bob has misled the country. He has not approached me as chair." Asked whether he would examine the agreement if given the chance, Mr Furbert said: "The PAC has to be able to look at it thoroughly, bringing in people to talk to like we do with any other issue. We would want to do exactly what the PAC does." Mr Richards said no other developments, including the hospital wing, the courts building and the Berkeley Institute project, had attracted as much attention, or led to the release of so much detail, as the airport project. "Opposition critics have repeatedly pressed for unheard of disclosures, before the Government was even in a position to release such information. Yet by making this offer this week, we took transparency to another level." He noted Parliament is set to debate two Bills related to the project. Mr Richards said that the debate would not amount to a vote on either the project or its agreement: one Bill provides for creating a Bermuda Airport Authority, staffed by locals and answering to the Government, to oversee operation. He explained: "The second Bill exempts the project's operating company from specific taxes and charges for a period that allows for upgrades, maintenance and operation of the old terminal building and related airport functions; and the creation and eventual operation and maintenance of the new terminal building and related airport functions." Mr Richards said "voluminous" supporting details were available online, including the entrustment report, the assessments by Deloitte Ltd and a value-for-money report from Steer Davies Gleave. He also pointed to support from the Bermuda Hotel Association, the global body Airports Council International, and the Construction Association of Bermuda. Mr Richards said several independent advisers had been retained, including CIBC and the local and Canadian branches of the law firm Bennett Jones; consultants LeighFisher, HNTB and Steer Davies Gleave, and KPMG in Bermuda and Canada.
January 28. At least one member of a Bulgarian duo convicted of stealing nearly $20,000 from local banks using fake cards could be brought back to the island to serve extra time in jail. The news came from Larry Mussenden, the Director of Public Prosecutions, during his address at a special sitting of the Supreme Court to mark the opening of the 2017 legal year. Mr Mussenden said that extradition proceedings had begun against one of the men, not identified but now in custody in the UK. Chavdar Bachev and Georgi Todorov initially served just four months for their crime spree, for which they were convicted last April. The Court of Appeal subsequently ruled that the pair should have served two years' imprisonment — but the two had already left the island. "Our department will pursue offenders wherever they may be," Mr Mussenden told the court, also vowing to pursue employers who owed $45 million in outstanding payroll tax and social insurance. The opening ceremony once more provided legal heads an opportunity to note the progress of Bermuda's judiciary, and also to call for reforms. Ian Kawaley, the Chief Justice, took the occasion to call for the judiciary to be given its own "dedicated voice in Cabinet", while Trevor Moniz, the Attorney-General, criticised protesters who blocked access to Parliament as not merely breaking the law but injuring "democracy itself". Senior magistrate Juan Wolffe decried the lack of funding and resources for the lower courts, which he called "the engine room of our legal and judicial system. The independence of the judiciary becomes meaningless without financial autonomy," Mr Wolffe told the gathering. A pilot DUI court is coming for 2017, offering offenders a programme to deal with issues of alcohol abuse. While the family courts did not see an increase in cases overall in 2016, last year there was a rise in domestic abuse cases and matters involving the care and supervision of children. Mr Mussenden also requested that the courts get "two full-time judges assigned to criminal matters" to avert delays or a backlog of trials. And Richard Horseman, the president of the Bermuda Bar Association, lamented that the legal aid system was "broke", and said there were many in the community deprived of their right to justice as long as they were unable to pursue claims in the courts.
January 28. Nurturing mentors coupled with his own hard work and determination have projected Philip Butterfield from his humble origins in the "back of town" to a top seat in Bermuda's banking industry. The former CEO of HSBC says he owes much of his success to those people who showed him the true value of education and he is giving back through a choice of a scholarship that has been launched in his name. The Bank of Bermuda Foundation launched an annual scholarship of $30,000 for up to four years towards a student's university or college education and then handed over the reins to Mr Butterfield to decide who should be entitled. His humble beginning came back to the fore. The Bank of Bermuda Philip Butterfield Scholarship will be dedicated to academically dedicated students in the public school system on a financial needs basis. He told The Royal Gazette: "I wanted this scholarship to be a reflection of my personal journey. I attended the Central School which is now the Victor Scott School, and I won a Bermuda Government Scholarship. I was one of four persons to go to The Berkeley Institute back in the day — January of 1959. It paid for my school fees and books and the like. The way I got to Berkeley was a combination of my mom playing a very strong role in making sure that my brother and I valued education and also the teachers at Victor Scott School who saw some promise in me and paid lots of attention, particularly Victor and Edna May Scott. They were personally instrumental in guiding me and preparing me for learning. They would have myself and several other students to their home every Saturday morning for extra tutorials. You were selected and you had to show up — there wasn't a debate. But that extra effort made by someone who didn't have a blood relationship, it created a turning point in my life because it made it clear to me that this journey that we all make is not a journey that we make by ourselves — it is a journey where there is lots of support and influences that help us to get to where we are. I didn't want this scholarship to be made available to persons who attended private high school here in Bermuda — it is not a slight to the many worthy institutions that some of our young people attend but I wanted to bring emphasis to the need for public education to be as successful as it ought to be in this society.. Aside from having a sound academic record of achievement and a financial need, the successful recipient will need to have certain proven qualities. We want the student to have a commitment to community service — not to do just the necessary but to do more than that. We are interested in young people who have a capacity for leadership. I happen to believe that one of our real deficits in our community today is that we need more leaders — people who are willing to take on the responsibility of leaders and understand the importance of leadership and are willing to make contributions in that regards." Mr Butterfield, who has been on the Foundation since 2000 and is chairman of its human services committee, said he would play "a personal role" in encouraging students to apply by visiting all S3 and S4 public school students to both inform them about the scholarship and inspire them to excel. Mr Butterfield said he was shocked when he heard the news of a scholarship being launched in his name, saying he read the letter three times over before passing it to his wife to "make sure I wasn't having an out-of-body experience". Tom Conyers, a member of the BoBF board of directors, said that the foundation's education committee chose Mr Butterfield "in honour of what he has done in the business community and frankly in honour of what he has done with us at the BoBF". Dennis Tucker, the longest serving member of the foundation and chairman of the Education and Scholarships Committee, added: "It will be offered with the other eight awards that the Bank of Bermuda Foundation offers. Those who are eligible will be encouraged to apply online where this scholarship will be listed. It is open to anyone in the public high schools. They must be a pupil or graduate within the past five years from one of the public high schools. The scholarship committee reserves the right, if they feel it necessary at the time, to spread it across more students but it is intended for one recipient.
January 28. Emirates Team New Zealand have rejected a framework agreement reached by their 35th America's Cup rivals. The agreement, announced at a press conference in London this week, would lock in the existing class of foiling catamarans, lower costs for potential new syndicates to enter the America's Cup and narrow the downtime between cycles. However, New Zealand, who were not present at this week's press conference at the House of Garrard, did not sign the agreement, which would be moot if they were to win this summer's Cup on the Great Sound. The Kiwis said they prefer to stick with tradition as spelled out in the Deed of Gift, the document that governs the competition for the oldest trophy in international sport. "Emirates Team New Zealand believe the future America's Cup format is to be decided by the Defender and Challenger of Record as it has historically been," the team said in a written statement. Traditionally, whenever the America's Cup changes hands, the new defender takes some time to negotiate the format and class of boats to be used in the next regatta with the Challenger of Record, which represents the interests of all the challengers. There is no Challenger of Record for the 35th America's Cup after Australia's Hamilton Island Yacht Club dropped out early in the cycle and was replaced by a committee of the remaining challengers. Signing the agreement were Oracle Team USA, the two-times defending champions, SoftBank Team Japan, Groupama Team France, Artemis Racing and Land Rover BAR. The Kiwis have been at odds with the America's Cup Event Authority since the latter switched the America's Cup Qualifiers from Auckland to Bermuda, resulting in the syndicate losing millions of dollars in funding from the New Zealand government. Team New Zealand took its case to an arbitration panel and has reportedly won, which could lead to an award of millions of dollars from the ACEA, who have yet to announce the panel's deliberations. Both sides also clashed over the controversial amendment of the class rule for the next America's Cup, which led to the withdrawal of Luna Rossa Challenge, from Italy. It was the first time in Cup history that a class rule has been altered in midstream.
January 27. Shareholders of Endurance Specialty Holdings Ltd today backed the company's $6.3 billion takeover by Japanese insurance giant Sompo Holdings. In a short statement, the Bermuda-based insurer and reinsurer said common and preferred shareholders had voted to accept Sompo's offer of $93 per share. The merger is subject to regulatory approvals, but the companies expect the deal to close before the end of March. The special meeting took place in Hamilton this morning, when a majority in favour was required from holders of ordinary shares and preferred shares, voting as one class. John Charman, one of the best known leaders in the Bermuda insurance industry, has agreed to stay on as chief executive officer of the Endurance team for the next five years, along with other members of the senior management team. Mr Charman will also become chairman of the board of Sompo's international business. When the deal was announced last October, Mr Charman confirmed to this newspaper that Endurance's head office would remain in Bermuda. The firm is based in Waterloo House on Pitts Bay Road.
January 27. The Public Accounts Committee, which ordinarily looks into matters involving the public purse after the Auditor-General has filed reports, has resumed examining current matters, according to Wayne Furbert, its new chairman. The seven-member PAC yesterday heard from the Bermuda Tourism Authority's chief operating officer, Karla Lacey, along with its director of finance, Duncan Beveridge, to examine its 2015 spending. Kevin Dallas, the new chief executive officer of the BTA, was in the audience as PAC members queried how the BTA pays its grants to entrepreneurs and awards bonuses to staff. Also examined during yesterday's sitting at the St Paul AME Church Centennial Hall were the Department of Works and Engineering, and the West End Development Corporation, whose general manager, Andrew Dias, fielded questions on the land reclamation project in Dockyard's South Basin. Wedco's board formed a sub-committee, chaired by Wayne Caines, to examine proposals for the Cross Island development after it moves on from the America's Cup. The Cross Island Legacy Committee's shortlist was submitted to the board in November, Mr Dias said — and the group will meet again next week to continue evaluating proposals.
January 27. A total of 42 insurers, including two Class 4 reinsurers, were registered by the Bermuda Monetary Authority in 2016. That was down from the 64 registered during 2015, and the 65 of 2014. KaylaRe Ltd and Harrington Re Ltd were the Class 4 registrations last year. KaylaRe, which was formerly Aligned Re Ltd, had its registration confirmed in December. The reinsurer launched with $620 million of capital, of which $300m came from Bermuda-based Enstar Group. Last month also saw the registration confirmation for 4 Ever Life International Limited, a Class 3A insurer, Point Landing Insurance Ltd, a Class 2, and Wiikit Re Ltd, a Class 1. There was a flurry of special purpose insurers registered in December. The seven were Fibonacci Reinsurance, Hiscox Re ILS, Leo Re, Limestone Re, Galilei Re, Daedalus I Re, and Mercalli Re. Three agents were registered, namely Hamilton Insurance Services (Bermuda) Ltd, Allied World Syndicate Services (Bermuda) Ltd, and PartnerRe Underwriting Management Ltd, which also registered a manager. For the year, the BMA registered four Class 1 insurers, and the same number of Class 2 and Class 3 entities. There were seven Class 3A insurers. The total number of SPIs registered for the year was 17.
January 27. Seven Bermudians have been offered paid internships with the partners on the proposed airport redevelopment. They will work at Aecon with members of its technical team in Canada, after being chosen by a panel of interviewers from Aecon and the Department of Workforce Development. The interns will be paid by Aecon, with travel, room and board paid by Workforce Development. According to a press release from Aecon Group Inc, the Bermuda Government and the Department of Workforce Development, they are:
Barak Bremar, a 23-year-old graduate of the New England Institute of Technology. Barak has worked at LF Wade International in six different departments over a six-year period — most recently as a skycap. Barak will be working with Mulvey & Banani International as an electrical design intern;
Owen Chisnall, a 22-year-old graduate of Niagara College. He is a committed Bermudian volunteer, who is working to help maintain and rebuild Trunk Island. He will be spending half of his internship with HH Angus and half with Aecon in order to gain experience in the fields of mechanical engineering and project safety;
Bianca Clay, a 26-year-old graduate of the University of Westminster, who previously worked as an intern at Cooper Gardner Architects. She will be spending six months with Scott Associates architectural firm;
James Gould, a 24-year-old graduate of the University of Plymouth, who has been working for Kaissa as a junior roof installer and assistant superintendent. He will be working for Aecon and gaining experience in construction management and safety;
Ricardo Graham-Ward, a 24-year-old graduate of the University of Southampton, who has been working for the Bermuda Government as a trainee civil engineer. His internship with WSP Global and Quinn Dressel Associates will allow him to further his career in civil and structural engineering;
Allanette Hayward, a 42-year-old graduate of Coventry University, who went back to school later in life having received a scholarship from the Construction Association of Bermuda: the first woman to do so. She is a trainee civil engineer with the Bermuda Government. She will be working at WSP Global and Quinn Dressel Associates to learn more about the civil and structural engineering fields.
Jordan Lawrence, a 20-year-old graduate of the New England Institute of Technology, who has proven himself to be hardworking and dedicated and has recently returned home to Bermuda. He will be spending three months each with HH Angus and Aecon gaining invaluable experience in mechanical engineering and construction management.
The interns will spend four to five days each week with their host company working on tasks specifically related to the airport redevelopment project. They will each be assigned a mentor who will help them to create and complete an individual development plan throughout the programme and to ensure that they get everything they can out of the programme. On completion of the internships, the interns will receive feedback on their development and goals and a certificate of achievement from Aecon. The programme will run for six months from early 2017 and will be based in Toronto. Home affairs minister Patricia Gordon-Pamplin said: "This internship programme with Aecon and its partners is an incredible opportunity and is just one of the many benefits that the Airport Redevelopment Project will bring to our island. I would like to congratulate the seven interns chosen by the selection committee, all of whom have proven that they are committed to building Bermuda's future." Steve Nackan, president of Aecon Concessions, said: "These interns will receive a once-in-a-lifetime experience with Aecon and its technical partners in the fields of construction and infrastructure. This programme is just one of the ways in which we are committed to Bermuda, not only its airport, but also its people. We look forward to sharing our knowledge with these graduates." Frank Ross, executive adviser of Aecon Group Inc, said: "We were fortunate to have so many excellent candidates for the internship programme, which, of course, made it a very difficult decision. However, the seven graduates chosen are exceptional and we look forward to working and sharing this experience with them. We thank all applicants for their interest and encourage them to apply for other opportunities in the project." Bianca Clay, one of the interns, said: "I'm very excited to have been chosen to work in Canada — it's an incredible opportunity. To be a part of the airport redevelopment project is to be a part of a legacy. The airport leaves a lasting first and last impression to those visiting and it's important that Bermudians are able to contribute to it."
January 27. Bermuda's important role in the captive insurance sector has been highlighted by the number of island-based executives included in this year's Power 50 list. Top of the pile is Peter Mullen, chief executive officer of Aon's Global Captive and Insurance Management business. Mr Mullen, who came to the island in 1986, moved up five places to the number one spot on this year's list, published by Captive Review magazine. In its profile of Mr Mullen, the magazine said: "Leading 500 employees across 21 offices, Mullen is a loyal Aon and captive servant who has put in place a forward-thinking leadership team spread around the world. Aon have been quick to take the lead on numerous regulatory and political developments in recent years, most notably Solvency II, Brexit and the OECD's Beps project. Under his leadership, Aon have become the leaders in cell company business and, using those facilities around the world, have made an impressive contribution to the growth of ILS." Mr Mullen was appointed to his current role with Aon in 2011, when he moved from Bermudian-based Artex Risk Solutions. David McManus, chief executive officer of Artex, has climbed to tenth in the Power 50 list, up six places from last year. The magazine noted: "The growth of Artex is no new phenomenon, but the first half of 2016 was particularly busy with the acquisitions of Kane and Hexagon PCC. Based in Bermuda, McManus keeps a relatively low profile, but is quietly putting together a well-diversified and experienced captive team able to meet a variety of client needs. The management firm is now a very significant player in Guernsey, Bermuda, Cayman and onshore US." As mentioned in a Royal Gazette article yesterday, Bermuda's David Gibbons is at 18 in the list, while Bermudian-based Tom Booth is a new entry at 48. Mr Gibbons is captive insurance leader and partner at PwC Bermuda. Mr Booth is chief financial officer at R&Q. Captive Review, which is based in London, has more than 12,000 subscribers. About 4,800 votes from professionals in the captive industry were received by the publication and were used to compile the annual Power 50 list. In its February issue, it has also published its first Hall of Fame list, recognizing the most influential individuals the captive insurance industry has produced, or been served by, during the past 50 years. On the list is the late Fred Reiss, who pursued the concept of "self-insurance" and launched the first captive in 1953, before setting up captives in Bermuda starting in the early 1960s.
January 27. Noble Automotive has taken over the island's Peugeot dealership. The company has snapped up Pembroke-based Continental Motors as part of expansion plans for the firm. Fernando Oliveira, who founded Noble in the grounds of CedarBridge Academy less than five years ago, said: "The opportunity came, which was rare and we have grown to our limits here at CedarBridge size-wise." Mr Oliveira, a former teacher at CedarBridge, was speaking as he prepared his latest crop of apprentices, two of them part-time and still at school, for a whirlwind trip to Canada, where they will get exposure to state-of-the-art university and college facilities, as well as huge dealerships and visits to trade shows where the latest cars and servicing equipment will be on display. Mr Oliveira said: "Without compromising our student programme, we had to have more space. It was the next progression for us and a good opportunity to grow the apprentice programme with dealer training as well." He added that he hoped to expand the range of Peugeot vehicles on sale in Bermuda, on both the personal and commercial transport sides, including any replacement for the highly acclaimed RCZ two-seater sports car if the range includes a car that meets Bermuda's regulations. Mr Oliveira, who taught automotive engineering at CedarBridge and continues in education through a link-up with the school and the National Training Board, said he had extensive experience of working in car dealerships in North America and the Bahamas, including sales, service and as general manager. He added: "Noble does well because we treat people the way they want to be treated. If you have good service and look after the client, people want to buy from you." Mr Oliveira said Noble had been importing and selling vehicles for more than a year, including electric commercial vehicles. He added: "I didn't expect to be at this level after only four years. Between Peugeot and here, we have 30 employees and we're increasing our need to hire more people. Peugeot does have a good fit for Bermuda, although, unfortunately, some of the models couldn't be imported here in the past. We want to build confidence in the brand and bring in as many models as we can, including the commercial models." And he said that cars bought from Continental, which will be rebranded to reflect the new ownership, would have three years' routine servicing included in the price. He added that it was also hoped to start sea-shipping and consolidate loads of vehicles, which would help to reduce the cost of landed vehicles. Mr Oliveira said he was committed to fostering a love of engineering in young people in Bermuda and the Noble apprentice programme was an ideal training ground for new generations of technicians. He added that the Canada trip, due to take place next month was "invaluable" and that apprentices benefited from visiting colleges and universities whose training shops were sponsored by car giants like Ford, Toyota and Honda, who provided the latest vehicles, and the technology that goes with them, to work on. And Mr Oliveira said: "We're going to see if we can integrate our students into the Continental dealers programme as well as our own training. If industry was to be in schools, that hi-tech stuff so students can see it, it would be so much easier for them to work out what they are doing and get first-hand experience."
January 27. The future of environmental watchdog BEST is under threat owing to a lack of funds. The Bermuda Environmental Sustainable Taskforce, one of the island's most influential campaigners on green issues over the past decade, is currently unable to fully perform its duties, according to chairwoman Gail Miller. Ms Miller outlined BEST's stark financial situation in a letter to supporters, and pleaded for donations so it can continue operating while it considers its options. She stressed BEST, which formed in 2006, has never had such an important role, as applications for large-scale development and growth have increased significantly in the past two years. BEST is the latest in a string of charities to suffer from a shortfall of donations in the economic downturn, and has struggled to meet the costs of consultants and its office space, according to president Stuart Hayward. Mr Hayward, who has been a prominent member since its foundation, told The Royal Gazette BEST is turning to its "close friends" in its time of need, while also cutting back its own overheads. Ms Miller wrote: "BEST finds itself in need of urgent financial support and we are asking for your help. Historical funding from donors has declined such that we are no longer able to fully perform our mission. Your donation will allow us to continue operating while we explore ways to reduce costs and increase capacity through collaboration with other environmental groups. We cannot do this without your support. We know that things will get better and we need your help to hold on until they do. Please help keep Bermuda's environment safe for generations to come." BEST was formed in 2006 under the name "Save the Gardens", successfully blocking plans to build a new hospital on the Botanical Gardens, and two years later was instrumental in fighting off proposals for a hotel on the pristine Southlands property. Organizers said they realized there was nobody looking out for the broader community's interest when big development projects were planned. Since then, it has spread the green message through schools, led community discussions and produced research papers on a wide variety of environmental issues, as well as continuing to fight off individual projects such as the planned beach bar at Warwick Long Bay. BEST has three part-time consultants and, as part of its mission, scrutinizes the weekly gazetting of planning applications for anything that could impact the environment. Mr Hayward said BEST has traditionally kept its outgoing lower than its income, but had been impacted by receiving donations later than in the past. He added: "The economic downturn has meant that some of our traditional donors have reduced their support; that's not something unique to us, it's a climate that we are part of. We believe we should ask for help from our close friends first. We have sent this out to our friends, hoping that they can help tide us over for a month. We are not just asking others for help. To help ourselves we are paring away significant amounts on overheads and monthly expenses to bring our income and outgo more into alignment." Mr Hayward, who many have regarded as the face of BEST from the beginning, said the uncertainty surrounding the organisation had been a personal blow. The 74-year-old said such stress was a particular concern because he suffers from Parkinson's Disease. "I have always had a philosophy that organisations should try to function without funding, because then you don't have to depend on it. But, BEST has grown a life of its own. We have expanded the service we provide and the activism we perform, and we have had to deal with the necessity of financing for office space and for consultants. It's what I do and the work still needs to be done, so one of the strategies may involve downsizing. When I first started this, I ran what we are doing out of my home. That's not an option anymore, but it's really a part of my life; I could operate on a shoestring again. But, it's a feeling of stress, of having to worry about the people who are part of the organisation, and the people who we have provided an advisory service to. I certainly feel the stress. The people we have worked with: they realize our value and we hope that enough of them will remember the value that BEST provides in our community, and that helps to tide us over."
January 26. Bermuda Police Service has failed in a bid to stop a doctor from pursuing a civil lawsuit for unlawful arrest after an early-morning raid on his home. Mahesh Reddy, chief medical officer at a clinic owned by former Premier Ewart Brown, launched the proceedings against the police in July, under the name Mahesh Sannapareddy, seeking a judicial review and damages for trespassing and unlawful arrest in relation to the raid. The BPS sought to have the permission granted to Dr Reddy to seek judicial review struck out or set aside at a hearing before the Chief Justice on Tuesday. The police applications failed and costs were awarded to Dr Reddy, who can now continue with his lawsuit. Dr Reddy was represented in court by top British QC Lord Peter Goldsmith, a former Attorney-General of England, Wales and Northern Ireland, and lawyer Delroy Duncan. Mr Duncan told The Royal Gazette that they successfully argued for the two applications made by the police to be dismissed. The first application was to set aside leave to seek judicial review granted in favour of Dr Reddy in August. "Dr Reddy was granted leave to seek judicial review to quash the decision of the Commissioner of Police to search his home without warrant and arrest him," Mr Duncan said. He said police claimed in their second application — which was to strike out the grant of leave to seek judicial review — that Dr Reddy's application to quash the Commissioner's decision to search his home and arrest him was "vexatious, an abuse of process and should be stayed pending the ongoing criminal investigation". This newspaper was not in court for yesterday's hearing and has requested the full written judgment from the Supreme Court, once it is available. Dr Reddy was arrested in May by detectives understood to be investigating allegations that he ordered MRI and CT scans to be carried out at Bermuda Healthcare Services for his patients when they did not need them and then billed insurance companies for the procedures. His arrest prompted Dr Brown to hold a press conference at which the former Progressive Labour Party leader claimed the investigation into Dr Reddy was "an extension of the witch-hunt that has followed me for years". Dr Brown claimed a five-year police inquiry into his activities aimed at uncovering "bribery and political corruption" was now targeting his business but insisted Dr Reddy would be vindicated. BPS has never commented on the reason for Dr Reddy's arrest, other than to say it was "in connection with an ongoing financial investigation". Asked to comment on yesterday's hearing, a police spokesman said: "It is not appropriate for the BPS to comment at this time, as the matter is not yet concluded and a further hearing is anticipated."
January 26. The Bermuda Government is contemplating "a ground-breaking proposal for partnership" with the online home-sharing vacation network Airbnb, according to tourism minister Senator Michael Fahy. The news was welcomed by the Progressive Labour Party, which had scheduled a town hall meeting on the subject for 7.30pm today at the Prospect Primary School auditorium. Mr Fahy said that Bermuda Tourism Authority statistics from September 2016 showed 485 homeowners active in guest rentals, with 821 bedrooms on offer. Calling it a "grey area" in terms of regulation, the minister stressed that the Government did not wish to impose excessive red tape that would "put people off from engaging in this industry", which he said was "very much self-regulated". A fee paid to the BTA would "level the playing field" with the charge paid by hotels, and would be incorporated into the overall fee paid by the guest. The home-sharing industry has been gaining ground in recent years, helped by technology and popular with younger travelers. "We can't ignore it," Mr Fahy said, noting that St George's had "almost become a hub for it" — and that the Government's intention was to "get in on this before the America's Cup". While he acknowledged that the developing market would pose "some form of competition" for hotels, the minister said home rentals would cater to "a different type of visitor". He added: "We don't see the growth in vacation rentals as a threat to Bermuda's traditional hotels, but rather as a complement to an industry that has served us well over many years." Mr Fahy also said he did not expect the growing industry to have an impact on the availability of homes to rent to locals, calling it "a different business model". He cited a study commissioned last year by Airbnb that found "no significant impact on the housing market", but provided residents with an alternative income. Noting that vacation rental was at present not defined under Bermuda law, Mr Fahy said the lack of standards and direct marketing posed "both a barrier and an opportunity. We are in discussions with home-sharing companies to understand how they have partnered with other jurisdictions to ensure these properties are regulated — including what minimum requirements, if any, there should be and to provide other resources for interested Bermudians. If adopted, these changes would begin to level the playing field for vacation properties and home sharing relative to Bermuda's regular hotel properties." He said the BTA had consulted on the matter with the Bermuda Hotel Association, as well as realtors, the vacation property rental sector and the public, via forums and surveys. "We believe this level of tourism development will also be a substantial part of refocusing Bermudians on the large variety of employment and entrepreneurial opportunities that can be realized through a highly-successful visitor-based sector." Last night's statement from Jamahl Simmons, the Shadow Minister of Tourism, supported "a proper regulatory and fair approach towards this new product offering" but cautioned against excessive regulation and taxation. "In an environment in which it is already costly to do business, and where the cost of accommodations is perceived as a disincentive among a significant portion of our target market, we must be mindful that we do not strangle this opportunity in the cradle," Mr Simmons said. "Hotels currently receive many concessions, while vacation rentals do not. Thus any new regulations or new taxes on this industry in its infancy cannot be considered as truly leveling the playing field without greater thought and examination on the best path forward." He said the Opposition looked forward to hearing more from the Government. Tonight's PLP meeting will include representatives from the BTA, as well as locals taking part in home sharing.
January 26. A ground-breaking study of Bermuda's wild bottlenose dolphins has revealed a rare insight into their secretive lives at sea. At the end of last August four dolphins, which were named Hamilton, Devonshire, Paget and Pembroke, were fitted with satellite-linked time and depth recording tags off the North Shore of the island. The animals were tracked between September and November with data showing one dolphin diving to a record depth of 1,008 metres, while the female, Paget, swam north for more than 800 kilometers to a ridge of seamounts. Randall Wells, one of the lead investigators on the project, used the data from the tags to compile a weekly diary and map graphic outlining each dolphin's movements. "Both overall maximum dive depth and overall maximum dive duration have exceeded previous documented records for Bermuda dolphins," Dr Wells said. "Since tracking began, each dolphin has made dives below 50 metres lasting more than 12 minutes and one dove to 1,008m — a new record for bottlenose dolphins." The research was carried out by an international team of marine mammal scientists, Dolphin Quest veterinarians and animal care professionals under a special permit from the Department of the Environment and Natural Resources. The Bermuda Wild Dolphin Project and the Bermuda Museum, Aquarium and Zoo were also heavily involved in the project, which also studied the wild dolphins' acoustic behaviors and lung functions. Dr Wells, of the Chicago Zoological Society's Sarasota Dolphin Research Programme, added: "Over the first two months of tracking the three males; Devonshire, Hamilton, and Pembroke have remained near Bermuda and nearby banks. After several weeks, the female, Paget, went north more than 800km to a ridge of seamounts. After moving among the seamounts, she moved south, passed east, south, and west of Bermuda, while remaining more than 100km offshore, and as of her final transmissions she was once again approaching the northern seamount ridge. Defining a population unit for the Bermuda dolphins is challenging, when both localized and long-distance ranging patterns must be considered. More tagging and tracking should help to identify the animals' ranging patterns. In addition, we have provided small skin samples to NOAA scientists for analyses to compare the genetics of the Bermuda dolphins to those of dolphins elsewhere in the North Atlantic." Bottlenose dolphins have adapted to a wide variety of habitats around the world. While experts have been studying the coastal bottlenose dolphins in Sarasota, Florida for many decades, the offshore bottlenose dolphins found in the deep waters surrounding Bermuda are much more of a mystery. "Advancing our collective knowledge of marine mammals to support their conservation has always been part of our mission at Dolphin Quest," said Christine Mihelcic, Dolphin Quest Bermuda general manager. This project is an international collaboration between scientists, veterinarians and marine mammal experts who all share the same goal to preserve and protect the species. We are so excited about the initial discoveries made and look forward to future insights into the lives of these incredible animals."
January 26. The General Consent form will be applicable in all departments at King Edward VII Memorial Hospital from next Monday. The form, which was introduced in some departments last August, ensures all patients expressly consent to their care before receiving medical treatment or services. Bermuda Hospitals Board said in a press release: "Traditionally it has been assumed that anyone attending the hospital wanted treatment. Introduction of the General Consent form now formalizes this relationship. The General Consent form covers routine medical care and non-invasive procedures. Simply put it is your consent to care. It is worth noting that BHB has always required consent forms for invasive procedures such as surgery and blood transfusions, and that use of these will continue. Members of the public do not have to sign the form but failure to sign it means no treatment or services will be given. Processes are in place for those who are vulnerable and unable to sign on their own behalf. These processes will be extended and used with this additional consent form."
January 26. Home affairs minister Patricia Gordon-Pamplin and her shadow counterpart Walton Brown have clashed following the revelation that 27 jobs held by guest workers in Bermuda churches did not have to be advertised. The Royal Gazette reported yesterday that the Department of Immigration had granted waivers for ministers, priests, canons and missionaries, as well as other non-clerical posts. The disclosure came after public scrutiny over the refusal of a work-permit renewal application for the Reverend Nicholas Tweed, pastor of St Paul AME Church. The Church has complained that after it appealed the refusal, it was denied a waiver of the requirement to advertise the position; Ms Gordon-Pamplin has said the Church missed its deadline to request the waiver. In a statement, Mr Brown called for Ms Gordon-Pamplin to resign, accusing her of misleading the public by previously suggesting waivers were uncommon. Bob Richards, responding in his capacity as Acting Premier, last night branded the resignation call "ludicrous", saying Ms Gordon-Pamplin had been "an outstanding public servant for many years and her integrity has never been called into question — for good reason. It's unfortunate in this instance that Opposition eagerness to attack took precedence over facts and fair hearing, but that's what politics-before-all gets you." Responding at a press conference earlier in the day, Ms Gordon-Pamplin acknowledged that in a January 6 press conference she provided statistics for advertising of positions for the clergy for 2016, in which one waiver had been received for the clergy. Yesterday's article was based on a response from the Department of Immigration to a Pati request from this newspaper for details of all work permits held by churches. The Minister said the information shared in the Pati response dated back to 2013 and included all active applications submitted by churches for all job types. She added that government policy had been fully adhered to when those waivers were granted. Mr Brown stated: "The revelation that the Department of Immigration has granted not less than 27 advertising waivers for churches in the past three years has now put minister Gordon-Pamplin in an untenable position. The minister has not been forthright in providing the public with critical information on how church work permits are currently being handled. What we have seen instead is incremental information reluctantly released. It is clear that waivers are far more common than the minister indicated in her public statements. When I consider these facts alongside the minister's publicly expressed disagreement with Rev [Nicholas] Tweed's pastoring, it seems clear that political interference has contoured the minister's actions. On June 24, 2016 the minister told Parliament why she ceased attending St Paul AME Church: 'I have refused to go to the church that I have been a member of for 60 years because I was getting barbs coming from the pulpit Sunday after Sunday after Sunday when I go for spiritual rejuvenation. This statement alone is sufficient to warrant her ill-suited to be making any determination on the Tweed application." Ms Gordon-Pamplin claimed: "The statement that the department has granted 27 waivers for work permits for churches is misleading. In my press conference of January 6, I provided statistics for advertising of positions for the clergy for 2016 only. This information was taken from the Job Board. I also noted that in 2016 we received one waiver for that category of job i.e. the clergy. In contrast, the applications in the Pati response dated back to as early as 2013. The information provided in the Pati request included all active applications submitted by churches for all job types including 15 missionaries from the Church of Latter-Day Saints, two musicians and seven positions that either were not required to be advertised or where there was an automatic exemption, such as a guest speaker and sound technicians for special events. There were a total of six clergy that applied for a waiver of advertising and all six made proper application and paid the requisite fee. "Specifically, with respect to today's response by the department to the Pati request, it appears from the newspaper article that the question was for all positions within the various churches. Notwithstanding that our press conference was in respect of a particular matter, the response to the Pati request, and further investigation of the responses shows clearly that the policy was fully adhered to, as applications were made and fees paid to request the waivers."
January 26. The senior military representative at the British Embassy in Washington has paid a flying visit to the Royal Bermuda Regiment's latest recruits. According to a press release, Brigadier James Carr-Smith, Military Attaché in the United States capital, said he was impressed by the commitment and standards of the RBR. "Fantastic is my first impression of the troops," he said. He said that, although this was his first visit to the island since taking over the military attaché's post last August, he had heard favorable reports about the RBR's standards. Brig Carr-Smith added that he had British Army friends, some from the RBR's affiliated regiment the Royal Anglians, who had worked with island troops on overseas deployments, including Kenya. He said: "The RBR's reputation is world-renowned and, importantly, well-founded. There is a lot to like." Brig Carr-Smith was speaking after he toured Warwick Camp, speaking to new recruits on the firing range and the drill square, as well as instructors and full-time staff at Warwick Camp. He said that the RBR's equipment and training, as well as its customs and traditions, were founded on those of the British Army. Brig Carr-Smith added: "We also have the same weapon system as the RBR and we're wearing the same combats, while drill instructors have been on courses back in the UK, so I 100 per cent recognise the little training I have seen so far. If I was lucky enough to stay longer, I would recognise even more. Everything I have just seen and the interaction I have had with the young men and women, and some of them not so young I might add, is very positive." And he singled out new soldiers, conscripted years ago before it was decided to make the RBR all-volunteer but had been pending due to living or studying overseas, who had chosen to volunteer as an good indicator of the spirit of the recruits. Brig Carr-Smith added the RBR compared favorably with the 15 Army Reserve infantry battalions in the UK. He said: "Their recruit basic training is very similar to what I have just seen with RBR basic training." Brig Carr-Smith, due to return to his post at the British Embassy in Washington on Friday, added he had also been impressed by Bermuda. He said: "The people I have met are hugely friendly. The thing that really has struck me is how well-integrated the Royal Bermuda Regiment is, not just with the society it serves, but, importantly, with the other agencies — police, immigration, customs, the fire service — and that inter-agency approach is very important in all our armed forces. That's important in whatever country you're in because no conflict will ever be solved by military intervention alone. Co-operation is vital and I see that in abundance here in the Royal Bermuda Regiment." RBR Commanding Officer Lieutenant-Colonel David Curley escorted Brig Carr-Smith on visits to Governor John Rankin, police headquarters at Prospect and on his tour of Warwick Camp. Lt Col Curley said: "It's reassuring that a senior British officer has said such great things about us. And it's also very gratifying that the RBR is recognized around the world as good ambassadors for Bermuda." The 60 new soldiers are now approaching the end of a tough two weeks of introduction to life in the island's armed service and will finish their training with a formal passing out parade this weekend.
January 26. Almost 30 jobs held by guest workers at churches across Bermuda did not have to be advertised, The Royal Gazette can reveal. The Department of Immigration had granted waivers or automatic exemptions for 27 positions at eight places of worship, including for ministers, priests, canons and missionaries, as of November 17 last year. The statistics were shared with this newspaper by the department in response to a public access to information request. The disclosure reveals that only eight church jobs held by work permit holders, out of a total of 37, were advertised before the permits were issued to non-Bermudians. And in relation to the 27 jobs which were not advertised, work permits were issued in either 2015 or 2016, after the Department's most recent work permit policy came into effect. Adverts were not required in relation to two positions, where the post-holders were given letters of permission to stay for 30 days. The question of whether churches are exempt from having to advertise clerical positions has been under public scrutiny since an application for a work permit renewal for the Reverend Nicholas Tweed, minister of St Paul AME Church, was refused last year and that refusal was upheld on appeal. Mr Tweed has been a vocal critic of the One Bermuda Alliance Government and a leading light in the People's Campaign pressure group, which managed to shut down Parliament twice last year with protests over immigration and the airport redevelopment deal. The decision to reject the appeal over his work permit renewal prompted further protests earlier this month, with supporters claiming that home affairs minister Patricia Gordon-Pamplin was politically motivated against him. St Paul AME Church had previously said the decision not to renew Mr Tweed's work permit amounted to a "rejection of the longstanding custom and practice surrounding appointments of pastors in the AME Church in Bermuda". It said the substance of its appeal was a request for a waiver of the requirement to advertise the position and this was refused. Ms Gordon-Pamplin has argued that the Church had missed its deadline to request the waiver. The minister said in December that until 2014 different policies were in place for churches but that since then they had to abide by the same rules as companies and charities. "In 2014, everyone started with the same level playing field," she said. "It's natural to push back, to say 'I didn't have to do this before' but the older system and procedures have been superseded." Cole Simons, acting Minister of Home Affairs, told a press conference on January 4 that the two factors behind Ms Gordon-Pamplin's decision to uphold the denial of the work permit were the failure to advertise the post and the failure of the applicant to provide accurate and complete information. "There is no automatic waiver for any religious denomination on the island. Pastoral positions have been regularly advertised since the policy came into effect and all denominations have complied," said Mr Simons. On January 6, Ms Gordon-Pamplin said: "Before I would consider the application, I noted that the Church had been given a deadline of October 16 to comply with the letter of September 16 to advertise the position or request a waiver of advertisement together with the requisite fee. "The Church did not comply and I refused the application on October 20. A letter to that effect was sent to the church." Our Pati request asked for the number of work permits held by churches and details of those work permits, as well as records showing the reasons why any unadvertised church positions did not have to be advertised. Chief Immigration Officer Danette Ming, in her response, refused to provide records showing the reasons and said she was only willing to give a summary, by way of citing the relevant section of the work permit policy. Dr Ming said disclosing the records could "undermine ... the deliberative process employed by the Department of Immigration and inhibit and/or remove the privilege of free and frank discussions". She wrote: "In the case at hand, it is more important to avoid undermining (or reasonably undermining) the ability to have free and frank discussions within the Department of Immigration, in accordance with the deliberative process, than it is to disclose information for the sake of promoting transparency, accountability, public understanding and involvement in the democratic process." The records which were disclosed show that St Paul AME Church was given a waiver allowing it to bypass the advertising rule for a part-time musician post last year. A work permit was issued for the position on March 30. The Department's work permit policy allows waivers for advertising to be issued in certain circumstances, including where a person is uniquely qualified for a position. Short-term work permits are automatically exempt from the requirement to advertise in certain circumstances.
January 26. Two armed robbers who shot a Bermuda-based businessman in his English home have been jailed. Charlie Simms was jailed for 20 years at Chelmsford Crown Court this week, and Christopher Bergin for 14 years, for the raid on Timothy Mardon's Essex mansion last February. Mr Mardon, 51, a millionaire who works in insurance and lives most of the year in Bermuda, was shot through a bedroom door during the burglary and left for dead by the pair. The father-of-two lost up to a fifth of his blood from the gunshot wound in his thigh and underwent a series of operations to save his leg. Sentencing the pair on Monday, Judge David Turner QC described the break-in as "every householder's utter nightmare". Mr Justice Turner said if a police officer had not applied a tourniquet to Mr Mardon's leg he "would have bled to death". The judge told the men the recording of Mr Mardon's 34-minute 999 call conveyed the "sheer horror" of "every householder's utter nightmare". "The terror in his voice is palpable," he said. The judge said that Simms was the masked gunman but added: "You were both no doubt at the bedroom door." Simms, 23, of Great Yeldham, was convicted of attempted murder, aggravated burglary and possession of a firearm with intent to endanger life following a trial in December. Bergin, 28, of Sible Hedingham, was found guilty of wounding with intent, aggravated burglary and possession of a firearm with intent to endanger life. The men will both be on extended licence, for four years and two years respectively, following their release from prison. During the trial, jurors heard that Mr Mardon had locked himself in his bedroom but was shot in the leg with a sawn-off shotgun. He was left bleeding on the ground while the pair escaped with a watch worth $3,000 and a few hundred pounds in foreign currency. A recording of a 999 call he made was played in court in which a voice can be heard saying: "Where's the weed at or I will blow your face off." In a victim impact statement Mr Mardon said a masked man held a gun to his head as he lay bleeding, threatened him and began counting down. Mr Mardon, who was back in the UK for only one night, was alone in the Grade II-listed property when he was attacked. In a statement after the sentencing Mr Mardon said: "They will have time to reflect on what they have done and the harm they have caused to my family." Detective Chief Inspector Leighton Hammett added that the Mardon family was "satisfied" with the sentences.
January 25. The Parliamentary Standing Committee on the Public Accounts (PAC) is set to host its next public hearing tomorrow examining spending by the Bermuda Tourism Authority. The committee has invited officers from the BTA to discuss matters arising out of the body's financial statements for 2015. "In addition, the committee has invited the chairman of Wedco to meet with members for discussion on the financing and preparation of the land reclamation project in the South Basin area for the America's Cup events," a spokesman said. "Additionally, a representative from the Ministry of Public Works will be in attendance to discuss with members, capital works and grants." The BTA released a statement yesterday saying it welcomed the opportunity to appear before the committee. The authority also pointed out that it had earned unqualified audits in 2014 and 2015. "We are grateful for the opportunity to answer questions as it relates to the Bermuda Tourism Authority's Audited Financial Statements for 2015," BTA COO Karla Lacey said. "It is pretty clear to us — and we hope to the public — that strategic planning and judicious spending in 2015 provided the foundation for success the country experienced in tourism in 2016." The BTA recently reported 11 consecutive months of tourism industry growth in 2016, while operating on a budget that is half what was invested in tourism ten years ago. Ms Lacey added: "Decisions made in tourism today directly affect the performance the country will see nine, 12 or even 24 months from now. The same was true back in 2015; decisions then have an impact on what is happening now. The BTA earns a greater return for the country — which can be redirected to other services — and has ended a troubling trend of falling visitor arrivals and visitor spending. We're pleased to share that story with the parliamentarians of the committee." The committee, made of MPs from both political parties and chaired by Wayne Furbert of the Progressive Labour Party, is tasked with examining matters relating to the accounts of the Bermuda Government and investigate findings reported by the Auditor-General. Members of the public are invited to attend and observe the hearing, which will be held in St Paul's Church Centennial Hall at 2.30pm tomorrow.
January 25. Political uncertainty and unrest at home and abroad has hit the property market, a top real estate figure said yesterday. Penny MacIntyre, director of Rego Sotheby's International Realty, spoke after the firm's review of last year found that luxury home sales dropped by half compared to 2015 — and prices plunged by around a quarter. Year-end sales volume and total dollar volume, including home, land and commercial sales all fell — ending the 2013 to 2015 increases since the market hit bottom in 2012. The grim news was revealed in the 2016 review which said that only seven homes at the top end of the market — those with an annual rental value of $126,000 or more — sold last year. And the average and median sale prices in the luxury sector were about 25 per cent lower at $4.4 million and $3.5 million respectively. Bermudians made up 50 per cent of the sales in the sector, the others were British buyers. Ms MacIntyre said the US presidential election and Brexit had affected international sales, while domestic unrest had slowed demand in the Bermudian market. She added: "I believe that with any election you will find people tend to want to see what the outcome is." She added domestic unrest, including transport stoppages and the shutting down of the House of Assembly in a protest against the public private partnership deal to rebuild the island's airport, had dented consumer confidence at home. It makes it very difficult for people to enjoy Bermuda. It certainly has that effect. It's not just the effect on the international buying audience, who are put off by it to a lesser extent. People want to know they are in an environment moving forward — a safe place to be and one that generally doesn't have unrest. Business will go on, people will do what they have to do, but they will just be more cautious. As we try to encourage people to think through what's in the best interests of Bermuda's economy as well as its residents, we want to make sure we are not moving in the direction where it's self-inflicted wounds." Luxury condominiums — those with an ARV of $25,800 up — provided one ray of sunshine, with average prices increasing by 7 per cent to $910,000 over 2015 prices. Bermudians made up 80 per cent of the buyers in the sector, with US, South African and Swiss buyers represented in the remaining 20 per cent. And the average sale price across the residential market remained "relatively unchanged" for the eighth year running at around $1.1 million to $1.2 million. The year end report said: "While 2016 sales continue to be recorded, we expect the homes available to Bermudian buyers only will not reach the volume of 65 units sold in 2015." Sales at the lower end of the condominium market, those with ARVs of less than $25,800, totaled nine in 2016, on a par with 2014 and 2015, but the average sale price fell $57,000 from $322,000 to around $265,000. A buyer's market meant that purchasers struck tough deals on discounts on properties that needed upgrading. Sales of undeveloped land also dropped, down by a quarter compared to 2015. The residential rental market remained in line with the previous year, with rental activity boosted in part by long-term properties taken up by America's Cup teams, reducing the overall inventory available for long-term tenants. The report said rents had consistently fallen between 2008 and 2015 due to an increase in available properties, creating a "tenant favorable market. Properties during that same period often took longer to rent and faced rent reductions to secure tenancies." The report said that Devonshire, Pembroke and Paget remained the top choices for two and three bedroom homes with at least two bathrooms. The highest rental price in 2016 was for a five-bedroom home which went for more than $22,000 a month. RSIR said that the latest average asking rental rates went from $1,800 a month for a one-bedroom property, through $2,800 for two bedrooms and $4,500 for three bedrooms. The firm added that permanent resident certificate holders entered the real estate market over the last two years, buying 28 per cent of the luxury homes, which encouraged more sales and supported the overall value of residential property on the island. The report said: "We hope this year's America's Cup in particular provides the much needed short-term and long-term stimulus to our island and the entire real estate industry." Ms MacIntyre added: "People want to see Bermuda thrive, from international business to the public sector. If Bermuda does well with the America's Cup coming up, that will be good for confidence and investment."
January 25. Telecom company BTC Digicel was unable to secure Bermudian workers for 85 short-term positions that went to staff from overseas, according to Patricia Gordon-Pamplin, the Minister of Home Affairs. She spoke after the large-scale hire over the weekend caught widespread attention, with many questioning why local workers had not been sought. However, in response to Opposition criticism, the minister said the company had advertised before ultimately opting to subcontract the work on its fibre-optic network. Ms Gordon-Pamplin added that she agreed not to require further advertising as "it was unlikely to get sufficient Bermudian personnel" — but would create 56 permanent Bermudian jobs. "I can confirm that the rules indeed do apply to all," Ms Gordon-Pamplin said, after the Opposition called on her to clarify the matter. A PLP spokesman added that the party supported Digicel's work in enhancing its capabilities. Positions were advertised in February 2016, the minister said, for an overhaul that was subcontracted to Protel — said to be experienced in the gigabit-capable passive optical network technology, known as GPON. Listing the applications, Ms Gordon-Pamplin said the company had advertised for a project manager with three years' experience managing large fibre roll-outs and GPON — with three applicants lacking GPON expertise. Applicants similarly fell short on the expertise for three OSP managers, two stringing managers, two splicing managers, and the position of GPON engineer. The minister said that all foreign workers granted short-term permits were GPON specialists. "This determination is supported by Item 1.15 of the Work Permit policy regarding advertising criteria which allows an extension of six months before permits are applied for. In this instance, an additional four months had expired, but given the information previously mentioned, I permitted the company to use their subcontractor for the infrastructure build and to provide a system to support ongoing Bermudian jobs. The company has also provided the department with its training framework with which I am satisfied. I believe it is clear that this matter has no correlation to the other matter for which the Opposition is questioning, but I am extremely pleased that they realize the importance of this build and the enhancement of our telecommunications structure which will add value to Bermuda as a global business centre." Telecom company BTC Digicel was unable to secure Bermudian workers for 85 short-term positions that went to staff from overseas, according to Patricia Gordon-Pamplin, the Minister of Home Affairs. She spoke after the large-scale hire over the weekend caught widespread attention, with many questioning why local workers had not been sought. However, in response to Opposition criticism, the minister said the company had advertised before ultimately opting to subcontract the work on its fibre-optic network. Ms Gordon-Pamplin added that she agreed not to require further advertising as "it was unlikely to get sufficient Bermudian personnel" — but would create 56 permanent Bermudian jobs. "I can confirm that the rules indeed do apply to all," Ms Gordon-Pamplin said, after the Opposition called on her to clarify the matter. A PLP spokesman added that the party supported Digicel's work in enhancing its capabilities. Positions were advertised in February 2016, the minister said, for an overhaul that was subcontracted to Protel — said to be experienced in the gigabit-capable passive optical network technology, known as GPON. Listing the applications, Ms Gordon-Pamplin said the company had advertised for a project manager with three years' experience managing large fibre roll-outs and GPON — with three applicants lacking GPON expertise. Applicants similarly fell short on the expertise for three OSP managers, two stringing managers, two splicing managers, and the position of GPON engineer. The minister said that all foreign workers granted short-term permits were GPON specialists. "This determination is supported by Item 1.15 of the Work Permit policy regarding advertising criteria which allows an extension of six months before permits are applied for. In this instance, an additional four months had expired, but given the information previously mentioned, I permitted the company to use their subcontractor for the infrastructure build and to provide a system to support ongoing Bermudian jobs. The company has also provided the department with its training framework with which I am satisfied. I believe it is clear that this matter has no correlation to the other matter for which the Opposition is questioning, but I am extremely pleased that they realize the importance of this build and the enhancement of our telecommunications structure which will add value to Bermuda as a global business centre."
January 25. The Bermuda Casino Gaming Commission has been welcomed into the National Council on Problem Gambling in the United States. Richard Schuetz, the executive director of the commission, said the group looked forward to working with the NCPG on its commitment to have a problem gaming programme established "before the first bet takes place in one of our integrated resort casinos". The NCPG, which is neutral on legalized gambling, is a non-governmental organisation that advocates for problem gamblers, and works with stakeholders to develop policies for those affected by it. Keith Whyte, the council's executive director, said he looked forward to working with the commission on its programmes. "It is important to make sure steps are taken to address existing gambling problems and mitigate any future ones," Mr Whyte said.
January 25. A sharp increase in tourism revenues helped to support Bermuda's current account surplus in the third quarter of last year, even as reinsurance receipts fell. The island recorded a surplus of $208 million in the July through September period, narrowing by $10 million from the same period in 2015. The balance of payments reflects the island's economic transactions with the rest of the world for a given period. The Department of Statistics stated in its commentary that the main reason for the decline in the surplus was an increase in imports. The services account recorded an $87 million surplus in the third quarter, down $11 million from 2015. Services receipts grew by $8 million year over year to $378 million, but tourism and international business moved in opposite directions. An increase in visitor arrivals and higher per-capita spending by visitors fuelled a $29 million increase in travel services receipts to $169 million, representing a 20.7 per cent increase from the $140 million recorded in 2015. Receipts from transportation services improved $1 million. In contrast, receipts from business services declined $22 million, due mostly to a $16 million fall in receipts from reinsurance services. In addition, receipts from financial services and information communication technology services declined by $3 million each. Island residents also spent $16 million more on business services, such as management and consultancy than they did a year before. The deficit on the goods account widened by $12 million to $237 million as the value of imported goods rose by 5.2 per cent, driven by a $9 million rise in the value of finished equipment and machinery brought in. Imports of food, beverages and tobacco also rose by $3 million, while fuel imports fell $1 million. There were changes in the geographical mix of import sources as well, as the island spent $25 million more on imports from the US, $7 million less on those from the Caribbean region and $4 million less on Canadian imports. The primary income account, which reflects balances on compensation earned/paid to non-residents, and income from investments and payroll tax paid by non-resident companies to the government, recorded a surplus of $389 million, up from $376 million in 2015. Transactions related to investment income resulted in a surplus balance of $31 million compared to a deficit balance of $3 million in 2015. The surplus balance on employee compensation fell $21 million. The island's international investment position — reflecting the overseas assets of Bermuda residents and companies minus their overseas liabilities — increased by $4 million to $4.382 billion.
January 25. Bermuda Tourism Authority has countered claims that hotel accommodation and rentals have already been snapped up by visitors who want to watch the America's Cup. And the authority has now released a number of tips for those who want to witness the sporting spectacle which takes place in May and June. "Despite some reports and perceptions, bookings are still available at various island hotel properties and rentals," said a statement. "While it is peak season for travel to Bermuda and inventory becomes more precious during any major world sporting event such as the Super Bowl and America's Cup, it's not too late to make that reservation. The confirms there is still room in many of the island's hotels to welcome visitors." Below are the BTA's top 10 tips for potential visitors:
Tip 1 — Official spectator hotel packages. If you are interested in travelling specifically for America's Cup racing, check out americascuptravel.com. Travellers can get personalized attention and recommendations for date patterns and race schedules from Travel Places, the official travel package provider for the America's Cup. Representing just under 30 per cent of hotel inventory on the island, these packages include five and seven-night hotel stays, airport transfers and a spectator boat experiences starting at $1,747 per person for the Qualifier Races.
Tip 2 — Book with hotels directly. Go directly to Bermuda hotel websites and consider booking there. Many consumers use online travel agencies to do research and scope availability, but during major world events, many properties choose to sell their inventory direct to consumers via their own website and reservations systems. Because many of Bermuda's hotel and guesthouse properties are independently owned, a good place to start with a comprehensive list of Bermuda's properties is the official tourism website gotobermuda.com/places-to-stay.
Tip 3 — Look for open race day patterns. Bermuda has been named one of the top places to travel in 2017 by the likes of Travel & Leisure, Lonely Planet and Frommer's, so the island may be on your "to do" list even if you aren't into sailing. What to do? There are a number of dates throughout the months to experience Bermuda's every day beauty, without official America's Cup sailing on the schedule. Here are a few to consider: Monday, June 12 to Friday, June 16: Superyacht Regatta and Red Bull Youth America's Cup Qualifiers; Monday, June 19 to Friday June 23: J Class Regatta, Red Bull Youth America's Cup Finals and free days.
Tip 4 — See all six teams in the first two weeks. Opt for the first two weeks of sailing — it's the only time you will see all six America's Cup teams in action on the Great Sound. It's a great introduction to the world of America's Cup racing and there will be plenty of excitement to go around. You may even be able to find room blocks for small groups during these dates.
Tip 5 – Stylish catamaran packages for on-water accommodations. Experience the America's Cup and Bermuda on your own spacious and stylish catamaran with private skipper through Helm Events: America's Cup official charter yacht supplier. Seven night packages start at $2,399 per person and include accommodations, breakfast, lunch and on-water access to race viewing. helmevents.com/the-experience.
Tip 6 — Check for minimum night stays. Be sure to check each hotel for minimum night stay requirements. You may need to alter your check-in and checkout dates slightly due to some stay restrictions or rate requirements.
Tip 7 — Vacation rental options. Long before the sharing economy, Bermudians have been opening their homes and renting out apartments to visitors to the island. Check vacation rental availability at bermudarentals.com, Airbnb.com, homeaway.com and other vacation rental sites.
Tip 8 — Watch for room blocks. During an event like this, media, sponsors and the event producers may hold "room blocks" for group reservations at participating hotels. As event dates approach, some late inventory may be released into the market. Take care to book early if you see availability, as room inventory on the island is limited, and there is very little to no inventory remaining for the finals weekend.
Tip 9 — Use a travel professional. Confer with your travel professional or travel agent for assistance. Bermuda is a preferred destination by Virtuoso and Signature travel networks. A travel advisor can help do a lot of the heavy lifting and research on your behalf and can provide additional services and recommendations as well.
Tip 10 — Lots to do. There are plenty of opportunities to soak up events and happenings across the island. Consider these other events taking place throughout May & June: Antigua to Bermuda Race — May 12- 24; Bermuda Day and Bermuda Day Parade — May 24; Rendezvous Tall Ships Bermuda — June 1-4; Marion to Bermuda Race — June 12-17; Bermuda Heroes Weekend and Carnival — June 16-19.
January 25. Traditional portents of spring, humpback whales are already discreetly present in local waters. Residents along Astwood Park in Warwick spotted the spouts of whales off the South Shore on Sunday, telling The Royal Gazette: "Springtime is almost here." Humpbacks are skittish when sightseeing boats intrude, but researcher Andrew Stevenson, now in his 11th year of studying the animals, has struck gold with his drone, which he operates under a research permit courtesy of the Department of Environment and Natural Resources — plus a licence from the Bermuda Civil Aviation Authority. "It's been a game-changer," Mr Stevenson said, surveying aerial footage on his computer screen showing whales cavorting far off Bermuda's shores. Humpbacks are not easy to find, and aside from their spouts and flourishing tails, the 50ft giants merge into the depths with surprising ease. But, the drone, which can skim quietly just above the whales, catches humpback behavior in "incredible" detail, Mr Stevenson noted — including the animals lolling on their sides or "spy hopping" to observe the machine following from above. "I start looking in December," said Mr Stevenson, who puts in an average of 40 painstaking days a year panning the seas for whales. Earlier this month, the filmmaker happened upon a young calf with its mother, plus an escort. The whales, which pair up in sanctuaries like the Silver Bank off the Dominican Republic, were probably heading south — but Mr Stevenson believes the calf was born here. He cautioned that it was "premature to say that Bermuda is becoming a birthing ground again. The calf itself could have been premature birth, or a one-off." Humpbacks used to congregate off Bermuda to give birth, but stopped calving here after local whalers exploited that vulnerability. "On four of the last five years, reliable fishermen have told me that they saw a calf," Mr Stevenson said. "Perhaps it's starting to form a pattern." Aside from breeding down south, humpbacks feed far in the north, and by tracking the distinctive fluke patterns on their tails, Mr Stevenson finds the same wheels keeping a schedule over vast distances. The animals do not linger year-round in Bermuda, but the island lies smack-dab in the middle of their migratory route, affording a unique window on to their behavior. In his research, Mr Stevenson has identified 1,250 individual whales in Bermuda alone — enough for five catalogues of fluke identifiers, which he compiles with the help of sharp-eyed colleagues such as Judie Clee "The database I have is completely unique, and the behavior we see here is extraordinary." The drone was initially hampered by its inability to launch from a moving surface, making it impossible to take off from a boat. But the equipment has been retooled, allowing Mr Stevenson to cut his boat engines and unobtrusively scan for whales from above. While he seldom presumes to guess, Mr Stevenson speculated that Bermuda served as a meeting spot for whales to socialize and regroup. "We have the best opportunity here to unlock the complex secret lives of these incredibly intelligent animals," he said.
January 25. January could become the wettest in the island's history, according to the Bermuda Weather Service. Not including rainfall recorded yesterday, the island has already recorded more than 8.6 inches of rain this month — 1.26in shy of the record set in 1958 — and wet weather is expected to continue today. However, the BWS said it was difficult to say for certain if the record would be broken. A spokesman for the BWS said that despite the grey weather, as of noon yesterday they had reported around 0.08in of rain at the LF Wade International Airport, with sensors elsewhere showing even lower results. "Even though there is a fair amount of activity on radar, we can never be sure we will break the record until the event occurs. Activity from the evening and into Wednesday will be spotty, and showery in nature, so if we happen to get a couple of moderate showers overhead, then the closer we get. But, there is an equal chance that does not happen and those moderate showers miss us. It seems the system on Friday is not that strong, but it is expected to move fairly slowly so the chances are definitely there once again. Model guidance indicates another unsettled period with a low and passing front near January 30 or 31, so when you factor in all these above chances, we may just break the record." While he said weather for the month had largely been normal, the unusual 5.34in of rain on January 5 were enough to push the month close to the 1958 record. "If you removed just that one day, we would be striving to reach our average January rainfall of just over 5in," he said. "The 5.34in rainfall day was the 'anomaly' per se, as a very slow moving frontal boundary with rain, and embedded heavy showers and thunderstorms passed through. Other than that day, the occasional gale with a ½ to 1in of rainfall has been pretty much normal."
January 25. The Department of Education is hopeful that TN Tatem Middle School will reopen on February 20 after being forced to close the facility owing to mould and air- quality issues. Students and teachers have been working with the department and teachers to get students to St David's to attend Clearwater Middle School during the interim period. Acting Commissioner of Education, Freddie Evans, said: "Occasionally, through a crisis situation ingenuity and collaboration emerge. In this instance, the building emergency at TN Tatem Middle School fostered a brilliant situation of professional teamwork, community partnership and social alliance." Dr Evans added: "I am certain that every member of the Tatem family would agree that the Clearwater family have been gracious hosts, opening their doors and ensuring that students were not only accommodated, but fully integrated into their school. The TN Tatem students have demonstrated resilience and perseverance as they faced the great inconvenience of commuting from the west to Clearwater Middle School on a daily basis. Despite challenges, teachers and students from both schools have unified to demonstrate a vision of what Bermuda middle schools can become in the future. Although gaps in curriculum delivery were identified, it is important to note that, in every instance, steps were taken to ensure that the classroom experience of teaching and learning was delivered collaboratively to ensure the best opportunities for student success. Despite the triumph of this collaboration, it is time to plan the transition and resumption of school at TN Tatem Middle School. As witnessed, by the Tatem PTA executive, and members of the Bermuda Union of Teachers and Bermuda Industrial Union, during their recent walk-through of the building, a tremendous amount of work has been completed. However, there is still important work to be completed. This work will continue throughout the course of the school year. We understand the inconvenience of remodeling work continuing as school is in session; however, it is the general consensus that returning under these conditions is better than the continued difficulty of commuting." Dr Evans said that the department would continue to update and announce transition plans.
January 24. The attractiveness of Bermuda as an reinsurance centre could take a hit from the "America first" policies of new US President Donald Trump and the Republican-controlled Congress. That is the view of Fitch ratings analyst Brian Schneider, who nevertheless believes the island's flagship industry is standing up well in face of challenging market conditions, although he expects to see more merger activity this year. "Bermuda's reputation for a strong and efficient regulatory framework benefits the island's re/insurance market; however, the new Trump administration and Congressional shift in public policy in favour of the US combined with a lower corporate tax rate could reduce Bermuda's market benefits," Mr Schneider said. "Overall, the softening re/insurance market continues due to record capacity levels and sluggish demand from reinsurance buyers, despite increased catastrophe losses in 2016. Fitch expects pricing conditions to remain challenging throughout 2017." The analyst's views were published yesterday as Fitch released its "Bermuda Market Update". Mr Schneider said heightened mergers and acquisitions activity last year had changed the landscape in the island's reinsurance sector amid a softening market. "However, in Fitch's view, the Bermuda re/insurance market remains viable in the face of declining profitability despite challenging market conditions and increased potential political threats from the US," Fitch added. The rating agency said full-year 2016 earnings, which will be declared by most Bermuda reinsurers over the next month, would weaken. "The 2016 GAAP combined ratio [the proportion of premium dollars spent on claims and expenses] for the group of 11 re/insurers that Fitch Ratings actively follows will approximate 94 per cent," Fitch stated. "Fourth-quarter losses from Hurricane Matthew will add about 2.5 points to the full-year combined ratio. This result is deterioration from 88 per cent in 2015 due to higher catastrophe losses and reduced favorable prior-year reserve development." While consolidation continued, Fitch noted that Bermuda continues to attract start-up insurance companies. "Most of these new entities are partnerships with more established Bermuda players, which should prove beneficial in navigating the overall challenging market conditions and improve their chances of ultimate success," Fitch stated. "Development of a future wave of start-up, free-standing re/insurers, similar to past instances following market events, appears highly unlikely in the current market." During the January 2017 reinsurance renewals period, property catastrophe rates were down by mid-single digits, Fitch added, while capital levels were at record highs, both in the traditional reinsurance and alternative markets.
January 24. A measure of the size of Bermuda's economy shrank in the third quarter of last year, as the value of exports fell while imports rose. The island's gross domestic product in the July through September period was estimated at $1.36 billion — down 0.5 per cent from a year earlier, or down 2.2 per cent when inflation is taken into account. The data were published today by the Department of Statistics, which in its commentary attributed the economic contraction to a narrowing trade surplus. The net surplus in trade in goods and services fell $36.6 million, or 20.3 per cent from a year previous. "Receipts from the exports of services fell $17 million reflecting lower premiums collected on insurance services," the commentary stated. "Imports of goods and services, which have a downward effect on GDP growth, rose $19 million reflecting higher payments for imported goods as well as increased outlays for professional and management consultancy services." The island emerged from a six-year recession in 2015. But growth was less consistent last year, with 0.4 per cent shrinkage in the first quarter and a 0.7 per cent gain in the second quarter leading up to the third-quarter decline. The third quarter was up against a tough year-over-year comparison as real growth spiked 4.6 per cent in the same period of 2015. The figures indicate that residents tightened their purse strings for a second successive quarter, as household final consumption, or expenditure on goods and services, increased slightly to $783.1 million — representing a decrease of 1.3 per cent after inflation, following a 1.4 per cent decrease in the second quarter. Government consumption increased 5.2 per cent in the third quarter, due mostly to health services. After adjusting for inflation, government consumption increased 3.2 per cent. Gross capital formation, or investment in fixed assets, increased $17.2 million or 10.5 per cent, reflecting higher investment in machinery and equipment, particularly industrial machinery and transport equipment. In real terms, gross capital formation advanced 10.7 per cent, the commentary stated.
January 24. Hamilton Mayor Charles Gosling has called on the Bermuda Government to take the lead in addressing the rising numbers of homeless people in the capital. The head of the corporation told The Royal Gazette that Hamilton needed a "champion" in both the Government and Opposition to ensure meaningful action was taken to address the continuing problems associated with homelessness. Meanwhile, a spokeswoman for the Ministry of Social Development and Sports maintained that discussions were still ongoing with the Salvation Army about the relocation of its existing homeless shelter. "Some of the homeless persons in the City of Hamilton frequent the Emergency Housing Shelter on North Street," the spokeswoman added. "As promised in the 2016 Speech from the Throne, the Ministry of Social Development and Sports is currently in discussions with the Salvation Army regarding the relocation of the existing shelter to a refurbished facility located at the old Bishop Spencer School. The Salvation Army intends to renovate the Bishop Spencer facility to not only provide upgraded emergency housing, but would also like to expand the social programmes that it offers to homeless people, thus enabling clients to remain at the facility during the day to participate in on-site social services and interventions aimed at helping them to improve their lives." But Mr Gosling urged the Government to "act immediately" and implement a "sustainable programme" to reduce the numbers of homeless living and sleeping on the streets of Hamilton. "It is a huge issue for the Corporation at the moment, but also for retailers and businesses in the city," he said. "We need a champion in Government and within the Opposition too, to really sit down and address this problem. It's very discouraging when we receive reports of somebody urinating on the mailbox on the corner of Reid and Burnaby Street, and the response of the courts is to give them a slap on the wrist. We do not feel it's right for our staff to have to pick up human waste from outside the City Hall every morning. And what's more this is something that businesses are having to deal with when they turn up to work in the morning." The Bishop Spencer move was first proposed in June 2014, but the new building would require substantial repairs that the Salvation Army would have to cover and the relocation project is yet to officially get off the ground. In October 2015 The Royal Gazette reported that Major Frank Pittman, Bermuda's Salvation Army divisional commander, had convened an invitation-only brainstorming session to get all possible options for its deteriorating emergency housing complex on the table. Progressive Labour Party MP Rolfe Commissiong has questioned why the project appeared to have "completely stalled" in recent months and he also raised concerns about the state of the North Street complex. Mr Gosling said: "There continues to be a number of people who have left their homes that really are not capable of looking after themselves. Their actions also have a considerable effect on the areas they have decided to take up as their new home. This is something well beyond the remit of the Corporation of Hamilton to deal with. We do not have a department of Health, Social Services or a police service to deal with these problems. It is really only Government that has the resources to deal with this situation. We would be very happy to play a role in it, but we do not have the authority to engage a solution. I would like to see Government take leadership of this issue. I get disappointed when I look at how many lost opportunities there have been to deal with this issue. There is no reason why the initial steps can not be taken immediately. It is very, very important for there to be a community agreement and cross-ministry agreement into how this is going to happen. We need a sustainable programme in place."
January 24. When talk turned to how St Anne's Church in Southampton could commemorate its 400th anniversary, Ruth Thomas knew she wanted to do something special. None of her ideas felt quite right until she heard of the vestry's plans to fill the last empty window with stained glass as part of the celebrations — but funds would be needed for the project. "It was at that moment that I knew this is what I was supposed to do, I will donate this window," Ms Thomas, who fell in love with St Anne's after attending "quite by accident" one Sunday in 1964, told The Royal Gazette. "When the thought hit me, I thought I was going to have a heart attack because my heart started to race real fast, my chest was beating." Aside from being motivated by the need, the dramatic artist and expert on Bermuda's culture and history knew it was the right fit because she has always loved stained-glass windows. "I think they're so wonderful. They seem to add a sense of reverence to the church. What is nice about them is that you can incorporate biblical sentiments. They're just so warm and so sacred." The Southampton resident, a retired teacher who became the island's first education officer for preschools and later Bermuda's first cultural affairs officer, wanted to stay anonymous. She met secretly with the Reverend David Matthews, the minister at the time, and stained-glass artist Vivienne Gardner to discuss what the window could depict. "I just knew that I wanted to capture the history, the environment and I wanted lots and lots and lots of light — I love light," Ms Thomas, who is also an author and performer, said. When Ms Gardner suggested sail boats, Ms Thomas couldn't quite picture it. But she said: "As soon as I saw her draft, her sample, I thought: yes, this is it. Our history, our culture in Bermuda, is so inextricably bound to the sea. You can't get away from that. It's a segment that touched everybody's life, be it black, white, rich or poor, because the sea was a major part of transportation." Ms Gardner, who has been making stained-glass windows for six decades, added: "We came up with the idea of how people came to Bermuda over the 400 years and so we said sailing. At the bottom, there are the tall ships, like the Sea Venture would've been and the pilot boats. In the next section of the window, we have The Spirit of Bermuda — the boats they built here and the fitted dinghies. Further up are the regular racing yachts like you see out every Sunday. And also, I slipped in the America's Cup boat." The top panel depicts Gibbs Hill Lighthouse and it was Ms Thomas's idea for the light beams to form a cross. "So it's God's light drawing people safely to the shore," Ms Gardner explained. Ms Thomas added: "For me it's symbolic of Christ — the light of the world — and it should motivate us to let our light shine." And the inscription reads: "To God's Glory and to commemorate all inhabitants and sailors who have come to these shores over the 400 years since St Anne's was founded as Port Royal Church in 1616." The window was constructed in Florida, as per Ms Gardner's detailed instructions. "I did complete, full-size drawings," she said. "Everything was specified exactly as I wanted." It was installed in December and Ms Thomas said: "When I saw it, I just stopped dead in my tracks. I knew I liked the sample when I saw it but that was just on paper. To see it in all its glory in glass, I couldn't help it; I was moved to tears. It was such a beautiful piece of work. The colours are so vivid — they are just brilliant. It almost looks like a 3-D work. It's got so much motion in it and so much feeling. She did a fantastic job." A service of dedication presided over by the Right Reverend Nicholas Dill, Anglican Bishop of Bermuda, was held on January 16.
January 24. Marcus', the restaurant run by renowned chef Marcus Samuelsson at the Hamilton Princess and Beach Club, will be closed through February as it undergoes changes. The restaurant opened in May 2015 and will be reopened in March. However a spokeswoman for the hotel stated that the Crown and Anchor restaurant will remain open.
January 23. Neither the One Bermuda Alliance nor the Progressive Labour Party seems to be finding much favour with the voters as we head towards the next General Election. In the final instalment of a three-part series, we ask political commentators how both parties will improve their lot in the coming months. Both parties will drastically transform their images as a likely General Election year gets under way, political commentator Phil Perinchief predicts. The Progressive Labour Party desperately needs a new slate of candidates owing to its supporters' dismay over a lack of "competence, talent and experience" among its existing team. He said the PLP needs to fix the growing view that it is a "divided party with an unhealthy imbalance of youthful naivety and a troubling lack of vision". Meanwhile, he said, the One Bermuda Alliance requires a huge rebranding exercise after failing to shed its image as a reincarnation of the United Bermuda Party that has propped up the elite at the expense of the struggling poor. Many blacks believe the OBA is capable of fixing Bermuda's social problems, he said, but are "stubbornly refusing to do so". Another political commentator, David Sullivan, warned that while the OBA has made important steps in stabilising the island's rocking economy, its communication efforts about that good work have been its weakness. He believes that while the PLP has been strong on criticism of the OBA, it has been short on valid solutions to problems. Mr Perinchief, a former PLP Cabinet minister and election candidate, and Mr Sullivan, who ran for the UBP in 2007, shared their thoughts with The Royal Gazette at the beginning of what many expect to be a General Election year. Both ran as independents in the 2012 election. Mr Perinchief said of his former party: "The presently constituted PLP has an image problem that needs fixing. Apart from the festering fracture in its midst, it is being seen by a growing number of people as lacking the capacity, competence, talent, experience and vision to move to resolution or sustained progress, the 10,000-pound weight elephant of problems facing Bermuda today and with which the OBA is unsuccessfully struggling. It is being voiced around, for example, that the current PLP may be capable of handling only one tenth of this 'elephant' problem. It has a huge amount of work to do if longevity as a party, and years of successive government administrations, factor among their current goals and objectives. Accordingly, I expect that the PLP will go first among its members, and subsequently to its supporters at large, who have grown tired of mediocrity in their ranks, in order to recruit the requisite experience, competence and talent to move that entire organisation to a greater degree of stability and meritocracy. It is imperative that they be seen, locally and abroad, as capable of handling the 10,000-pound elephant sitting among us." Too many PLP MPs believe they are "territorially entitled to the fiefdoms of their constituencies in perpetuity", Mr Perinchief said. He added: "This posture has the effect of stifling free-flowing growth and the succession of young and seasoned aspirants moving unimpeded up throughout the upper echelons of the PLP administration and organisation." He advised confining all MPs to a maximum of two consecutive terms, with a mandatory two-year primary challenge for their positions. "The PLP, in particular, would be immeasurably strengthened as a result of such changes should it move to overcome these challenges," he said. However, Mr Perinchief said the public perception of a "united, reinvigorated, reformed, talented and generationally connected new-face PLP" would set the party up for success for years to come. "I expect the PLP knows this, and will prior to the next election roll out a clearly articulated, timely and appropriate succession plan in its ranks for its young, and not-so-young, ambitious and capable aspirants. Externally, I expect the PLP will deploy in its election manifesto, a clearly thought-through and realistic plan for the next five, ten, 15 and 20 years for tackling the problems mentioned, and generally advancing Bermuda's interests here and abroad over time. Once these plans are understood and accepted by both rank and file, I expect the PLP will hit the marginal constituencies, in particular, with hordes of confident, informed, and energized members and supporters to sell their message." The General Election must happen by May 2018 at the latest, but observers believe Michael Dunkley, the Premier, is more likely to cash in on any feel-good factor generated by the America's Cup before the end of this year. Mr Perinchief said: "If the OBA has the political good sense and will in its arsenal, I expect that it will in the relatively very short window left focus on better selling its key initiatives, abandoning, suspending or toning-down its vote-losing ones, recruiting more grassroots members to work in outreach forages into marginal constituencies in order to persuade swing voters and undecideds to its points of view and demonstrably rebranding itself away from the Bermuda Inc imagery and towards a more inclusive Mr and Mrs Joe Public persona and mission. The OBA needs to connect with black people who are struggling in an unforgiving economy and feel excluded from society. The social problems we witness today are direct by-products of this economic exclusion and dislocation," Mr Perinchief said. Mr Sullivan, meanwhile, believes the OBA has successfully made difficult decisions to help to steer Bermuda out of serious financial trouble. "Traditionally, the incumbent runs on its record of accomplishments and the challenger offers 'better ideas' to sway voters for support. The current government, very much like the claim of the Obama Administration, can take credit for stabilising Bermuda's financial and economic ship. It inherited the historically worst financial position that we have ever found ourselves in. Not only in debt, but no plan to get out of it was the legacy of the former government. The proverbial 'alligators and swamp' scenario was presented to the current government at the time its administration started, as well as an already agreed Budget that was difficult to change due to the timing of the election and transfer of administrations. While many of the decisions taken by the current government have not been earth-shattering or indeed memorable, they were necessary for the economy to see its way out of the mess. We are not out of it yet, nor will we be for some time, but direction is important and few can argue with any validity that the current direction is wrong. The management of Bermuda is the current government's strengths, with its communications efforts of just what it takes to right the ship and keep it on course its weakness." Mr Sullivan pointed to internal struggling within the PLP, which included the resignation of eight Shadow Cabinet members before leader Marc Bean quit politics altogether in November. "They have been strong on criticism and objecting but weak on valid or tested plans and ideas as to how they would solve that which they are critical of or objecting to. They have been distracted by petty flavour-of-the-day skirmishes, including many internally, the results of which have been an eroding of their credibility as a viable alternative at this moment. Their most recent leadership debacle and its continuing fallout will not assist them in reversing that perception any time soon." He added that the OBA and the PLP face the challenge of trying to win over "an almost equally split electorate. The results of 2012 was proof of same. Hard party support lines have been drawn and the uncommitted voter will hold the balance. That is the target that both parties need support from, as neither of the two major parties have enough support from their own numbers. We may see a similar scenario as the United States, in that a popular support to one but control to the other. Albeit for 15 votes in 2012, it could have happened then. Every vote counts."
January 23. Former Attorney-General Mark Pettingill is urging police to issue clear warnings to people considering blocking MPs from entering the House of Assembly when it reconvenes next month. The government backbencher said it was up to the Bermuda Police Service to ensure citizens were aware they would be breaking the law and could be arrested if they locked arms outside Sessions House, as happened on December 2, when demonstrators shut down a planned parliamentary debate on the controversial airport redevelopment deal. "The authorities should be putting people on notice," Mr Pettingill told The Royal Gazette,. "It is only right that people are informed as to what their legal rights are and where they are crossing the line. The line is clearly that you can have a peaceful protest, you can gather and assemble for the sake of that protest, you are entitled to freedom of speech to say what you want to say [but] you are not allowed to interfere with the legislature in any way or the officers of the House of Assembly, not at all. If you stand in front of me, preventing me going into [Parliament], you are breaking the law." On December 2, protesters prevented MPs from entering the House and police officers in riot helmets used pepper spray on the crowd — an action which prompted criticism and which will be reviewed independently by a senior police officer from the United Kingdom, at the Governor's request. Officers at the scene were heard telling people their behavior was unlawful by reading from a prepared sheet but Mr Pettingill said such warnings should have been issued in advance of the protest. Senior police commanders drafted an operational order to prepare for the protest on November 30, as revealed under public access to information last week. But though the plan cited the offences of disturbing and interfering with the legislature, it did not propose publicizing them to the public in the days before December 2. Mr Pettingill said a different approach was needed for February 3. "People need to be warned. I believe the main duty of that falls to the police. You know it [blocking Parliament] has happened before. You don't want it to happen again. You don't want to get to the stage where you are pulling out pepper spray. You need to say 'have people been properly warned?' It's good law enforcement, it's good social management." He said he was "vehemently opposed" to the use of pepper spray and argued that police officers should instead focus their energies on gathering evidence for potential prosecutions. Activists who are against the airport plan have suggested there will be another protest on February 3, with union leader Jason Hayward telling a public meeting last week he did "not expect any different activity" to the events of last month and that the People's Campaign pressure group committed to "peaceful, non-violent protesting". Mr Pettingill claimed Mr Hayward was encouraging people to shut down Parliament again and that was "wrong". He said the Bermuda Public Services Union president and others should be "advising people properly about what is a lawful, constitutional protest and what your legal rights are in relation to that and what you are fundamentally not allowed to do under the law". The Parliament Act sets out the penalties for the offences of interference with and disturbance of the legislature, ranging from a six-month jail term and/or a fine of $1,680 to a two-year prison sentence and $16,800 fine. No one has so far been charged with any offences under the Parliament Act in relation to December 2. One person has appeared at Magistrates' Court accused of assaulting a police officer. A police spokesman told this newspaper yesterday: "The police are developing plans for the third of February when the House of Assembly resumes that will include provisions to allow peaceful protests to take place, should any be held on that day. They will also enable the business of the House of Assembly to be conducted normally. The BPS will share the plans with the public in advance of the next sitting of the House."
January 23. Work to restore the titular clocks at Dockyard's iconic Clocktower has begun in the US. According to a Wedco spokesman, the clocks were installed 30 years ago, with one giving the time and the other the high tide time. However, mechanisms in the clocks have since worn out, and the quango has announced that it would invest $200,000 into their restoration. "The work was given to the Electric Time Company of Massachusetts and the new clocks are starting to take shape in the factory," the spokesman said. Joanna Cranfield, Wedco's business development manager, added: "The work that has been done so far looks fantastic. It will be great to get the clocks back in working order; they are such a significant landmark."
January 23. Opinion, by Dan Balz, Chief Correspondent at The Washington Post, once the paper's National Editor, Political Editor, White House correspondent and Southwest correspondent. "A collision awaits President Donald Trump. Exactly when it will take place is not clear, but it is almost certain to occur. The extravagance of the President's rhetoric is soon to meet the reality of governing. The President's inaugural address was perhaps the baldest example of the rhetorical bravado that marked his time as a New York developer, a reality TV star and, yes, as a candidate. Restraint is not in his vocabulary. Trump's inaugural address has drawn considerable criticism for its overall tone, for the dark portrait he drew of the state of the country, for its inward and insular vision, and for the general absence of typical inaugural themes of unity and American exceptionalism. Those are all valid critiques of this most unusual of American inaugural addresses. But set them aside for the moment and take the address as a genuine expression of Trump's vision and ambitions as president. He will soon be measured against the promises he has made, and he opened his presidency by setting an incredibly high bar for himself. Making good will not be easy. The opposition will come from many directions. The millions of people who took to the streets in cities around the country and around the world on Saturday speak to the resistance he will face as president. He will be opposed both for what he stands for and for who he is. Beyond that, he will have to prove he can translate the skills of a businessman to the messier process of legislating and presidential decision-making. The slow process of populating his new government should raise cautions. His inaugural speech was a call to arms, a renewed effort to summon the anger that exists in parts of the population against the economic and cultural elites. Rather than an address to bring the country together, it was an expression of the divisions he successfully exploited as a candidate. As in the campaign, it was a pitch-perfect rendering of the frustrations that have fuelled his rise with a message of nationalism, populism and dismissal of his critics. That alone will not suffice now that he is president. He will be expected to deliver on the promise of a fundamental shift in governing priorities. What would he do as president? Here are just a few actions, based on his Friday speech. He would build more roads and highways and bridges and tunnels and airports than any president in recent memory. He would bring back the millions of jobs that have moved overseas and/or prevent the continuation of that flow. He would reverse globalism in some form or fashion. He would seek to ensure that products sold in America are made in America. He would set up new barriers to protect the country, whether a physical wall to impede illegal immigration or financial impediments in the form of tariffs or border fees. And he would do all that now. As he put it, "the American carnage stops right here and stops right now". Trump can rail against the political establishment all he wants. It worked for him as a candidate, and he appears to believe it will work for him as president. Some of the first words out of his mouth as the 45th president were used to denigrate the sea of political humanity sitting behind him on the Capitol's West Front. He was in no mood to offer olive branches or promises of co-operation, whether to his presidential predecessors or to the leaders of Congress from both parties. It was not only one poke in the eye but a series of broadsides against the established order as he charged those in attendance with being guilty of lining their own pockets at the expense of the people. "That all changes, starting right here and right now," he said, "because this moment is your moment. It belongs to you." There are, however, enough contradictions within Trump's presidency and administration to call into question what he had to say in that speech. Strong and forceful rhetoric on the part of leaders can be valuable in rallying a nation in the face of adversity; Trump apparently believes this is one of those moments. But over promising and not delivering would leave him vulnerable to the charge that he is what he criticised: all talk and no action. By all indications, the inaugural address represented a fusion of the ideas and visions of Trump, chief strategist Stephen Bannon and senior policy adviser Stephen Miller. But there is little to indicate that such a view of the world is shared widely in the new administration or whether it represents fully all of Trump's views. White House Chief of Staff Reince Priebus has never been known for holding views such as that. How much will he and other allies who are part of Trump's White House team seek to temper the anti-globalist vision? However clearly Trump spoke on Friday, turning those words into governing principles and then into presidential actions or legislative recommendations is likely to be a cumbersome and at times combative process. Outside the White House, the new president faces potential pushback from members of his own Cabinet. Just one example is defence secretary James Mattis, who has a more positive view of Nato than does Trump, as well as a much more sceptical view of Russia. It is also important to remember that Trump is the first president in history with neither experience in government nor service in the military. He has been a developer and a dealmaker, and has a high opinion of his negotiating skills, perhaps for good reason. But he has never dealt with the legislative process, never gone through the sausage-making involved in turning a proposal into a law. He is getting an early lesson into how the machinery of government is designed to frustrate a president. Democrats in Congress ultimately cannot block his Cabinet nominees; they do not have the votes. But they can slow things down, as they have done with several nominees already. Imagine what will happen with controversial legislation. Trump could face resistance from Republicans as well as Democrats. House Speaker Paul Ryan and Senate Majority Leader Mitch McConnell have been nothing but co-operative and positive towards Trump since the election. But Ryan's conservative vision is not fully compatible with Trump's outlook, and the two are likely to clash some time in the future. Trump has sent mixed signals about issues, another complicating factor. He is for repealing and replacing the Affordable Care Act, but he told The Washington Post's Robert Costa that he wants everyone to be insured under a replacement. Some Republicans would like to repeal and eventually to replace. Trump has backed them off by saying the replacement will coincide with the repeal. That is just one example. Rolling back globalization presents another huge challenge, if he is truly serious about that. Trump can point to some victories during the transition — companies that announced they would not send some jobs to other countries as they were planning to do. Every job saved helps an American family, but the numbers are still tiny. Can Trump bring about a fundamental shift in the way American companies operate in a global economy, or will he succeed only in changes at the margins? "From this day forward, a new vision will govern our land," Trump said in his inaugural address. It is a vision unlike that of any recent president or administration and it is representative of neither major political party. The new president has put down markers by which he should be judged. If he walks away or proves incapable of doing what he promised to do, he will be called to account. As he said, "the time for empty talk is over". The question is, can he actually deliver?
January 23. A Jamaican national was named yesterday as the third person charged with a plot to supply the controlled drug Fentanyl. Maurice Martin was charged in Magistrates' Court of a single count of conspiring with others between an unknown date and December 20 to supply the synthetic opioid. He was not required to enter a plea as the matter will be heard by the Supreme Court. Two Canadian nationals have previously been charged in connection with the same incident. The 33-year-old was released on $150,000 bail with a like surety, under the conditions that he surrender all travel documents and report to the Hamilton Police Station on a daily basis. The matter is expected to appear before the Supreme Court in March.
January 23. The East End celebrated the 100-year anniversary of Town Cut over the weekend — an august occasion for St George's that was marked with a cannon salute and boat parade through the waterway. The sea lane servicing the Olde Towne was first cut through a tiny natural channel between the main island and Higgs Island, which Bermudians commemorated on the first day of 1917 with a procession of ships — beginning with the cargo ship SS Admiralen. This weekend's anniversary boat parade included the Spirit of Bermuda as well as pilot boats and gigs. "It was very successful; we had an overwhelming response," said Rick Spurling, head of the Bermuda Pilot Gig Club, who added that many descendants of legendary pilots and mariners turned out for a gala reception at the East End Mini Yacht Club. "The daughter of the pilot Harry Fox, 84-year-old Diddles Fox, went on one of the gigs out to Spit buoy and paraded in," Mr Spurling said. Also on hand were Brinky Tucker and Elaine Fox, the great-grandchildren of pilot James Griffiths who brought the Admiralen through 100 years ago. Town Cut was a substantial addition to the economy of St George's. Ships were getting bigger, and this allowed freighters and ultimately passenger ships to come through. If we didn't have that channel, we couldn't do anything. But this was also a recognition of the contributions of the pilots to Bermuda over hundreds of years — and it continues to this day," Mr Spurling added. "Our economy could never have existed without ships being brought safely to port." The cannon was fired from Gates Fort on the shoreline as the vessels came through on Saturday. Town Cut recently "split the community down the middle" over plans to widen the channel even further, to admit the bigger ships that over the past two decades have been unable to make it through. "A lot of people didn't want that to happen because of the exposure we would have to the open ocean," Mr Spurling said. "I give full credit to the Government, the Bermuda Tourism Authority and Norwegian Cruise Lines for finding smaller ships that will be coming in to St George's this year." However, Kenneth Bascome, MP for St George's North and former mayor of the Olde Towne, said East End residents could yet find a compromise on a larger Town Cut. "It was a pleasure to watch," Mr Bascome told The Royal Gazette. "It has only put credence to what I proposed all along — adding modifications to the Town Cut channel. We don't need massive ships. But I believe something that could carry 1,500 to 2,500 would benefit St George's, with modifications that would not be devastating to the islands at Town Cut."
January 22. A reminder for public comment and feedback on a draft code of practice has been issued by the Office of Project Management and Procurement. Once finalized, the code will be added to the island's good governance framework, and followed by all public officers, a government statement said. The document is to outline how civil servants procure goods, services and works on behalf of the people of Bermuda. Michael Dunkley, the Premier, urged the public to review the document. "Once adopted, it will impact service providers to the Government, including, contractors and vendors," Mr Dunkley said — adding that it would put in place "full transparency, fairness and openness in the tendering process", as well as demonstrating value for money.
January 22. Former minister of National Security Wayne Perinchief has called on the Progressive Labour Party to state explicitly whether it supports the People's Campaign and if it does he called on the party to boycott the scheduled February 3 parliamentary debate on the airport deal. Mr Perinchief was speaking during a question-and-answer session at the People's Campaign's third and final public meeting held at St Paul AME Church Centennial Hall, Hamilton on Saturday evening to which former PLP MP Dale Butler was in attendance along with former PLP Premier Ewart Brown who made a brief appearance and statement. PLP senator Renee Ming and shadow education minister Lovitta Foggo have been spotted at previous People's Campaign meetings last week. Much of the evening was concerned with the People's Campaign's manifesto focusing on the economic empowerment of Bermudians through individual and collective efforts as well as through demands made from the ruling One Bermuda Alliance. Speaking to the leaders of the People's Campaign chairing the meeting — Jason Hayward, president of the Bermuda Public Service Union, the Reverend Nicholas Tweed and Chris Furbert who is also president of the Bermuda Industrial Union and Trade Union Congress, Mr Perinchief called on the group to urge the PLP to make its position clear. He said: "The People's Movement [meaning Campaign] needs to get the PLP to come out and clearly state what its position is going to be. They need to be urged and educated in strategy — you don't go to Parliament just to talk shop. They should boycott that session when the matter is raised and walk out." Mr Perinchief said that the People's Campaign should "form a nucleus" and rather than aspire to grow as a movement it should aspire to become a political party. However, he said it was crucial that the campaign "broaden its leadership base" as many perceived it as an extension of the unions. He urged those present to put themselves forward as potential leaders even mentioning that he would be willing to step in himself. When Dr Brown strode through the centre of the hall to the microphone just before 8pm, he received enthusiastic applause from the 150 so people who turned out to participate in the evening's discussion with a handful even standing to their feet. He joked that his "boss" LaVerne Furbert — a community activist with the People's Campaign and former PLP senator, had encouraged him to come along to make a few comments. Explaining to the audience that he had an engagement at 8pm he would keep his comments brief but he thanked those assembled for "keeping the candle lit". He quoted his "good friend" Kwame Ture, a Trinidadian-American who became a prominent figure in the Civil Rights Movement, also known as Stokely Carmichael, to say: "In the midst of a battle, heighten the contradictions and prepare for the confrontation." Many of the issues that have been discussed in the previous People's Campaign meetings, as reported in this newspaper, were reiterated on the night with enthusiastic support coming from the audience members on the subjects of the controversial airport deal, free education and better scholarship opportunities for less economically empowered Bermudians, affordable healthcare and the need for a living wage. During the question and answer session, one senior lady rose to her feet and called on the community to "open an account" that would help to compensate workers who take industrial action "because the BIU cannot do it". Another senior, a male, took to the microphone to say that legislation proposed by the OBA to provide a pathway to status for long-term residents and those with familial ties to the island as "the most racist legislation this country has seen for 30 or 40 years". He said that the intent was to broaden the voting pool for the party while "eroding the voting power of African-Americans". Race activist Eva Hodgson also got up to speak and encouraged those present to "speak to at least five other people" about the discussions that had taken place that evening. Dr Hodgson urged them to take "affirmative action" to overcome the government-created notion that black people are second-class citizens. Towards the end of the evening an emphasis was put on the upcoming debate on February 3 to which Mr Tweed said: "We need to formulate a plan, agree a plan and then execute a plan."
January 22. Improvements starting today at Horseshoe Bay Beach, including work on a boardwalk, will affect access to the island's most famous beach. With residents querying why a barrier had been erected over the weekend, a government statement said access through the main entrance would be restored once the makeover was complete in May 1. The works, aimed at improving the ease of transport and accessibility, were said to be in keeping with the "Beach Vision" laid out in May 2016. Two alternate locations east of the usual entrance will provide access: the thoroughfare across from the Southampton Rangers Sports Club field, which has some car parking — and where beachgoers are warned to take care on the steep path. The second point will be through Chaplin Bay, directly across from the entrance to Warwick Camp, providing access for cars, cycles and pedestrians. Visitors will then head west to Horseshoe Bay, with signs to be placed in the days ahead. Additions include:
A timber pedestrian boardwalk with view corridor and seating, connecting to a concrete sidewalk with ramp to the existing beach access;
Storm water drainage systems;
Relocation of the existing asphalt road to the north of the property with circular vehicular loop;
New bus, shuttle, minibus and taxi drop-off zones, and car and bike parking with turf-grass surface;
Repositioning of the existing salt-water pump for bathrooms;
A new retaining wall and seating near the bus drop-off;
Removal of invasive species of plants and trees, with planting and protection of existing vegetation;
New parking facility lighting with Belco poles.
Senator Michael Fahy, the Minister of Tourism, Transport and Municipalities, said the Beach Vision would focus also on John Smith's Bay, Shelly Bay, Tobacco Bay and Clearwater, aimed at improving facilities on beaches with infrastructure already in place. A concessions tender for Horseshoe went last year to the operators of the Bermuda Bistro at the Beach. Chops Ltd, which also runs Red Steakhouse and Bar, has promised a "classic, vibrant, laid-back Bermuda beach experience". There are plans for a happy hour, live music, small gift shop, and an "exciting mix of local and ethnic cuisine", along with the rental of chairs, beach toys and umbrellas.
January 22. Specialized workers have been brought to the island to install a fibre network designed to measurably increase internet speeds in Bermuda. Digicel Bermuda has hired a contractor to assist with the next phase of upgrading its internet infrastructure. As a result, 85 skilled workers from a number of South American countries have been brought to the island. The company said it is installing a "world-class fibre network", and when the work is completed Digicel Bermuda expects to be able to offer customers across the island much enhanced internet speeds. "These upgrades will not only transform the current internet environment dramatically while creating Bermudian jobs but will also ensure Bermuda becomes a magnet for international investment and tourism," said Robin Seale, chief executive officer of Digicel Bermuda and Bermuda Telephone Company. The overseas workers, who are here for a limited time, are needed to assist with the infrastructure upgrade. Speaking with The Royal Gazette, Mr Seale said the skill sets needed are not available on the island. He said the company has held discussions with the Bermuda Government, the opposition Progressive Labour Party, unions and the Regulatory Authority of Bermuda, before starting the latest phase of its upgrade programme to create a new fibre network. Last night, the Government issued a statement regarding the arrival of the overseas workers. The statement, from the Ministry of Home Affairs, said: "The Department of Immigration has been working with Digicel in order to ensure that their enhanced infrastructure build is completed as expeditiously as possible, with a view to enabling more Bermudian jobs in the next two to three months. This has been accomplished by the application by Digicel for the issue of just over 80 short-term permits, with a maximum number not to exceed 85, for a maximum period of six months with no renewal or long-term application being permitted. Digicel was unable to fill these positions with Bermudians, as the level required for this project needs specialists in a new brand of fibre technology. Digicel is committed to ensuring that the requisite training for ongoing upkeep of this system by Bermudians is in place thereby creating sustainability for the 30 or more new jobs to come, and to work alongside the 28 Bermudians that they already have hired since their acquisition of BTC." Digicel bought BTC in June 2015. Highlighting Digicel Bermuda's commitment to the island, Mr Seale said 92 per cent of its employees are Bermudian. The company said it is currently advertising for more positions that will work on the new network. The Digicel Bermuda group of companies includes BTC, Digicel and Transact. The company said the network upgrade was "part of its ongoing plan to transform Bermuda's telecommunications services, increase Bermudian job opportunities and enable Bermuda to compete globally" and was the latest phase in the company's plans to invest millions of dollars in Bermuda.
January 21. Premier Michael Dunkley extended his best wishes to Donald Trump on the day he was sworn in as the 45th President. The Premier and David Burt, the Opposition Leader, issued brief statements on yesterday's inauguration of Mr Trump in Washington. Mr Dunkley told The Royal Gazette: "Bermuda has existed alongside of America from the beginning. We share deep connections as neighbors and allies, and so it is only fitting to extend our best wishes to President Trump. He has assumed what is arguably the most important office in the world and his administration's success is very important for global peace, progress and prosperity. It's a big responsibility and the Government of Bermuda looks forward to working with the President and the new administration to progress our mutual interests wherever and whenever possible." When asked whether he had watched the inauguration and what the election meant for Bermuda, Mr Burt said: "I spent my day talking with Bermudians young and old to discuss ways to make our island home work better for everyone. In my view finding solutions to the challenges we face here is more important that watching the US inauguration. If Bermudians can work together to advance our common interests I have no doubt that we will fare just fine under the new US President."
January 21. RG Commentary. "In Bermuda we've watched at a safe distance as political friction has dominated the headlines in the United States and Britain over the past year. In the second of a three-part series, we ask political commentators whether we can expect the same on these shores as Bermuda prepares for its General Election. You thought the past few months were tense? Wait until you see what 2017 brings. With frustration among the poorest section of society showing no signs of easing, it will not take much, according to some, to trigger more of the public flashpoints that Bermuda has frequently witnessed in recent times. The bad news for anyone hoping Bermuda can calmly navigate its way through a General Election year, political commentator Phil Perinchief believes, is that the parties themselves will not be afraid to light the blue touch paper. Continued social and economic disparities along racial grounds, and discontent with the performance of the One Bermuda Alliance and Progressive Labour Party set the stage for a difficult year ahead, Mr Perinchief says. An eagerness by both parties to manipulate power, as well as the ability to spread false truths through social media, means tensions could reach even greater heights than previous Bermuda election campaigns. Mr Perinchief, a former PLP and Independent candidate, and former United Bermuda Party and Independent candidate David Sullivan shared their thoughts with The Royal Gazette as the clock begins to count down towards an election that must happen by May 2018. "The tensions surrounding the next General Election will run at unprecedented, even potentially explosive, levels," Mr Perinchief said. "Both parties have been seduced by the use and manipulation of power for good and otherwise. Both parties have had the political bit in their teeth and they relish the prospect of repeating the experience." Over the past two years, hundreds have taken to the streets to protest the OBA's proposed Pathways to Status legislation, airport redevelopment plan and furlough days for public service workers. Numbers were significantly down this month when the People's Campaign tried to rally support for the Reverend Nicholas Tweed's work permit bid, but are expected to return to previous levels when the House of Assembly tackles the airport project on February 3. Explaining why he believes the OBA will continue to get a rough ride, Mr Perinchief said: "Much of the tension will be as a result of the disappointments with what was perceived by many supporters, and otherwise, of the OBA's failure to deliver on its 2012 election promises. "Where are the 2,000 jobs, for example? Some people actually believed five years ago the hype and myth that if you could run a successful business, a one-person or multiple-person entity mattered not, then you could run a successful government. Many others have been brutally disabused and dispossessed of that notion, and are now at sea as to how, or upon what criteria besides gut reaction and traditional allegiance, they should vote. Others still are disappointed with the PLP's lacklustre and uninspiring performances both within and without Parliament. Where are their alternate programmes for progress? Yet still more people are frustrated to witness an improved economy but no visible change in their individual circumstances. Much of the economic improvement and benefits are seen by a large number of black people as going to whites who traditionally have wealth, blacks who kowtow or kiss up to the white establishment, newly minted status-holders who were foreigners yesterday and the Portuguese community, who are thought by some to traditionally swing both ways depending on how the political winds blow." White commercial dominance has increased in areas such as Dockyard, Flatts and parts of St George's, Mr Perinchief said, while blacks are experiencing job losses, home foreclosures and "economic extradition in droves", mainly to British welfare rolls. "It is clear to these people that the trickle-down economic model for doing business in Bermuda does not trickle down far or fast enough, nor in sufficient quantity for those who are suffering," he said. "This view of the matter only brings into clear view and focus the deep divide and polarization by race and class characteristic of present-day Bermuda. This distinction increases the tensions and sets the stage for the socially and politically explosive concoction." Mr Sullivan predicted social media would play a significant role in Bermuda, as it did in election campaigns internationally over the past 12 months. There is the possibility for higher tension. What you will see is a dramatic increase of social media in our next election," he said. "It is a great harbour of absolutely inaccurate storytelling. Some would say lies. The internet and social media, in all its forms, still has for many a romantic sense about it. This is due to its somewhat instantaneous ability to relate information, good and bad. The broadcasting of untruths, false news, if you will, can certainly charge emotions of those not prepared to investigate further and believe something because 'I read it on Facebook'. In addition the calibre of elections in general and the widely accepted mistrust of politicians helps to exacerbate the low expectation that somehow it needs to be salacious for a perverse entertainment and interest value. Additionally, the ethics of many politicians are brought into question as their behavior and electioneering promises seem to support 'whatever it takes' to get elected. Given these types of behaviors and expectations ever present in modern-day elections, the voters are well to be reminded: caveat emptor."
January 21. Lillian Levon, the widow of a Bermuda soldier who served in both the First and Second World Wars, has died just short of her 100th birthday. "She was an amazing woman; I'm honored that I was named after her," said her niece, Lillian Robinson, who counted her as a very close friend. Mrs Levon's passing marked the end of a chapter in Bermuda's history, said Carol Everson, a case worker with the Bermuda Legion. "She was the island's last living link with the First World War through her late husband, Joseph Levon, who served with the Bermuda Militia Artillery at the Somme and other battles, and then served full-time in the Second World War at the barracks in St David's." Mrs Levon spoke often of her life as an army wife, in the days when the BMA would march to Warwick Camp with her husband leading the band as a drummer — often with her marching alongside from their home at Bailey's Bay. She and her niece were nicknamed "the two Lillians", Mrs Robinson said. "Auntie was full of life and full of love," she said, recalling how Mrs Levon, who walked with a stick, would wave it if a youngster did not behave. When she finished telling you off, she would give you so much love. I didn't run away from her discipline. She loved to be among people, and she loved to travel. She would go on cruises with her three sisters, and must have visited ever state in the US." A matriarch to many in her extended family, Mrs Levon also raised generations of children in the Bardgett family until she retired. Michael Levon Sr, her grandson, said Mrs Levon's personality had "a profound impact on everybody she spoke to", adding that she had a passion for singing in church. "She was a kind-hearted person, very stern as well, who was loved by everybody." She would have turned 100 three weeks from today, on February 11. Mrs Levon's funeral will be held on Tuesday at 11am at Glory Temple, Southside, in St David's, followed by her interment in St Peter's Cemetery, St George's.
January 21. Sailors and rowers will mark the 100th anniversary of the first ship to come through Town Cut today by taking part in a parade of maritime vessels. The event has been organised by the Bermuda Pilot Gig Club to commemorate the Norwegian cargo ship SS Admiralen, under pilot James Griffiths, sailing through Town Cut on January 1, 1917. Two of Mr Griffiths's great-grandchildren, Brinky Tucker and Elaine Fox, will join in the celebrations that will see two pilot boats, the Spirit of Bermuda and three gigs sailing through the channel. Rick Spurling, president of the BPGC, has urged other boat owners to join in the parade. "The schedule is to depart St George's at 1pm and muster at Spit Buoy by 1.30pm for the parade in through the Town Cut which could take half an hour. The parade will be followed by a gig race in the harbour with some of our elite rowers and an informal reception at East End Mini Yacht Club. This is an exciting historical and cultural event and we look forward to it being a great success."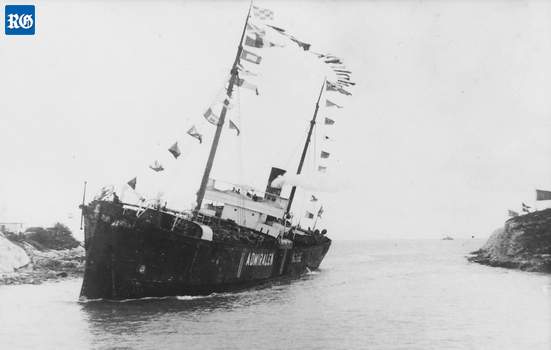 See story above
January 20. BBC News. Thousands lined the streets to greet President Donald J. Trump and the first lady as they walked Pennsylvania Avenue in the inauguration parade. Former presidents and first ladies, including George W Bush and his wife Laura as well as Jimmy Carter, were in attendance. President Trump has painted a bleak picture of a broken country after being sworn in as US president. He spoke of abandoned factories, rampant crime and a failed education system, pledging that his presidency would bring about change. "This American carnage stops right here and stops right now," President Trump said on the steps of the Capitol. Thousands of Trump supporters travelled across the country to witness the occasion from the National Mall. The moment marks the end of an improbable journey for the property tycoon after a campaign marked by controversy. Shortly after the ceremony Mr Trump was seen signing his first official actions as the 45th president. He sent his Cabinet nominations to the Senate as well as a signed a proclamation for a national day of patriotism, according to Press Secretary Sean Spicer. He also signed his first executive order as president, ordering federal agencies to ease the regulatory burdens associated with Barack Obama's health care laws, known as Obamacare, as the US Congress determines how to repeal and replace them. He also signed into law a waiver allowing retired Marine General James Mattis, his pick for defence secretary, to serve in the post. The Senate voted overwhelmingly to approve retired Marine general John Kelly as Mr Trump's secretary of Homeland Security. The change of hands was reflected on the White House website, which was scrubbed of Mr Obama's policies and replaced with Mr Trump's new agenda. The Trump administration only listed six issues on the website: energy, foreign policy, jobs and growth, military, law enforcement and trade deals. Critics pointed out the revamped site made no mention of civil rights, LGBT rights, healthcare or climate change. Mr Trump briefly spoke at a Capitol luncheon to thank his Democratic opponent Hillary Clinton and her husband, former President Bill Clinton, urging them to rise to applause. In his inaugural address, he promised to be the voice of the "forgotten people", ignored by Washington politicians. Today, he said, was "the day the people became rulers of this nation again. I will fight for you with every breath left in my body and I will never ever let you down," said President Trump after Chief Justice John Roberts administered the oath. America will start winning again, winning like never before. We will bring back our jobs, bring back our borders, bring back our wealth and we will bring back our dreams." In an address that was tonally consistent with candidate Trump's campaign rhetoric, the president railed against a Washington elite that flourished while the American people suffered. Early reports were that Mr Trump would offer a non-ideological appeal for national unity - and there were motions in that direction at times toward the end of his speech. This address, however, was very much aimed at his supporters - uniting the people with pitchforks against an out-of-touch establishment. American voters - at least ones in enough states to form an Electoral College majority - have taken a chance on Mr Trump. His presidency will be a remarkable experiment for American democracy, as it was clear after this speech that Mr Trump intends to govern as he campaigned. The new president has set the stage. He has four years to make his supporters proud and prove all the doubters wrong. President Trump and Vice-President Mike Pence waved goodbye as the Bidens and Obamas left the Capitol. The Obamas held hands as they boarded a military helicopter that took them to Joint Base Andrews, formerly Andrews Air Force Base, in Prince George's County, Maryland. Mr Obama delivered remarks to staff and supporters before he and his wife flew to Palm Springs, California, for a holiday. He told a crowd they "proved the power of hope" and that "this isn't a period, it's a comma in the continuing story of building America". The transfer of power prompted congratulatory messages for Mr Trump from dignitaries around the world including Pope Francis. He said he was praying Mr Trump's decisions would be guided by the "rich spiritual and ethical values" that have shaped America's history. British Foreign Secretary Boris Johnson also offered well wishes, and Canadian Prime Minister said he looked forward to restoring "prosperity to the middle class on both sides of the border". Police arrested 217 people protesting against the inauguration and six officers suffered minor injuries, according to the Washington DC Police Department. Many were apprehended for "vandalism and destruction of property", said spokesman Lieutenant Sean Conboy. Earlier, about 150 protesters dressed in black marched through Washington, smashing windows and rolling rubbish bins into the street to form blockades. The Women's March on Washington on Saturday - for racial and gender equality, and other issues perceived to be under threat from Mr Trump's administration - is expected to draw about 200,000 people.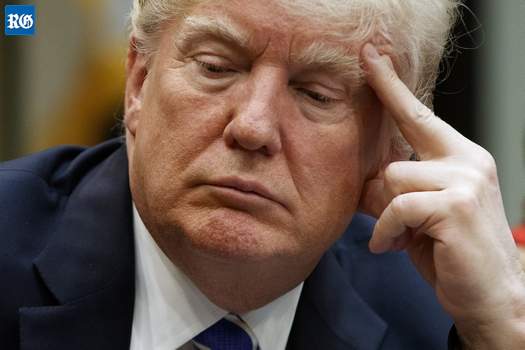 President Donald J Trump
January 20. 12 noon US time. Inauguration of Donald J. Trump as 45th President of the United States of America, with the entire world watching this uniquely American scene of pomp, circumstance, military precision and fervent patriotism.
January 20. Women from Bermuda will be among hundreds of thousands of people taking part in the Women's March on Washington tomorrow, on the first day of Donald Trump's presidency. Journalist Clare O'Connor and student Kayley Gibbons both plan to attend the rally on Independence Avenue, which has inspired hundreds of "sister" events around the world, including in Bermuda (see separate story). Ms O'Connor, a staff writer for Forbes who covers women entrepreneurs and workplace equality for the business magazine, said it would be "crazy" for her not to attend the event in DC, considering her reporting beat. But she added that she had a personal interest in the way women's healthcare and reproductive rights were tied into their economic freedom and huge concerns about the new Trump administration rolling those rights back. "It's going to be absolutely huge and I think it's going to be a much bigger event than the inauguration, just by order of magnitude," said Ms O'Connor. Ms Gibbons, a student at Miss Porter's School in Farmington, Connecticut, will have a seven-hour drive down to the capital with several school friends and parents. "I'm not American so politically it doesn't affect me that much, but I think Donald Trump's ideas have a very negative effect on women in general," she said. "The message he puts out: it's a very dangerous kind of a message." Ms Gibbons, 16, said she and her schoolmates at Miss Porter's were passionate about politics, particularly about democracy. "When Trump got elected, it was very heartbreaking for a lot of girls to know that someone like that could become president and be seen as the face of a country. I think the most heartbreaking thing was that he has been [accused of] sexual assault and people have recorded him saying things about women. The fact that someone like that could become the president, against probably the most qualified person ever, it's a very harsh message for women." She said she was taking part to show that "what we stand for and what we believe in will always suppress people like that. Even though he may be president, he does not stand for what a lot of American girls believe in and a lot of American people," added the teenager. "It's people coming together as a community to show there will always be support there [for equal rights]." Ms O'Connor, 34, noted that the United States "remained the only developed country in the world with no laws guaranteeing paid parental leave of any kind". She said many millions of women were hoping after the November 8 election to have a female president who would push for just such a federal law and instead ended up with Donald Trump. During his campaign, the president-elect promised mothers — but not fathers — six weeks of access to unemployment benefits; Clinton pledged 12 weeks of paid family leave for parents of newborn or newly adopted children. Ms O'Connor, who volunteers for two organisations which advocate for women, said paid leave for parents was a "privilege" in the US, but should be a right, as should the right to access contraception and abortions. She added: "Part of the reason for this march is to say 'we are not going to accept a world in which not all women have access to birth control, and [one in which] you are going to try to roll back abortion rights and not mandate paid parental leave. Women — especially working class and women of colour — are just punished at every turn. You don't want us to use birth control or have abortions. You want us to have children, then deny us paid [parental] leave. The purpose of the march is to recognise that all of these issues intersect. Social issues and reproductive issues and human rights; they are all tied up." She said the president-elect's Cabinet included some with "extremely far-right" views who would damage women. "I am glad that this march is happening. It's not a protest against Trump. It's making a statement by showing up to say 'we can't go back'." She added that the demonstration, which at least 200,000 people are expected to attend, was a way to speak up for the country's most vulnerable people, including women, racial and ethnic minorities, those identifying as LGBT and those on low incomes. "I think what we are trying to do is keep some of the norms that are threatened to be overturned," said Ms O'Connor. "It's going to be a long day, probably freezing cold, [but] it's really important that there is a big physical presence, just to show we are here and we are not going anywhere." As well as the DC event, 616 marches are planned in 151 cities across 58 countries, with 1.3 million registered participants worldwide. Bermuda's gathering is at Queen Elizabeth II Park between 9am and 11am.
January 20. The America's Cup official yacht charter firm is steering a course to set up a business on the island — with a promise of jobs and training for Bermudians. Helm Events, which will bring a fleet of 15 luxury catamarans to Bermuda for the America's Cup, with eight guests at a time on each, said they wanted to base up to three 50-foot catamarans here for around seven months a year from 2018. Helm Events, part of Navigate Travel, the world's largest sailing charter company, already operates in Croatia, Greece, Turkey and Italy, with offices in London and New Zealand, where Navigate provides land-based holidays. Daniel Painter, managing director of Navigate Travel, which operates five brands, said the firm had already broached the idea of a Bermuda arm of the business with America's Cup Bermuda. He added: "We are looking to bring our Yacht Getaways brand to Bermuda as our premium cabin charter product which specializes in high-end customers. There is no hotel you can go to and sit on a luxury catamaran, professionally skippered and with great food." Mr Painter said: "There are a lot of legislative hurdles to be overcome and we've started that conversation. We have taken what was very much an expensive product, sailing, but made it affordable and pushed it on to the general market." And he said that he had been impressed by the island and its attractions. Mr Painter, on his first visit to the island, added: "It's been a pleasant surprise to be on the boats and experience it. We operate in some beautiful places and there is certainly nothing Bermuda has which would leave you wanting. It's surprised us — the proximity to New York is amazing, there is so much opportunity here. We are looking to make this investment in this country. Elsewhere, we have had a significant impact with the spend of our customers. These are well-balanced holidays — exploring the local culture, exploring the sights and sailing between various points. It's a perfect balance of a relaxing holiday and being able to explore, in this case in Bermuda." Mr Painter added the company hosts around 10,000 guests a year in its various locations, with 32 per cent travelling with the firm again. He said: "When we launch a new route, we would typically get a huge influx of guests who have already travelled with us." Mr Painter added: "It's pretty reassuring to find such a high level of enthusiasm here. Everybody is very willing to talk and take on board with the idea we want to bring to the island." The Bermuda-based boats would have a permanent captain, a host or hostess, as well as land-based support staff. And Kim Rose, head of operations for Helm Events, said the company was already "asking around" with a view to recruiting as many Bermudian staff for the proposed new venture as possible. He added: "That's the ideal situation — we try to ensure our products have a great local connection and the best way to do that is with local staff. They know the best places, all the quirks, and we try to foster that." Mr Painter said: "There would probably be a blend of staff and anybody who believes in delivering the highest standards to our customers would be welcome." Mr Rose added that the company already operates a development programme spanning its international locations for young people entering the charter industry. He said: "We always look for diverse staff because it's a better experience for our guests." Last year, Navigate put two trainees through expensive training to gain yacht master certification, with hopes of qualifying a further ten this year. During the America's Cup, guests will live aboard the 45-foot Helm vessels, with access to exclusive areas along the race route. Mr Painter said: "We like to think it's one of the best ways to see Bermuda over the America's Cup."
January 20. A crew that was forced to abandon their catamaran after it was struck by a rogue wave has arrived back in Bermuda. The six-strong crew of the Ninah, including four Bermudians, was brought into St George's by the pilot boat this morning. The vessel was approximately 250 miles southwest of Bermuda when it sustained serious damage in high seas. The crew were picked up by a passing merchant vessel yesterday afternoon, which brought them into Bermudian waters today. The Rescue Coordination Centre in Bermuda was contacted by the US Coastguard at 7.20am yesterday, reporting that an emergency signal was received from a Personal Locator Beacon. RCC Bermuda managed to trace the beacon to a local owner who confirmed that the 75ft catamaran had been struck by the wave, sustaining damage to the vessel's steering and the failure of one engine. Ninah had departed Florida on Sunday. RCC Bermuda received a call from Ninah confirming vessel damage and the activation of emergency beacons on-board. The crew declared a Mayday, indicating their intention to abandon vessel. By 7.38am, a US Coastguard fixed wing aircraft was deployed to the distress position while merchant vessel Hercules Leader was tasked to assist, indicating arrival on scene around noon time. Communications continued via satellite between RCC Bermuda, RCC Norfolk and Ninah in preparation for the merchant vessel's arrival and to plan for the crew to board a life-raft and the subsequent recovery by the merchant vessel. At 1.58pm, all crew were successfully recovered by Hercules Leader.
January 20. Financial results for the first nine months of 2016 show the Bermuda property and casualty insurance industry was less successful when compared to the same period in 2015. That is the finding of commentator Steven Weisbart, using data released by ISO, a Verisk Analytics company, and the Property Casualty Insurers Association. In an update posted yesterday on the website of the New York-based Insurance Information Institute, he said: "Net written and net earned premiums grew, but more slowly; underwriting losses this year followed underwriting gains last year; and net investment gains were smaller this year than last, leading to profits of $31.8 billion compared to $44.1 billion for 2015's first three quarters. Although these data do not include the fourth quarter of 2016, the final quarter is likely to brighten the picture, with claims from Hurricane Matthew and the typical fourth-quarter slowdown in premium growth yet to come." The 2015 figure was the highest since 2007, while last year's nine-month total is close to the mean average of $28.8 billion. Net written premiums for the period grew by 2.8 per cent, down from 4.1 per cent the previous year, but still a percentage point higher than the rate of inflation in the US. Exposure growth and rate activity were the primary drivers of the premium growth. Mr Weisbart said: "Some sectors did better than others. For example, 2016 is on pace to be the second year in a row of a near-record number of new cars purchased. And even if old cars are being replaced only one-for-one, the new cars represent higher value and possibly additional coverage." The combined effect of lower profits and a larger capital base than a year ago produced an overall 6.2 per cent rate of return on average surplus (profitability) in the first three quarters of 2016, down from 8.8 per cent in the first three quarters of 2015. In summary, Mr Weisbart said: "The property and casualty insurance industry turned in a profitable performance in the first three quarters of 2015. Policyholders' surplus hit an all-time record high. Despite rising catastrophe and non-cat losses, and persistently low interest rates, premium growth, while still modest, is now experiencing its longest sustained period of gains in a decade. Fundamentally, the P/C insurance industry remains quite strong financially, with capital adequacy ratios remaining high relative to long-term historical averages." Net earned premiums for the first nine months of 2016 were about $390.7 billion, with incurred losses totaling $279.9 billion. The industry's overall underwriting loss was $1.7 billion, even though the combined ratio was measured at 99.5 per cent — which would normally indicate an underwriting gain. The discrepancy come from the different bases of the three percentages that make up the combined ratio.
January 20. The community is being invited to join a conversation about improving services at King Edward VII Memorial Hospital and the Mid-Atlantic Wellness Institute. Bermuda Hospitals Board will be hosting an "Open Space" event next month where members of the public can give feedback, ask questions and set up conversations important to them. BHB CEO Venetta Symonds stated: "A lot is said about BHB and its services. Our staff work so hard to try and get it right every day and provide excellent care. But we know we can improve and achieve our new vision of 'Exceptional Care. Strong Partnerships. Healthy Community. This community gathering recognizes the importance of the voices in our community and gives them a place to talk directly with us about how they think we can get it right more often. It is an event in which they will be heard and make a difference." According to Mrs Symonds, "BHB will not be presenting or setting the agenda, instead attendees will be able to start conversations around what is important to them. Staff will participate in the discussions, so questions can be answered if they are relevant to the conversation. But this event allows us to meet with people collectively, listen to what is important to them, act on the feedback and make improvements that will benefit the whole island. This is the first time we have ever tried something of this nature — we are handing over control of the conversation to our community. It comes from a desire to open up BHB and start a two-way dialogue to build better, trusted relationships with the people who use our services. We know it will take time for this to happen. This gathering is a first step, and if those who come find it valuable or we find ourselves oversubscribed, we will have more events like this in the future." People are encouraged to come prepared to raise what they think BHB can do to "get it right", then put it on the agenda for discussion. Discussions will be recorded and feedback publicly shared. BHB will use this information to shape its priorities for the 2017-18 fiscal year. The event will be held at Pier Six on Front Street from 5.30pm to 8.30pm on February 2. Refreshments will be provided. Space is limited to 80.
January 20. A new insurance market conference to be held in Bermuda has sold out two months in advance. The Bermuda Healthcare Forum, which takes place in March, has attracted 160 delegates. Jereme Ramsay of the Bermuda Business Development Agency, the sponsor of the event, said: "Members of Bermuda's healthcare risk-management sector met at BDA last year to discuss industry trends and exchange ideas. "Through this collaboration, the idea to host a healthcare forum on-island was put forward and industry representatives have worked very hard to make the idea a reality." The conference, due to be held between March 15 and March 16, reached capacity within three months of registration opening last October. Delegates include more than 100 from overseas along with a dozen accompanying guests. The conference is aimed at buyers for major hospital systems, long-term care facilities physicians groups and health benefits and service providers in the North American market. Mr Ramsay said: "The forum will present a great opportunity to bring brokers, insurance buyers and other risk professionals to the island and through collective engagement, competing industry partners here have been able to achieve shared success for both their respective companies and the jurisdiction as a whole." The conference, to be held at Rosewood Tucker's Point, will be structured around eight themes designed to address the changing risk landscape in healthcare and feature a variety of industry participants describing how different companies are handling changes. Lindsay Roos, senior vice-president and Bermuda placement specialist at Bowring Marsh, who is the event co-chairman, said: "Healthcare is moving to patient-centric care and the changes in reimbursement and integration of providers delivering care are revolutionizing the industry. "Healthcare providers are now responsible for the entire continuum of care and are delivering that through acquisitions, partnerships, joint ventures — and the web of these complex relationships drives the need to manage risk more than ever before." Ross Webber, chief executive officer of the BDA, will moderate a CEO panel at the conference, which will discuss why companies have domiciled in Bermuda and the benefits for healthcare clients of doing business on the island. Bermuda is regarded as the market of choice for healthcare liability insurance buyers due to the amount of capacity available, a high standard of contract certainty and the ability to create new products in response to market needs. Areas insured include hospitals, senior and long-term care homes, blood and organ banks, assisted living facilities, diagnostic centres, physicians groups and rehabilitation and research centres. Bermudian-based global insurers are able to provide more than $350 million capacity for a single risk and can write lead and excess layers on an insurance programme. The market has a solid track record of claims payments and has retained consistency through all market cycles, as well as providing substantive limits.
January 20. The remaining tenants of the former 9 Beaches resort in Sandys were evicted yesterday morning as the prolonged dispute over the site continued. The order was given by the Deputy Provost Marshall General on behalf of Bermuda Land Development Company. Roughly 12 "squatters" had been living in the former resort property. Throughout the afternoon a handful of security personnel restricted access to the site, escorting residents through the property so they could collect their belongings. As the eviction began a fire broke out, with two mattresses set ablaze, requiring action from the Fire Services. The BLDC confirmed that "the few remaining occupants" were being removed. According to a spokeswoman, the morning's events were the culmination of a year-long process as a result of a court order for vacant possession that was granted on December 22, 2015. "Unfortunately, IRC Sandys Ltd had sublet the property without the consent, authorisation or knowledge of BLDC. BLDC returned to court and, on October 11, 2016, occupants were given 60 days' notice to vacate the property. This was extended to January due to the Christmas period. Furthermore, no rent has been received from the occupants by BLDC and BLDC has been paying the electricity bill since IRC Sandys Ltd exited the property last year." Francis Mussenden, CEO of the BLDC, said the decision was "never an easy option and one we've tried diligently over the last year to avoid. Having exhausted all our options, we're disappointed to be left with no other choice but to evict the occupants." Along with the fire service, vehicles were seen passing through the entrance of 9 Beaches including police, a Belco truck and several trucks carrying assorted items such as mattresses and deflated boats. Residents approached by The Royal Gazette declined to comment, while efforts to contact their lawyer have been unsuccessful as of press time. According to Fire Services spokesman Delton White, they discovered two mattresses on fire at the old staff quarters lounge. "Firefighters dressed in full protective gear then extinguished the fire before it could spread any farther," he said. "There was minor smoke and fire damage to the building and no one was hurt as a result of the incident." 9 Beaches at Daniel's Head was originally developed as an ecologically friendly resort, but shut down in 2010. It was then leased to IRC Sandys six years ago, with plans for an $80 million revamp, but the project was unable to secure financing. Ultimately, the Supreme Court awarded BLDC a writ of possession against the company, and occupants of the development were advised to leave.
January 20. New 100 per cent mortgages worth a total of $25 million for Bermuda Housing Corporation tenants are set to be available in a partnership between Clarien Bank and the Bermuda Housing Corporation. The deal means that existing BHC tenants or clients will be able to buy selected homes from the BHC portfolio or properties under the control of Clarien. The HomeStart scheme is aimed at people who are able to make repayments, but lack the funds to come up with the usual 25 per cent deposit. BHC will guarantee the top 25 per cent of each individual loan between 75 per cent and 100 per cent made by the bank. Ian Truran, CEO of Clarien, said: "We're delighted to be part of this initiative, which we hope will put home ownership within realistic reach of more Bermudians. Finding the money for that 25 per cent down payment is what puts home ownership beyond so many hard-working and deserving people — even though they are more than capable of making the mortgage repayments. Owning your own home is a source of pride and security for a family and we hope that through this programme, more Bermudians will have that opportunity. It is in the spirit of what ourselves and the BHC are trying to achieve that we will be waiving our normal fee on mortgages arranged under this scheme as well as providing a discounted mortgage rate." The new mortgages will be for up to 30 years, depending on the age of the applicant, and, although Clarien has announced a base rate increase, it will honour its previous mortgage rate of 6.50 per cent, less a discount of 0.325 per cent, throughout this year for HomeStart loans. Applicants will be pre-screened by BHC and must be Bermudian and not previously have owned or have partial ownership in a home. First-time buyers will be able to buy the properties in "as is" condition at a more attractive price or allow the bank to refurbish to an acceptable standard. Major Barrett Dill, general manager of BHC, said: "The corporation has been diligently working on finding solutions to the recent challenging state of the local residential real estate market and welcomes this partnership with Clarien Bank. It is our hope that this joint venture will help positively stimulate the real estate sector as Bermuda continues the recovery from the devastating effects of the economic recession of past years. Our stated mission is to provide accessibility to adequate, affordable housing and promote independent living to enhance the quality of life in Bermuda, therefore we gratefully salute Clarien's innovative approach to putting Bermudians into Bermudian homes." Craig Cannonier, Minister of Public Works, added: "Home ownership, for some Bermudians, is something which may have seemed simply unobtainable previously. Now, thanks to this partnership between BHC and Clarien, owning one's own home can be a dream realized for many. I'm grateful to both parties for the amount of time and effort they put into coming to this arrangement and I can only imagine the joy this project will bring into the lives of so many who now have the chance to 'own a piece of the rock'."
January 20. Somerset Bridge — the smallest working drawbridge in the world — is showing its age. Workmen who have been repairing the walkway, since October, have now found it is "in far worse condition than originally suspected". And, that means the pedestrian path will have to be completely replaced, with work continuing until the end of February. The bridge dates back to 1620 and remains one of the island's most popular attractions. "The original work planned for Somerset Bridge was established after an inspection revealed some safety issues on the walkway and on the railing on the north side of the bridge," a spokeswoman for the Ministry of Public Works said. "Safety is the Ministry's top priority. The top surfaces of the beams were in bad condition. Because of that, it was deemed unsuitable to anchor the new railing to those beams. It should be noted that safety issues were related to railing anchors, not to global bridge stability." She added that work was carried out to rebuild those elements and make the bridge safe. While carrying out this work, crews from the Department of Works and Engineering were able to see fully what was underneath the walkway, which revealed that the bridge was in far worse condition than was originally suspected. Therefore, the decision was made to change all the beams and all components of the pedestrian bridge, which will result in what will be, essentially, a brand-new pedestrian bridge. Crews will need three weeks to complete the south side of the bridge and then three weeks to complete the north side, starting Monday, January 16. Work should be completed by the end of February." The tiny bridge was officially designated an historic monument in 2015. Meanwhile, work at the Swing Bridge in St George's is progressing with new floor beams being installed on the swing span. "Work on the approach span should start shortly, as we wait for the final beams to be delivered." The spokeswoman added that other works were planned on bridges around the island "and everything is on schedule. We regularly carry out continuous maintenance and preventive maintenance on our assets. At this time, we haven't identified any particular problems with other bridges." The spokeswoman also noted that an asset management programme would be started this month. "Our first priorities will be the drainage systems and bridges," she said. "There is a tender closing on February 8, 2017, for the repainting of the handrail at Watford Bridge. Although not structural work, it is part of our maintenance programme and will ensure that the bridge is in pristine condition for the America's Cup."
January 20. R&Q Re (Bermuda) Ltd has issued $20 million of floating rate subordinated notes, which are due in December 2023. In a statement, the company said the notes are Tier 2 eligible capital and will increase R&Q Re Bermuda's statutory capital and surplus to help support "the growth of this core group insurance platform". The statement added: "As well as the continued support of the group's Lloyd's syndicate participations, R&Q Re Bermuda is the key risk-taking entity for the group's US legacy transactions, writing adverse development covers for the loss portfolio transfers and any other retrospective policies written by Accredited, the group's A- rated US admitted carrier." R&Q Re Bermuda, a Class 3A insurer, will support a number of the legacy portfolios assumed through the acquisition and novation of captive programmes in Bermuda, the US and elsewhere. Twelve Capital Group, an investment manager specializing in insurance investments including private debt, acted as sole investor in the issue. The transaction marks Twelve Capital Group's first transaction supporting a Bermudian insurance company issuing Tier 2 eligible capital. The broker was the Bermuda office of the Beach Group. Ken Randall, chief executive officer of the group, said: "We are really pleased to have completed this issue of Tier 2 eligible capital out of R&Q Re (Bermuda) to help fund our fast growing legacy activity in the US and offshore US markets and to strengthen the balance sheet of this key group insurance carrier."
January 19. Business leaders and the legal world warned that the island faces a period of "unprecedented uncertainty" as Donald Trump takes over as US president tomorrow amid campaign pledges of tax cuts and protectionism. One senior reinsurance figure said: "There are some things being proposed in the US tax reforms which could be damaging to Bermuda. Everyone is concerned about it and I believe if there is a significant tax levied on providing insurance or reinsurance from outside the US to inside the US, it could be very damaging to the international, global insurance and reinsurance industry. And Bermuda would not be alone in being harmed by that. Trump is different from anything that has come before and Trump seems to be rewriting the rule book. whether it's tweets or how he handles his personal affairs." And he predicted "a noticeable drop" in the creation of new Bermuda companies and even in mergers and acquisitions on the island "until there is some clarity here". The reinsurance expert said: "There is this concept of border adjustments which has our attention. It remains to be seen how it plays out." But he explained that Trump's platform of "making America great again" revolved around taxing imports and subsidizing exports. The insurance figure added: "The border adjustments is the general framework about having some kind of value added tax system. There is nothing personal, nothing anti-Bermuda, nothing anti-insurance or reinsurance about it. There is a very high probability — north of 90 per cent — that there will be major tax reform in the US. To some, this is a once-in-a-lifetime opportunity to make big changes and they are needed. The US corporate tax rate is very high and it makes a whole lot of sense to lower it. That makes sense for the US and I don't think that is a threat to Bermuda at all. The drivers for being here are a very sensible and robust regulatory environment and the speed — you can have a dialogue to get things done with the regulators. Bermuda's experience and speed to market are the drivers for a lot of the business around here. Having no corporate income tax certainly adds to the proposition, but it's not the main driver. The US corporate tax coming down erodes the value proposition, but it's not the driver. As long as insurance and reinsurance is carved out of any VAT or border adjustment tax, I believe Bermuda will end up in a pretty strong place." The reinsurance expert, who asked not to be named, predicted that any changes in corporate tax in America would likely happen in the early months of the Trump presidency. He said: "After this tax reform is finished, to the extent that nothing terribly damaging has happened, it will be a shot in the arm for Bermuda. There will be a period of stability and further acceptance of Bermuda's already high acceptance. But I don't want to wholly sugar coat it — there will definitely be change. If it's not favorable, I believe it could hurt the environment here." The reinsurance figure said that 2017 would be "a very significant year" for Bermuda, with not only a new and maverick US president but also the negotiations for the UK to leave the European Union — Brexit — as well as a likely General Election on the island. The reinsurer added that business in Bermuda realized that the best way to head off potential threats was to lobby major US players to highlight that punishing the sector would "cost American consumers and damage the economy. We need to focus on how Bermuda has helped the US in the past. We have been responsive to all sorts of disasters in the US in the past and spread of risk is good. The concept I have heard, which I really like, is that an international insurance or reinsurance company provides a service in the US. It's not importing a service, it's exporting risk." A senior lawyer in a firm with major expertise in international business and insurance, who also declined to be named, added: "The future is as uncertain as the past year was. But we should never underestimate Bermuda and its ability to reinvent itself as it has done a number of times." He added, however, that the combination of Brexit and a Trump presidency "could present challenges for Bermuda's offshore model, given the prospect of significantly lower US corporate tax rates, which significantly reduce the advantage of being offshore in terms of tax differentials". The lawyer also pointed out that the new US administration had promised an amnesty and reduced one-off taxes for money repatriated to the US from outside the country. But he said that would more likely hit jurisdictions like the Caymans and British Virgin Islands than Bermuda. And he added: "The big insurance companies here are not going to take decisions in a hurry. The fact that the Trump administration slashes corporate tax, that's not necessarily going to be a long-term state of affairs. Trump may not be around for more than four years and it's quite possible to envisage a scenario where he is around for much less than four years." He added that the US midterm elections in November next year may also reduce Trump's ability to get new measures through the legislature. And he said: "We are about to enter a period of unprecedented uncertainty but I'm optimistic that Bermuda will be able to weather the storm and find ways of diversifying itself as it has done in the past."
January 19. Attorney-General Trevor Moniz has hit back at criticism of the Bermuda Government's efforts to reform and modernize the judicial system. He told The Royal Gazette that the One Bermuda Alliance had reformed "the whole criminal justice system" during its tenure and done extensive work to make judicial processes and procedures more efficient. Mr Moniz's comments came after Chief Justice Ian Kawaley warned that the island's judicial infrastructure would remain in "constant crisis management" mode unless the Government was prepared to support its modernization. Mr Justice Kawaley also said that Bermuda had fallen behind other jurisdictions with similar economies because their administrations had placed a higher value on their courts. "People quickly forget the financial shambles we inherited from the Progressive Labour Party," Mr Moniz said. "We are still in a difficult situation but we have got the economy kicking and we can say there has been an OBA economic miracle since 2012. People like the Chief Justice should recognise the huge challenges we faced and that we are achieving great progress. Most of the problems he has identified I would agree with, but we have different ideas about how to fix them. I am trying my level best to help resolve these situations as they arise against the backdrop of the Sage report and other financial limitations." Mr Moniz said he was "fully supportive" of the Chief Justice's proposal to create a cross-departmental committee with representative from the judiciary and various ministries to look at how the judiciary operates and what it needs. He added: "In the last two years the amount of legislation we have put through has been massive. We have reformed the whole criminal justice system despite opposition from the Bar Council and others. We got rid of preliminary hearings for magistrates that is saving thousands of hours. We have tried to clear the decks despite resistance to this reform, but we are getting it done. The Bribery Bill went through the House recently and new fraud law will be placed before the House in the next session." Mr Moniz told The Royal Gazette that a major opportunity of bringing the infrastructure of the judiciary together under one roof was missed after the opening of the Dame Lois Browne-Evans building. "The opportunity of bringing the judicial structure together was missed under the PLP when they created the new building," he said. "Instead a lot of people and different departments were moved in there that had nothing to do with the courts. It made no sense and it was not an OBA decision. Additionally, that meant that the existing courts remained fragmented across Hamilton in three different locations making it administratively inefficient. It would be very difficult now, and expensive, to change that, and people would be extremely reluctant to leave areas they have been in for several years. The time to do that was when the building was open and it would have made a substantial difference to the efficiency of the judiciary."
January 19. Chief Justice Ian Kawaley has renewed his call for contingency fee arrangements to be allowed in Bermuda to enable more people to access the justice system. Mr Justice Kawaley refuted the Ministry of Legal Affairs' recent claim that it had not received a "compelling case" for change and maintained it was important to promote access to the courts for those who could not afford legal representation. But Trevor Moniz, the Attorney-General, warned that allowing contingency fee arrangements would put even more stress on an already struggling court infrastructure. "The Chief Justice and magistrates tell me they do not have the resources to do the work they have at the moment," Mr Moniz said. "We have no money to increase the size of the judicial system by creating more courtrooms or appointing more judges, and there is no doubt that allowing contingency fees would greatly increase the workload of the courts. It would result in more cases against Government and our limited resources being even more stretched. There are those in the legal profession that oppose contingency fee arrangements and believe they can have very negative effects on a society." The Chief Justice told The Royal Gazette that the rise in the number of litigants in person, who represent themselves during proceedings, was creating new challenges for courts and judges to tackle. "I have a bit of a personal attachment to contingency fees and promoting access to justice to people who are not completely impecunious but have too much money for Legal Aid and not enough to afford a lawyer," the Mr Justice Kawaley said. "That is quite a significant segment of ordinary people. In January 2013 I made reference to the fact that the Legal Aid system was unsustainable to ensure access to justice and that one needed to implement some form of contingency fees system. That model was taken up by the Bar Council who have formulated proposals. I was disappointed to hear the ministry say that the case for contingency fees had not been made out, because from my standpoint it is difficult to see how that case could be clearer. If Government recognizes that access to the courts is an important right, then it is difficult to see why they would not want to facilitate the enjoyment of that right to the largest body of persons." Under a conditional fee agreement, legal practitioners charge an agreed uplift on the usual fees if they win, whereas under a contingency fee agreement, lawyers' fees are calculated as a percentage of the amount awarded by the court. In August 2012, the Bar Association put together a sub-committee, chaired by Mark Chudleigh, to determine whether conditional or contingency fee agreements should be permitted for civil cases in Bermuda. After a period of consultation, the sub-committee issued its final report in October 2014 together with draft proposed legislation. The report has not been acted upon and the Bermuda Bar Council has accused Mr Moniz of turning a blind eye to the proposals.
January 19. Attorney-General Trevor Moniz revealed yesterday he had never been given a report on any convicted sex offender prior to their release from prison, despite being responsible for deciding whether to disclose information to the public about their return to society. The Attorney-General told The Royal Gazette he was "not sure" whether assessments of the risks posed by pedophiles and other sex offenders were being conducted before they were allowed to leave jail. And he suggested the system for dealing with the release of dangerous prisoners in general — "people you risk life or limb by being around" — was flawed and needed to be overhauled. Mr Moniz said he was in the process of setting up a national committee for safeguarding children, particularly in relation to sex offenders, which would also look at the wider issue of violent offenders. "There are problems and we can correct them by co-ordination and co-operation," he said. "We don't need to reinvent the wheel." This newspaper e-mailed Lieutenant-Colonel Edward Lamb, the Commissioner of Corrections, for a response to Mr Moniz's comments but did not hear back by press time. The Attorney-General came under fire in November after it was revealed that former policeman John "Chalkie" White had been released from Westgate after serving 12 years of an 18-year sentence for sexually assaulting three young boys. Critics questioned why Mr Moniz did not use his powers under section 329H of the Criminal Code to notify the public of his release. The Attorney-General said he had been unable to because of the lack of a written protocol, prompting the Progressive Labour Party to say a protocol was implemented during its time in office. Mr Moniz spoke to this newspaper yesterday after we confirmed through a public access to information request that the protocol referred to by the PLP does exist. Provided to us by the Ministry of Legal Affairs and dated October 22, 2008, it sets out what should be taken into account when considering disclosure. "The starting point will be the assessment conducted on behalf of the Commissioner of Prisons and the court under section 329E(2) of the Criminal Code," states the protocol. "Disclosure cannot be made unless that assessment concludes that the offender presents a risk of significant harm to the health and safety of the public, an affected group of people or an individual. It follows that this assessment must be available to the minister when considering whether or not to make a disclosure." Mr Moniz said he was told by his chambers, after he was informed in a One Bermuda Alliance caucus of White's release, that there was no protocol for disclosure. He later found out, from the Department of Court Services, that a protocol was in place. But he said he had yet to receive any assessment on White, despite requesting one. "I have not been able to get any report [on White]," the Minister of Justice said. "I have never received the assessment. I presume there isn't one. [I have] never seen a threat assessment about anyone being released from prison." He said he believed Westgate was without a prison psychologist for a period of time, which could have made it difficult for assessments to be conducted. Mr Moniz said an ad hoc committee set up last year on safeguarding children concluded that authorities "need to communicate and co-operate better than we have been". He said he had Cabinet approval to set up a more formal committee, with representatives from across government and the criminal justice system, whose aim would be to produce a national plan for safeguarding children. It would also look at the issue of dangerous offenders being released from prison, he said. "In a small community, with a very few number of offenders of that kind, we don't have a lot of ability to deal with them," Mr Moniz said. "Government is looking at that." Referring to the protocol on disclosure for sex offenders, Mr Moniz said: "It was like a mystery, looking for this thing." He said the policy only came to light "much later" when his new committee on safeguarding children had a pre-meeting and staff from the Department of Court Services said they had the document. "What I have found, in my time in government, is there is a big problem with communication and co-operation across departments and across ministries," Mr Moniz said. "Some people are much better than others at reaching across departments and across ministries to co-ordinate their efforts but all too often you find that does not happen."
January 19. A restricted document written by Bermuda's most senior police commanders before the December 2 protest reveals that they considered the political climate to be "very sensitive" and planned for officers at the scene to "use the least intrusive and coercive law enforcement measures if confronted by protesters". The operational order, obtained from the Bermuda Police Service by The Royal Gazette through public access to information, has been redacted in several places and blank spaces appear in place of the signature of its authors, referred to as the Silver and Gold Commanders. But the 37-page paper shows that on November 30 the high-ranking officers drafted a plan for dealing with the demonstration outside the House of Assembly, based on "unconfirmed intelligence information" that a protest was expected on December 2. The risk assessment given to the event was "medium" — a grading that remained the same when an amended order was issued on December 2 — with the authors noting: "This operational order is in place to deal with any spontaneous incidents of antisocial behavior. Whilst there is no intelligence that there are any direct threats to person or property attending the HOA, the current political climate in Bermuda is very sensitive. In the past few weeks, there has been a marked increase in the number of reports of 'graffiti' espousing anti-One Bermuda Alliance support. Therefore, incidents of antisocial behavior cannot be ruled out." A supplementary order, written after 9am on December 2, said information gathered that morning suggested protesters were stopping MPs from entering Parliament, where they were due to debate the multimillion-dollar redevelopment of the airport, and were "standing outside the four gates to the HOA and locking arms when people attempt to enter the grounds". The supplementary order said: "The overarching methodology will be to use the least intrusive and coercive law enforcement measures possible to reduce harm." The parts of the document made public by the BPS make no specific mention of pepper spray, the use of which by police against demonstrators on December 2 has been criticised and is to be investigated by a senior UK police officer. The order says police had to be "equipped with their BPS-issued officer safety equipment before being deployed" including protective vests. They were to be positioned at the perimeter of Sessions House "but ready to respond to any incidents of physical or verbal threats of harm or to any situation that may unduly cause an interruption to the normal business of the House of Assembly (HOA)". According to the November 30 order, the number of protesters likely to gather was "unknown" but they were expected to get there "early Friday morning". Officers from five separate units — including the police support unit, often referred to colloquially as the "riot squad" — were to be deployed in the "first instance", with officers from the crime division to be brought in if necessary. The preferred outcome of the operation was to have the protest pass off safely "without the need for significant intervention". An "unacceptable" outcome was for there to be "disproportionate use of resources and/or powers. The Silver Commander, when briefing personnel, are (sic) to remind officers of the rights of a person to protest in a peaceful and lawful manner," the document states. "Officers deployed at the protest should be directed to use the least intrusive and coercive law enforcement measures if confronted by protesters. Police officers, in carrying out their duties, shall, as far as possible, apply non-violent methods before resorting to any use of force. Police officers should only use force when strictly necessary and where other means remain ineffective to having no realistic chance of achieving the lawful objective." The document sets out — "in the event that an incident occurs which requires the use of force or for an arrest to be made" — which offences may have been committed, including disturbing the legislature. BPS information officer Inspector David Geraghty said the order was redacted because there were portions which could disclose policing methods and prejudice their effectiveness. He said there were sections which, if released, could "endanger the physical or mental health or the safety of an individual". As well as the "op order", The Royal Gazette's Pati request asked for correspondence between the BPS and any individual outside the police service regarding the decision to deploy riot police, prior to the decision being enacted. Mr Geraghty said the BPS held no such records.
January 19. Accusing the governing party of a litany of failed promises, the Progressive Labour Party has promised to usher in a more participatory democracy with rigorous governmental oversight and campaign finance reform. "People may ask why the PLP would invite additional scrutiny of their government after the next election, as it is bound to cause embarrassment," Opposition leader David Burt said at a press conference yesterday. The reason is simple — because better scrutiny and better oversight will lead to better results and outcomes for the people of Bermuda." Mr Burt said the Opposition intended to expand on its goals next week, at a town hall meeting to be held at 6.30pm on Tuesday at the Leopards Club. Pointing to the party's legacy of enacting good governance legislation during the PLP's time in government, Mr Burt outlined a raft of initiatives, including:
Petitions obtaining a critical number of signatures would be brought before the legislature or given a referendum;
An independent commission on debates would designate crucial issues for discussion by public forum;
Action would be taken on the Sage Commission's recommendations for permanent oversight committees;
A permanent staff member would be put in place for the Public Accounts Committee;
Anti-corruption legislation would be enacted, and criminal penalties would be put in place for violations of financial instructions;
Campaign finance reform would be introduced for "greater openness and transparency surrounding financial contributions to political parties and the expenditures of political parties".
Mr Burt was joined by Walton Brown, the Shadow Minister of Home Affairs, who said the Opposition would begin by establishing an electoral commission, a key recommendation of the Parliamentary Elections Committee, followed by implementing election spending limits. "Without limits, expenditures could spiral out of control and make election results more about how much money you spend than how the people's condition will improve," Mr Brown said. "A PLP government would require public disclosure of large donors and put together relevant campaign regulations. This issue is intimately connected with spending limits. In the absence of such limits, we will remain in the murky area of simply buying political influence as was raised in the Jetgate spectacle. To date there has been no full and proper investigation regarding the $350,000 donation that the One Bermuda Alliance repeatedly denied any knowledge of. Only after the donor himself publicly confirmed the contribution did the OBA admit to the use of those funds in their 2012 election ground campaign. What followed was the resignation of [Craig] Cannonier as Premier but we know little more." Michael Dunkley responded last night by saying he "fully" supported fair and transparent elections in Bermuda. "I will review the statements made by the Opposition," the Premier said. "I am willing to meet with members of the Opposition at any time to discuss improving the electoral process in Bermuda. Any meetings should, of course, involve the Parliamentary Registrar." Mr Dunkley also responded sharply to the PLP statements — particularly where Mr Burt chastised the OBA for not being "serious" on good governance and falling short on its 2012 election promises. Mr Dunkley said the Opposition had failed to account for "irresponsible, uncontrolled spending that dropped Bermuda into a financial hole that has taken years of responsible management by this Government to fix". The Premier also hit back at Mr Burt's contention that the OBA had ignored the Sage commission's call for three oversight committees. "Government actions to restore control over Government spending are following Sage Commission suggestions. We are deeply appreciative for the hard work of the commissioners because they have helped to put Bermuda on a hopeful path. It is quite interesting that the Opposition leader appears to be supporting Sage when he and his colleagues were extremely critical of the Commission, particularly when the Government was setting it up. Sage Commission recommendations have been and are continuing to be implemented in order to extend and entrench performance accountability throughout the Civil Service." In a PLP release late on Thursday night, Mr Burt said: "Unfortunately for the Bermuda voter, Premier Dunkley is misleading them (the public) yet again. No one said that the OBA "rejected Sage", but it is a fact that the OBA have rejected and refuse to implement a key recommendation of the Sage commission to increase the oversight of public spending. "The PLP has been consistent in supporting this recommendation and has been consistent in advocating for more oversight powers for Bermuda's Parliament. I would hope that going forward the Premier can resist the urges of his consultants and tone down the rhetoric so we can, as he said, simply address the facts. As we approach an election the voters deserve reasoned debate on the issues from their leaders. On this recommendation from the Sage commission there is a different vision for the future; the PLP believes that our Parliament's oversight powers should be enhanced and the OBA does not agree. It is a clear difference between the parties and it will be up to the voters to decide which is best for the Bermuda."
January 19. The Reverend Nicholas Tweed and the Council of AME Churches have applied for judicial review in respect of both the pastor's work permit as well as his right to reside in Bermuda. According to their lawyer, Delroy Duncan of Trott and Duncan, the court granted leave to seek various orders against decisions made by the Minister of Home Affairs Patricia Gordon-Pamplin and a stay preventing the minister from requiring Mr Tweed to settle his affairs and leave the island by today. In yesterday's hearing, Chief Justice Ian Kawaley granted leave for judicial review. No date has been confirmed for the substantive hearing. Mr Duncan said the grounds on which the review was sought were: "Bias, perceived and actual, on the part of the minister; procedural impropriety in that the minister said the matter was being handled by the Immigration Board but continued to interfere in the process; procedural impropriety because the minister never considered nor did she give Rev Tweed an opportunity to be heard regarding permission to reside and remain in Bermuda; and Rev Tweed also separately claims the minister acted in breach of the Human Rights Act 1981 and the Bermuda Constitution order 1968." According to Mr Duncan, Mr Tweed will be permitted to reside on the island until the outcome of the review but he must refrain from working. "He does not have a work permit," he said. In response to yesterday's court ruling, Ms Gordon-Pamplin said: "As I stated in my press conference of January 6, the next step in the appeals process is to seek a judicial review. The AME Church and Rev Tweed have availed themselves of this option, and as such, it should now be left to the courts to review the matter and make a ruling." The Bermuda Government rejected Mr Tweed's attempt to renew his work permit because his position was not made available to Bermudians via advertising, as is legally mandated, while his eventual application was said to be incomplete and contained inaccuracies. St Paul AME Church said the move showed "total disrespect and disregard" for the Church and declared that the congregation stands united in support of Mr Tweed.
January 19. Terry Simmons, 62, of Pembroke, was named this afternoon as the first traffic fatality of the year. The Bermuda Police Service confirmed this morning that the motorcycle rider had succumbed to his injuries at King Edward VII Memorial Hospital. A spokesman said Mr Simmons apparently struck a wall on North Shore Road in Hamilton Parish near the junction with Radnor Road, at about 12.40am today. He was rushed to the hospital via ambulance, where he was later pronounced dead at 1.19am. A family liaison officer has been assigned to assist the Simmons family, and an investigation continues. Any witnesses, or persons familiar with the whereabouts of Mr Simmons in the hours prior to the accident, should contact the roads policing unit on 247-1788, or the main police telephone number 295-0011.
January 18. The island's judicial infrastructure will remain in "constant crisis management" mode unless the Bermuda Government is prepared to support its modernization, according to Chief Justice Ian Kawaley. Mr Justice Kawaley urged the Government to listen to concerns raised by the judiciary and provide proper administrative support to "get us off the linoleum" and focus on higher-level reforms, including video link evidence in civil and criminal trials. He warned that Bermuda had fallen behind other jurisdictions with similar economies because their administrations had placed a higher value on their courts. "We are living at a very basic level of existence; it's cheap and cheerful," Mr Justice Kawaley said. "We should not regard it as a tremendous triumph to fill a very junior post or to ensure that cases are being heard. We should be able to look at reforming our system at a high level to make it operate in a way that is comparable to our sister jurisdictions. One way we could cut through this morass of having no autonomous Department of Judicial Administration with our own dedicated human resources and building maintenance capacity would be to create a cross-departmental committee with a representative from the judiciary, the Finance Department, Legal Affairs, Department of Human Resources, the IT department, Public Works and Government House. This would bring together a group of people whose job it is to look at how the judiciary operates and what it needs." The Chief Justice lamented the lack of judicial representation in the Government as well as the lack of a coherent framework for filling judicial vacancies. He told The Royal Gazette: "We have expanded exponentially over the last 20 years; the expectations of litigants in terms of what we should deliver has increased exponentially, as has the complexity of criminal and civil cases as well as how quickly we should deliver justice. It is foolish to think that we can meet the demands that are placed on us using mid-20th century infrastructure. Unless we get the necessary political support to look at the big-picture issues, we will be struck in a constant crisis management mode, which is simply not good enough. By big picture I mean the need to allow us to deal efficiently with issues like filling judicial posts, promotion and succession planning and having sufficient autonomy to be able to run the judiciary, particularly modernizing our IT resources, in an effective manner." In 2013 the Chief Justice led calls for new laws allowing evidence to be given by video link in civil and criminal cases involving expert witnesses and child victims of sexual abuse. The proposals have yet to be acted on and Mr Justice Kawaley suggested that Government's legislative agenda was quick to reform company and trust legislation to attract new business but slow to react to initiatives that "have some society benefit which may be less tangible and easy to grasp. Today, we are facing challenges of holding society together; there is a vast disparity between those in a high net worth bracket and those in the lower bracket. It's the work of the judiciary, as much as the executive and the legislature, to help to hold society together. We cannot do that effectively if the importance and significance of the judicial function is not recognized and sufficiently invested in. I have considerable sympathy with the challenges Government faces, which are perhaps greater than ever before, but it would be welcome to have some signal that the courts are recognized as partners in that process of making Bermuda work. Those of our needs which are most easily attainable require simply a little bit of focus and not that much expense." The Chief Justice added: "The judiciary should be regarded by Government as part of Bermuda's essential infrastructure that has to be nurtured for the benefit of the community it serves. It does not always feel like that is the case."
January 18. Rising from the South Basin, Bermuda's newest landmass and soon-to-be-home for the America's Cup Village is a hive of activity. Construction crews, asphalt teams and heavy machinery operators are working around the clock, seven days a week, to ensure that Cross Island will meet its mid-May deadline in preparation for the sailing spectacle. Scores of workers from a dozen Bermudian firms are presently involved in the multimillion dollar development, which project managers say will be brought in on schedule. "Last week, 38 containers with the structure of the Club America's Cup building arrived in Dockyard," Shane Rowe, head of operations and infrastructure for ACBDA, said. "The containers, which originated in Brazil, are in quarantine on-site at present, but as soon as they are cleared in about two weeks' time, then work can begin on the Club building. Meanwhile, next week, we have a further 40 containers of grandstands and stages arriving; they will be stored on Moresby Field until we start erecting them." Parts of Cross Island have already been tarmacked in preparation for the construction of the Red Bull Youth America's Cup headquarters and the Emirates Team New Zealand team base that will begin at the beginning of next month. While the asphalting continues, contractors will also start on the Club building; the main hospitality arena for the event, that will look directly out to The Great Sound over the racecourse. Project manager Richard Noel from BCM McAlpine's told The Royal Gazette: "The island's infrastructure is about 80 per cent complete; underground services like water, power and waste water have been installed, but there is still some work to do. October's hurricane did have an effect on the schedule, but a lot of the damage was cosmetic and required a clear-up operation rather than anything else. All in all, the island stood up well. It was a good test of the work that has been done. It's going well. We have had our challenges along the way, just like any construction project, but we have worked with the ACEA, the ACBDA and Government to get through them." The land reclamation phase of the project involved about 140,000 cubic yards of dredged material from the North Channel and 160,000 cubic yards of imported crushed granite being deposited in the South Basin. The aggregate was spread across a nine-acre area and held in position by vast sheet piles that were driven into the seabed to form the boundary of the new island. Power lines and sewage pipes as well as other infrastructure have been installed in recent months, and work to raise the South Arm, which will provide the backbone to the superyacht berths, is ongoing. The bridge linking the island with the mainland has been completed, as has the protective splash wall, while Land Rover BAR is expected to officially open its base in the coming weeks Next month, construction of the Groupama Team France base will begin, while Artemis Racing will move up to their new, smaller base on Cross Island from Morgan's Point in April. Mr Noel added: "We are 90 per cent there now. But, the last 10 per cent always seems to take the longest time. "We expect it to come together quickly from here and finish on schedule."
January 18. OneBeacon Insurance Group is said to be exploring a sale, and there is speculation it could prove attractive to a US buyer if that country's tax rates are lowered in the near future. Alternatively, it could be an target for a Bermudian-based insurer seeking diversification or to scale up in size. Bloomberg today said the speciality insurer controlled by White Mountains Insurance Group Ltd was exploring a sale. The information was based on people familiar with the matter. The Insurance Insider said it understood the insurer was to be auctioned, with Credit Suisse appointed to run the full sales process. A spokeswoman for OneBeacon told The Royal Gazette the company had no comment to make on the matter. Representatives for Credit Suisse declined to comment, while White Mountains did not immediately respond to a request for comment, according to Bloomberg. US President-elect Donald Trump and his incoming administration are seeking to lower US corporate tax rates from 35 per cent to about 20, or even 15 per cent. That would change some market dynamics, a point highlighted by Gary Ransom, an analyst at Connecticut-based equity research firm Dowling & Partners. Speaking on Tuesday at a conference held by the Insurance Information Institute in New York, he pointed out that in the past buyers in large insurance deals tended to come from lower-tax jurisdictions, such as Bermuda and Switzerland. But he believes the US can be a significant player again, and mentioned last month's deal by Liberty Mutual Holdings to acquire Bermudian-based Ironshore. According to Bloomberg, he said: "Suddenly, US companies, if you assume a lower tax rate, they can buy Bermuda companies." Bloomberg also reported that OneBeacon explored a sale in early 2015, with interest coming from China's Fosun International, according to people familiar with the matter at the time. Meanwhile, Insurance Insider said OneBeacon has been available for acquisition for a number of years, according to banking sources. It noted that Mitsui Sumitomo Insurance, one of Japan's big three insurers, is understood to be interested in an onshore US acquisition. Last year White Mountains, which owns about 75 per cent of One Beacon, sold its Bermudian-domiciled financial services group Symetra to Sumitomo Life Insurance of Japan, while its reinsurance firm Sirius was sold in a $2.6 billion deal to CM International, the Singaporean-based arm of China Minsheng Investment Corporation. OneBeacon earned $28.6 million in the third quarter of 2016, having made a loss of $13.2 million in the same period of 2015. The company's shares were trading at $16.60, up 9.5 per cent, on the New York Stock Exchange at 4.17pm, giving the insurer a market capitalisation of $1.56 billion.
January 18. Two-thirds of people contacted in an island-wide poll said they were against last month's protest outside House of Assembly which prevented MPs from entering the building. The dispute led to police intervention when officers pepper-sprayed protesters and in turn sparked a storm of controversy. According to the Global Research poll, which sought the opinion of 400 registered voters who intend to vote in the next General Election, 67 per cent said they believe protesters did not have the right to break the law and block access to the House. Another 25 per cent said protesters had the right to block access, with 8 per cent either not responding or didn't know. The intended peaceful protest was organised by the People's Campaign and supported by the Bermuda Industrial Union. The margin of error for the poll — conducted between December 11 and December 15 — was +/-4.9 per cent. Respondents were asked whether "the right to protest peacefully includes the right of protesters to block access to the House of Assembly" or whether "the right to protest peacefully does not give protesters the right to break the law and to block access to the House of Assembly". The responses were broken down by race, gender and age. Among blacks polled, 54 per cent said the protesters did not have the right to block access to the House, 34 per cent said they did have the right, and 12 per cent either didn't answer or didn't know. Of the whites approached, 92 per cent were against, 6 per cent for and 1 per cent either didn't answer or didn't know. Some 72 per cent of males were against and 20 per cent for. In the female category, 63 per cent were against and 29 per cent for. The protest took place on December 2, after which it was decided House sessions would be suspended. It was later announced that Parliament would reconvene February 3.
January 18. People's Campaign leader Jason Hayward said he "does not expect any different activity" to last month's protest when the controversial airport deal is debated in the House of Assembly on February 3. Mr Hayward, who is president of the Bermuda Public Services Union, made reference to the activist group's next steps and how they will compare to the events of December 2, when protesters were pepper-sprayed by police during a protest that involved the blocking of the gates of Parliament. Mr Hayward was joined by the Reverend Nicholas Tweed and Bermuda Industrial Union president Chris Furbert to address an audience of 35, including the three speakers, at Clearwater Middle School last night in the first of three public forums. During his address, Mr Hayward reiterated the manifesto of the campaign, including the economic empowerment of Bermudians, the need for a living wage, an equitable taxation system and an overhaul of the criminal justice system, while calling on suggestions for the vision of the movement's future. High on the agenda was the opportunity that lies ahead in the formation of co-operative business markets that will empower "employees and consumers to become business owners". Another prominent talking point was the airport deal, which the campaign steadfastly opposes. Notably missing from the discussion was the issue of the work-permit refusal of Mr Tweed — a driving force behind the People's Campaign. The group has vehemently spoken out against the Bermuda Government's decision to the point of planning a protest on February 3 in unison with the issue of the airport deal. When asked by this newspaper during the question-and-answer session why the issue was not raised, Mr Hayward responded: "We are not insular in our operation. Reverend Tweed has alternatives that he is currently exploring and so there is no need for us to speak up on this particular matter in this forum — this forum is about moving our people forward. The People's Campaign stands 100 per cent behind Reverend Tweed. In reference to the next steps for the campaign — on February 3, legislation needs to be passed in the House of Assembly. The conditions between December 2 and now have not changed, so I do not expect any different activity from what took place on December 2." Asked whether that meant the campaign would endorse the blocking of the entrance to Parliament and whether there was potential for people, including seniors, to be pepper-sprayed, Mr Hayward asked why The Royal Gazette was "feeding into the narrative that seniors were 'planted in positions' so they would be pepper-sprayed". He said: "You should ask the police commissioner if the people will be pepper-sprayed. I don't know whether the police will make a call that they need to pepper-spray peaceful protesters but what we commit to do is to commit to peaceful, non-violent protesting," to which those assembled applauded. Mr Hayward described the airport as a "project ripe for privatization" with Mr Furbert asking audience members during his address for suggestions on what the People's Campaign plans to do "over the next two-and-a-half weeks". A significant portion of the evening was taken up with discussions about investing in co-operative businesses, starting with the existing BIU Credit Union, a banking system for union members and associates. Mr Hayward said: "The BPSU has committed to at least bringing this conversation to the table. We attended an international cooperative summit. They create jobs and turn employees and consumers into business owners. We always talk about how we can grow our economy and what is the next pillar and what is innovative. You can penetrate current markets — it just takes us to work together. It is a more democratic organisation. The members make the decisions and there are opportunities for us to start cooperatives — we are exploring insurance cooperatives, we are exploring agricultural cooperatives, we are exploring energy cooperatives." The heart of the forum centred on ways in which the lives of Bermudians could be improved through individual efforts, through the collective effort of the community and through demands to be made on the government. The issue of work permits arose with Mr Hayward asking audience members: "Since the removal of work permits has Bermudian employment gone up or down? Down. We have to look at what it has done to the Bermudian employer. Now there is no encouragement to train Bermudians because you can retain that expatriate worker who has that skill set. It may be best for your business but is it best for our people who are looking for employment in our country?" He also spoke on the need for free education at Bermuda College, lower interest rates for students and financial-based scholarships, while delivering the message that as a community we need to work together to focus on education, training and retooling of skills. Towards the end of the evening, a 32-year-old female speaker took to the stage to read a letter she had written to the One Bermuda Alliance imploring them to provide more accessible information to the public about the airport to help the public make an informed decision about it. She said that she would be "flooding" the Government electronically via e-mail and social media with her message and she encouraged all to do the same. The People's Campaign's other forums are tomorrow at Allen Temple AME, Somerset, and Saturday at St Paul AME Centennial Hall, Hamilton. Both start at 6.30pm.
January 17. The Court of Appeal has upheld a ruling by Chief Justice Ian Kawaley that unions acted "unlawfully" in January 2015 by taking industrial action against furlough days. The Bermuda Industrial Union, the Bermuda Public Service Union and the Bermuda Union of Teachers had appealed against two declarations made by Mr Justice Kawaley in January 2016, in which he said the unions had acted contrary to labour legislation. But in a judgment passed down yesterday, the three appeal judges dismissed the unions' appeals and supported the Chief Justice's decision to grant the declarations to the Minister of Home Affairs. "Essentially, for the reasons given by the Chief Justice, I would dismiss the appeal against the grant of declarations," Sir Scott Baker said in the judgment. "Once the respondent [Minister of Home Affairs] gave notice declaring a labour dispute, the case was taken out of the realms of contract law and into the Bermuda labour legislation as it appears in the Labour Disputes Act 1992 and the Labour Relations Act 1975. The unions as named in the declarations acted unlawfully in the case of essential services pursuant to section 9 of the 1975 Act and more generally pursuant to section 19 of the 1992 Act. The Chief Justice was entitled in the exercise of his discretion to grant the two declarations and I would dismiss the appeals." In January 2016, the Chief Justice ruled that BIU, BPSU and Fire Officers Association divisions that provided essential services had acted contrary to section 9 (1) of Labour Relations Act 1975 in taking "irregular industrial action short of a strike". He also stated that the BIU, the BPSU and the BUT acted unlawfully contrary to section 19 of the Labour Disputes Act 1992 in taking "irregular industrial action short of a strike". However, in the same judgment, Mr Justice Kawaley turned down a Government bid to block unions from staging future walkouts. The January 2015 stand-off between Government and the unions, which culminated in marches and protests in the Cabinet Office grounds, was sparked by a letter dated January 23, 2015 from Bob Richards, the Minister of Finance, to the Bermuda Trade Union Congress. Mr Richards urged the BTUC to reconsider its opposition to furlough days and warned that if agreement could not be reached Government would be forced to take steps to achieve the necessary reductions in expenditure, which could include a reduction in salary of Government employees. Mr Justice Kawaley had described the minister's letter as "provocative", while in yesterday's appeal judgment Mr Justice Baker acknowledged that the letter contained "a threat" as well as an impossible and unrealistic deadline for response of noon on January 26, 2015. The Court of Appeal president also recognized that the "real deadline" was when the initial agreement over furlough days ended, which was March 31, 2015. In the Court of Appeal hearing, the unions' lawyer, Delroy Duncan, had argued that the Labour Relations Act 1975 and Labour Disputes Act 1992 were not "engaged" because the employees' contracts had come to an end. However, Mr Justice Baker dismissed the assertion, saying: "In my judgment the contracts of employment were still in force at the time the employees withdrew their labour." Mr Duncan also maintained that the published Government notice declaring a labour dispute was "inadequate because it did not give the necessary particulars". But Mr Justice Baker stated: "The notice in my view contained sufficient particulars for the purposes of this section (section 19 of the Labour Disputes Act 1992)." He also maintained the declarations were the "most effective way to decide the issues where all collective agreements had expired and Government had embarked on a policy of dealing with public debt and reducing the size of the public service. In my view, the Chief Justice was entitled and indeed correct to make this declaration as to the rights of the parties," the Court of Appeal president added. "He made sure that the employees were not included in the declaration and noted that the Government had agreed that they could use their remaining furlough days for the period that they were absent during the industrial action. The appellants (unions) acted unlawfully by continuing irregular action from publication of the notice (declaring that a labour dispute exists) on January 28, 2015."
January 17. The Bermuda Monetary Authority has signed a Memorandum of Understanding with the European Insurance and Occupational Pensions Authority. The MoU provides the framework for regular exchanges of information, and sets forth the basis for further co-operation and increased mutual understanding in view of ensuring optimal supervision for insurance and reinsurance groups with international activities in the European Union and Bermuda. EIOPA will support BMA's participation in the activities of European supervisory colleges formed by the competent authorities of the European Union when a Bermudian insurance undertaking is concerned. Similarly, BMA is committed to supporting EIOPA's participation in BMA's supervisory colleges where European insurance or reinsurance undertakings are concerned. Gabriel Bernardino, chairman of EIOPA, said: "This Memorandum of Understanding not only formalizes and strengthens the ongoing co-operation between the two supervisory authorities, it is also an important step in reinforcing the effectiveness of insurance supervision globally." Jeremy Cox, CEO of Bermuda Monetary Authority, said: "BMA is very pleased to formalize the collaborative relationship with EIOPA which has developed over the past several years. This framework for official collaboration will strengthen both of our insurance markets and reveals the increasing global significance of Bermuda."
January 17. A patient in the maternity ward at King Edward VII Memorial Hospital narrowly escaped injury when part of a ceiling collapsed, sending tiles crashing on to a bed and the floor. Pictures on Facebook show debris spread across the room. However, a BHB spokesperson said while they were concerned by the incident, they were thankful no injuries were incurred. "Some tiles in the ceiling of a patient room in Maternity did fall in over the weekend," explained the spokesperson. "Thankfully, there were no injuries, but we are very sorry that the patient had this experience. The tiles had got wet due to a leak, which is currently being repaired." The maternity ward is situated in the General Wing of KEMH, which is more than 50 years old. "Our patients' care and safety is our priority, even in the older parts of the hospital," added the spokesperson. "We certainly understand this may cause concern in the community and we would reassure people that we have a maintenance programme of work to ensure the infrastructure remains safe for clinical care in the older parts of the hospital. We will continue to do everything possible to maintain our buildings and keep those in our care safe."
January 17. Organizers of the upcoming Bermuda Tall Ships Festival visited Michael Dunkley to introduce representatives of Sail Training International. STI members were on the island to discuss preparations for the festival which will bring up to 20 tall ships and 1,000 sailors to Bermuda in early June. Sail Training Association of Bermuda and Tall Ships Bermuda brought them to visit the Premier who, according to a press release, expressed his support and excitement for the event. Activities lined up for June include a mini-festival in St George's, where the ships will initially gather, before a main festival in Hamilton. The Rendezvous 2017 Tall Ships Regatta is a celebration of the 150th anniversary of the Canadian Confederation through its founders and founding provinces. Berths are still available on board ships in all ports for anyone who wants to be a sail trainee. People aged 16 to 25 in particular are encouraged to sign up. visit tallshipsbermuda.com for more information.
January 17. The company that carried out warranty and general repairs on Apple products in Bermuda under the Apple Service Depot programme, has said it is no longer doing so. Apple Service Depot is a central facility where repair work is carried out on Apple products, but not directly by Apple. In a statement, Hamilton-based Applied Computer Technologies, said: "We would like to inform customers and the broader Bermuda marketplace that effective immediately ACT will no longer be able to accept new requests for Apple products that require warranty or general repair activities." The company said it had been acting as the service depot for Apple products on behalf of The Complete Office and iClick, its sister company, on Reid Street. The Complete Office was merged with P-Tech, part of the Phoenix Stores group, in March 2016. iClick, an authorised Apple reseller, was included in the transaction and continued to operate from its location a short distance from the P-Tech store. In its statement, ACT, which does not sell Apple products, said: "After the sale of The Complete Office and iClick to P-Tech, ACT agreed to continue supporting Apple products for a period of time. It was ACT's understanding that as part of The Complete Office/iClick sale the Apple Service Depot would be transitioned to either P-Tech or another local vendor. Unfortunately, this process has been completely outside of ACT's control and therefore at this time ACT can't confirm that any other local vendor has been authorised to take over the Apple Service Depot." The company apologized for any inconvenience the change may cause in the future. The Royal Gazette has asked Apple if there is currently an authorised Apple Service Depot in Bermuda, and was awaiting a response at press time. However, Tim Smith, chief executive officer of AF Smith, an Apple authorised reseller based in Tumkins Lane, said: "We have been assured by Apple that they are working on an ACT replacement being appointed very soon."
January 17. John Powell, the chairman of the board of trustees for the Summerhaven home for the physically challenged, has been effectively deposed by the appointment of a receiver for the facility, The Royal Gazette understands. While trustees technically retain their titles, the installation on Friday of the Bermuda Government MP Susan Jackson as receiver does away with all the board's decision-making capabilities, closing a troubled era for Summerhaven, which has been rocked by allegations of mismanagement. Ms Jackson held her first meeting yesterday with residents, which Summerhaven co-ordinator Yolanda Dowling said "went very well. I'm happy with the change — residents said she was very open with them, answered all their questions and listened to them," Ms Dowling said. "I really feel that finally the residents' needs will be met." Ms Jackson said she intended to start regular meetings with tenants at Summerhaven, where the Ministry of Health and Seniors stepped in last month to appoint administrators after months of increasingly public rancor over the treatment of residents. "A big piece to the puzzle is the overall structure of Summerhaven," Ms Jackson said. "It's a matter of defining the model of independent versus assisted living in a regulated residential facility. What does that look like? We have not seen that in Bermuda before, but we are going to find a way." She said she has been "building a relationship with residents since October. It's critical that we as members of a caring community are able to provide quality of life. There are certain standards that have to be abided by and that's the first responsibility — to ensure that residents are receiving that standard." Residents have also called for the reinstatement of Don Ricardo Wynn, an administrator who was abruptly fired from Summerhaven in October. However, Mr Wynn said yesterday that he had yet to hear whether he would be brought back to the facility. "Nobody has talked to me, and that's the part that frustrates me," he said. "I have a slew of projects that I was in the middle of. I have benefactors that were interested in helping Summerhaven, who have been calling me, asking if I am going to be back, and I don't know. It's an illogical way to treat somebody who was acting in the residents' best interests."
January 17. By Traci Burgess, national director of The Duke of Edinburgh's International Award, Bermuda. "Imagine England in the early 1950s. It was post-Second World War and young men who had grown up in that era of conflict were lost. The UK was experiencing an epidemic of Bermuda's equivalent to our "youth sitting on the wall". A significant number of young men were unemployed or underemployed; lacking in personal and professional skills; and did not have the vision to see beyond what was right in front of them. Their self-esteem was low and they had been poorly educated. Crime was on the rise and the Government did not have a solution to help this generation or halt the downward spiral that could potentially isolate future generations and lead to increased social challenges that would predictably have a negative affect on the greater community. In response to the UK's post-war social challenges with the younger population, Kurt Hahn, a German educationalist, designed the foundation for a revolutionary programme to address the most prevalent social ills and then shared his ideas with Prince Philip, the Duke of Edinburgh. The programme didn't have a name at the time, but it did have a simply sustainable format that could make an enormous impact on society. Lord John Hunt, the first man to successfully lead an expedition to the top of Mount Everest (1953), joined the conversation and from there, The Duke of Edinburgh's International Award was born. The programme, originally offered to boys only, launched in 1956 and was open to females in 1958. In 1967, the award was introduced to Bermuda by the Junior Chamber of Commerce (Jaycees). Initially, the programme was offered through community partnerships with the Boy Scouts and Church youth groups. The award expanded into Bermuda's senior schools in the late 1970s, starting with Northlands Secondary. Today, the award is thriving in both public senior schools and most private schools. We are successfully partnered with all five public middles schools in delivering the Bermuda Bridge Award across the island. This unique programme is exclusive to our island and is hosted by The Duke of Edinburgh's International Award Bermuda. It is designed as an introduction to the senior levels of the programme and allows a younger demographic to experience the benefits of participation in the Award. The middle schools programme promotes personal development and social responsibility. It is positioned to serve as a proactive measure in deterring antisocial behaviors. Throughout all levels of the award, participants engage in activities involving community service; developing personal skills; physical recreation; and adventurous journeys that are completed in Bermuda and overseas. Award participants are encouraged to think globally and act locally. Our transformational programmes are proven to help young people discover, develop and achieve their greatest potential. The International Award serves teenagers and young adults between the ages of 14 and 25, and the Bermuda Bridge Award caters to ages 12 and 13. All of the award programmes in Bermuda are offered free of charge in order to ensure the life-changing opportunities afforded through participation in the award remain available to everyone who wishes to participate, regardless of their socio-economic status. This is not the case throughout the rest of the world where registration and participation fees are standard practice. There are at present 1.35 million young people in more than 140 countries and territories worldwide undertaking the challenge of completing various levels of the Award. The Bermuda award has mentored more than 10,000 locals over the past five decades. Our tiny island at present boasts the highest penetration rate for participation in the international award, with more than 10 per cent of Bermuda's eligible population between the ages of 14 and 24 being actively engaged in the programme on an annual basis, not including the Bermuda Bridge Award participants. Last year, 622 young people from diverse backgrounds across the island took up the challenge of participating in the award. Participation is fun, exciting, challenging and rewarding, and contributes to the development of well-rounded global citizens who take pride in themselves and in their communities. The award's impact measures include increased self-confidence; enhanced communication and problem solving skills; improved academic attainment and employability; improved health and well-being; social inclusion and increased participation in civic life; care for the environment; gender equality; reduction and prevention of violence; and reduced re-offending (recidivism) rates, just to name a few. This year marks the 50th anniversary of the award in Bermuda and a number of celebratory events are planned for early March, including a Royal visit from Prince Edward, the Earl of Wessex. Alumni and friends are encouraged to join in these celebrations, starting with school visits and the DofE World Cup Golf luncheon on Friday, March 3; a night to remember with our 50th anniversary gala showcasing a variety of local talent at the Fairmont Southampton on Saturday, March 4; a special celebratory church service at the Anglican Cathedral on Sunday morning, March 5; and a private sailing excursion in partnership with Ben Ainslie Racing on Sunday afternoon, March 5. Additional details will be published in the immediate future. Get involved and make a difference! Contact the Award Office for additional details on programmes, volunteering, Alumni events and 50th anniversary celebrations. "
January 16. Bermuda's shipping register is set to get a boost after China agreed to give island-flagged ships "most favored" status. Captain Pat Nawaratne, head of the Bermuda Shipping and Maritime Authority, set up last year, said the move would give the island a competitive edge in the registry business. He explained: "This will benefit us, especially when Bermuda-registered ships arrive in Chinese ports. "Ports charge for visits — port dues based on tonnage of the vessel and trade of the vessel. If we are in the most favored category these can be substantially reduced and all the dues that go along with trade." Captain Nawaratne said that three cruise ships formerly registered in Bermuda had moved registry to the UK, which has most favored status with China, to take advantage of the cut rates in port dues and other areas like customs duty. And he added that — in addition to a bid to have the three return to a Bermuda registration — it was hoped to attract even more ships to fly the island's version of the UK Merchant Navy flag. Captain Nawaratne said: "We hope to get these ships back into Bermuda that went away to the UK. It will be across the board — everybody will benefit from it as it extends to cargo ships as well." The news was confirmed by Liu Xiaoming, the Chinese ambassador to the UK, who is visiting Bermuda this week. Government House worked with the UK and China over several months to achieve the new status for Bermuda ships flying the Red Ensign. Michael Fahy, the transport minister, said: "This is of tremendous benefit. The advantages include reduced port dues paid by Bermuda-flagged ships visiting Chinese ports, which will give these ships a competitive edge. This will help us retain business which may otherwise have moved elsewhere and help us attract new business. We are grateful for confirmation that Bermuda can benefit from this agreement under the UK umbrella." The UK/China deal also extends to five other Overseas Territories whose ships also sail under the Red Ensign. Bermuda's ship registry is a Category 1 member of the British Red Ensign Group, a worldwide fleet of vessels, including large cruise ships, oil, gas and chemical tankers, container ships, bulk carriers, offshore vessels and megayachts.
January 16. Third generation fisherman David Soares landed the biggest tuna caught in Bermuda's waters on Saturday morning and he did so single-handedly in 15 minutes flat. The Bermudian, who said he has had it confirmed by the fisheries department that the 1004lb giant Bluefin tuna that landed on his boat was the heaviest recorded in the island's history, was also responsible for the previous record catch — a 1003lb tuna landed in the same fishing grounds in 2013. He was out fishing alone on Challenger Banks about ten miles southwest of the island on Saturday morning when he felt the tug. It was his first "bite" of the day after just five minutes with the lines out. He knew he had hold of a large fish right away as its jaws had locked on to two of his five trawling lines. The monster catch was fairly easy to pull up, he said, due to the fact it was attached to two lines. Mr Soares, a full-time commercial fisherman, told The Royal Gazette: "I was just out trawling for the day — that is how I make my livelihood. I was out fishing for wahoo and tuna and I happened to catch the tuna. He bit two lines so two rods were going off at the same time. I had to wind both of the lines back in together. I was by myself but with it being on two rods, it kind of made it easy. It only took about 15 minutes to catch it." Once he got the fish to the surface, he had to get it on to his 45-foot commercial fishing boat Kerry D, which he named after his wife. The fish itself was almost ten feet long and needed to be put on ice and returned to shore. Mr Soares recalled: "It wasn't thrashing around at all he just came up pretty docile so I harpooned him and then tied some ropes to him and winched him into the boat. As far as my recollection goes, there have been 12 Bluefin tunas caught in the history of Bermuda and I have caught seven of the 12 that I know of." Asked whether he would share his secret to success, Mr Soares laughed and said: "No. I just fish for them and I fish big rods. They are my passion. It is my goal in life to catch them. Lots of friends and family overseas have commented on the pictures; it has been seen around the world. I'm a third generation fisherman — my grandfather fished here, my father fished, it is kind of a family tradition." Asked if he may have picked up the knack from his forefathers, he replied: "Sometimes you would rather be lucky than good." He sold his catch to MEF which owns Blu, Little Venice, L'Orientel and Harbourfront where the fish has now been distributed. "They are a good customer of mine and have been loyal to me for the past 20-something years and I have a good relationship with them," Mr Soares said. "I'm going to Blu Restaurant tonight to try it for the first time." While The Royal Gazette was the first media organisation to contact Mr Soares about his latest catch, he is no stranger to publicity having been interviewed about his last record catch in Bermuda in National Fisherman Magazine in the US.
January 16. Hard work has paid off for 17-year-old Matthew Brady as the honour roll Mount St Agnes senior prepares for college abroad on a scholarship. "I have a life path, and it probably comes from my parents," Matthew told The Royal Gazette. "If you put in the work now, you get the reward later." A history buff with a dream of becoming an archaeologist, Matthew also plans to study business as a back-up at Rollins College in Florida. Impressed with his "overall academic record, personal strengths and talents", Rollins awarded him its presidential scholarship, valued at $96,000. "I really want to do something different, something that will expand my view of the world," Matthew said. He hopes to balance the accelerated management programme at the college's Crummer Graduate School of Business with courses in anthropology as well as archaeology, telling MSA's Fast Track magazine that he has "always had a passion for history and discovering the world's earliest secrets. I have no idea where this might take me, but I would like to be able to travel the world and be a part of a great adventure." Parents Anna and Christopher Brady instilled him with a rigorous work ethic, reflected in his induction into the National Honour Society — and the highest average in his grade for the past three years. Last year, he also co-captained the MSA Saints volleyball team. An only child, Matthew's departure for college means "a whole new experience" for his parents too. And his future is an open book. A United States national, he also has the option of residing in Europe thanks to his Portuguese citizenship. "When I was first looking at colleges, I was thinking I'd probably stay in the US. Recently it's come to mind that I might want to come back to Bermuda for a few years. You never know. A lot of it depends on jobs. It's like the citizenship I was born with ­— it's all about using opportunities. They're everywhere."
January 16. A 58-year-old man has appeared in court charged with a series of historic sex offences against a young boy. The Southampton man, who can not be named for legal reasons, did not speak during the short hearing at Magistrates' Court this morning. The indictable charges can only be heard at Supreme Court so the defendant will appear at the March arraignments session. He faces four charges of indecent assault against the boy, which are said to have taken place between 1975 and 1977, when the alleged victim was under 14. He is further accused of two counts of inciting the boy to commit an act of gross indecency between the same dates. The defendant is also accused of committing an act of gross indecency with the same alleged victim between 1977 and 1979, when the boy was over 14. He was released on bail with conditions pending his appearance at Supreme Court.
January 15. The Chinese Ambassador to the United Kingdom is embarking on a three-day visit to the island during which he will meet with Premier Michael Dunkley, Governor John Rankin and local business executives. Mr Liu Xiaoming arrived today and will participate in various events, starting today and through tomorrow and Tuesday. The invitation was extended by Mr Dunkley. "The visit of the ambassador is a direct result of the diplomatic and trade visit undertaken at the end of November by Minister Counsellor Jin Xu, First Secretary Huang Hongyong and Third Secretary Peng Zhang of the Economic and Commercial Counselor's Office of the Chinese Embassy in the United Kingdom," said a Government statement. Today Mr Liu toured the West End, including Commissioner's House. Later this afternoon he will meet the Governor at Government House. Tomorrow Mr Liu will meet with Mr Dunkley to continue discussions on investment opportunities and tourism from China to Bermuda. This will be followed by a round table breakfast hosted by the Premier with leaders of Bermuda's International Business sector, the Chamber of Commerce and Government. He will also attend a presentation tomorrow afternoon by the Bermuda Business Development Agency (BBDA) along with key members involved in Bermuda's tourism sector, after which he will be escorted on an official tour of the East End of the island and be formally welcomed by the Mayor of St George's Quinnell Francis. Finally, Mr Liu will meet with the Mayor of Hamilton Charles Gosling on Tuesday for an official welcome to the City of Hamilton. He is accompanied by his wife, Mrs Hu Pinqhua, Consular Official Guo Chentao, and Second Secretary, Political Section, Pan Feiya.
January 15. Diriba Degefa Yigezu won the Half-Marathon yesterday and laid claim to being one of the greatest runners in the history of the Bermuda Marathon Weekend in the process. The Ethiopian became only the second runner to win all three titles — the KPMG Front Street Mile, the 10K and the Half-Marathon — in the same year, after Kenyan Shadrack Biwot completed the previously unique feat in 2010. Yigezu blew away his opponents, as he did all weekend, posting a time of 1hr 05min 54.9sec to finish ahead of Scott Overall, of England, who came home in 1:07:04.8. Alexander Teuten, also of England, came third in 1:07:57.15. Despite still feeling sore from his 10K victory the previous day, Yigezu said he always felt confident of securing the clean sweep as he knew he had superior speed to his main rival Overall. "Scott [Overall] was in the lead until the seventh mile and then I took over" Yigezu said. "I ran with Scott yesterday [in the 10K] and although his pace is very nice, I knew if it came to the last mile I would beat him because I have more speed. The race was very nice, although I felt like I had a bit of injury from the day before, It wasn't a good time for me, but that's fine. The course is very hard, lots of hill and no flats. I wanted to run a 1:04, but it was not possible today." Yigezu, who had been running up to 70 to 80 miles a week in preparation for race weekend, said he would love to return to Bermuda next year and defend his trio of titles. "I'm very happy because Bermuda is a very nice place," said the 29-year-old. "It's great for running and even for a vacation. I would definitely like to come here again to run." Overall said he believed the Half-Marathon would have been more suited to him than Yigezu and was surprised he could not shake off the Ethiopian. "Obviously I knew what [Yigezu] had from the 10K and I knew he was more of a 5K, 10K runner," said the 33 year-old, who competed in the marathon at the London Olympics in 2012. "I thought the half-marathon was more suited to me and I took it out about five-minute miles for the first seven or eight miles and he was still there, and I was like, OK. We were both quite comfortable and by about the tenth mile he made quite a big surge to get away. I was comfortable in second and I didn't really push it the last three miles." Gemma Steel, of England, reflected on a "good weekend's work" as the first women's finisher in a time of 1:14:26.16. The 31-year-old had contemplated taking a break yesterday after her triumph in the 10K. "I'm quite glad I did it now," she said. "I was having second thoughts because I thought it was going to be tough after yesterday. But it's nice to do the double. I had a great pacemaker in Bryan Morseman [the Marathon winner]. I just ran around and enjoyed it, really. I don't want to go home now and I'll treasure these moments. Maybe I'll do the mile as well next time." Steel's England team-mate Rebecca Moore was the second-fastest woman, crossing the line in 1:18:02.03, with Lauren Murray, of the United States, third in 1:28:15.16.
January 15. Staff at the Registrar General's office have been contacting registrants of expired .bm domain names and responding to clients whose services where interrupted on January 7. Providing an update of the service, Registrar General, Mr Aubrey Pennyman, said today: "It should be noted that when the .bm service first started it was a free programme and many people registered domain names but have not kept them active or updated their contact details. Our staff has been working around-the-clock, contacting those clients with dormant or inactive domains to update their contact information and arrange payment. In addition, we have been in contact with all clients that were affected by the expiration last weekend. I am pleased to report that we have been able to get 95 per cent of the clients with an active domain name back online." Mr Pennyman added: "Once our office was notified of the expired account, we have been working with both the system vendor and the Government Information Technology Office to resolve this matter. Any active domain names that had expired have now been renewed. However, going forward, the Department has arranged to receive reports of domain registrants that have not submitted their payment to ensure that they have created an account and updated their contact details. Once all domains are properly registered, it is expected that the automatic e-mail notifications will provide all domain registrants with adequate notice to submit their payments when required. We encourage clients to renew their domain and make payment of $65. If any domain registrant is still experiencing problems they can contact the Registrar General at 295-5151 ext: 1662.
January 15. The Royal Bermuda Regiment's second all-volunteer Recruit Camp started with a bang today. A total of 60 new recruits walked through the gates of Warwick Camp to begin two weeks of tough training designed to produce troops of the highest possible standard. And one of their first lessons was a demonstration on South Shore of pyrotechnic training aids and the firepower the RBR armoury can muster. Lindley Scott, 29, operations supervisor at airport specialist caterer Goddard Catering, said he signed up to boost his resume and for the chance to serve as part of the security team for the America's Cup. "I joined for a personal reference for myself and to help me in the future. It's starting to feel a bit real — it's going to be a long two weeks. But I will get personal health and more self-discipline. My goals have been set and I'm looking forward to the America's Cup and overseas trips." Fellow member of 8 Platoon, 19-year-old Kyle DeRoza, added: "I'm feeling good. I'm looking forward to the running, but I joined to get a better understanding of the regiment and to become a man." The Bermuda College computing student at Bermuda College, from Warwick, added: "I'm aiming to join the Regimental Police and do the Junior Non-Commissioned Officer Cadre — I think I'm going to enjoy the regiment." Patricia Alexander, the sergeant in charge of 7 Platoon, added: "They seem very motivated and want to be here. It's going to be a pretty good camp." Steffan Adderley, 25, who works for Menzies Aviation at the airport, said he hoped to use RBR training as a springboard to a career as a professional soldier in the UK. He added: "I'm looking forward to pushing myself — making myself a better man, I guess. I have hopes of joining the Royal Marines in England and thought it'd be good to do this for a couple of years." Taylor Eve, also in 7 Platoon, said: "I joined for the adventure and to meet new people. It's something new — I'm very nervous, but looking forward to it. The 25-year-old charities administrator from Warwick, added: "I think I'll enjoy the assault course and just networking with everybody and getting to know different personalities. It's about self-development and hopefully pushing myself harder." Lieutenant-Colonel David Curley, new RBR commanding officer and in charge of his first Recruit Camp, explained that, while the RBR offered opportunities for personal development and fitness, it should be fun and exciting as well. "I'm very optimistic about the calibre of people we have seen this year. We have made enormous efforts to get across that the regiment is not just worthwhile and character-building, but enjoyable as well. The soldiers here want to be here and they volunteered, so that's a great asset. We will push them to their limits and some of them will be able to volunteer for extra training for America's Cup assistance on the water or on land. We will be supporting the police 100 per cent as we always do. If our new soldiers work hard, dig deep and take everything in, they will have their boot camp under their belt in no time. Right now, they don't know each other, but they will gel together and they will become friends." He added: "Some of them will be potential leaders and the opportunities are there for them." The recruits also had a surprise visitor as they waited outside Warwick Camp — Senator Jeff Baron, the Minister for National Security, who is due to pay an official visit tomorrow with Premier Michael Dunkley. Mr Baron said: "The volunteers who have chosen to serve Bermuda deserve the Minister's support from day one and I wanted to be here to show them that. I wanted to look them in the eye, feel their nervous energy and tell them I support them. They all marched and ran in here because they want to be here and that's commendable. To have an annual camp made up entirely of volunteers for the second year in a row is a marvelous achievement for the Colonel, the Government and the country."
January 14. Gemma Steel came out on top in her "cat-and-mouse" game with team-mate Jenny Spink in Saturday's Bermuda Marathon Weekend elite women's 10K. Steel, who has travelled to Bermuda as part of a six-strong England team, finished strongly in a time of 33min 55.64sec, to head a trio of her compatriots across the finish line at the National Stadium. Jenny Spink came second, closely behind in 34:33.23 while Rebecca Moore was third in 35:41.42. Steel, the European cross-country champion in 2014, said she aimed to "take the race on" from the start and made her break from Spink at the halfway mark. "I thought I'd just take the race on and see what I could do, really," Steel said. "Get the first half in the bank and then just hold on for the win, hopefully. I was brave, I probably could have just held on with Jenny and ran with her for a bit longer, but I just took it out on my own. She was chasing me for a while and I was just looking back over my shoulder and thinking, 'Oh no, I've gone a bit too soon and she'll probably catch me on the hills. It was a bit cat and mouse, really. Jenny had me in her sights and I thought she might have reeled me in, but I managed to hold on well." Steel, who was first at the British trials for the European Cross Country Championships two months ago, said the second half of the course was tougher than she expected and took her by surprise. "I wasn't expecting it to be as tough up the hills," said Steel, whose 10K best is 31:26. "I underestimated it a little bit because of the fast down hills at the start of the race. The first half is easy, going down the hills. But when you get to mile five it can take its toll on your legs if you've gone quite quick down the hills." Spink, who hopes to represent Great Britain at next year's Commonwealth Games on the Gold Coast, Australia, praised Steel for opening up a gap after the midway point. "You always try to win but Gemma is so strong and I have to be pleased with second," Spink said. "For the first 5K we were close and then she pulled away as the course got tougher." Emile Fournel, a Bermudian resident, was the first local woman across the line, finishing 47th in 42:58.3. The 30-year-old is a three-times Olympian, competing for Canada as a sprint kayaker. She moved to the island two years ago as her fiancé, Anders Gustafsson, is a grinder for America's Cup team, Artemis. "It's a beautiful course, a lot of hills and I just moved to Bermuda two years now and I've been getting used to the hills," she said. "I did it last year as it was a good way to get to know everyone. I think I beat my time by about ten minutes so I guess knowing the course helped a little bit."
January 14. Government MP Susan Jackson has been appointed as a receiver to oversee the Summerhaven home for the physically challenged. The facility has been under the care of the Ministry of Health and Seniors since December 8 after a magistrate approved government intervention at Summerhaven following a litany of complaints over mismanagement. Yesterday's announcement from the Registrar General, under section 23 of the Charities Act 2014, means that Ms Jackson will serve as receiver until January 10, 2018. The legislation is invoked when there is "reasonable evidence of misconduct or mismanagement in the administration of a charity". Ms Jackson will supervise the appointment and release of personnel, as well as ensuring adequate staffing and keeping operational policies and safety measures in place. Her role will also include ensuring compliance with the requirements of the Act and associated regulations, and confirm that adequate financial records are kept. The latest move came after John Powell, chairman of Summerhaven's board, was ousted over concerns over his administration. Complaints from staff and residents at the troubled facility ranged from intimidation and harassment to bullying and the denial of access to transportation. According to a government spokeswoman, the receiver's role is distinct from the day-to-day administration of Summerhaven, which is an operational role now filled by the ministry. "The receiver will work cooperatively with the appointed administrator to bring Summerhaven into compliance with regulations and ensure the residents' well-being," she added. Health minister Jeanne Atherden has described the takeover as a temporary measure — noting that the facility is a privately run care home rather than a government facility.
January 14. More than 100 people came together to remember their loved ones at a Memorial Moon Walk last night. "It was a marvelous night," Nicky Gurret, who helped organise the event with the Friends of Hospice, told The Royal Gazette. She added that despite the moon coming up a little late it was a "magical night" of walking in the moonlight. For Ms Gurret it was a chance to pay tribute to her father Edmond Gurret, a popular executive chef who died in 2012 aged 82. Explaining how the walk came about, she said: "As a Friend of Hospice for Agape House, I wanted to help create another event that would capture the beauty of Bermuda and the beauty of friends and family that have passed away. I felt a walk in the full moonlight along a beach such as Chaplin Bay and Horseshoe Bay would capture the beauty of the loved ones who have passed away." She said she would be remembering her "beautiful father and several school friends that have passed away far too early in their life". Ms Gurret continued: "So I felt others may feel the same way about a walk in the moonlight along the beach. "I am a person who has great esteem for our natural environment and believes Bermuda's most beautiful asset, our beaches, are not used or revered enough. I thought what a beautiful thing to do would be to have a walk in the glory and serenity of a full moon along the beaches and trails to the sounds of waves gently lapping our pink sandy shoreline." Cathy Belvedere, executive director of Friends of Hospice, added: "We had about 120 to 130 people, which was really great, way more than we had anticipated." Ms Belvedere said there was a quiet atmosphere among the walkers, adding "you could feel people were really thinking about their loved ones". For Ms Belvedere it was an opportunity to reflect and remember and also to be with others who have lost their loved ones. She lost her husband at Agape House 7½ years ago and said it had been a "rough year" with several other deaths among her family and friends. After completing the walk, participants were able to light candles and take a quiet moment of reflection by the water. "It was really lovely," Ms Belvedere said, adding that the event went so well and there was enough expression of interest for another walk that they will definitely be doing it again. The walk took place from 7pm at Chaplin Bay in Warwick. All proceeds from the event will be used to provide programmes and services that enhance the quality of life for hospice patients and their families.
January 14. For almost five decades Hazel Dalley went out of her way to make the Royal Bermuda Regiment feel at home whenever they trained in Jamaica. Known to generations of soldiers as "Miss Hazel", "Auntie Hazel", or "Aunt Haze", she took the troops under her wing and treated them like her own family. Ms Dalley, who died last month at the age of 89, was this week remembered by RBR soldiers past and present as a remarkable" woman and true friend to Bermuda. "Hazel Dalley was an extraordinary woman, who was well respected and admired by hordes of people from around the world," said Lieutenant-Colonel Eddie Lamb, Commissioner of Corrections and former RBR commanding officer, who met Ms Dalley on his first trip to Jamaica as a young sergeant in 1982. My life has been deeply enriched by having known Hazel Dalley, as have countless other lives. I am one of a legion of people who benefited from knowing this wonderful woman and this world was made better by her being in it. She will truly be missed." Describing her as "his surrogate Jamaican mother", Colonel Lamb said "her strong passion for her country, her unrelenting service to her community in St James, her tireless giving to others and her genuine concern for all of mankind" made her extraordinary. She went out of her way to make the entire Bermuda Regiment feel at home whenever we trained in Jamaica, either by personally greeting us on the tarmac as we arrived or providing food and refreshments in her store for soldiers." The businesswoman and philanthropist ran Dalley's Variety Store on Gloucester Avenue in Montego Bay — unofficially dubbed the "Bermuda Embassy" — and welcomed any Bermudian who stopped by. Premiers of Bermuda, beginning with Sir John Swan, paid homage to her by visiting her during trips to the RBR's training camps, and she came to Bermuda several times — most notably to witness Change of Command parades. Ms Dalley also assisted the Regiment in times of need, with Colonel Lamb recalling her helping them out of a tough spot after 150 soldiers were left stranded at the airport when their return flight to Bermuda was cancelled. "Within minutes, Auntie had organised rooms, bus transportation back to the hotels, and food for us.. She was a colossal force with which to be reckoned with an iron will and fierce determination, and that he made a point of visiting her every time he was in Jamaica. "One of the proudest moments of my life was when she came to my Change of Command Parade in 2006, and then presented me with a beautifully framed and eloquent tribute. It now adorns the walls of my office and for the last ten years I have read it every single day I am at work." Sergeant Debbie Symons will be among the RBR soldiers who will be attending Ms Dalley's home-going service in Montego Bay today. According to Sergeant Symons, who met her "adopted auntie" on her first trip to Jamaica with the Regiment in 2008, Ms Dalley spotted her leaving the plane and insisted on meeting her. However, the two didn't get the chance to connect until after they had completed their two-week training and were back in Montego Bay. When she finally made it to her shop, Sergeant Symons said Ms Dalley "grabbed me and hugged me and said my lost niece, why did you take so long". A deep friendship ensued and Sergeant Symons travelled to Jamaica several times to visit her "Auntie", whom she described as a "friendly, warm, strong and phenomenal woman who loved everyone as her own". They last saw each other in April 2016 and Sergeant Symons said: "This time when she hugged me it was extra-long and she whispered in my ear and said take care of yourself, saying she loved me. I said Auntie, I will be back on vacation next year so I'll see you. She didn't answer me back. I will truly miss her but will always remember her through the good times and pictures we took. May she rest in peace as God only takes the best." RBR commanding officer Lieutenant-Colonel David Curley also met Ms Dalley on numerous occasions, most recently on last year's overseas training exercise. "She was very happy that the Regiment was back training in Jamaica because we hadn't had any jungle training for four or five years. She was a good person to know and very well respected by the community and in Montego Bay. She always wanted to know when we were coming to Jamaica and she would visit us up in the Portland area at Titchfield Camp," he said, adding that she was "a very dear friend to us".
January 14. A St George's woman counts herself lucky to have dodged serious injury after a truck dropped half-tonne steel beams into her path as she drove to work. "It could have been lots, lots worse," the 49-year-old Customs officer told The Royal Gazette, despite sustaining a broken arm in the crash. Now the woman, who requested not to be identified, is appealing for witnesses to provide police with their accounts of the accident, which she believes never needed to happen. "It's negligence. The beams were in the back of a dump truck. They should have been in a flatbed truck. People have said that — and look what happened." Now recovering at home after the crash on January 7, she will be unable to return to work until March. Police said the collision occurred at about 10am on Kindley Field Road, St George's, near Stone Crusher Corner. According to a spokesman, a truck being driven east was carrying a load of steel beams secured by straps when one of the straps broke. "A few of the beams then dropped on to the road and a car being driven in the opposite direction collided with one of them. Apparently a motorcyclist travelling behind the car fell to the road after striking the rear of the car, as well as one of the fallen beams." The woman said she had been on her way to work when the girder careened into the road. "It actually landed underneath her car — she swerved to the left, and I tried to avoid her at the same time. I just slightly knocked her car, which knocked me off my bike. If I hadn't struck the car it probably would have been a lot worse. I saw the beam at the last split second. I didn't want my head to hit it — that was my last reaction." Instead of colliding directly with the beam, she struck her arm, breaking the humerus. "My arm actually went behind me, like it wasn't even there — for a second I thought I had lost it." The driver of the other vehicle, which also sustained damage, was able to support her while calling police. "The beam could have went through her car, or I could have been in front of the car." A neighbor and family friend who happened to be in the vicinity said that she had earlier noticed the truck pulling over by Claytown in Hamilton Parish, apparently re-securing the girders. "I was going for a walk along Kindley Field Road. We had just pulled over to park our car when the truck came past. Just shortly after I locked the car is when I heard the crash. For that truck to carry girders like that was a very unsafe practice. There needs to be a law put in place — anything of that sort needs to be on a flat bed. It could have killed someone." The female Customs officer was the only person injured, and had to have surgery to have a plate put in her arm. "Every time I think about it, I'm just thankful it wasn't the worst-case scenario. I'm just glad I am here. Now I will deal with what I have to deal with." The police spokesman said that an investigation continues into the incident. He added: "Any witnesses that have not already come forward should contact the main police telephone number, 295-0011."
January 13. Land Rover BAR America's Cup Skipper Sir Ben Ainslie and his team were today officially welcomed. Michael Dunkley, the Premier, and Grant Gibbons, the Minister of Economic Development, visited the team's headquarters in Dockyard and toured the facility. "The Minister and I were extremely impressed with the facility and the dedication and commitment of the Land Rover Bar team," Mr Dunkley said. "The visit was a unique opportunity to speak to the team and hear their passion for the sport first-hand as well as their compliments about the event site at Dockyard and their warm welcome by the people of Bermuda." During their tour, the Premier and Dr Gibbons had the opportunity to speak to members of the team who said they were looking forward to the competition this summer and were delighted to be in Bermuda. Sir Ben and his crew have been in Bermuda for several weeks preparing to compete in the America's Cup.
January 13. Environment minister Cole Simons is not prepared to lift the ban on weed killers containing concentrated glyphosates "at this point in time". The announcement, made at a stakeholder consultation meeting last night on the Glyphosate Monitoring Study Draft Report, was applauded by the public and welcomed by Greenrock. The environmental watchdog and farmer Tom Wadson spoke out this week in support of the ban after the Government report, written by environmental engineer Geoff Smith, who was tasked to look into the risks of the weed control glyphosate from road spraying, recommended that the ban be lifted. The report found that the public and MPW weed control applicator were exposed to concentrations of glyphosate that were well below the most stringent inhalation and ingestion limits stipulated in the EU, UK and by the World Health Organisation. "As far as the minister is concerned, a decision has not been made and it will not be made until I am comfortable that our environment is safe, our people are safe and that we can effectively manage our environment and do minimal damage to it," Mr Simons said. Adding that the report was not finished and that he would need more convincing, he said: "I am at this point in time not prepared to lift the ban. I think our team can come up with other options that we can examine and bring back to you for your comment." Mr Simons also stressed that the comments raised by the stakeholders had been heard and would be included in the final report. At the meeting at Wesley Methodist Church hall, which was attended by about 100 people, Dr Smith spoke in detail about the report, why and how it was conducted, as well as its findings and recommendations. His presentation followed a brief introduction on the need for weed control in Bermuda by Drew Pettit, the director of the Department of Environment and Natural Resources. While it was stressed that the report is a draft study, members of the public who spoke overwhelmingly urged Government to adopt a precautionary principle. And although one man who spoke out in support of the herbicide told the crowd he had been using glyphosate products since they came out, others questioned the wider implications of the chemical on the island's bee and bird populations, as well as how the study was carried out. And Jonathan Starling, executive director of Greenrock, questioned why it had not been broader. Speaking after the meeting, he said that while "we certainly welcome the minister's decision not to make a decision at the moment", the group would remain vigilant. He also reiterated the need for a wider study on the environmental implications, specifically considering bees. Mr Starling added that he would be sending in additional questions regarding the report, and urged all Greenrock members and supporters "to write to their MPs, write to the minister and ask him not to lift the ban on glyphosate". Members of the public can make formal submissions or inquires regarding the report to the Ministry of Environment until February 10.
January 13. A CEO who sexually assaulted one of his employees may have to pay her thousands of dollars in damages. Quinton Neil Francis, 43, part-owner of security firm SAS Protection Services, attacked the woman in 2012 while the pair were on an evening patrol at the Horizons property in Paget. His victim, who cannot be named for legal reasons, is now seeking recompense through the Human Rights Commission and her lawyer told a tribunal yesterday how she was "dragged into a room" by Francis, before he pulled her shirt over her head and exposed her left breast by pulling off her bra cup. Arion Mapp, representing the woman, told the three-person HRC panel: "Essentially, this was sexual assault that took place in the workplace by a superior. There was a high degree of aggressiveness and physical contact, where the complainant was trying to get up and was forced down." He cited his client's "vulnerability" as a "worker taken advantage of by a superior" and said she resigned the day after the assault. Francis was convicted of sexually assaulting the worker and intruding on her privacy, causing her alarm, after a trial at the Magistrates' Court in 2014. He denied both charges but Magistrate Khamisi Tokunbo said the accused did not impress him as a "witness of truth". He noted: "I do not believe he gave an honest account when testifying." Francis appealed to the Supreme Court, where the intrusion of privacy conviction was dismissed and the sexual assault conviction was upheld. He was sentenced on November 25, 2015 to two years' probation and a $3,000 fine. In addition to her criminal complaint, the woman filed a grievance with the HRC, on the grounds that the Human Rights Act prohibits any person from abusing a position of authority to sexually harass another person and gives employees the right to freedom from sexual harassment in the workplace. HRC chairman Tawana Tannock said the issue of liability was not before yesterday's tribunal as liability had been "fully accepted by Mr Francis" following mediation. The hearing was concerned solely with the amount of any damages to be awarded to the victim. Mr Mapp argued the sum should fall within the range of $14,000 to $42,000, with a suggested figure somewhere in the middle. The lawyer said while the woman did not suffer a physical injury, there was injury to her feelings, including fear that evening as she rode home that Francis could be riding behind her, and feeling "emotionally drained" after giving evidence in court. "There was a loss of employment because the complainant resigned the next day because she couldn't cope with working in that kind of work environment," said Mr Mapp, who added that her evening job at SAS was in addition to her full-time occupation with another company. He said his client told an SAS colleague about the assault the same evening and the colleague advised her: "Don't tell anyone" before suggesting she speak directly to Francis. "The process for dealing with it was for her to speak to her attacker," said Mr Mapp. "Our position is that there was no policy. I have not seen any policy that was in place at that time for reporting sexual harassment in the workplace." Sara Tucker, representing Francis, said any payout should be between $5,000 and $15,000. Ms Tucker argued that the victim had not proved the injury to her feelings and "especially not enough" to warrant the amount proposed by Mr Mapp. She said that "apart from a night of crying" after it happened, the victim hadn't described any other injury to her feelings and had stated in her complaint that she told the colleague the next day she felt better. "The complainant worked the remainder of her shift," said Ms Tucker, adding that some people would have left straight after the assault. She noted that Francis put the woman into a headlock while they were patrolling Horizons, after he asked her why she hadn't agreed to take self-defence training. Ms Tucker said the headlock did not form part of the sexual assault and shouldn't be taken into account as it was something that was done to SAS employees to make sure they were "aware of their surroundings". In her complaint, the woman said she was still in the headlock when Francis walked her inside an empty guest cottage. She said he held one of her arms by force as he grabbed her shirt, held it over her head, grabbed her bra and pulled it up. "I said 'f*** you, stop'," the woman stated. "That is when he finally let me go." The hearing continues this morning at 8am at the HRC's office at Milner Place, Victoria Street. The panel's decision on damages is expected at a later date.
January 13. Longstanding president of Bermuda Forwarders Toby Kempe is standing down in favour of his son Nick after 35 years in the top job. Nick Kempe becomes the third generation of his family to head the 62-year-old island firm. But Toby Kempe said he would keep an interest in the business, with a focus on relocation and export, where he started more than 40 years ago, as well as the America's Cup project coordination. He added: "It all comes full circle. I am thrilled to see my son Nick follow in my footsteps. This year is going to be an incredibly busy year for outbound relocations and exports in the aftermath of the America's Cup and I will be redoubling my focus on this department to ensure that Bermuda is presented in the best possible light. We are well aware that we may be the last point of commercial contact for many of the athletes, teams and associated businesses." The company was founded in 1955 as a customs brokerage by Toby Kempe's father, known as Winky. Toby Kempe expanded the business by bringing off-site banker box storage to Bermuda in 1988 and adding container haulage. The firm now offers a worldwide shipping service for local importers. Nick Kempe said that he had "extremely big shoes to fill" but added that he had the support of an excellent team, as well as the family culture his father had fostered at the company. He added that he had been working on an IT overhaul for the last 18 months. Nick Kempe said: "Many repetitive tasks have how been automated and our team members are now able to dedicate more focus to delivering top-notch customer service. The new systems and processes have allowed us to clear and deliver freight to our clients more than one day faster on average." And he predicted that importers will increasingly look for more flexible shipping options and better access to information in a bid to compete against internet shopping.
January 13. Globetrotting photographer Scott Stallard has designed a new travel belt — inspired by travel to some of world's most remote regions. Mr Stallard, who has been on photo shoots ranging from the North Pole to Papua New Guinea in the south-western Pacific, drew on his years of experience to come up with a handy waist-worn hold all designed to keep valuable documents, bank cards and cash safe and accessible. Now he hopes to see his SixtyFour West brand take off in the global market. Mr Stallard, whose work has been published in top magazines like Time and People, said: "It was born out of a practical need and it just went from there. "I do go to places where it would be very easy to lose things or have things taken from you and it was too much worry have things in a bag. "You can fill it with your passport, cash, all the bits and pieces and it's very flat. If you're walking around in Rio de Janeiro, where I've been and where there's a high risk of pickpockets, nobody can see it — it's not like a fanny pack. Necessity is the mother of invention — you don't want to go all the way to Mongolia, lose your passport and ruin a trip you've planned for a year. I had one made for me by a seamstress years ago so I could carry everything on me in one place instead of having my passport in my top pocket and cards and money in my wallet. Other guys shooting abroad asked me where I got it because they wanted one." And he took the plunge to produce them commercially after he met a National Geographic magazine underwater photographer at the home of renowned underwater explorer Teddy Tucker, who said he would take several right away if they were available. Mr Stallard, the former owner of The Olympic Club, which merged with The Athletic Club in 2014, said the sale of the business left him with time on his hands to devote to producing a commercial version of his own travel belt. He said: "I like to stay busy so I found a place in Florida, a commercial sewing factory called Armor Products. I showed them the original belts and they made some samples. From there it blossomed into more and more of a business idea." The five pocket belts are made of tough, water resistant urethane coated nylon with sturdy all Velcro closures with car seatbelt strength fasteners. They come in either black or tan in small, medium, large and extra large sizes. Now he has contacted famous outdoor-themed outlets National Geographic, the Explorers' Club, Outside magazine and health, safety and travel risk management members-only group Global Rescue, as well as other top safari and travel firms and retailers like Patagonia and North Face with a view to selling the belts through them. Mr Stallard said: "Most of the travel belts I've seen consist of one or two pockets with a cord around the waist — they're not very practical and not very strong — I've carried three passports, thousands of dollars and boarding passes, all in one belt. For the new year, we'll be hitting the UK market and we're looking at the military market now as well. "There's no metal in it so you can go through airports with it, but if you do have to take it off it's a quick and easy Velcro fastening." The belts are available in Bermuda at the AS Cooper men's store and the Bermuda Underwater Institute, as well as through sixtyfourwestbelts.com. Mr Stallard said: "I've sold dozens already, but I'm not trying really trying to sell them myself at this point, I'm putting it out to the big companies. If I can get them with big companies, airport shops and travel, camping and adventure sites, that would be great." The company is Bermuda-based with Mr Stallard's son Kade running a US distribution arm. Mr Stallard said: "The aim is to sell to the rest of the world and that requires a distribution centre."
January 12. Premier Michael Dunkley has received a letter from former Secretary of State Hillary Clinton thanking him for his "thoughtful and heartfelt letter" in November. The Premier wrote to Ms Clinton on the day Donald Trump was voted in as President Elect wishing her well and commending her campaign of integrity and civility. In her letter to Mr Dunkley, Ms Clinton said: "I appreciate the generous words you shared for my candidacy and for my career in public service, and am grateful for your support and good wishes. While I am disappointed by the results of the election, I am proud of the campaign I ran and will never stop doing my part to build a better, stronger, and fairer future for my country and for our world. Thank you for your continued leadership. You have my best wishes for a bright and peaceful New Year." In his November 9 letter, the Premier wrote to Ms Clinton to share messages of unity, respect, equality, inclusiveness, hope and optimism saying that they were sentiments that resonated here in Bermuda. And while the election outcome for Ms Clinton was a "heartbreaking one", Mr Dunkley thanked her for being a compassionate advocate for all people. He ended the letter by thanking her for her "distinguished service to the people of the United States".
January 12. A peer-to-peer social sports and gaming website has chosen Bermuda as the jurisdiction to set up its new blockchain-based token, iCash. Purchasers of the token, which will be launched soon, will be able to access the website FaceOff, which plans to allow its users to challenge others to head-to-head matchups based on the outcomes of sports events. Law firm Conyers advised on the formation of the iCash Ltd, a Bermudian company, and on the development of its ethereum blockchain-based token. Will McDonough, the co-founder of iCash and FaceOff, said: "We chose Bermuda as our jurisdiction to set up iCash as our token issuer because of its business-friendly and forward-thinking international reputation, one which is clearly ambitious to move ahead swiftly, while prudently, to develop blockchain and token technology." Mr McDonough, a businessman whose McDonough Management Company's clients have included celebrities such as New England Patriots quarterback Tom Brady, added: "It was great to work with the experienced team of attorneys at Conyers as well as the Bermuda Business Development Agency team to help us establish iCash in Bermuda." Chris Garrod, who led the team at Conyers, said: "iCash is another example of an innovative and world-class token issuer which has chosen Bermuda for their offering. "Bermuda is committed to creating a regulatory framework for vehicles using this kind of distributed ledger technology and the Bermuda Government, with the assistance from the BDA, recognize the importance this growing sector represents to the island. Mr Garrod, a Conyers director, and associates Jacqueline King and Cathryn Minors worked on the matter. The Phoenix Group, parent company of FaceOff, explained the thinking behind the new site in October last year. "We believe there is a tremendous, untapped global market opportunity to provide a platform that allows for peer-to-peer sports and e-sports challenges," Rich Roberts, FaceOff's chief executive officer, said. "FaceOff is going to bring together communities of people who are passionate about their favorite sports or e-sports teams and players, with those who enjoy the social aspect of challenging friends and strangers in head-to-head competitions, and those who enjoy playing skill-based games to win cash prizes."
January 12. Bermuda's business could be damaged by poor internet service, a conference heard yesterday. Stuart Lacey, founder and chief executive officer of financial technology company Trunomi, said: "I would certainly say our internet needs some improvement. It's problematic to be on a global conference call and get a shutout. It's unacceptable." Mr Lacey added that he did not think a lack of bandwidth was a problem. But he said that larger countries had a large number of providers, which tended to increase competition, while smaller ones like Bermuda often had monopolies or small numbers of service providers. Mr Lacey was speaking as part of a panel discussion at the launch of the Global Hedge Fund Survey, carried out by professional services firm KPMG with the Alternative Investment Management Association and the Managed Funds Association. Mr Lacey said that Bermuda was "a favorable environment to launch a young start-up. It provides not just an accelerant but a framework from which you can expand. But I don't think necessarily we should be advertising Bermuda as Silicon Beach — we need to compete where we can and smartly compete." Mr Lacey said that Bermuda was an ideal spot for financial technology, and even computer-generated imagery, biomedical research and "any kind of lab work — in our case, it was technology and particularly technology related to financial markets". Mr Lacey was joined on the panel, moderated by KPMG head of investments Craig Bridgewater, by Nathalie Rushe, principal of Rushe Capital Advisors and Chris Eaton, senior manager for cyber security at KPMG. Mr Eaton said that the two internet providers on the island were both investing in improvements and services were set to be improved greatly over the next 12 months. He added: "When you have the America's Cup around the corner, the potential for the jurisdiction to shine is there and we can broadcast that to the rest of the world. It also has the potential to be an enormous banana skin as well." The survey quizzed more than 100 hedge fund leaders and executives around the world, with a total of $300 billion in managed assets, on how innovation and technology are shaping the industry. A total of 94 per cent of those surveyed said that technology would have an impact on competition over the next five years, while 90 per cent said that investment in technology was increasing. And 58 per cent of managers said that artificial intelligence and machine learning would have a "medium to high" impact on the sector over the next five years — with one manager saying there was "a very strong business case" for replacing people with algorithms in many areas of their business. Ms Rushe said that US-based Bridgewater, the world's largest hedge fund, had been "spending huge amounts on their software", with a prediction that three-quarters of management decisions would be made by artificial intelligence within the next five years. She added: "I do think of how many jobs have been taken over by robots — so many jobs in manufacturing have been taken over by robots. But I think human interaction is still going to be important going forward. We're on the cusp of a self-drive revolution which will have a massive impact on people who move boxes around. If you're not building technology or servicing technology in 20 years' time, it's going to be hard to get a job." Mr Lacey said that millions of jobs just in "middle America" were at risk as delivery and sales became increasingly automated. And he said: "Without a doubt, it's happening and it's happening in real time. If you're someone with young kids, and I am one of them, you should drive them into maths and technology." Mr Lacey added afterwards that Bermuda's tourism industry and financial services sectors were primarily people-based and difficult to replace with artificial intelligence. He said: "I don't think we're at risk of automation as much." Mr Bridgewater said: "This new survey underlines how the alternative investment industry continues to invest in technology across the entire fund management organisation, both globally and here in Bermuda. Investment in new technologies will help to keep the industry ahead of the competition over the long term, delivering consistent and positive risk adjusted returns for investors while continuing to address the ever-increasing regulatory burden."
January 12. The Bermuda Police Service wants to gather CCTV footage and speak to members of the public to help catch a serial vandal writing hateful messages on public property. Yesterday, more graffiti appeared on walls in Middle Road, Devonshire, and Blackwatch Pass, Pembroke, criticizing the America's Cup and the One Bermuda Alliance. Police believe recent bouts of graffiti have been perpetrated by the same person who defaced several other properties around the island. Acting manager for police public and media relations Robin Simmons said: "The BPS is aware of the latest incidents of graffiti and as stated previously, there is every reason to suggest that this is the act of a lone individual. "Police continue their efforts to positively identify this individual. To that end, investigators are interested in speaking with members of the public who may have personal CCTV cameras in the affected areas, which could assist in detecting the offender. Neighborhood Watch Groups and area residents that may have information that can assist with this inquiry are encouraged to contact the main police telephone number 295-0011." According to a spokeswoman for the Highway Section of the Department of Works and Engineering, a contractor has been hired to remove the latest graffiti. The last spate of vandalism cost Bermuda's tax payers $4,000 to clean up and the department reiterated its message to the public that money and effort could go to more pressing causes. The spokeswoman added: "The department wishes to remind the public that this type of behavior costs the taxpayer money and pulls Works and Engineering teams away from other essential work around the island." The apparent sole perpetrator has targeted locations on North Street, Fort Hamilton Drive, Blackwatch Pass and North Shore Road in Pembroke; Old Military Road and Dock Hill in Devonshire; and Naval Tanks Hill in St George's, as well as Government House.
January 12. Reinsurance capital globally hit a new peak of $595 billion for the first nine months of 2016, which is 5.3 per cent higher than the total at the end of 2015. That is $20 billion higher than the record full year figure for 2014. The ten-year median average for global insured losses is $52 billion, with last year tentatively estimated to be slightly higher at $53 billion. "Reflecting a new peak in supply, capacity continues to outpace the growth of reinsurance demand despite insurers continued efforts to optimize their view of reinsurance as capital and expand into growing lines of business and new innovation," stated Aon Benfield in its Reinsurance Market Outlook, published this week. The nine-month figures show that traditional reinsurance capital increased 4.7 per cent, while alternative capital growth was up 9.6 per cent, which is the smallest growth reported in the last five years. "Overall demand increased for the industry, but growth has been isolated to few regions and lines of business," stated Aon Benfield. "For January renewals, some insurers in the US and Europe looked to secure additional property catastrophe capacity as terms and conditions continued to move in their favour or they looked to meet new regulatory requirements and evolving rating agency thresholds." New lines of business that have seen growth are mortgage and cyber liability. There was also a move by many insurers and reinsurers to lock in coverage on a multiyear basis. As has been noted by the likes of Munich Re in recent weeks, the protection gap in coverage for insured losses in emerging markets remains significant. While insured catastrophe losses edged up last year, making it the sixth highest for loss activity in the past 25 years, the biggest contribution to losses were severe convective storms, floods and fire, which are perils typically resulting in lower ceded losses for reinsurers to shoulder. Alternative capital stood at $78 billion for the first nine months of 2016. An analysis of the sector shows the continuation of a trend that started about five years ago where collateralised reinsurance structures have emerged as the most favored vehicle for alternative capital. In its report, Aon Benfield said that certain maturing catastrophe bods did not renew during 2016 and as a result, new issuance fell to $6 billion by the end of September, compared with $6.9 billion in 2015. Looking at the year ahead for the reinsurance market, Aon Benfield noted: "The pick-up of mergers and acquisitions activity in the fourth quarter and potential interest-rate increases could signal potential capacity restrictions. "Our expectation is that these impacts will be slow to manifest and enough excess capital remains in the market to continue the trend for better terms and conditions for insurers seen at January 2017."
January 12. Ten months after wreckage from the first Gunboat 55 to be built turned up in Bermudian waters the catamaran is preparing to undergo a major refit in England. Rainmaker was torn to pieces in a devastating storm in January 2015 that resulted in the vessel being de-masted and her five-strong crew being forced to abandon ship. Now two years after the vessel was destroyed, work has begun to breathe life back in parts of the old wreckage and give this iconic Gunboat a second chance. A spokeswoman for the Multihull Centre in England where the refit is taking place told The Royal Gazette: "Rainmaker recently arrived in the UK via ship from Bermuda. "On December 31 she was brought to The Multihull Centre Boatyard in Millbrook, Cornwall. The boat was lifted out at the Multihull Centre Yard on January 3." The hull of the Gunboat was found by Sloan Wakefield last March around four miles of the island. Mr Wakefield together with the help of Bermuda Yacht Services was able to tow the wreckage of the catamaran into St George's. Only last week, Gunboat CEO Peter Johnstone took to Facebook to hail the news of Rainmaker's pending refit. "The Multihull Centre is a leading British multihull marketing and building business with large boat yard and mooring facilities," he said. "Great to see Rainmaker going into refit. She looks great with the simple clean up. This Gunboat 55 was abandoned by her crew and owner about 180 nautical miles off North Carolina when the rig came down. Left to fend for herself over two winters in the North Atlantic she was found and towed to Bermuda. Quite an ordeal for an amazing yacht. Happy she now appears on the way to life." Rainmaker ran into a vicious squall on January 30, 2014, about 200 miles southeast of Cape Hatteras. The vessel and crew were 36 hours into a passage from the Gunboat yard in North Carolina to St Martin in the Caribbean. On board the boat at the time were her owner, Pinterest investor Brian Cohen, his son and three professional crew members, who were all hoisted into a helicopter and taken back to North Carolina. The carbon mast and rigging of the vessel were cut away, and the decision was then taken to abandon the catamaran, which was valued at $2.5 million.
January 11. The president of the Bermuda Football Association has welcomed Fifa's decision to increase the World Cup finals from 32 to 48 teams. Mark Wade called yesterday's decision "very interesting" as smaller countries like Bermuda have seen their chances of playing in the World Cup increase, although the decision does have its critics. Bermuda had their best World Cup qualifying campaign under Gary Darrell, when they reached the second qualifying round in 1992 with a team including Shaun Goater, Kyle Lightbourne, Meshach Wade and Kentoine Jennings, along with goalkeeper Dwayne Adams, Albert Caisey, Sammy Swan, Dennis Brown, Voorhees Astwood, Kenny Thompson, Shawn Smith, Neil Paynter, Kevin Grant and Leroy Stevens. "It's very interesting to open the World Cup to that amount of teams, it's never been this many all at once," said Wade on the decision, that was confirmed by Fifa yesterday. "It certainly now gives a bit more hope to the smaller nations, certainly it gives us something to think about, like how can we put together a squad that may be able to do it. I know some people are concerned about 'cheapening' the World Cup with teams that may not be at that level, but you only have to look at Iceland in the last Euros to say that may not be the case. Even in our own region where Costa Rica did so well [at the 2014 World Cup]. Expanding the World Cup has its pros and cons but overall I think it is a positive thing. Maybe it will help raise the standards for the countries that are typically outside of the World Cup. We are a bit of a way from the powerhouses in global football but it certainly gives hope to the teams just outside that 32-World Cup list. For us, our immediate goal is how we can beat the best in the Caribbean and make the Gold Cup." The inaugural World Cup, staged in 1930 in Uruguay, featured just 13 teams and 189 matches. Sixteen teams took part from 1934, eight more were added from 1982 onwards and, finally, another eight in 1998. A total of 135 of Fifa's 211 members have never qualified for a World Cup. After yesterday's decision Fifa brushed aside concerns that the expansion would lower the overall standard of the tournament and make it too big and uncompetitive, particularly during the group stages. Gianni Infantino, the new Fifa president, fulfilled a promise he made during last year's election campaign, saying the move meant that more countries can now dream of playing in the World Cup. "It's not the 20th century any more, it's the 21st century," Infantino said. "Football is more than Europe and South America. Football is global." The bigger World Cup, to be introduced in 2026, will feature a first round of 16 groups of three teams, with the top two in each qualifying for a round of 32. From then on, it would be a straightforward knockout contest. The hosts of the 2026 tournament will be decided in May 2020. The Concacaf Confederation, representing North and Central America and the Caribbean, is seen as a strong contender, possibly providing a joint bid from at least two from the United States, Canada and Mexico. Bermuda will be in action next Sunday when they host Canada in a friendly international at the National Stadium. The BFA is in the process now of determining which overseas-based players will be available for the match. "Maurice Lowe [technical director] is making contact with who's available to see which clubs, if any, will release players as this match is outside a Fifa [international] window," Wade said. "That's entirely up to the clubs and the players to decide, we're not going to put any kind of pressure on the players in that regard. However, there are some players who may be outside of their first team or playing in the under-21s or under-23s who may want to come to Bermuda to play a match of this calibre. Those discussions are ongoing and I expect in the coming days to have a list from the head coach [Andrew Bascome] of who he wants to have a look at in this match."
January 11. Mystery shoppers will be used to check up on businesses to see if they are meeting new national service standards for hospitality and customer service. They will assess businesses on five principals of service — welcoming, engaging, delivery, promoting and accountability. A winning, welcoming approach involves customer-facing staff smiling, making eye contact and giving a courteous greeting. Likewise, using positive body language and active listening while engaging with visitors and customers, and offering to guide them so they can find what they are looking for, if done correctly and with passion and authenticity will be viewed positively by scorers for the National Service Standard Certificates. Businesses that meet or surpass the required score will be given a certification seal that can be used on all marketing and promotional materials, including advertising, signage and social media. The certificates will be dated for the relevant year, and will be renewed annually if a business continues to meet the assessment threshold as scored by trained mystery shoppers. The standards are not arbitrary. It has taken a year for the Bermuda Tourism Authority and tourism stakeholders, working together, to identify important areas that can make all the difference to a visitor seeking a sense of value and a 'feel good experience' while in Bermuda. Karla Lacey, chief operating officer with the BTA, said it was significant that the standards were not handed down to the industry, but had been identified as what they wanted for themselves. A pilot scheme, featuring ten businesses, is under way. Bermuda Restaurant Group, Lindo's, the LF Wade International Airport and Snorkel Park are among the businesses involved. "This is an incredible opportunity to receive feedback and training on how we present our brand — and the Bermuda brand — to the world," said Alexandra Mosher, of Alexandra Mosher Studio Gallery, which is also part of the pilot group. "With the help of the National Service Standards Programme we can measurably sharpen up service areas that need improvement and remain accountable to national standards in the future." The certification process involves a dual approach. There is an internal assessment of the business, with senior management and employees giving their view of what level they are at in terms of the five principals of service. From this, any gaps are identified and addressed through training and suggestions from the BTA. The BTA expects to offer some broad-based training, while pointing businesses to specific training opportunities elsewhere. Trained mystery shoppers conduct the second part of the assessment, to see what level of service a business and its employees are giving to customers. The service principals must be exhibited by employees who deal with customers, including business owners and managers tasked with creating the work environments where such service levels are possible. It is expected the pilot group will be assessed in March and those meeting the national service standards will be awarded certification in April. In March, the programme will be opened up to all businesses. Ms Lacey said: "Businesses are excited about pursuing certification because they know it will be a powerful motivation force for their staff and a valuable marketing tool for their business." She said that for a visitor, the standards certification would act to assure them that they can expect a consistently high standard of service. Companies and organisations can expect increased business because they will be able to promote themselves as meeting the national standards, and customers are likely to gravitate towards businesses where they know they can expect the best level of service. Ms Lacey said the national services standards would benefit Bermuda residents, who would also encounter consistent and elevated levels of service. Of the programme, she said: "It has been an intense and massive undertaking. Many businesses have provided their time and input unselfishly. We have tried to touch all parts of the tourism industry chain, and there has been broad participation with no push back." Russ Ford, president of Bermuda Transit Services, said: "Any opportunity to enhance my business is welcomed. This is exactly what Bermuda's hospitality industry needs so that we can fulfil the desires of locals and overseas guests alike. Thanks to the BTA and the Hospitality Institute for their leadership and vision."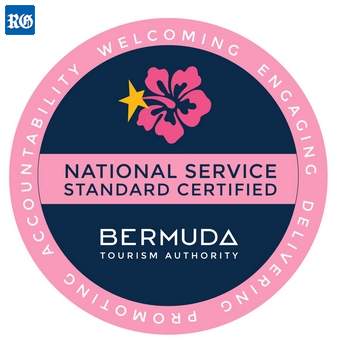 See story above
January 11. The threat to derail the America's Cup has received a huge thumbs down from all sections of the community. Bermuda Industrial Union president Chris Furbert warned last Tuesday that the showpiece sailing event would be jeopardized unless the Government reversed its decision to refuse a work permit for the Reverend Nicholas Tweed. A new Global Research poll has found that, regardless of religious or political beliefs, age, gender, race, household income or union membership, opposition to the ultimatum is extremely strong. In total, 86 per cent of people said they did not support the demand, with 7 per cent in support and 7 per cent undecided. Mr Furbert had insisted he delivered his demand to Premier Michael Dunkley on behalf of his membership — but of the 12 BIU members polled by Global Research, ten said they did not support it. The survey, commissioned by The Royal Gazette, took place between last Thursday and this Monday, following three days of protests and industrial action by supporters of Mr Tweed. It also found that 69 per cent of people believed Mr Tweed should not be issued a work permit, compared with 26 per cent of people in favour, and 5 per cent unsure. Among those describing themselves as AME Church members, 52 per cent believed Mr Tweed, the London-born pastor at St Paul AME Church, should be allowed to stay beyond his January 19 departure date, with 43 per cent saying he should not, and 5 per cent unsure. The telephone poll of 400 registered voters has a margin of error of +/- 5 per cent at the 95 confidence level. Mr Tweed's work permit refusal has dominated the headlines over the past two weeks, with the People's Campaign, of which he is a leading member, joining Mr Furbert and the Progressive Labour Party in a series of attacks on home affairs minister Patricia Gordon-Pamplin. Ms Gordon-Pamplin has said the application failed because of inaccuracies surrounding Mr Tweed's name and marital status, while St Paul AME Church did not advertise the position to give a Bermudian the chance to apply. Supporters of Mr Tweed have claimed Ms Gordon-Pamplin is politically motivated against him. Last Tuesday, several hundred people joined a People's Campaign march through Hamilton before Mr Furbert told the crowd about his meeting with Mr Dunkley. Mr Furbert said unless Mr Tweed's work permit was renewed, and the airport development project was taken off the table, he told the Premier "the America's Cup in 2017 will be in jeopardy" and the members will not go back to work. However, many members continued to work as normal, saying that Mr Tweed's work permit was not a union matter, among other reasons. Later on Tuesday, Mr Tweed responded angrily when his paternal links to Bermudian pastor Kingsley Tweed were brought into question, but refused to comment when asked if he was legally adopted by him. Numbers dropped at protests on Wednesday, with sources suggesting Mr Tweed's support had weakened further. On Thursday morning, between 100 and 200 BIU members held a four-hour meeting, which culminated in Mr Furbert announcing they would go back to work, and that the union needs to deal with "in-house issues". At that time, the president said that the America's Cup warning remained on the table, and clarified that it had was being made by the BIU membership, not just himself. The PLP released a statement afterwards, calling for people to get behind the America's Cup. A breakdown of the results from Global Research shows the threat won the support of 10 per cent of blacks and no whites; 16 per cent of AME Church members and 7 per cent of other religious groups; 17 per cent of PLP supporters and no One Bermuda Alliance supporters; 8 per cent of Bermuda Public Services Union members; 3 per cent of people with a household income of less than $50,000, 8 per cent of those with income between $50,000 and $100,000, and 4 per cent of those above $100,000; 5 per cent of men and 9 per cent of women; 11 per cent of people aged between 35 and 44, but fewer in every other age group. The most popular reasons to oppose the threat were "it is not a union matter", which accounted for 30 per cent, and the America's Cup will benefit the island, which represented another 36 per cent. Another 14 per cent of people said Mr Tweed should not get preferential treatment, and 8 per cent said Mr Furbert was abusing power to get his own way. The most popular reason to support the threat was "Government is not listening to the people", which accounted for 47 per cent; with 29 per cent saying the America's Cup will not benefit the average Bermudian and 24 per cent saying the funds should be spent elsewhere.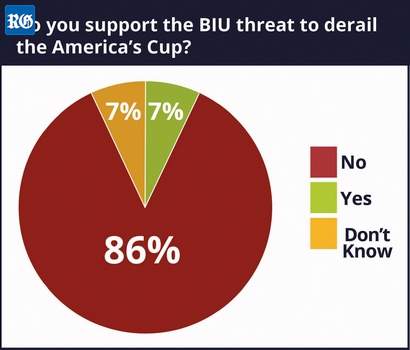 See story above
January 11. Confidential documents not previously shared with Parliament will come under the scrutiny of a team reviewing the airport redevelopment project, finance minister Bob Richards has announced. At a press conference this afternoon, Mr Richards revealed retired KPMG partner Malcolm Butterfield will chair the group, which will also include economist Craig Simmons; Gil Tucker and Anthony Joaquin, both formerly of Ernst & Young; Butterfield Bank chairman Barclay Simmons; Caroline Foulger, a former partner at PwC. They will produce their conclusions before the end of this month. Asked if the group would have a budget, the minister said: "They are not being paid — they are doing this out of public service." Mr Richards told the press conference: "This Blue Ribbon Panel will provide an additional independent evaluation of the Airport Redevelopment Project as to whether the option chosen is the best one or Bermuda, given the realities facing the island."
January 11. The Governor is arranging for a senior UK police officer to conduct an independent review of the police response to the December 2 protest. John Rankin added that the officer would also make recommendations wherever improvements could be made, including any future resource or training needs. "I have agreed with the Commissioner of Police and following consultation with the Premier that, in line with best practice, the police response to the protests should be independently reviewed by a peer organisation," Mr Rankin said in a statement this evening. "I am making arrangements to have a senior UK police officer conduct such a review and make recommendations wherever improvements could be made, including as appropriate on any future resource or training needs." It comes after Shadow Attorney-General Michael Scott today demanded a judicial public inquiry into the December 2 protest, accusing Michael Dunkley of failing to set any "parameters" when he requested an investigation into what happened that day. Mr Scott told a press conference: "The events of December 2, 2016 tore at Bermuda's national fabric and left all right-thinking people alarmed and outraged. Whilst Premier Michael Dunkley has requested an investigation, he has not indicated any parameters for such. With harm caused to otherwise innocent peaceful citizens exercising their constitutional right of protest, and the decision makers most closely connected with the events being at the very top of Government, the importance of a judicial public inquiry is highlighted. "It is only the judicial branch [of government] that is free of conflict to appropriately examine the incident." Shadow national security minister Water Roban added it was "imperative that a thorough and transparent examination take place to restore vital confidence in the Government and the police". He told the press conference the Premier had failed to commit to an independent inquiry. Police were criticised after officers wearing riot helmets used pepper spray on a crowd of protesters blocking MPs from entering the House of Assembly. The demonstrators' aim was to prevent debate of legislation concerning the $250 million redevelopment of the airport. Mr Dunkley said on December 4 he had asked the Governor and the Bermuda Police Service for an investigation into the events to be conducted and a report prepared for the Government on "what happened and why". On December 7, Mr Rankin said the Commissioner and Acting Commissioner of Police had assured him they were "conducting investigations" into what took place. Mr Rankin said: "There is an investigation under way into assaults on police officers where files are being prepared for charges to be brought. At the same time, there is an investigation under way into complaints brought against police officers and these will be referred to the Police Complaints Authority." In his statement today, Mr Rankin reiterated that there are two investigations being conducted in respect of the protests. The independent PCA has so far been forwarded 26 complaints in connection with the protest. Chairman Jeffrey Elkinson told this newspaper last month that the authority would meet to decide whether to look at the "bigger picture" regarding December 2, as well as investigating the 26 individual complaints. Mr Scott said today he had made a public access to information request on December 30 regarding the protest, though he didn't share details of which records he had requested. This newspaper submitted one on December 6, asking for:
records showing how and when the decision was taken to deploy police in riot helmets to the grounds of Sessions House and by whom the decision was taken;
any correspondence between the BPS and any individual outside the BPS regarding the decision to deploy those officers, prior to the decision being enacted; and
any correspondence dated December 2, 2016 between the BPS and the Speaker of the House, Randy Horton.
"The Pati Act requires a response within six weeks," said Mr Scott. "However, I urge the Government to act on this request for an inquiry without delay, as the public shouldn't have to rely on individual requests for this information. The importance of revealing the political and tactical considerations of this event can't be diminished. Furthermore, critical to the inquiry will [be] the victims and the public having the opportunity to be heard. Judges are very experienced at determining facts." He said the Progressive Labour Party was calling for any inquiry to result in recommendations for change, with those recommendations acted upon within 12 months. "It is felt that only with effective follow-up can the inquiry avoid becoming just the delivery of eloquent words, but rather result in lessons learnt," added the Opposition MP. Mr Roban said: "The public deserves an independent investigation and so, quite frankly, do the police. Canisters of pepper spray are prohibited weapons under the Firearms Act, 1973 — for which the police receive an exemption. The possession and discharge of them can lead an ordinary citizen to a period of imprisonment, such is the gravity of their use. There is precedence in Bermuda for a public and independent investigation when the discharge of a firearm by the Bermuda Police Service has occurred." We urge the Governor, who has constitutional responsibilities for police operations, to ensure that a public, independent investigation be done. The public needs to be assured that protocols and policies, designed to ensure police and public safety, were complied with." Fourteen police officers were allegedly assaulted during the December 2 protest, according to the BPS.
January 11. The Bermuda Police Association has launched a stinging attack on the Government's negotiation team as their dispute over terms and conditions of employment continues. Sergeant Andrew Harewood, the BPA's chairman, claimed this afternoon that "we have been shown absolutely no respect". Sergeant Harewood also accused the Public Sector Negotiation Team comprising of Gary Phillips, Martin Law and John Harvey of "underhand" tactics by providing a one-sided report to Senator Jeff Baron without the "knowledge or input" of the BPA. "As opposed to producing a collaborative report, to our disappointment Mr Phillips and his team went outside of the parameters of the agreement by presenting the PSNT perspective to the minister without the knowledge or input of the BPA," Sergeant Harewood said. "Mr Phillips subsequently gave us a copy of the said one-sided report. This action by the PSNT is not in line with the Government's strategy or transparency and we regard it as underhanded. The report is writhed with suppositions and half-truths and has done nothing but further erode the morale and commitment of the hardworking members of the BPA. It is utterly deplorable that the issue of health and welfare of the members was not addressed in the mentioned report despite being part of the agreement and is therefore quite disturbing and unconscionable. The highly prejudicial report by the PSNT stopped short of discounting the value of the police officers in Bermuda along with the risks that we face daily. The Government through the PSNT has acted in bad faith, and their actions only serve to frustrate the process and tarnish the agreement between the Government and the BPA." The association and the Ministry have been at loggerheads over terms and conditions of employment since 2015, as the Government has tried to cut spending in the Bermuda Police Service. The row resulted in about 100 police officers gathering on Cabinet grounds in December 2015 to present complaints to Michael Dunkley, the Premier. After the demonstration, a working group was tasked with producing a report exploring the issues surrounding government employees' health insurance. Last month the Ministry of National Security told The Royal Gazette that the BPA had failed to contribute to a report about the issues at stake, describing the report as "incomplete". But Sergeant Harewood said: "The BPA rejects the assertion that the BPA failed to produce a written report on the subject matter. The fact of the matter is that due to the complex nature of the issues affecting our member's health, safety and healthcare the BPA and the Government of Bermuda agreed to discuss the subject exclusive of the previous negotiations. The BPA and the Government agreed to form a working group to examine the welfare of police officers as well as its members regarding healthcare costs and contributions under the Government Employment Health Insurance scheme. As a party to this arrangement the BPA in good faith and consideration of the importance of this matter, after and for the good of Bermuda agreed to the Working Group Terms of Reference to guide this review process. A caveat to this agreement was that at the end of the review the Working Group, the PSNT and the BPA would present an unbiased joint report detailing its findings to the Minister responsible. It was agreed that the first phase of this task would be a discussion on the issues, the second stage would be the preparation and production of a joint report. The discussions were very productive, although not moving as fast as we would have liked. This was due to the gravity of research required and availability to meet at times for a variety of reasons on both sides. We met on four occasions and were having communication via e-mail between meetings." Sergeant Harewood said that the BPA took its responsibility of public safety extremely seriously, but warned that an unhealthy police service is a danger to the public. "Any change to our health benefits must be well calculated and we must ensure that it does not negatively affect public safety and is not unreasonable to our members. The Premier and Minister of National Security have pledged their support to ensure the safety of the public is maintained. We are confident they would not condone such mendacious behavior from Mr Phillips and his team, hence that matter brought to the attention of the minister and a meeting was requested to discuss a way forward. We cautiously report that despite not having the meeting with the Minister thus far he has made a promise to do so." The BPA is fully committed to doing its part to assist Bermuda where it can. It is worth noting that we positively responded to Government's fiscal programmes and gave over $4m in concessions on the backs of our members. "When all other groups decided enough is enough we continued to make sacrifices from furlough to job losses. When all other groups can down tools by law the police cannot. We were the only Government department that suffered job losses. If the behavior of the PSNT is any reflection of the current government's view of the police, then there should be great concerns for public safety. We have been shown absolutely no respect. Nevertheless as we always do we will continue to work with the office of the Commissioner and the Government to ensure that public safety is not compromised."
January 11. A Supreme Court judge has delivered a withering assessment of driving in Bermuda. Acting Puisne Judge Juan Wolffe described driving standards on the island as "horrendous" as he sentenced a teenager who stole a motorbike and led police on a high-speed chase across Warwick and Southampton. "Offences like this are all too prevalent," Mr Justice Wolffe said. "The state of riding and driving in Bermuda is horrendous. Daily the lives of pedestrians and other road users are put in jeopardy by the senseless riding and driving of others. A strong message must be sent out that such behaviour must stop." The island's senior magistrate told 20-year-old Calvin Francis that he was "between two minds" of whether to send him to prison for the offence of aggravated vehicle taking or imposing a community based sentence. In deciding on a three-year probation order with strict conditions, Mr Justice Wolffe said: "It is up to you; whether you want to find yourself in Dubai or France fixing luxury cars or wearing orange in Westgate. "Only you can change the direction you are going. If you breach any of the conditions you will find yourself dressed in orange. Seek the help that you desire and that you need." Earlier, the court had heard that Francis had stolen a motorbike and led police on a dangerous pursuit on June 23, last year after officers had attempted to stop him as he drove along Middle Road in Paget. The teenager, who had a pillion passenger, tried to evade capture by swerving past motorists and speeding across junctions without stopping. He was arrested soon after, abandoning the stolen motorcycle near Horseshoe Road in Southampton. When interviewed by police, Francis admitted taking the bike without the consent of the owner, claiming he had come across the vehicle on the Railway Trail. Yesterday he told the Supreme Court: "I got scared and I just continued running. I panicked." Mr Justice Wolffe pressed him further saying: "Why are you content to be just another statistic?, to which Francis replied it was not intentional. I understand what I did was wrong," the teenager added. "I am glad that no one was hurt in the process."
January 11. A billionaire's pledge to give away his fortune, vital for several Bermudian charities, has come at last to its end. Five years ago American tycoon Charles Feeney declared that he would donate the last of his riches by 2017. He founded Atlantic Philanthropies in 1982, making Bermuda its official home to maximize its endowment, and investing millions in local charities. One offshoot was the Bermuda Community Foundation. Managing director Myra Virgil said the foundation owed much of its existence to Mr Feeney's anonymous largesse. Atlantic Philanthropies helped many local organisations, among them the seniors group Age Concern. "Groups like Chewstick, Two Words and a Comma and the Centre for Justice all received their first grants from a formal foundation, to boost their early stage initiatives, which meant being able to hire staff and develop programmes in a substantive way," Dr Virgil said. Atlantic funded studies of the educational challenges of Bermuda's black males, and financed a comprehensive study of the island's race relations through the Aspen Institute. As of last month, Mr Feeney had given away $8 billion. Atlantic Philanthropies was not the only contributor to implement BCF: Rennaissance Re, Bloomberg Philanthropies, XL Foundation and individual donors also contributed. "We looked at the island's social issues, the non-profit's approaches to tackling them and philanthropy's support for helping address enduring social problems," said Dr Virgil who channeled her experience from Atlantic into cementing BCF — a charity aimed at developing a permanent fund base. The community foundation is clearly a long-term proposition to build an endowment, which will ultimately yield returns that will become a source of funding for the non- profit sectors, on the basis of the critical needs being presented at a given time — changing times. While we build that endowment, we are growing the other elements of planned philanthropy: producing reliable social issue data, putting in place a shared grant application structure and online giving platforms, publishing better information about which non-profit are doing what types of work — in one central place. This is work in progress but it is really critical to get done in this era of information-driven decision-making and limited resources."
January 10. If a car valued at more than $48,000 stops at a set of traffic lights in a well-heeled London neighborhood, the driver is likely to see a Bermuda Tourism Authority advertisement flash up on a billboard screen opposite. The driver will see an enticing offer to visit Bermuda, and the invite will be personalized with a message such as "Hello Bermudaful in the Range Rover", depending on the make of car they are driving. The Bermuda Tourism Authority has worked with Britain's Media Agency Group to create the travel industry's first campaign using vehicle recognition to target potential holidaymakers. John Kehoe, managing director of Media Agency Group, said the campaign highlights "the truly versatile nature of digital out of home advertising and the incredible potential that new technologies and innovations carry for the industry as a whole". He added: "Bermuda required a campaign that delivered minimum wastage and maximum relevance — by tapping into vehicle recognition tech we've been able to target an ideal audience and ensure that they are served with personalized, effective advertising messages." The technology allows the BTA to reach a targeted, affluent audience that it believes is likely to be interested in the allure of Bermuda. The technology works by having cameras trained on stationary traffic at a set of traffic lights, which detect the registration number plate of vehicles and then uses an anonymised vehicle specification database to pull out details such as the make, model and colour of the vehicle sitting at the traffic lights. If a car matches the target criteria of being less than four years old and valued at more than £40,000 ($48,600), the customized advert is triggered on the digital display opposite the traffic lights. A spokesman for the media agency told The Royal Gazette that the link up with the BTA was the first time it had run such a campaign, although the technology has been used by others, such as automaker Renault. When asked if there was any concerns about drivers being distracted by the personalized advertising, the spokesman said: "It's no more of a distraction than any other form of digital out-of-home advertisement," and added that it was only used to reach drivers stationary at a red traffic light. There are four digital billboard locations in Britain that use the vehicle recognition technology, one is in London's expensive Holland Park neighborhood, close to the Westfield shopping mall, where there is a large volume of traffic. The other locations are Hammersmith Broadway, also in London, the Bullring Shopping Centre in Birmingham, and a media wall in Manchester. In the past few years Media Agency Group, which is based in Manchester, has planned and executed a number of advertising campaigns for the BTA, including an interactive mobile phone campaign where users could "rub" an advert to reveal a travel discount offer. Mr Kehoe said: "We're proud to be continually working alongside such a prestigious brand that is open to exploring new and exciting solutions, and we look forward to pushing more boundaries with Bermuda in the near future." Victoria Isley, chief sales and marketing officer for the BTA, said: "This is one more example of how the BTA is working to reach the right audience for Bermuda. We work to make the most of every advertising dollar for Bermuda — and these innovations help us with smart marketing." She added: "We are also using dynamic digital out of home advertising in New York City. Via the Links network platform, Bermuda promotional messages are served on the streets of the city aligned with locations where island visitors live, based on zip code analysis. In addition, when there is a 30-degree weather differential between Bermuda and New York City, the weather comparison is dynamically served as part of the ad."
January 10. Local musician Robert Edwards has been unveiled as leader of The Band — the group that is being assembled to supply the music throughout the America's Cup. The Band's repertoire will range from each sailing team's song, to soca, reggae, top 40 and traditional Bermuda-themed songs. A question-and-answer session is to be held tomorrow from 6pm to 8pm at The Grand on Church street, for entertainers to learn about participating through the group, as well as the Local Talent Programme. The Band will perform during the five-week America's Cup from May 26 to June 27. Mr Edwards' role will include overseeing its auditions, as well as musical selections and rehearsals. Mr Edwards, who has backed local and international acts and performed throughout the United States and Bermuda, is a longstanding musician and educator who performs in the duo Smooth with Jamie Zuill. He is also the musical director for the band Wall Street and the organist for St Mary's Church, Warwick. Auditions will be held at Earl Cameron Theatre, City Hall, starting this Saturday at 9am. Each contestant is asked to prepare three pieces for the judges. Round two commences at 2pm, is open only for contestants who receive callbacks. Musicians are asked to register their interest and will be given a time slot to audition. Registration is available acbda.bm/registration. Walk-ins are welcome, but musicians are asked to register at City Hall by 11.30am. Contestants must be residents and aged 16 and older as of December 31, 2016. Band finalists will be narrowed down to 12, with the public voting their favourites online from January 18. The band line-up with be announced on February 3.
January 10. The Progressive Labour Party's position on work permits for key personnel "has certainly evolved over the past ten years", according to Shadow Minister of Home Affairs Walton Brown. The PLP has criticised the One Bermuda Alliance for denying the Reverend Nicholas Tweed a work permit, which led to protests and industrial action by his supporters in the People's Campaign and Bermuda Industrial Union. But Mr Brown's claim that his party would have handled the issue differently prompted a backlash on social media, with commentators reflecting on a controversy involving the church and immigration during the PLP's years in power. In 2003, St Paul's Church in Paget wanted to appoint the Reverend Brian Porter, a Canadian rector, but was told it would have to appoint Bermudian-status Carl Williams instead. When expatriate minister Alan Tilson tried to fill in as priest, he was threatened with arrest by immigration officers, a move likened to Nazi Germany by Anglican Bishop Ewen Ratteray. Immigration minister Terry Lister said at the time that spiritual leaders should respect the law. Yesterday, Mr Brown said that his party's position had moved since then, and that the OBA should have consulted with the church. "The PLP position has certainly evolved over the past 10 years and one dual aim is to give companies and other organisations, including churches, the ability to hire the key people they need while maximizing opportunities for Bermudians. The key is balance. The case involving Reverend Tweed shows that when it comes to churches, the OBA has not engaged in the level of consultation with this sector to the extent it did with international business. Many of the concerns of business have now been codified in a new work permit policy and it is relatively straightforward for them to abide by the rules. In the absence of careful consideration of the specific matters involving religious appointments, I would have acted, in the first instance, to honour the custom and practice regarding the AME work permit application process. The next step — what the next PLP government will do — would be to consult and work with the faith community to address the concerns they have regarding the work permit process and the need for prioritizing Bermudians and then have these matters addressed in a revised policy. We stand by our position that immigration policy should not be dictated by who holds the reins of power and requires a collaborative approach." Contacted about the Mr Williams case, Mr Lister replied: "Like me, it is an old matter and long past its time. I am happily retired and take no part in politics." The Bermuda Government said Mr Tweed's application was rejected because of inaccuracies surrounding his name and marital status, and because his employer St Paul AME Church did not advertise the position to give a Bermudian the chance to apply first. The PLP has argued that the OBA has a political agenda against Mr Tweed, a prominent member of the People's Campaign. PLP MP Derrick Burgess has thrown his support behind London-born Mr Tweed and was prominent at the protest last week. In 2007, while he was immigration minister, Mr Burgess made headlines for saying guest workers have no business meddling in the politics of their host country. "I won't go into another country in this world and be negative about their country, regardless of what's happening there. I don't think it's the right thing to do," he said at that time. "It's common sense. If I came into your house and I criticize your house, I think you may ask me to leave. And you would be right." Mr Burgess declined to comment when approached regarding his thoughts on Mr Tweed. According to BIU president Chris Furbert, Mr Tweed must leave Bermuda by Thursday week.
January 10. The People's Campaign has compared its movements with that of the civil rights campaign, vowing to "continue the fight against the oppressive system in Bermuda that creates social and economic injustices". In a statement, the activist group criticised economist Robert Stewart for comparing its tactics to those centered on Saul Alinsky's Rules for Radicals, saying his comments display "extreme intellectual paucity". The People's Campaign said a more fitting comparison would be to that of the civil rights movement and the Poor People's Campaign led by Martin Luther King. Drawing parallels between the conditions of the people who he fought for and those that exist in Bermuda today, they included: "The growing gap between rich and poor, rising inequality, and the creation of a permanent underclass shut out from economic participation gave birth to the People's Campaign." The group defended its actions during the protests of December 2 saying that to promote the claim that they had provoked officers to attack "unarmed, nonviolent protesters" were "appalling. "This critic, and those who share his views, fit an historical trend and serve as agents to those who are opposed to the ideals of economic equality and social justice in their efforts to delegitimise movements like the People's Campaign. Furthermore, attempts to paint basic ideals of equality, jobs, and justice as radical, anti-Bermudian and contrary to the advancement of all Bermudians is a deliberate tactic designed to diminish a message that resonates with people of good will who aspire to realize the noble principles of justice and equality." They spoke about a hypocrisy among those who say "the world is watching" when black people demand justice and equality, "yet remain silent when black Bermudians endure racism, social dislocation, poverty, inequality, and face unprovoked attack from fully armor-clad riot police and pepper spray."
January 10. The sound of driving rain, welcome to most Bermudians, brings foreboding in the Roach household, where flooding remains a reality after years of roadworks. "Niagara Falls had nothing on it," John Roach told The Royal Gazette, after last week's record rainfall once again put Marsh Folly Road under water. "Water was galloping down. We're fortunate enough with our walls that it forces it around the side of the house." A fresh retaining wall stands above his home on Perimeter Lane after downpours in 2014 brought torrents of debris into his yard, but the cataract of more than 5in on Thursday left a stubborn lake despite the efforts of crews from the Department of Works and Engineering — although help is coming soon. A tenant on the north side of the road had a similar story: over four years of residence, his ground floor home has been flooded four times. "Water came into the house about an inch," said the resident, adding: "Hurricane Nicole was like nothing I've ever seen. But when the cars drive across it, the water comes in." Workmen responded swiftly, unclogging drains, he said, and his floors are tiled, with the electric sockets out of the water's reach — but, like Mr Roach, he said he was "wondering what's going to change". Pointing to a drill bit left in a borehole, Mr Roach acknowledged that Works and Engineering remained on the job — saying he had telephoned Craig Cannonier, the Minister of Public Works, to suggest that the department hire well diggers. "All this was under water. Normally this takes a while to fill up. It shows how much came down in a short period of time." The road, busy with eastbound traffic each morning, spent two years with one lane closed while workmen shored it back up again. However, according to a spokeswoman, that was only part of the job: a phase of draining work began late in 2016. "The scope of work was to drill boreholes in order to install a catch basin and drain the area," she said. The drilling machine broke down before the job could be done — hence the deluge for Mr Roach and his neighbors. "It should be repaired by early next week now that parts have arrived from the United States," the spokeswoman added. "Work should be completed by the end of this month." Like many such flood-prone hollows, the stretch of Marsh Folly just west of Bishop Spencer Road is familiar to motorists. Down the hill, by Victor Scott School, the road where Pembroke Canal starts its course yesterday remained deep in muddy water, while the flooded fields of Bernard Park were a playground for ducks. The spokeswoman confirmed that the park's flooding starts at the canal, and would have to be left to drain by gravity "via a catch basin and underground pipes connected to the canal". Running close to the water table, the canal is a bottleneck for runoff that pours in off its built-up surroundings "People always ask why they don't run a pipe down the hill to take the water away," Mr Roach said. "But that's all marsh. That's no solution, but it's everyone's first thought."
January 10. T. Andrew Trimingham, a historian and theatre connoisseur as well as a scion from one of Bermuda's classic merchant families, has died at the age of 82. A driving force behind the founding of the Bermuda Maritime Museum, now the National Museum of Bermuda, Mr Trimingham was a longtime leading light of the Bermuda National Trust, as well as serving as its president from 1985 to 1987. Known as Bermuda's own Renaissance man, he contributed to local arts as well as reviewing the arts scene for the Mid-Ocean News and The Royal Gazette. Mr Trimingham's keen interest in architecture found him a place as the chairman of the Historic Buildings Advisory Committee. While he served as a vice-president for the now departed Trimingham Brothers department store, Mr Trimingham's career in the stage world of Broadway and New York in the 1960s was one of his true callings. His work entailed contributions to the New York Shakespeare Festival, founded by the groundbreaking producer Joe Papp. Jobs included designing the suit of armour for actor Richard Burton to play King Arthur in the classic 1960 Broadway production of Camelot. Coincidentally, Mr Trimingham's work on Camelot hearkened to his 1940s school days at Stowe in England, where he was a protégé of the school's legendary founding head teacher, J.F. Roxburgh. Roxburgh proved influential for Stowe's then English master, T.H. White, who used him as the model for his rendering of Merlin in the Arthurian series The Once and Future King — which provided the basis of the Broadway musical. Mr Trimingham left Bermuda after his retirement and settled in Devon with his friend and life companion, former Bermuda Government Archivist John Adams. He died there on Friday, shortly after celebrating his 82nd birthday in December. He attended Oxford University after Stowe, before immersing himself in New York's theatre scene. "The best word to describe Uncle Andrew is 'colorful'; he was hugely into theatre," recalled his nephew, Eldon Trimingham. "He was very talented, very creative, and he had a way with design." Upon returning to Bermuda in the 1970s he became an influential member of the Trust, and shortly thereafter one of "the Founder Trustees and impassioned minds" behind the creation of the Maritime Museum, according to executive director Edward Harris. The museum was established in 1974 on "a lack and a promise", Dr Harris said, with Mr Trimingham and Jack Arnell leading a dedicated team of volunteers from the Trust. "It is fair to say that Andrew and the late Dr Arnell provided the important early intellectual direction for the institution, which is now the 16-acre National Museum of Bermuda, yet a private organisation as he and others established, and now much expanded not only in geographical size but in its extensive work in a number of aspects of the preservation of Bermuda's cultural heritage over the last 43 years," Dr Harris said. The museum's achievements constituted "a major credit for Andrew", and it remained "dear to his heart until the end. It was a privilege to see Andrew and John in June last year at their lovely home high on a hill overlooking the coast and the English Channel near Torquay and to say farewell to a wonderful fellow Bermudian." Bill Zuill, executive director of the National Trust and former editor of The Royal Gazette, recalled Mr Trimingham as a defender of the island's architectural heritage who "felt Bermuda had to be careful not to throw away its natural beauty which was the basis for its prosperity and well-being of all Bermudians". During his presidency, Mr Trimingham led opposition to the so-called Cabinet Towers development, high-rise condominiums planned for the section of East Broadway where Renaissance Re now stands. "He was the author of Devonshire, the first volume in the National Trust's Architectural Heritage Series. He also contributed to St George's and Sandys, the second and third volumes," Mr Zuill said. "With John Adams, he helped to drive the Bermuda Old House Survey, which was the genesis for the series, and which also led to the listing system for Bermuda's old homes, which was badly needed and has done much to preserve Bermuda's architectural heritage. Andrew was passionate about all of the arts, from theatre to painting and sculpture to architecture, and was a serious student and expert on these subjects. His knowledge and passion for Bermuda were invaluable to the Trust and he continued to contribute his thoughts and ideas until quite recently. As editor of The Royal Gazette, I also had the pleasure of having Andrew as the paper's arts critic for some years. Many people will remember that Andrew was always forthright and you never had any doubt about where he stood with regard to certain work. That did not always make him popular in the arts community but I think it also meant that artists may have felt they had to work a little harder to avoid a critical review. Certainly, he was quick to criticize shoddy or lazy work but he could also be quite fulsome in his praise of work that he felt captured the spirit of the moment. Andrew was a longtime friend of my family, and Bermuda has lost another character, and is poorer for it."
January 10. The telecommunications industry regulator has widened its investigation into billing errors by BTC. The errors led to hundreds of business customers being hit with extra charges for services dating back a year, but now the Regulatory Authority is investigating whether residential customers were also impacted. "The Regulatory Authority is further investigating whether the billing errors by BTC for its business customers (explained in the Authority press release of December 13, 2016) may represent a wider issue with its billing practices, which may include residential customers," the RA stated. "All BTC customers, whether business or residential, are advised to check whether unexpected charges have been included in their bills. The billing errors being investigated by the Authority may date from September 2016 (in terms of increased and/or unclear charges being made to customers by BTC). "If customers identify a discrepancy in their bill, they should submit a complaint in writing to BTC. It is important that customers are aware that, in accordance with BTC's terms and conditions, customers are not liable for disputed charges until the dispute is rectified. However, customers do remain liable to pay all undisputed charges to avoid disconnection of service." The RA added that it would make another statement when it has concluded its investigation. It added that customers who do not receive a response from BTC can notify the RA via its website.
January 10. A new 15-minute film has highlighted some of the multimillion dollar work taking place in the West End. Taking a trip from Watford Bridge to Commissioner's House, the film charts where money is being invested in making the area better to visit and live. "These works have been in the pipeline for some time and have been kick started by an insurance payout following Hurricanes Gonzalo and Fay", Joanna Cranfield, the West End Development Corporation's Business Development Manager, said. "That did not, by any means, cover all the costs, which are being borne by Wedco. When the work is finished, Dockyard is going to be a really stunning place in which people can work, rest and play." The film will be updated as projects are finished and new schemes start.
January 9. Munich Re, through its Eden Re II Ltd collaterized sidecar, has had about $258 million of insurance-linked securities admitted for listing on the Bermuda Stock Exchange. The Series 2017-1 Class B participating notes, totaling $258,653,050, are due in March 2021.
January 9. Political unrest has hit the real estate market on the island, a real estate company has warned. Coldwell Banker Bermuda Realty's first report of the new year said last year's sales figures had suffered as a result of disruptions. The unrest included the blockading of Parliament for several days over the controversial Pathways to Status proposals. The January update from the company said sales figures for the industry for 2016 are likely to show a total of 300 transactions, on a par with 2015. That would be a step down from the 10 to 15 per cent year-on-year increase the company had expected to see when it issued its market report last July. "While encouraged by the robust start to 2016, demonstrations and political unrest throughout the calendar year have caused some potential purchasers, both Bermudians and non-Bermudians, to reconsider their desire to make such a huge financial investment in Bermuda," the company said in its latest report. But Susan Thompson, the company's general manager, added that last summer, a traditionally slow time in the market as many are off the island, was followed by a pick-up in October to the end of the year. She said: "December was a crazy month. We had the best December we have had for years. We could have continued that same confidence throughout 2016 if we had maintained the same considerations for one another throughout the year. We had years when the market was booming. People were coming on to the island, people were buying. We are heading back to recovery at the moment, but it's tenuous." The report said that the benefits of the America's Cup had been "tangible" with "an increased disposable income and exposure of Bermuda for longer term growth. The impact of the 2017 event on real estate has been positive in that residential rental product in the West End has been more buoyant. The expectation for the remainder of 2016/17 is for short-term rental opportunity." Ms Thompson added: "It's been a huge positive, it's short-term, two or three years in general, but for those people in the west, it's been huge for them. Not only have they rented properties where they had difficulties in the past, they can rent them at good, fair market value." Ms Thompson added that as the event approaches its climax this summer, the rental market will get a further boost as hotels reach capacity and private rentals become the only option for overseas race goers. She said: "In addition, we will see an influx of people on short-term rentals, which will add money to Bermudian pockets. We are definitely looking for people in the West End who want to rent their properties short-term. It has to be a decent property and it has to be furnished, but there are opportunities for people and there continue to be opportunities." Ms Thompson said that some homeowners had even arranged to move out of their homes in order to rent them out to visitors for the summer peak of the America's Cup. The report said that house prices had not risen significantly. Coldwell Banker said that realistically priced homes were selling more quickly and often attracting multiple offers. A total of 24 per cent of Coldwell Banker transactions in 2016 sold at or above the asking price. Average prices were $1,207,000 for a single-family house and $681,000 for a condo, while vacant land went for $366,000. Single family homes accounted for 24 per cent of the firm's sales, with condos on 22 per cent, with the remainder a mix of land, commercial and multifamily homes. The report said: "There is still a layer of overpriced property on the market that has not seen significant interest. Additionally, there is a limited demand for multi-unit dwellings and fixer-uppers, but sales of vacant land have seen a resurgence in recent years." Average prices for residential rentals went up by around 10 per cent on 2015 figures, with a one-bedroom apartment at $2,400 a month, a two bedroom at $3,300 and three bedroom apartments at $5,500. In Hamilton, one bedrooms reached $3,800 a month.
January 9. The Reverend Betty Furbert-Woolridge has been relieved of her duties as the presiding elder of St Paul AME Church by the Right Reverend Gregory Ingram. It is understood that the Reverend Howard Dill has been appointed as the presiding elder of St Paul although Ms Furbert-Woolridge remains presiding elder of the Bermuda Conference of the AME Church, with oversight of all other ten AME churches on the island. Bishop Ingram, presiding prelate of the First Episcopal District of the AME Church, visited Bermuda last week as protests and industrial action took place over the Bermuda Government's decision to deny St Paul AME pastor, the Reverend Nicholas Tweed, a work permit. Yesterday, AME sources told The Royal Gazette that during his two-night stay Bishop Ingram removed Ms Furbert-Woolridge from the St Paul post and appointed Mr Dill as the presiding elder for the east district with oversight of St Paul only. While they were unable to elaborate on why the changes were made, one source said there had been no suggestion that there had been discontent with how Ms Furbert-Woolridge had handled the issues surrounding Mr Tweed and his failed work permit application. On Saturday, this newspaper reported that Patricia Gordon-Pamplin, the Minister of Home Affairs, had acknowledged at a press conference that Ms Furbert-Woolridge had resigned as presiding elder of the church. Ms Gordon-Pamplin contacted The Royal Gazette yesterday to say she had not confirmed that Ms Furbert-Woolridge had resigned, but was aware that she was no longer in the position at St Paul. She added that she understood Mr Dill had been installed as presiding elder of the eastern district, but that Ms Furbert-Woolridge maintains oversight of the other AME churches. Bishop Ingram, who arrived on the island on Tuesday, called for calm heads to prevail amid the protests and expressed hope that a resolution could be reached. However, hopes that Mr Tweed could stay began fading when, after a four-hour Bermuda Industrial Union meeting on Thursday, president Chris Furbert announced that members had voted to end their stoppage midway through its third day. Asked at that point whether he believed Mr Tweed's work permit would be renewed, he said: "It's always going to be difficult when Caesar is judging Caesar. I don't see how you can get a fair deal." Mr Furbert also confirmed the London-born pastor must leave the island by January 19, unless the Bermuda Government reverses its denial of his renewal application. The Government has said Mr Tweed's application was rejected because of inaccuracies surrounding his name and marital status. Mr Dunkley insisted on Thursday night that the decision was final. Last night, Ms Furbert-Woolridge declined to comment when approached by this newspaper and no response was forthcoming from Mr Dill or the St Paul AME Church.
January 9. Start-ups of biotech firms and insurance-linked securities operations are fuelling demand for commercial property, real estate firm Coldwell Banker Bermuda Realty said. And growth in the trust area of international business is also responsible for some growth in commercial sector. But Susan Thompson, Coldwell Banker Bermuda Realty's general manager, said the numbers of staff involved were much smaller than the insurance and reinsurance sectors, which traditionally employed large numbers of people. "These are all small things, but in the past what we've generally seen are reinsurance companies," she said. "It's small, where we may have five to ten people, but it's still people coming on to the island, which is important for our growth. There have been a lot of mergers and acquisitions in reinsurance companies, so the spaces merge as well. People are consolidating with mergers and acquisitions and there aren't a lot of reinsurance start-ups." Ms Thompson said about 500,000 square feet of vacant office space remains available. The latest Coldwell Banker market update, the first of the year, said there had been "general movement to quality office space" over the past year. It added that the majority of demand is in the western part of Hamilton and Pembroke for better quality buildings and spaces that have good natural light, views, are already fitted out and have disabled access. Clients also want sprinkler systems, energy-efficient LED lighting and air conditioning, as well as gyms and showers on-site. Coldwell Banker reported that demand focused on 500-4,000 square feet spaces, with some requirements for up to 20,000 square feet. The sales market update added: "Tenants are shying away from multi-floor operations wherever they can. Many landlords are continuing to offer various forms of creative incentives to entice potential occupants to their buildings." Some owners who have not invested to upgrade the infrastructure in their properties have found it difficult to fill vacant space."
January 9. Environmental health officers are working to put "scores on doors" for every restaurant, café and bar in Bermuda. The scheme is to be implemented "within the next year", according to Jennifer Attride-Stirling, permanent secretary at the Ministry of Health. She shared the plan with this newspaper after we made a public access to information request for the health and safety "grades" given to restaurants in Bermuda. Our request was turned down by the Department of Health's information officer on the grounds that retrieving the records would disrupt or interfere with the work of the department and such records were exempt because they contained commercial, confidential and personal information. Dr Attride-Stirling reviewed that decision, at our request, and upheld the information officer's refusal, concluding that "on balance, the public interest is better served by non-disclosure". But she revealed: "The Department of Health supports the establishment of a publicly available 'scores on doors' scheme for food and beverage establishments and is taking steps to implement it within the next year. Fair application of such a scheme will require that: establishments know in advance that inspections will result in scores that will be put in the public domain; the inspection system methodically applies criteria to derive the scores; scores be attributed systematically to every establishment inspected; and that the scores be regularly maintained and published." This newspaper's Pati request was made with the aim of publishing a list of all restaurants and their most recent grades, similar to the inspection lookup tool offered by NYC Health. The New York version enables members of the public to search a database and retrieve health inspection results for each of New York City's 24,000 restaurants before deciding where to eat. In Bermuda, it is estimated there are between 150 and 200 restaurants, cafés and bars. Phil Barnett, president of Island Restaurant Group, said he would not have a problem with a "scores on doors" scheme for the island. "It wouldn't be different to many other jurisdictions," he said. "That wouldn't be necessarily something we'd be upset with. If it's coming down the pipe, it's coming down the pipe. We get inspected every single year and, particularly if there is an issue, we reach out to them [environmental health officers]. We care very much about the safety of our clientele. I can understand how some other restaurants may find that a little concerning." Mr Barnett said pests were an issue in Bermuda and restaurants would want the opportunity to deal with temporary infestations before being awarded a public score. "Something could break out one day and four days later, it's solved," he said. Dr Attride-Stirling said that the grading of restaurants was not a "standardised part of the current inspection regime so scores have not been given consistently to every establishment or recorded on the inspection report". For that reason, she said, the Pati request was denied on the grounds that the record requested did not exist in full. The other valid reasons for non-disclosure, according to Dr Attride-Stirling, were that inspection reports were filed by street address and the Ministry of Health did not have the manpower to retrieve them for every restaurant and that releasing incomplete and dated records could "potentially prejudice the credibility and authority" of the Department of Health.
January 9. Chris Estwanik retained his Gosling's to Fairmont Southampton Road Race title, despite carrying an extra 20 pounds. The additional weight was not the result of enjoying too much festive food, it was the weighted training vest he was wearing. The flak jacket-style vest is designed to give athletes a tougher workout. Estwanik, who won the 7.2-mile race in 42min 39sec, confirmed that the vest had made things harder, particularly on the half-mile uphill to the Fairmont Southampton hotel. "The hill was brutal," Estwanik said. Explaining the concept of the vest, he said they are used as a training device, and he had been made aware of them by a friend in the United States. "He runs with one of these in California — but not for seven miles. There are some workouts where you wear one of these." Estwanik, 36, is trying new ideas after having his training and racing programme disrupted in the past few years because of injuries. He now alternates between running and swimming workouts. And though he has fewer training days when he runs, he optimizes those opportunities with quality sessions. In yesterday's race, which started outside Gosling's headquarters on Dundonald Street, Estwanik ran alongside Tim Price for more than half of the race, before making his move just before Burnt House Hill. "I wanted to push it a bit more, and I put in a surge at 4½ miles," he said. Price, 26, was second in 43:41. He said: "I thought I might have a chance, but then Chris just disappeared. He's an amazing runner." After watching Estwanik pull away, Price was running alone. However, going up the switchback hill towards the Fairmont Southampton he caught sight of pursuers not far behind. That spurred him to push harder to maintain his advantage. Seamus Fearon was third finisher in 43:52. In the women's race, Rose-Anna Hoey beat last year's champion, Deon Breary, by two minutes. She ran much of the race in the company of Ariell Evans, before crossing the finish line eighth overall in 47:13. "I knew Deon was in good shape," said Hoey, 35, who wanted to save some of her energy for the Bermuda Marathon Weekend, where she will compete in the marathon on Sunday. Breary was second in 49:19, holding off Martina Olcheski-Bell, who ran 49:24. Among the finishers was George Jones, 79, who chalked up his fortieth appearance in the Hamilton to Southampton race, which has been held annually since 1978. Jones is the only athlete to have competed in all editions of the race, which was formerly known as the Fairmont to Fairmont road race before Gosling's became joint-lead sponsor last year. The race walk was won by Howard Williams in 1:18:53, followed by first woman Gilda Cann in 1:28.34. Iziah Tucker, 14, won the junior 3K race. First girl was Jessie Marshall, 14, in 10:21.
January 7. Embattled home affairs minister Patricia Gordon-Pamplin insisted she holds "no dislike" for the Reverend Nicholas Tweed as she laid bare the background to her "difficult" decision not to renew his work permit. After a week of protest and industrial action, the minister broke her silence — telling the press that "when information has literally been put out for all to see, it's important to respond". She said that a lack of "truthful disclosure" to questions from the Department of Immigration led to the denial of the application for Mr Tweed, a pastor at St Paul AME Church, known as a firebrand critic of government policy. "It appears that this entire application process was mired in misinformation," Ms Gordon-Pamplin told a press conference, in her first public appearance since returning to the island on Wednesday. The inconsistencies were substantial and relevant, and the absence of truthful disclosure to a request for information sought by the department rendered the application ineligible for a new work permit." Ms Gordon-Pamplin also stated that there was nothing on Mr Tweed's file showing him to be the adopted son of activist Kingsley Tweed. Mr Tweed has responded angrily when his paternal links to Kingsley Tweed have been questioned, but has refused to comment when asked by this newspaper if he was legally adopted by him. The minister detailed a timeline for church authorities' dealings with the department on behalf of the London-born pastor. An application for a new permit arrived in July 2016 as the old permit expired, with the minister granting permission for Mr Tweed to continue work. But issues arose about advertising the post, as well as discrepancies between the pastor's inconsistent use of the surnames "Genevieve" and "Tweed". Church and immigration officials then differed sharply over the terms of his application, which was turned down in October and then appealed. The department received no clarification of Mr Tweed's surname, with the final decision delivered on December 28. The minister spoke after a week-long backlash, in which Ms Gordon-Pamplin has repeatedly been accused of having political motivations against the pastor. Asked about the denunciation from the People's Campaign and the Bermuda Industrial Union, the minister said she had been "called everything but a child of God". Tuesday's march on the Cabinet office by Mr Tweed's supporters culminated in a BIU demand for the pastor's reinstatement, and the shelving of the Government's airport project. It was followed by two days of walkouts by BIU members. Chris Furbert, president of the BIU, said on Thursday that union members had agreed to return to work — although the contentious issues, which included the use of pepper-spray by police confronting protesters at the House of Assembly, remained on the table. "The important thing is dialogue", said Ms Gordon-Pamplin, when asked about tensions remaining over the issue. "Having a decision that is a difficult one such as this is never going to be easy. All we can do is continue to communicate." While Mr Tweed has a Bermudian spouse, the minister said he had not presented himself as such, adding: "It's entirely up to him to produce the information." Similarly, on the issue of his Bermudian child, the minister said the onus was on Mr Tweed to "make an application if he believes that he can remain in Bermuda because of the minor child". The pastor's file was referred to her by immigration officials as a result of the late application. She said: "If I had a preference, the preference would be that the file never had to come to me. I was being requested to consider allowing a continuance at work. I looked at the file and saw, from the earlier application, notes from the technical people indicating their concern as to the various deficiencies. When I saw there was a disparity, I made sure that information was required." Although Ms Gordon-Pamplin has stated publicly that she left St Paul Church over Mr Tweed's candid political stance, she insisted she acted "at arm's length and dispassionately". While it had been difficult reviewing church applications that appeared "less than truthful", she said she based her ultimate decision on the information provided. Asked about the perception of bias, the minister said she had attended several churches other than St Paul, including Wesley Methodist, her family's church. "This is not about me; church is my solace and my comfort place, a place to which I go for my spiritual rejuvenation, and it's an experience that I guard jealously. As a Christian woman, I go where I feel comfortable that part of my development is being satisfied." She added that the Act had no simple option for a minister to recuse themselves. "At best, a minister can assign an application to an acting minister when he or she goes overseas." The minister also acknowledged that the presiding elder of the church, Betty Furbert-Woolridge, had resigned following the visit this week by the Right Reverend Gregory Ingram, presiding prelate of the First Episcopal District of the AME Church.
January 7. Thursday proved to be one of the wettest days in the island's history, with 5.34 inches of rain reported by the Bermuda Weather Service. Within a single day the island received slightly more rain than the average for the entire month (5.3in), causing widespread flooding in low-lying areas such as Bakery Lane, Woodlands Road and Canal Road. Thursday's rainfall beat the previous January one-day record of 3.99in set in 1986. Marshall DeCouto, owner of Wise, Body Wellness on Canal Road, said that more must be done to address flooding in the area, complaining that the canal drainage system has been ignored for many years. "As Hamilton has become more developed with more asphalt covering the ground, the water has no where to go and we have flooding as we have seen," he said. "The canal system should be a priority. This canal system should be cleaned out, maintained on a monthly basis, properly inspected and even improved where possible to provide the best drainage to these low areas in Hamilton and surrounding land. The canals in our area have been filled with debris and growing plant life for years now. When Bermuda floods like this, it causes traffic jams, creates road driving hazards and negatively impacts people's businesses. If the Dutch approached their water issues they way Bermuda has, they would have disappeared as a country long ago." Palmetto Road — where heavy rains previously caused the collapse of a retaining wall — was another area affected by flooding, although a spokeswoman for the Ministry of Public Works said that Government deployed sewage trucks to the area to address the issue. Forecasters are expecting more rain over the weekend, with potentially heavy downfall on Sunday.
January 7. Multiple Bermuda-based websites and e-mail addresses have been out of order today. Businesses and organisations using the .bm domain have been affected: as of 10.30am.
January 7. The Construction Association of Bermuda has said the 35th America's Cup must "continue uninterrupted and with the full support of all Bermuda sectors". A spokeswoman for the association said that any disruptions to the event "would set a globally recognized precedent that will brand Bermuda and diminish future capacity to secure major events and projects," adding that the loss of revenues and employment "could be staggering." The comments came after the Bermuda Industrial Union threatened to derail the sailing event through work stoppages if the Reverend Nicholas Tweed's work permit was not renewed and if the airport deal in its current form is not taken off the table. The association voiced its support of the public private partnership airport deal saying local construction companies and Bermudian employees would receive "maximum benefit." Among the key points made were that those who are protesting the airport deal on the basis that there was no tendering process were not speaking on behalf of the majority of construction companies. "CAOB is confident every possible measure is being taken to ensure our members have maximum opportunity to provide supplies and services to the General Contractor which will result in an estimated 300 job opportunities for Bermudians. Aecon, CAOB and the Department of Workforce Development are working collaboratively to ensure the local population has the trades credentials and specialized training to meet contract requirements. To ensure sustainability, CAOB continues to collaborate with the government, Department of Workforce Development and educational institutions to facilitate construction-related training for Bermuda students, the unemployed and underemployed. To further ensure sustainability, as the NCCER accredited training sponsor, CAOB is facilitating train-the-trainer courses to ensure Bermuda has an inventory of qualified trades trainers." Among the association's concerns over recent protests were delays in scheduled training and local tendering, loss or delayed contracts and lost or delayed employment for Bermudians. Further, Bermuda would be perceived as unwelcoming to international investment and claimed that Bermuda had been misguided by "negative opinions and actions". As for the America's Cup, the association pointed to "millions of design and build dollars that have been injected into the local economy". The spokeswoman added: "While CAOB does not have access to specific budgets, we understand additional work valued well into the millions of dollars is still required before the event, all of which will be performed by local contractors. America's Cup is a global demonstration of Bermuda's strengths and abilities. It can be the catalyst to bring more international events of this scope to Bermuda. Interruptions by disenfranchised citizens will tarnish Bermuda's reputation and possibly negate the years of efforts by Bermudians to ensure the success of the event. Future events of this scope will become unattainable, crippling future growth in the tourism sector, which is currently in a very vulnerable stage of recovery. Related developments, such as Morgan's Point, have generated local jobs. Currently, local contractors employ 54 Bermudians and only five work permit holders. The General Contractor has contracted local companies and hired Bermudians to the satisfaction of the CAOB."
January 6. Senator Michael Fahy has hailed a 90 per cent rise in visitors to the island last November compared to the same month the previous year. Stephen Todd, the president of the Bermuda Hotel Association, echoed the tourism minister's sentiments, saying the association was "very encouraged by the latest figures". Last November saw nearly a 52 per cent increase in vacation and leisure visitors flying into the island as well as greater cruise ship activity In a statement released this afternoon Mr Fahy said he anticipated the full year figures for 2016 will show it was as one of the brightest tourism years in nearly a decade. "I expect to see positive growth in regular visitor count from which Bermuda can rebuild a strong tourism base over the calendar year," he added. "The Bermuda Tourism Authority figures for November show a huge rise in vacation air arrivals, a 31 per cent surge in hotel occupancy and a 35 per cent surge in revenue-per-available-room. There is no doubt we are growing our tourism business in what was previously regarded as the slow season from November to March. This should generate jobs and other economic opportunity across the island. There is no doubt that the dedicated Bermudians at the BTA under Bill Hanbury have done a sterling job in re-inventing Bermuda tourism." Air seat capacity in November was increased by nearly 12 per cent on the previous year, while total air visitors for the 11 months to November rose by close to 11 per cent. Vacation air arrivals are now performing at their best level since 2007, according to Government. Mr Todd added: "Bermuda Hotel Association members are very encouraged by the latest tourism figures which reflect positive results in both hotel occupancy and revenue-per-available-room during what has traditionally been viewed as the shoulder season. The BHA views these results as a clear indication that the marketing strategy of the Bermuda Tourism Authority in promoting Bermuda as a year-round destination is resonating well with both business and leisure travelers. As an association we look forward to continued positive trends in our industry. We stand ready to support these positive initiatives which are key to our future success."
January 6. Reinsurance rates are struggling to stabilize due to profitable results achieved in 2016 and a continuing capital oversupply. That is the assessment of Willis Re, the reinsurance advisory business of Willis Tower Watson. And it has noted that while mergers and acquisitions slowed last year, two large deals have reflected a view that the incoming new US administration will provide a more favorable corporate tax environment that may lessen the attractiveness of the offshore reinsurance model. In its 1st View report on market conditions at the January 1 renewals, John Cavanagh, global CEO of Willis Re, noted: "The pace of consolidation driven by M&A has slowed as compared to 2015, but there have been a number of notable transactions, including Sompo Japan and Endurance. "In the last few weeks, two large deals — the acquisition of Allied World by Fairfax Group and Liberty Mutual acquiring Ironshore — were announced. These two transactions reflect the view that the new US government may provide a more favorable corporate tax environment, leading to a change in the balance, tilted against the offshore model." President-elect Donald Trump has spoken of lowering US corporate tax from 35 per cent to 15 per cent. The Willis Re report noted that despite a 50 per cent increase in insured losses from natural catastrophes during last year, the global reinsurance industry achieved profitable results for the third quarter. "Reinsurers, eager for more widespread rating stabilization, have had their hopes dashed again, thanks to profitable results allied with continued capital oversupply from both traditional reinsurers and capital markets," said Mr Cavanagh. Regarding renewals, he added: "While there are signs that reinsurers are not prepared to be as flexible as in earlier years, many buyers have yet again managed to achieve improved terms. Sizeable reductions have been obtained on international business. In the US, there are signs of more stability, driven by the capital intensive nature of some US classes and the very significant improvements in terms in recent years." Capital continues to flow into the sector, particularly through catastrophe bonds and collateralised placements, reducing profit margins. And that alternative capital trend is reaching into new areas, such as motor liability. Major reinsurers are taking "stronger client-centric approaches," said Mr Cavanagh. "This is leading to superficially inconsistent underwriting at a market level, which is misleading. Most major reinsurers in the current pricing environment are applying increasingly sophisticated and active portfolio management strategies, including the use of third-party capital partners, which are generating less generalized and more client-specific outcomes." While reinsurers have remained profitable, conditions have become tougher for many primary companies. Rising combined ratios in many markets, including Lloyd's, driven by competition both from existing peers, as well as from new-style competitors utilizing innovative low-cost distribution and cost models, is a growing concern," said Mr Cavanagh. Innovation and disruption are also having an impact. InsurTech is rapidly emerging from theory into practical application, leaving many primary companies to ponder how to respond, while some of their peers are forging ahead, embracing the opportunities InsurTech offers. Among the most committed supporters of disruptive InsurTech solutions are capital markets and some reinsurers who are seeking access to original risk." In conclusion, Mr Cavanagh said: "Despite the pressures, the global reinsurance market is facing, the ability to produce yet another profitable year, somewhat against the underlying pricing models, has meant that the pain threshold to force a market pricing stabilization has not yet been reached. "With the January 1 renewal season setting the tone for 2017, reinsurers can only look forward to another demanding year where luck will play an even larger role in determining their final results. At the same time, buyers can anticipate that the period of time where reinsurers (reluctantly) accommodate their requests will be extended."
January 6. A subsidiary of Bermuda-based insurance group Randall & Quilter Investment Holdings has bought up a Liechtenstein insurance company from its Swiss owners. R&Q Insurance (Malta) has acquired all the issued share capital of Clariant Insurance AG, owned by Swiss specialty chemicals firm Clariant AG. The Liechtenstein company was formed in 2005 as the captive insurers for its Swiss parent and ceased active underwriting in 2015. The company will be relocated from Liechtenstein to Malta, where it will be Randall & Quilter group's second European run-off consolidator, operating under the R&Q Insurance (Europe) banner. Ken Randall, chairman of Randall & Quilter, said: "This is a further demonstration of R&Q's capability of working with corporate captive owners to dispose of captive insurers that are no longer required for their business." And he signalled that the firm would continue to be on the lookout for acquisitions in the wake of European Union Solvency II requirements. Mr Randall said: "It is one of a number of current transactions we are assessing where a corporate parent is looking to dispose of their legacy captive which is subject to implementation of Solvency II. This new regime is generating a number of prospects for the group across Europe and is a significant reason for the formation of a second consolidation vehicle in Malta. We remain excited about our legacy acquisition pipeline."
January 6. "Post-truth politics" and mis- information has been given out on the island's spending for the America's Cup, according to Grant Gibbons, the Minister of Economic Development. Dr Gibbons was responding yesterday to a statement from Jamahl Simmons, the Shadow Minister of Tourism, charging that the Government had committed "in excess of $100 million of taxpayer funds to support the event. This is an unfounded figure with no connection to reality," the minister said this afternoon, noting that 2014 projections had estimated a potential expenditure of $77 million. However, the 2016/17 Budget book at present projects a spending of $39.6 million on the America's Cup from 2014 through March 31, 2017. The figure includes both capital and operational spending. "The bulk of this $39.6 million spending, $23.7 million, is on capital infrastructure, including preparation of the South Basin dock and Dockyard facilities which will benefit present and future generations of Bermudian," Dr Gibbons said. "This amount represents the bulk of the capital infrastructure spending by the ACBDA required under the agreement with the ACEA. The remaining portion, $15.9 million of this $39.6 million, is current account, or operational spending, beginning in 2014 and projected through March 31. This includes $10 million of the $15 million in sponsorship payments to ACEA — money which must be spent in Bermuda under our agreement and is not merely a payment that leaves Bermuda with no residual value to the island." After a week marked by industrial action that included the possibility of protests jeopardizing the event, Dr Gibbons said he welcomed the Opposition's support for the America's Cup. "The loss of tourism revenues and foreign investment spending coming from The America's Cup would be devastating for all of us and the reputational damage would be irreparable," he said — adding that "tireless" work was under way to ensure that its benefits were "inclusive, far reaching and diverse". March will see debates for the 2017/18 fiscal year, and Dr Gibbons said the Budget had yet to be finalized. The minister said the "great majority" of investment in infrastructure for the Cup had already taken place, and that "further operational spending will be prudent and disciplined. We are being very careful to spend wisely and on things that create legacy value." Mr Simmons said last night that he looked forward to hearing details in the Budget debate, including how the Government's $39 million loan to Wedco would be financed. "Most importantly, we are very interested in hearing the details and specifics of how the OBA is ensuring that the benefits from the America's Cup will be inclusive and diverse, as far too many Bermudians perceive otherwise."
January 6. The decision to refuse the Reverend Nicholas Tweed's work permit is final, Michael Dunkley said last night as he welcomed the end of three days of industrial action and unrest. Meanwhile, Patricia Gordon-Pamplin, the Minister of Home Affairs, categorically denied making the decision for personal reasons and dismissed suggestions by Bermuda Industrial Union president Chris Furbert that she should have recused herself from the process. Ms Gordon-Pamplin told The Royal Gazette that she held no animosity towards the AME pastor, and maintained that she went "above and beyond" in considering Mr Tweed's work permit application, which she concluded was not advertised or complete and contained inaccuracies. "The [Bermuda Immigration and Protection] Act does not permit appeals for work permit renewals, but I was willing to look again at it, and went above and beyond because I wanted to make sure proper deference was given to every single fact." The minister added: "Reverend Tweed conducted my mother's home-going service three years ago," she said. "I could not have wanted a better service for my mother, and I am deeply appreciative of the job he did. When his sermons began to turn political, I decided not to stay and listen. I don't see that as a conflict because two years ago I decided to go to another church. What I said in the House was, I do politics six days and 22 hours a week — two hours of the week, I did not wish to do politics." Yesterday afternoon, Mr Furbert announced the BIU would "pause" its industrial action, but said that the threat to derail the America's Cup was "still on the table". Reacting to the news, the Premier praised the public-sector employees who continued to work during the work stoppage and residents who helped children to get to school, but he said it would be "very disappointing" if the island's progress was disrupted further. He also welcomed strands of a Jekyll and Hyde Progressive Labour Party statement released last night that pledged support for the America's Cup before descending into full-scale attack on the One Bermuda Alliance. "Last year was a year of progress in tourism arrivals, hotel investment, international business and other areas, and 2017 is going to be even better, so it would be very disappointing and a shame if we did anything to disrupt that growth," Mr Dunkley said. "That growth means more career opportunities and more jobs for Bermudians; whether that is the America's Cup, hotels or the airport. We know there are Bermudians that are still hurting and we will not rest until more and more of them can take advantage of that progress Comments like Mr Furbert's are concerning, but I am still open to talk to him about the airport, which I feel very strongly is a good deal for Bermuda. The country was in a diabolical mess in 2012 and we have had to make difficult decisions that have been scrutinized, but they have been done to benefit all Bermudians. I don't see this as a victory; this was a work permit issue that should have been between the Church and the Government. But now we need to move forward. I am not going to take a victory on anything; these are difficult times and, although significant progress has been made, no way can we afford to pat ourselves on the back. There is still too much division — we must stay calm, composed and measured, so we can continue that progress." Meanwhile, Senator Michael Fahy condemned the actions of a "minority of the Bermuda Industrial Union" for pushing an agenda designed to stop Bermuda's economic recovery. The Minister of Tourism, Transport and the Municipalities accused Mr Furbert of holding the island hostage by keeping his threat to derail the America's Cup on the table. "It is extremely disappointing that the withdrawal of labour occurred even in the absence of a labour issue," Mr Fahy said last night. "This really defies common sense. It means that union members and their households suffer a loss in pay over a matter unrelated to their own situation. There appears to be an agenda here, on the part of a minority in the BIU, to stop Bermuda's economic recovery. It is troubling that the BIU president stated at today's press conference that the 'threat to the America's Cup' is still on the table. This, in effect, seems designed to hold Bermuda hostage. It cannot be the way forward for the island."
January 6. The Bermuda Industrial Union went back to work yesterday, with hopes fading that the Reverend Nicholas Tweed will avoid being asked to leave the island. After an intense four-hour meeting throughout the morning, BIU president Chris Furbert announced that members had voted to end their stoppage midway through its third day. He confirmed the London-born St Paul AME Church pastor must leave the island by January 19, unless the Bermuda Government reverses its denial of his renewal application. Mr Furbert insisted his threat to derail the America's Cup remained in place if the permit is not renewed, but yesterday the Progressive Labour Party repeated its vow to get behind the showpiece sailing event and encouraged all Bermudians to do the same. Michael Dunkley, the Premier, told The Royal Gazette last night the work permit decision is final. Throughout the past week, Mr Furbert has angrily attacked home affairs minister Patricia Gordon-Pamplin for her decision to refuse Mr Tweed's application, claiming that she is politically motivated against the leading member of the People's Campaign. However, union sources have repeatedly said that Mr Tweed does not have full sympathy from the rank-and-file members, a lack of support that they say was reflected in diminishing numbers at the rallies this week, and in the vote at the Union Square headquarters yesterday. Sources further contend Mr Furbert went too far by threatening to jeopardize the America's Cup, which many hope will bring job opportunities for struggling workers. Over the past two days, the People's Campaign leveled many other complaints against the One Bermuda Alliance government, including the airport redevelopment proposal, pepper-spraying of protesters last month and the Jetgate controversy, but it was not enough to convince BIU members to stay off work to fight for Mr Tweed. Speaking at the end of yesterday's meeting, Mr Furbert told a press conference: "The decision was made that they have now paused the decision that they made the other day about downing tools until those other matters are resolved. They have decided to lift that, but those issues, as far as Reverend Tweed's work permit, the airport deal and the threat on the America's Cup, are still on the table, and the pepper-spraying of Bermudians on December 2. I certainly hope His Excellency the Governor [John Rankin] and the Premier will not take that very lightly." Pressed on how the union will fight for the issues still on the table, Mr Furbert said: "There are some things that the BIU needs to discuss as members." Asked whether he believes Mr Tweed's work permit will be renewed, he said: "It's always going to be difficult when Caesar is judging Caesar. I don't see how you can get a fair deal. I don't know of any renewal of a work permit that ends up at the office of Cabinet. I don't know; maybe they can tell us it's something that occurs every so often. Reverend Tweed's work permit became a highly toxic issue for the OBA government because of his involvement with the People's Campaign, because of the sermons he's been giving at the St Paul pulpit." After the press conference, Jamahl Simmons, the Shadow Minister of Tourism, said "all stakeholders in Bermuda must work together" to make the America's Cup a success for all Bermudians. He said: "While we share the concerns of many Bermudians that the benefits of the event may not be as inclusive, far-reaching and diverse as they could and should be, the PLP will continue to assist in ensuring the America's Cup is a success, for the benefit of all Bermudians, as Bermuda cannot afford anything less." The People's Campaign continued to angrily protest the work permit refusal, saying in a statement: "How can this government call on everyone to support the America's Cup but in the same breath try to demonize and destroy one man for speaking up for the rights of Bermudians. It is hypocrisy at the highest level." Buses were back in service yesterday afternoon, but not before causing problems for CedarBridge Academy, where more than 240 students were unable to attend yesterday. That prompted board chairman the Reverend Leonard Santucci to give warning that the labour action had jeopardized students' education and development. Dock-workers returned after two days off the job, with their industrial action said not to have left a backlog, as there were no ships in port. It is unlikely, also, to have any effect on the delivery schedule of cargo moving forward. Last night, an online petition showing disapproval for Mr Furbert's actions over Mr Tweed's work permit, started on Wednesday, had almost 2,800 signatures.
January 6. The island's three days of unrest and Bermuda Industrial Union president Chris Furbert's threat to derail the America's Cup if demands are not met has made news across the globe. The New Zealand news outlet stuff.co.nz carried a story yesterday with the headline "Trade unionists in Bermuda threaten to derail America's Cup". Meanwhile, the union leader's threat also appeared on the global Cruise Critic message board that provides information to passengers, warning potential cruisers of the situation. Mr Furbert announced yesterday afternoon that the BIU would bring its industrial action to a "pause", but he maintained that the threat against the America's Cup was still "on the table". The article on the New Zealand news site stated: "Trade unionists in Bermuda are threatening to derail the America's Cup as a battle rages over the work status of a controversial London-born pastor. "It's the first snag in the controversial decision by holders Oracle Team USA to defend the cup in Bermuda, which is foreign soil for the American syndicate backed by software magnate Larry Ellison." News of the demonstration over the Bermuda Government's decision not to renew a work permit for the Reverend Nicholas Tweed also made news in the Caribbean. The website Caribbean 360 carried the headline: "Protest In Bermuda Over Refusal By Authorities To Renew Pastor's Work Permit" earlier in the week. Its report stated: "On a day when the new school term opens and regular business resumes after the new year holiday, Bermuda is likely to be without several essential services, including transportation.
January 6. The Bermuda Industrial Union needs to deal with "in-house" issues, president Chris Furbert conceded as he spoke at the end of a lengthy meeting yesterday. Mr Furbert said the four-hour session at the BIU headquarters was "a much needed meeting", telling a press conference: "I've coined it as a new day, a new beginning — because certainly there are some things that we can do a bit better going forward. We're certainly hoping, once we have that dialogue with the membership." Mr Furbert said he would not declare that "all is well with the membership". He added: "We have got some in-house matters as a union that we have to deal with, and we are going to deal with them." About 150 union members braved the morning's downpour, turning out from 9am to pack the forum. One theme of the meeting, Mr Furbert said, was that many perceived this issue had become about himself. In future, he said, divisional leaders will sit alongside the BIU president at press conferences. He pledged to have a conversation among members on how to tackle the issues, which include police using pepper spray on demonstrators outside the House of Assembly on December 2. Speaking later to The Royal Gazette, he gave examples of further possible changes. "It was never our intention to cause disruption unnecessarily," he said. "All divisions of the BIU met and discussed how we can do things differently in the future. We talked about the general direction of the BIU — it's 2017 now. How can we change? Does it mean we have a partial service while these things are going on? When Ewart Brown was Minister of Transport and Glenn Simmons was director of the DPT [Department of Public Transportation] we had a conversation then, but Mr Simmons said he didn't know how that could work. Maybe we can work on that challenge for the future. When it's down, it inconveniences a lot of people." At the press conference, Mr Furbert insisted that the BIU's stand-off with the Government that provoked industrial action this week remains "alive and well", including the threat to the America's Cup. Mr Furbert also spoke passionately about the refusal to renew the work permit for the Reverend Nicholas Tweed at St Paul AME Church, which has been a driving factor in its campaign against the Government in recent days. The post of pastor is "not a job; it's a calling", he said, insisting that pastors in the African Methodist Episcopal Church were appointed by the Bishop, the Right Reverend Gregory Ingram, rather than being advertised. Mr Furbert said repeatedly that the Department of Immigration's advertising requirements amounted to policy rather than law. "It should be noted that certain job categories are exempt from work permit control, from the [Bermuda Immigration and Protection] Act. The Government needs to stop playing games with the people. We told them there were two Bermudas and, no matter how many times they try to defend that it is not, this proves that there are." Although he conceded that he had no proof to support his view, Mr Furbert maintained that the introduction of advertising requirements for church positions in 2014 was done with the intention of targeting Mr Tweed. "It was certainly about him," he claimed. "Maybe I have no proof; I have a theory and I'm going to stick with my theory." Mr Furbert also said home affairs minister Patricia Gordon-Pamplin's new church had a pastor on a work permit, and attacked finance minister Bob Richards's plan for the airport development, labeling him "an idiot", which drew cheers from members. The union head stood strong against suggestions this week that members were split on backing the "ultimatum", as he called it on Tuesday night. "Every employer's ultimate aim is to divide and conquer the BIU membership," he said. But Mr Furbert was also firm that union members who declined to attend meetings when invited would lose their say. If there's a quorum, they can make a decision in your absence."
January 6. Stoppages to the bus service have jeopardized students' education and development, according to the Reverend Leonard Santucci, who is chairman of the board at CedarBridge Academy. He was speaking during a week where up to half of the school's students were unable to attend because of a lack of transportation. Dr Santucci said that it was particularly important for the students to attend this week because they will sit midyear examinations as of Tuesday. Some 242 out of the 533-strong CedarBridge student population did not attend yesterday, 187 were absent on Wednesday and 264 on Tuesday. It follows frustration at TN Tatem Middle School, which had 100 students fail to make it to the temporary location at Clearwater Middle School in St David's on Wednesday. Non-attendance at both schools was linked directly to bus drivers being kept off the road, whether they wanted to be or not, over the Bermuda Government's refusal to renew a work permit for the Reverend Nicholas Tweed, pastor at St Paul AME. Service is expected to return to normal today after Bermuda Industrial Union members agreed to bring an end to the impasse. Dr Santucci, right, told The Royal Gazette: "We must not jeopardize students' education and development over issues that do not pertain to the labour union. Whenever we have a stoppage of buses, it has a negative impact on student attendance. "Our students are being disadvantaged. The failure to have instruction and follow-up opportunities do have negative impacts — the exams are still going ahead because there are timetables that are established that are not easily altered. I would recommend that students, parents and families devote additional time to homework both in the evening and over the weekend because their grades have the potential of a lifetime impact." Dr Santucci, who is the pastor at Vernon Temple AME Church, said he had tried to contact Chris Furbert to voice his concerns directly, but the BIU president was in a union meeting throughout yesterday morning. "Had I been able to contact him directly, I would have invited him to put the interests of our students and the next generations of leaders in this country before the issue that has constituted his primary focus this week: the labour unrest," Dr Santucci said. In the future, we need to elevate the basis of our discussions and activity, and we need to look at the broader ramifications if the union wants to have industrial unrest. Do it after they get the students to and from school because their education ought to be one of our No 1 priorities — we must educate our children. Failure to educate our children means that we are nullifying everything that our 'foreparents' and generations before us have fought and died for." Responding last night, Mr Furbert said it was never the intention to cause disruption unnecessarily.
January 6. Bermudian Reverend Leonard Santucci has claimed that former MP Dale Butler has "de facto disqualified himself for further consideration in Parliament" following "half-statements" he made about the pastor on Facebook. Mr Butler, the former Progressive Labour Party MP who recently announced he had applied to return to the House of Assembly, wrote about his support for London-born Reverend Nicholas Tweed in retaining his position at St Paul AME Church, adding that he did not feel that the "OBA preferred and accepted candidate Dr Santucci" should get the job. Mr Tweed has been at the centre of controversy in recent weeks after the Bermuda Government refused his work permit renewal, with home affairs minister Patricia Gordon-Pamplin saying his application was inaccurate and incomplete, and the church failed to advertise. Mr Tweed's supporters argue she was politically motivated against him. Dr Santucci, who insists he is happy serving where he is at Vernon Temple AME, invited Mr Butler to either elaborate on his statement or withdraw it. He told The Royal Gazette: "Mr Butler has made a statement and I would invite him to either put meat on the bones or withdraw the statement because he is casting aspersion on my ministry and on my integrity." Mr Butler's post began by saying Ms Gordon-Pamplin might have been biased in her decision to refuse the permit as she stopped attending St Paul due to Mr Tweed's pastoring style. He continued: "While many will say that OBA preferred and accepted candidate Dr Leonard Santucci should get the job, I do not feel so for a variety of reasons. The bottom line is that we want Reverend Tweed and as a church member I support his application and will do whatever is possible to have him stay. Reverend Santucci can continue to find work where he is. In other words he already has a job." Dr Santucci told this newspaper: "It is my contention that he [Mr Butler] de facto disqualifies himself for further consideration in Parliament. I do not know what his 'variety of reasons' are but I would welcome him to publish publicly what his reasons are as I have nothing to hide. I don't consider myself perfect or sinless but whatever shortcomings I may have God already knows of them and has already forgiven me for them. He [Mr Butler] has my full permission to publish them — I am from Cedar Hill and where I come from you either put up or shut up and I would invite him to do the same. I am very happy to serve where I have been assigned. At no point has there been any question pertaining to me going to or aspiring to St Paul's." Contacted by this newspaper to elaborate on his statement, Mr Butler would only say: "He [Dr Santucci] is still completing a variety of roles in his current church and he should complete them first." Mr Butler would not be drawn on what he meant when he wrote he would do "whatever is possible" to have him stay.
January 5. Plans to build a new St Regis hotel in St George's — which would boost tourism and provide jobs — have been approved. The development, which will overlook Gates Bay, will feature a 122-key resort with 97 hotel rooms and 25 suites, as well as a casino, restaurant, bar, golf clubhouse and other amenities. The first phase of the project would also include two residential buildings, containing 28 condominiums. Later phases would include another three residential complexes. A technical officer presented a report backing the project to the Development Applications Board. He noted that while the project would have some negative impacts, these were considered to be low and could be mitigated by approval conditions. "The proposed development provides significant economic opportunity to the town of St George," the report stated. "Since the closure of the former hotel in this location, and the subsequent loss of dedicated cruise ships to St George's, this area of the island has seen a decline in employment levels and business growth. The hotel development represents a significant investment in the tourism industry and will provide employment opportunities in the construction, tourism and commercial business sectors. The development has been sensitively designed in accordance with the historic features of the area and will ultimately lead to a raised profile of the World Heritage Site status of St George on a global scale." According to the minutes of the December 15 meeting of the DAB, members raised several questions about the project, including its beachside location. "The board queried the developer's choice to place the hotel adjacent to the beach," the minutes stated. "The technical officer confirmed that developers have designed the siting of the hotel building in accordance with the tourism market demand in that guests favour beachside locations. "The technical officer reiterated that storm surge concerns were addressed by raising the grade of the land to accommodate the development. Asked if the site has received a casino licence, the technical officer stated: "It was confirmed in response that they will have the ability to apply for a licence when certain legislation has been passed in Bermuda. "Further, it forms part of the preferred package of the proposed hotel operator." The technical officer also confirmed that the casino space could be used as a ballroom as an alternative. Public access to the beach — an early area of concern related to the project — was also broached in the meeting, with the board questioning where the public would park. The technical officer responded that while legislation did not require the developer to provide public parking, it would be provided on site within one of the formal parking areas. The board resolved to approve the application with some conditions, although several elements for the project, such as the golf course, a spa within Fort Albert and pier refurbishments, would be the subject of further applications.
January 5. The People's Campaign bemoaned falling numbers at its rally in support of the Reverend Nicholas Tweed yesterday and widened its attacks on the Bermuda Government. White-collar union leader Jason Hayward claimed people were afraid to attend the meeting at St Paul AME Centennial Hall, where the attendance was down to about 250 from several hundred on Monday. Mr Hayward, the president of the Bermuda Public Services Union, questioned whether Michael Dunkley, the Premier, wants to see a civil war. On Monday morning, the campaign had revolved around anger at the Bermuda Government's rejection of a work permit for Mr Tweed to continue as pastor at St Paul AME Church. Yesterday, the content of speeches was extended to include unemployment, the pepper-spraying of protesters last month, lack of investment in education, the state of the roads, the resignation of former One Bermuda Alliance MP Shawn Crockwell and the Jetgate controversy; late on Monday, Bermuda Industrial Union leader Chris Furbert had said the airport redevelopment project formed part of his attempted bargain with Mr Dunkley. The meeting began at 9am and featured fiery presentations from Mr Furbert, Mr Hayward and Mr Tweed — and calls for boycotts of organisations, including The Royal Gazette — before the media were asked to leave shortly before noon so that members could "strategise" and "talk shop". It continued behind closed doors until late afternoon, when organizers announced another meeting for all BIU members will take place today at 9am. Many members are said to have stayed away thus far, on the grounds that London-born Mr Tweed's work permit is not a union matter, meaning they would not get paid for withdrawal of labour, that he contributed to his own downfall by refusing to co-operate with the Department of Immigration over his application, and the notion that politics should not be mixed with the Church. Mr Tweed has responded angrily when his paternal links to Bermudian pastor Kingsley Tweed have been brought into question, but has refused to comment when asked if he was legally adopted by the legendary former general secretary of the BIU. Yesterday, acting home affairs minister Cole Simons clarified that the work permit bid had failed because of inconsistencies surrounding his name and marital status. Reacting to the attendance yesterday, Mr Hayward said: "There's an awful lot of people who support us who are not brave enough to be in this room today." He argued that Mr Dunkley had called on a segment of the population to rise up. "I wonder if the Premier wants to see a civil war," he said. Mr Hayward said a confrontation would "not end well" for that segment, before adding: "I don't know if the Premier wants to retract his words, but he needs to be more responsible." Mr Furbert noted numbers on Monday had been "a bit down" and said: "People are intentionally doing things against us to divide us. I guess you can see from this morning that they are down even further." Mr Tweed, a prominent member of the People's Campaign, complained that the media would report the movement was losing support. "When people start calling for a boycott of the union, the issue is not boycotting the union gas; the issue is to silence and suppress a voice that defends and champions the cause of our people," he said. Meanwhile, Mr Furbert's threat to derail the America's Cup, made late on Monday, brought a fierce response from the Government as well as from the social-media community. Grant Gibbons, the economic development minister, warned the move could harm the island's reputation and economic recovery, and put Bermudian jobs at risk. "The America's Cup should not be held hostage by a labour union president acting irresponsibly over an immigration issue," Dr Gibbons told a press conference. "The world is watching closely and any attempts to disturb this highly visible, international event would set our island back immeasurably and put all of our futures at risk. It is shocking that the president of the Bermuda Industrial Union would attempt to undermine Bermuda's future economic success and our credibility as a stable jurisdiction by threatening to disrupt the America's Cup over a work permit issue that is unrelated to labour." A petition created on Facebook titled "I do not support the actions of BIU president Chris Furbert on Rev Tweed's work permit" gathered more than 2,000 supporters yesterday. Labour stoppages continued, including at Hamilton docks, where 41 out of the 52 staff did not show up and no one was able to pick up cargo. Buses remained out of action, causing inconvenience for TN Tatem Middle School, which had 100 students unable to reach their temporary home at Clearwater Middle School in St David's on the first day of term. Only a handful of drivers turned up at a meeting called by the Government during the afternoon, and Senator Michael Fahy warned buses are likely to be out again this morning, with a drivers' meeting taking place at 8am. Mr Fahy, the transport minister, has said bus operators, or anyone else who did not attend work, will not be paid until they return, and their no-show will be recorded as an unauthorised absence. In March last year, Chief Justice Ian Kawaley ruled it was strongly arguable that the withdrawal of labour in circumstances where it has no connection to a labour dispute was a breach of Section 34 of the Labour Relations Act. Walton Brown, the Shadow Minister of Home Affairs, also commented yesterday, claiming the issue highlights the One Bermuda Alliance's lack of connection to the mood of the country.
January 5. About 100 TN Tatem Middle School students did not make it to school for the first day of term yesterday after bus drivers withdrew their services for a second day. Principal Francine McMahon responded by asking parents today to help to transport children to Clearwater Middle School in St David's, where they are temporarily relocated because of complaints about air quality at TN Tatem. Bus drivers have refused to operate while the People's Campaign opposes the Bermuda Government's refusal to renew the work permit of the Reverend Nicholas Tweed. Middle school, primary school and preschool students were due to start back at school yesterday but classes were hit by widespread absenteeism. Ms McMahon wrote to parents: "As you may be aware by now, public transportation is not operating. "Our students have had so many disruptions to their learning and we would hate for further interruptions to occur. As we are located at Clearwater Middle School, transportation is necessary. Today we were short of approximately 100 students. Apparently, there are talks taking place at PTB [Public Transportation Board] in reference to resuming services. In the event that this does not happen, are there any parents who will be willing and able to carpool in transporting students to and from Clearwater Middle School from Tatem?" David Minors, parent of a TN Tatem student who did manage to get to school, told The Royal Gazette earlier yesterday: "Most people will know from the previous bus schedule that there were two Department of Transportation buses that had assisted in providing transportation to TN Tatem students to get to Clearwater. Since there are no buses running, those two buses did not get to TN Tatem to get students to Clearwater." The Department of Education has confirmed that two minibuses will be made available to transport students as of 7.30am today.
January 5. Two online petitions have been launched in opposition to the actions of the Bermuda Industrial Union. Yesterday, more than 2,000 people signed the documents, which complained about the threat to derail the America's Cup, numerous work stoppages and the blocking of Parliament on two occasions. It came as union leaders Chris Furbert and Jason Hayward claimed that low attendance at the People's Campaign meeting yesterday was because of efforts to divide the unions. One petition, launched via change.org, titled "I do not support the actions of BIU president Chris Furbert on Rev Tweed's work permit" and created through the Facebook page group Become the Vocal Majority, calls for a boycott of businesses that support the actions of the BIU, for union members to have Mr Furbert suspended and for action to be taken against the BIU's methods. It also tells the International Labour Organisation that Mr Furbert was using his position to "support a personal and political cause". Furbert and Hayward, the Bermuda Public Services Union president, have led the protests against the Department of Immigration's refusal to renew the permit of the Reverend Nicholas Tweed, of St Paul African Methodist Episcopal Church. On Tuesday, Mr Furbert threatened to derail the America's Cup, which is projected to generate $350 million for Bermuda's economy. In the first nine hours since it was created, the petition had attracted 1,200 supporters. By press time, the number had swelled to 1,950. It says: "I do not support the action of BIU president Chris Furbert in the matter of Rev Tweed's work permit, and more to the point, I am willing to take action to show my disapproval. To the BIU, I will boycott all of your affiliated businesses and properties, as well as those businesses who support you. Chris Furbert's actions and rhetoric on this matter are not in the best interests of Bermuda, and are actively harmful to us. To OBA and PLP politicians, if you do not come out against these actions by the BIU in this matter, you will not have my vote in the future. To the ILO, BIU president Chris Furbert is using his position as the local union president to support a personal and political cause which actively harms Bermuda and his members. This position was not supported by his membership either by quorum or majority, and is not supporting a union member. We call on you to take note of these actions by a rogue union leader and to consider the BIU's validity in the future if they do not rein in their president's unreasonable actions." There is also a note to say that the petition will be delivered to the BIU. Another petition on change.org titled "Help Protect Our Democratic Rights", through the Facebook group Bermudians Supporting the Democratic Process, attracted more than 100 supporters in its first five hours. Its support had risen to 455 by press time. It says: "This petition serves as a platform to give Bermudians Who support Our Democratic rights a voice. We feel that our democratic rights are not being respected by the recent action taken by the unions. We, like everyone else in this country, should have a right to represent ourselves without our government services being withheld for seemingly politically motivated reasons, or the whims of a person's agenda. We don't disagree with the union as a whole, but how they are being utilised. Express your discontent with the manner in which the union conducts its actions by signing this petition. This is a peaceful way to send a clear-cut message that many Bermudians are not in agreement with the BIU's methods. We owe a successful, cohesive Bermuda to each other and our children."
January 5. Insulting attacks "will not end well" for detractors of the People's Campaign, warned union leader Jason Hayward, who said a false narrative had unfairly blamed protesters for dividing the country and inciting a "clash". The president of the Bermuda Public Services Union, who decried the alleged name-calling and disrespect shown to the movement, added: "For a certain segment of our population, that scenario does not end well. We can easily bring this battle to the doorsteps of many who have loud mouths and are extremely disrespectful." Campaign leaders accused Michael Dunkley, the Premier, yesterday of "calling for a silent majority to come out and speak", in the words of Bermuda Industrial Union president Chris Furbert. Mr Hayward told hundreds of supporters assembled for a second day in St Paul African Methodist Episcopal Church that he wondered if the Premier "wants to see a civil war". Last night, Mr Dunkley described the comments as "absurd". He added: "My words are always appropriate, measured and respectful, unlike some of the other ones I have heard over the past several days. I do believe there is a silent majority, and I think they are now speaking up. It's unfortunate that we are still in this division. This is an issue between the Church and the Government. Once again, it goes to show that the People's Campaign will do anything to try to stop Bermuda from going forward." Rhetoric surrounding the latest round of protests grew heated yesterday as an online petition called for a boycott of the BIU. Saying there was an effort under way to divide the union, Mr Furbert told the crowd they had the power to retaliate by boycotting businesses linked to members of the One Bermuda Alliance. The Reverend Nicholas Tweed, the pastor of St Paul AME Church, whose failure to have his work permit renewed has sparked the latest protests, told supporters that the Government's narrative was that "the people supporting these issues are a small, disgruntled minority", and that the media would report the movement as losing support. "When people start calling for a boycott of the union, the issue is not boycotting the union gas; the issue is to silence and suppress a voice that defends and champions the cause of our people," he said. Addressing the Government, Mr Tweed said it was against freedom of speech, freedom of assembly and freedom of the press. He added: "And where have been those great institutions, the Human Rights Commission? The Centre for Justice? Whoops. You know why? Those organisations and entities represent them [the Government]. That's why the union and the Church represent us." Mr Tweed decried longstanding policies that had led to "a permanent underclass — our children, our grandchildren", many of whom he believes had emigrated to Britain because of unemployment and economic hardship. This government has driven them away," he said. "But, yet, corporate CEOs, if you look at the policy, they can have all kinds of exemptions and negotiate all they want. And when the policy was being developed, they invited who they wanted to the table." Closing his address, Mr Tweed said: "Every slave does not want to be free — so we now have to decide who wants to be free."
January 5. Inconsistencies in the Reverend Nicholas Tweed's work permit application surrounded his name and marital status, Cole Simons claimed yesterday. Flanked by fellow One Bermuda Alliance MPs, the Acting Minister of Home Affairs maintained the decision to refuse the work permit was the right one, citing the lack of advertising of the post. Asked about the statement by Chris Furbert that the America's Cup would be in jeopardy if the Government does not reverse this decision and move away from the airport redevelopment plan, Mr Simons said the remarks were concerning. "Obviously, that is not something that we wanted to hear," he said. "The community is very, very concerned about that. Hopefully, we can arrive at some resolution to ensure things do not progress to that level, where the America's Cup and our economic stability are compromised." In the press conference held in response to a statement by the St Paul AME Church yesterday, Mr Simons emphasised that the two factors behind Patricia Gordon-Pamplin's decision to uphold the denial of the work permit were the failure to advertise the post and the failure of the applicant to provide accurate and complete information. "The Church said the minister's reference to the reverend's incomplete 2013 application was 'irrelevant'," he said. "But its relevance lies in its relationship to the 2016 application and other documents that, taken together, revealed inconsistent, inaccurate information about the reverend's marital status and name. "The work permit system, which exists to protect Bermudian employment opportunities, cannot work if people applying to work here do not provide complete and accurate information." While the Church said it has no mechanism to advertise pastorates, Mr Simons responded: "When it comes to Bermuda, all are subject to the Bermuda Immigration and Protection Act. All other churches and faith groups in Bermuda have accepted this policy, which is designed to make sure everyone is treated equally. We cannot have one rule for all churches and one rule for Mr Genevieve-Tweed. External recruitment policies of private entities cannot dictate Bermuda's immigration policy, which exists to protect Bermudian opportunities in the workplace. Otherwise, there is no point to having a work permit policy." While the Church said it requested a waiver after being instructed to advertise, Mr Simons said Mr Tweed did not meet the necessary criteria. He stated that policies only allow a waiver if:
The person is uniquely qualified for the position
The position would not exist in Bermuda if it were not for the applicant filling the job
The success of the business would be detrimentally affected if the persons were to leave the business — detrimentally affected means that jobs of Bermudians, spouses of Bermudians or permanent resident's certificate holders would be put at risk
The employee is integral and key to income generation for the business by brokering deals or attracting/retaining clients or funds
Mr Simons also said that time and opportunities were given to the Church and to Mr Tweed to correct the situation, but the matters were not resolved. "Given the sensitive nature of this matter, the minister allowed the applicant time to make his case," he said. "From the moment the applicant filed late for work permit renewal in July 2016, the minister gave Mr Genevieve-Tweed special authorisation to continue working while the application was reviewed. She did so again in October while his appeal was being considered. "The Church complained that Reverend Genevieve-Tweed's application 'should have been handled' as a standard renewal. That might have been the case if the application had been accurate and complete, submitted on time, with questions answered and fees paid, and with the position advertised as required. When the rules put in place for everyone are not followed, then applications become anything but standard." Mr Simons also noted the AME Church's Articles of Faith, which describe the Church as a Christian body that "presumes the duty, loyalty and patriotism of our constituents, as citizens of sovereign nations, to obey just laws, to recognise and respect the organisational structure, and to uphold the Constitution of the country or nation state in which our members hold the rights and privileges of citizenship". He added that the Government would be happy to work with the presiding elder of the Bermuda Conference of the AME Church, the Reverend Betty Furbert-Woolridge, if she has any issues that need further clarification. He added that other points mentioned in the AME statement will be addressed once the immigration department's technical officers have completed a review.
January 5. Michael Dunkley has questioned the motives of those protesting against the refusal of a work permit application, highlighting that the unions agreed to existing immigration policy after broad consultation. "What has changed?" the Premier asked, with regard to an agreement reached through the Labour Advisory Council in 2014. Mr Dunkley said the agreement, which Bermuda Industrial Union president Chris Furbert signed off on, mandates that all job positions must be advertised to allow Bermudians first opportunity. The Premier was speaking to The Royal Gazette in the wake of protests against the Bermuda Government's refusal to renew the work permit of the Reverend Nicholas Tweed. "This is the immigration law of the land," he said. "There was broad consultation with the Labour Advisory Council, which Chris Furbert was a member of, and all the alphabet groups — they approved this policy of advertising every work permit. But here we are, two years later, the shoe is on the other foot. What has changed? To cause a disruption like this over a work permit application is unprecedented and makes one wonder where people have their values. It is not about the work permit, it is about an agenda — a power play — and Bermuda is fed up with that. There will be time for an election and there will be time for politics, but now we are putting Bermuda on the road to progress and, in face of threats and innuendo, we will stay calm and composed and move Bermuda forward." He also called on the Progressive Labour Party to "respect and support as we try to move forward on this issue", but questioned its public silence this week — until Walton Brown, the Shadow Minister of Home Affairs released a statement yesterday afternoon — during meetings organised by activist group the People's Campaign in conjunction with the BIU over the St Paul AME pastor's work permit refusal. The Premier added: "Silence can get people to think about what it means, and when you see the Opposition sitting in the front row at the People's Campaign meeting — probably seven-strong — and when the Opposition leader [David Burt], who is never lost for words, is there and lost for words, it makes you wonder whether they are questioning their position on this." Mr Dunkley alluded to what he perceived as a waning of community support for the union over the Tweed issue. "There is a small minority of people who are using their influence and power in the most inappropriate way," the Premier said. "Based on the community reaction with this work permit issue, the majority of Bermudians are standing up and saying 'enough is enough. Bermudians have shown that they are tired of this. They are tired of people using the bit of leverage they have to inconvenience people who just want to get on with their lives. We have heard loud and clear, and we will do whatever we can to ameliorate that situation."
January 4. "We will not be bullied, threatened or intimidated." That was the defiant message from Michael Dunkley last night after Bermuda Industrial Union president Chris Furbert threatened to derail the America's Cup if demands to renew the Reverend Nicholas Tweed's work permit and to take the airport deal off the table were not met. The Premier lamented that the lives of Bermudians were being interrupted "to fight an immigration issue over a non-Bermudian", branding it the height of hypocrisy. "It boggles my mind that Chris Furbert would use children as pawns around the threat of an island-wide strike," Mr Dunkley told The Royal Gazette. "That Chris Furbert and his associates would put so much fervor into supporting a non-Bermudian and inconvenience the whole island, I find very unfortunate. This issue of a work permit in this matter is between the Church and the Government of Bermuda, not a union or the People's Campaign. It is an issue between the Government and the Bishop, for whom I have great respect. If they want to make it a larger issue, then this government will not back down from doing the right thing. If there are those who wish to impede our progress, they impede the progress of all Bermudians and we all suffer." Mr Dunkley maintained that the Government was open to dialogue on all issues including the airport redevelopment project, which he described as a "good deal for Bermuda", and insisted it was working in the best interests of all Bermudians. "There is a balance between being strong and getting our message out in an appropriate way," he said. "I don't think the people want to see their leaders rant and rave. I am very passionate about every issue, and very disturbed by what took place today. As a leader, people want me to be calm, measured and composed. I can assure the people that I will not blink; I will be there because I care deeply about all our welfare. This government will stand firm, listen to the people and do the right thing." The Premier stated that Mr Tweed's work permit application was rejected because the employer had not met the advertising requirements, and had failed to provide accurate and complete information as required of every applicant. He also told The Royal Gazette that the new work permit policy had been implemented after "broad consultation" with various stakeholders, including Mr Furbert. "All that we ask of any work permit applicant is to abide by those rules, and that is what the process in this particular case endeavored to make happen," Mr Dunkley said. "The lapses that led to this situation are unfortunate and disappointing because they have served no constructive purpose. What is even more disappointing is that there are some who are choosing to rally Bermudians to fight an immigration issue over a non-Bermudian and call for interruptions in the lives of Bermudians." Mr Dunkley also gave details on his meeting yesterday to discuss the issue with the presiding prelate of the First Episcopal District of the AME Church. Reporting on his "full and frank discussion" with the Right Reverend Gregory Ingram, he said: "The Bishop had questions about Bermuda immigration law and I answered those questions directly. The rules that support Bermuda's immigration policy are designed first and foremost to protect Bermudians in the workplace. They have been put in place to make sure every Bermudian gets every opportunity to secure employment that might otherwise go to a non-Bermudian. Protecting employment opportunities for Bermudians is one of the most important responsibilities of the Bermuda Government. When developments challenge these protections, as they have in this case, the Government must be resolute in the defence of Bermudian opportunity. The Government's position on the matter is therefore unchanged. The principle at stake is fundamental: one set of rules for everyone. We need that principle in place — and the level playing field it implies — to build a future that is open to all Bermudians to share in and prosper. I appreciated the opportunity to meet with Bishop Ingram and to hear his views on the matter. He is a great spiritual and community leader, whom I have got to know, respect and support in recent years. He leads a vibrant Church that plays a vital and positive role in the life of the island. I have faith that we can move forward from this situation for the better Bermuda we all want."
January 4. Grant Gibbons has expressed his shock at Chris Furbert's threat to derail the America's Cup over the work permit of the Reverend Nicholas Tweed. Referring to comments made yesterday by the Bermuda Industrial Union president, Dr Gibbons said a disruption of the event would jeopardize the island's reputation and economic recovery. Speaking at a press conference this afternoon, the Minister of Economic Development said: "The America's Cup should not be held hostage by a labour union president acting irresponsibly over an immigration issue. "The world is watching closely and any attempts to disturb this highly visible, international event would set our island back immeasurably and put all of our futures at risk." Dr Gibbons said the dispute over Mr Tweed's work permit was unrelated to labour, arguing that an attempt to undermine the America's Cup would threaten to put at risk the likelihood and job opportunities for Bermudians. "He threatens to disrupt the growing resurgence among small businesses owned and operated by fellow Bermudians, including those in the retail, hospitality, construction and marine sectors, which are finally seeing positive economic growth after a severe economic recession," Dr Gibbons said. "He is threatening to reverse Bermuda's recent upsurge in tourism, disrespecting the efforts of so many fellow Bermudians who are playing an important role in making that happen." Dr Gibbons said the island has already received a boost from the event through youth sailing and education programmes and investment in hotel projects, along with increased awareness of the island as a tourism and business destination. "Thousands of Bermudians and Bermuda taxpayers have invested time, money and energy to make the 2017 America's Cup an event we can all be proud of," he said. "Over 1,000 schoolchildren have benefited from youth sailing and education programs in our schools. Major overseas investors have taken note of Bermuda's progress and put their money into new hotel projects this island sorely needs. Bermuda has already benefited from extensive media coverage that has demonstrated the beauty and friendliness of our island home to people around the globe — people we hope to welcome one day as our visitors. We have received tremendous interest from sponsors who will utilise Bermuda's facilities and services. The AC teams have relocated to Bermuda with their families, renting our homes, attending our schools, and using our many services. With the help of hundreds of Bermudian workers, we are on schedule and on budget for the delivery of the America's Cup venue at Dockyard." He said he has already been in contact with representatives for the America's Cup about the comments by Mr Furbert, saying: "There was obviously some concern, but I think they will continue to work through this, and we hope to have a very successful event." Asked if there was any plan in place should there be a disruption of the America's Cup, Dr Gibbons said: "I'm hoping we can work through this issue, but obviously it would be important to think about contingency plans in the event that this continues to escalate."
January 4. An intense day of protests over the Reverend Nicholas Tweed's work permit culminated with Chris Furbert threatening to derail the America's Cup. The Bermuda Industrial Union president leveled an ultimatum yesterday at Michael Dunkley, the Premier, warning that he would jeopardize the showpiece event if the permit is not renewed, and that the island would face further labour withdrawals. The pair had met yesterday afternoon, after several hundred people had joined a People's Campaign march through Hamilton in support of Mr Tweed, the London-born pastor at St Paul AME Church. Speaking to the crowd at St Paul AME Centennial Hall at the end of the rally, Mr Furbert added that the airport redevelopment deal had formed part of his attempted bargain with Mr Dunkley. "The America's Cup is in great threat of being derailed in June and July. The America's Cup will be in jeopardy.. The membership is not going back to work until those two matters are resolved." The Premier rounded on Mr Furbert last night and vowed that the Bermuda Government would not be bullied. "We will not be bullied or threatened or intimidated," Mr Dunkley said. "If there are those who wish to impede our progress, they impede the progress of all Bermudians and we all suffer." Crowds had been energized at a People's Campaign meeting at noon, with Mr Tweed and Bermuda Public Services Union president Jason Hayward delivering rousing speeches and prompting members to march to the temporary home of Cabinet on Reid Street. Along with Mr Furbert, they repeated their allegation that home affairs minister Patricia Gordon-Pamplin had political motivation for upholding the decision to refuse a work permit for Mr Tweed, a prominent member of the People's Campaign. A defiant Mr Tweed told the audience: "God sent me here for such a time as this, that I might speak with power and authority." Mr Hayward said of Mr Tweed: "Some members of this country, while we love him, they hate him. While we trust him, they despise him. And while we follow him, they fear him. And that's the reason why they want him gone." Mr Furbert had opened the meeting by accusing Ms Gordon-Pamplin of perpetrating a fraud, telling the crowd: "Today, this is about truth and honesty." Announcing the work permit decision last Thursday, Ms Gordon-Pamplin said the pastor's application was turned down because it was incomplete and contained inaccuracies. St Paul AME Church broke its silence on that claim yesterday, suggesting that it was a standard renewal "and should have been handled as such"; Mr Dunkley maintained the employer had not met the advertising requirements, and had failed to provide accurate and complete information. Also yesterday, Mr Tweed attacked "cyber-rats" who have cast doubt over his paternal links to Bermudian pastor and activist Kingsley Tweed. Describing Dr Tweed as his father who had raised him for 50 of his 52 years, he said: "I can't remember who my birth father was." Buses were out of service throughout the day — although it appeared not all drivers supported the action [see separate story] — and could be out of action again today, with Mr Hayward saying protests would continue. The day began fairly quietly, with a meeting at BIU headquarters attracting about 80 people. Many members were said to have stayed away on the grounds that Mr Tweed's work permit is not a union matter, that he contributed to his own downfall by refusing to co-operate with the Department of Immigration over his application, and over the notion that politics should not be mixed with church. Mr Hayward noted his own members' lack of presence, telling the audience: "I can't drag the BPSU out. Unfortunately, my members do not operate in the same vein." But the People's Campaign meeting at noon was filled to capacity, with audience members loudly cheering remarks before embarking on their march. At one stage, Mr Tweed left the proceedings to collect the presiding prelate of the First Episcopal District of the AME Church, the Right Reverend Gregory Ingram, from the airport. Bishop Ingram later spoke at the Centennial Hall, calling for "calm heads to prevail" as they search for a resolution.
January 4. St Paul African Methodist Episcopal Church has accused Patricia Gordon Pamplin, the Minister of Home Affairs, of being "deliberately misleading" in her handling of the Reverend Nicholas Tweed's work permit. The Church, which had kept relatively silent on the matter since Ms Gordon-Pamplin confirmed last Thursday that Mr Tweed's appeal had been rejected, outlined in a multifaceted statement its belief that the minister responsible for immigration operated below expected standards. Ms Gordon-Pamplin said last week that the pastor's application had been turned down because it was incomplete and contained inaccuracies. However, she was not prepared to make further details public without permission from the AME Church or Mr Tweed. But the Church has now hit back, saying that Ms Gordon-Pamplin has wrongly focused her attention on an approved 2013 work permit and Mr Tweed's marriage to Phyllis Curtis-Tweed, the principal of the Berkeley Institute, while misrepresenting the exchange that led to a claim that the clergy failed to advertise for the position in keeping with immigration regulations that were upgraded in 2014. "Since the Minister of Home Affairs' statement of December 29, significant misinformation has been spread regarding the AME Church in Bermuda, St Paul AME Church and its pastor, Reverend Nicholas Genevieve-Tweed," the statement said. "Much of what has been said has been extremely personal. The minister's assertion that 'the application was incomplete' is deliberately misleading. Anyone who has ever dealt with the Department of Immigration knows that they do not accept incomplete forms or applications for anything. The application for Mr Tweed's work permit renewal submitted in July 2016 did have some boxes unchecked and a required signature missing. A very helpful clerk from the Department of Immigration contacted the Church to advise of this fact and the required pages were completed and returned via e-mail. The application was then submitted to the Board of Immigration for its consideration. They did, in fact, consider the application in September 2016. The minister's statement is deliberately misleading because in her December 2016 correspondence, she makes numerous references to the original 2013 application for a work permit for Reverend Tweed and asserts now in 2017, four years later, that the 2013 application was incomplete. Not only is this irrelevant, but it is also untrue. A work permit was approved and issued on the basis of the 2013 application — to revisit it now, four years later, is more than strange." Mr Tweed, the Church says, took legal advice on filling out his 2013 application, with the sticking point being his marital status. That status was changed in the 2016 application, leading to the Government's claims of "inconsistencies". The statement continued: " ... in accordance with that advice, having lived apart from his spouse for at least ten years and divorce proceedings having been instituted, Reverend Tweed was advised that he could answer 'N/A or none' to the question of his marital status or if he had a spouse. Additionally, it was not until some time later that Dr Curtis-Tweed also returned to Bermuda to take up the post as principal of the Berkeley Institute, she having been resident in the United States for many years. In 2016, with Dr Curtis-Tweed now living and working in Bermuda and having become aware of the minister's consistent queries related to his marital status, Reverend Tweed checked the box 'Living apart: spouse residing in Bermuda and separated due to marital matters'. It is this 'inconsistency' which the minister cites as the main reason for her refusal of the work permit." On the issue of advertising for the post, the Church is adamant that the Department of Immigration and Board of Immigration pushed through the rejection without taking into consideration the special conditions that it believes apply to appointing a new AME pastor. "When the Board considered the application in September, they communicated to the Church that in their view the post of pastor of St Paul should be advertised," the statement says. "Within days of that decision being communicated, the Church responded to the board inviting their reconsideration of the matter on the basis that there is no mechanism within the AME Church to advertise pastorates, receive résumés from applicants, conduct interviews, shortlist candidates and appoint a successful applicant. The doctrine and discipline of the AME Church vests appointments of pastors in the sole discretion of the presiding bishop of the relevant district. This is the process in 20 Districts that span the US, Canada, the UK, the Caribbean and now India. The board never responded to this communication nor did the department. The next move was the October 2016 'refusal by the minister' of the application to renew the work permit. That refusal was predicated on the purported 'refusal' of the Church to advertise. That, too, was and is untrue. As a result, when, after the public outcry, the minister agreed to reconsider the matter, the application that was before her was one to waive the requirement to advertise the position. It is important to note that this matter was apparently taken from the board and each decision at every stage has been made by the minister. It must raise an issue of natural justice for the minister to hear appeals of her own decisions." The statement added: "What the minister did not say in her statement of last Thursday is that she has refused the Church's application and request to waive the requirement to advertise. This is a critically important omission because it has allowed the public narrative to be that the Church has 'repeatedly refused' to advertise the position and by implication suggests that the policy doesn't contemplate circumstances where that requirement might be waived. The minister's suggestion that St Paul refuses to follow the rules is simply untrue. A waiver was requested. It has been refused." Finally, the Church noted that the late decision to apply for a work permit came as a result of Mr Tweed inquiring belatedly into his eligibility to apply for Bermuda status. Ms Gordon-Pamplin, who is off the island, contacted The Royal Gazette late last night to offer a brief statement. "I am incredulous at the assertions being put forward by the St Paul AME Church in their press release," she said. "These erroneous comments call into question the integrity of the technical officers in the Department of Immigration. In addition, I am confused that this statement has come from the trustees of St Paul AME Church, rather than from the employer of record in Bermuda, which is the presiding elder. A more fulsome response to the Church's 15 points will be forthcoming once we have had the chance to review the file."
January 4. The Reverend Nicholas Tweed unleashed a stinging verbal volley on "cyber-rats", whom he condemned yesterday for casting doubt over his paternal links to Bermudian pastor Kingsley Tweed. The St Paul AME Church pastor, whose work permit application was recently refused by Patricia Gordon-Pamplin, the Minister of Home Affairs, told the gathering that Kingsley Tweed had raised him for 50 of his 52 years, adding: "My daddy is who my daddy is. I didn't plan to say what I'm about to say, but I am not going to let nobody hold me hostage. And because of snakes that speak in the dark and try to run whispering campaigns, and think you can undermine what I stand for ... I am going to let you ask me questions about my business any time. I am 52 years old. I can't remember who my birth father was. But the father who raised me for 50 of those 52 years is Kingsley Tweed. "If he has claimed me as his son, then bring all the little pieces of paper [to discredit me]." Decrying those he branded as "cyber-rats", Mr Tweed said it "does not change the fact, my daddy is who my daddy is". Earlier in the day, The Royal Gazette approached Mr Tweed to ask him whether he had been legally adopted by Kingsley Tweed and was told: "No comment". The question was posed after the newspaper received a copy of Mr Tweed's birth certificate showing that Nicholas Damon Genevieve was born to Reginald Genevieve and Ann Graham in Camberwell, South London, on August 27, 1964. Sources told this paper that the decision to refuse Mr Tweed's work permit application had nothing to do with the birth certificate, but was more down to the failure of the Church to advertise the position. Only last week, Chris Furbert, the president of the Bermuda Industrial Union, described Mr Tweed as a "son of the soil". Mr Furbert said: "The Government has made it personal because they don't like the way the man speaks. He's seen as a threat. That's why they want him ostracized, like they ostracized his father over 60 years ago. Not going to happen." This was in reference to Kingsley Tweed, a former general secretary of the BIU. "We are not talking about someone who just dropped off a plane," Mr Furbert added. "We are talking about a son of the soil. His father's a son of the soil. He has family ties to Bermuda." Although a guest worker, Mr Tweed has close family links to Bermuda and his biography on the St Paul AME Church website describes it as his "ancestral homeland". In August 2014, he said: "My father [Kingsley Tweed] was one of the significant figures in desegregating the island and contributing to the expansion of the franchise. So I don't come to this island as a 'foreigner'. So it's a little different." Kingsley Tweed reportedly left Bermuda in 1961 and was said to have faced threats of reprisals for his activism. Mr Tweed is understood to no longer be married to his Bermudian wife, Phyllis Curtis-Tweed, principal of the Berkeley Institute, which is why he requires a work permit.
January 4. Opinion, by RG columnist Nathan Kowalski CPA, CA, CFA, CIM, Chief Financial Officer of Anchor Investment Management Ltd. "It's so strange. Everything can be going along just great, and then one day, whack, you're blindsided — a lousy, crammy blow you didn't see coming." - James Patterson One thing we have written about extensively is that a country or a company should not rely on tax or regulatory arbitrage as a key to its long-term sustainable advantage. A competitive edge or moat really results from only a handful of factors which revolve around doing something at a lower cost or doing something better. When the Republicans swept the government this November, we perceived little compelling threat to Bermuda and focused myopically on the Democrats' historic tendency to sponsor bills that attacked the island's reinsurance market; we were wrong. The fact is, Paul Ryan's "A Better Way: Our Vision for a Confident America" could become a huge risk for Bermuda and ultimately be the event that adversely effects the largest segment of our international business industry. Trump tax and "A Better Way." In general, Trump's tax policies on corporate tax are dramatic in scope and implications. Paul Ryan's tax plan is also very much in line with Trump's philosophy. Both Ryan and Trump are keen on reducing corporate tax. Ryan wants a 20 per cent top tax rate and Trump takes this even further by suggesting a 15 per cent rate. Both are also in favour of overseas repatriation at a lower rate — Ryan advocates taxing overseas profits at 8.75 per cent and Trump at 10 per cent. Ryan wants immediate tax write-offs for capital investment while Trump prefers a slower period of deductions. What all this means is that the Trump plan and the Ryan plan are nearly identical in ideology and only differ slightly on particulars. Therefore, it is not a stretch to assume that they get it done. With full control of the government, the Republicans now have the ability to enact sweeping changes. As a result, something is very likely to get done and passed in some form over the next year, which means the tax plans coming out of Washington need to be considered seriously and not taken lightly. This also means that any Ryan/Trump policies regarding international taxation and cross-border dealings are vital. This is where a huge issue for Bermuda surfaces. A key negative tax implication. On page 28 and 29 of the "Better Way" the following is written (bold is my emphasis): "For the first time ever, the United States will be able to counter the border adjustments that our trading partners apply in their VATs. The cash-flow based approach that will replace our current income-based approach for taxing both corporate and non-corporate businesses will be applied on a destination basis. This means that products, services and intangibles that are exported outside the United States will not be subject to US tax regardless of where they are produced. It also means that products, services and intangibles that are imported into the United States will be subject to US tax regardless of where they are produced. This will eliminate the incentives created by our current tax system to move or locate operations outside the United States. It also will allow US products, services, and intangibles to compete on a more equal footing in both the US market and the global market …. Under WTO rules, the United States has been precluded from applying the border adjustments to US exports and imports necessary to balance the treatment applied by our trading partners to their exports and imports. With this Blueprint's move towards a consumption-based tax approach, in the form of a cash-flow focused approach for taxing business income, the United States now has the opportunity to incorporate border adjustments in the new tax system consistent with the WTO rules regarding indirect taxes …Because this Blueprint adopts a destination-based approach for cross-border transactions that levels the playing field and eliminates the tax incentives for moving jobs and profits offshore in the first place, there no longer is a need for this web of archaic technical rules. Under the Blueprint, the bulk of the subpart F rules, which were designed to counter tax incentives to locate overseas, will be eliminated because there no longer will be any tax incentive to locate outside the United States. Businesses will be able to make location decisions based on the economic opportunities, not the tax consequences. So what exactly does this mean? Bermuda's largest export is reinsurance and its largest trading partner is the United States. If laws are passed to tax all imports of services and counter any tax advantage for companies importing services into the United States then the whole insurance industry is now witnessing a major geopolitical event. The risk, of course, is that the economics of offering reinsurance offshore becomes uneconomical once any US tax is levied to premiums or some form of deductibility is denied. Companies wanting to compete with onshore US firms will effectively need to move and domicile operations into the US to avoid taxes and/or penalties in order to compete on a more even footing. Ultimately, this could result in a huge shift of business becoming onshored and leaving Bermuda. If you are required to have a fully staffed office of underwriters and if management must be within the US to avoid reinsurance taxes on imported reinsurance, then you most likely will do so. The shuttering of the insurance industry in Bermuda would be similar to the collapse of the manufacturing industry within the US rust belt. The loss of jobs, government taxes and people would be devastating. Why it may not happen. One of the largest arguments against these border adjustments is the fact that it could end up costing American consumers more for their everyday goods. While these import duties would likely benefit the few Americans who compete in these industries by making their products more competitive with foreign competitors, the net result would be an increase in costs borne by American consumers. In essence the imposed tariff would get passed on to end users or consumers. This may be true but it is worth noting that the strengthening dollar could and may offset some of this cost on imports done in a foreign currency so this inflationary effect may not be so negative. The ultimate net equation is impossible to determine but the negative inflationary effects from cross-border taxing could somewhat be offset by a much strengthened dollar. This of course would not matter for Bermuda exports which are priced in dollars so there may be no natural offset for this escalating cost. As a result, it is more obvious that a lack of exemption on reinsurance imports could result in an unavoidable jump in insurance costs for Americans. A study by Dr. J. David Cummins of Wharton School along with the Brattle Group's Michael Cragg and Bin Zhou, even suggests "the price of insurance would increase by 2.1 -2.4 per cent, on average, or $11 billion to $13 billion more per year for the same coverage" if deductions for offshore affiliated reinsurance was denied. Right now there is no definitive tax plan or policy before Congress. The ultimate dire consequence of Ryan's and Trump's policies of putting America First may not evolve exactly as noted or with so much extremity. Regardless of your own personal feelings however, it would be very cavalier at this stage to simply dismiss this risk. The Republicans have carte blanche. If they ever really wanted to enact wide sweeping tax reform this is their time. It is also likely that they will move quickly on this. Bermuda's geopolitical risk ranking has just been elevated to code red. The threat of huge disruption to its largest industry and foundation of the entire economy is real and may result in a severely adverse scenario if the worst case unfolds."
January 4. Industrial strife and threats to disrupt the upcoming America's Cup will damage Bermuda's reputation worldwide, a business leader has warned. John Wight, president of the island's Chamber of Commerce, said: "In today's media world, everybody is able to view these disruptions. That is not good for Bermuda." Mr Wight spoke out after a day of disruption on Tuesday saw public transport grind to a halt and union leaders threaten to derail the sailing competition over the non-renewal of Reverend Nicholas Tweed's work permit as an AME pastor. Mr Wight said that 2016 had seen a turnaround in the island's ailing economy, with gross domestic product and tourism figures both showing an uptick. But he added: "Now 2017 is upon us and we are not out of the woods yet. Not by a long shot. Many of our businesses operate from week to week and they are vulnerable to any disruption. We can't underestimate the importance of stability to economic and financial success for all Bermudians. We want Bermudians and Bermudian businesses to have every chance to prosper. The current disruptions to public transit are affecting employees getting to work and children to schools. This impacts local businesses directly. We need stability, not just to maintain jobs but to create new jobs for Bermudians. We will have the eyes of the world upon us in May and June for the America's Cup. Let's not lose sight of the pride we will all have when we can showcase all that is special about Bermuda, our people, our friendly nature, the beauty of our island. The current dispute threatens all of this and fosters a sense of uncertainty. Differences of opinion will always occur, but the sake of Bermudian businesses and Bermudian jobs, we need to find a better way to solve problems and create solutions."
January 3. A Bermuda-based catastrophe bond has passed its attachment point with an impact of more than $195 million at the end of November, it was reported. The attachment point for the $200 million cat bond — the stage at which qualifying losses start to erode investors' principal — was set at $175 million, so if the losses are confirmed, investors would face a loss of at least $25 million of the principal on the deal. Specialist online magazine Artemis said that qualifying losses from severe thunderstorm peril, which includes tornado, hail and straight line winds from convective weather, rose throughout last year, which took the reported estimate of qualifying ultimate net losses dangerously close to the attachment point. Artemis added that sources had said that the loss tally for Gator Re, a special purpose vehicle set up by Florida-based American Strategic Insurance, had risen during last November. But the Artemis report no events had occurred in December that could add to the losses. The loss reports are initial estimates and subject calculation agent assessment and revision if needed. Most of the increase in the loss tally is said to be from events earlier this year, with around $7 million from events in November. The report added: "However, the fact that these reports show the deal has been triggered by such an amount would seem to suggest that investors must ready themselves for some erosion of capital and that not all of the principal will be returned at the end of the deal's term, which is the end of 2016." And it said that, as it was the aggregate Section B coverage that faced losses, only the amount that losses extend above the attachment point would be lost. But Artemis warned that other events in December could add result in further qualifying losses to the bond, so the final estimated loss report at the end of the coverage period could be higher. A partial repayment is set to be the end result for Gator Re and the cat bond was set to face an extension event at the end of last year, where the losses would be firmed up and reported back to investors. But Artemis cautioned that loss estimates could go down as well as up, so any loss of principal could fall as well as rise. The Gator Re cat bond was set up in 2014 and was expected to run for around two years and nine months to the end of last year. The bond was marketed with an initial size of $125 million, later increased to $200 million.
January 3. The transport minister last night said those calling for labour disruption over the rejection of a work permit for the Reverend Nicholas Tweed should be "ashamed of themselves". Senator Michael Fahy was speaking after a meeting called by the Bermuda Industrial Union was set to cause suspension of this morning's bus service from 8am on a day when many schools reopen after the holidays. He said the bus operators' action amounted to a "breach of employment contracts. I am profoundly disappointed that the Bus Drivers and Allied Workers Division of the Bermuda Industrial Union advised Public Transportation Board management that there would be no buses operating from 8am on Tuesday, January 3. No time for recommencement of service was given. This advisory does not fulfil the terms of the collective bargaining agreement in place and moreover the issues to be discussed do not relate to labour issues. Disruption of public transportation services is totally irresponsible, especially since many schools open on the very day of the meeting being called. The timing is obviously designed to cause maximum disruption. Taking unauthorised leave of absence is wrong and is a breach of employment contracts. The public expects more and is entitled to do so. Those calling for such disruption should be ashamed of themselves. I urge the union members to think about their public duty and reconsider their position to enable workers to get to work and students to get to school. I encourage members of the public to help your neighbour and car pool and for all other public service vehicles to be on the road to help service the public when they need it most."
January 3. Renaissance Reinsurance Ltd today has formed Fibonacci Reinsurance Ltd, a special purpose insurer domiciled in Bermuda. Fibonacci Re will provide collateralised capacity to Renaissance Reinsurance, the principal Bermuda-based reinsurance subsidiary of RenaissanceRe Holdings Fibonacci Re, which has raised $140m of capital from third party investors and RenaissanceRe Medici Fund Ltd, has issued participating notes which will be listed on the Bermuda Stock Exchange, an arrangement that enables Renaissance Reinsurance to support its clients with additional property catastrophe reinsurance capacity, the company said in a statement.
January 2. Cole Simons, the acting home affairs minister, issued a statement this afternoon on the Government's position over the non-renewal of a work permit for the Reverend Nicholas Tweed, pastor at St Paul African Methodist Episcopal Church. The decision to uphold the Department of Immigration's rejection of a permit renewal was branded "personal" on Friday by the Bermuda Industrial Union, and has been decried by the church itself and the activist group the People's Campaign. But the statement from Mr Simons said Bermudians discussing the issue should ask whether employers should advertise jobs seeking qualified Bermudians before hiring non-Bermudians, whether foreign nationals should provide "complete and accurate information on their work permit applications", and whether there should be "one set of rules for everyone". The statement continues: "If the answer to these questions is 'Yes' — and I can't imagine Bermudians answering any other way — then there is agreement with Immigration policies that have been developed to protect them and all other Bermudian workers. Yet there has been a lot said on this matter by the Opposition and the BIU leadership that would, if enacted, throw these protections out the window. So I take this opportunity to state as clearly as possible our position on this matter and what it means for the Bermudian worker. All that was asked of the employer and applicant was to follow the policy that applies to everyone else seeking work permit approval: Advertise the job and fill out the application on time, accurately and completely. The intent underlying these requirements is no different than what is expected of anyone who interacts with government departments. People fully understand, for example, that if they don't fill out a passport application accurately and completely, it will be rejected. The same goes for a business licence, a driver's licence or tax returns or any other paperwork related to government services. And most Bermudians will agree that it's in everyone's best interest to have one set of rules to make sure those services are provided fairly and equally to everyone, protecting every opportunity for Bermudians. Last year more than 50 work permit applications were rejected. If Government begins making exceptions in one case, then what's to prevent each one of those applicants expecting government to make an exception for them? In 2014, the Government set out to end the exceptions and unwritten rules that had undermined the administration of work permits. Consultations took the better part of a year and involved the Labour Advisory Council, including BIU president Chris Furbert, with no concerns raised in respect of pastors. The policy today is fair and transparent, with processes in place for all to follow. The 2014 reforms made it very clear that all work permit applicants had to advertise. There is a provision for a waiver of advertising if the applicant was, for example, a CEO or a manager of a hotel over a certain number of beds. There is no automatic waiver for any religious denomination on the Island. Pastoral positions have been regularly advertised since the policy came into effect and all denominations have complied. The fact is that in this case, as in every renewal case, the applicant was asked to meet two simple requirements: advertise the position and fill out the application form on time, accurately and completely. Neither of these requirements is complicated or time-consuming. While there are those who argue that these policies are treating one person unfairly, we are confident most Bermudians agree that these laws are in place to ensure that everyone is treated equally and fairly. As a Government we are committed to guaranteeing that the rights of Bermudian get the highest priority when it comes to each and every opportunity available in their homeland."
January 1. Kevin Santucci, Chaplain of the City of Hamilton, has urged people to end the blame game and adopt a positive attitude to help build a better Bermuda in 2017. The road doesn't have to be smooth to enjoy the ride, Mr Santucci said as he delivered an upbeat new year message that reflected on a difficult 12 months for the island's families, schools, churches and politics. He said positivity and a willingness to share the burden — and the pursuit of knowledge and wisdom instead of material goals — can give hope and encouragement to those who are suffering. And he called for Bermuda's leaders to take responsibility for the consequences of their decision-making, even if it means showing patience with progressive moves by waiting "until the people are able to see more clearly". Mr Santucci said in his message: "Numerous positive things that have taken place in Bermuda this past year, by all walks of life. However, one may question, 'Why is it that so many of us have chosen to become overwhelmed with the small things?' — or, as my teacher used to say, a spirit of negativity. A new year is upon us, my fellow Bermudians. If we are going to see better days in 2017, we need to learn how to put negativity behind us. We need to make up our minds now that we are not going to live in a negative way and instead make way for the positive only. In other words, let's stop pointing the finger at one another, and start to shoulder the burdens that plague our communities. In order for any one of us to go forward this year, we must first have a united vision." Mr Santucci said "thinking negatively" had led to problems in Bermuda over the past year. "Through negative thoughts, we have seen the manifestation of negative actions in the homes of many people in our communities: the school, the Church, in politics and even our personal lives. Luckily, the opposite is true. Positive thoughts have helped to build the underprivileged, have encouraged the discouraged, and have helped a great majority of people in our communities. Positivity has also been a means of comforting the families or those who have suffered loss through death, separation, homes and jobs. At times this past year, we have also seen the hustle and bustle in society where some have gone outside of the spirit of a true Bermudian in trying to get ahead by making more, getting more and being more. However, they have done it at the expense of another. I am reminded today that these types of successes do not amount to much if it comes at the expense of your soul, for not even all the money in the world can buy it back. In 2017, let your striving be to gain more knowledge and wisdom, rather than continually chasing material things." Referring to people who endured setbacks in 2016, Mr Santucci said: "I commend those of you who always seemed to keep a positive attitude, and have gone on to do great things in our communities. A job well done all of you. You are a reminder that the road doesn't have to be smooth to enjoy the ride. In fact, you have shown us that the more you enjoy the road you are on, whether good or bad, the smoother it will get. It doesn't work the other way around: if you're not enjoying the rocky road you're on now, it is only bound to get rockier. It is about learning how to enjoy every moment of your life and not waiting until things get better before you start enjoying it." Addressing the island's leaders, Mr Santucci said: "It is time for you to take responsibility for what you do and say. Let's face it, at times you will have to take risk to succeed, but this is not the song you need to sing every day. Sometimes you may have to pull back with wisdom and wait until the people are able to see more clearly before you make the next move for progress. Understand that this is for the good of the community or whatever area of leadership you are called to lead. One must strive always to be an example to all by doing good works of every kind. Let everything you do reflect the integrity and seriousness of your teaching."
January 1. Former Premier Alex Scott has urged the Bermuda Government to rethink its decision on the Reverend Nicholas Tweed work permit — pointing to parallels with the riots of 1977. Mr Scott, the Premier under the Progressive Labour Party from 2003 to 2006, said rising tensions mirror those identified by the Pitt Report, which he helped compile after the disturbances which rocked the island 40 years ago. He called for Michael Dunkley, the Premier, to open talks with the Bishop of the AME Church, who he understands will be in Bermuda soon, and for home affairs minister Patricia Gordon-Pamplin to use her discretionary powers to revisit the matter. Ms Gordon-Pamplin has said Mr Tweed's work permit renewal at St Paul AME Church was turned down because it was incomplete and contained inaccuracies. She has said she is unable to give further details without permission from the AME Church or Mr Tweed. St Paul AME Church has repeatedly refused to answer questions about its application, and it has not been possible to speak with Mr Tweed. The work permit refusal has led to a furious backlash from St Paul AME Church, as well as Bermuda Industrial Union president Chris Furbert, and the People's Campaign, of which Mr Tweed is a leading member. Mr Scott said in his statement: "I am moved to express publicly my deep concern at the recent decision of the Minister of Immigration and Home Affairs to not renew the work application of the Reverend Nicholas Tweed. Over the many years of my public service I have worn several hats; however, on this occasion my experience as a member of The Royal Commission Report Into The 1977 Disturbances motivates me to make the following observation, which I hope will assist those who are wrestling with this all important and controversial issue." Mr Scott noted the report identified Bermuda's dependence on imported labour, adding: "There are those in our current government who have suggested that we have once again entered such an economic construct and phase, where the increased importation of various skills is necessary. Thus, my rationale for sharing publicly my deep concern for a notable and distinguished pastor, with a Bermudian family and connections, to be shown the door when we are in the process of opening the door for others who have no connection to the island other than a work permit. My deep concern as a member of the Pitt Commission is that once again we have in place numerous similar social, economic and political parallels to the years immediately preceding the circumstances that led to riots of that era. While the events and circumstances may be too numerous to mention, at this time anyone who would take the time to read said report will quickly spot the warning signs recited within the pages of that document." The former Premier pointed to the unprecedented closing of the House of Assembly over immigration concerns, and the airport redevelopment demonstration last month that led to protesters being pepper-sprayed by police. "It is my information that the Bishop of the AME Church is either in Bermuda or planning to make his way to the island," he continued. "If this is not so, I humbly suggest that an invitation be extended, by the Premier, to this most important head of the AME congregation in Bermuda. Given my experience as a former Premier of the island, I do know that while the Minister of Home Affairs has cited the reasons for her decision in regard to Mr Tweed's work permit application, the minister does possess discretionary powers to revisit this matter and, in council with both the Premier and the Bishop of the AME Church, is positioned to resolve this matter to the satisfaction of all parties involved. Failing such a resolution to this apparent impasse, the immediate future for law and good order in these isles would appear to be following a path that we have traveled before — and should choose not to risk walking again."
January 1. The Bermuda Electric Light Company Ltd, Bermuda's sole supplier of electricity put into effect its new island-wide schedule of residential and commercial charges.
January 1. Bermudians came out in force to celebrate the end of 2016, and the start of a new year. In St George's, crowds enjoyed live entertainment before the traditional onion drop to see in 2017, followed by a spectacular fireworks display. Meanwhile, hundreds gathered on Court Street to enjoy the festive atmosphere and live music at the Uptown New Year's Eve Celebration. Along with the area shops, several vendors set up tents selling snacks and various trinkets. While performers took to the stage, children played on bouncy castles and glowing toys as midnight approached. Revellers celebrated midnight with cheers, before being greeted with the sound of Gombeys. Moments after midnight, Aria Stowe said that while she is nervous about the future of the island, she was happy to see so many families come out to celebrate the new year. "Family is what is important," she said. "Every day is a blessing from God, and we need to make sure we do everything that we can for these young people to make sure that 2017 is everything it can be." Kayla Saltus said that, for her, the event is as much a farewell to a challenging year as it is a welcoming of 2017. "This year has been difficult for a lot of people for a lot of reasons," she said. "There's the economy and everything else going on in the world. I think we're all just hoping that things will get better." Michael Roberts, meanwhile, remarked that it was good to see people coming out in high spirits for such an event. "Things are a little tense now, and this is probably a good chance for people to blow off a little steam," he said. "So far we have good music and good company. That's a good start.

History & daily newspaper reports

Authored, researched, compiled and website-managed by Keith A. Forbes.
Multi-national © 2020. All Rights Reserved