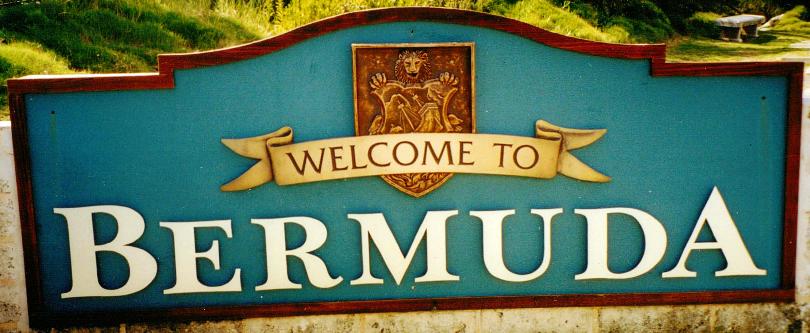 Click on graphic above to navigate the 165+ web files on this website, a regularly updated Gazetteer, an in-depth description of our island's internally self-governing British Overseas Territory 900 miles north of the Caribbean, 600 miles east of North Carolina, USA. With accommodation options, airlines, airport, actors, actresses, aviation, banks, beaches, Bermuda Dollar, Bermuda Government, Bermuda-incorporated businesses and companies including insurers and reinsurers, Bermudians, books and publications, bridges and causeway, charities, churches, citizenship by Status, City of Hamilton, commerce, communities, credit cards, cruise ships, cuisine, currency, disability accessibility, Devonshire Parish, districts, Dockyard, economy, education, employers, employment, environment, executorships, fauna, ferries, flora, former military bases, forts, gardens, geography, getting around, golf, guest houses, highways, history, historic properties, Hamilton, House of Assembly, housing, hotels, immigration, import duties, internet access, islands, laws, legal system and legislators, main roads, marriages, media, members of parliament, money, motor vehicles, municipalities, music and musicians, newcomers, newspaper, media, organizations, parks, parishes, Paget, Pembroke, performing artists, residents, pensions, political parties, postage stamps, public holidays, public transportation, railway trail, real estate, registries of aircraft and ships, religions, Royal Naval Dockyard, Sandys, senior citizens, Smith's, Somerset Village, Southampton, St. David's Island, St George's, Spanish Point, Spittal Pond, sports, taxes, telecommunications, time zone, traditions, tourism, Town of St. George, Tucker's Town, utilities, water sports, Warwick, weather, wildlife, work permits.

Bermuda's 2015 September History and News
Events that made the headlines in the ninth month of this calendar year
By Keith Archibald Forbes (see About Us)

See end of this file for all of our many History files
September 30. A hi-tech way to assess people's life insurance risk is set to revolutionize the industry, an expert predicted yesterday. And he said underwriting based on a selfie taken on a smart phone, coupled with a short questionnaire, would be more effective than current techniques for risk assessment. Professor S Jay Olshansky added that new techniques were faster and more accurate — and led to more realistic premiums, lower costs overall for clients and in turn a better bottom line for insurance firms. Prof Olshansky, professor of epidemiology at the University of Illinois, Chicago, said: "There are people in the field who now believe that we are three to five years away from developing techniques that will more accurately allow us to predict how long people will live and how healthy they will be. The technique is available today — and it alters the way insurance underwriting is likely to be carried out in the future." Prof Olshansky was speaking after he delivered a keynote address at the Bermuda International Long Term Insurers and Reinsurers Association (BILTIR) conference, held yesterday at the Fairmont Southampton. He explained: "Underwriting today generally takes anything from two weeks to a month — it's based on blood chemistry, answers to some basic questions and a basic evaluation based on birth date and gender. Much of the data currently being used to assess survival is not reliable. There are a number of questions — biodemographic — that are much more predictive about future health and longevity, cemented with facial analytics, a photograph of your face, that reveals behavioural risk factors and propensity for a long life which is revealed in the face. It's a cutting-edge technique which we think will revolutionize the entire life industry. It takes ten minutes against two to four weeks. It should dramatically reduce the cost of insurance because it can be done quickly and inexpensively with no blood chemistry. It will draw in new insurance clients, individuals who want and need insurance, but don't want invasive procedures which we argue are no longer needed. Young people in particular would find an online-based assessment more attractive and user friendly, which would lead to higher take-up rates. People can go online, answer questions, upload a photograph and be insured instantly instead of in weeks." Prof Olshansky also told nearly 200 delegates at the daylong conference that "major increases in life expectancy could not be expected any time soon. Science had taken a disease-specific approach to tackle the things that creep up on us as we get older. But an approach based on the science of ageing itself offered a better chance of people living longer lives. It's about the things that will have multiple effects on multiple diseases all at once. There are limits to how long we can live — but ageing science is improving rapidly and we are on the verge of a breakthrough." He explained that studies of centenarians and supercentenarians and their children offered the chance to identify genes that slowed the ageing process. And he said: "Researchers in that field are trying to find a way to give that advantage to the rest of the population. Another way is to test drugs and compounds which slow the biological effects of ageing. It would have a systemic effect on all disease at once." Andrew Smith, a leader of the insurance industry team at professional services firm E&Y, who led a discussion on the new European Solvency II regulations, with which Bermuda is currently seeking equivalence, and the "economic balance sheet" of Bermuda. He added that it was "looking very positive" that the European Commission and Parliament would grant Bermuda access to European markets on a level playing field with Europe-based businesses. The meeting ended with a top-level panel discussion of reinsurance CEOs, moderated by PwC managing director Colm Holman and featuring Patrick Kelleher of Weisshorn Re, Chip Gillis of Athene Life Re and Legal & General Reinsurance's Manfred Maske. Mr Kelleher said: "Over the next few years, a shift in demographics will see a growth in the demand for retirement products." And he added the retirement income slice of the life insurance market would increase in importance. Mr Gillis added he did not see opportunities for Bermuda businesses in the US falling away, while there was "tremendous opportunity" for growth in Europe and Asia. And he said: "These are three very substantial markets that can be served by Bermuda. The professional know-how in Bermuda will serve these markets very well."
September 30. Boaters are encouraged to come out in force and show the Island in its best light during next month's sailing races. The Louis Vuitton America's World Cup Series is taking place between October 16 and 18. The more boats and the bigger the spectacle the better, according to America's Cup chairman of water operations, Ralph Richardson, although he added that safety would be paramount. "The best place to view the racing will be outside Two Rock Passage, Hawkin's Island and Spanish Point. Spectators on the water will have the opportunity to line up along the edge of the racecourse but must not enter it under any circumstances. The area is to be patrolled by the Bermuda Police Service, the Royal Bermuda Regiment and marshal boats. All boaters are required to tune their marine radios to channel 72, which will broadcast announcements related to safety and other matters connected to the racing. Providing the winds are right there will be two great places to watch from — one is around the racecourse itself but then, for the second race each day, there will be a finish in Hamilton. The first race in the morning is going to finish just outside of Two Rock Passage, then the racecourse gets extended all the way into Hamilton, which means it is bound by the same rules as the racecourse itself, which is strictly going to be enforced. From Friday afternoon at noon, all of Hamilton Harbour inside Two Rock Passage is going to have a five-knot no-wake zone, meaning you have to travel slowly. It creates a little bit of an issue for those who want to see the finish in Hamilton in the afternoon — if they stay too long they won't be able to nip in. We recommend that after the first race, there is a brief period of 20 minutes when people can leave their position and make their way slowly into Hamilton." Registration is required to secure a spectator spot on the water and any craft smaller than 50 feet can do so for free. So far, 500 boats have registered and it is hoped if enough people come out then Bermuda could beat the 2,200 boats Portsmouth attracted during its races. Adam Barboza, the project manager for America's Cup Bermuda, said: "We want to make sure people have a great experience but also be safe. The America's Cup catamarans do 35 to 40 miles per hour and they are sailboats so there is no reverse — they can't just stop. The other key things beside the wake is that we want to encourage people to anchor outside of the racecourse area rather than try to follow them up and down the course. The best option is to find a spot and anchor. We want everyone to register so we have a handle of how many boats will turn up — we need to know how many course marshals we need. They are there to usher people into a spot and to ensure that one, they are safe, and two, that the racecourse is safe for the racers. There will be a simulcast broadcast of the coverage on FM radio through Bermuda Broadcasting so people can [listen] from home as well." Spectators on land can watch the races from the fan zone at number one car park, where there will be activities, big screen TVs, and onshore commentators. Mr Richardson said: "Very few people who come out that day will have seen anything like it before — the America's Cup has become an extreme sport that has broader interest even for those who have never sailed before." On the race days — October 17 and 18 — the first races start at 2pm and the second races at 2.55pm, for a 3.20pm finish. To register your boat, visit www.islandtourcentre.com. Spaces on vessels taking out members of the public can also be booked through the organization.
September 30. Nineteen public officers will retire from the Bermuda Government today, as part of the voluntary early retirement programme. The scheme, which was reintroduced in June for eligible persons in the public service, applies to Government employees aged between 55 and 64. Individuals must have attained the age of 55 by September 30, or must be members of the Police, Corrections or Fire Services who are entitled to receive a pension upon retirement from the public service on the grounds of age or years of service on September 30. The Cabinet Office introduced the voluntary early retirement scheme as a cost-saving measure in 2014 and the salary value of those departing on September 30 is $1.5 million. According to a Cabinet Office statement, the Government has realized a cumulative salary savings of $7.7 million dollars from the voluntary early retirement programme.
September 30. The Bermuda Government has received 62 public access to information requests and police have received 31 during the first six months of the law coming into force. Michael Dunkley revealed the figure for those entities directly controlled by the Government, saying the 62 requests were made to 28 public authorities. He did not reveal which ones. "It is clear from the numbers that some public authorities have received multiple requests while others have not yet had any," said the Premier in a statement to mark Monday's International Right to Know Day 2015. "Public Access to Information, or Pati, was enacted on April 1, 2015. We are now closing in on six months since that date and I am delighted that Bermudians and residents of Bermuda have taken advantage of their new-found right to request and receive records. Pati promotes openness and transparency and public authorities are working to ensure that the records and information they keep are made available to the public as a matter of course. Some records may be subject to one of the exemptions listed in the Act and thus cannot be released." He said precise numbers on requests made to all 222 public authorities which fall under the Act would be included in the information commissioner's annual report. "As the country's leader, I am proud that Bermuda has embraced Pati," said Mr Dunkley. "We have listened, we have heeded the demand to make Pati a reality and we continue to make amendments, as you will see during the upcoming parliamentary session, that are designed to make Pati operate even more efficiently in Bermuda." He said this week's activities to mark Right to Know Day provided a "meaningful platform to allow Bermudians and Bermuda residents to understand how they too can play a role in raising the level of accountability of this Government." Police commissioner Michael DeSilva said Bermuda Police Service had received 31 Pati requests so far, with 16 from members of the public, 13 from current or former staff and two from journalists. Information commissioner Gitanjali Gutierrez has received six appeals after Pati requests have been denied. Two were deemed to be premature and therefore invalid, one appeal was resolved and three are pending. Ms Gutierrez has been holding public sessions on Pati this week. The final one will take place this evening at Dalton E Tucker Primary School in Southampton at 7pm. She will also do a live online question and answer session with this newspaper at 10am tomorrow, when readers are invited to quiz her on Pati and transparency. If you have a question about Pati, email it to sstrangeways@royalgazette.com today and Ms Gutierrez will answer it tomorrow.
September 30. An office set up four years ago to strengthen financial accountability in government has only half the staff it needs, it has been revealed. And a suitable candidate to lead the Office of Project Management and Procurement (OPMP) has yet to be found, despite the job being advertised twice and having a salary of more than $100,000 a year. A statement released by the unit under new public access to information requirements shows that it should have eight employees but lacks a director and is understaffed. Asked about the situation, a government spokesman told The Royal Gazette: "There are eight positions in the Office of Project Management and Procurement, of which four are filled. They are the contracts and compliance manager, the senior project manager, the procurement manager and an administrative assistant. The position of director is currently vacant and has been advertised twice. We are looking for the right person who will work to ensure the OPMP fulfils its mission to provide oversight and guidance to public authorities and implement the soon-to-be released code of practice on procurement and project management. The contracts and compliance manager is acting as director while the position is being recruited." The spokesman said the director, once recruited, would assess the skills needed to "assist the department and the managers to perform their oversight and audit functions. As a result, the recruitment of the procurement operations analyst, the procurement systems officer and the contracts and compliance officer will be completed after a director has been appointed." The OPMP was created under former Premier Paula Cox under the Good Governance Act 2011 and falls within the remit of the Cabinet Office. Michael Dunkley told parliament earlier this year, in reference to the office being set up under the Progressive Labour Party, that Ms Cox "had to do something … because those guys on that side were pilfering." The Premier withdrew the word "pilfering" but questioned what had happened to "missing assets." The office's website says it "provides oversight and guidance to government departments and ministries regarding project management and procurement activities to ensure fairness, transparency and consistency in awards of contracts and adherence to applicable rules and industry best practices." The statement the OPMP released under Pati is a requirement of the new legislation, one which all public authorities must adhere to. Information commissioner Gitanjali Gutierrez urged those at a public meeting on Pati on Monday evening to visit her office's website and look at all 200-plus information statements. The statements provide details of the structure and organization of the authorities, as well as the legislation governing them, records held and policies used to make decisions.
September 30. As the Island starts a dialogue on same-sex marriage, campaigner Tony Brannon — whose petition initiated Bermuda's public discussions — said he would like the matter to be brought swiftly before Parliament for a decision. "I think there are people that are sympathetic to this in the Progressive Labour Party as well as the One Bermuda Alliance," Mr Brannon said. "If they were allowed a conscience vote, I think it could carry the day, rather than going through the expense of a referendum. We have elected people to make difficult decisions on our behalf." Even though a survey by the Department of Human Affairs shows about 60 per cent of Bermudians are against same-sex marriage, Mr Brannon believes change could happen as swiftly here as elsewhere. He pointed to the example of Ireland, an overwhelmingly Catholic nation where 62 per cent of the population voted in favour of same-sex marriage this year. Mr Brannon conceded that politicians would try to avoid issues if they felt it would affect their ability to be re-elected. Pointing to the changing stance on the issue by United States President Barack Obama, he said: "One local politician told me it was all very easy for Obama; he knew he could say what he wanted because by that point he couldn't be re-elected. I just think it's the right thing to do." The US offers another example of swift change: in the state of Massachusetts, the Supreme Court ruled in 2004 that a ban on same-sex marriage was unconstitutional. Others gradually followed suit: Connecticut in 2008; Vermont and Iowa in 2009; New Hampshire, 2010; New York, 2011, and Washington and Maine in 2012. In a 2013 ruling, the US Supreme Court found that the federal government had to recognise such unions in states where they were legal, and 28 more states opted to extend marriage rights. That right went nationwide earlier this year. The stances of other British jurisdictions were presented at the first information session this week. Gibraltar approved civil partnerships for both same-sex and opposite sex couples in 2014. Jersey approved civil partnerships for same-sex couples in 2012. Guernsey proposals to introduce same-sex civil partnerships are under consideration. In the Falkland Islands, same-sex unions not recognized. The same applies in Turks and Caicos Islands. The Cayman Islands constitution, like Bermuda, only recognizes marriages of opposite sex couples. British Virgin Islands have no legislation for same-sex couples, but constitution prohibits discrimination. Pitcairn Island approved same-sex marriages — but has no same-sex couples. A second information session is to be held tomorrow at the Bermuda College, which Mr Brannon plans to attend. He questioned whether a full 60 per cent of Bermudians opposed same-sex marriage, when polls carried out by the media such as The Royal Gazette got yes votes well in excess of the negative. The issue surfaced two years ago with the passage of the Human Rights Amendment Act 2013 which added sexual orientation discrimination to the list of prohibited grounds of discrimination. Even though same-sex marriage was not on the agenda, it was extensively debated in the House of Assembly — with some MPs noting that many Bermudian voters, particularly younger voters, had seemed unfazed by the issue. Asked if he believed Bermuda had come far since the emotionally fraught days of the 1994's Stubbs Bill, which drew widespread opposition although it merely struck down an antiquated law against sodomy, Mr Brannon said: "Bermuda has changed. When I was a little boy I saw the protests against discrimination in the movie theatres. I wasn't even aware that there was a separation, or that schools were segregated. When I was a kid, you would hear shock over interracial relationships. Now from what I see, especially in the younger generation, people go out with whoever they want to. They don't care." Audiences this week were told by Patricia Gordon-Pamplin, the Minister of Community, Culture and Sports, that the process to address Mr Brannon's petition "will not happen overnight; it may cause frustration — but it must be methodical". In response, Mr Brannon said he didn't want the issue to become "something that's going to sit around, with town-hall meetings for another two, three, four years". He maintained that approving same-sex marriage would substantially raise the Island's profile as a tourism destination at a time when visitor numbers were down. "What we need to do is do the right thing with human rights," he said.
September 30. Drones are carving out an increasingly wide variety of uses in the business world, from real estate and entertainment to architectural modeling and surveying, and even crime scene investigation. Bermuda Aerial Media was one of the first businesses on the Island to recognise the commercial potential of the technology, and it is now providing expertise and services to an expanding list of clients. "The number one use is aerial photography and video for real estate companies," said Conner Burns, who founded the company with EJ Burrows. Drones can provide impressive, high-quality photographs and video of properties from perspectives not otherwise available, and they are "one hundred times cheaper than hiring a helicopter". Filming outdoor concerts, is another commercial use for which drones have been deployed, while global organisations, including Apple and National Geographic, have used Bermuda Aerial Media's services to shoot promotional and programme footage. Landscape can be mapped in three dimensions by a drone, and be used as a tool for architects and surveyors, or even to help police with crime scene investigations. Further uses include search and rescue, as was demonstrated when Bermuda Aerial Media used a drone to assist in the search for missing visitor Bill Grange last year, and surveillance work above the Sargasso Sea. "The demand is growing. I would say it has doubled in the past year for media, including real estate use and entertainment," said Mr Burns. His company has a core of five part-time personnel. Mr Burns noted that drone technology is evolving very quickly, and this will likely lead to more commercial possibilities in the future. However, he said that because of Bermuda's limited market there is still a question about how much volume of business will be generated on the Island. Filmmaker Andrew Stevenson believes drones and unmanned aircraft present a huge scope of possibilities for aerial photography and other usages. He has captured breathtaking photographs of sunrises over the Island using an Inspire drone from DJI, and has demonstrated the potential of the technology to film water sports, including sailing events, with a super high definition 4K video camera. His speedy drone was able to keep pace with the Oracle USA America's Cup catamaran when he was permitted to film it during a training session. Mr Stevenson said: "You have this perspective where you are almost sitting on the shoulders of the sailors. "The potential for the use of the drones is huge. They are an incredible tool for capturing images, and at a lower altitude than would be possible with a helicopter." He has filmed J105s racing in the Great Sound. "You get a real perspective of a sailing race. From the air you are aware of this added dimension," he said. Mr Stevenson stated he only films organized activities if he is asked to do so, or if he has sought and received permission beforehand. Regarding commercial uses for drones, Mr Stevenson said he has done architectural-related work, such as photographing access routes to beaches along the south shore. He sees a raft of other commercial uses ranging from engineering to tourism. "The scope is unlimited. At the moment I'm interested in getting images of Bermuda and gaining experience in how to capture those images," he said. Mr Stevenson and Bermuda Aerial Media are among a handful of users licensed by the Bermuda Department of Civil Aviation to fly drones for commercial purposes in Bermuda. The Island was one of the first places in the world to issues guidelines and regulations regarding drone usage. Peter Adhemar, head of operations at the Department of Civil Aviation, said he recognized early on the potential of the technologies and the challenges it would bring, particularly to a small, densely populated jurisdiction. "There are some fantastic commercial uses for them, such as inspecting the top of a plane that has landed at the airport, or photographing power lines, oil pipes, fisheries regulation and police work, but they have to be controlled," he said. "The downside is that they could hit an aircraft or they could crash." There are also privacy rules and regulations. To gain a licence from the authority, a low-level pilot's medical and exam is required. Operators also need to have a stated minimum level of third-party insurance. "We want people to be insured, competent and have knowledge of the procedures," said Mr Adhemar. While there are many hobbyists on the Island using drones for personal use, there are only five operators approved to carry out commercial aerial work with the unmanned aircraft. Mr Adhemar said: "Those operators are good, and we would like to see them form an association to set rules."
Filmmaker Andrew Stevenson will present a lecture on drone technology and how it will change people's perspectives on the world, at the Bermuda Underwater Exploration Institute tomorrow. The lecture, entitled Below the Waves and Above the Clouds, will include never before seen aerial photographs and videos of Bermuda. The Department of Civil Aviation's Peter Adhemar will also be present to answer questions about drone technology and regulations. The lecture starts at 7.30pm. Tickets cost $25, or $20 for members, and are available from the BUEI gift shop, or by calling 294-0204.
September 30. A man shot dead in New York at the weekend held dual Bermudian and American nationality, police have confirmed. Lamont Mason, 20, was shot on Sunday afternoon at an East Harlem public housing complex. Mr Mason had been back in Bermuda this year, where he had faced a charge in Magistrates' Court of possessing counterfeit money. However, his lawyer, Michael Scott, said his client had been cleared of all charges at a later appearance in June. The shooting was reported by two online publications: New York Daily News and DNAInfo New York, which said that neighbors heard five shots. Reports say that paramedics found Mr Mason lying on the floor, face up, with several gunshot wounds. He was pronounced dead at Harlem Hospital Centre, police said. Surveillance footage shows him getting into a fight nearby earlier in the day, an NYPD spokesman said. Investigators believe the two altercations are linked. The three shooters fled and there were no immediate arrests, according to authorities.. The report on DNAInfo New York states: "On Monday morning friends and neighbors created a makeshift memorial to Mr Mason in front of the building he lived. Empty bottles, lit candles, and the bloodstained defibrillator package from the device used to try to save his life decorated the memorial." Yesterday the Bermuda Police Service confirmed Mr Mason was a Bermuda national, and said local authorities would liaise with police in the US.
September 30. A day of solid rain brought flooding to low-lying roads yesterday as a band of wet weather gradually moved away from the Island. Meanwhile, Hurricane Joaquin — which was this morning far to our southwest — showed the potential to build into a category two hurricane, although it is not at present ranked a threat to Bermuda. The system, close to the Bahamas, is predicted to head north later in the week, passing to the Island's west, but forecasts are complicated by other weather such as a cold front coming off the United States East Coast. Windy weather and occasionally heavy rains have affected Bermuda since Sunday, in part due to the interaction of the storm with a body of high pressure to the Island's north. Winds are expected to remain moderate to strong throughout today, with a small craft warning in effect and a few residual showers.
September 29. Shareholders in reinsurance firm PartnerRe will meet next month to vote on the planned takeover of the firm by Italian investment giant Exor. Voters will gather at PartnerRe's headquarters on Pitts Bay Road in Pembroke on Thursday, November 19 for the special general meeting. PartnerRe has filed a definitive proxy statement with the US Securities and Exchange Commission, which provides information about PartnerRe, the proposed merger and shareholders' instructions for voting. And the firm has advised shareholders to vote in favour of the merger and related transactions at the special meeting, which will start at 9am.
September 29. A Devonshire man has been banned from the roads for driving while more than four times over the legal blood-alcohol limit. Canute Mullings pleaded guilty to the offence, which took place in Pembroke on September 5, when he appeared in Magistrates' Court this morning. The court heard that the 37-year-old was stopped by police after he ran a red light on Court Street. Mullings appeared unsteady on his feet and when asked if he had been drinking, he replied that he "only had two drinks". He was taken to Hamilton Police Station where it was determined that he had 331 milligrams of alcohol in 100 millilitres of blood — the legal limit is 80mg. When asked by magistrate Khamisi Tokunbo what he had been drinking, Mullings replied that he'd had two Guinness beers. Mr Tokunbo handed Mullings a $1,200 fine and disqualified him from driving all vehicles for 18 months. In a separate matter, 45-year-old Shannon Harvey, of Sandys, was banned from the roads for a year for failing to provide a sample of breath for analysis. Harvey admitted the offence, which took place in Pembroke on Saturday, when he also appeared in court this morning. Prosecutor Cindy Clarke said Harvey was stopped by police at about 1.20am because the rear light on his motorcycle was not illuminated. Harvey appeared intoxicated and told the officers that he'd had two drinks. He was taken to Hamilton Police Station where he refused to provide a sample of breath for analysis. Mr Tokunbo handed Harvey an $800 fine and banned him from driving all vehicles for 12 months.
September 29. It promised to be a mini-business boom for street vendors, and next month's Louis Vuitton America's Cup World Series event is on track to deliver. Almost 60 official vendor licences have been issued to small and medium-sized business across the community. A selection of the enterprising Bermudian entrepreneurs who have secured official licensee status have spoken about what it means to be involved in one of the biggest sporting events to come to the Island. Michelle Weldon, owner of cupcake business Xquisite Treats, heard about the opportunity for local businesses to become involved in the America's Cup through the Bermuda Economic Development Corporation (BEDC). She has been baking cakes and making desserts as a side business for five years, and was enrolled in a BEDC course for budding entrepreneurs when she was made aware of the chance to get involved with the America's Cup as a vendor. "I filled out the application form and waited for the reply, and they came back and said I had been accepted," she said. The BEDC helped to spread the word about vendor opportunities linked to October's World Series event, along with other organisations including the Chamber of Commerce, and the America's Cup Event Authority. Erica Smith, BEDC's executive director, said: "Michelle is a great example of someone with passion who has followed through. She can launch her home baking business into something fully fledged. I'm sure people at the America's Cup will try her cakes and want to know where they come from and how they can get them." Ms Weldon said she is looking forward to the opportunity to be involved in the event, which takes place from October 16 to 18. Another food supplier to receive a vendor's licence is Dakia O'Brien, owner of Wild Wing Wednesday. Ms O'Brien operated Dae N' Night Catering before launching the fast food take-out Wild Wing Wednesday on Parsons Road, Pembroke, last November. She said many customers had told her she should get involved in the America's Cup. She attended one town hall meeting, where she discovered the organizers were encouraging local vendors to apply for a licence. "They wanted something different and unique, so we applied and were accepted. I think we are one of the smallest businesses involved. I did not think we would get it, as there is a lot of competition out there and we've only been going for less than a year. It is going to be a big jump." Wild Wing Wednesday has previously been assisted by the BEDC. Ms Smith said she believes the America's Cup will provide an opportunity for Ms O'Brien and her business to become known beyond Bermuda's shores. Ms O'Brien said: "It will definitely bring us exposure, and I see this as a chance to push ahead and show other young Bermudians what you can do if you apply yourself and follow the stepping stones." There was a similarly positive message from Miki Richardson-Caines and Carlita Burgess, who run LifeStyles Co Ltd. The business provides a wide range of services, including home and office decor, guest supplies and other "essentials for everyday living". After launching in December, the pair researched the America's Cup in order to prepare for the possibility of getting involved. They attended Bermuda Tourism Authority events and town hall meetings featuring the America's Cup organizers, and they accepted guidance from the BEDC. Those efforts paid off when LifeStyles was accepted as an official vendor. Ms Burgess said: "I think each of the vendors views this as an opportunity to see where we can go. It gives us a great opportunity to expand." While Ms Richardson-Caines said: "People coming to the America's Cup will want to know about Bermuda and Bermudians." She added that it was good for the Island to have vendors who are proud to live in Bermuda and be part of the America's Cup. "Who is better to showcase Bermuda than Bermudians?" she asked. A total of 59 vendor licences have been issued for the World Series event, along with about 50 service provider licences. There were between 90 and 95 completed applications for the vendor licences, coming from 500 initial enquiries. Looking ahead, the BEDC's Ms Smith said: "There are still opportunities that will present themselves in 2017, and I hope beyond that."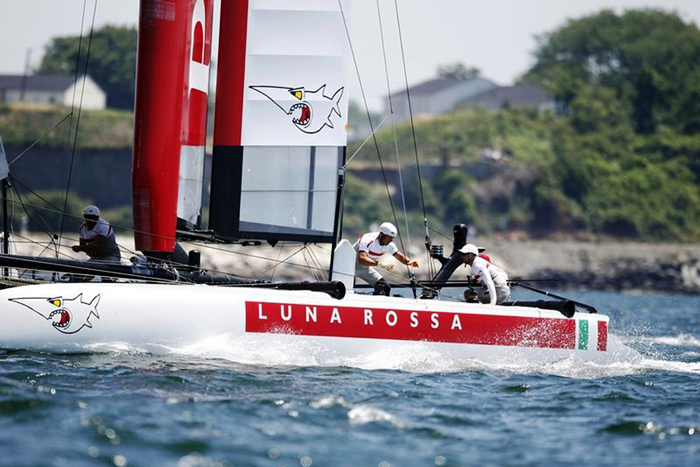 America's Cup excitement builds. Royal Gazette photo
September 29. Voices from either side of the deep divide over same-sex marriage exchanged views last night at an emotionally charged but civil opening debate on the issue. A crowd of more than 200 packed the Berkeley Institute's auditorium for a forum that community and culture minister Patricia Gordon-Pamplin praised as a dialogue that stayed respectful of opposing views. Asked when the Bermuda Government might reach a decision on the issue, however, the minister stressed that the gathering had been aimed at "starting a community dialogue. You can't have something this emotive, that's going to impact the entire community, and then turn on a dime and make that decision without very careful deliberation," she said. She dismissed a remark by visiting speaker Ayo Kimathi, who had replied to a mention of her name at a presentation over the weekend by saying public officials who "endorse homosexuality" were either deluded or pressured into it. "Some things you don't dignify with a response, and that was one of them," she told The Royal Gazette. Opponents and proponents appeared evenly divided, with those against objecting to same-sex marriage on largely religious grounds and many in favour of it passionately calling for their own right to marry. Calling herself "a taxpaying citizen of this country" and a unionist who had fought on the front line for workers' rights, Linda Mienzer of the Bermuda Public Services Union added that she was a law-abiding good Christian. "I have done all that has been asked of me — now I am asking something of you. I want to get married in front of my people, my family, my friends, in a place where I have been raised. I don't want to leave my country to get married." Bringing cheering supporters to their feet, she said she had suppressed "who I am" for 25 years. "As a unionist I respect the rights of others," Ms Mienzer said. "If you don't want to open up your church to me, then I will get married on the street. It's the right thing to do." The night's first speaker from the audience said she opposed same-sex marriage because it would decrease Bermuda's population and cut down on revenues such as social insurance. Another took issue with the ministry's surveys, which showed about 60 per cent against and 40 per cent in favour, said the 407 polled could not speak for a population of more than 50,000. Calling herself a citizen and pastor, she told the room that she could not understand the rush and push to carry out what she believed was against the predominant will of the people. A man said God had created marriage for a man and a woman, but "he never said 'I made it man for man'," and others emphasized that they did not hate homosexual people, but merely the sin itself. "Jesus loves us too much to keep us the way we are," one man said. However, others spoke back calling for tolerance based on religion. Calling himself a person of faith, one man said he believed in marriage equality, pointing out that Bermuda was a plural society. Others questioned the biblical basis for opposing same-sex marriage, when the prohibitions of Leviticus — such as not eating shellfish — were not followed through, or the strict opposition to divorce espoused by Christ. Responding to concerns about churches being forced to sanctify same-sex marriages, one man told the gathering: "This is about giving people the right to marry in places they are welcome. It's not about forcing people into your churches." Describing himself as "saved", another said: "That choice means nothing if you could not choose the other way. Forcing people to live by what the Bible says — it kind of makes our choices less valuable." Many of the most emotional two-minute submissions came from people who said they wished to marry their partners, and were being prevented by the illegality of such unions under the Island's law. Supporters of Bermuda's movement to legalize same-sex marriage have taken heart this year from two significant world events. In June, a landmark ruling by the United States Supreme Court legalized same-sex marriages, while a referendum approved in May by Irish voters struck off the inclusion of a party's sex from the constitutional definition of marriage. Bowing to the wishes of local campaigners who presented the Bermuda Government with a petition in May, Ms Gordon-Pamplin organized this week's information sessions to be held on the issue. The petition, shepherded by local entertainer Tony Brannon, ultimately got 2,500 supporters. Last night's forum brought out many members of the Rainbow Alliance, prominent in its campaign to have same-sex unions recognized. While pleased at the courtesy shown, member Shari-Lynn Pringle expressed regret at the us against them situation that had evolved along religious lines, and that it made same-sex proponents appear as if they were against religion. It's unfortunate, and I find that very disheartening, because of its implication that LGBTQ people do not have a personal relationship with God, are not entitled to one, and if you do have one it's somehow looked down upon. The main battle is trying to convince religious folks that while we want to get married, understand that we are not going to force you to marry us in your church." The next forum is at 6pm on Thursday at Bermuda College's North Hall. The ministry is taking submissions from the public until October 30 at the email address mccssubmissions@gov.bm.
September 29. United Airlines will reinstate its winter schedule between Newark and Bermuda, the Ministry of Tourism Development and Transport announced yesterday. In 2014, the airline chose not to fly to Bermuda during the slower season, opting instead to use its aircraft in markets that were in peak season demand. However, in a welcome show of confidence, it has announced it will provide a non-stop service to Newark throughout the winter, beginning November 20. The airline will operate three flights per week: Monday, Wednesday and Friday. The flight departs Newark at 11.38am and arrives in Bermuda at 2.52pm. The return departs Bermuda at 3.50pm and arrives in Newark at 5.25pm. Shawn Crockwell, the Minister for Tourism Development and Transport, welcomed the move. He said in a statement: "Having obtained feedback from the international business and tourism sectors, it was determined that convincing United to return to Bermuda this winter was essential and that having flights on Mondays and Fridays was especially important to the international business community and it ensures continued employment for local United employees." Aaron Adderley, general manager of the LF Wade International Airport, added: "Feedback from the tourism and business sectors was key in determining the importance of having the United service reinstated for the winter. Airlines have been making winter scheduling adjustments for their Bermuda routes over the past few years in response to passenger numbers. That's why it's important that this flight and all of our winter services, improve year over year to ensure that we maintain our desired level of flight services year round."
September 29. Organisations associated with promoting Ayo Kimathi's speech condemning homosexuals and interracial marriage have distanced themselves from the Washington speaker — saying they believed the presentation would be about African history. The speech by Mr Kimathi had been billed as an educational lecture on African history and was organized by Bermudian David Tucker who has brought other speakers to the Island to talk on black history. Professor James Small outlined a version of black history and Mr Kimathi covered the black empowerment movement and slavery, before changing the subject to cover "an African agenda" including homosexuality and interracial marriage. Three of the outlets listed on the flyer as selling the $30 tickets for the event — People's Pharmacy, the Metaphysical Bookstore and Platinum Entertainment — say they were unaware of the full content of speech. The fourth, It's Only Natural, could not be contacted by press time. A People's Pharmacy spokeswoman said: "As one of the ticket sellers for the 'African History Comes Alive' speech that took place on Saturday, we were shocked to hear that the presentation condemned homosexuals and interracial marriage. "When we agreed with the promoter David Tucker to sell the tickets as a community service, without commission, we were advised that the speech would be about slavery. In no way do we support the content of the speech and we are very disappointed to hear that such a speech was delivered here in Bermuda. We believe that everyone should have the right to live in a community without hatred regardless of their race, age, marital status or sexual orientation. We would like to apologize to anyone who was offended by us selling tickets for an event for which we were unaware of the full content. We will use this as a learning experience going forward." A spokesman for Platinum Entertainment said: "I thought the talk was supposed to be about African history. If I had known what it was about I wouldn't have agreed to sell the tickets. He brought some people to talk about black history in April and he said this was part two." A spokesman from the Metaphysical Bookstore said he would reserve judgment on the matter until he saw, first-hand, a video or recording of the event. Liberty Theatre came under fire for hosting the event but co-owner Brian Durham says he had no idea of the content of the talk when he agreed to allow them to use the space. Mr Durham said: "We had no idea of the content of this speech. We deeply regret that they upset people. We definitely do not believe in the beliefs that were expressed during the talk regarding homosexuality or interracial marriage." The event was promoted on the Sherri J show with an interview with Mr Small who did deliver a speech about African history during the first half of the event. The show's host Sherri Simmons could not be contacted for comment with regards to the speech by Mr Kimathi. The Island's race relations group Citizens Uprooting Racism in Bermuda posted a flyer for the event on its Facebook page before learning about the full content of the talk. The organization's president Mark Nash "promptly removed" the poster after reading Mr Kimathi's comments in The Royal Gazette. Equal rights organization the Rainbow Alliance of Bermuda, which was not involved in promoting the event, has also condemned the speaker who has since been placed on the Island's stop list. A spokeswoman said: "The Rainbow Alliance of Bermuda strongly condemns the hate speech promoted by Ayo Kimathi at the 'African History and Culture Come Alive' event. Gambia president Yahya Jammeh has been cited as a human rights abuser by Amnesty International, among other human rights organisations. Allegedly playing a video of this man suggesting that members of the LGBTQ community should be subject to the death penalty is equivalent to inciting violence within Bermuda's community. Mr Kimathi's suggestions that homosexuality is a 'white sex' crime introduced to Africa by European colonizers is historically inaccurate. There is documentation of normalized homosexuality in Congo, Madagascar, Ethiopia, Pangwe (present-day Cameroon and Gabon), Ghana, Sudan, South Africa, Egypt, Benin, Nigeria, Kenya, Zimbabwe, among other countries. What the European colonizers did import to Africa is homophobia and hateful attitudes towards natural sexual orientations. The Rainbow Alliance of Bermuda has gathered a variety of information on the topic of homosexuality in pre-colonial Africa and will list articles and books for further reading for anyone interested on their website."
September 29. Washington speaker Ayo Kimathi has been placed on Bermuda's stop list by the Minister of Home Affairs in light of a speech he gave condemning homosexuality and interracial marriage. The Human Rights Commission and Centre for Justice have also responded strongly to Mr Kimathi's verbal attack on Saturday, which has been labeled "hate speech" by community minister Patricia Gordon-Pamplin. The presentation, organized by Bermudian David Tucker, was billed as an educational speech about African history — but the subject veered off to include claims that homosexuality originated from white Europeans along with other forms of "sexual deviance" including child molestation, bestiality, rape and interracial marriage. Yesterday afternoon, senator Michael Fahy stated that Mr Kimathi had conducted himself undesirably, adding that his comments were "entirely offensive and propagate hatred and messages of intolerance and discrimination". Sen Fahy said that Mr Kimathi, a US national also known as the "Irritated Genie", had also been selling promotional material outside the scope of permission for his visit. The Human Rights Commission said it has received formal complaints about the speech and is investigating the matter. The Centre for Justice encouraged anyone who was offended by the content of the speech to take the issue up with the relevant organisations including the Bermuda Police Service. Sen Fahy stated: "I have received credible information from persons in attendance at the event on Saturday and also reviewed in great detail the articles written by The Royal Gazette about Mr Kimathi's speech, as well as those written by overseas publications on Mr Kimathi himself. As a result of our enquiries I am of the view that his comments are highly offensive and that he is not the kind of person we want to visit Bermuda. By way of background, the Department of Immigration, which comes under my remit, received an application on September 2, for a letter of permission from Zentech ICT's Mr David Tucker. The application was in accordance with the current work permit policies and therefore was approved administratively by the Department. I should add that Mr Tucker made two previous applications in March 2015 for two other speakers and these too were approved administratively. Neither of those speakers raised any concerns to the Department. As such, there was no concern regarding the application made for Mr Kimathi. The application for Mr Kimathi was solely for the purpose of speaking in relation to the event as advertised, called: 'African History and Culture Come Alive'. It is very clear, therefore, based on the title of the proposed lecture, that Mr Kimathi ventured far off the subject matter published. In addition, based on information received, I understand that he undertook the selling of promotional materials at the event which was outside of the scope of the permission relating to his visit to Bermuda. The Bermuda Immigration and Protection Act 1956, Section 31(5) gives the minister responsible for Immigration the power to consider matters relating to any person who, not being a person who possesses Bermudian status, is outside of Bermuda and who has, while in Bermuda, conducted himself in a manner that is undesirable, to be entered on the Bermuda stop list. Immigration's records show that Mr Kimathi's visit to Bermuda was for the period September 24 to 28. In my view, he conducted himself in an undesirable manner and should not be permitted to land in Bermuda in the future. It is absolutely obvious that his comments made in relation to homosexuality and interracial partnerships among other topics that do not bear repeating are entirely offensive and propagate hatred and messages of intolerance and discrimination. His comments are offensive and he did not have permission to sell the materials that he did. I have therefore taken the decision to add Mr Kimathi to the Bermuda stop list effective immediately. The above decision is being applied to Mr Kimathi only. In other words, Mr James Small, who also spoke on Saturday, will not be added to the Bermuda stop list." On his website, War On The Horizon, Mr Kimathi has also endorsed the killing of whites and "black traitors." The Human Rights Commission said it is to investigate whether there was any breach of the Human Rights Act which states: "No person shall, with intent to incite or promote ill will or hostility against any section of the public distinguished by colour, race or ethnic or national origins, use in any public place or any public meeting words which are threatening, abusive or insulting." It is also a criminal offence under section 11 of the Summary Offences Act 1926 to use "any threatening, abusive, insulting or offence words, gestures or behaviors" in a public place. Chairman of the HRC Michael Hanson stated: "The HRC has been made aware of comments that took place during an event at Liberty Theatre on Saturday. The Commission has already received formal complaints related to the event. These formal complaints will now be dealt with in line with the Commission's powers to investigate and rule on any potential breaches of the Human Rights Act 1981. The Commission must be cognizant of not prejudicing the outcome of any investigation and potential Tribunal Hearing into these matters. As these issues are now the subject of a formal inquiry the Commission will not be making any further comment in respect of this specific event at this time. The public is urged to review the Act in detail and to make any requisite queries and complaints to the Commission if they feel their rights have been breached. The public is also welcome and encouraged to call or visit the Commission's office, located in the Mechanics Building on 12 Church Street, to learn more about the Act and the function of the Commission. In particular, as set out in the preamble of the Act, our duty to recognise and uphold the inherent dignity, and the equal and inalienable rights of all members of the human family." Venous Memari, managing director for the Centre for Justice, condemned the speech as "offensive and inflammatory." She said anyone who was offended could seek redress through the Human Rights Commission and the Bermuda Police Service. "We encourage anyone who was affected by what Mr Kimathi said to contact the Human Rights Commission and the Police Service," stated Ms Memari. "We also remind everyone that the right to freedom of expression protected under the Bermuda Constitution is not an absolute right and should not be used as a shield or sword to promote ill will and incitement." Organizer of the event and applicant of the work visa Mr Tucker could not be contacted by this newspaper yesterday. He has previously told us he was aiming to "illuminate people's minds". It is understood that Mr Kamathi has left the Island. Progressive Labour Party leader Marc Bean refused to comment when contacted by The Royal Gazette yesterday.
September 29. Public authorities will be encouraged to take a very "user-friendly" approach when it comes to public access to information (PATI) requests, a meeting heard last night. Information commissioner Gitanjali Gutierrez said some authorities were insisting that those applying for records under the new legislation do so in person, with proof of their Bermudian status or residency on the Island. "That's not within the language of the Act," she told a dozen people who attended a session on how to exercise their rights under the Public Access to Information Act. The commissioner said her office would be issuing guidance to all the public bodies which fall under the law — including government ministries and departments, statutory boards, parish councils and quangos — on "being user-friendly." She said one authority tried to restrict the day and time that PATI requests could be made, while others would not accept requests if their information officer was on vacation. "It's an ongoing issue," she said, adding that if a requester was encountering difficulties in applying for the disclosure of records under the Act, an appeal could be made to her office. The law came into effect six months ago and requires only that those asking for the release of records do so in writing. So far, 28 public authorities directly under the control of the Bermuda Government have logged a total of 62 requests. Anyone can make such a request to any of the 200-plus public authorities listed on the commissioner's website, but only Bermudians and residents have the right to appeal if their application is refused. Ms Gutierrez noted that public authorities will hold records for non-Bermudians who no longer live here. "Best practice would give them access to those records," she said. In a presentation to those gathered at the Cathedral Hall in Hamilton, including Opposition MP Walton Brown, the commissioner encouraged the public to consider how Pati could work for them. She said scandals that had emerged in other countries due to freedom of information requests — such as MPs' expenses in Britain or the Tempura case in Cayman — were "enormous, significant, dramatic" examples of how Pati could make an impact. Just as important, she said, were the requests that could be submitted by "everyday citizens" concerned about issues like education, the environment and public spending. "When you hear a statement by a public authority, ask yourself are you just getting conclusions. Ask yourself what are those conclusions based on and then ask yourself can you test it. Ask yourself, can you test that statement and what information do you need in order to be able to test it." Michael Dunkley said in a statement yesterday he was proud that Bermuda had embraced PATI. "We have listened, we have heeded the demand to make PATI a reality and we continue to make amendments, as you will see during the upcoming parliamentary session, that are designed to make PATI operate even more efficiently in Bermuda," said the Premier. Another PATI session will be held this evening in the Upstairs Theatre of the World Heritage Centre in St George's at 6.30pm and there will be one at Dalton E Tucker Primary School in Southampton at 7pm tomorrow. Ms Gutierrez will also do a live online question and answer session with this newspaper at 10am on Thursday, when readers are invited to quiz her on Pati and transparency.
September 28. Mark Pettingill, former Attorney General, would strongly oppose giving the parents of victims of sexual offences the right to waive the anonymity of their children. The One Bermuda Alliance MP spoke out after Sheelagh Cooper, founder of the Coalition for the Protection of Children, called for the law to be amended so that victims of sexual offences, or their families, could decide whether a convicted offender's name was made public. However, Mr Pettingill, the chairman of the joint select committee investigating how the Island deals with sex offenders, was more amenable to the idea of victims waiving their anonymity once they became adults. "One has to be really careful — with all respect to Sheelagh, who does great work — with giving a parent the right to waive the anonymity of their child," Mr Pettingill said. "That to my mind is a protection. I would be strongly opposed to that approach. Let's say that was a 12-year-old, what that child could be subject to at school because their name gets out. That, to my mind, strikes me as a greater protection than allowing for the release of the child's name on that one. That person, when they are an adult and want to come along and say, 'I was sexually abused as a 12-year-old', sure that's their right to do that and they want to tell their story. It's a little bit of a different game to the 11-year-old that's got to go to primary school and all the kids know." Mr Pettingill agreed with Ms Cooper that there was no provision in the law that granted victims the right to waive their anonymity. " However, this would be a sensible something to look at as long as it comes from the victim, once they are of age. It takes a hell of a lot of courage to stand up and say I was sexually abused. People carry those secrets for years and it destroys their lives. Every day it destroys their lives, they never get by it and it causes them to turn to drink or drugs, or have family problems, or heaven forbid become offenders themselves. It's a very precarious path to walk on how you deal with all these things. We have to look at it objectively with regards to protection. We have to look at it subjectively with regard to the victims and their families." According to Ms Cooper, the legislation prevents the naming of a convicted sexual offender if that would lead to the identification of the victim. "We are suggesting to amend the legislation to give victims or the victims' families that option. I realize that the stated purpose of the prohibition is the protection of the victim's identity but we make the point that the law should be amended to allow the victim or the victim's parents to decide whether the convicted person's name is published." Ms Cooper's call came after a former police officer was jailed for 15 years for the sexual exploitation of his daughter and incest but the media could not report his name for legal reasons. "Because of the laws that prevent the media from naming the convicted offender we, the public, will never know who it is that we need to protect our children from," she said at the time. At the sentencing of the former officer, Puisne Judge Carlisle Greaves also suggested that Parliament should consider revisiting the Island's sexual offences laws to bring the maximum penalties for incest and certain other sexual offences in line with those for sexual exploitation. Mr Justice Greaves noted that the maximum sentence for the sexual exploitation offence was far greater than the maximum sentence for incest, which he described as "inadequate in this jurisdiction". Mr Pettingill said he "absolutely" agreed with Mr Justice Greaves's recommendation, adding: "That's what you need to hear from judges, that they are making a comment on the law they sit and deal with it every day. We as legislators have to have our ears open and say, 'Hey, this is what the judiciary is saying, this is what we need to do' Same thing with the prosecutors, we need to listen. Same thing with the defence attorneys, we need to listen — there have to be balances."
September 28. Revealed under the Public Access to Information (Pati) Act.
Bermuda Police Service has conducted more than 70 internal investigations in the past five years, with six officers being thrown off the force. The results of a Pati request submitted by The Royal Gazette lifted the lid on sanctions imposed on officers for misdemeanors on the job since 2009. We reported in August that of the 74 complaints investigated since the start of 2009, about a third were closed because of a lack of evidence or time issues, while there were still nine active investigations. Sanctions imposed on officers ranged from verbal warnings to severe reprimands and immediate discharges.
Bermuda Sport Anti-Doping Authority has carried out more than 1,500 tests under its illicit drugs programme since January 1, 2013. According to BSADA there have been just four positive results, all for marijuana, out of the 1,706 that it performed. In response to a Pati request from The Royal Gazette, BSADA revealed that it also carried out 169 tests for performance-enhancing drugs in the same period, with no adverse analytical findings.
Bermuda's sports organisations are having to find new ways to fill large gaps in their funding after some of their budgets were slashed by more than 80 per cent or cut altogether. Figures released in August after a Pati request from this newspaper showed that sports such as squash and basketball had their funding slashed by nearly 90 per cent compared to last year, while the associations governing athletics, swimming, tennis, gymnastics and equestrianism all lost more than 50 per cent. Table tennis, rowing, volleyball, badminton and golf, all received nothing for the 2015/16 financial year.
The number of public complaints against police officers reached a six-year low in 2014. A total of 23 external complaints against officers from the Bermuda Police Service was received by the Police Complaints Authority, according to documents provided to this newspaper under Pati. The figure is the lowest since 2008, when 22 complaints were made by the public against officers.
The Bermuda Government may not have conducted a full environmental impact report, noise impact study, visual impact study or financial analysis of a decision to build a new Parks department maintenance yard in the heart of the Botanical Gardens. The campaign group Take Back Our Park requested the information under Pati but revealed in April it was told "none of the information" existed in files held by the Department of Planning. The Department also could not provide any evidence that alternative sites had been considered for the development, which environmentalists claim would be an eyesore and increase traffic in the area.
September 28. Journalists have been making good use of the Public Access to Information (Pati) Act since it became law on April 1 — but not every request for disclosure has been successful. Here, we detail several failed bids to find out more.
Residents at Summerhaven have complained to The Royal Gazette about alleged bad management at the publicly-funded residential home for the physically challenged. On July 14, we requested a copy of a report on a 2010 investigation into governance there. The Ministry of Health asked for extra time to consider whether to release it but ultimately rejected the request on September 4, citing as reasons that the document contained information received in confidence, as well as personal information. The response said to release it would "undermine the deliberative process of the public authorities" and emphasized that it contained a "key document for current investigations". This newspaper has six weeks from September 4 to ask for an internal review of the decision and, if that failed, we could appeal to the Information Commissioner.
The controversial reappointment by the Governor of non-Bermudian Rory Field as the Director of Public Prosecutions, instead of his Bermudian deputy Cindy Clarke, sparked many complaints earlier this year. The decision was unpopular enough within the legal profession to prompt a walkout by a group of lawyers at a special sitting of the Supreme Court to mark the start of the legal year. This newspaper made a request under Pati in June for all information and documentation on why Ms Clarke was not appointed DPP after being recommended as first choice by the selection panel. We were told by Deputy Governor Ginny Ferson the following month that the request was rejected because the paperwork included personal details and information received in confidence, both of which were exempt under the legislation.
Salaries and bonuses at Bermuda Tourism Authority have been a hot topic in recent months and, in July, ZBM News asked the Ministry of Tourism to name all staff who have picked up bonuses and reveal how much they received. The Ministry refused, with its information officer stating in August that a public interest test had been applied, as per the law, but the conclusion was that disclosure would not promote greater public understanding of the process or decisions of BTA or promote accountability for the public expenditure or the more effective use of public funds. The officer wrote: "We believe there has been more than sufficient public disclosure on this subject matter, certainly more so than on any other publicly funded organization." The news channel asked for an internal review but the original decision was upheld by BTA chairman David Dodwell. ZBM can now choose whether to appeal to the Information Commissioner.
September 28. Highly paid consultants working for the Bermuda Government and other public authorities will have details of their salaries routinely revealed under the Public Access to Information (Pati) Act. Taxpayers will be told on a regular basis about every contract worth $50,000 or more, including those with individuals, entered into by the Island's 200-plus public bodies. Information Commissioner Gitanjali Gutierrez said authorities will need to release the information at least annually, meaning that by April 1, when Pati has been in force for a year, details of every such contract should be public knowledge. The legal requirement, which the commissioner has the power to enforce, will ensure publicly-funded bodies cannot sidestep questions about how much they are paying to consultants and will shed light on exactly who is being paid what out of the public purse. Political commentator and former MP John Barritt said the change should be welcomed by all. "Of course people should care — even if they personally are not interested in reviewing all or any of the contracts. This particular provision, as well as the entire Act, is aimed at changing the culture when it comes to governance in Bermuda, change that is much needed and long overdue. The emphasis is now on disclosure and not just acknowledging, but enshrining in law the people's overriding right to know. When disclosure of this sort becomes routine, and standard operating procedure around here, approaches and attitudes both inside and outside of government will change, as will, I believe, our politics. We will all be in the know or in position to know what is going on and how our money is being spent." The number and cost of consultants working for government has proved controversial in the past, with politicians from both sides of the House of Assembly levying allegations of overpay and cronyism. Disclosure of the amounts involved has often only occurred when questions have been asked in parliament. A row broke out last year between finance minister Bob Richards and Opposition MP Walton Brown when the former claimed the latter had benefited from a $770,000 government contract — a statement which Mr Richards later retracted and clarified was for several contracts. The previous year, tourism minister Shawn Crockwell came under fire for hiring Corey Butterfield as special adviser to his ministry on a $120,000 salary — a decision which prompted criticism from within his own party, with former senator Toni Daniels complaining of an "apparent lack of transparency and accountability." Under Pati, public authorities have already had to release information statements and, in some cases, the statements reveal how many consultants are on the payroll. According to its statement, the Cabinet Office alone has eight — the consultant political advisor to the Premier, the consultant director of Bermuda's Washington office and six others. As well as highlighting the cost of consultants, the Pati Act requires the title and salary range of every public officer in Bermuda to be published in January each year. Although civil servant pay grades have long been included in the government's annual budget book, the actual grades of individual staff members have not. The change is likely to mean that the salaries of executives and other high-earners at Bermuda Hospitals Boards are finally disclosed, after years of the quango insisting individual salaries were confidential. The board's information statement says it will publish the list of titles and salary range for every public officer and of any contracts worth $50,000 or more "following the provision of Pati guidance". Asked if it would comply with the Act, a BHB spokeswoman said: "BHB is committed to meet all Pati requirements, as legislated, and continues to work closely with the Pati Commissioner to ensure we are compliant." Mr Barritt said public bodies could face some challenges in meeting the requirements of the Act but he added: "With good faith I believe we will get there. From what I know and from my limited experience to date with the office, I am confident that the Information Commissioner and her staff will be up to the job."
September 28. Bermuda's "secretive" system of government will be cracked open when the first major disclosures under Pati are made, according to the Island's first information commissioner. Gitanjali Gutierrez said the Island's Westminster system was traditionally secretive but the culture would change as citizens began to understand the kind of information they could access. "In other countries, when they first got the law, it was quiet until a big story or two came out," she told The Royal Gazette in an interview to mark today's International Right to Know Day 2015. Citing the scandal of MPs' expenses in Britain, which stemmed from freedom of information requests made by journalists, she added: "The use of their law expanded after that. People realized what kind of information they could get — and the impact that it could have The original information request cracked open the secrecy and then it went beyond one or two MPs. It became a big exposé of a systematic abuse of public money by members of parliament. We haven't had anything like this yet [in Bermuda]. I think it's inevitable that a few requests will get a lot of attention and then we may see more frequent use of the Pati Act — especially because under the Westminster system, decision-making is traditionally secretive and the Pati Act is changing this. This is going to be a long-term change in our democracy. It's going to take some time for people to understand that — not just elected officials, but everyone working in a public authority. Over time, people who grew up with the Pati Act will move into public authorities knowing from the outset that what they do is transparent. It won't be as big a deal." The commissioner, a human rights lawyer who represented a high-profile Guantánamo Bay detainee before coming to Bermuda, said the culture here regarding transparency was "very different" to the United States. One of her key roles, she said, was to help change that by raising awareness of the law and how it can be used. To that end, she will hold three information sessions this week, beginning this evening (Monday) at 6pm in the Cathedral in Hamilton. Tomorrow's (Tuesday) session will be in the Upstairs Theatre of the World Heritage Centre in St George's at 6.30pm and there will be one at Dalton E Tucker Primary School in Southampton at 7pm on Wednesday. Ms Gutierrez will also take part in a live online question and answer session with this newspaper at 10am on Thursday, when readers are invited to quiz her on Pati and transparency. "To help people understand how to use their Pati rights, I'm using some key examples of other countries," said the commissioner. "It will help people understand what kinds of information they can ask for. We can also think about what it means to have the Pati Act with an election coming up in 2017. In the US, groups like Crowdpac and Votesmart are non-partisan organisations that prepare candidate scorecards. Their goal is for voters to be more informed, period. Groups like this will include information about how well a candidate has been doing his or her job. They might track how often they attended sessions, voted, sat on committees and so on. It goes beyond what political positions they took and looks at whether they were doing the job the public expected them to do." Ms Gutierrez said though Bermuda hadn't developed similar organisations yet, groups and individuals could use Pati in this way to assess election candidates. "If a person is, or was before, drawing an MP's salary, is this person doing the job? Through the Pati Act, the public could request things like an election candidate's overseas travel spending when in office. If you have a shadow minister who was once a minister, maybe you want to see how do they compare with the current minister when they were spending public money. The accountability available under the Pati Act supports good democratic practices here." She cited other areas of public concern, such as the economic and environmental impact of the America's Cup, education reform and development, where Pati could help citizens get the "information they need to have a meaningful conversation with decision makers. These records could include things like assessments, impact statements, reports and e-mail or written correspondence." Neither the Cabinet Office nor Ms Gutierrez could share the number of Pati requests made since April 1, when the legislation went into effect, but an internal tracking system means the figures will be included in the commissioner's first annual report. She said there had not been an avalanche of requests in the first six months, adding: "There almost never ever is when new information access laws are enacted; it's just this slow, steady change that happens." When Pati requests from Bermudians and other residents are turned down, those asking the questions have the right to request an internal review and, if that fails, an appeal before the commissioner. Ms Gutierrez has already had six appeal applications, though two were deemed to be premature and therefore invalid. One appeal was resolved and three are pending. "What I think is critical to the effectiveness of the Information Commissioner's Office is fairness, integrity and independence," she said. "That can't be compromised because if someone is denied a request and they want to appeal to this office … they need to know they are going to get a truly fair hearing. It is equally important that public authorities trust that they will receive a fair process and chance to be heard. Our goal is that when we resolve an appeal, not everyone will be happy with the result but all parties will respect and be satisfied with the process."
September 28. The men behind a Bermuda-registered financial-services firm have been charged by regulators in connection with an alleged $16 million fraud in the US. The Securities and Exchange Commission (SEC) claims six men involved with the Gerova Financial Group, formerly based in Cumberland House, Victoria Street, Hamilton, hatched a plot to dump millions of the company's shares in an unregistered offering and distribution. The SEC alleges that Jason Galanis enlisted his father John Galanis, his two brothers Jared and Derek, a family friend from the Republic of Kosovo and a Gerova director Gary Hirst and Gavin Hamels, an American investment adviser, to carry out the 2010 scheme. An SEC filing with the United States District Court, Northern District of New York, said: "Eventually, Gerova's share price tumbled in reaction to the massive sell-off engineered by Jason Galanis. To stem the price decline, Jason Galanis orchestrated a second phase of the scheme to artificially stabilize Gerova's stock price: he bribed two investment advisers to buy Gerova shares in their respective clients' accounts in order to create demand for the stock. All told Jason Galanis' scheme reaped him and his family members over $16 million, all at the expense of unwitting investors." The court was also told that Jason Galanis, 45, who lives in Los Angeles, California, had also been banned in a previous case from serving as an officer or director of a public company for five years, to run from 2007 to 2012 and ordered to pay $60,000 in civil penalties. But the filing with the US court that Jason Galanis was "instrumental in the formation and development of Gerova" and in 2006 advised members of a wealthy family from Macau, China, on potential investments. He later introduced a member of the family to a Gibraltar-based fund, the Gibraltar Fund, controlled by one of his business associates, to discuss the set-up of a special purpose acquisition vehicle (SPAC) to focus on acquisitions based in Asia. The Gibraltar Fund and the Macau family agreed to set up Asia Special Situation Acquisition Corporation (ASSAC), which was formed as a SPAC in the Cayman Islands in March, 2007. Jason Galanis was paid a $600,000 fee for his part in the deal and also entered into a consulting agreement with the Gibraltar Fund, which entitled him to 30 per cent of the profits the Gibraltar Fund made from the SPAC. ASSAC changed its name to Gerova Financial Group in January, 2010. The SEC filing to the court said: "Far beyond the terms of his consulting agreement with the Gibraltar Fund, Jason Galanis substantially influenced the management, operation and business direction of Gerova from its inception. He regularly attended Gerova board meetings and had pre-existing business relationships with members of the board; he consulted management, company counsel and the board on senior management hiring and firing decisions; he reviewed draft commission filings and consulted Gerova's officers, directors and company counsel concerning disclosures made therein; he interacted with Gerova's public relations firms concerning the content of Gerova's press releases and gave orders to Gerova's counsel and management concerning actions to be taken with respect to its securities." The SEC filing said that Jason Galanis, "mindful of the officer and director bar imposed on him ...", made sure that his official capacity at the company was limited, holding himself out as investment banker or adviser to the company. But the filing added: "However, in October 2010, he became CEO of a Gerova subsidiary, Gerova Advisors LLC, in order to formalize his relationship with the company. In that capacity, Jason Galanis was to receive success fees upon the consummation of material financings or acquisitions by Gerova that were introduced or consulted on by Gerova Advisors." The SEC also alleges that Jason Galanis' senior role in Gerova, as well as his close relationships with senior officers and board members, or his substantial holdings of Gerova stock through several shell companies. Gerova companies remain listed on the Bermuda Register of Companies. But a spokesman for the Bermuda Monetary Authority, which regulates the financial services industry, said: "There are currently no Bermuda Monetary Authority-licensed entities related to this matter." The Royal Gazette reported in 2012 that the firm had sought US bankruptcy court protection, listing debts of as much as $500 million. The company, formerly known as Asia Special Situations Acquisition Corporation, took the step to protect its assets from creditors. Gerova said then its assets were listed as more than $50 million. Gerova also began liquidation proceedings in Bermuda in July that year.
September 28. Losing two chief executives in the space of three years has added to the challenges faced by the Island's telecommunications sector watchdog. And things are going to get busier as the Regulatory Authority of Bermuda (RAB) prepares for the regulation and oversight of the energy sector to come under its auspices. It is anticipated the transfer of those responsibilities from the Ministry for Economic Development and the Energy Commission, will occur shortly after a new Electricity Act goes before MPs during the next parliamentary session. The combining of regulation for the telecoms and energy sectors under the RAB umbrella will be a pivotal moment. In preparation for that, at the beginning of this year the authority announced Robert Watson as its new CEO. With previous experience heading up telecoms and electricity companies in Canada, Mr Watson appeared to be the ideal choice to guide the authority into its dual-sector role. However, he resigned at the beginning of this month, citing personal reasons. A year earlier, the RAB's inaugural chief officer Philip Micallef resigned, also for personal reasons, having led the watchdog organization for almost two years. Acknowledging the departure of the two men as unfortunate, RAB chairman Carl Musson said: "We have to cope, and that's what we are doing." He was upbeat that a suitable replacement will be found. "We need to address the situation as soon as possible. It is a challenge, but we are optimistic," he said. "It's a more unique situation as the CEO is going to manage two sectors." Grant Gibbons, Minister for Economic Development, when asked if he was concerned by the departure of two chief officers, said: "There has been a variety of reasons why we have had the turnover. The initial phase was intense — getting the operation up and running. "In Philip Micallef we had a very capable CEO. He got a lot of things under way, such as number portability and spectrum allocation. In the end he had personal reasons for leaving. Robert Watson was hired by the Authority. He had a background in the electricity sector as well." Dr Gibbons said it was important to recognise that the top roles can be highly pressured positions, and while he liked to see continuity, he also respected an individual's decision to move on. He said it might turn out to be an advantageous time to be going through a succession planning stage as the role of the RAB is about to change, with the imminent transfer of energy-sector oversight responsibilities. "The change in CEO has given them the opportunity to give some careful thought to what they are looking for and the role they have in coming years," he said. Since it was created at the beginning of 2013, the RAB has been overseen by three commissioners. The current commissioners are Mr Musson, Angela Berry and newly appointed Kenneth Robinson. Mr Musson was asked if the commissioners might be having too much of a bearing on the organization. He replied: "I do not think we are too involved. The CEO is responsible for the day-to-day running of the authority and is the regulatory advisor to the board. Our intent is to leave management to the managers and not to get involved in the day-to-day management." He explained that the commissioners made regulatory decisions and issued statutory instruments. Mrs Berry, who is also an energy commissioner, and Mr Robinson are both attorneys, while Mr Musson has a wide-ranging background in business, including telecoms and electrical engineering. Speaking separately, Dr Gibbons said that in the initial stages it was "all hands on deck" setting up the RAB and meeting tight time constraints due to the volume of work undertaken. "You can understand why the commissioners have been actively involved," he said, pointing out there is a separation between the Bermuda Government and the operations of the RAB. "But going forward we want a balance, and that is still evolving." Dr Gibbons said it was possible the number of commissioners may be increased in line with the RAB's soon-to-be-enhanced responsibilities. Mr Musson believed an increase in the number of commissioners was likely to happen, and added: "We would not be opposed to that." Regarding the appointment of a new chief executive, he said various options are being considered. Kyle Masters is the current interim CEO, his second stint in the role. Dr Gibbons said: "He's a young Bermudian and has been there for a couple of years. I would like to think he could be considered for the role. It could be that the Authority is looking to see if there is an internal candidate, or if they need an external candidate experienced in these [expanded] areas." Regarding the transfer of regulation and oversight for the energy sector to the RAB, Dr Gibbons said that was still on track to happen in the near term. Consultations have taken place regarding the draft legislation. The Minister said the Bill will pave the way for independent energy producers, such as those using renewable sources, LNG and others, to present options for the Island.
September 28. The Bermuda Parent Teacher Student Association is to host an information session to discuss the formation of parent councils and to outline why the organization is in legal proceedings with the Ministry of Education. The session is to take place on Monday, October 5, at CedarBridge Academy cafeteria from 6.30pm. BPTSA chairman Harry Matthie said in a statement: "Now that the Ministry of Education has concluded their series of meetings on parent councils, the BPTSA would like to invite PTA executives and parents to an information session. "This meeting is to discuss parent councils and give an outline of why we are in legal proceedings with the ministry. This is a very important meeting for all schools to attend. It is time for parents to have meaningful participation in the education system. Parents and PTA execs, you now have the opportunity to exercise your rights. Nothing of worth is ever given away and we must unite together and demand inclusion in the decision making and policy setting concerning our children's education." The Ministry of Education announced it is giving individual public schools the option to form parent councils either to replace existing PTAs or to work along side PTAs. The ministry will be legally obliged to consult with councils on certain matters pertaining to the running of schools including budgets decisions and policies designed to improve schools.
September 26. A cellphone tower that sparked repeated objections from Devonshire residents is up and running — and, according to an industry source, is now in heavy use. The area of Devonshire Bay had been a grey spot for Digicel users, but the announcement in 2013 of plans to add a 60-foot antenna on the wooded South Shore hillside resulted in a petition. Residents cited unsightliness and health risks over the tower, which is a mobile facility. There was no word last night of the next move by the environmental group BEST, which joined with objectors earlier this year. An independent study for the Planning Department has concluded that the radio emission from the tower was 130 times lower than limits set by the Federal Communications Commission.
September 26. This Tuesday saw the highest daytime temperature recorded for September since 2005. According to the Bermuda Weather Service (BWS), temperatures peaked at 87.6F (30.9C) — the highest since 2005, when 88.2F (31.2C) was recorded on September 5. "The daytime maximum temperatures last year were higher on average than this year," meteorologist Andrew Read said. "The 30.9C maximum this month, however, was the warmest since 2005." Mr Read said that last year temperatures rose above 86F (30C) on fifteen days while this year it has only been five days. "However, the average temperature for this month to date is still slightly higher at 81.1F (27.3C), compared to 80.2F (26.8C) last year. It is possible that the overall average temperature was slightly lower last year as there were cooler nights. September is typically one of the warmest months of the year with higher sea surface temperatures and relatively more humid days." According to the BWS, temperatures are not unusual for this time of year with data showing that temperatures reached more than 87.6F on 91 occasions since 1981, the highest being 91.8F (33.2C) on September 3, 1994. Data also suggests that rainfall levels are below average for September but Mr Read cautioned that this could still change. "So far this month there has been 54mm (2.13 inches) of rain, but the month isn't over and it is possible that there will be significant rainfall over the next few days, beginning Saturday night. It's worth noting that a frontal boundary is expected to move through late Saturday, bringing strong winds, showers and possible thunderstorms. As this clears later Sunday there will be slightly lower temperatures and drier less humid air, providing some brief relief."
September 25. The old Royal Naval Club has been leveled as part of the first phase of plans to restore a cluster of historic buildings at the entrance to Dockyard. The structure, which was built in the early 1880s, was taken off the list of protected buildings in May by Michael Fahy, the Minister for Home Affairs. The demolition work on the old "Fleet Club", which served as an officers' and then as a naval ratings' club and canteen, was completed last week. Now Seacrest Development Limited, a Bermudian-registered company, will embark on a major project to restore the three neighboring listed buildings: the Bungalow, Star of India and Moresby House. Joanna Cranfield, Wedco's business development officer, told The Royal Gazette that the remaining three structures would be restored to the highest standards and used for short-term residential and holiday accommodation. "By getting rid of one building we are going to save the three most important. The Bungalow, Star of India and Moresby House will be fully restored and people will begin to notice these improvements being made very soon. We hope to have made significant process within the next couple of months. It has been a fair period of time in the planning phase, but now that the necessary demolition work has been done we are ready to move forward."
September 25. Dozens of budding gig rowers took to the water off St George's at the weekend to take part in the Bermuda Pilot Gig Club's regatta. The club, which was only formed earlier this year, organized a series of races in the harbour over a short course of just under a mile. A total of 42 men and women of all ages were divided into six teams of rowers who then did battle in three races. Rick Spurling, the club's chairman, hailed the regatta "a great success". He also revealed that the club was hoping to send a Bermuda team to the upcoming World Gig Championships in the Isles of Scilly next year. "Our goal is to establish gig rowing island-wide for all, get three more gigs, hold more local regattas year round, use the gigs at events such as the America's Cup and Gunpowder Plot Reenactment and invite visitors to experience gig rowing and some St George's history at the same time," said Mr Spurling. "We also want to hold an international regatta in Bermuda in 2016 and will be sending a Bermuda team or two to the World Gig Championships in Scilly in May 2016. We are very grateful to Steve Lock from Appledore Gig Club in Devon, our trainer and organizer, for playing the key role in getting the traction for rowing gigs. We are off and running. Rowing is our maritime heritage, great fun, a friendly team sport, healthy and competitive. We need to begin to form set teams, in particular corporate teams and schools. The possibilities here are enormous." After Sunday's regatta all the competitors returned to the East End Mini Yacht Club for a pot luck supper and refreshments.
September 25. A replica of a classic schooner believed to have been built in Bermuda, whose contribution to the Battle of Trafalgar is still commemorated by the Royal Navy, is today being installed at a new home in Hull Marina. The original HMS Pickle carried the news of the Trafalgar victory home to Britain, arriving there on November 4 — an event which the navy still celebrates each year as "Pickle Night". The Pickle is thought to have been built of Bermuda cedar in 1799. Its contribution to the iconic battle from the age of sail will be marked for its 210th anniversary this year on November 6. The Pickle replica will be led to its berth today by the HMS Explorer. Commanding Officer Lieutenant Anthony Kane said its arrival had generated keen interest in Hull.
September 25. Philosopher Thomas Merton — an American Catholic with strong Bermuda links — earned a place alongside the likes of Martin Luther King Jr in a speech given to the United States Congress yesterday by Pope Francis. The Pope was commending "four representatives of the American people" but Merton, as he recalled in his 1948 autobiography The Seven Storey Mountain, was something of an honorary Bermudian as well. His childhood years on the Island in the 1920s are vividly recalled, if not always happily. "Bermuda in those days had no big hotels and no golf courses to speak of," Merton wrote. "It was simply a curious island, two or three days out of New York, in the Gulf Stream, where the British had a small naval base and where there were no automobiles and not much of anything else either." The book, which became a notable best-seller for what is largely an account of his spiritual development, describes white houses "cleaner than sugar", the many colored waters, and the wooded hills of Somerset where Merton would live with his father, the painter Owen Merton, in a boarding house. Merton's father came twice to the Island, painting local scenes in watercolour. Merton was sent to a school for white children, and describes being "constantly punished" for his ineptitude at maths. Later, however, he would return to enjoy the solitude of "those empty white roads" on his bicycle. Abraham Lincoln and the Catholic pacifist Dorothy Day were two others lauded by Pope Francis, who told Congress that Merton had been "above all, a man of prayer, a thinker who challenged the certitudes of his time and opened new horizons for souls and for the church. "He was also a man of dialogue, a promoter of peace between peoples and religions."
September 25. Equal rights campaigners and members of the LGBT community have called on Bermuda's politicians to stand up and take a stance on same-sex marriage. They were speaking ahead of a series of information sessions organized by Patricia Gordon-Pamplin, the Minister for Community, to discuss the subject in response to a petition that was handed to her by Tony Brannon in favour of same-sex marriage. Mr Brannon said that more members of the LGBT community need to publicly come out and stand up for what they believe in while politicians have remained shamefully silent on the matter. He said he was happy the sessions will go ahead but believed much more needs to be done: "The fact that they have actually acknowledged this and are going to have a discussion about this is good. But I think there are people who will be cynical about it. "The bottom line is — I don't think I know of any politician who will come out and say anything, one way or another. I've not seen any one of them put their neck on the line for it — it is staggering. There is this perceived thing about the church vote that showing support for same-sex [marriage] will mess up the possibility of winning the next election but this is a human rights issue. Secondly, we are absolutely missing out on tens and tens of millions of tourism dollars. I would love representatives from the Bermuda Tourism Authority and the hotel industry to hear what same-sex marriage could do for our tourism industry." Joe Gibbons is a gay Bermudian who had to travel to Canada to marry his partner. He praised Ms Gordon-Pamplin for arranging the sessions but said that Bermuda's politicians had to do more. He said: "I have to give Minister Pamplin a pat on the back. I was at the Cabinet Office back in early spring when Tony presented his petition as a first step towards equality on this issue. Now she has responded. In Bermuda, the more we come to terms with our differences, and learn to accept each other at face value [the better]. These information sessions should encourage people to better understand the issue, and how it is affecting lives. More Bermudians are getting into same-sex unions and I think many would like to call Bermuda their home. We have already lost so many, why must we lose more? I have felt that our politicians have not done enough. There are many who support equality — indeed, who wouldn't? — but will not speak out. As I have said before, one of our main political problems is leadership. Parties tend to do what they think will get them re-elected, not what is right or even proper. Our current politicians were elected to do more than host AC35 cocktail parties. I do think AC35 is great for Bermuda, and it goes to show that we can get things done pretty quickly when we want to. But why continue a policy which just excludes more Bermudians from these successes?" Shari-Lee Pringle, a member of Two Words and a Comma which led a successful campaign to add sexual orientation to the Human Rights Act in 2013, said: "I think it is a good first step to provide information and dispel myths and untruths about same-sex marriage as disseminated by homophobics, the church and other people who make it their lot in life to complain and spread misinformation no matter how many times they are informed otherwise. Persons are living and loving in Bermuda as committed couples and families and simply need their unions recognized as legal so that their quality of life is equal to that of the heterosexual couple." The issue of same-sex marriage hit the headlines in Bermuda in 2006 when former MP Renee Webb's bill to amend the Human Rights Act was rejected with only one other member speaking out about it. Ms Webb said at the time that the leadership of the country's two political parties was the "weakest I have ever seen". Since then, the Human Rights Act was amended to include sexual orientation to the act for protection against discrimination but same-sex marriage remains outlawed. The information sessions will be held on Monday, September 28 at the Berkeley Institute and Thursday, October 1 at Bermuda College North Hall at 6pm.
September 25. Measures to tackle child sex abuse could be put forward this year by the parliamentary group investigating how Bermuda deals with sex offenders. Mandatory education and awareness training, child protection policies and bolstered laws on the reporting of sex offences are on the joint select committee's agenda, according to chairman Mark Pettingill. The One Bermuda Alliance MP said discussions are ongoing about the creation of a sex offenders' registry — but cautioned about the need to differentiate between serious, prolific offenders and "Romeo and Juliet cases" involving young teenagers. In an interview with The Royal Gazette, he said that, historically, a lot of sex offences against children happen "in what we often regard as being safe havens or in positions of trust." The former attorney-general continued: "They may occur with close family members or with people that are in youth organisations or even schools, which is really terrible. Whilst it is obviously such a minority of people that are involved in those types of activities, that's where there tends to be a degree of prevalence. We don't want to make it difficult for all the wonderful people that come along and give up their time to children, but unfortunately this is where the prevalence tends to be." The joint select committee on sex offenders was created last year to examine existing legislation surrounding a sex offenders' registry and other matters related to convicted sex offenders. In recent weeks the issue has been in the spotlight again, after a former police officer was jailed for 15 years for the sexual exploitation of his daughter and incest. The media was unable to report the offender's name for legal reasons, prompting campaigner Sheelagh Cooper to repeat calls for a more open legal process and a sexual offenders' registry. Mr Pettingill, a defence lawyer, said that while the idea of a registry is still on the agenda, the committee is still debating how to go about it. "This has been a debate for some time. I have to say, I see both sides of the coin," he said. He said that Bermuda has the ability to produce a list contained within its criminal code, but he believes it should be at the discretion of the attorney-general. "In my view, there are certain types of criminals that commit these things that people should just be aware of who they are because it warrants that children and society deserve the protection from that type of individual. At the same time you have the Romeo and Juliet cases where you have, let's say, a 17-year-old boy who has a consensual sexual relationship with a 15-year-old girl and he basically gets run in by her parents. I've seen those types of cases. Entirely consensual, but unlawful still — he's deemed over the line and she's still under it. Should he be put on a sexual offenders' registry as a sexual offender? I don't think so." Mr Pettingill said a balance needs to be found between who should be on the register and how much of it is publicly available, with consideration given to the circumstances of the offence and how prolific it is. He said prolific offenders that are deemed "to have a real risk", despite serving time in prison and undergoing treatment, should be on a public register. "I think we can do better than what we have," he added. Regarding the joint select committee's efforts, Mr Pettingill said: "You'd love to have everything done overnight — it just doesn't work that way. Conceptually, we are getting there. I am hoping this year that things will be moved along. Some things are low-hanging fruit that we need to get right on. We want to mandate education and awareness training about anyone that is an owner, manager, employee of any organization that deals with children. I'm talking about an organization like Scars, that teaches people on what to look for, how to deal with children and all those things." He said he would also like to see certificates of satisfactory completion on the training. "That would address anyone that has supervision, control or direct access to children. If you deal with a child, you have to have done this training to understand what the challenges are," he said. Mr Pettingill said that the committee is considering mandating that organisations have child protection policies in place, "so you don't have a situation where you have one-on-one between adult supervisors and children, unless it can be something that is observable." The committee also wants to consider the enforcement of laws requiring mandatory reporting of these types of offences. He said: "It might be that we've got to consider bolstering that law, so that for some reason you don't have people deciding 'oh, well, I'm going to proceed down the counseling road' rather than immediately reporting it to the authorities."
September 25. An open discussion about the potential adoption of natural gas in Bermuda is scheduled to take place tomorrow at the Bermuda Aquarium Museum and Zoo. The event, organized by the Bermuda Association of Professional Engineers (BAPE) and the Institution of Engineering and Technology, will feature a presentation by Soren Maloney, a senior project engineer at OSCOMP Holdings LLC in Texas along with a question-and-answer session. According to a spokesman, the presentation will neither be for or against the adoption of LNG as a fuel source in Bermuda and will note the benefits and drawbacks of such a scheme. Spaces at the event are limited and, while admission is free for BAPE members, the entrance fee for non-members is $15. The event runs from 5pm to 6pm, with the presentation beginning at 5.30pm. Light refreshments will be available.
September 25. A plan to upgrade the Horseshoe Bay parking area to allow better access for buses and pedestrians has been given planning approval. The Development Applications Board (DAB) recently approved a planning application submitted by the Bermuda Tourism Authority to improve access to the beach and address safety concerns. According to the planning application, buses are not able to reach the lower parking level, leaving passengers to walk up the steep hill to and from the beach. The proposal included modifying the entrance road to allow buses, installing a slightly-raised pedestrian boardwalk on the southern side of the road, a shaded pavilion for those waiting for buses and improved drainage. In total, the renovated parking area will have more car, motorcycle and handicapped spaces and introduce four parking spaces for buses, however the number of taxi and minibus spaces will drop. While the parking area has nine taxi spaces and ten minibus spaces, the renovated parking area would have seven taxi spots and six minibus spaces. Documents in the application suggested that the project could be ready for public tender as soon as this month, with work being beginning in October and continuing until April 2016. According to the minutes of the September 2 meeting of the DAB, the board questioned if the buses intended to access the parking area were Public Transportation Buses, and if the trip would be a part of their regular route. The technical officer said the buses were specific buses travelling between the beach and the Dockyard cruise ship terminal. The officer also confirmed that the shade structure shown on planning documents was canvas roofed, saying that such structures are often used at shore side location because the canvas can be removed in the event of a storm. The DAB agreed with the techincal officer's recommendations and granted the application final planning approval.
September 25. Stargazers will have the opportunity to witness a complete lunar eclipse this weekend — weather permitting. The astronomical phenomenon occurs when the sun, moon and Earth align. Also known as a "blood moon", this is the fourth and final eclipse in a series called the lunar tetrad. It earned its moniker owing to the copper hue it takes on when light from the sun is refracted off the Earth's atmosphere. Locally, the event will begin at around 9.11pm, with the total eclipse starting at 11.11pm. Maximum eclipse, when the moon is closest to the centre shadow, will occur around 11.47pm. The total eclipse will end at around 12.23am. Photographer Chris Burville has big plans for the display. He told The Royal Gazette: "I'm really hoping for a show this time as the last couple eclipses have been marred by poor weather." While often alone in his endeavors, the astronomy enthusiast said: "I feel privileged to witness some beautiful cosmic events often overlooked by others." Forecaster Andrew Read is less hopeful. He said: "It's going to be quite cloudy on Sunday night. We're still talking mostly cloudy with showers, unfortunately. If we're lucky we might get some breaks and actually be able to see the moon. It's a pity because blood moons are actually quite spectacular. I witnessed one at home in Australia." He added: "I wouldn't discount it completely, the weather can always change." This Sunday night in Bermuda
9.11pm: penumbral eclipse begins — Earth's penumbra starts touching moon's face
10.07pm: partial eclipse begins — moon starts to get red
11.11pm: total moon eclipse starts — completely red moon
11.47pm: maximum eclipse starts — moon is closest to the centre of the shadow
12.23am: total moon eclipse ends
1.27am: partial moon eclipse ends
2.22am: Earth's penumbra ends.
September 25. A crackdown on immigration violations has caught more offenders in 2½ years than were prosecuted in the previous 14 years, according to Michael Fahy, the Minister of Home Affairs. Senator Fahy, whose op-ed on immigration appears in today's edition, said the department was dealing with 87 cases earlier this month with the potential to bring in $1 million in fines. Getting tough on employers who broke work permit rules was an early pledge after the One Bermuda Alliance took power. In January 2013, Sen Fahy told The Royal Gazette that employers who broke immigration rules were rarely prosecuted for it. A promised overhaul of work permit policy included the introduction of a declaration by employers attesting that they had been truthful in their recruitment statements. In particular, the new administration empowered the chief immigration officer to impose civil penalties on violators: a "ticketable" offence with a fine of up to $5,000 and $10,000 for a second offence. Fines of up to $25,000 were written into law for those cases that were pursued by the courts. The legislation was approved by the Senate in October 2013, with the new work permit policy coming into effect in April 2014. This week, Sen Fahy said the surge in cases was a direct result of the civil penalty regime. Saying the enforcement had been better than under the Progressive Labour Party Government — which had been reviewing its work permit and immigration policies before losing the December 2012 election — Sen Fahy added that about $130,000 in penalties had already been meted out. It was a sharp increase on the figures given to the Senate just two months ago, when the minister said.
September 25. Bermuda's newest restaurant has been unveiled with a grand opening attended by Michael Dunkley. The Palm Gardens is adjacent to the Fourways Inn, on Middle Road, Paget, and the owners hope it will attract a wide variety of customers, from residents to corporate and business clients. Although attached to the Fourways Inn, the new restaurant has its own entrance, and it offers a different experience for diners. "It is unique," said Emilio Barbieri, MEF Group's managing director, explaining that customers encounter an intriguing and inviting combination of paintings and mirrors as they enter The Palm Gardens. What was previously an outdoor area is now mostly covered, and there is room for 150 seated customers, or up to 300 when it is configured for a party. More than $250,000 was spent on renovations to create the new restaurant. "It is a beautiful, Bermuda garden setting. It gives you a wonderful feeling." Premier Dunkley was among the special guests yesterday evening at the ribbon cutting event to mark the opening of the restaurant. An impressive ice sculpture that resembled the America's Cup, was on display. Mr Barbieri said it was Fourways' event manager Mimi Belboda who pushed for the new restaurant experience "She has been there since 1976. She said people love Fourways, but they would like to see something done with the outside area," he explained. The Palm Gardens will offer a wide variety of menu choices, from traditional local items to international cuisine, including French, Italian, oriental and Indian. "Local food is the number one, so we always have the local corner," said Mr Barbieri, who said business and corporate clients particularly were always on the lookout for new places to dine out, and he hopes they will try The Palm Gardens. "We have some small private rooms beside the palm area, and one is in the cellar which can hold ten people. But the garden is the big thing — that will be the 'wow' thing. We want to give people something special that they are not expecting, as well as great service, quality and value. That is what we are aiming at. We want to give people an experience, something that they will remember." The restaurant will also be able to cater for special functions and events, such as weddings. The opening of The Palm Gardens restaurant comes ahead of the 290th anniversary of the original building at the property, which will be celebrated in 2017.
September 24. Michael Dunkley has welcomed Roman Catholic Bishop-elect Wieslaw M Spiewak and the current Bishop of Hamilton, Robert Kurtz to the Cabinet Office. Bishop Kurtz is retiring and is to be replaced by Father Spiewak next month. Father Spiewak has been the provincial superior of the Polish Province for six years, and also had responsibility for Congregation of the Resurrection Houses in Australia, Austria, Bulgaria, Germany, Italy, Slovakia and Ukraine. The Premier was also joined by Cabinet Secretary, Dr Derrick Binns.
September 24. Bermuda must sell itself as "a completely different visitor experience" in the face of intensifying competition, according to Bermuda Hotel Association chief executive officer Stephen Todd. With locals eyeing the tourism success of fellow islands such as Barbados, and a likely new rival in Cuba, Mr Todd said the Island needed to differentiate itself to win back visitors. Statistics from United States travel website TripAdvisor show the Island rates relatively favorably in terms of the cost of a vacation, ranking eighth out of 20 destinations in the region. Flights from the US to Bermuda are shown to be less expensive than to many Caribbean islands; however hotel and meal prices were higher in Bermuda than in any other country in the top ten. (See graphic on page 3) However, Mr Todd cautioned against the tendency to look south, telling The Royal Gazette: "It's like comparing apples and oranges; it's not like for like. Really what we have to keep first and foremost in our minds is that we're dealing with a completely different seasonal experience on the part of a North American visitor. Their high season is traditionally referred to as our off season, when we tend to have a lower number of visitors. American visitors tend to look to the Caribbean in the winter months, to get away from the snow." For Americans, who supply the bulk of Bermuda's visitors, the destinations of Puerto Rico and Jamaica come top of the TripAdvisor price rankings. The two American favorites enjoy cheap air links, despite being twice the distance as Bermuda from a gateway city such as New York. A single one-way fare on American Airlines out of Boston, for instance — just two hours' flying time from Bermuda — shows $234 to the Island for October 1. The same tickets cost just $237 to San Juan's Luis Muñoz Marín International Airport in Puerto Rico, and $275 to Kingston, Jamaica. Meanwhile, earlier this summer, Barbados broke a 25-year tourism record for the first quarter of 2015, even as Bermuda's arrivals slipped. With political pressure unabated on the Bermuda Tourism Authority (BTA), that performance did not escape the notice of Shadow Minister for Tourism Zane DeSilva. He has pointed out in the House of Assembly that Barbados appears to have done well since the return home of Billy Griffith, former director of the Department of Tourism, which disbanded for the BTA. Mr Griffith joined the Barbados Tourism Marketing Inc, also a new entity, as its chief executive officer. The giant of Cuba, emerging as a major tourism contender as relations thaw with the US, stands to change the Caribbean market profoundly. Mr Todd said: "It's a very interesting development — I believe it's more critical for our partners farther south, perhaps more so for the Bahamas and Jamaica." Low-cost airline JetBlue started direct flights from New York JFK to Havana this summer, and Carnival announced Cuba cruises to begin next year. The Bermuda Hotel Association perceives Bermuda's competitors in a global rather than regional context, according to Mr Todd. "We focus on the fact that we are all competing for the same visitors globally," he said. "We're out in the Atlantic on our own, and that makes our challenges that much greater to attract and retain visitors." The BTA's strategy has been to market Bermuda as "a year-round destination, not focusing on April through September, which is traditionally considered our high season". "If we market ourselves on the basis of alternative activities and a completely different visitor experience, I do believe we will have an opportunity to attract more." Twenty years of declining tourism "is not something we can turn around overnight", he added. For now, Mr Todd said, the Island could reasonably hope for an influx next month from the Louis Vuitton America's Cup World Series. Mr Todd's remarks came as Shawn Crockwell, the Minister for Transport, heads home from a major airlines conference in South Africa, where he earlier expressed hopes of securing a new route for the Island from Europe, such as from Heathrow.
September 24. Finance professionals with qualifications from the Association of Chartered Certified Accountants (ACCA) can continue to work in Bermuda. Industry body the Chartered Professional Accountants of Bermuda (CPA) said there had been some confusion after changes were made to the Chartered Professional Accountants Act last year, which led some to believe that only members of CPA Bermuda could refer to themselves as professional accountants and to their professional designations. But ACCA said that, after talks with Government, it was made clear that ACCA members are able to work in Bermuda and use the ACCA designation after their names. ACCA added that, while the amended law mans that anyone offering accounting services to the public must be a member of CPA Bermuda, there is nothing to prevent members of other bodies like ACCA from working in businesses in a wide range of roles, including internal audit, which do not require CPA Bermuda membership. Brenda Lee Tang, the head of ACCA Caribbean, said: "We are delighted to have met with the Bermuda Government departments with whom we have had very constructive talks. "To clarify further for employers and members of the public, ACCA members are able to refer to their designation, providing it does not create a false impression that they are members of CPA Bermuda or that they are in public practice. Finance professionals holding the ACCA or other designation who wish to work in public practice must register with CPA Bermuda and attain the appropriate credentials and authorization."
September 24. Public schools will benefit from extra advantages if they opt to form parent councils but they will not lose existing rights, according to the acting commissioner of education Dr Freddie Evans. Speaking to The Royal Gazette as the Department of Education undertakes its information sessions about the formation of the new councils, Dr Evans insisted that parent councils are not designed to replace existing PTAs, unless that is so desired. He said no school was obliged to form a council but if they did so, the council can either replace a PTA or work alongside a PTA within any given public school. Chairman of the Bermuda Parent Teacher Student Association Harry Matthie has questioned the need for parent councils, insisting that existing PTAs should merely be given the powers given to councils, which include a legal obligation on the part of the Bermuda Government to consult with them and take recommendations. Mr Matthie said: "I have asked the ministry to show me the legislation that prevents principals sharing any information like budget information with the PTA. If there is no legislation preventing it, then they are not really giving you anything by introducing parent councils." But Dr Evans told The Royal Gazette: "We don't want anyone to feel coerced into creating a parent council but there are some key differences between councils and PTAs. I do want to dispel the notion there is a disadvantage to not forming a parent council but a school would not be taking advantage of the opportunities that are now before us. With the formation of legislation we have, for the first time, created a two-way communication between the ministry and the schools as it pertains to school improvement plans, as it pertains to the budget … and, which I think highly important, as it pertains to student achievement. Before, PTAs have not had that opportunity. They might learn about the school improvement plan or the budget from their principal or they might not." The Minister of Education Wayne Scott added: "Parent councils create a legal obligation on the ministry and DoE. Parent councils will receive information in a proactive way to help them carry out specific responsibilities under legislation." Dr Evans said he has been frequently asked why the Bermuda Government did not just legislate for PTAs to be changed to which he said: "Fundamentally, I think that would be wrong. PTAs exist and are charities that belong to the schools and for us to come in and legislate would probably have gotten everybody's back up." Parents have until October 15 to decide whether to form a parent council in their child's school for this school year. Opportunities to create councils will come with each new school year. Under the Education Amendment Act 2015, while the ministry must take recommendations, the buck ultimately lies with the ministry. Dr Evans explained: "I don't want to give the impression that representations made won't be considered because that's the whole reason we are developing the process. We need the parental input, it is very valuable to us, the decisions we make will have to consider what has been suggested." Senior policy analyst for the ministry Kimberley McKeown added: "Parent councils are advisory bodies. We are working within a government framework so something like the budget at the end of the day is left up to the legislator — even, for example, for the qualities and competencies of the principals, but the ultimate decision is for the public service commission and for the governor to sign off on. We had to design something within the parameters of the Civil Service that we work in." The ministry has offered training and support to help parents form the new councils and Mr Matthie has questioned why this service was not previously offered to PTAs. Ms McKeown said the support is designed specifically to inform parents on the formation of the new bodies. "It is so they understand the rules and their responsibilities, how can we support them to fulfill their responsibilities under the legislation."
September 24. Bermuda's treatment of stroke patients has improved but much more still needs to be done, according to Mark Selley of the Bermuda Stroke and Family Support Association. Mr Selley said that while they had been fighting to improve insurance coverage and local treatment options, progress had been slow, leaving patients and their families dealing with a heavy burden. "It was worse 20 years ago," Mr Selley said. "It's a little better now but we are still way behind where we should be. Much can be done." A major issue faced by those who have suffered strokes is the cost of rehabilitation, which Mr Selley said was generally not covered by insurance. "The insurance situation around the world is under review right now by everybody. I'm not sure what the answer is going to be, but people need to be assisted in every way possible. Chemotherapy to cancer is what rehabilitation is to stroke, but insurers don't recognise the medical response. They think we're going off to the spa for several months. I've spent my last 23 years since the stroke on the phone, lobbying, having meetings back and forwards and going to bat for people who cannot go to bat for themselves. Right now we are gunning for insurance parties and it's no secret that it's our intention to lobby Government to try and legislate an act which will allow foreign insurance companies located and doing business in Bermuda as an exempt company to compete with the local insurance companies. You would see the sharpening of the pencil like never before. Insurance prices would come right down, but the companies will come kicking and screaming." Mr Selley said that while King Edward VII Memorial Hospital had improved somewhat over the years, progress had been painfully slow with setback after setback. "It's like watching paint dry," he said. "If you break your arm or break your back or anything, they can handle that, but neurological physiotherapy is a different thing. Sometimes a stroke patient has nothing broken and it's just about trying to retrain the parts of the body that it used to once take for granted. The hospital just doesn't have the facilities, it doesn't have the staff." He said that for 20 years, he had tried to open a neurological rehabilitation unit within the hospital for those who had suffered a stroke or had other neurological issues. "It would have had 26 beds and gone up in Perry Ward. It was all geared to go twice, then I had to go and find people to run it. All of a sudden, out of nowhere they decided they needed a new wing and our requests got pushed further down the line. When that new building came up we had those two hurricanes and the extended care unit caved in, so they put those people into the general wards, including the one that was supposed to go to us. Now we've been fundraising for years. We have more than $500,000, which was supposed to help with physical construction requirements to put things in place, but none of that looks like it's going to happen now. What we do have, which is more than we had before, is four rooms in the new Acute Care Wing and we have eight rooms which are assigned to stroke patients after the acute stage, but they are not getting the rehab that they need while they're here."
September 24. A two-year conservation project studying Bermuda's anoles has uncovered a new species as well as lifting the lid on how the lizard population has expanded across the Island. The initiative was led by Florida International University's James Stroud and Sean Giery from North Carolina State University. The two research scientists worked alongside the Department of Conservation's wildlife ecologist, Mark Outerbridge, to record the distribution of the three species of anoles in Bermuda. The team's work led to the discovery of a new species of anole, the Cuban brown anole, as well as providing groundbreaking data of how the other species' populations had spread. "We embarked on this project in an attempt to record the current distributions of all Anolis lizards and recorded range expansions that may have occurred," Mr Stroud said. "This type of project has only previously been achieved twice; once in 1960, by the famous David Wingate, and then once again in 1991 by Jonathan Losos from Harvard University. There are three established anoles on Bermuda: the Jamaican anole, the Antiguan or Warwick anole and the Barbadian or Somerset anole." In August 2014 and 2015 the trio surveyed the whole of Bermuda, including several accessible outlying islands, to record total-island distributions of all anole species. At each of the 114 survey sites the team of conservationists conducted counts of each species and recorded data to determine habitat use. Mr Stroud said: "Our results showed that the Jamaican anole continues to be found all around the Island, as was observed in 1991. However, since 1991 the Warwick lizard has observed a large-range expansion into the distribution of the Somerset lizard. Conversely, the Somerset lizard has not been able to reciprocally spread into the range of the Warwick lizard." The discovery of the Cuban brown anole could pose difficulties for the endangered Bermuda skink, according to the research scientists. Mr Stroud said: "During this project we also discovered two populations of a new species of anole on Bermuda; the Cuban brown anole. This species, originating from Cuba and the Bahamas, is one of the most widespread anoles outside of its native range, with large populations present throughout Florida and as far away as Hawaii and Singapore. Unlike the previous anoles found on Bermuda, which are often found on trees and branches, this species lives much more on the ground. This means that if it spreads into an area where the critically endangered Bermudian skink is present then they may compete for food and habitat."
September 24. Information sessions regarding same sex marriage are to be held next week. The Ministry of Community, Culture and Sports has organized the sessions in response to a petition that was presented to the Bermuda Government in May 2015. They will focus on the situation in other jurisdictions as well as the current local situation, and there will be an opportunity for questions and answers. Community minister Patricia Gordon-Pamplin said: "When I received the petition from Mr Tony Brannon and supporters, I assured them that Government would take into consideration the proposed request allowing same sex marriage in Bermuda. The Department of Human Affairs has presented to Cabinet research regarding what other countries have enacted in legislation and what steps can be taken. At the public information sessions we plan on sharing what we've learnt as well as give our citizens an opportunity to respond. "We want to encourage community engagement and dialogue around the subject. It is important after reviewing the research about what other countries have done that we, in Bermuda, have frank and honest dialogue about same sex marriage." The sessions will be held on Monday, September 28 at the Berkeley Institute and Thursday, October 1 at Bermuda College North Hall at 6pm.
September 23. Insured losses from the earthquake that struck Chile last week haven been estimated at up to $900 million. Bermuda insurers are likely affected. The 8.3-magnitude earthquake on September 16 was centred about 30 miles off shore from the city of Illapel, and at a depth of 20 miles. At least 12 people died as a result of the earthquake, which also damaged buildings and sparked a widespread tsunami alert and evacuations that affected at least one million people. Boston-based catastrophe modeling firm AIR Worldwide estimates insured losses will come at between $600 million and $900 million. The estimated insured losses reflect physical damage to homes and business premises and vehicles, and also direct business interruption losses. Mehrdad Mahdyiar, senior director of earthquake hazard research at AIR Worldwide, said: "The main shock, which was followed by several strong aftershocks, triggered a tsunami that was recorded in several countries. The tsunami produced waves up to one metre in height as far away as the Hawaiian Islands." The largest tsunami wave, which hit the port city of Coquimbo, was almost five metres high. The AIR Worldwide estimate of insured losses is higher than the $500 million figure put forward by Fitch Ratings last week. In its statement, Fitch also said economic losses from the earthquake were likely to be close to $1 billion. By comparison, the 8.8-magnitude earthquake that hit central Chile in 2010 killed more than 500 people and caused insured losses of between $4 billion and $7 billion. Economic losses were estimated to range between $15 billion and $30 billion.
September 23. Courier firm FedEx Express delivered the goods in flawless fashion at The Bottom Line Top Ten Employers awards yesterday — for the third time in a row. FedEx saw off strong competition to claim the first place from the sister publication of The Royal Gazette. FedEx senior manager for the British Caribbean islands Chris Heslop said: "It is our third time in a row — but it's really about our people, service, profit philosophy — the idea if we take care of our people they will provide better service, which in return gives better profits. Everything we do as a company revolves around that." Mr Heslop accepted the top award at a ceremony at the Hamilton Princess and Beach Club yesterday morning, flanked by staff members. He told guests at the event: "I brought five of our employees up here because really it's all about these guys." Second place went to a new player on the Bermuda business stage — Hamilton Insurance Group and Hamilton Re, founded less than two years ago by industry veteran Brian Duperreault. Hamilton Re chief executive officer Kathleen Reardon, who accepted the award, said: "What we're doing is a little bit new and different. To be recognized right at the start is a great honour. We are really making a work environment that is conducive to a culture where employees have a say in how the company is shaped — it's not a hierarchical structure, but one where information can be shared for the betterment of the company and the industry as a whole." IT company Fireminds rounded out the top three in its first entry into the competition. Company CEO Michael Branco said: "Our main mantra is innovation in technology and taking that to each employees and helping them realize their full potential and learn new things in roles they are in. That's been the growth for our people and the growth for us. I push the guys hard to get to their full potential, but that's because we love what we do in technology." Stevedoring Services — part of Polaris Holding Co. Ltd and the only traditional industrial firm to make the list — came in at number eight at its first attempt. Senior management, however, were taking care of business at its annual general meeting when the awards were presented and were unable to be present. But Polaris CEO Warren Jones said yesterday: "It was the staff at one of our regular meetings who asked why we weren't involved in this. We are very pleased. There's been a lot of work over the last two years as it relates to re-engineering and in particular working on relations with the union. This award is a good sign — we have more work to do, but it's a good benchmark." Bermuda Press (Holdings) CEO Jonathan Howes said: "The companies that are with us today, the Top Ten, are what I like to think are the companies that are best at managing people. They excel at taking their people from place A to place B. This year we have four new companies in the Top Ten, companies I don't believe have participated before, if I'm not mistaken. We encourage them to continue to participate — we love the excitement about where people are going to finish." And Mr Howes thanked the survey's sponsors, professional services company PwC, and Global Research, which carried out the extensive selection process, which involved input not only from employers, but their staff as well. PwC Bermuda leader Arthur Wightman told the winners: "We've been part of this — and delighted to be so — for a number of years because we consider it to be so important. Excellence in how you manage, nurture, develop and reward your people is so important. Very many congratulations to you all." He added that PwC's motto was "we create the opportunity of a lifetime. We spend every hour of our time ensuring we deliver that to our people. We do so because it's the right thing for them, but a happy, optimistic workforce is one that will drive commercial success for that organization. As proud sponsors of these awards, now in their seventh year, we are pleased to recognise Bermuda's most attractive employers — those who offer exceptional places to work. We would like to commend each of the Top Ten winners for their outstanding commitment to their people by offering the best professional development opportunities, benefits and rewards strategies. At PwC, our people are at the heart of our business strategy and success. Our core values of excellence, teamwork and leadership underpin our culture and define how we deliver value to our clients and focus on offering the opportunity of a lifetime to our people. As a firm we want to help our employees discover and develop their talents." The Bottom Line editor Jonathan Kent told the gathering: "What you guys have proved is that you are exceptional employers and a credit to our community. The Bottom Line is pleased and proud once again to honour the best of Bermuda and highlight their achievements in providing top-notch working environments for their staff." Guest speaker Claudia Philipsz-Jones, a partner and practice leader of the HR consulting and outsourcing team at Expertise, said: "Reading about each of your organisations, it's clear there is a theme of success for your risk and vision. There is teamwork, communication, a culture everyone can understand and appreciate and a sense of appreciation. Employers understand that to lead the marketplace they must first lead the workplace. May your good example as employers inspire other employers." The Royal Bermuda Regiment gained an honourable mention after just missing out on a place in the Top Ten in its first entry into the survey. Regiment Commanding Officer Lieutenant Colonel Michael Foster-Brown said: "I am delighted that the Regiment has ranked so highly among the various multinational companies represented, and note we are the only government department listed. We work hard to make service rewarding and satisfying, and whilst recognizing there is more work to be done in some areas, this survey and our current high retention rates indicate we are being successful."
September 23. On a distant green meadow in the English countryside stands a memorial to one of the most important figures in Bermudian history. The bronze chair emblazoned with the name of Mary Prince is one of 12 that forms a new piece of artwork called The Jurors. The circle of chairs was installed in an empty field in Runnymede earlier this summer to mark 800 years since Magna Carta was signed close to the same spot. Each piece of furniture is adorned with images and symbols relating to past and ongoing struggles for freedom and equal rights. Chair number five is dedicated to the memory of Ms Prince as well as American poet Phillis Wheatley. The front of the seat carries a picture of a lady with a quill in her hand that represents both Ms Prince and Ms Wheatley. The booklet provided to visitors states: "Poet Phillis Wheatley was the first published African American woman — 1773. Mary Prince was the first woman to present an anti-slavery petition to the British parliament — 1828 — and the first black woman to write and publish an autobiography — 1831 — at a time at which it was claimed that slavers and former slaves were not capable of such writing." Ms Prince was born in Devonshire in 1788 to an enslaved family of African descent. While she was later living in London, her autobiography, The History of Mary Prince, was the first account of the life of a black woman to be published in the United Kingdom. Her appearance in The Jurors by British-Guyanese artist Hew Locke has been hailed as "a fitting tribute" by the African Diaspora Trail. Committee member, Florence Maxwell, told The Royal Gazette: "I am very impressed to hear of this recognition, especially in the UK. I am very pleased that she has been recognized in this way and as a woman of stature. You don't often run into Bermudians getting international recognition on the world stage. Mary Prince told her story and that is what makes it so impressive. She played a very prominent role in exposing what slavery was really like." The Jurors was positioned just a few miles from the town of Windsor where modern democracy and human rights are said to have been born. Magna Carta was sealed by King John 800 years ago forming the foundations of the freedom of the individual, justice and equality. The artwork consists of 12 bronze chairs placed in a circle around an invisible table, a direct reference to clause 39 of Magna Carta, which states that no man can be imprisoned "except by the lawful judgment of his equals or by the law of the land." The chairs document the struggle for freedom and equal rights, as well as abuses, from the suffragettes and the suffering of the Australian aborigines to the assassination of gay activist Harvey Milk.
September 23. Shadow transport minister Lawrence Scott has branded ongoing bus cancellations as "unacceptable" and causing "havoc" to students travelling from school. The Department of Public Transportation announced a raft of 30 cancelled buses for yesterday alone — many of which are around the time students are travelling home from school. It followed similar cancellations announced on Monday owing to mechanical problems and out of service vehicles, according to the DPT Progressive Labour Party MP Mr Scott said in a statement: "The fact that, on an almost daily basis, the One Bermuda Alliance Government is sending out notices of numerous bus cancellations is unacceptable and should not be tolerated by the public whose taxes go towards purchase and maintenance of the fleet. Each day, we hear of these bus cancellations which wreak havoc for students, workers, and seniors alike. There are even reports of buses breaking down while in transit, and of buses not showing up to collect students from school. Yesterday's listing of cancelled buses affects students from Warwick Academy, Purvis Primary, and TN Tatem and numerous buses from CedarBridge Academy. How are parents supposed to ensure their children get to their respective destinations?" The Government said in a statement yesterday evening: "The DPT would like to advise the public that as a result of a huge spike in vehicles coming out of service for various reasons including accidents, tire changes and small electrical repairs the Department of Public Transportation is currently experiencing some delays and cancellations of bus runs. Currently, DPT technicians are carrying out targeted repairs that will have the greatest impact on returning vehicles to service and a manufacturer technician will be arriving to assist with specialized repairs. We apologize for the inconvenience this causes and we sincerely appreciate the public's patience and understanding at this time. The DPT advises passengers to expect some delays and catch the first bus that comes along that will get them to their destination and not wait for a preferred route or bus operator, as some passengers have been known to do." However, Mr Scott reminded the public that last March people were told that cancellations were connected to budget cuts. "What is it about now? Is it maintenance? Why haven't the issues with maintenance and repairs on buses been addressed? In addition to the security concerns and the lack of movement on installing cameras, when will the minister and the OBA come clean about the true state of the fleet? The America's Cup series races next month will put additional stress on the fleet. This doesn't account for the regular commuter needs and the cruise passengers that will be at Dockyard during October. Is the minister [Shawn Crockwell] confident we won't be embarrassed with cancellations, delays, roach infestations and breakdowns? If issues aren't addressed, what will be the state of the fleet next month during a very critical period?"
September 23. In the wake of the Tianjin explosions, which caused insured losses of up to $3.3 billion last month, China is showing growing interest in the Bermuda reinsurance market. That's the view of Chris Garrod, director in the insurance practice of Conyers Dill & Pearman. "China is a market where there is great potential and it will be interesting to see if the recent Tianjin explosion could be a market-changing event," he said. "It is estimated there are approximately $3 billion of losses at least in the Chinese P&C market as a result of that event, and that could very well lead to more Bermuda interest." He noted that recent China interest in Bermuda has included the proposed purchase of Sirius Group by CM International Holding, a subsidiary of China Minsheng Investment Corporation, and Panda Re's $50 million cat bond deal, to be used by sponsor China Re. Additionally, earlier this year China's Fosun International agreed to acquire Bermuda-based Ironshore Re in a $1.84 billion deal. Commenting on the increase in mergers and acquisitions impacting the insurance and reinsurance sector, Mr Garrod said: "I strongly believe there is great potential for the Island to strengthen and become an even more competitive jurisdiction as a result of those transactions being carried out."
September 23. The Island's boat owners are being encouraged to get out onto the water and watch the America's Cup World Series up close next month. Emirates Team New Zealand, led by the hot hand of Peter Burling, one of the youngest sailors in the fleet, presently sit atop the World Series leader board after two events. Recreational boaters will have access to watch the racing in designated spectator zones around the racecourse, which is scheduled to be in the Great Sound on October 17 and 18 between 2pm and 3.30pm. While the exact dimensions of the Great Sound race course will be determined by the sailing conditions on the day, the second race of both days will finish in front of Pier Six, on Front Street. All boaters are encouraged to register their boat on Island Tour Centre so that organizers are aware of the number of boats expected on the water. Registered boaters will also have access to up-to-date information about the racing. Registration is free for boats under 50-feet. For boats 50-feet and over registration is required. The $100 fee includes a flag that allows the larger boats into the spectator zone. "On water safety is an important part of the success of the race for both the sailors and spectators," Ralph Richardson, On Water Operations chairman, said. "We encourage everyone who plans to watch the races in the Great Sound or in Hamilton Harbour to adhere to the water safety rules in place for the event while having a fun day on the water."
September 23. Eleven yoga instructors teaching a variety of styles in a dedicated studio. Lucky Elephant Yoga is a first for the Island. Owners Tali Gabai-Maiato and Alex Hasselkuss were long-time yoga enthusiasts who'd struggled to find their ideal setting in Bermuda. "When I came to the Island ten years ago there were a lot of different teachers spread all over the Island," Mrs Gabai-Maiato said. "You couldn't just drop in on a class on any day. I wanted a proper studio where you could drop in at any point." Her businessman husband Chris Maiato encouraged her to go the extra mile, and open her own place. "[He's] always pushed me out of my comfort zone," she said. "I approached a number of my friends who were teaching yoga, and basically Alex was the last one standing." The pair found a space on the corner of Burnaby and Church Streets, and had a soft opening on July 1. "The reception from the public has been overwhelming," Mrs Gabai-Maiato said. "We opened during the summer months when people are generally doing other things here and we've [been impressed] by the turnout we've had. People have been coming out of the woodwork; people we'd never seen [in our yoga classes] before; people who'd never tried yoga. It's been pretty amazing." Mrs Gabai-Maiato, who is originally from Canada, has practised yoga for 20 years and became an instructor in 2011. She was certified by international yoga master Noah Mazé, and trained in yoga therapy, prenatal yoga and yoga philosophy. Mrs Hasselkuss got into yoga after moving to Bermuda from North Carolina about a decade ago. In 2013, she took "a leap of faith" and quit her job in catastrophic risk management at ACE to become a full-time instructor. She took advanced training with Noah Mazé, and got her certification the following year. The women gave careful consideration to the business name. Said Mrs Hasselkuss: "Why an elephant? In many cultures, elephants are a symbol of mental strength, wisdom, earthiness and responsibility. "In Indian mythology, the elephant-headed Ganesh is the remover of obstacles and the granter of new beginnings, as he provides prosperity, fortune and success." The Hamilton studio is spread over 27,000 square feet. Two group yoga rooms are separated by a removable partition; two smaller rooms are used for one-on-one or small group instruction. The space also includes changing facilities, four showers, and a retail space for yoga clothing and accessories. One of the yoga rooms can be heated to 95F with 60 per cent humidity. It's a novelty for Bermuda, yoga, and can really intensify the impact, Mrs Hasselkuss said. "It's something nobody else on the Island offers. In any heated environment your muscles get a bit loose and it helps a lot with flexibility. There's more strengthening, lengthening your muscles. Yoga can benefit everybody from children to senior citizens. " Mrs Hasselkuss lists Oracle Team USA among her clients. "There are more and more men who are becoming open to yoga although the majority are still women," she said. Lucky Elephant Yoga will have its grand opening on Friday at an invite-only event. The public is welcome to attend free classes at the studio on Saturday and Sunday. A range of private and group classes are on offer.
September 23. Bermuda Sport Anti-Doping Authority (BSADA) has carried out more than 1,500 tests under its illicit drugs programme since January 1, 2013. According to BSADA there have been just four positive results, all for marijuana, out of the 1,706 that it performed. In response to a Pati request from The Royal Gazette, BSADA revealed that it had also carried out 169 tests for performance-enhancing drugs in the same period, with no adverse analytical findings. There, were, however three missed filings, and two missed tests recorded for athletes who are required to submit quarterly reports about their whereabouts. This is normally required from elite athletes competing at a high level. Some 77 performance enhancing tests took place at 14 club level sporting events, with the national championships for athletics, gymnastics, swimming, triathlon, cycling and bodybuilding among that number. There were no positive results recorded, nor where there any during the 59 out of competition tests BSADA carried out. For the performance-enhancing tests, samples have been sent to World Anti-Doping Authority accredited laboratories in Britain, Canada, Germany, South Africa and the United States, with testing for illicit drugs taking place locally. As per Wada directive, the tested samples are kept for eight years at the Wada laboratory. Financially, BSADA is supported by a Government grant, which for the 2016 fiscal year is $650,000, down from the $750,000 in 2015. Of that, $234,000, or 36 per cent, is to be allocated to the performance-enhancing programme, $143,000, which is 22 per cent, will be spent on the illicit drugs programme, with the remaining $273,000 set aside to pay for administration costs. There are five full-time staff, headed by Deborah Hunter, the chief executive, with BSADA also employing 11 doping control team members, who have to be re-certified every two years.
September 23. A growing number of teenaged boys and young men appearing in court have a history of smoking marijuana, according to senior magistrate Juan Wolffe. He said that he and his magistrate colleagues could "draw the inference that there is a strong nexus" between offending behavior and marijuana over the past few years. This is just what I have seen in court and heard through discussions with other magistrates in both criminal and family courts — it's not based on empirical evidence. It seems offenders that come before us have a history of smoking marijuana, and some of them have been smoking since they were as young as nine." In a frank interview with The Royal Gazette, the senior magistrate shared his observations of the drug's impact on society, noting that he had been "disturbed" by the trend of use among young men. "What makes it worse is that they have no recognition of the link between their drug use and their behavior. They simply don't see it as being the root cause of the problem. We find that marijuana smoking often continues throughout a probation order and there is a reluctance to attend drug counseling. Many individuals just don't feel they have an issue with drugs. Through community-based sentences the courts try to help individuals get off drugs and provide an incentive; for example if they go through counseling then maybe it could lead to a conditional discharge and therefore not affect their record. Unfortunately, that does not seem to work. There is non-compliance and orders are breached. There are people who would rather go to prison than stop smoking marijuana. That is very difficult to manage." The debate over the legalization of marijuana has attracted strong views on both sides of the fence in Bermuda recently. Mr Wolffe maintained that he was not advocating for or against decriminalization of the drug, but he said that he believed that the usage of marijuana among teenagers was "generational." And he revealed that the consequences of marijuana smoking had begun to manifest themselves during family court proceedings. "We understand why in many cases there is a reluctance — much of the use of marijuana among young people is generational. They have seen marijuana smoking in their house and in their neighborhoods, so when you say to them there is a problem with smoking it, they don't see it as a problem. We can debate all day about the legalization of marijuana, that is for another time and place. I am not advocating either way, I am just saying what we see on a daily basis. From what I have seen in the court rooms, I would say there is cogent evidence to suggest that marijuana smoking has affected young men's feelings, their education, their social skills, how they interact with other people, their jobs, their sports, their relationships as well as their dreams and aspirations. Every single individual in drug court started their journey of drug addiction by smoking marijuana. And often with the marijuana comes alcohol. In many cases in family court where there is dysfunction there is also an element of marijuana smoking and, disturbingly, in some of the cases, the smoking takes place in full view of children. So when we are talking about repairing the dysfunctional family, often the court orders some level of counseling for the parents. Even in family court we have had to find ways to help parents whose marijuana use was affecting their ability to parent."
September 23. Edward "Donnell" Ivy's hips started failing him when he was 9. By the time he reached university, he would often suffer terrible pain that would put him in hospital for weeks. Then the crisis hit. The then 23-year-old was on duty as a resident pediatrician, and could not breathe. A haematologist diagnosed acute chest syndrome. The potentially life-threatening lung-related complication is linked to sickle cell disease and can lower the levels of oxygen in the blood. "I had to be intubated," Dr Ivy said. "They called my parents because they weren't sure if I was going to make it." The haematologist prescribed a daily dose of a drug called Hydroxyurea. It stopped his severe pain and changed the doctor's career path. "I realized there were already effective drugs and treatment options out there for patients with sickle cell," he said. "The problem was patients, their families and their doctors often didn't have access to information about treatment options and resources." Since then, he has made it his life's work to ensure that patients have access to the resources they need. More recently he has achieved this through the National Institutes of Health in Washington DC. "I've worked on sickle cell clinical practice guidelines," the 44-year-old said. "I've also worked on projects involving cardiovascular disease and diabetes. We have a lot of knowledge about these diseases, but how do we help people live a healthier lifestyle?" The North Carolina native visited Bermuda this week to help observe Sickle Cell Awareness month here. He spoke with members of the Bermuda Sickle Cell Association and talked about treatment options with the medical community. His advice to people with sickle cell is to not let the disease get in their way. In his early life, that advice was hard to follow. SCD exploded his childhood dream of becoming a fighter pilot. "My stepfather was in the military and I spent part of my childhood on an air force base," he said. "I dreamed of flying jets, and I was determined, even though I knew the military didn't admit people with SCD." The US Air Force does not accept people with sickle cell disease as they have severe pain crises in times of high stress. Dr Ivy got as far as a home interview with an air force recruiter. Then his mother walked in on them and dropped the bomb. "She said, 'Donnell, you know you can't join the air force, you have sickle cell'. After that, I knew it was all over." He resolved to go into research and then he found his career path. "There are limitations to what you can do," he said. "Obviously, you can't join the air force, but there are lots of other things you can do. It is important to learn about your body and what you can take in terms of physical exertion. You can do a lot."
September 23. A 49-year-old police officer was yesterday charged with tipping off a woman in relation to a money-laundering investigation. Emmerson Carrington, of Devonshire, pleaded not guilty in Magistrates' Court to disclosing information to another person that was likely to prejudice an investigation that was about to be conducted into money laundering, knowing or suspecting that a police officer was proposing to act in connection with that investigation. The offence allegedly took place on November 29, 2013. Deputy director of public prosecutions Cindy Clarke told the court that the offence attracts a maximum sentence of three years' imprisonment or a $15,000 fine. Magistrate Khamisi Tokunbo granted Mr Carrington $10,000 bail on the condition that he have no contact with the woman and adjourned the matter to October 13 for mention. Commenting after Mr Carrington's court appearance, Martin Weekes, the Assistant Commissioner of the Bermuda Police Service (BPS), said he had been suspended pending the outcome of the case. "A serving police officer appeared in Magistrates' Court today charged with an offence in relation to an ongoing investigation," Mr Weekes said. "The officer is currently suspended pending the outcome of the court case. As this matter is now before the courts the BPS will have no further comment on this matter until the conclusion of the case." According to the BPS website, Mr Carrington joined the BPS in 2003, having served with the Royal Barbados Police Force for 17 years. Mr Carrington is also a cricket umpire, having sat the West Indies Cricket Umpires Association's exams in December 2013. He was voted Umpire of the Year in 2014.
September 22. Oil and gas multinational Chevron has come under fire in Australia for using Bermuda for tax avoidance. US-based Chevron, along with Anglo-Dutch firm Shell and the American ExxonMobil, is set to begin production at the massive Gorgon gasfield off the coast of Western Australia. But Chevron has been grilled by the Australian Senate economics references committee about its links to Bermuda — described by the prestige Sydney Morning Herald as a "tax haven." Now Chevron has been asked to reveal its links to "secrecy jurisdictions" and provide details of financial transactions involving subsidiaries over the last five years. The oil company is one of seven facing a probe by the Australian federal government into corporate tax avoidance. All the companies have been criticised for using offshore subsidiaries to cut their tax bills in Australia. The Sydney Morning Herald said that financial accounts showed a Chevron and ExxonMobil have a combined $87 billion in "unrepatriated profits" in accounts in low-tax and no tax jurisdictions. And the newspaper added that a "review of Chevron's Australia business" had found that its largest liquefied natural gas (LNG) tanker, used to transport Australian gas to Asia, is owned by Bermuda-based Chevron Transport Corporation. Despite the 96,000 tonne Northwest Swan tanker flying the Bermuda flag since 2006, Australia appears to have been unaware the ship was owned and registered in Bermuda. Chevron Transport Corporation — one of 297 Bermuda-registered companies with Chevron in its name, according to the Herald — is the parent of Chevron Australia China LNG Transport Pty Ltd, a company registered in Australia. Its first director is Roy Krzywosinski, the managing director of Chevron in Australia, who is also a director of Chevron Australia Transport, Australian Securities & Investment Commission, according to Australian Securities and Investment Commission records. Two of the seven directors of that company are Bermuda residents, with Debra Flood, of Warwick, listed as company secretary, while a firm registered in Bermuda shares the same name of Chevron Australia Transport. The Herald said that Chevron did not respond to requests for comment. The International Transport Workers Federation (ITF), which represents employees on the gasfields off the coast of Western Australia said it had been examining Chevron's corporate structure. ITF researcher Jason Ward said he "can't see any other reason" why Chevron would register companies in Bermuda other than to cut its tax bills in Australia and elsewhere. Paddy Crumlin, president of the ITF, said Chevron's business in Bermuda should be investigated by the Australian Senate committee. He added: "A light needs to be shone into the corporate structure of these huge global companies so that Australians can be confident the public is getting a fair tax take from those making massive profits our of the nation's resources." The Royal Gazette reported last month that top executives from global firms like Google, Apple and Microsoft all appeared before the Australian committee. Google came under fire last year for funneling billions to Bermuda after the firm revealed nearly $12 million had been sent to the Island to avoid paying tax on its profits. Australia in May announced it would become the third country in the world to enter into new transfer pricing documentation standards to crack down on multinational tax avoidance. The Australian senate committee is also expected to recommend that all companies should disclose every year how much money they made in Australia, how much tax they paid, tax deductions and other government write-offs.
September 22. Two legal firms are to join forces, The Royal Gazette can reveal. International offshore law firm Harneys will next month merge with Bermuda lawyers Hurrion & Associates under the Harneys Bermuda banner. And Hurrion & Associates founder Sarah-Jane Hurrion will become managing partner of the new full-service legal and fiduciary services firm. Harneys will now establish an office on the Island for the first time. The firm also operates in Cayman, the British Virgin Islands, Cyprus, Mauritius and Anguilla and has a presence in key markets like London, Hong Kong, Sao Paulo in Brazil, Singapore and Tokyo. Hurrion & Associates has a staff of 14 in Bermuda, while Harneys has 357 employees worldwide. Ms Hurrion said: "Hurrion & Associates is pleased to be joining forces with a firm of Harneys' calibre and reputation. Our firms have an outstanding cultural fit and a great deal to offer each other, to the benefit not only of our clients and staff, but also of the broader Bermuda legal market, economy and profile." Harneys chairman Peter Tarn added: "For us, choosing to partner with Hurrion was not only about technical expertise but also a belief that Sarah-Jane shares our long-term ambitions and vision of how lawyers should contribute to the society in which they operate. We consider ourselves lucky to have Sarah-Jane and her outstanding team joining us." Mr Tarn said the Island was a "blue-chip jurisdiction" with a strong international reputation and a wide range of businesses. Clients have been telling us for some time that Bermuda is a place where Harneys needs to be. In particular, Harneys' strength and deep roots in Latin America and Asia provide the perfect platform to grow Bermuda's presence into these key and emerging markets." Ms Hurrion also announced a new recruit in advance of the merger. Michael Burns, a former senior equity partner at global offshore legal firm Appleby, will become Harneys global group general counsel and also managing director of fiduciary services and head of the Bermuda corporate department. Ms Hurrion said: "Mike brings 25 years of experience as a corporate lawyer to Harneys Bermuda and I am delighted that he will join the leadership team to drive this firm forward in the years to come." Ms Hurrion, who formerly worked at Cox Hallett Wilkinson in Bermuda and Walkers in Cayman, set up Hurrion & Associates, which specializes in international commercial litigation, insolvency and corporate restructuring, last year, Bermuda Business Development Agency (BDA) CEO Ross Webber said the agency had been in talks with Harneys for months. He added: "It is encouraging the jurisdiction is being regarded as a place for growth and a centre that is open for business. We strongly believe this will result in healthy competition within the Bermuda marketplace and that the presence of Harneys here will attract more business."
September 22. Walton Brown, the Shadow Minister for Immigration and External Affairs, said his party is to initiate an Island-wide conversation about the future of Bermuda's immigration policy. Mr Brown held a public forum at the Allen Temple AME Church, Sandys, last night in front of a full audience. The Progressive Labour Party MP reiterated calls for "fundamental reform" of the law with regards to the granting of PRC and Bermudian status with his primary question being, "what kind of Bermuda do we want to create?" Putting Bermuda's immigration into a historical context, Mr Brown outlined the Island's policies from an 1842 bill tabled in Parliament "to encourage emigrants coming to these islands from the United Kingdom," up to the modern day. He included voting rights that were granted to all British citizens during the '60s who resided on the Island for more than three years, and the issuance of up to 40 discretionary status grants annually up until the practice was abolished in 1989. He reminded the audience of the PLP move to grant PRC status to those living in Bermuda in July 1989 and the ruling by Chief Justice Ian Kawaley to entitle those PRCs to apply for and receive Bermuda status. He said more people would be granted status under the present law than would have been under discretionary status. "The only vehicle now for anyone to get PRC status is the Job Makers Act — in my view that is fundamentally problematic because it means the guy who works in a kitchen here for 30 years can't even apply. There is a bias and it is a bias that gives people who already have privilege even more privilege — rich, white men who are the face of international business. In the PLP we called for the removal of the category to allow for a proper formulation of policy. We have to listen to you first of all. We have to ask how do we go about formulating policy — you can't formulate policy by men and women sitting in a room and saying what needs to be done. Policies should be in place that benefit the community. Questions need to be asked: are we to have further grants of PRC status? Who should be entitled? How many should we issue in any given year? What should the criteria be? Who should be eligible to Bermudian status, if anyone? Some may have a real issue with people who acquire citizenship in Bermuda who hold citizenship in another country who can vote to determine whether we become a sovereign state. We have to put that on the table for a matter of discussion. If we [the PLP] get in we will singularly revoke those aspects of legislation that we find problematic." Mr Brown also reiterated calls for a comprehensive database that would test the granting of work permits against Bermudians seeking employment. He also touched on the possibility of a model of commercial immigration, though not that proposed by immigration minister Michael Fahy which he said would only serve rich, white senior executives who are not the men directly creating jobs.
September 22. An air-traffic control specialist has said she "didn't know whether to laugh or cry" when receiving a call from Pope Francis. Kay-Ann Chambers-DeShields was on duty when the Pope contacted Bermuda to transmit a prayer for blessings as he flew over the Island en route to Cuba on Saturday. The extraordinary correspondence came through the New York Centre, which is the controlling body for the airspace above Bermuda, when a pilot told her he was "carrying the Holy Father" on board the plane from Rome to Havana. Ms Chambers-DeShields, a Jamaican national and naturalized Bermudian, said: "When I first heard from New York I thought it could have been an emergency situation or just someone wanting to get information. I responded to him and that's when he told me that he was carrying the Holy Father. That's how they referred to him. "He said, 'We are Alitalia, we are flying over your air space and on board we have the Holy Father and we would like to pass on a message to your nation'. "I just responded for him to go ahead and that is when another voice came on that was different to the pilot's." The radio transcript of the conversation reads: "I send cordial greetings [to] your Excellency and your fellow citizens. As I fly over your country on my way to Cuba for a pastoral visit; evoking these blessings upon you all. I ask Almighty God to grant to the nation: well-being and peace. From a peaceful Pope." Ms Chambers-DeShields said that while the transmission was very "staticky" she has a trained ear and could make out the words. She continued: "It was a little surprising — I said I didn't know whether to laugh or cry. His English was not as clear as he has an accent. I thanked him and then he thanked me back. I said God bless you and he said the same to me and then the pilot came back on the frequency. "I made a report of it and said that it was for the Bermuda Government not for Air-Traffic Control. I spoke with my colleague about it at work and then I dismissed it; because I am a Christian too it is very nice and a prayer from anyone is accepted." Ms Chambers-DeShields, who has worked in the air traffic control service for 25 years including 15 in Bermuda, said she had never experienced a call like it. "Not from a Pope," she laughed. "This was more or less a highlight for me." During his historic trip to Cuba, the Pope has met with former Cuba leader Fidel Castro and other government officials; later this week he will continue his journey to the United States, where he is expected to meet with President Obama and address Congress. Michael Dunkley said he was "delighted and appreciative" of the Pope's gesture. The Premier had written to the Pope, Barack Obama and Cuban President Raúl Castro last year, following the announcement of the building of relations between the two countries.
September 22. Residents concerned they are not receiving the level of internet speed and capacity they are paying for, could have structured avenues for redress if recommendations from a new report are put into effect. The perceived slow connection speeds and high cost of internet service in Bermuda has been identified as a perennial issue in market surveys. Now a high-level working group has delivered a report on broadband quality of service to the Regulatory Authority of Bermuda (RAB), which oversees the telecommunications sector. The report includes recommendations aimed at driving forward improvements to broadband internet service delivery and quality. One idea to address the difference between a provider's advertised internet speed and the actual speed received by the customer, is to make it mandatory for a customer to be given a "speed card" when their service is activated. The card will show the expected line quality the customer can expect. The report's recommendation states: "The speed number cannot be close to the subscription level just below." As an example, a customer paying for 6 Mbps should not be receiving only four. If a customer complaint is made to the RAB regarding slow internet speed, the carrier will supply the authority with the actual speed test number of a customer's account. The report further recommends that providers of a service consistently below the acceptable standard of speed should lose some revenue, through a line downgrade, and potentially refund customers. However, one of the big takeaways from the report is the need to educate the public about factors outside the control of service providers that can impact their internet connection speeds and reliability. It also noted that no regulation or standard exists, either overseas or locally, that reference availability and uptime for the consumer market. The report recommends that customers should be reimbursed on a pro-rata monthly basis for all outages that exceed the established standard for uptime per month. The report describes that uptime standard as being 95 per cent per calendar month. Among other recommendations, it is suggested there should be a formalized process to deal with consumer complaints and issues, and where necessary ISPs and access providers communicate with each other to investigate and resolve complaints. The working group behind the report was together for about six months. It featured a number of top-level executives and managers from various telecoms companies, together with Bermuda Government representatives. The working group was co-chaired by Anchor Investment Management's chief financial officer Nathan Kowalski and Bermuda CableVision's Alan Smith. Mr Kowalski said the process had been challenging due to the differing opinions expressed and the complicated telecommunications landscape, but it had also been educational to see what other countries and jurisdictions did to address internet issues. While there is no guarantee that anything in the report will be adopted by the RAB, Mr Kowalski said it was a starting point for addressing areas of concern. "It's a good exercise to get the ball rolling, to understand how everything works and to get input from stakeholders," he said. Kyle Masters, interim chief executive officer of the RAB, said: "It was an opportunity for end users and providers to discuss face to face what the issues are, and come up with recommendations for the authority." He said the RAB would look at the recommendations to see which, if any, should be implemented. The authority is putting together a working plan for the next operational year, which starts in April, and will analyze recommendations from the working group's report. The public will be given an opportunity to comment on the RAB's plan when it is put online during a consultation period. Mr Masters thanked the volunteer members of the working group for their efforts in producing the service report. Grant Gibbons, Minister for Economic Development, said he believed efforts are under way to address concerns regarding internet service and speeds. "There has been clear public comment on these issues, and they need to be looked at. This report is a good start," he said.
September 22. The Bermuda National Trust has embarked on a major renovation project to restore one of the Island's oldest homes. The historic Springfield property, with its spectacular cedar porch and picturesque buttery in Sandys, dates back to the 1740s when it was owned by the Gilbert family. It was returned to the Trust by the Bermuda Government two years ago before which time it was used to house the Somerset Library and then Somerset Community Centre. The hands of time have taken their toll on the architectural treasure as well as its pretty gardens. But now, thanks to the Trust, a six-strong team of gardeners, handymen and an extremely generous gift from BCM McAlpine, it looks set to be restored to its former glory. "We have been working feverishly on the property for the last couple of months," said Dorcas Roberts, the Trust's director of preservation. "Our priority at the moment is to make the two-storey building next to Springfield habitable again, as well as the structure at the back that is the former slave quarters. The neighboring building will be transformed into a one-bedroom apartment and a studio and then rented out. We hope that will be completed by next month. The property at the back will be turned into a two bedroom home, again for rent, which should be completed by the end of the year. At the same time we are working on the garden and also the interior of Springfield itself and will be holding an open day on the first weekend of December. Next month carpenters from BCM McAlpine will be on site to completely refurbish the beautiful cedar porch that has begun to decay. They have agreed to do this at no cost which is an incredibly generous gesture and one we are hugely grateful for." The Springfield property, which includes and neighbors the Gilbert Nature Reserve and covers over nine acres, was built in the 1740s. When it was constructed by Ephraim and Mary Gilbert it consisted of a range of three rooms in the wing that is now fronted by the long veranda, a hall, an entrance passage and a chamber. Under the front three rooms was a large cellar. Mr Gilbert died in about 1769 and Springfield was inherited by his eldest son Thomas. He followed in his father's footsteps as Captain of the Sandys Militia and in 1788 the property was valued at £500, the second highest in the parish. The house was passed down from one generation to the next and slowly expanded to become a much more substantial property. In 1966 the Bermuda Historical Monuments Trust bought the house and it later passed to the National Trust. It went on to serve as a library, a nursery school and a community centre before being returned to the trust in 2013. Ms Roberts said: "Restoring Springfield is an exceptionally important Trust project. "The buildings exhibit great vernacular beauty and their history and architecture provide such a valuable insight into the day-to-day lives of Somerset over the centuries, and the Island as a whole. We're still looking to raise funds to cover all the restoration works, our remaining goal is $230,000. We have already had generous donations and support from businesses like BCM McAlpine but if there is anyone else out there who would like to help they can contact the Trust." To support the project contact Ms Roberts at dorcas@bnt.bm.
September 22. The introduction of affordable healthcare in the US is a shot in the arm for captive insurance in Bermuda. Now the Bermuda Business Development Agency (BDA) is to hold a special webinar to highlight the Island's expanding healthcare insurance market. The introduction of the 2010 Affordable Care Act in the US — known as ObamaCare as it was driven by President Barack Obama — has lead to the amalgamation of American hospitals and expanded Medicaid coverage to millions more US citizens. The BDA said: "That trend has created demand for healthcare captives to offset the upsurge in potential risks. Indeed, the Island has seen substantial growth in the sector over the past five years, according to Bermuda industry experts, many of whom will be part of a BDA delegation to next month's annual American Society for Healthcare Risk Management conference in Indianapolis." Oceana Yates, vice-president in captives for R & Q Quest Management Services, said Bermuda had more captives than anywhere else in the world and is on track to meet strict EU Solvency II financial standards. She added: "Much investment has been made in providing truly innovative and relevant solutions healthcare-related entities. ObamaCare had meant hospitals employing more doctors directly, rather than being self-employed, buying physician groups and starting joint ventures with other entities to help manage healthcare costs. The expansion of the reach of hospitals and other healthcare facilities is driving this captive growth in Bermuda." Bermuda has around 40 specialists writing healthcare insurance and reinsurance, a solid track record in payouts and local capacity to write up to $400 million for any single risk. The hour-long webinar, to be broadcast at noon on Wednesday, September 30, will feature Ms Yates as one of the expert panelists. People who register for the event will get online access to the webinar and a post-event download of the entire presentation. Ms Yates said: "The webinar affords an excellent opportunity for those interested in the captive idea to interact directly with experts who have significant healthcare experience. The session will help to clarify how captives can add value in terms of enhanced risk strategy and tangible bottom-line results." Questions during the webinar can be e-mailed to info@bda.com or tweeted to @investBermuda#BDAcaptive.
September 21. Italian investment giant Exor plans to propel Bermuda reinsurance firm PartnerRe into the top tier. Exor CEO John Elkann, part of the billionaire Agnelli family that runs the company, said he hoped to put PartnerRe in the top four reinsurers in the world. Mr Elkann, whose group engaged in a long-running battle with Bermuda's Axis for control of PartnerRe, said: "We fought very hard to be here and now there is certainty. "There's a lot of negativism in the industry right now and people might wonder why we fought this hard to invest $7 billion in the sector. We are very optimistic because covering risk in our society is a need that will continue to exist and grow with the economy." Mr Elkann, whose firm paid nearly $7 billion for PartnerRe, was speaking at the Monte Carlo Yacht Club as part of the annual reinsurance Monte Carlo Rendez-vous. He said that Exor had been one of the founding backers of PartnerRe when it was set up in 1993, but sold its stake after the company went public. Mr Elkann added that Exor was committed to PartnerRe and predicted it could rival industry giants like Munich Re and Swiss Re. He said: "I consider this to be a generational investment ... most of the earnings will be retained within the business. Our plan to put PartnerRe among the big four is a realistic objective." Mr Elkann said that scale was important in reinsurance, but ruled out PartnerRe adopting a hybrid insurance and reinsurance combination. He added: "PartnerRe will stay a pure reinsurance company and not compete with customers. This is a recurrent theme with brokers and clients." New PartnerRe president Emmanuel Clarke backed the new owners' ambition to become one of the world's top reinsurers. He told reporters at the Monte Carlo press conference: "I'm sure you have been following the story over the first part of this year. We have had two months of uncertainty. But this period is now coming to an end and it is a happy ending — but also a new start. We at PartnerRe are looking forward to this new chapter in our history, under the ownership of Exor." Mr Clarke said the takeover meant that PartnerRe would be preserved as a stand-alone company and that the buyout was a long-term investment rather than a private equity play. And he added that — as a rash of mergers and acquisitions continues — PartnerRe was secure and could concentrate on its business. Mr Clarke said: "Stability also means providing a consistency and continuity of approach to our clients. Reinsurance is a long-term partnership business and clients do not like surprises."
September 21. The Bermuda Government has moved to quell concerns that jobs may be lost at the airport under its multimillion-dollar redevelopment plans. Last week at a public meeting in the East End Lawrence Scott, the Shadow Minister of Transport, raised concerns that staff at LF Wade had been told that they could not be guaranteed jobs if the project went ahead. But a Government spokesman told The Royal Gazette that some existing employees would merge in the new airport operators business model, while others will staff a new airport quango. "Given the industry specific skill sets that officers of the Department of Airport Operations (DAO) possess and given their overall experience levels, it is expected that some of the existing employees of DAO will merge into the new Airport Operator's business model," the spokesman added. "Other DAO employees will staff the new airport quango which is to be established in order to provide oversight of the airport operator." At Friday's meeting Mr Scott also announced that Aecon — the developer — had "pulled out" of the Quito airport arrangement in Ecuador, which it had built with the Canadian Commercial Corporation (CCC). The spokesman said the claim was inaccurate. He added: "The facts are that Aecon sold its 45.5 per cent interest in Quito Airport. This was just a normal business transaction. President of Aecon Concessions Steve Nackan has stated: 'Aecon has been involved with the Quito Airport for over 14 years — taking the project from its infancy, through development, financing, construction, operating the existing Quito airport from 2006 to 2013, and into two and a half years of full operation of the new award-winning airport. From an operational perspective, the new airport has reached a 'steady state' and from an investment perspective, is now well suited to long-term institutional ownership. It is typical that at this stage in an infrastructure project's life cycle, to see investments transition from the originating project sponsor, developer and builder to long-term institutional investors, and this transition is generally perceived as a further marker of a successful development project.'" The spokesman told The Royal Gazette that after the Island's new terminal was open, Bermuda's consent was still required for any change of control. He added: "Subject to certain very narrow exceptions, the current development agreement requires Aecon Construction Group to be the joint owner and lead shareholder of the Company that will be operating the airport throughout the construction of the Airport, and thereafter Aecon Construction Group must control the Airport Operating Company. The Government must provide its prior written consent for any changes to this situation. The Government retains absolute discretion for this decision. After the terminal opening date, Bermuda's consent is still required for any change of control but will be given if the proposed transferee has the financial resources, experience and expertise required to step into that role." Last week's Progressive Labour Party town-hall meeting attracted more than 100 people in the East End and was the third such event organized by the Opposition. During the presentation Mr Scott claimed that there would be less gates at the new facility. The Government spokesman responded: "The new airport will have seven new boarding bridges to enhance passenger level of service. There are no boarding bridges at the current terminal. The new terminal will have 14 stands to accommodate passenger aircraft compared to the current layout, which only has eight gates/stands and one of those is used for cargo."
September 21. Discussions are under way to determine whether a health hazard warning should be removed from the US State Department's website stating that Bermuda's beaches are contaminated. A tourist who has visited Bermuda some 30 times contacted this newspaper with concerns about the warning of "ongoing dumping of raw sewage." The Bermuda Government has said that according to its figures, Bermuda's waters are now safe for swimming and that it is "in discussions" with the US Consul General over the matter. Bermuda's beaches hit the headlines after a 2013 study that warned of "intermittent contamination" when grease balls were washing up on the beaches, as revealed in this newspaper. Government has since put in place a Fats, Oils and Grease (FOG) Control Policy which requires all food establishments to remove FOG from their wastewater prior to disposing it in the City sewer system. Regular water testing now takes place and the results are published publicly online. Government also took measures to improve operations at the Tynes Bay Seepage Facility with more control on the types of wastes being received. The US State Department's website claims that Bermuda's authorities "do not consistently provide warnings at those times when water may be contaminated." It lists possible health effects for swimmers including gastroenteritis, ear infections, respiratory illnesses, and staph infections, and advises immunization against Hepatitis A and typhoid. Ongoing dumping of raw sewage off Bermuda's south coast causes intermittent contamination of the waters along the Island's south shore beaches, creating a public health hazard. Changing weather conditions — wind, swells, tides, and rain — can bring rapid degradation of water quality along the beaches, resulting in human bacteria levels from fecal contamination up to four times the acceptable US standard. Bermudian authorities do not consistently provide warnings at those times when water may be contaminated." The Department of Health now routinely samples and tests seawater from Bermuda's beaches for enterococci, a group of bacteria which are used as indicators of faecal pollution. According to the Government's current online figures, the levels of bacteria are far below the US Environmental Protection Agency's recommended levels. The tourist wrote to this newspaper saying: "For the past ten years we have stayed at the Reefs on the South Shore. I have read the US State Department warning about raw sewage being dumped unabated off of the South Shore. I have sent e-mails to the BDA Tourist Authority inquiring if this indeed is a health hazard in BDA but received no meaningful response. Any information your paper might have will be appreciated as we want to return to BDA this fall." The Government said it can "assure the public of the bathing water quality of Bermuda's beaches" while incoming US Consul General Mary Ann Koenig said the matter needed to be discussed. She said: "I do think the decision to put that up warrants looking at and looking at if the language is appropriate. We are in the process of those discussions." A government spokesman would not specifically say that the US State Department website was inaccurate but did say it was in discussions with the US Consul General over the issue. He said: "In 2014, the Caribbean Public Health Agency (CARPHA) concluded that the sea/beach water quality results generated by the Bermuda Department of Health are reliable, confirming the bathing beaches of Bermuda meet the US EPA's requirements for safe recreational use. In July 2015, the programme manager for Regional Tourism and Health, Dr Lisa Indar, visited Bermuda and reaffirmed the health of Bermuda's beach water. The Department of Health continues to regularly perform seawater sampling and can assure the public of the bathing water quality of Bermuda's beaches. Results can be viewed at goo.gl/9SCakk. This contains the most up-to-date information about Bermuda's seawater quality and it is the only source of up-to-date information on this matter." Specific steps that have been taken by the Government to address the situation include grease traps installed in restaurants connected to the city sewer; the hiring of a health inspector to monitor the traps and establishments; the upgrading of wastewater pumping station filters; and the renovation of Tyne's Bay septage facility. Studies are also under way to explore the extension and/or replacement of the Seabright outfall and legislation is being drafted to make the City of Hamilton FOG Policy, a regulation under the Hamilton Sewage Act, to assure accountability and enforcement." Karla Lacey Minors of the Bermuda Tourism Authority said: "Bermuda's beaches are healthy by all the sources we consult with. We look forward to having this US website reflect the current reality." The US State Department did not respond to our request for information.
September 21. A health campaigner is urging people not to be complacent about HIV and Aids ­— with more than 200 residents living with the infection today as a result of sexual contact. Russ Ford, cofounder of the Supportive Therapy for Aids persons and their Relatives (STAR) charity, says while treatment has improved drastically since the 1980s and 1990s, some people remain involved in "risky activities." The Island recorded 25 deaths from Aids or HIV from 2010 to the end of 2014, including four last year: significantly down from the 20-plus annual deaths of the 1990s. However, 301 people in Bermuda today are recorded as living with HIV or Aids, almost half of whom contracted it through heterosexual contact. In an interview with The Royal Gazette, Mr Ford said much still needs to be done to increase awareness and tackle the stigma that is still associated with the conditions. Giving his thoughts on the decline in HIV-positive diagnoses, he said: "I think it has to do with attrition. The education that was provided in the community through STAR predominantly and then through the Department of Health has taken traction over the years. I think that people were paying attention. But I also feel that nowadays because we've found so many treatments for HIV and Aids people are no longer looking at it as this gloom and doom anymore. They think, well, it's treatable and we're OK. But at the same time it remains a chronic disease. In the 1980s most of the people with HIV or Aids he dealt with were black males or intravenous drug users; however, however, I can tell you the face of Aids in Bermuda has changed." Statistics from the Department of Health show that, in 2014, 215 men and 86 women in Bermuda had HIV or Aids; 246 were black, with 55 white or others. The majority (188) were aged between 45 and 64, although three were under the age of 25. A breakdown on how their conditions were contracted shows 131 were through heterosexual contact, 102 through males having sex with males, and 44 through injection drug use; four were mother-to-child transmission, three through exposure to blood and 17 unspecified. The true figures are expected to be higher because of undiagnosed or unreported infection, according to the Department. Mr Ford, a former senior nursing officer in Bermuda's prisons, said that historically many people did not want to listen to his message that Aids is preventable. "Seeing people shoot up and what have you, they didn't put much credence to that. They thought they deserved what they got. Yet there were persons that were involved in so-called normal sexual relationships, heterosexual relationships, that were coming down with HIV and Aids. Nowadays we find that a lot of the disease is related to sexually transmitted infections. Many of these diseases are treatable, but now that Aids has become treatable people say, 'Well, it's not going to happen to me. I'm not a drug-user, I'm not gay.' So they exclude themselves. But they're involved in risky activities. I think I've already used my voice. Up to the point where it's hoarse. What I would say is remember that just because we've seen a reduction in the new cases of Aids in Bermuda, don't forget the history that precedes all of this here and why persons found themselves in this situation. More importantly, recognise that Aids is a preventable and treatable disease and do everything in their power to avoid contracting the virus. If they do contract it then there is help. There is help." Regarding the stigma surrounding Aids or HIV, Mr Ford said: "Bermuda's numbers are not really accurate. Many persons went overseas for treatment, or if they died the cause of death was not put down as Aids: it was put down as pneumonia or some other related illness. When you consider the amount of discrimination and stigma attached to it, I can understand why people would do that. Particularly living in Bermuda and it being such a closed society. Everybody knows everybody, so you reap consequences of disclosing that information and as much as you want to be open and honest about it the consequences are so real that people refuse to, so I can understand from that perspective." Mr Ford, who co-founded STAR in 1986 and also set up Bermuda's only hospice, Agape House, was recognized as a hero of the community by health minister Jeanne Atherden in a ceremony last week.
September 21. Mark Selley was just 38 in 1991 when he suffered a stroke and was told by a doctor he would never walk again. Less than a year later, he was out of his wheelchair and dedicated to making sure a support system was in place in Bermuda for stroke patients and their families. "Back then you would just call up someone you know whose family member had a stroke," he said. "You sent up the smoke signals and that's pretty much how you got the advice. That's how I was dealt with. They flew me up to Boston for treatment and while I was away I made a decision that I was going to come back here and make sure that nobody else's family would have to go through what my family went through." He and the late Hillary Soares formally started the Bermuda Stroke and Family Support Association in June of 1992, and in the last 23 years the group has helped more than 1,500 stroke survivors and their families deal with the life-changing circumstances while campaigning for changes to help stroke victims. Speaking in an effort to increase an awareness of strokes and the organization, he said: "The idea of the stroke association is that we are a support group and we can refer people to the different arenas that they may need for care. When you don't have the help, you don't know where to turn to, that just makes you more frustrated. You get worse, and then you can get another stroke." Strokes are caused due to either a lack of blood flow to the brain, causing parts of the brain not to function properly. Symptoms of a stroke can include an inability to move or feel on one side of the body, problems understanding or speaking, feeling like the world is spinning or loss of vision to one side. The main cause of a stroke is lifestyle," he said. "Lifestyle is the key factor as to why strokes happen, but then again there are cases where a four or five year old child has strokes. When an infant succumbs to a stroke it's usually because they have had an elevated fever, and once your fever starts to elevate your blood changes its viscosity. It starts to get thick." Mr Selley said that on average two strokes are reported every week in Bermuda. He said that while some strokes are fatal and other patients are able to largely recovery, around a third of patients are permanently affected. "The treatment of a stroke is best dealt with as soon as possible," he said. "Once time starts to lapse, the retraining of the part of the body that has been taken out is going to be longer and more complicated if it can be done at all. Unfortunately, not all people have a good outcome." Kathydell Hayward Ming suffered a stroke eight years ago and, while she was able to return to work, she is still dealing with the lingering effects. She said she was fortunate to have a supervisor willing to help, along with the members of the Association, who meet at King Edward VII Memorial Hospital. "It's almost like a family. You see these people who understand," she said. "You might have a simple thing like making a cup of tea and you know clear well you knew how to do it, but now you have to figure it out. Those of us who do come, we can share our experiences and feel comfortable." Asked what message he would give to anyone who is dealing with the aftermath of a stroke, Mr Selley said: "You're not alone. Don't feel isolated. Even if it feels the world is caving in on you, it isn't. There's been a degree of discomfort and upset, but you are not alone and we will get over this. I get phone calls all day and night from people who never come in. A lot more can take place knowing that people are here and it's more than just a voice on the end of the phone." The Bermuda Stroke and Family Support Association meet on the third Wednesday of every month at the King Edward VII Memorial Hospital conference room between 7pm and 8pm. Mr Selley can also be contacted at 293-3121.
September 21. A crew member on the Norwegian Breakaway has been remanded into custody after he denied conspiring to import cannabis and possessing the drugs with intent to supply. Appearing in Magistrates' Court this morning, Lindel Primus, 30, pleaded not guilty to conspiring to import 1,898.5 grams of the controlled drug into Bermuda between a date unknown and September 16. The Grenada national also denied possessing the drugs with intent to supply on September 16. Prosecutor Nicole Smith told the court that the drugs would have had a street value of $94,925. Mr Primus elected to be tried in Magistrates' Court and magistrate Khamisi Tokunbo adjourned the matter to October 1 for mention. He remanded Mr Primus into custody.
September 21. Pope Francis contacted Bermuda to transmit a prayer for blessings as he flew over the Island en route to Cuba. The Pope, on board an Alitalia flight from Rome to Havana on Saturday afternoon, sent cordial greetings after asking flight crew members to contact the Bermuda Air Traffic Control Tower. A spokeswoman for the Department of Airport Operations said in a statement today: "The aircraft was inside Bermuda airspace at the time and the pilot stated that Pope Francis was on board and wanted to pray for Bermuda. "He transmitted a prayer on the ATC Tower frequency and then proceeded on his historic flight to Cuba." The radio transcript of the prayer reads: "I send cordial greetings [to] your Excellency and your fellow citizens. As I fly over your country on my way to Cuba for a pastoral visit; evoking these blessings upon you all. I ask Almighty God to grant to the nation: well-being and peace. From a peaceful Pope." According to the spokeswoman, the duty controller thanked the Pope on behalf of Bermuda and wished him God's blessings on his flight. The Pope responded: "Thank you." Responding in a statement today, Michael Dunkley said he was very "delighted and appreciative" of the Pope's gesture. The Cabinet Office said that the Premier had written to Pope Francis, Barack Obama and Cuban President Raúl Castro late last year, following the global announcement of the building of relations between the two countries. In his letter to President Obama, the Premier wrote: "This is leadership that gives hope for a better world in which we step past barriers to grow in collaboration, building on shared interests and the understanding that we are better together than apart." Writing to Pope Francis, the Premier expressed Bermuda's admiration for the role the Pope played in the restoration of diplomatic relations between the US and the Republic of Cuba. He added: "Your timely intervention to facilitate the rapprochement represents a triumph of faith and understanding that we are better together than apart. Thank you for your actions and for the continuing commitment to peace on Earth and goodwill to men." This week, the Pope is visiting the United States, with trips to Philadelphia, New York and Washington, where he is expected to meet with President Obama and address Congress. Prior to his US visit, Pope Francis made a stop in Cuba, where he met with former Cuban leader Fidel Castro and other Government officials.
September 19. Hundreds of volunteers were out in force this morning taking part in an Island-wide coastal cleanup. Close to 500 people descended on 38 locations across Bermuda clearing trash both on and off shore. The event, which is part of the annual EY Coastal Cleanup in support of Keep Bermuda Beautiful (KBB), was hailed a huge success by KBB director Anne Hyde. She told The Royal Gazette she was very pleased with the turnout and praised all volunteers as well as the Royal Bermuda Regiment and the Parks Department for their efforts. "We had around 500 people registered to take part in the cleanup. We may have lost a few because of the rain but we also had people signing up this morning to take part too. It's been a tremendous success with a very strong turnout. There were school groups from Bermuda College and CedarBridge, social groups, corporate groups, sports clubs and also family groups. The EY teams were able to work on three locations during the course of this morning." While many of the volunteers were on land, divers from the Royal Bermuda Regiment as well as local dive firms and BIOS also scoured the seabed for rubbish. Ms Hyde added: "It's always a guessing game when it comes to the weather in mid-September, but I think most people welcomed the refreshing rain. Everyone's efforts were greatly appreciated." Every piece of litter collected is recorded and the data is shared locally and globally. Last year 9,000 pounds of trash was removed during the cleanup. The initiative is part of a global effort: the annual International Coastal Cleanup, hosted by Ocean Conservancy, that sees people from across the world participating in similar cleanups, on the same day. In 2014, Ocean Conservancy reported that 91 countries participated and more than 560,000 volunteers picked up over 16 million pounds of trash worldwide.
September 19. Mechanical problems and minor faults are the reason behind the latest spate of bus cancellations, according to Shawn Crockwell, the Minister of Transport. The Bermuda Government announced a succession of buses were out of action this week following a comparatively uninterrupted service over the past few months. Earlier in the year there had been numerous cancellations owing to staff illnesses, sick leave and members of staff on vacation. Mr Crockwell said that while these issues have largely been resolved, there has been a "huge spike" in vehicles coming out of service for reasons including accidents, tire changes and small electrical repairs. He said the transport department's technical staff have made significant progress in returning buses to service and are confident that they will continue to lower the number of buses out of service. Mr Crockwell told The Royal Gazette: "A few weeks ago I got an update about the bus service and the out of service level was pretty low. It is one of those things where there were some unexpected situations. When I got the report I was pleased as everything seemed to be going in the right direction. I don't like when there are individuals who are stranded and I feel that we have to do everything in our power to make sure that we have sufficient buses for all the routes and then do our absolute best to inform the public when there is going to be a cancellation. Having someone at a bus stop trying to get to work or a student trying to get to school and a bus doesn't show up, to me, is not acceptable so it is something we are looking at as a matter of priority and we hope to address it." Mr Crockwell reiterated that the department had completed the process of training 15 bus drivers and said that more were being recruited. While staffing levels are not up to full capacity, he said: "We are at a level that can provide the service that we need without the cancellations. We are keeping an eye on the overall level of staffing because of the budget but this is an area that the Minister of Finance [Bob Richards] understands needs sufficient levels. We bought 16 new buses and have four more coming but we are dealing with an old fleet. New buses hadn't been purchased until 2009 in my recollection and normally, to keep a fleet like this fresh and very efficient, you have to buy a few new buses every year. In the grand scheme of things it is a small percentage of cancellations but it becomes a real issue when, perhaps a school bus is cancelled and that causes unnecessary disquiet."
September 19. The recipe for the beloved Bermudian Dark 'n Stormy is now at the heart of a legal action in the United States. Gosling Brothers Ltd has filed a trademark infringement complaint in Massachusetts federal court against Pernod Chicard — the makers of Malibu Rum — over a recipe which appeared on Pernod's website. The offending post, made in October last year, called for Malibu Rum and Angostura bitters to be mixed with ginger beer to create a "Dark n' Stormy." The defendant also produced YouTube videos showing how to mix the "unauthorised" cocktail, along with a "Black Stormy" made with Malibu Black Rum. According to the lawsuit, the official recipe for a Dark 'n Stormy calls for 1.5 ounces of Goslings Black Seal Rum, 4 to 5 ounces of ginger beer and ice, garnished with a lime wedge. While the brand of ginger beer is not specified in the recipe — allowing fans of Barritt's ginger beer respite — Black Seal Rum is. The federal complaint, filed on Tuesday, notes that Gosling's heavily advertises using the Dark 'n Stormy brand, including the Dark 'n Stormy boardroom at Fenway Park, the Dark 'n Stormy Tavern at the PGA Tour's Deutsche Bank Championship and the Dark 'n Stormy Bear Trap at the PGA Tour's Honda Classic tournament. "The defendant's actions are knowing, willful, deliberate and performed with the interest to trade off of Gosling's goodwill and reputation tied to the iconic Dark 'n Stormy marks," the complaint states. "The defendant's wrongful conduct has caused or will cause Gosling's to lose control over the goodwill and reputation associated with the Dark 'n Stormy marks. The plaintiffs have suffered damages, and Pernod has profited or been unjustly enriched as the result of defendant's wrongful conduct. The defendant's actions have irreparably harmed plaintiffs, their business, reputation and goodwill. Unless defendant's wrongful conduct is enjoined, plaintiffs will continue to suffer irreparable injury and harm, for which there is no adequate remedy at law." The Dark 'n Stormy has been a Bermudian staple since shortly after the First World War, reportedly earning its name because when properly mixed it was "colour of a cloud only a fool or a dead man would sail under." The recipe was first trademarked in the US in 1991 when Gosling's began to sell pre-made cans of the cocktail, making it one of only a handful of trademarked cocktails. The trademark itself has served as a marketing tool for Gosling's, with one advertisement stating: "Most cocktails come with a napkin. The Dark 'n Stormy comes with a trademark." Goslings has defended its trademark from alleged infringement on several occasions, including recently launching an action against the makers of Kraken Rum, Proximo Spirits, for their attempt to trademark the name "Kraken Storm" for a cocktail made with ginger beer and Kraken Rum. Earlier this month, magazine Drinks International named the Dark 'n Stormy 11th in its top 50 cocktails after a survey of the top 50 bars in the world, beating out the Singapore Sling, the Cosmopolitan and the Mint Julep.
September 18. The Bermuda Commercial Bank (BCB) has bought up a London-based finance company. BCB has acquired equity and convertible loan notes from its parent Somers Ltd in the Private and Commercial Finance Group (PCFG). It is the intention of the bank to convert the loan notes to equity before the end of this month, giving it an approximately 75 per cent holding in PCFG, and resulting in the group becoming a consolidated subsidiary of the bank. PCFG, set up in 1994, provides consumer finance in motor vehicles and business finance for vehicles, plant and equipment to small and medium-sized businesses in Britain, has more than 16,000 customers in that country. BCB CEO Peter Horton said: "We are delighted to welcome PCFG to the BCB family. PCFG is an excellent business well known to us as a longstanding sister company within the Somers Group. PCFG is a leader in its markets and has a talented and dedicated team. It offers a strong earnings history and recognized excellence in service and operations. We look forward to working with the PCFG team and to the benefits that this partnership will provide. "PCFG has major scope for growth but will immediately contribute an attractive income stream which diversifies the bank's revenues. This investment also represents a major step towards an efficient asset deployment strategy, which is essential because capital costs will increase once the Basel III regulatory framework is implemented. In summary, we see this transaction as a major step forward in our strategy, which is transforming BCB from top to bottom in preparation for take-off." PCFG CEO Scott Maybury said: "This transaction presents the company with significant synergies that will facilitate the continued growth and strong performance of PCFG. We are excited to conclude this transaction and look forward to building a close working relationship with BCB." BCB said the buy up would help the company to diversify its business and strengthen earnings, as well as improve capital efficiency ahead of Basel III implementation and reduce geographic concentration risks. The deal was done through a Somers Ltd sale of 15.55 million ordinary shares and $5.83 million of six per cent convertible unsecured loan notes in PCFG. In a second transaction, Somers has acquired 1.22 million common shares in West Hamilton Holdings Ltd, boosting its overall holding in the company to 1.65 million shares. This represents about 57 per cent of West Hamilton's issued capital. Somers chairman Warren McLeland said: "We are very pleased to complete these transactions as they represent a significant step for a number of our investments. The combination of BCB and PCFG has the potential to create a growing and dynamic asset financing company in a market with a number of exciting opportunities. Both management teams will be able to leverage off each other and we look forward to further profit and asset growth. The acquisition of West Hamilton Holdings shares consolidates the group's share ownership in WHH under one roof. We look forward to the development of WHH's residential offering, due for completion in June 2016 and further progress in developing its Pitts Bay Road site."
September 18. Four historic cannon dating back to 1834 have been shipped to Bermuda from the UK and installed at the entrance to the National Museum. The 32-pounder matching guns and their original cast-iron carriages had previously been part of a private collection in England. A generous donor helped pay for the four cannon to be brought to the Island in two shipping containers through the US. They arrived at Hamilton Docks a few weeks ago and were gently lowered into position on Wednesday. "It is hoped that all of the visitors to the Dockyard will get a bang out of these guns for their photographic records of their visit to Bermuda," said Edward Harris, museum director. "Bermuda had many carriages like those in the mid-19th century, but unlike some places in the West Indies where they survive, all of those in Bermuda have been lost." Dr Harris told The Royal Gazette that one of the museum's long-term projects was to rearm the ramparts of Dockyard. He added: "To signal that intention and to attract visitors, the newly acquired cannon, all matching 32-pounders, have been placed next to the moat at the entrance to the museum. Within minutes of putting the cannon in place on a bed of Bermuda stone gravel, children and grown-ups were swarming over them, as cannon are always a favourite for taking pictures with friends and family." The cannon were manufactured in 1834 by Walker & Company, an English gun maker of the nineteenth century. They were more likely made for the commercial trade, rather than for the British armed forces, as there is no royal cypher embossed on the top of the barrels. Dr Harris said: "The guns were purchased earlier this year from a private collection that was being sold off in Britain: the museum was fortunate in being able to acquire the guns with the help of a donor. BISL, a Bermuda shipping company, and its English associates, ICL, provided assistance with the shipping of two containers to the US and Bermuda, for which the museum is very grateful."
September 18. A 56-year-old visitor who died while snorkeling near Hawkins Island on Wednesday has been named by police as Stephen Sakman. A passenger off the Norwegian Breakaway, Mr Sakman had been out on a tour boat when he got into difficulties and was brought to shore. The incident is under investigation by Marine Police as well as the Department of Marine and Ports. Although his cause of death has yet to be determined, the death was one of several in recent years in which visitors have run into trouble on the water. On June 21, a 62-year-old man died snorkeling off the Fairmont Southampton beach. On May 19, Wilmis Herrera Moreno, a 25-year-old guest worker, encountered difficulties while swimming off Long Island in the Paradise Lakes area. He received CPR, but was subsequently pronounced dead at King Edward VII Memorial Hospital. A day later Kevin Keeley, a 52-year-old American visitor, began to struggle while swimming in the waters near Watford Bridge, and succumbed despite life-saving efforts. Along with Maurice Comtois, 76, who died on July 6, 2013 after a medical emergency at Snorkel Park, Dockyard, several deaths in recent years have involved older visitors. Deborah Moran, the marine services officer at the Marine and Ports, said the Island's chartered boat operators were well versed in medical procedures. "We inspect them every year for their safety equipment and make sure that the crew and new staff are trained in first aid and CPR," Ms Moran said. "Visitors come here and they might not have swum before or might not be used to the water. You have a lot of factors to consider." Asked if boat operators should consider stocking defibrillators, Ms Moran pointed out that specialized equipment was required for people brought out of the water. "You can't just use any old defibrillator," she said. Training is also required, which can be given in the course of an afternoon: "I used to teach it," she said. "They are fairly easy to use; they're pretty automated. But they can cost $1,200 to $1,500." Ralph Richardson, of the Water Safety Council, agreed: "Along with defibrillators, there have to be people who know what they're doing. It probably wouldn't be a bad idea, however. There could also be multiple issues that have nothing to do with a heart attack. That has to be taken into consideration." Mr Richardson said it would go up for discussion when the council meets next month. Marc Pettingill, the MP for the area where Mr Sakman was taken from the water, said that it was impossible to protect visitors against all contingencies. "Like with anything, there has to be a degree of balance with regard to level of threat," he said. "There are sharks out there — should we put shark nets around the beaches? We need to have a look at how prevalent something is. It may be a good idea for tourist boats to have defibrillators just in case. Should we legislate that they must? I don't think so." Tom Steinhoff, manager of Snorkel Park, began by pointing out that he was not any medical professional. "There are so many variables as to whether it would help, but it wouldn't hurt — and it could save a life," he said. "The answer is probably yes."
September 18. The helmsman of America's Cup holders Oracle Team USA is to steer a course for a major reinsurance conference. Jimmy Spithill, a two-time winner of the coveted sailing trophy, will be the keynote speaker at the Bermuda Convergence 2015 event next month. Bermuda Stock Exchange CEO Greg Wojciechowski, who is the chairman of conference organizer ILS Bermuda, said: "Competing in the America's Cup is the pinnacle of the sailing world and sailors must combine physical and mental strength, sailing skills and precision teamwork in an unpredictable environment. "It's about being focused on the goal, while taking calculated risks that rely on innovation, technology, precision and team work. We at ILS Bermuda are excited to have Mr Spithill talk to our attendees about leadership and team development and how he's taken risks and strategies for success." Australian-born Mr Spithill has been sailing since the age of five. He led Oracle Team USA to a stunning victory in 2013 when their boat came back from 8-1 down to defeat Emirates Team New Zealand 9-8 in San Francisco. Mr Spithill is a multiple world champion in both fleet and match-racing and was the youngest helmsman ever to compete in the America's Cup when he made his debut, aged 19, in 1999, as well as the youngest skipper, aged 30 in 2010, to claim the trophy. The keynote speaker sponsorship proceeds will be donated to the America's Cup Endeavour community sailing programme, which teaches young Bermudians. More than 200 delegates from around the world are expected to attend Convergence 2015, which will be held from Wednesday, November 11 to Friday, November 13 at Hamilton's Pier 6. Now in its third year, the conference attracts professionals from the booming insurance-linked securities (ILS) industry, including investors, fund managers, major insurance and reinsurance companies and professional services firms. Bermuda has carved out a niche as the top jurisdiction in the ILS sector, with 70 per cent of the world's total investment. There are a total of 142 vehicles listed on the BSX with an aggregate market capitalization of more $17.8 billion.
September 18. New United States Consul General Mary Ellen Koenig said she hopes to get directly involved with the Island and its people. Speaking yesterday, she said that her new position is very different from her last post as a cultural attaché at the US embassy in Moscow, although she was not sure the new post would be any easier. "Just knowing that we are coming from the largest country in the world to a relatively small place in the middle of the Atlantic, I think the challenges are going to be different," she said. "I'm really looking forward to having such a manageable size that I really will be able to get involved in issues and get involved with people and institutions. Russia was such a large palette and this is going to be a smaller palette which I think offers opportunities for me." Mrs Koenig has spent 22 years working in the United States Foreign Service, primarily in the field of public diplomacy. Before Moscow, she spent time working in South Africa, Switzerland, Germany and Washington DC. While she said she had not visited the Island prior to her assignment, she said it has always been on her list of places to visit, adding that she is now enjoying exploring Bermuda's history and culture. Asked about Bermuda's status as a financial jurisdiction in the wake of the District of Columbia placing the Island on a list of tax havens, Mrs Koenig said she has already had meetings with Bermudian authorities and believed they were taking the right approach to deal with the issues. "It's always going to be a challenge for Bermuda to fight the misconceptions and to always be working," she said. "I have had a few meetings now with Bermudian authorities and I listened very carefully to the work that they are doing to ensure Bermuda's reputation is sterling, remains sterling. I think it's a challenge for them but it sounds like they are doing the right thing." She said the issue of the stop list, which prevents Bermudians convicted of crimes from entering the US without special permission, was a difficult one, but said there is currently little wriggle room. "It's a worldwide system that's based on our laws and our regulations in terms of who is allowed to enter the US," she said. "I recognise that there has been a special relationship with Bermuda for so many years that people can travel freely to the US, unlike most places in the world where a visa is quite a difficult thing to pursue. The fact that when someone has had trouble with the law in the past, that puts them in a different category. They cannot simply get on the plane. My hope is the people who have that, it might have been a youthful indiscretion, we hope that people will give the process time because it's a process that has to be gone through." When questioned if the stop list policy might be changed regarding cannabis convictions, given that several states have already legalized the drug, she said: "I never say never. This is one issue that's evolving in the US and other places. It's hard to say."
September 18. The Progressive Labour Party reiterated its staunch opposition to the Bermuda Government's plans to redevelop the airport last night. More than 100 people attended the party's third town-hall meeting at St George's Cricket Club to hear David Burt, the Shadow Minister of Finance, and Lawrence Scott, the Shadow Minister of Transport condemn the One Bermuda Alliance's "privatisation" proposals. The $250 million project will be financed by a private-sector developer that will take over management of airport operations for 30 years. Government has signed a memorandum of understanding with the Canadian Commercial Corporation, a branch of the Canadian Government, which selected Canada-based Aecon Group Ltd as the developer and concessionaire. Mr Scott told last night's meeting that "new information has come across my desk" that highlighted possible consequences of the deal for future generations. He said: "Most of the major building jobs would not go to Bermudians, they would fly people in. I am made to understand that Aecon has pulled out of the Quito, Ecuador airport (which it had previously built with CCC) and sold it. Why? Because a better deal came along and that is why we are all here today." Mr Scott said that under the PLP's plans to create a financially separate Airport Authority no Bermudians would lose their jobs. He added: "I am made to understand that the persons working in Airport Operations have already been told they can not be guaranteed their jobs when this goes through. My understanding is the new airport is smaller than the airport we have now with less gates. We have eight at the moment, the new airport will have seven or six." Several PLP MPs including leader Marc Bean, Derrick Burgess, Michael Weeks, Lovitta Foggo as well as St George's Mayor Quinell Francis and John Barritt attended last night's meeting that began at 7pm. Mr Burt told the meeting the country would lose $1.6 billion in revenue by giving away the airport to a Canadian company to run for 30 years. He described the project as "a personal, political project of the Minister of Finance." Mr Burt added: "After we gave our last town-hall meeting, the Government has signed a further agreement with Aecon that now ties the Government of Bermuda. Now, all of us are on the hook. This is hugely irresponsible of the Minister of Finance to commit the Government to spending money without looking at other options." The Royal Gazette reached out to the Ministry of Finance last night for comment on the assertions made in the PLP meeting but we did not receive a comment by the time we went to press. Previously Bob Richards, the Minister of Finance, has said that the jobs and compensation of the staff at the airport will be protected, and that more jobs will be created there. He has insisted taxpayers would get value for money under the public-private partnership and that Bermuda would acquire a strategic asset without incurring any more debt.
September 17. Three "heroes" of the fight against addiction have been recognized for their tireless work in the community. Russ Ford, Sandy Butterfield and Charles Williams have been at the forefront of drug and alcohol treatment on the Island for more than three decades. Last night the trio's tremendous achievements were recognized during an awards ceremony at Elbow beach attended by Jeanne Atherden, the Minister of Health. During a long and illustrious career, Mr Ford co-founded the Aids charity STAR in 1986 and went on to set up Bermuda's first and only hospice, Agape House. He also looked after Bermuda's prison population for more than 22 years, finishing his career in corrections as the senior nursing officer. "Many people say that the profession of substance misuse treatment and prevention is a thankless task — I beg to differ," he said after being presented with his award. "The greatest joy one can experience is knowing the persons you are serving are the individuals that will come back to you later and say 'thank you, I really appreciate what you have done' and 'you have made a big difference in my life I want to thank those responsible for this particular award, but this here is for my patients. Those are the ones that taught me. Listen to your people, they have a lot to say." Yesterday's award ceremony, which was hosted by the Department for National Drug Control as part of Recovery Month, attracted counselors as well as the recipient's family members. Ms Butterfield co founded the charity Focus with Jerry Griffiths to provide support for addiction sufferers in 1993 and has worked in the field for nearly 30 years. She said: "My journey in this field has been amazing, and the people have been amazing. I would like to thank everyone; you have all been part of my life and I have had a really good time. I have gone home tired, but always with a sense of satisfaction." Meanwhile, Mr Williams began his career as a nurse at St Brendan's in 1977 and went on to work in mental health services and addiction treatment for 37 years before he retired in January of this year. Although he was not present to receive his award yesterday, his sister Wendy Brangman received the plaque on his behalf. She said: "On behalf of my brother I would like to thank everyone for this recognition. He had a great impact on the community." Ms Atherden praised all the recipients' contribution to the field of addiction treatment and urged others to follow in their foot steps.
September 17. Age can be an advantage in the workplace, according to visiting best-selling author Robert Dilenschneider. Speaking to The Royal Gazette yesterday, Mr Dilenschneider said that older members of the workforce have much to offer and need to take advantage of the opportunities available to them. "It can help the economy, it can help business, it can help politics," he said. "It can also help young people, because 50-plus people have experience no one else has. If they learn technology and can twin that with their understanding of business, life and society, they are going to be way ahead in the game. Many young people have not yet figured out how to form arguments and be persuasive. That's something that comes with age. Fifty-plus people know it. If you can twin that with technology, they are going to be very successful." Noting his book 50 Plus! Critical Career Decisions for the Rest of your Life, which was recently republished with "significant updates", Mr Dilenschneider said: "I really wrote it because there's a significant percentage of people in the world who are over 50, and these people feel in many ways that it's over for them when it's not. There are lots of opportunities, and the book describes ways they can take advantage of the opportunity." He said that all but two of the employees of his public relations firm, The Dilenschneider Group, and the majority of his clients are over the age of 50. "The new 60 is 75, and more people want to stay in the workplace," he said. "In my own case, I will never retire. I might do something different, but I will never retire. I'm not going to stop. I say in the book that you should really come up with 25, 50 things you want to do in your life and make sure you do them so at the end of your life when the grim reaper cashes in you've done things you really wanted to do, and if you do things, create something better because you came this way, then everything is really worth it. I think the worst thing that can happen — and I've seen this happen to many men and women — is to be over 60 and to say my day is over. You go downhill physically, you go downhill mentally, and it's not good. The best thing that can happen is that you find that spark and decide that you're going to make things happen with your experience and your knowledge. I'm going to take new technology and put that with my knowledge, and we're going to do something even better than they were before." He said that he has been visiting the Island for around 50 years, praising the civility of Bermudians. "I've stayed all over Bermuda, and I would rather come to Bermuda than any other place in the world to really enjoy myself," Mr Dilenschneider said. "It's a very special place. One of the things I have suggested to a previous Premier is that Bermuda is known for it's civility, treating people well. Places in the Caribbean are not known for that. I've suggested that we create a programme that talks about civility in Bermuda and gets young people to understand it's one of the hallmarks of the Island and that it makes a difference. If everyone in the world conducted themselves like people in Bermuda conduct themselves, the world would be a much better place."
September 17. Age Concern executive director Claudette Fleming called for the Bermuda Government to show more empathy to seniors as she highlighted their growing financial concerns. Ms Fleming said many are already unable to pay for their health insurance and fear that financial assistance could become even further stretched — and feel that instead of being listened to, they are being "preached to." Patricia Gordon-Pamplin, Minister for Community, had warned in June that financial assistance is unsustainable and that relief is "not an entitlement but a privilege." In an interview with The Royal Gazette yesterday, Ms Fleming argued that the issue of cost is just as important for seniors as it is for the government. "We know that they believe it is a problem for them, but it is a problem for the consumer," she told The Royal Gazette. "Can we find some middle ground in a two-way dialogue about cost? Not a preaching exercise to tell me why I need to be charged what I'm being charged, but a legitimate two-way dialogue on the costs. That is still pressing, the cost. Not cost to the government, because we hear the numbers: it's cost to the seniors. And people cannot afford it. One senior said she's working now but she will probably discontinue her insurance because she cannot afford it. She has at least two other friends in the same position. So these are the things that we're hearing more. Some of the people are calling for reprieve and I regret that we haven't got an answer for these people, in terms of sustainability. You hear the minister with responsibility for financial assistance saying, 'hey this is unsustainable, we cannot accommodate so many people on financial assistance. And there will come a time that financial assistance will be cut even further. I know they've made some changes and we were reassured that seniors would not be impacted, but as the number of seniors grow they will consume more of these dollars. All the way around it's not sustainable for the government; it's not sustainable for seniors. We will start to see more people having difficulties." On the issue of empathy, Ms Fleming said: "I don't even know if I'm going to be around five years from now. I would like to see more of that empathy coming from our policymakers, whether they be political or otherwise. Things like, 'I have a grandmother', or 'I have to think about these things myself'. I want them to spend some time from that perspective because I don't know that seniors feel like they're being heard. I think they feel as though they're being preached to. They're being told that they're quite ill for the most part, or they're living longer and this is driving up costs, but they are not getting the reassurance that their financial well-being will not be in jeopardy as a result of their health condition. With the healthy ageing agenda, we also want to see an acknowledgment that we're going to get old and the body is going to break down. We know that's going to happen but we need to know that when that happens there is a safety net in place." Ms Fleming also spoke about the issue of health insurance coverage and said that planned changes for FutureCare will allow for "some excellent care". She thanked Jeanne Atherden, Minister of Seniors, who spoke of a number of issues including the importance of healthy ageing at home at Tuesday's Age Concern annual general meeting. Meanwhile, Derrick Burgess, the Progressive Labour Party's spokesman for seniors, called for special rates for the elderly as medication costs rise and insurance subsidies are reduced. He said: "They make tax exemptions for business to survive, but they take away from seniors in order for them not to survive. I think we need to sit down and map out a plan. There are some social responsibilities to running a country. And there are some social responsibilities that we must take into consideration first, that almost should be mandatory, in that we take our seniors and we take our children and see that there are monies for them."
September 17. Financial abuse of seniors is widespread in Bermuda but everyone can take steps to help prevent it happening to them, according to the founder of a dementia charity. Liz Stewart, of Action on Alzheimer's and Dementia, is urging old and young to attend a free seminar next week on mental health and the law, which will cover topics such as appointing a trusted power of attorney in case of unanticipated mental incapacity and estate planning. "We know there has been a lot of financial abuse and there continues to be a lot of financial abuse, especially, of seniors in the community," she said. "It's definitely something we want to highlight. I think it would be very beneficial for anybody to go [to the seminar]. There are a lot of misconceptions." There have been several high-profile cases involving financial abuse of the elderly in Bermuda, including that of sisters Lorraine Smith and Audra-Ann Bean, who were convicted of swindling their grandmother out of almost $500,000 in 2012. The women's names were the first to be placed on the Island's Senior Abuse Register. The seminar, featuring lawyer Keiva Maronie Durham as guest speaker, is part of a series of events the charity is hosting to mark Dementia Awareness Week. Bermuda is estimated to have about 1,000 people with dementia, according to Ms Stewart, and once a person reaches the age of 85, they have a one in three chance of getting it. "Your odds are pretty high as you get older," she said. "That's why it's so important to prepare." The 6.30pm session on Tuesday (September 22) at the Bermuda Underwater Exploration Institute will explain that a power of attorney — a substitute decision-maker — acts solely in relation to financial matters. But it's also important, said Ms Stewart, for people to prepare for how they want to be treated in old age, in the event they can no longer articulate that themselves. "It's important to have a directive regarding your healthcare," she said. "This is something that probably everybody should be thinking about. Anything can happen to any of us, at any time, but particularly as you get older you really want to know you have got people who can advocate for you and represent your wishes Do you want a 'do not resuscitate' directive? If you can't look after yourself, do you want to be cared for at home or in a care home? Do you want to be in Bermuda?" The charity's other events, all at BUEI, to mark Dementia Awareness Week are:
•A free public presentation – the A to Z of Dementia, featuring an occupational therapist and a specialist in engagement activities for those with dementia — at 6.30pm on Monday, September 21. No ticket needed.
•A screening of the documentary The Genius of Marian — about a family dealing with a diagnosis of early-onset Alzheimer's — at 6.30pm on Thursday, September 24. Tickets $10.
•A screening of the documentary I'll Be Me — about singer Glenn Campbell's "Goodbye Tour" after his Alzheimer's diagnosis — at 7pm on Saturday, September 26. Tickets $15.
For free tickets to the legal seminar or to buy film tickets, e-mail alzbermuda@yahoo.com or call 707-0600.
September 17. The Bermuda Cancer and Health Centre has signed a memorandum of understanding with a top cancer facility in the United States to collaborate on a radiotherapy programme. Dana Farber/Brigham and Women's Hospital, ranked by US News Best Hospitals Rankings for 2015 as the fourth best hospital for adult cancer care in the US, will share its expertise with the BCHC as part of the next phase in developing radiation plans for the treatment of cancer patients locally. Cancer patients in Bermuda will next year have radiation treatment available to them on the Island for the first time thanks to an ambitious multimillion dollar project. BCHC executive director, Tara Soares said: "BCHC recognizes how crucial it is to establish collaborative clinical affiliations with overseas cancer centres so that we will safely and effectively provide the highest quality level of cancer care locally." Experts from the overseas organisations will advise Bermuda's health professionals on issues related to the design of a facility, the creation of clinical radiation oncology policies, procedures and safety protocols and the development of a training and education programme. Brigham and Women's Hospital will work with BCHC to explore research opportunities along with a telemedicine programme. Daphne Haas-Kogan, managing director and chair for the Department of Radiation Oncology, Dana-Farber/Brigham and Women's Cancer Center, and professor at Harvard Medical School, said: "We are excited to partner with BCHC to expand the radiation oncology services available to patients in Bermuda. We share a commitment to providing patient and family-centred care, and through this partnership, most patients who require radiation therapy will no longer need to travel off the Island to receive high quality care." Chairman of BCHC's board of directors, Glen Gibbons added: "We are proud to partner with Dana Farber/Brigham and Women's Hospital to provide our patients in Bermuda access to the latest therapies at a comprehensive radiation treatment facility with a mission of providing cancer treatment to everyone who needs it, regardless of their ability to pay."
September 17. NEW YORK (Bloomberg) — Jay Fishman, who built New York-based Travelers Cos into one of the world's biggest insurers, lamented that disparities in tax rates are pushing established rivals and industry newcomers outside the US. Over the past 15 years or so, "we've counted 10, 12, maybe even 15 Bermuda-based start-ups that ultimately became decent-size companies," Fishman said yesterday at a conference sponsored by Barclays Plc. "We can't find one in the US," he added. "As an American citizen who's benefited enormously from the American dream, I think that's unfortunate. It's a public-policy opportunity that should be addressed." US money-management firms including Oaktree Capital Group and BlackRock have worked with industry veterans to start insurers offshore in the past year. Goldman Sachs Group-backed mortgage guarantor Essent Group and Dan Loeb's Third Point Reinsurance are among Bermuda-based firms that had initial public offerings in recent years. Ace Ltd began in Bermuda in the 1980s to provide excess liability coverage, and expanded through global acquisitions. The company moved to Zurich in 2008 and agreed in July to buy New Jersey-based Chubb Corp, one of Fishman's largest competitors, for more than $28 billion. "The fact that Chubb, venerable Chubb, is now going to be a Swiss company, speaks, I think elegantly, to the dynamics of our own corporate tax rate," Fishman said. Chubb previously went to Congress to protest the federal loophole that allowed companies to limit taxes by moving offshore. Fishman formed his firm with the 2004 merger of St Paul Cos and Travelers Property Casualty Corp and then moved its headquarters to New York from Minnesota. He subsequently made acquisitions in Canada and Brazil. The CEO, who is stepping down this year for health reasons, didn't specify during yesterday's remarks what changes should be made in the US. US investment firms like hedge funds can also gain tax advantages by setting up offshore insurance ventures. David Einhorn's Greenlight Capital Re is based in the Cayman Islands, and JPMorgan Chase & Co's Highbridge Capital Management helped form a reinsurer in Bermuda. The Internal Revenue Service proposed rules in April to limit the number of companies that receive favorable treatment. "Taxes are one cost like any other," Fishman said. "When there is a meaningful advantage in one environment, you will see over time, you will see capital and capital creation move that way."
September 17. New player Hamilton Re will enter the property insurance market, CEO Kathleen Reardon said yesterday. Ms Reardon added that the firm would also join the facultative market — a form of reinsurance in which a contract is negotiated for a specific insurance policy used when a policy is unusual or large and the original insurer is concerned about the liability risks. And she said that "a star casualty underwriter" will shortly join her team from a Lloyd's of London syndicate. "From day one we have been a company that has been happy to diversify and not rely on one channel for business. We are thinking big and acting big when it comes to a diversified product range." Ms Reardon was speaking at industry summit the Monte Carlo Rendezvous to the event's Monte Carlo Today newspaper. She said that the rash of major mergers and takeovers had created "a new talent pool" to draw from as new joint companies cut staff. Ms Reardon added: "Mergers and acquisitions are going to continue and that is offering more opportunities to pick up talent." And she did not rule out Hamilton Insurance Group and Hamilton Re joining the rush to expand through acquisition. "There are some attractive companies that could give Hamilton Insurance Group a start with a new strategy or which have a different product range or operate in another region. We would have to look at it. Some people are questioning the valuations of some merger and acquisition strategy, but if shareholders feel that it is a solid decision and gives them what they need, then it is a sensible thing to do." But she added that the group's main focus was on organic growth, writing" volatile severity driven business and looking for greater diversity. Ms Reardon said that the company also hoped to become listed in the future. She explained: "It's something we will be looking at in the future. We are a highly liquid company that operates on both sides of the balance sheet. Ms Reardon added that Hamilton Re was "comfortable" with its position relating to a US Internal Revenue Service (IRS) probe into hedge fund-backed reinsurers — some of which the IRS suspects are hedge funds using a reinsurance company as a front for tax purposes. She said that Hamilton Re — owned by a mix of private equity companies as well as its founders — was not hedge fund-backed. Ms Reardon added: "We are focused on building a franchise with a global platform and I am comfortable with our strategy now and in the future." The US is considering imposing a minimum standard for reserves to draw a line between insurers engaged in genuine underwriting and what it calls "passive foreign investment companies." Ms Reardon said that Hamilton Re backed the Association of Bermuda Insurers and Reinsurers stance that the US Treasury, if it adopts that policy, it should use the "bright line safe harbour test" of a 15 per cent reserve-to-asset ratio.
September 17. Zane DeSilva, the Shadow Minister of Tourism, has accused Bill Hanbury of being in line for another bonus. However, the Bermuda Tourism Authority chief executive said that an "inappropriately circulated" copy of his contract was being used for incorrect information. "The copy of the document that they have is not my contract — it's an early generation of a contract that is not valid," Mr Hanbury told The Royal Gazette. "That provision was taken out 11 months ago." Mr Hanbury expressed dismay over the continuing criticism of his pay, pointing out that he had chosen to reveal his salary in February. His remarks came after Mr DeSilva said: "If my allegation is off base, then they should prove me wrong and show us his contract. If it's not true, I will apologize." The Progressive Labour Party MP added: "I don't have any problem with bonuses or with CEOs making big bucks. In the business world, some CEOs will make $1 million or $5 million a year. But it's all based on performance. Last year we had our worst air arrivals in 48 years. This year has been worse. Sooner or later you're going to hit the bottom. These guys continue to say we're making progress, but any time you look, the numbers are worse." Mr DeSilva conceded that "there have been many ministers over the last 25 years that have had challenges", but maintained that the BTA was putting much of its efforts in the wrong direction. "They're trying to push Bermudian culture with cliff diving and fish sandwiches," he said, "but I don't know if that's going to do it, especially through social media." Mr DeSilva said that if he were in charge of tourism for the Island, "the first thing I would do is increase advertising by $10 million to $20 million — I'd go to $30 million or $40 million if I could. I would look at all the major networks. I was in New Jersey over the weekend, turned on the television, and I saw advertising from Aruba, St Kitts, St Thomas, but I never saw Bermuda — people still don't know where it is. What's disappointing is we have a Premier who says, along with his finance minister, that tourism is critical to our future, but then we cut its budget down to the lowest ever. It does not make sense." Mr Hanbury declined to comment on the authority's advertising strategy. The shadow minister spoke after a survey carried out by this newspaper showed nearly half of Bermuda residents saying they were against the spending granted to the BTA, with bonuses and "excessive salaries" topping their list of reasons. Meanwhile, 38 per cent said they supported the BTA, saying that spending was required to boost an industry that was once a mainstay of the Bermuda economy.
September 16. The California Earthquake Authority, through its Bermuda-based special purpose insurer, Ursa Re Ltd, has issued a $250 million cat bond to cover earthquake risk in California. The Series 2015-1 Class B notes will run for three years and become due on September 21, 2018. The cat bond has been admitted to the Bermuda Stock Exchange's official list.
September 16. The "go shop" provision in the takeover deal of reinsurance firm PartnerRe by Italian investment giant Exor yesterday expired. The deal gave PartnerRe — which had previously agreed a merger deal with Axis Capital — around two months to find another buyer. A statement from PartnerRe said: "An extensive outreach was conducted by Credit Suisse and Lazard, acting as PartnerRe's co-financial advisers. "None of the third parties contacted during this process provided a proposal or offer regarding an alternative acquisition proposal." Now the deal is expected to close in the first quarter of next year, subject to a PartnerRe shareholder vote, closing conditions and regulatory approval. A special general meeting for PartnerRe shareholders to vote on the deal is expected to be held towards the end of this year.
September 16. An historic album of spectacular watercolour paintings of Bermuda dating back nearly 150 years has been donated to the National Museum. The pictures by Alice Fanshawe — who was on the Island while her father Sir Edward Fanshawe was the Admiral of the North America and West Indies Station — had previously been kept in a family chest in the UK. However, the album, which contains a total of 24 watercolours including eight scenes from across the Island, was returned to Bermuda last week by a donor. Ms Fanshawe lived in Admiralty House, or Clarence Hill, in western Pembroke with her family and painted many watercolours of that property, especially the gardens. She also traveled further afield to capture the striking view over Sinky Bay and Hunt's Bay in Southampton, which is now part of The Hamilton Princess & Beach Club. The painting depicting Boss's Cove in Pembroke shows a couple of buildings standing, as well as the structure at the mouth of Mill Creek that may be the mill house itself. The grinding wheels of the mill were powered by the ebb and flow of the tide into that bay. The album also includes views over the town of Port Royal from Craighton in Jamaica, where Admiral Fanshawe and his family would visit in the winter. In the summers, the Royal Navy fleet would head north for cooler climates and Ms Fanshawe painted on the Hudson and at Quebec and Halifax, the latter being the north base for the North America and West Indies Station. Edward Harris, director of the museum, praised the donor for the gift of the album to Bermuda. Dr Harris said: "It is a significant addition to the collection of images of Bermuda at a time when photography was in its infancy. As such, the paintings capture a number of scenes of the Island in the 1870s in colour, many years before colour photography came into current use. We are very grateful to the donor for the generous donation of the paintings, which will eventually be made widely available to the public through a book on three generations of Fanshawes who were in Bermuda in the 1820s and 1870s."
September 16. Almost half of residents disapprove of the spending granted to the Bermuda Tourism Authority, according to a phone poll commissioned by The Royal Gazette. The Global Research survey found 49 per cent of people were against the Bermuda Government's spending on the Authority, with 38 per cent in favour and 13 per cent unsure. The backing of the BTA, an independent body set up last year to revive the Island's flagging tourism, has stood as a persistent red flag for Tourism Minister Shawn Crockwell. Details of compensation packages awarded to its top executives have been repeatedly demanded by the Opposition, while a query by broadcaster ZBM under the Public Access to Information Act was turned down. The Authority's annual report, released last month, showed that chief executive officer Bill Hanbury took in a salary of between $225,000 to $295,000 last year with a "performance incentive payout" of between $31,000 to $88,000. Salaries for directors range from $130,000 to $150,000 for Bermuda-based staff and $115,000 to $130,000 for out-of-island employees. Bonuses in that department ranged from $14,000 to $16,000. Ten per cent of survey respondents said they strongly approved of the Government's financial support for the BTA, and a further 28 per cent "somewhat" approved; 25 per cent said they somewhat disapprove, and 24 per cent said they strongly disapprove. A breakdown by race and age showed whites and elderly people were most likely to approve of the Government's financial support. The approval rating from whites was 53 per cent, compared with 29 per cent from blacks. Meanwhile, 51 per cent of people aged over 65 gave approval, compared with 27 per cent of people aged between 18 and 34. As part of our survey, voters were also asked to explain the reasoning behind their responses. Those who put their faith behind the investment emphasized the need for quality professionals, with one commenting: "You want the best, you have to pay for the best." Another added: "The money is not the problem — it's how they use it that matters." For opponents of the BTA spending, the second comment has been a sticking point: Shadow Minister Zane DeSilva and others in the Progressive Labour Party have been sharply critical of bonuses, in the face of what they called lackluster spending on advertising the Island. Respondents who were against the spending questioned the value for money, particularly in view of the Island's debt levels, saying they had yet to see any returns. Others queried why an organization intended to be entrepreneurial and independent would need government money in the first place. One remarked: "Bonuses? Really? Marketing surveys for a fish sandwich?" Meanwhile, a respondent who described themselves as "somewhat" disapproved commented: "They need to spend on the people, not take from us." The survey targeted 403 people of 18 and older, from August 31 to September 6, and has a margin of error of plus or minus 5 per cent.
September 16. The number of mergers and takeovers in Bermuda jumped by nearly half in the second quarter of this year. The 50 per cent spike in the second quarter compared to the first part of the year represented 127 deals. A report by legal firm Appleby in its Offshore-i update said that the second quarter saw a total of 732 mergers worth $94.4 billion across offshore jurisdictions — an in increase of 25 per cent over the first quarter. Appleby partner and group head of corporate Timothy Faries said: "The insurance and financial services sector led offshore activity in quarter two, with Bermuda continuing to serve as a popular jurisdiction for this industry." Across the offshore sector, the first two quarters saw a total of $225 billion in deals — well ahead of the previous $159 billion record from 2014. And the average deal size of $129 million has been topped only twice in the last decade, with average deal value for the first half of the year at $176 million. Appleby partner and global head of corporate Cameron Adderley said: "Globally, deal values are increasing at a much faster rate than volumes as shrewd acquirers learn the lessons of the past and become more selective of their targets and at the same time more willing to invest large sums in the right deals. Buyers are willing to pay a premium for acquisitions that help them to achieve long term strategic ambitions." There were a total of 21 deals in the global offshore world worth more than $1 billion in the second quarter of this year, six more than the previous record of 15 billion dollar deals in a three-month period. It was also the sixth quarter in the last seven to record more than ten billion-dollar deals, with only four quarters matching that in the previous decade. The Cayman Islands dominated deal volumes as the top target, accounting for more than a third of all deals done offshore. Bermuda, the British Virgin Islands and Hong Kong were level pegging behind the Caymans.
September 16. Reflecting what it calls a "notoriously deteriorating soft market", Qatar Re's half-year profit fell by about $1.5 million, year-on-year, to $13.4 million. The drop came despite the company boosting its gross written premiums by 42 per cent to $463.6 million, and gross written premiums jumping more than $12 million to $40.4 million during the first six months of the year. Qatar Re is in the process of redomiciling to Bermuda. Its headquarters are in the Qatar Financial Centre, in Doha, Qatar. Gunther Saacke, Qatar Re's chief executive officer, said: "Robustly positioned in the increasingly challenging market environment Qatar Re continues to benefit from a strong and fully committed capital base. "Our strategy mix is responding well to the sharply increasing volatility in the general economic environment as to the continuously aggravating mismatch of demand and supply that is prevailing especially in the capital intense sectors of our industry. The combination of class intimacy, proximity to our business partners and uncompromised focus on the disciplines of managing and controlling risk forms the bedrock of our successful development to date and into the future." The company has its portfolio split across three areas, with 20 per cent in commodity and transactional markets, 30 per cent focused on insurance entrepreneurs, including Lloyd's syndicates, and 50 per cent in markets where clients have outstanding technical capabilities and require corresponding levels of technical expertise and speciality lines know-how on the part of their reinsurer. In a statement, Qatar Re said it was continuing to follow its growth plan and effectively defying the adverse trends in what has become a notoriously deteriorating soft market. Qatar Re was formed in 2009. It has branch offices in Bermuda and Zurich, and has applied to open an office in Dubai. The company has representative offices in London and Singapore. Additionally, through its parent, the Qatar Insurance Company, it has access to a primary licence in Malta. Qatar Re writes half its business in Europe, 28 per cent in the Americas and 20 per cent in Asia, with the remainder in the Middle East and Africa. Subject to gaining regulatory approvals from the Bermuda Monetary Authority, the company's Bermuda-based Antares Reinsurance Ltd will be merged with Qatar Re when it redomiciles, creating a Class 4 reinsurer with a capital base of approximately $500 million. Qatar Re expects to redomicile in Bermuda in the fourth quarter of this year. Looking ahead, the company said it will continue with its diversification strategy by line of business and geography and continue to "de-emphasise" standard property and casualty risks, while focusing on "knowledge-intensive speciality (including liability) business."
September 16. A renowned US cancer specialist will travel to Bermuda this week to speak with residents about radiation therapy. Tatiana Lingos, director of network development at Brigham and Women's Hospital's radiation oncology department, will provide a presentation tomorrow evening at BUEI. Dr Lingos's visit comes as the Bermuda Cancer and Health Centre continues to prepare to bring in the Island's first radiation therapy equipment to tackle cancer. The charity's executive director, Tara Soares, told The Royal Gazette that she hoped the multimillion dollar linear accelerator would arrive in the third quarter of next year. "We hope that after its installation at the Bermuda Cancer and Health Centre patients will begin having treatment with the new machine before the end of the year," she said. "The new equipment will be brought in from the US and housed in a new room that will be specially constructed in our building. The equipment is very much like an X-ray machine in appearance. It is a single unit and will probably take around two months before we are fully commissioned. There are international standards and regulations that we will have to fulfill before patients can be treated." Radiation Therapy is a critical tool in the treatment of cancer for up to 67 per cent of people diagnosed with the disease. Typical treatment is carried out over the course of six weeks with the aim of delivering a total dose of radiation to the tumor sites to kill the cancerous cells. Ms Soares added: "Radiation therapy is currently not available in Bermuda and therefore people can only receive this type of treatment if they go to an overseas facility. Being overseas, for an extended period of time, can be very complicated for many people. Long absences from home and loved ones, leave of absences from work and additional costs and out-of-pocket expenses can be some of the hardships people may face. Many of the residents in Bermuda do not have health insurance or have only very basic health insurance coverage. Last year, we donated $180,000 to uninsured or under-insured patients towards cancer treatment. That commitment to help those who can not afford this vital treatment will continue even after the radiation therapy equipment arrives." Dr Lingos's presentation will begin at 6.30pm tomorrow at BUEI. It will be followed by a panel discussion and question-and-answer session with Ms Soares, Christopher Fosker, the clinical oncologist for Bermuda Hospitals Board and Mark Davis, the executive director of strategic initiatives and business development at Brigham and Women's Health Centre. Anyone interested in attending the event should contact Robyn Dickinson-Baras by e-mailing marketing@chc.bm.
September 16. The world insurance market against cyber crime will hit $5 billion within three years, experts said yesterday. And they predicted it would reach at least $7.5 billion within five years. The news came in a report from professional services firm PwC at the Monte Carlo Reinsurance Rendezvous. PwC Bermuda managing director for insurance Matthew Britten said: "For the insurance industry, cyber risk is in many ways a risk like no other. "It is equally a potentially huge, but still largely untapped, opportunity for insurers and reinsurers. There is no doubt that cyber insurance offers considerable opportunities for revenue growth — and for Bermuda reinsurers to demonstrate their ability to provide innovative solutions as awareness and demand for insurance coverage grows." The report said that insurers who want to succeed in the market had to base future offerings coverage on conditional regular risk assessments of clients operations and their actions in response to reviews. And it added "a more informed approach" will allow insurers to reduce uncertain exposures but still offer clients the types of coverage and premium rates they wanted.
September 15. Bermuda's West End Development Company (Wedco), a Bermuda Government quango, is seeking planning approval to make improvements to Prince Alfred Terrace, while replacing the former Royal Navy Club with apartments. According to a planning application, viewable at the Department of Planning offices, Wedco is seeking to tear down the former Royal Navy Club — one part of the what had been the HMS Malabar shore station. The documents show two new buildings being erected on the Pender Road property, each containing two two-bedroom units and two three-bedroom units. The project would also include a parking area and a communal outdoor space between the new buildings. The Royal Navy Club building, erected in the 1880s, had served as the officers club before turning into the fleet canteen. While the building had been a Grade 1 listed building, it was formally delisted earlier this year. Home Affairs Minister Michael Fahy said the delisting was a "difficult decision", but the building was in a considerable state of disrepair and plans were afoot to restore the neighboring historical buildings — the Bungalow, Star of India and Moresby House. Meanwhile, in a separate application, Wedco sought planning permission to make renovations at Prince Alfred Terrace on Cockburn Road. The project will include removing the existing asbestos roof, replacing all of the external doors and windows, installing new wooden pergolas and making other external improvements to the ageing building. Prince Alfred Terrace was first built in the 1840s to serve as married officer quarters for the Dockyard. The building reportedly suffered hurricane damage in last year's twin hurricanes, and the proposed refurbishments are to bring the building to a "low to mid-level standard" for rental purposes. Wedco had previously announced that it had hoped to upgrade the Grade I listed building into 14 three-bed, two-bath units through a $3 million investment.
September 15. Global speciality insurer Torus is to change its name to StarStone. The holding company for the firm and its six insurance platforms spread across London, Europe and the US, as well as other group companies will also adopt the new brand and logo. The major shareholders in StarStone are Bermuda-based Enstar Group and Stone Point Capital, headquartered in Connecticut. StarStone chairman and chief executive officer Nick Packer said: "Since our change in ownership in April 2014, we have made significant progress by strengthening our management team and reorganizing areas of business. "This was recognized by AM Best when reaffirming our A- rating. As part of that journey, the time is right to launch a new brand that signals our shareholders' continuing commitment and best reflects who we are today. We are committed to delivering the same high levels of service to our clients with new brand that underlines our position within Enstar Group and the strength of our combined partnership."
September 15. The Kiskadee arm of Bermuda-based Hiscox has launched a new reinsurer. Cardinal Re, which is based in Bermuda, will operate as a special purpose insurer designed to turn collateralised insurance and reinsurance risk into a security aimed at capital market investors. The new venture takes Kiskadee Investment Managers' total assets under management to more than $600 million. Hiscox Re CEO Jeremy Pinchin said: "The launch of Cardinal Re is the latest development in our Kiskadee offering and takes assets under management to $600 million in only its second year of operation. Cardinal Re with its nimble and flexible segregated cell structure, can respond quickly and is an effective way for completing transactional deals where speed to market is critical. It offers additional opportunities for both investors cedants alike to benefit from our growing Kiskadee family of insurance-linked products and reflects the growing confidence from investors to take both insurance and reinsurance risks." Cardinal Re launched its first its first external investor cell in July, which changed a Hiscox Re portfolio of insurance risk into a transaction supported by $55 million of external capital. The new arm adds more flexibility to Hiscox's use of alternative capacity for insurance or reinsurance risk, providing investors with unique market access to risk sourced from the Hiscox Group.
September 15. A water supply pipeline loop around Somerset Island has been completed by Watlington Water. The company has installed more than 40,000 feet of new pipeline in the western parishes since July 2010, and finished the Somerset loop earlier this year, according to a directors' report. This year Watlington saw its best first half-year performance, in terms of gross and net earnings, since the start of the recession, according to the report. In the six months that ended on June 30, the company recorded a gross profit of $3,712,525, up about $119,000 on the same period in 2014. After subtracting expenses and adding finance income, the profit attributable to the owners was $1,050,587, up about $83,000 year-on-year. Earnings per share rose to 99 cents from 91 cents a year ago. A strong third quarter is anticipated by the company, with the added expectation of an upswing in demand linked to next month's America's Cup races on the Island. The directors' report stated: "Four of the first six months this year were up on the same period last year. Operating expenses have increased but the investments made to improve infrastructure and efficiencies have helped to constrain expenses, and the improvements seen last year in gross profit margin, have continued to contribute to stronger net earnings." The company said that metered water sales comprise approximately two thirds of revenue, so its overall success is closely tied to rainfall levels — with demand higher during dry spells. The third quarter of the year normally sees strong demand, according to the company. "This year we have experienced a prolonged intensifying dry spell that was suddenly ended by heavy rains," stated the directors' report. "June was a very strong month for the company that continued into July until the rains started. Again this year, late July and August rains have filled all tanks thereby significantly reducing demand. Early third quarter results have shown an improvement on the same period last year. As was the case at the same stage last year, it will take another period of dry weather to reestablish substantial demand. The company is anticipating, like many others, that there will be an interim upswing in demand for our products that is not weather related in October as a consequence of the series of America's Cup races to be sailed from Hamilton." Watlington Water reported that demand has, so far, been stronger during the initial part of the third quarter.
September 15. Each patient's hospital stay has decreased by an average of one day in the 12 months since the Acute Care Wing opened, Chief of Staff Michael Weitekamp revealed yesterday. The shortened stays mean patients are less likely to suffer effects such as depression, infections or the weakening of the immune system, Dr Weitekamp told the media. Speaking at a press conference to mark the first anniversary of the facility, he also said that the wing's 90 private rooms allow for more individualized care and attention, while the Bermuda Hospitals Board (BHB) has now instituted a more focused discharge plan. Dr Weitekamp said: "We had made it clear before moving into this building that, in order to best serve the public, patients would no longer be allowed to remain hospitalized beyond the time clinically necessary for their unique condition. Our statistician Cyrlene Wilson has run the reports which show a decrease in average length of stay for patients since the move last September. This is good news as we are moving in the right direction." From the time of admission, BHB uses daily multidisciplinary rounds for patients, assessing daily progress and potential barriers to discharge either to home, home with additional services or to a different venue for skilled nursing, rehabilitative or palliative care. "Prolonged hospital stays are not in the best interest of patients," Dr Weitekamp said. "They can become deconditioned from prolonged bed rest, depressed and profoundly sleep deprived from medication side-effects, frequent interruptions and unfamiliar surroundings. The longer patients remain hospitalized the greater their risk of acquiring infections, bed sores and of falling. Recent evidence also suggests that prolonged hospitalization can result in weakening of immune systems, the body's natural defences, and may actually increase the chances of another illness following discharge and result in repeat hospitalization." He said that shorter stays also reduce overall healthcare costs, adding: "Our move to this new facility was needed and staff agree it has facilitated improvements in service delivery." Statistics released by the BHB yesterday also show that chemotherapy treatments have increased from 6,057 in the General Wing, from September 2013 to 2014, to 7,408 in the Acute Care Wing, September 2014 to 2015.
September 15. Transport minister Shawn Crockwell has ruled out installing new security cameras on Bermuda's older fleet of buses saying it would be simply too cost prohibitive. He was responding to calls from shadow transport minister Lawrence Scott to install cameras on all public transport including ferries in light of ongoing violent incidences taking place on them. The minister did not address the other modes of transport but said that the Bermuda Government had already taken measures to improve safety having purchased 16 new buses, each equipped with cameras. Four new buses with cameras are due in 2016, he said. Mr Scott suggested the move in the House of Assembly during last year's budget debate and has highlighted it again after a member of the public was "approached aggressively" by a group of people believed to be from the West End of the Island. Mr Scott said in a statement: "Last week, an incident happened on a public bus that highlights the need for security cameras to be installed on all public transport. As the incident is under investigation by the Bermuda Police Service, I will refrain from details, however, it was traumatic for all passengers on board the bus at the time which included tourists and locals alike. This highlights a key concern that I mentioned back in 2014 during the budget debate; I suggested on the floor of Parliament that the minister have his team, at the very least, look into the installation of closed-circuit security cameras on our buses. Minister Crockwell agreed and I believed this was a suggestion that had his support. Unfortunately, here we are, over a year later, and there is still seemingly no progress. Based on the number of incidences of this nature on our buses, and with a large number of our population utilizing the public transportation, the time has come to take the vision that I outlined in 2014 and bring it to fruition. It may be time for the BPS and the Public Transportation Board to consider the cost and benefits of retrofitting the buses and ferries with security cameras, in addition to providing a monitoring service for them, in the interest of keeping all modes of public transportation safe. As the Minister of Tourism and Transport, one would think that minister Crockwell would be doubly concerned at an incident of this type, so we hope that he will act by taking our recommendations on board." In response, Mr Crockwell said in a statement: "I am always concerned and disturbed by incidents of violence on our public buses, they are unacceptable and measures to improve safety and security have been taken. The safety of our bus operators and our passengers is a priority at the Department of Public Transportation and we will continue to take measures to improve their safety and security. The OBA government has purchased 16 new buses which are all equipped with security cameras and the Department of Public Transportation is expecting delivery of four additional new buses in 2016. However, we have been advised that it is simply too cost prohibitive to install security cameras in the older buses that are not equipped for them."
September 15. The Human Rights Commission is fielding more and more complaints of discrimination relating to mental health — but remains powerless because of the Island's outdated laws. "I am extremely frustrated that it has taken us this long," HRC chairman Michael Hanson. "Last year we had 11 complaints of discrimination on the grounds of mental health, but under the Act we can't deal with them. A lot more human rights complaints have come through this year." Determined to maintain pressure through advocacy, commissioners have met with various ministers as well as the Premier to cajole or push legislators to include mental health under the Human Rights Act. "Our three-year term ends in December of this year — they seem more committed to getting this done, and we're very hopeful that it can happen by the end of our term," Mr Hanson told The Royal Gazette. Part of the frustration, he added, has been the comparative ease with which mental health could be covered. Asked if updating the law would require extensive drafting and analysis, Mr Hanson said: "With mental health, the answer is no. Some other things we have put forward, such as abolishing the retirement age, take a lot of background research, and that I understand. Every other jurisdiction has this. It's simple — instead of having just physical disability covered, we also have mental. The issue of what gets defined as mental disability should ultimately be left to the tribunals." Mr Hanson, who sees cases of discrimination in his private capacity as a lawyer, said he was in no doubt that "there are some people whose lives have been ruined" because it was still permitted under Bermuda law to discriminate. For example, we saw someone who felt that they were not being treated by an organization because they had mental issues, while others were getting treated in front of them. It looks on paper as though that was indeed the case." Mr Hanson said the law was also badly misunderstood by businesses fearing they be forced to hire people with disabilities who would burden them financially or be inappropriate for the job. In Britain, he said, the law required businesses to consider what adjustments could easily be made to accommodate a worker with a disability. A $10,000 wheelchair ramp would be categorized a disproportionate cost. "There is a common sense element to the Act that is being missed," he said. "If you can't make the adjustment, you don't have to do it." Compounding the problem was the sense of resignation or genuine fear of discrimination that made people with mental disabilities reluctant to go public. Mr Hanson pointed to the recent visit to the Island by mental health campaigner Mike Veeny from the United States, who candidly related his own issues and struggles with prejudice as well as socially-imposed shame. "Mike was talking about the stigma attached to mental illness, but he was coming from a jurisdiction that has that protection in place. If there is no protection, no one will speak up. Why would you raise your hand and say 'I'm mentally ill' if you knew that you had no protection?"
September 15. Back-to-back hurricanes and the closure of the Bermuda Sun newspaper were among factors that impacted the Island's gross domestic product in 2014. Bermuda's GDP fell 0.4 per cent in real terms last year, final estimates show. While still in negative territory, it was the smallest recorded decrease in GDP during the past five years. If measured with inflation, GDP grew 0.2 per cent year-on-year, and that translated into a 0.5 per cent increase in GDP per capita, which stood at $91,478 at the beginning of the year. In dollar terms, GDP was relatively unchanged at $4.6 billion, when adjusted for inflation. In current prices it was measured at $5.7 billion The figures were released by the Bermuda Government Department of Statistics, which also provided a breakdown of the economic activity as measured in 14 sectors. Hurricanes Fay and Gonzalo, which hit the Island last October, caused crop losses that, together with a decrease in the number of fish caught, lowered the value of the agriculture, forestry and fishing sector by 11.6 per cent. Manufacturing declined 9.6 per cent, and this was primarily due to a decline in publishing activities. The twice-weekly Bermuda Sun newspaper ceased publication at the end of July 2014 It was a mixed bag for the hotel and restaurant sector, with restaurants recording a 7.2 per cent increase in activity, while hotels had a 4 per cent decrease, which was impacted by a drop in air arrivals. Renovation work at the Hamilton Princess Hotel and improvement to docking facilities in Dockyard helped the construction and quarrying industry to a marginal 0.6 per cent improvement in its GDP value. A 4.5 per cent decrease in telephone, telegraph and telex communications played a big part in the 3.7 per cent drop in the value of the transport and communications sector. The economy's two biggest sectors in terms of contributions to GDP are international business, which accounts for 27.1 per cent of the total, and real estate and renting activity, which accounts for 17.2 per cent. International business was up 0.2 per cent last year, helped mostly by a 27 per cent increase in the value generated by businesses offering financial and related services. Real estate and renting increased 1.9 per cent in value, with the uptick mostly attributed to an increase in condominium sales. GDP for the first quarter of this year was 3.7 per cent higher year-on-year, a 2.1 per cent improvement in real terms when adjusted for inflation.
September 15. A strong majority of residents want dark-tinted visors banned, along with any other helmet that prevents identification of the motorcyclist. The comeback, with 71 per cent pro-banning and 25 per cent against, was commissioned by The Royal Gazette in tandem with a campaign by this newspaper. But Michael Dunkley, the Minister of National Security, said it would be "unfair to suddenly ban a vital piece of personal road safety equipment to address the criminal behavior of a small number of individuals." The Global Research poll, surveying 403 residents aged 18 and above, showed opposition to face-covering helmets rising steadily with age. Banning the head gear was supported by 84 per cent of respondents aged 65 and above, versus 55 per cent aged 18 to 34. Women were more inclined than men, at 76 per cent to 64 per cent; a breakdown by race showed 53 per cent of whites in favour of banning, compared with 29 per cent of blacks. Mr Dunkley told The Royal Gazette: "Historically the community has been divided on this issue. The majority of residents use helmets with tinted visors lawfully, for their intended purpose and respect businesses who regulate their use on their premises. Recent incidents have shown that the tinted visor is only one of the means used by criminals to disguise their identity. These incidents are accompanied by other measures like dark clothing, gloves and the like, all designed to make identification difficult. The public can be assured that calls to the Police about people dressed in this fashion, acting suspiciously will be taken seriously and proper police responses can be expected." Meanwhile, a casual online poll of our readers got 7,000 responses — with 74 per cent supporting a ban on dark-tinted visors. The issue has a long history on the Island, but gained momentum in 2010 after the brazenly public murder of Kimwande Walker was carried out in full view of Good Friday crowds by gunmen with visors over their faces. During the worst years of gang-fuelled gun violence, the ban was taken up in a petition, and Wayne Perinchief, the Minister of National Security, supported the move in 2011. The ban faltered, however, and remained off the table as of this year, according to Shawn Crockwell, the Minister of Tourism Development and Transport. Police have remained neutral on the matter, and reiterated that stance yesterday in the aftermath of two weekend armed robberies where face-covering visors were said to be used. The latest survey, carried out from August 31 to September 6, shows 56 per cent of residents strongly agreeing with a ban. A further 15 per cent "somewhat agree." Meanwhile, 11 per cent strongly disagree with the idea, and 14 per cent "somewhat disagree". Four per cent did not know.
September 14. Around 150 life and annuity professionals are set to congregate in Bermuda later this month. The Bermuda International Long Term Insurers and Reinsurers (BILTIR) is to host its second annual life and annuity conference at the Fairmont Southampton on Tuesday, September 29. Industry chiefs from Europe and North America will join Bermuda-based executives for the meeting. This year's conference will focus on the EU Solvency II regulations, which will come in to force next year and Bermuda's ongoing work to comply with the new rules. Other highlights include a presentation by the president of the Society of Actuaries, which has more than 25,000 members in 78 countries. Special sessions will also look at "the future of living longer" and panel discussions featuring industry leaders. BILTIR was set up four years ago to serve as an advocate for the long-term insurance industry.
September 14. A court case in America could open the floodgates for the US Justice Department to demand access to US computer data stored overseas, including Bermuda. But internet giant Microsoft is fighting in a Manhattan court to overturn a search warrant demanding Microsoft release material stored on a server in the Republic of Ireland as part of a probe into alleged international drugs offences. Gavin Dent, chief executive officer of Bermuda-based hosting company QuoVadis Services, which operates in several countries, said: "With the omnipresence of the internet and cloud computing, people may forget that your data is always in an actual place and may be subject to local laws in surprising ways. Most companies are very careful about where they physically do business and increasingly are becoming mindful of data sovereignty. In other words, they want to make sure that their computer-services customer data are based in a jurisdiction that does not expose them unwittingly to other country regulations or surveillance. QuoVadis, and other Island providers are seeing an uptick in business by offering the same cloud services as found onshore but under the clear data sovereignty of Bermuda." Microsoft is arguing in the Second Circuit Court of Appeals in New York that a US search warrant cannot be used to force tech companies to turn over data stored outside of the US. The company is appealing a decision last year when US District Judge Loretta Preska ruled the company had to hand over e-mail stored on Irish servers to comply with the drugs case warrant. But lawyers for Microsoft — along with other tech companies — insist that they cannot be forced to turn over overseas information because US warrants do not apply outside the United States. The case is part of an ongoing fight over who has jurisdiction over stored data by users, when it can be stored anywhere in the world. Judge Preska ruled in 2014 that because the servers are run by Microsoft, which is based in the US, the actual location of servers does not matter. Microsoft general counsel Brad Smith told Bloomberg: "Some public-sector companies say, 'I cannot put my data in the data centre of an American company unless you win this case'. I have had that said to me on multiple occasions." Faiza Patel, a law professor and expert in surveillance at the New York University law school, said Microsoft's argument was about jurisdiction and sovereignty. She added that courts were having difficulty deciding whether data stored outside the US is similar to a physical object stored in that foreign country, where the laws of the foreign country apply — not those of the US. Ms Patel added that the US Justice Department has a clear legal right to request business records from US-based companies using a subpoena. Microsoft says that "business records" include subscriber information, which is information about the account itself, such as the name of the account holder, the date it was created, e-mail addresses and billing information. It has already given the Justice Department information stored in the US. But the Justice Department is arguing that business information should include not just subscriber information but the contents of e-mails. Microsoft responded that the contents of e-mails stored in Ireland do not belong to the company and it cannot be forced to hand them over.
September 14. Collaborative law is emerging as a low cost and more effective alternative for resolving family disputes over traditional litigation, according to family lawyer Katie Richards. She said that the pain inflicted on families by divorce or separation was often less than the harm caused by the manner in which couples split. "Collaborative law is not for everyone," Ms Richards cautioned, noting that the process needs candor, a willingness to disclose information honestly in relation to assets, and "a genuine desire to reach an amicable agreement that is fair to the whole family. With the tough economic climate that we currently live in, to know that as well as potentially reducing legal costs, the collaborative process may also reduce the anguish and hostility that is linked with marriage breakdown provides hope to separating couples that there is another way." Collaborative law is "relatively new" in Bermuda, avoiding the adversarial recourse of a traditional courtroom. As an avenue for separations, collaborative law was described as "the way to go" by former Attorney-General Marc Pettingill, who earlier this year set up the firm where Ms Richards works. The economic downturn has also proven unforgiving on divorcing couples who bought property in more optimistic times, and struggle with mortgage debts that exceed the value of their properties. The collaboration requires couples and their lawyers to work out negotiations in four-way meetings, face to face. Collaborative lawyers also agree not to represent the parties in court if the process breaks down. "Given that the aim of the collaborative process is to avoid contentious litigation and to negotiate a settlement, collaborative law is often confused with mediation," Ms Richards said. "Although mediation is another form of dispute resolution, the primary difference is that the collaborative practice proactively guides the couples to reach an agreement with both parties and the lawyers working closely as a team. In mediation, the mediator does not advise or represent the clients and they need to seek advice from their solicitors during the process."
September 14. RG Editorial. In Our Opinion. "The difference between propaganda and reasoned argument is the difference between a beef bouillon cube and Kobe beef. Like their counterparts elsewhere, Bermuda's politicians and their surrogates have a tendency to tailor their preferred public relations narratives according to what a great man called "that obstinate craving for unity and symmetry at the expense of experience." Consequently, the respective party lines tend to completely gloss over the fact that governing rarely amounts to much more than an unhappy choice between the potentially catastrophic and the merely unpalatable or utilitarian. Instead, each side prefers to elevate itself to demi-god status while deriding their opponents as the fountain heads of all evil and social injustice. Thundering from their various bully-pulpits, they selectively pick and choose facts to support predetermined, spin-dictated conclusions. Never do they allow all of the evidence to hand to lead to more logical, if often less melodramatic, deductions — and, by extension, to more logical choices for a better informed electorate. Government proposals and Opposition counter-proposals, good, bad or wholly indifferent, are not promoted — or scrutinized — according to their actual merits. Every initiative from either side is routinely presented as a new gospel, as utterly incontrovertible and irrefutable as if it had been handed down atop Mount Sinai. Of course, critics across the partisan divide claim these self-same plans represent the cutting edge of some fiendish design intended to subvert and utterly destroy the Bermudian way of life. When every pronouncement from either side is invested with the sort of absolutist certainty and conviction a Jesuit might envy, rational, deliberative debate and a balanced approach to the issues of the day becomes close to impossible. Politicians, of course, have a vested interest in encouraging voters to hand out simple-minded rewards and punishments at election time. So their marketing strategies suffer from a certain over contrivance — and an over reliance on what they clearly assume is the collective and deeply entrenched gullibility of the electorate. They frame every argument and every position around what their marketing consultants call a "central organising idea" — an organising idea predicated on painting themselves as inviolate, their opponents as the advance guard of extreme reaction and blinkered obstructionism. In an Island this small, the political environment is as delicately balanced as the natural one. So such an unyielding emphasis on polarizing and destructive dogma at the expense of energizing and constructive engagement between our political parties cannot help but take an ongoing toll on our stability. The causes of, and possible solutions to, our economic, social and cultural ills can never all be explained by a single party political doctrine; things are never all one thing or all the other. Certainly our elected officials, or at least most of them, are more aware of this than most. There are simply too many variables at play, too many interlinked and interacting causes, for any one-size-fits-all-eventualities ideology to reduce even tiny Bermuda's civil affairs to a nice, neat, organized system; that is the stuff political advertising campaigns are made on, not pragmatic politics. However, precisely because electioneering — often little more than glorified name-calling and mud-slinging — is less taxing than crafting coherent policy for the difficult period we have entered in the wake of the financial crisis, Bermuda is now in what amounts to a never-ending campaign cycle. In the advertising-and "Gotcha!"-driven environment we now inhabit, votes are routinely swayed by deliberate and systematic misrepresentations of the facts; everything from violent crime to economic retrenchment to the legal status of tinted crash helmet visors becomes the subject of superheated rhetoric and vitriolic parliamentary exchanges no matter how much common policy ground actually exists between the political parties; and "My party right or wrong" has come to all too frequently trump choosing basic right from wrong. It's fair to assume the overwhelming majority of Bermudians, regardless of their party affiliation, want their elected representatives to work collaboratively to build a safe, durable and stable community. Yet no such community can be easily forthcoming in an atmosphere where mutual mistrust, scepticism and sometimes outright nihilism are actively encouraged by partisan propaganda masquerading as informed analysis. Legitimate disagreements as to the best way forward will always exist when it comes to all issues, great and small; and, frankly, a state of permanent consensus is no more attainable than it is actually desirable given all voices and opinions need to be heard in Bermuda's civic discourse. However, our political dialogue has been overly dominated by the ephemeral, the contrived and the attention-grabbing but entirely meaningless for far too long in recent years. Propagandizing, posturing and pea cocking have little to recommend them aside from some scant, usually unintentional entertainment value; they are certainly no substitutes for content and substance. So ask yourself, Bermuda, and certainly ask your Members of Parliament: where's the beef?"
September 14. RG Editorial. In Our Opinion. "When we said last Friday that incidents the like of which resulted in the death of Shijuan Mungal last year could happen every day in Bermuda, it was not done to apportion blame to the slain teenager. Nor was it done to take a pop at our young people in general, the majority of whom do us proud. It was done to highlight the state of a society where violence has become an acceptable form of negotiation. Our society, where those between the ages 16 and 35 make up a significant number, is reliant on that demographic to safeguard our future; not to condemn the Island to a primitive, fourth-world status, knocking more than 300 years off the clock. But the events of the weekend past have shown us at close to our worst: savagery on the cricket field bookended by a pair of armed robberies. What next? And, then, should we be surprised? It is to be hoped that the Bermuda Police Service can find a speedy resolution to the robberies at the MoneyShop in Warwick and at Maximart in Sandys. Whether they do or not, the unconvinced, or selfish, among us finally need to accept that an island-wide ban on dark-tinted helmets, and those that prevent identification, should become a priority for our legislators. With no end in sight to the criminality, it will take only one brave soul at a shopping centre or bank counter to test the determination of those who would wantonly spread evil throughout our community for tragedy to revisit like a recurring nightmare. It is not right that the evil among us get to fit in like normal citizens because the normal citizens cannot see the potentially harmful effect of keeping these helmets on our streets. Cracking down on them would be an irritation for some and potentially complicated to execute into law, but the evil should be isolated. If not, they should be made uncomfortable by having to seek alternative, faceless ways to go about their crimes. "Enough is enough" has to be the cry. It is for this reason, supported by independent polls that show three out of every four residents want them banned, that The Royal Gazette is redoubling its efforts to get lawmakers to take this issue far more seriously than four years ago when Wayne Perinchief, then the Minister of National Security, was dismissed and told effectively to go into the dunce's corner by his Progressive Labour Party colleagues. Since which, the One Bermuda Alliance, through transport minister Shawn Crockwell, has treated the matter with similar disdain. So what? Shall we wait until someone dies? The same question could easily be asked of the authorities in cricket. The county season in Bermuda did not start in earnest until July 18 with the first round of the Eastern Counties — and ended on Saturday with the Champion of Champions final. How fitting, the harbinger of doom might ask, that both poured copious doses of embarrassment on everyone associated with cricket on this island. That the skirmish revolved around only two people is irrelevant; this has been in the making for cricket since the high-speed chase that ended with a bullet-riddled car carrying Willow Cuts cricketers crashing on a Southampton roadside about this time last year. Weeks later, the national team embarked on the "Tour from Hell 2" to Malaysia, where Bermuda's international cricket reputation took a significant hit, even before we were relegated to Division Four of the World Cricket League. Allan Douglas left on that tour as a Bermuda Cricket Board vice-president, and stand-in national coach, and came back banished from the game at the board level. Then came the start of the 2015 domestic season. Within weeks, the board included in the national team a player who was the subject of a police operation and who was then charged and found guilty of cocaine possession. He was even taken on a pre-tournament tour before common sense prevailed and he was excluded from the squad for the ICC Americas Twenty20 Championship in Indianapolis. The same common sense, or sense of moral duty, went Awol in the St George's Cup Match selection meeting, as the same player was then put in Bermuda's version of the goldfish bowl to play in the annual classic — that he failed in both innings and had a nightmare in the field was a sort of Pyrrhic victory for justice. On to the Eastern Counties first round, where Cleveland, after taking 33 years to win the trophy, made themselves the enemy of every neutral with a show of such outrageously poor sportsmanship that even now it is a wonder how they ended up being reinstated after first being stripped. If walking off the field and delaying the match by 40 minutes was not enough, they had at least one player threaten an umpire, who has since withdrawn his services. Then came Cup Match, which was reduced to hit-and-giggle cricket by the paucity of the St George's challenge, but at least there were no controversies. Still, with the brand of senior cricketer we witness at present, trouble is hardly ever far away. And we had to wait only a few weeks on the day of the Eastern Counties final. That match went off smoothly, if painful on the eye, but elsewhere at least one cricketer left the field at Southampton Oval to engage in a brawl. Why? Someone ripped a player's chain off his neck. The umpires rightly called pulled stumps. Where was the BCB while all this was going on? Somewhere playing the role of ostrich — with its head buried deep in the sand. For there has been no disciplinary action and the offending team, Willow Cuts, were free to move on and take their place in the Champion of Champions. So, with two of the Island's most controversial teams sharing the field for a big final, is there any wonder that Saturday happened? This time, and with a very visible police presence, the repercussions are too serious for the board not to act and, by Friday, Jason Anderson, of Cleveland, and George O'Brien, a Willow Cuts guest player, can expect bans from the game of indeterminate length. These are two former Bermuda players, but more recently they were Cup Match team-mates in that quite dysfunctional St George's outfit. The video evidence, which has unfortunately become a YouTube sensation, is rather damning and gives us the closest parallel to what might have happened on Ord Road on September 8 last year, when Kiahna Trott-Edwards swung a baseball bat and made contact with Shijuan Mungal. At St David's County Cricket Club, a bat was also swung, and by someone substantially bigger than Trott-Edwards. The difference between that and the recently completed murder trial was that no contact was made here, but that makes the act no less inexcusable. Bats being swung and cricketers rolling on the pitch — you might think, "Isn't that supposed to happen in that sport?" Yes, but not bats being swung with the intention of maiming a fellow player, nor the practice of WWF being played out in the middle. Add to that a kick being fired to the head, leaving an innocent with suspected concussion, and we have cricket as a sport of thugs, not the sport that is meant to build character. After the raging Cleveland president, clearly cognizant of yet another public relations disaster, ordered Anderson off the pitch, a police Land Rover arrived to give the scene a surreal, wartime look. That it departed with the same passengers that it came with, and that Southside Police Station does not have two new guests awaiting mention in front of a magistrate this morning, was surprising. For what happened there is little different to what happened on Ord Road: difference of opinion, heated words exchanged, altercation with a hard, wooden object as weapon of choice. The one sliver of light is that both live to fight another day."
September 14. Bermuda has witnessed a four-week spike of 20 crimes featuring a degree of violence: 18 incidents of chain-snatching, and two separate armed robberies over the weekend. The surge is a sharp increase from the 13 robberies recorded in the entire of 2014, and cause for concern, according to Police. Authorities yesterday said they were considering releasing CCTV images of the suspects in the two robberies on Friday and Saturday, each of which apparently involved a firearm, once the best quality images are isolated. Both establishments had their own security cameras, as well as CCTV outside: the MoneyShop on Middle Road, Warwick, and the Maximart supermarket in White Hill, Sandys. While Superintendent Sean Field-Lament of the Bermuda Police Service said it would be premature to link the two robberies, he conceded their methods bore a striking similarity. In both cases, the suspects took pains to camouflage themselves, wearing dark clothing, latex gloves and helmets with tinted visors. On the longstanding question of whether dark-tinted visors should be banned — an idea which has widespread public support according to a new survey by this newspaper — Supt Field-Lament said the matter was for legislators to tackle. Facial recognition is said to be among the capabilities of the Island's security camera network, but Police have been reluctant to divulge specifics for security reasons. Two men carried out the Warwick robbery, while in the White Hill incident a gunman entered the store and left on a motorcycle driven by another man who waited outside. Supt Field-Lament said he wished to reassure the public that police were doing "everything within our powers to address the recent emerging crime trends". Chain snatching has been linked in the past to dares and displays of bravado. While Supt Field-Lament declined to speculate whether economic hardship had fuelled the rise, he said the public could protect themselves against opportunistic crime. "When someone rips chains off people and walks around with guns, everyone is at risk," he said, advising residents to "limit your risk by refraining from presenting yourself as a target of opportunity, by not wearing valuables especially gold chains openly". Meanwhile, last night Michael Dunkley revealed he had met with Governor George Fergusson and the Acting Police Commissioner in the wake of the recent wave of violence. The Premier urged residents who knew anything to speak up. He said: "Meeting with the Governor and the Acting Commissioner today, it is clear that the Police are working with the victims of these crimes and those members of the community who may have witnessed something related to these violent events. "It is important that witnesses provide whatever information they have. The smallest recollection or detail can prove critical to the investigation. I think it is important for our residents and visitors to be alert to their personal safety and likewise for business owners to adopt preventative measures on their premises, using the technology available to assist in any investigation in the event of this kind of incident. The vast majority of Bermudians do not endorse this kind of violent behavior and as recent cases before the courts have shown, it is the courage of ordinary men and women whose witness accounts have brought criminals to justice. If you know something, say something." Three suspects have been brought before the courts in the past two weeks for grabbing jewellery, Police revealed yesterday. For businesses, security cameras and height scales along store entrances are a deterrent said Supt Field-Lament, who also noted the timing of the attacks, which came shortly before closing time. Advising business owners to be vigilant of persons "casing the place out", he added: "Certainly closing time is historically when businesses at the end of the day have the most money. There are not as many people around; people are tired — that itself presents an opportunity." Anyone who believes they may have seen anything, or who might have any information that could assist police, should contact the main police number, 295-0011. Cases of robbery, many of them petty jewellery-snatches, have risen significantly this year. Notable cases of the year thus far include:
• February 4: three men, one apparently armed with a gun, rob a woman of her motorcycle at Astwood Park, Devonshire;
• February 20: Four men in dark clothing invade a Deepdale Road home with bladed weapons;
• June 9: an armed man vaults the counter at Butterfield Bank in St George's, escaping with cash;
• June 10: a man wielding a hammer robs two visitors on the Railway Trail in Sandys;
• July 24: two men with a knife, heavily covered to hide their identities, hold up the Mr Chicken Express in Devonshire;
• August 9: two men threaten a pedestrian in Hamilton into withdrawing cash from an ATM;
• August 24: two men on a motorcycle, wearing dark clothes and black helmets, snatch a purse from the bike basket of two tourists in St George's;
• August 29: a Premier Division cricket match between Southampton Rangers and Willow Cuts in Southampton is abandoned after a player has his chain snatched by a spectator;
• September 11: the MoneyShop, Warwick is targeted at 4.20pm by two masked men with a firearm;
• September 12: a gunman in black, face covered, demands cash at the Maximart in Sandys and drives off with an accomplice;
• August/September: police record 18 incidents of chains being snatched, with culprits targeting riders of cycles who are openly displaying neck chains.
September 14. Ferry commuters say they are still waiting for the Bermuda Government to deliver on its promises to correct a host of concerns over services. Last July, Marine and Ports director Richard Russell acknowledged late arrivals and problems with air conditioning and bathrooms facilities, and said that Government was to purchase new generators to improve the situation as well as tackling staff issues. However, Sallie DeSilva, a commuter on the Watford/Cavello ferry route, told this newspaper: "Nothing that Richard Russell pledged has come to fruition. Mr Russell stated in the article a plan is afoot and we have ordered three generators of higher output capacity. Where are they? Why have they not been installed? Why are we still dealing with subpar equipment?" Another commuter, Barbara King, said: "I am ashamed and disgusted with the state of the ferry service." A Facebook thread appeared online as commuters announced their disappointment. Among the complaints were that The Tempest smells like sewage with no air movement and is unable to keep to scheduled arrival times. The bathrooms were said to be out of order on The Serenity, with poor air conditioning and late arrivals. Ms DeSilva said the service seldom arrives at Watford/Cavello on time which has left commuters turning up to work late. She added: "This director's promises and pledges — his word is no good with us the taxpaying public. We do not believe this is a Shawn Crockwell [Minister of Transport] issue although ultimately he has to answer to this. We do not believe it is a pilot/crew issue. We believe this is a management issue and they need to be held accountable. We sent specific questions to Mr Russell addressing some of the concerns raised." A spokeswoman for Marine and Ports responded: "Our records indicate that on the dates in question all air conditioning units and heads (toilets) were fully functional on The Tempest. The Serenity has been running steadily this summer and was last serviced on August 29, 2015. The Resolute, which was returned to service on Friday, September 4, did experience some overloading. This was due to the vessel being out of service for some time but the problem was resolved without withdrawing the vessel from service. In addition, the newly rebuilt engine was smoking due to paint burn-off and new lagging but nothing out of the ordinary for a newly installed engine. The crew were asked to monitor the engine closely. The Tempest has been in service since Tuesday and was fully functional which includes head and air conditioning."
September 14, 2015. Bermuda-based ILS Capital is to open a new office in London next month. The company has also appointed Teresa Gallant as the new chief financial officer and Glenn Clinton, who will head up US property catastrophe underwriting. ILS capital founder and chairman Don Kramer said: "Teresa is a high-calibre executive whose appointment as CFO has been widely welcomed by our investors. "With nearly 15 years of audit and accounting experience under her belt, she is a significant addition to our team." Mr Clinton joins the firm from Bermuda company Tower Re, where he was president and chief underwriting officer and managed a $360 million book of business. Mr Kramer said that John Warwick and John Haggerty had been appointed to run the London office, which will focus on specialty reinsurance. "While property catastrophe reinsurance is centred in Bermuda, London is the centre for the specialty reinsurance market. ILS Capital is a progressive business and I am determined to stay a step ahead of our peers. John Haggerty and John Warwick's 60 years combined reinsurance experience in the London market gives us an unprecedented opportunity to expand our operation." ILS Capital was founded in Bermuda four years ago and has $250 million in assets under management.
September 14. One of Bermuda's veteran Gombey captains, Allan Warner, proudly affirmed the tradition's roots when he was acclaimed for his life's contributions to the quintessentially Bermudian art form. "Unity is strength," Mr Warner, of the Warner Gombeys, told the crowd at the WER Joell Tennis Stadium during Saturday night's Gombey Festival. "None of us can do it alone," Mr Warner said, thanking the selection committee that steered him into becoming a Gombey captain at one of the Island's top groups. "One of the earliest things I learnt as a Gombey is that united we stand, divided we fall." The Gombey ethos is "one for all and all for one", he said, joined by his family along with members of the Place's, H & H, Warwick, Gombey Evolution and Gombey Warriors groups. "We are the route of the underprivileged of this Island, but yet our spirit still rings strong and true," Mr Warner said, capping off a Gombey career that stretches back to his childhood: he made his first costume at the age of nine. Jeanne Atherden, the acting Minister of Community, Culture and Sport, presented certificates of appreciation to each group as well as special recognition to Mr Warner. The annual festival is hosted each year by the Department of Community and Cultural Affairs, she said, to celebrate a centuries-old Bermudian folk tradition that blends elements of African and Caribbean performance with North American native music and British military drumming. "It runs deep in our roots," Ms Atherden told the audience, which included Governor George Fergusson, before the crowd was treated to performances such as Daniel in the Lion's Den. Weaving along to the drummers to leaps, splits and mimed combat with bright-painted tomahawks, Gombey performances tell stories rooted in narratives of slavery and freedom. The event was once known as the Gombey Competition, but has evolved into a celebration of a folk tradition that stretches back for centuries. Each troupe has its own distinct history, and the names of drummers and performers who had been influenced by Mr Warner were listed off to drumming, whistles and ecstatic cheers. In 1995, he was awarded of the Queen's Certificate of Honour for "keeping the Gombey tradition alive", becoming the first Gombey captain to receive this honour.
September 14. The Green family, owners of the Hamilton Princess Hotel and nearby office building developments, has announced 11 recipients of the Green Family Scholarship for the fiscal year. Every year, students are selected to receive the scholarship, which awards between $5,000 and $10,000 per year for up to four years of post-secondary education. The scholarship is needs-based and can be used towards education and tuition costs at an accredited college or university abroad. The Green Family Scholarship has been awarded to more than 100 students since its inception in 2007, and the family as committed more than $1 million in educational funding over that time. Recipients study in various fields, including business, health sciences, hospitality, insurance and risk management. The scholarship was established with assistance from Knowledge Quest, which has helped more than 140 Bermudian students attend college and university since 2001. This year's recipients of the Green Family Scholarship, their fields of study and the schools they will attend are: Doreen Burgess, health sciences and global business, Kean University; Antrell Butterfield, education with a focus in English and sociology, Aston University; Lynique Castle, health sciences and pharmacy, Durham University; Shannon Davis, education with a focus in history, Mount St Vincent University; Eulannae Douglas, education with a focus in mathematics and English, University of South Carolina; Torian Hill, medicine with a focus in behavioural neuroscience, Andrews University; Sajni Richardson, food and beverage service management, Johnson and Whales University (Rhode Island Campus); Asia Smith, business administration with a focus in accounting and finance, Middlesex University London; Shallette Spencer, actuarial science, Georgia State University; Kairah Woolaston, hospitality and tourism management with a concentration in hotel management, Cape Breton University; and Markus Raynor-Grangman, culinary arts with a focus in baking and pastry food services management, Johnson and Whales University. Andrew Green, on behalf of the Green family, said in a statement: "We believe that no Bermudian should have to turn down the chance for a better life because they do not have the opportunity to further their education. The scholarship that we created is to achieve this goal and we are proud to be able to contribute to the education and future of these hard-working students. We wish them the best of luck in their educational pursuits and we look forward to following their achievements over the next few years." Applicants to the Green Family Scholarship must first apply to the Knowledge Quest Scholarship. Eligible candidates must show financial need and have Bermuda status at the time of application. More information about the Green Family Scholarship can be found at www.greenfamilyscholarship.bm/index.html. Information about Knowledge Quest and the Knowledge Quest Scholarship application can be found at www.knowledgequest.bm.
September 12. A good Samaritan was attacked by the man he stopped to help after an accident, Magistrates' Court heard yesterday. Jerkeyo Berkeley was handed an 18-month suspended prison sentence after he pleaded guilty to causing grievous bodily harm in Devonshire on November 16, 2013. He also admitted stealing $20 from the victim and possessing an offensive weapon in public. The court heard Berkeley, of Southampton, was in an accident and that the victim and his friend gave him first aid, and tended to his pillion passenger. Berkeley proceeded to accuse the man of removing his bike keys. When he denied this and let Berkeley search his pockets, Berkeley removed the victim's wallet and took $20 before throwing it away. After retrieving his wallet, the victim and his friend started to leave, but noticed that Berkeley was following them. The victim confronted Berkeley, who struck him on the head with his helmet. He suffered a crack to his left eye, swelling to his face and an injury to his nose. Berkeley, who was on parole at the time of the offence, was arrested and admitted stealing $10 from the victim. He insisted that he attacked the man because he rushed him. In court, Berkeley said he was sorry and asked if the matter could be dealt with by way of a fine. Magistrate Khamisi Tokunbo fined Berkeley $300 for stealing but handed him a 12-month prison sentence, as well as a $1,500 fine, for injuring the victim. He also fined him $500 and sentenced him to six months in prison for possessing the offensive weapon. The prison sentences were suspended for 18 months and are to be followed by an 18-month probation period. Berkeley, who also appeared in court because he had $3,500 in outstanding fines, was fined another $1,000 for not having insurance and $750 for having an unlicensed car in January last year.
September 12. Armed robbers disguised with helmets and wielding what appeared to be a firearm stole cash from the Maximart in Sandys late on Saturday, shortly before the establishment closed at midnight. Details on their appearances were scant: one member of staff described the gunman as dressed in black, with gloves, his face hidden behind a tinted visor. The two demanded money and left the scene with the cash. No one was harmed during the raid, which was carried out swiftly, with the men apparently departing on a motorcycle, the member of staff said. The robbery at the White Hill supermarket, where business carried on as usual yesterday, was the second armed robbery in consecutive days over the weekend. Two men carrying a gun, also covered up and wearing gloves and helmets, stole cash from the MoneyShop on Middle Road, Warwick, at about 4.20pm on Friday. Jamahl Simmons, the Progressive Labour Party MP for Sandys South, said the news had shocked and disturbed the Sandys community. "We condemn this crime and are grateful that no one was hurt," Mr Simmons said, urging the public to assist the police and "send a clear message that there is no place for attacks on individuals or businesses in our community". Walter Roban, the Shadow Minister for Public Safety, said the incident stood as a sad reminder of the ease with which gun violence could break the peace. "Since this is an area with heavy people traffic and activity, we do hope the investment by the Government in CCTV technology will benefit the investigation as it has done in the past," Mr Roban added. Police are urging anyone who saw two men acting suspiciously in the area or anyone who may have any information on the incident to call 295-0011 or the confidential Crime Stoppers hotline on 800-8477.
September 12. An armed robbery by two men wielding a firearm ended with an undisclosed quantity of cash being stolen from the MoneyShop on Middle Road, Warwick, yesterday. According to a member of staff, the pair wore gloves and helmets but may have been observed earlier at a supermarket close by. "It was over fast — they were only in there for a minute," said the man, adding that the raid appeared to have been planned. Two men entered at the back of the establishment at about 4.20pm, carrying what appeared to be a gun and demanding money before making their escape. Witnesses are asked to call the Police on 295-0011 or the confidential Crime Stoppers hotline on 800-8477.
September 12. Volunteer divers and snorkellers are being sought for a major reef mapping programme taking place at Elbow Beach tomorrow. The event is part of a project to protect the Island's reef system, run jointly by the Royal Bermuda Regiment and the Bermuda Reef Ecosystem Analysis and Monitoring Programme (BREAM). In a press release, the Regiment's Lieutenant Gordon Emmerson said that event-specific equipment would be provided, but that volunteers should bring their own snorkel or diving gear and underwater cameras. He stated: "It's a major event and promises to be fun for all the family with a barbecue lunch and refreshments organized by the Regiment on sale. We welcome public participation in the very valuable event that will help guarantee the health of Bermuda's unique reef system for future generations. I would like to thank Dr Thaddeus Murdoch of BREAM for all his guidance and the effort he has put into the project. We hope we can find more events in the community to support in the future." The reef mapping day runs from 10am to 4pm on Sunday.
September 11. Two children's charities have thrown their weight behind Puisne Judge Carlisle Greaves's suggestion that Parliament should consider revisiting the Island's sexual offences laws. While sentencing a former police officer convicted of sexually exploiting his daughter and three counts of incest to 15 years' imprisonment, Mr Justice Greaves said that the maximum penalty for incest "is inadequate in this jurisdiction." He invited Parliament to consider revisiting the sexual offences laws and whether it is appropriate to increase the penalties for incest and buggery to bring them in line with those for sexual exploitation. "Mr Justice Greaves is absolutely correct that the legislation governing sentencing for incest needs to be amended," said Sheelagh Cooper, founder and chairwoman of the Coalition for the Protection of Children. "We are pleased to see that he has pointed that out as it is, and always has been, a serious problem in a small community like Bermuda." Debi Ray-Rivers, the founder and executive director of SCARS, added: "Certainly the law makers must take some direction from the assessment of the courts in relations to offences. "In this instance an experienced and highly regarded Justice has given his view on the current position and state of the law and consequently you have to hope that the Government is listening and will make the necessary changes to the law a priority." At the sentencing, Mr Justice Greaves noted that the maximum sentence for the sexual exploitation offence is far greater than the maximum sentence for incest, which he said is "inadequate in this jurisdiction." The court heard that the maximum sentence for sexual exploitation of a young person by a person in a position of trust is 25 years and seven years for incest. Mr Justice Greaves said the penalty for sexual exploitation was amended after the infamous John White case, a former police officer who was sentenced to 25 years' imprisonment for sexually abusing three boys. White's sentence was later reduced to 18 years by the Court of Appeal. And while the White case "changed everything in Bermuda when it came to sexual offences, particularly those involving children", Mr Justice Greaves said, incest and buggery laws were not amended when the penalty for sexual exploitation of a young person by a person in a position of trust was increased from 20 to 25 years. The Royal Gazette approached Government for comment but received no response.
September 11. A plane carrying out a medical evacuation was forced to return to the Island after encountering mechanical problems. According to a Department of Marine and Port Services incident report, the Bermuda Maritime Operations Centre (RCC) Bermuda was contacted by New York Air Traffic Control at around 4.14am yesterday about the emergency diversion of Medevac 988QC, which had departed the Island on route to Boston. "The pilot reported mechanical problems with the cabin pressure fluctuating, was not declaring an emergency and was five minutes from landing," the report stated. "Bermuda Radio notified [the Bermuda Fire and Rescue Service] and advised them to send an ambulance to the airport to transfer the patient back to King Edward VII Memorial Hospital." The aircraft landed in Bermuda without incident at 6.18am, and the patient was safely transported back to the hospital.
September 11. Mental health campaigner Mike Veeny has concluded that he loves Bermuda and wants very much to come here again, an audience heard last night in City Hall. "I'm mentally ill, so you might not want me," added Mr Veeny, with the characteristic humor that inflects his presentations. A professional drummer and speaker on mental health issues, Mr Veeny was brought by the Bermuda Mental Health Foundation to share his own story and, above all, initiate conversations. His trip has included a visit to the Mid-Atlantic Wellness Institute and to the Island's pilot mental health courts, as well as a meeting with Jeanne Atherden, the Minister of Health. "There are a lot of initiatives that are moving forward here with regard to mental health, such as the people who are trying to change Bermuda's Mental Health Act," Mr Veeny said. With strenuous advocacy under way by the Foundation, and the Human Rights Commission continuing to push for the inclusion of mental illness in the Human Rights Act, the New York-based speaker urged Bermudians to move forward. Noting the Island's appetite for tourism, he said: "What if you became a country that was known not only for tourism, but for wellness?" Breaking down the stigmas, prejudices, discrimination and shame associated with mental illness is Mr Veeny's mission. "Here in Bermuda, it's taboo to talk about this stuff — but I know that one in four people in this room struggle with mental health, and that's just the people that admit it." Emerging from a harrowing childhood and adolescence marked by expulsions from school and periods of institutionalization, Mr Veeny said he had learnt to "embrace the confusion" — and saw firsthand the positive results of speaking openly about challenges that were far from his alone to bear. Opting to spend an entire year introducing himself as mentally ill to everyone he met, Mr Veeny's transformative encounters included a chance meeting with his neighbor, an imposing professional bodybuilder, as well as a Hollywood director and the head of a major beverage company — all of whom had struggled with the pain and fear of mental health issues, and who found solace in opening up. "You have to have the uncomfortable conversation," he said, urging people to take care of themselves, keep the topic in conversation, and "look for teachable moments to help others."
September 11. An armed robbery by two men wielding a firearm ended with an undisclosed quantity of cash being stolen from the MoneyShop on Middle Road, Warwick, yesterday. According to a member of staff, the pair wore gloves and helmets but may have been observed earlier at a supermarket close by. "It was over fast — they were only in there for a minute," said the man, adding that the raid appeared to have been planned. Two men entered at the back of the establishment at about 4.20pm, carrying what appeared to be a gun and demanding money before making their escape. Witnesses are asked to call the Police on 295-0011 or the confidential Crime Stoppers hotline on 800-8477.
September 11. Bermuda paid 1.9 per cent more for a typical basket of goods and services in July that it did a year ago. But the level of inflation fell 0.2 of a percentage point on the 2.1 per cent measured in June. The average cost of goods and services also fell marginally — 0.1 per cent in July compared to the month before. The biggest contributor to the year-on-year increase was an 8.3 per cent increase in the cost of health insurance, medical care and medicines. And the cost of food and household goods, services and supplies also increased — both up 2.8 per cent compared to July last year. Over the month from June, July saw a 4 per cent increase in the cost of fuel and power. This was attributed to a 13 per cent hike in the fuel adjustment rate, which rose on Belco bills from 11.5 cents per kilowatt hour to 13 cents. Household goods and services and supplies rose 2.1 per cent month-on-month — put down by statisticians to an increase in postage costs. The price of clothing and footwear also went up, by 0.7 per cent in July from the month before, but rent costs remained static, although rent-controlled properties saw a 0.1 per cent increase. The price of food went up 0.1 per cent in July compared to June, the third consecutive monthly increase. Major factors behind the increase were a 5.1 per cent increase in the average price of green peppers and a 4.3 per cent jump in the cost of oranges. But a 0.4 per cent increase in the average cost of spirits was offset by a decrease of 0.4 per cent decrease in the cost of beer. The cost of transport and foreign travel dropped, down 3.6 per cent in July, which followed a June increase of 5.9 per cent. Airfares and premium fuels decreased by 9.6 per cent and 1 per cent respectively, but the cost of renting a vehicle overseas went up by 1.2 per cent. Health and personal care also remained static in July, with an increase of 0.3 per cent in over-the-counter medicines offset by a 0.1 per cent decrease in the cost of toiletries, cosmetics and perfumes.
September 11. There's gallons of lager on tap, brass to polish and a ghost to handle. Bermudian publican Benjamin Smith has never been happier. The 48-year-old became manager of Manor Inn, a pub in Oldham, Greater Manchester, three months ago. "I came over here to raise my three-year-old daughter, Kiera," said Mr Smith, former manager of Swizzle Inn. "Her mother moved over here, and I followed because I wanted to be in my daughter's life." It took him about a year to find the job. He often hung out at the pub while he was looking for work as it is directly across the street from his daughter's home. "Then one day someone from the pub came to me and said they were looking for a manager," Mr Smith said. Owners Dorbiere Pub Group liked his enthusiasm for the hospitality industry, so he was hired. "I am really proud to be part of this trade," said Mr Smith. "It is dying out. There used to be more than 300 pubs in Oldham, and now you can count the number of them on your hand. It feels good to be helping to keep a tradition alive." In fact, Manor Inn was in the shadow of the axe before Mr Smith came along. "Things are going well now," he said. "I'm proud to say we're meeting our targets. During the week we tend to have a lot of pensioners as the neighborhood is a working one. Things get really busy around here on weekends, though. The place has a family atmosphere, although I make sure the children, including my daughter, are out of the pub by 8pm." He said many of his regulars are following in the footsteps of their grandparents and great-grandparents. In terms of Oldham drinking habits, he said he was going to rewrite the song 'Bermudians Love to Drink' into 'Oldham Loves to Drink. They don't tend to drink a lot of spirits," he said. "But I pour gallons and gallons of lager and ale during the week. They particularly love Foster's." He does get the odd Bermudian wandering through; many live in nearby Manchester. "I've had several Bermudian DJs working here," he said. "I'm thinking of holding a Bermuda night. I was thrilled when Janeiro Tucker of the Southampton Rangers turned up. He was just passing through Manchester." Mr Smith has tried to insert a Bermudian flavour into food served on Sundays. "We have a football team and families often come in with their children after the game. I've served up codfish cakes, curried chicken and rice and macaroni and cheese. They love it. They particularly love Johnny Bread. They are always asking for it." So far, he has experienced little culture shock living in the north of England. "I already knew a lot of the regulars from coming into the pub regularly. Early on, I called Jay Correia, owner of the Swizzle Inn, and expressed concern about it being a different culture. He told me it's a different country, but the principals of good hospitality remain the same. Whatever led to your success at the Swizzle Inn, do the same there" ." He took Mr Correia's advice to heart and has tried to infuse the place with warm Bermudian hospitality. "I've brought in customers by simply going out into Oldham and talking to people and telling them about the pub," he said. "I try to go the extra mile to make sure my customers are taken care of. I love taking care of people. I also take care of the building. It is 200 years old. If there is something that needs repairing I put my elbow to it and fix it. When I first took over, the brass in the pub hadn't been polished in years. So I got down to it and polished it until it looked really nice." The reaction from his customers made the effort worthwhile. "One lady said she was crying happy tears," Mr Smith said. "Her late father ran the pub in the 1980s and had spent his weekends polishing up the brass. She said seeing the brass all polished again made her feel like he was with her." Although he hasn't seen a ghost, he said its 200-year history made it likely there was one. "I live upstairs," he said. "I was in my bedroom last night and I went to light a cigarette. I thought, 'Should I turn on the fan or open the window?' I thought I would open the window." The fan switched on of its own accord. On another occasion he went into the pub cellar, carefully closing the door and barring it behind him. He came back up the cellar stairs and found the door wide open and unbarred. "There's no way anyone could have opened it," he said. "Someone from the pub said, 'You know you're haunted?'. I said, 'I know, I've already met the ghost'. I'm not bothered by it."
September 11. The owners of the cargo ship Bermuda Islander yesterday said that their service would be unaffected by next month's America's Cup races. The Bermuda Islander is due to arrive in Hamilton on Thursday, October 15 — when the inaugural races take place, with two finishing in Hamilton Harbour. But George Butterfield, manager at Myer Freight, agents for Bermuda International Shipping Ltd, which operates the Bermuda Islander, said: "The Islander is a very easy ship to offload and Stevedoring Services have assured us that delays will be minor. All other BISL voyages, prior and after the event, will not be affected. We are working closely with our customers and they have booked cargo accordingly." The Royal Gazette reported yesterday that Stevedoring Services, which runs Hamilton docks, had turned over a third of their dock space for nearly two weeks so four of the competing teams can base themselves on the harbour for the races. But Stevedoring Services' chief executive officer Warren Jones said careful planning and co-operation from importers would ensure cargo services continued to run smoothly.
September 11. A luxury alternative to a hotel has reopened after a $5.5 million major makeover. Inverurie Executive Suites on Paget's Harbour Road has been redesigned with the executive traveller in mind. "We see a requirement for a business-orientated hotel that's modern and contemporary," said owner Phillip Ackeroyd. "We believe we provide a wonderful choice for business executives. We're right on the water's edge and every room has spectacular views of Hamilton and the harbour." The new-look Inverurie has five one-bedroom suites, which come with a kitchen, separate lounge, a double bathroom and walk-in closets. There are ten large executive rooms, and these feature a galley kitchen with coffee maker, microwave, kettle, toaster and sink. Mr Ackeroyd said: "Inverurie is only ten minutes away from town by taxi or ferry. Each suite and executive room is styled specifically for business people with all the luxury and amenities they would expect. We anticipate most of our guests will stay with us for a week or more and we are hoping that the suites, particularly, will attract long-term visitors for six months to a year. Business people here for that length of stay will enjoy the independence that Inverurie provides. Each suite features a fully-equipped kitchen so guests can eat in. When they prefer to eat out it's only a short stroll to Blu, Fourways or Beau Rivage. We provide a continental breakfast in the privacy of the suites and rooms. And on request we will stock the kitchens with whatever groceries the guests choose." Mr Ackeroyd added that several blue-chip companies had already asked for tours of the site after the new website went live. He said there was still a market for executive accommodation in Bermuda, despite the economic downturn, while the America's Cup promised a major boost for the economy over the next two to three years. "If we can get three or four good companies, some choice customers, we keep this small property fully booked," Mr Ackeroyd explained. "It's a combination of some places getting run down and people are not particularly happy to stay and some places are getting a bit pricey, whereas we have this nice combination of being right on the water close to town and this unique ferry service. And we're pricing it as keenly as we can. We believe we have a very competitive package." The rooms and suites come with a fully-stocked refrigerator/bar, a laptop safe, Smart TV and a work station with a G-link to connect electronic devices. At the end of the day, business people can return to Inverurie, sit on the balcony and enjoy the views while they finish their work, or just to relax." Reservations at Inverurie can be made on 232-5700 or at inverurie.bm.
September 11. Fosun International Ltd, which agreed a $1.84 billion deal to buy Bermuda-based insurer Ironshore earlier this year, aims to build up funds for more acquisitions. The Shanghai-based investment firm, backed by Chinese billionaire Guo Guangchang, proposed raising HK$11.7 billion ($1.5 billion) in a rights offer to fund its push into the banking and insurance industries. The company plans to sell as many as 871.3 million new shares at HK$13.42 each, the closing price in Hong Kong on Thursday, according to a Hong Kong stock exchange filing. Holders can buy 56 new shares for every 500 they now own. Fosun will use the money for "general corporate purposes including mergers and acquisitions in the banking and insurance industry and repayment of loans", according to the filing. The company has spent $5.7 billion acquiring insurance assets in the past two years, according to data compiled by Bloomberg, as part of a shopping spree spanning Australian energy companies to New York City office buildings. The deal to buy Ironshore was announced in May. In July, Fosun made a hostile $545.5 million offer for BHF Kleinwort Benson Group SA, and agreed to buy German private bank Hauck & Aufhaeuser Privatbankiers KGaA for as much as 210 million euros ($237 million).
September 10. Next month's America's Cup opener could cause problems on Hamilton's docks. The docks, at the east end of Front Street, will be used as the base for four of the competing teams — reducing the dock area by around a third. But Stevedoring Services' chief Warren Jones said that careful planning and co-operation from importers would minimize any difficulties. Mr Jones said: "There are some concerns out there and there is no need for concern. It will have an effect, but the impact will be limited." Part of the docks will be turned over to race competitors from Friday, October 9 to Thursday October 22, with racing taking place between October 16-18 and two races will finish in Hamilton Harbour. However, Mr Jones said that working together with importers, HM Customs and truckers should ensure there are no problems over the period. He added that the docks were already operating with one crane instead of two while a new crane pad is being built. But he said: "The importing community is still getting their goods on time." Mr Jones added that if people could put off deliveries from overseas over the America's Cup races it would help, while he urged importers to make sure their containers were picked up from the docks quickly due to the temporary squeeze on storage space. And he said that he expected extra business to be generated as competitors in the America's Cup gear up for the 2017 main event and racing series around the Island before the finals. Stevedoring Services had already won a contract to use its expertise to unload the Oracle Team USA's boats and equipment in Dockyard. He explained: "The America's Cup for us was a venture out — it happened to be the America's Cup, but it could have been something else. My aim was to broaden our reach. We bid for the Oracle work, got it and it was successful and our aim is to continue to do these sorts of things, whether it's the America's Cup or something else. In addition to expertise in cargo handling, Stevedoring Services were also skilled in areas like salvage. We are the only stevedoring company in Bermuda and our guys are experts at what they do. Our knowledge is broad and we're looking for opportunities to show that. The docks are the barometer for the entire country — 98 per cent of everything comes in through the docks." He explained that business had increased in recent times, but that it was difficult to say how much of that was directly attributable to the America's Cup due to containerization. "Our business is just to unload whatever comes in. We've seen some increase in cargo volumes since the beginning of this fiscal year — that's the America's Cup and hopefully construction projects taking off. We saw this last year and in July it fell off. We're hoping this is sustained and signals a change in the economic climate."
September 10. Tropical Storm Henri, the eighth named storm of the 2015 Atlantic season, is no longer a threat to Bermuda, according to the Bermuda Weather Service. As of 12pm, the storm's closest point of approach had passed and the storm is now located about 203 nautical miles east of the Island. The weather forecast for today predicts light to moderate winds with a passing shower or two, as Tropical Storm Henri "slowly passes to the east of Bermuda this afternoon". The Bermuda Weather Service added: "There are no watches or warnings associated with Tropical Storm Henri at this time and none are anticipated." According to the US National Hurricane Centre, at 11am AST the centre of Tropical Storm Henri was located near latitude 32.6 North, longitude 60.8 West. "Henri is moving toward the north near 9mph (15km/h). This general motion is expected to continue with an increase in forward speed through tonight. A faster northeastward motion is predicted on Friday. On the forecast track, the centre of Henri will pass well east of Bermuda later today. Maximum sustained winds are near 40mph (65km/h) with higher gusts. Some strengthening is forecast during the next 48 hours. The National Hurricane Centre added that tropical storm force winds extend outward up to 125 miles (205km) from the storm's centre.
September 10. Mother of three Kiahna Trott-Edwards was last night in custody, facing what is likely to be a "lengthy" term of imprisonment after a jury unanimously found her guilty of murdering 16-year-old Shijuan Mungal. Closing a three-week trial that was closely watched by friends and family of the accused and the deceased, the verdict was received emotionally on both sides of the packed courtroom. Relatives of the defendant embraced, many in tears, after Puisne Judge Charles-Etta Simmons ruled that Trott-Edwards be remanded. Calling for his client to remain on bail during the six to eight weeks before sentencing, defence lawyer Courtenay Griffiths QC told the court that Trott-Edwards had "three young children, all under the age of 15, who will have to come to terms with the impact of this verdict — something easier done with their mother present rather than absent." However, Mrs Justice Simmons said there had been more than adequate time for the defendant to put her affairs in order, and that the seriousness of the matter required Trott-Edwards to go into custody. The unanimous verdict reflected "the way in which our community feels about an offence such as murder. I think it would be an affront to justice to release the defendant on bail at this time. There was a high probability of the defendant facing a lengthy custodial sentence". Trott-Edwards stood accused of inflicting a fatal blow to Mr Mungal, a Berkeley Institute student, in the wake of a confrontation on September 8, 2014, outside the housing complex where she resided near Ord Road, Warwick. The teenager died in hospital three days being struck twice with a baseball bat: once in the arm and once in the back of the head, which fractured his skull. Tomorrow marks the anniversary of his death. During her Supreme Court trial, Ms Trott-Edwards said she had struck in self-defence, maintaining that Mr Mungal had earlier become hostile after she reprimanded him for loudly using bad language on a public bus. According to evidence from the victim's best friend, the two were on their way out of the driveway, with Trott-Edwards angrily ordering Mr Mungal off the premises, when she struck with the bat. Trott-Edwards, 32, remained composed after the 4.30pm verdict, quietly leaving the courtroom where several police officers kept watch over the proceedings. Emotions occasionally ran high during the case, which drew widespread attention and divided public opinion. Mr Mungal's friends readily admitted that the victim had been part of a group loudly using profanity on the bus after school, with one bystander telling the court he had been shocked by the schoolboy's retort when Trott-Edwards told him to stop cursing and watch his mouth. However, Mr Mungal's later presence outside her housing complex had been unintended, as he was accompanying his friend while he stopped by his father's apartment. The defence suggested that the victim, who had previously been suspended twice from school, was struck after he approached Trott-Edwards in a threatening manner while her daughter looked on. That evidence ran counter to the events described by Mr Mungal's friend, who said he had been anxious to leave the area and avoid a confrontation. For Mr Griffiths, who has covered several terrorism-related cases in Britain, it was another high-profile trial in Bermuda. In 2006 he defended Kenneth Burgess, now in jail for the murders of twin brothers Jahmal and Jahmil Cooper. There was no word from defence counsel yesterday as to the possibilities of an appeal, and neither family commented on the matter.
September 10. Bermuda's Mr Happy, Johnny Barnes, has said he is thrilled to have inspired an exciting new art movement that has gone global. His morning "I love you" to commuters arriving in Hamilton prompted a London artist to cover the streets of the English capital in colorful logos carrying the catchphrase. The "iloveyouiloveyou" project has now gone global with stickers of the catchphrase appearing in countries as far a field as Australia, China and even Sri Lanka. The artist behind the movement, who has asked to remain anonymous, lived in Bermuda for nearly six years. He says he was inspired to launch the project in April because of his fond memories of Johnny Barnes waving at him as he drove to work in the morning. "God gives us all something to do. God has a plan for each one of us and we have to find out what that plan is," Mr Barnes told The Royal Gazette. "I'm just a light shining to brighten someone's journey across life's highway. I've never been interested in art, but art is beautiful. Art is a wonderful thing. The world is starving for the want of L-O-V-E. If we could only learn to live as one big, happy family, what a beautiful world this could be." A total of 18 billboards showing the message have been scattered across London with the help of advertising firm Ocean Outdoor. A further 24 billboards across the UK have also carried the catchphrase in recent months. The artist himself has also sent out around 500 seven-inch stickers with the same logo design to members of the public across the world who have requested them through social media. Images of where the stickers have been put have then been shared on the "iloveyouiloveyou" Instagram account. Speaking with The Royal Gazette from London the artist said the "iloveyouiloveyou" project had gathered a momentum all of its own. He added: "The idea really came from Johnny Barnes and my time in Bermuda. It always gave me a lift in the morning seeing him and this is my way of doing the same here. It's all about trying to make people smile and feel a bit better. In cities especially we don't have the same sense of community as Bermuda and it's been great to see the way the message has spread across London but also the world now. There is no real logic to it, it's something quirky that hopefully will make a few people smile." The artwork can be found on the website iloveyouiloveyou.co.uk.
September 10. A Bermuda-based gold mining firm is to resume operations in South America. Gold Bar Development & Consulting has significant holdings in the jungles of Guyana, which are rich in gold deposits. But the firm was forced to suspend mining operations on several occasions in the first eight months of this year because of equipment breakdowns. The firm also received only $168,000 of a promised $4.9 million funding commitment — which led to projects being put on hold. But Gold Bar said it had now entered into a six-month financial funding commitment from another source, with $2.24 million expected in the fourth quarter of this year and a further $2.46 million in the first quarter of 2016. A statement by the firm said that it had generated close to $1 million in revenue since it was set up in 2012. The statement added: "The company has made significant progress developing relationships in Guyana and identifying opportunities within the country." But it added that a fall in gold prices over the last two years had put many smaller mining companies under pressure. The statement said: "The company plans to become a strategic partner in the local mining community by using a portion of its funding to help revive some of the local mining camps which are currently stalled and provide them with fuel and equipment necessary to get up and running again." The report explained that there had been interest in partnership working, which would allow the company to develop income streams while building up its own mining crews. Gold Bar said it planned to invest $1 million in new, more efficient, equipment and employ 30 additional workers.
September 10. Bermuda will find a way to retain its place as a leading global reinsurance hub amid the sweeping change the industry is undergoing. That is the view of analysts from rating agency AM Best who were speaking on a Global Reinsurance webinar panel yesterday. In response to a question from this newspaper on what the future would hold for the Island's major industry after the mergers and acquisitions spree had played out, the analysts said Bermuda had the attributes to continue to be a force in reinsurance. Greg Reisner, managing senior financial analyst with AM Best, said he was confident Bermuda would continue to be relevant. The fact that the Island had emerged as the main home for insurance-linked securities (ILS) showed it was adapting to change. "I think Bermuda will find a way to retain its foothold in the global market," Mr Reisner added. Robert DeRose, vice-president at AM Best, said a deep pool of industry expertise and its geographic location were both plus points for the Island. "Its proximity to the US and the intellectual knowledge on the Island will certainly work for Bermuda going forward," Mr DeRose said. "I think one of the reasons ILS is taking place is the intellectual capital there." He said US-based brokers and clients could visit the Island, see multiple reinsurers and get their business done in a very short time. "Even those organisations who have redomiciled to Switzerland and Ireland still have substantial operations on the Island," Mr DeRose added. "Quite frankly they still have big balance sheets on the Island and large reinsurance operations." AM Best maintains a negative outlook for the reinsurance sector, as a result of multiple pressures on reinsurers, including low reinsurance rates, low investment yields because of low interest rates, and competition from third-party capital in the form of catastrophe bonds and other ILS. Mr DeRose said despite these pressures performance had been relatively good, largely because of catastrophe losses had been lower than normal and because earnings had been supported by favorable reserve development. "Quite frankly we thought favorable reserve development would be slowing more considerably than it has done and they have kept returns in a relatively favorable position," he added. The days of double-digit returns on equity were gone, he added. But if reinsurers were to plateau in the high single-digit returns, that would not necessarily be a bad thing, as balance sheets remained very strong.
September 10. Trunomi, a Bermuda-based financial technology innovator, has enjoyed quite a week. Not only did it raise $3 million from venture capital firms, but it also took top honours in the Visa Europe Collab Startup Competition in Tel Aviv, Israel. The company, which works out of offices in New Venture House on Mill Creek Road, has come up with patent-protected technology that enables people to store digital sets of personal identification documents, such as passports and utility bills, in a way that allows it to be easily shared with financial institutions when necessary. "This funding further validates Trunomi's business model and our established footprint in the market," Stuart Lacey, founder and chief executive officer of Trunomi, said of the capital raise. "With the support of our investors, we are changing how the financial services industry approaches KYC as well as the way data privacy is managed. This round of capital will drive Trunomi's efforts to ensure financial service providers unlock the potential of data, yet in a compliant and efficient manner, through the power of consumer consent." The new funds came from Saturn Partners with additional participation by Fenway Summer, Persistent Ventures and SenaHill Partners. Bill Guttman, a general partner at Saturn, will join Trunomi's board. "Saturn is excited to be backing Trunomi, whose technology revolutionizes the way financial markets deal with customer account opening, onboarding and related transactions," Mr Guttman said. "We're deeply impressed by the scope of Trunomi's solution." In a statement, Trunomi said it would continue to invest in the progression of its technology. Trunomi has rapidly grown in stature in the financial technology sector since its official launch in October last year. The company was included on the 2015 European FinTech 50 ranking — described by organizers as the "the 50 game-changers transforming the future of finance" — and was also named a finalist in its category for the Benzinga FinTech Awards. And in June Mr Lacey was named as a "2015 Innovator to Watch" by Bank Innovation. Trunomi's latest accolade came as the winner of the Visa Europe Collab Startup Competition, chosen by judges at an event in Tel Aviv on Tuesday night. Mr Lacey added: "The methodology for interacting with consumer data is shifting. As privacy laws and compliance requirements come to the forefront for financial institutions and other organisations in today's era of data security risk, enabling individuals to maintain and share their own Personally Identifiable Information (Pii) is absolutely critical."
September 10. One of the Island's top nature reserves has gone pink for the summer, but the strange colours that have taken over the waters of Spittal Pond are a harmless organism brought on by warm weather. However, former government conservation officer David Wingate said it was the first year he'd seen pink flourishing in the main pond at the popular reserve in Smith's. "It's not related to the deadly red tide algae," Dr Wingate added, referring to the algal blooms that can kill fish and poison shellfish. "The birds and the fish are continuing to feed quite merrily within it," he said. Pink water can be caused by bacteria, but Dr Wingate said the colours were likely the result of an algal bloom brought on by warm weather. The colour spreads regularly through the small fresh pond southwest of the larger body of water, as well as Seymour's Pond in Southampton.
September 10. Bermuda's Catco Investment Management Ltd is to be acquired by US financial holding company Markel Corporation. Markel will acquire "substantially all of the assets of Catco", according to a joint statement from the two companies. The deal is expected to close in the fourth quarter of this year, subject to conditions. Two years ago, Markel acquired Bermuda insurer Alterra Capital in a $3.1 billion deal. Financial details and terms relating to the Catco deal have not been disclosed. However, there will be no changes to the Catco team, which will continue operating in Bermuda under the new name of Markel Catco Investment Management, led by chief executive officer Tony Belisle. Catco has its headquarters on the top floor of the ten-storey office building at 141 Front Street, while the head offices of Markel Global Insurance and Markel Global Reinsurance Corporation are located in Markel House, at 2 Front Street. Markel Corporation has its headquarters in Virginia. Mr Belisle said: "We are excited to join forces with Markel, a leading global speciality insurer and reinsurer which operates with a strong commitment to its core values and distinguished corporate culture. We felt this partnership offered a rare opportunity for Catco to combine with a culturally similar organization which shares our results-oriented commitment to success and market leadership. We are confident that uniting the strength of the Markel brand and its global reach with Catco's differentiated product innovation capabilities will serve to improve our value proposition for investors and cedants. Catco has grown significantly since its launch in 2010, and the agreement with Markel will allow the same management team to maintain its commitment to both client service and continual product innovation." Catco manages about $2.7 billion of retrocession and traditional reinsurance portfolios. Markel primarily markets and underwrites specialty insurance products. It also has market venture investments in a number of companies, which has resulted in it sometimes being referred to as "baby-Berkshire", in reference to Warren Buffett's conglomerate Berkshire Hathaway. Commenting on the Catco deal, Markel's president and co-chief operating officer, Richard Whitt, said: "We are very pleased for Tony Belisle and the entire Catco team to join Markel. The addition of Catco's insurance-linked investment management capabilities alongside Markel's traditional reinsurance capabilities makes for a powerful combination. While Markel has a long and successful track record in the insurance linked securities space, the addition of the Catco team takes our capabilities to an entirely new level. The current challenges in the reinsurance and retrocessional markets are well documented. Despite these short-term challenges, we believe that with innovative products and services the long-term future is bright."
September 10. Thieves on bikes have been snatching chains from around the necks of motorcyclists, the Bermuda Police Service revealed today. Officers say the offenders have been striking mainly in Pembroke and Devonshire, and warned people to watch out for suspicious individuals parked on the roadside watching passing motorcyclists. A spokesman said: "Over the past several weeks there has been a marked increase in the number of chain snatches mainly in the Pembroke and Devonshire parishes. "The culprits are identifying riders of cycles who are openly displaying neck chains. They are then riding alongside the victims and snatching the chain from their neck and making off at speed. Members of the public are asked to exercise caution when wearing these items of jewellery on open display while riding their bike. They are also asked to be on the lookout for suspicious individuals parked on the roadside watching passing motorcyclists." Anyone with information is urged to call Police on 295-0011.
September 10. Match racing around Hamilton Harbour in the International One Design sloop will be a far cry from the high-performance foiling catamaran for America's Cup challengers Artemis Racing and SoftBank Team Japan who are among this year's stellar Argo Group Gold Cup fleet. "It is about as far away from the new look America's Cup racing as you can get," Dean Barker, the skipper and CEO of Team Japan, said. "The IOD is a classic sailing yacht stepped in history. They are long, narrow boats with a serious lack of maneuverability. In contrast, the foiling catamarans are incredibly fast, require split-second decision-making, and punch you for every single mistake." Team Japan and Artemis Racing, the Swedish challenger, are using the World Match Racing Tour-sanctioned event as a warm-up for stage three of the 2015-16 Louis Vuitton America's Cup World Series to follow on the heels of the Gold Cup. "It is a great opportunity for SoftBank Team Japan to get out on the water in Bermuda and enjoy the sailing conditions," Barker said. "The style of match racing that we have been doing in the catamarans is certainly very different to the World Match Racing Tour style of sailing. I cannot remember the last event that I raced but it was a long time ago. I am sure I will be incredibly rusty and will make plenty of mistakes, but it will be great to get back out there and race against the guys who have been doing this for the last few years." This year marks Artemis' second straight appearance in the Gold Cup. The America's Cup racing syndicate failed to advance from the round-robin stage on their first attempt at winning the oldest match racing trophy in the world for competition involving one design yachts and are keen to improve on that showing. "The competition is always tough on the World Match Racing Tour, but we have a couple new sailors this year and are hoping to improve on our results from last year," said the team in a statement. "The team are very much looking forward to coming back to Bermuda and back to the Argo Group Gold Cup. Plus, any extra-time sailing and in particular match racing on the Great Sound is always a bonus in the lead up to the America's Cup." The Gold Cup will be held from October 6 to 11 and feature 16 teams, four fewer than last year. This year's field includes 2015 WMRT card holders Johnie Berntsson, the defending champion and 2008 winner and five times WMRT champion Ian Williams, Joachim Aschenbrenner, Eric Monin, Reuben Corbett, Bjorn Hansen, Keith Swinton and Nicolai Sehested. Invitees Taylor Canfield, another past winner and WMRT champion, Chris Poole, Phil Robertson and Chris Steele are also among the field, which will be completed when the Bermuda match racing champion is confirmed this month. Somers Kempe, the Royal Bermuda Yacht Club commodore, and Lance Fraser represented Bermuda at last year's Gold Cup, both skippers posting 2-7 records.
September 10. Lance Fraser took full advantage of the opportunity to get an early feel for the M32 catamaran that could potentially replace the International One Design in the Argo Group Gold Cup next year. Fraser, who is ranked 70th in the ISAF Open Match Racing rankings, was among five skippers chosen to participate in last month's M32 Youth Training Academy at the Chicago Match Race Centre. "It was the most exhilarating sailing that I've ever done," Fraser said. "They are simple enough that you can learn to sail them pretty quickly, but every little mistake costs you a lot in boat speed and it keeps the entire team on their toes all the time. They reward teamwork and fitness and are just so fun and awesome to sail." The two-day training camp, which took place between August 24 and 25, was jointly organized by Chicago Match Race Centre, M32 North America and US One Sailing was designed to aid young sailors, such as Fraser, in acquiring their M32 licence to compete in M32 qualifiers and World Match Racing Tour events. Gold Cup winner Taylor Canfield, who leads the M32 Scandinavian Series, was among the coaching staff at the camp that also included US One sailing colleagues Hayden Goodrick and Rikki McGarvie. After the announcement of Aston Harald AB's acquisition of the ISAF-sanctioned World Match Racing Tour in June, there has been a shift in emphasis towards high-performance M32 catamaran for next year's championship. This year's Gold Cup could be the last involving the International One Design racing sloop. The Stena Match Cup has already announced that it will be raced in new M32 multihulls and James Pleasance, the executive director of the World Match Racing Tour, has made clear his ambition to extend use of the M32 across more events on the series, including the Gold Cup. "I really love racing the Gold Cup in IODs and have a dream of winning that event the way that I've grown up sailing it," Fraser said. "As much as I will hate to see the IODs go, it wouldn't be right if the Gold Cup wasn't a pinnacle part of the professional Match Racing circuit and I think that if we don't make the switch to M32s that could happen. The M32s are great, fast and exciting boats and I think everyone in Bermuda will appreciate them if we do end up sailing them in the Gold Cup. Seeing those boats racing around Hamilton Harbour will just be another amazing addition to an already amazing Bermuda sailing environment with the America's Cup. It's an exciting time for Bermuda sailing." At least one M32 catamaran, which are made of carbon fiber, will be on display at next month's Gold Cup.
September 10. Bermuda Hospitals Board has unveiled a new machine to vastly improve its service for sickle-cell patients. The Spectra Optia therapeutic apheresis machine, which extracts and filters blood, was bought with financial help from the Bermuda Sickle Cell Association. Association treasurer Adrian Warner said: "We recognise that this machine will significantly improve the lives of those of us living with sickle-cell anemia, so we are very happy to pledge our support with a $25,000 donation. "We were desperate to have the hospital offer this service and are still actively fundraising to meet our goal." The machine, which acts as a sort of cell exchange, can extract red blood cells, white blood cells, platelets or plasma and simultaneously replace the removed components with the required product when necessary. BHB consultant haematologist Eyitayo Fakunle expressed his gratitude to the Hospitals Board. Dr Fakunle described the equipment as "simple", adding: "It's very efficient in extracting red blood cells and is the only equipment that can perform the full exchange." Mr Warner, who is one of about 80 people diagnosed with sickle cell in Bermuda, has already benefited from the machine. He said: "It drastically reduces the amount of time a patient has to undergo transfusion. Usually it took four to six hours for a manual partial red cell exchange treatment, but with the new machine a full red cell exchange is finished in 90 minutes. This means a larger volume of my blood is being processed and so the number of treatments I require has been reduced. I used to come in once a month, but now it's every six to eight weeks." Mr Warner has undergone treatment three times this year. His red cell exchange was previously done manually and since its introduction in January he has seen a significant reduction in his need for treatment. "I am elated that the machine is here," he said. He told The Royal Gazette: "The great thing about it is I haven't noticed any physical changes at all. The treatment before was so effective." Mr Warner said the real difference has been a financial one as his previous medications were "extremely expensive". Sufferers undergoing manual treatment typically require an iron chelation medication administered alongside transfusion protocol to cut down on iron overload. "This machine negates the need for that drug," Mr Warner said. "We have patients that have built up such a high iron overload that even when they start on this machine they're going to have to remain on the medication for the next two to three years and just can't be on it because of the expense." Also present at King Edward VII Memorial Hospital yesterday was Salintae Tuzo, fellow founding board member and "sickler" who suffers from "small crises": a common symptom characterized by intense physical pain. She has found coping mechanisms to keep these instances "under control." Ms Tuzo said she pays attention to her body and says "no to stress", adding: "So that's water, rest, and paying attention to the signs in my body and knowing my body inside out." As September is Sickle Cell Awareness Month, the committee has given awareness packages to the Gosling Ward, sponsored by Argus. It has information about the association and acts as a guide for parents whose children have been diagnosed. It includes an illustrated book written by Brenda Miles, a doctor Mr Warner met while undergoing treatment in Canada. Shakira Warner, Mr Warner's sister, explained: "It's just a book to help children deal with pain, whether that be the everyday bumps and bruises or a more chronic pain that sicklers get," . Jeanne Atherden, the Minister of Health, said to Mr Warner: "I applaud your efforts and those of your committee" adding "Keeping abreast of the latest technology is essential."
September 10. The British Airways plane that caught fire on the runway in Las Vegas forcing the evacuation of 170 passengers has flown from Bermuda on a handful of occasions this year. Aircraft G-VIIO has traveled between London Gatwick and the Island on at least three occasions in the last four months according to online flight records. The 16-year-old plane was last in Bermuda on August 28. It previously had flown into LF Wade International and back to the UK on July 20 and May 31. A BA spokeswoman told The Royal Gazette: "As British Airways is working closely with the National Transportation Safety Board in the United States on their investigation it would be inappropriate for us to comment." Airport officials in Las Vegas have revealed that at least 14 people were taken to hospital with minor injuries after the left engine of the Boeing 777-200 caught fire before take off. The plane was seen engulfed in flames and smoke as passengers and crew were led to safety on Tuesday. In a statement, British Airways said the aircraft "experienced a technical issue as it was preparing for take-off". In the distress call the plane's captain asked for the airport's emergency services saying "Speedbird Mayday Mayday. Speedbird 2276 request fire services. Speedbird 2276 heavy, we are evacuating on the runway. We have a fire, repeat, we are evacuating."
September 9. A body of stormy weather, Tropical Depression Eight, was expected to pass about 200 miles east of Bermuda as of 6am today, with a chance of developing overnight into Tropical Storm Henri. The depression, ranked as a potential threat by the Bermuda Weather Service, last night packed maximum winds of 35mph (55km/h) and was expected to strengthen as it headed north. As of 6pm yesterday, Tropical Depression Eight lay 285 miles east-southeast of the Island. It formed early yesterday morning, and was initially stationary before picking up momentum. The Island is predicted to receive a few showers in the meantime, with wetter weather likely this weekend as a trough coming in from the west pushes the depression northward and brings more rain. Depressions, which have the capacity to grow ultimately into hurricanes, are so-called because they are organized bodies of low pressure containing clouds and thunderstorms. They lack the characteristic central eye seen in bigger storms, when the classic cyclone formation also begins to appear.
September 9. Residents and business owners in the Black Watch Pass area have voiced concern over the potential of more falling rocks. In April, a large chunk of limestone rock collapsed from the wall, crashing on to the pavement where people walk and run on a regular basis. It is not the first time rock has fallen, with the Bermuda Government patching up sections of the wall in the past with concrete bricks. Craig Cannonier, the Minister of Public Works, has told this newspaper that his ministry is aware of the dangers and is looking into whether a netting mechanism could reduce any risk of injury. Area resident and new father Troy Burgess said he had been walking his newborn daughter down Black Watch Pass just a few weeks before the collapse. He told The Royal Gazette: "I used to take my baby down there, about a month before the rocks fell. I did see the rocks another time when we drove through there and I was like, 'OK, the walls do keep on dropping.' "You still see the patches there. You have people who walk through there and run through there so it's a good thing that no one got hurt. I don't think a net is going to hold it — it is a stone wall so if it is going to get soaking wet it's going to give." Black Watch Pass was built in 1934 to solve a major transportation problem, by connecting North Shore Road with Hamilton. Co-manager at the nearby C-Mart, Wayne Correia, said he was aware of rocks falling over the years. He said: "It is going back ten to 12 years ago they had the same sort of issues. Bits and pieces fall down. If you put a net it is still going to fall. What they probably should do is dig it out and put a block there like they have in the past. If they don't do that it is just going to continue to grow, especially with all the wet summers we have had this year. From the beginning of July up until now it has been raining every other day. That is obviously having an effect." Mr Correia's brother and co-manager Andrew Correia said: "It is a safety issue more for the walkers. I have always had a fear of the archway coming down. My grandfather had a hand in building that when they dug it out. You drive by sometimes and you just have bits on the ground. It is weatherworn. I don't think it is a major concern. I am more concerned about how it looks. It is kind of a landmark but the sides are overgrown and the wall is falling down." Food truck owner Karen Gilbert added: "Somebody could get hurt. As winter comes in and we get more rain, it could get worse." Mr Cannonier said that the ministry monitors the pass and carries out routine maintenance and repair work when necessary. He said: "The local limestone rock is very susceptible to weathering. Even small debris falling from height is a safety concern both from a pedestrian and a vehicle point of view. The ministry will look at the feasibility of using a netting mechanism in certain areas that could help minimize the risk of rock from falling." A ministry spokeswoman said: "The ministry will look at the most feasible solution of dealing with this issue. Whilst looking for a sound corrective measure, we will continue to patch the tunnel as we have traditionally done so. Stepping the rock face is not feasible as it would require a lot of land that would impact properties and roads at the top of the rock cut. The net/mesh is specialized and this technique is used extensively in other countries for rock retention."
September 9. With very few options to boost the economy, Bermuda has missed an opportunity by putting the idea of commercial immigration on hold. This is the view of Don Mills, chairman and chief executive officer of Canadian company Corporate Research Associates, which is a partner with Total Research Associates in Bermuda. However, Sir John Swan, the former Premier, welcomed the news by saying that granting full status to high-spending investors would have "riled a few Bermudians". Michael Fahy, the Minister of Home Affairs, said last week that the introduction of such allowances had been put on the "back burner" because Bermuda "doesn't have the appetite at the moment to pursue it". Commercial immigration allows individuals to gain certain residential rights and citizenship rights if they invest large sums in the country. The idea was raised during the One Bermuda Alliance's 2013 Throne Speech as a potential means of creating jobs and stimulating investment in the Island. Mr Mills, who lives in Canada where commercial immigration contributes to its economy, described Sen Fahy's announcement as "disappointing to hear". He told The Royal Gazette: "There are not a lot of options for Bermuda in terms of growing its economy. It needs more foreign investment and in different sectors. If you can attract economic immigrants who could do work in the IT sector, as an example, you could create another leg of the economy to grow. It wouldn't take a lot of people to make a difference to come into the country and spend a minimum of $5 million each on economic job creation. Only 100 families coming in is pretty small, considering 5,000 left the Island since the great recession. You are a long way from where the economy was in 2008 and there is a big gap that needs to be made up — you have issues of unemployment — I don't know what the solutions would be, frankly. It is a touchy subject, for sure. Maybe the Government needs time to explain how it would work and how many people would be involved, and that might create a greater sympathy to that as a solution." However, Sir John believes the Island can still attract foreign investment through the granting of Permanent Resident's Certificates with a few extra benefits, but says that granting status too easily is not something that would float in Bermuda. "That has all sorts of ramifications," he said. "Our passports allow people to travel to Britain and on to the European Community, and they allow us to go into the United States without any hindrance. It is not as simple as people think it is. It is something that could have some adverse consequences for us if those countries now say, 'fine, we can't determine who you are giving this financial status to'." Asked what he thought would be a better alternative, Sir John said Bermuda could still offer sweeteners to potential investors. "We should be prepared to give PRC status and maybe give full status at some later date if they meet a certain criteria, but to just commercialize status, I'm not in favour of it. People can come here, they can get PRCs, they can own a property here, they can get removed from the 60:40 rule so that they end up being able to invest money into businesses. The PRCs have restrictions on real estate ownership anyhow, but to go the full status and everything else, it will rile a few Bermudians, I'm afraid. Not only do we need people, we need money capital and we need product — legitimate product that the world wants to buy. The only way to do that is to find the people who are prepared to invest their money, bring their products and be able to run a normal business." Mr Mills added: "It creates economic opportunity and jobs, in the end. Bermuda has to figure out what would be a reasonable number of people to accommodate for the economic benefits. A small number of people can make a big difference to the economic prosperity of the Island. We are not talking thousands of people, we are talking dozens of people." Speaking on the issue of the potential for criminals gaining status, Mr Mills added: "You have to be very careful who you accept and you have to have a really rigorous process of vetting the people who come in and make sure they are legitimate."
September 9. Insured losses by Bermuda-based insurers from the explosions at Tianjin Port, in China, could be as high as $3.3 billion, making it one of the Asia's biggest insured man-made loss events. A report by Guy Carpenter & Co estimates the potential insured losses to be between $1.6 billion and $3.3 billion, more than double the estimates made by Credit Suisse analysts a week after the double explosions on August 12. It is believed a variety of Chinese insurance companies active in the Tianjin region will face the majority of the resulting insurance claims, however Zurich Insurance and Allianz were among the international insurers to receive claims in the immediate aftermath of the explosions, and others, such as Munich Re and Swiss Re, are expected to face related losses. "The explosions that occurred in Tianjin are likely to constitute one of the largest insured man-made losses to date in Asia and will certainly be considered one of the most complex insurance and reinsurance losses in recent history," said James Nash, CEO of Asia Pacific operations for Guy Carpenter. More than 135 people died when hazardous materials at a chemical warehouse at the port exploded. A massive fireball and shock waves blasted shipping containers, incinerated about 10,000 new vehicles stored at the port, and destroyed warehouses, production facilities and dormitories. Residential properties within a radius of several kilometers were also damaged. In its report on the explosions, Guy Carpenter & Co said that, while the access to the site is limited, it was able to make assessments using Cat-View — its satellite-based catastrophe evaluation service. "Cat-View was able to utilise high resolution pre- and post-event satellite imagery to understand what exposures were present at the time of the blast and therefore could contribute to the loss," said Guy Carpenter & Co in a statement. The company said its report "outlines the complexity of the event from an insurance and reinsurance perspective and provides a preliminary estimate of insured losses from many classes including: containers; cargo in containers; property; automobiles; and general aviation."
September 9. Reinsurance firm Axis Re has awarded speciality reinsurer of the year by a UK-based business magazine. The Hamilton company was given the award by Reactions at its North American awards dinner held in New York. Axis Re CEO Jay Nichols said: "This distinction is a testament to Axis Re's discipline, nimbleness and its daily execution on behalf of clients — all of which is made possible by the highly qualified and dedicated people that comprise Axis Re around the globe. "It is an honour for our speciality reinsurance franchise to be recognized by Reactions." Albert Benchimol, the president and CEO of parent Axis Capital, added: "Axis Re is an important part of our global hybrid speciality strategy, which includes three leading diversified businesses, reinsurance, primary insurance and accident and health." He added that, since start-up in 2001, Axis had produced around $20 billion in gross reinsurance premiums written, with a combined ratio of 88 per cent. Reactions Americas editor Christopher Munro said: "There were several companies in the running but our judges felt that Axis Re was the company that should be rewarded for its work in North America's speciality reinsurance market over the last 12 months."
September 9. LONDON (Bloomberg) — Amlin Plc's $5.3 billion takeover by a Japanese competitor has put the remaining four publicly traded Lloyd's of London insurers in the spotlight for a possible takeover. Beazley Plc, Bermuda-based Hiscox Ltd, Lancashire Holdings Ltd and Novae Group Plc all rallied in London trading after MS&AD Insurance Group Holdings agreed to pay 670 pence a share for Amlin — a 36 per cent premium to Monday's closing price. The deal, which represents 2.4 times net tangible book value, is the highest multiple paid for a Lloyd's insurer. "With only a limited number of quoted Lloyd's insurers left, we believe that all listed companies are likely takeover targets," said Paris Hadjiantonis, an analyst at Keefe, Bruyette & Woods in a note to clients yesterday. The recent wave of insurance mergers will "lead to further consolidation within Lloyd's." Amlin adds to a string of deals in the Lloyd's and Bermuda insurance markets as an influx of reinsurance capital weakens prices and investment income dwindles from record low interest rates. Britain's Catlin Group and Brit Plc earlier this year both sought safety in combining with an overseas competitor. The bid comes as reinsurers worldwide fly to Monte Carlo this weekend to begin talks on pricing for 2016. Standard & Poor's said yesterday that many firms in the industry will struggle to maintain strong profitability in the next two years, paving the way for further consolidation. Excluding Amlin, there have been about $81 billion of insurance acquisitions worldwide in 2015, more than double the amount of the year-earlier period. The US and Bermuda have so far accounted for the lion's share, led by Ace Ltd's $28 billion deal to buy Chubb Corp. Beazley, Hiscox and Lancashire have all previously reiterated their plan to remain independent, while Amlin's chief executive officer Charles Philipps said just two weeks ago that the firm was not for sale, saying rumors in the insurance market "seemed to be rife." Lancashire and Novae are the most plausible takeover candidates because of their smaller market value and exposure to reinsurance, KBW's Hadjiantonis and Westhouse Securities Ltd's Joanna Parsons wrote in notes to investors. Shore Capital's Eamonn Flanagan also named Lancashire as the "most vulnerable" to a takeover, adding that an acquisition of either Beazley or Hiscox would not be cheap. Novae rallied 5.4 per cent to its highest since 2001, while Lancashire and Beazley closed up 4.9 per cent and 3.6 per cent respectively yesterday. Hiscox jumped 3.3 per cent. A spokeswoman for Beazley declined to comment, while officials for Novae, Hiscox and Lancashire weren't immediately available to comment. Outside Lloyd's, bidders for Amlin's peers have been mainly Bermudian firms looking to diversify away from catastrophe reinsurance or insurers in Japan and China seeking wider access to international markets. Buying a Lloyd's insurer provides a network of insurance licences globally and "immense" intellectual capital, Flanagan said. "The quoted Lloyd's insurance sector is shrinking fast, and question will be who is next?" said Parsons, head of research and insurance at Westhouse in London. "All the companies will start to attract a scarcity valuation as few Lloyd's insurers are now independently owned. Is it time to wave goodbye to this sector?"
September 9. Barely has the dust settled on the last consolidation deal among insurers and reinsurers, than another one has been agreed. This time it is Lloyd's of London insurer Amlin that is the acquisition, after Tokyo-based MS&AD Insurance Group Holdings yesterday agreed to buy the company for $5.3 billion. Amlin is headquartered in London, but set up a reinsurance office in Bermuda in 2005 and also has a presence in Zurich. Before the Amlin buyout was announced, there had globally been about $81 billion in deals involving insurers this year. Following news of the deal, Amlin shares surged by 33 per cent on the London Stock Exchange, closing at 655 pence. Mitsui Sumitomo Insurance Company (MSI), a unit of MS&AD, will pay 670 pence per share for Amlin. That represents a 36 per cent premium on Amlin's closing price on Monday and 2.4 times its net tangible book value. "This is a wonderful transaction. It is a win for MSI, a win for Amlin and a win for Amlin shareholders," said Charles Philipps, Amlin's chief executive officer. Mr Philipps expects to remain as CEO of the company once the deal is completed. In a statement, the company said Amlin directors will recommend shareholders approve the deal. This year a number of Asia insurers have sought overseas expansion as market growth has slowed. The insurance and reinsurance sector has seen a mixture of mergers and buy ups. Deals this year have involved Catlin, XL, PartnerRe, Ace, Chubb, RenaissanceRe, Platinum Underwriter Holdings, Endurance and Montpelier Re. While Bermuda insurer Ironshore was bought by Chinese conglomerate Fosun International in a $1.84 billion deal earlier this year. Ironshore, like Amlin, has offices in the ten-storey office building at 141 Front Street. Before the Amlin deal terms were announced, Mac Salman, at Jefferies Group in Tokyo, wrote in a note: "MS&AD will purchase an established insurance company in developed markets with stable earnings. This will enable MS&AD to use the reinsurance and risk know-how in its divisions abroad." The Royal Gazette contacted Amlin to ask if the deal would have an impact on the company's operations in Bermuda, but had not received a reply at press time.
September 9. Bermuda's Optimist sailing team have returned home after spending nine days competing in the International Optimist Dinghy Association World Championships in Dzwnow, Poland, where they narrowly missed a spot in the final 16. Most of the sailing was held in fluky and very light winds — six knots or less, which proved difficult for the Island's sailors, most of whom are used to sailing in moderate or heavy winds. One race started in a breeze of just two knots and many others were abandoned because of the conditions. Bermuda were eliminated when they were beaten by Slovenia. Individual results for the Bermuda team had Campbell Patton finish 133rd, Tayte Stefaniuk 156th, Micah Thomas Raynor 164th, Camille Chin-Gurret 215th and Luke Madeiros 251st. The winner of the regatta was 14-year-old Rok Verderber of Slovenia who posted the low total of 18 points. Jodie Lai, a 13-year-old girl from Singapore, finished second with 41 points and Norway's Mathias Berthet, 14, who placed third with 58 points. After two days of team racing Singapore emerged as winners. It was the last World Championships for Chin-Gurret and Patton as they will be moving on to different boats. Chin-Gurret is 15 — too old to compete with the Optimists — and Patton is sizing out. Bermuda's sailors will be in action in next month's Gold Cup and the Bermuda National Championships.
September 9. Work to replace a sewage plant at the Mid-Atlantic Wellness Institute is under way and area residents are looking forward to breathing fresh air this autumn. Neighbors of the Devonshire facility have complained for several years about a "terrible smell" coming from the plant, which was often worse during the summer because of the heat. A Bermuda Hospitals Board (BHB) spokeswoman said: "BHB is pleased to note that the project is currently running to plan." She said a new sewage tank was delivered to the site last week and "the goal is to start running sewage through the new plant later this month". "We thank our neighbors for their continued patience as we complete this work," she added. Brendan Lambert, who lives about 100 metres from the existing sewage treatment plant on Devon Spring Road, said: "I feel that after it's all done, everybody and myself will be comfortable with the surroundings." Mr Lambert previously told The Royal Gazette that the strong odor coming from the plant forced his family to keep their windows closed and the air conditioning running "just to keep the air fresh." But he said yesterday that the smell has not been as bad as other years because they've gone in and dealt with the problem." After area residents voiced their concerns in July, the BHB spokeswoman said chemical treatments to address the smell would be increased and that the problem would be addressed until the new plant is operational. "I'm guessing that helped a lot," Mr Lambert said, adding that he had not heard any of his other neighbors complain about the smell. Floyd Blankendal, who has lived in the area since 2010, also remarked that the smell had "dropped drastically." Mr Blankendal had previously described the odor as a "terrible smell throughout the day" that would get worse during the summer. He said he is definitely looking forward to it no longer being a problem and that it "should be a thing of the past" once the work on the new plant is complete. "Those windows will fly open without thinking about it," he added. Another area resident, who asked not to be named, agreed that the smell "hasn't been that bad this summer." He said the "strong sewage smell" had been a problem ever since he moved to the area five-and-a-half years ago. "You'll be able to have your windows open more," he added. BHB announced that the contract for the new sewage plant had been awarded to Bermudian company BESCO in November last year. A statement at the time said that the new unit, "a submerged high performance aerated filter sewage treatment plant, has a filtered vent to eliminate any minor odor emissions. The new plant will utilise a proven technology in Bermuda and will produce a clean effluent, which poses no threat to the environment."
September 8. Today marks a milestone for Queen Elizabeth II: at 63 years, seven months and two days, her reign now overtakes that of Queen Victoria — making her the longest-reigning monarch in British history. The Island has been visited several times during her record-setting rule, most recently in 2009 for Bermuda's 400th anniversary celebrations. However, locals 62 years ago enjoyed a moment of special pride when, on November 23, 1953, Bermuda welcomed its first visit from the freshly crowned Queen, which was also our first visit from a reigning monarch. The Island served as the first stop on a six-month tour of the Commonwealth by the Queen, accompanied by Prince Philip, Duke of Edinburgh. Their visit came five months after her June 2, 1953 coronation. Queen Elizabeth II had ascended to the throne in 1952 after the death of her father, King George VI, and it was her first trip to any country after she was formally crowned. Regimental pomp, floral displays and ecstatic crowds attended their visit. With less than 24 hours to spend on the Island, the Royals toured local landmarks, including a parade through Hamilton, a cruise among the islands of the Great Sound, and a call on Parliament, with Governor Alexander Hood and his aide-de-camp.
September 8. Bermuda's business booster is to launch a new programme for entrepreneurs. The Bermuda Economic Development Corporation (BEDC) has teamed up with the Ewing Marion Kauffman Foundation and the Entrepreneurial Learning Initiative (ELI) to bring the Ice House programme to the Island. BEDC economic development officers Ray Lambert and William Spriggs both completed the facilitator training programme at the ELI in Kansas City, Missouri. Mr Lambert said: "Ice House is a fantastic programme that encourages individuals to identify the core essentials of the entrepreneurship mindset. "The combination of classroom interaction, video testimony and field testing is beneficial to anyone interested in entrepreneurship." The seven-week programme is based on the life and work of Pulitzer prize nominee Clifton Taulbert and the business influence of his uncle Cleve. The programme draws on eight basic concepts that are said to assist anyone to succeed in business. Mr Spriggs said: "As many people are looking to start or reinvent their business, Ice House teaches them how to view opportunities from a new perspective, how to establish goals and how to manage risk in unpredictable real-world experiences." The first of what is set to be a series of courses will run on Tuesday nights, from October 6 to November 17 and will be held in the BEDC training room, first floor, Sophia House, on Hamilton's Church Street. The cost of the programme is $200 and includes books, access to the online learning site and it is limited to 14 students. Anyone interested in registering should e-mail info@bedc.bm or phone 292 5570.
September 8. An advocate for the homeless who ran for councilor in this year's municipal elections has died. Derrick Phipps, a former pensions lawyer who slipped into drug addiction and ended up living on the streets until last year, was 61 years old. Speaking to The Royal Gazette last year, Mr Phipps told of his struggles with substance abuse and turning his life around. "Growing up in the inner city of New York and living in San Francisco, becoming a professional person as a lawyer, I never dreamed I would one day be homeless myself," he said at that time. "Having had this experience and had a substance abuse problem, you learn first-hand about the different challenges and one of the things that I noticed personally was the fact that I didn't know how and where to get help." Mr Phipps lived in Bermuda until he was about ten, when he moved to the US with his mother. As an adult, he held down a successful career as a pensions lawyer and had a wife, from whom he is now divorced, and a son. "I used to be a world-class runner in Bermuda too," he said. "That's how I got to college. I got married at Marylebone in London, where I did my internship. I have lived all over." But when he returned to the Island 13 years ago, he found himself unemployed and suffered with depression before, he said, self-medicating with cocaine. However, after kicking his addiction and finding a place to live through the Salvation Army's Harbour Light programme, the Warwick resident focused his energies on helping others who were living rough. He became an advocate for the homeless and a member of City Hall's Committee on Homelessness in the City of Hamilton. In April this year, he announced his intentions to run for councilor in the municipal elections — although he did not win a seat, he received 58 votes. After being re-elected, councilor RoseAnn Edwards, whom Mr Phipps described as a "friend and confidante", said she was inspired by his "commitment to creating paths for others". "I have been inspired by Derrick Phipps, a former pensions lawyer who uses his brilliant mind to advocate for the homeless," she stated in May.
September 8. One of the Island's centenarians, Doris Corbin, a longstanding organist and choir director for St Paul African Methodist Episcopal Church, died on Sunday at the age of 103. A former teacher at Central Primary School, now Victor Scott Primary School, Mrs Corbin was awarded the Certificate and Badge of Honour by the Queen in 1983 for her service in the Girl Guide movement. According to her son Canterbury "Kenty" Corbin, she was also proud of her 1932 certificate as a charter member of the Bernarr McFadden chapter, following the teachings of United States health and fitness guru. "She was into her exercises and was living her life to the maximum right up until the end," said Mr Corbin, thanking caregiver Venus Coloque for assisting with his mother's quality of life. Mrs Corbin, who grew up in North Village, recalled her earliest memories for The Royal Gazette on her 100th birthday in 2011. "I attended the Grace Methodist Church on North Shore," she said on that occasion. "I must have been very young. As I sat in the pew, I tried to reach the pew in front of me with my little toes." Asked for the secret of her longevity, Mrs Corbin extolled a good diet, no smoking and keeping fit. She believed in keeping involved, such as a special seniors' tea held by Age Concern in April. For decades she lived with her husband Clarence at Cemetery Road in Pembroke, where she remained after Mr Corbin passed in 2010. The couple had two other sons: George "Lien" Corbin and the late Michael Corbin. Relatives and friends met yesterday at the house, its garden of fruit trees, hibiscus and honeysuckle providing an oasis of calm despite the Belco plant next door. Her funeral will be held at 2pm this Saturday at St Paul Church in Hamilton.
September 8. Tropical Depression Grace, which was last night weakening in the Atlantic, is not considered to be a threat to Bermuda, according to the Bermuda Weather Service. As of 6pm yesterday, Grace sat roughly 2,000 miles south-east of the Island, with maximum gusts of 40mph. It was travelling west and expected to continue in that direction. The closest point of approach is expected to be at 3pm on September 11, when Grace is forecast to be within 1,130 miles of Bermuda. However, the National Hurricane Centre expected the storm to have dwindled into a remnant low before that time.
September 8. Politicians may have been excluded from speaking at Labour Day commemorations, but yesterday's celebration of workers' rights came with an unrelenting condemnation of the policies of the One Bermuda Alliance Government. "The critics are out there," warned Bermuda Industrial Union president Chris Furbert, adding: "But the Government today is going to get bashed by us." The 34th annual Labour Day at Union Square marked the achievements of unions in securing basic benefits for workers, acknowledged in the opening prayer of Reverend Nicholas Tweed of the Peoples' Campaign. Subsequent speakers called on the Island's young people to heed the sacrifices of the past, and referred to historic confrontations such as 1965's Belco riots and the 1981 general strike. However, there were repeated calls to "stop" the OBA Government, and a pointed warning from Mr Furbert that "the power of the people is greater than the people in power." Another refrain was the denouncement of the recent libel case by Bob Richards, the Minister of Finance, against Jason Hayward, the president of the Bermuda Public Services Union, as an attack on free speech and an attempt to stifle unions. A statement by Mr Richards given on Friday, vowing to cover his own bill for the defamation suit, got a skeptical reception from Mr Furbert, who asked: "How do you know that's really going to happen?" Michael Fahy, the Minister of Home Affairs, came under heavy fire for policies condemned as anti-Bermudian. Remarks made in July by OBA Senator Georgia Marshall on the case of the "accidental birthright" of born Bermudians, compared to those who had moved to the Island by choice, prompted Mr Furbert to suggest that she should have been "put on the next plane out of this country." There were echoes of vehement protest marches held in January against furlough days for public service workers, when crowds outside the Cabinet Office adopted the chant "enough is enough." Repeating that call, Mr Furbert said the unions had tried over the last 2½ years "to work with this Government — and all they have done was play the people of this country and the trade union movement for fools." Invoking the industrial action of 1981, Mr Furbert said the country's present situation was worse. We didn't have 3,000 unemployed and we didn't have a government that wasn't making sure that Bermudians get gainful employment in their own country." To cheers, Mr Furbert went on: "The time has come for an action plan to stop the OBA Government from inflicting any more pain on the Bermudian people. Enough is enough." Mr Hayward was not among those who addressed the gathering from the steps of the BIU headquarters, but BPSU speakers assured the gathering that the union stood firmly behind him. "This is a young brother that stepped up and they are trying to put him down — they are trying to break him," Linda Mienzer of the BPSU said. Ed Ball, the BPSU general secretary, said he wished he saw the same numbers that had turned out for January's protests and called on people to educate themselves on the significance of Mr Hayward's court case. Speakers castigated the OBA Government for the airport redevelopment deal, hotel concessions and the narrow margin of its slim victory at the polls in 2012. Shannon James, the president of the Bermuda Union of Teachers, told the assembly that "despite political pressure, despite the economic times and social pain, the unions' legacy is not of defeat but a victory in the face of hard times." Bermuda's unions are "ready to take to the streets any time", Mr James said, accusing the Government of offering "a glide path for the rich, and a slide path for the poor." Affirming his support for Mr Hayward, he said: "I have heard of tactics like calling your mortgage; this is the new form of that type of thing. It's the same beast, just in a different form." Leroy Simmons, head of the Bermuda Entertainment Union, also suggested that the Government sought to suppress Bermuda's trade unions. Like other speakers, Mr Simmons questioned the OBA's election pledge to create 2,000 jobs, which Mr Furbert said should be 4,000 jobs in the face of continuing unemployment in Bermuda. "It seems to me that our current Government, perhaps they missed school when unionism was taught, or perhaps they simply possess a defiant attitude and are following a mandate to crush trade unionism in Bermuda," Mr Simmons said. "But we won't let it that happen." He called on the Bermuda Tourism Authority and donors to withdraw their support for the Bermuda Festival of the Performing Arts "until Bermudian entertainers are incorporated equally". As speeches closed, Mr Simmons told the Government: "You are here to serve the people of Bermuda. If life does not get better for the people of lower and middle income, then you are not doing your jobs." After an hour of speeches, a march carried the banners of various unions through the streets of Hamilton. No politicians were invited to speak this year, but the heads of both parties issued statements marking Labour Day. "On this Labour Day, the Progressive Labour Party would like to pay tribute to all those who have fought tirelessly for workers' rights and sacrificed dearly for our benefit," Opposition leader Marc Bean said. "We thank you and we appreciate you." Meanwhile, Michael Dunkley said: "Labour Day is an important holiday for Bermuda, reminding all of us that our progress continues to depend on the sweat and skill of organized working men and women everywhere."
September 8. By regular RG columnist Nathan Kowalski CPA, CA, CFA, CIM, chief financial officer of Anchor Investment Management Ltd. He can be reached at nkowalski@anchor.bm "In part one we briefly went through the theory and history of innovation on employment. We covered two aspects that affect Bermuda: the pace of change and the occupational risk mix. In part two we reviewed some implications for Bermuda, including inequality and worker opportunities. Today we will discuss some potential policy options. Policy suggestions. "If you want to have good ideas, you must have many ideas" —Linus Pauling. Almost all aspects of work will likely be affected as we move closer to artificial intelligence. With the threat of computerisation, automation and growing inequality, policymakers will need to mull over some options. Generally, policies will need to focus on reducing the cost of labour and/or make it easier to find jobs. It's important that we don't focus exclusively on redistribution of income, but rather use incentives to funnel money into public or private investments that boost growth in an inclusive manner. This risk for Bermuda's workers is secular stagnation driven by a decline in the overall demand for labour. We have to embrace technology while making intelligent investments to create growth. What follows is a short bullet form list of some items to consider. These are not intended to be prescriptive in nature but offer points for further thought and discussion. The suggestions are not official recommendations by myself; nor do they necessarily reflect my personal economic beliefs; however I offer them to spur constructive discussion and debate with the hope that solid solutions can be found for the future success of the island. Policies to address inequality. "The worst form of inequality is to try to make unequal things equal" — Aristotle Inequality of wealth, per se, is not what is bad, but inequality of opportunity is. With that being said there are some policies that may assist those worse off or offer increased opportunity on inclusivity. Progressive property taxes. Thomas Piketty, in his book Capital in the 21st Century, suggested a global wealth tax. This is practically impossible as capital taxes tend to be easy to evade, difficult to design and costly to enforce or administer. Property, however, cannot move and may be less cumbersome to tax. One way to tax capital effectively in Bermuda is to adopt a progressive property tax that considers the number of properties owned by an individual or entity rather than the value of individual properties. In this case all additional properties owned in excess of your primary residence would be taxed at escalating rates. I will use a simple example: let's say an individual/trust owns five properties. The first would confer property taxes at the standard rate. The second could be taxed at 5 per cent above the standard rate, the third 10 per cent, the fourth 15 per cent and the fifth 20 per cent. The rates I am quoting are illustrative but the concept of progressive taxation should be clear. Personally I am not a stout supporter of redistributive policies but this one seems to be the most realistic to administer and hardest to evade. In the US there is a tax incentive that allows tax payers to reduce their taxable income by deducting mortgage interest only on their primary residence. Most experts believe that this is an effective way to promote home ownership. In Bermuda a lower property tax rate on a primary residence (similar to what seniors currently receive) would achieve the same goal. The lower tax on primary residences would be offset by higher taxes on additional real estate owned. Ultimately this would make home ownership more attractive than the rental market. Low income payroll tax exemption. As discussed above, when the cost of labour exceeds that of capital, substitution naturally ensues. Enacting minimum wages only exasperates this and may increase the cost of labour. If we are to support local jobs and even encourage more employment, we need to lower the cost of labour. It's simple economics 101: something that costs less can be purchased more. With rising healthcare costs, the burden on employers is increasing and the marginal cost of labour is also rising. This is almost assuredly costing jobs. Significantly lowering what is referred to as the "tax-wedge" can help boost take home pay (without changing the cost of labour) and raise employment (as marginal costs fall). In fact it's very likely that both will result. To extend an advantage to hiring labour we could exempt employees from payroll tax on the first $35,000 in salary. This exemption would apply across the board. Knowing the government is not likely to enact this if it causes a reduction in tax revenues, the difference could be made up for in a slightly higher and/or progressive overall payroll tax rate or additional property taxes collected as noted above. Policies to address worker opportunities. There are two major reasons that frustrate job growth when it relates to technological advancement. Educational and/or training gaps and impediments for new technology entrepreneurs. Here are a few that may assist in opening opportunities. Establishing a preferential tax and regulatory framework for new business. Newly launched businesses in "designated new technology" industries would be exempt from all taxes for five years. This favourable tax regime would help cultivate new business formation, survival, and growth by allowing these businesses to retain and reinvest what they earn, preserving critical cash flow needed for those early years. Regulation should be limited to the most essential product safety, environmental, and worker protection regulations. To avoid abuse of the "designated new technology" designation policymakers should ensure the business is one that is within the scope of new era technologies, as discussed previously. The listing of such would need to be detailed and companies would need to be disallowed from simply renaming or reconstituting every five years. Enhance the quality, technical capacity and flexibility of Bermuda's workforce. Although education alone is not likely to solve all problems of inequality and opportunity it remains a critical factor. Students who complete an undergraduate or postgraduate degree in science, technology, engineering, or mathematics should be provided a $50,000 federal tax credit that can be deducted from taxable income up to $10,000 per year over the initial five years of their postgraduate employment. The Department of Education, in partnership with Bermuda's business groups, should launch an ongoing dialogue between business and education leaders to regularly examine kindergarten through grade 12 to ensure that the nation's education system serves the broader educational needs of students, as well as the skill requirements of twenty-first century businesses. A major focus of the dialogue should be to facilitate business community input into curricula determinations, aptitude standards, and work-study programmes, as well as to increase opportunities for active business professionals and other practitioners to participate in and outside the classroom as instructors, assistants, advisers, and mentors. We need to ensure education matches employment. Core skills such as reading, writing, math and science should be augmented by personal motivation, creative problem-solving, communication, and collaboration skills. These should be mandatory aspects for any curriculum. Amend immigration laws to attract and retain the world's best talent. The Global Entrepreneur Permit is a good start but it could be amended. Entrepreneurs meeting regular permit requirements who want to start a business in Bermuda and who have secured initial funding could be granted a special permit. Foreign-born entrepreneurs would be admitted on a temporary two-year basis. If by the end of that two-year period their business has been successfully launched, is producing verifiable revenue, and has produced jobs for at least two non-family members, the temporary visa would be extended by an additional three years. If the new business continues to be successful and produce verifiable revenue, and has created jobs for at least five non-family members by the end of the five-year period, the foreign-born entrepreneur would be granted permanent residency. Enhance access to capital for new businesses. The formation and commitment of angel or venture capital should be incentivised by enacting a tax voucher (ie balance could be used to offset any form of government tax paid) for those who invest in start-ups equal to a set percentage of the investment. The government should look into using pension assets to fund new businesses and/or acquire foreign business to be moved to Bermuda. Chile and other countries fund entrepreneurs. These programmes must be thoroughly vetted in order to protect the pension assets. Reduce regulatory burden and complexity. Proposed regulations determined to have economic costs, or costs to new and small businesses, that exceed identifiable benefits should be summarily rejected by Parliament. The government should require a third-party analysis of the economic costs and benefits of all proposed new regulations. Government should expedite reforms suggested by the Sage commission in regards to simplification, streamlining, consolidation, and elimination of selected existing regulations and/or government departments. A "Bureaucracy Buster Brigade" could be formed to lead the charge for pro-business regulation. Advance scientific and commercial innovation. The Government should consider developing a programme to offer funding for research and development in STEM or BRAIN industries to attract these industries and companies. KEMH could add educational programmes using the excess space that is no longer used in the old hospital. Promote economic growth by reducing fiscal and economic uncertainty. The budget deficits and national debt in Bermuda threatens the future of the nation. High levels of government debt tend to impede countries' economic growth, weaken their ability to respond to unexpected challenges, and leave them more vulnerable to financial crisis. This undermines business confidence and potential foreign investment. Measured reductions in government spending can promote economic growth because expectations on the part of businesses of lower future debt and taxes, and therefore higher incomes, encourages private spending and investment. Therefore, a gradual process of significant long-term deficit and debt reduction should be enacted with an emphasis on spending reduction and not escalating taxes. This is far from an all-inclusive listing of ideas. I hope, however, it gives the community leaders, politicians and the business community something to debate and discuss. The future of work in Bermuda depends on it."
September 6. Johnny Barnes has proved an inspiration to a London artist who has covered the capital in "I love you" messages. The artist, who has remained anonymous, has installed 18 screens showing the message with the help of the advertising company Ocean Outdoor. They have been put on postboxes, roads and even Tube station signs throughout the city. The "iloveyouiloveyou" project is inspired by the artist's time in Bermuda and his memories of seeing Johnny Barnes as he drove to work. In an interview with the London Evening Standard newspaper, the Londoner said: "It meant I got in to the office in a good mood. I missed that when I got back to London. Just that little share of emotion. We are surrounded by negative images and slogans through advertising all the time, so it is just nice to be happy for once. I hope it brings some cheer to Londoners." The artwork can be found on the website: iloveyouiloveyou.co.uk.
September 5. Bob Richards, the Minister of Finance, has said the Bermuda Government will not have to foot the bill for his libel case against union boss Jason Hayward. Mr Richards said the matter — which led to a succession of objections from unions and other organisations — had become a distraction from "the real issues surrounding the case". He added that any damages he receives will be donated to charity. The minister filed a lawsuit in June against Mr Hayward, the president of the Bermuda Public Services Union, for comments made on a paid television broadcast on behalf of the People's Campaign. Mr Richards said in a statement yesterday: "I have been grateful for the Cabinet's support of the principle of financially backing a minister of the Government when he is defending himself against defamatory comments in connection with the carrying out his of duties as minister. This is an important principle because if a minister did not have the means to pay legal costs to defend himself and the government did not support him, then it may become open season on that or any such minister. However, in my case, the government's financial support is becoming a distraction from the real issues surrounding the case. Let it be known, therefore, that while I will continue to seek legal redress through the courts, I will not be seeking reimbursement of legal costs from the government in my legal action for defamation. Any financial damages awarded to me by the courts will be donated to charity." The One Bermuda Alliance came under harsh criticism for the initial decision to use taxpayer funds to finance the legal action, with the Bermuda Public Service Union, the Bermuda Industrial Union, the Bermuda Union of Teachers and the Prison Officers Association all attacking the move. Shadow Minister of Finance David Burt said during a press conference on Thursday that the use of public funds to finance a private civil case was against Financial Instructions, noting a report by Auditor-General Heather Matthews about an incident in which forged cheques were placed in government files to implicate Premier Ewart Brown and Derrick Burgess. He quoted the report as saying: "There is no statutory provision for the underwriting by Government of the legal cost of a Minister, servant or agent suing in a private civil action. We, therefore, considered any such expenditure to be improper and unjustified." Mr Burt questioned the Auditor-General's silence in the case of Mr Richards, adding: "I would expect the same zeal from the Office of the Auditor-General in dealing with this matter of the hurt feelings of Minister Richards as that office gave to the matter of forged cheques being placed in official government files." In response, Ms Matthews said of the case involving forged documents: "You will recall that the Auditor-General was denied access to information by the then Attorney-General — information that would have confirmed whether the monies paid out for legal fees were for a legitimate purpose or for a private matter. Unfortunately, that information was not forthcoming. As a result, I concluded in the special report such expenditure to be improper and unjustified and a violation of financial instructions. It is important to note that the Auditor-General is unable to respond to inquiries which have not been investigated and which have not been the subject of a report presented to Parliament for tabling." Ms Matthews added that the Auditor-General's office is primarily intended to audit the financial statement of government ministries and government controlled entities, although the Auditor-General is also empowered to carry out inquiries into any matter which comes to her attention relating to how a Government entity uses its resources. "This matter may be brought to the attention of the Auditor-General by a member of the public, an MP, a Parliamentary Committee, another organization or from within the Auditor-General's office," she said. "The final decision on whether to carry out an inquiry or investigation rests solely with the Auditor-General. However, in accordance with the Audit Act 1990, the conduct of financial audits takes precedence over inquiries/investigations."
September 5. Gombeys gathered yesterday to celebrate the life of Francis Llewellyn Spencer "Merry Mice" Darrell — a well-loved Gombey captain who died on August 22. "Its basically a celebration of the life he lived," said his son, Andrei Simons. Mr Darrell, a former Pembroke resident, had moved and resided in the United States and died at the age of 83. Mr Simons, a Gombey captain himself, said he wanted to put together a tribute for his father with the people "that were really close to us". According to Mr Simons, his father started dancing when he was about eight years old and "with the entertainer he was, it was always a big party". He pointed out that his father's legacy lives on through his children, adding that "all my children have danced". The celebration of Mr Darrell's life was held at Ewing Street car park.
September 5. The Royal Bermuda Regiment Underwater Taskforce has joined forces with environmentalists for a marine conservation effort to map the reefs off Elbow Beach. Reef expert Dr Thaddeus Murdoch heads up the Bermuda Reef Ecosystem and Monitoring Project (BREAM). Initiated in 1999, the programme examines the biology and ecology of Bermuda's coral reefs and other marine ecosystems, and is a collaboration involving the Department of Conservation Services and the Bermuda Zoological Society. The regiment became involved as part of its 50th anniversary initiative 50 Dives in 50 days events. Dr Murdoch said: "The marine scientists at the Bermuda BREAM.org programme are grateful to the Royal Bermuda Regiment's assistance in getting people out on to the reefs at Elbow Beach, where we can teach them coral reef ecology. "On mapping day we will show people the vital role that our protected parrotfish play in eating marine plants that otherwise overgrow reef corals, and in doing so, keep the reefs healthy and our beaches and shores protected from storms. We look forward to future opportunities to collaborate with the regiment team of trained divers on conservation and research projects, such as marine debris removal and monitoring for coral bleaching across the reef platform." Sergeant Major James Self, who heads up the regiment underwater task force, told The Royal Gazette: "We saw it as the one area that offered a great opportunity for support and in the longer term for us to give continuous support to this fantastic project. I am hoping this event is only the first of many joint ventures for the regiment and BREAM."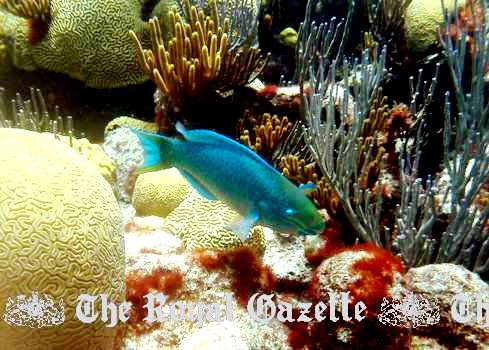 Parrotfish in Bermuda reefs
September 5. Illegal road banners placed across the Island must be taken down "immediately", the Bermuda Police Service has warned. In a statement issued today, the BPS advised that the "posting of banners along Bermuda's road sides is an illegal practice that should stop immediately." "Promoters must take down the banners immediately," a spokesman added. "It should be noted that anyone who contravenes the Advertisements Regulation Act 1911 is subject to a fine of $720 and in the case of a continuing offence a further fine of $144 for every day during which the offence continues." According to Police, illegal banners have been found at Parsons Road Playground, Shelley Bay Sports Field, Scaur Hill, Paget Stop Lights, and the Tee Street junction with Middle Road. The Ministry of Public Works also issued a reminder to the public regarding signage, pointing to specifications of the Advertisements Regulation Act 1911. A ministry spokeswoman said: "The Act controls the placement, content and certain design elements of signs." She said it dictates, for example, that a "For Sale" sign can be erected on land that is for sale, a sign on a building can display the business name and indicate the general character of the business, and a sign can advertise a municipal election. But the Act prohibits certain types of advertising, such as signs that protrude above the roofline of a building or which are inner illuminated. It also restricts advertising to the land or building to which the sale or meeting or entertainment relates. The public should be aware that any advertising signs erected on land owned by the Bermuda Government and controlled by either the Department of Parks or the Department of Works and Engineering is not permitted and will be removed. spokeswoman said. Advertising signs displayed on these strips of land will be removed by either a Parks or Works and Engineering crew, this includes East Broadway and Palmetto Road, whether advertising a charitable event or not." She added that "the control of advertising signs incorrectly erected on private land will be addressed by the Department of Planning" and encouraged business owners or private land owners who are considering putting up signage and advertising, to visit the Department of Planning's website. "Both the Corporation of Hamilton and the Corporation of St George can license land for the exhibition of advertisements," she added. "Individuals are advised to approach those bodies directly should they wish to do so."
• To report a sign erected on park property, contact the Department of Parks at 236-5902. On weekends, call 599-5902.
• To retrieve a sign removed from park property, contact the Department of Parks receptionist at 236-5902.
• To report a sign erected on government land, contact the chief engineer at 297-7863.
• To retrieve a sign removed from government land contact the Marsh Folly depot at 292-7454.
• To report a sign erected on private property, contact the enforcement officer at 297-7634.
September 5. The Island needs a vision that "must include getting Bermudians back to work", Jason Hayward, the president of the Bermuda Public Services Union, said last night. Speaking at the Bermuda Industrial Union's 34th Annual Labour Day Banquet, Mr Hayward said on-the-job training, investing more money into postsecondary education and fixing problems in the existing education system would solve the Island's unemployment issue. While he acknowledged "the critical need for guest workers" in his speech on the theme 'Leading by Example', he said they should not be replacing qualified Bermudians. Mr Hayward also urged the black community to rise together to tackle social and economic ills, mirroring a functional unity he said the white community has exhibited to its own benefit for hundreds of years. The president's talk built on the speech given last year by Ewart Brown, who called for an all-out campaign by the Opposition, the unions, the People's Campaign and other community organisations to unite and reclaim the Government. "The functional unity that Dr Brown called for did not occur maybe because the vision was too shallow," said Mr Hayward at the banquet held at The Fairmont Southampton. "Functional unity must transcend political power: it needs to include organisations working together to uplift the social and economic conditions of all in the country." Mr Hayward outlined his vision for Bermuda, which he said "surpasses party politics", "truly seeks to improve the social and economic conditions for those on the bottom half of society", and "truly aims for a better Bermuda". He said the "vision must include getting Bermudians back to work". According to the preliminary report of the Labour Force Survey carried out by the Bermuda Government, released last month, 2,502 people were unemployed in 2015, with Bermudians making up 2,278 of the total. "What we have is structural unemployment," Mr Hayward said, adding that this unemployment stems from a mismatch between skills and qualifications that employers demand and those that workers possess. "Either we are producing Bermudians that don't have the skill sets for the job market or employers are discriminating against our people. Either way, these problems need to be fixed. Through education, training and creating access to jobs, we can solve our unemployment issue." Mr Hayward said the Island "must commit to investing in education and job training of our citizens" because this "will undoubtedly benefit individuals and Bermuda at large". He called on Government to provide adequate funding for postsecondary education and to correct the problems associated with administration, finance, curriculum and quality of delivery in the existing education system. Mr Hayward said "on-the-job training must also be embraced" and that businesses must commit "to apprenticeship programmes, professional development and workplace shadowing" because this would enable Bermudians to acquire the skill sets not gained through formal education. He said he had been pleased to see the development of a National Training Plan, but was disappointed that there was no implementation strategy. "OBA, you promised the jobs. Now it is time for you to deliver," he said. "We are tired of broken promises." Mr Hayward said Government must also commit to reducing barriers that exist for individuals accessing jobs and urged Government to address reported discriminatory practices by employers against Bermudians. "For far too long, employers have been allowed to get away with setting rigorous qualifications and tests primarily to discourage Bermudians. Some employers show a complete bias towards guest workers over Bermudians." Mr Hayward said this needs to stop and questioned what message is being sent to students, who obtain their qualifications abroad only to return home "and all they find is shut doors. I realize the critical need for guest workers in society, but our expatriate brothers and sisters should not be displacing qualified and abled Bermudians. Their service should only be utilized when there is a job demand that cannot be filled by a qualified Bermudian." Mr Hayward said a vision is also needed that "forces structural change which seeks to reduce income inequality in Bermuda". He said Bermuda is divided by race, and pointed to black unemployment being higher than white unemployment and the medium income for whites being higher, while the vast majority of people on financial assistance and in jails are black. He added that blacks are losing their homes to the banks and their men to the streets, are struggling to survive upon retirement and are the poor and working class in Bermuda. "It is a flawed way of thinking to believe that the social ills and economic deterioration of the black community is not a problem for all. It is equally flawed for the black community to continuously rely on others to elevate us from our current position; these are our problems and we must take the bull by the horns to collectively address them as a community. We must take active steps to better ourselves. These steps include supporting unions and community clubs, developing financial institutions, developing and supporting black businesses, investing in co-operatives and the education of our children and our people, strengthening families, revitalizing spirituality and stop being our own worst enemy. The white community in Bermuda has exhibited functional unity for centuries and we need to take note of what has been done in the white community and we need to empower ourselves. We have the capacity to do better, we must do better and we shouldn't settle for anything less. We should not just sit back and be satisfied with mediocre leadership; we must demand that our leaders operate at a standard of excellence. Many in the country are dissatisfied with the leadership of this country. I am personally dissatisfied with the leadership of this country. The OBA rule with an iron fist with no regard for the people of this country. Their business-driven agenda is distracting them from their principle purpose, which is to serve the people. The leadership of this country has been no friend to labour — their attacks on the trade unions and trade union leadership are unprecedented, but it seems to go unchecked. It seems as though the Premier is not the captain of his ship. When was the last time the Premier of this country stood up and spoke on an important issue?" Mr Hayward also claimed finance minister Bob Richards is "wasting time and money" with his ongoing defamation case. Yesterday, Mr Richards revealed he would not be asking the Bermuda Government to pay for his court costs over the matter, which surrounds comments made in a television broadcast by Mr Hayward. Last night, Mr Hayward likened the dispute to the David and Goliath battle, adding that many do not realize that story ended with David cutting off Goliath's head and becoming King. He said: "Minister Bob Richards, let's cut the foolishness. What we are doing is wasting time and money. You don't like something I said, so you're taking me to court." He added that Mr Richards reminds him of the bully on the playground, who ends up picking on the wrong person and goes home with his front teeth in his pocket. He called for members to continue fighting "for what we believe in", to advocate for equality, jobs and justice, to be a voice for those who are not prepared to speak for themselves, to protest when needed, to support freedom of speech and assembly, and "to continue to work together to achieve a better Bermuda."
September 4. Harsher penalties for seniors abuse and stricter admission laws for carers are among the legislative and regulatory amendments being considered for recommendation by the newly named Ageing and Disability Services office. The Bermuda Government's National Office for Seniors and the Physically Challenged announced its relaunch at a press conference yesterday afternoon, which includes a reorganization and extra services for seniors and people with disabilities. The former office came under fire at the start of this year following a Royal Gazette investigation that exposed senior abuse cases that had slipped under its radar. The investigation suggested that the office did not properly respond to complaints or help people find suitable accommodation as was set out in its remit. Acting manager for the Ageing and Disability office Keeona Belboda said measures were being put in place to avoid such abuses in the future. She told The Royal Gazette: "We were waiting for this event to happen and now we are looking to make some amendments to the legislation to give us more teeth so that we can ensure that our seniors and disabled have the adequate support that they need. The amendments would be to our Residential Care Home and Nursing Home Act, Residential Care Home and Nursing Home Regulations and the Senior Abuse Act. We haven't had meetings yet but once we get past today's event we are going to look into meeting with the various stakeholders to get the support we need to get the amendments made. We are certainly considering recommending harsher penalties and changing the regulations that speak to how a nursing home administrator is employed. Currently they just have to be 18 years old, of good character, and have a management background. There is no real support to that — anybody can do that. Now we are going to make sure it is really defined in terms of what they need to know. They need to know about what it takes to run a seniors' home, they need to have more management expertise and perhaps a nursing background and some solid qualifications. We are really trying to hone in on the nursing homes because we know that is where the area of concern is again. It is not going to happen over night but we have made a start." The new name of the office aims to reflect its expanded remit to provide services to people with disabilities rather than those with physical challenges only, while replacing seniors with "ageing" to be consistent with the Bermuda Government's plan to promote such initiatives as the National Ageing Plan. The service provides a variety of different functions including regulation and compliance, coordinating services and promoting awareness. It will provide oversight of the integrated production and functional skills programmes at the K Margaret Carter Centre, formerly The Opportunity Workshop and The Orange Valley Centre, and provide advice and guidance on best practices for accessibility to both public and private sectors, among other services. Ms Belboda said the team has already begun to make improvements and will be looking at ways to ensure standards are properly monitored going forward. She said: "We have been meeting with rest home administrators to let them know that we are changing the way that we do business and we are looking at improving our services across the board, ensuring homes are up to compliance. We know it is not going to happen overnight. Most of these homes have been in existence for 20-plus years and we have to correct some behaviors but that comes with time. I believe we are actually making a start. We are looking to implement a report or scorecard system for the rest homes and nursing homes because we want families to have a bird's-eye view of how they are rated. We have a spreadsheet that is colour-coded to see where the areas of deficiency are and where homes are non-compliant so we can get on board and enforce some of our standards." Ms Belboda said that the office would increase communication with the chief medical officer and staff from the former Opportunity Workshop have been brought to the team. "That provides additional support to the office that wasn't there before so we are able to effectively manage cases. We have highlighted the ways of monitoring senior risk referrals or abuse cases versus cases of neglect or people just need help in the comminute."
September 4. This year's El Niño weather phenomenon is the strongest since the record-setting event of 1997-98, and its peak months are still to come. While its impact on insurers and reinsurers is largely unpredictable, indicators are emerging showing billions of dollars of economic losses that can be attributed to the weather event. That could spell trouble for reinsurers who have taken on added catastrophe risk as a strategy to deal with the sector's prolonged soft market conditions. Standard & Poor's Ratings Service yesterday struck a cautionary note towards such moves as it issued a report urging a continued disciplined approach to catastrophe risk. Companies with exposure to crop insurance can expect claims as global drought conditions worsen due to El Niño. A report from Aon Benfield is warning that economic losses from global drought are now expected to top $8 billion. "As El Niño continues to intensify in the coming months, it is expected that global drought losses will surpass the current forecast of $8 billion in economic damage," said Aon Benfield in its Global Catastrophe Recap report. Drought conditions have worsened in several Caribbean and Central American countries, while the ongoing drought in the western US is now expected to cause economic losses of more than $3 billion, with most of the losses coming from agricultural damage in California. On the flip side, a strong El Niño tends to curb hurricane activity in the Atlantic, losses from which are typically the biggest driver of insurance and reinsurance rates. Therefore, a quiet Atlantic hurricane season is likely to mean further pressure on renewal rates in the new year. Reinsurers tempted to increase exposure to catastrophe risk as a soft market strategy have been urged to be cautious by Standard & Poor's, which yesterday issued its report 'Discipline is necessary as reinsurers adjust their exposure to catastrophe risk'. It said: "Two years of low claims have contributed to the current record high levels of capital in the industry and thus to the recent downward trend in catastrophe risk pricing. "Insured catastrophe losses in 2014 have been estimated at $35 billion, around half the ten-year average of $64 billion for the global reinsurance industry." The agency noted that there has been a divergence in strategies used by reinsurers in reaction to the softening markets, with a few opting to take on more exposure. It said: "In our view, an increased focus on catastrophe risk weakens a reinsurer's risk position by increasing volatility in earnings and on the balance sheet. We consider underwriting profitability in the sector likely to become more vulnerable to natural catastrophes; therefore, we anticipate that operating performance could deteriorate at reinsurers that are more exposed." James Lynch, chief actuary at the New York-based Insurance Information Institute, does not believe El Niño plays a major part in portfolio risk considerations. He told The Royal Gazette: "Insurers are well aware of the El Niño phenomenon, particularly in the reinsurance sector. It certainly doesn't play a major role in assembling a portfolio of risks, which is generally pegged to the 250-year loss event — spanning dozens of El Niño's ebbs and flows. "It might play a subjective role in pricing, but I haven't heard of that happening either. It's important to remember that El Niño affects the probability of what are already infrequent events." He added: "I'd hate to be the underwriter who bet El Niño would protect Miami in 1992, the year Andrew hit." The full impact of this year's El Niño event, in terms of catastrophe losses, has yet to be seen, although indications suggest it may be one of the strongest El Niños on record and could stretch into 2016. The El Niño phenomenon is a warming phase in a cycle of ocean water in central and east-central areas of the Pacific Ocean, known as the El Niño-Southern Oscillation. El Niño events occur when atmospheric and ocean circulation patterns that normally reinforce one another, collapse. This happens roughly every three to seven years, and may herald an increase in insured losses in the Asia Pacific region as a result of an eastward shift in the landfall locations of tropical cyclones. Last month, two typhoons in the eastern Pacific killed 111 people and caused more than $4 billion in economic losses. Super Typhoon Soudelor, packing maximum wind speeds of 180 miles per hour, struck Taiwan and China on August 8. The weaker Typhoon Goni hit a number of countries, including Japan, China and Philippines between August 25 and 28. A large region of dry air in the North Atlantic has contributed to unfavorable conditions for the development of hurricanes. However, Tropical Storm Erika claimed 36 lives and caused economic losses of $100 million when it reached the Caribbean and tracked through Dominica and a number of neighboring islands at the end of August. Climate models are indicating the sea surface temperature in the east-central Pacific Ocean will be more than two degrees Celsius (3.6F) warmer than normal this year — leading experts to forecast that the present El Niño may be one of the strongest ever. David Carlson, director of the Switzerland-based World Climate Research Programme, on Tuesday said it was still unclear how global warming might be affecting the frequency and strength of El Niño events. Since 1950 the strongest El Niño events have been in 1972, 1982 and 1997. Australia's Bureau of Meteorology this week said most of the international climate models it has surveyed indicate further sea surface warming in the Pacific, and that the current El Niño event might stretch into 2016.
September 4. The growing prominence in Britain of former Bermudian slave Mary Prince, whose searing account of her life galvanized the abolitionist movement, has been hailed by the African Diaspora Heritage Trail. Her role as an abolitionist was highlighted in Britain as part of the International Day for the Remembrance of the Slave Trade. However, for Florence Maxwell of the ADHT, the remarkable survival of Prince's story is a testament to an effort at home to whitewash the ugly truths about slavery in Bermuda. The story of Sally Bassett, commemorated with a statue on the grounds of the Cabinet building, is widely known, while Prince's story, until recently, was not. "Mary Prince's story is more compelling, in that she told it," Ms Maxwell said of the 1831 book The History of Mary Prince. "Sally Bassett did not write or tell her story. It's only through research that we know of her. With Mary Prince, you can't read her narrative without shuddering. There are very few slave narratives, and she just happens to be one of them." Describing Bermuda as "the paradise that pretended everybody got along", Ms Maxwell said the recent discovery of Prince's story back home had struck down the narrative that Bermudian slavery was benign, and slaves were treated as part of the family. "We're still doing it," she said. "Bermuda's real problem is its isolation, its size, and the power that a few people had over the majority. They kept their dirty laundry concealed." She recalled historian Cyril Packwood knowing little of Prince at the time of his research into the book Chained on the Rock: Slavery in Bermuda, because knowledge of her had effectively vanished in her home island. "When we first found out that she is known as an abolitionist, we got her full story of what slavery was in Bermuda," Ms Maxwell said. "She exposed the cruelty. Because of her, Bermudians can no longer say that slavery was very different here than it was elsewhere. That, to me, was a very important fact." Prince's story is part of the school curriculum in the UK, according to ADHT chairwoman Maxine Esdaille, where the British heritage group Historic England recently highlighted her role alongside other women in the crusade to abolish slavery. "For me, it was exciting to see — and you will remember that she was made a National Hero here in 2012, which the ADHT had a part in," Ms Esdaille said. "We had taken part in the United Nations day for the remembrance of the victims of slavery, when the theme was 'heroes, resisters and survivors'." That event, which included a video conference for local students to take part, led to a push to have Prince formally recognized. Ms Esdaille added that the ADHT often hears from members of the public concerned about Bermudian history being taught in schools. "I used to be the senior educational officer responsible for the curriculum — I can't speak to the curriculum now because I have been out of the system since 2008," she said. "But there is a fair amount of Bermudian history in the curriculum. Perhaps we don't talk about it, but it's there." She is one of the most famous figures of Bermuda's history, but outside the record that she gave, much of Prince's life remains unknown. The Bermuda National Trust now owns the house where she was kept after being sold, at the age of 12, to Captain John Ingham of Spanish Point. Slaves were brutally punished at the house. There has been talk of commemorating her time there with a plaque at "School Lands Cottage" in Pembroke. According to the Trust's chief executive officer, Jennifer Gray, Prince may also have spent time at the organization's headquarters, "Waterville", the old home of the Trimingham family. Prince's health was in decline after a lifetime of harsh work by the time she settled in Britain, Ms Maxwell said, and very little of her is known after 1833. "I don't get the impression that she came back to Bermuda," she said. "No one even knows where she was buried. I think that is a great shame. It's almost as if she disappeared."
September 4. Opinion by Senator Michael Fahy, Minister of Home Affairs. "You can tell how the Progressive Labour Party feels about St George's by its totally unnecessary destruction of the St George's hotel's golf club, and the abandonment of the course to a gigantic crop of weeds. That and, during all those years in power, its efforts to replace the hotel amounting to nothing more than a thick file of broken promises. Oh, and we must not forget the running down of the St George's cruise ship business and making sure the Corporation of St George barely had the money to buy a new pair of shoelaces. I could go on, but I'm sure you get the picture. So, galling though it is, it can't be a surprise that the Opposition seems to be waging a campaign to encourage St Georgians to oppose the proposed new hotel. It has quibbled with almost everything, turning perfectly reasonable, responsible provisions by the Government and the developer into evidence of an anti-Bermuda, anti-Bermudian plot. It has wrongly accused the developer and some of its employees of taking part in a massive fraud, and would not stop doing it until it was threatened with a lawsuit. The Government has been accused alternately of "doing anything by any means necessary to get this hotel built" and "spinning our wheels". That was by the same person, almost in the same breath. We have demonstrated, apparently, both a stunning lack of commitment to Bermudians in this project and a lack of transparency. The Government is guilty, according to the PLP, of a blatant and serious dereliction of duty to the people of Bermuda. Bermudians who are out of work deserve a fair chance to compete for jobs and opportunity in their own country, but they will not get it, the PLP says, because their OBA Government has sold them out. That's right, folks — all this effort was just so the OBA could sell out the unemployed! The latest little twist concerns the beach at St Catherine's Fort. It has been connected to the hotel on the hill for as long as I can remember. Nevertheless, we made good and certain that in the St George's Resort Act, we included language that guarantees the right of the public to use the beach (and the golf course, for that matter). But that still does not seem to be good enough. Renee Ming told the Senate "if the Government wants a fight on their hands, they will have it when it comes to Fort St Catherine beach". We all know the Opposition organizes people to make comments that follow the party line when they are allowed on stories that appear in the media. In a comment on a related story, a prominent Opposition sympathizer said that if the beach did not remain public "I know my entire neighborhood will arrive at Shawn Crockwell's house for a picnic and possible riot, not to mention Mr Richards's house the following weekend". Is the Opposition crazy? Fighting? Riots? I am just flabbergasted. Right there, plain as day, the St George's Resort Act says: "The public shall have, free of charge, reasonable access to any beach or foreshore on the property." What part of that does Ms Ming and her followers not understand that would cause them to talk about fighting and riots? I know they have to follow the script they are given, but surely the script has to follow some kind of logic, doesn't it? What does the Opposition hope to gain from this all-out war on the St George's hotel deal? This goes way beyond what an opposition should be doing in order to discharge its parliamentary duty. What is it? A desperate attempt to get its hands on power again? A guilty conscience? Or perhaps something more personal, between the Opposition and our Old Towne? What else could explain the insane stance taken by Ms Ming in Senate in objecting to the Bill? Her Opposition colleagues noticeably did not object. This Bill will provide the framework for the revitalization of St George's and everyone knows it — apart, it seems, from the senator who objected to the Bill's passing. I hope that the Opposition changes its way and gives full, unequivocal support for a Bill that will spur the renaissance of St George's. I look forward to sending an invitation to Ms Ming for the ribbon-cutting ceremony of the new hotel."
September 4. The Bermuda Government has worked hard to improve the planning process and consult with other groups, according to Michael Fahy, the Minister of Home Affairs. Speaking to The Royal Gazette, Sen Fahy said that the Government has made several small changes in order to expedite the planning process. "We have done a number of smaller things in the department that have made a difference," he said. "For example, not accepting incomplete applications. That has cut the amount of time [to process] and increased the turnaround for applications. I'm very pleased we have passed the general development order which allows the director to make determinations on smaller projects without having to go on to the full board approval, which will encourage smaller projects without a full board. That will speed things up. Generally I think this department does incredibly well. Obviously this department, like many others, has been subject to a hiring freeze, we have had a reduction in the number of staff from 43 or 44 to 34 now and their turnaround times have in fact gotten better. One of the initiatives that we will be looking into, and it was mentioned in last year's Throne Speech and will appear in the legislative agenda this year, is the opportunity for the director to levy civil penalties against not just the homeowner but also the developer as well. I think that will be an important development as well in terms of enforcement for illegal development." The minister also said that the Department has been working with the Bermuda Environmental Sustainability Taskforce (BEST). While the environmental organization has objected to some of the department's decisions, Sen Fahy said there is a "very good working relationship" between the two. "In fairness, every developer that I'm aware of has had meetings with BEST and lays out their programme so it's out there for BEST to comment on, and that's a good relationship to have because BEST obviously has their view on things. Most of the time you can find a happy medium." Sen Fahy also defended the One Bermuda Alliance's record of consultation — something which has been harshly attacked by critics. "I think where the Opposition gets it wrong, the Opposition take the view that if you don't listen to us as the Opposition then you haven't consulted. I rubbish that entirely. I think this government has been shown to be far more open and transparent on the things that we do. We have passed Pati despite it sitting on the books with the Opposition which was then in government for ten years. I think we do a good job of consulting those who require to be consulted. Just because you don't take everything on board doesn't mean you don't listen." Sen Fahy also criticised the overall quality of political debate, saying: "I think that we can do much better. I believe that we have seen a lot of unnecessary mudslinging, especially in my view from the Opposition, and the Opposition will say it's us. But we can do better. I think the level of debate is not what it could be. We need to be focusing in on the issues that affect everyday Bermudians, and we seem to get caught up in personality conflicts here and for a small community, that doesn't work. We all live in a very small island and we need to get along. I think that as leaders and as politicians it's much better to talk about the issues of the day rather than personalities. I think if we can move away from that, we will find that permeates through any number of other levels of society. I believe that if we can raise the game and talk about the issues it would be better for Bermuda."
September 4. Heather Jacobs Matthews will be retiring on November 15 after more than six years as Bermuda's Auditor-General. Announcing the move, Governor George Fergusson stated: "I would like to take this opportunity to pay a very warm tribute to the Auditor-General for her work over the last six years. "Since her appointment in 2009, she has worked tirelessly in carrying out her vital and often difficult constitutional role and remaining robustly independent. "An advertisement for the post of Auditor-General has been published in The Royal Gazette and on relevant industry websites. I would encourage anyone interested in the post to apply." The Island's constitution requires that the Auditor-General vacates the post at the age of 65. Mrs Matthews will reach that age next year. The appointment of the Auditor-General. Mrs Matthews was appointed as Auditor-General by then-Governor, Sir Richard Gozney, in September 2009. She began a 27-year career with the Bermuda Government in 1980 working at various times as Assistant/Deputy Auditor, Tax Commissioner and Director of Internal Audit before her appointment as Auditor-General. The advertisement for the post can be seen at www.bermudajobboard.bm.
September 4. Bermuda's hopes of bringing back the Grand Slam of Golf this year have been dashed. The 36-hole exhibition was supposed to be played next month at Trump National course in Los Angeles. However, the PGA of America and Donald Trump agreed that it would move away from Trump's course after he drew criticism for his remarks about Mexican immigrants while launching his candidacy to become the next President of the United States The PGA of America had been looking for a replacement course with suitable dates — Bermuda being the obvious choice. "The PGA will comment further at the appropriate time," it said in a statement a few weeks ago. But yesterday the PGA of America announced that it had cancelled the event because of the timing and logistics required to stage the tournament at the "highest standards." This year a local golf official said that agreeing to host the tournament again if the Trump venue was ruled out, was a "no-brainer." The event was first held in 2007 in Bermuda at Mid Ocean Club and was later moved to Port Royal, where it continued until last year. Previously, the event was held in Hawaii. The event features the winners of the four majors — the Masters, US Open, the Open Championship and the PGA Championship. This year Jordan Spieth won both the Masters and US Open, Zach Johnson the Open and Jason Day the PGA Championship. With Spieth having won two of the majors, a fourth PGA Tour player would have been selected to make up the field.
September 4. PartnerRe Ltd is Bermuda's largest writer of reinsurance and the ninth biggest in the world, according to data published by rating agency AM Best. The company, which wrote $5.93 billion in reinsurance gross premiums last year and recently agreed to be acquired by Italian investment firm Exor, is one of 13 Bermuda-based reinsurers in Best's Top 50 Global Reinsurance Groups. Many others, whose holding companies are based elsewhere but which are active in the Bermuda market, such as XL, Ace and Allied World, add to the Bermuda presence. The Top 50 list is part of Best's Special Report on Global Reinsurance, in which the agency maintains a negative outlook for the reinsurance industry, citing pressure on investment yields and underwriting margins that will put a strain on profitability. The report says the industry is operating in a "new reality" of abundant capital, low interest rates and intense competition amid shrinking demand for reinsurance coverage. Hard on the heels of PartnerRe in the rankings is tenth-placed Everest Re, which wrote $5.75 billion in gross premiums. Axis Capital placed 16th with $2.18 billion, while XL was 18th and Catlin 19th. This year the latter two companies have merged. Their combined reinsurance premiums total of almost $4.2 billion would have put XL Catlin in 12th place in 2014. RenaissanceRe placed 26th and Arch Capital 27th, both topping $1.5 billion in premium, while 29th-placed Validus Holdings wrote $1.27 billion. Endurance was 31st on the list with $1.18 billion in premiums and Montpelier Re — the company Endurance acquired earlier this year — was 43rd with $740 million. Their combined total would have sent them up to 23rd place. Aspen and White Mountains placed 33rd and 34th respectively, while Maiden Holdings was 38th. Hiscox (48th) and Third Point Re (49th) also made the list, while No 50, Qatar Re, will soon be a Bermuda company after announcing this week its intention to move its domicile to the Island. Notable others on the list included Markel, Ace and Allied World, who were grouped together in 35th, 36th and 37th places respectively. At the top of the list were the usual group, Munich Re, Swiss Re and Hannover Re. Berkshire Hathaway rose two places to number four, while Scor and the Lloyd's market were at five and six. Bermuda has become accustomed to waves of new reinsurers starting up after a major event — but Best said it believed the 'Class of 2005' would likely be the last 'class.' "The abundance of available capital has led to the lack of significant price increases following a loss event," the report states. "AM Best expects that if there were to be a catastrophe sufficient to move pricing, with the capital market's capacity and flexibility, the inflow of capacity could make any such opportunity very short-lived." Explaining its reasons for the continued negative outlook for the reinsurance industry, Best stated: "Declining rates, broader terms and conditions, unsustainable flow of net favorable loss reserve development, low investment yields and continued pressure from convergence capital are all negative factors that will adversely impact risk-adjusted returns over the longer term," Best stated. "On the positive side, the mid-year renewal for property-catastrophe did provide some indication that the velocity of erosion on price and terms may be easing. It remains to be seen, however, if the market has reached bottom."
September 4. The Salvation Army's world leader will be on the Island for a congress to mark the 150th anniversary of the organization. General Andre Cox, along with his wife, Commissioner Silvia Cox, the world president of women's ministries, will be at the "Boundless Bermuda" event from November 12 to 15 at the Hamilton Princess & Beach Club. Making the announcement at a press conference yesterday, Major Frank Pittman, divisional commander, said: "We hold a congress celebration every other year but this year's congress is particularly significant. The Salvation Army is active in 127 countries, so to have the world leader come to Bermuda is quite an honour and exciting for us." The Salvation Army began its work in East London by founder William Booth, and was celebrated as an international movement in England in July at London's O2 Arena. Gathering at the event were 15,000 Salvationists, including 66 from Bermuda. The congress will officially launch on the steps of City Hall at noon on November 12. "There is something for everyone and we will be placing special attention on the youth during our Boundless celebration on the grounds of City Hall and a Youth Bash at North Street Citadel," said representative Brian Fubler. A march on Front Street and worship service will also take place. Representative Calvin Ming called for people to come forward with old photographs of family members or events of The Salvation Army in Bermuda. "We would like the Bermuda public to come celebrate and worship with us," he said. For more information call the Salvation Army's divisional headquarters at 292 0601 or visit its website at www.salvationarmy.co/bermuda/.
September 4. The Progressive Labour Party attacked a government defamation suit against Jason Hayward, adding that it is wrong to use public funds for a private matter. The PLP also questioned this afternoon why neither the Auditor-General nor Governor George Fergusson had spoken out about the government funding of the lawsuit, arguing that it is against financial instructions. However Auditor-General Heather Matthews responded early this morning that the question of if the matter was approved according to financial instructions should be put to the Financial Secretary, the chief accounting officer for the Ministry of Finance. Finance minister Bob Richards told the House of Assembly last month that Cabinet had agreed to pay for the lawsuit against Mr Hayward, the president of the Bermuda Public Services Union (BPSU), which revolved around comments made on behalf of the People's Campaign during a paid television broadcast. David Burt, the Shadow Minister of Finance, noted that the Auditor-General had previously spoken out against the use of government funds to finance a lawsuit surrounding forged cheques, which had been placed in government files in an alleged effort to implicate Ewart Brown, then the Premier, and Derrick Burgess in a corruption scandal. In that case, the Auditor-General said the use of public funds to finance a private action was against financial instructions, stating that government funds must be used only for government purposes. While modifications to the financial instructions were suggested by the Public Accounts Committee, Mr Burt said such changes were never implemented. "It is clear that the Auditor-General considers private lawsuits initiated with government funds to be a violation of financial instructions," he said. "I will repeat what the Auditor-General said. 'There is no statutory provision for the underwriting by government of the costs of a minister or civil servant suing in a private civil action. To the best of understanding, financial instructions have not been modified since the Public Accounts recommendations were made and, therefore, the Government is acting in contravention of financial instructions by approving this expenditure of taxpayer funds for the minister's private action. This is a clear violation of financial instructions, and I would expect the same zeal from the office of the Auditor-General in dealing with this matter of the hurt feelings of minister Bob Richards as the office gave to the matter of forged cheques being placed in official government files." Opposition leader Marc Bean described the legal action as "an act of cowardly, political intimidation" against Mr Hayward. "There rightly exists concern that an OBA government that told our seniors that 'money does not grow on trees' and slashed the education and scholarship funds have found the money to pay high legal fees to silence a member of civil society. These actions, in our opinion, will be used to victimize the BPSU and intimidate others from speaking out against the actions of the Dunkley administration. The use of intimidation and bullying tactics to silence dissent is not new in Bermuda. This latest use of the courts is simply a return to the dark days of yesteryear, and has no place in any modern, sophisticated jurisdiction." He said the Island has seen a silencing of the watchdogs, specifically the Auditor-General, the media and the Governor. "The Governor, supposedly the final check and balance against government corruption, lack of transparency and dictatorial action has been silent for reasons only the United Kingdom Government can say," he said. "Suffice it to say that it may be time to consider having a watchdog for the watchdogs." The Governor declined to comment on the story, but the Auditor-General stated that questions of if the decision was made according to financial instructions should go towards the financial secretary. Regarding the previous matter involving forged cheques being placed in government documents and her office's findings, she said: "You will recall that the Auditor-General was denied access to information by the then Attorney-General — information that would have confirmed whether the monies paid out for legal fees were for a legitimate purpose or for a private matter. Unfortunately that information was not forthcoming. As a result, I concluded in the special report such expenditure to be improper and unjustified and a violation of financial instructions. This special report was presented to Parliament for tabling on January 26, 2012. It is important to note that the Auditor-General is unable to respond to inquiries which have not been investigated and which have not been the subject of a report presented to Parliament for tabling." Ms Matthews said the Auditor-General's office is primarily intended to audit the financial statement of government ministries and government controlled entities, although the Auditor-General is also empowered to carry out inquiries into any matter which comes to her attention relating to how a Government entity uses its resources. "This matter may be brought to the attention of the Auditor-General by a member of the public, an MP, a Parliamentary Committee, another organization or from within the Auditor-General's office," she said. "The final decision on whether to carry out an inquiry or investigation rests solely with the Auditor-General. However, in accordance with the Audit Act 1990, the conduct of financial audits takes precedence over inquiries/investigations."
September 3. The Bermuda Parents Teachers Students Association is calling on the court to change its decision to allow new parent council rules. The move to introduce councils — potentially replacing PTAs at schools in an effort to give parents more say in managerial decisions — was one of three ministry plans being protested by the BPTSA in a Civil Court battle last week. Last Friday, Puisne Judge Stephen Hellman granted an interim ruling to let them go ahead, along with the transfers of 30 teachers and six principals across the Island. In a statement, the BPTSA said: "The BPTSA asked the court to retake its decision with respect to the [parent council] rules. We feel that the court made its ruling without the benefit of an important legal consideration. The BPTSA wants the court to clarify the true legal significance of the rules before parents are asked to make a voluntary decision about whether they should form these bodies. The BPTSA does not believe the rules optimize parental involvement. They work against it. As is to be expected, the ministry has opposed our request for the court to retake its decision. They say the rules cannot wait. A number of our PTA members have informed us that the ministry has already instructed principals to tell their PTAs that forming parent councils is mandatory if parents want to be involved in the education of their children. This is not true. The BPTSA is hopeful the court will reconsider whether the implementation of the rules should be suspended at least until our case is complete. But even if the court does not do what we ask, as parents we demand that the ministry cease in its attempts to misinform our members about the true import of the rules. Parents deserve better than petty ministerial conspiracies." The BPTSA filed its injunction, which also includes an attempt to block potential school closures and consolidation, after claiming parents had not been adequately consulted by the ministry. Its statement says: "The BPTSA recognizes the importance of its mandate. That mandate is to optimize parental involvement in Bermuda's education system. "Parents have no greater responsibility than educating their children. We educate our children so that they may face the myriad challenges the future will introduce, in a way which shows commitment to purpose and a desire to achieve meaningful goals. That type of education is not possible when parents are divided, distracted, and willing to hand their responsibilities over to others. It is virtually impossible for parents to make informed decisions which benefit their children without first seeking out and obtaining answers to the questions that confront us now. The BPTSA will not be distracted from its responsibility to inform parents of the issues that exist in our education system. We will not fail to forecast the coming storms. We want an education system that does not pay lip-service to our children's primary educators. We want an education system that is open and transparent. We want an education system that is motivated by the desire to improve children and families."
September 3. Lack of affordable, quality care for Bermuda's preschool children is an issue of major concern according to a landmark new report. The Zero to Three In Bermuda report identified a number of critical gaps in the general provision of preschool education on the Island — while highlighting some "bright spots" in the system. Commissioned through the Bermuda Community Foundation, the document is the first of its kind in Bermuda. It focuses on the education of children from birth to fourth birthday, commonly referred to as "zero to three", which is regarded as crucial to their long-term development. Access to affordable, high-quality care is identified as a genuine concern as well as a lack of education advocacy, and measurement and evaluation of services. Among the positives are the internationally accredited Chattertots Discovery Zone, The Coalition for the Protection of Children and the Bermuda Government's Health Visiting Nurses Programme. The findings will now be used to help form a plan to improve early childhood experiences for children through practitioners, parents, government and funders. The study highlights that while education is provided free to Bermuda residents from preschool to the second year of college level study, it is not universally applicable below four years of age, and that this is coupled with the high costs of care in Bermuda. "At more than $1,000 a month in some instances, high-quality daycare is outside the financial reach of many households," states the report. Another area in need of attention is informing and educating the public in early childhood development, while the report points to shortfalls in regulation and policy. The report states: "Addressing the gaps in mandated quality of care for children from zero to three would require appropriate policy development and legal standards, together with available resources for licencing and training programmes. In addition, necessary monitoring and enforcement would need to be implemented. Given this is the most critical period for brain development, it is troubling that caregivers are not required to be trained." Chattertots Discovery Zone, in Warwick, and the associated Chattertots Preschool, in Southampton, which specialize in early language and literacy development, win praise. Part of the Family First Group of Schools, they have already won international accreditation through the National Association for the Education of Young Children, and are members of the British International School System Early Years curriculum. Owner and director Angela Fubler noted some countries help their young children's development by allowing parents to take time off work during the critical early years. "Access and affordability is one of the gaps that is hard to manage because of the staff-to-child ratio required," she told The Royal Gazette. "But employers can give parents time to be with their children with pay — in Canada parents can get close to two years off paid. That is the best care a child can receive from zero to three. I am cautious to put everything on Government because we create a welfare system. However, more can be done to see what other countries are doing to support their preschool children. I used to work in the government system for 15 years. I know the intricacies of making things happen and it is not always as easy as we think so I have a high respect for them but they do hold the key to a lot of change." Ms Fubler reflected on the need to improve awareness among parents. "Advocacy, information and education are most important because if you get those in place for families then the expectation for everything else becomes a natural process. I think the greatest advocate for any child and family is the parent." While the report is independent, the Government has been working alongside the Child Development Programme team. A spokeswoman from the Department of Child and Family Services said: "CDP has actively engaged in our own survey with the Bermuda National Standards Committee to evaluate CDP against international best practice standards. CDP's strategic plan and our process for accreditation is the research-based criteria guiding our actions towards improved quality of service and best practice in early childhood education." She said Sharon Speir, of the Department of Education, is leading the discussion paper A Bright Start for a Brilliant Future, which she described as "a collaborative undertaking, involving early childhood leaders in the community". Myra Virgil, managing director of the Bermuda Community Foundation, said: "We are looking at who are the service providers, what level of qualifications they have, how many people are using home service or daycares — there has never been any data like this. You would think that with early childhood being so fundamental to the success of young kids, all of this work would have been done but the information is not readily available. Now we know what we are supposed to be doing, we can we help to improve the capacity of practitioners." The report contained interviews with 50 of those working directly in the field of early childhood development, including government services, and aims to help them gain standards of best practice. It also reviewed scholarly research, publications and reports, and analysis of relevant demographics, stakeholder reports and site visits.
September 3. Home Affairs Minister Michael Fahy remains confident that the One Bermuda Alliance will create the promised new 2,000 jobs before the next election. However, he denied the suggestion that the jobs would only be short-term positions created through the America's Cup in 2017. Sen Fahy told The Royal Gazette: "I don't believe with the assessment at all that this will be just an artificial lift and, let's face it, even if that were the case, isn't some short-term employment better than none at all? This is not to say that's all we are doing. Sometimes there's nay saying for the point of nay saying. I think that we will see tremendous success in all of these projects and long-term success in the [service] industry." Speaking in an interview with this newspaper this week, Sen Fahy said he has heard there is a degree of reluctance in the community to take up positions in the service industry, even though the Government is working to make sure long-term opportunities are available to Bermudians. "I have spoken to a number of restaurateurs and one hotelier who said they have a slight concern they will lose a number of Bermudian staff who will go into construction because they believe that they will make more money, although it's not as long term as a service industry position, and that's disappointing. We are making every effort to rebuild that, the Minister of Tourism Development and Transport is doing a phenomenal job, and that obviously has a knock-on effect in the Workforce Development Department." Last week, Bermuda College lecturer Mr Simmons warned that the America's Cup risked being oversold because it would deliver an uplift of mainly temporary jobs in areas such as construction and food service. Asked if the Government was betting everything on the success of the America's Cup, Sen Fahy said that the pledge for 2,000 jobs came before the event was on the cards. Noting the progress on the St George's and Morgan's Point hotel projects, he added: "These types of projects would have continued whether we had America's Cup or not. Obviously, it has given extra confidence to the developers of the various resorts. Obviously, the America's Cup was a major boost for Bermuda. Is it favorable for employment? Absolutely. "I think the Bermuda Economic Development Corporation has done a superb job in getting the news out there as to what small businesses can gain from things like the America's Cup. Is it great? Fantastic. But are we putting all of our eggs in one basket? No." Questioned about his relationship with the Island's unions, Sen Fahy said he believed the ministry had done a "very good job" of having open dialogue with the unions, notwithstanding increased tensions in recent months. Noting recent reports that Government members would not be invited to speak at Labour Day festivities this year, he said: "I have yet to have an official word on that, but I believe that the unions as a collective have taken a stance that, as a result of having taken proceedings against the unions to ensure that they follow proper procedure before taking industrial action, they are not willing to be in a participatory mode with the Government and that's disappointing. "The Ministry of Home Affairs has the Labour Advisory Council who meet on a quarterly basis, but the unions have refused to participate, which is disappointing because I take the view that, notwithstanding the fact that you might have disagreements in a certain area, it shouldn't prevent at least ongoing dialogue between the minister and the unions. Obviously we support the union movement, we support the labour movement, and inasmuch as we are not being asked to participate, that's for the unions to make that decision. The position I have always taken is that there is a labour law and collective bargaining agreements in place. Members and unions should follow the law and should follow the collective bargaining agreements before taking industrial action, and I don't think that anyone can really dispute that position." The senator said that he had not had much official interaction with the unions recently, but he maintained that he has left an open door for dialogue with the various unions. "We are here to listen, to help as best we can, and that door remains open no matter what seems to be in the eyes of the community or the eyes of whoever may not support what the Government is doing. I have not had any open dialogue in an official capacity with the union leadership for some time. I think the last meeting we had I was with the Premier and that was some months ago. We have sent a number of letter advising that we would be more than prepared to continue with the Labour Advisory Council meetings. The response at this stage has been no while there is ongoing issues."
September 3. New decisions by the Immigration Appeals Tribunal are set to be published later this month, potentially changing the shape of immigration. Speaking with The Royal Gazette, Home Affairs Minister Michael Fahy said: "We will be publishing sometime in September a number of rulings made by the Immigration Appeals Tribunal that have had an effect on the way different cases have to be handled going forward in the department. "A lot of these, again, people are going to be concerned, but we can continue to assure the public we continue to work towards what's in the best interest of us all." The Immigration Appeals Tribunal made waves last year when it found that permanent certificate (PRC) holders Rebecca Carne and Antonio Correia could apply for Bermudian status, having previously been refused by the Minister. The Minister appealed the decision to the Supreme Court, but Chief Justice Ian Kawaley supported the tribunal's findings. Sen Fahy has said that as a result of the ruling more than 700 PRC holders have applied for Bermudian status.
September 3. This resignation of Robert Watson, chief executive of the Regulatory Authority of Bermuda (RAB), is not expected to affect the introduction of the Electricity Act, according to the Bermuda Government. The Act, a draft of which has been tabled in Parliament, will increase the remit of the RAB by transferring oversight responsibility for the electricity sector from the Ministry of Economic Development and the Energy Commission to the Authority. At present the RAB is the watchdog organization for the Island's telecommunications sector. Mr Watson's departure was announced on Tuesday. He led the RAB for nine months and resigned for personal reasons. Responding to questions about the impact of the resignation on future developments regarding the Electricity Act, Grant Gibbons, Minister of Economic Development, said: "A change of CEO at the RAB is not expected to adversely affect the introduction of the Electricity Act. "The Government is continuing to work on the timetable for the ultimate transfer of regulatory responsibility from the Ministry and the Energy Commission to the Regulatory Authority of Bermuda." On Tuesday, RAB chairman Carl Musson said he hoped the departure of Mr Watson would have minimal impact on the work of the RAB, and that the organization's skilled staff would carry on "the critical functions of the Authority pending the appointment of a replacement chief executive". Dr Gibbons expressed a similar view. He said: "The Government has every faith that the staff at the Authority will press ahead with their important work while a new CEO is being recruited. "We are committed to reform in the energy sector. Regulatory and legislative policy will continue to be reshaped for the benefit of the community." The RAB's legal advisor Kyle Masters has been appointed interim chief executive.
September 3. The blue bag recycling separation and bailing unit at the Material Recovery Facility is non-operational while it undergoes repairs, the Ministry of Public Works announced today. Replacement parts should arrive on the Island in two weeks and it is anticipated that repairs will take approximately one week to complete, said the ministry in a statement. In the interim, due to space constraints at the facility, blue bags will be taken to the old recycling facility at Devon Springs where they will be stored while repairs are undertaken. Recycling haulers have been informed of the change and the ministry says it does not anticipate any inconvenience to the public or change in recycling collection during this period. Once the unit is operational, bags will be moved to the MRF for processing and delivery to the MRF will once again resume. Recycling will continue to be collected per the 2015 Garbage and Recycling Schedule which is mailed out to each household annually, available on the web at www.wastemanagement.gov.bm or can be found in the BTC phone book blue pages. E-mail recycle@gov.bm for any questions regarding Bermuda's recycling programme.
September 3. The reopening of PHC Field in January after 17 years was a low-key occasion when Zebras hosted North Village Rams in a Premier Division encounter. Now they are planning an official reopening of the ground when their league programme kicks off on September 27. As fate would have it, Village will again be providing the opposition, just like they did in January and just like they did 50 years ago when the ground — Warwick Stadium — hosted its first match in the Bermuda Football Union. The club, who have had several zebras painted on their wall outside the ground, are planning a week of activities leading up to the official opening, including a Masters game, a netball match, a bowling night at nearby Warwick Lanes and a canned-food drive in aid of the Eliza DoLittle Society. "We want to highlight our various programmes and give back to the community," Johnny Ball, the PHC president, said. "We want to collect canned food in conjunction with the Eliza DoLittle Society and on Monday the 21st we want to start things off by joining Johnny Barnes [at Crow Lane]. The executives have some very progressive ideas on what they are going to do with the wall, so what you have seen is just a start. We encourage the community to keep an eye open but there are definitely some progressive things coming." PHC lost to Village in both of those matches but are hoping things will be different this time. "We'll have a Masters game on the Saturday at PHC Field and then the official opening on the 27th, strangely enough against North Village again," Ball said. "I'm confident if we play to our potential that we can get a good result." Ball, who has served as the club's president for almost two years, is also still a player with the first team and played in the Village match in January when he dislocated his shoulder and had to be taken to hospital at half-time. "I planned on still being involved this year, assisting where need be," he added. PHC have strengthened their squad this season without losing any key players, which suggests they could be one of the teams to watch. Joining the club are goalkeepers Daniel Johnson from Devonshire Cougars and Troy Hall Jr, who has returned after a stint at Village. Also moving to Bernard Park are Rakeem DeShields from Village, Dupray Joell from Robin Hood, Casey Castle, who returns from Parish, Aquino Grant from Dandy Town and Anthony Hunter from BAA Wanderers. Last season they finished third in the league, but coach Mark Wade said the team has to be realistic about their goals. Their first opponents will be Parish in the Dudley Eve on Monday at St John's Field at 5pm, the same team they beat at home in their final league match last season. "Yes, we have picked up two goalkeepers which was one of the areas where we were a little weak last year, so we're happy with that part of it," Wade said. "In terms of preparation we're about two weeks behind where we should be but we'll work through it and hopefully be ready to perform at the level expected come the league start. We want to play attractive football and perform well at our home ground which we will officially open in our first league match. However, in terms of trophies we're a bit of a way behind the more established teams, although it is quite flattering for people to be mentioning PHC in that light." PHC, who finished third last season, play Parish and Somerset in group A of the Dudley Eve Trophy, which starts on Monday. "Getting some competitive matches under our belt will be good, putting the players to the test in the heat of the battle is important, so we're definitely looking forward to the matches and seeing how far we've come." Wade added.
September 3. Governor George Fergusson has added his condolences to the widespread feelings of sadness and concern in Bermuda for the devastation caused by Tropical Storm Erika in Dominica. "The Royal Navy Fleet Auxiliary ship, RFA Lyme Bay, which visited Bermuda in July, and is equipped specifically for disaster recovery work, arrived in Dominica on Wednesday," a spokeswoman for Government House stated. She added that the Prime Minister of Dominica, Roosevelt Skerritt, tweeted that the ship had arrived "at our cargo port at Woodbridge Bay here in Dominica bringing bedding, shelter, torches, stretchers, helicopter, water." According to the spokeswoman, the ship's arrival followed a contribution last weekend by the UK Department for International Development of £300,000 ($450,000) in an immediate financial contribution to Dominica's recovery. The European Union has made a further contribution of €1 million.
September 3. Bermuda technology firm Gateway has signed a deal to introduce a new automated customs system in the British Virgin Islands. Gateway has joined forces with BVI's branch of Federal Express to set up the automated customs system (ABC) in the Caribbean British Overseas Territory. Gateway managing director John Kyle said: "The success of ABC in Bermuda made the decision to implement in the BVI a very easy one for them, I believe." The ABC system is able to communicate directly with BVI's customs officials' new customs automated processing system (CAPS), which leads to more efficiency and fewer errors. The firm's director of software Kevin Luckham, the main architect of the new system, added: "We are delighted to add a new Caribbean island group to our client portfolio. "There are some differences in both how HM Customs in BVI collect duties and report on them and that require some customization before we can implement, but, as we know, the Bermuda CAPS system works very well and we do not foresee any problems." Gateway, headquartered in Hamilton's Queen Street, was set up 25 years ago and now has a staff of more than 20 working in information and communications technology.
September 3. Friends, family and fellow dancers have paid tribute to a "real giant in the Gombey movement." Francis Llewellyn Spencer Darrell, also known as "Merry Mice" — said to be the oldest Gombey captain — died at the age of 83. The former Pembroke resident had moved and resided in Stanford, Connecticut, in the United States, but remained well-loved in Bermuda. Janice Warner-Tucker, Mr Darrell's distant cousin, said: "He was one of the prettiest Gombey Dancers you'd like to see." Ms Warner-Tucker, who has been making Gombey costumes for more than half a century, made Mr Darrell's last one. "It was an honour for me to be a member of his family and to know that in his last days that I was able to dress him," she said. "I felt very proud to be able to do that and make him happy. He was a very happy man — his legacy will go on." Mr Darrell was a protégée of the founding father of Bermuda Gombeys — Charles Ebenezer Norford — and he was honored at the 2008 Gombey Festival. H & H Gombeys, Places New Generation Gombeys, Warner Gombeys, Richardson's Gombeys and the Warwick Gombeys all performed and the programme concluded with the formal recognition and honoring of Mr Darrell. "He was the oldest Bermuda Gombey captain alive, even though he was living in Connecticut," Ms Warner-Tucker said. "He started very young — I think he was about seven years old. He danced when my father danced," she said, adding that her brother William Llewellyn Warner also danced under Mr Darrell when he was a Gombey captain of the Spencer Gombeys. Mr Warner, who went on to become a Gombey captain himself, described Mr Darrell as a "wild guy and a good entertainer. He was this famous taxi driver and decided to start his own group. He had a lot of dancers. He used to dance at the hotels and everything." According to Mr Warner, Mr Darrell was also a great drummer, who would take off his cape and "beat the drums all night". Even after he left Bermuda, Ms Warner-Tucker said Mr Darrell would often return to the Island for the holidays "just to dress and perform along with our family Gombey troupe." She added that when he was older he was still "one of the most beautiful dancers. He still had the rhythm, still knew the steps," she said. Ms Warner-Tucker said it was wonderful to see a captain who loved his Gombeys so much that he came back just to perform with them. She added that Mr Darrell was a very proud father, whose sons and grandsons also danced with various Gombey troupes. Dale Butler, the former Minister for Community, Culture and Sports, said he remembers Mr Darrell as a "real giant of the Gombey movement". "As a child I heard of his outstanding reputation," Mr Butler said. "He was revered by the other Gombey leaders and Gombeys themselves." He added that Mr Darrell "stood out as a champion of Gombeys," who "danced with tremendous pride and was very enthusiastic." According to Mr Butler, the nickname "Merry Mice" stuck forever and that "whenever you find Gombeys that name would always come up". Mr Butler said Mr Darrell had a real understanding of the roots of the Gombey movement and described him as a big man, who "put a fear into children" because it was "like a giant dancing before us. He was an awesome guy, awesome dancer, awesome leader," Mr Butler said. "He was an awesome performer." Mr Darrell died on August 22. A Gombey tribute will be held at 5pm tomorrow at Ewing Street car park. All Gombeys and former Gombeys are welcome.
September 3. Police are seeking the public's assistance in tracking down a suspect in a bomb threat at the Bank of Butterfield following the emergence of new CCTV footage. At around 10am on August 12, a staff member at the bank received a telephone call indicating that there was a bomb located at the Rosebank Centre branch. Police were alerted and staff were evacuated. A Police spokesman said an investigation has led to the recovery of CCTV images, believed to show the suspect and their bike in the Heron Bay area. "The suspect is wearing a distinctive burgundy hooded top," the spokesman said. "The bike is believed to be a silver/grey Yamaha Cygnus with a metal basket. This type of basket is not normally associated with this make/model of bike. Some members of the community will know the identity of this person. Anyone with information is urged to come forward to assist in bringing this offender to justice. Anyone with information about the incident or the suspect is urged to call Detective Inspector Colin King at the Criminal Investigation Department on 247-1252 or 295-0011, or Detective Constable Tiffany Caisey on 247-1072. Members of the public who assist in bringing the suspect to justice may also qualify for a monetary reward by calling Crime Stoppers on 800-8477.
September 2. People have three weeks left to give feedback on the new plan for the City of Hamilton. The plan sets up key objectives for different areas, including development opportunities for zones identified as the historic and retail district, the contemporary business district and the residential and community district. Residents are encouraged to share their views on three "special study areas": the waterfront, Par-la-Ville car park and City Hall car park. Policies covered include permitted uses, building heights, setbacks and parking. In a press release today, the Bermuda Government noted public consultation over the plan began on June 26 and will continue until September 25. Forms and guidance notes are available from the Department of Planning in the Lois Browne-Evans Building and the website www.planning.gov.bm. The plan is also available for viewing at the Corporation of Hamilton reception at City Hall, the General Post Office on Church Street and the Adult Library on Queen Street. Technical officers are available to answer questions at the Department of Planning during regular business hours and at the Washington Mall, Reid Street side, on September 3, 3, 9 and 10, between 10am and 2pm. For more information call 294 9033.
September 2. Qatar Reinsurance Company intends to move its headquarters to Bermuda later this year as it re-domiciles from Doha, Qatar. The decision has been hailed as "a big vote of confidence" in Bermuda and comes only two years after the company set up a Qatar Re branch office on the Island. Qatar Insurance Company, the parent company of Qatar Re, is a major insurance entity in the Middle East. In 2013 it announced a five-year plan, indicating its intention to expand its operations in Bermuda and Zurich. The company has a second reinsurance presence in Bermuda, Antares Reinsurance Ltd, which will be merged with Qatar Re, creating a Class 4 reinsurer, subject to the transfer being granted regulatory approvals from the Bermuda Monetary Authority. Qatar Re was founded in 2009 and is headquartered in the Qatar Financial Centre, Doha. The company intends to maintain a branch office both at that location and in Zurich, as well as representative offices in London and Singapore. Merging with Antares Re will give Qatar Re a capital base of approximately $500 million, according to a statement by the company. "As a global reinsurance franchise, we have to be present in the key reinsurance centres worldwide. Moving Qatar Re's headquarters to Bermuda will consolidate capital and further enhance the international scope of our business and proximity to our clients," said Gunther Saacke, Qatar Re's chief executive officer. The news has been welcomed by Ross Webber, CEO of the Bermuda Business Development Agency. "It's a big vote of confidence in the quality of Bermuda as a jurisdiction. It speaks loudly about our regulator and the efforts Bermuda has made to ensure we stay at the forefront of Solvency II and the worldwide insurance and reinsurance business. We see it as a sign of confidence in Bermuda as a domicile, because a jurisdiction's sovereign rating is important to worldwide reinsurance operations. The rating a country gets is based on the whole gamut of its economic activity, not just a single sector. That bodes well for what we are doing as an agency to encourage economic activity and growth here, and it demonstrates companies are looking at Bermuda as a domicile for the future." Bradley Kading, president of the Association of Bermuda Insurers and Reinsuers, said: "Bermuda is a thriving reinsurance market, often recognized as the third largest reinsurance hub in the world. "Capital providers from Europe, the Middle East, China, Japan, Australia, North America, South America and Africa have invested in Bermuda commercial insurers and reinsurers." Mr Kading praised the ability of the Bermuda Monetary Authority (BMA) to meet international regulatory standards, which he said was essential for the insurance and reinsurance market. He added: "By the end of the year we believe a very important milestone will be crossed when the BMA will be recognized by both the US NAIC [National Association of Insurance Companies] and the EU as meeting their jurisdictional qualification standards." Last year Qatar Insurance Company bought Antares, a leading specialist insurer and reinsurer operating in the Lloyd's market. This gave the company access to Lloyd's through Syndicate 1274. Qatar Re's Bermuda office is led by Luke Roden, branch manager and global head of catastrophe. The office underwrites all property treaty lines within North America, including catastrophe. Bermuda's efforts to attract business from the Middle East stretch back a number of years. In its final years in power, the former Progressive Labour Party government undertook initiatives to strengthen connections between Bermuda and the region. Former Premier Paula Cox met with the prime minister of Qatar in October 2012, and the following month's Throne Speech described the former government's intention to attract "business, capital and visitors" from the Gulf Cooperation Council region. In early 2013, shortly after the One Bermuda Alliance became the government, Grant Gibbons, the Minister of Economic Development, praised the decision by Qatar Re to set up a branch office in Bermuda. Qatar Insurance Company was founded in 1964 and has a market capitalization of more than $4.5 billion. It is no stranger to Bermuda, being among institutional investors in CATCo Investment Management and CATCo-Re, a Class 3 reinsurance operation, in recent years.
September 2. Michael Dunkley has been in talks with Dominica Prime Minister Roosevelt Skerrit in the wake of the devastation of Tropical Storm Erika, urging the public to assist if they can. The Premier said in a statement: "We must always help when and where we can. I spoke with Prime Minister Roosevelt Skerrit yesterday and he expressed his gratitude for the concern and well wishes from the people of Bermuda, many of whom have family links to Dominica. The devastation was due to extreme flooding, landslides, and now water contamination and food shortage. Many roads remain impassable, 50 per cent of the island is without electricity, and 20-plus people are known dead with 35 missing. Search and rescue efforts continue with assistance from neighboring countries." The Premier said he also spoke with Premier Donaldson Romeo of Montserrat, where the storm brought rain but little damage. "Here at home, I would urge everyone to be storm-ready and have their hurricane stores and preparations in order," Mr Dunkley said. "There is an increase in activity in the Atlantic and we should be prepared as a community in the unfortunate event of a storm affecting Bermuda. I will continue to stay in contact with this relief effort for Dominica and ask that we remember that island and its people in our thoughts and prayers during this recovery period." The statement noted that the Caribbean Public Health Agency arranged a Skype conference in order to coordinate support for Dominica, involving Bermuda's chief medical officer Cheryl Peek-Ball and senior medical officer Janice Chang. A spokeswoman said: "Dominica has established a website where information can be found and where those interested and able to contribute resources can find the list of needs. The website is www.opm.gov.dm and the link on the site is 'Erika Relief' under which categories of relief needs are itemized. "A relief coordination effort is being rolled out currently and questions about specific donations and needs should be directed to local officials at dom.healtheoc@gmail.com. "At this time, it should be noted that individuals and organisations in Bermuda who wish to assist can send monetary donations unless specifically informed by Dominican officials on arrangements to receive shipped goods. There will also be a need for public health personnel, including mental health support, which can be arranged with the relevant Dominican authorities using the website links." Walter Roban, the Shadow Minister of National Security, has previously called on the public and Government to assist with those affected by last week's deadly storm. Mr Roban said last Friday: "The PLP extends well wishes and prayers to Prime Minister Roosevelt Skerritt and the Government of Dominica and all the affected families and communities of our CARICOM partner. We also extend the same feelings to Dominicans residing here in Bermuda whose families may have been effected. We call on the Government of Bermuda to enquire officially with the Government of Dominica how Bermuda can provide support in any way to the Dominican people. Members of the public are encouraged to also check with relief agencies such as the Red Cross or The West Indian Association of Bermuda to find out how they might help." Meanwhile former United Bermuda Party minister Quinton Edness urged Government to put up a sum of money and urge the public to match it. He also said the public should work together to fill containers of supplies which might be able to assist those affected by the devastating storm "We know that things are hard but I think we can and should assist them," said Mr Edness. "We know that many people will have to rebuild their homes, but in the meantime they will need beds, bed linens and clothing. I'm confident we could fill a container or two and send it down to them in order to help them out. I know Bermuda is having a hard time, quite substantially in some cases, but I believe we can still dig down deep and help the people of Dominica."
September 2. Michael Fahy said that despite issues with the Corporation of Hamilton, he does not regret allowing them to use Par-la-Ville car park to guarantee an $18 million loan which later defaulted. While the Minister for Home Affairs noted the default had left the municipality in a difficult position, he said: "Faith has to be placed in the hands of those who are the decision makers. "They did due diligence. Some things clearly went awry, which we discovered, and we put in the appropriate stops to that. No, I don't regret it. I think that the Corporation had elected officials. They made those choices, and they made some poor choices. On the other hand, they also made some good choices. Unfortunately this one has bigger ramifications than some others, but we will continue to work and see what we can do." The loan guarantee was approved by the House of Assembly last year, allowing the Corporation to use the Par-la-Ville car park as collateral to guarantee an $18 million loan to Par-la-Ville Hotel and Residences Ltd. The loan subsequently defaulted and the parking lot was placed in receivership. Mayor Charles Gosling, who was elected in May, has said the burden of the $18 million loan guarantee had created a major financial challenge for the administration. Asked by The Royal Gazette if Government is helping the municipality deal with the results of the defaulted loan, Sen Fahy said that he has had regular meetings with Mr Gosling and his team. "We met as recently as last week, and we spend time looking at the various options and Government will continue to think about what can be done to assist, but at the end of the day this was something that the previous administration had asked for. Our Government was not interested in government guarantees for that project. The Corporation of Hamilton made approaches, as did the developer to give a guarantee from the Corporation and we passed legislation to facilitate it. They made those decisions, and they made some poor decisions. As a result Government had to take stewardship, and that's been returned. The powers have returned to the Corporation. There's not much more I can say other than that we will continue to work to find a solution and hopefully we can." Sen Fahy acknowledged that he had a complicated relationship with the previous administration at the municipality. Over the past two years, the senator twice placed a stewardship notice over the municipality in response to various issues. "It was challenging. There were a number of people out there who said: 'Minister, you would be better off closing the Corporation down entirely and turning the Corporation into a Government board'. "I have said this repeatedly, but that was never our interest to do that. The City of Hamilton and St George's both have rich history, some good and some bad, but you don't simply shut something down because of a perceived conflict of personality. I believe the previous administration did some things that were not quite right, and this Government had to take a stance and fix some of these things and also give opportunity where we thought we could give opportunity, and unfortunately some of that has not been successful." Sen Fahy said his relationship with the current administration also has some challenges, but said the relationship between the city and the government is good overall. "The relationship with the new administration obviously also has its own challenges and we can't all expect to get along. Having said that, the working relationship is good," he said. "The Municipalities Act has been amended so there is Government oversight, but our position is very much one of we are hands off as much as we can be. There are obviously financial instructions that need to be followed, the Minister has to get engaged from time to time, but they pretty much get on with the business that they need to get on with without any interference from us." Asked about the Hamilton Waterfront project, which found itself before the courts after the Government voided the developer's contracts, he said he was pleased by a recent Supreme Court judgment which struck out some of the developer's claims, which Sen Fahy described as "scurrilous." He further said that he was confident the legal battle would not affect the Island's hosting of America's Cup events, and that the Government was not concerned about the financial impact of any judgment. "The Government has made its position very clear indeed about what we believe the lease is worth, and we have made representations to that effect," he said. "The rest we will see in arbitration, but no, we're not concerned with that at all."
September 2. Construction of a maintenance yard at the Botanical Gardens has been halted by an interim injunction from the Supreme Court. The injunction came as a result of a legal action between the Minister of Public Works and two people who live near the worksite and have claimed the development was "unlawful" and a nuisance. While lawyers representing the Minister of Public Works attempted to strike out the claims, Chief Justice Ian Kawaley dismissed that application and ruled that the plaintiffs were entitled to an interim injunction preventing further work on the site. "The defendant has adduced no evidence capable of supporting a finding that he would be prejudiced by delaying the clearly intermittent development process," the Chief Justice said in a written ruling. "It is perhaps self-evident that the Department of Parks staff will be prejudiced by a further delay in establishing a proper central working base, but it is entirely unclear what timetable exists (if any) in relation to completion of the proposed works or, indeed, how great that inconvenience will be. There is no evidence of any compelling public interests which will be prejudiced if an injunction is granted. There are, on the other hand, wider public interest considerations on the plaintiffs' side. The proposed development is seemingly actively opposed by roughly 5 per cent of the country's population (more than 10 per cent of all those who voted in the last election), who have signed a petition. It is also a development in relation to a protected area which it is all but admitted obtained planning approval without giving the public the opportunity to comment which is required by the Bermuda National Parks Act. In these circumstances the balance of convenience favors granting injunctive relief without requiring the plaintiffs to furnish a cross-undertaking in damages." The decision was applauded this morning by Take Back Our Parks (TBOP), a campaign group who had been fighting to have the maintenance yard erected elsewhere. Jennifer Flood, a spokeswoman for the group, said: "We understand that this is a private case being brought by local residents, given their rights and interests as neighbors. "It has succeeded in halting the work for now, and the court's ruling has brought this whole issue to the forefront again as a matter of public interest and concern." The plaintiffs, Graham Jack and Susan Armstrong, had sought an injunction halting "unlawful development activities" at the site, along with declarations that the development was unlawful and planning approval for the project had lapsed. In an affidavit, Mr Jack stated that an application for the development of "169 South Road" was announced not long after he and the other plaintiff purchased the property and, upon discovering the location of the development, filed a belated objection. However, they did not appeal the Development Application Board's approval of the project, partially because of the conditions attached to the project, including that in-principle and final planning approval was only valid for two years. The site was cleared in July 2013 and, while the plaintiffs expressed concerns during a meeting with the Planning Department the next month, they were assured that the water tower on the site "wasn't going to be one of these big water towers." In the wake of the Sage Report and a lack of activity on the site, the plaintiffs said they came to the belief the project was not proceeding. However, in March 2014, a large prefabricated water tank — which did not comply with the specifications of the plan — was erected on the site. After further meetings, the plaintiffs helped formed TBOP to campaign against the project. While the plaintiffs launched a legal action against the Ministry of Public Works, lawyers for the ministry argued the claims should be thrown out because the statement of claim did not properly specify what the alleged "nuisance" was. An affidavit by acting permanent secretary for the Ministry of Public Works, William Francis, denied that the "peace and tranquility" of the Botanical Gardens would be destroyed and noted that the plaintiffs had not appealed the decision to approve the plan. In a judgment, dated August 28, Mr Justice Kawaley dismissed the strikeout applications, without prejudice to the defendant's right to seek better particulars in the plaintiff's statements of claim, on the condition that the Minister for Planning be added as a defendant unless that Minister signifies his willingness to be bound by any judgments without being formally joined. Mrs Flood said this morning: "We are delighted that the Chief Justice recognized the size of TBOP's petition and that he also made a direct reference to the Bermuda National Parks Act, which we feel is being breached by this proposed development. We ask for the public's support in helping us reach our goal of 5,000 signatures for the petition. Coupled with the lack of information forthcoming from our Pati requests, we feel that it is clear that this project has been pushed through regardless of public opinion. We hope that the Government will recognise that the Chief Justice's ruling now provides an opportunity to reconsider the wisdom of this project, both in the public interest, and in the interests of local residents."
September 2. The Queen has presented the Bermuda Regiment with a 50th birthday gift: the title "Royal". In celebration of its golden anniversary yesterday — and recognizing its predecessors' contributions to two world wars — the organization will now be known as the Royal Bermuda Regiment. Speaking at Warwick Camp, Governor George Fergusson said: "This is terrific news. This is a real honour and mark of recognition for the Regiment. "These things are not at all automatic — it's a real award, recognizing not only the Regiment's contribution to Bermuda since its formation, but also its support to countries and territories in the Caribbean. It is also very specifically a recognition of the contribution and sacrifices made by its predecessor units, the Bermuda Militia Artillery and the Bermuda Volunteer Rifle Corps in two world wars, and units before that. Members of the Regiment, past and present, have every reason to be proud at this award." The BMA and BVRC are the two military units that were formally raised by the Act of Parliament in 1895. Both served on the Western Front during the First World War, and in Europe and North Africa during the Second World War. The Regiment and its forerunners have a long history of dedicated and loyal service to the Crown and Bermuda dating back to 1612. Since British settlement of the Island, Bermuda has been a key strategic base in the Atlantic. Commanding Officer Lt Col Michael Foster-Brown said: "I am thrilled and delighted at the honour, which recognizes the long and distinguished service of the Regiment. "This distinction is particularly appropriate on our golden anniversary and is the best birthday present we could have hoped for." The new title also means that serving commissioned officers will be able to add the initials RBR after their names. Changes to badges and uniforms will be gradually introduced as items are replaced.
September 2. The parent company of Stevedoring Services yesterday reported a loss of $443,000 for the year ended in March. The loss at Polaris Holding Company follows a $1.94 million recorded in the previous financial year. A statement from the dock-services firm said cargo volumes, despite a good start to the year, had dropped by 2.5 per cent compared to the previous year. It added: "Consistent with the cargo decline, Polaris' revenue at $9.22 million was modestly off fiscal 2014, which reflected a $9.3 million top line. On the expense side driving Polaris' deficit were restructuring costs, an investment in infrastructure and the culmination of various non-recurring charges, all of which have now been completed, pave the way for normalized results going forward." And Polaris CEO Warren Jones predicted that the 2016 figures would be "more robust and profitable" and that in the first quarter Polaris made a profit of more than $450,000. The firm spent $200,000 on a major crane overhaul during the 2014-15 financial year and also spent money on renewing its IT network, staff training and also had costs associated with early retirement packages. Mr Jones said that, with financial changes in 2015 and scheduled retirements in 2016, it was expected that staff costs would drop by nearly 10 per cent. He added that there had also been "belt tightening" on both the administration side of the firm and in the unionized workforce. The statement said: "Savings focused on attrition with retirements and work permit expirations will give rise to permanent savings." Stevedoring Services operations manager Eric Berkeley said: "Labour is aligned and everyone continues to recognise Stevedoring's challenges and the need for compromise." The firm added that a successful bid to work outside its Hamilton Docks home, unloading America's Cup equipment in Dockyard for Oracle Team USA demonstrated its new flexibility and versatility. The report on the year said: "Notwithstanding its recent and past losses, Polaris continues to be on a strong financial footing. At year end, the company paid off its $823,000 bank loan and is announcing a $500,000 share buy-back offer." The firm will offer to acquire up to ten per cent of its shares at $4 per share over the next six months — a premium over the current $3.15 market price. Polaris also paid out dividends in line with the past two years of 20 cents a share for the financial year.
September 2. The rising cost of health insurance premiums is unsustainable and unaffordable for the Island's seniors, according to Age Concern. Claudette Fleming, the charity's executive director, said that "across the board" hikes including new increases to HIP and FutureCare that take effect today could produce a sicker older population. The charity's concerns about the rise in premiums prompted it to hold a public information session yesterday that was attended by more than 100 seniors. "The rising cost of health insurance premiums are a growing concern for us," said Ms Fleming. "Furthermore they come at a time when the employment environment is fierce and the economy is struggling. There is a trend of offering people packages before they would normally retire and there are no laws to protect people in their jobs passed retirement age. More retirees have reverted to FutureCare where the responsibility is on the individual to pay for their own medical insurance. The average Bermudian is 42 to 44 according to the last census so in approximately 20 years from now the majority of the population will be 65 so we clearly have to do something different. Government may feel they are making real changes by shared sacrifice but if we continue this there will be more people under insured or with no insurance. We will have a sicker, older population." In July, the Minister of Health, Jeanne Atherden, announced that four new benefits and one improved benefit would be introduced for HIP and FutureCare policyholders, but also revealed that premiums would go up for 2015-16. From September 1, the HIP premium will be raised from $390 to $433.31 and the FutureCare premium will increase from $450 to $504.21. Ms Atherden previously said that premiums had to increase because of escalating healthcare costs, a significant rise in claims and an increase in the Standard Health Benefit rate. She told MPs: "Please know that we have gone through a comprehensive and exhaustive process to come up with these recommendations." However, Ms Fleming told The Royal Gazette: "We need something more affordable and more proactive. We need agreement on what the Standard Health Benefits should be, whether they should be financed by the public funds and they should be accessible to all. It seems we are avoiding how this standard health benefit is paid for and we need to address that. We need a solution that everyone is happy with and we need more consultation. On the other side there have been benefits added to health insurance policies giving people support in their homes and day care. That is important. But if people can not afford to pay their premium then that is going to be a big problem. Age Concern will continue to stay at the table and ensure that our seniors understand the changes and what the potential implications are." A spokesman for the Ministry of Health, Seniors and Environment maintained the department had engaged in dialogue with "many of the parties who would benefit from the additional benefits. Numerous meetings have been held with the Department of Financial Assistance, National Office of Seniors and Physically Challenged and the Department of Social Insurance on behalf of the war veterans, and the hospital. In addition we have met with a collective group including Age Concern representatives to go through their concerns and answer questions and offer clarification of the various additional benefits. It should be noted that the changes under the Standard Health Benefit and Mutual Reinsurance Fund — for example expanded coverage for certain hospital and ambulance services, increased artificial limb coverage, a pilot programme to manage chronic conditions — are also captured within FutureCare and HIP. It should also be noted that the SHB and MRF benefits constitute a significant part of the claims expenditure under both FutureCare and HIP." He acknowledged that the changes to the supplemental benefits represent a "fundamental shift in the way healthcare is viewed and provided within the system. The intent of these changes is to move the system towards sustainability by providing the appropriate care in the appropriate setting at an appropriate cost. Experience has shown that over the long term this strategy lowers system costs. Currently, system financing drives care to an acute care delivery setting, however, the main driver of system costs is chronic illness, much of which can be effectively managed and, in some cases prevented, by funding a different care delivery model. The increased reimbursement rates for GP visits, additional specialists visits, the enhanced care pilot are all designed to provide for better management of chronic disease, thereby reducing the substantial costs of hospitalization due to complication from poorly managed chronic illnesses. The new wellness benefit is directed at encouraging individuals to take responsibility for their health and by so doing enjoy a better quality of health. In addition to chronic illness, Bermuda is faced with the challenge of providing for the needs of an ageing population. The personal home healthcare services is designed to promote ageing in place. The availability of personal care taking, assisted living, nurse's aides and nurse visits to the home will allow our seniors to maintain dignity and continue to be engaged with the community as long as possible."
September 2. A former police officer and "respected" athlete has been sentenced to 15 years behind bars for sexually exploiting his daughter and committing incest. Such offences in Bermuda are "fast becoming an epidemic", according to prosecutor Cindy Clarke — and charity Saving Children and Revealing Secrets (Scars) says the problem is being brought "out of the shadows." The 37-year-old Warwick man, who cannot be named because it could identify the victim, was convicted of sexual exploitation of a young person while in a position of trust and three counts of incest at a previous court appearance in June — he maintained his innocence throughout the trial, but was found guilty on all four charges by a jury. The court heard that the abuse began in 2011, when the complainant was 15 years old, and continued on a monthly basis up until ten days before her 18th birthday. During the sentencing yesterday in Supreme Court, Puisne Judge Carlisle Greaves described it as the saddest case he has had to preside over, "outside of cases involving death. I say that this is a sad case because so much has been, is and will be lost because of it. Mr Justice Greaves said the defendant was a man with a "promising and long career in the Police Service," as well as a "promising and long-serving athlete". He added that the victim now has to "live with the knowledge that she has been sexually exploited by her own father." Ms Clarke, the deputy director of public prosecutions, said the defendant, who was a "respected policeman with almost 20 years of service", had "shown no remorse at all." As she called for a six- to ten-year prison sentence, Ms Clarke said that the Island is seeing an "extraordinary increase" of such cases and that a deterrent is needed to "stunt the tumor of sexual offences in our society". Scars founder and executive director Debi Ray-Rivers told The Royal Gazette this rise is a result of increased awareness, education and reporting. "We believe that child sexual abuse has always been a big problem in Bermuda," she said. "It is reassuring to know that the system can work when it comes to the protection and safety of our children. "This is an example where the system has held a perpetrator accountable for violating the innocence of a child and that we cannot assume that a person's role in a family or community will necessary make a child safe. Our hope is that this child and her family receive the healing they rightly deserve. The hope going forward is that we can all learn how to prevent child sexual abuse in Bermuda. The organization has been advocating for tougher and more appropriate sentencing for child sexual abuse since its inception." Mr Justice Greaves said cases of this nature are among the saddest, "not only for the parties involved, the complainant, the defendant, relatives and supporters, but also for society and very much so for presiding judges, particularly when it comes to the issue of sentencing." The court heard that the maximum sentence for sexual exploitation of a young person while in a position of trust is 25 years and seven years for incest. Defence lawyer Marc Daniels, however, said the seven-year maximum sentence "is not a punishment typically given to a first-time offender." He argued that this should be reserved for more egregious cases and that a sentence of seven to nine years would be appropriate. Mr Daniels said his client had led an "exemplary life" and that his punishment will be one of isolation because "as a police officer, there is a requirement that he has to be put in segregation". The defendant did not speak, except to ask for mercy on his sentence. Mr Justice Greaves, who remarked that the father-daughter relationship is "one of the closest relationships possible to mankind", took issue with the sentencing submissions by both the Crown and the defence. He pointed to the case of former police officer John White, who was sentenced to 25 years' imprisonment for sexually abusing three boys. White's sentence was later reduced to 18 years by the Court of Appeal. Mr Justice Greaves questioned how the defendant in this case could be sentenced to nine or ten years in prison, if White received an 18-year sentence. He also noted that the maximum sentence for the sexual exploitation offence is far greater than the maximum sentence for incest, which he said is "inadequate in this jurisdiction." According to Mr Justice Greaves, the White case "changed everything in Bermuda when it came to sexual offences, particularly those involving children", but incest and buggery laws were not amended when the penalty for sexual exploitation was increased. He said he would invite Parliament to consider revisiting the sexual offences laws and whether it is appropriate to increase the penalties for incest and buggery to bring them in line with those for sexual exploitation. Mr Justice Greaves sentenced the defendant to three years' imprisonment for sexual exploitation and five years for the first instance of incest, with the sentences to run consecutively. He added another six-year sentence for the second incest charge, which is to run concurrent with a final seven-year sentence for the last instance, but consecutively to the other sentences. "Fifteen years is not unreasonable in the circumstances," Mr Justice Greaves concluded, adding that time already served will be taken into account. Approached by The Royal Gazette yesterday, Commissioner of Police, Michael DeSilva, said he stands by his previous comment that it was "particularly disheartening" that the offender was a police officer with several years of service. He added that the Bermuda Police Service treats offences committed against children very seriously.
September 1. A petition is due to be launched today to make the holding of referendums mandatory when they have the support of at least ten per cent of the electorate. It calls for the Referendum Act 2012 to be amended to allow for a petition signed by at least ten per cent of registered voters to automatically trigger a binding referendum. According to a press release from organizers, the petition, launched today on change.org, is part of a broader drive to improve democratic participation and to improve the quality of life for all Bermudians. In a supporting document written by campaign group Transform Bermuda, the authors state that the Westminster System of government is not well suited to Bermuda because of its adversarial nature, first past the post system of elections and the waste of talent caused by one party forming a Government and the other forming the Opposition. The wider use of referendums, using Switzerland's model, would increase participation and involvement while forcing politicians to work together. Transform Bermuda founder Ian Macdonald-Smith said: "All that is required is for a well drafted private members' bill to be introduced by two MPs for the Amendment to the Referendum Act 2012. "By enacting this legislation, Bermuda has the potential to be a model on how to institute sensible reforms which bring voters back into the political process without the lurches to extremism which we are seeing in democracies through the world. These swings are being caused by people who are affected by economic dislocation at the same time that they perceived political elites as being out of touch with their concerns. By giving people a voice and a stake in the decision making process, Bermuda can reverse this trend." In addition, the Transform Bermuda document, which is designed to be a starting point for debate, calls for adoption of the Voters Bill of Rights proposed by the Voters Rights Association in 2012. Measures include fixed term elections, the right to recall elected parliamentarians, a fair absentee ballot voting system, electronic voting and proportional representation on Government boards. The document also details reforms to education and the environment, including a plan for introducing endemic plants and trees on a wide scale.
September 1. A get-rich-quick scam has been slammed by Island consumer watchdogs. The scheme purports to feature an interview with a Bermudian woman who makes $7,000-$8,000 a week in a home survey programme and appears on a realistic news-style website. But the same name, Melicia Henry, is attached to stories on similar looking websites, although instead of "Hamilton, Bermuda" her location is given as "Redmond, US". Rhonda Daniels, enforcement officer at the Consumer Affairs department, said that she had seen a similar site where Melicia Henry was said to come from St George's. The site quotes the woman as saying she had earned enough to buy herself a BMW 5 series car — a model far too large to be imported to the Island. Ms Daniels said: "Spotting a scam nowadays is rather hard as the scammers have gotten more sophisticated in how they market their product. Remember that if you get scammed online it is very unlikely the local police or the Office of Consumer Affairs will be able to assist in getting your money back. Scammers use the information you give to them to get rich quick themselves. If you have shared your credit card or bank account information, contact your bank immediately. They may be able to stop the transaction." The two stories featuring the Hamilton woman appear on the similar-looking Online Career Journal and Career Journal Online. One story is bylined Amanda Winston and the other Amanda W. Both sites carry the logos of respected media outlets like the BBC, CNN and Financial Times with the tagline "as seen on." But small print at the end of the online comments section warns the site is "not affiliated in any way" with news sites. And it says: "This programme is not a job but an educational opportunity that can help individuals learn how to earn money through their entrepreneurial efforts. Anyone who decides to buy any programme about making money will not necessarily make money simply by purchasing the programme." And it added that the comments — all favorable — were "also representative of typical comments and experiences which have been compiled into a comment format to illustrate a dialogue. However, the comments are not actual posts to this webpage and have been compiled or generated for illustrative purposes only." The story said that Ms Henry had lost her job in the recession — but that after a $5 investment in a work-from-home kit she was making $3,000 within four weeks doing paid surveys at home online. Ms Daniels said that — to avoid being scammed — people should ask basic questions before replying to what appear to be attractive offers. Ms Daniels added that some of the questions consumers should ask themselves are:
• Do you have to pay up front for materials, product etc?
• Do they guarantee you wealth or financial success that will help you get rich fast from home?
• Does the website provide proof that big money can be made?
• Is there an unusable contact information link?
• Do they use the emotional sales pitch such as you deserve to have the car, home or vacation of your dreams?
She said people should "be wary" of get-rich-quick offers and that people should look for inconsistencies — like the BMW 5 Series mistake. She added that people should research any online offer carefully before making financial decisions and check if e-mail accounts are g-mail, Hotmail or other free account providers. And she said there were websites devoted to exposing the latest scams which were a worthwhile tool to use. Ms Daniels warned: "Just because it is advertised on the internet or contained in an article does not make it legitimate. Take the time to educate yourself on the various scams out there and understand how they work. If your gut instinct is telling you it is a scam than more than likely it is."
September 1. Island broadcaster DeFontes is to go off the airwaves at the end of next month. Owner and president Kenneth DeFontes confirmed that the company will cease operations next month after 34 years. A total of 19 people, five full time and 14 subcontractors, will lose their jobs. A spokesman for Mr DeFontes said: "In a letter given to all staff today, Mr DeFontes offered his heartfelt thanks for all their hard work and loyalty throughout the past 34 years. "He also said, however, that the broadcasting landscape over the more recent years has created a major financial challenge and he wished that it could be otherwise, but it cannot." Tony McWilliam, chairman of the Media Council working group, said: "The Media Council's immediate concern is for the welfare of VSB's full and part-time staff and we hope they are swiftly able to find work elsewhere." The veteran journalist and former editor of the Bermuda Sun, which closed last July, added: "For years, economic conditions have been tough in this industry, with media outlets competing against each other for the same advertising dollar. And when economies falter, firms are quick to curtail or axe advertising when pressured to reduce costs. "Diversity of news media is important and the loss of yet another outlet in Bermuda is regrettable. It should also be seen as a challenge for those left in the game to redouble their efforts to provide accurate, fair and balanced news coverage." DeFontes' VSB-11 TV channel went off the air almost exactly a year ago. The decision led to several staff losing their jobs and the loss of NBC coverage, as VSB was its affiliate station on the Island. The firm blamed continuing losses owing to a fall in advertising revenue and the need for massive investment in technology for the closure of the television arm. Mr DeFontes in 2014 agreed to sell the loss-making firm to businessman Spencer Conway, who was installed as interim CEO. But Mr DeFontes pulled out of the deal and reassumed control after Mr Conway failed to come up with the cash. The company's radio stations, which include Mix 106FM and 1450Gold continued to operate.
September 1. Reginald Burrows was all set to be inducted in the Wilberforce University Hall of Fame when disaster struck. Instead of a trip to the awards ceremony in Las Vegas, Nevada, he found himself in the hospital suffering from kidney failure. That was in 2009. This summer he finally collected the plaque from a friend in the United States who had been holding on to it for him. "I missed all the pomp and circumstance of the awards event," said Mr Burrows, 81, who has been on dialysis for the past five years. He graduated from Wilberforce in 1958 with degrees in engineering and maths, but struggled to find a job in racially segregated Bermuda "My only real option was to teach," he said. "I didn't really want to do that, so I decided to go into the family plumbing business. I never regretted it." He maintained his trade over the course of a 44-year political career with the Progressive Labour Party. "Some people did think it odd that I was a plumber and politician," he said. "What they thought didn't bother me." Perhaps the two careers were not so dissimilar — he worked hard to remove social and economic blockages during his political career. "My greatest career accomplishment was helping to make Bermuda a closer society," he said. "I grew up in a very insulated community in Southampton. Growing up, I didn't really notice the racism a lot, but I sure noticed it when I was older. "There were places we couldn't sit on the train, and theatres and restaurants we couldn't go in. Things were pretty rough when I started in politics in 1968, especially for the working class and black people. I have made a small contribution to my society over the years. I have tried to. We still have a long way to go though." In 1959, his friend, Charles Raynor, invited him to join a group trying to form the Southampton Rangers Sports Club. "I'd always loved football and cricket, although I was probably a better cricket player," he said. "At that time we didn't have a facility or a field. We conducted meetings in Raynors' Hall." Over the course of five years the group purchased land, developed the field and built a club house. "We bought the land from the Cooper family," he said. "When you first saw the land you never would have thought it would make a field. We had to get bulldozers in and level it out and build a retaining wall." When it was finished he felt immensely proud of himself and the other men involved. "I felt like if we could do that, we could do anything," he said. John Evans, the husband of the late PLP leader Dame Lois Browne-Evans, became a member once the club opened. "He said I should enter politics," Mr Burrows said. "I said that had never crossed my mind, but I'd think about it." He was also approached by the fledgling United Bermuda Party. "I chose the PLP because I thought they needed my help more," he said. "A lot of people were opposed to the PLP at the time. They called us communists and socialists, but it didn't bother me." People who opposed the ruling class were sometimes punished by having their mortgages revoked, Mr Burrows said. He recalled trying to borrow $2,500 from the bank. "I wanted a bit of money to finish off my house," he said. "The bank said I had to have everything plastered and the shutters on before they would lend me the money. I said never mind. It took me a little longer to finish. I did extra jobs such as taxi-driving to pay for it. One good thing was, they couldn't call in my mortgage, since I didn't have one." He retired from politics in 2011. His contributions to Bermuda have been recognized by the PLP and the Bermuda Health Foundation. Mr Burrows grew up in the same area in which he now lives, across from Heron Bay Primary School. "At the time there were just two or three houses on the hill," he said. "The Heron Bay School was called Brown's School. There were 90 students crammed into three rooms. "The headmistress was Winifred Brown. She was quite an athlete in her day. She was the sister to Neville Tatem, which TN Tatem is named for. "The three teachers were all from the Sandys area and would bicycle to school, rain, blow or shine. Their dedication really inspired me." He was the second pupil from Brown's School ever to attend the Berkeley Institute. After Berkeley he worked for a few years, and then entered Wilberforce University. He credited his great-grandfather, Profirio Gomez, for teaching him the value of hard work. Mr Gomez was the first person in Bermuda to be baptized as a Seventh-day Adventist, back in the early 1900s. "He came here on a banana boat from Cape Verde," Mr Burrows said. "He spoke Portuguese. He started out in St George's, but later farmed on what is now Catchment Hill in Tucker's Town. In the 1920s he had to move, like a lot of people. I never heard him complain about it. He was well compensated and that was how he was able to move to Southampton. At that time there were no lights where he was living in Tucker's Town, no paved roads and few houses around. It was very isolated. He got the better end of the deal." Mr Gomez died when Mr Burrows was about 8. "I never asked him why he became a Seventh-day Adventist," he said. "I never thought of it." Mr Burrows's father, Reginald, did not carry on Mr Gomez's religion. He helped to found the Vernon Temple AME Church, which today sits next door to Mr Burrows's house. When asked what had kept him going all these years, he said: "I didn't drink much. I haven't drunk at all in the last 30 years. I've never smoked. I've tried to lead a good life." One of the highlights of his life was getting to meet then US president Jimmy Carter several years ago at the National Prayer Breakfast in Washington DC. "I have been several times," he said. "A dozen of us were selected to go and meet the president in a private room. I got to shake his hand. He asked about Bermuda. He said he had been here on a submarine in the Navy." Mr Burrows now leads a quiet life. "Because of dialysis I am not able to do a lot of the things I could do before," he said. "Once a month, I meet with some old friends, such as Stanley Lowe. We get together and solve the world's problems. Sometimes we visit old friends like Quinton Edness." Compared with his ancestors, the octogenarian is a spring chicken. His mother, Esme, was believed to be Bermuda's oldest resident when she died at 105. His father lived into his nineties. Mr Burrows is married to Sheila, and has four children, Christopher Burrows, Zakiyyah Taalib Bey, Tracey Moore and Trina Burch. He also has four grandchildren and two great-grandchildren.
September 1. The Bermuda Tourism Authority and the National Sports Centre have come together in an effort to bring international athletes to the Island to train. In a statement this afternoon, a BTA spokesman said that since April, ten visiting sports organizations have either committed to, or are in the final stages of committing to, a programme in Bermuda at the centre (NSC). Pat Phillip-Fairn, BTA chief product and experiences development officer, said: "We believe we have a solid foundation with the NSC to grow sports tourism, particularly in the winter months. "Less than five months into the agreement we have a diverse array of sports, from a variety of countries. We think this bodes well for the future as we work to increase the volume of business and hone in on teams looking to train during spring break." This summer, the Island hosted Red Bull Free Dive safety training, high school field hockey and college field hockey as part of the agreement, while post-collegiate lacrosse is scheduled to take place this weekend. The statement said that mature talks are under way with a Canadian university to host track and field training in December, while the Danish Olympic Swim Team has signed a deposit agreement with a local hotel in advance of training in February. Next year, the NSC will host post-collegiate rugby, high school football and high school field hockey through the partnership, while the Red Bull Free Dive safety training will return to the Island next summer. Overall the ten events are expected to bring an estimated 435 visitors to the island from the United States, Canada and Denmark. Interim CEO of the NSC Bernie Asbell said: "This partnership is a win-win-win for Bermuda, the BTA and the NSC. Our priority remains on the local audience, but this partnership allows us to supplement our facility use, increase revenue in the visitor market and offset the cost to operate the facility. We can showcase the Island as a training and competition destination." We see real growth potential. For example we're targeting Olympic swim teams in Canada, Denmark and Finland, educating them about our outdoor pool and its similarities to the Rio Olympic Games in terms of time zone and climate. We're able to make a strong case, especially when our partners in the hotel sector can offer preferential rates." A spokesman said the NSC is also nurturing working relationships with CoCo Reef, Grotto Bay and Rosemont hotels, and is looking to work more regularly with other hotels as demand grows.
September 1. St George's Cricket Club, and the East End sports community as a whole, lost a dedicated worker on the weekend with the passing of Mansfield "Bojangles" Smith at the age of 82. From his early days as a goalkeeper with the Wellington Rovers, Mr Smith served the East End community with pride, also playing cricket with St George's Cricket Club as a wicketkeeper and playing one year (1958) in Cup Match as an opening batsman. However, it was as an administrator and organizer of events that Mr Smith made his biggest contribution to St George's, serving as president, secretary, chairman of selectors and head groundsman of the cricket club. He was one of the key figures behind the setting up of the Eastern Soccer League, a league that catered to teams from St George's, St David's, Bailey's Bay and Devil's Hole. Back in the late 1960s he was instrumental in taking two young teams from Wellington Rovers on tours to New Jersey and Philadelphia. Mr Smith also served as a referee with the Bermuda Football Association and as an umpire, often hours after cutting the grass and preparing the wicket for matches at Wellington Oval. He also organized boxing events at Wellington Oval, a seven-a-side football tournament that ran there during the summer for several years and was even instrumental in helping to set up the table tennis league in the 1980s, serving as vice president of that association and also a player for Eastern Stars. "Any sport that was played in St George's he was a part of," said Noel "Sub" Smith, a former veteran footballer for St George's Colts, who remembered Smith giving tirelessly to the club and the community. He was involved in football long before me, but when cricket started we knew him as the organizer of the cricket programme, the registration of players, organising of training. Then, in the winter time, it was football for Wellington Rovers. I don't how he split up his time, going from one sport to the next, and for a period of time he was still playing. I played in the Bermuda Table Tennis Association with him, I played softball for Wellington Rovers and he was a part of that and I'm sure he was a major contributor to softball, cricket, football, table tennis and was one of the main organizers of the Eastern Soccer League. He was St George's through and through. He is going to be a big miss for St George's Cricket Club. He's one of the few who you could call Mr St George's." Anthony Trott was a member of that Wellington Rovers tour and started playing cricket for the club when Mr Smith oversaw the youth programme. "On many occasions we'd see him out there rolling the wicket in the evening and he probably hadn't even been home from work yet, still wearing his work shorts and socks," he recalled. "He gave his life to the youth and for the betterment of all the sports he was involved in. He would be out there rolling the wicket or marking the field and after that he would stand in the middle as an umpire or referee. You never heard him complain, he was one of the most reliable people the club had." Smith, the father of former Cup Match players Wendell and Clay Smith, started to take a keen interest in boxing after older son Ray, who died in 2006, took up the sport and became a super middleweight champion in the 1970s. Living next to the club meant that Smith spent a lot of time at the club, including working tirelessly often by himself to prepare the wicket during cricket season. One year in Cup Match he even took on the task of explaining the game of cricket to the tourists at Wellington Oval, using a bat and a stump as a teaching aid. Smith received a sports citation during the Government Sports Awards in 1995. Willis Dill, president of Western Stars and who worked with Mr Smith as a customs officer, extended his sympathy to the family on behalf of his club where son Wendell Smith is the cricket coach. "On behalf of the Western Stars family, I want to express our sympathy to Wendell, Clay and the rest of the family on his passing. Everybody will remember him as the man who did so much for St George's in Cup Match and at that time he was the key man, president, groundsman, everything. I worked with him down at the No 7 dock and he taught me how to run things down there." Mr Smith passed away on Friday night and less than twelve hours after his passing, sons Wendell and Clay were both at the Eastern Counties game in St David's on Saturday, Wendell as part of the ZBM commentary team and Clay as coach of champions Cleveland. "That's what he would have wanted us to do," said Wendell on the radio.
September 1. Carnival Cruise Line will be offering ten voyages to Bermuda next year — one of its busiest ever programmes to the Island. Five different Carnival ships will call at Dockyard between April and November, featuring overnight stays of one, two and three nights. Carnival's president, Christine Duffy, said in a statement: "By offering Bermuda cruises from a variety of convenient drive-to homeports, we're providing guests even more opportunities to experience and explore this incredible island paradise. "The Island has tremendous tourist appeal and the wide range of cruises offer consumers maximum choice when planning their Bermuda vacation while providing travel agents with a sought-after destination to market to their clients." Carnival's 2016 Bermuda schedule includes:
• Carnival Pride: five-day cruises from Baltimore departing April 10 and October 26, as well as seven-day voyages departing September 4 and 18;
• Carnival Victory: an eight-day sailing from Port Canaveral departing May 19;
• Carnival Ecstasy: seven-day cruises from Charleston departing May 12 and November 5;
• Carnival Splendor: nine-day cruise from Miami departing May 26;
• Carnival Sunshine: a seven-day cruise from New York departing October 1 and a five-day sailing from Norfolk departing October 23.
Five-day itineraries feature an overnight call; seven-day cruises spend two nights; and the eight-day voyage three nights.
September 1. RG Editorial. "Bermuda's politicians are, rightly, being upbraided in some quarters for elevating magical thinking to the status of guiding philosophical principle. Wishing something to happen and actually making it happen are very different things. One involves whimsy, rainbows and moonbeams and has no place outside a preschool playground — certainly not in the decision-making processes of this community. The other requires critical thought, forward planning and a fair degree of stick-to-it-iveness. After all, nothing of substance is ever achieved without effort and sacrifice. Yet politicians from across the partisan divide seem increasingly intent on having you believe six impossible things before breakfast — and Lord knows how many more comforting if utterly preposterous fictions before you sit down for dinner. But Bermuda's cultural landscape is particularly ripe for such escapes into fantasy and unreason precisely because the realities are so daunting and seemingly intractable. The aftershocks of the financial crisis are still strong and continuing here. Our socio-economic infrastructure remains weak and destabilized. Unemployment, underemployment and all of the attendant woes which stem from an under performing economy are everywhere in evidence. Recovery remains frustratingly elusive. For a generation of whom it has been said even instant gratification takes too long, the long march back to fiscal solvency and sustainability is proving especially frustrating. Such is the public's appetite for instant solutions to a host of longstanding problems that Bermuda's political class is increasingly pandering to it with a slew of warm and fuzzy generalities — and even fuzzier notions about what is actually required to refloat the Bermuda economy — at the expense of truth, reason and plausibility. Criticize the politicians and political propagandists if you will. But the fact is they are simply meeting a rising demand for wish fulfillment (although some certainly deserve blame for helping to create the conditions which gave rise to this insatiable craving for soothing fantasies). As the great moral philosopher Pogo Possum once said, we have met the enemy and he is us. It is we who have given Bermuda's politicos free licence to hawk reassuring untruths with impunity because the actual truth is so very discomfiting. We are the ones who have raised the white flag and surrendered to the allure and artifice of political stagecraft. In our contemporary, image-driven culture — one in which the fabricated, the make-believe and the theatrical are displacing and supplanting the authentic-illusions are increasingly deemed to be more real than reality. They are, of course, infinitely more consoling. So the public figures with the most gravity-defying approval ratings are those who can most successfully create an illusion of faux intimacy with the electorate, who claim to "feel their pain" and traffic in the pop psychologyhappiness snake-oil peddled by Dr Phil and other TV self-help gurus. By and large Bermuda's politicians are no longer expected to demonstrate mastery of complex issues. Indeed, frequently they do not even demonstrate more than a passing familiarity with them. Complex subjects are, by definition, complicated. Sharp-edged. Confusing. They do not easily lend themselves to memorable catchphrases which can be widely circulated by way of internet meme and cannot be readily reduced to easily digestible sound bite form. So we are not overly interested. Instead we ask our politicians to indulge in simple — simple-minded even — platitudes and slogans and uplifting messages which tell us absolutely anything is possible as long as we vote against The Other Guy. All ambiguity, nuance and detail is banished. All that really matters is having our pre-existing belief systems continually reinforced by incessant repetition (belief systems based, of course, on the inherent and unquestionable superiority of our party over The Other Guy's). We claim to want more honest, more candid politicians. Yet when we get individuals such as, for instance, the Minister of Finance or the Shadow Attorney-General, both of whose stock in trade is the plain and unvarnished truth, we dismiss them as boring. Or, worse yet, as arrogant, bloodless and entirely detached from the concerns of the common man and woman. Precisely because they have the effrontery to sometimes suggest a glorious and prosperous future is not Bermuda's by right and will not come about without pain and perseverance, we are wont to dismiss them as the crapehangers of public life. Precisely because they tell us what we need to hear rather than what we would like to hear we become tone-deaf and dismissive of their arguments. The fact is what too many of us really want from our politicians are entertaining distractions rather than solutions — not if the solutions are going to cost us too much in terms of deep thought or taking meaningful personal action. It's axiomatic that the worse reality becomes, the more people will seek refuge and solace in illusion. But the flight into illusion, the insistence on trying to interpret reality through the prism of unreality and unmooring ourselves from reason and responsibility, is a sure-fire method of making what is already a bad situation even worse. Politicians are certainly not the only ones in Bermuda who have to wean themselves from magical thinking as a matter of urgency."
September 1. Opinion, Robert Stewart. "Labour Day on September 7 will probably be a day of festivities, hot dogs and cliché-driven speeches, and I cannot think that there is anything sinister about the refusal of the unions to invite politicians. Nothing wrong with that and let's hope everyone has an enjoyable day. Skeptics such as myself like to point out that Labour Day has been hijacked by organized labour, which in Bermuda, as elsewhere in the world, means a tiny minority of the labour force. In the United States and in Britain, organized labour is now between 5 per cent and 7 per cent of the labour force in private business. Similar percentages apply in Bermuda. The vast majority of working Bermudians are not union members and, just as important, they have shown no desire to join a union. By far the largest group of organized labour is now government workers, including teachers. Few employees who work in international business, the biggest industry, are union members, and hardly any of them take part in the Labour Day march. Why do the majority of the labour force in Bermuda, as well as elsewhere, fail to join trade unions? The answer is because unions do very little for their members, apart from issues such as giving advice, training or dealing with safety issues. Members are hoodwinked (or, more accurately, compelled) into joining on the false notion that their wages will be higher because of union activity. What is not understood is that the cornerstone of unionism is compulsory membership and payment of union dues. But the reality is that the overwhelming majority of employees, especially white-collar employees, are astute enough to see through the false promises of union propaganda and they vote with their feet for independence. Indeed, I would go as far as to say that just about everything the public believes about unions, and how wages are determined, is just plain wrong. The standard myth about unions is this: before unions were established in the 1940s in Bermuda, workers were exploited by ruthless capitalists — the old 40 Thieves — and their wages were a pittance. However, riding to the rescue, like the US Cavalry in an old grainy black-and-white western movie, was the Bermuda Industrial Union. It created and endlessly repeated the myth that without a union, workers would be working an 80-hour week, earning buttons not dollars, with no vacation pay and no medical insurance or any other benefits. This mythical history is at odds with the facts. Even back in the 1940s and 1950s, Bermuda was one of the wealthiest countries in the world and wages were much higher than almost everywhere, including the US. Employers rarely exploit their workers because capital works hand in glove with labour to produce prosperity for owners, managers and workers. It simply makes no economic sense to have an unhappy and unproductive staff. Employers invest significant sums in the careers of their employees. They are their biggest asset and they entrust the day-to-day running of their businesses to them. The free market is built on trust and being trusted. When that trust is violated, the firm goes bust. Although foolish employers exist, and there are too many of them, they are the exception and, fortunately, they go out of business sooner rather than later. In addition, many business people are impatient with traditional ways and the impression given, often rightly, is that they are offensive and lack understanding. Donald Trump is a case in point. However, despite these shortcomings, the most helpful person in Bermuda is one who provides self-respecting, gainful employment. The least helpful are those who seek to harass, penalize and put out of business those who are willing to risk their capital in commercial ventures. Public opinion, misguided by union propaganda, regards wage disputes as conflicts between employers and employees. It believes that employers have the power to determine wage rates without reference to the realities of the real world. The general public, and even unions, fail to understand that the boss is not sovereign in the conduct of his business. He looks important, wears a suit and tie, signs the salary cheque and goes out to lunch with important people. All of that can be seen by everyone. What is not seen are the orders given to the boss by the firm's customers. Too often, we fail to understand that the boss is subjected to the orders of the firm's customers. If the boss or the employer fails to keep the customer happy, the business shrinks and jobs are lost. The boss is not the real boss and he is not the real employer — it is the customer. The only way to financial security is to serve the customer better and more cheaply than your competitor. It cannot be overemphasized that it is the customer who is the boss; he is the one who determines which business is successful, and which business goes to the wall. In the final analysis, the customer is the one who determines the level of wages; not the boss and not the union. All of this is encapsulated by the statement "thank you for your business, please come again". The brutal fact is that unions don't go on strike against employers, or against management. They go on strike against the public (or the customer). Faced with that prospect, the wise customer goes elsewhere. Oversimplifying, this is what occurred in tourism in the 1970s and thereafter. Bermuda became expensive and overvalued relative to its competitors and the customers went somewhere else. The BIU had overlooked that we now live in a global world marketplace where customers have choices and the competition is intense. Foreign workers gained, Bermudian workers lost out. Major hotel employers such as the Bermudiana, Belmont Manor, Sonesta Beach and Club Med closed their doors and jobs disappeared. Jamaica and Barbados cheered. But then, economic history is all about policies that failed because they flouted and violated the timeless rules of economics. In the words of Samuel Gompers, head of the AFL-CIO (American Federation of Labour and Congress of Industrial Organisations): "The worst crime against working people is a company which fails to operate at a profit." This brings me to the issue of public service unions, including the teachers' union — of which I was once a member, and served on its executive. Wages of public servants are paid for mainly from taxation, although a small proportion, such as bus fares, are paid for by the customer. Recent events such as the public meeting in Number Six Shed this year illustrated the extent to which public service workers treat taxpayers and their representatives (in effect, their customers) with contempt and intimidating and boorish behavior. Does anyone really believe that buses and ferries operate solely for the benefit of the public? Too often they are the shock troops of the Bermuda Public Service Union. The message of the public service union was we are entitled to our wages and benefits, and the taxpayer has no say in this arrangement, even if he is suffering economic hardship and Bermuda is up to its eyes in debt. In private business, such hostile behavior would result in the customer disappearing. In public service, the taxpayer or the Bermudian citizen is either held to ransom by a slogan shouting rabble, or he leaves Bermuda. The predictable result of sticking it to the customer is that jobs and business have disappeared. In short, Bermudians are experiencing unemployment, financial hardship and, in many cases, poverty. This is a far cry from what Bermudians had experienced ten years ago. In addition to treating customers badly, there is a failure on the part of the union leadership to appreciate that labour and capital are hugely dependent on each other. Capital without skilled labour means machines (or hotels) with no operators. Labour without capital looks like North Korea or Bangladesh. There is no other method of improving the well-being of workers than by the increase of new capital, and by the application of new and improved methods of working. This is the main way wages of every worker are increased, not by the confrontational methods used by unions. It is true that workers of today are significantly better paid than they were, say, 50 years ago. The reason for that arises, not from activities of unions, but from higher productivity of the workers owing mainly to improved tools and investment by employers. Few construction workers use picks and shovels, but now employ advanced mechanical tools. Office workers do not use typewriters, but computers. Cashiers do not input prices into a register, but scan items purchased. Unions want their members to think that capital is something possessed and deployed by a minority of greedy bankers, the idle rich or a contemptuous elite. But all workers are capitalists — every time we save and invest, own a house, buy a share in the company, contribute to a pension fund, or buy an insurance policy, we become indirectly capitalists and employers. Workers and employers are not enemies, but team-mates, except in the eyes of the Neanderthal union leadership. In a recent opinion piece, Al Seymour emphasized the importance of employers and employees working together for their mutual benefit. My criticisms of organized labour should end on a constructive note. May I suggest that in September, on even years have a Labour Day and on odd years have an Employers' Day. This may assist Bermudians to understand more clearly that workers need employers, and employers need workers. That they are mutually dependent. No one needs the existing retrograde, dead-end destructive philosophy of the present union leadership. Least of all, those suffering unemployment and deprivation."
September 1. The Bermuda Regiment today celebrates its 50th birthday. September 1 marks the day the Island's modern armed service was created out of the Bermuda Militia Artillery (BMA) and the Bermuda Volunteer Rifle Corps (BVRC), a significant step in integration on the Island. Regiment Commanding Officer Lt Col Michael Foster-Brown said the Regiment would continue to have its sights fixed on the future as well as celebrating its rich history. Col Foster-Brown said: "The reach of the Regiment is far and wide with over 11,000 Regimental numbers having been issued and we're conscious that the success of the Regiment has been built on those who have served before us, so the reunion theme of the year-long series of celebrations is very appropriate." Col Foster-Brown said the delivery of British Army issue SA-80 rifles earlier this month was a visible sign of progress and investment. The rifles will replace the ageing current issue Mini Ruger 14s, some of which are 30 years old. These alone will make a big difference to our capabilities." Col Foster-Brown said that a new State Partnership Programme with the US National Guard and the training of soldiers as Special Constables alongside the Bermuda Police Service would further enhance the Regiment's ability to perform its disaster relief and internal security roles. He added: "This going forward will offer the Regiment exchanges and support, even more training opportunities." The Regiment has already put on a series of events to celebrate its golden anniversary under the BR50 banner and more are planned — including an international military tattoo to be held in October and a home coming service at Warwick Camp on Sunday, September 20. "We've also had the honour of being awarded the Freedom of St George's and we look forward to the Freedom of Hamilton in November," Col Foster-Brown said. A special open night for potential recruits to the Regiment, which had a record number of volunteers last year, will be held next month on Saturday, September 19. Col Foster-Brown said: "More and more people are choosing stay in the Regiment so we can make the next recruit camp smaller, which opens up the prospect of an all-volunteer recruit camp for the first time. Anyone interested in a fun, rewarding, adventurous and challenging experience as a soldier is invited to attend. We argue Regiment service makes people better citizens and better employees as it develops self-discipline, teamwork and leadership skills. I believe that if two people apply for a job and one has Regiment service they will have an advantage because he or she has proved they are reliable, hardworking and can deal with new challenges." He added that soldiers also benefited from opportunities for overseas travel and free bus and ferry travel. "They also get discounts in a large range of stores — a way businesses kindly show their appreciation of what the Regiment does," he said. "That was self-evident last October when the Regiment helped get the country back on its feet again after the hurricanes." Col Foster-Brown added that soldiers leaving service also get a testimonial outlining the skills and qualities they have developed. "We are intensely proud of our traditions and those of our predecessor Regiments, which saw service in two World Wars, but we're not resting on our laurels. The Regiment is trained, adaptable and ready to handle whatever the next 50 years throws at us. We have much to celebrate and I thank serving and former soldiers for their service, dedication and loyalty." The modern Regiment preserves the golden thread linking military units on the Island from the first days of colonization to the formation of the BMA and the BVRC in 1895 and beyond. Other units were raised at various times, including the Bermuda Militia Infantry (BMI), Bermuda Home Guard and Bermuda Volunteer Engineers (BVE). Both the BMA and the BVRC served overseas in both World Wars — with many soldiers from both units paying the ultimate price. The BMA served in the Royal Garrison Artillery and the BVRC served in the 1st Battalion Lincolnshire Regiment in the First World War, with more than 100 Bermudian troops losing their lives. Battle honours were earned throughout the European campaign and many were conspicuous in their service, with Bermuda's soldiers earning, among other commendations, the Military Medal. During the Second World War, the BMA was the Bermuda Contingent of the 1st Caribbean Regiment which served in North Africa and Europe. The BVRC served as a company in the Royal Lincolnshire Regiment in Britain and Europe. Of the 184 Bermudians serving overseas, 35 died. Many were highly decorated for their valour, including a George Cross. At home, the BMI and BVE, along with those who remained of the BVRC and BMA, guarded the Island. The BMA was re-equipped and trained as infantry in 1953 although it retained its Royal Artillery allegiance, uniform and badge. But, along with the social changes of the 1950s and 1960s, the two units were poised for change. The BMA and what was by then the Bermuda Rifles officially became one in a ceremony on November 23, 1965, and the amalgamated infantry battalion adopted the histories and characteristics of the predecessor units, although battle honours were not carried forward to the Colours and drums of the Regiment. The Regiment saw service in civil disturbances in the first 15 years of its life and has been regularly embodied to support civil authorities after hurricane strikes — twice in the space of a week last year after Hurricanes Fay and Gonzalo hit in quick succession. Lt Col Eugene Raynor, now Honorary Colonel of the Regiment, signed up with the BMA in 1961, was commissioned in 1964 and was one of the modern force's first officers on amalgamation. Col Raynor rose to command the Regiment between 1980-84: its first black Commanding Officer. He said: "The outward appearances have changed several times, in terms of size but the systems haven't really changed. That's a good thing since from the start, Recruit Camp has been very effective. The role hasn't changed either, but the things we do to maintain that role have changed slightly in the terms of the details of internal security training. It's been progressive. Another thing to influence that is our personnel changeover so regularly. And we're always being kept up to date by people seconded to us by the British Army." But Col Raynor added: "Our traditions have been maintained to the greatest extent and maintained well." For more information about a career in the Regiment, call 238-1045 or visit www.bermudaregiment.bm.
September 1. HSBC Bank Bermuda will have a new chief executive officer within two months. The bank announced this morning that Mark Watkinson, the CEO of HSBC Bank Malta, will take over the job as of November 2. He will succeed Richard Moseley, who will leave after completing a six-year stint in Bermuda. Mr Watkinson has been with HSBC since 1986. His prior HSBC assignments include roles as head of Commercial Banking in North America, executive vice-president of Commercial Banking in Canada, and CEO in the Philippines. Mark has also worked in the United Arab Emirates, Brunei, Hong Kong and the UK. The appointment is subject to Immigration, regulatory and other approvals. Philip Butterfield, the chairman of HSBC Bank Bermuda, said: "We are delighted to welcome Mark, whom we know at HSBC Bermuda from the time he spent in North America. His experience in Malta, where HSBC has a similarly strong presence, will help position the bank for further growth. "We would like to also thank Richard for his contribution, where under his firm leadership the Bank has made significant progress, with continued strong liquidity and capital ratios and an excellent customer franchise — all of which are key to our continued success." Chris Davies, CEO of HSBC International, said: "Thanks to the wealth of international banking experience that Mark Watkinson brings to this role, he is very well positioned to continue implementation of our strategy to position HSBC as the leading international bank and the bank of choice for customers. "I would like to thank Richard Moseley for successfully leading the bank in Bermuda and his dedicated service during the past years." Mr Moseley said: "I look forward to Mark's arrival in late October and introducing him to our many stakeholders. I am confident that he will be welcomed by staff and customers alike, and will build on the momentum that we have today, where we see growth opportunities in many areas, given our strong local and global franchise and quality of our staff here in Bermuda."
September 1. Robert Watson, chief executive of the Regulatory Authority of Bermuda, has resigned for personal reasons. Mr Watson, a former president and CEO of SaskPower in Saskatchewan, Canada, had taken up the post in January this year. The chairman of the Regulatory Authority, Carl Musson, said in a statement today: "While the timing is regrettable, I have every confidence that our capable staff will be able to run the authority until a new chief executive is on board. We have a number of irons in the fire, and will update the public as quickly as we can as to our progress. In the meantime we will also use the opportunity to retool resources as we prepare to take over regulation of the electricity sector in Bermuda." Kyle Masters, the authority's legal adviser, has been appointed interim chief executive.
September 1. The introduction of commercial immigration to Bermuda has been put on the back burner according to Michael Fahy, the Minister of Home Affairs. Senator Fahy told The Royal Gazette the Bermuda Government does not have the appetite to proceed with the concept, which is designed to attract foreign investment into the Island but has proven unpopular with large sections of the community. "We presented an idea to the public, we did further research, and I think at the moment that will go on the back burner," he said during an interview with this newspaper yesterday. "I don't think we have the appetite at the moment to pursue it. I was never interested in just giving someone a passport. We wanted to make sure there was some opportunity for job creation, but the various models that would make it worth our while, they are just not there and I don't think the economic benefits to Bermuda are there at this time." Commercial immigration allows individuals to gain certain residential and citizenship rights in another jurisdiction that they invest in. The concept was broached in the One Bermuda Alliance's 2013 Throne Speech as a potential means of creating jobs and stimulating investment in the Island. More than 20 countries have implemented some form of commercial immigration including St Kitts, Antigua and Barbuda, Britain and Canada. "There are any number of different models of commercial immigration in jurisdictions," Sen Fahy said yesterday. "In some you just buy a passport, which is in my view dangerous, and there are others where you have to have a certain residence that never attaches any voting rights. That was the model I repeatedly said we would be more inclined to look at." Government held a number of public meetings on the subject early last year, with the Progressive Labour Party describing the concept as a "red line" that should not be crossed. This June, a poll from Profiles of Bermuda showed six in ten voters were against the idea. Sen Fahy said that immigration is a touchy subject on the Island, noting that some have referred to it as a "third rail" of local politics which people are afraid of addressing. While the PLP has often called on the Government to pursue collaborative immigration reform, Sen Fahy said it is not something he is interested in pursuing at the moment. "I don't understand how you can have a collaborative immigration reform effort when there are definitive red lines that are put in advance of any discussions or any thought at all, so until their views change in respect of what is actually prepared to be discussed, I have no interest in having that collaborative approach with the Opposition at all. They appear to be at odds in their views with immigration reform generally. This Government has very definitive views about where we think we need to go and we will go down that road, consulting with the public as we go. To suggest that the Opposition has all the answers when they have effectively left us in a big mess through their lack of real reform ... I'm not interested in taking that approach at this time." Sen Fahy also challenged PLP claims that thousands of permanent resident certificate holders would seek Bermudian status in the aftermath of a 2014 Supreme Court ruling. He stated that less than 800 people have applied. "We felt the maximum number would be 1,400 or 1,500 people plus maybe a couple dependants of those applications. The number is in the mid-700 range. We have right now processed about 160, 170, but we still have outstanding paperwork and police reports are required. It's disappointing for those who have made their applications and have to wait, but I can assure those persons that the process is still ongoing. Again, the numbers that were thrown around about tens of thousands of people were rubbish." Sen Fahy also noted KPMG's assistance in processing the applications, stressing that the company was not involved in the decision-making process. Asked if he thought his own background, as someone who was not born in Bermuda, made him a bigger target for criticism, he said: "My personal status is absolutely nothing to do with any of this. There are some that like to make noise about the fact that I was born elsewhere and I have been in Bermuda since I was three, and I find it disingenuous at best when people make noise about that when you just have to look at anyone who sits on any bench, whether it's Government or Opposition, and look at their own families and their own histories as to where they were born and where their families were born or where they decide to have their children born to take advantage of immigration policies in other countries. When we get to that level of discourse where people are rubbished because of their national origin or place of birth, we have reached a pretty low level in political discourse, and I rubbish that as well. If some people who are anti-government want to take that stance, that's up to them as well. It's disappointing, but we can do better. People can say what they want. I'm not interested in hearing it any more."

History & daily newspaper reports
Authored, researched, compiled and website-managed by Keith A. Forbes.
Multi-national © 2020. All Rights Reserved