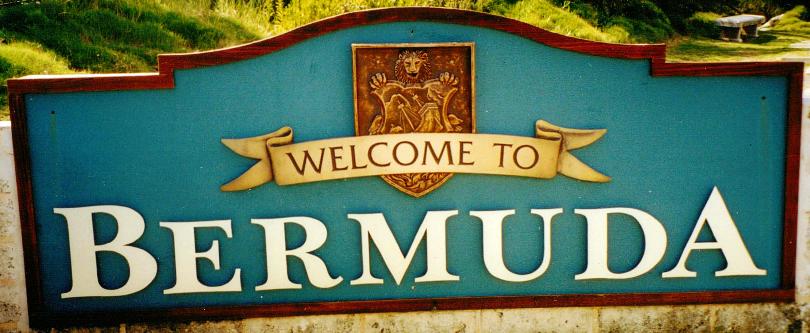 Click on graphic above to navigate the 165+ web files on this website, a regularly updated Gazetteer, an in-depth description of our island's internally self-governing British Overseas Territory 900 miles north of the Caribbean, 600 miles east of North Carolina, USA. With accommodation options, airlines, airport, actors, actresses, aviation, banks, beaches, Bermuda Dollar, Bermuda Government, Bermuda-incorporated businesses and companies including insurers and reinsurers, Bermudians, books and publications, bridges and causeway, charities, churches, citizenship by Status, City of Hamilton, commerce, communities, credit cards, cruise ships, cuisine, currency, disability accessibility, Devonshire Parish, districts, Dockyard, economy, education, employers, employment, environment, executorships, fauna, ferries, flora, former military bases, forts, gardens, geography, getting around, golf, guest houses, highways, history, historic properties, Hamilton, House of Assembly, housing, hotels, immigration, import duties, internet access, islands, laws, legal system and legislators, main roads, marriages, media, members of parliament, money, motor vehicles, municipalities, music and musicians, newcomers, newspaper, media, organizations, parks, parishes, Paget, Pembroke, performing artists, residents, pensions, political parties, postage stamps, public holidays, public transportation, railway trail, real estate, registries of aircraft and ships, religions, Royal Naval Dockyard, Sandys, senior citizens, Smith's, Somerset Village, Southampton, St. David's Island, St George's, Spanish Point, Spittal Pond, sports, taxes, telecommunications, time zone, traditions, tourism, Town of St. George, Tucker's Town, utilities, water sports, Warwick, weather, wildlife, work permits.

Bermuda's 2019 December History and News
Events that made newspaper headlines in the last month of this calendar year
By Keith Archibald Forbes (see About Us).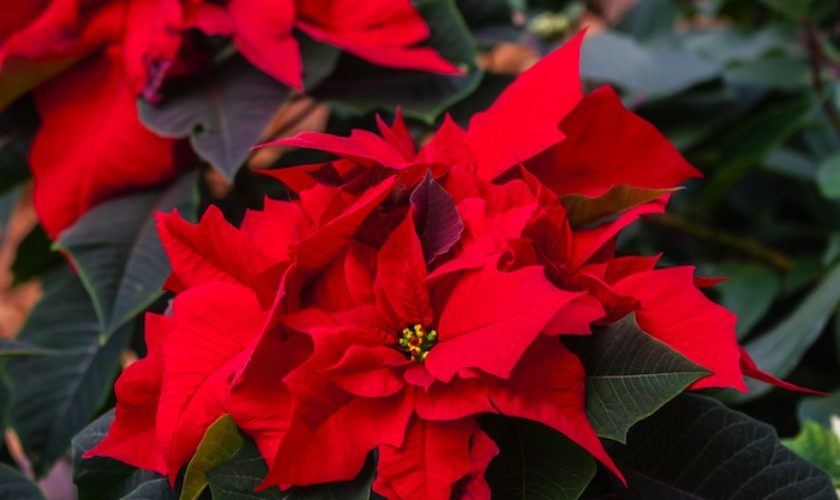 See at bottom of this page a listing of our many History files
December 31, New Year's Eve

The Government has been told to further a search for documents related to the National Anti-Money Laundering Committee after a Pati appeal. The move came after The Royal Gazette asked for records of the group's meetings after Jamahl Simmons, the tourism minister at the time, said the Bermuda Gaming Commission had not taken part in the committee's work as requested. Mr Simmons told the House of Assembly in November 2017 that the Gaming Commission's attitude towards the Government could be seen in "the recent non-participation in the NAMLC's national risk analysis, failure to provide the requested presentation for the related workshops and failure to provide the analysis and conclusions of the working group that it was chairing". The Government released a single, redacted attendance sheet for a meeting held after the Pati request was made in response to the original request. The ministry claimed that the Gaming Commission was not required to attend NAMLC meetings before 2017, so information from before that period would be "misleading". However, Gitanjali Gutierrez, the Information Commissioner, ruled that was not an excuse to limit the search. Ms Gutierrez said: "The ministry justified its response on the basis of the ministry's understanding of the applicant's purpose for making the Pati request, ie the 2017 National Risk Assessment. The applicant, however, expressly states that they wanted records going back to NAMLC's inception, if possible, and if this was not possible, then going back to the date the Gaming Commission was established. Despite the applicant's reference to specific dates, the ministry used 2017 and the date the Gaming Commission became a statutory member of NAMLC as the relevant date." She added that the ministry had not shown that there were no other records that would fall under the Pati request. Ms Gutierrez said: "Although the ministry indicated in its internal review decision that it did not have earlier attendance records because of staffing changes and two office relocations, the ministry also stated that it did not attempt to actually locate the records prior to 2017 as a result of its analysis of the request." The Government had also denied requests for "completed assignment sheets" by agencies related to the NAMLC and associated requests for the information by the Government on the basis that such records did not exist. But Ms Gutierrez said the ministry had improperly limited its search to documents related to the National Risk Assessment. She said the applicant had framed the questions around Mr Simmons's comments in the House of Assembly as the NAMLC had not released much of its internal workings. "The Gaming Commission's involvement in anti-money laundering/counter-terrorist financing initiatives led by NAMLC was not limited to the national risk assessment, but also to the Gaming Commission's responsibilities for all AML/CTF matters. The applicant was seeking records related to the Gaming Commission's participation in NAMLC generally. The ministry was not justified in narrowing the scope of the request based on its assumption about the purpose of the request." She ordered that the ministry should explain what involvement the Gaming Commission had with the NAMLC and give the applicant a reasonable opportunity to specify the records asked for.

The island's child protection department has been ordered to review a request for records about a controversial US reform school where boys were sent for more than three decades. Gitanjali Gutierrez, the Information Commissioner ruled that the Department of Child and Family Services had failed to comply with part of the Public Access to Information Act. She said an internal review must be carried out into a request from The Royal Gazette in June for information about Glen Mills Schools in Pennsylvania, with a decision to be provided by January 16. The decision notice revealed that the DCFS told the Information Commissioner's Office the request was "extensive" and meant people had to work beyond regular hours. Ms Gutierrez wrote: "This decision finds that the department failed to decide the applicant's request for an internal review within the statutory time frame set forth by the Public Access to Information Act 2010." She said that the decision was made in the context of a "failure to decide" case. Ms Gutierrez's notice explained: "This decision does not address whether a public authority has properly denied access to a record. Rather, it addresses the basic obligation upon a public authority to respond to a requester within the statutory time frames." It showed that an initial decision was not given inside six weeks of receipt of the Pati request — a deadline of August 6. The DCFS extended the time frame to respond until September 17 on August 9, but no decision was issued by then. The Gazette asked for an internal review to be carried out by the head of the public authority a week later. No decision was provided within six weeks of the internal review request's receipt and an independent review by the Information Commissioner was sought on November 7. The DCFS was asked by the ICO to make submissions. Ms Gutierrez wrote: "In its submissions, the department accepted that it had not issued an internal review decision within the statutory time frame as a matter of oversight. The department explained that it has been working on the Pati request utilizing the resources available and noted that the request was 'quite extensive', which has required extensive research and has impacted it financially due to labour resources being extended beyond regular working hours. The Information Commissioner appreciates the department's continued effort to respond to the applicant's Pati request. It is a matter of fact, however, that the department did not provide the applicant with an internal review decision within the statutory time frame. The Information Commissioner is satisfied that the department failed to comply with section 43(2) of the Pati Act." Ms Gutierrez said that her decision, dated December 19, was filed with the Supreme Court. She added: "If the department fails to comply with this decision, the Information Commissioner has the authority to pursue enforcement in the same manner as an Order of the Supreme Court." Glen Mills Schools was among the places used by the DCFS as part of its psychoeducational programme. The last time a child was sent there was in 2017. The schools' operating licences were revoked in April as investigations were launched into allegations of serious mistreatment of children. A spokeswoman for the Ministry of Legal Affairs, which includes the DCFS, said: "The Information Commissioner's decision has been received and once the department has reviewed it, appropriate actions will be taken in accordance with the Pati Act."

The under-fire chairman of the Progressive Labour Party has hit back at the party's leadership before an emergency central committee meeting next week. Damon Wade had a unanimous vote of no confidence passed against him and his resignation was demanded by the party executive after he claimed he was owed a place in a PLP "friends and family policy" at a PLP central committee meeting earlier this month. The meeting was recorded and posted on social media. He appeared to refer to a proposal masterminded by himself in the recording, understood to involve an energy project at the National Sports Centre in Devonshire, that he claimed could generate jobs and raise funds for investment in black-owned businesses. Mr Wade said in an e-mail to PLP members seen by The Royal Gazette that he had been given different reasons for the calling of the emergency central committee meeting. Walter Roban, the PLP deputy leader, had at first called for the meeting to be held last night, but it was later rescheduled for next Monday. Mr Wade said that Mr Roban was "fully aware of my responsibilities as it relates to central committee meetings". Mr Wade added: "As such, he reached out to me for me to agree to calling an emergency central committee meeting." He said that Mr Roban identified a "breach of confidentiality within central committee, including the release of an unofficial recording of the chair's report to the media and the wider public" as the reason for the emergency meeting. Mr Wade added that Mr Roban had said that "members of central committee and branch executives are justifiably demanding that the executive provide clarity on these matters". Mr Wade said: "However, having already sent out his notice, he is telling me that 'the purpose of the meeting will be for the executive to provide central committee with a report on the special executive meeting held on Thursday, December 19. Members should know that this should have been done before they sent the unauthorized response to The Royal Gazette earlier this week and represents yet another example of how he is acting out of order." Mr Wade claimed that Mr Roban had "sidestepped the spirit" of the PLP constitution "to peddle the will of the executive and the Premier to further undermine" him. He added in the e-mail: "Given the holidays are upon us — and many of us are overseas — it makes more sense to me to have the special central committee meeting the same night as the reconvening of the delegates." Mr Wade said last night: "I have no comments for the press. I have no intention of commenting on our internal matters. My position will always be that internal matters are internal matters. They are not for public discussion." A PLP spokeswoman said the party had nothing to add to its statement after the row became public. The statement said: "The PLP has a zero-tolerance policy regarding the exploitation of party office for personal gain. In the PLP, we proudly stand on our legacy of vowing that Bermuda's opportunities and ingenuity must always be utilized in the public interest and for the greatest good. Regrettably, the individual failed to live up to the high moral standard that the officers and members have set for the party and themselves." But Mr Wade said the party statement was "misleading and malicious" and that he had been the victim of "incompetence, arrogance and vindictiveness" on the part of Cabinet members.

If you're looking for a little excitement this New Year's Eve the Corporation of Hamilton has you covered. A hurricane, an historic building fire and the Bermuda Triangle will all play heavily in a special light show organised for City Hall tonight. The man behind it all is actor and animator Philippe Bergeron of LA-based 3D mapping company PaintScaping. "Normally, when you do a new year's project it is festive and there is fireworks," Mr Bergeron said. "To do a hurricane and a fire is quite unique." The light show will highlight historic events in the city's history including the burning down of the Hamilton Hotel on Church Street on December 23, 1955. The building burnt so brightly, the fire could be seen from miles around. City Hall officially opened its doors on the site, five years after the fire. Now Mr Bergeron plans to bring the Hamilton Hotel back to life, at least virtually. "We will not only transform the hotel, we will deck it with Christmas lights," Mr Bergeron said. "We will create a party inside the windows. Then we will burn it to the ground." He and his team will accomplish this with the help of four or five actors, and several 160lb projectors. The light show was created specially for the specifications of City Hall, but no measuring was required. "We do it by taking hundreds of photographs of the building," Mr Bergeron explained. Those photographs are then fed into a computer to create a 3D map of the building. "3D mapping is the merging of real and virtual worlds," he said. "We project images in the real world, onto landscapes, rocks, mountains, even people. These images are lined up with the features of the building. It is not just generic images we project. They are images that I have produced specifically and only for that specific building. It becomes a very powerful sensorial experience, because you are able to create 3D effects." Mr Bergeron's customers include the likes of Pepsi, Gucci and Rodeo Drive. Earlier this month, Mr Bergeron turned the San Diego Zoo into an Arctic wonderland and the Park MGM in Las Vegas into a record breaker. "In October 2018, we installed the world's largest 3D mapping currently on display," Mr Bergeron said. "It ran for a week in Las Vegas, to promote Britney Spears's residency at the Park MGM." The projection was 550ft wide, by 26-stories high with more than 3.2 acres of light. In the 1980s, Mr Bergeron, originally from Quebec, gained notoriety as a CGI animator. "In 1985, I co-created the first CGI human with emotion," he said. "The character was called Tony de Peltrie." Later, he moved to the United States and worked as an actor. His chief claim to fame is a role on The Sopranos . "I had a whole scene," he said. "I was supposed be the Tony Soprano of Quebec. Twelve years after the series ended, if I am at a party and say I guest starred on the Sopranos everyone stops talking and wants to hear everything." He said PaintScaping helped to bring his passion for animation and acting together. It started ten years ago when he was trying to project an image over a backyard pond using a really cheap projector. "The image was not lined up with the pond," he said. "It was just projecting. Then I touched my mouse by mistake and painted a rock with light. "That changed my life. I knew at that moment, instantaneously, I would be spending the rest of my life doing 3D mapping." What he loved was the sense that he was Photoshopping the world. "At that time, I didn't know what I was doing was called 3D mapping," he laughed. "I thought I'd invented something new." In fact, 3D mapping was popular in Europe at that time, but not so much in the United States. "The following day we were painting the landscape with light and PaintScaping was born," he said. Mr Bergeron said his company doesn't do lasers, or fog; they just do 3D projection mapping, but they do what they do "extremely well. A lot of people do mapping just for the 'wow!' factor. But we do mapping to touch people and to create emotion in people." He thought PaintScaping was one of the top three companies of its kind in the world. "I'd like to say we're number one, but that sounds too cocky," he said. He does about 25 projects a year that range from $30,000 in price to $300,000 depending on the duration and complexity of the project. Given that the City Hall projection is just for an hour or two, the price tag is on the lower end of the spectrum. "There are many challenges doing something like this," he said. "For a start, just getting the projectors to Bermuda was quite an ordeal. The projectors are huge. We are talking about 100 to 160lbs per projector. You obviously can't rent those projectors in Bermuda. We have a one shot." They've even brought a back-up in case the ones they have fail. He remembers in one project involving a large, well-known Las Vegas Hotel, the projectors were placed near a lake. The hotel owner, without warning them first, created a mist effect across the lake, and shut down the projectors. "We have back-ups always," he said. "So we used the back-up and slightly changed the configuration. We always find solutions. We have incredible teams all over the place who are problem-solvers. We spent a couple of days on that and then the third day we did power point to the team including to the Mayor of Hamilton. They were blown away. They said we have to have this and we will tell our story. That is how it all started." Looking at PaintScaping, he was most proud of his team's commitment to give high-end shows. "I'm proud of the quality of our work," he said. "All the animators we use come from Hollywood studios. Their work ethic is phenomenal, but also their talent is unbelievable. These guys and gals are extremely talented." Event MC's Qian Dickinson and Ed Christopher will open the festivities at 8pm with the first of five screenings of the projection show taking place shortly thereafter. The remaining screenings will take place every hour on the hour with a special extended show for the 2020 countdown. Entertainment throughout the night includes dance troupes, Cirqle Circus and their fire performance, DJ Chubb, stilt walkers, LED glow bots and bubble performers and music sets with DIA. A jumbo screen will check in on other New Year's Eve celebrations from around the world and a Twitter resolution feed will encourage the audience to post their promises for the new decade. A food court will feature Herbie Bascome's legendary fish chowder, along with Johnny Bread, complimentary for the night. Ashley's Lemonade will have their famous lemonade for purchase and will also provide free hot chocolate and the Bermuda Cup Cake Factory will be there with glow in the dark cotton candy. There will also be a free s'mores station as well as a cash bar for champagne, mulled wine and craft beers provided by Take Five Catering. A Decade of Dance video will inspire the crowd to get its groove on and special prizes will be awarded to some of those caught on the Dance Cam.
The event is free and begins at 8pm tonight on the City Hall lawn.

Bermuda is set to ring in the new year with a series of celebrations around the island tonight. A Midnight at the Crossroads candlelight vigil will be held in Hamilton as part of an effort to promote peace and unity. A spokeswoman for the event said the vigil will be held after midnight at the junction of Court Street and Dundonald Street. She added: "The candlelight vigil will be a time for quiet relaxation, reflection and reconnection among all participants. Everyone is also invited to bring their chosen token of peace for the commencement of the new year." She added that the event was inspired by Bishop Wes Spiewak, the spiritual leader of the island's Catholics, and Emir Saleem Talbot, Imam of the Bermuda Islamic Cultural Centre at Harrington Sound, who signed a pledge earlier this month designed to promote peace between the two religions. The vigil was backed by RoseAnn Edwards, a Hamilton city councillor, and Court Street-based TV producer Elmore Warren of Fresh Creations. The spokeswoman said people who attended the Hamilton City Hall festivities should bring a candle and join the vigil after the Corporation of Hamilton event ended at midnight. The Corporation of St George will hold its traditional new year party in Kings Square with musical performances and the dropping of the onion on the stroke of midnight. Candy-Lee Foggo, the town manager for the corporation, said: "Typically, we get thousands of people that attend our event each year. It's a pretty safe environment, so it's somewhere that families can come to and enjoy good entertainment and the safety of Kings Square. We've been recognised internationally as one of the top ten destinations for New Year's Eve." Ms Foggo explained that the celebration will be a fitting end to the holiday season that started with the corporation's annual community Thanksgiving meal in November. "From a staff point of view, it has been quite busy and we're not winding down. But we're looking forward to doing what we do annually." The New Year's Eve celebration will feature performances by the Wall Street Band and DJ Regis of Black Lion Sound. Comedian Nadanja Bailey will MC the event. Restaurants will be open and street food vendors will provide snacks and drinks. A "Kiddie Land" will also be set up for children with a fun castle, games and a photo booth. A spectacular fire dancing show will be held at 8.30pm. Ms Foggo said: "People who come in will be welcomed by festive lights on the street and Ordnance Island decorated in colourful lights. This is an opportunity for the community to come out, to be together in a safe environment and just show camaraderie and fellowship." The festivities will run from 8pm to 12.30am. Hamilton will end the year with a light show, the first of its kind in Bermuda, in front of City Hall. The show, created by PaintScaping, a California-based 3D projection mapping company, will feature Bermuda-inspired graphics and "eye-popping" illuminations. The light show will run every hour from 8pm until midnight, with an extended version for the final screening.

A Bermuda rum has been named Rum of the Year at the 2019 Rum Awards in Miami. Gosling's Papa Seal eclipsed rums from across the Caribbean to claim the top prize at awards organised by Rum Journal, part of Caribbean Journal, a website that covers the region with a focus on travel and tourism. A story on the Rum Journal portion of the website said: "Every year, it gets more difficult to choose our favourite molasses-based rum of the year. But this year, we came full circle, returning to the brand that first took home the crown in the inaugural Rum Awards back in 2012: Bermuda's Goslings. "The company's newest ultra-premium expression is exquisite, a luxurious, hand-bottled expression that is the best rum Gosling's has ever made. A mix of pot and column-still rums brought to the Atlantic region and aged in Bermuda for more than 15 years in ex-bourbon barrels, it's simply a world-class rum, and a new triumph for one of the hemisphere's most venerable rum brands." In second through fifth places, were Ron Barcelo Imperial 30 Aniversario, Dominican Republic; Zafra 30-Year Rum, Panama; Samaroli Caribbean Rum; and Chairman's Reserve 1931, Saint Lucia. Papa Seal rum was launched by Gosling's late last year in a limited release of just 12 barrels, with just one barrel reserved for Bermuda customers. The company described the rum as: "Startlingly mellow with an elegant finish carrying notes of spice, leather, banana, caramel and molasses. So refined is this rum that Goslings urges owners to savor it neat or over a single cube of ice." Malcolm Gosling, president and chief executive officer of Gosling's International Limited, said at launch: "Our obsession has always been on crafting the finest rums possible, not the most rums. With that mantra in mind, we proudly created Papa Seal, 'the father of all rums'. My only regret is that we are forced to limit the number of people who can experience it."

The high cost of food has overtaken electricity bills as the biggest expense for the island's vulnerable, charities said yesterday. Age Concern said power firm Belco's slight cut in its rates for next year would help the disadvantaged. Claudette Fleming, the executive director of the charity, said "any type of savings anywhere in this climate is welcome". But she added: "I am sure people would like to see similar savings when it comes to food — food is overtaking electricity." She was backed by Sandy De Silva, the director of services at Family Centre. Both charities praised the drop in electricity prices, announced earlier this month, which will come into effect tomorrow. The average consumer will pay 2.31 per cent less on monthly electricity bills, where power consumption stands at 600 kWh — a cut of just over $5 a month. But Dr Fleming said: "We've found food increasing more and more as an expense. Generally speaking, seniors are maintaining modest electricity bills. Where they tend to run into trouble is when they face a crisis situation, such as medical costs, where they may also be in difficulty maintaining their rent, and their electricity goes into arrears." She said that Age Concern used a social worker to assess seniors in hardship situations — particularly where electricity is necessary for medical reasons. Dr Fleming added: "For the most part, people are able to pay their electricity bills. It's only when they end up in a major financial hardship situation that they fall off on their payments." Dr De Silva said Family Centre had "100 per cent" seen food costs overtake electric bills. She added: "The three main bills are rent, Belco and food. But rent and food are the top two. When families come in to Family Centre for help, the first thing they ask for is food." Food is a more variable cost. It's not going to be the exact amount each week, whereas rent is fixed." Dr De Silva said: "If you use the same amount of electricity each month, people can have pretty predictable costs. Food bills are more challenging. It could be $200 one week and $250 another.

Bermuda will be represented in the United Soccer League for the first time in nearly a decade during the upcoming season. Sources have confirmed that Bascome FC have joined the USL League Two and will compete in the Mid-Atlantic Division, which includes seven teams. The local franchise is headed up by Andrew Bascome, the former Bermuda coach, who was unavailable for comment yesterday. Bascome FC are among a group of league expansion teams listed that also includes AFC Ann Arbor, Asheville City SC, Philadelphia Lone Star FC and Southern Soccer Academy. Evergreen FC, Lehigh Valley United, Ocean City Nor'easters, Philadelphia Lone Stars FC, Reading United AC and West Chester United SC are the remaining teams in the USL League Two Mid-Atlantic Division. The USL League Two, formerly the Premier Development League, provides a pathway for players to progress to the professional ranks and boasts member clubs that are owned and operated by a professional club or in partnership with a professional club. The league has proven to be a vital stepping stone for top professionals now playing throughout the world, with more than 70 per cent of all selections in the MLS SuperDraft since 2010 having PDL experience, including 66 selections in the 2018 MLS SuperDraft. The league enables elite collegiate players with the opportunity to compete at a higher level of competition while maintaining their eligibility. The regular season takes place during the summer from early May to mid-July with each team playing a 14-match schedule against their respective divisional opponents on a home and away basis. In conferences with three divisions, each division winner, plus the highest-finishing second-place team in the conference, advances to the play-offs in the conference semi-finals. In conferences with two divisions, the top two teams from each division advance to the conference semi-finals. The play-offs are held in late July, with each conference champion advancing to the national semi-finals and the winners of those matches advancing to the USL League Two Championship in early August. In addition to league play, League Two teams compete in the Lamar Hunt US Open Cup as well as various exhibitions. This year, 72 teams divided into 11 regional divisions, within four conferences competed in the league, which is regarded as the fourth tier of the United States football pyramid behind Major League Soccer, USL Championship and USL League One. Flint City Bucks are the reigning champions. The Bermuda Hogges were the last local team to compete in the USL. The Hogges pulled out of the PDL a week before the start of the 2013 season due to financial difficulties, bringing the shutters down on their six years as a USL franchise. The Hogges were owned by local businessman Paul Scope who formed the franchise with the help of former professional players Shaun Goater and Kyle Lightbourne in 2006.

A dietitian who helped found a charity dedicated to helping others comes to terms with their own mortality has died after a long battle with cancer. Jasen Moniz was 65. Ms Moniz, a former government nutritionist, was the driving force behind the charity Final Steps, set up to assist people to make sensible end-of-life preparations and reduce stress on their families. Jeanie Flath, who succeeded Ms Moniz as chairwoman of the group, said it had evolved in 2016 after their book club read Being Mortal by Atul Gawande, which focused on hospice care and the personal stories of people dealing with ageing, illness and death. Ms Flath said Ms Moniz was "already steps ahead of the rest of us". She added: "I think her first encounter with cancer nine-and-a-half years ago made her much more aware of our primary mission to encourage people to make meaningful choices now for the end of life by educating the community to choose, communicate, and document what they want. The dedication and focus that she gave to this project became a driving force that made her and all of us truly step outside our individual comfort zones and grow." Ms Flath said Ms Moniz was a "natural leader who literally walked the talk. Little did we know at the beginning that we were joining the first wave of change that brings death and end-of-life issues out of the medical world and back to being part of the human experience. Jasen had great respect for medical technology, but it was always balanced with the reality that we all have a departure time. Her work on the Final Steps initiative in Bermuda over the last four years was extensive and has been key in helping our community begin the process of having difficult conversations on death and end-of-life issues before we are in crisis. Jasen died shortly before Christmas. She prepared us well, but still our committee has lost an amazing life coach and friend. She has left a lasting legacy and we are committed to making sure these important discussions continue." Tyler Moniz, Ms Moniz's husband and a former assistant financial secretary for the Government, said the couple met in her native Toronto. He said: "I was studying for a Master of Business Administration at the University of Toronto and Jasen had come to Toronto looking for a job. We dated for six years. We didn't rush in. We were married in 1982." Ms Moniz, while still a teenager, was one of only a few women to qualify as a softball umpire and taught cooking to supplement her income while at Kansas State and Iowa State universities. She qualified as a registered dietitian in 1976, and also studied hotel and restaurant management. Ms Moniz's first job when she came to Bermuda, Creative Cuisines, focused on helping businesses to redo their menus. She worked as a government nutritionist from 1987 to 1991 and lectured at Bermuda College on the subject. Her government role included oversight of all food service in government-funded residential homes and non-government services such as Meals on Wheels. She helped redesign the kitchens at the former Casemates prison in 1988. Ms Moniz was a member of the Bermuda Diabetes Association, worked in private practice as a diet counsellor, and was a clinical dietitian for the Bermuda Hospitals Board, including a stint running the hospital's kitchen, from 1994 to 2006. Mr Moniz said his wife was a talented electrician, painter and handyman who designed the kitchen of their Smith's home when it was built in 1993.

December 30

Beginning in January 2020, 95% of Bermudian families will see a reduction in their energy bills. This has been welcomed by the Progressive Labour Party. "This holiday season, we are committed to focusing on the sure and steady progress we're making for Bermudian policies," said Acting Leader Walter Roban. "Over the last few years, we've been working to bring down electricity prices and I'm happy that as of January 2020, those reductions will be realized. We expect reductions of at least 5% on energy over 2020 and we expect the vast majority of Bermudians to receive reductions. Across the region, electricity rates are going up, but, we are fortunate to be able to see them come down here in Bermuda. Bermudian families will see decreases in their bills. The reduction will reflect on your January 2020 BELCO bill. In the new year, we will continue to focus on reducing the cost of living for Bermudians," Roban concluded.

Bermuda is too small to accommodate businesses like Airbnb because of the impact they have on the property rental market for residents, according to an expert who works in the real estate business. Ambika Scott, chief executive officer/broker of Moongate Realty, said: "I believe that Airbnb and other companies offering vacation rental services have had a significant negative impact on the current residential rental property market. In my professional opinion, Bermuda is not large enough to offer these services due to the available amount of rental inventory. Bermuda has to be mindful of the business models they adopt/mimic from other countries as some of them are not designed as a one-size-fits-all plan." Ms Scott's reservations are similar to concerns about the number of properties available for short-term tourist rentals, and the impact that has had on full-time residents of a locale, that have been expressed in numerous other places, including Barcelona, Toronto, and Reykjavik. Ms Scott was among four agents who were asked what impact, if any, short duration residential rental property operations such as Airbnb and other similar companies have had on the residential rental property market in Bermuda. Susan Thompson, agency manager for Coldwell Banker Bermuda Realty; agent Jasmine Smith of realtors Kitson & Company; and Allison Settle, assistant rental manager at Rego Sotheby's International Realty, also addressed the issue. There was general agreement that there are fewer properties on the market for rent by long-term residents, while two experts said that some landlords are tiring of the considerable workload involved in managing short-term tourist rentals. Ms Thompson said discussions with the company's rental agents indicate there has been a shortage of studio and one bedroom apartments since Airbnb, and similar operations, were introduced on-island. "I've heard that 150-plus one beds are off the market because of this," she said, adding that she has no hard data to support that observation. Ms Thompson's statistical research shows that prices for long-term one-bedroom units have increased slightly on average, while the days they stay on the market have decreased. She said: "When we do get one bedroom properties in central locations, they do go very quickly. We have a lot of people looking." Ms Thompson said landlords are turning garages and houses into Airbnb rentals, or specifically designing their homes for that purpose, and are "making twice as much" as they would with long-term rentals. However, she said that running an Airbnb operation is labour intensive, and some properties are being returned to the long-term market. Ms Thompson said: "People are making good money, but it's a huge amount of work and some people are saying 'I don't want to do it any more'." Ms Smith said there was a "swift uptick" in short-term rentals during the 2017 America's Cup, including properties managed by agents as well as those offered on sites such as Airbnb or Homeaway. During this time, most locals found their rental units were fully booked, making twice as much as they would make for a long-term rental." While some long-term properties have been taken off the market to be rented for shorter periods, Ms Smith said some properties were never earmarked for the long-term rental pool. She said: "Many properties, if not more than 50 per cent, were created for short-term rentals. Property owners who had units on their property that may have been sitting empty — used for overseas guests, their children back from university, etc — took advantage of the high demand for short-term rentals. There were also many units started by owners converting areas of their house into short-term rentals. Some of these units could not be rented long-term because they don't have kitchens beyond a mini-fridge and a coffee pot." Ms Smith echoed Ms Thompson's observation regarding the demands placed upon landlords by short-term rentals. "Many property owners found that, while it appeared like easy money, running a short-term rental requires a lot of work. Most owners cannot take the time to clean, check-in, review, etc, especially with high turnover. The only real solution to this problem is to pay 15 per cent to a property manager, which some owners cannot justify." She said a sharp downturn in bookings in the fall will result in more properties being transitioned back into the long-term market. "While this hopefully results in more properties, and importantly more affordable properties, we still have to consider the many properties that continue to sit empty affect the market, and we cannot expect landlords to turn away potentially higher profits." Ms Settle said "there is no doubt that the increase of vacation rental businesses in residential properties has affected the supply/demand economics of the long term residential market. The most notable impact is the decreased supply in one bedroom long-term rentals. As the supply has decreased, the market price of a one-bedroom apartment has stayed stable, or increased. The condominium market has not been impacted to the same extent as the one bedroom residential market, partly because most condo board rules and regulations do not permit owners to sublet on a short-term basis." Ms Scott said restrictions should have been placed on the number of properties available in the short-term tourist rental pool. She said: "Prior to the decision being made to allow these services to be offered by homeowners/companies outside of the hotels/guesthouses, Government should have stepped in to determine how much of the available inventory can be used for this purpose, eg, if there are a certain number of rental units available island-wide a set amount should be allocated to these operations with the remaining units left for permanent residents. Although said operations may be profitable for many at this point in time, I believe it to be another short-term/band-aid approach that will fizzle out due to it not being sustainable from a long-term standpoint. I've also given much thought to the hoteliers and guesthouses that have been working hard and weathering the storms of this industry during the off-seasons for years and have day-to-day high operating expenses only to be impacted by this new platform with no restrictions on the number of homes that can offer this service. It reminds me of the taxi industry whereby locals/guest workers complain during the summer months about being unable to get a taxi and when the off-season arrives, the taxi drivers are able and willing. You have to ensure that your own are covered first and then make room for other possibilities as housing has been a crisis in Bermuda for a number of decades. As there are no present plans in effect for additional, and affordable, rental housing to be built for the island's residents, there must be measures in place to ensure that housing is available primarily to those living in Bermuda on a permanent basis." Year-end figures for 2018 showed that 23,700 people booked vacation rentals in Bermuda through Airbnb, staying on-island for an average of 4.7 days. Airbnb said more than 400 registered hosts listed more than 600 properties on the site. Hosts made an average of $18,800 annually, the organisation said.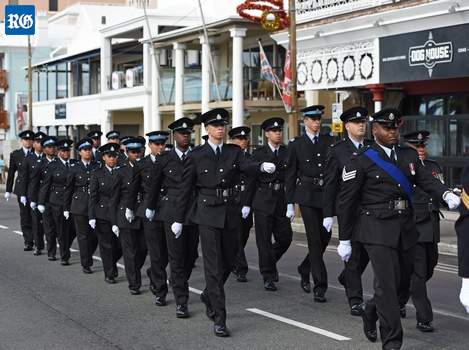 Opinion. By Stephen Corbishley, Commissioner of Police. "As the year closes, I reflect on 12 months of hard work and success achieved by the officers and staff of the Bermuda Police Service. I am also pleased that there are fewer times I am referred to as the "new commissioner", not least as I have made Bermuda my home as much as my workplace. I am so proud of what the BPS have delivered, not least as much is unknown to the public. Indeed that should be the case, as I am a believer in preventing crime rather than sorting things when they have gone wrong. Prevention means fewer victims, greater public safety, as well as increased community confidence — and that is our primary business. Top of that list is protecting life, and this year has seen the absence of homicide, particularly involving firearms and a continuing fall in road-related deaths, while the thoughts and prayers of the BPS remain with those families who have lost loved ones. To achieve the above we work in partnership, with Government, local agencies and, above all, the public. The founder of the first police service, Robert Peel, remarked that the public are the police and the police are the public. That statement remains true — without public engagement and support, our job cannot be done. This year we have seen the expansion of our community policing model, with the allocation of parish constables across the island and two new community constables, soon to be added to look after our marine community. We have invested in our Vulnerable Persons Unit, to be better placed to find and address what is often referred to as hidden harm, such as domestic abuse and exploitation, particularly those that target children and including on the internet. We have maintained our financial investigation capabilities to support our national mandate of investigating money laundering and other financial crime, not least in partnership with other government services and the financial sector. We have also changed our shift patterns, which means greater uniform visibility on our streets and a focus on being in the right place at the right time. We have also seized firearms and drugs before they could get into the hands of those who would cause damage to others, thereby protecting the safety and health of many. Finally, we have invested in our ability to ensure professional standards and integrity across the BPS so the community has confidence in us, and that we also have the ability to investigate aspects of corruption elsewhere. What gives me great pleasure is the feedback I get from the public about our work. Yes, there are times we get it wrong, and we will accept that, make amends and learn from it. However, I receive on a daily basis letters and e-mails from the public, thanking officers and staff for not just the work they do, but the extra miles they have taken in looking after victims and members of the public. As commissioner, I am proud but not complacent, as we have much work to do in 2020 to ensure everyone continues to be safe and we build even more community relationships. But my favourite moment of this year remains from a couple of months ago when I was coming to work and a guy shouted across the road to me in full-on Bermudian: "Hey, Commish, you guys are doing a good job." That is what we continually want to achieve for everyone. From everyone in the BPS, we wish all our communities peace, safety, happiness and to know our services are never more than a phone call away."

A former ice cream factory could get a new lease of life as a brewery. Ace Brewing Company has applied to change part of the Bermuda Creamery site in Devonshire from a warehouse to a brew house. The applicants said their plans included cold storage, a brewery, a small bar and a retail section. The Bermuda Creamery, a part of the Gibbons Group, produced Freeza Fresh and Bermuda Creamery ice creams, as well as Simmons sherbets, for more than 20 years before it closed its doors in 2008. The site, near the junction of Hermitage Road and Middle Road, was later used as a warehouse for frozen goods.

A move to create more spaces for disabled drivers in Hamilton will worsen existing parking problems, retailers have warned. Many shop owners and managers around the city added that the Corporation of Hamilton plan to create more disabled parking spaces would be useless if drivers who abused the spaces were not penalised. Todd Martin, the general manager at electronics store P-Tech on Reid Street, said that the seating area installed near the store had eaten up space once used for parking. He added: "Now they've got a temporary handicap parking spot so that's another parking spot that's gone. It's frustrating not only for customers but also for deliveries — it's very hard to get delivery trucks down here." So it's very inconvenient and I just feel that the corporation is not considerate when it comes to that type of thing." Mr Martin was speaking after the Corporation of Hamilton announced a plan to increase the number of disabled parking bays in Hamilton from 45 to 73. The move came after more than 1,000 people applied for disabled parking permits. Dwayne Caines, the chief operating officer for the city, said: "There has been some pushback from retailers and, while we don't take this lightly, it is important to understand that the disabled shopper can contribute greatly to the retail bottom line if they have access to parking. It's no secret that the disabled bays are already grossly abused by able-bodied motorists due to a lack of compassion, enforcement and any penalty. We're hoping to rectify that in the new year." But Mr Martin said that, while disabled parking was needed, a lack of parking spaces could make able-bodied motorists more likely to abuse disabled parking bays. He explained: "I do believe that we need disabled parking bays, but they get abused and there's no penalty for that. I see the police would put a ticket on a car that's parked outside the library, but not a car that's parked in a handicapped space. They'd just drive right by it." Mr Martin added that fewer spaces could also lead to other traffic offences such as double parking. He said: "They say that there's Bull's Head, but on a busy day like today, nobody's going to want to come into town to park at Bull's Head to get a Bluetooth speaker."

A schoolboy brought festive cheer to long-term hospital patients with home-made cards on Christmas Day. Mason DiVuolo, 7, went to visit seniors in the Cooper Ward at the King Edward VII Memorial Hospital before he opened his presents. Mason, from Paget, said: "Some people don't get Christmas because they have to stay in the hospital. They don't always get presents or people who visit them, so we do it so that we could make their Christmas special." Mason's mother, Kelly, explained that the family had delivered Christmas cards to hospital patients every year since Mason was about 2. She added that Mason, as he got older, took control of the tradition and she had helped him ever since. Ms DiVuolo said: "We wandered around the new hospital until we got to the fourth floor. Normally they let us just drop them off at reception, but this year they let us actually go into one of the wards and meet all of the patients." Mason said that he made about 20 Christmas cards with his mother's help and decorated them with pictures of reindeer and Christmas trees. He added that each card wished the reader a merry Christmas and a quick recovery. Mason said that the patients told him they were grateful to see him and that he had made their day. He added: "It felt nice to be there and give people cards, talk to them for a few minutes and wish them to get better soon. When I'm sick, my mom takes care of me, so we have to do the same for people at the hospital." His mother said: "It actually brought me to tears to see a few people that were very emotional when Mason handed them the card. It just makes my heart really warm." The youngster said that next year he planned to make up 100 Christmas cards and get football team-mates from North Village Community Club to join in. He also hopes to bring his little sister along, even though she was "still in my mom's tummy". Ms DiVuolo said: "The baby girl is due on January 17. She won't be quite a year old yet in Christmas, but he still wants to bring her, so we'll see."

December 29, Sunday

An island environmental charity will mark its golden anniversary with a New Year's Day tree planting. The Bermuda National Trust will plant 50 trees on Wednesday to mark 50 years. The event was backed by the newly formed Bermuda Climate Action Network. A spokesman for Bermuda CAN said that the group's Vision 2020 campaign aimed to plant 2,020 trees across the island by the end of next year. He said that the campaign was a way for Bermudians to help tackle the effects of global warming. The spokesman added: "This family-friendly initiative is geared to expand awareness of the crisis and offer a practical means for participating in solutions." He said that a calendar of monthly tree plantings would be unveiled by the group soon. The CAN spokesman said that climate change was the biggest problem to be dealt with over the next decade. He added: "It is crucial that we gain an understanding and awareness about Bermuda's risks, mitigation and adaptation to the changing climate and that urgent and mindful action is needed by all. While some may argue that Bermuda's contribution to climate change is a mere drop in the bucket, we should be doing everything we can at home before looking to others to save the planet. That is why a diverse group of community representatives have recently formed a new emerging network of activists and those who are already engaged in environmental conservation — Bermuda CAN." He said that group members included people from the Bermuda National Trust, Keep Bermuda Beautiful and environmental charity Greenrock. The spokesman said the group's aim was "to facilitate the coming together of our island community to identify and mitigate climate risks specific to Bermuda, and advance a deeper appreciation of our responsibility as global citizens in keeping average temperature rises below 1.5C". The New Year's Day tree planting events will start at St George's Military Cemetery on Grenadier Lane at 9am. The event will move to the Paget Marsh Nature Reserve from 11.30am to 1.30pm. It will be at the Rebecca Middleton Nature Reserve, on the Railway Trail in Paget, from 1.50pm to 3.15pm. The final stop will be at Scaur Lodge, on Scaur Lane, Sandys, from 4pm to 5.30pm.

December 28

Five Bermudians were given awards in the Queen's 2020 New Year's Honours List. Dennis Tucker, a career hotelier, was appointed a Member of the Most Excellent Order of the British Empire for services to the community. The Queen's Certificate and Badge of Honour was awarded to Edward Ball, Shawn Caisey, Gladstone Thompson and Christine "Chrissy" Wetherhill. Mr Tucker was employed by Bercot Company Ltd between 1964 and 1976 and rose to comptroller. From 1976, Mr Tucker worked for 27 years at the former Sonesta Beach Resort, where he became vice-president and managing director. He has been chief executive of the Hotel Pension Trust Fund since 2005. Mr Tucker was appointed to the Senate in 1985 and has served on several professional and government boards. He was a member of the Bermuda Employers Council from 1990 to 2003, the Bermuda Hotel Association from 1996 to 2003, Sandys Rotary Club from 1982 to the present, and a member of the tourism body, the Skal Club of Bermuda, from 1988 to 2003. He has also served on the Labour Advisory Committee's apprenticeship and training council, the Price Commission and is at present on the Bermuda Gaming Commission. Mr Tucker was a Corporation of Hamilton councillor and alderman from 2009 to 2012 and regained his seat in 2015. He has served since 1995 as the chairman of the Bank of Bermuda Foundation scholarship committee, which awarded scholarships to hundreds of Bermudians during his tenure. Mr Tucker was also a director of the Bank of Bermuda from 1995 to 2012.
Queen's Certificate and Badge of Honour awardees were:
Edward Ball Jr, commended for close to 40 years' work in trade unionism. Mr Ball has been general secretary of the Bermuda Public Services Union since 1990. He worked for the Bermuda Government before he joined the union, as well as at the Metropolitan Hospital in New York and the Bermuda Hospitals Board. Mr Ball was an adjunct faculty member of the Bermuda College in 2000 and at Endicott College in Massachusetts in 2016. His service on boards and committees has included the Bermuda Immigration Board, the Bermuda Economic Forum, the Bermuda Labour Advisory Council, the Base Lands Development Corporation, the Bermuda Labour Reform Committee, and the Human Rights Commission, where he is the deputy chairman. He has worked on the Public Service Superannuation Board, the Ministry of Finance's Efficiency Oversight Committee and the Canadian Caribbean Emerging Leaders Board. Mr Ball helped the Human Rights Commission in 1980 when 21 women in the private sector faced discrimination for illness during pregnancy. He has represented Bermudian workers at the Employment Tribunal and lobbied the Government on immigration law as a member of the People's Campaign.
Shawn Caisey has been recognised for services to culture as a researcher and historian of Gombeys and other masquerade cultures in Bermuda and the African diaspora. Mr Caisey joined Place's Gombeys when he was seven and rose to captain. He joined H & H Gombeys in 1989. He has tutored about 2,000 boys in Gombey art and dance, created hundreds of costumes and drums, and redesigned the Gombey head dress. Mr Caisey carries a hand-carved cane rather than a whip in performances to reflect his stature as an elder. He has performed before royalty and has represented the island overseas as a cultural ambassador.
Gladstone Thompson was recognised for services to education and the community. Mr Thompson has taught in Bermuda's public schools for 33 years. He started his career at Dellwood Middle School in Pembroke in 1987, followed by stints at the Berkeley Institute, Warwick Secondary School and the former Spice Valley Middle School in Warwick. He is principal at St David's Primary School and was head teacher at Dalton E Tucker Primary School for 11 years. Mr Thompson has served as president of the Bermuda Debate Society and is executive director of Dynamic Debaters and Learners. He is co-chairman of the Bermuda Educators Council and a delegate member of the Bermuda Public Services Union. Mr Thompson is a member of the Prison Fellowship Bermuda and a 40-year member of the New Testament Church of God. He was appointed pastor last year at the Greater Love Community Contact Ministry, and has attained the rank of Bishop in the Church of God.
Christine Wetherhill was recognised for services to charity. She has devoted much of her life to raising funds for good causes. Ms Wetherhill was a committee member for Riding for the Disabled and a fundraiser for the Windreach Trust. She has focused on raising money for cancer care over the past 14 years and created the group Bosom Buddies, which has raised more than $750,000 for cancer patients in Bermuda, and supported for the Bermuda Cancer & Health Centre and cancer charity Pals.

Firefighters are to be kitted out with new breathing sets. The Government asked companies to submit bids for the devices and associated parts in a request for proposal. An RFP published online said: "The Bermuda Fire and Rescue Service invites interested and qualified parties to submit a request for proposal for 76 open circuit, self-contained breathing apparatus and related components. The new SCBA system will replace the fire and rescue service's existing Avon SCBA's and encompass a turnkey solution by providing the BFRS with a new SCBA system that meets current and future equipment needs, both reliably and functionally. Turnkey is defined as a system that can be easily implemented into our current processes while meeting all the necessary BFRS requirements and performance standards for one price." It added that a specific brand was not required, but that a list of minimum requirements should be met. The appliances were expected to include indicators that showed when they neared the end of their service time as well as a system that allowed firefighters to communicate with each other while wearing the sets. They should also offer "harness and back-frame assembly for supporting the equipment on the body of the wearer" and incorporate a "remote gauge indicating cylinder pressure" mounted on the shoulder strap. The RFP said that the BFRS needed 70 air cylinders that lasted for 45 minutes, and six that would last for an hour. It added that "each cylinder shall be of a lightweight, composite type consisting of an aluminum alloy inner shell", as well as other specifications. The tender document said that an instructor should also be provided to show firefighters how to operate the new kit. It explained: "This programme shall be a minimum of eight hours of hands-on training delivered by a factory-trained instructor, followed by a competency exam and each user to be issued with a certificate of competency." Further instruction was expected to be provided to trainers and service technicians on the island. The RFP was issued earlier this month. The original submission deadline was extended by two weeks to January 24. The 2019-20 Budget book showed that an estimated $669,000 was earmarked for new breathing sets. Allan Wilkinson, the Fire Service Association president, explained last summer that the kit had a "life expectancy and after that the recommendation is to have them replaced". He said equipment used by Bermuda's firefighters would start to expire next year.

A renowned environmentalist has called for a proposed quarry in a protected area to be scrapped. David Wingate said the quarry, which would be sited on a woodland-zoned area on Judkin Lane, Hamilton Parish, was against planning policy. He said: "We can't afford to simply compromise away until Bermuda is completely urban. This is why we have planning. This is why we try to plan out how to use the land most efficiently. Planning has just broken all the rules by ignoring all that went into this zoning." Dr Wingate said the project could also create a safety risk for residents as the only access to the area was along a narrow, winding road. He added: "You are going to have heavy industrial trucks, which are a real hazard on a narrow lane where people might be walking, and the noise and dust pollution from the quarry; all degrading this large plot of open space because it's smack in the middle. The access road is one of the really critical issues that the planning department can't have thought about. You can't use something as long and narrow as Judkin Lane as access to a quarry site." Dr Wingate said quarrying was in principle allowed on areas zoned as woodland zones because of some planning exceptions. He explained that when the conservation zones were established to protect woodlands and other important environmental resources, some people found all of their property was protected, which meant they were unable to build. He said: "This was grossly unfair, so there had to be something done and in subsequent plans they allowed for some development in places where a person's private property was totally zoned for woodlands or nature reserve. That is the reason this particular development was allowed — because it was a case of a person having all their land zoned arable or woodland." Dr Wingate said a section of the hillside at the proposed quarry had once been developed and ruins were still visible. He said: "Had he applied for a house of 2,000 square feet, probably nobody would have objected. If he hadn't stripped the entire property of its woodland and only cleared the area for the house, probably no one would have objected and it would be legal. What makes this so ridiculously illegal and outrageous is after Hurricane Humberto and there was a shortage of slate, this was used as an excuse to launch a quarry in this area. They proposed to quarry the entire piece of land. There would be a stepped face cliff all the way around and in the corner there would be a 90ft cliff face. This essentially will become a 100 per cent quarry operation with no respect for the original zoning of woodland reserve at all. It breaks all the planning laws." Dr Wingate added that larger blocks of open space were better than small ones, even if they amounted to the same area when combined. He said that the Bermuda National Trust and Bermuda Audubon Society had made efforts to buy up as much undeveloped land as possible, with the help of donors. Dr Wingate added: "When this property initially came up for sale, the National Trust put in a bid for it, but the price was too high and they couldn't manage the offering price at the time. In the end, we understand the new buyer got it for less than what it was offered to the trust for. It's a pity they didn't ask for a first option." Dr Wingate said the area where quarrying would take place, now home to dozens of pawpaw trees, had been an allspice forest before it was cleared. He added that allspice trees were invasive, but good "holding" trees for people who wanted to restore woodland to its natural state. The quarry application for the land, owned by Nelson Cordeiro, was made by quarry operator Shawn Perott. The quarry work would be followed by the construction of a house and apartment on the site. Mr Cordeiro explained that the house construction would need a section of the hillside removed and, rather than wasting stone from the site, it could be used to tackle a shortage of roof slate. The proposal was approved by the Development Applications Board in October but the BNT — which owns property on either side of the land, launched an objection. The Bermuda Audubon Society claimed the DAB approval was an "abuse of fair process" and had left area residents unable to lodge protests against the proposal.

A man charged with a stabbing outside a bar on Christmas Eve appeared in Magistrates' Court yesterday. It is alleged Jaha Mallory, 35, knifed Tio Smith with intent to cause grievous bodily harm. He was also charged with carrying a knife in a public place. The incident is alleged to have happened outside Place's Place on Dundonald Street in Hamilton. Mr Mallory did not enter a plea because the case must be heard in the Supreme Court. Magistrate Craig Attridge released Mr Mallory on $10,000 bail and adjourned the case until the Supreme Court's February arraignments session. He ordered Mr Mallory to wear an electronic tag and report to Hamilton Police Station three times a week. Mr Attridge also ordered him to stay away from the alleged victim and any potential witnesses.

Hamilton will ring in the new year with a spectacular light show — the first of its kind in Bermuda. The New Year's Festivities will feature a show by Paintscaping Inc, a California-based 3D projection mapping company, which will light the front of City Hall with Bermuda inspired graphics and "eye-popping" illuminations. Jessica Astwood, the event production manager for the corporation, said: "We really can't wait to treat our community to this special evening. The 3D show will mesmerize people, old and young alike. "It's never been done in Bermuda, so we're thrilled to bring something so innovative and spectacular to Hamilton. There's going to be a lot of illumination throughout the evening and we're just really looking forward to the crowd's reaction. We're encouraging people to bring their own chairs and settle in for an evening of jaw-dropping fun and first-class entertainment." The show will run every hour from 8pm until midnight, with an extended version for the final screening. The free event will also feature performances from dance troupes, stilt walkers and music from band DIA. A food court will also be set up with fish chowder by Herbie Bascome, Ashley's Lemonade, the Bermuda Cup Cake Factory and Take Five Catering will run a cash bar. Church Street will be closed between Queen Street and Washington Street for the celebrations. Any traffic from the west along Church Street will be diverted down Par-la-Ville Road and there will be no access to Dismont Drive. The car park at City Hall will also be closed, but Par-la-Ville Car Park will be open. The barriers at Par-la-Ville will be raised from 8pm to allow motorists to leave without payment.

Some $27 million of new bond notes have been admitted to the Bermuda Stock Exchange. The Seaside Re 2020-1 $7 million bond, and the Seaside Re 2020-2 $20 million bond, will be due on January 15, 2021. The issuer is Kaith Re Ltd.

A garden waste clean-up by the public works ministry and a charity saw a massive 173 per cent increase in drop-offs, it has been revealed. The horticultural waste effort organised by the ministry and Keep Bermuda Beautiful saw the number of truckloads collected jump from a Saturday average of 70 to 121. A ministry spokesman said: "On December 14 there was an increase of 173 per cent, or 121 truckloads delivered, and a further 35 truckloads delivered the following day." The clean-up, held on December 14 and 15, was designed to help clear horticultural waste around the island. Government waived dumping fees over the two days and waived trucking permits on December 15. Zane DeSilva, the acting public works minister, said: "In all accounts, this clean-up effort was a resounding success, a win for the people of Bermuda and a final goodbye to the remnants of Hurricane Humberto. "This was a community effort, and I thank all those involved for working together to get Bermuda clean." Mr DeSilva added: "Our island is known for its cleanliness, and we can now look forward to the start of 2020 with Bermuda looking its very best." Another cleanup is scheduled for January 11 and 12, with the focus on large household furniture and major appliances. Dumping fees will again be waived over the two days and trucking permits will be waived on January 12. Items must be delivered to the Tynes Bay Incinerator between 7.30am and 4pm and to the airport dump between 7.30am and noon.

December 27

Problems with a Hamilton fire engine and a string of emergencies within hours of each other meant an out-of-town reserve tender was called to a blazing home in the city, it has been revealed. Wayne Caines, the Minister of National Security, explained that a back-up truck in Warwick was ordered to attend a blaze in Pembroke — about a short drive away from the Fire Station on King Street. The fire on Union Street on December 7 cost a family of seven, including well-known para-sportsman Omar Hayward, their home and belongings. Businesses, support agencies and members of the community have since rallied round to help. Mr Caines said: "For a family to lose their home right before Christmas is most disturbing. I am aware that when notification was received of this incident, fire service personnel and equipment were already attending two previously reported fire-related events. As such, the fire service was in the unusual circumstances of having to manage three significant fire-related emergencies over a relatively short eight-hour period. Furthermore, the Hamilton Fire Station duty vehicle experienced mechanical problems which prevented its use." Mr Caines added: "In these circumstances, fire service personnel immediately switch to the reserve vehicle, a process that involves transferring essential pieces of equipment between vehicles and increases the time to respond. As a result of this unfortunate combination of events, and in efforts to have fire-suppression equipment attend this incident as soon as possible, the standby fire service vehicle located in Warwick was ordered. It arrived at the scene 12 minutes after the initial call, followed shortly thereafter, by the Hamilton fire service vehicle." Mr Caines said: "Considering these facts, I have full confidence that the men and women of the Bermuda Fire and Rescue Service were committed to attend the scene of this incident as swiftly and safely as possible. An investigation into the cause of this fire is ongoing and further details will be revealed." A friend of the Hayward family said: "The fire, of course, got bigger, got more out of control the longer they had to wait for the fire trucks to come on site. It was just a bad equation all around." Scott Quinn, the Bermuda Fire & Rescue Service staff officer, said that a call about the incident was received at 9.48am on December 7. He added that a fire at the junction of Princess and Elliott streets was reported at 4.05am and five fire engines and 12 firefighters attended the blaze, which was "quickly extinguished". Firefighters also responded to a boat fire at Chapel of Ease Road in St David's at about 11.10pm the night before. Mr Quinn said: "On arrival Sergeant Kingsley Mundy reported a 32 to 36 foot vessel fully engulfed in flames. He added: "Due to the boat moored approximately 40 feet off shore, private boats were required to get the fire fighters close enough to the boat to extinguish the fire." Bridget Hayward, who lived at the Union Street home with her three sons, a daughter-in-law and two grandchildren, told The Royal Gazette last week that she had "lost everything". No one was hurt in the fire and the Bermuda Housing Corporation found temporary accommodation for the family. The Green family, owners of the Hamilton Princess and Beach Club, donated $10,000 to help the Hayward's after their plight was highlighted in The Royal Gazette. A spokeswoman for the family said this week: "It is the season of giving and the Green family is pleased to have been able to play a part in helping a local family get back on their feet. They hope that others will be inspired to help out or to support their community in other ways throughout the holidays." The MarketPlace gave the family a $250 grocery gift card as well as a hamper filled with cookware, utensils, cutlery, plates, bed sheets and other necessities. Seth Stutzman, the MarketPlace president, said: "This is the most wonderful time of the year, a time for giving and helping the community that we serve. When tragedy struck in the way that it did the Hayward's, The MarketPlace family felt the urge to provide support to this family in great need." Roxanne Christopher, a past president of the Jamaican Association, said her organisation planned to hold more fundraisers. She added: "It's a lot of stuff that we take for granted that they don't have."

An anti-racism campaign group said more people recognised a need for racial justice than five years ago. A spokeswoman for Citizens Uprooting Racism in Bermuda said that a summer survey found that 86 per cent agreed there was a need for more work towards equality and social justice. The compared to a figure of 83 per cent in 2014 and 79 per cent in 2012. The charity said that there was a "significant difference" in responses between white people and black people in the latest survey. The spokeswoman added: "While both of the racial groups felt there was a need to work towards racial justice, blacks were more likely to feel that way than whites and others — 90 per cent compared to 79 per cent. The sample — drawn from the voting population — were also asked if they thought race relations had improved, remained unchanged or worsened over the past two years. The spokeswoman said: "Here, there was little difference between the two groups. Fourteen per cent of each racial group equally felt that race relations had improved, while 51 per cent of blacks and 46 per cent of whites and others felt that there had been no change in race relations." But the spokeswoman added that 33 per cent of black voters and 40 per cent of white voters felt race relations had worsened. Government has launched an online forum on race relations to find out the extent of problems and how they could be tackled.

A man wanted in connection with a Christmas Eve stabbing outside a bar has turned himself in to police. The 35-year-old man was knifed in the chest near Place's Place on Hamilton's Dundonald Street. The injured man was said on Wednesday to be "stable" in intensive care at the King Edward VII Memorial Hospital. The man was rushed to hospital for emergency surgery with "life-threatening" wounds after the attack, which happened about 5.30pm outside the bar on the junction of Dundonald Street and Court Street. Anyone with information should contact Detective Inspector Kenten Trott on 717-2345 or 295-0011. People can also use the confidential Crime Stoppers hotline on 800-8477

Four tourism-related businesses have qualified for certification that recognizes top-level customer service standards. Strykz Bowling Lounge in St David's, Hog Penny Restaurant & Pub in Hamilton, charter business Sail Bermuda, and the Bermuda Tourism Authority's Bermuda Visitor Services Centres in Dockyard, St George and Hamilton, are this season's inductees to receive National Service Standards Certification. The BTA's four-year-old National Service Standard Programme now counts a total of 27 certified entities. BVSC is a wholly owned subsidiary of the BTA. Jakai Franks, BVSC manager of operations, said: "After vigorous training, role-playing and coaching, it feels good to know my team received certifications for all three of our centres. We're excited to be among this group of qualified businesses, and we'll ensure visitors and locals get world-class service when they visit us." Philip Bailey, owner of the Strykz bowling alley at Southside, said: "As a business owner, I want to ensure that Strykz employees are able to give our customers a great customer experience. I view the Bermuda Tourism National Service Standards Programme as a sure way of Strykz delivering on that promise and it also guarantees that I'm setting up the employees for success." Marilyn Zuill, operations manager for Sail Bermuda, added: "Going through the NSSC process helped us better understand the importance of excellent and consistent service. It's motivated us to work even harder, and we look forward to growing as a team and company as a result." The programme's criteria over the course of a year ranges from customer, staff and management surveys to "mystery shopper" visits and online ratings via portals such as Trip Advisor and Google. Successful entities are identified on the BTA website with a pink star and appear at the top of search listings in their respective sectors. The other 23 businesses to qualify for certification are: & Partners, Alexandra Mosher Studio Jewellery, Barracuda Grill, Beauty Queen Day Spa, Bermuda Bride, Bermuda Perfumery, Bermuda Transit Services, Devil's Isle Café, Dolphin Quest, Dowling's Marine & Auto Services, Flanagan's Irish Pub, Frog & Onion Pub, Fun Golf, Inverurie Executive Suites, Island Tour Centre, Lili Bermuda, Newstead Belmont Hills Golf Resort & Spa, Pickled Onion Restaurant & Bar, Ptix, Rosedon Hotel, Royal Palms Hotel, Tobacco Bay, and Tuckinn Rentals. The next intake period for businesses interested in enrolling in the National Service Standards Programme will be the fall of 2020.

Weaknesses in the British pound and Australian dollar contributed to Somers Limited recording a $9.7 million loss for the year. It has a concentrated portfolio of investments in companies principally in Australia, Bermuda and the UK, and it wholly owns Bermuda Commercial Bank Limited. The company entered into an agreement in February to sell BCB to Permanent Capital Holdings Ltd. Somers is awaiting the necessary approvals from the Bermuda Monetary Authority and the Bermuda Government in order to proceed with the sale. Warren McLeland, chairman of Somers, said: "Whilst the delay is frustrating, we remain positive that the transaction will complete and thereby release significant capital to enable Somers to reduce its debt and to male investments in new and existing businesses." He made the comment as part of Somers' annual report. The company's financial year ended on September 30. While it is waiting for clearance to sell BCB, it has had a busy year, and one which produced strong earnings in some of the companies it is invested, according to Mr McLeland. Somers increased its level of borrowing during the year. It entered into a new loan facility to fund its investment in PCF Group Plc, a bank listed on the London Stock Exchange, in February. Somers invested £5.3 million ($6.9 million) as part of a PCF fundraising. It has a majority shareholdings in the bank. Regarding the increased borrowing, Mr McLeland said: "Given the quality, diverse nature and size of Somers' asset base, an external gearing level of 12 per cent remains relatively low and within the company's risk tolerance. Whilst the company's focus remains on delivering strong returns for our shareholders, we recognise that the global economy is facing numerous challenges and as such we will look to repay the company's related party debt and reduce bank debt as a result of the sale of BCB." Macro-economic factors, including Brexit, resulted in a negative impact on foreign exchange movements from Somers' investment perspective. Mr McLeland said that while the financial performance of many of its investments was strong, foreign currency movements in Sterling and the Australian dollar "which reduced in value due to the weakening global economy" impacted the valuation of several of Somers' larger investments. Sterling and the Australian dollar weakened against the US dollar by 5.7 per cent and 6.6 per cent, respectively, during the year. Somers has about 41 per cent of its investments in Australia, 28 per cent in the UK, and almost 27 per cent in Bermuda. It has controlling stakes in Resimac Group Ltd, an Australian and New Zealand mortgage securitisation business; Waverton Investment Management Ltd, a UK private wealth management business; and West Hamilton Holdings Ltd, a Bermuda property holding and management company. It also has stakes in UK brokerage organisation AK Jensen; Australian financial services organisation Thorn Group Ltd; and UK law firm MJ Hudson. Somers' net asset value per share decreased from $18.15 to $17.10. Its shares trade on The Royal Gazette/BSX Index, currently at $15 per share. Its total assets increased during the year from $407.3 million to $423.1 million. At the end of September it had $17.3 billion of assets under management. Looking ahead to the new year, Mr McLeland noted the historically low levels of interest rates around the world, and the weakening of global growth in the face of geopolitical events such as the US-China trade war, Brexit, and protests in Hong Kong. He said: "We remain cautious going into 2020. Whilst we may be entering the end stages of the current economic cycle, we believe our investments are well placed and expect to be able to take advantage of opportunities that might arise."

Submarine cable company Seabras 1 Bermuda Ltd has filed for bankruptcy protection in the US as it pursues a secured debt-restructuring plan. Severe price drops on a fibre-optic cable system between the US and Brazil have been cited as the reason why it, together with its subsidiary Seabras 1 USA LLC, filed voluntary petitions for relief under Chapter 11 of the US Bankruptcy Code. The petitions were filed on December 22. The construction of a competing, larger and newer underwater cable project, and the Brazilian economy collapse, led to "severe price drops" on the Seabras-1 cable system between New York and São Paulo, and led to customers shifting to buying small amounts of capacity on the cable for one to two-year leases, paid monthly, rather than the previously expected "front-end payments" of large cash amounts. Larry Schwartz, chief executive officer of Seabras 1 Bermuda and Seabras 1 USA, described those market landscape changes in a New York court document. Seabras 1 Bermuda, and a number of its subsidiaries, own the Seabras-1 fibre-optic cable system between New York and São Paulo. The company has directors registered in Bermuda, and was an exempted company incorporated under Bermuda's laws when it, along with others, entered into a financing agreement in 2015. But a downturn in business caused Seabras 1 Bermuda to default under the agreement and ultimately file for bankruptcy protection, Mr Schwartz explained in the court document. Separately, in a letter to customers and vendors on Monday, he said the reason for the Chapter 11 move was to restructure Seabras 1 Bermuda's secured debt. "The restructuring process is a very positive development for the companies' business and for the companies' loyal customers. It will provide the best opportunity to enable the business to not just survive, but prosper," he said. According to a statement, Seabras 1 Bermuda and Seabras 1 USA expect to complete the process relating to the Chapter 11 filings within the next few months, and to emerge within the second quarter of 2020, subject to all required approvals. Seaborn Networks, the Massachusetts-headquartered operator of the companies' business, is not part of the filings and continues to be the operator of the companies' business. The statement said: "Seaborn is not owned by the companies, but Seaborn is one of the indirect shareholders of the companies. Seaborn's work in this regard is not expected to be impacted by the filings; and the companies expect that Seaborn will continue to provide all SG&A and operations and engineering services for the companies. Seaborn itself has no borrowed money indebtedness and is a healthy business. Through the filings process, Seaborn's management and workforce is expected to remain as it is today." The statement said customers and vendors should expect to work with all Seabras' entities, and with Seaborn, as usual throughout the process. In addition the plan to be proposed is not expected to "contemplate any changes in business arrangements or activities for any of Seabras 1 Bermuda's subsidiaries, or for Seaborn, and all trade and vendor claims are expected to be paid in full".

A man wanted in connection with a Christmas Eve stabbing outside a bar has turned himself in to police. The 35-year-old man was knifed in the chest near Place's Place on Hamilton's Dundonald Street. The injured man was said on Wednesday to be "stable" in intensive care at the King Edward VII Memorial Hospital. The man was rushed to hospital for emergency surgery with "life-threatening" wounds after the attack, which happened about 5.30pm outside the bar on the junction of Dundonald Street and Court Street. Anyone with information should contact Detective Inspector Kenten Trott on 717-2345 or 295-0011. People can also use the confidential Crime Stoppers hotline on 800-8477

The parents of a man struck down by a serious brain inflammation overseas without insurance have been given charity status to help raise the hundreds of thousands of dollars to pay for his treatment. Dandre Outerbridge, 27, who is in the intensive care unit of the Mount Sinai Hospital in Miami Beach, faces months of expensive treatment after he was hit by viral encephalitis last month while on holiday. His parents, Jeanna Scott and Andre Woods, who are with him in Florida, only found out he did not have overseas coverage on his Argus Insurance plan after they arrived at the hospital. Ms Scott said yesterday: "He opens his eyes periodically and responds to the doctor's commands. He smiled Christmas Eve and Christmas Day." She posted on social media on Christmas Eve: "Got the best Christmas ever! My son opened his eyes, looked around, gave my husband a fist grip and smiled at everyone! Thank you! Only God!" But his mother said the slow process of recovery meant his parents were "facing having to be here for three to six months as well". Ms Scott added: "He will need that support, because he doesn't know anybody." Mr Outerbridge's medical costs topped $300,000 this month and continue to rise. Ms Scott said: "That figure isn't including physician costs — that's simply the hospital alone. What we do know is that every day our son sits in the ICU, it's $1,500. Ms Scott added: "His ventilator is $1,000 a day. A spinal tap costs $9,000." An appeal on GoFundMe had neared $27,000 yesterday. The family earlier said they would struggle to meet the medical bill because, even after Mr Outerbridge gets through the critical stage of the disease, he will need extensive rehabilitation. Ms Scott said last week: "They have told us to brace ourselves for anything from three to six months." Mr Outerbridge, who works at electrical firm Corcon and lives in Hamilton Parish, first opened his eyes earlier this month after three weeks in intensive care. He became ill in Bermuda and went to the King Edward VII Memorial Hospital on November 18 after he complained of stomach cramps and needed help to get into the building. He was diagnosed with a stomach virus, prescribed medication designed to treat vomiting and discharged. He left for Miami five days later on the Saturday flight after he told his mother he "was feeling OK". Ms Scott said: "We were a little concerned because of the way he was talking. On Sunday, he was incoherent." The disease can be caused by a range of viruses and how Mr Outerbridge contracted it is unclear.

Two tourists bit off more than they could chew after they tried to skip the bill for their Christmas dinner. Kelly Yawgel and Samantha Salafia, both 25, left the Huckleberry restaurant at the Rosedon Hotel in Pembroke without settling their $198 bill, Magistrates' Court heard yesterday. However, the meal ended up costing them almost $600 each after the pair pleaded guilty to failure to pay their bill. Magistrate Craig Attridge fined Yawgel, from New York, and Salafia, from Connecticut, $500 each — and also ordered them to split the unpaid bill. The court heard that the pair left the restaurant without paying, but management followed them to the nearby Hamilton Princess hotel, where the two were staying, and confronted them. The two asked to see the bill, which was still at the restaurant, but when the Huckleberry manager returned the women could not be found. The manager contacted police who arrested the women after they checked Hamilton Princess CCTV footage.

Boxing Day, December 26. Public Holiday

Gombey troupes turned out with their trademark drums, whistles and regalia for their traditional Boxing Day parade around the island. The performance by Place's Gombeys at the Hamilton Princess & Beach Club delivered a unique experience for guests. Polly and Harry Martin, first-time visitors to Bermuda, watched the performance in the courtyard. Ms Martin said the show was "fantastic". She added: "We are staying in Warwick but we were told we should see them today. We were asking around to see where we could find them, so we came here." The annual showcase for the art form harks back to the African roots of many Bermudians and the era of enslavement. Ms Martin said she was told the Boxing Day performances would show a special side of the island. She said: "There was so much flavour from the Caribbean and from Africa. The costumes were unique and the use of different weapons in the performance was amazing. Ms Martin added: "They had masks, so you cannot see who it is. I was also watching the work with the whip, which seemed to be to let people know what was coming next." A couple from Toronto, Canada, also first-time visitors and who gave their names as Cheryl and Michael, said they had loved the performance. Michael said: "It was a short flight to get here. We are thinking Bermuda is too well kept a secret." He added Gombeys had a flavour of the Mardi Gras Indians performances in New Orleans. His wife added: "The costumes and dancing were beautiful; we wish we knew more about it." The annual post-Christmas performances are a childhood treat and an occasion for nostalgia and pride for older people. Cal Bean, a veteran marathon runner, was among the crowds who watched as the troupe made their way up St Monica's Road in Pembroke. Mr Bean said: "It's very traditional in this area. Place's Gombeys started up Government Gate. Once you hear them, you just can't help but follow them. It's hard to explain; it's just a natural feeling. Once they come across your area, everybody comes out of the house." Mr Bean added: "The most exciting part is when two groups come together, they try to outdo each other. It can get a little heated. You can see who's the better drummers and dancers. Another big part is when people throw money in the ring." A woman from the area said: "It's definitely about national pride. The woman added: "It brings everybody out of the house."

Christmas Day, December 25. Public Holiday

Festive partygoers braved a breezy start to the day for the traditional toast to Christmas at Elbow Beach. About 150 people had joined in the celebrations on the South Shore beach by 11am, which brought together Bermudians, expatriate workers and tourists in an event that has run for decades. Charlie Souza, a senior bartender with waterside bar firm Beach Boys, worked at a bar with company co-owner Dennie O'Connor to raise funds for children's charity Big Brothers Big Sisters after he flew home last night from New Orleans. Mr Souza said: "This is my first time doing this for many years, and considering I just came from a cold climate, it's amazing." He added he had been on tour to several locations in the United States for Beach Boys to look at the hospitality industry in other destinations. Mr Souza said: "This event is something really special for here. You never see anything quite like it anywhere else. It's unique to Bermuda." The event offered a chance for residents far from their homelands to mingle with others and visitors got to see a Bermudian-style Christmas on the beach. A Pennsylvania woman, who identified herself as Pam, visited the beach with her husband and two children. She said she and her husband were regular spring visitors, but decided to try Christmas on the island with their children, who were on their first visit to Bermuda. She said: "We wanted to spend a day at the beach, have lunch, and have a fun time here with people. It doesn't matter that it's not sunny. Where we're from, it's pretty cold." Mike DeSilva, from Paget, said the event was "a tradition. I do it every year". He added: "If it's not raining, I'm here. A little cold won't stop me — I live about five minutes away. I'll find my usual spot and just hang out." Mr DeSilva said his grandson was enjoying his first Christmas down at the beach with family. But he said he did not plan on joining the beachgoers who took the plunge into the sea. Mr DeSilva explained: "I was born and raised here. I lived in Toronto for 25 years and I moved back 14 years ago. For the first three years, I took the plunge. Now I'm set back to Bermuda temperature." Among other first-timers were Gary Silva and Shane DeSilva, the co-owners of Hamilton bar Coconut Rock. Mr Silva said: "It's nice — I'm surprised this many people are here." Mr DeSilva, who said he was usually away over the festive season, added: "I've never been down here for Christmas. We came down to mix with the foreign people on the island and the local people having a good time. We will let the day take us."

Christmas Eve, December 24

Christmas Greetings from Governor John Rankin. "I begin this year's Christmas message with a quote from Kofi Annan, the former Secretary General of the United Nations: "Tolerance, intercultural dialogue and respect for diversity are more essential than ever in a world where people are becoming more and more closely interconnected." Today's technology platforms make it easier for us connect with each other by electronic means. I myself use this technology and Government House has a Facebook page and Instagram account to keep our followers up to speed with what is happening both locally and overseas. The majority of the time this interconnectivity is helpful by keeping us up-to-date with family and friends overseas, by the quick dissemination of public health and safety information during crises. However, it can also be misused, for example, cyber bullying and uptake of the use of social media, especially in the younger generation, has led many to feel that there has been a decrease in face-to-face communication. Fortunately, there are still many opportunities for young people here in Bermuda to come together in real, rather than virtual, life and develop new skills. During the summer, I was privileged to attend the 2019 Endeavour Programme Graduate Summer Regatta. It was a fun afternoon during which the graduates from all different backgrounds showed off the impressive sailing skills that they had learnt. Community spirit was never more evident than in September this year in the wake of Hurricane Dorian and the devastation which it left in our sister islands of the Bahamas. Over just a couple of days, Bermudians came together from all walks of life and donated over 200 tonnes of relief supplies. The Royal Naval Ship HMS Protector, which was in Bermuda at the time, generously transported as much of the donations as it could take. In little over a week, the people of the Bahamas received the first 100 tonnes of much needed aid and supplies from Bermuda. It was not just individuals who answered the call. Many of Bermuda's companies also stepped up and did their bit to support the humanitarian relief effort as well. I pay tribute to all those who helped with their generosity. As an island, we also offered our condolences and support to the people of New Zealand after 50 people were killed in terrorist shooting attacks at mosques in Christchurch. After the attacks I, along with Minister of National Security Wayne Caines, visited mosques across Bermuda to show our solidarity and support for the local Muslim community. At a special church service I also joined in showing support for the people of Sri Lanka after over 250 people were killed in that country in a series of coordinated terrorist suicide bombings. Closer to home, this autumn the men and women of the Island's emergency services, the Royal Bermuda Regiment, Bermuda Fire & Rescue Service, Bermuda Police Service and St John Ambulance Brigade, were put on standby in preparation for Hurricane Humberto, closely followed by Tropical Storm Jerry. Our emergency services staff were quickly up and running after the storms passed, working together to get the island back on its feet and to ensure the safety and security of our residents. I was especially proud as Commander-in-Chief to present field promotions to two young men of the Royal Bermuda Regiment. Corporals Orville Hall and Kallan Thomas performed to the highest levels throughout the year and especially during Hurricane Humberto and TS Jerry. They fully demonstrated the Regiment's core values, displaying determination, selfless commitment, dependability and care for their colleagues. Another significant event was the holding of the first ever Pride march in Bermuda at the end of August. Some 6,000 people joined the parade in support of this island's LGBT community. It was a peaceful and happy occasion for those involved, taking place in line with the rights of freedom of assembly, freedom of conscience and freedom of expression which all groups enjoy under Bermuda's Constitution and international human rights conventions. The first weekend in November was filled with events celebrating the 170th anniversary of the arrival of the first Portuguese immigrants in Bermuda. I was honoured to welcome the President of the Azores, HE Mr Vasco Cordeiro, to Government House. During our meeting we spoke about the close historical connection between Bermuda and the Azores and the huge contribution that has been made, and continues to be made, to Bermuda by the community of Portuguese origin. I also enjoyed attending the Reid Street block party which was an opportunity for everyone to come together and celebrate Portuguese culture. Between the entertainment and the traditional Portuguese food, it was an evening full of dance, song and laughter. Bermuda's young people continue to be a source of inspiration. Two students, Maya Yates and McKenzie-Kohl Tuckett, were the successful candidates chosen to experience a day in the life of the Deputy Governor as part of the celebrations for International Women's Day on 8 March. They were asked to submit a short video explaining what women's rights issues they would like to see addressed, globally or within their local community. Ms Tuckett wrote of her experience in The Royal Gazette's Young Observer saying that the day left her feeling empowered and reminded her that she "can be anything (she) wants to be". And earlier this month we were pleased to welcome more of the island's young people to Government House on International Human Rights Day, learning what human rights mean for them now and in the future which they will help to build. The protection of the environment continues to be a key concern of young people. In August at the Greenpeace Plastics Night at the World Heritage Centre in St George's, I met an inspiring young man, Andreaz Glasgow, a Berkeley Institute student. I invited Andreaz to Government House to discuss ways of addressing environmental issues and he, together with his colleague Micah Richardson, operate Green Team Bermuda which aims to combat plastic and carbon pollution on the island. We had a very good discussion and I hope in the future to be able to join Green Team Bermuda in one of their beach cleanup. The protection of our environment should be of concern to everyone and if we all act together, we can make a difference and leave a better, cleaner environment for future generations. All of us — young and old, men and women, those of different ethnic, cultural, religious and other backgrounds — contribute to the rich tapestry of Bermuda. I would end my Christmas message the same way in which I started it with a quote from Kofi Annan — "People of different religions and cultures live side by side in almost every part of the world, and most of us have overlapping identities which unite us with very different groups. We can love what we are, without hating what — and who — we are not. We can thrive in our own tradition, even as we learn from others, and come to respect their teachings." I wish all of you a very happy Christmas."

Christmas Greetings from the Premier, Hon. David E. Burt, JP, MP. "Greetings and Merry Christmas. For many of us in Bermuda, Christmas has a profound meaning. The miracle of the birth of Jesus Christ is a significant part of people's lives and of their faith. This story symbolizes the very essence of this season and is a symbol of the love our Creator has for us. Our Christmas culture fills Christians, those of other faiths, and non-believers with joy as we relish the opportunity to spend time with friends, relatives, and people we meet for the first time. In Bermuda. we have many traditions that make this holiday unique and truly special for each one of us. Whether it be that special Christmas dish or Christmas drink, decorations inside and outside of the home, following the Gombeys on Boxing Day, or a trip to the beach, we take the time away from the hustle and bustle of everyday life to reconnect with those close to us. Christmas is an occasion when we take time to give, to share, to love and to care; counting our many blessings and of course, sharing these blessings with others. During the holiday season, we remember and assist those who are less fortunate, the sick and shut-in, people who are struggling financially, those who are alone for the holidays, and people grieving the loss of a loved one. Let us not forget that there are Bermudians who need our love, and we must open our hearts and homes to assist them in the spirit of Christmas. Let us also remember those who will not be with their families on Christmas Day as they serve our community. Whether they be prison, police, or fire officers, or those working at our ports, in public transport, and our hospital, I extend to them the gratitude of a grateful country for their service and their sacrifice. Despite the challenges that our island faces, we are truly a blessed country and we have much to be thankful for. This holiday season let's remember to appreciate what we have, cherish friends and family, and love one another. It is important that the spirit of that love, that is, the essence of the season with the gift of Christ, be shared with all during this Christmas holiday. As Christ was a symbol of God's love, in Bermuda we need more love in our homes, in our communities, in our schools, in our workplaces, and in our government. So let's spread that love. Maybe it is an estranged family member or friend, a neighbour who you may have fallen out with, or even a stranger. If you are thinking about reaching out to someone, or inviting someone to your table, don't doubt yourself, make that call or send that message and let us all spread the love of the season. On behalf of the Government of Bermuda, may God bless you and your family. May your holidays be safe, peaceful and filled with joy. And from our family to yours, merry Christmas and a Happy New Year!"

Christmas Greetings from Leader of the Opposition, Hon. Craig Cannonier, JP, MP. "Greetings, my fellow Bermudians and to those working on and visiting our wonderful island, during this holiday season. It's that most wonderful time of the year and, as your Opposition leader, I want you to know how humbled and honoured I am to serve you. This time of year brings hope, love, peace and thankfulness. It is a time of year that sees selfless acts of generosity that have helped thousands of people throughout our community. At the core of it all is that we are all simply human, trying our best to journey through this world hoping that we leave this earth with a legacy that lives on through our children, our work and or our lives. As humans we are imperfect, so every day we have the opportunity to become better versions of ourselves. I challenge all of us to continue to become better versions of ourselves, not just during this holiday season, but at all times. This is a season where some celebrate the birth of Christ, Hanukkah or Kwanzaa. There are believers and non-believers, but ultimately this is a time we share with one another, regardless of who we are. Bermuda, it is times like this that bring us together and renews our faith in each other. As you connect with family and friends, as you give to those less fortunate, as you enjoy a festive feast, remember it is times like this when we are one and — in that unity — we thrive. Let's continue to thrive together. May you all have a wonderful, happy holiday season."

Bermuda is no longer projected to have a budget surplus this fiscal year. Forecast revenue and expenditure figures indicate a $1.1m deficit is now likely when the fiscal year ends on March 31. An upwards revision of how much interest is being paid on debt is the reason the originally projected surplus of $7.4 million is no longer expected. The Ministry of Finance has released a fiscal performance report at the halfway point of the 2019-20 fiscal year. It noted the unplanned $170 million Government has borrowed to make good on a legacy obligation as a guarantor of the Caroline Bay project. Part of that additional borrowing, some $88.5 million, occurred during the period covered by the half-year fiscal data. In the six months to the end of September, Government's balance sheet was $7.6 million in the red. That was a big improvement on the $46.8 million deficit at the same point in 2018. However, last year's figure included a $32 million contribution to the Sinking Fund, something which was not made this year. The first half fiscal performance data also showed:
Total revenues of $545.4 million, 48.8 per cent of the full-year projected total of $1.118 billion.
Interest on debt expense of $58.3 million, down $3.4 million compared to the first half of the 2018-19 fiscal year.
Regarding the fall in interest expenses for the first six months, which was 5.8 per cent lower than the same period in 2018, the Ministry of Finance, in a statement, said: "This is due to lower debt levels and strategic asset/liability management by the government in which relatively expensive debt has been refinanced by less expensive debt." Total expenditure for the six months was $552.9 million, which is 49.4 per cent of the full-year projection of $1.119 billion. The expenditure total has been revised upwards by $8.4 million with, as mentioned, interest on debt the reason for the anticipated additional cost. The Ministry said: "The increase in borrowing runs counter to the plan that was outlined in this Government's budget statement in February which stated that we had no plans to incur any additional long-term borrowings in this fiscal year. While this turn of events was unplanned, the Government's commitment to being prudent stewards of the public purse remains unchanged." Government's current account expenditure to date is $463.8 million, almost unchanged from a year ago. Capital expenditure is $30.8 million, up $4.4 million primarily due to a new capital grant for the West End Development Corporation to develop King's wharf, and other Ministry of Public Works development projects. The Ministry of Finance said increases in revenue from Customs duty, payroll tax, foreign currency purchase tax, telecommunications receipts and passenger tax were offset by lower receipts in land tax, hotel occupancy tax, stamp duty, civil aviation receipts and all other receipts. The Ministry believes the strength of payroll tax and passenger tax receipts increase the chance of Government meeting its total revenue target for the end of the fiscal year. Meanwhile, it said current expenditures, excluding debt service, is tracking $200,000, or 0.05 per cent, below budget estimates. Gross debt at the end of September was $2.7 billion. Net of the Sinking Fund, debt was $2.56 billion.

A brace of Royal Bermuda Regiment soldiers have passed out from the British Army's elite Royal Military Academy. Now Ci're Bean and Andrew Wallace will rejoin the Regiment at Warwick Camp as Second Lieutenants in charge of other soldiers after completing the eight-week Army Reserve training course at the RMA, known as Sandhurst. Second Lieutenant Bean, a former Lance Corporal, said it was "an amazing experience — very intense, but extremely interesting". The 21-year-old from Sandys, who runs his own firm, Payakid, which places at-risk youngsters with employers, added: "We got to meet and work with a lot of people and learnt a lot of new things. It was just great to get that exposure." He added: "It was extremely cold; we were operating in minus three temperatures and coming from Bermuda, you don't experience that. It was my first time in the UK." But Second Lieutenant Bean, posted as a Platoon Commander to the RBR's A Company, the specialists in infantry tactics and public order duties, said: "I definitely enjoyed it. It was a once-in-a-lifetime experience. I would never have got the chance to do something like that if I hadn't joined the Regiment — I would definitely recommend the RBR. It offers a lot of opportunities. No matter what walk of life you come from, there is something for you." Second Lieutenant Bean was an award-winning Lance Corporal instructor at the February Recruit Camp, where now Second Lieutenant Wallace got his first taste of RBR life as a new Private. Second Lieutenant Wallace, 25, from Paget, spent three years in the Officer Training Corps while he studied for a degree in military history at Kent University in the UK. He said he had applied for a commission early in his RBR career, because his prior experience meant he had covered a lot of the basics of soldiering and he wanted a bigger challenge. Second Lieutenant Wallace added the Sandhurst course was a grueling mix of classroom and field work. The curatorial assistant at the National Museum of Bermuda said: "There was just so much information. You just have to grab it when you can and hold it tight. It was the longest time I've ever been away from home and the longest time I've done anything military. And you have lessons from about 6.30am to nine at night." Second Lieutenant Wallace, now a Platoon Commander in the RBR's humanitarian aid and disaster relief B Company, said: "It lived up to expectations. I went in there thinking it would probably be the hardest thing I've ever done and I left thinking that." But he said it was good for the RBR that its officers were trained at an institution with an international reputation. He said: "It's putting Bermuda out there. I met a lot of people on that course and if I end up running into them on a deployment, we will have that instant connection. For the regiment, the fact that they send people away to an institution held in such high regard, people recognise that and it's very valuable." Second Lieutenant Wallace said his military training had boosted his efficiency at work and in his personal life. He explained: "For example, it's one thing to go into a grocery store and spend 30 or 40 minutes wandering around. Planning in advance and getting it done in a few minutes is something else. Time efficiency has been the best lesson. It's learning how to manage your time and get the most out of it. And you can use that time productively elsewhere." He added that the RBR, whose physical trainers are also British Army qualified, could get unfit recruits to the standards required faster than people might think. Second Lieutenant Wallace added: "I have no regrets about joining. It's something I wanted to do for a long time and I'm glad I did." The two will be confirmed in their new ranks if they are successful at the Commissioning and Promotions board and their appointments are confirmed by John Rankin, the Governor and RBR Commander-in-Chief. RBR soldiers are expected to complete 30 days of service a year, including a two-week training camp, usually overseas, and regular nights and weekends and earn about $5,000 in their first year. Further trade and leadership training, at home and overseas, is also available.

A man wanted in connection with a stabbing outside a bar has turned himself in to police, officers said today. A police spokesman said the 35-year-old victim, who was knifed in the chest near Place's Place on Dundonald Street, was now "stable" in the intensive care unit at the King Edward VII Memorial Hospital. The man was rushed to hospital for emergency surgery with "life-threatening" wounds after the attack, which happened about 5.30pm outside the bar on the junction of Dundonald Street and Court Street. Police have appealed for witnesses. Anyone with information should contact Detective Inspector Kenten Trott on 717-2345 or 295-0011. People can also use the confidential Crime Stoppers hotline on 800-8477.

In today's materialistic world it's hard to imagine a child feeling grateful that Santa left a piece of fruit in their stocking. Christmases were a lot different when Lefroy Brownlow Place was a child back in the 1920s. "We'd hang out stockings on the sideboard," the 103-year-old said. "In the morning we'd find an orange, handkerchiefs or maybe a pair of socks. Santa Claus gave us what we needed rather than what we wanted. Christmas was Christmas back then." Part of it was that many people didn't have a lot, he admitted. Families had to be resourceful with whatever they did have. The Place family used a cedar branch as a Christmas tree; they hung handkerchiefs and socks as ornaments. As an adult, he wanted to give his three children more. He remembers the excitement he felt when he bought his daughter, Charlene, a special bike. "I rode it home and almost ran into a tree," he laughed. Although the St George's resident has had some health challenges this year, he's happily anticipating spending time with his family tomorrow. "I am looking forward, God willing, for this coming Christmas so we can get together again and have a joyous time," he said. "If you are not grateful for what you do have, what good is it? If God gives you these things, or the idea to get these things, you must be grateful and I am grateful. I am pleased that God has granted me this year and all the years I have had." Winnie Oatley, 101, said that seeing Santa Claus at Clifford's on Water Street was a highlight of her childhood Christmases. Owned by the late Robert Oliver Clifford, a Member of Parliament, the St George's store was a beehive of activity because it sold gifts. "It was located where Wahoo's is today," Mrs Oatley said. "I never knew who played Santa Claus." Also exciting was the annual hunt with her dad, Leonard Leighton, for a Christmas tree. "We always found a little cedar tree," she said. "We made decorations out of crepe paper. We just had a very simple Christmas." Her family usually celebrated the day with cassava pie and pork at dinner, followed by a Christmas pudding. Some families cooked the traditional dessert outside, in a tin, because it took so long to boil. Mrs Oatley's mother, Pearl, cooked theirs inside in a coal stove. "My mother and grandmother worked together to make Christmas dinner," she said. "I know we had to grate the cassava." She joked that there was probably always a little blood in the dish, courtesy of the chef's helpers who grated their fingers by mistake. "I didn't actually make cassava until I was a grown woman," she said. Like Mr Place, she did not get piles of wrapped gifts. "We got things in our stocking or there were games, like Snakes and Ladders, under the tree," she said. She plans to spend the holiday season with her daughter, Joan, and grandchildren. Grace Woodley, 100, was born in Norwich, Connecticut. Her mother, Alethia Simmons, was Bermudian; her father, Emmanuel de Pina, was from Cape Verde. When she was eight her mother brought her back to the island for good. Mrs Woodley remembers how her first Christmas here, in 1928, felt so different than what she was used to. Things were quieter. The decorations her mother brought from Connecticut seemed prettier than what was on offer in Bermuda. "Now the decorations are the same in Bermuda, and the US," Mrs Woodley said. The real "treat" came at dinner when many families would serve a chicken they'd killed in the yard. Tomorrow, she's looking forward to being served by her 11 children. "They always used to put Christmas dinner on me," she said. "I had to put my foot down and say I didn't want to do it any more. Now someone else does it." Michael Darling, 89, said there was always an apple or orange poking out of the top of his stocking on Christmas morning, but the real treat was when he also found some sweets. "A chocolate box, like a Whitman's sampler, was a big deal in those days," the Warwick resident said, explaining that as everything came in by ship, delivery for the big day was hit or miss. "Sometimes they were quite stale." He grew up at the end of Reid Street, near Fort Hamilton. His father, Leslie, ran Bluck's, which closed this year. "During the war years he really struggled," Mr Darling said. They always had a cedar Christmas tree, and would reuse all their decorations. "The tinsel was carefully folded up and put away for next year," he said. Christmas dinner was always followed by plum pudding. "It had these little silver things in the plum pudding, such as a little silver shoe, a threepence and a sixpence," Mr Darling said. "You were very careful when you ate the pudding. If you bit into a sixpence you'd know it." More important was eating a dozen minced tarts between Christmas Day and Twelfth Night, January 5. "It was supposed to be good luck," he said. On Boxing Day Mr Darling looked forward to seeing the Gombeys. "They would come out and make a lot of noise and would go on playing all the way from Hamilton to Somerset," he said. "They were followed by children who probably wondered at the end, how they could get home."

December 23

The Ministry of Finance has reported the first half fiscal performance for 2019-20. Among the highlights are:
Total revenues of $545.4 million, which is up $7.9 million compared to the first half of the fiscal year 2018-19.
Total expenditure of $552.9 million, down $31.4 million compared to the first half of the fiscal year 2018-19.
Interest expense of $58.3 million, down $3.4 million compared to the first half of the fiscal year 2018-19.
Deficit of $7.6 million, down $39.2 million compared to the first half of the fiscal year 2018-19.
The fiscal year will end on March 31, and the Bermuda Government has a revenue target of $1.12 billion, an expenditure target of $1.05 billion — which includes debt service, and a projected surplus target of $7.4 million. An in depth story on today's data will follow.

Three men were arrested at the airport's private jet terminal on suspicion of drugs offences at the weekend, police said today. The arrests came after a joint operation between the police drugs unit and Customs officers was carried out on Saturday. A police spokesman said: "Earlier that evening two local men entered the island on a private jet with multiple pieces of luggage that were believed to contain controlled drugs. Those arrested remain in custody pending the outcome of investigations and consultation with the Director of Public Prosecutions." He added: "The Bermuda Police Service remains committed to working with its partners in law enforcement, both locally and overseas, to stem the flow of illegal drugs into Bermuda."

Police today appealed for information on the gun murder of a man a week before the first anniversary of his death. A police spokesman said the murder of Ronniko Burchall on December 28 last year was still under investigation, but help from the public was needed. Mr Burchall, who was 30, was shot on December 28 last year as he got on his motorcycle in the car park of St David's Cricket Club and died two days later. The police spokesman added that officers were aware that there were about 50 people at the cricket club at the time and a "significant number" of people witnessed the shooting. He said that detectives investigating the case have "continued to maintain regular contact with the family of Mr. Burchall". The police spokesman added: "The police hold regular briefings on this matter and have kept the family of Ronniko Burchall updated as recently as September 2019." Four men were arrested just after the murder, but no one has been charged in connection with the killing. Anyone with information that could help the inquiry should contact Detective Sergeant Jason Smith on 717-0864.

A man who held a shop manager at knife point and stole $150 was today jailed for more than three years. The Supreme Court heard that Kevin Robinson entered Belvin's Variety Store in Smith's at around 11.20am on May 21 and demanded cash at knifepoint. Robinson, 60, jumped over the counter and held the knife to the employee's neck when he failed to open the till and hand over the money. Robinson told the terrified man several times: "Open it or I will hurt you." The assistant manager opened the register and Robinson snatched $150 before he fled. Robinson earlier admitted charges of robbery and possession of a three-inch pocket knife. Puisne Judge Charles-Etta Simmons heard Robinson, of Hamilton Parish, was identified from security camera footage in the store. She said an "unwitting accomplice", who gave Robinson a ride to and from the store, came forward after he heard about the robbery. Mrs Justice Simmons told the court that robbery was a serious offence, but that Robinson deserved a discount on his sentence for an early guilty plea and his apologies in the court. She sentenced Robinson to three years and three months for the robbery and two years for the possession of the knife. The sentences will run concurrently. The judge also ordered that Robinson should serve two years of probation after his release and that he should pay $150 in restitution to Belvin's. The offence was not Robinson's first. He admitted the theft of $360 of sports shirts in February last year from Sports Cellar in Hamilton. Robinson also pleaded guilty to stealing $772 worth of cigarettes from several stores in 2013. He told the court in both cases that he was addicted to heroin and asked for help to receive treatment.

A man cleared of money-laundering charges has been allowed to fight for more than $300,000 of seized cash to be returned to him. Kenneth Bulford told the Supreme Court the money was forfeited by another defendant before he could make any applications to resist the move. Chief Justice Narinder Hargun found Mr Bulford should have been given an opportunity to address the court on the cash and set aside the forfeiture order. The court heard in a hearing on December 2 that Mr Bulford was arrested at the airport in March 2013 on suspicion of money-laundering offences along with Wanda Bowen and Melina Bean. Ms Bowen and Ms Bean were found to have $314,950 in American currency hidden in sneakers packed in their suitcase. They also had a total of $1,478 on them. Mr Bulford's DNA was found on the money seized from Ms Bowen and Ms Bean, and he was found to have $10,040 in cash on him. Mr Bulford was charged separately from his co-accused and the two women appeared in court more than a year before Mr Bulford. Ms Bowen pleaded guilty to money laundering in 2013 and consented to the forfeiture of the $314,950, which ended up in the Confiscated Assets Fund. Mr Bulford was tried in 2015 and he said all of the seized cash belonged to him, but insisted it was earned by legitimate means. A jury later found him not guilty of possessing proceeds of crime by a unanimous verdict. The $10,040 found on Mr Bulford was returned to him a day after the verdict, but the $314,950 was not because it had already been forfeited. Lawyer Jerome Lynch, who appeared for Mr Bulford, asked the court to set aside the forfeiture order. He argued that Mr Bulford was not given notice of the forfeiture order, despite prosecutors' insistence that the money belonged to him, and he was not given a chance to argue against it. Mr Bulford said in an affidavit that he did not know Ms Bowen would plead guilty or consent to the forfeiture. Alan Richards, for the Crown, said that Mr Bulford had not claimed the $314,950 was his until his trial, which came after the money was forfeited. But Mr Justice Hargun ruled that Mr Bulford should have been notified about the forfeiture and given a chance to make submissions. He said: "I am satisfied that the court was in possession of sufficient material, in relation to the potential interest of Mr Buford in the funds and that he should have been given notice so as to allow him to make any representations to the court he considered appropriate. Mr Justice Hargun concluded: "In any event, having regard to the fact that Mr Bulford maintains in sworn evidence that he was wholly unaware of the forfeiture proceedings and that he has been denied an opportunity to make representations to the court, in relation to his interests in the funds, he should be afforded such an opportunity."

A vote of no confidence in the Progressive Labour Party chairman has led to demands for his resignation, it was revealed today. Damon Wade, who took on the role in October 2018, failed to win backing from the PLP executive committee at an emergency meeting last week. But the chairman claimed today that comments made by the party in the wake of the vote were "misleading and malicious" and went against its constitution. Mr Wade said: "I do not intend to discuss the details of our dispute publicly but I adamantly reject the extremely damaging statements made by the party spokesperson regarding my actions as party chairman. The publishing of their statement was irresponsible and unconstitutional. I have asked them to retract the misleading and malicious statements made." He was speaking after the PLP claimed that Mr Wade had failed to live up to the standards required and alleged he had tried to exploit his position. The party said: "Two and a half years ago, the people of Bermuda called time on the One Bermuda Alliance experiment and voted for the only party that has a track record of governing for the people. It is a solemn privilege that we do not take lightly. In the PLP, we proudly stand on our legacy of vowing that Bermuda's opportunities and ingenuity must always be utilized in the public interest and for greatest good. Regrettably, the individual failed to live up to the high moral standard that the officers and members have set for the party and themselves. The party acted to protect and further enshrine its values. To that end, the PLP wishes to advise the public that the executive committee of the party held an emergency meeting last week where a motion of no confidence was passed unanimously against chairman Damon Wade. The executive committee also called for the chairman to immediately resign his position. The PLP has a zero-tolerance policy regarding the exploitation of party office for personal gain." It added: "No public official or public servant acted inappropriately."

The Bermuda Industrial Union (BIU) has asked a court to deliver an ultimatum to a sports club — pay a $1.5 million debt or lose its building in Hamilton. The BIU has asked the Supreme Court to order Pembroke Hamilton Club to pay the cash or demand that the Reid Street building be sold, with the proceeds from the sale going to the union. The BIU also asked the court to order PHC to give the union immediate possession of the property and all the documents needed to effect a sale. Alternatively, the BIU has asked PHC to pay $1,532,000, outstanding as of June 6, 2017, along with interest at a daily rate of $293.81. The BIU declined to comment on the legal action last night, but said that discussions with PHC continued. The case is understood to be linked to a $1.2 million loan made by the union to the club in 2001 to pay for a new lighting system and the resurfacing of the playing field at the club's grounds on Stadium Lane, in Warwick. The loan was to be repaid over a 17-year period through rental income from PHC's two-storey building on Reid Street in Hamilton. But it was reported in 2014 that the club had yet to pay the principal on the loan and the union had threatened to seek ownership of the Reid Street building. PHC management outlined several proposals in 2012 designed to increase revenue and pay off debt. Among the proposals was the sale of the Reid Street building, but the plan was rejected by influential club members.

A 32-year-old man was injured, and two people arrested, after a gunman fired into a group of people early yesterday as they stood outside a Hamilton nightclub. Police said the victim was struck in the left shoulder or upper back outside the Spinning Wheel on Court Street. The gunman then ran inside the club and fired a shot, with no one hit, before making his escape. The incident marred a year in which only one other person was injured by guns: a 64-year-old man who was wounded in the shoulder on October 3 in St David's. An anti-violence activist warned yesterday: "It's concerning, because what often happens with an incident like this is it awakens the giant." Gina Spence added: "Depending on who was shot, it can bring that escalation of them against us." The victim was taken to hospital before police arrived at the scene, with injuries that were not considered life threatening. A police spokesman said he would have to be flown overseas for further treatment. The attack started just before 1.30am when an armed man walked on to Court Street. Police said the suspect ran towards the group outside the bar and opened fire. Afterwards, the suspect fled the Spinning Wheel, running north on Court Street and escaping through the parking lot on Elliott Street. Acting on information gathered, police yesterday arrested two male suspects, aged 31 and 19, but have continued to appeal for witnesses. Ms Spence, the head of the charity Gina Spence Productions, said despite this year's drop in gun crime: "I never take my eyes off. I know that in spite of the fact it's been down, there are still guns out there — we know that. As long as it's still in the street, there will be incidents. We shouldn't ever get comfortable and accept that it's over. We should be vigilant and prepared for anything." Ms Spence said there had been "an unusual kind of hush" in the wake of the attack. It's been strange. Usually talk about who it is goes through the community like fire. This has been quite different. This saddens me — prior to Christmas I was really grateful I didn't receive any calls over any incidents. This keeps us aware that while it's not happening at the same level, nonetheless we always have to be proactive." At the scene, Acting Inspector Dorian Astwood was unable to say whether the shooting was gang-related. It came less than ten days after Wayne Caines, the Minister of National Security, unveiled figures at the House of Assembly showing a sharp drop in violent crime. Speaking on December 13, Mr Caines warned that his ministry would not "rest on its laurels". The minister called on the community to "roll up our sleeves to assist with stamping the gang culture out of our island". Police last night said that "a number of individuals" had assisted with inquiries.

Plans have been submitted to turn a vacant site on Church Street near the Cathedral into a six-storey apartment block. The application, put forward by C33 Ltd last month, proposed a 68-unit apartment building at 33 Church Street. The documents state the building will have six above-ground storeys and two floors below ground. CTX Design Group, the agent for the project, said in the application: "The building is a reinforced concrete shell with interior unit partitions of concrete block. The requested programme for this building features a central circulation spine with residential units along its length. Each unit has large windows and a private balcony. The application continues: "The east and west façades step in and out to permit light to penetrate the site along the boundaries. The upper floors are set back from the boundaries reducing the mass and exceeding the goals of the City of Hamilton Development Plan." The project also proposed the provision of off-street parking in the building for eleven cars and 25 cycles. The application said: "The applicants envision a shared car concept using smaller electric vehicles and ten spaces are currently proposed for those vehicles. A gym, community room and storage facilities are proposed within the lower basement floor. These spaces open out to the existing lower grade where planting is proposed to permit outdoor entertainment."

Proposed changes to the investment fund regime have been discussed by the members of Alternative Investment Management Association Bermuda. Economic substance guidance notes and the economic substance regulations are expected to be released before December 31, following the passing of amendments to Bermuda's Economic Substance Act. That was a focus of the association's year-end industry review and holiday reception. "We are pleased to discuss the proposed changes to Bermuda's economic substance legislation with our industry counterparts," Ifor Hughes, deputy director of policy at the Bermuda Monetary Authority, said. He was a speaker at the event. Mr Hughes added: "We have made some needed amendments to our economic substance and investment funds regimes in response to initiatives by the OECD and EU Code of Conduct Group. These amendments position Bermuda to continue to be a respected, appropriately regulated international financial centre. We expect 2020 to be an equally busy and challenging year, as we continue to build out the regulations and guidance notes to support the economic substance regimes." Another speaker was Michael Frith, adviser to the Registrar of Companies, and who has been actively engaged supporting it as it assumes the role of regulator of reporting entities under the economic substance framework. He said: "The amendment acts have been developed following extensive consultation by the Bermuda Government with the OECD and EU Code of Conduct Group and are in furtherance of the implementation by Bermuda of legislation that embraces a global initiative to combat base erosion and profit sharing." AIMA Bermuda has worked with industry and the BMA to ensure Bermuda took steps to comply with the EU's assessment of collective investment vehicle regimes. It said that, as a result, legislative amendments due to come in to force on January 1, "will bring into scope closed ended investment vehicles and overseas investment funds that are managed or promoted in or from Bermuda, in line with the approaches taken in other overseas territories and Crown Dependencies". Craig Bridgewater, who is stepping down as chairman of the AIMA Bermuda's executive committee after a three-year term, expressed gratitude to the BMA and Registrar of Companies for their engagement with the association. Sarah Demerling will succeed Mr Bridgewater. She is a Partner at Walkers (Bermuda) Limited, and said: "Craig has done an amazing job to lead the AIMA network in Bermuda to where it is today and we thank him for all of his hard work. I have always been very passionate about the asset management industry in Bermuda. We have a robust funds offering and it is very pleasing to have the support of the wider AIMA network as we continue to grow our local membership and activities. I am absolutely delighted to take on the role of chair, but recognise that none of the events, educational programmes and industry engagement would be possible without the dedication of the executive committee who have worked tirelessly this year." She said 2019 saw a visit from Jiri Krol, AIMA deputy chief executive officer and head of Government Affairs and local representation at the AIMA Canada Investor Forum in Toronto. Mrs Demerling added: "In 2020, I am keen for us to further deepen our working relationship with the AIMA group locally and internationally and continue to tell Bermuda's story." The AIMA event was sponsored by Wakefield Quinn. AIMA Bermuda welcomes members from the accounting, legal and banking, fund management and administration, and the ILS industry sectors. Through its global industry initiatives including advocacy, policy and regulatory engagement, educational programmes and sound practice guides.

Organizers of the Axa End-to-End have announced the four local charities that will get a boost from cash raised at the event next year. The Bermuda Zoological Society, Vision Bermuda, the Garden Club of Bermuda and Family Centre were selected after organisers received "dozens" of applications. Anne Mello, the Axa End-to-End chairwoman, said: "We were overwhelmed with applications and every one of them, in some way, was deserving of support so this was not an easy decision to take. "However, we felt that the four charities we selected represented a very good cross section of the charitable sector and each, in their own way, do a tremendous amount for Bermuda and its people." The Garden Club of Bermuda added cash from the event would go towards its Skills Development Programme, which helps young Bermudians interested in horticulture. Cindy Young and Anna Fulton, co-chairwomen of the development programme, said the money would help pay stipends for the trainees and provide cooked lunches for them three times a week, during the six to seven-month programme, along with further education and counselling. Lynda Johnson, the BZS development officer, added the End-to-End funds would be used for the charity's schools programme. Ms Johnson said: "It provides Bermudian examples of experiential learning that students can absorb and relate to while also gaining an awareness of important issues facing their island home. To remain free of charge, funding from the community is vital for the continuation of the schools programme and ensures availability to all students." Vision Bermuda, once the Bermuda Society for the Blind, will use its donation to fund its regular work to help those who are blind or have a vision impairment. Theresa Hall of Vision Bermuda said: "Experiencing vision loss is emotionally devastating. We believe that no one should have to face sight loss without support to learn how to manage those everyday tasks and maintain their dignity through independence. We are the only organisation in Bermuda to provide a full range of specialist services supporting people of any age with low or no vision." Family Centre will use its slice of the cake to help strengthen families through improved family communication and to teach problem-solving skills to create better home environments. Sandy DeSilva, Family Centre director of services, said: "Family Centre believes in the same principles as the Axa End-to-End. We, too, believe that families can be resilient when they have the support and inspiration to work through their challenges. We, too, believe that resilient families are the foundation of a strong, healthy community, hence Family Centre's mission is to strengthen families to create a healthier Bermuda for our children."

A struggling family could be separated in the new year if they are unable to keep their home in the face of rental arrears, it was feared yesterday. The mother said she risked eviction from a Bermuda Housing Corporation property. It was thought her children would be placed in foster care if the family was left without a home. Sheelagh Cooper, a children's advocate, claimed yesterday that the situation demonstrated a lack of co-ordination among government services. Ms Cooper said: "There is a fatal flaw in our safety net in that the government agencies that are set up to help vulnerable children and their families, the Bermuda Housing Corporation, child and family services and financial assistance, are now located in three different ministries. These should not only be located in the same ministry, they should be down the hall from each other. The welfare of struggling families depends on these agencies co-ordinating their services. When these agencies stay in their lanes, it's up to families to bridge the gaps by going from one to the other in an attempt to patch together a plan. This situation is a good example of how that doesn't work." The mother, who lives in Pembroke, said that a single income source from her children's father depended on how many hours of work he was able to secure. She explained that the Department of Financial Assistance had funded half of the $1,300 a month rent and the householders were expected to pay the rest. However, arrears had amassed to at least $11,000. The 38-year-old said: "I'm standing to be evicted soon. They just said some time in January, they didn't give an exact date. I believe that if the arrears were paid I would stand a better chance of keeping my house. Right now we're just trying to accumulate as much as we can to go up there with a lump sum, but the process is taking longer than expected. They had said for us to pay $200 a month towards it, but we decided that we are trying to come up with a little bit more to get it down a little bit faster. I would have to pay on the arrears, then I would have to come up with the current [rent] because I'm not getting any help from financial assistance right now. It's stressful, I'm not able to do much for my children as far as Christmas is concerned. I've had some people help me, give me a few things. 2020, I want a better life for myself, which means I will definitely go out and look for employment because I can't afford to live like this any more." The mother said that her children lived with her. However, it was feared that they could be placed in foster care if she lost her home and was unable to secure housing and a steady income. Ms Cooper said: "I am fully aware that the parents have made mistakes along the way, but the eviction in this case serves only to punish the children. There are few things more traumatic to a child than homelessness or the prospect of being taken away and separated from your parents. When that happens the scars are deep and the likelihood of the cycle of poverty perpetuating into the next generation increases exponentially." Ms Cooper, who is chairwoman of Habitat for Humanity of Bermuda, added that research in other countries supported the concept of "housing first". She explained: "This essentially, is the belief that housing is a fundamental human right and that very little can be accomplished in terms of developmental growth, counselling or therapeutic intervention unless a family has a roof over their heads and sufficient food to eat. This may sound expensive, but the research is clear, that the failure to provide that basic life support has a much more expensive impact on the mental health system, the healthcare system, the educational system and ultimately the correctional system. The evidence is very clear that a dollar spent at the front end will save hundreds further down the line — and that is just the financial argument. The humanitarian and moral argument is an even stronger one. How can we, in this largely wealthy community, stand by and watch families put out on the street because they can't afford to pay the rent?" A friend of the family, who has helped the mother in the past, said: "Not all things are perfect, but she takes care of her children. This is not neglect, it's poverty and they should not be punished by removing their children. It's not in the best interest to remove these children from their mother under any circumstances. For that reason, we are rallying throughout the community to help her with the back rents and myself and Sheelagh will work out a plan for next year." A spokeswoman for the Department of Child and Family Services said: "The department will not comment on individual cases, however, it should be noted that cases are dealt with on their own merits, and based on the circumstances presented." The Ministry of Public Works, which oversees the BHC, was contacted for comment on Friday. The Ministry of Health, for the Department of Financial Assistance, was contacted by e-mail yesterday and responded: "We cannot comment on individual cases."

December 22, Sunday

A combined ratio averaging above 100 per cent for a five-year period, and with a $318 million loan repayment on the horizon, AM Best has decided to revise its outlooks to negative for Qatar Insurance Company QSPC, and its Bermuda-based subsidiary Qatar Re. However, the rating agency has also affirmed the financial strength rating of A (excellent) and long-term issuer credit ratings of "a" of QIC and Qatar Re. The ratings reflect the "very strong" balance sheet strength of QIC, its strong operating performance, neutral business profile and enterprise risk management, AM Best said. Regarding the change of outlooks from stable to negative, the agency said it "largely reflects pressure on AM Best's current operating performance assessment of strong due to underperformance emanating from the group's non-Middle East insurance operations [QIC Global]". It said QIC Global, which includes Qatar Re, has experienced "considerable staff turnover and a fluctuating business strategy, at the same time as pursuing aggressive growth in a soft market". AM Best, in a statement, also said: "Results have been adversely impacted in recent years (2017 to 2019) by natural catastrophe losses and Ogden rate adjustments in the UK motor segment. As a consequence, the group has produced a five-year (2014-2018) average combined ratio of 101.2 per cent and AM Best's expects the group to report a combined ratio in excess of 100 per cent to be reported for 2019." The agency said the group has a QAR 1.1 billion ($316 million) "receivable due from the Markerstudy Group before May 2020. Whilst the group maintains sufficient capital to absorb a default on this loan, any impairment would represent a material loss to earnings". AM Best said pressure on QIC's underwriting earnings "highlight governance and underwriting control deficiencies in the group's decision-making process". It noted that QIC reported gross written premium of $3.4 billion in 2018, and increase of 8 per cent year-on-year. The growth was primarily driven by the acquisition of Markerstudy carriers which "offset material non-renewal of loss-making contracts in the group's reinsurance platform". AM Best said: "Going forward, the group plans to focus on low-volatility lines, with more than half of GWP emanating from motor insurance in the UK, Continental Europe and the Middle East."

A 32-year-old man was shot this morning outside a Hamilton city nightclub, with the gunman also firing a shot inside the establishment. The victim was rushed to the King Edward VII Memorial Hospital after the armed man ran towards a group outside the Spinning Wheel nightclub on Court Street just before 1.30am, and opened fire. A police spokesman said the victim was struck in the region of his left shoulder or upper back. As the group scattered, the suspect continued running and entered the nightclub, where he again fired the weapon, with no one hit. The suspect left the Spinning Wheel, ran north on Court Street, and made good his escape into the parking lot on Elliot Street. The victim's injuries are not considered to be life threatening, but the spokesman said he would have to be flown overseas for further treatment. He was transported to hospital before police arrived. Acting on information gathered, police this afternoon arrested two male suspects, aged 31 and 19. The spokesman added: "A number of individuals are assisting police with inquiries, but police are asking anyone with information on this incident to please contact Detective Inspector Kenten Trott on 295-0011, or the Confidential Crime Stoppers number, 800-8477."

December 21

A woman who suffers severe seizures yesterday appealed for the Government to move fast on the legalisation of medical cannabis. Natasha York, 43, said she dreaded the thought of what her two daughters went through when she was hit by an attack. She added: "Every time I come out of it, I give thanks that I'm okay. Then I just want to have a good cry, wondering what my kids have seen." Ms York said she had watched successive administrations debate medical cannabis for the last five years. She added: "I just need Government to understand that there are honest people who need help. Ms York concluded: "This journey we have gone through is just so unfair." She was speaking after Kathy Lynn Simmons, the Attorney-General and Minister of Legal Affairs, earlier this week tabled draft legislation to allow therapeutic use of the drug. Ms York's doctor, Kyjuan Brown, the medical director at Northshore Medical and Aesthetics Centre, welcomed the news, but warned the pace was too slow for the estimated 1,500 people in Bermuda who would benefit from medical use of cannabis. Ms York was jailed for three months last year after she tried to smuggle 1,430 grams of cannabis products into the country. She was released on appeal and served her sentence at home, with an electronic tag fitted. Ms York said: "I do not advise anyone to take that risk. But I just felt I didn't have any voice. I am a law-abiding person, but it felt like I was being ignored. They weren't going to listen to my GP who was telling them what would work for me." Ms York tried to bring the drug to Bermuda after she tried medical cannabis in Canada. She got almost immediate relief from symptoms that had required ten pills a day — and which failed to deal with her condition. Ms York lost her job at the airport in 2011 when her problem, similar to epilepsy, struck. She recalled: "I was at the door on my way to work. I just started shaking." Now living in emergency housing and on financial assistance, she said she often injured herself and had bit her tongue and suffered bruises from falls. Ms York said: "Marijuana not only controls my seizures, it calms my whole nervous system and helps with the pain. It relaxes me and I can sleep." She added: "I want to give full credit to Northshore Medical and Dr Brown. He cares." But even though Dr Brown helped her obtain a licence to use medical marijuana last year, she has never been able to get the drug. Dr Brown explained: "Bermuda can only import one gram per year, as a country, under a limit agreed with the United Nations. We could change that — we have the right to do it." The physician, who also belongs to the Bermuda Medicinal Cannabis Association, said the draft legislation tabled this week in the Senate was "not the framework I would envision". He added: "This Bill is massive. It brings forth a lot of regulation that I am not sure is particularly necessary for Bermuda." A five-person Medical Cannabis Authority would issue licences for the "use, by inhalation, cultivation and possession" of the drug, as well as identification cards for cannabis use. The authority would also keep an electronic database for licences and ID cards, and designate inspectors to check up on premises involved in the supply of medical cannabis. Dr Brown said the island would benefit from "something simpler" — and that there appeared to be an unrealistic expectation that Bermuda could develop "a next pillar of the economy" through exportation. He added: "With medical cannabis, we are not talking about growing in a field. It has to be grown in a facility with artificial lighting. It would be much too expensive to export from Bermuda. I just feel because my patients are suffering, there is a simpler way." He said the Government should give immediate permission for doctors to prescribe imported medical cannabis. Dr Brown added: "I have heard from ministers that are ready and willing. I believe it's the technical officers that are dragging their feet. We have the mechanisms in place now to prescribe it. The Government just needs to increase the limits. The framework is already there — that's how simple it is." A spokeswoman for the Ministry of Legal Affairs said last night: "The Minister of Legal Affairs tabled the Bill for consultation and a framework is in place for all stakeholders to review and share their views on the Bill and licensing regulations." She added that people could make their opinions known online at forum.gov.bm.

Trash collection days have been changed for the holiday period. In Christmas week, trash normally collected on Wednesday will be collected two days later on Friday. Trash usually collected on Thursday and Friday will be collected on Saturday. During the week starting New Year's Day, trash normally collected on Wednesday will be collected on Thursday. Trash normally collected on Thursday will be collected on Friday and trash usually collected on Friday will be collected on Saturday. Bermuda's island-wide residential recycling collection will remain unchanged. Tynes Bay Waste Facility will be closed to the public on Christmas Day and will re-open from 9am to noon on Boxing Day and New Year's Day. Christmas tree collection will take place in all areas west of Tee Street on January 18, and all areas east of Tee Street, including Pembroke, on January 25.

More disabled parking bays are being introduced in Hamilton despite opposition from store owners. The City of Hamilton announced it would increase the number of disabled bays, from 45 to 73, to help cater for demand after more than 1,000 people applied for permits. Dwayne Caines, the chief operating officer for the city, said: "There has been some pushback from retailers and, while we don't take this lightly, it is important to understand that the disabled shopper can contribute greatly to the retail bottom line if they have access to parking." Ryan Gibbons, of A New Life, a group for amputees, said the move was a "great initiative". Mr Gibbons said: "Hopefully, they've added some bike bays to the additional parking allocations because that is a concern for the challenged community." He added he was "shocked and disappointed" by opposition to the increase. Mr Gibbons said: "I'd like to know what their reasoning is so there could be some communication towards understanding the need and the positive social impact for the longevity of the island's ageing residents." Mr Caines warned that the city authority also planned a crackdown on people who abused the disabled parking bay system. "It's no secret that the disabled bays are already grossly abused by able-bodied motorists due to a lack of compassion, enforcement and any penalty. We're hoping to rectify that in the new year." The city took part in the global Purple Tuesday campaign last month to highlight the importance of disabled people's contributions. Mr Caines said: "We live in an ageing society and with more and more people applying for the permits, current numbers stand at more than 1,000, we recognised that the 45 existing bays would need to be amplified, to better accommodate the needs of our disabled. The city is currently installing a further 28 disabled parking bays throughout the city, bringing the total number to 73, a mere 2 per cent of the total." Keith Simmons, the accessibility officer at the Ministry of Health's Ageing and Disability Services, said: "The additional bays are in line with international disability standards in correlation to the number of disabled permits that are currently active."

Most of us are eagerly awaiting the arrival of Christmas next week, but there is another religious celebration about to begin. It's called Hanukkah — traditionally spelt Chanukkah — and it's a custom that predates the birth of Jesus and the celebration of Christmas. The date changes from year to year but this year, the eight-day celebration begins at sunset tomorrow. This was explained by Fiona Elkinson, who runs the Centre for The Jewish Community of Bermuda. She noted: "Hanukkah commemorates the rededication of the Second Temple in Jerusalem. In 168BC, while Judea was under Greek rule, the Syrian Greek ruler Antiochus IV outlawed the Jewish religion and ordered the Jews to worship his Greek gods. When they refused, he directed his soldiers to descend on Jerusalem where they killed thousands of Jews and desecrated their temple. The Jews were not allowed to pray to their God or eat their foods. [Antiochus IV] wanted to demoralize them. He put idols in their temples and made them put pigs on their alter. He desecrated it. They were not allowed to pray to their God or eat their foods. They were forced to pray to the Greek gods, of which there are many, and Jews did not believe in that." In 165BC, after years of persecution, a small group of Jews, now known as the Maccabees, staged a rebellion against Antiochus. Despite their small numbers they defeated him, drove the Syrians out of Jerusalem and reclaimed their temple. "There weren't very many Maccabees," Ms Elkinson said. "Maybe a couple thousand of them. But on some whim, they managed to win a few battles and get their temple back." After reclaiming the temple, the Maccabees went on to rebuild their altar and rededicate their temple by lighting the menorah. The menorah, now known as the symbol of the Jewish faith, is a golden candelabrum with seven branches. It's an ancient Hebrew fixture in the sanctuary with only the purest-quality olive oil allowed to burn its lamps. The Maccabees went to light the menorah and ran into a significant problem — there was no sacred or pure oil left in the temple. "They couldn't find any oil to relight the menorah," Ms Elkinson said. "The story goes that they searched for broken jars and jugs and found a little bit of oil here and there that managed to be preserved through battle. But it was only enough to last for a very short time. What they were able to scrape together did not seem to be enough to keep the menorah lit. But they lit it anyway and went out to source more oil from neighboring cities. To their surprise, when they returned, the menorah was still burning. The oil lasted for eight days. The significance of the eight days was, just like now, oil was not available in that country. So they had to go somewhere else to find it and it would take days to get it back to Jerusalem. The miracle of Hanukkah is that the little oil they found lasted for eight days until they were able to return with more oil." This incredible event inspired the annual eight-day celebration of Hanukkah, which means rededication. The Hanukkah menorah has eight candles in commemoration of the each of the eight days the oil burnt. Some Biblical scholars believe that Jesus celebrated Hanukkah, which of course would come as no surprise since Jesus was a Jew. John 10:22 speaks of Jesus attending the "festival of dedication", which was most likely the precursor to the modern Jewish celebration of Hanukkah. Hanukkah falls on a different date each year. This is because the Jewish tradition follows a lunar calendar, in contrast to the Gregorian calendar. Ms Elkinson said: "A lunar month is 30 days and there are 12 of them, which makes a Jewish year 356 days. This brings the date back and forth on the Gregorian calendar, but Hanukkah is always on the 25th of Kislev every year." This year, the 25th of Kislev on the Jewish calendar falls on the December 22, thus beginning the ceremonial time. The eight days of Hanukkah will end at sundown on December 30. Jews around the world will commemorate this miracle in ancient history by sharing family meals or traditional fried food, playing the old-fashioned game of dreidel and exchanging a small gift each day. However, the most significant of Hanukkah traditions is the lighting of one candle on the menorah for each of the eight days. In Bermuda, there is a small but vibrant community of about 120 Jews. During Hanukkah they come together on the first night to light the menorah and share in fellowship. Tomorrow there will be a Hanukkah ceremony at The Centre for the Jewish Community beginning at sunset.

December 20

Job satisfaction among the working population appears to have increased over the past year, the Minister for the Cabinet Office said yesterday. Wayne Furbert revealed that underemployment dropped by more than 10 per cent between May 2018 and May 2019, which had contributed to the job satisfaction rates. Mr Furbert said: "I am very encouraged by several of the findings, which I believe speak to this government's commitment to invest in our people, encourage small business development and grow our economy. For example, the number of persons who were underemployed in May 2019 decreased by 10.6 per cent when compared to May 2018, totaling 5,673 persons, or 16 per cent of the working population. A sharp decline in underemployment signals an increased level of job satisfaction among the working population. Measures of underemployment include job holder dissatisfaction with working conditions, amount or scheduling of time worked, concerns with duration of employment, whether temporary or seasonal work, under-utilization of work skills and desire for higher pay." Mr Furbert added that the latest Labour Force Survey results showed that median annual incomes for younger workers increased by almost 18 per cent over the period. Overall unemployment was unchanged at 5.2 per cent, but the rate increased "fractionally" for Bermudians. The LFS report from the Department of Statistics, published on the Government's website, explained that the International Labour Organisation defined underemployment as "the under-utilization of the productive capacity of the employed population. The under-employed population is a subcategory of the employed population and is identified by comparing their current employment situation with an 'alternative' employment situation that they are willing and available to carry out." Almost 3,800 black people were said to be underemployed, compared to 958 white people. Mr Furbert said that median annual income from the main jobs of people in the 16 to 24 age group rose by 17.8 per cent from $23,455 in May 2018 to "a whopping" $27,631 a year later. He said that people of "mixed and other racial backgrounds" saw their median incomes increase from $56,028 to $62,711, or 11.9 per cent, over the 12 months. Mr Furbert added that non-Bermudians marked an 8.8 per cent increase in their median incomes, from $67,401 to $73,352. He explained: "The median is based on annual income before deductions. Income data relates to the working population including full and part-time workers, regardless of the number of hours and months worked. The term labour force refers to those persons of working age who were 16 years or older during the survey reference week and were either gainfully employed or available and were looking for work." Women's median gross annual income dipped $1,740 from $63,297 to $61,557 in the twelve months from May last year. However, the figures showed men enjoyed an increase of about $3,000, from $63,155 to $66,246. The survey results indicated that the median gross annual income for black people went up by $956 from $57,572 in May 2018 to $58,528 a year later. White people earned an $81,753 median gross income in May last year, which dropped by $2,825 to $78,928 twelve months later. Figures for November 2018 showed that not all trends were consistent over the year. Mr Furbert said the island's unemployment rate was unchanged at 5.2 per cent from May 2018 to last May[2019]. The LFS report showed that "the unemployment rate for Bermudians increased fractionally from 5.5 per cent to 5.6 per cent. The unemployment rate for persons 16 to 24 years rose from 18.4 per cent to 23.8 per cent." Mr Furbert said: "The greatest gains in employment occurred among high school certificate holders, which grew by 12.6 per cent from 10,627 to 11,969. Degree holders also made significant strides in employment level as their numbers increased by 9 per cent during this period. Other noteworthy gains in employment were recorded by persons aged 25 to 34 years, and 65 years and older, which increased year over year by 9.3 per cent and 8.1 per cent respectively." The LFS report explained that the survey reference week was May 13 to 19, 2019, and that 1,490 households, 99 per cent of its 1,500 sample target, completed the survey by the end of a six-week data collection period last summer. It said that the sample represented about 5 per cent of the 28,192 households registered in the 2016 Census. Aggregate results were expected to have a "confidence level" of 95 per cent with a margin of error of plus or minus 2.5 per cent.

Tourists have stolen tonnes of Bermuda's trademark pink sand from beaches, The Department of Environment and Natural Resources has revealed. It is estimated air visitors alone take a total of about three tonnes of sand a year when they leave — more than the weight of three Kia Picanto cars. One report found that 222 pounds of sand, eight pounds of shells, four pounds of dead corals and a chunk of cave flowstone, hacked off the wall of a local cave, were recovered by customs officers at LF Wade International Airport over a two-week period. Those figures do not take into account items taken by cruise ship passengers. The department said: "Comments on social media indicate that part of the problem comes from local tour guides who are encouraging people to take sand. Bermuda is not the only country encountering this issue. Theft of white beach sand and rocks from the Italian island of Sardinia is very common and it appears to be fuelled by a market for these items on the internet. It is important to note that the importation of unspecialized sand and soil into the USA, as well as many other countries, including Bermuda, is prohibited because of the risk of spreading pathogenic bacteria, viruses, fungi and micro-invertebrates." The department said all of Bermuda's public beaches are either parks or nature reserves, which means that visitors are not allowed to remove anything including sand and rocks. Bermuda's corals are also protected by law, and the Bermuda National Parks Act prohibits the taking of sea glass from any area zoned as a park or nature reserve. The department said: "There are a number of websites that promote the collection of sea glass from Bermuda, and some of the most popular locations are on private lands close to the Royal Naval Dockyard. However, collectors need to respect any restrictions placed upon the areas they wish to visit. For example, the landowner of these popular beaches has allowed public access, but prohibits the taking of sand or glass. The Department of Environment and Natural Resources asks that tour guides, the hospitality industry, and residents who have guests or customers visiting from overseas be acquainted with local laws governing the collection of keepsakes from the environment." Alison Copeland, biodiversity officer with the department, also warned the public against removing protected shells from the island's beaches. Ten types of shell are protected under the Fisheries (Protected Species) Order, in many cases because they are used by the island's threatened land hermit crabs. Ms Copeland said: "The West Indian topshell is the favourite shell choice of land hermit crabs in Bermuda, and also one of the most commonly confiscated shells at our airport. Just like souvenir collectors, crabs need unbroken shells free of cracks and holes. In some areas, it may seem like there are many of these shells, and the taking of one should not be a big deal, but you need to know that the population of topshells you see are the result of nearly 40 years of careful conservation work." Those convicted of taking protected shells can face up to two years in prison and a $25,000 fine. Ms Copeland added: "Instead of taking home the shells you find while beachcombing, why not practice low impact travel by taking photos instead? By removing shells from the beach, you could be killing an animal or depriving a creature of its current or future home. You may also be breaking the law."

The new owners of the Fairmont Southampton will spend more than $25 million in upgrades to the 47-year-old hotel. Miami-based Gencom, which already owns Rosewood Tucker's Point, said its 2017 venture into the island's hotel business had inspired them to double down on Bermuda. Alessandro Colantonio, Gencom's executive vice-president acquisitions and capital markets, said: "We are really happy to be investing again in this destination. We couldn't be more pleased in the community, and everyone we have been in talks with has been fantastic. We are happy to be a part of Bermuda and to help with the island's long-term success and we thought this was really the right time to double down on Bermuda." The company spent $25 million on renovations to the Hamilton Parish Tucker's Point resort. Mr Colantonio said the company planned to spend even more on work at the Fairmont Southampton, the island's largest hotel. He added details, including the extent of the work and when it will take place, will not be announced until next year. Mr Colantonio said: "We are still in planning on the renovations. It will be more than what we spent on Tucker's Point, but I cannot give you a number yet." He added the company learnt a lot about the island from its work on Tucker's Point, including the cost of work in Bermuda, and will take those lessons into account. He said: "We have certainly learnt more about the occupancy patterns, the trends and what the customer wants when they come to Bermuda. I think these are things that we will take to heart when we look at the renovations to the Fairmont Southampton." Mr Colantonio added: "We know the location there and have been very positive about how it has been working with the Government and the people and the property itself. A lot of the things that we stated when we first made our decision to purchase Tucker's Point still apply." He said the two properties targeted different sections of the market, as Tucker's Point focused on high-end visitors and Fairmont Southampton specialized in group business. Mr Colantonio said: "Fairmont Southampton is a really unique resort. The location, the presence it has. It's scenic. One of the things we look for in a property is that iconic draw. The beach club alone has the potential to be among the best beach clubs in not just Bermuda, but the rest of the Caribbean market. The golf course is very well done compared to what we have seen elsewhere in the market. The hotel has a lot of unique assets, and the size of it is unique in the market." The BTA recently warned that group business is expected to be down worldwide next year because of an increased number of destinations in the market. However, Mr Colantonio said Gencom was not concerned about "short term data". He added the company was confident that the hotel's amenities and Bermuda's special draw as a destination would protect group business in the long term.

The Fairmont Southampton hotel has been sold to a Miami-based company, it was announced last night. Karim Alibhai, the founder of investment firm Gencom, said he planned an ambitious programme of renovations at the landmark hotel. Mr Alibhai added: "Acquiring Fairmont Southampton demonstrates Gencom's steadfast commitment to supporting the long-term growth of Bermuda's tourism and hospitality sector. The island is located less than three hours from most major North American cities, making Bermuda a rare and accessible paradise. With a planned restoration, we aim to create a wonderful, updated destination resort experience at Fairmont Southampton for leisure and group travellers from all over the world." Gencom, which already owns the Rosewood Bermuda resort, did not reveal the terms of the deal. But the company said in a press release that it was committed to a "long-term investment" in the hotel, which will continue to be managed by Fairmont Hotels and Resorts. Zane DeSilva, the Minister of Tourism and Transport, said the deal showed Gencom's commitment to the rebirth of the tourism industry. He added: "We support what it means for this hallmark hotel and welcome the fact it sends a strong message to the world about Bermuda's tourism investment value." Mr DeSilva shared the news in the House of Assembly last night, when he also told MPs that the first phase of the St Regis hotel development, in St George's, was set to be completed April 2, 2021. He added: "This includes both the 122-room resort hotel as well as the reopening of the affiliated Robert Trent Jones designed golf course." Kevin Dallas, BTA CEO, welcomed news of the Fairmont Southampton's sale and pledged to work to build on the hotel's success. Mr Dallas said: "As with Gencom's purchase of Rosewood Bermuda, this major investment underscores robust confidence in our island's hospitality sector and signals the start of a new era for this landmark property. The acquisition and any resulting enhancements at the Fairmont Southampton resort will benefit the hotel, drive eventual growth in our group-sales sector, and strengthen the overall quality of Bermuda's tourism product as we revitalize this industry to keep the island competitive." Gencom added that it was committed to a significant investment in the long-term success of the resort. It said: "Gencom is currently reviewing all aspects of the property and anticipates a full reveal of their reimagined designs for the resort in 2020." The firm bought Tucker's Point, which became Rosewood Bermuda, in 2017 and renovated at an estimated cost of $25 million. Alessandro Colantonio, Gencom's executive vice-president acquisitions and capital markets, said the firm's experience with Tucker's Point would benefit its efforts to improve the Fairmont Southampton. He said: "As a result of our successful acquisition and renovation of Rosewood Bermuda, Gencom has gained acute knowledge and experience in the Bermuda market. We are well-poised to properly restore the iconic Fairmont Southampton, further expanding our local relationships and presence in the market. Through our planned investments, the resort will once again become a leading destination for both leisure and group travellers." The Fairmont Southampton was owned by AccorHotels, which took over the Fairmont Hotels group in 2015. The Royal Gazette reported in May that the AccorHotels wanted to sell the 593-room hotel, which has ten restaurants, a spa, an 18-hole golf course and amphitheatre and more than 25,000 square feet of meeting space.

Bermuda International Long Term Insurers and Reinsurers saw an 11 per cent leap in membership this year. The number of companies joining Biltir, which represents the island's long-term insurers and reinsurers who provide life and annuity products such as pensions, grew from 55 to 61 this year. Five reinsurance companies, Fortitude Reinsurance, Gibraltar Reinsurance, Oceanview Reinsurance, Sagicor Reinsurance Bermuda, and 777 Reinsurance, and one service provider (Artex Risk Solutions), joined the association in 2019. Assets managed by the long-term industry in Bermuda grew to nearly $500 billion at the end of 2018 — a large majority of which are controlled by Biltir members. Biltir member companies employ 540 people on the island and contribute more than $200 million in direct expenditure in Bermuda each year. "The long-term insurance and reinsurance industry continues to be a major growth engine for Bermuda, both by number of companies and by assets managed," Biltir executive director Ronnie Klein said. "While Biltir is extremely happy with acquiring six new members in 2019, it is even more pleased with the increased engagement by all of our members. In 2020, we fully expect Biltir's growth to continue with at least two companies already committed to joining our organisation. With the strong leadership of our board, dedication of our staff, engagement by our members and co-operation from our sister organisations, regulator and Government, Biltir will continue to grow and serve the long-term insurance and reinsurance industry in Bermuda."

By reducing its energy consumption by 117,700 kilowatt hours, replacing ageing equipment, banning single-use plastics, and collecting rainwater from it roof, the Chubb Building has become a shiny example for others. The building on Woodbourne Avenue is the first in Bermuda to be awarded Leed Platinum status, the highest level of recognition in the green building certification programme that recognizes best-in-class building strategies and practices. Chubb's building has twice been reclassified at the gold level, most recently in January when it scored 72 points in the Leadership in Energy and Environmental Design, programme. It has now gone to the top of the class locally after earning 81 points on the 100-point certification scale. Platinum certification is awarded for buildings that score 80 points or higher. The programme is operated by the more on the US Green Building Council. The Chubb Building's improved performance has been helped by a five per cent decrease in its energy consumption, which represents the same amount of electricity that would power 336 homes in Bermuda for a month. Colin Brown, vice-president of facilities and Leed project manager for Chubb in Bermuda, said achieving the platinum certification had been an aspirational goal for the company. "We are gratified and honoured that Chubb's efforts to continually enhance the environmental performance of this building have been recognised. We are proud to lead the way as the first and only building in Bermuda to earn Leed Platinum certification." Chubb has a Leed dynamic plaque on display in the building's main lobby, to calculate the building's performance data on the 100-point scale across the five Leed categories that are impactful to human health and the environment, which include energy, water, waste, transportation and human experience. "The plaque serves as a constant reminder to employees to be environmentally conscious, which helps to maintain our high standards of green-building operations," Mr Brown said. A key objective of Chubb's environmental programme is to measure, record and reduce greenhouse gas emissions in its own operations. In May, Chubb announced a company-wide initiative to reduce its global greenhouse gas emissions 20 per cent on an absolute basis by 2025, and by 40 per cent by 2035.

The Olderhood Group is taking its popular radio show online in partnership with The Royal Gazette. After two successful years on the airwaves, the Olderhood team is bringing its lifestyle and financial content to the world wide web. The first ten-minute segment, posted on The Royal Gazette website today, is entitled Can I Retire Yet? The Olderhood team includes Bill Storie, Robin Trimingham and Martha Harris Myron — each of whom writes a column for The Royal Gazette — as well as Amoti Nyabongo and other subject matter experts. They will offer tips and advice on a range of issues including financial and retirement matters, lifestyle and women's issues. New Olderhood Radio content will be posted twice weekly, on Tuesdays and Fridays. The Olderhood Group has about 100,000 followers in 100 countries on its own social media platforms and shares its content with network partners worldwide. Mr Storie, Olderhood CEO, said: "Olderhood is delighted to be working in partnership with The Royal Gazette, who will upload the information segments each week. All segments will be made available globally through our various social media and network platforms."

December 19

The Attorney-General and legal affairs minister tabled yesterday legislation to legalise medical cannabis and regulations to govern licences for growers and importers, Kathy Lynn Simmons told the Senate the Bill and regulations — which include the setting up of a Medical Cannabis Authority — were presented as a public consultation draft. She said there were "passionate views" and different opinions by medical experts on medical cannabis. Ms Simmons added: "Public consultation is meaningful, at this stage, because now that a draft framework is fleshed out in legislation, we hope it encourages constructive feedback and comments, rather than fuelling polarizing arguments in the abstract." She told senators: "I can confidently say that this Bill and the regulations will fulfil this Government's promise to deliver new mechanisms for lawful access to medicinal cannabis by way of a prescription from a medical professional and dispensed by a pharmacist and establishes the legislative infrastructure for the implementation of domestic medicinal cannabis production, while also satisfying Bermuda's international obligations." Ms Simmons added: "The proposed framework will also include sufficient regulation and controls to prevent abuse of the domestic medicinal cannabis scheme." She said the cannabis authority would regulate cultivation, importation for cultivation and possession when prescribed by a doctor for inhalation. Ms Simmons added the MCA would also govern exportation of the drug, as well as the manufacture of cannabis products, research and development and transportation. She said the Medicinal Cannabis Act 2019 would also "establish a licensing scheme for the local cultivation and manufacturing of cannabis for medicinal and scientific purposes, to provide for monitoring, inspection and enforcement powers for inspectors and to empower the minister to give directions to the authority". Ms Simmons added: "The accompanying regulations will be stringent, providing extensive provisions for the application requirements necessary for the various types of licences available under the medical cannabis scheme and will also prescribe to whom and how a licence will be granted or may be renewed or revoked." She said: "Furthermore, the regulations give the Medicinal Cannabis Authority sufficient discretionary powers to impose various conditions on a licence before it is granted." Ms Simmons added that the MCA would also be able to use its funds to boost social programmes designed to tackle drug abuse. The MCA will also be responsible for the issue of an ID card scheme, a central register and compulsory record-keeping by doctors. A valid ID card will allow patients to use and carry medicinal cannabis and authorized caregivers can also be designated by users of the drug so they can assist with obtaining and administering medical cannabis without the risk of breaking the law. Ms Simmons said that the Bill and regulations also outlined the legislative framework for a Bermudian medical cannabis industry. She added: "Private enterprise and free market forces will determine over time the size and economic benefits of such an industry. Assuredly, Bermuda's economic heritage allows us to capitalize on our strengths, such as size, scale and ease of regulation." She said that Bermuda had a good reputation for its regulation in other sectors like reinsurance. Ms Simmons added: "This scheme creating a medicinal cannabis industry is no different. The vision is, if we build it — well — they will come."

Work to eliminate mother-to-child transmission of HIV and syphilis means Bermuda held its place among a small group of countries to be internationally recognised for the achievement. The Ministry of Health revealed today that the island was revalidated with EMTCT status after its initial certification in June 2017. It added that the status was a "prestigious public health accomplishment" achieved by only 11 countries worldwide. Kim Wilson, the Minister of Health, said: "We were delighted and very proud of that achievement. However, once achieved, EMTCT must be maintained. EMTCT validation indicates that Bermuda is proficient at preventing mother-to-child transmission of these infections. Good antenatal care, early testing for HIV and syphilis and treatment for HIV positive mothers can prevent transmission of HIV from an HIV-positive mother to her infant during pregnancy, labour, delivery, or breastfeeding. However, HIV remains a threat and complacency is especially dangerous. Both HIV and congenital syphilis have serious implications for the lives of babies and can be prevented. Hence, the importance of maintaining elimination status." The ministry explained that validation of elimination status was made by a special committee of the World Health Organisation, which assesses a country's systems to check for HIV and syphilis in pregnancy, its laboratory capacity for accurate testing and access to antenatal care for all adolescents and women. The committee also looks at private and public healthcare collaboration as well as care quality. Countries must demonstrate to Global Validation Advisory Committee standards that the country's programmes and procedures can be relied upon to identify early and treat cases of the diseases during pregnancy. The standards do not require that the conditions are absent in a community, but countries must show that pregnant women are adequately tested and cared for. Programme indicators confirmed that in Bermuda more than 95 per cent of pregnant women are tested early in pregnancy for HIV and syphilis. To meet the requirement for both diseases, a country must show:
That the rate of mother-to-child transmission of HIV was less than 2 per cent;
New cases of HIV infection in infants were less than 0.3 per 1000 live births annually;
Cases of congenital syphilis of less than 0.5 per 1,000 live births each year.
Ms Wilson said: "In September, Bermuda sent the required maintenance report to GVAC. Our report indicated both the processes used in Bermuda to assure all babies and mothers are tested for HIV and syphilis and provided necessary treatment to prevent mother-to-baby transmission. In addition, we provided feedback on how Bermuda had responded to the recommendations made by the committee during the initial validation visit in June 2017. In order to prepare a maintenance report required an enormous amount of work on the part of the ministry to collect data from Bermuda Hospitals Board, Register General and Epidemiology and Surveillance Unit. We are particularly grateful for the generous collaborations with Department of Health and BHB professionals who played a critical role in this achievement by providing an enormous amount of clinical information." The ministry said that the GVAC told health officials this month that Bermuda was "in a very strong position to continue to maintain validation of EMTCT of HIV and syphilis". It highlighted the island's "strong expertise and commitment" to the elimination of mother-to-child transmission of the diseases and commended Bermuda for "these national, regional and global achievements". The next review for maintenance of validation of EMTCT will be September 2021.

A plan to introduce free public wi-fi to North East Hamilton could be a major boost for businesses in the area, store owners said yesterday. Everton Dawes, the owner of Casual Footwear on Court Street, said that wi-fi could help stores expand into the online market. He explained: "It would help businesses get an internet presence or accept credit cards. So if people come into the store and they don't have money they can log onto their phone and transfer money." Mr Dawes said that business owners would also be encouraged to advertise on social media. "The wi-fi would really help those people who are online shoppers. Someone could browse the web, make a selection online and then the business can do a personal order for that person." He was speaking after the Bermuda Economic Development Corporation announced a plan to set up a public and private wi-fi network across the area. Dennikia Roberts, the owner of Embellish Boutique, also on Court Street, said that the network could help attract customers into the area. "It's definitely going to draw a crowd because everybody loves wi-fi. Anything free is going to draw people, so I can definitely see my customer base increasing because of this." She added she and her sister, Dennishia, who is also her business partner, moved their store into the area in May and that she had noticed it was hard for people to get access to the internet. "I've even had business owners come here and ask to use the wi-fi, then it gets slow because everybody's using it." The BEDC this week extended its deadline for proposals to create the network from tomorrow to January 3. The corporation posted a request for proposal on the Government website last month for qualified companies to submit proposals to provide the wireless network. It explained: "The system will provide no-fee public access to the internet within the coverage area and will be able to accommodate needs of patrons to North East Hamilton area businesses, citizens, students, and numerous special event attendees in several annual events. The system will also provide a private secure access to the internet within the same coverage area. The BEDC intends to have a portal page for system access, which may be used to facilitate the dissemination of NEH related news and information." The BEDC plan said the public and private wi-fi network would cover the North East Hamilton Economic Empowerment Zone. It added that the project could be used as a template for similar schemes elsewhere on the island. Avis Soares, an employee at Court Street's Jamaican Grill, said that the wi-fi could benefit everyone in the area, not just business owners. She explained: "Not everyone has money to pay for wi-fi, so it would be a big help to a lot of people. They can stay in touch with their people abroad, but also shop online like the majority of people." Ms Soares added that internet access would also put more customers in touch with island restaurants through the Sargasso Sea delivery service. She explained: "I work late nights so I understand that sometimes people don't want to get out of their beds. So they can just call Sargasso, place the order online, and then someone can come up here when it's done and they're good to go. The restaurants will be more established, so people can find their locations, know where they are and just do what they have to do online." Ryan Brimmer, from Devonshire and a regular customer at Court Street businesses, said a free network connection would help people who could otherwise not afford the service. He explained: "I could get free wi-fi across the street from one of the exempt companies, but those types of privileges aren't afforded to people around these parts. So if anyone is able to implement that, I think that'd be good. I think that's well worth the effort."

The Leader of the Opposition tonight asked Christmas shoppers to back island stores. Craig Cannonier warned the grim economic climate meant the festive season could be "make or break" for some retailers. He said: "We have all by now read how the retail sector in Bermuda is suffering from a collapse of sales volume." Mr Cannonier said that he "would urge people, where they can, to spend money on gifts locally. I know that many people are suffering thanks to new and increased taxes and charges and that it can sometimes be cheaper to buy online, but the retail sector here employs only Bermudians — thousands of Bermudians." Mr Cannonier said 200 jobs have been lost in the retail sector over the past two years. He added: "Let's use this holiday season to try and make sure no one else is left unemployed in 2020. So please, if you can and in the time that is left, use this holiday season to give the gift of a job to a Bermudian — and shop local."

A trial date will be set for a lawyer charged with assault and wounding a woman despite his claims that the woman wanted to drop the case. Crown prosecutor Maria Sofianos said that she was "more than alarmed" that Kamal Worrell, 39, was still in touch with the alleged victim, despite his bail conditions forbidding contact. She told Magistrates' Court on Tuesday: "In these types of matters involving domestic violence it is very important that the Crown acts in the public interest and protects the rights of the complainant. More often than not in these types of offences there is interference and the complainant ends up withdrawing." Ms Sofianos was speaking after Mr Worrell claimed that the alleged victim, Chavelle Dillon, had tried to withdraw her complaint. Mr Worrell, from Warwick, was charged with assault and wounding Ms Dillon in Warwick on August 28. The incident was alleged to have happened on June 1. He later faced six other assault charges with the same alleged victim. These were alleged to have happened in Warwick on November 14 last year. Mr Worrell denied all the charges. He was released on $5,000 bail and ordered to have no contact with Ms Dillon. Mr Worrell told the court on December 9 that he got a letter from Ms Dillon and claimed that she wanted to withdraw her complaint. He asked the court to dismiss the case against him. Mr Worrell added: "I understand the process is that, once that indication is given, that person is facilitated in order to make a formal withdrawal statement. This complainant has been denied that because the prosecution has decided that they will proceed in any event. There is no complaint. The allegations are untruthful." Ms Sofianos, who earlier appeared for the Crown, was not present at the December hearing and the case was adjourned until yesterday. She told the court that Mr Worrell's argument was "an issue for trial" that needed to be heard at the appropriate time. Ms Sofianos added that Mr Worrell was in breach of his bail conditions after he and Ms Dillon were seen together several times, including at his home. She added: "I would say that the court can infer that there's a matter of coercion going on here. This is exactly why we are seeking a trial date for this matter and it is in the interests of justice to set a trial date." Magistrate Tyrone Chin adjourned the case until January 22. He did not order forfeiture of Mr Worrell's bail or remand him in custody. But Mr Chin said: "Mr Worrell's treading on very shaky ground. It may cause him to lose his liberties."

A Hamilton liquor store got a shot of Christmas spirit yesterday after it won a festive window display competition. The City of Hamilton announced that Gosling's on Front Street had scooped the top prize for its "Rum Rudolph" themed window. Leanna Lambert, of Gosling's, said: "We want to thank the City of Hamilton for putting on the competition. We knew we wanted to take the top award home this year." Gosling's worked with creative studio Uber Super Duper on the festive display, which was created with a white marker, a red Gosling's bottle cap and a custom-made piece of white board. Ms Lambert also offered "a huge thanks to Sami and his creative team at Uber Super Duper who brought our vision to life". Sami Lill, founder and creative director of Uber Super Duper, added: "The default solution for retailers is often to simply put their products in their shop windows. "Since this is one of the most well-known and iconic brands in Bermuda and the store has famously occupied this high-profile location ever since 1824, we approached it in an artistic, attention grabbing way. We look forward to pushing boundaries with Goslings again." Demco to Go, a Church Street florist, won second place and the People's Choice Award and clothing shop Urban Cottage, on Front Street, took the third spot. Carmen Phillips of Demco to Go, said: "As a creative business, we are absolutely delighted to have been chosen as winners in the People's Choice category. We held an internal competition to design the window and, as creativity is our passion, our team is humbled by the many votes our window received." The competition was judged by a panel which included an interior designer, an art director, a photographer and an event producer. Gosling's got a $1,000 Belco voucher for their victory and Demco to Go got a $350 gift voucher to Masters for its People's Choice win.

Almost every product and piece of craftwork has been made or designed by Bermudians, and is ready to be snapped up as a festive gift. For a third year, two rooms in the historic Waterville property in Paget have been turned into a pop-up shop by the Bermuda National Trust. It is an Aladdin's cave of treasures created by locals, offering Bermuda-centric gifts, some of which are one-of-a-kind exclusive. Among the items are fish art in wood carved and painted by Robert Fisher; hanging candles in etched bottles by Robert Marirez; new pieces of jewellery by Cindy Mitchell; and eye-catching, inlaid backgammon and checker boards by Silvia Darling. There are handmade bluebird boxes, and cake sprinkles that resemble the colourful kaleidoscope of Bermuda sand. Diana Downs, a Bermuda National Trust volunteer at the pop-up shop, said: "It gets the word out. People like to come and shop on their way by. There's plenty of parking space. And people are very generous." For the first time the Trust is selling jars of its own honey, collected from a hive at one of its properties. There is also jam by Sally Godet, as well as books, cards and candles. Elsewhere in the pop-up there are reusable straws from Ashley's Lemonade, some are foldable, while others are made of bamboo, glass and metal. There are leather Bermuda clutch bags and purses by Bermuda Born, pottery by Jonathan Northcott, cards by Emma Ingham, and bottles and woodwork by Christopher Dakin. Tomorrow, there is a holiday crafts event for children aged 8 to 12, where youngsters can learn holiday craft activities and stories. It runs from 9am to 3pm and costs $50, or $70 for those who wish to stay until 5pm. The Waterville property is at 2 Pomander Road, opposite the entrance to Aberfeldy Nurseries and Garden Centre. The pop-up shop is open daily from 9am to 5pm, with Christmas Eve being the final day. On Saturday, the shop is open from 10am to 5pm.

December 18

Security at a post office was under review yesterday after three men launched an attack on a man in front of shocked customers. The trio punched the 22-year-old victim several times after they burst into Warwick Post Office wearing dark-tinted motorcycle helmets at about 4pm on Monday. Police said a fourth man stood at the door of the facility on Middle Road while the attack happened in front of "astonished customers". The attackers ran from the building after the incident. Police said the man did not appear to have suffered serious injuries as a result of the attack. Wayne Furbert, the Minister for the Cabinet Office, said yesterday: "Although this incident is indeed deeply regrettable, I am relieved to learn that no post office staff or customers were injured. I would also like to commend the staff members who were on duty at the time and who acted promptly and appropriately, despite being understandably shaken. Security is being reviewed to ensure the maximum safety of our staff and customers going forward." Mr Furbert added: "I would like to offer my support to the Bermuda Police Service." The suspects were said to be brown complexioned males, wearing dark-coloured jackets and black helmets. Police said it was believed they left the area on separate motorcycles and have appealed for witnesses or anyone with relevant information to contact them. Anyone with information that could help the inquiry should call police on 295-0011 or the independent and anonymous Crime Stoppers hotline on 800-8477.

A man armed with a machete who was involved in a stand-off with police was "blackout drunk", Magistrates' Court heard yesterday. The court heard that Russell Robinson had gone to his office at the Lorraine Rest Home in Warwick and noticed the door had been forced. He found Dimetri Robinson, who is not related, inside the office and armed with a machete. The defendant told Mr Robinson: "If you call the police, I'll chop you with this machete." Dimetri Robinson left the rest home before Russell Robinson called the police. Officers later found the defendant on Middle Road in Warwick with the machete in his hand. A brief stand-off between Robinson and police ended when he was arrested for possession of a bladed article in public. The incident happened on November 11. Robinson, 40, from Warwick, pleaded guilty to possession of the machete in public and threatening Russell Robinson. He told magistrate Tyrone Chin that he was "blackout drunk" at the time and had no recollection of the incident. He added: "I need help, your Worship, I'm tired of this. I've seen what drinking does to me. It makes me do stupidness." Mr Chin remanded Robinson in custody for a social inquiry report and a drug assessment. The case was adjourned until January 5.

Police have appealed for witnesses to a gun murder a year ago to come forward. A police spokesman said the shooting of Paul Johnson outside his home in Pembroke's Rambling Lane on December 10 last year was still under investigation. It is believed that the gunman lay in wait until he returned home. The spokesman said residents in the Rambling Lane area may have seen people acting suspiciously before the shooting. He said: "Time has passed, but the events of that early morning are still relevant today and you hold the key to bringing the offenders to justice, and closure to Paul Johnson's family and the community, that is still grieving. Several witnesses have been interviewed, however there are still members of our community that have not come forward. The investigators want to speak with you." Mr Johnson had been at a party at the former Grand Bar on Hamilton's Church Street on the night he was killed. He left in a car with friends and later arrived home on his motorcycle. Anyone with information that could help the inquiry should contact Detective Sergeant Jason Smith on 717-0864.

A man was remanded in custody for drug importation yesterday despite a plea that he needed to care for his sick mother. Magistrates' Court heard that customs officers at LF Wade International Airport found cannabis resin worth almost $123,000 on May 30 in a package addressed to Michael Johnson. Officers inspected the package and the two machine parts inside and found a plantlike material when they removed a drill bit. A further inspection found 1,229.7 grams of cannabis resin hidden in the machine parts. Police were alerted and tracked the package as Johnson made arrangements to have it delivered to him on July 3. Officers confronted Johnson and searched his home in Hamilton Parish after the parcel was handed over and arrested him. Johnson, 51, admitted the offence yesterday. Maria Sofianos, for the Crown, asked that Johnson be remanded in custody until a social inquiry report on him was completed. Kamal Worrell, for the defence, argued that his client was the sole caregiver for his elderly mother, who had suffered heart attacks and strokes. Ms Sofianos said that Johnson admitted the charge in March this year and had missed previous court dates. She added that he had "ample time to get his affairs in order". Magistrate Tyrone Chin remanded Johnson in custody until February 4 for a social inquiry report.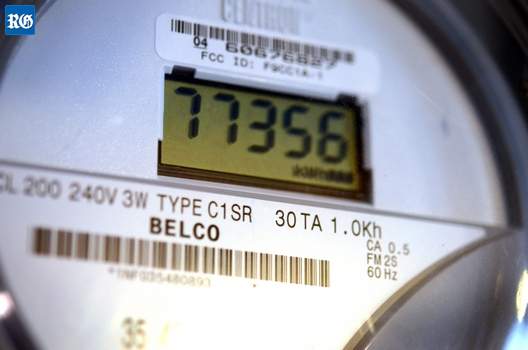 Electricity rates are going down in the new year, resulting in the average residential customer seeing an expected 2.3 per cent reduction in their monthly bill. Before any figures were released a Bermuda Government minister had said there would be a "slashing" of the electricity retail tariffs, while Belco referred to the changes as a "modest reduction". The Regulatory Authority, and the Government released statements yesterday about the reductions, with Belco doing so today. However, initially there were no figures mentioned. Belco has now released a table illustrating bill impacts when the new rates are applied to meters on January 1. The table shows that a residential user using 300 kWh per month would see their bill go from $105.81 this month to $102.29 in January, a 3.33 per cent reduction. A user consuming 600 kWh, referred to as the average residential customer, would see their bill reduce by just over $5, or 2.31 per cent. Meanwhile, a residential user of 1,500 kWh per month will benefit from $4.50 reduction, or 0.69 per cent. In addition, there are illustrations of the impact on bills for commercial users, ranging from a 0.44 per cent reduction on a bill for 500 kWh, to a 0.64 per cent reduction on a 1,500 kWh bill. A user with a 5,500 kWh bill would see a 0.02 per cent reduction in their bill. The new rates have been developed by Belco and the RA to implement a retail tariff methodology issued by the RA last year. The RA was the first to announce the imminent reductions when, in a statement yesterday, it said retail tariffs for Bermuda's electricity sector will be decreased across all customer groups. This was followed a few hours later by a statement from Walter Roban, Minister of Home Affairs, who said: "As a government elected with a mandate to improve the quality of Bermudians' lives and to drive down the cost of living, we are pleased that the Regulatory Authority has today assisted in the delivery of one aspect of our agenda; driving down the cost of electricity via the slashing of electricity retail tariffs. From day one, the Government has refused to support a raise of Belco retail rates and sought ways to drive power costs down. Now, relief is on the way." Belco was the last to confirm new rates are on the way, issuing a statement this afternoon. Dennis Pimental, president of Belco, said: "Belco remains committed to keeping rates as low as possible and we welcome the new rate reduction. Although we have encountered significant cost pressures during recent years, including inflation and decreased demand for electricity resulting from population decreases, Belco has continued to invest approximately $250 million in our infrastructure. These upgrades will allow us to import renewables onto the grid, ensuring reliable and sustainable electricity for Bermuda. Despite these pressures and investments, we have not raised customers' electricity rates. Instead, we have focused on efficiencies and savings. For example, the North Power Station and Battery Storage System are expected to save $20 million per year on fuel costs. We are projected to save more than $30 million in expenditures compared to 2015 through efficiencies and material savings." Mr Pimental said the company will continue working with the RA on reducing rates for Belco customers and providing a safe and secure energy future for Bermuda.

International sporting events have put Bermuda in the spotlight, and money into island tills, the Bermuda Tourism Authority's chief executive said. Kevin Dallas said that MS Amlin World Triathlon Bermuda may have generated less buzz on the island because of the absence of home-grown superstar Flora Duffy from the main event, but the competition was more successful than in 2018 in terms of visitor numbers. He said early indicators suggested the first PGA Bermuda Championship was also a success for the island, Mr Dallas said: "The reason why we went for this event was when we looked at what the PGA tour could bring to Bermuda, it was a function of both the direct economic impact of having the event and the media value of the viewership. This was an alternate event; it ran opposite to [the WGC-HSBC Champions tournament] in China, but the reason we went for it was this was priced as an alternate event, but it has a disproportionate value media exposure because the event it is opposite is in China. Most alternate events don't get the prime-time live broadcast because that goes to the World Golf Championship — this event did. We are really pleased by the initial figures we have seen and pleased by the rebroadcasts, but we are waiting on the Nielson data and the KPMG report before we can definitively say what the event produced both in direct impact and media value." Mr Dallas predicted the Bermuda Championship would be a bigger event in the future. He said: "This year, I think the Bermuda Championship was organised on a runway that no one thought possible, and the quality of the event that was delivered gives us the content and the data that will make it a much easier sell to potential sponsors, to visitors, to anyone who might choose to activate for a corporate event around that. We are bullish on the potential of that event for next year, especially now that there is a full year to plan it." Meanwhile, Mr Dallas acknowledged the absence of our own international superstar affected WTS Bermuda. But he added: "We are super excited to have [Duffy] back in 2020 and really thrilled about the Grand Finals in 2021. We actually had more visitors than we had last year, so the economic impact of that event actually went up this year." Mr Dallas said the drive for sports tourism will continue next year with even more events on the calendar. He explained the United States Tennis Association Foundation Pro-Am would be held in April. Mr Dallas said: "When we became the official tourism partner with the US Open, they agreed to host an event here in Bermuda that will bring tennis stars and rising stars." The tournament will also be broadcast on the Tennis Channel, which is expected to give Bermuda extra exposure overseas. Next year will also feature the regular Newport-Bermuda yacht race and the Clipper Round the World Yacht Race, which will stop in Hamilton in June. Mr Dallas said that legislation designed to encourage super yachts to visit the island would also come into force next month. He added: "In the long run we are very confident that we can develop ourselves as a yacht market, but we need to recognise that we are not in the Caribbean, so a lot of the island-hopping that charter boats do in that region is not available here. But there are compelling itineraries for boats to be here. The ambition at this stage is that many of the boats are already passing by us as they go between the Mediterranean and the Caribbean, so our goal in the short term is to get more of them to stop for longer and to get more of their owners to come by and use the boat while it is here."

There is more a physiotherapist can offer than simply passive treatment, and that's why there is a gym and fitness space in the new clinic run by Bruno Teixeira. The Bermudian physiotherapist and personal trainer opened PhysioActive Ltd, on Par-la-Ville Road, last month. Having an activity space and gym, as well as traditional treatment rooms, is a crucial component to the clinic, he said. "Having a gym was always my big thing. I need to have the big treatment room, a space to actually exercise. To me it makes total sense. If you are going to give exercises to people, why not have the facility, the space," he said. "There are different approaches to physiotherapy. I'm an active therapist. I definitely lean more on exercise than anything. It's the most effective approach to rehab, and some people would say it is what actually gets people better and makes them stronger." His clinic is in the heart of Hamilton's business district, and that means there are plenty of potential clients nearby — those who find themselves sitting behind a desk for hours on end and "losing years from their life". Mr Teixeria said: "It's about getting the working population active. Fitness is crucial, it leads to better lifestyle, longevity and have a more fulfilling life. We have the potential to be a really active community, but we are not." Seniors and retirees can do fall prevention programmes and improve their general wellbeing. The clinic has wheelchair access and offers treatments and assessments in English and Portuguese. Mr Teixeira, a former head boy at Warwick Academy, has a bachelor's degree in kinesiology from Dalhousie University, and a bachelor's in kinesiology and exercise science from the University of British Columbia. In addition, he has a bachelor's and postgraduate diploma in physiotherapy from Keele University in England. He has trained in the UK's National Health Service, and did a spell as a physiotherapist with English professional football club Port Vale. When he returned to Bermuda he worked as a physiotherapist with the Bermuda Hospitals Board for more than five years. While there he "got a feel for what Bermuda needs" and this led to him seeking the opportunity to do more and open his own clinic. PhysioActive is on the ground floor of 14 Par-la-Ville Road. The renovated space includes a gym/fitness space and two private treatment rooms. "Although you have to be active and have a space for strengthening, there is also the need for some of the passive stuff and assessments and some treatments." The physiotherapy clinic is focused on personal rehabilitation and health prevention goals. Among its treatment options are manual therapy, soft tissue mobilisation massage, acupuncture and electro-acupuncture, and dry needling. There's also patient education, home exercise programmes, gait re-education, self management plans and return to work programmes. Mr Teixeira has a background in sports and as a personal trainer. Between his spells at universities he ran the local company Conscious Movements. Previously he competed for Bermuda in the national swimming team, and while at Port Vale he stayed active and explored different training methods and techniques. During his years working in the clinical physiotherapy with the BHB he saw young people with lower back pain and chronic illnesses, a lot of which could be prevented, such as strokes and cardiovascular disease. "My goal is to empower people and get them active. It's most gratifying to see a client come in and build some confidence to go out and care for their body and health," he said. He believes exercise is fundamental to physiotherapy treatment. "The number one thing is the exercising, the strengthening. Some people like to have the assistance, the guidance. Sometimes it is just to get them started, while others enjoy having the one-on-one." As a personal trainer educated in physiotherapy he can analyze a person's movements to uncover deficits or areas that need attention to get them stronger or healthier. "Sometimes I get athletes in, gymnasts, runners, and triathletes, and work on those faults and little areas that need a little more tweaking to aid them in their training." There are also first-timers with ambitions to tackle the Bermuda Day Half Marathon Derby or a local triathlon, who require guidance. "First timers get out there and are going at it, and some are just not educated or not following proper plans that are bettered tailored for them. They pick up injuries and never show up at the start line. So it would be better to get more people healthier and prepared for those things. Then there is the average Joe who has blood pressure creeping up, cholesterol, things like that they need to address before they pick up illnesses." PhysioActive intends to share fitness and rehab tips on social media. People can book appointments directly on its website, while Mr Teixeira welcomes people to come along and see the facility. It is waiving consultation fees until the end of January. Additionally, it is running a promotion for a 90-day weight-management programme. It can also do packages for corporate entities with fitness goals. "Ultimately it is just getting the community healthy, whether you are sitting at a desk or working on light poles," Mr Teixeira said.

Tashun Simons is continuing to carve his path in the footballing world, as he aims to one day fulfil his dream of refereeing a Fifa international. Since becoming the first Bermudian football official in more than a decade to be named on the Fifa International Referees List in 2017, Simons, has made steady progress overseas, being selected as a referee's assistant for two matches in the Concacaf Nations League last year, as well as an international friendly between the United States and Venezuela and a host of Olympic Games qualifiers, including Grenada, Cayman Islands and Haiti this year. Having turned 25, Simons is now eligible for his full Fifa referee badge, however, the former Young Men's Social Club striker, conceded he will spend the next year continuing as an assistant referee for Fifa, gaining more experience, while he waits to take the next step up. "The matches this year were definitely another step up compared to what I had done before but thankfully they didn't feel completely different, which gave me confidence and a morale boost. They were quite intense occasions because, again, it was at a professional level, but it was more about keeping pace with the game and staying focused. I'm back on the Fifa list for 2020, so internationally I'll be working as an assistant for the next year. Hopefully, by the end of March, I will have a few more confirmed matches lined up. Becoming a referee with Fifa is definitely achievable; everything is. They have already seen me working as an assistant and it's just a case of making that transition." With his ultimate dream on standby, for the immediate future at least, Simons is deciding what direction to take next as he continues his progression. "It's still a little up in the air in terms of what I'm actually going to do moving forward. I have to decide whether to step away from being an assistant and then waiting a year to possibly be put on as a referee or continue progressing as an assistant. Fifa have implemented a few more things to try and raise the standard of refereeing, but because I'm already in the system with a Fifa badge, for me it is about maintaining a high standard in what I do. Things have got harder, but because I'm already on the list, for me it just a case of proving myself and waiting patiently for that call to be made. I have to be patient, that's all I can do and, when it does happen, I have to make the most of it. My dream is to be a referee and I'll keep striving for that and we'll see." While pondering his own international future, Simons spoke of the importance of making a valid contribution to helping the greater good, raising the standard of officiating on the island and guiding the next generation of young officials. "A big part of any decision is also thinking about what is best for everyone and not just myself," Simons added. "Originally, I didn't want to be an assistant referee, but Bermuda needed someone on the Fifa list and so I went with it. It's definitely about helping others. There was a big gap between myself coming through and the next lot of officials. I have to play a part in bridging that gap. I don't want to step away from being a Fifa assistant referee, leave a hole and then we have to wait four to five years for another Bermudian official to possibly get a Fifa badge. Right now, we are trying to get the younger officials the same training as we do at senior level. We have to keep that progression going to reach the Fifa standard. We are definitely seeing younger generations coming into refereeing and also females which is really encouraging. The women's side of the game is growing massively and there's definitely good signs going forward for the future."

A senior man is homeless after months in jail having been forcibly removed by police from the former prison service headquarters, near Hamilton. James Dallas, 70, insisted that he had a family claim to the vacant building on Happy Valley Road, in Pembroke, and that police had no right to arrest him after a seven-hour stand-off in March. He said: "They locked me up for eight months and when I came out, I had no place to stay. I've been staying with friends and sleeping in a car." Mr Dallas pleaded guilty in the Supreme Court last month to four charges of throwing a corrosive fluid at officers with intent to resist arrest, as well as trespassing and using threatening language. He was released on bail for sentence in February. He was also ordered to keep away from the derelict building. The siege ended after a seven-hour stand-off on March 28 when a dozen police officers stormed the building. Mr Dallas threw what police said was a corrosive substance at officers who had tried to convince him to leave. There was a similar confrontation in November 2017 after Mr Dallas claimed he had a right to the building because it was built by his grandparents on land they owned. Mr Dallas said: "I didn't move back into the building until 2008. I have a personal place in the back that my people built." The prison service headquarters were moved to Dockyard in 2012, but Mr Dallas said he had lived in the building's basement for several years without being noticed. He added that after the prison service moved he "looked after the place myself". Mr Dallas said: "The place was run down and I was looking after it." He claimed that police had taken some of his personal effects from the building and that he had other possessions there that he was unable to reclaim. Mr Dallas said: "They've boarded the place up and told me I can't go there. I just want to get my things." Cleveland Simmons, a community activist who lives on Happy Valley Road, said: "He is level headed. He has kept the grounds and looked after the place and now he is tired and disgusted and does not see a way out for himself." Mr Simmons added: "I am trying to get permission for him to at least go to the premises to pick up some of his stuff." He said he hoped that Mr Dallas would eventually be able to prove his case. Mr Simmons said: "I don't think the Government has any paperwork behind that building. Who was it leased from? I have done some surveying and I have not been able to find anything relating to that."

Leaders of the island's Catholic and Muslim faiths signed a pledge yesterday designed to promote peace between the two religions. Bishop Wes Spiewak of the Catholic Diocese of Hamilton and Emir Saleem Talbot, Imam of the Bermuda Islamic Cultural Centre at Harrington Sound, signed a copy of the document on Human Fraternity for World Peace and Living Together. The original document was signed in February in Abu Dhabi by Pope Francis and the Egyptian Grand Imam of Al-Azhar, Ahmed el-Tayeb in a bid to create a culture of mutual respect. Bishop Spiewak said: "It brought hope in the time of turmoil in which we are living. It is my hope that our repeating of this gesture is going to bring more peace, reconciliation and fraternity here in Bermuda." He added: "It's a small thing, but the big buildings are built with small stones and bricks." Imam Talbot added that Islam was sometimes viewed as "strange" in the west, but highlighted that the Christian, Jewish and Muslim faiths had much in common. He said: "In Bermuda, we all know each other and that's a good thing. We don't have to make peace among each other too much because we are already friends and relatives. But we must spread this peace to others in society because Bermuda is a microcosm." John Rankin, the Governor, who witnessed the signing at Government House, added: "We are fortunate on this island to have good relations between different churches, different religions and different faiths. Long may that continue and may this document strengthen those good relations in order to help spread the message more widely to our neighbours and friends across the world." The three released white doves in the grounds of Government House as symbols of peace after the signing ceremony.

December 17

Critics of the island's child protection agency should help to improve the service after a string of abuse allegations, the Attorney-General said yesterday. However, Kathy Lynn Simmons, also Minister of Legal Affairs, which includes the Department of Child and Family Services, held little hope for concerned citizens beating a path to her office door. Ms Simmons told the Senate: "It's not what you say — it's what you do," Ms Simmons said she gave "kudos" to The Royal Gazette for articles that detailed allegations of mistreatment of children, which included accounts from people who had been in the care of the DCFS. She added: "Those young men who told their stories, I would like to think they were overwhelmed by support." Ms Simmons said that "if that has happened, and if my phone rings next week, and if people's consciences are pricked", then "hand on heart, I would say that The Royal Gazette has succeeded". She added: "But if that does not happen, and part of me knows that it will not happen, because it hasn't happened today, then we all have failed." Ms Simmons was speaking during the motion to adjourn in the Upper House. Nick Kempe, the Opposition Senate Leader, said the One Bermuda Alliance had asked "for almost one year for an independent investigation" into the DCFS so "the public can have restored faith". Mr Kempe added he had followed "a somewhat scary scratching below the surface of things" at the DCFS. He said the island had seen "all sorts of allegations — some yet to be tried in the courts, some effectively tried internally through mechanisms that have not been made public". Mr Kempe added: "There have been challenges to the media to not ask questions, which all paints a very discouraging picture." Ms Simmons appealed for the Gazette to drop its questioning about vulnerable children sent to overseas institutions by successive governments over decades. Mr Kempe said the public needed to be "honest with ourselves and look at what has gone wrong" and that there had been "a tide change in discoveries in the public realm of challenges, of allegations of abuse". He added: "Without an independent investigation, without being able to come to the bottom of potentially ugly incidents, I do not see how we are going to be able to make decisions to protect those that most need it." Ms Simmons said Mr Kempe was "absolutely correct". She added: "We have had a long week of adverse reporting about the Department of Child and Family Services. It's been interesting, it's been disturbing. It has focused on the negative aspects of aspects of child protection — it has painted a narrative that DCFS is not fit for purpose. But I would like to think that it also has led all of us who read the daily being concerned. I do not think this is a bad thing. I think it's good. My expectation would be that my phone would be ringing off the hook, and people would be so concerned they would be lining up to meet with me to assist. Our problems are not going to be solved by legislation." Ms Simmons said she had "utmost confidence" in the DCFS director Alfred Maybury and his staff. Mr Maybury was suspended in 2018 while the Government investigated abuse allegations at DCFS. He was also accused of failing to follow financial instructions. The director was reinstated in January, after the probe found that claims against him were "not substantiated" although the report was never released. Ms Simmons said: "There was an investigation and the results may not be as some people want it. But trust and believe that the civil service framework that determines such matters has effectively been implemented." The Attorney-General said she had been waiting for "a barrage of concerned citizens to show up" at her office. She added: "I give kudos to The Royal Gazette because I expect that these so-called concerned citizens are not just enjoying the stories of misfortune." Ms Simmons added that people tended to sit on the sidelines rather than help. She told the public: "We don't need your money — we need you to give of yourself." Ms Simmons said anyone who went to the Gazette with "their woes, or to the Opposition with their woes, as scandalous, salacious and heartbreaking as they may be" could also get help at the DCFS. She added: "That's what those hardworking professionals do. And they will not be cowed by The Royal Gazette's reporters who are calling all of our institutions in Utah who service our children. They won't be discouraged. The facilities won't be discouraged. That's what we do, and they do, and will continue to do." Ms Simmons said: "If there are processes and procedures that need reform, that's my job." But she added she was "ashamed to say that not much has been done" with the 1998 Children's Act, while "we fuss about airports and hotels and the state of our finances. To those who intend to make this a political football, it's not going to happen. To those that are distressed that we are not in the media, countering those reports, that's not going to happen. We have a story to tell and that story reflects our ethos, that it is not what you say — it's what you do."

Campaigners and schoolboys joined forces yesterday for a march designed to get men to play a bigger part in children's lives. About 150 men and boys took part in the Men are Needed event in Hamilton. Desmond Crockwell, an anti-violence campaigner who organised the event, said that families, counselors and men from the Pembroke area who did not have children joined in on the march. He added the turnout underlined that the public understood the importance of a male role model in children's lives. Bayon Robinson, 40, said that he joined the march to support Mr Crockwell, a relative and a friend. He added: "A lot of these teens don't have a man that they can go to for help, even if it's just an uncle or a cousin or a grandfather. That's the time where we lose a lot of the next generation because nobody really shows them how to make that next step into adulthood." Mr Robinson, from Smiths, said he tried to set an example to his 16-year-old son and young relatives. He explained it was his responsibility to remind them to make their own paths in life. Mr Robinson said that he was inspired by his father, who taught him about hard work, respect and manners. He added it was his duty to teach his own son the same lessons. Mr Robinson said: "I have to transition him from a teenager to a man, which means I also have to teach him about responsibility." Mr Crockwell said that there was a larger turnout than expected despite the absence of Dellwood Middle School, which withdrew from the event. He added: "But we thought it was excellent — it was more than what we thought." Pupils and teachers from the Whitney Institute Middle School and the Bermuda Centre for Creative Learning took part in the event. Sergio Pitcher, the founder of maths tutoring service Planet Math, said that he joined the march to demonstrate the importance of a man in a child's life. He explained that he had mentored a troubled child who might have ended up in prison if he had not taken an interest. Mr Pitcher said: "He tells me all the time 'had you not been there to help me, I don't know where I'd be today'." Mr Pitcher said the most important lesson for boys was the need to accept responsibility. He added that becoming a role model for children required diligence, hard work and patience. But Mr Pitcher said that the impact a good role model could have was tremendous. He added: "The more interest that a man puts in a young boy's life, the more you see them gravitating towards doing what's right, even if it's hard for them. It's never easy — it takes hard work and you're going to have setbacks — but if you keep working hard, you'll achieve what you're trying to do." The march was led by a truck full of young drummers along Angle Street, Court Street and Dundonald Street in Hamilton and ended with a rally in Victoria Park. Wayne Caines, the national security minister, told the rally that the just-announced drop in gun crime was due, in part, to efforts to keep young boys on the straight and narrow. He added: "What makes me most happy about having no gun-related murders is that we have families that are not grieving at the start of the year. This is about our community trying to do better and be better, and I believe that we're going in the right direction." Mr Caines said: "We can't rest and we can't sleep. There are too many miles to go before we can end the work that we're doing."

A police officer was arrested yesterday on a charge of corruption, the Commissioner of Police said. Stephen Corbishley said the arrest came after an allegation of a "serious criminal matter". He added that the officer was being interviewed and would be released on bail. Mr Corbishley said the officer will be suspended while the allegation is investigated. He added that several allegations were under investigation after the service boosted its Professional Standards Department, which ensures police officers act with integrity and professionalism. Mr Corbishley said: "The result of this investment has identified a number of matters that are now being investigated. However, these matters are small in number and do not represent the hard work, ethical standards and professionalism displayed by police officers and staff that work tirelessly each day to keep Bermuda safe." Mr Corbishley said the number of officers suspended was 1.5 per cent of its manpower and was "not representative of the hard work and honesty of staff". He added: "That notwithstanding, it is essential in securing the public's confidence in our services that we act when serious wrongdoing by police employees is identified." Wayne Caines, the national security minister, said: "No one is above the law, and corruption will be rooted out. While we cannot comment on the specifics of the situation, as this is currently going through the legal process, we take all allegations of inappropriate conduct very seriously, particularly when the allegations involve individuals in positions of public trust." The arrest came after Pc Kyle Wheatley, 34, was jailed for 2½ years last week for dumping more than 60 traffic tickets for profit. Wheatley resigned from the service after pleading guilty in the Supreme Court to conspiracy to defeat the ends of justice. Mr Caines said individuals in the uniformed services must be held to the highest standards. He added: "The Ministry of National Security has a professional standards section that is tasked with rooting out corruption within our uniformed services. And, as Minister, I am committed to ensuring that we uphold the absolute highest standards of integrity, ethics and public confidence." The minister said Bermuda had about 400 police officers who "carry out their duties on a daily basis with pride and dedication". He added: "We appreciate their loyalty and service in safeguarding and protecting our community. But let me be clear, this ministry will not allow a breakdown in discipline. Where or when any officer in any of our uniformed services falls below the requisite standards, they will be held to account."

Two men were jailed for three years yesterday after they plotted to bring drugs with an estimated street value of more than $500,000 into Bermuda on a cruise ship. Cannabis, vape pen cartridges and shatter — a super-strength derivative of marijuana — were seized from a cruise ship cabin occupied by Jahad Waldron and Julian Mendez last year. The pair, from Brooklyn, New York, apologised to the Supreme Court after they admitted conspiracy to import controlled drugs between an unknown date and September 5, 2018. Acting Puisne Judge Craig Attridge said the two were caught by security staff on the Celebrity Summit after it sailed from New Jersey. The court heard that the substances involved were more than 5,000 grams of shatter, about 420 grams of cannabis and 192 vape pen cartridges, which each contained a milliliter of THC, the active ingredient in cannabis. Alan Richards, for the Crown, said the estimated street value in Bermuda was up to $542,853. But he accepted that there might be "flexibility" in the figure because it was the first time courts had dealt with some of the drugs on such a scale. Mr Richards added: "Particularly shatter and the THC oil are only just starting to be seen on the black market in this jurisdiction." He told the court that some of the shatter was found to have a "particularly high concentration" of THC at 85 per cent, compared to 17 per cent in the plant material. Charles Richardson, who appeared for Waldron, said that an appropriate sentence would be two years in jail, with time served taken into consideration. He added that the men's sentences would have been lower if they had been convicted in their home country. Archibald Warner, who appeared for Mendez, said: "These defendants would not be before this court if they were not wrongfully brought into Bermuda." Waldron, 28, told the court: "I'm sorry for what I've done." Mendez, 24, apologised and added: "I've been through a lot since I've been here, I've had a lot of time to think about what I've done and I just ask the court to show mercy." Mr Justice Attridge said the case had led to arguments about the legality of the charges and "called into question the jurisdiction of these courts". He added that the men appeared to be of previous good character. But Mr Justice Attridge said the quantity of drugs was "very significant". He added it was possible that Waldron might have played a more prominent part in the crime. He said: "There is no clear basis for distinguishing between the culpability of the defendants." Mr Justice Attridge sentenced the pair, who had no previous convictions, to three years in prison, with time served to be taken into consideration. Leslie Grant, the executive director at Focus Counselling Services, an anti-drug abuse agency, said: "Shatter is a glasslike concentrate of cannabis oil. Its effects are similar to that of hash and hash oil. This form of cannabis is commonly produced in the US and Canada, but it is not very widely used in Bermuda."

A Bermudian man has been charged with killing his mother after he celebrated his birthday with his parents in Florida at the weekend. Alexander Deltoro is accused of shooting Cindy Deltoro in the face outside his parents' home in the Fort Lauderdale suburb of Margate on Saturday night after he got into an argument with his father, also Alexander, as the three travelled to the house by car. Judge Jackie Powell said yesterday in Broward County Court: "The allegations in this case ... there's no word for it. Mr Deltoro was in a fight with his parents and brings a gun to the argument and we are here today because now his mother is deceased." The court heard that the two men got into an argument in the car last Saturday night and Deltoro hit his father in the face. Mr Deltoro and his father started to push each other and his mother tried to intervene to end the scuffle. But it is alleged that Deltoro pulled a Glock handgun from the waistband of his pants and fired a single shot, which hit his mother. Police said Deltoro, who was arrested on Sunday, had intended to shoot his father. A school friend said last night she was stunned by the news. She said: "I am completely and utterly shocked to hear that. That would never have crossed my mind, him being that kind of person." The woman, who asked not to be named, said she became friends with Mr Deltoro at school in the middle of last decade. She added: "I never met his mother — we were just friends at school. He always seemed like a happy person at school. I can't believe it." The court heard that Deltoro had no previous convictions and worked as a gas station attendant. Judge Powell imposed a total of $101,000 in bail and added conditions, including no contact with his father and a ban on him having firearms. But the judge was told that Mr Deltoro would not be able to pay.

A furious householder is still being sent government forms featuring the name of the dead former owner of her home — six years after she bought the house. Cindee Miller said the property valuation survey forms, which have to be returned within 21 days of receipt, were addressed to the owner/occupier, but had the name of the former owner, who died earlier this year, inside. She added: "How dare the Government tell me I have 21 days when it has been six years and I am still receiving my land tax and all information under a dead person's name." She was speaking after she received property valuation survey forms from the Department of Land Valuation this week. Ms Miller, who bought the Hamilton Parish house in 2013, said that the envelope was addressed to the owner/occupier, but that the forms inside had the name of the former owner on them. The 62-year-old added that it warned that failure to return the forms before the deadline or the provision of false information was punishable by a fine or imprisonment. Ms Miller said: "I was so angry." She added that she had also received land tax bills and "all kinds of information" addressed to the former property owner. She asked: "What happens if I don't pay my land tax because it's not billed to me? The Government on Tuesday said the forms from the Department of Land Valuation had been received by homeowners "during he first two weeks" of November. It added that all land taxpayers were required to complete and return the survey and that the next Valuation List would be published on December 31, 2020. But Ms Miller said that the forms had arrived at her home on Tuesday. She added that the letter was dated November 6 — but that it had been posted on December 9. Ms Miller said that she and her lawyers had gone through the proper steps when she purchased the house in 2013. She added that she had tried to contact Diane Elliott, the director of the Department of Land Valuation, whose name appeared on the letter she had received, but had been unable to reach her. Ms Miller said she had spoke to an employee at the department who said they received several calls a day about documents being address to the wrong person. A note on the Department of Land Valuation website advised that it is not responsible for updating the names of taxpayers and mailing addresses for land tax bills. The Land Title and Registration Office website said it was the office's "duty to record any legal right or interest which affects parcels of land and to provide an up-to-date report of the evidence of land ownership".

The Committee of 25 were the beneficiaries of the TP Hackers golf group Xmas tournament's raffle prize winnings for the second year in a row. Their contribution of $5,186 to the charity will help further its mission statement of providing financial support to children with medical or special needs to help them live as full a life as possible in accordance with its policies and procedures. Jackie MacLellan, Deputy Chair of the Committee of 25 received the gift on behalf of the Committee of 25 and to express their gratitude.

December 16

Consolidated Fund financial statements for the year ended March 31 were tabled in the House of Assembly Friday. Curtis Dickinson, the Minister of Finance, told MPs that the fund had been given an unqualified audit opinion. He added that items that had led to the fund being given a qualified opinion in 2018 had "been rectified". The fund is the general operating fund for the Government and through which most government transactions were completed. Mr Dickinson said that for the ninth consecutive year Heather Thomas, the Auditor-General, had included explanatory paragraphs in her report. He added the paragraphs covered public debt and guarantees, increasing net debt and usefulness of financial statements. Mr Dickinson said on public debt and guarantees: "The Auditor-General has highlighted that while the Government is within the legislated debt limit of $2.5 billion, there is a further $1.2 billion in guarantees to various lenders by the CF." He added that Ms Thomas had highlighted that net debt "increased by $102 million and continues to grow". Mr Dickinson said that Ms Thomas had said that the usefulness of financial statements was "limited because they are not summary financial statements". He explained that the statements did not "represent the combined financial position and activities of all government entities, only the CF." But Mr Dickinson said that it was important that the explanatory paragraphs did not alter Ms Thomas's unqualified opinion. He added: "The Government notes the Auditor's concerns in these areas and has already started to tackle these matters. For instance, the Ministry of Finance has already put in place a plan to eliminate the deficit and ultimately reduce the debt."

Legislation intended to update Bermuda's international business regulations was approved by parliamentarians on Friday night. The House of Assembly gave unanimous support to the Economic Substance Amendment (No 2) Act and the Investment Funds Amendment Act. Curtis Dickinson, the Minister of Finance, said the bills were aimed at bringing Bermuda in line with international standards. Mr Dickinson said the Economic Substance Amendment Act is intended to level the playing field between Bermuda and other jurisdictions including the Cayman Islands, the British Virgin Islands, Guernsey, Jersey and the Isle of Man. He added the OECD had reviewed the legislation and that it was in line with the stated objectives of the European Union. The Investment Funds Amendment Act is also intended to meet the requirements of the EU and OECD. Mr Dickinson explained the Bill would enhance the regulatory regime for investment funds. Leah Scott, the deputy Opposition leader, said Bermuda had been forced to play an expensive game of "whack a mole" with the EU in order to meet their standards. She said the real intention of the EU was to shut down the island and questioned how long Bermuda would continue to try to meet the demands. Ms Scott said: "The EU is trying to write our laws and we are letting them. First is EU substance, and then they will be writing tax laws and telling us we have to pay income tax. All they are trying to do is destroy us and put us out of business." Rolfe Commissiong, a Progressive Labour Party backbencher, said the idea of Bermuda "punching above its weight" had always been a misnomer as the larger countries had benefited from Bermuda all along. And he said the increased pressure from the OECD and EU highlighted the importance of economic diversification. He said: "We can moan and talk about the extra cost being imposed on us, but there has been a geopolitical shift and we need to do what we can to accommodate that shift." Mr Commissioning added that Brexit would probably only accelerate the actions of the EU against offshore jurisdictions like Bermuda. The House also approved the Bermuda Monetary Authority Amendment Act and the Insurance (No 2) Amendment Act. The BMA amendments set the regulatory framework to establish an "innovation hub" in Bermuda to help enable the development of innovative businesses to support of the operations of financial institutions.

Pensions legislation that got turned away from the House of Assembly after the Opposition faulted its wording was approved on Friday after a redraft. The Bill, brought to the House last month by Wayne Furbert, the Minister for the Cabinet Office, allows employers and staff to temporarily suspend 2 per cent or their national pension scheme payments over a two-year period. It was sent back to the drawing board after Trevor Moniz, a One Bermuda Alliance MP, flagged up wording that seemed to permit bosses to postpone payments over an employee's objections. Curtis Dickinson, the Minister of Finance, brought a new version specifying that the suspensions could only be carried out with the agreement of the employer and the member of staff. However, Scott Pearman, the shadow legal affairs minister, said there was still ambiguity to the Bill. Mr Pearman said that cutting a 5 per cent pension contribution by 2 per cent was technically a 40 per cent reduction of the payment. He added: "Could we not simply make it two out of five in the Bill?" Mr Dickinson said: "We talked to the drafters about this, and their preference was that we leave the wording as it was in the document."

Government's efforts to build the economy were the subject of a heated debate in the House of Assembly on Friday. Michael Dunkley, an Opposition backbencher, told the House the Progressive Labour Party had done little to help the economy and struggling businesses since its election in July 2017. But Government MPs argued both the number of jobs and the island's gross domestic product had grown, and international rating bodies expressed confidence in the island's progress. Mr Dunkley said retail sales in Bermuda had fallen, while increased taxation had created an additional burden for small businesses. He told the House he had spoken to figures in the real estate industry who said an increase in stamp duty had caused more than $7,000 in additional expenses for a single sale. Mr Dunkley said: "That's a cost that sometimes is very difficult to pass on. It's very difficult to pay that." He said that only 31 per cent of retailers expressed confidence in Bermuda's economic future in a recent survey. And he argued that a lack of confidence would encourage more people to leave the island for greener pastures. Mr Dunkley called on the Government to move forward with immigration reform, offer retailers short-term payroll relief, improve education and to control its spending to reduce the tax burden. Wayne Furbert, the Minister for the Cabinet Office, responded that the PLP had offered retailers payroll tax relief, but the One Bermuda Alliance restored and increased it to 10.25 per cent. And he said the rise of online retailers like Amazon had hurt brick and mortar stores around the world. Mr Furbert said that since 2017 the Government had offered payroll tax relief for new employees, which helped to encourage the hiring of more than 400 people. He said the Government had also reduced payroll tax for taxi operators, extended relief for restaurants and empowered the Bermuda Economic Development Corporation to help more entrepreneurs. Jason Hayward, a PLP backbencher, said there have been numerous small business success stories since the PLP returned to power and the island's GDP had grown in both 2017 and 2018. Mr Hayward said: "We have to accept that there are improvements that have to be made, on our retail sector in particular. The decline in numbers is not positive for any government. However when you look at it in the overall scheme of our total economy, our wholesale and retail sector is not a significant industry, not to say it should be ignored. The numbers support a growing economy. The numbers support economic growth." He added that the Government wants to move forward with immigration reform, but must first address an inherent distrust "that was not created by the PLP". Wayne Caines, the Minister of National Security, added that progress had been made to streamline the work permit system to help businesses. And he said the Government's efforts to build a fintech sector have begun to bear fruit. Mr Caines said: "We have 99 companies registered in Bermuda. We have in the next months 98 expected jobs. We have 29 companies with a physical presence in Bermuda and eight came in October alone." Sylvan Richards, the Shadow Minister of Home Affairs and the Environment, said he was encouraged by some of the things he had heard from the Government. But he said there was still work to be done as there are many people and businesses who are struggling. Mr Richards said: "There is a massive, massive disconnect between what the Government says it's doing and the feeling of the people."

Bermuda's economy grew for the third time in four years in 2018 according to annual gross domestic data. The 0.1 per cent expansion of GDP after adjusting for inflation last year was achieved mainly thanks to growth in construction and international business. This followed up the America's Cup-fuelled 3.6 per cent growth in 2017 — the only year over the past decade in which the island's real GDP growth topped 1 per cent. Last year's expansion fell short of the 0.5 per cent to 1 per cent growth forecast by Ministry of Finance officials in February this year. The construction and quarrying industry group was the largest contributor to growth in 2018, adding $33.9 million in real terms, fuelled by the major hotel and airport projects, as well as residential work. International business, which generated more than a quarter of the island's GDP, grew by $24.7 million, driven mainly by insurance brokerages and re/insurance underwriting companies. The sectors to see the largest falls in real dollar terms each suffered particularly from comparisons with the America's Cup year. Value added by the arts, entertainment and recreation industry fell $36.6 million, 60 per cent, in 2018. This followed three successive years of double-digit increases, as the sector "reverted to levels comparable to 2014 which precedes the lead up to America's Cup activity starting in 2015", the report stated. The wholesale and retail sector experienced a $15.5 million, or 4.5 per cent fall in value added, contrasting its 3.1 per cent growth in 2017. The figures, released on Friday in a report by the Department of Statistics, featured a change in the base year — from 2006 to 2013 — for reporting of GDP at constant prices, which focuses on real growth and strips out price inflation. The number of industry groupings in the report has also increased to 18 from 15. Past years were also revised. The report said the changes would allow policymakers to "use a set of economic statistics that is more representative of the economic structure of Bermuda than those based on the 2006 base year" and would provide "a better understanding of which industries are driving growth". The re-basing exercise was completed with the help of the Caribbean Regional Technical Assistance Centre. Bermuda's GDP in current prices, which includes inflation, increased 1.7 per cent in 2018 to $6.94 billion. International business accounted for $1.72 billion of that, while financial and insurance activities with $1.12 billion and real estate activities with $1.01 billion the next two biggest contributors. Quarterly GDP figures released this year suggest that Bermuda is on track for stronger growth in 2019 than it achieved last year, with real GDP growth of 3.4 per cent recorded in the first quarter and 3.3 per cent in the second. Gross capital formation, driven by construction, has been the strongest growth area this year, according to the reports.

Finance Minister Curtis Dickinson praised the work of financial-services regulator, the Bermuda Monetary Authority, in earning the island a valuable designation from the United States. As announced last week by the BMA, the island has been granted both qualified and reciprocal jurisdiction status by the National Association of Insurance Regulators, the body that represents US insurance regulators. This status means Bermuda re/insurers will be eligible for zero collateral relief, allowing them to compete under the same conditions as peers based in the European Union and the United Kingdom. Speaking in the House of Assembly on Friday, Mr Dickinson said: "Bermuda is in the financial services business and thousands of jobs, both Bermudian and guest workers alike, depend on the success of this sector. The Government therefore is committed to helping Bermuda's financial institutions succeed in global markets. This decision directly supports our commitment to the financial services sector and the livelihoods of those employed in it. I wish to express my sincere thanks to Jeremy Cox [BMA executive chairman] and the Bermuda Monetary Authority team for doing such an excellent job, with tireless effort, in orchestrating the regulatory requirements that have led to the NAIC granting Bermuda reciprocal jurisdiction status. This result is indeed a feat of determination, endurance and extraordinary discipline."

An Opposition MP called on the Government to act over "scandal after scandal after scandal" at the Department of Child and Family Services. Scott Pearman, the shadow legal affairs minister, applauded The Royal Gazette's Who Cares? series about how the island's most vulnerable children are looked after locally and abroad. However, he said it would not make any difference unless "those with the power" were motivated to do something about it. Mr Pearman said the One Bermuda Alliance's calls for an independent investigation into the department had fallen on deaf ears over the past year. He said: "We have seen scandal, after scandal, after scandal. When will someone in our government finally stand up and be counted? When will someone be held accountable for the tragic events concerning the DCFS? The Royal Gazette's initiative, shining the spotlight on the DCFS scandals, is a commendable one, but what will actually come of it?" As part of the weeklong Who Cares? series, campaigners and people who were sent to reform schools in the United States urged the Government to consider alternatives to overseas care for children with behavioral problems. Mr Pearman said: "As the newspaper so pointedly asks: Who Cares? I would add this question: who has the power to do something about it? What more has to go wrong with DCFS before our Premier realizes that an independent investigation is desperately needed? Without an investigation, we cannot hope to discover what the problems are, and without identifying the problems, we have no chance of implementing meaningful solutions. Those with the power to do something must now act." The Paget East MP pointed to a long list of controversies that have involved the DCFS in recent months. These included:
Allegations of abuse and neglect of vulnerable Bermudian children.
Investigations which have either "faded away" or produced reports that were kept secret
Tiffanne Thomas, the island's only litigation guardian, resigning over unpaid fees
Bermudian children being sent to overseas institutions, including one that shut down due to abuse scandals
Attorney-General Kathy Lynn Simmons telling the media not to ask questions and refusing to name the people appointed to a new litigation guardians panel
The death of a young Bermudian woman who had been sent to an overseas institution
Mr Pearman said: "For over a year, the Opposition has been calling for a proper, thorough and independent investigation into the escalating scandals at DCFS. We have been joined in our call by many others, including citizens involved with social work, with the family courts and with various charities. We have raised these issues with the Premier in the House of Assembly, with the Attorney-General in the Senate and with the public in the media. But we are no closer to the answers, with the cracks being papered over." The Ministry of Legal Affairs did not respond to Mr Pearman's comments, but a spokeswoman said last week that the decision on overseas referral was "not taken lightly". She said: "Recommendations for referral overseas via the psycho-ed programme are made after all other resources locally are exhausted. Local resources are family, counselors, psychologists, psychiatrists, other family intervention programmes and outreach services. All sections in the department are continually assessing and reassessing processes and making improvements for the betterment of the clients that we serve. Psycho-ed is no different."

In November 2019, a cohort comprised of six Department of Education staff and teachers attended experiential STEAM (Science, Technology, Engineering, Art, Math) training at three award-winning schools in Wake County, NC. Schools who hosted the Bermuda cohort included Wake STEM Early College, Reedy Creek Middle School Center for Digital Sciences, and Brentwood Elementary School of Engineering. This professional development opportunity is directly aligned with the Government's Platform and Strategy 2.9.5 of Plan 2022, which places STEAM Education as a priority. The Department cohort participated in classroom sessions where teachers served as facilitators of the learning process. The cohort also spent time actively learning about:
Unique teaching methods;
Student transition to STEAM Model learning environments;
Incorporation of professional industry standards beyond the core curriculum;
School culture;
Parental involvement;
Leadership; and
Industry partner collaboration.
Department of Education Gifted and Talented Education Officer, Luann Wainwright-Dill commented, "Although defined differently in each school, the focused approach to STEAM drove a consistent approach to teaching and learning standards. Students, all the way down to Kindergarten, demonstrated ownership of their learning. This experience was invaluable for myself and other Department of Education staff as we work to expand the STEAM curricula in our Bermuda Public Schools. I am encouraged by the knowledge we were able to glean from this experience and we look forward to providing an in-depth overview of our learning to senior leaders at the Department of Education." In the 2019-20 Budget Statement, the Ministry of Education allocated $770,000 to continue the deployment of STEAM programmers at the Primary School level. This is inclusive of professional development training for teachers., updating the social studies curricula, and expanding literacy programmes.

Hundreds of new tourism jobs are expected to come online in the next two years — and efforts have begun to prepare Bermudians to fill those posts. Kevin Dallas, BTA chief executive, said: "When we look at future demand, the Azura is opening around now, the Bermudiana Beach Resort is opening next spring and the St Regis is opening on April 2, 2021. That creates a lot of jobs, but also if we look at what has happened over the last couple of years, because tourism was the career of last resort for a generation of Bermudians, the average Bermudian hospitality worker is older." Mr Dallas said some Bermudians have been discouraged by government statistics, which have shown an increase in hotel jobs but a drop in Bermudians who work in hotels. He said: "At a superficial level, it is easy to say those hoteliers don't want Bermudians, that they want to employ expats, but when you talk to the hoteliers that's not true. What's happening is their workers are retiring and they are finding them hard to replace." The Tourism Satellite Account Report shows that direct employment in the industry accounted for 3,204 jobs in 2018, up from 2,996 in 2017 and 2,607 in 2016. A study by PwC this year found that the gap between Bermuda's future talent supply and the demand for hospitality workers could range from 555 to 814 by 2021 as new hotels open their doors. Mr Dallas described the situation as a "whole industry challenge", but the BTA and other agencies are already at hard at work to ready younger Bermudians for the hospitality industry. He specifically noted the Learn to Earn pilot programme, which launches in January and will offer trainees a skills-development course and an eight-week paid internship. Mr Dallas said: "What I think is exciting about the programme is nobody is in a silo and everyone is working together at what they are good at. This is not just an initiative by [the Department of] Workforce Development, but it is the restaurant groups, it's Bermuda College, it's the Ministry of Tourism and Transport and the BTA. It took a while to put everything together, but it's definitely the right way to do it." Mr Dallas said that the BTA's efforts to build tourism in 2019 have garnered mixed results. Visitor air arrivals have fallen year-on-year, ending a three-year upward trend, but visitor spending enjoyed a marginal increase. However, Mr Dallas said the BTA remains focused on a long-term strategy instead of a more reactionary approach, and had hired Ailevon Pacific Aviation Consulting to help build a strategy to grow airlift. He said: "Everybody added capacity in 2016 and 2017, which was great, and then in 2019 because everybody had expanded some of them started pulling back. As an island, being more strategic in our management of airline relationships is something that is important, and that is why we went out and hired some fantastic air service development consultants to not only help us come up with a plan, but to help us implement that plan." Mr Dallas said the Ailevon Pacific are expected to return to Bermuda with the plan next month. Asked if the increase in visitor spending could be a side effect of the island becoming more expensive, Mr Dallas said the BTA is looking at how visitors are spending their money. He said: "Generally speaking, we know hotel rates have come off a little bit this year, so it does suggest that visitors are spending more on other things. There has been an expansion in the number of visitor experiences that are available, there are new charter boats on the island, new tours and, of course, more and more electric vehicles for our visitors to rent. Our hope is that they are getting more out of there spending and spending more in the process. And we know that visitor satisfaction ticked up this year, so whether they are suffering from higher prices or not, they are more satisfied with the visitor experience." Mr Dallas, however, warned that there are concerns about group business next year due to an increase in available venues internationally. He said: "Teams and groups is one of the pillars of the national tourism plan, and it's important because it brings a meaningful amount of business to the island. It is also more year-round, so group business in particular helps in the spring and the fall, but there is a forecast for a slowdown because there has been a big increase in the available capacity with demand not keeping pace. There are some dark clouds on the horizon there. We have several hotels here that vie for group business, but what fits Bermuda is quite niche."

Powers to control traffic including taxis and minibuses are expected to be granted to West End Development Corporation workers with legislation passed by MPs. Zane DeSilva, the Minister of Tourism and Transport, told the House of Assembly on Friday that Dockyard can become chaotic when thousands of cruise ship passengers disembark. He said that the West End Development Corporation (Traffic Officers) Amendment Act 2019 was designed to allow the corporation's traffic officers to enforce "moving violations and parking infractions". Mr DeSilva explained: "In recent years our cruise ship partners have reported passenger dissatisfaction in transportation at Bermuda's cruise ship ports, especially at Dockyard when two or more ships are in port. There is a ground transportation area at the port where taxis, minibuses and limousines ply for business, pre-arranged tours and beach shuttles. Wedco has only three traffic co-ordinators who manage the area and facilitate the safe and efficient movement of passengers. They interact with operators of the public service vehicles and passengers, who they direct to relevant transport options. They also monitor and manage the flow of traffic through the area and at a nearby staging area for overflow vehicles. Although the ground transportation area is suitably appointed with proper signage, the area tends to get a bit chaotic when there are thousands of visitors trying to move at the same time and public service vehicle operators are vying for customers." Mr DeSilva said that until last year up to four Transport Control Department traffic officers went to Dockyard daily when cruise ships were in port. But in 2018, TCD redeployed its resources and this year its traffic officers have assisted Wedco only when at least five ships were docked. Mr DeSilva added: "The main objective of this Bill is to appoint traffic officers who have the same powers as TCD traffic officers to control traffic and deter illegal parking." Leah Scott, the One Bermuda Alliance deputy leader, said the Opposition had no objection to the legislation. She sought information from the minister about a planned traffic analysis at Dockyard which was "supposed to be ready in July of 2019". Mr DeSilva replied that he would check on its status. MPs also passed the Superyachts and Other Vessels (Miscellaneous) Amendment Act 2019, which related to transit and cruising permits, and would classify the crew of superyachts under charter as "special category persons" in the Bermuda Immigration and Protection Act 1956.

The Corporation of St George is preparing for another municipal election in the wake of the loss of the third councillor this year. A notice in the Official Gazette published on Thursday announced that a special election would be held in the town on January 16 to fill a seat left vacant by the resignation of Lloyd Van Putten less than a year after his election. Mr Van Putten served as a resident councillor since the Municipal Election in April. The Corporation of St George did not respond to a request for comment as of press time last night. His departure follows those of Tania Stafford and Phillip Seaman, who stepped down in July and October respectively. Ms Stafford stepped down in the aftermath of a decision by mayor George Dowling to open a pedestrianised section of Water Street to traffic without a council vote. The decision was reversed a day later by Mr Van Putten as acting mayor. Mr Seaman later said the incident contributed to his decision to resign. He told The Royal Gazette: "Water Street didn't go to a vote and it contributed to my decision to step down, but I also had personal reasons. Others called for his resignation. The mayor called me and said he had decided to open up Water Street to vehicular traffic. I didn't even have a chance to discuss it; he just told me. He doesn't have the power to do that — the mayor has the deciding vote if it is a tie, but he thought he had the power to make decisions. I believe in a democratic process." Mr Dowling later accepted that he had not followed protocol and the decision should have been brought to a general council meeting. The Corporation of St George has struggled to find a full cadre of eight councillors throughout the year. Even before the resignations one resident councillor post was left empty at the Municipal Election in April after only five candidates stepped forward for six seats. That seat was later filled by Nyon Dowling, the brother of the mayor, who defeated Alfonos Harris at a special election. Ms Stafford's seat was filled in October by David Chew, while Mr Seaman's seat was won by Mr Harris last month.

Planning applications will be more difficult to monitor because of a change to the way they are advertised, the head of an island environmental charity said. Kim Smith, the executive director of the Bermuda Environmental Sustainability Taskforce, said the group was "very concerned" that the Department of Planning's process for gazetting applications "no longer serves the public". She added: "Under the guise of 'streamlining processes', Government is reducing transparency and making the monitoring of planning applications more difficult. The public has a right to know what and where development is being proposed without having the onerous burden of daily checks of the Official Gazette. We should be allowed easy access and sufficient time to express concerns regarding any proposed development." Ms Smith said that since 2011 the charity had reviewed applications for development in or near areas with protective zonings. She added that "until recently" the list of planning applications was made public on Fridays, or on a Wednesday if a Friday fell on a holiday, with the deadline for objections 14 days after the date an application was published. Ms Smith said: "This practice made it easy for the public and environmental organisations concerned with development and subdivision applications to monitor planning applications and manage their responses." The Government last week released a statement to encourage the public to use the online Official Gazette to view development applications. A spokeswoman for the Ministry of Home Affairs said that the move online had allowed the DoP "to take a more efficient and streamlined approach towards the advertisements of planning applications". She added that the online gazette provided several benefits to the planning process, including that official notices could now be gazetted any day of the week, and that the public could access present and past applications any time. Ms Smith said that BEST did not support the move. She added: "This change further erodes the public's ability to monitor planning applications, already hindered by the discontinuance of advertising applications in The Royal Gazette, which disadvantages anyone without online access. Now, anyone wanting to monitor planning applications will have to check the online Official Gazette every day of the week, just in case an application in which they are interested might appear. The deadline for objections to applications will no longer be once every two weeks but staggered 14 days after an applications in received." Ms Smith said that the demand for development remained strong in Bermuda and that the DoP should balance "well-considered" development with conservation policies and environmental protection. She added: "Unfortunately, present planning practices seem to be leaning towards making it easier for developers and more difficult for those in support of more sustainable development in Bermuda." But the spokeswoman said that the DoP sought to make the planning process "more efficient for all stakeholders". She added that the use of the online gazette had enhanced transparency. The spokeswoman explained: "The public is now able to peruse the online gazette daily for planning applications instead of having to wait until the end of each work week. It should be noted that the online gazette has been utilized by the planning department for over a year with the only change being advertisements are now posted daily rather than once a week." The spokeswoman said that advertising planning applications only once a week had "drastically slowed" the overall process. She added that the move to the online gazette "is in the best interest, and at the request, of the general public". The spokeswoman said: "The DoP hopes that persons who do not have immediate access to the internet may explore alternative options such as public library computers, or assistance from family and friends."

Almost everyone has their fashion fetish, sneakers, purses, accessories — Terrylynn Doyle loves bell-bottoms. "I wear them mostly every weekend," said the Dellwood Middle School teacher. "I wore them every day this summer. I wasn't even born in the 1970s, but I love that Bohemian flair." Four years ago she put her passion for vintage into her own store Strictly Vintage by Terry, on the corner of Court Street and Victoria Street, upstairs, directly across from St Paul's AME Church. At first she got a lot of her items from thrift stores, but as things developed she invested more in trendy, colourful new pieces — 80 per cent of the merchandise is new. But she still loves searching for items at places like Orange Bay and the Red Cross Upstairs Closet. "I have a weakness," she said. "I still go and seek out unique pieces." Space is tight in her store for all her jackets, jump suits, dresses, shirts and accessories. At first, she crammed everything in, and there was hardly room to turn around. But since then, she has learnt to be creative with her space. Jeans and trendy shoes line the hallway. The walls inside the main store are covered with purses and other accessories. "If you want to look like everyone else, then this is probably not the place for you," she said. "But if people are looking for something different then this is the place. Sometimes a person will come in and say do you have it in a bigger size? Then I will explain it is a select piece. I would not bring three or four of a piece in different sizes. My ideal client or shopper will come in and spend 30 or 40 minutes going through each rack. I like that." Some customers have come in and compared it to a boutique in Soho. London. "I am really proud of how this place has developed," she said. "It is my passion so it doesn't feel like work." Clients range from 20s to 40s, but she tends to cater more to plus-sized women, size 12 and up. "I don't really invest in really small sizes," she said. Everything she wears comes from her own store. Sometimes people stop her and want to know where she got her outfit. "I gave up shopping in town when I opened Strictly Vintage," she said. "I have my own style and my own flair." Today she has a steady and loyal clientele, but she has found Bermudians to be holiday shoppers. "They like to shop for May 24, Good Friday, and Cup Match," she said. "In the summer now we have a lot of cruises and raft ups. That is when I have an influx of customers." One of her challenges is the cost of bringing in goods. She has learnt to bypass local mail carrier services and use the regular post office; it's cheaper. "I time my stuff," she said. "If I know I need something for May 24, I do the order a whole month before so it can get here. The rate and percentage they charge in the post office is really reasonable." But she finds business can be up and down. "There are some days I am here on a Saturday and very few people come in," she said. "I think the biggest downfall to the industry right now is online shopping." Because she works full time she is usually open only on Saturdays from 11am to 5pm. But she lives in town, so if someone wants to see something in the evening, and she doesn't have a meeting, she can always open up the store. The store is closed now and will reopen on December 31.

The grateful family of a Second World War veteran thanked the Bermuda Legion for pledging to help renovate their home after its poppy appeal marked a record year. The legion raised about $5,000 on the November 6 tag day, with the help of civilian and Royal Bermuda Regiment volunteers, and more than $26,000 overall. The wife of a 93-year-old veteran, who asked not to be named, said: "I certainly appreciate them doing this. They've been very kind to us." She added: "That last hurricane left my yard in a terrible state. It's also blown my kitchen door off its frame." Carol Everson, a Bermuda Legion welfare case worker, said: "Thanks to the regiment, it was our best ever tag day. Some of the funds are still coming in." The funds help to pay for the Legion's year-round support to the nearly 150 veterans or widows who qualify for help. One new qualifying veteran was found this year, Ms Everson said. Along with helping families with their homes and providing medical equipment such as hospital beds, the poppy funds will provide Christmas groceries to families in need. Ms Everson said: "We are about to have our Christmas gift appeal. We'll be distributing gifts and groceries to veterans and widows around the island. Again, we will be assisted by the magnificent staff at the regiment." The legion also hopes to bring the third instalment of its dementia caregiving course next spring.

December 15, Sunday

December 14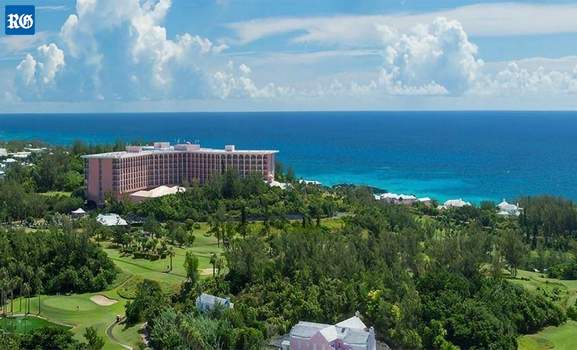 The Fairmont Southampton hotel has been sold to a Miami-based company, it was announced last night. Karim Alibhai, the founder of investment firm Gencom, said he planned an ambitious programme of renovations at the landmark hotel. Mr Alibhai added: "Acquiring Fairmont Southampton demonstrates Gencom's steadfast commitment to supporting the long-term growth of Bermuda's tourism and hospitality sector. The island is located less than three hours from most major North American cities, making Bermuda a rare and accessible paradise. With a planned restoration, we aim to create a wonderful, updated destination resort experience at Fairmont Southampton for leisure and group travellers from all over the world." Gencom, which already owns the Rosewood Bermuda resort, did not reveal the terms of the deal. But the company said in a press release that it was committed to a "long-term investment" in the hotel, which will continue to be managed by Fairmont Hotels and Resorts. Zane DeSilva, the Minister of Tourism and Transport, said the deal showed Gencom's commitment to the rebirth of the tourism industry. He added: "We support what it means for this hallmark hotel and welcome the fact it sends a strong message to the world about Bermuda's tourism investment value." Mr DeSilva shared the news in the House of Assembly last night, when he also told MPs that the first phase of the St Regis hotel development, in St George's, was set to be completed April 2, 2021. He added: "This includes both the 122-room resort hotel as well as the reopening of the affiliated Robert Trent Jones designed golf course." Kevin Dallas, BTA CEO, welcomed news of the Fairmont Southampton's sale and pledged to work to build on the hotel's success. Mr Dallas said: "As with Gencom's purchase of Rosewood Bermuda, this major investment underscores robust confidence in our island's hospitality sector and signals the start of a new era for this landmark property. The acquisition and any resulting enhancements at the Fairmont Southampton resort will benefit the hotel, drive eventual growth in our group-sales sector, and strengthen the overall quality of Bermuda's tourism product as we revitalize this industry to keep the island competitive." Gencom added that it was committed to a significant investment in the long-term success of the resort. It said: "Gencom is currently reviewing all aspects of the property and anticipates a full reveal of their reimagined designs for the resort in 2020." The firm bought Tucker's Point, which became Rosewood Bermuda, in 2017 and renovated at an estimated cost of $25 million. Alessandro Colantonio, Gencom's executive vice-president acquisitions and capital markets, said the firm's experience with Tucker's Point would benefit its efforts to improve the Fairmont Southampton. He said: "As a result of our successful acquisition and renovation of Rosewood Bermuda, Gencom has gained acute knowledge and experience in the Bermuda market. We are well-poised to properly restore the iconic Fairmont Southampton, further expanding our local relationships and presence in the market. Through our planned investments, the resort will once again become a leading destination for both leisure and group travellers." The Fairmont Southampton was owned by AccorHotels, which took over the Fairmont Hotels group in 2015. The Royal Gazette reported in May that the AccorHotels wanted to sell the 593-room hotel, which has ten restaurants, a spa, an 18-hole golf course and amphitheatre and more than 25,000 square feet of meeting space.

Bermuda is on track to notch up its first year without a gun murder in more than a decade, it was revealed yesterday. Wayne Caines, the Minister of National Security, told the House of Assembly yesterday the island had recorded no gun deaths to date, with only 16 days of the year left. There were three gun killings last year and the same number in 2017. Police recorded five gun killings in 2016, one in 2015, two in 2014, three in 2013, five in both 2012 and 2011, seven in 2010 and four in 2009. Mr Caines told MPs that firearms offences were down by more than half this year, 57 per cent, compared with three years ago. There have been 35 firearms incidents this year, compared to 36 last year, 47 in 2017 and 82 the year before. There was just one firearms injury this year, compared to two last year, six in 2017 and nine in 2016. A 64-year-old man was shot in the shoulder in the Cashew City Road area of St George's on October 3. A total of 29 people were injured by firearms in 2010. Mr Caines told MPs that the overall crime rate had also been cut. He said: "Firearms incidents are down. Robberies are down. Antisocial behaviour is down. I stand here today to thank all of the agencies and persons who continue to work to make Bermuda safe." The minister highlighted the work of the Bermuda Police Service. Mr. Caines said: "I recognise the job you have is not an easy one. I can see the fruits of your labour, especially when you put victims of crime first." Mr Caines also thanked the Inter-Agency Gang Taskforce, the Inter-Agency Gang Enforcement Team, and the Gang Violence Reduction Team for their efforts. He praised members of the public "too numerous to name" who had also pitched in to help stem the tide of violent crime on the island. Mr Caines said: "I recognise the key role played by each of these organisations and individuals." A total of 2,977 crimes have been recorded this year up to Tuesday, compared to 3,576 crimes in 2016. There were 635 crimes against the person, which includes murder, manslaughter and serious assaults, logged this year. There were 740 crimes in the category — more than 100 up on this year — in 2016. Mr Caines said a steep fall in the number of robberies had contributed to the total crime rates. There have been 37 robberies so far this year compared to 81 in 2016. But crimes against the community, which include firearms offences, disorder offences and antisocial behaviour, went up compared to three years ago. Mr Caines said there had been 462 offences this year, up from 408 in 2016. He explained there had been an increase in antisocial behaviour offences — up this year to 325 offences from 286 in 2016. But Mr Caines said that it was important to highlight that there had been 398 incidents of antisocial behaviour last year. He added: "The Commissioner of Police and his senior team, based on that statistic and other factors, decided to create a Tactical Operations Division which was led by one of his superintendents to address antisocial behaviour and gang violence, with the support of other agencies such as the Inter-Agency Gang Enforcement Team and the Inter-Agency Community Response and other agencies working together." Mr Caines also told MPs that house burglaries dropped by 306 to 245 this year compared to 551 in 2016. He said there was a "considerable" increase in arrests by police this year compared to last year — up to 3,362 from 2,728, an increase of 634. Mr Caines explained that the increase was "largely due" to the introduction in February of an electronic tablet for frontline officers which had led to a "considerable increase" in arrests on warrants. But Mr Caines said that the Government and his ministry would "not rest on their laurels". Mr Caines encouraged everyone to "enjoy themselves in a responsible manner" over the festive season. The news came after Commissioner of Police Stephen Corbishley signaled a "marked reduction" in violent crime. He said that the fall was due to "prevention, protecting people, good intelligence and good partnership". But Mr Corbishley warned that more needed to be done. He said: "The work to be done, I think, is the social side — how do we get young men to realise that selling some bags of weed in the street is not the right way forward and it's high risk? There's a lot of work being done by Government to do that, and I think that is the long road that will have most success." MPs also heard that Redemption Farm, a government project to help steer at-risk people away from crime, had yielded its first harvest of vegetables last week.

A top name in Bermudian broadcasting retired from the industry yesterday, 50 years after she started her career. Darlene Livingston celebrated with Bermuda Broadcasting Company colleagues and received congratulations from David Burt, the Premier, and Sir John Swan, a former premier. She said last night: "It was a lovely surprise, they both had very kind words." Ms Livingston added: "Some folks posted on social media, congratulating me and offering their best wishes. It's a very warm feeling to have those kinds of accolades, for people to remember you; for people to have appreciated your work." Ms Livingston said she joined the broadcasting company at the age of 15 before she studied journalism in Ottawa. She returned to Bermuda — although later lived in Chicago for a number of years — and her career included news director as well as programming manager for both radio and television. Ms Livingston, who was once a cub reporter at The Royal Gazette, said: "I'm very proud of my work and I'm very pleased that people have enjoyed what I've done." Although she said she will miss the pace of daily news, the veteran journalist said she was looking forward to "taking a break". She will leave the island tomorrow to embark on a trip to Asia, that will include Hong Kong, Singapore, Japan and the Philippines. The Bermuda Broadcasting Company said yesterday was a "special day" in a post on its Facebook page. It added: "We held a special send off for our Darlene Livingston who today retires from the company after 50 years of service primarily in the news department. We will miss you Darlene."

Bermuda's soldiers said today a career in the Royal Bermuda Regiment was the ranking second job on the island. They explained the RBR offered the chance to develop themselves, network, and boost their chances in the job market, as well as providing a rewarding military experience and the opportunity to travel and gain extra qualifications. Sergeant Joshua Dawson, 28, an auto technician at Pembroke's Auto Solutions, said his role in keeping the RBR moving as part of the Motor Transport section allowed him to gain wider experience in his trade. Sergeant Dawson, one of more than 20 soldiers promoted last week, added: "You get to work with all different types of people and situations you don't normally deal with – you get all sorts of skills and training. I fix trucks, drive cars and have done driving on overseas trips. It's definitely helped me improve at work because the things I learned doing the trucks are things I wouldn't learn in my full-time job." The six-year veteran, from Hamilton Parish, said: "I basically joined because I liked the lifestyle and structure. Going up through the ranks was something I enjoyed doing – it's about gaining responsibility and helping people. It's good to have someone of higher rank who's prepared to teach Privates, Lance Corporals and Corporals things and help them to progress too. I have no regrets. I have always thought about staying on long term with the possibility of a full-time position if one becomes available." Sergeant Dawson added the modern RBR had continued to develop over his six years of service and now had a more structured and academic approach to training. He explained: "It's a lot more beneficial to people now because we're looking to teach people and improve people, not just as soldiers, but in terms of their character. People are enjoying it more and learning more." Corporal Ariana Smith, 22, who works at the Bermuda National Library, said she was pleased to have reached her rank after just two years' service. Corporal Smith, from Southampton, the clerk for the RBR's Junior Leaders programme, added: "I joined because I enjoy new experiences and learning new skills you can use elsewhere in life. I expected it to be really tough when I joined, although I didn't know too much about the modern Regiment. It was tough, but it wasn't as difficult as I'd been told by my father and grandfather, who were both in the Regiment. It's very different now – it's a lot more humane and I enjoy it very much." Corporal Smith added: "It's definitely helped me with my organisation and time management. They've both improved and my discipline, when it comes to doing anything, projects or whatever, is much better. I also enjoy the camaraderie – it's like a big, happy family. We all have our differences, but at the end of the day you put them aside and treat each other like family." Lance Corporal Wayne Willis, originally from North Carolina and married to a Bermudian, said he was motivated by a desire to give back to the country and forge friendships after he moved to the island. Lance Corporal Willis, who has served for a year and was also just promoted, has transferred from the RBR's humanitarian aid and disaster relief specialists in B Company to the Regimental Police. He said: "It's been a lot of fun and I've been able to meet a lot of people – good people. When I came here I didn't know anyone except my wife." Lance Corporal Willis, 31, who works at wholesalers Viking Food, added: "The RBR has sharpened my leadership skills and it's helped develop me – and the extra money helps. It comes in handy." New Sergeant Luke Swan, 26, from Pembroke, was one of the last soldiers recruited under the old conscription system. Sergeant Swan admitted: "At the time, it sucked. But it was the camaraderie of the Regiment and the things you would never do in civilian life, the training, the weapons, that got me hooked. The camaraderie between troops of all ranks is what really keeps you there. I like the RBR. It's actually fun." And – six years after he ran through the gates of Warwick Camp - he will be Training Company Sergeant for the RBR's next Recruit Camp, due to run from February 18-26 next year. Sergeant Swan said: "If someone had told me that six years ago, I would have said 'not a chance'. I didn't know what to expect when I joined, but it certainly wasn't being Recruit Camp Sergeant." The 2018 Corporal of the Year, an insulator with BAC air conditioning, added: "I've learned a lot from the Army. You get so many different people and you have to learn to manage all these different personalities. I can also live in the field anywhere." He added his military experience helped him in civilian life. Sergeant Swan said: "I find I'm always prepared to deal with any situations just through the years I've been in the Regiment. What I would say to my 19-year-old self would be 'take any opportunity in the RBR as it comes and to make the most of it'. At the time, I wasn't going to go away to school – I wanted to get a job. The Regiment became a good source of income. I had a job then, but it was a hustle." Sergeant Swan added: "If people have had trouble finding a job, social problems and can't find their way, the RBR will sort them out. We have so many resources, people from different backgrounds and you can create a huge social network. I know a lot of people who have been recommended for jobs based on their performance in the Regiment." An RBR spokesman said spaces were still available for the recruit camp in February. RBR soldiers are expected to complete 30 days of service a year, including a two week training camp, usually overseas, and regular nights and weekends and earn about $5000 in their first year. Further trade and leadership training, at home and overseas, is also available. To enquire about service in the RBR, phone 238-1045 or visit rbr.bm.

Last Sunday the Anglican Church of Bermuda licensed and installed two new honorary Canons in a special service of evensong. The service took place at The Cathedral of the Most Holy Trinity, where The Right Reverend Nicholas Dill, Bishop of Bermuda, appointed Reverends John Stow and Anthony Pettit as Canon Capitulars for the church. The word Canon, in literal terms, means "a criterion or standard of judgment". In this religious context the title is given as an honour, at the discretion of the Bishop, to members of the clergy who have shown an exemplary level of commitment, service and devotion to the church and its ministry. These two newest Canons of the Anglican Church of Bermuda are most deserving of this title. Canon John Stow is a Bermudian-born priest currently serving both Holy Trinity Church in Hamilton Parish and St Mark's Church in Smith's Parish. Aside from his parochial duties, Canon Stow has served as the youth director for the Diocese, spearheaded the creation of a church-wide safeguarding policy and provided mentorship in the curacy training of two recently ordained Bermudian priests, Reverends Paul Dean and Jamaine Tucker. Canon Stow recalled the year he spent working in Israel at age 18 as being particularly influential on his call to the priesthood. "It was a very formative time for me. I stayed in monasteries and joined in their common worship, which introduced me to the life of prayer. Whatever their age, culture or language, the brothers and sisters knew Jesus to be so close to them, and this rubbed off on me." Since his ordination as priest, Canon Stow has ministered throughout the West Country of England. He became somewhat of a "rural specialist", leading congregations in small villages, running projects with young people and reviving ministries in otherwise isolated areas. Canon Stow was born in Bermuda and spent the early part of his childhood here. Thus, his return to the island in 2013 with his wife, Jane, came with a significant nostalgia. His father, The Venerable Reverend John Stow, served as rector of St George's Parish from 1947 to 1961 and also as Archdeacon of Bermuda from 1951 to 1961. As he continues in this legacy of ministry, Canon Stow hopes to "raise up young leaders who will bring together people of every generation and heritage, to be instruments of His peace, both here and where His providence leads them". Canon Anthony Pettit has been serving St Paul's in Paget for the last nine years. He, along with his wife Ruth and their two sons, moved to Bermuda in 2010 and have invested themselves into the life of the church and their parish. Ordained as a priest in 2002 in the Diocese of Worcester, Canon Pettit has been in ministry for most of his adult life. He believes that ministry is a way of life for a believer: "All Christian people are called to engage in seeing God's kingdom come and in proclaiming Good News." However, it was a spirit of service which really cemented Canon Pettit's ministry. Having spent time as a child in rural Nigeria, he learnt that "serving one another is at the heart of good human life. My family went to church, but I wouldn't have considered us to be particularly religious," Canon Pettit said. "When I went to college, I had a hard time holding onto any faith, but God kind of kept sticking good Christian people in my way. I started in church ministry because I wanted to support others who found faith hard to hold onto — especially young persons." Canon Pettit previously served as the director of communications for the Anglican Church of Bermuda before being appointed as the first director of training and discipleship in 2017. In this newly developed role, he is responsible for the development and management of a local training programme, St Mellitus Affiliate: Bermuda, which trains lay persons for church ministry. In June, the first cohort of 13 students graduated from the programme and are all currently serving in various ministries throughout the church. Canon Pettit hopes to be a part of continued transformation of the Anglican Church of Bermuda, particularly in assisting to train Bermudians for ministry. On the topic of the St Mellitus Affiliate: Bermuda programme, he shared: "I have a great hope that this well lead to a truly Bermudian-shaped church with ministry, prayers, songs and mission really having those incredible Bermudian flavors." Bishop Dill was delighted to appoint the two as honorary Canons: "It is good to have the opportunity to honour two leaders in our church who have added materially to the growth and development of our congregations and our outreach to the community." Said Canon Stow: "I'm really amazed to receive this honour. I already feel so very fulfilled, being a parish priest in Smith's and Hamilton Parish and serving the wider Anglican Church of Bermuda, so this is like the 'icing on the cake'." Canon Pettit said he was "floored" when Bishop Dill offered him the honorary role. "I had, and have, a feeling of deep unworthiness with huge excitement that the ministries with which I am involved are things that our Bishop feels are heading in a Godly direction." Their new titles won't change much for their everyday ministry. Both new Canons will continue to serve in their respective parishes and fulfil their leadership roles within the church. But their appointments represent a growth and change in the leadership of the Anglican Church of Bermuda and were met with much joy by the recipients, their parishioners and the wider membership.

Silvermine Country Club led from wire to wire to clinch the 67th Bermuda Goodwill Tournament that concluded at Tucker's Point Club on Wednesday. The team from Norwalk, Connecticut laid down a marker after an opening round 12-under-par, 59 at Mid Ocean Club on Monday left them four-shots clear of nearest rival Innis Arden Golf Club atop the leaderboard. A nine-under-par, 62 in second round played at Port Royal the following day kept Silvermine's title bid firmly on track before a 12-under-par, 58 sealed the deal in the final round at Tucker's Point. The winners finished the best ball event with a three-round accumulative net score of 179. Innis Arden Golf Club finished second with a score of 185 and Trump National Briarcliff third with 187. Guiding Silvermine to what proved to be a comfortable victory in the end was Peter Ballo who won the individual professional Stableford title with 68 points. Brian Gaffney, representing Essex Fells Country Club, finished second with 54 points and Chris Marinaro, of Trump National Briarcliff, third with 52 points. There were no local players or teams that competed in this year's event featuring 27 teams from North America and Europe. Introduced in 1953, the Goodwill Tournament has become a staple of Bermuda's golf calendar attracting overseas amateurs and professionals to the island annually.

A Southampton sports club has been hit with a police closure order for this weekend. A police spokesman said the Southampton Rangers club was ordered to shut for 24 hours from tonight after a disturbance at the club last Sunday, which led to the arrest of a man. A spokesman for the Bermuda Police Service said that the club would be closed from 10pm to 10pm on Sunday. The closure order was issued yesterday by acting Superintendent Hashim Estwick of the Tactical Policing Division. The spokesman said: "It is hoped that this temporary closure will allow the management of Southampton Rangers Sports Club time to review this latest incident and reassess the establishment's security measures." The forced closure is the club's third this year. A closure order was issued after a 20-year-old man was stabbed in April. Police also ordered the club to shut for 24 hours after a brawl in February. Jason Wade, the president of Southampton Rangers could not be reached for comment.

December 13

UK General Election yesterday until 2200 hours. Conservative & Unionist party under Prime Minister Boris Johnson win with an 80-seat majority, the best since Margaret Thatcher in 1987. Brexit now possible by January 31, 2020. Labour lost hugely. Many key once-Labour seats went Conservative for the very first time. In Scotland, the results were a Scottish National Party virtual takeover, with the now louder-than-ever rant of the SNP. political leader demanding another referendum on political independence for Scotland instead of it remaining in the United Kingdom, which Prime Minister Boris Johnson has refused.

Bermuda's gross domestic product increased by 0.1 per cent to $6.5 billion in 2018, the Government announced today. GDP is a measure of economic activity that captures the value of goods and services produced within a country during a given period. Including inflation, GDP in current prices increased by 1.7 per cent in relation to 2017. Overall, eight of 18 industry groups contributed positive growth to the real GDP, the report compiled by the Government Department of Statistics reveals. The largest increases in absolute real terms were recorded for the construction and quarrying industry, which grew by $33.9 million and international business, which grew by $24.7 million. The international business industry was the largest contributor to GDP, representing 25.2 per cent of total GDP, the report shows. In contrast, value added in the arts, entertainment and recreation industry fell by $36.6 million and the wholesale and retail trade industry decreased by $15.5 million. Compensation of employees accounted for 55.7 per cent of the total cost of producing the GDP at current purchasers' prices in 2018. Operating surplus/mixed income and combined taxes less subsidies (on production and products) represented 28.7 per cent and 11.5 per cent of the GDP at current purchasers' prices, respectively. Depreciation accounted for 4.1 per cent. In 2018, non-financial corporations contributed 43.6 per cent of the total GDP at current basic prices mostly concentrated in real estate activities, professional, scientific and technical activities, and wholesale and retail trade, the report said. Financial corporations contributed 37.7 per cent of total GDP at current basic prices with general government contributing 10.8 per cent and households contributing 7.9 per cent. Gross national disposable income reached $7.3 billion at the end of 2018, up 1.2 per cent from 2017. After adjusting GNDI for consumption expenditure, gross national savings was measured at $2.9 billion, the report said, which represented a 3.4 per cent increase year-over-year. Of the total savings, Government said, $1 billion was spent on gross capital formation (investment in capital goods) which positioned the Bermuda economy as a net lender to the rest of the world in the amount of $1.9 billion. Government said that it has re-based the island's GDP from 2006 to 2013 in order to keep up with the evolution of prices and capture more current economic conditions. The re-basing exercise was completed with the assistance of the Caribbean Regional Technical Assistance Centre. The 2018 GDP publication reflects changes to the industry structure and levels of the annual GDP estimates, Government said. These changes are the result of an updated Supply and Use Table for Bermuda as part of the implementation of the 2008 System of National Accounts, which serves as the international statistical standard for the production of statistics on GDP. Wayne Furbert, Minister for the Cabinet Office, said: "The exercise to update the SUT and the GDP base year was a collaborative process between the Caribbean Technical Assistance Centre and the Department of Statistics over a five-year period ending in August 2019. "The DOS finalised an SUT with 2013 data as this was the most recent year with supporting data from the Household Expenditure Survey. The finalised SUT allowed for replacing the outdated 2006 base year for estimating GDP in constant prices which is used to measure real growth rates in the Bermuda economy. The updated GDP estimates will give a realistic and integrated view of the economy that is more suitable for policy and analytical use and reflects more closely the current economic dynamics." Based on the balanced SUT, the GDP level in current prices for the base year 2013 has been revised up by 14.5 per cent, Government said, adding that the increase in the re-based GDP series is not uncommon, as other countries which implemented recent re-basing and application of the 2008 SNA showed the following increases in GDP in current prices: Cayman Islands +27.5 per cent in 2015 GDP; Maldives +19.5 per cent in 2014 GDP; Tanzania +27.8 per cent in 2013 GDP; Kenya +25.3 per cent in 2013 GDP; Bahamas +27.6 per cent in 2012 GDP; and Zambia +25.2 per cent in 2010 GDP. Bermuda's GDP series, Government said, now reflects a more accurate picture of the size and structure of the economy and incorporates new activities that were previously not captured in the computational framework. The relevance of the GDP series has been enhanced and is now more internationally comparable with other jurisdictions, it said. The 2013 base year series features 18 industry groupings versus the previous 15 industry groupings. In support of evidence-based decision making, the re-based GDP provides a better understanding of which industries are driving growth since emerging industries such as the Information and Communication industry are now explicitly featured, Government said. The year-over-year GDP breakdown by industry is:
Agriculture, forestry and fishing: decreased 8.5 per cent in 2018 or $1.7 million. The decline in value added was attributed primarily to a fall in fishing activity.
Manufacturing: declined 2.5 per cent or $900,000 reflecting mostly a decrease in value added related to non-metallic mineral products, fabricated metal products and bakery products.
Electricity, water supply and waste management: was $6 million or 9.2 per cent higher. This was due mostly to a rise in the contribution of the electricity sub-industry grouping.
Construction and quarrying: rose 14 per cent in real terms or by $33.9 million. This growth was attributed to increased construction activity associated mainly with residential renovation, airport development and hotel development.
Wholesale and retail trade: recorded a decrease in value added of 4.5 per cent or $15.5 million. Retail trade activities decreased 5.8 per cent and was influenced primarily by lower retail sales of motor vehicles, clothing, building materials, furniture and sales at pharmacies. Wholesale trade activities also decreased by 1.1 per cent.
Transportation and storage: increased 1.3 per cent or $1.7 million in 2018 attributed mostly to an increase in value added related to airport management services that offset a decline in freight transport.
Accommodation and food service: was 4.7 per cent or $12.7 million lower in 2018. Value added for hotels decreased by $7.8 million or 4.7 per cent. This decline was influenced by a rise in the cost of room and food sales that exceeded the growth in output associated with an increase in the number of bed nights. Food service activities fell $6.1 million or 5 per cent.
Information and communication: decreased 4.6 per cent or $8.3 million in 2018 driven mostly by an overall decrease in telephone, telegraph and telex communications.
Financial and insurance activities: Increased 0.9 per cent or $7.9 million. This growth was attributed mostly to a rise in the value of premiums received by non-life insurance companies. In contrast, financial service activities registered a small decline as reflected in declines in value added by trust companies and holding companies that offset small gains in activities of the commercial banks.
Real estate activities: rose 1.8 per cent or $16.8 million. The increase was reflected mostly in a 3.2 per cent rise in the imputed rent for owner-occupied dwellings as well as a 0.3 per cent increase in real estate activities with leased property.
Professional, scientific and technical activities: was 1 per cent or $3.9 million lower in 2018. Declines in legal services and accounting services offset growth experienced in management consultancy activities.
Administrative and support services: grew 4.3 per cent or $5.4 million in 2018 due mostly to private security services and cleaning services.
Public administration: decreased 1.1 per cent or $3.8 million due mostly to lower spending on goods and services.
Education: decreased 1.6 per cent or $2 million in 2018 reflecting declines in the contribution of both private and public education.
Human health and social work: increased 2.8 per cent or $9 million in 2018. Private health activities, which grew 8.2 per cent, experienced the largest increase in value added in 2018.
Arts, entertainment and recreation: decreased significantly in 2018 by more than half of the previous year's value, reverting to levels comparable to 2014 which precedes the lead up to America's Cup activity starting in 2015.
Other service activities: decreased 1.3 per cent or $800,000 in 2018 attributed mostly to a decrease in the value added of business and employers membership organisations and a lower value added for laundry and dry cleaning services.
Activities of households as employers: fell 4.2 per cent or $600,000 in 2018. This decrease was reflected fully in compensation of employees which is the main component of value added.
International business activity: rose 1.5 per cent or $24.7 million in 2018. This industry was the largest contributor to GDP, representing 25.2 per cent of total GDP. Businesses engaged in insurance brokerage and insurance risk-taking services, including insurance underwriting and reinsurance services, experienced growth in value added. Insurance management services and financial services such as portfolio management services experienced declines in value added due mostly to lower performance-based bonuses.

Finance Minister Curtis Dickinson today welcomed the affirmation of Bermuda's A+ credit rating by Standard & Poor's. Speaking in the House of Assembly, he said last month's report was an "objective endorsement of our fiscal and economic policies". Mr Dickinson told MPs that S&P had affirmed Bermuda's A+ long-term sovereign credit and senior unsecured debt ratings as well as its A-1 short-term rating and AA+ transfer and convertibility assessment. "What prompted S&P to perform this analysis on Bermuda, at this particular point in time, is due to the fact that the Government borrowed $170 million to honour its guarantee to the lenders of the Caroline Bay project," Mr Dickinson said. The trigger of the debt guarantee on the project at Morgan's Point resulted in the Government raising the debt ceiling to $2.75 billion and opening a $200 million credit facility jointly with Butterfield Bank and HSBC Bermuda in September. S&P recognised that the Government was on track to produce a balanced budget in the current fiscal year and, if this was sustained, to lower the government debt burden. "There was also mention of the Government's policymaking being effective and predictable," Mr Dickson said. "These comments highlight the fact that the PLP Government remains committed to the island and its economy and demonstrates this through transparent and prudent governance." He added that the Government "will continue to collaboratively press ahead with our economic and fiscal policies in order to establish a better and fairer Bermuda that was promised in our election platform". In its November 4 report, S&P noted that the sell-off of equity markets in late 2018 lowered the value of Bermuda's external government assets, and that, together with the unexpected increase in debt as a result of the Caroline Bay guarantee, had contributed to its net debtor position. The ratings agency added: "Ongoing fiscal consolidation could produce balanced fiscal results and a declining trend in general government debt." It said that as external asset values recover and the burden of general government debt declines, "there is a chance that Bermuda could regain its net creditor status, possibly by 2021-2022". Factors that cloud that outlook are the possibility of slowing US economic growth and uncertainty in Bermuda's international financial sector, S&P added.

A long day is expected in the House of Assembly today as MPs sit for the final session of the year. It is understood that all Bills on the Order of Business that are due for second readings are to be debated, including the Criminal Injuries (Compensation) Amendment Act 2016, tabled by Kim Wilson, the Minister of Health. The explanatory memorandum for the Bill said the amendment was "to allow for improved efficiency in carrying out the mandate of the CICB". The Bill also proposes that members of the CICB should be appointed by the Minister of Legal Affairs rather than the Governor. A total of seven ministerial statements were also listed. They include one on the Standard and Poor's rating to be delivered by Curtis Dickinson, the Minister of Finance, an update on Bermuda's crime and violence reduction strategy from Wayne Caines, the national security minister, and an update on the island's hotel industry from Zane DeSilva, the tourism minister. Three government Bills are also scheduled to be tabled. They are the Mortgage Registration Amendment Act, the Statistics Amendment Act and the Motor Car and Road Traffic (Miscellaneous) Amendment Act.

Bermuda's global insurance market has praised the efforts of the Bermuda Monetary Authority and the strength of its regulatory regime in being granted reciprocal status by the National Association of Insurance Commissioners. The new designation was introduced this year by the American insurance regulatory body. Bermuda's elevated status, effective January 1, makes it one of only three jurisdictions recognised as being on par with the US and means Bermuda-based re/insurers can operate in the market without additional capital requirements. The Bermuda Business Development Agency said this puts the island on equal footing with its counterparts from the European Union and the United Kingdom and further adds to its renewed qualified jurisdiction status, a pre-requisite to achieving reciprocal status, also granted by the NAIC following its five-year re-evaluation. Roland Andy Burrows, chief executive officer of the BDA, said the endorsement is a "significant win for Bermuda and testament to the hard work that takes place to ensure we remain at the forefront of the global re/insurance market". He added: "We thank the BMA for their efforts, as well as the NAIC and all our industry stakeholders, and look forward to a positive 2020." Given the significant role Bermuda's re/insurers play in supporting the US economy, paying out more than $200 billion to settle US losses over the last two decades, American businesses and consumers also stand to benefit from greater efficiencies and access to Bermuda's capital and expertise, the BDA said. Stephen Weinstein, deputy chairman of the BDA, said: "We were very pleased to see Bermuda's robust, fit-for-purpose regulatory regime accorded this important distinction from the NAIC, whose standards are respected worldwide. Insureds, intermediaries and communities across the US will only benefit from ensuring level playing field access to Bermuda's capital and risk management expertise, and from further reducing the costs of exporting risk to the Bermuda market. "The staff of the BMA deserve our appreciation both for their success in being one of three regulators worldwide to obtain this designation, and for their sustained efforts over the years to protect policyholders while adapting to changes in the industry and the underlying markets and communities we serve." John Huff, president of the Association of Bermuda Insurers and Reinsurers, said: "Bermuda's leading reinsurers have long been reliable partners in providing natural catastrophe and specialty reinsurance and a growing amount of cyber insurance protection for US consumers. The hard earned 'reciprocal jurisdiction' status demonstrates the quality of Bermuda's world-class regulatory regime and gives Bermuda a competitive edge against other international markets." Ronnie Klein, senior adviser, Bermuda International Long Term Insurers and Reinsurers, said: "NAIC qualification is extremely important to Biltir member companies as much of our business is transacted in and with the US. We are proud to be considered in the same jurisdictional category as Japan and Switzerland and it shows that all of the hard work the BMA has done paid off. Biltir members will continue to partner with the BMA to make certain that Bermuda remains NAIC-qualified."

Lawyer Saul Dismont detailed in a British law magazine this year how the Government had failed children by not paying for them to have independent legal representation. Mr Dismont submitted an article to Family Affairs, the newsletter of the Family Law Bar Association, which was published in its spring 2019 edition. He wrote how he came across a "profound case" in 2014 while he was doing a pupilage at Elizabeth Christopher's law firm. It involved a young man he was representing in the criminal courts who asked the lawyer to also help him in "child court" because he was worried "they" would try to send him away. "He said he did not have a lawyer or anyone else," Mr Dismont wrote. "I thought that unlikely but felt compelled to at least take him to the court to make sure." He said before attending the court, he checked the Children Act 1998 and found section 35, which entitles a child to a litigation guardian and counsel in specified proceedings. Mr Dismont appeared before the Family Court on behalf of the boy and raised the issue of appointing a litigation guardian. "It was evident that this was the first time the court had ever been directed to section 35," he wrote. "The poor social workers did not have the faintest idea what I was talking about, what a litigation guardian was and why my client had a lawyer in the first place." Further research revealed there was not a single Bermuda case which mentioned section 35, despite its mandatory nature. Mr Dismont persuaded the court at the next hearing for the boy that a litigation guardian should be appointed. "I struggled even to find a social worker that was not attached to DCFS in some way," Mr Dismont wrote. "The few I did find were already committed to charities that were solely committed to providing family counselling." He said Tiffanne Thomas was repeatedly recommended to him and the pair had worked together since. "In every case we were involved in, we found something peculiar," Mr Dismont wrote. "Throughout our matters, AG [Attorney-General's Chambers] counsel would appear for DCFS and would often refuse to tell us their position until we entered court and would accuse me of personally lying in the presentation of my client's case. It was all very bizarre. The litigation guardian was accused of ... being too concerned with following the law ..." He wrote that Ms Thomas had been appointed for 33 children since their first case but that represented a "tiny minority" of children in specified proceedings, with about 25 to 40 applicable cases a week. Mr Dismont said the courts ignored section 35 for 15 years because the Act was not clear on payment and lawyers were not pressing the issue in court. The Government, he wrote, ignored invoices from him and Ms Thomas. The Court of Appeal ruled earlier this year, in a case brought by the Human Rights Commission and child rights' charities, that failure to introduce a funding scheme for litigation guardians breached obligations set out in the Children Act. Mr Dismont, who represented the plaintiffs and whose article appeared in Family Law before the appeal judgment, wrote: "An interesting question to ask is why it is that British children in the British territory of England have the Rolls-Royce of child representation, yet British children in the British territory of Bermuda do not. Could it be that all British children are equal, but some British children are more equal than others?" The Royal Gazette revealed in November 2018 that almost 50 vulnerable Bermudian children were sent to overseas institutions in the previous five years without their wishes being taken into account by the courts. Statistics released under public access to information legislation by the DCFS showed that 48 youngsters sent abroad as part of the psycho educational programme since April 2014 had no legal representation at all.

Two men who suffered abuse as teenagers at a grim reform school in the United States have urged Bermuda not to give up on its troubled young people and to care for at-risk children closer to home. Alvone Maybury, 33, and Ezra Ararat, 34, told their stories anonymously to The Royal Gazette earlier this year after it was reported that young boys from Bermuda were sent to Glen Mills Schools in Pennsylvania for more than 35 years. The two agreed to be identified in the wake of the Who Cares? investigation into how Bermuda's at-risk and vulnerable children are treated. They joined would-be boxer Tyler Christopher, 23, who told his story on Monday at the launch of the weeklong series. Mr Ararat said he hoped Bermuda would now look at alternatives to overseas care for children with behaviour problems. He added: "A better alternative is just to deal with the problem here, stop giving up on the youth. Just understand you are dealing with children. It's rough coming up. They are going to make mistakes. Just don't give up on them because they are probably a little ruder than the other children. Just keep working with them." Mr Maybury, who appears in the YouTube series Hustlerz Paradise, said he was "kind of stunned" that the abuse suffered by some children in the Department of Child and Family Services psycho-educational programme had at last come to light. He suggested the country's leaders should consider if a local treatment centre could be created to care for troubled teens, which would allow them to see loved ones on a regular basis. Mr Maybury said: "We have got all these islands in Bermuda. Why don't we find one of those islands and use some of the buildings there? Put people there, take them on a boat. Everybody always wants to be about punishment. It's not always about punishment. Help people get better. Help them to get jobs. Help them to learn a trade or get a GED." Glen Mills, the oldest reform school in the United States, was shut in April for abuse and mistreatment of children. The institution is the subject of several inquiries by US authorities, as well as lawsuits from former pupils. The DCFS has not revealed how many boys were sent to the school but has said the last child went in 2017. But children are still sent to other behavioral schools and "treatment centres" in the US as part of the psycho-educational programme. Mr Ararat was placed in care, aged 13, after he stabbed another boy in a fight at the bus terminal. He said: "I was too young to get charged, so they sent me to the boys' home. My momma got upset. She was going through a lot of hard times; she had five children. It was tough for her." He added that he ran away a lot from the boys' home and was sent to Glen Mills at 15 after a chemical imbalance in his brain was diagnosed. Mr Ararat said: "They said they were going to send me away or I'd get locked up and go to Co-Ed. I wanted to go to jail. I'm thinking I'm safe in Bermuda. But they must have been painting this pretty story to my momma. Everybody painted this as best to me." At Glen Mills, Mr Ararat claimed he heard other children being raped at night by other pupils, although it did not happen to him. But he alleged he suffered violence at the hands of staff and other pupils. He said: "All that was done to me was being abused, hurt, humiliated — and it broke my spirit. Glen Mills has been the worst experience of my life." Mr Ararat was shot a few years ago in St David's and has not had a permanent job since, although he does landscaping and handyman jobs. He said: "I suffer from PTSD. I don't trust people. I can't handle being around people for too long. I still face challenges." Mr Ararat added that he wanted to be a productive member of society but needed help, which was not available. He said: "I just try to fix myself." Mr Maybury said he was taken into care aged 12 after he took a knife into Victor Scott Primary School in Pembroke and threatened another boy. His mother was very ill at the time and he lived at different times at her home, his godmother's home and his father's house. Mr Maybury said: "I remember going to some meeting at a desk with people and they was telling me 'we are giving you one more chance, if you get in any trouble, you are going to be going to the boys' home or whatever'. And I ended up getting sent to exactly the place they said I would go." He lived at Observatory Cottage but, aged 14, it was decided by the department he would benefit from time at a school abroad. Mr Maybury added the decision was probably taken because he "was too much for them. Going AWOL. I just did what I wanted to do. I didn't want to listen to nobody." He said he was given psychological assessments before he left and it was recommended he take Ritalin, a drug used to treat attention deficit hyperactivity disorder, but he refused. Mr Maybury went to a treatment centre in Atlanta and was allowed to call his mother every day. He said: "She passed away when I was 14. They had brought me back from the place in Atlanta to be back with her because they knew her time was coming." He went to a school in Tennessee after his mother's death, and lived with his much older sister in New Jersey for a time. But Mr Maybury, whose father died when he was 16, said he became homesick and his sister, who has since also died, contacted the DCFS to discuss his return to the island. He claimed a male social worker was sent to collect him and escort him back to Bermuda — but that it was a "set-up". Mr Maybury said: "I met them at the airport in New Jersey. The social worker said we was going to catch the plane from New Jersey, then spend the night at a hotel and leave in the morning to go back to Bermuda. At Philadelphia, a truck came and picked us up. They claimed the people who picked us up were ... going to take us to go get some pizzas and drinks." But the truck delivered Mr Maybury to Glen Mills, a Borstel set in 1,800 acres of land, which he had been warned about by an older Bermudian boy who had also been in care. Mr Maybury said: "Every placement I've been to, it's always got to a long road, a dark road with just trees. So when we hit this long road and it was a straight stretch of road, no lights, just trees, I turned towards him and asked him, 'are you setting me up?'. And he never said nothing to me." Mr Maybury added pupils were made to give confrontational "feedback" to one another during group sessions — highlighted by other Glen Mills pupils in a report in The Philadelphia Inquirer in February this year. He said boys were encouraged to get so angry they would scream at each other and he alleged students were made to scrub shower cubicles with a toothbrush. Mr Maybury added: "I'm like, 'what is this?'. These people claim to send me here to get an education, so basically I was rebellious after that. I wasn't going to change. I felt like 'well, if they really think they are going to change me and break me, it's not going to happen'. But thinking about it now ... that place could have messed me up if I wasn't strong. I could have came back and been stressed out about everything I went through and went on drugs, hard drugs. Luckily, I never turned to drugs." Many of the boys sent to Glen Mills from elsewhere in the United States had criminal records, unlike the Bermudian children. Mr Maybury said: "I asked a guy one time 'what are you here for?' He said 'I'm here for shooting somebody in the head', so I thought 'whatever', but it was true." Mr Maybury left Glen Mills after six months and went to George Junior Republic, an all-boys' school, near Pittsburgh. He gained brief notoriety in 2010 as the Facebook fugitive after he returned to Bermuda after he bragged on social media about an escape from police custody. He was later jailed for shooting at rivals from the Parkside gang and conspiracy to shoot gangster Raymond "Yankee" Rawlins and is now out on parole until 2026. Mr Maybury said he was a changed man, with a steady job, a promising acting career and a small business selling books on black history. But he insisted his turnaround was not down to the DCFS or the psycho-educational programme. He said: "I changed because I wanted to change. No classes made me change, no jail broke me or overseas. It's because I'm just tired. I have been through it all and I want to do different now."

An at-risk teenager's allegations that he suffered physical abuse at the hands of a male employee at a boys' home were investigated only after his litigation guardian read his file. An inquiry into the abuse claims at the Devonshire home was launched last summer by the former ministry of social development and sport after whistleblower Tiffanne Thomas, an independent social worker acting as a court-appointed spokesman for the boy, raised concerns about four Department of Child and Family Services staff members accused of the mistreatment of children in care. The investigation also looked into whether Alfred Maybury, the director of the DCFS, ignored the accusations made against the four employees. A separate inquiry was conducted by the Department of Internal Audit into allegations that Mr Maybury had failed to follow financial instructions. Mr Maybury was suspended in August 2018 and returned in January this year after the Government announced that a "thorough investigation" had found the claims against him were "not substantiated". The Royal Gazette revealed that two of the DCFS staff members were disciplined after allegations of abuse and neglect against them were "substantiated". Neither employee was reported to the police and a statement from a government spokeswoman suggested they were allowed to return to work with vulnerable children, although under supervision. The findings on the other two DCFS employees, one of whom is understood to be the male employee accused of mistreatment of the boy, have not been made public. The Government has refused to release the results of its two inquiries in response to a public access to information request. The rejection of the requests is being reviewed by the Information Commissioner's Office. Saul Dismont, the lawyer for the boy whose allegations were uncovered by Ms Thomas, referred to as "BC" to protect his identity, said he was never interviewed by investigators. Mr Dismont added that he was aware of five other children who had made complaints about department staff. He said: "I'm not aware of any of those children having been spoken to or interviewed." A spokeswoman for the Ministry of Legal Affairs, now responsible for the DCFS after a Cabinet shuffle late last year, insisted a "full and thorough investigation was carried out", but declined to discuss if any children were interviewed. The launch of last summer's inquiry was first reported by the Politica news website.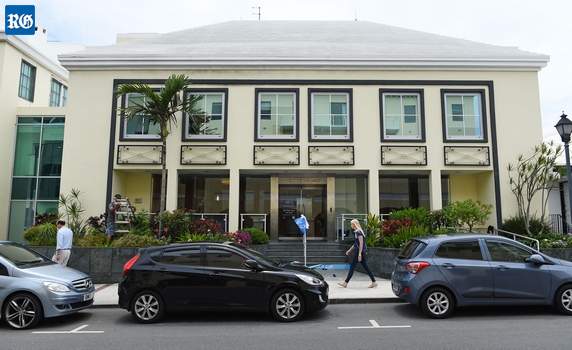 A month after losing its chief executive officer, Argo Group International Holdings Ltd has announced its chairman Gary Woods is to retire in March, along with four other directors. It has also moved to head-off a proposed special shareholders' meeting aimed at removing and replacing up to five directors — something it said is unnecessary given its "board refreshment" announcement. The Bermuda-based company is under investigation by the US Securities and Exchange Commission regarding disclosure of certain compensation matters. In addition, Argo's independent directors are conducting a review of governance and compensation matters. Argo's credit ratings were last month placed under review with negative implications by AM Best. The agency said that when it affirmed Argo's ratings in October it had been unaware of the SEC subpoena that had been issued to Argo "some time before". Mark Watson retired as CEO last month, and was set to place $2.2 million of his company shares into an escrow account, to be used to reimburse Argo if an investigation finds that certain personal expenses of his were paid for by the company. He continues to act as an adviser to the company and board member until the end of the year. Kevin Rehnberg has been appointed interim CEO. Earlier this year, Argo was involved in a bruising proxy battle with activist shareholder Voce Capital Management LLC, which has been calling for changes to the board. The San Francisco hedge fund is beneficial owner of about 5.8 per cent of the shares of Argo. It attacked what it called a "spendthrift culture" and "inappropriate corporate expenses" at Argo. The company responded by saying the claims were "poorly researched" and had "little regard for the truth". Last Friday Voce, along with Voce Catalyst Partners LP, Voce Capital LLC, Voce Catalyst Partners New York LLC and American J. Daniel Plants, made a filing with the SEC aimed at securing a special general meeting of Argo shareholders, with a view to seeking the removal and replacement of up to five members of the Argo board. Argo has now filed a consent revocation statement and is urging shareholders to sign it. In a statement, it said: "The board has concluded that such a special general meeting is unnecessary given its ongoing corporate governance review and board refreshment process which has resulted in the aforementioned changes. "With the retirement of five members of the board and an accelerated timeline for the 2020 AGM, the board does not believe it is constructive to call a special general meeting that would be convened a few weeks before the AGM and entail unnecessary costs and distraction." The four directors who, along with Mr Woods, will retire at the annual meeting, are F. Sedgwick Browne, risk and capital committee chairman; Hector De Leon, member of the audit and human resources committees; Mural Josephson, audit committee chairman; and John Power, human resources committee chairman. The AGM is usually held in May, but is being brought forward to March. Argo said the changes were being made as part of a proactive refreshment process announced in August. It said it has engaged a leading national executive search firm to identify highly qualified director candidates, and welcomes input from shareholders in the director search process. In its statement, Argo said: "The board intends to present proposals at the 2020 AGM to declassify the board and reduce the maximum size of the board from 13 to 11 director seats. The board will also present to shareholders its revised executive compensation programme."

Somers Ltd has reported a net loss for the year of $9.7 million while it awaits government and regulatory approvals for the sale of Bermuda Commercial Bank, which it expects to receive "shortly". Year-end results for the financial services investment holding company were filed with the Bermuda Stock Exchange, which released them today. Permanent Capital Holdings Ltd, a private New York-based investor in financial services companies, announced on February 5 that it was buying BCB from parent Somers, subject to regulatory approvals, including from the Bermuda Monetary Authority. Somers' year-end financials valued BCB at $82.9 million, compared with $94.9 million at the end of fiscal 2018. The net loss for the financial year ending September 30 was despite Somers recording a net profit of $4.9 million in the fourth quarter. The loss compares to a profit of $4.2 million at year-end in 2018. Somers said the net loss was primarily due to net foreign exchange losses of $15.6 million for the year. At year-end, Somers said, 72.1 per cent of its net assets were exposed to foreign currencies, primarily sterling and the Australian dollar, and over the course of the year these currencies decreased in value versus the US dollar by 5.7 per cent and 6.6 per cent, respectively. The exchange losses were primarily unrealized, the company said. Warren McLeland, chairman of Somers said: "2019 was a busy year for Somers with a number of corporate transactions and positive financial performances at several of the company's investee companies, particularly Resimac and PCF. Unfortunately, this did not flow through to the company's net asset value primarily due to weaknesses in Sterling and the Australian dollar which meant that the company recorded a loss for the year. Since the year end the rebound in the value of sterling, the continued strong financial performance at Resimac and an increase in the share price at PCF have had a material positive impact on the company's net asset value. We are still waiting regulatory and Government approvals for the sale of BCB but remain confident that the transaction will complete shortly. 2019 has been a year of geopolitical events which have impacted global markets and global economic growth which in turn has led to lower interest rates, often negative rates, and the reintroduction of central bank liquidity. The extreme volatility that the markets experienced in the last quarter of 2018 may not have been repeated in 2019 but until some of these events are removed global growth will continue to be anemic and the threat of further volatility remains. However, our investments are well placed with strong financials, and with increased liquidity when the sale of BCB completes Somers will be able to take advantage of the opportunities that are likely to be present over the next 12 months." Somers' total assets increased during the year to $423.1 million, up from $407.3 million a year previous. The company had a net asset value per share of $17.10, and shareholders' equity of $353.6 million as at September 30, the company reported. Shareholders' equity a year ago was $364.1 million. Somers' share price ended the period at $15, down from $16 at September 30, 2018. Investment highlights for the year included completion of the sale of Somers' holdings in Merrion Capital, Stockdale Securities and Street Capital Group, the company said. Resimac Group Ltd remains Somers' largest investment with a value of $157.9 million and reported assets under management in excess of $13 billion Australian and recently announced a significant increase in forecast profits for the first half of the current financial year, Somers said. Somers recorded a $4.3 million gain on its investment portfolio for 2019. Total borrowings increased to $67.9 million from $41.5 million a year earlier. The directors of Somers have resolved to pay a final dividend of 30 cents per share bringing the total dividend for the year to 51 cents.

Representatives from the Hilton hotel chain visited Bermuda this week to discuss the Bermudiana Beach Resort. The vacation hotel/residential development, to be open next summer, will be a part of the hotel's Tapestry Collection. Jenna Hackett, global head of Tapestry Collection, said: "The signing of Bermudian Beach Resort brings a unique and authentic resort to our portfolio. "As the first Hilton property in Bermuda, we look forward to working with the team at Bermudiana Development Company Ltd to offer visitors a unique hotel coupled with the benefits of our award-winning Hilton Honors programme." The Bermudiana Beach Resort, originally built as an affordable housing, will be made up of 90 fully furnished hotel residences across nine buildings. Bermudiana Development Company is responsible for the conversion of the property and, once open, properties and amenities will be fully managed for owners by a professional hotel management team. The condos are for sale to local and overseas buyers on a 999-year leasehold basis, and under the terms of the lease owners can occupy their condo for up to 90 days each year. They can then rent it out through the hotel for the remainder of the year. The resort will also be part of the award-winning Hilton Honors guest loyalty programme, which offers benefits that include a flexible payment slider that allows members to choose nearly any combination of points and money to book a stay, an exclusive member discount, free standard Wi-Fi and access to the Hilton Honors mobile app.

December 12

UK General Election 0700 to 2200 hours. European leaders secretly hope for a Conservative victory, horrified by thoughts of a Corbin upset and what it would mean in further cross-channel costs and negotiations. They do not want a time-bomb thrown into the European security system by anti-NATO problems (currently, the USA pays nearly 70% of NATO's costs with Britain paying 10% and some countries like the EU's Ireland and Austria paying nothing). Britain and the EU have signed a deal but non-Conservative members of the UK parliament have refused it, which is why Prime Minister Boris Johnson called the General Election. A Labour Victory tonight would wipe £367 million from UK shares and hit millions of pension savers. Plus it would result in loss of Labour-hated non-dom preferential treatment for those planning to use the UK as a tax haven. But Bermuda would benefit, with more UK residents seeking use of Bermuda as an offshore tax haven while they still can.

A British Overseas Territory stopped sending children with behavioral issues to residential centres abroad more than a decade ago because young people struggled to return to the communities they left behind. Laurel Freeman, a social worker in the British Virgin Islands, explained that relationships formed before the minors went abroad were disrupted and the distance meant it was difficult for family to keep in touch. She added that although residential placements sometimes appeared to be the only solution for troubled teenagers, a change in culture was needed to make progress. Bermudian children have been sent to overseas treatment centres since at least as far back as 1984. The Ministry of Legal Affairs said this week that nine children were in placements abroad, among a total of 18 who received psycho-educational care from the Department of Child and Family Services in 2019. As part of it's Who Cares? series, The Royal Gazette asked other island jurisdictions how they helped young people. Ms Freeman replied: "In the absence of a residential treatment centre, the BVI sought and contracted the services of private and publicly funded agencies across the Caribbean and the United States to address the needs of those minors severely affected by various behavioral, development and other issues. The impetus to continue this intervention ended more than ten years ago, due to several factors. Namely, on return to the territory from overseas, the minors, juveniles or young persons found it difficult to integrate back into the society and as a result they often re-offended. Ongoing communication was not prioritized and therefore the initial relationship and bond created prior to them leaving exasperated other family and social economic dynamics. Distance made family continuity difficult to maintain due to costs associated with travel, telephone or other contact. In lieu of utilizing overseas facilities, extensive intervention through co-agency collaboration now occurs within the territory to serve all facets of the affected minor. It is recognised that in some instances a residential treatment centre is the only viable option to affect change and this has been acknowledged by persons who can affect that change but with all things, a cultural shift needs to take place prior to moving forward." Ms Freeman, who works in the Family, Children and Protective Services unit of the BVI's Social Development Department, confirmed later that the children who attended the overseas centres had behavioral issues, but were not juvenile offenders. She added: "When they came back, I can recall a few of them actually did end up getting in conflict with the law and ending up in the local prison. I guess the Government found that the practice was not working, was not effective." Ms Freeman explained: "As a British overseas territory, effective psycho-educational programmes for the challenges now faced with the teenage population are perhaps one of the more innovative, creative and challenging components of social services agencies within the Caribbean." She said the BVI, which has a population of about 30,000, tried to place children "with extreme behavioral disruptions" in settings that addressed the problem and "implement behaviour modification". Ms Freeman explained that the territory had a state-owned residential facility that looked after children in need of care and protection up to the age of 15, including minors affected by abuse, neglect and abandonment. She added: "Referrals are made for children to various psychologists and psychiatrists in the territory to address any psychosocial issues and intervention takes place within the territory, whereby access to family and familiar surroundings aids with the behavioral change required." Other services have included support from private partners in the form of intervention and prevention programmes, psycho-educational clinics hosted by private practitioners as well as community mental health schemes like group and play therapy. Ms Freeman added: "I trust, as like-minded territories, solutions to help our children can be reached in a concise, effective manner." A letter seen by The Royal Gazette showed that a staff member working in the island's child protection agency was concerned about the extent of the psycho-educational programme's use 12 years ago. Sharon Merlo, who was a residential treatment services co-ordinator, wrote in 2007 to Kennette Robinson, then the DCFS acting director, about why funds were needed to develop services on the island at that time. She acknowledged there would always be limits to what could be provided in Bermuda. But Ms Merlo wrote: "It is reasonable to assume that the current excessive psycho-educational overseas placements will continue as long as the resources that require capital expenditure remain unavailable. We will continue to frustrate the community and our stakeholders by our inability to service clients locally." The psycho-educational programme was developed to help children who were deemed to have exhausted all therapeutic services on the island. The legal affairs ministry said on Monday that the DCFS's child protection in 2018 included support for 151 families so that 238 children could remain in their care, as well as counselling services for 105 children and 82 parents. Foster care was in place for 88 children, with 30 per cent of those being kinship or family placements. A spokeswoman added: "This is always the department's preferred placement option in order to keep the children with family when the courts deem placement with the parents to be unsafe." In 2018, 20 young people were in residential care homes run by the DCFS. The Gazette requested information from child and family services departments in the Cayman Islands and Jamaica, but none was received by press time.

A couple asked a court to consider whether they should be awarded compensation after their three-year-old son was unlawfully seized by police from their home on the instructions of the island's child protection agency. The American pair sought unspecified damages from the director of the Department of Child and Family Services, the Attorney-General and the Bermuda Police Service after a judge earlier found that the authorities had acted wrongly. Their ongoing lawsuit was launched after they left the island as they tried to stop the same thing happening to another family in Bermuda. The boy was taken by officers from the family home in May 2017 and was not returned to his parents for two days. His mother said, in an affidavit filed with the Supreme Court: "Nothing can describe the pain of my child being ripped away and being incapable of helping him. I cannot imagine what he must have gone through and the effect it will have on his development, but I fear he has been irreparably harmed." The couple won the case and received a ruling from Assistant Justice David Kessaram in February last year that the DCFS, the Family Court and the police had "improperly exercised" their powers. Their son had been to King Edward VII Memorial Hospital three times with injuries between December 2014 and May 2017, including the day before he was removed from the family home. But the judge found that the DCFS did not have enough evidence to seek an emergency protection order. The emergency room doctor who saw the child on May 2, 2017 diagnosed an injury common in young children and said the parents were "concerned and interactive appropriately". The health professional added: "I did not have any concerns that this child had been abused in any way ..." Mr Justice Kessaram said there was "simply no basis" for the Family Court to "find that there was reasonable cause to believe that significant harm would likely be suffered by [the child] if left in the care of his parents". The boy's father said earlier this year: "We are hoping that once concluded, this case will help right the wrong brought on to our family, create accountability and protect other families." The mother said last year that she and her son saw a therapist to help them after they left the island. She added: "It really helped to find the words to explain to him what happened because we wanted to make sure that he didn't feel that he might have done something wrong." The woman said: "I couldn't imagine a worse emotional feeling for a mother than to see this happen to her child."

Children's groups hope the Government will provide more information about the newly established panel of litigation guardians. They said yesterday that questions about funding and the selection process remained unanswered. Scott Pearman, the shadow legal affairs minister, added that Bermuda must not "penny-pinch" when it comes to safeguarding children. The Coalition for the Protection of Children, Family Centre, Childwatch, Saving Children and Revealing Secrets and Citizens Uprooting Racism in Bermuda said they were "very troubled by the recent reports in The Royal Gazette regarding child welfare". As part of its Who Cares? series, the Gazette has highlighted stories from some young people with experience of the Department of Child and Family Services. In a joint statement, the charities and child advocacy group explained: "Our ultimate hope is that all the children affected will be afforded the respect and justice of an independent investigation. An immediate measure that can be taken is the enforcement of the law that provides children with lawyers and litigation guardians in court, so that we can be confident children are being dealt with legally." Kathy Lynn Simmons, the Attorney-General and Minister of Legal Affairs, announced last week the establishment of a panel of people who can act as litigation guardians appointed by the court under the Children Act 1998. She was the first minister to do so since the legislation was introduced. The children's groups said it was "an encouraging start". They added: "It is of grave importance that we get this process right from the beginning. We look forward to learning how these individuals were selected, what form of funding will be provided, and what specialized training in this field has been obtained. Hopefully, those selected are completely independent of Government and there is no conflict of interest or monetary restrictions when representing the best interests of the child." The groups were part of a legal challenge brought against the Government in 2017. That culminated in a ruling last June when the Court of Appeal made declarations that ministers had "for some time" breached obligations set out in the Act because they failed to introduce a scheme to fund litigation guardians. The children's groups said: "Children need, deserve and have the right under the Children's Act, section 35, to independent representation in Family Court. The role of a litigation guardian is to 'safeguard the interests of the child' by having complete access to the child's records held by the director of child and family services. The litigation guardian and the child's lawyer are then able to make submissions to the court on the child's welfare. Our position holds that this is not only a right for the vulnerable, but a core value of a just and fair society. When a litigation guardian is not appointed by the court, it is effectively breaching a child's right to a fair trial." The groups "implored" the Government and judiciary to make sure that minors were properly represented and said the burden of proof should be on the court to show "why a litigation guardian is not beneficial in each case involving the welfare of a child". They added: "Our joint position on the matter is that proper transparency and accountability remains critical where child safeguarding is concerned. We continue to offer our support to the Government in achieving the goal of protecting our children." The Gazette asked for information about who was on the panel, how the individuals were selected, what qualifications or specialized training they had, and how much they would be paid. No response was received by press time. Mr Pearman, a One Bermuda Alliance MP, welcomed the establishment of the panel but added that "the public needs to know further details". He said: "The Attorney-General needs to make clear who is to take on these crucial roles to ensure that Bermudian children are assisted by litigation guardians who are truly independent. It is also important to know what the budget is as that will dictate the number of cases the litigation guardians are able to take on. We must not penny-pinch when it comes to protecting our young people." Ms Simmons said last week that the panel's five members were "qualified, certified and experienced social workers. The ministry will monitor and assess the effectiveness of the implementation of the present legislative scheme for the appointment of litigation guardians and counsel, while simultaneously advancing a fiscally sustainable and independent model in keeping with best practice in this area." Tiffanne Thomas, an independent social worker, revealed in November 2018 that she intended to resign her position as a litigation guardian from 11 active cases involving 17 "at risk" minors because of lack of payment. She was not included on the panel. The Supreme Court ordered last month — in a hearing on a single case — Ms Thomas should be granted costs of $60 per hour for her time in the courts. Mark Diel, her lawyer, said yesterday: "We have received no payment at all, of any sort, and we've been informed that the Attorney-General is appealing this decision."

Dock-workers were locked in union talks yesterday after staff downed tools on Tuesday night, and others staged a morning protest amid claims that a dozen workers had been fired. The workers later marched to the Bermuda Industrial Union headquarters for a five-hour meeting with management — at the end of which it was announced that staff were heading back to the job. One source told The Royal Gazette that the workers had downed tools after a dispute with management and were fired yesterday as a result. But a statement last night from Polaris Holding Company, the parent company of Stevedoring Services, which operates the docks, said that "no jobs were lost and everything is back to normal". The company described the matter as "an ongoing personnel situation". Meetings were called after a group of more than 20 dock-workers — many still wearing reflective safety jackets — gathered in the morning near the entrance to the docks on Front Street with a cardboard banner that said: "12 dock workers fired today!!" Staff had downed tools the night before while working on the cargo ship Somers Isles, delaying the vessel's departure yesterday. At 5pm, a joint statement from Chris Furbert, BIU president, and Warren Jones, chief executive of Polaris, said "resolution to the matter was achieved". Talks involved the Port Workers Division of the BIU with a management team and senior union executives. The meetings came after protesters were met on the street at about 9.45am by Mr Furbert and other union officials. Police on motorcycles also attended, although there was no sign of tension. The protesters declined to comment when approached by The Royal Gazette, but one indicated the action was not a strike. The group walked to BIU headquarters at 11am and left the union headquarters as a group of about 50 at 4.10pm. Throughout the day, the workers would occasionally emerge for breaks, with some voicing frustration at the length of the discussions. Polaris Holding Company's statement said the meetings came after "an incident which occurred last evening on the docks". Mr Jones did not elaborate, citing the company's privacy policy for staff. The company statement closed: "We apologise for any inconvenience caused but believe that the talks we held today will serve to ensure that our relationship stays on the right footing going forward."

A Canadian toxicology researcher is urging the island to hang up on any plans to start a 5G cellular network. Advocates of 5G, which has been called the network of the "near future", have promised everything from quicker downloads to greater network reliability. Paul Heroux, McGill University associate professor of medicine, is not impressed. "My worry is that we are impairing the health of huge populations by increasing exposure to electromagnetic radiation," Dr Heroux told The Royal Gazette. "What is particular about the laboratory research I do is that it compares current exposures to the exposures that existed in the environment before power and telecommunications systems were deployed, over the last 100 years," he said. His research suggests that electromagnetic energy from power lines and cellular telephone systems produces a slow damage to living materials, which can result in, or amplify, chronic diseases. He said other scientists, such as Lennart Hardell of Sweden, have found a connection between electromagnetic radiation and the growth of certain cancers such as glioblastomas of the brain. "We have evidence that electromagnetic fields do cause disease and death," he said. He said research done in his own laboratory had confirmed the benefits of lowering exposure to electromagnetic fields. He spoke last month in Bermuda at Generation Zapped, an event organised by Bermuda Advocates for Safe Technology, and the Bermuda College Eco Club, to raise awareness of electro pollution. The talk came a month after the Regulatory Authority announced plans for a radio frequency study to determine whether cutting-edge technology, such as a 5G network, would be appropriate for Bermuda. "I think 5G is the wrong direction to go at the engineering level," Dr Heroux said. "In Bermuda, there is an impressive list of places that say they won't have wireless. Optical fibres are the preferred means to upload or download large amounts of data. 5G promises to take the data from one gig per second to ten. This is an obvious improvement but mainly important if you are downloading movies. "Optical fibre allows ten million gigabytes per second. It is a billion times faster. We can have all the data we want more safely." He wanted to see mobile phones used for what they were originally intended — communicating. "Mobile phones have proven their value in society, but adding 5G will increase the number of cell towers immensely," he said. "Is this necessary? Do we need this extra layer and can we balance the radiation we are exposed to with the health impacts? We need to steer technological development in directions that are less dangerous to humans." He alleged that the telecommunications industry claims there is no evidence of a link between electromagnetic radiation, because they really aren't looking for it. "They have stock holders who are not interested in the overall picture," he said. "They do not want to explore the health impacts of their products; they want to expand. From their point of view, they will always deny it. They use very simple science to convince the public not to believe that the impacts exist." He said the rates of acceptable levels of electromagnetic radiation were set in the US to meet the needs of the US military during the Cold War in the 1960s. Later mobile phone companies chose to maintain those levels because it suited their needs. Dr Heroux said he had a mobile phone, but did not use it much. "It's often out of charge," he said. "I sympathise with people who are mobile users who have to use it. Avoid putting it against your head." He thought that in primary schools wi-fi should only be turned on for a limited period during the day. "It needs to be turned off when not in use," he said. "Children are very vulnerable to this very radiation." He thought the focus should be on investing in better teaching rather than better gadgets. BAST is planning to screen the movie Generation Zapped at the Bermuda Underwater Exploration Institute next year, to coincide with 5G Global Protest Day on January 25. They showed a trailer for the film at the event that Dr Heroux spoke at. The screening date has yet to be announced. The World Health Organisation has examined scientific research on links between electromagnetic fields and human health. It concludes: "Current evidence does not confirm the existence of any health consequences from exposure to low level electromagnetic fields. However, some gaps in knowledge about biological effects exist and need further research." On its website, the WHO adds: "The long-term health effects of mobile telephone use is another topic of much current research. No obvious adverse effect of exposure to low-level radio frequency fields has been discovered. However, given public concerns regarding the safety of cellular telephones, further research aims to determine whether any less obvious effects might occur at very low exposure levels." One of the key findings of the WHO research review was: "There is no doubt that short-term exposure to very high levels of electromagnetic fields can be harmful to health. Current public concern focuses on possible long-term health effects caused by exposure to electromagnetic fields at levels below those required to trigger acute biological responses."

Digital transformation creates both benefits and challenges for society, panellists told audience members at the International Cyber Risk Management Conference in Bermuda. Arthur Wightman, PwC Bermuda leader, said digital transformation presents incredible potential as organisations seek to deliver greater value to their stakeholders. With digital transformation, however, there is also a social responsibility to ensure that the gap between the skills people have and those needed for jobs or to function in the digital world is minimized, Mr Wightman said. He was joined on the panel by Denis Pitcher, chief fintech adviser to David Burt, the Premier, and Government's fintech business unit, and Chris Garrod, director, Conyers, who all discussed digital transformation and the importance of digital upskilling. Mr Pitcher said: "We are on the verge of a paradigm shift in terms of digital transformation and what it will do for global data connectivity. The impact parallels the introduction of the world wide web and the hyperlink of the mid-90s and the shift of access to information that it enabled. Modern technology is enabling us to capture more data, drive more insights and break down traditional data silos that will unlock tremendous potential for efficiency, growth and global inclusion over the coming decades. Essential to benefiting from this transformation is looking past hype to understand when these technologies are appropriate as tools to be applied to problems and when they are not. Embracing the technology, upskilling stakeholders and focusing on immersion of the technology within the population will drive the greatest understanding and potential to unlock its value." Mr Wightman said: "We're at an inflection point — we need to act now and collectively to ensure that all parts of our society are able to build the skills needed to participate in a digital workplace. This is a complex challenge that will require decision-makers — educators; national, regional and local government leaders; and business leaders — to come together." In its latest Human Development Report 2019 — Beyond income, beyond averages, beyond today: Inequalities in human development in the 21st century, the United Nations Development Programme identifies that a new generation of inequalities is emerging, with divergence in enhanced capabilities, PwC said. Mr Pitcher addressed the importance of embracing disruption and innovation so people and organisations are not left behind. He also spoke about the challenge Bermuda has in terms of access to technology, noting that online payment companies like PayPal, Square, and Stripe aren't available to merchants in Bermuda. He said: "We may be too small and not appealing as a market. Does this present a risk for inclusion in the future of banking and financial services? What steps can Bermuda take to ensure we are not excluded from innovation?" Mr Wightman said: "A clear area where Bermuda can embrace disruption is through upskilling. For example, there is a huge skills mismatch globally whereby millions of jobs are going unfilled worldwide. Bermuda has the opportunity to help members of the existing workforce, those currently excluded, those starting their working lives, and those in the next generation to learn the skills required to operate in a digital age. This in turn could provide opportunities to participate in a worldwide job market where physical location is somewhat unimportant. Digital upskilling is not just about new technology, in fact it's the opposite — it's about learning how to think, act and thrive in a digital world that is sustainable over time. That is an area where we can focus." The PwC global network is spending $3 billion over four years to specifically digitally upskill its employees worldwide as well as help clients and communities to do the same. The professional-services network has launched a 12-minute documentary film looking at the impact of technology on people and the need to deal with rapidly expanding skills mismatches. In Upskilling: Bridging the Digital Divide, academics, NGOs, policymakers and business leaders explain why upskilling for a digital world has become a priority for society, organisations and governments.

Although Thomas James had lived on the corner of Burnt House Hill his entire life, he had no idea where its name came from. He discovered the tragic story behind it when he started writing "Warwick." "One rainy Sunday afternoon, I spent about five hours searching through old newspapers," he said. "Fire can turn up a lot in newspapers." On February 2, 1859, a seven-year-old girl accidentally set fire to dried brush and palmetto leaves while lighting Samuel Tacklyn Jr's cellar fireplace. The house went up in flames. Four young children died, including two who were locked in upstairs, while their caregiver was out. The remains of the burnt house remained on the hill for many years. "The house was towards the bottom of the hill on the waterside," said Dr James. "In the 1930s, an American bought the property and built a new house, calling it Burnt House." The story is one of many included in Warwick, the latest in the Bermuda National Trust's architectural heritage series which covers more than 160 buildings in the parish. Dr James got involved after retiring from Ettrick Animal Hospital in Warwick several years ago. "I was very bored," he said. "I wanted something to occupy my time. I have always been interested in things historical and I like finding out things. I enjoyed going to the archives — looking at deeds, wills and so on and tracing the ownership of the property. I was very involved in the Hamilton book; I wrote the introduction to that and also the Pembroke book. Then I was given the opportunity to write the Warwick one." He completed it with help from project managers Linda Abend and Margie Lloyd and a body of volunteer researchers. Cecille Simmons said the project appealed to her passion for collecting oral histories. One of the people she spoke with was 102 years old; not all of them were from Warwick. "I have gotten to know a retired postman, Joseph Lambert, who is extremely helpful," she said. "He remembers who he delivered mail to. There are seniors who thank me just for giving them a call to ask them about something like this." She said working on several books in the series has changed her outlook on Bermuda. "Wherever I go, I ask, 'Do you know about this house?'," she laughed. "I am a nuisance. I am always on duty when it comes to this. That is the part that I really love." Her involvement started when the BNT was researching her home parish, Sandys. Her mother, Edith Snaith, initially refused to have her historic 1897 home, Cecille-o-Lodge, included in the book. "She was good and reluctant and put up a struggle," Mrs Simmons said. "She had a lot of concerns about giving information about her house — as many older Bermudians do. They don't know the people and they are not quite sure what this project is about. I think there is a past history in Bermuda of getting information about your house because someone wants to get it." Although still working when Ms Abend asked her to help with the research on the next books, she attacked them with relish. "I thought since I was a district nurse and knew lots of seniors, this would be something for me," she said. "It's about convincing people that their house is truly beautiful and would be an asset to the book." A painting of The Lodge by Chris Grimes was chosen for the cover of Warwick. The Windy Ridge Road building is one of the parish's oldest. Records from 1692 show it was then owned by Parnell Robinson, the widow of a mariner Solomon Robinson. The house originally had a thatched roof and wooden walls that were later changed to stone to give better protection during hurricanes. Other Warwick residents followed suit. The parish is remarkable in that there were so many old houses built in the 1700s that survived to the early 1900s, Dr James said. "At that time wealthy Americans tended to come for two or three months in the winter and often decided to buy a house here," he said. "Several of them bought houses, which were probably very run down farm houses at that time and refurbished them — they appreciated their very simple lines. Then Bermudians came to appreciate the fact that these old buildings did have some aesthetic value in themselves. Instead of destroying them they refurbished them." The volume took five years of research, roughly a year to write and a year to proofread and print. It includes sidebars on quarries, on Khyber Pass and the slave graveyard at the "Rubber Tree" across from St Mary the Virgin Anglican Church. There is also a chapter on the various islands of the Great Sound. For Dr James, the most challenging part was the time it took to understand the history of each house. "We benefit, now, from the fact that the library has the Bermuda newspapers online — from 1784 upwards to the 1940s," he said. "With every house, I typically spent quite a bit of time there, trying to find out little bits of information that might relate to the people who owned these houses, just to help get a fuller picture of the life of these people." It is the ninth book out of ten planned in the series, and the final book, Southampton, will be completed in "two or three years".
Warwick costs $55 and is available at The Bookmart at Brown & Co, the Bermuda Book Store and Waterville, the Bermuda National Trust headquarters in Paget

December 11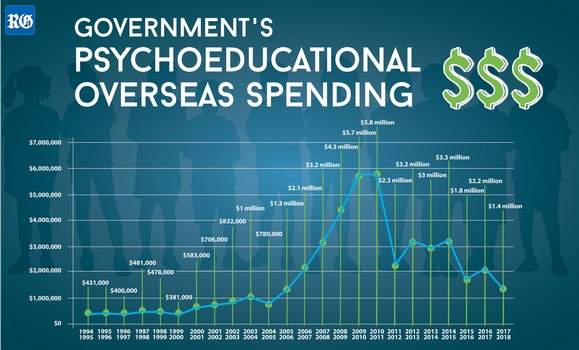 Governments on both sides of the political divide have spent more than $33 million over the past ten years to send Bermudian children to overseas institutions, The Royal Gazette can reveal. Most of the cash was paid to schools and "treatment centres" in the United States by the Department of Child and Family Services to care for vulnerable children in its psycho-educational programme. Hundreds of youngsters have gone abroad, to places as far afield as Utah, Idaho and Arizona, but only a fraction of them had independent legal representation before they were sent away. Some have made allegations of serious abuse and mistreatment at the centres and complained of feeling isolated and abandoned. It cost about $115,000 a year in tuition fees for each child treated abroad in 2016, a public access to information disclosure from the DCFS revealed. Budget Book figures show that was cheaper than the average cost a year for a child in an island residential home, which ranged from $157,103 to $183,346 in 2017-18. But the $115,000 figure did not include travel costs. The amount spent on the psycho-educational programme in the past decade — $33,658,000 between 2008 and 2018 — is almost three times more than the $11,571,000 spent in the previous ten years, between 1998 and 2008. An average of $3.37 million a year has been spent on the programme in the past decade, compared with an average of $1.16 million in the previous decade. The Royal Gazette traced spending of public funds on the psycho-educational programme back to financial year 1994-1995, as part of its Who Cares? investigation. The figures showed that $46,972,000 has been spent since 1994-95 — an average annual cost of $1.96 million. Children were sent abroad by the Bermuda Government, to at least one harsh reform school, as far back as at least 1984, but The Royal Gazette could not obtain Budget Books that went back that far. Annual spending on the psycho-educational programme in the 1994-95 financial year was $431,000. It stayed at a similar amount until 2000-01, when it jumped to $583,000. It rose again in the next three years, with spending on the scheme going over the $1 million mark for the first time in 2003-04. It dropped back to $780,000 the next year but then rose again over the next few years to a peak of $5.8 million in 2010-11. Spending on the programme from 1994-95 rocketed by 1,246 per cent to the high recorded for 2010-11. The most up-to-date figure for spending on the programme is $1.4 million in 2017-18. The estimate for spending in 2018-2019 was $2.1 million and $1.8 million for 2019-20. The $33.7 million cost of the psycho-educational programme for the past ten years was compared with the amount spent on Bermudian centres and programmes for children in the care of the DCFS. The department listed spending for three residential homes, plus a line item called Residential Treatment Services, in Budget Books for the ten years from 2008 to 2018. The cost of those four items came to a total of $33.3 million. The DCFS also runs a foster care programme, which cost $23.9 million over the past decade, and a family preservation or home-based programme, which cost $14 million over the same period. The Ministry of Legal Affairs, which is responsible for the DCFS, said 20 children were in Bermudian children's homes in 2018 and another 20 were overseas as part of the psycho-educational programme. There were 88 youngsters in foster care and 238 children in the family preservation programme, in which children stay at home and their parents are supported by the DCFS. A spokeswoman for the DCFS said: "Recommendations for referral overseas via the psycho-ed programme are made after all other resources locally are exhausted. Local resources are family, counselors, psychologists, psychiatrists, other family intervention programmes and outreach services. The department does not wish to negate or take away from the perceptions of those who choose to take their stories to the media. However, we wish to highlight that the decision regarding overseas referral is not one that is taken lightly." She said that "year over year, there have been improvements in the processes of the psycho-ed programme. All sections in the department are continually assessing and reassessing processes and making improvements for the betterment of the clients that we serve. Psycho-ed is no different. Based on experiences, procedures have been reviewed and adjusted to keep up with best-practice standards and budgetary constraints. Where we are today is light years from where we were in early to mid-2000." Alfred Maybury took over as director of the Department of Child and Family Services in 2000. The spokeswoman earlier said the number of psycho-educational referrals a year was in decline due to "increased effort" by the DCFS to use island resources where possible. She added: "It is also worthy to note that despite the new referrals per year, the total number of children actually in placements per year has also been declining. This is due to children transitioning back to the island and efforts to have them reintegrate into services and supports on island." The former United Bermuda Party was the Government in 1994 and had been since 1968. The Progressive Labour won power in 1998, lost to the One Bermuda Alliance 14 years later, and regained power in 2017.

A march designed to encourage men to become role models for schoolchildren has the backing of education authorities, the Government said today. A spokeswoman for the Government said: "The Department of Education has confirmed that Mr Crockwell did request permission from director Llewellyn Simmons for the Men Are Needed Middle School March, set to take place on Monday. Permission was granted for this event. All approved events have the expressed support of the Ministry and Department of Education, as long as events adhere to the guidelines set out at the time of approval." The statement, sent at 2am this morning, came after Desmond Crockwell, an anti-violence campaigner, said yesterday that Diallo Rabain, the education minister and Commissioner of Education Kalmar Richards had not told him whether they supported the march. Mr Crockwell said that his "gut feeling" was that politics might have played a part in the Government's apparent reluctance to back the event. He highlighted remarks he made that were critical of a Government update on work to combat gangs, released only days after the gun murder of Ronniko Burchall, 30, in December last year. Mr Crockwell said at the time that the release was a "kneejerk reaction and response to many of the concerns that many of the community members are having". He added that he thought some in the Government had taken the criticism as disrespect. Mr Crockwell said: "Some politicians are in it for egos." He added that if their egos were challenged, they would try to hijack community efforts to improve the island. Mr Crockwell claimed: "It happens in this country politically, which stifles our progress economically and culturally and racially." He said he believed that plans for the event had not been taken seriously and that a communication breakdown with the Government had taken place. Mr Crockwell added: "Either way, it's not our fault. My hope is that they allow the children to join us in the march. We have dealt with every single person in the top brass of education. We still have not got a confirmation from the ministry that they are in support of what we are doing." Mr Crockwell said that Dellwood Middle School, in Pembroke, and the Whitney Institute Middle School, in Smith's, had both expressed an interest in taking part in the march. The event is scheduled to start at Dellwood Middle School at noon, travel along Angle Street, Court Street and Dundonald Street and end with a rally at Victoria Park in Hamilton at about 12.40pm. Speakers are expected to include Leroy Bean, the gang violence reduction co-ordinator, anti-violence advocate Antonio Belvedere, and Anthony Peets, a school counsellor. Mr Crockwell said that he met Llewellyn Simmons, the director of academics at the education ministry, in "late September or early October" about the march and that he had "given the OK" for the event. But Mr Crockwell said that he had received an e-mail last month from Mr Rabain that said that Ms Richards had not heard anything about the march. Mr Crockwell added that he had contacted Ms Richards, who asked him several questions about the event. He said that he had responded to her questions on December 3, but she had yet to reply. Mr Crockwell added that he had got a good response from both schools. He said: "They thought it was an excellent idea. We have their full support and co-operation." Mr Crockwell added that the response from men who wanted to support the march had been "overwhelming". He said: "The first thing that comes out of anyone's mouth is that this is needed. Men are the first ones to speak about it. They think this is an excellent idea." Mr Crockwell explained that the event was to encourage men to do more to help the young — but also to celebrate those who had already stepped up to keep youngsters on the right path. He added: "There's always room for improvement in everything we do. There are a lot of good fathers. There are a lot of good role models. We need to encourage that — because it's easy for men to get discouraged. We have to reach out to men who are not involved in their children's lives — there is a lot of children looking for their fathers."

Integrated communications agency AAC has been awarded the advertising concession for the new airport terminal, Skyport announced today. AAC will be responsible for advertising in the new terminal at LF Wade International Airport using a range of mediums including digital signage, light box displays, airport television commercial insertions, experiential marketing, wall wraps, and sponsorships. Aaron Adderley, president of Skyport, said: "During the RFP process, we looked to identify a design partner who would create fresh, contemporary concepts and innovative and dynamic advertising programmes for our world class passenger terminal building. We believe AAC fit the bill and are excited to see the programmes they implement when we open next year." Skyport said AAC "is a full-service agency with a broad customer base with the ability to provide end to end creation and placement of adverts in the new passenger terminal building. AAC is known for its expertise and longstanding reputation in the community and abroad". Vicki Coelho, chief executive officer of AAC, said: "We are honoured that we were selected as the long-term advertising concession partner for Skyport, and that the selection team recognised our capabilities as a 100 per cent Bermuda-owned full services digital ad agency. We continue to expand our local team bringing marketing solutions to our client base." The advertising contract will begin in 2020 when the new passenger terminal opens, Skyport said. In business for more than 50 years, AAC was acquired by events and e-commerce company Premier Tickets in August. They are part of Celeste Group of Companies, which also includes IT provider Fireminds and Innovation House.

A civil case brought by a former primary school principal against the Public Service Commission and the Board of Education after she was overlooked for the Commissioner of Education post ended yesterday. Gina Tucker, who has also worked in several other senior roles in education, claimed in her affidavit that she had "not been fairly treated or properly considered" for the job, which was given to Kalmar Richards, the former principal of CedarBridge Academy, in September 2018. Dr Tucker earlier claimed that her relationship with Valerie Robinson-James, the permanent secretary at the education ministry, had soured after a disagreement over a decision to offer the Commissioner of Education post to Paul Wagstaff, a British education expert, in 2016. However, Delroy Duncan, who represented the education board, said there was no evidence to support the allegation. Dr Tucker said she wanted the appointment of Ms Richards quashed and an order made for the application process to be held "fairly and in accordance with the Education Act 1996 and the Public Service Commission Regulations 2001", as well as costs. Assistant Justice John Riihiluoma reserved judgment.

Prosecutors asked for a woman who admitted the theft of more than $110,000 from her employers to be jailed for a year. Deidre Woolgar, 46, pleaded guilty in June to charges of theft and false accounting after her employers found she failed to deposit $110,759 in cash sales over the course of more than a year. But Susan Mulligan, counsel for Woolgar, said the crimes were the result of a mental health problem and the money had gone towards household expenses. Ms Mulligan said: "At no time did anyone know. There was no hoard or stash. There's nothing they can point to and say where the money has gone." The court heard Woolgar, from Warwick, had worked with CSI, an electrical supply company, for almost eight years before the offences were committed. Duane Simons, her employer, approached her about un-deposited cash and cheques in her desk in April last year. Mr Simons later noticed two deposits were made into the firm's account, but both were cheques. The absence of cash deposits made Mr Simons suspicious and he hired a consultant accountant to look at deposits made between March 8, 2017 and April 13, 2018. The accountant found that $108,085 of sales recorded in the company's point of sales system had not been deposited. A further examination later revealed another $2,674 in un-deposited cash sales. The missing cash was reported to the police and, on June 9 this year, Woolgar pleaded guilty to two charges. Nicole Smith, for the Crown, said Woolgar had exploited her position of trust to steal a substantial sum. Ms Smith added that Woolgar knew her actions were wrong and that her actions were driven by greed. She said: "This wasn't a one-off theft. It was a continuous taking for just over a period of a year. It was planned; it wasn't just a passing thought." Ms Smith added there was no connection between Woolgar's mental health and her offences — but Ms Mulligan insisted it was a significant factor. Ms Mulligan said Woolgar was the breadwinner in a family of four after her husband suffered a heart attack that left him unable to work. She told the court that Woolgar's mental health condition, combined with the excessive responsibility caused by her circumstances, had contributed to her actions. She added the money was not spent on luxuries, but instead on "food, takeout, rent and living expenses". Ms Mulligan said the company had already been repaid the cash by Woolgar's extended family and, given all the circumstances, a suspended sentence was appropriate. Acting Puisne Judge Juan Wolffe adjourned the case until February 3 for expert evidence from a psychiatrist on Woolgar's mental health and how it might have affected her behaviour.

A sex offender released just months ago was back behind bars yesterday after it was alleged he breached a supervision order. Junius Caines appeared in the Supreme Court, where it was claimed he had broken his curfew, failed a urine test for drugs and alcohol and did not charge his electronic monitoring device for nine days. Nicole Smith, for the Crown, told the court that Caines was warned about his breaches on December 3 — but broke his curfew again the same night. Caines, 50, was jailed last year for an attempted rape of a woman in 2016 and was released from custody in June. Ms Smith added that Caines's probation officer had suggested a more intensive treatment programme might be needed. But lawyer Jonathan White, for Caines, said he had enrolled in the Turning Point drug treatment programme and was doing well. Puisne Judge Charles-Etta Simmons said the combination of drugs and a lack of supervision formed a "toxic mix" for Caines. She added: "That toxic mix is coming and the court has a duty to protect the public and Mr Caines. The safety and wellbeing of the community is at risk if the court accepts the reports made against him, and the court does accept those reports." Mrs Justice Simmons remanded Caines in custody until December 20 so the Crown could decide if it wanted to prosecute Caines in Magistrates' Court for the alleged breaches or make inquiries about more intensive treatment programmes which could assist him. Caines was arrested on August 6, 2016 after he followed and attacked a woman outside her Hamilton home. The Supreme Court heard Caines grabbed her from behind and threw her to the ground, but a group of passers-by heard the noise and came to the woman's aid. Caines admitted the offence and was sentenced to three years in prison, to be followed with a five-year supervision order. He was released on June 24 with conditions that included he abide by an 8pm to 7am curfew, abstain from the use of alcohol or drugs and receive treatment. The Crown argued that he should wear an electronic tag as part of the conditions of his supervision order. In a hearing before his release, Caines claimed the monitoring device released "radiation" and that it would cause him pain due to a leg injury suffered in a traffic collision. Mrs Justice Simmons allowed Caines to be released without a device on an interim supervision order, but he was ordered to provide the court with evidence to support his claims. The judge ordered in September that he would have to wear the device after no evidence was provided.

One of Bermuda's most successful charities, the AXA End-to-End, is delighted to announce that it has a new sponsor. Butterfield, Bermuda's oldest bank, has confirmed its commitment as a Platinum Sponsor of the annual event. Michael Neff, Butterfield's Managing Director, Bermuda said: "We are proud to work with the End-to-End Charitable Trust and our fellow sponsors to support this eminent fundraising event. Butterfield employees sign up in droves each year to participate and our volunteer committee is already on board, excitedly planning next year's water stop theme. Over the past 32 years, the End-to-End has grown to become one of Bermuda's largest fundraisers, promising participants good fun for a good cause. It brings out the best in our Island's residents while allowing organisations to carry our essential work to improve the quality of life for people in Bermuda. I encourage everyone to dust off their sneakers, bicycles or paddle boards and come out for what promises to be another fantastic End-to-End event on Saturday, 2 May." End-to-End chair, Anne Mello, said: "We are immensely grateful to Butterfield for supporting the AXA End-to-End, bringing both sponsorship funds together with an enthusiastic and creative team of employee volunteers. The support of all our sponsors is magnificent, and I cannot thank them enough for everything they do." Butterfield is a platinum sponsor alongside Deloitte, and AXA continues as the main title sponsor.

December 10

Changes to the healthcare insurance system will go ahead, despite a call from the Opposition to put the plans on hold, the Government said yesterday. The Government added it would not extend the consultation period on the changes — which ended on Sunday. Kim Wilson, the Minister of Health, said: "In August of this year we undertook to conduct a comprehensive public consultation period on the Bermuda Health Plan. "In the four months of open, transparent consultation over 50 meetings were held with over 600 participants. I am confident that this period has allowed ample time for the public to provide feedback on what the core insurance plan should include and how to transition to a more efficient health financing system." Pressure group Patients First and the Opposition have both criticized the proposed changes asked for more time to look at the plans. But Ms Wilson said: "I appreciate that Patients First and the Opposition are asking for the Government to do a U-turn on its decision to adopt a unified model of health financing or a single payer system. Unfortunately, their campaign has deliberately misled the public with numerous misstatements, leading to confusion and fear. As a Government, we have to act in the best interest of the people and we have to make decisions that will benefit the whole of Bermuda not just those with vested interests." The Minister added the Progressive Labour Party had an electoral mandate to pursue universal health coverage and tackle the high cost of healthcare in Bermuda. She said: "Bermuda is a small jurisdiction and our health financing system unduly complicated, expensive and unsustainable. We have to find ways to minimise co-payments, improve access to primary care, and offer benefits to restore people's health and we are confident that simplifying our fragmented health system will help put us on the road to sustainability. Much work remains to be done on the Bermuda Health Plan and working groups will be set up to consider the public feedback and determine next steps." She was speaking after the One Bermuda Alliance asked Government to take a step back after concerns were raised over the plans. Patricia Gordon-Pamplin, the Shadow Minister of Health, said: "An Age Concern meeting on the health plan was left with standing room only and about 6,000 people have signed a petition against universal healthcare. The Minister insists that this is not rushed, and she has referred to a report which was done in a bipartisan way in 2012, thereby insinuating that the public has had seven years to digest this policy. The reality is that the report was not a bipartisan report, it was a sub-committee report issued by interested stakeholders. There were no public meetings explaining the changes or their impact on the public." Ms Gordon-Pamplin added: "The OBA supports healthcare reform because 60,000 people spending $700 million a year is not sustainable, but clearly Bermudians are very concerned about Government's plan and it must put it on hold until more details such as a true cost and details of all benefits are available."

A British woman caught with more than a kilogram of cannabis resin at the airport admitted possession of more than $139,000 of cannabis resin with intent to supply yesterday. Kirsty Hewitt, 30, pleaded guilty in Magistrates' Court to both charges. The court heard that Hewitt arrived at the LF Wade International Airport in St George's on a British Airways flight on December 3. She was cleared through a luggage check by Customs officers, but sniffer dogs alerted the officers to her suitcase. Hewitt denied possession of contraband. Officers found a red and black backpack in Hewitt's suitcase that she claimed belonged to a friend. Crown prosecutor Shuntae Simons said that Customs officers noticed the bag was empty but still heavy. Magistrate Tyrone Chin heard that customs cut the bag open and found a bag with a brown substance inside. Hewitt was arrested and taken to the King Edward VII Memorial Hospital, where she had an X-ray and physical examination before she was taken to Hamilton Police Station. The bag was later confirmed to contain 1,391.5 grammes of cannabis resin with a total street value of $139,150. Hewitt was interviewed by police but answered "no comment" to all questions. Ms Simons said that Hewitt, from Watford, near London, should be remanded in custody in case she turned to crime to support herself. She added that the drugs could have caused "serious damage" and posed a significant threat. But Simone Smith-Bean, for the defence, said that the resin, although illegal, did not pose health risks as serious as drugs such as heroin. Ms Smith-Bean added that she and her client had not seen the evidence against Hewitt and asked for time to review it before sentence was passed. Mr Chin remanded Hewitt in custody and adjourned the case until January 10 for the prosecution to give the evidence to Ms Smith-Bean.

A former police officer was jailed for 2½ years this afternoon for corruption. Pc Kyle Wheatley, 34, resigned from the Bermuda Police Service yesterday after he pleaded guilty in the Supreme Court to conspiracy to defeat the ends of justice. Acting Puisne Judge Juan Wolffe told the court this afternoon that corruption charges like those against Wheatley were a "strike at the heart" of the criminal justice system.

A low-ranking officer who admitted corruption has quit the Bermuda Police Service, the Commissioner of Police revealed yesterday. Stephen Corbishley said that he had accepted the resignation of constable Kyle Wheatley. Wheatley, 34, pleaded guilty to conspiracy to defeat the ends of justice at the Supreme Court yesterday and will be sentenced today. The charge involved the destruction or suppression of 63 traffic tickets between July 2017 and May 2018 and Mr Corbishley said that Wheatley took "beneficial gain in deciding not to continue with those tickets". Mr Corbishley added that it was important that officers were able to use discretion in some circumstances. But he said: "What should never happen though is that officer takes a personal decision for his own benefit ... because that is corrupt behaviour. That is behaviour that undermines justice and it's not the right thing. That cannot ever be accepted as a police officer." Mr Corbishley said that it was important to speak up when a police officer fell "below the standard expected by the public. That standard is that they work with integrity, they work with ethics, and they work, above all, with an honest service to the public. This particular officer chose to go another direction and put himself first and, indeed, he let down our local community in Bermuda and, indeed, he let down the Bermuda Police Service." But Mr Corbishley said that the behaviour of one officer "should not be used to reflect on the hard work, integrity and the ethics of officers and staff". He added that investigations continued into a separate "serious" allegation for which two other male officers have been arrested and suspended this month. The commissioner declined to comment on the nature of the allegation, but said that the investigation was "sensitive in regards to what the victim has reported to us". Mr Corbishley said that a case that involved two female officers, who have been suspended, continued. He confirmed the investigation also involved "corrupt behaviour". Mr Corbishley said that the women were on bail and that inquiries continued. He added: "We are confident that we are nearing the end of those inquiries and obviously a decision can then be made on what to do next." Mr Corbishley said that he did not deny that the police service had a problem with "a few rotten apples". But he added: "It's a problem not indicative of the majority of those that come in to work for us." Mr Corbishley said that it was the integrity of police officers that gave confidence to the public. He warned: "I make it clear, both to the public and indeed some of those people that work in the service, that they will be found out and their time with the BPS will no longer continue."

On December 5, U.S. Consul General Constance Dierman met with a group of representatives from the Women's Resource Centre (WRC) and Habitat for Humanity who were selected to participate in an exchange program designed by the U.S. Department of State. Before their departure to Washington D.C. on December 8, the group discussed how the International Volunteer Leadership Program (IVLP) will support the development of Bermuda's first Transitional Living Centre. The U.S. Consulate nominated Elaine Butterfield, Director, WRC; Sheelagh Cooper, Executive Director, Habitat for Humanity; Cheryl Minors, Executive Assistant, WRC; Judy Lowe Teart, Career Development Manager, WRC; and Tina Laws, Volunteer, WRC; to participate in the 10 day program, where they will visit three U.S. cities, explore organizations that provide sustainable housing and services for women and their families as well as mental-health wellness programs. They will have the opportunity to engage with leading representatives from federal agencies, non-profit organizations, and outreach programs to identify best practices that may be sustainable in Bermuda and gain first-hand knowledge of successful service models. The group plans to explore issues related to financial sustainability, data analysis, and collaborations between government institutions and civil society to address matters related to homelessness. "I am pleased that this dynamic group of women were selected to participate in this specialized IVLP program. It will provide a number of resources to help address challenges and create a system that will benefit women and their families here in Bermuda," says U.S. Consul General Dierman. The International Visitor Leadership Program is the U.S. Department of State's premier professional exchange program. Through short-term visits to the United States, current and emerging foreign leaders in a variety of fields visit organizations and meet with representatives that reflect the participants' professional interests and support common bilateral policy goals. Since 1940, the IVLP, with the help of a dedicated network of community-based non-profit organizations, has introduced over 225,000 participants to communities throughout the United States.

A supermarket group has donated half a million dollars to help build a new Agape House hospice. Giorgio Zanol, the president of the Lindo's Group, said his family had benefited from Agape and challenged others to match the company's donation. Mr Zanol said: "The Lindo's family have been the beneficiaries of the extraordinary work that the people at Agape House do. Our father and grandfather, Harry Lindo, had a brief stay at Agape House and our mother and grandmother stayed in Agape House for the last three weeks of her battle with cancer. The doctors, nurses, and support staff at Agape House are amazing people and do an amazing job supporting both the patients and the families of patients enduring their most vulnerable moments." Mr Zanol added: "We are proud to support Agape House in building a new facility that will give patients and their families the privacy and acute care that everyone deserves at their most sensitive moments." Zach Moniz, the manager of supermarket chain Lindo's Family Foods, also praised the work of the Agape House team. He said: "They are special in every way looking after the needs of their patients and patient's families. They are the heroes of our community." Tom McMahon, the deputy chairman of Friends of Hospice and the chairman of the campaign for funds for a new building, said the donation was a landmark moment. Mr McMahon added: "To receive such a significant contribution at the outset of our funding campaign for the new hospice is very much appreciated and hopefully builds momentum and encourages other potential contributors to commit to this project in the coming weeks. We are moving quickly to get commitments from potential donors so that we are in a position to break ground in the spring of 2020." Friends of Hospice and the Bermuda Hospitals Board announced the signing of a Memorandum of Understanding in July to develop a purpose-built hospice on the BHB-owned Harbour Vista site on Berry Hill Road, Paget. The new hospice, with equipment and furnishings, will cost an estimated $13.7 million and Friends of Hospice has already committed $1 million to be used as seed money for the project. The fundraising campaign has raised $1,734,200 for the project with the Lindo's donation. A planning application for the project, submitted on October 11, said: "The new hospice facility has been designed to current guidelines for hospice care. The building has two floors with both levels having several egress points at grade. It will accommodate the new hospice and all the support functions, a day hospice and offices for the BHB, which will replace those being demolished." The plan includes eight bedrooms with en suite bathrooms and verandas, a communal living room and dining room, several gardens and upstairs offices for doctors and the Friends of Hospice. The Agape House hospice opened its doors in 1991 in a former home on Point Finger Road, Paget. Improvements have been made to the building, but it is no longer considered up to the job. A spokeswoman for the hospice said: "Despite the exceptional care provided at Agape House, the medical team need appropriate facilities in order to provide the best care possible, and patients and their families and loved ones deserve privacy in a setting that allows dignity at a crucial time of life." Alison Soares, the chairwoman of Friends of Hospice and daughter of hospice founder Hillary Soares, said: "It is an incredibly proud and exciting time for me personally and the organisation as we begin to realise the vision that my mother started so many years ago. The new Agape House will provide the community with the level of care that every patient and family deserves during this stage of their lives journey."

A 27-year-old mechanic is facing a hospital bill of more than $300,000 after falling ill on vacation in the United States. Two weeks ago, Dandre Outerbridge, who works for Correia Construction, developed symptoms of viral encephalitis, a form of meningitis that attacks the central nervous system, while celebrating the birthday of a friend in Florida. Mr Outerbridge's father, Andre Woods, and mother Jeanna Scott, who lives in Illinois, rushed to his bedside. His parents were shocked to learn that Mr Outerbridge's insurance did not cover emergency treatment overseas without a referral from a doctor in Bermuda. Ms Scott, a former teacher at T N Tatem Middle School, said: "As of last week Wednesday alone his hospital bill was $211,000." Mr Outerbridge was in intensive care last night, on a ventilator and being given a spectrum of antibiotics to treat the as yet unidentified form of viral encephalitis. His mother said: "We can guarantee that this next week will be in the $300,000 bracket and that is not including the specialists. That is just his hospital stay. We don't know what damage it has done to his central nervous system." For now Ms Scott said everything is "day by day" for Mr Outerbridge. Friends have set up a Go Fund Me page for Mr Outerbridge to help raise much needed money. His family hope to sell inspirational wrist bands and Christmas wreathes, but Ms Scott said there was not much she and his father could do at the moment because they need to with their son.

December 9

A professional services firm has been recruited to help deliver a joint vision for a healthier Bermuda, the Government announced last night. KMPG will provide project management as the island's "health strategy" is updated. It came as public consultation on health financing reform ended yesterday. Kim Wilson, the health minister, said: "We all want affordable and high-quality healthcare. Together, we are working hard to ensure all residents enjoy equitable access to the quality care our families depend on, while making important choices to put our healthcare system on a sustainable path." She explained that the Bermuda Health Strategy 2014-2019 was published under former health minister Jeanne Atherden, during the previous One Bermuda Alliance government. Ms Wilson said it built on the earlier National Health Plan and "outlined strategic reform priorities for Bermuda's health system". She added: "Much was achieved since that time, but further work is required to fully achieve success. With the strategy expiring this year, I want to build on that good work and refresh and upgrade the Bermuda Health Strategy to produce the vision and goals for 2020 to 2025. We are determined to make Bermuda healthier and we need a joint vision for health that inspires hope, trust and confidence across the community. This project will be led by a multisectoral steering committee and a broad cross-section of healthcare stakeholders as a Strategic Leadership Group. Their input and guidance will set the direction of the 2020-2025 strategy for healthcare in Bermuda. Further, to support our efforts, we have engaged KPMG to provide independent, local project management resources and to leverage their global healthcare insight. KPMG has been engaged via a partnership between the Ministry of Health and the Bermuda Hospitals Board." Ms Wilson said that BHB believed in the need for a "comprehensive and shared strategic vision and plan for Bermuda". Members of the health financing reforms stakeholder consultation group, which was set up last year, were invited to take part in the Strategic Leadership Group along with other health professionals. Consultation with relevant groups will take place in the first quarter of 2020. Short surveys — to be carried out and analyzed by KMPG — were expected to be launched this week on forum.gov.bm. Ms Wilson said: "The Strategic Leadership Group will guide the way to build consensus on the current state of healthcare in Bermuda and the future state that we want to achieve together. Bermuda has a strong and compassionate healthcare system. This is the result of tremendous effort from our frontline providers — our dedicated doctors, nurses and allied health professionals — and the business community, insurance sector and Government. I believe this broad stakeholder collaboration will assist my ministry by bringing the breadth of perspectives across healthcare leaders in our community. I look forward to the outcome of their deliberations to provide me with the 2020-2025 vision for healthcare in Bermuda." The Bermuda Health Strategy takes in the wider health system including prevention and long term care. The Bermuda Health Plan is a part of the broader strategy and is focused on health financing reform to improve access and sustainability in the health system.

The Department of Parks has sent out a request for proposal for concessions at several beaches and parks for next summer. A spokesman for the Department said they are looking for qualified concessionaires to submit proposals for Church Bay, Horseshoe Bay, Admiralty House, Shelly Bay and Kindley Field. Horseshoe Bay can house two concessions, while the remaining locations have a position for one concession each. The proposals will be for the 2020 summer season, which lasts from the start of April to the end of October. The spokesman said: "Proposals may be submitted for one or more concession locations, however, only one will be awarded per concessionaire. "To collect the Commercial Activity application form and concession location maps, please visit the Department of Parks' main office reception desk, at Global House, Ground Floor, 43 Church Street, Hamilton." Applicants should provide all supporting documents and a completed commercial activity application form to the Department's reception desk by 4pm on January 10.

The assistant director of the Department of Child and Family Services is to stand trial over allegations she assaulted a teenage girl who refused to board a flight to the United States. Kennette Robinson, 51, was charged last Thursday in Magistrates' Court with assault and mistreatment of a child. She denied both offences and the case was adjourned until January 13. Ms Robinson is alleged to have assaulted the 17-year-old at the LF Wade International Airport on May 8 this year. The girl claimed she was attacked by Ms Robinson when she complained she did not want to be sent to an overseas secure treatment centre. Three sources told The Royal Gazette the youngster was being forced to return to the institution as part of the department's psycho educational programme, which is for children deemed to have problems which cannot be tackled on the island. One source, who spoke to the girl, said the teenager was at the same US centre earlier but told DCFS staff she did not want to go back because it was "horrific". The source added: "She is not even allowed to whistle, hum or sing." The Government refused to say in May if Ms Robinson, who was acting head of the DCFS for a period of time last year while director Alfred Maybury was under investigation, was suspended or if it had launched its own inquiry into the alleged assault. The DCFS's policy on staff under investigation requires them to be placed on administrative leave and to have no contact with child clients until the inquiry has ended. Ms Robinson was at work as recently as November 29, when she e-mailed a reporter at the Gazette to confirm receipt of a public access to information request for the Child Care Placement Board.

A young woman who spent more than a year in a Utah residential institution said the experience was a good influence on her life. The 27-year-old revealed that she enjoyed theatre and rafting trips as part of her time at Moonridge Academy in Utah when she was a teenager. But she said no litigation guardian was appointed to speak for her before she was sent away and she claimed no officials from Bermuda's childcare services visited during her time in the US. The woman said: "Reading the articles now, that's what makes me irritated ... children now having legal guardians or representation. I didn't." She explained that she went to live with a relative as a child after a breakdown in her parents' living arrangements. Her behaviour sparked cause for concern when she was about 12. The woman said at some point, although she cannot remember all the details, she was taken into the care of the Department of Child and Family Services. The youngster had a therapist, and an educational consultant was asked to consider treatment centres for her. She said Moonridge Academy's "homely" feel meant it was chosen out of three alternatives and she travelled there when she was about 14. The woman added: "It was an all-girls treatment centre, I was the only black person there when I went. It was OK because after a couple of months another brown-skinned girl came so we were able to talk and connect. No racist stuff happened to me out there. I still stay in contact with some of the girls that were there." Moonridge Academy's website said it "provides a specialized unique learning and healing environment" for girls aged between 11 and 15. The woman explained she shared a "well-kept" room with four other girls. Residents performed chores and attended school on weekdays until noon, followed by private therapy sessions. They attended Moonridge's sister school Kolob Canyon at weekends. The school's website said it was set in a 23-acre horse ranch that provided a "perfect outdoor classroom". The woman said: "It was beneficial because I think if I would have stayed [in Bermuda], I would have ended up with a child super early." She added: "It had some good times. I went white-water rafting twice, I got to see Shakespeare plays, I went to see a Titanic exhibition in Las Vegas." The girl was at Moonridge for about a year and a half and said she believed she returned to Bermuda for visits up to three times. But she said did not remember ever getting visits or phone calls from staff at the Department of Child and Family Services.

Lawyers have been given permission to proceed with a court case launched on behalf of a five-year-old boy who it was claimed had been denied legal protection through a failure to fund independent court representation for him. Martha Dismont, for the child, made an application in October for leave to apply for judicial review in an action against the Attorney-General and Minister of Legal Affairs. The move came more than four months after appeal judges ruled that failure to introduce a funding scheme for litigation guardians breached obligations set out in the Children Act 1998. Papers filed in the Supreme Court in October alleged that funds had still not been provided. Ms Dismont, the executive director of Family Centre, but who acted in a personal capacity, said in an affidavit: "This situation for the applicant and all other affected children is simply unacceptable and inexplicable. How can we expect children to respect the law and the court system when those who are obliged to protect children refuse to respect the law and a judgment of the Court of Appeal?" The affidavit accompanied the application and explained that the boy's litigation guardian Tiffanne Thomas withdrew her services in November 2018 because of the minister's "failure to pay her". Ms Dismont wrote: "Consequently, the applicant no longer has an independent social worker to make submissions and recommendations on the child's welfare." She added: "The respondent's failure to pay the litigation guardian is also denying the applicant legal representation. Although he has a lawyer, the law does not permit a lawyer to take instructions from a five-year-old. The lawyer must act under the instructions of a litigation guardian. In this case, there is not one, due to the respondent's failure to pay her." She added that the child and his lawyer, Saul Dismont, were "deprived full access" to records on the boy held by the Department of Child and Family Services because only a litigation guardian can obtain them and use them in evidence. The civil application in the Supreme Court asked for, among other things, relief in respect of the minister's "refusal to abide by" the Court of Appeal judgment, and her "decision to deny the applicant's right to a fair trial", by a failure to put in place a scheme to fund litigation guardians and counsel. It also asked for relief in relation to the failure of the Minister of Legal Affairs — at present Kathy Lynn Simmons — to appoint a panel of litigation guardians. Ms Simmons announced last week that a panel had been set up. She added: "The ministry will monitor and assess the effectiveness of the implementation of the present legislative scheme for the appointment of litigation guardians and counsel, while simultaneously advancing a fiscally sustainable and independent model in keeping with best practice in this area." Mr Dismont said later that leave was granted to pursue the case last month and the parties involved awaited a hearing date.

Schoolboys aged just 14 and 15 were locked up at the Co-Ed Facility as recently as this year despite laws designed to prevent the detention of children unless in exceptional circumstances. Ian Kawaley, a former Chief Justice, ruled in 2012 that a sentence of "corrective training" for a minor who was committed to the St George's facility was "a custodial penalty akin to imprisonment". Assistant Justice Mark Pettingill, on a separate point of law, found earlier this year that the detention of a 15-year-old boy at the Co-Ed by the Commissioner of Prisons was unlawful. Mr Justice Pettingill added that the Department of Child and Family Services was complicit in the unlawful detention by either "misapplication or disregard for the requirements of the Children Act 1998". The Royal Gazette reported in May that police overstepped their authority when they handcuffed the 15-year-old boy at his school. Mr Justice Pettingill's written judgment said that officers had taken "the draconian step of effectively incarcerating a minor" after the boy skipped his flight to an institution in Utah. The ruling explained that the child was taken into care by the Department of Child and Family Services in March and a magistrate granted an application to send him overseas a month later. It added that arrangements were made to get the boy to the airport, but he was denied a request to collect some belongings first. The refusal was said to have "tipped the pebble off the cliff" and when the child reached the airport he went to the bus stop, returned to the residential centre and attended school the following day. Mr Justice Pettingill wrote: "It is agreed that while at school, two social workers and three police officers attended and the boy was placed in handcuffs and removed from the campus, despite the fact that he was compliant and was certainly not under arrest for any crime. This is the first element of this matter which causes the court significant concern as I fail to recognise by what legal authority the police became involved and effectively placed a minor child in custody. The court is aware that this is not the first instance of the police acting beyond their powers at the request of the DCFS. The situation was compounded when the boy by agreement and prior arrangement with the Commissioner of Prisons was transported to the Co-Ed facility by the police". Tyler Christopher, now 23, told The Royal Gazette that he believed he was the first to be "housed" at the Co-Ed when he was 15 in January 2012, despite not being convicted of a crime. He said: "No one had ever seen this before, that's something I will never forget. No one had ever seen someone housed at Co-Ed without committing a crime." Mr Christopher claimed that he was sent to the Co-Ed — where he remained for three months — because he was in DCFS care and it was thought that placing him with youths from Somerset at the Oleander Cottage boys' home would be a security risk. Another youth, whose story The Royal Gazette reported in June this year, told how he went to Co-Ed as a teenager after stints at two different overseas schools. He had been arrested for stealing on his return to the island and he alleged that Alfred Maybury, the director of the DCFS, would not sign his bail. "I don't think he had anywhere proper for me to stay," he said. "So I had to go to jail at Co-ed. When I got there I had to take all my clothes off and stand butt naked in front of the prison guards. They said they have to do it to everyone, but it didn't make me feel any better." A child identified as JS appealed against "a sentence of corrective training imposed for an indeterminate period for various offences" by Magistrate Tyrone Chin sitting with a panel in the Family Court imposed in January 2012. Mr Justice Kawaley wrote in a Supreme Court judgment in June that year: "The principal ground of appeal was that the appellant was only 14 years of age at the date of sentence, the court below had no power to impose any period of corrective training." He said it was accepted that the sentence was unlawful and should be set aside. The Young Offenders Act 1950 stipulates that if a child — at the time someone under 16, but amended this year to mean someone under 18 — is convicted of an offence that can be punished by imprisonment, the court can order probation or to "commit the child to the care" of the director of the DCFS or another person. Mr Justice Kawaley's judgment showed that parts of the law that allowed the court to order detention of a boy were relevant only in cases of murder, attempted murder or manslaughter. He said that prosecutors believed a community-based sentence was appropriate and sought an order placing the boy in the director's care. Mr Justice Kawaley added: "Against this background, the imposition of a sentence of corrective training on a 14-year-old child by what is supposed to be a specialist child-centred tribunal is wholly inexplicable. No reasons for this astonishing sentence were recorded in the magistrate's notes. One can only hope that the appellant came to no harm during his nearly five months' detention in a place the law deems to be unsuitable for a child." Mr Justice Kawaley highlighted that the warrant for the boy's detention said he would be kept in the senior training school with "corrective training at the Co-Ed facility to obtain the following — he is to be enrolled in the GED programme". He said that the maximum term of the sentence should be made clear. Mr Justice Kawaley wrote that section 41 of the Act allowed "detention in the senior training school or a prison pending trial, in exceptional circumstances, of children no younger than 15". But the Act insisted the child would have to be charged with a serious offence that involved violence. Mr Justice Kawaley said that "the manifest object of the Young Offenders Act is to minimise the circumstances in which a child accused or convicted of a criminal offence is detained". The Ministry of National Security and the Bermuda Police Service did not respond to requests for comment.

A slump in retail sales needs urgent action, the Opposition has claimed. Nick Kempe, the One Bermuda Alliance's shadow finance minister, said that a change in approach was needed to protect Bermudian jobs. Mr Kempe added: "Last week we heard from Zane DeSilva, the Minister of Tourism and Transport, that 200 Bermudians had lost their jobs in the retail sector. Now we hear that retail sales volume has again plunged when compared to August 2018's already low numbers." Mr Kempe was speaking after figures released last week showed retail sales dropped by 7.6 per cent in August year-on-year when adjusted for inflation — the largest decline since June 2018. The value of retail sales dropped almost $7 million from an estimated $97.8 million to $90.9 million. Mr Kempe said: "Inflation is low as businesses are struggling to pass on all the new taxes and healthcare costs due to the plummeting spending numbers. It is no wonder that stores are closing, and people are losing jobs. Yet again I ask — where is the plan to fix this? Fintech jobs have nowhere near replaced jobs lost in other sectors and major construction projects will soon be coming to an end with nothing on the horizon to replace them." Mr Kempe criticized a lack of progress on immigration reform and said the working class and businesses had borne the brunt of tax increases. He said: "We need to reduce the burden of government and corresponding taxation levels required to sustain it. We cannot continue to shift government expense onto workers and businesses and raise taxes at the same time. All the while, the size of government increases and little is put towards the debt. We must reform immigration, not to open the floodgates to foreigners as opponents to reform ridiculously claim, but to retain the existing guest workforce and to attract new wealth creators. Piecemeal changes in payroll tax for large retail stores is clearly not helping and the mom-and-pop corner stores are suffering and closing. Our premier is fast resembling Nero as he played his fiddle while watching Rome burn."

People who battled back against physical disabilities have been honoured as part of day to mark the struggles of the disabled. Chyone Harris, 26, said he believed that he would never dance on stage again after spinal injuries left him paralyzed. But he added that after years of rehabilitation he was at last able to perform again with the Troika performance group. Mr Harris said: "After being off the stage for a while, getting back on stage with a disability was probably one of my biggest uncertainties. But although I was in my wheelchair, I was still a part of the performance, so I still lived out my dream to participate in performance art." Mr Harris, from Sandys, was speaking after he attended a reception for the International Day of Persons with Disabilities last Tuesday. The reception, held at the Bermuda Society of Arts at Hamilton's City Hall, recognised Mr Harris and four other disabled people who overcame their physical limitations. Mr Harris said that his performing arts dreams were dashed after he fell 25 feet from a balcony and landed on a pile of rocks. The plunge, which happened in 2015, broke his neck in two places and almost cost Mr Harris his life. He was only 22 years old. Mr Harris said: "The fact that I couldn't move as freely in my body was frightening, but I kept visualizing myself dancing." He added: "It gave me a sense of relief to know that I could still see my potential by visualizing it, although I couldn't physically do it." He said he had since regained the ability to walk with a walking frame, although he still uses a wheelchair to get around. Mr Harris was also invited to join the cast of a tenth anniversary show for Troika in August. He explained that he performed a theatre number with acting, singing and dance he had perfected before the accident. Mr Harris added that he adjusted the performance to fit the limits imposed by his wheelchair. He said: "I really didn't know what the outcome would be until I tried it, but I was able to step out on a leap of faith and just be confident." Mariana Teixeira, 55, said that she worried she'd suffered a stroke when the left side of her body started to go numb in 2005. But, after a year of medical tests, she was told she had multiple sclerosis. Ms Teixeira said: "I was always thinking 'please don't let it be multiple sclerosis — I can take pills or therapy, but I can't handle something that has no cure. But it ended up being that and they told me just before Christmas. Merry Christmas to me." Ms Teixeira said that the progressive condition weakened her muscles until she was confined to a wheelchair in 2013. But she added that she was determined to stay strong for her family. Ms Teixeira explained: "I was not going to let my children see me as taking the easy way out. So I got up every day, I put on my big girl socks and it was go time. You have to swallow a lot of pride, but not in a bad way. You just have to sit back and say 'I used to do this and now I can't, but that's okay — somebody's here to help me'. Ms Teixeira, who also attended the Persons with Disabilities celebration, admitted that she had trouble accepting her reliance on others. But she added that her family's aide helped a great deal in her adjustment to a new way of life. Ms Teixeira said: "It is very hard, coming to that realization, but you definitely learn who you can rely on." Kim Wilson, the Minister of Health, attended the celebration and honoured Ms Teixeira for her determination. She said: "Persons with disabilities frequently encounter a myriad of challenges and are often subjected to stigma and discrimination. Collectively, we must empower persons with disabilities to become agents of change, as their involvement can help create opportunities for everyone." Valerie Wade, Jason Minors and Ryan Gibbons were also honoured during the reception.

Ten people were arrested at the weekend on suspicion of drink driving. A spokesman for the Bermuda Police Service said that six of the arrests were connected to roadside breath checks. The roadside checkpoints were conducted in seven parishes from Friday night until yesterday evening. The spokesman said that the next series of checkpoints would be conducted this weekend. He added: "The checkpoints will be in effect in Hamilton Parish, Smith's, Devonshire, Pembroke, Paget, Warwick and Southampton on Friday, Saturday, and Sunday.

Women from the Bermuda Rifle & Drill Team took a trip to the United States to make preparations for their Bermuda Day Parade demonstration. The drill team sent 16 members to New Jersey on November 12 to find materials, measurements and ideas for their parade uniforms. Sergeant Debbie Symons said she wanted to let the team experience the hard work required so that they can look their best for the May 24 celebrations. Nichole Wainwright, from Hamilton Parish, said that the week of errands made her downtime feel all the more worthwhile. She added: "Now I understand it's not as easy as it looks, but I can now appreciate all the running around Sergeant Symons has to do." Ms Wainwright said that she organised bonding exercises for the team in during their downtime. She added that the level of coordination needed for her part helped to sharpen her leadership skills. Ms Wainwright said: "I have now prepared myself to take some of the heavy load off of Sergeant Symons to ease her up in preparation for the parade. I totally understand and appreciate all of her hard and dedicated work." Lora Davis said that she was forced to join the group a day late due to her commitments as a teacher at Dellwood Middle School. But she added that the trip was a close bonding experience for her with the rest of her team members. Ms Davis said: "I feel us ladies have bounded closer and we are now more and more of a sisterhood group." Ms Davis, from Warwick, explained that trips such as these helped team-mates grow closer and operate as a tighter unit on the day of the parade. She added that she planned to get herself more in shape so that she could give a better performance at the parade. Sheena Daniels, who joined the BRDT in March, explained that the trip required a lot of traveling. She admitted that a lot of time was dedicated to finding small components for the uniform. But Ms Daniels added: "It's the small little items that are important to make us look perfect. The running around was something I enjoyed and now has drawn me to be more involved with such a positive group with positive women." Ms Daniels, from Sandys, said that her role on the trip was to keep track of every team member during travels. She explained that her role directly enforced the team's motto: "No Women Left Behind". Ms Daniels added that the BRDT was the first military group she had ever joined. She also said that she greatly enjoyed the camaraderie and recommended any interested women join. Ms Daniels said: "This is a phenomenal group which I advise any women, whether married or single, to join. It allows you to get some 'me time' away from your every day life schedule."

Mount Saint Agnes Academy (MSA) has hired a new Director of Advancement in an effort to advance the school in a number of areas, including building alumni connections and keeping the school visible in Bermuda's community. Suzanne DeCouto joins MSA from the Bermuda Red Cross, where she was the Fundraising and Communications Manager for five years. As a graduating MSA Alumna and the parent of a son in Grade 6, Suzanne is very familiar with the school, both past and present. Her role will include managing campaigns and fundraising programs, external relations, relationship building and helping to advance the school in areas of growth, sustainability and upgrades. MSA Principal, Sue Moench, said, "We are very happy to welcome Suzanne back to the MSA family. With the successful implementation of the Alberta Curriculum, our school has been transforming across the board and Suzanne's role is an integral part of sustaining that momentum internally and communicating it externally." Suzanne Decouto comments, "No two days are the same, one minute I could be working on Careers Day with our current students and parents and the next I am connecting with Alumni who have been with the school for generations." It is a strange feeling to be back in these corridors as a member of staff, but I love the nurturing atmosphere at MSA and I feel like part of the family already." In 2020, MSA will celebrate its 130th anniversary. Suzanne is planning events surrounding the celebration and encourages all Alumni who are not already part of the alumni community to stay connected. MSA also has a social media platform.

Christmas came early for animal welfare charity SPCA (Society for the Prevention of Cruelty to Animals) following a recent 'lunch and learn' session at Third Point Reinsurance Ltd. (Third Point Re). Staff at the Hamilton-based specialty property and casualty reinsurer surprised SPCA Executive Director Kate Terceira and Board member Louisa Knight with a wheelbarrow full of gifts – the result of an employee drive to purchase much-needed items from the SPCA's Christmas wish list. Ms. Terceira said she was "overwhelmed" by the surprise donation which included animal feed, cleaning accessories and walkie-talkies. Third Point Re's Suzanne L. Wylie, Assistant Vice President, Legal Administration, said: "We're delighted to help support animal welfare in Bermuda and in particular the mission of the SPCA to promote the education for the general public on care and well-being of all animals." During the lunch and learn session, Third Point employees heard how the charity – which is celebrating its 100th year – aims to be more than "just a shelter" through educational programmes like its planned Compassionate Classroom initiative. Designed to "encourage children to develop compassion and empathy skills for life through the lens of animal welfare", Ms. Terceira said the SPCA hopes to introduce the programme to all primary schools over the next two years. At any one time, the SPCA shelter cares for between 40 and 100 abandoned, abused or neglected animals and in an average year, its adoption service finds homes for more than 300 animals. Ms. Terceira explained that the SPCA was working towards a "managed intake" system in order to properly look after the increased number of animals it is asked to take. "People have to be prepared to wait," she said. "We are trying to encourage people to plan ahead. We understand that things happen – people leave the island or become too old to look after a pet – and it's not always possible so we try very hard to work with every situation on an individual basis but we only have so much room." For more information about the SPCA, visit spca.bm

December 8, Sunday

December 7

An investigation into the Criminal Injuries Compensation Board has highlighted serious problems, the Ombudsman revealed yesterday. Victoria Pearman said the board lacked the basic administrative and financial backing to do its job. Ms Pearman added: "Without prejudging any matters, my investigation thus far has revealed that the board does not have an operating budget or appear to have dedicated resources for the administration of its important work of aiding vulnerable people. It is difficult to see how the board can operate effectively without having allocated to it the support required for any modern administrative function." She said that her investigation into the CICB, the government body set up to compensate victims of crime, was "progressing". Ms Pearman added: "We have had productive and informative discussions and are carefully reviewing the vast amount of material required as part of our work." She was speaking after The Royal Gazette asked a series of questions about the Criminal Injuries (Compensation) Amendment Act 2019 tabled in the House of Assembly last Friday. The explanatory memorandum for the Bill said the amendment was "to allow for improved efficiency in carrying out the mandate of the CICB". The Bill also proposed that members of the CICB should be appointed by the Minister of Legal Affairs rather than the Governor. Kathy Lynn Simmons, the Attorney-General and the Minister of Legal Affairs with responsibility for the CICB, and John Rankin, the Governor, declined to comment on the Bill. Ms Pearman said that her investigation had shown "that on occasion the board has experienced delays in being constituted". She added: "By streamlining the appointment process this might reduce delays experienced in the past." The Bill also proposes to change the qualifications for the CICB chairman "by changing it from a judge to a barrister and attorney with at least ten years' experience and also amends the qualifications for the deputy chairman of the CICB by requiring the barrister and attorney to have at least eight years' experience". Ms Pearman said that the change would mean "less demand on scarce judicial resources". She added: "I have confidence that senior members of our Bar have the requisite skills to effectively weigh the evidence and apply the law which is required for these roles." Ms Pearman announced in her annual report last year that she had launched the inquiry after she "grew concerned" that the victims of crimes and their families were facing "long periods — sometimes years — of uncertainly" as they waited for the CICB to hand down decisions. She added: "It is in the public's interest to investigate possible maladministration that impacts vulnerable members of our society, such as the victims of crime." Ms Pearman added that she became aware of the problem last October through a news story published in The Royal Gazette. The story involved a victim of gun violence who had applied to the CICB for compensation in 2015 after he was shot a year earlier. The man, who asked not to be named, said last month that he had been told he was to get a payout for his injuries. But he said that the decision would not stop legal action against the CICB and the Attorney-General for damages over the delay. The action for damages claimed a Constitutional breach of duty by the CICB and the Attorney-General by "unreasonably delaying the hearing of his application". It said that the man wanted a declaration that his rights had been breached and aggravated, as well as exemplary and punitive damages, "equitable compensation" and costs.

A vehicle emissions test firm has launched legal action against the Ministry of Tourism and Transport after their contract was axed at the start of the year. Bermuda Emissions Control Ltd filed a writ against the Minister of Tourism and Transport and others last month. Other respondents include Roy Dennison, Vernon Tucker, Craig Smith, Edward Harris, Mike Watkins, Willoughby Richardson, Arthur LaSalle and Winifred Butterfield, who are understood to be former employees. A spokesman for the firm declined to comment on the lawsuit yesterday. It was reported in January that the firm would be stripped of its contract to carry out checks for the Transport Control Department from the start of February and that TCD would carry out the work itself. A spokesman for the Ministry of Tourism and Transport said at the time that most of the team would be offered employment under the new arrangement, which was expected to save the Government $400,000 a year. BECL started emissions testing and roadworthiness checks for all vehicles in 2009 after it was awarded a controversial multimillion-dollar deal without a tender process. The company was tasked with testing the emissions of vehicles every year — but there are no emissions standards in place, which made it impossible to fail. The original five-year contract was later extended on shorter-term deals by the former One Bermuda Alliance administration. The contract was last renewed for a year in early 2018 by the Progressive Labour Party government.

Compensation for crime victims will be speeded up if changes are made to the body responsible for payments, an island lawyer said yesterday. Cristen Suess, of law firm Wakefield Quin, said the proposal to replace a judge with a senior barrister as chairman of the Criminal Injuries Compensation Board was "positive". She added: "Although the changes put forward may seem simple, the effect will be such that there will certainly be a redistribution of court resources, which I think will have an impact on reducing delays, saving time and cost." The Criminal Injuries (Compensation) Amendment Act 2019 was tabled in the House of Assembly last week. The explanatory memorandum said that the amendment was "to allow for improved efficiency in carrying out the mandate of the CICB". Under the amendment, members of the CICB will be appointed by the Minister of Legal Affairs instead of the Governor. The memorandum added: "It also amends the qualifications for the chairman of the CICB by changing it from a judge to a barrister and attorney with at least ten years' experience and also amends the qualifications for the deputy chairman of the CICB by requiring the barrister and attorney to have a least eight years' experience." It was tabled by Progressive Labour Party backbencher Neville Tyrrell. Kathy Lynn Simmons, the Attorney-General and the Minister of Legal Affairs with responsibility for the CICB, and John Rankin, the Governor, declined to comment on the Bill. Ms Suess said that a similar approach had been taken with amendments to the Liquor Licencing Act 1974. She added: "The shift away from boards, authorities and tribunals being inherently linked to the court from the outset demonstrates a more modern approach to streamlining the judicial process as a whole. The court's resources are already stretched to capacity. I would say that the proposed amendments to this legislation will contribute, substantially, to improving the efficiency of the court, which can only be a positive thing." Ms Suess for several years represented a man who applied to the CICB for compensation in 2015 after he was shot the year before. The man, who asked not to be named, said last month that he had been told by the board that he was to get a payout for his injuries. But he said that the decision would not stop legal action against the CICB and the Attorney-General for damages over the delay. The action for damages claimed a constitutional breach of duty by the CICB and the Attorney-General by "unreasonably delaying the hearing of his application". It said that the man wanted a declaration that his rights had been breached and aggravated, as well as exemplary and punitive damages, "equitable compensation" and costs. Scott Pearman, the Shadow Minister for Legal Affairs, said that the One Bermuda Alliance had "repeatedly raised concerns about the significant delays by the CICB". He highlighted that the Court of Appeal had criticized the board for its "serious backlog" of cases. Mr Pearman said: "It is not immediately clear how the proposed changes to the appointment and qualification of the chair will improve delays. No doubt the Progressive Labour Party will explain why they think the Bill will improve matters." Mr Pearman added that the Bill would be discussed by the Opposition in caucus this week.

The Supreme Court struck down a claim yesterday that the former owner of the Olympic Club breached a merger agreement with The Athletic Club. Wayne Scott, who represented The Athletic Club in court, argued that Scott Stallard had broken clause 26 of the agreement by selling gym equipment that had belonged to the Olympic Club, among other allegations. However, Mr Stallard said there were no breaches and Kym Herron Scott of The Athletic Club either acceded or agreed with his actions. Assistant Justice Jeffrey Elkinson found, in a decision handed down yesterday, that Mr Scott failed to provide evidence to support his argument. Mr Stallard had showed the court e-mails between himself and Mrs Herron Scott, in which she accepted that he had the right to sell the gym equipment. Mr Justice Elkinson said: "The defendant had put itself in a position where it was unable to establish the alleged breaches of Mr Stallard simply by relying upon the evidence of Mr Scott. Leaving aside that much of the evidence of Mr Scott was replete with hearsay, and in some circumstances, lacking in supporting documentation, which Mr Scott said was available, the defendant did not present any or sufficient evidence that could give rise to clause 26, having the effect that the defendant sought to argue that it did." Mr Scott said the judge was mistaken in his ruling and told the court he intended to appeal the decision. The ruling was a prelude to a larger court case in which Mr Stallard alleges The Athletic Club owes him more than $100,000 as part of the 2014 merger of the two clubs. Mr Stallard said that, as part of the agreement, Ms Herron Scott promised to pay $3,000 per month for a period of 42 months starting on December 1, 2016, but that no payments had been made. He also alleges that The Athletic Club owes $22,000 for rent and $17,000 for social insurance payments. At a hearing last month, Mr Scott argued that Mr Stallard had breached the contract before the first payment could be made, which voided the obligations of The Athletic Club. He told the court Mr Stallard sold gym equipment belonging to The Athletic Club from the Olympic Club in March 2015. And he alleged that under the agreement Mr Stallard was supposed to provide The Athletic Club with the originals of all contracts, but he failed to provide copies of an employment contract for one of the Olympic Club's employees. An unsigned employment contract was later produced in the lead-up to an Employment Tribunal case. Mr Justice Elkinson said the employment contract could not have been breached as the employment contract was unsigned. The judge said Mr Scott's decision not to call any other witnesses to support his allegations had made it impossible for the court to find there had been breaches. He told the court: "You never called Ms Herron Scott as a witness, so there was nothing to contradict what Mr Stallard said. That meant the preliminary case could not succeed." Mr Justice Elkinson adjourned the case until April 2, but said the case could return to the courts sooner if Mr Scott is not granted leave for his appeal to be heard.

Social media posts that identified a customs officer as the man at the centre of an international police investigation were wrong, a police spokesman said yesterday. The spokesman said a 41-year-old man had been arrested in connection with an investigation by Canadian police, but the case did not involve the man whose picture had been posted online. He added: "Members of the public are strongly advised not to continue to circulate the unfounded social media message." The spokesman said the Electronic Communications Act made it illegal to spread false information "for the purpose of causing annoyance, inconvenience or needless anxiety to another". The maximum penalty for the offence is one year in prison and a $25,000 fine.

Travellers, including a national sports team headed for the United States, had to walk to the airport yesterday after an early morning collision on the Causeway brought traffic to a standstill. A female driver was later arrested on suspicion of impaired driving. A bystander said: "People heading to the airport for several morning flights, including the national volleyball team, were forced to get out and walk across the Causeway as no traffic was getting through." The woman added that the chaos started after two vehicles collided on the narrow crossing at about 6.30am. She said traffic was backed up as far as Crawl in Hamilton Parish for more than an hour before the road reopened. She added: "They really need a better plan when this happens, because as much as everyone was concerned about the accident victims, it was a massive inconvenience to locals and tourists trying to make sure they caught their flights. They would have to pay for the expense of rebooking, not Bermuda." A police spokesman said the crash occurred when a car driven west by a female driver collided with a truck headed in the opposite direction. There were no injuries but both vehicles were damaged in the collision.

Revellers from across the island travelled to the East End last night for an annual Christmas fête put on by a conservation charity. The Bermuda National Trust Walkabout filled the streets of the Olde Towne as people came out to tour historic BNT properties. It was the 41st time the event had taken place. Angela Sulley said that it was the fifth consecutive year that she had attended the event with friends and that the walkabout served as the kick-off to the Christmas season for many. Ms Sulley added: "I love this event. If you are into Christmas, this is the event to be at. It's a fun time of year." The Paget resident was joined by a group of nine adults this year. She added: "It's kind of like an annual thing." Ms Sulley said that her highlights had been the musical performances, dancers and artwork on display. Preston Gill said that the "charm of the Olde Towne" was on full display. He added: "It's a lovely evening to take a stroll and enjoy the oldest town in Bermuda and a great opportunity to see bits and pieces of our heritage." The Smith's resident added: "There's a real sense of community for young and old alike." The Old Rectory, Buckingham, Tucker House, the Globe Hotel and other properties opened their doors to welcome visitors and performances were held in Kings Square. Jordan Smith, the development officer with the BNT, said that the event had been "amazing". She added: "Everyone seems to be really happy. There's a lot of Christmas cheer. Everyone that I have talked to sounds like they are enjoying it." Ms Smith said the event also showcased some of Bermuda's unique heritage and culture to island residents and visitors alike. She added: "This is where Bermuda started. When St George's is lit up, it's just such an open and beautiful town. It's just a great way to get everyone in the holiday mood." Ms Smith said that a lot of work by BNT staff, volunteers, community members and sponsors went into putting the event together. But she added: "It's worth it in the end." Kevin Dallas, the chief executive of the Bermuda Tourism Authority, said that the event had been "fantastic, as always". He said that it was the cross-section of the Bermuda community that the event brought out that made it special. Mr Dallas added that the timing of the event also made it unique. He explained: "As we think about Bermuda being for all seasons, we think this exactly the kind of signature event that we can build on to grow Bermuda's winter visitor trade." Mr Dallas said a personal highlight of this year's event had been the performances by children taking part. He added: "The kids are so proud and so involved — and it's wonderful to see."

December 6

Legislation to require non-Bermudians be enrolled in a pension scheme was approved in the Senate on Wednesday. The National Pension Scheme (Operational Pensions) Amendment Act will also allow seniors to withdraw up to 25 per cent of their pension savings after retirement. Vance Campbell, a Progressive Labour Party senator, said the changes would help level the playing field between Bermudians and non-Bermudians in the job market. He added the opportunity for seniors to withdraw part of their pensions would give them another option to pay for mortgages. Nick Kempe, a One Bermuda Alliance senator, said many of the amendments included in the legislation were good, including a shorter vesting period which would benefit workers who move from job to job during their careers. But he questioned if the reforms would make life easier for job-hunting Bermudians. Mr Kempe said that, although local companies did not have to pay the 5 per cent employer portion of pension contributions for non-Bermudian employees in the past, many companies already had those employees enrolled in some kind of programme. Mr Kempe added that non-Bermudian workers already carry the additional cost of work permit fees and repatriation expenses. Mr Campbell said that the cost of work permits and repatriation made the employment of non-Bermudians more expensive in the short term, but longer term the difference in pension contributions was a bigger factor. James Jardine, an independent senator, also backed shorter vesting periods and a requirement in the legislation to pay interest on any overdue pension payments. But Mr Jardine said he feared that some seniors might make poor choices about their pension if not well informed of the consequences. Mr Jardine added it would make sense for seniors to use a withdrawal from their pensions to pay for mortgages or other loans, but he would be concerned if a senior used the funds to go on a world cruise. The legislation was approved, as was the Internal Audit Amendment Act, which extended the length of appointment for the Internal Audit Committee chairman.

An antiracism campaign group has thrown its support behind the Government's plan to carry out race relations research. Citizens Uprooting Racism in Bermuda said the online survey could help the island address "the ongoing inequity and intergenerational trauma that continues in our community as a direct legacy from Bermuda's oppressive past". A spokesman added: "Four hundred years of oppression will take both time and effort from both a grassroots movement and legislation to bring about a more equitable society." He was speaking after Lovitta Foggo, the community minister, announced last week that the public would be asked for their views and possible solutions on how to improve race relations. Ms Foggo told the House of Assembly: "We recognise that for generations, Bermuda's history has also been fraught with tensions and disagreements, particularly when it comes to the topics of race, diversity, inclusion and equality. We also recognise that the issues of racial inequity and race relations can be difficult and complex discussions for us to have as a people. However, I believe that as a community, we should have the courage, openness and vulnerability to have these important conversations." Curb said it has spent the past 14 years working through educational forums, lectures and presentations. The spokesman added: "Through research, surveys, conferences, trainings and presentations we continue to educate and help people understand how that past affects the social dynamics at play in our community today. For the majority of Bermudians, Bermuda's history has been one of learning about the movers and shakers of white colonial history, with the works of black historians being suppressed and sidelined." Curb highlighted its Hidden History workshops which increased knowledge of marginalized black history and its Truth and Reconciliation Community Conversations programme designed to "create empathy for each other's truths". It said groups in Canada and the United States had piloted programmes based on Curb's Truth and Reconciliation model. The spokesman said: "We look forward to learning the results of Government's online survey and offer our assistance and expertise in any way we can."

A new almanac designed to highlight when island food is at its best will be produced for next year's Restaurant Weeks, the Bermuda Tourism Authority has said. Glenn Jones, chief experiences development officer with the BTA, said Restaurant Weeks will feature a series of culinary events around the island and the release of a Bermuda food harvest almanac. Mr Jones said: "We think it's a first-of-its-kind resource for Bermuda. It's a visually appealing presentation of what locally harvested foods are available when. For visitors and for locals, we hope it becomes the go-to guide for eating Bermuda's foods at their absolute freshest and for affluent travellers who care about sustainability, this guide should be especially valuable. Fruits and vegetables, seafood and herbs. There's a lot in there." Mr Jones said the almanac was created with assistance from farmers, fishermen and beekeepers and it is hoped it will help increase demand for domestic products. He added restaurants had adopted more home-grown ingredients for their Restaurant Week menus and that 85 per cent of the 46 restaurants involved in the event had Bermuda-inspired dishes. Mr Jones said special Restaurant Week events designed to merge food and famous locations around the island had also been organised. Eettafel, a company that organizes upscale picnics, has joined forces with perfumery Lili Bermuda for a Fragrance and Food Pairing Picnic at the Waterville Rose Garden in Paget. Eric Adjepong, an American chef and finalist on television cooking competition Top Chef, will team up with chefs from Bermy Eats and Fourways for the Bermuda Culture and Heritage Dinner on January 24, inspired by the historic Cobbs Hill Methodist Church and the Africa Diaspora. Mr Jones said: "Chef Eric, who is from Brooklyn, with West African roots, used his heritage as a constant thread in the kitchen when he was on Top Chef. The food was unfamiliar to the judges — and to the audience — but they both fell in love with it because the dishes were delicious and the storytelling was compelling. Chef Eric is convinced he can do the same thing out here and we can't wait. He visited this past August to do his research." The final Restaurant Week event will be a fish fry on February 2 at the Bermuda Transport Museum in Dockyard with food from Generosa's, Frog & Onion and Bonefish Grill, as well as beer from On de Rock and Dockyard Brewing and 9 Parishes rum swizzle. Mr Jones said: "Restaurant Weeks has resonated with locals and visitors for almost ten years and we hope these new food experiences resonate as well. But let me be clear. This is not an either-or proposition — it's an opportunity to choose both. Restaurant Weeks is three-weeks long, which gives everyone a chance to eat in a restaurant and to eat outside the walls of a restaurant at one of the food experiences I mentioned."

The assistant director of the Department of Child and Family Services appeared in Magistrates' Court today charged with assault and mistreatment of a child. Kennette Robinson, 51, pleaded not guilty to the alleged offences, said in court to have happened on May 8 in St George's. The alleged victim cannot be identified for legal reasons. Senior magistrate Juan Wolffe released Ms Robinson, from Devonshire, on $1,000 bail and adjourned the case until January 13.

Business start-ups will encounter less bureaucratic red tape in the New Year with the introduction of a concierge service by the Bermuda Economic Development Corporation. Erica Smith, executive director of the BEDC, said new business owners will no longer have to visit multiple locations to register their enterprise. Instead, the BEDC will facilitate the registration of new businesses with the Office of the Tax Commissioner, with the Department of Social Insurance, and with the BEDC itself. The programme, expected to roll out in the first quarter of 2020, will be manual to begin with, but a digital platform is planned, Ms Smith said. "Other government entities are on board. Ultimately, the goal is a smoother process and to take the bureaucracy out of entrepreneurs doing the right thing, and being compliant," she said. "At the moment, we are asking for the same information in multiple places. That is confusing, inefficient and frustrating for entrepreneurs." Ms Smith said a survey of BEDC stakeholders, and the public, in 2018 revealed that bureaucratic red tape was an issue. "When you compare what happens in other countries to what happens in Bermuda with the registration of start-ups, and being compliant by registering the business, Bermuda is very bureaucratic with all the places you have to go to register the same business. It doesn't make sense if you want to encourage start-ups and new local businesses forming and make them as successful and sustainable as possible. One of the ways to do that is to make the process of starting a business as easy as possible and to make being compliant as easy as possible. If the BEDC is able to facilitate that, and act as concierge to reduce the burden on businesses, then we will have realised one of our goals and objectives for the country. Ultimately, jobs don't create themselves. Businesses create jobs, and our role is to create businesses and ultimately create jobs. We feel there is a direct line to job creation if we can facilitate business creation."

A lawyer has raised "serious concerns" over whether funding was in place for a panel of litigation guardians to represent children in court. Saul Dismont also questioned why the five panel members had not been identified after Kathy Lynn Simmons, the Attorney-General, announced the creation of the group earlier this week. He added: "It is great for there to have been some movement in the right direction, but of course there are serious concerns." Ms Simmons said the panel members were "qualified, certified and experienced social workers" when she announced the move on Tuesday, but did not give further details. Mr Dismont has represented children in cases against the Department of Child and Family Services over a failure to fund independent advocates for them in court cases. He said creation of the panel was "only one of the requirements" under the Children Act 1998. "What about funding? Can the Attorney-General confirm that funding has been made available? If not, why not?" Mr Dismont said that without an operational budget, the guardians scheme would be a failure. He also questioned the criteria and training for candidates for the panel. Mr Dismont added: "In June, the Court of Appeal identified that the Attorney-General had a statutory duty to create a panel of litigation guardians, which had not been done for 20 years, and the Attorney-General had a statutory duty to 'introduce an appropriate scheme that provides for the funding of litigation guardians and counsel to represent children'." The court also ruled that the Attorney-General's failure to provide cash to pay for litigation guardians had breached children's human rights. Mr Dismont said that last month Martha Dismont, the executive director of Family Centre, started legal action to "force" the Attorney-General to create the panel. The lawyer also applied to the Supreme Court for a judicial review of the failure of the Ministry of Legal Affairs to provide children with independent legal representation. The existence of the panel was revealed last month as Tiffane Thomas, who has served as a litigation guardian, applied to the Supreme Court to withdraw her services because she had never been paid for her work. Mr Dismont said: "If funding is not secured, the litigation guardians will end up not being able to continue for lack of payment, just as Tiffanne has done." Ms Dismont said this week that a group of charities had met Ms Simmons and that they had agreed to create the panel "as a collaborative exercise". Family Centre teamed up with the Coalition for the Protection of Children, as well as the charities Childwatch, Citizens Uprooting Racism in Bermuda and Saving Children and Revealing Secrets, to push the case for litigation guardians in the Court of Appeal. Ms Dismont said she and other charity heads had secured an agreement for consultation over the composition of the panel. She added: "We were concerned about whether there would be independent litigation guardians — in other words, individuals with no association or bias relative to the Government. We said that an independent guardian would be someone working in children's best interests and not in any limited sphere, including the Government, because they are limited by their remit." Kelly Hunt, the executive director of the Coalition for the Protection of Children, said she had been part of the meeting, which happened before the Court of Appeal's ruling, when it was "agreed that we would collaborate with Government on this matter. Unfortunately, there has been no consultation with the direct service providers in the third sector since then. This is such an important matter that we must get it right. Proper transparency and accountability is critical where child safeguarding is concerned. We look forward to learning more details on the selection process, oversight and funding for these individuals." The Ministry of Legal Affairs did not respond to a request for more details on the panel.

An information session about Bermuda's economic substance legislation and its impact on island companies attracted more than 120 people, while another 50 dialed into the session, organisers said. The Institute of Directors Bermuda organised the session in conjunction with the Association of Bermuda International Companies. Attendees and those who dialed in heard from Kenneth Joaquin, the Registrar of Companies, as well as members of his team, Michael Frith and Venous Memari. Rochelle Simons, IoD Bermuda chairwoman, said: "IoD members and the business community at large are eagerly awaiting economic substance updates and this was borne out by the fact that we were over-subscribed and that people were prepared to dial into the session." Mrs Simons said that Mr Joaquin highlighted the impact of the Economic Substance Amendment (No 2) Act 2019 that was presented to MPs on November 30. She said: "The Amendment Act changes the definition of holding entity and refines a few other sections of the legislation to be in keeping with international standards. It is anticipated that the Amendment Act will come into force later this month, following which the Economic Substance Regulations will be enacted quickly by negative resolution. Guidance Notes will be released by year end. As directors, they need to understand how these regulations will affect both their own business and the business of the boards they sit on. The Registrar of Companies acknowledged that while the presentation of the Amendment Act and the approval of the same by Members of Parliament during the next few weeks is a milestone reached, he and his team will continue to press forward to build and test the infrastructure that will accept the first filings in June 2020 for financial years ending December 31, 2019. We anticipate hosting future events that will keep the membership informed and encouraged as business owners and the Bermuda Government engage a new reporting platform."

Bermuda's re/insurance industry will be in focus at next week's EY Re/insurance Business and Accounting Update. The event will gather industry leaders and cover a range of topics including accounting, tax, and regulatory matters, as well as the business imperatives facing the Bermuda re/insurance industry. Patrick Tannock, managing director and chief executive officer of Axa XL's Bermuda insurance operations and chairman of the Association of Bermuda International Companies, who will offer his insights on the industry. David Brown, senior partner and regional insurance leader, said: "Amid the ever-changing business and regulatory environment, Bermuda has consistently been the home of innovation in the re/insurance space, so it's the perfect location to bring together industry professionals to discuss the various opportunities and challenges impacting our industry as we look to 2020." Cordelia Davis, partner and regional financial accounting advisory services leader at EY Bermuda, said: "Today's insurance executives face a multitude of complex demands and pressures on all fronts. "This conference will provide many practical insights — not only related to new regulatory, tax and accounting developments, but also perspectives on their practical and effective applications in companies." The event, which is geared towards finance, accounting, tax and compliance re/insurance executives, will take place on December 10 at O'Hara House in Hamilton.

Thousands of people are expected to visit St George tonight for the traditional Bermuda National Trust Walkabout. Christmas lights and music will fill the narrow streets of the town and historic BNT properties will be open for visitors until 9pm. Alana Anderson, the BNT president, said: "It is going to be amazing. The weather is expected to be beautiful and we are looking forward to seeing the island tip to the east as everyone goes to St George's." She added that seats were still available on a special "Walkabout Ferry" and advised anyone interested in attending to use the boat to cut down on traffic problems. George Dowling, the Mayor of St George, said: "It is wonderful that the town and businesses can come together to promote a great event for the town. All the stakeholders take great pride in making the town look fantastic for the event and for the holiday season." Ms Anderson added that the walkabout marked the start of the holiday season. The Old Rectory, Buckingham, Tucker House and the Globe Hotel will all open their doors and Kings Square will have a range of performances starting at 6pm. The Menuhin Foundation, the Bermuda School of Music, the Salvation Army Band, Aerial Arts and the Christ Church Bell Choir are all set to perform, along with several of the island's dance schools. A spokesman for the Corporation of St George said the municipality had worked with the BNT to help make the annual event a success and that staff had made sure the town was lit up for the holidays. He said: "It was evident with the Lighting of the Town and Boat Parade last weekend of the great job that was done. The corporation encourages everyone to come to the town, not just for the walkabout, but come to the various activities that will take place in the town in December. There will be opportunities with the Santa is Coming to Town event on December 14 and New Year's Eve and they can come to Somers Garden to see the Winter Wonderland." Kevin Dallas, the CEO of the Bermuda Tourism Authority, said: "This is a beloved tradition and the hallmark kickoff to our holiday season out here. Islanders and visitors mingle and celebrate in the cobblestoned crown jewel of Bermuda's Unesco World Heritage Site — a wonderful opportunity to experience festivities Bermuda-style." St Peter's Church and St David's Chapel of Ease will provide Heavenly Treats in the Clair Spencer Hall at St Peter's with a variety of treats on offer. Kristin White and Genelle John, St George's businesspeople, said they looked forward to welcoming the crowds. Ms White's business, Long Story Short, recently joined forced with Ms John's Salt Spray Soap Company, and the pair will launch a merged shop on Water Street at the walkabout. The store will offer sustainable and fair-trade housewares, African-print clothing from Liberia, and Rinelle White's UMAMI spices. Ms John will also offer an in-store DIY activity for the walkabout. She said: "The Bermuda National Trust Walkabout is St George's most celebrated Christmas event. We are excited to welcome everyone to our shop and hope they fall in love with our vibrant new space."
Tickets for the Walkabout Ferry, which will pick up passengers at Marginal Wharf in St David's, are available through the BNT website

An island resident's 980-mile end-to-end bicycle trip in Britain raised a total of $20,000 for four Bermudian charities. William Lawrence completed the nine-day cycling trip from Land's End, in Cornwall, England, to John O'Groats, in Caithness, Scotland, as part of the Deloitte Ride Across Britain. Mr Lawrence said that it was the first time he had taken part in a multi-day cycling event. He added: "All I had to do was think about riding the bike, thank God." Mr Lawrence, from Paget, said that the trip had two purposes — to mark his 60th birthday and to raise funds for island organisations. He added his wife, Felicity, suggested he also use the trip as a way to raise cash for good causes. Mr Lawrence said: "The charities didn't know I was doing it at all until I called them up two weeks ago." The money raised was divided between four groups — Bermuda Autism Support and Education Society, Focus Counselling Service, Project 100, and the Salvation Army. Mr Lawrence said it felt great to be able to tell each group that they would get $5,000. He added: "They were all really appreciative. Charity money is hard to find at the moment." Mr Lawrence, a keen cyclist, said that he took part in several rides each week with the Bicycle Works cycling club. He added that he had done "about a year's worth of training" under coach Grant Goudge, the owner of Bicycle Works in Hamilton. Mr Lawrence said: "He fixed me up with a training plan and a great bike. That was all the difference." But he said that Mr Goudge was not the only supporter he had. Mr Lawrence added: "I want to thank all the people that helped me train. There was a bunch of them." He also thanked his wife for putting up with his training schedule, which often meant 4.30am starts. Mr Lawrence said: "She didn't have to get up — she just had to put up with me disturbing her." Ms Lawrence and a friend followed her husband in a car as he did the grueling trip. The event also overlapped with the couple's 32nd wedding anniversary. Ms Lawrence said the ride experience was exciting, but also "nerve-racking" at times. She added: "Some of the roads they had cyclists going down were not really meant for bigger Jeeps." She said that her husband's participation made her "extremely proud" and that she never had any doubt that he would be able to finish the ride. Ms Lawrence added: "Once he put his mind to it, he was going to do it no matter what."

A leading light in the foundation of the Progressive Labour Party has died. Edith Richardson, 97, was the widow of Hugh Richardson, a former President of the Senate and the first chairman of the PLP. The Richardson's home on Serpentine Road in Pembroke, was the meeting place for the founders of the PLP in the early 1960s. Mr Richardson's garage was the venue for discussions among Edward DeJean, Walter Robinson, Wilfred Allen, Albert Smith, Dilton Cann and R. Austin Wilson to form Bermuda's first political party in 1963. Ms Richardson's brother-in-law, William "Billy" Richardson, said she had served "almost as a secretary" for the party in its early days. Mr Richardson added: "I was one of the messenger boys of the PLP, running here, there and everywhere." He said his mother had died before the Richardson's married in 1943, and the couple raised him. He added: "She was a good mother, a wonderful person. I helped her to bring up her daughter, Carol, who was born around Christmas. I used to joke to her that she spoilt my Christmas dinner." Carol Currin said: "Mom was deceptive; she looked as though she wouldn't hurt a fly, but she was strong and just what my father needed. She was someone he could talk to. She would tell him the truth, exactly what she thought." Ms Currin said that political discussions at the family home often became "heated arguments". She added Ms Richardson shared her husband's political convictions, but played a quiet role at home. Ms Currin explained: "You have to remember, she was born in 1922. Women in those days stayed in the background and helped — and she was top of the line at that." She said the PLP founders at the Richardson's home were nicknamed "the desert group" as a joke, because the lane was prone to flooding. Ms Currin added that Mr Richardson, who died in 2007, was "the first chairman of the PLP because nobody else wanted to take the job and stand out front". She explained that a prominent role in the new party meant "going out on a limb", and that Mr Richardson had cleared his decision with his wife and daughter first. Ms Currin added that Ms Richardson also helped to encourage PLP supporters to register to vote. She said: "She could be quiet, she was smart, and she was very much into the St Paul AME Church. Not that she wasn't feisty as well." Ms Richardson became a seamstress at AS Cooper & Sons and specialized in curtains. She left the company to work with Irene Trott at Trott's Drapery. She later worked as a hairdresser and the family ran a travel agency, Always Travel, in St George. Ms Currin said: "She loved to travel. She didn't care how, as long as she was going somewhere. She loved to visit her cousin Blossom in Chicago." Walter Roban, the Deputy Premier, paid tribute to Ms Richardson last week in the House of Assembly. Mr Roban told the House: "In public service, as members of both Chambers, often their whole families serve with them and give their energy and sacrifice, Edith Richardson did the same."

December 5

Wayne Furbert, Minister for the Cabinet Office, today praised the trust industry for its role in maintaining the island's reputation as a premier international jurisdiction. Speaking this morning at the Society of Trust and Estate Practitioners (STEP) Bermuda Conference, Mr Furbert said: "The Government recognizes the importance of the trust industry to Bermuda. The industry is a significant employer in Bermuda, and it brings to our shores business from some of the world's wealthiest and most influential families and businesses." He said Bermuda has been providing fiduciary services for private clients for more than 100 years, and during that time Bermuda had developed a reputation as a premier jurisdiction with a stable and reliable legal system and experienced trust professionals. "My friends in the industry tell me that Bermuda continues to lead with innovative developments such as 'Statutory Hastings-Bass' and 'Section 47 Applications'," he said. "International families take comfort in Bermuda's reputation, stability, long standing English common law system [with right of appeal to the Privy Council] and the integration of the trust sector with the insurance, funds and wealth management industries, and with emerging areas such as fintech. As a government we could not have faced these challenges without the support and participation of the trust industry," he said. Mr Furbert said the Government is committed to continuing to work with the private client pillar, and industry in general, to ensure that Bermuda remains a premier jurisdiction. "And, in return, I hope that I can count on the industry in Bermuda to work with the Government to ensure that the jurisdiction remains in the top tier of international financial centres. Bermuda boasts the ability to create trusts that have an indefinite duration; provides an efficient regime for unregulated private funds and close ended funds and a lightly regulated regime for exempted funds; and is one of the strongest insurance markets in the world. Insurance products are often used to provide stability, investment growth and tax efficiency with respect to private and commercial trust structures," he said. "Bermuda trusts can be used for asset preservation." He said Bermuda's strong asset protection legislation, commonly known as "firewall" legislation, seeks to defend and protect off shore trusts from attack — whether from creditors, spouses or heirs — and from pressure from the onshore world. "From a tax perspective, Bermuda is attractive for international structuring because it does not impose income or capital gains tax," he said. "Further, Bermuda 'exempted' entities [established for international clients] may apply for an assurance from the Minister of Finance that such taxes will not be imposed on such entities before 31 March, 2035. Bermuda also does not impose exchange controls on non-Bermuda assets." Mr Furbert said Bermuda's infrastructure and availability of internationally renowned financial service providers is impressive. "Bermuda also reaps the benefits of having a number of effective international agreements that facilitate business between Bermuda and other jurisdictions," he said. "Bermuda is a beautiful environment in which to do business, and the government is committed to working with the private client pillar, and working with industry in general to ensure that Bermuda remains a premier jurisdiction."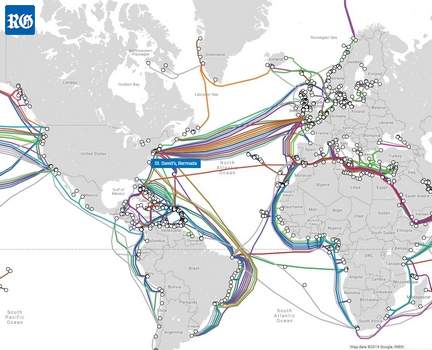 Bermuda is working to establish itself as a landing hub for transatlantic submarine cables carrying internet and telecommunications. Three such hubs exist in the Pacific Ocean, in Hawaii, Guam and Fiji, but there are none in the Atlantic. If Bermuda succeeds in becoming the Atlantic's first, the benefits and opportunities could range from attracting submarine cable operators' head offices to the island, to captive insurance for submarine cable operators, and creating an additional revenue stream for the economy. In addition, companies with intellectual property rights would be better able to demonstrate economic substance in Bermuda, while operators landing cables would be able to achieve network diversity and divert some telecoms traffic away from certain jurisdictions if required — this could be for privacy or data sovereignty reasons. There are at least 26 submarine cables that cross the Atlantic from Americas to Europe and Africa, and others that link North and South America, and the Caribbean. Three cable systems land in Bermuda, namely GlobeNet, Challenger and Gemini. Many other transatlantic cables transit around the island, but do not land here. Efforts are being made to attract them to Bermuda and to promote the island as a tech cable corridor. "Bermuda is ideally positioned to be an Atlantic hub," Fiona Beck said. She has an extensive background in telecommunications and technology, and is a former chief executive officer of Southern Cross Cable Network, and a past president of Sub Optic, an industry body for the global submarine cable industry. She moderated an industry panel discussion on submarine cables at the Bermuda Tech Summit, which took place during the Bermuda Government's consultation period for three Bills relating to submarine cables in Bermuda. The Bills were tabled at the end of September, and final versions have yet to return to the House of Assembly. "Government has created a new thing called a submarine protection zone. This allows submarine cable to land in an efficient and effective manner, and at the same time protects new and existing systems that are all ready in the water," Ms Beck said. More than 99 per cent of the world's global communications is carried on submarine cable networks, and those networks have increased due to the "exponential growth of data". Ms Beck said: "The world is changing. It is key infrastructure; many governments have declared subsea cables strategic national assets." It costs between $250 million and $300 million to build a whole submarine cable system stretching between the US and Europe, while a cable that connects more than 20 countries would cost $1 billion, or more, said Joel Ogren, CEO of ACA International. A shorter cable link, between New York and Bermuda, cost close to $50 million to be re-laid, according to Erick Contag, executive chairman of GlobeNet Telecom. Two of Bermuda's proposed Bills relate to protected areas for submarine cables, while the other is for permit and licensing. In jurisdictions that don't have a submarine cable protected zone it is difficult to get permissions to land a cable because "you have got to go through all sorts of environmental assessments, financial assessments", Steven Rees Davies, partner, Appleby Bermuda, said. Referring to Bermuda's approach, he said: "This is basically setting up a doorway where we have assessed it all ready, so you can come in here. Not only that, but when you lay your cable the cable owner is protected from any damage caused to the cable in that zone." A protected zone would prohibit activities, such as the use of explosives, or from dredging. The one-stop-shop approach of permit and licensing was explained by Walter Roban, Minister of Home Affairs, when he tabled the three Bills. "Landing and operating significant systems in some jurisdictions has become increasingly difficult and lacks a single landowner or a single marine spatial planning regulator," he said. "Countries that have shorter and more certain timeframes for the permitting process are being sought and are becoming much more attractive." Joel Ogren, CEO of ACA International was on the panel at the summit in October, and said it takes more than two years to land a cable in the US. He added: "A cable protection zone is a great concept, it is the streamlining of the activity. You can assure investors that you can land here within a timeframe — because time is money." Mr Contag said: "It creates an asset that will last at least 25 years. By protecting the cable, providing certainty, if there is an issue, you want to have a way of going in to the country or region with minimal headache to do your repairs. You don't want to have people waiting a month or two to get a permit." Bermuda's legal framework is one reason why cable operators might view Bermuda favorably as a landing hub. Another is the ability to reroute some telecoms and internet traffic away from chosen jurisdictions rather than, for example, sending it all in to the US before reaching its ultimate destination elsewhere. On the issue of data privacy and data sovereignty, Mr Ogren said: "Businesses and countries want their data to be treated like an embassy, you don't want anyone poking around in there looking at it. You want it to be privatized. That needs to fall under the regulatory environment here." He added: "In the US there has been a lot of talk about, from a cybersecurity perspective, 'we don't want our cyber traffic going to the US'. So this is a reason why Bermuda could attract cables to land here. It doesn't mean you don't have connectivity to the US, [but] that traffic only goes there if you want it to." Ms Beck, who is also a director of the Bermuda Business Development Agency, said: "It's exactly what the transit cable concept does — it says I'm going from Europe, I land in Bermuda, I might want some traffic to go to the US, but I don't want everything to go to the US, so I'm going to land here and only get the stuff that needs to go to the US, and the rest is going to go to Brazil." The BDA is working in partnership with the Government to progress a national subsea corridor initiative aimed at attracting new cable business and boosting connectivity.

Compulsory police background checks should be carried out on anyone who wants to work with children, the head of a child protection charity said yesterday. Debi Ray-Rivers, the director of Saving Children and Revealing Secrets, said that police vetting should be a requirement for anyone involved with a "youth-serving organisation". She added that the recent discovery of a court letter given to sex offender Malik Zuill that wrongly listed him as having no convictions, showed that police records are the most reliable indicators of a criminal past. Ms Ray-Rivers said: "This incident revealed a significant error with potentially serious and harmful consequences, had the court's error and the subsequent actions of Malik Zuill not been discovered and made public. It is our hope that protocols and checks and balances have now been implemented by the courts, to ensure such an error does not occur in the future." She added: "It is preferable and prudent that youth-serving organisations and employers accept only background checks conducted by the Bermuda Police Service and/or the relevant police services of the city or country where an employee or volunteer was previously a resident. This will ensure authorized and verified vetting of persons working with children." Zuill, who was sentenced to five months in prison in July for a sex assault on an underage girl, was given a letter from court services in August that said he had had no convictions in the past three years. He used the letter in an attempt to remove articles about his conviction. But Larry Mussenden, the Director of the Department of Public Prosecutions, later confirmed Zuill's conviction, which was earlier reported by The Royal Gazette. The judiciary said in a notice published last month in the Official Gazette that court worker Donneisha Butterfield, whose signature was on the document, "did not do anything fraudulent". The notice added: "The document in question was issued in error and additional administrative measures have been put into place to ensure that this does not reoccur." The judiciary declined to answer questions about what sort of investigation was conducted, what caused the error or what measures have been put in place to prevent further mistakes. Ms Ray-Rivers said: "To offset the cost to youth-serving organisations, many of which are charities, it is imperative that persons who are short listed for positions with youth-serving organisations be required to provide police vetted background checks to the potential employer for the safety of Bermuda's children. It is our understanding that background checks for volunteers working with youth-serving organisations are free of cost." The Children's Act prohibits anyone listed on a child abuse register to work with children. This includes areas such as healthcare, education, social work, the police service and recreational groups. Kelly Hunt, the executive director of the Coalition for the Protection of Children, explained that mandatory police vetting would help strengthen the law. She added: "Private companies, churches and organisations should not wait for this to be mandated in law, but rather lead by example with this position. Codes of conduct, vulnerable person's policies, and official police reports that identify previous convictions of assault or abuse against a minor should become the norm for everyone entrusted in roles or positions around young people in our community." A spokesman for the Bermuda Police Service confirmed that police vetting was not mandatory for charity staff. But he added that the process was encouraged and cost $100 for every criminal record check. Volunteers of Bermuda charities are exempt from the charge, although paid charity staff have to pay the fee.

A chief executive "mercilessly fired" from a key role at the Bermuda Health Council has been appointed to a top job at the island's psychiatric hospital. Tawanna Wedderburn will become clinical director of mental health services at the Mid-Atlantic Wellness Institute on Monday as the replacement for Glenn Caisey, who has retired after 20 years. The announcement came almost a year after she was forced out of her job as CEO of the BHeC in December last year. Ms Wedderburn claimed the termination was politically motivated and launched a legal battle against the health council, its former chairwoman Alicia Stovell-Washington, Kim Wilson, the Minister of Health, and David Burt, the Premier. Her request for a judicial review was denied in October, when the judge ruled the decision to sack her was not a matter of public law. Her lawyer, Eugene Johnston, said at that time her legal proceedings over the matter were "just beginning". Her husband, Livingston, wrote in a letter to The Royal Gazette in January: "Tawanna was mercilessly fired as the CEO of the Bermuda Health Council on December 7, 2018, leading to the Christmas holidays." Ms Wedderburn, who has worked at MWI in the past, will be responsible for the quality and direction of community and inpatient mental health services. She said yesterday: "I'm excited to be returning to MWI in this leadership role as we work to update the strategy for mental health services in Bermuda. I already know there is a wonderful team of professionals and support staff in place providing high-quality services, and I look forward to working with them and our external partners to further develop mental health services." Ms Wedderburn will report to Preston Swan, the vice-president of clinical operations at MWI. Mr Swan said: "I am very pleased to welcome Ms Wedderburn back to MWI in this critical role. I would like to thank Mr Caisey for his leadership and dedicated service over many years. We expect a smooth transition of leadership with Ms Wedderburn's experience and understanding of MWI and mental health in Bermuda and are looking forward to exciting times in the mental health arena." Mr Swan said MWI staff were in the early stages of service development with partners such as Johns Hopkins Hospital in Baltimore and the East London NHS Trust in the UK. He added: "Ms Wedderburn is well placed to lead the team in this process as we seek to improve outcomes for people in Bermuda suffering from mental illness." Bermuda Hospitals Board declined to comment on Ms Wedderburn's legal battle over her termination. Ms Wedderburn said: "The Supreme Court judicial review matter is ongoing. My pending employment by the Bermuda Hospitals Board is entirely separate from the judicial review matter. I have no additional comments with respect to my appointment." Ms Wedderburn worked for the BHeC as programme manager and director of health regulation between 2007 and 2018 and became CEO in 2015. She worked at MWI in child and adolescent services between 2002 and 2008, in roles including family therapist, and as an adoption worker and family consultant for the Department of Child and Family Services between 2002 and 2010. She was also a crisis intervention worker in Toronto.

A Bermudian man has been arrested in connection with an international case. A spokesman for the Bermuda Police Service said yesterday that a 41-year-old man had been arrested "in relation to an ongoing investigation by law enforcement authorities in Canada". He added: "The specifics of the investigation cannot be disclosed at this time." The news site TNN reported last night that a customs officer had been arrested last week. The police spokesman declined to confirm if the man arrested was employed by customs. He said: "We have provided you with all the information we can at this time."

Opinion. By Attorney Josephine Noddings, a Senior Associate and a member of the Corporate Team at Appleby. "The Bermuda Monetary Authority has confirmed that it will not object to BMA-supervised entities conducting cannabis business with a licensed cannabis cultivator, processor or seller so long as the conduct of the cannabis business is legal at all levels within the country in which it is operated. The BMA's position, issued in a notice, was made clear in response to it receiving an increase in enquiries in respect of licensing to re/insure cannabis related risk and the legalisation of cannabis in Canada, which occurred in October 2018. What this means for Bermuda is that companies can incorporate here and, subject to the appropriate application and approvals, be supervised by the BMA, and be allowed to re/insure cannabis-related risk in foreign jurisdictions. The notice stresses that it is the responsibility of the BMA-supervised licensed entity to understand the application of foreign laws and comply therewith. In the conduct of its business, the BMA-supervised licensed entity must continue to adhere to Bermuda's legal and regulatory requirements as set forth by the BMA and other regulators. That includes meeting legal and regulatory requirements in respect of anti-money laundering and antiterrorism financing, performing risk assessments of clients, fulfilling the obligation to file Suspicious Activity Reports to the Financial Intelligence Agency and completing source of funds enquiries. In the notice, the BMA confirms its requirement that source of funds enquiries are sufficient to establish that funds derive from activities that do not predate the legalisation of the cannabis-related activities. Obtaining adequate insurance remains problematic for those conducting business in the cannabis sector with many insurers remaining reluctant to insure cannabis related risk. Consequently, it is an industry that can benefit from captive insurance, which is where a parent company wholly owns a subsidiary and the subsidiary is registered as an insurance company to insure the risk of the parent. Bermuda is the leading domicile for captives globally. In February 2019, the BMA released a statement that said the Bermuda registered captive count was at 711 in 2018 with insurance premiums totaling $40 billion. The BMA said that 19 new captives had registered in 2018 compared to 17 in 2017, suggesting an upward trend. It was also revealed that, although the majority of new captives originated from the United States, they also came from Europe, Canada, Latin America and Africa. Canada is of particular interest with respect to the cannabis sector. Insuring risk through a captive enables businesses to obtain customized solutions to their risk needs while centralizing costs and administration. The BMA's notice reiterated this point by flagging that the new captives covered a diverse range of company structures including pure captives, association captives and long-term captives. The lines of business being written were described as a "good mix". If you wish to learn more about Bermuda's insurance regulation or how Appleby can assist, please engage with your usual Appleby contact or any member of the team."

Retail sales plunged 7.6 per cent in August when adjusted for inflation. It was the sixteenth month in the past 18 that sales declined year over year and the largest percentage decline since June 2018. All retail sectors recorded lower sales volumes. Motor vehicle retailers recorded the largest volume decline of 20.5 per cent. Building materials outlets saw a 15 per cent volume decline and apparel stores an 11.4 per cent dip. In value terms, retail sales decreased 7 per cent to an estimated $90.9 million. Excluding Sundays, there were 25 full shopping days, the same as August 2018. Wayne Furbert, the Minister for the Cabinet Office, said: "It should be noted that the large decrease in liquor and food sales reported in August 2019 when compared with August 2018 can be partly attributed to the timing of pre-Cup Match sales which took place in July this year and August last year. This means we are not strictly comparing 'like' for 'like' for this particular retail sector." Cup Match fell on August 1 and 2 this year, while last year it fell on August 2 and 3. Foods stores saw a 7.8 per cent decline, while liquor stores experienced an 11.7 per cent fall. Imports via courier fell $300,000 to $10.3 million because of lower imports of clothes and machinery. Declarations by returning residents at LF Wade International Airport climbed by $200,000 to $6.6 million. Imports via sea increased by $200,000 to $1.6 million, while imports via the post office remained flat at $200,000. In July retail sales volume climbed 1.3 per cent.

It had been 66 years since Cliff Taylor was in Bermuda. On his return last month, what he found most fascinating was just how little had changed. "There are so many cars on the road now," said the 87-year-old, who made the trip from England with his wife Joy to celebrate their 60th anniversary. When I came here it was mainly pony and traps and bicycles and, along the coastline there weren't nearly the same amount of houses there are today. That is the biggest change. Other than that it's still the same old island. It still has friendly people." Understandably, it was a much anticipated visit. The former jockey was eager to reminisce about Shelly Bay Racetrack, where he worked from 1951 to 1953, and his favourite band, the Talbot Brothers. The lyrics to their song, She's Got Freckles On Her But She Is Nice, still roll off his tongue. A letter his wife wrote to The Royal Gazette had the desired result. Calls flooded in to El-Ville Hideaway in Bailey's Bay, where the couple stayed for two weeks. They led to meetings with Allen Smith, whose late brother Sinclair "Sinny" Smith also raced and David Lopes, a horse lover and radio personality. Mr Taylor grew up in Walton-on-Thames, Surrey. He fell in love with horses when his father took him to the Epsom Derby in the county. "As soon as I saw all the horses working, that was for me," he said. "And I was told that we had a retired jockey that lived near us called Kenny Robinson." He was around the age of ten when he spotted a very short man riding by on a bike. "I said, 'Excuse me, are you Mr Kenny Robinson?' He carried on and said, 'Yeah.' I said, 'I want to be a jockey.'" Through Mr Robinson, Mr Taylor was introduced to Epsom Racetrack trainer Johnny Dines who arranged for him to have riding lessons. Two years later he became Mr Dines's apprentice. "I wasn't even 13 when I started," Mr Taylor said. "He was supposed to have arranged for me to go to school, but he never did. I didn't want to go to school either. Race was all I wanted to do." He stayed there for several years and then joined Dick Perryman, a trainer at a bigger stable, the Newmarket Race Track in Suffolk. Mr Taylor was 19 when Mr Perryman asked if he'd like to go to Bermuda. Initially, he thought he was joking. But Mr Perryman had a friend, Stanhope Joell, who was looking for a couple of professional jockeys for Shelly Bay Racetrack. "I came out here as a lightweight jockey," Mr Taylor said. "I weighed just over 100lbs. I am just under 5ft tall." Shelly Bay was quite different to what he'd been used to at Newmarket. The racetrack was much smaller and had tighter turns, and it was surfaced with a sandy shale instead of turf. He and Ben Goulden, the British jockey he'd been hired with, had to be at the racetrack by 4.30am to exercise the horses. Mr Goulden called the Bermuda jockeys "chickens" because they used safety goggles when they raced. His attitude soon changed. "If you are in front, it was okay," Mr Taylor said. "But if you weren't in front, you had the horse ahead of you kicking all this sandy shale back in your face. It only took me one meeting to see why they wore goggles." Mr Taylor remembered one race on a horse called Fanny, where his saddle split almost as soon as he got out of the gate. Only in "the cuttings", an area of the track out of sight of spectators, was he able to right himself and complete the race. It was often in the cuttings that jockeys showed their true ruthlessness, mercilessly whacking at each other with their riding crops to put each other off. Mr Taylor did pretty well, placing third in the Bermuda Derby one year and second in another. When he returned to England in 1953, he continued in the sport for another two years, but being a jockey then didn't pay very well. For every ride, he earned £5.25; if he won, £7.35. It was up to the horse's owner whether the jockey got a cut of the winning purse. Once Mr Taylor received £25 for placing third in a race at Newmarket. "That was a lot of money in those days," he said. "It was to me anyway." He left racing and became a milkman; for a time, he also ran a grocery store with his wife. The couple, who have three children and five grandchildren, are now back at home but considering returning for Mrs Taylor's 80th birthday in 2021.

December 4

Senators are expected to debate changes to the national pension scheme today to require expatriate workers to be enrolled. But the Government will be short a senator in the wake of the election of Jason Hayward to the House of Assembly. A PLP spokeswoman said yesterday that David Burt, the Premier, was overseas and would appoint Mr Hayward's replacement in the Upper House when he returned. The main item of businesses for senators will be the National Pension Scheme (Occupational Pensions) Amendment Act 2019, which was approved by the House of Assembly last month. The legislation will require non-Bermudian workers to pay into their occupational pension schemes, along with self-employed workers. It will also allow employees to take out up to a quarter of their private pensions as a lump sum on retirement. Also on the agenda is the Internal Audit Amendment Act 2019, which adds the Internal Audit Committee to the Government authorities listed in the Government Authorities (Fees) Act.

The Information Commissioner's Office has upheld a decision not to release communications between the Government and the UK about the airport redevelopment project. Answer Styannes, the acting information commissioner, said the documents were Pati exempt because they were communicated in confidence by a state. The ICO decision said on November 28: "There is a significant interest in furthering the public's understanding of a substantial investment of public money in a project such as the airport redevelopment. The acting information commissioner notes, however, that the Ministry of Finance has disclosed the entrustment letters dated November 10, 2014, and July 17, 2015, which were accepted by the Bermuda Government. Furthermore, the acting information commissioner is of the view that there is a strong public interest in maintaining states' expectation of confidence when engaging in free and frank discussion with another jurisdiction to further its interests." Ms Styannes found that the public interest in maintaining the confidence outweighed the public interest of disclosure. The original Pati application, made by The Royal Gazette on February 23, 2016, called for records relating to the redevelopment of the LF Wade International Airport. Documents requested included the correspondence between the British Government and the Government of Bermuda on the agreement with the Canadian Commercial Corporation, including its original approach to the UK. The application was denied in April 2016, but after an appeal Government released some records of correspondence between the nations in 2018. The ICO found that the Ministry of Finance had not processed three of the records and urged the Government to make an initial decision. The Ministry declined the request in a decision released on February 11 this year. The applicant subsequently filed for an internal review of the decision and, when the decision was upheld, sought an independent review. In defence of its decision, the Ministry of Finance said the records contained confidential government-to-government communications which the UK Government would expect to be held in confidence. The Ministry also argued that "considerable information" had already been released on the project and the disclosure would give the public no further insight into the decision making and rationale behind the project. The ICO decision stated: "Records 1, 2, and 3 are correspondence between the UK and Bermuda Governments discussing the wording of a draft entrustment letter which was to set out the powers delegated to the Bermuda Government by the UK Government in relation to the airport redevelopment project. In these records, the acting Premier provided the Bermuda Government's detailed views on the draft and proposed changes for the consideration of the UK Government." The decision added: "The outstanding records were not marked confidential at the time they were sent, nor do they contain any statement that the information was provided in confidence. However, formal designation of a record as confidential (or the lack thereof) is not definitive of whether the record was communicated in confidence." After a review, Ms Styannes found that the content and nature of the records, along with the circumstances of the communications, indicated that the communications were intended to be kept in confidence. As such, she found that the Government was right to find against the release of the records. The decision follows one made by the information commissioner in January to withhold legal advice related to the island's multimillion dollar airport redevelopment. In that decision Gitanjali Gutierrez ruled the Ministry was right to deny disclosure of the legal opinion on the grounds that it was legal advice and was protected by legal professional privilege. The Royal Gazette has argued that there was significant public interest in the release of records about the controversial $250 million deal.

An application for the release of further communications between the Bermuda Health Council and the Chief Medical Officer about two prominent physicians has been denied. However the Information Commissioner has approved the release of one record and ordered it be disclosed by January 6. The Royal Gazette had applied for records of any communications between the BHeC and Cheryl Peek-Ball, the Chief Medical Officer, about Ewart Brown and Mahesh Reddy between May 19, 2016 and April 11, 2017. A total of nine records were identified, but the application was originally refused on the basis that the documents were exempt. BHeC said it found no records referencing one of the two physicians and it argued the Bermuda Health Council Act 2004 barred the release of any of the documents. Section 18(1) of that legislation says that members of the council "shall preserve and aid in preserving confidentiality with regard to all matters relating to the affairs of the Council or of any person, that may come to his knowledge in the course of his duties". In a decision dated November 25, Gitanjali Gutierrez, the Information Commissioner, found that eight of the nine records fell under the protection of the BHeC Act. But she found that one of the records did not fall under the umbrella because the information contained in it is publicly available from another source. BHeC further argued the disclosure of the documents would undermine its role as a regulator and weaken its ability to carry out its functions. The Royal Gazette argued that the documents should be released in the public interest. Ms Gutierrez said: "The applicant highlighted the context concerning the provision of healthcare in Bermuda, including rising healthcare costs, the potential over-ordering of diagnostic tests, the arrest and investigation of a physician and the lawsuit against the Lahey Clinic in the United States. The applicant urged that the Health Council, as a regulatory body concerned with healthcare quality, has a role to play in the investigation, monitoring and regulating the alleged over-ordering of potentially dangerous medical tests and a duty to disseminate its findings to the public. The applicant stated that it is very much in the public interest to know what the Health Council is doing from a regulatory standpoint in relation to the potential over-ordering of tests." Ms Gutierrez found that the release of the record would not hinder the BHeC's future work. She also dismissed claims that the record would harm the commercial interests of the physician or that it fell into the category of information provided to the BHeC in confidence.

The Bermuda Business Development Agency failed to complete a review of its decision to refuse to release documents about Game Theory Ltd within the legislated time limit. But Gitanjali Gutierrez, the information commissioner, said that the BDA completed its decision during an ICO review of the delay, so no further action was needed. On May 2, the BDA received a Pati request for records related to Game Theory Ltd, a Guernsey-based private company. The company had sought help to set up shop in Bermuda, but opted not to open an office on the island after a small story ran in The Royal Gazette's business section about a job advert it placed to recruit six local employees as "sports trading operators". The decision led Premier David Burt to claim in a parliamentary speech in February that The Royal Gazette and the One Bermuda Alliance were to blame. He alleged the newspaper had joined forces with the Opposition to derail any success in Bermuda's fledgling fintech industry. The BDA released an initial decision on the Pati request on July 25, but the applicant requested an internal review on July 31. Just two days before September 11, the deadline for a decision, the BDA requested a one-month extension, but on October 8 the applicant requested an independent review by the ICO. The BDA told the ICO that the reason for the delay was that it had reached out to third parties, but did not receive responses in time. The agency argued in the interests of fairness the BDA was required to consider whether any concerned third party should be notified of the internal review and given an opportunity to make representations. But the ICO found the delay in response did not change the timeline to complete the internal review. Ms Gutierrez said: "The BDA was correct to point out that it may be in the interest of fairness for a public authority to notify a third party and invite their submissions at the internal review stage, even though the Pati Act does not require public authorities to do so. When it chooses to notify a third party at that stage, however, the public authority is still required to issue an internal review decision within the six week time frame set out in the Pati Act." Ms Gutierrez added that if the BDA did not received submissions from the third party in time, it should continue to process the request and make a decision based on the information available. She added: "If the internal review decision was to withhold the third party's personal information and the requester is not satisfied, they have the right to apply for an independent review by the Information Commissioner."

An acting principal has been appointed at Clearwater Middle School. Lisa Swan, the former principal of Heron Bay Primary School, will assume the role on January 1, after the retirement of Garita Coddington. Ms Swan was principal of Heron Bay from 2015 to 2017, before becoming Assistant Director of Student Services for the Department of Education. She also served as deputy principal at Francis Patton Primary School for a year from 2014. She previously worked as a special-education teacher, school psychologist and assistant principal in the United States.

A panel of independent guardians to represent children in court has been set up, but it does not include a social worker who has been a litigation guardian and campaigner for children's rights since 2014. Kathy Lynn Simmons, the Attorney-General and the minister responsible for the Department of Child and Family Services, announced yesterday that a panel of five "qualified, certified and experienced social workers" had been established. Ms Simmons added: "The number of persons on the panel may increase, in due course, based on resource and service requirements." The announcement came after it was revealed that Tiffanne Thomas had been excluded at a sitting of the Supreme Court last month. Ms Thomas was in court to make an application to withdraw her services as a litigation guardian, because she has not been paid for her work for children involved in legal proceedings. Mark Diel, who represented Ms Thomas, said her exclusion from the panel was "incomprehensible". Mr Diel said: "This means, going forward, that children are being deprived of the most experienced person to serve in that role." Ms Simmons did not respond to a request for a list of panel members. Mr Diel said he would write to Ms Simmons to ask about the absence of Ms Thomas from the panel and warned he "may have to issue proceedings for judicial review". He added: "She is arguably the most experienced person, in that field, on the island. Justice [Nicole] Stoneham was at pains to state how pleased she was with the work Tiffanne has provided the courts. Quite why the minister has seen fit not to include this person, simply because the Government have not paid her for a number of years, is not clear." The existence of the panel came up during a hearing on November 22, before Justice Stoneham, when the court ordered that Ms Thomas should be granted costs of $60 per hour for her time in the courts. Mr Diel said the order would be set off against Ms Thomas's claim for fees "in due course". He added: "During the hearing, we were informed by counsel for the Attorney-General, that there is a panel of litigation guardians. We have not seen it and do not know who it comprises. So there is the question of how the court is supposed to select a litigation guardian when there might be an issue of conflict ­— not least it appears that Tiffanne Thomas is not on the list." Mr Diel said, under the panel scheme, the courts would be given a list of approved litigation guardians to select from when one was needed. The fight to secure formal legal representation for children in court dates back to a legal challenge in September 2017 brought by the Human Rights Commission against the Government. Last night, Martha Dismont, the executive director at the Family Centre, said that the charity had met last year with the Attorney-General's office, and representatives from the Department of Child and Family Services, and agreed to collaborate on the creation of a panel of litigation guardians. Ms Dismont said: "It was agreed in that meeting that charities would be able to work with DCFS to come up with not only the panel, but the criteria for establishing it. We would like to see the panel and ensure that it is made of individuals who are independent from the Government. We have yet to be involved in that process."

A legal battle between a construction firm owned by a government minister and his niece and her mother, his ex-sister-in-law will be fought out in the Court of Appeal. But Island Construction, owned by Zane DeSilva, the current Minister of Tourism and Transport, has been ordered to pay $70,000 into an escrow account pending the result of an appeal. Island Construction was earlier this year found by an Employment Tribunal to have wrongfully dismissed Barbara Phillips, Mr DeSilva's sister-in-law, and Rebecca Phillips, her daughter, over allegations of theft and dishonesty. Supreme Court Puisne Judge Shade Subair Williams upheld the tribunal's ruling on July 29, but the construction firm appealed the decision, and asked for the $70,000 award to be stayed until after the case was heard by the Court of Appeal. Mrs Justice Subair Williams upheld the application in a judgment dated November 15. The judge said: "I accept Mark Pettingill's classification of the $70,000 award as 'significant' even for a solvent and financially able litigant such as the appellants. I have given careful thought to the merits of the appeal grounds filed, which I consider to be minimal but just short of unarguable. These points must be measured against the respondents' current financial resources." Mrs Justice Subair Williams said Barbara Phillips was unemployed and Rebecca Phillips received a "modest" salary. The judge added: "While respondents' fiscal limitations may invoke sympathy for the prolonged non-payment of the award, it also opens them up to my real concern, that they may likely spend the fruits of the award without finding themselves able to reimburse the appellants on the not-so-foreseeable chance that judgment is reversed on appeal. For these reasons, I grant the appellant's application to stay execution of the judgment, on the condition that the judgment sum should be paid in escrow into a client trust account, held by Chancery Legal, within 21 days from the date of this ruling." She ordered that, if the appeal was dismissed, the cash should be paid to the Phillips within seven days of the appeal court judgment or by April 30 next year, whichever was sooner. Island Construction fired the pair on April 27 last year for serious misconduct. The company alleged Rebecca Phillips stole gas and was paid money for hours she had not worked. Barbara Phillips was claimed to have acted dishonestly. The mother and daughter went to an employment tribunal on the grounds of wrongful dismissal. The tribunal ruled that they were wrongfully dismissed at a hearing on December 4 last year. In the Supreme Court, Mr DeSilva and Island Construction argued in an appeal they were deprived of a fair hearing, but their appeal was dismissed.

A man denied robbery and drug possession charges yesterday. Gerald Green, 42, pleaded not guilty in Magistrates' Court to the theft of a gold chain and pendant worth more than $2,800 from Ronald Trott on July 11 in Pembroke. Mr Green also pleaded not guilty to the possession of diamorphine on July 27 in Pembroke. Senior magistrate Juan Wolffe released Mr Green, from St George's, on $4,000 bail and ordered him to have no contact with Mr Trott. He adjourned the case until December 19. The court also heard that Mr Green had a total of $2,190 in unpaid traffic fines. Mr Wolffe ordered him to pay a $340 speeding fine by January 7 next year and a $350 fine for riding an unlicensed motorbike by January 31. He also ordered Mr Green to pay a $1,500 fine for driving without insurance by April 30 next year.

Technology has brought huge changes to the construction industry over the last quarter-century, but some elements have remained unaltered over time, according to Greymane Contracting Ltd president Alex DeCouto. The company celebrated 25 years in business in November, inviting clients and industry partners to a bash at Azura, Greymane's ongoing three-phase project on the site of the former Surf Side Beach Club on South Road, Warwick. While processes have changed since Greymane was founded by Tomas Smith in 1994, and some personnel needs have disappeared, a lot has stayed the same, says Mr DeCouto, 43, who took over the business ten years ago. "A guy still mixes mortar in a concrete mixer, an electrician still cuts wire with a pair of pliers, and we still drive trucks to haul away dirt. But technology in the workplace? We have been affected by it just like every other workplace. We don't have a receptionist any more, there is no one to type my letters, and there is a constant fire hose of information coming at you all the time. On the good side, that information can help the business, and make it easier to do your job. Take our job at the airport, we don't produce printed drawings any more. We use iPads, or phones. Our drawing package of 1,000 drawings 'lives in the cloud'. Our architect might be in Toronto, and our engineer might be in New York, and changes are made live. The guy on the job site has access to those changes right there. That requires new skills, and technology, more hardware. We do a lot of things the same, but we have improved information, and that has sped up things, and it means that our quality levels, and our finished product, can be higher now than it used to be." Greymane, which is 100 per cent Bermudian-owned, started out in the drywall business. Evolving to meet the changing needs of the local construction market, the company's offerings now include general contracting for large-scale commercial and residential projects, and a builders' supply business that provides materials to the local industry via partnerships with overseas manufacturers such as Armstrong and 3M. The company has 55 full-time staff, including 12 people at the management level, while there can be "hundreds of people" working on Greymane projects at a given time, Mr DeCouto says. He added: "We are management-heavy compared to some companies. We are not a 'man in the van' type of outfit. We have five or six guys who have been to university working for us. We have hired a largely local management staff, and have empowered them to join the leadership team with me so that we can grow and evolve the company. It's an exciting time for us." Most of Greymane's clients, Mr DeCouto said, are other businesses, including developers, hotels and commercial tenants. Aside from the Azura development, the company's current major projects include a subcontract at the airport for Aecon and Skyport, and the renovation of Hiscox Bermuda's new corporate office space. The company has a well-deserved reputation for top-class commercial interiors work, having worked on jobs including the newly-renovated PartnerRe office space designed by CTX, and the award-winning Hamilton Re headquarters designed by L&S Design Ltd. Commercial clients understandably have high expectations, Mr DeCouto said, and so Greymane staff must have the skill sets to deliver those projects. A graduate of Mount Saint Agnes Academy, Mr DeCouto later earned a diploma in the three-year construction management programme at George Brown College in Toronto and a construction-specific master's degree in business administration from the University of Reading in England. He said: "The MBA was eye-opening, it created that thirst and curiosity for bigger and better things, like running a company." Mr DeCouto, recipient of a $1,500 scholarship from the Construction Association of Bermuda in 1998, is a big supporter of the industry group's annual educational offering, which has now increased to become a $15,000 stipend. Greymane's project manager, Malachi Astwood, is another former recipient of the scholarship while 2019 summer student, Patrick Gibbons, is the current recipient. A number of Greymane employees got their first taste of the industry during the company's summer internship programme. There are a wide range of career opportunities in the local construction industry, Mr DeCouto said, including working as an engineer, architect, designer, quantity surveyor, building surveyor, in real estate building valuation, or in construction management. "There is a whole world of opportunity in construction, whether it's as a white-collar worker or blue-collar worker," he says. "Blue-collar work can be just as lucrative for a seasoned, trained and certified tradesperson." A decade after taking over Greymane, Mr DeCouto said the company's ability to adapt to fluctuations in the economy have allowed it to survive some difficult years in the industry. "The last ten years have been a bit of a roller-coaster," he says, "but in the last two years, we have poked our head above water. Having a growth mindset that looks for opportunities, believes there are opportunities, and goes out and finds them or creates them, there really is something to that as opposed to the opposite, where a person lets pessimism rule. I have resolved to have a positive outlook, and find or create opportunities if they aren't there." Mr DeCouto said the company's future is "tied to the success of Bermuda over the next while". He added: "People invest in construction because they're confident where Bermuda is going. So, if Bermuda can maintain its success, there will be opportunities." The company marked its 25th anniversary with the launch of a new Greymane brand, designed by local firm Strata-G. The tagline, "Building Inspiration", speaks to the team's desire to bring their clients' visions to life through creativity and innovation, the company said. The new brand, Strata-G explained, has an energetic, vibrant feel and puts Greymane's clients, and their success stories, at the heart of its communications. "It was time," Mr DeCouto said. "We wanted to be topical, in the forefront of people's minds, popping up on their social media feeds, so that if people make a critical buying decision later, we have got a coherent message pulled together. It's why we rebranded."

December 3

Outside help has been hired to examine a controversial quarry plan, the Government has announced. A spokeswoman for the Ministry of Home Affairs said that an "independent inspector has been recruited to review the application as well as the appeal" for the proposal for an area of land on Judkin Lane, in Hamilton Parish. But she added: "We can categorically state that the process has been fair according to the legislative requirements." The Development Applications Board gave planning permission for one year for quarrying at the site in October. The quarrying application for the property, owned by Nelson Cordeiro, was made by quarry operator Shawn Perott. But conservation groups said the Government had forced through the application for the site, which is near Mangrove Lake, a nature reserve. A spokeswoman for the Bermuda National Trust confirmed last week that the group had appealed the go-ahead for quarrying. The spokeswoman claimed that the application "was not advertised as normal, nor were the details clear, meaning that many of the neighbours and other concerned conservation bodies were denied their right to provide input". The appeal has been backed by the Bermuda Audubon Society. Karen Border, the president of the BAS, said in a letter to The Royal Gazette, that there was "a clear failure in the handling of the quarry application". She said that the planning application for the quarry had been published in the Official Gazette on Wednesday, October 9, and not on Friday as was done normally. Ms Border added that the quarry application was also not included in the list published on October 11 of applications registered between October 3 and October 10. But the spokeswoman said there was "no legislative requirement to gazette the advertisement every Friday". She added: "Prior to the implementation of the online Gazette managed by the Government, past practice was for planning applications to be advertised on a Friday in a local newspaper. While advertisements could be gazetted on other days, it incurred an additional cost. The new e-Gazette now allows advertisements to be posted on any day, Monday through Friday, free of charge. All other statutory requirements remain to be followed." The spokeswoman said that Walter Roban, the home affairs minister, had outlined plans to streamline the planning process earlier this year. She added: "The e-Gazette is one such example." Mr Roban said at a press conference last week [Thursday] that he was not prepared to comment on the complaints about the Judkin Lane plan. He added: "As would be publicly known, that application is the subject of an appeal." Mr Roban said that all the processes that involved development were a matter of public record. He added: "Anyone can go and see the whole process. The file is open to those who wish to view it. There's no secret as to the process around these sort of applications."

A panel has been established for the selection of litigation guardians to represent children in court, according to Kathy Lynn Simmons, the Attorney-General and Minister of Legal Affairs. Ms Simmons said this afternoon that the panel consisted of "five persons who are qualified, certified and experienced social workers". She added: "The number of persons on the panel may increase in due course based on resource and service requirements." Ms Simmons said: "As the Minister responsible for child and family services, I am pleased to be the first minister to establish a panel of persons to serve in this capacity. The Chief Justice has been advised accordingly and the Court can now effectively select a litigation guardian from the panel unless it is satisfied that it is not necessary to do so in order to safeguard the child's interests." She said the ministry would monitor the effectiveness of the scheme while "advancing a fiscally sustainable and independent model in keeping with best practice in this area".

In a recent request via media, Minister Wayne Furbert asked the public to sign up to be on Government Boards. The Women's Resource Centre recently drew the below stats to the Minister's attention, and would like to draw to the attention of the Public the below stats as well, from 2018. 2018 Summary, of 104 Boards listed:
41 chaired by females (39.42%)
16 with females as deputy chairs (15.38%)
Females account for a total of 396 out of 921 (43%) all board members (*N.B. – based on listed members. Several boards had non-identified members from linked organizations (mostly acting as ex-officio) e.g. "student representative"; "BMA representative"; "PTB representative" etc.)
38 Boards (36.54%) with over 50% female members - with a dominant presence in: Health (nursing, psychology, addictions, chiropody; dieticians; medical lab; physiotherapy; mental health; occupational therapists and accessibility Boards) and in Education (Cedarbridge; Board Education)
7 boards (7%) had no female members
The stats are not 100% accurate in that some boards list an unnamed ex-officio member from the relevant Government Ministry or other body. Also, the board listings also include Parish Councils but 'the point' is that there is prevailing gender disparity especially in board leadership and a demonstrated and prevailing opportunity for improvement. The Women's Resource Centre says: We have proposed to the Minister that this is an issue that can be easily remedied. We encouraged the Minister to advance with his colleagues to annually prescribe and encourage gender parity to board appointments, particularly relating to board leadership; that during selection, the Government and population as a whole would be reminded of the importance of this representation, and that this could easily be advanced as a Government Policy. Additionally, it would be admirable if, as in many parts of Europe, this Government might also consider applying parameters for gender parity on private Company boards. Again, it could be a Policy in the first instance, not necessarily legislated unless the former isn't willingly achieved. It would be easy to track and as companies must currently declare the percentage of Bermudians (ownership and directors), the percentage of females on their boards could also be a required reporting. The Minister's response was favorable with a response to encourage women to apply. So this is a Clarion Call to all the women of Bermuda to please apply to Government Boards. Let us collectively contribute toward our outcome as women, so that we have a voice in the decision-making process of our community that is more reflective of all of our interests. For further information about the Women's Resource Centre please visit our Facebook page at Women's Resource Centre Bermuda at 295-3882.

International co-operation on tax transparency has identified about $113 billion in additional tax revenues over the past decade, says the Organisation for Economic Co-operation and Development. A report on the tenth anniversary of the founding of the OECD's Global Forum on Transparency and Exchange of Information for Tax Purposes also credited the group's work with a 24 per cent decrease in non-resident bank deposits in international financial centres. Working through the forum, 158 member jurisdictions including Bermuda, have put in place thousands of bilateral information exchange relationships, enabling 250,000 information exchange requests over the past ten years. Automatic exchange of information, which began in 2017, accelerated the trend. The report stated that in 2018 nearly 100 member jurisdictions automatically exchanged information on 47 million financial accounts, covering total assets of $4.9 trillion. "The Global Forum has been a game-changer," OECD Secretary-General Angel Gurría said. "Thanks to international co-operation, tax authorities now have access to a huge trove of information that was previously beyond reach. Tax authorities are talking to each other and taxpayers are starting to understand that there's nowhere left to hide. The benefits to the tax system's fairness are enormous." The OECD said that almost all Global Forum members had eliminated bank secrecy for tax purposes, with nearly 70 jurisdictions changing their laws since 2009. Almost all members either forbid bearer shares — previously a longstanding impediment to tax compliance efforts — or ensure that the owners can be identified. Since 2017, members have also had to ensure transparency of the beneficial owners of legal entities, so these cannot be used to conceal ownership and evade tax. Looking ahead, the report states: "While the results achieved are impressive, more needs to be done to ensure that tax scandals of the scale seen in the past are not repeated. Tax evaders remain keen to exploit any new loophole or weakness in the legal and regulatory frameworks across the world. International co-operation should remain strong to address the remaining gaps in the system and pre-empt new tax evasion and avoidance strategies." To that end, the Global Forum intends to continue its peer review process to ensure the effectiveness of exchange of information and to strengthen regulatory frameworks and practices in developing countries. Bermuda has been a proactive participant in the Global Forum, since having been elected as vice-chairman of the organisation's steering group in 2009. In 2011, when Paula Cox was the finance minister, the island also hosted a meeting of the Global Forum, which attracted 227 delegates from 85 countries.

The Airport Charity Classic organized by Skyport, Aecon & Bermuda Airport Authority raised more than $30,000 for two local charities in its second year. The event was held on October 10 at Tucker's Point Golf Club with all proceeds going to Tomorrow's Voices and SCARS (Saving Children and Revealing Secrets). Twenty-eight teams registered to play with more than 100 golfers taking to the course. Aaron Adderley, President, Skyport, says: "SCARS and Tomorrow's Voices were both chosen for the amazing work they do for Bermuda's young people. We believe in supporting the education and development of children by investing in programmes that leave a lasting impact on their lives and these two organizations were a great fit. On behalf of Skyport, Aecon and the Airport Authority, I would like to thank all of our sponsors and partners who made the second Airport Charity Classic a successful event." Thanks to sponsors and partners, The Airport Charity Classic raised $30,310 for charity in its second year, exceeding the $30,000 mark yet again, following donations to Big Brothers Big Sisters and Mirrors during the inaugural event last year. Many of the sponsors included subcontractors who are presently working on the site of the airport redevelopment project. Debi Ray-Rivers, Director, SCARS, says: "On behalf of SCARS, we are beyond grateful to have been chosen as one of the recipients of the Airport Charity Classic fundraiser. This very generous donation absolutely makes a huge difference for us. These funds allow us to continue providing prevention education and awareness to reduce the risk of child sexual abuse in our community. It also provides SCARS an opportunity to continue to advocate and be a voice for children who have been sexually abused as well as their affected family. SCARS does not charge attendees for any of our prevention programs and we hope that we never have to. With donations like this, a significant economic barrier is removed; thereby giving all adults in Bermuda the opportunity to become educated by participating in our programs, and for that, we say thank you to Skyport, Aecon, the Airport Authority and all those responsible for raising these funds." Stacy Hill, Funding and Development Officer, Tomorrow's Voices, says: "Tomorrow's Voices- Bermuda Autism Early Intervention Centre would like to thank Skyport, Aecon and the Airport Authority for choosing our charity as one of the recipients of The Airport Charity Classic. It is because of donations like this that we are able to continue to provide our in-house one-on-one programme, our social skills programme, our summer camp programme, our in-home and school consulting and provide educators, health professionals, parents and the Bermuda community with trainings to support those touched by autism. Again, thank you to Skyport, Aecon and the Airport Authority for your generous donation which will positively impact the life of a child with autism." Sponsors for the event included Aecon, Apex Industries, Argo Engineering, Benson Steel, BEST Shipping, BCM McAlpine, Burrows Lightbourne Ltd Cedar Aviation, Correia Construction, Current Vehicles, Daco Worldwide, Delta Airlines, D&J Excavation, Dolphin Glass, Eventscape, Fairmont Southampton, Fish Construction, FOURSITE – GREYMANE JOINT VENTURE, Freisenbruch Meyer, Grotto Bay Beach Resort, Hamilton Princess, HTS, iHope Global, Kaissa, Lili Bermuda, Link Bermuda, Marsh, Menzies, Noesis, NORR, Palgag Construction, RA Murray, Scott Associates, Stantec, The St. George's Club, Rosewood Bermuda, Thermoset Roofing and Update Group.

The Bermuda Industrial Union has launched legal action against a sports club over unpaid debts from up to 18 years ago. A writ, filed by the law firm Trott and Duncan on October 2, referenced two promissory notes between the BIU and the Pembroke Hamilton Club, one dated March 26, 2001 and the second on April 15, 2003. The writ also referenced a collateral mortgage dated April 23, 2003. Michael Trott, the PHC president, confirmed the legal action yesterday. He declined further comment and said: "The process is ongoing." Chris Furbert, the BIU president and a former PHC president, did not respond to a request for comment. The case is understood to be linked to a $1.2 million loan made by the union to the club in 2001 to pay for a new lighting system and the resurfacing of the playing field at the club's Stadium Lane, Warwick grounds. The loan was to be repaid over a 17-year period through rental income from PHC's two-storey building on Reid Street in Hamilton. But it was reported in 2014 that the club had yet to pay the principal on the loan and the union had threatened to seek ownership of the Reid Street building. The PHC management made out several proposals in 2012 aimed at raising revenue to improve the club's financial standing and pay off outstanding debt. Among the proposals was the sale of the Reid Street building, which was rejected by influential club members.

Butterfield Bank's board of directors has approved a new $125 million share repurchase programme. The programme, which was announced in a filing with the Bermuda Stock Exchange, will enable the bank to buy back up to 3.5 million of its own common shares through February 28, 2021. Michael Collins, Butterfield's chairman and chief executive officer said: "Having the flexibility to repurchase shares is an important aspect of our capital management strategy, complementing our quarterly cash dividend payments and maintaining the ability to support organic growth and make strategic acquisitions in our core markets. "We see significant value in repurchasing Butterfield shares and appreciate the confidence and support of the board with this new authorization." The timing and amount of any share repurchases will be determined by bank management based on its evaluation of market conditions and other factors that include Butterfield's share price and the availability of alternative capital investments. Repurchases under the new share repurchase programme may be made in the open market or through privately negotiated transactions. The new programme will come into effect following the completion of the existing 2.5 million share repurchase authorization that was announced on December 6, 2018, which currently has approximately 225,000 shares remaining. Butterfield also said that during November it spent around $12.9 million buying back 383,600 of its own shares at an average price of $33.79 per share.

A family business that has been part of the island's real estate scene for 40 years has changed its name as it moves forward through its second and third generation. Shrubb Realty is the new name of Roderick DeCouto Real Estate, which moved from its long-time home on Reid Street to nearby Chancery Lane two years ago. Judy Shrubb, daughter of the late Mr DeCouto, is president of the company. She and her husband, Peter Shrubb, have owned and managed the business for the past 20 years. A third generation of the family are also part of the team; the couple's children Matt Shrubb and Kristen Ahmed are both agents. Mrs Shrubb and her son, Matt, explained the changes that have been transforming the business, starting with the change of the company's name. "My children keep me on my toes and finally convinced me that even answering the telephone with such a long business name sent people to sleep," said Mrs Shrubb. Her son added: "Every thing nowadays has become a bit simpler and cleaner, that's the model of the modern world. Roderick DeCouto Real Estate was long in the tooth — just answering the phone or writing e-mails. And there were still people calling for or looking for Roderick DeCouto. There were a lot of different factors to push forward with the new name. It keeps things concise, simple and also keeps the family heritage." The name has changed, but the company has retained its distinctive Bermudian roof logo design. Moving with the times has also meant a new-look website, featuring easier to navigate pages and listings, map and street-view options to help clients locate properties, and the introduction of QR codes. The matrix bar codes also appear on agents' business cards and on property detail handouts. Mrs Shrubb's son has a background in mechanical engineering and an interest and familiarity with computer coding. He played a role in the website redesign and other technology improvements. He said the QR codes "allow easy access to information about a listing, and a single button method for a client to add an agent's information to their contacts". Mr Shrubb added: "A client can scan with a phone camera and add all their agent's details. On handouts you scan the code to pull up the webpage with all the information. I find transparency is such a big thing in the world these days. We like to offer full transparency, so we have estimators of what the closing costs are likely to be, what you can afford. We try to get as much information to our clients, so we've made that a big feature of our new site." It is a big change from how things were in 2000 when Mrs Shrubb became an owner of the business. Back then, there was no website and e-mails were a rarity, while the advertising of properties was primarily through the pages of The Royal Gazette and in the large window display at the company's office. Mrs Shrubb said: "It was also very much a face-to-face way of doing business. Now it tends to be more arms-length until you get to the crucial point where you have people interested to go and view. As I am beginning to understand and learn, a lot of the younger people like to shop online, stay at home and do it on their computer on a Saturday night or Sunday morning with their coffee in front of them. Today, it's all about facts, they want to know where it is, what's the cost, give me the facts. That's what people are comfortable with." The other members of the Shrubb Realty team are Jeff Payne, Barbara Willis, Linda Tailford and Diana Heslop. When asked what differentiates Shrubb Realty from other real estate businesses, Mrs Shrubb pointed to the experience of the team. She is a member of the Chamber of Commerce's real estate division, and a past chairwoman. She added: "I was taught by one of the veterans, and one of the earlier realtors to establish themselves. And having owned and run his company for 20 years, from my point of view, we do have the experience." Her son said being a smaller firm means Shrubb Realty is more cohesive with strong communication between agents. He said: "Some of the larger firms wait for the Wednesday morning debrief to talk about things, but since we are closer knit we are constantly talking about things as they come up and getting a better lead on things." Mr Shrubb said the team members bring a variety of perspectives and backgrounds to the process, which helps clients. As an example, he mentioned his sister's background in interior design, which can add insight for a client viewing a property. While his own mechanical engineering background and exposure to architecture and interior design, also comes in useful when advising clients. "I'll go down to the pump room and I'll love it, then I'll see a beam and love it," he said. "I've always loved the looking at houses part, and the design part. When we are looking at places, I can give clients a bit more in depth insight. Like, when we look in a pump room and I see galvanized or I see PVC in there — I can tell them that's all looking good and they don't need to worry about that. It helps give them a different insight." Mrs Shrubb said one reason she has stayed in the business for 20 years is that she is a people person who enjoys meeting, understanding and helping clients. And regarding the company's office on Chancery Lane, where it has been for the past two years, she said: "We think this a really welcoming space where they can come in and have a chat, have a coffee, and get some ideas." Shrubb Realty has a website at shrubbrealty.com.

Sylvia Shorto joined the Lifelong Learning Centre as its director 11 days ago. She's likely still figuring out how the coffee pot works. But when the dust settles, she has some plans. High on the list is eliminating "concepts of ageism" from the Bermuda College programme that offers enrichment courses to people aged 55 and older. Dr Shorto believes that as people get older they become privy to some of life's "well-kept" secrets. "You cease to be afraid of death," she said. "When you are young you are made anxious by the fact that eventually you will die. When you become older, you know of course you will die, so you take advantage of every second that you have got." Getting older also works against you, said Dr Shorto who refused to give her own age. She believes people often make blanket assumptions — such as whether you are capable of doing a part-time job. "You are able to continue as long as you feel you are able to continue and able to contribute," she said. Born in a military family, she lived all over the world as a child. On her 19th birthday she came to Bermuda to visit her aunt, Frances Frith. She intended to stay for six months but, at a wedding, met Gavin Shorto. They married and had a son, Hamish. "Focus began to come to me in my mid-30s," she said. "Once you have become focused, you are more and more able to take a path that suits you, and see the path that you are on, then continue to pursue what you find valuable and important." Furniture, and by extension, architecture were her focal points. As a child she'd loved watching her grandfather doing woodwork. "He would sit at the kitchen table with his fret saw and cut things out," she said. "My grandmother used to be bustling around with a dustpan and brush cleaning up the sawdust." In boarding school in Devon, England, she took lessons with a group of younger boys. "There was a substitute teacher who cut one of his fingers off on a band saw. I had to deal with it because, at 16, I was the oldest in the room." Next came a class in furniture making, but her appetite for power tools was soured. "I suspect that led to a greater interest in hand tools and how things were made by hand before the invention of power tools," Dr Shorto said. In Bermuda, she took a class in furniture restoration. "I am very interested in how objects reveal history," said Dr Shorto. "You just have to interrogate them and look at them closely and try and figure out what is going on with them, what their function was. You can do this with furniture and paintings, and anything man-made." Her interest led her to a bachelor's degree in art history from the University of Toronto, then a master's and a PhD from New York University's Institute of Fine Arts. She wrote her doctoral dissertation based on a study of five homes in 19th-century Delhi, India. Her research took her in and out of the South Asian country for more than a year in the 1990s. "I was physically nervous of it to begin with," said Dr Shorto, the author of Bermuda: Gardens and Houses and British Houses in Late Mughal Delhi and several other books and scholarly articles. "I didn't know what to expect. India then was very shabby and it was hard to distinguish what was shabby and dangerous and what was shabby and perfectly safe. It was a question of adjustment. I went on a fellowship from an organisation called the American Institute of Indian Studies. They had a guesthouse, so I had booked a room there. The first thing that happened was I met a mongoose in the garden. I thought, 'How lovely. It has whiskers.'" As the mongoose is known for killing poisonous snakes she worried that there might be a cobra in the garden. But she grew to love India. Research grants such as the National Endowment for the Arts Award for curatorial studies and the Acheson Wallace Fellowship helped her studies. After getting her PhD, she taught in the art and design school at the American University of Beirut. "It was wonderful," she said. "It was never a negative experience. Beirut was sophisticated. It was like most places that have a great deal of history. It was many, many things all bunched together. Because of the political history of Beirut, it has tensions and conflicts, but somehow people manage to find a way to balance things together and live together in relative unity." It also helped to extend her view of history. "I had been to Rome and Athens, but when you go to the Middle East, you go back 3,000 to 4,000 more years to visible material culture," she said. "You can look back into Iron Age settlements and see excavations that take you back 7,000 years BC." While there she also volunteered with a programme similar to the one offered by the LLC. "One year I took undergraduate students and senior students to Spain," she said. "They had a great time together. The older people went clubbing with the young ones. The undergraduates were mindful of the seniors and helpful. It was wonderful. We started in southern Spain and went up to Toledo." Two years ago, she left the job and returned to the home she and her husband share in St George's. "The first little while I was back was spent really getting to know St George's," she said. "Although I was always home for at least four months of every year — sometimes for years off when I had research grants — it was necessary to relearn the place. When you go away for a long period of time and come back sporadically, you think it is the same but don't have time to really catch up. I was assuming Bermuda hadn't changed, but, of course, Bermuda had changed enormously over the years. I think I see that people are becoming better and better informed all the time. Bermuda is becoming less isolated because of the internet." Lifestyle profiles the island's senior citizens every Tuesday. Contact Jessie Moniz Hardy on 278-0150 with full name, contact details and the reason you are suggesting them.

Under-fire the Duke of York, of Britain's Royal Family, has quit as patron of a charity set up to raise funds for the preservation of the historic St Peter's Church in St George's. Buckingham Palace said the Prince Andrew has stepped down as patron of more than 200 charities — including St Peter's — over sex allegations. The Duke, who was removed from public duties last month, is still listed as the patron for the Friends of St Peter's, dedicated to the preservation and promotion of the church. The Royal Gazette asked Erskin Simmons, chairman of the charity, if the Duke remained as patron, but he did not respond. Buckingham Palace announced last month that the Duke would step down from all 230 of his patronages over allegations that he had sex with a teenage girl. The Duke has come under scrutiny in recent years over his friendship with Jeffrey Epstein, a convicted sex offender and wealthy financier. Virginia Roberts Giuffre alleged in a 2015 court filing that she was paid $10,000 by Epstein to have sex with the Prince when she was 17. The accusations resurfaced this year when Epstein was arrested on federal charges for the sex trafficking of minors in Florida and New York. Epstein died in his prison cell on August 10 of what a medical examiner ruled to be suicide. Ms Giuffre maintained her claims last night in an interview with the BBC programme Panorama. She called the response by the royal's to her allegations "BS". Ms Giuffre said of the Duke: "He knows what happened. I know what happened, and there's only one of us telling the truth, and I know that's me." The Duke discussed his friendship with Epstein and the accusations against him in an interview with flagship BBC news magazine Newsweek on November 16. He denied the allegations and said he had "no memory" of a photograph taken with him and Ms Guiffre. The interview was branded a public relations disaster by the British media. Prince Andrew resigned as chancellor of the University of Huddersfield after students lobbied for his removal in the wake of the scandal. He also stepped away as patron of the Outward Bound Trust, the Royal Philharmonic Orchestra and London Metropolitan University among other organisations.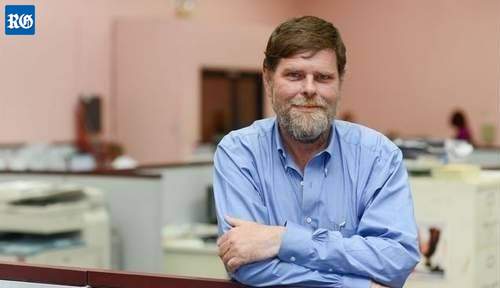 Tim Hodgson, a former Editor of the Mid-Ocean News and Editorial Consultant for The Royal Gazette, has died. He was 57. Colleagues and friends said Mr Hodgson, who started his career in journalism aged just 15, was an unparalleled reporter whose output left an enduring mark on Bermuda. Bill Zuill, a former Editor of the Gazette , said Mr Hodgson took to the trade as a youngster with "stunning ease" and produced some of the island's best investigative journalism over the past 25 years from his position at the helm of the weekly Mid-Ocean News . Mr Zuill said Mr Hodgson was "brilliant and iconoclastic" with an insatiable curiosity. He added: "These were the hallmarks of a great journalist and an even better human being." Gavin Shorto, also a former Editor at the Mid-Ocean who worked at the Gazette when Mr Hodgson joined the weekly, said: "You don't expect much from a schoolboy, but Tim was different. He was working more or less as a senior reporter very quickly, and certainly before he left school." Mr Shorto added: "Tim was thoroughly intelligent, wrote extremely well and carried a small library's worth of general knowledge around in his head. Although this changed later in his life, he loved what he was doing — he came into the office with a smile on his face, almost rubbing his hands at the thought of being able to find and write about something that would surprise and shock Bermudians." Both former editors agreed that Mr Hodgson seemed destined to ply his trade on the world stage, but he remained committed to Bermuda. Mr Shorto added the Mid-Ocean's output in the 1990s rose to "amazing journalism when the Progressive Labour Party first came into power". He said: "If the paper had been eligible for Pulitzer Prizes, they'd have won a bunch of them. But Tim was too self-effacing ever to have thrown his hat in that kind of ring." Mr Shorto said Mr Hodgson was a "larger-than-life, Falstaffian character, though without always showing the jolly side that word suggests. Here, he certainly challenged the parameters of our journalism. Tim Hodgson was a large and complex man, but make no mistake, he was extraordinary. Bermuda is much the poorer for his passing." Mr Hodgson was taken on as an intern by Charles Barclay, then the Editor of the Mid-Ocean News, after he won the The Royal Gazette's Christmas Short Story Contest while still at Saltus Grammar School. He wrote for the Mid-Ocean News as a teenager on holiday from Stowe School in England, where he continued his education after leaving Saltus. Mr Hodgson later attended the University of Toronto, graduated in 1984 with a Bachelor of Arts degree and joined the Gazette full time, rising to the position of sub-editor. He succeeded Amanda Outerbridge as Editor of the Mid-Ocean News in 1989 — a role he held until the weekly newspaper ceased publication in 2009. Mr Hodgson later freelanced online for Bermudian and overseas publications before he returned to the Gazette in July 2013 as Editorial Consultant. He ran the Gazette newsroom until the appointment of Dexter Smith as Editor in June 2015, but remained as Editorial Consultant until he left the company in May 2018. Mr Hodgson's range of interests included books, music, film and Bermuda history, and he often posted historical pieces on social media. Mr Smith last night paid tribute to "one of the great literary minds of our time. It was an honour to work alongside Tim — first during my spell at the Mid-Ocean between 1994 and 2000, and subsequently on my return to the island at the end of 2013 for a briefer period. He was a fount of knowledge, his recall of Bermuda history unparalleled. Such a treasure will be very difficult, if not impossible, to replace." Ms Outerbridge said Mr Hodgson had "outstanding" research and writing skills. She added: "Once he had a topic in his sights, he focused intently and left no stone unturned." Ms Outerbridge said Mr Hodgson wrote for the Mid-Ocean while she was Editor and that "we could depend on him to come up with meaningful and substantial articles with depth". She added: "He was intellectually curious, knew a tremendous amount about many topics, ranging from the Hollywood movie industry to Bermuda history and politics, and he cared deeply about Bermuda." Ivan Clifford, Assistant Editor for 20 years under Mr Hodgson at the weekly, said: "Tim was the fifth Editor of the Mid-Ocean News I worked under. He was a highly intelligent man and a wonderful writer who spent almost his entire career at either the Mid-Ocean News or The Royal Gazette and was well respected for his editorials which were a hallmark of both newspapers. He was a fearless editor who certainly left his mark on local journalism. Life in the newsroom was never dull. His last throw of the dice at the Mid-Ocean News was to switch from a broadsheet to a tabloid, and it was a great shame when this didn't work out and the newspaper closed in 2009." Mr Hodgson was predeceased by his parents, Kenneth and Aileen Hodgson. Kenneth Hodgson served as a captain in the Royal Engineers during the Second World War and was among the British soldiers who liberated the Nazi Bergen-Belsen death camp in 1945. His life and experiences were a huge influence on his son. Mr Hodgson co-wrote an award-winning series of reports with Kevin Stevenson on the United States' Cold War nuclear weapons deployment plans. The two won a first-place award in the Inland Press Association's annual newspaper competition for their articles, which exposed the storage of nuclear depth charges at the former US Naval Air Station in Bermuda. Mr Hodgson was praised by former premiers from both sides of the political fence. Sir John Swan, a long-serving leader of the United Bermuda Party, said Mr Hodgson was "one of the best writers Bermuda had — an intellectual writer able to grasp the issues of the day and unafraid to write about them in a literary form". He added: "He was a master of words that defined not only the attitudes of people, but the importance of issues. I enjoyed my close relationship with him and respected his work. More important was the integrity he had in getting the job done." Dame Pamela Gordon Banks, also a former UBP premier, said Mr Hodgson was "an incredible and erudite writer — I respected his passion and his ability to be forthright. I hope that he finds peace. My heart goes out to his family." Dame Jennifer Smith, who led the Progressive Labour Party to its first victory at the polls in 1998, said: "Even though I objected vociferously to some of his writing, he did his best. My sympathies to his family." John Barritt, a journalist and former UBP minister and One Bermuda Alliance MP, said Mr Hodgson was "one of the best writers I have ever known. As a columnist who wrote under his watch, I valued his opinion always. He had such a way with words which were, after all, his stock in trade — a wordsmith par excellence he was. Opinions aside, he was as entertaining as he was illuminating. That is a rare skill. I particularly loved his turn of phrases. His keen wit would shine. He was also an engaging raconteur and great company at the table. I shall miss him." Dale Butler, a former PLP MP and minister, said Mr Hodgson had become a friend in recent years. Mr Butler said: "Our friendship was mainly over the sharing of old photographs. He also wrote extensively — I could only admire his background knowledge. As much as I and my political party could be cut by the knife of his writing, over the past couple of years I enjoyed his conversation because politics was no longer involved." Steve Thomson, the chairman of Bermuda Press (Holdings) Ltd, the parent company of the Gazette , said: "Tim's passion was journalism and it showed. His editorials in both The Mid-Ocean and The Royal Gazette were in-depth, thoughtful and always inspiring. His writing style was very apparent and after the first sentence, you were immediately aware that Tim Hodgson was the author. Tim's long tenure at the Mid-Ocean and the RG made him a lot of friends, both on island and off. Words that come to mind when thinking about Tim and his life's work are passion, gentleman, intelligent, focused, kind and all-consuming. On behalf of the entire Royal Gazette, Mid-Ocean and Bermuda Press (Holdings) families, we extend our heart felt condolences to Tim's family. He will be missed and was taken from us far too early." Stephen Davidson, vice-chairman of BPHL, said: "Tim was the rare journalist who had an elephantine memory for small details that — built up over the span of years — he could synthesize into a bigger pattern driving a hard news story or a balanced editorial or just a darn good story to tell friends. He had a singular voice and force of argument that leapt from print, where even without a byline, readers would instantly recognise 'Tim Hodgson wrote this'. Tim was from the old school of journalism of thought, research and eloquence where readers felt that they learnt something useful and of substance." Jonathan Howes, the BPHL chief executive, said Mr Hodgson's "passion for reading and journalism were second to none. He was a great journalist, perhaps the best Bermuda will ever know. He was firm in his belief that Bermuda needed independent journalists, free from the interference of advertisers and those on the business side of newspapers. He stood up for what was right, defended the public's right to know and was not afraid of being scrutinized for doing his job."

December 2

European Union plans to require large multinational companies to publicly reveal their profits and tax liabilities in each member state have stalled. Twelve countries, including Luxembourg, Malta and Ireland, opposed the transparency measure at a meeting of the EU Competitiveness Council, as Germany abstained and the UK did not vote because of its imminent General Election. Consequently, the proposal failed to garner the necessary 16 votes to move forward to the European Parliament. Supporters of the measure saw the vote as a setback to efforts to combat tax avoidance. Sven Giegold, spokesperson for the Alliance 90/Greens party in the European Parliament, said: "This is a bitter day for tax justice. A blocking minority of member states prevented more tax justice in Europe and sided with the tax havens." Bermuda is one of the countries to have signed up to the Organisation for Economic Cooperation and Development's country-by-country tax reporting for large multinational companies, which is aimed at preventing companies from shifting profits to low-tax jurisdictions. The rules require large multinational companies with an annual turnover of $750 million or more to provide country-by-country tax and profit reports to national tax authorities. The EU proposal differs in that it would make such information public. It targets multinational enterprises with total revenue of more than €750 million ($830 million) in each of the past two financial years, requiring that they disclose the income tax they paid in each member state along with other relevant tax-related information. Some countries, including Germany, worry that revealing companies' tax and profit information publicly will give a competitive advantage to companies outside the EU that don't have to report the information. One head of tax at a multinational manufacturing company told International Tax Review: "It's not just reputational risk, but wider business competitiveness. Public CbCR offers tax information on EU-based companies, including insights into [tax] structures, but US companies don't share this information under any such standard." The legal basis of the EU proposal as EU single-market law was a major source of disagreement in the European Competitiveness Council meeting. Ten countries put forward a statement saying it should instead be considered tax law, which would require unanimous approval by member states, rather than the majority vote needed for single-market law. However, member states led by France, Italy, Spain, Poland, the Netherlands, Denmark, Belgium and Finland argued during the debate that the core of the legislation dealt with transparency and not taxation. "This legislation does not impose a tax nor does it affect the tax base of corporations,'' Timmo Harakka, Finland's labour minister, said. "Therefore it does not impact national tax sovereignty of member states." Ireland and Luxembourg are among the lower-tax EU countries who have most to lose from measures to reduce tax avoidance. Each are also home to the European operations of some of Bermuda's international re/insurers. Luxembourg, in particular, is coming under increasing scrutiny. International Monetary Fund data showed that the country of 600,000 people hosts as much foreign direct investment as the United States. The IMF argues that much of this flow goes to "empty corporate shells" designed to reduce tax liabilities in other countries.

Yearly road crash figures appear to have decreased as a result of breath-test checkpoints, national security minister Wayne Caines said on Friday in the House of Assembly. The minister said the island had recorded 1,117 collisions so far this year, compared with 1,467 for the whole of last year and 1,249 for 2017. There have been six road deaths, down from 12 last year and 15 in 2017. Mr Caines told the House of Assembly that roadside sobriety testing had helped improve public awareness and culture towards the dangers of drink-driving since their introduction last September. He said: "I am hopeful that the continuance of the roadside sobriety checkpoints will lead to a shift in Bermuda's drink-driving culture. "If the roadside sobriety checks initiative will stop just one person per weekend night from operating a vehicle while under the influence of alcohol, if the roadside sobriety checks will prevent one person from dying on our roads, I believe that it is worth the inconvenience and we will have made a difference." Mr Caines said that businesses had shown a "positive shift" in favour of the policy by offering free transport to customers, while late-night use of taxis had increased. The minister said 153 people had been arrested on suspicion of driving under the influence in the first ten months of this year, including 28 at roadside checkpoints. The worst offender had 380 milligrams of alcohol in 100 millilitres of blood, more than four times the legal limit of 80mg/100ml. A breakdown of drink-drivers showed 133 were men and 20 were women; 110 were black, 25 white and 18 others; ages ranged from 19 to 71; 143 were Bermudian, one British and nine did not have their ethnicity recorded. Mr Caines noted that 47 of the arrests came after collisions. Breath-test checkpoints will be in place in Hamilton Parish, Smith's, Devonshire, Pembroke, Paget, Warwick and Southampton next weekend.

A Bill dealing with pension scheme payments was put on hold after a string of complaints from the One Bermuda Alliance at the House of Assembly. Wayne Furbert, the Minister for the Cabinet Office, agreed to "rise and report" on the National Pension Scheme (Occupational Pensions) Temporary Amendment Bill 2019 on Friday. The legislation would give an employer and staff the choice of temporarily suspending 2 per cent or their national pension scheme payments over a two-year period. Mr Furbert, who was standing in for the absent finance minister, Curtis Dickinson, said the Bill would have amounted to a 2 per cent hike in take-home pay, aimed at alleviating financial hardship and boosting the economy. But Opposition MP Patricia Gordon-Pamplin branded the legislation "a tacit admission that the policies of this government are failing". Ms Gordon-Pamplin told the House: "The idea of having a pension fund is for it to grow over time." Neville Tyrrell, a Progressive Labour Party backbencher, called her "a purveyor of doom and gloom", and said people might avail themselves of the extra cash in times of financial distress. Scott Pearman, another Opposition MP, said: "I don't doubt it's a personal choice — but we as government have a responsibility to make sure people are taken care of." OBA MP Trevor Moniz told the House that he was concerned the legislation "seems to allow the employer to suspend 2 per cent of his contributions into the employee's benefit scheme without the agreement of the employee". He added that the only exception was if the employee was "represented by a collective bargaining agent". Mr Moniz said: "I just don't understand how you can give different sets of rights to employees. It just seems to wrong to me." Michael Dunkley, of the OBA, said he was "surprised government Members have not jumped up in droves to speak about this" and told them: "What the Government should do is stop raising taxes." He added: "If Members on that side sat on this side, they would be saying the same thing." Mr Furbert later told The Royal Gazette that the Opposition had "brought up issues" and that the Bill would return to the House on December 13, when Mr Dickinson could "clarify if needed".

Bermuda should invest in algae farms to help fight climate change, a Progressive Labour Party MP backbencher urged. Dennis Lister III said that the island should look at "exploring algae cultivation as a means of combating this imminent issue". He added: "Algae proves to be a sufficient source in combating, and even reversing, the effects of climate change, as it not only absorbs carbon dioxide, but also works as an alternate production resource and food source." The comments came during the Motion to Adjourn in the House of Assembly on Friday. Mr Lister told MPs that the problem of global warming could be accelerating. He highlighted figures that showed the 20 warmest years on record had all occurred since 1995. Mr Lister added: "The five warmest years have all been in this decade." He said that rising temperatures had led to rising sea levels and that "eventually, big coastal cities and Bermuda, will be underwater". Mr Lister said that when properly used algae was "up to four times more efficient than a tree at removing carbon dioxide from the atmosphere". He added: "That means that while we are learning to reduce carbon emissions and augment our consumption patterns, we can start to make big reductions in atmospheric carbon. When wielded correctly, it could make city carbon negative without changing current production or consumption patterns." Mr Lister said that algae could also be used for bio-fuels — "a more sustainable alternative to carbon-producing fossil fuels". He added: "Algae has been known to produce as much as 5,000 bio-fuel gallons from a single acre in one year." Mr Lister said that the use of algae for bio-fuels had been explored by the United States government during the gasoline crisis in the 1970s, and that oil companies and venture capital groups were at present conducting research focused on algae. He highlighted that a protest by schoolchildren over environmental concerns had taken place on Church Street, in Hamilton, that day. Mr Lister said policies related to climate chance most affected youngsters. He added: "The youth-led movement is building a coalition of first-time voters prioritizing climate change."

Bermuda Hospitals Board (BHB) has achieved a decision of Accredited with Exemplary Standing, Accreditation Canada's highest level of accreditation. The decision follows four years of quality and safety improvements, culminating in a weeklong onsite visit by independent surveyors in May. Accreditation Canada is a non-profit organisation that works with the Ottawa-based Health Standards Organization, healthcare providers, policy makers and patients to improve the quality of health and social services. More than 1,000 health and social service organisations and 7,000 sites around the world have been accredited by Accreditation Canada with a goal of safer, high-quality healthcare. Accreditation Canada surveyors are volunteers who are healthcare professionals in senior clinical or administrative roles at other accredited organisations. BHB CEO and President Venetta Symonds said: "I'm very proud of this result, which reflects the dedication and hard work our staff devotes to BHB's quality and safety improvement projects in addition to their daily work of caring for our patients. The surveyors emphasised how much we've achieved at BHB over the last few years, and even in the six months prior to the survey. They applauded how we have used the Strategic Plan 2016-2021 at the centre of our planning across BHB, and how our extensive Clinical Services Plan serves as the anchor for our strategic goals. They cited our dedication to quality and safety improvement and training at all levels, especially initiatives like the introduction of daily bullet rounds on inpatient wards and more focused discharge planning, the significant reduction in pressure injuries, our commitment to early identification and treatment of sepsis, and our increasing engagement of patients and families in policy and process development. They recognised the involvement of our entire team in achieving these results." BHB Chief of Staff Michael Richmond, MD, said: "In Bermuda our hospitals are required by law to be accredited by an approved accrediting body. However, the most important part of the process is the opportunity to receive feedback and recommendations from the Accreditation Canada team and the surveyors based on the knowledge and insights they've gained from our peers across North America and around the world. Clinical and non-clinical teams across BHB have been collaborating with the Institute for Healthcare Improvement, Johns Hopkins Medicine International and other partners to identify and implement changes to our services, processes and policies. These changes are already having a significant impact on the quality and safety of our care, as evidenced by Accreditation Canada's survey findings." Mrs Symonds added: "Achieving the highest level of accreditation does not mean we don't have more work to do. The survey report highlights the things we're doing well, but it also outlines areas we need to improve. Their advice, along with our other quality improvement partners, will help us along the journey to attaining our vision of Exceptional Care. Strong Partnerships. Healthy Community. One of our greatest resources on this journey is our patients and their loved ones. Their input on our services and care is invaluable in identifying the areas we fall short and helping us deliver the best possible care to every patient, every day. Our newly formed Patient and Family Advisory Council also provides advice on how we can implement or change processes to improve the patient experience. Thank you to the Council and to every member of the community who has taken the time to contact our unit managers and patient relations with their suggestions and concerns." From 13-17 May 2019, four independent surveyors assessed BHB against 26 sets of healthcare standards, 35 priority processes and 30 required organizational practices. They spent time at King Edward VII Memorial Hospital, Mid-Atlantic Wellness Institute, Lamb Foggo Urgent Care Centre and three of BHB's group homes, observing staff, reviewing documentation and policies, and interviewing staff, patients and community partners. The surveyors' findings were then reviewed thoroughly by the Accreditation Canada team before an accreditation decision and full report were issued. "Accreditation Canada is committed to supporting organisations like Bermuda Hospitals Board, who offer safe and effective care with a focus on continuous improvement. We commend BHB for their outstanding achievement and their contributions to our goal of achieving quality health services for all," noted Katerina Tara ova, Accreditation Canada's executive director of international accreditation. Accreditation Canada will continue to work with BHB throughout the four-year accreditation cycle, reviewing evidence related to unmet criteria, providing feedback, and monitoring standards and practices to ensure the organisation continues to perform at the expected level. BHB has been accredited since the 1970s. This year marks the 13th onsite survey by Accreditation Canada. The next survey will be held in May 2023. The accreditation report, decision letter and survey comparison table are available on the BHB website at bermudahospitals.bm.

Prisoners appealing their convictions could have remained in jail for months longer than necessary because of delays at the Court of Appeal caused by "lamentable failures" by lawyers. The court issued a hard-hitting judgment after four criminal appeals had to be immediately adjourned when it opened for a three-week session last month. In each case, for appellants Jeremiah Dill, Alex Wolffe, William Franklyn Smith and Kiari Tucker, counsel had failed to meet court orders for written submission for the dates specified. The court threatened to issue fines for contempt or dismiss appeals, if its orders were not followed in future cases. Defence lawyer Charles Richardson also came in for heavy criticism, for "playing the system" by failing to inform the court that he had been unable to track down his client. The judgment, signed by Court of Appeal President Sir Christopher Clarke and Justices of Appeal Geoffrey Bell and Anthony Smellie, pointed to "a number of regrettable and disruptive applications for adjournment" on November 4. It said: "We had before us, four applications to adjourn criminal appeals fixed to be heard in the following week." It said the applications came about "because counsel for the appellant had not complied with the orders of the court, to file written submissions by specified dates". One of the matters was pushed back to November 15 but the court "found ourselves with no option but to grant an adjournment in three of the cases". The judgment said adjournments have "several effects which are prejudicial to the administration of justice". It continued: "The appellant will not have his or her case heard until months later. If a convicted person's appeal against his conviction is allowed, he or she will have remained in prison for longer than he or she would have done if the case had been heard when originally fixed and when it should have been heard." The judgment added that other cases become delayed as a knock-on effect, and that expenditure is wasted as Justices of the Court "are unable to fulfil their judicial function in the empty days". It acknowledged that the Court of Appeal "would not normally publish a ruling of this nature". But it added: "We do so in order to draw attention to the lamentable failures which compelled us to take the course that we did, to explain to a wider audience why we have been unable to sit for three days of the current session, and to indicate that this state of affairs must not be allowed to be repeated." Sir Christopher will meet with the Criminal Bar to discuss changes ahead of the March session. The judgment rebuked Mr Richardson over a separate case that was repeatedly put on hold. It said Mr Richardson had allowed the Supreme Court to make an order in November 2017 to provide submissions within 14 days "without indicating that he could not do so or would be in any difficulty". When that order was not complied with, Mr Richardson told the Court in February 2018 that he could produce a skeleton quickly and a new hearing was fixed for March 2018. The judgment said: "No such skeleton was ever produced and it appears that at some stage in March Mr Richardson indicated that he had not heard from the appellant and was not properly instructed. The true position was that Mr Richardson was awaiting instructions from his client, with whom he said he had no means of communication. Mr Richardson told us that he was acting in the interest of his client and did not want to harm his appeal by saying that he was trying to track him down. He said that he would not act in this way again." The judgment continued: "It is plainly unacceptable to play the system along, by letting the court think that the submission can be provided by the date specified, when that is not, in fact, the case, because counsel is not in contact with the client and is without instructions; a fact of which the Court should be told."

Two former leading executives of Bermuda-registered insurer Ironshore are to leave Liberty Mutual's Global Risk Solutions division at the end of the year. The departures of Mitch Blaser and Kevin Kelley come about 2½ years after Ironshore was bought by Liberty in a deal worth $3 billion. Mr Blaser, chief transformation officer at Liberty GRS, is particularly well known in Bermuda, since he arrived as the founding chief financial officer of Ironshore when it opened its doors on the island as a $1 billion start-up in January 2007. It is understood he will leave the company to pursue other opportunities. Mr Kelley, who served as CEO of Ironshore from 2008 to 2018, is set to retire from his role as Liberty GRS's vice-chairman at the end of the year, industry publication The Insurance Insider reported. A message announcing Mr Blaser's departure and sent to Liberty Mutual GRS staff from Dennis Langwell, the division's president, reads: "While Mitch has expressed his desire to pursue other interests, he will maintain an active role through his transition after which the Transformation team will report to chief financial officer Frank Robinson." Mr Blaser has decades of experience in the insurance industry which included a spell as CFO of global broker and risk adviser Marsh & McLellan in the 1990s and he also served as CFO of Swiss Re's American division in the 2000s. In Bermuda, his other notable roles included a spell as Ironshore's chief operating officer, the CEO of Ironshore Bermuda and CEO of the joint venture with CV Starr & Co, Iron-Starr Excess Agency Ltd. Mr Blaser also led the way in his company's community efforts, helping causes including the Western Counties Cricket Association, the Railway Trial rehabilitation efforts and Scars. Perhaps best known was the company's support the Relay for Life, the event that annually raises hundreds of thousands of dollars for Bermuda Cancer and Health. Ironshore was the lead sponsor from the first Relay for Life in 2014 and Liberty Mutual has continued that tradition. Mr Blaser has also earned a reputation for supporting the career development of Bermudians up through the ranks. In April this year, Liberty Mutual was one of two insurers — the other being Sompo International — to be invited by the Bermuda Government to take part in a fast-track work permit pilot programme designed to tackle delays in application turnaround times. Wayne Caines, the immigration minister, told the House of Assembly that Liberty Mutual was selected because it has a "firm and deep commitment to Bermuda" with a track record of progressing Bermudians through the company and a leadership team that understood the "tapestry" of the island. Mr Kelley took the helm of Ironshore in December 2008, when he was one of the highest profile executives to leave American International Group, following the company's near collapse in during the global financial crisis. After he left his role leading AIG's Lexington Insurance Company from 1987 to 2008, he was able to attract a string of former AIG executives to Ironshore to help lead the company's global expansion. He oversaw the sale of Ironshore to Chinese investment company Fosun in 2015 and remained in a senior role after the Liberty Mutual buyout. Before his work at Lexington, Mr Kelley was executive vice-president of AIG's property and casualty group and president of AIG's domestic personal lines operation.

Butterfield Bank has been named Bank of the Year in Bermuda for the seventh consecutive year. The award for 2019 was bestowed upon Butterfield by UK-based international banking industry periodical The Banker, a publication of The Financial Times, which annually selects banks in more than 100 countries to receive its Bank of the Year awards. In making their selections, Butterfield said, The Banker's global editorial team considers not only a bank's financial performance, but also strategic initiatives, innovative use of technology and service delivery channels, and efforts to extend banking services to all parts of the community. Michael Neff, Butterfield's managing director in Bermuda, said: "Having earned the Bank of the Year distinction for seven straight years in Bermuda is a point of pride for all of us at Butterfield. The last few years have been a period of strategic growth and change for Butterfield Group, during which we've expanded our ownership base and extended our geographic reach. But our focus on serving the needs of our clients in Bermuda has been unwavering, and our international growth has enabled us to enhance the financial solutions we're able to offer here. This award reflects our commitment to Bermuda, and the efforts of our dedicated team of banking, trust and investment professionals who strive to exceed clients' expectations every day, at every point of service. I would like to take this opportunity to thank them, and also thank our clients for their ongoing loyalty to the bank." Earlier this year, Butterfield was named Best Private Bank in Bermuda by PWM/ The Banker, the company said. Butterfield also received the Bank of the Year 2019 award for the Cayman Islands, the fifth time it has received the award during the last seven years, the company said. A full listing of winners will be published in the December edition of The Banker.

Spirits were high as the holiday season kicked off in Hamilton yesterday. Revellers of all ages lined the streets to catch a glimpse of Santa Claus and his helpers as part of the MarketPlace Christmas Parade. Sharon Peets was taking in the sights with twin granddaughters Ari and Tai Simons, 8. The Pembroke resident said: "We have been coming for years." She said the combination of the floats, the dancers and the Gombeys is what brought the family back year after year. Ms Peets said the best part was "to see the excitement and the look on the children's faces". Ari said she was excited for the floats and to see her friends take part with their dance troupes. Tai said she was "looking forward to having a good time". Both girls said that they were looking forward to spending time with their family for the holiday. Ms Peets said that answer made her "very proud". Jason Samuels and wife Cindy, from Warwick, were out with daughter Chloe, 11, and son Silas, 9, and their friends Sophia Ward, 11, and Kyle Valadao, 9. Chloe said: "It's tradition to go with our friends every year. It's a lot of fun. There are a lot of bright lights and the dancers are really cool." Silas added of the parade: "It makes you happy." Amy Da Costa was out with her family, including daughter Carina, 4. Carina said she was excited for the candy, the marching groups and Santa Claus, who she had already asked for some special clothes for Christmas. Ms Da Costa, from Paget, said it was the third or fourth year she had been to the parade. She added: "It's just a fun experience." Alfred Emery, of Pembroke, was joined by wife Angela, daughter Arleyne, and granddaughter Nalah Burgess, 5. Nalah said that she was looking forward to seeing Santa Claus and the dancers — plus the candy. Mr Emery said that the enjoyment of his granddaughter was what brought the family back each holiday. He added: "We do it for her." Lionel and JoAnn Paynter, who were camped out along Front Street, said they had been coming to the parade "for ever". Ms Paynter said that her niece was taking part in the parade with one of the dance groups. She added: "I definitely come out to see her perform." Ms Paynter said it was the "atmosphere and festivities" that brought them back each year. She said the holiday season was a good time to get together with family and friends. Ms Paynter said: "This is a nice way to start it off." Participants in the parade included the Lions Clubs of Bermuda, Lotus Ariel Team, Bermuda Long Riders Motorcycle Club, the Association of Filipinos in Bermuda, Blu Kids, the Bermuda Police Service Motorcycle Division, the Bermuda Fire Service and the Royal Bermuda Regiment. The St George's Dancerettes, DanceSations, In Motion School of Dance, Vasco Folklore Dance Group, Rated E, United Dance Productions and Place's New Generation Gombeys also took part. The parade set out from the junction of Church Street and Par-la-Ville Road and headed east along Front Street. It swung north on Court Street, west on Church Street and continued to Wesley Street.

The closure of an East End restaurant is a significant loss to Bermuda, its owner said last night. Marlon Laws, the owner of Gombeys Bar & Restaurant, in St David's, said that the establishment was an integral part of the island. Mr Laws said: "Gombeys is Bermuda — it's like losing a part of Bermuda. When you come through those gates at Gombeys, you're not a number. We've become family." Mr Laws's lease expired on Saturday. He was speaking last night in response to a statement issued about the concessions at Clearwater Beach. Lieutenant-Colonel David Burch, the Minister of Public Works, said that "every effort" had been made to help Mr Laws to "provide a comprehensive proposal" to retain control of the concession. A request for proposal was issued by the Bermuda Land Development Company. Colonel Burch said: "Management, and the board, have gone to considerable lengths to assist the current leaseholder, to no avail, and have made what I consider the appropriate decision, to give other Bermudians an opportunity to make Clearwater a greater success, without dramatically changing the character of the Clearwater experience." News of the end of Mr Laws's lease led to online conversation about the reasons behind the decision. A petition called "Save Gombeys Bar Clearwater Beach" was also launched on Change.org. It had nearly 3,000 signatures last night. Colonel Burch said that an "open and transparent competitive process" had been conducted. He added that Mr Laws, his family members and his lawyer had been told that his bid had not been successful on November 22. Colonel Burch added: "The assertion that the owners have not been given a reason is patently false." He said that Mr Laws was told in a letter in April 2016 that the site would go out to tender when his lease expired on April 30, 2019. Colonel Burch said that the BLDC had met with Mr Laws in July 2018 to discuss a lease extension and remind him of the RFP process. He added: "BLDC extended his lease to November 30, 2019, in order to allow him another full summer season to operate while reiterating that the concession will be put out to tender." Colonel Burch said that BLDC had identified the standard of service provided by Mr Laws "as not meeting the minimum expected of an operator at Clearwater Beach". He added: "He had been asked over the years to enhance the product and his level of service." Colonel Burch said that Mr Laws had also been told "since at least 2016" that the BLDC "was looking to enhance the experience and the facility". He added: "Despite outreaches and warnings, no action was taken nor help sought to enhance the facility." Colonel Burch said that Mr Laws had submitted a two-page letter as his response to the RFP "that indicated a desire to leave everything the way it was with no improvement". But Mr Laws said that he did not believe he should have been required to submit a bid in the first place. He said: "Why should I have to put in a proposal? I put it in 14 years ago. I delivered. I brought the place from a derelict skating rink up to a five-star rated place that is enjoyed by locals and tourists alike." Mr Laws said that the end of Gombeys was more than just the closure of his business. He said: "It's like I'm losing my life."

December 1, Sunday

History & daily newspaper reports

Authored, researched, compiled and website-managed by Keith A. Forbes.
Multi-national © 2020. All Rights Reserved