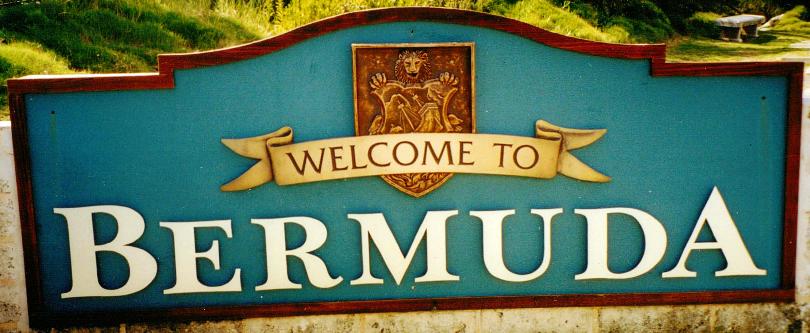 Click on graphic above to navigate the 165+ web files on this website, a regularly updated Gazetteer, an in-depth description of our island's internally self-governing British Overseas Territory 900 miles north of the Caribbean, 600 miles east of North Carolina, USA. With accommodation options, airlines, airport, actors, actresses, aviation, banks, beaches, Bermuda Dollar, Bermuda Government, Bermuda-incorporated businesses and companies including insurers and reinsurers, Bermudians, books and publications, bridges and causeway, charities, churches, citizenship by Status, City of Hamilton, commerce, communities, credit cards, cruise ships, cuisine, currency, disability accessibility, Devonshire Parish, districts, Dockyard, economy, education, employers, employment, environment, executorships, fauna, ferries, flora, former military bases, forts, gardens, geography, getting around, golf, guest houses, highways, history, historic properties, Hamilton, House of Assembly, housing, hotels, immigration, import duties, internet access, islands, laws, legal system and legislators, main roads, marriages, media, members of parliament, money, motor vehicles, municipalities, music and musicians, newcomers, newspaper, media, organizations, parks, parishes, Paget, Pembroke, performing artists, residents, pensions, political parties, postage stamps, public holidays, public transportation, railway trail, real estate, registries of aircraft and ships, religions, Royal Naval Dockyard, Sandys, senior citizens, Smith's, Somerset Village, Southampton, St. David's Island, St George's, Spanish Point, Spittal Pond, sports, taxes, telecommunications, time zone, traditions, tourism, Town of St. George, Tucker's Town, utilities, water sports, Warwick, weather, wildlife, work permits.

Bermuda's 2018 October History and Newspaper Reports
Events that made newspaper headlines in the tenth month of this calendar year
By Keith Archibald Forbes (see About Us).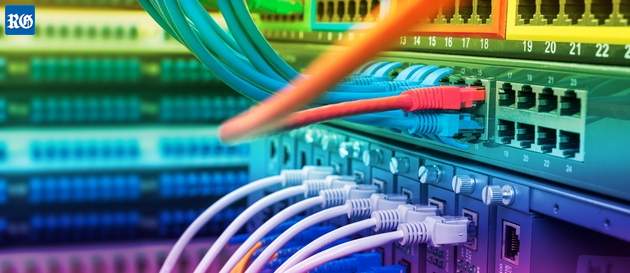 Benefit of website linkage to Bermuda Online while traveling
See at end of this file all our many History files
October 31

Police were told that a suspect in the murder of Perry Puckerin had a firearm weeks before the fatal shooting, a Supreme Court jury heard yesterday. Detective Inspector Michael Redfern, the senior investigating officer for the case since 2014, said the suspect, Tamasgan Furbert, was arrested and interviewed in 2010, but never charged with the murder. He said: "There was no evidence." The officer added that not all information passed to police is supported by evidence. Mr Redfern said: "Information comes in to our intel department. It's looked at to see the source and see if it's workable intelligence, to see if it's something we can work with. Intelligence doesn't mean fact." Prosecutors have alleged that Jeremiah Dill gunned down Mr Puckerin in the doorway of the Hamilton Parish Workman's Club on January 3, 2010 amid a feud between two rival gangs. Mr Redfern confirmed that police received information in December 2009 that Mr Furbert had obtained a firearm after he was attacked by several men in St George's. He also said the "information received" suggested Mr Furbert had fired the weapon in the Bailey's Bay area and brought it to the Hamilton Parish Workman's Club weeks before the fatal shooting. He said: "It's not unusual to have several suspects. It's not unusual to arrest and interview those suspects." Mr Redfern added he did not know for a fact that Mr Furbert ever had or had shot a firearm. The investigator confirmed another man, Sergio Robinson Woolridge, was also arrested in connection with the fatal shooting in 2010, but also never charged. Mr Redfern said: "Again, there was no evidence." A witness, who cannot be named for legal reasons, said last week that gangland figure Prince Edness orchestrated the murder as part of a feud between the Parkside and 42 gangs, both based in Pembroke. He said Mr Edness vowed the gang would "shoot the first guy they see" at the Hamilton Parish club and suggested the shooter could later hide in "the guy Tamasgan's shed". The witness added that Mr Dill bragged about the shooting days later and demonstrated how he had shot Mr Puckerin. Lawyers for Mr Dill accused the witness of making up a story to save himself from a prison sentence. Mr Redfern told the court the witness was in custody for a shoplifting offence when he made his first statement about the shooting. He also confirmed that records indicated the witness was not convicted of shoplifting, but he could not say why. Mr Redfern said: "There are a number of things that could have happened." The trial continues.

High-tech speed cameras are being considered to police the island's roads, the island's senior officer has signaled. Stephen Corbishley, the Commissioner of Police said new speed cameras or upgrades to the existing CCTV network could be used to cut down on speeding and other traffic offences. Mr Corbishley said: "We are debating, particularly in the CCTV infrastructure that exists in Bermuda, not just crime prevention, but how we can utilize it better with regards to road traffic enforcement, and we have debated speed cameras. A really good model is to look at the average speed between one location and another. Through some of the technology, particularly automatic licence plate reading, you can calculate the average speed that the vehicle has driven. That has a greater impact than single-site cameras and those are some of the factors we're considering in how we design CCTV in the future. We are certainly looking at developing the way in which our CCTV contract is going to be in the future and that will look at some of the technical opportunities that are available. That will take place over the next 12 months in regards to what could be achieved and that will then set a plan going forward. It's not going to happen overnight, but it is something we are going to try to accelerate as soon as possible." He said that alternative penalties for offences would also be looked at, including education and rehabilitation of offenders, Mr Corbishley said he was optimistic about the effects of breath test checkpoints, which have resulted in 41 arrests out of 800 stops since the first was set up last month and that people had changed their habits as a result. He highlighted that drink drivers could avoid checkpoints as it was a legal requirement that dates and the parishes involved are published at least five days in advance. He said he hoped the legislation could become more flexible in the future. "We are on a journey and, going forward, we need to discuss with Government the legislation that is available. It is easy to say that those people can avoid those locations, but on the flip side, many people are going through those points and they are being captured and charged, taken to court and convicted for drink-driving. Discussions with Wayne Caines, the national security minister, on the checkpoints had been productive. I am encouraged by the conversations that we are having and it would be an ambition that we maybe not move away from the fixed checkpoints, but have greater flexibility to use them in other locations. We can be a lot more targeted and in a position to be in different locations. The situation that people think they can be avoided can actually be removed." Mr Corbishley added he recognized the need for better road training, including on-road practice, and that he was keen to be involved in any talks on training for new and long-time road users. He said: "I would be supportive to any improvement and development of training that supports people in obtaining their licence and being safe on the road. If the training is greater than simply driving through some cones and getting them to understand awareness of space, how other road users work, the appropriate use of speed — I am supportive of that. That should be built in to any model that we see in the future. We are embarking on a change programme within the Bermuda Police Service and we are looking at the way in which we are resourcing each department. I am encouraged and will be supportive of extending our abilities around roads policing — it is one of our specific strategic priorities in reducing death and serious injury and that will continue to remain so during my five year tenure here in Bermuda." The Royal Gazette's Drive for Change campaign, launched in January, has called for speed cameras or other types of speed control, as well as roadside breath tests and better training for motorbike riders.

An inquiry was launched yesterday after the grim discovery of human bones as excavation work for a children's sailing area was carried out at a sailing club in the West End. The Bermuda National Trust is to investigate after the 19th-century remains were uncovered at the West End Sailboat Club in Somerset, which is close to the Watford Island Military Cemetery. Bill Zuill, the BNT executive director, said the charity was the leaseholder for the cemetery, once a burial site for soldiers and convicts. Mr Zuill said: "We are obviously very concerned to have received this news and have it under active investigation. To the best of my knowledge, we were not aware that this excavation was taking place, which is very concerning as we are the leaseholders of the cemetery and given the delicate nature of the site itself. We have not ruled out that the remains may have come from unmarked graves located outside the boundary of the cemetery. At this point, it is not possible to say precisely whose graves have been disturbed. It is our policy to respectfully re-inter the remains when the investigation is complete." The West End Development Corporation is the owner of the land the club is built on. It was still unclear yesterday whether the Trust or Wedco is responsible for the area of land where the remains were discovered. Island law means that human remains found on land or washed up on shore must notify the Office of the Coroner. Wornell Steede, the club commodore, said he had told Wedco the club was to start excavations on the site. He added: "We were just making some more room for the children, we are starting a youth sailing group. "We were just taking down the rubble, not doing any building. I only found out about this in the last couple of hours, we are putting everything on hold until things are sorted out and make sure we do things the correct way." Trucks full of rubble and dirt at the site yesterday showed bones sticking out as West End Construction diggers excavated at the edge of the cemetery. Mr Zuill said that the 0.09 acre property was consecrated in 1888 and used for about ten years. About ten graves and headstones are those of convicts who died in Bermuda between 1848 and 1863. Mr Zuill said: "These were transplanted from elsewhere on Watford Island and are located in the northeast section of the graveyard. The remainder of the graves belong to servicemen and members of their families who were buried there between 1888 and around 1900." The Royal Gazette was at the scene yesterday and saw human bones, including a jawbone with some teeth still attached. One eyewitness said: "We've seen bones, skulls, everything. There were direct burial graves." The eyewitness added: "This happens all the time in Bermuda. I know operators who dig up bones all the time. It's a small island, it's bound to happen. They usually take the lumber out, burn it at Tynes Bay and rebury the bones. There are more around the back of St James's Church". Police were sent to the club after the discovery was made and workers covered the area with a tarpaulin. Andrew Dias, managing director for Wedco, said the organisation had contacted the club to make sure the appropriate government agencies had been informed. Mr Dias added: "Whatever assistance we can give them, we will, because we want this dealt with as quickly as we possibly can. This area is not depicted in any way on any signage. I am not sure at this stage if it is BNT land, but I don't think it is." Elena Strong, the executive director of the National Museum of Bermuda, said: "This highlights the need for legislation that protects land archaeology in Bermuda." Mr Steede said it was not the first time human remains had been dug up at the club. He added the BNT was informed after bones were found about five years ago after members cleared some trees. The BNT website said the cemetery was created on Watford Island in 1887 as a graveyard for soldiers and their families. It added: "Earlier in the century the whole island had been used as a burial ground for the dead of the army and of convict labour that built Dockyard between 1824 and 1863. They lived in rotting hulks of ships moored just offshore, in crowded and filthy conditions. The mortality rate from dysentery and yellow fever was high. Convicts were buried in the Glade, Ireland Island until 1849 when it seemed to be filling up. Then Watford Island was used to bury dead convicts and convict officers. In 1855 it was reported that the island had received 458 bodies and was almost full."

Kenneth Paul, the last survivor of four Bermuda Industrial Union members imprisoned after the pivotal "Belco riots" 53 years ago, has died, aged 84. Mr Paul was among the group of trade unionists convicted after a violent clash with police during picketing of Belco headquarters on Serpentine Road, on February 2, 1965. Ottiwell Simmons, a former president of the BIU during the Seventies and Eighties, said: "Kenneth was the last of four heroes." He added the father of four was "a lifetime comrade". Mr Simmons said: "Kenneth was a philosopher; he could come up with thoughts that put you back in your seat. He was one of St George's most dependable, reliable bowlers for Cup Match. We were both sportsmen, but he was a master cricketer. Kenneth was also one of the most dedicated trade unionists one could expect to find, and he showed his colors of unionism on that day." George DeSilva, Vivian Ming and Kerwin Ratteray were also imprisoned for assault and rioting. Robert Johnston, the BIU president, was arrested and released and Barbara Ball, the BIU general secretary, was among those tried and acquitted. Mr Simmons said the Belco strike that sparked the riot started over "a simple matter of union recognition". He added: "There was a refusal to recognize that the union had a right under the law to have a secret ballot to determine whether workers wanted representation or not. There was also racial discrimination practiced by Belco with respect to black and white workers. Kenneth was operating in that environment, along with his three colleagues that ended up as prisoners. I believe sentences ran up to two years." Mr Simmons blamed the morning's violence on riot police who confronted union demonstrators. He said: "Before it ended, there was a hand-to-hand battle between police and some of the picketers. By the time I got to the western gate of Belco, Kenneth was bleeding profusely from his head. He was dazed and having difficulty balancing. That brought sadness to me, because I was one of the designers of the picketing, looking to find victory." The union members retreated to Devonshire Recreation Club in the wake of the violence. Mr Simmons said Mr Paul and others "went on trial and were all sentenced to jail". He added: "Kenneth was very shaken up. He was a good family man, with a wife, Marion, and four good children. It brought tears to a lot of people's eyes, but we were fighting for our rights. When he came out of prison, Kenneth stood by the same principles." Retired police officer Andrew Bermingham, who was 23 at the time, was among the police injured in the battle. He said that Mr Paul was "one of those that assaulted me; he got a year for that". Mr Bermingham added: "There was no anger. I was a young policeman and he was doing what he thought was right. He and I shook hands in the intervening years."

Official Gazette in newspaper form in Bermuda ceased after October 31, 2018. It has been a Bermuda tradition since the advent of newspapers in Bermuda in January 1784. From then on, Bermuda will be solely dependant on Government news via a government website for all government-related business. Beyond Bermuda, to ensure the widest possible circulation including for the disabled and senior citizens, print media is still the norm, with government conveying its official news via appropriate, wide-circulation print media as well as via the internet. In Britain, see what the Official Gazette covers, at https://www.thegazette.co.uk/

October 30

Bermuda's gross domestic product grew by 2.5 per cent after inflation last year, thanks partly to an economic boost from the America's Cup. The strongest growth was in the hotel and restaurant sector and the real estate and renting industry, two of the areas of the economy to benefit from the island's hosting of the international sailing event. International business saw only slight growth, but in directly representing more than a quarter of the island's economy, remained the largest sector by far, according to a report released by the Department of Statistics yesterday. GDP, which measures the value of goods and services produced by Bermuda, totaled $6.27 billion in 2017, up 2.9 per cent from 2016, or 2.5 per cent after adjustments for inflation. Last year marked a rebound for the economy after a 0.1 per cent decline in real GDP in 2016. Lovitta Foggo, the government reform minister, said some economic indicators were showing promise for this year too. "The 2018 outlook indicates that the areas of construction and employment are exhibiting positive signs, and that bodes well for our community," Ms Foggo said in a statement sent with the release. Value added to the economy by hotels and restaurants rose by 23.5 per cent, or $46.6 million, over 2016. Hotels' share of this growth was $24.6 million, while restaurants produced $22 million more. The report said the growth was primarily driven by increased room and food sales as a result of the America's Cup. Visitor numbers reached an all-time high last year. Value added by the real estate and renting industry rose 2.8 per cent, or $21.9 million. The international business industry's value added rose 0.7 per cent or $8.2 million in 2017, and represented 26.1 per cent of total GDP. The report stated: "Businesses engaged in financial activities and insurance management experienced growth in value added while companies involved with insurance risk-taking activities, including insurance underwriting, insurance brokerage and reinsurance services experienced a decline in value added due mostly to lower performance-based bonuses." The island reinsurers were hit with huge catastrophe claims in 2017, related to events including hurricanes Harvey, Irma and Maria, as well as wildfires in California and an earthquake in Mexico City. The construction industry also had a year of growth, with activity up 1.9 per cent, or $3.4 million, in real terms. The report states: "This growth was attributed to increased construction activity associated with the 35th America's Cup event, residential renovation, airport development and hotel development." The other community, social and personal services increased 10 per cent or $9.8 million in 2017. This improvement was due to a 14.7 per cent rise in recreational, cultural and sporting activities, related to the America's Cup. Hairdressing activities and miscellaneous personal services also recorded increases in value added. Public administration's contribution to the economy also rose 2.8 per cent, or $6.8 million, due mostly to increased public-sector spending on wages, salaries and employee benefits. Wholesale, retail trade and repair services recorded an increase in value added of 1.6 per cent, or $4.8 million. Retail, trade and repair services led the way, with growth of 2 per cent, driven by the sale of clothing, food at grocery stores, fuel at service stations and sales at pharmacies. Wholesale and commission trade activities also increased by 0.8 per cent. In terms of dollar value at current prices, international business generated about $1.67 billion of GDP, while real estate and renting activities reached $1 billion for the first time to rank second, while financial intermediation, which includes the banking industry, generated $736.8 million.

The cost of electricity in Bermuda is to be reviewed by Belco following an instruction from the Regulatory Authority. The retail rate review will result in an updated usage charge on bills, based on rate per kilowatt hour. In addition, the facilities charge that is shown on Belco bills will also be assessed in the review. The review will analyze the cost of generating, transmitting and distributing electricity, and using what has been termed "retail tariff methodology" will cap Belco's allowed revenue. This is a change from the current situation, where it is Belco's return, or profit, that is capped, not its revenue. Currently Belco's return is capped at a maximum of 8 per cent. Aaron Smith, interim chief executive officer of the Regulatory Authority, said: "The retail tariff methodology has set the path for a future of certainty and accountability for Bermuda's electricity rates and the process is now under way to determine what is a reasonable rate. Bermuda's electricity rates are frequently criticized by the public as being too high. While we know that delivery and operating expenses for many services in Bermuda are high, this review will allow the Authority to determine a fair and just rate while maintaining high quality service standards with safe and reliable electricity to all." In a statement, Belco said it welcomed the announcement by the Regulatory Authority that it has commenced its electricity retail tariff review. Dennis Pimentel, Belco president, said: "Belco is pleased to provide the Authority with the information it requires to conduct its review as this will assist with Belco's efforts to reduce electricity rates for all its customers. Belco is in full support of the Authority and looks forward to working with the Authority to assess all costs associated with producing and distributing electricity." Belco's per kWh rate was last updated two years ago, before the Electricity Act 2016 regulated the industry. The updated tariff will be published by mid-2019. The review does not include the cost of fuel, which is identified separately on Belco bills as the fuel adjustment rate.

The transport ministry and has called on the public to plan their transportation ahead of time because of to an "unprecedented" influx of visitors over the next month. Six visiting cruise ships are due to arrive from October 30 to November 2 and there has been an uptick in air arrivals which equates to about 9,300 people. The short-term influx is, in part, thanks to the Bermuda Tourism Authority's extension of the cruise ship season and industry partners are joining forces to try to ensure the island's transportation needs are met. The spokeswoman said: "The ministry takes this opportunity to strongly encourage the public to plan ahead for their personal transport requirements to avoid delays. The ministry also specifically seeks and encourages the public's patience during this time. The ministry will work to maintain the island's regularly scheduled transportation service during this time. In that regard, the ministry takes this opportunity to strongly encourage the public to plan ahead for their personal transport requirements to avoid delays. The ministry also specifically seeks and encourages the public's patience during this time." Transport minister Walter Roban said that this week, Hamilton and the Town of St George will each host one ship, while one ship will anchor in Grassy Bay and another three cruise ships will berth in Dockyard. Mr Roban said: "This week, we are preparing to receive six cruise ship calls. This is an exciting and unprecedented time for Bermuda. In fact, on one day alone, this represents the largest number of cruise ship passengers in Bermuda's tourism history. In 2018, our cruise ship season started in March and will end in December. I wish to commend the Bermuda Tourism Authority, who have worked diligently to extend the seasonality of the cruise ship season, which traditionally has been between April and September." Industry partners have been planning for the visitors since March and have increased various support services. For example, all public service vehicles including taxis and minibuses will be in service to try to meet demand; select community service vehicles and licensed hotel properties have been granted permission to operate their shuttles; increased public ferry lift has been added, including a supplemental ferry route to St George's and Hamilton from Dockyard; the BTA has increased their Visitor Service Centre team and ambassadors; and events have been scheduled in Dockyard. Mr Roban added: "This influx of visitors is good for Dockyard, Hamilton and St George, it's good for our economy and it's good for Bermuda. We are encouraging all residents to support our efforts as we welcome these visitors to our shores."
The Bermuda Hotel Association [BHA] announced new appointments to their Board of Directors at their Annual General Meeting [AGM] at the Hamilton Princess on Thursday, October 25. A spokesperson said, "Mr. Tim Morrison, General Manager, the Hamilton Princess & Beach Club was nominated unopposed, and subsequently voted in by the association members as the new Bermuda Hotel Association President. Mr. Morrison will serve a two year term, and stated that he was looking forward to continuing the work of his predecessors in positioning Bermuda as the destination of choice for future business and leisure travelers. Mr. Bushara Bushara, General Manager, Newstead Belmont Hills, who stepped down as the Association President, at the AGM after serving a two year term, and has succeeded Mr. JP Martens, General Manager, Grotto Bay Hotel & Spa, as the BHA Chairman, in accordance with the bye laws of the Association. Mr. Neal Stephens, Owner/ Operator of the Rosemont Guest Suites, was appointed as the BHA President Elect, and will succeed Mr. Morrison at the completion of his two year term. At the AGM, the association members honoured Mr. Clyde Darrell for his 44 years of faithful and dedicated service to the hospitality industry and in particular, the Grotto Bay Beach Hotel where he was most recently the Resident Manager prior to his retirement earlier this year. Mr. Darrell stated that he had enjoyed his career in the industry and wished his former colleagues and association members the very best as the industry continues to make great strides in the overall growth and resurgence of our destination, Bermuda. The Hotel Employers of Bermuda [HEB] are very pleased to advise that at their Annual General Meeting held at the Hamilton Princess & Beach Club on Thursday 25th October 2018, that Mr. Kiaran MacDonald was reappointed by the HEB members to serve a second two year term as the HEB President. Mr. MacDonald the Regional Vice President, Caribbean 8: Mexico & General Manager, Fairmont Southampton, on accepting the reappointment stated that he was very pleased to continue serving as the HEB President, as he looked forward to working with the members, as well as with their social partner, the Bermuda Industrial Union, and our industry colleagues in providing the highest standard of service to our guests."

Bloomberg, LONDON — The UK renewed its attack against offshore tax evasion with plans to publish a new compliance strategy around the overseas entities that wealthy individuals use to conceal their assets. The move "will build on the substantial progress the UK has made in tackling offshore tax evasion" since the government launched its last plan in 2014, the UK Treasury said yesterday as part of its 2018 budget. Fighting offshore tax evasion has increasingly become a priority for governments in the wake of public data leaks such as the Panama Papers. Almost half of the companies cited through that leak of 11.5 million documents were registered in the British Virgin Islands, a UK overseas territory. In addition, the Panama Papers cited almost 2,000 UK-based intermediaries that helped individuals or entities to evade tax. More than 100 nations received unprecedented levels of financial data last month on their overseas residents through an initiative, led by the Organisation for Economic Cooperation and Development, to target individuals evading taxes. The UK was early to embrace the measure, known as the Common Reporting Standard, voluntarily adopting it a year before it took full effect last month. Bermuda has also adopted CRS. "Offshore evasion is illegal and harmful," the UK's tax agency said in a 2014 strategy paper on the matter. "It is unfair that those who can afford to use expensive offshore banks and complex financial structures can evade their responsibility to pay the taxes which fund vital public services."

Bermuda-based reinsurer RenaissanceRe Holdings Ltd (RenRe) has agreed to buy Tokio Millennium Re in a cash-and-shares deal worth $1.5 billion. The agreement has been unanimously approved by the boards of directors of both companies. The transaction is expected to close in the first half of 2019 and is subject to customary closing conditions and regulatory approvals. No shareholder approval is required, RenRe said in a statement released this evening. TMR is the reinsurance platform of Japanese company, Tokio Marine Holdings, Inc and has a branch office in Bermuda, a headquarters in Switzerland, and operations in the UK, US and Australia. The company was originally established by Tokio Marine Group in Bermuda in 2000. RenRe also announced that US insurer State Farm Mutual Automobile Insurance Company has agreed to invest $250 million in the Bermuda-based reinsurer through its purchase of RenRe's common shares in a private placement. After completion of the deal, State Farm will own about 4.8 per cent of RenRe's common shares. State Farm already has investments in RenaissanceRe-managed vehicles Top Layer Reinsurance Ltd and DaVinciRe Holdings Ltd. Kevin O'Donnell, chief executive officer of RenRe, told The Royal Gazette in an e-mailed statement: "We are pleased to announce our planned acquisition of Tokio Millennium Re. The transaction accelerates our strategy and further enhances our global reinsurance leadership. "It strengthens our position in an increasingly competitive market by expanding our scale, global presence and product range, and enhances the diversity of products and services we offer client and brokers. Tokio Millennium built a strong franchise and we look forward to operating as one company after closing. We are also pleased to simultaneously announce that State Farm has agreed to broaden its relationship with us through this new investment. State Farm's investment extends the longstanding partnership between our two firms. I'm excited about what the future will bring and know that RenaissanceRe is ideally positioned for what's next." Under the terms of the transaction, Tokio Marine will receive 1.02 times the tangible book value of TMR delivered to RenaissanceRe at closing. If closing tangible book value is unchanged from June 30, 2018, Tokio Marine would receive approximately $1.5 billion in total consideration, consisting of cash and RenaissanceRe common shares. RenRe expects the acquisition will be immediately accretive to book value, operating earnings and operating return on equity. Tokio Marine has agreed to provide RenaissanceRe a $500 million adverse development cover that will protect TMR's stated reserves at closing, including unearned premium reserves. In addition, Tokio Marine and RenaissanceRe will enter a business co-operation agreement, which will enhance their business relationship and facilitate co-operation on a portion of the international reinsurance purchases of Tokio Marine and its affiliates. Paul Smith, State Farm executive vice-president, said: "We see this as an opportunity to strengthen the long term relationship we have with RenaissanceRe."

RenRe also announced third-quarter net income of $32.7 million despite taking a $151.9 million hit from a string of catastrophes during the quarter. Typhoons Jebi, Mangkut and Trami, Hurricane Florence and wildfires in California combined to dent the reinsurer's earnings. RenRe said it made an underwriting loss of $29 million and a combined ratio of 105.5 per cent. Gross premiums written during the quarter decreased by $14.6 million, or 2.3 per cent, to $625.7 million. Total investment result was a gain of $94.3 million during the July-through-September period, generating an annualized total investment return of 3.3 per cent. The company added that it estimated a net negative impact of $100 million on its fourth-quarter earnings from Hurricane Michael, which made landfall in Florida this month.

Housekeeping duties at King Edward VII Memorial Hospital returned to normal last evening after a labour dispute with auxiliary staff was resolved. A spokeswoman for the Bermuda Hospitals Board said all evening-shift staff had turned up for work as normal. The spokeswoman added that the industrial action involved housekeeping and some dietary services staff. She said: "Clinical care of patients was not affected." The spokeswoman said that Chris Furbert, president of the Bermuda Industrial Union, met the workers who had downed tools. She added that the BHB was not given any notice of the industrial action.

Two former executives of collapsed oil company Afren were sentenced in London to a combined total of 30 years in prison yesterday for fraud and money-laundering offences after they received millions of dollars in secret payments through a Bermuda-based entity they controlled. Osman Shahenshah, Afren's former chief executive, and Shahid Ullah, the company's former chief operating officer, were each found guilty of fraud by abuse of position and two related charges of money laundering by a jury in London. The offences related to a $300 million payment by Afren to partner company Oriental Energy Resources for developing oilfields off the coast of Nigeria. The two executives did not disclose to their board a side deal, which directed $45 million of the money to them. The $45 million was routed to an offshore shell company registered in the British Virgin Islands and owned by the respective wives of Ullah and Shahenshah. About $17 million in payments to the two executives were made through a Bermuda-based entity of the same name as the BVI company. The pair used more to buy luxury properties in the BVI and Mustique, Britain's Serious Fraud Office said. Millions more were paid out to a group of seven other Afren employees, known as the "A-Team". Afren has since gone into administration. The SFO began investigating in June 2015 and the charges were brought against the two men in September last year. Shahenshah and Ullah were convicted last week after a six-week trial at Southwark Crown Court. At yesterday's sentencing, Judge Gledhill QC said: "You believed that you were above the law, you believed that you were so clever that no one would ever discover your offending." Shahenshah, 56, was sentenced to six years jail for one count of fraud, six years concurrent sentence for one count of money laundering and four years concurrent for another count of money laundering. Ullah, 59, was sentenced to five years jail time for fraud, five years concurrent for one count of money laundering and four years concurrent for another count of money laundering. The sentences mean that each will spend up to six years in prison. Lisa Osofsky, director of the SFO, said: "The significant sentences reflect the seriousness of this fraud. Shahenshah and Ullah violated their duties and their employees, the board of directors and shareholders paid the price. "They abused their positions to line their own pockets and it is satisfying that they have been brought to justice. I would like to thank our international partners in the US Department of Justice, who greatly assisted with our investigation."

Were it not for a long-lost relative, Seán O'Connell's folk songs might never have been heard. His guitar was in a closet gathering dust, the melodies and lyrics he'd carefully composed forgotten. Then he met his Irish cousin Morgan. With his prodding, he picked up the instrument, having left it alone for 25 years, and "started from scratch". Roughly a year and a half ago he headed into Just Platinum Recording Studios and recorded his first CD, Father of One. "People were wondering, 'You're so old, why are you doing this? Why not go to a rest home and put your feet up?'" the 76-year-old laughed. "I like to stay active, to keep my mind sharp." Aware that fellow Bermuda Folk Club musician Valerie Sherwood had recorded two CDs, Dr O'Connell followed her lead: "I thought, 'I've composed songs, I could do it too'." And so began a 20-month process — of selecting eight covers and eight original songs, and recording them. "John Woolridge did a wonderful job of helping me put together a professional package of songs," he said. "He was meticulous. His passion for excellence was infectious. It was wonderful to work with him and bring out the beauty of those pieces." Ironically, he didn't find his first music lessons that appealing. Despite that, he stuck with the piano classes he'd signed up for at 13, for four years. The drudgery came to an end soon after he entered St Andrew-on-Hudson seminary, in Poughkeepsie, New York, in 1959. "I was raised to be very religious by Roman Catholic parents," Dr O'Connell said. "I saw it as the highest ideal and thought it would be the best thing to do with my life and so I entered a Jesuit order. In the seminary, I was only able to practise [piano] one hour a week, which prevented any real progress." In 1966 "an instructional TV series" got him interested in the guitar. He borrowed one from a friend, and was soon hooked. "I enjoyed it for several reasons," he said. "It was less demanding than the piano — all you need to know are a few chords and you can play an awful lot of songs. With the piano, you had to be so much more advanced before you could even dream of performing." On a break from the seminary, he travelled to California and met Laura Weber, the woman he had followed on TV. "She asked if I would appear on her programme. At this stage I had composed some songs and she had me play a few. It was great for her, she was showing her audience that they could learn too — look at what my pupil has done." He quit the seminary in 1968, two years into his doctorate in mathematics at City University of New York. "I left because I became more mature," Dr O'Connell said. "I was exposed to things I never realised in [my Roman Catholic] high school where everything was limited and nothing social existed. The seminary was up in the woods, in a cloistered environment, it was a cocooned experience. While studying for my PhD, I met Jews, agnostics and atheists; a hodgepodge of different people that I'd never been exposed to before. There was a gradual unfolding of realization to awareness." Work called after graduation. Dr O'Connell spent time in Sweden and England before he decided he was ready for a change. "In 1974, I got a job at the Bermuda College," he said. "I didn't know much about Bermuda at the time, but once I got here I loved it." In 1976, he made Bermuda history as the first person to swim the entire way around the island, completing the feat in 43 hours and 27 minutes. He also fell into the rhythm of the Folk Club, where he took his wife Celia on their first date. The couple met at Horseshoe Bay, on April Fool's Day 1979, and married in 1986. Dr O'Connell left Bermuda College after 29 years as professor of mathematics, in 2003. "I continued to play, but over the years I let it die and my guitar gathered dust in the closet," he said. "My long-lost cousins in Ireland discovered me on the internet that mentioned my round-the-island swim. I visited all seven of them over Christmas in 2013 and one of them, Morgan, comes from a very musical family. He was shocked and appalled that I had let my guitar playing die and demanded that I take it up again." Before he knew it, he was working on a CD. "I chose 16 songs, those of my own composition that I particularly liked and some traditional songs such as Wild Mountain Thyme, Black Velvet Band, Morning Has Broken, House of the Rising Sun and Annie's Song. I wrote many during my last year in the seminary — when I was starting to experience events but still had a lot of time to sit and reflect. The melody usually came first and then I found a topic to fit the feeling of the music." He's already performed a few songs at the folk club. "I always felt a sense that [making an album] was what I wanted to do but never had the opportunity," he said. "I had a model now to do it, with Val Sherwood who had actually done it. I thought, 'If she can do it I can too'. I was encouraged that someone right here in Bermuda did it and did it well. It opened it up as a practical opportunity, not just a theoretical one. We didn't seem to have that years ago. Forty years ago I didn't know if people did this here in Bermuda." His next move depends on how Father of One is received. At the moment he's happy busking in Washington Lane every Tuesday, between noon and 1.30pm. "It's kind of fun to just sing for the joy of it," he said.

October 29

BBC UK news. Technology giants will be forced to pay tax on the sales they generate in the UK, under new plans announced in the UK 2018-2019 Budget publicly revealed this afternoon UK time.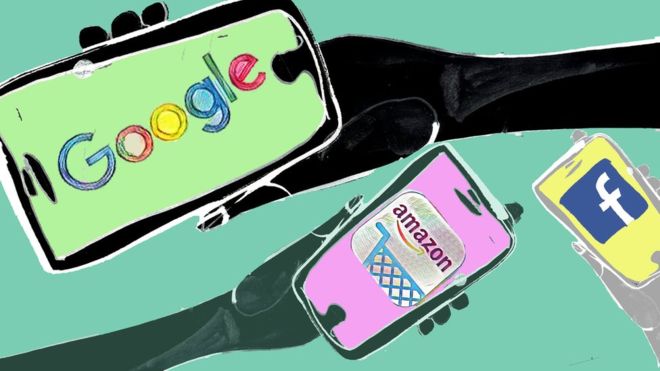 Chancellor Philip Hammond plans to introduce a digital services tax from April 2020 following a consultation. He said "established tech giants" will be targeted rather than start-ups. Companies such as Amazon and Facebook have been criticized for the small amount of tax they pay in the UK. Both the 36-member OECD and the European Commission have been trying to reach a consensus on imposing a digital tax on social media platforms, internet marketplaces and search engines. However, Mr Hammond said that progress was "painfully slow". He said: "It is clearly not sustainable or fair that digital platform businesses can generate substantial value in the UK without paying tax here." The digital services tax is a levy against social media platforms, internet marketplaces and search engines. The chancellor is proposing a 2% tax rate against the sales that large digital companies make in the UK. At the moment, these firms pay taxes on UK profits, which is a much smaller figure than revenues. The Treasury forecasts that the tax will generate £275m in 2019-20, rising to £370m in the following year. It then expects that digital services tax receipts will reach £400m in 2021-22 and £440m the year after. Mr Hammond said that the digital services tax would be imposed on companies that are profitable and generate "at least £500m a year in global revenue". Although he did not name them, US technology giants Amazon, Google and Facebook have been criticized for the relatively small amount of tax they pay in the UK. Amazon's UK operation paid merely £1.7m in taxes last year despite profits almost trebling to £72.3m. Mr Hammond emphasized that start-ups would be protected from the levy. However, Julian David, chief executive of industry body TechUK, said the proposed £500m threshold was "low" and "and risks capturing much smaller companies than anticipated". "This approach risks undermining the UK's reputation as the best place to start a tech business or to invest," he added. Amazon and Facebook declined to comment. Google has been contacted for comment. Mr Hammond has earmarked April 2020 for the new levy. However, it may not even go ahead if Europe moves ahead with its own digital levy which would tax firms at a 3% rate. Zubin Patel, corporate tax partner at accountancy firm Deloitte, said: "There will be further consultation on the detail of the proposal, which is temporary and subject to formal review in 2025." The Treasury also said earlier this year that a levy on digital companies' UK sales would be implemented until an international deal could be reached. The OECD intends to provide an update on its plans in 2019 with the aim of producing a final report the following year. Chris Sanger, head of tax policy at accountancy firm EY, says the fact that Mr Hammond has committed to reviewing the UK digital services tax in 2025 indicates "that he thinks that it may take quite a while for the OECD to gain any consensus on the international stage". Bermuda is the place of incorporation and to some degree the asset re-distribution center of a number of these digital giants.

Everest Re Group posted third-quarter profit of $205.6 million, despite incurring catastrophe losses of $240 million. The major loss events during the quarter for the Bermuda-based reinsurer were Hurricane Florence, Typhoon Jebi, Typhoon Trami, California wildfires and floods in Japan. After-tax operating income of $167.5 million, or $4.09 per share, surpassed the $3.23 consensus forecast of analysts tracked by Yahoo Finance. In the third quarter of last year, Everest suffered a net of $639.4 million. Dominic Addesso, Everest's chief executive officer, said: "Everest generated an annualized net income return on equity for the quarter of 10 per cent, despite the previously announced catastrophe losses. The underlying results were quite strong with an attritional combined ratio of 85.8 per cent year to date as a result of our diversified portfolio." Everest's gross written premiums for the quarter were up 8 per cent over the third quarter of 2017 to $2.2 billion. Worldwide reinsurance premiums were up 7 per cent to $1.7 billion, with growth across each segment primarily driven by increased casualty and property pro-rata premium, rate improvement, increased shares on existing business and profitable new opportunities. Direct insurance premiums were up 8 per cent to $517.3 million. The combined ratio was 100 per cent for the quarter compared to 163.6 per cent in the third quarter of 2017. Excluding catastrophe losses, reinstatement premiums and the favourable prior period loss development, the current quarter attritional combined ratio was 86.8 per cent compared to 85.5 per cent in the same period last year. Net investment income increased 18 per cent for the quarter to $161.4 million. Net after-tax realised gains amounted to $43.6 million and net after-tax unrealized capital losses were $20.9 million, for the quarter. During the third quarter, Everest bought 229,432 of its own shares at a total cost of $50 million. Under the company's share repurchase authorization, another 1.4 million shares are available. Shareholders' equity ended the quarter at $8.3 billion compared to $8.4 billion at year end 2017. Book value per share was down from $204.95 at December 31, 2017 to $204.91 at September 30, 2018.

A conference heard how Bermuda is a centre for innovation with a "world-class reputation" on Friday. Wayne Caines, the Minister of National Security, delivered the keynote address at an Association of Certified Anti Money-Laundering Specialists event. The seminar on virtual currencies and digital assets was held yesterday at Rosewood Bermuda. Mr Caines spoke about the island's efforts to position itself as a leader in the fintech sector followed by a question-and-answer session. He said later it was "an excellent opportunity" to speak to people that are "integral to our efforts". Mr Caines continued: "Bermuda's world-class reputation, regulation, and as a centre for innovation were the focus of my discussion. I had the opportunity to discuss Bermuda's blue-chip advantages and why we should be the domicile of choice for businesses. I also shared how we work closely with our global partners and have made coming to Bermuda an easy and seamless process. One of the main messages I offered to attendees is that Bermuda places the highest value in our legislation and financial regulations and will endeavour to ensure that companies domiciled in Bermuda will be of the highest standard."

The transformation of Bermuda into an "innovation island" could boost the economy, a report commissioned by the Bermuda Chamber of Commerce has predicted. Kendaree Burgess, executive director of the chamber, said "we are in the right space to take ourselves to the next level". But she added: "We do need to have a commitment to innovate around education and immigration, as well as a change of mindset." The review, which the chamber has presented to the Bermuda Government and the Business Development Agency as well as unions, was compiled in February by a Masters of Business Administration team from Cornell University in New York and Queens University in Ontario, Canada. The team of five executives surveyed the island last year. Ms Burgess said: "It's hugely exciting, and I believe that everybody ought to hear it. Our job is to present their findings to enough people to create a momentum on policy change and the creation of financial products that people can use to start new businesses." Proposals included "revolutionising" farming with aquaculture and new technology, investment in renewable energy, and the creation of new businesses in fintech and insurance technology, or insurtech. Ms Burgess said: "One of the Chamber's mandates is to create an environment in which business can prosper. After having this study done, it is absolutely doable. The real issue is getting it off the ground." She said the MBA team, tasked with increasing GDP and the creation of jobs, said Bermuda could be "a global innovation island — a place where new ideas can be tested". The report recommended that Bermuda should position itself as a "beta site" — a term derived from computer programming — when software gets tested before being released. Ms Burgess said: "They believe that Bermuda is the perfect size. Every innovation requires real-world testing, and Bermuda is right for that because it can be used as a small version of anywhere." The study recommended Bermuda should pitch itself as "a refuge from global complexities and an engine for globally relevant business innovations". It proposed the creation of a public-private entity, a Global Innovation Zone Authority, to target growth in at least three sectors — insurtech, tourism innovation and sustainable agriculture. The island was also encouraged to develop a more self-sufficient approach to fuel and food, most of which is imported and subject to unpredictable outside forces. The report said a 10 per cent switch to renewable energy would save $15 million a year in payments made overseas. It also recommended major changes in the island's transmission, distribution and sale of electricity. The report added a 5 per cent boost in domestic food production would save $10 million a year in foreign exchange payments. The report also underscored the island's vulnerability. It said: "As global outlooks suggest a future with political volatility, increased food demands, energy volatility and disruptive technological advances, Bermuda faces ominous challenges to sustain itself as a small global competitor." Michael Gonsalves, vice- president of private banking at Sun Trust in Atlanta, one of the MBA team members, said the group had been impressed with the closeness of the island's community. Mr Gonsalves is related to a Bermudian but the others on the five-strong team were new to the island. He said: "It's a population that's very engaged, whether for good or bad. Everybody has an opinion and an idea of a better Bermuda. It's a question of harnessing that energy and getting it into an appropriate direction." The group interviewed more than 50 people during their visit, from taxi drivers to scientists at the Bermuda Institute of Ocean Science. Mr Gonsalves said that Bermuda had to become "an island not defined by a couple of industries — there's opportunity for many industries, and they need help to develop". Grady Brain, fellow team member and a portfolio manager in fraud and security with Equifax, said he was impressed by the island's "resilience and passion for change. You're far from the States, and you truly have to have it in your mind that you must be resilient. I enjoyed seeing that aspect of it. I think the path is there for Bermuda to develop — Bermuda absolutely has the keys, and it has to be a collective effort." The Chamber has not published the whole report, but has released segments.

Bike thefts jumped by 68 per cent in the third quarter of the year compared to the same period last year. Senior police officers said stolen machines could be used in shootings or to commit other crimes. Chief Inspector Robert Cardwell, head of the Bermuda Police traffic unit, said: "We generally think in some cases bikes are stolen with a view of committing another crime such as burglary, shooting, bag snatch and the like." He added: "They are also taken for parts or simple joy riding. I am not sure there is a definitive link between the gun crimes we are seeing and the stolen bikes being reported. Of course, it is more than likely bikes are being stolen to commit other crimes including shootings." Mr Cardwell was speaking after police figures showed there were 224 bikes stolen between July and September compared to 152 in the same period last year. The number of stolen bikes this year so far is 494, compared with 547 in total for 2017. The statistics were revealed in the wake of a series of shooting incidents in recent weeks. Police appealed for witnesses to four firearms incidents in a mile-and-half radius in the central parishes in the space of a month. Shots were fired in Pembroke and Devonshire, with the latest on October 21, when a gun was used outside a house in Pembroke's Happy Valley Road. No one was injured in any of the incidents. Police said they were interested in speaking to anyone with information on people riding stolen bikes. Detective Chief Inspector Arthur Glasford said: "We have to keep it in the back of our minds, if a bike gets stolen what is the purpose of it being stolen? That is factored in whenever we go to an incident where there is a report of the suspects being on a bike. One of the first things we do is check the licence plate number to see if it is stolen or not. If a bike is stolen, we always wonder what was the purpose — there could be a lot of reasons and most times if they are not stealing it for parts, because it can be hard to get parts in Bermuda, they may be stealing it to commit crime." Mr Glasford said that the allocation of police resources changed to meet statistical trends. He added: "Our quarterly and annual statistics dictate where police priorities lie and where the service delivery should be focused. We look at the stats and wherever there is an increase we have to put resources there to address those incidents. It is ever-changing — just because we have a mandate for one thing it doesn't mean we cancel out anything else that is going on. "We have the resources — it is just about using our resources wisely. It also comes down to the community and getting the message out that if people know something, no matter how insignificant they think it may be, to share it and we can act on it in parallel with what we know. Hopefully, that way we can find solution to these matters."

Shirt pressed, shoes shined, but with a head hanging in shame, the surroundings were alien. Having lived a life according to the law, he never imagined himself standing in a courtroom. When companies collapsed all over the world, nightmare became a reality in Bermuda as law-abiding people found themselves unable to pay for goods or services obtained on credit. Senior magistrate Juan Wolffe told The Royal Gazette how a "huge range" of people end up in debt courts and how the face of debt had changed in the past ten years. He said: "Prior to 2008, the types of people who were not paying were primarily those who had the ability to pay but just did not want to pay — the quintessential delinquent debtor. Then in 2008, the recession hit and we started to see many people who historically we had not seen coming to the courts before. Those would have been the persons who had never been to court, always paid their bills on time but, because of redundancies or reduced hours, found it extremely difficult to pay. I knew things were bad in, let's say 2009 or 2010, when the character of the person that came before me changed. I started seeing people with shirts and ties on, and suits, coming to court and you could see that they were embarrassed and humiliated. For them it was surreal that they were in court in front of a judge being told that they've got to pay money because that's not their experience. I've seen many of them break down in tears because they've reached the zenith of their stress." Mr Wolffe admitted: "It can be heartbreaking. I think I can safely say that a lot of people are one pay cheque away from being bankrupt. Their income does not meet their expenses or their liabilities far exceed their assets. There are a lot of people out there like that and I think the courts are responsive to that reality." He said there was a "regular flow" of non-traditional defendants until about 2016. But Mr Wolffe added: "There's still a residue because you still have people who are trying to catch up." He said that the courts were unlikely to impose the "ultimate consequence" of prison for people in those circumstances where payments had fallen behind. Mr Wolffe added: "While things may have improved economically on a global scale and maybe things on Front Street have improved, people are still trying to catch up for the debts that were accrued five or six years ago. They're paying on the bills, they've now got a job, they're coming into court less frequently or not at all but they're still paying off those debts. So they're certainly not out of the woods by any stretch of the imagination."

Opinion. By Barry Ritholtz, a Bloomberg Opinion columnist. He founded Ritholtz Wealth Management and was chief executive and director of equity research at FusionIQ, a quantitative research firm. He is the author of Bailout Nation. "The dire warnings about minimum-wage increases keep proving to be wrong. So much so that, in a new paper, the authors behind an earlier study predicting a negative impact have recanted their initial conclusions. However, the authors still seem perplexed about why they went awry in the first place. Seattle, like some other thriving American cities on the West Coast, a few years ago passed an ordinance raising the minimum wage to $15 an hour in a series of steps. The law was a partial response to rising income inequality and poverty in the city, which began its post-crisis economic boom well before the rest of the country. The reaction was immediate, strident — and deeply wrong. The increase was an "economic death wish" that was going to tank the expansion and kill jobs, according to the sages at conservative think-tanks. The warnings were as unambiguous as they were specific: expect restaurants to close in significant numbers and unemployment to rise, all because of this foolish attempt to raise living standards. Those ideologically opposed to mandated minimum-wage increases freaked out when a Seattle pizza parlor closed. Meanwhile, they ignored data showing Seattle-area employment in the restaurant industry on the rise. The critics even blamed Seattle's minimum-wage law for unemployment in suburbs not covered by the city's laws. Despite their dire forecasts, not only were new restaurants not closing, they were in fact opening; employment in food services and drinking establishments has soared. Alas, if only the critics had done their homework first, instead of using scare tactics. Much of the hand-wringing was based upon a deeply flawed University of Washington study. As we noted in 2017, the study's fatal flaw was that its analysis excluded large multistage businesses with more than one location. When thinking about the impact of raising minimum wages, one can't simply omit most of the biggest minimum-wage employers in the region, such as McDonald's and other fast-food chains, or Walmart and other leading retailers. These are the very employers that were the main target of the minimum-wage law; indeed, the law established an even higher minimum wage of $15.45 an hour for companies with 500 or more employees. There were two other glaring defects in the first study that are worth mentioning. The first is that its findings contradicted the vast majority of research on minimum wages. As was demonstrated back in 1994 by economists Alan Krueger and David Card, modest, gradual wage increases have not been shown to reduce employment or hours worked in any significant way. Ignoring that body of research without a very good reason made the initial University of Washington study questionable at best. Second, there potentially is a problem with having a lead researcher — economist Jacob Vigdor, whose affiliations among others include the right-of-centre Manhattan Institute — whose impartiality is open to question. I don't wish to suggest people cannot have opinions, but researchers need to be open-minded. This is especially true in fields such as economics and public policy, where belief systems and political affiliations can have an outsize impact on objectivity. Now of course, we should consider the argument that Seattle's economic growth has been so strong that it overwhelms any negative effects from the higher minimum wage. No one should ignore that possibility and we will be among the first to acknowledge that this could be the case. We may never know for sure because in economics you don't get a chance to run control experiments; you only have the facts at hand. But we can't emphasize enough just how wrong many of the initial analyzers of the wage increase have been. Cognitive dissonance is a powerful force. If your ideology includes the belief that all government attempts at raising living standards are doomed, then of course you are going to be against mandated minimum wages. The problem occurs when these folks are confronted by facts that are at odds with their belief systems. The options are to either rethink your ideology or alternatively ignore the data. Most participants seem to have done the latter. Kudos to the University of Washington team for at least trying to incorporate the facts into their latest research."

An online medical supply business is due to launch a retail store next month. Lighthouse Medical Supplies Ltd will be located at 14 Cemetery Road, Pembroke. The company is a Bermudian-owned Bermuda-based, medical, long-term care, surgical, dental and laboratory supply and equipment provider which has been established for four years. They sell medical supplies to individual customers, insurance companies, medical and dental clinics, as well as King Edward VII Memorial Hospital. Yana Swainson, Lighthouse Medical's chief executive officer, said: "We originally started Lighthouse Medical as a care home. I started selling diapers to clients. The business grew and we created a website selling medical supplies online." As the demand increased, Ms Swainson came to believe it was time for a bricks-and-mortar presence. Lighthouse Medical sells various medical supplies, such as durable medical equipment including mobility, respiratory (such as oxygen and CPAP), bedroom and bathroom safety and diagnostics. It also offers consumable medical supplies such as incontinence, wound care, diabetes management, skin care and ostomy products, as well as infection control products such as gloves, disinfectants and sanitisers and professional medical supplies and equipment. Courtney Smith, the company's business development manager, believes the business has found its niche. "What makes us stand out is that we all come from a medical background and can provide knowledgeable service to customers," Ms Smith said. With the ageing of the population and the number of people with mobility issues rising, demand for the company's products is likely to keep rising. "A lot of people have mobility problems and some landlords will not allow individuals to modify their homes permanently," Ms Swainson said. "There is equipment that you can use as a replacement instead of tearing up someone's bathroom. What we offer is a home visit to assess the area and help install it in your home." The grand opening for the retail location will be on November 6 from 9am to 6pm, with a ribbon-cutting at noon. Healthy snacks and drinks will be supplied, and there will also be prizes and equipment demos. There will be additional parking across the street in the triangle grass area, Ms Smith said. "We are located on the second floor with no passenger elevators so please be mobile enough to climb stairs," Ms Smith said. Store opening hours are Monday to Friday 9am to 6pm, Saturday 9am to 3pm, closed on Sunday.
For more information contact 777-5483 or visit lhmeds.com.

A charity set up to care for ex-servicemen is to publicize the island's role in the First World War with a special poster and booklet to mark the centenary of the Armistice. The Bermuda Legion has produced a poster with details of every Bermudian who served in "the war to end all wars" and a pamphlet on the origins and history of the conflict, as well as details on soldiers involved. Carol Everson, welfare caseworker for the Bermuda Legion, said: "It includes the nominal roll of all who served in the First World War — a tremendous number of people served. I have been working on this and similar topics because, when I started for our veterans, I realised there was a great deal that hadn't been recognized. There were people who had made a huge contribution with their war service in World War One and Two and there were stories that should be told that hadn't been." The poster and booklet were unveiled in the run-up to the annual Poppy Appeal, which starts on Thursday. A total of 544 Bermudians are recorded as serving in World War One, most of them in the Bermuda Militia Artillery and the Bermuda Volunteer Rifle Corps, segregated units that would later came together to form the Royal Bermuda Regiment. Some also served in the armed forces of other Allied nations, including Britain and Canada. Ms Everson said that she had spoken in the past to elderly veterans who had heard the stories of men who had fought in the First World War. She added: "It was fascinating, but some of the stories seemed lost and I didn't think they should be lost for ever, It's 2018, the 100th anniversary, and commemoration is taking place, so I asked the executive of the Bermuda Legion if we could bring out a book that could be used along with church services and for general education." Copies of the poster will be given to the Anglican Cathedral in Hamilton, the churches and the Royal Bermuda Regiment and schools. Ms Everson said: "It's very important for children to learn about this. It's not glorifying war — war is a horrible thing, but sometimes things happen and good people have to stand up and do something about it." Ms Everson added that veterans of the Second World War are still alive, although frail and elderly and others who served, but never saw active service, were also ageing and needed assistance. She said: "The Royal Bermuda Regiment was formed in 1965 and we now have very old soldiers who are living in conditions which could be a lot better. Everything we raise from the Poppy Appeal goes to Second World War veterans, their widows or those who support them." Ms Everson added: "There should also be something for the old soldiers, even if they aren't war veterans." Ms Everson said that the Bermuda Legion could also help with applications to British service charities for those in need. This year's poppies will carry a green leaf in honour of the anniversary. The poppy shop will be at Thistle House on Hamilton's Burnaby Street this year and poppies will also be sold at the Anglican Cathedral and the Royal Bermuda Regiment, as well as by volunteer vendors in the streets of Hamilton. Ms Everson said other churches or schools who wanted to sell poppies should contact the Legion.
• Anyone who wants to volunteer to help with the Poppy Appeal should e-mail nosoldierleftbehind@hotmail.com

Quinceé Kaya Dill's dream has always involved an audience. The Bermudian actor is determined to forge a career in America's entertainment industry. So far she has appeared in short films and web series. She also wrote, produced and starred in the short film Scissors vs Ponytail. Convinced she is at the beginning of a career, she does not have a Plan B. "I don't allow myself to think that way," the 21-year-old said. "If I have a back-up plan it means I've already accepted failure — and that's not an option." She started "writing skits and performing" as a child in Marietta, Georgia, but did not realize it was her life calling until after her parents, Patrika Dill and Quincey Santucci, moved the family here. "I was 15 when I realised acting was a career and that's what I wanted to do," she said. Her first stage appearance was in the Gilbert & Sullivan Society's 2011 production of Animal Farm. "It was exciting when I found out they accepted me and gave me a role," she said. "I think I was scared a bit, but I went on to perform with [local performance group] Troika, and doing as many production courses in high school as I could." She got a GCSE in drama and was accepted into the American Academy of Dramatic Arts in Hollywood, California. "It was amazing," she said. "I learnt so much and I met great people who helped me understand more." Ms Dill also landed a spot with Los Angeles-based agency, Green and Green Talent Group. "[In the entertainment industry] they have different agencies for different levels depending on what part of your career you're in. For me, I went through a process where I sent out pictures and résumés to agencies. They contact you if they're interested. That's how I ended up going to Green and Green. They help me with finding auditions and sending me on them. When you have an agent you have access to larger markets. They have access to larger companies that are looking for actors." She appeared in the film Ho Molto Fame, which came second in the Italian-Thai short film competition in 2017. "It means 'I'm very hungry'," she laughed. "I did the whole thing in Italian and no, I don't speak Italian. But you know what you're saying so you just create the emotion behind it." Scissors vs Ponytail screened at Canadian Film Fest in March, showcased in a category of movies that were 300 seconds or less. At the moment, Ms Dill is in Bermuda working at an after-school programme to earn some money so she can return to the US. She is also waiting to hear whether she will be given a bit more latitude in applying for jobs. "The visa process limits what you can actually work for," said the actor, who does not have a Green Card and is not American. "It's so difficult. I'm working on getting a visa that would allow me to do more within the industry. I've submitted a case with the help of a lawyer and am waiting to hear. I am looking at a range of things currently, commercials, television, short films ... web series is my latest target. I am interested in writing but it's more of a hobby currently. I'm not the strongest writer but I have a lot of ideas. My goal is to work with other writers to help me format my ideas." She has not ruled out a move to the United Kingdom or Canada, where finding work might be easier. "I won't give up. It's my passion, my love." Her advice to any other Bermudians interested in becoming an actor: "Believe in yourself. Go for it and save your money because, while you're waiting for your break, life is not cheap." Having a healthy self-esteem also helps. "You have to build immunity," Ms Dill said. "I started at the end of primary school. Because I was moving around a lot, I had to suck it up and be ready to meet new people all the time, and then deal with bullying. You learn to lift yourself higher and walk away. My mom was pretty helpful in letting me know that was what to do: just walk away. But if you don't get a role it's not necessarily because you aren't a good actor. It could be that you don't have the look they're looking for. You can be a fantastic actor, just not for what you've come in for. What I've learnt from some of my teachers is that when you finish an audition, forget about it. Then it's not weighing down on you. Go in, have a good time and then it's done."

October 28, Sunday

October 27


Walter Roban retained his position as Progressive Labour Party (PLP) Deputy Leader this evening beating challenger Scott Simmons to the role. The votes were cast during the delegates conference at Devonshire Recreational Club this evening. Emerging from the hall, Mr Roban told The Royal Gazette: "I'm happy that I have retained the confidence of my party, my caucus team and membership to keep doing the work that I have been doing, not only for the past two years but for nearly 30 years of commitment and success for the PLP. My track record speaks for itself. I only want to continue that work, we are stronger than ever and I am honored to represent my membership." Damon Wade was voted in as party chairman and Lauren Hayward-Bell as deputy chairman. Mr Roban was first voted in as Deputy Premier on November 7, 2016 when David Burt was voted in as Leader of the Opposition. Mr Roban also holds the title of Minister of Transport and Regulatory Affairs and is the candidate for Pembroke East. One of his recent accomplishments as Minister of Transport has been seeing through the introduction of roadside sobriety checkpoints to curb impaired driving on the island. He has held numerous portfolios including Transport, Environment, Planning and Infrastructure and Health. Mr Wade said: "I have the qualifications and experience needed and my intention is to use those to help to make the party a more efficient and effective entity." Ms Hayward-Bell added: "I am honored. We are looking to grow our membership, strengthen our standing committee, ensure fiscal responsibility within the party and to build a party prepared to represent the people of Bermuda." Earlier this week, Mr Burt praised Mr Roban for the support he had given him throughout his political career saying Mr Roban had "taken me under his wing." Alexa Lightbourne is the new press relations officer and former party chairman Owen Darrell is now chief of staff to the Premier.

A violent child sex offender is now in a UK high-security hospital for detention and treatment, it was revealed yesterday. Bermudian Merrick Seaman was transferred to the hospital in Northampton after a Supreme Court in Bermuda ruled he would "likely" cause harm to the community if no action was taken. The 33-year-old had been held under Bermuda's Mental Health Act at the Corrections Department's Co-Educational Facility at Ferry Reach, St George's, for three months after he was moved from the high-security Westgate Correctional Facility at Ireland Island North. Seaman was jailed for eight years in 2011 after he was convicted of a serious sex assault on a five-year-old girl. Wayne Caines, the Minister of National Security, said: "I can confirm that on September 4, Mr Seaman was transferred to a suitable clinical location in the UK for the necessary treatment. He is no longer under the care or supervision of the Bermuda Department of Corrections." Then Chief Justice Richard Ground ruled the offender should serve his sentence at Westgate rather than be detained under a Mental Health Act order. Seaman was eligible for parole in April 2013 but it was recommended that his release should be delayed until the risk of him committing further offences was reduced. He was given another psychiatric review the following year after he said: "I intend to go on a killing spree when I get out of jail." Seaman was convicted of wounding another inmate in 2016, which earned him an extra nine months on his sentence. His earliest possible release date was June 15 but the Government moved him to the CoEd two days earlier. A Supreme Court judgment published in August showed the Ministry of Health and Bermuda Hospitals Board sought a hospital detention order to allow Seaman to be moved to a UK hospital. Emcee Chekwas, a British psychologist, carried out a risk assessment and recommended that Seaman get further treatment as there was a "high risk" of further offences. The expert said: "The services likely to help him are currently unavailable in Bermuda and, even where intervention abroad could be secured, he will require long-term care." Katina Anagnostakis, a forensic psychiatrist at St Andrew's Healthcare, in Northampton, England, said it was likely Seaman's condition would deteriorate without further treatment. She said the facility would admit him if the courts in Bermuda and the UK approved the move. Puisne Judge Shade Subair ruled Seaman could be sent overseas for care and treatment. She said in a written judgment: "The wider purpose is to protect the community from further harm, which Seaman would likely cause if not further detained and treated." The judge said he should be detained at St Andrew's. Mrs Justice Subair added: "It would be irresponsible for this court to impose an artificial time limit on the period of Seaman's hospital detainment overseas merely for the sake of defining his term of detention. However, this court will review and monitor his progress by receipt of progress reports from the applicants at six-month intervals. A court hearing review on Seaman's mental health prognosis shall also be held one year from now." Island courts are also expected to get progress reports on Seaman every six months.

A 16-year-old girl charged with the murder of Bermudian Lyrico Steede in an English city was interviewed by police as a possible witness before she was arrested for the killing, a court has heard. Nottingham Crown Court was told the girl had arranged to meet Mr Steede in a park in the Bulwell area of the city the night he was stabbed several times. It was alleged that during her interview as a potential witness, she was vague about how the meeting had been organized. She told police she and Mr Steede had sat in the park for about an hour when about five men "ran Lyrico down" and also stole the iPad she had borrowed from a friend. The girl also told officers she did not recognize any of the men. She added in her interview that she had looked for Mr Steede, who had moved to England to live with family, after he was chased by the men. But she said she could not find him so went home because she was worried. She added she later heard on the news that someone had been stabbed in Bulwell and realised it must have been Mr Steede. Mr Steede was chased and knifed by a group of men on February 13 and died in a Nottingham hospital five days later. It is alleged Kasharn Campbell, 19, of no fixed abode, and Remmell Campbell-Miller, 18, from Nottingham, were responsible for the killing. They were charged with Mr Steede's murder along with two 17-year-old boys and the girl, none of whom can be named for legal reasons. The jury heard that the girl was arrested at her home on February 22 and police also seized her phone. The girl was charged with Mr Steede's murder on March 21. It is alleged she lured him to the park. The trial continues.

An ex-gangster told the Supreme Court yesterday he heard the Parkside gang plan the murder of a rival on the day a man was shot dead. The witness, who cannot be named for legal reasons, said he heard Prince Edness, identified in court as a Parkside "ringleader", vow the gang would "shoot the first 42 guy they see" at Hamilton Parish Workman's Club. Perry Puckerin was shot dead at point blank range that night — January 3, 2010 — in the doorway of the club. The court heard that the eastern parishes club was said to be a hangout for the 42 gang. The witness added Mr Edness ordered him to collect a gun from a bar in Hamilton — and said the murder accused, Jeremiah Dill, later bragged about the shooting during a "celebration" of the murder. Kamal Worrell, for the defence, accused the witness of fabricating a story to save his own skin. But the witness maintained he first informed police because he "wanted a way out". He told Nicole Smith, prosecution counsel: "I'm not proud of it. I came up in the street, in gangs and drugs and jail my entire life, and I just wanted to change." He said he had only just been released from prison and had grown "sick of the lifestyle". But the witness said he had also "hated" Mr Edness, nicknamed "Fifty". He said: "I thought he was really evil." The court heard earlier this week that the victim had been a member of 42, a gang embroiled in a "war" with Parkside. The witness said he had been a friend of Mr Dill, known as "Rocks", and often visited his house at Seagull Lane in Spanish Point, Pembroke. On the day of the murder, he said he visited around 12.30pm, and that Mr Edness, who he had met after his release from jail, was also there. The witness added Mr Dill was also a Parkside member. He said: "We were all part of that street life, the gang life, Parkside." The witness said: "I witnessed Prince orchestrating the murder". He added Mr Edness talked about "escape routes" and hiding afterwards in "the guy Tamasgan's shed". The witness said a man known as Blood, whom he did not know, was to be the shooter. He added: "That was it; make sure they got somebody from 42". He told the court Mr Edness had sent him to Place's Place bar on Dundonald Street in Hamilton "between a year and six months" before the killing to pick up a gun. The witness said he collected "a silver gun with a push-up clip, a safety, very heavy" and took it to Mr Dill's house to hand it over to Mr Edness. He added that he visited Mr Dill's house a few days after the murder and found him "excited and hyper". The witness said: "It was like a kind of celebration because they got a guy from the other side." He added Mr Dill was "laughing and joking" and demonstrated how he had shot Mr Puckerin, but was worried police would search Tamasgan's house. The witness said he was in police custody on January 21, 2010 to be questioned on "a minor matter" and decided to "get out of Bermuda and start a new life". He added he gave a statement to a woman officer and a Detective Redfern, but refused to sign it "because nobody said they was going to help me — my mind was all over the place". The witness said police contacted him years later when he lived and worked in England. "I was angry — I didn't want no part of this. I told them to leave me alone and hung up." He explained he was "frustrated having to face stuff from my past — I did stuff that's not nice, and I tried to make a new start, and this was back in my face". He admitted he hit a "breaking point" and gave a statement when police contacted him on his birthday in June 2016. He said he spoke to police again in July 2017. The witness said Mr Dill "amazingly" contacted him "immediately" after the first police interview, first on Facebook messenger and later on WhatsApp. The two communicated by phone, video and text. Mr Dill, who was living in London, told the witness police wanted to extradite him to Bermuda. He showed the witness a copy of his statement and asked him to retract it. The extradition was later approved and Mr Dill's messages stopped after the witness told him his phone was tapped. The exchange of messages, which he handed over to police, were produced in the court yesterday. The witness admitted under cross-examination that he was under a suspended sentence when he was caught shoplifting and feared a return to jail. Mr Worrell highlighted contradictions in his evidence on when he had acquired the gun. The court heard it had been six months before the shooting, but the witness had told police it had been weeks earlier. Mr Worrell suggested the witness had made up his story to avoid going back to jail, adding: "You knew exactly how to make it believable." But the witness insisted his evidence was believable because it was the truth, adding: "The truth does it." The trial continues.

The executive director of an environmental charity is understood to have been made redundant. Jonathan Starling, one of Greenrock's two full-time staff, is believed to have parted company with the charity. The move is thought to have been made on cost grounds as not enough funds could be raised to sustain the role. Mr Starling declined to comment yesterday, but the board of directors of Greenrock is expected to release a statement in the next few days. The organization's website said it was an "exceptionally lean charity" focused on "environmental education and wider sustainability issues". Although the site said Greenrock's only full-time employee was an "executive administrator", a school programme manager has since been added to the team. Mr Starling has listed his work at Greenrock under "previous" on his LinkedIn professional networking webpage. His job with Greenrock was listed from November 2015, to this month. The site also lists Mr Starling as an "urban studies researcher" at Scotland's Heriot-Watt University from 2012 to the present. Mr Starling obtained a Master of Science degree in planning, from Heriot-Watt, which is based in Edinburgh. Mr Starling's profile also listed him as the owner of Catch A Fire, "Bermuda's most popular blog for political and current affairs, from a leftist perspective". Included in his background is work as an aquarist at the Bermuda Aquarium, Museum and Zoo, time as an economist for Forest Research in the UK and a stint as child poverty researcher for the Scottish Government. Greenrock's website said Mr Starling was "in charge of the day-to-day management of the organisation" and had responsibility for all its programmes and projects. The charity's mission statement is to "engage the community to share solutions for a sustainable Bermuda" and promotes education to "encourage respect for the environment in people of all ages". Greenrock was asked for comment, but a spokeswoman said a statement would be issued "in due course".

A rat spotted in an upmarket luggage shop's window was bagged yesterday. The owners of Voila on Hamilton's Front Street said the rodent was caught overnight and destroyed. The rat was earlier filmed as it crawled over bags and wallets and the clip was circulated on social media. Maritza Sequeros, the general sales manager of the Calypso group, which runs Voila, confirmed: "He's gone." She said the rat had been caught in a trap and was removed. Ms Sequeros added: "The saga is finished."

A scorpion was caught after it stowed away in cargo for Bermuda, it was revealed yesterday. The arachnid was spotted by staff in a warehouse run by Fast Forward Freight, who contacted environmental officers. A check by professionals found no more scorpions since the find earlier this month. But the public was warned to be vigilant to stop the spread of alien species. Mark Outerbridge, a wildlife ecologist at the Government's environment and natural resources department, said: "The staff of Fast Forward Freight are to be commended on their swift actions in preventing the escape of this scorpion and bringing it to the attention of the Department of Environment and Natural Resources. "Vigilance at the point-of-entry, good communication, early detection and rapid response are critical components of invasive species management and are essential in preventing the establishment of exotic invasive alien species." The species of scorpion has still to be established, but it is thought the creature, found on October 12, was a striped bark scorpion — Centruroides vittatus. It was 1.25 inches long, although adults can grow to more than double that. The species can inflict a painful sting, which causes swelling and nausea but is rarely lethal. The striped bark scorpion is native to North America and is commonly found throughout the south-central United States and northern Mexico and its diet is made up of insects. They hunt and feed at night but rest during the day in cracks and crevices, under rocks and surface debris, in vegetation, and inside buildings. The striped bark scorpion is said to be an adaptive species that can tolerate a range of climates — which means it could adapt to Bermuda if given the chance. Invasive species are defined as non-native with the ability to become established in a new environment and breed. They are likely to cause damage to the environment, economic harm and can even threaten the health of humans. The impact of invasive species is considered to be the biggest risk to the biodiversity of islands because local species have evolved largely without mainland predators, heavy competition or diseases. Island species can fall victim to invasive alien species and become easy prey. They can also be killed off by diseases invaders carry and may be unable to compete with incomers for resources like food and shelter. But invaders can have better resources, fewer natural enemies and a better living environment. This means they not only displace native species but can also alter the natural world by disrupting the environment and soil chemistry. Invasive species can also impose an economic cost on agriculture, fisheries and infrastructure.

October 26

An island vacations rental website is to collect a new tax on Airbnb-style holidays. BermudaRentals.com will collect the 4.5 per cent visitor fee direct from bookers "to maximize convenience for both visitors and property owners". The website, which has about 100 properties on its site, will join the Airbnb website as collection agents for the new tax, which will be imposed at the start of next month. Kevin Dallas, CEO of the Bermuda Tourism Authority, said: "The Bermuda Tourism Authority continues talks with vacation rental websites to encourage fee collection arrangements that alleviate hassle for property owners and increase convenience for visitors. We're pleased to add Bermuda Rentals to the list." Holiday rental property owners not listed and booked through either website will have to collect the new tax and submit the proceeds every month to the BTA at GoToBermuda.com/BTAConnect. First time users at BTAConnect can get a log-in by emailing BTAConnect@BermudaTourism.com.

A woman who left a sports club just before a man was shot dead in the doorway yesterday identified the person accused of his murder as the gunman. The witness told Supreme Court that she had recognized the shooter as Jeremiah Dill, who is charged with the murder of Perry Puckerin eight years ago. The woman said the gunman, who wore a hood with a camouflage outfit, pointed a handgun in her face and told her not to move moments before he shot Mr Puckerin on the night of January 3, 2010. The witness, then a member of staff at Hamilton Parish Workman's Club, cannot be identified under a court order from Puisne Judge Carlisle Greaves. Mr Puckerin, who witnesses earlier in the trial said had vowed to steer clear of the "war" between two gangs, had been at the club that day with members of the 42 gang from Pembroke. The woman agreed with Craig Attridge, for the defence, that David Cox, a gang member later jailed for murder, had been among them — and that he had fought outside with a man called Tamasgan Furbert. The court heard both Mr Furbert and the defendant were later held by police over the shooting of Mr Puckerin. The jury also heard that Mr Dill was shot and wounded later that year as a "reprisal" for the murder. The witness, who broke down in tears as she gave evidence, said she had stayed in her house for "months" after Mr Puckerin, a close friend, was killed. She added she was consumed with guilt over Mr Puckerin's death because "he came back so we could go out" after the workman's club shut that night. The witness agreed with Mr Attridge that she suffered from post-traumatic stress disorder and depression diagnosed in the wake of the killing. Mr Justice Greaves warned the jury that the woman's brain condition, which started to affect her this year, meant that "she has an inability in remembering certain things". The jury reviewed CCTV footage shown on Wednesday of the club bar, where guests and staff were packing up for the night, and the open area outside, where the gunman paced from one side of the building to the other. The woman witness said she froze as shots rang out. She added: "I couldn't move. I don't know how to say it — I couldn't do nothing." She disagreed with Mr Attridge as they examined footage from CCTV outside the club, which the defence said appeared to show her taking cover behind a palm tree. The witness admitted she had lied to police in parts of her earlier statements and had failed at first to identify Mr Dill as the gunman. She told the court: "I was scared." But Mr Attridge suggested she had been uncertain in her statements to police because "you weren't sure that you were right". The court heard that she had been able to look into the gunman's eyes outside the club, and that she recognized him as Mr Dill, someone she said she had known since childhood. Mr Justice Greaves asked her: "Are you mistaken about your identification of Mr Dill as the shooter?" The witness responded: "No, I know who it was." The trial continues.

Axis Capital made a profit of $43 million, or 52 cents per share in the third quarter, compared to a loss of $468 million for the same period in 2017. Its operating income was $81 million, or 96 cents per share, which easily beat analysts' estimates of 69 cents. Gross premiums written were $1.4 billion, a rise of 20 per cent. There was a 49 per cent increase in the insurance segment, mostly as a result of Axis' acquisition of the Novae Group last year. Adjusting for the impact of Novae, Bermudian-based Axis had a $92 million, or 8 per cent, decrease in gross written premiums. Albert Benchimol, president and chief executive officer of Axis Capital, said: "In the third quarter, we continued to see positive momentum, as our efforts to optimize our business and invest in growing our market leadership have generated real traction. We advanced our positioning and relevance in key markets requiring our specialist expertise and are seeing ongoing benefits from the further integration of Novae into our business. We also continued to drive forward the implementation of our transformation programme, which is helping to improve our efficiency and position Axis to be profitable under a wide range of market conditions." Axis' combined ratio was 97.9 per cent, down from 152.9 per cent year-on-year. Adjusted for dividends, book value per diluted common share increased 62 cents, or 1 per cent, compared to the end of June.

A nursing home assistant attacked a female patient with dementia and gave her a black eye, a court heard. Barbara King Bean, 53, was caught after the patient was taken to hospital with a swollen eye. Magistrates' Court was told that the elderly woman suffered from Alzheimer's disease and oedema — a build-up of fluid in the body — and suffered from speech problems. The woman's daughter reported the eye problem to staff at the home, who feared that the oedema had spread to the woman's face. She was transferred to the King Edward VII Memorial Hospital. Doctors found that her eye was bloodshot and bruised, symptoms not usually found in oedema, and contacted police. Police checked CCTV footage from the patient's room, which showed King Bean remove the woman from her bed before she hit her and pulled clothing from her hand. The bruised eye was spotted by the patient's daughter, who visited her mother on May 9. King Bean, from Southampton, pleaded guilty to assault. She apologized and told the court she had attempted to clean the patient after she found her lying in a wet bed. She admitted she might have been too aggressive as she tried to move the woman. Magistrate Tyrone Chin ordered that neither the victim nor the care home should be identified. He released King Bean on $2,000 bail for a social inquiry report and adjourned the case until January 10 next year.

A former Miss Teen Bermuda who became an international award-winning midwife has spearheaded an attempt to make sure women in war-torn Syria get proper maternity care. Pandora Hardtman set up a programme to promote safe births in the devastated Middle Eastern country. Now she is running the project from a base in Turkey, only 75 miles from the city of Aleppo, which was captured from rebel forces in 2016 after heavy bombing by the Syrian Government. Dr Hardtman said women travelled across the Syrian-Turkish border to benefit from her expertise. She added that watching them climb on buses to return to the dangers of their homeland was one of the hardest parts of her job. Dr Hardtman said: "The first time, I cried because literally I felt I was sending them back to their deaths. I don't go any more, it's too much. You have to take these measures to survive because it's personal. It's the coping skills that you learn over time. I can call their names and faces to mind now. I know their families." Dr Hardtman said her work in the Turkish border city of Gaziantep, where hundreds of thousands of Syrian refugees fled after a brutal civil war broke out, meant adapting to the reality that many pregnancies were the result of wartime rape and where women give birth in primitive conditions compared with Western countries. She arrived in the region two years ago as a United Nations consultant to set up a programme to train Syrian nurses as midwives. Dr Hardtman, who earlier worked in Bangladesh and has a doctorate in nursing practice, is now employed by G12, a German development agency. She said: "The challenge with the Syrian conflict is that because it has been so protracted there is a huge focus on trauma care. When women are forced to flee because of displacement, it's the maternal health services that can be thrown by the wayside." One of her first tasks was to find midwives already in northern Syria and bring them across the border for intensive training to raise their standards to International Confederation of Midwives levels and teach vital skills such as neonatal resuscitation. Dr Hardtman said: "Every time they come, it's an act of faith." One woman hid under blankets with her baby son to get across the border because of passport problems, while another, responsible for delivery of babies in nine villages, had not left her mountain district for years. Dr Hardtman said she worked in a strict Islamic environment in Bangladesh — but that it was still a shock to arrive in Gaziantep and face a room where Kurds and rebels were to be trained together, with the help of translators. She explained: "The men and women are separated. I remember seeing 12 women completely in black, with only two faces I could visualize. I pulled out the condoms and they all screamed and turned around." Dr Hardtman later trained a group of male imams, who "by the end ... were blowing up condoms, filling them with shaving cream. It was truly one of my most unforgettable experiences." She said she had to change a plan to use bananas to teach sex education after she was told the erotic connotations of the fruit meant they were off-limits. Dr Hardtman, a former Bermuda Institute pupil, added that light-hearted moments were rare amid the heartbreak and terror. She said a young student on her midwifery programme died in an explosion in August. Dr Hardtman added that protesters with placards, which accused the UN, a neutral global organisation, of having blood on its hands gathered outside a house she was in as Aleppo fell. She watched as they were arrested by Turkish police and admitted: "I cried all night long. The world has forgotten us. There are piles of dead babies. It's pretty intense." But she added: "Somehow we are doing it." Dr Hardtman, who won the American College of Nurse Midwives Distinguished Service Award last year, left the island in the late 1990s because of a hospital policy which prevented professional midwives from using their skills to the maximum. She now lives in Georgia in the United States but has travelled all over the world as a midwifery specialist, including Rwanda, Nigeria, Indonesia and Mongolia. Dr Hardtman said: "I kind of feel like 'to whom much is given, much is required'. I guess I could have stayed at home but I refused to lose my skills that I had worked so hard for." And she added: "If the situation was not what it was, I wouldn't be where I am, doing all this really cool stuff."

An event to raise awareness about domestic abuse and encourage discussion of the problem is to be held at a Hamilton nightclub tonight. Nicole E. Robinson, one of the organisers, hopes other people will find the strength to speak out after she shares some of her own experiences. The 46-year-old is part of a women's group called Dreams, Visions and Realities, set up to hold events and parties in aid of good causes. Part of the proceeds from the evening at Cosmopolitan on Front Street in Hamilton will go to the Centre Against Abuse, which offers crisis support to victims of domestic abuse and sexual assault. Ms Robinson explained: "It's not a female event, it's a male and female event because abuse is everybody, we're trying to reach as many people as possible so that we can get a handle on this abuse." She added: "It's like a social event for healing. We have to be aware that if we don't talk about things we are not helping people. If you haven't been abused you don't know what it's like to try to get out — when you have invested time in a relationship, it's not that easy to walk away because you can't. You lose yourself in a situation as well. People say, you're strong, that won't happen to you, but when you're in a relationship and love is involved, you get weakened." She explained that some people in abusive relationships can try to make things work because they fear "failure" and may focus their energy on ensuring people around them are all right, rather than themselves. Ms Robinson, a senior trust administrator for Clarien Bank, said victims could also feel they had done something wrong. However, she said: "It's never about you, it's always about the other person." She added: "Domestic abuse is not just physical — it's mental and emotional, and people have to understand that." Ms Robinson, from Devonshire, added: "It develops depression, it develops anxiety, it develops a loss of self-confidence and self-respect, you get into this negative way." Laurie Shiell-Smith, the executive director at the Centre Against Abuse, said: "We are thankful to Nicole for being an advocate and being a voice in the community. We are thankful for her wanting to do this to raise funds for us but also actually to do this for her community because she has a heart to help others. She has seen that this is a way that she can assist others with either getting help or knowing what to do." The event, which costs $15, starts at 6pm. Dennie O'Connor, the owner of Cosmopolitan, said he was happy to open the club early for a good cause. A Women in Politics forum organized by the Progressive Labour Party's women's caucus last month heard domestic violence should be treated as a national priority. Ms Shiell-Smith told the group that the Centre Against Abuse had helped more than 1,500 people over the past ten years. But she added that, although the numbers were "astronomical", only a "small number of victims" asked for help.

Gilbert Darrell, a former MP and co-founder of the National Liberal Party, has died. Mr Darrell was 95. His family said he died at his home in Smith's Parish yesterday with wife Coralita and grandson Gilbert "Artie" Darrell at his side. His grandson told The Royal Gazette: "In some ways it's hard to describe him to my friends and even my family. He was a towering figure in my life, in my family and to all who knew him. He was someone I not only looked up to but in many ways strove to be like." He added: "From everyone I spoke with, he was incredibly respected and honored. He was a highly respected businessman and politician of which Bermuda could always use more of. Through his time in business, from the grocery store Darrell and Seaman, to Darrell Equipment and then helping form Bermuda Container Line, I've met dozens of people who have called themselves blessed to have crossed paths with him. He was always there to help other people. He was a straight shooter, always looking to help but never one to back down from his convictions either." Mr Gilbert, who grew up in Flatts and later moved to Smiths, helped create the NLP in 1985 after an attempt by expelled members of the Progressive Labour Party to rejoin failed. He lost his seat in 1989 which ended his frontline political career. Mr Darrell had been involved in politics since the mid-1950s and was MP for Hamilton East. He was also a businessman — he owned and operated the Gilbert Darrell Company supplying commercial kitchens and supermarkets. Mr Darrell is survived by Coralita, two children, Gilbert C Darrell and Miriam Smith, as well as three grandchildren, Gilbert "Artie" Darrell and Geoffrey and Marc Smith.

A rat has been filmed scurrying among luxury luggage and handbags in a posh Hamilton shop. Video footage posted on social media yesterday showed the rodent crawling among bags and holdalls in a window display at Voila on Front Street. The rat is seen making its way from a large yellow Longchamp handbag on to a wallet. Another clip shows it scuttling along a glass shelf. A third film taken at French Connection, on Reid Street, showed a rat inside the shop, although it is believed that animal has since been caught. Both outlets are run by Hornburg Calypso, which rents Voila from Butterfield Bank. The city vermin appeared days after The Royal Gazette reported that government pest controllers had tackled a plague of rats at the Botanical Gardens. Maritza Sequeros, the general sales manager of the Calypso group, said the rodent in French Connection was there last week. She explained yesterday: "That one has been disposed of. My staff called me in a panic, the door was open, he literally walked into the store in broad daylight, it was the afternoon. We called vector control and they did come and put poison down all around the perimeters but they're no longer allowed to operate for infestations inside premises, only outside. He wasn't coming out during the day. We baited him with traps and we caught him about two days later, finally." Ms Sequeros said she had no idea how another rat had got into Voila and only became aware of the problem when an employee showed her the video. She added it is thought a taxi driver had filmed the footage on Wednesday night and by yesterday morning it was "circulating all over the place". Ms Sequeros said her bank landlords had contacted the Government's vector control team, the City of Hamilton and sent in their own contractors to put down traps. She added: "It's a waiting game now. What I'm trying to figure out is, how did it get into the shop? The other one walked into the store because it was attracted by the garbage from the restaurants. I wish I had an answer, if there's a hole, it needs to be patched up." Vector control teams have monitored the Botanical Gardens after parents said the vermin had scared people near the children's play area in the Paget park. A government spokeswoman said last week that 20 bait boxes had been installed in the Paget park. Ms Sequeros said: "The thing is, if it's our store I'm sure it's more than our store. Unfortunately, it's one of our shops and it's on Front Street. I think it's an island-wide issue, I'm not the only one dealing with it. I know it was at the Botanical Gardens — there's a problem we need to address as a community. Unfortunately the ones that come to my stores like to be on display. Maybe I just need to get a cat." A government spokeswoman confirmed officers from the Department of Health's Vector Control Team attended the shop. She said they gave "advice and assistance ... including carrying out a survey to identify any potential structural problems". The spokeswoman added the pest controllers had checked drains along Front Street and put down poison bait. The spokeswoman added: "The team will monitor the situation over the next few weeks to ascertain if any further interventions are required." A City of Hamilton spokeswoman said the pest controllers had also been called out to the City's plant nursery on Pembroke's Laffan Street because of "rat burrowing and an inflated presence". She added: "The City advises anyone who discovers rats on their private property to contact Vector Control to have the issue dealt with immediately. This includes those buildings located in the downtown area of Hamilton." Some rats carry the Leptospira bacteria, which can cause flu-like symptoms such as headaches, chills and vomiting in humans. It can be contracted if people come into contact with the urine or blood of infected rodents or other animals. In its most severe form — Weil's disease — the condition can affect organs including the heart, brain and lungs. In rare cases it can lead to organ failure and death. A spokesman for the Butterfield Bank said the company had already called in contractors in pest control and had signed up another firm to come and inspect their Front Street building as a precaution.

October 25

Cannabis cultivation for medical reasons will be legalized within months, David Burt told a conference last night. The Premier pledged the Government would issue the first licences for production of the drug next year. Mr Burt said: "The Government can apply to the United Nations to raise the import limit for medicinal cannabis but our thinking is, in a country that is desperate for jobs, why send money overseas to import what we can produce here? In line with the pledge made in our platform, the Government will begin issuing licences for domestic medicinal cannabis production." Mr Burt was speaking as he delivered the keynote speech as the Progressive Labour Party's annual conference opened at St Paul AME Church's Centennial Hall in Hamilton. The Premier added that the Government had to update its immigration policies. He said: "In 2018, where the world is virtual and jobs are mobile, it is important to realize that we may need to take a different approach to immigration than we did in 1956 when the Act was written." Mr Burt added: "From the last census report it is clear that income inequality is getting worse. Black people continue to make less than their white counterparts. The violence we see has its genesis in that inequality." Mr Burt said that the promotion of black Bermudians in the business world would be good for companies, but those that did not would come under more inspection. He added: "Particularly black Bermudians at times do not get to advance. Some companies are making efforts to change this trend and I commend them for doing so." Mr Burt said: "We need to move from a one-size-fits-all model of immigration to a model where good corporate citizens who hire, train and promote Bermudians are rewarded with a more streamlined system, while those who do not will be subject to additional scrutiny." He added: "The country benefits from a more efficient government and we will follow through with our platform commitment to reduce red tape and will make everything from getting a truck permit to a liquor licence to a work permit or to register a business easier for our citizens to do." Mr Burt added that his government also aimed to cut health insurance costs. Christopher Famous, a PLP backbencher, said in an earlier speech that free health insurance for people older than 90 was being considered for next year. Mr Burt added that workers' rights must be balanced against the need to progress. He said: "Our unions must stand up for the workers like the brothers of the Electricity Supply Trade Union did last week. But they must play a part in making government, tourism and our economy more competitive." Mr Burt added: "Any new power generation will require less staff to operate. We must ensure we create new jobs in energy for Bermudians. We have to prepare our people for a future world which will change even more dramatically as technology advances."

More than $600 million was wiped off the value of Butterfield Bank as its share price tumbled on The New York Stock Exchange. Investors were rattled by a sharp decline in deposits at the bank, and lower expectations of revenue from the banking custody business it has acquired from Deutsche Bank. The bank's shares stood at $51.15 when the US market closed on Tuesday, but within half-an-hour of the NYSE reopening yesterday they had plummeted more than 25 per cent to $35.84. Later on, the stock staged a partial recovery to end the day at $39.51. What changed between Tuesday evening and yesterday morning was the release of Butterfield's third quarter results. The bank made a profit of $50.4 million for the three months to the end of September. That was about $10 million more than in same period last year. The profit equated to 90 cents per share, which missed analysts' estimates by five cents. Michael Collins, chief executive officer, noted the bank's "strong results" from its core businesses. However, in a conference call held against the backdrop of the tumbling share price yesterday, questions were asked about the drop in average customer deposit balances to $9.4 billion, a fall of $300 million year-on-year and $700 million lower than during the second quarter. "We have been pretty consistent about talking about the volatility of some of our trust and hedge fund clients, and this is exactly what this represented," said Mr Collins. "We have one client that represents over half of the decline. They have put the money to work somewhere else." He pointed out that the bank was not seeing rate sensitivity in its core base of retail, commercial and corporate clients, but there was volatility "at the top end". Michael Schrum, chief financial officer, explained that from time to time big deposits go on and off the balance sheet. He said when there is a distribution from a trust the client might "park it for a bit and then go off and start a new fund or buy a new property". He added: "We are at a low point with the dozen or so clients that represent that top bit. There are specific deposits that, given they are in a fund, are probably not going to come back. But from time to time we will get others that come back to the balance sheet. Those very important clients are still very important for the trust business; the relationships are still with us, they are just doing other things with their money, and it is not rate-related." Butterfield has also lowered its revenue expectations for the banking custody business in the Cayman Islands and Channel Islands that it acquired from Deutsche Bank this year. Dan Frumkin, chief operating officer, said his previous projection for revenue of $30 million from the acquired business is likely to be closer to $17 million or $20 million. However, he said expenses are also likely to be lower than previously reckoned, around $12 million, which would be $2 million to $3 million lower than initially estimated. He said the bank was therefore now looking at a total contribution between $8 million to $11 million "once it is bedded in towards the tail end of next year," compared with the initial thought that the figure might be around $16 million. "The balances are lower than we expected, we are disappointed by that," he said. "The reality is it is still a very accretive transaction, and it opens up the Jersey market. We are excited about the opportunities we have in that market. We are still pleased with it, it's just not quite what we thought it was." There was a jump in non-interest expenses to $82.2 million, which was up from $78.2 million in the previous quarter, and $8.5 million higher than a year ago. This increase was said to be primarily due to severance costs of $2.4 million associated with management restructuring. Mr Collins said: "Over half of some of the expense increase was 23 redundancies, pretty senior redundancies in all three or four of our jurisdictions, pretty much spread evenly. It is something we will continue to do every year or two as we think about our cost base." Following the share price fall, Butterfield Bank has a market capitalization of $2.18 billion. Butterfield's share price remained unchanged at $50 on the Bermuda Stock Exchange.

A new strategy to attract visitors is aiming to bring in $1.2 billion a year to the island by 2025, the Bermuda Tourism Authority said yesterday. The new National Tourism Plan said the growth — equal to 4.5 per cent a year — was part of a six-point plan to boost the industry over the six years from 2019. Kevin Dallas, the chief executive of the BTA, said: "A recurring mantra in the plan is an imperative need to focus given limited resources. On this point, the plan is laser-focused on reaching the right people in the right locations for the right reasons. It explains the cities where Bermuda's tourism marketing should focus, now and in the future, who the target consumers are and what on-island activities are needed to deliver the quality experience travelers seek." Mr Dallas was speaking at the annual Bermuda Tourism Summit, held at the Hamilton Princess & Beach Club. The BTA said five other "success indicators" had been identified for the six-year period. The authority said it wanted to see a 5 per cent boost in tourist summer air arrivals to 30 per cent over the time frame. The off-season, September to May, is targeted for an increase of 4 per cent in the number of visitors from 52 per cent last year to 56 per cent. The BTA also wants to see the number of African-American tourists double from the 4 per cent of the total in 2017-18 to 8 per cent. It is also hoped to increase the number of people who would recommend Bermuda as a holiday destination to family and friends from the 76 per cent recorded this year to 83 per cent by 2025. The authority also wants to see 70 per cent of island residents backing the development of the industry, compared with the 61 per cent logged this year. Paul Telford, the BTA chairman, said: "This is purposefully designed to be Bermuda's plan, not the Bermuda Tourism Authority's plan. The team gathered input from a variety of voices outside our organisation — supporters and detractors — to ensure the plan represents the view of as many people as possible because we know Bermuda needs to everyone buy in to make the plan successful." More than 150 interviews with people involved in the industry were carried out, as well as with 400 residents. Residents also completed nearly 380 online surveys, and 25 working group sessions with industry figures were held. More than 3,500 people, both visitors and non-visitors were surveyed for their views. Jamahl Simmons, the tourism minister, said: "Our government believes Bermuda's greatest asset is our people. That belief underpinned the inclusive approach of the Bermuda Tourism Authority and the Government — embracing the knowledge, wisdom and experience of the country in the creation of a plan that will shape the next phase of Bermuda's tourism revitalization." The authority also unveiled its seven-point strategy and tactics list to improve tourism under the acronym "Agility". The acronym was drawn from awareness, greener, infrastructure, local involvement, innovation, tourism and groups and year-round instead of a summer peak and a slow season.

A new online Citizens' Forum was launched today. The Government platform was set up to canvass public views on its proposed policies, Lovitta Foggo, government reform minister, said: "One of the fundamental aims of this Government is to ensure that the people of Bermuda have their say on the matters that affect them. It's been said that a healthy, functioning democracy is one that provides its people with an opportunity to freely voice their opinion, and one that holds elected officials accountable for delivering on their promises." Ms Foggo said that previous Governments had brought forward legislation in some cases that had not been subject to proper consultation with the public. She added: "So, it was the goal of this government to create a mechanism whereby the people of Bermuda could have their say in matters of importance to them. Stakeholder consultation is an invaluable component not only in ensuring a strong democracy but in the policy development process. Ms Foggo added: "Input from the wider community is critical for an accurate assessment of the feasibility of policy proposals and will help identify which aspects of a policy will be most strongly supported or opposed. Public feedback is a necessary part of the process and may lead to the refinement of policy options. This Government committed to good governance and good government. The introduction of the Citizens Forum is a tangible example of good government — one that is applying best practice to public policy development." Ms Foggo said using the site would be "simple and easy" and when people access the page they will see a list of proposed policies and an explanation. Users will have to create an account using an e-mail address or linking the page to their Facebook or Google profile before they can see full details of policies and offer comment. Ms Foggo said: "With the launch of the Bermuda Government's Citizens Forum we have delivered on our promise to produce a digital tool to engage our community so that they have a role in shaping our democracy." The forum can be found at www.gov.bm.

Chubb Limited made a profit of $1.23 billion, or $2.64 per share, in the third quarter, compared to a loss of $70 million for the same three months in 2017. The global insurer, which has offices in Bermuda, reported core operating income of $1.12 billion, or $2.41 per share, beating analysts' estimates by five cents. Book value per share was $110.46, while tangible book value was $66.83, up 0.4 per cent and 1.3 per cent, respectively, from the end of June. Chubb's property and casualty combined ratio was 90.9 per cent, while it had P&C net premiums written of $7.5 billion. Evan Greenberg, chairman and chief executive officer of Chubb Limited, said: "The quality and balance of our earnings this quarter were evident, with P&C underwriting income of $669 million and net investment income of $883 million."

American International Group has been given the green light to split its European subsidiary into two, as it prepares for the UK's exit from the European Union. The High Court of England and Wales has approved the transfer of British-based AIG Europe Limited's business into two new entities, one to serve UK customers and the other for business in the rest of Europe. AIG is led by Bermudian-born Brian Duperreault. The two new entities created ahead of Brexit — which is scheduled to happen next March — are American International Group UK Ltd, which will be based in London, and AIG Europe SA, which will be headquartered in Luxembourg and have 21 branches across the European Economic Area and Switzerland. The company said the London court's approval was the final piece needed "to complete the restructuring of AIG's European operations and ensure AIG's readiness for Brexit". Through the two companies, AIG will continue to service all of its policyholders and business partners across the UK and Europe, "and to guarantee contract certainty to all AEL policyholders, regardless of the future relationship between the UK and the EU". Both companies will start writing business and policyholders will transfer from AEL to the new entities on December 1. Anthony Baldwin, chief executive officer of AEL and AIG UK, said: "Today is an important day most of all for our clients, as we can now guarantee them access to the full range of our capabilities after Brexit. We have cleared the final major legal hurdle in our Brexit plans which will enable us to offer our clients, partners and colleagues certainty that AIG is ready to overcome the challenges posed to the insurance industry by Brexit, regardless of the UK's future relationship with the European Union. All our clients can be assured of past, present and future contract certainty under the new structure. As we launch our two new legal entities to ensure the smooth operation of our business across Europe after Brexit, it's an exciting time for AIG."

A doctor from one of the world's leading universities has discovered a gene mutation in a Bermudian mother and daughter that could help to find a cure for a potential killer disease. The two women both suffer from lupus, which attacks the immune system, causes kidneys to fail and can be fatal. Naoka Murakami said: "It's a unique opportunity for us and the patients in Bermuda. If we could extend this type of research in Bermuda and get more families, that would be very interesting. If we identify a specific mutation and the function of the gene, it gives us the potential to develop a diagnostic measure. It could lead to a cure for lupus — the lupus that is associated with this gene mutation." Dr Murakami has now launched a research project to determine if genes do play a part in the development of lupus, which was not thought to be a genetic disorder. Dr Murakami, a research fellow who treats kidney patients at Brigham and Women's Hospital in Boston, Massachusetts, has since found two other families on the island where more than one member has lupus. She believes there might be a genetic cause for other Bermudians with lupus as well. She has asked them to take part in the study and give a sample of blood so their genes can be mapped by a Harvard research team. She is also looking for funding for a major research project. Dr Murakami said: "It's very exciting. I hope things will move forward with the funding help and patient help. She told The Royal Gazette that past studies on lupus had never shown a genetic association for the disease, which was what made this case so interesting. She said: "Almost all lupus cases happen sporadically without any family history. Bermuda is a small island and has sort of an isolated population. I'd say the gene mutation development is nothing to do with the small size of Bermuda's population but it might be easier to track or pick up mutations in a relatively isolated area with a small population, such as Bermuda." Anil Chandraker, medical director of kidney and pancreatic transplantation at Brigham and Women's, who is also involved in the research, said the gene-mapping could be used in relation to other diseases. He added: "We want to do this for lots of other diseases in Bermuda. It's a really novel approach because it's such a relatively small population." Dr Murakami said her interest in the mother and daughter sufferers was sparked when they both attended a clinic at Brigham and Women's. She added: "In this case, the daughter developed lupus at the age of ten. She went into kidney failure from lupus at the age of 14 and her mother at the age of about 38. They were both transplanted at Brigham in the late 1990s and both have been doing quite well over the past 20 years." Dr Murakami said: "One day they came to the appointment together. It was like 'oh wow, we are seeing both together' because it's so rare to have the familial lupus. We asked them if there was anyone else in the family with lupus." The doctor said the mother told her that her late mother also suffered from lupus. Dr Murakami said: "For lupus, it's actually quite rare to have this type of family history. We thought this is very precious and a rare opportunity to look into any genetic cases that could be carried over generation to generation." The mother and daughter agreed to participate in a study to map their genes. Dr Murakami said: "Because of the recent very rapid technological progress, we are now able to sequence every single gene to every DNA level. As humans, we carry 30,000 to 40,000 genes. We take advantage of whole exome sequencing. By sequencing all the genes, we know how variable this gene sequence is from the normal. We know how a normal sequence looks. We sequence all the genes from a patient and then match towards this normal sequence to look for any difference. We found one gene mutation that's in these two affected people but also sequenced the patients' family members who are not affected as a healthy control. The control people who don't have lupus don't have the mutation. That suggests this gene can be associated with lupus development." The four healthy family members had blood taken at nephrologist Wendy Outerbridge's clinic on the island in a collaboration with kidney specialists at the King Edward VII Memorial Hospital. The Harvard researchers later sequenced and analysed their genes on a computer. Dr Murakami appealed to Bermudian lupus sufferers, especially those with a family history of lupus, to take part in her study. She said volunteers would not have to travel overseas and could give blood on the island. Dr Murakami said the aim of her research was to confirm that the gene mutation already discovered in the Bermudian patients is "functionally affecting the immune system" to explore any other gene mutations that could be associated with lupus. The researchers, who have obtained permission from an Institutional Review Board to conduct the study, will use high-tech gene editing to introduce the mutation into a healthy cell to see if it prompts a hyperactive immune reaction. The process is costly, with sequencing for each patient costing up to $800. Ideally, the researchers would like to find 50 to 100 patients to take part. Dr Murakami said: "If we could say this mutation is associated with lupus — and if we could confirm the mutated gene can cause the disease in experimental models — this means we've identified a potential therapeutic target, so we could develop therapeutic agents to activate or inhibit the function of the target gene. It would be a bit of a jump to say that a gene therapy could treat lupus with this specific mutation at this moment, but it is not impossible in the future."
• Anyone interested in the study can e-mail Dr Murakami at nmurakami1@bwh.harvard.edu
Lupus fact file. Lupus is a serious autoimmune disease which causes the body's defence system to identify its own tissue as foreign and invade and attack it. An estimated five million people worldwide have lupus, with more women sufferers than men. The Department of Health said no statistics are collected on the number of lupus sufferers on the island. The Bermuda Lupus Association was set up five years ago to help sufferers with information and support. The charity has about 60 members, most of whom are supporters of people with lupus. The charity meets monthly and holds educational seminars and quarterly support group meetings. It also has a WhatsApp chat group, with about 28 members, who can ask questions about medical services, medication and offer support to each other. The association is aware of about ten people in Bermuda who have had the disease diagnosed over the past few years. Others have lived with the disease for many years. To get in touch with the Lupus Association, e-mail bda.lupus.association@gmail.com or find them on Facebook and Instagram. The Dragonflies youth social group provides educational and emotional support for youngsters affected by chronic illnesses, including lupus, whether as patients, family members or friends. It can be reached at bermudadragonflies@hotmail.com.

A jury viewed CCTV footage of the murder of a man shot in the doorway of a working men's club. Supreme Court also heard evidence yesterday from staff and customers at Hamilton Parish Workman's Club who saw a masked figure dressed in a camouflage outfit shoot Perry Puckerin, a father of two, at point-blank range eight years ago. The court heard Mr Puckerin had talked about keeping his distance from a violent feud between two Pembroke gangs, and his wish to live to see 2011, moments before a gunman lying in wait outside the club shot him in the chest. Jeremiah Dill, 35, from Pembroke, has denied a charge of premeditated murder and using a firearm to commit murder. Four witnesses who gave evidence yesterday cannot be identified under a court order imposed by Puisne Judge Carlisle Greaves. The jury heard from Witness A, a member of staff at the Crawl Hill club, who said customers were having a last round of shots with Mr Puckerin as they closed up on the night of January 3, 2010. Witness A said he spotted someone walking back and forward outside the window at about 9pm. He added that Mr Puckerin was about to follow another customer outside when "someone came to the door and shot him". Witness A said: "I didn't see the shooter. He was all covered up. He had a camouflage outfit on." He added: "I could see his eyes, but nothing else." Witness A told the jury that Mr Puckerin fell back into the club and other customers scattered for cover while he took shelter behind the bar. The court saw CCTV footage from cameras at the club, which showed a figure pacing about outside before approaching Mr Puckerin, shooting him and running off. Nicole Smith, for the prosecution, read three statements given to police by other witnesses. Witness B, a customer at the bar, saw what she thought was another customer walk up and lift his arm towards Mr Puckerin as he headed out. She said: "I then heard two pops. Perry fell to the ground, and I saw smoke coming from the gun." She added that the gunman shot Mr Puckerin a third time before he walked away. Witness B said she was in shock and held Mr Puckerin's hand and prayed as she waited for an ambulance to arrive. She said the attacker appeared to be hooded, with a large jacket zipped up to his face. Witness C added Mr Puckerin, who had just had a son, was "telling me about not getting caught up in the gang war going on between Parkside and 42". His statement said: "I told Perry it was nice he was trying to steer clear of gang activity." Witness C said Mr Puckerin talked about his desire to see the next year and that he replied that "he had to see 2010 through first". He added a "tall guy" dressed "head to toe in dark camouflage" with material over his face, stood in front of Mr Puckerin as he left the bar. Witness C said: "I heard the shots and thought it was a prank." He added, from his experience in the Royal Bermuda Regiment, that the weapon appeared to be a 9mm type after he saw it when the gunman fired the second shot from about two feet away. Witness C's statement added: "When taking cover, I heard a third shot." He said the gunman said nothing during the attack. Witness D, another customer, saw the gunman just after a woman, the first to leave, headed out of the door. His statement said: "It looked like the Grim Reaper." Witness D added that the gunman "looked up at everybody and everybody who was in the bar just scattered" as Mr Puckerin collapsed. He added that as he got down beside Mr Puckerin, he saw a gold-coloured bullet casing inside the door and a damaged bullet that he said might have been a misfire. Witness D's statement said: "This was a brutal murder — an assassination." The trial continues.

Young talent will flee Bermuda to find opportunities in other countries if the island's population trends are not dealt with, a political commentator has warned. Denis Pitcher was speaking after a recent population projections report highlighted that the number of elderly people was expected to rise, but the overall population would fall between 2016 and 2026. Mr Pitcher said: "We desperately need to increase our working population or risk the fallout that will occur if we don't. This includes recognizing that we will face an exodus of talented youth who are burdened with ever higher costs and lack of prospects for a prosperous future, who will ultimately seek options elsewhere." He explained that the report showed that eight people were in the working age group of 15 to 64 years old for every two retirees over 65 in 2016. But there is expected to be only five people of working age for every two retirees by 2026. Mr Pitcher said: "Our healthcare and pension systems are sustained based upon the balance of working people to retirees. Working age people's pension contributions are effectively paid out to retirees. The fewer people of working age versus the greater people of retirement age means there will be far fewer dollars going into the pension system than there are going out. This is not sustainable and means our pension system will fail unless we significantly raise contributions, significantly cut payouts, substantially increase the working population or some combination of the three. Similarly, working age people tend to be healthier and their health insurance contributions tend to offset the contributions of retirees with significantly higher health issues. The more retirees we have versus the fewer workers, the greater the burden on our healthcare system. Overall healthcare costs will rise substantially. Again, this is not sustainable and will mean our healthcare system will be reliant on significantly raising insurance rates, cutting benefits and costs, substantially increasing our working population or some combination of the three." The independent observer outlined a series of measures that should be looked at to make sure pension and health insurance contributions met the island's growing needs. The population projections report showed the old-age dependency ratio, which measures the ability of working-age people to support seniors, was expected to jump from 24.7 over-65s to every 100 people aged between 15 and 64 to almost 40 elderly people to every 100 people in the working-age bracket over the decade looked at. It was also predicted Bermuda's overall population will drop over the same timeframe as the demographic profile shifted towards fewer children, an older workforce and more seniors. Lovitta Foggo, the Government reform minister, said last week that the report highlighted some "critical realities for Bermuda's future population" and solutions were being sought. She said pension funds were closely monitored and consideration was being given to raising the retirement age to 67. Ms Foggo added: "Similar reforms will be made to our Social Insurance scheme." A spokeswoman for the Ministry of Health said it "understands how population and demographic trends impact health costs and insurance premiums" but individuals can play a part to help. She explained: "Annual actuarial reviews of our plans take into consideration these trends and future projections. But the size of the population is not the only factor affecting costs and premiums. Other factors include, for example, the level of ill health, access to care at the appropriate level and time, and how much services are used. The ageing of our population is a serious consideration, which highlights the pressing need for persons to adopt healthy lifestyles to avoid chronic diseases, which put more burden on individuals and the system prematurely and with age. Healthier lifestyles contribute to easing pressure on health costs and premiums."

A man who admitted forging a licence plate was fined more than $1,500 in Magistrates' Court yesterday. Jahroy Simons, 32, forged documents and drove an unlicensed car without third party insurance on June 16. Simons was caught during a traffic stop in the Shelly Bay area of Hamilton Parish after police spotted his car did not have a TCD certificate, the court heard. Police failed to find the plate number on the TCD database. They also noticed that the numbers on the plate were made with strips of electrical tape. Simons, from Sandys, told officers: "I was going to get it insured." Magistrate Tyrone Chin fined Simons $1,550 and imposed four demerit points on his licence.

A passenger on the Disney Magic cruise ship who brought bullets into the country was fined $750 yesterday. Tourist Carl Sturges, from Pennsylvania, said the ammunition was in the pocket of a jacket he brought with him and that he had forgotten it was there. Magistrates' Court heard that customs officers found three bullets in the jacket, which was in Sturges's bag as he boarded the Disney Magic cruise ship on Sunday afternoon. Police were contacted and Sturges was taken to Somerset Police Station, where he admitted the offence. He pleaded guilty to three charges of possession of ammunition. The 56-year-old said he had a firearms licence in Pennsylvania, but not a licence to bring ammunition into Bermuda. Elizabeth Christopher, Sturges's defence lawyer, told magistrate Tyrone Chin that the defendant was remorseful. She added: "He wouldn't have willingly broken our laws." Sturges added: "It was a mistake. I could not feel the weight of the rounds in my pocket. I did not mean to bring them with me."

A man who was stabbed outside his home was the victim of an attempted robbery, police confirmed yesterday. Officers are continuing investigations and thanked members of the public who had contacted them with information. The popular bar worker was at first said to be in critical condition, but his condition was listed as "stable" in the intensive care unit at King Edward VII Memorial Hospital yesterday. The incident happened near Harbour Road in Paget at the junction with Valley Road at about 2.53am on Tuesday. The 43-year-old was attacked by two men who had followed him on a motorcycle as he travelled home from work in Dockyard. Officers want to speak to anyone who was traveling in the areas between Dockyard and Harbour Road in the early hours of Tuesday and saw two men on a motorcycle close behind another motorcycle with a single rider. They also want to hear from people who have seen two men on a bike showing "unusual behavior" while approaching other road users or heard about the suspects demanding money or belongings such as chains or jewellery. Anyone with information should contact Detective Sergeant Jason Smith on 247-1218 or 717-0864. Calls can be made to the independent and confidential Crime Stoppers hotline on 800-8477 and anonymous tips can be sent via the Crime Stoppers Bermuda website at crimestoppers.bm.

October 24

The visitor industry is hoped to bring in $1.2 billion a year by 2025, the Bermuda Tourism Authority said today. The new National Tourism Plan said the growth — equal to 4.5 per cent a year — was part of a six point plan to boost the industry over the six years from 2019. Kevin Dallas, the chief executive of the BTA, said: "A recurring mantra in the plan is an imperative need to focus given limited resources. On this point, the plan is laser-focused on reaching the right people in the right locations for the right reasons. It explains the cities where Bermuda's tourism marketing should focus, now and in the future, who the target consumers are and what on-island activities are needed to deliver the quality experience travelers seek." Mr Dallas was speaking at the annual Bermuda Tourism Summit, held at the Hamilton Princess Hotel. The BTA said five other "success indicators" had been identified for the six year period. The authority said it wanted to see a five per cent boost in tourist summer air arrivals to 30 per cent over the timeframe. The off season, September to May, is targeted for an increase of four per cent in the number of visitors from 52 per cent last year to 56 per cent. The BTA also wants to see the number of African-American tourists to double from the four per cent of the total in 2017/18 to eight per cent. It is also hoped to increase the number of people who would recommend Bermuda as a holiday destination to family and friends from the 76 per cent recorded this year to 83 per cent by 2025. The authority said it also wanted to see 70 per cent of island residents backing the development of the industry, compared to the 61 per cent logged this year. Paul Telford, the BTA chairman, said: "This is purposefully designed to be Bermuda's plan, not the Bermuda Tourism Authority's plan. The team gathered input from a variety of voices outside of our organisation — supporters and detractors — to ensure the plan represents the view of as many people as possible because we know Bermuda needs everyone buy in to make the plan successful." More than 150 interviews with people involved in the industry were carried, as well as with 400 island residents. Residents also completed nearly 380 online surveys and 25 working group sessions with industry figures were held. And more than 3,500 people, both visitors and non-visitors were surveyed for their views. Jamahl Simmons, the tourism minister, said: "Our Government believes Bermuda's greatest asset is our people. That belief underpinned the inclusive approach of the Bermuda Tourism Authority and the Government — embracing the knowledge, wisdom and experience of the country in the creation of a plan that will shape the next phase of Bermuda's tourism revitalization." The authority also unveiled its seven point strategy and tactics list to improve tourism under the acronym "agility". The acronym was drawn from awareness, greener, infrastructure, local involvement, innovation, tourism and groups and year-round instead of a summer peak and a slow season.

Two sons of a government minister ran a drugs operation targeting university students in an English city, a court was told yesterday. Marcus Weeks, 28, and his younger brother, Dalji Waldron, 23, sons of Michael Weeks, the Minister of Social Development and Sport, ran "a mobile shop", selling cocaine, ecstasy and cannabis. Yesterday, they were both jailed for four years and four months after they admitted conspiracy to supply cocaine, ecstasy and cannabis, and cannabis cultivation charges. The court heard that Mr Weeks was "absolutely devastated" by his sons' crimes. A shocked Mr Weeks said last night: "As a minister and a father, I want to sound a warning to our young children — the temptation is there, but it's not just you who pays. Think what it does to your family." He added: "My sons are intelligent, articulate, well-read young men who made foolish choices and are now reaping the consequences of those choices. They made a conscious decision to break the law, Therefore, they have to pay for the decisions made. There is no way around it or ability to skim over it." Mr Weeks's eldest son, Malik, was killed in a motorbike accident on Christmas Day in 2012, when he was 24, and the minister said the death had hit his brothers hard. He added: "When Malik died, they did go off the rails somewhat. Being the big brother, it was really a shock. They were both over there in school in England. That Christmas morning they spoke to him and less than 24 hours later, they got a call that he had died." Mr Weeks was speaking after Lisa Hardy, for the prosecution, told Lincoln Crown Court that the brothers ran the operation to make money after they moved to live in the cathedral city in the East Midlands of England. She said: "They were operating at mid-market level. They were buying in bulk amounts collecting the drugs from London then selling them in gram deals. They had a range of products. They clearly had a management function within this. They were not drug users. They were motivated by financial gain. There were videos on their phones of them paying for items in cash — £2,000 on one item. There is a video of them on Christmas Day giving their mother various gifts, including a car." Ms Hardy added: "Neither was ever registered as employed in the UK and neither was registered as a student." The brothers were first arrested in January last year after a Rover car driven by Marcus Weeks was stopped by police on the A1 motorway for having no insurance. Officers smelled cannabis and a quantity of the drug was found inside the car. Police later raided Weeks and Waldron's home in Lincoln and found £16,000 (about $21,000) worth of cannabis, ecstasy and cocaine in the brothers' locked bedrooms. Checks on their mobile phones revealed messages showing they had been dealing for months. Ms Hardy said: "Messages on Waldron's phone showed he was a mid-market dealer. He had people working for him. He used taxis for the delivery of drugs to customers and people paid him on credit. Weeks's phone showed he was buying in bulk from someone importing drugs and had someone working for him as a dealer. The messages showed they were meeting students. The arrangement was to meet at the front of the Lincoln University reception." The brothers were bailed but arrested again nine months later after police searched a terraced house in Dixon Street, Lincoln, which was being used to grow cannabis. Weeks was at the property when police arrived and his and his brother's fingerprints were found on equipment for growing. The cannabis plants found inside were estimated to have a potential street value of nearly £11,000. Weeks and Waldron, who were both living at Clarina Street, Lincoln, admitted charges of conspiracy to supply cocaine, ecstasy and cannabis between August 17, 2016 and September 22, 2017. They also admitted production of cannabis on September 22 last year. Recorder Graham Huston told the two: "The messages show you had a large number of customers from the student population in Lincoln. It would appear that is a group you targeted. Clearly this was a profitable business. Your father is a minister in the Bermudian Government. Both of you have something of a privileged background. I am told that this is a matter of real distress to your father. The cause of that distress is entirely of your own making." Jerome Lynch QC, a Bermuda-based lawyer who appeared for the defence, said: "Their father is a minister in the Bermudian Government. He is absolutely heartbroken by what his two sons have done, not least because his third son died in a [motorbike] accident. He now loses these sons as well for a time." Mr Lynch added: "He has funded their representation as a last-ditch effort to make them understand that there is a limit to how far he is able and willing to go." He told the court: "They were operating what can best be described as a mobile shop. They were not pressing these drugs on the vulnerable. They were in receipt of information from customers seeking to purchase. I don't offer any excuses because they have had a relatively comfortable background. Bermuda is a strict place. It is almost as if being allowed off the leash in a new country has provided the backdrop to this criminal behavior."

A man who ran up a string of driving offences was fined a total of $4,600 in Magistrates' Court yesterday. Jayden Stovell, 19, pleaded guilty to four speeding charges, two charges of driving while disqualified, and one count of giving false statements over a period of eight months this year. The court heard that all the speeding offences and one driving while disqualified offence were outstanding fines. Stovell, from Pembroke, told magistrate Tyrone Chin he had forgotten about the fines, but that he was trying to change his behavior. He told the court: "I've changed since then. I've taken up a trade and I'm doing an internship." Terrence Stovell, the defendant's father, told Mr Chin: "We're extremely disappointed, but we know he's turned his life around and he's doing well." Mr Chin warned Stovell that he could not afford to throw his life away. The magistrate said: "This is the most money I've ever seen a 19-year-old collect. You're an adult now, you're old enough to be sent to Westgate. If you're caught driving while disqualified again that's it — you do not pass go, you don't collect $200, you go to jail." He also told the defendant's father: "These are speeds that are way too dangerous for Bermudian roads. I would hate to read 'Jayden Stovell' in the obituaries. It's a scary thought." Stovell's parents paid $3,300 in outstanding warrants and told Mr Chin it was a loan that they expected to be paid back. The defendant was ordered to pay $1,300 out of his own pocket by November 20.

The historic Perot Post Office has closed for renovations so it can house the Post Office's special stamp sales operation. The Queen Street, Hamilton, building, named after the island's first postmaster William Perot, will be closed until further notice. A Government spokeswoman said moving the Philatelic Bureau from the GPO on the city's Church Street to the Perot Post Office was a "natural transition" as the building is regarded as one of the island's "most iconic historical visitor attractions". But she added the Government reform ministry found that some work was needed and "Perot is currently undergoing minor renovations to ensure a safe and healthy working environment. The upgrades will not affect the historical building status of Perot Post Office. The Ministry anticipates that the move will result in added revenue in the purchase of special edition stamps offered by the Philatelic Bureau. The Ministry takes this opportunity to apologise for any inconvenience the move has caused to visitors and residents and thanks the public for their patience. The public will be advised once Perot Post Office has reopened for regular business." Three commemorative stamp series have been released this year. One marked the 50th anniversary of the Bermuda Turtle Project and another the wedding of the Duke of Sussex, Prince Harry, to Meghan Markle. The third celebrated Bermuda's cedar handled handbags.

The owners of a dairy farm accused by neighbors of causing a stink have rejected a potential buyer after news of the sale was made public before it was finalized. Lidia and Valter Medeiros knocked back the offer and accused the "suitor" interested in buying Green Land Dairy Farm on Store Hill in Smith's of telling the Department of Health he was the new owner before a deal was agreed. Armell Thomas, senior environmental health officer, e-mailed some residents after the health department was contacted to tell them about the sale without checking with the Medeiros family that it was signed and sealed. Mrs Medeiros said: "It's done, it's finished. We walked away because we told the potential buyer specifically 'keep all this under your hat' until the time comes. When he started going around to all the agencies, without our permission, and telling everyone that he was buying the farm, well, this one [Valter] went off." The Royal Gazette obtained Mr Thomas's e-mail and quoted from it in an article on October 12, along with comments from a Department of Health spokeswoman and Michael Dunkley, the MP for Smith's North, who both said they were aware that sale discussions were under way but had not been completed. Mrs Medeiros declined to comment for that story. But yesterday she said: "The newspaper article finished it. That's when we found out he was going around telling everybody something. There were no lawyers involved, no money had been exchanged. Yes, he was a suitor. He was after the farm, but nothing had been concreted. It was very poorly handled and Armell should have known better than to just start putting out e-mails and information that wasn't true or was unverified. The farm is not for sale. I mean, hey, everything is for sale, but we are not thinking of selling the farm." Mr Medeiros said: "When you have money in your hand, then it's concrete." The couple, who took over the farm in 2014, have been under pressure to get rid of a manure smell caused by their 120 cows after complaints from residents. Mr Thomas said in his e-mail to residents that the "new owner" wanted to reduce the "nuisance complaints and move forward in the best possible way for the public". Mr Medeiros said he now emptied the farm's manure pit once every 2½ months so it never got the chance to fill up. He added: "The smell part, I think, is finished." Mrs Medeiros said: "We are quite confident that there are no more issues. There are, from time to time, whiffs, we know that that's happening. But that strong pungent smell from a year and a half ago is gone." However, one area resident disagreed. Emma Leitch, who lives near by, said: "I really hoped that they'd solved the problem, as the smell wasn't very noticeable over the spring and summer; really so much better. But now over the last few weeks, there have been several days when I can't even watch my children play outside because of the horrible smell from the farm. I have to keep my doors and windows closed on nice days because of the nauseating smell. I know others who have it worse, but it's really a bummer for us." Mr and Mrs Medeiros said plans for a waste digester had been dropped because engineers found it would not work on a small farm. They said they wanted to work with neighbors and encouraged them to call the farm with any problems. It was not possible to get a comment from the Department of Health by press time.

This year's poppy appeal will mark a special Remembrance Day — 100 years since the end of the "war to end all wars". Carol Everson, a caseworker with the Bermuda Legion, said poppies on sale this year carried a leaf to commemorate the centenary of the armistice that ended the First World War. She added: "That's appropriate, this being a special year of the centenary of peace after the First World War." Ms Everson was speaking as Second World War veterans Donald Jolliffe and Canon Thomas Nisbett presented the first poppy of the appeal to John Rankin, the Governor, at Government House. She said the Legion was grateful to Colonel David Gibbons, a former commanding officer of the Royal Bermuda Regiment, for the donation of space on the ground floor of Thistle House on Burnaby Hill in Hamilton for this year's poppy shop. The shop, staffed by volunteers, sell poppies throughout the appeal, which will run from November 1 to 11. Also available are posters listing the names of the island's veterans from the 1914-18 conflict and a booklet on the history of Bermudians involved. Britain's last surviving combat soldier of the Great War trenches, Harry Patch, who served with the Duke of Cornwall's Light Infantry and was known as "The Last Tommy", died in July 2009 aged 111. Ms Everson said that, although there were no veterans left from the First World War, veterans from the Second World War were now old and frail and needed extra support. She said: "Everything we raise goes for Bermuda's Second World War veterans and their widows. We also provide advocacy and support for their families. Although there are fewer Second World War veterans now, their welfare is costing more worldwide and has gone up considerably since pensions and benefits were offered by the Bermuda Government in 2007."
• To volunteer, or to learn more about the Legion's work, contact Carol Everson at 703-1020

October 23

A range of alternative energy proposals are under consideration as part of a consultation on Bermuda's long-term power generation plan. Now the public and the power industry have been given extra time to submit comments and ideas on the integrated resource plan to the Regulatory Authority, which already has eight proposals submitted. One plan by green energy company BeSolar focused on energy efficiency and an offshore wind farm which could be operational by 2023. Bermuda General Agency proposed a wave energy farm and Bermuda Environment Energy Solutions Group Consortium detailed a bulk generation plant to be located at Ship's Wharf. A steam powered generation plant based on biomass technology was also proposed for Ship's Wharf by Enviva and Albioma and Offshore Utilities detailed a ship-based power-plant anchored off shore. Brad Sorensen and Arpheion Inc's submission outlined a plan for clean energy from hydrogen-based steam generation. The submission said: "A new underground electricity network and a new water supply system are also proposed for the electricity and water production." Other proposals included a bulk generation plant based on heavy fuel oil/liquefied natural gas from Sol Petroleum and three options from BCM McAlpine and Bouygues Energies and Services — liquefied oil products, liquefied gas and biomass. The original deadline of November 13 has been extended to November 30 at the request of the power industry and the public. Aaron Smith, the Regulatory Authority's interim CEO, said public consultation was important for effective regulation. He added: "The authority is pleased to see a high level of interest in Bermuda's future electricity plan. The more information, public discussion and feedback there is, the better the final plan will be. The integrated resource plan is an important document that will set the long-term plan for Bermuda's electricity generation. We urge interested parties to engage in the process by November 30." The full proposals, a summary sheet and all of the consultation documents can be viewed on the authority's website at : https://rab.bm/electricity-public-consultations/.

The teenagers accused of the murder of Bermudian student Lyrico Steede met in a car after he was stabbed in a park, a court heard yesterday. Nottingham Crown Court heard that as Mr Steede was dying of his wounds in hospital, the group alleged to be responsible discussed the removal of information from an iPad that had been lent to one of the accused, a 16-year-old girl. John Butterfield QC, defence counsel for the accused girl, suggested to a teenage girl witness that one of the men said he planned to "lie low". The girl said she was in a car with the accused girl and Kesharn Campbell, also accused of Mr Steede's murder, and two other people four days after Mr Steede was stabbed on February 13, Mr Steede, 17, who lived with family members in Nottingham, was attacked in a park in Stock Well in the Bullwell area of Nottingham and died in hospital five days later. Mr Butterfield said the other occupants of the car, parked near a hotel in the city, included Mr Campbell, 19. The girl told the court the other man, her boyfriend, was the driver of the car. Mr Butterfield suggested the witness had contacted the accused girl and told her that Mr Campbell "wanted to speak to her urgently'. She said: "It could have been." Mr Butterfield said that Mr Campbell had said that the iPad "needed to be wiped". The witness said: "I was not listening to their conversation. The radio was on and me and my boyfriend were speaking." Mr Butterfield said the car was moved to outside a friend's house to access a wi-fi hotspot so the iPad could be used. He suggested that Mr Campbell was "performing operations on it". The witness said: "Not to my knowledge." Mr Butterfield also suggested that Mr Campbell was "talking about going away". The witness said: "Not to me." Mr Butterfield said: "He was lying low." The witness said: "I don't know where he would normally be." The 16-year-old girl and two boys aged 17, who cannot be named for legal reasons, have pleaded not guilty to the murder. They are charged along with Mr Campbell and Remmell Campbell-Miller, 18, who also denied the charge. The trial continues.

Dennis Pimentel, a former apprentice at power firm Belco has been appointed as its new president with operational accountability. Sean Durfy, who has been under fire over his management style, which led to a strike, will remain as president and chief executive of parent company Ascendant, although Mr Pimental has assumed control of Belco. Mr Pimentel, who was vice-president of grid operations, took over his new role with immediate effect, it was announced yesterday. He started at the company as an apprentice in 1989. Mr Pimentel has also served in positions including specialist electrical fitter, operations and maintenance foreman and capital projects foreman. The move came after two weeks of industrial action by the Electricity Supply Trade Union, which called for Mr Durfy and Robert Schaefer, the chief financial officer, to be fired. David Burt, the Premier, announced on Sunday that the ESTU and Ascendant had settled on "a way forward" after the union imposed a work-to-rule over the departure of four Bermudian staff and grievances over Mr Durfy's management. The stand-off worsened on Friday as unionised staff went on strike, but the work stoppage was called off that evening after Ascendant obtained an injunction from the Supreme Court.

The job of Deputy Commissioner of Police has been opened up to those at junior management level. Chief inspectors, as well as more senior ranks, will be eligible for the second-in-command position if they pass a strategic command course in Britain. The official notice said the deputy commissioner's job is to "assist the commissioner with the efficient and effective strategic and operational leadership of the Bermuda Police Service ..." The role also includes giving professional advice to the Police Complaints Authority, helping to ensure the "operational and organizational efficiency" of the service and "assist in the drive and delivery of transformational leadership within the service". The command course will be held at the UK's College of Policing in Coventry, England, between January and March next year. The job became available after Paul Wright announced he was retiring next month after 34 years' service with the BPS. The notice said: "Upon successful completion of this course, they will be appointed as Deputy Commissioner at a date agreed by His Excellency the Governor. Applicants must be able to demonstrate extensive operational experience in a senior command role and exceptional leadership qualities that will support the BPS in going forward." The notice added that a university education could be "a significant advantage" but that consideration would also be given to candidates with professional qualifications and related experience as well. The change in policy was announced in an Official Gazette advertisement in The Royal Gazette last Friday. Commissioner Stephen Corbishley is off the island on police business and did not respond to a request for comment by press time.

Butterfield Bank made a profit of $50.4 million in the third quarter, but missed analysts' expectations. The profit equated to 90 cents per diluted share, five cents lower than the predicted estimate of a consensus of market analysts. It was $10.3 million higher than for the same period a year ago. Michael Collins, Butterfield's chief executive officer, said: "During the third quarter, we continued to generate strong results from our core businesses, capital efficient non-interest income and higher loan balances. Expense management is a priority for us, particularly as we integrate the previously announced acquisitions. Our strategy continues to generate industry leading returns with an attractive risk profile. We remain focused on pursuing additional growth through accretive acquisitions of trust businesses and banking in existing jurisdictions." Core net income was $49.1 million, or 88 cents per share. There was a jump in non-interest expenses to $82.2 million, which was up from $78.2 million in the previous quarter, and $8.5 million higher than a year ago. This increase was said to be primarily due to severance costs of $2.4 million associated with management restructuring, and a $700,000 expense related to setting up a new bank in Jersey. As it announced its results, the bank said David Zwiener has decided to retire from the board. He has served as a director since August 2016, and as lead independent director since July last year. James Burr, who has been a director since June 2016, has been appointed lead independent director. Mr Collins thanked Mr Zwiener for his "guidance and dedication to the interests" of board and shareholders and wished him luck in his future endeavors. He added: "I am pleased that Jim Burr has agreed to serve as lead independent director. Jim has a longstanding relationship with the bank, and his financial expertise has made him a valuable member of Butterfield's board." Butterfield's net interest income and net interest margin both improved in the third quarter, while average customer deposit balances were $9.4 billion, a drop of $300 million year-on-year, and down $700 million on the second quarter. Butterfield has $44.3 million of non-performing loans as of the end of September, compared with $43.9 million at the end of 2017. It said it "continues to engage proactively with clients who experience financial difficulty". The bank's investment portfolio stood at $4.6 billion at the end of last month, down $100 million since the start of the year. It has total net unrealized losses of $121.8 million, compared with unrealized net losses of $19.2 million at the end of 2017 — the bank said the increase is largely attributable to rising treasury rates this year. Return on average common equity was 23.2 per cent. Butterfield's capital ratio at the end of September was 23.3 per cent, as calculated under Basel III. The bank has declared an interim dividend of 38 cents per share to be paid next month. Butterfield currently has board approval to repurchase up to one million shares for capital management. During the third quarter it did not repurchase any common shares. Ahead of the earnings report, Butterfield Bank's shares closed at $51.15, down 59 cents, on the New York Stock Exchange.

Bermuda must develop a strategy to cut the cost of care for seniors and help families to look after their relatives at home, the executive director of Age Concern Bermuda said yesterday. Claudette Fleming said the organisation had highlighted the growth rate in the number of elderly people on the island for 20 years but a sustainable structure had still to be adopted. She was speaking after population projections showed that almost 25 per cent of the population is expected to be aged 65 or older by 2026. Government statisticians predicted the proportion of seniors will climb to 24.9 per cent, up from 16.9 per cent in 2016, in a report released last week. Dr Fleming said it was "not news to us" and the team had been working to raise awareness of "successful ageing" through legal and health clinics. She explained: "Our long-term care is expensive in Bermuda. There are about 21 facilities and the average stay can go from $4,000 to $12,000 a month. In other countries they would have support, we don't have that. We do have financial assistance — the majority of financial assistance recipients are actually older people in residential care but we know that's not sustainable and the Government is trying to cut back." Dr Fleming said: "We want to see fiscally sound long-term care in Bermuda and we are working on that. It will look like less money being spent on long-term care so that it's actually affordable — that's one of our biggest challenges and that's one of the blocks to new developments." She added that a lack of help for people who needed home care could lead to hospital bed blocking. Dr Fleming said: "Nor are home-care services regulated or monitored, so there are a lot of risks there. We have a change in long-term care, that is to say the frailer are among the fastest growing group. We've got eighties and above and we're going into people aged 100 and above but think about a 100-year-old, their children are probably in their seventies and there are fewer of them. These are all things we've been saying in the past but we're here, we have to put the attention here." If we don't put these measures in place we will have more dependent older people with families that are simply bursting at the seams trying to support them." Age Concern found in a 2011 study that seniors wanted to stay in their own homes. Dr Fleming said there came a point for many where it was no longer appropriate for them to do so without full-time care. Dr Fleming said families were "our greatest resource" and that most people helped their elderly relatives but needed a support network, which included assistance with bathing, cooking, transport or stand-ins so they can go to work. She added that real strides had yet to be made to tackle the problem and it was up to the Government to create a framework that would ensure seniors' needs were met. But Dr Fleming said: "I can't see any co-ordinated effort at the moment. We've been a part of ideas and substantive plans that have stakeholders' input across the board but in terms of tangible actions and a particular initiative responsible for carrying out some of the things that we need to see ... that doesn't exist. We're still at the talking point but, you can see by the numbers, we need more than talking." A spokeswoman for the Ministry of Health said yesterday that it was committed to addressing long-term care needs on the island. She continued: "Change and reform are not as fast or affordable as everyone would like, but progress is steady to ensure ageing persons can age at home and age in place as much as possible." Information about some of the work can be found on the Government's long-term care webpage. The spokeswoman continued: "Specific actions undertaken to assist the country's long-term care sector are upgrades to regulation and enforcement in care homes, the increase in home-care benefits for Health Insurance Plan and FutureCare policy holders, education and training resources online; and analysis of long-term care services and supports. Further development of care home bed capacity is also an ongoing area of dialogue with interested developers." Lovitta Foggo, the government reform minister, said last week that a home care policy had been developed to encourage seniors to "age at home where possible", which provided payment to "qualified caregivers". Patricia Gordon-Pamplin, the Shadow Minister of Health and Seniors, said: "It is only a Progressive Labour Party administration that is clueless about the impact of the 'baby boomers' who are contributing to the climb in the seniors' population. The home care policy for seniors, introduced under the One Bermuda Alliance administration, is well worth continuing. But it must be pointed out that when the Government gives away public funds to ensure the success of a private business for those on the friends and family gravy train it will not be a formula to help in the performance of pension funds or the social insurance scheme."

Children as young as 10 could be at risk of gang recruitment, one activist claimed. Desmond Crockwell, an anti-violence campaigner, warned that schoolchildren could form links with gangs as early as middle school. He said: "A lot of these young people stay in the neighborhoods of these gang-type mentalities so it's not hard to sell them the lifestyle. They've got to walk across drug dealers to get home and if they see drug dealers with nice clothes on then it's not hard for that drug dealer to leave an impression in their mind. People think gang recruitment is getting them to commit violent acts at a young age, but it could just be something as simple as just being attached to this older person who may look out for them. Gang members might give a child money to feed themselves, or some weed to sell at school because they need money for shoes. Now, that child doesn't realize it, but of course that could grow into getting drugs for the older person and then doing violent acts." Mr Crockwell was speaking after householders in the Friswells Hill area in Devonshire warned that children as young as 15 had taken part in gang-linked antisocial behavior. He said that many at-risk young people grew up around gang activity and that they could learn to see it as normal and a way to make money. Mr Crockwell also warned that young gang members were more aggressive than their seniors and had become more prominent in recent times. He said: "A lot of the people who started this are locked up, dead, or have left, and so we're left with the out of control rebels. At 30, your body starts to break down, you've got children, maybe you run into a wife or go to jail one too many times and that helps humble you. But at 20 you might not have any children or responsibilities, so you can go back out and go wild and boast about being in jail because it's a strike to you." Mr Crockwell added that much of the gun violence at present had nothing to do with specific gang rivalries and was more concerned with out-of-control aggression. He explained: "There was a time where this shooting was a tit-for-tat between two rival gang groups, then it became out of control when the young people got excited because they got their hands on guns. They started to stick their chest out because they have a gun and then it got to the point where they're shooting anybody. So now we no longer have the controlled killings — the tit-for-tat mentality — now it's aggression mixed with this false sense of bravado." Wayne Caines, the national security minister, said that several agencies were working to help minimize the influence of gangs on children. He said: "As part of our continuing intervention efforts, my colleague, the Minister of Education, and I have been using the results of the trauma indicator checklist to isolate at-risk students in our schools. We are in the process of implementing programmes that will help guide our young people on to social and career success." Mr Caines added: "While we are doing much and making progress, it's critical that the community joins us in being a part of the solution. The young people involved in antisocial behavior are in need of support from the community and from their families. We are urging the community's involvement in helping to provide our at-risk young people with the educational and employment opportunities that will assist in making them productive members of society. So my challenge is to the youth organisations, or the sports clubs, to the churches, to the business owners and to any other entity that has a stake in ensuring the success of our young people. We need their involvement and their partnership with the Government if we are going to make a meaningful difference in the lives of our children."

A group of pupils from Mount Saint Agnes Academy are on a tour of Canadian universities that specialize in their further education interests. The ten day tour will take in Halifax, Nova Scotia, New Brunswick and Ontario. Pupils will visit 21 campuses to help them to make decisions on their further education. Sue Moench, the school principal, said: "The university and college tour provides a great opportunity for our students to experience university life as well as investigate the wide variety of career options available to them. "A great learning takes place as they visit postsecondary institutes they wish to attend and also learn about a country they could be living in for the next two to four years." MSA pupils graduate with a diploma from the Alberta provincial curriculum which is well-regarded overseas and designed for entrance to Canadian universities. Ms Moench added: "Most of our graduates choose to go to university in Canada. Last year's graduating class saw about 15 of our students attending schools in Canada — choosing universities such as St Francis Xavier University, Acadia University, Dalhousie University, University of Western Ontario, Brescia University, Sheridan College, Niagara College and more. On the tour, students will learn about university and college academics and entrance expectations."

October 22

Belco workers ended their industrial action after David Burt called a meeting with union officials and the Ascendant Group. The Premier announced Bermuda's electricity supply would continue uninterrupted after both sides agreed "a way forward" on Saturday night. However, it remained unclear whether Ascendant, the parent company of Belco, would accept the Electricity Supply Trade Union's demands to remove chief executive Sean Durfy and chief financial officer Robert Schaefer, and reinstate four non-unionized Bermudian managers who lost their jobs last month. Mr Burt said: "The remaining issues will be for the board to address in due course." ESTU president Donald Lottimore declined to comment yesterday and the Ascendant Group refused to say whether it had agreed to the union's demands, or whether the demands had been dropped. The union imposed a work-to-rule at the company more than two weeks ago amid anger over the departure of the Bermudians and the management style of Mr Durfy. Tensions escalated on Friday when Belco staff went on strike, which the ESTU and Ascendant both said could lead to power cuts. But staff were ordered back to work on Friday night after Ascendant obtained a legal order against the action from the Supreme Court. The Premier, deputy premier Walter Roban and home affairs minister Walton Brown met Ascendant board members and union leaders at the Cabinet Office on Saturday. Mr Burt said yesterday: "Our meeting was productive and a way forward has been agreed. Both sides came prepared to talk and I wish to thank them for their willingness to work towards some form of resolution. Most importantly, I am satisfied that the supply of electricity for Bermuda will continue uninterrupted." He said the group spent several hours "trying to repair a damaged working relationship. Unions do not take strike action lightly and in this case it was important to engage in a critical examination of the issues they outlined. Both sides accept that dialogue must continue and that communication must be open and constructive. The 'work-to-rule' has ended and the ESTU executive made it clear that their aim is to provide electricity to the island safely and reliably. In the meantime, the remaining issues will be for the board to address in due course. The Government responded to a need to bring the parties together for the good of the country. Disputes like this can be concerning but we are a mature democracy that has and will continue to manage issues responsibly, mindful of the wider impact on the community. Discussions will continue over the next few days and I am confident that electricity supply will be delivered uninterrupted as both sides are now clearer on what needs to be done to continue the progress achieved last night." The Ascendant Group said in a statement that those at Saturday's meeting had "agreed a way forward which brings to an end the industrial action by Belco staff of the last two weeks. For Belco customers this means that all regular services will resume effective immediately. Belco's head office on Serpentine Road will be open during regular office hours on Monday to accept all customer inquiries and payments. We appreciate the input of all parties who have endeavored to bring resolution to this situation and would especially like to thank our customers for their patience and understanding during this challenging time."

Solving the challenge of banking services for some fintech and cryptocurrency businesses and investments remains a hurdle for Bermuda, even as the island attracts technology-based start-ups and has approved its first initial coin offering under new legislation. While speaking about the successes the island has seen and his vision for the future, David Burt acknowledged the ongoing challenge of banking facilities being provided for companies in certain areas of the digital asset space. He said: "There are challenges that exist; I don't want to sugarcoat that. We have still not solved the banking problem. But I want Bermuda to solve the banking problem and we are taking steps. That is still a significant problem that exists." The Premier was speaking at the Liquidity Summit, a one-day conference that wrapped up two weeks of events that fell under the umbrella of the first Bermuda Innovation Sprint, hosted by Hub Culture. A number of countries and jurisdictions, including Switzerland, Liechtenstein and Germany, are also grappling with the challenge of providing banking services for fintech businesses and cryptocurrency-based investments. Regulators and major banks have been reluctant to enter the field of crypto-related banking because of potential risk factors. The Bermuda Bankers' Association reportedly explained to the Bermuda Government that this reticence was due to the financial institutions' "ongoing need to manage their risks to continue to operate in accordance with their existing correspondent banking relationships". However, The Banks and Deposit Companies Amendment Act 2018 paved the way for a new class of banking licence that could create a workable interface between blockchain-based companies, including those involved in digital currencies and tokens, and traditional banking services. The Bill has been passed by Parliament. While banking for crypto business remains a hurdle, Mr Burt is upbeat about the strides Bermuda has taken to become a leader in the fintech and blockchain-based business sector. He was speaking only a day after it was announced that Uulala had become the first fintech company to win approval for an initial coin offering in Bermuda under the island's new regulatory regime. At the summit, held in the Hamilton Princess & Beach Club, Mr Burt talked about what he would like Bermuda to accomplish in the next five years, and gave an upbeat assessment of the advancements taking place. "I want to make sure that Bermuda is a centre for innovation, so ideally in five years' time we will have a number of companies in this space who will have created innovations and intellectual property, who will have solved problems for the world and started exporting their goods and services. Where we want to be in five years' time is where we are with reinsurance; being recognized as a leader in the space, being recognized as a place where there is an incredible amount of intellectual capital and where innovations are happening." He said that 40 years ago no one would have imagined that Bermuda would end up with the world's highest concentration of insurance companies. "But we have. We've seen how this can work. That is the model that we are trying to emulate." The Bermuda Innovation Sprint brought innovators and leaders working in the fintech, blockchain and cryptocurrency industries to Bermuda, including representatives from Ripple, one of the world's top three cryptocurrencies, AlphaPoint, which runs trading infrastructure for some of the biggest digital exchanges in the world, and CoinFlip, a start-up that operates ATMs in the US allowing bitcoin, ether, litecoin and a number of other cryptocurrencies to be bought and sold. Bermuda-based event host Hub Culture created the world's first digital currency, Ven, in 2007. Founder Stan Stalnaker met with Mr Burt and members of the Bermuda Government a few days before the summit and discussed the future of Bermuda's fintech ecosystem. Areas covered included E-identity, cybersecurity, and education. Referring to the talks, Mr Burt said it would be amazing if Bermuda could be a digital asset payment centre. He said: "The companies we are seeing coming to Bermuda — that could be a possibility. Our responsibility is to make sure it is a well-regulated environment and support those companies from a Government side in whatever way we can." The Premier said those involved in the digital business sector had been helpful in guiding decisions that have been made by the Government to develop opportunities for the island. He praised the Bermuda Business Development Agency and Wayne Caines, Minister of National Security, who is responsible for IT innovation and policy. Mr Burt said: "The ideas come to us, and if they make sense we turn it around and turn it into legislation. Our legislation is very broad and has lots of options. Where we stand now, there are companies that can do things in Bermuda, in a well-regulated environment, that they would not be able to do in other places. Bermuda is on the right track. We welcome events like this to inform us [about] what more we would like to see from a jurisdiction like ours, so we can continue to advance this issue." Mr Burt asked for those in the sector to let the Government know about the things they think can work and what they are looking for to make those things happen. "I'm not going to say that the Government has the brightest minds in this space; we don't. But we have the willingness to listen to the brightest minds in the space, to say these are the types of answers and developments we can do. We want innovators to feel at home in Bermuda. We welcome them."

Lawyer Eugene Johnston revealed he relied on his support network because his family had "no ability to eat" when he found himself out of work. Mr Johnston, who has handled a series of prominent court cases over the past decade, fell on hard times after he got into hot water with the Court of Appeal in 2017. He took to the floor at a public meeting exploring the introduction of a living wage for Bermuda on Thursday. Mr Johnston said: "Normally when subjects like this come up, I don't get at all emotive. But for some reason I was sitting there and I got a bit choked up because, maybe about a year ago, I was standing in a courtroom in a suit and a tie representing clients who needed help and about a week later, or even less than that, I found myself completely out of work. Being out of work means that my family has no ability to eat. My wife worked with me, so the particular strategy that was used to put me out of work essentially put her out of work and put my children in financial chaos." The lawyer said his own network meant he, his wife and children were supported while he was out of work for nearly a year. Mr Johnston continued: "I say it's the nuclear family — man, woman, child — because it's the most controllable economic unit anybody can find. The reason why I've survived since October 11 last year until I began work just short of a year later is because my nuclear family is somewhat tied in to a far broader extended family unit and I live in a family compound that's paid for with parents and others. And because my wife is also tied in to a structure like that, that somehow softens the blow of economic exploitation and deliberate attacks." Mr Johnston's clients included the Corporation of Hamilton when it tried to block the One Bermuda Alliance government takeover, Bermuda Emissions Control when it was subpoenaed to appear at the Commission of Inquiry, the Bermuda Parent Teacher Student Association when it challenged the Ministry of Education and Bermudians Against the Draft, who fought against conscription. He got into legal difficulty after he launched a civil appeal on behalf of controversial American speaker Ayo Kimathi, who was added to the "stop list" after a 2015 appearance on the island. The Court of Appeal said last year that the lawyer failed to comply with a string of court orders that resulted in the Government and the Human Rights Commission incurring considerable expenses preparing for the case. Appeal judges also said that Mr Johnston failed to appear in court leading up to the appeal in November 2016 after his firm, J2 Chambers, lost its indemnity cover. The appeal was consequently struck out and last November the Court of Appeal made a "wasted costs order" against Mr Johnston, which meant he was personally liable for the payment of legal costs incurred by the two respondent parties. At the panel discussion, organized by the Progressive Labour Party, called The Living Wage — Relief is on the way, Mr Johnston claimed "no living wage will fix the deeper issue" of "two Bermudas". He said: "It is not the non-Bermudian that they're targeting; it's the other Bermudian. I was targeted, my family was targeted, and this is the reason why I stood, to broaden the conversation. If one Bermuda comes across the seas with a philosophy and a structure which demands exploitation to survive and we speak of equality as our goal, would that not demand that we also adopt the same structural institution that demands exploitation?" Mr Johnston told the meeting: "The answer's not just tax reform and living wages and cost of living expenses ... the other problem is untethering ourselves from the institutions which virtually demand that we become tinker masters with policies. If we adopt a behavior which is authentically ourselves, some of the biggest and most deleterious problems that we face, and some of the strategies that are used against us to perpetuate those inequalities, will have no power." Mr Johnston could not be reached for further comment.

Paramedics could save lives if they were introduced on the island, a Bermudian trained in the field in America has said. Gilbert Darrell, who was a paramedic in New York State, explained that the specialists have higher qualifications than emergency medical technicians and would be a valuable addition to the island's emergency services because of the range of procedures they are trained to perform. He said: "Having paramedics can save an hour or two ahead of time. It has a really strong outcome for mortality and mobility. The emergency department can be maxed out as it only has a set number of doctors and nurses. If a patient comes in with a list of interventions already done such as IVs, fluids and medications, that really helps the physician." Mr Darrell, who also worked as a firefighter and firefighting instructor in New York State and who has 18 years of experience in emergency services, said vital minutes could be saved if a paramedic was able to work on patients on the way to hospital. He added: "Load times into the ambulance can be five to 15 minutes even when you're moving as fast as possible. Then add a 45-minute ride from the far ends of the island or even a five-minute ride from Hamilton and you have the ability to get life-saving care to the patient. You can give blood in the field. For a bad trauma, paramedics can give certain medications and blood products to keep a person's blood pressure up and keep them alive before they get to the emergency room." Mr Darrell said: "EMTs do a good job but they are missing two years of education and skills. An EMT has basic life-support skills like bleeding control, cardiac arrest procedures, CPR, logistics of the ambulance service — they are really first responders. Paramedics were designed to bring the ER to the field — to the patient. We have 50-plus drugs we can administer and a whole plethora of things that EMTs aren't able to do because they aren't trained." He added that a paramedic qualification takes two years to complete and was a rewarding career. Mr Darrell said: "The great part about it is you get exposed to a tremendously high level of medicine without having to give up four years of your life in medical school and residency. There's a certain amount of job satisfaction you get from providing acute care in the field and having a good level of autonomy. You are out there helping the community directly. A paramedic can make some life and death decisions by their own — it takes a certain caliber of person." Mr Darrell, who now runs his own telecoms business, assisted at a serious crash in March, where he applied a tourniquet to a woman's severe arm injury before she was taken to hospital. He is also a volunteer with charity St John Ambulance and provided emergency medical services for an America's Cup team last year. Paramedics gained official recognition in Bermuda after a 2015 amendment to emergency services law, but there are none registered on the island at present. The Bermuda Hospitals Board said that it welcomed the use of paramedics — but that they were not vital in Bermuda because of its small size. A spokeswoman pointed to problems with keeping them certified due to the low number of patients that would need their help. She said: "Treating trauma patients in the ED is preferable to treating them on the scene. For this reason getting patients to the ED as quickly as possible is the model used in Bermuda." She added: "In order to become a licensed or registered paramedic, individuals, in addition to course work, have to achieve a certain amount of practical experience. Keeping this experience current might be extremely difficult in Bermuda as the volume of serious trauma would not suffice for them to attain the required practical experience to retain their licence. Such individuals would be required to leave the island regularly just to clock practical hours and be considered safe to attend to patients locally." The spokeswoman said: "BHB Emergency Medical Services and Fire Services have EMTs who function at a very high level. The emergency medical service is supervised by a medical director who is trained in managing all facets of acute unscheduled care."
Crash report
The report sent by volunteer paramedic Gilbert Darrell to St John Ambulance on the night of a serious crash he assisted first responders with in Flatts:
"I was driving through Flatts and saw flashing lights and come across the car accident. The SUV jumped the curb and absolutely destroyed a stone wall, with a number of people around and apparently five or so patients. I found an 18-year-old or so woman on the ground barely talking with a pretty heavy arm bleed and multiple open wounds on her left arm. She's alert and conscious but not exactly stable. Quick assessment she's somewhat alert but talking minimally, seems to be headed downhill and has lost a large amount blood from her left arm. The arm is badly damaged. I could basically see every structure on her left upper arm bicep and lower forearm. It's not bleeding heavily so that's a good sign ... but there is a lot of blood on the ground. No other wounds or obvious fractures. She's being attended to by a few people so I tell them to hold pressure on her left arm and find a pressure point, which is still bleeding quite well, as I run over to another patient trapped inside the overturned SUV. At this point is absolutely pouring. It's a kind of rain that you can't hide from. Fire is trying to extricate this other patient a 20-year-old? woman, but we're having difficulty. I really cranked on the back hatch and finally get it open enough to help extricate her. She's screaming and seemingly in a lot of pain, but it's an important rule of medicine that your loudest patients are often the ones potentially who are going to be OK. Quick assessment I find no broken bones, no major injuries externally so I leave her with the fire service to keep triaging. Move over to a few other patients suffering from possibly a head injury but they're awake alert and conscious. No sudden LOC [loss of consciousness] and another ambulance has arrived, I asked to start taking the minimally injured patients for a check while the police are busy figuring out what happened. Bystanders and fire are having trouble controlling the bleeding so I grab a tourniquet, heavy gauze and a tight wrap ... I then applied the tourniquet high up on her left arm. Some were a little uncomfortable as we're putting a tourniquet on an open wound but I'd rather that than have this woman bleed out in front of us. It looks like a litre or two of blood was already on the ground but it's pretty hard to tell with the heavy rain. Once we get her semi-stabilized a second ambulance rolls up and I help rapidly transport her. No medical history, no meds, [she] had a few to drink that night but wasn't the driver. She's in a ton of pain but barely talking. I'm a little concerned, obviously. Intermediate on-board starts an IV, I suggest we dump at least two litters of lactated ringers and get her into the hospital ASAP. I jump back out to reassess a few other patients but thankfully all in all nothing extremely major. Fire service, the ambulance crews and the bystanders all did a great job and were working well together. We got everyone moving within ten or 15 minutes at most."

A flight was forced to return to the island after a large crack appeared on the aircraft's windscreen on Saturday night. The American Airlines flight to Philadelphia turned around about 45 minutes into its journey and reduced its speed because of concerns over pressure on the windscreen. It landed safely at LF Wade International Airport before passengers were put on a replacement flight that finally arrived in Philadelphia at 11.10pm, 6½ hours later than scheduled Passenger Ian Hind said the pilot had explained that the crack happened because a heating element in the glass had fused. Mr Hind noticed the plane had completed a 180-degree turn, before the captain announced it had a cracked windscreen. He said: "We went down to 200mph to take the pressure off the windscreen. It was very calm. The plane didn't jerk or suddenly plummet. It was handled very calmly, straightforward and professional. After we got off and saw the crack for ourselves, there were a lot of 'oohs' and 'aahs' because it was potentially very serious. Had it imploded, the plane could have gone into a dive."

Kandice Young passed away on Saturday evening at the age of 14, having battled serious medical conditions all her life. Her mother, Derika, paid tribute to a "wonderful loving child" who made friends wherever she went. "Everybody took to Kandice; her personality took her a long way," Ms Young said yesterday. Kandice, from Middletown in Pembroke, suffered from a serious heart condition, which meant she was in and out of hospital on a regular basis. Her family launched a GoFundMe page last week to help them raise funds to send her to the Children's Hospital in Boston for tests and possible surgery. They reached the target of $10,000, which Ms Young says she still needs for outstanding medical costs as well as the cost of her daughter's funeral. The family, who turned down a risky surgery for Kandice four years ago, were featured in The Royal Gazette to raise funds to send her overseas for treatment as soon as possible. However, on Saturday her mother noticed that Kandice was not herself. She was taken to King Edward VII Memorial Hospital, but, despite life-saving efforts, she passed away at about 5pm. Ms Young said she had always tried to prepare herself for the worst owing to the severity of her daughter's condition. "It was always to be expected — we knew what she was up against. I did turn down the surgery that she was offered because of the risk it involved — she could have died a lot sooner. I was trying to give her the best quality of life that I could; let her lead a normal teenage life. I wasn't prepared for it to happen as soon as it did, but I did see how she was deteriorating. Some days she seemed like she was herself, but she would come and say this hurts or that hurts. She has been battling this from birth, so I guess that her body and her heart have just had enough." Kandice had a rare condition called congenital heterotaxy syndrome. She had her first operation when she was only hours old as medical staff noticed her fingers were turning blue. She had a surgical band placed around her heart because of its enlargement. They were going to remove the band up to nine months later, but when she returned pulmonary vein stenosis was diagnosed. Veins to her heart were narrowed and made it difficult to get enough blood to her heart. Kandice was also born without a spleen, which made her prone to illness, and only one working lung. Just before her 3rd birthday, she contracted pneumonia, which left her fighting for her life. Her mother said that despite her daughter's lifelong challenges, Kandice was a happy child who people were drawn to. "She had a very lovely personality, she never had any enemies and she always made friends — she never bothered anyone," Ms Young said. "I had people adding me on Facebook who I didn't even know who had met my daughter — they know her as the loom band girl because she used to sell them. She loved her siblings dearly. She is a very wonderful loving child and everybody took to her." The community has rallied around Kandice for years. Her family have struggled with spiraling medical costs compounded by Derika having to stay at home to care for her child. When Kandice was 2 she was chosen as "President's Pick" for charity donations in the half-marathon. The Fight For Life Foundation gave $10,000 to help cover medical costs and in 2008, golf pro Brian Morris raised a further $10,000 through the foundation by playing golf for 24 hours in her aid. Kandice leaves behind her mother, her eight siblings, father figure Kyle Santucci and her best friend, Calshonte Wilson.
Heterotaxy syndrome. Kandice Young suffered a life-threatening heart problem from birth. She had heterotaxy syndrome, a rare condition that means a disordered organ arrangement in the chest or abdomen. Kandice also had pulmonary vein stenosis, a condition in which there is a blockage in the blood vessels that bring oxygen-rich blood from the lungs to the heart. She suffered further complications two weeks ago, when fluid around her liver put extra pressure on her heart. Her family had been planning for life-saving surgery at the Children's Hospital in Boston. However, she died at King Edward VII Memorial Hospital on Saturday after, according to her mother, her heart and body finally gave up.

Bermuda's girls tried out a range of activities that are not traditionally marketed towards them while learning about gender inequality yesterday. The International Day of the Girl held at the National Stadium offered them the opportunity to learn about sports such as rugby, fencing, archery, football and cricket, as well as other activities including coding and robotics. The event was launched four years ago by Carolyn Thomas Ray and her husband Christopher Ray. Ms Ray said: "I became aware of the International Day of the Girl which was set up by the United Nations in 2012 to recognize the challenges that girls have due to their gender. This can include exclusion from education, being forced into marriage and other general disadvantages. Forced marriage is not relevant here but other things like sexual abuse are, which affects a high proportion of girls compared with boys. The idea for the Bermuda event is to introduce girls to activities they may or may not have had a chance to try, maybe because they are male dominated. The other aspect is to educate people about some of the challenges that girls face around the world." Wolete James attended the event for the first time with her daughter, Amiya, 9, who tried her hand at fencing. Ms James said: "It is really good for girls to come and see activities that are available to them. You learn about different activities — I didn't know that they had mother-and-daughter cricket. Amiya does aerial and soccer, she loves it. She doesn't do the typical things for girls like dance and ballet — she likes to try things that are out of the box. She has done cricket at school before, she is interested in different sports." Christina Lee, 7, has been to the event three years in a row. "I like it because it has lots of different activities. It's really fun. I did the empowerment art and I made a bracelet with Frontier Girls [a Scout like group]," she said. "I like trying different activities — I played rugby one time. I like that you can touch the ball — with soccer you have to use your feet to kick the ball."

October 21, Sunday

October 20

Workers at power firm Belco were last night ordered back to work after a strike was called over a stand-off with the company's management. Electricity Supply Trade Union members were given a legal warning to end their industrial action after a court ruling. A spokesman for Ascendant, the parent company of Belco, said: "Ascendant Group Limited this afternoon obtained an order from the Supreme Court directing members of the Electricity Supply Trade Union to return to their full employment effective immediately. The order states that the ESTU 'shall be restrained from contravening the Labour Relations Act 1975 by means of a strike or withdrawal of labour or any irregular industrial action short of strike which shall include picketing or any work-to-rule. It is expected that ESTU members will comply with the order and return to work with immediate effect and normal operations will resume." Donald Lottimore, the ESTU president, last night declined to comment until union members had discussed the legal ruling. Staff downed tools yesterday after talks with management on Thursday night failed to end a deadlock sparked by the departure of four non-unionized Bermudian management staff and anger about the management style of Sean Durfy, Ascendant's chief executive officer. The union imposed a work-to-rule at the company over the row two weeks ago. The court move came after the union stuck to demands made on October 4 to Ascendant, which also included the removal of Mr Durfy, as well as Robert Schaefer, the company's chief financial officer. The union also wanted the reinstatement of four Bermudian management staff who had earlier left the company. Mr Lottimore said that after a meeting at the Bermuda Industrial Union headquarters yesterday, members had agreed to halt their two-week work-to-rule and voted for "withdrawing our labour to make sure our membership's demands are heard". He confirmed that the action was a strike and workers picketed Belco's Pembroke headquarters until 5pm. Mr Lottimore said that the strike could mean power cuts and added: "There is a potential for things to be affected as long as we are at an impasse." Ascendant warned earlier that the lack of manpower had made "an immediate impact" and the company could not guarantee an uninterrupted electricity supply. But the firm added that power for essential services would be maintained in the event of outages. A spokesman explained: "As the industrial action continues throughout the day, our ability to maintain a reliable electricity supply is diminished and there is an increased likelihood of widespread outages. Medical priority customers should consider attending the King Edward VII Memorial Hospital to ensure they have access to the required care and resources." David Burt, the Premier, said the statement was "unhelpful, considering the need for both sides to work together in the best interests of Bermuda". Walton Brown, the Minister of Home Affairs, said discussions to break the deadlock were continuing. He added: "This dispute has emphasized the importance of the issues at stake and where possible, this ministry will work to bring the parties together to achieve some resolution." Mr Lottimore did not rule out the possibility of arbitration in a bid to end the deadlock. He added: "The key part of the dispute is the respect of the employees that we feel this particular CEO does not have." Mr Lottimore said the union had made "considerable sacrifices" over the past ten years and accused Ascendant of using cost-cutting as a justification for the erosion of staff benefits. He was speaking after more than 100 unionized workers marched to the BIU for a four-hour closed doors meeting. The stepped-up industrial action came two weeks after the power union locked horns with management. Passers-by sounded their horns yesterday afternoon in a show of support for the picket line outside Belco. One power worker said that the industrial action was designed to get rid of Mr Durfy. He added: "He's not listening, we want him out." Signs at the Belco customer care office on Serpentine Road said it was closed and that the company "sincerely apologized for the inconvenience". One elderly customer waiting at the closed office to pay her electricity bill said: "I just want to pay my bill — it's an inconvenience for me. It doesn't look like anyone is coming. Christmas is coming but it doesn't look like any staff are."

Sports teams and business groups could help Bermuda be an all-year-round destination, tourism authority experts said yesterday. Simon Boden, the new sales manager at the Bermuda Tourism Authority, said different types of visitors could boost numbers in the traditional off-season. Mr Boden explained: "The teams and groups component of the Bermuda Tourism Plan is critical for seasonality opportunities. The group market is traditionally led by the hotels and I think it is now time to get more people involved in that experience whether through transportation, activity providers or someone who does events. The overall message is we would love more people to be involved in the whole process to make Bermuda more attractive. This is an opportunity for anyone offering products and services for groups to come out and find out what the plan is about." He was speaking as he and Hazel Clark, director of sports business development, prepared to deliver a joint presentation at the Bermuda Tourism Summit next Wednesday, designed to focus on the niche markets of sports and business and the opportunities they could bring to island businesses. Ms Clark is a three-times Olympic track athlete and the daughter of Joe Louis Clark, a former principal at one of New Jersey's toughest inner-city schools, who inspired the 1989 movie Lean on Me starring Morgan Freeman. She said: "There is so much opportunity when it comes to sports. The BTA has shown that with the World Triathlon Series, the America's Cup and the ball hockey championships. I've had so many people reach out from our sporting community wanting to facilitate connections and extend their network. People understand the value in sports and that is very exciting and will help us to win." Mr Boden, who is in Las Vegas promoting the island to meeting planners, added: "I think one of the key markets will be corporate incentives. If a business has a sales goal that they achieved or overachieved, the top sales forces will be rewarded with a trip to Bermuda. The second main market is corporate meetings, which we are well equipped to provide. We are developing a unique selling point that is compelling to people outside." Ms Clark said: "We are open to continuing our success for sports that are a win but also those out-of-the-box sports and events that are unique and can be branded for Bermuda. The National Sports Centre is a great facility — it has everything you would need from an athlete's perspective and they will be able to use that for training at no cost. You can see people's eyes light up — it is very attractive and helps us to compete against other destinations." She added that island athletes would also benefit from the knowledge and experience of professional sportspeople who visited Bermuda. Ms Clark said: "There are so many opportunities for locals. At the youth level it is very important to impact youth — sports opens doors, sports expands horizons. We will be able to expose our youth to these high-level sporting events. Leading track and field couple Will Claye and Queen Harrison will be visiting and we also have America record-holders, national champions and world medallists joining us."

Public school principals started a work-to-rule yesterday after a dispute over their workloads. The school heads walked out of their regular Thursday meeting with Kalmar Richards, the Commissioner of Education, sources said. One teacher told The Royal Gazette: "I know that the principals are not happy because their workloads are too demanding. "There are deputy principals but they have teaching roles." The Ministry of Education confirmed Bermuda Public Service Union general secretary Ed Ball had given informal notice of industrial action by the principals. A spokeswoman said: "The ministry is now waiting for formal correspondence with specific details as to the reason for the work-to-rule action." The BPSU declined to comment. Schoolteachers worked to rule last year over several problems, including the workload of primary school deputy principals after they were given extra responsibilities.

Taxpayers will continue to "pick up the slack" if workers do not get a living wage, a public forum heard this week. Martha Dismont, the executive director of Family Centre, said financial assistance for food and housing for struggling Bermudians was paid for by those who contribute to the system. She also warned that society would become "more destructive" if nothing was done to prevent greater inequality. Ms Dismont said poor wages in lower-skilled jobs meant families found it difficult to earn enough to cover household expenses. The charity's founder added: "We know that when even working people can't make enough to live, they eventually take money from the Government. They take money in the form of financial assistance for housing, daycare, transportation, food and clothing, but we never stop to think that if we can provide a living wage and require employers to pay their employees enough so that they can house, feed and clothe their families, taxpayers will not have to pick up the slack." She said the high cost of living in Bermuda was her "greatest concern". Ms Dismont was speaking as part of a panel discussion organized by the Progressive Labour Party, called The Living Wage — Relief is on the way. She was joined by PLP backbencher Rolfe Commissiong, who chaired a bipartisan parliamentary committee on the topic; statistician Cordell Riley; and the Reverend Nicholas Tweed, the pastor of St Paul AME Church. Kim Swan, also a PLP MP, moderated. Ms Dismont told Thursday's meeting: "You can work with families and encourage them to be good to their children and send their children overseas to university, and we all know it, the individual comes back and they either can't get a job — and I'm talking about bachelor's and master's degrees — or will take a small job and will find business practices not what they should be and get very frustrated. So what sense does it make in encouraging parents to be good to your children, make sure they get their education and they return to Bermuda and are full of frustration? I believe that solutions must be in the consideration for a living wage first because we will become a much more destructive society if the income gap continues to widen — we're already seeing it." The Joint Select Committee report on the introduction of statutory minimum and living wages was approved by MPs in August. Recommendations included the introduction of a $12.25 an hour minimum wage on May 1 next year and the establishment of a wage commission to determine the appropriate level for a living wage, to be implemented in May 2021. Mr Tweed told the meeting inequality was created not by employment levels but by a "system that has been constructed to preserve the privilege of the few over the many, often requiring the exploitation of the many". He said: "If we think that by creating monolithic policy initiatives, we're going to address our deepest rooted aspiration, which is a desire for equality, then I daresay that in the next hundred years we will be sitting in a forum similar to this one, having a conversation similar to this one." Mr Tweed said it was important to understand that "livable income has to be done simultaneously with tax reform", and that these "go hand in hand in arresting the unrestrained cost of healthcare". Mr Riley told the audience the "very essence of a living wage is to give dignity to those who have less". One audience member spoke about his experience as a maitre d' in one of the island's main hotels more than 30 years ago. He said he had responsibility for about 100 members of staff and 70 per cent were Bermudians who made "twice as much as a hotel worker is making now in the gratuities system". The man added: "We have to find out what's happening to the money that's coming in to the industry now." Mr Commissiong said data shows that, among service workers, black Bermudians make up the largest group of workers in hospitality jobs, as well as in roles like gas station attendants and airline agents. He added: "Our brothers and sisters, our nephews, our cousins — those are the ones who we need to give a leg up in this economy."

The Eliza DoLittle Society, one of Bermuda's most prominent charities providing food for the needy, has announced a gala Halloween fundraiser on October 27. The night of costumes and champagne at Gosling's Wine Cellar, 9 Dundonald Street, will transform the venue into "a magical wonderland", the charity announced. Tickets, at $100 each, will support the society's work, with entertainment from performer Mike Hind, plus a DJ, and cuisine from Buzz, Take Five Limited, and the Mad Hatters restaurant. A "high-end but affordable" night was promised for revelers, between 7pm and 11pm — with "bottomless Veuve Clicquot champagne and selected house wines". Jennifer Mahoney, the Eliza DoLittle executive director, called for the public to keep the charity's important work in mind on a Halloween weekend "inundated" with events. She said: "You are not just attending an event but supporting a worthwhile cause." Ms Mahoney thanked supporters including Clarien Bank, Class Act Designs, Gosling's Limited, and Butterfield & Vallis. She added: "These events are truly a collaborative effort and it's awesome to see how local businesses go above and beyond for us." All proceeds will support the society's food bank in Warwick, with each ticket providing about a dozen meals. The night's entertainment includes prizes for best costumes, plus a raffle giving participants a shot at 40 per cent of the night's monies.

E-mail messages designed to blackmail people by threatening to reveal their internet use of pornographic websites should be ignored, police said yesterday. Police issued the warning after several people reported receiving an e-mail from someone who said they had passwords and video footage of them watching pornographic material. The writer threatened to release the footage to contacts obtained from Facebook and e-mail lists. The Royal Gazette is aware of one e-mail that made a demand for $7,000 and another of $2,900 to be paid in Bitcoin. One e-mail read: "I am aware............ is your password. You don't know me and you are probably thinking why you're getting this mail, correct? In fact, I installed a malware on the adult vids — pornographic material — website and you know what, you visited this website to have fun. You know what I mean. While you were watching video clips, your internet browser started functioning as a remote desktop that has a key logger which provided me with accessibility to your display and webcam." The blackmail e-mail added: "My software programme obtained all of your contacts from your Messenger, Facebook, as well as e-mail. What exactly did I do? I made a double-screen video. The first part shows the video you were viewing — you have a nice taste, ha — and second part displays the recording of your cam. What should you do? Well, in my opinion, $2,900 is a fair price for our little secret. You'll make the payment by bitcoin — if you do not know this, search 'how to buy bitcoin' in Google." A police spokesman said: "The recipient that reported this e-mail to police did not comply with the demand. Residents are reminded that personal information is valuable and should never be relayed over the internet or phone to unknown persons."

Four drivers were arrested on suspicion of impaired driving last night. Three of them were picked up at roadside sobriety checkpoints in Devonshire, Pembroke and Paget. The fourth was arrested after a crash in North Shore Road, Smith's. In addition, three people were arrested for warrants at checkpoints and nine drivers were ticketed for licence plate offences. On Friday night, eight people were arrested on suspicion of impaired driving at road sobriety checkpoints, one after a crash on South Road, Warwick, and another for having care and control of a vehicle while under the influence. Roadside sobriety checkpoints in the three parishes will be in place again this evening.

October 19

Measures, including putting work permits on hold, could be brought to bear against employers who manipulate worker contracts to dodge basic employee benefits. Walton Brown, the Minister of Home Affairs, said yesterday that he aimed to safeguard workers' rights in tandem with the Labour Advisory Council, with "harsh sanctions" after fielding scores of complaints from employees in "dire circumstances" who had been coerced into "take it or leave it" work scenarios. Calling it "very prevalent" in the construction sector, Mr Brown said the problem spanned multiple industries, with contracts that skirted benefits such as health and social insurance. Typically labelled contractor or consultant contracts, which would normally be reserved for employees providing expert professional advice, Mr Brown said the "problematic" arrangements would leave workers covering their own benefits, without recourse to settling a wage that would compensate for the deductions. Mr Brown said amendments would be brought to employment, labour and union legislation, potentially in the next session of Parliament. These would also allow for the investigation of "unfair treatment of persons who are employed on a temporary, part-time or casual basis" who were not classed as employees under the present legislation. Mr Brown added: "The imposition of harsh sanctions and the suspension of work permits for employers who willfully defy the legislation are a few of the penalties being thoroughly and keenly considered by the Government." Keith Jensen, president and chairman of the Bermuda Employers Council, said that a "hustle economy" caused by the economic downturn had tempted some employers into cutting corners. Mr Jensen told The Royal Gazette last night: "The BEC does not condone abuse of the law, but careful consideration has to be given to changes because of the potential impact on second jobs, legitimate outsourcing, and service relationships that are casual or part-time." Penalties already existed for health insurance, social insurance and payroll tax infractions, he noted. Mr Jensen said that bosses sidestepping the law with employment contracts were putting themselves at "great risk", such as liability for hospital expenses where staff were not covered as required. Health insurance is enforced by the Bermuda Health Council, he said, while skipping payroll carried "heavy penalties", including for workers who failed to register as self-employed. Mr Jensen added: "It is a complex area. In construction, bona fide competitors welcome a level playing field where all pay their payroll taxes and treat their employees as they should regarding benefits. Good contractors compete on productivity, quality of their work and fair prices. The recent recession hitting the construction industry hard, however, in my opinion pushed some employers and employees into the 'hustle economy' where short cuts were taken to find ways to avoid taxes and other expenses, cut red tape and generally avoid their responsibilities as employers and employees." He said each employment category had to be evaluated: homeowners casually employing painters or roof cleaners should not be required to take on laborers as employees, while workers with second or part-time jobs might not be regarded as employees under various areas of Bermuda's legislation. Taxi drivers often work by renting the car for a period of time," Mr Jensen added. "Some industries are heavily commission driven." He said the council looked forward to the tripartite consultation process to "limit abuse without stifling innovation and creating another layer of bureaucracy".

Bermuda deserves full disclosure on the details of the Jetgate scandal, a Progressive Labour Party backbencher said. Rolfe Commissiong said the One Bermuda Alliance must come clean over the scandal that led to the resignation of Craig Cannonier as premier in 2014. He said: "It is time for the OBA to do the right thing and release the full, unedited report that they promised so many years ago, into an investigation into the Jetgate affair." Mr Commissiong was speaking at a press conference held at Alaska Hall yesterday. He said that the island's reputation had been damaged by recent international media coverage. Derrick Green, an adviser to the OBA during the 2012 election campaign, made headlines this week after earning a top post with the New Jersey governor. Mr Green is being paid $140,000 a year as a senior adviser in Governor Phil Murphy's Democratic party administration. The article said Mr Green was "tied to a campaign finance scandal under police investigation in Bermuda known as Jetgate". Mr Cannonier was announced last month as the new Opposition leader, replacing Jeanne Atherden. At the time, he said that information on the scandal would be "coming forthwith". Mr Commissiong said: "After almost three weeks, no further information has been produced." Comments on an article published by The Royal Gazette this week questioned whether Mr Green had ever been hired by the PLP. Mr Commissiong said that to the best of his knowledge he had not. He questioned whether the country could trust Mr Cannonier. Mr Commissiong said: "This scandal unfolded while he was Premier of Bermuda. And the facts that we know of are fairly egregious. Failure to come clean on Jetgate does not give us any optimism." Mr Commissiong said that Mr Cannonier had also given "contradictory information". He noted that Mr Cannonier had said in an interview earlier this month that the Jetgate trip had "nothing to do with gaming". Mr Commissiong said this statement clashed with an interview Mr Cannonier gave in May 2013 when he said the meeting was about gaming. An article on northjersey.com said this week that Mr Green set up a secret bank account linked to the OBA which received $350,000 from wealthy American businessmen, including Nathan Landow, a Maryland developer and Democratic donor. Mr Commissiong said: "If the scandal had not been uncovered by individuals within the PLP, we may very well have seen, by today, Landow Gaming and Resort." Mr Green had an undisclosed commercial relationship with Mr Landow, who was interested in building casinos in Bermuda. It was claimed he was responsible for introducing Mr Cannonier to Mr Landow, though he denied that. Mr Cannonier, along with Cabinet ministers Mark Pettingill and Shawn Crockwell, travelled to Washington on Mr Landow's private jet after he became premier. The trip raised questions in Parliament about whether Mr Landow had been offered a quid pro quo, such as a gaming licence or development deal. Mr Cannonier issued a statement saying Jetgate was "in the past". He added: "I am focused on changing course for the OBA, concentrating on fiscal and social responsibility and holding this failing Government to account. I will not be diverted from this course despite the PLP's mudslinging." Mr Cannonier said the Government's focus on Jetgate highlighted their "tried and tired tactic of deflection — to deflect from their own broken promises and failings, failing to the people of Bermuda." He pointed to a purported planned trip to New York David Burt, then Opposition leader, was going to take last year with PLP MP Zane DeSilva, and former independent MPs Mark Pettingill and Shawn Crockwell. He said: "What Mr and Mrs Bermuda also want to know are the reasons for the Four Seasons trip."

The Official Gazette will be posted on the Government's website from November 1. All government and legal notices, as well as Bermuda regulations, will appear on a new official gazette page on the government website. Lovitta Foggo, the Minister for the Cabinet Office with Responsibility for Government Reform, said the decision to move from newsprint was about modernization and efficiency. The Government previously said it is expected to save taxpayers more than $300,000 a year. A government spokeswoman said that some notices may continue to be published on other media outlets "to ensure the widest possible distribution of the content". Ms Foggo said: "The shift from using a traditional newspaper for official notices to the use of an online tool that allows access to notices on any mobile device is consistent with Government's move towards becoming a digital leader. The Government recognizes the need to embrace a rapidly changing technological landscape." Ms Foggo added: "We are committed to adapting our service delivery to meet the needs of our modern society. This new online Official Gazette allows the Government to fulfil its responsibilities efficiently and effectively. It's part of a longer-term reform strategy that will see the public benefit from more comprehensive, secure and accessible digital services from the Government."

Unionized Belco workers gathered outside the utility this morning for a sidewalk march to the Bermuda Industrial Union for a closed-door meeting. About 100 staff were advised to set off by Donald Lottimore, the president of the Electricity Supply Trade Union, and set off from Serpentine Road at approximately 8.15am. The latest developments come two weeks after the ESTU gave Ascendant Group, the parent company of the utility, 14 days to reinstate four Bermudian members of staff, among other demands. Walton Brown, the Minister of Home Affairs, said yesterday that talks had been continuing this week between the ESTU and Ascendant. ESTU workers have headed into the BIU building for unspecified talks after Mr Lottimore called for unity in a brief address to workers from the steps of the Ascendant offices. Workers have headed into the main room and shut the doors. Ascendant knows of the meeting and says there will be no impact on operations at the main plant.

The Bermuda Police Service have confirmed the hunt is still on for the person who fatally shot Colford Ferguson. Khyri Smith-Williams, 27, was found guilty of premeditated murder and the use of a firearm to commit an indictable offence in the 2011 killing of Mr Ferguson after a week of trial on Tuesday. A second person who pulled the trigger is said to be still at large. Troy Harris, a key witness in the trial, claimed in his testimony that while Smith-Williams confessed to him he played a part in the murder, it was Rasheed Muhammad who shot the gun that killed Mr Ferguson. Mr Ferguson, 29, was shot dead as he worked on a house near the junction of Mangrove Bay Road and East Shore Road in Somerset. A BPS spokesman said yesterday: "The investigation remains open regarding the murder of Colford Ferguson, as the evidence indicates that two persons were involved. Police are still appealing to members of the public who know of any information that could assist in identifying the other person involved in this brutal murder to call the Serious Crime Department on 247-1739 in the strictest confidence." Anonymous calls can be made to Crime Stoppers on 800-8477 or anonymous tips can be sent via www.crimestoppers.bm.

Former health minister Jeanne Atherden has accused David Burt and Kim Wilson of lying to justify to taxpayers a $1.2 million public purse payout to Dr. Ewart Brown. The Opposition backbencher told The Royal Gazette that Mr Burt, the Premier and Minister of Finance, and health minister Kim Wilson were not telling the truth when they accused the former One Bermuda Alliance administration of ignoring the advice of the Bermuda Health Council over a reduction in fees for medical scans. "What is being said with respect to us having a vendetta and not listening to technical advice is not true," Ms Atherden said. "It's a lie and I put them to proof." Former Progressive Labour Party premier Dr Brown owns two medical clinics which are set to receive more than $1.2 million from taxpayers as compensation for the fee cuts imposed by the OBA last year. The Bermuda Hospitals Board is expected to get $2.4 million for the same reason. Mr Burt and Ms Wilson have said the fee cuts were imposed to target Dr Brown, with the Premier describing them this month as an "economic vendetta" and the Minister of Health calling them "economic sanctions". Mr Burt claimed the OBA Cabinet "disregarded the advice of the Bermuda Health Council". Ms Wilson said the health council's advice was to apply a new fairer methodology to the entire BHB fee structure and it was "extremely odd" that the OBA ignored that and applied it only to diagnostic imaging. Ms Atherden said neither had produced any evidence to show she ignored the advice she was given by technical officers at the health council, because the reverse was true. The health council, meanwhile, has refused to share with the public the advice it gave to her. "This business about a vendetta, I think that that is just so unbelievable," she said. "The only thing I was targeting was the cost of healthcare." She said it was hard to understand why public funds would be used to compensate private businesses whose owner chose voluntarily, as a provider of Standard Health Benefit services, to tie the fees he could charge to BHB's fee schedule. "It is important that BHB only charges what it should charge and doesn't get into the fact that other facilities are linked to its fees. The rationale for making these payments makes no sense to me. Where did that money come from?" Ms Atherden, a former Opposition leader, said when she was health minister she specifically asked the BHeC to look at whether the fees being charged at the King Edward VII Memorial Hospital for outpatient scans were appropriate. She was determined to bring them down because they had "gotten out of whack" over the years and were much higher than they needed to be. "The health council looked at it. They said they believed there should be some changes and if they implemented the changes, this is the impact in terms of the fee changes and the impact on the Standard Health Benefit. The health council are the ones that have the expertise in terms of looking at what type of charges should be paid, recognizing that they are able to make comparisons with other places, etc, in terms of what's appropriate. I never got the schedule of fees. I never got into the nitty-gritty detail. Someone gave me a recommendation to say 'put this in' and I accepted it. I accepted the recommendation and said to Cabinet this is what was deemed appropriate at the time. You have got people talking about a vendetta but the bottom line is this: I was presented with an indication of how the fees would be changed ... and I accepted those proposed changes." Ms Atherden said reducing the fees for scans meant health premiums did not go up for the "average man" — and that was the OBA's focus. "If the fees being charged are wrong, you can't say that just because somebody was getting too much that they have to keep getting too much," she said. Dr Brown's clinics, Bermuda Healthcare Services in Paget and the Brown-Darrell Clinic in Smith's, are being investigated by police over allegations they ordered medically unnecessary tests for patients to boost profits. Dr Brown has denied the allegations. New fees for scans are due to come into effect on November 1. Neither Mr Burt nor Ms Wilson responded to a request for comment by press time.

The reinsurance industry is struggling to cover its cost of capital and needs to improve returns, given the substantial risks it covers. That was one of the takeaways from the AM Best Bermuda Insurance Market Briefing in Hamilton this week. Analysts from the New Jersey-based rating agency gave an overview of the island's flagship industry before an audience at the Hamilton Princess & Beach Club. The five-year average return on equity of the global reinsurance market is 8.3 per cent, said Robert DeRose, senior director at AM Best. This was impacted by a negative 0.3 per cent return in 2017, a huge year for catastrophe losses. However, Mr DeRose pointed out that trend for annualized RoE has been falling steadily since 2013, when it was 13 per cent, through the first half of this year when it was 7 per cent. Driving the decline in profitability were a tightening of underwriting margins and lower investment earnings linked to persistently low interest rates, as well as increased equity on the balance sheet, Mr DeRose said. He added: "When you consider that their cost of capital is about 7.5 per cent, it really does demonstrate that reinsurers are under pressure to find ways to improve their returns." Mr DeRose said that if loss reserve developments were excluded, then reinsurers' five-year average RoE would fall to 4.5 per cent. "They need to do better than that, given the risks they take," he said. Last year was an outlier, generating $131 billion of insured natural catastrophe losses, compared to the ten-year average of $51 billion, Mr DeRose said. Mr DeRose said that consolidation is likely to continue in the reinsurance industry, alternative capital is driving change and the market is still largely influenced by a handful of global players. It's not all doom and gloom though. Increasing interest rates will offer opportunities for reinsurers to generate more income from their conservatively invested portfolios, for example. Mr DeRose added: "My observation is that reinsurers are still pretty opportunistic and innovative and they have the capacity to weather these headwinds over the near term. The majority of our ratings still have stable outlooks and that's because their capital strength and their ability to maneuver through challenging market dynamics."

Neil Speight has resigned as chief executive of the Bermuda Cricket Board, while vice-president Nyon Steede handed in his resignation yesterday. Four board officials have now resigned in the past six months, with treasurer Gershon Gibbons stepping down in May, followed by Clay Smith two weeks ago who opted not to seek a new contract as Bermuda coach after his contract expired three months ago. Lloyd Smith, who was voted in as president last November when Lloyd Fray choose not to seek re-election, received Speight's resignation last Friday, before receiving another e-mail yesterday from Steede, who served as vice-president under Fray. "Nyon Steede handed in his resignation today," Smith told The Royal Gazette last night. "I have been in a course all day and haven't had a chance to speak to him or even respond to his e-mail. It's a setback for the board that two good people have chosen to move on. Neil has the knowledge while Nyon has been a member of the executive for many years. Neil has found another job and will be leaving, though we don't have a date as yet. He handed in his resignation last Friday. I'm surprised at both and haven't been able to talk to either because Neil is in Singapore representing the ICC Americas." Smith confirmed that Speight will not return in time for the BCB Awards Ceremony, which is scheduled for the CedarBridge Cafetorium at 7pm tomorrow. Speight first became involved with the BCB in 1995 as one of the six club representatives. Prior to that he was instrumental in getting National Sports Club back into the league and captained the team. Speight was treasurer of the board in 1997, when the entire executive under president Ed Bailey resigned. Speight, who was not present at the meeting, did not resign and was the only executive who was still present when El James was voted in as the new president a week later. Speight also served as treasurer under Reggie Pearman before later becoming chief executive in 2005.

Hundreds of visiting golfers will flock to Bermuda's golf courses this month. The first-ever Bermuda 3s World Team Championship presented by Goslings kicks off next week and the Pompano Beach Club's couples golf tournament tees off later in October, continuing a long tradition that started about 15 yeas ago. The two events align with the Bermuda Tourism Authority strategy to leverage sports as a means for growing the island as a year-round destination. "Bermuda's competitive advantage is clear: she's an idyllic destination for golf far beyond the spring and summer months," said Bermuda Tourism Authority Chief Sales and Marketing Officer Victoria Isley. "In the areas where most of Bermuda's visitors come from, the U.S. northeast and Canada, it's difficult to play golf in the fall and winter because of the weather. Avid golfers who are itching to play in that six-month stretch between October and March can head to Bermuda where the temperatures are mild, the views are gorgeous and the golf courses are world-class." Almost 200 golfers are expected on the island to play competitive rounds at Port Royal Golf Course, Tucker's Point Golf Club, Turtle Hill Golf Club and Mid Ocean Golf Club during the two aforementioned events. Additional leisure travelers who enjoy golf while on vacation are expected to be out on the courses as well. At Pompano Beach Club embracing couples golf helps keep the hotel busy with repeat guests. About 60 couples are expected this month to play five rounds on four golf courses over a five to six-night stay, according to Par 3 Consulting which has managed the event the past two years. "Couples are coming from all over the world and many of them really look forward to returning to a place they love and reuniting with golfers they really enjoy playing with – and against," said Anthony Mocklow, chief innovation officer at Par 3 Consulting. The Bermuda Tourism Authority-sponsored Bermuda 3s event is a novel concept that spreads competition across three local golf courses with three amateur players per team who are matched with one professional. Each team represents their home country. Thirteen teams from North America, Europe and Bermuda are in the competition for year one. Frequent Bermuda visitor Ken Kennerly and Joe Steranka, the former CEO of the PGA of America, are behind Bermuda 3s. Mr Steranka said: "Bermuda is an attractive golf destination year-round, but the growth potential for the island is particularly strong in the fall and winter. We hope Bermuda 3s helps to show the world the great things we've discovered about golf out here." The Goslings International Invitational in November and the Bermuda Goodwill Golf Tournament in December are also established tournaments with a tradition of attracting visitors to the island to play golf in the fall and winter.

Nearly one quarter of the Bermuda population will be aged 65 or older within the next ten years, a report said yesterday. Government statisticians predict the proportion of seniors will climb from 16.9 per cent in 2016 to 24.9 per cent in 2026. It would mean an increase of nearly 50 per cent from 10,755 to 15,825. During the same time, the number of seniors for every 100 people of working age is expected to rocket from 24.7 to 39.9, with the realities of the trends meaning greater demand on pensions and healthcare. Increasing the retirement age or removing it altogether, having more babies and trying to encourage young people to stay on the island through greater job opportunities were among proposals to tackle the issues. However, one finance expert warned it could take "decades" to reverse the pattern. The figures were revealed in the Bermuda's Population Projections 2016-26 Report from the Department of Statistics. Government reform minister Lovitta Foggo said: "The report highlights some critical realities for Bermuda's future population, and the Government is being proactive in finding solutions today, to ensure a better tomorrow for Bermudians. For our seniors, we continue to closely monitor the performance of our pension funds and are exploring the benefits of increasing the retirement age to 67. Similar reforms will be made to our social insurance scheme. Given the demographic shifts and the increase in non-communicable conditions, we know that health costs and the pressures on long-term care will continue to challenge us." Other highlights in the report include a drop in the total population from 63,791 to 63,680 over the period, a fall in the yearly birthrate from 9.3 per 1,000 people to 7.3, and a rise in the death rate from 7.6 per 1,000 people to 9.4. John Wight, the Bermuda Chamber of Commerce president, said: "In the absence of taking any action to address Bermuda's ageing population, this report highlights that by 2026 Bermuda will have fewer people than today. A drop in the general population is a concern; a stable or growing population is key to a healthy economy. The discussion in Bermuda needs to be one of how we grow our population, not do we need to grow our population?" Nathan Kowalski, chief financial officer at Anchor Investment Management, said: "We do have a very high rate of ageing in our population base, so there's going to be all kinds of social and economic impacts that have to be tackled in terms of housing, care-giving and the whole provision of healthcare." He added: "It's not drastically unique to Bermuda but I think because we're a small community we might see it a little bit more prominently. We're not that big so we're going to see this quite stark change in ageing." The report told how the search for "affordable care providers for seniors" could become more difficult than finding childcare. Ms Foggo said a home care policy has been developed to encourage people to "age at home where possible", providing funds for eligible seniors to receive care from qualified caregivers. Reflecting on housing needs for seniors, Ms Foggo said the Bermuda Housing Corporation, Age Concern and representatives from the health ministry are in talks about the ageing population and its needs. She continued: "Talks continue to address the long-term needs of independent seniors, as well as assisted-care facilities for our valued seniors. The BHC has also partnered with the Bermuda Housing Trust in assisting with retrofitting some of their properties to better assist our seniors' housing needs." The report states fewer births means "far-reaching consequences" for pension schemes such as the Government's Contributory Pension Fund, as contributions by workers are generally paid out as benefits in the same year. It said falling birthrates could make it difficult for employers to fill vacancies with young Bermudians, while the increasing number of senior dependents means the workforce will need to support more people. The report states: "One possible option to address this would be to increase the mandatory retirement age of 65 in some industries or to eliminate it altogether as an earlier retirement age diminishes the labour pool. Aside from substantial immigration, another way to increase the labour supply immediately will be to bring more of the elderly into the workforce." Advances in medical technology and healthier lifestyle choices could help reduce the death rate, it suggested, while more births could come about through "pro-natalist policies" such as incentives to have children. The report said improved employment options on the island could result in less emigration, and added: "More immigration can be achieved by a strengthening or diversifying economy that provides increased job opportunities." Yet Mr Kowalski warned: "Demographics are like a giant aircraft carrier, they do not turn on a dime. Even if you did have a whole batch of babies today, it won't dramatically change the demographic projections, they take decades to revert or change. But any kind of push towards having younger Bermudians come back to Bermuda, having more jobs here for young people — that's what we all want." The report also pointed out that shrinking numbers can have environmental benefits due to less strain on the island's resources. A falling population can also lead to less demand for housing resulting in falling prices.
Copies of the report can be downloaded at www.gov.bm.

October 18

Customs officers from the Caribbean island British Overseas Territory of Montserrat are in Bermuda to research the land valuation process. The Montserrat Customs and Revenue Service arranged the visit after the Land Valuation Department made a presentation at the Caribbean Regional Technical Assistance Centre Property Taxation Conference in 2016. Montserratian customs and tax officials have been in Bermuda to learn how the Government collects revenue and monitors land transfers. They include Violette Silcott, comptroller of Inland Revenue, Montserrat; Charlesworth Phillip, estate management consultant, Montserrat; Sheldon Carty, valuation officer, Montserrat Inland Revenue. MCRS members have been in Bermuda since October 8 to research:
Bermuda's property valuation system and operations for land taxation purposes.
Billing and collection of land tax.
The Land Valuation Department's IT databases.
The visit has included two days of on-site property inspections with the department's valuation survey technicians. The photo below shows them with their Bermuda colleagues.
See above story

All three Opposition senators will be replaced before Parliament reconvenes next month. Robyn Swan, Nandi Outerbridge and Justin Mathias have been told their appointments in the Upper House have ended. A new One Bermuda Alliance line-up will take their seats after Craig Cannonier, who became leader after a vote of no confidence in Jeanne Atherden, launched an attempt to change the course of the party. Ms Outerbridge told The Royal Gazette that Mr Cannonier had discussed the move with her and that he would be "starting with a clean slate". She said it meant she could now devote more energy to an event-planning company she took over this year. Ms Outerbridge, a former St George's MP, said: "It could be a blessing in disguise for me. It's a sense of me now focusing on my business 100 per cent; that's really what I want to do. When new leaders come in, they make changes that suit them. If that's what he felt he had to do, I'm completely fine with that." Mr Mathias was already due to step down. He had decided being a senator conflicted with his job as party chairman, from which he has since resigned. He replaced Nick Kempe, who was axed from the Upper House by Ms Atherden last November, although he has now been reinstated as Opposition Senate leader and shadow finance minister. The remaining two OBA appointments have yet to be announced. Ms Outerbridge said she would not rule out a return to politics. She added: "It's not goodbye for ever, but in the near future? I don't know. People of our age are very solution-driven, eager to not be involved in the bickering. I've been very involved in the Hamilton Parish Youth Soccer Programme for a number of years. I just feel like my time is better served in that position — it's good to be hands-on in your community, not trying to fight over legislation." Ms Outerbridge also stood down from her role as an OBA deputy chairwoman. She said: "I sent an e-mail to the executive just letting them know that with all of the major changes that have been taking place, I think it's important for them to start with a clean slate all around." Mr Mathias was to be replaced in the Senate by Victoria Cunningham after he took over as party chairman in July. He said he resigned that month but agreed to stay on until the end of the parliamentary session as major legislation was making its way through both houses. Mr Mathias said: "I definitely was not coming back in November because I felt it's a conflict of interests when it comes to the duties of the party chair. My focus is always going to be about the youth and getting women involved in politics; that's something I came into the party to do. I never came in to have any particular front-facing role." Mr Mathias said he intends to keep "empowering" young people and women through involvement in the community, as well as being an OBA representative for the people of the Warwick North East constituency. Ms Swan was appointed to the Senate in July, as a replacement for Andrew Simons, who was also dropped by Ms Atherden. She said she understood the termination of her role was a matter of procedure owing to the leadership change and said she would see what options become available. Mr Cannonier said yesterday he would announce the other senators "in due course". He added: "It is not unusual for a new leader to appoint their own team, as demonstrated with my Shadow Cabinet appointments, and I have said from the moment that I was elected as OBA leader that this party is changing course to be the party this country needs in Opposition and the party this country wants in government." Mr Cannonier said an election will be held to fill the deputy chairwoman vacancy created by Ms Outerbridge's resignation. He added: "I want to take this opportunity to thank Nandi, Robyn and Justin for their hard work and commitment to the party, and I hope they will continue to use their experience to help the party going forward."

Argo Group International Holdings expects pre-tax catastrophe losses of approximately $25 million for the third quarter of this year. Hurricane Florence, Typhoon Jebi and other catastrophe and weather-related events during the three-month period are the sources of the losses for the Bermudian-based insurer and reinsurer. The loss estimates include claims costs net of ceded reinsurance recoverables and reinstatement premiums, and include losses related to certain aggregate excess of loss contracts. Mark Watson, the company's chief executive officer, said: "As we indicated following the catastrophe loss events in 2017, we restructured our reinsurance programme for 2018 to incorporate a single retention that combined the reinsurance portfolios for Argo and the acquired Ariel Re, and we strategically increased our use of third-party capital. Our loss results for the third quarter of 2018 reflect these actions." Argo warned that the estimates were preliminary and the actual net impact may end up being materially different.

Asset-management firm Alpha Innovations Ltd has picked Bermuda as the home for its headquarters. Alpha wants to reduce risk and fees for investors and achieve operational efficiency through innovation and the use of blockchain technology. Lawrence Newhook, Alpha's chief executive officer, said: "The foundation of any institutional-quality investment-management business is strong regulatory oversight and for this reason, we chose Bermuda for our global headquarters. Bermuda has a sterling regulatory reputation in the asset-management industry and established laws to govern blockchain business. In short, Bermuda is where the funds industry and blockchain meet, and was therefore the perfect jurisdiction for Alpha Innovations." Last month, Laureate Digital Securities, which is Alpha's sister company, announced that it was setting up its headquarters in Bermuda. Laureate is also leveraging blockchain, or distributed ledger technology, to "tokenise" investment funds to create greater liquidity and access for new investors, as well as bringing greater efficiency to fund administration. Nicole Biernat, the chief operating officer of both Laureate and Alpha, will be based in Bermuda. Laureate's offices will be at 41 Cedar Avenue, Hamilton. The two companies also share an office on Madison Avenue in New York. Alpha's leadership team has decades of experience in the asset-management industry with firms including Point72, Morgan Stanley, Goldman Sachs, CITIC and Balyasny. "A key lesson from my 12 years at Point72 was never to compromise on the talent, which is one of the basic tenets on which we are building Alpha Innovations," Mr Newhook, who is also CEO of Laureate, said. "Our management team has worked in the financial markets through numerous up and down cycles and is also well versed in the potential of blockchain technology. We've built an asset-management firm that solves many of the legacy issues that make traditional asset management funds unappealing. We are ready to lead the industry into the future and provide compelling investment options that inspire institutional investors to put their capital to work." Alpha says its core directive is to identify unique sources of alpha, the relative outperformance of investment benchmarks, in investment strategies, isolate and extract that alpha, and deliver it to its investors through a framework which affords greater oversight and governance than what was traditionally available. David Burt, the Premier, said: "Our government has pioneered legislation to put Bermuda at the forefront of the blockchain revolution, and Alpha Innovations is exactly the type of cutting-edge company we are looking to attract. Bermuda has long been a respected centre for funds, and now we can be a jurisdiction for new technologies allowing the trade of digitized assets. We welcome Alpha Innovations, and invite the evolving asset-management industry to choose Bermuda as a global platform for business."

The family of a young father shot dead seven years ago said yesterday they were pleased a man had been convicted for his part in the killing — but that no verdict could bring Colford Ferguson back. Nkosazana Wilson, mother of his daughter Ny'Ashia Ferguson-Wilson, was speaking after Khyri Smith-Williams was sentenced to life in prison for premeditated murder of Mr Ferguson, who was 29, and use of a firearm to commit an indictable offence on Tuesday. A Supreme Court jury found that Smith-Williams, 27, was the getaway rider in Mr Ferguson's killing. Ms Wilson said that the verdict had brought some closure to Mr Ferguson's family. But she added: "To know that the person who actually shot him is still free kind of hurts a bit." Ms Wilson said that her 11-year-old daughter knew the trial was taking place and that she had cried when she told her the verdict. She said that the two often talked about Ny'Ashia's father "and how proud he would be of her". Ms Wilson added: "The memories that we both have of him are what we hold close to our hearts now." Mr Ferguson was shot dead as he worked on a construction site in Somerset in February 2011. He had celebrated Ny'Ashia's 4th birthday, only two weeks before. Ms Wilson described Mr Ferguson as a very loving father. She said: "Whenever he was around, I didn't exist to my daughter. She was daddy's little girl. She adored him." Ms Wilson added that the celebration Ny'Ashia had shared with her father for her 4th birthday was one of her daughter's most treasured memories. She said that the little girl still talked about sharing a pizza with her dad that day. Ms Wilson added: "It was like her last memory of him." She admitted the years since Mr Ferguson's death had been hard on her and her daughter. She said that Father's Day and the start of the school year were particularly tough on her and Ny'Ashia. Ms Wilson added that her daughter told her when she was aged eight: "'Mommy, it's not fair that other children's daddies get to see them grow up and my daddy doesn't'." Ms Wilson said Mr Ferguson was a hard-working and loving man and his family and daughter meant everything to him. She added: "There's a lot of things that I see her doing that I just wish he was here to experience." Desmond Smith, Mr Ferguson's older brother, said that just before his death Mr Ferguson's passion for carpentry had led him to find regular work. Mr Smith added that he had never seen his brother as happy at other jobs and that it was the "perfect thing" for him. He added: "All the motivation for that was his daughter. When he had her is when he decided to buckle down and take care of her, and his life. That was his life, his daughter. He was an awesome father." Mr Smith said Mr Ferguson was the glue that kept the family connected. "He was always trying to get us to get together. He would be calling and calling to the point of irritation. He always wanted for us to get together as a whole, complete family." Mr Smith said the family had not been as close since his brother's death. He added: "It's really evident nowadays. We don't get together like we used to." Mr Smith, a reggae artist with the stage name Rivah, wrote the song Luv You Brah after Mr Ferguson was murdered. He said his brother was a "wholesome and loving" man, and that the support the family had received after his murder showed "how much love he gave people". Keona Smith, Mr Ferguson's cousin, added he was a "beautiful soul with a brilliant smile". She said she remembered the day of Mr Ferguson's death "like it was yesterday". Ms Smith added her cousin had a hard childhood and lost his mother to cancer at a young age. She said: "Like most male children, he had his share of getting himself into trouble." But she added: "One thing I can say, he wasn't a troublemaker and was not into this so called gang life." Puisne Judge Carlisle Greaves sentenced Smith-Williams, 27, to life imprisonment for Mr Ferguson's murder and ordered him to serve at least 25 years before he is eligible for parole. Smith-Williams was also given a ten-year sentence for the firearms offence, which the judged ordered should run consecutively. Mr Smith said that he was happy with the outcome of Smith-Williams's trial. But he added: "There's no way you can bring back Colford. That part is always going to be pain."

One of five teens accused in the murder of Bermudian Lyrico Steede has been linked to a mobile phone left in a taxi on the night of his attack, Nottingham Crown Court heard yesterday. Mr Steede, 17, died in hospital on February 21 after being repeatedly stabbed on the night of February 13. The jury was told that DNA evidence retrieved from the phone had a one in a billion link to one of the accused, who is too young to be identified. Kasharn Campbell, 19, of no fixed abode, and Remmell Campbell-Miller, 18, from Sneinton Boulevard in Nottingham, are charged with the murder, along with two 17-year-old boys and a 16-year-old girl, none of whom can be named for legal reasons. According to the Nottingham Post, cab driver Thomas Yeboah testified that he had driven three young men from Bulwell, where the stabbing occurred earlier that night. The trio asked to go to Sneinton, a suburb of Nottingham, but ran off without paying the fare. The cabby said he had discovered the phone in the back, and kept it until police got in touch. A DNA trace left on a fingerprint was linked to one of the 17-year-old accused. Further tests showed that others had handled the phone, including "two unknown people". The trial continues.

A plague of rats in the Botanical Gardens has been tackled by government pest controllers after complaints from the public. Parents said rats have scared park users near the children's play area in the Paget park, which is Bermuda's biggest. A mother of two who took her children to the hedge maze near the playground added the rats were "frightening, especially when you have little kids". The woman, who asked not to be named, said: "We saw it last week; it was just one, but it was a large rat. Another mum jumped when she saw it. It ran off into the bushes in front of us." Another concerned parent called the Government's pest controllers after she saw "brave, large and numerous" rats on several visits to the gardens. She said: "The park looks amazing at the moment so it's not because of anything there. I go there with my children frequently. It's a popular place. I've been noticing rats around there for a few weeks." She said she had spotted vermin around the banyan tree and playground "running along the ground, I couldn't see where they were coming from. They were just around the place. I reported it to Vector Control; because it's up to the public. I do it for feral chickens and mosquitoes as well; they're the resource to take care of it." The woman, who also asked not to be named, said other people had already flagged up the problem and the area had been baited. Government pest control staff warned parents to make sure youngsters did not play in undergrowth. The Vector Control service said in the summer that reports of rats had increased near trash collection points. The problem was blamed on residents putting out garbage early, despite the once-a-week collection schedule. A government spokeswoman said: "The Department of Health's Vector Control Team is aware of an issue in the Botanical Gardens in relation to rodents. Officers are monitoring the situation and carrying out treatments as and when necessary. There are approximately 20 bait boxes in place within the gardens. A significant issue in the control of rodents within the gardens is that people are leaving food scraps behind them, this is a significant food source for the rodents. The department would like to appeal to all visitors to act responsibly and not to leave any garbage including food scraps behind them when they visit the gardens."

A new quick service, gourmet takeout will open its doors on Front Street next month. Brew by Java Jive, an Island Restaurant Group operation, will offer counter service and will be located downstairs from The Pickled Onion. Philip Barnett, director and president of IRG, said: "We are calling it Brew because that is how we make coffee, beer and it is also a well-known colloquial term Bermudians use to greet each other." Mr Barnett believes this will be a unique type of business for the area. "This will be something new for Front Street," he said. "We closed Java Jive, so it is basically going to be the same foods and coffee serviced, that's why we are calling it Brew by Java Jive." Mr Barnett said the same staff who were at the Java Jive location will now be at Brew. "Our staff are amazing, they won the Best of Bermuda Awards for their customer service three years in a row," Mr Barnett said. Not only will the restaurant be a quick-service takeout, customers have the ability to sit in while working, having business meetings or just to relax. The restaurant will have complimentary wi-fi service and the ability to plug-in connected devices to charge and work remotely. "We highly recommend people use the space for coffee meetings, after work for beers or a glass of wine. Our prices are reasonable and our food is excellent," Mr Barnett added. The takeout will open at 7am. "We are not sure what time we will close yet, we will see the response to customer demands," Mr Barnett added.

October 17

Closer links between Bermuda and the British Parliament would "cause unease", the former Governor of Bermuda said yesterday. George Fergusson was asked by a UK parliamentary committee to consider the relationship between other countries and their former colonies and if these arrangements would be appropriate for Britain's relationships with its Overseas Territories. Mr Fergusson, who was Governor of Bermuda from 2012 to 2016, told the Foreign Affairs Committee it was possible to "envisage a much more orderly, logical and accountable relationship" and highlighted France, the Netherlands and the United States as possible models. He added: "Most of that would involve direct representation to the House of Commons and that has some benefits — it means that the territories could call to account the relevant secretaries of state and it addresses a bit of a democratic deficit." Mr Fergusson said the problem of representation without taxation could be resolved with an arrangement that meant Overseas Territories representatives in the British Parliament would have no right to vote on British financial affairs. But he added: "I think the really big obstacle to the neat, logical structure is that it would bind territories in more closely to the United Kingdom probably more than they want, and the slightly messy arrangement we've got at the moment, certainly compared to the French, is messy, but it reflects the wishes of territories, who I think would have — you'd need to ask them direct — but I think they'd have a reluctance at being tied in to Parliament. Bermuda in particular, Bermudians think of themselves as Bermudians, and becoming more legislatively connected with Britain would cause unease." The committee asked why so many territories wanted to stay part of the "British family". Mr Fergusson agreed with reasons put forward by witness Susie Alegre, the director of the Islands Rights Initiative consultancy group, who said factors included size and a sense of self. He added "security and sovereignty" to the list, but admitted that his only direct experience was in Bermuda and Pitcairn, where he was a non-resident Governor while High Commissioner to New Zealand and Samoa. Mr Fergusson said: "There's an element of if it's not broken, why fix it or change it?" Mr Fergusson told the committee: "Like everything else I think it varies across the different territories, some feel a greater organic attachment than others, for some I think it is a matter of convenience, not getting around to doing anything about it." He and Ms Alegre were asked how good the relationship between the UK government and its territories was. Mr Fergusson said: "I think it's almost fated to be difficult." He added: "I think there will always be a degree of confusion and pushing and pulling. I'm now two years away from Bermuda. I don't think it is worse than usual, I don't think it's necessarily bad. I think that things like the sanctions and anti-money laundering Act obviously would represent a little bit of a spike in spikiness. There will always be something around but I don't think the relationship is too bad." The witnesses were also asked about how the UK Foreign and Commonwealth Office managed links between other government departments and Overseas Territories. Mr Fergusson said: "The Foreign Office has not very much to do with the Government of Bermuda, especially on a day-to-day basis. The Governor is obviously the main channel for that. Probably the government department that spoke most often to counterparts in the Government of Bermuda would have been the Treasury, to the Ministry of Finance. There were connections between the Ministry of Defence and the (Royal) Bermuda Regiment and sometimes events made those contacts be more frequent." He added there was a "varied picture" across other territories because some had closer ties to the UK Department for International Development.

A key player in Bermuda's Jetgate scandal has hit the headlines in New Jersey after he landed a top job with the state governor. Derrick Green, an adviser to the One Bermuda Alliance during the 2012 General Election campaign, is being paid $140,000 a year as a senior adviser in Governor Phil Murphy's Democratic party administration, a report in northjersey.com, part of the USA Today network, said. The news site reported on Monday that he got the position after his company, Green Consultants, was paid $2 million by Mr Murphy's campaign to help get out the vote for the state's 2017 gubernatorial election. The article said Mr Green was "tied to a campaign finance scandal under police investigation in Bermuda known as Jetgate" a controversy that led to the May 2014 resignation of OBA premier Craig Cannonier, now the Opposition leader. An OBA spokesman said yesterday: "The information contained in the article is dated and pertains to US political matters concerning political consultant Derrick Green and the Governor of New Jersey. The One Bermuda Alliance is focused on changing course and being the Opposition the country expects and the Government it requires. This OBA, under the leadership of Craig Cannonier, is focused on the current state of Bermuda, and on creating a viable future for Bermuda and its people." The northjersey.com article said that Mr Green set up a secret bank account linked to the OBA which received $350,000 from wealthy American businessmen, including Nathan Landow, a Maryland developer and Democratic donor. It said: "No one has determined exactly where the money went after Green and an associate withdrew nearly all of it." Mr Green had an undisclosed commercial relationship with Mr Landow, who was interested in building casinos in Bermuda, and he was responsible for the introduction to Mr Cannonier. Mr Cannonier travelled on Mr Landow's private jet to Washington, along with Cabinet ministers Mark Pettingill and Shawn Crockwell, after he became premier. The trip sparked questions in Parliament about whether Mr Landow had been offered a quid pro quo, such as a gaming licence or development deal. The controversy led to an ongoing police fraud squad inquiry into the donations to the Bermuda Political Action Club bank account. Former OBA chairwoman Lynn Woolridge said last year she was "not aware of whether BPAC continues to exist, as it was not, and is not, part of the OBA". The Bermuda Police Service told northjersey.com they were "not investigating Mr Green at this time". Mr Green's appointment as a senior adviser on diversity, faith, urban and regional growth in the secretary of state's office led to criticism from a New Jersey Republican politician. Assemblywoman Holly Schepisi highlighted to northjersey.com that Green Consultants employed a councillor who had previously been convicted of public corruption.

Five local chefs will sharpen their knives for battle as the City Food Festival gets under way at Fort Hamilton tonight. Antonio Belvedere, Elizabeth Blankendal, Mohamed Elfeky, Ebrahim Elassal, and Marcella Smith will take part in the event in an attempt to win a trip to the South Beach Food Festival in Miami next year. Mr Belvedere has worked in local restaurants and is now excited to be starting his own private chef business. Ms Blankendal is self-taught and became fascinated by international cuisine at an early age as she grew up in a multicultural household. She enjoys cooking with a range of ingredients to make elegant, tasty and attractive dishes. Mr Elfeky and Mr Elassal are both from Egypt and chefs at the Fairmont Southampton. Ms Smith is a mother of three and the head chef at St David's Seafood and Grill at St David's Cricket Club. Round One will have three of the competitors going head-to-head in an appetizer round tonight. It was originally planned to be held at Pier Six, but the venue has been changed because of the scheduled arrival of a cruise ship. Tomorrow, the other two will cook an entrée for judges before the winner from each round will take part in a dessert cook-off on Saturday. Contestants must use the five ingredients provided for all rounds but can also incorporate other pantry products into their dishes. Tickets are available to buy at ptix.bm.
See above story

Everard Davis, a trailblazing broadcaster who managed ZFB, Bermuda's second television station, has died. Mr Davis was 79. Mr Davis was also the first manager of the Liberty Theatre cinema, opened by the Bermuda Industrial Union in 1987. His daughter, Gina Davis, said her father was "there at the beginning" when ZFB Radio hit the airwaves in 1962. The radio station proved a hit and was followed three years later by ZFB TV. Ms Davis said Montague Sheppard, Capital Broadcasting Company founder, recruited "a group of young black men who wanted to do local broadcasting" for ZFB. The radio station was launched from a cottage on Berkeley Road, Pembroke, but ZFB soon set up shop on North Shore Road, Devonshire, when Mr Davis took charge. Ms Davis said: "He wasn't even 30 when he became manager. He said he was the youngest ever manager to run a TV station. He had started off in sales, despite just having a high school education — he could sell ice cream at the North Pole — and he was extremely articulate, which one of the big things that got him into broadcasting. He had the voice." ZBM TV was affiliated with the American network CBS, but ZFB ran content from the ABC network — and also pushed to develop unique local shows. Ms Davis said her father was "an innovator" with shows such as Good Morning Bermuda. The show went on the air early in the day, unusual for Bermuda, and was a quick success. Leola Stovell, who spent years as ZFB's weather presenter, said last year that "everybody that was into anything would be on that show". She added Mr Davis was "instrumental" in getting church services broadcast on the radio. Ms Stovell said: "He would think of things to do in radio and TV that nobody had tried before." Among his community-spirited ideas was the broadcast of cartoons for schoolchildren when hurricane alerts kept them at home. Mr Davis was fond of attending ABC events in the US and befriended network celebrities, who would visit his family home when they came to Bermuda. Ms Davis said her father got to meet Jonathan Frid, the actor behind the vampire Barnabus Collins from the hit show Dark Shadows, which was popular on the island. She added an early job as a messenger for Government House was "probably how he got to know so much about dealing with people". Ms Davis added: "Not only was he highly charismatic, he had a major sense of humour. He always had a joke and a story to tell." Mr Davis also brought live international boxing matches to big screens in nightclubs and workmen's clubs. But showmanship ran in the family — his father, Alick "Al" Davis, was a top local musician and gifted saxophonist. Elsie Davis, his mother, was active in St Paul AME and the Sunshine League youth charity. His daughter said Mr Davis, a father of six, was married first to Nathalie Davis, then Mildred Davis before Ingrid Austin became his "final life partner". A memorial service will be held at St Paul AME Church in Hamilton on November 8 at 1pm.

A 27-year-old gangster will spend at least 35 years behind bars after he was found guilty yesterday of the murder of a father of one. Khyri Smith-Williams was found guilty of premeditated murder and the use of a firearm to commit an indictable offence in the killing of Colford Ferguson. That weapon has been linked to two other murders and other shootings. Puisne Judge Carlisle Greaves sentenced Smith-Williams to life imprisonment for the murder and ordered him to serve at least 25 years before being eligible for parole. Smith-Williams, from Sandys, was also ordered to serve ten years for the gun offence, which will run consecutively with the murder sentence. Mr Justice Greaves said the case was both very serious and very sad. He said that Mr Ferguson had "unnecessarily and cruelly lost his life as a result of the gang violence in this country". Mr Justice Greaves added: "Today we have another case in which an innocent has been gunned down. A child is now without a father." But Mr Justice Greaves said that it was also a sad day for Smith-Williams. He said: "You chose the path of the gang life — and unfortunately for you it has brought you to this calamity. You, too, will deny your child a father. There are never any winners in these cases." Smith-Williams offered condolences to Mr Ferguson's family after the verdict was read. He added: "I know you guys are probably happy someone is going down for it." Jerome Lynch QC, Smith-Williams's defence counsel, said that his client maintains his innocence, and that it was "very brave of him" to say so. Mr Lynch said there was a "very real prospect" that an appeal would be launched. He added: "I think there are, in my mind, possibly one or two grounds which are certainly worthy of exploration. If you're dealing with somebody who is facing 35 years of his life in jail," Mr Lynch explained, "we've got to look at every possible stone and see if there's anything under it — and that's what we will do." Inspector Michael Redfern, a police witness in the case, said the sentence sent a clear message to "stay away from the violence". He added: "Stay away from the gang because there are no winners." Mr Redfern thanked Mr Ferguson's family for never giving up their search for justice. He said that Bermuda needed more people such as key witness Troy Harris to come forward. Mr Redfern added: "We are a tight community and this violence needs to stop. When we work together and when we stand up together, this is what the result can be. I think this message, hopefully, will go towards trying to eradicate the gun violence we have had over the years in Bermuda." Mr Ferguson, 29, was shot dead in February 2011 as he worked on a house near the junction of Mangrove Bay Road and East Shore Road in Somerset. Mr Harris told the court earlier that Smith-Williams, a member of the West End's Money Over Bitches gang, confessed his involvement in the killing to him and admitted that he had driven the getaway motorbike. He said that Smith-Williams told him another man, Rasheed Muhammad, had pulled the trigger and that the wrong man had been killed. Mr Harris told the court that he had two conversations with Smith-Williams about the murder — one in Westgate prison and the other at the defendant's home after Smith-Williams had been drinking. But Smith-Williams told the court last week that the two had been in prison at the same time but had never discussed Mr Ferguson's murder. He also admitted that Mr Harris had visited his home in Sandys, but denied that he was drunk in the presence of the witness. Smith-Williams denied he played any part in Mr Ferguson's murder.
Diary of a traveling handgun
The 9mm semiautomatic handgun that killed Colford Ferguson was passed between rival gangs before it was finally seized by armed police and detectives in a dramatic raid on Khyri Smith-Williams's Broome Street, Sandys home.
Twenty-one-year-old Kevin Warner was imprisoned in 2011 for a minimum of 35 years for the premeditated murder of his friend, Dekimo "Purple" Martin on May 28, 2010. A detective told the jury in Warner's trial that the weapon belonged to the Sandys-based gang MOB and was shared between members.
MOB gunman Anwar Muhammad was convicted of shooting alleged White Hill Crew member Princeton Burrows on August 23, 2010 and was sentenced to ten years in prison after an appeal. MOB and the White Hill Crew are based in separate areas of Sandys and police report they were locked in gang rivalry. Mr Burrows told a jury he managed to wrestle the firearm away from Muhammad despite being injured in the shooting. Another prosecution witness testified that he saw Mr Burrows hand the gun over to another man before heading to hospital, but Mr Burrows refused to confirm this. At the time, Crown counsel Carrington Mahoney told the jury during the case: "We would love to know where the firearm ended up."
That it has been used in other crimes is a matter of public record. Muhammad's close friend and fellow MOB member Quincy Brangman used it on February 13, 2010 to shoot footballer Nathan Darrell in Sandys.
It was used again less than three weeks after the Darrell attack to injure Shawn Williams at the Royal Artillery Association club in St George's early on April 4, 2010. Alleged MOB member Mr Williams was said by prosecutors to have been Muhammad's getaway driver in the Burrows shooting, although charges were dropped against him before the trial began. St George's resident Dwayne Signor, who admitted shooting Mr Williams at the RAA club, told Supreme Court he handed the gun to a fellow St George's man after fleeing the scene.
Signor was convicted and imprisoned for ten years. Somehow, the gun made its way back west and was used in two shootings in Sandys in March 2010, but no one was hit.
Then, on May 28, 2010, it was used by White Hill Crew associate Kevin Warner to murder his former friend, Dekimo Martin. Warner was convicted of the Martin murder and jailed for 35 years.
The weapon remained at large and on July 10, 2010, it was fired at Jahcai Morris, on Sound View Road, Sandys, leaving him injured. No charges have been laid in that case.
On July 23, 2010, the gun was confirmed to be back in the hands of MOB again when Muhammad's friend and fellow MOB member Marico Bassett used it to shoot and injure Randy Lightbourne outside the Charing Cross Tavern in Somerset. Bassett, 21, was convicted and jailed for 25 years, yet the weapon remained at large.
On February 4, 2011, it was used to shoot Colford Ferguson dead at a house on East Shore Road, Somerset. Police do not believe Mr Ferguson to have been a gang member, but the crime happened in an area considered to be MOB territory. The gun's links to the string of shootings was established by expert analysis of bullets and cartridges left at the various scenes of crimes.
The weapon was also used on March 16 and March 21, 2010, when no one was shot.
Marico Bassett is serving 25 years in prison for using the 9mm weapon in the attempted murder of Randy Lightbourne on July 23, 2010 in Sandys.
Travone Saltus, 30, was sentenced to life in prison this month for the murder of wheelchair-bound Lorenzo Stovell on September 23, 2012.
The loaded weapon was taken off the streets by armed police from Romano Mills as he struggled to reach it in his sock in Smith-Williams's home on June 18, 2013. Mills, from Seawall Drive, Boaz Island, Sandys, was shot with a Taser — twice. Mills refused to tell police how he acquired it. He is in prison for the murders of two Pembroke men.

October 16

A set of rules drawn up to ensure "high ethical standards" in Bermuda's gambling industry have been published. The Bermuda Casino Gaming Commission said the Casino Gaming Regulations 2018 were designed to guarantee games are fair, honest and played with "security and integrity" as well as "sound operational and financial controls" in casinos. The regulations also include provisions to make sure systems are in place to protect vulnerable players and that any fees or taxes are logged and paid. Jamahl Simmons, the economic development and tourism minister, said yesterday: "The Government is pleased to confirm that the first tranche of the regulatory framework for gaming was completed last month. The second tranche is expected to be unveiled shortly. I would like to extend my thanks and congratulations to the chairman, executive and acting CEO of the BCGC as well as the Attorney-General's Chambers." The Royal Gazette reported yesterday that the BCGC has advertised for a new executive director for what is thought to be the third time since the resignation of Richard Schuetz in July last year. But Leah Scott, the shadow tourism, transport and regulatory affairs minister, claimed the future for gaming in Bermuda was "bleak". She highlighted amendments made last year to the Casino Gaming Act 2014, that "effectively neutered the independence of the commission" and made it "subject to the whims and wishes of the minister". Ms Scott, also the One Bermuda Alliance deputy leader, added: "While the amendments to the Act do not allow the minister to determine who may be issued a casino licence, nor does it allow him, or future ministers, the ability to interfere with corruption investigations, the amended Act does require the commission to follow 'general directions' on gaming policy put forward by the minister, as well as granting the minister the authority to replace commission members as and when the minister considers appropriate. What is clear is that we now have a non-independent commission and no viable candidate coming forth to take up the post of executive director with the commission. The Government promised jobs and training opportunities would arise from the establishment of casino gaming. But Ms Scott added: "At the moment, the outlook for gaming, and its corresponding employment and training opportunities for Bermudians, appears to be very bleak." The BCGC's website said the regulations were available for inspection at its office on Hamilton's Church Street and can also be found online. Although notice of the regulations was gazetted, with a notice that they could be inspected, the Government did not appear to have made a public announcement until it was contacted by The Royal Gazette yesterday. Michael Dunkley, a former premier now an OBA backbencher, called on Mr Simmons in July to provide updates on gaming. He said then that Mr Simmons had announced more than three months earlier that regulations would be introduced "without further delay". Mr Dunkley added he intended to examine the regulations. He said: "In 2017, before the election, there was a great deal of work done on the regulations and I would be surprised if they threw all of that out and started again. We were working very hard through the Bermuda Casino Gaming Commission to get those done and I was aware that they had made tremendous progress. Only because of the election did we not table those and move them forward in the House of Assembly. I was led to believe that the work done was solid work and a good footprint for them to use, so I'm at a loss to understand why it has taken another 15 months to get the regulations made." No one at the BCGC was available for comment yesterday.

A woman walking her dog saw people running and one fall over the night Bermudian teenager Lyrico Steede suffered fatal stab wounds in a park in England. Natasha Hannon told Nottingham Crown Court yesterday that she and her husband saw three young men run past them. She said one was a little ahead and the other two were side by side close behind. Ms Hannon said: "They were in the middle of the road." She said the man in front fell, but she did not know why. She added: "I'm not sure he misjudged the height of the railings. He certainly fell forwards." Ms Hannon said the other two men followed him over the railing. She added: "One of them, it looked like he'd straddled across him. He went down low. He was punching male one or what I thought was punching." Ms Hannon added the third man stood at the side of the two on the ground and two more people ran by and "jumped to the fence because after male [number] two had hit male [number] one, they got up and ran off". She said one of the other two men was also "involved in a scuffle with male one". Mr Steede, 17, was stabbed to death on February 13 at a park in the Stock Well area of Bulwell, a suburb of Nottingham. He died in hospital five days later. It is alleged that he was lured to the park by a 16-year-old girl, who cannot be named for legal reasons, and two men and two boys attacked Mr Steede and stabbed him. Ms Hannon told the court a friend sent her a text later to tell her a man had been stabbed in Stock Well after he was chased from a park. Kasharn Campbell, 19, of no fixed address, and Remmell Campbell-Miller, 18, from Sneinton Boulevard, Nottingham, along with the 16-year-old girl and two 17-year-old boys, who also cannot be named, are charged with Mr Steede's murder. All five defendants deny the charges. Ms Hannon told Peter Joyce QC, for the prosecution, that she felt "sick" when she was told there had been a stabbing. She explained: "The fact that we were there and didn't do anything. Neither of us had our phones with us. I thought it was a group of youths messing around at first." Mr Joyce suggested she had felt sick because she had not done anything. Ms Hannon said: "If I'd known now what I'd known then, I would have done something." The court heard earlier that Mr Steede had ran to a nearby house, collapsed on the doorstep and pleaded for help through the locked door. The woman inside said she had been too scared to open the door in case it was a ruse to gain entry, but had called emergency services. Ms Hannon told the court: "As we got to the bottom, male one, he was going into a garden. The kitchen light was on and I just assumed that was where he lived, so we just carried on walking." The trial continues.

A murder accused denied yesterday that he was involved in the gun killing of a father of one. Khyri Smith-Williams told the Supreme Court that he had played no part in shooting of Colford Ferguson. Jerome Lynch QC, his defence counsel, asked his client if he knew who killed Mr Ferguson. Mr Smith-Williams said: "No, I do not." Mr Ferguson, 29, was shot dead in February 2011 as he worked on a house at the junction of Mangrove Bay Road and East Shore Road in Somerset. Witness Troy Harris earlier told the court that Mr Smith-Williams had confessed his involvement in the killing to him and that he had driven the getaway motorbike. He said that Mr Smith-Williams said another man, Rasheed Mohammad, had pulled the trigger and that the wrong man had been killed. Carrington Mahoney, for the prosecution, said that Mr Smith-Williams had lied to the jury when he said he was not involved. Mr Mahoney told Mr Smith-Williams: "You and Rasheed Mohammad murdered Colford Ferguson that day." Mr Smith-Williams said Mr Mahoney was wrong. He said: "Rasheed Mohammad had nothing to do with Colford Ferguson's murder." Mr Smith-Williams also denied being the rider of the getaway motorcycle. Mr Harris told the court earlier that he had two conversations with Mr Smith-Williams about the murder — one in Westgate prison and the other at the defendant's home when the two had been drinking. Mr Smith-Williams, 27, said last week that the two had been in prison at the same time but had never discussed Mr Ferguson's murder. He also denied smoking marijuana with Mr Harris and that he had never failed a drugs test while in Westgate. But Mr Mahoney said that there were ways to pass a drug test. He suggested to Mr Smith-Williams that just because someone had passed a test did not mean someone "wasn't messing about with cannabis some months before". Mr Smith-Williams agreed that was possible. Mr Mahoney also suggested the defendant's earlier history showed a pattern of marijuana and alcohol use. Mr Mahoney added: "You have a problem with weed and drinking." Mr Smith-Williams said: "No, I don't." The defendant admitted last week that Mr Harris had visited his home in Somerset, but denied that he got drunk in the presence of the witness. Mr Mahoney told the court that the case "pretty much stands or falls" on the evidence given by Mr Harris. He added that Mr Harris had "put himself in great peril" through his decision to give evidence. Mr Mahoney added: "Troy Harris is speaking the truth. This defendant participated in the killing of Colford Ferguson." But Mr Lynch told the jury that Mr Harris would say whatever he needed to say to "suit his own purpose". And he questioned if his client would provide details on the type of motorcycle used, the clothing worn, and the route taken to carry out the killing to Mr Harris, but not details on the circumstances of the shooting. Mr Lynch asked: "Or is it you are going to tell him how it was actually done? That's the brag isn't it?" He said that Mr Harris had never provided details on the murder itself "because he didn't know — because that was not in the paper". Mr Smith-Williams is charged with premeditated murder and the use of a firearm to commit an indictable offence. He denies both charges. The trial continues.

Two senior members of the One Bermuda Alliance have been suspended after an alleged incident at the party's headquarters, The Royal Gazette can reveal. Sources said Tarik Smith, a deputy chairman, and Robyn Swan, the caucus chairwoman who was also appointed to the Senate in July, were alleged to have been at the centre of an altercation after a party meeting last month. Police later launched an investigation into the alleged incident. An OBA spokesman confirmed this month that a complaint had also been lodged with the party "by a party member who criticized the alleged behavior of another party member". Ms Swan replaced Andrew Simons in the Upper House after he was dumped by then Opposition leader Jeanne Atherden. Mr Smith was announced as an OBA deputy chairman in August. He took over the vacancy created when Justin Mathias, who has since quit, was promoted to party chairman. A Bermuda Police Service spokesman has confirmed that officers are "looking into" the complaint. The party said at the time that the complaint related to an alleged incident where only the two people concerned were present. Police said yesterday there was "no update" and that the investigation continued. Mr Smith told The Royal Gazette last night: "I cannot comment at this time." Ms Swan refused to comment when contacted. An OBA spokesman said: "As a police investigation is ongoing, we cannot comment except to stress that this is not a party matter."

Joseph Best, Jr. has been appointed to the Bermuda Tourism Authority Board of Directors, replacing Allison Towlson who retired from the Board following her retirement from Chubb. Mr. Best holds a Bachelor of Science in Business Management and Marketing degree from Cornell University and a Masters of Business Administration degree from Endicott College. He has earned professional certifications in Risk and Information Systems Controls, Information Systems Audit and is a member of ISACA and the Institute of Risk Management. Mr. Best will serve on the Audit and Risk Committee of the Bermuda Tourism Authority Board. "Firstly, I want to thank Allison for her years of dedicated service on the Board – with us since the very beginning. She was incredibly devoted to the job of restoring Bermuda's prominence as a tourism destination; her contributions were invaluable," said Chairman Paul Telford of the Bermuda Tourism Authority Board. "I'm delighted to now welcome Joseph onto the Board to help us take Bermuda Tourism to the next level," Mr. Telford said. "With the creation of the National Tourism Plan nearing completion, Joseph comes aboard at a critical time. His wealth of experience in marketing and risk will be essential as the country implements the plan's six-year vision." Mr Best's professional journey includes experience in the private sector in New York City, at Morgan Stanley and Ernst & Young. Joseph's experience in the public sector includes working as an information and risk manager with the Bermuda Monetary Authority. He has also spent time as a risk management specialist in the Internal Audit Department with the Government of Bermuda. Joseph currently works within regulatory compliance for a local bank and has lived in Bermuda for more than ten years. "I look forward to working with the Bermuda Tourism Authority and using my skill set in the areas of audit and risk," Mr. Best said. "The Bermuda tourism product is dynamic and evolving and I embrace the opportunity to help shape the industry's future alongside my colleagues on the Board of Directors." Mr. Best is a member of the local Alpha Phi Alpha Fraternity Chapter and is a past president of the Gamma Iota Lambda Chapter in Brooklyn, New York. He is married to Bermudian lawyer Kimberley Caines-Best and is the father of two children.

Ryan Davidge is the winner of the Bermuda Stock Exchange-sponsored investment quiz competition, scooping a $2,500 prize. Entrants in the BSX World Investor Week Quiz Challenge were invited to answer six questions embedded in a series of investment-related articles in The Royal Gazette this month. Of the 123 people who responded, 91 managed to answer all six questions correctly. Mr Davidge was one of them and his was the name drawn out of the hat to win the $2,500 BSX stocks portfolio. The 37-year-old father of two young sons said he had no experience of personal investment and was looking forward to having a go. He will have an account set up at Butterfield Securities (Bermuda) Ltd, the brokerage that donated the prize. Mr Davidge has been a property insurance broker for 14 years and works for Aon. He said he had not done any self-directed investing before, but had often considered it. So which of the 13 companies listed on the domestic main board of the BSX will he be investing in? "I'll work that out after I get the investment account set up with Butterfield," Mr Davidge said. "The thing about these companies is that we know a lot about them, because they're in Bermuda and we use them all the time. You don't have to look through a 500-page report to get to know about them. I would look at them as fairly safe investments and they will make more than money at the bank." This year marked the second running of the quiz, after Timothy Kikuvi won the $2,500 prize last year. The six investment articles published by The Royal Gazette, which cover investment topics like the power of compounding, the importance of diversification, basic advice for a novice investor and a drill down into The Royal Gazette/BSX Index's strong returns so far this year are all still available online. To find them, visit www.royalgazette.com and type "WIW" into the search engine. Backing The Royal Gazette and the Bermuda Stock Exchange as supporters of the investor education initiative were financial-services regulator Bermuda Monetary Authority and the CFA Society Bermuda. This was the second World Investor Week, an initiative of the International Organisation of Securities Commissions, of which the BSX is a member. Securities regulators and other interested parties in 80 countries participated.
• For more information, visit www.bsx.com.

Bermuda's tenpin bowling queen Hattieann Gilbert has immortalized her story in a new book. Bowling My Way: 1962­–1987. It traces Ms Gilbert's career from a chance encounter with the sport to bowling stardom. She said: "It's my legacy and it's been worth the work. That's what my heart was saying, and that's what I did." The self-published book starts with her first publicity after Ms Gilbert's friends pestered her at age 19 to try "this new game called bowling" in 1962. The group went to the newly opened Lily Bowl in Shelly Bay. Ms Gilbert wrote: "I had no clue how this game went, but I soon realised what the game was all about and knew that this was truly a gift from above. As I never stopped playing the game from that night, the feeling seeped deep into my bones and Lily Bowl became my second home." Ms Gilbert entered her first tournament in June 1962 and took "every prize one could win". The photograph featured in The Royal Gazette at the time is reproduced in the book. Ms Gilbert, 75, said last week in bowling alley Warwick Lanes that she was forced to give up competitive bowling for medical reasons in 1987. She added: "I wish I could, and I might try. But my arm is not all that sharp." Ms Gilbert became a household name through the sport under her maiden name, Morrisette. Her career, which went international, was recognized in the Bermuda Sports Hall of Fame in 2005. But the book also chronicles the names of her fellow players over the years. She said: "So many of the people that used to bowl with me have passed, and that's sad. But the publishers have done a pretty good job." Ms Gilbert started work on her book two years ago. She included fan letters from primary school pupils who followed her progress in overseas tournaments. Ms Gilbert said she looked forward to donating copies to the schools involved. She added: "Maybe one or two children might decide they want to be like that someday."

October 15

The top job at the island's gambling regulator is still vacant more than a year after the last executive director quit. Richard Schuetz resigned from his post at the Bermuda Casino Gaming Commission in July last year and warned the island would "prove incapable" of keeping crooks out of the industry. It is understood the job has been advertised at least three times since then, most recently last week. Jamahl Simmons, the tourism minister, said in July Deborah Blakeney, the BCGC's general counsel, would fill the role on a temporary basis But applications are again being sought for someone to take the job on a permanent basis and be "responsible for the daily operations of the commission". The job advertisement said that duties included making sure gambling on the island was run "with the highest standards of honesty and integrity". The advertisement added the successful applicant would be expected to work in a "co-operative and collaborative manner with all applicable agencies both within and outside of Bermuda". Candidates must have seven years' experience in casino gambling or regulation and anyone short-listed would have to undergo "robust" background checks. The advertisement added that whoever got the three-year contract "may not hold any other office or employment". Mr Schuetz, a casino industry veteran, was appointed in 2015 and worked a notice period before he left the island last December to return to the United States. He suggested in his resignation letter that Bermuda should "seriously consider" ditching gaming altogether or risk its reputation as a clean financial jurisdiction. Mr Schuetz wrote: "My primary reason for resigning is that I have lost confidence that the Government of Bermuda and its legal system can provide the necessary protections to offer well-regulated casino gaming on the island. I sincerely believe that this island will prove incapable of keeping people with questionable backgrounds and behaviors away from the industry." Alan Dunch, commission chairman at the time, quit his post last November after the Government tabled legislation to allow the tourism minister to fire members of the BCGC and issue policy directions to the regulatory body. Roger Gros, the publisher of Global Gaming Business Magazine, said the recent job advertisement was "sensible". But he added: "The reputation of the Bermuda gaming industry now is not high. It's going to be tough for them to get somebody who can really do the job and have that integrity that they need. I don't know if they're going to be able to find that person." Mr Gros, who is based in Nevada, said "a lot of people" fitted the description advertised but most were already employed or working on a consultancy basis. He added: "To really draw them out and get them to sign a contract and come into a situation where it's unclear that you're going to have that transparency that a regulator needs is going to be very difficult." Mr Gros said that "regulatory uncertainty" had affected the confidence of potential financiers of casino developments on the island. Ms Blakeney said last Friday that inquiries about the executive director position should be directed to Cheryl-Ann Mapp, the BCGC chairwoman, who was not in the office. The Royal Gazette was told its request would be forwarded by e-mail, but received no response. Mr Simmons said in July that the Government was looking for a replacement. He later added a "full and formal update on gaming" would be "provided at the appropriate time". A series of questions, including when the public would get an update and what progress had been made to bring casinos to Bermuda, was submitted to the Government last Friday. No response to those was received by press time, although a spokeswoman said yesterday any inquiries about the job vacancy should be submitted to the "independent BCGC".

Victims of crime who seek criminal injuries compensation may have to wait years for their claims to be processed, The Royal Gazette can reveal. The lawyer for a man shot four years ago said she was told by the Supreme Court last week that the Criminal Injuries Compensation Board was "severely backlogged" and that his case had yet to be dealt with. Cristen Suess, of law firm Wakefield Quin, said she had chased the man's claim for three years. She added: "Since submitting the application in 2015, we have contacted the administrator for the CICB, via the Supreme Court Registry, on at least 15 separate occasions to follow up on when his matter was due to be heard. We were advised by the court that due to various issues with staffing and budget restraints that his application has not yet been processed. Indeed, we spoke with the court on October 8 and were advised that the CICB was severely backlogged as a result of undergoing significant internal transitions and that we would be hearing from them shortly." The CICB, funded with public money, does not appear to have released an annual report for years and the number of backlogged cases is not known. Neither Kathy Lynn Simmons, the Attorney-General, who is responsible for the CICB, nor the board responded to a request for comment. Ms Suess's client, who asked not to be named, worked in construction before he was attacked and now faces a financial struggle. The 26-year-old said: "It has affected me from working, being that I have nerve damage. It has caused me an excruciating amount of pain. I can't really do much. I'm not even able to play football any more." The father of one, who now lives in England, was attacked at a sports club by a man who was never convicted of the crime. The man said: "It was a very frightening thing to go through. I went up to the porch to give somebody something and somebody started shooting. I have permanent injuries. From my left hip down to my knee, I have nerve damage. My spine was less than a half-inch away from being severed." The victim added he was frustrated by the failure to get his case heard. He said he planned to pay his legal bill out of any compensation payment. Gina Spence, a community activist, said she was aware of another case involving a shooting victim who applied for compensation last year but had yet to receive anything. Ms Spence added: "It's really, really bad. They are on that long waiting list of people who are in dire need of help. The need is now. The impact on those that survive these incidents is immediate. The minute you are picked up and put in an ambulance, that's when the dollars start. Many of these victims don't have insurance and they face astronomical health bills." Ms Spence said that the CICB needed an overhaul as laws to govern its operations were passed long before gun violence became a serious problem. She added: "It was never designed for this magnitude of incidents." Scott Pearman, the Opposition spokesman on legal affairs, said: "Delays with the Criminal Injuries Compensation Board are particularly unfortunate because the injured who are seeking aid are victims of crime — sometimes people who suffered injuries trying to prevent crimes." He added that Bermuda had more than 30 tribunals and boards with people often confused about which to go to and that the system could be streamlined by bringing them all under one roof. Mr Pearman said: "Bermuda would benefit from a single tribunal system — allowing Bermudians to have claims and appeals addressed in one place, with one support system to consolidate, simplify, and expedite the many different procedures that exist now." Victims of crime can apply to the CICB for compensation on several grounds, including coverage for expenses caused as a result of their injuries and for financial loss owing to a total or partial inability to work. The maximum payout for a claimant is $100,000. The board was given a $325,000 budget last year and paid out $138,388 in total to claimants. Government figures show that the number of claims made to the board has declined in recent years. There were 16 claims recorded in the 2017-18 financial year, with 13 processed, compared to 26 claims in 2016, with 19 concluded. In 2015, the year Ms Suess's client lodged his application, there were 39 applications with 18 processed. The average time for processing claims was not given. There were 70 claims for compensation in 2008-09, when the average time to process an application was 15 months. The compensation board, appointed by the Governor this year, is headed by chairman Nicole Stoneham, a Puisne Judge, and deputy chairman Michael Scott, a government MP and former attorney-general. The other members are doctors Panagal Chelvam and Kyjuan Brown, and lawyers Tawanna Tannock and Paul Wilson. The previous board met only twice last year.

A new electronic land registration system will make it harder for fraudsters to steal property, the Land Registrar has said. Debbie Reid added her office had fielded complaints from people who said they had lost land, but a new electronic registration system would make it "very difficult" for deception to take place in the future. Ms Reid said: "We have had complaints at our office regarding people losing their land. Obviously we don't go into the details — we are just a records office. We always advise people to seek the advice of an attorney. But it's going to be very difficult for that to happen on the land title registration system." Ms Reid was speaking at the Hamilton Rotary Club on the island's new land title registration regime, which came into effect on August 27. The online Norwood information system, named after Richard Norwood who surveyed Bermuda in 1616, has been worked on since 2007. Ms Reid said the Norwood system removed the need for paper deeds and documents and was accessible online to everyone. She added: "Once property has been registered, it can't be adversely taken by squatters because behind it there's transparency. You can't go on to someone else's land and say that you never knew who the owner was." Adverse possession or squatter's rights has been used in the past to gain ownership of properties claimed to be abandoned when the new occupant has maintained the land for 20 years or more without challenge. The new system, set up after Parliament approved the Land Title Registration Act this summer, was praised by Lieutenant-Colonel David Burch, the Minister of Public Works. Colonel Burch said the online registry would end the "deplorable" history of property owners getting cheated out of their land. Ms Reid said that her office had "a full appointment book" of people who wanted to register, with ten applications being processed at present. She added real estate agents had "embraced" the new register. Ms Reid said: "We've been working with attorneys over the last 11 years trying to come to some sort of agreement with them. We couldn't introduce everything they wanted, but we have tried to work closely with them to get it right." Ms Reid added that Bermuda was one of the last countries to adopt an electronic system of land title registration. She said that when a property is registered, deeds are kept online with all historical documents attached. Ms Reid explained that registration is only compulsory when a property is to be sold. But Ms Reid said there was scope for examining the fee base to encourage other people, such as seniors, to sign on.

A recording of the last words of a Bermudian teenager stabbed in an English playground were played at the trial of five teenagers accused of his murder. Lyrico Steede told a police officer: "I am going to die." The first officer at the scene told colleagues: "He says it happened in this area. He says he was stabbed in the back. The officer asked Mr Steede, 17, twice: "How many people attacked you?" The stabbed youngster said: "Four." The policeman asked: "Do you know them at all? Do you know why they did it?" Mr Steede said: "No." The device also recorded a woman officer who warned that the teenager was "semi-conscious". She asked Mr Steede if there was anyone they needed to contact and the policeman said: "He shook his head." The recording, captured by a camera and recorder worn by the police officer first on the scene, was heard by a jury at Nottingham Crown Court last Friday. Police rushed to Stock Well, Bulwell, Nottingham, on the night of February 13 after a woman called emergency services to report that a man had begged her through her locked front door to call police because he had been stabbed. The woman called emergency services after Mr Steede collapsed on her doorstep. The woman told an emergency operator: "I don't know whether it is a joke or something. He told me 'phone the police, I have been stabbed'. I am on my own with my children. It is dark outside. I tried to look through the peephole. He was pushing at the door." The operator asked the woman if she thought Mr Steede was trying to get into her home. She told the operator that he had knocked on the door and said he was dying. The operator told the witness to ask for his name, but not to open the door. The witness said: "He is telling me, 'just help me, I am dying'." She told the court she was scared to open the door for fear it was a trick to get entry to the house. She added: "I didn't know if someone was trying to get access to my house to trick me. I didn't believe it was real." Mr Steede, who was living with family in Nottingham, died in hospital five days later. Kasharn Campbell, 19, of no fixed abode, and Remmell Campbell-Miller, 18, from Sneinton Boulevard, in Nottingham, are charged with the murder of Mr Steede, along with two 17-year-old boys and a 16-year-old girl, none of whom can be named for legal reasons due to age. It is alleged that the girl lured Mr Steede to the playground. The four male defendants are alleged to have chased Mr Steede and stabbed him several times after he stumbled on a railing and fell. The five defendants sat in silence as the police footage, with Mr Steede's face pixelated out, was played on TV screens in the courtroom. Matthew Evans, a paramedic, told the court Mr Steede was "drowsy" and he gave him oxygen to help his breathing. He added he radioed in a "Code Red back-up" and tried to inject Mr Steede with drugs in a desperate attempt to save his life. But he said he was unable to get a needle in "due to the veins being shut down due to low blood pressure". Mr Evans said Mr Steede's heart stopped beating and CPR and a ventilator were used. He was rushed to hospital in Nottingham, where he had emergency surgery, but died on February 21. Dr Stuart Hamilton, a pathologist for the UK's Home Office, said Mr Steede died of brain damage caused by lack of oxygen caused when his heart stopped beating because he had lost so much blood. Dr Hamilton said the "most significant injury" was a stab wound to a thigh which struck the femoral artery, one of the body's main arteries which supplies blood to the legs. He added Mr Steede had five cuts to his face, including one to the chin "down to the bone". Both his lungs were also injured but Dr Hamilton said medical teams had managed to repair them. Under questioning by Peter Joyce QC for the Crown, Dr Hamilton admitted that he could not say how many knives were used. The trial continues.

Bermuda has never faced an array of challenges to its future as an international business jurisdiction like it does today — and there is no room for complacency. That is the view of Patrick Tannock, chairman of the Association of Bermuda International Companies, who said the world was in a period of "extreme fluidity", which would require the island to not only adapt to change, but also to embrace and anticipate it. In a speech at the Bermuda Insurance Market Conference, he said the island had weathered a string of "economic hurricanes" including the Paradise Papers, US tax reform and the EU Council's economic substance requirements. This was exacerbated by changes and challenges in the island's flagship insurance industry, including consolidation, excess capital, high expense ratios, increasing regulatory demands, intense competition, as well as a race to harness the power of new sources of data and to effectively utilize fintech. "Never before has Bermuda's relevance and sustainability as an international business jurisdiction faced so many potential game-changers," Mr Tannock said in his keynote speech. "Bermuda has a great track record of responding to the opportunities and challenges that come from change, but we must acknowledge that this is different — very different. This is not a remake of an old movie or a sequel. No one has seen this movie before. This is unprecedented and will require an unprecedented response." He expressed confidence the island could survive and thrive, but it needed to evolve in this time of fast and accelerating change. We're in an era of extreme fluidity and intense creative destruction driven primarily by an increase in frequency and severity of new and existing perils, technological disruption and alternative capital, where innovation is constantly driving change and new economic orders are quickly replacing existing economic orders," Mr Tannock said. "The rate of change continues to exponentially accelerate whether you measure it in terms of computing power, contracting product cycles or the speed of emerging risk issues. The challenge and the opportunity are to keep up with the rate of change. The old dynamics that determined market cycles no longer apply and those simply waiting for a market change will eventually be challenged for relevancy. Now I'm highlighting how tough it is, because we place ourselves at risk if we are not honest – if our attitude is complacent and entitled, we will lose." He added that there was no jurisdiction better situated to capitalize on the opportunities that come from change. "I believe we must continue what we do well but with a growth mindset to doing it even better to ensure that we remain relevant and current as a market and a leading IB domicile," Mr Tannock added. He listed seven things that the island should do:
Increase speed and efficiency of execution.
Show proactive adaptability.
Maintain trust.
Enhance the customer experience.
Communicate Bermuda's value to the world.
Embrace technology.
Harness the power of diversity and inclusion.
"As long as we don't become insular with our thinking and revert to pursuing stability rather than embracing change, we will not only survive, we will thrive and flourish as a jurisdiction of choice," Mr Tannock concluded.

A group of patients hit out yesterday after they were reportedly told that police are trying to look at their health records. Officers raided Bermuda Healthcare Services in Paget and the Brown-Darrell Clinic in Smith's, which are both run by Ewart Brown, the former premier, in February 2017. At the time, police confirmed "a number of records" were seized and "significant steps" were taken to protect patients' confidentiality. However, a press release issued yesterday stated patients at Bermuda Healthcare Services remained "extremely concerned" that medical files had not yet been returned. It said they were "up in arms as they have been informed that the Bermuda Police Service is attempting to examine their records without their permission". Mahesh Reddy, the chief medical director at Bermuda Healthcare Services, said: "This is a gross breach of confidentiality. The information contained in those medical files is intended only for the patients' physicians, not the Bermuda Police Service." Dr Reddy's medical credentials were called into question by detectives but later confirmed as acceptable by the island's registration body for doctors. Dr Reddy was arrested in a raid but never charged with any offence. The Royal Gazette told last month how detectives were still investigating the two clinics over allegations they ordered medically unnecessary tests for patients to boost profits. The allegations have been denied by Dr Brown and he has not been charged with any offence. Wilma Fubler, a spokeswoman for concerned patients, said: "We, the patients, are calling on the Government to protect our right to confidentiality." A BPS spokesman said: "As this matter remains under investigation, no further comment can be made at this time."

Race relations experts from Oxford University are to visit Bermuda College for a special symposium. The event, Race and Resistance: Understanding Bermuda Today, will examine how modern Bermuda was shaped by its grim history of slavery and segregation. The conference was organized by the college and the Human Rights Commission with the Oxford Centre for Global History and the Oxford Research Centre in the Humanities Race and Resistance Network. Eva Hodgson, a veteran civil rights campaigner, will be honored for her "life of academic pursuit and dedicated activism". Three panels of speakers will discuss the role of resistance in Bermuda from foundation and emancipation, to desegregation and modern problems. One session will focus on how to tackle the legacy of racism and understand patterns of resistance in today's Bermuda. Wale Adebanwi, director of the African Studies Centre at Oxford University, modern history professor Stephen Tuck, co-director of the Race and Resistance Research Programme at Oxford, will both be involved. Phyllis Curtis-Tweed, vice- president of the college, said: "Knowledge of our history is important to understanding our strengths and amazing accomplishments as well as patterns of socioeconomic and political disenfranchisement. It is from our stories of resistance that we can draw strength and formulate ways to transform our community. Bermuda College is pleased to be a part of this important event." Lisa Reed, executive officer of the Human Rights Commission, added: "Bermuda has a rich history of activism through the varied contributions of artists, intellectuals, spiritual leaders and community groups. Much of Bermuda's history, in particular its racial history, has been painstakingly researched and mapped by individuals seeking to give voice to untold stories in order to question and challenge oppressive practices. Often-times this advocacy has come at great personal and professional cost." A publication based on the symposium will be developed for use in education. The event will be held on November 3 in room G3100 at the college from 9am until 5pm. Tickets must be reserved through www.bermuda-symposium.eventbrite.co.uk. For more information, e-mail bermudaraceresistance@gmail.com or phone 504-2543.

A diver told how a shark bumped into him underwater before it "took off" with fish and a spear from his hand. Tim Price was hunting invasive lionfish and planned to put any catch on the barbecue to serve for dinner. However, a dusky shark had other ideas and clamped hold of the prey, taking the weapon along with it. Mr Price was part of a group diving off Cooper's Island on Saturday and had two lionfish attached to his spear — one caught by him and one by his friend, Vanessa Conway — as he made his way back to shore. The 28-year-old said: "It was right at that sunset time when you get a lot of fish getting active, it would have been about 6.50pm. The shark came up and bumped me, his entire side came up and hit my side, then he pulled off and I saw him circle in front of me. He came back and just bit on to the fish, one little flick of his tail and he took off. It was so strong I couldn't hold on to the spear. The last thing I saw was the shark swimming away with the shaft of the spear sticking out. I figured he won, I'm not going to go after it." Mr Price, of Smith's, said the animal was a dusky shark between five and six feet long. With his flippers on, he was sufficiently bigger than the fish and it had "very little interest" in him. He said: "It was definitely really cool to see. Initially, of course, there is a little bit of panic when you see a shark, but they're not something that you need to be terrified of; they're just doing their thing." Mr Price added: "They are very misunderstood and in the larger scheme of things pose very little threat to humans. It's humans that pose a much more serious and realised threat to sharks." However, without the lionfish for the barbecue, he and his friends went for pizza instead. Lionfish are native to the Indian and Pacific oceans, but began to be seen in the Atlantic in the 1990s and are presumed to have been introduced accidentally from home "exotic" fish tanks in southern Florida during Hurricane Andrew. The species has since spread throughout the Caribbean and Western Atlantic — the first lionfish was caught in Bermuda in 2000. They are said to be opportunist generalist carnivores, which means they will eat anything they come across that fits in their mouths. Lionfish upset the balance of nature as Atlantic fish are not instinctually aware that it is a predator and can put great pressure on already vulnerable populations and feed on juvenile fish. Lionfish culls and provisioning for restaurants are seen as a way of controlling their population. Mr Price said: "If people are interested in getting involved in lionfish hunting they should check out the Bermuda Lionfish Culling Programme Facebook page. "Lionfish are much more dangerous than sharks, not in that they — lionfish — are venomous but the potential they have to eat all the juvenile reef fish and crustaceans and kill the reef."

October 14, Sunday

October 13

The legal profession's governing body has backed an objection to a bid to hire a top London barrister to challenge the Supreme Court ruling that quashed a ban on same-sex marriage. It is understood the Bar Council has told the Government that it does not support the application for James Guthrie QC to lead the Government's appeal. The council is believed to have ruled the Attorney-General's Chambers failed to show there were no island barristers with the appropriate expertise to argue the case. Walton Brown, the home affairs minister, confirmed in July that the Government would appeal the landmark court judgment that reversed the same-sex marriage ban. It is now up to the immigration department, part of his ministry, to decide if a temporary work permit will be approved for the QC. Mark Pettingill, lawyer for Rod Ferguson, one of the respondents in the case, said yesterday he was not surprised by the Bar Council's decision. He added: "There are criteria that must be met in order for an application to be made to bring in overseas counsel and in this case the Bar clearly was not satisfied that it was warranted. What will be interesting is that it is a matter for the minister who announced the appeal whether he adheres to, or takes the position of, the Bar Council in allowing Mr Guthrie to come in or not." Then Chief Justice Ian Kawaley struck down parts of the Domestic Partnership Act, which aimed to replace same-sex marriage with civil partnerships, in June. The appeal is due to be heard next month. A request for a special practising certificate must be made to the Bar Council for an overseas lead counsel before they can appear in Bermuda courts. Permission was sought for Mr Guthrie, a member of London-based 3 Hare Court, to act for the Crown. The website of his London chambers said Mr Guthrie, who has appeared in island cases in the past, was a "leading silk in civil liberties and human rights work". Legal teams acting for the respondents, which also include gay rights charity OutBermuda and Maryellen Jackson, were given chance to object to Mr Guthrie and at least one challenge was submitted. The Bermuda Bar Association said it cannot comment on special admission applications. But it is understood the Bar Council, which is made up of nine elected members, as well as the Attorney-General in an ex officio capacity, felt the Attorney-General's Chambers failed to meet the required criteria. The Bar Association website has an outline of the procedure for hiring an overseas lawyer. The website said: "Under the guidelines, Bar Council review the propriety of the use of foreign leading counsel for each hearing in which a client wishes them to appear before the Bermuda courts and for each application for a work permit from the Department of Immigration. If Bar Council determines that the use of foreign leading counsel is appropriate, then it issues a special practising certificate to that counsel for that hearing." The minister consults the Bar Council for its view on whether an overseas lawyer will be admitted under immigration laws. The council must consider the legal complexity of the case and its importance before deciding if there are "exceptional circumstances" that need foreign expertise. It also takes into account the availability of local counsel who can "adequately present the case". Bermuda is the only country in the world to have allowed same-sex marriage then banned it. The Domestic Partnership Act reversed a Supreme Court ruling from May last year, which had paved the way for gay couples to marry in Bermuda and on island-registered ships around the world. But Mr Justice Kawaley ruled the legislation was at odds with the Constitution, which protects the right to freedom of conscience and outlaws discrimination on the basis of creed. The Government did not respond to a request for comment yesterday.

Public opinion on the introduction of a living wage for Bermuda will be heard at a forum next week. People have been invited to listen to a panel of speakers and give their views after legislators approved a parliamentary report on the subject. Rolfe Commissiong, a Progressive Labour Party backbencher, said the event next Thursday will be "very productive". He chaired the cross-party Joint Select Committee that considered the establishment of a living wage after he campaigned to set up the group in 2016. Mr Commissiong will be on the panel along with Cordell Riley, a statistician, Reverend Nicholas Tweed, the pastor of St Paul African Methodist Episcopal Church, and Martha Dismont, the founder and executive director of Family Centre. Mr Commissiong said: "This forum is designed to be the first public forum after the historic bipartisan affirmation and support in passing the report in the House of Assembly. The PLP is reiterating its commitment to the living wage and we think this forum will be a great opportunity to continue to educate Bermudians about the issue while the Government begins the process of deciding how it is going to implement the living wage, no doubt taking into account the recommendations of the report, and secondly to get feedback from the general public about this important initiative." The PLP sponsored the event and it will be moderated by Kim Swan, another of the party's backbenchers. Proposals in the document, approved by MPs in August, included the introduction of a $12.25 an hour minimum wage on May 1 next year and the establishment of a wage commission to determine the appropriate level for a living wage, which would be implemented in May 2021. Although calculations earlier arrived at a figure of $18.23, Mr Commissiong has said that was a "benchmark". Mr Commissiong said, when the report was debated in the House of Assembly, that "most people would assume" the actual living wage rate would be between $19 and $21 an hour by the time it was in place. In its report, the JSC said it appreciated that statutory pay was not the only answer and also backed tax reform and ways to cut the cost of living in Bermuda. Mr Commissiong said he hoped the discussion, to be held from 6pm at St Paul Centennial Hall in Hamilton, would also consider income inequality and how that affected island residents. He added that countries with wide differences in earnings "usually" see a rise in social problems like gangs, violence and poor educational performance. Mr Commissiong said those problems, and others, had been "prevalent" in Bermuda over the past few decades. He added his fellow panellists came with "a very substantive and, in some cases, unique perspective that I think will make the discussion on the night very productive". Mr Commissiong said: "We invite all Bermudians to turn out, not just the PLP Bermudians. It is being hosted by the PLP but it's an event that will be open to everybody."

Disney Cruise Lines marked its first trip to Bermuda with a plaque and key ceremony. The Disney Magic stayed in Dockyard on last Saturday night, with 2,399 guests and 1,024 crew on board, after its arrival from New York City. It was the first of five calls to the island scheduled for the rest of 2018. Walter Roban, the transport minister, and West End Development Corporation representative Carmen Tucker attended the ceremony and festivities. Mr Roban said of the weekend visit: "I am delighted that after many years of discussion with Disney Cruise Line, that Disney was finally able to come to our shores. It is an honour to welcome Captain Fabian, Disney Cruise Line executives, and the Disney Magic crew and passengers." A celebration event at Heritage Wharf included a Marine and Ports tug salute, Gombey performances and a greeting from Bermuda Tourism Authority ambassadors.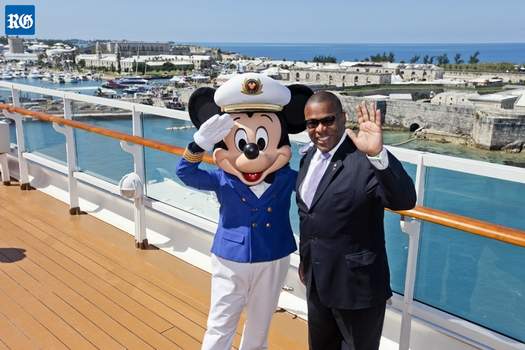 Unionized Belco workers headed to the Bermuda Industrial Union headquarters yesterday for a meeting — a week after they backed a work-to-rule at the power firm. Electricity Supply Trade Union members were called to the meeting a day after the union is understood to have communicated with Ascendant Group, Belco's parent company. The ESTU started the work-to-rule as a protest over the removal of four "qualified, displaced Bermudians" from the company. But the dispute also involved senior management. Donald Lottimore, the president of the ESTU, demanded the removal of Sean Durfy, the Ascendant chief executive, and Robert Schaefer, the chief financial officer. A work-to-rule means Belco staff will work basic hours, but overtime and emergency jobs are banned. Ascendant warned last week that the industrial action could stretch its resources and lead to power cuts for customers.

Bermudian actor Earl Cameron is to feature alongside other black stars who broke the movie "colour bar". Mr Cameron will appear in the first installment of Britain's BBC Two documentary series Black Hollywood tonight. The series premiere, at 9pm UK time, will turn the spotlight on breakthrough moments in modern black cinema with the success stories of films such as La Land and Moonlight. The programme highlights Mr Cameron as a pioneer in white-dominated cinema alongside Harry Belafonte and Diahann Carroll. He was interviewed, along with Mr Belafonte, on the experience of taking a romantic lead role at a time when interracial relationships were regarded as box office poison in Hollywood. Mr Cameron, 101, said he was aware "to a certain degree" of being a trailblazer when he appeared in the 1951 film Pool of London, the first British film to portray an interracial relationship. But he added: "To be honest, it didn't strike me as breaking ground on the racial issue. Coming from Bermuda in 1939, which was a very racist island, the degree of racism in England didn't surprise me. I had grown up with it." Mr Cameron said the role was "normal and natural" — but that it was still "a first romantic role between black and white". He added he had read about black-dominated films such as Black Panther, but that he rarely went to the cinema. Mr Cameron explained: "I live out in a small place in Warwickshire; I'm not in London any more. I don't see many films these days." The three-part BBC Two documentary, subtitled They Gotta Have Us, also includes filmmakers and actors such as Barry Jenkins, Jesse Williams, John Boyega, Don Cheadle, David Oyelowo, Debbie Allen, John Singleton and Natalie Emmanuel. Mr Cameron said he had never met Mr Belafonte — but knew Sir Sidney Poitier "extremely well".

A union is marking its 100th anniversary celebrations by appealing for donations to help raise $100,000 to provide scholarships for young Bermudians. The Bermuda Union of Teachers will celebrate 100 years on February 1 next year and has organized a series of events this year to mark the milestone. Now the union is asking businesses and organisations to donate raffle prizes for its Centenary Raffle, in which 100 prizes will be raffled off to raise cash for the scholarships. BUT president Shannon James said: "We have already had some great events marking our 100 years, notably the Caribbean Union of Teachers conference and the CUT Games which was a huge success. However, when we started planning events to mark our centenary, we were very mindful of the need to further help some of those we teach which is why we decided to try and raise $100,000 for four scholarships. We sincerely hope that members of the community, businesses and organisations will help us get 100 fantastic prizes to raffle to help us reach our target." Money raised will be split into scholarships in the name of the Union's founders: the Reverend Rufus Stovell, Adele Tucker and Edith and Matilda Crawford. Mr James said: "By naming the scholarships after our founders, we are acknowledging our past but we are also investing in our future. We believe that is a very fitting way to celebrate our 100 years."
For more information, contact the BUT on 292-6515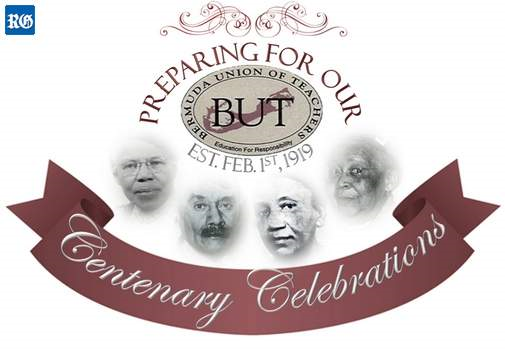 Bermuda Union of Teachers

A murder accused yesterday dismissed evidence against him as lies. Khyri Smith-Williams claimed testimony from Troy Harris was fabricated. He told Supreme Court: "This guy made up the whole fiction story in his head." Mr Smith-Williams is charged with the killing of father of one Colford Ferguson. Mr Ferguson was murdered as he worked on a house at the junction of Mangrove Bay Road and East Shore Road in Somerset in February 2011. Mr Harris earlier told the court that Mr Smith-Williams had confessed to him his involvement in the killing. He said that Mr Smith-Williams had said another man, Rasheed Mohammad, had pulled the trigger and that the wrong man had been killed. Mr Harris said that he had two conversations with Mr Smith-Williams about the murder — one in Westgate Correctional Facility and the other at the defendant's home when the two had been drinking. Mr Smith-Williams, 27, said yesterday that the two had been in prison at the same time. He told Jerome Lynch QC, his defence counsel, that the subject of Mr Ferguson's murder had never come up. Mr Lynch said that in Mr Harris's testimony he had said that he and Mr Smith-Williams had smoked marijuana together while in prison. Mr Smith-Williams said: "I never smoked weed in Westgate. Weed's not my thing." He added that he had been tested for drug use while in Westgate and had never failed. The defendant also denied he had ever discussed Mr Mohammad with Mr Harris. Mr Smith-Williams admitted that Mr Harris had visited his home in Somerset, but denied that he got drunk in the presence of the witness. He is charged with premeditated murder and the use of a firearm to commit an indictable offence. He denies both charges. Mr Lynch asked his client to "cast his mind back" to the day Mr Ferguson was murdered. He asked: "Can you recall what you were doing?" Mr Smith-Williams said that he could not. He added: "My birthday was five days before that incident. I don't even remember what I was doing on my birthday." Mr Smith-Williams said that he had heard Mr Harris had a "vendetta against Somerset guys" since he was shot in November 2015. He added: "There were rumors going around here that he was going to bring down everybody in Somerset." Leroy Mathurin, a police officer, said earlier yesterday that Mr Harris was not forced or offered anything in return for evidence against Mr Smith-Williams. His testimony backed evidence from police detective Michael Redfern on Thursday. Mr Mathurin said that he — like Mr Redfern — had been involved in the case since June 2016. He added that the pair had travelled to the UK to speak to Mr Harris about the 2012 murder of wheelchair-bound Lorenzo Stovell in Sandys. Mr Mathurin said that Mr Harris said he also wanted to give police information on another case. He added the two officers spoke to Mr Harris about the murder of Mr Ferguson in another interview later the same day. Mr Mathurin said: "The only thing he mentioned was the welfare of his family." He added that Mr Harris did not ask the officers to return for a third interview to discuss the Ferguson case. But Mr Mathurin said he and Mr Redfern had visited Mr Harris again to "put the specifics" of the case to him. The trial continues.

October 12

The island's power supplier is now halfway through a 14-day union ultimatum to reinstate four management staff, but neither side in the dispute would say if talks have taken place. Unionized Belco workers adopted a work-to-rule last Friday in the wake of an emergency meeting the day before. Ascendant, the parent company of Belco, warned that the industrial action could lead to blackouts. The company has tackled minor outages this week, but union staff have refused to work emergency shifts or overtime. Donald Lottimore, the head of the Electricity Supply Trade Union, gave the firm two weeks from last Friday to reinstate four "qualified, displaced Bermudians". The union also demanded the removal of Sean Durfy, the Ascendant chief executive, and Robert Schaefer, the company's chief financial officer. The standoff came after an announcement from Ascendant Group that four senior executives had been made redundant or resigned. Denton Williams, senior vice-president of Ascendant and CEO of Belco, and Zehena Davis, Ascendant's vice-president of human resources, both quit. Michael Daniel, Ascendant's senior vice-president and chief strategic development officer, and Carol Ross-Desilva, Ascendant vice president of organizational excellence, were made redundant. The controversy sparked concern from David Burt, the Premier, and Walton Brown, the home affairs minister. Ascendant's board of directors said last Friday they were "reaching out" to the ESTU and the Government to begin talks. However, the company's last public statement was a warning from Ascendant last weekend that the work-to-rule would leave the company short staffed, which could lead to "prolonged outages". Belco reported an outage on Wednesday that left five customers without power in the Tucker's Point area until early afternoon yesterday. Another seven customers near Gates Bay, St George's, lost electricity yesterday, but power was restored by 5pm. ESTU's restrictions mean outages that fall outside normal working hours could leave customers in the dark. The Collective Bargaining Agreement between the ESTU and Belco rules that emergency overtime is "required from time to time" because of "the nature of the electricity supply industry". Industrial relations rules say that any "lockout, strike or irregular industrial action short of a strike" is illegal without at least 21 days' notice. It is understood that the ESTU replied to a letter from Ascendant last night, but that no meeting date was arranged. The Royal Gazette asked Ascendant, the ESTU and the Ministry of Home Affairs if talks had been arranged or if arbitration was under consideration. None of them responded.

A man who hit a female American tourist in the face during a string of violent robberies has been ordered to appear in Mental Health Court. Jah-Rome Hill, 37, admitted attacking the tourist and two pizza shop employees, within hours of each other. He also pleaded guilty yesterday to three charges of shoplifting goods with a total value of $26.70. Magistrates' Court heard that Hill attacked a 25-year-old American visitor from behind near Somerset Bridge on August 20. He covered the woman's mouth, hit her several times in the face and demanded money. The woman told Hill that she had only a credit card and he forced her to an ATM at nearby Robinson's Marina. The tourist escaped while she was at the gas station and shouted for help, but Hill ran away. Witnesses told police the attacker had distinctive braided hair and a bright T-shirt. Hill struck again in the early hours of the next day when he attacked two Four Star Pizza staff with a piece of wood as they left the Sandys branch at about 1.15am. Hill battered one of the men with the piece of wood and stole his wallet, which contained $170. Magistrate Juan Wolffe adjourned the case until October 29.

A witness in the case against a murder accused was promised nothing for his testimony, a police detective told a court yesterday. Detective Inspector Michael Redfern said that Troy Harris was not forced or offered anything to give evidence against Khyri Smith-Williams, who is charged with the 2011 killing of Colford Ferguson, a father of one, as he worked on a house at the junction of Mangrove Bay Road and East Shore Road, Somerset Island, in February 2011. Mr Redfern, of the serious crime unit, said that he had been involved in the case since June 2016. He told the jury that he and fellow officer Leroy Mathurin carried out the first of two interviews with Mr Harris at a prison in Birmingham, England, that month. Mr Redfern said they went to England to talk to Mr Harris to gather evidence in connection with the murder of wheelchair-bound Lorenzo Stovell on Boaz Island, in Sandys in 2012. He said that Mr Harris told the officers that he had other information he wanted to provide. Mr Redfern said that Mr Harris talked about the murder of Colford Ferguson in another interview later the same day. Carrington Mahoney, for the prosecution, asked Mr Redfern: "Did he make any requests of you before giving this information?" Mr Redfern said that Mr Harris had not. He added: "The only thing he highlighted was concerns for his family and himself." Mr Redfern said that he believed at the time of the interview Mr Harris's mother was living on Somerset's Broome Street. Mr Mahoney asked: "Did you promise him anything before, during, after?" Mr Redfern replied: "No, sir." Another interview with Mr Harris took place in July 2017 at Oakwood prison in Staffordshire, England. Mr Mahoney asked: "On this occasion did he make any requests of you? Did you promise him anything? Did you threaten him in any way?" Mr Redfern replied no to all three questions. He added that neither he nor the Bermuda Police had anything to do with Mr Harris being moved from Birmingham to a more modern jail in Staffordshire. Jerome Lynch QC, defence counsel for Mr Smith-Williams, said that there were at first a number of suspects identified by police in connection with Mr Ferguson's murder. Mr Lynch told the jury that another man, Duante Darrell, had been "bragging" about having committed the murder, which was used as grounds for a warrant for police to search Mr Darrell's home. Mr Smith-Williams, 27, is charged with premeditated murder and the use of a firearm to commit an indictable offence. He denies both charges. Mr Harris said that Mr Smith-Williams had confessed his involvement in the killing to Mr Ferguson. He added that Mr Smith-Williams had told him it was another man, Rasheed Muhammad, who pulled the trigger and that Mr Ferguson was the victim of mistaken identity. The trial continues.

Police have launched an internal inquiry after a driver alleged to have been "drinking the whole day" was allowed to walk away by officers having crashed his car. An e-mail exchange that came into the possession of The Royal Gazette — between a witness to the crash and Chief Inspector Robert Cardwell, the head of traffic policing — confirmed an investigation into the conduct of the two officers who attended the crash scene. Mr Cardwell told the female witness: "I am exceptionally disappointed and perhaps frustrated. What has happened flies in the face of all our efforts to combat instances of impaired driving." The incident happened on Sunday night after the man was seen by Mr Cardwell drinking at the Spanish Point Boat Club in Pembroke. Mr Cardwell was at the club as commodore for the Bermuda Power Boat Association, which was holding its season-ending series races on Sunday. He told the witness: "The attending officers have reported they detected no signs of impairment at the collision scene. I happened to be at SPBC through the day on Sunday, organising and facilitating the powerboat races. I saw the driver at the bar the whole day, drinking beers." He added that there was a strong possibility that the man was over the drink-driving limit when he got behind the wheel and crashed into a utility pole in the car park at grocery store M Soares & Sons on Spanish Point Road at about 9pm. Mr Cardwell told the woman he would make a report to Deputy Commissioner Paul Wright, who is in charge of service discipline, because there was evidence there had been a breach of "professional standards, code of ethics and code of conduct". He added: "I am aware that the deputy commissioner will launch a formal internal inquiry, which is likely to identify a breach of the code of conduct and could result in the officers in question requiring retraining." No one was injured, but power supplies were interrupted until a Belco crew repaired the damage. The witness, who asked not to be named, wrote to the police on Monday and said that the driver of the car was seen drinking alcohol by several people over the course of the day. She added that the two officers attending the scene did not conduct any sobriety field tests or demand a breathalyzer test. The witness said: "You could smell the alcohol on him. Why did the officers do nothing? Why are we left having to risk our lives as we come and go while he continues to be belligerent and get behind the wheel? What will it take? Him killing an innocent family before something is done?" A police spokesman said: "The BPS has received information that we will follow up on with a view to determining if the officers have breached any of the standards of professional behavior."

A dairy farm accused by neighbors of causing a stink may soon have new owners and no more milking cows. A Department of Health spokeswoman told The Royal Gazette yesterday: "The Department of Health is aware of discussions ongoing between Green Land Dairy Farm and potential buyers. Officials from the department are monitoring the discussions and assisting to ensure that, whatever the outcome, the current issues will be resolved." Michael Dunkley, MP for Smith's North, whose family milk business is the farm's only customer, said: "I'm aware there have been some discussions about a sale. I'm not aware that it's actually been finalized." Mr Dunkley, a former One Bermuda Alliance premier, added that owners Valter and Lidia Medeiros had carried out "significant work" to try to resolve the manure smell that sparked complaints from neighbors. He said it was "very clear" that the potential buyer planned to make tackling the problem "one of the No 1 priorities". They were speaking after senior environmental health officer Armell Thomas suggested last week that the sale had been completed. Mr Thomas wrote an e-mail to area residents last week saying that the farm had been sold and would be taken over on November 1, although he did not name the buyer. Mr Thomas said in the e-mail: "The new owner knows the current issues and nuisance the farm has created for the past year and more. The owner is keen to resolve the stench immediately. I only found out about this today, as the new owner came to visit me at my office to inform me and our team. He has a plan for the smell and he will occupy three farms. He would move the milking cows to Spittal Pond; he would send the heifers to St George's." Mr Thomas thanked residents for their patience over the smell problem. He added: "The new owner's first priority is to reduce the nuisance complaints and move forward in the best possible way for the public. I will not release the new owner's name until it's made public. He is willing to invest into the farm to improve the standards and conditions, and smell, and implement a feeding management plan to reduce the pigeon population. The new owner knows the responsibility and also knows he needs to act fast to resolve this matter." Mr and Mrs Medeiros took over Green Land Dairy Farm, on government land at the corner of Store Hill and Middle Road in Smith's, in November 2014. The couple negotiated a 25-year lease with the Government, the first two years of which were rent-free, to allow them to make $1 million of improvements to what they said was a "broken-down" facility. The couple gained planning permission for a covered cow shed and a manure pit alongside to create what they said was a far happier environment for their cattle. However, neighbour complained that the changes created an "unbearable" stench and an "epidemic" of flies and asked environmental health officers to step in. The farmers pledged this year to install specialist equipment to try to solve the problem. Mrs Medeiros said at the time: "We are doing everything we can do to try to make things better for our neighbors, but you just can't make some people happy." Both Mrs Medeiros and a spokesman for area residents this week declined to comment on the sale.

A new documentary featuring international celebrities and Bermudian figures, which is backed by Hollywood superstar Sharon Stone, will be screened next week. We the People: A Re-evolution of Economics and Politics features interviews with Deepak Chopra, a controversial US-based doctor, writer and speaker; Hollywood star Mark Wahlberg; and TV and film star Michael Beck. Claudette Fleming of Age Concern, David Burt, the Premier, and Dame Jennifer Smith, a former premier, also appear in the documentary. The film was directed by Emmanuel Itier and was produced by Bermudian businesswoman Dawn Zuill, with film star Stone as executive producer. The same team was involved in the award-winning documentary Femme: Women Healing The World, which also featured a mix of people from around the world. Ms Zuill said: "These amazing documentaries have inspired and encouraged a new way of thinking for me personally. Over the years, we have met countless new and inspirational people and through this journey I have found a purpose, a better way of being on this planet." She told the public: "I hope you all take the opportunity to see this brilliant film and, more importantly, my hope is that you come away from it inspired" Mr Itier said: "We The People is a call for action, a call for you to run for office, whatever your office is, whether it's your social club, your church, your legislature, your school district. "We The People is an invitation to become peace in action and for each of us to become a leader and be part of the change we want to see in this world." The documentary has already won the Best Director Award at the Awareness Film Festival and the Global Citizen Award from the United Nations Association. It will be screened at the Bermuda Underwater Exploration Institute on Crow Lane in Pembroke on October 18 as part of a partnership between Ms Zuill's Queen Group and BUEI Films. The event will start at 6.30pm with a reception, which will include an opportunity to meet the director. Tickets cost $25 for BUEI members, $30 for non-members and $15 for students. Tickets are available at the BUEI gift shop or by phone at 294-0204.

A psychologist warned yesterday that the island could be under a "cloud of collective trauma" after generations of racial injustice. But Samvedam Randles said it could be difficult to tackle problems that people were faced with every day. Ms Randles said: "It is very hard to see your own trauma when you live in it, it is normal to you, but when you are with other cultures ... suddenly you have all these mirrors that are able to speak to you in a way that is very hard to do when you sit in it." Ms Randles added: "I do not know anything about how your island is structured but it would have to be such a priority to sit with this, to sort this out, not about white or black, but what is our collective trauma on this island — that we simply keep swimming in and we can't shift?" She was speaking as part of a panel at the Adverse Childhood Experiences conference, alongside Richard Honigman, a chairman at New York and Grenada-based vulnerable children's charity Reach Within, and Christiana Awosan, a family therapist and researcher, who works in New York and New Jersey. The two-day event, scheduled to end today, was organized by Family Centre at the Hamilton Princess & Beach Club. It brought together Bermudian and international experts to raise awareness of childhood trauma and how to deal with it. Sharol Simmons, a retired clinical social worker, told the conference she had been involved with the Commission for Unity and Racial Equality, the first official government body set up to promote equal opportunities and bring the island's people together. She said: "We conducted several workshops, not enough in my opinion, bringing whites and blacks together to talk about this whole issue, It was very good. There were some whites who just couldn't get it. So I sit here, listening to this discussion, and I'm just listening and talking again; this just continues in Bermuda. I, as a black person, know what I have gone through, and am still going through. I have a nine-year-old grandson who's going through it now, raising issues about the colour of his skin, and he's fairer than myself, but he made a comment that bothered me about 'I don't want to be darker'. And I said, OK, where is that coming from? It's not coming from the home environment. So I raise the question here, as a black person. I'm tired of it, I'm retired but I'm tired of this crap, this racism in Bermuda." She said the only change she had seen was through the work carried out by Citizens Uprooting Racism in Bermuda. Ms Simmons asked the panel — two of whom were white — what they felt and thought when they heard black people "stand up and talk about this situation with respect to racism?" She added: "I do understand there's privilege that comes along with racism, but where is the humanity from whites in this country?" Ms Randles, a German-born psychologist and trainer who has lived and practiced in and around Boston for 30 years, said she could "feel the tiredness" from Ms Simmons. She added: "I do not know Bermuda that well but I can imagine that there is a cloud of collective trauma here that is very hard to address because you all live in it and you've lived in it for generations." The panel was earlier asked: "What story would we tell if we got it right?" Dr Awosan suggested the newspaper headline: "Racial trauma is real and white supremacy is dead." She explained that would mean people could then "really acknowledge" the trauma of racism, slavery and colonization. Dr Honigman told the conference strong relationships in families and society could bring change, such as improvements in educational achievement and a fall in levels of drug abuse. He said that the island would start to see a "major decrease" in conditions like asthma, obesity, heart disease, cancer and high cholesterol over generations. Dr Honigman added: "All these illnesses have been tied to adverse childhood experiences that have gone unrecognized and under-addressed. And society would improve, there would be more money available for beneficial aspects of society rather than having to make remediation."

October 11

2018. October 10. Holiday home rental site Airbnb will collect a tax on the properties in return for extra marketing, the tourism minister said yesterday. Jamahl Simmons said Airbnb would collect the 4.5 per cent vacation tax direct from guests when they book an island getaway and forward the cash to the Government. The money will be used to help promote Bermuda's tourism industry and will include "destination marketing" on Airbnb to target a bigger audience of potential tourists. Tourist services in Bermuda will also be highlighted on Airbnb's Experiences webpage and allow property owners to promote themselves through the site. Kevin Dallas, chief executive of the Bermuda Tourism Authority, said the link-up was "an exciting opportunity for our hosts and for our island". He added: "This is another opportunity where Bermuda's entrepreneurs can do what we've always been good at — making our customers feel comfortable, special, and welcome." The new arrangement will start next month. Carlos Muñoz, a spokesman for Airbnb, said that collection of the tax would not affect property owners' profits. He added: "It is much simpler for the guests — no added paperwork and no filings or any additional costs." Airbnb's Experiences page will also vet other tourism services like tours and restaurants before they are added to the website. Mr Muñoz said: "Airbnb has come to realize that a person's greatest asset is their time and through Airbnb Experiences we provide a channel through which anyone with a hobby, or a passion, or a special skill or an interest can monetise their time, share it with somebody that may be visiting, and improve the overall experience for that guest in Bermuda." Mr Simmons added: "The growth of vacation rentals provides an exciting opportunity to bring back the warmth, hospitality and friendliness that has lured tourists to our shores time and time again." He added that the Government planned to monitor the sector for any housing problems that might result because of properties being used for Airbnb rentals. Mr Simmons said: "I think it's important to note that we are aware of this and we do not want to displace Bermudians just simply because of an entrepreneur opportunity, but we also recognize that people have choices and want to enter the space."

Bermuda Medical Specialties Group has added cosmetic plastic surgeon Peter Schwartz to its team of physicians. Board-certified by the American Board of Plastic Surgery, he specializes in cosmetic plastic surgery of the face, breast and body. Dr Schwartz is the chief of plastic surgery at Syosset Hospital. He also has privileges at North Shore University Hospital, Plainview Hospital and Glen Cove Hospital. With more than 20 years' experience, Dr Schwartz specializes in various types of cosmetic plastic surgery procedures: facelifts, mini-facelifts, eyelid surgery, endoscopic surgery with small incisions, nose reshaping, breast augmentation/lift/reduction, liposuction, tummy tucks and many minimally invasive procedures. He also speaks fluent Italian, French and German. Dr Schwartz is a member of the American Society of Plastic and Reconstructive Surgeons, the American Society for Aesthetic Plastic Surgery, the Liposuction Society of North America, the New York State Medical Society and the Nassau County Medical Society. Arlene Basden, medical director at BMSG, which is based at 3 Reid Street, Hamilton, said: "In addition to improving one's appearance, cosmetic plastic surgery can be a medical solution for matters such as back and shoulder pain, loose skin and disfigurement due to accidents." Dr Basden added: "Residents of Bermuda demand access to a very high standard of medical care that many go overseas to receive it. We are very fortunate that Dr Schwartz has made his talent available to us in Bermuda." Dr Schwartz said: "The highest concern in my practice is the exceptional and individualized care of our patients, before, during and after cosmetic plastic surgery to improve their self-image and boost their self-esteem. Personalized excellence in cosmetic plastic surgery procedures is delivered through a continuous quest for outstanding medical knowledge with continuing education, combined with an artistic sense and use of the latest proven technological advances in cosmetic plastic surgery."

Work is to be carried out to fix a range of problems at an ageing health clinic in Hamilton, the health minister promised yesterday. Kim Wilson said that the ministry had been in talks with staff and was working with the Ministry of Public Works to carry out repairs. She said: "The primary challenge is that the maintenance teams have been unable to fully repair the problems and restore the facility to minimum operations. Staff and management are equally concerned about the impact on our patients and the uncertainty of service provision. We are working to stabilize services in relocated venues. There are also concerns with previous structural problems and repairs under way which are not yet completed and were disrupting services before the health centre closure. We are now expediting these repairs to ensure they can be completed as quickly as possible." Ms Wilson was speaking after staff at Hamilton Health Centre in Victoria Street met the management team in the building's car park yesterday to register their complaints about the building. Ms Wilson said the government staff had "frank discussions" and that the Government appreciated their concerns. Ms Wilson added: "The health centre has been under stress over the past month due to a number of structural problems with the facility and, most recently, three floods at the Hamilton Health Centre, water quality issues and several unsuccessful attempts to resolve the problems. "The fire at Warwick Clinic further compounded the demands placed on our resources. Department of Health management and staff, along with the Ministry of Public Works, are working together to find the cause of the continued problem, in order to restore operations at the health centre. " She explained that part of the problem was caused by old pipe work in the building." The building itself is quite old and the piping is primarily made out of galvanized pipes. During the course of a flood several weeks ago, they recognized that the pipes were in poor condition and they needed to replace them with the PVC pipes. When the pipes busted, the pumps busted and they had issues with the pumps because of the plumbing issues, but public works are working with us diligently to try to repair all of that so we can get the services operational as soon as possible." Ms Wilson was unable to estimate the cost of the repair work. She added: "We appreciate staff frustration as this has been going on over this period of time and there is no end in sight at this moment. We are deeply appreciative of their patience and share their primary concern with the impact on patients and the public. In the longer term, the ministry and Government will have to reconsider the adequacy of the health centre to meet the needs of public health services. This will be an ongoing discussion, but at this moment the priority is stabilizing services to the public and restoring the Hamilton Health Centre to be operational as soon as possible."

Deputy Commissioner of Police Paul Wright is to retire next month, he announced yesterday. Mr Wright said that new commissioner Stephen Corbishley had "energised the senior leadership team as well as the rank and file of the service". He added: "It is with this optimism in mind that I feel confident that the time has come for me to retire. I have had a stimulating and diverse policing career spanning 40 years, 34 of which have been with the men and women of the Bermuda Police Service, of whom I am so proud." Mr Wright has worked in many areas during his career on the island, including community policing, criminal investigations, Special Branch, intelligence and serious crime. He has been either Assistant or Deputy Commissioner for the past seven years. Mr Wright began his career with Humberside Police in the North East of England in 1979 and moved to Bermuda six years later. Mr Corbishley said: "Deputy Commissioner Wright has given 40 years of his life to policing. He has shown exceptional leadership during times of unprecedented violence, economic challenge and constant change. Indeed, he has been at the forefront in developing a new community policing model for Bermuda that will be introduced over the coming months. He will be greatly missed by colleagues in the police and within other government departments." Mr Corbishley added: "On a personal level, Mr Wright has been extremely supportive to me in my first months as police commissioner, enabling me to understand the needs of our officers and staff and most importantly the public service wanted by our local communities. I wish him the very best of luck as he retires as an exceptional police officer." Mr Wright's retirement will leave a gap in the top management of the police. The two assistant commissioners are Antoine Daniels, who joined the service in 1984, and Martin Weekes, who joined in 1988 after 11 years' service with Kent Constabulary in England. If one of the two is promoted to deputy commissioner, the next ranking officers, all superintendents, are Sean Field-Lament, James Howard and Darrin Simons, who would be available to fill the vacant assistant's role.

A witness in a murder trial was branded a liar by the defendant's lawyer yesterday. Jerome Lynch QC accused Troy Harris of dishonesty in his evidence against Khyri Smith-Williams, who is charged with shooting Colford Ferguson as he worked on a building job. Mr Lynch told Mr Harris: "You have lied to police in the interviews you gave them and lied to the jury in the same way." He highlighted apparent differences in statements Mr Harris had made in two police interviews and during his evidence in court. Mr Lynch questioned Mr Harris's testimony from Tuesday about the first time police had visited him in the UK about the murder. He asked Mr Harris: "Do you remember saying you had no idea why they were there at all?" Mr Harris said: "I don't know why they came at the time." Mr Lynch referred to a transcript of the police interview that said Mr Harris had invited police to speak to him. He asked the witness: "Do you agree that what you told police is different from what you provided yesterday? You told the jury yesterday that you had no idea police were coming." Mr Harris explained that he knew that he would be providing information to police — but that he did not know exactly when they would be coming to interview him. Mr Lynch also questioned Mr Harris's friendship with Mr Smith-Williams. Mr Harris told the court earlier that he had met Mr Smith-Williams when he was aged 10 or 11. Mr Lynch asked if Mr Harris knew that around that age his client had lived in Austria. Mr Harris said that he did not know that Mr Smith-Williams had lived overseas. Puisne Judge Carlisle Greaves interrupted and told Mr Lynch: "I don't know where you are going with this." Mr Justice Greaves added: "Let's move on." But Mr Lynch explained that he was trying to highlight that people said to be good friends knew about one another's lives. Mr Harris, a former gang member, told the court on Tuesday that he had been shot in November 2015. But he said that he did not know who had pulled the trigger. Mr Lynch asked Mr Harris why he had not gone to his "good friend" Mr Smith-Williams afterwards to try and identify who was responsible. He added: "And yet the same person volunteered to you information about somebody that he says he was involved in shooting?" Mr Harris replied: "Yes sir — 150 per cent." Mr Lynch also asked if Mr Harris had followed the news to research the shooting of Mr Ferguson. Mr Harris said "No. I don't need to." Mr Ferguson, 29, a father of one, was shot as he worked on house near the junction of Mangrove Bay Road and East Shore Road in Somerset in February 2011. Mr Smith-Williams, 27, is charged with premeditated murder and the use of a firearm to commit an indictable offence. He denies both charges. Mr Harris said that Mr Smith-Williams had confessed his involvement in the killing to him. He added that Mr Smith-Williams had told him it was another man, Rasheed Muhammad, who pulled the trigger and that Mr Ferguson was the victim of mistaken identity. Mr Lynch suggested that Mr Harris, who is serving a jail term in the UK, was motivated to give evidence against Mr Smith-Williams to make his own situation better. But Mr Harris told him that committing perjury could lead to his own prosecution. He added that he would be returned to Britain after the trial to serve out the rest of his sentence. Mr Harris also insisted that he had not been offered incentives for his co-operation in the case. He said that it was his conscience that motivated him to come forward. The trial continues.

Bermuda's only ghost tour is expanding its offerings during October in partnership with Disney Cruise Lines. Haunted History's popular experience was selected as a "Port Adventure" on board the Disney Magic, which made the first of five visits to the island last weekend. The East End tour has a Halloween theme throughout the month, with support from the Bermuda Tourism Authority and Meyer Travel Agency. In order to appeal to Disney, Haunted History had to offer more than its regular weekly tour. "They approached me about Haunted History very early on, but wanted it to have the 'Disney difference', an experience that their guests cannot get anywhere else," Kristin White, executive producer and storyteller with Haunted History, said. "I decided that, in addition to offering a longer tour, a cool twist would be to add dining on the Deliverance replica ship." Guests explore the ship and have a casual supper on board, which has a few ghostly touches added, Ms White placed fake bones and spider webs around the decks to increase the creepy factor. "St George's Foundation is always looking for more groups to make use of Deliverance," she said. "Yes, it's a lovely space for people to learn about the early history of Bermuda, but it can also be an event venue. For Haunted History, the ship is great with a ghostly theme, so was an ideal supplement to the tour." October is a busy month for Haunted History, which hosts extended Halloween tours with scary extras. "The week of Halloween has always been a highlight for us," Ms White said. "There'll be dinner discounts, special treats bags, and a few spooky surprises." Haunted History was created in 2015 and tours run at least once a week. Ms White says that the success of Haunted History over the last four years is proof that people want a more interactive learning experience in St George's. She said: "I add in a few ghost stories here and there, but mostly, I research and tell true stories. Before Haunted History, I'd hear people say that tourists aren't interested in history. But I know that's not true. I am eager to continue showcasing the unique history of the East End, and to explore partnerships with other museums and historic attractions." The tour departs from Ms White's store, Long Story Short, on Water Street every Thursday night at 8.30pm, with special Halloween Tours on October 28, 29, and 30.

October 10

Two Opposition politicians vowed to keep fighting for their constituents after they were dumped from shadow ministries in a One Bermuda Alliance shake-up yesterday. Jeanne Atherden and Michael Dunkley said they remained committed to the party despite speculation that new OBA leader Craig Cannonier is planning a future without them. The pair, along with Trevor Moniz, were sidelined without advance warning of the announcement of a new Shadow Cabinet line-up. They were the only three OBA MPs not at a meeting last month when their eight House of Assembly colleagues backed a motion to oust Ms Atherden and reinstate Mr Cannonier, a former premier, as Opposition leader and leader of the party. A party insider claimed the move sent a clear message that there was a push to ditch key players from the former United Bermuda Party, which merged with the Bermuda Democratic Alliance to form the OBA. But Mr Cannonier insisted he was not "trying to get rid of people". Ms Atherden, a former UBP chairwoman, lost her shadow finance brief to Nick Kempe, the new Opposition Senate Leader. Mr Dunkley, who has been an MP for the UBP and OBA for 21 years, was Shadow Minister of National Security until the role was handed to Ben Smith, in addition to his social development and sport remit. Mr Moniz has served for 25 years between the two parties and was Shadow Attorney-General until he was replaced by Scott Pearman, who won a by-election in June, with the title of Shadow Minister of Legal Affairs. A party insider said: "Mr Cannonier has made a very bold and decisive move to remove portfolios from those that did not support him. While all three have made relevant contributions, this must be an indication that their time is up. Mr Cannonier's move is not subtle and hopefully it will be heard." The source added: "Presumably the aim is to get the old UBP guard out to make way for others to come in and fill the gaps." But Mr Cannonier, who led the OBA to victory in the 2012 General Election, said: "This is about us changing course. Certainly we have the expertise to carry ourselves well within the House of Assembly." He added: "This is about giving some of our newer MPs a chance to really get their teeth into the politics and sometimes you need to nudge people or you need to give them just a little push so that they get immersed into the process of getting Bermuda to a better place. This was never a move of trying to get rid of people. This really is about allowing some of the talent that we do have to flourish." Mr Cannonier, who resigned as premier in 2014 amid controversy over a flight on a private jet owned by an American business tycoon, said the party had "some senior members" and the changes were "utilising that expertise and putting it into our new members". Mr Cannonier confirmed he had not told the three axed shadow ministers about the shake-up and said that was not "something that is customarily done". Cole Simons and Patricia Gordon-Pamplin, both former UBP MPs, survived the cull and both have extra responsibilities. Mr Simons added economic development to his education portfolio and Ms Gordon-Pamplin becomes the shadow health minister. She will also lead on financial matters in the House of Assembly because Mr Kempe sits in the Senate. Mr Cannonier, who now also has responsibility for public works, said he planned to have a team that listened to people and would be "vocal" in holding the Government to account. Ms Atherden said she looked forward to seeing the group "go out and do the job they said they want to do". She added: "The only message that I read is the message the people of Bermuda are telling me — stay in there, we like what you're doing, we respect your efforts." She added: "I will be there as long as I'm an MP. I've made a commitment to my constituents and I will be working on their behalf." Mr Dunkley offered his best wishes to the Shadow Cabinet members and said: "Leadership decisions are always questioned but not today by me, publicly. I know how tough it can be as a leader. After all, against the grain of public opinion, I gave Craig Cannonier a second chance after Jetgate and asked him to serve in the Cabinet." He added: "I have no intention of stepping back at this point in time, I think the country faces too many challenges." Mr Moniz could not be contacted for comment. Owen Darrell, the Progressive Labour Party chairman, said last night: "The OBA have once again reached into their old bag of UBP tricks by selecting a front bench that attempts to hide their true origin." He added: "The deck of the OBA may have been shuffled and a few cards hidden up their sleeve but the OBA's ideology remains intact."
THE NEW SHADOW CABINET
Leader and public works: Craig Cannonier
Finance: Nick Kempe
Legal affairs: Scott Pearman
Deputy leader, tourism, transport and regulatory affairs: Leah Scott
Social development, sports and national security: Ben Smith
Home affairs and environment: Sylvan Richards
Health, and spokeswoman for finance in the House: Patricia Gordon-Pamplin
Education and economic development: Cole Simons
Whip and government reform: Susan Jackson

A vision for the future of Bermuda's electricity sector — involving nearly two-thirds of the island's power supply coming from renewable sources within 20 years — has been put forward by BE Solar. The centerpiece of the plan is a proposal for an offshore wind farm, with turbines set up six miles west of Dockyard, and a growth in the amount of rooftop and utility-scale solar projects. BE Solar produced the 56-page report in conjunction with sustainability engineering firm Etude as an alternative to the Integrated Resource Plan already proposed by electricity utility Belco. The plan, which offers several different scenarios, is one of eight IRP alternative proposals that have been filed with the Regulatory Authority of Bermuda. A consultation period on the IRP alternatives is open, with the public being given until November 13 to submit their views to the regulator. Describing the preferred "optimum renewables" scenario, in The Bermuda Better Energy Plan, BE Solar's report states: "Mid 2023 is a pivotal year for Bermuda's energy history as a 60MW offshore wind farm comes online, significantly reducing the island's use of fossil fuels in a single project. By the late 2030s several thousand electric vehicles, with a total battery capacity exceeding 145MWh, play an important role in providing demand response. By the end of 2038, wind and solar provide 64 per cent of the island's energy for a stable cost. Around $100 million a year stays within the local economy that historically would have been spent importing fuel." A 60-megawatt offshore wind farm could be established less than six miles offshore and would likely consist of 12 larger 5MW turbines or 20 smaller 3MW turbines, the report states. Capital costs for the wind farm would amount to about $300 million, based on the proposal's estimated cost of about $5,000 per kilowatt. The estimate "reflects substantial cost reductions that have recently taken place in the industry, which would be expected to continue through to 2022", the reports states, adding that weighted cost of capital was assumed to be 7.5 per cent. Fixed operational and maintenance costs were assumed to be $21 per kilowatt, amounting to $1.26 million per year. The report sees a massive role for energy efficiency measures in reducing overall demand for electricity on the island, with lighting, water heating and cooling offering the greatest opportunities for reductions of more than one third in power consumption, using existing technologies. Commercial and office buildings have great scope for cutting costs, particularly with lighting and cooling, the report adds. It cites case studies featuring recent building improvements. The Cumberland House office building, for example, achieved a more than 40 per cent reduction in energy consumption, by modernizing its lighting, sub metering and installing a building management system. The report states: "The cost of these works was $600,000 with retrofit measures completed in 15 months. The electricity consumption was nearly halved, and the project completely paid for itself in 33 months." The optimum resources plan anticipates up to 84MW of solar capacity by 2038. It highlights several potential sites for bulk solar production, including the airport, St David's and Cooper's Island water catchment areas, Tudor Hill and the rooftops of some large buildings. The report concludes that electricity costs vary little between its cheapest and most expensive scenarios. The lowest cost, 22.56 cents per kilowatt hour, would come from Belco continuing to use oil fuel, combined with efficiency measures. The highest cost, 23.87 cents per kilowatt hour, is the optimum renewables option. However, maximizing renewables, with Belco burning LNG, has a huge environmental advantage, with carbon emissions 62 per cent lower. BE Solar calculated a lifetime average, or levelised, cost for renewable energy sources based on factors including capital cost, weighted average cost of capital, maintenance costs, system lifetime and capacity factor. The report sets out an "action plan" that starts out the building of consensus around an energy plan that Bermuda supports. The building of the offshore wind facility could be completed by 2023, the report states. It argues that liquefied petroleum gas could be a better bet for the island than LNG as it offers similar benefits in terms of cost and carbon, while providing greater flexibility for the island in an environment of declining fossil fuel use. As a result, it sees plans for an LNG regasification terminal being scrapped.

Family members can take advantage of vulnerable seniors when they are most in need of care, an expert has warned. Keeona Belboda, the manager of the Government's Ageing and Disability Services, said there had been a "horrifying" rise in complaints about elderly people who signed over rights to relatives when they were sick. Ms Belboda added that relatives were among those who exploited situations where elderly people were in poor health. She said: "What we are seeing a real increase on is the number of persons that have been obtaining power of attorney when the senior is not in their best medical state. For example, if a senior has just had a stroke or something, persons are going to the hospital with the relevant power of attorney documents." She continued: "If they're being hospitalized or generally not feeling well, they're generally not in their right frame of mind because they're dealing with whatever illness they're experiencing. There will be family members, friends, persons that know the senior personally, especially if they are aware the senior has funds, who will utilize that moment to gain power of attorney over them. They will get them to sign and they don't understand what they're signing." A power of attorney agreement is designed to allow someone else to act in transactions on behalf of an individual. Ms Belboda said nurses had stepped in when they "pick up on something untoward" but other cases had gone unnoticed. It's really horrifying." The ageing and disabilities service is thought to have received about 25 complaints about rights over or access to property, which can also involve signing paperwork. Ms Belboda said that a senior might be moved into a pool house as a relative took over the main home. She added that bank transactions could also be an opportunity for exploitation. Ms Belboda said: "We have family members who will take their loved ones to the bank and have them withdraw, sometimes, significant amounts of funds. The banks have been a bit more keen to notice, so they have been notifying us. The only issue is that when we get notified, it's when significant sums of money have already been withdrawn from accounts. Some are in their thousands, tens of thousands, sometimes hundreds of thousands. In the past 12 months there has been an increase but the difficulty that we have is if there is a senior parent and they have their son or daughter on their account with them, like a joint bank account, there is nothing that we can do because they're considered to have access to those funds as well. We are trying to utilize this as a public education opportunity in terms of what seniors can do to protect themselves, ensuring that persons wait until they do their will and put their wishes on paper. She added that elderly people should also consider carefully who to entrust with their affairs. Ms Belboda said: "When you have the capacity to think for yourself, choose that person. I also say not so much a family member because they don't always do what's in your best interests, but a law firm — someone that doesn't have a vested interest — to be your power of attorney, to make decisions for you." She also asked the public to look out for older relatives and neighbors and to watch for signs that they are not coping. These include an unkempt appearance, inappropriate or dirty clothing, infrequent bathing, homes in disrepair, hoarding items and missing medical appointments. Ms Belboda said: "They might be losing weight, may not go on their usual routine — that's when there may be something going on. That would be the time to probe and see if they can get additional information or if they're just not sure, to contact our offices." Ms Belboda was speaking after senior magistrate Juan Wolffe warned of an apparent increase in the number of older debtors appearing in court. Mr Wolffe said he had noticed a pattern of seniors unable to make ends meet as pensions failed to cover healthcare and living costs. He told The Royal Gazette he feared Bermuda might have "a population of elderly people who can't afford their bills" and also warned that family members may have exploited older relatives for their own financial gain.

A former gang member and childhood friend of murder accused Khyri Smith-Williams told a jury yesterday that alleged victim Colford Ferguson died because of a case of mistaken identity. Troy Harris said that Mr Smith-Williams, a senior figure in the West End's Money Over Bitches gang, had confessed to him his involvement in the gun killing of Colford Ferguson seven years ago. However, he added that Mr Smith-Williams had told him it was another man, Rasheed Muhammad, who pulled the trigger and that the wrong man had been killed. Mr Harris told the court that Mr Ferguson died as he worked on a construction site in Somerset because Mr Muhammad had given the wrong information to the defendant. He said that the intended target was Jakai Morris, whom he claimed was part of the rival Parkside gang in Pembroke. Mr Harris told the court: "Khyri was riding and then Rasheed shot the boy. Khyri didn't shoot this guy, Rasheed shot this guy. He shot Colford. Colford was good people, he was cool people. He was an innocent person. Rasheed brought the wrong information and made things go all sideways. If you tell us there's some Parkside guy in the area, everyone gets strapped up." He said Mr Smith-Williams was a "three-star general" in MOB and that Mr Muhammad held similar status. Mr Ferguson, 29, a father of one, was shot while he worked on a house near the junction of Somerset's Mangrove Bay Road and East Shore Road in February 2011. Mr Smith-Williams, 27, is charged with premeditated murder and the use of a firearm to commit an indictable offence. He denies both charges. Mr Harris said he was also a witness in the murder trial after the shooting of his wheelchair-bound cousin Lorenzo Stovell. The witness, who now lives in Britain with his daughter, told Carrington Mahoney, the prosecutor, that he was motivated to speak out because he wanted to turn his life around. Mr Harris also outlined what he said was the structure and rules of gang life. He claimed that gangs avoided attacks that involved innocent bystanders and that "serious work" had to be put in by members to climb the ranks. But he said the "rules and regulations" of gang life had been violated in the case of Mr Ferguson. Mr Harris told the court: "I wanted to change my life — all the madness — I've been in it for 14 years. They have no idea what we go through on the streets. All the funerals I have been to, all the times I have been shot at and shot — I had to get as far away from the country as I could. I have a daughter. I packed up and took her — it's what I had to do to clear my conscience. Secondly, there are rules and regulations when it comes to this war. We don't shoot mothers. We don't shoot women. We don't shoot children. We don't shoot someone in a f***ing wheelchair and we don't shoot innocent people. We don't shoot innocent motherf*****s — what's the point? You wasted bullets for nothing." Mr Harris denied he had any other motive for revealing details of Mr Smith-Williams's confession. He told the court that the defendant had shown him an Instagram picture of Rasheed Muhammad while they sat at Mr Smith-Williams's Somerset home. He added that the defendant had said he was not "feeling him" any more because of his mistake in identification. Mr Harris said: "He told me he thought it was Jakai Morris — they had beef because Jakai got shot in the leg in Somerset." He added that Mr Smith-Williams and Mr Muhammad "suited up" in dark clothing and travelled on a black motorcycle to Mr Ferguson's workplace. Mr Harris said that membership of a gang was "like being in a prison but you are not in prison". He added that trespassing on another gang's territory would get rivals killed. Mr Harris admitted he had committed crimes over the years. He said: "That's how we survive — we can't come to town and get a job. You sell drugs — you can do nothing else." Mr Harris told Jerome Lynch, Mr Smith-Williams's defence counsel, that he had once set out to kill another gang-linked figure, Prince Edness, but that someone else had shot him first. He said someone he identified in court as "Bigs" had approached him about the proposed attack on Mr Edness and given him a weapon. He said: "He didn't ask me to go kill him, but he knew I wanted to kill Prince because he was caught up in the case with my cousin, Jason Lightbourne." Mr Harris said he had two conversations with Mr Smith-Williams about the murder of Mr Ferguson — one in prison and one after his release when the pair were drinking at the defendant's home. Mr Lynch said Mr Harris detailed only the second confession in his second interview with police. Mr Lynch said: "I'm suggesting that you have changed your evidence from the first interview to the second because you knew he was not at prison at the same time as you and, if he was, it was for a matter of days and possibly he was in a different wing." However, Mr Harris insisted that the discussion in prison did happen, but he did not feel the need to discuss it because he had already done so in his first police interview. He added: "Me and Khyri were in the same wing. We smoked weed together." The trial continues.

October 9

Bermuda has been named the top island destination in the Caribbean and Atlantic by the readers of Condé Nast Traveler. The 2018 Readers Choice Awards, released today, ranked Bermuda above competitors St Vincent, Aruba, Cayman Islands and the Turks and Caicos. Bermuda is also featured on the front cover of the magazine's November issue. The awards were based on surveys filled out by 429,000 readers, with separate top-five lists for different regions. The magazine said: "Though this small island sits in the North Atlantic, its climate is decidedly subtropical. A British Overseas Territory, Bermuda is a melting pot of British, American and Caribbean cultures, and offers a long list of things to do: snorkeling near pink-sand beaches, golfing, shopping, museum-hopping and more." The magazine also highlighted the ease of traveling to the island from the US East Coast and the recent refurbishments at Rosewood Bermuda. Paulie Dibner, managing editor at Traveler, said: "We stayed in a suite that overlooked Castle Harbour and came with our very own golf cart perfect for zipping the 10 minutes down to the beach. There's plenty to do in Hamilton if you want to walk around a bit — grab brunch one morning at Devil's Isle — but there's several restaurants and a gigantic spa on site, so I didn't feel even slightly guilty for staying right where I was." The Readers' Choice Awards are the longest-running and most prestigious recognition of excellence in the travel industry and are commonly known as "the best of the best of travel." Kevin Dallas, CEO of the Bermuda Tourism Authority, said the spotlight on Bermuda in the magazine was "one of the biggest PR moments of the year". He said: "The November issue represents two important validations for us as Bermuda's marketers: we have validation from consumers who voted Bermuda to the top of the list and validation from industry experts who deem our destination worthy of a Condé Nast Traveler cover." In April, Bermuda was featured on the front cover of Travel + Leisure, which included a first-person account of a young couple traveling to the island with their toddler.

The Bermuda Tourism Authority is encouraging the island's tourism industry stakeholders to prepare for anticipated growth in the number of young families vacationing on the island over the next five years. This data point is underscored as the Family Travel Association holds its annual summit in Bermuda this week. Bermuda Tourism Authority CEO Kevin Dallas addressed the group Monday and explained that children under 17 years-old were up 32 per cent in the first half of 2018 versus the same time one year earlier. Growth in the active family visitor segment is a component of the soon-to-be-released National Tourism Plan. The plan lays out a strategic vision for the industry over the next five years. "Across the tourism spectrum we have a lot of work to do to get ready for the growing number of young families," said Bermuda Tourism Authority CEO Kevin Dallas. "Transport is especially a struggle for young families, particularly if they're trying to get out and explore the island. Increasingly families tell us how difficult and expensive it is to get the family to the beach and back and maybe out again for dinner. In transport, in the beach economy and in many other sectors of the tourism economy, there is a tremendous opportunity for entrepreneurs to shape products and experiences for this growing audience," Mr Dallas said. The Family Travel Association Annual Summit is taking place at the Fairmont Southampton through October 10, bringing together more than 100 family-focused tour operators, travel agents and media. The Bermuda Tourism Authority is one of the summit partners and was responsible for the pitch that attracted them to the island. The new National Tourism Plan will be released at the 2018 Tourism Summit. The summit is open to anyone with an interest in the tourism industry.

No checks are made to ensure taxis are on the roads for the required 16 hours a day, the Transport Control Department has admitted. The department confirmed that it had not kept records since 2010 as a result of "a policy decision". A TCD spokeswoman said: "The information regarding the number of hours a taxi is on the road is not currently available. This subject is under review." The Royal Gazette quizzed the department after taxi services struggled to keep up with demand when the island's first roadside breath test checkpoints went into operation last month. More checkpoints are scheduled to be set up this weekend. Taxi operators complained that cabs operating from Hamilton were caught up in delays caused by the checkpoints. David Frost, president of the Bermuda Taxi Owners Association, said: "We believe that during the testing period of roadside sobriety checkpoints they should have a fast lane for taxis — many of the taxis were stuck. A normal stop is fine but during those checkpoints they should let us go so we can drop our customers off. Just during that period of time." The TCD spokeswoman said officials were aware of the potential for disruption. She added: "The ministry understood going into road sobriety checkpoints that there may be some inconveniences and some challenges with the availability of taxis or minibuses during the late evening hours and early hours of the morning. Also, the minister was clear in the House of Assembly that public buses will not be running during the early hours of the morning. The public was urged to secure a designated driver or make transportation arrangements in advance if they intended to consume alcohol." Members of the public have complained a lack of taxis was common late on weekend nights — a peak time for people who have been drinking and need transport home. The Ministry of Transport is to publish a Green Paper on transport which will ask for the views of the public. The transport spokeswoman said the paper will look at whether more taxis were needed to keep up with demand. Mr Frost added a major concern among taxi drivers was the lack of security. The TCD spokeswoman said: "All dispatchers are required to provide equipment that has a panic feature for emergencies. We support steps to enhance the safety and security of taxis such as internal cameras. The green paper process will provide opportunity to further address security." There are 600 licensed taxis in Bermuda. But TCD said 30 were listed as off the road at the end of April for "various reasons". There are 80 temporary taxi licences which can be used to supplement the taxi fleet, but none are in use. The TCD spokeswoman said a decision on whether the temporary licences would be used would be determined by the findings of the Green Paper. She added: It is a matter under active consideration." A central dispatch centre for all taxis is also being looked at.

A workmate of murder victim Colford Ferguson warned him to hide minutes before he was shot dead, the Supreme Court heard yesterday. A statement from Ryan Furbert read out in court said he and Mr Ferguson were both sent to work at a site near the junction of Mangrove Bay Road and East Shore Road in Somerset on the day of the alleged murder. Mr Furbert said he walked to the bank after they stopped for lunch and on the way back saw a man with a full-face helmet ride past him. The rider saw him, turned around on East Shore Road and stopped at the intersection. Mr Furbert said the man pointed at him and sped away. He was frightened and phoned Mr Ferguson to warn him to hide inside the house they had been working in. Mr Furbert hid in a shed near the house and heard footsteps followed by three shots. He told police he tried to call Mr Ferguson again but there was no answer. Mr Ferguson, 29, was shot while he worked at the Somerset construction site on February 4, 2011. Khyri Smith-Williams, 27, is charged with premeditated murder and the use of a firearm to commit an indictable offence. The defendant denies both charges. Mr Furbert's statement said he stayed hidden for up to 20 minutes before he fled, but was stopped by police a short distance away. Another witness, Mr Ferguson's cousin, said he ran to the scene of the shooting after being told that someone had heard gunshots. He found Mr Ferguson on his back in a small bathroom at the house. The witness added that he understood photographs of Mr Ferguson's body had been spread on social media, but denied that he had taken the pictures. Police officers later confirmed that Mr Ferguson was dead and that he appeared to have suffered gunshot wounds to his chest, upper arm and upper leg. Police also found seven spent 9mm cartridges near the entrance to the building. Mr Furbert's statement said he had got into a fight with someone he understood to be associated with a West End gang in November 2010. He explained that he received a call from a friend who asked to be picked up at White Hill Field in Sandys. Mr Furbert saw a number of people sitting on a wall when he arrived at the field. He added that as he rode past, one of them, whom he identified as Tre Simons, smiled at him. Mr Furbert said the smile worried him, but he rode past again to try and find his friend. He said Mr Simons then stepped out and tore a $1,600 chain from his neck as he went past. Mr Furbert said he got off the bike to fight Mr Simons, who punched him in the face. He took off his helmet to use as a weapon, but left after those with Mr Simons "jumped up". Mr Furbert told police he and Mr Simons exchanged words, and he was warned to "stay out of Country". He later contacted his brother and the pair went out to look for Mr Simons. They were unable to find him, but found his motorcycle and battered it with a length of pipe. He added that he and Mr Simons had an argument at KFC in Hamilton about the stolen chain a month before Mr Ferguson was killed. The trial continues.

Harrison Isaac Sr, an architectural designer and veteran Scout leader, has died. Mr Isaac was 70. His son, Harrison Jr, said: "He transformed a lot of children's lives. No one regrets their time as a Boy Scout with him as their leader." Mr Isaac began as Group Scout Leader for the 1st Shelly Bay Scout troop in 1965 — a group he founded, aged 17. He revered the late Scout Commissioner Vivian Spring as a mentor and in 1995 opened a museum in Smith's for Scouting in Bermuda. Mr Isaac also turned his skills as a designer and draughtsman to portrait drawing and sold his work for charity. He was also the last manager at the former Co-Op supermarket, next to the Bermuda Industrial Union headquarters in Hamilton, which he joined in 1996. Harrison Jr said his father introduced longer hours, hot meals and staff uniforms that "revitalised" the business. He added that his father founded an architectural design business in 1983 and later named it Hegni Architectural Design Services. The name was an acronym for his full name — Harrison Eugene George Nathaniel Isaac. Mr Isaac said: "He went into architecture on his own initiative. Like he did with everything, he followed it through to the end." He added that his father drew designs and renovated homes and buildings around the island, starting with his own family home in St David's. The junior Isaac called his father "a pond dog for life — he was from that Friswells Hill, Dock Hill area". Harrison Isaac studied at Shaw College in Canada, where he qualified as an accountant. He worked at SRI Accounting when he returned to Bermuda. Harrison Jr said the family legend was that his father discovered accountancy by accident after he was sent to the wrong classroom, but he liked the subject and stayed. Mr Isaac earned an associate degree in Atlanta and moved his family to the United States before they returned home in 1981. He built up his business and accounting qualifications and by the 1990s, the Hegni group of companies included computing and management services. Mr Isaac told The Royal Gazette in 2002: "The secret of business success is to do something you like. If you enjoy what you do, you do it better." Mr Isaac traced his family roots to Antigua, where he did missionary work and volunteered at an orphanage. His son said his father's final "entrepreneur endeavor" was the Hibiscus Gift Shop in the Botanical Gardens, which sold flower-themed souvenirs of the island. Mr Isaac also ran the Bermuda Hibiscus Gardens Trail — a tour to help visitors learn more about Bermuda's environment, culture and history. He died on September 24 after a battle with cancer. The funeral was held on Sunday at St James's Anglican Church in Sandys

A 15-year-old schoolgirl warned about the perils of modern-day school life as she kicked off Mental Health Awareness Week yesterday. McKenzie-Kohl Tuckett from Warwick Academy said children faced pressure from teachers and parents to perform well in exams, bullying from school friends and unrealistic expectations of "perfection" promoted on social media. She highlighted research by the American Psychological Association, which showed nearly half of all teenagers admitted they suffered stress from pressures at school. McKenzie-Kohl said: "The pressure to perform well academically was the most significant, followed by the desire to please teachers. In addition, the combination of schoolwork, extracurricular activities and studying for exams leads to crammed schedules. Teenagers should be encouraged to reach out to their school counselors if they feel as if they can't cope." She was speaking at Warwick Academy, the venue for the launch of the awareness campaign, which this year is focused on the mental health of young people in a fast-changing world. McKenzie-Kohl said parents could set unrealistic expectations for their children, which could lead to burnout, anxiety and low self-esteem. She said: "How does one fix this? By lowering unrealistic expectations, allowing teenagers to accept themselves as they are, assisting them with identifying their unique strengths and encouraging them as they build on those strengths. The unconditional love and unwavering support of family is invaluable." She said that young people wanted to fit in with their classmates, which meant they tried to live up to an "unrealistic level of perfection" on social media. McKenzie-Kohl added: "This can lead to strong feelings of inadequacy. Text messages and photos are so easily shared via social media and, depending on their nature, sometimes lead to public humiliation. Unfortunately, there are times when nothing spreads faster than bad news. Young people are focused on the likes gained on social media, which can lead to bad choices. Teenagers are able to connect with just about anyone, and a friend is only a friend request away. Having too many fake friends exposes adolescents and gives them a distorted sense of self-worth. In addition, there is no privacy on social media and many are constantly trying to maintain a make-believe image of themselves." McKenzie-Kohl added that youngsters bullied at school faced greater dangers to their mental health. She explained: "Those who are bullied are at an increased risk for mental health problems such as depression. Not to mention the possible long-term damage to one's self-esteem as a result of bullying." Dave Horan, the principal at Warwick Academy, said: "I was incredibly proud of what she had to say. I was incredibly proud of the way she said it." Mr Horan felt McKenzie-Kohl had captured the sentiments of "a large number of students. I think there's a growing number of young adults her age who are very aware that they need to be equipped to deal with pressures that are very different to what we had to deal with as youngsters." Mr Horan said the school had a responsibility to help pupils stay safe on social media. He added: "We've been spending a lot of time on that over the last few years — to try and help students navigate and also equip parents with the skills they need to have the right conversations as home." Health minister Kim Wilson, who launched the awareness week, said: "Young people today have exposure to bullying online, and a constant stream of news through our TVs, phones and computers. But if we are proactive in education and we empower our children at an early age to be good digital citizens and make informed and responsible choices when they use online media, we can save lives and, certainly, much emotional distress." Glenn Caisey, director of Mental Health Services at the Mid-Atlantic Wellness Institute, added: "The mental health of our young people is precious. Identifying and responding to mental disorders in this age group is critical to give them the best chance at a fulfilling life."
Global facts:
At least half of all mental health disorders appear by the age 14 and about 75 per cent by the age 24.
Suicide is the second leading cause of death among people aged 15 to 29.
Schizophrenia usually starts between the ages of 16 and 30 although children are affected in rare cases.
The age for onset for anxiety disorder in young people is 8.
Early interventions in treating mental illness result in higher recovery rates and improved social functioning for people with psychosis.
One in five girls and one in ten boys are cyber-bullied.
US research indicates more than 20 per cent of students aged 12 to 18 experience bullying.
About 13 to 45 per cent of adolescents, and 14 to 25 per cent of college students, have a recent history of self harm.
Self harm is strongly associated with subsequent suicide.

The latest edition of the story of former Bermudian slave Mary Prince, whose classic account was a bestseller of the abolition era, has proved a hot book once again. Staff at the Bookmart said the new edition, which includes a long-forgotten companion piece from fellow ex-slave Ashton Warner, has sold out its first run of 30 copies. A fresh shipment of copies is on the way to the bookstore, part of the Brown & Co store on Hamilton's Front Street. Ms Prince's chronicle overturned the myth that slavery on the island was benign compared with elsewhere. Mr Warner died of pneumonia as his story went to print as a pamphlet in 1831 — and his story remained unpublished until the latest edition from The Tecumseh Press in Ottawa, Canada.
From The History of Mary Prince, a West Indian Slave
On arrival at the Spanish Point home of Captain Ingham, her enslaver: "The house was large, and built at the bottom of a very high hill; but I could not see much of it that night. I saw too much of it afterwards. The stones and the timber were the best things in it; they were not so hard as the hearts of the owners." Prince after Hetty, a pregnant fellow slave, died after a heavy flogging: "All the slaves said that death was a good thing for poor Hetty; but I cried very much for her death. The manner of it filled me with horror ... After Hetty died all her labors fell upon me, in addition to my own." Prince was sold several times, and in 1815 went to the home of John Adams Wood in Antigua. She joined the Moravian Church — and, in 1826, she married Daniel James, a former slave: "When Mr Wood heard of my marriage, he flew into a great rage, and sent for Daniel, who was helping to build a house for his old mistress. Mr Wood asked him who gave him a right to marry a slave of his? My husband said: 'Sir, I am a free man, and thought I had a right to choose a wife; but if I had known Mary was not allowed to have a husband, I should not have asked her to marry me. Mrs Wood was more vexed about my marriage than her husband. She could not forgive me for getting married, but stirred up Mr Wood to flog me dreadfully with the horsewhip. I have been a slave myself ­— I know what slaves feel — I can tell by myself what other slaves feel, and by what they have told me. The man that says slaves be quite happy in slavery — that they don't want to be free — that man is either ignorant or a lying person. I never heard a slave say so."
From The Narrative of Ashton Warner
Warner said he decided to publish his account after he heard the experiences of other slaves: "To their simple and affecting narratives I could not listen unmoved. The voice of truth and nature prevailed over my former prejudices. I beheld slavery unfolded in all its revolting details; and, having been thus irresistibly led to peruse the authentic accounts of the real character and effects of the system, I resolved no longer to be an accomplice in its criminality, though it were only by keeping silence regarding it." Warner grew up in the belief he was a free black in Kingston, the capital of St Vincent — but he was seized into slavery at the age of 10 by James Wilson, a plantation owner who disputed the terms of his manumission: "Mr Wilson insisted that I was a slave, and his slave, and he would have it so, in spite of my mother's tears and my aunt's entreaties. My poor mother was greatly distressed, and cried very bitterly. She entreated Mr Wilson, if he thought he had a just claim to me, to put me in jail till the question as to my freedom could be fairly settled; but he refused to do this, and when she continued her entreaties he grew angry, and ordered her not to stop in the yard, but to go away directly." Warner also outlined the brutality of the plantation: "I have seen people who were so sick that they could scarcely stand, staggered out of the sick-house, and tied up to a tree, and flogged in a shocking manner; then driven with the whip to the work. I have seen slaves in this state crawl away, and lie down among the wet trash to get a little ease, though they knew that it would most likely cause their death." On slavery: "It is not from what I have suffered in my own body as a slave, that I wish to publish this narrative, for I was better off than thousands of my poor countrymen ­— but I wished to relate not only my own case, but also all that I knew of slavery ... in the hope that it may help to make known the conditions of the poor Negroes to the English people, and stir them up to do away with slavery altogether."

October 8

Professional debtors play the legal system and exploit the reluctance of creditors to attend court in an attempt to avoid payment, it has been claimed. Senior magistrate Juan Wolffe said only the prospect of prison could force some people to hand over the money they owed. Mr Wolffe said prison was used only as a last resort but it still had a place as a deterrent for people who make repeated appearances in debt courts. Mr Wolffe added: "There is a sector of persons who know the system, they know how it works. They know that they can get away with it for a certain period of time and not have to pay the money. We have persons in the courtroom who I call frequent flyers. We also have those who are, I will say, professionals at owing debts, so they actually will rack up debts, well knowing and hoping that the person who's owed the money will not come to court. For example, we have persons coming to court who will go from house to house to house, not paying any rent, and they tend to target certain persons who are vulnerable. They will go to a house, rack up say $10,000, $15,000, $25,000-worth of rent well knowing that the individual is not going to take them to court or is going to be very slow taking them to court, or that they just want to get them out of their house and not seek to get them incarcerated." Mr Wolffe said one debtor who owed back rent appeared in Magistrates' Court five times in a row, which meant an appearance every eight months to a year. He saw a similar pattern with mobile phone bills, where customers swapped between communications firms Digicel and One, then got somebody else to sign a deal for them. He added: "I personally think, of the thousands and thousands of persons I've seen come through the courts, that if you remove that ultimate consequence then you are going to have, I think, more delinquent behaviour.The only thing that people who are owed money really have is that consequence that the person may feel they might go to prison. If we don't have that, what does the court really have?" Mr Wolffe said: "I don't call it a threat, I don't see it as being a threat. Obviously, we do let persons know that there are consequences if you do not abide by court orders and one of those consequences is, ultimately, incarceration." But he added: "There seems to be this conception that we are locking people up. Nothing could be further from the truth. We don't do that on a regular basis. Do we inform people that could be a consequence? Yes, most definitely we do that." Chris Swan, a lawyer who handles many debt cases, explained that people are not sent to prison for their debt, but for contempt of court if they breach a court order that set out agreed repayment rates. He added that in most circumstances defendants agreed the amount to pay back and committal orders were not made if the individual proved they could not afford the payments. Mr Wolffe said magistrates tried to "balance the interests" of plaintiffs owed money and those of the debtors. He added: "If you owe money for a Belco bill or Digicel bill ... if a company's carrying a debt for people who owe money, then what do you think they're going to do? It will be passed on to the rest of us by increased costs so that they recover some of that money that they're probably not going to get. On the occasions when we have actually sent somebody to prison, on the odd occasion, it has been because it's the absolute last resort. It has been sometimes years. Multiple chances have been given to the individual to pay and they have willfully neglected or refused to pay over a period of years." Mr Wolffe said the courts were "sympathetic and empathetic" to the reality of the cost of living in Bermuda. But he added: "We have to draw the line somewhere, we cannot continuously give people breaks and them not show us that they are making any efforts."
Boat owners got a reminder today from the Department of Environment and Natural Resources on the safe zones to discharge sewage from their vessels.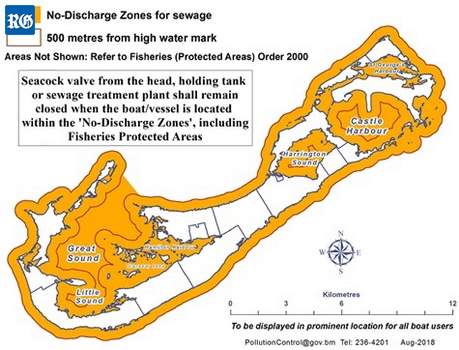 Sewage is permitted overboard outside of no-discharge zones, beyond the near shore area — or greater than 500 metres from the nearest land. Waste is not allowed overboard in the enclosed areas of Great Sound, Little Sound, Harrington Sound, Castle Harbour, Hamilton Harbour or St George's Harbour, as well as fisheries protected areas. A spokeswoman said that the Water Resources (Prevention of Pollution by Sewage from Boats) Regulations 2018 had come into force in August 2018. The restrictions cover the owners and operators of recreational boats, as well as live-aboard boats, charter vessels, and all other boats that sail or motor in and around Bermuda. Disposal options include certain marinas, shore-side sanitation trucks, or moving outside of the no-discharge zones. A brochure outlining regulations is available from Marine and Ports. Regulations also require an instruction sticker showing no-discharge zones to be visible adjacent to toilets on board. The discharge valve from the toilet or sewage holding tank should be set to closed whenever vessels are moored or at anchor in no-discharge zones. The instruction stickers and brochures are available from either the Department of Environment and Natural Resources in the Botanical Gardens, or from the boats and mooring section of Marine and Ports Services, in the old Paget Post Office at Middle Road, Paget. For more information, call 239-2356 or 239-2303, or e-mail pollutioncontrol@gov.bm

Bermuda hosted its first Disney Cruise Line vessel at the weekend. Disney Magic docked at Kings Wharf, on its way from New York to the Bahamas. The 966ft vessel brought with it about 2,376 passengers and 945 crew. A special run of the ferry from Dockyard to St George's was arranged for the visit.

Thirteen drink-drivers were caught on the second weekend of roadside breath tests, police announced yesterday. As well as taking impaired drivers off the streets, officers caught a motorcyclist with drugs and a machete. The rider failed to stop for a police checkpoint on Crow Lane outside Hamilton on Friday night. Officers chased the man on to Pomander Road in Paget before he ditched his bike and ran into Aberfeldy Nurseries. Chief Inspector Robert Cardwell, head of the roads policing unit, said: "Unfortunately, he put up a struggle and had to be Tasered. He had a machete on him and he had drugs — cannabis and cocaine rocks." Mr Cardwell said the incident showed how the roadside breath checks could crack down on other criminals as well. He said: "We've had other motorcycles turn around on us and we've gone after them and they've been unlicensed or uninsured." Another man arrested by police on Friday night had ten outstanding warrants. Officers chased another motorcyclist who drove the wrong way up one-way Corkscrew Hill to try to escape after he failed to stop at a checkpoint. The man, a disqualified driver, was later caught. Mr Cardwell said that Friday nights had been "substantially busier" than Saturday nights over the two weekends checkpoints had been set up. This weekend's checkpoints were in Devonshire and Paget and more checkpoints were expected to be set up last night. Wayne Caines, the Minister of National Security, went out with police on the Saturday night operation. He said: "It's very important for legislators to see the actual fruit of the hard work." Mr Caines believes the tests are a step in the right direction. He added: "The entire exercise, I believe, will save lives." The checkpoints are not about racking up arrests. Mr Caines added: "More importantly, we are trying to change behavior." He explained that a slow night for officers on checkpoint duty is a good night and that residents who see the roadside breath checks as a way to make arrests have the wrong mindset. Mr Caines said: "The right way to process this is that, 'I will not drive with any alcohol in my system. There are people that are going to say it's inconvenient, it is heavy-handed policing, and it's uncomfortable for all of us. The object for us in Bermuda is to realize that we have to do a few things that are uncomfortable." Mr Caines said: "We need to move away from Bermudians love to drink, to Bermudians want to live — and live healthily and happily."

Motorists are being warned about a crackdown targeting illegal licence plates. The Transportation Control Department said the warning came amid an increase in personalized plates which do not conform to legal specifications. A spokeswoman said that, in most cases, offenders were not aware they were breaking the rules. She added that in some cases people were using approved licence plates to pass their vehicle inspection test and then replacing the legal plates with personalized ones. The spokeswoman said some plates contained lettering, pictures or objects that made them illegible or difficult to read. She added: "These licence plates are a matter of concern for the TCD as they present a safety hazard and are ultimately not in compliance with the law." The spokeswoman said that all licence plates must have a white reflective background with black markings. The exceptions are loaner vehicles, which have a yellow background, and rental cars, which have a white background with red markings. Additionally, all letters or figures on plates should be the same size. She added: "Letters and figures should be seven-sixteenths of an inch broad and the total width of the space taken by any letter or figure, at least one and seven-sixteenth inches. The space between any two letters or any two figures shall be three-eighths of an inch, and the space between figures shall be one and five-eighths inches. There shall be a margin, between the nearest part of any letter or figure and the top, bottom or sides of the plate, of at least half an inch." No other letters, figures or designs are allowed to be place near to, over or upon any letters or figures on the licence plate. Only personalized licence plates issued by the TCD are allowed. The spokeswoman said that TCD traffic officers would be conducting "routine checks to ensure motorists are in compliance with these regulations". For more information contact TCD at 292-1271.

Young students got a lesson in putting safety first as the Bermuda Fire and Rescue Service launched fire safety awareness week. Wayne Caines, the Minister of National Security, took the fire safety proclamation to schools today. The service will be taking its message island wide, with this year's theme: "Look. Listen. Learn. Be Aware — Fire Can Happen Anywhere."

A group of high-performing athletes from the United States will provide training sessions in Bermuda this month. Up to 45 athletes from USA Track and Field's Athletes Advisory Committee will host the Elite Athlete Summit held annually to set the organization's strategic goals for the year ahead and will boost the development of local athletes. The event, inspired by the Bermuda Tourism Authority, is due to take place from October 18 to 21 at the Hamilton Princess and Beach Club. The tourism industry traditionally focuses on attracting sport teams and other groups at this time of year. Team USA Track and Field stars Darrell Hill, Kara Patterson, Will Claye and Queen Harrison are among those expected to visit the island. The group also aims to engage Bermuda's students and inspire them into the sport of athletics while encouraging active lifestyles in general. Jeff Porter, the president of USATF, said: "The organising committee has been nothing short of amazing to work with and have ensured that our athletes will have a once in a lifetime experience in Bermuda. We are also excited to bring the world's No 1 team to Bermuda and experience all the country has to offer." Hazel Clark, the BTA's newly installed director of sports business development, is a member of USATF and a three-times US Olympian. She worked with her colleagues in the sport to attract its annual retreat to Bermuda. Ms Clark said: "It's exciting that the first piece of business I landed in the new job is with my former fellow athletes. I'm grateful to be working with a variety of on-island partners to ensure my first clients, many of them long-time friends, have a great Bermuda experience during their annual retreat." Ms Clark is also a six-times national champion in the 800 metres. She joined the BTA in late July in the new position that was created as part of an organizational restructure to grow the volume of sports tourism business to Bermuda.

Friends of Hospice, the charity that supports Agape House, has been granted provisional approval to build a new hospice in Paget. The purpose-built facility would be erected on Berry Hill Road, Paget, but must first get final approval from the directors of the Bermuda Hospitals Board. Alison Soares, Friends of Hospice chairman, said it was fitting that the news comes as World Hospice and Palliative Care Week begins. Ms Soares, the daughter of the charity's founder Hilary Soares, said: "This is very exciting news for all of us at Friends of Hospice and Agape House, and for the Bermuda community. We have been working towards this for several years and it is serendipitous that this announcement comes at the start of such an important week for us and also on the day marking what would be my mother's 79th birthday." She added: "For me personally, having grown up surrounded by talk of Agape House and hospice care, I am absolutely thrilled, especially as this comes on such a special day for all of us at Friends of Hospice. I know my mother would be very proud. On behalf of the entire board and staff of Friends of Hospice, I thank BHB for giving us provisional approval. Having a site on which to develop a new facility is an important and necessary step in providing the best hospice and palliative care for Bermuda." The new facility would replace Agape House, which opened its doors 27 years ago. The hospice, which cares for patients with a broad range of serious and life-threatening illnesses, is owned and operated by the BHB with the support of Friends of Hospice.

Seniors struggling with debt are appearing in court more and more, a top judge has warned. Senior magistrate Juan Wolffe said he was "concerned" by an apparent increase in elderly debtors landing in court. He added that limited pensions to cover healthcare and utilities costs were an issue and that, in some cases, family members may be "taking advantage" of older relatives. Mr Wolffe said the make-up of debtors' court had changed in the past few years, although he still saw "frequent flyers" who must be warned they could face jail. He told The Royal Gazette: "I'm starting to get a bit concerned about the pattern of elderly people who come to court, people who owe money. That's kind of sad because they can't get employment so they're like 70, 75, and can't get a job but owe monies for hospital bills, telephone, utilities. Their pension only goes so far, so it's racking up. The sad cases are when the landlord has had to take the very uncomfortable decision to evict them from their house and the elderly person doesn't have anywhere to go, the immediate family is not really there to support. In those cases, I do not tell them about the consequences, I just don't want to." Mr Wolffe has noticed the trend over the past year and that it affected people aged between 65 and 85. He added: "We're living longer, persons need to take care of themselves. There's so much of a break down in the family unit, which means that people aren't really taking care of their elderly person." Mr Wolffe said a "level of ageism" means seniors were unable to work. He added: "A lot of these people, you see them in court and they are mentally sound, intellectually sound, they're switched on, even somewhat physically sound but they're not being employed and they've got bills to pay too. The longer you live, the more you're going to need to sustain yourself and I think that in many cases the pension is not covering that." Mr Wolffe explained: "We in the court see the trends, we see what's happening before it happens. I think on a macro level we need to be concerned because we have, maybe, a population of elderly people who can't afford their bills and that has other consequences to it." He said that alongside hospital fees, the biggest cause of debt appearances were mobile phone bills and that this was an area where elderly people "are being used" by others. The senior magistrate explained that seniors signed agreements on behalf of younger family members who "go away, use roaming and elderly grandma and grandfather has a bill for $5,000 for a mobile phone that they didn't even use, but they signed up because granddaughter wanted a mobile phone". He said: "The other thing, elderly people who do have a home, because they worked hard for it, have someone living in their house with them, and just exploiting them, running up all sorts of bills. Grandparents are buying all the food in the house and the grandchildren or whoever are living off the home. I have no proof of this, I have no statistics, but I do think that there's a lot more elderly abuse going on than we know about, because a lot of it is not being reported, I don't think. I do get to see some of those things in my courtroom but I suspect that I'm only seeing maybe the tip of the iceberg in terms of those sorts of arrangements where persons are taking advantage of their elderly relative." He added that unscrupulous tenants who have older landlords also seemed to play a part. Mr Wolffe said: "Unfortunately we have some people who will take advantage of the elderly and not pay their bills because they actually think that the elderly person is not going to have the energy or desire to take them to court and they well know that." The magistrate's views were backed by Claudette Fleming, the executive director of Age Concern Bermuda. She also highlighted the problem of elderly people signing up to mobile phone agreements for others. She added: "It expands to support for education, support for homes, support to renovate homes." Dr Fleming said: "Many are being exploited by children, grandchildren. Many people sign things and don't really understand what they've signed." She added that a seniors court, similar to the Family Court, would offer "more restorative justice" in sensitive circumstances and "save the senior shame". Dr Fleming said: "They could bring the family in to negotiate what the settlement will be and how they will make payments, just like how it works for child support, so that it's not so devastating. At the end of the day, seniors need to live with their family members, you want to right the wrong but you don't want to destroy that support system that should be there for them in the process." She added there was no desire to "prohibit an older adult's right to take a risk" if they planned to sign an agreement on behalf of someone else. But she said that seniors should always consider whether they can pay off debts if the individual failed to do so.

A boa constrictor snake was discovered on Friday night outside a residence in Sandys, according to police. A spokesman said the report of a juvenile snake came in at 6pm. The constrictor was "destroyed by a concerned citizen", he added. Importing snakes to the island or keeping them as pets is illegal, but boa constrictors, which are kept in captivity in many parts of the world, have been found on the island before. A resident caught with one of the reptiles prompted a government warning in 2001. The snakes are non venomous but present a serious environmental hazard. Boa constrictors are found in tropical habitats through Central America and northern South America, as well as some Caribbean islands. Southern Florida is also host to an introduced population. The animals are protected under the Convention on International Trade in Endangered Species treaty.

October 7, Sunday

October 6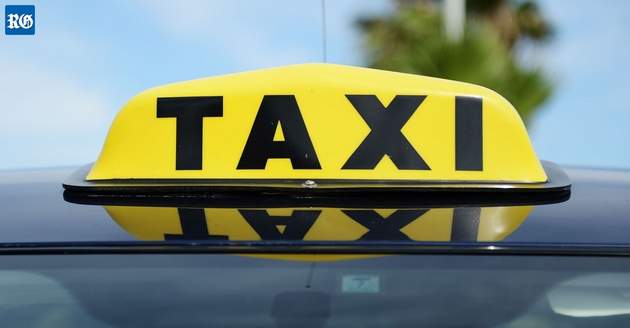 Bermuda's poor taxi service is costing the island money, a business consultant and non-executive director of the Bermuda Tourism Authority has warned. Peter Everson said that an Uber-style ride-sharing service could take up the slack without killing off the traditional taxi service. He added: "We shoot ourselves in the foot. Every single visitor to Bermuda goes home with money they wanted to spend here. Why? Because they couldn't physically get to where they wanted to." Mr Everson added: "The taxi drivers are older than the average age of the population. They are not there when they are needed. If it wasn't for the minibuses, we'd be dead in the water. Next April, there will be more tourists coming and guest satisfaction is going down because they all spend too much time waiting." Research has shown that about 80 per cent of American visitors expected to find something similar to Uber on the island. Mr Everson said that a failure to provide alternatives to taxis would cause a decline in visitor confidence. He was speaking after he highlighted transport problems to an audience of business leaders at HSBC's Harbourview Building. Mr Everson said the introduction of an Uber-type service would help to put money in the pockets of Bermudians. He added there was an increase in air arrivals of under-45s from New York and Boston, who wanted to spend less money in foreign-owned hotels and more on Bermudian experiences. Mr Everson said: "If we don't sort transport out, we are going to get poor ratings and therefore we are not going to capitalize on those we have. Whatever the solutions are, we want them operational by April 1, 2019. That is six months away. Unless a taxi is pre-booked, trying to get something at 10pm is a big issue. Many taxis are tied up in corporate work, doing tours for cruise ship passengers or sitting at the hotels. It doesn't leave an awful lot left for everybody else. If we did have an Uber-type service, the taxis will still have a business because the tours and corporate jobs and transfers to the airport will still be there — there will be business. I have sympathy with them but it has been on the table for 20 years that the service has been less than we need. "Every time a tourist spends 15 minutes waiting for a bus, ferry or taxi, they are not spending money. If they were told it will be 20 minutes at least they can go and do something but that doesn't happen." The Bermuda Taxi Operators Association declined to comment on the introduction of Uber-style services. But a spokesman said better distribution of the island's 600-strong fleet would allow cabs to be on the road for longer. Glenn Jones, director of strategy and corporate communications at the BTA, said research showed that young city-based adults were more likely to use ride-sharing services. Mr Jones added: "We prefer to think broader than ride sharing. Ultimately, the experience the BTA aspires to create for visitors is one that's completely frictionless. This is a sure-fire way to set ourselves apart from our competitors. From arrival at the airport to ground transportation to checking into hotels — the visitor experience should be without friction, a goal that is entirely attainable if we use technology and customer service together effectively." Mr Jones said more information would be released in the National Tourism Plan, due to be released this month at the Bermuda Tourism Summit. John Wight, president of the Bermuda Chamber of Commerce, said: "Bermuda needs to adapt to the changing needs of its tourist and business visitors. If we want to retain those customers and have them come back to Bermuda, we are going to have to meet their services expectations. That encompasses a broader transportation model for Bermuda that includes taxis, buses, ferries and every mode of transportation." Mr Wight added: "We want to very much protect the job of every Bermudian that we can, but at the same time, whether it be transportation or insurance or retail, businesses have to change and evolve with the needs of their customers." The Government is to publish a transport Green Paper, which will canvass the views of the public. A spokesman for the Ministry of Transport said; "We are not actively exploring Uber or any services like that in Bermuda at this time."

Cab drivers are forced off the roads at night because of fears about drunken passengers and security problems, the head of the industry's trade body said yesterday. But David Frost, president of the Bermuda Taxi Operators Association, said the industry was looking at ways to increase the number of cabs on the roads on peak nights after complaints that there were few taxis available when police launched their first roadside breath test checkpoints last month. Mr Frost said: "Gone are the days you can pick up safely at night — almost every night driver has a horror story, a robbing — some have been held at knifepoint. Often at night the road becomes a racetrack. I'm willing to bet more vehicles get destroyed at night. Then you have people throwing up in you cab. What's the recourse? The Transport Control Department will tell you to go to court, file a complaint and collect your money. In three months you may get them paying you back $10 a week for what can cost $600." He added that the island's culture of drink-driving also meant that taxi operators reckoned there was a higher risk of crashes at night because of impaired drivers and riders. Mr Frost was speaking as police prepared to set up roadside breath test checkpoints again this weekend. Mr Frost said: "We understand there are concerns out there and we know how dire the problem is. Every problem in the past has been caused by giving a simple solution to a complex problem." He added that the BTOA had held several meetings to discuss improvements to the service and planned to meet government representatives to look at ways to boost taxi numbers on the streets. Mr Frost said taxis had been also been held up by traffic queues during last month's breath test blitz and that cabs should have a fast lane to bypass police checkpoints. However, Chief Inspector Robert Cardwell, head of the police traffic unit, dismissed the call for special treatment for taxi drivers. He said: "No one gets a free pass through any roadside sobriety checkpoint. We work hard to keep delays to a minimum. We have arrested taxi drivers at the wheel of their taxi in the past for impaired driving offences, usually after they have been involved in a collision." Mr Frost said that the average taxi owner spent 13 hours on duty but the hours could be increased by renting the vehicles out to other drivers. He added that owners would need to be sure that, in the event of a crash, relief drivers would have their own insurance. Mr Frost said: "We're proposing to insurance companies that the individual driver is insured — the vehicle will be insured but the person driving also has insurance. Then the taxis will be on the road for longer and we can get some of these hours covered." He added that many of the island's 570 taxis focused on predictable weekday work like visitor tours and airport and hotel fares, as well as corporate clients, who paid for cabs to wait and reduced drivers' time on the roads. Mr Frost said: "That corporate driver who is not working Saturday and Sunday would be able to make money as the car would still be on the road at the weekend."

Directors at under-fire power firm Belco are prepared to meet union and government representatives to try to end industrial action at the firm. A spokesman for Ascendant Group, Belco's parent company, said the board wanted talks to end a work-to-rule imposed by the Electricity Supply Trade Union after the departure of four members of the management team. He added: "The board will be reaching out to the ESTU and the Government shortly to agree a mutually convenient time to meet." Union workers at Ascendant-owned energy provider Belco imposed a work-to-rule yesterday after four senior staff were either made redundant or resigned. Michael Daniel, Ascendant's chief strategic development officer, and Carol Ross-DeSilva, vice-president for organizational excellence, were made redundant and Denton Williams, chief operating officer, and Zehena Davis, vice-president of human resources, quit. The union has demanded the return of the four Bermudian non-unionized staff and the removal of two top managers. Jason Hayward, the president of the Bermuda Trade Union Congress, accused Ascendant of a "ploy" to remove qualified Bermudians. Walton Brown, the Minister of Home Affairs, added that he had "grave concern" about the situation. David Burt, the Premier, said that the ESTU was "justifiably concerned" by management actions that were "simply not in keeping with the community responsibility we expect from the company".

Industrial action at Belco could leave customers in the dark, the utility warned this morning. In a statement, the company said customers "may experience power outages" as a result of industrial action. Workers downed tools at the power company this week, culminating in the imposition of work-to-rule by the Electrical Supply Trade Union, after the departure of four members of the management team. Work-to-rule impacts overtime and emergency work. The ESTU has called for the reinstatement of the staff. The statement added: "The safety of our staff is our primary concern at Belco. There are always staff at the plant to monitor the engines and, if necessary, perform emergency shut downs. However, due to the current work to rule action, and starting this weekend, the company will not have adequate resources to both operate the plant and respond to issues on the network and our customers might experience prolonged outages. The company will continue to provide updates through local media channels as well as on social media on the Belco Facebook page. Belco management and staff thank customers for their understanding and patience at this time."

The Gombey Festival showcase filled the main show ring at the Botanical Gardens with drumming, whistling and whirling regalia as troupes and international guests performed for an audience of hundreds. Gombeys were among the spectators, and children in Gombey costumes played on the hillside as onlookers lined Berry Hill Road. "Let the rhythm begin," Lovitta Foggo, the Acting Minister of Social Development and Sports, told the crowd to open the event. Ed Christopher, the MC for the showcase, introduced Gombey Evolution, Wilson's New Generation Gombeys, Gombey Warriors, H & H Gombeys, Place's New Generation Gombeys and the Warwick Gombeys, as well as the Bermuda Donquili African dance and drum group. The crowd welcomed international guests Zayd Saleem, a Moko Jumbie stilt walker from the US Virgin Islands, and the Hermitage Shortknee Dancers, visiting from Grenada. Leon "Sparky" Place, this year's honouree, was applauded as "an undisputed master of the Gombey arts who has no immediate plans to hang up his costume". Mr Christopher added that Mr Place still continues to perform with his "beloved" Place's Gombey Troupe on special occasions. Mr Place was nicknamed "the praying Gombey", he said, and has left "an indelible stamp on Bermuda's Gombey culture" over more than 60 years as a performer, mentor and captain. Mr Place brought a disciplined ethos to his troupe, the crowd heard. "I believed that children had to be of good deportment at home and at school — and if they were not, they could not dance," Mr Place was quoted as saying. Mr Place thanked the Department of Community and Cultural Affairs for supporting the show, which grew last year from a one-day event to a weekend of commemorations. Under a clear, still evening, Mr Christopher called for a moment of silence for "those who came before us and who led the way", listing off the names of leading Gombey figures. As the performances got under way, he said: "See how proud Bermuda Gombeys are? They carry on their heads peacock feathers — you can't get prouder than a peacock."

A veteran Gombey dancer was honored yesterday at the launch of a festival to celebrate the island's iconic dancers. Leon "Sparky" Place, a former dancer and drummer with Place's Gombeys, as well as traditional dancers from overseas were at Victoria Park in Hamilton to publicize today's Bermuda International Gombey Festival Showcase. Lovitta Foggo, the acting social development and sports minister, joined Bermudian troupes Place's and Warwick Gombeys, as well as the Hermitage Shortknee Band from Grenada at the park. Ms Foggo gave special recognition to Mr Place, who was recruited into the troupe when he was 10 with his brothers, Dennis and Reginald Jr. She said: "He had little choice in the matter — his father, known as 'Scranny', was the group's founder and captain, and Gombey was a family affair." Mr Place succeeded his brother Dennis as captain in the late 1970s. Ms Foggo said Mr Place was a disciplined mentor for younger dancers and was "exceptionally creative". She added that Mr Place had added more than ten original steps to the troupe's repertoire. However, Ms Foggo said: "Perhaps his most enduring contribution to the art is as a master costume designer." She explained that he had pioneered the use of wool fringes on the Gombey regalia, an innovation that brought new dynamism to dance moves. Ms Foggo said the annual festival was set up to highlight the contribution of folk dancers who represented a tradition "passed down the ages, from generations of master Gombey dancers". She was speaking as Zayd Saleen, from St Croix in the US Virgin Islands, walked through Victoria Park on stilts, which are a symbol of the islands' Moko Jumbies' towering role as protectors. Bermuda's six Gombey troupes will join international guests today at the main show ring at Paget's Botanical Gardens. The free event is scheduled to run from 5pm to 9pm. A symposium, called Gombeys and Traditions of the Diaspora, will be held tomorrow at the CedarBridge Academy cafeteria from 2pm to 4pm.

Simone Barton has been acclaimed as chairwoman of the One Bermuda Alliance. Mrs Barton, who ran for the OBA in Hamilton West for the 2017 General Election, was confirmed as chair after Nandi Outerbridge withdrew from the election, according to an Opposition statement this afternoon. She said the party was being "revitalised" under the leadership of Craig Cannonier, adding that it would not only hold the Government to account but be "ready to govern Bermuda in the way it so desperately needs". She cited a decline in employment, GDP and retail sales, saying business confidence was "at its lowest", and that the island had to be averted from "its rapid decline into another economic abyss". She echoed remarks made by Mr Cannonier on Sunday, in the wake of poor Bermuda Business Confidence Survey results, saying the economic foundation left by the OBA was "swiftly being eroded". Mrs Barton, an advocate for cardiac health, is the CEO of the Bermuda Heart Foundation and founder of CORE Heart Health Centre. Mr Cannonier called her "someone who does things and does them well". The Opposition leader added: "She is exactly the kind of person the OBA needs and I am delighted to welcome her as our new party chair."

Closed-circuit television footage of a 16-year-old girl accused of the murder of a Bermudian teenager in England was shown to a jury yesterday. The CCTV footage, taken from several cameras, showed the girl, one of five youngsters accused of the knife killing of Lyrico Steede in a children's play park in the Nottingham suburb of Stock Well in February, just after the murder. The teenager, who cannot be named for legal reasons, was seen walking through the streets of Bulwell and waiting at a stop before she boarded a bus. Peter Joyce QC, for the Crown, earlier told the court that the girl had said in a police interview that a group of men, "ran Rico down and stole the iPad she had borrowed from a friend". Mr Joyce asked Pauline Jarvis, a police CCTV co-ordinator, what the girl appeared to have in her hand at the bus stop. Ms Jarvis said: "An iPad type item." The court heard earlier that the girl persuaded Mr Steede, who was 17, to travel to the park from his home in nearby Bulwell. He was chased by four men and stabbed repeatedly after he stumbled on a railing and fell. The court heard that the 16-year-old girl told police she did not recognize any of the attackers and went home after she was unable to find Mr Steede. Kasharn Campbell, 19, of no fixed abode, and Remmell Campbell-Miller, 18, from Sneinton Boulevard, as well as two 17-year-old boys, who cannot be named for legal reasons, are also in the dock charged with the murder of Mr Steede, who was attacked on February 13. Mr Steede died in hospital five days later. Earlier, Mr Joyce told the court that the four other defendants had lured Mr Steede to the park with the girl as an accomplice. The jury saw CCTV footage of Mr Steede walking to the bus station in Bulwell. Later film clips showed him walking to the playground with the girl. Footage from another camera appeared to show Mr Steede being chased by four men. Mr Joyce told the court that the girl was aware that Mr Steede "was to be attacked". The jury heard that she had arranged to meet Mr Steede, who had moved to England to live with family, after she talked to him on social media sites Snapchat and Instagram. The trial continues.

October 5

The chief executive of the Bermuda Land Development Company will be out of his post this month under sweeping changes to Government quangos, the Minister of Public Works said yesterday. Lieutenant-Colonel David Burch added that a hiring freeze had also been imposed on BLDC, the Bermuda Housing Corporation, and the West End Development Corporation with effect from last month. He said the first phase of the quango restructure would mean that Francis Mussenden, the BLDC CEO, will "separate" from the organisation at the end of this month. Major Barrett Dill, general manager of the BHC, will take over management responsibilities at the BLDC the next day. Colonel Burch said that Mark Melo, the BHC finance manager, would assume financial responsibility for the BLDC on November 1 as well. He added that discussions with Anthony Richardson, the BLDC's chief financial officer, about his future were continued "as he focuses on the completion of financial audits for six years that remain outstanding". Colonel Burch said the BLDC board would continue unchanged under the new management team. He added that the responsibility for Daniel's Head beach, site of a former Canadian military base, would shift from the BLDC to Wedco. Colonel Burch said: "It makes no sense that on an island of only 21 square kilometers, that we have three organisations, three CEOs, and three CFOs, and all the attendant offices, machinery and staffs carrying out very similar functions, for the most part, with a full demonstration of bureaucracy on display." He highlighted the BLDC's responsibility for property in the West End — despite being based in St David's — as an example of inefficiency. Colonel Burch said the decision on the quango shake-up was made in July after discussions with the three quango chief executives. He added the changes were in line with two reports, Untangling Bermuda's Quangos — A Review of the Quangos in the Bermuda Government presented in 2003 and the 2013 Sage Commission Report on Government efficiency. He said both reports had "largely languished on the shelf". Colonel Burch said that he had met staff at the three quangos this week to discuss the changes. He added: "I assured frontline staff that their jobs are secure — and in fact in some instances, there may be expansion in some areas." Colonel Burch said the second stage of the quango shake-up would focus on Wedco "with an eye on recommending greater efficiencies there as well". He added that he had arranged to brief Christopher Furbert, president of the Bermuda Industrial Union, on the staffing changes at the quangos. The minister said discussions continued on the island's public golf courses, the fourth quango under his ministry's control. He added that an update on their position was expected in the "not-to-distant future". Colonel Burch said: "We view these changes as an opportunity to immediately effect some cost savings by eliminating duplication of roles, combining responsibilities, and bringing a sharper focus to deliver on the Government's mandate to control costs and operate more efficiently."

A two-way race for the deputy leadership of the ruling Progressive Labour Party is to be held. PLP officials confirmed an election will be held after Walter Roban, who has held the position for the past two years, and backbencher Scott Simmons were both nominated. They added there were no challengers for David Burt, the Premier, for leadership of the party, so he will be automatically re-elected. Owen Darrell, the PLP chairman, said the party was "thrilled at the level of excitement" around the annual delegates conference, Building a Better and Fairer Bermuda: The Next Chapter, which will be held from October 24 to 26. He said: "Delegates are signing up and a number of people will be running to fill spots in the party executive. We are especially enthused about the energy around the upcoming Throne Speech and the second year of delivering for the people of Bermuda." He added: "The next legislative year will be a critical one as we address many issues impacting our country." The party leader and deputy leader's jobs are filled by election every four years at its delegates conference under the PLP constitution. Mr Burt and Mr Roban, who is also Minister of Transport and Regulatory Affairs, were voted into their roles in 2016 after Marc Bean stepped down as the party's leader for health reasons. Mr Simmons is a backbencher and former chairman of the party and has also served as its public relations officer. The Royal Gazette reported on Tuesday that Mr Simmons was said to have visited PLP branches in recent weeks to "get a feel" for the climate. Dawn Simmons, a former election candidate, has been nominated as chairwoman of the party. If she is successful against incumbent Damon Wade she will be the first woman to hold the post. Three people, Lauren Hayward Bell, Colin Gilbert and Alexa Lightbourne, have put their hats in the ring to become deputy chairman. Mr Darrell explained: "As per the party constitution, positions that have more than one candidate must be voted on at the annual delegates conference by the delegates. He said the party looked forward to "an inspiring conference". The event will start with a speech from Mr Burt at St Paul African Methodist Episcopal Church's Centennial Hall on October 24, to which the public are invited.

Union workers at power firm Belco imposed a work-to-rule yesterday in the wake of controversial management departures. Jason Hayward, president of the Bermuda Trade Union Congress, demanded the return of the four Bermudian non-unionized staff, and the removal of two top managers at the utility. Union members at Belco, owned by the Ascendant Group, downed tools yesterday morning in protest at the Bermudian job losses, with about 100 ESTU staff gathered outside Belco's human resources department on Pembroke's Serpentine Road. Pausing after speaking to workers, Donald Lottimore, the ESTU leader, told The Royal Gazette: "We are at a critical stage right now." The industrial action kick-started a day of talks between workers and Ascendant Group directors, including chief executive and president Sean Durfy. It was the ESTU's second emergency meeting since September 14, when staff launched a protest over the loss of three marketing and communications staff. The dispute, which Mr Lottimore said had harmed morale at the company, included the dismissal of non-unionized staff. Walton Brown, the Minister of Home Affairs, voiced "grave concern". Mr Brown added: "While it is the right of any private company to manage its resources and staff as it sees fit, it is disappointing that a company such as Belco, under the Ascendant Group, who has had such a longstanding history of investing in Bermuda, have chosen to act in this way." Ascendant Group announced on Wednesday that Michael Daniel, Ascendant's chief strategic development officer, and Carol Ross-DeSilva, vice-president for organizational excellence, had been made redundant. The firm added that Denton Williams, chief operating officer, and Zehena Davis, vice-president of human resources had resigned. Mr Durfy said that management was prepared to work with the union. He added: "My door is always open and I welcome further discussions." A company statement said Ascendant management had met the ESTU executive over "challenges that the company is facing with respect to costs and reducing customers' rates". Mr Hayward accused Ascendant of a "ploy" to remove qualified Bermudians. Mr Hayward said this week's dismissals were "extremely alarming". He claimed: "These cuts come on the back of retaliatory redundancies that were made less than three weeks ago as a result of the CEO not being able to obtain work permits for expatriate workers to displace qualified Bermudians." He said both Mr Daniel and Mr Williams, who had started as apprentices, had worked at the company for 29 years. Mr Hayward said the BTUC believed that the company's management had targeted the four because they disagreed with the management of the company and the treatment of workers. He added that "approximately 20 qualified Bermudians" had been let go over the past three years. Mr Hayward said the union was "extremely shocked" at the departures of Ms Davis and Mr Williams, who had headed the last round of industrial negotiations. He added: "These departures come at a very peculiar time as their alleged resignations occurred in the midst of talks which were scheduled for this week." Mr Hayward also demanded the removal of both Mr Durfy and Robert Schaefer, the chief financial officer, who was appointed in February. The BTUC also wants assurances on succession planning for Bermudians, an end to the "systematic outsourcing" of jobs, better training for staff and information on what savings from cuts in wages and benefits had been used for. The congress also said it wanted to know if the North Power Station would be operated and maintained by Belco employees. David Burt, the Premier, said last night that the ESTU was "justifiably concerned" by management actions that were "simply not in keeping with the community responsibility we expect from the company". Mr Burt admitted the company's management had a responsibility to shareholders. But he said: "Even a monopoly must act right."

An international private jet charter firm has announced the opening of its Bermuda office in Hamilton. New York-based Star Jets International, Inc, will set up its operation in Melbourne House, on Parliament Street. Marc Bean will lead the operation. The company will operate as a private jet brokerage firm offering jets for family vacations, business trips, concerts and tours, roadshows, air cargo for art, medical emergencies, aircraft sale and management, and concierge services. The company is led by industry veteran, CEO Ricky Sitomer. Mr Bean, head of the Bermuda division for Star Jets, said: "We are excited to have a dedicated office here in Bermuda, in order to provide the highest level of customized, personal service to our current and prospective clients. Business persons, millennials involved in the tech space, high net-worth individuals, and groups of friends who all have specific requirements, are some of customers that we cater to." Mr Bean, the former leader of the Progressive Labour Party, believes that the island's reputation as a sophisticated, well-heeled jurisdiction, and its enviable proximity to New York City and the northeast of the US, were factors in the decision to open the Bermuda office. "Providing 24/7 jet concierge services, we have access to 14,000 international aircraft for our customers to chose from for on-demand charter, or our flagship Jet Card Programme that sells access to the fleet in blocks of 25 flight hours," Mr Bean said.
• For more information contact 441-438-5387, or visitstarjetsintl.com

A veteran doctor who practiced in Bermuda for more than 50 years has died. Gordon Black, who was 91, grew up in Glasgow, Scotland, and arrived in Bermuda in 1957 for a residency at King Edward VII Memorial Hospital and promptly fell in love with the island — and his wife Patricia. He worked in the Government health department as a medical officer after his stint at the hospital. Dr Black also served as prison medical officer and served the mentally ill at St Brendan's, which is now the Mid-Atlantic Wellness Institute. He entered general practice in 1964 and was based in Somerset before he moved on to Hamilton in 1968. He worked in general practice and obstetrics before he retired in 2012 at the age of 85. Annabel Fountain, head of the Bermuda Medical Doctors Association, said Dr Black was dedicated to his patients. Dr Fountain added: "I have known Dr Black my whole life; he delivered me. He looked after me as a child, through my teens and during my school and university holidays until his retirement. "He was a mentor to me as I went through my studies and, when I returned home to work in 2010, he was the most trustworthy and loyal supporter." Dr Fountain, a diabetes specialist, said she loved referrals from Dr Black because of their painstaking detail. She added: "He knew his patients so well and was able to recite their story over decades of his care, creating a thorough understanding for the reader of what was required. He was a pragmatic physician, who was careful with his prescribing and the costs associated with medical care. All of these qualities I aspire to emulate in my practice." Dr Fountain said Dr Black was always available for discussion and advice. She added: "He was extremely dedicated to his patients whom he continued to visit in the hospital when admitted, long after the hospitalist programme was instituted. Earlier this year, Dr Black was awarded honorary lifetime membership of the BMDA in recognition of his more than 50 years of service to the Bermuda community. As president of the BMDA, it was a great honour for me to award Dr Black lifetime honorary membership. It was a special moment for us both. I will miss him." Tawanna Wedderburn, chief executive officer for the Bermuda Health Council, said Dr Black had offered the council help when it first started. She said: "His most memorable advice was given when asked about the maintenance of patient records. Dr Black responded that it was more important to spend time listening to and caring for patients rather than learning how to navigate new IT systems. This advice reflects the essence of how important Dr Black's patients were to him." In 2013, Dr Black penned General Practice in Bermuda, about his time on the island and his experiences as a doctor. He said when it was published that he had always loved practising medicine and felt privileged to work in an occupation where he looked forward to going to work on Monday morning. He told The Royal Gazette: "Now I miss seeing patients and keep bumping into them in town and they give me a hug. Dr Black is survived by Patricia, son Chris and grandchildren Adrian and Annabelle.

Schoolboy gangsters have been ignored by police after they launched a reign of terror in a residential area, local people claimed yesterday. Residents in Friswells Hill in Pembroke said a gun incident on Tuesday night was sparked by a gang, some as young as 15, locked in a dispute with another group in Hamilton. They said a group of about 12 youngsters aged between 15 and 20 congregated outside homes around the clock and took part in antisocial behavior, including drug dealing. One single mother, who asked not to be named, said: "Over the last three weeks, the presence of boys in the area has grown dramatically. There is obviously a gang problem, but it's a Town-on-Town (Pembroke) gang problem. These aren't people coming from the country. The incident on Tuesday was not targeting any householder; this has been brewing for a while. There's something going on, on the streets; that makes all these guys congregate there. All summer it's been quiet, but in the past couple of weeks something has ramped up." The woman warned: "I think there's a serious gang war going on in Town right now and the police are not paying attention." A car and house were damaged in the 10.40pm shooting on Tuesday. The attack came just after a police Community Action Team meeting held in the wake of complaints about trouble on the streets. The woman added: "The police drive by and they see 15 or 20 guys. But they don't say, 'Disperse, everybody leave.' The police need to take more action. They need to be more present. You can't just drive through doing the speed limit. It makes them feel the police are afraid of them. It's intimidating when you have these guys in the front of your house; you fear you are going to have damage done to your property. Do I want to be the one to antagonize the gang on the street? I play it cool." The mother said the root of the problem was a lack of help for at-risk young men and neglect of the Friswells Hill area. She added: "I'm just a mom. I have children. I don't know where these children came from, what their house is like. I see some children in the same clothes all weekend. A couple of the little children are not in school. They can't get a job; they can't get on the Hustle Truck. These guys don't have any fathers, and they don't have any way of making money. They are selling drugs; they are stealing bikes. It's one thing to be neighborhood children riding bikes together, but as they get older it turns into something different." The woman added that abandoned and boarded-up houses in the area had helped breed street crime like drug dealing. She said: "If it looks like s***, people will treat it like s***. It's such a sweet neighborhood. But as long as I have lived in Friswells Hill, the first thing I have seen the community do is this neighborhood watch thing, only because the number of men on the streets has risen. The woman added that area residents could help restore order with a trash clean-up, trimming trees and helping residents "take pride in their neighborhood". Another woman from the area said: "They are only 16 or 17 and should be at school, but they have been weaned into the gang situation. I feel they have upset someone. The boys who came into the area are after somebody and they will be back until they get them." The Bermuda Housing Corporation, which manages the Hustle Truck, said the programme was still operational, but declined to comment further. A Bermuda Police Service spokesman said: "It is believed Tuesday night's shooting was gang related, however detectives continue to investigate the circumstances surrounding that incident." He added officers were aware of the concerns of residents. "However, tackling antisocial behavior is not just a job for the police alone, the support of the community and relevant helping agencies is also vitally important." Police have appealed for witnesses to the shooting incident. A Ministry of Education and Workforce Development spokeswoman said attendance officers monitored attendance and followed up on absences to check if they were legitimate. Wayne Caines, the Minister of National Security, said last night: "The Friswells Hill residents have a right to feel safe in their neighborhood, as should all residents in Bermuda, and I welcome having a dialogue with the community regarding the challenges we face in reducing violence." Mr Caines added that he, along with members of the gang reduction team, have met with area residents on at least four occasions. "We will be out there to talk with residents directly this weekend."

An American cruise ship passenger was fined $4,000 yesterday after she admitted possession of cannabis and drug equipment. Magistrates' Court heard Meghan George, 41, from Pennsylvania, George was caught with two bags of plantlike material in her purse by Customs officers as she tried to board the Anthem of the Seas in Dockyard. Officers searched her cabin and found three marijuana pipes, a grinder and an electronic cigarette cartridge holding cannabis oil in her suitcase. She was arrested the next morning and remanded in custody. Bruce Swan, George's defence lawyer, said she placed the drugs and equipment "without thought" as she packed for her trip. He explained she put the drugs in her bag to avoid smoke in her house from a neighbor's house fire. He explained: "She threw it into her bags in order to avoid the smoke that collected in her room and she didn't realize what they were until after she made it to Bermuda. She understands that she broke the law and she had no intention of doing so." The offence happened on Monday night. George pleaded guilty to four counts of drug possession. She apologized to the court and said she was unaware of Bermuda's drug laws. She added: "This has been the biggest mistake I've made in my life and I'm sorry." Magistrate Juan Wolffe heard that possession of cannabis has been decriminalised in Pennsylvania but is still illegal. Mr Wolffe reminded George that the legal position in the United States was not an excuse for breaking the law in Bermuda. Mr Wolffe ordered George to pay the fine before she left the island.

October 4

A former Bermuda resident nominated by Donald Trump to be the American ambassador to South Africa was convicted of immigration violations on the island. Lana Marks, now a designer of luxury handbags, was found guilty along with her husband Neville Marks of employing Lucia King, a black South African nanny, without immigration approval. Ms Marks, then aged 28, was also convicted on two counts of submitting false immigration documents. Both were given a 12-month conditional discharge, but were later cleared on appeal. The late Lois Browne Evans, the couple's lawyer and the Opposition leader at the time, launched an appeal against the 1982 conviction. Dame Lois eventually withdrew from the case. The Supreme Court convictions against Dr Marks and his wife were quashed by the Court of Appeal after just ten minutes of deliberation in July 1983. But Dr Marks, at the time Bermuda's only private psychiatrist, was ordered to leave the country just a week before the appeal was heard after his work permit was not renewed. Dr Marks also took legal action against the ministry over the work permit refusal. But the Privy Council, Bermuda's final court of appeal, in July 1985 refused to grant Dr Marks permission to appeal a Supreme Court ruling that upheld the Government's decision to not renew his work permit. The couple lived at Silver Dollar, on Knapton Hill, Smith's, for many years, and now live in Palm Beach, Florida. Ms Marks was born in East London, in the Eastern Cape province of South Africa. Her website says she studied with the Royal Academy of Ballet and that she competed in international tennis tournaments — including the French Open. She later said in an interview with a South African newspaper that she had studied ballet at the Royal Academy's South African affiliate in her home town. South African business publication Business Day also cast doubt on her claim to have competed in the French Open. The paper said their reporters had been unable to find any record of her having played in the tournament.

The Electrical Supply Trade Union is imposing work to rule, and demanding the "immediate reinstatement" of four Bermudian workers "displaced" at Ascendant Group, according to a statement issued by Jason Hayward, president of the Bermuda Trade Union Congress. The announcement came as David Burt, the Premier, tweeted: "As Belco staff raise issues of concern with recent redundancies, I sat down with ESTU members about the @bdagovernment's concern for the loss of #Bermudian jobs. We will not simply ignore practices that do not meet the highest standard of corporate community responsibility." In a statement Mr Burt said he had met with the ESTU today, along with transport minister Walter Roban and home affairs minister Walton Brown, after the departure of four senior Bermudian Belco executives. Mr Burt said: "It was important to meet directly with the workers' representatives who are justifiably concerned at a pattern of action by the CEO and the board which is simply not in keeping with the community responsibility we expect from the company. The membership's reaction to this growing and seemingly deliberate culture of uncertainty that has only affected Bermudians is not something this Government will ignore. The management and Board of Ascendant have a responsibility to their shareholders first; but my responsibility and the responsibility of the Government is to the people. As the union and its members work through these issues, the Government is committed to supporting fair business practices that meet the highest standard of corporate community responsibility. Even a monopoly must act right." This afternoon, Mr Hayward said the BTUC, which has met today with the ESTU, was "gravely concerned with the manner in which Bermudian workers are being treated within the company". It came after talks between workers and the directors and CEO of Ascendant Group, Sean Durfy. The BTUC accused Ascendant of a "ploy" to oust qualified Bermudians after four senior Bermudian staff were said to have been dismissed. Calling the move "extremely alarming", Mr Hayward's statement added: "These cuts come on the back of retaliatory redundancies that were made less than three weeks ago, as a result of the CEO not being able to obtain work permits for expatriate workers to displace qualified Bermudians. In particular, the workers are angered that Michael Daniel and Denton Williams, who both have served the company for 29 years respectively and had worked their from apprentice positions to senior management, were forced to leave. It is our understanding the board and the CEO targeted this particular group of senior Bermudians, which included Zehena Davis and Carol Ross-Desilva, because they did not agree with the manner in which the Board and the CEO were handling the affairs of the company and, in particular, the treatment of workers." The group said it marked the second time in the past three weeks that the ESTU had to call an emergency meeting. Mr Hayward said that over the past three years there had been "approximately 20 qualified Bermudians" let go. He called the actions of the board and CEO "the straw that broke the camel's back" and accused them of failing to value long-serving Bermudian staff. Workers are genuinely concerned about their job security and want clarity on the company's direction moving forward. The ESTU is extremely shocked at the departures of Zehena Davis and Denton Williams as they were primarily responsible for heading the current round of industrial bargaining negotiations. These departures come at a very peculiar time as their alleged resignations occurred in the midst of talks which were scheduled for this week." Along with working to rule and calling for the reinstatement of the four, Mr Hayward's statement demanded the removal of both the CEO and CFO Robert Schaefer. The BTUC also called for clarity from Ascendant management on six points:
Succession planning of Bermudians in the Ascendant Group;
The Regulatory Authority's requirements of BELCO;
The "systematic outsourcing" of jobs;
Access to accredited training and retraining;
The allocation of savings that resulted from cost-cutting of employee wages and benefits;
Whether the North Power station would be operated and maintained by the BELCO's employees.
The statement closed: "It is the BTUC's desire that the board of directors meet with the ESTU to bring a speedy resolve to this current impasse."

The Bermuda Health Council has refused to reveal the advice it gave former health minister Jeanne Atherden before the One Bermuda Alliance government decided to slash fees for scans last year. Tawanna Wedderburn, the health council's chief executive officer, said: "The health council has no comment on the matter at this time." Mrs Wedderburn was speaking after David Burt, the Premier, and Kim Wilson, the Minister of Health, claimed the health council's recommendation on how much healthcare providers should charge for CT and MRI scans was ignored by Ms Atherden before last year's election. They alleged she instead imposed bigger cuts in June 2017, which caused a sharp drop in income for the Bermuda Hospitals Board and Ewart Brown, a doctor and a former Progressive Labour Party premier. But Ms Atherden insisted the claims were a "false accusation" and questioned why the PLP, when in Opposition, did not object to the change in fees for scans when a Bill was passed in Parliament last May. The Government has said it expects to pay out a total of $3.6 million in compensation for lost revenue because of the fee cuts — $2.4 million to BHB and $1.2 million to Dr Brown. The Royal Gazette asked the health council last month to reveal the advice it gave the minister and if it differed from the fees that were set. Ms Wedderburn said at the time: "As public officers and per the Bermuda Health Council Act, the secretariat does provide advice to the Ministry of Health." She added: "In a recent survey by the health council, the public asked us to be more transparent. As a result, our internal policy about information release is under review to increase transparency and the public's understanding about our role, including in determining reimbursement rates. We will provide any information we can in due course. Our policy to release information is being reviewed, including information about technical advice." New Opposition leader Craig Cannonier stepped into the row over compensation for the fee cuts at the weekend. He said the payments to "wealthy" Dr Brown were "Robin Hood in reverse". But Mr Burt said: "Given the Opposition leader seems to now like the truth, he should start by telling the truth about why this vendetta was approved by him in Cabinet. The Opposition leader should explain to the people of Bermuda how he sat in a Cabinet that disregarded the advice of the Bermuda Health Council and approved this economic vendetta which negatively affected the hospital and caused this $3.6 million liability for the taxpayers of Bermuda." A public access to information disclosure by the Ministry of Health this year included an analysis of MRI and CT fees. The document listed the fees set by the OBA on June 1 last year and a list of higher recommended fees — with the difference in price shown for each procedure. The difference was only $90 in some cases and in others more than $450. The difference is what the Government is paying to Dr Brown and the BHB for each procedure they carry out until new higher fees come into effect on November 1. Neither the ministry nor the health council responded to questions yesterday on whether the list of higher recommended fees shown in the analysis formed part of the advice the BHeC gave to the former minister. Ms Atherden also failed to respond to a request for comment.

A householder may have been targeted by a gunman after complaints about troublemakers in the area were made at a police meeting only hours earlier. Neighbours spoke out after several shots were fired at a house and a car in the Friswells Hill area of Pembroke. Ashfield DeVent, a former Progressive Labour Party MP and minister, who lives on Friswells Hill, said it was possible that the shooting was a bid to intimidate neighbors angry about trouble in the area. Mr DeVent said: "During the meeting I heard people got pretty vocal and came down hard on the people who were just hanging about, so there's some belief among the neighbors that this might have been something to scare someone." Mr DeVent said it was a miracle no one was injured or killed. He added: "There were more than enough shots fired that an innocent bystander could've got hit." One man, who asked not to be named, said: "I was inside watching TV, then all I heard was 'bang, bang, bang! I came to the front door, looked out, turned off my light, I came out. There was a bike in the middle of the road and people were firing shots up at the porch. They rode off, stopped down a little further, fired again and then they rode off again." The man, who has lived in the area his whole life, said young people congregated in the area. He added: "If you got a bad apple in there, and someone's coming for the bad apple, the innocents are going to have to suffer for it." The incident happened on Tuesday night about 10.40pm. One 83-year-old woman said she was in bed when she heard multiple shots. She added: "I thought 'Not again'." The woman said: "It is disturbing because last night was the first time that I started to get a little fearful." The woman added she moved to Friswells Hill 60 years ago and the area had been largely free of violence until the past few years. "It's disturbing when you're going out during the evening. I used to walk to church, but because people have been loitering you don't want to walk down there by yourself." Another resident who heard the shots said: "What is the solution? When is it going to end? What is it that we as neighbors are going to do to support the more immediate people that are impacted by the gathering of young people there? There's an elderly woman who lives just along the corner of Border Lane by the grocery store, and she's wondering what kind of impact that has on the elderly. We're somehow breeding a culture of young men that see no alternative to this. I understand single-parent homes, I understand that we don't have a perfect educational system, but what motivates a young person to join a gang? That's the sad part for me." She said residents may restore the area's former neighborhood association in a bid to combat violence and connect with disaffected young people. Kevin Simmons, 27, said friends in the area gathered at his home for safety after the incident. Another 84-year-old woman said: "I knew it was coming soon because of all the activity that goes on around here. It's getting really disgusting." Mr DeVent added the problem needed a "comprehensive approach" from the Government to tackle unemployment. He said: "I would bet that a large majority of those who perpetrate these crimes have either not graduated from high school or struggling to find employment. If young people aren't employable or can't get employment they will eventually turn to something else to survive. If we continue this type of behavior and don't find a solution I can only, regrettably, see it escalating." Police confirmed residents had expressed concerns over antisocial behavior at the Community Action Team meeting. A police spokesman said: "In the next few days Community Action Team officers will return to follow up with area residents regarding this confirmed firearm incident, as well as their antisocial behavior concerns, while working with area MPs to identify long-term solutions." Police appealed for witnesses and said they wanted to speak to anyone who saw two people on a motorcycle in the area around the time of the shooting. Wayne Caines, the national security minister, said last night that he was very concerned by the shooting. Mr Caines said that the Bermuda Police Service was using "all the appropriate resources to investigate". He added: "I also want to reassure the public that all those who seek to cause disruption will be held accountable, and any actions of violence will be met with the appropriate response. Our ministry remains committed to implementing strategies to combat anti-social behavior."

Lyrico Steede, a 17-year-old Bermudian stabbed to death in England, was "lured" to the scene of his attack, a jury in Nottingham Crown Court heard. Peter Joyce QC opened the case for the prosecution yesterday, according to the Nottingham Post, against the five murder accused. The college student, who resided in Bulwell, was attacked in a children's playground after 7pm on February 13 in the region of Stock Well. He died from his wounds five days later. Four men allegedly aimed to "trap Lyrico and kill him", Mr Joyce told the court, with the aid of a 16-year-old girl who could not be named for legal reasons. Mr Steede was said to have walked to the park with the girl around 7pm, with the four male defendants coming by taxi for the attack. The court heard that the teen had been "a sitting duck", and was set upon after he tripped over a railing while trying to escape. The victim sought help at a residence, where he was found by police seriously injured on the doorstep. He was taken to the Queen's Medical Centre in critical condition, and succumbed to his injuries on February 18. According to the Post, the jury heard that the group came "for one thing and one thing alone: to attack Lyrico". Two males aged 17 are on trial with the 16-year-old girl, alongside with Kasharn Campbell, of no fixed address, and Remmell Campbell-Miller, 18, of Sneinton Boulevard. Mr Steede had lived in the UK for about five years to stay with family.

Health concerns have forced pupils out of their classroom just weeks into the new school term. Selessia Watson said that her son, Dantè, 7, and other pupils in the Active Learners Programme at Paget Primary had been relocated inside the school. She said the class comprises about eight children on the Autism spectrum. Ms Watson, 30, said the move was made by schoolteachers concerned over classroom conditions. She said that parents were alerted to the problem by teachers when their children returned to school after the summer break. Ms Watson said the classroom smelled "like a wet cardboard box". She added: "You could smell it even before you got to the classroom." Ms Watson said that teachers had approached the school about the issue before classes resumed last month. She said that a loud air purifier was put into the classroom to try and help the issue. Ms Watson added: "For children on the spectrum something loud like that is very distracting." She said the machine had to be run for the entire school day. Ms Watson described: "If they turned it off the floor would get soaking wet, and the walls would be dripping." She said that the pupils were out of the classroom for the second week on the school term to take part in the Endeavour Programme. Despite the children being out of the classroom, she said the problem was not fixed. Ms Watson said teachers refused to take the pupils back into the classroom at the start of the third week — opting to move them instead to the staff lunch room. She said the class was forced to relocate again into an empty classroom. Ms Watson said the room was filled with junk, as well as pests. She added: "We went in there last week and had to put down mice traps." Ms Watson said that the alternative classroom also presented another problem to pupils. She explained: "You can see all the traffic going in and out of the school, which is a big distraction." Ms Watson said that she wanted testing carried out to determine if the normal classroom was safe for her son and his classmates. Ms Watson added: "They need to have a plan, and act like they care." She said that concerns over health conditions had shuttered Cabinet Building on Front Street in 2016. Ms Watson asked: "What makes them think that children can go to school in it?" Kalmar Richards, the Commissioner of Education, confirmed yesterday that the facilities team was tackling repairs to the Active Learners Programme classroom. Ms Richards said the team "will be removing cupboards, fixing lights and carrying out general cleaning of the room and fixtures". She added: "Prior to a pre-scheduled school inspection, it was noted that the classroom air purifier was giving off an offensive smell and as a precaution, staff asked to be temporarily relocated to another room until air-quality tests were conducted." Ms Richards confirmed that air-quality tests would also be conducted. She said that despite the problems "prior to the start of the year, no work was required in the classroom". Ms Richards said that the "minor" work now needed came about as a result of a pre-scheduled inspection done on September 28. "The Department of Education wants to reassure staff, students and parents of our commitment to providing safe school environments." Cole Simons, the Shadow Minister of Education, said the situation did not happen overnight. This is a manifestation of ongoing health and safety problems. This is evidenced-based on the fact the cabinets have to be pulled down, the lighting fixtures have to be removed, and the room has to have a deep clean." Mr Simons said the situation at the school is another example of the lack of thorough and ongoing school maintenance. "It also reaffirms our belief that the facilities management team in the ministry is woefully under-resourced by this government, and as a result our unhealthy campuses are having an adverse effect on our students." Mr Simons said the Government must commit to a facilities management plan "assessed annually, at minimum. With our affluence, our students deserve, and have a right to attend schools which have campuses which cause them no added stress or burdens. They should not be exposed to unnecessary health and safety risks."

Police are reminding runners and walkers to remain vigilant and avoid dimly lit areas while exercising after an alleged incident this morning. The advice this evening comes after an alleged encounter involving a female jogger near Trimingham Hill, Paget. The alleged incident was described in an e-mail obtained by The Royal Gazette this evening. The woman said she was running in the area this morning at about 6.10am when a "streaker" emerged from behind a trash can. She described shining a flashlight on the man and screaming at him until we ran away. The woman said she then flagged down a man on a bicycle and told him what had happened. A Bermuda Police Service spokesman contacted this evening said he was unsure if a report about the incident had been made to police. He said that police recommended that runners and walkers exercise in pairs or groups. The spokesman said: "If you encounter such offensive behavior while out exercising, do not become confrontational. Instead, remain at a safe distance and get the best description you can of the offender." He added: "Only if it is safe to do so, take a photo with your phone, if you have it with you." The spokesman said that any incident should be reported to police immediately, including the time it took place, the location, and any description of the person involved. An accurate description or clear photo of the offender will further assist detectives in identifying and apprehending the individual committing these public acts of indecency."

October 3

Fears over legislation designed to control loan sharks will be considered before a final Bill is presented to Parliament, the home affairs minister vowed yesterday. Walton Brown explained that submissions made during public consultation on the Debt Collection Act 2018 will be looked at by the Attorney-General's office to see if any changes are needed. Mr Brown also promised that massive fees charged by collection agencies would be tackled under the proposed rules after lawyers warned the problem was not properly covered by the draft legislation. He said: "We are very encouraged by the feedback we have received regarding this Bill. Careful consideration will be given to the concerns and suggestions that were expressed. Our goal is to produce a final version of the Bill that is effective, will provide protection through accountability and oversight and one that will benefit consumers who are debtors, companies that extend credit and the agencies responsible for collecting debts. The submissions will be reviewed and shared with the Attorney-General's chambers in order to consider amendments to the Bill where necessary." Mr Brown thanked everyone who provided written responses to the Bill during the consultation period, which ended last month. The Royal Gazette reported on Monday that lawyers were worried the Act, as proposed, would not crack down on "punitive" and "exorbitant" fees charged by companies hired to collect debts. The Ministry of Home Affairs read through 19 pages of submissions and a spokesman said the points raised will be discussed "with the draftspersons in due course". The spokesman added: "The issue of exorbitant fees will also be addressed in this Bill." The legislation was designed to provide a regulatory framework for debt collection agencies under a new Debt Collection Licensing Authority in a bid to stamp out abusive practices such as harassing phone calls and "predatory" lending. Mr Brown told the House of Assembly in July that the debt collection Bill "represents the first tranche of proposals to address the Government's Throne Speech commitment to introduce regulations for debt collection agencies, regulate payday lenders who lend money at extraordinary interest rates and bring banking, insurance and other financial service conduct under the umbrella of an updated Consumer Protection Act." He added: "Further legislation will be proposed to address consumer services provided by the banking, insurance and other financial services industries after consultation with the public and private sector stakeholder groups." The ministry was asked yesterday for more details on what the additional legislation would cover but none was received. Senior magistrate Juan Wolffe said he had given the proposed Debt Collection Act 2018 "some review". He added: "It would have been nice if we were consulted before they actually drafted something up." Mr Wolffe said: "Surprisingly, there are debt collectors who actually welcome legislation to regulate debt collection, so I don't think you're going to get too much issue there. I also think that what precipitated that Act might have been, I'm just speculating, might have been just one or two persons who maybe had a bad experience with debt collectors, maybe even in the court. I think that the vast majority of persons coming before the court ... their experience is one where they feel they were listened to, I think, anyway." Sheelagh Cooper, the chairwoman of Habitat for Humanity of Bermuda and a social campaigner, welcomed the initiative. She said: "I am very pleased to see the attention being paid to the regulation of businesses that specialize in debt collection. This is vitally important as the penalties leveled and the interest rates charged are often exorbitant and this has made it virtually impossible for a struggling family to ever dig themselves out of that burden. Clearly there needs to be a court assisted vehicle for debt collection but a review of the terms and conditions set out by the collection agencies is long overdue for review. I commend Mr Brown for taking the lead here."

A proposal to test the English language skills of foreign workers could come into effect later this month, The Royal Gazette can reveal. A Ministry of Home Affairs spokeswoman yesterday confirmed a draft policy is now under review. The spokeswoman added the proposals were "in circulation for consultation", and that Walton Brown, the home affairs minister, would discuss the move at a press conference today. The Department of Immigration posted the draft English Speaking Work Permit Policy online on September 21 and gave an "effective" date of October 19. The policy document said that some employers were "finding it more and more difficult to recruit from English-speaking countries". It added that "it is unacceptable to have foreign nationals serving persons, whether it is in a restaurant, a hotel or a rest home, who cannot communicate effectively in English". The Immigration department said: "It is dangerous in a job where one has to also read prescriptions or the labels of dangerous chemicals. Consequently the following policy is being put into effect." Job categories cited cover industries where the employee has contact with the public or where lives could be put at risk. These include:
Restaurants, food service and hotel workers
Health professionals
Caregivers in nursing jobs
Workers from countries where English is not the first language will be required to show evidence of a pass in an English as a second language course under the new policy. The statement added the department could not police proficiency in English. However it said it would act on "complaints from members of the general public that work-permit holders cannot speak or understand English or if public officers witness this deficiency themselves". Workers already employed on the island will be given a language test at the Department of Immigration. The statement said: "If the language test results indicate that the person is deficient — they fail the test — in their understanding of and/or ability to speak English, the natural justice process will be administered and the employer and employee will be advised that the minister is considering revoking the work permit. Both parties will be given 14 days to provide a written response as to why the minister should not revoke the work permit." Bermuda's immigration policy already has regulations on English proficiency. But they are restricted to nationals who fall under the Portuguese Accord and who work in the construction industry. The restriction is a standard stipulation on Bermuda work permit applications and part of a 1982 agreement between the governments of Bermuda and Portugal, which covered terms for residence and employment for Portuguese contract workers. The new policy set proposes denying entry to Bermuda in cases where Customs or immigration staff observed first-time work permit holders who arrived and showed an inability to speak or understand English. People judged to not be fluent enough in English would not be cleared through customs and would be sent home at their employer's expense. A source close to the Consultative Immigration Reform Working Group said the proposal did not originate from them. The working group drew up a report last year which has now gone to a bipartisan committee of the House of Assembly for review.

Women are "more needed than ever" to step up in politics, the island's first Progressive Labour Party premier said yesterday. Dame Jennifer Smith, who led the PLP to its historic 1998 victory, said: "Women who are there in politics should each pick a protégée, someone they can manage and encourage to go further." She added: "To aim towards bringing our statistics in line with the actual number of women in Bermuda would be a great accomplishment." Dame Jennifer was speaking after she gave a speech at an event designed to celebrate the contribution of women to the PLP. Her speech on September 23 highlighted women as the backbone of party membership. Dame Jennifer said many of them, including herself, were guided by Dame Lois Browne Evans, who was the first female Opposition leader in the Commonwealth. She added: "I was not on the front lines at the beginning, but I was encouraged into volunteerism and taking responsibility for my own actions and I realised women could do that. I had the best mentor in the world with Dame Lois." Dame Jennifer added that Ann Pindar was an early unsung hero of the PLP. She said Ms Pindar, a trade unionist and confidante of Dame Lois, was selected by the Bermuda Industrial Union to attend a conference in Barbados because no men were available. Ms Pindar brought home key documents from the conference, including a copy of a party constitution, that were used to form the PLP in 1963. Dame Lois and Ms Pindar passed on the documents to male party members to present them to the founding inner circle. Dame Jennifer said Ms Pindar revealed her role at a PLP founder's day lunch in 2012, when she was 89. She added Ms Pindar also made an early, but unsuccessful, bid for the party as a candidate. Dame Jennifer told The Royal Gazette: "If it was tough for men to run, it was extra tough for women of that day. They had families and jobs. I was single, and worked at the Bermuda Recorder." Dame Jennifer followed Dame Pamela Gordon Banks, who was premier in the last United Bermuda Party government and the first woman to hold the highest political role. Dame Jennifer's speech was delivered at one of a series of commemorations planned for the 20th anniversary of the 1998 win. The party's "mother-daughter soirée" at the Rosewood Bermuda resort was attended by 172 women. Kristin Burt, the wife of David Burt, the Premier, as well as Wanda Brown and Olga Scott, the wives of former premiers Ewart Brown and Alex Scott, were patrons. Dame Jennifer told the audience at the event that eight women ran for the PLP in the 2017 General Election and half of them won their seats. She added: "We need more women in Parliament because women bring a sensitivity with them, a history of being peacemakers, knowing how to deal with different personalities, being multitaskers, knowing how to make a way out of no way." Dame Jennifer said women need to "stand up" and called for at least half of parliamentary candidates to be women. She added: "Today, there is more need than ever to encourage women to stand for election." Corporate sponsors for the event were Wesley Miller of ENT Bermuda, Dorothy Crane Nursing Home and Bermuda HealthCare Services.

Performance artists from Grenada and the US Virgin Islands are to join in the Bermuda International Gombey Festival this weekend. The bright-coloured Shortknee, from Grenada, wear a wire screen mask over a whitened face and perform rhythmic stomping with bells around their ankles. Moko Jumbies, from the US Virgin Islands, walk on stilts up to 15ft high. Both are viewed as symbols of history, culture, and heritage in their home countries. They will join Bermuda's Gombeys in performing at the Bermuda International Gombey Festival Showcase at the Botanical Gardens on Saturday, from 5pm to 9pm. Bermuda Donquili, a local group set up to perpetuate the traditional drum beats and dances of West Africa, will add to the multicultural angle at the four-day event which begins tomorrow. Michael Weeks, the social development minister, said: "I want to encourage the public to come out and enjoy this dazzling, energetic, cultural display. To have so many of the troupes gather together in celebration of our proud heritage is an opportunity not to be missed." The Gombey Festival is held every year to provide continued exposure to folk art traditions. The troupes are a blend of Bermuda's African, Caribbean, native American and British cultures. Mr Weeks said: "The traditions have been passed down orally from one generation to the next within families and the captains of each troupe determine the direction of the troupe and style that is taught. Thus within troupes there can be found subtle but distinct differences in beats, dances, costumes, headdresses, by which they can each be recognized. Freedom dance, junkanoo, cockfights, biblical stories, slow dance, fast dance, snake dance, and rushing back are all elements to watch for when observing a Gombey performance."
The festival will also include:
Made in Bermuda Nights: Gombey Festival Edition, at Fort Hamilton, tomorrow, from 7pm to 11pm
Dance of the Diaspora: Gombey Festival Film Showcase on Friday, at Specialty Cinema, on Friday, from 6pm
Gombeys and Traditions of the Diaspora: A Symposium, at CedarBridge Academy Cafeteria, on Sunday, from 2pm to 4pm

A man denied smuggling $647,000 worth of heroin into Bermuda at a Supreme Court hearing yesterday. Omar Davy, 37, pleaded not guilty to the importation of the drug on July 28 and possession with intent to supply. Davy, a Jamaican national, also denied willfully obstructing customs officers by running away from the customs area at the LF Wade International Airport before officers could finish searching him and his luggage. It is alleged the haul was 220.88g of the controlled drug. Puisne Judge Charles-Etta Simmons remanded Mr Davy in custody until January, when he is expected to return to the court for trial. Mr Davy was one of several defendants who appeared at yesterday's arraignments session. Katrina Burgess and Cleveland Rogers are both accused of the premeditated murder of Marcus Gibbings, who was found stabbed to death at a Devonshire apartment on October 26, 2006. Ms Burgess, 47, and Mr Rogers, 51, who were not required to enter a plea, are expected to return to the court next month.

Two American tourists were fined a combined total of $12,000 in Magistrates' Court for having prescription-based "medical marijuana" after spending several days in custody in Hamilton Police Station. Serenade of the Seas passengers David Hutchins, 23, from Amherst, Massachusetts, and Ronald Bernard, 57, from Rhode Island, both admitted to separate charges before magistrate Juan Wolffe yesterday. Mr Wolffe told Bernard it was "mind boggling" that he would risk carrying the drug into a foreign country. He fined Hutchins a total of $7,000 for the six offences and ordered that the full sum be paid before he can leave the island. Mr Wolffe heard that on the morning of Wednesday, September 26, Hutchins was disembarking from the Serenade at King's Wharf, Ireland Island, when Customs officers noticed he had plantlike material and a vaporizer with him, which Hutchins admitted were his. A search of his cabin revealed chocolate, gummy bears, oil and wax, all of which contained active ingredients of cannabis. Hutchins, trembling uncontrollably in court, admitted five counts of importation of cannabis and cannabis products, along with the possession of drug equipment. Richard Horseman, Hutchins's defence lawyer, said he had a medical marijuana card and took the drug to deal with spinal and mental health problems, including anxiety. Mr Horseman said: "There was not an intention to bring all of that on to the island. He was on a cruise and be brought along more than he maybe needed, which was a mistake." He told the court Hutchins had been visiting the island with his family as his parents celebrated their 30th wedding anniversary. His arrest meant his family had remained on the island after the cruise ship departed. Mr Horseman said Hutchins's decision to bring the drugs to Bermuda was a "grave error" and that he had already spent more than two days in custody. Hutchins, who trembled as he addressed the court, apologized and said he should have made himself more aware of the law in Bermuda. He added: "I made a very big mistake. I had no intention to disrespect the island or the court system." Mr Wolffe said he accepted that the drugs were not intended for distribution, but that drug offences were still serious offences. The court heard that hours after Hutchins was arrested, a Customs sniffer dog alerted officers to the cabin Bernard shared with his wife. When the door opened, officers detected a strong scent of cannabis. Bernard admitted he had the drug, and a search of his cabin revealed 10.36g of cannabis and a cartridge containing cannabis products, and was fined $5,000 for the four offences. Bernard pleaded guilty to four charges, including the importation of the drugs and possession of drug equipment. He said: "My intent was never to bring it on to the island, although I now understand that I shouldn't have brought it into Bermuda's territorial waters." Bernard added he used the drug to help cope with knee and shoulder pain. He added: "I know that doesn't make it right or acceptable."

A man who almost collided with a police car while over the drink-driving limit was fined and banned from the roads for 18 months yesterday. Nedio Medeiros, 39, was arrested in the early hours of yesterday on Trimingham Hill in Paget. The court heard police were on mobile patrol near the Crow Lane roundabout at about 4.15am when they saw Medeiros's motorcycle attempt to negotiate the roundabout. Officers said Medeiros, of Paget, switched lanes and forced the police to brake to avoid a collision. They pulled Medeiros over and noticed he appeared unsteady on his feet. Medeiros, who appeared in Magistrates' Court hours after his arrest, pleaded guilty to drink-driving. He also admitted driving without a valid licence. Senior magistrate Juan Wolffe fined Medeiros $1,200 and banned him from the road for 18 months.

October 2

Violence against women must be treated as a "national priority", the Government was told at the weekend. The Progressive Labour Party administration was urged to provide more funding and support for victims at a Women in Politics forum, which attracted about 70 people. Laurie Shiell-Smith, executive director of the Centre Against Abuse, told the forum that the Department of Health found in 2010 that one third of women in Bermuda will be affected by domestic violence. She said: "Centre Against Abuse is the only organisation on the island that provides a full complement of services for victims affected by domestic violence. Over the last ten years, Centre Against Abuse has assisted over 1,500 women, and while these numbers are astronomical, we also recognise that this is only a small segment of our community that actually comes forward that are affected by domestic abuse." She was speaking at an event last Saturday organised by the PLP's women's caucus. The forum, held at the PLP's Alaska Hall headquarters in Hamilton, included speeches by Dame Jennifer Smith, a former premier, and Lovitta Foggo, the Minister of Government Reform. Ms Shiell-Smith highlighted the 1878 murder of Anna Skeeters, whose husband, Edward, had to be protected from angry women after they discovered he had killed her. She said: "While I'm not advocating for violence upon violence, I am advocating that, collectively, we as women can end violence against women because I am my sister." Ms Shiell-Smith pointed out that Bermuda signed the United Nations Convention on the Elimination of all forms of Discrimination Against Women last year. She said the island was now "legally obligated" to work towards the implementation of the convention, which included a commitment to end violence against women. She added violence against women had repercussions that involved health, labour, housing, finance and education, as well as the immediate impact on victims. Ms Shiell-Smith said: "Violence against women is a multi-generational scourge on those who are afflicted by it and it also leaves scars and behaviours that then can lead to the continued cycle of violence." She added: "As a collective, I charge that we ensure that services such as Centre Against Abuse are fully funded by Government so that these vital services do not have to depend on donor funds to determine if they will continue or not. Bermuda is the only island in the Caribbean where this is not handled by a government." Ms Shiell-Smith told The Royal Gazette yesterday that October 1 marked the start of an international domestic violence awareness month. She said: "That's the very sad part about this, that Government has decided that this isn't important enough for them to make it a focus, and this is actually a major issue in Bermuda, which has offshoots not just for violence against women but violence in the home, gang violence — if we deal with what's happening at home we can actually cut down on some of the social issues that are happening in Bermuda." Ms Shiell-Smith was asked on Saturday what progress had been made on the UN treaty. She said: "Bermuda signed on CEDAW last year, however, that's all we've done."The CAA, which helps about 120 women a year, needs $300,000 a year to fund its work, but has to rely on donations. Ms Shiell-Smith said: "The next step for the Government is to actually become involved and make this a priority. Under their government, they have a Department of Child and Family Services, unfortunately they don't service the family, they just service the child. A place like CAA or the work that we do should be under that department or a gender affairs department." She added: "This is a matter that doesn't just affect women, it's not a women's issue, it's a human rights issue." The forum also included discussions on the representation of women in politics and how to strike a good work-life balance. Alexa Lightbourne, the caucus chairwoman and one of the event's moderators, said: "While we initially wanted to host this intimate forum to accommodate 40 persons, we were overwhelmed with a room of nearly 70 diverse women engaged in learning and dialogue on key issues."

A remorseless" gunman was jailed for life yesterday for the murder of wheelchair-bound Lorenzo Stovell. Puisne Judge Charles-Etta Simmons ordered that Travone Saltus, 30, serve at least 15 years of the sentence before he became eligible for parole. She also ordered that a ten-year sentence for the use of a firearm in the killing should run consecutively with minimum murder term. Mrs Justice Simmons said time already served in custody should be taken into account. The court heard earlier the shooting, which happened as Mr Stovell sat in a party bus outside Woody's Bar in Sandys, "shattered" Mr Stovell's family. Laurie Stovell, Mr Stovell's sister, wrote in a victim impact statement: "It was a joy to see him happy. He had been so depressed being in a wheelchair. He was determined to walk again by the time my son could walk." She added that he had pleaded with him to get off the bus before it went to Woody's. But she said Mr Stovell told her: "The worst they could do is kill me." Ms Stovell added: "They are words that I will never ever forget." She said when she heard about the shooting and saw that the bus was gone, she knew what had happened. Ms Stovell said: "I knew my brother was dead. I knew in my heart and soul." She added: "The trial process resurfaced all the pain I felt. I still have no emotions towards the verdict. I do not get my brother back, now another family has to feel similar pain. No one wins in this situation." Mrs Justice Simmons said the jury believed the evidence given by witness Troy Harris, who said Saltus had confessed the murder to him. She added: "The jury no doubt found that your murderous conduct was instigated by your membership in a gang, your need to demonstrate fidelity to that gang and that the gang has a requirement to 'put in work'." Mrs Justice Simmons said that Saltus had no serious previous convictions, but the shooting was aggravated by Mr Stovell's disability. Mrs Justice Simmons said: "It meant he was especially vulnerable to an MOB attack that night. This was a gang-related attack, and you showed no remorse when you boasted to Mr Harris." Mr Stovell, 24 and confined to a wheelchair as a result of an earlier shooting, was killed just after 10pm on September 23, 2012. The court heard that Mr Stovell was on the bus with friends and that it stopped outside Woody's. The other passengers left the bus for the bar, but Mr Stovell remained in the vehicle with the driver. Mr Stovell was shot at through the window of the bus and suffered several gunshot wounds. The bus driver sped away to try to get the wounded man treatment, but Mr Stovell died of his injuries. Prosecutors alleged that Saltus killed Mr Stovell amid a tit-for-tat series of shootings in an effort to rise through the ranks of a West End gang. Mr Harris said Saltus told him in May 2013 if he wanted to establish himself in the gang, he would have to "put work in" and admitted that he had shot Mr Stovell to advance himself. Saltus was tried and convicted of the killing last year, but the Court of Appeal ordered a retrial over the evidence of Mr Harris. Carrington Mahoney, Crown counsel, said in the retrial that Mr Harris's evidence was supported by the testimony of other witnesses. He told the court Mr Harris had nothing to gain by giving evidence other than a clean conscience. But Mr Horseman said Mr Harris was an unreliable witness and argued that many of the details he provided could be found in media coverage of the shooting. Mr Horseman highlighted Mr Harris's long list of previous convictions and suggested he was trying to protect the real gunman. He added that there was no forensic evidence to link Saltus to the shooting or any witnesses that put him in the area when the shooting happened. Saltus told the court he had gone to Woody's that night, but left before Mr Stovell was shot because he was felt ill.

Traffic on Kindley Field Road around the airport, at the stretch known as Stone Crusher Corner, will be affected by roadwork later this month, the Ministry of Public Works has advised. Trench work near LF Wade International airport will require a one-lane closure, starting next Monday through October 12, between 9am and 4pm. The ministry thanked the public for their patience.

A Progressive Labour Party backbencher could take on Walter Roban for the position of deputy leader. It is understood Scott Simmons has considered making a move for the role in the run-up to the PLP's delegates conference this month. Sources told The Royal Gazette that nominations for the leader and deputy leader are due tomorrow. It is thought David Burt, the PLP leader and Premier, will not face a challenge but that Mr Simmons has been testing the waters to gauge support for a run for the deputy position. The party's constitution rules that the two posts will be appointed by election every four years at its delegates conference, which is scheduled for October 24 to 26. An insider said yesterday: "There's not a challenge for the leadership, but there's a challenge for the deputy leadership. We will know by Wednesday, for sure, who is going to submit their names. By the constitution, every four years the office of the leader and the deputy leader has to be vacated." Mr Roban, who is also Minister of Transport and Regulatory Affairs, is expected to put himself forward to retain the position. The source said there had been speculation that Mr Simmons may also throw his hat in the ring. Without an official announcement, it is unknown what level of support he may get. Mr Simmons was said to have visited various party branches over the past couple of months to "get a feel" for the climate. Both the party leader and deputy leader must be elected members of the House of Assembly. With a career that includes policing, banking and hospitality, Mr Simmons is a former PLP chairman who has also served in media and public relations roles for the PLP. Mr Simmons declined to comment yesterday, while Mr Roban could not be contacted for comment.

Fresh criticism over the Jetgate scandal is a distraction from the problems the island faces, the new leader of the One Bermuda Alliance said last night. Craig Cannonier admitted that attacks over the controversial trip from Progressive Labour Party MP Christopher Famous and Ewart Brown, a former PLP premier, did not come as a surprise. But he said: "We, as a public, need to move away from these character assassinations and move to the issues of this country. The issues of this country have nothing to do with Craig Cannonier. They have nothing to do with Chris Famous. They have everything to do with Mr and Mrs Bermuda." Mr Cannonier, who quit as premier in 2014 over Jetgate, was speaking after the OBA confirmed yesterday that he was the new leader of the party in the wake of a vote of no confidence in Jeanne Atherden by most of the Opposition MPs last month. He was sworn is as Opposition leader last Monday and became party leader as well yesterday. Mr Famous yesterday called for Mr Cannonier to answer more questions over the Jetgate affair which had caused him to "resign in disgrace". He said: "Simply put, Bermudians deserve better. Bermuda has had only one premier in its history driven from office in disgrace — Craig Cannonier. Bermudians need to see for themselves and judge for themselves the original, unaltered report produced on the Jetgate scandal that Michael Dunkley and Craig Cannonier never allowed them to see." Mr Famous said police continued to investigate the Jetgate controversy, which involved a trip to the US in a private jet owned by an American business tycoon. He said: "Questions still remain unanswered." But Mr Cannonier dismissed the attack as a "character assassination". He added: "It does nothing for the betterment of the issues of this country." Mr Cannonier said Mr Famous should focus his attention on ordinary Bermudians, who he claimed were being hit with higher taxes while the wealthy were left alone. He added: "This is coming from a labour government, which should be, to its members, a major, major concern." Mr Cannonier said last Sunday that payments made to Dr Brown in compensation for cuts in fees for scans imposed under the former OBA government were "Robin Hood in reverse". Kim Wilson, the Minister of Health, revealed on Friday that Dr Brown was expected to be given more than $1.2 million in total for losses at his two medical clinics after fees for diagnostic imaging scans were slashed in June last year. Dr Brown declined to respond to Mr Cannonier's broadside. He said: "Maybe after the Jetgate explanation." Mr Cannonier said yesterday that Dr Brown had hidden behind privilege during the 2016 Commission of Inquiry into allegations of impropriety in public spending. He added: "He is a man who would not talk to the public about their money. How duplicitous can you be?" Mr Cannonier said that he was unable to comment more on Jetgate as the matter was still under police investigation. He added that the public could expect a more outspoken and vocal Opposition in the days ahead. "This is definitely an effort on our behalf to ensure that Bermuda recognises that we are alive and well. Maybe not as well as we can be, but we will be." Mr Cannonier said that it was "a bit harsh" to say that Ms Atherden had failed to provide the strong leadership needed from the Opposition. But he added: "I do believe people were looking to see more of a presence. I'm not here to say that our former leader failed, per se, but what I do believe is that the public were looking for more from us." Mr Cannonier said his Shadow Cabinet and Senate team would be announced over the next few days. Nandi Outerbridge, already replaced in Senate by former OBA chairman Nick Kempe, and Simone Barton, a former OBA election candidate, have both been nominated for the post of chairwoman. A special general meeting will be held next Friday to elect the new chairwoman. Michael Dunkley, who replaced Mr Cannonier as premier, ruled himself out of contention for the leadership race earlier yesterday.

A woman was banned from driving for a year and fined $800 after she refused to take a breath test. Magistrates' Court heard yesterday that police went to the scene of an early hours single vehicle crash in Devonshire. Officers found that a car driven by Lakeisha Bell, 39, had hit a pole. They noticed that Bell, of Devonshire, was unsteady on her feet, her speech was slurred and her eyes were glazed. Bell was arrested on suspicion of drink driving but refused to take a breath test. Bell pleaded guilty to the offence, which happened on September 30 about 5.50am on Palmetto Road near Dock Hill roundabout.

Carlos "Lindy" Bosch, a former president of Bacardi International, has died. Mr Bosch was 91. Mr Bosch, a member of the Bacardi family, was instrumental in the relocation of the Cuban-born drinks dynasty to a new home in Bermuda in 1965. Bacardi, founded in Cuba in 1862, was forced from its homeland in the wake of the Cuban revolution of 1959 after its leader, Fidel Castro, introduced a hardline Communist regime and nationalized private property without compensation. Mr Bosch moved to Florida with his family and persuaded his father, José "Pepín" Bosch, the grandson-in-law of Bacardi founder Don Facundo Bacardí Massó and then president of the company, to set up in Bermuda. Mr Bosch told The Royal Gazette at the 50th anniversary of Bacardi in Bermuda in 2015 that it took two years to convince his father to move the company to the island. He added: "Somehow or other, the small team we had gelled and it just worked." The original staff of five grew to 65 over five decades and Bacardi's modernist global headquarters on Pitts Bay Road, originally designed by world-renowned Mies van der Rohe for construction in Cuba, became a landmark. Mr Bosch retired in 1975. A requiem mass for Mr Bosch, a father of four, will be held at 2pm tomorrow at St Theresa's Cathedral, Cedar Avenue, Hamilton.

October 1

Soft drinks, sweets and other select items will be hit by a 50 per cent hike in duty rates as the first stage of the sugar tax kicks in today. The tax increases will rise to 75 per cent in April. Its phased implementation was agreed by legislators in June after complaints from business owners. Michael Dunkley, the former premier and owner of the wholesaler Dunkley's Dairy, issued a statement yesterday that the tariffs were unlikely to sway consumers and improve health. Mr Dunkley added that he had declared his interests in the matter, and claimed the price would rise on grocery items to the detriment of small businesses. According to Kim Wilson, the Minister of Health, the tax would not cause a proportional rise in prices. In Parliament this summer, the minister cited potential rises of 20 to 50 per cent for island-made foods, with bread possibly going up five per cent. Mr Dunkley called the tax "discriminatory" in its selection of products, and said its exemption for home bakeries "still has not been explained properly". Implementing a sugar tax was pledged by the Progressive Labour Party in March 2017, among a raft of tax reforms promised before the July 2017 General Election. But Mr Dunkley accused the PLP last night of passing "poor" legislation in a "rush to tick the box of election promises".

Premier David Burt insisted his "door is open" to the concerns of the business community after a survey found confidence plunged dramatically. The Premier also pointed to positive economic signs from the first quarter of 2018, but conceded there was a long way to go on the road to recovery. His remarks came as Craig Cannonier, the Leader of the Opposition, said that economic recovery begun under the One Bermuda Alliance risked "going backwards". Bermuda Business Confidence Survey results released last Friday showed confidence fell to 86.4 points, the lowest reading since the survey was launched in 2014. Business leaders responded by calling for the island to change its approach to immigration and attract more working-age people to the island. Mr Burt said yesterday: "The Business Confidence Index is one benchmark for Bermuda. We can measure our future successes against where we stand today. We have a joint responsibility to work together to improve economic growth and diversification, to create business opportunities and jobs for Bermudians. My door is open. I am available to hear the concerns of the business community with a view to finding solutions together." First-quarter results showed government revenues, air arrivals and employment were up, government spending was down and the deficit was down by 24 per cent. Mr Burt said: "The report highlights economic and external factors impacting Bermuda businesses and the confidence in Bermuda's business environment. This is one snapshot in time and provides an opportunity for Government and business to work together to continue to strengthen our economy. Is everything perfect? No. We still have a long way to go." Mr Burt noted his Budget pledge to provide jobs and careers for Bermudians by diversifying the economy, and aggressively finding new global areas of growth. He said: "This government is committed to working with local and international companies to grow the economy and create jobs for Bermudians." Last night, Mr Cannonier said that the impetus from projects such as hotel construction, the airport redevelopment and balancing the Budget had been "lost". He added: "The fact that we would be balancing the budget under an OBA government this coming fiscal year speaks to the issues many have in the business community. That will not be a reality with this government. In the last few weeks we have seen nothing but negative reports on the state of Bermuda's economy, income levels or the level of business confidence. All this while we still wait to see the hundreds of jobs the PLP promised in fintech." Mr Cannonier said the index report showed confidence dropping almost 20 points, with immigration "one of the major concerns". The Opposition leader cited the Government's Quarterly Bulletin of Statistics, with a $15.5 million drop in employment income over the first quarter of the year, as well as the 0.4 per cent fall in real GDP for the first quarter of 2018, and a decline in retail sales volume reported for June. He charged that healthcare costs had continued to climb, and criticized "new dividend taxes which will hit the small Bermudian businesses". Mr Cannonier added that Bermuda was on "an economic knife-edge", with the Government's policies failing to stimulate the economy.

Payments awarded as compensation to Ewart Brown, the former premier, have been branded "Robin Hood in reverse" by Craig Cannonier, the Leader of the Opposition. Mr Cannonier said yesterday that, instead of helping "wealthy" Dr Brown, the Progressive Labour Party should be focusing on seniors with high healthcare bills and small businesses struggling with tax increases. Kim Wilson, the Minister of Health, revealed on Friday that Dr Brown was expected to be compensated for more than $1.2 million in total for losses at his two medical clinics after fees for diagnostic imaging scans were cut in June 2017. Financial supplements were also paid to the Bermuda Hospitals Board. Ms Wilson blamed the One Bermuda Alliance administration for imposing "drastic" cuts on the scans, and said the Government had intervened to "right a wrong". Mr Cannonier asked yesterday whether the priority of the PLP was to Dr Brown or to "the welfare of the Bermudian people". The Opposition leader said the payments, which come from the public purse, "should be a major concern to all taxpayers". He added: "It is Robin Hood in reverse. With healthcare already at sky-high levels, despite pledges by the PLP to bring them down, how is what amounts to subsidizing a private sector provider, going to lower those costs for Mr and Mrs Bermuda? How is this going to help those who have to make a choice between paying healthcare costs, rent or food?" Mr Cannonier added that the Government had been good at raising taxes to eliminate the government deficit only to "lavish" it on a wealthy recipient. "What about those seniors on fixed incomes with high healthcare expenses, Bermudians who are struggling to make ends meet and those small business about to be hit by the sugar tax or tax on dividends. The OBA government raised taxes on the wealthy and international business while the PLP has raised taxes on Mr and Mrs Bermuda instead. What happened to all the rhetoric of 'Two Bermudas'?" David Burt, the Premier, last night said that Mr Cannonier should tell the truth "about why this vendetta was approved by him in Cabinet". He added: "The Opposition leader should explain to the people of Bermuda how he sat in a Cabinet that disregarded the advice of the Bermuda Health Council and approved this economic vendetta which negatively affected the hospital and caused this $3.6 million liability for the taxpayers of Bermuda. Between these payments and what he and his colleagues left the people of Bermuda to pay for Cross Island, it makes this government's first quarter performance all the more impressive." Last night, Dr Brown said: "I will not respond to this statement. Maybe after the Jetgate explanation."

Former premier Michael Dunkley announced today he will not vie for the One Bermuda Alliance leadership. Although the MP claimed "many" of his party colleagues have been ineffective in the past year, he said it is time for them to unite. His statement came on the deadline day for nominations to fill the positions of OBA leader and chairman. Shortly afterwards, Craig Cannonier was named as the leader of the OBA. Mr Cannonier was sworn in as Opposition leader last Monday, following a vote of no confidence in Jeanne Atherden. Mr Dunkley, who was Premier for three years until the Progressive Labour Party swept to power in the 2017 General Election, said: "There has been a great deal of speculation on whether I would put my name forward during the nomination period to be the leader of the One Bermuda Alliance. After a great deal of pressure, support and consideration I have decided not to submit a nomination. The OBA has gone through a difficult period since the last election — many Opposition members have not been effective to this point and there has been a leadership change. Now is the time to bring the party together, to build the party and to bring renewed energy and enthusiasm to the important work that must be done." Mr Dunkley continued: "Now is also the time to demonstrate to the people of Bermuda that no matter how difficult the challenge, the OBA will stand together for the betterment of our people. I have served in many leadership positions and with my experience and at this point in life it is not always necessary to be the focal leader. I can use my experience, ability and enthusiasm in other ways and I am willing to work with my colleagues to do what is required for the OBA and Bermuda." He added: "We can and must hold all our leaders to account in their service with transparency, responsibility, accountability and integrity. These values must transcend words and promises. For the many who have expressed concerns about leadership past and present I encourage you to be an active part of ensuring that the leadership consistently actions these values."

A healthcare worker is under investigation for allegations of inappropriate sexual behavior involving a child, the Bermuda Health Council has announced. A statement follows: "The Bermuda Health Council recently received information about an unregulated health professional who allegedly engaged in inappropriate touching of a sexual nature with a child. The allegations are being investigated as the council referred the matter to relevant authorities. In light of this allegation, the health council reminds the public to check if your health professional is registered, and practices in a safe facility before you receive healthcare." Tawanna Wedderburn, CEO states: "The health council supports safe, quality care. Through a recent survey we conducted, the public asked us to speak up. We are meeting that request. Unusually, we are taking this step to highlight this information because of the risks faced by the public including children and other young people. Generally, no one has the authority to check most health facilities or the practices of unregulated health professionals. It is important that there is adequate oversight of those delivering health services. We view this serious information not only as important information to share but as an opportunity to improve our health system and protect the public from future harm. We are partnering with agencies in the community to do research and will keep advocating for what is best for the health of Bermuda. The health council may be limited by our legislation to act on these matters, but we support the public in asking questions about their care and will always listen. We are also liaising with professional associations to encourage greater oversight of unregulated professionals. We encourage the public to contact us anytime they are concerned. Regulated health professionals include physicians, nurses, pharmacists, dentists, allied health professionals, optometrists/opticians, and midwives. Unregulated professionals include those who practice acupuncture, massage therapy, chiropractic, social work, counselling, naturopathy, and various assistants to regulated health professionals (e.g. physiotherapy assistant). If you need to know which health professionals are registered to deliver care in Bermuda, visit our website at www.bhec.bm or call 292-6420. The health council will continue, as always, to advocate for the changes Bermuda's health system requires."

High interest rates and massive fees are not tackled in new legislation designed to crack down on loan sharks, lawyers have said. A list of "significant concerns" was outlined by John Hindess of legal firm Marshall, Diel & Myers in a submission to the Government's consumer affairs department before the consultation period on new debt legislation ended last month. Mr Hindess, a senior associate in the Litigation and Advice Team, wrote: "The Bill does not address the major problem with these agencies — the often punitive interest and fees that they attach to the debt. It says they cannot charge any such fees or interest that are unlawful and that they must be agreed but that is it. It should be more explicit and perhaps cap the interest and fees that these businesses can charge, Mr Hindess said. "There is no explicit exclusion of lawyers, accountants or banks who often carry out the work described in the Bill but who do not do it as their primary business." He also said fines for failure to comply with the law were "draconian" and "far larger than in other jurisdictions". Mr Hindess highlighted a penalty of up to $10,000 for offences in connection with licence-holders taking excess fees, which compared to a similarly worded clause in Australia where the punishment was $100. He said it is designed to cover offences by corporations and was "potentially concerning" because it "essentially means that a secretary at a company can be personally liable for offences under the Bill". Walton Brown, the Minister of Home Affairs, said the Debt Collection Act 2018 would mean oversight by a licensing authority in a bid to "eliminate abusive practices" such as harassing phone calls and "predatory" lending when he tabled the Bill in July. But Chris Swan, of Christopher E Swan & Co, said: "One of the problems with the legislation, in my view, is that it's a sledgehammer trying to crack a walnut. What it doesn't do effectively is define things like harassment. There are debtors who actively tell collection agencies, 'call me at the end of the month and tell me to make my payment'; that can't be harassment." He added: "One of the areas that has caused some concern is that there's no legislation that actually says the debt collection fee that you can charge is 'X', it's all based on the contractual arrangement you have with your client." Mr Swan added that the legislation also failed to tackle "the issue of debt collection agencies collecting exorbitant fees". He said aggressive collection techniques reported in other countries were not used in Bermuda. Mr Swan explained: "We don't have the practices that people have in the States where you get letters and letters, phone calls at 2am and threats. The debt collection agencies here don't descend to that level." A spokeswoman for the Ministry of Home Affairs said the draft Bill "proposes to regulate agencies where their sole business is collecting debt. The aim is to eliminate abusive practices through the creation of a regulatory framework under which creditors and debt collectors may conduct business." The spokeswoman said the legislation also wanted to "regulate payday lenders who lend money at extraordinary interest rates. Our current debt collection practices are creating further consumer indebtedness due to exorbitant interest and administrative charges. This indebtedness is compounded by the lack of transparency and accountability to the debtor within the industry. Currently there is no legislative requirement to have proper documentation from the creditor to verify the debt is owed, recognize the debtor's right to review the paperwork from the creditor or provide proper accounting of debt and interest repayments documentation to the debtor. There is also no legislative authority to prevent predatory lending, misrepresenting or deceiving a debtor, making harassing phone calls, using deceptive documents, misrepresenting the amount owed or communicating with third parties. We are looking to address all of these problematic areas with the draft Bill." The Government earlier emphasized that the proposed legislation was designed to regulate agencies "where their sole business is collecting debt".

Former union leader Ottiwell Simmons is counting his blessings twice after almost losing a leg and then suffering from a stroke. The former Progressive Labour Party MP is recovering at Lenox Hill Hospital in New York after two clots blocked his blood flow — one that almost took his leg and one that could have cost him his life. His daughter, Emma Williams, said he is in good spirits and looking forward to returning home after the ordeal. "He's the same old Otti," Ms Williams told The Royal Gazette. "He is cheerful, gracious, humble and very grateful." Speaking from his hospital bed, Mr Simmons, 85, added: "I didn't want to become a one-legged man — I have enough difficulty with two legs. And with the stroke — I have never been through anything like this in my life, it was a new experience for me. I am grateful and thankful to have got though it. I'm blessed." Ms Williams was with her father on September 14 when she noticed that his left leg had gone cold. She got him to King Edward VII Memorial where surgeon Herman Thouet realised that there was a blockage in his vascular system and that his leg was in jeopardy. Dr Thouet tried to transfer him to the Lahey Clinic in Boston but doctors there said it was too late and that his leg needed to be amputated as soon as possible. However, Ms Williams insisted they looked at other options. Eventually, Lenox Hill Hospital ordered him to be airlifted to them urgently where a team of vascular surgeons and cardiologists were ready and waiting to save his leg. Cardiologist Varinder Singh said: "Time of course is of the essence. Once the muscle dies, even if you restore blood flow to it you can still lose the leg. We were frantically working as fast as we could. We immediately began treatment. The next day his leg was warm, he was no longer in pain and he had a bounding pulse in the foot. We saved his leg." A few days later, Mr Simmons was back on his feet and discharged from hospital. But as he was walking out of the hospital he suffered a stroke brought on by a second clot that led to his brain. Dr Singh, a cardiologist for Lenox Hill healthcare provider and private employer Northwell Health, recalled: "He couldn't move the left side of his body. We found the clot, sucked it out, now he can move everything; no problem. Having done this for a long time, there is a big book and once your name is up, your name is up. His name wasn't up. It was incredible." Mr Simmons was president of the Bermuda Industrial Union from 1974 to 1996 and a figurehead for the labour movement. He was a key player in the General Strike of 1981, when more than 10,000 public and private sector workers walked off the job in protest at poor wages and conditions. He was also the Progressive Labour Party MP for Pembroke East from 1976 to 2007. Dr Singh said treating him was one of the best experiences of his career. "I got to know Mr Simmons and his daughter and they are just lovely, lovely human beings," he said. "The first thing I said to him was 'congratulations'. I said 'thank your daughter every day because she saved your leg'." Doctors believe that the clots may have come from Mr Simmons's aorta and that age is likely the biggest factor. Ms Williams said: "He walks every day. Nobody wants to lose a limb but, for someone as active as he is, it would have been devastating. For me, there had to be another answer. When he had the stroke I just thought, what next? One thing I can say is that we have a strong faith and ultimately it's God's decision, not mine. After the initial shock, you pray. It took them five minutes to do the second procedure." Ms Williams explained. "He had to rest, he was a bit groggy, but the next day he was up cracking jokes and talking. I just want to say thank you to the whole team it means so much. He has never been through anything like this — he has always been healthy. It was a humbling experience. He has a welcoming spirit, a loving spirit." Mr Simmons added: "I am still a sick man, I have to make a reasonable recovery to get my leg functioning again. I want to thank the doctors, especially thank my daughter, and to thank my friends who rallied around me."

King Edward VII Memorial Hospital is under a pink glow to raise awareness for breast cancer this month. The Mammography Department filter and Acute Care Wing main entrance will be lit up night to celebrate Breast Cancer Awareness Month. Bermuda Hospitals Board senior imaging technologist Terricca Smith said: "BHB started offering mammography services in 1992 and since then have never wavered in our commitment to provide mammograms for all who need it. The pink entrance lighting shows the public that we continue to be dedicated to providing breast cancer education and testing. Research shows that early detection of breast cancer greatly improves survival rates, so we are eager for women to have regular mammograms." Guidelines from the American College of Radiology stipulate:
Women aged 40 to 82 should get mammograms every year.
Screening should continue as long as a woman is in good health and is expected to live ten more years or longer.
All women should be familiar with the known benefits, limitations and potential harms linked to breast cancer screening.
Women should know how their breasts normally look and feel and report any changes to a healthcare provider right away.
Women with a family history, genetic tendency or certain other factors, should in addition to a mammogram, be screened with MRI.
Talk with a healthcare provider about your risk for breast cancer and the best screening plan for you.
Walk-in Mammogram Day will take place on October 25, from 9am to noon. For more information, follow Bermuda Hospitals Board on Facebook.

A family-friendly event has been set up to celebrate the arrival of the first official Disney Cruise in Bermuda. Bermudian business Savvy Entertainment has announced the Poseidon Games exhibition, a hydro flight display with athletes from around the world, to take place on Saturday, the same day The Disney Magic is expected to arrive in Bermuda for the first time. The ship is scheduled to remain in port overnight, departing Sunday afternoon. Organisers said the event at Cross Island is a follow up to last August's Poseidon Games hydro flight competition. Anthony Blakey, Savvy chief executive, said: "The summer season is officially over. There are less family-friendly events on the island. It was important for us that we created this event that not only educates people about the hydro flight sport and culture but also showcases the beauty of Bermuda with the spectacular panoramic view at Cross Island and gives local entertainment and vendors the opportunity to showcase their talents and sell their goods to both locals and international guests." The Poseidon Games Exhibition will feature three of the world's top hydro flight athletes including Callon Burns, Bermuda's only professional hydro flight athlete. It will also feature performances by the Beat Project, PHC Majorettes and Drum Corps and DanceSations. Kinezumi Water Sports, Play Games Entertainment, Anchor Restaurant, Lara Lo Sew Fab, Zoomables, Sun Kissed Hair and Henna and Jazzy Treats will also be there. Entrance will be free, but event-goers can purchase VIP tickets with tented seating, complementary drink tickets and opportunities to meet the athletes.

History & daily newspaper reports

Authored, researched, compiled and website-managed by Keith A. Forbes.
Multi-national © 2020. All Rights Reserved