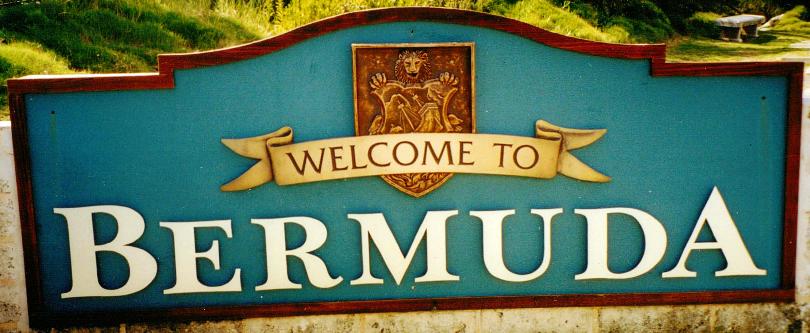 11165+ web files about Bermuda, regularly updated as a Gazetteer, focusing on this internally self-governing British Overseas Territory 900 miles north of the Caribbean, 600 miles east of North Carolina, USA. Accommodation options, aircraft & shipping registers, airlines, airport, America's Cup 2017, actors/actresses/musicians/singers/ performing artists, banks, beaches, Bermuda Dollar, Bermuda Government, Bermuda-incorporated international and local businesses and companies including insurers and reinsurers, Bermudians, books and publications, bridges and causeway, charities, churches, citizenship by Status, City of Hamilton, commerce, communities, credit cards, cruise ships, cuisine, currency, disability accessibility, Devonshire Parish, districts, Dockyard, economy, education, employers, employment, environment, executorships, fauna, ferries, flora, former military bases, forts, gardens, geography, getting around, golf, government, guest houses, history, historic homes, Hamilton, House of Assembly, housing, hotels, immigration, import duties, internet access, islands, laws, legal system and legislators, location, main roads, marriages, media, members of parliament, money, motor vehicles, municipalities, music, nearest mainland, newcomers, newspaper, organizations, parks, Paget Parish, Pembroke Parish, residents, pensions, political parties, postage stamps, public holidays, public transportation, railway trail, real estate, religions, Royal Naval Dockyard, Sandys Parish, Smith's Parish, Somerset Village, Southampton Parish, St. David's Island, St George's Parish, senior citizens, Somerset, Spanish Point, Spittal Pond, sports, taxes, telecommunications, time zone, traditions, tourism, Town of St. George, Tucker's Town, utilities, water sports, Warwick Parish, weather, wildlife, work permits.

Bermuda's 2017 December History and Newspaper Reports
Events that made newspaper headlines in the twelfth month of this calendar year
By Keith Archibald Forbes (see About Us) exclusively for Bermuda Online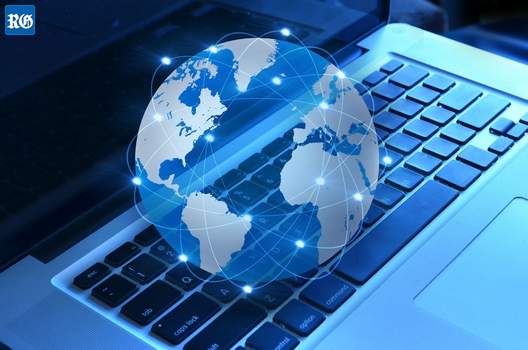 Benefits of website linkage to Bermuda Online
See at end of this file all our many History files
Bermuda's Royal Gazette newspaper is not published on Sundays or Public Holidays.
December 12. The Bermuda Government has signed a major tax agreement with the United States. The Country by Country Competent Authority Agreement means that the Government has satisfied the Internal Revenue Service's data safeguards review and complies with the Organisation for Economic Co-operation and Development's Base Erosion and Profit Shifting tax transparency standards. Under the new agreement, Bermuda now automatically provides corporate income of Bermudian-based multinational enterprises that have any US income-generating activities. David Burt, the Premier, said: "The agreement we have put in place with the United States demonstrates Bermuda's continued commitment to being transparent, co-operative and compliant with international tax authorities. As a leading jurisdiction in global tax transparency we will continue, without reservation, to show that Bermuda is no place to hide money. We stand by our call for other countries to meet the Bermuda Standard." The agreement was said to complement Bermuda's other automatic exchange of information agreement with the USA, signed in 2013 and designed to give access to income information on US taxpayers under the Foreign Account Tax Compliance Act. The country by country treaty is also in line with an agreement signed earlier this month between Bermuda and the United Kingdom. The UK agreement, like the US agreement, enables the automatic reporting of corporate income on a country-by-country basis for UK tax enforcement purposes. Bermuda is the first UK Overseas Territory to sign a CbC Competent Authority Agreement with the UK and now also the USA.
December 12. Before an audience of hundreds of business delegates, Jamahl Simmons said Government will not interfere with independent regulatory organisations in Bermuda. He gave the assurance after explaining why he had brought to Parliament the Casino Gaming Amendment Act 2017, which made alterations to the relationship between the Bermuda Government and the Bermuda Casino Gaming Commission. The Minister of Economic Development and Tourism said the Act had been amended from the one he tabled last month "because we now have a relationship with the gaming commission that is based on mutual trust and respect". The Act, as previously tabled, would have allowed the Government to give policy direction to the commission and fire members who did not follow legal directions issued by the Government. Those proposed changes caused an outcry. Alan Dunch resigned as chairman of the commission, as did his deputy Garry Madeiros and another commissioner, Derek Ramm. Before resigning, Mr Dunch warned that the amendments were a "potentially sad and seriously backward misstep" and would compel the commission to give up its independence. On Friday, during a question-and-answer session at the EY Global (Reinsurance Outlook forum, Jessel Mendes, of EY, asked Mr Simmons: "When government gets involved, does that take away from the credibility of the regulator?" Mr Simmons said the adjusted Act, which was passed by MPs later that day, meant that the ability of the minister to direct the commission would now only be in written form, as it is for the Bermuda Monetary Authority. "The legislation has evolved to reflect exactly the BMA. So there will be no whispered conversations in the hall, there will be none of that. All the transactions have to be transparent. As to the removal of members, we have reduced the overall broadness of it and given specific reasons." As an example of reasons, he said bringing the reputation of the government or the country into disrepute. Mr Simmons told the audience at the Hamilton Princess that by working with the new gaming commission team it had been possible to craft something "that they were comfortable with, and that we were comfortable with. I will not have the capacity to decide who gets a licence and who doesn't. I will not have the capacity to decide if an investigation continues or not. It is merely to ensure that when things need to be delivered from a governmental standpoint we have the ability to provide direction — and the ability to remove members based on specific criteria as you see in other jurisdictions. I want to know that if someone wants to do business with Bermuda I can send them to a body I can trust to provide them with advice I can trust, and [who] will be responsive to the needs of Government in terms of its responsibilities." Mr Mendes, partner and regional growth markets leader, financial service organisation, EY, then asked: "So there is no risk of creep into other regulatory bodies; getting involved in the BMA and others?" Mr Simmons said: "No. It's not about being able to dictate, it's about being able to work together."
December 12. Bermuda is to launch a bid to make money out of its first live satellite, the Minister of Transport told MPs on Friday. Walter Roban said Bermuda's current role in the industry was small. "In line with the Government's commitment to diversify our economy and seek out new opportunities, these meetings afforded us a chance to renew our relationships with existing partners and introduce ourselves to prospective new associates," he added. BermudaSat-1 — Bermuda's only live satellite network — is a joint venture between SES and EchoStar. Mr Roban said that partners planned to take "proactive steps" to commercialize the network. He added: "We came away from the meeting with SES and EchoStar encouraged about the future of Bermuda's satellite network but mindful of the need for further progress. The Government will continue to drive SES and EchoStar hard to do more with our asset and return more of our investment of time and effort." Mr Roban said a meeting of the National Aeronautics and Space Administration was "reassuring", and that shared benefits with the mobile tracking station at Cooper's Island would continue. He added: "Nasa benefits from being able to offer the full complement of range assets for expendable launch vehicle operations and Bermuda has access to data collected at the station to track shoreline erosion." Mr Roban said that new space trends and activities being explored required "some regulatory framework". He added: "Bermuda is already a hub of international business, and the potential synergy with our vibrant property and casualty insurance sector present further exciting possibilities for the island." Mr Roban said the Government would consider the creation of a working group of satellite operators. He added: "The space industry presents real economic opportunities for forward-thinking, business-friendly jurisdictions. We should strive to become one of the most enabling economic jurisdictions for space-oriented business in the world. Mr Roban said the meetings demonstrated the potential for "immediate and long-term benefits" open to Bermuda businesses.
December 12. The Bermuda Chamber of Commerce has partnered with KPMG to host a breakfast update session on the impending US tax reform. Will McCallum, managing director and head of tax for KPMG in Bermuda will speak at Friday's session. He will provide an update on US tax reform and discuss the potential implications to businesses in Bermuda. Both the US Senate and the House of Representatives have approved tax reform legislation in recent weeks. The House and Senate are now working on reconciling the differences between their respective bills, with the aim of enacting new tax laws by the end of this year. The session takes place at the Chamber, at 1 Point Pleasant Road, Hamilton, from 8:30am to 10am. The session will cost members $50 and non-members $65 to attend. For more information go to the Bermuda Chamber of Commerce website, bermudachamber.bm. Those interested in registering can contact Korrin Lightbourne by e-mail at klightbourne@bcc.bm or by telephone at 295-4201.
December 12. Bermuda's financial crisis and the battle to pull the island back from the brink of disaster has been chronicled in a book by Bob Richards, the former Minister of Finance. Mr Richards left political life after he lost his seat to Christopher Famous in the One Bermuda Alliance's defeat in the July polls. Now he has written about "how we got into the mess" and "how we got out". Mr Richards said: "The important thing is that we don't do it again." He warned that Bermuda Back from the Brink "stayed away from personalities and political groups — if people think my book will be about politics, it's not". Mr Richards said the book was an overview of the long-running economic crisis that gripped the island. He added: "I stayed at a cruising altitude rather than getting down in the weeds." The former minister said the 190-page paperback was "specifically written for the lay person — I've used various and sundry analyses to make points, and used context that the average person will get, while steering away from technical jargon". Bermuda's economic tailspin — like other countries — began with the global recession that hit in 2008. But Mr Richards said a "key question" in the book was: "How did the six-quarter recession in the United States turn into the six-year depression in Bermuda?" Mr Richards said it was "a story that had to be told", but did not herald a return to politics. He added: "My innings is over and I'm back in the pavilion having a nice couple of libations. I've been getting healthier, losing weight and getting rid of that stress." The book was edited with help from a number of sources, including his sister, the novelist and lecturer Angela Barry. Mr Richards will sign copies of the book at 7pm on Friday at the Bermuda Underwater Exploration Institute. He said he had no intention of becoming "an armchair quarterback" over the new Progressive Labour Party's stewardship of the island's finances, But Mr Richards added the island's surging debt was "the most troubling" factor that confronted the new government at the end of 2012. He said: "It was out of control — it was going up more than $200 million a year." Mr Richards added that in an island without natural resources "you can get to a tipping point — and once you get past that, it's virtually non-stop down to Third-World status". He said: "We were teetering on that point when the OBA took over in 2012. There had been a loss of confidence in Bermuda — and we depend on foreign capital and foreigners and their money to maintain our prosperity and standard of living. Without that, Bermuda could have — and still can — revert to something very different from what it is today. Politically, we're more vulnerable than we were 30 years ago. Our principal industry is financial services and insurance. In addition, a decision by a small number of people can make a really big difference in Bermuda, as opposed to tourism, where hundreds of thousands of people had to change their minds. The Government was not in control of itself, but most important is the confidence that was lost in Bermuda by those that provide us with money. We had to start correcting that." Mr Richards traced the island's tough times back to the September 11 terrorist attacks in 2001 — which "created a bonanza in Bermuda that it had never seen before". He said: "All the ills of the world turned into bonanzas. As somebody once said, nothing exceeds like excess. It was a bubble economy, and it burst at the end of 2008." The book also examines recovery efforts, including the successful bid to host the America's Cup and Bermuda's continued battle against "tax haven issues". Mr Richards said that external threats still existed. He added that media storms like the Paradise Papers, millions of documents hacked from Bermudian-founded law firm Appleby, were "all part of the narrative that it's got to be somebody else's fault". But Mr Richards said: "We're in much better shape than we were in 2012, which is why the book is so-named. We hauled Bermuda back from the brink of failure. We had to make unpopular and tough decisions. We made them, and I think Bermuda is the better for it." Mr Richards explained he had been "prepared for it to be tough" and confident he could avert disaster when he took over as finance minister. He added he was "pleased" with the Progressive Labour Party's economic performance so far — but that time would tell. Mr Richards said he had enjoyed his time in the political limelight — but had no qualms in handing over the reins. He added: "I've been on both sides. I've won and lost elections. Some people who haven't might have found it devastating. I was surprised — but I think I'm quite lucky. I would not have wanted to be an Opposition Member of Parliament."
December 12. A foul smell on Front Street has been pinpointed to a broken main sewage pipe, the City of Hamilton said yesterday. The odor, which has plagued the junction with King Street for at least two weeks, was at first blamed on the release of "odorous residual grease" as a result of a blocked main. But a spokeswoman for the City yesterday said the source of the problem was now believed to be a fracture in the force main. She said: "Crews are endeavoring to do pipeline camerawork in the area this afternoon. Once the fracture has been identified, a trenching schedule will be confirmed, and traffic management will be in place so that work to repair the fracture and resolve the issue can take place with expediency. Motorists are asked to be aware of this development and to be on the lookout for signage in the area. There are many moving parts to resolve the issue and the City thanks the general public in advance for their patience and understanding as it makes these necessary repairs to the City infrastructure."
December 12. The removal of the right to same-sex marriage highlights a massive generation gap in Bermuda, young island commentators said yesterday. Dwayne Robinson, of online current affairs show It's That Type of Party, said the Domestic Partnership Act "very clearly" highlighted the age divide on the issue. He said: "The older generation holds tight to their faith and religious beliefs. The older generation embodies 'Bermuda is another world' and they will fight to protect that. Younger folks are much less traditional and have been exposed to a collective, progressive mindset that most millennials tend to share." Trae Cannonier, Mr Robinson's co-presenter on ITTP, agreed. He said: "Most of us were raised in some form of religious household — however, as we've grown our mindsets have changed. I'm not going to say that our generation is more open-minded but I would say we have instant access to significantly more information than our parents did." Mr Cannonier's father, One Bermuda Alliance MP Craig Cannonier, voted for the new Act. But Trae Cannonier said he and his father had always separated their political viewpoints from their personal relationship. He added: "He very much respects my opinions and admires my ability to think for myself as that's what he raised me to do. We disagree a lot but are still able to do so respectfully and we still remain as close as ever." Mr Robinson said that the duo was disappointed by the new Act but not surprised. He added: "We know that Bermudians like to stay in their bubble and for the status quo to remain the same. That's one of the main reasons our youth are running out of this country the first chance they get." Mr Robinson predicted the watered-down option for gay couples would "stain" Bermuda's reputation overseas. He said: "We feel that the repercussions will be felt a bit further down the line when the word begins to spread. The PLP may find itself in a similar position of the previous government with an unsatisfied group of citizens knocking on their door." Mr Robinson said ITTP would back any non-violent bid for marriage equality. He added: "The next step is for us to join in with other advocates and continue to try and make a change. We don't want this to turn into a clash of conflicting mentalities but into a chance to gain mutual understanding." Civil rights group the Centre for Justice also said the change in the law was not a surprise — but it was still disappointed that Government "chose to roll back full marital equality". The comments came after MPs on Friday voted 24-10 in favour of the Bill to replace same-sex marriage with domestic partnerships. But the Centre for Justice said it was "encouraged" by an amendment that gave recognition to all same-sex marriages celebrated outside of Bermuda. The organisation also said it was encouraged by the "change of tone" in many speeches made by MPs during the debate in the House of Assembly. The Centre for Justice added: "Several MPs acknowledged that this issue highlights a generational gap and philosophical difference between parents and their young adult children whose worldwide view in more inclusive and progressive." Justin Mathias, chairman of the Future Bermuda Alliance, the youth wing of the OBA, said the legislation was a "sad day" for Bermuda. Mr Mathias added: "For us to be this close to being the first country to renege on same-sex marriage is baffling. There is a huge generational gap with many issues in our country, but on this single issue I believe it is at its greatest. The younger generations are far more progressive and believe that everyone within our community should have equal rights under the law. The majority of FBA members backed same-sex marriage. The one thing we unanimously agree on is that it isn't right to take away rights that have already been given to people within our community. We are in a new age and the world is changing." Eron Hill, of youth group Generation Next, did not respond to requests for comment.
December 12. Bermudian horse trainer Marvin Ford has been hailed as a future star after a stunning singing performance on a hit BBC show. Mr Ford landed in the limelight after he was hired to be a body double in an advertisement — but instead became the Unexpected Star of Michael McIntyre's Big Show, watched by millions in Britain. He said: "There was lots of praise, lots of tears. It seemed like everybody who watched it was it tears." Mr Ford added: "To me, singing is just something that I do. I didn't know that my singing touched people the way it did, that it could touch people this way." Mr Ford, who left the island to pursue a career as a horse trainer, was signed up for the comedy show's Unexpected Star segment by his wife, Ellen. She convinced him that he had been offered a job as a body double for an actor scared of horses in a cowboy-themed TV advert for cologne to be filmed in London — and kept up the pretence for eight months. Mr Ford was brought on to a fake set, climbed on a horse and said his line — only to have a curtain fall to reveal he was on stage in front of a live audience of 2,500 people. He returned to the stage at the Theatre Royal an hour later to deliver an emotional version of Lionel Richie classic Stuck on You and won a standing ovation. Mr Ford said: "It all happened so fast, so quickly. The song was something that they picked out of the repertoire of songs that I do. The vocal coach was an absolutely fantastic guy. He really went through it with me, telling me to hit some things a little lighter, hold some notes a little longer. He kept pushing me, using as much of the short time that we had to get things it the best place he could." Mr Ford was secretly recorded backstage as part of the prank, with Mr McIntyre feeding lines to a group of actors in on the joke. Viewers saw Mr Ford try to stifle laughter as his fellow actor shouted like a cowboy, did an impression of a zombie and messed up his only line. Mr Ford said: "When the actor started yee-ha-ING and stuff like that, I thought the guy was crazy. Then he jumped on the horse the wrong way, but there was still no doubt in my mind this was real. What was going through my mind is I couldn't believe that they had hired this idiot to do this ad. It was funny. I was sitting there laughing, but of course he was really doing his job to a tee." The prank continued with Rachel Riley, from British quiz show Countdown, doing maths on a whiteboard to explain why she was late and the actors praising a foul "fragrance". But Mr Ford said he only realized the entire scene was part of the joke after the curtain dropped. He was among the estimated 6 million people who watched Saturday's show. He and his family met around 25 friends and neighbors — many enlisted by his wife to pull off the surprise — at a West Sussex scout hall to watch the show. Mr Ford said: "It was wild watching myself on television. I'm still just struggling to believe that it really happened. There was a lot of cheering, and a few tears as well. It was a very, very positive reaction. I'm still on a big high from it. My seven-year-old daughter has been watching the video on YouTube in a constant loop. As soon as it's over, she presses play again." Mr Ford's friends in Bermuda hosted their own viewing party at the Daylesford Theatre in Hamilton. He said: "I wish I could have been there. It was really nice to see so many people come out, supporting me. Viewers across the UK also praised Mr Ford's talents on social media and many said he was better than the episode's professional musical guests. As soon as the show ended, he was bombarded with calls, tweets and Instagram messages about his performance. Mr Ford has also been interviewed by the UK's Spirit FM, and was due to appear for a live interview on BBC Radio Sussex. But he played it cool when it came to capitalizing on his London TV debut. Mr Ford said: "It is early days. Everything is still up in the air. We need to basically take one day at a time and see what comes in before we start pushing anything out."
Tuesday, December 12. A 37-year-old Bermudian man died after he suffered a medical emergency on board a flight to the island. Police and first responders were called to the airport shortly after 10pm on Sunday. The man, believed to be a Smith's resident, was on board a JetBlue flight from New York. The aircraft cabin crew battled to save the man, who has not been named, and life-saving efforts continued as he was taken to the King Edward VII Memorial Hospital. But he was later pronounced dead by doctors. Police said: "Foul play is not suspected and identification of the deceased is anticipated in due course once his next of kin has been notified."
December 11. Importers of food and other goods will face fines of up to $5,000 if they fail to provide information to a new commission examining their costs and margins. The Cost of Living Commission, renamed from the Price Commission, will be established by legislation which passed through the House of Assembly in the early hours of Saturday. David Burt described the Cost of Living Amendment Act as "the first step in tackling the cost of living in order to improve the quality of life that this Government promised voters at the last General Election". The Premier and Minister of Finance added: "The number one concern we have on the doorstep clearly that I know that we all hear is the cost of living in Bermuda and how expensive it is to live in Bermuda. We do know that this is the most expensive country in the world to live in, as is given by international surveys and any government has a responsibility to tackle this issue. Of course, we are looking at it from both sides, looking at it from this side and we are also looking at it from the living-wage side." Mr Burt said the Government had no intention of controlling prices and that the commission would focus on getting information from importers of food and other goods about their import cost and margins. He added: "The commission intends to then process this information, and submit various reports containing its recommendations to the minister on approaches to contain the cost of certain goods." The Bill paves the way for higher fines for those who do not comply with information requests from the commission. Mr Burt said the penalty would increase from $500 to $5,000, with an additional daily fine of $500 in the case of non-compliance. Mr Burt added that Senator Anthony Richardson, who served on the last Price Control Commission, would chair the new commission and that they would get to work as soon as the Bill had passed. One Bermuda Alliance leader Jeanne Atherden said the change was a "very good idea". She hoped the commission could look at the cost of pharmaceutical drugs, which "had played a very significant part of the expenditure of the Bermuda resident". Progressive Labour Party backbencher Rolfe Commissiong was happy the Premier and the PLP government had moved in this direction. But he said that the Bill was "just one piece" and pointed to the work on the living wage and the Tax Commission, which is looking at comprehensive tax reform. Mr Commissiong added: "I think we all want to see us move from a status quo which is no longer serving Bermudians, at least not enough Bermudians, to an era where we can have a greater degree of social equilibrium and bring those persons who need the most help in society, to a point where we can again foster a greater degree of social cohesion and social harmony." Grant Gibbons, the shadow economic development minister, said the change was "nothing new under the sun", with the Cost of Living Commission mirroring the original purpose of the Price Commission, set up under the former United Bermuda Party administration.
December 11. A three-strong panel of financial experts has highlighted "slippage" in Bermuda's bid to balance its books. David Peretz, chairman of the Fiscal Responsibility Panel, said: "The last Budget showed a little bit of slippage — whereas previously the objective was to reach Budget balance by 2018-19, now it's 2019-20. From our point of view, that's not a welcome development, but that's happened." Mr Peretz, an independent consultant on international finance who has worked at the UK Treasury the International Monetary Fund and the World Bank, added it was the group's first visit to Bermuda since the government changed in July. He said: "We are very pleased that the new government has followed the old one in committing itself to basically the same objectives." Mr Peretz said the arguments in favour of reducing Bermuda's Government net debt — now close to $2.5 billion and with 17 per cent of Government income spent on debt service — were "as strong as they were". He added: "But more important is that the new Government has committed itself to the same objectives, which is good news." Jonathan Portes, principal research fellow at the UK National Institute of Economic and Social Research, said he had seen "quite a lot of common ground" between Government, the business world, analysts and trade unions who "all shared an understanding of Bermuda's position. There are good things going on in Bermuda, but it's facing some long-term challenges." The group was speaking in advance of its full report, the third of its kind, due to be released before Christmas. Mr Peretz said: "What we have also done each year is look at the risks facing the island." He added the biggest risks include moves towards US tax reform, the risk of blacklisting and the upcoming assessment of Bermuda's anti-money laundering regime. Mr Peretz added: "If any of these risks were to materialize, the island is very badly placed to deal with it due to the Government debt." And he warned: "If any one of these went badly wrong it could be very bad news for the island." Other dangers highlighted included the massive cost of healthcare in Bermuda and a pensions black hole caused by under-funding. Mr Peretz said some of the risks, including a poor grade on anti-money laundering, had "subsided a bit" — but that a good report was "not yet certain". Mr Peretz said that the Paradise Papers — a massive release of documents hijacked from Bermuda-founded law firm Appleby — had focused attention on the island and helped fuel "a general rise in protectionism around the world." But he added: "Although the Paradise Papers have caused a lot of fuss, Bermuda has not been blacklisted. It's been gray-listed and Government has been given a year to do something about companies here without any substantive presence." Mr Peretz said that Bermuda had "quite a good record" on transparency. He added: "It means nobody can hide their money here and there is agreed reporting between tax authorities and Bermuda is recognized as having a very good record on that. I don't think the overall assessment has changed very much from last year. Some things have got better, some things have got worse. A real plus is that there has been a change of Government with no real change in objectives." Peter Heller, retired deputy director of the IMF's fiscal affairs department and an expert in pensions, healthcare and long-term demographic trends, said he had seen "good thinking going on" on the island over healthcare costs and long-term care. He said: "That gives me more confidence than last year — I'm seeing some real change there."
December 10. The volume of retail sales in September fell 0.8 per cent as sales of motor vehicles and fuel declined, bringing to an end six successive months of year-on-year sales volume increases. However, when factoring in the retail rate of inflation of 2.6 per cent, the value of sales for the month was $96.3 million, or 1.9 per cent higher than September 2016. The figures are contained in the Retail Sales Index report released by the Department of Statistics. The motor vehicles sector had the largest decline in sales volume, down 10.1 per cent, while building material stores saw the volume of sales rise 12.6 per cent. The volume of fuel sales at service stations were down 3.3 per cent, but the increase in the cost of premium fuel, which was up 13.7 per cent, resulted in the value of sales rising 9.8 per cent. Food sales were up 1 per cent by volume, while liquor store sales were down 4 per cent. Apparel stores recorded a 2.3 per cent increase in sales by volume, and a 4.5 per cent rise by value. Sales volume in the "other store" category were down 4.7 per cent, with marine and boat suppliers reporting a 74.4 per cent drop in sales value due to lower high-ticket item sales. Residents declared $4.8 million in overseas purchases during September, which was 4.3 per cent more than for the same month last year.
December 9. New legislation to let the tourism minister fire members of the Casino Gaming Commission and issue policy direction to the regulatory body was passed by MPs on Friday night. The Casino Gaming Amendment Act 2017 came under strong criticism in recent weeks. Opponents of the change said it eroded the independence of the commission. Jamahl Simmons, who tabled the amendment Act, insisted that the approach in the new Bill was "not unusual, not unique and not unheard of". Mr Simmons said the Government had taken note of concerns about the Act and made the two changes to the original Amendment Act after consultation with the new gaming commissioner, Cheryl-Ann Mapp. The first amendment said that the minister can "from time to time after consultation with the Commission give to the Commission in writing such general directions as appear to the minister to be necessary in the public interest and the commission shall act in accordance with such directions". The second amendment added: "The minister may at any time revoke the appointment of a member who is unable or unwilling to perform his duties as a member or in such other circumstances where the member's conduct may amount to misconduct or breach of best regulatory practice, or is likely to bring the commission or the Government into disrepute." Mr Simmons told the House that the new provision for directions to be in writing ensured they would be clear, while the second amendment provided greater "specificity in terms of reasoning". But Opposition MPs said the new amendments only watered down the overall impact of the legislation and did little to address their main concern of government interference with an independent body. Mr Simmons began the debate with a condemnation of a "calculated, malicious and divisive media campaign" designed to portray the PLP as "inherently corrupt, incompetent and dictatorial". He said: "This government rejects those stereotypes. The Government has been given a mandate and it is right that mutual trust and respect exists for Government to execute that mandate." Leah Scott, the deputy leader of the One Bermuda Alliance, told MPs it was vital that the Commission was seen to be independent and asked Government to reconsider the legislation. She added: "I don't think that internationally it gives a good perception that the minister can interfere in this way." OBA MP Grant Gibbons also told Mr Simmons that he should "let this legislation die on the order paper". Mr Gibbons said the Act was "ill advised and wrong". He added: "This will do a great deal of harm to our gaming industry and damage to our reputation." But PLP MPs Kim Swan, Michael Scott and Zane DeSilva jumped to the defence of the Act. Mr Scott said the legislation was "reasonable, moderate and responsive". Former premier Michael Dunkley joined the OBA chorus of opposition. He said the law change was "draconian" and insisted that the Commission should be "as apolitical as possible". Mr Dunkley predicted: "It's a wrong move, it's a bad move, it will backfire." But David Burt, the Premier, hit back at Opposition MPs. He said the new legislation was "very simple". Mr Burt added: "We will continue to prove we are up for the job and we are going to make sure we do it right." Mr Simmons pointed out that the Casino Gaming Commission's initial membership had been "political appointees". He also confirmed that three commissioners had resigned. They are chairman Alan Dunch, his deputy Garry Madeiros and Derek Ramm, with Dennis Tucker and Judith Hall-Bean remaining in position. Mr Simmons said: "These changes in the legislation will not allow me, the future minister or the next government to interfere with corruption investigations. They will not allow me to decide who gets casino licences." The legislation passed with a vote on party lines after a two-hour debate, with the Government side winning 17 to 12. Six PLP members were absent from the chamber at the time of the vote: education minister Diallo Rabain, junior finance minister Wayne Furbert, whip Michael Weeks and backbenchers Derrick Burgess, Renée Ming and Michael Scott. Only Mr Weeks had declared himself absent at the start of the day.
December 9. Legislation to replace same-sex marriage with domestic partnerships was passed in the House of Assembly last night. The Domestic Partnership Act 2017 was passed following a five-hour debate after a vote in which 24 MPs supported the Bill being reported to the House, while ten opposed it. Home affairs minister Walton Brown, who introduced the Bill, said it would provide same-sex couples with a raft of legal rights but prevent any further same-sex marriages. He also confirmed that the legislation would not have retroactive affect on same-sex marriages after the Supreme Court ruling in the Godwin and DeRoche case against the Registrar-General. In that case, Puisne Judge Charles-Etta Simmons ruled that the Registrar-General could not reject a gay couple's application to marry in Bermuda and that the common law definition of marriage as between a man and a woman was "inconsistent with the provisions of the Human Rights Act as they constitute deliberate different treatment on the basis of sexual orientation". During yesterday's debate, PLP backbencher Lawrence Scott said the Bill brought balance and gave "the LGBTQ community the benefits it has been asking for", while keeping the "the traditional definition of marriage". He said: "As it stands now, they can have the name marriage but without the benefits. But after this Bill passes, they have the benefits and just not the name marriage. The benefits are what they really want." However, shadow home affairs minister Patricia Gordon-Pamplin said she could not support the Bill "having given a community something only to take it away". She added: "I don't like to accept that it is OK for us to treat our sisters and brothers differently, whether fair or unfair, to treat them differently under similar circumstances." Leah Scott, the deputy leader of the One Bermuda Alliance, also said she could not support the Bill because it took away a right that already existed. However, PLP backbencher Wayne Furbert said he supported the Bill even though it was not everything he wanted. He added: "I support it because at the end of the day it removes the right to same-sex marriage and it tells the court that this Parliament will stand for what is right." However, Jeff Baron, the Shadow Minister of National Security, said it was a "very flawed and, frankly, shameful Bill". Instead of protecting equality, he said, it was "stripping Bermuda's reputation naked for the world to see". Walter Roban, the Deputy Premier, supported the Bill and said it came from of a "desire to bring some sort of stability on how the country will manage itself around this issue". But the Minister of Transport said: "This is an issue in progress. It is going to be shaped and moulded by us and it is going to be shaped and moulded by the generations to come. So do not believe what we decide here is final." Craig Cannonier described the Bill as "lukewarm" and said: "It's half and half. It's a compromise Bill. I would prefer it if you were hot or cold." PLP backbencher Michael Scott acknowledged that the Act was a "compromise" but added that his conscience did not allow him to support the Bill because "if falls short". He added: "I will not rob same sex couples of that opportunity. I have seen same sex couples raise children with great success. Every citizen must be allowed the liberty to freely choose. Shadow legal affairs minister Trevor Moniz described the Bill as a "retrograde action". He said: "To take that right away from them is something that is abhorrent to me." PLP backbencher Neville Tyrrell threw his weight behind the Bill. He said: "A lot of people are saying this is a compromise, I don't think it is. It's a middle road. Nobody is really going to win." PLP MP Scott Simmons described the Bill as imperfect but said: "This Government has decided to address this issue that no one else wanted to deal with. We said we would repeal and replace but we cannot satisfy everyone. It's not perfect. But we have to go with what we have got." Sylvan Richards, the shadow minister of planning, said he would support the Government's Bill, which he described as a "halfway house" that achieves what needs to be achieved at this time. "It's going to give individuals the rights they need and it's going to keep marriage between a man and a woman, which was my goal. Then it's going to be the future generations that will take it to the next step." However, shadow education minister Cole Simons would not support the Bill. He said: "This country has to evolve like other countries." Meanwhile, PLP MP Derrick Burgess said he would back the Bill, which "is not all I wanted, but this is what we promised. This is the best solution. I support this Bill and believe marriage should be between a man and a woman." Grant Gibbons, the shadow economic development minister, confirmed he would not be supporting the "regressive" Bill. He said: "This is a human rights issue. We are taking away marriage equality rights from the LGBTQ community." Opposition leader Jeanne Atherden added: "We are taking away rights that have been granted to communities of individuals who want to start families." Mr Brown concluded: "We need to find a way in Bermuda to fully embrace greater rights for all members of the community. But the status quo will not stand. On the ground, the political reality is that if we do not lead we would have a Private Members Bill tabled to outlaw same-sex marriage. That Bill would pass because more than 18 MPs are opposed to same sex marriage. If that Bill passes same sex couples have no rights whatsoever. This is tough for me. But I don't shy away from tough decisions." Jeanne Atherden, Jeff Baron, Michael Dunkley, Grant Gibbons, Patricia Gordon-Pamplin, Susan Jackson, Trevor Moniz, Leah Scott, Cole Simons and Ben Smith opposed the Bill being reported to the House.
December 9. A Bill to decriminalize small quantities of cannabis was passed in the House of Assembly last night. The Misuse of Drugs (Decriminalization of Cannabis) Amendment Act, tabled by Zane DeSilva, the Minister of Social Development and Sport, was designed to decriminalize possession of less than 7 grammes of cannabis. But police will still be able to seize any amount of cannabis. The minister will also draw up regulations for substance abuse education or treatment for those caught with the drug. A similar Bill was debated and approved by the House of Assembly in May, but the legislation never reached the Senate because of the General Election. Both Bills aimed to decriminalize possession of less than 7 grammes. But the latest specifies that the Director of Public Prosecutions can still proceed with charges if there is evidence the drugs were intended for supply. The Health Insurance Amendment Act 2017 and the Price Commission Amendment Act 2017 were also passed. In addition, consideration of the Constitution of Bermuda (Constituency Boundaries) Order 2017 was approved.
December 9. Home affairs minister Walton Brown batted away questions in the House of Assembly yesterday over alleged links to developer Michael MacLean. It was claimed that Mr Brown told Mr MacLean that he would help resolve his dispute with the Government over the removal of his lease on the Hamilton waterfront. Opposition MP Patricia Gordon-Pamplin posed a parliamentary question to Mr Brown on statements that the minister was said to have made on public radio on November 8 that: "Mr MacLean approached him concerning the waterfront matter, and there was agreement he would assist in resolving the matter". Ms Gordon-Pamplin said that on November 18, Mr Brown told the House that he had not been involved in "any dialogue or any sort of negotiations on the matter, either before or after becoming minister". Mr Brown told Ms Gordon-Pamplin yesterday: "As that is currently under police investigation, it is not advisable that I make further comment."
December 8. Telegraph, London. The European Commission has announced that "sufficient progress" has been made in the first phase of Brexit talks and discussions can now move onto trade.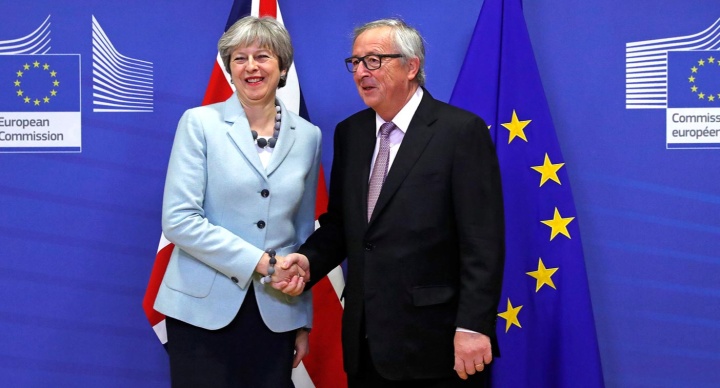 Jean-Claude Juncker, the European Commission President, appeared alongside Theresa May this morning where he announced they had made the "breakthrough we needed." He said: "We can now start looking towards the future — a future in which the UK will be a close ally." The Prime Minister said the latest Brexit deal was a "significant improvement" which had required give and take on both sides. She said that it included a financial settlement which was "fair to the British taxpayer" and a guarantee that there will be "no hard border" between Northern Ireland and the Republic, preserving the "constitutional and economic integrity of the United Kingdom". Mrs May said the deal would guarantee the rights of three million EU citizens in the UK "enshrined in UK law and enforced by British courts". It comes after diplomats worked overnight to hammer out a Brexit agreement on maintaining a soft Irish border. A mooted agreement between the UK and EU was torpedoed on Monday by the DUP after the party objected to plans for "regulatory alignment" between Northern Ireland and the Republic to maintain a soft border between the two. Arlene Foster, the party's leader, has told Sky News secured "six substantive changes" to the text on the Irish border. She said: "There is no red line down the Irish sea and clear confirmation that the entirety of the UK is leaving the European Union, leaving the single market and leaving the customs union." Mrs May and David Davis are in Brussels where they have met with European Commission President Jean-Claude Juncker and the European Union's chief Brexit negotiator Michel Barnier. The Prime Minister and her Brexit Secretary arrived at the Berlaymont shortly before 7am Brussels time (6am GMT) on Friday morning. Mr Juncker's head of cabinet Martin Selmayr tweeted a photograph of white smoke gushing from the chimney of the Sistine Chapel - the traditional way of signaling that a new Pope has been chosen. The agreement will be signed off by all EU leaders at next week's European Council summit. On Thursday evening, Mrs May spoke to European Commission president Jean Claude Juncker, after he had phoned Irish PM Leo Varadkar.

December 8. Bermuda is being unfairly targeted by international groups which show a "wilful lack of understanding" of the global economy, David Burt said today. The Premier insisted some European officials said the island is on the right track with its efforts on tax transparency when he took part in meetings last week. However, he said some non-governmental organisations are attempting to apply standards to Bermuda that are not applied to European Union, OECD and G20 jurisdictions. He was speaking in the House of Assembly, after the EU's economic and financial affairs council, known as ECOFIN, reaffirmed Bermuda's status as a co-operative tax jurisdiction. The British media highlighted how the island is among 47 jurisdictions warned to take extra steps to prevent corporate tax avoidance. Mr Burt told MPs: "Notwithstanding our sound regulatory environment and fair and transparent tax regime, Bermuda remains a target of some who seek to pursue a political agenda pushed through by certain international non-governmental organisations on global tax reform that seeks to apply standards to Bermuda and other offshore jurisdictions that are not applied to EU, OECD and G20 jurisdictions. Much of this unfair effort is based on inaccurate and misleading representations and a wilful lack of understanding of the efficient functioning of the global economy. Last week, following my meetings in London, I had the pleasure of speaking and meeting with Ministry of Finance officials from France and Germany. Those officials support Bermuda's efforts and indicated that we were on the right track with our leadership in the area of global tax transparency. They suggested that Bermuda could serve as an example for other jurisdictions, and it is our intention to do so. Bermuda plays its part in the global effort for greater transparency in tax regimes. We will ensure that Bermuda fulfills the commitments we have made to the European Union Code of Conduct Group to further enhancements to our transparency regime, and will continue to offer our support to the EU and OECD in an effort to make their standards globally applicable across varying tax regimes. However, we will continue to aggressively fight any effort to place us in a disadvantaged position through unfair treatment based on inaccurate information, often promoted by NGOs and their supporters, designed to serve their own political ends. To this end we must continue our dialogue in Brussels and in other European capitals with senior Government and political influencers to protect Bermuda's reputation and to ensure continued prosperity for Bermuda and Bermudians." Mr Burt, who is also Minister of Finance, also repeated his statement that "Bermuda is not a place to hide money". He said the island has demonstrated its commitment to transparency and fairness through participation in the Common Reporting Standard and Country by Country automatic reporting regimes. and by our membership in the OECD Inclusive Framework on Base Erosion & Profit Shifting. He added that any legitimate tax authority can request and receive information from Bermuda under 114 tax-transparency relationships pursuant to the OECD multilateral tax treaty. He said Brussels recognises Bermuda as a soundly regulated insurance market, and that it has achieved compliance with Solvency II, an achievement matched only by Switzerland and Japan.

December 8. Bermuda is trying to find ways of making money out of its first and only live satellite, transport minister Walter Roban told the House of Assembly today. Mr Roban was speaking after a series of meetings in Washington on the space industry earlier this month. He said Bermuda's current role in the industry is small. He added: "In line with the Government's commitment to diversify our economy and seek out new opportunities, these meetings afforded us a chance to renew our relationships with existing partners and introduce ourselves to prospective new associates." BermudaSat-1 — Bermuda's only live satellite network — is a joint venture between SES and EchoStar. Mr Roban said that partners indicated they were "taking proactive steps" to commercialize the network. He added: "We came away from the meeting with SES and EchoStar encouraged about the future of Bermuda's satellite network but mindful of the need for further progress. Going forward, the Government will continue to drive SES and EchoStar hard to do more with our asset and return more of our investment of time and effort." Mr Roban added that a meeting of the National Aeronautics and Space Administration was "reassuring", and that shared benefits with the mobile tracking station at Cooper's Island would carry on. He added: "Nasa benefits from being able to offer the full complement of range assets for expendable launch vehicle operations and Bermuda has access to data collected at the station to track shoreline erosion." Mr Roban said that new space trends and activities being explored required "some regulatory framework. Bermuda is already a hub of international business, and the potential synergy with our vibrant property and casualty insurance sector present further exciting possibilities for the island. Government would consider creating a working group of satellite operators. The space industry presents real economic opportunities for forward-thinking, business-friendly jurisdictions. As such, we should strive to become one of the most enabling economic jurisdictions for space-oriented business in the world. Mr Roban said the meetings demonstrated the potential for "immediate and long-term benefits" available to Bermuda businesses. He added: "We will build on our current efforts going forward."

December 8. Giving national certification to tradesmen will help create a level playing field, according to education minister Diallo Rabain. Mr Rabain gave an update on the National Certification programme and training initiatives in the House of Assembly today. Under the programme, those operating as a welder, electrician, automotive service technician and landscape gardener are required to be nationally certified. Mr Rabain told MPs: "National Certification is directly aligned with workforce development initiatives, and is meant to create a level playing field and build a competitive advantage for all Bermudian trade professionals. "This process is instrumental to providing enhanced work opportunities for Bermudians and was designed to ensure an outcome of potential growth, increased confidence, and improved quality and efficiency of our workforce." In September 2017, the Department of Workforce Development was given a mandate to have Certification in place before the end of 2017. As of Monday this week, 793 people were registered, including 38 welders, 193 electricians, 102 automotive service technicians and 460 landscape gardeners. Of the total registrations there were 350 work permit holders and 443 Bermudians. The minister previously announced that $265 application fee would be waived until December 31, 2017.

December 8. Government will finalize its National Fuels Policy this month, according to Walter Roban. Speaking in the House of Assembly today, the Minister of Transport and Regulatory Affairs said the policy is hoped to be published within the first six weeks of 2018. Mr Roban said: "The purpose of the policy is to direct the island's fuel sector towards a future that is affordable, sustainable, safe and secure, helping inform the Integrated Resource Plan and Bermudians' involvement with the IRP process. "All sectors of our economy are dependent on imported fuels, and Bermudians' concerns over the monetary cost, as well as the environmental and health costs, point to a need to chart a more sustainable course for the energy sector. This involves making a key distinction between conventional fossil fuels and low-carbon fuels, and endorsing actions that shift our use from the first to the second. However, I should point out we have not lost sight of the significance of displacing fuels — whether low carbon or conventional fossil fuels — with clean renewable sources of energy." Mr Roban said the Government understands the need for reliable energy and is working with Belco to find a "equitable way forward" for both the company and the island. "Any licensed entity in the electricity sector is effectively in the public service, and it has to purchase equipment and pay for personnel to operate that equipment or manage the grid," he said. "There would be no reason for any utility to ensure that its equipment was modern, efficient, safe, and reliable if it could not make a reasonable profit from it. This is the essence of the regulatory compact. The regulator examines the costs of providing service to the public, and determines what the utility may expect to be compensated for. There is a duty to be fair to the rate payer, but also fair to those providing energy to the grid- both large and small energy producers, and to those providing the infrastructure to get that energy to the customers. This noted, we must simultaneously make certain that Bermudians have their say and have their preferences honored, while ensuring there is healthy and sensible competition." Mr Roban stated that the Government supports clean energy and energy diversification in general, saying that the adoption of new green technology could be a boost for the economy as well as the environment. "The benefits of keeping more currency in Bermuda, circulating in our economy, as opposed to purchasing foreign oil, are numerous and cannot be ignored," he said. Air quality improves, just a little both locally and globally, with every solar panel on a roof. A little extra money stays in the local economy with every conservation measure. There is a job for an installer with every PV system purchased. The renewable energy sector will provide jobs for electricians, technicians, computer and software specialists, repair and maintenance specialists, salespersons, marketers, engineers, and design professionals. It all adds up, and these benefits should no longer be considered as vague externalities because there are real and tangible benefits for Bermuda."

December 8. The number of births in Bermuda rose last year for the second time in five years. But the number of marriages fell to 450 from 509 in 2015 — an 11.6 per cent drop. Walton Brown, Minister of Home Affairs, said: "In 2016, there were 591 births — an increase of eight or 1.4 per cent over the 583 births recorded in 2015." Mr Brown was speaking as he tabled the Annual Report of the Registry General for 2016 in the House of Assembly. The report said 80 per cent or 473 of the births had at least one Bermudian parent. The statistics also showed that 492 resident deaths were recorded, up from 478 in 2015. A total of 11 non-residents died in Bermuda last year. The estimated population increased by 99 people to 65,391, with 2,751 more women than men. Marriages between people who were both non-Bermuda residents accounted for 231 — 51.3 per cent — of the 450 marriages performed. Mr Brown said: "This figure still is in keeping with the trend over the past five years for marriages between non-residents to exceed the number of marriages between residents and marriages between a resident party and a non-resident party." Four hundred and sixty-eight marriages were performed aboard 28 Bermuda-registered ships last year — a decrease of 97 or 17.2 per cent on the 565 performed in 2015.

December 8. British firm Ramboll will be paid $400,000 to design the replacements for Longbird Bridge and Swing Bridge, Lieutenant-Colonel David Burch said today. The public works minister revealed both bridges have a lifespan until 2021, and that he expects Ramboll's study to be completed by January so that rebuilding can begin. Colonel Burch also assured MPs that the Causeway is sound, adding: "There is no structural or economical argument to support the construction of a new Causeway." Swing Bridge, the gateway to St George's built in the 1960s, has fallen into disrepair in recent years and no longer opens to shipping. Longbird Bridge, a 60-metre twin carriageway bridge at the east end of the Causeway, was built in the 1950s. It closed to traffic ten years ago, when it was bypassed with twin Bailey Bridge structures. Colonel Burch told the House of Assembly: "Over the past decade, there has been an increased awareness of the significance of bridges to our nation's economy and the safety of the traveling public. At all levels of government, a concerted effort has been made to reduce the number of structurally deficient bridges that require significant maintenance, rehabilitation, or replacement. Corrosion is a serious threat to the long-term function and integrity of a steel bridge. This is true for all bridges, but it is more serious in Bermuda where salt water and warm weather are the perfect storm to accelerate corrosion on a steel structure." Colonel Burch said the typical lifespan is 50 years for bridges such as Swing and Longbird. He said: "Our latest studies on the Swing Bridge show that this bridge will have to be replaced within five years. The work completed earlier this year will allow us to extend its lifespan until 2021, but it is time to rebuild this essential piece of infrastructure." He said of Longbird Bridge: "It was condemned several years ago. Two single spans of Bailey bridge were erected to accommodate traffic as a temporary solution. This temporary solution was put in place in 2007. Accelerated corrosion on these bridges forced us to change deck plates earlier this year. In ordinary climate conditions, these plates should last 25 years, but in Bermuda they lasted only ten years. This bridge is safe, but its lifespan is similar to that of the Swing Bridge." He said of the Causeway: "Several inspections were performed on the Causeway and various scenarios were also looked at to see what would be the best improvement, for both safety and investment for the taxpayer. The Causeway is an old structure, but I am pleased to advise that the Causeway is sound." Colonel Burch said the design contract was tendered in February this year. He described Ramboll as an award-winning, experienced engineering company which has completed many successful bridge projects around the world. He said with modern technology the target lifespan of the new bridges will be 100 years. Colonel Burch added that Ricardo Graham-Ward, a young Bermudian engineering trainee, will undergo a six-month secondment with Ramboll as part of the contract. He said: "This secondment will allow this young Bermudian civil engineer the opportunity to work on this project at the very beginning and be trained by the best moveable bridge engineers in the world. I am certain this attachment will provide him with invaluable training and experience that would otherwise not be available to us."

December 8. The Minister of Education, Diallo Rabain announced CedarBridge Academy principal Kalmar Richards as Acting Commissioner of Education yesterday. Mr Rabain said Mrs Richards had provided "exemplary leadership" in education over the past 20 years. Mr Rabain said: "Mrs Richards is no stranger to us or to our community. For the past 20 years she has provided exemplary leadership and stewardship as principal at CedarBridge Academy. Mrs Richards is respected by her peers, parents and students and known as caring and firm. She is a leader that believes in change and making a positive impact in our community. We are very appreciative that she has agreed to this assignment." The move follows the removal of Freddie Evans from the post in October. No mention was made of Dr Evans, who is taking legal action over his removal. Mr Rabain said that Mrs Richards will serve in the position until a new Commissioner of Education is hired. Mr Rabain added: "The next step will be for the Board of Education to begin the search for a suitable candidate. The Board of Education is responsible for advertising, interviewing and selecting a candidate for referral to the Public Service Commission for final approval." Mr Rabain also highlighted Plan 2022, which detailed reform of the education system last week. He said: "Implementation will begin in January 2018. As I stated in Parliament last week, this plan will not sit on the shelf. It will be implemented because we are accountable to our students and to all those who supported the design and drafting of Plan 2022." Mr Rabain added: "We received such positive and honest input from community groups, churches, former educators, current teachers, union stakeholders, parents and students. He said: "The Department of Education is ready to begin the implementation and I am pleased to learn that steps are being taken and recruitment has begun to have all the necessary staff in place to carry out the objectives set forth in Plan 2022."

December 8. A bid to launch dune buggy tours in the West End is "a different proposal entirely" from a plan to introduce all-terrain vehicle tours through local beauty spots, the Bermuda Tourism Authority said yesterday. The applicant, Juanita Jones of Bermuda Island Tours & More, said last night that the guided tours, which would cover parts of the East and West Ends, had been planned for four years. She added: "I've owned my tour company for almost 30 years and this is a great idea that my customers put forward." Ms Jones said the buggy tours, which the BTA said was a "low-noise, electric-vehicle tour experience that will travel via public roadway in the West End making stops at key sites" will cater to "history buffs and adventure seekers". She added that some people "have challenges walking about but still want to go off the roads — these buggies are electric, not gas". Ms Jones said some of the Bermuda Off-Road Adventure Tours would involve use of the Railway Trails. But she stressed that the vehicles were quiet and slow. Ms Jones said: "We're not going to be creating a ruckus and the tours are guided. You won't be getting into a buggy and going off by yourself." She added that all of the tours would be guided by certified tourism ambassadors. The project is now under review but Ms Jones said she hoped to launch "immediately and, as soon as we're clear, we will be out on the road". She added she was not affiliated with the ATV proposal, which sparked opposition from West End residents, farmers and the Bermuda National Trust after it went out for public consultation last month.

December 7. Bermuda's traditional May 24 holiday will never fall on that date again. The Progressive Labour Party ignored a last-ditch bid to change the wording of legislation, which was designed to allow the holiday to sometimes take place after May 24. The Public Holidays Amendment Act, which was approved by the Senate yesterday, changes the Bermuda Day holiday from the fixed date of May 24 to the last Friday of the month. One Bermuda Alliance senator Andrew Simons pointed out that when May 24 did land on a Friday, the final Friday of the month, and by extension the date of the holiday, would fall on May 31. He added that meant the earliest date the holiday could fall was May 25. Mr Simons said: "Whenever May 24 is actually on the Friday, the holiday moves to the following Friday, because that's when there are five Fridays in the month." He suggested changing the wording from the final Friday to the fourth Friday. The Bermuda Day holiday originated from a celebration of Queen Victoria's birthday. It was renamed Bermuda Day in 1979, based on recommendations by the Pitt Report into civil unrest in the 1970s, but the date of the holiday was unchanged. PLP senator Jason Hayward, who tabled the legislation, explained that the change was intended to prevent the disruption caused when May 24 falls during the week. He told the Upper House that thousands of pupils fail to attend school the day after the holiday. Nandi Outerbridge, the Opposition Senate leader, said that similar changes had been proposed before, but the OBA did not adopt them because polls indicated that the public were against the move. She said: "But this Bill is not one that I deem to be very contentious, and the OBA will support this." PLP senator Anthony Richardson argued that the holiday brings people together and a change of date would be better for the wider community. He said: "Sometimes it may be at the end of the month, but overall if you go forward to the next ten years, there are not that many instances when it's going to cause a challenge."

December 7. A Bill designed to replace same-sex marriage with domestic partnerships is set to be approved without amendment by MPs tomorrow, despite criticism from across the community. Groups on both sides of the divide called for the Domestic Partnership Act 2017 to be altered before it becomes law, but sources told The Royal Gazette yesterday that it was not likely to be changed. It is understood that the vote tomorrow will be one of conscience for the Progressive Labour Party's 24 MPs — the Speaker of the House would be required to vote only in the event of a tie — as opposed to a vote along party lines. But two government backbenchers told The Royal Gazette that no PLP representatives were likely to oppose the Bill. One predicted that home affairs minister Walton Brown, who tabled the legislation on November 24 after a two-week public consultation period, would "prevail". Another said the legislation would pass because there was "no dissension within the ranks". Preserve Marriage, a group opposed to gay marriage and civil unions, asked on Tuesday for the Bill to be widened in scope to allow people not in an "intimate relationship" with one another to get legal benefits of domestic partnership such as next of kin and inheritance rights. The Centre for Justice, meanwhile, urged the Government to withdraw a section of the bill giving primacy over the Human Rights Act to a clause in the Matrimonial Causes Act which makes marriages void unless between a man and a woman. The civil liberties organisation said the section would "roll back ... those rights" conferred to same-sex couples by the landmark Supreme Court judgment in May this year which paved the way for gay marriages. The Human Rights Commission and the Rainbow Alliance of Bermuda have also criticized the Bill. They said it was a "removal of rights" for gay couples. Preserve Marriage president Melvyn Bassett said yesterday that he believed the Bill would pass in its present form whether MPs were allowed to vote with their conscience or under orders from the party whip. Dr Bassett said he liked to think there would be a PLP MP with a strong enough view against same-sex marriage to propose the amendment requested by Preserve Marriage. But he added he was not hopeful and predicted that even junior finance minister Wayne Furbert, the party's most vocal opponent of gay marriage and civil unions, will vote in favour of the Bill. Dr Bassett said: "He fears that if anything is added there might be some argument over the amendment. So he and others are saying 'let's make sure this thing passes'." Dr Bassett said Preserve Marriage viewed the Domestic Partnership Act as creating a union "almost identical to marriage" and that was unacceptable. He said a better solution would be to create an entirely different kind of legal partnership, available to everyone, whether or not they were in an "intimate relationship". Dr Bassett added removal of the "intimacy" aspect of the Bill would make the law less likely to be challenged in court. He said: "Preserve Marriage agrees that under the European Convention, the Government is required to acknowledge same-sex couples by providing them with legal rights but those rights are very similar to what others could benefit from. Two sisters, for example, could choose to enter into a partnership for legal reasons if they wanted to own property together. If there is a parallel to marriage, it will open government up to legal challenges. We are suggesting they could eliminate the legal challenge. We don't want to fight in court on a parallel Act. It would seal it, I think." Lawyer Rod Attride-Stirling, who represented the HRC in the civil proceedings that led to the judgment on same-sex marriage, said MPs should think long and hard before approving the Domestic Partnership Act. Mr Attride-Stirling said: "There is lawful same-sex marriage in Bermuda and there have been several marriages now, so the Government is taking away a right that exists. If the Supreme Court had not already ruled on this, then the position would be very different. In that instance, the previous government's civil unions Bill would have been seen as giving something, where there was nothing. However, what is happening now is that the Government is giving something that's secondary, the right to a domestic partnership, and taking away something primary, the right to marriage." Mr Attride-Stirling added: "The fact that no country in the world has ever done this should give us pause. We will look foolish and oppressive, at a time when we can ill-afford this, in the light of everything going on and the spotlight shining on us for other reasons." He said the May judgment declared all same-sex marriages involving Bermudians were lawful, whether here or overseas, if they took place after the Human Rights Act was amended in 2013 to outlaw discrimination on the grounds of sexual orientation. Mr Attride-Stirling said: "There are a bunch of marriages that have taken place here since the judgment. But there is a much larger number of marriages that have taken place overseas since 2013. Those earlier marriages were effectively declared to be lawful by the judgment and this Bill does not recognize that. It protects those marriages that took place after the judgment but it does not protect the earlier marriages that took place overseas. That's a serious technical problem as it is rendering lawful marriages unlawful, that is, taking away crystallized rights, which would be unconstitutional." Deputy Opposition leader Leah Scott said the One Bermuda Alliance opposed the Bill and that its 12 MPs would vote against it on party lines. She said: "It won't be a conscience vote." David Burt, the Premier, told The Royal Gazette in July that his opposition to civil unions had "not changed". He told Bermudian students in London last week: "We are making sure we carry out our platform promise that same-sex couples and heterosexual couples have similar legal protection under the law."

December 7. The One Bermuda Alliance is redefining itself in Opposition, deputy leader Leah Scott said yesterday. The Southampton East Central MP dismissed the idea of a third party reshaping Bermuda's political landscape and said that would "only fragment both the OBA and the PLP". She also brushed off suggestions that the party might not survive its battering at the polls in July. Ms Scott pointed out that the PLP's parliamentary ranks had been chopped to just seven seats in 1985, but reached 24 this year. She said: "They had dissension, and all the things you have when people come together with diverse personalities and ideologies. Why can't we do the same?" Ms Scott, one of 12 OBA MPs to retain her seat in the General Election, said the OBA would be "branded by design, not by what someone else says we are". She added: "It's important for people to understand that we want to attract people from all walks of life. It isn't limited to any one race, gender or nationality, because that's not what Bermuda is." Ms Scott said she was not aware of any members of the old guard prepared to step down in favour of new blood in the party, which was formed from the former United Bermuda Party and the One Bermuda Alliance. She said: "I can't name anyone interested in leaving. As with all things, there are some former UBP people looking to transition out. But new people will come in." Ms Scott warned that "change will not happen overnight". She said that MPs had to build a network of connections "external to Parliament" and include members of the business community. Ms Scott added: "We also want people to be socially sensitive, recognize the challenges we face, and be willing to participate in whatever changes are needed to make the social agenda in Bermuda fairer." The OBA promoted itself as a party of diversity when it was created in 2011. Ms Scott said a renewal of that promise "has to be something that we not only say, but that we actually demonstrate". She added: "The unfortunate thing is that back in 2012, when we won, we were who we said we were in terms of diversity, and we had black people in the room taking part. Through an unfortunate series of events, when Craig Cannonier was no longer premier, there was a paradigm shift in the ideology of the party, with Michael Dunkley coming in, and it reverted back to UBP thinking. We know that change is going to be a slow process. We want to move forward but also recognize we need stability. Change will be progressive. We will change the faces in our group of MPs but that will take time. As we attract new people, we learn from the knowledge base in terms of parliamentary procedure and political history. There are some people who will have to leave, but there are also people who carry a lot of political knowledge. We have to be strategic." Political observers called on the Opposition to make tough choices in the wake of its defeat. Former OBA candidate Rodney Smith warned that the PLP would aim to take even more seats away from the party. But Ms Scott said: "That's a projection I can't make at this time. Both parties need to settle and do the best they can. The PLP has a lot on its hands to balance the Budget for 2018/19, and I'll be interested to see how they do that. We are also in an environment where Bermuda is getting a lot of press in terms of its regulatory environment and we have to be very careful as we don't need political instability right now." The deputy leader, also the Shadow Minister of Tourism, said she tended to get on well with government MPs. Ms Scott added: "I think I have a very cordial relationship with most people, but I could be fooling myself. I have a good relationship with Jamahl Simmons, the tourism minister, and we have agreed to be open." She said the PLP "have their own challenges" with a large group of MPs. Ms Scott explained: "Twenty-four people is a lot to manage. I'm sure there were people who thought they would get ministerial positions and didn't, and I'm sure there is some unhappiness with that." Ms Scott said that "change is possible" when it came to the adversarial style of politics. She added: "Changing the Westminster system has been discussed, but that's something the younger generation will have to do. The OBA aimed to be a constructive but effective Opposition. The seats being 24-12 don't change that. It's up to us to voice our concerns and get our challenges on record. Where we can support, we do, and we are just as vocal about that. We plan in the new year to get out and connect with people, to hear what their needs are and what they expect from us."

December 7. Brit Ltd is to relocate its Gibraltar-based captive reinsurer to Bermuda. The international general insurance and reinsurance group, which is headquartered in the UK, said it expects to complete the relocation of Brit Insurance (Gibraltar) PCC Ltd by the end of the year. Brit already has an office in Bermuda, which it set up in 2013. Matthew Wilson, Brit, chief executive officer, said: "This is a natural move for us as we continue to expand our Bermuda platform, while it is also highly complementary to our continued focus on the US market." And Mark Allan, Brit's chief financial officer, said: "Bermuda is an important hub for Brit, and its combination of a mature regulatory environment, including Solvency II equivalence, and access to highly qualified and experienced people makes it the right home for Brit Re to support the Group's longer term strategy." A spokesperson for the company said the move will not involve any major change in staffing levels in Bermuda, although a top executive at the reinsurer is expected to relocate to the island. Welcoming the move, Ross Webber, CEO of the Bermuda Business Development Agency, said: "Once again this is a tremendous endorsement of our jurisdiction. It's a recognition of the power, strength and reputation of our regulator, particularly following Solvency II. We all acknowledge that our reputation on the international marketplace is of paramount importance, and this sort of move from a world-recognized insurer is further endorsement of Bermuda as a unique, elite jurisdiction." When relocated Brit Insurance (Gibraltar) will become Brit Reinsurance (Bermuda) Limited.

December 7. A former executive of BMO Bank of Montreal has joined the board of BF&M Limited. Gordon Henderson recently retired as president and chief executive officer of BMO Life Insurance Company, where he had oversight of the bank's creditor insurance, life insurance and reinsurance businesses. Before joining BMO he held senior executive positions with Aetna Canada. Gavin Arton, BF&M Limited board chairman said: "Gordon brings deep experience and understanding of the insurance industry, from both business and legal perspectives. His insights will be invaluable as we continue to implement effective strategic guidance and good governance." The BF&M board is currently made up of 12 directors, of which nine are Bermudian.

December 7. Civil liberties organisation the Centre for Justice has urged Jamahl Simmons, the Minister of Economic Development and Tourism, to delay putting an amendment before the House of Assembly tomorrow that would allow him to fire leading members of the Bermuda Casino Gaming Commission without cause. Despite the resignation of Alan Dunch as chairman of the commission, and the subsequent departure yesterday of Garry Madeiros, his deputy, Mr Simmons plans to proceed with a Bill that could lead to the independent body coming under ministerial control. It is a move that has been widely criticized by gaming industry experts in advance of Bermuda's first steps into casino gaming. "Following the tabling of the Casino Gaming Amendment Bill 2017 (the "Bill") on Friday 10 November 2017, we wrote to Minister Simmons urging him to postpone the debate of the Bill until such time as there has been full consultation with key stakeholders," the Centre for Justice said in a statement released late last night. Centre for Justice does not involve itself in areas that fall outside CfJ's remit. Gaming, in and of itself, is one such area that does not concern CfJ. However, in this instance, the Bill seeks to make changes to existing legislation that appear to deal with matters of good governance." The statement added: "The legitimacy of legislation, in a free and democratic society, is derived from the full participation of the public through consultation.CfJ's strong recommendation is that the debate of the Bill be postponed with a view to engaging key stakeholders and the general public in consultation."

December 7. Plans to set up an aquaponics farm on Smith's Island have been approved by the Department of Planning. The farm, earmarked for the site of a former cottage, is described as a pilot scheme to test the viability of the farming method in Bermuda. Aquaponic farms blend conventional aquaculture, the farming of marine animals like fish or prawns, with hydroponics, which uses water to grow plants. The planning application, submitted by Uwe Lipfert and Dana Masters, proposed a "residential scale" facility on the island. Their application said: "This is a pilot project to determine the scalability of this type of farming model and the layout is a proposal of potential maximum usage. If we achieve success and can sign a long-term lease, we will apply for commercial status." The farm would include a 480 square foot shaded area covering three 8ft by 8ft tanks for fish, along with 736 square feet of deep water culture troughs and a 1,152 square foot hoop house to protect vines and vertical crops. Concerns, however were raised about who would have legislative oversight over aquaponic farms. Technical officers said that the Agricultural Act 1930 is "very specific" about which livestock is covered, and does not include fish. The officers said that if amendments were made, it would be likely that freshwater fish and the agricultural elements would be under the Board of Agriculture, while saltwater fish would fall under the mandate of the Marine Resources Board. The Department of Environment and Natural Resources would be interested in operational matters, while the Department of Environmental Health would be involved in the sale of any products produced. A technical officer's assessment said: "Aquaponic farming is a form of intensive agriculture being used in many parts of the world. "The brownfield site in Smith's Island is considered a good location for a pilot scheme to test this form of food production." The Development Applications Board approved the application on November 22.

December 7. Burnt-out boats are an eyesore in Warwick and could harm the environment, local residents said yesterday. The two yachts were destroyed by a fire four months ago at a private dock in Riddell's Bay and are now stuck on rocks near the mouth of the bay. Mark Riihiluoma, who lives in the area, said the boats have remained untouched since they hit the rocks. He added: "I haven't seen any action — nothing. I have been calling Marine Police and the Department of Marine and Ports, but nothing is happening. It seems like the onus lies with the owner, but if an owner doesn't have insurance then it seems to me that it might not be in their best interest to move the boat if something happens." Mr Riihiluoma said that apart from the visual impact, he was worried chemicals could be leaking out of the damaged vessels and into the water. He added: "You can see that the condition of the boats is not great. I don't know what's inside them, but it can't be good for the environment. If there is a hurricane and the wind comes out of the wrong direction, I can imagine them getting pulled off the rocks and out into the water, where they could collide with other boats." A spokesman for the Ministry of Transport and Regulatory Affairs said there were a number of abandoned boats around the island, with some as a result of past hurricanes.

December 6. Ten years after the start of the global financial crisis that shook the world, a panel of experts discussed the issue of where financial stability is today. The topic was explored at a Bermuda Monetary Authority industry event, held following the conclusion of a meeting of the Group of International Financial Centre Supervisors. Present were 30 representatives from more than 20 jurisdictions. It was the first time in 40 years that the group had held its biannual plenary session in Bermuda. On the panel was John Aspden, former banker and supervisor, and now chairman of the Group of International Financial Centre Supervisors He was joined by Dame Amelia Fawcett, chairwoman of the Standards Board for Alternative Investments and a member of Bermuda's Financial Policy Council, Sir Andrew Large, deputy chairman of Bermuda's Financial Policy Council and a former deputy governor of the Bank of England, and Professor Karel van Hulle, university professor, member of the BMA board of directors, and former head of insurance and pensions at the European Commission.

December 6. Bermuda enjoyed an economic boost during the second quarter of this year as it hosted the 35th America's Cup.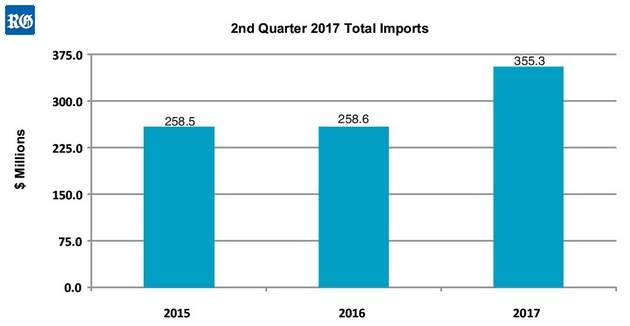 There were double-digit percentage increases in the number of air arrivals and the amount of money those visitors spent while on the island. Revenue levels for hotels were markedly higher, as was the value of imported goods. The number of workers employed in the hotel industry at the end of April, a month before the start of the America's Cup, was 2,486 — up by 103 year-on-year, although the number of Bermudians working in hotels fell by 25. And employment income for the quarter increased by $32 million, or 4 per cent, to $832.4 million. However, the number of cruise passengers visiting the island between April and the end of June dropped by 8 per cent. The data is contained in the Quarterly Bulletin of Statistics, issued by the Bermuda Government's Department of Statistics. The island welcomed 87,324 air visitor arrivals, which was up 15.3 per cent compared to the corresponding period in 2016. Estimated expenditure by air visitors was $137.8 million, up 30.6 per cent. "Visitors spent $19.9 million more on accommodations and food as well as $12.4 million more on shopping, entertainment and transport services," the bulletin reported. Hotel gross receipts, which include cottage colonies and guesthouses, were up 16.9 per cent at $112.4 million, with $11.9 million of that increase from a rise in room bookings. And hotels saw sales of food and alcohol rise by $1.5 million year-on-year. Total employment income was up 4 per cent, led by the international business sector where remuneration was up $18.1 million due to higher stock options. The wholesale and retail sector also saw a notable increase of $5.9 million. The value of imports hit $355.3 million for the three months, up 37.4 per cent compared to the same period in 2016. All commodity groups recorded increases, with the largest being recorded in the finished category and transport equipment such as yachts. During June, as well as the America's Cup the island played host to the biennial Marion Bermuda Race, which saw 50 boats competing. There was a decrease in the number of cruise ship visitors during the three months, falling by about 12,000 to 138,760. Spending by cruise passengers was $22.6 million, a drop of $2.4 million. Residents declared $13.6 million in overseas spending, down by 4.5 per cent compared to the second quarter of 2016.
December 6. The deputy chairman of the Bermuda Casino Gaming Commission is expected to resign today. Sources told The Royal Gazette that Garry Madeiros was set to step down at the end of a meeting at the regulatory body's office this afternoon. The meeting is the last to be chaired by Alan Dunch, who quit last month after tourism minister Jamahl Simmons tabled an amendment to the law to give himself the power to sack commissioners without cause. All five commissioners opposed the Bill, which is due to be debated by MPs on Friday. The amendment, if approved, would force the commission to follow "general directions" on policy given by the minister and allow him to remove commissioners in circumstances he "considers appropriate". Mr Dunch issued a statement on behalf of the commission last month that warned that the amendment would give the minister the "power to interfere in all of the commission's dealings and ongoing work". The statement said: "It means the minister is asking Parliament to give him an absolute, unchallengeable right to tell the commission what to do and the commission, despite its own convictions and expertise, will be unable to refuse. It means Bermuda's gaming industry may essentially become an arm of the Government. Who we issue gaming licences to and who we approve as operators, may no longer be based on our internal, and internationally recognized suitability standards, but those of the minister's." Mr Simmons told reporters at a press conference that the Government would push ahead with the gaming amendment, despite the concerns of the commission and overseas industry experts. He said that the change would not allow him to influence licence decisions. Mr Dunch's successor as chairman will be magistrate Cheryl Ann Mapp. The remaining commissioners are Judith Hall-Bean and Dennis Tucker, both Bermudians, and Derek Ramm, the director of anti-money laundering for the Alcohol and Gaming Commission of Ontario. Richard Schuetz, the gaming commission's executive director, resigned on July 18 and is serving out his notice period until the end of the year. A replacement for him has yet to be found. Mr Madeiros and Mr Dunch declined to comment yesterday.
December 6. The Bermuda Tourism Authority is offering funding to 23 new home-grown experiences next year. Among the proposals approved through the Tourism Experiences Investment Process are a dune buggy tour, a water transportation app and the Bermuda Triangle Beach Experience at Clearwater Beach. Meanwhile local food and culture will be highlighted with Sip & Savour Bermuda Food Tours and Wild Herbs N Plants of Bermuda. And Bermudian performers will take stage in an expanded version of the Made in Bermuda festival. Pat Phillip-Fairn, BTA chief product and experiences development officer, said: "It's rewarding to see so many passionate and creative new entrepreneurs gravitate toward tourism and we're delighted that the quality this year is the highest we've seen since we began this process in 2014. We spend a lot of time communicating tourism trends to the public and we hold workshops to empower local entrepreneurs. That outreach is paying off and we see this as very encouraging for the future of Bermuda tourism." Next year, the Tourism Experiences Investment Process will offer support to 55 experiences, including 23 new proposals. In total, $838,000 has been allocated for the various experiences, with about one-third of that funding going to newly supported experiences. About 70 per cent of the investment for 2018 will go to experiences characterized as sports and adventure, while the remaining 30 per cent is directed towards arts and culture initiatives. A BTA spokesman said that among the supported projects is Bermuda by Dune Buggy, a "low-noise, electric vehicle tour experience that will travel via public roadway in the west end making stops at key sites". Also supported was WaterRide Transport, an app which was awarded a cash investment for its innovative approach as a water shuttle service.
December 6. The addition of Southlands to the list of National Parks was welcomed yesterday by Bermuda Environment Sustainability Taskforce cofounder Stuart Hayward. Mr Hayward said the environmental group was relieved that Southlands would at last get protection thanks to legislation passed by the House of Assembly. The National Parks Amendment Act 1 and 2, designed to modernize National Parks legislation and related fees, were approved by MPs at the end of last month. The move by Government marks the end of a 10-year battle, which was first launched to prevent development at the Warwick Beauty spot, by BEST to win National Park status for Southlands. Mr Hayward said: "As I understand it, to be added to this list the park has to have a management plan, so one assumes there is now a management plan for Southlands." He added: "The whole process in Bermuda has been neglected because of a shortage of funds and administrative difficulties. What it should mean is that Southlands is now protected against being cut into pieces for different commercial purposes and interests. It provides Southlands with a degree of protection, and for that we are grateful. However, the devil is in the detail. It has taken so long to reach this point that you can understand why we are looking at it with a wary eye. The legislation still has to go through the Senate obviously, but we have taken a big step closer to where we want to be." Former Premier Ewart Brown signed an agreement on behalf of the Government of Bermuda in 2008 with Southlands Ltd to swap 80 acres of land at Morgan's Point for 37 acres of land at Southlands. The property was handed over to Government under the land-swap agreement in 2012, but it took five more years for the estate to be designated as a National Park. Mr Hayward added: "The reason BEST got involved in the first place was because there was a risk that 37 acres would be converted from near pristine woodland into a hotel and condo development. So to have that 37 acres protected from development is a signal accomplishment. It was our first major project and it's a real boon to have Southlands added to the list on our tenth anniversary." Under the new legislation, which has still to go before the Senate, 16 new protected areas are created including Cooper's Island Nature Reserve, Clearwater Park, Stocks Harbour Nature Reserve and Southlands Park. The amendments also give the minister the power to waive fees under certain conditions and make changes to the membership of the Parks Commission. Mr Hayward said: "The modernizing of the fees structure is also a giant step forward. I'm not sure how they will look to allocate those fees to be used in the upkeep, but the concept is good and the intention is good. If the outcome measures up to the intention, that is another thing to feel good about." The commission will now include representatives from the Bermuda National Trust, the Bermuda Audubon Society, the Bermuda Zoological Society, the Bermuda Tourism Authority and the National Museum of Bermuda. The amendments also pave the way to include two "users" of the park system and four people selected for knowledge of environmental protection, conservation and economic and commercial affairs on the Parks Commission. Mr Hayward said: "They have changed the make-up of the Parks Commission. One of the criteria states that two members must be "users of the parks". I don't know how they will do that and it would be nice to get some clarity on that aspect."
December 6. A book about the last hangings on British soil and the riots that followed has been turned into a screenplay. Now the team behind the movie script Prerogative of Mercy is on the hunt for backers to help bring it to the silver screen. The movie is based on the book Island Flames, which told the story of the controversial 1977 hangings of Erskine "Buck" Burrows and Larry Tacklyn and the riots that followed. Author Jonathan Smith, a former Commissioner of Police, said: "When we announced this project in 2016, we recognized the opportunity to produce this dramatic Bermudian story on an international scale with overseas partners." Burrows was sentenced to death for killing police commissioner George Duckett in 1972 and the murders of Sir Richard Sharples, the Governor, and his aide-de-camp Captain Hugh Sayers in the grounds of Government House in 1973. Tacklyn was acquitted of the Government House shootings but both men were found guilty of the 1973 Shopping Centre murders of Victor Rego and Mark Doe. Mr Smith, the president of Island Flames Limited, which owns the screenplay rights, added: "Prerogative of Mercy, the working title for the film, has significant potential for putting Bermuda on the map as a film production site and will realize employment benefits and injection of foreign capital at the production stage." The screenplay, written by director Lucinda Spurling, writer and actress Liana Hall, and film-maker and former broadcast-news journalist Alia Hamza, was finished the same week Bermuda marked the 40th anniversary of the riots. Ms Spurling said the work was "no small task". She added: "We are excited to finally share the story with potential partners in a bid to have it realized and further share this important story with the world. The professional goal and significance of this project is not only to bring a film production to Bermuda, but chiefly to tell this globally relevant story for an international audience." Ms Spurling said 80 per cent of the film would be filmed in Bermuda and the rest in London.
December 6. An attempt to introduce domestic partnerships for gay couples is marriage by another name, pressure group Preserve Marriage said last night. The organisation claimed that Minister of Home Affairs Walton Brown's Bill to create legal recognition for same-sex couples would open the door to full marriage in the future. Melvyn Bassett, chairman of Preserve Marriage, said: "To legislate against same-sex marriage and simultaneously introduce civil unions under the guise of a Domestic Partnership Bill is an introduction of a parallel form of marriage." He claimed: "The public is well aware that civil unions often give legal footing to the 'separate but equal' argument that has led to same-sex marriage rulings in the court in other jurisdictions." Dr Bassett said: "To avoid a future legal challenge to Minister Walton Brown's 2017 Domestic Partnership Bill, an appropriate amendment could be made that would offer a provision of legal recognition and benefits to all non-married persons and can be applied to a variety of relationships. "Such an amendment would grant legal authority and rights to a designated person or registrant which would include, but not require, an intimate relationship." Dr Bassett added: "The legislation under these circumstances would not be seen as parallel to the Marriage Act and would less likely be used as a basis to appeal to the courts for same-sex marriage." The group added that it was "pleased" that the Government was "moving forward with its commitment to uphold marriage as the union between a man and a woman". But Dr Bassett accused the ruling Progressive Labour Party of stealing the former One Bermuda Alliance government's "rejected Civil Unions Bill" of last year and giving it a new title. He claimed that the PLP had "campaigned on a platform to eliminate same-sex marriage". Dr Bassett added that it was "perplexing why the Government ... is now introducing same-sex marriage in a different format". Preserve Marriage conceded that by international human rights law, the Government "was obliged to provide same-sex couples with legal benefits". Dr Bassett said: "The Government can legislate these benefits and still maintain its election promise by amending the current Bill." The Supreme Court ruled in May that the island's Registrar General could not reject a gay couple's application to marry in Bermuda. Puisne Judge Charles-Etta Simmons said that the common law definition of marriage as between a man and a woman was "inconsistent with the provisions of the Human Rights Act as they constitute deliberate different treatment on the basis of sexual orientation". The decision paved the way for same-sex marriage on the island. The first same-sex couple made their vows at the Registry General's office less than a month later.
December 6. Nearly $16,000 in fines were handed out to 20 motorists convicted of driving without due care and attention in Magistrates' Court yesterday. Most appearances at the packed court session were motorcyclists guilty of "third laning", which is subject to an $800 fine and ten demerit points. The marathon hearing followed a weekend in which there were 21 separate crashes on the island's roads. Bermuda Police Service Inspector Robert Cardwell said the crackdown on careless driving was sending "a strong message". Zachary Foley, 18, from Paget, racked up $2,850 in fines for leading police on a chase through the streets of Hamilton on the night of September 13. Magistrate Khamisi Tokunbo heard that a police motorcycle patrol observed Foley doing a "wheelie", driving with the front wheel off the road, on Par-la-Ville Road at about 9.30pm. Foley accelerated when officers put on emergency lights. The court heard the defendant ran several red lights and stop signs, and drove against the flow of traffic on Angle Street before he was halted. The chase ended when Foley lost control of his bike on King Street and crashed into a fence by Middle Town Road. He told police: "I had weed in my bike." The licence sticker on the back of the bike had also been altered to suggest the vehicle was insured. However, both Foley's insurance and driving licence expired in 2016. Foley, who pleaded guilty, was fined $300 for fraudulent use of a document, $150 for failing to stop for police, $250 for riding an unlicensed cycle, $150 for having no valid driver's licence, and $1,000 each for dangerous driving and riding with no insurance. Mr Tokunbo also banned him from the roads for 18 months. In a separate case, William Tucker, 32, of Southampton, was fined $800 and had ten points added to his licence for driving a car without due care and attention on Camp Road, Warwick, on September 13. The court heard that a marked police car turned a corner and met Tucker's car partially in the same lane. The police car hit the sidewalk after being forced to swerve to avoid a collision. Tucker subsequently got out and apologized to the officers.
December 5. Meetings aimed at strengthening ties between Bermuda and the cities of Miami and Miami Beach, particularly the business communities, were yesterday held in Florida. Premier David Burt was welcomed by Francis Suarez and Dan Gelber, the mayors of Miami and Miami Beach, respectively, during the one-day trip that was arranged by the Bermuda Business Development Agency. The Premier and members of the BDA also met other civic land business leaders, including the Greater Miami Chamber of Commerce. The discussions with the Chamber ranged from trade and tourism to fintech, infrastructure investment, and social and educational programmes of mutual benefit. "We made some valuable connections on several fronts," said Ross Webber, CEO of the BDA. "There was good familiarity with Bermuda, and we were able to reinforce very positive messaging about the island. From our perspective, we will follow up and explore opportunities for new economic activity from this region." While Alfred Sanchez, president of the Chamber, said: "It's quite an honor to have the Premier and the whole delegation here and there's obviously so much that is already happening and much more is possible. We talked about technology, especially fintech and healthtech, we've got free-trade zones — the sky's the limit, and we just needed to start the conversation. Our members are eager to look for trade opportunities both ways." Meanwhile, Mr Suarez promised to explore naming Bermuda as a "sister community" of Miami, while Mr Gelber presented the Premier with a ceremonial key to Miami Beach. Mr Burt said: "I was pleased to support the BDA on this very worthwhile initiative. It's important to establish business links in cities where Bermuda already enjoys direct travel connections. Miami is going through an economic resurgence currently, with notable investment of new capital. We can certainly look to do things together, whether it's deepening the links between our regions when it comes to insurance, or taking advantage of Miami's healthcare institutions for Bermudians. These are all topics we will follow up on. It's also important to establish political relations with civic leaders in gateway cities like Miami." Mr Burt and Mr Suarez, held an informal 30-minute meeting. Among the Bermuda delegation was Mr Webber and BDA board member Lydia Dickens of the Ministry of Economic Development. The mayor and Premier traded insights on their recent transitions into leadership, and discussed common agenda priorities, such as reducing income inequality and building resiliency against hurricanes and climate change. And Mr Gelber, of Miami Beach, noted the Bermuda reinsurance sector's important role in covering losses from hurricanes Harvey, Irma and Maria "We rely on the reinsurance industry in a major way," he said. "Windstorm damage in Miami Beach is a major driver of costs, so having available and affordable reinsurance is critical. Having Bermuda around the corner is important for us, and I'm glad the Premier and I got a chance to talk about that. Premier Burt is a millennial leader, but he's got a vision for the future of his nation, which is important."
December 5. Replacements for Swing Bridge and Longbird Bridge are in the pipeline after a contract for design work was handed to a British team. Both of the East End structures have suffered major deterioration in recent years, and Swing Bridge was subject to emergency repair work under the One Bermuda Alliance government. A press release from British firm Double Unit announced a contract for full design services has been awarded to lead consultant Ramboll, Knight Architects and Eadon Consulting after an international tender. The two bridges form a critical link in the infrastructure of Bermuda, connecting LF Wade International Airport with Hamilton to the west and the Town of St George to the east. Longbird Bridge was originally constructed in the 1950s as a 60 metres-long twin carriageway steel swing bridge at the east end of the Causeway connecting the island with the airport. However, the bridge closed to traffic ten years ago and was temporarily bypassed with twin Bailey Bridge structures. Swing Bridge spans 120 metres across Ferry Reach, linking St George's Harbour with the west of the island, and is a critical link for both vehicular and marine traffic. The 1960s swing bridge has received extensive refurbishment and remains open to vehicles but no longer opens to shipping. According to the press release, the design team will undertake studies to determine the most appropriate solutions for the new bridges, including fixed and moveable structures. It added that robustness and durability are key factors as both existing bridges have suffered accelerated deterioration in the tropical climate, which is particularly aggressive to steel structures. In addition, the structures and their mechanisms must be designed to withstand the hurricane-force winds that Bermuda periodically suffers. The design team have collaborated on many bridge projects and between them are responsible for award-winning moveable structures, including the Twin Sails Bridge, Poole (Britain), Gateshead Millennium Bridge (Britain), Lower Hatea Crossing (New Zealand) and Merchant Square Bridge (Britain). Commenting on the appointment, Peter Curran, bridges director at Ramboll, said: "We are all delighted to be working on such an exciting project with the Government of Bermuda. We look forward to collaborating to deliver a strong and lasting landmark for the island, one which inspires, connects and can endure the heavy weather conditions that Bermuda has previously suffered." Martin Knight, director at Knight Architects, said: "Bermuda is a beautiful and inspiring location for any designer, and it is clear how important these connections are in the everyday life in the island. These bridges are also the entry point for countless tourists every year and they offer an opportunity for gateway structures which reflect the culture and identity of a truly unique place." Work on the project will start immediately.
December 5. Bermuda's new airport was a "game changer" in a decision to buy the luxury Rosewood Tucker's Point hotel, the new owner said. Karim Alibhai, head of Miami-based international hotel company Gencom, said the airport was a major factor in the decision to buy the resort, which went into receivership in 2013 and was put on the market two years ago. Mr Alibhai said: "Once the new airport opens that should definitely be a big game changer." He added: "It was quite important — airlift is a very important part of our business. We've seen businesses conceived very, very well but they have not taken account of good airlift. We also see Bermuda as a market that can be expanded — what we are doing is expanding the market to other parts of the US as they get to know Bermuda is a great destination." Mr Alibhai said: "Until two years ago, it was our perception that Bermuda had seen its best years." But he added that a combination of factors, including the work of government and the Bermuda Tourism Authority, which had "a positive impact" on the tourism business, had changed Gencom's view. Mr Alibhai said the firm planned to invest $25 million in a major revamp of Tucker's Point — with further development in the future. The hotel will be closed for three months from the start of next year for renovations and will reopen in April with the new name of Rosewood Bermuda. Mr Alibhai added: "When we looked at the different things that were being planned, we could come in, make the investment and get what we and our investors need to make a return." The 53-year-old businessman started his hotel empire with just one property — a two star Best Western hotel in Houston, Texas bought when he was aged just 19. He founded Gencom 30 years ago and the group now has a total of 75 properties in its portfolio, some managed by Gencom's affiliate Benchmark Global Hospitality and which includes hotels in North America, Latin America, Europe and the Caribbean. The group includes four-star resorts and conference centres. Mr Alibhai said: "We were looking for situations with opportunities. What drew us into Bermuda? It's a combination of things that got us attracted. A lot of our business plan is acquiring businesses that are depressed, investing in them and making them successful. We saw here a project with all the elements to be successful but one that got caught up in a combination of the financial crisis and an overspend when it was constructed. But, at the same time, under the right ownership, it's a hotel with the potential to be very successful." Mr Alibhai added that the America's Cup, although "it did not drive as much business to the hotels as expected" it was a marketing triumph. He said: "As far as the publicity goes, I think that's huge. It reminded people this is a great destination — I'm pleased with the marketing impact. It's a sizeable investment to make in Bermuda, but that's because we really feel the potential is there. Short term, we see the demand begin to grow as the BTA does its marketing and we do our marketing." Mr Alibhai said he welcomed plans to bring other major hotel brands to the island, like Ritz Carton at the new Caroline Bay resort at Morgan's Point in Southampton. He explained: "We don't look at that as competition — that's a positive aspect. It will expand the airlift and have passengers coming in. We're very excited about being in Bermuda and our future."
December 5. The One Bermuda Alliance's battering at the polls proved it had gone down the wrong path, former leader and party founder Craig Cannonier said yesterday. Despite suggestions that the OBA is doomed, Mr Cannonier said the party "will be fine". Mr Cannonier said, however: "We are not heading in the direction I would like to see the party heading." The former premier and current shadow works minister echoed new party leader Jeanne Atherden's view that new blood was needed. He explained: "I think that people are very much concerned that the OBA began to look very old school. When people voted for something new, that's what they were looking for. We need to have new faces in the room and people who have not been involved in politics before." Mr Cannonier said voters were no longer looking for the "old school argument" from politicians in either party. He added: "Those of us who are politicians, if we continue, whether we are young or old, in that format of tit-for-tat, are going to very quickly find ourselves being labelled as old school. People want to hear solutions. People want to hear about the future." Mr Cannonier said the departure of former senator and party chairman Nick Kempe was "ironic". Mr Kempe quit as party chairman after only five days in the post. It came only two days after he was replaced in the Upper House by Justin Mathias. Ms Atherden said last week she saw the job of party chairman as a "very major role", and that there was "a lot to be done". Mr Cannonier said that Ms Atherden's reasoning for the change "holds no weight at all". He explained that the same situation existed with Mr Kempe's predecessor, Lynne Woolridge, who served as party chairman while also a senator. He added: "We're just coming from that. I don't know what Ms Atherden was thinking, quite frankly. At a time when you say you're looking for young people to be involved, you p****d off a young person." Mr Cannonier said Mr Kempe was a "very capable politician" whose short Senate stint showed that he could "stick to issues" and "look to ways forward". He added that he "kind of chuckled" over Mr Kempe's departure. Mr Cannonier explained: "This is someone who is coming from a United Bermuda Party heritage. And the irony of it is that he is looking for change." Mr Cannonier said that although the OBA had problems, the writing was not on the wall for the party. He added the party's downward spiral stopped on election day in July. Mr Cannonier explained: "We were spiraling before, which is what led to July 18." He said that everything had come to a "standstill" after the General Election result. "That's a good thing. People are now stopping and can think clearly and can say 'what's going on? What happened?' In order for democracy to continue, we need a healthy and strong Opposition. And that won't happen unless you see the teething pains that we are going through right now. We have got to get ourselves together in order for there to be true democracy on the island. And that's what you see happening right now, people getting their act together." Mr Cannonier quit as premier in the wake of the Jetgate row, where he, two other ministers and a friend traveled on the private jet of American businessman Nathan Landow to discuss potential hotel development on the island. Mr Landow later said that he and associates made a donation of around $300,000 to the Bermuda Political Action Group, which was not part of the OBA, to help the party's 2012 election campaign. Mr Cannonier said that the immediate focus for the party was to improve discussion and debate in the political arena. He admitted: "Externally it may not always look healthy. But I believe that there are very strong individuals who are still there for a reason, and that is because they still believe change can happen. If and when you begin to see some of those strong individuals walk away, then that's another discussion."
December 5. A robber terrorized four female staff and the general manager in a raid at an up market Southampton resort yesterday. The man, who was wearing a full-face helmet, threatened Pompano Beach Club staff with a knife and demanded access to the safe. The raider ran off after being given "a small amount" of cash and escaped on the back of a motorcycle, which was driven by an accomplice. Larry Lamb, general manager of the resort, said the staff were shaken but unhurt in the raid. He said: "There wasn't anything aggressively done to everyone, and thank God for that. A few of the ladies are shaken as no one ever expects this to happen. But thankfully no one was harmed." Mr Lamb said he was in his office when the man burst in and demanded he open the safe. He added: "He came in looking for a safe but the thing is, we don't really have a safe. Most of our business is done with credit cards. Mr Lamb pointed out the island is in the off-season so hotels would not be at peak capacity or have large amounts of cash takings. He said: "It was weird that they would choose this time of year to rob a hotel. They got a small amount of cash. Pretty small, really. They then took off. It all happened very quickly. Until they were leaving, I didn't even know there were two people involved." Mr Lamb said the incident lasted less than two minutes and that police arrived at the scene very quickly. He added: "We've never had something like this happen before. We have security, but I guess we'll have to evaluate the situation and decide in what direction we need to go. You always evaluate these things, but police were Johnny-on-the-spot, and I'm confident they will apprehend the guys." Mr Lamb said the hotel was targeted more than 15 years ago by burglars, who escaped with an empty safe. He added: "They dragged it all the way out, scratched the hell out of the floor and took it somewhere. But it was locked, closed and empty, so we got lucky on that." A police spokesman said officers were alerted to an armed robbery at the hotel just after 11am. He added: "Initial reports indicate that two men on a motorcycle arrived at the hotel, with one entering the establishment brandishing a bladed article and demanding money. It appears that the other suspect was waiting on the motorcycle and both suspects then made good their escape, apparently with a quantity of cash." Police have appealed for witnesses.
December 5. A total of 21 crashes were reported over the weekend with 11 resulting in some form of injury, police said this morning. Three of the collisions resulted in serious injuries, a further eight resulted in minor injuries and ten caused damage only. Additionally, four arrests were made on suspicious of impaired driving and more than three dozen tickets were issued for speeding. One of the offenders was clocked at 102km/h. Police said that officers continued to be "highly visible" on the island's roads, conducting a number a "road-safety initiatives". The Bermuda Police Service added: "However, the public must also do their part and take personal responsibility for their driving and riding behavior." Police also provided updates on the conditions of a number of people injured in this weekend's collision. A 16-year-old girl hurt in a single-vehicle bike crash on South Road, near Southcote Road, on Friday night remained in stable condition in the Intensive Care Unit. The crash happened shortly before 8pm. A 58-year-old Paget man injured when his bike collided with a truck on Wilkinson Avenue in Hamilton Parish on Friday afternoon remained in stable condition in the hospital's Intensive Care Unit. A 37-year-old Hamilton Parish man injured in a single-vehicle bike crash on North Shore Road, near Limehouse Lane, in Hamilton Parish on Friday afternoon, was treated in hospital and later discharged. Police continue to investigate all three incidents. The BPS also provided details on a two-car crash that occurred in Smith's last night. It happened on North Shore Road near Flatts Village at around 7.45pm. Police said: "Two people were initially trapped in one of the vehicles involved but were later extracted, conscious and breathing. Their injuries are not believed to be life threatening and an update on the condition of both individuals is expected in due course." Anyone with information on this or any other crash is asked to contact police on 295-0011.
BPS WEEKEND STATISTICS
39 speeding tickets (top 102km/h)
21 collisions
10 damage only
8 minor injury
3 serious injury
5 unlicensed vehicles and no insurance tickets
4 impaired drivers arrested
3 no driving licence tickets
2 arrests for traffic warrants
1 driving without due care
Source: Bermuda Police Service Roads Policing Unit on Twitter
December 4. Bermuda is continuing its glide path towards budget equilibrium, but there is still some way to go as shown by the latest revenue and expenditure figures. At the end of September the gross debt was $2.515 billion. The Bermuda Government aims to reach March 31, 2018 with a full-year budget deficit of $134.7 million. At the halfway point in the fiscal year it is on target to hit that mark, although current expenditures excluding debt service are presently tracking 0.8 per cent, or $3.8 million, above budget estimates. Interest payments on Bermuda's debt equate to about $500,000 every day. The effect that has was shown in the first half of the 2017/18 fiscal year. During those six months, Government achieved a $57.6 million current account surplus, excluding debt service deductions. However, for the period, Government incurred a total deficit of $63.4 million. That is down from the $100.2 million deficit incurred during the corresponding six-month period in 2016. The rate of debt growth is slowing as the gap between revenue and expenditure narrows. The Government is looking to balance the budget by 2019. Figures released yesterday by the Ministry of Finance show that in the six months to the end of September there was stronger than expected Custom duty receipts and an uptick in payroll tax. Those, together with higher collection of stamp duty, led to a 6.3 per cent increase in revenue for the period, year-on-year. In a statement, the Ministry of Finance said this revenue boost was offset by lower collections in passenger tax and civil aviation receipts "due to the privatization of the airport and the transfer of the Department of Civil Aviation out of government". Under the previous One Bermuda Alliance administration, Bermuda entered into a public-private partnership agreement with Canadian Commercial Corporation to redevelop LF Wade International Airport. CCC's subcontractor Aecon will finance, construct and operate the airport over a 30-year concession period through the PPP agreement. Regarding yesterday's financial statement, the Ministry of Finance said the economic data "is consistent with the expectation in the 2016 National Economic Report of Bermuda and the Ministry of Finance's own macroeconomic forecasts". It noted that most of the island's economic sectors are contributing moderate growth, led by construction, tourism, employment, and retail sales, which together with a low level of inflation, point to projected steady growth for Bermuda's gross domestic product this year. The statement added: "The Government's efforts to create new economic pillars and enact policies to grow Bermuda's economy, once fully realized, should provide sustained economic growth through the medium-term." The figures show Custom duty tracking 10 per cent above budget estimates and $10.9 million higher than 2016, while payroll tax is tracking 5.8 per cent above estimates, and $27.2 million up on a year ago. Lower professional services costs were a factor in the decrease in current expenditures, excluding debt service, which were $6.4 million lower than at the same point in 2016. This was partially offset by increases in grants and contributions relating to the Bermuda Airport Authority and the America's Cup. The Ministry also released an update on economic indicators for the calendar year to the end of September. Key figures showed:
Consumer Price Index at 2 per cent, with higher airfares and fuel prices the primary causes of inflation, together with more expensive electricity and increased school and college tuition fees locally and overseas.
Air arrivals were up 10 per cent, while cruise passengers numbers improved 8.4 per cent. Total visitor arrivals were 9 per cent higher.
Visitor spending for the nine months was $307 million, up by $55.3 million.
Employment income grew to $1.78 billion, a rise of $54.2 million.
Retail sales up $28.8 million, or 3.2 per cent, to $915.3 million.
In addition, economic indicators for the first six months of the year revealed:
Employment income at $1.78 billion, up by $54.2 million.
A $462 million balance of payments surplus on the current account, $149 million higher than the same period in 2016., with a $241 million increase in net investment income from non-residents.
Imports up 25.7 per cent to $604 million, which included $61 million increase in imported finished equipment related to the America's Cup. Other categories that contributed to the positive result were transport equipment and machinery.
The total value of new construction projects started during the period increased sixfold, largely due to the initiation of the airport redevelopment and the St Regis hotel project in St George's, which combined are worth more than $500 million.
At the end of September, Bermuda's debt, net of the Sinking Fund debt, was $2.428 billion. The Government is obliged to pay 2.5 per cent of net debt into the Sinking Fund each year to help pay down debt.
December 4. Aecon Group, a partner in the redevelopment of Bermuda's airport, has awarded of the electrical and communications work contract to Update Contracting Bermuda Airport Limited, and the baggage handling system contract to Glidepath Systems Limited. Update Contracting, a Dublin-based company registered in Bermuda, is a multidisciplinary provider of mechanical, engineering and plumbing services with experience in providing building services engineering to a wide range of client sectors. For the electrical systems contract, Update Contracting will work with Bermudian subcontractors to complete the following work:
Electrical distribution will be completed by Noesis Energy Solutions / Options Electrical
The IT scope of work will be handled by Sita and Switchworx.
The baggage handling systems contract has been awarded to Glidepath Systems Limited. Glidepath has engaged Koba Industries Limited as project administrators and will announce additional subcontractors at a later date. Frank Ross, Aecon's executive director, infrastructure, said: "We are pleased to be working with many local companies on the airport redevelopment project. This latest round of contracts will ensure the electrical, communications and security work will be state of the art and modern. We look forward to working with these contractors." The construction of the new airport terminal is expected to take 40 months to complete, and will be finished in 2020.
December 4. A new Bill to decriminalize small quantities of cannabis was tabled in the House of Assembly on Friday. The Misuse of Drugs (Decriminalization of Cannabis) Amendment Act was formally proposed by Zane DeSilva, the Minister of Social Development and Sport. The Bill would decriminalize quantities of cannabis less than 7 grams. However, the Bill states police will still have the authority to seize any amount of cannabis, and the minister shall make regulations to provide for substance abuse education or treatment for those found with the drug. A similar Bill was debated and approved by the House of Assembly in May, but the legislation never reached the Senate due to the timing of the General Election. While both pieces of legislation were aimed at decriminalizing quantities of cannabis less than 7 grams, the latest Bill specifies that the Director of Public Prosecutions can still proceed with charges if there is evidence the drugs were intended for supply. The new legislation also lacks a commencement date.
December 4. A local kidney transplant service would save lives and offer patients with chronic kidney disease a better quality of life, according to the Global Transplant Initiative (GTI). The Norwegian company has proposed setting up a live-donor transplantation programme in Bermuda, which it said would also save millions of dollars in healthcare costs. Transplant surgeon Tim Scholz told The Royal Gazette: "We feel it is time for the politicians to act. "A steadily increasing number of patients with chronic kidney disease are suffering unnecessarily and they are a huge burden to the health budgets. If Bermuda is willing, we can deliver a cost-effective live- donor kidney transplant programme in Bermuda that will save many lives and millions from the health budgets in the years to come." It comes after the Bermuda Health Council announced it did not support on-island live-donor kidney transplantation "at this time" because of risks to patient safety and high costs. Bermuda Hospitals Board also said it does not have the infrastructure to "safely develop or deliver this service at this time" but is open to revisiting the idea if the situation changes. Christian Thjømøe, a chartered accountant with a masters in business administration, said: "A lot of people's lives could be saved and they could get a better life". He added: "That is the main benefit, because if you have a local transplant programme with live donors in Bermuda that would be offered to patients who would never get the chance to get transplants in the US." Dr Scholz, who cofounded GTI with fellow surgeons Aksel Foss and Pål Foyn Jørgensen, said it would be impossible to start a live-donor kidney transplant programme in Bermuda tomorrow. However, he felt the programme would be "perfectly feasible" as long as safety requirements are met. He said: "Wherever in the world you would like to implement a new treatment modality, you have to start working on safety issues and establishing those facility needs at the hospital." After visiting the hospital and studying the infrastructure, Dr Scholz said they believe this could be done in less than a year. He added: "There are lots of issues here that need to be discussed and solved before we can start, but to build the infrastructure in Bermuda is perfectly feasible and that is the important point." Dr Scholz said this would need to be done in conjunction with local kidney specialists and other professionals. He added: "That's where we would start working if Bermuda wants to see a transplant programme in one or two years from now." According to Dr Scholz, a transplant in Bermuda would cost around $250,000 once the programme is fully established. This would include work and six-month follow-up with GTI. He added this would be paid back within "at least" two years because dialysis costs more than $200,000 per patient per year in Bermuda. Mr Thjømøe, who co-owns GTI, said the net value of a transplant to Bermuda would be between $2½ and $3 million dollars because patients would be taken off the dialysis budget and could return to a normal working life and thereby contribute to society. Dr Scholz said a local programme would also improve the island's healthcare system because the procedures and tests could also be used for other diseases. He added patients would also not have to pay for overseas travel, accommodation and other costs. According to the Bermuda Health Council, there are 165 patients on dialysis and 971 patients with chronic kidney disease (prevalence). The Council said the cost of related claims for dialysis was $24.9 million and there were four to five transplants annually, with typical waiting times of two to three years. Mr Thjømøe said GTI believed about half of Bermuda's dialysis patients could be transplanted locally, along with about 50 per cent of those who start dialysis every year. He added at least 20 surgeries would be needed per year "just to reduce the current need". However, Dr Scholz said it would take several years to reach this volume. Dr Scholz added that although it would be "quite easy" to find live donors in Bermuda, more public education would be needed on the possibility and benefits of a local service. He explained that GTI proposes to start a pilot programme once the necessary requirements have been met and a list of donors and recipients has been created. Dr Scholz said they would start with one or two transplants that would be evaluated before the programme is fully implemented. He said surgeons would then take turns to come to Bermuda and perform four to six transplants over a two-week period. The Bermuda Health Council published an opinion on creating a local transplant programme last month, with CEO Tawanna Wedderburn stating it was "too risky" at this time. The opinion read: "In the meantime, more effort should be placed on preventing chronic kidney disease and ensuring better co-ordination when transplants are appropriate." The document outlined the local and global context, potential benefits, risks and concerns. Ms Wedderburn said the Health Council was willing to explore on-island live-donor kidney transplantation in collaboration with local nephrologists, the health ministry, BHB, and patient advocates. She added: "As stated in the Opinion, should new information become available, we can review and reissue our opinion accordingly." A BHB spokeswoman said the benefit of renal transplantation was well identified and would always be a goal in place of long-term dialysis. But she added: "There is a well-developed pathway established between our local specialists and US partners to deliver this service currently. We do not have an infrastructure to safely develop or deliver this service at this time. New models of care are always being described and as such we are open to revisiting this issue if the situation or guidance changes." The full guidance document from the Health Council can be found at bhec.bm.
December 4. Developer Michael MacLean is still counting the cost of a deal to massively overhaul the Hamilton waterfront nearly five years on. "The whole case has cost me close to $4 million," Mr MacLean said in the wake of his protracted legal battle. "All I can do now is continue to fight. I can still lobby politically with the people who know that what's happening is wrong." The deal ended up before an arbitration panel after Mr MacLean lost his 262-year lease on roughly 20 acres of Bermuda's choicest real estate. Hamilton's sweeping development, announced by then mayor Graeme Outerbridge in January 2013, was touted as "the dawn of a new Hamilton", with Allied Development Partners, headed by Mr MacLean, chosen as the partner company. The new One Bermuda Alliance administration swiftly objected to the agreement, with home affairs minister Michael Fahy protesting that the Government had been left in the dark. Legislation was then approved in October 2013, which retroactively required any Corporation of Hamilton lease of more than 21 years to get parliamentary approval. Walton Brown, the Minister of Home Affairs recently said that the arbitration, which started in 2014, was terminated last month and that that the Government stood ready to "bring this issue involving the voiding of the waterfront lease to an end". Mr Brown added that the Progressive Labour Party administration was "fully mindful of the interests of those claiming redress for the cancellation of the leases and the public purse". Answers were not forthcoming last week when The Royal Gazette asked for details on how the dispute would be put to rest. Meanwhile, Mr MacLean was adamant that no settlement had been proposed, saying he had "never been offered anything". He was convinced that the Government ultimately planned to "leverage the waterfront away from the Corporation". He said: "It will be exactly what I was going to do with it. The proposal I put forward was for a mixed-use development and an investment hub. The OBA took it from me and the PLP now has a free run at being able to take the waterfront." Mr MacLean noted the PLP's intense criticism of the voiding of the lease had gone silent since the party triumphed in the General Election in July. Mr MacLean said that he was now waiting on an explanatory document from Ian Kawaley, the Chief Justice, outlining his reasoning on wrapping up arbitration. The Government's case, as outlined in the House of Assembly, was that Mr MacLean had failed to participate after his claim for $156 million in compensation was turned away, and his constitutional challenge against the arbitration also failed. Last week, the developer said he planned a new constitutional challenge once Mr Justice Kawaley's documents were released. "The only way for me now is to find a lawyer and an advocate that can take my case," he said.
December 4. The profitability and diversity of Bermuda's captive insurance market and special purpose insurers has been highlighted in a new report. It shows that in 2016, Bermuda captives assumed 62 per cent of their risk in North America, and 25 per cent in Europe, with Japan accounting for 5 per cent. And the island's captives cover a diverse range of industries and are "home to a broad range of industries utilizing captives as a key risk management tool". Some 11 per cent of the parent companies of Bermuda captives are financial institutions. Other large groups represented are shipping, transport and storage at 14 per cent, and automotive, manufacturing and retail at 11 per cent. Those three sectors also account for the largest portion of premium share, with financial institutions taking a 54 per cent share, followed by shipping, transport and storage on 11 per cent, and wholesale and retail at 6 per cent. Presented by the Bermuda Monetary Authority, the BMA Captive/SPI Market Report shows where business was written by geographical region and lines of business. It also looks at the utilization of captives and SPIs by different industries, together with balance sheet assets and liabilities, and investment allocation. The details are based on year-end returns as of the December 31, 2016. "This report will provide further insight on how the Bermuda market continues to evolve and succeed," said Craig Swan, managing director - supervision (Insurance), at the BMA. Considering the island's leadership position in the global captive and SPI space, and its overall importance, there is naturally a level of interest generated from industry participants and peers." In terms of profitability, the median loss ratio and combined ratio for Bermuda general business captives was 49 per cent and 75 per cent, respectively. The report reveals that 61 per cent of Bermuda captives are "pure captives" that only write the risk of their parent, affiliates or both. In terms of business lines, property coverage represented 55 per cent of all business written by Bermuda captives, while terrorism and cyber-risk accounted for less than 1 per cent of coverage last year. Bermuda captives wrote about 45 per cent of all business in casualty lines during 2016. Quoted investments accounted for 31 per cent of the balance sheet of the island's captive market, with bonds by far the most favored representing 79 per cent of investments, followed by equities at 12 per cent. Meanwhile, Bermuda's SPIs wrote coverage in 17 regions in 2016, led by North America at 69 per cent, and Europe at 25 per cent. The SPI reinsurance covers consisted primarily of catastrophe bonds at 44 per cent, followed by collateralized reinsurance at 36 per cent and sidecars at 18 per cent. For Bermuda's SPIs, the most significant lines of business were property and casualty, which accounted for 77 per cent, followed by terrorism at 15 per cent. A copy of the report is available at www.bma.bm under 'Publications'.
December 4. Opinion, by Michael Fahy, former Minister of Home Affairs and Minister of Tourism, Transport and Municipalities. "So which is it? Is the Government seriously considering the i-word (Independence) or not? You may recall that the Junior Minister of Home Affairs, Jason Hayward, who also happens to be the president of the Bermuda Public Services Union, was the first government official under the Burt Administration to publicly mention it on September 4 when he said: "We have to now look at independence as a viable option for our people so we can set our own agenda, so we can create our own system and so we can see our people get ahead." You may also recall that it took seven full days before anyone from the Government actually denied that the i-word was being discussed by the Government. Interestingly, it was the Minister of Economic Development and Tourism, Jamahl Simmons, who shot down the utterances of the Junior Minister of Home Affairs, not the Premier, when after being questioned by a participant at the Bermuda Captive Conference on September 11, he said: "The position is this; it was not in our platform, we have not discussed it." A very definitive statement. However, when the junior minister uttered the i-word, many in the community believed that this was just the utterance of a person unskilled in the art of diplomacy wearing his BPSU hat and not the hat of a junior minister — that is a topic for another day — but others saw something else: a trial balloon to gauge the reaction of the wider community on the matter. After all, government-appointed senators are directly answerable to the Premier. This feeling was heightened after comments attributed to the Premier at the Progressive Labour Party black-tie gala on November 18, when he deliberately uttered the i-word in his speech, albeit to the PLP faithful. Coincidence? I think not. Why do I say this? Well, less than a week later, on November 24, the Premier said in a prepared statement to the House of Assembly in relation to his trip to London to attend an Overseas Territories conference, "the priorities for this year will highlight issues such as upholding our right to self-determination as enshrined under Article 73 of the United Nations Charter and that this continues to apply to the peoples of overseas territories, as the UK's obligation". The fact is Britain is not in breach of any legal obligations relating to Article 73 and, more importantly, no UN treaty or resolution has ever gone on to insist upon independence; rather it is encouraged where it is the express desire of the peoples of the territories in question. So if "we have not discussed it [independence]", why mention it in a scripted statement at all? Further, in response to questions by MP Trevor Moniz about whether the Premier had intentions to take Bermuda to independence, the Premier reportedly laughed off questions and said that MPs should not be surprised to hear discussions about cutting ties with Britain, and that he was "endlessly amused" by opposition inquiries into the matter. He went on and said that the Opposition should focus "on its own agenda rather than that of the PLP" — ripe considering that the Opposition's job is to focus on the Government. The glaring omission is any reported outright denial from the Premier. In my experience, there is no such thing as coincidence when it comes to David Burt, who is absolutely deliberate in everything he does. Interestingly, the person who has been suspiciously quiet on the matter has been the Minister of Home Affairs, Walton Brown. Or has he? Brown was, after all, a lone voice for many years when it came to independence, and it is arguable that his activity as Minister of Home Affairs is designed to try to create a constitutional crisis. Thus far he has presented one Bill to the Governor that restricts human rights and another one is on its way that reverses rights gained in respect of same-sex marriage, which by the way is legal in Britain — or, as the minister was quoted in Parliament as saying on October 6, our "colonial masters". The amendment to the Bermuda Immigration and Protection Act 1956 was signed into law and I suspect when the Domestic Partnership Act passes, this too will be signed, since no Governor wants to be in the middle of a constitutional crisis by refusing to. I should also add that Brown has taken the position that those who are granted status are more likely to vote in a referendum against independence, which helps to explain why the PLP is so anti-immigration. It has more to do with independence than it does about anything else. So when you start to listen, to really listen, and consider the various contradictory statements made by a junior minister as opposed to Cabinet minister — and then the words of the Premier and the actions of the Minister of Home Affairs — it would seem that the i-word really is on the agenda. It is being discussed. It is and remains an integral part of the PLP's desires and wishes. The PLP's constitution is clear at Article III, which says that the party is "to serve as a vehicle in moving Bermuda to independence by political education, information and public meetings so that the people of Bermuda can be fully informed of what independence for Bermuda means, and the party will work towards achieving the necessary electoral reforms, which are preconditions for Bermuda achieving nationhood". The electoral reforms referred to in the PLP constitution have long ago been carried out. So perhaps clarity can be given to allay the concerns of many that the campaign for independence has already begun? For the Premier to be "endlessly amused" is dangerous. Questions relating to Bermuda's constitutional future should not be treated so dismissively as some cheap parlor game. I am betting that the next election will be based on independence. I also am betting that the election either will be solely on that issue — that was the method reportedly preferred by the PLP in January 7, 1994 — or an independence referendum will be held the same day as an election. This is not far-fetched. The stealth campaign for independence has already begun."
December 4. Nearly 150 complaints and queries have been made this year about employers failing to provide health insurance coverage. The Bermuda Health Council named a host of companies who have failed to comply with the Health Insurance Act. It said 147 complaints and queries have been made by the public this year, with the most common complaints including:
employers not obtaining health insurance for employees;
employers deducting money from employees and not using it to purchase health insurance;
employers deducting more money than they should from employees;
employees incurring large medical bills during periods of not having health insurance.
According to the Health Insurance Act, employers must provide health insurance coverage for all employees working more than 15 hours per week and beyond two months out of the year. Employers must provide the same coverage to an employee's non-employed spouse. Employers may deduct no more than half of the monthly premium from an employee's salary or wages towards the enacted health insurance policy. Employees should ensure that they receive health insurance as soon as they start employment, as well as an employment contract outlining their wages and required deductions and itemized pay stubs for their personal records. It is the employee's responsibility to notify their employer of any changes to their non-employed spouse's employment status. If an employee seeks medical attention and learns their health insurance policy is not active, they should submit the medical bills to their employer immediately for payment. A spokesman said: "Know your right to health insurance coverage and speak with your employer if there is an issue. The Bermuda Health Council wishes to remind employers about their obligations to obtain health insurance coverage for all employees. If an employer is non-compliant with the law and an employee incurs medical bills during a period of non-coverage, under the Act the employer is responsible for paying those medical bills, which are often more expensive than monthly premiums. Employers are encouraged to shop around and purchase a policy that is affordable so that payments can be made on time, thereby avoiding any disruptions in coverage. It is the employer's responsibility to notify employees if a contract of health insurance is not in effect or if there are any changes to the health insurance policy." For a full list of non-complaint employers, visit http://www.bhec.bm/non-compliant.
They include:
AMS Limited
Amicus Law Chambers
Aptech Granite and Marble
Araujo Construction Ltd
Astwood Tiling and Maintenance
Bermuda Tag and Salvage Ltd
BTA (Dispatching) Ltd
CEO Transport Ltd
Dale Fox Contracting
Diversified Holdings Ltd
Gardens Unlimited
Generosa's Cuisine Co
Heavenly Blessings Nursery
Herb Garden Seniors' Residence
Home Design and Development Construction
Hunts Food Supplies
Island Electric
Just Cleaners
Landmark Construction
R&M Ltd
Richardson's Trucking Service
Sean's Telecommunication Services
Smith Bean and Co
Spring Garden
Stonewood Ltd
TES Limited
Zippy Lube
December 4. Dozens of local counselors have been given tips on how to spot and treat gambling addicts. The workshop, led by Loreen Rugle of the University of Maryland School of Medicine, was organized last week by the Bermuda Casino Gaming Commission as one of a series of events designed to highlight problem gambling. Dr Rugle said there were issues in Bermuda even without the introduction of casinos. She said: "People are seeing clients who already have gambling issues or gambling is affecting their recovery, so we can start with what we have got, learn those strategies and techniques and build from that. When we look at the numbers, about one per cent to three per cent of the adult population may suffer with the problem, and that figure is slightly higher in young people." Dr Rugle explained there was a lack of awareness of gambling addiction. She said: "There is a real need for public awareness, both for people who have the disorder or those who work with them, because it is under-identified and difficult for people to acknowledge the problem and get help. We need to get started with public awareness as soon as possible, so people know what the problem is and that help is available. It's always good to be ahead of the game in getting counselors ready to understand that it's not just the casino that's going to create the problem. We already have folks in Bermuda dealing with gambling problems." During the training session, which was held at the Ocean View Golf Club on Thursday, Dr Rugle worked with more than 60 local counselors on how to address gambling addiction, both as a problem on its own and as a "co-occurring" disorder along with substance abuse and mental health problems. Dr Rugle said: "While it shares a lot of features with other addictions, like substance abuse disorders, there are some unique features that have to be appreciated in order to work effectively with this population." Dr Rugle highlighted some of the similarities and differences between drug and gaming addictions, and detailed the different types of problem gambler. Roger Trott, director of responsible and problem gaming, said the training was one of several being organized. In addition to the workshops for counselors, Mr Trott said events would be held for educators and the faith community. "This problem already exists in the Bermuda community," Mr Trott said. "Having more training available now is only going to help people care for those in our community."
December 3. Progressive Labour Party MP Tinee Furbert used her maiden speech in the House of Assembly on Friday to focus on enhancing the quality of life for persons with disabilities. The Junior Minister of Disability Affairs said disabilities were consistently excluded when people talk about human rights. Ms Furbert, who served as a senator before her victory at the polls in St George's South on July 18, said: "I have heard from many people with disabilities in Bermuda who are discriminated against for job and learning opportunities, or people in our community who feel they are not worthy of inclusion when they can't even interpret the local news because there is no closed caption, or they are not afforded the opportunity for an interpreter to help them communicate their needs to a police officer. I have heard from parents of children with disabilities who are excluded on decisions being made for their children when they should have every say. And I've heard from people saying access to entrances and exits of buildings or homes keep them captive." Ms Furbert highlighted that yesterday marked the United Nations International Day of Persons with Disabilities, with this year's theme being "transformation towards a sustainable and resilient society for all". She added: "The 2030 UN agenda is to leave no one behind. Persons with disabilities as both beneficiaries and agents of change, can fast track the process towards inclusive and sustainable development and promote a resilient society for all. It is my hope Bermuda can move in the same way." Ms Furbert added: "I want us to get in the habit of including disabilities and not in ways that I have witnessed in this house by calling fellow members slow, or retarded or hearing-impaired. I do not take that language lightly. In fact I find it offensive to those who through no fault of their own, experience cognitive disabilities or are hard of hearing. To even those who consistently park in the disabled parking bays right on this very grounds, stop it." She said people with disabilities deserve respect and acceptance. Ms Furbert added: "We must value those with disabilities as valuable members in our societies as they open our eyes and make a better life for everyone." She said the Government had made a concerted effort to include persons with disabilities. Furbert, who is an occupational therapist, added: "We need to continue to enhance the quality of life for persons with disabilities and we can do this by collecting current data on persons with disabilities, improving the home school community structural environment, improving social well-being, improving rehabilitation opportunities, managing hobbies and activities, improving education and work opportunities, adopting the convention on rights of persons with disabilities, businesses designating staff members to look out for persons with disabilities, and creating disability policies in the workplace." More important, she said, is creating legislation for disability rights. "Right now, accommodations are made out of the kindness of people's hearts. But people aren't always kind and we have to tick that box that says must and not should." Ms Furbert added that "disabilities are not going away" and that whether temporary or permanent, congenital or acquired, disabilities "will affect us sometime across our lifespan". She also spoke about her life growing up and her mother's depression and addiction. Ms Furbert said: "Depression is what she developed from her experience of being abused as a child and young lady and not feeling worthy enough, and addiction was her coping mechanism. Her children were her first love and mind-altering became her second, but disguised as her first." Ms Furbert spoke about how she was "blessed with enough funds through scholarships and loans to start and complete college", and how she took her sisters in at the age of 24. She added that her mother, who died during the week of the Pathway to Status protests, "would be so proud to know that people stood on that hill representing people like her. She would even be more elated to know that her daughter is now the first occupational therapist to serve as part of this legislature in Bermuda." Ms Furbert thanked all her constituents, colleagues, family and friends who played a role in her election victory and continue to be her support network. She also thanked David Burt, the Premier, for giving people with disabilities and those who work with people with disabilities hope for change. Mr Furbert added: "I get calls daily for help and resources, for directions, for navigation with the disabled population. I will continue to be an advocate for people because this is how the election was won."
December 3. The island's largest Farmers' Market "in several years" was formally opened by public works minister Lieutenant-Colonel David Burch yesterday. Colonel Burch was joined by home affairs minister Walton Brown for the event at the Botanical Gardens and said: "The Bermuda Farmers' Market is a welcomed attraction for both locals and visitors alike. "This year's Farmers' Market is noteworthy because the number of vendors has grown exponentially to its present size of 42. So, this is the largest Farmers' Market to be held in Bermuda in several years." Colonel Burch added that the home-grown event had become a "dynamic way for vendors to attract more people, by creating a community focused exchange of fresh produce and goods in support of our local economy. In fact the Farmers' Market is considered the 'hotspot' to visit on Saturday mornings, where people can experience the hard work, talent and culture of Bermuda. So I wish to once again commend all the vendors for your efforts and commitment to not only ensure a welcoming event, but for simply providing an environment that reminds about being neighborly and supportive of one another." Colonel Burch also acknowledged the Department of Parks for preparing the Botanical Gardens for the event and the Farmers' Market Committee, headed by Lucinda Worrell-Stowe. The Farmers' Market will continue until June 2018. During the pre-Christmas season, opening hours will be 8am to 1pm. These will shift to 8am to noon from January to the end of June.
Sunday, December 3. Bermuda Government's debt hit $2.515 billion at the end of September. However, the rate of debt growth is slowing as the gap between revenue and expenditure narrows. In the six months to the end of September, stronger than expected Custom duty receipts and an uptick in payroll tax helped Government stay on track for a full-year projected budget deficit of $134.7 million. In the first half of the 2017/18 fiscal year the Government achieved a $57.6 million current account surplus, excluding debt service deductions. When debt servicing is factored in the surplus vanishes to leave a six-month deficit of $63.4 million. That is down from the $100.2 million deficit incurred during the corresponding six-month period in 2016. Revenues for the period were 6.3 per cent higher that a year ago, due to higher collections in customs duty, payroll tax and stamp duty. In a statement, the Ministry of Finance said these revenue boosts were offset by lower collections in passenger tax and civil aviation receipts due to the privatization of the airport and the transfer of the Department of Civil Aviation out of government.
December 3. Hamilton Princess and Beach Club has launched its own Bermudian-brewed Indian pale ale beer. The exclusive new beer is called Hamilton Princess Peach IPA, and has been brewed by local company On De Rock Craft Brewery. It will be served throughout the Hamilton Princess and Beach Club, including at Crown & Anchor and Marcus'. The hotel intends to roll out the beer at the Beach Club's Tiki Bar and 1609 for the beginning of the tourist season next year. The beer, which is medium in body and bitterness, is 100 per cent made in Bermuda and has a distinct peach flavor. Diarmaid O'Sullivan, director of marketing at Hamilton Princess and Beach Club, said: "With its distinctive peach undertones and smooth taste, it is easy to drink and is the perfect choice for those enjoying the beautiful surrounding of the Hamilton Princess and Beach Club, whether beer fans or novices."
December 2. A "comprehensive review" of last year's protests against the airport redevelopment project must examine the role played by then acting Governor Ginny Ferson, a Progressive Labour Party backbencher said yesterday. St George's West MP Kim Swan said: "We must get to the bottom of it, and we can't get to the bottom of it by bypassing the role that (Ms Ferson) had in this play. It would be wrong to hold anyone accountable without looking at the very top." Swan's motion, passed in the House with an amendment, calls for the appointment of a Joint Select Committee to examine the events surrounding the protests. The Committee will "look into the events generally, including the decision-making and any directives the Executive and the then Speaker of the House gave to the police". Government House, Mr Swan said, "doesn't get a free pass if it participates in an act". He added: "Scrutiny and accountability is the name of the game." Mr Swan said letting Ms Ferson "off the hook" for her role in the protest was "not going to happen". He added: "Because it's wrong if it does. And we can't condone wrong." PLP backbencher Michael Scott said he was "concerned and interested" from a "legal perspective" about the decision that led to citizens being pepper-sprayed. Mr Scott recommended that the wording of the motion be changed to reflect that the JSC can recommend sanctions "because this House need not and should not be making sanctions". He added: "The sanctions are for the courts, if indeed the findings warrant sanctions. Civil, criminal sanctions are what I am referring to in this regard." Christopher Famous, Devonshire East MP, described December 2 as "the worst day Bermuda has seen for some time". He said the events had "without a doubt" changed the mindset of how Bermudians think of police officers and how Bermudians see each other through racial contexts. Mr Famous added: "In a time as a country that we need to have good relations between police officers and its citizens, this motion to get to the bottom of this would help." Wayne Caines, Minister of National Security, said that "people in Bermuda on both sides are ready to heal". Mr Caines added: "You cannot fix what you do not face." Lovitta Foggo, Minister of Government Reform, said that family and friends were among those pepper sprayed and injured, with one person still suffering. She said many believed justice had not been served and it was "incumbent" on Parliament to set up a committee and ensure recommendations are followed. Ms Foggo added: "Justice mandates that the matter be properly addressed. The people deserve to have that situation looked at properly." Craig Cannonier, shadow works minister, questioned if a Joint Select Committee would "have enough teeth to get the answers". But he commended Mr Swan for bringing the motion, telling the House that this was "not a one-sided experience". Mr Cannonier added of the protests: "I was disgusted. I was afraid. I was scared for the people that were down there. So I hope that the public doesn't walk away from what we are discussing tonight thinking that only the Government felt distressed about this." Diallo Rabain, Minister of Education, said: "It comes down to this. We know what happened. We need to figure out why it happened." Mr Swan's motion calls for the committee to submit a report of its findings to the House within three to six months.
December 2. The America's Cup was a "silver bullet" that hit the target in time to save Bermuda's economy, the Shadow Minister of Economic Development told Parliament last night. Grant Gibbons said the island's economy would have continued to struggle if it had not been for the money-spinning international sailing event. Dr Gibbons, who met fierce resistance from social development and sports minister Zane DeSilva, said: "I know the Government likes to talk about economic ripples but what the PwC report found was that this was really a tsunami effect on Bermuda. In essence, hosting the AC35 provided the economic boost, the so-called silver bullet that Bermuda needed to continue growing and restore confidence on Bermuda and in our island." Dr Gibbons added there had been speculation about the island's economic well-being if it had not won the right to host the race. He said: "From my perspective, it is not difficult to imagine that Bermuda's economy would have continued to struggle, requiring further public and private sector downsizing and even less spending on social services, social insurance, seniors and healthcare. It was pretty clear in 2014 that if something had not happened, we would be looking forward to higher deficits, more debt and higher taxes, certainly not a healthy option but that is where we were seemed to be headed." Dr Gibbons was speaking as he moved a motion in the House of Assembly to "take note of the economic, environmental and social impact of the 35th America's Cup on Bermuda and the foundation for further growth". He detailed findings of an independent economic and social impact assessment on the event conducted by professional services firm PwC as well as the America's Cup Bermuda Legacy Impact report. Dr Gibbons added: "In essence what the PwC report is saying, is that for every $100 invested by Government in producing the event, Bermuda received $500 or more than $500 in additional spending that wouldn't have happened unless Bermuda had actually hosted the America's Cup, so it was certainly a welcome, and rather large, stimulus to our local economy." Zane DeSilva, Minister of Social Development and Sport, said he hoped Dr Gibbons was correct about the bump the event would bring to the Bermuda economy. However, Mr DeSilva took exception to the former economic development minister's comment that the event had been the "silver bullet" for tourism. Mr DeSilva said: "You give me $100 million, I'll get tourists to this island, too." The minister, who was the only Progressive Labour Party member to debate the motion, also pointed to Mr Gibbons's statement that taxes and the deficit would have risen had Bermuda not held the event. Mr DeSilva said: "I don't recall in the OBA's 2012 platform seeing an America's Cup. Might I add they doubled the debt. So maybe if the America's Cup hadn't come around the debt would have been tripled." The former government, Mr DeSilva said, "didn't have a problem" finding money for the America's Cup but couldn't find funds to improve school infrastructure, complete bus repairs, or put towards raises for civil servants. Mr DeSilva said he thought the America's Cup had been good "for some people". He added: "I think that if we're going to host world-class events, we have to ensure that they benefit a wider group of Bermudians." Patricia Gordon-Pamplin described the America's Cup as the "tourniquet that helped to stop the financial bleeding". She said Mr DeSilva was correct in saying there was no mention of the event in the OBA's platform in 2012. Ms Gordon-Pamplin explained: "A good government will be nimble to be able to advance and seize opportunities." Michael Dunkley, the former premier, described the America's Cup as the "deal of the century" for Bermuda. He added: "We have to make sure that it continues as we move forward." The former government, Mr Dunkley said, was "rightly criticized on so many issues". He added: "However, with the America's Cup, we dug out of a hole — the economic abyss, the spiraling debt — through solid policy and vision and Bermuda today is better off."
December 2. A new plan for public schools was unveiled in the House of Assembly yesterday. Targets include 75 per cent of all public school pupils up to recognized standards in reading and mathematics inside five years. School principals will be given powers to hire staff, while national health and safety standards will be applied to all schools. In addition, pupils will be given better preparation for college or vocational training. The Government also pledged a 30 per cent increase in funding for public education and a 50 per cent boost in funds for professional development of teachers. The promises came in Plan 2022, tabled in the House of Assembly by Diallo Rabain, the Minister of Education. Mr Rabain said the plan was designed to improve public education but avoid the "waves of change" that had damaged the schools system in the past. He added: "Plan 2022 will be the driving force to ensure that the Board of Education, the Ministry and the Department of Education, inclusive of the Child Development Programme and all schools focus on the entire public education system, from birth to graduation so that all students are educated to lead personally and professionally, compete locally and contribute globally." The plan includes five priority areas — higher academic standards and pupil engagement, good preparation for further education or work, improving the standard of teaching and the leadership of school principals, better infrastructure and teaching resources, and ensuring the overall success of the school system. The plan made no direct mention of the potential for schools closures to make the system more efficient — a move explored in the schools reorganization Score Report drawn up by the former OBA government. The plan also failed to mention signature schools which were discussed by American-based education expert Jeremiah Newell, who helped develop the strategic plan. Dr Newell was hired under the One Bermuda Alliance on the introduction of the national strategic plan for public education earlier this year. The plan aims for between 70 and 75 per cent of pupils to get a score at college entrance levels in recognized school-leaving exams and to be proficient or advanced in Cambridge curriculum checkpoints. The plan also wants 90 per cent of pupils who need learning support to be identified and helped. The number of pupils with major truancy problems will be cut by 25 per cent, while referrals for discipline will be cut by same amount. The plan will also introduce "modern and high-quality technical/vocational programmes" starting at M1 level and at M2, with a work placement in M3. More subjects will be taught and the dual enrolment programme run with Bermuda College will be expanded. A total of 90 per cent of teachers will be certified in their field by 2022, with 60 per cent reaching "highly qualified" status. In addition, 90 per cent are expected to attain certification in leadership. The report said: "High-quality instruction and school leadership have the single greatest school-based impact on student success." Deputy principals will also work as instructional coaches. Parent power is also set to increased with Parent Councils having a say in school budgets. The plan promised that 75 per cent of schools will get adequate IT equipment. The Progressive Labour Party platform's midterm education objectives promised that "all schools have functioning computer labs so our students have access to the latest technology". Teachers will also get regular training in IT under a technology policy. The report also highlighted the need for "appropriate and equitable" wi-fi resources designed to help meet academic goals. It added the Government will "improve access, distribution and speed of internet in all schools".
December 2. Government plans to create a Department of Disaster Management, the House of Assembly heard this morning. The department, comprising police and fire officers, will develop plans to deal with a range of possible disasters, Minister of National Security Wayne Caines told MPs. Mr Caines said: "Whether or not the likelihood of some of these events is high should not prevent us from being prepared for them or discussing them as a community. "This should include an understanding of what our initial actions should be to save out lives and the lives of our neighbors, should the unexpected occur." He said the government will introduce legislation to create the department because the Emergency Measures Organisation lacks a legislated statutory framework. Mr Caines added: "This new Department will be immediately fit for purpose, relying on existing, experienced officers from the Bermuda Police Service and the Bermuda Fire and Rescue Service."
December 2. A man who tried to smuggle nearly $250,000 worth of cocaine into Bermuda was jailed for 7½ years yesterday. Raza Mirza was caught as he came through customs at LF Wade International Airport with the drugs hidden in the lining of his bag. Mirza, 22, arrived in Bermuda from Canada on June 9 this year. He was questioned by customs officers and claimed he had come to the island for "the carnival". Authorities carried out forensic checks on his Samsonite bag, which showed the presence of cocaine. A search revealed five ziplock bags of cocaine in the lining of the case. Further analysis confirmed that the bags contained nearly one kilogram of cocaine with a street value of $233,000. Police later trawled through the Canadian national's mobile phones, which contained several references to drugs. In one exchange, an individual called Andrew asked him: "Do you move white?" Mirza replied: "Yes." Mirza had earlier pleaded guilty to the importation of drugs. He told the court: "This was a really big mistake. I don't know what I was thinking. I am really sorry for what I have done. My family is now having to deal with it all now and my mom is very sick. It was sheer stupidity. I was not thinking about what I was doing." The court heard that Mirza had no previous convictions in Bermuda or Canada. Mirza's lawyer Vaughan Caines told the court his client took full responsibility for his actions and stood before the court "contrite and embarrassed". Mr Caines said: "Here is a young man who was cash-strapped at the time and needed the money. He ultimately is sorry for his actions and his desperate attempt to make income." Acting Puisne Judge Juan Wolffe said the number of drug importation cases was "disturbing". He added: "One really wonders if the message of the court is being sent out to other offenders. The court must however continue to mete out sentences which send a clear and unequivocal message."
December 2. A company owned by Jamaican billionaire Michael Lee-Chin's Portland Holdings is set to take a majority stake in the parent company of Clarien Bank. If the transaction is approved, it will be the third time in four years that the majority shareholding of the bank has changed hands. Clarien said it intended to retain its branding after the deal and that it will remain committed to Bermuda, its employees and its clients. Jamaica's largest financial institution, NCB Financial Group Ltd, has reached an agreement with Clarien Group Ltd to become its majority shareholder and plans to take a 50.1 per cent stake in the company. The transaction has received the approval of the Bank of Jamaica and there has been no objection from the Bermuda Monetary Authority. The deal is awaiting final approval from David Burt, as Minister of Finance, under the 1981 Companies Act. Financial details of the agreement have not been disclosed. Edmund Gibbons Ltd, once the sole shareholder of Clarien, will retain a 31.98 per cent stake after the transaction. The remaining 17.2 per cent stake will be held by funds managed by Portland Private Equity, which is also part of the Portland group. James Gibbons, director of EGL, CGL and the bank, said the partnership with NCB would strengthen commercial ties with two highly respected institutions and bring wider opportunities for Clarien. He added: "We are very excited by our partnership with NCB, which is one of the most successful financial services groups in the Caribbean, and the broader Portland group which includes operations in Canada and other international markets. It will enable us to expand our offerings locally, regionally and globally." Mr Gibbons said: "NCB shares our client-focused philosophy and a dedication to providing high-quality services and a superior customer experience. Our partnership with NCB and PPE reinforces Clarien's position as one of the largest privately held financial institutions in Bermuda. It will enable us to offer a wider range of products to our customers and facilitate the growth that will ultimately provide job security and career opportunities for Bermudians." Edmund Gibbons Ltd and Ontario-based Portland Private Equity last year injected $12.6 million into Clarien, which enabled it to exceed the capital regulatory requirements of the Basel III standard. Mr Lee-Chin is president and chairman of the Canadian-headquartered Portland Holdings group of companies, which includes NCB and PPE. He visited Bermuda last month as the keynote speaker at the Progressive Labour Party's gala celebration at the Fairmont Southampton. NCB is the financial holding company for the National Commercial Bank Jamaica Ltd. Patrick Hylton, NCB president and group chief executive officer, said: "Bermuda is one of the world's premier financial jurisdictions and our alliance with Clarien is consistent with the strategic investments and joint ventures NCB Group identifies as key to growing our regional interests and driving continued growth and shareholder value. Our investment in Clarien reflects not only our confidence in the quality and value of the bank's expertise, experience and services but also those of Bermuda itself. "In addition to its unquestioned natural beauty, the island has a natural affinity for business. As home to many of the world's leading financial companies, Bermuda is respected as a stable, sophisticated legal and regulatory jurisdiction well equipped to meet the needs of international high-net-worth and institutional clients and one that is committed to meeting global standards of compliance, regulation, and transparency. We are committed to contributing to the growth of Bermuda's reputation to attract more business to the island and thereby create conditions that will benefit the economy as a whole." Clarien Bank, previously known as Capital G Bank, was controlled by Edmund Gibbons Ltd until January 2014 when it sold a four-fifths stake to a group of investors behind the Bermuda exempted company CWH Ltd. The bank rebranded as Clarien after the amalgamation. But in February 2015, EGL acquired a 50 per cent stake in CWH and two months later reacquired the remaining shares it had sold in Clarien and resumed total ownership of the bank.
December 2. A 26-year-old man has denied killing a woman by driving his boat dangerously. Andrew Lake, of Southampton, pleaded not guilty to the manslaughter of New Zealander Mary McKee in Supreme Court yesterday morning. Ms McKee, 62, died after a marine incident in Hamilton Harbour on June 1 this year. Mr Lake also denied causing injuries to Mrs McKee's husband, Arthur, and a second man, Charlie Watson, by driving his powerboat in a dangerous manner. Puisne Judge Charles-Etta Simmons released Mr Lake on bail before his trial on April 3, next year.
December 1. Non-Bermudians holding British Overseas Territories Citizen passports need a visa to visit the United States, Walton Brown warned today. The Minister of Home Affairs told the House of Assembly the issue was brought to light after the spouse of a Bermudian was denied entry to the US. He said: "There are persons who are not Bermudian but who possess BOTC status because they were born in Bermuda before 1983 or have been naturalized as BOTC citizens." Mr Brown said that those holding BOTC passports that do not include the observation "Holder is registered as a Bermudian" will not be allowed to enter the US without a visa. He added: "Additionally, it should be noted that Bermudians traveling with BOTC passports that are not displaying the mentioned observation will not be eligible for entry to the US under the visa-exempt classification."
December 1. Court requests for mental health reports have rocketed by nearly 300 per cent in the past three years, the Bermuda Hospitals Board has revealed. The BHB said that delays in delivering reports to courts were because of a shortage of professionals as well as the huge rise in demand for psychiatric evaluations. The news came after the Court of Appeal expressed serious concerns last month over "unacceptable" time gaps between conviction and sentencing in many court cases. Defence lawyer Elizabeth Christopher also highlighted cases in which the preparation of psychiatric and psychological reports had taken several months. A BHB spokeswoman told The Royal Gazette that the Mid-Atlantic Wellness Institute was two psychologists short, which had contributed to the delays. She said: "Due to a dramatic increase in the number of requests originating from the courts and other public bodies, combined with two psychology vacancies, there is an acknowledged delay in the provision of reports at the current time from MWI. The number of reports requested from the courts has risen more than 280 per cent over the last three years, from 24 in 2014 to 68 in 2017 as of November 27." The spokeswoman added: "Each report takes between five to 15 hours to complete on average and can take longer. Currently there are three psychologists and one psychiatrist providing the bulk of these reports. Clinicians for the two vacant psychology posts have been identified, but they are overseas and so cannot immediately take up the positions. The first is hoped to arrive in January 2018." Court of Appeal president Sir Scott Baker said last month he would raise the problem with Chief Justice Ian Kawaley in a bid to find a solution. The BHB spokeswoman said: "MWI staff members are working within the approved MWI budgetary allocation, while accommodating the extra workload generated by the court system and continuing to meet the rising day-to-day clinical needs of service users at MWI. She added the BHB appreciated an increased focus on the mental health of defendants by the courts and admitted more work was needed to "streamline the process in order to improve efficiency while maintaining quality". The spokeswoman said: "We continue to meet with our colleagues at the courts on a regular basis to enhance the service we are expected to provide. We also note that the issues referred to by Mr Justice Baker were not solely due to delays in provision of psychological and psychiatric reports but appear to be related to other procedural issues within the courts themselves."
December 1. The old guard of the One Bermuda Alliance is set to be sidelined to make way for new blood, new party leader Jeanne Atherden signaled yesterday. Ms Atherden, Leader of the Opposition, said her party was in a transition to "rebuild, re-brand and reconnect". She added the OBA needed "to get more people into the room". She explained: "We have to expand diversity not only in gender but racially and in age. If we can do that, we can focus on what we should be doing." Ms Atherden said that the Future Bermuda Alliance, the party's youth wing, was "very important because as the more seasoned people move out, we have people to take their place". But Ms Atherden said older party members had a role to play in guiding the next generation. She said: "You can't transition without some people having training in how to get out and work with their constituents. That is all part and parcel of us rebuilding the team." Asked to respond to criticism that her party had failed to provide effective opposition thus far, Ms Atherden said: "We know that we have to become a viable Opposition because Bermuda demands that. If there's something that we support, we'll support it, but if we feel it is not the best for Bermuda, we will give the Government and the people of Bermuda our full attention. We will become more vocal, but vocal with a purpose." Former senator Nick Kempe last week quit as OBA chairman after only five days in the post. Party sources said Mr Kempe was blindsided by his removal from the Senate two days before. An insider said the decision by Ms Atherden was not discussed with Mr Kempe. Ms Atherden said: "I made an appointment with Justin Mathias as the senate replacement. As a consequence, that meant Nick was the person who came out." Ms Atherden said she saw the job of party chairman as a "very major role", and that there was "a lot to be done". She added: "It meant Justin going in and Nick going out." Ms Atherden said the OBA had to reconnect with voters "from Somerset to St George's". She added the party had to meet constituents in their communities and talk to them about the issues and what had to be done to improve Bermuda. Ms Atherden said: "Just because we are not the government that doesn't mean we can't work to improve the lot of Bermudians, not just trying to win political votes. "We want to be the party that truly represents the issues that are important to them." Ms Atherden was appointed party leader less than two weeks ago after she beat former party leaders Craig Cannonier and Patricia Gordon-Pamplin.
December 1. Spot checks on commercial vehicles are being carried out by the traffic enforcement section of the Transport Control Department. TCD is reminding commercial vehicle permit holders that vehicles licensed under their respective permits are only to be used under the terms and conditions of the permit. Only employees of the permit holder are permitted to operate and be transported in any commercial vehicle unless approval has been granted otherwise by the Department.
December 1. A Washington lobbying firm run by president Barack Obama's former senior political strategist has landed a $20,000-a-month consulting contract with the Government of Bermuda.

Art Collins is fifth from right when Uighurs landed on June 11, 2009 , see story below
TheGroup, which describes itself as an independent strategy, policy and communications firm based in Washington, was hired on November 1 for three months. The company's managing partner is Art Collins, who served as a senior political strategist for the Obama's 2008 presidential campaign before becoming a public liaison for the Obama-Biden Transition Project to the White House after Obama's inauguration. Another company led by Mr Collins, Public Private Partnership Inc, was previously linked to Bermuda after The Times of London reported that it came up with the idea to resettle four Guantánamo Bay detainees on the island. Mr Collins was photographed with the Uighurs when they landed on the tarmac at LF Wade International Airport on June 11, 2009. He was described at the time by US political website The Hill as a lobbyist for Bermuda's government. The Hill quoted Glenn Jones, press secretary to Ewart Brown, then premier, as saying: "Art Collins does indeed do work for the Government of Bermuda but he did not propose the transfer of innocent detainees from Guantánamo Bay to Bermuda. He did, however, assist in facilitating this humanitarian gesture." The previous year, Dr Brown had attended a sporting event in New Orleans as a dignitary; Mr Collins was listed as a dignitary at the same event. A Cabinet Office spokeswoman, in response to questions from The Royal Gazette, said yesterday theGroup's services had been secured for three months, after which there would be a competitive tendering process for a company to provide the Government with "ongoing lobbying, communications and public relations services in Washington DC". The spokeswoman said: "The cost for services is $20,000 a month. TheGroup DC represents the Government of Bermuda in Washington DC, and advocates Bermuda's interests and lobbies the US Congress, US Federal Government and the US financial services industry. TheGroup DC works with the Government of Bermuda and members of Abir [Association of Bermuda Insurers and Reinsurers] to develop and implement communications strategies to present Bermuda's key messages of tax transparency, co-operation and compliance to senior US government officials, the general public and other stakeholders." She added: "In the coming weeks, the Government will issue an RFP [request for proposals] for a company to provide ongoing lobbying, communications and public relations services in Washington DC." Mr Collins is described on theGroup's website as a "powerhouse Democratic strategist" with more than 25 years of experience as a "trusted and valued adviser on corporate and political strategy and public policy". Both chambers of the United States Congress, the Senate and the House of Representatives, are controlled by the Republican party.
December 1. Digicel Bermuda has unveiled the speeds and pricing for its new "fibre to the home" offerings, which have been in the works for most of this year. And a section of the company's store on Church Street has been remodeled as an interactive lounge-type area where customers can try out the new multi-feature TV experience. The company is offering home internet speeds all the way up to 200 Mbps, together with three fiber TV plans and fiber phone options. Speaking about the area of the store now devoted to the new fiber offerings, Raynesha Lawrence, retail manager, said: "We wanted something that would showcase fiber here in Bermuda. It is a brand new product. And we wanted to bring a new retail experience to customers with a place where people could come and experience fiber TV for themselves." The seating area includes a number of flat screen TVs where customers can flick through the more than 100 channels on offer and try some of the special features, which include the ability to pause a live show, rewind to any point in the broadcast, and even scroll back through seven days' worth of TV scheduling to watch a programme they might have missed. It is also possible to record and store 50 hours of programming for later viewing, and there are options to increase that storage total to 200 hours. And a multi-screen ability allows family members to watch on up to five different TVs or wi-fi enabled devices, such as a tablet, and be tuned into different channels. High-definition channels, which make up more than half of the choices in each plan, come as standard at no extra cost. For the past 11 months Digicel Bermuda and Bermuda Telephone Company have built and installed a "fibre to the home" network as part of a $50 million investment in Bermuda to upgrade the companies' telecommunications network. At the same time One Communications, one of the island's other major players in the telecoms market, has been upgrading its network and introducing high-speed internet plans. Digicel believes it has an edge as it takes fiber-optic cabling all the way into customers' homes, rather than stopping at the curb and taking the signal into a home through copper cables." There is no loss of signal over fiber. It is not affected by the weather, and the picture quality is guaranteed," said Ms Lawrence. The Digicel store also features a multi-screen wall showing channels available through its fiber TV plans. With the aim of keeping things simple, the company offers only three TV tiers, starting with a plan that includes 55 channels, and going up to plan with 129 channels. Additionally there is a sports pack of ten premium channels, all in HD. There are bundle packages featuring TV and internet plans. For example, the 104 channel TV option, together with 25Mpbs internet, is priced at $185 per month. While for customers looking for stand-alone fiber internet options, the Fiber 25 plan has download speeds of 25 Mbps, upload speeds of 10 Mbps, and is priced at $105 per month. The store will hold a "Fibre Day" on December 7, promising big prizes to be won by customers who sign up for a fiber bundle that day. Further details on Digicel's fiber to the home are available by calling 500-5000.
December 1. The island's charity for military veterans has launched a campaign to recover a ceremonial sword that was stolen more than 20 years ago. The sword was taken from the historic Old Rectory, then the home of Lieutenant-Colonel Brendan Hollis, during the annual Christmas Walkabout in the town of St George. A Bermudian historian as well as a soldier, Colonel Hollis, who will turn 87 this month, is said to be still hopeful that the sword will be returned. Colonel Hollis now lives with wife Barbara in Calgary, Canada, and the couple are said to be "delighted" by the Bermuda Legion's attempt to locate the sword. Carol Everson, case worker at the Bermuda Legion, said the sword was "a cherished possession, presented to him by his wife when he was awarded his commission as an officer". She added: "He and his wife were, and still are, devastated at the loss." Patricia Hollis, Colonel Hollis's niece said: "He was deeply distraught — it was very, very sentimental, and he is thrilled that someone would care enough to try and get it back." The sword disappeared during the Bermuda National Trust's Christmas Walkabout, when historic premises of the Olde Towne are opened to the public. The couple were custodians for many years of the Old Rectory, a heritage gem in the East End, but after the walk they noticed the sword was missing from its mount on a wall. Nothing else was taken. The Wilkinson standard rifle sword, engraved with BODH for Brendan O'Donnell Hollis, has a bugle engraved on the hilt and was in a leather scabbard. Anyone with information on the sword's whereabouts should contact the Legion at nosoldierleftbehind@hotmail.com or call 703-1020 or 293-3975. The sword can be returned to the Royal Bermuda Regiment or handed in at the front desk of the Bermuda Institute of Ocean Sciences.

Last Updated: December 13, 2017.
Multi-national © 2017 by Bermuda Online. All Rights Reserved.