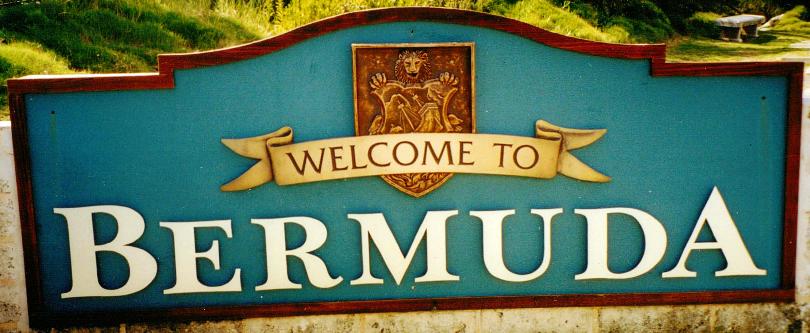 11165+ web files, a regularly updated Gazetteer, overall an in-depth description of our island's internally self-governing British Overseas Territory 900 miles north of the Caribbean, 600 miles east of North Carolina, USA. With accommodation options, airlines, airport, actors, actresses, aviation, banks, beaches, Bermuda Dollar, Bermuda Government, Bermuda-incorporated businesses and companies including insurers and reinsurers, Bermudians, books and publications, bridges and causeway, charities, churches, citizenship by Status, City of Hamilton, commerce, communities, credit cards, cruise ships, cuisine, currency, disability accessibility, Devonshire Parish, districts, Dockyard, economy, education, employers, employment, environment, executorships, fauna, ferries, flora, former military bases, forts, gardens, geography, getting around, golf, guest houses, history, historic properties, Hamilton, House of Assembly, housing, hotels, immigration, import duties, internet access, islands, laws, legal system, legislators, main roads, marriages, media, members of parliament, money, motor vehicles, municipalities, music and musicians, newcomers, newspaper, media, organizations, parks, parishes, Paget, Pembroke, performing artists, residents, pensions, political parties, postage stamps, public holidays, public transportation, railway trail, real estate, registries of aircraft and ships, religions, Royal Naval Dockyard, Sandys, senior citizens, Smith's, Somerset Village, Southampton, St. David's Island, St George's, Spanish Point, Spittal Pond, sports, taxes, telecommunications, time zone, traditions, tourism, Town of St. George, Tucker's Town, utilities, water sports, Warwick, weather, wildlife, work permits.

Bermuda's 2018 December History and Newspaper Reports
Events that made newspaper headlines in the twelfth month of this calendar year
By Keith Archibald Forbes (see About Us) exclusively for Bermuda Online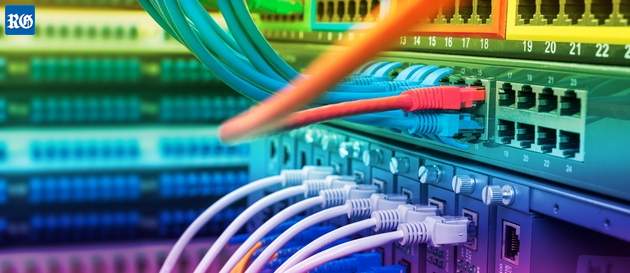 Benefit of website linkage to Bermuda Online while traveling
See at end of this file all our many History files
Bermuda's only newspaper, the Royal Gazette, is not published on Sundays or Public Holidays but sometimes has some Sunday and/or Public Holiday news online.
December 11

December 10

Revenue guarantees paid to airlines should be a shared responsibility, the tourism minister has said. The move is an apparent softening of the line Zane DeSilva took in the House of Assembly last month when he insisted airport operators Skyport should foot the bill for the cash paid to airlines. Mr DeSilva said last week that minimum revenue guarantees, up to $2 million a year in some years, should be divided among tourism industry players. He said: "You can call it a minimum revenue guarantee or marketing, but at the end of the day, no matter what we call it, all the stakeholders should have skin in the game. I'm not saying that the Bermuda Tourism Authority, Bermuda Government or Skyport should bear the brunt entirely or individually, but Skyport, who are now recipients of all the income for the airport, should play their part, whether that's 70 per cent, 80 per cent or 25 per cent. All I can tell you is that as far as I'm concerned, it's not on my agenda for us, the Government, to pay in its entirety." Mr DeSilva told the House last month that it was "unthinkable that we would sit idly by while taxpayers are forced to bear a financial responsibility that rightly rests with Skyport". He added that the Government was not on the hook for the minimum revenue guarantees at present. The minister did not elaborate in his latest comments, saying that the guarantees were confidential. Mr DeSilva added: "I think most in the industry know MRGs are agreed from time to time. When MRGs are in place, it ultimately comes from the taxpayer." The payouts to airlines appeared in the annual financial statements for the Government's Consolidated Fund. Later statements referred to air service agreements with unnamed "commercial airlines" rather than specific airlines. Two airline agreements were vested in the newly created Bermuda Airport Authority in March 2017 and the Government established letters of credit with HSBC for $500,000 and the Bank of Butterfield for $100,000. The Government's estimated liability for air service agreements was $1.15 million on March 31, 2016, but the report noted an additional agreement signed in October 2016 which put the public purse on the hook for an additional $552,000. The 2015 financial statement for agreements with two airlines gave an estimated liability of $1.18 million. That report also listed an additional air service agreement in September 2015, with the Government entering an irrevocable letter of credit with Butterfield Bank for $900,000. The Government's agreements had gone from two to three airlines, with an estimated liability of $2.72 million in 2014. The report for the year ended March 31, 2013 gave the total payout as $1.63 million. The statements for the 2011-12 financial year revealed that in February 2012 the Government paid American Airlines $361,536 under its air service agreement, which required the island to compensate the company for any shortfall in its minimum revenue on its Bermuda-Miami service. WestJet was given more than $3.7 million between August 2011 and June 2012. The BAA was set up as a government quango to take over from the Department of Airport Operations, under the airport redevelopment deal with the Canadian Commercial Corporation and the contractor Aecon.

Seniors are expected to see an increase in their pensions after MPs backed a rise in payments. Legislators supported raising the amount by 1.4 per cent although Opposition members claimed the rate was "embarrassing". Curtis Dickinson, the Minister of Finance, presented the Contributory Pensions (Amendments of Benefits) Order 2018 to the House of Assembly on Friday. He said: "This is a reflection of Government's resolute and unwavering commitment to improve the quality of life of our senior citizens. You will recall in the Government's 2017 election platform it was declared that this Government would put our seniors first and institute annual cost of living increases for social insurance pensions that will be linked to the rate of inflation and can help lessen the hardships that too many of our seniors now endure." He said the Order was to increase pensions and other benefits under the Contributory Pensions Act 1970 by 1.4 per cent backdated to last August. Mr Dickinson said that represented an additional cost of $2.3 million a year for the fund. The House heard the basic contributory pension would rise from $1,049.68 to $1,064.37 a month, and the maximum paid out would increase from $1,531 to $1,545.62 a month. Mr Dickinson said it was the 12th pension increase by Progressive Labour Party governments since 1998. Members heard the consumer price index found cost of living had increased by 1.4 per cent since the last rise The minister said the increase in payments would normally be accompanied by a corresponding increase in contributions but this would be delayed until changes to Bermuda's social insurance system — based on percentage of income — were laid out. Mr Dickinson said: "Contributions were last increased in August 2018 by 4.2 per cent. Considering the relatively strong position of the fund, it is anticipated that the fund can withstand the one-year delay in contribution increases. However, it is critical that the increased contributions come into force in August 2019." MPs heard that at September 30, the fund's assets stood at more than $1.9 billion, which was 11.7 times the annual value of benefits paid in 2017-18 — a "relatively high rate of funding". Patricia Gordon-Pamplin, the One Bermuda Alliance finance spokeswoman in the House, said: "This is the lowest pension increase that this Government has afforded to our seniors, many of whom are struggling severely, since they came into office in 1998. At 1.4 per cent I would have been embarrassed to bring this to this honourable House. What it appears is that the minister and the Government are doing not much more than ticking the boxes." She predicted others would criticize the OBA for fewer pension payments during its term leading the country from 2012 to 2017 but claimed austerity measures needed at the time were significant. Ms Gordon-Pamplin added: "If things are as wonderful as the PLP Government would have us believe they are, they should be ashamed of themselves to come to seniors with a 1.4 per cent increase." Wayne Furbert, the Junior Minister of Finance, asked: "Are you trying to tell me that this Government, who's made a commitment to the people of Bermuda, the seniors, that it will given an increase every year while they are the Government, is wrong?" Michael Dunkley, an Opposition backbencher, said: "In reality 1.4 per cent is a very small increase." He added: "We need to make sure that we shore up our pension funds as much as we can and I will be interested to see how the Government will be doing it going forward." David Burt, the Premier, said: "We promised the people of this country that we would deliver pension increases in line with the cost of living. That is what we promised and that is what we deliver." A statement later released by the Government confirmed seniors can expect to see the increase in their payment next month.

An Opposition backbencher has hit back at "insulting and disparaging statements" about him by the public works minister. Trevor Moniz said Lieutenant-Colonel David Burch had attacked him and the One Bermuda Alliance last month and accused the former government of cutting back an affordable housing project in Dockyard. Colonel Burch also told MPs that prefab materials had deteriorated during five years in storage after the 100 Homes Project was cut down to 20 residences. But Mr Moniz, a former public works minister, told MPs Friday that the OBA had been clear in its criticism of the project before the 2012 General Election that gave the party the Government. Mr Moniz said "it was, therefore, no surprise" that in January 2013 the scheme was scaled back. Mr Moniz said the OBA saw the "abject failure" of Warwick's Grand Atlantic affordable housing project, where only two units were purchased, as proof that the island had more than enough housing after "a major exodus" of residents under the Progressive Labour Party. He added: "The fundamental disagreement is with the minister's contention that there is a shortage of adequate housing." Mr Moniz said that cutting the project had saved $11 million and spared the area from "an unacceptably dense housing development". He also objected to being blamed for the storage of leftover material as he had left the portfolio in December 2013. Mr Moniz told the House that the spare prefabs had been left in the care of the West End Development Corporation.

Bermuda's chief medical officer is to be released from routine administrative tasks under new legislation approved on Friday by MPs. Kim Wilson, the Minister of Health, said requirements for the job had included "wholly inappropriate" tasks. These included oversight of the storage of manure, which she said was best transferred to the Environmental Health Officer. Ms Wilson told the House of Assembly that Cheryl Peek-Ball, the CMO, had her role mentioned in 26 different pieces of legislation, which created an "untenable" amount of duties. She added: "We have undertaken reviews of all Acts and legislation where the CMO is referred to and have made amendments where a different person or organisation is better for that role." Patricia Gordon-Pamplin, the Shadow Minister for Home Affairs, signaled the Opposition's support for the "housekeeping" legislation. The House of Assembly also gave the green light to the Allied Health Professions Act 2018, which brings five new professions under regulations for registration, the handling of complaints and disciplinary procedures. Acupuncture, chiropractors, counselors, massage therapists and social workers will all now be included in the legislation.

A mass sick-out by schoolteachers closed public schools across the island today. But instructors will be back in the classroom tomorrow, a union representative confirmed this afternoon. Anthony Wolffe, vice-president of the Bermuda Union of Teachers, confirmed that job action taken today would not continue tomorrow. Mr Wolffe said: "Schools will be open. Teachers will be at their positions." He added that teachers would remain on the job as long as discussions between the Ministry of Education, the union and the Labour Relations Office "are going successfully". Mr Wolffe was speaking after Kalmar Richards, the Commissioner of Education, this afternoon called on the BUT "to ask members to return to their respective schools tomorrow". She added: "We are ready to re-engage with the BUT, through the Labour Relations Office. We see this as the best way forward for the sake of our children." Ms Richards said that the new standards-based grading system had been the main concern raised by the union in recent months. Diallo Rabain, the Minister of Education, announced on Friday that teachers would be provided with instructions next month on the new pupil grading system. Shannon James, the president of the BUT, earlier said teachers were "confused" on the grading system. Ms Richards said that additional concerns had been submitted to Mr Rabain in writing by the BUT on November 29. She added that the minister had met with union executives on December 3. Ms Richards said: "There was no indication on the part of the BUT that they were dissatisfied with the process that was being followed to address their concerns. In fact, one of the BUT leaders stated that the ongoing communication was beneficial." A spokeswoman for the Ministry of Education confirmed the job action this morning. She said: "The Ministry of Education regrets to inform the public that due to an island-wide industrial action by teachers, all public schools will be closed today. The ministry is working diligently to attain a swift and amicable resolution to this dispute to ensure the safety and educational security of our children. The ministry apologizes to Bermuda's parents and students for the inconvenience." Danielle Riviere, the president of the West Pembroke Primary School Parent Teacher Association, said that problems with the public school system were nothing new. But she added: "Now we have a situation that appears to be a literal standoff between the Ministry of Education and teachers." Ms Riviere said that she backed the industrial action taken by teachers. She explained: "They are on the front lines and have to deal with the constant ramifications of an inept system. We need immediate solutions to the current issues plaguing our schools — student behavioral issues, lack of learning support teachers, technology upgrades and the standards-based grading debacle. We need the Education Ministry and Department not to bend to the will of the teachers but to find the funds and wherewithal to create an environment that allows teachers to teach in a manner reflective of the 21st Century in a country deemed to be affluent." She said that it was time to acknowledge that the education system in Bermuda was "broken". Ms Riviere added: "It's time to change the conversation from how to fix it to how to replace it." Almost all teachers at West Pembroke called in sick last month over a range of complaints, including a shortage of teaching assistants. Ms Riviere warned at the time that similar action could be repeated at schools across the island. Mr James said that the job action by teachers and principals showed "how strongly they feel about the issues within education". He added: "While the actions teachers have taken have very regrettably affected students, they feel that the issues that remain outstanding have an even greater impact on our young people. We need to get this resolved and I would invite the minister — and the Premier — to sit down with us and find a way forward. No teacher wants to harm the education of our young people and all teachers want to resolve this situation so they can do what they love doing — helping Bermuda's young people." Mr Rabain announced this morning he had backed off on plans to require that teaching assistants provide a sick note for an island-wide sick-out last Friday. Mr Rabain said that move was made in "the interest of strengthening relations with the Bermuda Union of Teachers and focusing on working to fix the problems. Consequently, no teacher will have to submit a sick note explaining their absence last week." Mr Rabain said the Government would continue talks with the BUT "to address the concerns they have raised and to ensure that the interests of our children come first". Evelyn James-Barnett, director of communications for Bermuda College, said that the college remained open today and that exams would be held as scheduled.

Thousands of revelers celebrated the Christmas season the Bermuda way on Saturday as Hamilton hosted the Christmas Boat Parade. Spectators lined Front Street and Albuoy's Point, enjoying a line-up of impressively lighted boats and festive music. Donald Wray, from New York, said the event was a pleasant surprise. He said: "The atmosphere is great, the weather is good. It's something different. I had to come to the island for work, but given the time of year I thought it would be nice to bring the family with me and I'm glad I did." His daughter, Julie, 5, said: "The boats are pretty and I like the food. And it's not cold." Christine DeSilva said she was happy to see the event return after skipping a year. She said: "It was a disappointment that last year's event didn't go ahead, but honestly I would be happy if they did this every year. It's a great excuse to come out with the family and enjoy the Christmas spirit." Her husband, Laurence, said: "We missed the one in St George's. We didn't even know it was taking place until we saw in the paper the day after. I think it's a great tradition. It's something very Bermudian. I think it brings us together." Deshay Pitts said it was great to see so many people come out to enjoy the holidays. He said: "Between this and the walkabout, it's really starting to feel like Christmas now. I love this time of year. You hang out with your family, everyone is happy. It's expensive, but it's worth it." Calico Jack's was decorated like a Santa's workshop and (see photograph below) won Best Overall Boat as well as Best Crew Costume, Best Use of Building Materials and People's Choice. It was followed by Andrea Christine in overall second place, then the Spirit of Bermuda in third. Chapter Eleven took home the Best Community Message title and the Most Humorous vessel was Miss T.J. The Bermuda Pilot Gig Club was awarded Most Original, the Best Use of Lights was on the Honey Badger Express and the Best Traditional Christmas Message came from Santa's Barge.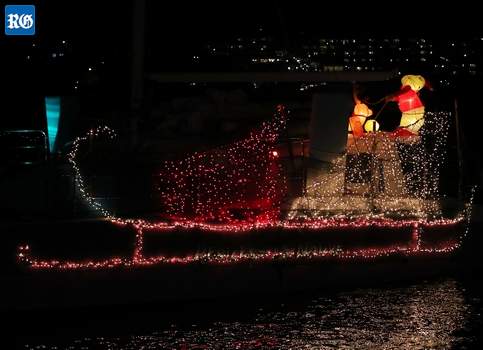 See above item

A 33-year-old man was shot dead outside his home in Pembroke today. Police believe a lone gunman waited outside Paul Johnson's Rambling Lane home and shot him several times as he tried to enter at about 3am. A 21-year-old man was later arrested in connection with Mr Johnson's murder. Chief Inspector Arthur Glasford told a press conference police received several 911 calls reporting gunshots in the area of Rambling Lane. Mr Glasford said: "Upon police arrival they came upon a male lying on the ground outside of his residence. Police commenced CPR and other life-saving measures and he was subsequently taken to King Edward VII Memorial Hospital where time of death was certified at 3.33am. We regrettably can confirm the identity of the deceased as 33-year-old Paul Johnson of Pembroke and the Bermuda Police Service extends our sincere condolences to the family and friends of the deceased." Mr Glasford said it is too early to say whether the murder was gang-related, or whether the incident was connected to a shooting in nearby Happy Valley less than two weeks ago. He added that he could not say whether Mr Johnson was known to the police. Mr Glasford said detectives are seeking the driver of a grey car who drove Mr Johnson early yesterday at a business establishment on Church Street. He argued that the police's outreach is effective despite a string of violent incidents in recent weeks. He said: "There is a lot of work that we do in the background that the public may not be aware of where we act on information and intelligence received. We do our part based on the information we have and put plans in place, but we also have to depend on the community and members of the public to come forward." He said some members of the public have been co-operative "but there are still persons reluctant to come forward". Witnesses or anyone with any information about Mr Johnson's whereabouts on the night of his death should call Detective Sergeant Jason Smith on 717-0864 or jsmith2@bps.bm, or Crime Stoppers on 800-8477.

A 17-year-old in the UK has denied having any part in the murder of Bermudian Lyrico Steede. The male, who cannot be identified for legal reasons, said he was not in the park where Mr Steede was fatally stabbed. He said he had lost his phone — found in the taxi allegedly used by his co-defendants on the night of the murder — weeks before the incident. He told Nottingham Crown Court: "I must have forgot it at the end of January." The teenager said that after he lost his phone he made no effort to recover it and instead used his iPad. He added he did not know who had his phone on the night of the murder. Prosecutors have alleged Mr Steede, 17, was lured to a park in the suburb or Bulwell on the night of February 13. While there he was attacked by a group of four males, who chased him and stabbed him when he fell. Mr Steede died of his injuries in hospital five days later. The 17-year-old was charged with the murder along with Christian Jameson, 18, Kasharn Campbell, 19, Remmell Campbell-Miller, 18, and a 16-year-old girl. The trial continues.

Frederick "Penny" Bean, the first Bermudian-born constable promoted to Commissioner of Police, has died at age 82. During his 34 years of service, Mr Bean earned the Colonial Police Medal for Meritorious Service, awarded to him after the Chief Justice at the time commended him for disarming an armed robber. Mr Bean joined what was then the Bermuda Police Force in June 1956, aged just 19, and was appointed to the top job in 1981, and retired on March 23, 1990. He was the first black person to hold the post. Upon retirement, he was named to the Order of the British Empire. He also earned the Colonial Police Long Service Medal and the Queen's Police Medal for Distinguished Service. During his time in the senior leadership of the police, Mr Bean forged closer ties to UK, US and Canadian national police services, established a joint police and customs drug importation squad. Mr Bean created the Police Community Relations programme, the first fraud squad, improved living quarters for single officers, and improvement on internal communications, particularly a sophisticated secure multi-channel radio system, the combined Operations Centre at Prospect and the emergency 911 system. At his retirement, Mr Bean told The Royal Gazette: "I have enjoyed every moment of it. I have no regrets, and if I had a choice to do it all over again, I would not hesitate. I hope my tour of service will serve as an inspiration to other young Bermudians coming along." Offering condolences, Wayne Caines, the Minister of National Security, said: "As the first Bermudian to hold the post of Commissioner of Police, Mr Bean leaves a legacy that will for ever be etched in history and our memories. Bermuda will be ever grateful for his life and contributions, and we will all mourn his passing." Steven Corbishley, the Commissioner of Police, spoke last night on the "powerful sentiments" expressed by serving and former officers on Mr Bean's character. Mr Corbishley said they showed Mr Bean's profound impact on the development of officers, as well as "his love and unwavering support of the Bermuda Police Service". He added: "On February 21, 1981, Mr Bean made history when he became the first Bermudian-born officer to rise from the rank of constable to commissioner. In 1959, he was posted as a Criminal Investigation Division constable under the legendary 'Bo' Swainson." "Penny" Bean — so named at birth because of his size and colour — wanted to become a soldier with the Bermuda Militia Artillery, but was discouraged from joining by his father. He also took night courses to become a motor mechanic but when Royal Navy operations shut down in the late 1950s, he looked towards work in Hamilton, working eventually for what would become Bermuda Motors on Church Street. A friend of his family's, Milton Cholmondley, suggested he join the police, with Mr Bean later telling The Royal Gazette: "I felt that I needed to serve my country, and at the same time, be working in a disciplined environment." By 1962, Mr Bean attended a detective training course at Peel House, in London, and also was attached to the New Scotland Yard for extra training. Upon his return from Britain, he was promoted to detective sergeant and was transferred to the Western Division. In 1965, he was transferred to the newly formed Narcotics Department as the officer in charge. Mr Corbishley said: "During his time in CID, he and his team made several arrests which led to a number of prosecutions. Mr Bean rapidly moved through the ranks and was promoted to chief inspector in 1971, and just two short years later he was promoted to the rank of superintendent and transferred to the Special Branch. During his time, he oversaw many advances such as police communications and computerization." The commissioner added: "Mr Bean was also a believer in the parish constable concept of policing. Mr Bean returned to uniformed operations as a superintendent and attended the Overseas Command course for senior police at Branshill National Police College in England. His promotion to commissioner in March coincided with the general strike and high political tensions of 1981. Of that time, Mr Bean said: "I had my baptism of fire in April 1981 when we had civil disobedience and major labour problems throughout the island." Mr Corbishley concluded: "I would like, on behalf of the service, to extend my sincere condolences to the family of Mr Bean." More police tributes to Mr Bean will be given in the days ahead, the commissioner added. Former commissioner Jonathan Smith said the island had lost "a giant of a man. Commissioner Bean had an unparalleled conviction, and he needed it." Mr Smith noted that Mr Bean had worked during a time of systemic racism. He was commissioner during most of my early years with the BPS and he possessed a strategic vision, the likes of which the force hadn't seen until then. He was directly responsible for expanding the technical support units in the 1980s along with the introduction of the force's first computerized Incident Management System integrated with a modern radio system. He was clear about how to improve policing in Bermuda." Mr Bean was the subject of "hundreds of stories", Mr Smith said. "At times, a rigid disciplinarian; at other times, a gentle, caring, humble man who cared deeply about people." Mr Smith recalled being sent to the US Federal Bureau of Investigation's Miami office in 1988 to investigate a murder linked with the island. "Commissioner Bean, who was in Florida at the time, came to the office to be briefed on the investigation. He was determined to ensure we had resources required to complete a complex multi-jurisdictional murder. He was sensitive to the fact that I had spent a protracted time away from my young family. That was his human touch. He had an extraordinary ability to relate to all within the police, regardless of rank. Long before the advent of mobile phones and e-mail, he knew the value of connecting face-to-face. I am so saddened to hear of his death. He was the finest of his generation and I will for ever hold him in the highest of respect." Roger Sherratt, a former chief inspector, said that Mr Bean "came into office at a very different time in Bermuda. He was the right man for the job at the right time. He was a disciplinarian who was very concerned about the welfare of officers. He was instrumental in making sure that police officers had access to the Employee Assistance Programme. He was also a founding member of the police choir, which ran 30 years from 1963 to 1993. We send our sincerest condolences to his wife, Romaine, and their daughters, Rachel and Gina, and their families."

Phillip "Phoopa" Anderson, a councillor for the Town of St George and an ambassador for the East End, has died at the age of 58. Mr Anderson was a fixture of the Olde Towne, running the Visitor Information Centre on King's Square and leading tours around the area. Kevin Dallas, CEO of the Bermuda Tourism Authority, said Mr Anderson was more than just the friendly face at the centre. Mr Dallas said: "His love for Bermuda — particularly the East End — glowed brightly every single day, passionately and relentlessly. That's what we will miss most of all. Tourism stakeholders all over the island will be saddened by this news, but we trust Phoopa's passion for Bermuda lives on inside each of us and the things we do to make this island a truly inviting and memorable place." Earlier this year, Mr Anderson was recognized for his work in travel services by the BTA at its Tourism Ambassador awards. Mr Anderson served as a councillor since 2012, and served as the chairman of the corporation's infrastructure and development committee since 2015. A spokesman for the corporation said: "He was instrumental in ensuring King's Square has free Wi-Fi for all who visit and was actively working with the stakeholders for the waste water management for the parish of St George's. He had a passion for tourism and was quite passionate of the tourism product for the Olde Towne. He was often seen doing walking tours in the town and more recently, he was conducting water tours on his boat." The spokesman said Mr Anderson was a "lively character" who made sure everyone knew about his passion for the Olde Towne. He added: "Councillor Anderson was more than a colleague, but a friend to many of us here in the Town of St George, and he will be sorely missed. On behalf of the members and staff of the Corporation of St George and the community of St George, we extend to his two children, three grandchildren, his mom, siblings and family our heartfelt condolences as we have lost not just a councillor colleague but a true St Georgian who fought to the end for his town." The municipality also announced that the flag on King's Square will be lowered to half mast on the day of Mr Anderson's funeral. Zane DeSilva, Minister of Tourism and Transport, also expressed his condolences. He said: "As an ambassador for tourism, Mr Anderson leaves behind a great legacy of service and leadership in the town of St George's and the entire island. His passing is a loss to the people of Bermuda."

From funeral homes to hospital beds, the island's obesity crisis exacts a growing toll beyond the impact of chronic disease. According to the Bermuda Hospitals Board, a fully equipped bariatric hospital room costs $35,000 more than a standard, with six installed in the new acute care wing. The Bermuda Government's Health in Review report for 2017 showed Bermuda topping the Organisation for Economic Co-operation and Development countries — with four in ten adults overweight, and one in three classed as obese. While heart disease and diabetes dominate the impact on healthcare costs, procurement figures provided by the BHB show the high cost of obesity in hospital equipment:
An extra large adult wheelchair costs $1,216 compared with a standard of $800
A bariatric clinical chair for toilets and showers costs $3,753 versus $300 for a standard
A wheeled bariatric roller is $381 versus a standard walker's cost of $152
Other costs include bariatric lifts, used for obese patients, which are almost $4,000 — and more than $9,000 for a battery unit. According to Debbie Jones, executive director of the Bermuda Diabetes Association, the island should also brace for other costs incurred at the end of life. She said: "Our graves are set to a standard size, and they are built of either Bermuda stone or concrete block, which is almost impossible to change. Many families have tombs where they will sit one coffin on top of the others. We have heard of bigger caskets being a very tight fit — if a casket won't go in, what do you do? The cost of redoing graves would be horrendous." Doreen Williams James, the owner of the Alpha Memorial Chapel in St George's, called it "a growing, increasing trend". She added: "Obviously it's going to get worse if people don't make a conscious effort to change their lifestyles." Ms Williams James said the island lagged behind the United States, which was often an indicator of coming trends. She said: "Some stories I hear from colleagues in the US are unbelievable, where even a hearse cannot accommodate a body and tractor trailers have to be used for transport. We have not gotten there yet and hopefully won't, it does happen occasionally where we have to import oversized caskets. Sometimes our graves are custom built and depending on the type of grave, we may have to widen to accommodate the casket." Ms Williams James added: "It needs to be talked about. No one considers what funeral directors have to deal with, and it's growing." A standard Bermuda grave spans 28 inches, and can easily accommodate coffins, which are narrower and generally locally made. She said: "The older generation prefers them. Caskets, which we import from Canada and the US, are bigger." According to the Reverend John Stow at Holy Trinity Anglican Church in Hamilton Parish, churchyards charge $25 per square foot to widen a grave. Mr Stow said: "That's not surface area — that's the wall, which could cost as much as $1,000. That cost would be met by the family." He said that of about 30 interments at the churchyard over the last year, about five had required a widening of the grave. Mr Stow added: "It would be hard to say that each year it gets worse. But over the decades it is becoming more of a difficulty. I have more questions than answers. It would be good to find out more on the research side. It is certainly money well spent if it is on health education rather than having to make the change after it becomes a problem."

December 9, Sunday

December 8

Rules to head off European concerns about businesses that might set up shop on the island in name only to dodge taxes were tabled in the House of Assembly. The legislation, tabled by Curtis Dickinson, the Minister of Finance, will require businesses registered in Bermuda to have "a substantial economic presence" on the island. The Economic Substance Bill 2018 was designed to protect Bermuda from sanctions from the European Union over corporations that reap the benefits of an offshore jurisdiction without conducting business in them. Corporations will have to declare their compliance to the Registrar of Companies, and will be required to provide details to the authorities of relevant EU states where the owner or holding entity is registered. The Bill also includes clauses for the protection of confidential business information. The penalty for giving false information to the Registrar would be a fine of up to $10,000, or two years' imprisonment, or both. The Bill also gives the Registrar recourse to the courts in cases where companies fail to meet economic substance requirements. The legislation, which will be debated by MPs at a later sitting of the House, was tabled in a bid to keep Bermuda off an EU blacklist of uncooperative jurisdictions. The requirements for companies will include employment of staff — which will hit worldwide giants such as Google, which at present channels about $18 billion on the island every year.

A more efficient Government could emerge alongside changes to the tax system in efforts to shore up the public purse, MPs heard last night. It was hoped a balance would be struck between trying to increase income while also cutting costs. Legislators debated the Report of the Tax Reform Commission 2018, which put forward a series of proposals that could boost government revenues by $147 million over two to three years. It came after a seven-member bipartisan group was tasked with carrying out a "thorough review" of the island's tax regime after a 2017 Throne Speech pledge by the Progressive Labour Party administration. The group was asked to find ways to increase public sector revenue from 17 per cent of GDP to a minimum of 20 to 22 per cent and determine any steps that could be taken to allow for a more equitable system. Its report, which took nine months to compile, proposed new taxes along with reforms to existing taxes. Curtis Dickinson, the Minister of Finance, told the House of Assembly he continued to review the recommendations and had not yet made any decision on which of those would be implemented. He said the challenges included a net debt of approximately $2.45 billion, an ageing population, increasing healthcare costs and an economy that is progressing "slowly". Members heard the ministry aimed for a "balanced approach" that looked at revenue increases but also made Government more efficient. Mr Dickinson told the House there was "widespread support" for more effective tax collection and said his team was exploring ways to offer greater support to the "under resourced" Office of the Tax Commissioner. He added: "I believe the best way to resolve our fiscal challenges is to grow our economy through the creation of more well-paying jobs. A growing economy leads to a broader tax base with more participants and through the law of averages an ability to spread our tax burden across a broader number of people. While remaining mindful of the important and significant contributions that big business makes to our economy, we need to continue to work on policies that help entrepreneurs, small and medium sized businesses to thrive." Patricia Gordon-Pamplin, the Opposition's finance spokeswoman in the House, said the Governments was "not in the business" of being profit making organisations. She continued: "What we would expect to see in the choices that are made is that Government will make the necessary selection from the recommendations that would balance our budget. We're not looking for a whole lot of extra money, we're not looking for money that on the backs of the taxpayers will go to grow a burgeoning Government, that is not the intent." Ms Gordon-Pamplin said it was important not to have "an assault on the taxpayer" and highlighted the need for Government to understand its responsibility to reduce costs. She voiced reservations about taxation of passive income as there are a "significant number" of seniors who rely on such funds, and said the Government needed to be careful when adjusting payroll tax to make sure it did not become a disincentive for growth. Wayne Furbert, Junior Minister of Finance, said the focus of the report was to find ways to make Bermuda's tax system fairer. Mr Furbert said: "We have to accept on both sides that the tax system that we have is not equitable or fair. If we can accept that, then we can move on to how can we make it equitable." He added that Government should not rely solely on cutting expenditure to balance the budget, reminding the House of the furore caused by the One Bermuda Alliance's use of furlough days to reduce costs. Craig Cannonier, Opposition leader, said the Government needed to consider how it could help the island's struggling retail sector, which employs more Bermudians than any area other than Government. Mr Cannonier said: "Businesses are struggling in the economy we have now. We feel that the taxation system is unfair and far behind where it should be." He said retailers often have difficulty with cash flow because they have to pay taxes on items when they come to the island rather than at sale. Mr Cannonier said this is particularly a burden on small and medium sized businesses, along with those trying to enter the retail sector. He added that immigration must also play a part in revitalizing the economy. Scott Pearman, the Shadow Minister of Legal Affairs, was among several MPs who noted that the Commission was not asked to directly address Government spending. He said the "lion's share" of the recommendations were four new taxes — a rental tax, a general services tax, a tax on interest and dividends and what he called "an outsourcing tax", which would apply to services contracted out by local companies to foreign service providers. Mr Pearman claimed that aside from the rental tax, none of the four were easily calculable or collectable. He added: "These proposals at their heart mean more tax on Bermudians when there are less Bermudians to pay them. We need to attract more people to this island, not chase them away with higher taxation." David Burt, the Premier, thanked the Tax Reform Commission members and said the review was about "making our tax system more fair and more balanced". He continued: "What I hear is that there's one side, which is protecting the status quo, and there's another side that wants to change things to make sure that we lower taxes for workers, lower taxes for the low income people and possibly tax those persons who may be a little bit more wealthy, whose income has never been subject to taxation."

Bermuda has been warned that on present trends it is heading for a downward spiral of demographic and economic decline. Experts added that the Government has taken a significant step back from fiscal targets set a year ago, with projected lower revenue and higher spending than at first forecast. The independent Fiscal Responsibility Panel said the decision to delay achieving a balanced budget by a further year to 2020-21 was regrettable, and the new target "must now be met". The red flags came in the annual assessment of the island by the three-strong panel, which highlighted a shrinking workforce and ageing population as "perhaps the greatest concern" facing the island and its economic future. The report said the situation would put increasing pressure on both taxes and spending. The panel was chaired by David Peretz, who has worked in the UK Treasury, the International Monetary Fund and the World Bank. This is the fourth consecutive year it has reviewed and reported on the fiscal progress of the Government. The panel said Bermuda needed to reinvigorate economic growth "including through a decisive change in immigration administrative practices". Their report explained: "A precondition for faster growth is to increase the island's workforce. It is the only realistic counter to the island's demographic challenge from a rapidly shrinking and ageing population. Immigrants and returning Bermudians with the right skills will help to create jobs, not displace them." The panel said that recent improvements in processing times for work permit applications were "an excellent start", but that they must be followed through with changes in administrative practices and policies. The island's elderly dependency rates will soar from about 25 per cent at present to 40 per cent in 2026, as the share of seniors in the population climbs from 17 per cent to 25 per cent. The panel warned that was "an extraordinarily rapid rate of change" by the standards of most developed countries. The report said: "The threat this poses can hardly be overstated — this would be a downward spiral of demographic and economic decline." The island's financial predicament was highlighted by figures that showed that net government debt has increased fourfold in the past ten years from about $500 million to $2.42 billion. The ratio of government debt to revenue was around 50 per cent a decade ago, now it is more than 220 per cent. The panel said that high level of government debt, unfunded pension liabilities, and other liabilities left Bermuda extremely vulnerable. It added that public sector pension schemes alone have unfunded liability of around $1 billion. The expert panel expressed regret at Government's decision to delay achieving a balanced budget until 2020-21. The report said: "This target must now be met, as well as the longer-term targets of reducing debt and debt service, respectively to 80 per cent and 10 per cent of revenues." It added the 2018 Budget projection for revenues is $20 million lower than the projection made in 2017, but current spending is projected to be $24 million higher. The panel recognized policy changes and developments, such as the new sugar tax, relaxation of the 60:40 rule to encourage foreign investment, and clear signals to a more open immigration policy. It also welcomed the unfreezing of positions and additional resources in the Office of the Tax Commissioner. But the panel said the Government collected taxes that amount to 17 per cent of gross domestic product, but this needed to be increased to around 20 to 22 per cent. The Tax Reform Commission's proposals, released last month, would take tax revenue to about 19 per cent. The panel said that was an important and welcome step and it recommended the proposals "or something like it" should be implemented as soon as possible. It also highlighted the cost of healthcare and said an agenda for action set out by the Ministry of Health and the Bermuda Health Council existed. The panel said: "The Government needs to proceed urgently." The report added that Bermuda had to promote growth through economic diversification beyond insurance, reinsurance and tourism. The panel said the Government's focus on promoting fintech, while liberating regulations that have inhibited the growth of the likes of global law firms and banks, was appropriate. But it cautioned against excessive focus on particular niche products, such as digital and cryptocurrencies, where there were significant financial and reputational risks. The report said: "Many have stressed to us the potential risks to this reputation if something were to go wrong with any of the new businesses attracted by Bermuda's fintech strategy. Regulating these businesses effectively must be a high priority." It recognized Government's successful $620 million debt refinancing action last month and added: "Recent reports by the main credit rating agencies have been positive, emphasizing Bermuda's political and economic stability, and noting the new government's continued commitment to fiscal sustainability." But the panel said these were not grounds for complacency because, while Bermuda is reasonably well insulated from some global economic trends, it remained vulnerable to external developments, including regulatory changes and the effects of wider financial crises. The panel concluded the report with a list of key problems that had to be addressed "without delay". It said: "Taken together this is a challenging agenda. If tackled now and with determination it will leave the territory in a much safer and more prosperous place. Work on much of it is already under way. The renewed impetus behind immigration reform is welcome. And the proposals of the Tax Reform Commission provide what up to now has been a missing piece — how to achieve the Government's targets for deficit and debt reduction." The Fiscal Responsibility Panel held meetings with individuals and institutions during the course of its discussions in Bermuda from November 19 to 24. The other members of the panel were Peter Heller, a retired deputy director of the fiscal affairs department of the International Monetary Fund, and Jonathan Portes, principal research fellow at the UK National Institute of Economic and Social Research. Curtis Dickinson, Minister of Finance, said: "The Government is certain that the panel's report will be a useful document to assist with the Government's deficit and debt reduction strategy, and I encourage the general public to thoroughly read the report to get a better understanding of the various fiscal challenges facing the Government".

Putting food on the table is a major worry for older residents, the head of an island charity said yesterday. Claudette Fleming, the executive director of Age Concern, said members had raised concerns over price increases in a recent survey. She said that increased cost can force older people "to go without". Ms Fleming explained: "It's not necessarily going without food entirely, but going without more nutritional options, regressing to unhealthier choices which may be cheaper, and, ironically, is the opposite result of what policies like the sugar tax are espoused to achieve." She was speaking after Walter Roban, the Minister of Home Affairs, announced yesterday that the Consumer Affairs department was to look into claims that retailers had increased the prices of foods not covered by the sugar tax. Mr Roban told the House of Assembly the Bermuda Government had received "a number of complaints" from the public over "price gouging". Ms Fleming said she was not surprised to hear that customers had reported higher prices and that retailers had said were a result of the new tax. She added: "As a consumer, I myself have noticed a rise in prices in the last few weeks." Ms Fleming said that Bermuda would at some point have to ask if the "unintended consequences" of the sugar tax were worth it. She explained: "The proof of the pudding will be the ability to demonstrate that the sugar tax has achieved any positive health changes, or whether it has simply increased the cost of food in general, while also increasing the tax base — which may be good for grocers and the Government, but not necessarily so good for the most vulnerable consumer's health or pocketbook." But Zach Moniz, manager of the Lindo's Group of Companies, said that the grocery chain had "absolutely not" raised prices on food items that fell outside the new tax. Mr Moniz added that food prices were determined by variables, including supply and demand, seasonality and wholesaler prices. He explained: "A change in any price has to do with any or all of the aforementioned scenarios." Mr Moniz said that Lindo's put almost 1,000 items on sale every month. He added: "This is obviously a price decrease. At some point, items on special return to normal retail price. This is not a price increase, this is just no longer a promotion." The first stage of the sugar tax increased duty rates on sodas, sweets and other items by 50 per cent. The tax will increase to 75 per cent in April. Mr Moniz confirmed that shoppers would pay higher prices on "items directly impacted by the sugar tax" as a result. Fred Barritt, of soft drinks importer John Barritt and Son, said that the firm would put up prices in the spring. He explained: "We have no choice. Either our prices go up or we will have to reduce other costs. This is a significant increase in cost that business will have to pass on to their customers in order to survive." Mr Barritt said that several factors, including global markets, transport and wages, contributed to prices. He explained: "These costs are always going up so prices must go up to cover them. In a country with an already high cost of living the introduction of more taxes is obviously going to result in higher prices." Mr Barritt said that if operational costs increased, businesses had to react. He added: "Either prices go up or there has to be a compensating reduction in other costs. As the largest component of cost in most local businesses is payroll, job losses are the only real alternative." Mr Roban told MPs that it appeared that "the price of certain items are always higher this time of year". He added: "This year, as has been true in recent years, some persons are having to forgo enjoying their traditional foods because they are finding it harder to make ends meet." Mr Roban said that because Bermuda imported the majority of its food "it is often difficult to assess fair pricing". He added: "In addition, many of our items are shipped in smaller quantities which drives up the price per unit." Mr Roban said that retailers must also "add a percentage to pay their staff, operating costs and to earn a profit". He said the annual increase in the price of food since 2013 ranged from 1.4 per cent to 3.1 per cent. Mr Roban added that people should shop around and could also speak to store managers about pricing concerns.

Hamilton Harbour will be transformed into a sea of festive lights tonight as the spectacular Christmas Boat Parade sets sail. Thousands of spectators will flock to the waterfront and across the harbour to watch the colorful procession. This year's show, which includes the hydro fliers and light shows from JetPack Invasion, gets under way at 6.30pm. The community driven event is back after a three-year hiatus, and tonight's fair, cool weather should make for perfect conditions. The Royal Gazette will cover all the Christmas hoopla on the water and on shore. The main vantage tonight is the No. 1 car park on Front Street, where vendors and seating will be set up. Revellers can also take in the parade along the waterfront, from Albuoy's Point to No. 5 car park,

Andrew Bascome has made a passionate plea for the entire football community to unite in order to change the culture surrounding the game in Bermuda for the sake of the sport's very existence. Long since his days of playing in front of crowds of thousands domestically, football in Bermuda has changed dramatically. Outside influences and changing values have a major impact on the game, most notably with dwindling crowds at league games across the country. But instead of simply whining about the state of football in Bermuda, the BAA head coach, has made a call to arms to everyone involved, from players to coaches, to help preserve the sport for future generations. "We have to change the culture surrounding football in Bermuda and that is the duty of all clubs on the island," said the former Bermuda coach after BAA's 6-3 victory over Devonshire Cougars on Thursday night. "It comes down to the players, the coaches, it's everyone involved. It cannot just be left to the Bermuda Football Association to be blamed for our shortcomings, it's up to us in the game to take responsibility. When I played football in Bermuda, we had 2,000 people turning up to watch and what I see now is depressing. We have to take responsibility for the state of the game. Where are the children and families watching the games? That scares me because if the younger generations don't come out to watch the games, then football here can't survive and the game will die. Don't be surprised if the game dies in Bermuda. Most of our games there are barely any fans watching, so we have to find a way to bring the community back out and establish some sort of pride in the game again. Sport can uplift a country, but it takes commitment. For too long as a sport we just haven't got it and then you look around and wonder why no one is turning up to watch the games. To have any chance of competing on a global scale, we have to be committed to change; otherwise, Bermudian football will be left behind. It is something that needs to be addressed. There is a lot of work to do to fix the issues and we all as a collective have to get busy." One of the biggest changes in the sport has been the rise of gang-related trouble off the field, with a number of reported incidents over the past decade — resulting in the BFA's Executive Committee holding an emergency meeting in 2014. Bascome, who has spoken out publicly before about the issues of gang culture on the island, once again reiterated the need to eradicate the problem, calling on players to realize they have greater responsibilities within their communities. "We have to correct the issues because it is deeply sad to see what has happened in the past. There are gang culture problems all over the world, not just in Bermuda, but the football community here has to rise above it and players need to understand their responsibilities in the community. It is a collective problem. Players have to realize they are not just turning up to have fun together; there is a greater purpose. They need to understand the role they play in our community, but the majority cannot see any farther than themselves. For me, the mentality of the players has changed. Dedication, commitment, outside influences, they all seem to want everything, but people aren't going to give you things if you don't put the commitment in first. We have to make sure that the young players coming through youth systems are properly equipped with the tools to succeed, and that includes their attitudes. Sport is challenging, but so is life. So what if certain things aren't going your way? You have to find a solution instead of blaming everybody else around you all of the time. It is about setting standards off the pitch and for me that has not been happening enough in the game. We have to learn that is not just about the individuals; it's about the entire collective."

A church service today celebrated the life of Terrence "Ted" Richards, who has died aged 59. Mr Richards, the husband of education commissioner Kalmar Richards, was mourned in the House of Assembly yesterday. Scott Simmons, a Progressive Labour Party backbencher, led tributes to Mr Richards, and Diallo Rabain, the Minister of Education, offered condolences to Ms Richards. Mr Rabain added: "She has had the full support of the Department of Education in what can only be described as very difficult circumstances, with her husband overseas for medical treatment." The service was held this afternoon in the New Testament Church of God Heritage Worship Centre on Dundonald Street in Hamilton.

December 7

Bermuda's Premier and Cabinet Office minister were not required to appear at a British Foreign Affairs Select Committee session to examine Britain's relationship with its Overseas Territories, a member of the UK's all-party group said last night. Ian Murray, a Labour MP, emphasized there was "no compulsion to attend" on David Burt or Walton Brown for the Wednesday meeting. The discussions were part of an inquiry into the future of Overseas Territories in relation to the Foreign and Commonwealth Office. Mr Murray, the MP for Edinburgh South in Scotland, added: "We invited all the participants to attend if they so wished and some took it up and others didn't." Mr Burt had been listed among those due to appear for the session, which heard from eight Overseas Territories leaders. Neither Mr Burt nor Mr Brown went to the meeting — but last night the Premier said that it had been unnecessary. Mr Burt said: "Bermuda has regular, direct engagement with the UK's officials and ministers and, as such, Bermuda's position on a wide variety of issues is well known and familiar to actual key decision-makers in London. The London Office is staffed by an expert team who provide leadership and daily interaction at the highest levels of the UK Government. I informed the Governor before leaving Bermuda for London that I would not be appearing before the committee." The UK Parliament's website said the session with the Overseas Territories was the first in "more than a decade". Bermuda got a brief mention when Sharlene Cartwright- Robinson, the Premier of the Turks and Caicos Islands, was asked if the territory planned to emulate Bermuda in permitting same-sex marriages. The committee received written evidence from across the territories in September. Bermuda-related submissions included statements from George Fergusson, a former Governor, Bob Richards, a former Minister of Finance, as well as Saul Dismont and Peter Sanderson, both lawyers.

Work is being done under the Government's code of practice for project management and procurement, MPs heard this morning. Walton Brown, the Minister for the Cabinet Office, said efforts are being made to "leverage the Government's purchasing power, maximize efficiencies and achieve cost savings". Mr Brown said framework agreements were being used to cut down on a "repetitive" tendering process. At least three framework agreements are expected to be in place before the end of the present fiscal year.

The Royal Bermuda Regiment plans to offer learning credits for soldiers to enhance their training. Wayne Caines, the Minister of National Security, announced the move as he updated the House of Assembly on the Regiment's activities. He said the credits would allow soldiers "to further their education and development. Growing the capability of the men and women who make up the regiment can only result in the growth of the capability of the Regiment as a whole." He said the force reorganized last month into two operational companies of about 100 soldiers each, supported by a logistics company and training wing. One company will focus on internal security in support of the police, and the other has a dual focus of humanitarian aid and disaster relief, locally and overseas. Mr Caines added that work continued on "the much anticipated Coast Guard Unit". He said: "The Regiment has taken possession of Watford House on Watford Island and, pending final approvals, a floating dock and fencing will be installed." Mr Caines said the Coast Guard will work jointly with police in its first year to enable training to be completed. He described 2018 and the formal end to conscription as a "turning point" for the Regiment. Mr Caines said that 2019 would be the years when "the seeds of change bear fruit". He added: "The renewed offer to our soldiers of enhanced training and increased education and development will be a key feature. The Regiment will continue to market itself as a feasible, long-term-career, and will provide leadership and management training for enlisted ranks and junior officers." Mr Caines said that two recruit camps would be held next year with the first intake starting on February 19.

Buses could soon be starting earlier after negotiations between the Department of Public Transportation and the Bermuda Industrial Union. The matter will be discussed at a meeting on Monday morning, which will bring the bus service to a temporary halt. The interruption will take place from 10.30am until 12.30pm. A Department of Public Transportation spokeswoman said: "This interruption in service is to accommodate a meeting between the DPT management and employees represented by the Bermuda Industrial Union to discuss a proposed change in starting time, in accordance with the Collective Bargaining Agreement. The provision of an earlier start time will provide improved service to the general public. The DPT apologizes for any inconvenience this may cause and thanks the public for their patience and co-operation."

Bermuda's human rights laws need updating to reflect social change, according to a civil liberties watchdog. Tawana Tannock, chairwoman of the Human Rights Commission, said: "Upholding the integrity of the Human Rights Act underpinned our engagement with the former and current government during the course of 2017. The Constitution was written at a time when racial segregation still existed in Bermuda and it remains limited and dated in its scope. The Human Rights Act emerged to address stark omissions and provide both a practical and aspirational framework for protecting distinct, yet intersected, rights in our community." Ms Tannock was writing in the HRC's annual report for last year. She said: "Amendments that seek to manipulate or weaken the function of the Act risk undermining all protections within it, and must be vigorously guarded against and examined. The Act must continue to evolve to meet the needs of our diverse and developing island and to serve as a measure of our commitment to creating an inclusive and equitable community." The report, released last Friday, said the commission received 112 complaints last year. A total of 19 per cent of the complaints alleged racial discrimination, 11 per cent were on the grounds of disability and ten per cent were on the grounds of place of origin. But 39 per cent of complaints failed to identify a protected ground of discrimination. The HRC managed 23 investigations over the course of the year, including ten new cases and 13 that were carried over from 2016. The report said that a quarter of the investigations involved racial discrimination, with 21 per cent based on sex discrimination and 14 per cent on place of origin. Several of the investigation involved allegations of discrimination on several grounds. The HRC resolved 11 cases over the course of the year — six through conciliation or mediation and two through a tribunal hearing. The other three complaints were withdrawn. In once case detailed by the report, a complainant claimed they had been harassed in their workplace and a co-worker had called them a derogatory name based on race. The complainant claimed he went to the company's management, but nothing was done. The HRC approved an investigation into the case, but the complainant withdrew the allegation and said they had reached an agreement with management. Another case involved a Bermudian employee who complained that non-Bermudian staff had been given preferential treatment. The complainant said he had been suspended after it was alleged he confronted a non-Bermudian employee — which he denied. The HRC conducted a preliminary investigation, but found the complainant's behavior had been "less than stellar". The HRC report added: "The manager further stated that the investigation into the incident with the non-Bermudian was viewed on camera and another co-worker provided a statement supporting that the complainant approached the staff member aggressively. Based on this information, the executive officer determined that there was no evidence that the Human Rights Act 1981 had been violated and closed the complaint." The HRC report also detailed several high-profile court cases that took place over the course of the year. These included the Winston Godwin and Greg DeRoche civil suit, which opened the door to same-sex marriage in Bermuda. The report also highlighted several cases involving controversial speaker Ayo Kimathi, who was banned from the island after he delivered a lecture which included what was described as hate speech. The HRC said the case highlighted the limits to free speech and the Supreme Court finding that there was no Constitutional protection for hate speech in Bermuda. The HRC report said: "While it remains a mission of the Bermuda Constitution to attack modern manifestations of historic racial discrimination, there is also the need to suppress, with equal vigor, new manifestations of discrimination as well. Moreover, the free speech rights established by the Constitution carry with them corresponding duties and responsibilities because these rights can only be exercised in a way that does not prejudice the rights and freedoms of other people or the public interest."

An Opposition MP has accused the Government of a rush to table a Bill in Parliament that "seeks to reduce the level of support for Bermudian children in the court system". Scott Pearman, the shadow legal affairs minister, criticized the Progressive Labour Party for bringing the Children Amendment Act 2018 to the House of Assembly without consultation with the Human Rights Commission and children's charities. He added that investigations under way into the Department of Child and Family Services should find out why children were sent to overseas institutions, including when his One Bermuda Alliance was in power, without legal representation. The draft legislation tabled a week ago contained a section which experts claimed will remove a requirement for the Family Court to consider whether a litigation guardian, or independent advocate, is needed in cases involving children, as first reported by The Royal Gazette. Mr Pearman said: "Children who show up in the court system, without proper representation or protection, have no one to guard their best interest. These are Bermudian children most in need of support and guidance, yet they have none." The requirement for consideration has been law for 20 years but successive governments have failed to provide funds for litigation guardians or lawyers for children. Mr Pearman declined to discuss why the OBA did not fund legal services for vulnerable children. He highlighted the case of Tiffanne Thomas, a social worker, and her claim that the Government has not paid her for her work as a litigation guardian for the past four years. Mr Pearman said that Ms Thomas only sent her first invoice for payment to the Government in March 2017, not long before the OBA lost power. He said the OBA would fund litigation guardians if it was re-elected. Mr Pearman added: "Bermudian children in court proceedings are not getting the support which the law mandates our children must have. This needs to change, now. The PLP have been in power for 15 of the last 20 years. The current government needs to solve this problem and, respectfully, the Government needs to solve it quickly." Mr Pearman said the Bill and Ms Thomas's claim were among a number of separate but linked problems related the welfare of children. He added the most worrying were allegations of abuse made against staff members at DCFS, which only came to light after Ms Thomas was appointed as a litigation guardian for a child in the department's care, and claims that complaints by youngsters were ignored. DCFS is now under investigation and its director, Alfred Maybury, has been suspended over his handling of the complaints. Mr Pearman said: "Allegations that Bermudian children, under the care of the Department of Child and Family Services, were abused should be of extreme concern to all Bermudians. To add to this, allegations have emerged that certain children in the care of the department were sent to institutions overseas without any litigation guardian advocating on their behalf. This is of significant concern" and should be a priority for inquiries into the department. We have the lamentable reality that with every passing day problems at the Department of Child and Family Services seem to grow worse." Craig Cannonier, the Opposition leader, said last week that Michael Weeks, the former social development minister, should give a personal explanation to the House of Assembly about the first investigation into DCFS, which led to Mr Maybury's suspension. Mr Pearman said: "I support Mr Cannonier in calling for an explanation from former minister Weeks." He added that Kathy Lynn Simmons, the Attorney-General, should tell the public the scope of a second inquiry by the Department of Internal Audit into DCFS. He asked: "Who is the person leading this investigation? To whom will this investigator report? Does the investigation include all the allegations of abuse and neglect? How many people from the department are currently suspended because of these allegations? When is the investigation likely to be concluded?" But Mr Pearman said: "With all these complicated moving parts, we must not lose sight of the big picture — the system is failing our children."

A social worker is to sue the Government for more than $2.6 million over a failure to pay for her work as an independent advocate for children in court. Lawyers for Tiffanne Thomas have filed a civil action against the Attorney-General and Accountant-General in the Supreme Court for payment for her work as a court-appointed litigation guardian since 2014. Ms Thomas claims she should be paid $2,621,720 — or an amount the court rules is reasonable in the absence of a figure being set out in a legally enforceable contract. The writ said: "The plaintiff on about July 28, 2014 was appointed as a litigation guardian ... the appointment was on the understanding that the plaintiff would be paid for her services by the Bermuda Government." It claimed the Attorney-General's Chambers gave confirmation in court to Saul Dismont, a lawyer, that Ms Thomas would be paid for her services. But the writ said a letter from the Government in November 2016 said it wanted to replace Ms Thomas as litigation guardian and Mr Dismont as lawyer in a case that involved a minor with people who would provide the services free of charge. The legal document, first published on the Offshore Alert website, claimed Ms Thomas later received "repeated promises" of payment from Zane DeSilva and Michael Weeks, when each served as social development minister. The writ added that payment promises had also been made by Wayne Caines, the national security minister, Marc Telemaque, when he was national security permanent secretary, and Owen Darrell, chief of staff to the Premier. But the court submission claimed that Mr Telemaque, now Cabinet Secretary, e-mailed Ms Thomas in July to say she would not be paid in the wake of a Supreme Court ruling issued the month before in a case brought by the Human Rights Commission against the Government. The HRC case sought a declaration as to the Family Court's obligation under section 35 of the Children Act 1998 regarding the appointment of a litigation guardian and counsel to represent a minor, named only as "O". It also asked for a declaration that the Government had a duty to fund such appointments. Puisne Judge Stephen Hellman found in his ruling that the Children Act did require the Family Court to consider the appointment of a litigation guardian for every child involved in specified proceedings, but he said the legislation stopped short of making the Government pay for the service. Ms Thomas withdrew her services as litigation guardian from 17 active cases involving "at risk" minors last month because of lack of payment. E-mail correspondence shared by a source with The Royal Gazette showed she had asked the Government for $800,000 for her work, but estimated the real cost at about $2.8 million. Kathy Lynn Simmons, Attorney-General and the Minister of Legal Affairs, said last month the Government had "no legal obligation" to pay Ms Thomas. Scott Pearman, the shadow legal affairs minister, speaking before the writ was filed, said the One Bermuda Alliance administration did not pay Ms Thomas because she submitted her first invoice only in March 2017, a few months before the former ruling party lost the General Election. He said he believed there was no formal contract in place "so there was no way to know how, or how much, she would be paid". Ms Thomas's writ said: "It was an implied term of the contract that the defendants would pay a reasonable rate for the plaintiff's services and that such payments would be made within a reasonable time." Mark Diel, lawyer for Ms Thomas, said yesterday: "Our position is that there was a contract or, alternatively, in the event there was no contract that she should be paid on a quantum meruit basis", that is, a reasonable sum for the services she provided. Mr Diel added: "We are awaiting the defence. They have requested further particulars, which we have supplied." A spokeswoman for Ms Simmons, who is also the Government leader in the Senate, said last night: "The matter is under judicial consideration and therefore the ministry is prohibited from commenting at this present time."

Teachers have refused to enter pupils' grades into an all-schools computer network, the education minister admitted yesterday. But the head of the teachers' union called the minister's comments "very misleading". Diallo Rabain said teachers had been told by the Bermuda Union of Teachers to "not enter grades into our system". He said: "For teachers to be told not to enter grades into the system is a dangerous precedent that is being set and we intend to address that." Mr Rabain added that the union move was "completely unacceptable". He was speaking as he delivered an update on talks between the Ministry of Education and the union about teachers' concerns. Mr Rabain was asked to confirm that pupils would receive report cards this term. He said that he had earlier announced that midterm report cards would not be issued. Mr Rabain added that parent-teacher conferences would be held to give parents updates on their children's progress. Shannon James, the president of the BUT, said Mr Rabain's comments were "very misleading". Mr James said teachers were "confused" on the standards-based grading system. He added: "Therefore, the grades that have been entered have not been as accurate as they need to be." Mr James described the standards-based grading system as "the straw that broke the camel's back". He explained: "The ways in which teachers have arrived at a grade has varied from school to school due to the lack of training around standards-based grading. Parents have expressed great concern over teachers not being able to explain this new way of grading and it has left them utterly confused." Mr Rabain announced last month that the implementation of a new standards-based grading system was to be suspended. He admitted that teacher training for the new standards-based grading model "wasn't as good as it should have been" but that measures had been taken to improve teacher preparation. Mr Rabain added at the time: "We are not looking to have any grading come out until December." Mike Charles, the general secretary of the BUT, said last month that the union had "advocated strongly" for a delay in the introduction of the new reporting system. Mr Charles said that teachers "widely supported" standards-based grading, but problems with its introduction had caused "a lot of anxiety". The new grading system was introduced in September. Kalmar Richards, then Acting Commissioner of Education, said in a letter sent to parents in June that the new evaluation system ensured "that all students, no matter which school they attend, are taught the same standards and learning objectives". Scores of 0 to 4 will be given to pupils for their work under the new system, designed to replace the former percentage or letter grades. The letter said a score of four showed advanced understanding exceeding grade level and a zero indicated no evidence or insufficient evidence of learning. A total of eight report cards a year are to be sent to parents under the new rules.

Tawanna Wedderburn has left the Bermuda Health Council, where she had served as chief executive, the BHeC announced this afternoon. According to a statement, the health watchdog is soon to announce the interim appointment of an acting CEO until a new chief executive can be put in place. The BHeC thanked Ms Wedderburn for her service since 2015.

Bermuda's Visitor Services Centres will have new leadership in the New Year. Bermudian Jakai Franks will fill the role as Operations Manager in January, bringing with him 14 years of retail experience – including more than six years in senior management. BVSC Ltd. is a subsidiary of the Bermuda Tourism Authority and is charged primarily with increasing the amount of money visitors spend when they come to the island. To accomplish this the BVSC team connects visitors with experiences throughout Bermuda from the Visitor Services Centre in Dockyard. Video advertising, online booking and touchscreen kiosks in the centres are some of the resources used to improve the experience for visitors and encourage spending with local entrepreneurs. In 2019, the same BVSC team will expand its mission to manage the soon-completed Visitor Services Centre on the Hamilton Waterfront, and in the spring, a centre in St. George's as well. All three outlets will include retail sales which help to promote the Bermuda brand and grow brand loyalty among Bermuda's visitors. The island's brand has grown steadily in popularity since January 2016 when it was officially launched. "As the BVSC unifies visitor services across the island, we are pleased to have Jakai lead the team with his wealth of retail and brand experience," said Karla Lacey, COO of the Bermuda Tourism Authority. "His great track record of managing large teams at a senior level and his passion for merchandising make Jakai the right person to strategize this part of Bermuda tourism's future." In addition to operations, Jakai will also have oversight of further developing visitor services and facilities management. He will also manage a new event space at the Hamilton location. Jakai Franks was most recently head of consumer operations at Digicel Bermuda. His first day with BVSC is January 2, 2019.

The town of St George will get into the festive spirit tonight as the Bermuda National Trust hosts its 40th annual Christmas Walkabout. The popular holiday event draws crowds to the East End to visit historic homes and enjoy a range of entertainment and activities. A spokesman for the National Trust said: "Once again musicians, dancers and carol singers will entertain the crowds and refreshments will be available throughout the Olde Towne and marked on a map that will be distributed on the evening. "Many of the oldest continually occupied buildings in the New World will be decorated and candlelit for the event. Old Rectory, Bridge House, Stewart Hall, Buckingham, Tucker House, Reeve Court and the Globe Hotel will be festively decorated with each offering its own yesteryear experience. Children can meet Santa at the National Trust's members area at the Globe Hotel."

December 6

Bermuda snubbed a meeting with British parliamentarians in London yesterday. The Foreign Affairs Select Committee had invited Overseas Territories to give evidence in an inquiry into the relationship with the Foreign Office. Walton Brown, the Cabinet Office minister, said the meeting was "not on our agenda", which included David Burt, the Premier, who was in London before he went to Brussels. Mr Brown added: "We do not feel that we have to answer to the FCO, and so we did not appear before them." A Government spokeswoman later confirmed that Bermuda "declined to give evidence because the Government does not report to the British Parliament". Bermuda's record of disclosure of the beneficial ownership of companies also came up for discussion during the trip to Britain. Mr Brown attended a round of meetings on beneficial ownership at Lancaster House in London yesterday, organized by Tariq Ahmad, the UK junior minister responsible for the Overseas Territories. He said that Bermuda was "very clear that we have always upheld the principles of disclosing ownership of certain companies". But he added that there had been "concern" among some of the OT representatives at the UK's drive to push for public registers of beneficial ownership as the global standard by 2023. However, Mr Brown said that the possibility of "constitutional overreach by the UK Government into the Overseas Territories" had not featured as a concern for Bermuda. He was speaking as he and Mr Burt prepared to travel back to Bermuda today. Mr Brown said he was also optimistic about the island's bid to return the printing and issuing of Bermuda passports to the island. Passports were taken over by Britain last year and a new code on the documents has caused problems for some Bermudians traveling through the United States from outside the island. Mr Brown said: "They seemed to have a more sympathetic ear to our position, and I am hopeful there will be progress made."

A former acting education commissioner has been renamed to the post for a one-month stint. Llewellyn Simmons, Director of Academics with the Department of Education, was appointed to act as Commissioner of Education effective December 1. Dr Simmons will serve in the role until December 31. The appointment was announced in a notice published on the Government's website on Tuesday. Kalmar Richards was named Commissioner of Education in September. Ms Richards, the former CedarBridge Academy principal, had acted in the role since last December after Freddie Evans was removed from the post two months earlier. Diallo Rabain, the Minister of Education, said this morning that Ms Richards was on compassionate leave.

Hundreds of new tourism jobs will be created in the next two years as the industry continues to grow, a Bermuda Tourism Authority consultant has predicted, in reference to the new National Tourism Plan 2019-2025. Anthony Bennett, managing director of marketing consultants RedSky Strategy, said the island had already seen a 28 per cent increase in tourism jobs and that new hotels would create even more opportunities. However, he added that some Bermudians still had to be convinced that the sector offered long-term careers. Mr Bennett said: "What we have found is tourism is not viewed as a viable career for many people, and many people are discouraging their children from going into tourism. A number of hotels are going to come online in the next two years. There are going to be about 500 jobs and they will need Bermudians to fill those jobs. If we don't encourage people to come into tourism as a career, there's going to be a problem. We need people to support tourism — not at the expense of everything else, but people need to support tourism for tourism to work. One of the major reasons people love to come to Bermuda is to interact with the locals. When we ask people what they like about Bermuda, number one is sun, number two is beaches and number three is the locals. People love interacting with locals. It's what makes Bermuda special." Mr Bennett was speaking at the first of three National Tourism Plan information sessions on Tuesday. The meetings were organized to outline the BTA's draft plan for 2019 to 2025. Mr Bennett explained the focus of the plan was "Agility" — an acronym for awareness and relevance, greener, infrastructure, local involvement, innovation, teams and groups and year-round. He told the audience at the Port Royal Golf Course clubhouse that the BTA planned to boost business in the winter months through international meetings, conferences and sports groups. Mr Bennett said: "When we spoke to people about coming year-round, we found that people in Bermuda are quite apologetic about the winter. They say don't come in the winter. It's not that great. I live in New York, and your winter is different from my winter. Your winter is like our mild spring day. You shouldn't be apologizing. There's huge potential for people who don't want to go swimming but might want to get to know the culture, the food and just relax with their spouse." The plan was designed to focus on strong existing markets such as New York, Boston, Washington, Philadelphia and Toronto, but also to improve business from places such as Baltimore, Hartford, Atlanta, Chicago, Dallas and San Francisco. Mr Bennett said the BTA also hoped to attract more African-American visitors. He added that last year 4 per cent of air arrivals were African-American, but that Bermuda's target markets were 11 per cent African-American. He said Europe remained a difficult market because of the high cost of travel to Bermuda and limited flights. Mr Bennett said: "Until the flight situation has improved either by the introduction of another airline or another gateway airport, we think the potential is greater in the US. We definitely want to engage it, but it's not the focus right now."

Changes to the laws governing the independent Bermuda Tourism Authority could herald a government takeover, an Opposition senator said yesterday. Marcus Jones added that the Bermuda Tourism Authority Amendment Act may seem "practical and logical to the layman" but was a "red flag" to those in the industry. Mr Jones, who has worked in hospitality for 25 years, said that general managers of hotels wanted the Government to provide concessions and long-term planning for the sector. He added: "Once the Government does those two things, get out of the way." Mr Jones was worried that the legislative changes were "a move for the minister of the day" to get "closer to the day-to-day operations" of the BTA. He added: "Is it the start of a full takeover?" Mr Jones was speaking during a Senate debate on the controversial legislation passed in the House of Assembly last month. The independent, but taxpayer-funded, BTA's board members were in the past elected by the board in consultation with the tourism minister. But the amendment will mean board members will be appointed by the minister after consultation with the board. A second amendment gave the minister power to appoint a deputy chairman of the BTA. The deputy chairman would not have to be an existing board member but must have "suitable qualifications and experience in the travel and tourism sectors". Mr Jones said that it was important that a "gap" existed between the minister and the BTA board to "remove the appearance of ministerial interference". However, Jason Hayward said Mr Jones's views were a "grandiose exercise in pontification" and insisted the Bill was not about the Government taking control of the tourism industry. Mr Hayward said: "This is not increasing the powers of a minister — this is simply providing the minister with greater input on the make-up of the BTA board." The Progressive Labour Party senator added that the Government was "not trying to play games with tourism". Mr Hayward said: "If tourism is doing well, we certainly don't want to put measures in place that impede the success of the tourism industry." He told senators that the BTA was created on the understanding it would in time operate without government funding. Mr Hayward added: "I'm not sure what happened to the business model, but that is not the case." Nick Kempe, Senate leader for the One Bermuda Alliance, said that the idea that the BTA was not self-funding was a "bit of a fallacy". Mr Kempe said that money collected through hotel occupancy and cruise ship taxes went to the Government, with a grant later provided to the BTA. He added: "If those taxes — which are the two primary taxes created by the tourism sector — went directly to the BTA they would have a large over-fund each year." Mr Kempe said the National Tourism Plan "should trump government policy". He added: "I'm struggling to figure out why we're trying to fix something that isn't broken." James Jardine highlighted the "excellent results" achieved by the BTA. The independent senator added: "We need to ensure that these positive results continue. We need to be careful that moving forward we don't tinker too much with something that is running well." Mr Jardine said that he had examined legislation for 11 other island quangos. He said that he had "no issue" with the appointment of a deputy chairman by the minister, or with the minister being the only person who can appoint persons to the board after consultation with the board. Mr Jardine added that since the BTA relied "substantially" on a government grant "the Government must exercise some control over whom it appoints to be responsible for the governance of this key authority". He added: "Politics must not play a part here." Mr Jardine said that he was prepared to support the Bill, but that he encouraged the Government to conduct a "detailed review" of all quango legislation "to ensure consistency with the governance aspects". Crystal Caesar, a PLP senator, said the legislative amendments had "nothing to do with the day-to-day operations" of the BTA. She added: "This all speaks to how the board and the minister interacts." The Bill passed despite objections from OBA senators Mr Jones, Mr Kempe and Dwayne Robinson.

Bermuda's insurance and banking industries have little to fear from imminent legislation to address European concerns over "economic substance". That is the view of Christian Luthi, chairman of international law firm Conyers Dill and Pearman, who is confident the island can adapt to the upcoming new rules. However, another source, a retired industry veteran who asked not to be named, believed that many of the island's captive insurers could struggle to meet the substance test. The Bermuda Government has committed to enacting new laws by the end of this year to keep Bermuda off the European Union's list of non-cooperative jurisdictions. The object is to end the practice of international companies cutting their onshore tax bills by diverting profits to offshore entities that lack economic substance. Mr Luthi said that Conyers was one of the industry stakeholders to have worked closely with the Bermuda Government over the past year on developing draft legislation. "Many Bermuda entities already meet the requirements," Mr Luthi said. "Indeed, for certain of our key industries such as insurance and banking, the EU has expressly recognized the substantive nature of those industries in Bermuda. It is expected that, for such entities, compliance with their existing regulatory requirements will be deemed to satisfy the new economic substance regime." Bermuda has only four banks, all of which provide services to residents and employ local people. Most of the island's international insurance and reinsurance companies can also point to their local staffs, including executives and underwriters, and locally held board meetings as evidence of "substance". However, the substance argument may be more difficult to make in the case of captive insurers, according to a source who worked in the industry for more than four decades. Captives insure the risks of their parent corporations and some write third-party business as well. Hundreds of captives are domiciled here and are overseen by captive management companies. "The captive managers do not make underwriting decisions — in my experience, the premiums are decided by the captive owners," the source said. "And I'm not aware of any captives that have claims teams here." Bermuda's legislation will be based largely on the European Code of Conduct Group's scoping paper on economic substance, published in June this year. The paper referred to "intragroup captive insurance" as an activity "likely to need further analysis". However, the bulk of the island's captive business is focused on North America and for many of these, tax avoidance is not a charge that can be leveled at them. As Mike Parrish, head of business development for Marsh Management Services Bermuda, said during a captive-focused session at last month's Bermuda Executive Forum event in London, most captives take the 953(d) tax election, meaning their companies are subject to US taxation. Subsidiaries of multinational corporations who employ no one, conduct few economic activities on the island and book significant profits derived from sales elsewhere are the real targets of the EU. Many such entities exist in Bermuda. They contribute significantly to the island's prosperity, according to Bob Richards, the former finance minister. "While such companies may not directly and individually employ people in Bermuda, collectively, the administration of such companies does indeed employ many, many Bermudians and results in the collection of millions of dollars of tax revenues by the Bermuda Government," Mr Richards wrote in an op-ed in The Royal Gazette in June this year. Although the substance requirements are a European initiative, they are set to become a global standard, as the Organisation for Economic Co-operation and Development has stated that its Forum on Harmful Tax Practices will eventually replace the EU's "2.2 substance regime". Mr Luthi said Conyers was one of many stakeholders to have helped the Government to balance addressing EU concerns with Bermuda's economic interests within the new rules. "Conyers has been working closely with Government over the past year, as part of a focused consultation group tasked with developing draft economic substance legislation," Mr Luthi said. "A great deal of time and thought has been put in by Government and industry to ensure that the new law and regulations meet EU and global requirements, while protecting Bermuda's interests and ensuring our business model remains competitive. While this is a significant change that will affect a number of Bermuda-domiciled entities, it is important to view the legislation in its global context. The EU substance requirements — soon to be a global OECD standard — apply to all offshore jurisdictions. The Channel Islands, Cayman Islands, BVI and many others are all in the process now of tabling materially similar legislation, with the expectation for all such jurisdictions that the legislation will be in place by the end of this year." David Burt, the Premier, has argued that the legislation is necessary for Bermuda to continue to meet global standards and added that it will be tabled in the ongoing parliamentary session. Mr Luthi said that the impact of the changes may not be all bad for Bermuda. "Bermuda and its business community have a long history of adapting to change and making the most of any opportunities it affords," Mr Luthi said. "As a strong and transparent jurisdiction, we are confident that Bermuda is well placed to manage the introduction of substance requirements. At Conyers, we have already informed our clients of the pending changes with regard to substance requirements. We continue to be available to help them understand the requirements and meet their obligations." The legislation is likely to add regulatory burdens and costs, for both companies whose substance will be monitored, and whatever public-sector entity has the responsibility of doing the monitoring. Some have noted the lack of specifics in the requirements in the EU scoping paper, which, for example requires "an adequate number of employees with necessary qualifications and an adequate amount of operating expenditure with regard to the core income-generating activities". There will undoubtedly be differences of opinion over what constitutes "adequate" for different companies and different sectors, raising the possibility of legal challenges. "One problem is that the requirements are vague, but there is no independent system to rule on whether jurisdictions have complied," Richard Teather, a tax policy consultant who advised Jersey on its "substance" legislation, wrote in the Cayman Financial Review. "The sole arbiter is the EU Code of Conduct Group, and if it decides that a jurisdiction is not demonstrating sufficient commitment to economic substance — in its laws, its enforcement and its reporting — then that jurisdiction can be placed on the blacklist." He did not expect the substance rules to have the EU's desired effect. "Studies into the reaction of businesses and investors to these requirements have found that, rather than moving operations back to high-tax countries and facing ever-increasing tax bills, they will do the opposite and move more of their actual activities to low-tax locations, to make it easier to demonstrate economic substance there," Mr Teather said. "This will be a huge problem for the European Union, because when those economic activities are moved out, they do not only lose corporation tax, but they lose jobs, income and employee taxes as well."

In the early 1980s, tangible assets made up around 80 per cent of the value of the S&P 500. Fast forward to today and nearly 85 per cent of the value of the S&P 500 is attributable to intangible assets. However, the risk transfer market has not caught up. According to the Aon/Ponemon report of last year, while around 60 per cent of tangible assets, such as property, plant and equipment, are currently being insured, only 12 per cent of informational assets are. So what gives? Why, if the vast majority of company's values in 2018 are attributable to intangibles, are they not transferring those risks? Is it a lack of education on the client side? A lack of innovation in the brokerage community? A lack of understanding or willingness to accept these new risks on the carrier end? Or is it that whilst the marine and property markets have had centuries to evolve, the newer intangible insurance markets are just gearing up to size as they collate the data they need to properly price and model these risks? Likely, it is some combination of all of these factors. We have seen great strides in the cyber market, with double-digit premium growth over the last four to five years. The market has evolved from being focused on large data holders, to providing products which contemplate the cyber perils affecting manufacturers, the transportation industry and other non-data holders. Business interruption has quickly morphed into system failure coverage. Contingent business interruption now looks more akin to full supply-chain risk, not just for IT service providers but now contemplating all vendors. Bodily injury and property damage stemming from non-physical threats complete the circle back into tangible loss being covered under cyber policies. Intellectual property (hands down) makes up the largest dollar percentage of the intangible asset value of the S&P 500. This has long been a conundrum for the industry as a whole — both in terms of how to value the asset and more so how to value the loss. Again, we have seen great momentum here with much larger limits than were historically available now obtainable from the markets both as a theft product as well as being offered for IP infringement. Even now carriers are contemplating supporting the multi-trillion dollar asset class of intellectual property when used as collateral. This could dramatically impact both the equity financing model and asset backed lending world we know today. Clearly the will to innovate is alive and well within the industry. It is tough to price emerging risk when the models that our industry are built on rely on historical data, data that is often out of date or irrelevant in these rapidly evolving intangible classes of business. New ways to price and structure these insurance purchases have to be found in order to maintain the industry's relevance in today's world.
Giles Harlow, senior vice-president of Aon (Bermuda) Ltd, will speak on a panel titled "Evolution of Product and Buyer" at the International Cyber-risk Management Conference at the Hamilton Princess today

The mother of an American teenage rugby player who was found dead in Bermuda in March has thanked Bermuda for its help. Lisa Dombroski said that her family was grateful "to the many kind Bermudians" who had helped in the search for her son Mark Dombroski. Ms Dombroski said: "So many people have been kind to us." She was speaking after an inquest into the death of her 19-year-old son finished this week. Ms Dombroski said: "Our greatest blessing was to be the parents and brothers of Mark Dombroski. He was so fun, loving and happy, an all-around good kid. This tragedy and loss has been felt greatly as Mark was a good friend to many." She said that every day without her son was a challenge for the family. Ms Dombroski added: "We appreciate the kind expressions of sympathy from the Bermudians who don't even know us, but clearly have big hearts." Mr Dombroski's body was found in the dry moat at Fort Prospect, near police headquarters, on March 19. He went missing a day and a half earlier when he left a Hamilton bar alone after a night out with friends. Mrs Dombroski said the family had formed a foundation in memory of Mr Dombroski which had "been active with giving back to many organisations that promote youth education, athletics, safety and wellbeing". She added: "It is the foundation's desire that other children will know the joy that Mark lived and that his happy, inclusive and kind spirit will live on in the lives the foundation benefits."

December 5

The Premier has "forcefully" called on British authorities to resolve problems for Bermudian travelers after the printing of Bermuda passports was shifted to the UK. A government spokeswoman said David Burt and Walton Brown, the Minister for the Cabinet Office, addressed Joint Ministerial Council meetings in London about the "urgent need to resolve Bermuda's passport issue". Britain took responsibility for the printing of Bermuda passports last year on security grounds. But the coding for the travel documents was changed, which has hampered travel for Bermudians with UK-printed passports who want to enter the United States from jurisdictions outside the island. Mr Burt said that the meeting today had "moved us closer to resolving the longstanding problem of Bermuda passports being printed and issued in the United Kingdom". He added: "We met with officials from HM Passport Office and left with assurances that this important matter will be addressed. Minister Brown and I will continue to push until an acceptable solution is in place." Switching Bermuda passports to the GBR code has meant travelers have been told that they need to have a US Electronic System for Travel Authorization. But Bermudian travelers are permitted to enter America without an Esta under an agreement with the US.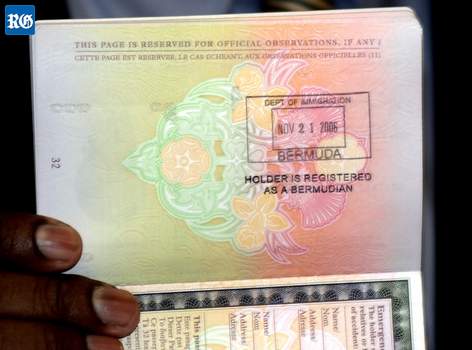 Bermuda passport showing holder is registered as a Bermudian

A man who refused a breath test because he thought a rum-based colon cleaning remedy would cause him to fail it has lost an appeal against his conviction for refusal to give a breath sample. George James said he drank a mix of over-proof rum, garlic and honey after he crashed a car and before he spoke to police. However, Acting Justice Jeffrey Elkinson upheld the decision of magistrate Khamisi Tokunbo that James's version of events did not give him the right to refuse a breath test. Mr Justice Elkinson wrote in a judgment published last week: "The magistrate was right to reject those submissions and proceed to convict the appellant on a very clear refusal to give a breath sample. The appellant's knowledge that he would fail the test could never be said to be a reasonable excuse not to take it." Magistrates' Court earlier heard evidence from police that they found a car blocking Sound View Road in Sandys after it had collided with a wall in the early hours of March 4 last year. The owner of the car was contacted and told police James had been behind the wheel. James later returned to the scene and spoke to police. He admitted that he had been driving the vehicle and that he had four beers earlier in the evening. He was arrested and taken to Hamilton Police Station but he refused to take a breath test. James told the officers that several days before the crash he had started a "colon cleaning" process, which involved drinking Jamaican white rum and garlic. Officers reported that they smelled alcohol on James, but not garlic. James told Magistrates' Court during his trial that he had lost control of the car as he negotiated a corner. He added: "I may have reached for something." James claimed he called police when he was unable to move the car, waited for 30 minutes, then went home where he drank the cocktail of rum, garlic and honey. He said: "I was conflicted about the test because knowing the content of the Jamaican rum, an over-proof rum, I would have failed that test." Michael Scott, who appeared for James, argued his client had a reasonable excuse to refuse the breath test in the circumstances. But Mr Justice Elkinson wrote: "It is hard to discern the merit in such a submission where effectively the appellant himself determined that he had a reasonable excuse for not taking the breath test. The reasonable excuse amounts to nothing more than the appellant's opinion that he would fail the breath test because of the alcoholic content of his colon cleansing mixture. It is an extraordinary notion that a refusal to take a breath test on the basis that you will fail it could be a reasonable excuse." He added that if James had taken the breath test, he could have later argued in court that he had drank the alcohol after he had been driving.

Tax breaks will be offered for the conversion of a failed housing development in Warwick into a hotel if legislation tabled in the House of Assembly is passed. The Bill was designed to give customs relief on materials imported to turn the Grand Atlantic apartments into the Bermudiana Beach condo hotel. The legislation would also give the Bermudiana Development Company, a subsidiary of the Bermuda Housing Corporation, exemption from hotel occupancy tax for ten years, as well as a ten-year break on the employer's share of payroll tax if there is a management training programme in place and a ten-year deferral of landholding charges. And BDCL would also avoid land tax for five years — from the resort's sixth anniversary — if 70 per cent of its employees are Bermudian over the period. The Grand Atlantic was built as affordable housing and opened in 2011, but the scheme was a failure and only two apartments were sold. There were also fears about the stability of a nearby cliff face. The previous One Bermuda Alliance government announced in 2014 that the site would be turned into a hotel and developers MacLellan and Associates signed a memorandum of understanding. But the project was stalled so the site could be used to house sailors and support staff from the America's Cup competition last year. Lieutenant-Colonel David Burch, the Minister of Public Works, announced in March that the resort was expected to open to its first guests in two years. Colonel Burch added that the redevelopment would be carried out with co-developers OBMI Bermuda, a firm of architects, and Bermuda Realty Company Limited. Hotel operations and commercial management will be provided by MacLellan & Associates, with 71 of the condos to be refurbished. The other seven apartments will be converted into a reception area, a bar and restaurant and an operations centre.

Sir John Swan flew to Washington yesterday for the funeral of former United States president George H.W. Bush. Sir John, a former premier, knew Mr Bush at first through political contacts, but the two also became friends. The island's elder statesman said: "He was a man of great integrity and great honour. He believed in the best that could be believed of his fellow man and built a coalition of friends around the world, almost unprecedented for a president." Sir John added: "To Bermuda, he was a dear friend who paid many visits here, before he was president and afterwards, as well as when he was a president. He even flew kites here on Good Friday. Mr Bush, who was 94, died at his home in Houston last Friday. A state funeral will be held today at the Washington National Cathedral before his body is transported back to Texas for another service and burial. Sir John first met Mr Bush when he was vice-president to Ronald Reagan in the early 1980s as he negotiated the tax treaty with Washington which allowed the island to experience a boom in international business. He added: "He was a true example of what we want in a world leader." Sir John added that Mr Bush was "fortunate" to have the support of his wife, Barbara, who died, aged 92, in April. He said: "He had a wife who was very smart, very devoted to her family and very supportive of his objectives throughout his life." Sir John said that the negotiations he started with the US in 1982 concluded with a satisfactory treaty in 1998. He added: "It was quite a feat. I give him and Mr Reagan and their colleagues great respect for the final result of that process. At the same time, we were able to reach across the political spectrum of friendships that transcended all other issues and came to a consensus on what was best for everybody." Sir John added that, on the global stage, Mr Bush had "pulled together" the multinational military coalition that ejected Iraqi president Saddam Hussein and his army from Kuwait in 1991. He said: "I miss him as a person and as a leader. He had a lot of years in and was one of the oldest living former presidents. We will all miss him, no question about it. I am honored that we were invited and I'm sure that honour is extended to Bermuda, not just me. Bermuda and the US have played a major role, particularly during the Second World War and the Cold War. We've been allies in the interests of democracy and freedom for a long time and our interests have always been in parallel with each other." Sir John highlighted the US Customs pre-clearance enjoyed by Bermuda as another example of the good relationship between the two countries. He said: "We must continue to firm up the relationship with the United States. It doesn't matter which president is in office. We're talking about a country and that's the important thing." Other Bermudians yesterday remembered their meetings with Mr Bush, who visited Bermuda in 1990 for a summit with Margaret Thatcher, the British Prime Minister at the time. Craig Ferguson was only 9 when he was selected at random to present kites to the two leaders and fly them with them. Mr Ferguson, now 39, was a pupil at Port Royal Primary School when he and a girl pupil were picked to meet the leaders. He said: "I presented to Margaret Thatcher and she presented to George Bush." But Mr Ferguson said he was not aware of the significance of the event at the time. He added: "For me it was just the fun of flying kites." Mr Ferguson said he still remembered an autographed copy of the photograph taken with Mr Bush arriving at his parents' home months later. He added: "That picture is still at my parents' house." Mr Ferguson said: "It was cool to be a part of, definitely something I won't forget."

Teachers at West Pembroke Primary School have returned to the classroom after they staged a sickout last week. Mike Charles, general secretary of the Bermuda Union of Teachers, said: "Representatives had a meeting and all the teachers are back at work but the problems have not been solved — these are systemic problems. The teachers are adamant that they need to be fixed." But Mr Charles added: "It all depends on whether or not the Ministry of Education has the will to do it. I would hope that this action has an impact for the sake of our children because that is who is being disadvantaged by all of this. There are problems throughout the system — it is not only West Pembroke. They are not exactly the same in every school but these are problems throughout the system. We don't know if other schools will follow suit but only time will tell." A government spokeswoman confirmed the Ministry of Education had met the BUT and the Parent Teacher Association at the school in the wake of the sickout last Friday. She said: "The issues submitted to the Department of Education by the school's PTA were discussed and the ministry shared the proposed resolutions, some of which have been in place since November 19. The ministry is making a concerted effort to work with the parents and teachers at West Pembroke to resolve their concerns and that of our entire public school system." She added that the results of the meetings and proposals by the Government would be revealed later. Almost all of the school's teachers took industrial action on Friday over a range of problems, including the lack of a teaching assistant for pupils on the autism spectrum disorder programme and a lower-school support teacher. A parent of a child at West Pembroke said that the Ministry of Education needed to be more in touch. The parent said: "It is very obvious the schools and teachers are under-resourced and underfunded for basics needed to maximize learning for our most vulnerable members of society, five-year-old public school students. It appears obvious the ministry is out of touch with the teachers on the front line." The parent suggested that employees at the education ministry should spend four days a year in classrooms so they could see the problems faced by frontline staff. The parent added: "This should go for the Minister of Education also. If I was minister, this is what I would do to be sure I was in touch and had my finger on the pulse of the front line. To have a single learning support teacher in a school of 200 children when there were two last year is unfathomable and unforgivable if we are genuinely looking to improve our society."

The Bermuda Blood Donor Centre is today thanking two donors, Mr Peter Barrett and Chubb, who have provided funding for polo shirts that are being awarded to long term blood and aphaeresis donors who have donated throughout this year. Peter Barrett first made a donation for the Blood Donor Centre to purchase shirts for people who donated over a 3 month period if they were long term donors. To make this a more regular thank you throughout 2018, Chubb stepped in to fund the rest of the year's supply of the shirts. Chubb is also a competitor in the Corporate Blood Donor Competition 2018/19. Dr Eyitayo Fakunle, Consultant Hematologist, comments: "Our blood donation is entirely voluntary, in line with World Health Organisation best practices. These shirts show our gratitude for people who have donated regularly this year, supported by Mr Barrett and Chubb. We are very grateful to them for this support in recognizing true heroes who save lives in Bermuda every day. Our hope is that seeing friends and family in the polo shirt may also encourage others to overcome whatever inhibitions they have and to join the most giving group in Bermuda – blood and aphaeresis donors." Mr Barrett comments: "It was a pleasure to work with the Blood Donor Centre to initiate this programme. We should all be very grateful that Chubb has stepped forward to keep this programme going. For those who can, I encourage everyone to volunteer a small part of their day to donate. Your pint of blood saves lives and it also helps to manage the healthcare needs of at least three patients. Without question your donation has a significant ripple effect throughout the community."

December 4

Premier David Burt sat down with the UK Overseas Territories Association yesterday as part of a series of meetings in London. Mr. Burt said online that the meeting, held in Westminster, was "critical for Bermuda". The association was set up to promote the interests of the Overseas Territories in Britain and encourage co-operation among the jurisdictions. Mr Burt also met the Britain-Bermuda All Party Parliamentary Group at the House of Lords to update members on "the latest developments in Bermuda".

A special reserve fund could help to balance the risk in one of two "transformational" health insurance options being considered by the Government. The reserve would allow funds to flow between insurers with relatively healthy policyholders, who take little out of the system, and those whose members put greater demand on services. In the other option, a single body would manage standard package payments for everyone in Bermuda and only supplementary benefits would be covered by private companies. Kim Wilson, the health minister, outlined the schemes after a Throne Speech pledge to develop a national plan that will put all island residents into either one of two health insurance pools. She told The Royal Gazette that a change was needed to balance the provision of a good standard of healthcare at a reasonable cost. Ms Wilson said: "One is we need to reduce premiums. Two is we need to ensure that everyone in Bermuda has affordable insurance coverage. Three we need to improve basic coverage to help promote health; and then, finally, of equal importance, is to contain costs. At this point we spend over $700 million a year on healthcare. Obviously, that's not sustainable. In order to draw that in, we need to find a better way in which we are collecting the money and how that money is spent with respect to the provision of healthcare; that's where health-financing reform comes in." Better use of resources was one of 14 goals listed in the Bermuda Health Strategy 2014-2019, which also included regulation of clinical care standards and the encouragement of healthy lifestyles. Ms Wilson explained that thousands of health insurance pools are operated in Bermuda. She said the smallest groups would feel the effects of major demands made by their policyholders, for example in the case of a catastrophic injury or illness, more than if they were in larger groups. Ms Wilson added: "We're looking at pooling all 65,000 people; all of the population will be pooled in either one of two pools so that we're spreading the risk." She added: "We would also be looking at introducing a benefits package that would include things like hospitalization, medication, long-term care, preventive care ... that particular benefits package would be costed out and we do believe it would be more economical than what is the current position." The minister added that a bipartisan committee carried out "extensive work" in 2012 and came up with two financing options. One was the unified model, where a single insurer provides the standard health benefit, a basic package expected to include medication as well as long-term and preventive care, and distributed payments to providers. This is a similar approach to Canada's and would mean private insurers offered supplemental benefits. Ms Wilson said there were three options to manage the basic package payments — a private insurer, quango or, maybe the "least desirable", a government department. She explained: "If the decision was to go with a private insurer there would have to be a request for proposals and a very comprehensive procurement and competition to decide who was going to get such a large package, because we would be talking about hundreds of millions of dollars." The second proposal is a dual model, which would include a large public insurer covering standard benefits and ensuring provision for government-led schemes such as the Health Insurance Plan and FutureCare. Private insurers could also sell the standard health benefit as well as their supplementary coverage. Several European countries, including Switzerland, manage healthcare financing under similar schemes. Ms Wilson added: "The difference here between this and what happens now is that currently insurers have to include standard health benefit in any package by law but they don't actually have to insure anyone, so they can deny you for pre-existing conditions, they can deny you if you're over 75, which they all do universally, so they have flexibility on what risk they take on. So if you're bad risk, they don't accept you. In the dual model, that wouldn't be allowed, you would have to take whoever came to you at any time, in whatever state they're in." Ms Wilson said a "very significant" aspect of the dual system would be the inclusion of a "risk equalizer" that acts like a funds reserve or cash pot. She explained: "If any insurer ends up with a very healthy pool and they ended up making money off SHB — if they paid less in claims than the premium they collected — then they would have to give some money back to the risk equalizer, so that the other insurer that wound up with very sick people — spending more than they collected — then they would have to get the money back from the risk equalizer." A consultation group that included employers, unions, insurers and medical representatives recently reviewed the 2012 recommendations and submitted responses. Ms Wilson started to look over the submissions last week and said she planned to make recommendations to Cabinet this month so that ministers can decide which of the two options should be chosen. She added more work and further public consultation will follow, with town hall-style information meetings possibly "in the first quarter" of next year. Ms Wilson said a new system could not come soon enough. But she added that the effects of a change would be seen by 2020. Ms Wilson said: "This is a huge process and a huge shift from how we've been doing it heretofore, so I have to learn to be patient. This is truly transformational."

Chubb Limited announced preliminary net loss estimates in the fourth quarter of 2018 attributable to the California wildfires of approximately $225 million pre-tax, or $195 million after tax. These estimates do not include losses from Hurricane Michael or other weather events occurring globally in the quarter. The company believes its estimated losses from Hurricane Michael are currently at the upper end of the range of $150 million to $250 million pre-tax that was previously disclosed. These estimates are net of reinsurance, include reinstatement premiums and comprise losses generated from the company's commercial and personal property and casualty insurance businesses as well as its reinsurance operations.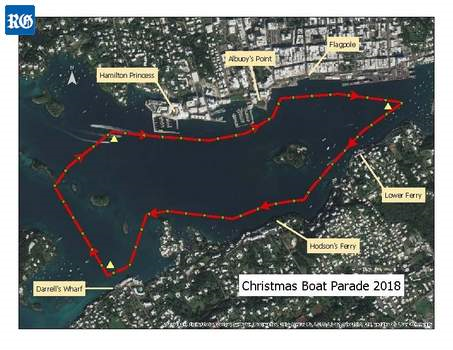 A special "viewing village" is to be set up for this weekend's Christmas Boat Parade in Hamilton Harbour. The City of Hamilton, which has taken over organising the event, said it was pleased to bring "a family-friendly atmosphere to the evening" and that other entertainment, including a Kids' Zone, would be on offer. JetPack Invasion, which use hydro fliers, lights and music to put on spectacular shows, will also perform at the event. Charles Gosling, the mayor of Hamilton, said: "This is one of the most highly anticipated social events in Bermuda, held at such a festive time of year." He added: "I encourage everyone to come out and support the participating captains and their crews and the numerous vendors that will partake in the evening's festivities. It's such a special time of year and this holiday event is a community-driven one so I applaud all those boats taking part and look forward to wearing my judge's hat. My special thanks to the City's events team that has taken up the reins of the organisation of the parade — a first-rate event for our local community and visitors with the continued support of the event sponsors." The special vantage point for the event, which starts at about 6.30pm on Saturday, will be set up in the No. 1 car park on Front Street. Bleachers will be set up in the car park and food and other goods will be available for sale. Steve Thomson, spokesman for the Bermuda Boat Parade Charity, which founded the event, added: "We are thrilled that after a three-year absence the Bermuda Christmas Boat Parade has returned and will, by all accounts, be bigger and better than ever. With the support and guidance of the City of Hamilton, and of course the numerous sponsors, the event this Saturday should be a wonderful success." People can also watch the parade from Albuoy's Point to the No. 5 car park, opposite Flanagan's Irish bar. A City spokeswoman said that, as seating will be limited, people were welcome to bring their own chairs. Renee Bullock-Cann, head of retail banking wealth management for HSBC, the lead event sponsor, added: "Bermuda may not be the only country to hold a boat parade, but we happen to think that ours is unique in that it represents all that is great about the Island and our culture. I know I speak for my colleagues at HSBC in saying that we are proud to be the lead sponsor of this event and are all looking forward to seeing what the boat parade entrants have in store for the community this year. An incredible amount of work and creativity goes into each and every boat on display and we hope that as many people as possible will come out and enjoy what is going to be an exciting and beautiful event, complete with HSBC employees adding to the fun in the streets of Hamilton." Road restrictions will be in force. Police said that Harbour Road will be a single one way lane heading east into Hamilton between 6pm and 9pm to allow for parking on the west side of the road. They warned that people attending house parties that take advantage of the Harbour Road parking must not block private access driveways, and must remove their cars by 9pm when the westbound lane reopens. Sponsors for the parade include Chubb, the Oil Group of Companies, insurance firm Colonial, The Hamilton Princess and The Royal Gazette. Supporting sponsors include Phoenix Stores, Masters, Gorhams, Rubis, Barritts, Butterfield & Vallis, Elbow Beach Hotel, Fairmont Southampton, Bacardi, Little Venice Group, The MarketPlace and The Reefs hotel. More information about the Bermuda Boat Parade can be found at wwww.cityofhamilton.bm.

One of five teenagers accused of killing Bermudian Lyrico Steede has said one of his co-accused admitted the fatal stabbing in a Nottingham park. Remmell Miller-Campbell, 18, told Nottingham Crown Court he did not know the group had gone to the park with the intention of stabbing Mr Steede. Mr Miller-Campbell said he had gone to the park with other defendants because he believed they were going to buy drugs. He added: "I was shocked. I went there to get weed but this happened." Prosecutors have alleged Mr Steede, 17, was lured to the park in the Nottingham suburb of Bulwell on February 13 by a 16-year-old girl, who is jointly accused of the killing and who cannot be named for legal reasons. He was attacked by a group of four men, chased and stabbed. Mr Steede died in hospital five days later. Mr Miller-Campbell told the court last week that on the night of the stabbing he was with three of his co-accused — Kasharn Campbell, 19, Christian Jameson, 18, and a 17-year-old who also cannot be named for legal reasons. He said the group caught a taxi to the Bulwell park to meet a drug dealer. Mr Miller-Campbell added that he "saw running" after they arrived and began to run himself because he did not want to be left alone in an area he did not know. He said he saw a "black figure" next to a wall who he later said was Mr Steede, and the figure had blood on his face. He said the group then fled. Mr Miller-Campbell said they went to a nearby house, where Mr Campbell and Mr Jameson got into an argument and pushed each other. He told the court: "Christian was saying 'why did you do that?' Kasharn pushed him away. "I asked Kasharn what happened again. He said 'yeah, I stabbed him.'" Mr Miller-Campbell said he saw Mr Campbell take a "Rambo-style" knife from his waistband, and noticed that he had blood on his clothes. He said Mr Campbell remained at the home after he and the other two teenagers left. Mr Miller-Campbell, Mr Campbell, Mr Jameson, the 17-year-old boy and the 16-year-old girl have all denied charges of murder. The trial continues.

An American teenage rugby player found dead at the bottom of a steep drop was in a bad mood because of problems with his girlfriend, a coroner's inquest heard yesterday. Jack Heffernan, a team-mate and friend of Mark Dombroski, told investigators in a taped interview after his friend's body was found, that Mr Dombroski had admitted he and his girlfriend had quarreled. Mr Heffernan said: "I think he cheated on her and then told her about it." The audio testimony came during the first day of a three-day inquest into the death of the 19-year-old Philadelphia university student. Mr Heffernan said that Mr Dombroski had been drinking at Warwick Camp, where the team was staying during the competition. But he said: "He was not drinking as much as everybody else." Mr Heffernan said he and Mr Dombroski had stopped at Front Street bar Docksider before meeting team-mates at the nearby Dog House bar. He said that Mr Dombroski had consumed "no more than two drinks" at Docksider. Mr Heffernan, who admitted he had had a "fair amount" to drink, said that he remembered speaking to Mr Dombroski at the Dog House but did not remember details of the conversation. He added that Mr Dombroski had not seemed too upset. Mr Dombroski's body was found in the dry moat at Fort Prospect, near the Bermuda Police headquarters, on March 19. He went missing a day-and-a-half earlier after he left alone after a night out with friends in Hamilton. Mr Dombroski was in Bermuda with a team from St Joseph's University to play in the Ariel Re Bermuda International Sevens tournament. His family were at the inquest. Brendan Mulqueen, another team-mate, told investigators that Mr Dombroski at first seemed to be having a good time at the Dog House. But he said that Mr Dombroski later waved him away when he tried to talk to him. Mr Mulqueen added that he did not notice Mr Dombroski become upset with anyone. He said that he had called Mr Dombroski's phone at around 2.30am after he got back at Warwick Camp but did not get an answer. Mr Mulqueen said that the next day people had talked about Mr Dombroski being in a bad mood due to problems with his girlfriend. Andrew Sullivan, another team-mate, added that Mr Dombroski was "happy" and "excited" when he saw him at the Dog House. But he said Mr Dombroski's mood changed over the course of the night. Mr Sullivan told investigators: "You were able to notice a difference. He seemed like he didn't want any part of the team." He said that Mr Dombroski punched a pillar outside the bar, which he left just before 1am. Mr Sullivan said that he sent Mr Dombroski a text message at about 1.20am after he had arrived back at Warwick Camp because he was worried about him. He added that he and other people had searched the barracks to check if Mr Dombroski had returned. CCTV footage played at the inquest showed Mr Dombrowski's movements from the time he arrived at the Dog House. Footage from inside the club showed Mr Dombroski on the dance floor jumping around and pumping an arm in the air. Detective Constable Christopher Sabean said the footage showed Mr Dombroski consume a drink he had picked up from the stage in one gulp. Mr Dombroski later appeared to have a beer in his right hand. He was later captured on several CCTV cameras as he walked along Front Street in the direction of East Broadway. In a number of the video clips his hand was raised to his head as if he was speaking on a phone. Mr Sabean said that in all the videos "there is no one behind him". Mr Dombroski was last captured on a motion-activated camera on Alexandra Road in Devonshire at about 1.30am. Christopher Milroy, a Canadian forensic pathologist, said in March that a post-mortem examination he carried out had found no evidence of foul play in Mr Dombroski's death. Dr Milroy added that his exam concluded that Mr Dombroski died from a fall from a height. He said at the time that a toxicology exam would also be performed. The inquest continues.

Edmund Kirkland "Kirk" Cooper, a champion sailor and three-times Olympian, has died, aged 86. Mr Cooper founded the accounting firm Cooper and Lines in 1959 with his friend and business partner, David Lines. The company later became a member firm of Coopers & Lybrand, now PwC Bermuda. Mr Cooper, an auditor and financial adviser, retired as a managing partner of PwC. Mr Cooper served on a variety of boards and was awarded the Order of the British Empire in 1986 for his service to the island. As well as sitting on the Civil Aviation Board and Airport Licensing Board in the 1960s and 1970s, Mr Cooper was chairman at the Department of Tourism from 1983 to 1993. He served on the Bermuda Economic Council from 1984 to 1990 and the Bermuda International Business Association, where he was president from 1974 to 1975. Mr Cooper was a founding member as well as president of the Bermuda Yachting Association, and served as commodore of the Royal Bermuda Yacht Club in 1972. He was also chairman on the board of department store AS Cooper & Sons. His widow, Helen, said Mr Cooper was "a great guy who loved Bermuda — he was a man of endless energy". Ms Cooper added: "There were a lot of young people that Kirk helped along the way and his many international clients also became good friends. His personality was just tireless and he was very competitive." Mr Cooper was a champion backstroke swimmer at school but his wife said he was drawn more to team sports. His father, Edmund Cooper, had been among six athletes on Bermuda's swimming team for the 1936 Olympics, and encouraged his son's efforts in the pool. Ms Cooper said: "Kirk preferred to be with crews and his crews all loved him. Kirk also liked sailing because it was technical." His sailing career included three trips to the Olympic Games — Tokyo 1964, where he came close to a bronze medal, Mexico City 1968 and Munich 1972, where Mr Cooper was the flag bearer for Bermuda at the opening ceremony. Mr Cooper was also a regular participant in the Newport to Bermuda race. Mr Cooper said after the 1994 race: "Each time we go out it's a different challenge. You never stop learning. It must be like chess." Sir John Swan, a former premier, said Mr Cooper was "a very dear friend of mine ever since the time I returned to Bermuda and found myself trying to learn more about the island and its establishments". Sir John added: "He was a fantastic sailor. He was an achiever, always trying to figure out how to make things happen. He certainly helped me." Sir John said Mr Cooper helped him secure a bank loan to build the John Swan Building on Victoria Street in Hamilton and aided him as he entered the world of politics. He added: "I has very fortunate to have him in my life. He was a man of great integrity." Sir John added that Mr Cooper was always friendly and a family man. He said: "He was always happiest with his wife and his family." One of Mr Cooper's proudest moments was his selection as the first Bermudian juror for the America's Cup in 1983 — when the challenger Australia II won the trophy. Mr Cooper was inducted into the Bermuda Sports Hall of Fame for his contributions to sailing in 2005. His son, Philip, said: "He was always encouraging and a positive voice, interacting in whatever we were doing growing up — including sports and educational pursuits and career choices." Alexa, his eldest child, said her father had "touched many with his kindness and generous spirit". Mr Cooper is also survived by two other daughters, Dana and Helen, and nine grandchildren. His family said last night that his life would be celebrated with a private family service at Hamilton's Anglican Cathedral.

December 3

The draft Bermuda Plan 2018 has been unveiled for public consultation the Minister of Home Affairs announced today. Walter Roban said the document included ideas for neighborhood improvement — which "may include new recreational areas and community facilities". He added the plan also called for improved sidewalks along routes to schools and "more farmers' markets that we hope will sell more healthy food". The plan, which is open for public consultation until March 15 next year, also included strategies to protect agricultural areas, sensitive habitats and for the designation of new areas of conservation. Mr Roban said another branch of the plan will cover "Bermuda's unique cultural heritage", as well as "issues of climate change, and the need to incorporate sustainable design principles". All planning application from today will fall under the scope of the plan, which can be found at the planning department website here.

Loan sharks have worsened the problems of people in financial difficulty, the House of Assembly heard. Wayne Furbert, the junior finance minister, said he knew of cases where $10,000 loans become $66,000 debts in just a year, and that action was needed. He added: "This has been going on from year to year to year. Our people have been ripped off." Mr Furbert said: "Sometimes you just happen to run into problems. Lose your job and cannot pay. You are struggling. What can you do? We are in an unforgiving society in many aspects and it's time to recognize that if it wasn't for the grace of God, some of us would still be in that same position." He was speaking on Friday as the House debated and passed the Debt Collection Act 2018, designed to create a framework to regulate debt collection. Walter Roban, the Minister of Home Affairs, said the new law would help protect consumers from predatory debt collection practices. He said: "This bill seeks to introduce fair business practices that will provide a level playing field for creditors and debtors." Mr Roban explained the bill was made up of five components. The bill would create a licensing authority for debt collector agencies and establish regulations to prohibit unfair practices. The legislation was drawn up to also promote financial transparency, establish complaint procedures and create both offences and a right of appeal to a debt collection tribunal. Mr Roban added: "Government oversight will be accomplished by a comprehensive licensing regulation framework for those entities engaging in debt collection under the newly created debt collection authority. The authority will consist of officers within Consumer Affairs. The regulatory functions include, but are not limited to, oversight, licensing, education, investigation and enforcement." The legislation also caps a creditor's commission to a one-time payment no higher than 20 per cent of the original debt amount and includes rules for a maximum two per cent monthly administration fee on the outstanding balance, which would only be payable if costs are incurred by required communication with the debtor in that period. Mr Roban said the bill was appropriate because it came at a time of year when many people spend more than they should. He added: "We must ensure that we are not spending to the point where we are broke and worrying how to pay our bills in the new year. Oftentimes we are our own worst enemy, amassing debt that we cannot pay. Sometimes, however, we incur debt that is of no fault of our own." Leah Scott, the Shadow Minister of Tourism and Transport, backed the legislation and added that education needed to be a key part of helping people avoid getting into too much debt. She said: "The reality is times are still rough for people. There are people that don't have jobs and we have to do things that assist people as much as we can." Jeanne Atherden, a One Bermuda Alliance backbencher, said that a balance needed to be struck to ensure that people are protected, but individuals and businesses are not harmed by "highflying" debtors who choose not to pay. And she questioned why a separate licensing authority needed to be created instead of giving responsibility to the Consumer Affairs Board.

Today's broken world needs more leaders with the personal touch of George H.W. Bush, his close ally Sir John Swan said yesterday. Former American president and "friend of Bermuda" Mr Bush, who died at his Texas home on Friday aged 94, was remembered by Sir John for his integrity, loyalty and willingness to build human relationships. Sir John, the Premier of Bermuda from 1982 to 1995, also recalled how the President's friendship with the island helped stand it in good stead on the international scale. He told The Royal Gazette: "I was very fortunate to be around at a time when a president was for all people. Integrity was his greatest asset. We knew where we stood at all times. It's what you want in a leader, particularly in a time like this, when the world is a bit fallen apart and needs to stitch itself back together. Our leaders have got to build relationships with all people. If not, we will end up with a bunch of individuals with his own agenda. We should be our brother's keeper. I learnt a lot from him." Mr Bush, who served as the 41st President of the United States between 1989 and 1993, visited Bermuda for the Good Friday Summit in 1990, along with British Prime Minister Margaret Thatcher, to discuss the collapse of the Soviet Union. It was part of a continuing series of talks between Western Allies who were attempting to keep abreast of the radical developments in Eastern Europe and the Soviet Union. He was in Bermuda again in 1991 for a meeting with British Prime Minister John Major, after the allied defeat of Saddam Hussein in the first Gulf war. Sir John had been friends with Mr Bush since his days as Vice-President in the 1980s. The pair had established a rapport when Sir John was rallying US President Ronald Reagan to support negotiations, which led to the 1988 US Bermuda Tax Treaty. Sir John said: "He was a very special person. He was the most loyal person I have ever known sit in the high office if he was your friend, which he was mine. He included me in everything he did, not only physically but also his thoughts. I had the great privilege of doing many, many things with him. We both had a lot of laughs together and a lot of meals together. I was very fortunate to know a man who helped mould my thinking on an international scale and also a human scale. He could make you laugh but at the same time when he was serious, he could get very focused." Sir John said Mr Bush was 100 per cent behind the US Bermuda Tax Treaty. He said: "He was very much a friend of Bermuda. He liked Bermuda. He liked the people and liked what he saw here. He liked what we did to steer our country with fiscal responsibility but also with a social conscience. It's important that in Bermuda we build very strong international relationships on a personal basis, so that when we need support that we have someone to turn to." Mr Bush's 1990 visit included a lighter note, in which he and Mrs Thatcher took part in traditional kite flying on Government House grounds. The media reported how Mr Bush joked that he was one of the better kite flyers in Washington. He told reporters: "I'm often told to go fly my kite. And I have a bunch of them." Mr Bush also declared he would make the most of his trip to the island paradise by playing golf, even if the forecast of rainstorms proved correct. He said: "If it rains, I'm going to play. I'm going to play golf." During that visit, Sir John and Lady Swan hosted a gala dinner for Mr Bush and Mrs Thatcher at Camden, the Premier's official residence. It was one of many occasions Sir John got to know the President's true personality. Sir John said: "The most important thing about him was that he was the most loyal soul you could ever meet. He was the most humanitarian individual you ever come across. If you really got to know him, you found he had a wonderful humanitarian streak. He loved his wife to death. Those two just really enjoyed each other's company. His passing is sad, but I would rather him go in peace as he brought so much peace to the world. I send my sincere condolences to his family. I know them well. I know this is a sad time, but we all must pass. He chose to say goodbye when he could say goodbye. This is one of the greats passing on." Walter Roban, the Acting Premier, extended condolences to the US on behalf of Bermuda. Mr Roban wrote in a letter of condolence to US Consul General Constance Dierman: "Over the next several days, President George H.W. Bush's legacy will be remembered for many things. And among them we will remember his passionate belief of collaborating with domestic and global allies to address the challenges facing our world. Bermuda's thoughts are with the Bush family at this sad time. "Ms Dierman said: "President Bush embodied the virtues of public service, selfless dedication, and humility. He was a patriot, and everything he did in life was directed to helping the American people and to building and growing relationships around the world, especially here in Bermuda." A condolence book is open to the public today, tomorrow and Thursday, from 1pm to 4pm, at the Consulate General, Middle Road, Devonshire. The Consulate will be closed for a day of mourning on Wednesday. All appointments will be rescheduled. For emergencies, call 335-3828.

The 2018 hurricane season has come to an end, with Bermuda escaping any direct impacts for the second consecutive year. James Dodgson, the director of the Bermuda Weather Service, said the area around the island has been "relatively" quiet this year, with no sustained tropical storm force winds reported. However, Bermuda's shoreline did feel some of the effects from passing storms. Mr Dodgson said: "Distant tropical cyclones did generate some locally significant ocean swells, as well as elevated surf and rip currents, especially along our South Shore beaches. In fact, if you were down at Elbow Beach after the relatively recent passage of Hurricane Oscar, you would have noticed some very significant beach erosion, especially towards the eastern end of the public beach. Several feet of sand were eroded away, leaving underlying rock exposed." The 2018 hurricane season ended on Saturday. There were 15 named storms over the course of the season, with eight reaching hurricane strength and two becoming "major" hurricanes. Hurricanes Florence and Michael caused significant damage in the southeastern US but Mr Dodgson said that, unlike 2017, the Caribbean avoided any major impacts. He said: "This was due to plenty of wind shear in that area, which can at least partially be attributed to a developing El Niño — as highlighted in some of the long-range seasonal forecasts. The fact that Bermuda did not have any direct impacts this season is largely down to natural climate variability. This season, we were mostly protected by the Bermuda side of the Bermuda-Azores ridge of high pressure, and even that only kept some significant hurricanes around 400 miles away from us." Mr Dodgson added: "Tropical cyclones can affect our area outside of hurricane season, but if we do get any tropical impacts outside of the season, the systems are more typically subtropical in nature." He said residents should remember to be cautious as even a slow hurricane season can have devastating consequences. "Whatever the long-range forecasts might be, it is always imperative to be prepared."

The Ministry of Public Works is advising that during the week of 10 December, 2018, it will conduct its Biannual Septage Disposal Operations. These operations may result in unpleasant odors being experienced in the residential areas surrounding the Marsh Folly Composting Facility. Despite the unpleasant odor, the Ministry assures there are no environmental risks to area residents. For the public's reference, the operations process is as follows:
The Tynes Bay Septage Receiving Facility collects residential and commercial cesspit waste from around the Island. Every six months, the Tynes Bay Septage Receiving Facility is required to remove these waste solids and transport it to Marsh Folly. The Ministry uses best health and safety and environmental practices while executing these procedures.
The Ministry would like to thank the public for their patience, co-operation and understanding while these necessary works are conducted.

A former senior magistrate and Supreme Court puisne judge will join a well-known law firm after he retired from the bench. Archibald Warner is to start his role as a consultant senior counsel at Chancery Legal in the coming weeks. The "boutique" Bermuda company is headed by Mark Pettingill, a high-profile litigator and former attorney-general. Mr Warner served as senior magistrate for 14 years before he stepped down in 2014. His career has also included work as a police officer, prosecutor, defence lawyer and puisne judge in the Supreme Court. Mr Warner said he would continue to take the bench as a magistrate for another two years after retirement from the senior post, but he was still presiding over cases until just a few months ago. He and Mr Pettingill first worked together for a short spell in the Attorney-General's Chambers and they continued to cross paths in the years that followed as both pursued defence lawyer careers in the private sector. Mr Pettingill recalled: "Archie was doing a lot of interesting work and doing so many jury trials and just winning them continuously." Mr Warner later moved to the bench and many consider he played a key role in helping shape Bermuda's judiciary. Mr Pettingill told The Royal Gazette: "For me, Archie was one of those magistrates and judges that made you bring your 'A' game, which is always good. Just firm but fair, but you had to bring your 'A' game or you were going to get short shrift. That was certainly helpful to me as a lawyer. Any judge or prosecutor that gets you to do that is significant to your own development. I think a lot of junior lawyers probably got a lot out of the fact they had to go in and be top drawer. He still clearly has the passion and the drive — I'm more concerned about keeping him in check, that he doesn't try to do too much. I think with that depth and wealth of knowledge that he has, not just in the criminal aspect but on administrative and constitutional matters, he has an in-depth knowledge of that area of law and a great love for it so that is significant to bring to a practice like ours." Mr Pettingill's recent work has included representing Roderick Ferguson in the landmark ruling by the Court of Appeal that made same-sex marriage legal again, upholding an earlier decision by former Chief Justice Ian Kawaley, who struck down parts of the Domestic Partnership Act. He described co-workers Mathew Kelly and Katie Richards as among the island's top real estate, conveyancing and matrimonial lawyers respectively. Mr Warner was honored by his court colleagues when he stood down from his senior role in October 2014. His successor, Juan Wolffe, said at the time that the esteemed magistrate had "presided over the vast majority of the most serious, complex and complicated legal matters that have come before any of the courts since his appointment" and also helped shepherd the courts through legal reform. Mr Warner said last week: "Having now retired from the 'bench', it is my intention to continue to contribute to the legal profession in Bermuda. Law is my passion, and working with Mark Pettingill at Chancery Legal, a progressive law chambers, would be like the old days when we practiced together at the criminal bar."

Health minister Kim Wilson called on Bermuda to strive towards inclusion for all as she promoted International Day of Persons with Disabilities. A press release from the ministry follows: "Earlier today, Ageing and Disability Services of the Ministry of Health had a meet and greet in Front of the National Library in Hamilton to commemorate the International Day of Persons with Disabilities. Since 1992, the United Nations International Day of Persons with Disabilities (IDPD) has been annually observed on 3 December around the world. This important observance aims to increase awareness and promote the rights of persons with disabilities. The theme for this year's IDPD is "Empowering persons with disabilities and ensuring inclusiveness and equality". This theme focuses on the empowering persons with disabilities for the inclusive, equitable and sustainable development envisaged in the 2030 Agenda for Sustainable Development. Minister Wilson said, "The right to work is a fundamental human right. However, persons with disabilities are often not considered for employment due to negative perceptions regarding their ability to contribute or the high cost of accommodating their disability or inaccessible workplaces. Through the use of adaptive and assistive technologies, and other reasonable accommodation measures, persons with disabilities make a valuable contribution in the workplace. And, with the use of the right technologies, persons with disabilities are able to perform well in their jobs. The international Day of Persons with Disabilities is drawing attention to the available technologies and measures that can be adopted to create work environments that are open, inclusive and accessible to allow persons with disabilities to fully participate and contribute to the workforce. "This year's theme, "Empowering persons with disabilities and ensuring inclusiveness and equality", focuses on empowering persons with disabilities for an inclusive and equitable participation as part of the 2030 Agenda for Sustainable Development. The 2030 Agenda pledges to "leave no one behind". Persons with disabilities, as both beneficiaries and agents of change, can fast track the process towards inclusive and sustainable development and promote a resilient society for all, including in the context of disaster risk reduction, humanitarian action, and urban development. This important observance aims to increase awareness and promote the rights of persons with disabilities. These issues are as meaningful in Bermuda as in larger jurisdictions, as the well-being of affected individuals and their families is impacted in all spheres of society. We must continue to focus our attention on ability, rather than disability. Given Bermuda's scarce resources – especially human resources – it is essential that we ensure that everyone can make a contribution to society. We must not limit ourselves by putting barriers and restrictions in front of people. What we must do is to strive towards inclusion for all. It is important to continue to advance the situation of persons with disabilities in every aspect of life."

The Regulatory Authority of Bermuda got about 800 responses from a public consultation on Bermuda's blueprint for power generation in the future. The six-month consultation period on the Integrated Resource Plan ended on November 30. A spokeswoman for the authority said tonight that the majority of submissions were "copies of a template response provided to the public by one of the eight commercial entities that submitted a proposal for alternative generation technologies, BE Solar". The energy industry watchdog has posted many of the responses on its website here, including drawings submitted by children. The rest will be added this week. The spokeswoman said the RA has started to analyse all the proposals and the public on their technical, economic, environmental and social merits.

Stevedoring Services Ltd, operator of Hamilton docks, is changing rules for vehicle importers, to the effect that they will no longer be able to bring mechanics onto the dock to service an imported vehicle. Effective immediately, importers of self-propelled vehicles will be required to utilize SSL staff for services to vehicles as needed prior to collection from the Hamilton Docks. Vehicle importers were alerted to the new policy in October. Warren Jones, chief executive officer of Polaris, parent company of SSL, said: "It will no longer be permissible to bring a mechanic on the dock or carry out any service to a vehicle prior to it leaving the dock. These represent billable services which will be carried out by SSL staff going forward. It will be permissible to tow a vehicle off the dock without incurring a charge, if an SSL mechanic is not involved." The charge for a mechanic in straight time is $47.41 per hour or part thereof and fuel will be charged at the tariff rate of $8.61 per gallon. SSL also released 2019 tariff rates.

Bermuda-based insurers and reinsurers have strengthened their resilience to potential catastrophe events by marginally decreasing their net exposure to such events, while also increasing the amount of capital and surplus they hold. That is one of the takeaways from the Bermuda Monetary Authority's third annual "Catastrophe Risk in Bermuda" report. Craig Swan, managing director, supervision (Insurance) said: "Bermuda is predominantly a wholesale reinsurance market offering a variety of risk transfer solutions, covering life and annuity, speciality and catastrophe risks. Evidencing the magnitude of the catastrophe capacity that Bermuda (re)insurers supply, it is noted that the industry paid $30 billion in claims to mainland US and Puerto Rico alone for Hurricanes Harvey, Irma and Maria in 2017. With such a relatively high concentration of catastrophe risk in Bermuda's market, a broad understanding of the potential adverse impacts, including identification of any concentration risks and catastrophe modelling practices in Bermuda, is central to the BMA's supervisory framework. This information is also important to Bermuda (re)insurers and other stakeholders and markets around the globe." Giving a high level overview of the report, Mr Swan said the (re)insurers' 2017 filings to the BMA indicated their continued resilience to major, but improbable, catastrophe events and the sophistication and advancement of catastrophe modelling practices in Bermuda. "This underscored the reputation of Bermuda (re)insurers as being generally well capitalized and technically proficient," Mr Swan said. "Compared to 2016, this year's net catastrophe exposure slightly decreased by about 2 per cent, while the (re)insurers have increased their statutory capital and surplus by 12 per cent. Consequently, the overall industry's resilience to potential catastrophe events has further strengthened compared to last year. In addition, the global share of gross estimated potential loss assumed by Bermuda (re)insurers on major catastrophe perils (combined) increased by about 2 per cent," he said. "The increase in the statutory capital and surplus and global share are largely attributed to the inclusion of more (re)insurance entities in the survey." The report also reviewed cyber-risk stress testing and the analysis shows that the (re)insurers' own defined worst impacts from cyber-risk would have a minimal effect on their statutory capital.

One of the biggest opportunities for Bermuda reinsurers will be to take more risk off the shoulders of taxpayers around the world, delegates at a conference in Hamilton heard. John Huff, chief executive officer of the Association of Bermuda Insurers and Reinsurers, said even a slight closing of the protection gap, illustrated by the difference between insured and economic losses from disasters, would make a huge difference. "A change by just 1 per cent in the insurance penetration rate could reduce the natural catastrophe costs to taxpayers by 22 per cent," Mr Huff said, speaking at the EY Global (Re)Insurance Outlook event last week. Several US public-sector organisations have already taken advantage of some private reinsurance. For example, the Florida Hurricane Catastrophe Fund, which has bought $1 billion worth or private reinsurance for the past four years in succession. The National Flood Insurance Programme benefited from a $1.46 billion traditional reinsurance programme, as well as a $500 million catastrophe bond, this year. And the California Earthquake Authority's private reinsurance programme passed $8 billion for the first time this year. Mr Huff sees the potential for much more. "I'm bullish on Bermuda with a theme of de-risking government around the world," he said. "With the abundant capital that's in our space, can we de-risk the taxpayers?" He cited the examples of flood, earthquake, terrorism, crop and mortgage risk. "Who's holding this risk today?" Mr Huff said. "Most of the time it's taxpayers and the private sector's ready to take some of it." Fellow panellist Ryan Mather, Argo Group's head of global reinsurance, saw further growth opportunities in finding solutions for covering the intangibles that make up the bulk of the value of modern corporations. "Back in 1975, 87 per cent of the value of the S&P 500 was tangible assets — property and inventory," Mr Mather said. "Now about 10 per cent of the S&P 500's value consists of tangible assets. The rest is intangible and we need to find a way of reinsuring that." Mr Mather added that anticipated an increase in rates in 2019, given some rattling of market confidence this year. Rates had not risen significantly this year, despite the massive losses from hurricanes Harvey, Irma and Marie in 2017, he said, as even more capital flooded into the market than that lost to catastrophes. Hence rates did not rise as anticipated. With more losses this year from typhoons in Japan, Hurricane Michael in Florida and yet more California wildfires, the confidence of some industry investors was flagging. "This might be the reverse tipping point," Mr Mather said. "This might be when some of the capital that shouldn't be in the industry might go and try other things. The narrative is changing: so I'm hearing 'two bad years in a row', 'interest rates are going up, making the risk-return hurdle higher', and 'are reinsurance rates ever going to go up again?'" In addition, he said, the effectiveness of models had come into question from the successive "once-in-a-century" wildfire years and the losses from 2017's Irma proving to be much worse than expected, the latter involving what was thought to be the best-understood catastrophe risk, Florida hurricane. "For that reason, I think we're going to see rate increases next year," Mr Mather said. Fiona Luck, a non-executive director of the Lloyd's of London Franchise Board and a former C-suite executive with XL Group, said conversations between underwriters and brokers or clients would determine whether rates would rise. "I think we can't get ahead of ourselves," Ms Luck said. "These are increases over a very, very low level and the old model of having significant, fabulous increases that work for us over a long period of time are probably at an end. Capital is efficient in this market — it comes in when there's a need." Patrick Tannock, CEO Bermuda, Axa XL, said: "I think the traditional cycle has been dead for a long time and I think the inflection point was probably the Japanese tsunami. In 2011, we had losses of over $100 billion and nothing happened. It used to be that you could set your clock to that and automatically have a hard market. We've had this predicament for some time in that we haven't had that balance with respect to exposure and the rates that are available. I don't think anyone is afraid of volatility, we just want to make sure we get paid for it." Progress on realizing the oft-stated need for more diversity among the industry's ranks is still proving to be slow, the panellists agreed. Ms Luck believed the island could play a significant role. "There has been pressure from shareholders for more diversity but the fact is we're not doing well enough," Ms Luck said. "My challenge to Abir is, we in Bermuda are a leading jurisdiction — let's make this part of our leadership and let's really make it a priority." She said there had been big efforts to promote the industry in schools and to urge young people to get educated to take career opportunities. Even those who did shine academically were finding it difficult to land jobs, she added, citing two of her mentees who had passed two actuarial exams and had still struggled to find work. "We have to find a better way, once they have got an education, of knowing where they are," Ms Luck said. "Many of them go overseas to look for opportunities. I sit on the board of Knowledge Quest [the Bermudian charity]. We have put 180 young people through university over 18 years. These are people whose families have never been to university and who's mum or dad works three jobs, just to get through the process. I think there's a trick we're missing and that's capturing data more thoroughly to help us get there. Having said all this about promoting Bermudian talent, we've also got to be open to immigration, to bring in that talent. That's what built this industry and we still have to be open to that." Mr Tannock said scholarships were helpful in getting young people in the door, but once there they needed a higher level of support. "Bermuda was built on having an enabling environment for the free flow of high-quality intellectual capital," Mr Tannock said. "But you've got to balance that by developing Bermudians as well. It's a fool's errand to perpetuate this situation where a certain demographic does not believe they have a chance to participate in the economic engine of the country. That's just going to result in tears. Diversity measurably improved problem-solving, decision-making and cultural awareness in companies, he said. "Here's a news flash. The world is becoming a lot browner, so people need to get on the bus. We're making progress but there's a lot of work to be done."

A new education campaign designed to boost knowledge about asthma was sparked by the tragic death of a young boy in Britain. Open Airways, an island asthma charity, is offering the Support Children's Health-Asthma online course. The George Coller Memorial Fund and Education for Health UK created the programme. It was launched by Kim Douglas in 2000 after the death of her son, George Coller, who was 3 and died in his sleep from asthma in 1996. A spokeswoman for Open Airways said that 20 per cent of children and 10 per cent of adults in Bermuda had asthma. She added: "Many of these children and adults have uncontrolled asthma, which results in asthma attacks and potentially asthma deaths." The spokeswoman said it was estimated that more than 1,000 people died globally from asthma each day. She added: "The majority of these are children of young adults and, tragically, most of these deaths were preventable." The online module covers areas such as how to recognize an asthma attack and what to do if an attack strikes. The free course, aimed at people who work with or have children with asthma, takes about an hour to complete. A certificate can be printed after the course work is completed. The course is offered in a link-up with insurance firms Argus Group and BF&M. For more information, visit openairways.com.

St George's Harbour was lit up this weekend as the East End hosted its first Christmas Boat Parade. Hundreds of people gathered in St George to take in the festive atmosphere. Quinell Francis, the Mayor of St George, said: "The town enjoyed their first boat parade and it was quite a successful event. The town is decorated for the season, which sets the environment for all the festive activities, and the boats in the parade were absolutely lovely." Ms Francis added: "The positive comments received are great. I would like to thank the organisers for having the vision and the patience to ensure it became a reality. They were determined to have the boat parade this year after discussing it for quite some time, and it is great to see what vision and determination looks like. The Corporation of St George supported the event and also incorporated Santa coming to town, so all the children were able to get a bag of goodies."

The Hamilton Princess & Beach Club's pastry team have unveiled their Candy Gingerbread House in the hotel's lobby to celebrate the holidays. At 7ft tall, 5ft wide and long, this year's creation is large enough for several children to enter at once and is the biggest Gingerbread House to date at the hotel. The baking and construction of the piece, led by Pastry Chef Fhonthip Jones, involved twelve members of the pastry and engineering teams at the hotel and took two weeks to complete. The Candy Gingerbread House is made from 550 tiles of gingerbread and weighs approximately 360lb — about the weight of a reindeer! The tiles of gingerbread are made from a special recipe including icing sugar, flour, eggs, shortening, molasses and a secret blend of spices which combine to create a sturdy and intensely scented structure. The outside of the Candy Gingerbread House is decorated with a wide varieties of confectioneries and cookies, sure to give anyone who sees it sweet-tooth, and features a traditional Bermuda chimney. Ricardo Cera, Executive Chef at Hamilton Princess & Beach Club, said: "We're thrilled with the way that this year's Gingerbread House has turned out, bigger and better than ever. It is one of the first things that guests will see when they come into the hotel and it smells incredible. We invite the public to come and check it out and get some seasonal snaps and create some great holiday memories."

December 2, Sunday

December 1

The cost of a top London barrister for the Government's battle against same-sex marriage was "greatly exaggerated", the home affairs minister said yesterday. Walter Roban said that the estimated fee for James Guthrie QC was $61,188 — not the $200,000 to $400,000 suggested by sources. Mr Guthrie appeared for the Government in a Court of Appeal case, which also involved Rod Ferguson and others, who sought to restore marriage equality in Bermuda after it was removed by a law designed to replace marriage for gay people with a civil partnership arrangement. The appeals court ruled in favour of a restoration of same-sex marriage, although the Government could still take the case to the Privy Council in London, the island's final court of appeal. The home affairs ministry said: "On November 26, the Minister of Home Affairs committed to the public that, once a final figure has been determined regarding the appeal, he would provide that figure. Government is not yet aware of any costs filed by the opposing counsels." The ministry said the cost of Mr Guthrie's legal services was $53,339.80, with another $7,848.21 spent on travel and accommodation.

Acting Premier Walter Roban has extended condolences to the United States on behalf of Bermuda after the death of former American president George H.W. Bush. Mr Bush, who served as the 41st US president between 1989 and 1993, died at home in Houston, Texas, on Friday night, aged 94. He visited Bermuda for the Good Friday Summit in 1990, along with British prime minister Margaret Thatcher, to discuss the collapse of the Soviet Union. Mr Roban noted the two leaders had taken part in traditional kite flying on Government House grounds. The Acting Premier wrote in a letter of condolence to US Consul General Constance Dierman: "On behalf of the Government and people of Bermuda, I extend condolences on the passing of former president, George H.W. Bush. As the 41st Commander in Chief, Bermuda acknowledges president Bush's service and contributions to the United States and the global community. Many residents will recall when president Bush and British prime minister Margaret Thatcher met in Bermuda for the Good Friday Summit in 1990, to discuss events associated with the collapse of the Soviet Union. Residents will also fondly remember during that time, that the two leaders engaged in our quintessential Bermudian tradition of kite flying on the Government House grounds. Bermuda was pleased to host this historical occasion. Over the next several days, president George H.W. Bush's legacy will be remembered for many things. And among them we will remember his passionate belief of collaborating with domestic and global allies to address the challenges facing our world. Bermuda's thoughts are with the Bush family at this sad time."

Mobility aids for seniors' homes and rest homes will get a pass on customs duty under legislation approved yesterday in the House of Assembly. Curtis Dickinson, the Minister of Finance, will also get ministerial discretion over a separate tax break to allow a 5 per cent duty rate on goods for local commercial manufacturing. But Rolfe Commissiong, the Progressive Labour Party backbencher, sounded a warning over the island's ageing population. Mr Commissiong said the Customs Tariff Amendment (No 3) Bill 2018 was "welcome". But he added: "Let's not delude ourselves — this is not enough. We have, facing us, a demographic tsunami that is going to overwhelm Bermuda unless we step up the pace." MPs heard that the tax break on appliances and fittings for seniors, which would extend to rest homes, was a promise from a speech delivered by David Burt, the Premier, in July. Mr Dickinson made an amendment from the floor of the House to extend the duty relief to the disabled as well, which was backed by MPs from both sides. He said the Department of Ageing and Disability Services would oversee the certification of goods qualifying for duty relief. The concessions will apply to new and existing rest homes as well as private homes. Kim Wilson, the Minister of Health, said the cost of living in a care facility was "crippling" and averaged $5,000 to $11,000 a month. She added discounts to materials for ramps and aids such as stair lifts, standing tubs and grab bars for seniors would help the elderly remain at home. Derrick Burgess, the Deputy Speaker, told the House that the Government had fielded a request earlier this year from a rest home bringing in appliances and requesting a tax exemption. Mr Burgess added: "At the time, it could not be done — but the Premier promised me he would fix it." Mr Dickinson was questioned by Opposition MPs about the minister's power to approve discounts on imports for local manufacturing. He told the House: "Existing legislation allows for any and all goods — the proposed amendment closes that loophole."

A top lawyer said yesterday the Attorney-General was wrong to accuse The Royal Gazette of publishing a "misleading" article about changes to a law designed to protect vulnerable youngsters in court. Kathy Lynn Simmons, also the legal affairs minister, insisted that the rights of children were not being eroded by changes to the 1998 Children Act on the appointment of litigation guardians to protect young people. Ms Simmons added that "contrary to the statement from the Human Rights Commission, the rights of the child are not being eroded as the current section 35(1) of the Children Act 1998 does not make it mandatory for the court to appoint a litigation guardian". But the legal change — where a court "may" consider the appointment of a litigation guardian rather than "shall" consider under the present Act — was challenged by Mark Diel, a lawyer with Marshall Diel & Myers. Mr Diel — also quoted in The Royal Gazette article on the law change on Thursday — said: "The point I was making — as accurately quoted in the article — is that the effect of this section as it currently stands is that the court has a duty to consider whether or not to appoint a litigation guardian in every case. It may be that in some cases there may be no need to appoint a litigation guardian, for example where the child has a lawyer retained for him or her by the parents. But it's pretty obvious that in most cases concerning vulnerable or at-risk children that a litigation guardian should be appointed. So the Attorney-General's point about the existing section as it stands doesn't result in a mandatory appointment of a guardian is strictly speaking correct — but that wasn't the point to start with." Mr Diel added: "With the current wording the court has to consider this – there is no need for an application. With the amended wording it says that the court 'may determine as to whether a litigation guardian should be appointed. It's about the court considering whether or not to appoint a guardian and, frankly, in most cases one should be." Mr Diel also questioned why the wording of the Act was changed at all if the intent was not to water down existing protection. He was speaking after the Children Amendment Act was tabled in the House of Assembly yesterday. The revised Act was tabled in the House by Kim Wilson, the health minister, as Ms Simmons sits in the Senate. The Attorney-General said on Thursday: "The Bill seeks to remove ambiguity concerning the appointment of litigation guardians and strengthen the existing framework that assigns a litigation guardian to children whose custody, care or control is before the courts. The new framework establishes a licensing regime for litigation guardians. This regime will require persons wishing to be appointed as litigation guardians to possess relevant qualifications and submit applications to the existing statutory Child Care Placement Board. The board, whose remit will be expanded, will review applications and issue a licence. A person who is granted a licence will be added to a register of licensed litigation guardians to be established and maintained by the Minister of Legal Affairs. The court will appoint persons from the register to represent the interests of children. Provision is also made for remuneration of the litigation guardian. The amendments will also provide structure with regard to the appointment and remuneration of counsel." Mr Diel said on Thursday that there was a Constitutional requirement to a fair hearing. "Someone needs to explain why some children may not get the protection of a litigation guardian application and others will." Mr Diel also questioned where the ambiguity was in the present version of the Act and asked if Ms Simmons could explain how the amendment would fix it. He also queried who would make a litigation guardian application if a child — who might not even be in the courtroom —was not already represented. Mr Diel welcomed an amendment to set fees for litigation guardians but asked if "less than a third of the amount currently paid, for example, under legal aid provisions" was enough and how the figure was arrived at. The fee was $90 in the draft Bill seen by The Royal Gazette earlier this week but was listed as $75 in the Bill tabled in the House of Assembly.

Head teachers have demanded details of plans to axe the island's middle schools. Ed Ball, general secretary of the Bermuda Public Services Union, said yesterday that school principals wanted more information about the Government's proposal to phase out middle schools in favour of "signature" specialist schools at the senior level. Mr Ball said: "Specifically, principals want to be provided access to the research that supports this proposal." He added: "Clarification is needed on whether there will be school closures and what will be the impact on staffing levels." He was speaking as it was confirmed that work-to-rule industrial action started by head teachers last month would continue. Mr Ball said that "principals will strictly adhere to the spirit of their job duties and responsibilities as outlined in their job descriptions". He added that the prime mover behind the industrial action was "the increased incidents of adverse student behaviors, which are compromising the safety of students, teachers and principals, and must be addressed". Mr Ball said head teachers and school staff were dealing with behavior that should be referred to internal specialists, including educational therapists and para-educators. He said: "As there is an acute shortage of these services in many of the schools, staff are not equipped, and do not have the resources or clear guidelines, to address disruptive students. As a result of these behaviors, students, school staff and principals are becoming traumatized. Unfortunately, some parents are adding to the stress because they are unaware of the gravity of their child's behavior that is creating an unsafe environment. This is unacceptable." Mr Ball said that the special needs of some students made it impossible for them to be enrolled in private schools. He added: "Principals recognize that the Government is committed to assisting these special needs students, however, this must be done with the appropriate resources." Mr Ball said there had also been an "increased usage of administrative leave" imposed on teachers and school staff who attempted to "physically control an at-risk child". He added: "This punitive measure against the principals, teachers and support staff is not sustainable." Several other concerns were raised by the union, including staff shortages, lack of resources and curriculum changes. Mr Ball said that the profession's concerns "must be addressed immediately". He added: "The principals have had enough."

An accountant jailed for swindling $1.8 million from the Bermuda Government has had 18 months added to his sentence for cheating his mother out of nearly $64,000. Now, Jeffrey Bevan has had 18 months added to the seven years and four months he was sentenced to in January for the Bermuda offences. Cardiff Crown Court heard Bevan, 51, kept the cash after he told his mother Lavinia he would invest it for her. The offence took place between 2013 and 2014 when Ms Bevan, who has since died, was aged in her seventies. Bevan, 51, from Ty Canol, Cwmbran, Wales, was found guilty of the offence by a jury. Judge Michael Fitton QC told Bevan: "You deliberately targeted your elderly mother whose faculties were diminishing. It was a cynical offence for your own benefit." A victim impact statement by Bevan's brother Jason said: "If my mother were alive today, she would have been appalled by Jeff's actions." Judge Fitton said: "The victim personal statement shows this was a deeply distressing event for your family. This was committed by someone who is intelligent and who was employed as an accountant. This remains a deeply unattractive and selfish offence." Bevan pleaded guilty at the same court in January to three charges of the transfer of criminal property and ten charges of converting criminal property. The offences took place between 2011 and 2013 when Bevan was employed by the Bermuda Government as a payments manager. The court heard at the time that he used the cash to pay off a $179,000 mortgage on his home, invest in 11 other properties and buy two Mercedes Benz cars. Bevan, who earned about $102,000 in Bermuda, claimed the $1.8 million was payment for his work on the island for the Accountant-General's office, where he was hired to implement a new finance system. He committed the offence involving his mother after he returned to the UK. Judge Fitton ordered that the 18-month sentence for the offence should be served after Bevan's jail term for the island offences ended.


Last Updated: December 11, 2018
Multi-national © 2018 by Bermuda Online. All Rights Reserved