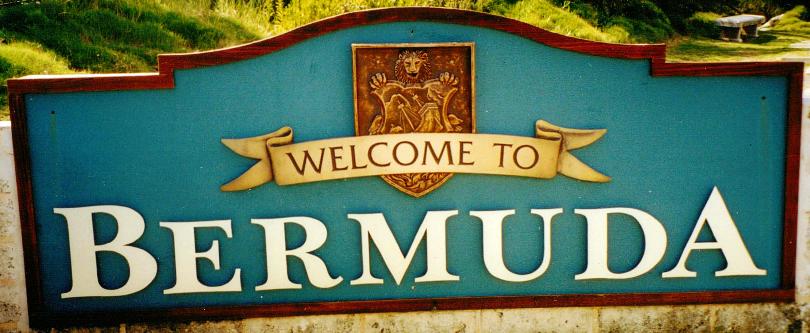 Click on graphic above to navigate the 165+ web files on this website, a regularly updated Gazetteer, an in-depth description of our island's internally self-governing British Overseas Territory 900 miles north of the Caribbean, 600 miles east of North Carolina, USA. With accommodation options, airlines, airport, actors, actresses, aviation, banks, beaches, Bermuda Dollar, Bermuda Government, Bermuda-incorporated businesses and companies including insurers and reinsurers, Bermudians, books and publications, bridges and causeway, charities, churches, citizenship by Status, City of Hamilton, commerce, communities, credit cards, cruise ships, cuisine, currency, disability accessibility, Devonshire Parish, districts, Dockyard, economy, education, employers, employment, environment, executorships, fauna, ferries, flora, former military bases, forts, gardens, geography, getting around, golf, guest houses, highways, history, historic properties, Hamilton, House of Assembly, housing, hotels, immigration, import duties, internet access, islands, laws, legal system and legislators, main roads, marriages, media, members of parliament, money, motor vehicles, municipalities, music and musicians, newcomers, newspaper, media, organizations, parks, parishes, Paget, Pembroke, performing artists, residents, pensions, political parties, postage stamps, public holidays, public transportation, railway trail, real estate, registries of aircraft and ships, religions, Royal Naval Dockyard, Sandys, senior citizens, Smith's, Somerset Village, Southampton, St. David's Island, St George's, Spanish Point, Spittal Pond, sports, taxes, telecommunications, time zone, traditions, tourism, Town of St. George, Tucker's Town, utilities, water sports, Warwick, weather, wildlife, work permits.

Bermuda's 2018 April History and Newspaper Reports
Events that made headlines in the fourth month of the current calendar year
By Keith Archibald Forbes (see About Us).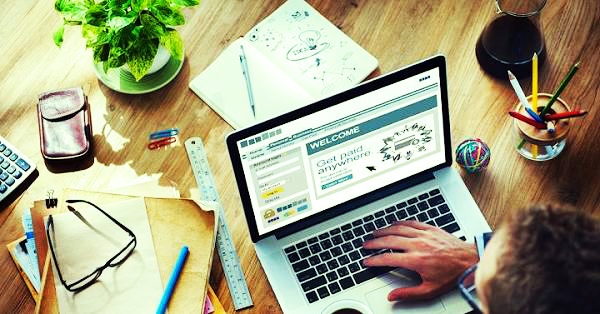 Benefit of website linkage to Bermuda Online while traveling
See at end of this file all our many History files
Bermuda's Royal Gazette newspaper is not published on Sundays or Public Holidays.
April 30

The airport has reopened tonight after a small private aircraft crashed on the runway this afternoon. Aaron Adderley, president of Skyport, confirmed that LF Wade International Airport had reopened in a statement released at about 9.15pm. The crash happened at about 5.30pm. Mr Adderley said: "The pilot walked from the aircraft unassisted, but was taken to King Edward VII Memorial Hospital with non-life-threatening injuries." There were no passengers on board the plane. The damaged plane was towed away at about 8.15pm. Russann Francis, Acting Lieutenant of the Bermuda Fire and Rescue Service, said the crash alarm was sounded just after 5.30pm. The spokeswoman said that a Bermuda-registered private Cessna 172 aircraft had been approaching the runway when the pilot "experienced difficulty and landed short". Firefighters laid a foam blanket to suppress any fuel leakage before the pilot was removed from the plane. A number of flights were impacted by the airport closure. Mr Adderley said: "American Airlines from Miami is en route after being delayed due to the crash. British Airways from London Gatwick was diverted to New York's JFK Airport and is now scheduled to arrive Tuesday afternoon before departing for its return flight to Gatwick early Tuesday evening. The American Airlines and JetBlue flights from JFK are expected to arrive later tonight." He encouraged passengers to visit the airport website for the latest flight information.

A delegation of more than 60 industry leaders will take the Bermuda market's message to New York City this week for an executive forum. The multi-industry event will feature Bermuda-born Brian Duperreault, chief executive officer of American International Group, as the keynote speaker. David Burt, the Premier, and Wayne Caines, National Security Minister will also attend and participate in the Bermuda Executive Forum on Wednesday. The one-day forum features regulatory and industry leaders discussing advantages offered by Bermuda's global business market, along with hot topics such as recent mergers and acquisitions, the effects of US tax reform, and the advent of blockchain technology and virtual currencies. Organized by the Bermuda Business Development Agency, the forum aims to attract prospective investors and professionals interested in learning more about the island's world-class financial centre. "This is our second international multi-industry forum, following a very successful first event in London last November," said Paul Scope, chairman of the BDA. "We've had a strong response to date, with more than 300 people now registered to attend, and we're extremely grateful to all our supporting stakeholders for their partnership in this initiative. The programme's discussions promise to be stimulating and informative and should encourage attendees to explore the many opportunities Bermuda offers as a blue-chip platform for doing global business." A dozen discussion panels throughout the day will highlight the breadth of the Bermuda market, covering re/insurance, asset management, high-net-worth services, cyber-risk and security, long-term life and annuity insurance, captive insurance, shipping, insurance-linked securities, and fintech. An evening networking reception will close the event. Mr Duperreault, who was chairman and CEO of Bermuda's Hamilton Insurance Group, which he founded, before being appointed to lead AIG, will deliver the keynote presentation at the event's luncheon. The BDA's London forum last year attracted more than 200 delegates encompassing a wide range of industries, and featured Robert Childs, deputy chairman of Lloyd's and Hiscox chairman, as the keynote speaker.

An insurtech start-up is harnessing the power of artificial intelligence and quantum computing to provide cyber underwriting to insurers and reinsurers. Bermuda will play a role in the growth of Envelop Risk, see enveloprisk.com - which is believed to be the first insurtech company with a physical presence on the island. Envelop is looking to expand in the future as the multibillion dollar cyber insurance market grows. Ari Chatterjee, chief underwriting officer, is based in Bermuda and previously worked as lead cyber underwriter with Hannover Re (Bermuda) and before that was with Flagstone Re. While Jonathan Spry, chief executive officer of London-headquartered Envelop Risk, and John Kelly, cyber-risk architect, visited the island last week to increase awareness of what the company offers. Envelop Risk is a global specialty cyber insurance analytics and underwriting company. In the US it has offices in Boston and Washington. It partners with cybersecurity firms to provide custom insurance products. The company's mission is to "develop, underwrite, and distribute innovative insurance and reinsurance products that provide genuine coverage, and superior risk transfer". Mr Spry described the company as taking a partnership approach with insurers and reinsurers. He praised the Bermuda Business Development Agency for the assistance it has provided to the Envelop team as it makes connections on the island. He said that while the cyber insurance market is a global opportunity, the Bermuda market is crucial. He added: "We are very happy to be in Bermuda. We have entities here and we are hanging out the signs in Bermuda. Ari is here all the time, and we're in discussions with some of the big players." Mr Chatterjee explained that there are large gaps in cyber insurance. He said Envelop Risk seeks to assist insurers and reinsurers bridge the gaps, adding: "We are an enabler of cyber insurance business and we will support our insurance and reinsurance partners to build scalable capabilities on top of our platform." Dr Kelly was formerly technical lead for corporate data analytics at Lockheed Martin. He said Envelop is using "machine learning and AI with human expertise to leverage the [cyber]data, which is from numerous sources but still sparse". He said that with cyber the nature of threats and attacks is constantly changing, adding: "Augmented AI is crucial to predict the trends from the data." The Envelop team also features Paul Guthrie, chief technology officer, who has consulting experience in analytics and technology strategy for Fortune 100 firms, Nasa and the US Department of Defence. Ray Johnson, a former chief technology officer at Lockheed Martin Corporation, is one of Envelop's directors, and Adam Fox, a former managing director of Marsh & McLennan, is a senior adviser. When asked about the potential size of the cyber insurance market, Mr Spry said he would not disagree with predictions that it will become a $20 billion market in the next five years. He said Envelop Risk had received a good response in Bermuda. "The reception has been gratifying. [Cyber insurance] is something that is here to stay. It is an important piece of the puzzle. We will be growing our team and have a substantial presence in Bermuda."

Government has signed a Memorandum of Understanding with a second fintech business as efforts to build the industry in Bermuda continue. David Burt, the Premier, announced this morning that an MOU had been signed with Medici Ventures with the intent to create jobs and educational opportunities for Bermudians. The MOU was signed by Patrick Byrne, the founder and CEO of Overstock.com, of which Medici Ventures is a subsidiary. The company was formed to incubate, launch and invest in blockchain investments. A spokesman said the MOU established that Medici Ventures would make Bermuda its "laboratory" for blockchain innovations coming out of its stable of a dozen blockchain firms. The MOU also promised at least 30 jobs in Bermuda over the next three years. The company will develop a security token trading platform in Bermuda and work with the Bermuda Government to develop and improve a legal and regulatory framework. Mr Burt said: "On behalf of the Government of Bermuda, I am extremely pleased to sign this MOU which demonstrates that global investors are taking note of what Bermuda is doing. We look forward to working with Medici to ensure that the commitments made in this MOU are realised. Bermuda is at the forefront of the fintech industry creating an environment in which Bermudian businesses can thrive, opportunities for Bermudians can be created and in which capable, qualified Bermudians can benefit from opportunities to train, work and succeed at every level." The signing comes days after Government signed and MOU with the Binance Group, which was promised to create 30 jobs for Bermudians and a $10 million investment in training. The House of Assembly approved legislation to regulate Initial Coin Offerings on Friday, with legislation covering cryptocurrencies expected to be tabled soon.

Grant Gibbons joined the political fray in 1992 as part of a new group of well-educated, business savvy candidates in the ruling United Bermuda Party. At the time, Dr Gibbons, who was the managing director of the family business Gibbons Company, made an unsuccessful bid to become a candidate in Smith's South, after Tony Correira, running mate to Jim Woolridge, then tourism minister, retired. Under the old constituency system, each seat elected two MPs. Dr Gibbons told the Mid-Ocean News at the time that people were "expecting a new face". But fellow political newcomer Trevor Moniz came second in a primary in October that year and stood for the seat alongside Mr Woolridge instead. However, Dr Gibbons was undaunted by defeat and pointed out that he had come from "zero to 300 in five months". Dr Gibbons was appointed campaign chairman for the UBP in January 1993, a crucial year for the party that he said was a "watershed" after the General Election that October. Sir John Swan, who was premier under the UBP, said Dr Gibbons had played "a behind- the-scenes role in helping to formulate the blueprint" in the UBP's final electoral victory. Dr Gibbons was appointed senator and parliamentary secretary for finance and works and engineering in October 1993, and given a ministry portfolio of Management and Technology in January 1994. He also served as the Government's "point man" as the island's American military bases were closed down. Dr Gibbons led the Bases Transition Programme, which included tough negotiations about an environmental cleanup and other compensation. The death of government backbencher John Stubbs in 1994 sparked a by-election in Paget East, which Dr Gibbons won and he entered Parliament in July that year. His career as an MP was linked to Paget East from then on — a stronghold for the UBP and still a safe seat for the One Bermuda Alliance. Dr Gibbons directed the return of the base lands to government control and established the Bermuda Land Development Company in 1996. He also masterminded the transfer of air traffic control and air services to civilian control and the return of the Canadian base at Daniel's Head. Dr Gibbons brought telecommunications legislation to Parliament in 1995 which ended the monopoly of Cable & Wireless and jump-started the island's development in a key sector for international business. He took over as finance minister from David Saul in 1996 and presided over the insurance and reinsurance surge that fuelled unparalleled growth in international business. Dr Gibbons delivered a 1998-99 Budget with a surplus in current and capital accounts and also piloted the occupational pension scheme through Parliament before the PLP swept to power in 1998's General Election. Dr Gibbons led the party in Opposition from 2001 to 2006 and was also chairman of the Public Accounts Committee. He said in 2005 that the party's time in Opposition was "frustrating" as the UBP struggled to redefine itself. He told The Royal Gazette at the time: "We know what has to be done and we have the ability to carry it out — we just hope the electorate has the ability to see that." But the choice of a white man from what was seen as an establishment family to lead the UBP was not always popular. After his term as leader came to an end in 2006, Dr Gibbons was denounced in Parliament by Ewart Brown, then the Premier, as a "racist dog". As the Bermuda Democratic Alliance joined former MPs from the UBP in 2011 to create the OBA, Dr Gibbons was among the veteran MPs who made the transition and the new party scored a narrow General Election victory in 2012. Dr Gibbons led the charge to develop new tourism properties as OBA Minister of Economic Development, established the Bermuda Business Development Agency, and oversaw the launch of the Regulatory Authority in January 2013. He also had telecommunications and energy in his portfolio and introduced key information protection legislation. But perhaps his proudest moment in the one-term administration was as head of the successful bid team which brought the 35th America's Cup to Bermuda. But, in the wake of the OBA's defeat at the polls in July 2017, Dr Gibbons, now 65, and other ex-UBP MPs were branded a liability by some political pundits. He made it clear last Friday, however, that, irrespective of the election outcome, an exit from the political stage had been long planned.

The One Bermuda Alliance will battle back after its landslide defeat last July, outgoing party veteran Grant Gibbons predicted yesterday. He said: "It takes time for a political party to regroup. It's very demoralizing to lose an election." Dr Gibbons, who announced his retirement from politics in the House of Assembly on Friday, told MPs that "recent unanticipated events" might affect public perception of the timing of his announcement. He confirmed yesterday that he meant the departure of OBA MP Jeff Baron, who announced last week that he was quitting politics and the party. Dr Gibbons said: "Whether there will be any more of those or not, it's sort of hard to say at this point." But he believes both his departure and Mr Baron's resignation will create opportunities for good young candidates to come forward. He said: "I think that kind of turnover is important." Dr Gibbons felt the OBA had done a "reasonably effective" job as Opposition. But he added: "I don't think we have — sometimes it's a little more difficult when your numbers are reduced — been perhaps as vocal as we need to be. And I will take some responsibility personally for that. As far as the PLP saying we're not an effective Opposition, what else would you expect them to say?" Dr Gibbons said there was an adjustment period for the losing side after an election as well as a "honeymoon period" for the winner. He added: "To some degree, the current Government is still enjoying a little bit of that honeymoon period. But there are a lot of expectations out there that they're going to have to meet — particularly from their supporters. If those expectations aren't met, then it's going to be a little bit more difficult down the road." Dr Gibbons said during his resignation speech that although he was leaving the front line of politics, he would remain a member of the OBA. He reflected on the advice he was given when he became Opposition leader in 2001. He explained: "Some of it was useful, and some of it wasn't. It's not my particular responsibility right now to give the party or the leader public advice." But he added: "If the party or leader would like my advice, I'm quite happy to give it to them. But I don't think it's fair for me to reflect on what they should or shouldn't be doing."

A One Bermuda Alliance win in last year's General Election would not have altered Grant Gibbons's plan to retire, the political veteran stated yesterday. Dr Gibbons said: "My decision would have been the same." He revealed that he had not intended to run in the General Election — but had been persuaded to stay on. Dr Gibbons added that the OBA "had been aware for some time" of his plans to quit front- line politics. He said: "I think in politics there's probably no good time to get into it and no good time to retire. It was simply a question of when I thought it was the right time to go. Obviously, I think this was the right time to go." Dr Gibbons will today retire as MP for Paget East, the constituency he has represented for nearly 25 years. The 65-year-old reflected on what he saw as the highlights of his political career, including his role in the return of the American military bases to Bermuda, pension legislation, and last summer's America's Cup. Dr Gibbons said: "Sometimes people say, 'What have you done for the common man? When you think back on some of these things, they were really important in terms of Bermuda. And you've got to get these things right, otherwise everyone suffers." Dr Gibbons admitted the OBA had not done an effective job "in terms of making the connection between what we were doing as a government and how that benefited everybody". He said: "Certainly that was, in many respects, a little bit of a failure, I'll certainly say, on my part." Dr Gibbons said the OBA's loss in last July's General Election was a career low point as well as the protests that took place outside Parliament in December 2016. He said: "The whole concept of preventing elected members from going about their duties is simply wrong." Dr Gibbons hoped he would be remembered by his constituents and his political colleagues for the "social and economic advances that I've had the privilege of being involved in". Bob Richards, the former Minister of Finance, said serving with Dr Gibbons was an "honour and privilege". Mr Richards added: "Grant Gibbons has been a fixture in Bermuda politics for so long it will take some getting used to being without him. He brought with him his enormous intellect and incredible work ethic. No one worked harder than Grant." Mr Richards said Dr Gibbons was both a team leader and team player who never tried "to hog the limelight at the expense of his colleagues". He added: "He was also a teacher, helping many of his colleagues, including myself, to better understand the issues confronting Bermuda." Trevor Moniz, the shadow Attorney-General, described Dr Gibbons as a "very dedicated and diligent parliamentarian". Mr Moniz added: "He has applied his keen intellect and his work ethic to all aspects of political, cabinet and parliamentary endeavors. He will be sorely missed and Bermuda owes him a great debt." David Burt, the Premier, said in the House of Assembly on Friday that Dr Gibbons had worked hard for the public, and that he would be remembered for his contributions. "All of us on this side of the House recognize the pains of service. Disregarding what side we sit on, despite the items we put forward, we serve, and service is not easy. On behalf of my colleagues, I wish him the best in his future endeavors."

Bermuda-based Bacardi Ltd has acquired Patrón Spirits International, maker of a well-known tequila brand Patron. The deal, which was first announced three months ago, closed today. The two companies have enjoyed a successful working relationship, since Bacardi acquired a 30 per cent stake in Patrón in 2008. According to the most recent International Wines and Spirits Record data, the acquisition makes Bacardi the number one spirits company in the super-premium segment in the US and the second largest in market share by value in the US tequila market. Tequila is one of the fastest-growing categories in the spirits industry, with Patrón the clear market leader in the super-premium segment. "We are delighted to welcome the team from Patrón into the Bacardi family," Mahesh Madhavan, chief executive officer of Bacardi, said. "We continue to be inspired by their passion, culture of caring, attention to detail, and unwavering commitment to quality. Our promise is to uphold these qualities to ensure the product integrity, innovative marketing, and commercial success of Patrón tequila for years to come." Edward Brown, Patrón Spirits CEO, said: "With Bacardi and its global presence, there is vast potential to grow the Patrón brand outside the US, which is particularly exciting. Patrón has been a personal passion of mine for nearly 20 years, and I am thrilled to now be a part of the Bacardi family."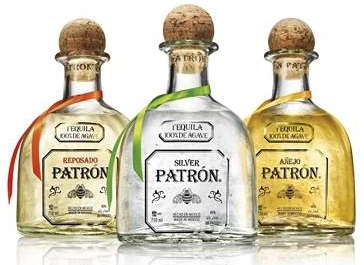 AFL Investments Limited has been rebranded to Argus Wealth Management Limited and is now a wholly owned subsidiary of The Argus Group, In a statement, Argus Wealth said it will continue to offer investment options to Bermuda-based private and institutional clients and leverage its existing institutional relationships to provide access to world-class managers through a simple and cost-effective structure. Advisory services are available to private clients who prefer to maintain control of their own investment portfolio. The company has also consolidated its in-house expertise to further strengthen the investment process through a disciplined, proactive approach to create appropriate solutions for clients. Joel Schaefer, president and chief executive officer of Argus Wealth Management, said: "We are delighted to have rebranded the company to reflect our affiliation with Argus, which is a well-recognized brand. We will continue to offer sophisticated investment options to help private clients grow their wealth over time." Argus Wealth also provides investment solutions for institutional investors and corporate pension funds and has $1.4 billion in assets under management. For further information, visit arguswealth.bm.

Flora Duffy hailed her comprehensive destruction of the MS Amlin World Triathlon Bermuda field as being close to perfection before declaring her victory as the "absolute highlight of my career". Duffy's display was simply breathtaking in its complete dominance over a quality field, underlined by her becoming the first woman in World Triathlon Series history to win a race after being the fastest in all three disciplines of swim, bike and run. Unsurprisingly, Duffy came out of Hamilton Harbour in first place before relentlessly building a mammoth lead with every purposeful pedal of her Bermuda-pink bike and each assured stride of the run. Duffy owns the ITU circuit, having lost only one race she has completed in the past two seasons, and at times in Saturday's race it seemed hardly worth the other triathletes turning up. "I guess you could say that was close to perfection," said Duffy, who carried the Bermuda flag in one hand as she high-fived spectators along the home straight with the other. It was an incredible day, the absolute highlight of my career and it was amazing to see so many Bermudians come out in support. It was amazing to see how diverse the crowd was." Thousands of supporters waving Bermuda flags and dressed in "Go, Flora, Go!!" T-shirts descended on Hamilton in anticipation of Duffy delivering the dream result. She did not disappoint with arguably the finest performance by a Bermudian athlete on home soil in terms of its faultlessness when considering she was up against the crème de la crème of women's triathlon. "I wasn't sure what to expect but the crowd was incredible and the streets were lined with people," she said. "All I could hear all day was 'Flora, Flora, Flora!' It was incredible and I'd just like to say thank you to everyone who came out and supported me. I was hoping to have a special day and a great performance." Duffy achieved both of those objectives and then some. Although she insists her triumph was anything but a matter of course, despite finishing in a time of 2hr 1min 39sec, beating Vicky Holland, of Britain, into second place by a gargantuan margin of 1:46. "I had a lot of pressure and expectation on me and had my picture everywhere," said Duffy, referring to the 50ft banner of her plastered on to the east-facing wall of the Seon Place building on Front Street. From the outside it might have always seemed like I was going to win, but it's hard to race at home. The biggest win for me today was keeping my composure and delivering. That's a very valuable skill to be learning going into bigger pressure races." Duffy has competed in more significant races — at least in a global perspective — than WTS Bermuda; she stormed to the gold medal at the Commonwealth Games 3½ weeks ago. But the two-times world champion insists her golden moment on the Gold Coast, Australia, could not rival reigning supreme in her own backyard. "It feels very different to winning at the Commonwealth Games," said Duffy, who won Bermuda's second Commonwealth gold and first of any colour by a woman. "This is way better! "I knew April was going to be pretty big and we planned for that. I said that I wanted to win these two races and if I don't do anything else for the rest of the year, that's fine. Those were my two main goals and I executed them. It was perfect." Duffy was swarmed for autographs, handshakes and photographs by fans of all ages after the race, many of whom would have never previously witnessed the 30-year-old compete in the flesh. It was also a sure-fire sign of Duffy's new-found mass appeal among her people, who will have at least two more chances to watch the darling of Bermudian sport, with the island securing stops on the 2019 and 2020 ITU series. "All of the kids who came up to me and wanted something signed or a picture taken ... it's very cool," she said.

April 29. Sunday

Flora Duffy's win in Saturday's MS Amlin World Triathlon today earned praise across the political spectrum. Michael Weeks, Minister of Social Development and Sport, said the performance was a "proud day for Bermuda". Mr Weeks added: "I think anyone who was there on Saturday shared in something very special. The atmosphere was absolutely electrifying and my heart was pounding from the moment that Flora and the other athletes first hit the water." Jeanne Atherden, leader of the Opposition, said Ms Duffy's performance was "nothing short of spectacular". Ms Atherden added: "All of Bermuda came out to support our beloved daughter of the soil. Yesterday's event showed that we can be an inclusive society that recognizes and appreciates the skill and ability of our athletes. The vibe of the fans, the Organisers and the volunteers at the event was totally awesome." Mr Weeks also congratulated all the other participants who took part in races over the weekend, as well as the event's Organisers. He added: "I encourage everyone to come out tomorrow, Monday April 30, to support Flora and Clarence "Nicky" Saunders as they take part in a motorcade which leaves the Hamilton Princess Hotel and Beach Club at 11:30am." The motorcade will travel along Pitts Bay Road, up Queen Street, east along Church Street, and south down Court Street. It will arrive on the grounds of the Cabinet Office about noon.

Consultation on the method to calculate the rate paid to Renewable Energy Metering Scheme participants is under way, the Regulatory Authority of Bermuda has announced. The feed-in tariff is paid by Belco to compensate people who are connected to the electricity network and who generate electricity via renewable energy systems such as solar panels and wind turbines. Aaron Smith, the RA's interim chief executive said: "The primary purpose of the feed-in tariff is to compensate distributed generators, for instance those who have solar panels, for the electricity they supply to Belco. We have to consider two main issues — firstly, the cost of generation that a business like Belco avoids by purchasing power from others who supply electricity and secondly, any economic benefits associated with distributed generation." He added: "Once the methodology is set, the Authority will conduct a tariff review using the approved methodology to determine a rate." Last month, the RA issued a general determination mandating that Belco should pay a transitional feed-in tariff at a rate of $0.1736 per kWh for electricity produced by Renewable Energy Metering Scheme participants and a transitional methodology for assessing the level of the feed-in tariff. This effectively extends the rate imposed by the former "Solar Net Metering Scheme" Emergency General Determination that was issued in March 2017. The consultation now under way will look to replace this transitional tariff and methodology. Mr Smith said: "We are aware that there is a great deal of interest in the feed-in tariff as many people installed renewable energy systems at their homes expecting to be able to get reasonable returns on their investments, so we want to complete this consultation as quickly and efficiently as possible." The consultation document is available at www.rab.bm by going to the consultation tab and clicking electricity.

April 28

Premier David Burt told the House of Assembly that the Standard & Poors upgrade from stable was important "as it supports lower interest payments and stimulates greater consumer and investment confidence". He added: "The general public should accept the outcome of this report as an independent, objective endorsement of our fiscal and economic policies and it is gratifying to note that S&Ps has noticed the progress this Government has made in the short period we have been in office." Mr Burt added: "As the Premier and Minister of Finance, I remain committed to creating an economy that works for all Bermudians and continuing our fiscal consolidation efforts." Standard & Poors also affirmed the island's A+ long-term sovereign credit and senior unsecured debt ratings as well as its A-1 short term ratings and its AA+ transfer and convertibility assessment. The agency's report said: "The positive outlook reflects our expectations that, in the next 12 to 24 months, real Gross Domestic Product growth will remain moderately positive, fiscal deficits will continue to narrow approaching balance and Bermuda's net general government creditor position will improve modestly."

The House of Assembly passed fintech legislation last night, despite reservations from the Opposition. The Companies and Limited Liability Company (Initial Coin Offering) Act is expected to create a regulatory framework for digital coin offerings on the island. David Burt, the Premier, said the legislation would help to build the fintech industry on the island and build economic diversity. Mr Burt said: "With this Bill, this government has chosen to be bold and take a significant step in the world stage." He said the intention of the Bill would be to build the island's economy, adding that the island has already seen significant interest. Only an hour previously, Mr Burt had announced the island had signed a memorandum of understanding with global cryptocurrency trader Binance. Speaking to the House, Mr Burt said he hoped to have another MOU signed before the end of the day, saying a representative from Medici Ventures was present and watching the debate. Mr Burt said: "Our intention is to bring more business, more jobs, better career opportunities and more income to Bermudians. We are poised for economic growth, and our intention is to deliver that to the people of Bermuda." Wayne Caines, Minister of National Security, said the island's reputation as a well-regulated jurisdiction will make Bermuda an ideal location. He said: "The reason the world is becoming so energized about being in Bermuda is not blockchain. They are excited because we do things to a very high standard. We are not fool hardy. We understand the primary function of this endeavor is make sure its well regulated. The elements are in place to protect the country. I believe when this legislation is passed this country will sit back. They will see the jobs come in and they will see they have done something right." However, Grant Gibbons, Shadow Minister of Economic Development, said the One Bermuda Alliance had some concerns about the details, saying an economic impact assessment would have been useful. Dr Gibbons said ICOs are often highly speculative and "very risky" for investors, and Bermuda's reputation could be damaged if the right safeguards are not in place. He said: "We are getting into an area that can be very risky for people getting in to it. A lot of regulators have taken a pretty strong approach to this." Dr Gibbons suggested the Government may have moved too quickly to strike the right balance as six pages of changes to the tabled legislation had been put forward. PLP backbencher Michael Scott said that the nature of fintech meant the bill "would require amendments even five minutes after we've passed it". Mr Scott added: "I am not concerned that amendments are a lack of preparation. The Bill is fit for purpose." Leah Scott, Deputy Opposition Leader, said that Bermuda's economic diversification was vital. Ms Scott explained: "Our insurance industry is shrinking, companies are merging, people are loosing jobs. We do need another area of revenue." However, Ms Scott said she was "not happy" with "embedding legislation within existing legislation". She said: "I do think this legislation is important enough to stand on its own." Patricia Gordon-Pamplin agreed with Ms Scott. Ms Gordon-Pamplin said: "What would have been ideal, given that this was an intent from day one of the new administration, they could have started working on this from day one." Mr Burt said the Bill was the "first step of a number to come" and that the Government would "protect the economy we have". He added: "This government will lead on this initiative, this government will make sure that Bermuda is ready for the future."

The anti-gang programme Operation Ceasefire has been axed in favour of a "Bermuda-centric" programme, national security minister Wayne Caines announced in more detail yesterday. The United States-based programme would have cost $200,000 for this financial year, but Mr Caines told Parliament that a locally based programme "better serves Bermuda economically and socially". Mr Caines emphasized that "we cannot arrest ourselves out of any problem" and called for a change in the island's narrative as well as "a cultural shift" in tackling serious crime. The minister added: "A suppression-heavy element no longer fits the Progressive Labour Party's plans for reducing gang violence." The island began adopting Ceasefire in 2010, subsequently taking on several more inter-agency groups. Ultimately the National Network for Safety Community's Group Violence Intervention model was implemented in April 2017 as an unbudgeted item under the One Bermuda Alliance administration. However, Mr Caines said that early this year, local working groups opted to terminate the NNSC contract for "localised programmes" to tackle "the root causes of violence, and address the years of multi-generational, unaddressed trauma. Such methodology should reflect an anthropological, ethnographic and clinical approach," Mr Caines added. "We want to develop programmes and policies that include a therapeutic and restorative aspect which was lacking from the GVI model." Prevention was "key to success in stemming violence in Bermuda", he said. The NNSC programme had been scheduled to end in 2019 at a cost of nearly $370,000, but Mr Caines said no penalties would be incurred by the early stop. The minister said that plans had first been made public by gang violence reduction co-ordinator Pastor Leroy Bean at a meeting on March 24 at Sandys Rotary Club. That presentation had included the Reverend Jeffrey Brown, head of a US community movement called the Boston Miracle, which reduced the city's violent crime by almost 80 per cent. Mr Caines said he and Mr Bean had been "overjoyed when Reverend Brown endorsed our path". Responding to questions from Opposition MP Michael Dunkley, the minister said that a case manager, Darren Woods, had been seconded to the department from another ministry to assist. "A huge part of this programme is to make it therapeutic," Mr Caines said. Meanwhile, MPs heard stark figures for the human toll of the island's gang-related violence. Since 2009 there have been 35 young black men shot and killed, 92 injured by illegal guns, and more than 400 young people deemed "at risk of falling prey to the gang lifestyle". Mr Caines also asked the public to turn out on May 9 for a national day of peace, to be held from 5pm to 7pm at the National Stadium in Devonshire.

The deadlines for requests for qualifications for two major construction jobs at Ships' Wharf in the East End have been extended. Bermuda Land Development Company Limited announced yesterday that applicants will be able to submit their qualifications for the cargo port until June 29 and until October 23 for a power station. Francis Mussenden, BLDC chief executive officer, said: "To date, the interest in these projects has been significant. "Following recent meetings with registered proponents, we have determined that extending the deadlines is in the best interest of both the projects and Bermuda as a whole."

A 75-year-old former April Floral Pageant Queen returned to Bermuda last week — to compete in the world triathlon event. Nancy Missett, from New York, finished all three legs of the triathlon as the only competitor in the amateur woman 70 plus category. Ms Missett, who was the April Floral Pageant Queen 55 years ago after she won a college weeks pageant on the island the spring before. She said: "It's fabulous being back in Bermuda. Everyone has been as warm and welcoming as ever." The Bermuda Tourism Authority presented Ms Missett with a bouquet of flowers on the eve of the event. The card read: "Welcome back. Every time you come to Bermuda you're a winner. Have a great race. Love, Bermuda". Bermudian Paulina Brooks was Ms Missett's beauty pageant attendant in 1963. She found a picture book of the April Floral Pageant and showed it to Ms Missett's triathlon team. The parade pictures were taken along Front Street in Hamilton, the same place where today's MS Amlin World Triathlon competitors finished the race. Ms Missett finished all three legs of today's triathlon in 3 hours 19 minutes 30 seconds.

A Bulgarian national was jailed for two years yesterday for conspiracy to commit theft by rigging ATMs. Danail Damov, 37, was also sentenced to six months for damaging an ATM at Collector's Hill and four months for damaging another at Paget Plaza. Prosecutor Alan Richards said Damov came to Bermuda as a visitor from Bulgaria to carry out a "sophisticated criminal enterprise" that required "understanding and determination". Mr Richards said the crimes spanned a "significant" period of time and involved two separate visits to the island for the "purpose of fraud". He added that "acts of this nature appear sadly to be increasing" and that society needed to be protected from like-minded individuals. The court heard that Damov arrived in September 2016 and was caught on CCTV tampering with a Butterfield Bank ATM at Collector's Hill with another man. Prosecutor Kenlyn Swan said Butterfield's head of electronic banking was alerted to fraudulent transactions on the accounts of three customers, who had used the ATM, in December 2016. Cash was later withdrawn in the Dominican Republic. The bank machine was inspected and two small drill holes were found in the card reader. Ms Swan said the CCTV footage showed one man taking a drill out of his bag and another, who she said was Damov, attaching a device to the ATM before walking away. She added that Damov was later seen returning to the ATM to remove the device. Ms Swan said Damov returned to Bermuda on October 10, 2017 and a skimming device was found at the Paget Plaza ATM three days later. An employee had gone to replenish the machine but the test card jammed. He was able to retrieve the scratched card and reported the incident. The machine was inspected and the card skimmer found. CCTV footage showed a man wearing a white helmet trying to remove the device and Damov was arrested on October 20 — two days before he was due to leave the island. He denied the offences and told police: "I can explain. It's a mistake." Damov said he was at the ATMs to withdraw cash. But Ms Swan said he visited the machine 11 times between October 11 and October 13. She added that it cost the bank $535 to repair the ATMs and replace the test card. Prosecutor Alan Richards said it cost another $1,000 to replace customer's cards. Damov, represented by lawyer Richard Horseman, admitted the three offences, which took place between September 1, 2016, and October 21, 2017, in Supreme Court on April 13. Damov apologized to the court yesterday and said he had made a "big mistake" and was "deeply sorry". He added that he had spent the past six months in custody and that he would never "do this again". Damov pleaded with the court not to send him to jail. But Mr Richards said a 2½- year sentence was appropriate after any discount had been applied. He added that although Damov had paid back the $535, this could be "characterised as too little too late". Mr Richards said that a total of $77,529 was taken from 49 customers' accounts in 497 transactions in the Dominican Republic between November 2016 and January 2017. He added: "The act in October 2017 was interrupted so it would appear that mercifully no customers' funds were stolen." Mr Horseman argued that a sentence of less than a year would fit the crime. But Puisne Judge Charles-Etta Simmons pointed out that there was obvious planning involved in the offences, which also required sophisticated equipment. She agreed with the Crown that the sentence should be a deterrent so that Bermuda would not be seen "as an easy mark". Ms Justice Simmons took into account Damov's guilty plea and that he had paid for the $535 in damage he had caused. She ordered the two sentences for damage to the ATMs to run consecutively, but alongside the two years for conspiracy to commit theft. Ms Justice Simmons also ordered that the six months already served should be taken into account.

Flora Duffy won MS Amlin World Triathlon Bermuda today in front of a raucous, emotional crowd in Hamilton this afternoon. The two-times World Series champion's dominance was underlined by her becoming the first woman in WTS history to win a race after being the leader in all three disciplines of swim, bike and run. The Bermudian won in a time of 2hr 1min 39sec, beating Vicky Holland, of Britain, into second place by 1:36. Holland beat American Katie Zaferes to the silver medal in a photo-finish. Duffy finished the swim in the lead, with a time of 19:38, completed the bike in 1:06:32 and the run in 34:29.

Casper Stornes completed a stunning and historic victory in the elite men's race at MS Amlin World Triathlon Bermuda in Hamilton today. The 21-year-old Norwegian is ranked No 116 in the world, and stormed to the title after making a breakaway on the third lap of the bike section, from which he did not look back. And just to complete the fairytale, he led Norway to becoming the first nation to sweep the podium at a World Series event, when Kristian Blummenfelt and Gustav Iden finished second and third respectively. Stornes won in a time of 1hr 54min 47 sec, with Blummenfelt taking silver in 1:55:08 and Iden the bronze a further two seconds back. "I just pushed on the bike," Stornes told The Royal Gazette. "But I was a bit smashed on the run! The strategy before the race was to save energy on the bike and save it for the run, but they just let me go and I just pushed the rest of the bike." Mario Mola, the Spanish two-times defending WTS champion, finished fourth in 1:55:45 and moved to the top of the overall standings, taking over from Henri Schoeman, the South African who won the first race of the season in Abu Dhabi eight weeks ago and the Commonwealth Games gold. Schoemann finished eighth in Bermuda.

Flora Duffy will be riding a bike inspired by the colors of the island in today's MS Amlin World Triathlon Bermuda. Duffy, the world No 1, said she is excited to debut the Specialized S-Works Tarmac Disc on home soil. "It's so cool to have a custom bike inspired by Bermuda," Duffy said. "It's hand painted by the greatest of bike designers Ron Jones. The mother of pearl detailing is just crazy. Anyone who has been to Bermuda knows the pastels reflect the colorful Bermuda houses. A special project that I'm excited to debut here in Bermuda."

April 27

The appointment process for the next Chief Justice, Narinder Hargun, was fair and in line with the island's constitution, the Governor said yesterday. The news came as the Bermuda Bar Council threw its weight behind the appointment of Mr Hargun, a former top lawyer with global legal firm Conyers, Dill & Pearman. A spokesman for Government House said Mr Rankin had "carefully considered the appointment of the Chief Justice, drawing upon advice received from the Judicial and Legal Services Committee and after consultation with the Premier, who in turn consulted the Leader of the Opposition, in accordance with section 73(3) of the Constitution". The Government House statement came after David Burt, the Premier, said Mr Hargun's appointment was "an affront" to the Government and that he did not support Mr Hargun's appointment as replacement for Chief Justice Ian Kawaley. Mr Burt also confirmed he had been consulted by Mr Rankin. The Bermuda Bar Association said yesterday it was satisfied that the committee's selection had been "fair and sufficiently independent". The association added: "Mr Hargun is a former president of the Bermuda Bar Association and he has been a leading commercial attorney for the last 35 years, involved in many leading commercial and other cases in Bermuda, and he enjoys the widespread respect of his peers for his integrity and legal acumen. He comes with a wealth of experience to the post which will serve the judiciary well. No doubt, with Mr Hargun at the helm, we can be assured that the high standards currently held by Bermuda's judiciary and court officials will continue." The association added it was "essential for there to be an independent judiciary". It said that the selection committee for the post included representatives with both Bermudian and international legal expertise. The association said: "The JLSC is chaired by the president of Bermuda's Court of Appeal and has a membership reflecting both legal expertise and lay opinion. The JLSC here was given a similar role to those established constitutionally elsewhere." Government House added that the selection came after an "open and competitive process". A spokesman said that Mr Hargun was "a highly regarded lawyer both within Bermuda and internationally" whose selection would "help maintain the island's standing as a legal jurisdiction of the highest order". The statement added: "The separation of the executive, judiciary and legislature is an important pillar of good governance and the Governor is confident that Narinder Hargun will execute his duties impartially and fairly for the benefit of all Bermudians." Mr Burt was asked on Wednesday for the grounds for his opposition to Mr Hargun taking over the Chief Justice role. He has yet to respond. Mr Hargun was born in India and emigrated to Britain with his family as a child. He studied law at the world-renowned London School of Economics, and left with an LLB and master of laws degrees in 1976. He later qualified as a barrister in England and Wales. The 63-year-old came to Bermuda shortly afterwards and has since acquired Bermudian status. He retired from Conyers Dill & Pearman on April 1 after serving as director and head of litigation.

The Premier today hailed a "historic" day for the island as he signed a memorandum of understanding with global cryptocurrency trader Binance. David Burt signed the MOU with Zhao Changpeng, the chief executive of "the world's largest cryptocurrency exchange". Mr Burt said: "This Government promised to usher in an era of business development that, at its core, would diversify the Bermuda economy. Binance plans to develop a global compliance base here in Bermuda that would create 40 jobs, at least 30 of them Bermudian. Binance will spend up to $10 million on training for Bermudians in blockchain technology development." The trading company will also make up to $5 million available for investment in new Bermudian blockchain business. Mr Burt said the deal was "a vote of confidence in Bermuda and the leadership of this government". The announcement came as MPs prepared to return to Parliament to debate the Companies and Limited Liability Company (Initial Coin Offering) Amendment Act 2018. The Bill was designed to create a regulatory framework for digital currency business based on the island. Mr Changpeng said that Binance's research had shown that Bermuda was becoming "one of the leading regulatory bodies for virtual currency". He added: "We think the Bermuda Government and regulatory body are one of the most approachable, reasonable and forward-thinking on the planet." Mr Burt's full statement was: The pace of technological innovation moves in today's world has challenged established norms of doing business. The new normal demands that those who would participate in this evolving space are equally as innovative, flexible and immediately responsive to the requirements of doing business. This Government promised to usher in an era of business development that, at its core, would diversify Bermuda's economy and provide opportunities for Bermudians to be more than spectators to economic success. A key element of our vision is to partner with those investors who share our goal of using the development of their business interests as a means by which to provide that economic success to Bermudians who have for too long been sidelined. Today, I am pleased to announce such a partnership. The Binance Group is the world's largest cryptocurrency exchange and an international leader in digital exchange development and fintech, with a market capitalization of $1.3 billion. Through the Binance Charity Foundation, the Group is committed to improving education, creating awareness in the development through the use of blockchain technology. Binance Labs are incubators to encourage greater innovation and scope for future investment in a variety of projects. Binance has decided that their goals align with our aims and objectives to provide a leading, well regulated jurisdiction, ideally suited to the growth of the fintech industry. And so today, we are pleased to sign a Memorandum of Understanding that sets out the beginnings of a partnership that I am confident will benefit the people of Bermuda. Through this partnership Binance proposes to:
Develop its global compliance base in Bermuda, creating at least forty (40) jobs in Bermuda, with at least 30 jobs for Bermudians;
Through the Binance Foundation sponsor university-level training for Bermudians in blockchain technology development and compliance in an amount up to US$10 million;
Through Binance Labs make up to US$5 million available for investments in new Bermuda based blockchain companies;
As soon as practicable, develop a Digital Asset Exchange in Bermuda subject to all required legal and regulatory processes;
Work collaboratively with the Government of Bermuda and all necessary oversight agencies in the development and improvement of a robust legal and regulatory framework.
This is an exciting, tangible development which has come as a result of this Government's clearly manifested leadership in this area. In every meeting we make clear to potential investors that we have a reputation for sound regulation and that our approach in this new area will be no different. Binance have been equally as clear that they want to work with us to promote that transparent and well regulated environment as their business' success depends on these very same factors that have served Bermuda so well. I am pleased to be joined by Changpeng Zhao, the CEO of Binance and Ying He, the co-founder of Binance and I wish to thank them and their team for their vote of confidence in Bermuda and in the leadership of this Government as we continue our aim to bring economic development to Bermuda and to make Bermuda the centre for the future of the blockchain world."

Anti-gang programme Operation Ceasefire, which would have cost $200,000 for this financial year, has been axed in favour of a "Bermuda-centric" programme, national security minister Wayne Caines told the House of Assembly this morning. Mr Caines said a Bermuda based programme "better serves Bermuda economically and socially". He added: "A suppression-heavy element no longer fits the Progressive Labour Party's plans for reducing gang violence." The minister said that plans had been made public at a March 24 meeting of Sandys Rotary Club. Mr Caines also asked the public to turn out on May 9 for a national day of peace from 5pm to 7pm at the National Stadium in Devonshire.

Veteran One Bermuda Alliance politician Grant Gibbons is to retire from politics, he told the House of Assembly this evening. Dr Gibbons, the MP for Paget East and shadow Minister of Economic Development and Regulatory Affairs, told Parliament after the motion to adjourn that his resignation would come into effect on Monday. "It's time to go — it's time to make way for new blood," Dr Gibbons said. "I remain a member and supporter of the OBA and what it stands for. I will remain a member of the OBA. My decision to retire from politics and when to retire from politics were made long ago." The announcement was greeted with stomping from both sides of the House, with Dr Gibbons holding back tears at the end of his address. Dr Gibbons's political career spans 25 years and started with his appointment in 1993 as campaign chairman for the former United Bermuda Party. He became a senator in 1994 and was appointed Minister of Management and Technology in the UBP government. He was elected to represent Paget East later that year. Dr Gibbons was Minister of Finance from 1995 to 1998 and became shadow minister after the Progressive Labour Party won power for the first time in the 1998 General Election. He served as Leader of the Opposition from 2001 to 2006 and as chairman of the Public Accounts Committee from 1998 to 2006. Dr Gibbons served as the Minister for Economic Development after the OBA won power in 2012 and also held the education portfolio for a time. His resignation followed the departure of Jeff Baron as MP this week and Opposition senator Nick Kempe in November 2017. Jeanne Atherden, the Leader of the Opposition, released the following statement: "It is with appreciation and sadness that we announce the very well deserved retirement from politics of our colleague The Hon Dr Grant E. Gibbons JP, MP. Today's retirement of Dr. Grant Gibbons is bittersweet. Grant has dedicated countless years of his life to serve Bermuda for the betterment of its entire people. Dr Gibbons has had an extremely active political career over the past 25 years. He has serviced the country well in various ministerial positions, and as the Opposition leader. His contributions to the Party and the numerous positions he has filled in his official office speaks to his personal character and indelible legacy. Dr Gibbons has also provided public service through his membership on a variety of boards and committees that provided oversight and advice on matters of importance to the country. Most recently as Minister of Economic Development, Dr Gibbons spearheaded the initiative that resulted in Bermuda hosting the America's Cup, sailing's most prestigious event, which provided both economic and social opportunity for Bermuda. Bermuda and the One Bermuda Alliance family is indebted for his contributions and on behalf of the Party we would like to thank him for his unwavering service to Bermuda. Today's announcement is reflective of our Party that will continue to empower opportunity by making room for new Bermudian voices to be heard on the front line of politics. Although Dr Gibbons is reducing his political exposure, this is not the end of his service to the country. His political footprint, commitment and contributions to the country will therefore continue."

A motorcade to celebrate Bermuda's triathlon champion Flora Duffy and her gold medal win at the Commonwealth Games earlier this month is confirmed for Monday. High jump champion Clarence 'Nicky' Saunders – Bermuda's first gold medallist at the 1990 Commonwealth Games in 1990 - will also travel in the procession. Michael Weeks, Minister of Social Development and Sports, called on Bermuda residents to line the streets of the route to show their support for the two Commonwealth champions. He said: "Both Flora and Nicky have proven to be the best of the best in their sport and are an incredible inspiration to our young athletes. Flora has proven herself time and time again on the international sporting scene and continues to make us proud." The motorcade will start at 11:30am from the Hamilton Princess, travel along Pitts Bay Road, up Queen Street, along Church Street and turn right at Court Street to finish at the Cabinet Office. Ms Duffy will be greeted by Mr Weeks and David Burt, the Premier, who will present certificates to the two athletes around noon. The motorcade is expected to leave Cabinet Office at 12:15pm.

Flora Duffy will be honored for her Commonwealth Games title, with the island's first gold medal-winner at the Games, Clarance "Nicky" Saunders, accompanying her in a drive through Hamilton on Monday morning. Duffy, who is set to compete in front of a home crowd at MS Amlin World Triathlon Bermuda tomorrow, will be in the motorcade that leaves the Hamilton Princess Hotel & Beach Club at 11.30am headed to the Cabinet office where she will be welcomed by David Burt, the Premier. Saunders, who won gold in the high jump at the 1990 Games in Auckland, New Zealand, with a record leap of jump of 2.36 metres that still stands, was scheduled to arrive in Bermuda last night from London, where he lives. Duffy's gold in the triathlon was equally impressive, breaking the tape draped in a Bermuda flag in a time of 56min 50sec for the sprint distance, 43 seconds ahead of second-placed Jess Learmonth of England. "We wanted to honour Flora for her accomplishment of winning the gold medal at the Commonwealth Games," said Norbert Simons, of the Department of Youth, Sport and Recreation, which is organising the motorcade. The normal procedure when an athlete wins a gold medal at a major festival is we provide them with an incentive award, so the plan is she will go on a motorcade through the city and taken to meet the Premier, who will make a presentation to her." Duffy, the Bermuda Athlete of the Year, arrived on the island on Wednesday and will depart later on Monday to prepare for the third race of the season in Yokohoma, Japan, in a fortnight. "We're awaiting confirmation from the Police but we want to go up Queen Street, along Church Street and down Court Street to the Cabinet Office," Simons said. "We're getting Nicky back to be a part of the celebrations and to acknowledge his accomplishment as well." Simons says it would fitting if Duffy could clinch a first series win of the season on home soil. "It would set it up nicely if she wins on Saturday," Simons said.

Several hundred celebrated the official launch of the MS Amlin Bermuda World Triathlon Festival Weekend last night. A packed Front Street welcomed Commonwealth champion Flora Duffy back to the island. Interviewed on stage by emcee Nadanja Bailey, Ms Duffy said she felt overwhelmed about the opportunity to race in her home country. She said: "I know it's a big deal, racing on home soil. My picture is everywhere. It is overwhelming to be me at the moment." Michael Weeks, the Minister of Social Development and Sport, described the event as historic. He said: "By hosting this event, we will once again show the world that while we are just a little dot in the Atlantic Ocean, we are indeed world leaders." Calling Ms Duffy the queen of the triathlon world, he said: "Rain or shine, no doubt all of Bermuda will be lining the course to give their support to her and all of the participants." Kevin Dallas, chief executive of the Bermuda Tourism Authority, said the event was all about achievement. He said: "It's about achievement for Flora and for our athletes. It's about achievement for our young people. This weekend is also about Bermuda hosting another world- class event a year after the America's Cup." John Rankin, the Governor, said the island should be proud of bringing the event to Bermuda and making it a success. He said: "This is a wonderful place. A first-class tourism and sporting destination. Like all of you, I hugely enjoyed watching the Commonwealth Games on the Gold Coast earlier this month, and in particular seeing Flora Duffy win Bermuda's first gold medal at the games in 20 years. Flora, we are looking forward to seeing you compete on your home turf as not only a two-time champion, but also as a gold medallist. You are an inspiration." Marisol Casado, president of the International Triathlon Union, came on stage wearing Bermuda shorts and thanked the crowd for their support.

Confused drivers have blasted changes to road markings at a busy junction in Hamilton. Motorists have complained on social media about the new layout at the intersection of Reid Street and Queen Street in the city. Edward Benevides, chief operating officer at the City of Hamilton, said the junction had "not changed, for the most part". He added: "It's just that people have ignored the rules in that area for so long." Mr Benevides said the speed bump at the zebra crossing was removed for this weekend's triathlon races, which "seemed to trigger the speed demon" in car and bike drivers. He explained many had ignored stop signs on Queen Street and drove straight through. Mr Benevides said road users in the right lane of one-way Queen Street must stop as usual, with traffic from Reid Street having right of way. In the left lane of Queen Street, drivers headed towards Church Street were previously able to pass straight through with priority for pedestrians crossing the road. The Corporation converted that lane to a stop sign to prevent drivers "ignoring pedestrians and ploughing through because of the removal of the speed bump". The two lanes of traffic in Reid Street, also one way, remain as before. In the north lane, traffic restrictions apply for pedestrians, while the south lane gives way to the far lane of Queen Street. Mr Benevides said the only change to the junction was that the western lane of Queen Street "now has a stop sign and road marking of the same".

April 26

Ratings agency Standard and Poor has revised its outlook on Bermuda, raising it from stable to positive. David Burt, the Premier and Minister of Finance, celebrated the announcement. "Standard and Poor's in their overview stated Bermuda's credit story is improving thanks to a return to positive economic growth. The agency added they view the prudent fiscal policy by the new Progressive Labour Party Government as positive. They affirmed their long-term sovereign credit and senior unsecured debt ratings as well as their short-term ratings and transfer and convertibility assessment." Along with revising their outlook on the island, S&P affirmed Bermuda's A+ long-term sovereign credit and senior unsecured debt ratings as well as its A-1 short-term ratings and its AA+ transfer and convertibility assessment. Mr Burt said: "The positive outlook reflects S&P's expectations that, in the next 12 to 24 months, real GDP growth will remain moderately positive, fiscal deficits will continue to narrow approaching balance and Bermuda's net general government creditor position will improve modestly. I am extremely pleased by this outlook which reaffirms the economic policies, stewardship and vision of this Government. We will continue our collaboration with traditional industry partners in international business and we will advance the progress made in growing and diversifying this economy. We promised the people of Bermuda that we would grow the economy and make a more inclusive Bermuda with new avenues of growth providing for more Bermudians to take advantage of economic successes. This is our focus and we are determined to build a better and fairer Bermuda."

The selection of Narinder Hargun as Chief Justice was transparent and fair, according to a statement this morning from Government House. The appointment of Mr Hargun, who retired this month after serving as director and head of litigation at Conyers Dill & Pearman, came under fire from David Burt, the Premier, after it was announced yesterday by John Rankin, the Governor. Mr Burt said he was consulted about the appointment and informed Mr Rankin that the Bermuda Government did not support the selection of Mr Hargun by the Judicial and Legal Services Committee. Mr Hargun will replace Chief Justice Ian Kawaley, who steps down in July. The statement from Government House said that Mr Rankin had "carefully considered the appointment of the Chief Justice, drawing upon advice received from the Judicial and Legal Services Committee and after consultation with the Premier, who in turn consulted the Leader of the Opposition, in accordance with section 73(3) of the Constitution. Narinder Hargun was appointed following an open and competitive process. As the Governor has already noted, Mr Hargun is a highly regarded lawyer both within Bermuda and internationally and his appointment will help maintain the island's standing as a legal jurisdiction of the highest order." The statement added: "The separation of the executive, judiciary and legislature is an important pillar of good governance and the Governor is confident that Narinder Hargun will execute his duties impartially and fairly for the benefit of all Bermudians."

The appointment of Narinder Hargun as successor to Chief Justice Ian Kawaley is "an affront" to the Government, the Premier said last night. David Burt said the Government did not support the appointment and that he had told the Governor, John Rankin, during the consultation process. Mr Burt added: "The Governor did consult with me and I shared with him that this government could not support the recommendation of the Judicial and Legal Services Committee. We were elected to represent the people of Bermuda and to bring meaningful change to this country. The views we express are founded in the convincing mandate to govern which was given to us by an overwhelming majority of the people. Every Bermudian should be concerned that this mandate can be ignored and discarded by a process that cannot be moulded to reflect their will through the existing consultative process." The Government was asked last night for the reasons behind its objection to Mr Hargun's appointment, but no response was received by the time of press. Mr Burt was speaking after Mr Rankin announced yesterday that Mr Hargun will take over as Chief Justice on July 14. The Governor highlighted Mr Hargun's qualifications and experience in the courts. Mr Rankin said: "Mr Hargun is a highly regarded lawyer both within Bermuda and internationally. He has over 35 years of professional legal experience, appearing as counsel in the Supreme Court, the Court of Appeal and the Privy Council, and serving as an Assistant Justice of the Supreme Court since 2011. I am confident that his legal expertise and management experience in the legal profession will serve the Supreme Court well, helping to maintain the island's standing as a legal jurisdiction of the highest order". Mr Burt said: "Bermudians must feel that fairness, equity and above all justice can be found in all our courts. After 50 years of this constitutionally sanctioned disrespect, this is the latest example of this modern era of democracy being frustrated by the application of standards from the last century." The Premier added: "It is now for the new Chief Justice to discharge the duties of the office fairly and justly, and in so doing he will have this Government's support." Mr Hargun served as counsel for the 2016 Commission of Inquiry, which was set up to examine allegations of mishandling of the public purse under the Progressive Labour Party. Derrick Burgess, a former public works minister and still a Progressive Labour Party MP, accused Mr Hargun of racism for his line of questioning about Government contracts during the inquiry. Mr Burgess accused Mr Hargun of "racist practices" and suggested a line of questioning about the involvement of Vincent Hollinsid and Winters Burgess in LLC — the contractor for the Dame Lois Browne Evans courts and police building — was because of their colour. Mr Burgess said: "If they were white, you wouldn't even hear those questions to me." He told Mr Hargun: "I know you are from South Africa, you know." Mr Hargun, a director of global law firm Conyers Dill & Pearman and head of litigation in its Bermuda office, is understood to be from India. Jeanne Atherden, the Leader of the One Bermuda Alliance, welcomed the appointment of Mr Hargun. Ms Atherden said: "Mr Hargun is one of Bermuda's pre-eminent jurists and brings a wealth of litigation and judicial experience to the post. I am disappointed by the openly political opposition of the Premier to the appointment of such a respected and qualified Bermudian member of the Bar. Mr Hargun was appointed following a thorough, transparent and public competition run by the committee, which comprises a number of notable Bermudians and prominent international legal minds." Ms Atherden added: " For the Premier to make this a political football is irresponsible to the extreme. A mature democracy is governed by the separation of powers and the rule of law. An independent judiciary is key to upholding these important values. Attacks such as the Premier's are aimed at having a chilling effect. Thankfully, our judiciary is robust and will continue to take decisions without fear or favour — no matter who forms the Government. I wish Mr Hargun the best as he takes up this critically important position."

A redesigned website for LF Wade International Airport has gone live. In a statement, Skyport described the new site as "clean, simple, visually appealing and easy to use" with functionality and visual appeal as a primary focus. A key feature is a flight search box, which is located on the homepage. When users go to the site to look for flight information, they have the option to type in the flight number, city or airline and are immediately directed to the relevant page. However, the flight information appears in a three-hour window, so not all the day's flights are searchable at the same time. The website has been designed and developed by Sebastion Matcham, of Subtropik. Mr Matcham is a Bermudian. He specializes in web design and development without outsourcing overseas. Mikaela Pearman, marketing and communications officer, at Skyport, said: "It was important for us to work with a Bermudian team to design and develop the website. "We found Subtropik to be the best choice for our needs and are thrilled with the final product — an easy-to-use, beautiful website that will meet the needs of the traveling public. It was equally important to work with the best Bermudian photographers to convey the visual aspects of the site. We hope the public finds the site easy to navigate, stunning and most importantly, informational." Mr Matcham said: "Being a relatively new contender in the local design and web development industry, the chance to take on a high-profile project like this was super exciting. An airport is something which, in its every aspect, must be well-designed — it needs to operate smoothly, efficiently and securely and must be easy to navigate. It should also effectively communicate aesthetic aspects unique to the destination or specific project. Those are all the primary considerations that underpin every web project I undertake, so it felt like a natural fit." Mr Matcham added: "I'm grateful for the opportunity to produce this website and I thank Skyport for making the decision to hire a Bermudian entrepreneur for this project." Skyport hired local photographers Nhuri Bashir, John Singleton, Kyle James and Alexander Masters, to capture images that represent Bermuda and the airport. The images are featured throughout the website. Users of the website will also find passenger and airline information, and material about Skyport, which is responsible for the airport's operations, maintenance and commercial functions. In addition, the website features updates on the airport redevelopment project and a media section with Skyport news and episodes from its bimonthly video series, Taking Off.

One Communications made a profit of $15 million, or 36 cents per share, and increased its total assets by $13 million last year. Frank Amaral, chief executive officer, described 2017 as a strong year for the company, and said: "We maintained the revenue growth achieved in 2016 while significantly reducing operating expenses." A year-on-year comparison of net income is not possible, due to transactions, completed in May 2016, which resulted in the creation of One through the combining of KeyTech and CellOne. However, for the eight months from May 3, 2016 to the end of December 2016, the company made a profit of $2.1 million. Mr Amaral said: "The company completed its roll out of its high speed 4G LTE mobile data services in November 2017. All of our internet customers received a free speed boost in Q4 2017 as part of our FibreWire infrastructure build and we continue to make progress on our revolutionary television platform which is to be launched towards the middle of 2018. On the customer service front, we are focused on improving the customer experience as we roll-out new systems and performance measures, and undertake key internal integration to allow us to provide customers with the convenience of one bill in the second half of 2018. Cayman continues to generate positive growth as we build out our fiber network and add customers as the islands' highest customer-rated service provider. We have seen significant changes in the organizational structure of the company at all levels and are confident that these changes will equip us to remain at the forefront of what is an increasingly competitive operating environment." One has amended and restated its long-term debt agreement to increase the facility to $37.5 million. In connection with this, the company increased its overdraft facility from $5 million to $10 million. The company realised $900,000 from the sale of investments. It also sold its equity interest in Quo Vadis Holdings Ltd to WISeKey SA, receiving $1 million in cash and 88,800 shares in WISeKey, valued at $400,000. One's total assets increased from $185.4 million to $198.3 million during 2017. The company repurchased 446,652 of its shares last year as part of a share buyback programme. Shareholders' equity increased by about $13,000 to $136,425.

Jeff Baron spoke for the One Bermuda Alliance on national security before the party assumed power in 2012, and law and order remained in his portfolio over a sometimes colorful political career. Mr Baron was appointed as special adviser to Michael Dunkley, the former Premier, in 2013 while serving as senator and Junior Minister for National Security. He held the position until April 2016. He hit the headlines in 2014 when a scuffle outside the Swizzle Inn at Bailey's Bay resulted in a 46-year-old man being charged with assaulting him. The incident went to trial a year later. Mr Baron told the court that he had attempted to stop an intoxicated customer from driving with a woman and toddler in his car, but counsel for the accused likened his conduct to "Captain America". Magistrate Archibald Warner faulted the senator's conduct, and the accused man was cleared of wrongdoing. Mr Baron offered one of the OBA's rare critiques of the island's racial dynamic from the Senate in June 2015, when he urged locals to "call off the inciteful and hateful language without giving up the reality that we have to have these conversations". In his first speech as Minister of National Security, Mr Baron addressed roads deaths and gun violence. In his new role, he managed the Cash Back for Communities programme, which donated criminal proceeds to community groups. His portfolio also included the Royal Bermuda Regiment and natural disasters — such as Hurricane Nicole in October 2016. Mr Baron also waded into the island's debate over same-sex marriage. He joined fellow senators in rejecting a Bill to amend the Human Rights Act to define marriage as between a man and a woman only in 2016. A vocal supporter of marriage equality, Mr Baron stuck to his guns in 2017 as an Opposition senator and dismissed the Domestic Partnership Bill, which replaced same-sex marriages with a partnership arrangement, as "a flimsy attempt at appeasement and middle ground". Just before voters went to the polls for the General Election in 2017, Mr Baron condemned a racially offensive Facebook post by his sister. His election to the House came as the OBA was thrashed at the polls, with political observers, including former Attorney-General Phil Perinchief, saying Mr Baron was the fresh blood needed to lead the party. But as Mr Baron set off across the American Southwest on a motorcycle to raise money for Big Brothers Big Sisters last December, his departure from politics was already on his mind.

The One Bermuda Alliance could struggle to hold the Warwick North East constituency, former area MP Jeff Baron predicted. Mr Baron, who resigned yesterday for "family reasons", said that it would be difficult for the party to retain Constituency 25. He added: "The voters are clever. They're going to look at the candidates." He said there was support for both the OBA and the Progressive Labour Party in the area, but that voters "really take time to drill down on some significant issues". Mr Baron added: "I think the current government will have a hard time addressing some questions regarding a lot of different topics. You'll have difficult questions for the Opposition, whom the public have felt they want to hear a bit more from nationally." The former Shadow Minister of National Security was speaking after he announced that he was to quit politics, which will force a by-election. Mr Baron said that the OBA would "circle their wagons and come up with a strategy" in the run-up to the vote to select his replacement. He emphasized that he would have "no say" in who his former party picked to run in the constituency. Mr Baron added: "I am not going to endorse anyone, either." He said he wished constituents in the area "the very best in their decision-making". Mr Baron said: "What you learn very quickly in politics is that the voters are never wrong." He thanked everyone who had come out to cast a vote in the General Election last July — not only those who backed him. Mr Baron said: "I walked away with a hard-earned win and was the only OBA candidate to take a Warwick seat. The entire constituency engaged and they made a choice." Mr Baron said he would continue a public-service role despite his decision to leave the House of Assembly. "I've made it very clear that I am going to continue to serve the community in various ways," he added. "Whatever it takes." Mr Baron won the constituency by a margin of 493-428 over PLP candidate Kathy Lynn Simmons, who has since been appointed a senator and Attorney-General as the Minister of Legal Affairs. Warwick North East was earlier held by Mark Pettingill, who left the OBA in March 2017 amid disillusionment with the party to sit as an independent. He did not contest the General Election. Mr Pettingill ruled out another run in the constituency yesterday. He added: "And certainly not for the OBA, who should consider letting an independent run there in the interests of creating a viable Opposition." Jeanne Atherden, the Opposition leader, said Mr Baron's resignation was "an opportunity to have some of the younger members get involved and get a seat in the House". She added: "We have talked recently about getting more people to be candidates, so this ties into that quite well." Ms Atherden said she expected a "fiercely fought" campaign in Warwick North East. "We have plans to be out there on the doorstep," she added. "We plan to talk to people about what we stand for so they know what their representative will do for them." Ms Atherden said the OBA was still a valid Opposition. "We have had the opportunity to discuss what we stand for and what we want to say when we are on the doorsteps. We are all committing ourselves to go out and have these conversations." Michael Dunkley, the former Premier, said that he was "surprised and disappointed" by Mr Baron's decision to quit. He added: "The sudden resignation with little notification to his colleagues brings to an end his short and promising political service." Mr Dunkley said he was "acutely aware" of the difficult task of "juggling family, politics and employment". He added: "Mr Baron is not the first one to face this challenge. It was evident in his case during House sittings but I am pleased to learn he has secured employment and is focused on his young son."

A pressure group has called on the Government to continue its work to reform Bermuda's immigration laws. Supporting Fair Immigration Reform warned that the island could face problems similar to those in Britain over the Windrush generation — a group of people who emigrated there after the Second World War and were named after the first ship to arrive from the Caribbean in 1948. The warning came after the British Government said it would grant citizenship to people who emigrated from Commonwealth countries from the late 1940s to the 1970s. Migrants and their descendants were faced with deportation this year after they were told they were in Britain illegally because of a lack of paperwork. A spokesman for Supporting Fair Immigration Reform said: "If we sympathize with those people, why can't we sympathize with those people who are in the same situation here in Bermuda? We currently have families where different members have a different immigration status. If nothing is done, immigration will divide families in Bermuda." The group, which has about 2,500 members, added: "We applaud the UK Government for the action that they have taken to correct this injustice. As we all know, immigration is a very sensitive and serious topic in Bermuda. No one agrees that the current immigration laws are reasonable and sustainable. If we do not find a solution to resolve our immigration problems, Bermuda will eventually have its own Windrush generation situation on its hands. We agree wholeheartedly with the need to protect Bermuda for Bermudians. However, as we have always said, this should extend to persons who are thoroughly Bermudian in their hearts and who know no other home than Bermuda, but for whom the law has failed to make provision. We once again implore and urge the Government to continue to work on completing comprehensive bipartisan immigration reform to correct the injustices and divisions that it has created within families." The group pointed to people who were born in, or came to, Bermuda 20 to 25 years ago but were not allowed to stay when they came of age. "They are Bermudian in every sense of the word — except when it comes to their rights to call Bermuda home. It is harsh to tell these people 'go back home' when this is where they grew up." The group referred to comments by Progressive Labour Party MP Christopher Famous in ZBM's evening news on Friday. Mr Famous said the UK should do the "right thing" and provide British citizenship to those descendants of the Windrush generation. The group also raised the issue of "belongers" — people who "belong to Bermuda" and hold a Bermudian passport but cannot vote. "Does this sound fair? How can someone who is not Bermudian have a Bermuda passport? Shouldn't that come with all the rights and privileges of becoming a Bermudian?" The Consultative Immigration Reform Working Group was set up to review and propose amendments to the Bermuda Immigration Act in 2016. The group was created in the wake of protests sparked by the Pathways to Status immigration proposals by the former One Bermuda Alliance government. The working group released a report in November last year after 18 months of discussion and public consultations designed to help lay out guiding principles for new immigration policies covering mixed-status families, permanent resident's certificates and Bermuda status. Walton Brown, the Minister of Home Affairs, was to examine the report alongside a bipartisan committee on immigration reform. Mr Brown said at the time that he hoped new legislation would be brought to Parliament as early as February.

Flora Duffy has urged island residents to make a "wall of noise" at MS Amlin World Triathlon Bermuda on Saturday. The Commonwealth champion said cheers and flag- waving could create a tremendous atmosphere for competitors. She said: "I just hope that really creates such a great atmosphere in the race and I think for those of us competing, that's what you remember and those details go a long way — a wall of noise up Corkscrew Hill would just be perfect." Ms Duffy was speaking in a video posted online as organizers announced prime viewing spots to watch cyclists and runners compete in Saturday's event. A spokeswoman said fan zones would be set up along the route by community groups and the public are encouraged to join in or set up their own areas "with noisemakers, tents, chairs, coolers, picnics and refreshments". She added that restaurants and cafés in Hamilton would be open, including those with balcony views of the racecourse. No 1 Car Park on Front Street will be transformed into a blue-carpeted ITU triathlon transition zone. There will be bike racks, a finish chute and a free public viewing deck with large screen TVs, available on a first come, first served basis. The spokeswoman said sidewalks on Front Street would also make for "optimal viewing for the bike and run legs of the morning's Age Group Amateur and the afternoon's Elite races". A fan zone for Port Royal Primary school, attended by Ms Duffy, will be on the corner of Reid Street and Burnaby Hill. Pupils, former pupils, parents, teachers and friends have been invited to watch the cyclists fly down Reid Street from Cavendish Road and take the sharp turn at the bottom into Queen Street. An international fan zone will be set up in the area in front of the Cabinet Grounds on Front Street, with flags of the 33 nations taking part on display. A Warwick Academy fan zone will be set up at the bottom of Crow Lane, where viewers can watch cyclists take Trimingham Hill and the first switchback into Corkscrew Hill. The school has invited pupils, former pupils, parents, teachers and friends to join them. Free parking will be available at the Botanical Gardens and the Arboretum. At the top of Corkscrew Hill, DJ Chubb will playing music and fans can gather for the day at Avocado Lodge Park. Ashley's Lemonade will be in place for refreshments. The spokeswoman added: "This is a great place to enjoy the day with friends, park for free at the Arboretum and see the best cyclists take on Corkscrew without breaking a sweat." Competitors could face bad weather conditions, with the Bermuda Weather Service yesterday forecasting showers, increasing winds and a risk of thunderstorms into Saturday afternoon. The forecast for today's opening ceremony, which features Bermuda's young athletes taking centre stage, is for sunny periods and decreasing southwesterly winds by the afternoon. The opening ceremony will be Ms Duffy's first public appearance since the Commonwealth Games, and will coincide with the 25th anniversary of Harbour Nights, starting at 7pm. A few showers and increasing winds are forecast for Friday, when more than 200 youngsters compete in the Tokio Millenium Re Kids Duathlon on Front Street. Saturday's Elite races will be broadcast live on Bermuda Broadcasting TV-7 and online at royalgazette.com. Racecourse maps are available at tribermuda.com

The Green Family has donated $10,000 to the Bermuda Rugby Football Union. The money will go towards funding the BRFU's youth tour that will see players represent Bermuda at the eight annual Freeport Junior International Rugby Festival in May. Sean Field-Lament, president of the Bermuda Rugby Football Union, said: "We are grateful to the Green family for their generous donation. We are so pleased that these youth programmes are getting the support needed to maximize the wonderful opportunities to play rugby for Bermuda. Great memories, lifelong friendships and character building are the positive outcomes we aspire to." Andrew Green, on behalf of the Green Family, added: "We are delighted to be able to support Bermuda's young rugby players. The BRFU's Mini Rugby programme teaches children important life skills, including respect, honesty and teamwork and we are proud to be involved in the programme." The Annual Freeport Junior International Rugby Festival will see more than 400 young athletes from around the world compete in the Bahamas. The BRFU tour will consist of more than 50 young players from the island. The players, aged 9 to 14, will compete in the U10, U12 and U14 age groups as part of their Mini Rugby programme. The tour is an opportunity for young athletes to gain experience representing Bermuda and to engage with other local players from different programmes and schools.

April 25

The cancellation of the contract with an American-based organisation designed to fight gang violence will be discussed in the House of Assembly on Friday. Wayne Caines, the Minister of National Security, will address the cancellation of the Operation Ceasefire contract in a ministerial statement. A spokesman for the National Network for Safe Communities confirmed to The Royal Gazette last week that the Government had cut short the Operation Ceasefire programme. Cabinet minister Diallo Rabain, in a Facebook posting over the weekend, said the contract had "expired on April 1". Mr Rabain said: "The first opportunity to address the matter will be when the House convenes on Friday." He added that "hard work is being done behind the scenes". Jeff Baron, the Shadow Minister of National Security, said there was "absolutely no truth" that the contract was up at the beginning of the month. Mr Baron said: "That's absolutely false. The bottom line is that it was a two-year contract that was signed." Mr Baron said the decision to cancel the contract was the Government's choice to make. He added: "The lack of transparency is the concerning part." The NNSC's Group Violence Intervention, first developed as Operation Ceasefire, has been used to combat gun and gang-related crime in US cities. The programme started in Bermuda last year. The two-year deal between NNSC and the Bermuda Government, which was scheduled to end in the first half of next year, cost about $370,000.

Catastrophe losses from mudslides in California impacted first quarter income for Chubb Ltd. The company has reported a profit of $1.08 billion, or $2.30 per share, for the first three months of the year. That is $11 million lower than the net income achieved during the corresponding period last year. Core operating income was $1.09 billion, which was also slightly down on the $1.17 billion reported for the first quarter of 2017. A series of major mudslides in Santa Barbara County, north of Los Angeles, in January, caused catastrophe losses for Chubb. Evan Greenberg, chairman and chief executive officer of Chubb, said: "We had a very good quarter though it was impacted by a higher level of catastrophe losses. We produced world-class ex-Cat underwriting results, strong net investment income and good premium revenue growth while achieving better commercial P&C pricing in many of our businesses globally, which improved as the quarter went along, particularly in the US core operating income per share excluding Cats was up over 5 per cent. Concentrated in two areas where we have meaningful presence — Montecito, California with the mudslides and the Northeast US — the catastrophe losses this quarter were up $175 million pre-tax over the prior year and contributed 5.8 points to our published P&C combined ratio of 90.1 per cent. The current accident year combined ratio excluding Cats was 87.6 per cent compared to 88 per cent the prior year. Adjusted net investment income was up 5 per cent, and we expect the positive trend to continue due to our strong growth in invested assets and the rising yield environment." Mr Greenberg added: "P&C net premium growth for the company was 5.8 per cent. P&C premiums were up over 5 per cent in our North America insurance business while internationally premium revenue was up 8.5 per cent and benefited from a weaker dollar. I expect our growth to accelerate as the year goes along, particularly outside the US. Commercial P&C pricing for the business we wrote in the quarter continued to improve in the US and a number of territories outside the US. We achieved some of the best pricing in quite some time, and it improved as we moved through the quarter. In some classes, customer segments and territories we are observing a clear direction in price firming; in others it's more chaotic." Book value and tangible book value per share decreased 0.2 per cent and 0.3 per cent, respectively, from December 31, 2017 and now stand at $110.10 and $65.65, respectively. Chubb said book value and tangible book value per share growth was negatively impacted by realised and unrealized losses of $938 million, after-tax, in the company's investment portfolio, driven by rising interest rates.

An American drag car racer has been forced to pay back $70,000 to a Bermuda-based insurance company for misrepresenting the top speed of his vehicle. Mark Woodruff told the insurer his car could not complete a 220-yard course in less than 4.2 seconds. Mr Woodruff received a payout after a crash, but the insurer discovered he had made multiple runs with times below 4.0 seconds and company policy prohibited insurance cover for vehicles that could travel that fast. The Supreme Court heard that Motor Insurance Group, which is operated by Bermuda-registered Capital Securities Ltd, based premiums on the "elapsed time" of a racing car — the time from start to finish over a track — and would not insure cars with an elapsed time of 4.2 seconds or faster. Acting Puisne Judge Shade Subair found that it was clear from the evidence that Mr Woodruff knew the vehicle exceeded the maximum allowed elapsed time. She wrote: "I was further persuaded on the evidence that the first $35,000 advancement by the insurer was made in good faith and prior to any discovery by the plaintiff that the defendant had misrepresented the true elapsed capacity of his vehicle. This amounted to a payment by mistake as the plaintiff was mistaken on the material facts which led to the payment." The hearing was held in the Supreme Court on April 16, but Mr Woodruff was not present or represented by counsel. The Supreme Court heard that Mr Woodruff had applied for insurance from the company in 2015 and 2016, with the second policy ending in March 2017. On August 24, 2016, Mr Woodruff was involved in a crash. The next day he filed a claim seeking $85,365.51. Capital Securities said the claim technically fell short of compliance, but the company decided to process the claim in good faith. A payment of $35,000 was sent to Mr Woodruff by wire transfer, but it was discovered he had started to get the vehicle repaired without first getting an estimate, which was contrary to his policy. The insurer then discovered multiple videos and postings online of Mr Woodruff making 220-yard runs in less than 4.0 seconds. The company demanded the money be returned, but no payments were made. The court also heard that a power outage in Bermuda in September 2017 caused by Hurricane Irma accidentally led to a second payment of $35,000 to be paid to Mr Woodruff. A witness explained that staff made the error while trying to work through the adverse conditions. The court heard that the combined $70,000 sent to Mr Woodruff was more than he would have been entitled to even if the vehicle was eligible for coverage.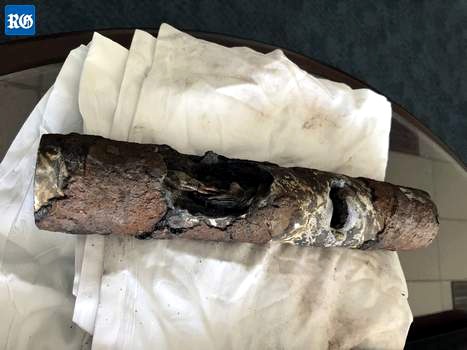 This rotten and damaged electricity cable dates back to 1951, the year when the Royal Naval Dockyard officially closed as a British military facility and Earl Cameron made his big-screen debut in Pool of London. After 67 years of service within the island's electricity distribution grid, it has finally given up the ghost. The burnt-out cable is representative of an ageing grid not designed to meet today's electricity demands. As Belco publicly stated last year, about 25 per cent of its underground cables are more than 60 years old. An additional 15 per cent are more than 50 years old. However, much needed upgrades are now under way. Over the next five years, Belco will carry out a $125 million project to modernize the transmission and distribution network, including cables, substations and the installation of advanced meters. The work will help to improve the reliability and efficiency of electricity delivery, something that Belco is responsible for under its Transmission, Distribution and Retail licence granted by the Regulatory Authority. The work will help to improve the reliability and efficiency of electricity delivery, something that Belco is responsible for under its Transmission, Distribution and Retail licence granted by the Regulatory Authority. The ongoing grid improvements, coupled with new generating equipment and a proposed switch to natural gas as a principal fuel — all part of Belco's $250 million capital plan — are expected to yield great efficiencies. Sean Durfy, chief executive officer of Belco and its parent company Ascendant Group, said: "The whole aim of the exercise for us is to get the cost of electricity down and we believe we can do that over the next five years. We know we have some of the highest rates in the Caribbean region and we know we have to get the cost of electricity down. We know the high cost of electricity has an impact on our customers and on the Bermuda economy. We have been running the company in a certain way for 100 years and you can't just stop that — it's going to be a step-by-step process. But within five years, we believe we will be able to manage our costs down to the point that our rates will be comparable with other islands." In March, the Regulatory Authority gave Belco the go-ahead to build the North Power Station and to retire some of its ageing and inefficient generators. Mr Durfy said the project would provide work for about 100 people over two years. He said the project was "fully wrapped", meaning that any cost overruns would be borne by the contractor, rather than Belco. The main contractor for the project is BWSC, a Danish company that has built 180 power plants in 53 countries over the past three decades. Belco will decommission 80 megawatts of generating capacity and replace it with 56 megawatts of new capacity from the four new engines, supplemented by a battery energy saving system, known as BESS. The massive batteries, with an output capacity of 10 megawatts, will be housed in the new power station on land off Cemetery Road. BESS will contribute to efficiency as well as reliability of the supply. "When a unit goes down you have to have other engines ready to ramp up quickly. The batteries will give us more time to do that," Mr Durfy said. The new engines will run on the light and heavy oil fuels Belco burns today, but will be easily convertible to natural gas — should the island decide to opt for that fuel in future. They will use a single chimney stack, while one of the two chimneys in Belco's existing plant will be removed. It will adhere to modern noise and vibration standards and although it's an industrial site, it's built to ensure the best aesthetics," Mr Durfy said. The project will allow Belco to reduce the number of engines at its Pembroke plant from 17 to 12. Also, a pilot programme is under way with advanced meters that will give both the customer and Belco more information about electricity consumption. The aim is that eventually, customers will be able to access meter information online through Belco's portal. For the company, the meters will provide valuable data about fluctuating demand that will help it to better manage supply to different parts of the island. Belco submitted its Integrated Resource Plan — comprising proposals for the future of electricity supply in Bermuda — to the RA in February this year. Next comes a consultation period, giving the public the chance to have their say. The plan incorporates an increase in the role of renewable energy, which will gain a significant boost from a six-megawatt capacity solar farm scheduled to be built within months at the munitions pier of LF Wade International Airport, land also known as "the finger". Mr Durfy said while solar energy from rooftop installations and the utility-scale facility in the East End would make a significant contribution to supply, it could not replace the island's need for baseload capacity from engines burning oil or gas. "To replace the 60 megawatts of capacity, you'd need about 175 acres for the necessary solar panels — about three or four times the size of Hamilton," Mr Durfy said. Wind turbines constructed at platforms out at sea are another option. But Mr Durfy, who has in the past been involved in projects to build vast 150-turbine wind farms in the North Sea, said the five or six 10-megawatt turbines Bermuda would need, would not be economically efficient. He added that the wind tended to drop at the times of year when electricity demand was at its highest. Successive governments have advocated more competition in the electricity sector, something Mr Durfy believes will not achieve the desired result of a better deal for consumers in a market the size of Bermuda. "I believe that opening up this market to competition will not necessarily lead to reduced pricing — I stand by that view and several studies support that," Mr Durfy said. Because Belco is a monopoly supplier of electricity, it was the regulator's role to replicate the competition, Mr Durfy said. That was why Belco had to adhere to service standards and a grid code and needed to justify and get approval for any rate increases. Belco aims to have an entirely electric fleet of vehicles by 2022. Mr Durfy hopes to see the popularity of electric vehicles continue to grow on the island and not only because it will boost electricity sales. "It just makes sense for the island," Mr Durfy said. "Electric vehicles have about 65 per cent of the operating costs of internal combustion vehicles, because there are fewer moving parts." The cost of charging an electric car was as little as one fifth what it costs to fuel a conventional vehicle, he estimated. A mass move to electric vehicles would boost electricity demand, allowing Belco to spread its fixed costs wider, leading to lower electricity costs per kilowatt hour, Mr Durfy argued. "Electricity demand is falling about 1 per cent a year, but if the island's vehicles were 100 per cent electric, we estimated it would add 10 to 12 percentage points to demand," he added.

Police have listed diversions that will affect the island's roads during MS Amlin World Triathlon Bermuda on Saturday. Certain stores in Hamilton will remain open, with some establishments choosing to extend their hours of business. Traffic into the city and central parishes will be affected from 4am until the end of the day's races. Entry into Hamilton is recommended from the north, a spokeswoman said, with roads from Victoria Street northward remaining open. Bulls Head, Elliott Street and King Street car parks will remain open, but Par-la-Ville car park will be open only to event volunteers from 6.30am to noon on Saturday. Parking will be offered at Saltus Grammar School from 6pm to 9pm on Friday, and 6am to 7.30pm on Saturday, as well as the FedEx warehouse at Mills Creek Road on Saturday only. On-street parking will not be offered on Front Street and Reid Street from 6am on Friday to allow for spectator barricades. The following routes will be impacted by the age group races, scheduled between 7am and noon, and the elite races, set for 1.05pm to 6.30pm:
Crow Lane and East Broadway, Pembroke will be closed all day or at least until 8pm.
Middle Road between Montpelier Road, Devonshire, and Reid Street in Hamilton will be closed all day or at least until 8pm.
Pitts Bay Road, Pembroke is set to be closed between Bermudiana Road and Serpentine Road.
Stowe Hill, Paget is restricted to residents only.
Harbour Road, Paget, will be closed beyond the junction with Lovers Lane.
The Lane and Pomander Road, Paget will be closed.
Trimingham Road in Paget is set to be closed from the south roundabout to Crow Lane.
At the junction of Berry Hill Road and Point Finger Road, Paget, traffic will not be able to travel west.
Serpentine Road, Pembroke, will be closed from Pitts Bay Road to Par-la-Ville Road.
A police spokesman said traffic from the western parishes heading for Hamilton would be directed to Tee Street, Devonshire, and will be able to travel as far as Montpelier Road, Devonshire — with an alternative route open via Orange Valley Road, Devonshire. Traffic may also be diverted at the junction of Middle Road and North Shore Road, Smith's.

Nancy Missett was more than a little skeptical when her daughter suggested she enter a triathlon. After all, she was about to turn 75. "I said, 'At my age?'," laughed the retired teacher. "My daughter did a triathlon last summer in New York. I just thought it was astounding doing something like that. She said, 'Mum, I think you could do this. It would be a great way to celebrate your birthday." Mrs Missett, who turned 75 on March 19, was eventually persuaded to give it a go. The fact that the triathlon was in Bermuda, helped to convince the Manhattan resident. "I have so many happy memories from there," she said. "I love Bermuda." She first visited for spring break when she was 19, with classmates from Pine Manor Junior College in Wellesley, Massachusetts. She and her friends were lying on the beach listening to steel pan music, when someone from the Bermuda Chamber of Commerce urged them to join a beauty pageant. The girls laughingly complied. "There was no talent involved, and we were in one-piece bathing suits because it was 1962," Mrs Missett said. She thought it was a joke when pageant organizers chose her to be that week's College Week queen. "They took me and a date out for dinner," she said. "We went to a wonderful restaurant by the water. We did a tour of Hamilton, and I think I got a sweater from Trimingham's. It was a lot of fun." She thought that was it when she went back to school, but in October she got a telegram asking her to return as the queen of the April 1963 Floral Pageant. So she returned to Bermuda the next year, this time with her mother. She was crowned in a special ceremony at City Hall where she was given a scepter made from a decorated plunger, and a bouquet of flowers. "It was adorable," she said. This month's trip promises to be a lot grittier. She'll be running, biking and swimming around the island with her daughter, Samantha Topping and hundreds of others on Saturday as part of the MS Amlin World Triathlon Bermuda. Among the group will be 14 friends from her gym in Manhattan, The Colony Club. "I'm the oldest by far," she said. "The next youngest has to be a good 20 years younger than me. Still, they've all been very supportive. Nobody has said I couldn't do it because of my age." Her aim is just to finish. With the help of a trainer, she's been cycling, swimming and power walking for at least an hour a day. She also runs, but in recent weeks has cut back a bit due to a sore hamstring. "This is my first triathlon and my last," she laughed. "I can't imagine doing this again. "Samantha is going to leave me behind. I just want to go at my own pace and hope I can at least walk the last three miles, not crawl. I just hope there are other people my age doing it." Bermuda remains one of her favorite places. In the years since being crowned, she has been back eight times with her family; the last visit was about ten years ago. "Bermuda is charming," she said. "The beaches are beautiful. The last time we were there, we stayed in a house in Tucker's Town. It is really special that I get to do my first triathlon in such a nice place."

Two Bermuda residential care homes have won recognition. Westmeath Residential and Nursing Care Home and the Dorothy Crane Nursing Home achieved certification from the Bermuda National Standards Committee and are now on their way towards full accreditation. Sharon Swan, director of nursing at Westmeath, said: "Certification shows we have the infrastructure for continuous improvement, so we can always do better. It's good for the residents and their families and the staff and Bermuda. It is something to be proud of. I think it helps to ensure that the residents are getting high-quality care and they have a say, because we do surveys of the clients, their families and their staff." Dionne Woolridge, administrator at the Dorothy Crane Nursing Home, added: "It has been a lot of work, but what it means is that the loved ones of clients can rest assured that their family members are getting the best care in Bermuda." In addition to the residential facilities, BNSC reaccredited the Employee Assistance Programme for the next four years, while The Adult Education School was certified for the first stage of the BNSC two-phase accreditation programme. The Minister of Social Development and Sport, Michael Weeks, attended the event at O'Hara House in Hamilton. He said: "I would encourage all local charities and human service groups in Bermuda to continue to participate in this demanding process of accreditation and certification to ensure that the level of care in our community is on par with international standards of quality of care." The residential programme was spearheaded by the Bermuda National Standards Committee, which worked with Age Concern and the Bermuda Government to create the first initiative of its kind on the island. BNSC chairman David Lang said: "At a time when the Bermuda population is ageing rapidly, such signs of progress will have a meaningful impact in our community". The second phase of the scheme will include on-site assessments from international peer reviewers from the Council on Accreditation in the United States. BNSC manager Nadine Lapsley-Dyer said: "The process was rigorous and the awardees and their respective representatives worked hard to self-evaluate their current practices of care while at times being introduced to other practices. The experience was extremely rewarding and we are very grateful for the support of local compliance officers and other healthcare professionals who comprised the local peer reviewer teams." The BNSC has awarded accreditation to 13 organisations in Bermuda and provided certification to sixteen others.

Olympic sailor James "Jimmy" Kempe has died at the age of 94. An engraver whose handiwork adorned trophies as well as gifts to visiting dignitaries, Mr Kempe represented the island twice at the Olympic Games — in Melbourne in 1956 and Rome in 1960. Flying to Australia in a propeller plane as a member of Bermuda's first Olympic sailing team, Mr Kempe crewed with HB "Brownie" Eve and Bernie Ward to compete in a Dragon class vessel. Carrying Bermuda's flag into the arena was an experience Mr Kempe never forgot, and the legacy was continued by his sons, Reid and Jay, who sailed at the 1992 Olympics in Barcelona. "No other person I know of has had their son follow in the very same event — and I've had two," Mr Kempe told The Royal Gazette a year later. Mr Kempe was a founding member and first president of the Junior Chamber of Commerce, and helped to found the clean-up group that became Keep Bermuda Beautiful. A founding member also of Sandys Rotary Club and president in the 1980s, he was also an honorary life member of the Royal Bermuda Yacht Club. Mr Kempe built his first boat at the age of 8, and his first sailboat when he was 16. He raced locally and overseas in the Luders 16 Class and was a keen member of the Bermuda Offshore Cruising Association. He also represented Bermuda at three world championships — at Larchmont in the United States in 1983, followed by Edinburgh and Clyde in Scotland in 1985 and 1987. According to Jay Kempe, his father "improved significantly" after each race, with overseas competitors left wondering who "this guy from Bermuda" was. He said his father came from "a family of humble beginnings but whose parents and siblings all achieved much through hard work, ambition and resilience". His father, James Wasson Kempe, was a Collector of Customs, while his mother, Mabel Gertrude Kempe, a music teacher, was active in the island's suffragette movement. Mr Kempe was the youngest of five: his sister, Eleanor McGavern, was a nurse; brother Wilbur Kempe, known as Winky, founded Bermuda Forwarders, while Bill Kempe was a founding partner of the firm Appleby, Spurling and Kempe, and his sister Lois Aitchison, a Julliard graduate, became a musician. Known as the artist of the family, Mr Kempe studied engineering and fine arts at Mount Allison Academy in Canada, but spent a year in hospital for polio. He married Elizabeth Reid in Canada in 1947, and returned home to set up a craft shop, specializing in leather handbags for Cecile's. He set up the shop Kempecraft a year later and branched out into jewellery, painting and ceramics. He trained as an engraver of silver in 1948, becoming the island's specialist. According to his family, his work appeared on "all major local trophies", as well as silver gifts, including items for visiting world leaders including the Queen, the Pope, President Nixon, British Prime Minister Edward Heath, and Haile Selassie, the Emperor of Ethiopia. Retiring in 1993, Mr Kempe said: "I may not have made a lot of money in a small business, but it's suited me fine because there is so much freedom to go off and do other things. I'm sure that if I'd worked for an exempt company, there's no way they'd let me go off around the world racing sailboats." A service celebrating his life will be held at 4pm today in Christ Church, Warwick, with interment to follow.

April 24

The birth of the Duke and Duchess of Cambridge's third child is to be celebrated tonight with a gun salute. The Royal Bermuda Regiment said a field gun will fire from Hamilton's Albouy's Point at 6pm to mark the birth of the couple's second son. A single round will be followed by a rifle volley from a firing party. Barricades will be put up along Point Pleasant Road, blocking traffic to Albouy's Point, for the event. The Bermuda Police Service will control traffic and spectators in the area and the Department of Marine and Ports will notify sailors.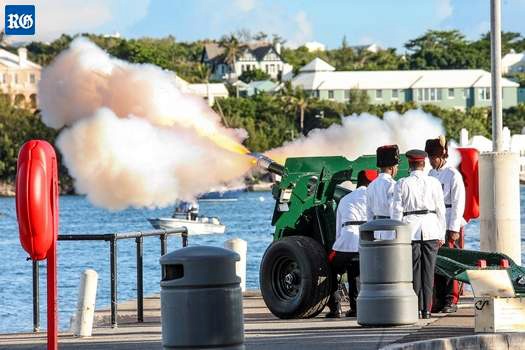 See above item

The Mayor of St George celebrated a successful year in the Old Towne during the annual Peppercorn Ceremony yesterday. Quinell Francis said: "During the 2017/18 fiscal year, we have undertaken several restoration and improvements projects, including upgrades to the dock at Market Wharf and Ordnance Island and the completion of work in the ferry dock at Hunter's Wharf." She added: "I take this opportunity to thank all the contractors and corporation staff who have been instrumental in bringing these projects to fruition. In particular, I would like to thank the Minister of Home Affairs, the Honourable Walton Brown, and the Minister of Public Works, the Honourable David Burch, for their support in these initiatives in positioning us to better serve our residents and business owners." Ms Francis was speaking as she joined other dignitaries to honour the day the Masonic Lodge St George's took over the Old State House as its headquarters in 1815 for a rent of one peppercorn a year. Guests included John Rankin, the Governor, David Burt, the Premier, and Major Warren Furbert, second-in-command at the Royal Bermuda Regiment, representing Lieutenant-Colonel David Curley, the RBR's commanding officer. Members of the Corporation of St George, Commissioner of Police Michael DeSilva, and representatives of the island's Freemasons also attended. Ms Francis said highlights since the last ceremony included improvements to historic structures and services in the town and looked forward to more developments. She thanked the staff at the Corporation of St George for their "dedication and service to the community of St George's." Ms Francis added: "In light of the Government's decision to defer the next municipal election, Mr Charles Gosling, the Mayor of Hamilton, and I have committed that our respective municipalities will partner with the Government collaboratively." She said there had been a "positive impact associated with the St George's hotel project", including increased traffic and more commercial activity. John Dale, the master of ceremonies, paid tribute to the work of the RBR for their work "protecting the people, property, livelihood and interests of Bermuda".

Bermuda-based Sompo International Holdings Ltd is to open a new subsidiary in Luxembourg as a Brexit-proof platform for growth in Europe. The insurer and reinsurer said today it had received regulatory approvals from Luxembourg's Ministry of Finance to establish the new subsidiary, SI Insurance (Europe). SI joins others, such as Hiscox and American International Group, who have chosen to set up a European hub away from London to avoid the impact of the likely loss of "passporting" rights that allow UK-based companies unhindered access to European Union countries. SI said it would maintain its London offices and its presence in the Lloyd's market. John Charman, chairman and chief executive officer of Sompo International, said: "Europe is a key component to SI's strategic growth plans and SIIE now provides us with a base in continental Europe to build our presence in the region. We continue to introduce new specialty teams and deliver a broader suite of products as we enhance our capabilities to provide exceptional and efficient service to our international clients." Takashi Kurumisawa will be CEO of the new company, which is expected to become operational later this year. Sompo International plans to extend SIIE this year beyond its headquarters in Luxembourg to include operations in Italy, France, Spain, Germany and Belgium as the company integrates Sompo Japan Nipponkoa Insurance Company of Europe Ltd and further expands its European operations.

Oleander Cycles, one of Bermuda's top moped rental agencies, has bought out Suzuki Cycles store, which is a division of JNT Ltd, located on Victoria Street. Oleander has eight locations and has been around for decades. Gregory Bluck, the company's general manager, said Oleander had been looking for an opportunity to grow and diversify. "We have been looking for an opportunity to diversify the business and broaden our customer base," Mr Bluck said. "I have always felt that since we are open seven days a week including public holidays and weekends to service our rental bike customers, that we can provide the same level of service for our private bike customers." After considerable discussions, both Suzuki Cycles Ltd and Oleander agreed that now was the right time. Mr Bluck said Oleander would be selling the Suzuki brand. He also stressed that there were no job losses during the process as the owners of Suzuki worked in the shop themselves without hiring additional staff members. Oleander Cycles will not be the exclusive Suzuki sales representatives on island and they will only take over the Suzuki Ltd shop on Victoria Street. "There is another cycle shop on island that sells Suzukis," he added. Mr Bluck believes that the acquisition makes strategic sense as it will allow Oleander to leverage its strengths and operations. Oleander is also the Kawasaki dealership and intends to expand offerings of this make. Apart from its cycle shops, Oleander also has a spare parts centre located at 6 Valley Road, Paget and is open seven days a week from 8.30am to 5.30pm.

Child protection expert Sheelagh Cooper said yesterday that a man who dropped his infant son out of a first-floor window should have received a stiffer sentence. She was speaking after Anthony Davis was last week given a nine-month suspended sentence and two years probation for the incident, which caused the child only minor injuries. Ms Cooper, chairman of the Coalition for the Protection of Children said: "In my opinion this most recent sentence fails to recognize the very real likelihood that this baby may well have died. We must ask whether this sentence truly reflects the value that we place on the welfare and safety of our children. " Ms Cooper said April is Child Abuse Awareness and Prevention month and that it was "a time for reflection and review of the strength of our commitment to protecting children". She added: "While we as a community have made considerable headway in terms of public education through Saving Children and Revealing Secrets and empowering children through the Coalition's Speak Up Be Safe programme, a recent sentencing decision suggests we still have some progress to be made in responding to the cases that finally reach the courts. We have to ask ourselves as a community whether such an act should result in more than a term of probation with a suspended sentence." The Supreme Court heard on Friday that the incident happened on July 2 last year, the same day Davis's son was baptized. After the ceremony, family and friends went to the home of the baby's mother for a celebration. Davis, of Hamilton Parish, drank heavily throughout the evening and became "unbearable". He was asked to leave, but refused and an argument broke out. Davis picked up his son from a baby seat as he argued with the child's mother and refused to hand the child over. Davis carried his son into a bedroom while the child's uncle tried to get him to hand over the baby, but Davis dropped the child out of the second-storey window as the row continued. The baby landed on the grass below and escaped with soft tissue injuries to his face and hip. The court heard Davis admitted causing the child bodily harm and voluntarily sought treatment. The child's mother said in a victim impact statement that the incident was "surreal and devastating", but asked the court for leniency. Davis told the court: "My actions on that day were unconscionable."

The Bermuda Organ Donor Association appealed yesterday for the public to consider organ donation and to make their wishes clear to their families. The news came as the association greeted morning commuters at Crow Lane roundabout and encouraged them to sign up to give "the gift that keeps on living". Kerry Brislane, the BODA treasurer, said: "Our message is pretty simple — we'd like people to have the conversation about what their wishes would be with their family members. The gift of organ donation is a tremendously generous thing to do, and the impact this can have on the recipients lives is definitely life-changing, and can be life-saving. If families have discussed and agreed on their wishes, it makes it so much easier if they are ever asked the question." Dr Brislane, a hospital anaesthesiologist, was speaking as the island kicked off Organ Donor Week. She said statistics from the New England Donor Service showed that there had been 13 organ donors from Bermuda in the past decade. Donors ranged in age from 16 to 73 and a total of 24 kidneys, 13 livers, five hearts, eight lungs and three pancreas were donated. Dr Brislane said: "The only way to assert your wishes is on your driver's licence, but ultimately your family will get to decide. We would like to see the Organ Donor Register formalized by the Government, as it is already in the legislature. This would mean people could sign up and be assured that their wishes will be adhered to. This takes a lot of pressure off families. Organ donation is the gift that keeps on living. In the words of Maya Angelou, 'Be a rainbow in someone else's cloud'." The group will run radio interviews, information advertisements in The Royal Gazette and talk to the public to answer questions about the organ donation process. We decided to do the morning wave as it is a good way to reach a lot of people in an informal way and make them think, 'hey, what is that all about?' In recent years, we have been trying to find new ways of reaching a bigger audience and so we thought we'd try a popular Bermuda way. It was a lovely way to start our Monday with lots of smiles and waves and toots from the people coming passed." She added: "We are hoping that after seeing us on the roundabout people might then be prompted to read and listen to the information provided."

Respects will be paid today to teacher and sportsman Ellsworth Christopher, who died last week at the age of 78. Nadine Henry, president of Devonshire Recreation Club, said its former president Mr Christopher was "everything to the club, and Devonshire Rec was everything to him". She added: "We feel like we have lost our guardian angel watching over us. If you went over the line, he was there to nudge you back in. He was our safety net." Ms Henry said: "The club is planning its own event to honour him further and give recognition for his life of service." Friends, family and former students of Mr Christopher will gather today at the Heritage Worship Centre for his funeral service. Ms Henry said the loss is a major blow to the club where "Mr Christopher basically grew up". She added: "There were so many facets to him. He was gentle but firm, and a disciplinarian who was still nurturing. He had a genuine concern about all those who entered the grounds of the club." Mike Charles, general secretary of the Bermuda Union of Teachers, said Mr Christopher taught at Purvis and Paget primary schools and was an executive member of the union and trustee until recently. Mr Charles said his former teaching colleague was "thoughtful, soft-spoken and good with kids". He added: "He was a great addition to the executive and to any staff who just wanted young people to do well. I learnt so much history from him — and his history lessons were personal. He had a great memory and he came up at a time when things were not the same as now." Carlton "Pepe" Dill, former national football coach, said he had lost a man who was "a big brother". Mr Dill added: "I grew up around Christopher and we spent a lot of time together through the Devonshire Rec era. He was one of the most pleasant people you could meet, always happy to give advice or assistance to anybody. The man put his best foot forward at all times. As a schoolteacher, he affected all his students in a positive way. Once you made contact with him, it was everlasting." Mr Dill said the two played cricket and football together, and as a cricketer Mr Christopher was "the one you turned to". He added: "When a batsman got stuck in and we could not dislodge them, or if we were lacking in runs, we called on Christopher. As a fielder, his hands were like vacuum cleaners. Nothing was dropped. He was also one of the better card players I have ever come across. He remembered what happened with every card in the deck." Mr Dill said: "Our game was at a very, very high level when he was involved as an administrator. He kept the sports associations accountable with good information and good suggestions. Mr Christopher was "a quiet, unassuming person" — whether it came to his sports accolades or his keen memory for history. We have lost a great man, as a player and as just an everyday person on the street. I have been really upset to lose him. It's something you could never have anticipated. There is nothing anyone can say about him that is not positive." Mr Christopher's service at 1pm today will be followed by burial at Christ Church cemetery in Devonshire.

April 23

Sacked education commissioner Freddie Evans is to take up a post in the Department of Youth, Sport and Recreation, Government said tonight. A Government spokeswoman said: "The matter between the Bermuda Government and Dr Evans has been settled without recourse to a costly trial. "By mutual agreement, the terms of the settlement are confidential." The spokeswoman added: "Dr Evans looks forward to utilizing his skill set to further contribute to the youth of Bermuda." Dr Evans launched legal action against the Governor and the Government after he was fired from his post by John Rankin in October last year. Dr Evans's lawyer Mark Diel, of Marshall Diel & Myers, claimed Dr Evans's sacking came outside his probation period and too late to be valid. It was revealed on Thursday that Government had agreed to settle for an undisclosed sum, thought to be in six figures, over Dr Evans's dismissal.

A settlement between sacked education commissioner Freddie Evans, the Governor and the Government has still to be signed off. It was revealed on Thursday that the parties had agreed to settle for an undisclosed sum over Dr Evans's dismissal. Gregory Howard, who appeared for the Attorney-General, told Puisne Judge Stephen Hellman during a hearing in chambers that the agreement was expected to be signed that day. Dr Evans's lawyer Mark Diel, of Marshall Diel & Myers, said yesterday that the agreement had not yet been signed. He added: "We sincerely hope it will be signed off on Monday so that my client can get on with his life." Dr Evans launched legal action against the Governor and the Government after he was fired from his post by John Rankin in October last year. Mr Diel claimed Dr Evans's sacking came too late to be valid. He said Dr Evans could be fired by the Governor only during his probation period, which ended more than a week before Mr Rankin confirmed Dr Evans's dismissal. The Government was asked if any disciplinary action would be taken and if not, why not. It was also asked what would be done to prevent a similar foul-up in the future. There was no response by press time. Government House declined to comment.

Blame for the botched sacking of Commissioner of Education Freddie Evans lies at the door of the Minister of Education, Cole Simons said yesterday. Mr Simons, the One Bermuda Alliance spokesman for education said Diallo Rabain, the minister, should "come clean" on the affair and outline what he will do to make sure a similar problem does not arise in future. Mr Simons said: "By now, the Minister of Education and his Cabinet colleagues should have come clean, given that the permanent secretary of the Ministry of Education would not have made this decision on her own. Knowing the Permanent Secretary, she would have shared her concerns and consulted with the Minister of Education before any action was taken — the action being the firing and later the suspension of the Commissioner of Education." Mr Simons was speaking after it was revealed last week that Mr Evans had been awarded an undisclosed settlement, thought to be a substantial six-figure sum, in settlement for his dismissal. Mr Simons said: "Let me be clear, stains are now on the Minister of Education's hands. He cannot run from the medley of flawed decisions, especially as Dr Evans has been offered an out-of-court settlement, another senior role in Government and a few hundred thousand dollars in out-of-court settlements to cover damages and all of his legal costs." Mr Simons added: "The challenges and errors recently experienced with the handling of the former Commissioner of Education speaks to the quality of leadership and the quality of governance at the senior management level in the Department of Education. Good people have been underutilized and other committed, well-qualified senior managers have left, which in turn is currently compromising the delivery of quality educational services in Bermuda." Mr Simons added that there needed to be a "reassessment" of professional development and performance appraisal in the Ministry of Education. He said: "It is obvious, given the Government's decision to agree to an out-of-court settlement, missteps have occurred in the ministry's performance-appraisal process and governance protocols. These errors cost dearly. It cost the ministry, it cost Dr Freddie Evans, it cost the staff of the Ministry of Education and it costs Bermuda's students. In light of these costs, the people of Bermuda need and deserve an explanation. The Minister of Education must come forward with a statement and admit that performance protocols were not followed and that he should summarize what remedial action that the ministry will take." Mr Simons added that he also wanted to know when Dr Evans's post would be filled. The job has been held by CedarBridge principal Kalmar Richards on an acting basis since late last year. Mr Simons said: "This is very important as we need real leadership in regards to the delivery of the 2022 educational strategic plan and the resolution of the grave education challenges presented in the recent Cambridge assessment report." Dr Evans launched legal action against John Rankin, the Governor, and the Government after he was fired from his post Mr Rankin in October last year. Lawyers for Dr Evans said the sacking came too late to be valid. They added he could be fired by the Governor only during his probation period, which ended more than a week before Mr Rankin confirmed Dr Evans's dismissal.

Government officials remain tight-lipped on the cancellation of the contract with an American-based organisation designed to fight gang violence. Pastor Leroy Bean, Bermuda's gang violence reduction co-ordinator, declined to comment on the controversy at an anti-violence seminar on Saturday. Mr Bean said the termination of the contract would be discussed by Wayne Caines, the Minister of National Security, in a ministerial statement. Mr Bean did not say when the statement would be released. A spokesman for the National Network for Safe Communities confirmed to The Royal Gazette last week that the Government had cut short the Operation Ceasefire programme. Desmond Crockwell, chief editor of anti-violence magazine Visionz, said that data gathered from the programme should have been used to determine its success in the battle against gang violence. Mr Crockwell explained: "If it was making inroads into the situation, as mentioned by the former minister, then I think it would make sense to keep it going. However, if it was a waste of money, as the current minister may think, then of course it makes sense to cancel the contract. Only those who are privy to the statistics would know that answer." Mr Crockwell added that it came as "no surprise that much of what the former government started would be overturned by the current government. That's politics." Mr Crockwell stressed that he did not believe the problem of gang and gun violence in Bermuda was a "one man or one ministry problem or solution". He said he would welcome tighter border controls to keep guns off the island and the use of Royal Bermuda Regiment personnel to act as a "police reserve". Mr Crockwell said he was also interested in an update on the status of the Confiscated Assets Fund. He questioned whether assets were still being confiscated and distributed to charities. Mr Caines said in September that the fund had been "substantially depleted" and announced a moratorium on grants to island charities. He added that given how the cash was collected, the timeline for fresh funds was "unpredictable". Mr Caines said that community organisations would continue to benefit from cash from the fund once it had replaced spent funds. The NNSC's Group Violence Intervention, first developed as Operation Ceasefire, has been used to combat gun and gang-related crime in US cities including Boston and Chicago and has won several awards. The programme started in Bermuda last year. The two-year deal between NNSC and the Bermuda Government, which was scheduled to end in the first half of next year, cost about $370,000. The introduction of Operation Ceasefire to Bermuda was first considered almost a decade ago after a sharp spike in gun deaths. Mr Caines was sent a number of questions regarding the cancellation of the contract last Thursday. Responses had not been received by the time of press yesterday.

The Bermuda Tourism Authority has teamed up with overseas travel organisations to fund research into the African-American market. The study, set up by Mandala Research, is will be jointly funded by the BTA, NYC & Company, Visit Baltimore, Virginia Tourism Corporation and the Greater Miami Convention and Visitors Bureau. The BTA said the report has been customized to the visitor data already collected by the tourism authority. Kevin Dallas, BTA CEO, said: "As we succeed in activating the younger 'experience enthusiast' segment of visitors that is powering Bermuda's growth our visitors are also becoming increasingly diverse. The insight we will receive from this new research study will help us make choices about how to better reach and motivate more visitors to come out here." The research is expected to help the BTA reach African-American travelers in its existing target areas. Jamahl Simmons, Minister of Economic Development and Tourism, said he was happy to collaborate with the BTA on the initiative. He said: "As the Government and the BTA work together to write the next chapter of the National Tourism Plan, this is the right time to re-examine the trends of African-American travelers, and other groups, as an input into the larger plan." Laura Mandala, CEO of Mandala Research, added: "Destinations that have recognized the value of the African-American travel market will reap rewards not only in terms of increased visitation but in enhanced brand image from the positive word of mouth that will spread among the African-American community."
The consular section of the US Consulate will close for routine services from May 4 because of construction work on the grounds. Services affected include visas, waivers, passports and registration of births. Normal service is expected to start again on May 21. A US Consulate spokeswoman said: "Our ability to provide emergency services to US citizens during this time period will not be impacted. "If you have a need for Consular Services, appointments are currently available through May 4." For more information to schedule an appointment and apply for a visa or US citizen services, visit bm.usconsulate.gov. Updates on services and other consulate news can be found on the consulate Facebook page and Twitter account @USConsHamilton.
Schroders is looking to build up its wealth management business in Bermuda. The venerable London investment house, which has been servicing clients on the island for 49 years, re-established a physical presence on the island last year. The firm is well known in Bermuda as an asset manager for institutional clients, but is now looking to beef up its offering to wealthy individuals and families. Robin Peters is the client director at Schroders (Bermuda) Ltd, working out of offices in Wellesley House South on Pitts Bay Road. She has responsibility for client relations and works closely with Schroders team in the Channel Islands. Julian Winser, chief executive officer of Schroders (CI) Ltd, said the decision to put "boots on the ground" in Bermuda came about not only because of wealth management opportunities, but also because of the strengths of the jurisdiction. "We felt there was an opportunity in Bermuda, because it has money that faces in two directions — towards the US but also in the opposite direction," Mr Winser, who is based in Guernsey, said. "Many wealthy individuals want to diversify their investments and Bermuda is a good place to do this." Diversification was not just about allocations in a portfolio, but also in where the money is managed from, he added. Schroders' wealth management business has operations in the Channel Islands, Gibraltar, Switzerland, Hong Kong and Singapore, as well as Britain, Germany, Italy and Spain. "There is a lot of wealth in Bermuda, because it remains a premier international jurisdiction and because of the quality of its legal system," Mr Winser said. "The lawyers here are in the premier division and they are good enough to have a primary relationship with wealthy clients — in many other jurisdictions, that's not the case. The system's links to the British legal system also gave wealthy individuals faith that their assets would be protected for future generations. It's not all about tax. "Wealthy clients also like Schroders' longevity — the business has been running for more than 200 years — and its stability, with the Schroders family still controlling about 48 per cent of voting shares of the London Stock Exchange-listed company, as well as it stated intention to take the long-term view. Schroders had £447 billion (about $626 billion) of assets under management and administration as of the end of last year. About 10 per cent of those assets are in the wealth management business. The firm has more than 4,600 employees working in 29 countries. With the acquisition of wealth manager Cazanove in 2013, Schroders expanded the part of its business that caters to wealthy individuals. Caspar Rock, chief investment officer of Schroders Wealth Management, who presented at last week's seminar, said the firm could draw on expertise around the world to help portfolio managers make sound investment decisions. On average, the firms' wealthy clients have about $3 million invested and new investors are expected to come in with at least $500,000. Wealthy clients do not all have the same objectives, but Mr Rock has noticed patterns among subgroups. "Clients up to a certain level are most interested in wealth preservation, but those with a higher amount tend to be more interested in growth," Mr Rock said. "Families with multi-generational wealth tend to have a higher tolerance for risk than someone who is first-generation wealthy." He said Schroders' services were based on first meeting the client, understanding their goals, capacity for loss, risk tolerance and level of financial sophistication. Then the portfolio would be engineered to match the client. Just as important was ongoing contact with the client, Mr Rock added, as life events could alter investment requirements. That is one of the strengths in having Ms Peters in Bermuda to meet up with clients. Mr Rock said many clients had expressed a preference for meeting in person, rather than having video conference calls via Skype, for example. He said today's investment climate was somewhat unusual. "The 45 largest economies in the world are all growing at the same time — that's a bit of an anomaly, but it is a positive backdrop for the markets," Mr Rock said. Inflation is the biggest risk to the financial markets, he said. While he expects stronger growth and a tightening labour market to build inflationary pressure in the US, he expects inflation to remain subdued in the EU and to drop off in the UK. Another risk is that the high hopes for continued earnings growth do not materialize — although this year, at least, Mr Rock believes there are good prospects for company profits to keep rising. However, the markets are priced accordingly. "We're quite a long way into quite a long bull market and I couldn't say that anything is screamingly cheap right now," Mr Rock said. "In early January, everyone was gung-ho bullish. Sentiment has come back a bit since then, but there are still one or two amber lights that sentiment is still overexcited. I see more volatility this year." The big risks Mr Rock sees include inflation, the tightening of central bank monetary policy, rising interest rates and trade disruption from growing protectionism. Schroders is neutral on equities, negative on fixed income, and positive on alternative investments and cash.

Bermuda charities are to be screened to find out if they are at risk of being used to hide terrorist funds. A government spokeswoman said the Registry General had hired Oyster Consulting (Bermuda) Ltd to help assess all local charities. She said: "This is being conducted to identify if any entities are vulnerable to being used as a conduit for terrorist financing." The spokeswoman added: "Non-profit organisations around the world are now being monitored progressively as it has been discovered that these organisations are vulnerable to being misused by criminals to launder money or finance terrorism. Keeping in line with Bermuda's effort to combat money laundering and terrorist financing, the Registrar General, in consultation with the National Anti-Money Laundering Committee, has been tasked with monitoring/regulating the charities sector." The company will contact churches, charitable trusts, companies limited by guarantee or any other legal entity set up in Bermuda as a charity. The spokeswoman said it would ask for a range of information to determine if there are any potential risks. She added: "The Charities Act 2014 designated the Registrar General as the competent authority for charities. As such, the Registrar is required by Financial Action Task Force's international standards to review and assess all charitable entities within the sector to identify any risk that may exist. Pursuant to section 2 of the Act, a charity means an entity which is established in Bermuda for charitable purposes; this includes those that are registered or unregistered. The Registrar is primarily focused on charities' potential international exposure which may make them vulnerable to being abused as mechanisms for the financing of terrorism."

Government has asked the public to trim trees on their property that overhang over roads and sidewalks. A spokeswoman for the Ministry of Public Works said: "While the highways section's road sweeping teams make every effort to clear overhanging foliage and vegetation on roads, particularly after storms and heavy rain, overhanging vegetation is normally the responsibility of the adjoining landowner. In fact, the Ministry notes that overhanging vegetation is a violation as outlined under Sections 9 and 10 of the Public Lands Act 1984. Overhanging trees and hedges cause health and safety issues including obstructed visibility, damage to vehicles and injury to pedestrians, pedal-cyclists, bike riders and waste collection personnel." The spokeswoman warned the Ministry is to issue notices to people whose vegetation is a risk to drivers and pedestrians. She said: "Residents who receive such notices should take the necessary measures to trim back their vegetation. If residents fail to adhere to the notice, ministry personnel will conduct the work at the property owner's expense. The current charge for the crew and vehicles to carry out this work is $1,000 per hour."

Kendall Harvey's life was saved five years ago by someone who volunteered to be an organ donor. Mr Harvey, who had chronic heart failure and urgently needed a heart transplant, wants to encourage others to give the gift of life. The 66-year-old retired teacher said: "I have had five years that weren't promised to me. I got married and I finished teaching only because of the donor. My life was saved because someone had the foresight to donate an organ." He added: "It's easy. When you get your licence renewed, just say you want to be a donor and tell your family so they know that it's OK. "Mr Harvey, of Southampton, was speaking as Bermuda marks Organ Donor Week, but he is no stranger to sharing his story. Since he retired from teaching art at TN Tatem Middle School in 2015, Mr Harvey has run Heart to Heart Taxi & Tours. The back of his business card reads: "Save a life. Become an organ donor. Someone saved mine." Mr Harvey said: "I am proud to be a recipient. I tell everybody that comes in my taxi. People are just amazed. They say, 'it's the first time I ever talked to a transplant patient. A couple of people have said 'as soon as I get back, I'm going to become a donor. That was probably what was meant, what God wanted me to do, to just spread the word that it's OK, you'll be fine." Mr Harvey had his heart transplant at Johns Hopkins Hospital in Baltimore on January 1, 2013. He had suffered problems with his heart before and was fitted with a pacemaker in 2009 after he started having trouble walking and climbing stairs at the school. Mr Harvey said doctors believed chemotherapy he received for colon cancer in 2000 may have been the cause. He fell ill again in 2012 with the same symptoms and said: "I had no energy, difficulty breathing and tiredness." He was dating Tina Evans, now his wife, at the time and she could see his health deteriorate. Doctors thought the problem was with his lungs but Mr Harvey, sure it was his heart, went to the emergency department at the King Edward VII Memorial Hospital. He was told he had chronic heart failure — his heart was functioning at 15 per cent. Mr Harvey said: "You need 65 per cent to live. I was in bad shape." He was airlifted to Johns Hopkins Hospital a day later, accompanied by Ms Evans. Ms Evans, who has experience with organ donation through work with donor programmes in the US, said: "They clearly said he got there right in time." Mr Harvey was given medication to revive him but it could not keep him alive — he needed a transplant. He was admitted to hospital in November and put on the waiting list. A balloon was inserted into his heart to open an artery and keep his blood flowing, leaving him bedridden. Ms Evans visited him twice in the run-up to Christmas. She said he remained in good spirits despite the ordeal. She added: "This man was dying but he was so positive. He just believed God was not through with him. He remains one of the strongest and most positive men I know." Mr Harvey added: "I had no fear. I just knew I was going to be OK." They celebrated New Year's Eve together and during breakfast on New Year's Day, they were told that a heart had been found. Mr Harvey went in for surgery that day. The moment he regained consciousness, he asked for Ms Evans. He said he felt better almost instantly. Mr Harvey added: "Every day I got stronger. I was weak and I had lost a lot of weight. I went down to 156lbs and I'm a big guy, I'm 6ft 1in." Mr Harvey left the hospital later that month but stayed in Baltimore until March 2014 in case there were any complications and to undergo physiotherapy. He said: "The hardest part was making your brain understand that your body is not the same any more — you will get there but it will take time." Mr Harvey now has to take medication every day and watch his diet. But he feels "back to normal". He said: "I have had five great years and that I am thankful for." Mr Harvey and Ms Evans married in September 2016 and the anonymous organ donor and staff at Johns Hopkins got a special mention in their wedding programme. Ms Evans said: "If it wasn't for someone in the most difficult time to see beyond their grief to be able to give a loved one's organs so that somebody else can live, he wouldn't be here today. It's a very altruistic thing to do. We are humbled and for ever grateful."

A medical practice is working with a restaurant group to aid in an effort to combat obesity and diabetes. Premier Health and Wellness Centre, located on King Street, which is owned and operated by Stanley James, is targeting two of the island's major health scourges. "Reversing diseases and obesity is our aim," Dr James said. "The first thing to do is establish a primary care practice. We do prevention and treatment of adult population diseases. With diabetes and obesity being the two major contributors to premature death in Bermuda, I wanted to attack those first." Last year, Dr James and his team along with insurer Argus, launched the Diabetes Reversal Programme, which aims to help patients with type 2 diabetes live healthier lives, get off medication, lose weight, reverse sugar numbers, and reduce complications of the disease. Dr James brought in David Cavan, a diabetologist from London, as a visiting consultant to assist with the programme. Dr Cavan is an experienced diabetes physician, with particular interests in intensive management of type 1 diabetes, including insulin pump therapy, and in supporting lifestyle change to manage and reverse type two diabetes. Since launching the diabetes reversal programme, Dr James said he had seen tremendous success, which prompted him to launch the Clean Start programme, which is geared towards people who want to lose weight and live a healthier lifestyle. "The Clean Start programme was a success," Dr James said. "With doing more research I noticed that one of the things we did with our diabetes reversal programme was to follow a low-carb diet. So we thought those individuals will be suited to follow a ketogenic diet." The ketogenic diet is a low-carb, moderate-protein, and high-fat diet which puts the body into a metabolic state known as ketosis. In a state of ketosis, the liver produces ketones which become the body's main energy source. It all revolves around the consumption of fat. When Dr James discovered the benefits of the "keto" diet he introduced the Keto Jump Start programme. He said: "This diet has hit the US and Europe — it's a craze right now. We decided to bring it to Bermuda and medically supervise patients while on it." When Dr James discovered that the biggest barrier for the Clean Start and Diabetes Reversal programmes was the availability of meals, he knew he needed some extra help to maximize its effectiveness. "I reached out to the Yvonne Cacace from Nirvana Mas Carnival band, and she told me that The Little Venice Group is doing something similar for her wellness programme," Dr James said. "After meeting with The Little Venice Group, we came up with a plan to build a relationship between a restaurant and medical industry leader. If we could address the need for Bermudians to get over the hurdle of preparing their own food, we could have a good impact upon the diseases in this country." The restaurant group prepares daily meals and snacks for programme participants, who are medically supervised and guided through its duration. The programme has no age limit.

The Bermuda Under-17 women's football team prepared to flee Nicaragua last night after riots broke out in the streets of the capital Managua. The evacuation came after the Concacaf Women's Under-17 Championships in the country were cancelled in the wake of large-scale disorder in the Central American nation. Manny Faria, head of delegation for the 26-strong Bermuda squad, said from Managua yesterday that he was "racing" to arrange flights for some of the players. He added it was hoped the team would leave the trouble-hit city around lunchtime today, along with family members of players who had traveled to Nicaragua to watch them compete. Team manager Charryse Bean and two of the players, who are both at school in the United States, arrived in Miami last night, with the girls expected to travel on to their schools today. Ms Bean will remain in Miami to meet the rest of the team. Mr Faria said it was hoped to get the entire squad and staff home by tomorrow night. "We are currently at the hotel. It is on the outskirts of Managua roughly five minutes from the stadium," Mr Faria said. "We haven't been near or witnessed any of the protests occurring in the city. We have had adequate protection traveling to and from the stadium. We have never felt unsafe during our stay and there is also a security presence at the hotel. We have explained the situation to our players and informed them why the tournament has been suspended. They are quite relaxed at this time as we have assured them of their safety." Naquita Robinson, one of the team's coaches, and three other players also at school overseas, had been scheduled to leave Nicaragua yesterday but could not be processed in time to catch their flight. They are scheduled to leave tomorrow morning as no more seats are available on the three American Airlines flights today. David Sabir of the Bermuda Football Association said "all attempts" were being made to get seats to allow the four to travel with the rest of the team. He said: "There are parents and possibly other supporters that traveled to Nicaragua to support the team, but I do not have any travel details on the travel plans out of Nicaragua. Our team is in the same hotel as the USA, Canada and Haiti and Concacaf tournament officials in Nicaragua continue to monitor the situation." The civil unrest has claimed the lives of at least ten people and sparked fears for the safety of competitors. Mr Sabir said: "The BFA has been advised that the Concacaf Women's Under-17 Championships in Nicaragua have been suspended. Concacaf advised that it is in the best interest of the tournament that it be suspended and resume at a later date and possibly an alternate country. The BFA president and general secretary have been in contact with the Bermuda team and have been assured that they are all well and in no danger." Reports last night said at least 100 people have been injured in several days of protests against changes to the Nicaraguan pension scheme. Michael Weeks, the sports minister, said he urged "all Bermudians, whether players, parents, officials or supporters who traveled to Nicaragua to take necessary precautions in order to stay safe". He added that the Bermuda Government is ready to help if needed and promised to update the public when more information is available. The pension changes, which were approved by the Nicaraguan Government on Wednesday, increased pension contributions for workers and employers but reduced benefits. Daniel Ortega, president of Nicaragua, announced last night that the proposed changes would be withdrawn in a bid to restore calm.

Police have identified a man found dead near Church Bay as 62-year-old visitor Trevor Stuart Darks. Mr Darks, a British national, was found in an unresponsive state on a grassy area near the Church Bay parking lot at 8.30am on Saturday. He was later pronounced dead by an on-call doctor. According to a police spokesman foul play is not suspected, but an autopsy is expected. The spokesman added that a Family Liaison Officer has been assigned to help Mr Darks's family.

April 22. Sunday

April 21

Government House plans to ditch single-use plastics for events and in its day-to-day operations. John Rankin, the Governor, said Government House would also encourage its suppliers to take steps to cut back on the use of disposable plastics. He said: "We are all increasingly aware of the risks to our environment from throw-away, non-biodegradable plastics which foul the waters around Bermuda and endanger our wildlife. If we all act together, we can make a difference and Government House will be encouraging its suppliers themselves to take steps to reduce unnecessary use of plastics." Mr Rankin added: "We are also looking at ways to increase our recycling of waste." Single-use plastics include cold-drinks bottles, packaging, plastic cups, cutlery and straws.

Dockyard will "go dark" tomorrow night to help raise awareness about the environment. All unnecessary lights in the Royal Naval Dockyard will be turned off for an Earth Hour event. The event will feature a "Pre Earth Day Expo" with face painting, glow henna, a range of vendors and displays from Greenrock. The West End will be lit up by a 5K Glow Fun Walk and Run at nightfall, along with a Yoga Glow Flow hosted by Lucky Elephant. Restaurants are also taking part in the event. Anchor Restaurant Bar and Lounge will dim its lights to offer a candlelit dinner and a sustainable food menu with codfish and local produce. Café Amici will also offer dinner by candlelight and Bonefish Grill will feature a DJ during the fun run. A spokesman for the event said: "To reduce waste, plastic water bottles and single use glow products will not be allowed. With this in mind we encourage all participants to use reusable glow products to light themselves up during the event rather than single use products that will become waste after the event. This year we have a selection of reusable glow products for sale on the registration website and our hope is that with these options we can reach our goal of making the 5K Glow Fun Walk and Run waste free." A range of musical artists are scheduled to perform, including Riva, Christina Frith and Rated E. A ferry service will be available to and from Hamilton, with a ferry leaving Hamilton at 6.30pm returning from Dockyard at 10pm.

A female drugs mule who traveled through Bermuda on a luxury cruise liner has been jailed in Australia for eight years. Melina Roberge was caught with 95 kilograms of cocaine when the MS Sea Princess docked in Sydney on the last leg of an around-the-world cruise, which included a stop in Bermuda. Roberge, 24, from Quebec, Canada was dubbed "cocaine babe" after she was arrested. She documented her voyage on Instagram, including photographs of herself and accomplice Isabelle Lagace on South Shore beaches, when the ship visited the island in July 2016. Judge Kate Traill of the New South Wales District Court, who sentenced Roberge on Wednesday, said: "She was seduced by lifestyle and the opportunity to post glamorous Instagram photographs from around the world. She wanted to be the envy of others. I doubt she is now." Roberge, who pleaded guilty to the offence, and Lagace, also from Canada, used Instagram as a travel diary and to post holiday snaps on the cruise, which visited 17 ports in 11 countries. Pictures of the island included captions like: "Bermuda was amazing," and "Gone to a place very peaceful, leave a message after the tone". The Sea Princess, which started its voyage in England, visited New York before heading to Bermuda for one day and sailing to Colombia. Sydney was the penultimate port for the ship, which was scheduled to end its 68-day cruise in Fremantle, Western Australia. Australian Federal Police and border agents boarded and searched the ship when it docked in Sydney Harbour. They found 35 kilograms of cocaine in the women's cabin and 60 kilograms in a cabin occupied by Andre Tamin, a wealthy Canadian man in his mid-60s who Roberge called her "sugar daddy". The Australian Border Force said the two women had so much cocaine in their suitcases "they did not have much room for clean underwear or spare toothbrushes." Roberge told the court that she was an escort and met Tamin on a job in 2015 and he invited her to go on a drug-smuggling trip to Morocco the next year. She added that she had put her freedom at risk for "some selfies in exotic locations and posted them on Instagram to receive some 'likes' and attention". All three were charged with commercial cocaine importation, which carries a maximum life sentence. Roberge will serve at least four years and nine months before she is eligible for parole, when she will be deported to Canada. Lagace, 29, was sentenced to 7½ years in prison at the end of last year. Tamin is scheduled to be sentenced in October.

The Fairmont Southampton will ban plastic straws from this weekend in a bid to help protect the ocean from pollution. Guests at the resort who still prefer to drink with a straw will be given eco-friendly, 100 per cent compostable straws instead from World Earth Day tomorrow. The Last Straw campaign was started by the Fairmont Southampton team in the wake of a new global sustainability movement. Wouter Aarts, director of food and beverage at the hotel, said: "With a growing awareness for global socio-environmental issues, come bigger responsibilities to do our part in keeping Bermuda beautiful and environmentally friendly. "Our commitment to eliminating conventional plastic straws is an important step in the right direction." Plastic waste, including straws, make up most of the marine debris found in the seas and on shorelines in Bermuda and around the world. About half-a-billion plastic straws are thrown away in the US and Britain every day, with many ending up in the sea. The plastic trash is a potential killer of marine life. It is estimated that a plastic straw takes about 200 years to break down, and can pose a serious threat to animals such as turtles, fish and sea birds if eaten. The Fairmont Southampton's Turtle Hill Golf Club is a long-term backer of the Sea Turtle Project, and the resort has raised more than $40,000 in funds for charity and community projects on the island this year. AccorHotels, a global hotel giant and parent company of Fairmont, is active around the world in communities and is committed to sustainable development and solidarity through Planet 21, a programme that brings together employees, guests and partners to work for sustainable growth. The new Planet 21 committee of employees from the island resort covers all key departments and meets on a regular basis to discuss its efforts and potential projects.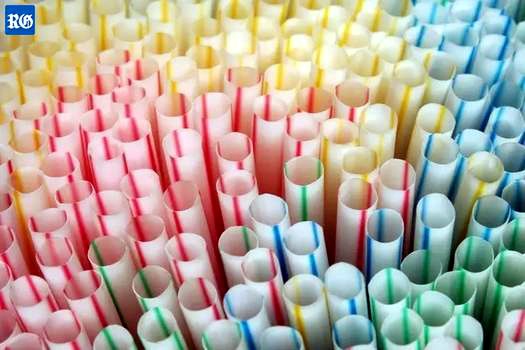 Three missing goats feared destined for the dinner table have been returned to their owners. Vaughan Simmons and his son Zaiyon, 7, were delighted to find Maddie and her two kids back where they belonged yesterday morning. Zaiyon, who at first could not believe they had been taken, said: "I am happy. I didn't know I was going to get them back at all." Mr Simmons said his neighbour called him at 7.30am to tell him the mother goat and her two babies had been returned. I jumped up and went looking. They were in the same spot where I keep them down at Peat Lane. They brought them back to Peat Lane and let them go. Maddie was still on the leash. I took them and brought them back." The animals were returned safe and sound after The Royal Gazette highlighted the story on Thursday. Mr Simmons said Zaiyon now understood what happened and that his pets could have ended up "in someone's pot". He added: "It didn't set in what it really meant. I couldn't explain what they could have done with them." Mr Simmons admitted: "I thought if it goes past the weekend, they would definitely be gone." Mr Simmons, who canvassed the neighborhood looking for the trio, thanked The Royal Gazette and everyone who helped spread the word, searched or called with information. He added: "The only thing I can really do is be conscious to what's out there now. The people that took them know now that they belong to me." He said the three goats appeared to be fine but their new collars had been removed. The goats went missing from his neighbor's property in Pembroke on Monday and Mr Simmons made a plea for their safe return. He said he last saw the mother goat and her babies about 7.30pm that day when he put the new collars on them. Mr Simmons said he searched the nearby marsh and anywhere else he had taken the Alpine goats in the past but found no trace of the animals.

A Devonshire man has denied a string of child pornography charges. The man, who cannot be identified for legal reasons, pleaded not guilty at Supreme Court to eight counts of accessing child pornography. The offences are alleged to have taken place between April 2010 and March 2015. The man, who appeared in court last week, was released on bail for a further appearance next month.

A man who dropped his seven-month-old son out of a second-storey window escaped jail after a judge gave him a nine- month suspended sentence yesterday. Anthony Davis, 33, will also have to serve two years' probation. Davis told the court that his actions were "unconscionable" and that he had committed to working on his personal problems. He said: "I don't believe myself to be an evil man. A man once burdened with troubles and now diligently working through them, but not an evil man." The court heard that the incident happened on July 2 last year, the same day Davis's son was baptized. After the ceremony, family and friends went to the home of the baby's mother for a celebration. Davis, of Hamilton Parish, drank heavily throughout the evening and became "unbearable". He was asked to leave the party, but refused and an argument broke out. Davis picked up his son from a baby seat as he argued with the child's mother and refused to hand the child over. He said: "I'm tired. I'm done with you, I'm done with this. Nothing I do is ever good enough." Davis carried his son into a bedroom while the child's uncle tried to get him to hand over the baby, but Davis dropped the child out of the second-storey window as the row continued. The baby landed on the grass below and escaped with soft tissue injuries to his face and hip. Davis then fell out of the window and landed on a nearby paved area. The child's mother said in a victim impact statement that the incident was "surreal and devastating. The memory of this incident will for ever be etched in the mind of those affected." She asked the court for leniency and said she hoped that Davis would continue to recover from his personal problems. Cindy Clarke, Deputy Director of Public Prosecutions, said: "While the feelings of the complainant must be taken into account, what we cannot forget is a seven-month-old was injured by this defendant. The fact that the baby was not more seriously injured was not because of the actions of this defendant." Ms Clarke said Davis had no previous convictions and had pleaded guilty. She suggested a suspended sentence and a long period of probation. Defence lawyer Elizabeth Christopher said her client had dropped rather than thrown the baby out of the window. She added Davis accepted full responsibility for what happened. Ms Christopher said: "Its an incident he does not have personal recollection of, but that does not diminish his responsibility. He was intoxicated and he exposed the baby to risk. The reality is he takes all responsibility for what happened. At the end of the day, he accepts the consequences of his behavior. He lost his job, but he has used the intervening period to reconstruct his life." Ms Christopher said that since the incident, Davis has volunteered for treatment for alcohol problems and past trauma. She added: "The conviction won't assist him with doing any more than he is already doing." Davis fought back tears and told the court he had been humbled and changed by what he had done. He said: "My actions on that day were unconscionable. Those who have seen me with my children know how loving and devoted I am to them. The thought of me trying to harm one child is unfathomable to me." Davis added a message to his baby son. He said: "It's my desire that when the time comes for him to learn about what happened, that he is unable to reconcile the father he knows and loves as the man who did this to him." Acting Chief Justice Charles-Etta Simmons said the child's physical injuries were minor, but Davis's actions had horrified the child's mother. She added: "She has been more forgiving than anyone could possibly ask her to be." Ms Justice Simmons ruled out a conditional discharge and imposed a suspended sentence.

April 20

Sacked education commissioner Freddie Evans has won a substantial payout after he launched legal action against the Governor and the Government over his dismissal. Dr Evans, who was fired from his post by John Rankin in October last year, settled for an undisclosed sum, it was revealed yesterday. The terms of the payoff were ordered to be confidential — but, based on previous cases, the lawsuit is likely to have cost Government a six-figure sum, plus legal expenses. However, the agreement has yet to be signed. Lawyer Mark Diel, of Marshall Diel & Myers, told Puisne Judge Stephen Hellman during a hearing in chambers yesterday that the parties had agreed to settle on March 29. He added that "for the last three weeks we have been chasing the defendants to have this agreement executed". Mr Diel said he was told yesterday that the Governor and the Attorney-General, representing the Public Service Commission, the Board of Education and the Permanent Secretary, had agreed to the settlement, although it had yet to be signed. Mr Diel said he had no idea why it had not been signed. He added that the case being brought back to court to be re-listed had triggered some movement on a final settlement. Lawyer Gregory Howard, representing the Attorney-General, said nothing now stood in the way of the agreement being signed and that this was expected to happen yesterday. Mr Howard also said that there was nothing "nefarious" about the delay. He explained the time-lag was influenced by "budget allocation issues" because the agreement to settle came at the end of the financial year. Mr Howard added that "relevant players" in the Government had also not been available. Mr Justice Hellman granted Dr Evans indemnity costs from the date the parties agreed to settle until the present at yesterday's hearing. Mr Diel said his client had incurred "significant costs" since the parties agreed to settle on March 29. Mr Howard said he saw no reason to contest the application for indemnity costs. The case was adjourned to April 26. Dr Evans asked for a judicial review after he was removed from his position following a public dispute between the education commissioner and the Department of Education. The dispute started when Dr Evans was told by the Ministry of Education that he had been removed from the job. Dr Evans, however, said that only the Governor had the power to dismiss him from his post. The Public Service Commission later sent a letter to Dr Evans's lawyer Mark Diel and Ministry of Education permanent secretary Valerie Robinson-James to say "an administrative error" in correspondence to Dr Evans meant he had not been fired. The letter added "nor has he been confirmed in his post". The Governor removed Dr Evans from his position on October 13. Mr Diel claimed Mr Evans's sacking came too late to be valid. He said Dr Evans could be fired by the Governor only during his probation period, which ended more than a week before Mr Rankin confirmed Dr Evans's dismissal.

Bermuda's contract with an American-based organisation designed to fight gang violence has been axed, it was revealed yesterday. Allesandro Nardi, of the National Network for Safe Communities at New York's John Jay College of Criminal Justice, confirmed the Government had cut short the Operation Ceasefire programme. Mr Nardi said: "We regret that we are no longer working with Bermuda on preventing serious violence and would be eager to return to the partnership should circumstances change." The statement came after a number of questions were sent to David Kennedy, director of the NNSC. Mr Kennedy was asked when the contract was scrapped and the reasons for the early end to the collaboration. Mr Nardi said: "You probably want to refer those to the Ministry of National Security." Wayne Caines, Minister of National Security, did not respond to a request for comment yesterday. But Jeff Baron, the One Bermuda Alliance national security spokesman, said he was "stunned" to hear that the contract had been scrapped. He said: "As the minister — particularly in a party that prides itself of transparency, engagement and consultation — I'm flabbergasted that not one of his staff or his cabinet has mentioned a thing about a termination of this." Mr Baron said the termination showed "a complete about face" by Government. He added: "This is something that they campaigned on, this is something that they banged on about, and even as the Government had made pledges to advance." The NNSC's Group Violence Intervention, first developed as Operation Ceasefire, has been used to combat gun and gang-related crime in US cities including Boston and Chicago and has won several awards. The programme started in Bermuda last year. The two-year deal between NNSC and the Bermuda Government, which was scheduled to end in the first half of next year, cost about $370,000. The price tag included the design and set-up of the plan, training and workshops. The introduction of Operation Ceasefire to Bermuda was first considered almost a decade ago after a sharp spike in gun deaths which started in 2009. Mr Baron said earlier this week that he had learnt of the termination through "various senior staff within public safety" two months ago. Mr Baron said that all the indications he had received had suggested that the contract would be continued by Mr Caines. But he added: "It seemed very quickly after Leroy Bean had been appointed that there were a lot of internal changes. "How much, and to what extent, I don't know." Mr Baron said he had not spoken to Mr Caines about the cancellation of the contract. Mr Caines discussed Operation Ceasefire in a ministerial statement in the House of Assembly last November. He said MPs would "recall the subsisting relationship with the National Network for Safe Communities at John Jay College". Mr Caines added: "I can advise this honorable House that as part of this arrangement, NNSC staff conducted a site visit to Bermuda over October 3 to 4 to complete a two-part problem analysis with law enforcement partners. The goal of this exercise was to capture frontline law enforcement intelligence which is critical to understanding the violence dynamics on the island." Mr Caines said the "review and implementation" of Operation Ceasefire was one of a number of strategies that the Violence Reduction Team "is currently readying for roll out to the public". Walter Roban, then the Progressive Labour Party national security spokesman, said in March last year that "a PLP government would not just fully support the implementation of Operation Ceasefire, but ensure key indicators are established to measure its success and allow tailoring for our unique circumstances." Mr Baron said he was concerned that there was "no legitimate plan in place" to address the gap created by the end of Operation Ceasefire. He added: "It is wrong to take an ongoing successful strategy that was gaining momentum here in Bermuda — both from a social perspective and a law enforcement perspective — and terminate it and still, months after this termination, not inform the public. "The silence of this is just a little bit concerning." Mr Baron said that Operation Ceasefire should have been a five to ten-year strategy. He added: "You don't roll it out and then just say 'we tried that. This is a massive change in how we are looking at young men who are involved in gangs, who are at risk of being involved in gangs, who have frankly suffered tremendous trauma in their lives. And that's been overlooked completely."

Bermuda's insurance-linked securities market has added another feather to its cap with a "first of its kind" $100 million issuance backing a US insurer of municipal bonds. Fidus Re Ltd, a Bermuda-based special purpose insurer, will use the proceeds from the sale of notes for a collateralized reinsurance agreement between Fidus and sponsor Build America Mutual Assurance Company, or BAM. Most ILS provide capacity for natural disaster reinsurance and the Fidus transaction is believed to be the first securitised transfer of financial guarantee risk to capital market investors. The news came in the same week that another new Bermudian special purpose insurer, Bellemeade Re 2018-1 Ltd, provided more than $374 million of reinsurance cover for Arch Capital's mortgage insurance business on an indemnity basis. It is not the first time Bermuda-based Arch has gone to the capital markets for mortgage reinsurance coverage. Altogether, four Bellemeade transactions have provided more than $1.3 billion of reinsurance protection for loans representing more than $117 billion of unpaid principal balance. New York-based BAM is a mutual bond insurer whose members are US cities and states. BAM provides them with financial guarantees that lowers their cost of borrowing. Bermuda-based White Mountains Insurance Group Ltd provided initial capital for BAM, which was launched in 2012. "As a mutual insurer, BAM was designed to generate unparalleled capital strength to support its guaranty and benefit our investors and issuer members," Seán McCarthy, chief executive officer of BAM, said. "We have delivered on that promise with capital strength well in excess of rating agency and regulatory requirements. This transaction, the first of its kind, is a creative way for us to expand that surplus even further at an attractive price, which speaks to the quality of BAM's insured portfolio and the strength of BAM's position in the marketplace." The reinsurance protection provided by Fidus Re is scheduled to become effective during the second quarter of 2018. Through March 31, BAM insured more than $46 billion of municipal bonds. BAM-insured bonds are rated AA with a stable outlook by S&P Global Ratings. Arch-sponsored Bellemeade Re 2018-1 Ltd is funding its reinsurance obligations through the issuance of three classes of amortizing notes with 10-year maturities. Andrew Rippert, CEO of Arch's Global Mortgage Group, said: "Executing transactions like this on a programmatic basis is a critical part of running a sustainable mortgage guaranty business. Not only does it provide us with catastrophic risk protection, it also gives us timely feedback from unbiased third parties on how they view the risk in the US mortgage market." According to leading ILS market-tracking website Artemis.bm, a record $12.6 billion of new capital was brought into the booming sector last year, with outstanding ILS surpassing $31 billion for the first time by the end of 2017. So far this year Artemis has tracked a further $4.54 billion of new issuance, raising the outstanding market to $32.38 billion. Bermuda is a leading ILS domicile, accounting for about three-quarters of global issuance, much of it through special purpose insurers with notes listed on the Bermuda Stock Exchange. Several reinsurers have built their own divisions to manage third-party capital, while law firms, fund managers and administrators, and risk advisers are also benefiting from the industry.

Experts say the discovery of a dead shark on a South shore beach this week might indicate commercial longline fishing activity not far from Bermuda's shores. Video footage of the creature was circulated on social media, including to Choy Aming, of the Bermuda Shark Project, who recognized the beach as Vickers Bay in Devonshire and went to inspect the shark on Wednesday evening. Mr Aming told The Royal Gazette he found a seven-foot blue shark, an offshore species rarely spotted close to land and not often seen in Bermuda's waters. He said in one of the videos it was clear the shark was caught on a hook attached to what looked to be a longline float. By the time Mr Aming got to the beach, the fishing equipment was no longer there. He measured the animal, took a DNA sample for his data collection project and checked its stomach contents, finding nothing. He said: "This is just a guess, but because it was fresh. It was probably dead for only a couple of days — and it washed up onshore here in pretty good condition, [it could have got hooked] maybe a couple of miles out, maybe ten. It would have taken only a couple of days at best to reach Bermuda. The closest I have ever physically seen a live one is at Challenger Bank." Mr Aming added: "It's not 100 per cent, but chances are the gear would have been baited if the shark took it. It could potentially be a local fisherman or somebody close to shore [from elsewhere]. That's the big question, I guess. Where was this gear from?" Marine conservationist Chris Flook saw the videos and said he suspected the shark was the victim of commercial longline fishing. "It's more than likely," he said. "I'm not a gambling person, but I would gamble on that being foreign people fishing our waters. The blue shark is a pelagic open water shark. It is very unlikely that a Bermudian is doing that kind of fishing." He said the island didn't have the capability to properly police its 200-mile exclusive economic zone for such activity. Both men said longline fishing — where numerous hooks attached to long lines are cast out to sea in an effort to catch as many fish as possible — was "indiscriminate" and therefore bad for the world's dwindling shark population. Mr Aming said of the shark found here: "It's sad, definitely, in a way, because the animal has died, but if you just go on YouTube you can see that the amount of sharks killed en masse by Asian fishing vessels is crazy. They put out 15,000 hooks in one place." Mr Flook added: "The Asian vessels, they are just harvesting, raping the ocean and making money off it. Fishing for sharks is just bad practice in itself. The population worldwide is at the lowest level it's ever been." A spokeswoman for the Department of Environment and Natural Resources said it was aware of a video, but had no information on the shark's location. She added: "The department will investigate on receipt of further information."

St George's will celebrate the Annual Peppercorn Ceremony on Monday with traditional flair. A Corporation of St George spokesman said: "We welcome all to come out and enjoy the Bermuda Regiment Band with its pomp and pageantry and all of the history that surrounds the event." The ceremony features the Freemasons' Lodge paying its annual rent of a single peppercorn to the Governor for use of the Old State House. The event dates back to 1816, when the capital of the island was moved from St George's to Hamilton. The event is traditionally held on the Wednesday closest to St George's Day, April 23, but this year the event has been moved to St George's Day itself. The ceremony is scheduled to take place at 11am in King's Square.

A new hotel and apartment development is expected to open its doors next month, it was revealed yesterday. John Bush of Clearwater Development, the firm behind Azura Boutique Hotel and Residences, said more than half of the project's first phase had already been sold. Mr Bush said: "It's all coming together. It's being really well supported by the marketplace." The first phase of the project, a redevelopment of the former Surf Side Beach Club, was designed to include 21 hotel residences containing up to 46 hotel beds. Mr Bush added: "Of the initial buildings that we renovated, we have sold about 75 per cent, which is a big number." The Azura Hotel and Residences, located at the former site of the Surf Side Beach Club in Warwick, has lofts and condominiums for sale. The units can be rented back to Azura — either in whole or in part — as each bedroom is designed to function as an individual hotel room. Mr Bush said: "Those who purchase units are required by us, as a developer, to put at least one of their bedrooms into the hotel. Purchasers of a one-bedroom must put it in for six months — thus they are not living there full time. We want this to be a good, functioning hotel and one that is sustainable. It has a very conservative capital structure, so when we finish the first phase of the project we will have no debt left, which will make it much more sustainable as a tourism product." He said the company expected to operate with between 35 and 60 hotel rooms. The completed site will also include amenities like a spa, fitness centre and poolside bistro. Mr Bush said: "Although residents are going to start moving in next month, we don't expect hotel occupants until 2019 because you can still see how much construction is going on." He added that because of the success of the project so far, the second phase of development — the creation of another 23 bedrooms — is expected to start sooner than expected. Mr Bush said: "It depends on how things play out, but I would say either at the end of next year or early next year we will start phase two." He added: "It's very hard to execute a project like this in Bermuda. The Bermuda product is fantastic. The island, the people, so many things about it, but the cost structure is difficult and the seasonality is difficult. It's very gratifying. There has been a lot of 'if you build it, they will come' and a lot of faith in the business model and the product. People have really responded well. The site is spectacular, but people have also responded to the structure because they think it is going to endure."

A tourist said Bermudians were the "nicest" people on earth yesterday after her missing purse was handed in to police with cash and other valuables still inside. Jitana Stott, 74, from St Augustine Beach, Florida, was horrified when she found her purse, which held cash, bank cards and her passport, was missing as she and husband Hubert, 79, took a taxi tour around the island and stopped at the Crystal Caves in Hamilton Parish on only the second day of their vacation. Taxi driver David Frost took the couple back to Hamilton, where Ms Stott thought her purse may have dropped out of her bag as she leant out of the cab to take a photograph of Town Crier Ed Christopher, but could not find it. Ms Stott, on her first visit to the island, said Mr Frost told her: "Don't worry. You are in another world — Bermuda. If someone finds it, they'll return it." The cabby took the couple back to their hotel, the Hamilton Princess and Beach Club, and a security guard contacted police — who confirmed a mystery good Samaritan had handed in the purse at Hamilton police station with its contents untouched. Ms Stott said: "Mr Frost went above and beyond. That any taxi driver should have done what he did — I have never had anybody do so much for me. He is by far one of the nicest men I think I have ever met." She added: "The security guard was very, very nice too." Ms Stott also thanked the unknown person who handed her purse in to police for taking the time and trouble to ensure her vacation was not ruined. She said: "God bless them. I have my purse back. There was not a thing taken." Mr Stott added: "We have been around a lot of places, we have traveled a lot. You guys easily — hands down — are the nicest people we have come across. In the United States, I don't know that we would have got the purse back with everything in it." Mr Frost said: "It feels good that she found her purse and everything was returned. I told her 'don't worry, I'll find it'."

Dementia patients in Bermuda have benefited from an international therapy course to improve memory and mood. Four of the seven participants showed better thought processes, four saw an improvement in their mood and three said they had a better quality of life after completing the first cognitive stimulation therapy programme run by charity Action on Alzheimer's & Dementia. The daughter of one participant said: "Dementia has taken a toll on my father's confidence and he was becoming withdrawn, depriving him of the social interaction that he so badly needed. This course helped to break his isolation through meaningful engagement with others." His wife added: "What was good for him was the camaraderie between people who were all in the same position. That was a positive thing and he always looked forward to participating." The daughter of another participant said: "He seems to be more in the real world and less in his head. I think this is due to the much needed social interaction and meaning he gains from the programme." The seven-week course was developed in Britain to help people suffering from mild to moderate dementia. Alzheimer's, which has no cure, is the most common form of the condition. The Bermuda participants, including men and women from a mix of economic and ethnic backgrounds, met twice a week at the Peace Lutheran Church in Paget. Occupational therapist Marie Fay, who led the course, said: "There was a clear programming gap in Bermuda for this specific group — people who have recently received a diagnosis and are still living independently and are motivated to maintain their cognitive skills, independence and quality of life." The participants painted, played Scrabble, baked cookies and took part in team games during the 14 themed two-hour classes. The organizers said the results "broadly" reflected international findings and all seven patients said that they would like to participate again. Ms Fay added: "I received a lot of positive feedback from the participants but I am really pleased that there was also a positive reflection on the memory and mood scales as well." The first course ran from January to March and another is planned for later this year. AAD plans to offer two courses a year but said there was potential to expand the programme if there is sponsorship and funding.

For months, she felt like a helpless spectator to her father's struggle with Alzheimer's. Plans involving basic logistics would flummox him like a complex battle plan. But after a pilot programme offered by Action on Alzheimer's & Dementia proved a huge help, she wanted to share the news with about 1,000 Bermuda residents who have dementia. The woman, who asked that the family not be identified, said: "My father was persuaded by a family member that it would not be a good thing to be quoted on this. That really speaks to the stigma around having dementia in Bermuda — this feeling that you can't talk about it openly or wash your dirty laundry in public." She added: "To extend the metaphor, dirty laundry doesn't do that well sitting in the corner festering, either." The woman accompanied her father to the first of a series of cognitive stimulation therapy sessions led by occupational therapist Marie Fay between January and March. She said: "Like many others with a recent diagnosis, my father was keen to do what he could to slow the onset or even reverse it. The simple task of giving a brief introduction about yourself to a group can be a daunting task for people diagnosed with dementia, an umbrella term that includes Alzheimer's. One man could recall with perfect clarity the date of his arrival in Bermuda but then trailed off precariously and slumped into silence. He could not remember what happened next. I glanced at Marie to see if she would intervene to rescue him but help came instead from the other participants: "'Give him time,' my father shouted, and others echoed similar words of encouragement. The awkwardness fell away and the man resumed talking, stinging my eyes with tears of relief." The woman said her father "rambled excitedly and sometimes incoherently" when it was his turn to speak — but she added that the joy was no one seemed to mind. She explained: "That was the magic offered by the course — no judgment and no embarrassment. Marie referred to the sessions as 'a safe place' for the participants and she was right." Studies have shown that cognitive stimulation therapy improves memory. The results were the same with the pilot programme here. Four of the seven participants showed a marginal increase in cognition, four showed an improvement in mood and three had a better quality of life score. The woman said her father became less obsessed by details and more joyful. But she added: "I know better than to expect miracles. When passing around a card for one of the participants — a strikingly dynamic woman in her 80s who had sadly been hospitalized during the course due to an unrelated condition — some, including my father, struggled to remember her." As a group, they played childhood games, sang along to the guitar and baked cookies. The woman said: "Asked whether they had lived in Bermuda their whole lives, one of them quipped back: not yet. Another took a renewed interest in his appearance, wanting to pick out his own clothing, shave and comb his hair. My father talked excitedly about the stories shared by the other members but could not recall any of their names. That did not seem to matter. They connected in the moment." She added that having watched her father withdraw from social situations as his confidence ebbed away, it was heartening. The woman said: "His old friends knew about his condition but they were less inclined to include him in activities. People don't realize the impact of that — invite them to do what you used to do together, arm them with the confidence to go back out in society and break their isolation. Excluding them because they have memory difficulties almost does condemn them to a cognitive decline." She advised anyone suffering memory loss not to feel ashamed and to get help. The woman said: "If they're not forthright with what they're experiencing, they're going to get worse. It was a huge relief to get the diagnosis because it allowed us as a family to be a lot more supportive and sympathetic. At that stage, we were almost resentful of his behavior because we didn't know the medical context. What I've really learnt with my father is just to enjoy his company in the moment. Sometimes he struggles to make sense of the big picture, but otherwise he's very present." The woman added that the wider community had to show the same patience and understanding that was displayed at the therapy to help affected people to live as full a life as possible. She said: "I believe people with dementia can live very normal lives if the community gives them the option to participate. CST really got people out of their homes, participating, communicating and engaging — there is no miracle cure. But, as far as they can tell, that's the best thing for dementia."

The Bermuda Heroes Weekend is fast approaching, and organizers are looking to put together the best Bermuda Carnival ever. Three bands are signed on to take part in the Parade of Bands on June 18, including Code Red, Party People and Nova Mas International. Jason Sukdeo, president of BHW Ltd, said for the best experience anyone interested in taking part must register with one of the bands. He said: "Bermuda Heroes Weekend 2018 promises to be a fun filled weekend for all who choose to participate from our opening event — Five Star Friday to J'Ouvert, the various promoters events, Raft Up and of course, Parade of Bands. We encourage those who haven't decided to quickly check out Code Red, Party People and Nova Mas International to see which band fits your style. Band registrations close very soon so do not delay in order to avoid disappointment." Code Red was band of the year last year, and is this year working with the theme "Beyond the Tropics". The band is the only one to feature a local designer, with Kassie Bather on the team. Nova Mas International took home the Band of the Year prize in 2016 and boasts the widest range of costumes. Party People, who won the Band of the Year in 2015, will also take part. For more information, visit bermudaheroesweekend.com.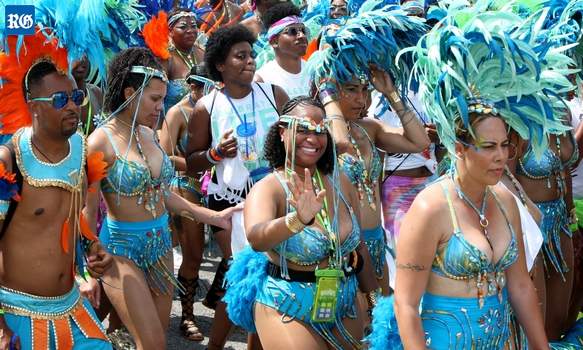 April 19
Mandatory trash recycling could be on the cards, the Minister for Public Works has signaled. Lieutenant-Colonel David Burch said: "I am increasingly leaning towards seeking approval for mandatory recycling as those who do recycle appear to have no regard for the schedule and simply place their recyclables out for collection whenever the bag is full. "That schedule has not changed — every other Thursday in the west and every other Friday in the east. We have the capacity to more than double the amount of recyclables currently being processed at the recycling plant — those internal discussions are ongoing as we seek different ways to manage our waste." Colonel Burch's views were backed by environmental groups including Greenrock, Keep Bermuda Beautiful and the Bermuda Environmental Sustainability Taskforce. Jonathan Starling, executive director at Greenrock, said: "Mandatory recycling is in place in many other countries, including countries like Canada and the UK and it works there, Importantly, having mandatory recycling would make both the incinerator and the recycling plant much more efficient, leading to a better use of these facilities. It would also greatly improve the efficiencies of regular trash collection, saving the public money over the long term, through reduced damage to trucks and injury to workers." Mr Starling said mandatory recycling would also lead to increased amounts of tin and aluminum being collected. He explained the recovered metals could be sold overseas on the commodity market. He added: "This would help to potentially subsidize the cost of waste management generally and indirectly reduce the cost of importing goods through providing greater export potential on cargo ships which would otherwise leave Bermuda empty. We support this idea and would be happy to help the ministry develop this concept from idea to execution." Anne Hyde, KBB executive director, said: "If the Government were to make recycling mandatory for residential households we would support that initiative. "Additionally, it would be beneficial for Bermuda to encourage tin, alcohol and glass recycling for all commercial businesses as well, particularly bars, restaurants and hotels who might have high volumes of glass and metal that is recyclable." Kim Smith, executive director of BEST, said compulsory recycling could help to change the public's habits. She said: "A couple of benefits of a recycling programme is to help us make better use of resources by reducing and reusing our waste. I think most people would agree in the value of that. Changing our behavior to reflect that value, however, is often the downfall of any worthy programme and so making participation mandatory is one way to attempt to force a change in behavior." She said enforcement of such a policy might prove to be a challenge. Ms Smith added: "Perhaps when we learn, or realize, that resisting efforts like recycling are not in our best interest, we will come to voluntarily do what is needed to avoid squandering nature's finite resources. After all, humans are not separate from the environment. It's where we live. Make a mess of it and we can only blame ourselves."

Sir John Swan said former American First Lady Barbara Bush was a "standard bearer". The former premier was speaking after Ms Bush, the wife of former President George H.W. Bush, died on Tuesday aged 92. Sir John said: "She was a very special lady. She would have fun and laugh, but she was steadfast in her high values and her high ideals. She loved Bermuda. Both she and her husband had this genuine affection for Bermuda and its people. She is going to be missed because she is a standard bearer of what a First Lady should be." Sir John said he first met Mr Bush in Australia in 1978 and the two families later became close. He said: "Mrs Bush and my wife got on very well and they did many things together. They invited us to openings in Texas and the christening of the George H.W. Bush aircraft carrier. The Bushes had traveled to Bermuda but never in an official function.

Bermuda law firm Trott & Duncan is being sued for more than $18 million by a US insurance company. Fidelity National Title Insurance Company has filed a writ in the Supreme Court claiming that it became involved in a botched bid to build a luxury hotel on the site of Par-la-Ville car park because of advice it was given by the firm. Delroy Duncan, partner at Trott & Duncan, said yesterday the proceedings were "without merit" and would be "contested vigorously". The civil claim from Fidelity, which alleges breach of contract and negligence, highlights a decision made by the Corporation of Hamilton, under former mayor Graeme Outerbridge, to act outside its legal authority in 2014 and guarantee an $18 million loan from Mexico Infrastructure Finance to developers Par-la-Ville Hotel and Residences Ltd. PLVHR defaulted on the loan later that year and MIF has fought to get its money back ever since. MIF earlier failed in a court bid to get the corporation to pay up after a judge ruled in 2016 that City Hall was not liable because it acted outside its legal power in giving the guarantee. MIF made a claim for the $18 million to its insurer, Florida-based Fidelity. It is alleged in the Fidelity writ that Trott & Duncan "failed to exercise the care and skill to be expected of reasonably competent attorneys" because it advised "unequivocally" that the Corporation of Hamilton was acting within its power when it guaranteed the loan. Fidelity also claimed Trott & Duncan did not declare a potential conflict of interest over its "prior ongoing representation of the corporation". The writ, filed on behalf of Fidelity by law firm Taylors, said: "The plaintiff has suffered loss and damage and will continue to suffer loss and damage." It added: "The plaintiff may be required to compensate MIF for loss or damage sustained by MIF ... Under the policy, the plaintiff may be liable to MIF for losses up to $18,000,000. To date, the plaintiff has expended a sum in excess of $933,632.80 in legal fees relating to MIF's claim under the policy and expects to incur further legal fees in the future." Fidelity wants the court to award damages "in respect of amounts paid to MIF" as well as continuing legal costs, plus interest. Controversy dogged plans for a top-class hotel on the site of the Par-la-Ville car park for years and the Fidelity writ is the latest lodged in connection with the deal. PLVHR first reached a development agreement with the corporation in 2007. The company's founder, Donal Smith, went on to become Deputy Mayor in 2012, as part of Mr Outerbridge's Team Hamilton administration. Mr Smith said he left the company before taking office as an elected alderman. PLVHR secured the $18 million bridging loan from MIF to help arrange financing for the hotel project. But in April 2015, the car park was put into the hands of receivers after the loan was not repaid. London's High Court heard last September that PLVHR transferred $12.5 million through a trust to Gibraltar-based Argyle UAE Ltd, run by businessman Robert McKellar. It was alleged Mr McKellar used the money to buy a luxury Aston Martin car, an engagement ring and two countryside properties in the south of England. The proceedings against Mr McKellar were brought by liquidators for PLVHR and Argyle, as well as receivers for the trustees of the Skyline Trust, set up to enable the funding arrangement. Walton Brown, home affairs minister, said in a recent statement that MIF's civil case against City Hall, which it lost in both the Supreme Court and the Court of Appeal, is now set to end up in the Privy Council in London. Fidelity's statement of claim said it was approached by MIF in July 2014 for an insurance policy for the loan after another insurer offered the loan company a policy with an exclusion clause to exempt it from liability if the corporation lacked "legal or constitutional authority" to act as guarantor. The statement added: "MIF was unsatisfied with the policy exclusion and approached the plaintiff seeking a title commitment which did not contain such an exclusion. The plaintiff was willing to consider issuing a title policy without the policy exclusion but required Bermuda legal advice ... in relation to the corporation's capacity to enter into the guarantee." The writ claimed Trott & Duncan was asked to give an opinion on whether the corporation had the authority to enter into the guarantee. Fidelity said the law firm advised: "The corporation has all requisite corporate power and authority to enter into, execute, deliver and perform its obligations under ... the guarantee" and that there was "no reason" not to issue an insurance policy without the exclusion clause. The insurer said: "But for the opinion issued by the defendant, the plaintiff would have insisted on a policy exclusion to address the capacity issue." No one at Fidelity or their legal representatives, could be contacted for comment yesterday. Mr Duncan said: "Trott & Duncan Ltd has been advised by a leading lawyer that the proceedings filed against the firm are without merit and they will be contested vigorously." The firm is represented by ASW Law, according to the Supreme Court cause book. Hamilton mayor Charles Gosling, who earlier said the hotel negotiations were a "debacle", declined to comment. Mr Outerbridge, Mayor of Hamilton from May 2012 to May 2015, could not be contacted.

Underwater explorer Philippe Cousteau is to try and solve the 150-year-old mystery of the last resting place of a Confederate ship. Mr Cousteau — grandson of undersea exploration giant Jacques Cousteau — visited the island this month in a bid to find the wreck of the Roanoke, which was scuttled off Five Fathom Hole to the east of Fort St Catherine 1864 as part of a Travel Channel series called Caribbean Pirate Treasure. Mr Cousteau and wife Ashlan were inspired to visit the island after lawyer Mark Diel, also a diver and owner of Dive Bermuda, wrote an article on the mystery for an American-based diving magazine. Mr Diel said he was stunned when he got a call from the show's producers. He added: "It was a once-in-a-lifetime experience — my dad dived with Jacques Cousteau many years ago." Mr Diel said: "They're doing a show which is to do with Caribbean wreck hunting and pirates, that sort of thing, for the Travel Channel. Their producers had picked up an article I had done on our search for the Roanoke, which was a Civil War ship scuttled off the east end of Bermuda. They were interested in whether we had found it, so we were doing a continuation of the search for the Roanoke. When they called me, they said they had seen an article — I'm guessing it was one in Scuba Diver Life." Mr Diel, whose Dive Bermuda worked with Chris Gauntlett's Blue Water Divers on the shoot, added he could not reveal if the Cousteaus and the Bermuda team had located the long-lost ship. But he said: "It's worth watching — there were some interesting developments during the filming." The Roanoke, a Union steamer, was hijacked en route from Cuba to New York by Confederate sailors who had joined the ship in Cuba in disguise. The Confederate seamen took over the ship after it set sail and diverted to Bermuda because it needed coal and wanted to disembark the Federal crew and passengers. But the Governor of the day refused to resupply the ship because he regarded its seizure as an act of piracy and Bermuda, as a British territory, was neutral during the US Civil War — although Bermudians made a fortune on the sly trading with the rebel Southern states. Confederate Lieutenant John Braine, who had assumed command of the Roanoke, put the passengers and crew in lifeboats and scuttled the ship to avoid it being reclaimed by Union forces. Braine was tried in Bermuda for piracy, but acquitted and he and his crew were transported back to the Confederate states, which were forced to surrender to the Union only months later.

Bermuda-domiciled Athora Holding Ltd announced that it will acquire Belgian insurer Generali Belgium SA in a deal worth €€540 million ($668 million). Generali Belgium is today the eleventh largest insurer in Belgium and is the Belgium-based subsidiary of international insurance group Assicurazioni Generali SpA. The company serves the Belgian market with a comprehensive product set including single and recurring premium savings; pension and unit-linked life products; motor, homeowners and renters non-life coverage. Generali Belgium has approximately 420,000 customers served by 430 team members, had total gross written premiums of over €€640 million in 2017, and total assets of €€5.3 billion. The transaction is expected to close in the second half of 2018, subject to regulatory approvals. Michele Bareggi, group managing partner at Athora stated: "Since our successful capital raise in April 2017, we have been rapidly expanding our presence in Europe. In addition to launching our business with the acquisitions of Delta Lloyd Lebensversicherung in 2015 and Aegon Ireland earlier this month, this transaction is another major step towards our goal of becoming the premier European insurance consolidator and life reinsurance partner. Belgium is a target market for Athora, where we plan to deploy substantial capital over the next few years, and Generali Belgium is a perfect fit for our strategy and growth plans in the country." In April 2017, Athora received binding subscriptions through a private placement of common equity securities. The offering involved subscriptions representing approximately €2.2 billion from global institutional investors and is intended to support its existing business lines and capital and reinsurance transactions in the European insurance market.

This year's Agricultural Show opened this morning with hundreds of children out to enjoy the entertainment and displays. Young mothers Alex Gibbons and Ashley Robinson both grabbed the chance to take their children to their first Ag Show. Ms Gibbons said: "We came out mostly for the kids to see the animals. It was always so much fun coming out here when I was young. It was great to see everything. Ms Robinson added: "These guys haven't really seen any of these animals before, so we thought it would be something great to keep them entertained and give them something to see. I haven't been in years, so my daughter is sort of bringing me back, to be honest. I would always love to enter vegetable critters when I was young and then come in to see what I had won." Vegetable critters is an Ag Show tradition where children use vegetables to create model animals. James Robinson said he was looking forward to showing his four-year-old son David the livestock on display for the first time. Mr Robinson said: "It's a great thing for children to get this sort of hands-on opportunity to see the animals up close. I grew up near a farm, so I had those experiences a lot when I was young, but a lot of the younger generation don't have that." David gave the three-day event his seal of approval. He said: "I liked seeing the pigs and the rabbits." Elka Gibbs, director of the Bermuda Equestrian Federation, was at the ringside as the horses performed in the event's main showground. She said the event was wonderful for the public and helped highlight the island's heritage. Ms Gibbs added: "Its something great for children of all ages, so there are everything from three year olds to 83 year olds here. I think it brings back a lot of memories for the older members of the community who like to reminisce about days gone by, particularly when the carriages come out. It brings back memories and it makes memories."

It is all change at The Terrace on Front Street, which is boasting a new look and menu after being renamed and remodeled. The business, at 55 Front Street, was formerly known as Red Steakhouse and Bar. It is now being run solely by Douglas Olson, and he has put his vision into the new look. It has a lighter and brighter interior, there are fresh herbs growing in a few spots, and an impressive, large, harbour-view mural has been painted on the curving wall that leads into the restaurant. Mr Olson said the business is also committed to hiring locals. As the restaurant was undergoing its transformation four locals joined the team, while three guest workers departed. He and his father Rick were the joint partners of Red Steakhouse, but when the time came to take the business in a new direction, Mr Olson bought out his father to take full control and set about turning his concept into reality. He was inspired by some of the things he saw in the US. When asked what that means for The Terrace on Front Street, he said: "There is more brightness and light, and contemporary food that is fresh and clean." The menu is more inclusive than it was before, and features options suitable for those who want to avoid gluten, or those are looking for non-meat dishes. The freshness extends to herbs, such as mint, that are grown in strategic spots within the restaurant. The Terrace features a large patio balcony overlooking Front Street with views across Hamilton Harbour. It took about two weeks for The Terrace to undergo its transformation to a new look and menu. During the past six months a number of new bars and restaurants have opened on Front Street, while others, including The Terrace, have undergone revamps. Mr Olson said: "Everyone is looking to do something new." Explaining the impetus for the change at the restaurant and bar, he said: "The [customer] demographic is changing. The Terrace is more about lunches, and happy hour and cocktails."

April 18

Twice-a-week trash collection could be axed for good, the Minister of Public Works hinted yesterday. Lieutenant-Colonel David Burch said there "had been some recommendations" that a once-a-week schedule should become the norm. But he added: "That's not a decision they let me make on my own. If I get to that point where I am inclined to head down that road, then it will be a Cabinet decision. We will certainly make a decision in that regard during the course of this next nine weeks." Colonel Burch said the cash savings and benefits of once-a-week collection "demand we take another look at how we do things and that is precisely what we shall do". Colonel Burch was speaking as he announced that once-a week trash collection would be extended until June 29. A ten-week trial period announced in February was scheduled to end next week. Colonel Burch said that the once-a-week schedule had allowed for better management and maintenance of the trash truck fleet which had led to a "marked increase in the number in service on a daily basis". Colonel Burch added there had also been a "significant uptick" in the amount of trash picked up over the last eight-week period compared to twice-a-week figures from last year. He said 71 tonnes more trash had been collected in the seventh week compared to the same period last year — up from 319 to 390 tonnes. Colonel Burch added that "just under $13,000" had been spent on worker overtime over the first eight weeks of the once-a-week schedule. He said: "We budget $1 million annually for garbage collection overtime — on average we spend approximately $70,000 per month." He added the $13,000 in overtime was "attributable solely" to the Saturday collection over the Easter weekend. Colonel Burch said: "To be clear, we have not spent one penny of taxpayer dollars in unscheduled overtime garbage collection for the entire eight-week period." He added that no extra staff would be hired as staff were "presently able to cope under the new arrangements of once-a-week collection". Colonel Burch said the savings from once-a-week collection were not limited overtime reductions. He explained: "There have been savings in fuel, wear and tear on vehicles, illness and injuries. Not surprisingly, staff morale has improved as well." The public works minister also said that an order for five new trash trucks "should be placed this week". He said the vehicles, worth about $700,000, were expected to be in Bermuda within six months. The announcement followed a trip by a team of five last week to UK specialist truck builder Farid Hillend Engineering. Colonel Burch said: "The trucks meet our specifications. The team were all very comfortable with it and consider that it is the ideal vehicle to meet the needs of Bermuda at this time." Colonel Burch said that a deal had been struck with parts suppliers to allow Government to purchase parts direct and for the makers to "provide training and technical support". He added: "While there are still some holdouts, in the main people have adjusted and Neighbours are taking pride in their own neighborhoods." He also singled out trash workers "who do an outstanding job in collecting our waste".

Government's communications department will suspend media activity today to honour the late journalist Ira Philip. David Burt, the Premier, said he "deeply regretted" he would be unable to attend Mr Philip's funeral service at the Anglican Cathedral in Hamilton. But he added: "To mark his life of exceptional journalistic service to the people of Bermuda, I have instructed the Government's Department of Communications to suspend all media activity tomorrow in honour of and out of respect for the celebration of Mr Philip's life. The Government will not hold interviews or press conferences nor will any press statements be released on a day when the only news worth broadcasting will be happening live in the Cathedral." Mr Philip, who was 92, died last week. In addition to a media career spanning seven decades, he was an historian and a former Progressive Labour Party senator

The Organisers of last year's superyacht regatta have returned to Bermuda to discuss holding more events in the island's waters. The Bermuda Tourism Authority said representatives for Boat International and the J Class Association have been in Bermuda this week to look at future regattas. The groups organized the Superyacht Regatta and the J Class Regatta for the 35th America's Cup last year, which featured the luxury boats racing against each other. Pat Phillip-Fairn, chief product and experiences development officer for the BTA, said: "It's great to have them back out here this week re-engaging with stakeholders and learning about Bermuda's strategy as it relates to superyacht tourism. If there's a partnership with Boat International and the J Class Association that makes sense for Bermuda, we could see superyachts dotting our harbours and marinas once again." About 100 superyachts visited the island last year during the America's Cup, including eight of the ten J-Class boats in the world. A report by professional services firm PwC in the wake of the America's Cup said superyachts and other visiting vessels injected more than $14 million into the local economy. Government and the BTA have been exploring how to develop a superyacht tourism industry since the America's Cup, including a public presentation held earlier this month.

The island's fight for marriage equality has been highlighted in a BBC World Service radio programme. Bermuda's Change of Heart, presented by spoken word artist Tiffany Paynter, explored the toll the debate surrounding same-sex marriage has taken. Ms Paynter, a gay Bermudian, outlined the events that led to the island becoming "the only jurisdiction to repeal same-sex marriage". She said: "In May 2017, the Supreme Court of Bermuda ruled in favour of marriage equality, which would allow basically everyone, gay or straight, the right to marry in Bermuda. Then a new Government was elected and soon this government decided to put forward the Domestic Partnerships Act, which would strip the LGBTQ community, transgenders, queers, everyone of their right to marry." Ms Paynter met Winston Godwin and Greg De Roche, who spoke about their decision to take legal action in the Supreme Court to get the right to marry and their lawyer Mark Pettingill, who is to make fresh legal challenge for client Roderick Ferguson. Ms Paynter spoke to Mr Ferguson, as well as other gay activists including Linda Mienzer, Josh Correia and Adrian Hartnett-Beasley. Bermudian Joe Gibbons and his Canadian husband Christopher Vee discussed how the controversy led to their decision to leave the island. Mr Gibbons: "It's a very difficult decision. I was born and raised here. My family is here. But for us to guarantee our future relationship and how we want to live our lives, the Government, either political party are not really that interested in protecting our long-term rights." Ms Paynter also spoke to opposition One Bermuda Alliance senator Andrew Simons. Mr Simons said: "To listeners who are trying to understand how Bermuda one minute has marriage equality and the next minute it's been taken away, you must understand that there was no vote in parliament explicitly granting marriage rights. Politicians don't like to make unpopular decisions, instead there were court cases that challenged the existing marriage laws and those court cases relied on the Human Rights Act. To undo that work, legislation was passed in the guise of a Domestic Partnerships Act that gave the marriage act primacy over the human rights legislation — that's how we quickly moved from equality backwards." But she said she was unable to get comment from Government politicians or people opposed to same-sex marriage. But Ms Paynter aired a clip from a 2016 Preserve Marriage press conference to give "them the ability to speak for themselves". She said: "Throughout history, we have seen how the idea that some humans' lives are more valuable or right than others continues to persist in dangerous and destructive ways, whether that is taking a life at the end of a gun or denying a man or a woman the right to live in happiness as a married couple. I don't know what the final word will be any of this at all but that is what I have to say." The programme is available here: www.bbc.co.uk/programmes/w3csxg1s.

A busier-than-average hurricane season is on the cards, a forecast has predicted. Researchers at North Carolina State University said that the Atlantic area could see between 14 and 18 tropical storms with seven and 11 hitting hurricane strength. The NCSU prediction on Monday came two weeks after Colorado State University predicted a slightly busier-than-average season. But the Tropical Storm Risk Consortium forecast a slightly below average season on the same day. The Atlantic has experienced an average of 11 named storms per year since 1950, with an average of seven reaching hurricane strength. James Dodgson, director of the Bermuda Weather Service, said it was still too early to make accurate predictions on how active the new season will be. He added: "Whether it is busy or quiet, it only takes one, so we must always be prepared at the start of each hurricane season." The hurricane season will begin on June 1 and continue until November 30, but storms can form before or after that period. A total of 17 named storms were recorded last year, including ten hurricanes and six major hurricanes. The Caribbean, Texas and Florida all suffered major damage due to Hurricanes Harvey, Irma and Maria. But Bermuda escaped unharmed. Mr Dodgson had discussions with other meteorologists at a recent meeting of the World Meteorological Organization's Hurricane Committee. He said that due to the significant losses of life and property last year, the committee agreed to retire the hurricane names Harvey, Irma, Maria and Nate. Mr Dodgson said those names would be replaced by Harold, Idalia, Margot and Nigel.

A new free-admission scheme could attract the Ag Show's biggest crowd, the event's organizer said yesterday. Jeff Sousa explained that this year's agricultural event, which starts tomorrow, would offer free admission to children aged under 16 and seniors across its three-day run. Mr Sousa said: "This is the first time this has ever taken place. It stands a chance of being a record year if there's good weather." He added the free admission scheme was made possible by the Bermudian business world, including sponsors Axis, an insurer and reinsurer, and HSBC, who "wanted to be more involved". Mr Sousa said he saw the admission change as a "big blessing" for cash-conscious families looking for affordable entertainment and for the public as a whole. He said that instead of spending money on tickets and parking, families could use their cash to support local vendors and every vendor has to be associated with a charity. The event includes the traditional animal exhibits, an equestrian programme, a floral show, and school exhibitions. Mr Sousa said horse and carriage displays would also be back in the main ring. He said there was a "strong tradition" related to the old-style transport in Bermuda's history. But Mr Sousa added: "We don't see them on Front Street like we used to." He said that this year's event would also feature a "spectrum of local talent" on the entertainment stage, including school choirs, bands and dance schools. Mr Sousa added that performances would help reflect this year's show theme of "Through the Ages". Mr Sousa said that emphasis had been put on providing a "mixture" of food to show visitors, including both savoury and sweet options including Portuguese-style malassadas, deep fried and sugar-coated dough balls. Mr Sousa added: "I'm drooling now just thinking about it." He said the show helped Bermudians reflect on the island's development from "a seafaring, whaling and fishing village" to agriculture. He added: "Where we see golf courses today, were fields. A lot of people forget that era." The 2018 Ag Show will be held at the Botanical Gardens in Paget. .

A bid to set up and regulate the cryptocurrency business is on the right track, an expert in data management said yesterday. Stuart Lacey, CEO and founder of Bermudian tech start-up Trunomi, said proposed legislation would create a solid foundation for Bermuda to cash in on the booming industry. He said: "One of the things we are seeing is there is a massive, pent-up demand for this. More money has been raised through this than has been raised in all other traditional vehicles combined in the last 12 months. With so much demand, supply is a very important thing. There is an opportunity for us to be able to participate seriously in this space. I think it's positive for the island and it's creating a positive base for a new economic pillar for Bermuda." The Companies and Limited Liability Company (Initial Coin Offering) Act, tabled in the House of Assembly last Friday, was designed to make ICOs a restricted business that requires consent from the Minister of Finance. The legislation also sets out requirements that applicants have to meet to set up in business. Mr Lacey said he was "very impressed" by Government's collaborative approach on the legislation. He said: "There is a sense out there that there is a bit of a race to be the first jurisdiction to get it done. I think it's not about getting it done first, it's just about getting it right first." Mr Lacey said that the regulations — combined with the island's financial infrastructure — would help to attract quality companies to the island. People who cannot meet the Bermuda standards simply won't come here. It's not about just attracting all companies wanting to launch ICOs, it's about attracting the best companies." ICO documents will have to include a prominent risk warning under the proposed Bermuda legislation. The warning will have to include information regarding any known "substantial risks" to the project, details about the client's rights if the project does not go forward and information about any disclaimers in respect of guarantees. The Bill also carries penalties for anyone who knowingly makes untrue statements in their documents. Offenders could face up to five years in prison and as much as a $250,000 fine. The Bill makes provision for a fintech advisory committee to advise the minister on matters related to the industry. The committee will have at least five members and at least three of them will be senior industry professionals with expertise in fintech business, blockchain and distributed ledger technology. The advisory committee will also help to create a code of conduct for ICOs to give guidance about responsibilities and requirements that operators in the sector will have to stick to.

A new $11 million-plus high-tech technology centre is to open at Bermuda High School within the next two years, it was revealed last night. The school said its new Innovation Centre would prepare its pupils for careers in science, technology, art and design, and maths, known together as Steam. Jennifer Burland Adams, the school's director of advancement, said the school had exceeded its $10 million fundraising goal in less than three years. She added: "It's absolutely vital we look at Steam in two different ways. One is the world needs more people going into science, engineering and technology and they need girls in particular. We also look at a Steam education and the skills you get from that — project-based and inquiry-based education. These are vital and the skills that all companies are looking for in their employees. It's the skills of collaboration and critical and creative thinking." Linda Parker, head of school, said: "Women are underrepresented in boardrooms, in corporate leadership and certainly in the fields of technology, engineering and science. At BHS, we play an important role in ensuring that more of our girls consider careers in Steam by sparking a sense of wonder and curiosity as early as possible and then nurturing and challenging students' interests through our curriculum and inspirational teaching in a state-of-the-art facility." The 14,000 square foot centre, to be built on part of a car park behind the school on land donated by the Bank of Butterfield will be linked to the existing Butterfield Building, and include five new science labs, a MakerSpace — a high-tech science and engineering workshop — two computer science and robotics labs and learning commons and library, as well as a leadership centre for girls. Renovations will include a Blackbox Theatre and an arts wing, connected to the Innovation Centre, and which will house improved music and visual arts departments with an outdoor "idea hub" linking visual arts with the MakerSpace. Ms Burland Adams said: "Investing in science and technology and the arts, particularly at a girls' school, really resonated with all of the people with whom we spoke. We know that we are preparing our students for exciting careers that haven't yet been defined and that the combination of technical competencies, together with excellent problem-solving, collaboration and communication skills, will be key to their success. That is why a strong Seam education is so important and why BHS is leading the way in this endeavor in Bermuda." The fundraising effort is the largest in the school's near-125 year history and Ms Burland Adams said it "may be the most successful philanthropic effort in island history". Ms Burland Adams added she expected to see an increased amount of pupil interest in technology-based careers as a result of the purpose-built centre and "our students taking advantage of international opportunities like camps and competitions because they will be in an environment that will be sparking curiosity and wonder from a very young age." But she said that the new centre would benefit technology education across the island, not just the school's own pupils. Ms Burland Adams added: "In Bermuda, I would hope to see the Innovation Centre become the hub for innovation and creativity in Bermuda through camps, workshops, competitions and people renting the space and using it." The fundraising campaign was spearheaded by chairman Pamela Ferreira and school board chairman Mariette Savoie, along with Ms Parker and Ms Burland Adams. Donations ranged from $20 up to $1.5 million and came from families, graduates, staff, trustees, companies and friends of the school. Corporate supporters who gave leadership gifts included Renaissance Re, Arch, the XL Foundation, Aon, Deloitte, CatCo, Markel, Argus and BF&M.

April 17

Bermuda's plan to capitalize on financial technology like cryptocurrency has got a good reception from British business leaders, the Minister of National Security said yesterday. Wayne Caines, speaking from London where the island this week launched a charm offensive on fintech, said: "We have received generally positive feedback both locally and internationally. We have received good reaction from the companies that are launching their own tokens, to the law firms and others who advise them. Additionally, the ecosystem and fintech community are very appreciative that Bermuda has taken the lead to provide a safe, fair and regulated environment, where clear guidance has been provided. Fintech innovation is happening globally at a rapid pace. We are an internationally recognized insurance and financial centre. With that in mind, we must continue to keep abreast of the changing business trends if we are to continue to thrive. "Additionally, as I have said, embracing this new world with responsible regulation could lead to the attraction of new companies and capital investment to Bermuda, additional government revenues, new career, employment and training opportunities for Bermudians and the laying of a foundation for a prosperous future for our next generation. The vision and path that Bermuda is taking thus far is being very well-received." We recognize that this is new and innovative for Bermuda, so we will continue our primary role of ensuring that we provide as much information as possible, particularly as it relates to our proposed legislation and strategy." Mr Caines said earlier there was "considerable interest" in the island's approach to blockchain and virtual currency. He added: "We believe that Bermuda will become a global leader in the fintech space. So, this visit is quite timely as it allows us to share Bermuda's fintech strategy directly with some of London's key business industry influencers." Mr Caines, whose portfolio includes information technology, policy and innovation, will make a presentation to industry leaders at law firm Mishcon De Reya. He will also meet representatives of the City of London Corporation, UK Treasury officials, and the Financial Conduct Authority. Mr Caines is also expected to meet British politicians. The Companies and Limited Liability Company (Initial Coin Offering) Act was tabled in the House of Assembly last week. The Bill, which will be debated at a later sitting of the House, is designed to make ICOs a restricted business activity which require consent from the Minister of Finance. The next Bill to be tabled will be the Virtual Currency Business Act, which will set out regulations designed to govern virtual currency digital asset exchanges. Mr Caines said yesterday: "The consultation process is currently under way and we anticipate tabling the next piece of legislation in early May."

The former chief executive of the Bermuda Hotel Association has been appointed to the Bermuda Tourism Authority board of directors. Stephen Todd has filled the hotel sector vacancy created on the board when Paul Telford became chairman. He said he welcomed the opportunity to "work directly with the enthusiastic team at the BTA as we collectively strive to build on the ever-improving positive results in overall visitor arrivals year-over-year". Mr Todd said his focus would be on "overall growth as we seek to position Bermuda as a destination of choice for business and leisure visitors". Mr Todd's term on the board began in December. Mr Telford said Mr Todd had "hit the ground running" with the tourism quango and had been "a welcomed addition around the table". Mr Todd brings 35 years worth of experience in the financial services field to the position. He is also a past president of the Bermuda Chamber of Commerce and Sandys Rotary Club.

Contracts worth more than $300 million to redevelop a rundown wharf in St George's are to be financed by their developers. But the Bermuda Land Development Company declined to be specific on whether the deals would be funded through a public-private partnership like the controversial contract to redevelop the island's airport. A BLDC spokeswoman said the RFQ was seeking "developers and investors to finance the development whereby BLDC leases the land to investors/developers who will finance the project themselves". Government wants the area developed to provide a power plant and cargo port. Each project will cost more than $150 million to build. The power plant is expected to generate at least 20 megawatts of power — a fraction of the island's capacity last year of 160 megawatts. The news came as the watchdog Regulatory Authority puts together an integrated resource plan, expected to be completed later this year, to create a blueprint for future energy production in Bermuda. The spokeswoman said bidders for the energy plant contract were expected to provide "input to the RA for consideration for inclusion in the integrated resource plan in the near future". A spokeswoman for the RA said that the authority had liaised with the BLDC over its plans for Marginal Wharf, also called Ship's Wharf, which is now largely unused. He added: "We hope to be in a position to launch public consultation on the integrated resource plan shortly."

A memorial service to honour former slave and ship's pilot James "Jemmy" Darrell was held in St George's at the weekend. Mr Darrell piloted the Royal Navy warship HMS Resolution to its mooring near Tobacco Bay in 1795 while still enslaved. Royal Navy Rear Admiral George Murray was so impressed with his skill, he recommended Mr Darrell be freed. The pilot was also one of the first appointed King's Pilot and also the first black man on the island to own his own home. The ceremony at St Peter's was led by Reverend Erskine Simmons, a former AME pastor, and Reverend Tom Slawson, parish priest for St George's and St David's. The service was attended by Bermuda Sea Cadets, family and descendants of Mr Darrell including Dorothy Williams, members of the Corporation of St George, Renée Ming, St George's North MP and people from the sailing and maritime world. An exhibit designed to highlight Mr Darrell and his achievements was opened on the same day at the Olde Towne's World Heritage Centre. It features historical documents, artifacts and a scale model of HMS Resolution by master woodworker Milton Hill. Mr Darrell has also been nominated as a Bermuda National Hero.

Technology has taken mental health problems to a "new level" among young people, an expert has warned. Cathy Sousa, chairwoman of the Bermuda Counselors Association, said more should be done to help young people understand the potential dangers of technology. Ms Sousa, who spoke to The Royal Gazette as the island marks Counselling Awareness Month, said: "The triggers for young people have multiplied. Technology is taking it to a whole new level." She said young people who send explicit pictures of themselves that get shared among their peers can feel "like their life is ruined" and she warned that this can lead to anxiety and even suicidal feelings. Ms Sousa said: "It's a double whammy for the young person — they've got the humiliation among their peers and then they have to deal with the repercussions from their parents. And it's a real challenge to communicate with young people around what they feel is the norm." Ms Sousa said young people could benefit from exploring the consequences of their behavior in small discussion groups in schools with a counselor present. "You do have kids that behave badly and then have regrets about that but the damage is already been done. So both victims and bullies could really benefit from having a conversation about the consequences." The counselor with Benedict Associates Ltd said many parents were not able to understand why children interact electronically the way they do. "It's just so difficult to see why your child would be sexting, for example, at 14 years old. Counselors play a role in doing family work in that circumstance because they need to work with parents in how to manage those types of problems without exacerbating what the child is experiencing already emotionally." Ms Sousa said relationship problems with children or in a significant relationship are the main reason people seek out counselling, along with work stress. "Jobs are not out there in the same way so leaving your job is not an option for a lot of people. They are struggling financially as it is, so finding a way to cope with their work circumstances is critical to their mental health." She added: "If we can assist people in managing life circumstances or altering their life circumstances so that they are more content and more satisfied, then everybody benefits. When you have personal concerns, it affects you in the workplace and it affects your relationships with everybody you come in contact with. Assisting with that contributes significantly to a healthier community." Ms Sousa explained that counselling is "a professional relationship that seeks to promote the growth and development of individuals and families". But she said stigma around mental health was still a "huge concern" and people were reluctant to seek treatment. "Understanding the myth of the mind-body distinction will probably be the most effective way to eliminate stigma. Your health and well-being is your health and well-being — that includes typical physical illnesses but it includes emotional health as well." Ms Sousa explained that the Bermuda Counselors Association has been working to advance the profession in Bermuda for 20 years. She revealed that efforts to get the profession registered should pay off by the end of the year. Ms Sousa said this would "go a long way to having people feel more confident about the level of care that they are getting when they go to a counselor".

April 16

Ministers from the Bermuda Government are to be asked to give evidence before British MPs as part of a probe into tax avoidance and evasion. The sub-committee of the Treasury Select Committee launched its investigation in the wake of the Panama and Paradise Papers leaks. John Mann, Labour MP for Bassetlaw and chairman of the sub-committee, wrote in The Guardian newspaper that he wanted to "hear from the dependencies and territories themselves". Mr Mann said Britain should "regard it as a matter of national shame that the Crown Dependencies and Overseas Territories that fly our flag give shelter to the wealth of the world's financial elite". He pointed out that half of the 240,000 shell companies used by Mossack Fonseca to help the wealthy dodge tax were incorporated in the British Virgin Islands. Mr Mann said the BVI was "far from alone" in looking the other way "as the world's financial elite used its legal structures to hide their wealth from prying eyes". He added: "Jersey, Guernsey, the Isle of Man, Bermuda and the Cayman Islands are on the EU grey list of uncooperative tax jurisdictions. If they do not co-operate further, they may be placed on the blacklist." Mr Mann said he would be chairing a "Treasury sub-committee inquiry into avoidance and evasion, aiming to unpick the failures of policy and resourcing that have allowed the tax base to be undermined". The Paradise Papers — secret files from Bermudian-founded law firm Appleby — were released in June by journalists looking into the offshore activities of some of the world's most powerful people and companies. The Paradise Papers were unveiled just over a year after 11 million documents were leaked from secretive Panamanian law firm Mossack Fonseca which sparked international investigations and fresh vows to crack down on tax cheats. British parliamentary committees cannot force individuals resident outside the UK to appear before them. A series of hearings on tax abuse, the practices of major accountancy firms, individual tax avoiders and evaders and the use of the UK's Crown Dependencies and Overseas Territories are to take place over the next six months. Britain's The Guardian newspaper added that the "sub-committee will also investigate the UK's network of Crown Dependencies and Overseas Territories, which have refused to implement new standards on transparency for offshore company owners despite pressure from campaigners and MPs". A government spokeswoman said Bermuda had not been asked to attend the sub-committee hearings.

Bermuda is to reach for the stars in a bid to attract space-related business to the island, the transport minister said yesterday. Walter Roban will travel today to the 34th Space Symposium in Colorado to represent Bermuda on a panel for "emerging space economies". Mr Roban said that the island was creating a legal and regulatory framework to draw "the next generation of commercial space activity". He added: "The Space Symposium is the leading event of its kind and billed as the premier global commercial, civil, military and emergent space conference." The symposium at the Colorado Springs Broadmoor Hotel feature commercial, government and military space industry professionals from more than 40 countries. Mr Roban will share the stage with the director general of the United Arab Emirates Space Agency and the general director of the Mexican Space Agency.

A total of 2,365 people completed the Government survey for the Green Paper on Transportation. The Transport Survey on public transportation, which includes elements of road safety, also sought direct input from some 70 stakeholders. The Ministry of Transport and Regulatory Affairs is now moving to its next phase of broad public consultation in advance of new policy decisions. The next public input will be a Pro-Action Café which will include input from environmentalists, community leaders, stakeholder groups and members of the general public who completed the survey. The exercise is designed to leverage the collective intelligence of the group. Deputy Premier and transport minister Walter Roban said he was extremely pleased with the amount of people who took the time to complete the survey, estimated to take about 15 minutes, on the Government portal over the four weeks of the exercise. Mr Roban said: "It has to be one of the most successful online surveys run by the Government and consultation has reached out even further. We are determined to get a broad understanding of public wishes before embarking on any plan to change the state of transportation in Bermuda. But something must be done and we expect to begin making substantive changes this year to improve the quality of life in Bermuda with regard to transportation. Before we move on to another exciting phase of this initiative, it is important that I convey how grateful I am that so many took the 15 to 20 minutes necessary to participate in this important survey. Bermuda faces a litany of challenges when it comes to transportation. And the Government may propose a series of changes that will alter some aspects of how any of us get from point A to B in the future. But right now we are listening and we will continue to do that with a survey planned for students, and, another forum that will allow public input." The Transport Planning Team has also heard from visitors, tourism industry stakeholders, and will have to go through a large number of written submissions sent directly to the Ministry. Separate to the priority list of solutions, the Ministry will be making decisions shortly on outstanding matters which include those related to minicars and minibuses.

Community activist Gina Spence has called for a review of the island's criminal injury compensation system. The Criminal Injuries Compensation Board's budget has been slashed from $500,000 to $325,000 since 2007 — but Ms Spence said the need for assistance remains high. Ms Spence added: "It needs to be reviewed, revised and really looked at." But she said: "To be fair to the Government, when it was first put together it wasn't designed to be doing what it is doing now. It really wasn't. A lot has changed." Ms Spence added that the impact of violent crime went beyond the injury itself as families lost income and ran up massive medical bills. She said keeping a family member on life support can cost thousands of dollars every day which caused a huge financial burden even if an injured person lived. Ms Spence added: "Can you imagine if someone is kept on life support for a week? Someone has to sign to be responsible for that bill. There are people who don't have much insurance, so people find themselves going to court for unpaid bills. All because some one else hurt them or their loved ones." Ms Spence said that victims of violent crime and their families could also face other problems. She explained: "In some shootings nurses may not be willing to go to a person's house because of safety issues and things like that, so family members have to take care of the dressing and treatment." She praised the work of organisations like the Lady Cubbit Compassionate Association for their contributions and said the charity has helped a number of families get life-saving treatment they might otherwise have been unable to afford. Ms Spence added: "It's a really, really huge issue in this country especially for the working-class people who have little or no insurance. Just the funeral for someone who died can cost a family more than $10,000. And if that person was a breadwinner or a contributor to the household, then the impact is just going to continue on and on because the bills are going to remain the same. I have known families who are not even able to pay for the funeral." The budget for the CICB has risen from $300,000 to $325,000 since financial year 2016/17, but is still far below the $500,000 budgeted for 2017/18. Awards remain capped at $100,000, but the average payout has fallen from just over $75,000 in 2007/8 to $10,645 in 2017/18. The level of awards was highlighted by the Court of Appeal in two judgments last month. The court found the CICB had taken medical expenses out of awards to the applicant and had not properly explained the reasoning for their decisions. The applicants in both cases said they were $200,000 out of pocket for medical expenses, loss of income and pain and suffering, but received less than $40,000. Appeal Court Judge Geoffrey Bell wrote: "No doubt the reason for steps such as the deduction of medical expenses from awards for pain and suffering stems from an understandable desire to stay within budgetary constraints. But it does seem to me that when it comes to reimbursing a medical practitioner or a hospital for medical expenses actually and reasonably incurred as a result of the victim's injury, those setting budgetary limits need to decide whether the board should operate as an expression of society's sympathy and compassion for the harm done to the victim or not."

Revised plans for a North Power Station at Belco have claimed that work could be completed next autumn — and pave the way to a potential move to natural gas as a fuel source. Planning documents estimate that the construction project will involve around 100 construction workers and last 18 months. Work is hoped to begin as soon as this month with generators ready to start in October 2019. Belco sought approval for the installation of five new diesel engines capable of generating a combined 72 megawatts of energy in 2012. But last month the application was changed to four dual-fuel diesel engines generating 56 megawatts. Each of the four generators would be installed in a single new powerhouse, located on the Belco site between Cemetery Road and St John's Road. The generators would use a single 65-metre concrete chimney stack. The new station would be capable of burning a combination of light fuel oil and heavy fuel oil. The planning documents said: "The dual-fuel component will enable cost-effective conversion to natural gas, should such become available in Bermuda in the future. It's noted that substantial detailed engineering has been completed on the proposed North Power Station since the previous submission in April 2012." The documents said the new power plant would allow the retirement of older engines and cut pollution. The application added that the adoption of natural gas as a fuel would lead to further environmental benefits. The Regulatory Authority decided to allow the installation of new generators last month, along with a system for battery engine storage. Aaron Smith, interim chief executive of the RA, said: "Much of Belco's current generation capacity has gone beyond its normal life expectancy and this had become a critical issue in terms of safety as well as the security of supply for Bermuda, which were major factors in our decision to approve this replacement generation."

Two former oil company executives have each been banned from running companies for 14 years after they received millions of dollars in secret payments through a Bermuda-based entity they controlled. Osman Shahenshah and Shahid Ullah were the ex-chief executive and ex-chief operating officer of Afren, an oil and gas company that collapsed into administration in 2015. The two were charged with fraud and money laundering in September 2017 following a two-year investigation by the Serious Fraud Office over payments they received through secret companies they controlled relating to over $400 million of Nigeria business deals, City A.M. in the UK reported Britain's Insolvency Service said the disqualifications focused on Mr Shahenshah and Mr Ullah's failure to declare to the Afren board that they had a vested interest in a number of high-value transactions. Both transactions took place after Afren's shareholders had capped what they deemed as "excessive" benefits packages for senior executives, it said. The payments totaled about $17 million. Afren sacked both executives for gross misconduct. The payments were made via special purpose vehicles based in the British Virgin Islands and Bermuda, which had been funded by an Afren partner company called Oriental Energy. "Afren PLC's shareholders had expressed clear opposition for a number of years to benefits packages for senior executives in their company, which they viewed to be excessive," said David Brooks, group leader at the Insolvency Service. "Mr Shahenshah and Mr Ullah have clearly then reacted to that decision by negotiating secret benefits for themselves." He added: "Their decision to agree an undisclosed contract via a BVI [British Virgin Islands] company, while receiving the funds via a Bermudian company of exactly the same name, best illustrates the cloak-and-dagger nature of their actions referred to in Chief Registrar Briggs's judgment." The disqualification "underlines the gravity of directors breaching their fiduciary duties to a company and its shareholders", Mr Brooks said. The disqualifications prevent the two from either directly or indirectly becoming involved, without the permission from the court, in the promotion, formation or management of a company for the duration of their bans.

Visitors could next year be offered a view from 350ft over the West End. Consort Cruises has asked for planning permission to install a tethered helium balloon ride in Dockyard. A spokesman for the company said, if the planning application is approved, they hope to have the attraction ready to take in guests next spring. He said: "The balloon will take you up around 350ft, and from there you can see as far as South Shore and the reef line. It should be quite a view. We are going to put it right next to the Fun Golf, so you will have the balloon, Fun Golf, Snorkel Park and Vista View Virtual Tours right there." The planning application said: "The project consists of a 20-person tethered helium balloon ride which is raised and lower by an electrical winch and cables. The balloon itself when not in use will be held down by concrete deadmen. The site area must be relatively flat in order to support the ride and site works will consist of sidewalks, fencing, a back-up generator and a ticket booth." The proposal is not the first of its kind — earlier this year a separate application was filed to install a helium balloon ride next to the Rockaway Ferry terminal in Southampton.

Sol Petroleum is to launch a weeklong road safety campaign as part of its Fleet Week celebration. Fleet Week, designed to highlight Sol employees' safe driving records, is usually an internal event — but the firm decided to make it a community celebration to support The Royal Gazette's Drive for Change road safety campaign. Jonathan Brewin, Sol Petroleum general manager, said: "We have seen, unfortunately, a worsening of the driving standards in Bermuda and we are particularly concerned. We want to ensure that the public recognize that they need to step up to the plate and not just talk about safety but really walk the walk." Sol's Stop the Carnage campaign started with an inter-dominational church service yesterday morning at St Paul's Church in Paget led by Anglican Bishop Nicholas Dill. It also invited The Royal Gazette to join Chris Gibbons, who trains Sol drivers in the Smith System safe driving method, to learn more about its practical application on the roads. Mr Gibbons outlined the five key steps of the programme and pointed out examples of poor driving. Stop the Carnage will also launch a Young Driver Contest at all Esso gas stations. Mr Gibbons, along with Sol's Che Barker, will be on the FM89.1 Talk Show with The Captain at 7.45am on Tuesday. The two will also be on Magic 102.7FM for the Sherri J Show on Thursday at 11am. Sol will also present a cheque for $1,000 to the Bermuda Road Safety Council at City Hall.

April 15, Sunday

April 14

In a move heralded as a business milestone, National Security Minister Wayne Caines this morning tabled the Companies and Limited Liability Company (Initial Coin Offering) Act. The Bill, which will be debated at a later sitting of the House, proposes to treat an initial coin offering as a restricted business activity requiring consent from the Minister of Finance. The legislation will position Bermuda as "one of the few countries in the world to specifically regulate ICOs", Mr Caines said. He added: "It is generally accepted that ICOs are, in most cases, a method of crowdfunding projects or services. However, ICOs may also be used to convey some interest in or right to access or use a physical asset. Embracing this new world with responsible regulation could lead to the attraction of new companies and capital investment to Bermuda; additional government revenues; new career, employment and training opportunities for Bermudians, and the laying of a foundation for a prosperous future for our next generation of Bermudians." After a brief sitting of the House, Mr Caines issued a statement. The minister said that with the regulations, "we are enhancing our global reputation and introducing viable ways to strengthen and diversify our economy". The tabling followed a presentation yesterday with members of the Blockchain Taskforce, in more than 150 stakeholders heard of Bermuda's fintech strategy. Interest was "significant" in virtual currencies, Mr Caines said. "We are proving that we can be a leader in this space, and I wish to thank the members of Blockchain Task Force which included a Business Development Working Group and a Legal and Regulatory Working Group for working with the Government to bring forth this groundbreaking legislation." Under the Act, an application for consent would be required to include specific details regarding:
The company conducting the ICO and the underlying digital asset offered for sale;
The development and implementation of any product, service or other project related to the ICO, including timelines for completion;
The target amount to be raised through the ICO;
Rights, features, functionality and intended transferability of the digital asset offered for sale;
The technology to be used and confirmation of the ability of the technical platform to enable the collection, confirmation and storage of purchaser identity information;
Compliance and auditing of ICO transactions.
Sean Moran, the head of business development for the Bermuda Business Development Agency, said that the same qualities that made the island a respected jurisdiction in international business was "now being extended to technologists and innovators. This promises to be an exciting evolution for Bermuda, and we're pleased it's being carried forward with careful legislation, contemporary regulatory oversight, and most of all, the type of collaboration our market is renowned for. Our message is that Bermuda is a sensible platform from which these emerging technology companies can do their global business."

The Government may offer more e-commerce services at a modernized Post Office. Cabinet Office has asked for views from the Chamber of Commerce on potential new services after a public survey into Post Office services. A government spokeswoman said more than 80 per cent of people said they would like access to an international mailing address for e-commerce purposes. The international address and delivery of items would be run by the Post Office. More than 50 per cent welcomed the option of the delivery of island-generated online purchases to homes and businesses. The spokeswoman said: "With this in mind, the ministry has engaged the Chamber of Commerce's Retail Division, seeking their feedback regarding e-commerce service options such as overseas mailing addresses. Consideration is being given to partnering with an overseas postal organisation to facilitate the receipt of packages, inclusive of customs clearance and delivery." She said the ministry has asked the Chamber for its opinion on potential problems and benefits of a new e-commerce service. Lovitta Foggo, government reform minister, said: "Significant technological advances have meant that our communications and the way that we conduct business has changed considerably. Our public services must also evolve so that we can meet the needs of the community. We were encouraged by our recent public consultation and we are expanding our engagement to include our valued community and business partners. We encourage their feedback regarding our desire to modernize our services." The deadline for Retail Division views is tomorrow.

A plan to restore a pond filled in more than 75 years ago has been given the green light. The Development Applications Board backed a plan by Buy Back Bermuda to restore Eve's Pond in Hamilton Parish as part of a nature reserve. Andrew Dobson, president of the Bermuda Audubon Society, said the organisation is happy that work could soon be under way. He said: "We really look forward to providing the public with another nature reserve that everyone can enjoy." Mr Dobson added: "The plan is to create a brackish pond to provide a habitat for migratory ducks and other wetland bird species. Invasive plant species will be cleared, and the sand removed will be used to build an embankment along North Shore Road. This embankment will be planted with native and endemic plants. Just like our Buy Back reserves in Southampton and Somerset, there will be a nature trail with interpretive signage as well as an observation platform." Eve's Pond was a tidal, saltwater pond in Hamilton Parish until 1941, when it was filled with sand dredged from Flatts Inlet. The property on North Shore Road was bought by Buy Back Bermuda, which was launched by the Bermuda Audubon Society and the Bermuda National Trust. The original pond was about 50 metres wide and 100 metres long and was linked to Harrington Sound by the Green Bay cave system. The new pond will not connect to the caves in a bid to prevent further damage to the system.

The Bermuda Pilot Gig Club held its first West End regatta at its new premises on Boaz Island today. The event to commemorate pilot James "Jemmy" Darrell saw six teams compete in a series of races designed to test their piloting skills, speed and agility. Roger Gillett, BPGC chairman, said: "Today we have a series of four races all designed to not only test the crews rowing ability but also the Cox's ability." Mr Gillet said each race would challenge the teams in different ways while also emulating "the sorts of things the pilots in past generations had to do". The traditional gigs guided ships and rescued people in distress. Sarah Burrows, location captain and member of the Sandy Crabs team, explained that the first race involved the teams rescuing "survivors" stranded on Middle Kings Point. The second race saw each gig carry a pilot flag that had to be placed in a buoy — emulating the race to take pilots to incoming vessels. The salvage race involved teams towing an old tyre, and the final race — capture the flag — represented a pilot being brought back to shore. Three teams from Spanish Point took part in the event, along with two teams from St George's and one home team. The latter took the prize for the best-dressed gig. Ms Burrows said she was excited for the club's first event at the newly renovated premises. She said they hoped to showcase the history of Bermuda's gigs as well as the "exercise element". Ms Burrows added: "The idea is to make this a community club that everyone can celebrate." Liz Christopher, a descendant of Mr Darrell and pilot Stephen Richardson, the namesake of the gig she raced in, described the new premises as a wonderful event space and a great opportunity for children to get involved. Ms Christopher added: "I think it's perfect. I suspect any future events will be really well prescribed." Mr Gillett explained that volunteers had worked hard to renovate the pump house of the disused sewage plant on Boaz Island into its new headquarters. He added: "It's quite special because it's ours — it's dedicated to our activities." Simon Groves, chairman of the Boaz Island Village Condominium Association, added: "It's an example of a private initiative, hard work and a co-operative effort to make something happen that will benefit not just this community but everybody involved in rowing. It sets an example for others to follow."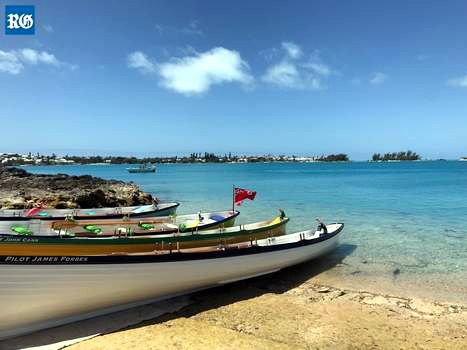 Bermuda Pilot Gigs. See article above.

Volunteers have pitched in to help clean up a historic fort on Paget Island. The Mirrors youth programme led the restoration drive, helped by Outward Bound, the parks department, the Royal Bermuda Regiment and other supporters, including John Rankin, the Governor. The work, which happened on April 7, concentrated on tidying up the moat area of Fort Cunningham, which sits on the island off St George's. Mr Rankin said: "The fort has a fascinating history and will make an excellent venue for young people and visitors to Bermuda to learn more about the history of the island. "By contributing to the restoration project, the Mirrors programme and all the volunteers are contributing to the future of Bermuda." Lovitta Foggo, Acting Minister of Social Development and Sports, added: "I was pleased to see so many young people at the clean-up, contributing their time and giving back to the community."
Fort Cunningham from the air. See above article.

A new park on Par-la-Ville Road is almost complete. Now benches are to be added to the site, which is to be used as a nursery for trees to be transplanted elsewhere in the city once they reach maturity. The park was created on the site of a city-owned cottage which had to be demolished because of storm damage. The park is expected to be completed within a week.

April 13

The Government is still to decide if betting shops need tougher regulation to block money laundering and terrorism funding as a critical international assessment looms on the horizon. David Burt, the Premier and Minister of Finance, admitted in November that the laws governing the industry were "outdated" and that the island needed to assess the risks to see if new legislation was necessary. But with only five months to go before overseas experts from the Caribbean Financial Action Task Force visit the island to assess whether sufficient countermeasures are in place in the financial sector, nothing has been decided. A government spokeswoman, asked if the risks had been assessed to see if anti-money laundering and antiterrorism funding laws needed to be introduced, told The Royal Gazette in February: "This assessment has begun." She said at the start of this month there was no change to that response. Betting shops fell under Mr Burt's brief as finance minister when he made his comments in November but tourism minister Jamahl Simmons told Parliament in February that responsibility for managing and regulating the industry would soon be transferred to the Bermuda Casino Gaming Commission. In a Supreme Court writ filed in March by the commission, the regulatory body said its remit had been "widened to embrace the governance and regulation and supervision of the betting industry as a whole". The BCGC falls under Mr Simmons's brief. Warnings about the absence of controls to prevent dirty-money transactions within the betting industry have been made repeatedly to Bermuda's leaders, including by former BCGC executive director Richard Schuetz. In a July 2016 letter sent to Michael Dunkley, then the premier, Mr Schuetz warned that activities in the betting shop industry could "damage many sectors of the economy" by "negatively affecting" CFATF's assessment. The letter was shared with Mr Burt, then Opposition leader. In his resignation letter of July 2017, Mr Schuetz wrote: "The Bermuda I have come to know has indicated a lack of respect in making a reasonable effort to adhere to generally accepted international standards for anti-money laundering activities within its existing betting products, in particular the betting shops. I have spent a great deal of time and effort over the last 18 months in working to point out the glaring deficiencies in the anti-money laundering regime of this island's betting sector and am now convinced there is an absence of political will to address these deficiencies." Mr Burt said in November that the international Financial Action Task Force did not identify betting as a sector that must be subject to anti-money laundering and antiterrorist funding obligations and supervision. "Only casino gaming is named," said the Premier, adding that FATF standards were the minimum standards and FATF required countries to implement a risk-based AML/ATF framework. He added: "Bermuda must assess the money-laundering risks within the betting sector to determine if AML/ATF laws need to be put in place." Bermuda has six licensed betting shops. Those applying for a bookmaker's licence under the Betting Act 1975 have to first get a certificate from the Minister of Finance stating that he is satisfied with the business reputation and financial stability of the applicant. The Ministry of Finance must conduct due diligence before a certificate is issued and only then can an applicant seek a licence from the Betting Licensing Authority. Members of the public can view files on betting licences but the paperwork does not show whether the licensing authority conducts background checks on foreign individuals with a stake in betting shops here. If CFATF looks at the money-laundering countermeasures in place for the betting industry, it is likely to consider whether industry operators are subject to stringent enough suitability checks. The government spokeswoman said: "A preliminary review has begun of the relevant legislation [governing betting shops] to determine what amendments are required." She said progress on updating the framework for the licensing of bookmakers and betting agents would not be made until an assessment of the current framework was completed. The spokeswoman added that the overall assessment of oversight of the betting industry would include a review of whether the selling of overseas lottery tickets needed to be monitored by the Government. Deborah Blakeney, BCGC's general counsel, did not respond to e-mailed questions by press time.

Stoppage of work on a new hotel development at Morgan's Point has slowed a boom in the construction industry, the president of the island's trade association has said — but not stopped it. Charles Dunstan, president of the Construction Association of Bermuda, said: "Prior to the stoppage at Morgan's Point, we all seemed to be pretty busy." Mr Dunstan said some in the industry felt business was slower but he said "for the most part, it seemed that construction was booming" and firms were hiring. The head of construction firm Kaissa admitted the Morgan's Point stoppage "had put a kink in some of that growth". But Mr Dunstan said this month that the Caroline Bay project, the airport redevelopment and the work on the St Regis Resort in the East End had brought much needed stability to the sector. Mr Dunstan was speaking to The Royal Gazette after a Wednesday information session on work opportunities at the new St Regis Resort in St George's was attended by more than 100 tradespeople. The session provided an update on work done to date, future opportunities and advice on how to prepare for a jobs fair organized by St George's developer Hotelco Bermuda Holding on April 25. One subcontractor, who asked not to be named, said the seminar at the Bermuda Industrial Union was a positive development for Bermuda. He said he was pleased to see that smaller businesses were included and likely to get work "along with the usual suspects". The seminar was a joint effort by Hotelco Bermuda Holding, the Bermuda Economic Development Corporation, the Department of Workforce Development and the Construction Association of Bermuda. Another woman, who attended on behalf of her business partner, said the seminar was "extremely useful". She said her partner had just started the company and that they would be taking advantage of BEDC's offer to help small companies prepare for the fair. She added: "That's what we need to get started. Our main aim is to get out there and produce quality work. We are hoping that this will put us out there, get people to know us and get them to see the kind of work that he does." Laura Purroy, general manager of Hotelco Bermuda Holding, explained that the development was in the foundation and piling phase with 112 out of 145 piles completed. Ms Purroy said site workers would now move on to the foundations and begin work on buildings, mechanical, electrical, plumbing and finishing work, façade, mill work and landscaping. She also outlined how many people would be needed for each of the areas and when work would be likely to start. Ms Purroy said the job fair at Penno's Wharf in St George's was designed so that Hotelco could meet potential subcontractors and individuals interested in working on the project. She added: "It's not about getting a job that day — it's for this company to understand what is the universe of workers that we have in order for us to reach out to you and say this is what we need, participate." Mr Dunstan said he hoped people would use the information provided at the seminar to prepare for and attend the job fair. William Spriggs, BEDC director of economic and co-operative development, said the quango was pleased at the turnout for the information session — more than double what was predicted. He added: "We knew it would be well received — people have been asking about construction projects, especially with Morgan's Point on hold." He said smaller contractors who had not submitted portfolios before were keen to learn more about the process, while bigger contractors were keen to make contact with Ms Purroy.
Construction figures: Bermuda's construction industry has seen nine quarters of consecutive growth, according to the Quarterly Bulletin of Statistics for the third quarter of 2017. Employment income figures for 2015 stood at $108.936 million — the lowest number in more than a decade — and 2016 saw an increase to $115.269, with the trend for 2017 on course to be higher still. But numbers still fell short of the figures in the run-up to 2008, which saw employment income reach a peak of more than $200 million before plummeting to $113.943 million in 2012. The second quarter of 2017 saw the highest value of new projects, totaling $515.4 million. The total for 2016 stood at $96.3 million and the total for 2015 was $161.8 million.

A 14-strong delegation of industry representatives will head to Canada next month to promote the corporate benefits of setting up a captive insurance company in Bermuda. Led by the Bermuda Business Development Agency, the roadshow includes half-day executive forums in British Columbia and Ontario — in Vancouver on May 15 and Toronto on May 17 — as well as business development meetings. Emphasizing the many elements that differentiate Bermuda as a blue-chip jurisdiction, the agenda covers topics ranging from reasons to set up a captive insurer, the nuts and bolts of how to establish a captive entity, and why Bermuda is the sensible domicile choice for captives. "Bermuda continues to see an encouraging number of captive insurance registrations from the Canadian market, so this initiative will allow us to speak to more risk managers and financial executives about the many captive benefits for companies," said the BDA's Jereme Ramsay, business development manager for the risk sector. "These types of forums facilitate an environment that allows risk professionals to find out more about the significant innovation happening around all types of risk transfer, and to exchange ideas with insurance managers as well as existing captive owners. We're looking forward to returning to Canada to continue this dialogue." Since 2011, Bermuda has enjoyed a Tax Information and Exchange Agreement with Canada — a bilateral agreement that puts the island on equal tax footing with jurisdictions that hold tax treaties with Canada. The TIEA allows Bermuda subsidiaries of certain Canadian corporations with international operations to be eligible for Canadian tax benefits, including the tax-free repatriation of certain dividends to Canada. The Vancouver forum takes place on May 15, 8.30am until noon at the Fairmont Waterfront. The Toronto forum will be held on May 17, 8.30am until noon at the Toronto Westin Harbour Castle in the city's downtown. Registration is free, and parking will be validated. Industry representatives participating in both BDA initiatives include: Mark Allitt of KPMG; Tony Bibbings of Artex Risk Solutions; Janita Burke of Estera Services; Daniel Carter of Aon Canada; Christianne Kenny-Post of ASW Law; George Leite of Aon; Jennifer McConnell of PwC; Yanique Miller of Aon; Michael Parrish of Marsh; Danielle Paynter of Butterfield Bank; Stewart Ritchie of PwC; Leslie Robinson, of the Bermuda Monetary Authority; Dennis Silvia, of Cedar Consulting; and Gavin Woods of Appleby. Industry partners from Deloitte Bermuda also assisted with the roadshows.

A Bermudian businessman is helping students at an Ivy League school to bridge the gap between academic theory and the real economy. Stephen Thomson is an Entrepreneur in Residence at the at the Pillsbury Institute for Hospitality Entrepreneurship, which is within Cornell University's SC Johnson College of Business in the School of Hotel Administration. Mr Thomson, who graduated from Cornell in 1982, takes great pride in the appointment by his alma mater. He has been in the unpaid EIR role for nearly two years, interacting with students, offering them guidance on how they should go about turning their business visions into reality. His next trip to Pillsbury, which is located in Ithaca, upstate New York, will be next week. Sometimes he will speak in a class on a certain topic, usually for 20 minutes or so, and then deal with about 30 minutes of questions from students. He also meets personally with students in one-hour and half-hour slots, when they bombard him with questions. Mr Thomson finds the sessions invigorating. "These students are between 18 and 22 years old and they're full of energy and ideas," he said. "I think I get more out of it than the students do!" He reckons that between a half and three quarters of the students he advises are already running their own businesses. The most frequently asked question he gets is on how to get financing. And students often call him up when he's at home in Bermuda. Additionally, he has served as a judge in the Cornell Hospitality Business Plan Competition, which offers $25,000 in seed money for the winner. As a seasoned entrepreneur himself, in property development, dry cleaning, shipping and courier services, and hospitality, Mr Thomson knows that it's not all plain sailing when striving to build a business. "My favorite saying is 'never give up'," Mr Thomson said. "You've got to fail three times before you succeed. I tell the students that failures are very acceptable — and don't think of them as failures, but as tries." Looking at his own experience, he believes he learnt just as much from the flops as from the successes — and he also learnt that taking care of customers is key to success. Asked whether it was possible to teach entrepreneurship, Mr Thomson said: "It's possible to teach the skills that can help someone to be an entrepreneur, but a lot of it comes from the gut. You will hit roadblocks and you have to be determined enough to find a way around them — and that has to come from inside." After graduating from Cornell, Mr Thomson started his career in hospitality, joining the Four Seasons Hotel in Toronto as a management trainee. The chain moved him to San Francisco in 1984 and two years later, he opened the Four Seasons Hotel in Newport Beach, California. A year later he returned to the island to take up a senior manager role with Elbow Beach Hotel. In 1988, he ventured into dry cleaning with the launch of Just Shirts, which is still in business 30 years later. It was around that time that he pursued an idea with a business partner in Oxfordshire in the UK, to locate dry cleaners at railway stations. "The idea was that people could drop off their shirts to be cleaned before they caught the train and pick them up when they got back," Mr Thomson recalled. "We wanted to put them at Didcot and Summertown stations. British Rail loved it. But at the eleventh hour, we were undercut by Sketchley, so we failed." At Elbow Beach, he grasped another opportunity, when he started bringing in minibars for the hotel as an outside contractor. In 1990, he started Mailboxes Unlimited, which started out as a packing and shipping company. In the late 1990s, Mr Thomson noticed a demand from Bermudians to buy from overseas, often through catalogues, from companies that did not ship to Bermuda. They needed a US address, a problem he solved by opening an office in New Jersey to which goods could be sent on their first port of call before being shipped to the island. With the rise of online shopping, the business has continued to thrive, bringing in "about a tonne a day" of packages to Bermuda, Mr Thomson said. The entrepreneur built up his dry-cleaning business over the years, both organically and through acquisitions, including Hamilton Val, Paget Drycleaners, Coral Cleaners, Quality Cleaners and Blue Ribbon Cleaners. The business has contracted somewhat in recent years and only Just Shirts and Coral Cleaners survive. His real estate activities include the purchase of the nine-acre Heron's Nest property in Riddell's Bay, which was then sold off in lots, an enterprise in partnership with fellow Bermudian Stephen Dunkley. He is also involved in a project to build three-bedroom homes on land in Goose Bay, Labrador. Mr Thomson is also chairman of Bermuda Press (Holdings) Ltd, parent company of The Royal Gazette. Education has been a longstanding interest for Mr Thomson, who sat on the board of his former school in Ontario, Canada, Trinity College School, for 14 years. He was also on the Pillsbury board for five years. "Business is not all about making money, it's also about giving back to your community or school," he said. Neil Tarallo, senior lecturer, entrepreneurship at the Pillsbury Institute, said that the work of mentors like Mr Thomson would have lasting benefits for students. "It is well known, and supported by academic research, that entrepreneurs who take advantage of mentors and mentoring programmes are more likely to launch sustainable businesses," Mr Tarallo said. "The Pillsbury Institute for Hospitality Entrepreneurship's Entrepreneur in Residence Programme (EIR) was created with this in mind. In addition, our 15-plus EIRs help to provide our students with an understanding of the mindset and behaviors of expert entrepreneurs. Entrepreneurs like Steve Thomson provide an invaluable service as we support our student entrepreneurs."

The business community of North Hamilton is to get an online boost with a free website highlighting its offerings. The site uses the colloquial name for the district, which Hamilton mayor Charles Gosling called a "culturally rich area of the city". Mr Gosling added: "I encourage all businesses of North Hamilton to embrace this opportunity and be a part of an inclusive directory alongside their neighbors." The community listing comes courtesy of HI Group of Companies on Dundonald Street. Charles O'Brien, the chairman, said the directory of retailers and services had been years in the making. "We realize that not all businesses can afford to have a website," Mr O'Brien said. Visitors as well as local customers will be directed to the storefronts of the neighborhood. The site, featuring pictures, details and descriptions of businesses, also has the backing of the Bermuda Economic Development Corporation, which is helping to gather data. The HI Group called for the businesses of the designated economic empowerment zone to get in touch, at 292-4695.. A public announcement is expected at City Hall, with a date to be announced.

More charger ports have been installed around the island for the Renault Twizy, an electric minicar that has proved a big hit with tourists. It has been about a year since Current Vehicles started to rent out the vehicle and they have seen success since. Piers Carr, chief executive officer of Current Vehicles, said: "Business is steady. We are happy with the progress we made and the product we delivered." Many hotels across the island have adapted to the two-seater electric vehicles by setting up charging ports at their facility. The hotels that have the ports are the Hamilton Princess and Beach Club, the Fairmont Southampton Resort, Rosewood Tucker's Point, The Loren, Coral Beach, Mid Ocean Club, The Harbour Courts Residence, The Royal Palms, Rosemont, Prince Albert Terraces and The Vacation Rental Community. "We have a few more hotels that are in the works as well, Cooper's Island Reserve and Dockyard." he added. Mr Carr mentioned that Current Vehicles is helping to make Bermuda more accessible for its customers and also helping to disperse their dollars around the island to other small businesses. "We are proud of our safety record since launching," he added. Mr Carr said that the company will continue to pursue more initiatives to raise money for schools and charities. Last year, Current Vehicles launched a competition for Dellwood Middle School students to design wraps for the outside of their rental cars. The winning students had their designs emblazoned on a Twizy which helped generate funding for their school. Competitions will be rolled out at more schools next year. This programme is designed to directly involve students in Bermuda's tourism product, giving them the chance to come up with designs that are truly representative of Bermuda and its people, while raising much needed funding for the public school system and local charities. The Twizy has gained popularity both locally and overseas. Journalist Martin Love of UK newspaper The Guardian had a chance to explore with the Twizy. He wrote: "Turn it on, release the parking brake, depress the accelerator and you're off. It's driving at its purest and least complicated." Other visitors to the island shared their experience of driving the electric vehicle in testimonials on Current Vehicles' website. "We really enjoyed being able to rent the Twizy this trip," said one. "We felt so much safer in the Twizy and we explored so much more of the island and were able to get groceries and other bags with us." Another tourist added that they felt completely safe driving the Twizy and they will recommend it to others

April 12

Bermuda will stake its claim to be a significant financial technology centre by creating a world-leading regulatory and legal framework. That was the clear message in an information session on the Bermuda Government's plans for virtual currency and blockchain-based technology, which drew a large crowd of invited business people to the Bermuda Underwater Exploration Institute yesterday. The event was hosted by Wayne Caines, the Minister of National Security, and came as the Government prepares to table the first part of a planned wave of new fintech-related legislation in the House of Assembly tomorrow. Mr Caines told the standing-room-only audience that far from deterring fintech entrepreneurs, the Government's plans to regulate virtual currency-based business was attracting them. "We can't keep up with the amount of people who want to come to Bermuda," Mr Caines told the audience in a question-and-answer session after a string of presentations by members of the Government's fintech team. We're going to London at the weekend and we have 20 companies lined up to meet us. It's actually phenomenal." Lydia Dickens, manager of Government's Business Development Unit, explained why cryptocurrency entrepreneurs wanted rules to govern their activities in what is a largely unregulated corner of finance around the world. "People are looking for legal certainty," Ms Dickens said. "They just want to be sure they can conduct this activity and not go to jail." John Narraway, a tech entrepreneur and member of the Government's Blockchain Business Development Working Group, told the audience: "What we have seen in conversations overseas in the last six months that is encouraging for the future of Bermuda is that they're not talking about tax — they're looking at regulatory certainty, not tax advantage." The Government has set out an ambitious timeline as it vies for first-mover advantage for Bermuda in crypto-business. Initial coin offering legislation is scheduled to be tabled tomorrow, followed by the Virtual Currency Business Act next month. Before the end of the year it is also looking to set out plans for a Bermuda E-ID scheme, effectively a national digital identification scheme for residents and businesses that will bolster the island's fintech credentials, and rules for establishing cryptocurrency exchanges. Ms Dickens presented on the ICO legislation due to be tabled tomorrow, which will treat ICOs as a restricted business activity that will require consent from the Minister of Finance. The new rules will be enacted through amendments to Companies Act 1981 and the LLC Act 2016 and are intended to decrease risks associated with ICOs. Requirements of ICO issuers will include that they collect, verify and maintain customer identity information. With a crucial upcoming assessment of Bermuda's Anti Money Laundering and Anti Terrorist Financing regime by the Caribbean Financial Action Task Force this year, it was clear from yesterday's session that the Government is treading carefully into the cryptocurrency space. Kevin Anderson, of Bermuda Monetary Authority, the financial-services regulator, spoke on the proposed Virtual Currency Business Act. "It's been a challenge for us, because normally we look at what other jurisdictions are doing, but in this case there are no examples," Mr Anderson said. We have taken on board everything that everyone has said to us. We believe this act will be fit for purpose and will stand up as a shining example of what can be done on this small island." Areas the new rules will focus on include the intersection of cryptocurrency and fiat, or conventional currencies, the prevention of fraud and market manipulation, and integrity of owners, as well as clear descriptions of the risks for prospective investors, plus enforcement powers for the BMA. He added that the BMA would be taking on extra staff to deal with its new crypto-business responsibilities. Mr Anderson added: "We don't want to be making mistakes — we don't want to be the first to go down in flames, so we have raised the bar very high." The BMA published a 150-page consultation paper on the Virtual Currency Business Act, including the draft legislation, on its website yesterday. A copy is attached to this web page under the heading Related Media. The deadline for members of the people to submit feedback is May 2, Mr Anderson said. Mr Narraway talked on plans for the Bermuda E-ID scheme, which are still at a preliminary stage. The aims of the national ID scheme will include removal of the need for multiple hard copies of documents, and to give individuals control over their data — by allowing them to grant data permissions of specific data for a specified time. The scheme would provide a single aggregation platform to comply efficiently with Know Your Customer and Anti Money Laundering rules, he added. The scheme would provide the "highest levels of gate keeping" for crypto-business in Bermuda, Mr Narraway said, speed up customer verification for banks and financial services and enable fast-track immigration. He stressed that what the E-ID scheme would not be an invasion of privacy, would not give away status or permanent residency, and would not be proof of citizenship or a travel document. Nor would there be a potentially hackable central database, he added. Kevin Richards, of the Bermuda Business Development Agency, outlined how the island had reached this stage, tracing the roots of the fintech drive to the Bermuda 4.0 think-tank meetings in 2016 and consequent fintech study conducted by professional-services firm EY on behalf of the Government. "EY identified gaps in Bermuda — talent, capital, policy and demand — and they said that a shared collective vision was needed," Mr Richards said. "We have addressed policy. And the excitement that this [the new legislation] will generate will bring a lot of talent to Bermuda." Mr Caines said the country could expect to see fintech-related legislation being presented "every other month" or so as the island builds out a robust legal and regulatory framework for crypto-business. He expected the benefits to spread through the community. "We think this is an opportunity for ancillary businesses, for entrepreneurship and opportunities for Bermudians," Mr Caines told The Royal Gazette. "I believe the country as a whole will see new opportunities to seek employment and to benefit from this fintech endeavor." Asked how he would convince those who had doubts about crypto-business, Mr Caines said: "There is a legitimate reticence around this space. "We have focused on the legal and regulatory elements of this process — that has been paramount. Not only is this an economic opportunity, but it's being done with best practices in terms of KYM and AML. That is paramount to this island."

Legislation to regulate a new digital currency industry in Bermuda is to be tabled as MPs return to Parliament tomorrow. Lawrence Scott, the Government Whip said the Bill "lays the regulatory foundation for us to become a leader in the cryptocurrency arena". He added that the legislation for an initial coin offering "opens the way to a possible third pillar of our economy". Wayne Caines, the Minister of National Security, has vowed to put stringent regulations in place before Bermuda moves into the virtual currency sector. The early return to Parliament has been called to allow legislation to be tabled and the House will then reconvene on April 27. Other matters to be brought to the House include a Bill to amend the definition of the official gazette, designed to allow it to move online. Mr Scott said the Progressive Labour Party also aimed to "right a wrong" with legislation to change the way Bills are amended. He added that some legislation allows a minister to "change, leave out or add amendments". Mr Scott said: "We're tabling legislation that will allow everybody to see what's going on behind the scenes. It's all about transparency." Another Bill will allow for the consolidation of the Bermuda Archives with the library. Dennis Lister, the Speaker of the House, said he had agreed with the leaders of both parties to tomorrow's session because of the time-sensitive nature of the legislation. He added: "There will be no business other than the tabling of the Bills."

The chief executive of the island's tourism authority said he would not have moved back to Bermuda unless he was sure he and his same-sex partner would be welcomed. Kevin Dallas also defended Bermuda's track record on human rights and pointed out that the island was well ahead of other island jurisdictions in rights for LGBT people. Mr Dallas said: "As a gay Bermudian, I feel pretty lucky to have been born here." He added: "I would not have moved back to Bermuda if I was not convinced it was a welcoming place where we can openly be ourselves. For that matter, I would not have moved back if Bermuda did not have immigration rights for my same-sex partner. Some of the stories of what it's like to be gay in Bermuda in The Advocate and on The Huffington Post are by people who haven't lived in Bermuda for 30 or 40 years. I think we all have horror stories of what the world was like 30 or 40 years ago. Bermuda today is not the Bermuda I grew up in. It may not have been a place I wanted to live." Mr Dallas, the chief executive of the Bermuda Tourism Authority, was speaking in an interview with tourism organisation Gay Star Travel. He said he was disappointed by last December's reversal of same-sex marriage in Bermuda — but that the Domestic Partnership Act that replaced marriage did give more rights to same-sex couples. Mr Dallas added: "However, I would say that it was personally complicated for me, because my partner and I were civil-unioned in the UK. For us, the Domestic Partnership Act actually means new rights we didn't have before. So on the one hand, I was personally disappointed that something was taken away. On the other, pragmatically, this law leaves my partner and I in a better place." Mr Dallas argued that despite the negative international headlines sparked by the axing of same-sex marriage, Bermuda remained a tolerant place. "As a gay Bermudian, I feel pretty lucky to have been born here and not the many other places where LGBT travelers go looking for a Bermuda-like experience. Despite this more recent setback, Bermuda's track record on advancing LGBT rights in the last 20 years is pretty good. We won same-sex partner immigration rights, we won same-sex partner adoption rights. Gays and lesbians can serve in our military. We have no ban on transsexuals like President [Donald] Trump is trying to force in the US and the Domestic Partnership Act gives us civil rights of marriage. It's short of what we want. However, if you take the emotion out of it, and you compare Bermuda to most other island nations, Bermuda actually has a pretty progressive track record." Mr Dallas also dismissed calls for LGBT tourists to boycott the island in the wake of Parliament's decision to replace same-sex marriage with domestic partnerships. He said: "Personally, in my career as an out professional in the US and more recently in London, I've found nothing makes a bigger difference to win hearts and minds than being present and visible. To my mind, the idea that LGBT people and supporters of equality would stay away from Bermuda and stay out of the debate would be highly counter-intuitive to what people are trying to achieve."

Online fraudsters have attempted to solicit money via fake social media profiles impersonating Government officials, police have advised. The sham profiles are being used to demand money for alleged Government initiatives and proposals, a police spokesman warned. In a recent attempt, one such profile referred to the Bermuda Government, requesting that $700 be sent to an undisclosed location via FedEx, in return for a $50,000 grant. Any online message purporting to come from a Member of Parliament should be checked by contacting the Bermuda Government at 295-5151. Ask to speak with a Department of Communications representative regarding the supposed online proposal or initiative before divulging any personal information. Anyone with any information regarding persons behind the fraudulent accounts is asked to call the main police telephone number, 295-0011 or the independent and confidential Crime Stoppers hotline, 800-8477.

Two men seriously injured by violent crime have won a court battle for bigger compensation payouts. The Court of Appeal ruled in two separate judgments that the Criminal Injuries Compensation Board had been wrong to deduct medical expenses for awards designed to compensate Tajmal Webb and Herbie Spencer for pain and suffering. Appeal Judge Geoffrey Bell said in the judgment on Mr Webb's case that the move may have been an effort by the board to stay within its budget. He said: "Those setting budgetary limits need to decide whether the board should operate as an expression of society's sympathy and compassion for the harm done to the victim or not. It makes no sense to me to make an award for the pain and suffering of a victim and then reduce the amount of that award on account of medical expenses. Those responsible for securing the proper administration of the Act must, it seems to me, ensure that there are funds available to allow the board to discharge its functions." Mr Webb sustained serious internal injuries after he was shot at Bailey's Bay Cricket Club in 2015. He was taken to the King Edward VII Memorial Hospital in critical condition and was later treated overseas for his injuries, which included a damaged liver. Mr Spencer suffered spinal injuries after he was attacked with a hammer by his stepson, Garth Bell, in 2014. The injuries to his spinal cord left him with muscle weakness and other health problems. Mr Webb originally claimed $207,250, which was above the board's maximum $100,000 payout, and Mr Spencer at first claimed $170,000, but later this rose to $370,000. The Court of Appeal said Mr Webb's 2015 application for compensation had "a paucity of detail" to justify the $200,000-plus asked for. Mr Webb said the Lady Cubitt Compassionate Association paid $170,000 for his air ambulance and treatment. Steven Dore, a doctor who treated Mr Webb, was owed a balance of $23,878. The Court of Appeal also heard that the board's budget had been cut several times and it was left with an annual budget of $320,000 to deal with about 20 cases a year. The board awarded a total of $25,000 in Mr Webb's case, giving Mr Webb $10,000, the LCCA $10,000 and Dr Dore $5,000. Mr Spencer had asked for $170,651 in compensation, while the LCCA sought $19,948 in medical expenses and King Edward VII Memorial Hospital was owed $11,934. The board awarded a total of $39,000, with $7,117.46 going to Mr Spencer. The Court of Appeal added that the board failed to provide proper reasoning for either award. Mr Justice Bell said: "It is fundamental that a body such as the board should provide reasons for its findings. The reasons need not be extensive, but they should be sufficient to explain to the applicant why the board has concluded that each of the headings in its award is appropriate. Awards for pain and suffering to an applicant should not be cut down by deducting from them the payment of medical expenses. There is absolutely no warrant for doing so." The Court of Appeal found that Mr Spencer was entitled to $20,000 because of the nature of his injuries in addition to the awards for medical expenses, leading to a total award of $51,882.54. The Court decided to accept the award to Mr Webb of $25,000, but that medical expenses should not be deducted from that figure. Mr Justice Bell said: "That leaves an amount of $75,000 to be applied towards the outstanding medical expenses."

Efforts continue today to salvage a crashed car that rolled down a hill and crashed through a wall on Cavendish Road in Pembroke yesterday, police said. Residents had a lucky escape when the vehicle, which was unoccupied, rolled down Hibiscus Lane, a side road, crossed the main road and smashed through a wall on the other side, at around 3.30pm. "It nearly came through my living room," said one resident, who was at work when the accident happened. The car missed traffic before it went over a steep drop and landed upside down on empty space between two homes. The car also brought down a power line. Belco workers dealt with the live wire and police said there were no injuries. The fire service and Works & Engineering staff also attended the scene. Any witnesses are asked to contact the main police telephone number 295-0011. In a separate incident, two people sustained minor injuries after a car traveling west along North Shore Road, Devonshire, ended up on its side after the driver hit a roadside wall at about 4.45pm. The driver, believed to be a 58-year old Devonshire man with his daughter traveling as a passenger in the front, were treated in hospital and discharged. The car was later towed from the scene, which was east of the roundabout at Barkers Hill. In Paget, a two-vehicle collision was reported on South Road near Stowe Hill around 9.30am. A truck and a car traveling in opposite directions appear to have collided, with the truck pushing the car into a wall. The car driver, believed to be a 33-year-old Paget woman, was taken to hospital for assessment and discharged. Both vehicles were damaged and traffic in the area was temporarily diverted. Any witnesses are asked to contact the main police telephone number 295-0011.

April 11

David Burt, the Premier and Minister of Finance, will lead a delegation of government, regulatory and industry leaders to next week's Risk and Insurance Management Society annual conference and exhibition in San Antonio, Texas. The Bermuda Business Development Agency is coordinating the island's presence at the prestigious insurance event from April 15 to 18, including an executive industry forum, media interviews, meetings with Rims, civic and business leaders, a Bermuda networking reception, and a trade-floor booth, all highlighting the island's leading global insurance market, and promoting June's Bermuda Captive Conference. "Rims is an important event for Bermuda's insurance industry," said Mr Burt, who will be accompanied by Wayne Furbert, Junior Minister of Finance and Pamela Burrows, Assistant Financial Secretary. "Our market's insurance leaders come together to showcase their expertise and demonstrate the significant role the island plays in risk mitigation. For decades, Bermuda has had a prominent position at Rims, and I look forward to continuing the relationships that have been established over the years, and to making new connections." Joining the government at Rims 2018 will be representatives of Bermuda's insurance industry, the BDA, and the Bermuda Monetary Authority, including BDA chairman Paul Scope, also chairman of Willis Bermuda; BDA CEO Ross Webber; BMA chief operating officer Shanna Lespere; and Association of Bermuda Insurers and Reinsurers president and CEO John Huff. Rims, with more than 400 exhibitors, attracts close to 10,000 risk-management professionals to its annual conference, as well as senior executives and other decision-makers from a wide range of sectors. The hallmark two-storey Bermuda Booth, this year #1045 at the Henry B Gonzalez Convention Centre, will see BDA, BMA, and volunteers from Bermuda's global companies on hand to answer questions about the jurisdiction and meet with prospective businesses interested in establishing a presence in Bermuda. For the first time this year, the BDA, in partnership with the Bermuda Captive Conference, has organized a Bermuda Executive Forum, to be held at the Briscoe Western Art Museum the morning of next Tuesday, before the main conference opens. Two panels of senior industry and regulatory leaders from the island will discuss the strengths of both the Bermuda market's world-leading captive insurance sector and its re/insurance hub. "We're proud once again to represent the island at Rims, and in particular, to host a forum featuring our island's experts," Mr Webber said. "It will be an excellent way for Bermuda to highlight our world-class industry talent across risk-management sectors to highly relevant audiences. We feel it will add extra value to Bermuda's attendance at this year's event." Team Bermuda will have a full Monday agenda of media interviews and meetings. On Tuesday following the Bermuda forum, Rims president Robert Cartwright and Rims CEO Mary Roth will officially welcome the Bermuda delegation before it tours the exhibition hall, visiting Bermuda companies and affiliate booths. The BDA will host the annual Bermuda Reception networking event Tuesday evening, in collaboration with Gosling's Rum, and featuring Bermudians Gianluca Gibbons and Hannah Eggen, of soul/pop band Heritage. There will also be several Bermuda promotional giveaways during Rims 2018, including deluxe accommodation and airfare packages courtesy of the Fairmont Southampton and Hamilton Princess, and a luxury three-night stay donated by Rosedon Hotel. As in previous years, Bermuda canvas tote bags, distributed at the booth, will also be a popular item for delegates.

Five companies have won contracts for the airport redevelopment project, including four Bermuda-based businesses. Airport operator Skyport announced that Florida-based Thermoset Roofing has been awarded the roofing contract for the new passenger terminal building. The company, which specializes in projects that withstand extreme weather, will be working with Bermuda-based Kaissa Ltd on the project. Barclay Construction Ltd has been awarded a contract to carry out the electrical substation building work. Gulfstream Construction Ltd has been contracted to complete slab on deck and slap on grade work on the new terminal, including formwork, concrete placing and finishing and reinforcing work for the building's foundation. Sousa's Landscape Management Company has won the landscaping contract for the project. Frank Ross, Aecon's executive director of infrastructure, said: "It is extremely rewarding to be able to work with such hard-working and talented local and overseas contractors to make this airport redevelopment project a success. "From day one, we have sought to employ as many Bermudians as possible, and this latest wave of awarded contracts once again proves our commitment to this. We are excited to see these new projects take shape over the next few weeks and months." The project is expected to be completed in 2020.

An embargo has been slapped on the formation of companies involved in cryptocurrencies. The government move was designed to allow for time to create a regulatory framework for the growing financial technology sector. The temporary ban was welcomed yesterday by tech specialist Denis Pitcher. But would-be cryptocurrency entrepreneur Damon Smith complained he had been left "in limbo" after he tried to set up an online trading exchange. Mr Pitcher, a Bermudian tourism tech entrepreneur, said he "absolutely" supported the moratorium. He added: "Cryptocurrencies have thus far flourished by enabling fundraising that avoids stringent regulations that protect investors. This is partially what has made it so popular. It is a tremendous opportunity for both legitimate businesses that want to raise money without having to deal with time consuming bureaucracy, just as it is an opportunity for con artists to rob people of their money. As a result, we have seen numerous scams, which have taken advantage of people and damaged the cause of legitimate businesses that could benefit from this new and more efficient means of raising capital." Mr Smith, 55, a retired firefighter, said he had worked with Canadian developers to create his platform for more than a year but his lawyers were told by the Registrar of Companies that no firms involved in that kind of activity could be incorporated at present. The Registrar's office told Mr Smith's lawyers: "This is an area of business that Government intends to regulate because this type of business will raise anti-money laundering and know-your-customer issues. Government is diligently working on establishing policy and legislation, but until such time as this process is complete, there will be no incorporation of companies with these types of activities." Mr Pitcher said: "It is absolutely essential that Bermuda adheres to existing AML/KYC regulations in order to protect our reputation. It is also essential that we provide the right regulatory framework to ensure that all participants, especially investors, are protected from fraud and unnecessary risks." Mr Smith said he was frustrated by the hold-up, particularly as some companies in Bermuda were already involved in the virtual currency sector. He added: "I'm in limbo and you have got these other people who are advancing themselves in that area or who already have. They have got a leg up on me. I'm sitting here doing nothing. Even just registering the company would be a benefit. I don't know whether or not, when they lift the moratorium, the bar is going to be so high that I can't make it." Bermuda has still to set up digital asset exchanges — but as the Government seeks to create and encourage a strong fintech sector on the island, it is likely they will go ahead. Mr Smith hopes to be ahead of the pack by setting up the Bermuda Digital Currency Exchange, a platform where people could buy and sell virtual currencies. The name was rejected by the Bermuda Monetary Authority, according to correspondence from Mr Smith's lawyer, because the company could not contain "Bermuda" in its title because of the newness and "type" of the virtual currency industry. Mr Smith changed the name to DES Digital Currency Exchange, after his initials, but was told by the Registrar of Companies that no incorporation applications involving digital currency activities could be processed "for now". Wayne Caines, the Minister of National Security, who is leading the Government's cryptocurrency programme, told Mr Smith in an e-mail that the Government had "a responsibility to make sure that the correct legislation and regulations) are in place". The minister added: "We have a global reputation that must be safeguarded at all costs. We will do what is best for the country." A national security ministry spokeswoman added that the Government had established advisory teams on the virtual digital asset sector, which were reviewing virtual asset exchanges. She added: "We are currently putting in place a comprehensive strategy that will govern and oversee the administration of the asset exchanges." The spokeswoman added: "Once the process is complete, it will be open and transparent. We anticipate that any entity which meets our regulatory criteria should be able to gain access into this space." Mr Pitcher said: "If a digital currency exchange is required to adhere to the same regulations that govern the Bermuda Stock Exchange in all aspects of its business then I see few risks for Bermuda. Cryptocurrencies have the potential to provide a wealth of new and more efficient means of capital raising but present considerable risks if not regulated correctly. If we do not ensure client identification and investor protection mechanisms that adhere to KYC and AML regulations and uphold our reputation as a low-risk jurisdiction, then there are tremendous risks for Bermuda."

Top British broadcaster Moira Stuart paid tribute to veteran journalist Ira Philip for his passion for social justice yesterday. Ms Stuart, the granddaughter of Bermuda politician and trade unionist E.F. Gordon, issued a statement on behalf of her family, which she said was in keeping with the thoughts of her late mother, Dr Gordon's daughter, Marjorie Davis. She said: "I met Ira Philip only briefly many years ago, yet I've never forgotten his warmth, his integrity and his passion for social justice. She added: "Yes, he was true and fearless; his pen was mighty; and he will be sorely missed." Ms Stuart, who lived in Bermuda as a child, was the first black woman newsreader on British television in 1981, and is one of the best-known broadcasters at the BBC. Veteran journalist Mr Philip, who died this week, aged 92, published a book about Dr Gordon, Freedom Fighters: From Monk to Mazumbo, in 1988. Ms Stuart said she "will always hold dear his seminal work". Mr Philip was a journalist for seven decades, a historian, author and Progressive Labour Party senator. During his time at The Bermuda Recorder and ZFB, in particular, he was known for covering major events in Bermuda's history, and for publicizing the struggle of black Bermudians.

A Canadian woman discovered a family secret about her Bermudian-born grandmother — that her family's roots stretched back to slaves on the island. Roslyn Macgregor, 71, said she knew her grandmother, Emily Millicent Spicer, was born in Bermuda and went to England as a child — but knew little else about her. However, Ms Macgregor said that she found online emigration records that listed her grandmother, her grandmother's sister and her great grandmother's ethnic origin as "West Indian, African, Black". The family had traveled to Liverpool in England when Ms Macgregor's grandmother was 12. Ms Macgregor said: "When they left Bermuda in the early 1900s, they could pass for white. So it was a family secret." She added: "I now believe that it is possible, even likely, that since they had family to go to and since they were fair-skinned and could pass for white, they took the opportunity, poor as they were, to go where Gram and her sister could continue their education past elementary school." Ms Macgregor first came to Bermuda as a teenager with her grandmother and brother in 1963. Since she made the immigration records discovery about 20 years ago, she has visited Bermuda several times to try to track down long-lost relatives and capture her family history on video. Ms Macgregor said that she had been able to trace back seven generations to Margaret Burrows, born a slave in 1785. She added that her mother, who died in 1995, never spoke about Ms Spicer's background or her family. "I knew so little about them. I knew so little about slavery and the aftermath of slavery," she added. Ms Macgregor said the video project and her trips to Bermuda were about "owning" her grandmother's roots, as well as her own. She explained: "I think everyone is in search of home, in some way. This isn't my only home, but it is certainly part of it. When we find our roots, we find ourselves. And in the process, I've found myself." Ms Macgregor, in Bermuda to talk to relatives, brought along her second cousin, Mike Rilstone, a professional film-maker, to help capture family history on video. She said: "He has been filming some of my old cousins whose stories I didn't want to lose. I'm trying to understand who my grandmother and her family were and what it was like for them." Ms Macgregor said they had shot about 4½ hours of footage of family members on the trip and that the recordings would likely be made available online for family members to watch. She said that through the project, she had discovered "awesome, courageous women". Ms Macgregor added: "I am awed by my Bermudian cousins, their stories certainly, but mostly by who they are — fierce, determined, courageous, creative women who have survived the limitations placed on them when they were young by society. As they have shared family stories I think they have put me in touch both with who my female ancestors were and with who I am." She said she now felt Bermuda was a second home. Ms Macgregor said: "As soon as we start to fly in over the water, it's like I'm home. Telling the truth about our roots is a way of coming home."

A taxi driver accused of running a drug dealing business from his cab has been cleared of gun and drugs charges by a jury. Jahdel Rogers, 37, was found not guilty of all five charges by unanimous verdict in the Supreme Court yesterday. He was arrested on November 12, 2016, after police discovered a Smith and Wesson firearm, along with cannabis and cocaine, in his taxi. Prosecutors alleged that Mr Rogers used his taxi to sell drugs and that $78,000 found in his home represented the profits from the illegal venture. Mr Rogers told the court the gun and drugs were left in his cab the previous night by a passenger. He said the money found by police was several years of savings from his taxi business, which he kept at home because he did not trust the banks. He testified that on November 11 — the day before the search — a blue bag was left in the back of his taxi. Mr Rogers said another passenger found the bag that evening and warned him that he had heard gang members were on the lookout for a taxi. Mr Rogers said he looked into the bag and panicked when he discovered drugs and a hand gun inside. He told the court he drove home, but in the process the gun and a container of drugs rolled out of the bag and onto the floor of the cab. Mr Rogers said he stashed the items in different compartments and hid the bag underneath the drivers seat before arriving home. He said he told nobody about the discovery because he did not want them involved. He said he wanted to turn the items over to the police, but was afraid of the potential repercussions. Mr Rogers added: "I was looking for the best way to do it. I thought I had more time then I had."

April 10

Bermudian talent will be showcased at this year's Ag Show. Groups, students, and individuals will grace the entertainment stage for the three days of the Agricultural Exhibition, which starts on 19 April. Performers will include Bones Blues Band, Bermuda Jump Rope Federation, Lotus, DanceSations School of Dance, Bermuda School of Music Youth Choir, Rated E, Bermuda AllStar Steel Band, Indigo Adamson, In Motion School of Dance, Dakota Tucker, J & D Guitar Duo, Brothers in Music, Kiana Madeiros, Kinetix, Cristin Raynor, United Dance Productions, Shardae Lee, Delijah Symonds, Jackson's School of Dance, and Skye. School performances will include Purvis Primary School Choir, Warwick Academy Primary Choir, Northlands Primary School Choir, Somerset Primary Hand Bell Choir, Saltus Senior and Junior Choir, West Pembroke Choir and Cheerleaders, Whitney Institute Middle School, Sandys Middle School Steel Panthers Band, Dellwood Middle School Drama Team, CedarBridge Academy Ensemble, Warwick Academy Senior Choir, Mount Saint Agnes Choir, and Saltus Senior Ensemble — Stringendo & Woodwind Group.

Workers at Hamilton Docks are to suspend overtime work from Thursday, it was revealed yesterday. Chris Furbert, Bermuda Industrial Union president, confirmed that the Port workers' Division voted last week for an overtime suspension. He said the action was linked in part to the dismissal of a longstanding employee last October, which led workers to down tools. Mr Furbert added: "That is a part of it, but there have been some other things that have been going on with the workers." Warren Jones, chief executive of Polaris Holdings, said dock operators Stevedoring Services received notice from the BIU that overtime work would be suspended this week. He added: "The suspension of overtime will remain in effect until the conclusion of the arbitration case." Meyer Freight told customers its shipping schedule would be modified because of the lack of overtime. M/V Somers Isles, which was scheduled to visit Bermuda from tomorrow to Friday, will now arrive today and depart tomorrow. M/V Bermuda Islander left Salem, New Jersey last night and arrive as scheduled on Thursday morning. Meyer Freight expects the vessel to be unloaded within four hours and depart on Friday. Workers at Hamilton Docks took industrial action for several days last October and unloaded only essential and perishable items after an employee was dismissed. Mr Furbert said at the time that the matter should go to arbitration within four to six weeks. The union leader said yesterday: "That didn't happen." He added: "We have been having dialogue with the management about the situation. We thought we might not even have to go into arbitration, but those talks didn't wind up being as successful as we would have liked them to be."

A gathering of business leaders, entrepreneurs, and networking experts, led by the "most connected millennial" will take place in Bermuda in September. Jared Kleinert, who gave a sell-out talk on the island in January, is co-organising the private event, which could have spin-off benefits for Bermuda. The Meeting of the Minds network brings together successful individuals, and a number of times each year its members gather for a retreat-type experience. Mr Kleinert, said: "We are building one of the top, millennial-led mind shares in the world. We already have an intimate group of highly regarded CEOs, business owners and entrepreneurs from all over the world, from different industries and walks of life. Not all of them are millennials, but it is millennial-led." He explained that the idea is to bring together individuals who are interested in growing their business by networking and interacting with other experts, while also "contributing their own expertise to the conversation and learning how to best leverage their pre-existing network". Mr Kleinert has been referred to as "the most connected millennial" by USA Today. He is the founder and author of 3 Billion Under 30, and is chief executive officer of Kleinert Ventures. Regarding the types of people who are likely to attend Meeting of the Minds gatherings, he said: "Our sphere of influence includes individuals who have collectively started companies worth billions of dollars, positively influence hundreds of millions of people through their work, and include subject matter experts from diverse backgrounds. Our events attract New York Times best-selling authors, CEOs of nine-figure businesses, co-founders of start-ups with $100 million in funding, Forbes 30 Under 30 honorees, Hall of Fame athletes turned entrepreneurs, pod casters with hundreds of thousands of downloads, executive coaches for top Fortune 500 executives and household name business titans, social media influencers with millions of followers, creators of hit shows on Netflix, and many others." Meeting of the Minds has held gatherings in Atlanta and New York, and has another planned for Los Angeles. Mr Kleinert said the Bermuda gathering, which is being done in collaboration with Bermuda-based Par 3 Consulting, will be special. He said: "It's an opportunity to bring our global network to Bermuda and help Bermudian business owners, CEOs and professionals who may not normally have access to this group of talent, or the coaching and teaching on networking and relationship building that we can offer. "It's less of a conference or event and more of an experience. It is very much about everyone in the group teaching one another. Our past intensives have included surprise magic shows, tequila tastings, improv, DIY cocktail bars, rappelling off the side of a mountain, and endless amounts of music, delicious bites, dance parties, and more. We are intentional about breaking down barriers so the 'Minds' who join us can connect with other attendees, receive helpful and actionable feedback they can use to 'level up' personally and professionally, and walk away inspired to work harder, smarter, and more collaboratively." Anthony Mocklow, chief innovation officer at Par 3 Consulting, is contacting entrepreneurs on the island to invite them to be part of the select group when it meets in September. He said it was about "educating, training and providing an avenue [for Bermuda entrepreneurs] to reach a wider network of international entrepreneurs". In addition, for Bermuda there could be wider benefits. Mr Kleinert said: "From our standpoint there is an opportunity to promote Bermuda and its benefits, from a business development standpoint and a tourism standpoint, to our group of individuals who come from all over the world, but mostly the US, where they can seriously consider Bermuda as a place to open a second or additional office for their business, or come back and visit as tourists."

A taxi driver accused of having a gun and drugs in his vehicle claimed they had been left there by a passenger. However, prosecutors called Jahdel Rogers's story a "pack of lies" and alleged he used his taxi as a mobile drug-dealing operation. Mr Rogers, who denies the charges, told the Supreme Court yesterday that the night before he was arrested he had driven two people to the Devil's Hole area before he returned home for dinner. He left home later with the intention of working through the evening. Mr Rogers said he picked up a passenger on Palmetto Road, who pointed out a blue bag in the back of the cab. The passenger passed Mr Rogers the bag and warned him that gang members were looking for a taxi. Mr Rogers said: "He heard some Parkside guys were looking for a grey taxi. People left something in a taxi. They are hunting that taxi down." Mr Rogers said he dropped the passenger off on Devon Springs Road and looked in the bag. He pulled out a glass container and poured it out on to his lap and found it contained drugs. Mr Rogers said he put the drugs back in the container and the container back into the bag. A further examination of the bag turned up a firearm. Mr Rogers said: "The firearm was really what messed me up the most. More than the weed. The gun made me realise the seriousness of the situation." Mr Rogers told the court he left the bag on the passenger seat and decided to drive home to get the cab off the road. He said: "My mind was racing. I didn't know what was the best thing to do. I panicked." He added he noticed a twist from the glass container was on the floor of the cab as he drove and that he picked it up and stashed it in the sun visor. Mr Rogers said the gun later fell out of the bag on to the floor of the taxi. He added that he picked it up with a piece of paper and put it in a compartment on his side of the vehicle. The bottle also fell out of the bag and he placed that in another compartment. Mr Rogers said he hid the bag beneath the driver's seat when he arrived home to keep it out of view and told no one about the bag or its contents. Mr Rogers said: "I didn't want anybody in the house to know what I was dealing with at that time." He told the court he decided the next morning he would go to the police station, but police came to his home before he had the chance. Mr Rogers said: "My mind was made up. It was about how to do it without repercussions. I was looking for the best way to do it. I thought I had more time then I had." Mr Rogers, 37, was arrested on November 12, 2016 after a Smith & Wesson automatic pistol, cannabis and cocaine were discovered in the cab. Police also found $78,024 in cash in his Pembroke home, which prosecutors said was the proceeds of crime. But Mr Rogers said the money was his savings from several years of work and he kept the money at home because he did not trust banks. Larry Mussenden, the Director of Public Prosecutions, said Mr Rogers's story made no sense and questioned why he had not put the glass container and pistol back into the bag when they fell out. Mr Mussenden also asked why Mr Rogers had not left the bag somewhere and told police about it. Mr Rogers said, in hindsight, that would have been a good idea. The trial continues.

Flora Duffy has withdrawn from tomorrow's Commonwealth Games mountain bike race after deeming the course too risky before she races in the ITU World Triathlon Bermuda. The women's triathlon gold medal-winner made the difficult decision after taking two days to familiarize herself with the course at Nerang State Forest. She described the trail as "very raw, rocky, steep and difficult" and felt she could not justify putting herself in jeopardy at this crucial stage of her career. The 30-year-old will be the overwhelming favorite when she races at home on April 28, as she bids to become the first woman to win three successive ITU titles. "With growing expectation for the season ahead, especially the debut WTS Bermuda in two weeks, I am finding it increasingly difficult to justify the risk, and when hesitating on a mountain bike it typically leads to disaster," Duffy said. "During my previous cross country race in Stellenbosch, [South Africa], I did knock my left knee which resulted in routine changes, a reality that came back to haunt me more than I anticipated. This course, along with the timing, has become a bridge too far for me. In consultation with my team, this is the right way. I am really sorry and feel terrible for doing this. All my energy and focus will now go towards executing a good race in Bermuda on April 28." The mountain bike has been a "great stimulus" for Duffy and a positive distraction from the pressure of being the triathlon world No 1, according to her coach and husband Dan Hugo. Duffy has flirted with the event during the past 12 months, competing in the South African Mountain Bike Series at Grabouw and the Sea Otter Cross Country in Monterey, California. "I love riding my mountain bike, and do so twice weekly as part of my routine," Duffy added. "I've enjoyed racing it both in cross-country events and during Xterra's. There is a lot of mountain biking where I feel comfortable pushing hard on, where I can manage the risk. Unfortunately a small portion of this Commonwealth Games track is very raw, rocky, steep and difficult for me to execute, especially once fatigued during lap five and six. I am very thankful to Peter Dunne, the Bermuda Bicycle Association president, who has supported my desire to represent Bermuda in the mountain bike race at the Commonwealth Games. So too for many who shared the excitement of doing something new." Greg Welch, the Australian triathlon legend, who commentated on Duffy's gold medal-win, expressed concerns about the Bermudian competing in the mountain bike in an interview with The Royal Gazette before the Games. "The thing is her bread and butter is triathlon," Welch said. "If she goes out there trying to compete in two sports and breaks her wrist … That's the only factor she has to weigh up. If you're an Olympic gold medal-winner you can be on that speakers' circuit, that's 20 grand a talk. You can ride this gravy train for the rest of your life."

April 9

Workers at Hamilton Docks are to suspend overtime work from Thursday, it was revealed today. Chris Furbert, Bermuda Industrial Union president, confirmed that the Port workers' Division last week voted for an overtime suspension. He said the action was linked in part to the dismissal of a longstanding employee last October, which led workers to down tools. Mr Furbert added: "That is a part of it, but there have been some other things that have been going on with the workers." Warren Jones, CEO of Polaris Holdings, said dock operators Stevedoring Services received notice from the BIU that overtime work would be suspended this week. He added: "The suspension of overtime will remain in effect until the conclusion of the arbitration case." Meyer Freight told customers its shipping schedule would be modified due to the lack of overtime. M/V Somers Isles, which was scheduled to visit Bermuda from Wednesday to Friday, will now arrive tomorrow and depart on Wednesday. M/V Bermuda Islander will depart Salem, New Jersey, tonight and arrive as scheduled on Thursday morning. Meyer Freight said it expected the vessel would be unloaded within four hours and able to depart on Friday morning. Worker at Hamilton Docks took industrial action for several days last October and unloaded only essential and perishable items after an employee was dismissed. Mr Furbert said at the time the matter should go to arbitration within four to six weeks. The union leader said yesterday: "That didn't happen." He added: "We have been having dialogue with the management about the situation. We thought we might not even have to go into arbitration, but those talks didn't wind up being as successful as we would have liked them to be."

Two new members of the Court of Appeal were announced today. Anthony Smellie, Chief Justice of the Cayman Islands, will join the court in June. Elizabeth Gloster, vice-president of the Court of Appeal of England and Wales, will start in January next year. John Rankin, the Governor, announced the appointments this afternoon. Mr Rankin said: "I am very pleased to announce the appointments of Justice Smellie and Lady Justice Gloster to Bermuda's Court of Appeal following the recommendations of the Judicial and Legal Services Committee. Bermuda is fortunate to be able to attract such distinguished jurists to maintain the quality of our courts, providing service at the highest possible level for the people of Bermuda." Mr Justice Smellie has served as a judge of the Grand Court in the Cayman Island's since 1993. He became Chief Justice in 1998. Mr Justice Smellie was appointed Queen's Counsel in 1991. He earlier served as Jamaica's Assistant Director of Public Prosecutions and as Solicitor General and Acting Attorney General for the Cayman Islands. Lady Justice Gloster was made as a High Court judge for England and Wales in 2004 and joined the Court of Appeal in 2013. She was appointed a Queen's Counsel in 1989. Lady Justice Gloster has also been a member of the Court of Appeal of both Jersey and Guernsey.

Asset and wealth management CEOs are very confident about growth prospects in 2018, but are expecting disruption for their industry from regulation, technology and changing consumer behavior. That's the main conclusion from the PwC report "Optimistic CEOs, buoyant growth, disruption ahead", which questions 126 of the AWM sector's CEOs about the threats and opportunities facing their companies. Bermuda has a significant AWM industry, boasting 543 investment funds with a net asset value of $161.5 billion as of the end of last year, according to the Bermuda Monetary Authority's latest figures. The island is also a major provider of trusts to wealthy clients. A full 87 per cent of AWM CEOs are confident about revenue growth in 2018, down slightly from 2017's 92 per cent, while 57 per cent intend to increase headcount. Respondents' three biggest concerns were over regulation (83 per cent), geopolitical uncertainty (80 per cent) and tax changes (77 per cent), while almost three-quarters of AWM CEOs are concerned about cybersecurity threats. While 70 per cent of AWM CEOs believe changes in core technologies will prove disruptive over the next five years, just 38 per cent believe that robotics and artificial intelligence can improve the consumer experience. Scott Watson-Brown, PwC Bermuda's asset and wealth management leader, said: "Asset and wealth management CEOs are struggling to come to grips with how technology is changing consumer behavior. Simply speaking, customers want better products and services, more quickly and at a lower cost. However, just 38 per cent of the interviewed CEOs believe that robotics and AI can improve the consumer experience. This seems a very low number and hard to reconcile with the possibility that AI may come to reduce or eliminate completely roles such as the investment analyst. Artificial intelligence, robotics, big data and blockchain are all transforming the way asset and wealth managers work. All of this will have an impact on the role humans play in delivering success." PwC expects the industry to grow, buoyed by rising asset prices, so that by 2025 assets under management will have almost doubled from $84.9 trillion in 2016 to $145.4 trillion in 2025. However, regulatory demands for greater transparency and tax law changes will add to the pressure on asset managers. Scott Slater, PwC Bermuda tax services partner, said: "For some asset managers, new tax rules are challenging historic tax structures. "With the Foreign Account Tax Compliance Act and Common Reporting Standard, the rules for sharing of tax information about individuals between countries places the burden of reporting on financial institutions." Mergers and acquisitions in the industry reportedly reached an eight-year high in 2017, and CEOs indicated the consolidation would continue. Forty-three per cent of those surveyed are planning M&A in 2018, while 48 per cent intend to expand capabilities through either strategic alliances or joint ventures.

Football clubs are fostering violence, according to the vice-president of the Bermuda Football Coaches Association. Maceo Dill blamed this on an "abusive environment" that had been created at the island's clubs over the past three decades. He said that instead of fostering the "development and growth" of children, the organisations had "used their talents to win games and give status to the clubs". Mr Dill said that the first step in addressing the situation was for Bermuda to admit that "we have a huge problem" that is "negatively impacting society, clubs, families, football and our future". Public forums, he said, should be held to discuss the problem, and Bermuda should look at how the violence that had surrounded football in Britain had been cleaned up. Mr Dill said the responsibility for the problem rested with everyone. "It's a Bermudian problem," he said. "We have all let ourselves down over the years." Mr Dill added that drug and alcohol use, and violence went "hand in hand" and that clubs that had youth programmes should not be allowed to hold liquor licences. "It is already proven they are not responsible with this licence, and alcohol and kids just do not work well together," he explained. He would like to see youth football moved into the schools until the clubs decided to "clean up". Mr Dill said that cash-strapped clubs should investigate other moneymaking measures so as to not be reliant on bar sales. Bailey's Bay Cricket Club, he said, was "perfectly located" to offer a joint daycare, school and cricket programme. Mr Dill explained: "You have a field for kids to play on, you have Coney Island right there — so many great natural features for the safety of the kids." He said such a programme would create jobs, provide a needed service for the community and also generate money for the club. He added that the "wonderful facilities" of the island's clubs could provide more for the community "if we move away from our addiction to alcohol". Mr Dill was contacted by The Royal Gazette after commenting online on a story about a brawl outside Pembroke Hamilton Club last weekend. It happened just hours after the Zebras clinched their tenth Premier Division title. The club said in a message on Twitter last week that its executive had investigated the "unfortunate incident". It added: "No PHC players, members or fans were involved. Their only involvement can be seen and heard trying to stop this incident from escalating." The post added that those responsible had been identified and that "various sanctions will be acted upon as per our constitution. The safety of our players and fans is our highest priority and the PHC executive will provide whatever measures to prevent this occurring again." Ben Smith, the Shadow Minister of Sport and Youth Development, said the incident was "an unfortunate way for the night to end when the club was celebrating the hard work on the field". Mr Smith said Bermuda had become accustomed to violent behavior and that there was an unresolved issue with anger management. "The sports clubs are a place that people congregate, which means the chances of altercations increases, but it is not because of the club — it is because a segment of our people resorts to violence in disputes. When we are trying to inspire and encourage our young people to be healthy and strong citizens, we should do all that we can to ensure that the environment we are attracting them to is safe and doesn't show them that we encourage the drug life." Mr Smith said that alcohol was sold at sports clubs around the world. "We must be careful that we don't over regulate and penalize the masses because of a few bad apples," he said. Mark Wade, the president of the Bermuda Football Association, declined to comment on a number of questions. "Depending on the context of the article, I will reserve the right to publish responses to your questions via other outlets, including other media establishments, BFA website, social media platforms, etc." Michael Weeks, the Minister of Social Development and Sport, had not responded to questions by press time yesterday.

Ira Philip, the former journalist, historian and Progressive Labour Party senator, has died. Mr Philip, one of Bermuda's most celebrated reporters and columnists during a career spanning six decades at a host of news organisations, was 92. He was best known for his career at the Bermuda Recorder newspaper, as well as the broadcaster ZFB. David Burt, the Premier, offered condolences this afternoon, writing: "Through his pen came knowledge and empowerment as he shone a light on the full history of Bermuda. Mr Burt said: "He courageously recorded the struggle of black Bermudians to build a society and institutions to improve their lives and those of their descendants. Ira Philip's columns, commentaries and books have schooled generations of Bermudians and through his writings we have come to know our story, told in a unique voice. From his journalistic beginnings with the Bermuda Recorder newspaper, Ira Philip went on to dominate broadcasting as well as a reporter with station ZFB. His career of public service spanned several decades and as we reflect on his life's work, his contribution has undoubtedly enriched the fabric of Bermuda." The Premier added: "On behalf of the Government and people of Bermuda I share our heartfelt thoughts and prayers with his family as they mourn the loss of this patriarch. Describing the importance of the Bermuda Recorder, Ira Philip essentially penned his own epitaph in words which, with little paraphrasing, easily apply to him: '(He) developed a personality and a soul that gave dignity and opportunity to the black people of Bermuda that was not forthcoming from other sources. (He) celebrated their achievements, mourned their losses, defended their rights and articulated their needs.'" Al Seymour, a contemporary of Mr Philip's in the ZFB newsroom, recalled him by his nickname of "IP". Mr Philip was a "man for all seasons", he said, who dealt capably with major breaking news events such as the assassination of President John F. Kennedy in 1963. "He would have the typewriter practically dancing on the desk," Mr Seymour said. "There were times I was on the air, and he would open the door and hand me copy. I learnt quickly how to read copy that he had to edit in seconds." Bill Zuill, former editor of The Royal Gazette and now executive director of the Bermuda National Trust, called Mr Philip "more than a journalist — he was a politician, an author, a trade unionist, a stalwart of the Freemasons, a passionate supporter of Somerset Cricket Club and much more". Mr Zuill added: "But he kept returning to the profession of journalism for more than 70 years, and it is that longevity, and the historic events he covered, that I will always remember and commend Ira for. He wore his political heart on his sleeve, and that may have confused some whose ideal of a journalist is someone who tries to report only the facts. But today, as we observe the New York Times and the Washington Post take on President Trump, we are reminded that a journalist's first job is to speak truth to power. Ira Philip did that. He entered journalism in the late 1940s when Bermuda was rigidly segregated and where a small group of people dominated almost every facet of life. He reported on that, and covered Bermuda's march to full civil rights and democracy, through the campaigns of Dr EF Gordon, to the Theatre Boycott and the universal adult suffrage movement and right up to the 2010s, "In 'Island Notebook' for The Royal Gazette and the Mid-Ocean News, he covered people and events who would not normally get coverage, and gave them a presence and a voice in the newspaper. Ira did not agree with every editorial position that the Gazette took when I was Editor, but we were able to debate and disagree in a civil and tolerant manner, and that in itself is a mark of how far Bermuda progressed in Ira's lifetime. He contributed to that change and made Bermuda a better place." Walton Brown, the Minister of Home Affairs, said the island had lost "a gifted and prolific writer who made a significant and lasting contribution to a better understanding of Bermuda". Mr Brown added: "Mr Philip wrote from the perspective of those who challenged the bastions of power and racial dominance and did so with an elegant pervasiveness. He chose the pen as his weapon and fought many battles giving a voice and a place in history to some of our critical leaders: Monk, Dr Gordon, Mr Ottiwell Simmons. Mr Philip always had a kind and encouraging word and our conversations over the decades almost always centered around politics, trade unionism and social progress for Bermuda. His voluminous works will mark his legacy and should serve as encouragement to anyone seeking to carry on with his important literary contribution." Historian and former PLP MP Dale Butler said: "Ira Philip was one of the most forthright historians Bermuda has ever produced. He has left a legacy as a newspaper reporter, researcher, broadcaster, author, orator and senator that is extremely impressive. I am pleased to have had a chance to produce two books with him and to have shared many a forum with him. This is a great miss to the Bermuda community in more ways than one and I extend my condolences to his family." The PLP said in a statement: "As the first news director of Capital Broadcasting ZFB Radio, a journalist and reporter for the Bermuda Recorder and author of numerous books, Mr Philip's articles and columns featured civil rights in Bermuda and highlighted the struggles and successes of Bermuda's trade union. "He could be counted on to capture events around the island, with pen and camera in hand, showcasing life in Bermuda. For his excellence and commitment to journalism, Phillip was awarded the Trailblazer in the Media Award by the Second District of AME Churches in Washington DC, and was honored with a Lifetime Achievement Award by the Bermuda Arts Council." Mr Philip was a PLP candidate, served as a senator and was party chairman between 1985 and 1991. The statement said: "Mr Philip's contribution to the party was invaluable, and his work in the aftermath of the 1986 election saw him guiding the evolution of the party in its transition back into the leadership of the lay members from parliamentarians. "He fought when it was unpopular to do so, but he understood the need for a better life and that social and economic justice was the vehicle to obtaining it." Mr Philip's career as a journalist spanned some of the most momentous decades of modern Bermudian history. As an activist, he was strongly influenced by the philosophies of the black nationalist Marcus Garvey. Other key figures that steeped the household in which he grew up were Richard Allen, founder of the African Methodist Episcopal Church, and labour activists such as A. Philip Randolph. Mr Philip was well known for his biographies such as Freedom Fighters: From Monk to Mazumbo, Hakim: Son of Mazumbo and Bermuda Heroines in the Health Profession. His reporting was widely read over decades at the Recorder. In 1999 Mr Philip recalled the paper, which he bought from Sir John Swan in 1973 but shut down in 1975, as "really a one-man show as far as reporting was concerned — getting out there, getting the news, and being where the action was". "I was a general news reporter, and I covered Parliament primarily," Mr Philip told the Mid-Ocean News. "I loved Parliament, because everything centered around Parliament years ago. I used to see things in debates that other journalists couldn't comprehend. We'd all cover the same debates, but since the daily would be coming out the next day I would have to find something that hadn't been covered. The approach at the Recorder was to make a story last for ever — you could pick it up at any time and read it." Mr Philip also wrote for the Mid-Ocean News and the Gazette for many years, distilling his recollections in the "Island Notebook" column. In 2004, looking back on his career, he wrote: "Having covered the Bermuda scene for so many decades as a news reporter, radio and television broadcaster, there must be few people in Bermuda whose lives I have not touched one way or another, having lived or worked through most if not all of the momentous times that have rocked Bermuda, to say nothing about the world, during all of the second half of the 20th century, as well as during the late 1940s.In a unique way I have been in the midst of the riots, curfews, social and political revolutions and a great many happier events, socially, culturally and in the sphere of sports." He also met with internationally known figures ranging from Malcolm X and Louis Farrakhan, to the Queen and Margaret Thatcher, and Libya's Colonel Muammar Gaddafi.

Family and friends paid their final respects to American teenager Mark Dombroski on Saturday. A funeral service for the 19-year-old was held at Archmere Academy, his former school in Delaware, nearly three weeks after his death in Bermuda. Mr Dombroski was found in the dry moat at Fort Prospect, Devonshire, on March 19, a day and a half after he disappeared after a night out with friends in Hamilton. His mother, Lisa Dombroski, told The News Journal before the service: "We always knew he was a special light in our family, but he was also a good kid to a lot of people, helping friends through tough times. "I think his purpose in life was to bring joy to people. There's a lot of sadness that we experience in life, and I think he really focused on the right things. His priorities were right. He wasn't a straight-A student, but he took the time to help other people." Mr Dombroski's brother, John Dombroski, told family, friends, team-mates and coaches at the service: "We always knew how special a kid he was, but it's beautiful to hear about all the lives he impacted in such a positive way. So many different people came up to me and told me how they were shy or didn't have many friends. Mark would always go out of his way to make them feel welcome and loved. Whether it was sitting and having lunch with them or being a shoulder to cry on, Mark was there." Mr Dombroski was last seen by friends at the Dog House bar on Hamilton's Front Street just after midnight on March 17. A forensic pathologist said that Mr Dombroski died from a fall and found no evidence of foul play. The teenager was in Bermuda with a team from St Joseph's University in Philadelphia to play in the Ariel Re Bermuda International Sevens tournament. The News Journal reported that David Niu, Mr Dombroski's rugby coach at Archmere, described him at the funeral service as a "slender streak of lighting" who led on the field and off. He said: "He would challenge you to coach him. His cheeky grin after he went left when you told him to go right — he would charm you and then disarm you." Towards the end of his tribute, Mr Niu said Mr Dombroski's favorite comic strip was Calvin & Hobbes by Bill Watterson. He added: "It's a cartoon series about a young boy, Calvin, and his adventures with his toy tiger Hobbes. On behalf of Mark, I think Hobbes has a message for us all: 'I think we dream so we don't have to be apart so long. If we're in each other's dreams, we can play together all night.'" The family asked that contributions be made to the newly formed Mark Dombroski Foundation, which will focus on youth education, athletics and safety.

An eyesore at the West End has been transformed into a centre for a classic Bermudian pursuit that has returned as a sport: pilot gigging. This Saturday, the Bermuda Pilot Gig Club will hold a regatta for spectators out of its new premises on Boaz Island. "We want this to become somewhere that the whole community can come and row and learn about our heritage — in particular, our landlords, the Boaz Island Village," club member Sarah Burrows said. Until recently, the disused sewage plant with the rusting hulks of its tanks was considered a blight on the shoreline. Residents blamed the decommissioned plant, shut down in 2014, for breeding mosquitoes. Ms Burrows, who lives in Somerset, would notice it driving past on Malabar Road. "I'd think, what a shame; it's falling apart," she said. "How do we lose these old buildings? Every time something gets old, we just walk away from it." The Boaz Island Condo Corporation struggled to meet the high cost of removing the decaying tanks, until the gig club came along. Ms Burrows said: "We saw this as a perfect location. We can row either side of Boaz Island — there are slips either side." West End Contractors trucked away the "massive" tank at a special cost, while club members and volunteers set to work on the pump house. The effort began early in 2017, with a hiatus during the America's Cup. A dilapidated building by the shoreline "leaked like a sieve" and was full of trash and debris. The traditional gigs guided ships and rescued people in distress. Teams took the long vessels out by oar and sail. Gigging was a forgotten way of life until locals began its revival, starting in St George's in 2014. Dubbed "westies", the West End team operated out of Dockyard. Now they have 18 members and a compound at Boaz Island to store their two 32ft vessels. One commemorates pilot John Simmons, while the second is named after pilot Stephen B. Richardson. Starting at noon on Saturday, the gigs will take to the waters from Black Bay to King's Point highlighting their skills in a friendly competition. "Normally when you have pilot racing offshore, you don't really see them," Ms Burrows said. "With this beautiful location, we want spectators to watch races that had real seamanship." The Survivor's Race will demonstrate how gigs plucked passengers off vessels in distress and ferried them to shore, while speed and salvage capabilities will be put on show. Applying finishing touches to the Pilot Stephen B. Richardson, boat lover and historian Anson Nash said gigging offered "a great sport, a great way to see what's going on along our shores". He added: "It's not just racing. The emphasis is on life — you're in company while you're rowing." Ms Burrows added: "I never go out in the boat and don't learn something, whether it's Bermuda maritime history or history in general. The exercise is amazing, and it's just nice people to row with." Sightings of wildlife include regular turtle spotting. There is an international regatta planned for October, and with 200 people coming to Bermuda to show traditional pilot gig racing, the island will host a sport that was once part of its lifeblood. "We still have a lot of work to do but an amazing amount of people and organisations came on board to help," Ms Burrows said. "And it looks so much nicer here when the tourists drive by."

The "double life" of would-be murderer Jahmico Trott has been featured in a British newspaper. The Daily Mail said the 30-year-old gunman, jailed for 25 years last week for attempted murder and use of a firearm, was barber to English Premier League football stars. The article also said that Trott claimed to be a close friend of Manchester United and England star Jesse Lingard and was pictured cutting former star Andrew Cole's hair. It said: "A barber to Premier League football stars has been jailed for 25 years in Bermuda after his double life as a ruthless killer was finally exposed. Jahmico Trott, 30, has claimed to be best friends with Manchester United and England star Jesse Lingard and was pictured on social media cutting former star Andrew Cole's hair in his Manchester salon." The article, which showed images that appeared to be from Trott's Instagram account, added that he boasted of his friendship with Lingard on social media and uploaded videos featuring the 24-year-old footballer on his Instagram and Facebook pages. Trott was sentenced to 15 years for attempted murder and ten years for the use of a firearm by Puisne Judge Carlise Greaves at a hearing last week. He was convicted of both offences, which took place on Mother's Day last year, at an earlier trial. His conviction came after an earlier acquittal on a murder charge at the Old Bailey in London in 2016. Trott was accused of killing Oliver Tetlow but he was acquitted after a witness provided an alibi for the night of the murder. Trott was also acquitted of the attempted murder of David Godwin, who was shot in the back while he walked outside Art Mel's Spicy Dicy restaurant in Pembroke in 2010. Mr Justice Greaves ordered a Supreme Court jury to find him not guilty in 2011 after Mr Godwin refused to attend court and another witness said he could not recall the incident.

April 8. Sunday

A man was taken seriously ill on a flight from Boston to Bermuda today. The passenger, who was suffering from a heart condition, was taken to King Edward VII Memorial Hospital by ambulance after the plane landed at 1.20pm. Police said he was receiving treatment this afternoon.

April 7

A drunken passenger who forced a plane to divert to Bermuda after he threatened cabin crew was fined $1,500 yesterday. James Rogers, from West Sussex in England, was handed over to Bermuda police officers after the flight from London to Cancun in Mexico made an emergency landing on the island, Magistrates' Court heard. Prosecutor Nicole Smith said Rogers, 39, became aggressive on the TUI airline's flight, demanded more alcohol from cabin crew and told them he was a boxer. He shouted at the crew and said: "I'm going to punch you in the face and knock you out. I'll kick off, I'll smoke in the toilet." A cabin crew member later caught Rogers coming out of the plane toilet smelling of cigarette smoke. The captain decided to land in Bermuda and Rogers was arrested. The court heard that Rogers threw himself to the ground and banged his head several times on the floor, which caused abrasions to his face. He pleaded guilty to being drunk on a plane, smoking a cigarette on board and acting in a disorderly manner. Rogers — who appeared in court with scratches on his face — at first denied the first two charges. But when he was told he would have to stand trial, he changed his plea to guilty on all three charges. Magistrate Khamisi Tokunbo fined Rogers $500 on each charge.

A gunman who tried to shoot a man dead on Mother's Day was jailed for 25 years yesterday. Jahmico Trott, 30, was sentenced to 15 years for attempted murder and ten years for the use of a firearm after he was convicted at an earlier trial. Puisne Judge Carlisle Greaves told Trott he had tried "to make this day a sad day" for the victim before he had a chance to put flowers on his mother's grave. Mr Justice Greaves said: "It was on Mother's Day last year, on one of the most loving days in the calendar year — you have roses, lunches, dinners, gifts — a day of thanks. In the Court Street area, according to the evidence, you the defendant sought to make this day a sad day for somebody's son. Unfortunately, the mother of the son was already dead. He had not yet gotten to put flowers on her grave, as he said. Unfortunately, the karma reversed and today a mother is sad — your own mother because it was on her day that you committed an act that will now put you in jail." The court heard during the trial that Trott opened fire on his victim, who cannot be named for legal reasons, on Court Street, Hamilton, in broad daylight on May 14 last year. The victim fled an apartment above Bulldogs bar with his cousin after he heard knocking at his door, looked over his balcony and saw Trott with a red bandana over his lower face. CCTV footage captured Trott as he left the apartment, raised his arm and shot towards his intended victim. The victim tried to escape on a motorcycle, but when it failed to start a struggle ensued. Trott fired several shots before the victim escaped and ran towards Hamilton Police Station. Defence lawyer Charles Richardson argued for a shorter sentence because the attack was over a personal matter and not motivated by gang affiliation. He added that the victim suffered only a graze to his face. But Karen King-Dean, Crown prosecutor, said Trott had intended to cause greater harm because he had aimed the weapon at the man's head. She added that Trott had shot at his victim in broad daylight as members of the public walked the street, which was an aggravating factor. Trott, before sentence was passed, made a bizarre statement from the dock and quoted 1995 Hollywood crime thriller The Usual Suspects. He said that the "greatest magician" will make his audience a part of the show and make them forget that the show is even going on. Trott added: "People, please open up your eyes, don't wait until it happens to you or someone that you love to say that you want the change. I was wrongfully convicted of a crime I did not commit, nor did I have anything to do with it and my life is about to be taken away from me. Let my story be a lesson to all and remember, don't be fooled by the illusion because the greatest trick that the devil ever pulled off was proving to the world that he did not exist." But Mr Justice Greaves told Trott: "The sins of anger, spite, vengeance and hate have ravaged men and families for centuries, yet we will not learn. Those, Mr Trott, are the true magicians. Perhaps in your next writing, that is what you may write about. And you would learn the rudiments and benefits of love and forgiveness." Trott was also given two further sentences of 12 years for handling a firearm and for carrying a firearm to commit an indictable offence. Mr Justice Greaves ordered that they run concurrent with the 25-year jail term.

Two film-makers spotted a massive pod of whales off the coast of Bermuda. Conor Outerbridge and Adam Johnson were out on the water to film humpback whales for their company when they came across the ten-strong group two miles off South West Breaker. Mr Outerbridge told The Royal Gazette: "This is the first time I've seen ten whales at once. They do travel in a pod of ten, but I've just never seen it. "In Bermuda, you always see a pod of two or three or like four if you're lucky. Normally they're spread out; normally you don't see pods of ten whales." Mr Outerbridge, a professional photographer and videographer, has filmed whales five times. The two were shooting video for their company, Marooned Clothing, a range with an environmental twist which also aims "to promote the protection of the ocean and cleaning up trash around Bermuda". Co-founder Mr Johnson said: "The whole concept is starting something in Bermuda, mainly promoting ocean awareness and to get the younger generation interested in protecting the ocean." However, Andrew Stevenson, who has been studying whales in Bermuda for 12 years, said a pod of ten humpback whales in these waters was not unusual. Mr Stevenson, principal investigator for the Humpback Whale Project, which is backed by the Bermuda Zoological Society, said: "I see groups of 16, 14, seven, eight, nine. Yesterday was the biggest, there must have 25 whales and they're closely packed together." He explained that whales in these groupings are "usually a female with a bunch of males competing for her attention" which are known as "rowdy groups". He added: "Sometimes it's pretty relaxed, and sometimes, like yesterday, it's very heated. It's a lot of shoving and pushing and barging and hitting. It's a competitive group, they're trying to vie for the attention of the female but I'm not really sure why they're doing it at this time of the year because it's too late for the female to breed."

Wayne Jackson, who died last week, was remembered yesterday for his work to preserve green space in Bermuda for future generations. Mr Jackson was 79. He served as president of the Bermuda National Trust from 2002 to 2005. Bill Zuill, executive director of the National Trust, said that Mr Jackson had a "passionate commitment to the missions" of the organisation. Mr Zuill added: "He remained a great supporter of the Trust after he finished as president and stepped down from council." He said that Mr Jackson's major achievement was the launch of the Buy Back Bermuda campaign — a joint venture between the BNT and the Bermuda Audubon Society, which bought land at risk from development. The bits of land were turned into nature reserves at Somerset Long Bay, the eight-acre Vesey Nature Reserve in Southampton, and Hamilton Parish's Eve's Pond, a 3.36-acre property bought in 2008. The Trust also expanded its publishing work under Mr Jackson. Books included Rogues & Runners: Bermuda and the American Civil War. Mr Zuill said that Mr Jackson would be remembered for his fundraising efforts and for the "financial viability" of the organisation while he was at the helm. He added: "Those efforts have stood the Trust in good stead since — especially in the economically difficult years since 2008." Alana Anderson, president of the BNT, said Mr Jackson had welcomed her to the organisation with "open arms. He was generous with his time and passionate about his vision for the Trust and how important it was to get involved. I am deeply saddened by his passing and on behalf of the Trust send sincere condolences to his family." Andrew Dobson, president of the Bermuda Audubon Society, said Mr Jackson was "a true gentleman" and that "the island would be an even better place if there were more like him". Mr Dobson added: "He was a family man, a hard-working businessman and a passionate philanthropist devoting much of his time to raising funds for good causes or leading charity boards and their branches. He was crucial to Audubon and the Bermuda National Trust sealing the deal to form the Buy Back Bermuda committee and his faith in God and good people influenced positive change for his beloved Bermuda." A home-going service will be held at First Church of God, on North Shore Road, Pembroke, today at 3pm. Mr Jackson was the son of W. Vernon and Nina Jackson. He is survived by wife Juliette, children Anthony, Alisa, Joanna and the late John Karl. He had seven grandchildren. The family said donations could be made to the Bermuda National Gallery instead of flowers.

A copy of a painting of the late Jacqueline Swan has been unveiled in a West End seniors' home where she served as a board member for more than two decades. Gary Pitman, chairman of the board for the Packwood Home, said Lady Swan was an "amazing woman" who had a "real affinity" for the Somerset home for the elderly. He added: "She was a stalwart. Lady Swan and Packwood — the two were synonymous. Everything about it, she was involved in." Mr Pitman became chairman of the Packwood board just before Lady Swan, wife of former premier Sir John Swan, died in July 2016, aged 72. Mr Pitman said the print was made from a portrait of Lady Swan that hangs in the family home. He added that Sir John had backed the plan to hang a copy of the artwork in Packwood. Mr Pitman said the print was a tribute to Lady Swan's contribution to the home during her more than 20 years as a board member. He added: "It's really a thank you to let people know what Lady Swan did." He said that donations were still being made to the home because of the work done by Lady Swan. Sir John added that his late wife was "very devoted and committed to the home. It was a project she put a lot of time, effort and resources into." Sir John attended the unveiling event earlier this week along with the couple's three children, Alison, Amanda and Nicholas. Sir John said it was a "very proud moment" for the family. He added that Lady Swan had played a major role in helping to revive the Packwood Home. But he said that his wife never sought recognition for her work. Sir John added: "She was a very humble person — she didn't like publicity, didn't like being out at the forefront. She preferred to do things behind the scenes." Sir John said he hoped the print would "inspire others" to become involved in charitable work.

An island-wide team of chaplains has mobilized to help families deal with tragedy. The 57 members of the Bermuda Chaplains Group also bring comfort to one another as they deal with their own losses. The chaplain's group is set to grow and will have about 70 licensed members by next month. Althea Winifred, director of the group, said the milestone would also "let the island know that we are here to help". She added: "It's about serving the community — not trying to get you to join our church or our ministry; we just want you to know we're here for you." Franklin Francis, one of the chaplains' team, said his motivation was simple: "I really love people." Sometimes the tragedies are personal — like a message of support at the funeral of his cousin's baby, which Mr Francis said was "really hard". He added: "Even the pastor for the service said it was basically the hardest thing he'd had to deal with. But I prayed on it and tried to bring words of comfort." Mr Francis said he felt "overwhelmed" during a spate of tragedies several weeks ago. He added: "You can definitely feel that weight. But there is unity in strength and strength in unity. When I feel weak, I can call someone. I would encourage any and all who would love to serve the country and to serve in general to come aboard. There are so many people going through so much. We all have our turn." Madeline Hayward, Mr Francis's pastor at the First Church of God, encouraged him to take the chaplaincy course. He said the date he passed the course, June 4, 2016, was engraved on his memory. Mr Francis added that since then "when people need help or prayer, in the community or wherever, I am readily available". Gina Spence, a community activist, is another chaplain accredited by the group, which is certified by the Canadian International Chaplaincy Association. Ms Spence said: "It can be rough. We see so many difficult scenarios where people are at their end." She added she had helped care for a mother whose son had been killed, and found her "lying on the floor at the hospital, just grief stricken and weeping". Ms Spence said she got down on the floor beside her and helped her back on to her feet. The group came together last month to find a home for a family, including an infant, which was unable to find affordable housing. A young person on the verge of suicide was reached just in time in another case. Ms Spence said: "The rope was there. Thankfully, we were able to get to them." She added that the chaplains also lost a member of their own team to a heart attack and had to rally together to support one another. In order for us to be our best, we have to take care of ourselves. If I need to be refreshed, we have a network that will pick me up. The chaplains group is phenomenal that way. It's not a church. It's a group of Christian people available to serve. It crosses all denominational barriers, all cultures, all colors. That in itself is powerful." Dr Winifred gained her licence in the United States in October 2010, She said that she was given spiritual direction to take her training home. Dr Winifred added: "I heard God say 'take this to Bermuda'." The Bermuda Chaplains Group formed in October 2014 and has grown steadily with representatives in every parish. Dr Winifred said: "We can dispatch chaplains to a family that's had a son murdered in a half-hour or less. We not only minister to the families of victims. We minister to the offender and their families. We are committed to ministering to the whole nation.. The decision to talk about the group and its work was collective. I e-mailed all the chaplains to say, are we ready as a group? They sent messages back saying yes, it's time for the community of Bermuda to know that we are here." Dr Winifred has written a manual to explain the role and teaches a chaplaincy introductory class with a $20 fee to cover the cost of the course. The group said it planned to hold a special gathering next month to celebrate the graduation of a dozen new chaplains. Dr Winifred said the group hoped to get ten per cent of Bermuda's population qualified to assist people through an "overwhelming increase in traumatic events" from gang activity to road deaths.

April 6

Bermuda's financial-services regulator plans to ramp up site visits and increase the scope of enforcement actions this year, as the island prepares for a critical international assessment. Also revealed in the Bermuda Monetary Authority's 2018 Business Plan is an overhaul of its fees to better align fees with the actual cost of supervision. A clear area of focus is the Caribbean Financial Action Task Force's upcoming mutual evaluation review of Bermuda's Anti Money-Laundering/Anti Terrorist-Financing framework. A successful assessment will bolster the island's standing as an international business centre, while a poor grade would do the opposite. CFATF assessors will visit the island in September and October this year. In its plan, the BMA says it will expend its AML/ATF resources, add a deputy director to lead the team, beef up supervisory activities and address remaining areas in the legal framework that fail to match FTAF technical requirements. "In 2018, the number of on-site assessments will more than double, from almost 30 in 2017 to 70 in 2018," the BMA plan states. In addition, continued improvements will be made to internal supervisory policies and procedures covering licensing and authorization, entity level risk assessment, enforcement and ongoing monitoring." The BMA has recognized areas of the regulatory framework that need to be strengthened. These include increasing the scope of enforcement sanctions, coverage of certain lending, leasing and financial guarantees, amendments to exchange control laws, insurance-related activities in segregated accounts companies and insurance-linked securities, and enhanced supervision of investment funds. The BMA points out that the CFTAF assessment includes a technical requirements questionnaire, which was due on March 24, and an effectiveness questionnaire, due on May 23, well before the visit of the assessment team. The plan adds: "In summary, the BMA is committed to doing everything within its power to enable Bermuda's success during this challenging and crucial year for the jurisdiction." Jeremy Cox, chief executive officer of the BMA, in his commentary, explained the rationale behind the overhaul of the fee structure. "In 2018, we will be launching a plan to re-engineer supervisory fees, one which will involve aligning fees with the actual cost of supervision. Supervision that requires the most time must be commensurately priced. This may sound like a statement of the obvious, but during a decade of momentous growth in global regulatory development and increased competition, structural adjustments and fine-tuning were not a top priority. Essentially, we became the builders that kept adding to their house to accommodate increasing requirements. When we stepped back and took a good look at the structure, we saw that refinements were needed. We've already begun this work." Any fee adjustments will be carried out in consultation with the entities that the BMA regulates. Mr Cox added: "We know that value for money is crucial to industry stakeholders, and our friends and neighbors in the community." The CEO noted three themes of the changing financial-services landscape in Bermuda, which he referred to as "the three Ts" — taxes, technology and takeovers. He mentioned the effects of US tax reform, technologies that could drive "truly massive economic transformations and disruptions in the coming years", and takeover deals in the insurance industry. In this fast-changing environment, he said there was a need for a solid and sustainable regulator. "The role of the regulator must be to strike the balance between financial stability and economic growth. We must remain the ever-vigilant gatekeeper, enabling Bermuda to continue to be a well-regulated and safe financial-services centre; and we must take care not to stand in the way of progress."

A new drive to put 101 people back to work will have a budget of about $1 million. The Minister of Public Works, Lieutenant-Colonel David Burch, announced the "101 Jobs for 101 Days" scheme yesterday. Colonel Burch said the programme was "not a gimmick, but real employment for people right now". The jobs will be temporary ones at first. Colonel Burch said: "I am certain that some full-time work will come from this exercise as private contractors working with us will observe the work ethic and habits of some of the workers." He added that the first group of 20 workers would start to clear trash from the former Club Med site in St George's on Monday and that all employees would be paid $525 per week. Colonel Burch said the East End site would take "several weeks of work" to clear. He added: "The remaining participants will be administratively processed to commence work the following week." He identified two other projects — the renovation of the former Hamilton police station on Parliament Street and the removal of furniture and demolition work at the IAS Building on the city's Church Street. Colonel Burch added: "There are several other small projects that will be assigned to the 101 team going forward as the need arises." He said the work on the former police station is expected to start next week. Colonel Burch added the programme was designed to provide temporary income to help cut the need for support from financial assistance, and to give people a chance to "showcase their skill set, work ethic and update their resume". He said most of the work performed would be unskilled labour and included construction and waste removal to maximize opportunities.

Jonathan Smith, Vincent Hollinsid, and Orin Simmons have been appointed as the Bermuda Government's new Public Service Negotiating Team. The group, who replace Gary Phillips, Martin Law and John Harvey, will continue ongoing negotiations with the Prison Officers Association and the Bermuda Police Association. Mr Smith, is a former Progressive Labour Party senator and Commissioner of Police; Mr Hollinsid is a former Chief Fire Officer; Mr Simmons is a former negotiator with the Bermuda Public Services Union. Since the PLP returned to power, Government has completed negotiations with the BPSU, the Fire Services Association, the Bermuda Industrial Union, and made interim agreements with the Bermuda Union of Teachers and the School Principals who are represented by the BPSU. Government reform minister Lovitta Foggo acknowledged the dedication and commitment of the outgoing team. She said: "We are thankful for their hard work in guiding the negotiations to a conclusion. Their work verified for this Government that the application of a negotiations' model that relies on non-union members to represent the Government's interest is a reasonable approach. We are grateful to have the services of Mr Smith, Mr Hollinsid and Mr Simmons. They each have a wealth of knowledge and negotiations experience. We very much look forward to seeing the positive results of their engagement with our unions. This Government remains committed to engendering a respect for the workers in the public service. In that regard, we will continue to work with our unions to cultivate improved organizational performance, which will ultimately benefit the Government, the employees, and by extension the people of Bermuda." Responding, shadow government reform minister Michael Dunkley noted that negotiations were ongoing with the Prison Officers Association and the Bermuda Police Association. He said: "I would have expected in announcing the new negotiating team the minister would have provided a detailed update on the current state of affairs." Mr Dunkley asked for details on the mandate, terms of reference, payment and length of appointment for the new team. He said: "What are the terms of any settlements reached? Has any harmonization been reached among various union agreements? Providing these answers allows accountability and transparency which this government always talks about."

The appointment of one of the men behind a controversial quad bike business to a conservation body is not a conflict of interest, a minister said yesterday. Lieutenant-Colonel David Burch was speaking as a new coalition opposed to the ATV tour plan on the Railway Trail was being organized. Colonel Burch, Minister of Public Works, said people critical of the appointment of Shane Hollis to the National Parks Commission should "actually read the Act. I operate within the law. I am allowed to appoint two people to the commission who are users of the trail. Shane Hollis certainly falls into that category and that's why he was appointed." Mr Hollis was made a member of the commission by Colonel Burch last month. The appointment came on the same day Colonel Burch announced in the House of Assembly that permission had been granted to Mr Hollis's business to operate all-terrain vehicle tours in the West End. Hundreds of members of the public objected to the plan. Mr Hollis's appointment to the advisory body was criticized by island environmental groups. Colonel Burch said Mr Hollis having a seat on the board did not represent a conflict. He added: "I think I still appoint people to the commission who lied to this country and have yet to apologise to the people of this country in regards to Grand Atlantic falling into South Shore." A group called Protect Our Parks said yesterday it had started a petition against the tours. The coalition is made up of organisations that include the Bermuda Environmental Sustainability Taskforce, Bermuda National Trust, Greenrock, and The Heydon Trust. The coalition said that "innovative ideas" for tourism should be encouraged, but should not cause "erosion of the quality of life for Bermuda's residents". Protect Our Parks added that the "railway trails and parks are for peaceful enjoyment of residents" and asked the public to sign the petition "as an expression of support for our right to protect those amenities". Petition sheets are available at the J&J Produce stand in Devonshire, Amaral Farms stand in Devonshire, Windy Bank Farm in Smith's, and Wadson's Home Farm Market in Southampton. Protect Our Parks added it continued to investigate whether all the necessary permissions were granted for the quad bike tours.

Utilico Emerging Markets (UEM), a London-listed infrastructure and utilities fund, has completed its move from Bermuda to UK and reiterated its ambition to raise its profile with investors and improve shareholder returns. Following approval from the Supreme Court of Bermuda the £500 million investment company has changed its domicile from the north Atlantic tax haven to the UK and formally become an investment trust. Shares in what is now the Utilico Emerging Markets Trust are listed on the premium segment of the London Stock Exchange. Following the move, which the company celebrated by ringing the exchange's opening bell on Tuesday (see picture), UEM has restructured its capital to create a £500 million distributable reserve which it can either use to pay dividends or fund buybacks if its share price falls too far below net asset value (NAV). Chairman John Rennocks hoped the move would help re-rate the trust whose shares trade more than 12% below NAV. 'We hope that this has the potential to improve investor perception and narrow the discount, which is currently higher than historical averages,' he said. Charles Jillings, chief executive of UEM's fund manager ICM Investment Management (pictured centre in a blue suit), said the move would not affect the investment aims of the trust, which targets dividend-paying companies in the infrastructure and utilities sectors in emerging markets. 'There has been no change to the investment objectives or dividend policy and we continue to invest with a long-term horizon in well managed, mature, operational investments with strong cash flows,' he said. According to figures from the company, since launch 13 years ago UEM has generated a total return on net assets of 315.4%, beating the MSCI Emerging Markets index which has delivered 244.8%. Data from Numis Securities shows that in the last five years the trust achieved an NAV total return of 45%, below the 47% return from the MSCI Global Utilities index. The wide discount on the shares meant shareholders received just 33.3%, however. The company has been a consistent dividend payer, raising or holding annual distributions every year. It pays quarterly dividends and the shares yield 3.2%. While the premium listing may raise its profile, UEM will have its work cut out to reduce its discount to single digits. Other infrastructure closed-end funds, such as Premier Global Infrastructure (PGIT) and Ecofin Global Utilities & Infrastructure (EGL) trade on even wider discounts of 16% and 18% respectively with the sector weighed down by fears of regulation and rising interest rates. Meanwhile, global emerging markets trusts such as Templeton (TEM), JPMorgan (JMG) and Genesis (GSS) also stand on discounts of around 12%. However, with discount hunters such as Lazards holding 8.5% of the shares, Utilico will be under pressure to do what it can to narrow the gap between the share price and its underlying asset value. 'In investment, you've got to have conviction and optimism. That sort of confidence, built up over time, enables us to find investments and makes sure we don't back away from them. And, as of now, we find no shortage of exciting opportunities,' Jillings stated. The portfolio holds shares, or equities, in between 60-90 companies. Its top three holdings are currently Philippines-headquartered International Container Terminal Services, Ocean Wilsons Holdings (OCN), another Bermuda-based by London-listed investment company, and Brazilian power generation company Alupar Investimento. Its largest sector exposure, accounting for nearly a quarter of its assets, is to electricity generators, and its biggest country allocation is to Brazil, where over 23% is invested, followed by Greater China at 16.6% and Romania at 10.6%. The trust pays an annual management fee of 1% to ICM plus a performance fee of 15% if annual NAV returns either exceed 8% or are 2% above its emerging markets benchmark.

Police are investigating three cases under a new anti-corruption law. The inquiries fall under the Bribery Act 2016, which came into effect last year. The probes were disclosed after a public access to information request to the Bermuda Police Service from The Royal Gazette. Information officer David Geraghty said: "We have commenced three investigations for offences under the Bribery Act and all three are currently actively under investigation."

An "extremely intoxicated and unruly" British passenger forced a flight to stop in Bermuda yesterday. A police spokesman said the 39-year-old man was arrested on arrival. He added the passenger sustained a minor, self-inflicted head injury after he threw himself to the ground after the arrest. The man was taken to the King Edward VII Memorial Hospital for treatment and assessment. The plane was en route from London's Gatwick to Cancun, Mexico when it diverted to Bermuda.

A Hamilton restaurant has raised more than $1,000 for charity after it axed plastic and charged for paper bags. The owner of Nonna's Kitchen has called on other businesses to follow the lead and for the Bermuda Government to impose a tax on throwaway bags. Katerina Smith said: "I believe that in order for us to protect the environment, everybody needs to pay and the moment you start paying, you actually start to be more concerned. When it's free, people just take it, but nothing is free. We can do so much better and I would like it if everybody started charging for bags. There should be a law in Bermuda. It's law in other countries — why can't we change it?" Ms Smith explained that Nonna's started to charge for bags on February 1 last year as part of its environmental campaign. She said: "I always wanted to do something for the environment. The first thing I did when I bought my business was get rid of the plastic bags as they have always been a huge problem for me." Ms Smith, who bought the business in October 2016, said she wanted to make customers think about whether they needed a bag and to encourage them to bring their own. Charges ranged from 5c for a small, handleless bag, to 15c for a small bag with a handle, and 20c for a large bag with a handle. All proceeds were earmarked for the Bermuda National Trust to plant endemic trees on its nature reserves and open spaces. Ms Smith said the majority of customers had approved of the change. The support has been enormous. So far we have collected $1,166.55. I'm actually excited that we didn't collect too much money. The less money we collected, the better because it actually showed that our campaign is working." William Zuill, Bermuda National Trust executive director, said the charity was thrilled to receive the donation. He added: "Every effort, no matter how small, helps, and if every business adopted Nonna's approach, it would make a huge difference. We applaud Ben and Katerina Smith for this initiative which we hope will both reduce the use of single-use bags in the community and help the environment by increasing the number of trees and mitigating carbon emissions." Mr Zuill agreed that the less money raised, the more successful the project was "because that would mean that everyone was bringing their own reusable bags to the restaurant. However, the $1,000 raised will be put to good use as we plant endemic trees throughout our properties." Mr Zuill said the funds would buy at least 25 cedar saplings.

It was an unforgettable moment of glory for golden girl Flora Duffy and 57 minutes of pure emotion for her proud parents. All the anxiety was worth it for Charlie and Maria Duffy, who watched their daughter cross the finishing line to become Bermuda's second Commonwealth Games gold medal-winner and first female with the distinction on Wednesday. The couple, who wore "Go Flora Go!" shirts in the grandstand in Australia, spoke to The Royal Gazette minutes after Flora made history. Maria Duffy said: "The glory is all hers." Charlie Duffy said there were a few nervous moments as his daughter made a late arrival to the start line at Southport Broadwater Parklands in Australia's Gold Coast. He said: "When she didn't show up at the beginning I was terrified. I thought, 'Has the pressure got to her?' She was just staying out of the sun; that's what she does." Mrs Duffy added that her daughter's hard work and dedication had paid off. She said: "She's earned all the respect. She's done the hard work. You always hope it pays off on days like today. It all played out perfectly for her. Back in Bermuda, brothers Joel and Campbell Duffy cheered their sister on every stroke, pedal and stride of the way at the Docksider Pub & Restaurant on Front Street. Joel Duffy, president of Robin Hood Football Club, said: "That was absolutely glorious. I'm just so happy for Flora as I know just how much this meant to her." He added: "I'm happy my parents got to see Flora win such a prestigious medal in such convincing fashion. I am sure there were lots of tears. It was great for everyone here tonight to be out supporting her. It was great for everyone to see her at her best." Flora, 30, annihilated the field in the women's triathlon. She finished the 750-metre swim, 20km bike ride and 5km run in 56 min 50 sec, a staggering 43 seconds ahead of Jessica Learmonth of England in second. Charlie Duffy said: "The amazing thing is how far she beats these people. These are some of the best in the world and she just annihilates them. She was so built up, especially at home, and there was a lot of pressure on her." He added Flora's priority was now a hat trick of ITU World Triathlon Series titles as she prepared for the 2020 Tokyo Olympics. The ITU World Triathlon will be held in Bermuda later this month. Charlie Duffy said: "She's never lived up to her high standards at the Olympics and, who knows, based on today, a medal would be nice." Joel Duffy said: "I hope the support here at home is the same when the ITU event comes." He said the gold win cleared a "big hurdle" for his sister in the run-up to the race on home soil. He added: "I think this is a lot of pressure lifted off her shoulders. I feel like she can just come to Bermuda and enjoy it, to a certain extent. I think she's really going to tear it up in Bermuda when she comes here." Campbell Duffy said that he was proud of his sister's win. He added: "I can't wait to see what she'll do on April 28."

The most important lesson artist Otto Trott learnt at the Berkeley Institute was that he could be anything he wanted to be. Now Mr Trott, who will showcase his work as part of the school's 120th anniversary celebration art show, wants his artwork to inspire students to dream big. Mr Trott said: "I hope the students in 2018 get the same ideas that we got when I was here in the Sixties and that is that they can do anything, be anything they want to be and that there are no restrictions." Mr Trott, from St George's, attended Berkeley from 1965 to 1970 at "the height of the civil rights era". He said: "One of the things about going to Berkeley is that my art teacher, Charles Lloyd Tucker, was one of the first recognized black artists." He added that his teacher's art being featured in exhibitions made him feel like he could do the same thing. Mr Trott, whose classmates included future Progressive Labour Party Cabinet ministers Dale Butler, Renée Webb and Terry Lister, also recalled assemblies on Friday mornings where they would hear from black trailblazers. He said: "It made us feel like we could be anything we wanted to be. We were encouraged to be in business, in arts, politics, in the Civil Service. We were encouraged to excel academically and in whatever we did." Mr Trott followed in Mr Tucker's footsteps and taught Art at the school from 1975 to 1983. He went to art school aged 29 to "develop more as an artist". Mr Trott said: "I have exhibited all of my adult life, following the example of Mr Tucker, who took his art classes to exhibitions." His works have been on show at Gallery 117, the Bermuda Arts Centre at Dockyard and the Bermuda Society of Arts in Hamilton. He has also had solo shows at Masterworks and his work has also featured in the Charman Prize exhibitions. Mr Trott said it was a natural choice to take part in the 120th Anniversary Alumni and Currents Students' Art Show that will showcase work from students, teachers and alumni. He added: "I decided that I would show work that had Berkeleyites as the subject. The Speaker is an oil sketch of Randy Horton who was my PE teacher in 1969 and 1970. Mr Horton is a true renaissance man having been a professional and international athlete, a teacher, school principal, MP and former Speaker of the House." Another painting, Good Friday, features Mr Trott's former science teacher, Erskine Simmons, in the part of Pontius Pilate in the Good Friday re-enactment in St George's. African Bermudian Dancers is a large oil painting and one of the last pieces that he showed at the Biennial at the Bermuda National Gallery. Mr Trott said: "It shows part of the Bermudian African dance group taking part in the Bermuda Day Parade. One of my classmates, Kevin Johnson, is not in the painting but he was playing drums on the float. Ivan Broadbelt, another person who went to the Berkeley Institute when I did, is the drummer in the hat." Another oil painting shows the Samaritan's Lodge in Hamilton, the original Berkeley building, and was based on a photograph by Ed Kelly in the book The Berkeley Educational Society's Origins and Early History. The art show will feature work by alumni including Mr Tucker, Dame Jennifer Smith, a former premier, Joan Forbes Darrell and Elizabeth Ann Trott. The exhibition will open on April 13 and a silent auction will run until the final day of the show on April 21.

A 33-year-old man was yesterday fined $400 for possessing 7.83g of cannabis and $150 for possession of a grinder. Magistrates' Court heard that Joshua Stovell, whose mother is Bermudian but who lives in Connecticut, was stopped at a police speed checkpoint on Middle Road, Warwick, near Morgan's Road. Officers smelled cannabis inside his vehicle and found a herb grinder that later proved to have traces of cannabis on it. The offence happened on January 7 last year. Stovell told Magistrate Khamisi Tokunbo that he was sorry he had more than the permitted amount of 7 grams of cannabis. Criminal sanctions for possession of 7g or less of cannabis were removed from the law books last year.

A Visitor Services Centre opened in Dockyard today. The facility next to the ferry point, managed by the Bermuda Tourism Authority, provides kiosks to help tourists find things to do in Bermuda. It offers Bermuda brand products, with staff on hand to give information to visitors.

April 5

Hundreds of people attended a commemoration of the life of the Reverend Martin Luther King Jr yesterday to mark the 50th anniversary of the peace activist's murder. Glenn Fubler, who helped organize the tribute at City Hall, said it was an occasion to celebrate "the connections that are in our roots". Mr Fubler said: "There was this sense that there is something bigger than you and me, something in the air, some impetus for us to move forward". The event also recognized the work of the Bermuda Sloop Foundation and the Chewstick Foundation as groups that provide a "beacon" to young people on the island. Wayne Caines, the Minister of National Security, told the gathering that Dr King was killed for "the things he believed, the colour of his skin, for ideology". Mr Caines added: "Someone thought it important to try to kill the dreamer. The fact that we are here this afternoon, 50 years later, bears testament to the fact that they could not kill the dream. We have to reflect, 50 years later, if our world is in fact a better place. I would say it is not as bad as it used to be, but we are not where we ought to be." Jeanne Atherden, the Leader of the Opposition, said the Sloop Foundation had been "based on the dream of three avid sailors". She said Bermudians were "living together in the same boat — it's not one group that can move it forward — it's everybody". Martha Dismont, executive director of Family Centre, presented an award to Gavin Smith, head of Chewstick Foundation. "The Chewstick dreamers have heard within themselves that safe space and want to see it more and more in our community, But it has to be through you, me and each of us." Reverend King was assassinated as he stood on the balcony of his hotel room in Memphis, Tennessee after he had gone to the city to help resolve a strike involving city sanitation workers organized in protest at unequal treatment of black and white employees.

The Department of Public Prosecutions is to launch an appeal against a court decision to dismiss a careless driving charge against lawyer Charles Richardson. The news sparked anger from Mr Richardson. He wrote on his Instagram page on Tuesday: "I am shocked! The DPP has decided to use thousands of your taxpayers dollars to appeal my acquittal for driving with [sic] due care. I have never heard of such. I don't want to be treated differently because of who I am and what I do. I don't ask for special favours, but I am now p***ed that I seem to be specially targeted." Mr Richardson told the court at an earlier appearance that he had been "harassed because of who I am". The DPP confirmed that it disagreed with the decision by Magistrate Khamisi Tokunbo to throw out the charge of driving without due care and attention because of lack of evidence. Mr Richardson pleaded not guilty to the alleged offence when he appeared in Magistrates' Court last month. A further allegation of failure to provide a breath sample for testing was withdrawn by the prosecution as there were "issues with witnesses and statements." People convicted of the offence will be treated as if they had taken the breath test and failed in most cases. Penalties include at least 12 months off the road and a fine of about $1,000. Mr Richardson was charged after he drove his car into a wall at Government House at about 2am on November 26, 2016. Mr Richardson's post added that the late lawyer Julian Hall told him: "The moment you get really good at what you do, those who wish they were as good as you will break their backs to bring you down."

One in three Bermuda residents suffered sex abuse before the age of 18, a new survey has shown. Saving Children and Revealing Secrets, a charity that helps to prevent child sex abuse, teamed up with the Bermuda Health Council to conduct the survey. More than 700 of the 6,000 past participants in the charity's child sex abuse prevention training programme responded. Bermuda is the first country in the world to have more than 10 per cent of the adult population trained in child sex abuse prevention. Debi Ray-Rivers, Scars founder and executive director, said: "This report confirms what we've discovered during our years of training in Bermuda. "Child sexual abuse is a crisis that the island has been avoiding for decades, and we now have the data to show just how severe the epidemic has been." Scars spoke to The Royal Gazette as the island marks Child Abuse Prevention Month. Jon Brunson, Scars chairman, said the charity had relied on statistics from the United States for its training programmes. He said: "Once the survey was complete we, once and for all, had definitive data about the pervasiveness of the crime of child sex abuse. We can actually speak to the depth and breadth of this issue as it relates to Bermuda specifically. Mr Brunson added: "Now that we can statistically quantify the impact of this crime on Bermuda, we can use it as a tool to help our advocacy with effective legislative reform. It gives more understanding and weight behind the decisions that we think should be made to justify the legislative reform. The survey also breaks it down into certain demographics, which allows us to identify real areas of significance." Mr Brunson said statistics in the United States indicate that one in four women and one in six men were sexually abused as children. Ricky Brathwaite, health economist at the health council, said the island survey, which was carried out last November, showed "we have a significant issue in Bermuda that may be either equal to that of larger countries or in a very realistic way, it could be worse". The Bermuda survey showed that the majority of victims knew their abuser and classified them as either family, friend or a neighbour. Only 41 per cent of victims revealed the abuse and the majority did so at least 25 years afterwards. Scars has offered training to help adults prevent, recognize and react responsibly to child sex abuse for the last six years. Staff from organisations such as sports clubs, children's camps and clubs, charities, churches, companies, schools, the Department of Education and other government agencies have taken part. Training sessions are also open to individuals and Scars has trained 6,866 people. The survey was sent to people who had taken part in the training and Dr Brathwaite said about 450 responses were required for it to be statistically significant for Bermuda. He explained that the anonymous survey asked questions about age, ethnic origin and income levels "to lay a basis for who we were talking to. That was the background information. Then there were questions specifically around 'have you personally experienced sexual abuse?'." He explained that child sex abuse had major consequences and affected victims' health, crime statistics and damaged the island's social fabric. Dr Brathwaite said: "There are a number of people who aren't receiving treatment. Part of it is because there is a stigma. But some of the psychological issues that have been the result of abuse have been things like anxiety, depression, post-traumatic stress disorder and fear of intimacy. There have been physical health issues — obesity, chronic pain, dependence and addiction, auto immune diseases." He added that the data also underlined the role Scars played in tackling the problem. Dr Brathwaite said the information provided by the charity would help the Health Council "understand the investments that need to be made and can be made in these kind of areas". "And we can help drive policy in those directions."

A former CedarBridge Academy teacher who lost a "bitterly fought" Court of Appeal challenge against the education ministry over a workplace medical complaint admitted yesterday that she did not do enough to prove her case. Karen Clemons said: "I didn't provide enough compelling evidence to satisfy the court. All I know is that I was once an information technology teacher who loved working with students and expected to work until retirement. Due to working under extraordinary circumstances, that is no longer the case." Ms Clemons, 60, worked at CedarBridge from 2002 to 2006 and later claimed that the stressful environment had made her ill. In September 2016, Chief Justice Ian Kawaley found that the education minister was liable for her high blood pressure, which she said had worsened on the job. Ms Clemons, who represented herself in court, said the case was "the first of its kind". The Chief Justice dismissed her claim for damages for "intentional infliction of harm" by the education ministry and rejected her submission that she developed post-traumatic stress disorder. Ms Clemons, however, was successful with a claim for negligence on the basis of "an exacerbation of an existing hypertension condition". The Court of Appeal faulted that decision in a March ruling that said there was "simply no evidence" of the cause of the teacher's high blood pressure. The decision, handed down by Court of Appeal president Sir Scott Baker, said there had been long pleadings and "unsubstantiated allegations" by both sides. The appeal court criticized counsel for the ministry and said "vast numbers of documents were copied, apparently indiscriminately, and most were not referred to". As a result, a complete transcript of the trial, covering almost 3,000 pages, had to be prepared just before the appeal was heard. Sir Scott's ruling added: "Only one page was referred to. This was a complete waste of public funds." The Court of Appeal found that Mr Justice Kawaley had been "in error in finding that expert medical evidence was not required to support findings both that the respondent suffered a physical illness in the form of a worsening of existing hypertension, and that such an illness can be, and was in this case, caused by stress". The court found that a worsening of Ms Clemons's hypertension was not proved and ruled in favour of the ministry. Ms Clemons said the decision was a disappointment, but had not surprised her. She explained: "If you paid close attention to the questions being asked by the Appeals Court judges, you gain some insight into what they consider to be the most important factors in a case. I saw the writing on the wall fairly early." She said that taking the action to trial was an accomplishment despite the outcome. Ms Clemons added: "I feel as though I've audited law courses for the last several years. The knowledge and experience that you gain from failure will prepare you for the next challenge." She said that all employers must protect the well-being of their employees. "When the system fails its employees in this regard, evidence comes in the form of lower productivity, greater instances of sick leave, high turnover, mass transfers and low morale. When this happens in education, the students are often the collateral damage." Ms Clemons said that she had a second defamation case, which was filed in 2009, pending. "Until then, I'm contemplating what I should do with all this paperwork that I've accumulated over the years. Maybe I'll write a book."

Royalty and some of the world's leading experts on ocean risk issues will speak at a first-of-its-kind conference in Bermuda next month. Prince Albert II of Monaco, Queen Noor of Jordan, and Peter Thomson, the United Nations' special envoy for the ocean, are among speakers for the Ocean Risk Summit, a three-day event taking place from May 8 to 10. The event will examine the challenges and risks posed by ocean change and identify the opportunities it presents for "innovative approaches to building resilience and mitigating its effects through applied solutions". The summit is bringing together leaders from across the political, economic, environmental and risk management sectors to identify short and long-term exposures to ocean-driven hazards and consider how to use new approaches, tools and technologies to find solutions that will build resilience at local, regional and global levels. Issues that will be highlighted include the impact of hurricanes in the Caribbean and plastic pollution, to the importance of ecosystem services protecting coastlines and the need for aquaculture to maintain global food security. Among more than 40 guest speakers are José Maria Figueres, former president of Costa Rica, Kendrick Pickering, deputy premier of the Virgin Islands, and Professor Kerry Emanuel of Massachusetts Institute of Technology. The summit is being sponsored by XL Catlin along with other scientific and Bermudian-based partners. Mike McGavick, XL Catlin's chief executive officer is another of the speakers, along with Craig McLean, acting chief scientist of Noaa, retired US Navy Vice-Admiral Michael Franken, and professor Bill Curry, president of the Bermuda Institute of Ocean Sciences. One of the sessions will look at ocean rise from an insurance and finance perspective, while another looks the impact of ocean volatility on markets and trends, one of the featured speakers is Kathy Baughman McLeod, global environmental and social risk executive at Bank of America. There will be "deep dive" sessions exploring weather and climate, and health and security. A number of interactive working group sessions, including one focused on cities and coastal infrastructure, will take place on the finial day of the summit. Further details about the Ocean Risk Summit, including registration, can be found at oceanrisksummit.com.

The two-day Bermuda Healthcare Forum this month has grown in size, beating the sell-out attendance at the inaugural event last year. Specialist insurance buyers for major hospital systems, long-term care facilities, physicians groups, and health benefits and services providers in North America will be among the attendees. Some 206 delegates, including 115 overseas guests, have registered for the event at the Hamilton Princess and Beach Club on April 24 and 25. The forum provides an interactive platform for healthcare industry specialists to explore disrupters in healthcare such as technological developments, identify emerging risks, discuss insurance solutions, and examine lessons learnt from the impact on healthcare by 2017 catastrophes, including hurricanes Harvey, Irma and Maria. "The Bermuda insurance market has had the privilege of working with North American healthcare providers for over 30 years. During that time, clients have increasingly turned to the Bermuda market for solutions to address their most complex risk-management needs," said Vivienne Moniz, a member of the forum's organising committee and senior vice-president and underwriting manager of Excess Casualty Insurance at XL Catlin, a platinum sponsor. "Bermuda is viewed as a market of choice for healthcare liability insurance buyers due to the amount of capacity available, the high standard of contract certainty, and the ability to create new products in response to market needs. Typical insureds include hospitals, academic research institutions, physicians groups, senior and long-term care facilities, assisted-living facilities, behavioral health facilities, blood and organ banks, diagnostic centres, rehabilitation centres, managed care organisations, and clinical research organisations. With our respected reputation for innovation, insurance carriers and brokers have responded with flexibility and bespoke risk solutions," Ms Moniz said. "As healthcare in the US undergoes many changes, we welcome the opportunity to once again bring together brokers, insurance buyers and other risk professionals at this special event to engage in productive discussions and explore opportunities to continue to provide meaningful service and solutions to our clients." Global insurers based on the island are able to provide in excess of $350 million in capacity for any single risk and have the ability to write lead and excess layers on an insurance programme. The market has a solid track record of paying claims, has been consistent through all market cycles, and provides substantive limits. Last year's inaugural forum proved highly successful, selling out capacity after registering 160 delegates — including more than 100 from overseas, along with a dozen accompanying guests, and nearly 60 Bermuda-based attendees. Industry Organisers say feedback indicated even before registration opened, the second event would surpass those numbers. "Attendees at last year's forum provided overwhelmingly positive feedback on the quality of content and their appreciation for the valuable networking opportunities presented," said Amy Wolfinger, vice-president of Aon Bermuda, a platinum sponsor. "For the second year in a row, we are excited to bring together industry specialists with our clients, who travel from all over the US to Bermuda, to share trend setting dialogue and advance insurance solutions for the healthcare industry." Forum sponsors include numerous Bermudian-based brokers and commercial insurance companies, as well as the Bermuda Business Development Agency. The BDA's chief executive officer Ross Webber will be a speaker at the event. The forum agenda has been developed around the ever-changing industry and ways in which roles of healthcare providers and administrators are continuously evolving. Session speakers include more than 20 Bermuda insurance industry experts, along with healthcare leaders from the US.

Bermuda's world champion Flora Duffy won the women's race to clinch the first gold of the Commonwealth Games. Duffy's gold was the first for her country at the Commonwealth Games since Clarence Saunders won the men's high jump in 1990 in Auckland, where triathlon made its debut as a demonstration sport.

Police reported that a flight from London Gatwick stopped at the island on its way to Cancun, Mexico after an "extremely intoxicated and unruly" had to be removed from the plane. A 39-year-old British national was assessed at the scene by medical personnel but reportedly refused attention. The man also sustained a "minor self-inflicted head injury" while in custody after throwing himself to the floor. The man was taken for treatment in a police vehicle.

April 4

A second lawsuit has been launched against new legislation which revokes the right of gay couples to marry in Bermuda. Gay Bermudian Maryellen Jackson and charity OutBermuda have filed civil proceedings in the Supreme Court against the Attorney-General, claiming the Domestic Partnership Act is unconstitutional. The legal bid is backed by cruise company Carnival Corporation, which has been offering gay weddings on its Bermudian-registered ships since a May 2017 Supreme Court ruling which, in effect, legalized same-sex marriage. Carnival said yesterday: "We support marriage equality and we have been actively engaged in supporting efforts by OutBermuda — a registered charity that promotes and supports the well-being, health, dignity, security, safety and protection of the LGBTQ community in Bermuda — to legally challenge the action to again allow same-sex marriages on the island." It added: "Our engagement includes providing OutBermuda with financial, civic and public relations support, as well as involvement by our company. We will also file an affidavit supporting the legal action submitted by OutBermuda and Ms Jackson. We are sensitive as to why some travelers may consider avoiding Bermuda while this ban is in place. While we always abide by the laws of the countries we sail to and from, we believe travel and tourism brings people and cultures together in powerful ways. As a result, we believe it is important to stand by the LGBTQ community in Bermuda and its many allies to oppose any actions that restrict travel and tourism." The writ is the second to be filed against Attorney-General Kathy Lynn Simmons regarding the Domestic Protection Act, which was passed by Parliament in December and given assent by John Rankin, the Governor, in February. Comedian Rod Ferguson issued the first legal challenge, claiming that the legislation was inconsistent with his fundamental rights as set out in the Constitution and subjected him to "inhuman or degrading treatment". His case is due to be heard by the Chief Justice next month. OutBermuda and Ms Jackson, represented by lawyer Rod Attride- Stirling, will ask for their case to be joined with his so they can be heard together. They claim that Section 53 of the new Act, which says a marriage is void unless the parties are male and female, regardless of the Human Rights Act and the May 2017 judgment, contravenes the Constitution and discriminates against Ms Jackson and others and their right to freedom of conscience. The originating summons states that Ms Jackson is a lesbian Bermudian who opposes the revocation of same-sex marriage. "She is seeking a declaration that the provisions of the Domestic Partnership Act that revoke same-sex marriage violate her constitutional rights," the writ says. OutBermuda said in a statement: "While marriage equality is just one issue facing the LGBTQ+ community, OutBermuda believes it is well positioned to provide a legal voice on a topic that has recently been handled like a political football in Bermuda. Together, OutBermuda and Ms Jackson strongly oppose any measure to revoke the right to marry by the Bermuda Government and believe that the ruling originally handed down by the Supreme Court of Bermuda in May 2017 permitting same-sex marriage is good law. OutBermuda recognizes it is far from alone on this issue and has strong support and allies, including Carnival Corporation, one of several cruise companies that sail to Bermuda. OutBermuda is proud to work with Carnival Corporation, which includes cruise line brands such as Cunard, P&O Cruises and Princess Cruises, as the company has a history of commitment to equality, inclusion and diversity." The charity and Carnival have enlisted the services of Bob Witeck, head of the Washington-based gay and lesbian-focused communications group Witeck Communications. American news network CNBC reported on the lawsuit and Carnival's involvement yesterday, describing the cruise firm as "taking a stand in the civil rights struggle in Bermuda". Six of Carnival Corporation's nine cruise line brands will call upon Bermuda this year, with a total of 59 stops scheduled. According to Carnival, its brands represent less than 15 percent of the cruise calls scheduled for Bermuda in 2018.

Large insurers are increasingly entering the market to buy reinsurance companies, according to risk adviser Willis Re. In its latest 1st View report, Willis Re said it had seen "largely flat" renewal pricing on loss-free programmes, but some modest growth in demand for reinsurance. James Kent, chief executive officer of Willis Re, said there were significant changes going on in the nature of the ongoing consolidation in the industry. "The most dramatic shift in the last few months has been the dynamic change in reinsurance mergers and acquisitions with large primary carriers re-entering the reinsurance market, having largely abandoned the sector in the 1990s and early 2000s," Mr Kent said. "Many major non-life primary companies with large personal line and small medium enterprises portfolios are facing the greatest disruption from new distribution models. Similarly, large primary companies with life portfolios are facing profitability challenges and an inability to differentiate their results from general investment markets. Against this background, buying large transparent, well-managed reinsurance companies with synergies in some areas of their existing portfolio is proving attractive. When big insurers exited the reinsurance market at the turn of the century, it was because of poor exposure management that led to earnings volatility and sometimes large underwriting losses that resulted in capital strains. The assumption now is that access to diversified sources of risk, allied with greater confidence that historic technical issues are now better managed through advanced risk quantification techniques, is sufficiently enticing for large primary companies looking for growth, The 'Big Balance Sheet' reinsurer model is being reinvigorated and the real test for management will be their portfolio management ability and the agile use of their large balance sheets." While rates had been largely flat, reinsurers could take some encouragement from an increase in demand from a number of buyers that had boosted reinsurance premium volumes. "Furthermore, insurance companies, particularly within the C-suite, continue to assess the impact of reinsurance buying to support earnings and capital management, with the value of reinsurance seen as higher than it has been in recent years. Away from the headline property catastrophe renewals, many other classes managed uncontentious renewals and despite limited movement in original rating levels, underlying exposure growth has fed through into modest increased reinsurance premium volumes for reinsurers." Willis Re said there had been a "rapid reload" of insurance-linked securities funds after initially overstated losses from last year's hurricanes Harvey, Irma and Maria, which in turn had led to a continued oversupply of capital that was helping to restrain rate increases. There was apparently no impact on investor appetite, the report added. "Many of the larger ILS funds are building up their own analytical skills and developing their 'own view of risk'," Mr Kent said. "This is helping them manage their investors' expectations with regard to less obvious exposures. Full-year results from reinsurers had revealed an increasingly worrying trend"— the deterioration of virtually all non-natural catastrophe lines and a limited reserve release available from past years. While long predicted, the impact of this deterioration is now compelling virtually all managers to take decisive action. This is evident in many reinsurers and specialty carriers stepping up their efforts to reshape their portfolios, exiting unprofitable lines of business and implementing cost-saving programmes." The outlook was not completely grim for reinsurers, however. Mr Kent said: "Any hopes reinsurers held for meaningful real rate increases to help offset difficult 2017 results have been dashed. Now, a slower upward trend across different lines of business is what observers are stating as the more likely trajectory, particularly if loss ratios on the underlying business continue to deteriorate."

Enstar Group is mulling a sale of its StarStone and Atrium businesses, according to a report in British trade press. The Bermuda-based run-off specialist and its private-equity investor Stone Point have called in Evercore for advice after receiving takeover offers for the businesses, The Insurance Insider reported. Both StarStone and Atrium are "live" underwriting operations — that is they seek out and write new business — as opposed to Enstar's predominant legacy book, which does not. StarStone was acquired in 2014 for $646 million. Last year, the specialty insurer with a business in the Lloyd's of London market, wrote $895 million of gross premium. Atrium is a Lloyd's managing agency

Gold is almost certainly on Flora Duffy's mind as she heads into the first medal event of the Commonwealth Games tonight. After clearly establishing herself as the dominant force in women's triathlon, winning back-to-back ITU World Triathlon Series titles, Duffy no longer feels the need to temper expectations. Gone is the uncertainty, the ambiguity, the self doubt. These days Duffy has the aura and confidence of a world champion and make no mistake, her trip to the Gold Coast — Australia's premier tourist destination — is strictly business. "It's exciting to be heading to my third Commonwealth Games and this one's a lot different from the previous two as I am one of the medal hopes and have actual confidence that I can achieve that," Duffy told The Royal Gazette. "That's been a big goal for me this year that we set out to have a great race at Commonwealths and make it one of my 'A' races." With the Commonwealth Games being held so early in the season, Duffy has raced just once, crashing out on a corner that claimed several other riders during slippery conditions in Abu Dhabi last month. She was, typically, in the lead at the time and feels in medal-winning form. "So far the prep this year has gone pretty well," said Duffy, who finished eighth at the 2014 Glasgow Commonwealth Games. "I only started training towards the end of December and OK, I'm racing at the beginning of April, but in terms of training weeks it's not that many to get ready, so thankfully everything's gone pretty smooth. It's been a great summer in Stellenbosch and I have a great training group down there, so I can just slot right in and it all works pretty well." Duffy, who has opted to stay at a hotel in Southport near the triathlon venue rather than the Games Village, will join her team-mates Tyler Butterfield, Tyler Smith and Erica Hawley in the mixed relay on Saturday. The 30-year-old will perform the third leg of the super sprint distance race — a 250-metre swim, 7-kilometre bike and 1.5km run — before handing off to Butterfield. "I think people don't understand how small Bermuda is and to have four world-class triathletes competing at the mixed team relay at the Commonwealth Games is really, really incredible," Duffy said. "Much bigger countries struggle to field a team so for us to be there, it's very special. "It's great to have Tyler Butterfield on the team. He's someone I looked up to when I was growing up. It's pretty cool that he's done a lot in short-course racing, he's done a lot in Ironman racing and is still keen and excited to race for Bermuda. [He's] coming back down to short-course, which is not really his level of expertise any more." Duffy admits it is odd to think of herself as the "elder stateswoman" of Bermudian triathlon, but is happy to help in Smith and Hawley's transition to the elite level. Both are aged 19, a year older than Duffy when she outlined her potential by coming eighth at the 2006 Melbourne Commonwealth Games. "It's great to have them on the team and I think it's pretty special for them because, obviously it's weird me talking about this, but I am the reigning world champion," said Duffy, one of two athletes on the Gold Coast to have competed at Melbourne 2006 and Glasgow 2014, the other being New Zealand's Andrea Hewitt. "I suppose it's quite special that we're all in different stages of our careers and we get to compete on the same team and this might be the only time we can do this at the Commonwealth Games, so that in itself is really special. Hopefully, I can, I don't know, give them some tips or help them, it's a pretty high level to be racing on. My first Commonwealth Games was when I was 18, also in Australia, so those two are at similar points, so I know from first-hand experience how massive of a jump it is to be racing junior levels normally and then jump into one of the most competitive elite fields." As a four-times Xterra world champion — the earthier form of triathlon — Duffy has also qualified for the mountain biking, which takes place next Thursday in South East Queensland. Although she holds no hope of a podium finish, Duffy is certain of biking competitive. "There's no medal hopes there, it's truly just for me, a life experience that I want to do," she said. "I know I'm at the level to race there and hold my own and I just think it's pretty special for me to race at a Commonwealth Games in both triathlon and mountain bike. Not many people have that opportunity or have the skill-set to do so, so that's the main motivation there and I'm just really excited to be given that opportunity. I'm very confident in the triathlon and know how to execute a race there, but then I stand on the mountain bike start line and feel like a total beginner there and that's actually pretty cool for me at this stage of my career to have that totally out of your comfort-zone excitement."

Bermudians mark the 50th anniversary of the assassination of Martin Luther King Jr today with a celebration of his life, starting at 12.30pm on the steps of City Hall. Local activist Glenn Fubler, organizer of the event, recalled hearing of Dr King as a child. Describing himself as "an early follower", Mr Fubler said he became "estranged" in his late teens as he grew enamored of the Black Power Movement. "I thought nonviolence was soft," Mr Fubler said. "Later, I found how significant it was, how courageous they were — not just Dr King but many extremely brave people." In 1968, a decade into the open fight against segregation, Bermuda simmered with racial tension. The island was still months away from adopting universal adult suffrage. Activist and historian Eva Hodgson said: "Whatever happens in the United States, particularly race relations, has always been a touchstone for black Bermudians." Dr King's death on April 4 "was a significant, dramatic event for black Bermudians", she said. The Governor, Lord Martonmere, ordered flags to be lowered to half-mast on the day of Dr King's funeral, and services were held island-wide as the US observed a day of mourning. According to The Royal Gazette, Reverend Allan Kerry at Emmanuel Baptist Church, a childhood friend of Dr King, had met the civil rights leader the previous September in Washington. "I said it would be good if he could come down here for a rest," the pastor was quoted as saying. Dr King might have visited that autumn, he added. Mr Fubler noted that Bermuda had been affected by riots just weeks after, when young people denied admission to the April 25 Floral Pageant reacted violently. "It was definitely related to the assassination and its aftermath," Mr Fubler said. Dr King's popularity had waned with some civil rights leaders by the time of his murder. Mr Fubler said: "Strangely enough, there was also a sense of hope. The movement for social justice is a global movement. By definition, it leaves a legacy." Last night, David Burt, the Premier, urged Bermudians to look on Dr King as "not just a dreamer. Instead, embrace his life's work and witness in its entirety," Mr Burt said. "Heed his call to upend historic systems of inequality and demand change that lifts up people in society who have always inhabited the margins of justice and economic success. "Leah Scott, Deputy Leader of the Opposition, extolled Dr King's power to love his enemies through constant oppression, adding: "Choosing to show love enables us to release our judgments, opinions and expectations of people."

A family paddle-boarding close to Flatts Inlet got more than they bargained for when a hammerhead shark swam between their boards. Julie Compton and her husband, Jim, were heading to Gibbet Island when they spotted a fin sticking out of the water. They initially thought it was a spotted eagle ray, but soon realised it was a six-foot-long shark. Ms Compton told The Royal Gazette: "Suddenly it came towards us and we saw what it really was. It swam right between our two boards and then under. I was terrified." Ms Compton said the pair carried on paddling faster around the island towards Flatts Inlet and St James Court. She said: "We got out at our dock and went straight to tell our friends about it. As we were talking, I said 'I don't know where it went, maybe it followed us back'. Immediately after I said it, Jim looked at the water and said, 'It's right there.'" The couple's children, Maddy and Noah, recorded footage of the shark on their mobile phones. Ms Compton said that the shark continued swimming close to them for about ten to 15 minutes. "My husband spoke to a guy at Dive Bermuda and he said in all his years diving here, he's never seen one and that we were super lucky." Shark researcher Choy Aming said that a hammerhead sighted inside the reef was extremely rare. Mr Aming, who spends a great deal of time on the water including tagging sharks, said: "I've only ever seen two hammerhead sharks in Bermuda in my life and they have both been offshore both during whale season. Hammerheads aren't particularly dangerous. Obviously, it is a big shark with teeth, but I have been diving in Galapagos with a school of 50 swimming around me. They are fairly rare here. I think he went out for a wander. From the video footage it is only about six or seven feet, which isn't a particularly big shark. The two I saw offshore were at least ten feet with a dorsal fin that was three feet above the water. It is one of those one-off things." He warned: "If you do see a shark in the water, you should get out, particularly if you don't have any experience in the water with the sharks. If you ever see one, I would exercise caution. Back out slowly from the water with no frantic movements — you can upset it as well if you get a little panicky, so caution is always advised. We should have a lot more sharks, but I am convinced that over-fishing from three or four decades ago has pretty much decimated the shark population and it is going to take decades for it to build back, if it ever does come back. As of right now, there are no protections for toothed sharks."

A 27-year-old man appeared at Supreme Court today charged with the 2011 murder of Colford Ferguson. Khyri Smith-Williams, of Broome Street, Sandys, denied committing premeditated murder with another person not before the court on February 4, 2011. He also pled not guilty to using a firearm to commit an indictable offence on the same date. A trial date was set for September 11, with a mention at the June arraignments session. The defendant, who was represented by Jerome Lynch QC, was remanded in custody by Puisne Judge Carlisle Greaves. The prosecutor was Carrington Mahoney

Dozens of new Bermudian chaplains have been licensed in an effort to "take back Bermuda's streets". Bermuda Chaplains Group has licensed 57 chaplains and expects the figure to increase to 70 by the end of next month. Director Althea Winifred said the group wants to ensure Bermuda is equipped with skilled chaplains ready to help their communities due to an "overwhelming increase in traumatic events" including gang activities and road fatalities. Dr Winifred said: "We firmly believe it is time to take back our nation's streets, take our communities back, in addition to providing services to all people no matter what. "We believe that we're knitted together and now ready for assignments to minister, help, listen and pray for and with the citizens and visitors of the nation of Bermuda." Bermuda Chaplains Group was established in October 2014 and received accreditation to license chaplains from CICA-International University and Seminary, which is accredited by Evangelical Order of Certified Pastoral Counsellors of America.

The Commonwealth Games — a celebration of sport and camaraderie — could not have come soon enough for Australia. In the wake of the recent crimes committed against cricket, today's opening ceremony felt more like a cleansing of a country's sporting soul. Even the newspaper column inches devoted to the disgraced trio involved in the ball-tampering scandal have been slowly swallowed up by inspirational tales of those athletes tasked with restoring Australian pride. After all, great sporting moments are expressions of the national spirit in this part of the world. So it was hardly surprising that the names of Smith, Warner and Bancroft were absent from the guest list to the biggest party in Queensland's history. That is not to say the Gold Coast Games have been absent of controversy. The snubbing of home-town hero Sally Pearson as flag bearer, Channel Nine being temporarily stripped of broadcasting rights and an investigation into syringes found in the Athletes' Village have seen to that. Even so, the mood on the Gold Coast has been building to a crescendo and came to its climax at Carrara Stadium in front of 35,000 cheering Aussies, not to mention the estimated 1.5 billion worldwide. To say those watching were treated to a quintessential Australian experience would be an understatement. The elaborate series of sets depicting all things Down Under, including an actual Gold Coast lifeguard tower and surf boat, were a sure-fire sign of things to come. Surfer dudes and dudettes wearing board shorts and bikinis were a not-too-subtle nod to the beach culture synonymous with the seaside city, while a didgeridoo orchestra, Aboriginal ballet dancers, and a traditional smoking ceremony displayed a strong indigenous flavor. Even the three-hour extravaganza could not have felt more Australian had Crocodile Dundee shown up whistling Waltzing Matilda while cracking a tinny. The all-singing, all-dancing affair then gave prominence to the evening's prime purpose, the Parade of Nations, as camera flashes continued to flicker and illuminate the sea of yellow and green-clad spectators filling the stadium's aisles. In keeping with the tone of the rest of the rain-scattered evening, Bermuda's athletes, along with the other 70 nations, were led out by a Nipper carrying a rescue board. By the time Tyler Smith, the island's flag bearer, took centre stage the Queensland Symphony Orchestra were busy working their way through a melody of Australian pop classics, with INXS's Need You Tonight segueing seamlessly into Olivia Newton-John's Physical. Missing from Bermuda's contingent were Flora Duffy and Erica Hawley who will be getting physical and then some in the women's triathlon, which gets under way later today. For Duffy, it will be a chance to win the first of the 275 gold medals up for grabs. Let the Games begin!

Tourists can sign up for special treatment at the Peppercorn Ceremony in St George's. The Bermuda Tourism Authority has introduced a visitor package including a private tour of the State House, special seating at the ceremony and access to a garden party with local dignitaries. The event, taking place on April 23, brings together modern-day dignitaries with traditions that date back to 1815. During the ceremony, the Freemasons present to the Governor one peppercorn to cover the cost of rent for one year in the State House. The peppercorn is presented on a velvet pillow with the pomp and pageantry of the Royal Bermuda Regiment Band. Bermuda Tourism Authority product development manager Tashae Thompson said: "This experience has always been available to visitors at no cost and that will not change, but to enhance the experience and attract more visitors, our product and experiences team has worked with the Corporation of St George and the Freemasons Lodge to put together a special visitor package. We hope the same British charm that draws travelers to Buckingham Palace exists within the Peppercorn Ceremony." Cost for the package is $40; tickets are available online. Hotel concierges and vacation rental owners are being sent information about the special visitor offering to share with guests.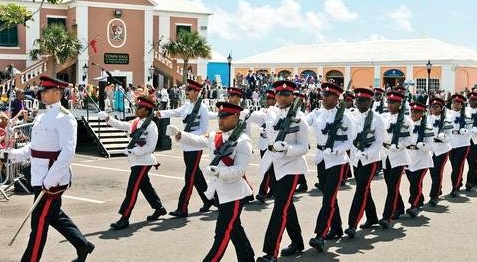 April 3

LGBT rights charity OutBermuda and plaintiff Maryellen Jackson are preparing a legal challenge against the Bermuda Government to prove that its Domestic Partnership Act 2017 contravenes the constitution. The complainants claim that Section 53 of the Act and all other provisions in the Act that give effect to revoking or voiding same-sex marriage are in contravention. They have submitted an Originating Summons to the Supreme Court of Bermuda for that court to issue an order. They are preparing evidence for submission this week as well as an application to join their case to the Ferguson v Attorney General case so both can be heard together. Gay Bermudian Rod Ferguson launched a legal challenge in February against the Attorney-General for revoking his right to marry his partner in Bermuda and subjecting him to "inhuman or degrading treatment" OutBermuda and Maryellen Jackson are represented by Rod Attride-Stirling of ASW Law Limited. OutBermuda said it believes it is well positioned to provide a legal voice on a topic that has recently been handled like a "political football" in Bermuda. A spokesman for OutBermuda said: "Together, OutBermuda and Ms Jackson strongly oppose any measure to revoke the right to marry by the Bermuda Government and believe that the ruling originally handed down by the Supreme Court of Bermuda in May 2017 permitting same-sex marriage is good law. "OutBermuda, who along with Ms Jackson will be represented by Rod Attride Stirling of ASW Law, said it has strong support and allies including Carnival Corporation, a cruise company that sails to Bermuda. OutBermuda is proud to work with Carnival Corporation, which includes cruise line brands such as Cunard, P&O Cruises and Princess Cruises, as the company has a long history of commitment to equality, inclusion and diversity. Among its many ongoing efforts, the corporation and its nine cruise line brands have been recognized over several years by the Human Rights Campaign for being among the top companies to work for LGBTQ equality, including perfect scores in 2017 and 2016 in Human Rights Commission's Corporate Equality Index, which rates US companies on their treatment of LGBTQ consumers, investors and employees." OutBermuda promotes and supports the rights and protection of the LGBTQ community in Bermuda. Its website is OutBermuda. RG.

Superyachts represent the potential for "huge" business in Bermuda, a public forum heard last night. And draft legislation dealing with the lucrative industry could be done by the end of this year. Pat Phillip-Fairn, Chief Product and Experiences Development Officer at the Bermuda Tourism Authority, said there was a "lot of receptivity" at Government to "make the changes that need to be made". She added: "We are really very happy about that. There's real work being done to streamline the arrival process, there's real work being done on this chartering issue." Ms Phillip-Fairn was speaking at a forum held last night at Caroline Bay to discuss the tourism quango's approach to advancing superyacht tourism in Bermuda. According to the BTA, a total of 143 superyachts visited Bermuda last year, up 110 per cent from the 68 that visited in 2016. One hundred superyachts visited between May 26 and June 30 for the America's Cup. More than $14 million was spent by superyachts and yachts during the international sailing event, according a report produced by PricewaterhouseCoopers. Ms Phillip-Fairn said: "Ironically enough, Bermuda residents who own superyachts were not able to bring their yachts to the event." She said the problem related to the "huge" customs duty issue surrounding the vessels. Ms Philip-Fairn added: "That is on the table. Government is looking at that as part of the reforms. It means that residents and well as visitors can participate under the new regime when it comes in." She said that the issues facing superyachts in Bermuda were "solvable. We're in a good place. When we do this, we can become a lot more competitive, we can attract more superyachts, there will be more spending, there will be more visitors. The opportunity is huge. There has been continuous dialogue with J-class vessels about a return to Bermuda. They really want to come back. There is the possibility of hosting the world championship this year. But she cautioned: "We're not promising that. But it would be fantastic." Ms Philip-Fairn said that there had also been talks with an "international partner" to hold what she hoped would be the inaugural Bermuda superyacht regatta next year. She said the first site visit with the potential partners would take place later this month. The findings of a focus group held with superyacht captains who visited for the America's Cup were also presented at the forum. Bermuda's safety, privacy and "highly-valued natural assets" — including beaches, diving and historic sites — were listed as the island's strong selling features. Charter restrictions, lack of repair structure and costs — including provisioning, repairs and services — were some of the chief concerns shared. Charles Brown, who works with the public policy unit at Cabinet Office, said that a legal framework for the industry could be forthcoming this year. He explained: "I think it's fairly safe to say that we should be in a position to present some legislation to the House before the end of this calendar year. I do know that those in this room are very keen to see this move forward."

A Warwick man denied a series of child sex offences when he appeared at Supreme Court arraignments yesterday. The 25-year-old, who cannot be identified for legal reasons, pleaded not guilty to four charges involving a girl under the age of 14. The man is accused of attempted unlawful carnal knowledge on a date between June 27 last year and September 11 last year. He is also accused of one count of unlawful carnal knowledge and two counts of sexual exploitation of a young person by a person in a position of trust. The offences are alleged to have happened on or about September 23 last year. The man was released on $10,000 bail with the condition he has no contact with the alleged victim. The man is expected back in court on April 16. In a separate case, the arraignment of a 29-year-old Devonshire man accused of child pornography offences was adjourned until this morning. The man, who also cannot be identified for legal reasons, was charged with eight counts when he appeared in Magistrates' Court on February 16. He was not required to enter a plea because the case must be heard in Supreme Court. In addition, the arraignment of Ehbony Allen, 30, was postponed to April 9. Ms Allen was charged in Magistrates' Court last month with three counts of wounding with intent. He also was not required to enter a plea in the lower court.

A new trial date has been set for a man charged with killing a woman by driving his boat dangerously. The case against Andrew Lake, of Southampton, will now be heard on August 13. Mr Lake, 27, denies the manslaughter of New Zealander Mary McKee, 62, who died after a marine incident in Hamilton Harbour on June 1, 2017. He also denies causing injuries to Mrs McKee's husband, Arthur, and a second man, Charlie Watson, by driving his powerboat in a dangerous manner. A trial was due to start at the Supreme Court today but was rescheduled due to witness availability. Puisne Judge Carlisle Greaves extended Mr Lake's bail. The defendant was represented by Jerome Lynch QC and the prosecutor was Cindy Clarke.

A Pembroke man has been fined and banned from the roads for failing to give a breath sample to police. Marcus Fox admitted the offence that happened in Pembroke on February 2 when he appeared in Magistrates' Court this morning. The 26-year-old also pleaded guilty to driving without a driver's licence on the same date. The court heard that an off-duty police officer parked his car next to Fox's at the Esso City gas station on Richmond Road. Prosecutor Nicole Smith said Fox struck the police officer's car as he reversed out of the parking bay. When the officer spoke to the defendant, he noticed his breath smelled of alcohol and his eyes were bloodshot. He got the attention of on-duty police officers, who arrested Fox on suspicion of impaired driving. Fox refused to provide a sample of breath for analysis. Magistrate Khamisi Tokunbo fined him $150 for having no licence and $800 for failing to give the breath sample. He also disqualified Fox from driving all vehicles for 12 months. Also in court, Barry Gibbons, 62, was fined $800 for driving without due care and attention. Ms Smith said police officers saw Gibbons, of Devonshire, riding between cars on Middle Road, Paget, creating a third lane. He was stopped and ticketed for the offence. Mr Tokunbo fined him $800 and also handed him 10 demerit points on his licence.

April 2

More than twice as many new insurance companies were registered by Bermuda's financial-services regulator in the first two months of this year than in 2017. Bermuda Monetary Authority welcomed the uptick — with 11 re/insurance registrations confirmed in January and February, compared to five in the same period of last year — and noted the benefits of international recognition of its standards of regulation. February's registrations included class 4 company DSA Reinsurance Company Ltd, set up to manage four-fifths of American International Group's legacy business and backed by $40 billion in assets. DSA Re was also registered as a class E long-term insurer, enabling it to manage life business. There were two other Class E insurers registered in February, Athene Annuity Re and CICA Life. January saw the registration of a new intermediary company, Barbican Underwriting Ltd. Craig Swan, BMA managing director, supervision (insurance), said: "This increased re/insurance activity follows on the heels of the third anniversary of Bermuda being placed on the National Association of Insurance Commissioners' Qualified Jurisdiction list, effective January 1, 2015, as well as the second anniversary of Bermuda achieving full equivalence under all three articles of Solvency II, effective March 24, 2016. The BMA is pleased to see these increased re/insurance registrations, despite challenging market conditions."

A Book of Condolence has been opened as a tribute to former Cabinet minister Kim Young, who died last month. Ms Young, a former nurse, social worker and United Bermuda Party politician, suffered a severe stroke while in hospital in the Bahamas. She was 75. Members of the public can visit the Cabinet Office on Hamilton's Front Street to sign the book between 9.30am and 4.40pm today until Wednesday, A Bermuda Government spokeswoman said: "The Government of Bermuda joins the community in extending sincerest condolences to the family and friends of Mrs Young."

The Drive for Change campaign spearheaded by The Royal Gazette is to dedicate this month to the menace of speeding. Statistics show that high speed is a major contributor to death and injury on island roads. A report published by surgeon and road safety campaigner Joseph Froncioni said in the past two decades the average speed has risen from about 45km/h to 55km/h. His 2015 Road Traffic Injuries in Bermuda: Truth Or Consequences added that the speed increase had resulted in a 67 per cent jump in road injuries and an 80 per cent jump in deaths. One of the campaign's main objectives is to have speed cameras installed across the island alongside other speed calming measures. Britain has introduced a range of measures to reduce speed and now has one of the lowest rates of road deaths in the European Union. Drive for Change has also called for tougher penalties for speeders, as fines are capped at $500 unless there is an additional charge of dangerous driving. The Royal Gazette today kicks off Speeding Awareness Month with an interview with Jason Minors, who was paralyzed after he broke his spine in a high-speed motorcycle crash. Mr Minors, who had been a keen runner and footballer, considered suicide as he looked over the balcony outside a hospital room in America. With the help of his family and faith, he pulled through and has since told his story to schoolchildren and written a book about his experiences. Bermuda's legal speed limit is 35km/h. David Burt, the Premier, said in an interview last month that speed cameras had not been budgeted for this year. He added: "It has to be balanced against all other priorities inside of our budget."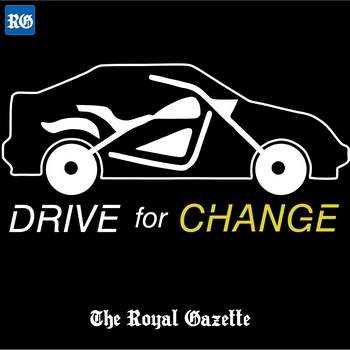 Pirouettes in Paris helped Leia Ratteray-Drover to land a prestigious summer ballet placement. The 12-year-old said: "I was really excited, because I didn't really expect it." Leia's performance of an excerpt from Sleeping Beauty caught the attention of some important people at the Youth America Grand Prix, which was held in France In November. It was the first time she had taken part in the competition. For her presentation, Leia was recognized with a scholarship to attend the Bolshoi Ballet Academy in New York City this summer. The six-week session runs from July 2 to August 10. Alex Ratteray, Leia's mom, said she was shocked by the scholarship offer. Ms Ratteray added: "I was crying I think. We didn't know that she would even be considered for something like that." Wil Drover, Leia's father, described the recognition as "overwhelming". He explained: "I'm just happy for Leia, because she's the one that puts in the most work. Getting the scholarship was a really big deal." The Right Reverend Ewen Ratteray, former Anglican Bishop of Bermuda, said that he was "immensely proud" of his granddaughter. He added: "It's an amazing achievement. I'm thrilled to bits really." Leia first began studying ballet in Bermuda ten years ago. Ms Ratteray said her daughter was "always in motion, always running around, always moving". She added: "Dance seemed like a natural thing for her to be put into." Leia studied at the Somerset School of Dancing in Pembroke before the family relocated to Essex some seven years ago. She said that today she often spends as much as ten hours a week practicing. While she might not yet be a teenager, Leia said that she has big plans for the role ballet would be playing in her future. She explained: "I want to get into a ballet company when I'm older. You have to be quite dedicated and determined." Her grandfather said he had "no doubt" Leia could attain her goal. "She's extremely determined and very committed, and what she has achieved so far speaks to that. I hope that I live long enough to see her professionally dancing somewhere in the world."

A fight broke out outside the Pembroke Hamilton Club in Hamilton last night after an evening of football celebrations. Large numbers of people were involved in the disturbance on Reid Street shortly before 11pm, according to onlookers. At least one person appeared to suffer injury. Police arrived afterwards and maintained a visible presence at the scene. Earlier yesterday, PHC won the Premier Division title by beating Young Men's Social Club 7-0 at Police Field. A Bermuda Police Service spokesman said today: "Police responded to a report of a disturbance outside of the PHC club on Reid Street at a few minutes before 11pm on Sunday. Upon police arrival to the scene, there was no active disturbance and individuals where in the process of leaving. This resulted in officers maintaining a highly visible presence at the scene, in the surrounding area and throughout the city." Policing are aware of footage circulating via social media of this incident and appealed for witnesses to contact them on 295-0011
April 1. Easter Sunday

History & daily newspaper reports

Authored, researched, compiled and website-managed by Keith A. Forbes.
Multi-national © 2020. All Rights Reserved