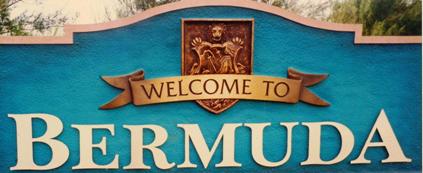 125+ web files in a constantly updated Gazetteer on Bermuda's accommodation, activities, airlines, apartments, areas, art, artists, attractions, airport, aviation pioneers, banks, banking, beaches, Bermuda Status and citizenship, books and publications, British Army, businesses, calypso, Canadian military, causeway, churches, city of Hamilton, commerce, community, cruise ships, culture, cuisine, customs, Devonshire Parish, disability accessibility, districts, Dockyard, economy, education and universities abroad, employers, employment, entertainment, environment, executorships and estates, fauna, ferries, flora, food, forts, gardens, geography, getting around, golf, government, guest houses, history, Hamilton Parish, homes and housing, hotels, internet access, islands, laws and legal system, local groups and organizations, location, media, motor vehicle options, music, municipalities, Paget Parish, parishes, parks, Pembroke Parish, politics, postage stamps, public holidays, public transport, railway trail, religions, Royal Navy, Sandy's Parish, St. David's, St. George's Parish, shopping, Smith's Parish, Somerset, Southampton Parish, Spanish Point, Spittal Pond, sports, stores, telecommunications, traditions, time zone, town of St. George, United States armed forces, tourism, vacation planning, villages, vital statistics, water sports, weather, Warwick Parish, wildlife, work permits, etc. For tourists, business visitors, employers, employees, newcomers, researchers, retirees, scholars.

Bermuda's Historic houses
Gracious Bermudian colonial homes, many centuries old

By Keith Archibald Forbes (see About Us) at e-mail exclusively for Bermuda Online
To refer by e-mail to this file use "bermuda-online.org/historichouses.htm" as your Subject
Introduction
The vast majority of Bermuda's historic houses are privately owned.

Understandably, all owners of these expensive properties are security-conscious and many do not want their houses and photographed from the outside.

Also, all private owners prohibit any photographs being taken inside, of their furniture, contents and treasures, even when their properties were featured periodically in a particular year of former Bermuda's Open Houses and Gardens program.
Some relevant books
Bermuda's Antique Furniture and Silver. Bryden Bordley Hyde. 1971. 198 pages, illustrated.
Bermuda's Architectural Heritage: Devonshire. Andrew Trimingham. 1995. Bermuda National Trust. First in a series of illustrated parish by parish reviews of Bermuda's architecture. Reprinted 2004.
Bermuda's Architectural Heritage: Hamilton Parish. Diana Chudleigh. About the Bermuda Parish by this name. 2002, Bermuda National Trust. 4th in its historic buildings book series. 230 pages. Illustrated with B&W photographs. $29.95
Bermuda's Architectural Heritage: Sandys. 1999. Bermuda National Trust. Third in the series.
Bermuda's Architectural Heritage: St. George's. Michael Jarvis, edited by David L. White. Photos by Robin Judah and sidebars by Trimingham, Andrew. November, 1997. Bermuda National Trust. Second in the series.
Hamilton, Bermuda: City and Capital 1897-1997. Benbow, Colin and the late Marian Robb. 1997.
The Traditional Building Guide: Advice for Preserving Bermuda's Architectural Heritage. 2003. Anthony Short and Sylvia Shorto, with drawings by Anthony Short. A joint production of the Bermuda National Trust.
Please note that for security reasons in the privately-owned properties shown below, there is deliberately no specific mention of content. Most owners will be fully justified in refusing to allow any third parties to film interiors under any circumstances.
As at February 7, 2003 there are 788 heritage properties listed by, partly by the Bermuda National Trust - which works closely with the Colonial Williamsburg Foundation as Bermuda shares a rich architectural and cultural heritage and other close links with Colonial Virginia - and the Bermuda Government, including 66 owned by the Bermuda Government.
They come in the following categories:
Architectural interest

Historical interest

Age

Rarity
Symbols
| | | | |
| --- | --- | --- | --- |
| - business center | - business facilities | - Ship view | - dining |
| - disabled access | - fitness | - golf course | - meeting room |
| - pool | - public buses | - public ferries | - shopping |
| - walking area | | | |
Ardsheal
House, cottage. A classic and historic Bermudian home, original part of which was built in 1700, 5-10 minutes (depending on traffic) from the centre of the City of Hamilton, with wood floors, fireplaces, tray ceilings and old fashioned verandahs that overlook both the South Shore and Hamilton Harbour. The main floor of the house consists of double living rooms with fireplaces, formal dining room, large modern kitchen with breakfast area, three bedrooms, and an exquisite master suite (including dressing room and home office). The lower floor has a separate apartment suite, a media room, billiards room, study, three further bedrooms, a bathroom, a wine cellar, a gym and a large laundry. Has been updated with alarm system, modern communications system and air conditioning. In September 2011, listed for sale, asking price $ million for house and its 6 acres. ARV of $276,000.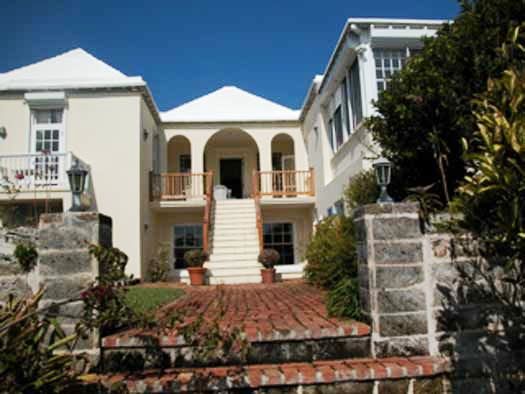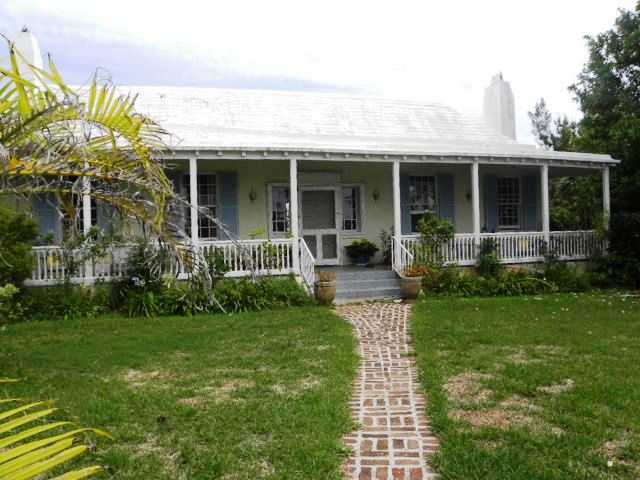 Aunt Nea's

A property in the historic Town of St. George, a World Heritage site.

12-bedrooms, currently an historic inn, dates back to the 1700s, prized for its early Bermuda architecture and its link to a volume of romantic verse penned by Thomas Moore, the noted Irish poet once in Bermuda for some months, in his Odes to Nea. The poet stayed at the inn for a short while in 1804 and fell in love with Hester Louisa Tucker, a young woman who lived next door. The love was unrequited. Miss Tucker married a cousin, William Tucker and Mr. Moore put his feelings for her on paper. Owned by the Wright Robinson family since 1916, most recently by descendants Delaey Robinson and his wife, Andrea Dismont. They now live in England. The property first opened as a bed and breakfast in 1961 under the name Hillcrest Guest House. Further acclaim came in recent years in light of the inn's historic features including four-poster, canopy or sleigh beds and tray ceilings with exposed cedar beams. In 2003, the property was one of a handful on the island considered for restoration as part of the PBS series This Old House.
Banana Manor
4 Blockade Alley, Town of St. George. Originally called Lough House. Name was changed in the 20th century. Won the 2003 Bermuda In Bloom best Garden in this Parish Award. A privately-owned, not open to the general public, historic house in the Town of St. George built by one of the town's most prominent 18th-century citizens. He was the Honorable Dr. George Forbes, originally from Strathdon, Aberdeenshire, west of Aberdeen, in Scotland. Born there in 1710 he was a graduate in 1734 of the University of Aberdeen, specializing in "phisick and surgery." He emigrated to Bermuda shortly after his graduation, as a medical doctor. He brought with him recommendations from his relatives Lord Forbes, the Duchess of Gordon and his kinsman, Lord Gordon, Sir Arthur Forbes and Sir Duncan Forbes. In Bermuda, he fell in love with and married Mary Jones, daughter of Francis Jones, a prominent local merchant, councilor, militia general and frequently Bermuda's President (leading legislator, president of the legislative counsel). He became renowned throughout Bermuda for his decency and humanity. He pioneered smallpox inoculation in Bermuda and saved many lives. He was the personal doctor of Governor William Popple and became a councilor, vestryman, Justice of the Peace in 1763, briefly Chief Justice in 1749 and, like his father-in-law, President of the Council, member of the Executive Council of the Bermuda Government. In 1759 he was made the Honorable George Forbes. He purchased Paget Island - then called Paget Ford Island and 36.35 acres - in St. George's Parish for sixty pounds sterling. There is a large tomb in his honor on the left, shortly after you enter the ancient church of St. Peter's in the old town of St. George. His first child was Francis - born at Brackish Pond, Devonshire, Bermuda. Others, including James, William and Thomas, were born in the old town above. Two sons, Francis and Robert, were sent to medical school in Edinburgh and two others, William and Thomas, left Bermuda and became merchants in St. Kitt's, West Indies. James did not succeed as a merchant in Georgetown, now Guyana, and Charlestown, South Carolina, and returned to Bermuda. Dr. Francis Forbes married Mary Tucker of Bermuda and had a son, also Francis, later Chief Justice in Canada, was knighted and as Sir Francis Forbes was transferred by the British Government to Australia as Chief Justice of New South Wales, lived in Sydney and died there. His descendants today include Forbes family members of Sydney, Bermuda, Scotland, England, South Africa and Forbes wineries in Victoria, Australia. Some time later, the house passed to a member of the Lough family which descended from the Forbes family of Bermuda. During the American Civil War it was leased by the Confederate military agent in Bermuda, Major Norman Stuart Walker, and his family. Lough House was where a son of Major and Mrs Walker was born on June 15, 1863, and at the special request of Mrs. Walker, a Confederate flag was ceremoniously draped over her lying-in bed. It then had various owners including F. C. Outerbridge and at one point was subdivided. Now owned by a member of the Hayward family originally from St. David's.
Belair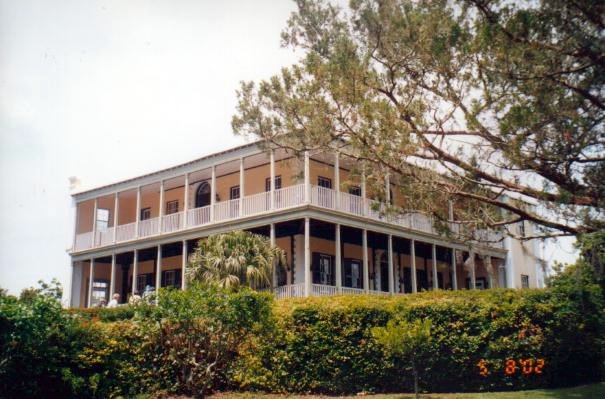 Private property, not open to the public. Photograph by Keith A. Forbes, exclusively for Bermuda Online.
11 Cobbs Hill Road, Paget Parish. Occupied by Mr. and Mrs. Jed E. Rhoads (courtesy of Mr and Mrs. John Williams). One of several substantial houses built on the hills of Paget in the late 18th and early 19th centuries. A curving drive leads up to the house, imposing in its size a symmetry and surrounded by almost three acres of land. The wide two-storey verandahs are reminiscent of West Indian plantation houses which Francis Albuoy, who built Belair, encountered on his travels south through the islands to Demerara in British Guiana (now Guyana) in South America where he had a trading business in the early 1800s. The front door, beneath an elegant fanlight, is surrounded by stone quoining. Across the threshold, circles of thick glass are embedded in the floor allowing light into the quarters below where slaves once lived. Beyond the house are the old stables and a guest cottage.
Bloomfield

Callan Glen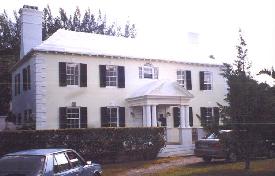 194 North Shore Road, Bermuda area postal code CR 04. (Photo by this author). It was built by Claude William McCallan and named as such partly because he was a "son of" Callan as the Scots name indicates. He was born on September 4, 1765, in Ayr, Scotland, the son of William and Jean McCallan. At the age of 21, by then having been trained as a young ship designer, he was shipwrecked on Bermuda's north reefs in 1786 and rescued with his shipbuilding tools by a local fisherman, Daniel Seon. McCallan never left Bermuda. Instead he selected a local bride, Lucy Burrows Mercer, and erected this home, of Georgian design, in 1799 to 1800 (a front porch was added in the 20th century). McCallan's ability to draw plans for a ship on paper and his aptitude for design allowed him to prosper in the colony. Before his arrival, Bermudians used small-scale models, carefully carved from cedar, as guides for building their vessels. He began a whole dynasty in Bermuda. This Callan Glen property once owned a great deal of land east, south and west of it, including what are now the since long-sold nearby streets called Callan Glen Drive and Callan Glen Rise, both of which took their name from the house. A son was Claude Thompson McCallan who also once owned an old Bermuda home called Edgewater in the west of the old town of St. George, facing St. George's Harbor. He also owned and operated McCallan's Wharf, a little west of Penno's Wharf, nearby. He enlarged and operated the wharf as a ship watering and victualling business during the American Civil War. He was one of the main suppliers of essential ships chandlers and related services to Clyde-built and other British ships from Liverpool, England to Confederate ports via Bermuda during the 1860-64 blockade running heyday. Callan Glen remained in the McCallan family for 110 years, until about 1910. The McCallans of Bermuda include an author who first came to local fame in the 1950s. Since then, it has had various owners. They include a 1949-1955 Governor of Bermuda, Lieutenant General Sir Alexander Hood, after his Governorship, then Geraldine Rose Crockwell Crockwell-Sequeros in 1976, then Mr. and Mrs. Robert Dwinnell, others subsequently.
Cambridge House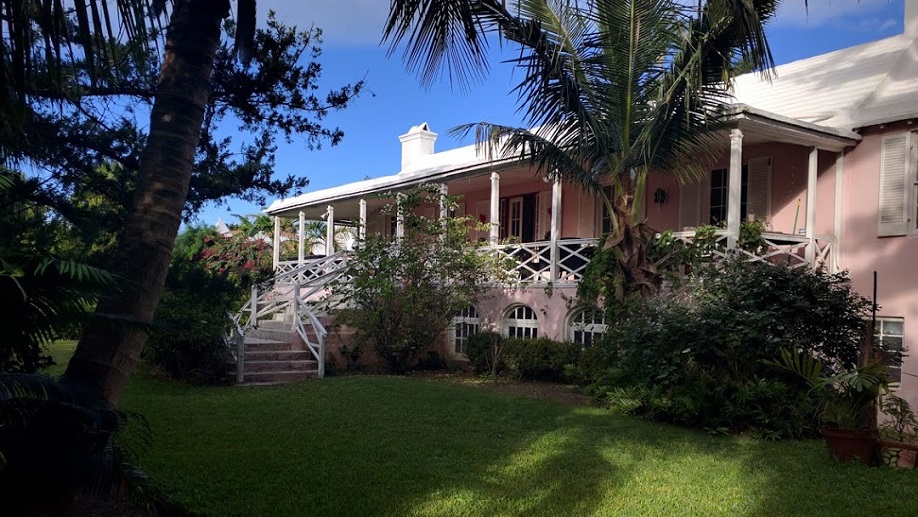 8 Cambridge Road, Sandys Parish MA 02. Historic Bermuda house dating back to the late 1780s. Near Cambridge Beaches Hotel. For rent in whole or in part in 2012 as a corporate retreat. Nestled into a large estate with access to the tranquil warm waters of the bay at Cambridge Beach, is this stunning 7 bedroom, 5 1/2 bathroom house. Comfortably decorated and renovated with all the modern conveniences, the gracious old Bermuda home provides a wonderful venue for a family reunion, or a getaway for friends who want to enjoy a tropical setting with secret paths down to the beach, hammocks and quiet flower filled gardens. Cambridge Beach is a 2 minute walk from the main house using a path that travels under trellises of Bermudian flowers and lovely cultivated gardens. Each bedroom has a double or larger bed, and bathrooms are newly updated. The kitchen offers an oversized 6 burner stove and oven, large BBQ, large fridge, and all the kitchen equipment for a gourmet meal. Dine on the large teak table in the back garden, or set the table for 12 or more on the front verandah and enjoy a candle lit evening with family and friends. The entrance, living room and dining room all have antique cedar beam floors hearkening back to the days when the house was the original Cambridge Hotel. (Nearby is the more recently built Bermuda cottage colony known as Cambridge Beaches). The long and cozy west end of the veranda offers a welcome respite from the sun and the perfect place to catch the cool breezes.
Camden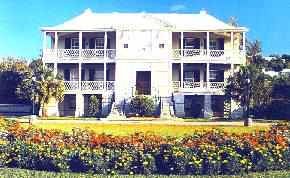 Bermuda Botanical Gardens, Paget Parish. Not for the disabled in a wheelchair or who have difficulty walking. Owned by the Bermuda Government. Public property, open 365 days a year. Free for 362 days (except during the Agricultural Exhibition every April). In the grounds of the Bermuda Botanical Gardens. Chiefly of interest for its house, front garden and vegetable garden behind it. With a panoramic view of the South Shore, it stands on grounds open to the public during daylight hours. The house itself is open to the public on Tuesdays and Fridays from 12 noon to 2 pm. Admission is free. An historic house in typical Bermudian architecture, the official residence of the Premier of Bermuda, although not lived in by her (the Bermuda Government pays for her to live elsewhere). It was first built in the early 1700's. Francis Jones, eldest son of Colonel Thomas Jones of Paget Parish, purchased it and lived there until his death on September 12, 1796 from yellow fever. William Durham acquired it in 1810, but sold it to the Hon. Henry James Tucker in 1823.
He was Mayor of the City of Hamilton from 1851 to 1870. He began to produce arrowroot on a large scale in a factory at the back of the house. He initiated the appearance the property has today. The verandah, porch and bow windows in the dining room and drawing room were probably by his son Thomas Fowle Jauncey Tucker, a bachelor who became well known. He continued the mercantile business and arrowroot factory. The Tucker Arrowroot Trade Mark was a guarantee of genuineness in Great Britain and the USA. Thomas Tucker died at Camden on January 24, 1892, without a will.
The property passed to Boswell Tucker in London, England. In October, 1894, Camden and 23 acres of land were sold to Alexander Ewing Tucker for 3,500 pounds sterling, at the same time he purchased the land on the other side of the South Road for l,100 pounds sterling. He, his wife Violet and his two sisters Mary and Kate, were the last Tuckers at Camden. Alexander died on August 10, 1934. Violet continued to reside there until her death in 1965. The property then passed to Alexander's cousins, Sir Henry Tucker and his brother Noel Tucker. They sold it to the Bermuda Government as an extension to the Botanical Gardens.
The present interior decor was undertaken by Lady Gibbons, wife of former Premier the Hon. Sir David Gibbons, and Mr. Colin Cooke, then Chairman of the Properties Committee of the Bermuda National Trust. Their aim to achieve an air of "casual elegance" was realized. In the front hall are the cedar staircase, a freehand blown glass hall light and Bermuda cedar chest with cabriole legs (circa 1750), one of the many items on permanent loan from the Bermuda National Trust. The carved cedar paneling in the dining room and the entrance hall, and the furniture in the dining room, were by the cabinet maker Jackson during the mid 1800's. They took about 30 years to complete. The door and window surrounds and ceiling molding are trimmed with a motif known technically as quarter sawn "egg and thread" turnings. The design is repeated in the dining room chairs and the large 3 tiered side table.
The panels of "bird's eye" cedar, prized for its interesting grain, and the "mirror image" paneling of the doors, are also noteworthy. The dining room also shows the work of four modern Bermudian craftsmen. George Trott made the table. Edward Cross turned twenty four cedar serving plates. Fred Phillips reproduced four additional chairs. Bob Patterson did the "egg and thread" design on the elegant cedar trolley. The William and Mary cushion molded mirror (circa 1680) over the fireplace reflects the central brass chandelier which, with the wall sconces, provides the only source of light for formal candlelit dinners hosted by the Premier.
Bermuda plates depict endemic flowers, part of a limited edition series produced for the local firm of A. S. Cooper and Sons Ltd. by Coalport. At the top of the stairs hang portraits of five former Premiers of Bermuda. The Honorable Sir Henry Tucker and Honorable Sir John Sharpe were painted by Anthony Harper, the Honorable Sir Edward Richards and Honorable Sir David Gibbons by prominent British, Bermuda based, artist Sam Morse-Brown and the Honorable Sir John Swan by R. Samimi. There is a carved walnut Italian Renaissance chest (circa 1650) on the landing. The drawing room is lit by a great Waterford crystal chandelier. The inlaid Sheraton console table (circa 1790) is a fine piece and the cedar chest (circa 1750) is unusual for its small size and lower drawer.
The fireplace is in the Adam style with fluting reflecting the molding of the columns at either end of the drawing room. A large gilt Regency mirror hangs over the mantelpiece. It is a handsome example of Regency detail. Lady Gibbons stitched the needlepoint cushions which repeat the poppy design of the curtains. The walls are decorated with water colors of old Bermuda by Augusta Russell (circa 1810), part of the collection of the late Hon. Bernard T. Gosling, on loan from the Bermuda National Trust.
Beyond the drawing room is the study, fitted on one wall with cedar bookshelves. Immediately opposite the drawing room is the gallery, hung with paintings provided by the Bermuda Society of Arts. The rosewood pedestal table of the Regency period bears a large silver epergne, donated in 1864 by a grateful legislature to Alexander Ewing, a long term Speaker of the Bermuda House of Assembly. The highly ornate epergne, based on a grape and grape leaf design, was wrought in London by A. B. Savory and Sons.
Also see, at the historic Camden house, the mahogany Hepplewhite secretaire/bookcase (circa 1780) with a complete set of Herend hand painted porcelain plates depicting Bermuda flowers, on loan from the Bermuda National Trust. Around the gallery are occasional chairs of the Victorian period (circa 1860). It is in these two rooms that official receptions are held. Beyond the gallery is the ladies' powder or withdrawing room, decorated with water color paintings by local artist Gay Corran. The silk flower arrangements are by Mrs. Maureen Bartley.
Clifton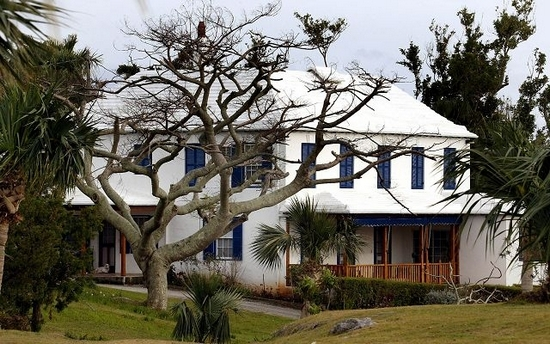 Off Middle Road, Devonshire Parish, just east of Corkscrew Hill. Built in the 1800s, over 200 years old, a traditional Bermuda home, a sprawling architectural gem in three acres of land, owned by Government Estates of the Bermuda Government. In 2006 the Bermuda Government-provided home of Bermuda's then-Premier, Alex Scott. In 2005, the Government spent more than $1.5 million in renovating it, including furnishings, a sophisticated security system and a telecommunications link to the Government communications network. Earlier, Chief Justices and senior civil servants resided there. After Ewart Brown became Premier in late 2006, and decided not to move in, the sumptuous 5 bedroom property (three in the main house, two others in an adjoining apartment next to the kitchen) became empty. It also has a dining room, study and office. It was put on the market for rent in July 2007, initially for $25,000-30,000 a month, then $15,000-20,000 per month. However, it became for a while the residence of Bermuda's Deputy Governor. In May 2011 it was announced that Premier Paula Cox would make it her residence. Deputy Governor David Arkley was asked to move out (to his official residence of Montpelier not far away, earlier the home of Colonial Secretaries who were in effect Deputy Governors. Mr Arkley has been Deputy Governor since October 2009. Mr Arkley's wife Melissa, 42, was found dead at Clifton in January 2011 and her sudden death was "one factor" for his willingness to move. He was previously reported as saying the pair had many "good memories" including watching the sun set from the veranda at Clifton. The house has impressive views overlooking Hamilton Harbour. It has a large kitchen and dining room suitable for entertaining, a spacious living room and a veranda with water views. It is also in a sought-after location, just minutes away from Hamilton. Premier Paula Cox has since moved in and the house has become the official residence of the Premier.

Clifton Heights
164 North Shore Road, Hamilton Parish. Owned by Mrs. Francis J. Mulderig. A graceful, mid-nineteenth century house likely built by Englesbe Seon who represented Hamilton Parish in the House of Assembly. The craftsmanship of early Bermudians, visible in the delicate woodwork, is matched by the artistry of the present owner who has created rooms of beautiful composition and colour. The present owner has established a garden of old Bermuda roses. A pathway by the rose garden leads to the pool.
Between 1911 and 1922, Frances Hodgson Burnett spent winters with her sister at Clifton Heights. Born in England on November 24, 1849 and died on October 29, 1924 in the USA, this American naturalized author won international renown in 1886 for her book "Little Lord Fauntleroy" before she emigrated to the USA. In 1911, her "The Secret Garden" was published and also became a global best seller. It has often been claimed, wrongly, that she wrote this book based on a garden she kept in Bailey's Bay, Hamilton Parish, Bermuda. Actually, it was a garden in England - to be specific, the walled garden at Great Maytham Hall at Rolvenden, Cranbrook, Kent - where she wrote it, with its 18 acres of parkland nearby with bluebells, daffodils and flowering trees.
Some time after the book published, she visited Bermuda for the first time - and stayed. After a brief sojourn at the Princess Hotel, she rented the house "Clifton Heights" then owned by the Outerbridge family. Burnett settled in Bermuda to get away from the chronic claustrophobia of an adoring public in the USA and the winter weather of her Long Island New York home. At "Clifton Heights," she indulged in her passion for growing roses, first gained from her earlier live in Britain. She once wrote to her friends about her 762 roses: "They will bloom when New York is 70 degrees below zero and London is black with fog and slopped with mud and rain." They did. She and her sister devoted time to landscaping the three-and-one-half acre property She loved Bermuda so much she continued to reside here until her death in 1924 at the age of 75. She was buried at Roslyn Cemetery, Roslyn, New York, USA.
Fleetwood Manor
39 Harbour Road. Ideally located, situated on land stretching from Harbour Road to the waters of Turtle Cove. Originally a 1790s Georgian house, one room in depth with two rooms above. It may once have been the home of a Bermudian shipper or captain, in the 1850s. In 1910, the original house was extended on the south by a two-storey, gable-roofed wing and verandah. An American family, who bought the house in the 1920s, enclosed an end section of the verandah and later added a shed-roofed kitchen. For the past quarter of a century, the present owners, the Darlings, have blended the structures into a house full of character, charm and comfort and established gardens of great beauty. In 1981, with cedar beams salvaged by the owner from a derelict building, the shed roof of the kitchen was replaced by a traditional, open beamed ceiling beneath a pitched roof. In 1983 the owners built a glorious summerhouse using 18th century construction methods. At the same time, the grass lawn that sloped to the sea was made level. It is enclosed within sheltering limestone walls. Antique bricks traverse the walled garden to an arched gateway and the vegetable garden is planted in a quarry, protected from the northwest wind. In many other respects the house and gardens are noteworthy and quoteworthy.
Harbour View
A property in the historic Town of St. George, a World Heritage site. A (circa) 1805 two-storey Georgian-style home. On a hill overlooking picturesque St. George's Harbour. The simple but elegant structure sits in a charming historic neighbourhood divided by narrow cobblestone streets. There is also a small outbuilding. A recent renovation project saw the downstairs main staircase relocated, and an old galley kitchen torn out with the area expanded into a living room. A former storage area was reborn as a great room with a state-of-the-art kitchen. The new living room extends as far as the former outbuilding, and is now part of the home as a guest wing. Upstairs, the master suite was completely renovated and a new bathroom added between two smaller bedrooms for the children to share. Overall, the house has been made as hurricane-resistant as possible. In 2003, the property was publicized for restoration in the PBS series This Old House.
Heron's Nest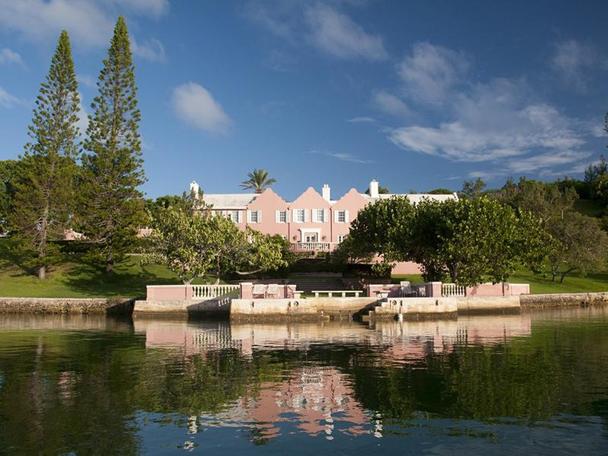 Heron's Nest
Riddell's Bay, Warwick Parish. A rare historic 9 acre waterfront property estate complete with its own Haggis Island. Once owned by the trust of a General Motors heir. The estate, which dates back to 1803, has been in the family since 1936, when Elsa Mott Mitchell bought it. The property, which has its own private island, has been subdivided. The plan since 2011 has been to sell the main house and cottage and then seven lots that will each have deepwater dock access. The historic two-storey, six-bedroom main home and two-bedroom cottage on about five acres with private Haggis Island was listed in 2011 at $5.9 million. Heron's Nest was originally listed at $12 million. The estate enjoys over 450' of prime boating waterfront on the protected waters of Riddells Bay complete with a large concrete deep-water dock, 2 boat moorings, and a 2 bedroom Cottage. The 2 storey Main house, is approximately 5,780 sq ft, of original design by famous architect Wil Onions, consisting of 6 bedrooms with most situated to offer breathtaking views of The Great Sound and Riddells Bay, finished with luxurious Bermuda Cedar accents. The spacious Guest cottage enjoys privacy from the Main house fabulous water views and has been recently renovated and includes a garage and laundry room. The well-appointed grounds are lush with many types of trees such as Grape Bay, Pittosporum, Oleander, ageless Cedars as well as Frangipani. There is a proper Croquet lawn with fish ponds.
Humdinger
Long Lane, Tucker's Town. On the Ordnance Survey Map, prepared in 1898 and 1899 by British Lt. A. J. Savage, this property was once a modest cottage named Mariposa. At that time, Tucker's Town was a small, scattered community of fishermen, boat builders and farmers. In the financial boom after World War I, Furness, Withy and Co. agreed to build luxury steamships for Bermuda in return for the right to buy swathes of land in Tucker's Town where the company would develop the Mid Ocean Club and golf course on property requisitioned from the owners. Overseeing the work force, the superintendent lived in Mariposa where he viewed the transformation of the land into green and grassy fairways where once thick cedar, fiddlewood, palmetto and sage, overgrown with jasmine, covered the hills. In the front hallway, a graceful staircase with cherry treads and an open spandrel was designed to replace an earlier one and was built by a Bermuda craftsman without the assistance of a plan on paper. Delicate watercolour botanicals attributed to Lady Ramsbottom, wife of a former Bermuda Governor, line the stair carriage. The hallway contains a lovely Irish pine chiffonier, dating from the 1860s. The floors are cherry. A view of the lovely garden is framed by the Spanish cypress woodwork of the verandah. The gardens boast mahogany, poinciana, fig, guava, banana and olive trees as well as many species of tropical palms. Spacious rooms beneath high ceilings contain handsome oak furniture, hand-carved in Toronto in the late 1920s. The collection of art includes paintings by Bermuda's first modernist painter, Alfred Birdsey, and 20th century Canadian artist and family friend, Hilton Hassell.
Marechaux Cottage
3 Salt Kettle Road. The earliest part of the house, built between 1845 and 1860, is the beautifully proportioned living room with its old growth, long-leafed yellow pine floors, a great hearth and cedar surround. In the 1930s, renovations were completed and again in the 1980s. The present owners, who valued the 19th century origins, made sympathetic alterations, adding bedrooms and wide brick terraces, excavating to create a basement and garage, and transforming the old kitchen into a spacious family room with views over the rooftops of Salt Kettle to the Harbour. The exterior lines of the house are defined by new pilasters, painted white, in contrast to grey stone-washed walls; windows are now framed in cedar. Furnished with many antiques inherited or found at auctions. Old Bermuda maps and historic etchings, paintings and watercolors.
Mayflower
Private property, not usually open to the public.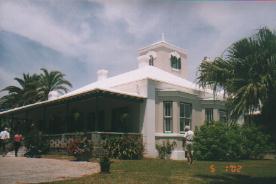 15 Middle Road, Devonshire Parish. Owned by Mr. and Mrs. William Cox. Completed in 1893 by William J. Cox, it is an outstanding Victorian interpretation of a traditional Bermuda house. Characteristic of the era are high ceilings, wide verandahs, three-storey tower and widow's walk. The handsome doors, windows and floors are Bermuda cedar or imported solid pitch pine which was more highly valued than cedar at the time because of its scarcity. At the end of a long drive through spacious grounds, Mayflower looks out on a pool and to the South Shore beyond. . A charming historic Bermuda house which in May 2009 hosted the Garden Club of Bermuda's gala party in the grounds as part of its celebration of Bermuda's 400th anniversary. The event, appropriately entitled 'Mayflower in Bloom', allowed allow residents and visitors to enjoy the fine collection of furniture and paintings in the home, as well as the many beautiful floral displays created especially for the occasion by skilled Garden Club members. The gracious residence is the home of William (Bill) and Rosanna Cox, and was built in the late 19th century by William Cox, an ancestor of the present owner. It was also the home of Freer Cox, a founding member and the first president of the Garden Club of Bermuda. Among its furnishings are several items made by the present owner from Bermuda cedar cut from the property, as well as paintings by Mrs. Cox's son, well-known artist Henry Ward. A special feature of the house is the three-storey tower which includes a widow's walk so-called because this is where a wife would wait, often in vain, for her husband to return from the sea. Saturday's visitors will be invited to climb up and see both the North and South Shores. 'Mayflower' sits in ten acres of grounds which were the scene of a host of garden-related activities. The several garden areas include a nice grouping at the front of the property and more flowers and plants by the pool with a view of the South Shore.
May 2002 photo by the author exclusively for Bermuda Online
Ming House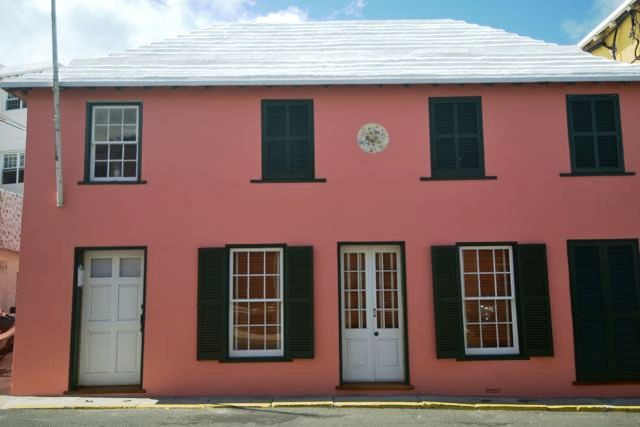 29 York Street, St. George's. Listed as for sale in May 2013 for $600,000 and earlier so-listed in July 2012 for $775,000 to Bermudians only. Built circa 1715 in Bermuda stone. Small house, 1,500 square feet, tray ceilings, 1 water tank, wood floors. Originally granted by Governor Bennett to John Ford in 1798, the property (at one time known as the "Queen Anne Shop") came into the ownership of the Ming family in 1765 and generations of Mings lived there until the late nineteenth or early twentieth century. The home is currently configured as a two storey, two bedrooms, one bathroom cottage with a reception room on each level and a large eat-in kitchen on the ground floor, comprising two apartments. ARV's are $26,400 and $9,600 respectively. There is also a private back garden that offers a peaceful retreat from the bustle of town life. The property has retained historic charm and character despite been extensively renovated in recent times. The cedar beams have been stripped and refinished, and, where possible, the original flooring has been preserved. The renovated kitchen still retains the original brick oven that was once used for commercial baking. The kitchen, despite the brick oven, is modern with stainless appliances and crisp white cabinets. Essential infrastructure (plumbing and wiring) have been upgraded including in the modern bathroom.
Montpelier
Middle Road, Devonshire. The historic property was built prior to 1750 and was once owned by the Peniston family. From the mid 19th century, like most of the Parish at the time, it was once - but no longer - part of British Army lands, purchased for that purpose in 1868, specifically to serve as the residence of the British Army's commanding officer in Bermuda. Montpelier Road, the street to the west of the property that led to the British Army headquarters at Prospect Garrison, was named after the house. Today, it is owned by the Bermuda Government and now lived in by the Deputy Governor and family, after extensive renovations, as was long the case until the 1970s and earlier. Up to the 1970s, the Deputy Governor was referred to as the Colonial Secretary.
Mount Hope
13 Mount Hope, Smiths. Former rectory for St. Mark's Church, looks out over the church spire to a verdant hillside and the sea. Originally a single storey house with a hipped roof and enclosed yard, built in 1847 by John W.R. Pearman, a shipbuilder and a farmer who later became a Member of Parliament for Smith's Parish. His son, Jeremiah Scott Pearman, upon inheriting the house, made substantial changes, excavating to create two storeys at the front and adding a fashionable, T-shaped verandah, supported by cast iron columns; its design is credited to Edward Peniston, his brother-in-law. Interior woodworks are in the Charles Eastlake style, popular at the time. Eastlake, an Englishman who wrote Hints on Household Taste in Furniture, Upholstery, and Other Details, advocated low relief carvings and flat surfaces easy to keep clean, the use of rugged woods like oak and the abandonment of applied decoration. The double doors with miniature panels in the entry hallway are an example of Eastlake style. The stairway, despite its modest size, has a tapered and turned column carved with a barley sugar twist and rosettes, repeated in the balustrades.
Mount Pleasant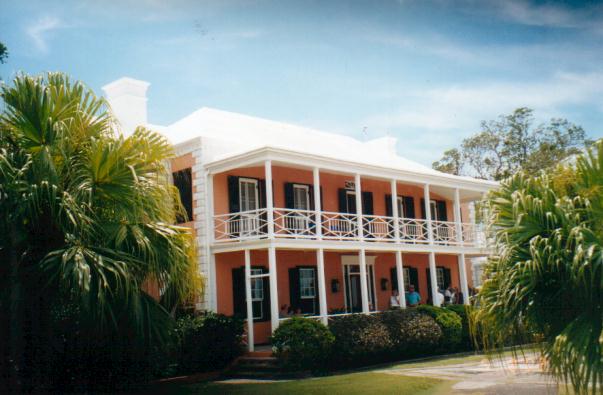 Private property, not open to the public.
Photograph by Keith A. Forbes, exclusively for Bermuda Online.
8 Middle Road, Paget Parish. Owned by Mrs. Robert B. Chappell, Jr. One of Bermuda's most distinguished houses both in character and setting. In the late 1 700s, the Honorable John Harvey, Chief Justice of Bermuda, located his courtroom in a small outbuilding now connected to the house. The main house was built by his nephew between 1800 and 1820. Mount Pleasant has two-storey verandahs and lovely architectural detail with elaborate quoining and dentil moulding. Original interior woodwork includes a handsome cedar staircase in the entrance hall and Adam-style cornices and door frames in the small drawing room. The paneling in the dining room is pickled cedar Notable are the collection of antique Bermuda maps, lining the stair wall, and many fine pieces of furniture and silver which show the artistry of Bermuda's 18th and early 1 9th century craftsmen. Unusual and beautiful trees grow on the property. The grand white cedar (Tabebuia pallida) was planted in the mid-1800s. At the far end of the splendid gardens, impeccably cared for by the owner, is a cloistered quarry garden.
Mount Wyndham
Hamilton Parish, on one of Bermuda's highest hills. Since approximately 1792. An historic building of exceptional architectural and cultural heritage significance. Built by Algate possibly through his marriage to Ruth Somersall in 1782, as a splendid house, the main facade and front door of which faced westward towards and with sea views of the Dockyard, but overlooked Castle Harbour. It was ideally placed strategically. In 1808 it was purchased by Stephen Outerbridge. He leased the property for six years from December 12 1812 to the Royal Navy, when war again broke out between Britain and the USA, as a suitable residence for the Admiral on the River St. Lawrence and Coast of America and North American and West Indies Station (later, the North America Station). The first occupant was Vice Admiral Sir John Borlase Warren, Bt, KB, followed by Vice Admiral the Hon. Sir Alexander Cochrane, GCB (much involved in the sack of Washington during the War of 1812 and thereafter, being dissuaded from attacking Rhode Island, bombarded Fort McHenry at Baltimore instead). It was from this house that the final plan to sack the American capital and burn the White House was decided and duly occurred in late August 1814, made possible by the attacking fleet of the Royal Navy then assembled in and which sailed from Bermuda. The War ended almost two years to the day of the taking of the lease for Mount Wyndham, the peace being formulated by the Treaty of Ghent on Christmas Eve, 1814. Rear Admiral Sir David Milne, KCB, followed Cochrane at Mount Wyndham, which also served as one of the main signal stations between Fort George in St. George's and the new Dockyard in the far west of Bermuda at Ireland Island, then only a few years old. Possibly the last senior naval officer to visit or reside at Mount Wyndham was Rear Admiral Sir Edward Griffiths (later Griffiths Colpoys), who later died at Bermuda on a voyage to England and was here buried in October 1832, his being one of the largest monuments in the Royal Naval Cemetery. His sister, Martha Griffiths, married one Thomas Abbott in 1798 and her great great grandson, Admiral Sir Peter Abbot, GBE, KCB, served in Bermuda in the mid-1970s. Later owned by William Milner Cox.
Ocean House
North Shore, Pembroke. Traditional Bermuda home acquired and restored recently after many years of neglect. With welcoming arms, eyebrows, cedar work and former slave quarters under the house. Owned and lived in by Colin and Julia Washington and their four children. A Grade III listed building.
Old Walls
41 St. Mary's Road, an early 18th century farmhouse, built in 1709, owned by Mr. and Mrs Ian Davidson, extended to the east in the 1820s, with its extensive garden.
Orange Valley
Private property, not usually open to the public except on special occasions. Corner of Parsons Lane and Orange Valley Road, Devonshire Parish. Owned by Mrs. Michael Cox and Mr. John Cox ( whose many credits include chairmanship of the venerable Bermuda Historical Society). Set in 15 acres of glorious woodland gardens and citrus orchards, it was built in 1801/1802 by Bermudian sea captain William Cox, in an estate he owned since 1796. After his death in 1842, the house has been owned by William Cox (1807-1867); Henry James Cox (1858-1948); John William Cox (Sir John), 1900-1990; Michael John Cox (1931-1989) and currently John William Cox (born 1955). Six generations of the Cox family have occupied the house and the family's heritage has been carefully preserved by each, in a delightful old-fashioned style that has preserved all the original charm of the house. The house is furnished with handsome antique cedar and mahogany pieces and a lovely collection of Sevres porcelain - a specialty of present owner, historian and author John Cox (a book he co-authored is "Bermuda's Favorite Haunts, Volumes 1, 1991 and 2 (subtitled "Picking Up The Threads") 1996. Ghostly stories). The house is reputed to have ghosts. There are fine marine paintings, English landscapes and family portraits. The well-tended grounds and interesting garden areas boast a croquet lawn and some of the oldest and most beautiful trees in Bermuda, including guava, palmetto, black ebony, mahogany, royal poinciana, Indian rubber and silk cotton.
Oxford
On Bluck's Point, a long, narrow peninsula curving into the Great Sound south of Spanish Point. It was originally Oxford Point, after a gracious old Bermuda home, Oxford, still there, was once owned by 17th century Bermudian merchant, Thomas Oxford. When the house was acquired by John Bluck, the point was re-named. In 1856, men of the 3rd Company of the 56th bivouacked at the Oxford home of Mr. Bluck, in hope of escaping the disease, at the order of Bermudian physician Dr. Harvey. They were lucky enough to escape the disease-carrying mosquito.
Palmetto House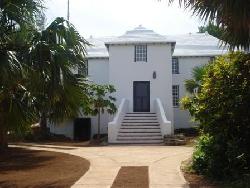 On the North Shore Road. This lovely, 300 year old house, an architectural gem, has been restored at a cost of over Bd$1 million to its 18th century splendor by the Bermuda National Trust as a good example of Bermudian architecture that had its origins in Britain. Its architecture has the cruciform structure and grand "welcoming arms" staircase. During World War II, it served as a clubhouse for British troops stationed at nearby Fort Prospect. Palmetto House is owned by the Bermuda National Trust and for over 40 years was leased out as a private residence by Wing Commander Mo Ware and his wife Sylvia Ware. He was former Director of Civil Aviation. Until cleared away the property also "housed" the remains of Ware's old Luscombe airplane (see Bermuda Aviation). It is open to the general public on a limited basis. The last member of the family to own the property was Benjamin Williams, an overseer of the roads, church warden, choirmaster and organist at Devonshire Church. The house was built around 1700 by Captain William Williams who settled in Bermuda in 1634. The last member of the family to own the property was Benjamin Williams, an overseer of the roads, church warden, choirmaster and organist at Devonshire Church. It was acquired from the family by the British Army in 1868, appropriated by the War Department for inclusion in the Prospect Garrison and in 1868 was taken for single officers' quarters. It later became the club house for the Garrison Golf Course but deteriorated over the following decades. In 1948 Historical Monuments Trust founder Hereward Watlington acquired a lease out of concern at the property's rundown condition. He spent the next few years restoring it, undoing the military's alterations and facilitating replacement fittings from other properties on the Island. With the completion of the Trust's renovations, initiated in December 2008, the property is now available for rent. It has been renovated as a commercial rental to generate revenue for the National Trust. Sought is a tenant who will respect the historic value of the home and the sensitive renovations that have taken place. It is a large enough property for a small family. During the extensive renovation work the floors, roofs and beams were retained as far as possible. Old windows were also patched rather than replaced. The Trust has aimed, as much as possible, to repair rather than to renew, and to remove past inferior work. Rental expected in October 2009 was $9,500 a month, on a lease.. It has a formal dining room, state-of-the-art kitchen with access to a private courtyard, spacious living room with exposed wood beams and a wood burning fireplace, and powder room on the ground floor; master suite with a fire place and a master bath with his and hers sinks and a toll top tub; two additional bedrooms share a full bath situated on the second level of the home and there are attractive and expansive gardens offering a sanctuary for children to roam free. The 2,050-square-foot property has a separate guest cottage, and views over the North Shore.
Palm Grove
Peppercorn Farm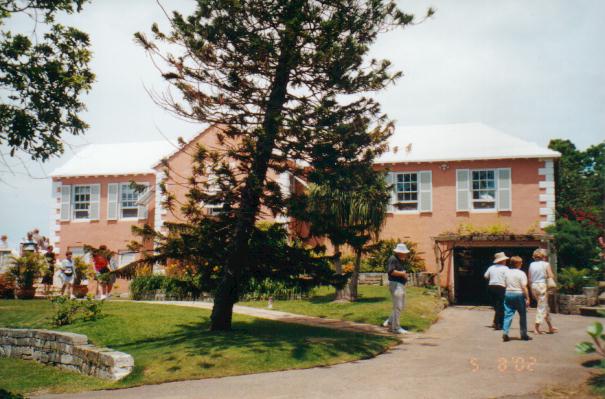 Information from the Garden Club of Bermuda. Private property, not open to the public.
Photograph by Keith A. Forbes, exclusively for Bermuda Online.
Hallelu Lane. Owned by Mr. and Mrs. George Wardman. It stands at the top of joyous sounding Hallelu Lane which draws its name from the songs of slaves heard through the night as they built the nearby Methodist Chapel in the 1820s. Built in the early years of the 20th century, the house enjoys a rural setting. Farmers grow crops in fields bordering the two-acre property much as they have in centuries past. Entered by way of a sheltered courtyard, the house is furnished with French, English and Bermudian antiques. Among the art are old English engravings and prints and lovely portraits of the owner and her two children painted by a Bermudian artist. Framed menus from restaurants around the world were chosen "for offering great memories" to decorate the spacious family room. A wide terrace presents grand vistas of the harbor and the Great Sound. On a lower terrace are a poorhouse and a pool with water spilling over one edge, appearing to cascade down the hillside.
Peppers
Queen of the East
It's deterioration is particularly tragic in light of its former standing as "one of the showplaces of Bermuda. The house served as a bakery in the 19th century and as a laundry and brothel at the turn of the 20th century. It was later a Soldiers and Sailors Club before being purchased by architect Bayfield Clark and his wife, an interior designer, in 1938. The couple renovated the building to such "great skill and taste" that it featured in several US magazines. One journalist, Margot Hill, described it as "one of the most attractive and habitable homes in Bermuda."
Ramsbury
Salt Winds
3 Salt Kettle Lane. Property is noted in 1660 in Richard Norwood's second survey of Bermuda. Norwood, an English surveyor, initially measured and divided the Island into tribes (after 1684 known as parishes). A 1758 will described the structure as a "store house". Hewn out of rock at near water level, the storehouse provided safekeeping for cargo unloaded from sailing ships moored in the harbour. After 1801, the second floor living quarters were completed. In the 1940s, the wide verandah, graceful dual flights of steps and a bedroom to the west, were added. Salt Winds' present owner is a 13th generation Bermudian. The family's genealogical chart, in the front hallway, shows that he is a descendent of the merchant adventurer Perient Trott who in the mid-1600s was the largest landowner in Bermuda. Perient Trott's eldest son, Samuel, subsequently managed his father's interests, including a whaling industry. He is credited with building one of Bermuda's oldest extant buildings, his home in Walsingham, the cruciform core of what is now known as Tom Moore's Tavern.
Sandhurst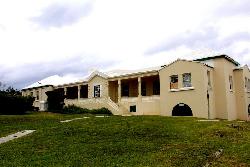 St. George's. A Class 3 historical building.
Once a British Army officer's house (hence the name).
Now owned by the Bermuda Housing Corporation (BHC) and most recently the rented home of four families, about 20 tenants.
After the building sustained severe roof damage during Hurricane Fabian, they were relocated.
The BHC is consulting with the Corporation of St. George's, the National Trust and Bermuda Historical Society to work out some guidelines for the renovations.
They will include roof repairs as well as plumbing and rewiring, anticipated to be in excess of $1 million.
Seabright
North Shore Road, Devonshire, across from Devonshire Dock. On 4.5 acres of lush tended gardens. An 18th century U-shaped form with residential storey above storage space. Built by Josiah Cox in about 1755 when he married and for years the ancestral home of the Dill family. Current owner is Katie Fetigan, youngest child of Tommy and Marge Dill. The library is rich in cedar work.

Soncy
Private property, not usually open to the public.
7 Point Shares Road, Pembroke Parish. Occupied by Mr. and Mrs. John Lummis. (Owned by Mrs. Bernard Cooper). Listed for sale for $6.9 million in 2012 to Bermudian and non-Bermudian buyers. The six-bedroom former manor house has a pool, floating dock and boat house. Once the residence of Royalty and the holiday destination of a U.S. president, Soncy stands on the shore of Soncy Bay, a protected cove. The house was built in the early 1880s on some fifty acres of land (bought for $8,000 and known as Point Shares) by General Russell Hastings, a Union veteran of the American Civil War, and his wife Emily, the niece of U.S. President and Mrs. Rutherford B. Hayes. The Hastings' family papers recount that they renamed the property Soncy, a Scottish word "signifying thrift, prosperity, and all things good." The deep yellow Isabella Sprunt was one of the two roses introduced to Bermuda in about 1880 by General and Mrs. Russell Hastings. Another was the Safrano or Saffron rose, a slow growing lemon yellow tea rose up to five feet high. It was well-known in rose catalogues in the American South in 1843. The family prospered at Soncy as a result of the General's venture into growing and exporting the bulbs of Bermuda's distinctive, pure white Lilium longiflorum eximum. With the arrival of spring in the 1880s and 90s, more than 100,000 lily blossoms could often be seen in the fields at one time. In the 1920s, Lady Patricia Ramsay, a granddaughter of Queen Victoria, lived at Soncy with her young son. In this century, the old house offers many of the same pleasures to its residents as in the past. It has large rooms with high ceilings, wide verandahs, a tree-shaded lawn running down to the water, and swimming and boating in Soncy Bay.
Sound View
Enterprise Road, Morgan's Point, Southampton. One of the most important of the early buildings on the former US Navy Operating Base. An early single-storey hall-chamber house in old traditional Bermuda architecture style. The interior of the building had some half-timbering or exposed timber framework that, along with other evidence, strongly indicated early sections of the house could have 17th century origins. There are even indications the original house had at one time a thatched roof. Greatly dilapidated after years of neglect, especially after the US Navy left in 1995 when the property was known as Quarters B and used as officer's quarters, in particular as the residence of the commanding officer of the U S. Navy base built from scratch from former islands and landfill and variously called first the US Navy Operating Base then the US Naval Air Station (USNAS). In 2013 the Bermuda National Trust hoped it could be saved from demolition and conversion into single family plots during the building of a new tourism resort hotel and leisure centre at Morgan's Point.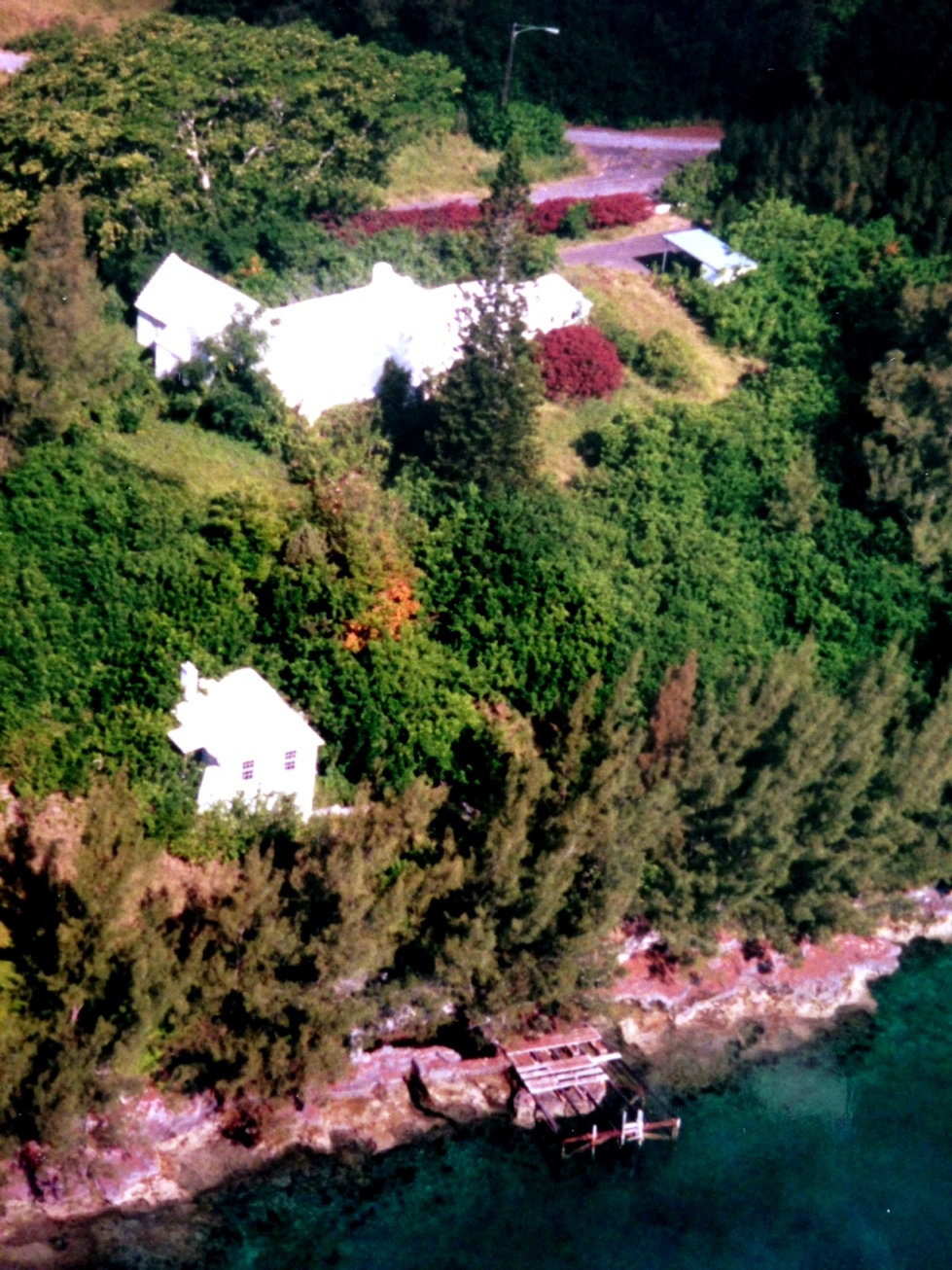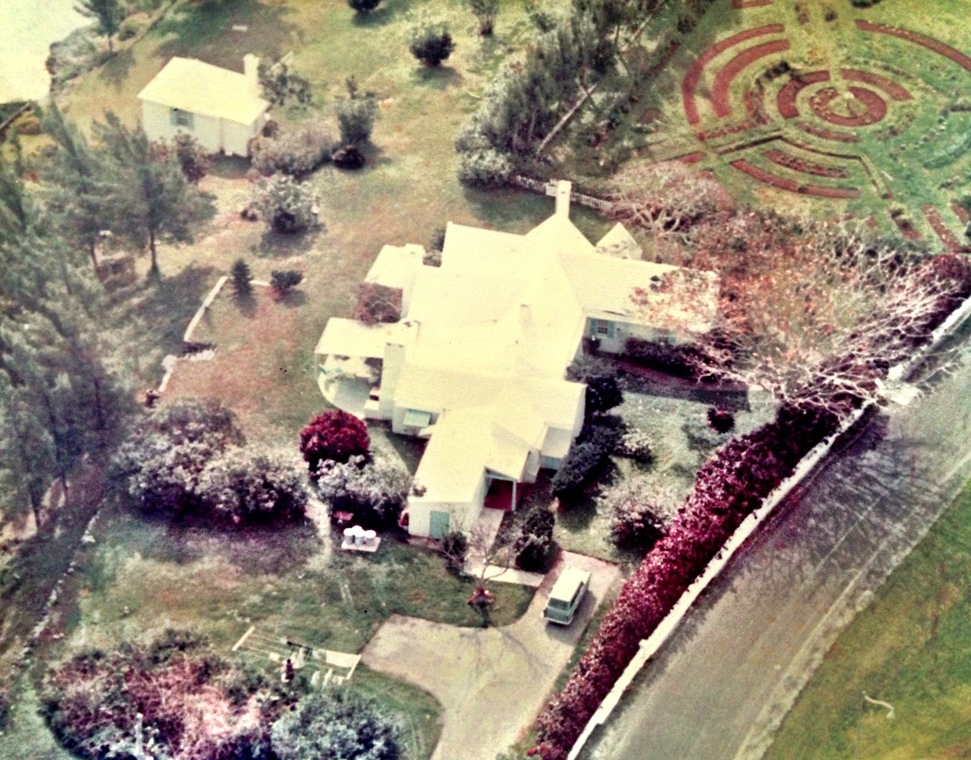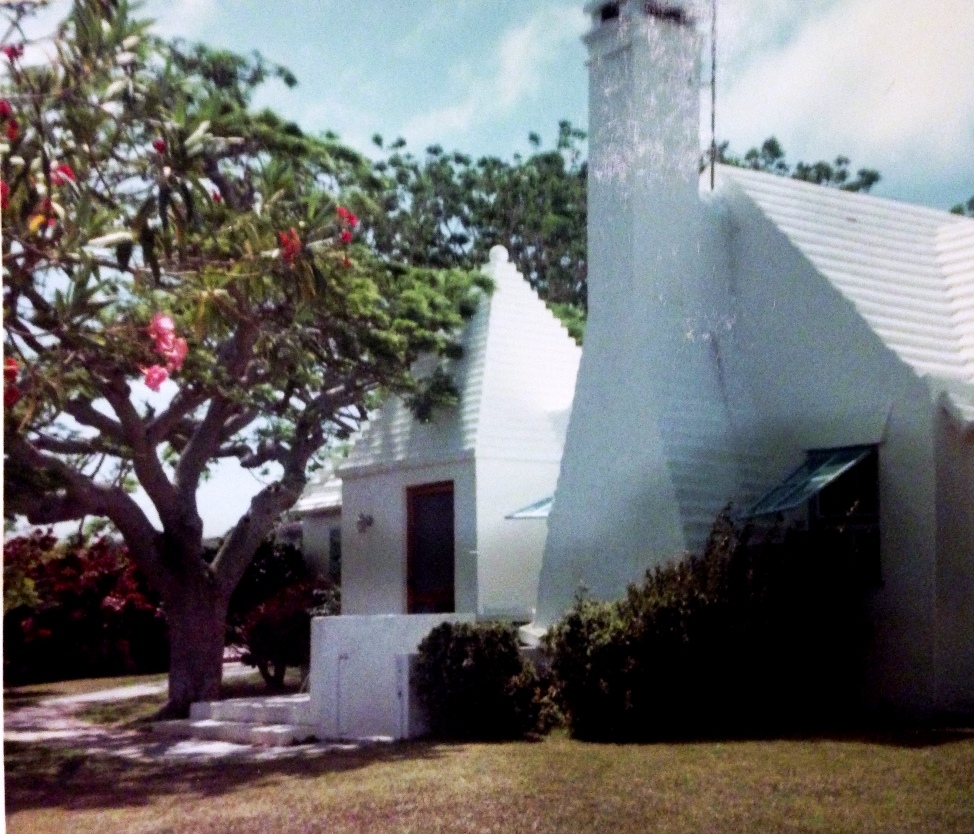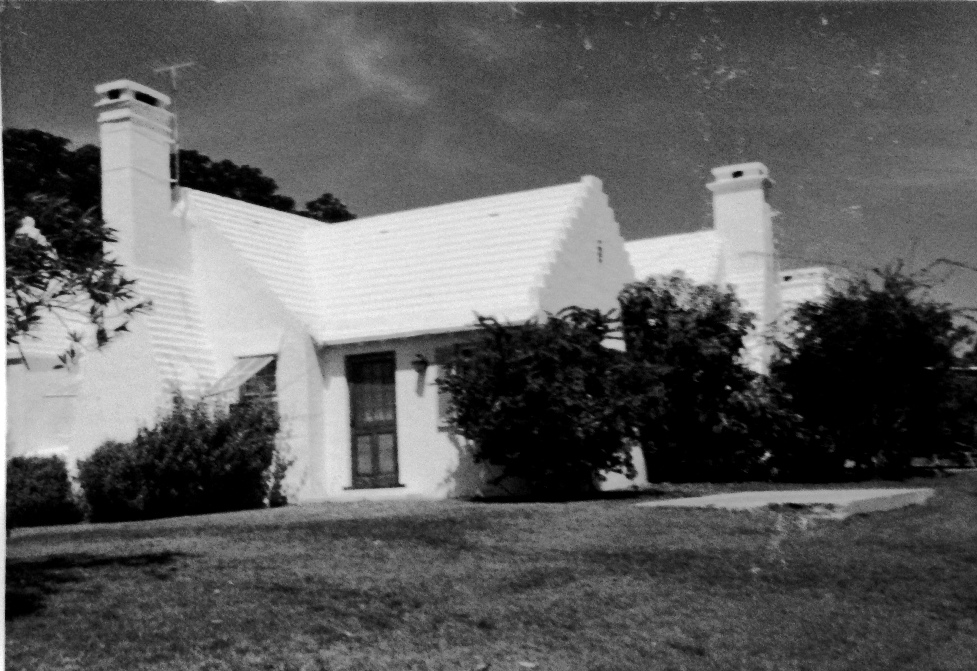 Photos above copyright Anthony C. Becker, see below
Anthony C. Becker, from Cape Cod, MA, flew over the property in a helicopter in 2000 and took the top photograph shown above. The others by his family date from 1966/67. In April 2013 he kindly gave this writer permission to include them in this Bermuda Online (BOL) file and wrote: "I lived in Sound View and recall vividly my mother describing the historical significance of our home, Quarters 'B'. Particularly the Bermuda 'tub' ceiling. My father Cdr. Roger W Becker was the Executive Officer (2nd in command) of NAS BDA from 1964-67. I was born at Kindley AFB in 1958. We originally lived in the wee cottage on the hill above the captain's home. That too was an old cottage called Windswept, Quarters 'G'. The captain's home below, known today perhaps by it being next door to the Rockaway ferry dock, was called Far Rockaway. If you look closely at the bottom left corner of photo 1 you'll spy my mother Cynthia Jones Becker hanging laundry by the hedge. The wee cottage as for the exclusive use of the captain. The formal gardens were part of his grounds as well although we played there all the time. Below the cottage was a small tide filled stone-walled pool. The home had 3 bedrooms each with an en suite bath plus an attached servant room and bath just outside off the kitchen. The view of the Great Sound was of course spectacular. Photo 2 is taken from the southeast corner. The main entrance was through the buttery shaped structure which was an entry space. This led to the main living area which had the tub ceiling. The chimney you see here must have been part of the original home. It is flanked by bench seats with a lower section of ceiling than the main room. It may have also had a moveable arm over the hearth as well. I recall nights we lost electricity sitting there to get warm. In photo 3, I think the house had 4 chimneys. The second and third chimneys in this view are bedrooms." Mr. Becker kindly made these photographs available to BOL before his May 2013 Bermuda wedding.

Spithead House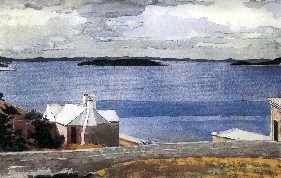 See the 1901 painting below, "Inland Water, Bermuda" by American artist Winslow Homer. On Harbor Road, overlooking the Great Sound and with British Bermudian architecture, this historic private home is not open to the public. It was built by one of Bermuda's most successful privateers, Hezekiah Frith. See http://en.wikipedia.org/wiki/Hezekiah_Frith. He hoarded booty from two stolen ships, kidnapped a young French woman, hid her from his wife - and stashed his wealth for his family to start a liquor store. She and Frith are said to haunt the home.
Frith, with his own maritime and naval background as a privateer sanctioned by Britain's Royal Navy, ensured that Spithead took its name from an area of the Solent and a roadstead off Gilkicker Point in Hampshire, England. It is protected from all winds, except those from the southeast. It receives its name from the Spit, a sandbank stretching south from the Hampshire shore for 5 km (3 miles); and it is 22.5 km (14 miles) long by about 6.5 km (4 miles) in average breadth. The Fleet Review is a British tradition that usually takes place at Spithead, where the monarch reviews the massed Royal Navy. In 1797 there was a mutiny (the Spithead mutiny) in the Royal Navy fleet at anchor.
In the 1920s the dramatist Eugene O'Neill (born in USA October 16, 1888, died November 27, 1953) once lived here in alcoholic oblivion with Finn Mac Cool (eventually shot to death by a neighbor). They had earlier lived in Paget Parish. O'Neill and Mac Cool wrote famous works here and hosted many of their friends from overseas.
Later, O'Neill met Agnes Boulton, born September 19, 1893, who became his second wife. She was a writer of popular novels and short stories. Their first child, a boy, was Shane, born in Massachusetts in 1919. They divorced not long after the birth of their daughter. Oona O'Neill Chaplin, see http://en.wikipedia.org/wiki/Oona_O'Neill, was born here on May 13, 1926. Later, she became close to Peter Arno (cartoonist), Orson Welles (actor and film director) and J. D. Salinger (novelist). On June 16, 1943 she married British-born actor Charlie Chaplin, which caused her to be disowned by her father. The Chaplin family once owned this house. With Chaplin she had a good marriage despite the age difference and had a number of children, five daughters (Geraldine Chaplin, born July 31, 1944; Josephine Ronet, born March 28, 1949; Victoria Thieree, born May 19, 1951; Jane, born May 23, 1957; Annette, born December 3, 1959) and three sons (Michael, born March 7, 1946; Eugene, born August 23, 1953; and Christopher, born July 6, 1962). Oona died in Corsier-sur-Vevey, Switzerland, on September 27, 1991 from pancreatic cancer and was buried there.
William Davies King, Department of Theater and Dance, University of California Santa Barbara, recently published a book called Another Part of a Long Story: Literary Traces of Eugene O'Neill and Agnes Boulton (U. of Michigan Press, 2010), which tells this story as well as other stories of this house. The O'Neill Society had an International Conference in Bermuda back in about 2000, because of this connection.
From 1956 the house was lived in by British actor, playwright and composer of popular music Sir Noël Peirce Coward (born 16 December 1899, died 26 March 1973) who later went to live in Jamaica. Until she died in late 2001 at the age of 86, the house was owned by Bermudian realtor Joy Bluck Waters. It was later owned by her children and leased.
Southsea
A gracious family home of 4,821 square feet with pool in 3 acres (once 12 acres) in Paget, off South Road, opposite junction with Point Finger Road. The home of D. Colin Selley and built by his grandfather, O. R. Loblein, in 1917-18 for his wife and three daughters, Olive, Helen and Jessie.
St. Mark's Church
51 South Road. One of the most charming of the parish churches and its spire, designed by Dr Henry Hinson, one of the loveliest. Consecrated in 1849, it took the place of Harris' Bay Church which stood on the site of the present graveyard from the early 1700s until 1846; a simple, silver chalice dated 1676 is a treasure left from the old church. Land for St. Mark's was given by sisters, Sarah Trott and Mary Sears. When first built, the church was a plain, rectangular building with a gable roof and arched windows. It remained a country church until transformed under the leadership of The Reverend George Tucker and parishioner Jeremiah Scott Pearman, who made the care and ornamentation of the church his life's work. They blessed the building of a Gothic tower, measuring more than one hundred feet, and an octagonal, buttressed spire, above which rose a cross. Julian Tucker, the chief mason, skillfully executed the work and later built a comparable steeple for St. Paul AME Church in Hamilton. The pews were made from mahogany logs washed ashore in the Turks Islands and later shipped aboard the HMS Beta to Bermuda. The altar, the exquisite reredos and pulpit, all made of cedar, were artistically carved by Arthur Wilkinson of Bailey's Bay. The font was fashioned from Bermuda limestone by convicts. The bells which pealed for the first time in 1911 were given by the congregation in memory of Archdeacon Tucker, St. Mark's well-loved rector for nearly forty years.
Tankfield
Tamarind Vale
Historic house, most recently owned by former Premier, Dame Pamela Gordon. By 1998 when she was defeated in the polls, the Bermuda Government had spent over $400,000 on renovations to it.
The Cedars
Over 300 years old, and with three floors for many years it housed as a 3rd floor tenant the local branch of the UK-headquartered English Speaking Union, not a union at all but a cultural organization established in England in 1918 to promote understanding and friendship. The Bermuda branch was established in 1922 and held its first meeting at the long-gone Hamilton Hotel. It has about 165 members. Phone 292-7684. Currently on 0.36 acres of land, much of which is rented car parking. The once-grand house, in a poor state, sold in 2002 for $2.5 million. It was once a lovely Bermudian manor house. In the book "An Immigrant Speaks" the home is described by one-time owner Anne Seymour Drake Burrows, who later changed her name to Anne Lous.
The Hermitage
An ancient Bermudian house which gave its name to Hermitage Road, Devonshire.
The Parapet
Private property, not usually open to the public.
111 Main Road, Sandys Parish. Owned by the family of the late Mr. Stewart Mott, for sale in September 2011 for an asking price of $7.5 million. In the 1870s, Scaur Hill Fort was built on the highest point of Somerset Island to defend the landward approach to the Royal Naval Dockyard. On the southeastern side of Scaur Hill, below the fort, The Parapet stands on some ten acres of well-tended land which extend down the hill to the waters of the Great Sound. In the 1930s, when visitors to Bermuda arrived by steamship from America, spending six months at a time on the island, the director of General Motors and his family bought this house. Generations of the family continued to spend holidays here and have benefited Bermuda through the generosity of the family's foundation. The memorabilia, family photographs, marine paintings, the long cedar dining table made by a Somerset craftsman and many handsome pieces of furniture remain unchanged. In a small studio by the house, the American artist Georgia O'Keefe painted banana and banyan trees during the months she spent at The Parapet in the 1930s.
Tivoli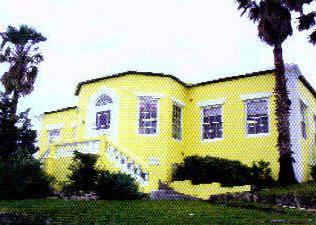 Another Bermuda National Trust-owned historic house. It recently received extensive refurbishment of windows and doors, electrical work, landscaping, masonry and repainting. Built in the early 19th century it is a good example of elegant Bermudian architecture. The Tivoli estate is 11.26 acres. Donated to the Bermuda National Trust in 1984 by Gloria Higgs, to preserve as open space. Also includes Tivoli Pond and this Tivoli historic house. Thanks to a donation by the family of the late Sir John Sharpe, a former Premier of Bermuda, the pond is being conserved as a remnant of marshes that once extended through Warwick Valley. It is a refuge for wildlife and protected green space in a busy suburban area and a learning resource for schools.
Tom Moore's Tavern
Best known as the place where the Irish poet Tomas Moore lived during his Bermuda stay. Actually, it is Walsingham House, built in 1652 by architect John Millner. It is now owned by Italian Bruno Fiocca who owns the tavern.
Tristan
12 Tamarind Vale. A lovely, rambling, one-storey house set amidst tranquil gardens where citrus, old cedars and bird-of-paradise grow. Originally a small stone cottage, built about 1918. Rooms were added as the living requirements of a family changed, often at the time of the birth of a child or to accommodate a maiden aunt. Bermuda was then noted for having a disproportionate number of aging spinsters. This house is a typical example. The reception rooms are painted intense, rich colours and furnished with fine Bermuda cedar pieces and Canadian pine antiques. Many of the Island's artists are represented in the owners' collection of paintings. A covered porch extends the house into the gardens where a waterfall cascades over stones into a free-form swimming pool bordered by massive Delaware River rocks.
Tuckers Crane Cottage
Morgan's Point, Southampton. One of the historic buildings left on the former US Navy Operating Base and used by it until it vacated the base in 1995. In fairly decent shape in 2013 it will be renovated and used as a club house when the new hotel complex is completed. It was not far from five other historic buildings at Morgan's Point — four officers' quarters and a building called Glebe Cottage or Quarters Q, all on Lexington Road, which despite being buildings of special architectural or historic interest could not be saved and would be demolished.
Tynes Bay House
Formerly Bleak House, Devonshire, recently renamed, just off Palmetto Road, surrounded by crab grass lawns fringed with trees and palms, and overlooking the North Shore. Today the 300-year-old house looks remarkably modern, bright and airy with a cheerful ambience. Now home to the Child Development Programme, a place that bustles with caring professionals who work with children and their parents. But a house with a history of two murders that occurred here. In 1941 English censor Margaret Stapleton was raped and murdered after attending a dinner party here. In 1972 British Police Commissioner George Duckett who lived here with his wife and family was murdered here. His wife managed to escape but his daughter was shot at five times, not fatally.
Verdmont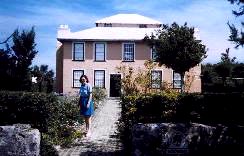 Historic manor house. Georgian style and three floors, on Sayle Road, at the top of Collector's Hill, Smith's Parish. Telephone (441) 236-7369. Both the house and garden are open to the public at specific times. With a parking area. Admission during the season is Tuesday through Saturday (except public holidays) from 10.00 am to 4:30 pm, Saturdays only in December 2000 until further notice, charge for adults, free for Bermuda National Trust members or members of National Trusts elsewhere with which the Trust is affiliated, and children under 12. It has a superb collection of antique Bermuda cedar furniture and valuable mahogany. Other period artifacts include English and Chinese porcelain, Georgian silver including pieces by Bermuda silversmiths, portraits in oils, children's furniture and toys. Also see a fine Bermuda cedar staircase, an Oriental room, powder rooms (once used for powdering wigs, not faces) and toy nursery. The house has its share of resident ghosts and ocean views. It was a private residence until 1953. It was never plumbed or electrified. There is no kitchen or running water or air conditioning or ceiling fans or heating. This stately house, in rose and flower, herb and mixed period gardens, was originally acquired and added to by late 17th century Bermudian visionary, Captain William Sayle (in whose honor Sayle Road nearby is named). Governor/Captain William Sayles and the Eleutheran Adventurers sailed from Bermuda in 1648 and settled the Bahamas. Governor Sayles served three terms as Governor of Bermuda before becoming the first Governor of the Bahamas and first Governor of Carolina (before it was split in two as North and South Carolina).
Photo by author Keith A. Forbes
It has remained architecturally unchanged since the late 1700s. It was re-built in about 1716 by John Dickinson, the more recent name of Verdmont is a unique example of early Georgian architecture. Later, it was acquired by Hon. Thomas Smith who, as Collector of Customs, spawned "Collector's Hill" both as the name of the house and the main nearby access road (another is Collector's Close. Later yet, it was acquired and added to by the English portrait painter John Green who married the daughter of Thomas Smith. Green called the property "Verdmont" as a French pun on his surname, combining the word for green and mountain. It has been this ever since. So have other access roads built since then (Verdmont Road; Verdmont Drive; Verdmont Lane; Verdmont Valley Drive; Verdmont Valley View; and Verdmont Valley Close).
Also, because the Verdmont estate was once hugely bigger than it is now and centuries ago stretched between the South and North Shores, further variations of the Green name were made - and have stuck - at Green Hill Lane not far from the North Shore, at the top of Store Hill where it intersects with Middle Road; and Green View Lane, near the foot of Collector's Hill on the South Shore. Friends of Verdmont, a volunteer group aiding in preservation of the property, meet most months.
Waterloo House
A beautiful stone manor house built in 1815. Until 2007 it was an exquisite small hotel, an oasis of calm and tranquility, offering superb dining and lovely vistas of water and gardens, rests just a stone's throw from the bustling capital. Now it is an office block.
Winterhaven Farm House
On the Winterhaven Nature Reserve, dating from the 18th century, it is a fine example of traditional Bermudian architecture. It was owned until recently by the Bermuda National Trust but was sold to Bermuda's then-Premier Dr. The Hon Ewart Brown, and is now the Brown-Darrell Clinic, a medical centre opened in 2008.
Windsong
Warwick. Historic. Extensively refurbished.
Wistowe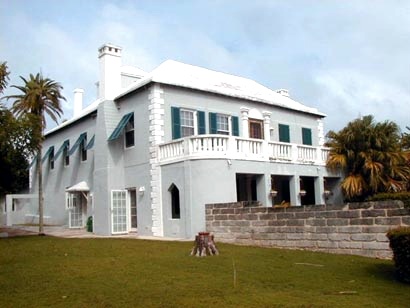 Flatts Village. A gracious old waterside home, in a particularly desirable area, one of the loveliest sites in all Bermuda. Named after an estate in England. During the US Civil War it was the home of the US Consul General, Charles Allen, a friend of Mark Twain. In 1932, on July 22, the death occured at this house of the Canadian pioneer in the field of radio with a previous Bermuda connection and Bermudian relatives, Professor Reginald Fessenden (born October 6, 1866). At the Whitney Institute school nearby, he had been the Headmaster. Fessenden had married a Trott (an old Bermuda family) and in his memory there are scholarships called the Fessenden-Trott Scholarships. He made it possible for radio voices to be broadcast (Marconi's radio only did Morse code). He was buried in St. Mark's Church cemetery. On his grave (on a stone lintel at the top of the memorial) is inscribed: "His mind illumined the past and the future and wrought greatly for the present." When Fessenden retired to Flatt's Village (because of a heart condition) in 1928, he bought 'Wistowe' and remodeled it.
Woodcroft
12 Between the Walls, Pembroke. A handsome, Edwardian house, built around 1910, when C. W. Woodford Walker was developing land in the area. The neighborhood quickly became fashionable. With more than an acre of lovely gardens to explore and a splendid flat, open, field for baseball games or soccer matches. The house is cement washed with deep, double verandahs extending across the front and side. Woodcroft opens to a spacious hall beneath a flat, high ceiling. The exquisite wall colours of the interior are an effective contrast to the simple, gray exterior. Rooms are artfully arranged and eclectically furnished with a mixture of beautiful antiques and modern pieces; fabrics create an imaginative interplay of patterns, textures and colours. There are numerous paintings, watercolors, etchings and prints
Woodlands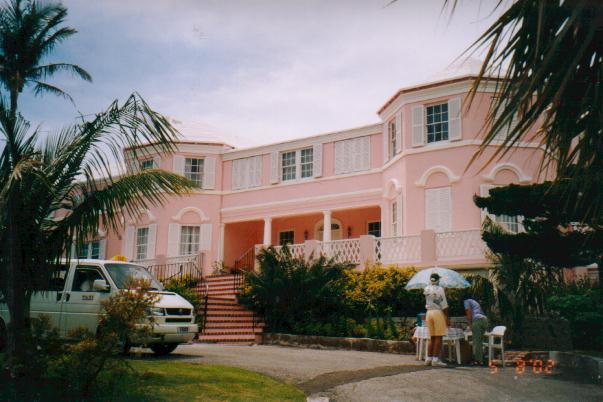 Private property, not open to the public.
Photograph by Keith A. Forbes, exclusively for Bermuda Online.
9 Middle Road. Paget Parish. Mr. and Mrs. George Peterich. Note the external architecture of this lovely house, built in the 1820s by Adolphus John Harvey. Once known for its cedar stands, it is recognized today for its beautiful gardens which extend from the ridge of a hill, with vistas of Hamilton Harbour, to a valley where citrus grow beside the tennis courts. In the early 1900s, a second storey and servants' wings were added.


Last Updated: May 20, 2013.
Multi-national © 2013 by Bermuda Online. All Rights Reserved. Contact Editor/writer and webmaster.