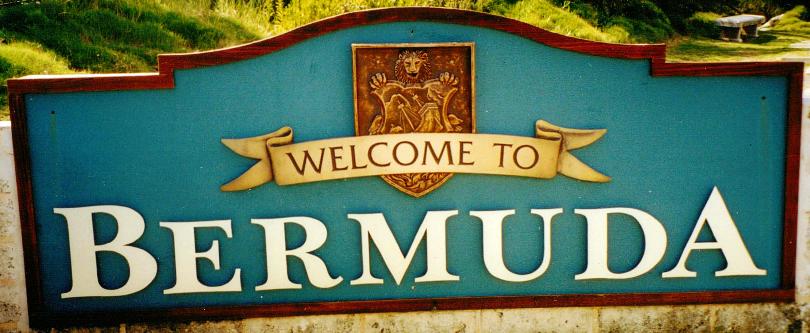 11165+ web files about Bermuda, regularly updated as a Gazetteer, focusing on this internally self-governing British Overseas Territory 900 miles north of the Caribbean, 600 miles east of North Carolina, USA. Accommodation options, aircraft & shipping registers, airlines, airport, America's Cup 2017, actors/actresses/musicians/singers/ performing artists, banks, beaches, Bermuda Dollar, Bermuda Government, Bermuda-incorporated international and local businesses and companies including insurers and reinsurers, Bermudians, books and publications, bridges and causeway, charities, churches, citizenship by Status, City of Hamilton, commerce, communities, credit cards, cruise ships, cuisine, currency, disability accessibility, Devonshire Parish, districts, Dockyard, economy, education, employers, employment, environment, executorships, fauna, ferries, flora, former military bases, forts, gardens, geography, getting around, golf, government, guest houses, history, historic homes, Hamilton, House of Assembly, housing, hotels, immigration, import duties, internet access, islands, laws, legal system and legislators, location, main roads, marriages, media, members of parliament, money, motor vehicles, municipalities, music, nearest mainland, newcomers, newspaper, organizations, parks, Paget Parish, Pembroke Parish, residents, pensions, political parties, postage stamps, public holidays, public transportation, railway trail, real estate, religions, Royal Naval Dockyard, Sandys Parish, Smith's Parish, Somerset Village, Southampton Parish, St. David's Island, St George's Parish, senior citizens, Somerset, Spanish Point, Spittal Pond, sports, taxes, telecommunications, time zone, traditions, tourism, Town of St. George, Tucker's Town, utilities, water sports, Warwick Parish, weather, wildlife, work permits.

Bermuda's 2018 June History and Newspaper Reports
Events that made newspaper headlines in the sixth month of the current calendar year
By Keith Archibald Forbes (see About Us) exclusively for Bermuda Online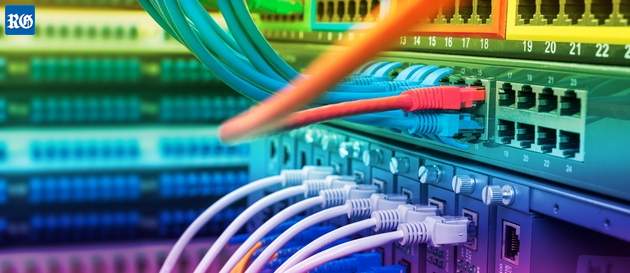 Benefit of website linkage to Bermuda Online while traveling
See at end of this file all our many History files
Bermuda's Royal Gazette newspaper is not published on Sundays or Public Holidays but sometimes has some Sunday news online.
June 19

Buses were off the roads on National Heroes Day after drivers took part in industrial action over working conditions. Bermuda Industrial Union president Chris Furbert said members continued a work-to-rule over numerous issues including bathroom breaks, air conditioning and mechanical problems. Taxis were in high demand yesterday as thousands of residents and tourists attended public holiday festival events in Hamilton and St David's. The industrial action came despite Walton Brown, the Minister of Home Affairs, stating any strike or irregular industrial action by drivers would be unlawful. Mr Brown said he had referred the matter to the Labour Disputes Tribunal. The bus service is expected to resume today, but an urgent meeting is scheduled to take place either today or tomorrow with Roger Todd, the Director of the Department of Public Transportation. The work-to-rule will remain in place until after that meeting. Mr Furbert said workers would demand a timeframe for issues to be addressed. He told The Royal Gazette: "There are numerous outstanding issues, some of which have been going on for years, that the management team know about. "I understand the Government is trying to order new buses but there are many other issues including working conditions, bathroom breaks, air-conditioning issues, mechanical issues and problems continue at the Dockyard and St George's depots. We have an aged fleet — they have done their time. If the Government could buy ten new buses every other year then things would get better. We have been patient with management but some of these issues go back four or five years. What our members want is a timeframe for when these issues will be addressed. They want deadlines and for those deadlines to be met. We need to get these issues sorted out so that they can do what they were hired to do." A DPT spokesman said that management was advised by the BIU of a work-to-rule starting at 10am on Friday. He said: "The BIU membership has interpreted this to include holiday work, regardless of whether or not it forms part of the employees' weekly work schedule. Management does not agree with this interpretation and distinguishes between regular shift work taking place on a holiday and overtime for those working more than their normal 37.5 hours per week. As with many other service providers, the bus service is a 365-day per year operation, which necessitates working holidays, weekends and shift work. DPT apologizes for the inconvenience to the traveling public and is committed to restoring full service as soon as possible." Taxi driver Shari-Lynn Pringle said she was extremely busy coping with demand. She said: "When I stop, I pick up right afterwards. We have cruise ships in and tourists trying to move around, we have the Newport to Bermuda Race, then of course it's Bermuda National Heroes Day. Planes are coming in heavy. It is just busy — it's really busy. Anybody who wants to make money today can make it, but it is unfortunate that we have to make it like this. Fares are at the highest rate because it is a holiday rate and some people are hard-pressed to afford a taxi on a regular-rate day." Ms Pringle said she saw people waiting at bus stops and gave a free ride to one person who had no idea the buses were out of operation. "I understand the plight of the drivers but I don't think it is a public issue — if it is such a big issue I would like to know where they are gathered and demonstrating. I can understand them not working today if they are trying to demonstrate something, but if they are at home taking a day off then that's not right." Mr Brown published a Notice of Declaration of Labour Dispute in the Official Gazette on Saturday, which stated: "I declare that a labour dispute exists between the Department of Public Transportation and the Bermuda Industrial Union. In accordance with section 19 of the Labour Disputes Act 1992, after the publication of this Notice, any lockout strike or irregular industrial action short of a strike is unlawful and any person who takes part in, incites or in any way encourages, persuades or influences any person to take part in, or otherwise acts in furtherance of, a lockout, strike or irregular industrial action short of a strike that is unlawful under this section is guilty of an offence." The DPT attacked the media on Saturday for reporting the public holiday service was under threat due to industrial action. However, it later backtracked admitting there would be "a risk" the bus service would not run. Three cruise ships were in Bermuda yesterday — Norwegian Dawn and Grandeur of the Seas in Dockyard, and Veendam in the Hamilton, with a potential total of 6,000-plus passengers on board.

Holiday turned to horror when Canadian tourists had their belongings stolen in their beloved Bermuda, where they have enjoyed visits for nearly 40 years. However, one local couple was determined to show John and Darlene Kersey the generous spirit of the island, by gifting the strangers $200. The visitors, both 65, were in the water at Shelly Bay when they looked up to discover their bag was missing from a bench on the beach. Mrs Kersey explained: "We weren't far out. We were in the water just minutes and constantly kept an eye on the bag. There was a guy, I guess another tourist, right beside us on another bench, so I thought, even better. I turned my back and when I turned around it was gone. I've never gotten out of the water so fast." The couple ran to the beach and nearby car park, frantically searching for their belongings, which included a wallet with $1,000 Canadian and $1,000 US, the key for their rented bike, credit cards, a camera containing holiday photographs, and some items Mrs Kersey had bought on the island. Borrowing a phone from a taxi driver, they called police. When a concerned onlooker, a man named Brian in a company work van, learnt what had happened, he revealed he had seen a man running towards a motorbike, looking over his shoulder and carrying a bag that matched the description of the one missing. Officers attended the incident on June 7, and took details from the pair, who also provided information for written statements at a police station the following day. Mrs Kersey added: "The police said you should never carry that amount of money. John won't even put his wallet in a safe when we go to Cuba as he wants it with him, but he has learnt his lesson, big time." Their fortunes changed days later when they visited John Smith's Bay with son Adam, 30, and his wife Aleasha, 26, who were holidaying with them on the trip. Mrs Kersey told how her family exchanged pleasantries with a "lovely couple" and the stolen bag came up in conversation. The gentleman who had heard this story returned to Mr Kersey around half an hour later and handed him an envelope, which read: "Enjoy a meal on us, The Burchalls." It contained $200 and the tourists now believe the man's first name is Roddy. Mrs Kersey said: "I went running back up the hill because he was just getting into his car. I thanked him big time. He said he didn't want us to think all Bermudians are like that." She and her husband, from Kleinburg, Ontario, have been visiting Bermuda for 37 years, taking trips once or twice annually until ill health struck, and she insisted they will return. "We will just be extra cautious," she said. "We will do things differently, that's for sure. We hadn't been for six years because John had cancer and chemo, this had to happen on our first time back. It happens anywhere and everywhere but we just really didn't think it would happen there, we've been there so many times. We've been to lots of places but nothing compares to Bermuda." Telling her story in a bid to warn other tourists, Mrs Kersey added: "I still feel traumatized by it all. It's weird, maybe, but you still feel violated. It's just stuff but it's our stuff." A spokesman for the Bermuda Police Service said inquiries into the matter were ongoing.

A local entrepreneur hopes to revolutionise the treatment of Bermuda's tank water. Twenty-nine year old Ananda Hill, owner of the mobile business AquaCare, believes Bermuda's water standard is worse than a Third World country. "The current state of affairs is a bit embarrassing," Mr Hill said. "I saw how gross the water in many people's homes was." He also believes there are better ways to treat drinking water than using chlorine, which is what the Department of Environmental Health advises. Chlorination is effectively "poisoning the water supply in a way that doesn't even kill the microorganisms", Mr Hill claimed. "I decided instead of complaining about it, I'll just take action," he said. "Complaining is for suckers, that's just the cloth I'm cut from. We have a responsibility to the children and visitors to Bermuda whose immune system isn't as seasoned as ours when it comes to microorganisms in the water supplies to ensure their safety. Bermuda has a large void regarding affordable, effective, safe maintenance of water that holds up to an international standard. Our standard is worse than that of the so-called Third World, I will change that standard." Mr Hill says chlorination is poisonous in that it produces by-products called trihalomethanes and bromates. These have been found, in laboratory experiments, to be carcinogenic to animals. "Chlorine will also not remove biofilm which is used by many microorganisms as a protective barrier to stay alive, but it's also corrosive, environmentally unsound, shouldn't be used in temperatures of 40 degrees Celsius or higher, and has a narrow pH band in which it works against some bacteria in a mediocre way, between 6.5-7.5 pH. It's unsafe and ineffective for your tanks, wells, plumbing and body," Mr Hill added. In the US, the Environmental Protection Agency regulates disinfection of drinking water and has set a maximum allowable annual average level of 80 parts per billion. Mr Hill said AquaCare has the exclusive rights to import and use what is deemed to be and environmentally friendly oxidizing biocide. Mr Hill mentioned that it is recommended by the World Health Organisation as the best and safest means of rainwater sterilization in the world. "It penetrates the cell walls of microorganisms and inhibits protein synthesis," Mr Hill said. "This occurs regardless of the present metabolic state of the micro-organism. Because of this it's also effective against dormant organisms and spores like Giardia cysts and poliovirus." Mr Hill said he researched all the information himself, and believes it is his responsibility to do something about the problem. "The oxidizing biocide is biodegradable and doesn't hurt people at all," he assured. He also mentioned that there is no treatment standard locally. "There is no kind of certification for people to treat the water system in Bermuda," he added. The process for AquaCare to diagnose and treat your water problem takes time. Mr Hill will test a customer's water supply for various bacteria, using a colour-coded test strip. This process takes 48 hours. Once completed and the problem is diagnosed he will treat it, which takes 15 to 30 minutes. "After your water supply is treated we can provide certificates that will be given out quarterly with testing," Mr Hill said.

A teacher honored in the Queen's Birthday Honours used to stand outside Buckingham Palace and wave at the Royals on trips to London. Judith James, 76, never thought that she would one day be awarded the Queen's Certificate and Badge of Honour for services to education. Ms James told how she would "never forget" the moment she was told she had won the award. She said: "I could not get over that — it makes you want to cry with happiness." Ms James, a teacher for almost 50 years, retired in 2016 but still heads the kindergarten group at Southampton Seventh-day Adventist Church. She said: "I just love taking care of people." Ms James, who at first wanted to be a nurse, decided instead to train as a teacher in Canada and taught for 47 years. She said: "I wasn't ever thinking about me, not at all, it was for the children. It just lifts me." Ms James explained many of her pupils came from broken homes and needed help. "Teaching made me feel there was something I could do. I could see a lot of little people who needed not just scholastic help, but needed help emotionally, physically and spiritually." She added that she often invited youngsters and their parents to her church and her own home to "sit around the dining room table and talk". Ms James said people sometimes asked if she was bothered by the constant presence of pupils. She said she told them: "We're striving to make a better Bermuda". Ms James added she had often visited London and "would stand outside the palace gates and wave to the Queen, she was so precious. To think we waved at her, and now this." Ms James, one of three children, was brought up on Angle Street in Hamilton. She said: "Growing up we were poor, but didn't realize it." Ms James attended Ord Road School, where she would one day teach. She said the school roof collapsed while she was a pupil and the school was forced to look for temporary accommodation. A children's centre at St John's Church in Pembroke was off limits in racist and segregated Bermuda, so the youngsters were taken in at Northlands Primary School instead. Ms James said decades later when was established as prominent teacher, she was invited to the St John's children's centre to speak as an honored guest. She added: "We need to appreciate how far we've come, look out for others and encourage them to do their best. In Bermuda we're all connected, its one beautiful island. We're trying to make a better Bermuda, that is my goal." Ms James moved to Northlands Primary School, Pembroke and went to high school at the prestigious Berkeley Institute. She later went on to a teacher training college in Ottawa and worked part-time to help support her through the course. When she returned to Bermuda, she returned to Northlands as a teacher, and also worked at Ord Road School, Elliot Primary and Victor Scott Primary. In addition, she was a volunteer at the Red Cross and acted as custodian of traditional Bermudian culture at home and overseas, including a folk life festival at the world-famous Smithsonian Institution in Washington DC. She was also superintendent of the Sabbath school at Southampton Seventh-Day Adventist Church for the children's divisions before she retired in 2016 to head the kindergarten section. Ms James said she was still approached by former pupils whose lives she had touched "everyday, everywhere I go". She added: "My three grandsons joke 'don't go grocery shopping with Gran — you'll never get out. Everybody knows her. I'm glad I could be a little light in my students' lives."
Any mention of Bermuda by John Schultz would inevitably lead to an eye roll from family members. It had been 64 years since he was posted here with the American Air Force, but he could not stop talking about it. A few months ago his daughter-in-law, Nancy Schultz, decided she had had enough. "She suggested they take me to Bermuda to celebrate my 90th birthday," Mr Schultz said. "I just couldn't believe it. Those were positively the good days; the living was good. I got married a few months after I arrived in Bermuda in 1952, and brought my wife, Grace, to Bermuda. We had our first child, John, on the island. It was a beautiful place." Thirty years after his last visit, he arrived in Dockyard on the Norwegian Escape on Wednesday, accompanied by his daughter-in-law and son, John. The first thing they did was go hunting for Sunnyside, the Hamilton Parish house Mr Schultz and his wife, Grace, lived in. "We rented a taxi and our driver took us all over," said Mr Schultz, whose actual birthday is on July 9. "I tried hard to find the place where we stayed. I remember you could walk to the aquarium from the house but everything is so built up now. We couldn't find the place." A search of the telephone directory revealed a listing and on Thursday, the family paid a visit. They spent an hour with its owner, Carolyn Armstrong, looking at old photographs and newspaper clippings. "Coming back to Sunnyside and meeting Carolyn was the best part of the trip, for sure," Mr Schultz said. "I really couldn't believe this. It was wonderful to see the place and meet Carolyn." She provided a fresh ear for his stories about working with the US Air Force's Air Sea Rescue Squadron. The operation used repurposed B29 bombers to search the ocean around Bermuda for vessels that were missing or in difficulty. It was Mr Schultz's job to keep watch from the back of the plane, in a place once used by gunners. It had not been the Second World War veteran's plan to come to Bermuda in the 1950s. "In 1951, the Korean War was on and I was still single and adventurous," he said. "I volunteered for Korea because that was where all the action was." At the shipping out point, he was told they didn't need anyone else in Korea and given the option of going to England, Newfoundland or Bermuda. After a year of training, he arrived on the island. "I'd heard of it, but I'd never been," he said. "It looked a lot different then. You don't seem to have as many cedars now." Mr Schultz helped in several high-profile rescues of that time. Ruby Zuill and Wilfred "Indian" Outerbridge went missing in their fishing boat Sea Venture after a series of heavy gales on February 8, 1954. "They searched for them for quite a while to no avail," Mr Schultz recalled. "Then one day we were on a training mission and we flew right over the top of them. We turned around and dropped some supplies that they never got." The US Coast Guard was notified and eventually picked the men up. Mr Schultz still has a copy of The Mid-Ocean News detailing the rescue with the headline: 'They Never Lost Hope'. "They'd been lost about five days," he said. "They weren't in too bad a condition. They were self-sufficient. They could fish and they had enough water." Mr Schultz met the pair and shook hands. "They were more than grateful," he said. On another occasion he helped rescue six Air Force search and rescue men after their plane crashed into the ocean. "We had a hurricane alert, and we used to evacuate our rescue aeroplanes to Florida or Georgia," he said. "We had four planes. After the alert passed we all came back to Bermuda. Halfway back to Bermuda, a piece of the prop went into the fuel tank and started a fire. Six people got out of the back. They got burnt because the fire was on the same side as the exit door. The other six guys went down with the aircraft. I knew those men." The men who made it out, were rescued by a passing cruise ship. Mr Schultz and his family left Bermuda soon after, when his tour of duty ended. "We were expecting our second child and my wife wanted to go home." he said. They settled in New Windsor, New York, and had two more children, Michael and Melissa. Mr Schultz worked for 37 years as a foreman in a gas company. His wife died in 2014. While here, the Schultz's visited Horseshoe Bay, ate at the Lobster Pot and met the Captain of the Norwegian Escape on the ship's bridge. "It's been a wonderful trip," he said. "This will probably be my last visit anywhere, given that I'm almost 90."


St David's was a cacophony of colour this morning as thousands gathered to watch and take part in the National Heroes Weekend Parade of Bands. Soca music pumped out from the main roundabout into Southside all the way to Clearwater Beach where the festivities began. Band members were dressed in brightly colored feathers and dazzling jewels for Bermuda's fourth National Heroes Weekend carnival. One reveler, Shayleen Morales, traveled from Philadelphia to participate for the second time. Ms Morales said: "I love the carnival for the colors, the fun and the dancing. I heard about it through my friends. Bermuda is beautiful — there's no other country like it. The people are so warm and welcoming and the place is so clean." Locals and visitors lined the parade route on the day to watch what is fast becoming one of Bermuda's most impressive spectacles. This year there are three bands — Nova Mas International, Nirvana Mas and Code Red.

Large crowds partied in the early hours to ring in National Heroes Day today. Thousands of people packed out Bernard's Park for the Cirque Du Soca J'Ouvert, one of the showpiece events from a long weekend of public activities. The party, from 3am to 8am, was the beginning of a long day for some revelers, with the Parade of Bands due to kick off at Southside, St David's, at 10am. Music, dancing and spectacular carnival outfits will form the entertainment in the East End, beginning with a parade from Clearwater Beach to Number One Gate. Opposition leader Jeanne Atherden issued a statement wishing people a happy National Heroes Day. She said: "Whilst we are watching or taking part in the Parade of Bands in St David's or while we are just enjoying some time off to relax or to be with our families, it is important to reflect. We should reflect on the progress that our country has made, the individuals who have helped us to get to where we are and therefore who our heroes include. National Heroes Day is, to me, about celebrating our National Heroes as well as those individuals who continuously make a difference in our lives, who silently make sacrifices in order to help others and who go the extra mile time and time again. These are people who have no expectation of praise or recognition and are there to support and assist others, come rain or shine. I am asking you therefore, as part of your celebration on National Heroes Day, to acknowledge and reach out to those persons who are your heroes. We are here today, because of all of the heroes who have gone before and who are also around us now. Today I salute all of Bermuda's heroes."

The public bus service is to resume tomorrow according to The Department of Public Transportation. The department's management team is due to meet with the Bermuda Industrial Union to "return to discussions in an effort to resolve the matters outstanding". A work-to-rule remains in place until further notice which could still result in route cancellations if drivers are unwilling to work overtime. A department spokesman said: "The DPT apologizes for the inconvenience to the traveling public."

There will be no bus service on Bermuda National Heroes Day, the president of the Bermuda Industrial Union confirmed today. Chris Furbert said that bus drivers are continuing a work-to-rule over numerous issues including working conditions. It comes despite home affairs minister Walton Brown stating any strike or irregular industrial action by drivers would be unlawful. An urgent meeting is scheduled to take place either tomorrow or Wednesday with the director of the Department of Public Transportation Roger Todd. Mr Furbert said workers will demand a timeframe for longstanding issues to be addressed. Mr Furbert told The Royal Gazette: "There are numerous outstanding issues, some of which have been going on for years, that the management team know about. Some of these issues go back four or five years. All our members want is a timeframe for when these issues will be addressed." Mr Brown published a Notice of Declaration of Labour Dispute in the Official Gazette yesterday, which stated: "I declare that a labour dispute exists between the Department of Public Transportation and the Bermuda Industrial Union. In accordance with section 19 of the Labour Disputes Act 1992, after the publication of this Notice, any lockout strike or irregular industrial action short of a strike is unlawful and any person who takes part in, incites or in any way encourages, persuades or influences any person to take part in, or otherwise acts in furtherance of, a lockout, strike or irregular industrial action short of a strike that is unlawful under this section is guilty of an offence." Mr Brown said he had referred the dispute to settlement to the Labour Disputes Tribunal. The DPT has published conflicting statements over the matter throughout the weekend. On Saturday, the DPT insisted the bus service would operate on Monday, per the published holiday schedule. On Sunday, the DPT conceded there was a risk the bus service would not run on Monday. The DPT has not responded to a request for comment today. A spokesman said yesterday that management was advised by the BIU of a work-to-rule starting at 10am on Friday. He said: "The BIU membership has interpreted this to include holiday work, regardless of whether or not it forms part of the employees' weekly work schedule. Management does not agree with this interpretation and distinguishes between regular shift work taking place on a holiday and overtime for those working more than their normal 37.5 hours per week. As with many other service providers, the bus service is a 365-day per year operation, which necessitates working holidays, weekends and shift work. Owing to this impasse in the interpretation of overtime, there is a risk that the bus service will not run tomorrow, Monday, June 18. DPT apologizes for the inconvenience to the traveling public and is committed to restoring full service as soon as possible." Three cruise ships are scheduled to be in Bermuda today — Norwegian Dawn and Grandeur of the Seas in Dockyard, and Veendam in the City of Hamilton, with a potential total of 6,000-plus passengers on board. Norwegian Dawn has a capacity of 2,340 passengers, while Grandeur of the Seas can carry 2,446 passengers. Veendam can take up to 1,350 passengers. The Public Transportation spokesman said: "DPT stopped providing charter services last year. For the second year, the main transportation out of Dockyard will be ferries, minibuses and taxis. Only regularly scheduled buses serve Dockyard, and, as stated, the normal Sunday/public holiday schedule will apply." The bus service ground to a halt for several hours in March after drivers took action in what was said to be a show of support for mechanics, who had stopped work over a series of complaints, including staff shortages. Walter Roban, the Minister of Transport and Regulatory Affairs, said in October that 14 maintenance positions had been left vacant — "almost half" the required staff.

June 17, Sunday

June 16

A UK minister has vowed to tackle concerns over public registers of company ownership in Bermuda and other Overseas Territories. Lord Ahmad, the UK's Minister for the Overseas Territories, said he recognized the "strength of feeling" over the proposed register and a spokeswoman yesterday said the UK Government would consider any proposals for reform. The Foreign Office official said the gathering was a "valuable opportunity to talk about EU exit and to have a constructive dialogue with the delegates on topics of mutual importance". She added: "The Minister for the Overseas Territories, Lord Ahmad, reiterated the UK Government's commitment to work collaboratively with the territories to address concerns raised about the potential adverse impact of public registers of beneficial ownership. The spokeswoman added that "the UK Government would give due consideration to any reform proposals put forward." The commitment came at the annual meeting of the Overseas Territories Joint Ministerial Council in London, attended by Walter Roban, the Deputy Premier. Mr Roban, also the Minister of Transport and Regulatory Affairs, was due to arrive back in Bermuda last night. He underlined Government's position that it does not recognize UK legislation designed to enforce public registers of company ownership in Overseas Territories after the meetings. A spokesman for Mr Roban said: "As a result of the passing of an Order in Council under the Sanctions and Anti-Money Laundering Act, together we stand with Governments of the Overseas Territories and the UK Government that we will take all necessary measures to ensure that the UK Parliament does not interfere in the domestic affairs of an Overseas Territory. "Discussions on upholding democracy were strong. It is clear the domestic affairs and legislative process are the responsibility of the local elected officials." The spokesman added that the existing agreement between the UK National Crime Agency and the Bermuda Monetary Authority to provide beneficial ownership information within 24 hours will remain in force. He said: "Together with the recent developments of UK Parliament's interference and the UK's departure from the European Union, the Prime Minister has recognized the need for all Overseas Territories to begin discussions on constitutional review and advancement." He said Theresa May, the Prime Minister, has appointed David Lidington, the Minister for the Cabinet Office, to "oversee constitutional discussion or review with any Overseas Territory which desires change". Overseas Territories were also assured a "rapid response" from the UK to restore law and order after a major disaster. The promise came in the wake of criticism of the reaction to Hurricanes Irma and Maria last year. The Foreign Office spokeswoman highlighted the views of Lord Ahmad, Junior Minister for the Commonwealth and United Nations, who visited Caribbean islands two weeks ago, which made clear the UK Government's "strength of focus on hurricane preparation". Lord Ahmad said: "The UK has provided critical aid and support across the region to assist in recovery from last year's widespread devastation, and we can already see this help from the UK has made a real difference on the ground. However, there's more that needs to be done. We will continue to work extremely closely with the British Overseas Territories, as well as the rest of the Caribbean, to make sure that the region have plans in place to prepare for, and better withstand, future hurricanes."

Pitbull terriers were taken off the banned list of breeds by MPs yesterday. The controversial dogs are now on the restricted category, along with American bulldogs and American Staffordshire terriers. Walton Brown, the Minister of Home Affairs, said: "This means that dogs of these breeds are eligible for importation and breeding, but done under the strict guidelines and conditions set out by the Department of Environment and Natural Resources. I can assure you that Bermuda will not have a scenario where anything goes. We will still have laws, and they will be enforced, and the penalties are severe." Mr Brown was speaking as the House of Assembly approved the Dogs Amendment Act, which will have to be approved by the Senate before it becomes law. He said breed-specific policies have reduced the number of dog attacks, but resulted in household pets being seized and killed because of their breed. Mr Brown added: "The animal wardens spend an inordinate amount of time confiscating and authorizing dogs that have committed no acts of aggression. This detracts from their efforts to deal with truly dangerous dogs or dogs that have endured abuse and improper care." Mr Brown said the killing of dogs because of their breed was "abhorrent". He added that he had worked with charity Angels Helping Animals to take seized dogs to the United States instead of them being put down. He said the government kennels have often become full because of continued seizures of prohibited dogs. Mr Brown added that breed-specific legislation will remain in place, with dogs such as large mastiffs and also wolves still prohibited breeds. "The step of re-categorizing the pitbull breed comes as a result of an acknowledgement that these dogs are already in the community, albeit that they are illegal. Therefore, the community is already feeling the impact of the dog's presence." The re-categorization is also based on our own data, which shows that only a minority of pitbulls have been a threat to public safety. Not most of them, and certainly not all of them." The act also creates civil penalties related to dog ownership so offences can be dealt with faster and without the use of the courts. The legislation also introduces new animal welfare regulations, including a ban on cosmetic surgery. Clipped ears, docked tails and the use of heavy chain collars will also be outlawed, while dogs will not be allowed to be tied up for longer than four hours. The new law also enshrines rights for dogs. These are freedom from hunger and thirst, freedom from discomfort, freedom from pain, injury or disease, freedom to express normal behavior and freedom from fear and distress. Cole Simons, the Shadow Minister of Education, who worked on the legislation while environment minister under the former One Bermuda Alliance government, said the amendments were "very long overdue". The amendments also include a provision to put a dog down if it attacks another animal. Mr Simons told MPs his own dog was mauled and killed by another dog. He said. "I'm saying this from personal experience. When you go through it, it changes your world. I think that the community will support this aspect of the law." The legislation also makes it mandatory for all dog bites to be reported to the director of the Department of Environment and Natural Resources. Mr Simons said: "If we are to get close to the problem and identify the real source of the issues, we need to get good data. Veterinarian professionals should report their findings to the director." Lawrence Scott, the Government Whip, said dog ownership was similar to caring for a child. He added that all dog owners should be aware of good training practices for their pets. Mr Scott said: "It is irresponsible practices that lead to pitbulls getting a bad reputation." It is about the responsibility of the owner themselves. "The Act helps to guide them in the right direction without being too punitive." Mr Scott said he had a "personal concern" about dogs being tied up for long periods. He added that not all owners are able to fence in their pets. Reacting today, campaign group Punish the Deed not the Breed declared itself "extremely happy" that the legislation passed. A spokeswoman said: "We are extremely thankful to everyone who supported our petition and cause through out the years leading up to this change. We are very thankful the government has taken the steps to address this inhumane dog legislation to now promote a healthy happy lifestyles for our islands pitbull population. Responsible ownership is key, and we couldn't be more excited that we've finally got some positive change."

A new register of land ownership will crack down on people who try to cheat vulnerable owners out of their property, MPs heard yesterday. Lieutenant-Colonel David Burch, the Minister of Public Works, said the new land title registry would end a "sorry and deplorable" history of real estate agents and lawyers swindling clients. Colonel Burch explained: "This system will provide for the guarantee of legal ownership of land and the simplification of conveyancing transactions." He added the register would become "the definitive record of title" and that any further transactions could be carried out quickly and at low cost. Further, once a title is registered, title to that land is guaranteed, and cannot be lost or stolen." He said that land exchange on the island came with a "long and sad history", in which many had been cheated by "unscrupulous professionals, and even at times by family members. Landowners who opt to register their deeds would obtain absolute title. Property owners would finally be able to secure their real estate, and the land that they worked so hard to obtain, their piece of the rock that they want their children and grandchildren to inherit and maintain after they are gone, their legacy, will for ever be safe. It is unconscionable to this Government that landowners would have to pay lawyers' fees for this service, so we will amend the Act to remove the requirement for a lawyer to examine the deeds." Staff at Government's Land Title Registration Office will instead carry out searches and grant registered titles. The modernized system will come into force at the start of next month. Colonel Burch said the change will complete the move from a deeds-based registration system that dated back to 1999. Shady practices in the real estate market sparked a debate in the House of Assembly in 2014, when the Progressive Labour Party was in Opposition. A Commission of Inquiry was approved by Parliament, but it was never authorized by the Governor. Colonel Burch predicted "great interest" from the public and that voluntary registration would start by appointment only to allow the office to handle the workload.

A law to crack down on illegal construction was backed by MPs yesterday. Walton Brown, the Minister of Home Affairs, said the Development and Planning Amendment Bill 2018 was designed to penalize construction firms who carry out work without planning permission. Mr Brown added it had become common for landowners and contractors to "build now and ask for permission later. One of the more egregious cases involved someone who built a swimming pool and an apartment so he could profit from the America's Cup. He didn't ask for permission, but as we were going to issue a demolition order he filed for retroactive approval." The new legislation will allow the Department of Planning to slap fines of up to $100,000 on both the landowner and the contractor for breaches of planning law. Criminal penalties could result in fines of up to $100,000 and two years in prison. Patricia Gordon-Pamplin of the One Bermuda Alliance, said the Opposition supported the purpose of the legislation. She told the House that breaches of planning regulations could present serious public safety risks. Lawrence Scott, the Government Whip, said he had received complaints about construction work which had not been granted planning permission. He added some contractors knew they were in breach of regulations but started work anyway. He said: "They know they will be fined. They would pass that fine onto their client." But Mr Scott added that a $100,000 fine would be much harder to hide on an invoice. The MP said he knew of a 17ft wall built without permission which collapsed because it was not structurally sound. Mr Scott said: "The planning process might be a frustrating process, but it has been put in place for the public's safety. Retroactive planning approval will still be available, but it will be much more difficult to get after this bill is passed and that's a good thing." Cole Simons, OBA MP, said he backed the amendments. He added that the Government should consider a campaign to make sure the public understood the regulations. Mr Simons also suggested the Government look at the rules for listed buildings, which can be expensive and difficult to maintain, as well as rules governing quarries.

The bus service will operate on National Heroes Day, the Bermuda Government said today. The Department of Public Transportation acknowledged it is "working through issues" with the Bermuda Industrial Union, but insisted a dispute with mechanics will not affect the usual public holiday bus timetable. Bus users may still face cancellations, however, due to a continued shortage of available buses and drivers operating a work-to-rule. The Royal Gazette reported today how multiple sources close to the dispute had said buses would be off the road for the public holiday because employees were planning to work to rule while a long-running row rumbles on over working conditions for mechanics. Government failed to respond to requests for comment yesterday, but did issue an e-mail saying 147 bus routes had been cancelled yesterday afternoon and evening. Today, the Department of Public Transportation said it wished to correct "information circulating in the community, fuelled by media". A spokesman said: "There is an outstanding dispute between DPT and its unionized workers. DPT and the Bermuda Industrial Union are working through the issues, based on the Collective Bargaining Agreement. The Royal Gazette in today's paper quotes unnamed sources that buses will not run on the public holiday Monday because mechanics will not be working. This is not true. Monday is a public holiday and as a result, the majority of bus mechanics will be off on holiday, as per normal. This does not determine whether the service operates. Notwithstanding the ongoing labour dispute, the bus service will operate on Monday, per the published holiday schedule. As has been the case for many months, there may be route cancellations due to a shortage of available buses. Any cancellations will be informed per the twice-daily bus alerts. The work-to-rule means drivers will not work overtime. If there is a shortage of drivers, this may result in route cancellations. It's difficult to say in advance if, and to what extent, cancellations will occur." Three cruise ships are scheduled to be in Bermuda on Monday — Norwegian Dawn and Grandeur of the Seas in Dockyard, and Veendam in the City of Hamilton, with a potential total of 6,000-plus passengers on board. Norwegian Dawn has a capacity of 2,340 passengers, while Grandeur of the Seas can carry 2,446 passengers. Veendam can take up to 1,350 passengers. The Public Transportation spokesman said: "DPT stopped providing charter services last year. For the second year, the main transportation out of Dockyard will be ferries, minibuses and taxis. Only regularly scheduled buses serve Dockyard, and, as stated, the normal Sunday/public holiday schedule will apply." A voice message on social media yesterday warned of service disruption on Monday, saying buses would not run because mechanics were due to down tools. Glen Simmons, the Bermuda Industrial Union's vice-president, said he had "no idea about that" when questioned yesterday. Mr Simmons referred questions on the dispute to Chris Furbert, president of the Bermuda Industrial Union. Mr Furbert did not respond to requests for comment last night. The bus service ground to a halt for several hours in March after drivers took action in what was said to be a show of support for mechanics, who had stopped work over a series of complaints, including staff shortages. Walter Roban, the Minister of Transport and Regulatory Affairs, said in October that 14 maintenance positions had been left vacant — "almost half" the required staff.

The fun has begun for one of Bermuda's most popular holiday weekends. Hundreds of people gathered on the sand and water at Shelly Bay for the Bermuda Heroes Weekend Raft Up this afternoon. A steady stream of beachgoers and more than a dozen boats were still arriving as of 1pm to enjoy the music and the emerging sun. Tashi Smith said: "I was a bit worried with all the rain last night but the sun is coming out, its getting brighter. I love the whole Heroes Weekend atmosphere. It's great seeing everyone come out and celebrate." Joseph Andrews added: "The music is great, folks are starting to dance. This is what Bermuda is about." Island and international DJs are scheduled to provide entertainment at Shelly Bay from noon to 6pm. The party will continue tomorrow with the Pan in the Park, a range of steel pan drum performers, on stage at Victoria Park in Hamilton between 3pm and 7pm. The Cirque Du Soca J'Ouvert will ring in National Heroes Day on Monday and bring music to Bernard's Park in Pembroke from 3am to 8am. The weekend will climax with the Parade of Bands, which will feature music, dancing and spectacular carnival outfits at Southside, St David's, on Monday. The parade is set to kick off at Clearwater Beach at 10am with revellers dancing their way to Number One Gate. Masqueraders will set out again at 2pm, returning to Clearwater Beach along Southside Road. For the full schedule, visit bermudaheroesweekend.com.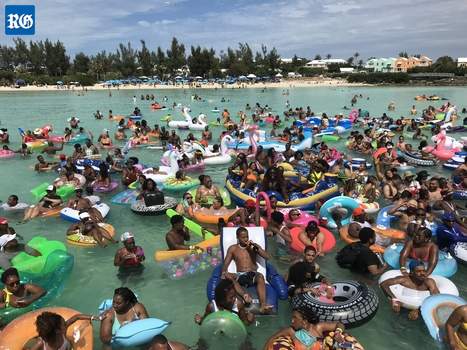 See above story

A controversial government minister told MPs last night he had refused to repair a wall at a Cup Match venue unless the club agreed to not invite the Governor to present the trophy. Lieutenant-Colonel David Burch told the House of Assembly that he had given the ultimatum to Somerset Cricket Club, this year's venue for the annual cricket match and where he is also a member. Colonel Burch said that he disagreed with the Governor handing over the cup as it is a celebration of the emancipation of slaves in the then British Empire, which came into force in 1834. He added: "I think if people look at it historically, this is a celebration of emancipation of slaves. So why would we still accept, in 2018, inviting he who enslaved us to come and not only celebrate with us but also be the person who presents the cup. I would really like to help our club, but they have to work with me." Colonel Burch, speaking during the motion to adjourn, said he had often asked the club to dismiss the Governor as presenter of the trophy. He added he had been approached about repairing a wall in the area before the club hosts Cup Match in August. He said he gave the club two conditions — that the club should provide adequate recycling measures and that the Governor should not present the trophy to the winner. Colonel Burch added: "They have been unable to find the fortitude to tell the man on Langton Hill thank you very much, but watch the cricket on television. I figured I should stand on the floor of the House and give them some cover." He later added: "Cup Match is seven weeks away. We could build a wall in a lot less than that, but we are going to need some courage." Colonel Burch received some support from the Opposition. Michael Dunkley, the former OBA premier, said the Premier should present the trophy. He said: "This is an important Bermudian holiday, a community holiday. We should never forget our past, our history. It's appropriate that the Premier present that cup at the end of the day."

The combination of a light southeast wind and more than one knot of current flowing out of Narragansett Bay pushed the fleet of sailboats starting the Newport Bermuda Race on the way towards Bermuda yesterday afternoon with few incidents of note. "In spite of the light conditions," said Jonathan Brewin, chairman of the Bermuda Race Organising Committee, "the New York Yacht Club race committee did a stellar job of starting our 17 classes safely." Only one boat among the 170 entries in the race failed to start, Araucaria, a 55-footer sailing in the Finisterre Division for amateur boats using cruising sails. Setting a pre-race course past Whitehawk, the 105-foot starting line boat anchored in the East Passage, a misjudgment of the strong current resulted in a collision between the boats and the retirement of the smaller vessel. During the starting sequence, a McCurdy & Rhodes 38-footer named Selkie came too close to Whitehawk and was hung up for a while on Whitehawk's massive bowsprit. Fortunately, after taking its penalty turns, Selkie was able to continue with the race. The most exciting start was among the largest boats in the fleet, Class 15 in the Gibbs Hill Lighthouse Division. In this group of high-tech, high-speed, professionally crewed boats, the 88-foot Rambler 88, a former record holder for the Newport Bermuda course, started a little behind several smaller boats and made a breathtaking pass, threading its way right through the middle of the fleet. "It was also exciting to watch all the starts of this race on social media for the first time," Brewin said. The race continues for the next three to six days. How long depends on the size of boat and the strength of the winds. The forecast is for lighter winds. "Preliminary projections are for a very strategic race, which could involve several restarts when the wind dies and the fleet compresses," Brewin said.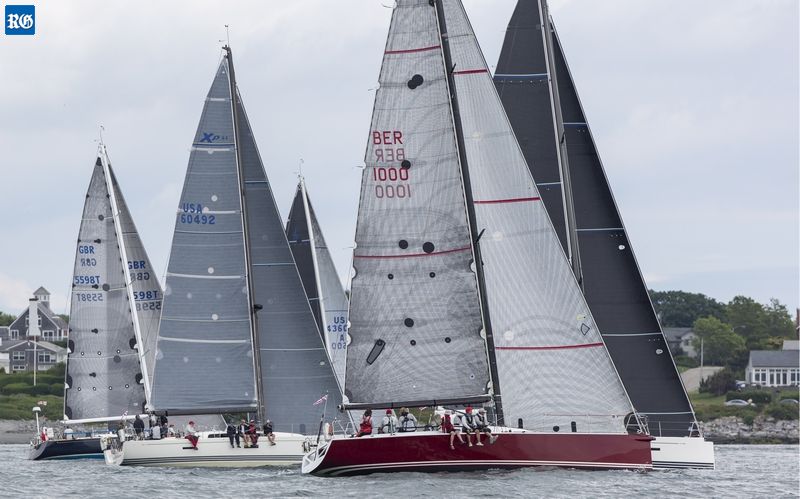 Royal Caribbean Cruises, which sends cruise ships to Bermuda, has announced the acquisition of a significant stake in ultra-luxe small-ship cruise line Silversea Cruises which also cruises to Bermuda. The agreement includes the acquisition of a two-thirds equity stake in Silversea based on an enterprise value of $2 billion, with the purchase price of the equity valued at approximately $1 billion, according to the company. RCL said it would finance the purchase through debt. "Silversea is a crown jewel, and the acknowledged leader in luxury and expedition cruising, two key markets that are poised for growth," said Richard D. Fain, Chairman and CEO of Royal Caribbean Cruises Ltd. "Uniting our two companies presents an extraordinary opportunity to expand vacation options for guests and create revenue in strategic growth areas." The move means a major new luxury brand for Royal Caribbean. The move comes as the luxury cruise market continues to see drastic changes, most notably by the planned entry of Ritz-Carlton to the market. Ritz-Carlton just launched bookings for its first cruises, which will launch in 2020. "We are proud to welcome aboard [Silversea executive chairman] Manfredi Lefebvre, a visionary leader whose high standards and history of innovation we deeply respect. Manfredi will remain Executive Chairman of Silversea, continuing to lead its strategy long term," Fain said. In a statement, Royal Caribbean said strategic rationales for the agreement included driving long-term capacity growth in the luxury cruise market; diversifying Royal Caribbean's portfolio; leveraging the global footprint of both companies to "generate demand and increase vacation and destination options" and realizing what the company called "significant synergies" related to global market access, supply chain, purchasing power and other economies of scale. Silversea CEO Roberto Martinoli will continue in his role, the company said. Silversea operates a fleet of nine all-suite ships sailing around the world. The brand joins Royal Caribbean's existing portfolio, which includes its namesake brand, along with Celebrity Cruises, Azamara Club Cruises and the regional TUI and Pullmantur brands.

The cricket community is in mourning after the death this week of George Trott, the former Hamilton Parish all-rounder and umpire, on his 90th birthday. Trott earned a reputation during his playing days at Parish as an early-order batsman and seam bowler, who occasionally took the new ball. However, his biggest contribution to local cricket is perhaps as an umpire who upheld the principles of the gentleman's game and maintained high standards that earned him the respect of players and peers alike. Trott was the first Bermudian to officiate in a World Cup qualifier, having done so at the 1990 ICC Trophy in the Netherlands, and also stood in the middle in an unprecedented 11 successive Cup Match classics. "George was Bermuda's best umpire," said former umpire George Francis. "He always conducted himself as a decent human being on and off the field and brought a lot of professionalism to an organisation [Bermuda Cricket Umpires Association] which wasn't there before. He was always on time for the start of his games and after the game he would leave the area. He never hung around to discuss any decision he made or anything with players or hung around drinking in the bar. He was a great ambassador for Bermuda and a big loss that will never be replaced in Bermuda cricket." Francis was among many umpires who were taught their craft by Trott. "George definitely had a big influence on me and many others," Francis said. "He always had a word of encouragement and never had a bad word. He was a man of great integrity, high credibility and a very high standard who was always willing to help." Trott was also a mentor of Steven Douglas, the BCUA president. "I recall my first meeting with George back in 1997 when I started my umpiring," Douglas said. "Actually, George was the person who took me out to my first game and taught me the craft of the game. During those early days when it came to the rules and laws of the game George had the ability to simplify the terms. Easily described as a quiet gentleman, he was not one to be underestimated. His commitment and service to the BCUA has been recognized within the cricketing community of Bermuda. He was recently honored by The Bright Temple AME Church for his service to Cup Match. On behalf of the officers and members of the Bermuda Cricket Umpires Association we extend our sincere condolences to the family of Mr George Trott." Ralph Hill, father of former Bailey's Bay and Somerset Cup Match players Ricky and Corey Hill, recalls playing with and against Trott, who was his uncle. "I played a good bit of cricket with him at Hamilton Parish in the 1960s and we got along quite well on and off the field," Hill said. "He was a very dependable early order batsman and a good bowler but I really recognized him more as a bowler. Sometimes he opened the bowling attack or was first change. I kept behind the wicket for him a lot of times and he was straight on the button. If you missed, he hit. He was very strict and reminded me of guys like 'Bummy' Symonds. He was mentor to me and I also played against him when he went to play for Warwick in his later years." Speaking on behalf of the Bermuda Cricket Board, Neil Speight, the chief executive, said: "The BCB extends its sympathies and condolences to the family of the highly respected umpire George Trott who recently passed away. A full tribute will be delivered at his funeral next week." A funeral service will be held at Bright Temple AME on Tuesday, beginning at noon.
June 15

The Deputy Premier asked the British Government yesterday to ensure "appropriate succession planning" is carried out for roles appointed by the Governor. Walter Roban said the Bermuda delegation to the Overseas Territories Joint Ministerial Council had raised controversy over the new Chief Justice and Commissioner of Police, neither of whom were born in Bermuda. Mr Roban, also the Minister of Transport and Regulatory Affairs, said: "We raised the point around the recent appointments of the new Commissioner of Police and of the Chief Justice. We did raise some points directly with the minister on that, I also raised it as part of the conference deliberations." He added: "In relation to the position that the UK Government currently holds, their position is linked to the 2012 White Paper which discusses constitutional reform. It says there is no interest at this time of pursuing major constitutional reform with the Overseas Territories. With that in mind, our view is that if that is the case, where the UK Government has responsibility such as the appointment of constitutional positions, such as the Chief Justice and Commissioner of Police — which is under their prerogative of security, foreign affairs and internal security — that they should also ensure that the appropriate successor planning within each territory is also properly deployed. They are in support of our sustainability as a jurisdiction of their governance and opportunities that will ensure that they will have less responsibility for our affairs. They should ensure that the appropriate succession planning around these appointments is done in the meantime and that should come with their responsibility.' Mr Roban was speaking as he and Kimberley Durrant, the director of Bermuda's London office and the official island representative in the UK, held a series of meetings in London. He said discussions were dominated by the implications of the UK's decision to quit the EU — Brexit — but that Constitutional affairs and disaster management were also on the agenda. In a statement released today, a spokesman for the Deputy Premier said that the Bermuda Government stands alongside its counterparts and will "take all necessary measures to ensure that the UK Parliament does not interfere in the domestic affairs of an Overseas Territory". He said: "The main issue that was raised by a number of territories was this concern about the British Government's overreach further into domestic matters, contrary to the path that many have been on ... since the early 2000s — continuous constitutional reform, greater domestic responsibility for affairs and just a more partnership-type arrangement with the British." Mr Roban said the subject caused a "quite heated discussion". Wayne Caines, the Minister of National Security, two weeks ago criticized the Bermuda Police Service's management for its failure to prepare a Bermudian successor for Commissioner of Police Michael DeSilva, who will retire today. The appointment of British Chief Superintendent Stephen Corbishley was announced on May 30 by John Rankin, the Governor. David Burt, the Premier, earlier claimed the appointment of Narinder Hargun as the next Chief Justice was "an affront" to the Government. Mr Roban said the talks also raised the possibility of British Overseas Territories citizens applying for British passports if they feel their rights in the EU are reduced compared to British people after a deal is reached on Brexit. He explained: "We received clarification from the minister and the Cabinet Office that as far as they're concerned there is a guarantee to a right of access to those Overseas Territories citizens to the Schengen area, which should not be affected by Brexit. But here's the other part of it, as we all know that Brexit negotiations aren't finished and we don't know what they're going to look like in the end. The British Government did also say that if, at the end of a deal with the UK and the EU, that British citizens have different rights or more rights than British Overseas Territories citizens, the British Government has welcomed the possibility of Overseas Territories citizens applying for British citizenship. "So if they find themselves in a situation where they have a difference in rights — there are more rights for British citizens post-Brexit — they can apply for British citizenship. But it is the British Government's position that the status quo will remain upon conclusion of Brexit negotiations." The Deputy Premier's visit to London also included a meeting with Lord Ahmad of Wimbledon, the UK's Minister of State for the Commonwealth and the United Nations. Mr Roban said Lord Ahmad "understood" the Bermuda Government's position that it did not recognize UK legislation designed to enforce public registers of company ownership in Overseas Territories. He said: "We don't recognize the authority of the UK Parliament to legislate over Bermuda outside of the prerogative powers that already exist in our constitutional order section 62 — that is understood by the elected minister and agreed with." He added: "Bermuda will only do what is passed in the Bermuda Parliament. Bermuda is already adhering to international standards that meet the criteria that is required." In a statement, a spokesman for the office of the Deputy Premier and Ministry of Transport and Regulatory Affairs said today: "As a result of the passing for an Order in Council under the Sanctions and Anti-Money Laundering Act, together we stand with Governments of the Overseas Territories and the UK Government that we will take all necessary measures to ensure that the UK Parliament does not interfere in the domestic affairs of an Overseas Territory. Discussions on upholding democracy were strong. It is clear the domestic affairs and legislative process are the responsibility of the local elected officials. "Moving forward there will be a collaborative approach and the existing Exchange of Notes with the National Crime Agency and the Bermuda Monetary Authority to provide Beneficial Ownership Information within a 24 hour period will remain in effect. Together with the recent developments of UK Parliament's interference and the UK's departure from the European Union, the Prime Minister has recognized the need for all Overseas Territories to begin discussions on constitutional review and advancement. The Prime Minister has appointed Minister for the Cabinet Office and the Chancellor of the Duchy of Lancaster, the Rt Hon David Lidington CBE, MP to oversee constitutional discussion or review with any Overseas Territory who desires change." He added: "The Minister raised the issue of a succession plan of qualified Bermudians to senior appointments under the responsibility of the Governor. This is relevant where the UK Government requires all Overseas Territories to be self-governing and self-sustainable as stated under the 2012 White Paper."

Hurricanes will be met with a more rapid response from the British Government, Bermuda's Deputy Premier was told yesterday. Walter Roban was given the commitment during a meeting of the Overseas Territories Joint Ministerial Council in London. He said the pledge came after complaints about the speed of the reaction by UK leaders after 2017 hurricanes devastated parts of the Caribbean. Mr Roban said: "There was significant criticism of the British Government's response with Irma and Maria last year. It has been directed by both the Prime Minister and the minister that this will get a much more proactive support on their part and they will be much more rapidly responding to any disasters that might occur in this upcoming hurricane season. They have started to raise the level of attention to these matters to that of the Prime Minister as well as the minister responsible." Mr Roban went on to say that Bermuda's level of assistance to those affected by natural disasters such as hurricanes would match that of 2017. He explained: "We committed to certainly the same support that we gave last year around the areas of security and recovery that we gave to the territories." Mr Roban said these included the deployment of the Royal Bermuda Regiment, police and private partners. John Rankin, the Governor, thanked the regiment and police last December for their work to aid people in hurricane-hit UK Caribbean territories. Mr Rankin held a reception for the 30 troops sent to Turks and Caicos and the six police officers stationed in the British Virgin Islands after Hurricane Irma's 185mph winds brought "severe devastation" to the territories last September. David Burt, the Premier, was among those who asked the British Government to "fulfil its obligations" to the people of Britain's Caribbean territories after the catastrophic storm. Mr Burt, president of the UK Overseas Territories Association, said he welcomed a British commitment to provide immediate resources in the event of a disaster. But the association questioned Britain's response in other areas, including a regional reconstruction fund and the two-week wait for the arrival of the Royal Navy's HMS Ocean in the Caribbean in the wake of Irma. Mr Burt said: "Now, more than ever, we need the United Kingdom to fulfil its obligations by providing comprehensive and lasting support to ensure a sustainable future." Theresa May, the British Prime Minister, a few days earlier had increased the country's aid package for the Caribbean region to $42.5 million. The UK Government did not respond to request for comment by press time.

The Bermuda Government's partnership with PwC will "change the way that the Government delivers its services", Lovitta Foggo said today. Ms Foggo, the government reform minister, gave the House of Assembly an update on its public service reform plan. Global firm PwC is working with the government free of charge on the project. Ms Foggo told MPs the draft strategic plan is to be completed this summer and, subject to approval, will commence "immediately thereafter". It includes an overhaul of government human resources and the Office of Procurement and Project Management.

The performance of the Customs Department got a boost from its relocation this year, according to Wayne Caines, the Minister of National Security. Mr Caines updated Parliament on the department's activities in the first and second quarters of 2018. Customs was moved from its former headquarters across Front Street from the Cabinet Building, to Customs House at 131 Front Street. Mr Caines told MPs that an advertisement for ten trainee officers in March had drawn 487 applications, with short-listed candidates now being interviewed. Meanwhile, two senior level promotions were announced: Senior Customs Officer Ahmed-Troy Caines was promoted to Principal Customs Officer, while Sharmette Pond was promoted from Principal Customs Officer to Assistant Collector of Customs.

Holiday Ferry Schedule June 18.
Blue Route. Operating on the weekday schedule between Hamilton and Dockyard.
Orange Route. Operating on the Monday schedule between Dockyard & St. George's.
Pink Route. Operating on the Public Holiday Schedule between Hamilton, Paget & Warwick.
Green Route. No ferry services to or from Rockaway, Cavello Bay and Watford Bridge.
For ferry scheduling information please visit www.marineandports.bm.

The Bermuda Government has spent $125,000 sponsoring BHW Limited for Bermuda Heroes Weekend this year. Tourism minister Jamahl Simmons told the House of Assembly that the assistance would bring significant yields from "the world's fastest growing carnival". Mr Simmons told MPs: "This dynamic new partnership will ensure that Heroes Weekend Carnival is sustained long into the future and will be cemented into Bermuda's social and cultural calendar. Under the agreement, the Government will provide the human and financial resources to ensure a solid foundation that underpins the event's operations and assists in addressing old debts. All the while the leadership of BHW Ltd continues to execute their unprecedented and hugely successful promotional, logistic and organisational operation." Mr Simmons said that visitor numbers showed the island attracting "younger and more diverse visitors to our shores".

A Bill to create a fintech development fund to invest in training Bermudians is to be introduced in Parliament today. David Burt, the Premier, told MPs that the fund would support software engineering educational programmes for Bermudians, as well as the development of regulations.

A new land title registry will protect vulnerable people from being swindled, Lieutenant-Colonel David Burch told Parliament today. Colonel Burch, the public works minister, said a modernized system for land title registration will be in operation from July 2. He said that the launch would begin with voluntary registration by appointment. The public works minister said the new registry has been a work in progress since 1999. Among the benefits will be the elimination of land being "swindled" off vulnerable persons.

Bermuda's water infrastructure is to be boosted, public works minister Lieutenant-Colonel David Burch told Parliament this morning. A third extraction well at the Tynes Bay reverse osmosis plant and a new pumping station for the Cedar Park and Mary Victoria area should bring "significant financial savings", Colonel Burch said. Colonel Burch also announced the installation of a remote monitoring control system for the island's central areas and the replacement of 2,000 feet of corroded iron pipes in the Fort Prospect area. Rainfall is below normal this year, with a total of 20.82 inches by June 3, 1.43 inches below the normal average.

Hiscox has accused Yuval Abraham, a former executive who was based in Bermuda, of misappropriating more than $1.8 million. The Bermuda Supreme Court ordered a worldwide freezing of Mr Abraham's assets on April 25 this year, on the same day that three Hiscox entities — Hiscox Services Ltd, Hiscox Agency Ltd and Hiscox Insurance Company (Bermuda) Ltd — had sued him. A spokesperson for Hiscox, the Bermudian-based insurer and reinsurer, said yesterday that the company was working with law enforcement authorities to pursue repayment of the money. The Bermuda Police Service has confirmed that it is investigating the matter. The company has also petitioned the US District Court for the Southern District of New York for an order to issue subpoenas to Montres Journe New York LLC for the production of documents to support its proceedings in the Bermuda court. In its application, Hiscox states: "In 2017 and 2018, Mr Abraham falsified invoices and used his position to cause Hiscox to pay over a million dollars to Montres Journe New York in exchange for luxury watches. It is unknown whether the watches were purchased for the benefit of Mr Abraham or a third party, but it is certain that they were not for the benefit of Hiscox." Hiscox details a schedule of seven payments, which it describes as the "Montres Transactions". Varying in amount from $43,300 to $750,000, these were paid out by Hiscox between June 2017 and April 2018 and related to invoices that described "consulting services". Montres Journe is described in the application as a dealer of luxury watches and jewellery. The freezing injunction from the Bermuda Supreme Court orders that Mr Abraham must not "remove from Bermuda any of his assets which are in Bermuda up to the value of $1,847,960.00", or "in any way dispose of, deal with or diminish the value of any of his assets whether they are in or outside Bermuda up to the same value". The freezing injunction specifically references watches purchased from Montres Journe as being among the assets to which it applies. The company said it has obtained similar freezing injunctions in England and Wales and South Africa. The case was reported earlier by the Offshore Alert website. A spokesperson for Hiscox told The Royal Gazette yesterday: "Hiscox is currently pursuing the repayment of funds which we believe were illegally obtained by one individual who no longer works here, and are working with law enforcement on this matter. Hiscox operates to the highest standards and takes such incidents extremely seriously. However, as this is an ongoing investigative and legal matter, Hiscox cannot comment further at this stage." Hiscox's head office, as well as reinsurance and alternative capital management operations, is in Wessex House on Reid Street, Hamilton, and the company is listed on the London Stock Exchange. Mr Abraham was terminated from his job as CFO of Hiscox Services Ltd, the service company that manages expenses for Bermuda legal entities for the Hiscox Group, on April 27 this year, Hiscox stated in its US court application. The company added that Mr Abraham had left Bermuda and was believed to have traveled to London, South Africa and then Israel in early May. According to an affidavit filed in the Bermuda Supreme Court by Marc Wetherhill, Hiscox's group company secretary, Mr Abraham was employed in Bermuda on a work permit issued "pursuant to a Polish passport", and he also holds South African and Israeli passports. Mr Wetherhill stated that the law firm Carey Olsen Bermuda had hired KPMG to conduct a detailed investigation into the transactions in question.

Court reports were ordered this morning after a 68-year-old man admitted growing marijuana. James Dallas, of no fixed abode, pleaded guilty in Magistrates' Court to the cultivation of cannabis. The court heard that Dallas was arrested after police were called to investigate trespassing at the old prison headquarters on Happy Valley Road, Pembroke. Officers discovered 25 styrofoam cups on a window ledge during their search. Dallas told officers: "They are my tomato plants." The cups were later found to contain 30 cannabis plants. Senior magistrate Juan Wolffe ordered court reports on Dallas because he wanted "to know more about him". The case was adjourned until July 27.

The list of companies publicly supporting same-sex marriage has grown, with a raft of new additions after an article in The Royal Gazette earlier this week. We reported on Wednesday that 58 businesses — from bars and luxury hotels to law firms, global banks and brokerages — appeared on the online directory of "diversity-friendly" firms. And our story prompted many more to contact marriage equality campaigner Tony Brannon. As of last night, another 35 companies and organisations had asked to be added to the list. Many business owners offered words of support for the campaign for marriage equality, which got a boost last week when the Chief Justice ruled that a new law outlawing gay marriage was unconstitutional. Zoë Hanson, director of Zobec Trust Company, told Mr Brannon in an e-mail: "Zobec, as a local Bermuda business owned and run by Bermudians, fully supports same-sex marriages." Elaine Murray and Richard Hartley, from the Irish Linen Company, e-mailed: "Who doesn't love a beautiful rainbow?" John and Alison Young, from the Ledgelets Cottage Colony, wrote: "We stand proudly with you and all the other businesses." T.J. Armand, executive director of the Bermuda Festival, said: "I am happy to confirm that Bermuda Festival of the Performing Arts would like to join the list of diversity-friendly organisations and businesses. Thank you for your efforts to build this list." Mr Brannon said he was thrilled the list was growing, as the island waits to find out if the Government will appeal the most recent Supreme Court ruling. "The continued affront to deny marriage equality by the Bermuda Government must be resisted at every level," he said. Our article prompted the removal of the Bermuda National Library from the list, after a request from the director of the Department of Libraries & Archives. The director explained in an e-mail to Mr Brannon that the library should not have been included because "as a government department it is not appropriate for us to publicly advocate for a public policy position that is contrary to that of the government of the day". She added: "The library has been and will continue to be a supportive and welcoming place for all Bermuda residents, regardless of their religion, political views, sexual persuasion or gender identity." Mr Brannon said the library was added a year ago when he first created the list, because he mirrored one maintained by the Rainbow Alliance of Bermuda. Its "rainbow-friendly directory" — set up in 2012 — lists social spaces, shops and services which welcome gay people, as well as local resources for them. One international company on Mr Brannon's list is cruise giant Carnival, which registers many of its ships in Bermuda and was offering on-board same-sex marriages until the law banning gay marriage, the Domestic Partnership Act, came into force on June 1. Carnival part-funded the recent court challenge against the DPA. According to Pink News, Carnival UK president Josh Weinstein said this week that the company was delighted with the Chief Justice's ruling. "We will now be working closely with the Bermudan (sic) authorities to understand when we will be able to resume marrying same-sex couples on board," he was quoted as saying. Chris Bryant, a UK Labour MP, raised the court judgment in the House of Commons the day after it was delivered. He said on June 7: "A British Government in Westminster should not abrogate to themselves powers willy-nilly, but why are the Government adamantine about not intervening when human rights issues affect British citizens? It was the same in Bermuda: the Government refused to say anything about same-sex marriage being banned, but the Supreme Court in Bermuda decided yesterday that the British Government were wrong and that same-sex marriage should be reintroduced."

The sister of two of the founders of the Non-Mariners Race said the end of the annual event was not a surprise. Jill Raine said that the modern event "didn't in any way resemble the beginning". She added: "It became something totally different." Ms Raine was a teenager at the time of the first Non-Mariners Race held nearly six decades ago. The event was the brainchild of her older brothers Eric and Anthony Amos and a group of their friends. Ms Raine said: "They were full of crazy ideas at the time." She said the idea behind the event was to poke fun at the disciplined world of yachting. Ms Raine added: "They just wanted to do a spoof on it and that was to show a non-mariners race where everything was wrong. It was silly fun. There was no start and there was no finish." Non-vessels in the early days of the event included an antique bed, a refrigerator and a cello case. A chamber pot was presented as a race prize. Ms Raine added: "It was taken away immediately because it was a non-prize." Non-Mariners was first held in Hamilton Harbour. It later moved to St George's and Ferry Reach before it settled on Mangrove Bay in 1972. Sandys Boat Club confirmed the cancellation of the event in a statement this week. A spokesman for the club said fewer entries, a change in the economics of the event, and a shortage of volunteers were behind the decision. The raft-up parties in Mangrove Bay will go ahead. Ms Raine said she did not think the event would be refloated. She added: "I think it's a finished idea, but 60 years is pretty good." Ms Raine said the world had changed since the event was first held. She added: "In those days we entertained ourselves. Today we let the internet entertain us. In those days I think we were more creative in doing and using things."

A man filmed in a poolside argument with tourists at the Hamilton Princess & Beach Club has mounted a social media defence in an attempt to clear his name. Kenry Thorpe said he suffered racist abuse before he lost his temper after a row broke out at the hotel's poolside. He was speaking after police said on Tuesday that a man — later identified as Mr Thorpe — had entered the hotel last Saturday and "behaved in a threatening manner towards guests". But Mr Thorpe later wrote a statement posted on WhatsApp and Facebook that said he had visited the hotel to see a friend. He claimed he was having a conversation with another man before they were "rudely interrupted" by a woman. Mr Thorpe said the woman asked the man: "Why are you talking to this n*****?" Mr Thorpe said: "I lost my temper, I will admit." Members of the public filmed the confrontation, including one man who said the tourist should have hit the "moolie" — an Italian-American racial slur. Mr Thorpe said in his post: "My name is Kenry Thorpe, I'm a bartender. That is me in the video that's gone viral. I think it's time people hear the truth about that video. I was at HP to visit a friend. As I was leaving, a gentlemen spoke to me, so I went over to talk to him. We had a brief convo until we were rudely interrupted by a female who asked him, 'Why are you talking to this n*****? I immediately lost my temper, I will admit. I had never felt so disrespected in my life in my own country." He added that the man had acted in a "hostile manner", but that people had blamed him because he was black. Mr Thorpe said he had lost his job as a bartender at the Rosewood Bermuda resort and his good reputation as a result of the incident. Rosewood Bermuda confirmed that Mr Thorpe had been dismissed and that the controversy was "one of the reasons" for his dismissal. News site TNN Bermuda interviewed Mr Thorpe yesterday. He said he had worked hard to achieve a job at Rosewood Bermuda, including attending college, and had completed training for intervention procedures for bartenders. He told TNN he was "dumbfounded, shocked and upset" by the woman's comments but added that if he could go back he would have "handled it better" and reported the incident to the hotel. American tourist George Power, who was featured in the video, said he went over to the group to try to calm the situation but Mr Thorpe became aggressive. Mr Power added: "It seemed a fight was a few seconds from breaking out. I yelled from my seat with an unbiased approach, 'Why are you guys fighting? Is everything OK? At this point the young man from Bermuda started yelling at me and my fiancée asked me to stay in my seat. After some more time passed with them arguing, I saw the cameras being taken out and filming the situation. I thought as I walked over there, I was going to have to break up a fight, as you see me cracking my neck, getting ready to possibly pull people apart. I never said anything to the young Bermudian citizen but when he looked at me he started to verbally attack me." He said the couple involved in the argument left him to deal with it. A Hamilton Princess spokeswoman said: "We are currently conducting an internal investigation and continue to co-operate with the Bermuda Police Service. As the police has an open investigation, we are unable to comment further at this time." Mr Thorpe did not respond to a request for comment.

Childhood staple Tiny the Treefrog is back on bookshelves with a new colouring book. Tiny's Bermuda Colouring Book, was designed to give children a new way to interact with the popular cartoon character. Elizabeth Mulderig, the author and artist, said: "I am an artist and loved colouring as a child. Still do, as a matter of fact. So a Tiny colouring book seemed much overdue, especially one that shows Bermuda off by land and by sea." Mrs Mulderig said as well as giving children an artistic outlet, the book also included questions to add educational value. "At the bottom of each page there is a question pertaining to the illustration and a line for the child to write the answer. The questions ask about numbers, shapes and letters. This idea of having an interactive book was tested out two years ago on my book of manners, Bum Bum Bananas — Oh! Do Mind Your Manners. Because I received so much positive feedback from parents concerning this book — a school in the States ordered a few hundred of them to use for anti-bullying purposes — I have decided to make most of my work going forward include an element of teaching." The back page of the book also includes a historical explanation of the various sights in Bermuda. She added: "Teachers in Bermuda really like this as it's a fun way to teach children about the island." Tiny's Bermuda Colouring Book is available in local stores and online at tinythetreefrog.com.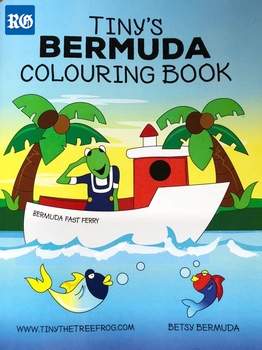 See above item

June 14

The Ministry of Health has warned the public about sexually transmitted infections after a "notable increase" of gonorrhea. It said gonorrhea rates had tripled compared with previous years and there have also been increases of chlamydeous, herpes and syphilis. A spokesman said: "The increase in reported gonorrhea cases began in April, with more cases being reported weekly. "As of June 9, there have been 37 cases reported. In the last five years, an average of 11 cases were reported in the same time period." About 65 per cent of the new cases are reported in female patients, while the average age of those infected is 30. The spokesman also warned: "There is evidence that a strain of gonorrhea seen locally may be resistant to treatment by one of the most common antibiotics. If your symptoms continue for more than a few days after receiving treatment, you should return to a healthcare provider to be checked again." The spokesman said the Communicable Disease Control Clinic put in place new guidelines last November requiring routine screening of females under 25-years-old attending the clinic using more advanced and sensitive testing requirements. Gonorrhea is a sexually transmitted infection that can infect both men and women. It can cause infections in the genitals, the anus and the throat, and it can be spread by having sexual contact with someone carrying the infection. Pregnant women with gonorrhea can give the infection to their baby during childbirth, and untreated gonorrhea can cause serious and permanent health problems. Patients can suffer a range of symptoms, including painful urination and discharge from the genitals. However, some patients with the infection show no symptoms at all. The spokesman said: "Gonorrhoea can be cured with the right treatment. If diagnosed with an STI, you must return to your doctor for treatment and notify your sexual partners so that they can be diagnosed and treated as well. It is vitally important that you take all of the medication your doctor prescribes to cure your infection. It is becoming harder to treat some gonorrhoea, as drug-resistant strains of gonorrhoea are increasing. If you have been diagnosed and treated for gonorrhoea, to avoid getting reinvested or spreading gonorrhoea to your partners), you and your sex partner(s) should avoid having sex until you have each completed treatment. Re-infection is possible." For more information, contact your doctor or the Communicable Disease Control Clinic at 67 Victoria Street, Hamilton, or visit the Ministry's website.

Senators unanimously backed Bermuda's sugar tax yesterday as a "good first step" in promoting healthier lifestyles. However, Crystal Caesar, Junior Minister of Home Affairs and Economic Development, said the tax would not be a solution to all the island's health problems. The Progressive Labour Party senator said: "The sugar tax will not fix obesity on its own. It will not eliminate lifestyle-induced chronic disease by itself. The sugar tax will not magically reduce healthcare costs. But it is a fundamental part of the broader government commitment to reduce these conditions, which are costing us so dearly." Money generated by the tax has been earmarked to promote healthy lifestyles. Ms Caesar estimated that $10 million could be raised by the sugar tax in a full year at the 75 per cent duty rate. Michelle Simmons called the tax a "good first step" in discouraging consumption of excess sugar. However, the independent senator added: "We have many more to make." She said that Bermuda should not be apologetic about the tax. Ms Simmons explained: "I know that it is something that will negatively impact on people who cannot afford to pay the increased tax — but isn't that what we want? We want people to stop purchasing food and drinks that have extremely high sugar content." One Bermuda Alliance senator Nandi Outerbridge was worried about the "unintended consequences" of the tax that would "hurt businesses". Ms Outerbridge said: "Small businesses, black businesses, Portuguese businesses, small bakeries — what are we going to do to ensure that those businesses are not hurt by this Bill?" She was also concerned about a promised drop in the duty on water. Ms Outerbridge asked: "My question is why not? And when will the duty on water be decreased?" She said that she did not believe that the sugar tax would "make the difference that we want to see". Ms Outerbridge added: "Maybe initially — but not long term." PLP senator Anthony Richardson agreed there would be unintended consequences of the tax. However, he added: "But I hope that we are able to think more along the lines of the big picture." Mr Richardson said the Government had put in place an exemption process for manufacturers, including business owners. He described the sugar tax as "appropriate and timely" legislation that would impact everyone. Mr Richardson added: "This should represent a fundamental change in lifetime habits for all of us. What we decide today will have an impact on every household." The 75 per cent sugar tax was originally scheduled to take effect this month. An amendment to the Bill brought to Parliament by Kim Wilson, Minister of Health, will introduce a 50 per cent duty rate on sugar on October 1. The tariff will rise to 75 per cent next April.

A relaxation of advertising rules has been proposed to encourage local cable television production. Under policies in place since 2008, local cable operators can lease up to ten channels but they cannot insert or allow advertisements on the leased channels. A draft interim policy, unveiled yesterday, would allow approved content producers who lease channels to play local advertisements. The move is intended to encourage the creation of more Bermudian programmes while a wider policy is developed. A public consultation document on broadcasting reform is being prepared to hear the views of stakeholders and the public. However, the draft policy recognizes the Government's commitment to promoting the creation, production and distribution of local Bermudian content on television and wants to discuss the issue of advertising on leased channels in advance of full broadcasting reform. It proposes a relaxation of advertising restrictions to "support the growth and development of content that is local, diverse and of high-quality". The document added: "This relaxation would give independent producers access to a source of funds currently unavailable to them. It is intended to be an interim measure as the Government considers, and consults with the public on, the future of broadcasting in Bermuda." Under the draft policy, content producers would have to get government approval to be designated as qualified Bermudian independent producers. The applicant would have to demonstrate the ability to produce and distribute quality local content. No more than 14 minutes per hour of advertisements would be allowed.

Commissioner of Police Michael DeSilva has warned that picking a Bermudian successor for the top job was not as simple as it appeared. Mr DeSilva, who retires tomorrow, told The Royal Gazette that the notion of succession planning had been "confused" in the clamor over the new appointment. The departing commissioner also pointed out that the "particularly strong candidate", Deputy Commissioner Paul Wright, had not gone for the job. "In the civil service, it doesn't mean the same as it does in the private sector," Mr DeSilva told The Royal Gazette. The commissioner was speaking after questions were raised about the appointment of Chief Superintendent Stephen Corbishley, a British officer, over local candidates for the top police job. Three Bermudian applicants failed to make the cut in the selection process. In Parliament, Wayne Caines, the Minister of National Security, castigated the Bermuda Police Service's management for "failings" in developing a Bermudian successor. The commissioner, who has held the post since 2009, emphasized that it was not his intent to "go out in a blaze of glory and be seen contradicting the minister. You can't identify specific people in advance because the principle is that everyone must have equal access to opportunity. We don't pick people individually and put them on a fast track. We provide opportunities for all staff as part of their professional development. Ultimately we are trying to create as wide a pool as possible for succession. We always want to move people up the ladder. We can't pick a group or person over another. That does not apply in the civil service." Mr Corbishley's appointment was announced on May 30 by John Rankin, the Governor. The next commissioner is not yet on the island, and Mr DeSilva said he was "still waiting to hear" when Mr Corbishley would take the helm. Mr DeSilva added: "The next in rank to me is the Deputy Commissioner, but he chose not to apply. That left the two assistant commissioners and one superintendent. There is context here that's important and that has been lost." Assistant commissioners fall two ranks below the top post, while the superintendent is three steps down. The commissioner said: "While it's not unheard of to jump ranks, it is not the norm. The context, while disappointing, is that we didn't have anyone in rank to take the job, and we should not be shocked if we don't have people ready two or three ranks below the commissioner's rank." Mr DeSilva outlined wide-ranging professional and career development available to all officers. He added: "The reason we do it that way is because, when it comes time to have the selection process, we have to be fair, and to be seen to be fair, and to give all candidates equal access to promotion. That's an issue of good governance." After 8½ years in the hot seat, in which the force contended with a surge in gang-related violence shortly after Mr DeSilva took the job, the commissioner said he had been "asked repeatedly why I'm leaving. It's as if there's a single answer. There isn't. The reality is that once I reached eight years, I knew I had to think about retirement. It would be highly unusual to go more than ten years. I made my decision a year ago last May. I slowly started to feed that out, and I told the Governor at Christmas." Mr DeSilva added: "I feel I've done my part and made a meaningful contribution. It was not without its bumps, but I would like to think I've made a difference to the organisation through my leadership, and a difference to policing in Bermuda. A couple of scorecard numbers have been very positive, particularly public perception and our results with serious crime. We have learnt a lot as an organisation and I leave behind an incredibly solid team of very experienced people who will continue at the same level of work without me."

A leading Bermudian insurance executive yesterday called for the private sector to make bolder efforts to address the lack of diversity in workforces, management and boardrooms. In a powerful speech at the Bermuda Captive Conference, Jonathan Reiss said he believed his skin colour and family connections had helped him progress in his career. He said white-male dominance continued to prevail in the executive teams of companies whose workforces failed to mirror the diversity within their communities and "we all need to do much more. We in the private sector need to lead," Mr Reiss, the chief financial officer of Hamilton Insurance Group, said. "We control vast swathes of wealth creation, and, more crucially, we control who gets the best opportunities." He added: "If we don't vastly improve and get it right, then governments here and in other countries will ultimately have to step in and do it for us. If that happens, I can assure you, we will deeply regret our failings." On the lack of racial diversity in Bermuda's insurance industry, he argued that the reasons were complex, ranging from education to recruitment methods and deep-rooted, unconscious bias. He added: "The point I'm making is that the reason there aren't more black Bermudians in our industry, particularly at senior levels, is much more complicated than outright discrimination. It's the legacy of white supremacy, slavery, and how this legacy continues to permeate our institutions despite the monumental shift in attitudes and intentions." He added: "I believe we're at an inflection point. Attitudes have changed for the better, but, as I've explained, the current rate of progress is not good enough. More and more organisations are realizing that they must work harder at diversity and inclusion and, frankly, be much more fearless in changing the status quo." Delegates in the Amphitheatre at the Fairmont Southampton resort gave him a loud ovation, after which Malcolm Butterfield, the chief executive officer of the Bermuda Insurance Institute, took the microphone and said: "I've lived in Bermuda all my life and listened to many speeches. From my perspective, you have delivered one of the most courageous speeches on diversity and inclusion that I have ever heard. You deserve a standing ovation for what you have said today." Mr Butterfield expressed the hope that others across the industry would follow Mr Reiss's lead. Mr Reiss drew from his own experience of living and working on the island to make his points on diversity. He moved to the island from the US in the 1970s as a toddler. His mother was a flight attendant and his father Fred Reiss, who had set up the first captive insurance operations on the island in the 1960s, was from a working-class background in Cleveland, Ohio. "My father was, to a large extent, not welcomed by the business community here," he said. "The economy in Bermuda was dominated by the white minority, racism and segregation were prevalent — the environment was anything but inclusive." While there were some forward-thinking individuals, the business community was collectively an "inward and protectionist boys' club", Mr Reiss said. "Bear in mind that my father was a white male whose ideas brought prosperity to the island. If he was shunned, can you imagine what it was like to be a woman or a person of colour in that environment?" Mr Reiss said the expansion of the insurance industry and the arrival of world-class leaders like Brian Duperreault, Audette Exel and Don Kramer, began to change Bermuda much for the better. However he added: "Unfortunately, the shameful legacy of the past, its patriarchy and the economic disparity it fostered remain unresolved today. There's work to be done." As a child, Mr Reiss said he had been blissfully unaware of what his father had had to overcome, and his father's business success meant he had grown up "in privilege and comfort". In 1993, he entered the workforce. "Doors were opened to me, just because of who my dad was and incredibly, just seven years after graduating from college, I was made a partner at a Big Four accounting firm. That was incredibly fast. I like to think that eventually I earned the right to that partnership. But I know that only a white male with inherited connections could have been recognized so quickly." In 2012, a Forbes columnist described the C-suites and boardroom of typical corporations as male, pale and stale — still largely an accurate description today, he said. "A quick check of the boards of directors of major insurance and reinsurance companies in Bermuda show that women are still a distinct minority. Persons of colour are virtually non-existent." Lack of diversity was not just a Bermuda issue, however. In the US and in the Lloyd's of London insurance market, the story was much the same, he said. "If establishing diverse, inclusive companies is the right thing to do, and it makes business sense, why haven't we done a better job of mirroring the diversity of our communities in our workforce?" There were financial reasons to get it done, he added, referring to a McKinsey report or more than 1,000 companies. Companies with more diverse decision-makers, in terms of gender, ethnicity and culture, were strongly more likely to outperform on profitability and value creation, the report found. He conceded that solving the problem was "devilishly complex" and used the example of race in Bermuda. "Bermuda has struggled with race relations for decades," Mr Reiss said. "Attitudes have changed for the better, but the economic disparity and the unfairness of how that disparity arose remains largely unresolved." He recalled how, as a teenager, he and his friends befriended a black commercial fisherman named Wyman. "Wyman would listen to our banter about our lives and aspirations and he would say, 'You white hopes have all the hope — black hope has no hope'. We knew what he was saying, but as a white teenager in the 1980s, in truth, I didn't properly understand it. I understand it now. Since that era, I believe we've made tremendous progress in eliminating outright discrimination, but that's not enough. Every Bermudian, regardless of colour, should have an equal chance at a good job with good pay, as well as an equal chance at promotion to the C-suite. Everyone should have the same hope. But the number of persons of colour in our C-suites is minuscule, compared to the demographics of our local population. And, as with the broader issue of D&I [diversity and inclusion], the reasons are complex." Education was a key factor, he said. "More white Bermudians attend private schools than black. This experience opens doors to colleges and universities in a way that isn't offered to students in public schools. It's that 'old boys' network' at work. We need to figure out how to provide better visibility and access to those who have not been born into privilege. Please understand I'm not advocating for a private school education; I'm just explaining one of the traditional factors that has fed into a process that can't be described as inclusive. Another reason for the lack of representation of black Bermudians in our industry is its relatively insular nature. How you hear about a job too often depends on who you know. Our recruiting policies have often been driven by using a word-of-mouth process rather than one that would invite a broader range of applicants. And the Bermuda industry, and the captive industry generally, has relatively few entry-level positions. We aren't a labour-intensive market. Many of the positions we hire for are mid to senior-level management." Many companies and industry organisations were working hard to make the industry more welcoming and accessible for minority groups who wanted to pursue a career in insurance, he added. Mr Reiss said Hamilton Group had set up its own D&I Forum, made up of a cross-section of employees. One of the forum's first recommendations was to expand data sets beyond age, gender and position. Hamilton intends to conduct company wide training led by Christie Hunter Arscott, a Bermudian who has set up her own global practice as a gender and generations strategist. Mr Reiss said steps companies could take included setting D&I goals, ensuring it targeted diverse candidate pools, checking recruitment policies and practices and train the managers interviewing candidates to try to tackle unconscious bias.

Plans to install new generators at Belco have been given the go ahead. The application proposed four new 14 megawatt dual-fuel diesel engines, to be installed in a new powerhouse with a 65-metre chimney on the Belco site between Cemetery Road and St John's Road in Pembroke. A report to the Department of Planning said: "Given the compliance with current planning policies and an addendum to the original environmental impact study that adequately demonstrated the revised scheme results in lower level impacts than the previous approval, the application is supportable." The installation of the new generators would allow Belco to decommission three engines that are beyond their service life. The report said: "The size and scale of the project, particularly the exhaust stack and power plant structure, have long-term and potentially significant visual impact implications for the broader surrounding area. It must be acknowledged, however, that this is an industrial site already containing a nationally critical industrial use. Any expansion for diesel engine facilities will require the scale and scope of the type of facilities proposed to the North Power Station, and the associated emissions stacks are large and inevitably unattractive structures." In a meeting of the Development Applications Board on May 30, the technical officer recommended the application for approval. He told the board the new engines would have an operational life of 30 years. Belco gained permission in 2011 to build the North Power Station. At the time, the company sought to install four 18 megawatt engines. The application was revised the following year to propose five 14.3 megawatt engines. The revised application, submitted in March, would include a smaller powerhouse and an updated design. Construction on the project is expected to take 18 months and involve about 100 workers.

A two-day international medical summit featuring world-class specialists started at the Fairmont Southampton today. Kim Wilson, the Minister of Health, met with some of the leading cancer doctors participating in the Pink and Teal Conference on Breast and Ovarian Cancer yesterday. William Keegan, president of Innovative Medical Conferences and the event organizer, said last month that the conference would be more than triple the size of the first "pink conference" on breast cancer held on the island in 2013. The 2013 meeting attracted about 200 medical experts and physicians. The conference will wrap up tomorrow.

Drinks giant Bacardi has won Bermuda's corporate blood drive campaign for a second year in a row. Eighteen companies took part in the sixth annual drive, which saw the highest number of donations since the competition began. Lisa Frias, Bacardi's manager of global finance, said: "We are excited to have won for a second consecutive year, our second year of participating in the corporate blood drive. "Our staff, their families and friends, and even a few of our consultants, responded well, showing the caring that our company is known for. While we're happy to have won the trophy, we realize it is a competition in which no one loses. We're proud to have contributed along with all the other Corporate Blood Drive participants to providing for a record number of donations in the competition." Bermuda Hospitals Board said there were a total of 484 donations in this year's drive. A spokeswoman said this was 14 per cent more than last year and represented about a quarter of all donations over the year. Dr Eyitayo Fakunle, BHB's consultant hematologist, said: "While someone has to win, every donation counts and all our competing companies have saved lives. Every person who donates is there in someone else's hour of need — they are unsung and anonymous heroes for countless people in Bermuda. It is with gratitude as well as congratulations that we thank the competitors." Bermuda Hospitals Board and the Ministry of Health announced the winner as the island marked World Blood Donor Day. Kim Wilson, the health minister, said: "Congratulations to Bacardi and thank you to all the competing companies! The Ministry is proud to partner with the Bermuda Blood Donor Centre and BHB for this competition. It's a great way to encourage blood donations and there is no better return on investment for a company's community giving than saving lives. Thank you to all the support from our local companies to encourage and support those donating." Wholesaler Butterfield & Vallis came second and insurance firm Hamilton Re Group took third place. The other companies that took part were Argo, Argus, Bank of Butterfield, Bermuda Police Service, BF&M, Bermuda Monetary Authority, Department of Corrections, Department of Customs, Department of Health, Fidelity, Hamilton Princess & Beach Club, Kitson Group of Companies, Lancashire Insurance Company Ltd, SunLife Financial International and Zurich Bermuda.

A new duty-free shop launched yesterday at the LF Wade International Airport. Bermuda Duty Free, run by beverage producer Gosling's, has been open since April but held its official launch yesterday. The shop's previous concession holder left after its lease came to an end, said Charles Gosling, managing director of Gosling Brothers Ltd. Mr Gosling said: "When the previous owners' lease came to an end they decided rather than renew it, they would offer us the opportunity to expand. Rather than selling just what are our core items right now, such as alcohol and tobacco, we will also be selling fragrances and some clothing. We have been working with AS Cooper. We have a lot of local products here and we are looking to expand upon that." Mr Gosling said the firm was looking to meet with individuals and vendors offering authentic Bermudian products to potentially sell within the store. With the new airport terminal scheduled to open in 2020, Mr Gosling said that he estimated having the shop for the two years before that happens. "I'm sure there will be other businesses who will apply, because of what we have done, once the new airport is open in 2020," he said. The store, in the departures area, has an array of items, and is looking to increase its selection of cigars and large displays. Mr Gosling believes that the turnaround in tourism is continuing. "After the America's Cup last year, I thought this would be a fairly glum year but it has just been really good and rising," he said. Mr Gosling has mentioned that the process has been fairly smooth. "I have a pretty good working relationship with Skyport and customs have been very supportive — our staff has been magnificent."

Press Release by Supporting Fair Immigration Group. "The individuals behind the "Supporting Fair Immigration Reform" Facebook group and our members applaud Premier David Burt for honoring and recognizing the Portuguese community by announcing November 4, 2019 as a public holiday in Bermuda to commemorate the 170th anniversary of the arrival of the first Portuguese immigrants to Bermuda. The Portuguese community has made a large contribution to Bermuda. However we remain concerned about the current dilemma of immigration reform that many Portuguese families face and that this holiday is being used to distract from the need for substantive reform. Some Portuguese nationals were born in Bermuda and have lived here their entire lives. Some Portuguese families are divided between status holders, permanent residents, belongers and work permit holders. These situations remain fundamentally unfair. When looking back at what has been done in the terms of immigration reform since the Consultative Immigration Reform Working Group submitted their report on October 31, 2017 to the current minister and previous member of the team, Walton Brown, nothing further has been released to the public. A spokeswoman for the Ministry of Home Affairs had advised that interim reports would be released but a time frame was not specified. In addition to these reports, the group would be holding public meetings when they reached certain milestones. As of today, no meetings or reports have been release and this leaves us to assume that no milestones have been reached and no interim reports have been written. This process seems to not be progressing as it should be. Immigration reform cannot continue to be stalled as it is just getting more and more complex and unfair as time goes by. In a speech made in the House of Assembly on June 1, 2018, Premier David Burt stated: "We are unique in the world as we have no true native people. We all came from somewhere else and have individually and collectively committed to this series of islands called Bermuda." We once again implore and urge the Government to continue to work on completing comprehensive bipartisan immigration reform to correct the injustices and divisions that it has created within families.

Opinion, by Michael Dunkley, Shadow Minister of National Security, MP for Smith's North (Constituency 10) and former Premier. "A succession of memorandums of understanding with cryptocurrency firms is starting to sound like the promises made by the Progressive Labour Party during the failed "platinum period" when plans for new hotels failed to materialize. The Government has signed a raft of MOUs, which are non-binding, with companies amid promises of investment in jobs and training. The terms of each MOU were non-specific and never stated what a minimum requirement was. There also appears to be discrepancies between public announcements and the terms of some of the MOUs. In addition, one MOU almost mirrors an MOU recently announced in another jurisdiction. The One Bermuda Alliance is a party of empowerment and diversity, so we would naturally welcome any initiative that creates new opportunities for our fellow Bermudians. However, more detail on these MOUs needs to be provided and more assurances given that this industry is here to stay before we can give it our full backing. At the moment, it resembles the previous platinum period when the PLP government granted special development orders left, right and centre, and promised new hotels only for nothing to materialize. Cryptocurrency has created a buzz in some areas, but we should not forget that more than 80 per cent of initial coin offerings are scams and that 92 per cent fail to reach the trading stage. This does not say that there isn't potential business for Bermuda, but the hype has outpaced substantive sober discussion. The Premier tweeted about Arbitrade after a presentation last month: "The team demonstrated their cryptocurrency platform and explained plans to create more job opportunities in Bermuda for Bermudians". But in a lengthy statement, Arbitrade, when it announced it would domicile in Bermuda, made no mention of any jobs being created. We hope that was an oversight — it would be helpful if that can be clarified. Likewise, the details of an MOU with Binance, which states that it will "create at least 40 jobs in Bermuda". When this was originally announced by the Premier, he said in a statement that Binance would "develop its global compliance base in Bermuda, creating at least 40 jobs in Bermuda, with at least 30 jobs for Bermudians". We hope that the omission in the MOU about the jobs for Bermudians is another oversight and can also be clarified. If there are no jobs for Bermudians, we would have to question the PLP's stated position of putting Bermudians first. The MOU with Medici Ventures promised the creation of 30 jobs over three years, but failed to say who these jobs were for, or at what level. The announcement of an MOU involving B-Seed Partners, FinHigh Capital and BFS Holdings as partners in a new Bermuda venture, Bermuda FinTech Accelerator spoke only vaguely about the creation of jobs. Shortly after announcing the MOU with Medici, the Premier also announced an agreement with Bitt.com and Gabriel Abed for free consultancy, but never mentioned that Medici has invested $7 million in Bitt. No agreement has been tabled with Bitt.com. In life, nothing is free and one must ponder if the relationship between Medici and Bitt.com allows them to agree to a "no cost" consultancy or is Bermuda really "another world". The MOU with Omega One states that the firm will "provide favourable consideration of Bermuda residents and Bermuda-based businesses as part of internal employment and onboarding policies and procedures, with the expectation of adding 20 local jobs in Bermuda over three years". That is hardly a resounding commitment to employing Bermudians. What all the MOUs have in common are vague references to something — up to $10 million in training, or a "potential investment" of up to $10 million. What they also have in common is no apparent minimum requirement, whether in terms of investment or jobs. There are many questions that need to be answered:
When can the people of Bermuda expect to see signed contracts?
When can the people of Bermuda expect the new jobs promised?
What immigration fast-tracking has been agreed to?
What number of permits are permitted?
Can the Government assure the people of Bermuda that this new industry is sustainable?
Many will remember the dot-com crash when so many companies went bust. Can we be sure that this is not going to happen in the field of cryptocurrency? As I stated, the OBA is a party of hope and opportunity, and we will support initiatives that are designed to do that, but we need more details other than the vague promises made in a series of MOUs."

June 13

The Premier said last night that an announcement by cryptocurrency exchange company Binance that it had struck a deal with Jersey was consistent with the firm's global strategy. The move came after Bermuda signed a memorandum of understanding with Binance in April with a view to creating a cryptocurrency industry on the island. David Burt said: "The execution of a memorandum of understanding between Binance and Jersey is consistent with Binance's stated goals of positioning the company on the global stage. The Jersey Evening Post reported that the deal could pump millions into the largest of the Channel Islands — the same claim made about Bermuda's own deal. Mr Burt said: "As Binance said, 'We have chosen Jersey to be the next big step in our global expansion strategy. The important thing for Bermuda is that we were the first — others are following our lead. The Government of Bermuda continues to work with them to ensure that the undertakings set out in the MOU signed with the Government of Bermuda are fulfilled. Bermuda's lead may well be followed by other jurisdictions and this makes it all the more important for us to continue to provide the sound regulatory and compliance framework in place to stay at the head of these global developments."

The Deputy Premier is in London to represent Bermuda in meetings with Britain and the Overseas Territories Joint Ministerial Council. Walter Roban and Kimberley Durrant, Bermuda's London Office director and representative in the UK, are attending the meetings focused on European negotiations. A government spokesman said discussions were expected to include an update on Britain's constitutional relationship with the Overseas Territories. He added: "The JMC is focusing on issues relating to the Overseas Territories and Britain's impending exit from the European Union. Formal discussions are expected to include an update on the Brexit talks and Britain's constitutional relationships with the Overseas Territories. There are a number of other matters up for discussion including disaster management." Mr Roban, who is also the Minister of Transport and Regulatory Affairs, attended a pre-JMC meeting, chaired by the Falkland Islands and hosted by the UK Overseas Territories Association, this morning. The spokesman added: "He and Ms Durrant were then scheduled to meet in the Foreign and Commonwealth Office with Lord Ahmad of Wimbledon, the UK's Minister of State for the Commonwealth and the United Nations. Lord Ahmad also hosts a reception for the visitors in the Map Room of the FCO tonight, in advance of tomorrow's JMC." The Guardian reported this morning that representatives from the British Virgin Islands were headed to London for talks about the British Government's decision to compel OTs to make their company ownership registries public. According to the newspaper, the BVI group is led by its deputy premier, Kedrick Pickering, and has instructed legal counsel to prepare a challenge on the basis that the British Parliament has overreached itself. The move came after the British Government accepted an amendment to the Sanctions and Anti-Money Laundering Bill last month. The key new clause in the Bill states that: "For the purposes of the detection, investigation or prevention of money laundering, the Secretary of State must provide all reasonable assistance to the governments of the British Overseas Territories to enable each of those governments to establish a publicly accessible register of the beneficial ownership of companies registered in each government's jurisdiction. The Secretary of State must, no later than 31 December 2020, prepare a draft Order in Council requiring the government of any British Overseas Territory that has not introduced a publicly accessible register of the beneficial ownership of companies within its jurisdiction to do so." David Burt said last month that the move marked a "significant backwards step" in relations between Britain and its Overseas Territories. The Premier added: "The Government of Bermuda has a strong constitutional position and the people of Bermuda can rest assured that we will take the necessary steps to ensure our constitution is respected." But The Guardian reported that Andrew Mitchell, the former Conservative international development secretary and a leading MP behind the rebellion, said on Tuesday: "The Overseas Territories share our Queen, they travel under our flag and they must also share our values." The newspaper added that he intends, with the former chairwoman of the public accounts committee, Margaret Hodge, to press Crown dependencies to accept the same regime.

Captive insurance organisations are under pressure to keep up with evolving risks, amid mounting regulation, and are experiencing difficulty finding professionals with the right skills. Those were some of the challenges expressed to AM Best TV in a string of interviews at the Bermuda Captive Conference, taking place at the Fairmont Southampton this week. Paul Owens, chief executive officer of Willis Towers Watson's global captive practice, stressed two challenges, acquiring talent and regulation. "It is increasingly difficult to get the right staff in the locations you need them," Mr Owens said. "The locations are becoming very expensive. The other challenge is regulation. In Bermuda, we've seen increasing regulation, with the code of conduct — all the right things to do. Also there is BEPS — base erosion and profit shifting — the OECD is very serious about that. And for domiciles, it shouldn't be seen as an inhibitor, it should be seen as a good thing where everyone can be on the same level playing ground." Brad Meindersma, vice-president at JLT Insurance Managers (Bermuda), said: "I think there are a number of factors that combine to make it a larger challenge in the ever-evolving tax and regulatory regimes. The global look at offshore and onshore domiciles and their benefits, as well as staying on top of the changing nature and environment of the regulatory and tax worlds is quite challenging." Mike Parrish, head of business development, Marsh Management Services, Bermuda, said, captives need to focus on remaining relevant to the corporation. "Many captives have been in operation for a number of years, and the risk and insurance environments have changed," Mr Parrish said. "Captive managers and captives generally must ensure to stay abreast of developments, which are relevant to the parent."

German insurance giant Allianz has been eyeing two Bermuda insurers as potential takeover targets after it lost out on a deal to acquire XL Group Ltd, according to an international business news service. Bloomberg News reported that Argo Group International Holdings and Aspen Insurance Holdings have both been looked at by Allianz. A spokesperson for Argo Group declined to comment yesterday. A spokesperson for Aspen on Monday said the company does not comment on rumor and speculation. Allianz, which is Europe's largest insurer and valued at about $94 billion, is in the early stages of evaluating a variety of acquisition targets, sources told Bloomberg. French rival Axa beat Allianz to buying another Bermudian company, XL Group, in a $15.2 billion deal. A series of deals have transformed the Bermuda insurance market over recent years, as insurers seek growth through acquisitions at a time when capital is abundant in the industry and market conditions are very competitive. After AIG secured a $5.4 billion deal to buy Validus and Axa snapped up XL, only a small number of stand-alone Bermudian insurers remain. Aspen is rumored to be up for sale and The Insurance Insider has reported that the deadline for the final round of bids is June 29, with buyout firms Blackstone and Apollo, as well as Argo Group, among parties to have expressed interest, the trade publication added. Allianz is also being linked with much larger targets, including Zurich Insurance, worth about $46 billion, to bolster earnings, reap cost savings and be more competitive in key markets, Bloomberg reported. Others on Allianz's reported target list include RSA, Hartford, Aviva, Nordea Bank and QBE.

The City of Hamilton has advised the motoring public that there will be car park and numerous road closures in the lead-up and throughout the duration and break-down of Friday night's Five Star Friday event in City Hall Car Park. The car park will be closed from 6:00pm on Thursday, June 14th and will not reopen until 6:00am on Sunday, June 17th. Dismont Drive will be closed from 6:00am on Friday, June 15th and will reopen at 6:00am on Sunday. Wesley Street will close from 12:00pm on Friday, until 6:00am on Saturday. Church Street will be closed between Par-la-Ville Road and the Bus Terminal starting at 5:30pm on Friday and will reopen at 4:00am on Saturday morning. Commuters that are parked in PLV Car Park will be able to exit that car park and head westbound on Church Street after 5:30pm. Victoria Street will be closed between Washington Street and Wesley Street starting at 12:00pm and will reopen at 4:00am on Saturday morning. Reid Street will be closed between Burnaby Street and Queen Street from 5:30pm on Friday until 4:00am on Saturday and Queen Street will be closed from 5:30pm on Friday until 4:00am on Saturday. As a result of the road closures there will be no parking on the affected streets during the times noted. Parking restrictions on lower Reid Street will be in place starting at 4:00pm on Friday. Motorists exiting from the Washington Mall parking lot will have access to Church Street. Security personnel, diversion notices, signage and barricades will all be in place. The City apologizes for any inconvenience caused during these closures and restrictions and kindly askes the motoring public to exercise patience and understanding as the Bermuda Heroes Weekend celebrations get underway.

Clarien Bank said today it would raise its Bermuda dollar mortgage rates by quarter of a percentage point, while Butterfield will increase Bermuda dollar corporate loans and US dollar loans by the same amount. The announcements came after the US Federal Reserve said it would raise its influential fed funds rate by quarter of a point. Clarien said the Bermuda dollar base rate for personal mortgages would increase from 4.25 per cent to 4.5 per cent and from 4.5 per cent to 4.75 per cent for commercial mortgages, effective tomorrow. Butterfield said its base rate for Bermuda dollar corporate loans and US dollar loans will increase from 5.25 per cent to 5.5 per cent, effective Friday. However Butterfield said it would not increase Bermuda dollar residential mortgages or consumer loans. Clarien added: "The bank is issuing notices to all lending clients regarding their repayment details. "We continue to work with all of our clients on a regular basis to understand their current financial position, and encourage clients to contact their lending officer to discuss the changes to their repayment terms." Butterfield urged customers seeking more information to contact the bank's Consumer Credit department on 298-4799 or their relationship managers. Both Clarien and Butterfield will also make some rate increases to deposit products.

Dozens of companies across Bermuda, both local and international (incorporated in Bermuda), have lined up in support of same-sex marriage and joined a list of "diversity friendly" businesses. A total of 58 businesses — from bars and luxury hotels to law firms, global banks and brokerages — have signed up, with several new additions since last week's Supreme Court ruling in favour of gay marriage. Same-sex marriage activist Tony Brannon said: "People are asking to join the list. Right now, it seems to be catching on. We seem to be adding to the list every day." Jay Correia, from the Swizzle Inn, which signed up on Monday, added: "We are proud to be on the right side of history." Campaigners set up the list to underline how many island firms are in favour of marriage equality. The Reefs hotel joined the list yesterday, along with the Phoenix Stores group and department store Brown & Co. Real estate firm Kitson & Company, the Rosedon Hotel and its Huckleberry Restaurant joined the list on Monday. Mr Brannon explained some business owners had told him they supported the campaign for marriage equality but wanted to do so "quietly". But he challenged them to stand up for what they believe in and add their names to the list. Mr Brannon highlighted cruise giants Carnival, which registers some of its fleet in Bermuda, as an example of a company doing the right thing. The shipping firm gave financial and public relations support to the plaintiffs involved in the court battle for same-sex marriage. Many international firms with a presence on the island, such as insurance company AIG, have supported LGBT rights elsewhere, but stayed silent on them in Bermuda. But Mr Brannon hoped they would have the courage to join the list in the wake of Chief Justice Ian Kawaley's ruling last week and a Supreme Court judgment last May, which first paved the way for gay couples to marry on the island and on Bermuda-registered cruise ships around the world. Mr Brannon said: "I'm not going to stop until Premier David Burt knows many companies have joined the list." Mr Justice Kawaley's ruled that the new Domestic Partnership Act — which outlawed gay marriage and came into force on June 1 — was inconsistent with constitutional protections giving the right to freedom of conscience and outlawing discrimination on the basis of creed. Walton Brown, the home affairs minister, said the Government would appeal "subject to any legal advice we receive". The Government has six weeks to decide whether to appeal before the Mr Justice Kawaley's judgment takes effect. Mr Brannon said: "They are mad not to just accept this. They have lost two Supreme Court cases. There is the politics of it all but I hope at the end of the day what the Premier does is accept the legal advice." Mr Brannon predicted some international companies might vote with their feet if the Government continued to try to reverse marriage equality in the face of a barrage of criticism in Bermuda and overseas.

A water safety organisation board has not met for almost a year, an insider said yesterday. A source said the Bermuda Water Safety Council was in limbo as a result. The source, who asked not to be named, added: "The fact is that there is no presence at the moment. "The summer has already started. We don't have any radio or television ads, we've got a dormant Facebook page cum website. All of those things are not good. They need to start happening — and they should have started happening in February." The source was speaking as the island prepared for the National Heroes Day long weekend — a busy few days on the water. Two tourists have died in water-related incidents this month. The source said the last meeting of the BWSC board took place last summer and that, before the change in government last July, meetings were held every month. The insider added: "In between, the projects were set. We did things like host a water safety day at the Royal Bermuda Yacht Club." The source emphasized the importance of the board's work. The insider said: "Most Bermudians don't even think about taking a power boating course. They just get in the boat, turn the key and go. And I see terrible, bad habits on the water." The BWSC's website said the organization's mandate was to "identify issues in respect to water safety and to develop local strategies to prevent accidents and injuries on the water by means of relevant marine safety regulations, public education and the promotion of good water safety practices and initiatives throughout the community." Michael Weeks, Minister of Social Development and Sport, is listed as the chairman of the board in government publications. But Mr Weeks said yesterday: "I never was able to take it up because I became a minister." He was appointed to Cabinet in February after the resignation of Zane DeSilva. Mr Weeks said: "I was not even able to attend any meetings because I was transitioned to a minister so quickly." An employee at Marine and Ports identified Scott Simmons, the Progressive Labour Party MP for Southampton West, as the new chairman of the BWSC. An official announcement in May said Mr Simmons took over about the middle of that month. Mr Simmons said his first meeting with the board would be held in two weeks' time. But he added he was not sure if other board members had been told of the meeting. Mr Simmons said: "That is something you would have to get from the ministry." He added: "It is my intention to meet as regularly as possible so that we can meet the mandate of the council." The insider said: "I think they plain forgot about it. I really do. Guys — you're not awake here. You're asleep at the helm."

Designer Rene Hill became an international style guru after basketball superstar LeBron James wore a suit with shorts. Ms Hill was asked for her views after James and fellow player Draymond Green turned up at the NBA finals sporting matching shorts and jackets. News agency Canadian Press contacted Ms Hill after the two caused a sensation — and she gave the basketball stars her seal of approval. She told the agency: "I love the look, as it's a great run on the Bermuda short. The look has taken a tried and true Bermudian tradition — spring, summer and fall staple — to a trendy and excitable new level. Loads of fun." James, a star for the Cleveland Cavaliers, repeated the look for Game 2 of the finals. Ms Hill was delighted to be asked to offer her professional opinion. She said: "The reporter researched Bermudian designers, rang me and asked if I had seen the coverage. Truth is, I am the least sporty person ever, so I hadn't seen anything. He sent me several links and questions and I responded. I used to refer to it as a drive-by." Ms Hill said since the story ran in Canadian newspaper the National Post and several American newspapers, her website has logged a boost in visitors — although she does not sell Bermuda shorts. She said: "It is pretty cool to be back in the international media. After we did a show in New York, we received a few mentions, which was great. Every bit of publicity is good in that it helps to get your name out there." The National Post story also featured a potted history of the island fashion staple, including the shorts as an adaptation of British military tropical uniforms. Ms Hill told Canadian Press that island shorts were tapered with couture hems and the ideal look is two inches above the knee. Ms Hill added: "Bermudian men wear mainly pastel-colored and darker-hued shorts paired with a navy blazer, a long-sleeved shirt, sometimes a tie and knee length socks.

The family of a young woman who took her own life are to take part in a charity walk in America at the weekend to raise funds for suicide prevention. Susan Wakefield and Chris Gibbons, parents of Jessica Gibbons, who was 25 when she died, will co-captain the Walking with Jessica team for the Out of Darkness Overnight Walk organized by the American Foundation for Suicide Prevention. They said: "Jessica's suicide has left us devastated and changed the lives of our families for ever. Although our hearts are broken, we are committed to doing everything we can to support organisations like the AFSP and the valuable work they do to prevent suicide. We know that the spirit of our beloved Jessica will be with us every step of the way … and is no doubt amused that her mum and dad — long divorced — are coming together in the fight against suicide." They will be joined by Jessica's aunt, Meredith Wakefield, in Philadelphia for the event, which will see thousands of people come together to walk 16 to 18 miles in one night. Jessica took her own life in 2016 and Mr Gibbons later helped found the support group Loss — Losing Someone by Suicide — to assist other people bereaved by suicide. The Walking with Jessica team have raised more than $19,000 so far and Mr Gibbons explained that the funds would benefit the American Foundation for Suicide Prevention. Mr Gibbons said: "Net proceeds will help those affected by suicide and mental health conditions by supporting research, advocacy, survivor resources, education, and awareness programmes. Here in Bermuda we are only just beginning the drive to improve resources, education and awareness and we rely on organisations like AFSP for ideas, guidance and inspiration. AFSP has set a bold goal to reduce the suicide rate 20 per cent by the year 2025, and I'm proud to be part of that mission." Ms Wakefield raised more than $10,000 by taking part in the walk last year and she outlined her reasons for joining the event again on the charity's fundraising page. She wrote: "I just wish I could talk to her one more time and let her know that I loved her no matter what she was struggling with and that we would get through this together. Through your pledges and my walking, we can make that happens for other families whose kids are thinking of ending their lives in a state of despair. Suicide is complicated; it is insidious; and no family is protected from this happening to them. It strips you to the core when you lose a loved one to suicide." She added: No one ever expects to lose someone they love to suicide. No one ever expects to outlive their child. Always remember to be kind to those around you as you never know what emotional load they are carrying." If you have attempted or are considering suicide, please seek professional help or call the Mid-Atlantic Wellness Institute's 24-hour hotline at 236-3770. For more information about Loss, visit www.loss.bm.

Chateauguay, Quebec, is the last place you would expect to find a Bermudian journalist, let alone one who has blazed quite a few trails during a distinguished career in Canada. But Ernest Scott Tucker has lived in the Montreal suburb for nearly 50 years. Mr Tucker, now 87, got his start at the Bermuda Recorder, but made his name in Canada, where he interviewed celebrities as a trainee reporter, among them Broadway singer and dancer Josephine Baker and others such as actor and singer Bing Crosby during his 34 years as a broadcast journalist. Other highlights of his career included his Canadian Broadcasting Company interview with Black Power activist Stokely Carmichael in Montreal in 1968 and coverage for the same station of Bermuda's Black Power conference in 1969. Mr Tucker said that Mr Carmichael "encouraged the oppressed to get guns". He added his coverage was seen across Canada, as was his work on the Quebec separatist movement's kidnapping of British diplomat James Cross in 1970. Mr Tucker said: "As the CBC reporter for Montreal, I was heard on radio almost every day and occasionally on television." Although long retired, he is currently writing a third novel, which is set in Bermuda. He was born into a family of teachers in Warwick, but followed a different career path. He became the first black graduate of The Ryerson Institute of Technology's journalism school in Toronto, was The Royal Gazette's first black journalist and was also the first black reporter to be hired by the CBC. He interviewed entertainers during his student days at Ryerson and covered the Beatles' visit to Toronto in 1964. Mr Tucker said: "I got a chance to speak to Ringo before they pulled me off the tarmac." One of seven children, he is a son of Benjamin Tucker and the former Eleanor Anderson. He was named after his grandfather Ernest Scott Tucker, a prominent teacher who served on the first executive committee of the Bermuda Union of Teachers. His aunts Elmira Tucker Hunt, wife of cricket great Alma "Champ" Hunt, and May Johnston, and cousin Esther DeShields Pitt taught him at Spring Hill School in Warwick. Because of those family connections, he eliminated teaching as a career early on. He said: "There were so many teachers in my family, I didn't want to be a teacher. All of these people were teaching me. I hated teachers. They were always on to me because I had to know everything." His first job was as a waiter at Belmont Manor Hotel, where his father was maître d'. But he said he had written from his days in primary school as a way of getting revenge from bullies. Mr Tucker explained: "They used to beat me up so I wrote stories about them." He attended the Berkeley Institute, but left when he was 14 for Toronto with his older brother, George, who had won a teacher-training scholarship as his brother decided both of them could live off the scholarship money. Mr Tucker completed high school in Toronto and enrolled at Ryerson, now Ryerson University, where he graduated with a diploma in journalism in 1954. In Toronto, he roomed with Walter Brangman, the future architect and MP, and hung out with other Bermudian students, among them future Cabinet Minister Quinton Edness. He also gained first-hand experience working with newspaper reporters in his third and final year. Hanging out in clubs was his favourite beat. With his backstage pass, he got access to celebrities such as singer and pianist Nat King Cole, entertainer Vic Damone, Ms Baker and boxer Joe Louis and interviewed them for the college newspaper, the Ryersonian. Mr Tucker said it was great experience, but he struggled to get a job after his graduation. He was offered a position in Sudbury, Ontario, but when he got off the bus, he was told it was not available — his first experience of racism in Canada. He returned to Bermuda, worked for the Bermuda Recorder, and then returned to Canada to continue his studies at Montreal's McGill University. He was keen to write for McGill's student newspaper, but unwilling to wait until his second year to become eligible, he transferred to Sir George Williams College, now Concordia University. He was appointed news editor of Sir George's newspaper and promoted to editor-in-chief the following year. He also worked at nights at the Montreal Gazette as a proofreader. While at Ryerson and Sir George, he found time to produce and act in school productions. He was president of the Ryerson Opera house workshop and wrote and sang calypsos for Ryerson's annual song and dance review. In 1958, he graduated from Sir George with a bachelor of arts degree but, unable to find a job, he again returned to Bermuda. Mr Tucker worked first for the Recorder, then The Royal Gazette, where the editor gave him work on a freelance basis. He said he was paid "a penny a line for every story they used". Mr Tucker added: "So I went out and I worked and worked and that first week they had to pay me something like 70 pounds. I covered every black funeral, every baby that was born. The editor said 'Look, how would you like to come on staff, and work for 35 pounds a week?' So they gave me a scooter. I was running around covering everything." He was on the staff at the Gazette for about two years, until he got his first big career break, which be put down to luck. Mr Tucker said he was in a bar one night and met two young Australians who had made a stop in Bermuda while traveling around the world by motorcycle. The story he wrote about them for the Sunday Gazette caught the eye of the Ernest Bartlett, travel editor of the Toronto Telegram, who was in Bermuda and he tracked him down to the newspaper. Mr Tucker said: "We went out to dinner, had a few drinks and he said, 'How would you like to work for the Toronto Telegram?' I said, 'great'. So he set it up." He was flown to Toronto for an interview with the newspaper's publisher John Bassett, who Mr Tucker said "had this great big office over Bay Street. In this office, a girl was doing his nails, the barber was trimming his hair, he was dictating a letter to his secretary and his lawyer was there saying: 'You can't say it like that.'" Mr Bartlett had lent Mr Tucker a tie, jacket and shirt, which were too big for him, but Mr Tucker made an impression because he was hired. Mr Tucker was a married man by then. His wife, Jeanette Jarvis Tucker, from Montreal, had moved with him to Bermuda, but returned to Canada after a year as the island's racial climate was not conducive to interracial marriages. He worked at the Telegram for a short time, but left to join the CBC in the Toronto Radio newsroom in October 1961. He got his second big break on November 22, 1963. He was left alone in the newsroom while his three supervisors were at lunch off the premises. The bells on the Teletype machine began to ring "furiously" and the wire copy he pulled off the machine said US President John F. Kennedy had been shot. Unable to reach his supervisors, he consulted the newsroom "bible" for guidance on how the death of a head of state should be reported, but it was of no help. So he ran into the cafeteria to find an announcer, who put the story on air. When the supervisors made their way back to the newsroom, Mr Tucker was reprimanded. Among other things, he was supposed to wait for confirmation by a Canadian press agency. Mr Tucker said: "They gave me heck. I had no right to put this on the air. The next day the Toronto Star comes out — CBC news was on top of it all the way." The result was a promotion for the new man in the newsroom and Mr Tucker became producer for an afternoon news show Across Canada, writing for new announcers Alec Trebek, now famous as the host of Jeopardy!, and Lloyd Robertson, who became a CTV news anchor. Mr Tucker also edited the West Indian Reporter, Toronto's first black newspaper, while at CBC. He later transferred to CBC in Montreal and started work on a master of arts degree at the city's Sir George, which he completed in 1975. Bermuda and Montreal would not escape the political turbulence of the 1960s, so Stokely Carmichael and the Bermuda Black Power conference were among his assignments. Mr Tucker began to teach broadcast journalism at John Abbott College, outside Montreal, became a full-time lecturer and cut back his hours at CBC. He taught at John Abbott College for 36 years. Mr Tucker and his wife, Jeannette, have been married for 60 years. They moved to Chateauguay in 1970 and raised five children. Their daughter Jasmin lives in Ontario, while Rebecca and Julien live in Montreal. Michael and Krista are deceased. While at John Abbott, Mr Tucker began work on his first novel, Underworld Dwellers, which was published in 1994. His second Lost Boundaries, which is about police harassment of black Montrealers and set against the backdrop of the 1995 Quebec referendum on independence, was published in 2004. The second book has Bermuda references — Cobbs Hill, cassava pie and a DaCosta scholarship, a nod to George DaCosta, the first head teacher of Berkeley Institute. Mr Tucker's accomplishments have not gone unrecognized. In 2013, Ryerson's diamond anniversary year, he was among 12 journalism school alumni honored for "Making A Mark" during their careers. NBC newsman Kevin Tibbles was a fellow honoree. Mr Tucker was also granted Emeritus faculty status by John Abbot College in March. He was last in Bermuda to attend the funeral of his sister, Vivian Pearman, in 2013. Four of his six brothers and sisters are deceased. A sister, Eleanor, lives in Virginia and his brother, Benjamin, lives in Connecticut. Mr Tucker said he planned a visit to Bermuda to launch his third novel, which he is expected to finish this year. The novel is set in a hotel and is inspired by events at Belmont Manor Hotel where he and his father worked many years ago.

June 12

Deputy Premier and Minister of Transport and Regulatory Affairs Walter Roban opened the Bermuda Captive Conference today at the Fairmont Southampton Resort. A spokesperson said, "He participated in an honours ceremony that recognized eleven corporations who have held a captive insurance company in Bermuda for more than a quarter of a century. They join an additional 200 such companies who had already been elevated to Bermuda's Captive Hall of Fame. The Deputy Premier also presented Bermuda captive industry pioneer Brian Hall with the Fred Reiss Lifetime Achievement Award. Mr. Hall was a prime mover in establishing Bermuda as the global leader in captive insurance." Deputy Premier Roban was introduced to Santiago Garcia of Caterpillar Financial Insurance Services, one of the companies recognized for having a captive in Bermuda for more than 25 years. The company is a subsidiary of Caterpillar Inc. Caterpillar is the world's leading manufacturer of construction and mining equipment, diesel and natural gas engines, industrial gas turbines and diesel-electric locomotives. In his opening remarks, Deputy Premier Walter Roban said: "I'd like to begin by welcoming those of you returning for this event, as the Bermuda Captive Conference is one of the most important captive insurance gatherings for the industry. Today, it is an essential stop on the list of annual meetings where captive professionals can gather to discuss the latest developments in the captive insurance industry, and, network with peers and those seeking captive solutions. So those of you who find yourselves here every year to share old and new knowledge with old and new friends, are the very heart and fabric of the Bermuda Captive Conference – and, a key part of what makes the captive industry a growing phenomenon to an increasingly wider segment of the world's business community. That growth is reflected in the record attendance at this year's event. Congratulations to the organisers! Growth in attendance means more corporations seeking solutions to their risk management needs are learning of Bermuda market opportunities. Congratulations also to the many companies, some being recognized today, who determined the Bermuda advantages many years ago. Those who are new to the industry, or even new to Bermuda, have come here this week in search of something – an education on some aspect of the captive business, a partner to help you resolve outstanding issues in your company, or even the expertise to help you set up your own Bermuda captive. You couldn't have come to a more beautiful place on earth to get the job done. And, you couldn't have found a more knowledgeable gathering to get your questions answered. Bermuda's insurance market is incredible. For decades now, it has been providing the world with unrivalled expertise across several disciplines of the insurance industry. The global leader in captives, Bermuda is also a major player in high-end, commercial insurance markets. Many of those who form captives here, find on-island commercial market solutions, as well. Even captive owners in other jurisdictions have found reinsurance options in Bermuda. The reinsurance community in this island is a force in its own right. A leader in catastrophe reinsurance, these companies help communities across the globe get back on their feet after some of the worst natural disasters. As the world's largest captive domicile [both in terms of licences held and business written], Bermuda also holds 75% of global outstanding capacity of catastrophe bonds produced by Insurance-Linked Securities – $23 billion out of $31 billion at 2017 year-end. The island's globally significant property/catastrophe reinsurance market is paying 30% of the claims of 2017 hurricanes Harvey, Irma and Maria. Captive insurance, commercial insurance and reinsurance, together with other financial services companies and a variety of support professionals – in areas such as law, accounting and banking – provide anyone interested in captive insurance with a significant cushion of expertise; and they can find it all within a city known for walkable distances. Together, these market segments are providing solutions to companies, institutions and governmental organisations across more than 100 countries. As a Government, it is important to us that we support these industries and provide what they need to keep them making the most of the Bermuda platform to the benefit of the wider, global community. That means facilitating the flow of global commerce in any reasonable way possible to enable local industries to offer their leading edge products and services. We recognize the need to maintain global standards, and, we must commend the Bermuda Monetary Authority, which has been an impressive supervisory stalwart across all of our financial service undertakings. We believe the BMA's integrity, sterling reputation even among the world's other regulators, their forward thinking and a continued emphasis on their own development, has given Bermuda businesses the confidence as global providers. Furthermore, the Authority continues to incorporate new technology into its supervisory processes with the introduction of an electronic statutory filing system in 2017 to allow for more robust data collation on filings for Bermuda captives and Special Purpose Insurers. The BMA has continued an emphasis on developing its global regulatory standards and continued its cooperation with other international bodies. This includes the International Association of Insurance Supervisors, the National Association of Insurance Commissioners and the Group of International Finance Centre Supervisors. I hope you enjoy the Bermuda Captive Conference. It is a great opportunity to learn and grow in ways that can be of great benefit to your organization. It's an opportunity to network with the leaders in the captive industry. And it's an opportunity to do all of this in one of the most beautiful places on earth." Deputy Premier Roban presented Brian Hall with the Fred Reiss Lifetime Achievement Award, as audience members rise to their feet in appreciation. Introducing the Fred Reiss Lifetime Achievement Award winner, Chairman of the BCC Mike Parrish said: "The Fred Reiss Lifetime Achievement Award was first launched back in 2016. It's named in honour of a pioneering Ohio engineer who conceived of the idea of "self-insurance." We've come full circle, because Fred's son, Jonathan, who is now CFO at Hamilton Group, will be our industry keynote speaker here tomorrow morning at 10:30. So, starting with American steel companies, Fred Reiss pursued the concept in Bermuda and launched the first captive in 1962. As you all know, captive insurance recorded exponential growth over the next five decades, distinguishing Bermuda as the world captive leader. It also laid the foundation of the island's entire insurance industry. We created the award to celebrate the collaboration of outstanding captive insurance industry professionals. The inaugural winner in 2016 was Jill Husbands, the former chairman and managing director of Marsh IAS Management Services [Bermuda]. Last year's awardee was leading Bermudian corporate lawyer Michael Burns. And we're very proud to present the third Fred Reiss Lifetime Achievement Award to Brian Hall. Brian is probably well known to many of you for his notable insurance career spanning more than four decades on the island. Born in 1941 in Denton, near Manchester, UK, Brian moved to Bermuda in 1958 to join his parents, and got a job at age 17 working for American International Group [AIG]. In 1964, he was hired by Fred Reiss as a captive account manager for International Risk Management, Reiss's company, where he spent five years. Brian later launched his own firm, Inter-Ocean Management, that began running captive operations for global insurance brokerage Johnson & Higgins. He was named CEO and president in 1979, and later chair. J&H Global Captive Management grew to 17 offices and 400 employees worldwide. I'm proud to say I was one of them—and had the privilege of working with Brian before J&H merged with Marsh & McLennan in 1997. A Bermudian, Brian is a graduate of Saltus Grammar School. He served as chair of the Insurance Advisory Committee, was a board member of Renaissance Reinsurance, and also helped create the Bermuda Insurance Management Association [BIMA], today the captive sector's primary industry organisation. Today, he remains professionally connected to Bermuda through his continuing partnership with Oyster Consulting. Importantly, Brian helped develop the industry's future through educational initiatives. Among his many roles and achievements, he founded the Bermuda Foundation for Insurance Studies [BFIS] in 1996 and became its Chairman Emeritus. BFIS provides opportunities for Bermudian students to gain necessary education and training to enter the insurance sector. He also led the Board of Governors as chair of the Bermuda College. In 1998, Brian was nominated by Bermuda's government to receive an Officer of the Most Excellent Order of the British Empire [an OBE] by the Queen, for his services to the insurance industry. Brian is a true pioneer in our captive industry. His contributions to both insurance and educational organisations in Bermuda have demonstrated his long and sincere commitment to the island—and to generations of Bermudians who have followed him into the industry. Indeed, much of the success we enjoy as a sector today can be attributed to Bermuda-based entities he led and inspired. We are proud to be able to welcome Brian back to Bermuda this week to attend our conference. It is my personal honour now to ask him, on behalf of the Bermuda Captive Conference, to say a few words and receive the 2018 Fred Reiss Lifetime Achievement Award."

A 4.5 per cent fee on guests using Airbnb-style holiday rental properties could raise up to $750,000 this financial year, MPs heard on Friday. Jamahl Simmons, the Minister of Economic Development and Tourism, told MPs the new levy would be given to the Bermuda Tourism Authority to help offset its costs. But he added "that this vacation rental fee is 4.5 per cent of the gross paid by the guest for the accommodation and is not a fee imposed on the proprietor of the vacation rental property". Mr Simmons explained that hotel guests pay a Bermuda Tourism Authority fee of 4.5 per cent of the gross room rate charged by the hotel. He said: "This direct revenue contributes over $7 million in income to the BTA annually, which in return reduces the taxpayer burden of funding the Bermuda Tourism Authority. Mr Simmons added: "The ministry concluded that adding a similar fee for guests staying in vacation rental properties would enable the Government to further reduce grant funding to the BTA." He was speaking as MPs backed legislation to create the new tax. Mr Simmons said the finance ministry estimated that the fee could raise $750,000 during the 2018/19 financial year. He explained the fee would be collected from guests on or before departure by the owner or operator, or the owner's agent. He added: "This additional fee would also incentivise the authority to directly support the growth of this important sector of our tourism economy." Opposition MPs questioned whether the extra charge would put tourists off visiting Bermuda. Leah Scott, deputy Opposition leader, said she had "mixed emotions" about the legislation. Ms Scott said: "Although the tax is to be paid by the visitor, will they want to pay that tax?" She added: "Is that enough of a deterrent to prevent people from wanting to come to the island?" One Bermuda Alliance backbencher Patricia Gordon-Pamplin, who has an Airbnb property, said she would rather pay the 4.5 per cent herself. She added: "I would not have a problem paying the extra 4.5 per cent as the host, as opposed to saying, let my guests who are going to come, pay 16 per cent now. They might decide not to come. Whereas I might have 80 per cent occupancy, I might go down to 50 per cent occupancy." Progressive Labour Party backbencher Zane DeSilva said that Ms Gordon-Pamplin could lower the rental price of her Airbnb by 4.5 per cent. He added: "Maybe that would make up for it." Mr DeSilva added that "anyone that travels knows that whether you are staying at Motel Six or you are staying at Bellagio, when you get your room bill at the end of your stay, you are going to have some taxes tacked on". He said that by the time visitors experienced the hospitality Bermuda is known for "I don't think that this small fee is going to stop them from coming back". Junior finance minister Wayne Furbert, and PLP backbenchers Kim Swan and Christopher Famous also backed the Bill. Mr Famous said that the BTA had failed to live up to its promise of becoming self-sufficient within three to five years and was instead a drain on the public purse. He added: "We, as a responsible government, have to balance the budget. If this money is used towards balancing the cost of the BTA, then I am all for it."

Buyers in the market for a used car should beware, the founder of a motor repair shop warned yesterday. Fernando Oliveira said almost a quarter of second-hand vehicles examined by his Noble Automotive in the last 18 months had serious problems. He said: "About 50 per cent we would say were in good shape, and about 25 per cent were horror stories. We have had people come to us in tears. I would say every couple of months we get some sad story about someone who has either been purposely taken advantage of or someone who knew there was an issue and tried to patch it over." Mr Oliveira was speaking after the Supreme Court ruled against a man who sold a car which broke down minutes later. He said buyers should do their homework before they parted with cash. He said Noble Automotive in Devonshire and sister firm Peugeot Bermuda in Pembroke would examine cars for prospective buyers to help them make sure they get a good deal. Mr Oliveira said: "It is a community service that we do. And if someone tells you they don't want their car examined by a garage, that should be a red flag." The Supreme Court heard that in a recent case that driver Janice White bought a 1998 Hyundai Atos from Damon Burgess in 2015. She said Mr Burgess told her he was still working on the vehicle, which he said needed a new windshield and rusted areas repainted. But Mr Burgess added he would need to be paid in full before he tackled the jobs. Ms White paid Mr Burgess $4,500 in cash for the car. The receipt said: "As is, after repair to windscreen and rust." The court heard Ms White was forced to pull over after the brake warning light came on minutes after she picked the car up in November 2015. She found the brake fluid reservoir was empty. She filled the reservoir with two bottles of brake fluid and contacted Mr Burgess. Ms White asked him to take the car back and refund her money, but he refused. Ms White filed a legal action against Mr Burgess after more problems surfaced but Mr Burgess still refused to refund her money. An angry Ms White had the car examined by a mechanic a month after she took delivery. The mechanic found it needed at least $4,420 worth of repairs and that it was "not fit for daily driving". He also said some of the problems could have developed after she bought the car. Mr Burgess told the court the car had been transfer tested, passed by the Transport Control Department and Ms White was satisfied with the condition of the car when she bought it. But Magistrates' Court found there were "major latent problems" with the car and it was not in satisfactory condition at the time of sale. The magistrate also found that the words "as is" on the receipt were not enough for Mr Burgess to avoid liability. He awarded Ms White $2,285, about half the cost of the car, to reflect her use of the car for a month and the fact the car was destroyed and could not be returned to Mr Burgess. Mr Burgess launched an appeal last year on the grounds that the magistrate had "overlooked relevant facts". But Assistant Justice Delroy Duncan backed the Magistrates' Court decision. He said: "Mr Burgess confirmed he has been in the business of buying and selling used cars for four years and at the time of the appeal hearing Mr Burgess said he had sold 250 cars over the last four years. Mr Burgess was subject to the implied term that the car he sold Ms White under their agreement was of a satisfactory quality." He added: "I do not accept the words 'as is' on a sales receipt for a second-hand car sold in the course of a business to mean that a seller can sell a second-hand car with latent defects." Glen Smith of Pembroke car dealers Auto Solutions said anyone in the market for a used car should use caution. Mr Smith said: "When you are buying a car from ourselves or another reputable dealer there is a warranty so in the event that something goes wrong, the warranty will back the car. When you are buying a second-hand or pre-owned vehicle there's no guarantee. You have no idea what is the history of the vehicle."

The island's oldest environmental charity backed yesterday a redevelopment plan for a former golf course. The Audubon Society said it supported the proposal to create a nature reserve on the site of the old Riddell's Bay Golf Club. Karen Border, president of the Bermuda Audubon Society, said that nature reserve status would allow "a great deal more protection for the land" than its present designation as recreational land. The golf course's new owners proposed to build houses on part of the site, but create a 66-acre conservation zone on the rest of the course. Ms Border said: "While we are loath to see any of our precious remaining open space given over to development, we accept that in this case there is a pragmatic need for the new landowners to sell some lots for development in order to be able to set aside a sizeable area as a reserve which will benefit Bermuda as a whole." She added the society had reached its decision based on information given to David Wingate, a committee member. Ms Border said two factors had influenced the group's position. She explained: "One is that the new development will not be high density but is on large lots, which will retain the rural character of the area. The other is that the proposed nature reserve will be of much greater environmental value than the existing golf course, which, while valued open space, is relatively sterile in terms of biodiversity." The comments come after one of the property's owners told The Royal Gazette that they wanted to create a conservation zone combined with "very-low-density residential areas". The spokesman said the project was being undertaken "in consultation with Bermuda's leading environmentalists". Jonathan Starling, executive director of environmental charity Greenrock, said the organisation did not have any "major concerns" about the majority of the land being protected. Mr Starling explained: "If anything we saw that as a potential planning gain for the people of Bermuda in terms of expanding the land back to protected green space." He said that "important biodiversity spots" on the property would be strengthened by the rezoning. Mr Starling said he understood concerns about rezoning as being a "double-edged sword". He added: "However, we don't have an issue with changing land use from one zoning designation when it strengthens the protection of that area in terms of going from, say, commercial to nature reserve or woodland reserve. The opposite direction would be problematic and the prejudice should be strengthening protections and expanding protected nature areas." But other environmental groups said they had adopted a wait-and-see approach. Bill Zuill, executive director at Bermuda National Trust, said his organisation was "monitoring the proposals" for the site. Mr Zuill added members of the trust had met the property's owners as well as people concerned about the prospect of houses being built on the site. He said: "The trust has not seen detailed final proposals for the property and has therefore not yet taken a formal position." Mr Zuill added the trust looked forward to "continued dialogue with all parties". Kim Smith, executive director of the Bermuda Environmental Sustainability Task Force, said the organisation would wait for the results of the owners' consultation with planning officials before they commented. The Riddell's Bay Members' Committee has raised concerns over an application to subdivide the property into two plots. The group claimed the move would lead to "at least" 42 acres of recreational land being turned into private homes. It also said the move would create a legal precedent allowing other recreational areas to be built on. A petition launched to protect the property has attracted 700 signatures — although these included Vladimir Putin, the Russian president, and Fidel Castro, the late prime minister of Cuba.

The voice of the axed Non-Mariners Race said he hoped the event could be refloated in the future. Bruce Barritt, emcee for the event for 30 years, explained: "Hopefully some other group will want to resuscitate it, whether it's this year or next year. It's up to a group of individuals who have some energy and dedication." Mr Barritt said he was told late last week that this year's race had been cancelled. He added it was possible that the news might create a "groundswell" of grassroots support. He said: "There may very well be an independent group — whether from the West End, or the East End, or even from Dockyard — who might say 'This is too much fun, we don't want to give it up'. "Everything has life cycles — perhaps this is a chance for someone else to take it over. This may actually galvanize a new generation of non-mariners." Sandys Boat Club confirmed the cancellation of the event in a statement issued yesterday. A spokesman for the club said fewer entries, a change in the economics of the event, and a shortage of volunteers to organize and run the race were behind the decision. Mr Barritt accepted the club's reasons were "pretty valid". He said: "If you don't get participation — people making the effort to put something together and float it out and do something — then there isn't an event." He added the cancellation "probably doesn't matter much to 85 to 90 per cent" of raft-up participants in Mangrove Bay. Mr Barritt said: "Their eyes are all towards the next boat or on the horizon. They're not much looking at the shoreline where the non-race is." Mr Barritt said finding volunteers for the event had always been a challenge. He said: "When the people from the boat club say it's harder and harder to find volunteers to assist — yeah, I've seen that first-hand." Sandys Boat Club said the cancellation included the race as well as the other events like a "non-penguin fly-by" and a "non-calypso pipe band and dancers". But the raft-up parties in Mangrove Bay will go ahead as usual. The club spokesman thanked the Bermuda Tourism Authority for its offer of assistance. He said the club hoped that the event will be revived with the BTA's assistance. A spokesman for the BTA confirmed that the club had contacted the organisation about problems with the organisation of this year's event. He said: "The BTA offered to connect the boat club's leadership with potential sponsors — not only because of the charitable mission of the event, but also because the event is a part of our event-marketing brochures for visitors. In the end, Non-Mariners Race organisers decided to scrap the event before we could make any connections." The spokesman said that the BTA had not offered to sponsor the event. He added: "While it's unfortunate to see the event cancelled and for local charities to miss out on this fundraising opportunity, we're confident the other traditions on the Sunday after Cup Match will continue — providing visitors with a truly Bermudian celebration." Johnny Peacock, of Mariners rugby club, said he and the club had backed the event for many years. He added: "I think it's sad in general." Mr Peacock said that club members had already started discussions about this year's event. But he added: "There's never really a lot of planning involved." Mr Peacock said that a decision on a theme for the club's race entry was usually made up to two weeks before the event. He added: "It's just a good laugh. It's one of those things that become tradition. It's what you do every year." Non-Mariners was first held in the early 1960s in Hamilton Harbour. It later moved to St George's and Ferry Reach before it settled on Mangrove Bay in 1972 and grew over the years. The boat club spokesman said charities like Bermuda Sailors Home, the Bermuda Sloop Foundation, and the St John Ambulance service had benefited from the event. He added the event had "not been of financial benefit to the club in many years". Anyone interested in helping run the event should contact the Sandys Boat Club secretary at sbcsecretary@logic.bm.

Rosemont City Place units are now up for sale with a starting price of just over $1 million. Nikki Thomas, real estate assistant at Coldwell Banker Bermuda Realty, said the properties have been on the open market since the beginning of last month and already have a unit in contract. The two- and three-bedroom homes are located on Rosemont Avenue, next to the Ascots restaurant. The properties have previously been rented for around $6,000 to $9,000 a month. Ms Thomas said owner WhiteCross Development Ltd believes it's the right time to sell. "We have the first apartment in contract and now the ball has started to roll," Ms Thomas said. "All apartments are on the market and ready to be sold. Right now we currently have about a dozen left." Ms Thomas argued that it was an attractive investment, as the location is within walking distance of the city. "It is so close to the city, you can walk to work if you choose, but you don't feel like you're directly in the city. The area is green, you hear the birds, so you don't feel like you're in a city-centre residence." Another benefit of Rosemont City Place is the parking lot. "We have the underground parking, there's not a lot of places that give that option," Ms Thomas said. "The first four residences are being sold with free parking space, but any units sold after that can pay for the underground parking with an elevator that takes you directly to your apartment floor, which costs $30,000. This is a great opportunity for people from the rental side of things. The buyers we see that come through here are mostly people who want to downsize from a larger home in a few years, which will give them a great return on investment." The apartments are available to locals, PRC holders and international buyers. The two-bedroom apartments start at $1.075 million and the three-bedroom units start at $1.45 million. Other amenities beside the underground parking, are a fitness centre, access to the private pool and sundeck, extra storage space, elevator access and secure access with security card system. There is a quarterly maintenance fee for the upkeep of the elevators, common space, pool, gym and parking. Each residence has a large private balcony, is furnished with major appliances, including a microwave, refrigerator and dishwasher. They are also centrally air-conditioned and heated.

People honored in the Queen's Birthday list said yesterday they were shocked to be singled out. Flora Duffy, star triathlete, who was awarded the Order of the British Empire medal for her sporting achievements, said she was "honoured" to at the recognition. She added it was "an unexpected and humbling moment". Ms Duffy, a Commonwealth Games gold medal-winner in Australia this year, was one of eight people recognized in the annual summer list of awards. The Royal Bermuda Regiment's Major Ben Beasley, given the British Empire Medal for services to the island in the military and for other public service, said he was surprised to be honored. He said: "It's humbling to know that someone or a few people have thought what you have done is worth discussing, let alone spend their valuable time writing you up for an honour. Major Beasley, in addition to his RBR duties, which included last year's America's Cup, was recognized for his work with young people's adventure charity Outward Bound and in the island's rugby world. He said: "I hope that my role in these different areas have, in some small way, made a positive impact into the fabric of Bermuda's society." Major Beasley also thanked the people who had supported him and helped in his community work. He said: "Nothing that appears in the citation is for an exclusively individual effort, they have all been group activities: military duties, America's Cup, Outward Bound, and rugby. I have been fortunate to work through the years with some truly dedicated people who shared my belief in our various causes." Neil De Ste Croix was awarded a BEM for his work with the Tri-Hedz Junior Triathlon Club. He said: "I was quite honored. Shocked. You never expect to be honored. You do it because you believe in it, you volunteer because you love to see children improve and develop, not just in sports but also as people." He said he was particularly happy to be honored in the same year as Ms Duffy, who was involved in Tri-Hedz as a young athlete. Mr De Ste Croix said: "I was very, very honored. It's an honour just to be mentioned in the same breath as Flora Duffy. She's a fantastic person, and an amazing role model." Chief Inspectors Na'imah Astwood and Jerome Laws were both given with Overseas Territories Police Medals for their contributions to the police service. Ms Astwood, the highest ranking woman officer in the service, said: "It is indeed an honour to be chosen for such an esteemed award especially during my holy month of Ramadan. This award is a true blessing from God and I thank my family, friends and my community who have continuously supported me." She added: "When I see the quality of individuals that were honored with me, it reminds me of a quote from Shirley Chisholm who stated 'service is the rent we pay for the privilege of living on this earth'. I am cognizant of my role as a police officer and it is a role that I do not take lightly as I continue to serve my community." Mr Laws added: "I set out on an adventure 31 years ago as a cadet. Little did I know the Bermuda Police Service would have a profound impact on my life. Today, I am just as committed to serving my community as I was the very first day that I put on this uniform. I am humbled to be included in this year's Queen's Honours listing." Judith James, who was given the Queen's Certificate and Badge of Honour for contributions to Bermuda public schools, said she was "very pleasantly surprised" by the distinction. Ms James, who retired in 2016 after a 47-year career in the classroom, was recognized for her work in the promotion of literacy, and representing Bermudian traditions overseas, said: "I was chuffed." She joked she had been doing "old Bermuda stuff for 300 years, but I was not expecting the recognition". Lindsay Simmons, recognized for her foster care work with a Queen's Certificate and Badge of Honour, also said she was surprised to find out she would be among those honored. She said: "When they called me, at first I thought they were just telling me I had been nominated, and I thought that was nice. Then she told me I had actually won the award. I was shocked." She added: "I never did any of this for recognition. Hopefully it will help to inspire other people to help children." Also honored was Major Leslie Lowe, who was given a Queen's Certificate and Badge of Honour for his services to music and the community. Major Lowe could not be contacted for comment yesterday.

Police are investigating a threatening confrontation at the Fairmont Hamilton Princess that was posted on social media. Pictures and video of the incident were shared on Facebook on June 9 after the intruder arrived at the hotel's pool and began accosting guests. A police spokesman confirmed that a man had come onto the hotel property and "began behaving in a threatening manner". The spokesman added: "An investigation into this incident is now under way and officers are also liaising with the relevant hotel personnel to minimise the likelihood of a recurrence."

June 11

Lieutenant-Colonel David Burch has criticized coverage of his controversial speech about the next Chief Justice. Colonel Burch was responding after he came under fire for referring to status Bermudian Narinder Hargun's Indian heritage in the House on June 1. The Minister of Public Works said: "I spoke for around 17 minutes. It wasn't quite the whole 20 minutes. "I say that because I must have spoke more than one word, but it seems as if several people who sit in this place, who were present last week and heard all 17 minutes about what I had to say, only heard one word and only remembered the word five days later." Colonel Burch said he had spoken at length about issues including independence, succession planning and Bermudianisation, but no one had discussed those elements of his speech. He also took aim at a critical editorial in Friday's edition of The Royal Gazette and unfavorable comments by anonymous bloggers. Colonel Burch went on to say the Government would be working to provide affordable housing for Bermudians. He told the House the majority of requests he had received since becoming minister had been about the need for housing, but the OBA government had not built a single home during their time in office. Colonel Burch had come under fire after he accused Chief Justice Ian Kawaley of failing to nurture a successor, resulting in the controversial appointment of status Mr Hargun. He said that if the Chief Justice wanted his legacy to be "something people remember fondly regardless of their political persuasion, you must produce somebody to take your place other than an Indian". Michael Scott, PLP backbencher, said Mr Hargun was an able and skilled Bermudian lawyer who was born in India. However, he said Colonel Burch was addressing an important and valid issue but a single comment became the focus in media reports and headlines.

A former attorney-general and government MP has lost an attempt to stop a bank from seizing a piece of land after he defaulted on a $315,000 mortgage. The Supreme Court heard that Michael Scott, Progressive Labour Party MP for Sandys North, signed an agreement in 2016 where he admitted a $223,000 debt and agreed to repay it. But the court was told Mr Scott had not made any payments on the $248,000 now owed to Clarien Bank after interest was added. Alexandra Wheatley, acting Supreme Court Registrar, found in favour of the bank and rejected Mr Scott's application to suspend execution of the writ to repossess the land. Ms Wheatley said in a written judgment: "I would have been more sympathetic for the defendant had he been compliant with the terms of the consent order, but for Mr Scott to state in the face of the court he had no prospect of paying at the time he entered into the consent order is alarming. Moreover, the fact Mr Scott — particularly taking into account he is senior counsel — made no efforts subsequent to the signing of the consent order to negotiate amended payment terms with the plaintiff or to make an application varying the terms of the consent order, in my view speaks volumes." She added: "Had the defendant been compliant with the terms of the consent order, or at the very least provided evidence supporting a change in financial circumstances which rendered him unable to make payments, I would have been more easily persuaded to grant a stay." Mr Scott said last night that he was working to settle the matter. The court heard Mr Scott took a mortgage with Clarien in 2006. Mr Scott was given $315,000 secured against land on Sound View Road in Sandys. But a judgment was entered against Mr Scott for $223,109.17, with interest at a rate of 7.75 per cent a year, in 2016. The court heard Mr Scott later signed a consent order but failed to comply with the terms. The amount owed had risen to $248,216.18 by the end of April this year when interest was added. Clarien later filed a writ in a bid to repossess and sell the mortgaged property. But Mr Scott applied for the writ to be suspended. He told the court his main concern was that if the writ was allowed it would result in him losing his home, which is separate from the mortgaged property. Mr Scott proposed repayment of the debt at $2,000 a month — $500 per month less than in the 2016 consent order. He submitted evidence he would be paid $5,715 a quarter for a board position to show he could make the payments. But lawyer Richard Horseman, for Clarien, said the proposed payments would cover little more than the interest and reduce the debt by about $7,000 a year. Ms Wheatley said the Sound View Road property was valued at $225,000 in 2013 but an updated appraisal from 2016 estimated the value had fallen to $140,000. The court heard Mr Scott turned down an offer for $115,000 in October last year. Ms Wheatley said: "While Mr Scott averred to have family members interested in purchasing the mortgaged property, no evidence was submitted to support this being a real prospect." The acting Registrar said she also had concerns about Mr Scott's failure to fulfil the consent order. Ms Wheatley added: "When Mr Scott gave evidence as to why the terms of the consent order were not complied with, he stated 'there was no real prospect to pay'. She said: "Mr Horseman understandably raised his concerns as to why Mr Scott had entered into the consent order in those terms in the first place if there was no ability to pay in accordance to the terms of the order. "Mr Scott did not answer this." Ms Wheatley found in favour of Clarien, refusing Mr Scott's application to stay the execution of the writ and awarding Clarien costs.

The Human Rights Commission said the Bermuda Government can cater for both the rights of the gay community and those with competing views in the church. The HRC gave its backing to the Supreme Court's decision to reverse the ban on same-sex marriage, and offered to help Government address both sides of an argument that has divided Bermuda. On Wednesday, Chief Justice Ian Kawaley upheld a constitutional challenge to the Domestic Partnership Act, which was put in place by the Progressive Labour Party government after church groups campaigned against same-sex marriage. HRC chairwoman Tawana Tannock said: "It is our hope that any further action taken by the Government will be done so with a view to solidifying the rights and expectations confirmed in the judgment, while also addressing what some may view as competing religious rights. Both can be upheld, one does not have to negate the other, as we have seen modeled in other jurisdictions. This is not always a simple task, but it is a necessary one in which the HRC stands ready to provide the necessary advice and assistance to the Government and community stakeholders." Ms Tannock said it has previously spoken about the importance of maintaining mutual respect while handling competing rights. She said: "The Human Rights Commission is pleased by the outcome of the recent court decision and judgment on same-sex marriage. We are equally as heartened to read the judgment Chief Justice Ian Kawaley in which he stressed the importance of the acknowledgement and protection for competing rights. This is often a passionate topic of discussion for the Office and Commissioners as we seek to maintain this approach to rights-based issues. To see our concerns elucidated so clearly by the Chief Justice was reassuring and it is our hope that members of the Government and public alike will read the judgment in full, as the issue of competing rights is one that must be approached with mutual respect for all parties involved." Ms Tannock added: "The judgment is also significant in its confirmation of the necessity of the primacy of the Human Rights Act, which effectively seeks to establish, clarify and solidify rights that were not included in our Constitution, a document which is reflective of the period in which it was drafted, but not the Bermuda of today or tomorrow." Walton Brown, the Minister of Home Affairs, has said the Government will appeal the decision "subject to any legal advice we receive".

The Netherlands Ambassador to London, Dr. Simon J. H. Smits paid a courtesy call on the Premier and Minister of Finance the Hon. E. David Burt JP MP at the Premier's office, today. During the cordial visit, the Premier provided the Ambassador, and Netherlands Honorary Consul, Marijke Peterich a tour of the Cabinet Office. The Premier is photographed with Ambassador Smits and the Honorary Consul.

Sam Strangeways, a senior reporter for The Royal Gazette, has won a second Best of Bermuda award. Ms Strangeways was delighted to win the award for journalism from The Bermudian magazine — a title she first won in 2014. She said: "I am really grateful for the recognition and even more so to the people willing to share their stories, news tips and opinions with me." Ms Strangeways joined The Royal Gazette in 2006 after working for several newspapers in the North of England and winning North-East Journalist of the Year in 2005. She said: "I got into journalism purely due to a love of writing, not realizing how good a fit news reporting would be for me. It's a very rewarding job. Part of the reason I love it is because I believe completely in the importance of the news media — telling human stories, shining a light in dark corners and holding those in charge to account. Ms Strangeways added: "Even in a very small community like this, those things matter. I am constantly amazed at how many stories there are to be told in 21 square miles." Dexter Smith, Editor of The Royal Gazette, said: "I am very pleased for Sam. She is very deserving of this accolade. What sets her apart from the pack, here and island-wide, is not only an indefatigable desire to uncover truth and promote equality for all, but the ability to transfer her findings to the Bermuda public in a coherent and uncomplicated manner. She would grace many a newsroom in bigger jurisdictions. The country is lucky to have her."

June 10, Sunday

A record 845 delegates have registered for the Bermuda Captive Conference which starts tomorrow at the Fairmont Southampton. Now in its fourteenth year, the three-day conference brings together captive insurance owners, risk managers, captive managers, sponsors, and vendors from the United States, Canada, Latin America, and the United Kingdom, in addition to Bermuda's own industry representatives. Moderated panels and roundtables will focus on insurtech, cyber-risk, climate change and healthcare liability, as well as the industry's growing diversity around risk types, products and talent. "We've had a terrific response to this year's event and we expect the numbers to climb even higher over the next few days," said Mike Parrish, chairman of the conference. "We're offering dynamic speakers and a full, interactive agenda that should prove very informative — as well as lots of social events for delegates to get the most out of their Bermuda visit. We're looking forward to a busy three days." The conference opens with a morning of social activities, including the choice of a glass-bottom boat tour, golf tournament, or fitness walk along Bermuda's South Shore dunes and beaches. The trade floor, featuring 47 booths showcasing industry support services, related organisations and other vendors, opens at noon, followed by the first sessions. Walter Roban, the Deputy Premier, officially opens the conference on Tuesday morning, when new inductees into the Captive Hall of Fame and the winner of this year's Fred Reiss Lifetime Achievement Award will be honoured. Eleven companies with a quarter-century commitment to the Bermuda market will be recognised, and industry veteran Brian Hall, a former director and president of Johnson & Higgins whose career spanned more than four decades on the island will receive the third Fred Reiss Award. With "Diversity" as its 2018 theme, the conference features human-rights visionary Derreck Kayongo as keynote lunch speaker on Tuesday, and Hamilton Group CFO Jonathan Reiss as industry speaker on Wednesday. Agenda sessions will explore the topic, too, including diversity on corporate boards, the perspective of millennials, and female viewpoints on leadership. A first time community component of the conference will see participation by Friends of Hospice, the Bermuda Human Rights Commission, and the Bermuda Insurance Institute — 10 of whose students have been offered free passes to network and attend educative sessions. All three non-profits will have booths where delegates can donate, meet charity representatives, and learn about the work they do.

June 9

The annual Bermuda Queen's Birthday Parade will take place along Front Street today. Traffic restrictions will be in place early on Saturday before the parade begins at 10.30am. The event will feature the pomp and pageantry of the marching units from the Royal Bermuda Regiment, Royal Bermuda Regiment Band and Corps of Drums, Bermuda Police Service and Bermuda Police Reserves, Bermuda Fire and Rescue Service, Royal Bermuda Regiment Junior Leaders and the Bermuda Sea Cadet Corps. Always an event for visitors to watch Bermuda's British militia salute Her Majesty for her Official Birthday, Traffic will be limited on Front Street. The Governor, Premier, and other VIP guests will in attend. Begins at 10-1030 am Bermuda time. The public is encouraged to come out and view the event which will feature the pomp and pageantry of the marching units.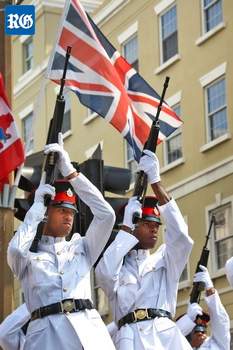 The Queen's Birthday Honours list has been announced. Awardees for the Officer of the Most Excellent Order of the British Empire and British Empire Medal:
Flora Duffy OBE — for services to sport in Bermuda;
Major Ben Beasley BEM — for services to Bermuda;
Neil de Ste Croix BEM — for services to sport in Bermuda;
Awardees for the Queen's Certificate and Badge of Honour:
Judith James — for services to education;
Major (Ret) Leslie Lowe — for services to the community, music;
Lindsay Simmons — for services to the community, foster care;
Awardees for the Overseas Territories Police Medal:
Detective Chief Inspector Na'imah Rosalie Astwood;
Chief Inspector Jerome Anthony Laws.
Officer of the Most Excellent Order of the British Empire awardee:
Flora Duffy OBE. Ms Duffy has earned national and international recognition in the area of triathlon and has established herself as a world-class athlete. She has been recognized for her efforts in increasing national awareness of the sport in Bermuda and for representing her nation with pride. Ms Duffy is the 2016 and 2017 ITU World Triathlon Series World Champion, 2015 & 2016 ITU Cross Triathlon World Champion and a four-time winner of the Xterra World Championships. She also successfully dominated and won the World Triathlon Series race held in Bermuda earlier this year. Ms Duffy has represented Bermuda with distinction at the past three Olympics held in Beijing, London and Rio de Janeiro. In 2018 she won the gold medal in the Commonwealth Games Women's Triathlon in the Gold Coast and is the first Bermudian woman to win a medal of any colour at the Commonwealth Games.
British Empire Medal awardees:
Major Ben Beasley BEM. Major Beasley joined the Royal Bermuda Regiment in 2011 and for the last three years has been the Training Officer. In this role he has personally led the individual and collective training for the Royal Bermuda Regiment which has enabled the Regiment to provide specialist assistance to the civil authority in the aftermath of hurricanes and tropical storms, most notably Hurricane Nicole in 2016. Major Beasley has also been a key adviser to, and implementer of, national joint exercises which have tested all branches of the emergency services in preparing for major incidents and natural disasters. During the 35th America's Cup, Major Beasley assumed the role of Silver Commander at the Joint Agency Command Centre where he coordinated individual strategies throughout the event. Major Beasley has also given voluntarily of his time in supporting the development of young people on the island. As Vice President of the Bermuda Rugby Football Union, he has worked to support the engagement of young people from all backgrounds in the sport, reaching out across Bermuda's racial divide and supporting the development of women's rugby. Major Beasley has also made a strong voluntary commitment to the Bermuda Outward Bound programme, again helping young people from across the community to develop their skills.
Neil de Ste Croix BEM. Mr de Ste Croix, along with two fellow amateur sportsmen, founded the Tri-Hedz Junior Triathlon Club aimed at bringing together young people from all backgrounds and introducing them to the sport of triathlon. 2018 marks the 25th year of dedicated volunteerism by Mr de Ste Croix during which time he has worked to preserve the club as a safe, vibrant and active place where young people, 7 and up, can train and compete together. The training season runs for nine months from March to November and the club raises funds for an annual trip to enable the athletes to compete overseas. Two of the most notable members of the Tri-Hedz Club are Flora Duffy and Tyler Butterfield.
Queen's Certificate and Badge of Honour awardees:
Judith James. Mrs James taught in the Bermuda public school system for 47 years at Ord Road School, Elliott Primary and Victor Scott, retiring in 2016. She is an outstanding advocate of literacy and reading for young people and promotes "Reading is Fun" at schools throughout Bermuda. Mrs James is also an authority on traditional Bermuda games and crafts and has traveled to the Smithsonian Institution's Folk Life Festival (2001) to present Bermuda games to an international audience. Today she is still teaching as the head of the Southampton Seventh-Day Adventist Kindergarten Division. Mrs James was a Grand Marshall for this year's Bermuda Day Parade.
Major (Ret) Leslie Lowe. Major Lowe joined the Bermuda Militia Artillery Band in 1961 at the age of 13, prior to the amalgamation of the BMA and the BVRC to form the Bermuda Regiment. He rose through the ranks, joining the Regiment's full-time staff in 1974, becoming Bandmaster in 1985 and Director of Music from 1986 to 1991. Between 1982-84 while a student at Kneller Hall, he won the Barscotti Award for Best Overseas Student. Following his retirement from the Bermuda Regiment in 1992, he eventually joined the Somerset Brigade Band participating in a revival of this community Band and building on its strong musical foundation. He has served as the Bandmaster and has led them in performances locally and overseas. Major Lowe was also a member of the 50th Anniversary Committee that led the activities for the celebration of the Royal Bermuda Regiment's milestone anniversary.
Lindsay Kathleen Simmons. Ms Simmons began fostering children when she was 24. Throughout the past 12 years she has fostered many children, some long-term and others short-term or emergency placements. She has been a board member of the Foster Parents Association for the past eight years, the last three as president. As part of her commitment to foster children and with the support of her employer, Bermuda Restaurants Limited, Ms Simmons has raised funds for the Foster Parents Association and the Big Brothers Big Sisters of Bermuda through the sale of a speciality drink — the Winter Wonderland — at Rosa's Cantina and Chopsticks as well as organising an Angel Tree which where each angel represented a child in foster care and the public were able to buy gifts for the children or donate money towards a gift. Ms Simmons has also raised money for others including to support scholarships for children of those individuals who have passed on, to support a family to bring a loved one home to bury them and to help support a family whose loved one has cancer among others. Ms Simmons is a certified Bermuda Tourism Ambassador who volunteers her time teaching students at Dalton E Tucker and Whitney Institute Middle School about the island's hospitality industry through Bermuda Hospitality Institute's educational programme. She was awarded the Best of Bermuda Award for "Unsung Hero" in 2017.
Overseas Territories Police Medal awardees:
Detective Chief Inspector Na'imah Astwood. Ms Astwood joined the Bermuda Police Service in 1994. Throughout the 23 years of her career to date, her contributions to policing in Bermuda have been meritorious. She has worked in a variety of postings. She is an accomplished detective and has made a significant contribution to policing by leading organizational change in demanding circumstances. She is the most senior female officer in the Service and provides a strong role model to her colleagues.
Chief Inspector Jerome Laws. Mr Laws joined the Bermuda Police Service in 1986 as a police cadet. He has worked in a variety of postings throughout his career with the Bermuda Police Service. In his current role within the Community Policing Division, Chief Inspector Laws has helped to increase public confidence by ensuring uniform response officers are meeting expectations in making Bermuda safer. Both Chief Inspector Astwood and Chief Inspector Laws served as Silver Commanders for the 35th America's Cup and worked closely with the British National Police Coordination Centre to deliver a safe and secure event.

An amended version of a proposed tax on sugar won cross-party support in the House of Assembly yesterday. But Opposition MPs questioned if an extra charge on sugar-laden products would drive people to make healthier choices. Susan Jackson, the shadow health minister, said there should be a "war on sugar" as she gave Opposition support of the Customs Tariff Amendment (No 2) Act in a debate that lasted more than five hours. She said: "If we could just get this right and become more healthy, then we have an opportunity to reflect to the entire world that we can recover and be an example for those also trying to become more healthy, that it is possible." Ms Jackson said manufacturers invested large sums in "keeping us addicted". She also suggested that sugary items should not be distributed in some public places, like "pivotal" restrictions on tobacco had cut down on its consumption. Ms Jackson said the removal of candy from supermarket checkouts could also be considered. She also called for a committee or council to "follow the data" and track whether the legislation improved health. Jeanne Atherden, the Leader of the Opposition, also called for measures to be put in place so that the results could be tracked. She also repeated concerns she said she had as a former health minister that a tax on sugar would only lead to increased revenue instead of changed behavior. Ms Atherden warned that an "increase in cost does not automatically decrease consumption". Craig Cannonier of the Opposition One Bermuda Alliance welcomed the amendments brought by health minister Kim Wilson, which he said would help save black and Portuguese businesses. Mr Cannonier told MPs "that the Bermudian diet is killing us" and asked for a "massive" commitment to health education. He added: "We cannot legislate behavior but what we can do is educate, educate, educate." David Burt, the Premier and Finance Minister, repeated that the Government would "ensure that we earmark all of the funds that are generated from the sugar tax to the promotion of healthy living initiatives". He added: "The best way to do that is to lower the cost of healthy options and that is what we need to make sure we are trying to target." Mr Burt said: "We have taken a first step into that to eliminate customs duty on many healthy food items." He added that another option was to encourage more local production of healthy options. He said the Business Development Agency and an external investor were looking at the "conversion of certain buildings at Southside which could be possibly used for vertical farming". Mr Burt also acknowledged concerns of businesses who felt that the sudden duty rate increase would put them out of business. He said the Government had agreed to delay the implementation, phase the increase and also offer concessions to local manufacturers. But Mr Burt also suggested that they take the opportunity to take the time to reinvent what they do. He said: "If you have a retail store that is just selling candy, maybe in addition to selling candy, you might want to sell healthier snacks, different options, fruit-based snacks." Lawrence Scott, the Government whip, said businesses such as soft drinks producer Barritts, which had opposed the tax, should see it as an opportunity to create jobs. "As it says in the bill, there is a concession for foodstuffs made here in Bermuda, produced here in Bermuda." He added that if Barritts were to bring its bottling operation back to the island "they would then be able to say that we are actually producing it here in Bermuda". Mr Scott said this would mean they could apply then for the concession. But Patricia Gordon-Pamplin said simply relocating the manufacturing side would defeat the purpose of the bill. She said: "It is the consumption, not the place of manufacture, that is causing the health problems to which the minister has referred." Ms Gordon-Pamplin also stressed the need to recognize the addictiveness of sugar. She warned: "If the desire for serious, hard sugar is greater than your love for fruits and vegetables, then you are going to buy the sugar." Ms Gordon-Pamplin added: "It's only going to be an awareness of the health outcomes that we will suffer as a people, that we can actually make choices that will help to benefit us." But Wayne Furbert, the junior finance minister, said taxes on cigarettes had led to a reduction in the number of smokers over the years, which showed that "behaviour patterns can be changed based on prices". Several Government MPs pointed out the absence of OBA MP Michael Dunkley, who had spoke out against the legislation on social media. Diallo Rabain said: "When I noted that Member was not here I was a bit disappointed because I wanted to see what he would say in these halls."

Former minister Patricia Gordon-Pamplin revealed yesterday to the House of Assembly she had recently had a cancer scare. But the One Bermuda Alliance backbencher said she was "fine" in the wake of surgery and precautionary chemotherapy and radiation treatment. She added: "The tests are all behind me. I have come out on the other side of it well, thank God for that." Ms Gordon-Pamplin told MPs she had just gone through "major surgery" as she spoke during the debate on a proposed sugar tax designed to improve public health. She said the treatments she had after surgery had revealed that she had endometriosis — a condition where uterine tissue grows outside of the uterus. Ms Gordon-Pamplin said she did not know "whether it could have been avoided by my lack of consumption or my controlled consumption of significant amounts of sweets". She added that she was happy to speak about her experience if it helped others because not speaking about it could mean that "our suffering could conceivably be in vain". Ms Gordon-Pamplin said: "But if we take the time to be selfless and to share with others what we are experiencing, then I think it may give other people an opportunity to say 'well, maybe there is something good that will come out of this if I am mindful of my area of consumption'." Ms Gordon-Pamplin said that people should control their sugar intake. "We also have an obligation to ensure that we keep on top of our health crises and our health challenges and that we take the time to know our bodies. Because, in the absence of my knowledge of my body, I may not have been able to look at something that was diagnosed as a stage 1A, which is probably as early a diagnosis as one could get." Ms Gordon-Pamplin said that because of a "macho" outlook and "mindset that happens" people might not take the necessary tests and medical checks needed to ensure good health. She added: "All of that is predicated upon what we consume and the impact of what we consume on our bodies.

The outgoing Chief Justice mounted a spirited defence yesterday of a judicial system free of political interference. Ian Kawaley also told a conference that the constitutional foundation for the judiciary was "deficient" and needed urgent reform. Mr Justice Kawaley said: "Judicial independence matters, because every legal person that appears before court has a fundamental right to appear before an independent court. Judicial independence matters because the judiciary's constitutional role is to serve as a third branch of government, independent of the executive and legislative branches. Judicial independence matters because it forms part of the central underpinning of the rule of law and Bermuda's economy needs and depends upon a legal and court system that manifestly upholds the rule of law." He added: "The constitutional dispensation for the judiciary, 50 years after it was last defined, is now woefully out of date. It needs and deserves reform now." Mr Justice Kawaley highlighted a lack of security of tenure for judicial officers and the lack of a constitutional judicial and legal services commission. He added that the absence of a constitutional requirement for the executive to financially support judicial administration, as well as a lack of constitutional provision for a minister of government charged with upholding the rule of law and judicial independence were also major gaps in the system. Mr Kawaley was speaking at a conference to mark the 50th anniversary of the Bermuda Constitution, organized by the Centre for Justice at the Bermuda Underwater Exploration Institute. The event included local and international speakers. Mr Justice Kawaley said that a proposal for a judicial services management committee had been submitted to Kathy Lynn Simmons, the Attorney-General, last September. But he added the proposal was "rejected without explanation". Mr Justice Kawaley and Acting Registrar Alexandra Wheatley said in a joint statement last month that successive attorneys-general had failed to tackle a staffing crisis, which had left the court system crippled. Last week, Wayne Caines, the Minister of National Security, said that Mr Justice Kawaley had not made it his "first port of call" to meet Ms Simmons or the director of human resources to highlight his concerns about staffing levels. Mr Justice Kawaley said: "I would suggest here, had that proposal been accepted — it was a proposal that two Governors have found favour with — it might have alleviated some of the recent brouhaha." He added that the creation of a political Attorney-General in 1998 created "no real improvement on the prior arrangement". Mr Justice Kawaley explained: "The constitutional role of the Attorney-General is to be the Government's principal legal adviser. Her chambers represent the Crown in litigation before the courts. It is inconsistent with that role for the same minister to purport to represent the interests of an entirely separate and independent branch of government in Cabinet and the House. It is undesirable for the chief justice to be negotiating concessions with a constitutional actor who is a regular counsel and or party in litigation before the courts. And so I say to those who suggest I should have had a meeting with the Attorney-General at a time there was a major case before me, that not in a month of Sundays would I have entertained that."

The Chief Justice hit back yesterday at a claim by a government minister that dealing with him was like dealing with someone with a mental illness. Ian Kawaley said: "I don't think that I'm bipolar — as one politician recently described me. I think the correct medical term would be schizophrenic." The comments drew laughter and applause from his audience. Mr Justice Kawaley told attendees at a conference on the Constitution that he grew up in a "diverse" household. He explained: "It taught me that just because you like somebody, doesn't mean you can't disagree with them." Mr Justice Kawaley said his mother was a liberal and his father was a conservative. He added that his parents' views on religion also differed. Mr Justice Kawaley said: "With this background, you can see that it might be said, by some, that I'm bipolar ... I think the correct medical term would be schizophrenic." The Chief Justice was speaking after Lieutenant-Colonel David Burch, Minister of Public Works, mounted an attack on him in the House of Assembly last week over a public statement on staff shortages in the courts. Mr Justice Kawaley and Acting Registrar Alexandra Wheatley said in a joint statement that successive attorneys-general had failed to tackle a staffing crisis that had crippled the court system. Colonel Burch accused the Chief Justice of sitting "silent and mute for five years" but "all of a sudden, as you are about to exit stage left, you find your voice". He added: "Will the real Chief Justice please stand up — it's like having a bipolar person in the post." Colonel Burch added he believed it was "something to do with who is sitting on government benches". The attack came despite Mr Justice Kawaley's concerns being aired in public in 2013 under the former One Bermuda Alliance government. The Chief Justice spoke out again about the problem in January last year, six months before the General Election that propelled the Progressive Labour Party to power.

The Premier today announced the signing of another memorandum of understanding designed to build Bermuda's financial technology industry. David Burt said the agreement involves B-Seed Partners, FinHigh Capital, a South Korean fintech firm, as well as BFS Holdings, Ltd from Britain. Mr Burt added the organisations had "indicated their desire to join with us in growing the fintech industry in Bermuda through the establishment of a fintech accelerator". He said the investment would be worth "up to $10 million". Mr Burt added: "The MOU we signed today sets out our agreement to work collaboratively towards that goal."

The public have been warned to stop defacing public and private property to reserve spots for the Bermuda Heroes Weekend parade. A spokesman said: "While we encourage everyone to be excited for the upcoming Bermuda Heroes Weekend, we cannot support and ask that those of you defacing public and private property in an attempt to save a space for the parade immediately stop. "Doing this is illegal and the authorities in charge have clearly expressed to us that they will be pursuing all and every corrective measure available to them. Now we want everyone to have a good time, but we want you all to do so without defacing any property." The spokesman added: "It is all of our jobs to keep Bermuda beautiful, so we ask you our loyal patrons to do your part and not mark your spots before the parade. There is room for all once we are kind and courteous to one another. Let us all continue to work together to make this Bermuda Heroes Weekend one of the best ever, even as we maintain our magnificent island throughout this celebration."

Shaki Easton, Errin Butterfield and M'Kai Hodsoll will add a new chapter to local powerboat racing history at tomorrow's Fortitudo Property Poole Bay 100 Offshore Powerboat Race in the United Kingdom. The trio are the first Bermudians to compete in the British Offshore Racing series and will be keen to cap the historical occasion with solid displays in the cockpit. Pilot Easton is competing in class A with navigator/co-pilot Hodsoll, the former St George's and Bailey's Bay cricketer, in a 19ft Phantom monohull owned by 2016 UIM 3A world champion Jack Bobin — who is racing in the same class and boat design. Butterfield is competing in Class B as a co-pilot for Bobin's son, Kerry Bobin, the Motorvated Racing team owner and United Kingdom Offshore Powerboat Racing Association founder, in the latter's 20-foot Twister catamaran. The 71 nautical mile race, to be held in the Poole Bay area, is sanctioned by the UKOPRA and is the opening round for both the 2018 British Offshore Racing series and World Offshore Championship. The local trio of Easton, Butterfield and Hodsoll have been busy making the necessary adjustments coming to grips with the handling of their new rigs and acclimatizing to the local conditions since their arrival in the UK on Wednesday. "The boat I am in is completely different but I'm getting it down and it should be a very interesting race," Easton told The Royal Gazette. " I am driving with M'Kai who is a real navigator. He just had a crash course this morning. There are two late entries so the field is stacked. At the moment it's flat, but I'm hoping for rough water. Errin and Kerry are praying for calm, but their Twister is by far the fastest boat in the class." Last summer Easton and rookie co-pilot-owner Butterfield dominated the local powerboat racing scene, winning all but one race they entered and were the first boat to complete the Rubis Around the Island Power Boat Race. Meanwhile, local powerboat racing resumes tomorrow with the second round of the 2018 Bermuda Power Boat Association season being held at Ferry Reach, starting from 12 noon. Tomorrow's round was originally scheduled for June 3 but was cancelled because of a low number of entries.

An American tourist who rescued two snorkelers stranded on rocks played down his heroics as just "doing the right thing". Allen Yannone sprang into action after two fellow Americans got into trouble after they were battered against rocks by waves at Southampton's Church Bay. Mr Yannone was relaxing on the beach when he thought he heard faint cries for help. He said: "The thing I remember about it the most was I thought it was a bird. It didn't sound like a person. So I was kind of confused." But he went to investigate and found a "frantic" woman on the shoreline who told him two people were trapped on the rocks. Mr Yannone swam out and found two people standing on rocks offshore bleeding from cuts. He said: "I think they had been thrown on to the rocks. The waves were coming in — there was no way they could get back into the water." Mr Yannone thought the injuries to the man and woman were not serious and decided to walk the pair, Paul Trenholm and his sister Anita, from Philadelphia, Pennsylvania, along the rocks back to the safety of the beach. However, after 20 minutes, he saw calm water and decided it was safe to swim. The man and woman were very appreciative when they arrived safely back on the shore. Mr Yannone, who was in Bermuda on a cruise, said: "Never in my mind did I feel like it was out of hand or that we were in any grave danger." The incident happened on May 29. The grateful pair launched a social media search for their rescuer after they returned home and Mr Yannone's mother contacted him after his face was "plastered all over the internet". A picture of Mr Yannone and the two people he had rescued were posted on Facebook in an attempt to identify him. Mr Yannone, from Massachusetts, said: "They were very scared. And I didn't realize really how scared they were until last week when they reached out and they thanked me." He described the way he was thanked as "humbling". Mr Yannone said: "Realising that these people were trying to find me for four days was incredible. It is such a humbling, humbling experience for something that I would do ten out of ten times." But he added that his actions required no thanks. Mr Yannone said: "For them to reach out the way they did — it was incredible. I thought I would never see them again or even hear from them again — never mind have a manhunt on the East Coast trying to find me. I can't thank them enough for doing that. That's very unnecessary, but it makes me feel very good about what happened and what I did." He said he had spoken with the family "a few times" since their ordeal and that the group hoped to meet later this year. Mr Yannone added: "They know they have a friend in Boston and I know I have a friend in Philly when I do go."

An American tourist who died at Horseshoe Bay was named today as Jacolbe Fleming. Mr Fleming, from Jonesboro, Georgia, ran into difficulty while swimming yesterday, shortly before 2.30pm. Lifeguards performed CPR but he was taken to King Edward VII Memorial, before being pronounced dead at 3pm. A family liaison officer has been assigned to his loved ones.

June 8

By-election winners Curtis Dickinson and Scott Pearman were sworn in as MPs today. Mr Dickinson, who won Warwick North East for the Progressive Labour Party last night, and Mr Pearman, who held Paget East for the One Bermuda Alliance, were straight into action at the House of Assembly. Politicians on both sides applauded as each took their oath of office before Dennis Lister Jr, the Speaker if the House. It marked the beginning of the day's activities in Parliament

The Progressive Labour Party seized Warwick North East last night in an emphatic victory over the One Bermuda Alliance. Curtis Dickinson of the PLP notched up a 75-vote majority over Justin Mathias with 375 votes to 300. The OBA retained its hold on Paget East, with Scott Pearman winning the seat by a majority of 161 with 461 votes against 300 for Curtis Richardson of the PLP. A delighted Mr Dickinson said after his victory: "I am really excited by the challenge. I am looking forward to serving the people of Constituency 25." He added: "Tomorrow, for me the work starts in terms of coming up to speed in how to behave in Parliament and helping to move the Government's agenda forward. I'd first like to thank the voters of Constituency 25 for endorsing my candidacy and helping to deliver a victory for myself and the party this evening." The PLP took 55.56 per cent of the Warwick North East vote to the OBA's 44.44 on a turnout of 53.8 per cent of the 1,254 registered voters. Warwick Workmen's Club erupted into a party as PLP supporters welcomed Mr Dickinson. A sea of green greeted him when he arrived and party supporters chanted "PLP all the way". David Burt, the Premier, told the crowd: "The Progressive Labour Party has a long history of putting forth quality candidates at elections and this by-election was nothing different. We had two fine candidates named Curtis. One was victorious this evening, the other was not, but both are winners." Mr Burt added: "The lessons from the voters is very simple — that they have seen the work the Progressive Labour Party has done over the last ten months and they have made sure that in Constituency 22 the margin from the last election was cut in half and in Constituency 25 there was a reversal and we got more votes this time around. From that perspective, that means that the voters in this country support the Progressive Labour Party and we take this as a vote of confidence to continue to execute on the platform which we laid out in the election." Jeanne Atherden, the Leader of the Opposition, put a brave face on the Warwick North East defeat. She said: "I think that tomorrow we will be in our seats ready and be very strong because we continue to be the Opposition, a viable Opposition and we will be talking about the things that are important to Bermuda." She added: "This is a transition — we have a team of young people and they will be out doing things that are important to Bermuda. We will be back on the doorsteps, Justin will be on the doorsteps and so will we." Jeff Baron, whose decision to quit politics sparked the Warwick by-election, won the seat for the OBA at last year's General Election by 493 votes to 428 votes over the PLP's Kathy Lynn Simmons, a majority of 65. The result means the PLP has increased its number of seats in the House of Assembly to 25 and the OBA now stands at 11 seats. A disappointed Mr Mathias said: "I will continue doing what I am doing. I think the people of Warwick North East had a big win tonight. They are going to have two strong voices for Warwick North East. I know that there were a lot of people that were away. There are a lot of people that didn't make it out today but there are reasons why some people didn't come out and that's OK." Ms Atherden said: "It is my intention that he will continue to be in the Senate and work for us both in the House and the Senate.". The OBA held on to a traditional stronghold in Paget East, with Scott Pearman triumphing over Curtis Richardson. Mr Pearman said after the results were announced that he was "extremely grateful to the voters of Paget East". He added: "We need to make sure that we have an effective Opposition and I am in the proud position to start tomorrow on that." Mr Pearman told those who voted PLP: "I will do my best to earn your trust as your MP." Mr Richardson said after the results were announced: "It's been an awesome experience once again. Constituency 22 is in fact a marginal, the margin has been narrowed in both elections. My work will continue in Constituency 22." He thanked his team for a "tough month of good, hard work" and added: "I am really grateful to you." Ms Atherden said: "Obviously I'm very proud of Scott, and we look forward to him being in the House tomorrow. Tomorrow we will get on with doing business." Mr Pearman took 60.58 per cent of the votes in Paget East, with Mr Richardson on 39.42 on a turnout of 51.6 per cent of the seat's 1,475 registered voters. Grant Gibbons, who has retired from politics, held the seat for the OBA at the last election with 704 votes to Mr Richardson's 397 — a majority of 307.

Bermuda is keeping a close eye on European Union developments around requirements for jurisdictions with low or no income tax. The European Council is considering finalizing criteria for those jurisdictions, and an update is anticipated later this month according to David Burt. The Premier gave MPs an appraisal on the situation in the House of Assembly this morning. In his ministerial statement about the EU list of non co-operative jurisdictions, he said the Bermuda Government keeps a regular "watching brief on these matters and Bermuda can be assured that at every turn we are prepared to meet the issues that may arise". Mr Burt, who is also Minister of Finance, said: "As soon as the EU has produced the documents which our legislative amendments will be required to meet by December 31, 2018, we will engage in industry-wide consultation on the next steps for Bermuda." At the end of last year, the European Council published a list of non-cooperative jurisdictions in taxation matters. Mr Burt said the island's "commitment letter" to the EU was sufficiently clear to keep Bermuda off the list. The letter along with commitment letters from another 40 countries appear on the EC's website. Mr Burt said: "Bermuda along with other low/no income tax jurisdictions are in dialogue with the EU Code of Conduct Group (Business Taxation) and the European Commission both of whom are assisting the European Council to manage its list of non-cooperative jurisdictions." The Premier said there was no room for negotiation of special treatment, carve-outs of exemptions "as the EC is adhering to a level playing field approach". Bermuda and other UK crown dependencies and overseas territories are also in consultation with the British Government. Mr Burt said he has been keeping Jeanne Atherden, the Leader of the Opposition, fully briefed on the matter. Mr Burt added: "Let me take this opportunity to thank members of the Insurance Advisory Committee and also stakeholders from the local and international business community who are serving as an ad hoc advisory committee on this important issue. These two committees have provided valued advice and support during these past months and continue to do so."

Bermuda's new sugar tax will be introduced gradually after a backlash from businesses. An amended version of the Customs Tariff Amendment (No 2) Act has gone before MPs at the House of Assembly today. The Bill now proposes a new duty rate of 50 per cent on sugar on October 1. The originally planned 75 per cent tariff will come into play on April 1. The legislation targets sugar drinks and sweets. Some businesses had claimed the tax on high-sugar sweet products would harm their business and encourage shoppers to buy "even worse food alternatives" than home-made, baked goods. Health minister Kim Wilson said today amendments have been adopted after further consultation and feedback. But Ms Wilson said the "phased implementation does not detract from this Government's determination and commitment to this progressive step". Opening the debate, Ms Wilson told the House that legislation had been globally shown to reduce consumption of sugar-rich carbonated drinks and other products that fuel non-communicable disease such as diabetes and obesity. She said: "I can't emphasize enough that these preventable diseases are crippling our country physically and financially." According to surveys, 52 per cent of respondents supported the tax, while 44 were against. Retail prices will not be marked up 75 per cent: prices could increase by 20 to 50 per cent in various products, with bread possibly going up 5 per cent and bakery items by 15 per cent. She said that locally-made foods such as fudge, which was "almost 100 per cent sugar", could increase 50 per cent at retail. An amendment will be proposed to exclude diet soda, Ms Wilson added. Another amendment proposes allowing local preparers of foodstuffs to apply for concessionary rates. Ms Wilson said taxes would be proposed for chocolate at a later date. Chocolate is currently not targeted in the legislation. Shadow health minister Susan Jackson called for a "war on sugar". She said: "If we could just get this right and become more healthy, then we have an opportunity to reflect to the entire world that we can recover and be an example for those also trying to become more healthy, that it is possible." Ms Jackson said manufacturers invested large sums in "keeping us addicted". Ms Jackson also suggested that sugary items not be distributed in certain public places, much like "pivotal" restrictions on tobacco had cut down on its consumption. Conceding it was "sensitive", Ms Jackson said removing candies from the checkouts at supermarkets might be considered.

A proposed sugar tax could cause "painful price hikes", a soft drinks producer warned yesterday. Bruce Barritt, general manager of John Barritt & Son, said higher costs faced by distributors would be passed along to customers and hit island producers of food products. He added: "Local bakeries and ice cream manufacturers will have to pay increased costs for sugar — currently at zero per cent duty and due to go to 75 per cent — while imported cookies, cakes, pies and ice cream have no hikes to their duty. We view the sugar tax as a government revenue-raising Bill not a health initiative, especially as the Government has committed to earmark 'a portion' of the revenues raised from the tax to support health programmes rather than ring-fence those revenues and ensure they all go to fight obesity, which was ostensibly the original reason for the tax." Mr Barritt said the increase of duty on sodas from 35 per cent to 75 per cent will increase the cost of cases of sodas by a few dollars. "After stores add their mark-up, I expect that a can or bottle of soda will go up by fifty cents or so. We have no control over retail prices as they are determined by the individual stores and each has their own business costs to address. The really painful price hikes will come in the juice drinks, sports drinks and iced tea categories as the current duty for them is 15 per cent and they too will be hit with a 75 per cent duty rate." He said the company expected to increase the cost of a case of those soft drinks by $5 to $7. Mr Barritt added: "The likely result is that the retail price for a cold bottle of iced tea will cost more than a cold bottle of beer at a grocery or convenience store." He said he understood the increased tariffs, if approved, would come into effect at the start of next month. "I am hopeful that there will be some effort made to separate diet sodas out of the tax as these beverages contain no sugar or sweetener that adds calories and should therefore be exempt from any added duty." The Customs Tariff Amendment (No 2) Act 2018, tabled in the House of Assembly last month, proposes a range of tariff changes intended to improve health. The legislation would slap higher duty rates on sugar, sweetened drinks and non-chocolate candy.

Premier David Burt urged against a culture of fear as he claimed the time is right to consider constitutional change. The Premier kicked off a conference on the Bermuda Constitution of 1968 today by calling for debate on the set of principles many have claimed are out of date. He said: "We cannot meet every mention of constitutional change or independence with the same, tired arguments from 25 years ago. We cannot stifle debate on legitimate issues that are caused by our constitutional status with threats of economic ruin or rumored angst from those who do business in Bermuda. The mature society considers arguments for and against, respects the views of all stakeholders and ultimately decides on whatever the next steps will be. Fear or an endless supply of 'what if's' is not an argument for or against anything." Mr Burt said Bermuda's leaders must determine how constitutional change will help create a better society. "Just as the world has forced us to change how we market Bermuda to tourists, just as the global economy has dictated that we diversify our local economy, we must be open also to constitutional change that will play its part in improving the lives of our people. I look forward to that debate and my hope is that as you discuss these issues throughout the day, a focus for our next chapter of constitutional development will emerge." The conference, organized by the Centre for Justice, took place at Bermuda Underwater Exploration Institute, and featured speeches from Chief Justice Ian Kawaley and Martha Dismont of the Family Centre. Mr Burt said the 1968 Constitution is outdated and did not reflect the true Bermuda. He said: "The factual matrix through which the passage of the 1968 document must be viewed makes the reality of it unassailable. Bermuda was imperfect, still racially segregated, ruled by an oligarchy whose principal objective was to lower the temperature of black empowerment and awareness by giving a little in the push for greater enfranchisement. That legacy of imperfection still persists today. Under the guise of universal adult suffrage, the 1968 Constitution was the legal mechanism to cement gerrymandering. Its crafty boundaries and imposition of dual seat constituencies assured victory after victory for one Party over another. Only in 2003's General Election did we finally achieve one man or woman one vote, each vote of equal value. If we truly believe in democracy and the freedoms and rights of the individual, one of those fundamental freedoms is to challenge the authority of the State and its institutions. An active citizenry, who refuses to settle for the status quo should be encouraged. Life itself is founded in testing boundaries, growth and change."

Bermuda's new airport building will be raised by four feet to protect against storm surges, it was revealed yesterday. The new terminal will also include an outdoor porch upstairs so travelers can eat and enjoy views over Ferry Reach before they board their planes. Skyport, operators of the two-floor terminal, scheduled to open for business in July 2020, said the airport would be larger than the structure now visible from Kindley Field Road. Moe Kamleh, project manager, said: "It doesn't look that big of a construction site as you drive by, but as you stand inside you can see how large the site really is." The original building facing Castle Harbour is vulnerable to flooding during hurricanes and the new terminal at Stone Crusher Corner is still being raised with gravel and infill to keep it above the reach of surges. Carrie Thatcher, commercial manager for the project, said the airport's almost 10,000 sq ft of retail space was "still at the expression of interest stage". A bid to open a McDonald's franchise at the airport created a political storm that led to the Prohibited Restaurants Act in 1996. Ms Thatcher said that Skyport officials were "just seeing what's in the local market". Roofing work at the terminal started this month and the installation of the building's curtain walls is also scheduled to start soon. The terminal building is expected to be watertight by next January. The road to the new terminal will extend from the roundabout at the end of Longbird Bridge, with the entrance at what is now a bus terminal. Aaron Adderley, president of Skyport, said the airport has 872,000 passengers a year. He said it was "only a matter of time before we break the one million mark" as the island's tourism market continues to pick up.

The company behind plans for a solar plant at the airport has met with the Ministry of Finance to explore avenues for Bermudians to invest, Walter Roban told MPs. The transport minister said Canadian-based Saturn Solar Bermuda 1 will build the project under a build-own-operate model. He told the House of Assembly the project, which was formally agreed to this week, "will not be the last of its kind". Mr Roban said the solar farm idea for the "finger" runway had been introduced in 2010 by the previous Progressive Labour Party administration, when it was separated from the airport to ensure it would remain in the portfolio of government lands. Mr Roban also sought to allay public concerns over the wireless "smart meters" being installed by Belco as part of its infrastructural improvements, which he said had been contemplated as early as the 2011 energy White Paper. Assuring MPs that the devices presented no threat to public health, Mr Roban said a report by the Regulatory Authority would be released within the next ten days.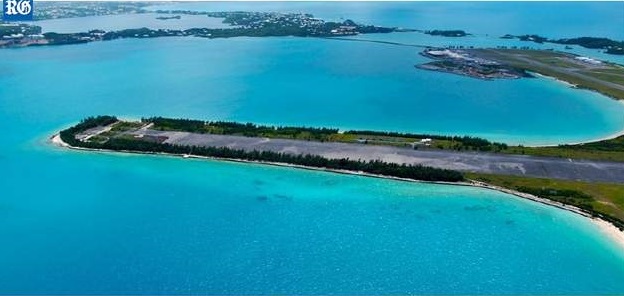 Airport finger for solar power

Bermuda could show how progressive it is on a world stage if it allowed a Supreme Court ruling in favour of marriage equality to stand, a human rights lawyer said yesterday. Venous Memari, managing director of civil rights group the Centre for Justice, said: "If left alone, the effect of this decision will be that Bermuda will be able to boast about having one of the most, if not the most, progressive laws in the world on marital equality. All couples, same sex and straight couples, are entitled to enter into a domestic partnership and enjoy the rights conferred by the Domestic Partnership Act or get married, if they so wish." Ms Memari was speaking after Chief Justice Ian Kawaley reversed a same-sex marriage ban that had been in force for less than a week. The judgment was the latest twist in a long-running legal battle fought by campaigners for marriage equality. The Supreme Court ruled last May that a denial of marriage rights to gay couples was discrimination under the Human Rights Act. There have been 14 same-sex weddings on the island and six maritime weddings on Bermudian-registered ships since then. Parliament passed the Domestic Partnership Act last December to revoke marriage equality and offered civil unions instead. The law came into force at the start of this month. Gay Bermudians Rod Ferguson and Maryellen Jackson, along with the charity OutBermuda, challenged the legislation on constitutional grounds and won their case against the Attorney-General on Wednesday. Mr Justice Kawaley's ruling has not yet taken effect because the Attorney-General was given a six-week stay to allow time to decide whether to appeal the decision. Critics of the earlier Supreme Court judgment suggested it was wrong for a lone judge to make a decision which appeared to go against the will of Parliament. Ms Memari said the case was about constitutional law and the judgment was timely, given the discussion about the Constitution as the island marked the 50th anniversary of universal adult suffrage and the 1968 Constitution Order. She explained: "The judgment makes it clear that Parliament's power to legislate is limited to acting within the confines of the Constitution. In other words, in Bermuda, it is the Constitution that is supreme, not the Legislature." Mr Justice Kawaley said in his written judgment that the legislative effect of a reversal of last year's ruling on marriage equality was "wholly or mainly about a supposedly secular Parliament privileging majority beliefs about how marriage should be legally defined over minority beliefs". Ms Memari said: "The Chief Justice was guided by Commonwealth authorities on the secularist approach to governance, which our Constitution requires. Mr Justice Kawaley said in his written ruling that 'Parliament may not validly promulgate laws which are motivated by a religious purpose'. He goes on to explain the broader principle that the 'laws of a secular state may not validly impose the beliefs of religious majorities on minorities'." Mark Pettingill, Mr Ferguson's lawyer, agreed it was important for people to understand that Bermuda was a constitutional democracy. He said: "That is the guiding principle and that is above what may be the will of Parliament."

People who campaigned against marriage equality will come to feel "shame and regret" in the future, former Attorney-General Mark Pettingill predicted yesterday. Mr Pettingill, who represented gay Bermudian Rod Ferguson in a successful Supreme Court bid to have the ban on same-sex marriage reversed, told The Royal Gazette: "Twenty years from now, some people's children are going to, at dinner, say: 'how could you?' "It's going to be, in years to come, for some of those people, a position of shame and regret, like it is with many people in our society on the race issue. They are ashamed of what they didn't do. It's the old classic, isn't it? Bad things happen because good people stand by and do nothing. History is made by people having the courage to bring about change and we have, in many instances, lacked that courage." Mr Pettingill was speaking after the island's top judge, Chief Justice Ian Kawaley, upheld a constitutional challenge to the new Domestic Partnership Act on Wednesday. Mr Justice Kawaley declared that sections of the Act designed to revoke the right to same-sex marriage were invalid. He made the ruling after the Act was challenged by Mr Ferguson, Maryellen Jackson and gay rights charity OutBermuda. The case was brought against Attorney-General Kathy Lynn Simmons. Walton Brown, the Minister of Home Affairs, said the Government would appeal "subject to any legal advice we receive" just after the judgment was made. Mr Pettingill asked the Government not to go down the expensive appeal route and instead to draw a line under the debate. He said: "The judgment is so legally sound, that it would be folly for the Government to launch an appeal. It should be over. If common sense prevails, it should be." He added the judgment, which ruled that the DPA went against a constitutional right to freedom of conscience and a provision against discrimination on the basis of creed, as "one for the ages". Mr Pettingill said the decision reflected Bermuda's "excellent judicial process" and a "democratic system that is working very well". He added he was pleased that Mr Justice Kawaley picked up on a comparison he made to the days of racial segregation when black people were allowed to enter theatres but had to sit in different seats to white people. Mr Pettingill said: "This was always the crux of my case. What the Crown tried to argue was 'but you still have ... all of the same legal rights, what are you complaining about? The argument back then was: 'you still get to see the movie, we just don't want you sitting in the same place'. This was 'you still get to have a legal relationship that the state is calling a domestic partnership but you can't have marriage, even though other people can'. It's a perfectly analogous situation." Mr Pettingill praised Mr Ferguson for his courage as the face of the marriage equality campaign and said he took personal pride in the case, which he argued for the plaintiffs alongside lawyers Rod Attride-Stirling and Ronald Myers. He added: "You want, as a lawyer, to have a legacy to what you do. You want to have done something really meaningful. It's not just about winning cases — we all want to do that and earn a good living. It's the ability to do something that means something in such a tremendous way on a human rights issue. It's something your kids can be proud of. That is, kind of, what I'm most pleased about because my youngest children — not just the older ones, but the younger ones, aged 8 and 6 — get it." Mr Pettingill said the DPA was a compromise Bill from the Progressive Labour Party administration drawn up because so much of its support base opposed marriage equality. He criticized the three independent senators who backed it — Joan Dillas-Wright, James Jardine and Michelle Simmons. Mr Pettingill said: "These are the people who are supposed to be sitting in the middle, looking at things sensibly and not guided by any kind of political persuasion. So for them — en masse, as they did — to come out and say 'oh, Bermuda is not there, we are not ready for this', was appalling. If I had been the Governor, they would have been fired, just for even that approach to it. I thought that was shameful from the independents."

Coin and cryptocurrency exchange Arbitrade is bringing its world headquarters to Bermuda. The company, which is also in the process of buying solid gold casts of Nelson Mandela's hands, palm and fist for $10 million, held "strategic meetings with several major countries" in January and February before deciding where to domicile. It chose Bermuda after a number of visits to the island, and meetings with David Burt and other members of the Bermuda Government, the Bermuda Monetary Authority and the Bermuda Business Development Agency. Arbitrade said it is registered on the island and expects to be a legally licensed and insured company in Bermuda later this month. "The company made numerous visits over several months and a considerable amount of work was done to securing our incorporation," Leonard Schutzman, chairman of Arbitrade, said in a statement. Bermuda is justly regarded as the gold standard in the fintech and reinsurance industries globally and Arbitrade's goal was always to domicile its head office in this exacting jurisdiction before registering subsidiaries in other countries around the world." Once it is legally licensed in Bermuda, Arbitrade intends to commence an eight-week initial coin offering, followed by the launch of the Arbitrade platform in late August and early September. The ICO could be the first to take place in Bermuda after the passing of ICO legislation by the Government, which is expected to happen in the coming weeks. In his statement, Mr Schutzman said the company welcomed the cryptocurrency legislation and associated regulations "that form a strong foundation in developing the best strategies to advance its business model into other countries". He said Arbitrade also welcomed the stringent know-your-customer and anti-money-laundering process. "It seemed to us the only way our industry will receive global acceptance. With this thoughtful and timely structure of Bermuda's laws to guide and support us, Arbitrade can now move forward into over 12 additional countries quickly and then continue to introduce our platforms to more jurisdictions," he said. Arbitrade held a presentation about its business at the Bermuda Underwater Exploration Institute on May 31. The event was attended by the Premier who, in a tweet the same day, said: "The team demonstrated their cryptocurrency platform and explained plans to create more job opportunities in Bermuda for Bermudians." Arbitrade plans to be "in all segments of the cryptocurrency business, including currency mining, trading, gift cards, debit cards, money transfer and points of sale processing". Last Friday, the House of Assembly passed the Digital Asset Business Act 2018. Referring to the legislation in his statement, Mr Schutzman said: "This thoughtful and timely action demonstrates, once again, why Bermuda is a world leader in regulating financially related services. The progressive legislation sets the highest standards for those companies who have chosen to establish digital assets businesses on the island and validates the company's decision to incorporate and domicile our global headquarters in Bermuda." A separate and unusual piece of company news is Arbitrade's decision to agree to buy the Nelson Mandela Golden Hands Collection. The collection consists of solid gold casts made of Mr Mandela's hands, palm and fist. Arbitrade completed the $2.5 million purchase of the first item, a cast of the former South African president's fist, last month.
• Arbitrade has a website at arbitrade.io.

A retail park tucked away at Southside in St David's is a popular place for East End residents, and business owners are hoping to welcome more locals to shop at the out-of-town location. A number of the retailers have spoken about what it is like to be part of the small community of businesses on Waller's Point Road, adjacent to the northern edge of LF Wade International Airport's airfield. Home furnishings business Big Savings Zone opened at the location 18 years ago. Ashley Wilson, a sales representative, said general traffic throughout the week is steady, and as it stays open until 7pm it is convenient for people popping by after work. Saturday is also popular with customers. "People often say they haven't heard of us, or don't come to this side of the island often. People who come down this way live down here, and it's convenient for them," she said, adding that the benefit of being in the Southside location is that there are no other furniture businesses in the area. Christopher Smith is a salesperson at Atlas Home Improvements. It is a one-stop shop for kitchen, baths and renovations needs. He believes owning a business in Southside is better financially, and said: "The benefits of having a business up here is the rent is a lot cheaper." Atlas Home Improvements opened eight years and attracts customers from across the island. Mr Smith said: "We do anything to do with kitchens, cabinets, counter tops, tile, appliances and more." John Powell, is the owner of Powell's Marine Limited. The company won a Best of Bermuda award from The Bermudian magazine two years ago It specializes in repairing boats, outboards, inboards, and diesel motors. In addition it services boats and paints them. "We also have retail where we sell parts such as batteries, belts and more. We order special parts as well," said Mr Powell. The business opened ten years ago and has a steady customer base, but it is always looking for more. Mr Powell said: "A big advantage for us in the east is the yachts that come in. We have been servicing them, but because we do not have enough mechanics we turn some away." He is looking to hire more staff, and is seeking people with at least five years' experience in marine mechanics. One of the newer businesses in the area is Quality Tires and Services. It opened a year ago. Owner Andrew Roberts said business has been going well. "We sell tires and batteries, which is cost-effective. We also change tires for customers and the location is perfect because we are right across the street from TCD [the Southside satellite inspection centre]. If someone's car hasn't passed because the tires need to be changed, then we can change them here," Mr Roberts said. "I am trying to cater to the East End as much as possible so customers do not have to go into town."

A scheme to get around the expiry of a restaurant's liquor licence by use of a private members' club next door was slammed by the Liquor Licensing Authority yesterday. Juan Wolffe, chairman of the LLA, said Mad Hatters restaurant in Hamilton had served food with alcohol available at the neighboring Mariners Club after the restaurant's licence expired last Friday. Mr Wolffe said: "You knew you weren't supposed to serve alcohol from June 1 to now, but it seems you have some sort of arrangement with Mariners Club where you would move all your tables into their premises and your customers would be given two different bills — one from your establishment and one from Mariners Club." Mr Wolffe warned: "We are going to be calling on the Mariners Club because being a members' club does not cover that. It may be that Mariners Club loses their licence if they are found in breach. I don't know what kind of arrangement you have, or if you are trying to be clever, but that attempt to be clever might result in you both not getting your licences." Mark Turner, for Mad Hatters, admitted that the restaurant had moved tables into the club and served food there while Mariners Club served the customers drinks. He said Tempest in St George, which also lost its licence, was empty on Friday night, which hurt the business and staff. Mr Turner added: "We were trying to keep everybody happy and succeeded in upsetting somebody. We did try to stay on the right side of the law. I wasn't aware we overstepped." Mr Wolffe said he was concerned that if the authority were to give Mad Hatters a new licence, it would encourage their conduct. The chairman added that Mad Hatters had not collected their 2016 licence, which meant the restaurant could not have displayed the licence as required by law. He also said the restaurant had applied late for their licence several times in recent years. Mr Wolffe told Mr Turner they would be contacted when the authority had made its decision. The Happy Valley and Vesey Street branches of Belvin's Variety also came under fire for a series of late submissions. Mr Wolffe said: "You have two establishments and almost every year for the last five years, you have filed late applications. The LLA still went ahead and gave you a break and still every year it seems you are late." Mr Wolffe said the applicants would have to return to the courts on June 28, with the stores unable to sell alcohol until then. Yellowtail Ltd, represented by lawyer Richard Horseman, apologized for late applications for three Hamilton restaurants — Astwood Arms, Ruby Murry's and Cafe Ten. Mr Horseman said the mistake had been his in all three cases. Mr Wolffe said Astwood Arms had only recently opened, but Cafe Ten had been late with previous applications. He said: "On all these other occasions, the LLA stretched itself to hear the applications. It seems as though your client still was in non-compliance. The LLA was not unreasonable in any sense of the word." Mr Wolffe said the LLA would need to consider the applications, but said the Supreme Court had given the restaurants the ability to sell alcohol until the authority makes its decision. Esso City Tiger Mart and Esso Collectors Hill also came under fire for late applications. Representatives from both stations apologized and told the authority the inability to sell alcohol had affected their incomes. Mr Wolffe said he did not support the sale of alcohol in gas stations so the businesses had to be careful to stay in line. He added: "I don't want to find a reason to say you are not getting your licence." Further hearings will be held today.

Steam education will be implemented at primary schools across the island, education minister Diallo Rabain said. Mr Rabain said children would benefit academically and behaviorally through the Steam method, which focuses on a collaborative approach to Science, Technology, Engineering, Arts and Maths. He said the Department of Education had identified the "Engineering Is Elementary" curriculum, which is aligned with the Cambridge International Science Curriculum, as the best fit for primary school students. Mr Rabain told the House of Assembly: "The Engineering Is Elementary curriculum was selected because the curriculum is universally designed to meet the needs of all learners. Students move step-by-step through a goal-directed problem-solving process." The programme has already been piloted in West Pembroke, Paget, Northlands and Prospect Primary Schools. An additional two primary schools will be included this September. Other primary schools will be added with the aim that all will be included by 2020-21. The annual cost of implementing each phase is about $125,000. Mr Rabain added that a Stem 101 programme is already under way in middle and senior schools. In a separate ministerial statement, Mr Rabain also spoke about fintech opportunities for young people. He said: "Discussions have already begun with various companies who have signed MOUs, to establish their training needs and representatives from one of the organisations will be on island next week for further talks. Other companies will also be visiting the island to discuss their training needs over the next few weeks. The idea is to provide training opportunities that will cover a wide cross-section of our community from high school students to professionals looking for potential career changes."

A 38-year-old American tourist died yesterday after he fell ill at Horseshoe Bay. Richard Bean, a beach attendant, said the man was pulled from the water at the popular tourist beach after he suffered breathing problems. Lifeguards performed CPR on the man before he was rushed to King Edward VII Memorial Hospital, but he was later pronounced dead by doctors. The incident happened at about 2.30pm when the Southampton beach was packed with about 1,000 tourists. Nathan Trott, lifeguard superintendent, said that five lifeguards were on duty. Mr Bean was also on duty at the time of the incident. He said he saw a group of people huddled around the man as he lay on the beach after being pulled from the water. Mr Bean said that a woman was "devastated and in tears" beside the man as lifeguards battled to save him. Dave Arthurs and Clare O'Connor, from Toronto, said they were eating lunch at the beach bar when the ambulance arrived. The couple added there was "a lot of commotion" as the man was transported from the beach on an all-terrain vehicle to a waiting ambulance. Police said yesterday that the man would not be named until next of kin were informed.

On the last day of her first Bermuda Powwow, Carol Wynne wandered over to the vendor stands. She wanted to pick up a special souvenir to take home to Massachusetts. "But I didn't have enough Bermuda money to buy anything," recalled Ms Wynne, a member of the Wampanoag tribe. "I only had plastic." But Bermudian vendor, Patricia Raynor, stepped in to give her something special, a long blue feather. The two became instant friends, talking about the annual powwow in Ms Wynne's home town of Mashpee, and people they both knew from the Bermuda Powwow. "It was her friendliness, calmness and naturalness that I liked," Mrs Raynor said. "She had no put-ons." "I just knew right away that I could talk to Patricia," Ms Wynne said. "She is very friendly and hospitable, and very soothing to talk to. Talking with her is like talking to an aunt I had years ago." Their friendship continued over social media, and that summer Mrs Raynor and her husband Steven, went to Mashpee to stay with Mrs Wynne and attend the Mashpee Wampanoag Powwow for the first time. People at the powwow welcomed Mrs Raynor and other Bermudians as long lost cousins. Many people in Bermuda believe their ancestors were bought to Bermuda as slaves during the Pequot wars in the 1630s. "The tribal leaders called the Bermudians into the middle of the circle and told everyone who we were," Mrs Raynor said. "It was like your mother invited you over to have supper. It felt that comfortable. And people there kept saying we looked like their uncle or their friend." Mrs Raynor has attended the Mashpee Powwow several more times since 2012 and was eventually given a Wampanoag name, Blue Blanket. "The medicine man said he saw a healing spirit around me that represented the blue," Mrs Raynor said. "He also felt I had a very comforting spirit and people could talk and feel comfortable with me. That is where the blanket came in." Mrs Raynor said the name fitted, because she has been growing her own food since she was 17, and often providing healing herbs like rosemary to friends and family. And vice versa, Ms Wynne continued attending Bermuda Powwows, and staying with Mrs Raynor's family and sometimes with the family of Sinclair "Brinky" Tucker. She is here again for Bermuda Powwow 2018 this weekend at the St David's Cricket Club. Ms Wynne feels just as at home here, as Mrs Raynor does in Mashpee. "I swear some of my friends and relatives from back home have carbon copies here," Ms Wynne said. "That is our ancestors DNA traveling. That is why it is so important that we all stay together. That little DNA is in each one of us keeps saying, hello, don't forget who you are." The friendship has been a healing one for the two of them. "In Bermuda, way back when, our ancestors couldn't talk about having Native American blood," Mrs Raynor said. "The government would have stopped them. But the information started coming out." The 57-year-old started researching her Native American heritage in 2007. Mrs Raynor said years ago, watching old cowboy and Indian movies, she was always on the side of the Native American, without really knowing why. "I think it was just something that came from my DNA," she said. "That is the way it goes. That is how I felt." When she reconnected with her Massachusetts cousins, she felt like a circle had been completed. "I felt 'I am with my ancestors. I know what my culture is'," she said. "You just feel complete inside." She started dancing in powwows a few years ago. "My spirit felt really good," she said. "When I was able to get my regalia and wear it to a powwow I felt complete. You order it online from different people. You ask questions about who makes what. Believe it or not, the first ceremonial blanket I made was a dark purply blue. This was quite a few years before I got the name Blue Blanket. When I got my name everything came full circle." Now she's proud that one of her granddaughters, Keyahanee Burgess, 10, dances at the Bermuda Powwow. The last Bermuda Powwow was in 2015. There was none last year because of the America's Cup. "I have been looking forward to it," Mrs Raynor said. "Nobody is happier than me when I get to a powwow. I like everything about it, the drums, the socializing, talking with my foreign cousins. Just being together is wonderful." Today, Ms Wynne says she still has her friend and cousin's blue feather. "I keep it in a special place on my bureau," she said. Bermuda Powwow 2018 is on Saturday and Sunday, June 9 and 10, rom 2pm to 6pm on the St David's Cricket Club grounds in St David's. Admission is $10 for adults and $5 for children and seniors.

June 7

Gay couples won the right to marry yesterday for the second time in little more than a year, but the Government said it would appeal the Supreme Court decision to reverse the ban on same-sex marriage. Chief Justice Ian Kawaley upheld a constitutional challenge against the Domestic Partnership Act, delivering a judgment that declared invalid the parts of the legislation which revoked marriage equality. His ruling was greeted with a round of applause from a packed public gallery and joyful celebrations outside the courtroom. Several hours later, Walton Brown, the Minister of Home Affairs, announced the judgment would be appealed "subject to any legal advice that we receive". Mr Justice Kawaley's ruling does not take immediate effect because he agreed to an application by Solicitor-General Melvin Douglas, representing the Attorney-General, for a six-week stay to allow the Government to decide whether to appeal. During that period, gay couples will only be able to apply to enter into domestic partnerships. Mr Brown said: "We are pleased that the Chief Justice has stayed the decision until an appeal can be submitted." Mr Justice Kawaley said in his ruling that the sections of the Act that revoked the right to same-sex marriage were invalid because they favored one set of beliefs about marriage over another and were inconsistent with provisions in the Constitution that gave the right to freedom of conscience and creed. After the hearing, gay Bermudians Rod Ferguson and Maryellen Jackson, who launched the civil proceedings, along with charity OutBermuda, said they were delighted with the outcome. Mr Ferguson said: "Obviously the stay is disappointing, but the win is amazing. The feeling is incredible. I'm so excited. This is a win for equality, for Bermuda, for all of us." Ms Jackson added: "It is amazing to be a part of it and everyone wins." Mark Pettingill, lawyer for Mr Ferguson, said: "We're thrilled. I can't say there's any other way to put it. This is justice prevailed. We fought so long so it would prevail and the right thing has been done." He added that he was optimistic the matter would not return to the courts, despite Mr Brown's statement. Mr Pettingill said: "I remain hopeful common sense will prevail after they take advice as the minister indicated they would do before appealing." Rod Attride-Stirling, who represented Ms Jackson and OutBermuda, said: "Human rights mean rights for all humans and there is no question that the decision has been correctly decided. As for the appeal, it will be a short wait, but I think that we will be vindicated." In his written judgment, the Chief Justice said the complainants were not seeking the right to compel people of opposing beliefs to celebrate or enter into same-sex marriage. "They merely seek to enforce the rights of those who share their beliefs to freely manifest them in practice," he said. "Persons who passionately believe that same-sex marriages should not take place for religious or cultural reasons are entitled to have those beliefs respected and protected by law. But, in return for the law protecting their own beliefs, they cannot require the law to deprive persons who believe in same-sex marriage of respect and legal protection for their opposing beliefs." The DPA was passed by Parliament in December to reverse a Supreme Court ruling from May last year which enabled gay couples to tie the knot. The new legislation came into force on Friday, revoking the right of gay couples to marry and offering them — and heterosexual couples — legally recognized civil unions. The Chief Justice found the DPA was inconsistent with provisions in the Constitution giving the right to freedom of conscience and outlawing discrimination on the basis of creed. He quoted an analogy he said was put forward "evocatively" by Mr Pettingill during last month's hearing on the case. Mr Pettingill argued that same-sex couples being allowed to participate in domestic partnerships but not marriages was akin to people of colour in Bermuda being permitted to enter the theatre but required to sit in special seats. It wasn't an answer, Mr Pettingill said, for the Crown to say being let into the theatre meant no discrimination was taking place. "No reasonable court, properly directing itself, could possibly find that providing differing types of legal recognition for same-sex and heterosexual couples was not differential treatment in general terms," said Mr Justice Kawaley. Mr Attride-Stirling asked the court to consider the advantages the DPA conferred on those who believed in traditional marriage. Mr Justice Kawaley agreed that those advantages "took the form of the state solely recognizing a form of marriage which that clearly identified group of believers adhered to…this group was clearly preferred on grounds which were wholly or mainly attributable to their beliefs." He said his decision "vindicates the principle that Parliament cannot impose the religious preferences of any one group on the society as a whole through legislation of general application". The Chief Justice added: "The present case was aggravated by the fact that the DPA took away legal rights which had only recently been recognized by the courts ..." The passing of the DPA made Bermuda unique as the only country in the world to have allowed gay marriage and then revoked that right. It prompted a firestorm of criticism here and abroad, leading to Mr Ferguson's decision to sue the Attorney-General. Global news media reported on yesterday's decision, with The Independent, BuzzFeed, Metro Weekly, Travel Weekly and the Daily Beast among the outlets publishing stories.

Patients with serious mental disorders will be given the opportunity for overseas treatment in specialized facilities thanks to the passing of the Mental Health Amendment Act in the Senate today. Junior Minister for Home Affairs Crystal Caesar said the act aims to "provide for a patient who is liable to be detained and who needs to find criteria to be transferred to a hospital overseas for detention and treatment where such treatment is not available in Bermuda". Ms Caesar said: "When considering the need for making such arrangements for mentally disordered persons it became apparent that while the Mental Health Act provides for a person suffering from a mental disorder to be lawfully detained in any hospital, the authority granted to the Minister of Health … is limited to local facilities only. In order to establish authority to provide the necessary treatment overseas it is proposed to introduce a new section to enable the Minister of Health to discharge a patient detained in a hospital in Bermuda and conveyed to a hospital overseas." The arrangement is for those who are sectioned and in need of intensive treatment not available on the island which is about four to five patients currently. Ms Caesar added: "It is akin to needing acute medical care in tertiary hospital centre for a stroke or premature baby. Bermuda cannot provide all hospital treatment — it is neither cost effective nor safe. "The need to transfer overseas for specialized medical care is a natural consequence for our size, location and isolation. The clinical, technical and legal teams have made the necessary accommodation to assure the safety and human rights of such persons and that they are protected including some family visitation and medical coverage." Senate president Joan Dillas-Wright took the opportunity to welcome the amendment as a former administrator of Mid-Atlantic Wellness Institute when it was St Brendan's. "This was an issue that was long standing and that was discussed at length. I am very, very pleased to see this come to fruition because it was certainly something that I along with the psychiatrist at the time were trying to arrange."

Andrew Simons attacked the Progressive Labour Party for its approach to a wide range of issues in the Senate yesterday. In a speech made during the motion to adjourn, the One Bermuda Alliance senator declared "hypocrisy is real" in the PLP. Mr Simons told the Upper House: "Last week, we acknowledged the 50th anniversary of Bermuda's constitution. Our constitution does not protect queer Bermudians and it doesn't protect women — the protections for women only come in the Human Rights Act, which is really a piece of anti-discrimination legislation." While the debate took place, the Supreme Court upheld a constitutional challenge to the Domestic Partnership Act, ensuring gay couples again have the right to marry. No senators responded directly to the issue of marriage rights for same-sex couples. Mr Simons also described the "bemused" reaction of members of the PLP to the announcement by David Burt that a national holiday would be granted to recognize the Portuguese community. Mr Simons, who described the move as "political pandering", said the community should be celebrated but questioned "the absence of meaningful pathways towards citizenship in Bermuda". In response, PLP senator Anthony Richardson described the move by the Premier as bold and highlighted why it had been met with "mixed emotions" by some in the black community. He said: "You have a black Premier taking a very active step to recognize the Portuguese community in the context of the black Bermudian community still having many unresolved issues that stem from discrimination. Some of those realities still exist today." Mr Richardson pointed to the example of black people in the past not being permitted to buy property in certain areas. PLP senator Vance Campbell said that his party had helped the Portuguese by giving them a pathway to PRC status, but added: "That should not be the final stopping place for that Portuguese community." Turning to healthcare costs, Mr Simons said increased fees for diagnostic imagers will push up health insurance premiums. Mr Richardson interjected to say that his party had moved towards the "containment of costs in Bermuda", including the formation of the Cost of Living Commission and the Living Wage Committee, while reviewing taxes. Mr Simons then raised the issue of finance, highlighting that there had been "a lot of action by the PLP in the area of foreign investment", including the Bermuda Infrastructure Fund and numerous memorandums of understanding. Mr Simons said: "When the OBA negotiated foreign investment on the island, it was the source of protests and endless criticism. When the PLP negotiates foreign investment there is silence from those same civil society entities." Mr Campbell responded that the protests surrounding the airport redevelopment "wasn't anti-investment, it was anti-giving away a major asset of this country for a significant period of time". Mr Simons clarified that it was control of the asset, not the asset itself. Mr Simons also expressed concerns over "an issue of anti-democratic behavior" towards the independent judiciary. He said: "The current government has been quite hostile to the notion of an independent judiciary for a number of months and I highlight the two subjects of immigration and same-sex marriage. In both instances the PLP took steps to cut the legs from under that judiciary by removing the supremacy of the Human Rights Act over other pieces of legislation." Attorney-General Kathy Lynn Simmons responded: "The judiciary is actually the sitting judges, the judicial department is the administration of that bench, so he needs to be clear before he makes inflammatory remarks as to what the system is in terms of structure." She later accused Mr Simons of using the motion to adjourn to "advance frivolous, inaccurate and unsubstantiated rhetoric".

The Bermuda Constitution of 1968 was crafted to "maintain the status quo", even as it advanced voters' rights, a visiting academic has said. Nicola Barker, an expert on human rights and constitutional law, is among the speakers at a conference on the constitution hosted by the Centre for Justice tomorrow. The 50th anniversary of the May 22 General Election, Bermuda's first with universal adult suffrage, has been marked with a special session of Parliament. Dr Barker, from the University of Liverpool, emphasized that she was speaking "from an outsider's perspective, but looking at what happened in the UK at the time". Bermuda's political future came up for debate in Britain in 1966, when a Bermudian delegation joined a constitutional conference to push for change. From her study of the UK parliamentary debates in 1966, Dr Barker detected "a certain feeling in the UK that civil rights was an American issue that might migrate to Bermuda if they were not careful". She said: "There seems to be a general consensus that this constitution was about maintaining the status quo of the power dynamic in Bermuda at that time. My argument is not that the constitution created racial inequality, but it was certainly never created to do anything to resolve that problem." Bermuda's new constitution did "just enough", Dr Barker added. Venous Memari, managing director at the Centre for Justice, pointed out that while the constitution's chapter of fundamental rights "prominently" featured racial discrimination, it has "nothing to do about the structural issues already in place — you are not solving the systemic issues". Dr Barker said: "Historians are pretty united about that. There was essentially a stitch-up between the Governor, Lord Martonmere, and Sir Henry Tucker, the government leader at the time, that created quite a conservative variation of constitutional change — and the Foreign and Commonwealth Office rubber-stamped that." She said that "a constitutional reform process should be led by Bermudians". Dr Barker plans to speak on the fundamental rights enshrined in the constitution and its uncertain relationship with the European Convention of Human Rights. "Another part that I will argue should be looked at is the power of the Governor," Dr Barker said, citing the appointment of a British officer over Bermudian candidates as the island's new Commissioner of Police. Granting the governor power over the police service "seems like a relic of the colonial era, when the UK wanted to retain an almost physical control over its colonies. There are ways you could discharge that responsibility by putting in place the appropriate constitutional mechanisms," Dr Barker said. David Burt, the Premier, will deliver the opening speech at the conference, which will then hear from Dr Barker and other speakers from 9am and 4.30pm at the BUEI.

The first blockchain transaction for marine insurance has been delivered, according to Willis Towers Watson. The global advisory, broking and solutions company was involved in the breakthrough, together with partiers XL Catlin, EY, MS Amlin, A.P. Møller-Maersk, ACORD and Microsoft. It is expected that the blockchain technology will be used in other insurance sectors in due course. Alastair Swift, head of corporate risk and broking GB, Willis Towers Watson, said: "We are delighted to be at the forefront of blockchain technology which has the potential to revolutionise the insurance industry. This is the first insurance transaction that has been undertaken through blockchain, simplifying and streamlining the transactional process and creating added value for our clients. We strongly believe this is an industry game-changer and that all carriers and brokers should adopt blockchain technology to drive improved transactional efficiency and innovation for their clients." The technology will support more than half a million automated blockchain transactions and help manage risk for more than 1,000 commercial vessels in the first year. Willis Towers Watson said that by connecting participants in a secure, private network with an accurate, immutable audit trail and services to execute processes, the platform establishes "a first of its kind digital insurance value chain".

Global professional services firm PwC is to help the Bermuda Government complete its public service reform plan free of charge. Government reform minister Lovitta Foggo, the government reform minister, said Government officials will also be asked to contribute to the plan in a process expected to be complete this summer. Ms Foggo has had talks with key players for several months over the plan to improve the efficiency and quality of the public service. She said: "We have made some significant and meaningful strides since the planning process began. I have engaged with many of our valued stakeholders, including my Cabinet colleagues, key internal Government personnel and representatives from Government's various union partners. The meetings have been encouraging. Ultimately our strategic reform agenda will be guided by the tenets of transparency, agility, accountability, innovation, empowerment and sustainability. Our vision is a future-forward Government for the people of Bermuda. I wish to thank PwC Bermuda for their support in this regard and we look forward to the public service's engagement in this process." Arthur Wightman, PwC Bermuda leader, said: "Governments around the world face many complex issues and are constantly challenged to deliver quality public services in the most efficient way. Public services reform is one of the critical challenges and opportunities facing Bermuda today. Central to the PwC network's purpose - we work to solve important problems and build trust in society. Given our long-term focus on the success of Bermuda and evident momentum towards change we decided to contribute our services and expertise without any charge to the public purse. We are therefore pleased to work with the minister and the Public Service to deliver impactful and sustainable solutions which will benefit the people of Bermuda."

A woman jailed for importing cannabis to treat her seizures has been released on bail. Natasha York, a 41-year-old mother of two, was released from custody last Friday, four days after she was sentenced to serve three months behind bars. Lawyer Paul Wilson said it is common for those appealing sentences to be given bail until the appeal is decided, if the courts do not believe there is a risk of the person fleeing the country or committing further offences. Mr Wilson said: "The rationale is that the court doesn't want someone behind bars if they can avoid it. Sometimes there are many conditions to bail. In Ms York's case, her travel documents have had to be submitted, she will be made to report to Hamilton police station until she can be fitted with an electronic monitoring device and she has had to provide a $40,000 surety, among other things. But at least she is out and can be with her children." Ms York was arrested at LF Wade International Airport after she was found with 1,430 grams of cannabis. Magistrates' Court heard she had been suffering intractable seizures for several years with anti-seizure medications having little effect. Kyjuan Brown, medical director at Northshore Medical and Aesthetics Centre, said cannabis had completely halted her seizures. York applied for a licence to import medical marijuana, but decided to illegally bring the drugs to the island after her application was refused. Her licence has since been approved. Magistrate Khamisi Tokunbo sentenced York to 12 months in prison, but suspended nine months of the sentence for a year. Ms York filed an appeal against her sentence on the grounds that, given her unusual circumstances, the magistrate should have used his discretion to suspend the entire sentence.

A family who fled a hurricane-devastated Caribbean island last year to find refuge in Bermuda are on their way home. Mark and Jeannette Forte and their three children were welcomed by the island after the British Virgin Islands was hammered by Hurricane Irma last September. Now, as the family prepare to resume their lives in BVI, they thanked Bermuda for coming to their rescue. Jeannette Forte said: "We cannot begin to thank you all enough for the way we have been treated by each and every person we have encountered." Her husband, Mark Forte, added: "I don't think we felt that we were imposing on Bermuda and I think Bermuda in that sense made us feel very welcome." Mr Forte said that they would either have been split up, or back in England, had it not been for Bermuda's help. He added: "We have been extremely fortunate." Ms Forte relocated to Bermuda with children Leo, 18, Nina, 17, and Jasper, 14, in September last year after Irma battered the BVI with 185mph winds after cutting a path of destruction through other Caribbean islands. Mr Forte, a lawyer with law firm Conyers Dill and Pearman in the BVI, joined them and the children started at Warwick Academy two days after arriving. As they settled into life on the island, the youngsters spoke about their experience and the damage caused by the Category 5 storm. Nina said the aftermath of the hurricane was "surreal. It was scary. It was like a bomb went off on the entire island and there wasn't a tree standing." Mr Forte, who left the island with Leo yesterday, said their home would take years to recover. He added: "In terms of infrastructure it's a big task — it's a five-year plan." Nina, who returned home for two weeks in April, said she had seen some progress, although a lot more work needed to be done. Ms Forte added that their house also needed more work but she said: "I'm looking forward to going back and seeing what needs doing and then helping out with that. I'm looking forward to seeing my friends again and then establishing a routine." She said she would miss the close friends she had made on the island. She added: "That's going to be the bittersweet bit." Nina said: "I've loved the fact that Bermuda is so organised, accessible and advanced. I am going to miss how efficient everything is because when I go back home I know it's not going to be as efficient." The family, originally from Manchester, England, have lived in the BVI for more than 14 years, stayed in Bermuda for nine months so the children could finish their school year. Nina said she had loved her time at Warwick Academy and thanked her teachers, as well as her school friends for welcoming her into their lives. She added: "It's what I needed coming here, the transition being a bit choppy. Having that filled a gap and made it a lot easier to relax. All in all, we are incredibly proud of how the kids have dealt with everything because had it been more difficult for them, then it would have been much more difficult for us. They have been absolutely strong and sensible." The family also thanked taxi driver Troy Bassett, who took them under his wing, and Conyers for making the transition as smooth as possible.

Two snorkelers were saved in an incident at a Southampton beach last week, according to news organisations in the United States. However, a representative with the Maritime Operations Centre in Bermuda was not able to find a report of the incident at Church Bay when contacted yesterday. According to Massachusetts newspaper The Enterprise, Allen Yannone, of West Bridgewater, Massachusetts, was at the Southampton beach with his wife on Tuesday when he heard a woman calling for help. The woman told Mr Yannone that her husband and her sister-in-law had become trapped against a rock while snorkeling. Mr Yannone told The Enterprise: "I said to her, 'I'm going to get them and I'll be right back. I went into the water and as I'm swimming over I noticed there was a couple on the other side of a rock face about 20-30 yards into the water. They were trying to stay on it and the waves were hitting them." Mr Yannone said the pair was "bloody and cut up". He used a life vest to help get them back to the shore. Mr Yannone said it was not until he arrived back home in the US and received a call from his mother that he learnt news of the rescue had made it on to social media. He said that he saw a picture that had been snapped of the three after the rescue when he logged into Facebook. Mr Yannone said: "It was the coolest feeling to know these people really wanted to reach out and that just means the world to me." He told The Enterprise that he did not see himself as a hero. Mr Yannone added: "If anyone takes anything away, it's just do the right thing."

The Government advised yesterday that there is no need for alarm after the sighting of a hammerhead shark at Shelly Bay. The Ministry of Home Affairs issued its response three days after the six-foot shark came close to the shore at the popular Hamilton Parish beach on Sunday. A spokeswoman said: "While sightings of sharks are rare in inshore Bermuda waters, especially along our beaches, it is not unheard of and there are a number of accounts in the records. The ministry would like to state that there is no need for alarm in these types of events. Out of an abundance of caution, it is recommended that swimmers exit the water in a calm manner and wait for the animal to leave the area before entering again. Under no circumstances should anyone attempt to approach or handle the shark in anyway." An officer from the ministry attended the scene 30 minutes after the shark was spotted, but the animal had already left the area. The spokeswoman said it is likely to be the same shark sighted over the past few months. The Royal Gazette reported this week that hammerheads are not considered aggressive unless provoked. The government spokeswoman said: "There are only a few instances of unprovoked attacks in records worldwide and these are attributed to much larger animals than the one sighted. It is not known why this animal is moving around Bermuda's inshore water, but it is likely due to the abundance of prey items notably fish, rays, crustaceans and cephalopods such as squid and octopus." She added there are nine species of hammerhead sharks globally, including several classified as endangered on the World Conservation Union's 2008 Red List of Threatened Species. Anyone who spots a shark can call the Bermuda Aquarium and Museum and Zoo on 293-2727.

June 6

One Bermuda Alliance by-election candidates said ahead of the voting tomorrow that education is the major concern of constituency households. Justin Mathias, who is up against the Progressive Labour Party's Curtis Dickinson in Warwick North East, said education remained the "number- one issue" among constituents. He said: "A lot of people have been disappointed because of the recent statement from the Bermuda Union of Teachers saying they have lost confidence in the minister." Mr Mathias said education had been the top issue for the last 20 years. He added: "It's about time we take politics out of education. "It's time to consider having a full-on approach, shaking the system to its core, and creating an authority to take politics away from the education system and come up with a strategic plan that's going to benefit our country for the next 20 years — no matter who is in government." Scott Pearman, the OBA candidate for Paget East, described education as a "fundamental". Mr Pearman said: "Obviously, Bermuda needs a strong economy, yes, and Bermuda needs jobs, but we need to focus on Bermudians and we need to have an education that prepares Bermudians for those jobs. Mr Mathias and Mr Pearman said they had got a good reception on doorsteps. Mr Mathias added: "People like the fact that I am a young person getting involved in politics, trying to raise the level of political discourse." He added his party had "received the message" sent by voters in the last General Election. Mr Mathias said: "We are going back to our values and principles. We are forming a party that is going to go towards the future and is going to benefit the country." Mr Pearman said constituents had also highlighted the need for an effective Opposition. He added: "The PLP has quite a significant proportion of the House, but it's important to Bermuda and Bermudians that we have a strong Opposition." He said the OBA was currently going through a process of "renewal and reform". Mr Pearman added: "You see two new candidates in this by-election, both of whom are new to the front line of politics. The Opposition is a party in transition. It's healthy for Bermuda and it's healthy for Bermudians to have a strong Opposition to hold the PLP to account fairly, but also firmly." Mr Mathias said that the OBA would be more vocal in its role as Opposition now that the "rubber was starting to meet the road" as the Government launches new legislation, including the proposed sugar tax. He explained: "Just like everybody else, we've given them the opportunity and the honeymoon is over." David Burt, the Premier, said at a PLP rally last Sunday that voters in Paget East should not let the OBA pull an "oil-shuffle". Mr Burt explained: "That means they take one member of the oligarchy, Grant Gibbons, and replace him with another member of the oligarchy, Scott Pearman." Mr Pearman dismissed the comment as "politics". He added: "People are going to make stereotypical judgments and easy attacks. I think it's unfortunate that the Premier chose to attack me personally, but that's politics. The reality is, I think Bermudians are better than that — they're going to judge me on who I am." Jeanne Atherden, the Leader of the Opposition, said both OBA candidates represented the type of new blood needed in the party. Ms Atherden said: "They represent the diversity and the young people that will be transitioning into the Opposition." She said Mr Mathias and Mr Pearman are both resident in the constituencies they are contesting, so they had a "direct interest" in serving their voters. Ms Atherden said that politics "was all about being on the doorstep and they have been on the doorstep". Ms Atherden added that her party understood its responsibility to be a strong Opposition. "These two members will be on the doorstep, in the House and be able to talk about the concerns of Bermuda."

David Burt, the Premier, distanced himself yesterday from a statement made in the House of Assembly by one of his Cabinet ministers, which involved a reference to the ethnic origin of the next Chief Justice. Lieutenant-Colonel David Burch, the Minister of Public Works, mentioned Indian-born Narinder Hargun, who has Bermudian status and will take over the island's top legal job next month, during an attack on outgoing Chief Justice Ian Kawaley over his criticism of staffing levels in the court system. Colonel Burch told MPs on Friday: "In all of these things that we do, at least as I see it, you must leave a legacy and if you want that legacy to be something people remember fondly, regardless of their political persuasion, you must produce somebody to take your place other than an Indian." Mr Burt said last night: "In the course of debates in the House of Assembly, members often express themselves in terms which, upon reflection, are not best-placed to convey the point being made. This is not unique to one political party and I have discussed with the minister and my colleagues generally the need to elevate debates and communicate effectively on the good work we are doing on behalf of the people of Bermuda." Mr Burt was speaking after he posted a picture of himself on Twitter yesterday with Suresh Nichani, of RootCorp, a firm that describes itself as a "leading Indo-Western investment manager". RootCorp, according to the website of its spin-off company Real Assets, was incorporated outside of the United States in 2007 as an "Indo-British partnership founded by the Nichani Group, an Indian family office and investments powerhouse" and Savills Investment Management, a subsidiary of Savills plc. Mr Burt tweeted: "After meeting at Ethereal Summit in NYC, I welcomed Suresh Nichani of RootCorp who is setting up a company in Bermuda, creating more jobs and opportunities for Bermudians." The Premier said after Mr Hargun's appointment was announced by John Rankin, the Governor, that it was an "affront" to the Government but did not say why he objected to his elevation to Chief Justice. His statement last night came as the Human Rights Commission revealed it had contacted the Government after members of the public "expressed concern" over Colonel Burch's comments. HRC chairwoman Tawana Tannock said the commission "invited the Government to join us in promoting public discourse that does not devolve into inflammatory, vexatious or harmful words in respect of an individual's actual or perceived national origin, race, political opinion or any other protected ground under the Human Rights Act." She added: "Ever mindful of the nature of many of the comments that The Royal Gazette allows online, we also invite The Royal Gazette to join us in encouraging healthy and respectful public debate on issues of importance to our island home." Lynne Winfield, president of anti-racism charity Curb, denied Colonel Burch had been xenophobic or racist. She said: "This is not racism or xenophobia rearing its head, as if Colonel Burch had referred to an Englishman, American, Canadian instead, would the reaction be the same? Being pro-Bermudian does not make you anti-foreigner, and he stated [on ZBM News] that Bermuda would always need foreigners. Given our history of exclusion, wanting born Bermudians trained and prepared to have access and opportunities is not being racist, it's being realistic given the history of discrimination and marginalization and cognizant to the fact that you need proactive actions in place to ensure this, eg succession planning." Jeanne Atherden, leader of the Opposition, said: "It is difficult to understand Minister Burch's remark as anything other than a slur against Mr Hargun based on his ethnicity. If this is what he means, then his statement is completely unacceptable and he must explain himself. If he cannot, or if he refuses to explain himself, then the minister needs to be called out, both by his PLP colleagues and by the wider Bermudian community. Mr Hargun's appointment is within the appointment guidelines and the language and reference made by minister Burch was offensive." Trevor Moniz, the Shadow Attorney-General, said Dennis Lister, the Speaker of the House, should have ordered Colonel Burch to withdraw his remarks. Mr Moniz said: "It was obviously out of order. What did his ethnicity have to do with it? He is eminently qualified." Mr Moniz added: "The Progressive Labour Party are a black nationalist party, so they are looking at people who originated here. That's what they want to see." Colonel Burch told ZBM News on Monday: "I didn't make comments against non-Bermudians. I take a little bit of offence at the suggestion that I'm anti-foreigner because I'm pro-Bermudian. You are never going to get me to apologise for that."

The island's Portuguese population said they hoped a public holiday on November 4 next year to mark the first arrival of people from Madeira is a step towards a more inclusive approach. Milton Raposo, a video producer of Portuguese descent, said the announcement came as a surprise. He explained: "In the last several years, the Progressive Labour Party haven't been known to be an inclusive body and have mostly relied on inward nationalist policies to convey certain messages they had at that moment." Having said that, if this is a change of direction and a genuine indication of inclusivity from the leadership, then I applaud Premier [David] Burt. "Mr Raposo is the creator of the film project Fabric, which is designed to focus on the history of the Portuguese in Bermuda. He said recognition of the impact the Portuguese made in helping to shape modern Bermuda was overdue. Mr Raposo added: "I don't know if that manifests as a public holiday, a statue or some other means." Alicia Davis predicted the Portuguese community would have mixed views on the holiday announcement. Ms Davis, whose family own Café Acoreano, said: "You're going to have people that are proud of this and think it's a great thing and they're just going to leave it at that." She added others would feel more should be done to deal with immigration problems. Ms Davis said: "There are people that feel scorned having to send their children who have been born and brought up here back to the Azores." She said she believed the announcement would be seen as a possible "first step" to addressing problems such as the need for immigration reform. Paul Franco, president of Vasco da Gama Club in Hamilton, said that the organisation welcomed the announcement. Mr Franco added: "Portuguese-Bermudians have made their mark over the generations, becoming an important part of Bermuda's social fabric. It is therefore important to recognize their contributions, which this public holiday will do." He said the club hoped the one-off holiday would serve as a further step in the direction of "greater collaboration" between Bermuda, Portugal and the Azores. Mr Franco added: "We note that this announcement comes two years after an historic memorandum of understanding was signed between the Azores and Bermuda, which sought to formalize the historical, cultural, educational, environmental and commercial ties that unite the two communities. As a longstanding pillar of the Portuguese community, with a protocol in place with the Acorean Government, the club stands at the ready to support the Government wherever we can." Mr Franco said the organisation looked forward to working with the Government on a host of issues to bring about "more meaningful inclusion", including immigration reform, greater recognition for the Portuguese language and greater promotion of Portuguese culture in Bermuda. Zane DeSilva, a PLP MP, said last week's announcement of the holiday was "phenomenal". Mr DeSilva added that the move was a "great reach out" by the PLP government. He said: "I think it shows we do want to embrace and we do recognize all cultures that live in the island because we're a melting pot at the end of the day." Mr DeSilva said credit was due to the late Dame Lois Browne-Evans, a PLP politician and Attorney-General in the party's first government, who "fought for the Portuguese people" in the 1990s. He added: "There was certainly a movement, for lack of a better word, to send a lot of Portuguese back home." Mr DeSilva said worries over immigration policy were not confined to the Portuguese community. He added that Walton Brown, the Minister of Home Affairs, had immigration reform "very much on his agenda". Mr DeSilva said: "I believe the PLP has certainly made it known that we are for comprehensive immigration reform." Trevor Moniz, shadow Attorney-General, added the holiday announcement was "bittersweet". Mr Moniz said immigration remained the "big issue". He added: "It's like it's your birthday and you're expecting a cake, and someone gives you a tin of icing. There's got to be justice for these people. "Until there's justice, what is there to celebrate?" Mr Moniz said that there needed to be "substance" attached to the holiday. He added: "I'm hopeful that there will be some substantive relief for the injustices of people sitting out there who are members of this community and at the present moment don't have any rights. I'm not so much into holidays and parades — I'm more into the substance of people's human rights."

Eleven captive insurance companies have been admitted to Bermuda's Captive Hall of Fame after completing 25 years of business from the island. The Hall of Fame was created by the industry in 2016 to highlight captive entities with a quarter-century commitment to the Bermuda market. More than 200 Bermuda-based companies now share the honour. The new inductees, who were established on the island in 1993, are: Comerica Assurance, Griffin Insurance Co, ICW, Pennsylvania Manufacturers' International Insurance, Surrey Reinsurance Company, Traders Insurance, Tyson International Company, VMC Indemnity Company, Windsor Insurance Company, XPO Bermuda Captive (formerly Con-way Insurance Company), and GIG Reinsurance Company. They will be celebrated at the Bermuda Captive Conference, which starts on June 11. Mike Parrish, chairman of the conference, said: "Our Captive Hall of Fame not only is a tribute to companies that have made a significant contribution to the island's economy, community and reputation, but also reflects the evolution of Bermuda's globally significant insurance market. "It's a testament to the spirit of innovation that is the foundation of this industry." This year's fourteenth conference at Fairmont Southampton is expected to attract close to 800 delegates, including captive insurance owners, risk managers, captive managers, sponsors, and vendors from the US, Canada, Latin America, and the UK. Three days of moderated panels and roundtables will focus on hot topics like insurtech, cyber-risk, climate change and healthcare, as well as the industry's growing diversity around risk, products and talent.

Four months after stepping into a leadership position vacated by one of the insurance industry's giants, Pina Albo has spoken about the road ahead for Hamilton Insurance Group. Technology and a multigenerational outlook are important considerations for the Bermudian-based group, and while "there is no rush" for it to become publicly-listed — something that was mentioned in 2014 — it is a consideration that remains on the radar. Ms Albo took up the reins as chief executive officer of Hamilton Insurance Group in February, becoming the permanent replacement to founder Brian Duperreault, who left in May last year when he was appointed CEO of American International Group. Despite losing the services of an industry veteran of Mr Duperreault's stature, the Hamilton group "never missed a beat", according to Ms Albo, and she said that continuity and focus is a testament to the quality of the team that Mr Duperreault put in place. "David Brown will be the first to tell you that the team remained rallied and committed to the vision that we are writing the future of risk," she said, referring to Mr Brown who guided the group as interim CEO before her appointment. As an example, Ms Albo mentioned Kathleen Reardon, CEO of Hamilton Re, who diversified by acquiring the renewal rights of Canopius Underwriting Bermuda's excess casualty book of business, and built out Turing Re "which is our first foray into the alternative capital management space". Ms Albo added: "She continues to execute this vision of bringing technology and talent to her team." Likewise, she said Dermont O'Donohue, CEO of Hamilton Underwriting Ltd, the Lloyd's operations of Hamilton Insurance Group, continues to repurpose and rebuild Syndicate 3334, which was bought in 2015. "I had the good fortune of joining this very talented, focused and driven organisation that welcomed me with open arms," Ms Albo said. AIG bought the Hamilton USA unit for $110 million in May 2017. When asked how this had impacted the group, Ms Albo said that building out an insurance platform in the US is expensive and not easy. "The expense for a company the size of Hamilton hits our pocket more than it would a company like AIG. Brian was very keen to continue down this path of technology-driven solutions to the insurance industry." She said it was opportune for Hamilton to sell the platform to AIG. As part of the deal, Hamilton USA's share of Attune was transferred to Hamilton Insurance Group. Attune is a technology-enabled company established with Two Sigma and AIG to use data science and analytics to transform the underwriting process. Ms Albo described the Hamilton USA deal as a pivoting of focus. She said: "We may rebuilt a platform in the US, or do something else. It was a pivot and an opportunity, but still a commitment to using technology to underwrite business in the small commercial space." Ms Albo worked at Munich Re for 25 years. When approached to become the CEO of Hamilton she met with the founders, including Mr Duperreault, who she had known for many years. "Having met them and other board members, I knew some of the talent here. It was an amazingly powerful team. Add to that the start-up mentality, very entrepreneurial, nimble, innovative — so that draw of something new and building something on the basis of this platform was very attractive." At Munich Re, one the world's largest reinsurers, she saw almost every aspect of the insurance and reinsurance business, across different markets and through various market cycles. As she took on increasingly senior roles she set strategies that included the opening of new businesses, the re-purposing of businesses, and acquisitions. "Then, in the last few years at Munich Re, I was on a committee involved in innovation and investing in and partnering with insurtech. The circle closed for me [by coming to Hamilton]. I was able to bring the experience I had and the forward-looking things I was doing at Munich to a very forward-looking company." Technology, talent and scale are levers that will be used by the Hamilton group to achieve what Ms Albo calls "Strategy 2025". This is aimed at building out a multi-platform, profitable, global operation. Mergers and acquisitions in recent years have created a number of significantly larger insurance sector companies. However, Ms Albo believes there is still a place for smaller entities. "We are finding opportunity in all this. As the market gets disrupted, players that are still there as independents are often the ones that people go to," she said, particularly when a degree of uncertainly is created as a result of big merger. Hamilton appeared to be gearing up for an initial public offering four years ago, but it did not happen. When asked if the group might still become publicly-traded, Ms Albo said: "When we do go public I want to have a compelling story to tell to investors and the market. We have another initiative that we want to get rolling. There is no rush to do it [go public], but it is still very much on the radar." Challenges ahead for Hamilton and the insurance sector as a whole include the abundance of capital in the market, which has suppressed renewal rates "The fortunate thing at Hamilton is that we have very talented underwriters; they know how to navigate these things and they know to keep their discipline, and that client service is important." Other challenges are increasing digitization and interconnectedness, emerging risks, and attracting new, younger talent. Ms Albo said: "We have an industry that is ageing and we are losing many talented people, so it is important to have multiple generations in your office and be able to deal with that and service it in the right way. We embrace technology in everything we do here. We have a very multigenerational workforce. We have a very strong commitment to diversity and inclusion. All these things will serve us well." Hamilton Insurance Group's commitment to technology and the younger generation is also evident in its decision to place a charity funding focus on ConnecTech, specifically to provide two coding courses — one for primary schoolchildren and another for girls. Ms Albo visited a ConnecTech session at Prospect Primary School last week. She also met with David Burt, the Premier. She is enjoying getting familiar with the island. Together with her family she mingled with the crowds on Bermuda Day, and commented on the friendliness, pride and welcome she encountered. "One of the things I like about Bermuda is that is has a small town feel, but in a very global, international sophisticated way." As for the future of the island's insurance and reinsurance sector, she said: "It is clearly the third largest reinsurance market in the world, so it is very strong and respected in that capacity. On top of that you have a regulator, the Bermuda Monetary Authority, that is world class. You have got regulations and legislation that strike a very healthy balance between diligent oversight and flexibility. That is a rare and very welcome combination." She added: "You have a Premier who is very forward-thinking and who has grasped the concept of blockchain and digital currencies. What I like about Bermuda is that you have a very mature market on one hand, but also a very forward-looking sophisticated market that knows it has to change and is capable of that change."

Kathleen Bibbings has been appointed president of the Bermuda Insurance Management Association. She takes over from Grainne Richmond who has completed her two-year term. Ms Richmond said: "Kathleen is a very well respected, knowledgeable and well known industry professional in the captive and insurance industry, and will bring a fresh perspective to BIMA and its industry stakeholders. "I have very much enjoyed my two years as Bima president, and appreciate all the support of my fellow executive members and industry counterparts. I'm confident the leadership of Bima is in very good hands going forward." Ms Bibbings has more than 30 years' experience in the insurance industry and currently heads up American International Group's Bermuda captive operations. She said: "I'm excited to have been elected president by the executive of BIMA and I look forward to continuing the work initiated by our past president." Ms Bibbings, who is a dual citizen of Bermuda and Canada, added: "Bima works diligently to ensure Bermuda maintains its position as the pre-eminent domicile for captives. "It's also important that we provide education to attract young Bermudians to our industry to ensure Bermuda's continued success. I look forward to working with government, the regulator and various industry groups to guarantee a strong future for the Bermuda captive insurance industry." Bima is an association of professional insurance managers whose mandate includes engaging membership to increase new captive business to the island and encouraging awareness of Bermuda as a captive domicile. At its annual meeting, other officers elected included: Adrienne Hintz, secretary; Nicole Hallett treasurer; and Page Rouse and William Wood as vice-presidents.
Redevelopment plans for the former Riddell's Bay Golf Course will create Bermuda's biggest conservation zone, one of the property's owners has said.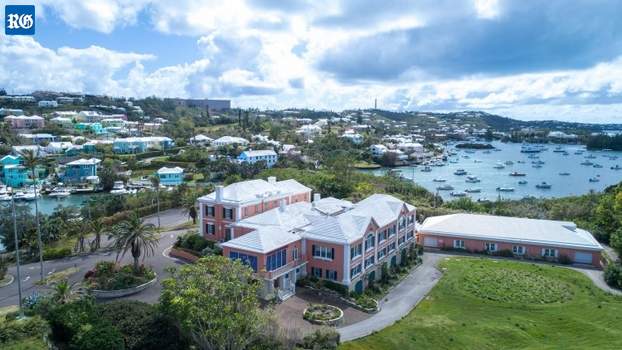 The businessman said the area would be combined with "very low-density residential areas, but the plan would set a new benchmark for Bermuda in sustainable development". The man, who asked not to be named, added: "When completed, Bermuda will have a new reforested 66-acre conservation zone larger than any existing park or protected space on the island, including Spittal Pond, the Botanical Gardens and the Arboretum. This is a unique opportunity to undertake an unprecedented once-in-a-lifetime conservation project for the benefit of all Bermudians." He added that the project was drawn up in consultation with the island's "leading environmentalists" and "highly respected landscape architects". He was speaking as a petition launched by the Riddell's Bay Members' Committee to protect the property passed 700 signatures — although these included Vladimir Putin, the Russian president, and Fidel Castro, the late prime minister of Cuba. The committee has raised concerns over an application to subdivide the golf course into two plots of land. The group claimed the move will lead to "at least" 42 acres of recreational land being turned into residential property. A statement said: "Words and descriptions appear to be purposely confusing and buried in the details of their planning applications. No further explanations of their motives have been given, other than their initial presentations to residents more than a year ago, which clearly showed at least 17 acres of waterfront lots marked to be sold off, in addition to selling the clubhouse — a protected, historical landmark building." The group also raised fears that, if allowed, the move would create a legal precedent allowing other recreational areas to be built on. The statement added: "Bermuda does not need any more houses, nor does it need any more concrete, tarmac, waste, trash or over usage. We need open, green, recreational land now more than ever." The committee identified the golf course's owner as Castile Holding/Equilibria Capital. The representative of the owners' group said that was wrong. He added: "This is false and, once again, misleading the public as there is no fund management business that owns Riddell's Bay. "The property has been purchased by a small group of Bermudians whose primary objective is to preserve the land for conservation purposes. The owners are not developers." He added that the petition had "limited" support from the general public and area residents. He said: "Moreover, many of those that have signed it have done so based on materially misleading information. The promoters of the petition have not seen the owner's plans for the property and are therefore basing their claims on no substantial information." The businessman said that the course's status as recreational-only land provided "limited protection to the land, the flora and the fauna". He added: "If the land remains zoned recreational, it could potentially allow for the building of, among others, a hotel, a casino and/or sporting facilities. This conservation zone will be open to the public and will benefit all Bermudians rather than the select few members of an exclusive private golf club." He said the conservation zone would be privately funded and maintained, "meaning that the Bermudian taxpayers will not have to foot the bill for its ongoing maintenance". The Riddell's Bay Golf and Country Club closed in 2016 after nearly a century in business. Residents in the area were told later that year the purchaser planned to rezone a portion of the property for residential development. However, the proposal also included using the majority of the property as a conservation or green zone, with provision for a 50-acre nature reserve.

The odds are stacked heavily against Bermuda when they face the United States in the Concacaf Women's Under-17 Championship in Bradenton, Florida, at the IMG Academy Stadium tonight. Bermuda lost their opening group B match 3-0 to Canada, while the US beat Costa Rica 4-0 in Nicaragua last month before violence in the Central American country forced the remainder of the tournament to be rescheduled. It will be the first meeting between Bermuda and the US in the Concacaf women's under-17 age group. The match starts at 6pm Bermuda time. The US are three-times Concacaf Women's Under-17 champions with a perfect 8-0 record against Caribbean opposition, conceding just two goals, against Trinidad and Tobago in 2008 and Jamaica in 2016. However, in LeiLanni Nesbeth, Bermuda have a striker who can penetrate tough defences, as she demonstrated last year when she was the top scorer at the Caribbean qualifiers. Other key members of Bermuda's team are captain Danni Watson in defence and Trinae Edwards, who traveled with the senior team to Guyana for the Concacaf Women's Championship last month, along with Jaden Masters and Nia Christopher, who will support England-based Nesbeth in attack. The US have conceded just two goals in their last 21 Concacaf women's under-17 matches, winning 24 of 26 and scoring 141 goals while conceded just five. They have kept clean sheets in 21 of the 26 matches and have never conceded more than one goal in a game. They also have also scored 11 goals in their previous three games — a 5-0 win over Canada, 2-1 victory over Mexico and 4-0 win over Costa Rica where three of the four goals were headers. Bermuda have been forced to make one change from the squad which traveled to Nicaragua five weeks ago. Katelyn Mederios is unavailable because of school commitments and has been replaced by Che Chulae Dowling. Bermuda, who are coached by Aaron Denkins, will take on Costa Rica in their final group match on Friday. The top two teams from each group will advance to the semi-finals, with the winners and winner of the third-place play-off match qualifying for the Under-17 World Cup to be held in Uruguay from November 13 to December 1.

Belco has just completed electric vehicle training for its fleet team as it moves towards a 100 per cent electric fleet. The five-day training was carried out by Craig Van Batenburg of Massachusetts-based Automotive Career Development Centre. Jason Simons, Anton Daniels, Nigel Lewis, Aesop Smith and Andrew Cabral completed the training session and Belco hopes to move to City and Guilds qualifications for all Belco participants. Mr Simons, fleet manager, said: "Ultimately, our goal is to be Bermuda's number one service provider for electric vehicles. Already, our technicians have gained valuable insight from this training. While this will obviously help our fleet, we also aim to be the example of what is possible for the transition of corporate fleets to electric vehicles in Bermuda." Belco began the electric conversion of its fleet in 2016, when it replaced 12 diesel vans with Renault Kangoo Maxi ZE vans. To date, 13 internal-combustion engine vehicles have been replaced with full electric vans. By June 2018, all of Belco's bucket truck fleet will comprise hybrid vehicles, and 78 per cent of the van fleet will be electric by the end of the year. Mr Simons said: "We are on track to realize our goal of a 100 per cent electric fleet by 2025. In the near future, five of the remaining gasoline vans will be replaced by the Peugeot Partner Electric and we have begun receiving our hybrid bucket trucks. The bucket trucks will allow the aerial device to operate with electric power while the truck engine shuts off."

An American tourist who drowned after she fell off a jet ski was named by police yesterday as Yvonne Aites. The 62-year-old cruise ship passenger, from Massachusetts, is believed to have fallen into the water off Cambridge Beaches in Sandys and lost consciousness at about 11am on Monday. The woman was rushed to King Edward VII Memorial Hospital and efforts were made to revive her en route, but she was later pronounced dead by doctors. An autopsy confirmed the cause of her death as drowning. A police family liaison officer has been assigned to Ms Aites's family.

June 5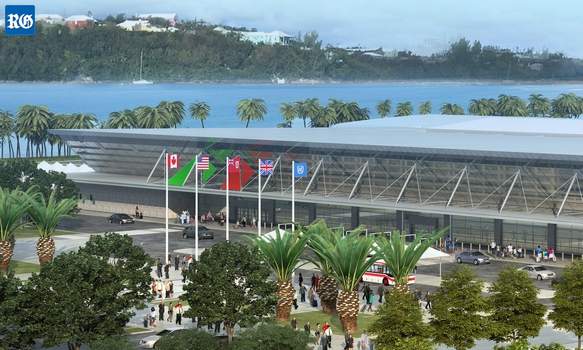 When the new airport terminal opens in the summer of 2020, there will be more than 9,500 sq ft of retail space, split between the airside and landside of the building. The first stage of the process to find store and concession operators for ten retail units has begun. Bermuda Skyport Corporation Limited is inviting expressions of interest from qualified retailers to market, operate and maintain the retail concessions. Skyport is responsible for the LF Wade International Airport operations, maintenance and commercial functions. It is also overseeing the construction of the new terminal. There will be four specialty retail units on the ground floor landside of the terminal, that is the public areas open to all. One unit is in the check-in area, while the other three will be in the arrivals location. On the airside of the arrivals area, also on the ground floor, there is to be a 1,220 sq ft duty-free retail unit. The other five retail units will be airside on the first floor of the new terminal. These are for passengers who have passed through the security screening area. The units are duty free/specialty retail, and the largest is 2,193 sq ft. Any qualified retailers that are interested in operating one or more of the retail units should submit a summary of qualifications and experience to Skyport by June 22. Skyport has requested that those expressing an interest "should demonstrate capability to finance, design, implement, market, manage and operate a high quality retail concession". Request for Proposals will be issued to qualified parties in August.

A massive solar power plant is to be built on a vacant runway at the airport. Saturn Solar Bermuda 1, a part of Canadian-based Saturn Power, will develop the six-kilowatt power plant on "the finger", a runway and munitions pier when the airport was run by the US Navy as a Naval Air Station. The generating plant will be the first large-scale renewable energy resource on the island. Walter Roban, the Minister of Transport and Regulatory Affairs, said: "Out of nine candidates, six being Bermudian, Saturn Power came in as the lowest bidder at 103 cents per kilowatt hour." He added: "The replacement of fuel costs with solar power will also keep an estimated $20 million or more in our local economy over the course of this project's lifetime." Mr Roban said: "Also, it will stabilize a small part of every ratepayers' electricity bill by replacing fuel costs with solar energy, allowing part of our electricity bills to remain stable for the next 20 years." The runway has been earmarked for development since 2012. Mr Roban said the power plant will be a separate project to the airport redevelopment and will not offset the airport's energy use. He added the deal includes an agreement that all bidders "were required to have Bermudian content in regards to labour during construction and operations, and maintenance personnel post-construction". Mr Roban said the agreement, signed yesterday with Doug Warner, president of Saturn Power, was preliminary. Mr Roban added that the start of construction would be decided when the peninsula at LF Wade International Airport was cleared of vegetation. He added an "intense, transparent and inclusive" selection process for the development started in 2016 Mr Roban said the deal will allow for "sustainable and sensible" competition in the electricity sector. The Bermuda Government will be paid rent for the site, charged at $5,000 per acre. Mr Roban said The power generated will supplement Belco's output but rates would be a matter for the Regulatory Authority. Mr Wagner said that Saturn had watched renewable energy evolve from alternative power to become "mainstream worldwide". Mr Wagner said the island could serve as "an example to the Caribbean". He added: "Let the sun shine."

Bars and hotels across the island have been left high and dry after they failed to get their alcohol licence application in on time. Liquor stores have also been affected and Juan Wolffe, chairman of the Liquor Licensing Authority, said more than 30 applications had failed to meet the March 14 deadline. Mr Wolffe added: "Because they were late in applying for their liquor licences, the LLA were unable to hear their applications until after the expiration date of their licences. There were about 32 late applications and their hearings are set down for June 7 and 8, 2018." Some places have been given temporary liquor licences after applications to the Supreme Court, which has allowed them to sell alcohol until their hearing dates. Lawyer Richard Horseman, who represents several affected businesses, said a loss of revenue from alcohol sales could have devastated smaller establishments, although large hotels had also been affected. He said: "There were a couple of the bigger hotels that would have been left without licences, which would have been a problem. There are also a couple of bars where, if they cannot sell alcohol, they essentially have to shut down which makes things difficult when you consider their staff. We said in the application that it was unreasonable not to help these businesses." Mr Horseman added his clients would be careful to have their applications in on time in the future. He said: "It's brought it home for all of us." Mr Horseman added the liquor licensing process may need to be updated because of the heavy workload experienced by the court system. He added: "We have never had this problem in the past, but this particular LLA are being very thorough, which is a good thing, but it still seems a bit unreasonable for businesses to be put in this position. It also seems kind of archaic to keep it before the courts. By law, the senior magistrate has to sit as the chairman. That might have been appropriate when the Act was established in 1974, but the senior magistrate has tremendous responsibilities these days running the business of the courts. One might think that the time has come to release the courts from this responsibility, except in cases of appeals. The court's resources are stretched to say the least, and this is an additional burden it likely does not need." Wahoo's restaurant in St George was among those who applied for a licence renewal late, but the business was able to win a temporary liquor licence before the end of May. A spokesman for Wahoo's said: "It was our mistake and we apologized for it. The temporary licence was very much a relief for the staff because it came in the height of the season. It's very busy and there are a lot of people coming to St George's and coming to Wahoo's. It would have had a negative impact if we were not able to operate under the full licence."

Rosewood Bermuda is holding a grand reopening and roof-wetting ceremony on Friday to mark the completion of $25 million of renovations. The resort on Tucker's Point Drive, Hamilton Parish, closed in January to allow the work to be done. It had a soft reopening in April. Paul Telford, managing director of Rosewood Bermuda, believes it was the right time to enhance the property to not only meet expectations of travelers, but also help to continue raising the bar for luxury travel on island. The resort underwent a full reimagining. Each of its 92 guestrooms have been transformed into residential-style retreats that "honour the island's culture and natural surroundings". Mr Telford said: "Our three restaurants now offer new, unique culinary concepts that celebrate local ingredients and cooking traditions. We have even unveiled The Conservatory Bar, which is a brand new bar located in our lobby that serves creative, unique cocktails and offers unrivalled views,. Our renowned Beach Club, Golf Clubhouse and Sense, A Rosewood Spa, have also been refreshed to provide an exceptional vacation experience." Mr Telford hopes the changes will reinforce Rosewood Bermuda's position as the leading luxury resort on the island, while providing their guests with an unsurpassed luxury experience that allows them to create a lifetime of memories of their time here on our beautiful island. Rosewood Bermuda's Beach Club sits on one of Bermuda's largest private beaches and caters to golf lovers and vacationers. The resort has been recognized by leading travel and consumer publications and organisations as one of the best in Bermuda, the Caribbean, and the Atlantic, as well as one of the world's most romantic getaways. It opened in 2009 as Tucker's Point Hotel & Spa, which was then changed to Rosewood in 2011.

The pledge by the island's Catholic Church to tackle racism has won praise from a government MP. Rolfe Commissiong, a Progressive Labour Party backbencher, said other institutions should take the same approach to "continue this process of healing". Mr Commissiong said during Friday's motion to adjourn in the House of Assembly: "I just want to commend the Right Reverend Wesley Spiewak, the island's Roman Catholic Bishop, who this week announced that the Roman Catholic Church of Bermuda will make a concerted effort to address the racism that has bedeviled the church." He added: "This is important. While people talk about creating a 'One Bermuda', usually it means a Bermuda by which their privilege and their prerogatives are not challenged. But to create really a 'One Bermuda', this is what has to happen — we have to be honest about this and about this issue which has bedeviled Bermuda for centuries. That's how we become one Bermuda." Mr Commissiong said a "front-door approach" was the only way to create this "one Bermuda that many want to achieve." Mr Commissiong was speaking after Bishop Spiewak announced that the Church was to launch a six-month anti-racism drive and admitted Catholics had not done enough in the past to tackle the problem. The head of the Catholic Church on the island added that the low number of black Catholic Bermudians "gives me a clear idea that we were never very welcoming to these persons". Bishop Spiewak said the Church historically "did not do enough" globally to combat racial prejudice. He said: "We have been, and we are still, a very white church. This does not reflect what Catholicism means. Catholic means universal; we never became universal in this sense." Mr Commissiong said there were a number of black members of the Roman Catholic Church in Bermuda from its inception "some of whom were very prominent, such as Dr E.F. Gordon". He added that his father, who was from Trinidad, was a Roman Catholic. Mr Commissiong said he had attended the Catholic Mount Saint Agnes Academy and been an altar boy. He added: "So I am glad that the Roman Catholic Church in Bermuda has taken this course."

A six-foot hammerhead shark spotted cruising close to the shore is unlikely to be a threat to humans, marine experts said yesterday. Choy Aming, who has researched the creatures for 12 years as part of the Bermuda Shark Project, said that it is not unusual for hammerheads to swim close to the beach. He added sightings close to beaches were rare in Bermuda because of the low numbers of hammerheads, but that they were not considered aggressive. Mr Aming was speaking after a young hammerhead was spotted off Shelly Bay at the weekend. He said: "I wouldn't panic but would err on the side of caution. Shelly Bay is a giant sand flat — you will see it coming. If you have a kid in the water, get them to shore and show them the shark. If the shark is startled, it will probably take off." Mr Aming added: "Outside of us chumming up the water and trying to get close over the years, I have never seen an aggressive move by a hammerhead. I think if you had kids in the bay swimming, it would probably cruise around and not bother them. There are tons of pictures of the Bahamas and Florida where there are people swimming with sharks. Mr Aming said the shark could be the same one spotted at Flatts Inlet, St George's and Admiralty Park in Pembroke in the past few weeks. He was backed by Thaddeus Murdoch, chief scientist for the Bermuda Reef Ecosystem Assessment and Mapping Programme, who said the shark probably came close to shore to feed on marine life. Dr Murdoch said: "When I heard about the shark turning up in Flatts Inlet, I would have thought it was a one-off but if it is the same juvenile, it appears to be settling in. We have a good population of turtles and eagle rays he could be feeding on. Both of them are protected and in pretty good shape, so he could have cruised into the reef and saw there were no competitors. He added: "I'm sure the shark is looking for food. Shelly Bay has a school of red-eared herring, some mullet and the occasional eagle ray at this time of year. I'm sure it would rather avoid people. It is hard to say if it's the same guy." Dr Murdoch agreed the best approach is not to panic if the shark is sighted. He said: "I would calmly move out of the water if it returned but otherwise just keep a watch out." Mr Aming dismissed speculation that the shark was looking for a mate. He said: "It is six feet long, a juvenile, so it's not looking for a mate." Mr Aming added: "A few people have said why can't you put it back out to sea? Just because it decides to come into Shelly Bay, it doesn't mean it is out of its home. Even if it is in two feet of water in Shelly Bay, that is its home. Others have said maybe it's injured. If it is the same shark swimming happily after three months that it highly unlikely." Jason Sukdeo, organizer of National Heroes Weekend, said the raft up scheduled for Shelly Bay on June 16 is to go ahead as normal. Mr Sukdeo said two lifeguards and a St John Ambulance crew would be on duty, but emphasized they were recruited before the shark sighting. The Royal Gazette contacted the Department of Environment and Natural Resources for information and advice but did not receive a response by press time.

Pupils on the autism spectrum disorder programme at a primary school have been guaranteed transport to therapy sessions at WindReach Bermuda. The Department of Education hired a minibus for pupils of Paget Primary School after complaints about regular cancellations of Wednesday trips to WindReach because of mechanical issues with the department's own bus. Penny Ingram, parent advocate for the ASD programme, said: "I am very pleased that the ministry has committed to providing minibus transportation for the ASD programme students at Paget Primary. While I was not informed by the ministry directly, a teacher confirmed that the children were all smiles when told that they would be attending Wind- Reach on Wednesday as usual. This is now the second consecutive week that they have attended the WindReach programme and I am hopeful that the ministry will follow through with this." The Department acted after The Royal Gazette reported last week that the ministry's bus was out of service. That meant youngsters from the autism programme missed four of their scheduled trips to WindReach. The education department sent an official to the school to discuss the problem and this week a hired minibus was used to get the youngsters to the special needs centre. The official also told the school that the regular bus would be available every week from now until the end of term. Ms Ingram said: "As for the repairs to the previous bus, I have no idea what the status of that is. I am very happy that the children are happy and that is all that I care about." Ms Ingram said that last-minute cancellations of the trip had upset the autism class, many of whom need a consistent routine. WindReach volunteers were also affected by the no-shows as they turned up to assist with the class only to find out that the trips had been cancelled. A spokeswoman for the education department said: "The school is aware that there is only one vehicle currently serving the students." The programme at Wind- Reach is a major part of the pupils' educational programme. Parents paid $300 a term for their children to attend therapy sessions at WindReach — that money will not be reimbursed. The Department did not respond to a question on whether it would reimburse parents for the missed sessions.

June 4

Public criticism of court staffing by Ian Kawaley, the Chief Justice, was branded "cowardice" in the House of Assembly last Friday. Wayne Caines, the Minister of National Security, slammed the island's top judge as Progressive Labour Party politicians accused Mr Justice Kawaley of failing to create opportunities for Bermudians. The views were made public after Mr Justice Kawaley and Acting Registrar Alexandra Wheatley said in a joint statement that successive attorneys-general had failed to tackle a staffing crisis that had crippled the court system. Mr Caines said that Mr Justice Kawaley had not made it his "first port of call" to meet with Attorney-General Kathy Lynn Simmons or the director of human resources to highlight his concerns. Mr Caines said: "Like a thief that comes in the night, whilst he is on vacation, the Acting Registrar sends out a missive in a press release. That, with the greatest of respect, is not how a leader, a Chief Justice, conducts business." He added that the PLP administration would not tolerate Mr Justice Kawaley trying to blame the judicial system's "disarray" on the Government. Mr Caines told MPs that court administration was the dominion of the Chief Justice. He added: "Anything short of that is an abdication of his responsibility." Lieutenant-Colonel David Burch accused the Chief Justice of sitting "silent and mute for five years" and "all of a sudden, as you are about to exit stage left, you find your voice". The Minister of Public Works told MPs he believed it was "something to do with who is sitting on government benches". Colonel Burch accused Mr Justice Kawaley of failing to nurture a successor, resulting in the controversial appointment of status Bermudian Narinder Hargun. He said that if the Chief Justice wanted his legacy to be "something people remember fondly regardless of their political persuasion, you must produce somebody to take your place other than an Indian". Colonel Burch added: "I am always disappointed actually when we have successful and successive Bermudians leave a job and have to be replaced by somebody you have not nurtured and cultivated in order to take your place. That means you are a failure." He called on Mr Justice Kawaley to create opportunities for "some of those competent people that are currently knocking on the door". Colonel Burch added: "You have people in this court who are over the age of retirement, who on an annual contract come into this country and disrespect our people from the bench. Send them into retirement." He also told MPs that the closure of 113 Front Street, which housed the Court of Appeal until last month, for health and safety reasons was "reflective on the occupants of that building". He said a health inspector had identified 20 issues on May 29 "that were also identified in September 2016", which included a "highly poor state of housekeeping, summarily unacceptable state of hygiene and sanitation". Trevor Moniz, Attorney-General under the One Bermuda Alliance Government, said that it was "laughable" for PLP MPs to suggest that it was the first time that Mr Justice Kawaley had criticized the Government. Mr Moniz said that during his three years as Attorney-General, it had seemed that the Chief Justice was "criticising me constantly". He urged the Government not to take offence but to focus instead on solving the problem. Mr Moniz added that the real issue with the Supreme Court was that it was "fragmented", with "a lot of duplication of tasks." David Burt, the Premier, called it "very funny" for Mr Moniz to suggest the Government should not be defensive, and said the 22 vacant court posts "didn't happen in the last ten months". He added that out of the 18 requests received to approve hires for the courts, he had approved 17. Mr Burt added: "The only request denied was a request for a parking ticket clerk." Mr Justice Kawaley issued a statement on Friday thanking Ms Simmons for new court rules and legislation to improve court proceedings. He acknowledged his earlier broadside, which had prompted Ms Simmons to respond that 52 of the 66 posts at the Judicial Department had been filled, but added that it was important to publicly express his appreciation "for enhanced legislative support the Honourable Attorney-General and her Chambers have provided to the Judiciary since her appointment in relation to the Evidence (Audio-Visual Link) Act and the drafting and publication of new Court rules".

Bermuda will be able to send prison inmates with mental disorders overseas for treatment under legislation approved last week in Parliament. Health minister Kim Wilson told MPs the legislation would help persons requiring "special psychiatric treatment in a medium or high-security unit not available in Bermuda". The Mental Health Amendment Bill 2018, which had Opposition support, was developed in consultation with the Mid-Atlantic Wellness Institute, the Department of Corrections and the Ministry of Legal Affairs. The island is "still looking at various options", Ms Wilson said, noting that Caribbean islands have similar "challenges" in dealing with mentally ill offenders. The Bermuda Government signed an agreement for the transfer of inmates to the Birmingham and Solihull Mental Health NHS Foundation Trust in Britain in 2010. In March 2017, another agreement was under discussion with St Andrew's Healthcare in Northampton, England — but "complex legal considerations" had to be dealt with, the Bermuda Hospitals Board said. Prisoners sent to Britain would be covered under the National Health Service, Ms Wilson said, but the Bermuda Government would foot the bill for jurisdictions where insurance was not included.

Families gathered at Paget Primary School yesterday in a show of support for the Progressive Labour Party's by-election candidates. The crowd enjoyed a party atmosphere, complete with music, fun castles, refreshments and speeches at the Family Fun Day and Rally ahead of Thursday's elections. Curtis Richardson, who is running against One Bermuda Alliance candidate Scott Pearman in Paget East, introduced himself as a man with "deep-rooted family values". He said: "You are my family. You are my brothers, my sisters, my uncles, my aunts, my grandparents and my neighbors. I want to bring back community in this village, because it's missing it." Mr Richardson, who pledged to bring community spirit back to the constituency, said he was keen to continue what he started during the General Election last year. He added: "That is to represent every constituent in the constituency of Paget East." Mr Richardson said he was inspired by the PLP's mandate "to provide a better Bermuda for Bermudians. I am part of the solution. You are part of the solution. I come to the doorsteps of constituency 22 with an open heart and a clean and honest mind and I say they can believe in me. This government has made headway in the 11 months it's been in government and we are going to continue forward." Mr Richardson was announced as the PLP candidate for the by-election, which was called after the OBA's Grant Gibbons resigned. Curtis Dickinson, PLP candidate for Warwick North East, contests the seat previously held by Jeff Baron. He is up against the OBA's Justin Mathias. Mr Dickinson told the "sea of green" yesterday that his professional experience had prepared him to do the job "really well. I've had the benefit of a great education, great professional experience and I think now is the time for me to give back." Mr Dickinson said that connecting with the people and hearing their concerns on the doorstep had reinforced his decision to step into the front line of politics. He added: "Positive feedback needs to translate into votes and I would encourage you not to take for granted that we are the government of today." David Burt, the Premier, encouraged all those present to do their part to ensure the party candidates were victorious. He said that while the PLP had held Warwick North East before, "we have never, ever won a seat in Paget. As hard as Curtis has been working, I don't think the people in 22 should let the OBA pull what I call an oli-shuffle. That means they take one member of the oligarchy, Grant Gibbons, and replace him with another member of the oligarchy, Scott Pearman. Don't let them pull the oli-shuffle because the thing is that Curtis actually cares. We have two very fine candidates that are running for seats in the people's House. When we talk about the people's House, the most important thing to remember is the only way they get there is if people vote." Mr Burt encouraged supporters to "help in whatever way you can to ensure that on Thursday night we can celebrate two new PLP MPs in Parliament".

All eyes are on Paget East and Warwick North East this week as a double by-election on Thursday stands to deliver a verdict on the One Bermuda Alliance. Political commentators Phil Perinchief, the former Attorney-General, and former National Liberal Party leader Charles Jeffers said the by-elections can be compared to the recent vote in Barbados, where the Barbados Labour Party won all 30 seats in a General Election last month. Mr Jeffers said it would bode poorly for Bermuda if the island travels in the same direction as Barbados. Both analysts deem it likely that OBA candidate Scott Pearman will hold Paget East after the retirement of Grant Gibbons, but the Progressive Labour Party could add to its 24-seat majority in Warwick North East, where newcomer Curtis Dickinson appears well served by a strong canvassing team. Mr Jeffers told The Royal Gazette: "My concern is that our lack of a strong Opposition could really mislead the governing party, who might feel they have carte blanche to do whatever they wish. It would be interesting to see what percentage of swing voters there are. There are some who, if one party is in power, would vote the other way just to change things around. If the Opposition are diminished much more, it will be difficult for them to rebuild." Mr Jeffers added: "The position of Leader of the Opposition, Jeanne Atherden, could be in difficulty if the PLP took Warwick North East." Ms Atherden's support for young contender Justin Mathias might also come into question, he added. Mr Perinchief said a victory in Warwick would result in little more than bragging rights for the PLP. "This win will not by one iota increase or enhance the ability of the PLP to successfully prosecute its agenda in the House of Assembly, or cause the Premier to feel burdened or threatened by his back bench," Mr Perinchief said. "For the OBA, as a political party, a loss in this constituency is but one more nail into the coffin fashioned for this comatose party which has been laying in state awaiting a proper burial since the last General Election." The BLP's clean sweep in Barbados under Mia Mottley, the new Prime Minister, had risked creating "the first one-party state in the Commonwealth, or even the so-called democratic West". The May 24 elections there had effectively shown the electorate's wishes to usher in "a one-party democratic state". Mr Perinchief added that Bermuda had electoral barriers to democracy in the form of "the undemocratic first-past-the-post electoral system working in conjunction with the safe-seat regime largely defined along historically prescribed racial lines". Mr Pearman was "guaranteed" Paget East, he said, as would Mr Mathias, had Ms Atherden been granted "the permission of the powers-that-are in that constituency. Accordingly, the focus is on Mr Dickinson in the other contested constituency by-election, where the PLP should come away with a win." Mr Perinchief said the OBA's chances had been scuppered when Ms Atherden, whom he described as a "politically inept" holdover from the United Bermuda Party "missed the chance to rebuild as best it could from the tattered election remains" around former MP Jeff Baron, former senate leader Nicholas Kempe who was ousted for Mr Mathias, and MP Sylvan Richards. "What's left of that party is old diehard Urbanites currently carrying the media appearances, and political neophytes and yuppies, devoid of a political philosophy or history of social struggle, untested by, and deathly afraid of frontline, street-level, door-to-door politics, and no, or very little, Cabinet-level experience," Mr Perinchief said. "This is hardly an Opposition qualified to be considered a serious government in waiting — unless, of course, you have about 15 years to wait." Mr Perinchief predicted the rise of a new political party from elements in the PLP, the OBA and the general population. "Bermuda will begin to follow the trajectory of political maturity that countries like Bahamas have embarked on years ahead of us," he said. He likened Ms Atherden or any successor to "a new captain of the Titanic" and called the OBA "politically spent". Mr Jeffers said he was reluctant to predict, but noted that Mr Dickinson could be hampered by his "very serious" demeanor, asking: "Can he get people out to vote? The PLP has the momentum and the OBA has the need," Mr Jeffers said. "The question is, can they turn that need into momentum?"

A businessman and a former Mayor of Hamilton appeared in Magistrates' Court yesterday. Michael MacLean, who planned to create a hotel on the Par-la-Ville Road car park, and his wife Yasmin appeared alongside ex-mayor Graeme Outerbridge. Ed Benevides, Corporation of Hamilton secretary, was also scheduled to appear, but Magistrate Khamisi Tokunbo heard he was off the island for medical reasons. No charges were read in court. Charles Richardson, representing Mr MacLean, said he had filed an application for judicial review. Mr Tokunbo adjourned the hearing until June 21.

A shark caused excitement at Shelly Bay yesterday after cruising close to the popular beach in Hamilton Parish. Swimmers and kite surfers spotted the shark, including its dorsal fin breaking the surface, as it came in close to the shore. Shark expert Choy Aming is "pretty sure" it is the same hammerhead shark sighted by a family paddle boarding in Flatts Inlet in April. The shark appears to have "found a comfortable spot in and around the reef" and was unlikely to present a threat, he said. "We have been seeing it consistently for a few months — it's found a niche and is just doing its thing." Mr Aming rushed to the beach at midday but the shark had moved on. "People are excited and they said it was cruising around for a good hour," Mr Aming said. "It's still a novelty to see them. People had their children on the beach and just wanted to share it with them. "It just swam in and out with people cautiously watching it. As soon as it left, people went back in. That's definitely the reaction you want." Hammerheads are more likely to be seen in deeper water, and the sharks are a rarity inside Bermuda's reef.

A 62-year-old woman died after falling from a jet ski into the water near Cambridge Beaches in Sandys this morning. It appears that the cruise ship visitor, from Massachusetts, fell into the water before losing consciousness, according to the Bermuda Police Service. CPR was performed as she was taken by boat to King Edward VII Memorial Hospital where she was later pronounced dead. Police said no further information would be given until the next of kin is notified.

June 3. Sunday

Chief Justice Ian Kawaley issued a statement this afternoon thanking Kathy Lynn Simmons, the Attorney-General, for new court rules and legislation to improve court proceedings. Ms Simmons, the Government Senate Leader, "safely piloted" the Evidence Audio-Visual Link Act 2018 Bill through the Upper House on Wednesday, Mr Justice Kawaley said. The Act will allow remote testimony from vulnerable witnesses during court cases. Mr Justice Kawaley's statement came after he issued a broadside on Thursday that laid the blame for declining court staffing on successive Attorneys-General. Acknowledging the criticism, which prompted Ms Simmons to respond that 52 of the 66 posts at the Judicial Department had been filled, Mr Justice Kawaley said: "In light of recent complaints made by him about the lack of support on the administrative front, the Chief Justice considers that it is important for him to public express his appreciation for enhanced legislative support the Honourable Attorney-General and her Chambers have provided to the Judiciary since her appointment in relation the Evidence (Audio-Visual Link) Act and the drafting and publication of new Court rules." The Act will cut costs, protect witnesses and address "security concerns about bringing certain prisoners to court", he said. "It is an enhanced version of an outline legislative proposal first made by the Judiciary in December 2012. The Chief Justice acknowledges the dynamism shown by the Attorney-General in bringing this longstanding legislative project to a successful conclusion in the first year of her present term of office." The Chief Justice announced that as of Friday, two sets of court rules had come into effect: the Human Rights (Appeals) Rules 2018, and the Supreme Court (Bermuda Immigration and Protection) (Appeals) Rules 2018. The Development and Planning (Appeals to the Supreme Court) Rules are expected to come into effect on June 15.

A car and an ambulance collided at a junction on Front Street this afternoon. The crash occurred at about 4.40pm at the foot of Court Street, by the entrance to the docks. A police spokesman said: "Initial information suggests that a car driven along Court Street and an ambulance driven along Front Street — which had its emergency lights on at the time — collided. Apparently there were no reported injuries. However, both vehicles were damaged. Inquiries are underway and any witnesses are asked to contact the main police telephone number 295-0011."

June 2

Job creation and up to $25 million of investment, including job training, are among pledges given to the Government by four technology companies establishing a presence on the island. Details of the signed memorandums of understanding were tabled in the House of Assembly by David Burt. One of the MOUs is with Binance Holdings Limited, which has undertaken to provide up to $10 million for training and another $5 million in investment in Bermudian-based blockchain companies. Omega One, in a separate MOU, has promised to donate 10 per cent of venture philanthropy to support "community sporting clubs in Bermuda". In another MOU, Shyft Network Inc has pledged to spend up to $10 million on investments in Bermudian-based companies and education. The fourth MOU was signed with Medici Ventures LLC, a subsidiary of Overstock.com. It intends to create 30 jobs in Bermuda. The Premier told the House of Assembly: "These MOUs outline the beginnings of solid working relationships with leading companies in this new area of development. Our commitment is to work with these partners in the implementation of these undertakings as we develop Bermuda's fintech industry. This government is determined to diversify this economy and it is becoming clear that the fintech industry can become another source of economic growth for Bermuda's economy." Mr Burt, who is also Minister of Finance, added: "Bermuda is a global leader in digital asset regulation and we are creating an environment in this country where legitimate companies can establish a presence to provide services to the world. Based on these commitments, we stand to create 120 jobs for Bermudians over the next three years. Most significantly, we believe in investing in our people and the institutions that strengthen our communities, so we are encouraging these corporate partners to tangibly do the same with education, our community sporting clubs and in training Bermudians." A memorandum of understanding is a non-binding agreement between two or more parties that outlines terms and details of each participant and their requirements and responsibilities. It carries a degree of seriousness and respect and is often the first stage in the formation of a formal contract.

The Regulatory Authority has backed hi-tech smart meters installed by power firm Belco. The authority said yesterday that the meters comply with safety standards set by the United States Federal Communications Commission. The authority will carry out tests because of "public concern" this month to ensure that the meters used in Bermuda are in line with approved standards. The devices are being installed by Belco as part of its modernization plans. About 2,700 meters are now in place at homes and businesses around the island. The Royal Gazette reported this week that some people have challenged the move on the grounds that electronic emissions from the meters are harmful to health. The authority confirmed yesterday that it had authorized the use of the radio frequency or RF bandwidth used for metering. It added: "The smart meters use RF only to transmit data from the meters. The RF feature is not used to monitor electricity usage. The smart meters used in Bermuda homes transmit meter data once every four hours, which equates to a total transmission time of less than one second per day." The Authority pledged to test the meters' maximum permissible exposure standards this month and report on its findings.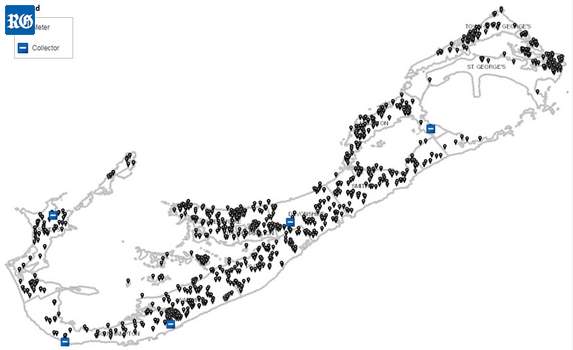 2018 Belco smart meter map

Wayne Caines, the Minister of National Security, again accused Commissioner of Police Michael DeSilva of poor succession planning yesterday after three Bermudians were overlooked in the hunt for his replacement. Mr Caines said they had applied to replace Mr DeSilva, who is due to retire this year. They were beaten to the position by Englishman Stephen Corbishley, an acting Assistant Chief Constable with Kent Police, who was appointed this week. Mr Caines told the House of Assembly: "I am concerned that the police commissioner did not come from the rank and file of the Bermuda Police Service. Based on the lack of a suitably qualified Bermudian, we must challenge the Governor's oversight and management of the leadership of BPS, and this sentiment is not directed at the current governor. There were also obviously failings by the current commissioner and his human resources manager in the areas of leadership, talent management and succession planning." MPs heard that there were six candidates for the post, three of whom were Bermudian — two assistant commissioners and one superintendent. The BPS have two assistant commissioners: Antoine Daniels, who is Bermudian, and Martin Weekes, an English-born officer with Bermuda status. All three superintendents, Sean Field-Lament, James Howard and Darrin Simons, are Bermudian. Mr Caines said that the police service had suffered cuts under the One Bermuda Alliance government. He said: "As with most government departments, the first budget line that was sliced was training, which included overseas attachments and training. Because of the decrease in the budget, staffing levels were also reduced. During the period from 2012 to 2017, the staffing level in the BPS fell from 460 to 400 now. This is a 13 per cent reduction, a significant decline, in an organisation charged with keeping Bermuda safe for both residents and visitors. You cannot expect stellar performance and development, without investment and training." Mr Caines said John Rankin, the Governor, "must make a clear priority for the new commissioner to identify, highlight, train and develop high flyers in the BPS". Opposition MP Patricia Gordon-Pamplin pointed out that the police training budget for 2017-18 had been $948,000, and cut to $889,000 for 2018-19. She also challenged Mr Caines on the lack of funds available for police during the One Bermuda Alliance administration, which she blamed on spending restrictions caused by the massive debt inherited from the Progressive Labour Party government. Mr Caines said that the PLP had plans in place that would allow funds to be allocated with "laser-like precision". The minister called for a Bermudian candidate to be ready for the job in five years' time. Speaking during the motion to adjourn, shadow minister Michael Dunkley outlined a reduction in the training budget from 2007-08 to 2011-12. He also highlighted the police budget for the same timeframe, which he said showed that the "PLP got it wrong every year". He added: "The first point I made shows that the PLP cut training and my second point shows the PLP during their last tenure never funded the BPS properly." Mr Dunkley also pointed out that the deputy commissioner had not applied for the position, which he said was "illustrated clearly in the minister's statement when he alluded to the three local applicants". He added: "It is our hope and our wish and we will try to hold everyone accountable to it — that the new Commissioner of Police, whenever he arrives to assume the mantle, gives it his top priority to ensure that all officers at every rank and every level of service have that requisite training and experience to enable them to have very early consideration as future candidates to fill this role."

Bermuda's Portuguese community was "ecstatic" after it was announced yesterday that a public holiday next year will mark the 170th anniversary of the arrival of the first immigrants from Madeira. Andrea Moniz-DeSouza, the Honorary Portuguese Consul, was in Parliament to hear David Burt declare the commemorations for November 4, 2019. Ms Moniz-DeSouza said: "I am stunned, in a very pleasant way. Like any other minority in Bermuda, we are always looking to be acknowledged and accepted. Being acknowledged and having the Government thank us for the contribution to the island of many generations of Portuguese people makes us very happy." She said: "It comes at an important time. After the election, you couldn't help but feel we were a bit divided. I appreciate what the Premier is trying to do and we are hoping this is only the beginning." Bermuda's links to Portugal date back at least to 1543, a year marked in an inscription on a rock near Spittal Pond made by shipwrecked Portuguese sailors. Next year's event will commemorate the November 1849 arrival of Portuguese people from the island of Madeira aboard the Golden Rule. Local agriculture had gone into decline and Bermuda had to find agricultural workers in the wake of the abolition of slavery in 1834. The Premier told MPs that later Portuguese immigrants came mostly from the Azores. He said: "From the original families and those subsequent immigrations, Portuguese culture has become a part of Bermuda's cultural fabric." He said that fostering understanding of Bermuda's racial relationships had been part of the Progressive Labour Party's 2017 electoral platform. Mr Burt added: "This Government is a government for everyone, and we are determined to forge a society where our differences are celebrated. We must have meaningful inclusion if we are to chart a future of success for our children and future generations. This is consistent with the ideals of the founders of the PLP who, when Portuguese people in this country did not have a voice, spoke on their behalf, never more powerfully than on the issue of long-term residency." A series of events to accompany the anniversary might include an official visit from representatives of the Azores and Madeira. Mr Burt added the celebration could also include a sporting event with a visiting team and the installation of a commemorative plaque.

The electoral clean sweep in Barbados was democracy in action, according to Carl Neblett, president of the Barbados Association of Bermuda. Mia Mottley, the daughter of former Bermuda Attorney-General Elliott Mottley, and her Barbados Labour Party took all 30 seats in the country's House of Assembly as the former Democratic Labour Party was hammered at the polls. Mr Neblett said: "All I can say is it's a welcome change as the incumbent party ran that country into the ground." The clean sweep came on May 24. Mr Neblett said: "The population has spoken. We have never had a whitewash of the election like that in our history where you have no Opposition. That's a serious message — when you're voted into office you're supposed to listen to the people and take care of the problems, not doing as you please and acting like you can't be spoken to." Mr Neblett said he had no worries about the one-party Parliament. He added: "Barbados was in a quandary. It was one of the leading countries in the Caribbean despite its size, and then it became the laughing stock of the Caribbean. That's sad, but now I think we will get out of this mess." The global recession of 2008 hit Barbados badly and the DLP was unable to turn around the island's economy in the decade since. Mr Neblett said the landslide gave the BLP "the mandate to sort things out". He added the result echoed the 24-12 landslide for the Progressive Labour Party last year, which ousted the One Bermuda Alliance administration. Mr Neblett said: "You have to have that degree of accountability and some form of Opposition. You also have to remember that the Opposition put themselves in that position. It's happening everywhere, not only on small islands. When constituents are up in arms with how the country is being run, they will execute what they are supposed to do, and that's by the vote. Not violence. Just cross that X and vote." Mr Neblett added that Ms Mottley's administration showed promise in its first week in power. He said: "She is leading from the front, unlike the previous PM, who was never anywhere to be seen, like a phantom. Ms Mottley is going to be a great PM. She has a lot of good people in her corner and the country's interests at heart." He added the BLP triumph left the new ruling party with "a long road to travel". Mr Neblett added: "I am hoping and praying."

Two men denied separate murder charges at the Supreme Court arraignments session yesterday. Khyri Smith-Williams, from Sandys, pleaded not guilty to the murder of Colford Ferguson, who was fatally shot on February 4, 2011. The 27-year-old also denied using a firearm to commit the offence. Mr Ferguson, a 29-year-old father of one, was shot while doing construction work on a house at the junction of East Shore Road and Somerset Road in Sandys. Mr Smith-Williams was remanded in custody for a further appearance. Former Bermuda footballer Rakeem DeShields, 25, denied the unlawful killing of Dijon Simmons in an incident on March 18 this year. Mr Simmons, a bartender, died in King Edward VII Memorial Hospital days after being involved in a fight on Front Street. Mr DeShields, from Paget, was released on bail until the next arraignments session on July 2. A 53-year-old Pembroke man, who cannot be named for legal reasons, denied two counts of sexual exploitation of a young girl aged under 14 while in a position of trust. He also pleaded not guilty to a charge of unlawful carnal knowledge involving the same girl. All three offences are alleged to have happened on an unknown date between June 15, 1997 and June 15, 1998. The defendant was released on bail for a further appearance later this month. Edward Albouy, from Southampton, denied a series of drug and money-laundering charges. The 24-year-old pleaded not guilty to the importation of 2,956.8 grams of ecstasy, 1,643.4 grams of cannabis and 12,095 grams of cannabis resin on September 3 last year. He also denied charges of possessing the drugs with intent to supply and two counts of money laundering. He was released on bail and is expected to return to the court on June 8. Anthony Williams, 20, denied breaking into a Friswells Road home with a knife on April 8. Mr Williams, of Sandys, was ordered to make a further appearance on June 15.

June 1


A new law to ban same-sex marriage but give gay and straight couples the ability to enter into civil unions comes into effect today. The controversial Domestic Partnership Act 2018 becomes law as marriage-equality campaigners await a ruling from the Supreme Court on their attempt to have part of the legislation struck out on constitutional grounds. The DPA was approved by Parliament in December, sparking criticism from human rights activists and British MPs, including Prime Minister Theresa May. John Rankin, the Governor, gave the legislation Royal Assent on February 7. The Act reversed a Supreme Court ruling in May last year that paved the way for gay couples to get married in Bermuda and on ships registered to the island. There were ten same-sex marriages on the island up to the middle of February, plus four at sea on Bermuda-flagged ships. Banns were also posted for two more maritime marriages. The latest civil proceedings in Supreme Court were brought against Attorney- General Kathy Lynn Simmons by gay Bermudians Rod Ferguson and Maryellen Jackson and the charity OutBermuda. The plaintiffs claimed the part of the Act that reaffirmed that a marriage is void unless the parties are male and female was unconstitutional. Chief Justice Ian Kawaley reserved judgment in the case until a later date. Same-sex couples had until yesterday to marry. Couples who want to apply for a domestic partnership can contact the Registry-General on 297-7739 or 298-7199.

Bermuda will hold a public holiday next year to mark the 170th anniversary of the arrival of the first Portuguese immigrants. David Burt announced November 4, 2019, would include a series of events to celebrate the Portuguese culture which "has become a part of Bermuda's cultural fabric". The Premier told the House of Assembly: "This Government is a government for everyone, and we are determined to forge a society where our differences are celebrated. "We must have meaningful inclusion if we are to chart a future of success for our children and future generations. This is consistent with the ideals of the founders of the Progressive Labour Party who, when Portuguese people in this country did not have a voice, spoke on their behalf, never more powerfully than on the issue of long term residency."

National security minister Wayne Caines accused Michael DeSilva of poor succession planning after three Bermudians were deemed not worthy of replacing him as Commissioner of Police. Mr Caines noted a Superintendent and two Assistant Commissioners had applied for the job being vacated by Mr DeSilva, only to be overlooked when Englishman Stephen Corbishley was appointed this week. He told the House of Assembly: "I am concerned that the Police Commissioner did not come from the rank and file of the Bermuda Police Service. Based on the lack of a suitably qualified Bermudian, we must challenge the Governor's oversight and management of the leadership of the BPS and this sentiment is not directed at the current Governor. There were also obviously failings by the current Commissioner and his human resources manager, in the areas of leadership, talent management and succession planning." Mr Caines said that the police service had suffered cuts under the One Bermuda Alliance government. "As with most Government departments, the first budget line that was sliced was training, which included overseas attachments and training. Because of the decrease in the budget, staffing levels were also reduced. During the period from 2012 to 2017, the staffing level in the BPS fell from 460 to now 400. This is a 13 per cent reduction, a significant decline, in an organisation charged with keeping Bermuda safe for both residents and visitors. You cannot expect stellar performance and development, without investment and training." Mr Caines said John Rankin, the Governor, "must make a clear priority for the new Commissioner to identify, highlight, train and develop high flyers in the BPS".

More than two dozen boats have been removed from Bermuda's shoreline, a Government representative said yesterday. A spokeswoman for the Ministry of Home Affairs said that 25 "abandoned and derelict vessels" had been scrapped. She added: "This represents approximately one third of the total ADVs that are currently located around Bermuda's coastline. Their removal has enhanced the beauty of our shores in addition to addressing some of the threats to the health of our marine environment." Boats were removed from Ferry Reach, Mullet Bay and Coney Island. A number of vessels at Mills Creek have also been cleared. The spokeswoman said that batteries, oil and fuel were removed from the vessels before they were shipped to the dump and added that other vessels would be removed from other areas "as funding permits. A working group is looking to amend legislation so that the cost of salvaging sunken vessels is borne by boat owners and not the Government in the future. The working group includes representatives from the Department of Environment and Natural Resources, Marine and Ports Services and the Ministry of Public Works. DENR and the working group are committed to pursuing the short-term salvage of existing ADVs and, more importantly, the necessary amendments to the legislation to ensure that the removal and disposal of sunken vessels are addressed shortly after they become wrecked and without using funding from Government." For more information, call 239-2356 or e-mail pollutioncontrol@gov.bm.

Extra cash from a proposed sugar tax should be used to boost health education, experts said yesterday. Annabel Fountain, a diabetes specialist, and the Bermuda Diabetes Association warned that use of only "a portion" of the new tax's revenue would not be enough to tackle the health epidemic. Dr Fountain said: "Considering the tremendous cost that diabetes and its complications has for the Bermuda community both economically and across all of society, limiting the diversion of funds gained through taxation of sugar would be short-sighted." She said other countries had set up "total population screening, prevention and management programmes for non-communicable diseases". Dr Fountain, a former director of endocrinology at the Bermuda Hospitals Board, added: "Bermuda can ill afford to continue on its current track where health expenditures are set to bankrupt our economy. A penny of prevention is worth a pound of cure. The opportunity presented by this sugar tax to support evidence-based initiatives to improve the health of our population should not be underestimated." This parliamentary session, MPs will debate the Customs Tariff Amendment (No. 2) Bill, which includes hikes to duty rates on sugar and sugar products. David Burt, the Premier, outlined the Government's commitment to the proposed sugar tax in the Budget 2018-19 and said "a portion of the revenues from the sugar tax will be earmarked for educational programmes to improve health outcomes". She warned: "This may not be sufficient to reach those at highest risk for chronic diseases." She explained that 74 per cent of Bermuda's adult population was overweight or obese and rates of diabetes and complications were rising "exponentially". She said she had also treated obese children and children with type 2 diabetes. Dr Fountain added that studies had proven that heavy sugar consumption was associated with higher rates of chronic disease, including cancer. She said: "Taxation of sugar would send the right message to reduce consumption." Dr Fountain also highlighted "inappropriate taxes on water and fruit and vegetables that increase costs and deter healthy choices". She added: "I hope that the tax on sugar will be accompanied by reductions in the costs of healthier options." The legislation was tabled after the Government ran an eight-week consultation on proposed duty rate changes, which concluded that 52 per cent of the 345 respondents supported taxing the included items. Kim Wilson, the health minister, told MPs in March that amendments had also been developed to eliminate the duty on healthy essential foods such as some fresh fruit and vegetables. She said: "This is all in an effort to help Bermuda eat a healthier diet to prevent chronic diseases like diabetes." Sara Bosch de Noya, diabetes educator with the Bermuda Diabetes Association, agreed that education was a vital part of health improvement. She said: "There is no doubt in our mind that making something more expensive may limit some people's purchasing. In Bermuda, in our affluence, generally my concern is that people will still buy it if they want it." Ms Bosch de Noya said other countries had focused on sugary drinks and combined a tax on these with health education. She added: "It has to come hand-in-hand with some form of education. And the education, I believe, is more impactful in the long run. We want the public to have a positive buy-in to this so that they, and we as health professionals, feel that there is going to be revenue coming back into education, which is vital." Ms Bosch de Noya said just part of the expected revenue from a sugar tax would not be enough to fund proper programmes. She added she would like to see a stronger commitment from Government. "For people to understand the seriousness, they've got to realize that the Government is putting it back into making our population healthy. We've got one opportunity to make a real impact here and we want to do it in the most productive way.

Legal Opinion. By Attorney Jessica Almeida, an associate and a member of the Dispute Resolution Team at Appleby. "A shift in the interpretation of a key section of employment and immigration legislation has put the onus on companies to justify why their senior executives should qualify for a Permanent Resident's Certificate. Currently, the only pathway to obtain PRC status is through the Incentive for Job Makers Acts 2011 and 2013 (Job Makers Act), which amended section 31A of the Bermuda Immigration and Protection Act 1956 and inserted section 3B of the Economic Development Act 1968 (Economic Development Act). The Job Makers Act provides exemptions to senior executives or those responsible for creating job(s) for Bermudians and who are critical to the continuity of the company in Bermuda, from needing a work permit. While there have been no updates to the legislation since 2013, since the current government came into power in 2017 there has been a shift in the interpretation of section 3B. Section 3B(2) of the Economic Development Act sets out the requirements that a company must meet in order for its senior executive employees to be eligible for exemption. These requirements are that the company:
has at least ten persons with Bermudian status on its staff;
has persons with Bermudian status employed at all levels in the company, subject to the availability of suitably qualified Bermudians;
provides entry-level positions for persons with Bermudian status;
has programmes in place for developing and promoting persons with Bermudian status; and
exercises employment practices that have not regularly required the intervention of labour relations officers under the authority of the manager of Labour Relations or the Human Rights Commission.
The shift in interpretation comes into play in respect of section 3B(3) of the Economic Development Act, which provides that the minister may, after taking into consideration various criteria, lower the number of persons with Bermudian status that a company should have on its staff for the purposes of section 3B(2). Under the previous government, section 3B(3) was used as a catch-all discretionary section for government to investigate further into a company whose application did not quite meet the criteria for the exemption under section 3B(2). Currently, under the new government, where a company does not meet the criteria for the exemption under section 3B(2), such company must provide submissions as to the criteria set out in section 3B(3), namely:
the size of the company;
the significance of the company to the economy of Bermuda;
the existing or likely economic situation in Bermuda;
the protection of local interests; and
generally, the interest of the community as a whole.
While in the grand scheme of things, this change in interpretation does not significantly alter the application process, it puts the onus on the company to set out the considerations that the minister should have in respect of the section 3B(3) criteria and may result in delays in the processing of a company's application — ie, where such submission is not included in the initial application. Considering that the Job Makers Act is the only way for non-Bermudians with no real Bermudian connection to remain on the island and engage in gainful occupation indefinitely, this extra step ensures that applicants that are granted a PRC have proven to be of benefit to Bermuda's overall community and economic health."

A mother of two jailed for importation of cannabis to treat her seizures has lodged an appeal against her sentence. Natasha York, 41, was sentenced to a year in prison on Monday for bringing in 1,430 grams of cannabis, but magistrate Khamisi Tokunbo suspended nine months of the term. Lawyer Paul Wilson, who represents York, said her licence to use medical marijuana arrived on Wednesday. Now he has launched an appeal to argue the full sentence should be suspended. He said: "Ironically she is now incarcerated for attempting to import the very thing she now possesses a licence to have. The licence came through on Wednesday morning. I reviewed the licence itself, and it has been taken down to the Co-Ed Facility. Given the unusual circumstances, I would argue the sentence that she should be incarcerated is excessive." Magistrates' Court heard York has suffered intractable seizures and, while she was prescribed high doses of several medications, her seizures continued unabated. Evidence from Kyjuan Brown, medical director for Northshore Medical & Aesthetics Centre, said cannabis had been shown to stop the seizures. York applied for permission to import medical marijuana, but was at first refused. Mr Wilson said: "Between when that application was refused and when she made a second application, that's when she did the act. The magistrate must have felt like his hands were tied. At the end of the day, she was guilty of importing a controlled drug. At the time she imported the drug, she did not have that licence." Mr Wilson said the initial licence, granted last August, allowed York to use cannabis products with CBD, which reduced the number of seizures. However, as of Wednesday, Mr Wilson said he was only able to bring her Lamictal and Dilantin, anti-seizure medications that previously failed to improve her condition. He said: "It was a real horrific situation that she is in, especially when you consider the children have to revive her, or when she's having a seizure they have to turn her a certain way when she's sleeping. "It would be dangerous to incarcerate her because she needs someone to be there to make sure during the night she is breathing properly." Mr Wilson said York has been given a new licence for medical marijuana to allow her access to drugs with a higher level of THC, which Dr Brown said halts the seizures altogether. He added: "She was upset on Monday night. I think that was when things were starting to set in, but when I spoke to her after court all she really wanted to know from me was if she could get her medication. That has been my number one priority since then. We now have the licence allowing her to bring it in. Once it's here, it can be administered. The harder part right now is getting the medical grade marijuana from Canada to Bermuda because they are quite strict. They say eight weeks, and they mean eight weeks." Dr Brown asked the Government to help York in a letter sent to David Burt, the Premier. He wrote: "We cannot allow this lady to spend one night in jail without her cannabis." The letter warned that York could have as many as five or six seizures a day and "will likely suffer irreversible brain damage". Dr Brown added: "This is not a case of a recreational user who just likes to get high. This is a case of a mother of two who is desperate to live for herself and her two children."

Police seized drugs, cash and jewellery yesterday after two searches with warrants. A spokesman said the search warrants were issued under the Misuse of Drugs Act after officers arrested two men on Court Street on unrelated matters.


Last Updated: June 19, 2018
Multi-national © 2018 by Bermuda Online. All Rights Reserved