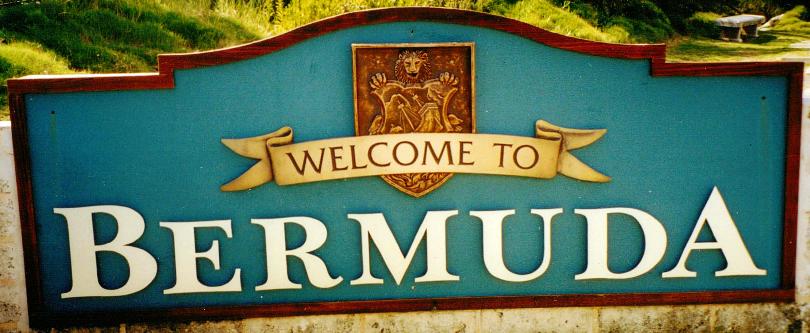 11145 web files about the internally self-governing British Overseas Territory of Bermuda in a comprehensive, constantly updated Gazetteer. Accommodation, aircraft registry, airlines, airport, America's Cup 2017, apartments, art, banks, beaches, Bermuda citizenship by Status, Bermuda Dollar, Bermuda Government, Bermuda-incorporated international and local companies, Bermudians, books and publications, causeway, charities, churches, City of Hamilton, commerce, communities, credit cards, cruise ships, culture, cuisine, currency, disability accessibility, Devonshire, districts, Dockyard, economy, education, employers, employment, entertainment, environment, executorships and estates, fauna, ferries, flora, former military bases, forts, gardens, geography, getting around, golf, government, guest houses, history, homes, Hamilton, House of Assembly, housing, hotels, immigration, import duties, insurers and reinsurers, international business, internet access, islands, laws, legal system, legislation, legislators, location, main roads, magazines, marriages, media, members of parliament, motor vehicles, municipalities, music, nearest mainland, newcomers, newspapers, organizations, parishes, parks, Paget, Pembroke, permanent residents, pensions, political parties, postage stamps, public holidays, public transportation, railway trail, religions, retailers, Royal Naval Dockyard, Sandys, Smith's, Somerset, Southampton, St. David's Island, St George's, senior citizens, shipping registry, Somerset, Spanish Point, Spittal Pond, sports, taxes, telecommunications, time zone, traditions, tourism, Town of St. George, Tucker's Town, utilities, water sports, Warwick, weather, wildlife, work permits.

Bermuda's 2017 May History and Newspaper Reports
Events that made newspaper headlines in the fifth month of this calendar year
By Keith Archibald Forbes (see About Us) exclusively for Bermuda Online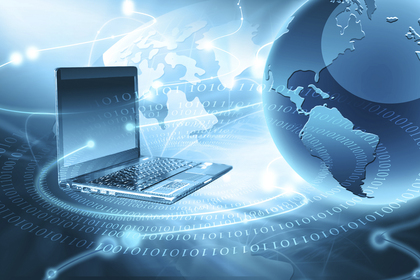 Benefits of website linkage to Bermuda Online
Bermuda's Royal Gazette newspaper is not published on Sundays or Public Holidays.
Today, May 27. The long-awaited day has finally arrived with as many as 10,000 people on land and on the water ready to witness the greatest sporting event hosted by the island. A forecast of high winds and rain delayed proceedings yesterday, scuppering the first races and Opening Ceremony, but today it's all systems go — providing Mother Nature obliges. Early yesterday it was confirmed that every ticket had been sold for today's activities, which include a ribbon cutting, roof wetting, a concert featuring Wyclef Jean and the belated Opening Ceremony — and, not least, a display of the fastest and most spectacular races in the history of sailing. Bermudians celebrated in December 2014 when the America's Cup was awarded to the island, marking the first time that the Cup holders selected a venue outside their own country to defend the title, sparking an outcry from the likes of San Diego who had been favorites to host the event. Yet in the three years since, Bermuda has been slowly but surely endorsed as the perfect venue, the Great Sound providing a natural and picturesque amphitheatre. It has also boosted the construction business, increased tourism, lifted hotel and guesthouse bookings and left restaurant owners rubbing their hands in anticipation of a bumper summer. Sir Russell Coutts, America's Cup Event Authority chief executive officer, has predicted the 35th edition of the spectacle will be the most successful of any previous America's Cup. And should he be right, and defenders Oracle repeat what they achieved in 2013 in San Francisco, Bermuda could again be picked as hosts. Certainly the superstar sailors who will be on show over the next four weeks agree Bermuda has all ingredients to put on another showstopper. With thousands flocking to the America's Cup Village this evening, the same scene is expected as the event progresses. America's Cup Bermuda, the chief organisers, are expecting an unprecedented 2,000 boats surrounding the racecourse, among them the most expensive megayachts in the world. Those on board will include the likes of tycoon Sir Richard Branson and Larry Ellison, the billionaire owner of Oracle. Michael Douglas, the island's celebrated ambassador, will also be out and about. And there's speculation the Duke and Duchess of Cambridge could make an appearance, given their interest in the World Series racing in Portsmouth last year. While the opening races today will serve as the main course, the day will begin with ribbon cutting at 11.30am, followed by a traditional Bermuda roof-wetting ceremony at 1pm. Sir Russell said yesterday: "It is great that Saturday is sold out, and the weather is looking very good for Sunday and beyond, where a full schedule of races is planned. "It is shaping up to be incredibly competitive on the water, with the best sailors in the world going head to head, and the America's Cup Village also looking magnificent. "For the people that have missed out on securing tickets for Saturday, there should be opportunities to attend one of the days next week." People have been advised there will be no chance of buying tickets at the door if any one of the race days is sold out — and that's more than likely. On days where the event is not sold out, this option will be available, although online sales can happen quickly so it is always recommended to pre-purchase," said an ACBDA statement.
May 26. Race fans will have to wait a little longer for the start of the 35th America's Cup, which has been delayed 24 hours because of a forecast for strong winds. The America's Cup Event Authority and America's Cup Race Management made the call late yesterday afternoon to postpone today's opening day of the Louis Vuitton America's Cup Qualifiers and the Official Opening Ceremony because of an approaching cold front, accompanied by strong gales and the risk of thunderstorms. "We are obviously disappointed that the strong winds mean we have had to postpone day one of the 35th America's Cup," Sir Russell Coutts, the ACEA chief executive, said. "This is clearly a decision we have not taken lightly and appreciate the inconvenience caused to the sell-out crowd. Our primary concern, however, is always safety for everyone involved in the America's Cup." The opening ceremony and start of the qualifying regatta will now take place tomorrow instead. "We are adding an hour to the race window on both Saturday and Sunday to run extra races, with the aim of getting back on schedule," said Sir Russell, the five-times America's Cup winner. There are still tickets available at the weekend, although not in all categories, so we are hoping Friday's ticket holders will still get the chance to enjoy what should be an incredible opening weekend." Six races will be held tomorrow, with defender Oracle Team USA facing off against Groupama Team France in the opening match race, starting at 2pm in the Great Sound. Racing will continue until 5pm both tomorrow and Sunday. The opening ceremony will start at 8.30pm, following on the heels of a performance by three-times Grammy Award-winning entertainer Wyclef Jean on the main stage in the America's Cup Village, which commences at 5.15pm. Gates open at the Village at 11.30am tomorrow and will close at 9.30pm. Because of today's postponement, all ticket holders for the Village, grandstand seats, Gosling's Dark 'n Stormy Island Bar and Longtail Lounge, and Official Spectator Boat ticket holders will automatically receive a refund within the next ten days. Should those ticket holders wish to attend another day, tickets will need to be purchased separately via www.americascup.com/tickets. Ticket-holders for today's ferry will also receive a full refund, while those who have tickets for tomorrow can rebook their ticket to a new time, should they wish. Direct ferry runs to the village before and after racing have been added to tomorrow's schedule to increase capacity, and there are some updates in the existing timetable owing to the changes in the America's Cup schedule, which will be communicated directly to those existing ticket holders, or can be found at www.acbda.bm. Additional ferry runs will also be added to the regular public schedule from Hamilton to the Dockyard ferry terminal tomorrow. From Dockyard, the public can either catch a free shuttle train from in front of the Clocktower Mall, or walk over to the America's Cup Village. Mike Winfield, CEO of the ACBDA, thanked Marine & Ports for their flexibility and teamwork in accommodating event changes. "We recognise this is a late change due to weather, and it likely won't be the last," he added. Motorcycles and private cars are also available to spectators, but with Saturday a possible sell-out, guests are encouraged to take two-wheeled transport to reduce congestion. Motorbikes can also park for free, with spaces available at the Transportation Hub, near the village entrance. Meanwhile, the America's Cup Park n Ride programme must be pre-booked at the Boaz Island sports field: $25 is charged per car for all passengers when booked in advance, and $30 if booked with 12 hours of use. Bookings can be made at www.americascup.com/tickets. Once parking is full at Boaz Island, additional spaces will be available at Warren Simmons Field near Somerset MarketPlace and Somerset Primary School. All locations will be serviced by minibus shuttles to deliver spectators to the Transportation Hub at the America's Cup Event Village. For event updates, visit www.americascup.com, Twitter and Facebook @americascup. Transportation information and updates are available at www.acbda.bm/transport, with real-time updates accessible through the America's Cup Bermuda Twitter feed @AC2017BDA.V.
May 26. A teaser trailer for the movie filmed in Bermuda, Mother Of All Secrets, has been released. The film features Emmy award-winning Kate Mansi, Top Gun star Kelly McGillis, Real Housewives of New York star Luann D'Agostino, Brooke Burfitt and a number of Bermudians, including The Royal Gazette senior reporter Owain Johnston-Barnes, Terlena Murphy and Chardonne Paynter. Directed by local filmmaker Lucinda Spurling, the movie showcases many of Bermuda's resorts and local attractions. The movie is a thriller about a young couple who come to Bermuda on their babymoon, the last holiday before the birth of their first child, but their vacation takes a dark turn when the expectant father goes missing. His pregnant girlfriend, Aubrey, searches for answers and what she learns is his estranged mother is on the island and knows more about the disappearance than she is letting on. Ms Spurling stated in a press release from Triventure Films: "Post-production is coming along well with a few more months of work left but, from the trailer, you can see it is a really exciting story and I can't wait to share the full movie." The film will be available later this year. For more information, visit Facebook.com/motherofallsecrets and motherofallsecrets.com.
May 25. As the America's Cup Village will not open tomorrow, all ticket-holders for the America's Cup Village, grandstand seats, Goslings Dark 'n Stormy Island Bar and Longtail Lounge and Official Spectator Boat ticket-holders will automatically receive a refund within the next ten days. Should those ticket-holders wish to attend another day, tickets will need to be purchased separately for this day and can be booked at www.americascup.com/tickets.
May 25. The opening of the America's Cup could be blown back a day because of gale-force gusts expected tomorrow. Racing is scheduled to begin at 5pm, but organisers have warned that both racing and the event's Opening Ceremony would be pushed back should strong winds bring unsafe conditions for sailors. A decision will be made at 5pm today. While the Bermuda Weather Service was yesterday forecasting clear weather today and this weekend, a cold front is expected to pass the island tomorrow afternoon, bringing unsettled conditions. In addition to showers and a chance of thunder, the BWS has forecast strong to gale-force gusts during the mid-afternoon to early evening period. According to a statement by the ACBDA, the opening races could be pushed back if gusts exceed safety limits. "The current forecast for Friday is showing wind levels to be gusting above 30 knots in the afternoon," a spokeswoman said. "Whilst the wind may drop within the raceable limits of 6 to 24 knots later in the evening, the safety of both the sailors and spectators is always paramount, and a decision whether to open the America's Cup Village or not will be taken accordingly." Racing is scheduled to begin at 5pm tomorrow, with the Opening Ceremony starting in the America's Cup Village at 8.30pm, however the spokeswoman said that should racing be cancelled, the America's Cup Village would remain closed. "Racing would then be rescheduled for Saturday afternoon and the Opening Ceremony would also be delayed," she said. Russell Coutts, CEO of the America's Cup Event Authority, said everything possible would be done to ensure the opening day goes ahead, with a "sell-out crowd. However, if the prudent decision is to postpone the start of the event, then racing will be rescheduled to Saturday, where the weather forecast indicates great racing conditions." An ACBDA statement said that should the America's Cup Village not open, all ticket holders for the America's Cup Village, Grandstand seats, Goslings Dark 'n Stormy Island Bar and Longtail Lounge will automatically receive a refund. Should they wish to attend another day, tickets will separately need to be purchased for that day. For Official Spectator Boat ticket holders, should the boat be unable to leave the dock, they will also be provided with a refund. Event updates will be provided online via www.americascup.com, Twitter and Facebook @americascup. Meanwhile travel updates, such as ferries and buses, will be sent out on www.acbda.bm, Twitter and Facebook @AC2017Bda.
May 25. The Friends of the Bermuda Railway Trail have unveiled the latest stage of their project to reconnect the old trail and construct a bridge across the Flatts Inlet.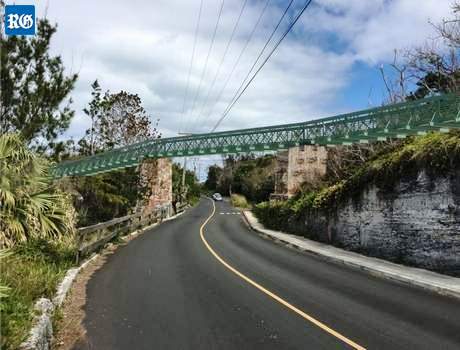 Dozens of residents attended a public meeting in Hamilton last week organised by the charity and the Parks Department to share its proposals through a video presentation. The FBRT project has already seen new bridges installed at Store Hill and Bailey's Bay as well as a raft of upgrades to the trail across the island. Under the latest plans, which were recently submitted to the Department of Planning, a bridge will also be built over North Shore Road close to Gibbet Island in Smith's that will join up with the trail before continuing across the inlet. Mike Murphy, who together with his son Tucker has spearheaded the scheme, said: "We were very pleased with the turnout at the meeting and the overwhelming support we have received on the Flatts project from all walks of life in our diverse community. It has been a total community effort to take us to this point in connecting the trail. We hope that the grassroots community effort will continue to keep the trail open and well maintained throughout the years to come." Sylvan Richards, the Minister of the Environment, hotel bosses and Hamilton Parish council members spoke out in support of the initiative during last Thursday's meeting. David Parker, director of facilities operations for the Fairmont Southampton, spoke on behalf of the hotel, the Hotel Association and the Bermuda Tourism Authority and thanked the FBRT for its efforts with the project. Amoti Nyabongo, a member of the Hamilton Parish Council, added: "As a resident of Hamilton Parish and a member of the parish council I am always looking for new ways to improve the quality of life for our residents and also ways to enhance the visitor experience whether they be fellow Bermudians or visitors from abroad. The plans state that the bridge and the approach will be set at 22ft 6in; providing 20ft of clearance through Flatts Inlet at high water, similar to Watford Bridge. The bridge over North Shore Road will provide a minimum of 16ft 6in of clearance for vehicles travelling along the road in accordance with recommendations from the Highways Section of Public Works. "The bridges will be constructed according to standard specifications and employ solid stainless steel fixings, mounting brackets and safety rails," the application states. "Bridges will be designed to meet category 3 to 4 hurricane criteria, and are the same or similar to the models used at Bailey's Bay and Winton Hill, which have been tested by four recent hurricanes in Bermuda without incurring structural damage from the wind or the water."
May 25. Police say plans are in place to accommodate demonstrators expected for the next court appearances of defendants charged in relation to the December 2 protests. The next appearances are scheduled for tomorrow and next Wednesday — May 31 — at the Dame Lois Browne Evans building. The appearances are expected to be brief. In a press release issued today, police said that they are aware "that appeals are being made for the public to show support for the defendants. Plans are in place to cater to large numbers of people attending on the days mentioned," the Bermuda Police Service said. Member of the public can expect to see an increased police presence in and around the courthouse. The aim, police said, was to accommodate a "peaceful gathering", while ensuring that court proceedings go ahead as planned. "Currently, the plan is to keep the streets open around the courts, but this may change if the need arises," police said. "The BPS is reaching out to community leaders and organisers to share these plans and ensure that everyone knows what to expect on both days." Police also reminded the public of courtroom rules, including that no persons are permitted to stand in the courtroom, and that no signs, mobile phones, or recording devices are allowed. Anyone with questions should call police on 247-1362.
May 25. Digicel Bermuda's island-wide LTE service goes live today, bringing faster upload and download speeds to mobile devices, greater consistency and better quality voice calls. The data download and upload speeds are expected to be up to ten times faster than those previously available. Smartphone users should notice the improvements when watching streaming videos, or making video calls using apps such as FaceTime, WhatsApp and Skype. Uploading videos and photographs to social media will also be much speedier. And it is not all about data speed. Digicel is now using lower frequency spectrum to improve the quality and coverage of voice calls indoors and outdoors, overcoming previous general weaknesses encountered in Bermuda due to the thick stone walls of many buildings and the island's hilly topography. The majority of Digicel's existing customers will today be able to immediately take advantage of the LTE network, once they have gone through a few steps on their mobile phone. That step-by-step process is described on Digicel's website, and covers Samsung/Android and Apple iPhone users. "In terms of enjoying LTE there are a few things that you need. One is a Sim card that is compatible, a compatible device, and a compatible plan," said Emilie Faulkner-Meek, Digicel's marketing manager. "We have been giving out LTE Sim cards for about two years now, so a huge majority of our customer base will be able to take advantage of this." Digicel now has 47 cell sites in Bermuda, including three high capacity mobile sites being used for the duration of the America's Cup. The company has spent the past three weeks installing, adjusting and upgrading equipment in order to achieve today's LTE launch. "We've replaced every single piece of equipment around the island. That's cables, antennas, bases, everything," said Neil Lupsic, Digicel Bermuda's chief technology officer. The new network will be better able to provide reliable and consistent data streaming. Ms Faulkner-Meek said: "Essentially, LTE is super fast data. The difference is going to be in the consumer experience, mainly video quality, video calling, video streaming and even voice calling will be much better. It will be faster speeds with more consistency. Things like Instagram and Facebook that now have live feeds will be much clearer and faster — there is no lag time." The network strength and coverage has been improved to eliminate dropped calls in busy locations, such as grocery stores. Mr Lupsic said: "There is improved indoor and outdoor coverage as a result of the spectrum allocation from the regulator. We implemented that at the same time as the LTE additions." The extra demand on services expected during the 35th America's Cup, which starts tomorrow, was part of the impetus to achieve the improvements by this month. However, Digicel has been planning its LTE network for Bermuda for six or seven years. "We've been wanting to do it for a long time for Bermuda," said Mr Lupsic, explaining there was an involved process to follow, including waiting for the rationalizing and allocation of spectrum by the Regulatory Authority of Bermuda before purchasing the equipment needed to create the network. LTE, which stands for long-term evolution, is a standard for high-speed wireless communication for mobile phones and data terminals. It does not consume more data, but it is likely that users will find themselves using more data as they take advantage of the superior speed for watching streaming video or making video calls. Digicel has created plans aimed at mitigating this and giving benefits back to customers, such as free iMessage, WhatsApp and FaceTime on its new plans. The company also has ways of notifying customers when their data allocation is running out. "We recommend that people use apps, such as My Digicel App, to have a look at their data and track it," said Ms Faulkner-Meek. America's Cup visitors will be able to enjoy the LTE network if they buy a prepaid plan for their Sim card. The network stretches beyond the island, reaching 12 miles out to Challenger Banks thanks to an antenna on the island directed towards the popular fishing area. That will allow sailors and fishermen to access the super fast data and improved voice call network. Digicel's voice calls will continue to be carried on a 3G network which has been enhanced for better performance. The company's LTE network is part of a $60 million investment in its telecommunications infrastructure on the island, which includes the ongoing instalment of fibre optic internet cabling directly to homes and businesses. The resources that have been brought in to bolster and improve Digicel's services ahead of the America's Cup, such as the three high capacity mobile cell sites, are here to stay. The mobile sites are likely to be used for future events, such as Bermuda Day, Cup Match and the World Rugby Classic.
May 25. A Jamaican man has had his conviction for drug smuggling upheld by the Court of Appeal. Tyrone Brown, 31, was jailed for 15 years last October for trying to smuggle packages of cocaine through the airport in his baggage. Brown launched an appeal against his conviction and sentence, both of which were dismissed by Appeal Judges at the end of last week. They ruled that the sentence was not "manifestly excessive". After the short hearing, Brown was returned to prison to continue serving his sentence. During the seven-day Supreme Court trial, jurors heard that Brown, an electrician, arrived on the island on April 17 on an American Airlines flight from Miami, having departed Jamaica earlier that day. He appeared "nervous and fidgety" when speaking to customs officials, saying he had come to Bermuda on holiday but was not planning on meeting anyone, and a body search revealed nothing. However, the following day, when his checked luggage arrived on the island, officers searched it and discovered a black handbag inside. Hidden inside the handbag were two packages of cocaine with an estimated street value of between $95,000 and $132,000. When he was sentenced, Brown told the court he was a "respectful man" who never dreamt he would be before the courts in such a position.
May 25. Hamilton's streets were lined with people yesterday as spectators reveled in the annual Bermuda Day Parade. Sidewalks stretching down Front Street, Queen Street and Cedar Avenue were all covered with tents as the sound of music filled the air. Even the balcony of the visiting Veendam was crowded with spectators as passengers came out to catch a glimpse of the festivities as the Royal Bermuda Regiment Band marched down Front Street. Visitor Peter Adams, from Boston, said he had been told there was going to be a parade but he was surprised to see the turnout. "I didn't know Bermuda had this many people," he said. "The weather is beautiful, and I'm looking forward to seeing the Gombeys." Several floats this year embraced the theme of Bermuda's sporting heroes, with numerous depictions of local athletes. Meanwhile, hundreds of majorettes and Gombeys took to the streets, along with a flood of dancers trailing the Soca VS Reggae float, some in full carnival attire. The rapidly approaching America's Cup also had a strong presence at the parade with the Endeavour Programme participants marching along the route and an ACBDA float decorated with replica's of the six competing team boats. Among the spectators was Lowdru Robinson, who as the director of the Ministry of Cultural Affairs helped to organise the original Bermuda Day Parade in 1979 with Eddie DeMello, Choy Aming and Dickie Green. Asked how it felt to see the event still going strong almost 40 years later, he said: "It's amazing. The idea behind the whole thing was to bring people together and it's quite amazing to see how it has come together. "I walked around a few days ago and just marveled at all the signs people had put up to reserve their spots. It shows how important it's become in the Bermuda community." He remarked that the parade has grown significantly from its humble origins, which featured only a single flower float, courtesy of the Vasco da Gama Club, and a carnival section.
May 25. BBC Television in the UK presenter and wheelchair athlete Ade Adepitan enjoyed a memorable encounter with the Gombeys during the May 24 Bermuda Day Parade. Mr Adepitan was on the island as part of the BBC's Travel Show to catch the festivities and cover some of the America's Cup buzz. All the island's Gombey troupes came together for the parade, which Mr Adepitan called "an amazing time — the parade was spectacular and the people were super cool". The Nigerian-born British TV personality and wheelchair basketball Paralympian was made a Member of the Order of the British Empire (MBE) in 2005 for services to disability sport. Contracting polio as an infant initially affected his ability to use his left leg and ultimately prevented him from walking.
May 25. Jay Donawa saved the best for last, storming to a maiden triumph after so many near misses on his May 24 Appleby Bermuda Half-Marathon Derby swansong. It may have been a long time coming, but the 44-year-old's breakthrough was well worth the wait as he got his tactics spot on to take full advantage of a watered-down field and exorcise his demons once and for all after finishing second on eight occasions. "You will never, ever call me a bridesmaid again," a triumphant Donawa declared at the finish line. "I'm the bride of brides so I will take my eight seconds and my victory today. Today is my day and I'm very thankful for the opportunity. I'm so thankful for all the support from St George's all the way up. Everybody was like, 'Jay, this is your year', and I have heard that from many people but today I believed it. To be honest, I don't even remember the last mile and a half. I was just numb." An emotional Donawa, who hit the tape in 1hr 20min 8sec, broke down in tears after his win and after gathering himself delivered a powerful message to the throngs of spectators on hand at Bernard Park. "I just want to tell everybody in Bermuda that regardless of whatever your life situation is don't ever give up," he said. "My message from today is not about the running, the message from today is don't ever, ever give up. Today I'm in the winner's circle. I said two years ago this would be my last one but today I'm going out on top. This is the last time that you will see me [running] 24th of May." Hollywood could not have written a better script for Donawa's triumph as he ran a smart race from start to finish. He was among lead group before breaking away going uphill towards the fourth mile and extending his lead the rest of the way. Donawa averaged 6:07 minute-mile splits and was always in control of his own destiny after making the decisive break as the chasing pack faded away in the distance. "I didn't really make a move," Donawa said. "All I did was sustain and figured if I could run a 5:58 pace and gain on the runners then all I needed to do in the middle miles was just maintain the pace. I was just running 5:58 [splits] and keeping my legs turning over. Based on the crowd and the noise, I knew that I was pulling away from the guys. One thing about me, if I establish a nice rhythm then I can just stay there and nobody was really gaining. I think if there was someone else able to maintain that then I would have been in for a real battle." Among those offering their congratulations to Donawa at the finish line was Kavin Smith, the nine-times winner." I'm so happy for Jay," Smith said. "He deserves it and I'm excited for him. He earned this through perseverance. He hung in there and finally the sun is shining on him." Donawa was among a trio of masters runners that swept the podium. Evan Naude, 40, finished second in 1:21:50 to improve on last year's third place. "I'm happy with my second place and couldn't be happier for Jay," Naude said. "I was rooting for him to win today and I'm very happy. He really deserved it." Chris Harris, 47, finished third in 1:23:16.
May 24. Bermuda Public Holiday.
May 24, late pm. The sun is out, the May 24 festivities are under way, and award winners have been announced as follows for Bermuda Day:
Natural Heritage Float: first — Department of Corrections
Natural Heritage Float: second — Sandys Middle School
Natural Heritage Float: third — Bermuda Public Services Union
Upcycled Float: float — Bermuda Motorcycle Racing Club
Art Float: first — House of Azores
Art Float: second — X-Road Warriors
Art Float: third — Lotus Mind Body Spirit Wellness Centre
Special Awards (Open to all judged categories):
Premier's Award for Best Float (open for all three float categories) — Department of Corrections
Reggie Ming Award for Most Beautiful Float (open for all three float categories) — Sandys Middle School
Minister's Award for Most Original Float (open for all three float categories) — Bermuda Public Services Union
Ruth Thomas Award for Best Heritage Float (open for Natural Heritage float category) — Roots to Shoots to Fruits: Profiles of Sportsmanship
Dr J Williams Award for Best Middle School Float — Sandys Middle School
Best Government Department — Department of Community and Cultural Affairs
Mrs JJ Outerbridge Award for Best Individual Float — Driving Instructor's Association
LCCA Award for Best Charity Float — Portuguese Cultural Association & Vasco da Gama
Chamber of Commerce Award for Best Corporate Float — Johns Hopkins Medicine International.
At a press conference today, culture minister Nandi Outerbridge stated: "I want to thank all parade participants and spectators for their contributions in making this year's Bermuda Day Parade another successful and enjoyable occasion. From the military precision of the Royal Bermuda Regiment Band, to the spectacular costumes and choreography showcased by the various dance groups, to the wonderful display of tradition from six Gombey troupes closing out the parade, I think we can all agree that it was a fabulous day."
May 24. Bermudians living in the North of England have spoken of their horror at the terrorist attack that killed 22 people in Manchester on Monday evening. The deadly bombing after an Ariana Grande concert at Manchester Arena also left 59 people wounded, many of them children, and has stunned the northern city. Law student Shar Pemberton, 30, who lives close to Manchester city centre, said she was taken aback by the news when she heard it yesterday morning. "It's close to my house — I live close to the city — and I actually go to concerts there a lot," she told The Royal Gazette. "When I saw the news, I was like 'wow' and then when I found out there was children [hurt], I was just shook. I was very disheartened." Ms Pemberton, from Pembroke, made her way into the city in an effort to donate blood for wounded victims, but the necessary amounts had already been reached, such was the outpouring of support from the community. "It was like a madhouse, but English people, they pull together when times get hard. They really have it under control." The bombing was followed by a series of evacuations throughout the city yesterday, including at the Arndale Shopping Centre, and a controlled explosion by police in the suburb of Fallowfield. Ms Pemberton, who is studying at Manchester University, took her four-year-old daughter to school as normal in the morning, but said: "I picked her up early after the Fallowfield incident. She doesn't even know what's going on.". She said she was likely to avoid the city centre and large-scale events in the wake of the attack and had half-jokingly discussed with other Bermudians whether it was "time to go back to Bermuda". Andréa Smith, who lives in the neighboring city of Liverpool, said she was due to model at Manchester Fashion Week yesterday but had sprained her foot in a bad fall. "I was just about to tough it out and still go, as they said I can wear flats, but I think I'll stay ... in Liverpool," she posted on the Bermudians in the UK Facebook page. She later told this newspaper she decided not to take part in the fashion show "because of not only what happened last night but also today as they evacuated the Arndale Centre". Mancunian Nicola Flood, who lives in Bermuda, said her immediate thoughts when she heard the news were of her daughter, who lives in nearby Wrexham. "She had friends who were at the concert and were thankfully OK," Ms Flood said. "I was born in Manchester and I was watching the news most of the day. I grew up there and it makes it even more real. The Paris attacks were dreadful [but] when it happens in your home town, it just really drives it home to you. I was living in Manchester during the IRA attacks and it brings all that back. It's exactly the same level of cowardice; you can't fight an enemy you can't see." Michael Dunkley, the Premier, wrote to British Prime Minister Theresa May expressing Bermuda's "shock and horror" in the wake of the terrorist attack. And last night, John Rankin, the Governor, said in a statement: "I am grateful to all those in Bermuda who have expressed their condolences following last night's terrorist attack in Manchester. As Prime Minister Theresa May has stated, this was an appalling targeting of innocent, defenseless children and young people. Together our thoughts and prayers are with all of the victims and their families and friends at this terrible time." In a formal letter on behalf of the island, the Premier wrote: "Our thoughts and prayers are with the families of the victims, those injured, and the entire community of Manchester during this very difficult time. What is even more devastating is that the loss of life involved young children who were simply enjoying an evening of fun and entertainment. How heartbreaking that it ended in such tragedy. On behalf of the Government and people of Bermuda, we stand firmly in solidarity with the United Kingdom in condemning this senseless attack on freedom and democracy." Salman Abedi, 22, was named by police yesterday as the suspected suicide bomber responsible for setting off a homemade bomb in the foyer of the arena. It is the worst terrorist attack in the UK since the July 7 bombings in 2005 in which 52 people were killed. Mr Dunkley concluded his letter by pledging "Bermuda's unwavering support" to the UK as it faces "painful and difficult" days ahead in the wake of this incident. He also wrote to the Mayor of Greater Manchester, Andy Burnham, and to Mr Rankin, to convey Bermuda's condolences. And he reminded the many Bermudians who are working, residing or studying in Britain, and in particular those in Manchester, that the Bermuda Government's London Office remains available to assist individuals who may have concerns about the attack. Mr Dunkley added: "At all times we encourage Bermudians in the UK to remain vigilant of their surroundings. The London Office is available to assist Bermudians in the UK, and we urge you to utilise the office in the wake of last night's attack to seek guidance." The London Office can be reached at + 44 (0) 20 7518 9900 or londonoffice@gov.bm
May 24. Sir Ben Ainslie admits that time has been the greatest enemy since he began his mission to halt a British losing streak that started at the very first America's Cup in 1851. As Bermuda eagerly awaits the start of the "Auld Mug" — the oldest trophy in international sport — Ainslie would be quite happy if the clock quietly ticking on Front Street stood still, at least for a while anyway. For Ainslie, the Land Rover BAR skipper, the 3½ years since launching the team have been an "amazing journey", although he is acutely aware that reaching the desired destination will be anything but plain sailing. "I think if you asked all of the teams they would like more time in terms of creating more speed from the boat," Ainslie told The Royal Gazette. "But you have to draw a line in the sand somewhere. As a first-time America's Cup team we've had a certain amount of challenges in terms of development time as opposed to the teams that continued from the last America's Cup in San Francisco [in 2013]. It's as much of a technical development race as it is a sailing race. Time will tell over the next couple of weeks how much we can improve the performances of the boat. But those are the same challenges for all of the teams." Ainslie steered the six-man BAR team to victory in the 2015-16 America's Cup World Series, a result which earned two points for the qualifying series that starts on Friday. Signs have not been overly encouraging in practice, however, with BAR struggling for straight-line speed, Ainslie crashing his boat into Emirates Team Zealand while "pushing the limits" at the start of a race last week. An honest mistake and part and parcel of racing is how Ainslie described the mishap in his apology to Team New Zealand, whose hull was punctured during the incident. Grant Dalton, the New Zealand chief executive officer, promptly stirred the pot by suggesting the frustration was getting to Ainslie and that the "red midst" had come down. "It's part of the sport isn't it?" said Ainslie, when asked about the incident. "From my perspective, we were pushing, I made a mistake, but that's the nature of racing and you're pushing it to the limit and sometimes you overstep that." As for Grant's mischievous remarks, Ainslie countered: "I think my team pretty much let our results on the water do the talking. Some other teams maybe don't have the same approach and that's up to them. You expect that at this level and I've been around for a long time and had plenty of ups and downs in my career. It's something you roll off, keep going, and focus on what you can do." One of the most intriguing narratives during the build-up to the qualifiers has been the decision to use pedal power by Team New Zealand, with Oracle Team USA also copying the Kiwis' surprise move with a partial switch. While Ainslie believes that the radical cycle system could prove to be efficient, he is yet to be convinced it will translate to greater speed. "I think it's fascinating that New Zealand have come up with a different concept and we've seen Oracle try to implement that in part," added Ainslie, who worked hard in the corporate world to raise more than £90 million so his team could compete in the Cup. "Whether or not it turns out to be faster we'll find out very soon. My gut feeling is that it's more efficient but does it actually make the boat go faster? I'm not so sure. I think we'll come away from this event with a much clearer vision of the physical challenges of sailing these boats and whether pedal power is the way to go." Ainslie, 40, played his part in one of the greatest sporting comebacks after being brought in as a tactician by Oracle midway through the final series of the previous America's Cup. His recruitment helped the defenders overcome an 8-1 deficit, with Ainslie becoming the first British sailor to be on board the winning boat since Charlie Barr, skipper of defenders Columbia for three consecutive regattas in 1899, 1901 and 1903. Much has changed for Ainslie since then: marriage, parenthood and the transitioning into the role of skipper and principal of his self-named British syndicate. "It's been an incredible journey, starting a team from absolutely nothing," he said. "It's been a real challenge and I'm really proud of what we have achieved so far by winning the world series. Our technical programme is getting stronger each day. It's the ultimate team sport and identifying the right people and supporting them in their roles has been the key for me. It's certainly been a big learning curve from my perspective. What we've tried to develop for the long term, knowing the challenges and how hard it is to win the America's Cup — certainly at the first attempt — is create an organisation that can continue, win or lose, for many America's Cups to come, ultimately for as long as it takes to get that Cup back into British waters." A renowned perfectionist, Ainslie and his team will continue to work 24 hours around the clock in their pursuit of victory on the Great Sound. Only time will tell whether he achieves his burning ambition sooner than perhaps even he expects.
May 23. Police put out a safety message as preparations mount for Bermuda Day May 24 public holiday and America's Cup celebrations. At a press conference today, Detective Superintendent Sean Field-Lament said: "This will be an extraordinary time for Bermuda with our island celebrating our traditional holiday and hosting thousands of visitors for the America's Cup. Our intent is to minimise traffic disruption and facilitate safe passage for the runners, cyclists and other road users during the multiple racing events and the annual Heritage Day parade." On Wednesday, the annual Bermuda Day Appleby Half Marathon Derby running race and the Sinclair Packwood Memorial cycling race will start in St George's and finish in Hamilton. Acting Detective Chief Inspector Dave Greenidge said: "As in previous years, the Bermuda Police Service and the race organisers will have officers and marshals positioned along the route. They are there to minimise risks to all road users, especially the cyclists and runners. "We are asking the motoring public to fully co-operate with any directions given to them and to familiarize themselves with the race route and the times that the roads will be closed. We all need to do our best to ensure there are no collisions with race participants as that could lead to serious injury or death." Roads along the race route will close at 8.30am on Wednesday. People flying out are urged to be at the airport by 8am at the latest, and the Causeway will be closed to all traffic by 8.30am. Mr Greenidge said: "We would appreciate assistance from hotels, guesthouses and taxi operators with informing all our guests, tourists and travellers to plan for the road closures — but also to anticipate traffic delays due to the heavy traffic expected going into St George's i; n the build-up to the racing events. Do not be caught off guard by the heavy traffic or the road closures. Better to arrive early than miss a flight." Roads will be reopened when it is deemed safe and delays of 90 minutes or more should be expected. Routes for the races are as follows:
Sinclair Packwood Memorial Race (Cycle): Start 8.50am: York Street, Mullet Bay Road, Kindley Field Road, the Causeway, Blue Hole Hill, North Shore Road (Hamilton Parish), Middle Road (Smith's and Devonshire), Cavendish Road, Reid Street, left on to Court Street, right on to Front Street, Queen Street, Church Street, Cedar Avenue.
Appleby Bermuda Half Marathon (Running Race): Start 9am: York Street, Mullet Bay Road, Kindley Field Road, the Causeway, Blue Hole Hill, North Shore Road (Hamilton Parish), Middle Road (Smith's and Devonshire), Cavendish Road, Lane Hill, East Broadway, Front Street, Queen Street, Church Street, King Street, Victoria Street, Cedar Avenue, Marsh Folly Road, Dutton Avenue. The above roads will be closed from 8.30am until noon. No traffic will be allowed to travel in either direction during the cycle race. No traffic will be allowed to travel in the opposite direction to the marathon runners.
Junior Classic Running Race: At 9.45am, the Junior Classic Running Race will start on Front Street and finish at Dutton Avenue. For persons intending to enter or exit the City of Hamilton, the following procedure will be in place. Motorized traffic will be allowed to cross the race route at the following junctions only:
Middle Road/Harrington Sound Road (Flatts) to North Shore Road (entry and exit to Hamilton).
Tee Street/Middle Road to Orange Valley Road (entry into Hamilton only).
Heritage Day parade: Spectators should not obstruct the passage of the participants of the Heritage Day Parade. Start 1.30pm: Bernard Park (Dutton Avenue), Marsh Folly Road, Cedar Avenue, Church Street, Court Street, Front Street, Queen Street, ending at City Hall Car Park. Many of the performers demand the entire width of the road, and others are mounted on heavy vehicles with limited vision. Serious harm and/or disruption to the parade could result in the event of spectator interference. Certain roads and road junctions will be closed in Hamilton until the parade has concluded and Corporation of Hamilton Waste Management teams have completed trash collections. Cars parked in areas of the city that become isolated due to the closures (particularly Reid Street) will not be able to move until the roads and junctions are reopened. No parking areas will be clearly marked, and specific road closure times are contained in the gazetted notices. The following temporary road closures will be in effect within Hamilton:
Queen Street from Church Street to Front Street between 8.45am and 8.30pm
Burnaby Street from Front Street to Church Street between 8.45am and 8.30pm
Cedar Avenue from Church Street to City Boundary between 8.45am and 6pm
Parliament Street from Front Street to Dundonald Street between 8.45am and 6pm
Court Street from Front Street to Dundonald Street between 8.45am and 6pm
King Street from Front Street to Dundonald Street between 8.45am and 11.30am
Front Street from Bermudiana Road to King Street between 8.45am and 6pm
Reid Street from Queen Street to King Street between 8.45am and 6pm
Church Street from Queen Street to King Street between 8.45am and 6pm
Victoria Street from Wesley Street to King Street between 8.45am and 11.30am
Washington Street to Brunswick Street between 11.30am and 6pm
Dundonald Street from Par-la-Ville Road North Roundabout to Brunswick Street between 8.45am and 6pm
No parking from 10pm Tuesday until 10pm Wednesday
No. 1 Car Park: food stalls and vendors only
No. 5 Car Park: food stalls and vendors only
City Hall Car Park: closed
City Hall Rear Car Park: reserved parking for vendors and entertainment only
Albuoy's Point: reserved parking for vendors only
No parking from 6am to 4pm Wednesday
Queen Street from Front Street to Church Street
Burnaby Street from Front Street to Church Street
Cedar Avenue from Church Street to the City Boundary
Court Street from Front Street to Church Street
King Street from Front Street to Victoria Street
Front Street from Queen Street to King Street
Church Street from Queen Street to King Street
Victoria Street from Wesley Street to King Street
Reid Street from Spurling Hill to Court Street
Bermuda Police Service is authorised to close off streets or portions of streets, direct traffic and restrict and authorize parking as the Commissioner of Police decides. Detective Superintendent Field-Lament added: "In closing, while Friday marks the official start to the America's Cup, Heritage Day traditionally ushers in the unofficial start of summertime activities on the water. "The BPS anticipates a huge amount of marine traffic this summer and there have been regular advisory notices about the expected behaviour of marine traffic in and around America's Cup events. In addition, we wish to reinforce our annual marine safety messages. We would like to remind the boating public to ensure that their vessels are registered and that a current 2017-18 decal is prominently displayed on the starboard side of the vessel; that all required safety equipment is on board; and that they are carrying enough fuel for the intended journey. It is also recommended that boaters file a float plan and certainly so, if they intend to go offshore, with Bermuda Radio. Members of the boating public should always exercise care and caution around other vessels and be on the lookout for swimmers. Speed is an issue not only in maritime collisions, but in the general nuisance factor that is experienced by boaters at anchor near the shoreline. To that end, the five-knot — no wake areas will be strictly enforced in order to calm the marine traffic. Persons should also bear in mind the new ten-knot rule in Hamilton Harbour up to Two Rock Passage. We also encourage that persons do not mix any use of alcohol with powerboat operating or sailing. There will be a visible law enforcement presence on our waterways with the Bermuda Police Service, the Bermuda Reserve Police and members of the Royal Bermuda Regiment marine units ensuring the safety of all. Please assist in our efforts by being responsible out on the water. I would like to finish by wishing everyone a fantastic Bermuda day. Let's set the tone for the summer and America's Cup by showing the best of Bermuda and making this a safe, peaceful and memorable holiday."
May 23. The Appleby Bermuda Half-Marathon Derby on May 24 is wide open with a new men's and women's champion to be crowned this year. Lamont Marshall and Ashley Estwanik will not be defending their titles and it is anyone's guess who will lay claim to their vacant crowns. Marshall, who shaved three seconds off his own national 3,000-metres record (8min 05sec) at the Jamaica International Invitational at the weekend, confirmed several weeks ago that he will not be running. According to the runner's father and coach, Larry Marshall, any chance of last year's winner reconsidering his decision has been dashed because of a stomach bug. Estwanik, who finished third in her age group and 119th overall at the Ironman 70.3 Chattanooga in Tennessee at the weekend, has opted to compete in the Sinclair Packwood Memorial Race for Team Madison rather than bid for a seventh Half-Marathon Derby title. Her husband, Chris Estwanik, the six-times champion and race record holder for both courses confirmed yesterday that he will not compete again this year because of injuries to his legs and hip. "Unfortunately, the tear in my hip and multiple breaks are too painful," Estwanik said. "Additionally, every medical professional has strongly advised against me even lining up on Wednesday so I've decided to make the responsible decision as opposed to the emotional one." Estwanik is tied with Ed Sherlock with six wins and three behind Kavin Smith's record of nine. "Gutted to miss it yet again as it is without a doubt my favourite day of the year," Estwanik added. "Best of luck to everyone!" Promising triathlete Tyler Smith, who finished fifth last year, has been ruled out through school exams at the University of Leeds in England. Among the top contenders in the men's field are Jay Donawa, Chayce Smith, Evan Naude, Chris Harris, Jamie Fraser and Tim Price. Naude, who finished third last year, is ranked the highest among the contenders going into the 13.1-mile race while Donawa has placed among the podium finishers on numerous occasions. Two previous winners are among a trio of contenders in the women's field. Deon Breary and Victoria Fiddick, winners in 2009 and 2011, are the favorites to claim Estwanik's vacant title along Karen Smith, the mother of triathlete Tyler Smith.
May 23. An increased ferry service will be implemented throughout the America's Cup as thousands flock to Dockyard. The event gets under way on Friday with the first races followed by the official opening ceremony, for which tickets have already sold out. Government announced that additional ferries had been scheduled between May 26 and June 27 to manage the increased passenger traffic to Dockyard that is anticipated for the races. "Tickets for the dedicated ferry from Hamilton to the America's Cup Village have sold quickly, and on some days, are sold out to and from the event," said a Government statement. Transportation and America's Cup tickets can be booked online at www.americascup.com/tickets where more information is also available. Travel by dedicated America's Cup Village ferry is $5 each way per adult and $2.50 per child. In addition to the dedicated event ferries, the public ferry service has extra routes between Hamilton and Dockyard and between St George's and Dockyard. The ferry times can be seen on www.acbda.bm/transport. For those who are not booked on the dedicated ferry on Friday, the public ferry will be available. The usual schedule applies with runs on the hour until 7pm, then hourly from 7.30pm going to Dockyard. Extra public ferry services will be available leaving Dockyard to Hamilton at 10.00pm and 11.00pm on Friday. On weekends, extra ferries will run at 12.00 noon from Hamilton and at 7.00pm and 8.00pm, and leaving Dockyard at 12.30pm, 7.30pm and 8.30pm. On Saturdays June 17 and 24, additional routes are scheduled to leave Hamilton at 8.00pm, 9.00pm and 10.00pm and leaving Dockyard at 8.30pm, 9.30pm and 10.30pm. On Tuesday and Friday nights an extra ferry will leave Dockyard to St George's at 6.00pm. Those arriving at the Dockyard Ferry Terminal by public ferry will have the option to ride a free shuttle train from in front of the Clocktower Mall to the America's Cup Village or to walk to the America's Cup Village. "While these extra routes will increase capacity, the public is reminded of other transportation options for the America's Cup, such as free motorbike parking and the Park n Ride programme," added the statement. Motorists who drive their car will have to book their Park n Ride ticket online for $25 per car. The cost is $30 when booked within 24 hours of use. The online system will automatically book the closest available parking area. This includes all passengers and the return shuttle service to America's Cup Village. Shuttle service is available from each area and runs on a 15-minute loop, either by ferry or minibus (includes accessibility). Park n Ride can be booked online at www.americascup.com/tickets. Additional parking lots are available once Boaz Island Sports Field is fully booked. These are:
Warren Simmons Field near Somerset Marketplace
Somerset Primary
Sandys Secondary School and
West End Primary
Organisers anticipate that not all parking areas will be required and will only be opened as needed. Boaz Island Sports Field will be the primary parking area and on high traffic days the other fields will be opened as needed. People booked on spectator boats leaving from Dockyard are advised to travel by public ferry, bus, taxi or pre-arranged transport to Dockyard. They can also use the Park n Ride facility for the Village and take a free shuttle train to the Clocktower Mall in Dockyard. Spectator boat passengers are advised to be at their assigned dock 30 minutes before their scheduled departure time. The America's Cup Village is open daily from May 26 to June 27 except for the following days when it will be closed: June 1, June 5, June 9, June 14, June 15, June 16, June 19, June 22 and June 23. Ongoing transportation information and updates are available at: www.acbda.bm/transport.
May 23. Security chiefs will not take their eyes off the ball when it comes to gang violence and serious crime once the America's Cup swings into action. Senator Jeff Baron told The Royal Gazette that the bolstered police presence in St George's would continue throughout the sailing event, while the installation of CCTV cameras in the East End would begin within days. The Minister of National Security was speaking as the first phase of Operation Ceasefire was completed last week with 17 local stakeholders, including representatives from the clergy, charities, police and corrections as well as Mr Baron, travelling to New York for an introductory presentation. Mr Baron described the event as extremely positive and productive and said Ceasefire experts from the United States would visit the island in the coming weeks to conduct a problem analysis. "We have a high probability of success in Bermuda; we can make some big changes and reduce serious violence and improve public safety. A very small percentage is responsible for these serious crimes; the community itself is quite healthy. I have absolute confidence that Ceasefire will make an impact and moreover it will operate within existing resources." Asked if he was concerned that gang or gun violence could cast a shadow over the America's Cup Mr Baron replied: "I'm concerned every day that gang violence will rear its head; it's a matter of life and death and I take it extremely seriously. Our eyes will not be taken off the ball when it comes to gang violence or serious crime during the America's Cup. There is no rest for the agencies dealing with these issues; Team StreetSafe is not going to take a time out during the America's Cup. Police support and emergency response teams will be dedicated to our most pressing challenges." Mr Baron revealed that St George's would be given priority over Dockyard when it came to installing new CCTV cameras, and that the local response to extra officers on the beat in the East End had been very positive. He said: "The response we have received from the community about the extra officers on the beat has been very positive and that will continue over the America's Cup and beyond. We don't just collapse operations to cater for the America's Cup." Mr Baron said he had complete faith in the security operation prepared for the America's Cup, which had also opened up new opportunities for the Royal Bermuda Regiment. "We always knew security would be a tremendous challenge during the America's Cup, but I have no doubt we will rise to the occasion. .A huge amount of work has taken place behind the scenes. Our priority is for a safe and secure event. The event has allowed the role of the Regiment to be expanded too; 100 soldiers will be involved in screening people and vehicles; I have seen the rehearsals — it's like a fully functioning airport; extremely professional. It's a visible example of how the Regiment has been able to take up new opportunities and the soldiers are excited to be taking part in a really high-profile event."
May 23. The denial of a work permit for the Reverend Nicholas Tweed, a pastor with a history of outspoken views against the One Bermuda Alliance, was influenced by a "visceral negative attitude" on the part of the minister, the Supreme Court heard. However, defence counsel said that the Bermuda Government's duty of fairness had been carried out — and that the complaint that home affairs minister Patricia Gordon-Pamplin should not have been involved only emerged at a "suspiciously convenient" late juncture in the controversy. The non-renewal of Mr Tweed's permit sparked demonstrations last year: the pastor, also a leading figure in the activist group the People's Campaign, had his renewal turned down on October 21, with a subsequent decision on December 28 not to allow an appeal. Delroy Duncan, representing Mr Tweed and the African Methodist Episcopal Church, told Chief Justice Ian Kawaley that the minister should have withdrawn herself from the matter from the start, noting her earlier statements in the House of Assembly on Mr Tweed's regular sermons, criticizing the integrity of the Government. Ms Gordon-Pamplin, who had attended St Paul AME for decades, had earlier stated in Parliament that she had gone elsewhere to worship after Mr Tweed used his pulpit to repeatedly denounce the OBA, which she defended as "my Government". Mr Duncan told the court that Ms Gordon-Pamplin appeared to have made her mind up on Mr Tweed's permit renewal as early as July 29, ten days after his permit expired, when she insisted that his position had to be advertised. Pastors are appointed by the bishop in charge of Bermuda's AME division and by tradition the role is not advertised — but a new policy was adopted in 2014. However, while Ms Gordon-Pamplin maintained in public statements that the same rules had to apply for all, Mr Duncan said that a public access to information request had shown that during the time since the policy had come into play, 22 exceptions had been made, five of them for parsons. Mr Duncan drew attention to Ms Gordon-Pamplin granting Mr Tweed a continuance to conduct a funeral, but telling Dawnette Ming that she was "not minded to leave an open-ended continuance", and that the Government had been treated with "contempt" in the applications. "We contend that the minister could never, from this point onward, let the application proceed fairly, with such overt political bias," Mr Duncan told the court. Records showed a "disjoined narrative" between the minister and Dawnette Ming, the Chief Immigration Officer, with Marc Telemaque, the permanent secretary at the Ministry of National Security, representing the church. Mr Duncan argued that the minister had "trawled" Mr Tweed's immigration files in an effort to impose "information hurdles" on his application. The minister had repeatedly stated that the information filed was incomplete, including details on Mr Tweed's marital status as well as his surname. The court heard that Mr Tweed has "only known one father, Dr Kingsley Tweed, who is Bermudian" and lived as a common-law husband with Mr Tweed's mother from the time he was two years old. Ultimately the application was turned down because the position was not advertised, and a waiver for advertising not requested on time, but Mr Duncan said that argument was "demonstrably false — it's a show". The minister had also spoken with members of the community who had argued that a Bermudian candidate might be suitable for the "prize" of the St Paul pulpit, Mr Duncan said, calling them "very serious concerns". Several times, Mr Justice Kawaley called the operation of immigration, in which the minister gets final say, "strange" — noting that no formal protocol had evolved to protect ministers from having their impartiality questioned. Yesterday marked the opening day of the judicial review of the case, with Mr Tweed and supporters packing the courtroom. The case continues today.
May 23. Social rehabilitation programmes involving prisoners will be undertaken with greater sensitivity for the community, Senator Jeff Baron has pledged. Mr Baron, the Minister of National Security, drew criticism from some quarters when two convicted murderers visited primary schools across the island to deliver Bermuda kites made by inmates as part of the prison's kite giveaway initiative. He told The Royal Gazette that a mother who had lost a son to gun violence had contacted him to voice her concerns about the programme. Mr Baron insisted that social programmes were a vital part of rehabilitation in prison, but acknowledged that authorities had to manage them with sensitivity. "I get it; this is a tremendously small community," Mr Baron said. "There are few people in Bermuda more qualified to describe the impact of this issue than a mother of a victim. I understand where that criticism or concern came from; I certainly did not want to wave it in anyone's face. But social programmes like the kite donation and also the bike giveaway to children that the inmates do have a huge value within corrections. I would never want to marginalize or downplay what this mother goes through every day. I spoke with her initially on the phone, but then asked if we could meet in person. It's important I have these discussions that can be very raw and difficult." Mr Baron maintained that the kite and bike donation programmes would continue, but authorities would do more to understand and foresee unintended consequences. He added: "These social programmes for inmates have to continue and they will; we are not a prison, we are a corrections facility. But we have to involve more of the community in these social programmes and discuss the unintended problems that may arise; the kite giveaways and the bike giveaways have been happening for years. I would like to see just as many programmes or more, but we have to think about how they are presented. We are looking to be more aware and have a bit more sensitivity. We want to continue these programmes; the kite and the bike programme will not stop. But will we manage them with sensitivity? The answer is 'yes'." Mr Baron went on to praise the Department of Corrections for their work and the delivery of a highly successful Corrections Week earlier this month. However, he admitted he was concerned about the issue of drugs being brought into prisons and used by inmates. "It's concerning there are new drugs on the market now in Bermuda like fentanyl. Westgate is a microcosm of society outside; where there is a will there is a way and people get creative about how they support their habit. I know that the Commissioner has an action-orientated approach to the problem. The recent report that two inmates were taken to hospital after suspected overdoses has again caused this conversation to surface. What was unfortunate was that it occurred at the beginning of Corrections Week; a highly successful week that highlights the positives coming out of corrections."
May 23. The couple whose legal challenge paved the way for same-sex marriage in Bermuda have got married in Canada. Bermudian Winston Godwin and Greg DeRoche said they chose to have the ceremony in Mr DeRoche's home city of Toronto after further delays publishing their marriage notice in Bermuda. They told The Royal Gazette that they also wanted to be in control of their own marriage and conduct the service on their own terms after the legal ruling. The short, simple service took place under sunny skies at Toronto City Hall on Saturday at 3pm and was attended by around 20 of the couple's family and close friends. "The court case was never really about us as individuals," Mr Godwin said. "It was more about getting something done in Bermuda that was overdue and needed to happen. To see the other same-sex couples using the ruling and getting their banns posted in the paper was the most rewarding thing for us. The outcome and its ramifications are what was really important; when it came to our marriage we wanted to keep it small, subdued and informal. And even more importantly, we wanted to feel like we had control of how it happened and who was there." Mr Godwin and Mr DeRoche embarked on their fight for equal rights after the Registrar-General rejected their application to marry on the island in July 2016. They took their case to the Supreme Court, arguing that the Human Rights Act took primacy in Bermuda and protected their right to marry. At the beginning of this month Puisne Judge Charles-Etta Simmons ruled in the couple's favour. "The common law definition of marriage, that marriage is the voluntary union for life of one man and one woman, and its reflection in the Marriage Act section 24 and the Matrimonial Clauses Act section 15 (c) are inconsistent with the provisions of the Human Rights Act as they constitute deliberate different treatment on the basis of sexual orientation," Mrs Justice Simmons said. The judge ruled that the common law discriminated against same-sex couples by excluding them from marriage. Mr Godwin added: "We do hope that people can understand why we made our choice. It would have been great to include many of the supporters that started this journey of the case with us but ultimately, due to a variety of factors, including time, we wanted to ensure that we did it our way and on our terms. We thank everyone from the bottom of our hearts that stuck by our side and supported us along the way."
May 23. When Star Wars actress Carrie Fisher died in December 2016, it triggered what is thought to be the largest single personal accident insurance claim payout ever. And among the more than 20 carriers that jointly covered Disney's insurance policy on Ms Fisher, was Bermuda-based Argo Group International Holdings. The specialty insurer and reinsurer has offices on Pitts Bay Road, and is known for identifying and insuring risks that other traditional underwriters do not insure. Argo's stake in the insurance policy covering Ms Fisher was highlighted in a report in the San Antonio Express-News. Film company Disney took out contract protection, estimated to be $50 million, on Ms Fisher in case she was not able to fulfil her obligations to appear in all the Star Wars trilogy sequel films. A number of Lloyd's of London insurers took a stake in the risk contingency policy, which was underwritten by New Jersey-based Exceptional Risk Advisers. According to a report by The Insurance Insider, Atrium, a subsidiary of island-based Enstar Group, was the lead in the facility. As a legacy star of the original Star Wars trilogy, where she played the role of Princess Leia, Ms Fisher appeared in Star Wars Episode VII: The Force Awakens, the first of the new trilogy. The film was released in 2015 and took $2.07 billion at the box office, becoming the third most financially successful film of all time. Ms Fisher also completed filming of the follow up Star Wars Episode VIII: The Last Jedi, set for release later this year. She was due to star in the final film of the sequel trilogy, Star Wars Episode IX, but died in December a few days after suffering a heart attack on a flight from London to Los Angeles. Filming of the still untitled Episode IX, has not started. The film is due to be released in May 2019.
May 23. A $125 million catastrophe bond covering some of the risks of the body responsible for public transport in New York has been listed on the Bermuda Stock Exchange. It is the second issuance from MetroCat Re, the Bermuda-domiciled special purpose insurer set up to issue the cat bond for the First Mutual Transportation Assurance Co, the New York state-licensed captive insurer and subsidiary of the New York Metropolitan Transportation Authority. According to the Artemis.bm website, which follows the alternative risk transfer market, the new MetroCat Re 2017-1 cat bond sees the MTA expanding the coverage it will receive from the capital markets, as it adds earthquake coverage to the named storm-induced storm surge risk it secured with its previous deal. The notes are exposed to parametric factors associated with storm surges caused by named storms and also earthquake risks, both within the New York metropolitan area, across a three-year term. The notes were eventually priced at a coupon of 3.7 per cent, just below the midpoint of initial price guidance, according to Artemis.
May 23. New international rules on accounting standards will hit island life insurers harder than general insurers, professional services firm Deloitte said yesterday. The company spoke out after the International Accounting Standards Board released its IFRS 17 standards, which come into effect at the start of 2021. John Johnston, CEO, Caribbean and Bermuda at Deloitte said: "Deloitte expects that implementing these new IFRS 17 requirements will entail major changes to insurance companies' actuarial and finance reporting processes, systems and data. "This effort will likely generate implementation costs for many insurers as large as those incurred in the European Union for the adoption of the Solvency II regulations — estimated between 3 billion and 4 billion euros for the EU insurers as a whole." He added: "We see this effort to be higher for life insurers than general insurers. The long-term coverage underpinning life insurance policies, together with the more common presence of options and guarantees in life-policies, will require a much more granular set of accounting and actuarial data." Francesco Nagari, global IFRS insurance leader at Deloitte, said: "The publication of IFRS 17 marks a once-in-a-lifetime regulatory change in accounting for insurance policies. The new rules aim to bring greater transparency in the financial reporting of an industry whose accounts have often been labeled as a 'black box'. A single accounting language for insurers should aid comparability across countries where currently various national practices apply." And Mr Nagari added: "To implement IFRS 17 will take substantial effort. The measurement of insurance liabilities will reflect market interest rates and the impact of policyholders' guaranteed benefits. The revenue from insurance policies will be reported systematically over the coverage service period. The expected profit from the remaining coverage service period will be explicitly reported as a component of the insurance liability."
May 22. NEW YORK/LONDON (Reuters) — Companies without cyber insurance are dusting off policies covering kidnap, ransom and extortion in the world's political hotspots to recoup losses caused by ransomware viruses such as "WannaCry", insurers say. Cyber insurance can be expensive to buy and is not widely used outside the US, with one insurer previously describing the cost as $100,000 for $10 million in data breach insurance. Some companies do not even consider it because they do not think they are targets. The kidnap policies, known as K&R coverage, are typically used by multinational companies looking to protect their staff in areas where violence related to oil and mining operations is common, such as parts of Africa and Latin America. Companies could also tap them to cover losses following the WannaCry attack, which used malicious software, known as ransomware, to lock up more than 200,000 computers in more than 150 countries, and demand payments to free them up. Pay-outs on K&R for ransomware attacks may be lower and the policies less suitable than those offered by traditional cyber insurance, insurers say. "There will be some creative forensic lawyers who will be looking at policies," said Patrick Gage, chief underwriting officer at CNA Hardy, a specialist commercial insurer in London. He added, however, that given that K&R policies are geared towards a threat to lives, "our absolute preference is that people buy specific cover, rather than relying on insurance coverage that is not specific". Island-based Hiscox, American International Group and the Travelers Companies have been receiving ransomware claims from some customers with K&R policies as ransomware attacks become more common, the companies said. The insurers declined to comment on total claims, citing confidentiality and client security concerns. "We are seeing claims (over the past 18 months) but not a huge uptick," a Hiscox spokeswoman said. "These are within expectations and entirely manageable." She declined to say whether the firm had seen any such claims from the WannaCry attacks though Tom Harvey, an expert in cyber-risk management at catastrophe modelling firm RMS, said "insurers with kidnap and ransom books will want to look closely at their policy wordings to see whether they are exposed". A sharp rise in ransomware attacks in the past 18 months has driven companies to use K&R policies to cover some of their damages if they do not have direct cyber coverage or cannot meet initial cyber policy deductible costs, insurers said. Symantec, a cybersecurity firm based in Mountain View in California, observed over 460,000 ransomware attempts in 2016, up 36 per cent from 2015, the company said. The average payment demand ballooned from $294 to $1,077, a 266 per cent increase. But as the threat mounts, K&R insurers are at risk from steeper claims than they had anticipated. They are responding by making changes to their policies, which were not designed around ransomware, insurance brokers said. Most of the computers affected by WannaCry were outside the US, where companies have been slow to buy cyber insurance. Nearly 90 per cent of the world's annual cyber insurance premium of $2.5 billion to $3 billion comes from the US market, according to insurance broker Aon. Global companies typically buy K&R policies without ransomware in mind. But instances of high-tech hacks and online ransom demands can hit a company's business more than an executive being held hostage. "If your CFO (chief financial officer) gets kidnapped, the company is going to continue to function," said Bob Parisi, cyber product leader for insurance broker Marsh. "If you get a piece of malware in the system, you might have two factories that stop working. The actual damage is probably greater." The K&R policies, which typically do not have deductibles, cover the ransom payments as well as crisis response services, including getting in touch with criminal and regulatory authorities, said Kevin Kalinich, global head of Aon's cyber-risk practice. Still, K&R policies may provide only a quick fix since they were not designed for ransomware. Companies can add coverage for business interruption, but the upper limits for payouts are usually lower than for a cyber policy, insurers say. K&R insurers have been adapting to ransomware-related claims — some are modernizing coverage by setting up Bitcoin accounts for clients to speed up ransom payments, brokers said. But insurers are mindful of their own risks. Some have added deductibles, said Anthony Dagostino, head of global cyber-risk at Willis Towers Watson PLC advisory and brokerage. AIG has reduced business interruption coverage for K&R policies to a $1 million maximum for cyber-extortion events. "Insurers didn't anticipate there would be this much ransomware activity," said Tracie Grella, global head of cyber-risk insurance at AIG.
May 22. Bermuda-based companies will have to update their beneficial ownership details if a proposed new law takes effect. At present, firms are only required to file beneficial ownership at formation — with no obligation to inform island authorities of any changes. Bob Richards, Minister of Finance, said, "Bermuda has been collecting information on beneficial ownership of corporate and legal entities for more than 70 years. "In fact, we have been a world leader in this regard and our registry is considered effective and compliant with international standards. In response to growing demands for transparency from the global community, these 2017 amendments are to ensure Bermuda's regime remains in good international standing for future generations." The move comes after the Bermuda and UK governments last month signed the UK Exchange of Notes Agreement. The agreement concerns the sharing of beneficial ownership information through a central registry, which has key requirements to meet the internationally accepted Financial Action Task Force standards. The effective date for implementing the terms of this agreement is the end of next month. Now a consultation paper — Proposed Revisions to Beneficial Ownership Disclosures — has been published and the business world has been asked to submit comments as part of a consultation process. The document was prepared by the Bermuda Monetary Authority, the Ministry of Finance and the Ministry of Economic Development and a joint industry session is expected to be announced later this week. Jeremy Cox, CEO of the BMA, said, "The partnership between Bermuda and the UK to upgrade the beneficial ownership register is expected to result in further improvements to the detection and deterrence of serious financial crimes. It is also in line with the authority's decades-long commitment to creating and retaining a regulatory environment that enables Bermuda to remain world-class in international compliance, and be an appealing centre for highly regarded businesses." Additional proposed amendments to the legislation include the imposition of an obligation on all companies formed in or operating in Bermuda to maintain a beneficial ownership registry and expansion of the definition of beneficial ownership to reflect the international definition now applicable for anti-money laundering and antiterrorist funding purposes. The aim is to ensure the registry for beneficial ownership will include not only the individual who ultimately owns equity voting shares, but also owners of capital shares without voting rights and include people who have significant control — often referred to internationally as "controllers". The legal term beneficial ownership means the actual owners of equity in a business, even though title ownership may be in another name. It also covers individuals who directly or indirectly have the power to influence decisions, such as appointment of directors. Similar amendments will be proposed to the filing of beneficial ownership information related to exempted partnerships and limited partnerships. A copy of the May 5 consultation paper is available at bma.bm by accessing the "Notices" section under "Document Centre". Comments on the proposals should be sent to policy@bma.bm and mbinns@gov.bm.
May 22. British fashion designer Orlebar Brown has created new uniforms for pool and Beach Club staff at the Hamilton Princess. The international smart-but-casual manufacturer, famous for designing the swim shorts worn by actor Daniel Craig in the hit James Bond movie Skyfall, has made a crisp, tailored nautical-style white and blue kit for the Princess staff. Adam Brown, who founded Orlebar Brown ten years ago and on his first visit to the island, said: "Anywhere that's close to water where people are having a good time, whether it's the customer or the person helping them to have a good time, we're delighted to be involved." The new uniforms feature white Jarrett cotton polo shirts and blue Bulldog cotton twill shorts, featuring the new-look Princess crown and anchor logo. Mr Brown, whose firm has designed uniforms for the worldwide chain of members' clubs Soho House and for the crews of superyachts, said: "Blue and white are the easiest colours and they're traditionally relevant to nautical life, life around water. It was a very easy hit." Mr Brown added: "It's very exciting to work with Hamilton Princess and to be part of the whole America's Cup thing. It was unforced in every way." Orlebar Brown was founded in London, after Mr Brown, while staying in a hotel in Rajasthan, India, had to change from pool wear to go for lunch and decided to create "classic and tailored" shorts and other clothing that could do both jobs. He said: "I was fed up with having to change — I didn't want a swim short, I wanted a short I can swim in. When I say tailored, it's about fit. Any man of any size looks better in a well-cut suit. Anyone who wears something that fits them properly, they look better. That's the founding principle." The brand has now grown to 20 stores and 300 stockists around the world, including Luxury Gifts Bermuda stores at the Hamilton Princess and Rosewood Tucker's Point. Diarmaid O'Sullivan, director of marketing at the Princess, said: "All of our brands represent similar values that the owners had in mind when they were investing in the renovation of the hotel and bringing it up to a more modern, contemporary look. Everything from the art collection to the various staff uniforms lend themselves to the sleek look Orlebar Brown has in its clothing collection." Mr O'Sullivan added that Bermuda, the hotel and Britain had strong links. "It's good to link up with a British brand again and continue that association." Staff will begin wearing the new uniforms today. Mr O'Sullivan said: "They are quite excited about it because they're very different from the uniforms they're wearing now. They're pleased about having them."
Both independent MPs told this newspaper that the present administration was in an "historic" position of weakness. With a vote of no confidence expected to take place on June 9, a focus has been turned to independent MPs Shawn Crockwell and Mark Pettingill, whose voices could determine the future of the One Bermuda Alliance government. Asked if he would side with the Opposition, Mr Crockwell told The Royal Gazette: "I will certainly have to consider it. There's a lot I have to take into consideration." Mr Crockwell pointed out that "my voting in its favour does not guarantee it would be successful. Based on my stance since I resigned from the Cabinet and from the party, just about a year ago, I can't now say that I have confidence in the Government," he added. Mr Crockwell called his relationship with Mr Dunkley "friendly over the years — this is not personal. But since Michael Dunkley has become premier, he has lost two leading Members," he said, also noting that his reasons for resigning "have not been addressed". Mr Pettingill meanwhile declined to state his position when asked if he would vote against his former party. But, like his fellow independent, the Warwick North East MP was not surprised by Mr Burt's motion. "Shawn spoke very candidly his views on leadership," Mr Pettingill said. "My statement was more general. We're diametrically opposed on so many things the party was doing or didn't do." Mr Pettingill also said he was not committed to retiring from politics at the end of the current session, saying he'd had "a lot of encouragement to run as an independent" — but that party politics was "still very much alive".
May 22. Premier Michael Dunkley's position as leader of a minority Government will be put to the test in 2½ weeks. David Burt, Leader of the Opposition, last night said he had "every intention" of debating his motion of no confidence on June 9, when MPs return to the House. Friday night's announcement, which had the ring of inevitability for sources that spoke to this newspaper, was unrelated to the imminent America's Cup and would not impact it, Mr Burt said, calling the event high-profile and important for the island. "The timing of this motion of no confidence has nothing to do with the America's Cup. The timing is a direct result of the fact that the Government no longer controls Parliament, which became quite clear on Friday night when the Progressive Labour Party passed two pieces of legislation over the objections of the One Bermuda Alliance. This motion, enshrined in Bermuda's constitution, will test whether or not the OBA minority Government retains the confidence of the MPs." Mr Burt said the community's pain "cannot be ignored due to the America's Cup. The OBA minority Government has failed to meet the needs of all the people in this country and has governed to the benefit of a select few." He chastised the OBA's performance on jobs and debt while Bermudians struggled with a "skyrocketing" cost of living. With both parties down to 17 votes each — but the PLP down one owing to Randy Horton's position as Speaker of the House — independent MPs Shawn Crockwell and Mark Pettingill now wield critical influence. Asked if he felt the two would back his motion of no confidence, Mr Burt said all MPs would need to judge "whether this Government has governed well for all Bermudians, or if Bermuda can do better. The PLP will make the case that Bermuda can do better, that we can take care of not only the economy, but the Bermudians who desperately need hope for a brighter future and want a Government that puts Bermudians first." In the event that the motion passed, Mr Burt said he anticipated the Opposition would agree to wrap up any urgent legislation prior to the dissolution of Parliament, to ensure Bermuda's continued stability — adding that he would expect an election before Cup Match. "If the motion does not pass, the Premier will call an election at the time that best suits the OBA." Mr Dunkley last night said the OBA would fight the motion, attacking Mr Burt's decision to move it in the middle of the America's Cup. "It has always been politics first, country second with him," he said. "It shows a remarkable tone-deaf approach to what's important to the thousands of Bermudians who have worked hard to make sure we put our best foot forward for the biggest sporting event in the island's history, before a global audience. If ever there was a time for Bermuda to demonstrate collaboration and teamwork, to set aside our squabbles and move forward together as one Bermuda, it is now. But that's not the way of the Opposition leader. As Premier, we will deal with this motion. It's just one more hurdle to jump as we work to support the well being of all Bermudians, moving the island forward." One source close to the OBA said Mr Dunkley's position had been in jeopardy after the December 2 protests outside Parliament, when protesters clashed with police. Another OBA source said the Opposition's move had come as no surprise — and that the real surprise would have been if it hadn't happened. "It came a lot later than I thought. Kudos to the PLP; they played it well. They got their legislation passed; the Opposition is already performing like they're Government." Neither independent would be likely to side with the ruling party in a vote of no confidence, the source said. "They left because of Mr Dunkley. The greatest we could hope for is that they abstain from voting." Describing Mr Dunkley as "too nice, and a bit naïve", the source said the Premier was "in denial; that's the challenge". The Opposition was less concerned by OBA internal dynamics than with "being in election mode — doing everything they can to win", while OBA members for now were "tending their own corners, mulling what the next steps should be. In the last election, people wanted wholesale change, and they got it. Now it's dependent on each of us."
May 22. The approval of amendments aimed at decriminalizing the possession of small amounts of cannabis was applauded yesterday by anti-racism charity Curb. Lynn Winfield, the charity's president, called the amendments a step in the right direction to address the criminalisation of young black men. She called on the opposition and the government to further consider the charity's recommendations and "begin the process of moving towards legalization of cannabis once the appropriate studies have been carried out on how best to regulate. Curb is an advocate for the use of restorative justice in Bermuda's criminal justice system, and this legislation takes a step in the right direction and will hopefully prevent the further criminalisation of our young black males," she said. "As part of that restorative justice process, there is a need to ensure the conviction of any individual for this amount of cannabis be overturned, so that their record can be wiped clean." The Misuse of Drugs (Decriminalization of Cannabis) Amendment Act 2017 must first pass through the Senate and be approved by the Governor before becoming enshrined in law. However should it pass those barriers, the possession of up to 7 grams of cannabis would be decriminalized on June 30. According to the law, drugs would still be seized and minors caught with any amount of cannabis could be required to go through drug education or treatment. And the Department of Public Prosecutions could still seek charges for intent to supply, if there was sufficient evidence, even if the drugs amounted to less than 7 grams. Michael Scott, the shadow attorney-general, said the amendments were intended to help prevent Bermudians, particularly young black males, from suffering the long-term consequences of a drugs conviction, including placement on the US "stop list. Our history in the even dispensation of justice has been dire, as reflected in the observations of independent investigations of the drug issue," Mr Scott said. "Certainly this Decriminalization Bill is exclusively about addressing historic uneven arrest and prosecution policies that target one section of our society over another." Mr Scott also emphasized that 7 grams is a "most conservative amount, given the fact that 28 grams is generally seen as the amount […] that the law in other countries deems as simple possession". The One Bermuda Alliance had tabled its own decriminalization legislation with a limit of 3 grams, but the legislation was approved without objection after receiving a handful of amendments on the floor. Michael Dunkley also noted that there had been concerns that 7 grams was "pushing that envelope too far". But he added that the primary aim was to deal with the stop list, which has been "the bane of probably thousands of people just in my lifetime alone". The Premier said it was also necessary to focus attention on "being able to look at expunging people's record in this regard and also remove people from the stop list". Kim Wilson, meanwhile, stressed the negative impact that cannabis can have on adolescents, leading to higher risks of mental illness. Noting amendments brought forward on the floor to require young people caught with cannabis to undergo drug education, she said: "We have two competing interests that need to be addressed and this Bill addresses both of those issues." Her concerns were echoed by OBA MP Susan Jackson, who called for some sort of support system for parents and victims of schizophrenia and "other disorders that are directly attributed to the misuse or use of cannabis". While Ms Jackson said the legislation was a long time coming, she said it also comes with a "level of responsibility for all of those that may want to take advantage of the consumption and use of cannabis in this community". Environment minister Sylvan Richards recounted how he was stopped and searched one night in his youth by police — the officer did not find the joint he had in his pouch, he said. "My life would've changed completely. If I would have got busted that day, I probably would not have got to go to university and the whole trajectory of my life would have gone someplace else." He said he had long hoped to do something to help those who had been less fortunate. But he also said that professions such as the fire service or construction were already struggling to hire Bermudians because many could not pass a drugs test, which could potentially become even more difficult. PLP MP Jamahl Simmons said that while he supported the bill, "each of us in our community who do engage in marijuana need to ask yourself a question — if you need it to get your confidence up to go pull some leg, you need to examine your use. If you need it to deal with the stress of your job and you can't face the day without it, you need to examine your use. If you are avoiding working in certain places because they drug test, you need to examine your use." Education minister Cole Simons, however, said that as education minister, said he could not support the Bill. "We have encouraged our students to live our drug free life," he said. "We have encouraged our students to make wise choices, so in my mind it would be duplicitous of me to support this legislation because it will basically allow the usage of marijuana to increase in this country". Leah Scott also said the legislation was a challenge for her, saying that while it was important to create a level playing field for young black males, she knew through her son the potential risks. Independent MP Mark Pettingill, who tabled several amendments to the Bill, said money needs to be placed into education and treatment rather than the war on drugs, which he said has already been lost. While he said there might be some debate in the details, for the most part they were all singing from the same pew. He said believes there should be a move towards licencing for cultivation, but the decriminalization was a first step. "I believe we have to move it forward," he said "Lets move it forward not back." Michael Weeks, meanwhile, called on increased early education on drug issues, saying: "A lot of times we talk about education only after the horse has left the stable." And he said that the island needs to have a conversation about cannabis cultivation and where the legal lines should be drawn.
May 22. The Portuguese community of Bermuda came together yesterday to celebrate the annual Festa do Senhor Santo Cristo dos Milagres. The celebration, whose title translates to "Festival of the Christ of Miracles", originated centuries ago on the island of São Miguel in the Azores and was brought by the Azorean community to Bermuda, as well as areas of the United States and Canada. Celebrations began with a church service and a parade through Hamilton carrying a statue of Jesus adorned with red and white flowers. Hundreds of revelers later moved to the Bermuda Athletics Association car park where the festive atmosphere continued with live music and traditional Portuguese including bifana and sweet malassadas.
May 22. Life was looking great for Nadia Aguiar. She'd signed with British publishers Puffin Books and was working her way through the children's series she'd outlined in her head. And then tragedy struck. Her husband, Tim Hasselbring, was diagnosed with metastatic cancer and died in 2012. Ms Aguair was left to raise their 15-month-old daughter, Havilland alone. "Writing did not help me through the hard times," she said. "There is no part of it that you can just do without thinking. I wrote during that period, just not very well. Writing requires enormous concentration, and that is difficult in a stressful situation. It took me five years to write my third book. It was late to the publishers so I did lose a bit of momentum and had to fight my way back up again." The Great Wave of Tamarind went on sale in America in March after debuting in the United Kingdom last summer. The book continues the adventures of the Nelson siblings who live on a boat. The youngest, Penny, is now a teenager and is drawn back to the mysterious island of Tamarind. There, she finds a strange creature wreaking havoc while a great wave is on the way with the magic capable of stabilising the island. To save Tamarind and collect the magic, Penny has to brave dark ocean depths, survive jungle perils and outwit a monster bent on chaos. The story is set on a fictional island but there are hints of Bermuda. The cove in Tamarind was "directly inspired" by Hungry Bay in Paget, where Ms Aguiar sometimes goes kayaking and rowing. "Now that it is done I feel proud of it and excited and happy for it to make its way in the world," she said. "The Great Wave of Tamarind is the last in the series. "I feel a bit nostalgic about it. It went to the printers a year ago so it feels like it's set in a place I lived in a long time ago, and about people I once knew but don't see much anymore." Her young fans help keep the memory alive. "For the most part you work in a room by yourself for a long time so getting a letter is nice," she said. "I got a letter from South Africa last week. I've also had them from the United States, Ireland, Canada and England." And she loves talking to local readers. "I was in Bermuda getting on an aircraft the other day and a kid I didn't know came up to me and asked me to sign a book," she said. "That was quite fun. My publishers are strongly encouraging me to do social media, which I haven't so far. So now I am setting up a website and a Facebook page." Her daughter Havilland is now five, and loves to read. "She's still a bit too young to read my books," said Ms Aguiar. "I read Roald Dahl's book The Witches to her, and at the end she said, 'I am never reading that to my children. Although you never really know what age is reading your books, the Tamarind books are targeted at children ten to 14 years old. Havilland knows I write books and she knows the covers. She likes to show my books to people sometimes. She has a little cardboard laptop and occasionally she will sit next to me as I write." Havilland is already penning her own stories. "There is a recurring character called the Mummy Monster," laughed Ms Aguiar. "I'm working on my next book. It will be completely different. It is aimed at older young adults. It is a cracking adventure story, but it is a lot about loss and about these two main characters building new lives."
May 22. The 35th America's Cup is fast approaching, and the biggest event the island has ever hosted will bring with it an unprecedented number of boats on Bermuda's waters. Some 2,000 private and public craft have registered for spectator flags so they can watch the action on the Great Sound, making water safety even more important than ever. Caution on the water will be essential, with boat owners urged to be aware of their surroundings at all times, and to proceed in a sensible manner to and from the action. Previous events around the world with large numbers of boats in a confined area, have created a washing machine effect in the water, with the swirling wake proving particularly dangerous. There have been instances of severe injury and death, with the wake throwing people overboard when boats all attempt to leave an area at once at speed. So, please bear the following things in mind when out on the water between May 26 and June 27.
Life jackets: Ideally you should have one for every person onboard, at the very least every child onboard should always wear a life jacket or flotation device when boating.
Speed Limits: Stick to these around the racecourse and coming in to Dockyard. There will be Bermuda Marine Police vessels in the area enforcing speed limits.
Taking a dip: There is to be absolutely no swimming in spectator areas
Drinking: Do not drink and drive. As on land, it is better to have a designated driver.
Sun care: It will be hot and without a lot of shade on your boat you're in the direct sun. Stay hydrated, and apply sunscreen at regular intervals.
Watching the races: Boats will be positioned in the spectator areas according to size — small boats at the front, larger ones behind. Superyachts will be positioned in a different part of the course to avoid anchoring with much smaller boats. Official spectator boats will be carefully positioned along the course to encourage maximum safety for all.
Wake watch: At times there will be a lot of wake, sailboats should ensure their booms are secured properly.
Getting home: Please drive slowly. This can become the most dangerous moment of the day, when everyone tries to leave at speed and in an unorganized fashion, it creates a washing machine effect in the water; do your part to keep it smooth.
Always stay clear of the AC50 catamarans and the Red Bull Youth America's Cup race yachts whether they are practicing or racing.
Other things to keep in mind for the next several weeks include:
Traffic into Dockyard is regulated, call VHF channel 77 if you need fuel at Pier 41 marina
Monitor Marina VHF channel 20 for live race commentary
Display your spectator flag clearly
Stay in the spectator area that corresponds to your flag
In the event of an emergency call Marine VHF 16 or 911 for immediate assistance. The Bermuda Marine Police Service will have vessels on the water throughout the event to keep the spectator fleet safe.
Sunday, May 21. A passenger on a United Airlines flight was taken to hospital this morning after the aircraft diverted to Bermuda for a medical emergency. Flight 1162 from Puerto Rico to Newark in New Jersey landed at LF Wade International Airport at 7.25am and was met by the Bermuda Fire and Rescue Service. Fire service spokesperson Sergeant Jamal Albuoy said: "One passenger, a 55-year-old male, was assessed and treated by our EMTs and transported to the hospital via ambulance for further medical attention."
May 20. Opposition leader David Burt announced last night that he will call a motion of no confidence at the next sitting of Parliament. If the motion succeeds, the Governor would be tasked with removing the Premier. The One Bermuda Alliance and Progressive Labour Party both have 17 MPs but the Opposition still has one less vote because its member Randy Horton is the Speaker and can vote only in the case of a tie. The motion could leave the fate of the OBA Government in the hands of independent MPs Mark Pettingill and Shawn Crockwell. The Opposition subsequently issued a triumphant statement calling for Bermudian voters to choose a new Government. "Tonight, the Progressive Labour Party won two major victories for the people," the statement read, noting the passage of the PLP's Bill for the decriminalization of small amounts of cannabis. Then, over the objections of the Minister of Finance, the PLP successfully passed a bill to reduce Bermuda's Statutory Interest Rate from 7 per cent to 3.5 per cent. Over the last year, two founding members of the OBA voted with their feet and reduced the OBA to a minority government without a mandate to govern," the statement continued. "Today's votes have revealed that the minority OBA government no longer has control of Parliament. Having lost the support of even their founding members, it is clear that it is time to take it to the people and for Bermudians to decide the direction of Bermuda's future." Mr Burt echoed the statement speaking to The Royal Gazette shortly after midnight, saying: "It's clear that the One Bermuda Alliance is not able to control the House and, in that vein, it is the responsibility of the opposition to test that in the House." He declined say if he felt the votes in the House on Friday would be indicative of the success of the motion. "I think that what's important is we recognise that it is important for there to be a strong and stable government in place, and the One Bermuda Alliance is clearly neither strong nor stable." Michael Dunkley, the Premier, said he was not totally surprised by the motion as it had been brought up before, but that he would face it head-on when the debate takes place. "We feel that we have made great strides over the last couple of years, certainly in recent months there has been tremendous progress. If you listen to the Opposition you might think the sky is falling and nothing good is happening. We will state our case and move forward from there." Asked if he felt about the balance of the House being left with two independents — both of whom resigned from the OBA — he said: "It's up to them to speak on the day and decide what they are going to do. In the sessions we have had since they have both gone independent, they have argued what they thought on the merits of the Bills and they have supported the Government, they have supported the opposition. Today's decriminalization, the Opposition Bill was very similar to our Bill. Mr Pettingill, to his credit, brought some amendments that made that workable for everyone in the House. The Statutory Interest Bill, I think everyone is trying to help people as best they can, and so I don't think those votes are any pretence for what you would expect on any other vote." Meanwhile, Mr Crockwell said he would have to consider his decision, but noted that he left the OBA because of his own lack of confidence with the leadership. "I'm not surprised that the Opposition leader made this motion given the current state of the Government," he said. "It is the first time that we have had a minority government, and the Government will have problems implementing its legislative agenda, so in those circumstances any Opposition leader worth his weight in salt would recognise that the Government is weak in terms of parliamentary numbers. Obviously it's challenging because I have personal relationships with the Government, but I left the Government because I lost confidence. Not in their ability to address the economy and try to stabilize the country going forward, but in their ability to bring the people along, to address the concerns and needs of the people and communicate effectively with the people. "I believe that the Government has lost the trust of the average Bermudian. It's going to be an interesting election. It is a difficult time for us to consider the motion because what's going on in the country, but at the same time you don't suspend politics and the political realities because of what's going on."
May 20. Racing in the America's Cup 50ft catamarans is not all that is happening in Bermuda from May 26 through to June 27. Racing will also take place in O'Pen Bic, RS Feva and Hobie Wave America's Cup Endeavour Junior Regattas, in AC45F catamarans for the Red Bull Youth America's Cup and in superyachts and elegant J Class yachts, too. Junior America's Cup half-time racers will be the centerpiece in the two-person RS Feva and Hobie Wave catamarans and the O'Pen Bic, a nine-foot dinghy sailed by a single youngster. All the skippers and crew are under 15 years of age. Courses will be set in the Great Sound as America's Cup half-time shows and also in the Little Sound for fleet racing. The boats are the three classes being used in the America's Cup Endeavour sailing programme in Bermuda, the America's Cup event legacy. The results of the Royal Hamilton Amateur Dinghy Club's O'Pen Bic Bermuda National Championship selected Bermuda sailors for that class. Three girls and three boys qualified for the Bermuda slots — Gabrielle Brackstone, Aiden Lopes, Sebastian Kempe, Genevieve Lau, Christopher Raymond and Jessie DeBraga. Lau, in Year 9 at Bermuda High School, said: "The America's Cup regatta is not my first international competition. I just come back from opti racing in Lake Garda and the South American Optimist Championship in Paraguay, but I know this will be the most memorable one. I am a little nervous but it will be lots of fun and exciting to be able to sail in front of the big crowd at the AC village. The Un-Regatta for the Bermuda championship was one of the most fun regattas I have ever been to. I liked trying new tricks such as ducking under the 'Bridge of Doom' and not sticking by the usual race rules. I think the Endeavour programme and other junior sailing programmes have brought many more sailors and competitions to Bermuda, I am always seeing more new faces at sailing. I hope to meet new international friends through sailing and to let sailing take me to see the world as well as to have wonderful memories of my time in sailing." Jessie DeBraga, who attends Warwick Academy in Year 7, added: "I have been sailing for four years. I started sailing Optimist sailboats then. Last year I started sailing O'Pen Bics. I feel proud of myself that I finished all of the races. The winds were very high which for me made it more enjoyable. It was my first time going through the 'Bridge of Doom'. I feel that I mastered it in. It was a fun Un-Regatta. I sailed in the Opti Nationals back in November of last year and know the America's Cup regatta is going to be an exhilarating experience. I can't wait! This was my goal, to sail in the Americas Cup! I also would like to sail on a tall ship and travel the world one day, like my older sister. The Endeavour programme has given children a chance to learn how to sail. Not all children can afford to join these expensive sailing programmes. I hope that after the America's Cup that someone will continue where they leave off." The other 26 O'Pen Bic competitors come from Japan, France, New Zealand, Sweden, Australia, United Kingdom, Italy, and Germany each with one boy and one girl. North America will send nine youngsters including a minimum of two girls. The O'Pen Bic regatta will be the half-time show between the first and second races of the America's Cup Finals June 17, as well as other O'Pen Bic Un-Regatta events being held on June 15 and 16. Fun is the main aim of Un-Regattas. They feature zigzag slalom legs and a passage under the "Bridge of Doom". The AC half-time races will be sailed on a miniature America's Cup course close to the village grandstand. The Endeavour RS Feva Regatta will be featured on June 18. They will also race on June 15 and 16. The RS Feva is a 12ft double-handed sailing dinghy. Bermudian juniors who have earned slots in the regatta are Helm Zaki Wolffe and Crew Teji Simmons, Helm Millie Lewis and Crew Laura Humpman, Helm Joanna Santiago and Crew Ruth Mello-Cann. International girls two-person teams will be representing the Netherlands, United States, and Great Britain. International boys teams will represent Guatemala, Italy, Norway, Switzerland, Britain, and Canada. Mixed teams will represent Australia, Sweden, Britain, and New Zealand. The third Endeavour Junior Regatta will be held in the 13ft two-person Hobie Wave catamaran. They sail their half-time show race on June 24 and fleet race in the Little Sound on June 22 and 23. Each Hobie Wave will be crewed by two boys or girls, or a mixed pair. The goal is to have an equal mix of males and females. Countries represented are Australia, Britain, the Netherlands, New Zealand, Sweden, Turks & Caicos Islands, the US and Bermuda. Sailing for Bermuda are two crews — Ocean Archeval with Nasya Russell and Katie Stevenson with Taylor White. "The Waves are just like the America's Cup boats but smaller, so you can get to experience how the America's Cup catamarans feel," Rose, a Bermuda High School student said. "It takes a crew to go fast so you can build team work." In addition to junior regattas, the Red Bull Youth America's Cup takes place from June 12. They have been divided into two pools of six boats. The top four teams in each pool will move into the eight-boat finals. Pool B, which has elimination races June 12 and 13, features Team BDA (Bermuda), NZL Sailing Team (New Zealand), Land Rover BAR Academy (Great Britain), Spanish Impulse Team (Spain), Next Generation USA (US), and Candidate Sailing Team (Austria). Pool A, which has elimination races on June 15 and 16, has Artemis Youth Racing (Sweden), Team France Jeune (France), Kaijin Team Japan (Japan), Youth Vikings Denmark (Denmark), Team Tilt (Switzerland), and SVB Team Germany (Germany). As total opposites to the junior and youth regattas, spectacular big-boat racing in yachts manned by ball-team sized crews will compete in huge Superyachts measuring 80 to 288 feet June 13-15 and on June 16, 19 and 20 in majestic J Class sloops stretching 90 feet on the waterline and about 130 feet overall.
May 20. Renovations to Dockyard's historic Moresby House have been completed. The building was constructed in 1899 as the residence of the Office-in-Charge of Works. Later called HMS Malabar, it has remained empty since the Royal Navy left Dockyard in 1995. Craig Cannonier, Minister of Public Works, said the "remarkable" restoration was a "fitting tribute" to the building's history. "I am extremely pleased with the work the contractors have done in such a short space of time," the One Bermuda Alliance MP said yesterday. "To think that I was here only a few months ago touring a dilapidated building and now to see it today is truly amazing." Andrew Dias, general manager at West End Development Corporation, said the landmark building had fallen into disrepair. "It was always our intention to make sure this historic building was restored and with the help of a grant from the Ministry of Public Works, work has now been finished," he said. Wedco received a $3 million grant from the Government for the project. Mr Dias, who previously told The Royal Gazette that the project would be completed by April 20, said he was "delighted" with the final product. Restoration work was completed by Overnight Construction and Strikeforce, and was completed on budget. The building will be rented as a commercial space after the completion of the America's Cup.
May 20. Dr. David Saul was described at a celebration of his life this afternoon as a "giant of a man" and a "wonderful father, grandfather and man" who left his mark on all those who met him. A memorial service for the 77-year-old former premier, who died on Monday, took place at the Cathedral of the Most Holy Trinity in Hamilton, where mourners heard touching tributes to an individual said to have excelled at everything he did, be it athletics, politics, business, adventuring or — most important of all to him — being with his family. Dr Saul's daughter, Robin, shared with those gathered the 13 most important lessons she learnt from her father. She opened with: "Be honest, be brave and be adventurous." The final lesson was: "Be active. Run, and if you can't run, cycle, and if you can't cycle, swim, and if you can't do any of these, it might be time to call it quits. And that is OK." A famously fit and energetic individual, Dr Saul suffered two strokes in the last two months of his life. Robin said: "David was as brave and dignified in life as he was in death. It is difficult to wrap my head around the last few months. I wouldn't wish that pain, heartache and suffering on anyone. But I am consoled knowing 'this too shall pass'. But enough about that. He wouldn't want us to wallow in grief. I want you all to remember him as the larger than life character he was, who gave generously of his time and looked for very little in return. David was a wonderful, father, grandfather and man. These past 44 years spent with David as my father have been an honour. I will not stand at a grave and weep. I will look out to the ocean and smile and remember David with all the pride and love I have, as should you." Businessman and friend James Gibbons delivered the eulogy, describing Dr Saul as a disciplined, mentally tough, intense, honest and determined person. "He always left a mark on people. It was impossible to miss him when he was around." He said Dr Saul was a "ruthless competitor" who was proud of his accomplishments but he added: "His family was number one and he loved you more than anything. He was proud of you all, more than anything else he ever did." Former Cabinet secretary Leo Mills, a former colleague and friend of Dr Saul, recalled a "giant of a man" and an "unforgettable character". Mr Mills said: "It was not he that sought the spotlight — it was just that he seemed to excel at just about anything and everything to which he turned his hand and his attention." Dr Saul's wife, Christine, read the W.H. Auden poem Funeral Blues, pausing for a moment before delivering the famous lines: "I thought that love would last for ever: I was wrong." His son, Jonathan, read from Ecclesiastes 3 and the service concluded with words of comfort from the Right Reverend Nicholas Dill, Bishop of Bermuda, who described Dr Saul as "extraordinary, indefatigable". Noting that runners are signing up today for the May 24 half-marathon, which Dr Saul ran countless times, Mr Dill said: "He ran the race, he finished the course, his time had come." Today's service was attended by the Governor, John Rankin, Michael Dunkley, the Premier, former premier Sir John Swan and other past and present Cabinet ministers. Dr Saul was buried at sea on Thursday.
May 20. Ashley Estwanik said she is looking forward to making her debut in the Sinclair Packwood Memorial Race this year. The six-times women's Appleby Bermuda Half-Marathon Derby champion has opted not to defend her title this year due to her involvement in tomorrow's Half Ironman in Chattanooga, Tennessee. "I will be competing in the Half Ironman in Tennessee so I will definitely not be in shape for running on Wednesday," Estwanik said. "But I am going to try and help my team [Team Madison] out for the cycle. It will be my very first time so it's going to be interesting because 13 miles of racing a bike is not very far, so that will definitely be a new experience." For Estwanik, tomorrow's Half Ironman in Tennessee will be a dress rehearsal for September's World Ironman 70.3 Championships taking place in the same American state in which she qualified for last October's Miami Ironman. "It will be good for me to get a lay of the land and I'm feeling confident about the swim," Estwanik said. "It's a downstream swim for most of it which helps me because it's not my best of the three disciplines. The bike I'm feeling really strong right now and then the run ... I haven't had that much running because of my injury. I think I'm in a good enough spot to be able to finish it, but it won't be my fastest." Estwanik's running has been hindered by an Achilles injury, but competing in triathlons has enabled the athlete to remain active without putting additional strain on her injury. "Having done so much running over the years my body can't take the everyday running anymore and this is a great way to keep fit and not put as much strain on your body," she said. Estwanik has also been inspired by Bermuda's professional triathletes Flora Duffy, the multiple world champion, and Tyler Butterfield to compete in the Olympic sport. "I think both of them [Duffy and Butterfield] just show so much integrity in the sport and are both very humble people," Estwanik said. "I love watching them race and talk about it and they are just so great role models for Bermuda in general. I love what they do and they do it with such grace that I just think that is very important — especially for our young people looking up to them."
May 20. Bermuda artist Collie Buddz said his latest album was a reflection of his life over the past ten years. "This is my first independent release and being fully hands-on in all aspects of the process has been amazing," he said of the album, entitled Good Life. "Ultimately, it is about perspective, perseverance and working towards a solution." The ten-song album, available today, features collaborations with artists including Snoop Dogg, Jody Highroller, also known as Riff Raff, and Kreesha Turner. Most of the album, he said, was produced by Supa Dubs, responsible for recent hits including Drake's Controlla, and the Drake and Rihanna collaboration Too Good. A 17-show European tour in support of the album kicks off in Manchester on October 18, with stops in France, Germany, and the Netherlands, among others. He will also perform as part of Rendez-Vous Tall Ships 2017 in Hamilton on June 2. Collie Buddz (Colin Patrick Harper) was born in New Orleans and raised in Bermuda. He said he was "blessed" with fans that have provided him with support over his career. "I'm really excited to unveil this project to them," he said. "I'm already working on the next one." Good Life is available exclusively on iTunes and Apple Music.
May 20. A 46-year-old Smith's man is reportedly stable at the Intensive Care Unit following a two-vehicle collision last night. According to a police spokesman, the crash happened on Harrington Sound Road in Smith's, near the junction with Odyssey Drive, at around 11pm. The injured man was said to be riding a motorcycle, which collided with a truck. Inquiries continue and any witnesses are asked to contact the main police telephone number 295-0011.
May 20. A teenage man was "conscious and responsive" this morning after being shot in the North Shore Road-Glebe Road area of Devonshire last night. Just before 1pm today the victim was reported to be stable in the Intensive Care Unit at the hospital. A police spokesman said the incident occurred at about 11.15pm. An investigation is under way. Any witnesses or persons that saw suspicious activity in the area at the time of the incident are urged to contact the Serious Crime Unit on 247-1739 or the independent and confidential Crime Stoppers hotline 800-8477.
May 19. Government has hailed the sale of Rosewood Tucker's Point Resort to an American company. It was announced this week that the Miami-based investment group Gencom had bought the 88-room hotel and will invest some $25 million into the property. Junior Minister of Tourism Kenneth Bascome told the House of Assembly this morning that the sale was "another milestone for Bermuda in the East End." "Gencom was founded in 1987 by Mr Karim Alibhai and is one of North America's leading hospitality and luxury hospitality related residential real estate investment and development firms and consists of a group of companies involved in all aspects of the hospitality industry," Mr Bascome told MPs. "The Gencom group of companies offers expertise in many distinct areas including finance and capital markets, asset management, design, development and equity management and residential sales and marketing. In addition, the Gencom management team has a wealth of experience and members of senior management have an average of 25 years of industry experience and an average of 12 years with Gencom's associated companies. Gencom companies' successful track record has led to significant ventures with prominent institutional investors, prominent family groups and other strategic partners both in the Unites States and internationally. During its foundation years, Gencom's focus was on executing turnaround and repositioning strategies that involved portfolio and single asset transactions within a variety of hospitality segments including luxury, limited-service and full-service assets. Since 1997, Gencom has expanded its focus and involvement to also include the acquisition and development of luxury mixed-use hotels and resorts with ancillary residential components. In addition to being one of the largest owners of Ritz-Carlton properties in the brands system, Gencom has had great success in working with and owning assets under multiple brands including Marriott, Hyatt, Wyndham, Hilton, Sheraton, Radisson, Renaissance, Summerfield Suites, Holiday Inn and Intercontinental and has recently expanded this brand presence to exploring opportunities with luxury brands such as Four Seasons, Rosewood, Montage Mandarin Oriental and Aman Resorts. Honourable members will be reminded that the Government of Bermuda passed a Hotels Concession Order last year for the Tucker's Point Resort, which was a condition of the sale, and the estimated concession relief is $13.3 million dollars over five years, which is subject to conditions including training Bermudian staff, hiring Bermudian entertainment and marketing the resort. This Honourable House is advised that the developer has outlined a renovation timeline which will maximize the hotel's operational ability in the short term, prepare the asset for long term success and, also, take into account the upcoming America's Cup event in 2017. TP Holdco Limited is committed to repositioning the hotel to become one of the world's most luxurious resorts offering the best in customer service. The developer will commence with an immediate investment of $5.8 million dollars being spent in the first year on key renovations, deferred maintenance and capital projects, and is on target to bring a total foreign investment into Bermuda's economy between $92 million to $95 million dollars. The anticipated scope of work and cost breakdown by project includes approximately $6 million dollars on guestrooms; approximately $6 million dollars on the Point Restaurant relocation, pool enhancement and new lobby bar/lounge; approximately $2 million dollars on Spa enhancements and repositioning; approximately $2 million dollars on meeting space and boardroom renovations; approximately $2 million dollars on the Beach Club and Golf Club; approximately $2 million dollars on marina enhancements and an additional $2 million dollars on the general hotel contingency for fees, upgrades, master planning, pre-marketing and third parties. TP Holdco Limited will embark on a series of real estate development projects over the term of the investment, including an immediate programme to develop the existing Harbour Drive land sites into 16 new, for-sale condo-hotel units, which once entered into the hotel rental inventory, will increase hotel key count by 20-30 new additional hotel suites. An additional development, which is targeted as part of the Phase I business plan, is the development and sale of the existing Paynter's Hill Site 9, which will be developed and sold as a branded Estate Home (it will also be contributed to hotel inventory as a premiere estate home during peak and holiday seasons). The capital expenditure related to these two projects would be above and beyond the scope outlined above and will be further refined and estimated post-closing. The hotel presently has a total of 88 rooms of which 28 are superior rooms, 40 deluxe, 12 one bedroom and 8 suites. The hotel property also includes two private residence clubs comprising of 340 fractional luxury residence units. During the period of renovation of the hotel and development of the real estate sites, the hotel will remain open for business, with only occasional partial/temporary closures where this is otherwise unavoidable. The commitment made by TP Holdco Limited this week is critical and in line with this Government's strategy to develop the much needed tourism product to help sustain Bermuda's tourism now, and for future generations. On behalf of the Ministry of Tourism, we take great pride in recognizing not only this great news today regarding the Rosewood Tucker's Point Resort, but all of our partnerships in tourism that we have been cultivating over the last few years. Bermuda will experience the most exciting event ever to happen in Bermuda's history with the 35th America's Cup starting next week; we are seeing tremendous growth in tourism statistics in the first quarter of 2017, including, increased air arrivals, additional flights, increased number of cruise ship passengers and cruise calls. We now have smaller ships visiting the Town of St. George after a remarkable upgrade to the Old Town to include Penno's Wharf and the new Hunter's Wharf ferry dock. We have additional ships visiting the City of Hamilton and shovels in the ground at the L. F. Wade International Airport and the St. Regis Development in the Town of St George. The St George's Bridge works are complete as well as the newly renovated Horseshoe Bay Beach entrance, with its spectacular new wooden foot path and parking area for our visitors to enjoy one of the world's most famous beaches and Bermuda's most renowned attraction. These are all great reasons to celebrate today."
May 19. Rosewood Tucker's Point Hotel and Resort has been sold to the Miami-based firm Gencom and is out of receivership. According to an official announcement yesterday, the hospitality development company will invest $25 million into the property, with additional follow-on commitments for future development. However, other financial details of the purchase were not disclosed. Karim Alibhai, the principal of Gencom, said: "Gencom's decision to acquire Tucker's Point reflects our firm's longstanding strategy of unlocking value by targeting one-of-a-kind assets in markets that we consider undervalued and poised for long-term growth. "Bermuda benefits from direct flight access from Europe and the eastern coast of the US, making it a natural destination for international travellers and residents in search of an island destination offering luxury accommodations." Alessandro Colantonio, senior vice-president of acquisitions for the company, said: "Benefiting from a picture-perfect location, the strength of the Rosewood brand, and amenities capable of impressing the most discerning travellers, Tucker's Point is already a sought-after international destination. Our repositioning and renovation plans will further enhance the resort's appeal, while creating new opportunities for residents looking for a place to call home in Bermuda." Gencom seeks to "elevate" every aspect of the resort, renovating guest rooms and adding new food and beverage venues, in addition to new meeting spaces. The new owner also intends to develop, market and sell "branded and unbranded luxury real estate properties, including townhouses, single-family homes, villas and condo-hotel units oriented towards the waterfront and golf course". A spokeswoman for Rosewood Hotel and Resorts meanwhile confirmed that the purchase went through on Wednesday, adding that staff at the hotel will not be affected. "The resort will remain under the management of Rosewood Hotels and Resorts, and the transition to new ownership will not have an impact on the staff, operations or overall guest experience," she said. "Rosewood Tucker's Point will continue to offer the same timeless luxury that guests have always known and loved." Senator Michael Fahy, the tourism minister, said the government was thrilled to welcome Gencom to the island. "Gencom's proven expertise and long history with leading hotel brands makes for perfect participation in the bright future of Bermuda tourism. This investment is another indication of confidence in Bermuda, further demonstrating that a tourism renaissance is alive and well. With major new investment being made in the existing facility, this hotel will continue to create exciting products and services for our visitors and locals alike. Gencom has amazing plans in terms of upgrades, and we have worked closely with their team, through the Economic Development Committee, to assist." The Bermuda Tourism Authority also hailed the sale as a success, with Roland Andy Burrows Jr, chief investment officer for the BTA, saying: "Gencom's investment will bring direct and indirect impact to Bermuda's economy and tourism sector as we strengthen the island's brand as a premier destination." Kevin Dallas, BTA CEO, added: "Like Gencom, the BTA believes Bermuda's tourism market is poised for long-term growth. The island is on a pathway to produce an additional 1,500 rooms over the next ten years. "Today's news that Rosewood Tucker's Point is under new ownership and due to receive a $25 million makeover investment will light a fire under other investors considering Bermuda for their portfolios. It's also helpful to talk about this development as the 35th America's Cup approaches. We can add the Tucker's Point news to our talking points as the team pitches tourism-related investment opportunities to potential investors while they're here enjoying the racing and enjoying Bermuda. The Bermuda Tourism Authority looks forward to working closely with Gencom and the other new investors we will meet over the next six weeks." Jones Lang LaSalle represented the seller in the transaction while Rego Sotheby's International Realty acted as a local agent. The financial and operational restructuring of the various Tucker's Point seller companies in receivership was led by Roy Bailey and Keiran Hutchison of EY Bermuda Ltd, and financing was provided by HSBC Bermuda. The Hamilton Parish resort property went into receivership in 2013 and was put up for sale in 2015, with no specific price listed. At the time, receivers EY Bermuda say they were "seeking suitable investors to ensure the long-term success and sustainability" of the property. Despite the challenges, the resort has won the Forbes Travel Guide Four-Star Award for the past two years. Last year, the House of Assembly approved draft concessions for the resort to support a number of construction and renovation projects including a $6 million renovation at The Point restaurant and enhancements to the pool, beach club and marina.
May 19. The Bermuda Government's extra incentives for the developers of the new St Regis hotel total $2.7 million over a period of three years. The concessions are unrelated to casino fees for the East End resort, according to Grant Gibbons, speaking for the Ministry of Tourism. Zane DeSilva, the Opposition's spokesman for public safety, suggested it was "rather coincidental" that the spending added up to "almost the same amount as the casino fees", but Dr Gibbons said the infrastructural commitments helped to move the project ahead. The minister called the concessions "small" in comparison to the ultimately $350 million to be spent by the developer on the St George's resort, expected to open in 2020. Government commitments range from water to roads, in tandem with agreements from Hotelco Bermuda Holdings. "The Government's assistance is important in the successful completion of the new hotel," Dr Gibbons told Parliament. "Once completed, the developers will take on the responsibility for repair and maintenance of the generator and non-public roads and, most importantly, will commence building construction activities after the current site preparation activities are concluded," Questions were raised by the Progressive Labour Party at the previous sitting of the House when Bob Richards, the Minister of Finance, detailed the Government's $25 million guarantee towards the bank loan for the development. Dr Gibbons said that the infrastructural assistance had been identified "in the course of the project review", and a supplementary agreement reached in which the Government committed to:
Drill one extra water well at the site with a back-up generator, to a maximum cost of $650,000;
Provide free metered water for three years following the issuing of the hotel occupancy certificate, up to $300,000 annually;
Build and pave a new, realigned public road with public parking, up to a maximum of $850,000;
Repair the Fort Albert and Fort Victoria access roads up to $300,000;
Remove dumped items from the vicinity of the site's forts.
Among Hotelco Bermuda's commitments is an agreement to start "major excavation works" within 60 days of the road realignment completion.
May 19. Legal amendments to be drafted in light of the Supreme Court's ruling on same-sex marriage are under discussion, home affairs minister Patricia Gordon-Pamplin said today. Responding to questions from Progressive Labour Party MP Walton Brown, Ms Gordon-Pamplin told the House of Assembly the Ministry of Home Affairs and the Attorney-General's Chambers are working to identify necessary amendments. The minister deferred when asked whether marriages conducted before the amendments would be legal, saying she would await answers from the Attorney-General. Independent MP Mark Pettingill told the House that the ruling set out "very, very clearly what the position was in law — it should have taken five minutes for the AG's chambers to advise. Why is it taking so long?" Mr Pettingill asked. Ms Gordon-Pamplin responded that she was "not a lawyer, and I don't wish to misspeak". Earlier this month, Puisne Judge Charles-Etta Simmons ruled in favour of Bermudian Winston Godwin and his Canadian fiance Greg DeRoche, who had fought for the right to marry in Bermuda. The couple had brought a civil suit against the Government after the Registrar-General refused to publish their marriage banns, claiming his failure to do so was discrimination under the Human Rights Act.
May 19. Legislation decriminalizing up to 7 grams of cannabis was passed unanimously in the House of Assembly tonight. If approved by the Senate and the Governor, the legislation will come into effect on June 30. The Opposition bill, tabled by shadow Attorney-General Michael Scott, received support from both sides of the House, although some expressed concern over possible "unintended consequences". Delivering his brief, Mr Scott said the Misuse of Drugs (Decriminalization of Cannabis) Amendment Act 2017 aimed to help prevent Bermudians, particularly young black males, from suffering the long-term consequences of a drugs conviction, including placement on the US "stop list". However, the Director of Public Prosecutions could still charge those caught with less than 7 grams of cannabis if there is evidence of intent to supply.
May 19. A former Royal Gazette employee is behind bars today after being found guilty of being part of a major global operation to smuggle nearly $1 million worth of cocaine into Bermuda. Curtis Swan was also convicted of possessing more than $130,000 in dirty money and removing $90,000 from the island that police believe was earned from the illegal trade of narcotics on the island. Today, the 54-year-old faces a maximum of life imprisonment for conspiracy to import cocaine into Bermuda and money-laundering. During the course of a five-week trial at Supreme Court, jurors heard that Swan was caught red-handed in May 2015 after he picked up a package containing shredded paper and glass vases from FedEx in Hamilton. Authorities in the United States had already intercepted the package, which originated in Panama, and removed the packaging that was found to have been soaked in cocaine hydrochloride. After Swan picked up the package he was kept under supervision as he stopped at Bermuda Paint and bought liquid ammonia on behalf of The Royal Gazette — which he was not authorised to do. Prosecutors told the court that the chemical would have been used to remove the cocaine from the shredded paper and would have produced a large quantity of crack cocaine with a street value of over $811,000. When police descended on Swan's Warwick home, they discovered more vases and other packaging, which contained traces of cocaine, that they believed showed this was not the first attempt to smuggle in the cocaine from Panama. Further inquiries by financial crime officers revealed that huge quantities of cash had been deposited in Swan's three Bermuda bank accounts between January 2013 and 2015 and withdrawn soon after the money was transferred. Examination of his bank account records showed that Swan had removed just over $92,000 from Bermuda through his various accounts that had then been withdrawn from cash points in Trinidad and Panama. He had also personally tried to launder a further $39,000 in ill-gotten gains by exchanging Bermuda dollars for US currency at various financial establishments in Bermuda. Swan was arrested and questioned by police on May 28, 2015. He admitted picking up the package from FedEx but claimed he had no idea it had contained drugs. During his trial Swan took the stand and again insisted that he had done nothing wrong and had no idea that he had been involved in a drug importation conspiracy. However, the jury rejected his version of events and found him guilty of all charges by a majority decision. He was remanded in custody until the beginning of next month when a sentencing date will be set.
May 19. Dr. Grant Gibbons, the Minister of Economic Development, outlined plans this morning in Parliament for broadcasting and audiovisual media. Dr Gibbons said he was in the process of evaluating policy options for the creation of "a new regulatory framework for broadcasting and, more generally, for the provision of audiovisual media services in Bermuda". Issues raised over the existing framework include the current regime being updated and not reflecting digital convergence; the fragmented state of the current regulatory regime governing services; the "uncertain" future of over-the-air television in Bermuda; the limited availability of local television, especially for locals unable to subscribe to Cable, and the allocation of valuable radio spectra to broadcasting that "does not appear to be used efficiently", Dr Gibbons said. A round table was convened this week with "a cross section of the industry CEOs", and will be televised on CITV. A draft policy statement will be put out to public consultation, Dr Gibbons added.
May 19. A Bill that would solidify marriage as being between a man and a woman has been brought back to the House of Assembly for a second time. Progressive Labour Party MP Wayne Furbert has reintroduced the Human Rights Amendment Act as a Private Member's Bill, telling The Royal Gazette that there were still legislative options on the table. The move comes after Justice Charles-Etta Simmons ruled in favour of Bermudian Winston Godwin and his Canadian fiancé, Greg DeRoche, who had fought for equal rights after the Registrar-General rejected their application to marry on the island. "The system has not exhausted itself legislatively," Mr Furbert said. He added that in her ruling, Mrs Justice Simmons "chastised Parliament for abrogating its responsibility". And he said that while he "does not have the confidence" that the Bill will pass this time around, he felt it was his duty to fight for it in Parliament. Mr Furbert said many of his constituents had approached him about this. "Here is a Government that could appeal it, but hasn't," he added. "If Mark Pettingill had lost in the Supreme Court he would gone to the next stage," he said. He added that this would have involved the Court of Appeal and ultimately the Privy Council. Speaking during the morning question session, Minister of Home Affairs Patricia Gordon-Pamplin said legal amendments to be drafted in light of the ruling were under discussion. But Ms Gordon-Pamplin deferred when asked whether marriages conducted before the amendments would be legal, saying she would await answers from the Attorney-General. Although independent MP Mark Pettingill said the ruling set out "very, very clearly what the position was in law — it should have taken five minutes for the AG's chambers to advise", Mr Furbert said there was still confusion. He added: "We still don't know where it is legally." The same amendments, which were rejected by the Senate last year after winning approval from the House of Assembly, would state that nothing in the Human Rights Act would override the provisions in the Matrimonial Causes Act 1974, which stipulates that marriages that are not between a man and a woman are void. The Bill was brought before the House of Assembly last year and was passed by 20 to ten on July 8. However, it was then defeated six-to-five in the Senate. After Mr Furbert introduced the Bill today, he was told by Mr Horton that it could not go ahead until at least July 8. Mr Furbert explained that a year had to elapse before the Act could be brought again once it was defeated.
May 19. Former attorney-general Mark Pettingill has told why he got involved in civil court proceedings brought by the Government of Bermuda against the Lahey Clinic. The independent MP, who has lent his name to a document in support of Lahey's motion to have the case dismissed, said he merely told the truth when asked by Ewart Brown's lawyer if he knew about the former premier's business relationship with the Massachusetts-based teaching hospital. Mr Pettingill, one of 11 past and present members of the Bermuda legislature to sign the brief, told The Royal Gazette that nine years ago, when a family member of his was diagnosed with a serious illness, he approached Dr Brown to ask for help because he knew of the premier's association with Lahey. "We weren't particularly friendly, but we were both in the House and I asked to have a meeting with him," he said. "He helped basically make a couple of calls and got my [relative] through the door for treatment. I ended up making very good friends at Lahey." The case for unspecified damages against the hospital alleges that it conspired with Dr Brown on an unlawful enterprise fuelled by its payment of "secret" bribes to him, which caused injury to the Government and Bermudian patients. The claim alleges: "[Dr] Brown . . . had an obligation to disclose his relationship with Lahey, but affirmatively concealed it." But Mr Pettingill said Dr Brown's business relationship with Lahey was common knowledge and his awareness of it was the very reason he approached the premier in the first place. "I was totally aware of that relationship and he knew that," he said. "I thanked him at the time for putting us in touch." He said he got a call recently from Dr Brown asking if he'd be willing to answer a few questions about the lawsuit from an attorney in the United States and he agreed. "When I got a call asking was I aware that Ewart Brown had a consultancy, I said 'yes, absolutely'. I just told the truth." He and the other ten current and former legislators agreed to act as amici curiae — or friends of the court — filing a brief aimed at shedding light on a matter of "great importance in Bermuda". The other signatories are Dr Brown himself, former premier Alex Scott, former United Bermuda Party leader Kim Swan, Progressive Labour Party leader David Burt and MPs Wayne Furbert, Michael Scott, Zane DeSilva, Kim Wilson and Walter Roban, as well as independent MP Shawn Crockwell. Mr Crockwell and Mr Pettingill work together at Chancery Legal law firm and the former has represented a patient of Dr Brown, whose medical records were seized by police during raids on his clinic. Mr Pettingill said that was "entirely separate" to the brief and there was "no financial gain" for him in adding his name to it. The brief details how Dr Brown's relationship with Lahey was in the public domain as far back as 1997, as outlined in an article in this newspaper in February. A letter raising concerns about the association was sent to Mr Furbert when he was United Bermuda Party health minister in July 1998, and that correspondence was reported on by The Royal Gazette in November that year. An earlier story, published in 1997, described Lahey as an "associate clinic" of Dr Brown's. Former UBP leader Mr Furbert, who crossed the floor to the PLP in 2010, said at the time he had no problem with the business arrangement. The amici curiae brief states: "Mr Wayne Furbert is an amicus and stands behind his statement that the government at [the] time was aware of and had no issue with Dr Brown's relationship with Lahey." It goes on to say the Government "and, indeed, the public at large" were aware of the business relationship from 1998 through to 2010, when Dr Brown stepped down as Premier. The lawsuit alleges a breach of racketeering laws, but the brief from Mr Pettingill and co says that knowledge of the relationship by the Government meant any legal complaint would need to have been made within the four-year statute of limitations for such offences. The Massachusetts District Court has yet to rule on Lahey's motion to dismiss the case. The hospital insists the action is politically motivated and the same claim is made in the amici curiae brief. Dr Brown, who is not a party to the action, has said it contains "countless lies and ridiculous allegations".
May 19. Bermudian attorney Sophia Greaves has been appointed to the Bermuda Tourism Authority board of directors. She replaces hospitality real estate executive Allison Reid whose term on the board has expired. Ms Greaves is a director in the corporate department of Conyers Dill and Pearman. According to a press release, her practice at Conyers spans a number of specializations with particular emphasis on securitisations, mergers and acquisitions and the formation, licensing and ongoing regulatory requirements for Bermuda reinsurers. Bermuda Tourism Authority chairman of the Board David Dodwell stated: "We welcomed Sophia onto the board this morning and she is already making positive contributions that will assist us in continuing the tourism comeback in Bermuda. Her professional background in corporate law is an asset around the table, especially as the Bermuda Tourism Authority works to attract new investment into the Bermuda tourism economy." Ms Greaves said: "I am very pleased to join a board that has already proven the strength of its leadership by building a high quality organisation that is achieving results for Bermuda. I look forward to working closely with the board of directors and the team at the Bermuda Tourism Authority to advance the fine work that is already under way and to continue to develop the Bermuda tourism product as a dynamic brand that is synonymous with excellence."
May 19. New international accounting rules could affect the island's insurance industry as much as European Union Solvency II requirements, a professional services firm said yesterday. Now PwC is to hold a live global seminar to highlight International Accounting Standards Board's new accounting standards, known as IFRS 17. A spokeswoman for PwC in Bermuda said: "IFRS 17 can impact insurers as much, if not more than, Solvency II. "It will impact Bermuda insurers that report under IFRS, including domestic insurers, life insurers and reinsurers and certain commercial global reinsurers and insurers." Arthur Wightman, PwC Bermuda leader and insurance leader, said: "Insurance reporting is being redefined in one of the single-largest standard reforms in decades. Additionally, it will begin to mark a divergence between insurers, and indeed some banks, reporting under IFRS and those reporting under US standards." The new IASB rules are said to be the biggest change in accounting standards for two decades. They were drawn up to align insurance company reporting frameworks across the globe and increase their consistency, comparability and transparency and will become effective at the start of 2021. The standard, which will replace IFRS 4, is expected to have an international impact, with 125 jurisdictions using IFRS, while every insurance company that reports under the regime will have to adopt the updated framework. Mr Wightman said: "IFRS 17 has taken many years to come to fruition and similarly it will require careful planning and implementation for those companies impacted. "The IASB's aim is to provide more transparency and comparability than the current accounting standards. It is, however, complex and the detail of the standard, together with the forthcoming guidance over implementation, will play a significant role in the ease or otherwise of adoption of the standard." Rating agency Standard & Poor's welcomed the imminent changes but said it could prove challenging and costly for insurers. "We welcome the increased comparability that IFRS 17 will bring," S&P said in a statement yesterday. "Its introduction will make insurance accounting more consistent and transparent and will aid our rating of insurers globally. We do not, however, expect that the standard will have an immediate rating effect for insurers when it comes into force in 2021. Moreover, it could prove costly for insurers to implement and have longer-term implications on insurance business pricing." Alex Bertolotti, global IFRS insurance leader at PwC, added: "One thing is clear, particularly for life insurers — while ultimate profits will not change, the emergence of these profits can change significantly. Both insurers and their analysts will need to assess the full impact in terms of telling the performance story of their companies. Key performance indicators and income statements will look significantly different following implementation. There are things that firms should be doing now to understand and communicate the impact of different assumptions and approaches, as well as to assess the scale of work and resources required." The webcast, which will feature Darrell Scott, an IASB board member, will be held on Wednesday, May 31.
May 19. Michael Douglas has made a second appearance today on NBC's Today show to extol the island, by the idyllic waterfront at the Hamilton Princess. "I had my first birthday here in 1945," Mr Douglas told Kathie Lee Gifford and Hoda Kotb. "There weren't even cars back then ... I love this island; it's a stunning, gorgeous place. The proximity to the East Coast and New York is amazing." Mr Douglas went on to thank the hosts "as a Bermudian" for bringing the spotlight to the island. "Love your beautiful island, Michael," one guest quipped, asking him where was "the most romantic spot to kiss your sweetheart on the island". "That's a dangerous question," Mr Douglas responded, adding: "But my family and I have a hotel property here, called Ariel Sands. And it's down on the beach ... it's pretty spectacular, looking out on the South Shore." Looking relaxed, the Oscar winner fielded a variety of questions from guests and cracked jokes, as part of the programme's run-up to the America's Cup.
May 19. Bermuda is now just a week away from hosting its biggest ever international event — and the eyes of the world are on the island. Yachts have arrived in their dozens, noticeably growing numbers of tourists are on the streets and, with construction work nearing completion in Dockyard, the signs are clear: the 35th America's Cup is nearly here. Yesterday, millions of viewers tuned in to watch movie star Michael Douglas showcase Bermuda's charms on the popular NBC Today television show. Today broadcast live from the Hamilton Princess, with another show scheduled for today, and featured a prolonged segment of Mr Douglas showing host Kathie Lee Gifford some of the island's attractions. Gibbs Hill Lighthouse, Horseshoe Bay and the Mid Ocean Golf Club all came under the spotlight, while Mr Douglas detailed some of his family's history on the island. The pair enjoyed a codfish breakfast, learnt a touch of Bermuda slang from Twisted Spoon mixologist Stephan Gitschner and were introduced to island fashion with several local models donning TABS Bermuda shorts. Other local figures appearing during the broadcast were environmentalist Chris Flook and Jeremy Madeiros, who brought a cahow chick and a Bermuda skink among other examples of local wildlife. Ms Gifford and Hoda Kotb told The Royal Gazette they were thrilled to be in Bermuda. "We are excited about the America's Cup being here, and I've been friends with Michael Douglas for a long, long time, but not been able to spend time with him for years, so it was so much fun to reconnect with him," Ms Gifford said. "He took me out on a boat and gave me the official Michael Douglas Bermuda tour. Hoda joined us at the end and we had Dark n' Stormies at the Harbourfront. I forgot where I was. It was like getting lost in paradise." Ms Kotb added: "This is like a postcard. It's like we are walking into a postcard and spending the day." While both hosts have been to the island before, Ms Kotb said her visit took place when she was just a child. "You know when you don't have really clear memories of something? Well, this trip just cleared up the memories for me. It's spectacular, and the fact that you can get here lickety-split from New York surprised me so much. Everyone sort of lumps Bermuda together with the Caribbean islands, but you get on a plane and then 90 minutes later you're here." Both hosts praised the kindness of those they had met, with Ms Gifford noting that Peter Green, the owner of the Hamilton Princess, had personally brought her flowers. "It's going to be pretty hard to go back to being with Al Roker," she joked. Ms Kotb added: "Something about seeing Bermuda from a boat, it paints such a great picture of everything that goes on and everyone we met has been so happy and friendly, and Michael is calling them out by name. You feel like you are in a tiny town of friends." Asked about the America's Cup, the hosts said that they had not heard much about the event, but Ms Kotb added that it would be a welcome relief from political news. "It will be a welcome break from all of that," she said. "It will be something fun to watch." Mr Douglas is set to make a live appearance on the show today, which will air at 11am on NBC.
May 19. Wyclef Jean will perform in Bermuda as part of the America's Cup festivities. The three-time Grammy Award-winning entertainer, will be on the main stage at the America's Cup Village in Dockyard, on Saturday, May 27, from 5.15pm. He said in a press release: "I had my first taste of the America's Cup in Chicago in June 2016 at the Louis Vuitton America's Cup World Series event. I went out on the water while they were racing and nothing prepares you for just how fast, and how cool, those boats are. Now I'm coming to Bermuda where I'll have the chance to be part of the America's Cup show and I cannot wait! If you haven't already, book your tickets now and I'll see you in the America's Cup Village." All tickets that gain entry into the America's Cup Village will give access to Wyclef Jean's performance and the full day of racing and America's Cup Village experiences on offer, according to a press release from event organisers. Wyclef Jean first received fame as a member of the acclaimed New Jersey hip hop group the Fugees, the trio that also included Lauryn Hill and Pras. Jean is Pras's cousin and a fellow Haitian immigrant to the United States. The group's debut album, Blunted on Reality, peaked at number 49 on the US Hot 100 and sold more than two million copies worldwide. Their sophomore album, The Score, sold more than 18 million copies worldwide, eventually becoming a multi-platinum, Grammy-winning album. Wyclef, or 'Clef as he is known, went solo in the late 90s and released a series of eclectic albums that were both critical and commercial successes. Meanwhile, the America's Cup Event Authority announced that nearly all America's Cup Village spectator experiences are now sold out for day one of the 35th America's Cup. There are still very limited numbers of Spectator Boat and Longtail Lounge tickets available for next Friday. Anyone considering attending the America's Cup Village is urged to book their place now via www.americascup.com/tickets.
May 18. NEW YORK (Bloomberg) — Bermuda-based insurer Global Atlantic Financial Group is weighing an initial public offering as soon as this year, according to people familiar with the matter. The fixed-annuity seller is mulling an initial public offering of shares in the fourth quarter or early 2018, said the people, who asked not to be identified because the process is private. Goldman Sachs, a major backer of the insurer, is helping with the listing plans, the people said. No final valuation has been set and the timing is not yet final, they added. Representatives of Goldman Sachs and Global Atlantic declined to comment. Insurers backed by money managers including private-equity firms, banks and pension funds have done well in recent years. Fixed annuities, which help provide income to retirees, have become more popular amid an ageing population. Global Atlantic had more than $50 billion in assets at the end of December. Athene Holding Ltd, another island-based insurer, which accounts for about a quarter of the asset-management fees earned by private equity firm Apollo Global Management LLC, went public in December. Athene's stock has since climbed by about a third — a consideration in the timing for Global Atlantic's plans, the people said. Global Atlantic was formed as part of Goldman Sachs in 2004 and separated almost a decade later as regulators imposed tighter capital standards. The majority stake was sold to institutions and high-net-worth clients, with Goldman Sachs retaining about a one-fifth holding. Its reinsurance operation, Global Atlantic Re, is based in offices at 19 Par-la-Ville Road, Hamilton. Global Atlantic chief executive officer Allan Levine has been seeking growth since the company separated from the bank. The insurer agreed to buy Forethought Financial Group in 2013 to expand assets under management to more than $30 billion at the time. At the end of last year, Global Atlantic was the 13th-largest seller of annuities in the US with $5.6 billion sold, according to data from industry group Limra.
May 18. NEW YORK (Bloomberg) – Bermuda Premier Michael Dunkley said the island will be able to attract businesses even as US President Donald Trump plans to reduce tax rates to help keep companies onshore. "One of the things that I find very comforting about Bermuda is we're paradise in the middle of the ocean," Mr Dunkley said yesterday at an event at Bloomberg headquarters in New York. He cited a strong regulatory environment and intellectual capital as competitive advantages for the island. Bermuda has attracted hedge funds and family offices to its tax-friendly jurisdiction. Some of those investment firms formed reinsurance ventures, making the island a home base for companies that provide backstops to primary carriers for risks including hurricanes, terrorist attacks and car crashes. Those offshore vehicles have helped some firms reduce the amount they pay to the US government by treating any gains as long-term profit. "Without a doubt, the US tax system is significantly uncompetitive relative to the rest of the world," Siva Subramaniam, a tax partner at PricewaterhouseCoopers said at the event. He said many companies have been trying to "level the playing field". Trump is seeking to cut the corporate tax rate to 15 per cent from 35 per cent, while House Republicans have a plan to set it at 20 per cent. Wealthy families are seeking a simplification of the tax code, according to Kristi Kuechler, president of the Family Office Exchange's Private Investor Centre. In addition to tax rates, political events and regulatory changes in the US and abroad have been spurring firms to consider moving their employees and headquarters. The UK's decision to part from the European Union has spurred companies to make changes. XL Group relocated to Bermuda amid rule changes in Europe, saying that the island's regulators would be best situated to approve its internal capital models. Mr Dunkley said Bermuda would have to work closely with UK and EU leaders to make sure his constituents will have proper access to markets abroad. "We want to protect our business base, we want to keep those markets open," Mr Dunkley said. "There's a lot of work that has to be done."
May 18. Billionaire Michael Bloomberg told a gathering of senior US business leaders yesterday that Bermuda plays a special role in the global economy. The three-term former New York mayor and founder of Bloomberg LP made the comment at an invitation-only forum at Bloomberg headquarters, co-hosted by the Bermuda Business Development Agency. Titled "The Future of International Business Deals: How to Position for Long-Term Growth", the awareness-raising event brought together more than 150 senior US business leaders for in-depth panel discussions on issues important to the Bermuda market. "Our company is always looking for ways to give people the information they need to make smart decisions and fuel growth, and one of the things we're trying to do is bring people together to share ideas and learn something," Mr Bloomberg said. "The island plays a special role in the global economy; it helps to fuel growth and support jobs through trade and investments, so we have stake in Bermuda's growth and also in some of the changes that are taking place in the world," he noted, adding he has owned a home in Bermuda for more than 20 years. Bloomberg introduced Michael Dunkley, the Premier, for a live, half-hour interview that launched the three-hour afternoon event aimed at raising Bermuda's profile among New York-based corporate executives. Premier Dunkley's question-and-answer session with Bloomberg editor-in-chief emeritus Matt Winkler was staged before an audience of asset managers, hedge fund, private equity and institutional investors, and was streamed on all Bloomberg terminals. Their conversation covered the attraction of Bermuda to foreign investors, the island market's growth, high performance and recent diversification, and the safe harbour Bermuda offered amid geopolitical uncertainty triggered by Brexit and possible tax reform by the US Trump Administration. "Foreign acquirers spent $9.55 billion, a record amount of money at least in the past 12 years, for assets in Bermuda last year," said Mr Winkler, noting there were 25 Russell 3000 Index members currently domiciled in Bermuda, with a total market capitalisation of $91 billion. "The 39.4 per cent premium the buyers had to pay was also the highest. So, the value of Bermuda is going up; it's at an all-time high." Finance minister Bob Richards and economic development minister Dr Grant Gibbons attended Wednesday's event, along with senior representatives from Bermuda's international business sector. "It's an honour to have the opportunity to be at Bloomberg headquarters and to have the former Mayor introduce the event," said the Premier. "The opportunity to talk about Bermuda in front of a first-class audience, with good panel discussions, and an awesome opportunity to network. It raised awareness and it's clear people are excited about Bermuda." Mr Dunkley's interview was followed by panel discussions examining transformative forces impacting the global business landscape, including changes to regulations and tax policies. "This event was a prime opportunity to heighten Bermuda's profile as a top-tier jurisdiction and raise awareness about what our market offers US corporations," said BDA CEO Ross Webber. "The high-profile nature of this forum, with the added benefit of Mike Bloomberg's personal endorsement, has considerably strengthened awareness of Bermuda and differentiated us from other offshore domiciles." The afternoon's first panel examined the effect of impending US tax reform on global investments, including global capital flows and the ways deals are structured and implemented. Panellists discussed ways investors could optimize their transactions and pursue strategic acquisitions. Featured speakers were: Kristi Kuechler, president, FOX Private Investor Centre; Rodney Lawrence, global head for International Tax Services, KPMG; and Siva Subramaniam, tax partner, International Tax Services, PwC. A second moderated panel discussion looked at global regulatory changes and what overseas jurisdictions like Bermuda offered US-based companies considering foreign direct investments. Featured speakers included Howard Mills, global insurance regulatory leader, Deloitte; Torsdon Poon, transaction tax leader, Ernst & Young; and Mark Strefling, general counsel and COO, Whitebox Advisors. Panellists explored how global businesses could take advantage of international opportunities in a safe harbour such as Bermuda amid current geopolitical and macroeconomic uncertainties. The Premier and Mr Webber met earlier with Kathryn Wylde, president of the partnership of New York, a non-profit organisation whose members comprise corporate leaders from top companies in the US. They discussed their respective markets, including Bermuda's renewed growth and innovation, ways the island could help global corporations, and potential opportunities for more US-New York business synergy.
May 18. A subtle pattern of symmetries has been created by this week's appointment of Brian Duperreault as chief executive officer of American International Group. Not only has Mr Duperreault, 70, come full circle in his career, having entered the insurance sector in 1973 at AIG, he is now leading the company that seven decades ago was the first international insurer in Bermuda. The company was a pioneer for Bermuda's subsequent emergence as one of the world's major insurance and reinsurance hubs. Now, just as AIG played such a key role in bringing a prosperous direction to the island's economic destiny many years ago, it is a Bermudian who has stepped up to help AIG through a difficult period. By further coincidence, Mr Duperreault was born in Bermuda in 1947, the same year that American International Company incorporated on the island. AIC was a component of what became AIG, and handled the non-US business of the American International group. Although born in Bermuda, Mr Duperreault was raised in Trenton, New Jersey, the only child of a single working mother. He started work for AIG and its affiliates in 1973 and rose through the executive ranks, being viewed as a potential future CEO. However, in 1994 he joined Ace, now Chubb, in Bermuda — fulfilling a desire to reconnect with the island, albeit after 47 years. When Mr Duperreault was approached for the CEO role at Ace he already had a Bermudian passport and status, but he did not reveal those facts until he had secured the post as he wanted the appointment to be made solely on merit. At the time, Ace was a relatively narrowly focused Bermudian-based insurer. During his decade at the company, Mr Duperreault transformed it into a globally significant insurer. After his ten-year tenure as CEO, he remained for a further two years as non-executive chairman before retiring in 2006. Two years later he was approached to come out of retirement and lead Marsh & McLennan Companies, the second-largest insurance broker in the world. Marsh was saddled with a series of problems, including legacy issues, excess capacity, lawsuits and organisation woes. Mr Duperreault accepted the challenge and during his four years as CEO reorganized and turned the company around. He retired for a second time in 2012, but it was another short hiatus. The following year he founded Bermudian-based Hamilton Insurance Group with New York-based Two Sigma Investments. He was chief executive officer and chairman. Then on Monday, he was appointed CEO of AIG, 44 years after first working for the company. AIG has a global workforce of about 56,000 and a market capitalisation of $57 billion. It has maintained a strong presence in Bermuda since the incorporation of AIC in 1947, and has offices on Richmond Road, Pembroke. AIG hit rocky ground in the early 2000s and teetered on the brink of collapse as a result of the global financial crisis of 2008. It received a $185 billion bailout from the US government, which was fully repaid by 2012. However, the pace and nature of the company's slow recovery has concerned investors, including billionaire activist investor Carl Icahn. In Marsh, Peter Hancock, CEO of AIG, announced plans to resign. This sparked a hunt for a replacement. Mr Duperreault, as one of the industry's most effective and highly regarded leaders, was immediately included on a speculative list of possible candidates. He stood out with his impressive track record at Ace, Marsh and Hamilton, and his key role with AIG from 1973 to 1994 as it became a global powerhouse. His appointment this week to lead AIG was broadly welcomed. Mr Icahn, in a tweet, said: "Very pleased the AIG board is finally making some of the much needed changes we've been advocating the last 18 months." While Douglas Steenland, AIG chairman, said: "He is a hands-on leader who has consistently delivered strong bottom line results." And Mr Duperreault, who is also part of the team spearheading the redevelopment of Morgan's Point, has made clear his intentions at AIG. As his insurance industry career came full circle on Monday, he said: "It is a privilege to return and lead AIG. I look forward to building on AIG's nearly 100-year heritage as one of the world's leading insurers for its next century."
May 18. Tough restrictions on advertising and street trading will be put in place in Hamilton, the Great Sound and Dockyard for the America's Cup — with fines of up to $20,000 for offenders. Front Street in Hamilton as far back as Reid Street, as well as Albuoys Point, Par-la-Ville Road and Bermudiana Road up to the junction with Church Street, are affected by the new rules. Mangrove Bay to Dockyard has also been named in the restricted marketing order published by Government, which means no new businesses can set up until after July 7 unless they have permission from the America's Cup Event Authority. All on-water areas for the America's Cup and the surrounds of Great Sound and the Railway Trail from the junction of Middle Road and South Road towards the West End and transport terminals including Hamilton's ferry terminal and bus station are also covered by the order. The regulations also ban street trading in restricted marketing areas by new operators who have not obtained official permission. A spokeswoman for America's Cup Bermuda said: "The primary reason for the order is to prevent ambush marketing and unauthorised commercial exploitation of the event by companies that have no official association with the America's Cup, yet seek prominence during the events for their business. This prohibits attempts to position branding, signage and advertising in any locations where it will be in view of television cameras or spectator crowds, including aerial footage, as the races are broadcast from Bermuda." The spokeswoman explained ambush marketing is where companies "unfairly advertise their products and services at the expense of official commercial partners and sponsors, who have paid for the official rights to promote their businesses in association with the America's Cup". She added: "It is important to note that the restricted marketing order has been designed so it does not impact on existing companies who are acting in the normal course of their business where there is no attempt to associate with the event and the street trading restrictions will not apply to existing street traders with already assigned locations." The regulations also forbid the use of "America's Cup" by any business or person and "any other words, logos or emblems related to the America's Cup ... in any advertising without the express authority of the America's Cup Event Authority. This is reserved for official partners and licensees." The regulations, part of the 2015 America's Cup Act, were first used in Hamilton when Bermuda hosted the Louis Vuitton America's Cup World Series in October 2015. Kendaree Burgess, executive director of the Bermuda Chamber of Commerce, said the organisation had no argument with the restrictions. She added: "We have had an explanation from ACBDA that satisfies us. I don't anticipate any problems."
May 18. A total of 25 Royal Bermuda Regiment soldiers were last night sworn in as special constables. The troops from the Operational Support Unit, the regiment public order specialists, took the oath at the Bermuda Police headquarters, watched by family, friends and senior RBR and police officers. They will now be deployed as part of the massive joint security effort alongside police officers for the upcoming America's Cup. "It's a different opportunity — it's something different from training wing, so it's great development," Sergeant Peter-Paul Taylor said. The truck driver in civilian life added: "It's good working closely with the police and building that relationship with them." Lance Corporal Leeann Medeiros, a 24-year-old pastry chef at Cambridge Beaches and one of a handful of women soldiers to complete the near-year long training course, said it was a good development of her existing service in the OSU. The Sandys resident said: "It seemed like a good fun opportunity to learn new things and help out wherever it's needed. I'm looking forward to more training, but it's good to have this on my plate now and be able to add to my list of accomplishments." The soldiers trained in law and procedure, the use of officer safety equipment and conducted public order training exercises delivered by police experts before being sworn in. RBR commanding officer Lieutenant-Colonel David Curley said: "It's a great and historic day. I'm very proud of what our soldiers have achieved. They have reached a very high standard and it's taken nearly a year to get up to this stage. I'm very happy that they have accepted this challenge to become special constables in order to support the police. They will gain valuable experience and continue to work on joint operations. They will be tasked on various operations for the America's Cup — we have a major role to play in the security plan. Our Boat Troop, some of whom were sworn as Special Constables two weeks ago, has already started working with the police marine unit in advance of the event." Colonel Curley added: "We look forward to extending this working relationship with the Bermuda Police Service well into the future. It's adding superior value to what the regiment does for Bermuda and its community." Police Commissioner Michael DeSilva said, unlike larger countries, Bermuda could not call on neighboring police services for reinforcements in a crisis. "The idea is to be able to support the BPS in large scale public disorder because we only have finite numbers of police officers and we don't have neighbours we can call on for assistance. For large scale public disorder — which we are not expecting — we must have contingency plans in place." And national security minister senator Jeff Baron, himself a former police officer, said: "Today is an example of the sweeping changes and contemporary application of public safety. We have 25 soldiers who have just volunteered and committed to be sworn in as special constables and called to service. All pillars of the emergency services will be serving and playing a role for the America's Cup and — as far as the commitment of troops — the regiment has pledged hundreds of people to the America's Cup. This also coincides with hurricane preparedness season — these soldiers will be primed and if we have a weather event, these special constables, the soldiers of the regiment and the overall management of the Ministry will be ready to respond."
May 18. Celebrated local chef Frederick Ming has expressed disappointment in being turned down for a vendor's stall at the America's Cup. However, a spokeswoman for the ACBDA said that Mr Ming had failed to follow the "request for proposal" process in his application, adding: "We would love to have him as part of the event." Mr Ming, author of three cookbooks on local cuisine, told The Royal Gazette he had hoped to showcase Bermudian dishes at the event village for the imminent Cup. "When people travel, they like to eat the food of the country," he said. "Nobody wants a hot dog or hamburger. We have some unusual food here, like shark hash, hot cross buns with fish cakes — and where else do you find mussel pie?" Mr Ming approached organisers after a February 28 information session, where he was told that his application had been unsuccessful. "They told me I should cook for the people coming down on boats for the America's Cup," he said. "A lot of people have come and are renting houses. But cooking privately and not showcasing my food — that sounded to me like a maid's job." A "large number of foreign restaurants" will take part, Mr Ming said. "But I doubt they're offering Bermudian food." The ACBDA spokeswoman said that while the request had fallen short of RFP requirements, organisers were still keen to accommodate the top chef. "It did fall through for the village," she said. "We are reaching out to Mr Ming to see where he is at."
May 18. Masterworks Museum of Bermuda Art has acquired a stunning painting painted in Bermuda by renowned Austrian artist Herbert Gurschner. Gurschner painted the work during a visit he is believed to have made to Bermuda in 1936 and was first exhibited at the Ferargil Galleries in New York in April 1937. Madonna of the Island, signed Herbert Gurschner Tucker's Island, depicts one of art's most prolific muses, the Madonna and Child, with the island also having served as a muse to the artist. At the time he painted in Bermuda, Gurschner was a successful internationally renowned artist and this period marks the height of his career. According to a press release from Masterworks, Gurschner's work from this time period is very rare to find, but the oil painting on canvas, which will now be part of Masterwork's collection, is in perfect condition. The "Neue Sachlichkeit" or New Objectivity movement in German art that arose during the 1920s inspired Gurschner's style. The works were executed in a realistic style in contrast to the prevailing styles of Expressionism. Tom Butterfield, founder and creative director at Masterworks, stated: "This is one of the most significant works that we could add to our collection given the nature of the subject matter. The clouds of war were closing in and Gurschner finds himself in Bermuda and out of the shadows of a crumbling world he depicts this vision of nurturing. It really feels like a foreshadowing of what we are doing here at Masterworks; nurturing art and the world around us. The work is unique and there appears to be no end to the muse of the island and the muse of the Madonna and child. The muse of the island is virtually without end, which is a pretty remarkable thing for a 21-square mile island. This is another great treasure for Bermuda." The painting, which measures 152cm by 111cm, will go on full display next year as the Museum celebrates its tenth anniversary on the opening of its gallery in the Botanical Gardens. For now, it will remain in the library under recent acquisitions where it can be viewed. The Madonna of the Island will join another of Gurschner's paintings that is currently part of the gallery's collection that features a portrait of well-known Bermudian character Claudia Darrell, who owned the Waterlot Inn. Katarina Hoskins, Honorary Consul of Austria, stated: "The particular style of Austrian art that Gurschner was known for was very dark as he was working during the war and much of his inspiration was taken from the time he was living in. However, in his later years he was also well-known for the tourism advertising in Austria and also painted a lot of landscapes due to his country upbringing."
May 18. A 46-year-old man from Britain has been fined $2,000 for a disturbance that forced a plane to land in Bermuda on Tuesday. It occurred aboard a Virgin Atlantic aircraft travelling from London to Jamaica. Magistrates' Court heard that five hours into the flight, Mark Anthony Blake got out of his seat and became disruptive after being denied service of double-strength drink. A restraint kit was brought out, but not used. Blake had also been involved in a dispute with a man seated behind him while on the aircraft, the court heard. The plane was diverted to Bermuda and landed shortly after 4pm. The court heard that, on arrival, Blake grappled with police officers, telling them: "F*** off — I'm not a terrorist." Magistrate Khamisi Tokunbo ordered Blake, who admitted disorderly behaviour, to pay a $2,000 fine.
May 18. Retail sales bounced back in March after three previous months of declines. Sales increased to $96.5 million, 5.3 per cent up on the $91.6 million recorded for March last year. After adjustment for inflation, which was 1.9 per cent in March, the volume of retail sales increased by 3.4 per cent. All sectors covered in the Retail Sales Index logged increases in sales revenue, with the exception of clothing stores, which saw a 0.9 decrease. Car dealers were the biggest winners of the month, notching up sales gains of 23.1 per cent. Returning residents declared overseas purchases totaling $3.7 million, an 8.8 per cent increase on the 3.4 million in the same month last year and giving a combined spend in the retail sector of $100.2 million. The increase in motor vehicle sales receipts was attributed to a 23 per increase in sales volume. Receipts from the sale of building materials also showed a major increase, up 22.8 per cent compared to March last year. The increase was put down to increased demand for supplies for building projects. Adjusted for inflation, the increase was 21.2 per cent. Sales at service stations rose 12.9 per cent as a result of a 13.9 per cent increase in the cost of fuel. After adjustment for inflation, the sales volume for fuel dropped 3.6 per cent. The all other store types category, receipts for the sale of furniture, appliances and electronics went up 21.6 per cent, but pharmacies slipped 1.4 per cent, attributed to lower prescription sales. Miscellaneous sales also fell, down 10.5 per cent, while gross receipts in the marine and boats segment fell 17 per cent. After factoring in inflation, the increase in the all other store types category went up by 1.6 per cent. Clothing stores sales, after adjustment for inflation, fell by 2.4 per cent. Liquor sales saw a 1.4 per cent rise in March, while food sales 0.6 per cent up year-on-year. In volume terms, sales at liquor and food stores were 3.4 per cent and 1.7 per cent lower respectively.
May 17. A total of $925 million in securities on behalf of the California Earthquake Authority were yesterday listed with the Bermuda Stock Exchange. The two securities were issued by Ursa Re and placed by Swiss Re Capital Markets, which acted as structuring agent and bookrunner, with Aon Securities as joint bookrunner. The at-risk variable rate notes, one of $500 million and one of $425 million, will collateralize reinsurance agreements that will provide the California authority with a three-year source of reinsurance from capital markets to protect it against losses due to earthquakes.
May 17. Eleven past and present members of the Bermuda legislature have declared their support for the Government's claim against Lahey Clinic to be dismissed. A brief in support of the clinic's motion for the wide-ranging civil suit to be dropped has been submitted in the Massachusetts District Court. A motion filed with the brief on Monday is in the names of former premiers Alex Scott and Ewart Brown, former United Bermuda Party leader Kim Swan, Progressive Labour Party leader David Burt and MPs Wayne Furbert, Michael Scott, Zane DeSilva, Kim Wilson and Walter Roban, as well as independent MPs Shawn Crockwell and Mark Pettingill, who are listed as amici curiae — parties not directly involved in the case but nonetheless in a position to advise the court. "This is a case of great importance in Bermuda because the lawsuit targets a major healthcare provider in the country and a former influential leader," the motion states. "The amici have a shared interest in offering the court the social, historical and political context essential to a just assessment of the legal arguments offered both in support of and in opposition to the pending motion to dismiss." The Government filed its suit against Lahey on February 14, alleging that the hospital conspired with Dr Brown on a "wildly successful" and "unlawful" enterprise that profited both "at the expense of the Bermudian Government and people". The motion argues that the 11 are "uniquely situated" to offer their context, as some served in their government positions from 1998 to 2010, the relevant period for the relationship between Lahey, Dr Brown and his clinics. The brief uses news articles to highlight the information concerning the Lahey-Brown relationship known to the public at the time, while also describing the island's parliamentary system, the history of politics in Bermuda and the role of the Attorney-General. "The amici's view is that the plaintiff's complaint is time-barred and that the lawsuit is plainly politically motivated," the motion says. The brief itself adds: "The reason for the plaintiff's timing, instead, is that it is election season in Bermuda and the One Bermuda Alliance — currently in control of the government — is up for re-election and falling behind in the polls." The motion also notes that the arguments are relevant at the motion-to-dismiss stage because the information presented in the brief concerning the public knowledge of the Lahey-Brown relationship has bearing on whether the statute of limitations on plaintiff's "Racketeer Influenced and Corrupt Organisations" claim has expired. The brief argues that Dr Brown's longstanding relationship with the clinic puts the case outside the statute of limitations. Additionally, the motion states that, while such briefs are not common at the motion-to-dismiss stage, "this is not a typical case". It adds: "In this case, a foreign government is suing a US healthcare provider in United States District Court with most of the conduct having occurred in Bermuda. The amici can shed light on the historical, social and political backdrop to the case and thereby assist the court in understanding the complaint's allegations in context."
May 17. Emirates Team New Zealand broke a rudder again on Monday in a collision with what observers believed was a turtle. According to a confidential source, Team New Zealand were sailing at 49kts in the southwest corner of the Great Sound when the collision occurred. That did not deter the Kiwis since they had a spare back at their Dockyard base. They popped back in and installed a new rudder and headed back out for more practice. They sent a diver down where the mishap occurred yesterday and retrieved the elevator, the horizontal wing plate bolted on the end of the rudder which had been knocked off of the rudder stock with the impact. The elevator plate, like the foils on the daggerboard, provides lift and stability for the boats. Observers speculated yesterday that New Zealand sailed with a spare or alternate pair again while the other was being repaired and re-faired. Different rudders and even different-sized rudders can be built for different wind conditions as long as they fit within the specifications in the America's Cup Class Rule. Each team have spare rudders, with no limit on the number except the team budget. According to Martin Fischer, of Groupama Team France, a rudder can cost up to 20,000 euros (about $22,000). The rudder mishap did not seem to slow down Team New Zealand yesterday. They were back out on the practice course, sailing smooth and fast, easily foiling all the way around the course in a west-northwest eight-knot breeze. Except for the direction, this is the kind of wind expected for the Cup matches. So, nine days from today, the real racing begins, qualifying matched to decide which four teams move into the playoffs for the knockout matches to decide which team will meet Oracle Team USA in the America's Cup Match. The roof is on the grandstand in the Cup village and all the festive America's Cup flags are flying. On the water, Oracle and Artemis Racing continued to impress. Team New Zealand who were really untested in practice matches so far did not race on Monday. Yesterday, they were easy winners in races against Land Rover BAR and Team France. Team New Zealand were ahead in both of those races from start to finish. BAR did have a better day yesterday after looking pretty sticky on Monday, beating Team France in the first race of the day. Rumours that surfaced last week about Oracle adapting limited peddle power to a grinding position behind their helmsman still have not been substantiated. Yesterday, there was not a peddle grinder working behind skipper Jimmy Spithill. Practice racing continues through Friday this week. Monday, Tuesday and Thursday of next week are also race practice days, but participation next week is certainly questionable. Teams may not want to risk damage in that final few days before real racing starts. Matches on the first day will be Oracle v Team France, Artemis v SoftBank Team Japan, France v Team New Zealand and BAR v Artemis. The Village opens at 2pm. Matches start at 5pm, end at 7 and the opening ceremony is at 8.30.
May 17. Speculation that Oracle Team USA have integrated a pedal-grinding system in their America's Cup Class racing yacht ended after the defender of the "Auld Mug" was spotted racing with the new feature in the Great Sound yesterday. The team's new grinding pedestal is located directly behind Jimmy Spithill, the helmsman, and is being used in addition to the four conventional arm-driven grinders. "Since we started sailing the new America's Cup Class boat in February, we've explored a potential advantage in moving our tactician, Tom Slingsby, who also grinds, farther back in the boat at certain points in the race so that he is positioned immediately behind skipper Jimmy Spithill," said Peter Rusch, the Oracle Team USA spokesperson. "To allow him to keep contributing power to the systems, we wanted to add a grinding pedestal. As there is no room for a traditional pedestal, we're experimenting with a pedal station. This is just one of many tests we're still making. Time will tell whether it ends up being a racing configuration." Oracle, the two-times defending America's Cup champions, are the second racing syndicate, behind challenger Emirates Team New Zealand, to use pedal grinders on their boat. The Kiwis raised eyebrows after photographs surfaced from Auckland in February revealing their boat fitted with four pedal grinders on each hull rather than the conventional arm-driven grinders. The grinders provide hydraulic power for the rigid wing-sail and various other systems, and the leg power is expected to ease the physical burden on the crew.
May 17. America's Cup challengers Emirates Team New Zealand and Land Rover BAR suffered damage to their racing yachts after colliding during practice in the Great Sound yesterday. The incident occurred during the pre-start of their match race when Land Rover BAR "ran straight into the back" of Team New Zealand, creating a "pretty good" dent on the inside of the Kiwis' port hull. Land Rover BAR's yacht, skippered by team principal Sir Ben Ainslie, suffered minor damage to its starboard bow, the latest setback to the British team who collided with a floating dock near their base in Dockyard in March. "It was a bit of a shame in the last pre-start we had the leeward end of the line pretty locked down," Peter Burling, the Team New Zealand helmsman, said. "Ben was quite late and just ran straight into the back of us. Just unnecessary a week out from the America's Cup. We are all here to learn and it's a shame we have a pretty big metre dent now in the back of our nice boat. It went straight in under the media pod with his windward bow and right down the inside of the leeward hull, so there is a pretty good dent there. You can definitely see it has punctured right into the cockpit right around where my steering wheel is." Grant Dalton, the Team New Zealand chief executive, added: "We know Ben well; he is a good guy, but frustration is obviously getting to him and the red mist came down. It's a lot of damage in a time we can't afford it." Ainslie apologized for the mishap on Twitter, the social-media network. "Bit of a love tap racing hard with @EmiratesTeamNZ," he tweeted. "sorry guys and hope you're back on the water soon #AmericasCup. 1/2 Today, during a pre-start @LandRoverBAR bore away behind @EmiratesTeamNZ & clipped their hull, sustaining limited damage to our bow." It remains unclear when or if both teams will take any further part in the latest series of practice races.
May 17. Opposition Leader David Burt issued a call to the haves and have-nots to tackle Bermuda's longstanding racial divide. But only about 12 members of Hamilton Rotary Club were on hand to hear the Progressive Labour Party leader's speech — with some said to have had "angst" at what Mr Burt might speak about. The MP's remarks examined the relationship between race, privilege, and the PLP's oft-cited claim of "two Bermudas. My speech today is a call to both the privileged and to the disaffected," Mr Burt said. Race, he said, had long been the elephant in the room on the island. "Bermuda can only move forward if the traditional, rigid divisions of race and privilege can be replaced with a movement based on shared values, shared challenges, shared commitment to equity, diversity, and inclusion," he said. He said privilege was not limited to race, adding: "More and more of white Bermudian citizens are beginning to lose ground when it comes to jobs, opportunity, access to quality education, and are beginning to understand that the elite and privileged are moving forward together, while many Bermudians are being left behind. "Race, sex and class all intersect to form different levels of privilege." Some in Bermuda, Mr Burt said, failed to grasp the concept of struggle. "To say that race does not play a role in this divide is to lack a fundamental understanding of our country's tortured history," he said. He added that for generations Bermudians have heard that "the racial divide would fix itself" but continued: "I know we can face this longstanding divide and take real action to address it." The speech also detailed the "ABCs" needed to create the nation Mr Burt said all sought: acceptance, building a better Bermuda "that works for all", and collaboration. Approximately a dozen club members were in attendance for the lunch-hour meeting yesterday. Neville Tyrrell, a former Rotary president and now a PLP MP, noted the low turnout for the event in his opening remarks. At one stage before it began, the media were told by some members they were not welcome, but after some discussion from Rotarians, reporters were allowed to stay. Gwendolyn Creary, president elect of the club, explained to this newspaper: "Some of the members still had some angst or reserve about him [Mr Burt] coming and what he might speak about." The presence of the representatives from various media outlets was not unique to today's event, Ms Creary said. "The press is invited all the time." Mr Burt's speech, she said, discussed issues that needed to be addressed by all people of Bermuda. "It needs to be a drum that we all beat," Ms Creary said. "We all owe it to each other to work together and figure out solutions that work for all of us." Rotary speeches have traditionally veered away from politics, but Liana Hall, press secretary for the PLP, said she did not believe Mr Burt's speech was political. "It was a rallying call about confronting race issues," she said. Mr Burt said he was not concerned by the low turnout for his talk. "I am comfortable with what I said, and I think that for the persons who heard it, it was well received," he told this newspaper. Organisations like the Rotary Club — in addition to Government, business and religious leaders, and others — have a role to play in addressing the issues, the PLP leader said. "There are real realities of disparities and inequality of opportunity that do exist. And if we do not address them, then we are going to find ourselves as a country having a challenge."
May 17. St George's welcomed the Seven Seas Navigator for the first of a series of scheduled visits to the East End yesterday. Mayor Quinell Francis and area MP Kenneth Bascome celebrated the ship's arrival in the historic town in a brief press conference yesterday afternoon. Meanwhile, Senator Michael Fahy, the tourism minister, said the vessel's arrival was the culmination of long-term efforts to bring small cruise ships back to St George's. "It is not said often enough, but St George is not just an historic town and Bermuda's former capital, it is an important part of these Bermuda islands and its success is an integral part of Bermuda's future success," he said. "This is the reason the Government has advanced significant initiatives to breathe new life into the East End." He later added: "It's great to celebrate what we can achieve together. And I'm happy to say that Bermuda's friends at NCL are delivering on a commitment to work with the Government of Bermuda, the Bermuda Tourism Authority and the Town of St George to boost the fortunes of the East End after far too many years of limited economic momentum." Mr Fahy also noted the St Regis hotel project in St George's and the new airport terminal building, both of which he said would bring economic activity to the area. "In 2012, we promised to be a reliable partner and help bring recovery to St George's, and we haven't finished yet," he said. Government announced last year that St George's would receive an additional 12 cruise ship visits annually between 2017 and 2022 through a partnership with NCL. The agreement included bringing ferries to the island to run from Dockyard to the East End, along with a yearly investment of $150,000 by NCL to sponsor tourism enhancement in co-operation with the BTA. Ms Francis described the arrival as a "milestone" for St George's, saying the town welcomed the arrival of additional cruise visits. "We are delighted that NCL has partnered with the Bermuda Government to ensure that small cruise ships are able to traverse Town Cut and berth here at Penno's Wharf. NCL has discovered what St Georgians have known for a century — our unique and rich history." She noted that, in recent months. the town has undergone several infrastructure projects, including maintenance work at the terminal building. "The residents and businesses of St George stand poised and ready to extend the hand of friendship and welcome these visitors to our town," she said. Mr Bascome meanwhile said it was a great pleasure to be part of the "renaissance" of the town, thanking representatives from NCL for their commitment to the island. Kevin Dallas, CEO of the BTA, meanwhile said it was a proud day for the authority, adding: "Having ships back in St George and having a viable, vibrant tourism economy in St George has been a long-term priority for us really, since the inception of the BTA." Captain Ubaldo Armellino also spoke briefly, calling Bermuda one of the most beautiful islands in the world and saying he was sure the passengers would enjoy their time in Bermuda.
May 17. Descendants of one of the first babies to be born in Bermuda have visited the spot where their ancestors made land after the Sea Venture was wrecked. Ben and Barbara Eason stood by the Sea Venture monument in St George's this week where Mr Eason's great-great-great-great-great-great-great-great-great-grandfather Edward Eason and his wife, "Mistress Eason" are commemorated. The couple, who travelled to Bermuda from their home in Arlington, Virginia, found out about their family's links to Bermuda when touring a church in Smithfield near Jamestown in 2015. "My wife asked what the oldest gravesite was and we were told it was that of James Eason," Mr Eason said. "It came as a complete surprise and was the catalyst for us to find out more about my family history. We found old wills and searched online and were slowly able to trace our descendants around the US to Jamestown and finally back to Bermuda. We had visited Bermuda before 12 years ago for our 30th anniversary, but had no idea of our familial links to the island. Coming back this time was really special, and felt a little bit like coming home." Mr and Mrs Eason spent time this week at the Bermuda Library doing further research into their family history before visiting St George's on Monday. They walked from the town to the Sea Venture monument near St Catherine's Beach to catch sight of the spot where the first settlers came ashore. The monument confirms the birth of Edward Eason's son, Bermudas, who was born on the island in March 1610 and went on to live in the US. Bermudas Eason was the second baby to be born in Bermuda, after John Rolffe's daughter, Bermuda, but the only child to survive. Mr Eason told The Royal Gazette: "I look at those people on the Sea Venture and think what incredible spirit they had. The most surprising thing to me personally on this trip is I had no idea of the close links between Bermuda and the US. I have learnt a great deal. We have not been able to establish how Edward Eason left Bermuda yet, whether it was on the Deliverance or Patience; but I intend on looking more into that one."
May 17. The Registrar-General has posted the first wedding banns in Bermuda for a same-sex couple — but those against gay marriage are still seeking to stop such unions taking place. Julia Saltus, of Sandys, and Judith Aido, of Maryland, United States, applied last week for permission to tie the knot here, just days after a Supreme Court judge ruled that same-sex couples have the right to marry on the island. The notice of their intended marriage comes as protesters begin preparing for a demonstration outside Parliament against same-sex marriage, planned for Thursday next week. Registrar Aubrey Pennyman complied with a May 5 order by Puisne Judge Charles-Etta Simmons and posted the banns for Ms Saltus and Ms Aido last week. A notice appeared in The Royal Gazette on Saturday (May 13). The couple will be able to wed once the Registrar issues them with a certificate of marriage, which he can do under the Marriage Act 1944, "if no lawful impediment has been shown to his satisfaction why a certificate should not [be] issue[d]". In the meantime, plans are being hatched to press MPs to pass legislation to override Mrs Justice Simmons's decision and prevent same-sex marriages from taking place. Opposition MP Wayne Furbert, who is "still considering" re-tabling an amendment Bill in the House of Assembly restricting marriage to opposite-sex couples, told this newspaper he was aware a demonstration was in the pipeline, though he would not identify the organisers. "I think there is a group working on something," he said yesterday. Messages on social media suggested the protest was being organised by Preserve Marriage, which has been the most vocal group against same-sex marriage in Bermuda. It intervened in the Supreme Court case which led to the judge's landmark ruling and campaigned before the referendum on marriage equality in June 2016. One message asked: "Would you and some of your friends consider standing with churches on the lawn of Parliament House from 12.30pm to 1.30pm on Thursday, May 25, in support of Preserve Marriage, as the organisation seeks to amend the court's ruling to uphold gay marriage?" The message continued: "If there are not thousands of us standing peacefully, it's likely that what the court has decided will be binding. Think of the ramifications of an entirely different culture. People who believe in God will be persecuted to death even. Who gives these people the right to confuse children. This is serious!" Another message read: "Family — next week Thursday please meet outside of the Parliament building to show your support for marriage being between a man and a woman. Four thousand people are needed to make a stand for our vote to be passed. May 25 at 12.30pm to 1.30pm. Please invite your friends!" Preserve Marriage is waiting to hear if its charitable status has been renewed, after it expired on April 6. It did not respond to an e-mail request for comment yesterday. The marriage notice for Ms Saltus and Ms Aido is likely to be followed by others. Winston Godwin and Greg DeRoche, the couple who brought the successful Supreme Court proceedings, are expected to resubmit their application to wed. Bermudian Eugene O'Connor also told this newspaper he and his fiancé were preparing to file their request. A previous landmark ruling on same-sex relationships — the Bermuda Bred decision of November 2015 — gave gay foreign partners of Bermudians the same right to reside and seek employment as spouses of Bermudians. By the end of last month, eight letters of permission had been issued to same-sex partners by the Department of Immigration, according to a Ministry of Home Affairs spokeswoman. The department's guidelines for issuing the letters, released in February this year, say each case will be determined on its merits.
May 17. The Bar Council has won its legal battle against a private law firm which it says safeguards the principle that companies based in Bermuda must be controlled by Bermudians. Lawyer Richard Horseman welcomed the Court of Appeal's ruling, but pointed out it was subject to the exception of the Minister granting a company a licence to operate outside the 60/40 rule. "It's a very important ruling and reinforces the principle that local companies operating in Bermuda have to be controlled by Bermudians," Mr Horseman, who recently stepped down as president of the Bermuda Bar Association, said. The civil case began in June 2016 when the Bar Council refused to grant and issue a certificate of recognition to a newly formed firm called Walkers Bermuda Limited for "public policy reasons". Walkers Bermuda was incorporated as a local firm in October 2015 by Kevin Taylor, who has Bermudian status and owned 99 of the shares, while his wife, Rachael Barrit owned the remaining share. The Bar Council argued that the commercial arrangement between Walkers Bermuda and global law firm, Walkers Global, contravened the Companies Act 1981 and "the reality of the arrangement will be that company will be so beholden to Walkers Global that the latter is effectively in control of the Bermuda company". Walkers Bermuda took the matter to the Supreme Court where Chief Justice Ian Kawaley ruled that as the shares were held by a Bermudian who was entitled to exercise the voting rights in respect of the shares, then the company was controlled by Bermudians. Mr Justice Kawaley ruled: "The appeal is allowed on the grounds that the proposed arrangements regulating the proposed operation of Walkers Bermuda as a professional corporation under the Bermuda Bar Act are not contrary to section 114 of the Companies Act and/or public policy." The judgment prompted the Bar Council to take the matter to the Court of Appeal, which delivered its judgment on Friday. In its ruling the appeal judges said that it had to look at control overall and not just focus on the share ownership and rights. President of the Appeal Bench, Sir Scott Baker, added: "I have no doubt that when the 1981 Act speaks of control by Bermudians, it covers both corporate and commercial control. I have had more difficulty in deciding whether Walkers Bermuda passed the correct test. The Bar Council held it did not, and I have ultimately concluded that the Bar Council was right. I can see no basis for interfering with the Bar Council's decision as I can detect no error in their decision letter." Mr Horseman told The Royal Gazette that the ruling had potentially wide ranging ramifications for local companies who had a close relationship with an overseas counterpart as the ruling did not just apply to law firms. He added: "To have our decision vindicated was certainly satisfying. This has been an ongoing issue for a long time. The Bar Council has done a substantial amount of work in considering the issue and there is still more work to be done. The Council may need to look at developing further regulations to address this issue for the future. The judgment is probably not the end of this issue; other applications are going to come forward. The Bar Council's primary concern is to ensure that if a firm is set up here; that is part of a bigger global corporation, then the work is not going to get shipped out of Bermuda. We want to keep the practice of Bermuda law in Bermuda." Outgoing president of the Bermuda Bar Association Richard Horseman has hailed the work of his council in fighting the Walkers Bermuda case. He told The Royal Gazette the successful legal challenge to the Court of Appeal had taken up a great deal of time for many members of the Bar Council. Mr Horseman, who spent two years at the helm, said he also believed the Bar Council had made great progress in the area of conditional fee arrangements. "I'm still hopeful that progress will be made in this area," he said. "The Government's stance that there is no compelling reason for this are just nonsensical to me. There are compelling reasons because it would give people who might not get access to justice the potential to be able to take cases to the court. Eventually it will happen, sooner or later, and the Bar Council has provided Government with a framework for how this can be done. A lot of people deserve credit for that." Mr Horseman lamented not being able to make more progress updating the professional code of conduct for lawyers. "There is a steady stream of complaints against lawyers," he said. "It's important to maintain confidence in the legal system and there is a system where these complaints can be processed. But this is one of the areas I could not get to; I would have liked to have made more progress with regards to an updated code of conduct."
May 17. A solution is expected soon to address problems that persist for Bermudians regarding car rentals in Massachusetts, according to a government spokesman. On Friday, a spokesman for the Ministry of Tourism, Transport and Municipalities said that a "thorough review" of the situation had been undertaken. "In the very near future, the Ministry anticipates presenting a solution which should alleviate the situation," he said. The news follows recent accounts to The Royal Gazette about holders of Bermudian drivers' licences continuing to experience problems renting vehicles in the state. The issue first came to light last summer. In August, a spokesman with the Ministry said that the Government was working alongside other acting bodies on the issue "as a matter of urgency" towards an "expeditious solution". Vaughan Mosher said he experienced such a problem when he travelled to Massachusetts earlier this month for an annual physical. It was his first time travelling to the state since problems were first reported in 2016. As a precaution, Mr Mosher said he made calls to National Car Rental ahead of his trip to ensure that there would be no problems upon arrival at Logan International Airport. He said he has been an Emerald Club member — which allows customers to choose their car from the fleet on the lot — for a number of years. Mr Mosher has a disability and requires the use of a scooter. "My wife has to pick a car that she can get the scooter in and out of the back, usually a minivan," he said. Calls made to National before he arrived in Boston suggested the matter had been addressed. "It looked as if there was no problem," he said. According to Mr Mosher, after selecting their vehicle and packing it, he and his wife were told by an attendant that they would not be allowed to leave the lot. A supervisor subsequently confirmed that the attendant was correct in saying the couple could not drive the vehicle "because it would be breaking the law", Mr Mosher said. They were forced to unpack the car and rent from another company, Avis, at a higher cost. Mr Mosher's experience appears not to be an isolated incident. Last week, at least one other person described a similar problem renting a car from Enterprise Rent-A-Car at the Boston airport. Both National and Enterprise are owned by Enterprise Holdings. This past winter, several e-mails were received by The Royal Gazette detailing similar problems. In a response to an e-mail sent by Mr Mosher on his experience, a representative with National said that Bermuda continued to be included on a list of countries whose drivers' licences were not recognized in the state. "Because the state of Massachusetts does not allow us to rent to Bermuda residents, we have to follow the state laws," the e-mailed response said. The company provided an apology and a free day coupon to Mr Mosher's account. While the gesture was appreciated, Mr Mosher said it was not ultimately what he was after. "I'd like some clarity, certainly for myself, but for hundreds and hundreds of other people who must be faced with this sort of thing," he said. The incident is not without an element of irony. In the past, Mr Mosher said he received a courtesy notification from National that his driver's licence — the same one he was recently unable to use to rent a vehicle — was due to expire. "I thought, this is terrific customer service."
May 17. Clinical oncologist Christopher Fosker gave a tour of the upgraded CT scan simulation room at King Edward VII Memorial Hospital, which will customize treatment at the new radiation therapy unit for cancer patients. Dr Fosker, who is also the medical director and radiation oncologist at Bermuda Cancer and Health Centre, said that six patients had already used the CT scanner. There are 30 patients waiting to use the new radiation facility which has been supported by the Bermuda Hospitals Board and BCHC. The radiation facility, located at BCHC, is due to open today and is expected to benefit about 200 Bermuda patients per year who would otherwise have had to travel overseas for treatment. During the tour of the CT scanner unit at the hospital where a model posed as a patient, Dr Fosker explained: "We have the radiation team, myself and this is the CT scan simulation process — we are utilizing the equipment that is already here in the hospital. To have radiation you need to have a CT scan beforehand so that we can design the radiation. The team is preparing the [model] patient in the same position that they will have their radiation treatment so that we can get images. Those images get sent down the road to BCHC where the treatment machine is. The images also get sent over to Brigham and Women's Hospital in Boston and then, as a big team, we all design the radiation — we are working together in collaboration. We make sure the patient gets the best care possible." Dr Fosker said that the appointment slot for a CT scan is one hour to give time to position the patient on the equipment in the exact position they will be on the radiation unit. A quick scan is taken to locate the cancer on the patient. Depending on the case, it could take anything from two hours to two weeks to then progress to the radiation treatment. Having a local radiation facility will reduce the excessive costs of getting treatment overseas. He added: "We know that overseas care has different costs — it has costs for the insurer and it has costs to the patient. We estimate that individuals will make a savings benefit anywhere in the region of 20 to 40 per cent. Then when you add in the extras, the hotels and flights, it is going to make a huge difference." The radiation unit is able to treat most forms of cancer, but there are some exceptions. Dr Fosker explained: "We have made the choice that we don't feel it is appropriate to treat pediatric patients because it is such an area of speciality. The only other type of radiation that is available and used reasonably frequently is internal radiation and we have made the choice to just do external radiation from the outside."
May 17. Debbie Jones-Hunter, Flora Duffy, Katura Horton-Perinchief, Cal Simons, Clarence Hill and Frederick "Skipper" Ingham have been named grand marshals for the Bermuda Day May 24 parade. Grand marshals are official overseers of the parade, selected because of their strong association to the Heritage Month theme. This year's Heritage Month Theme is "Our Sporting Heritage", which is what made the selection of these particular individuals so fitting. The grand marshals were nominated by the Heritage Advisory Committee. Director of Community and Cultural Affairs Heather Whalen said: "We try to pick a diverse range of grand marshals in terms of age, gender, and accomplishments. We also wanted to acknowledge that the people behind-the-scenes play just as important a part as the athletes themselves. The 2017 Heritage Month theme is a celebration of Bermudian sporting heroes and Bermuda's favourite sports and games. From the fierce loyalty to Cup Match teams, to the rallying unity to support a Bermudian Olympian, Bermuda has continued to build a sporting heritage to be proud of."
Frederick "Skipper" Ingham. Until 1970 it was impossible for people in Bermuda to study martial arts. Then Grand-Master Skipper Ingham changed that situation by opening Bermuda's first martial arts school, the Bermuda Karate Institute. Two years later, he gave Bermuda another first by promoting the first karate tournament ever to be held in Bermuda. Since then, he has taught hundreds of people karate while also training many to represent Bermuda abroad in international tournaments and championships. Skipper holds a 10th degree black belt rank, and has successfully competed in numerous international martial arts events. He has also been featured in many martial arts magazines and appeared on the cover of Black Belt magazine. In 1994 he was the first martial artist to receive the Queen's Certificate and Badge of Honour for his contributions to the martial arts in Bermuda. In 2007 he was inducted into the Bermuda Sports Hall of Fame.
Cal Simons. From an early age, Cal Simons showed a keen interest in sport, particularly in competitive track and field. But he also knew early on that he wanted to be a physical education and health teacher. Today he looks back on a successful life dedicated to helping the development of young people in Bermuda through his roles as teacher, coach, football referee and administrator of track and field events. He began his career as a teacher at West End Primary in 1981 and in the same year was a founding member and volunteer head coach of the Bermuda Pacers Track Club. Through his coaching, he has trained innumerable athletes between the ages of seven and 18 in various track and field events. In addition, he has spent over 18 years as a referee for the Bermuda Football Association and was on the Fifa list from 1994-1996. For at least 15 years he has been coaching junior footballers at the Pembroke Hamilton Club. In 2005 he became the Senior Sport Development Officer at the Department of Youth, Sport & Recreation. He has received many awards, including the Queen's Certificate and Badge of Honour in 1996, the 2002 Teacher of the Year award, as well as the Bermuda Government Sport Citation Award (1989) and a Bermuda Olympic Association/IOC award for his commitment to the development of track and field in Bermuda.
Katura Horton-Perinchief. When she was five, Katura Horton-Perinchief was one of the only girls in her neighborhood to dive off the rocks and the bridges — Somerset Bridge to begin with, and then Watford Bridge when she was older. Her mother noticed her talent and arranged for her to have lessons in Toronto, where they lived at the time. At age seven, she was diving competitively in Canada and by 15 she was the Canadian National Champion, regularly winning gold medals. She represented Bermuda many times at the international level, including twice in the Commonwealth Games, and in the Pan American Games. She represented Bermuda in diving in the 2004 Olympics held in Athens, where she was the first Bermudian woman, and the first woman of African descent from any nation ever to do so. She has a Masters in Public Health and Business. Today, her profession is managing the Bermuda National Tumour Registry. She also serves on the Executive Board of the Bermuda Olympic Association. During the summer she conducts her STAR diving camp which she founded in 2014 for children aged five to 14.
Flora Duffy. In 2016 triathlon athlete Flora Duffy represented Bermuda in the Rio Summer Olympics. That same year she also won three world championships, becoming the ITU World Champion, the Xterra World Champion and the ITU Cross Triathlon World Champion. Previously she was the winner of the Xterra World Championships in 2014 and 2015, as well as of the ITU Cross Triathlon World Championship in 2015. She is a three-time Olympian, having also participated in the 2008 Games in Beijing and the 2012 Games in London. She currently has her sights set on the 2020 Olympics to be held in Tokyo. After that she plans to switch to long course racing. Unfortunately, Flora will not be home for the parade due to her training and race schedule; we wish her the best of luck!
Debbie Jones-Hunter. Now chief executive of the Bermuda Anti Doping Authority, former track and field athlete Debbie Jones-Hunter can look back on a litany of sporting awards and accomplishments she has achieved during her lifetime. She still holds the record for winning the most medals in the Carifta Games — a total of 21 — and is the current holder of Bermuda's National Sprint Records in the 200 and 400 metres. She received the Austin Sealey Award for outstanding performance during the 1977 Carifta Games in Barbados, the Queen's Silver Jubilee Award, the Bermuda's Sports Citation Award, and the Bermuda's Athlete of the Decade Award for 1970-1979. She won Bermuda's first gold medal in international competition at the 1993 Central and Caribbean Games in Ponce, Puerto Rico.
Clarence Hill. Clarence Hill received a bronze medal for heavy weight boxing at the 1976 Summer Olympics, in Montreal. He was the first Bermudian ever to win a Summer Olympic medal and to date is still the only one to do so. His win gave Bermuda the accolade of being the smallest nation and the least populated nation to win a Summer Olympics medal. After the Olympic Games, he became a professional boxer with a record of 18 wins, three losses and a draw. In 2005 he was inducted into the Bermuda Sports Hall of Fame. Convinced that boxing keeps young men "off the street" and gives them self-worth, today he helps young men to train and speaks to schoolchildren about the importance of leading self-disciplined and drug free lives.
May 16. NEW YORK (Bloomberg) – American International Group will give Brian Duperreault $12 million in cash, 1.5 million stock options and an annual pay package valued at $16 million to turn around the company as its seventh chief executive officer since 2005.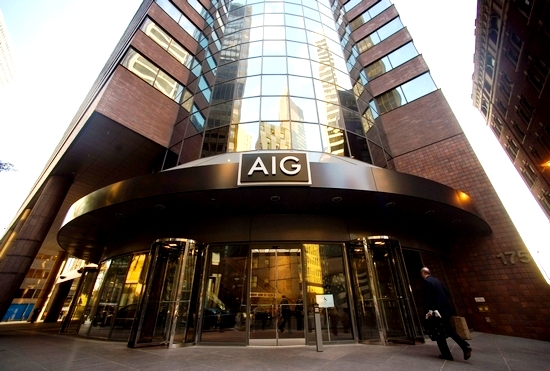 AIG will also pay Mr Duperreault's previous employer, Bermudian-based Hamilton Insurance Group, as much as $40 million over two years to waive their former CEO's non-compete agreement, according to a regulatory filing yesterday. Mr Duperreault, 70, spent time at AIG earlier in his career as a deputy to Maurice "Hank" Greenberg, who built the company into the world's largest insurer before departing in 2005. Mr Duperreault will begin immediately, AIG said in a statement. He succeeds Peter Hancock, who said in March he would leave because of insufficient support from investors such as activist Carl Icahn. The new CEO will seek to bring stability to AIG, which has endured the departures of top executives, higher-than-expected claims costs and four losses in seven quarters. Before joining Hamilton, he was CEO of insurance broker Marsh & McLennan Cos, where he helped restore confidence of investors and clients. He also led Ace Ltd, which is now known as Chubb Ltd and is one of AIG's largest rivals. "It is extremely gratifying that the activist strategy continues to create value for all shareholders," Mr Icahn said in a Twitter post yesterday, adding that he was pleased AIG was making "much needed" changes he's been advocating. The annual pay comprises $1.6 million in salary, a $3.2 million target bonus and an $11.2 million long-term incentive consisting of restricted shares, some of which are linked to performance. Taken together, that's 23 per cent more than Mr Hancock's $13 million target annual pay. Of the 1.5 million options, Mr Duperreault will get a third within three years and the remaining will vest in increments if AIG's share price exceeds hurdles set $10, $20 and $30 above its current level. AIG also agreed to pay about $110 million to acquire a US operation from Hamilton, which includes a $30 million premium to the book value of the Bermudian-based firm. AIG will allow Hamilton the chance to collect about $150 million of reinsurance premiums over six years. AIG said it will work with hedge fund firm Two Sigma Investments, which already works with Hamilton, to create a "next generation insurance platform" for Duperreault's new company. Mr Duperreault helped create Hamilton in 2013 with backing from principals of Two Sigma. Former Citigroup CEO Sanford "Sandy" Weill had a stint as Hamilton's chairman and remained a shareholder when he stepped down from the board. Mr Duperreault "has an excellent grasp of the global insurance industry and he has proven to be a real innovator over many decades," Weill said in an e-mail. "He views change as creating opportunities, and I really believe that we will see good things from AIG as a result of Brian's leadership." Hamilton focused on data analytics with Two Sigma to help decide which insurance risks to take, and how much to charge for them. The company formed a venture last year with AIG to provide coverage to small and medium-size businesses. Mr Duperreault will seek to improve return on equity, and also boost AIG's stock price. Shares of the company have slumped 6.6 per cent this year, while the S&P 500 Index has climbed 6.8 per cent. He will need to decide the right size for AIG, which has been shrinking for years through asset sales. Icahn sought a breakup when he disclosed a stake in AIG in late 2015, and the billionaire has representation on the insurer's board. Chairman Doug Steenland said earlier this year that a split would compromise the company's global reach, and that the plan is to continue returning capital to shareholders and cutting expenses.
May 16. Bermuda was targeted by a computer ransomware virus creating havoc around the world, an IT expert said yesterday. Ronnie Viera, chief operating officer at online payment company First Atlantic Commerce, said: "We can see that Bermuda was targeted. What the impact was and who they were able to target is unknown because companies are not willing to share when they are attacked." The news came as Jeff Baron, the National Security Minister, said that the situation was "significant and serious enough" to justify oversight by the Emergency Measures Organisation. Mr Viera, part of an informal islandwide cybersecurity group, was speaking after the WannaCry virus stuck last Friday, hitting companies and public bodies in 150 countries through Microsoft Windows operating systems. The WannaCry ransomware takes over users' files and demands $300 to restore them. The warning said that the cost would double after three days and threatened to delete files altogether if no payment was made within seven days. Among the affected organisations worldwide are the UK's National Health Service, German rail network Deutsche Bahn, Spanish telecoms firm Telefonica, US delivery service FedEx and the Russian government's interior ministry. And in France, some factories owned by car-maker Renault had to halt production. Incidents were also reported as far apart as Australia and Scandinavia. Mr Viera said: "We've been monitoring it. Obviously, it's a huge, huge event. In Bermuda we don't have any mechanism for reporting cybersecurity events, but we're working to change that." He added FAC had checked to make sure all patches have been applied to its systems and taken further steps to ensure its network is safe. Mr Viera said: "Ransomware is a serious thing. Many companies have been hit with it in the past and many have had to pay, which to me is personally offensive. There have been many companies in Bermuda which have had to pay the ransom. My understanding is that they got the keys to de-corrupt their data, but the criminals have got away with it." He added that it would be difficult to estimate the impact and cost of the latest attack. Mr Viera explained: "We wouldn't know what the impact is unless someone volunteers the information. At the moment, it's about vigilance and people knowing what they need to do to protect themselves." He said that the key to cyber safety was constant updating of systems and staff education to help spot suspicious online activity. Mr Viera added: "The real thing is prevention — people should make sure patches are in place and educate staff, making them aware of what might be a suspicious e-mail or attachment." And he said that adequate back-up, where confidential or sensitive material was stored off the network, was a crucial factor for security. Software giants Microsoft said the tool used in the attack had been developed by the US National Security Agency and stolen by hackers. The company added that many organisations had failed to keep their systems up to date, which allowed the virus to spread. Microsoft said it had released a Windows security update in March to tackle the problem involved in the latest attack, but that many users had still not installed it. Michael Branco, chief executive officer of IT technology firm Fireminds, a provider of co-location, managed data centre, infrastructure as a service and cloud hosting, as well as disaster recovery services, said clients on a managed service deal had patches applied proactively. He added that the Fireminds team had worked over the weekend with clients who did not have managed service to do protective work. Mr Branco said: "Starting on Saturday morning, we patched the servers which were approved. The guys put in some extra work over the weekend. The thing we are co-ordinating right now for those who didn't have patches is to find a time to do these patches and the necessary reboots without doing it during the day." He added that Microsoft had produced a patch for Windows XP, even though it is an ageing operating system which is no longer supported. Mr Branco said: "Hopefully this will prompt people to move to more up-to-date operating systems."
May 16. The number of Canadians arriving in Bermuda for the first quarter this year improved by 35 per cent, according to visitor arrival data from the Bermuda Tourism Authority. But the announcement prompted Jamahl Simmons, the Progressive Labour Party's spokesman for tourism and entrepreneurship, to query when the statistics would translate into more Bermudian jobs. The largest percentage increase of any country with direct air service to Bermuda, Canadian growth represents 855 additional visitor arrivals compared with the same period a year ago, the BTA said. Senator Michael Fahy, the tourism minister, noted in a press release that winter airlift and moderate airfare prices had contributed to the improved performance. "Despite a Canada dollar still struggling against other currencies, WestJet and Air Canada kept flights going this winter, and airfare prices were moderate. Without those two contributing factors it's likely we would not have seen this growth. The BTA news that overall leisure air arrivals grew 19 per cent year-over-year and air vacationer spending surged 30.5 per cent is obviously fantastic news. This is further validation of the government decision to take politics out of tourism and create the BTA. Despite the negative remarks from detractors, these increased arrivals are a boost to all the ancillary services that support hotels. This includes taxi drivers, mini buses, local restaurants and other tourism related activities. And of course, this provides job opportunities for Bermudians in the hotel industry. We look forward to receiving the new JetBlue flights this week as well. Bermuda tourism is looking better and better. There are new developments, new flights and increased airlift generally. It is truly an exciting time for Bermuda tourism. The BTA and our industry partners should be congratulated." Vacation and leisure arrivals from the United States were up 22 per cent or 2,991 arrivals year-over-year, although British visits for vacation were down 20 per cent or by 290 arrivals. The press release said a recent Caribbean Tourism Organisation report listed Bermuda among 13 out of 15 Caribbean region destinations which showed some growth out of Canada in the first quarter. Some 76 per cent of leisure air arrivals to Bermuda in the first three months came from the United States, 15 per cent from Canada and 5 per cent from Britain. The Ministry of Tourism, Transport and Municipalities leads the country's airlift strategy with assistance from the Bermuda Tourism Authority, which works on air traveller demand to fill the seats. In the first quarter, the primary Bermuda tourism markets in the northeast — New York, Boston and Philadelphia — saw strong increases year-over-year: 40 per cent, 27.5 per cent and 26 per cent respectively. However, Mr Simmons said that air arrivals for 2014 and 2015 stood at 48- and 49-year lows, and that the tourism sector "continues to see Bermudian jobs decline, while jobs held by non-Bermudians increased". The One Bermuda Alliance was once more taken to task for the 2012 electoral promise of creating 2,000 jobs, with Mr Simmons saying more than 2,000 had been lost since then — including 318 hotel jobs. "When your grades move from an F to a D, that is encouraging, but when increased tourism numbers aren't bringing with them work for unemployed Bermudians, we should all be concerned. Every Bermudian that lost their job last year in the tourism industry has to wonder why they aren't seeing the results that the OBA is boasting about. As they try to pay their bills and keep up with the cost of living, they have to wonder why they aren't seeing the results the OBA is boasting about. The reality is that while one Bermuda, the elite and privileged have many reasons to think things are getting better, the rest of us are being left out and left behind in a Bermuda that is working less and less for Bermudians." While the Opposition supported the BTA and "the removal of politics from tourism", Mr Simmons said more collaboration and consultation with stakeholders would be encouraged under a PLP government. He accused the OBA of taking credit for the BTA's work at the expense of generating Bermudian jobs.
May 16. Visitor air arrivals were up 19 per cent in the first quarter of this year, the Bermuda Tourism Authority revealed yesterday. At a press conference at the Land Rover BAR base in Dockyard, BTA CEO Kevin Dallas also said visitor spending rose 30 per cent from January to March and hotel occupancy was up by 22 per cent. "That is a straight five quarters of consecutive increases in air arrivals. And our air arrivals are up more than they were a year ago, when they were up by 14 per cent. That is fantastic year on year growth," Mr Dallas told the media. He said that the majority of the growth came in the form of travel from gateway cities including Boston, Philadelphia and New York. "The only direct market that's down is London, and with Brexit and the weak pound that was to be expected," he said. Mr Dallas also noted that the BTA's efforts to target younger demographics appear to be working, saying: "Almost all of our growth is coming from that next generation visitor: 94 per cent of our growth came from visitors who are under 45. And we held our own among other visitors as well, so overall those numbers are up, just by less than our younger visitors." He said the increase of visitor spending and hotel occupancy was also important for the industry, adding that vacation rental figures were also positive. "Our hotels are up, and our vacation rentals are up as well," he said. "What is really great is there is proof here that vacation rentals and hotels can grow together and we are offering a different kind of experience for different occasions. Overall, everyone is doing better than we were a year ago." Mr Dallas also noted NBC's Today show will be filming on the island this week, and the America's Cup village will soon be bustling as the international sailing event begins this month. He said the BTA will have a presence in the village, working to make sure that any visitors who come for the event get a taste of Bermuda. "We are going to make our visitors feel welcome, we want to engage with them. We also want our America's Cup visitors to get out and experience more of Bermuda, and as they do that we want them to spend money. Our goal is not just to get people to stay in the village, but to get them out to see Bermuda, spend money in Bermuda and hopefully plan their next trip to Bermuda. We want them to come back and, because of who they are, we hope that they bring their next board meeting to Bermuda, or perhaps consider investing in Bermuda. These visitors have the potential to be big spenders, both as guests and investors." Pat Phillip-Fairn, chief product and experiences development officer at the BTA, said that beyond the America's Cup, much is happening to bring visitors to the island, and that advanced booking figures for the rest of the year are up 11 per cent compared to the same period last year. "And the good news is that it is apart and separate from America's Cup," she said. "It's not just June, we are well ahead for the rest of the year." She noted several upcoming events, including next year's Oyster Regatta, the ITU World Triathlon Series in 2018, 2019 and 2020 and the Caribbean Hotels Investment Conference and Operations Summit, which will be held in the island in November. "It brings a group of almost handpicked investors who are looking at development projects," she said. "It's a huge opportunity to show them what is available in Bermuda." Ms Phillip-Fairn also highlighted coming increases in airlift through JetBlue, the arrival of Disney cruises next year and the promise of further hotel development around the island.
May 16. Five Bermudian crew, led by long-time mariner Beau Evans, have begun ferrying passengers from NCL cruise ships to and from St George's and Dockyard on the new tender Bo Hengy II. The service begun on Monday when junior minister for tourism Kenny Bascome rode with the crew, assisting some of 650 passengers who took the trip from west to east on the first day. "The high end ferry received a warm reception from visitors during its four round-trips for the day and Mr Bascome was on hand to greet many of them," said a Government spokesman. Mr Evans is the Cruiseport Ferry Management Ltd CEO and reserve captain.
May 16. A Bill that will reduce the cost of standard healthcare, HIP and FutureCare premiums has been passed in the House of Assembly with amendments from the Opposition. The Health (Miscellaneous) Amendment Bill 2017 will also adjust benefits and move dialysis and kidney transplants to the mutual reinsurance fund and remove the ten-month maternity cover exclusion. Health and seniors minister Jeanne Atherden told the House that it was the first time she was aware of a reduction in rates — the reduction amounts to $4.07 per month, down to $334 per month. Ms Atherden said: "We have been making every effort to reduce healthcare costs and, at last, are starting to see green shoots. The most important indicator telling us we're on the right track is the National Health Accounts report. This report monitors annual total health spending and the latest report shows that in 2011 health spending began to level off, and in 2015 total health spending actually went down by 1.1 per cent for the first time on record. We finally bent the cost-curve — and we're the first country to do so, compared to the OECD." Two benefits will be added to the standard health benefit helping to reduce healthcare costs and premiums: palliative care in the home setting and coverage for select oral chemotherapies which are more cost effective. There will also be an increase to the artificial limbs and appliances benefits from $30,000 to $100,000 adding $0.67 to the premium. The benefit limit for kidney transplants will increase from $30,000 to $100,000 — claims for kidney transplants up to $100,000 will be covered by the MRF. It is hoped that the $100,000 coverage will enable more people to afford transplants, thereby reducing the need for dialysis (which currently costs $200,000 per year). The transfer to MRF and benefit limit increase will result in a MRF increase of $2.74. HIP will receive an additional $6.53 per month from the MRF, and FutureCare will receive an additional $2.50 transfer from the MRF. Ms Atherden also highlighted the need to remove the exclusion for maternity care owing to the risk this exclusion presents to unborn children and expectant mothers. The kidney transplant benefit for HIP and FutureCare will be set at $50,000 so that, together with the MRF coverage, clients have a maximum of $150,000 coverage for transplants that will enable coming off dialysis. Shadow health minister Kim Wilson expressed concerns with the adjustments in dialysis. Describing Bermuda as a "sophisticated jurisdiction", Ms Wilson said that the island should have a "redundancy plan" for the one dialysis facility on the island, at the hospital, in the event that it fails. "It is particularly alarming. We need to be able to offer a choice," she said. The amendment included the provision for other facilities, should they arise, to fall under the legislation. The Bill was approved with the amendment.
May 16. Dr David Saul, the former premier, businessman and athlete with famously eclectic passions, died at his Devonshire Bay home early yesterday morning, aged 77. Dr Saul, who served as United Bermuda Party premier from 1995 to 1997, was hailed by his contemporaries as a determined public servant who shepherded Bermuda through economic tribulations — and stood as premier during a chaotic time for the ruling party. His personal accomplishments were myriad, from undersea adventures that made him instrumental in the founding of the Bermuda Underwater Exploration Institute, to his cycling and running feats. However, Dr Saul suffered a stroke in March, followed recently by a second stroke which, according to a family statement, "cruelly set him back and prompted a move of typical conviction, determination and finality in his mind". His son Jonathan told The Royal Gazette: "It wasn't that he lost the will to live at all. We could see him in there working hard to communicate, trying to walk, but unable to talk or see properly. It was more that he understood his situation and made a conscious effort to move forward with dignity and embrace his final days." Dr Saul's family described him as an "athlete, artist and statesman" whose achievements and awards were too numerous to list. "David led a life for the history books," the statement said, adding that he was a proud and vocal ambassador for Bermuda and her people. His friends and connections spanned the globe and, with his wife Christine, he spent years exploring wild places and enjoying tamer ones with an "enduring lust for life which was highlighted by its unique but excruciating end". The statement said: "After suffering his initial stroke in March which took his speech and some mobility, he knuckled down and applied himself with his legendary optimism and endurance to regain his independence and ability to communicate through some aggressive therapy." Christine, who met Dr Saul in England when she was just 16 and who wed him on August 31, 1963, told this newspaper her husband died "peacefully at home" early yesterday. "It was important for him to be home and surrounded by his family," she said. "David and I lived life to the full. All our adventures and all our life together has been absolutely brilliant. It was a life worth living. That was one of the reasons I married him — because I knew we could go adventuring together. He was my best friend and husband and father of my children." There are plans to place the former politician in a pre-made reef box so he can be buried at sea, as he wished. But divers had yet to recover the casket as of yesterday morning. His son said the last few hurricanes meant it was not where it was supposed to be. "We are working on it and we hope to have fine weather for the transfer," said Jonathan. "Things are in flux." Dr Saul told this newspaper in June 2006 about his plan to create an artificial coral reef after his death. "My great-grandchildren could swim down there to it and say 'there's great-grandpa down at that reef'," he said. Michael Dunkley, the Premier, said he had been "proud to call Dr Saul a friend" — remembering him for "his kindness, his generosity, his adventurous spirit and for embracing all that life had to offer". Saluting "a man of tremendous energy and, in every pursuit, he was determined to do things well", Opposition leader David Burt extended condolences on behalf of the Progressive Labour Party. Sir John Swan, the former premier, recalled him as "unique — he was an iconic individual", while Dame Pamela Gordon, who succeeded him as premier, called him "a great ambassador for Bermuda on all the boards and committees that he served up until his death". Leo Mills, the Assistant Cabinet Secretary during Dr Saul's tenure, recalled Dr Saul's lively sense of humour and diligence with facts and figures. "He was always well prepared, whether going up to the House of Assembly or taking Cabinet meetings. He was also very much the life of the party, keen to engage anyone in conversation. He was a renaissance man in that regard." David John Saul was born at home on Keith Hall Road in Bermuda on November 27, 1939. As well as his wife and son, he leaves behind a daughter, Robin, and grandsons Bracton, 18; Targun, 16; Keane, 7, and six-year-old Dashiell.
May 16. Opposition leader David Burt and MP Rolfe Commissiong have lambasted claims by Michael Dunkley that the One Bermuda Alliance had fulfilled its election promise of creating 2,000 jobs during its first term. The Premier made the assertion last week that 2,000 jobs had been created "in the Bermudian economy" but it was strongly challenged during the opening of the summer parliamentary session in the House of Assembly on Friday evening. In an impassioned speech, Progressive Labour Party MP Mr Commissiong said: "In a fashion that I can only describe as bold-faced … we have been placed in a Trump-like alternate universe. I am sure that many of you heard that statement by the Premier — even he didn't look convinced by his own rhetoric — this is a man who always projects confidence. Certainly the statement, probably prepared by their newfangled American consultants, was not one that even the Premier felt sanguine about." The 2012 Employment Survey, carried out less than four months before the OBA came to power, showed there were 35,443 jobs in Bermuda, compared with 33,375 in last year's survey — a fall of 2,068 jobs over four years. In the four years before that, from 2008 to 2012, when the PLP was in power, the number of jobs on the island fell by 4,770. Following Mr Commissiong's speech, Opposition leader David Burt told the country and his colleagues in the House: "That is the record of the OBA, they want to forget." Mr Burt claimed that Bermudians have "gone backwards under the OBA," saying they take care only of their wealthy, well-connected friends. He also called Mr Dunkley's statement on job creation a "ridiculous" assertion. In reference to St George's hotel developer Desarrollos, Mr Burt then went on to say the OBA had not told Bermudians "what they had signed the country up for" and that if the party did not reveal details such as concessions then "this house can not have confidence in this government". Mr Commissiong also spoke of there being "two Bermudas" under the ruling party, making the claim that the economy is again in recession. The PLP and OBA have clashed in recent days over whether the island is in a recession with Mr Burt saying: "Two consecutive quarters of negative economic growth is a "big deal". However, in a previous statement, finance minister Bob Richards said the statistics told a different story. "For the record, there was no recession during the second half on 2016," he said. GDP results must be viewed contextually, not politically. As it relates to the fourth quarter of 2016, it was compared with the same quarter in 2015 during which the Louis Vuitton America's Cup World Series was held in Bermuda. So comparing that extremely successful period in Bermuda's 2015 calendar to a similar period without those benefits, will naturally skew any results. You need not be an economist to understand that." One Bermuda Alliance MP Jeff Sousa stood up to highlight the inroads being made to improve the economy, including the hundreds of jobs created in construction from Morgan's Point to St Regis. He spoke of "the largest event in our history", the 35th America's Cup, which he said "would benefit the country for decades to come".
May 16. Cameras, umbrellas, coolers and helmets will be restricted in the America's Cup Village, according to a statement from the ACBDA. The statement lists a host of items that cannot be taken into the village according to the terms and conditions of each ticket purchase, with prohibited items liable to be permanently confiscated at the village entrance. "Aside from the obvious prohibited items such as weapons, other items are not allowed, also for safety reasons. They include motorbike helmets, bicycles, roller-skates, skateboards, scooters, wheeled footwear (including children's shoes), luggage and suitcases. Branded umbrellas, sun parasols, clothing and other items are not permitted, nor are chairs or folded seating, coolers or other large containers. Food and drink are not to be taken in — there is a wide range of local vendors to provide refreshments in the America's Cup Village. Photography enthusiasts should be aware that cameras and recording devices of any nature are prohibited, other than for recreational and personal non-commercial use. Camera lens larger than 200mm are not permitted, even for personal use." Baby strollers meanwhile may be brought into the village, but they will be stored at a designated drop-off area "at the ticket holder's own risk". Meanwhile, the statement noted that the event is intended to be sustainable, urging the public to bring reusable water bottles which can be filled with filtered water at hydration stations at the village. Glass bottles, however, are prohibited. Signs reminding spectators what not to carry will be posted at transport points, upon boarding the dedicated America's Cup Village ferries and at Park n Ride car parks," the statement added. Prohibited items must not be taken on the ferry or the shuttle bus as there is no place to store confiscated items for later retrieval. The public is recommended that where there is doubt about an item, choose not to take it, i.e. travel light. The search and screening process at the America's Cup Village entrance will be thorough and prohibited items will be removed. The fewer bags a ticket holder travels with, the faster and easier the entry process will be." The full list of prohibited items include:
Any article that is offensive, dangerous, hazardous and/or illegal including, but not limited to:
firearms and ammunition (including component parts) or replica or imitation firearms or ammunition
all types of knives and bladed items
offensive weapons or implements, such as extendable batons, or any items modified into weapons or replica or imitation weapons
controlled drugs
explosives, fireworks, flares, smoke canisters or replica explosive devices
personal protection sprays, laser pointers & strobe lights
glass bottles and glass receptacles (other than medication bottles for personal use); hazardous and/or toxic materials
cans
any other item that an Authorised Person considers dangerous, hazardous and/or illegal or that may be used as a weapon or a missile or that may compromise or otherwise interfere with the safety of (or pose a hazard to) any person or security at the Venue
Alcoholic beverages or narcotics (other than those prescribed by a registered medical practitioner)
Animals (other than certified service animals)
Banners, placards, leaflets, signs or other materials, items, objects or clothing displaying political, religious, offensive or race-related messages, slogans or images or promotional or commercial identification or messages in breach of these Conditions
Branded umbrellas and sun parasols
Bicycles, roller-skates, skateboards, scooters, wheeled footwear (including children's shoes) or any other motorized or non-motorized vehicles (provided that baby strollers may be brought into the America's Cup Village to be stored at the designated drop off area at the owner's or the Ticket Holder's own risk).
Luggage and suitcases
Helmets (including, but not limited to, motorbike helmets)
Cameras or other type of photographic or recording device (of any nature whatsoever and whether capable of capturing still or moving pictures) other than for recreational and personal non-commercial use. Camera lens length must be no larger than 200mm.
Chairs, folded seating, tents, windbreakers or other camping equipment
Compressed gas containers (other than those required for medical purposes)
Coolers or other storage vessels for food or beverages
Drones, kites, remote control aircraft / helicopters or any other motorized or non-motorized aircraft
Food and drink (other than baby food)
Phone jammers, radio scanners, walkie-talkies or 3G/4G access points/hubs
Single use plastic bottles.
May 16. Gunshots were reported in the Court Street area yesterday evening at around 6.10pm. "At this time there have been no reported injuries," a police spokesman said. Witnesses are urged to contact the police on 295-0011 or the Crime Stoppers hotline 800-8477.
May 15. MUNICH (Bloomberg) — For companies and organisations, an attack by hackers can inflict financial losses, corporate embarrassment and legal action. For insurers jumping into the brave new world of cybercrime insurance, it's free marketing for what could be a $10 billion opportunity. High-profile computer breaches like the hack of the Democratic National Committee and the Twitter Swastika Hack are reinforcing the need for protection against cyberthreats, and companies such as Allianz SE and Beazley Plc are eager to step in. Insurers see coverage against hackers as one of their most promising markets, estimating that premiums will triple over the next four years. "We are optimistic that it can develop into Allianz's and the industry's next blockbuster," Hartmut Mai, chief underwriting officer for corporate lines at Allianz's industrial insurance arm, said in an interview. "Cyber insurance is our key growth area at the moment." A new breed of coverage couldn't come at a better time for insurers, which are struggling to expand in most of their established markets amid slow economic growth and low catastrophe claims that weigh on prices. Insurance premium income stagnated in Europe last year and is expected to grow 1.3 per cent next year, according to reinsurer Munich Re. The company estimates that cyber insurance premiums could rise to between $8.5 billion and $10 billion by 2020 from about $3.4 billion currently. A further boost to demand may come from rules to be introduced next year by the European Union that will require companies to report cyber breaches to regulators and affected individuals. Allianz currently writes a double-digit million-euro amount of cyber insurance premiums and recorded 28 per cent growth last year, according to Mai. He said the product may evolve into an industry bestseller comparable to directors-and-officers liability insurance, which became a top offering during the last decade and now accounts for about 10 billion euros ($11 billion) in global premiums. "Cyber-risk has become a boardroom issue over the past years, following some high profile hacker attacks," Paul Bantick, head of cyber insurance at Beazley, said in an interview. "We haven't seen the big breaches at the retailers such as in 2015 or the large healthcare breaches that occurred in 2016. Yet, there's still a high frequency of smaller losses." Cyber-attacks involving ransomware — in which criminals use malicious software to encrypt a user's data and then extort money to unencrypted it — increased 50 per cent in 2016, according to a report from Verizon Communications Inc. Criminals increasingly shifted from going after individual consumers to attacking vulnerable organisations and businesses, the report said. Government organisations were the most frequent target of these ransomware attacks, followed by healthcare businesses and financial services, according to data from security company McAfee Inc, which partnered with Verizon on the report. While companies have had decades, and in some cases centuries, to work out the risks of fire, natural catastrophes and physical theft, cybercrime is relatively recent, with new and more sophisticated schemes being developed every year. With damages on the rise, the biggest challenge for insurers is to set the right price and limits for their coverage. One in four medium-sized businesses in Germany have suffered a loss from a hacker attack, according to a survey published March 28 by Germany's GDV insurance lobby group. "For insurers to stay relevant in an ever more technology-driven business environment, they need to embrace the opportunity while properly managing the risks," Thomas Seidl, an analyst at Sanford C. Bernstein in London, said in a note to clients on April 24. Like Munich Re and Allianz, Beazley also sees rapid growth in cyber insurance. The Lloyd's of London insurer partners with Munich Re to provide the product and it's running the book at a profit. To make sure that continues, insurers are careful not to take overly large risks in the nascent market. "We limit our coverage to $100 million per client, of which both Munich Re and Beazley take $50 million," Beazley's Bantick said. "In bigger programmes, the $100 million is just a first part, with others providing additional coverage." The scope of cyber insurance varies from one provider to the other. Typically, it protects against data and network security breaches and associated losses, and insurers limit their capacity to between $5 million and $100 million per client. A customer fact sheet prepared by insurer Chubb Ltd, which counts the US as its largest market, described a claim where hackers gained access to a school district's network to steal names, addresses and account information from 20,000 past and present faculty and students. Compensation included settlements from compromised individuals, costs of responding to a regulatory investigation and public relations fees. Other cases included a data centre for an online retailer that was forced to shut down temporarily and a car components maker whose system was encrypted to extort ransom. A recent study by risk modeler Risk Management Solutions Inc found that "if all US businesses had cyber insurance, over $5 billion a year would be lost to the insurance industry from cyber data exfiltration alone. Data breaches are the leading cause of cyber insurance loss." One concern is that a global cyber event such as a devastating virus spreading from Asia to Europe and the US or a global cloud computing provider breaking down could affect a large number of companies covered by one insurer. "A hurricane with a probability of happening once in 25 years could cost us as much as $150 million and the whole industry about $30 billion," said Hiscox CEO Bronek Masojada in an interview. "Due to the lack of history, the question with cyber is whether a $30 billion loss happens once in 25 years or once in 100 years. The most important question is whether we will be alive after it." In terms of growth, "cyber is by far the most important part" of the business at Hiscox right now, he said. The London-based insurer will write more than $100 million in cyber premiums this year at a growth rate of 20 per cent to 30 per cent, Masojada estimated. Cyber insurance premiums at Beazley already exceed $400 million, excluding broker commissions, Bantick said. Munich Re's premium income from the product rose to $263 million last year from $191 million in 2015. The Munich-based reinsurer aims to keep a market share of 8 per cent to 10 per cent going forward, reinsurance head Torsten Jeworrek said. Beazley's Bantick says his company is "starting to see shoots of demand in Europe, Latin America and Asia." Allianz's Mai agrees, adding that he sees last year's strong growth rates as "the product's final breakthrough in Europe." Prices are on the rise as well. In the US, cyber-liability rates climbed for the tenSth consecutive quarter at the end of last year while rates continued to decline in most other global insurance lines, according to a report by broker Marsh & McLennan Cos. "While there are a lot of companies buying cyber coverage, most of them are data-breach driven," Beazley's Bantick said. "But clients are looking for large, holistic cyber programmes that cover whatever happens from data breach to property damage and business interruption." Leoni AG's experience is a lesson in the complexity of cyber-risks. The German cable manufacturer lost 40 million euros last year when fraudsters used fake electronic communication to trick an executive into transferring the cash to foreign accounts. In the end Leoni got about five million euros from fidelity insurance it had. Even though the company had sufficient cyber insurance in place, it didn't apply because the fraudsters didn't hack the company's systems.
May 15. Hamilton Insurance Group founder Brian Duperreault has written to his staff after leaving to take over as president and CEO of insurance firm AIG. Mr Duperreault told Hamilton employees that he was not leaving because there were problems at Hamilton — but because there were problems at AIG he was confident he could help fix. He said: "Hamilton was founded on a bold idea whose time had come. As other industries leapt ahead in their pursuit of value in data and technology, insurance lagged behind. It was only a matter of time before someone disrupted the industry. Hamilton's investors believed that with the right underwriting talent and with Two Sigma's data science prowess, we could be the ones to do it. And we've been proven right." Mr Duperreault said Hamilton had set up "a nimble, client-focused company widely admired — and in many cases, envied — by the markets in which we do business. In the US, we were the drivers behind the establishment of Attune, a groundbreaking platform for small commercial insurance. In Bermuda, we're redefining what it means to be a Tier 1 company. At Lloyd's, we came to market with a full suite of product offerings faster than any other syndicate, leveraging technology to strip out much of the inefficiency that plagues Lloyd's. So I know that Hamilton is in great shape. Some of the best minds in the business work here. There's an energy that's palpable when you visit our offices. If you ask me why I'm leaving, it's not because there are issues at Hamilton. I'm leaving because there are issues at AIG. And I think I can help fix them, in no small part by unlocking the potential represented by the Hamilton/Two Sigma/AIG partnership already in place at Attune." And Mr Duperreault said the move would be "transformative" for the group he founded nearly four years ago. He explained: "As part of the expanded partnership with AIG and TSIQ, Hamilton will play a significant role in leading the data-driven evolution in underwriting. That's what we had in mind when we launched this company just over three years ago." Mr Duperreault added: "In closing, I want you to know how proud I am of what we've done together. I know the best is yet to come. I look forward to the opportunities we're going to have to work together and I thank each and every one of you for your commitment to Hamilton's present and to its future."
May 15. Industry veteran Brian Duperreault has left island-based Hamilton Insurance Group to become head of American insurance giant AIG. Douglas Steenland, chairman of AIG, said: "Brian is uniquely qualified to lead AIG at this important time. He is a hands-on leader who has consistently delivered strong bottom-line results." Mr Duperreault's successor as chairman of Hamilton, William Freda, said: "It is with regret that we have accepted Brian's resignation from Hamilton. He is an industry icon with a well-deserved reputation for visionary leadership. We have had the privilege of experiencing this first-hand at Hamilton." Mr Duperreault, 70, is a former lieutenant and protégé of ex-AIG CEO Maurice "Hank" Greenberg and is recognized for his experience in turning around struggling companies. He will replace Peter Hancock as AIG CEO, who was almost three quarters through a plan designed to turn the ailing giant around after a series of poor results. Mr Duperreault moved up through the ranks of AIG early in his career, leaving in 1994 to build Ace, now Chubb, from a small operator into a global operation. Mr Duperreault, who was also CEO of Hamilton, will be replaced in that role by David Brown, the former CEO of Flagstone Re. Mr Freda said: "We have in David an experienced industry CEO who has been with the company since inception. He is an ideal resource to lead Hamilton through this transition. With a superlative management team, and a board of directors representing a cross section of disciplines from the insurance, finance and technology industries, we are well prepared to continue to execute our mission of writing the future of risk. In addition, our relationship with Two Sigma, our technology and investment partner, has been an extremely productive one since Hamilton's launch at the end of 2013. Our experience with Attune, the technology-enabled company established with Two Sigma and AIG, has demonstrated the huge potential in applying data science and analytics to transform the underwriting process. We are all excited about the potential for ongoing growth and development at Hamilton." Mr Duperreault, who founded insurance and reinsurance company Hamilton four years ago after a long career in the sector, had been touted as the new CEO of AIG for some time. AIG's shares climbed 1.4 per cent yesterday to $61.82 after the news was announced. Mr Duperreault took charge at Marsh & McLennan Companies in 2008 and launched a successful turnaround after the firm had been hit by reputational problems and lost business after then-New York Attorney General Eliot Spitzer alleged it had rigged bids for insurance contracts. Marsh paid an $850 million civil penalty in 2005 to settle the claims. Mr Freda worked for Deloitte on a wide range of multinational engagements for 40 years through 2014. Mr Brown was CEO of Flagstone Reinsurance Holdings from its foundation in October 2005 until November 2012. He previously served as chief executive of Centre Solutions from 1994 until 1997. Before joining Centre Solutions, he was a partner with Ernst & Young. He has been chairman of the board at the Bermuda Stock Exchange since 2000.
May 15. Finance firm Mexico Infrastructure Limited has failed in its bid to overturn a court ruling that removed responsibility for repaying an $18 million loan from the Corporation of Hamilton. Last November, Supreme Court Judge Stephen Hellman ruled that the Corporation had no power to guarantee the loan from MIF to build a hotel on the Par-la-Ville car park. The judgment prompted an appeal by MIF who insisted the Corporation of Hamilton should be responsible for repaying this loan because it "unilaterally signed off on releasing the monies we lent to the hotel project". The Court of Appeal handed down its judgment dismissing the appeal by MIF on Friday morning. Its ruling stated: "In the circumstances I would dismiss the appeal and uphold the learned judge's conclusion that, firstly, in providing the guarantee acted ultra vires and the Corporation's application to set aside the Consent Order was not an abuse of process. Accordingly, I would agree with the judge's order than the consent order should be set aside." Mayor of Hamilton Charles Gosling, commenting after the ruling, said: "In early May 2015, the morning following my election as Mayor, along with newly elected and returning council members, we were summoned to a meeting with those familiar with the MIF guarantee case before the courts. We were unequivocally told that there was no defence and that the new Corporation of Hamilton team had no recourse but to accept the fact that 'we' were liable for an $18 million guarantee given to MIF plus any arising interest. A couple of years later I am happy that two courts have decided otherwise. Without having a consistent revenue stream, stronger than what we had in 2015, any other ultimate ruling would have devastated the Corporation of Hamilton. The $18 million, once paid back in full, would have been a sum closer to $30 million. That is the number I consider we have saved the rate payers (as the Corporation is simply the institution that acts on their behalf) and those who use our city and its services. In the meantime we are still actively trying to regain lost parking revenue and to be in a position to reinvest in vital city capital projects. We have a commitment from Government to support us in this regard as they are fully aware of the implications of further delay. We are pleased that a Hamilton Parking Ordinance 2017 is to be presented to Parliament in this sitting and the enactment of the Traffic Offences Procedure Amendment and Validation Act 2015 within the next couple of weeks." It was in July 2014 that the Corporation agreed to guarantee a bridging loan of $18 million made by MIF to Par-la-Ville Hotel and Residences Ltd. On December 31 that year, PLV defaulted on the loan and MIF took the Corporation to court, in its capacity as guarantor, for the outstanding balance of $18 million plus interest. The Corporation initially concluded it did not have a defence to the claim and a Consent Ruling was made by the court in May 2015 against the Corporation for the full amount. However, the City launched a fresh legal challenge in June to set aside the Consent Order on the basis it had no power to make the original guarantee and therefore it should be null and void. In his ruling, Mr Justice Hellman agreed that the Corporation had acted "ultra vires" in providing the guarantee and set aside the Consent Order. "I have every sympathy with MIF given the position in which it now finds itself," Mr Justice Hellman said. "Nonetheless, I would not go so far as to say that the Corporation's behaviour was so unreasonable as to render the application to set aside the Consent Order abusive. When considering the matter in the round, in my judgment the most important contextual feature is that it is in principle undesirable for the court to enforce a guarantee which is in law a nullity. This outweighs the various contextual features pointing in the other direction, including the serious prejudice to MIF which may be caused by not enforcing the guarantee." Mr Justice Hellman noted in his ruling that there might be other ways for MIF to pursue the $18 million. "This judgment does not determine that MIF cannot recover the amount of the loan monies from the Corporation: merely that it cannot do so by enforcing an ultra vires guarantee," he said. Mr Gosling said the retrieved revenue would "enable us to work on such projects as taking further significant steps in improving the treatment of our sewerage output from the city and surrounding areas. There are a number of other capital projects necessitating corrective maintenance or further development. This could be the first time in a number of years where we get to stand up on two feet and get things done, rather than being hobbled and looking at what has to be put off for another year. We did not enter into this action gladly. The guarantee was the wrong commitment made at the wrong time supporting the wrong developer. All parties involved in seeking the guarantee were aware of the ultra vires concern, everyone believed the issue had been corrected through legislation. No one took the effort to see if it had indeed been 'fixed'. It had not. If we had not fought this issue, it would have cost every Bermudian in one way or the other. We did not think it fair to accept what was, because of the ultra vires, an agreement voided from the start. It was not through the fault of anyone besides that of the mayor and certain members of the council, an elected group who took it upon themselves to ignore their fiduciary duty and play outside their legislated remit with somebody else's money. Taking this legal action was the best means to protect the Hamilton community from what was a horrible, ill-considered undertaking. Court actions in the UK continue the effort to recover the monies inexplicably released to a Gibraltar-based company. While this action is less our battle now, we invested in the outcome when no one else was interested in seeking recovery. When a group of us sought election, John Harvey, Dennis Tucker, Nicholas Swan, Larry Scott, Henry Ming, Carleton Johnson and myself, we made the commitment to restore good governance and bring the 'best' back to the city. With the able representation of Michael Beloff QC, Ronnie Myers, and Mark Diel, we are living up to our commitment."
May 15. A double whammy of cuts in the UK discount rate for bodily injury lump-sum payouts and higher natural disaster losses has hit earnings of the island's insurance and reinsurance industry.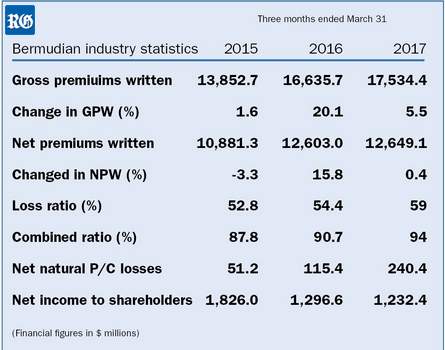 A report by ratings agency Standard & Poors said the combination had "delivered a one-two punch to Bermudian reinsurance and insurance earnings in first quarter 2017." The report added: "These losses chipped away at underwriting profitability, adding to re/insurers' woes as soft industry pricing persisted and competitive pressures grew with alternative capital reaching record highs." But the Standard & Poors quarterly insight said: "In spite of these tough market conditions, gross premiums written for the Bermudians rose 5.5 per cent to $17.54 billion in first quarter 2017 from $16.64 billion in first quarter 2016. Several acquisitions that closed during the past few quarters supported overall growth, but were partially offset by pricing declines at the January 1 renewal period." The UK Ministry of Justice recently reduced the discount rate — known as the Ogden rate — used to calculate lump sum awards in British injury cases to negative 0.75 per cent from 2.5 per cent. The cut is equivalent to a decrease of 325 basis points and the first rate change since 2001. The report said: "We estimate the losses from this development, which we view as casualty catastrophe, to be between $6.5 billion and $9 billion, of which 80 per cent will likely be absorbed by the global reinsurance market. Based on announced losses Bermudians took about a $260 million hit — about 2.7 percentage points — to their loss ratios in first quarter 2017." The report added that natural catastrophe losses for the quarter amounted to $7.6 billion, 18 per cent lower than the ten-year median of $9.3 billion. But Standard & Poors added: "According to Aon Benfield, nearly three-quarters — $5.7 billion — of the insured losses were sustained in the US, which is lower than the $6.3 billion in the same period in 2016, but significantly higher than the ten-year median of $4 billion. "Reported catastrophe losses for the Bermudians rose to $240.4 million in first quarter 2017, more than double the level for the same period in 2016 and more than 4.5 times that of 2015 and 2014. Bermudians felt the sting of these losses, as the industry's combined ratio was adversely affected by 2.5 percentage points, compared with 1.2 points in the same period in 2016." Standard & Poors added its global rating remained stable for the reinsurance sector, even though it expected business conditions to remain weak, hitting near-term earnings. The report said that, despite global property and casualty reinsurance rates falling between zero per cent and five per cent at the January and April renewal periods this year, the Bermuda market was able to grow its top line from the same period last year. It added: "As the soft market continued to constrain rates, premium growth was aided primarily by recently completed acquisitions. For example, Arch Capital Group Ltd's gross premiums written increased 15.5 per cent, primarily due to its acquisition of United Guaranty Corporation, which closed in December 2016. Argo Group International Holdings Ltd's 15.2 per cent top-line growth was bolstered by its acquisition of Ariel Reinsurance Co Ltd, which closed in February 2017. Although acquisitions drove higher premiums in aggregate, the experience of individual re/insurers varied. From an organic growth perspective, Everest Re Group Ltd led the charge with a growth premiums written growth rate of 18.3 per cent fuelled by expansion of its insurance operations, which has been its focus in recent years." But the report added that some insurers and reinsurers were more affected by the existing pricing conditions. It said: "This included Lancashire Holdings Ltd, which saw its gross premiums written fall 14.9 per cent due to the timing of some renewals — ie, multiyear contracts written in prior periods that are not up for renewal yet — as well as the highly competitive rates environments in which the company writes its business. These pressures have been exacerbated by the continuing influx of third-party capital, which reached $81 billion as of year-end 2016, an all-time high. This pushed total global reinsurer capital to $595 billion, also a record level, based on Aon Benfield's report."
May 15. Bermuda saw a near 30 per cent drop in offshore insolvency filings last year compared to the year before, the lowest figure since 2013. The island saw a total of 15 compulsory winding up orders last year. In addition, the conversion rate for Bermuda, which is the number of initial filings later converted into actual court orders, also fell, with two out of three court petitions converted. The news came in a report from law firm Appleby on petition filings and court orders filed in offshore jurisdictions last year. The total number of petitions filed across the six offshore jurisdictions surveyed fell by 10 per cent in 2016 compared to 2015. A total of 184 compulsory winding up petitions were filed in 2016, with 79 winding up orders made. The report said: "The conversion rates of winding-up petitions into orders fell across the offshore jurisdictions as more companies were able to successfully oppose petitions or reach consensual resolution." Tony Heaver-Wren, a dispute resolution partner in Appleby's Cayman office, said: "Although the number of petitions was down in 2016, numerous complex restructuring negotiations were under way during the year — particularly in the oil and gas sector — without having reached the point of petition filing. The general fall in petition filings in offshore jurisdictions to some extent reflects this movement towards restructuring over the course of the year and is expected to be reflected in the 2017 petitions profile." Bermuda, the Caymans and the Isle of Man were fastest at issuing winding up orders, with an average of six weeks to conversion, while Mauritius tended to take the longest, with an average duration of nine weeks. The survey examined records in Bermuda, the Caymans, the British Virgin Islands, Guernsey, the Isle of Man and Mauritius. An overview of Jersey, where the corporate insolvency regime is not petition-based, was also included in a summary of its insolvency and restructuring options. The report looked at notices published across four categories — compulsory winding up filings, conversion of voluntary liquidation, to court-supervised liquidation, schemes of arrangement and capital reduction. Mr Weaver-Wren said: "Some of the lowest numbers of filings occurred in the BVI and the Isle of Man, where alternative processes to petitions exist for creditors or shareholders, while Mauritius returned a disproportionately high number of filings, fuelled by a significantly larger population and domestic economy." The report added that some court orders may not yet have been published, so the figures are subject to change as new information emerges.
May 15. Premier Michael Dunkley will participate in the inaugural festivities at New York's JFK airport for JetBlue's direct service to Bermuda on Thursday. The Premier will be joined by Rob Land, JetBlue's Senior Vice President of Government Affairs, and Kevin Dallas, Bermuda Tourism Authority CEO, to highlight the new service. While in New York, Mr Dunkley will also be meeting with Kathryn Wylde, president and CEO of Partnership for New York, to discuss opportunities to strengthen the relationship between Bermuda and the organisation. The events are part of the Premier's trip to New York to take part in a special live media event at Bloomberg headquarters. The invitation-only event, which is being held on Wednesday, is being co-hosted by the Bermuda Business Development Agency and brings together senior US business leaders for in-depth panel discussions on issues important to the Bermuda market. Former Mayor of New York, Michael Bloomberg, will open the three-hour event titled The Future of International Business Deals: How to Position for Long-Term Growth, and introduce the Premier.
May 15. Law firms Wakefield Quin Ltd and HCS Law Ltd have agreed to merge and continue in the name of Wakefield Quin Ltd. HCS Law is a boutique Bermuda law firm located on Pitts Bay Road. The merger includes Hollis Corporate Services Ltd, a corporate administration company administering the corporate affairs of many of Bermuda's leading businesses as well as a select group of international companies based in Bermuda. Wendell Hollis, the principal of HCS Law, has practiced law in Bermuda for over 40 years and founded and managed some of Bermuda's leading law firms. In addition, he has had significant government and public service experience having served as a senator and chairman of many of Government's advisory boards. He chaired the Government appointed Task Force on Gaming, the Defence Board, the Bermuda Regiment Promotions Board and the Permanent Arbitration Tribunal and is chairman of the Labour Laws Reform Committee. HCS Law and Hollis Corporate Services act generally for the largest entrepreneurial business in Russia, Roust Trading Ltd. It is a Bermudian-based company with more than 100 subsidiary companies, principally in the vodka and spirits business, and is a major player in banking and insurance in Russia. Mr Hollis sits as a director and vice-president of Roust Trading Ltd. He also acts for the Bermuda interests of a number of globally known individuals from both the entertainment and the global business community. Wakefield Quin is one of Bermuda's leading law firms. It is a full-service firm with a history of advising local and international clients in the areas of banking, corporate and commercial, real estate, restructuring and insolvency, trusts, private client and litigation. Wakefield Quin, through its affiliates, provides a full range of fund and trust administration, corporate secretarial, accounting and management services. Mr Hollis said the merger indicated that he was honored for HCS Law Ltd to merge with Wakefield Quin, who "distinguish themselves by the quality of their work and their approach to their clients". He explained they are entrepreneurial and innovative, take the time to understand clients' needs and understand the high service standards that their clients require. "We have been working together on a number of matters over the last six to seven years and I believe that the combination of the two firms will result in the advent of one of Bermuda's most formidable law firms. Most of my clients have been with me for more than 30 years and I feel very comfortable that I am placing them, by the merger, in even more capable hands. I intend to continue to look after the needs and requirements of my clients in the capacity as senior consultant to Wakefield Quin." Ian Stone of Wakefield Quin said: "We are very pleased to be joining forces with Wendell and his group. They have a great business and are good people. The HCS businesses will be a very positive addition to WQ and we are looking forward to working together with Wendell and his staff." The agreement took effect on May 12.
May 15. The Department of Workforce Development is spearheading the development of a "National Talent Pool" for those interested in construction opportunities. "New construction projects are beginning in various places on island, and forecasts suggest that this activity could remain steady during the next five-year period," home affairs minister Patricia Gordon-Pamplin stated. "The development of a list of talented general laborers and construction workers will undoubtedly assist employers seeking work-ready individuals." She added that the construction industry recognizes the need for individuals to possess basic core knowledge and proficiency. "In this regard, the Department of Workforce Development and the Construction Association of Bermuda are organising worksite safety training courses to prepare workers. We are all aware that technology changes frequently and, as a result, there is a continuous call for a certified and skilful workforce. The Department of Workforce Development is ready to lend tuition assistance to those who are unemployed and underemployed and wish to seriously engage in programmes that will teach them best practice applications based on accredited industry standard curriculum. We are asking individuals to be open and ready to participate in a Health and Safety programme and participate in an Introductory to Craft Skills programme if applicable. We want to provide you with the best support in order to increase your chances of obtaining work opportunities in this rapidly expanding construction industry." Interested individuals should register today with the Department of Workforce Development to increase their chance of being selected to work on a current or future construction project. To register, complete an employment intake form that can be downloaded from www.dwd.bm or visit the department. Prepare a written resume — a career development officer can assist you if do not have one — and any work references. Bring a passport or any Bermuda Government issued document to evidence that you are Bermudian (voter's ID card or official letter/spousal letter from immigration).
May 15. A new, glossy magazine celebrating Bermuda's connection with the sea is out on newsstands this month. In Celebration of Sail: Bermuda's Maritime Heritage features articles on the Bermuda Sloop, pirates and privateers, the Spirit of Bermuda, the history of shipbuilding in Bermuda, biographies on Charles Roach Ratteray and James Darrell, the 35th America's Cup Endeavour Programme, ship salvage, Bermuda's Olympic sailors, the Bermuda Fitted Dinghy, shark oil barometers, local Bermudian maritime traditions, whaling, piloting and much, much more. The Department of Community and Cultural Affairs worked in collaboration with The Bermudian magazine and The National Museum of Bermuda to produce this collector's edition magazine to reflect 400 years of sailing innovation in Bermuda. One excerpt from an article entitled "The Black Seafarer — Mariner, Merchant & Slave" reads: "Black seaman developed an unsurpassed knowledge of the waters around their island ... Their expertise was crucial to the successful completion of the Hurd Survey in 1797. The resulting map of Bermuda, encircled by reefs and nestling in the crater of the extinct volcano, was a triumph that has perhaps been matched by high-tech imaging — but not bettered." Another article, "Maritime Activities", begins: "For centuries Bermudians depended heavily on boats for a variety of marine activities, including transportation between the islands, which were not fully connected by bridges until the twentieth century. From the first days of Bermuda's settlement a large percentage of those who were not engaged in ocean-going voyages or shipbuilding were engaged in local seafaring activities — as fishermen, whalers, pilots, ferrymen, waterborne hucksters or freight boat operators." The magazine includes dozens of historical photographs and drawings as well as primary accounts of life in Bermuda throughout the centuries. Minister of Social Development and Sports Nandi Outerbridge stated: "From shipbuilding to salvaging, from designing to sailing dinghies to building the innovative and coveted Bermuda sloops, Bermuda's maritime heritage is an inextricable part of our identity and a great source of pride." Publisher of The Bermudian Tina Stevenson said: "The Bermudian Publishing Company was delighted to partner with the Department of Community and Cultural Affairs and the National Museum of Bermuda on this very special, commemorative issue of The Bermudian. With this beautifully designed magazine, we not only wanted to chronicle Bermuda's 400 years of maritime heritage, but also celebrate the seafaring people, traditions, trades, ships and related activities. Fittingly, we end the magazine with a look towards a bright maritime future: a new generation of sailors and innovators in Bermuda's Team BDA and the America's Cup legacy youth programme, Endeavour." Elena Strong, deputy director and curator of the National Museum of Bermuda said: "The National Museum is proud to be part of this joint initiative. NMB has been researching, collecting, preserving and promoting Bermuda's maritime heritage since 1974 when the Museum was first established as the Bermuda Maritime Museum. This special edition brings together fascinating stories and highlights from our maritime past that showcases Bermuda's resilience, adaptability and resourcefulness as an island nation. These attributes coupled with mastery of maritime skills and strong local and overseas networks allowed Bermudians to become major players in the Atlantic World Economy."
May 15. Dr. David Saul will be remembered for his kindness, adventurous spirit and lust for life, Premier Michael Dunkley said today. Governor John Rankin issued a statement saluting the former premier as "an individual who served Bermuda and many good causes on this island with dedication and distinction. We offer our condolences to his wife and family and hope that the prayers and support of friends will help them in the coming days." Meanwhile, Progressive Labour Party leader David Burt recalled Dr Saul as a man of "tremendous energy" who had a determination to "do things well". Dr Saul, the premier under the United Bermuda Party from 1995 to 1997, died this morning after suffering two strokes in the past two months. A former teacher and businessman, his early political career culminated with a trial by fire — after winning the United Bermuda Party's safe seat of Devonshire South in a primary, and following it up in the General Election of 1989, he found himself pressed into service as Minister of Finance, after Clarence James lost his seat. He went on to serve as Premier during the chaotic later years of the United Bermuda Party administration. Mr Dunkley said in a statement: "My colleagues and I were so saddened to learn of the passing of former premier David Saul. On behalf of the Government and the people of Bermuda, I extend deepest and sincerest condolences to Dr Saul's family and friends. Dr Saul was a man of great integrity who had such an immense love for Bermuda. His career spanned many years in public service, including serving in the roles of Permanent Secretary of Education and Financial Secretary. As the Minister of Finance and later as the Premier of Bermuda, he represented our country with passion, pride and vision, advancing key policies aimed at progressing Bermuda forward. In his later years, as the public is keenly aware, he devoted all of his energy and attention to his philanthropic endeavors. Working with various charitable organisations Dr Saul made it his mission to raise awareness about the importance of protecting and preserving our marine environment. I was proud to call Dr Saul a friend. I will remember him for his kindness, his generosity, his adventurous spirit and for embracing all that life had to offer. He will be greatly missed. May he rest in peace." Sir John Swan, the former premier, hailed his old colleague as a man who represented "not only academia but sports — on land as well as in the ocean". Dr Saul served as Minister of Finance during a difficult era for the island's economy, and Sir John noted how as minister he "helped to bring the country to economic development — both in the finance department of the Government, and as an elected Member — he was always enthusiastic about the potential of Bermuda". Added Sir John: "He carried the flag. I spent a lot of time with him helping to formulate the growth of international business and out relationships with other countries. He was by my side a lot during my tenure, and I want to extend my sympathies to his wife and children." Dame Pamela Gordon, the Premier who succeeded Dr Saul, recalled him as "honest, insightful — but most importantly, he put Bermuda first; he wanted the best for the country. David kept it real. Not everyone appreciated his schoolteacher's style. What some didn't seem to appreciate was his honesty about the size of Bermuda — that we were Bermuda, inc, like a small town, and needed to stop thinking we were the be-all and end-all of countries. It was a reality check for some people." Dr Saul, she added, "adored his family — he always said, your family has to come first. Then you can serve your country. Politics is a distant third. David lived that, and Bermuda is the richer for his services." On behalf of the PLP, Mr Burt also extended condolences to the family of Dr Saul. "He served as premier under the United Bermuda Party administration from 1995 to 1997 and we thank him for his service to our country. Dr Saul was a man of tremendous energy and, in every pursuit, he was determined to do things well. To his wife, Christine, children Jonathan and Robin, grandchildren, extended family and friends, I pray that your memories will sustain you during this difficult time."
May 15. Accidents resulted in $2.65 million spent on health insurance claims last year, according to a new report. But the Bermuda Health Council said the costs outlined in the Road Traffic Crashes: An Analysis of Health Insurance Claims 2014-16 report do not include the full impact on the health system. "These costs exclude considerable psychological and economic losses from lost productivity and income, long-term disability and costs associated with caring for those disabled by their injuries," it stated. According to the Council, there were 1,400 crashes recorded by the Bermuda Police Service in 2016. Despite an increase of 90 crashes compared to the previous year, the Council noted that the long-term trend is downwards. "Generally we are spending less year-over-year for care received locally, and more for care received overseas. Claims paid for overseas care are for services, like head trauma, that we are unable to treat on island because of the severity and specialized nature of the care required." Ricky Brathwaite, director of Health Economics, said avoiding "these incidents and resulting injury involves a community effort and adjustments in each of our routines, habits, expectations, and outcomes. The more information we have regarding the current set of crashes, the better we can make decisions about how we treat and prevent them going forward." And Dr Braithwaite added: "One mortality or disability caused by RTCs is one too many. It is important that we arrive to our destinations safely. The fabric of our communities and our reputation around the world demands it." According to the report, "understanding the epidemiology of road traffic injuries in Bermuda is critical to informing sustainable research and policy initiatives aimed at reducing this health crisis". The document, which provides the total healthcare claims recorded by local and overseas providers based on a defined set of road traffic crash descriptions, is intended to shed light on the impact of crashes, to prioritize road safety and sustain this priority for the future, ultimately leading to the reduction of risk factors and crashes.
May 15. People with facial disfigurements in Bermuda will for the first time have a dedicated source of support and advice thanks to the work of an 11-year-old boy. Somersfield Academy student Peter Strachan was born with a unilateral cleft lip and palate — a condition that has seen him go through eight operations from when he was just four months old. Though he has faced major challenges in his young life, he and his family struggled to find any support in Bermuda to help them. They were not alone. Peter wrote to doctors in Bermuda to make sure there was a demand for such a service on the island and more than 30 wrote back to say it was absolutely needed. There were six babies born in Bermuda with a cleft lip and/or a cleft palate between 2007 and 2016, according to figures supplied by the Bermuda Hospitals Board, but there are countless more people who have disfigurements from other causes. In the same period, there have been 3,544 people who were born with or acquired facial disfigurements. This includes babies born with facial anomalies, people with facial burns, and the biggest cause of facial disfigurement, traffic collisions, which amounted to 3,254 people. Yet despite the large numbers of people affected, there is no dedicated group to provide financial, practical or emotional support for them. One of Peter's primary concerns is families who can't afford the extortionate medical costs that come hand in hand with many facial disfigurements. So when he was tasked with a school project dedicated to an issue that mattered most to him, he decided to create his own association to help others who had been through the same challenges as him. He will be presenting his project at Somersfield Academy's annual What Matters Conference at the school tomorrow from 9.30am to 11.15am. Peter spent his summer holidays launching Face Bermuda — an association complete with its own website which includes facts, figures and advice on facial disfigurement, a support blog for people to share their challenges and experiences, a GoFundMe page to raise money for charities dealing with facial disfigurements and even a cookbook designed specifically for people who have come out of surgery and are placed on soft or liquid diets. There are also videos posted on the website, facebermuda.com about the issue of facial disfigurement including one by respected Bermudian film-maker Antoine Hunt and another focused on a fundraising effort by one of Peter's former Somersfield teachers Ness Madeiros who ran a marathon barefoot to raise money for the Face Forward Foundation. Looking back on his experiences, Peter said: "It was really painful, I had a lot of operations. It's like you have fallen on the floor and you can't do anything. Before the operations I was always really scared. There was no help or support and that is why I wanted to do this. LCCA [Lady Cubitt Compassionate Association] can do it a bit in helping raise money for some people who can not afford it but, for support, I don't think there is anything. My blog is somewhere where other people can talk about different types of disfigurements and help the other people on the blog and you can just write and write." Peter was just four months old when he had his first operation to close the gap on his upper lip — a procedure, he says, that left him with his "favourite scar". He was put in a neonatal room shortly after he was born to have a tube placed in his nose for feeding. Closing his lip was just the beginning and he would be faced with much more complex and invasive surgeries in the years to follow. At the age of three he was transferred to Boston Children's Hospital for another surgery to redo the stitches on his lip. He had another six surgeries in Boston including a bone graft at the age of 10. Peter explained: "Though I have had many, there are still one or two operations planned for the future. When I am 18 years old, my jaw will be split in six places using drilling machines and moved forward. I will also have rhinoplasty to build up the cartilage in my nose. I live in Bermuda and go to a school I really enjoy. I have lots of friends and teachers and a supportive family. Throughout my struggles I have learnt that the world can be painful and it is not always happy and comfortable. "However, it is important to find happiness and joy and keep alive." Peter's mother Jacqueline Alma added: "The operations are expensive. If somebody does not have insurance, it is very expensive. I think the misconception people have when they think about someone with a cleft lip and palate, is that the lip has been fixed. They don't realize that is the easiest part. The extensive part of the palate means bone grafts and closing the soft palate; those are big operations. There is speech therapy — there is a lot more than meets the eye. The ears don't drain properly because of the way the mouth didn't close up properly so a lot of these children have to have grommets so they have impaired hearing. We had no advice beforehand and it was very scary." When his mother asked him if he wished he could go back in time and be born without a cleft lip and palate, Peter told her "no way" because he wouldn't be who he is today. "I think it is nicer — I wouldn't have done this project," he said. Peter is known for his caring nature and in his school he is known as "the Peace Maker". The annual What Matters Conference is the idea of Somersfield Academy's innovations teacher Mark Brown. It takes place at Somersfield Academy tomorrow and is open to the public. Head of primary department Tina Outerbridge said she was "in awe" when she found out what Peter wanted to do for his project. She told The Royal Gazette: "I teared up a bit because when I took on this role I was introduced to the family and they had shared with me all the things that Peter had gone through. What he is doing is an amazing project that is bigger than me, it's bigger than Somersfield Academy — it is an opportunity for him to share his experience with his classmates." Peter said he is grateful to M4 student Sebastian Lee who helped him to build the website and is featured interviewing Peter in one of the videos. Thanks to his help, the website will be up and running in time for the What Matters Conference and donations can be made via the GoFundMe page. Along with sales from the e-book on the site containing recipes, funds will be raised for various charities including LCCA, Clapa, Smile Train, Changing Faces and other charities that offer medical treatment and support to people with facial disfigurements around the world.
May 13. Growing pressures on an unsustainable healthcare system have caused serious financial difficulties for the Bermuda Hospitals Board, the Public Accounts Committee has heard. BHB bosses appeared before the PAC to explain the increasing financial challenges they face on the back of government funding cuts, including a $25 million reduction in its 2017-18 budget subsidy. CEO Venetta Symonds told the committee "we did not expect the revenue constraints we are having now. For the year 2017-18 we do not expect any impact to our clinical service at all," Mrs Symonds said at the meeting on Thursday. "But the situation is unsustainable and we know that and it is important for us to come forward with a plan and provide that care. We are constrained with how we can operate. What we have to work out is how we are going to affect care; we can not fix this problem." Despite amassing a surplus of $113 million at the end of the 2016-17 financial year, BHB faces a minimum $40 million deficit for 2017-18 owing to the Government's $25 million cut — announced in February's Budget — as well as $16 million shortfall on the 2016-17 government subsidy. The quango has also been hit by a reduction in the fees for diagnostic imaging, dialysis and long-term care. Chief financial officer Bill Shields told the PAC: "The fees are set so we can generate a surplus; internationally you would expect that to be between 5 and 7 per cent. We generate a surplus because there is no other way we can fund infrastructure projects; we don't borrow from Government." Mr Fields, however, warned that if the deficit was not paid back to BHB then they could run out of money by 2019-20. "We will continue to generate bills and send them to insurance companies and Government. We will not run out of the ability to deliver, but if we did not see an increase in the subsidy level, what with all the other pressures, we would estimate that we would physically run out of cash in 2019-20. This year we know we will write off $40 million. We know that we will not make a surplus this year. The surplus will go to a deficit and there will be $25 million to be made good. We need to have further conversations about the level of reasonable surplus to invest in critical infrastructure programmes. The BHB Act makes it very clear that we have to break even; if we have a deficit in the current year which we will do, we have to generate a surplus that is equal to that deficit. Once we get to $50 million we start to get in real trouble. When we get below that we are getting to a position where we are not as liquid as we need to be." The PAC heard that the current workforce at BHB was 1,800, of which 70 per cent were Bermudian. However, 70 per cent of the professional qualified staff are non-Bermudian. This prompted PAC member Jeff Sousa of the One Bermuda Alliance to urge Bermudians to consider looking to healthcare as a profession, adding: "There is a dire need in this country." Mrs Symonds ended the presentation by saying that "improving the health of our community is what is important to us".
May 13. A Bill to decriminalize cannabis in amount of 3g or less has been brought before MPs by the Government. But amendments to the Misuse of Drugs Act, presented in Parliament by Attorney-General Trevor Moniz, appeared to take both the Opposition and Speaker of the House Randy Horton by surprise. Shadow Attorney-General Michael Scott protested that the Bill clashed with the Progressive Labour Party's own decriminalization Bill, brought to the House in February. Having not had the chance to "peruse" the Bill, Mr Horton told MPs he would have to read it first and reflect. Mr Moniz apologized to the shadow minister, saying he had been unable to discuss it with Mr Scott before Parliament — with Mr Horton responding: "That's what we must do."
May 13. Just over 1,000 work permits have been issued in connection with the America's Cup, home affairs minister Patricia Gordon-Pamplin has told MPs. In addition, the airport terminal development has been linked to 59 work permits to date, according to responses from parliamentary questions by Opposition MP Diallo Rabain. The figures do not reflect permit applications that did not specify if they related to either project, the minister cautioned. There have been 1,028 permits issued for the Cup, with 13 more applied for and awaiting decision.
May 13. Construction work on Somerset Bridge is due to be completed this weekend. The project to replace the pedestrian bridge was supposed to be done by the middle of March. However, it was delayed because resources were needed elsewhere, according to a spokeswoman for the Ministry of Public Works. Work on the bridge, which dates back to 1620, began in October last year after safety issues were identified on the walkway with the top surfaces of the beams in a bad condition. It was subsequently discovered that the bridge was "in far worse condition than was originally suspected" and the decision was made to change all the beams and components of the pedestrian bridge. "Following the completion of the main walkway to the south of the Somerset Bridge in March it was necessary to re-deploy the resources elsewhere to complete other urgent works," the spokeswoman said. "The work to the north side of Somerset Bridge is scheduled for completion this weekend." Meanwhile, improvement works on Middle Road near the junction with Burnt House Hill in Warwick are 90 per cent complete, she added. "The sidewalk and the wall are completed. "Some work is still to be done by utilities before the road is paved. It is scheduled that the work will be completed by the end of May."
May 13. Ambitious proposals to reconnect the Railway Trial by erecting a bridge across Flatts Inlet have been submitted to planners.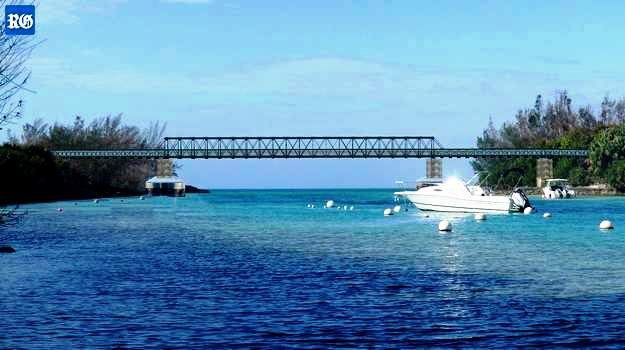 The Friends of the Bermuda Railway Trail project has already seen new bridges installed at Store Hill and Bailey's Bay as well as a raft of upgrades to the trail across the island. Under the plans a bridge will also be built over North Shore Road close to Gibbet Island in Smith's that will join up with the trail before continuing across the inlet. "A total distance of approximately 800ft will be bridged," the application states. "The bridged sections of the trail will be a minimum of 6ft wide — following well-established standards for "rails-to-trails" initiatives and pedestrian bridge specifications elsewhere. This width will increase to approximately 8ft for the main span crossing Flatts Inlet." The plans state that the bridge and the approach will be set at 22ft 6 ins; providing 20ft of clearance through Flatts Inlet at high water, similar to Watford Bridge. The bridge over North Shore Road will provide a minimum of 16ft 6 ins of clearance for vehicles travelling along the road in accordance with recommendations from the Highways Section of Public Works. "The bridges will be constructed according to standard specifications and employ solid stainless steel fixings, mounting brackets and safety rails," the application states. "Bridges will be designed to meet category 3 to 4 hurricane criteria, and are the same or similar to the models used at Bailey's Bay and Winton Hill, which have been tested by four recent hurricanes in Bermuda without incurring structural damage from the wind or the water." The application outlines a series of health, tourism and transport advantages of the overall project. "The project would create an almost continuous off-road route on the eastern end of the island, 8km in length. apart from a 490m break near Crawl. "It would expand the area of accessible trail and park area for residents of both Hamilton Parish and Smith's in particular providing safer pedestrian and bicycle access for residents of the North Shore looking to access the parkland and beach area at Shelly Bay. "The proposed bridge link would also create a better, off-road connection between the east end of the island and the widest and least trafficked road into the City of Hamilton — Palmetto Road. Reconnection of the trail across Flatts Inlet has particular potential as the trail in this area has magnificent views down the North Shore towards Dockyard and looking back towards Flatts Village." The Friends of the Bermuda Railway in conjunction with the Ministry of the Environment will hold a public meeting on May 18 to provide further information about the project and the latest plans. The planning documents should be available to the public at the Department of Planning shortly after Thursday's meeting. The meeting will be held at 12.30pm at the Chubb Building Chairman's Suites, although parking will not be available in the building's car park, and will include a short movie by volunteer Peter Carfoot of Linberg and Simmons that provides a virtual walk over the simulated proposed bridges.
May 13. It used to be the case where the contributions and achievements of the black Anglican community appeared to be "overlooked, unspoken and unseen". Thankfully things have changed. Under the direction of Bishop Nicholas Dill, the Anglican Church of Bermuda last year set up the Rooted In Faith Committee, a group of eight or nine members who work to celebrate the diversity of the church and the rich history of black Anglicans on the island. "The first major event we held was to invite Rev Rose Hudson-Wilkin down, who is the Chaplain and Speaker of the House of Commons in London, originally from Montego Bay in Jamaica," Bishop Dill explained. "She came to speak of the contributions of blacks in the church in the Caribbean and England and also talked about race and the Bible. She shared about her own experience and how she was able to reconcile and reconnect with the church. It was a great inspiration for people to hear her speak and it was well received. What we have found is every parish has a different story so over the next little while we will be highlighting different aspects of the stories of black Anglicans who have been influential to the church and whom made significant contributions. This includes Canon Thomas Nisbett, Carl P. Wade, Canon James Francis, Archdeacon Emeritus Arnold Hollis and Bishop Ewan Ratteray, the first black Bermudian bishop." Next up on their agenda is a special evensong service tomorrow night, including prayers, hymns and canticles, honoring the life and ministry of the late Reverend William C. Trott, being held at the Cathedral of the Most Holy Trinity at 6pm. Committee member Grace Rawlins knows of many black Bermudians who have contributed considerably to the church. Throughout history they helped to establish mission churches and schools, volunteered their time in Sunday School and as music teachers, took part in social and religious activism, played a role in fundraising and missions work, as well as physically helped with the building of churches like St Mark's, St Peter's and Christ Church in Devonshire. However, in many instances their contributions remain unknown. "The Rooted In Faith Committee has set about trying to correct that imbalance," Ms Rawlins explained. "On Sunday we are celebrating the ministry of the Reverend Trott, who we believe was the first black Bermudian Anglican ordained in the church. He was ordained overseas and spent most of his ministry in the mission field, particularly in Costa Rica and Honduras. He was highly spoken of for the work he did overseas. Our understanding is he may have stayed overseas because at that time there wouldn't have been an opportunity for him to have a church in Bermuda, until towards the end of his life. He came home around 1929 to assist in the East End at St Peter's Church in St George's and Chapel of Ease in St David's." One of the comments made about Reverend Trott at his funeral was that he was "a man who lived very near to His God". Ms Rawlins, who will be preaching at tomorrow's evening service, hopes that message will resonate with all believers. "What a wonderful epitaph and something I feel if we could all live that close to God it would certainly make a difference in this world," she said. "I'm inspired by Reverend Trott's faith. He didn't allow the social circumstances of the day to deter him. It must have been a big step for a young man in the 19th century to go off to the UK to be educated, but he took the leap and went off to accomplish great things for the church and God." Ms Rawlins was introduced to the Anglican church "from the cradle". Her parents were members of the Church of England — as a result she has fond memories of Anglican traditions and ceremonies from her childhood. "My father grew up in the Caribbean, he was from Nevis, and anyone who knows anything about the church in the West Indies knows people are very serious about it and proud about it and don't mind speaking of it. That's the kind of household I grew up in. As I got older, I got satisfaction from the worship and the service. It's a praying and Bible-based church, which is something people don't realize. I also like the idea of having quiet, but joyful worship." God eventually gave her the push and nudge she needed to get involved in service and ministry. "I'm now a lay reader in the church, but I don't think initially I made an active effort to do this. God was just moving me," Ms Rawlins said. "I've learnt to listen to God because He knows the right way and has a plan. We don't always understand or feel sure of the outcome, but if you listen to God and follow His voice you will get the best answer." Bishop Dill is hopeful tomorrow evening's event at the Cathedral of the Most Holy Trinity will be both enlightening and empowering. He said: "We hope those who come out will be connected to our history and hear the stories of those who have gone before, and see it as an encouragement to us in these racially divided times. "We are experiencing all kinds of angst in our community and the world, but to hear how in their love for God these people overcame and modeled a different way of how we can be and can live together in unity, in spite of what was going on, is an inspiration to us all."
May 12. London is at risk of losing its global share and importance in reinsurance to places like Bermuda, a new report has warned. "London Matters — The Competitive Position of the London Insurance Market", commissioned by the London Market Group, said that the City of London's share or reinsurance had dropped from 13.4 per cent in 2013 to 12.3 per cent in 2015. The report blamed centralized reinsurance purchasing and a weaker presence in emerging markets, which are gaining in importance. And it said: "Regulatory regimes have supported the growth of alternative capital such as in Bermuda. The London Market is by nature not set up to compete for large structured reinsurance deals and is not well placed to compete with global operators for growing markets in mortality/longevity risk. Competitive market has intensified the advantage of carriers with the lowest cost of capital and expenses, putting London reinsurers at a disadvantage." Bradley Kading, president and executive director of the Association of Bermuda Insurers and Reinsurers, said: "It's a fascinating report. Bermuda is a leader in property-catastrophe reinsurance, energy, excess liability and alternative capital feeds into those and other lines of business. Bermuda's commercial insurers and reinsurers have accepted the role of alternative capital and tried to play it to their advantage as well. We've got a vibrant, innovative, disruptive market here in Bermuda. And our actions make global insurance markets more competitive. That is the economic value we bring to the world's major insurance markets. We've been building it out since the captive business formed here in the late 1960s. It didn't happen with a government industrial planning policy, it happened with good people, with innovative ideas about putting capital to work to take on insurance risk, who found a government and regulator willing to listen and act." Mr Kading added that the "biggest surprise" in the report was the growth of Zurich in Switzerland as an industry hub. He said: "London is the leading commercial insurance and specialty insurance centre. The report reaffirms that." But he said that it had to be seen if the London market would be helped or hindered by the UK's decision to leave the European Union. Several major financial institutions have already announced that they are set to move staff out of Britain before Brexit takes effect in two years' time. Lloyd's and AIG are among those looking to move staff to other parts of the EU so they can continue doing business without restrictions with the remaining 27 EU countries. Mr Kading said: "The interesting question is whether Brexit hurts or helps that. Insurers in the UK now have to do a straddle and have business operations in both London and the continent. "Bermuda has its many challenges. It's refreshing that the London Market Group commissioned several reports that are so candid with comparative data and focused on the challenges they face." The report, however, said that London's position in insurance was "broadly unchanged" in 2015, with a 7 per cent share of the global commercial insurance and reinsurance markets. It added that the weakness in reinsurance and emerging markets was cancelled out by gains in specialist areas like marine, energy and aviation. But the report warned that all three of those markets were shrinking, although London's sales were falling more slowly than the market as a whole.
May 12. The Bermuda Government has provided a guarantee of up to $25 million for the St Regis hotel in St George's. The guarantee is for a Butterfield Bank loan of $60 million for Hotelco Bermuda Holding Ltd, part of the Desarrollos Hotelco Group behind the luxury development. Finance minister Bob Richards described the move as "tangible evidence of Government's commitment to the redevelopment of the tourism sector", noting it will lead to jobs in the construction and tourism sectors. In total, the 122-room project will cost $150 million, which Mr Richards said will be broken down as $90 million funded by equity capital from the developer and $60 million funded by bank loan. The Government's guarantee is limited to $25 million of the bank loan, he told MPs. Ground was broken on the project in a ceremony last week, after many years of waiting for a new hotel for the East End. "This is indeed a historic project for the tourism industry, the St George's community and Bermuda as a whole," Mr Richards told the House of Assembly. "We reiterate our belief that there are many factors surrounding the decline in our once pre-eminent industry. One of the key factors is the investment piece: the ability to promote a value proposition for investors in Bermuda hospitality. The financial closing for this project is real world success in that objective. This project will provide jobs for Bermudians in the construction phase as well as jobs for Bermudians once the facility becomes operational. The guarantee provides that the Government cannot be legally required to fund more than $25 million to repay the lender if Hotelco Bermuda Holding Ltd is unable to perform their obligations to the lender. The financing being guaranteed is provided under a loan facility maturing in 15 years. I am pleased that a local financial institution has shown confidence in the project and the tourism sector and Government is delighted that they could assist in making this happen." Mr Richards said it is generally not the policy of the Ministry of Finance to issue guarantees to the private sector unless the matter is of national importance. He continued: "However, until recently, the island has not seen a new hotel development for some time and the Government strongly supports this Project and the economic benefits that it will bring to Bermuda. With the hosting of the America's Cup we must do even more to attract local and foreign capital to our shores to develop our tourism product. At a Tourism Summit held a few years ago in Bermuda it was noted that our competitors are doing a great deal to attract financing for hotel projects, some Governments are going so far as to guarantee the debt in order to finalise the acquisition of the required financing for the project. This is exactly what we have done in order to ensure this development materializes. It is also important to note that the Government will be compensated for providing the guarantee. Also of significance is the fact that initially the developer will be investing their own equity capital in the project thereby delaying the exposure of Government."
May 12. The House of Assembly reconvenes today with several pieces of legislation on the agenda. Government Bills will include: The Partnership and Limited Liability Company (Beneficial Ownership) Amendment Act 2017; the Companies Amendment (No 2) Act 2017; and the Payroll Tax Amendment (No 2) Act 2017. There will be a second reading of the Health (Miscellaneous) Amendment Act 2017 by health minister Jeanne Atherden and it's possible that parliamentarians will lay and debate the Partnership and Limited Liability Company (Beneficial Ownership) Amendment Act 2017 read by finance minister Bob Richards.
May 12. Senior civil servants have issued a writ in the Supreme Court to Governor John Rankin and Michael Dunkley over the failure to withdraw the proposed Public Service Commission Regulation Amendments. The amendment to the Civil Service regulations were published in December of last year and senior civil servants demanded the 2016 amendments be revoked. They fear that the regulations would extend the role of the Public Service Commission from an "impartial appointing authority" for senior civil servants to a "politicised semi-executive body" that will set performance goals for senior civil servants. On January 12, the Bermuda Public Services Union claimed that the Premier had stated the regulations were published in error "on at least three occasions" and that they would be revoked. The union's statement also called for "full transparency and openness" in the revocation process. However, no progress has been made public. The Governor and Premier have been given 14 days to respond to the document, signed off by Trott and Duncan, which was filed on April 27, 2017.
May 12. Disney Cruise Line will make its maiden trip to Bermuda in October 2018, the Bermuda Tourism Authority announced yesterday.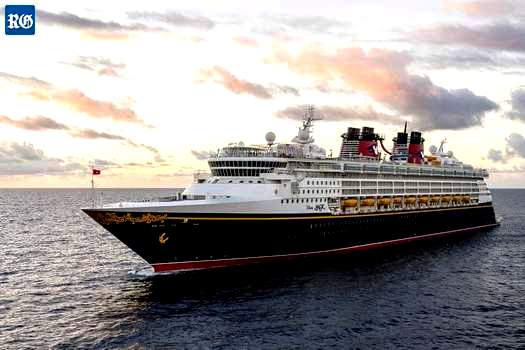 The Disney Magic (see above) is to sail to Bermuda five times next year on October 6, 15, 21, 28 and 31, from New York City. The BTA was "thrilled" to partner with an iconic brand and bring a new segment of cruise travellers to Bermuda, chief product and experiences officer Pat Phillip-Fairn said. "It's the first time Disney Cruise Line has come to Bermuda, so naturally we're excited about these inaugural calls. Disney cruise vacationers and the new experiential travellers now discovering Bermuda are very similar, in that they want to see, taste and experience everything Bermuda has to offer. Our team will now drill down on the kinds of desirable Bermuda experiences the island can offer to inspire Disney passengers with the company's Port Adventures team and our local stakeholders." Each of the Disney Magic sailings will include two full days in Bermuda, while the October 15 sailing will include three days. Ms Phillip-Fairn said Disney had been "intrigued by Bermuda" during talks — and that up to 20 per cent of passengers would be travelling without children. Diversifying the island's cruise offerings is another key objective of the BTA, and Disney is "very keen on creating great experiences for guests, and encouraging guests to get off the ship and explore". Senator Michael Fahy, the Minister for Tourism and Transport, said the calls were significant because they helped lengthen the visitor season. "When we successfully attract visitors in the fall and winter, we keep Bermudians in hospitality working year-round and that's critically important to the growth of our tourism industry." The Disney Magic cruise liner carries up to 2,713 passengers and 950 crew, and will berth in Dockyard. The island offers "a wonderful setting for memory making", according to Tom Wolber, senior vice-president of Disney Cruise Line operations.
May 12. The Superyacht Regatta next month will be sponsored by Caroline Bay Marina. The event, taking place from June 13 to 15, is billed as a spectacular event due to both the size of the vessels and the size of the fleet that will race around Bermuda's coastline. Caroline Bay Marina CEO Ralph Richardson said in a statement: "Caroline Bay Marina is proud to be a sponsor of this event and anticipates welcoming many of the regatta participants back to Bermuda. Darrell McLennan Fordyce, chief marketing and events officer for BOAT International Media, stated: "BOAT International is delighted that Caroline Bay Marina has become a partner of our America's Cup Superyacht Regatta taking place in June. "With over 17 superyachts registered to participate on the water and a comprehensive social programme for their owners and guests on land this is a great opportunity for full service superyacht destinations such as Caroline Bay Marina to enhance Bermuda's reputation as a great superyacht destination, both for sailing yachts and motor yachts. The Marina has charted a 157ft sailing superyacht, Arabella, that will give people an opportunity to view the races. Race day sails include buffet style lunches and open bar. Anyone interested in viewing the Superyacht Regatta should visit www.carolinebaymarina.com or call 400-5634. To learn more about BOAT International, visit www.boatinternatinal.com.
May 12. After years of practice in sailing fast foiling catamarans, just how stable are Oracle Team USA? How stable is 17, their America's Cup Class catamaran? Oracle, comeback winners of the America's Cup in 2013 and now the America's Cup defender have capsized their America's Cup Class 50ft catamaran again. It happened this time during a Wednesday afternoon practice session on the Great Sound. They are the only team to have capsized their ACC yacht. In a short statement issued on the team's social media sites, Oracle commented on their second capsize in two months. They wrote: "Oracle Team USA capsized on Wednesday afternoon during a practice session focused on pre-start maneuvers. The boat was righted within three minutes and there were no injuries to the crew or damage to the boat." Oracle were unlucky to capsize again, but lucky to come out unbroken. Equipment failure or extreme damage at this point would perhaps be fatal. Only two weeks remain until qualifying races start and only five weeks remain till Oracle will have to defend her title against the top challenger. Oracle and all five challengers will sail in the qualifying rounds. Oracle will have to be careful now as three times may be the charm. Repairing a broken wing, daggerboard or rudder could take weeks. And that could be weeks lost to good practice time in the approaching summertime conditions. All teams are concerned about potential collisions with debris and turtles in the Great Sound. Video shot by myislandhomeBDA's Jason Smith reveals that the capsize appears to start as the team began putting crew across the boat in preparation to come up onto the wind in a pre-start maneuver, with the boat sailing close to top speed. After the turn started, 17 began a high-speed knock-down putting down the new leeward hull as the windward hull began to lift. Two of the crew had stopped grinding and crossed the boat. The pre-gybe helmsman was on the new leeward side with two grinders and another driver is at the windward steering wheel. Three crew per side. The new leeward daggerboard goes down and the windward board goes up. But 17 kept turning. In the windward hull and probably sensing the crash coming, only one of the grinders was working, another crew member was trimming the wing and a helmsman was also at the windward wheel. Down to leeward one grinder climbs out of his cockpit and up onto the trampoline net. He hangs on tight as the cat continues her slow death roll. The other grinder was in position. There was also a helmsman still to leeward. The top section of these wings is filled with some special type of flotation material to keep the cats from turning turtle and putting the mast top in the sandy bottom of the Sound. Oracle's 17 quickly went over the point of no return and settled gently on her side in the 15-18kt breeze. Practice makes perfect … the boat was righted within three minutes and there were no injuries to the crew or damage to the boat.
May 12. A new addition at the Hamilton Princess and Beach Club marina will look to play a small part in cleaning up ocean trash. The device — called a Seabin — is affixed to docks and marinas to siphon plastic, debris, detergents and oil from the water before they can make their way out to sea. The unit, the first of its kind in Bermuda, comes through a three-year partnership between Butterfield Bank and the Seabin Project, the organisation behind the device. Pete Ceglinski, CEO and co-founder of the Seabin Project, described the partnership between his organisation and the bank as a milestone. Several "huge companies" showed interest after the project's crowd funding campaign went viral, "with over 500 million hits", he said. "All of a sudden, people started taking notice." Mr Ceglinski said that it was the approachableness of Butterfield, as well as their history of community initiatives, which set it apart from other corporate courters. "When we spoke with [Butterfield CEO] Michael Collins, he started telling us about his history of growing up here. I'd like to think we have an integrity, and we're not just led by the nose to have a bit of money." Curtis Dickinson, executive vice-president, group head of private banking at Butterfield, said that the Seabin would help play a small part against a global problem. "Our oceans are in crisis," Mr Dickinson said. "They are literally awash in trash." According to Mr Dickinson, there are currently 5.25 trillion pieces of plastic trash in the world's oceans. Another eight million tonnes are added annually, he said. "That is the equivalent of a garbage truck full of plastic being dumped into the sea every single minute, every day." An educational aspect is also part of the agreement, which includes a classroom component and fieldwork. "The Seabin is not the solution — the solution is ourselves changing our culture of what we consume, what we buy, what we recycle," Mr Ceglinski said. Jonathan Starling, executive director with Greenrock, echoed the need for a cultural shift. "The key thing is really changing how we ourselves approach our consumer lifestyle. If we can reduce the amount of trash — plastic in particular — going into the ocean, that's the key. This is really just putting a Band-aid on it. It's needed, and it's good, but the main benefit is to raise awareness." He said the project represented exactly the type of co-operative initiative needed to tackle environmental issues. "A healthy ocean is critical to our survival. The oceans are part of Bermuda's heritage — it's part of our history, it's part of our very being." Allan Trew, at the Hamilton Princess and Beach Club, said that it was an honour to have one of the first Seabins in operation at the resort. "Bermuda's waters and our abundant marine life have drawn visitors to our island for generations. It is essential for everyone to help preserve this." The hotel is one of six marinas taking part in the global pilot project. Other Seabins are set to be placed in locations including Helsinki, Majorca and San Diego. The project aims to have their devices available for sale commercially later this summer. Mr Ceglinski said bigger projects were in the pipeline, including the possibility of anchored units, as well as sustainable energy, self-powered devices. "The aim of the business is not to have a need for the Seabins," he said. "Essentially, that's commercial suicide. But we don't mind — we'll just do something else."
May 12. Two motorists lost their lives within 24 hours in separate crashes, doubling the 2017 road death toll to four. Jokeem Richardson, 23, died after a collision on Blue Hole Hill in Hamilton Parish at about 4.15pm on Wednesday and a 68-year-man died following a crash on Middle Road in Warwick yesterday at 10am. The fatalities prompted comment from Cada chairman Anthony Santucci who said such real-life stories of tragedy and loss would prove a powerful tool in swaying the community to take more care on the roads. Mr Santucci highlighted his organisation's partnership with the film A Piece of the Rock, which offers shocking footage of the carnage on Bermuda's roads as well as a candid insight into the lives of families of those killed and injured in road incidents. He said he had not seen the content of the film before agreeing to partner with the project but agreed because he knew the impact of real life stories. Chair of the Bermuda Road Safety Council, Ali Bardgett, echoed Mr Santucci's sentiments and encouraged all residents to go and watch the documentary, which is being aired on Saturday. Mr Santucci told The Royal Gazette: "We have always advocated that personal stories are the best stories to get people to change their behaviors and this was an opportunity to tell those stories — telling the stories is critical. It was a no-brainer for us." Ms Bardgett added: "We would urge the community to go and see the documentary film A Piece of The Rock at the Liberty Theatre on Saturday, May 13 at 12 noon. The film and campaign raises awareness for all road users on the chronic issues of high incidences of road crashes in Bermuda. We are hopeful that this campaign will provide a platform for the momentum needed to bring about much needed legislative action to combat this crisis. The documentary will address the following measures, which we believe are urgently needed to make Bermuda. Roads safer: stricter enforcement of sobriety checks and DUI penalties; implementation of advanced road safety measures to address speeding; graduated licensing and stringent training programmes for new and inexperienced road users." According to police, Mr Richardson was involved in a collision involving a motorcycle, a car and a tow truck. A woman, believed to be a 55-year-old Smith's resident who was driving the car, was arrested in connection with the crash and released on bail. The 68-year-old man died following a crash in Middle Road, Warwick, involving a private car and rental cycle. Ms Bardgett extended her condolences to the family and friends of the two road fatalities. "This affects all of our community. Road safety should be at the forefront of our minds at all times when driving and riding. We have, on average, at least one fatality a month and five people every day going to the Emergency Department of the hospital for treatment following a road traffic collision. For every one fatality, there are over 200 injuries." Mr Santucci added: "Since 2008, Cada has been advocating sobriety checkpoints, an alcohol bureau of control and social hosting legislation. It is long overdue that we put in place all the best practices worldwide to ensure that motorists and the general public can drive our highways safely." A Piece of the Rock screens at Liberty Theatre tomorrow at 12pm and at the Bermuda Underwater Exploration Institute on May 14 at 4pm, which will be followed by a panel discussion.
May 12. The Human Rights Commission has announced its backing of the same-sex ruling handed down by Justice Charles-Etta Simmons earlier this week. The judgment reinforces the Commission's position that "the primacy of the Human Rights Act, 1981 should be upheld, equality enforced, and rights respected," said a HRC statement released this evening. "The decision also confirms that the Human Rights Act, 1981 serves as an important tool to protect the rights in keeping with the spirit of protection of rights and freedoms under our Constitution. At its core, this is an issue of equality and ensuring that all people are treated equally under the law. The issue of same-sex marriage has been a highly divisive one and whilst many are in support of the historic judgment issued by the Supreme Court on Friday May 5, 2017, there are strongly held views opposing the judgment, and the Commission recognizes this reality. The challenge of balancing competing rights is a dynamic and evolving duty that requires constant consideration. The Human Rights Commission takes this responsibility very seriously and in the coming months we will continue to work with the government, members of the LGBTQ community, religious institutions and other stakeholders to ensure that freedom of religion together with freedom from discrimination based and equality for all will be upheld in Bermuda. The HRC is a resource for the public, and will continue to work with all members of the community to address questions and concerns on this matter as well as all other Human Rights matters moving forward. More information can be given by calling 295-5859. The HRC is located at 32 Victoria Street on the ground floor of Milner House. E-mails can be submitted to humanrights@gov.bm.
May 12. Botanical Gardens action group Take Back Our Park has expressed concern over plans to amend legislation governing Bermuda's parks. The Ministry of the Environment has stated it will table amendments to the National Parks Act, including turning Southlands into a park, during the House of Assembly session starting today. Responding in a press release, Take Back Our Park — which has waged a campaign against the construction of a maintenance yard in the Botanical Gardens — called for the Bermuda Government to seek consultation with environmental groups before making any changes to the law. Spokeswoman Jennifer Flood stated: "While we are relieved to hear that after years of being limbo Southlands will finally be granted protected status under the Parks Act, we are concerned that the public is in the dark as to other proposed changes planned to the Bermuda National Parks Act 1986. The Act is the key piece of legislation that protects all aspects of our parks, beaches as well as many other of our national treasures. We sincerely hope that prior to this important piece of legislation being brought to the House for debate, Government will reach out to the various environmental groups for input and appropriate feedback."
May 12. Ernest Peets Jr, a pastor, therapist and political newcomer, has been declared the Progressive Labour Party candidate for Smith's North, the constituency held by Michael Dunkley, the Premier. Describing himself as "action-oriented, committed, open-minded and accessible", the father of four said he had been prompted into politics after seeing his mother pepper sprayed with protesters outside Parliament on December 2. "I've found, in my work and my life, that sometimes it takes an awful incident for us to truly realize the dire state of our collective situation," he added. Dr Peets brings a strong background in addiction counseling, and Opposition leader David Burt said he would prove an asset in the PLP's plans to reform drug treatment, including within the penal system. A private practitioner on family issues, Dr Peets has worked in corrections as well as drug treatment court. He recently joined Child and Adolescent Services as a family therapist, and his appointment to the Problem Gaming Council was announced earlier this month. Commending his "energetic and enthusiastic involvement", Mr Burt said the new candidate stood for "the best of Bermuda". Coming just a week after Kim Swan was rolled out as a candidate for St George's West, yesterday's unveiling was another sign of the building General Election fever. Constituency 10 was a decisive One Bermuda Alliance win in 2012, when Mr Dunkley took 67 per cent of the votes to 33 per cent for Patrice Minors of the PLP. But Dr Peets told The Royal Gazette that if he made his involvement there "about Mr Dunkley or myself, it would suggest I was in it for the wrong reasons". The PLP, he said, represented "the best opportunity for me to advance the best possible life for the constituents of Smith's North". The party's values "resonate 100 per cent, completely, with what I believe to be right and true". Appearing alongside his wife Julie, Dr Peets emphasized his experience in human services, but was open about his status as a political neophyte. Also present were his mother, Sharon Swan, stepfather Edward Swan, and daughter Ajai Peets, also the Youth Opposition leader. Witnessing the pepper spraying of his mother marked "the moment I knew I could no longer sit on the sidelines". Bermuda, he added, was slipping backwards to a time when "the privileged few wielded power over the rest of us to prosecute those standing up for Bermuda, to persecute those exercising their rights, and to exert violence upon them when they do so". The pastor of New Life Church of the Nazarene also said that he had witnessed the erosion of values, and that his background made him "well trained to be an asset in the recovery, not just of individuals, but of our entire community. A community divided, a community made up of two Bermudas, is a community that will not prosper."
May 12. Preserve Marriage has called on the Bermuda Government to appeal against the landmark court decision on gay marriage. In a statement, the group, which cannot legally challenge the ruling itself, said: "Preserve Marriage does not agree with the decision of the OBA Government not to appeal the same-sex marriage ruling. "We wish to make it clear that the OBA Government cannot free itself from responsibility for the introduction of same-sex marriage in Bermuda and give the Bermuda people the conclusion, 'Well, the courts did it.'" Last week, Puisne Judge Charles-Etta Simmons ruled in favour of Bermudian Winston Godwin and his Canadian fiancé Greg DeRoche who had fought for the right to marry in Bermuda. The couple had brought a civil suit against the Government after the Registrar-General refused to publish their marriage banns, claiming his failure to do so was discrimination under the Human Rights Act. Mrs Justice Simmons agreed, ruling that the plaintiffs were entitled to a declaration that same-sex couples could be married here and an order compelling the Registrar to issue the banns.
May 12. Retirement experts Bill Storie and Robin Trimingham have published a new book on how to enjoy life after work. The two, who run the Olderhood Group in Bermuda, have written The Third Journey — Making the Most of Your Life After Work. The two said the book looks beyond financial aspects and concentrates on the importance of a broad-based lifestyle plan to "thrive in the third phase of one's life". Mr Storie said: "This book is the first aid manual for repairing the consequences and obstacles of later life. The Third Journey provides practical information for any life situation whether you are planning for, transitioning into, or already in retirement." Ms Trimingham added: "The Third Journey is based on real research and interaction with retired people of all walks of life around the world. We offer frank discussion on the topics older people secretly struggle with most." The Third Journey examines obstacles and personal fears faced by older people, with potential solutions to downsizing a home, dealing with relatives, overcoming grief and loneliness, living on a fixed income, keeping busy, dating and preventing elder abuse. The Olderhood Group is Bermuda's group of offices for Career Partners International, a provider of outplacement, careers management, executive coaching and leadership development from more than 300 offices in around 45 countries. The book, published through iUniverse, can be bought on Amazon or Barnes and Noble. Mr Storie, CEO of Olderhood, is a retired chartered accountant and international business consultant to the insurance, reinsurance and banking industries and has produced three TV series on business and retirement issues. Ms Trimingham is the editor of the Olderhood website and chief operating officer of the company. She is a certified retirement coach and outplacement counselor and has worked with international companies on retirement transition education.
May 11. Belco's operating earnings surged 36 per cent last year as the power utility benefited from in increase in tariff rates for electricity from June last year. The company earned $24.3 million, according to figures released today by its parent company Ascendant Group Ltd. At the group level, Ascendant said net income climbed 43 per cent to $24.9 million, compared to $17.9 million in 2015, largely due to an $11.7 million gain on the sale of Bermuda Gas to Rubis. Ascendant said its board had decided to increase the quarterly dividend by about 50 per cent to 11.25 cents per share, raising the annual yield for shareholders to 5.3 per cent at today's closing price of $8.50 on the Bermuda Stock Exchange. AG Holdings Ltd recorded a 5 per cent increase in operating earnings to $543,000, largely due to improved performance at iEPC Ltd, partly offset by reduced earnings at Air Care caused by inventory write downs and relocation costs, as well as decreased rental income at Ascendant Properties Ltd. Unallocated group expenses climbed $6 million, the company said, in part due to "accruals related to the company's long-term incentive programme" and improved revenues were also partly offset by a proposed death benefit programme for future retirees. Results were also impacted by higher claims at the group's captive insurance company, Ascendant Bermuda Insurance Ltd related to crankshaft damage on one of Belco's generators. Over the past year, Ascendant said it had repurchased 822,817 shares, of which 595,000 shares were cancelled. The decision to hike the dividend was based on "underlying earnings performance, strong cash flow and reduced gearing levels", Ascendant said. Belco's sales volume decreased 0.8 per cent from 590 million kilowatt hours (kWh) in 2015 to 586 million kWh in 2016 on a meter-read basis. Sales to residential customers were down 0.2 per cent. Large commercial sales decreased 1 per cent and small commercial, street lighting and other sales were down 2 per cent. Fuel consumption fell and overall fuel costs decreased $15.2 million from $92.8 million in 2015 to $77.6 million in 2016. The average cost of a barrel of fuel declined from $101.06 in 2015 to $85.91 in 2016, which includes $31.79 per barrel for customs duty. "This represents an increase of 38 per cent in the duty from 2015. Since 2014, while oil commodity prices have decreased, customs duty on fuel oil has increased 111 per cent," Ascendant said. The tariff increases approved by the Energy Commission took effect on June 1 last year, which allowed Belco to make a 7 per cent return and will allow for an 8 per cent return for 2017, but the regulator mandated that revenues above the allowed return on capital should be set aside in a Tariff Stabilization Fund, to be used to defer future tariff increases. The balance in this fund at the end of last year was $6.6 million. Sean Durfy, Ascendant's chief executive officer, said: "2016 marked the beginning of significant changes both within the group and in the external environment in which we operate. We embarked on an invigorating slate of new corporate initiatives intended to enhance our customer's experience with the company, improve business processes to become more efficient, increase profitability and growth opportunities. Our people are key to our future success and we have begun to focus on building a culture of engagement through new employee programmes that will stimulate empowerment, accountability and pride in all we do. Externally, 2016 saw the shift to a new regulatory environment that will introduce new protocols and procedures for the way Belco generates, distributes and sells electricity in Bermuda. After a decade of discussions and delayed decisions, Belco's assets are ageing and inefficient; driving up cost to the customer and increasing the risk of Belco not being able to meet Bermuda's future electricity demand." Mr Durfy said Belco had scheduled the decommissioning of 80 megawatts of generation that had outlived its useful life by 2019-2020. "Twenty-five per cent of our transmission and distribution cables are more than 60 years old and this will increase to 40 per cent over the next ten years," the CEO added. "Bermuda deserves a more reliable, safe, cost effective and environmentally friendly electricity supply than our current aged infrastructure can provide. The investment into a new generation plant, upgrading transmission and distribution assets and introducing liquefied natural gas is critical in order to meet that expectation. It represents the most prudent and cost-effective approach in addressing the risks of our ageing infrastructure, while enhancing the island's environmental profile and minimizing electricity costs. We will need the support of all relevant stakeholders in an expeditious manner to ensure a stable and reliable electricity supply for the future."
May 11. Butterfield Bank is aiming to cut operating costs as it moves some middle-office functions and back-office departments to its service centre in Canada. It is expected that this will allow the bank to reduce its expenses in Bermuda and Cayman. There has been no announced impact on jobs in Bermuda, but the bank acknowledges the ongoing changes "may involve the redefinition and relocation of select roles to Halifax". Favorable tax treatment is a carrot for the bank to create more jobs in Nova Scotia. Butterfield has a service centre in Halifax, where it employs about 35 people. Last month it amended a six-year agreement it made in December 2015 with Nova Scotia Business Inc, increasing the projected number of jobs it will create in the province from 50 to 100. By doing so, the bank is qualified to earn up to $1.7 million through payroll tax rebate over the six years of the agreement. However, that amount will be lower if it creates fewer than 100 jobs in Nova Scotia. Halifax is about 40 or 50 per cent less expensive than Bermuda and Cayman, according to Michael Collins, Butterfield's chief executive officer. When asked by The Royal Gazette if jobs will be lost in Bermuda as a result of building up its operations in Halifax, a spokesman said the middle-office positions for which it is presently hiring in Halifax are primarily additions to the overall headcount of the group. The new positions are said to reflect investment in regulatory compliance and administration. However, the bank is expecting cost savings in the second half of this year, with a reduced salaries bill being a key component. In a presentation to accompany its first quarter earnings, Butterfield showed how salary and other employee benefits totaled $36 million from the start of January to the end of March. That was $1.8 million, or 5.3 per cent higher than the proceeding quarter, and $4.5 million more than the first quarter of 2016. During an earnings conference call with analysts on April 26, Mr Collins was asked about the higher expenses. He said it was caused by two things: one was continuing compliance work "which all banks are doing", the other was operating and employee costs. "There's a bit of cost overlap in terms of building our Halifax service centre, so as we continue to move middle-office functions and non-client-facing departments and positions to Halifax, obviously we have to staff up in Halifax before we start reducing expenses in Bermuda and Cayman." Mr Collins said the bank would start to see savings in the second half of the year as a result of its Halifax operations, and noted: "Bermuda and Cayman are very expensive jurisdictions. Halifax is about 40 per cent or 50 per cent less expensive, and also [has] a very good talent pool, so we're very excited about that." During the same discussion, Michael Schrum, Butterfield's chief financial officer, said the bank's renegotiation of its contract with outsource IT provider HP Enterprise, was bringing net cost savings of $4 million annually. He said other cost savings will be "primarily on salaries" in the second half of the year. Butterfield's Halifax operations range from finance to human resources, middle office and administration. The bank's spokesman said: "As the bank continues to expand in Bermuda, Cayman and Guernsey, and as banking regulations and technology evolve, we will assess the back-office and middle-office functions that support our client businesses, making adjustments to maximize efficiency and enhance customer service. This may involve the redefinition and relocation of select roles (based in Bermuda, the Cayman Islands and elsewhere within the group) to Halifax."
May 11. The Today show is coming to Bermuda next week in advance of the America's Cup, putting Bermuda back in the international spotlight. Kathie Lee Gifford and Hoda Kotb, the hosts for the popular NBC morning show, are scheduled to film two one-hour shows on the island to be aired next Thursday and Friday at 10am. According to a Bermuda Tourism Authority spokesman, the "home base" for the broadcasts will be the recently renovated Hamilton Princess & Beach Club. "A Today show advance team and talent are on the island now to produce segments for the shows that showcase Bermuda's beauty, culture, as well as its preparations to host the 35th America's Cup," the spokesman said. "The Today show is the top-rated US morning television programme among the valued 25 to 54 year-old demographic; the Bermuda Tourism Authority has been successfully targeting travellers under 45 years old in its consumer marketing strategy over the past three years. The 10am hour of Today typically attracts approximately 2.5 million daily viewers according to ratings agency Nielsen." Kevin Dallas, CEO of the BTA, said the programme's interest in coming to the island demonstrates the value of the America's Cup for attracting mainstream media outside of typical sailing circles. "Equally importantly, it validates the hard work of our marketing team, led by Victoria Isley, our chief sales and marketing officer, to position Bermuda as a year-round destination for young adventure-seeking and experiential travellers which will continue to pay dividends well beyond this summer." In order to secure the filming, the BTA has partnered with the Hamilton Princess, along with JetBlue Vacations and public relations agency Turner. The BTA also used the opportunity to note next week's return of overnight cruise ship visits to St George's and increased airlift to the island from Boston and New York on JetBlue.
May 11. The Bermuda 2016 census is almost complete with 98 per cent of the island's residents counted. According to the Department of Statistics, a number of issues will be addressed before the completion of a preliminary report in the autumn, including:
Data entry and processing;
Data verification and quality assurance, and;
Data tabulations, evaluation and data analysis.
Melinda Williams, Director of the Department of Statistics, said: "The completion of data collection is a key milestone in a population and housing census. However, much work remains in order to produce a quality publication containing preliminary results and my team is committed to achieving this goal." Michael Dunkley added: "I am pleased to announce a 98 per cent completion rate for the 2016 Census data collection. I am impressed with this completion rate and would like to thank all households, interviewers, businesses and the Department of Statistics staff who made this possible."
May 11. Promises of prosperity from the Government have failed to materialize as Bermuda once again finds itself in a recession, the leader of the Progressive Labour Party says. But Bob Richards, the Deputy Premier and Minister of Finance, yesterday called suggestions that the country was experiencing an economic downturn "disappointing". The remarks came as David Burt was joined by Senator Kim Wilkerson to discuss Bermuda's "contracting" economy at a press conference yesterday morning. "All those worried about Bermuda's economy are justified in their concern," Mr Burt said. Two consecutive quarters of negative economic growth is a "big deal. It confirms our fears that the economy in Bermuda is not working and delivering for the people it needs to deliver for." However, in a subsequent statement, Mr Richards said the statistics told a different story. "For the record, there was no recession during the second half on 2016. GDP results must be viewed contextually, not politically. "As it relates to the fourth quarter of 2016, it was compared with the same quarter in 2015 during which the Louis Vuitton America's Cup World Series was held in Bermuda. So comparing that extremely successful period in Bermuda's 2015 calendar to a similar period without those benefits, will naturally skew any results. You need not be an economist to understand that." According to figures released by the Department of Statistics last week, gross domestic product fell 2.4 per cent, after inflation, in the fourth quarter of 2016 compared with the same period in 2015. A 1.8 per cent drop was seen in the third quarter of 2016. Recession is often defined as two consecutive quarters of negative GDP growth. Some experts, however, including Ministry of Finance forecasters and analysts from Standard and Poor's Ratings Services, have predicted economic growth for 2017 of between 1.5 per cent and 2 per cent, and 1 per cent, respectively. Worries held by young people that they may lose jobs are "clearly reasonable", and are backed up by information provided by the Department of Statistics, Mr Burt said. "In the hotel industry alone, 120 jobs were lost by Bermudians, and 59 work permit-holders increased their jobs. Sadly, it appears that apart from photo ops, the One Bermuda Alliance does not have a plan to fix the status quo — it doesn't seem to have a plan to stem the tide of Bermudians leaving the island." Ms Wilkerson, Shadow Minister of Economic Development, said there had now been seven consecutive quarters of job losses for Bermudians. She described the upcoming America's Cup as "temporary stimulus". The senator said: "Since we have been in Opposition, we have spoken about the urgent need to diversify our economy." To this end, she highlighted such measures as tax reform to incentivise job creation, sustainable technology initiatives, improved public education and investment in human resources. Mr Burt dismissed the idea of classifying the present situation as a technical recession. "We knock on the doors and we see the people who are struggling inside of this community," he said. "We can understand that people may want to call it a technical recession, but the fact is we are there — our economy is contracting, it is not creating new jobs."
May 11. More prizes will be on offer for the top finishers in the upcoming Bermuda Half-Marathon Derby after main sponsor Appleby increased its funding. Gina Tucker, president of the Marathon Derby committee, said that greater prizes will be up for grabs in response to the displeasure voiced by top runners, including Lamont Marshall, the reigning champion, at last year's rewards. It is understood Marshall has ruled himself out of this year's May 24 race after turning his focus to qualifying in the 3,000 metres steeplechase at the World Championships in London in August. Ashley Estwanik, last year's women's winner, is also opting out, to concentrate on the Ironman 70.3 Chattanooga in Tennessee this month. Last year's win was the first for Marshall and sixth for Estwanik. "We're able to acquire further funding so I'm excited about the fact that the prizes will be reflective of this kind of event for the overall purse," Tucker said. "We've been working on that for some time and the budget is always evolving, trying to accommodate and please everybody. It's not a professional race so people shouldn't expect professional awards, but we've been able to acquire additional funds for the prizes. We have obtained additional funding from the title sponsors, and possibly another sponsor." The race, which will lead up to the America's Cup, starting on May 26, will begin in St George's again this year after a decision to alternate the course every 12 months. Tucker has embraced the "Auld Cup", recognizing that visitors to the island will get the opportunity to experience the Bermuda Day activities. Tucker said approximately 30 volunteers are still needed to help marshal the course. "We're in need of marshals and persons at the field so we're doing an call-out for people to sign up at the website bermudamarathon.bm," Tucker said. "Everyone is stretched so we just need to pull together to make this happen. It's a unique year in light of the America's Cup." The course from the East End is considered a more challenging, hilly course. Even the top runners found the conditions tough last year and Tucker is urging participants to take the necessary precautions. "Many are getting ready for the race and I remind them to hydrate," Tucker said. "I'm pleading with people to make sure they are well hydrated." A total of 366 runners have signed up for the individual and relay races. Tomorrow is the deadline for form entries, with online entries open until next Friday. Forms can be downloaded from the race website or picked up at Sportseller on Reid Street.
May 11. The newly elected president of the Bermuda Bar Association has announced plans to expand the group's free legal advice clinics to Sandys. Karen Williams-Smith is the first black woman to be appointed to the position and this week recognized the efforts of predecessors that "paved the way" for woman to pursue a career in the law. "Women like Shirley Simmons and Dame Lois Browne-Evans paved the way for us," she said. "They showed that with a lot of hard work and determination we can achieve and fulfil a lifelong career at the Bar." In her first interview since taking on the role, Mrs Williams-Smith hailed the "countless hours of free legal advice" provided by members of the Bermuda Bar at The Centre in Angle Street, Hamilton every Thursday evening. "There is a push to implement a programme at the Sandys Community Centre similar to the one that the membership supports at their sister centre at the Angle Street Centre," Mrs Williams-Smith said. "It is felt that there is a need for such a programme in the west end community. It is proposed that the sessions will be held on Tuesdays so as not to conflict with the Angle Street programme." The new president also highlighted the Barristers and Attorneys' Corporate Pro Bono Programme that was implemented in 2015 to support Bermuda's non-profit organisations. She added: "The introduction of the recent Charities Act, increasing governance requirements, and the current economic climate all place a tremendous strain on Bermuda's non-profit organisations. Non-profit members of the Centre on Philanthropy request and receive assistance with corporate legal matters through the programme." Mrs Williams-Smith pledged that the Bar Association would continue to pursue a legal solution that could pave the way for the introduction of conditional fee arrangements in Bermuda. She added: "We still have some challenges ahead with implementing the last section of PACE Code C having remained outstanding since 2006 and we will continue to put pressure on the Attorney General to deal with this important section dealing with detaining persons arrested over the weekend." Mrs Williams-Smith, who has served on the Bar Council for 14 years, was elected as the association's new president at its Annual General Meeting at the end of last month. She praised the outgoing president Richard Horseman for his many years of service to the association. "In the years that Richard was on Bar Council, his proactive nature saw the formation of several sub committees of the Bar in which he personally sat on as a Committee member, or acted as chair. The committees that particularly come to mind are those which involve matters concerning the criminal bar, the Dame Lois Browne-Evans Criminal Pupilage Award with Carmelite Chambers, conditional fee arrangements, and the Police and Criminal Evidence Act." At the AGM, Christian Luthi was appointed vice-president and lawyer Elizabeth Christopher was named honorary secretary. Other bar council members include Barclay Simmons, Cindy Clarke, Mark Chudleigh, George Jones, Michael Hanson and Trevor Moniz, the Attorney-General.
May 11. The surest way to secure Bermuda's reef fishing industry is to impose further restrictions and a ban on the sale of certain species according to lifelong fisherman Alan Card. Members of Bermuda's fishing communities have weighed in on a report released by reef scientist Thad and Jessie Murdoch, which claims that the numbers of Bermuda's reef predators are "critically low". The report released through the Bermuda Reef Ecosystem Assessment and Mapping (Bream) Programme, draws on data collected from 2004 to 2011 from 180 reefs across all of the island's reef habitats. Dr Murdoch believes that if we ignore the loss of predatory fish that help to manage our coral reefs, it is likely that the reefs will erode. Calling on further restrictions, the report has attracted a varied response, with one fisherman claiming he has seen an abundance of most predatory reef fish and another proposing a ban on the commercial sale of some species including the black grouper, otherwise known as rock fish. Alan Card has been a commercial fisherman all his life and while he used to catch local predatory reef fish, his focus has switched to pelagics such as wahoo and tuna that pass by the island from other countries. He told The Royal Gazette: "I do very little reef fishing, one of the reasons being it is not practical to do it anymore because of decreased stocks. Most of the major grouper species are now commercially extinct — how long will it be before we wipe out the black grouper and hinds? Out on the banks, they are so depleted it is almost not worth putting a line down on the bottom. Sure, the fishermen can go there and make a few dollars because the fish that they are selling now is fish that 30 years ago was thrown away as trash. They are targeting conies and people wouldn't buy them then." Mr Card says a total ban on the sale of black grouper in Bermuda should be considered: "I would make black grouper a non-commercial species. The spear fishers can also target a grouper." Speaking on the claim by some fishermen that further restrictions would limit their ability to earn a living, Mr Card suggested that so would further depleted fish stocks: "Of course they don't want to see additional restrictions — it is their livelihood. That doesn't alter the fact that if there are no fish then nobody is going to have a future." Commercial fisherman Michael Barnes, who took issue with the report saying that from anecdotal evidence gleaned from his 42 years of fishing, black groupers are "thick" in the water as are the other predatory reef fish outlined in the report — red hind, cony and snappers. Calling this newspaper after reading our original article on Dr Murdoch's report, he said: "If we go any further with the bans, fishing is just going to stop. Black groupers are thicker now than they have ever been. The snappers are as thick as I have ever seen them, the conies right now are basically the same and the hinds have increased big time." Mr Barnes said that further restrictions in Bermuda's waters would sound a death knell for many fishermen's livelihoods. "My son is 32 so I have to protect his future," he said. "You don't need more restrictions because it is getting harder and harder to fish. I don't think they should relax the restrictions, but what they have in place now should stay there. The reefs have been protected for 27 years, most guys fish off shore." The Department of the Environment and Natural Resources said it recognized the research of Dr Murdoch and the importance of predatory fish to Bermuda's coral reef ecosystem saying it had already put in a number of management measures to aid the recovery of those species. Recently, amendments to the Fisheries (Protected Areas) Order 2000 and the Fisheries Regulations 2010 were gazetted and include: Seasonal protection of grouper spawning aggregations; a bag limit of one black grouper per boat per day; and a bag limit of ten red hind per boat per day from May 1 until August 31. In addition to those changes, amendments to the catch limits of red hind are currently being drafted, this newspaper can reveal. The new catch limits proposed will be ten red hind per boat per day year round for recreational fishers, ten red hind per boat per day from 1 May until 31 August for commercial fishers, and 50 red hind per boat per day in April for commercial fishers. A ministry spokeswoman said: "The ministry is keenly aware of the need to manage its resident predatory fish stocks and is quite conscientious in its approach involving stakeholders when it modifies management measures. Not only does it rely on the relevant available scientific data, it seeks information from a diverse range of marine stakeholder groups. This includes the Marine Resources Board, the Commercial Fisheries Council and the Fisherman's Association of Bermuda." Former director for the Department of Agriculture and fisherman John Barnes said there were "no surprises" in Dr Murdoch's report and that the outcome is "not significantly different from the last reef survey conducted in Bermuda". He pointed to the Bermuda Zoological Society Reef Watch Annual Report of 2016 that claimed that predatory fish levels were unchanged since the levels seen in 2013. John Barnes believes it may be a case of "too little, too late" and that more flexibility would be needed. He said: "Although the spawning sites are, for the most part, protected, the lack of flexibility in a legal structure makes full protection difficult. Last year, for whatever reason known only to the fish — predominantly red hinds — the fish aggregated prior to the protected period and fishermen took full advantage of it catching loads of red hinds, now a prized market fish, although once scorned in favour of the larger groupers. "To try and address this issue, the period was extended this year and although fishermen tried to see if the same thing would happen by working the area prior to the order coming into effect, the aggregations had not been set up yet. Presumably, the fish were back on their normal schedule. That is an inherent part of the problem with groupers — they group to spawn and are then at their most vulnerable." John Barnes said that while black groupers, due to their smaller aggregation numbers, are less susceptible to the techniques that have reduced the numbers of other species, there "may be some scope for additional protection". He said a new trolling technique has proved effective in catching them. "Inroads must have been made into what has to be a limited population. "Any further restrictions would not be popular with fishermen who are already feeling the pinch. In the final analysis, such conservation measures fall in the purview of politicians and most would prefer to avoid such issues. The furore that followed the 1990 fish pot ban was well-documented and incredibly persistent — all the way to the Privy Council." While government's planned restrictions do not include taking black grouper off the commercial menu, Dr Murdoch hopes that at least some further restrictions may be considered. He told us: "My goal is to ensure we have lots of groupers of several species, for a long time into the future, and that locals can make a living catching them. We need lots of big healthy groupers to do that. We need to let them breed and to give them safe places to grow up so that they can do their job keeping the reef healthy and also give us food. Enforcement has minimal support. Recreational fishermen don't need licences, so it is hard to monitor and regulate. Most countries have at least minimal licensing for recreational fishermen. People are taking a common resource from the rest of us. That privilege should come with a licence."
May 10. The Government will not appeal last week's landmark legal ruling on same-sex marriage. Home affairs minister Pat Gordon-Pamplin told The Royal Gazette last night: "The Government acknowledges the Supreme Court ruling handed down on Friday last and, upon legal advice, we have determined that we will not lodge an appeal against the judgment. "While we accept that widespread support of this very sensitive and emotive issue of marriage equality is difficult to achieve, we do, however, recognise that as a community we must be able to have open and honest conversations which help to encourage awareness, understanding, tolerance and respect for one another. We will abide by the decision of the judiciary and will implement the necessary steps to ensure compliance with the judgment." The ruling by Puisne Judge Charles-Etta Simmons enables gay couples to marry in Bermuda. Bermudian Winston Godwin and his Canadian fiancé Greg DeRoche brought the civil suit against the Government after the Registrar-General refused to publish their marriage banns. They claimed his failure to do so was discrimination under the Human Rights Act and Mrs Justice Simmons agreed, ruling that the plaintiffs were entitled to a declaration that same-sex couples could be married here and an order compelling the Registrar to issue the banns. Earlier yesterday, before the minister made her comments, this newspaper asked Mark Pettingill, the lawyer representing the couple who won the case, if an appeal was likely. "In light of how significant this judgment is and how it accords with all of the decisions in relation to human rights internationally and in the United Kingdom and in Europe, I would be extremely surprised were the respondents to pursue an appeal," said the former Attorney-General. Another legal source, who did not wish to be named, pointed out that this Supreme Court case was the fourth regarding the primacy of the Human Rights Act over other laws. The Government lost the three previous suits, two of which involved same-sex relationships, and did not appeal. "It would be kind of odd for them to appeal this one," said the source. Preserve Marriage, a group opposed to same-sex marriage and civil unions, was an intervener in the most recent case. The hearing earlier this year was told that interveners do not have the right to appeal judgments.
May 10. The Court of Appeal has struck down a ruling that a construction company only hired "black faces" on a project to justify work permits. While the Human Rights Commission found that Apex Construction Management Ltd had discriminated against Bermudian carpenter Pernell Grant on the grounds of his nationality — a decision upheld by the Supreme Court — the Court of Appeal found that the ruling was separate to the matter described in the complaint. Mr Grant had complained that he was offered employment on less favorable terms than Polish and Canadian contract workers and was denied the opportunity to work overtime. A tribunal formed under the Human Rights Act found that Mr Grant was not discriminated against due to being Bermudian and was denied overtime because he insisted on being paid one-and-a-half time base wage, while others received straight time. However, the tribunal came to the conclusion that the respondents had "absolutely no intention of training or promoting Bermudians generally, or black Bermudians in particular" and the company only wanted "black faces in the hole". Appeals to the ruling were filed by the company and two other respondents — including Andrea Battiston, the company's operations manager. However, the company was struck off the register before entering the compensation phase of proceedings. Following a hearing in the Supreme Court, Chief Justice Ian Kawaley found that there were "imperfections" in the tribunal's handling of the matter, but that there was no significant injustice, upholding the findings. But Mr Battiston brought the matter to the Court of Appeal, who in a judgment dated April 21 found that the tribunal had reached a conclusion separate from Mr Grant's complaint, leaving the appellants at a disadvantage. In a written judgment, Appeal Judge Geoffrey Bell said: "In my view the tribunal reached a conclusion which did not deal with the terms of Mr Grant's complaints, and did not indicate to Mr Battiston or his counsel at any stage of the proceedings that they were looking at matters other than in accordance with the terms of the complaints. "Insofar as the tribunal then reached its conclusion without reference to the terms of the complaints, its decision could not properly be characterized as a finding that the complaints had been made out. And the findings the tribunal did make, albeit unhappily worded, were in respect of matters which were not the subject of Mr Grant's complaints. These were more than legal technicalities, and there existed no basis upon which the Chief Justice could properly substitute a finding that there had been a breach of the Act."
May 10. The Supreme Court has decided against issuing a costs order in the wake of a failed legal action over Ayo Kimathi's placement on the stop list. Mr Kimathi was placed on the list after delivering a speech in which he attacked homosexuals, interracial relationships and those of European descent. Both the controversial speaker and the man who organised the presentation, David Tucker, had called on the court to rule that his placement on the list was an attack on his freedom of expression. However, in a judgment late last month, the Supreme Court upheld the Minister of Home Affair's decision, finding his presentation to be hate speech and that the Minister had acted in the public interest. The court also upheld the decision of the Human Rights Commission to investigate complaints regarding the incident, but not the executive director's decision to refer Mr Tucker's matter to a tribunal. While legal costs typically follow the judgment, Eugene Johnston of J2 Chambers argued that Mr Tucker and Mr Kimathi should not be forced to pay the Government's legal bill as the matter was chiefly a constitutional argument. In a decision released on May 2, Chief Justice Ian Kawaley ruled that costs should not be ordered against the applicants, noting that both are private citizens and that they had not acted unreasonably in bringing the proceedings to the court. "The application has helped to develop entirely new Bermudian law in a field of public importance," Mr Justice Kawaley wrote. The Chief Justice also noted that the non-constitutional elements of the case were of "limited significance" in terms of legal costs, as was the partial success of Mr Tucker's application.
May 10. The high seas have long been a battleground for the world's biggest oil traders as they spend millions of dollars chartering crude tankers in the quest for an edge in the market. This month, off the pink-sand beaches of Bermuda, top executives from oil-trading houses Vitol Group and Gunvor Group will bankroll a very different kind of sea borne combat: the 35th edition of the America's Cup sailing race. Gunvor chief executive officer Torbjorn Tornqvist's Artemis Racing is an early favourite to win the right to challenge billionaire Larry Ellison's Oracle Team USA for the world's oldest sporting trophy. First, the Royal Swedish Yacht Club's entry must beat teams from France, Japan, New Zealand and the UK. On May 26 — the day after Opec's next meeting in Vienna — Artemis takes on Britain's Land Rover BAR team, whose founding shareholders include Chris Bake and Ian Taylor, executives at the world's biggest independent oil trader Vitol. "It is not surprising to see the highly competitive spirit of commodity traders venturing into sports," said Jean-Francois Lambert, an industry consultant and former commodity trade finance banker at HSBC Holdings. "The America's Cup is one of the most prestigious competitions and perhaps epitomizes most what commodity trading personifies: strong leadership over a highly professional and dependable team." Billionaire Tornqvist, who controls about 61 per cent of Gunvor's equity, is ambitious to topple Ellison, whose team is angling to become the first to win the cup three consecutive times. "Our long-term goal is to dominate the America's Cup arena for the next decade and inspire a new generation of sailors," Tornqvist said on Artemis Racing's website. Tornqvist joins a list of race patrons that include legendary US financier JP Morgan, who co-owned a yacht that defended the three-foot silver trophy, known as the "Auld Mug", in 1899 and 1901. In 1983 Australian billionaire Alan Bond's Australia II ended the New York Yacht Club's 132-year hold on the trophy, while Switzerland's richest man Ernesto Bertarelli won the 2003 and 2007 editions of the cup for the Geneva yacht club. Financial backers need deep pockets. Ellison spent $115 million on his US team's successful 2013 America's Cup title defence, according to the Wall Street Journal. This year, Ellison is again bankrolling the American squad and has enlisted European plane maker Airbus Group SE to help with the design of the team's carbon-fibre catamaran. Tornqvist's Artemis is galvanised by the death of crew member Andrew Simpson during a training accident for its previous challenge in San Francisco in 2013. The team has been "dominant in high winds" in racing prior to the start of the regatta, according to America's Cup Event Authority chief executive officer Sir Russell Coutts, a New Zealander who's the most successful sailor in the competition's history. Tornqvist said the large crews and support staff required for sailing competitions offer some parallels with a trading house, adding that the match-up with Land Rover BAR pits Sweden against another country with a long maritime history. Both British and Swedish cultures "have a seafaring heritage, which is of course, based in trade," he said. Like Tornqvist, Vitol executive director Bake is an accomplished sailor, leading his Team Aqua to five championships on the RC44 tour. Vitol CEO Taylor is better known as a philanthropist and supporter of the arts, chairing the board of trustees of the Royal Opera House in London. Both Bake and Taylor declined to comment for the story. Rotterdam-based Vitol, which trades more than seven million barrels a day, is not a sponsor of the British team. The Land Rover BAR team is skippered by four-time Olympic gold medal winner Sir Ben Ainslie, who helped to mastermind Oracle's comeback from 8-1 down to win 9-8 against Emirates Team New Zealand in San Francisco four years ago. The UK squad is trying to recapture yachting's most prestigious race for the first time since the inaugural race was staged in 1851 off the Isle of Wight on England's south coast. Land Rover BAR will be the first British team to challenge for the trophy in 16 years. Organisers claim it's the hardest trophy to win in sports with just four nations having captured the prize: Australia, New Zealand, Switzerland and the US. "We're a new team and we've been on the back foot playing catch-up, but I believe we've really closed the gap on the others," Sir Ben said in an April 26 statement. "We are in it to win it. Those are our expectations, but we know how tough it will be."
May 10. Restaurant group MEF is planning to reopen the nightclub at Elbow Beach. Once known as The Deep, the club closed in 2009. It is to be reborn for the duration of the America's Cup as an upmarket nightspot aimed at visitors and residents, opening on May 25. The news comes as MEF, which operates the Little Venice Group, announced a revamp and new menus at its three restaurants at the Paget resort. Ennio Lucarini, general manager of the Lido Complex at Elbow Beach, said: "It's because we are a nice destination down here. "We're not using The Deep in that particular way any more but it's a lovely space and it is an alternative quality destination for visitors to the island during this period. For sure, we intend to put together programmes for yacht owners, visitors and residents, not only the nightclub, but also at the restaurants." Mr Lucarini was speaking at the complex, which includes Cafe Lido, the open air Sea Breeze Lounge, the Marina Terrace and Mickey's Beach Bistro. Serge Bottelli, the executive chef, said Sea Breeze had benefited from a new paint job, changing from a sandy colour to crisp blue and white, while the menus at all the venues had been revamped. He said: "We eliminated what was not going very well and came up with new specials. We have pushed a bit more seafood into Mickey's compared to what it was before. Lido will be completely changed from next week — we're going to have a lot of pasta — people like pasta. For the main course, the garnish will be a pasta dish, but not always the same. Between Lido, Sea Breeze and Mickey's, we have seafood towers by request." The seafood towers will include shrimp, scallops, oyster, lobster, crab claws, crab and tuna tartare among the marine tastes. And Mr Bottelli added that the restaurants hoped to tap into Mother's Day on Sunday, with a total of four sittings at the flagship Cafe Lido. Mr Bottelli said the complex would also use the idyllic setting of the beach for dinner parties. "Locals, yacht owners, overseas people, can have four to five course meals or a seafood tower with a bonfire. We want to emphasise the beach during the America's Cup. We felt the summer is here and want people to remember summer is here." Mr Lucarini said: "We are really hoping it will be busy during the Cup. We're addressing a lot of people, yacht owners, America's Cup teams and their organisations. We're putting together a membership for the nightclub and we will have a door cover charge too. That's something we're still working on. And we will definitely be using bottle service in the nightclub." The nightclub will feature Scott Roy — DJ Vibes — with food available as late at 2am. Adnana Blaj, the complex's general assistant, said: "There will be a lot of people coming here who have never been here before but who have come straight to us asking for Mickey's and Elbow Beach." She added: "The location is a huge factor because it's between where people are staying around Dockyard and Hamilton." Ms Blaj said the complex had already seen extra booking as a result of the America's Cup, including corporate groups staying at Elbow Beach. She added: "We expect things to speed up a lot when the yachts start coming in." The Deep will be open on Thursdays, Fridays and Saturdays for the duration of the event, opening from 11am to 3am after the Big Chill entertain crowds at Sea Breeze.
May 10. The Bermuda Business Development Agency is to co-host a special live media event at Bloomberg headquarters in New York City next week featuring billionaire former New York mayor and part-time Bermuda resident Michael Bloomberg. The meeting will bring together senior US business leaders for in-depth panel discussions on issues important to the Bermuda market. Mr Bloomberg will open the three-hour afternoon forum on Wednesday, May 17, titled "The Future of International Business Deals: How to Position for Long-Term Growth." The invitation-only event will launch with a live interview of Michael Dunkley, the Premier, by Bloomberg co-founder and editor-in-chief emeritus Matt Winkler, staged before an audience of 100 senior investors, including asset managers, hedge fund, private equity and institutional investors. Finance minister Bob Richards and Minister of Economic Development Dr Grant Gibbons will also attend, along with senior representatives from Bermuda's international business sector. "We are very appreciative to have the opportunity to collaborate with Bloomberg to tell our Bermuda story, which is a story of resilience and success," said the Premier. "There have been significant global developments, such as Brexit in the UK and proposed tax-reform legislation in the US, that warrant our vigilance. These and other matters are ever-evolving, so opportunities such as the Bloomberg forum, as well as our industry outreach efforts, are critical to ensuring our continued success." Mr Dunkley's interview will be followed by panel discussions examining forces that are transforming the global business landscape as new governments assume power, ushering in changes to regulations and tax policies. "This event will gather an audience of key corporate executives and raise awareness of Bermuda as a pre-eminent international finance centre, one that offers significant opportunities for onshore businesses," said BDA CEO Ross Webber. "This initiative is part of our ongoing work to positively differentiate Bermuda from other offshore domiciles. We expect this dynamic brand of advocacy will have significant impact in delivering that message." The afternoon's first panel will examine the effect of impending US tax reform on global investments, including global capital flows and the ways deals are structured and implemented. Panellists will discuss ways investors can optimize their transactions and pursue strategic acquisitions. Featured speakers will include Kristi Kuechler, president, FOX Private Investor Center; Rodney Lawrence, global head for international tax services, KPMG; and Siva Subramaniam, tax partner, international tax services, PwC. "We'll convene a series of conversations on how investors can effectively deploy, protect and grow their capital in a rapidly evolving business environment," said a Bloomberg spokesman. "We'll examine the impact of impending US tax and regulatory reforms and the potential cascading effect on trade policy and the flow of funds around the world." The second moderated panel discussion will look at global regulatory changes and what overseas jurisdictions like Bermuda offer US-based companies considering foreign direct investments. Featured speakers include Howard Mills, global insurance regulatory leader, Deloitte; Torsdon Poon, transaction tax leader, Ernst & Young; and Mark Strefling, general counsel and COO, Whitebox Advisers. "What's the impact of strategic and operational decisions being done today? We'll discuss how global businesses can take advantage of international opportunities in the midst of current geopolitical and macroeconomic uncertainties," the Bloomberg spokesman said. The event will run from 3pm to 6pm at Bloomberg's midtown headquarters, concluding with a networking reception.
May 10. A plan to relocate sea turtles in advance of the America's Cup has sparked concerns from environmentalists about the impact on the animals' health. The plan is intended to protect turtles from the heavy marine traffic anticipated in the Great Sound. However, Greenrock executive director Jonathan Starling said confining the turtles could lead to illness and stress while failing to prevent other turtles from entering the race area. "We recognise the reasoning behind the action," Mr Starling said. "We are hopeful that this action will, indeed, reduce the potential for sea turtles to be injured or killed during the heightened marine activity of the America's Cup. If it even saves one turtle that otherwise would have been killed, that's great. Despite this, there are questions that need to be asked." The Ministry of the Environment announced on Sunday that it would be temporarily relocating sea turtles from the Great Sound to a "purpose-built ocean enclosure" near the Bermuda Aquarium, Museum and Zoo until the end of the event. In response to the news, Mr Starling posed a range of questions about the feasibility and ecological impact of the plan, including what the impact would be on the relocated turtles. "There are welfare considerations about keeping a concentrated number of turtles in a much smaller enclosure to what they're familiar with. There is a risk of increased disease in such a situation — particularly fibropapillomatosis, a form of highly contagious tumors. There is a risk of turtles hurting each other from bites out of aggression, and general health concerns arising from the stress of being held in captivity. While there is some sea grass in the area where we under-stand they will be located, the quantity and quality is insufficient for a large number of turtles for two months; their diet will have to be supplemented by other foods. While we trust the animal husbandry skills of the workers involved, we note that the quality of food will be less than ideal compared to their natural diet and there is the risk of the turtles associating humans with food. This may lead to problems for turtles after their release." Mr Starling also questioned if there was a "plan b" if the proposed enclosure proves to be inadequate, and if the removal of the turtles from the Great Sound could potentially affect the ecology of the sound. "Seagrass meadows depend on grazing to ensure their ecological dynamism. In Bermuda, the green turtles are the primary grazer of this habitat, maintaining a food-web which also supports key fisheries. When sea grass is left unglazed, it loses its nutritional quality, and can even succumb to slime moulds, leading to a collapse of the sea grass meadow itself. While we're talking only two months, there is the potential for the removal of most grazers from this habitat to have a significant impact on the ecosystem. Fundamentally, this issue raises some interesting ethical questions. While saving the lives of the Great Sound turtles is no doubt a positive, are there other risks to their welfare (and the welfare of the wider ecosystem) in both the short and long term? What right do we have to forcibly relocate a wild animal from their natural habitat and force them into an enclosure for a period of time, even if we're doing it for their own safety, for the sake of a human sporting event?" He added that Greenrock hoped that its concerns will prove to be unfounded and the turtles will not be negatively impacted, saying that the group welcomes any steps to protect biodiversity. Questions were sent to a government spokeswoman, but a response was still pending as of last night. However, the environment ministry did respond when asked if any turtles had already been struck in the lead-up to the America's Cup. The spokeswoman said: "The Ministry of the Environment cannot estimate how many turtles have been harmed by watercraft, but we are intent on mitigating damage to sea turtles as a result of increased marine traffic in the Great Sound. "We are collecting turtles from the areas where boating traffic is expected to be the highest. The movement of some turtles to Harrington Sound will help reduce the likelihood of boat interactions."
May 10. A community project to renovate and redesign the old WindReach playground has been given a huge financial boost. Brit Insurance has pledged $50,000 towards the MAMA initiative which is aiming to create a recreational complex for children of all ages and abilities. The Boundless Playground scheme will involve a large adventure tree house, which is being designed by an English firm. The second phase will include swings, slides, a roundabout and trampoline designed to be accessible to children of varying physical abilities. "Contributing to the communities in which we operate has always been important at Brit," Mark Cloutier, executive chairman of Brit Limited said. "I am delighted that we have been able to support the Boundless Playground at WindReach. They are doing vital work in promoting social inclusion, something we are passionate about. We are proud to be supporting this initiative and look forward to seeing the development of the site over the next year." MAMA's first fundraiser for the playground initiative — a wine tasting and silent auction in March — raised $41,000. They are aiming to raise $300,000 to revamp the WindReach playground that was built nearly 20 years ago. MAMA president Rebecca Lucking said: "Brit are committed to their social responsibility programme with charitable partnerships around the globe. We are delighted that they have chosen to support our initiative and their lead sponsorship has given our campaign a vital boost. With this and the overwhelming support from local businesses and families we have raised over $110,000 in the first two months' since launch. We still have a long way to go, but we are confident that we can begin to start work on the site before the year is out." They will continue to raise money and are hoping to recruit volunteers and local experts to help make their vision a reality.
May 9. Kidney transplant funding for HIP and FutureCare patients is to increase by 50 per cent to up to $150,000 under new legislation. "A health Bill has been tabled to expand coverage from June 1 so that more patients can come off dialysis," a government spokeswoman said. According to Irena Ashton, owner of Bermuda Home Dialysis Services, this is a move in the right direction but travel expenses, which can be significant, remain to be addressed. She also stressed that more focus should be placed on living donors because this can lead to better patient outcomes, shorter wait times and therefore less time spent on dialysis. "Money is everything when it comes to transplants," the dialysis nurse told The Royal Gazette. "I would like things to be moving a little faster but this is a good start. HIP is really trying, they are moving it forward in a much faster way. Now we just have to wait and see — hopefully it is going to get passed." While Ms Ashton pointed out that "HIP actually covers a lot of things", she added that "travel is sort of an outstanding thing. Patients often had to spend up to six weeks abroad and also had to travel back to the transplant centre for follow-up appointments. Extra help is available for those receiving financial assistance and others can apply to the Lady Cubitt Compassionate Association for loans, but travel costs can still make transplants prohibitive. Most dialysis patients in Bermuda, I'd say 60 per cent, have HIP — they cannot afford it," Ms Ashton said, adding that they "are forced to remain on the much more expensive dialysis treatment. Performing the procedure locally, if this were a possibility, could be a positive development." [see separate story]. Ms Ashton also stressed that more focus on living donors, which she said are not currently financially reimbursed for HIP and FutureCare patients, would be a "big step. If there is another progression, it would really be to explore living donors. This would speed things up more". There are about 170 people in Bermuda who are on dialysis and Ms Ashton also emphasized the need for patients to start the transplant process sooner, ideally before starting dialysis. "A lot of them are walking around with chronic kidney disease and don't even know it. Ideally we would like to get these folks to get the proper education and part of that education is transplants." She added that "they don't get transplanted overnight," noting that patients on dialysis have to wait between three and seven years — depending on their blood type — for a suitable match. According to the health ministry spokeswoman, the Mutual Reinsurance Fund covers $30,000 towards a kidney transplant, with HIP and FutureCare providing an additional $70,000. "The ministry has tabled legislation seeking to increase the MRF coverage to $100,000 from June 1, 2017. HIP and FutureCare benefits are also being updated accordingly to cover up to $150,000 altogether, including the MRF portion, in order to ensure their policyholders can have access to transplants. The intent of the change is precisely to pay for transplants so that more persons can come off dialysis, which will be more cost-effective in the long run." The spokeswoman added that coverage of pre-transplant costs was dependent on the case rates at the different facilities, which vary in what they include. "Pre-surgical evaluations can extend from several years to immediately before the surgery. HIP is currently in negotiations to improve the coverage." She also said that some overseas facilities had offered case rates that cover some of the costs of the live donor. "When costs are not covered in the case rates for the transplant recipient, the facilities charge the live donors' insurance separately." The legislation was tabled on March 20 as part of the Health (Miscellaneous) Amendment Act 2017.
Bermuda has reverted to receiving mainly deceased donor organs for kidney transplant patients despite a rise in living donors between 2003 and 2009. According to transplant co-ordinator Marianne Herbert, this could potentially be attributed to the high rate of contraindicated diseases in the local population. "Living donors are selected very carefully and have to meet strict psychological and physiological criteria before being accepted as donors," Ms Herbert, of Bermuda Home Dialysis Services, said. "For a healthy individual, donating a kidney is safe and recovery is rapid. Having one kidney should not affect the donor's health in any adverse way and the physical examination and testing involved in the preoperative work up will probably be the most comprehensive health evaluation that the person has ever undergone. But she said it was not always possible for transplant recipients to have a living donor "because of the very high incidence of contraindicated diseases such as diabetes and hypertension in the community. Obesity, as we know, is a huge contributing cause of many diseases and this automatically rules out many potential donors." According to Ms Herbert, 106 people have received kidney transplants through programmes in Bermuda since 1972 and 32 of these were from living donors. "Although recently we have had mainly cadaver donors for our clients, there was a period between 2003 and 2009 when we had as many living donors as cadaver donors. This mirrored a worldwide trend at the time, which could partly be attributed to the advent of laproscopic or keyhole surgery to remove the donated kidney. It is a far less invasive surgery than the old traditional surgery where a rib was removed and the donor was exposed to major, painful, open surgery, which required a lengthy hospital stay and recovery period." She added that living donations were also opened up to friends and spouses, having at one time been reserved for blood relatives alone. Other strategies to increase living transplants include "paired exchange programmes, 'relay' kidney transplantation programmes and other beneficial strategies such as moving a potential recipient to the top of the list if a donor who is unable to donate to that person is able to donate to someone else", she added. "Good Samaritan" donor programmes have even been set up for anonymous donations, she said, with one Bermudian the recipient of such a donated kidney and one altruistic donation by a Bermudian.
May 9. The possibility of conducting kidney transplants in Bermuda is being reviewed by the Ministry of Health and other stakeholders. It comes after a team of Norwegian surgeons visited the island in March and submitted a proposal that is now being assessed for clinical and financial viability. "The ministry and other stakeholders have had discussions with a Norwegian group's Global Transplant Initiative, seeking to do kidney transplants locally," a spokeswoman told The Royal Gazette. "The GTI team presented a proposal that they believe to be viable. It is being considered to determine if it would be viable and safe to do this complex procedure locally, and if it is financially viable. The process is ongoing. An important point of feedback is that there may be scope to enhance education to seek more live donors locally, which would increase the number of transplants annually." According to the spokeswoman, the assessment includes a review by the ministry, the Bermuda Health Council, local nephrologists and insurance companies. The team of surgeons asked to tour King Edward VII Memorial Hospital and met with the Chief of Staff, according to a spokeswoman for Bermuda Hospitals Board. "It is important to note that Bermuda Hospitals Board did not initiate this meeting. The decision of whether or not or where to do kidney transplants does not lie with BHB. This is a matter for the Ministry of Health and Seniors, the Bermuda Health Council, local nephrologists and the insurance companies that pay for the procedures." But the spokeswoman added that if it was decided to perform transplants in Bermuda utilizing the Norwegian team, BHB would merely provide the facilities and support services. "These requirements were reviewed with the Norwegian team in detail and it was determined that BHB would be able to support their transplant team."
May 9. Work on Digicel's super-fast LTE data network is 90 per cent complete, the company said. And a spokeswoman for Digicel said customers with compatible SIM cards, devices and plans will automatically be transferred to an LTE service with speeds up to ten times faster than the current system. She added that, in addition to LTE being ready for the America's Cup, Digicel has also deployed temporary high-capacity cell sites in the West End of the island. These will support continuity of service through the spiked demand for data and voice across the racecourse and event sites. Robin Seale, Digicel CEO, said: "Improving the network has been a top priority for us. "After years of lobbying the Regulatory Authority for a fair share of spectrum, Digicel finally secured the necessary bandwidth to proceed with LTE at the end of last year and I am delighted to say we are ready to launch later this month." Digicel has simultaneously been constructing Bermuda's first and only full "fibre to the home" and "fibre to the business" network. Digicel said the installation of the network is also on schedule and is due to be completed by the end of the year. It added that subscribers will have high-speed, reliable internet; a better TV experience, and high-quality internet phone service supported by fibre all the way to their homes with no loss of speed or quality. Mr Seale said: "The big benefit for customers is our fibre network won't be connected to the old copper network. "We are building a brand new network of dedicated fibre cables that feed directly into customers' homes and businesses meaning no degradation of service. Digicel will have the island's only true continuous fibre network with cables transporting amazing super-fast uninterrupted speeds directly to our subscribers."
May 9. Amendments to change Southlands into a park are set to be tabled in the upcoming session of Parliament, according to the Government.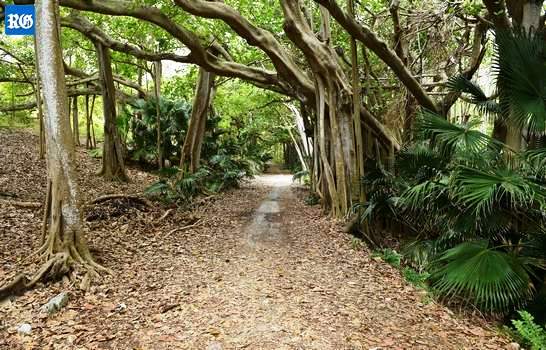 While environmentalists have welcomed the long-sought change, they said that a lack of maintenance at the property over the last few years has led to it becoming overgrown with invasive species. Asked for an update on the property, which was obtained by government in 2011 as part of a land swap agreement, a government spokeswoman said: "The Department of Parks considers Southlands a prime area for the development and management of parkland that will be a destination for local residents and tourists alike. Southlands has not yet been designated a national park, but the Ministry of the Environment can confirm that an amendment to the National Parks Act 2009 is due to be tabled during the upcoming parliamentary session." When pressed, the spokeswoman confirmed those amendments would make Southlands a park. The next session of Parliament is set to begin on Friday. Jonathan Starling, executive director at Greenrock, said the charity welcomes the move, but added: "I just hope that the damage that has been done through the delay in doing so, and maintaining the site, isn't too great. "There is something to be said for 'rewilding' a place, however there are locations at Southlands where the re-wilding is being done by invasive species and damaging the very aspects of the site that make it so magical. I would love to see this place restored and made into a place of wonder for our people and the nearby communities." He later added: "We are cautiously optimistic about this area — and others — being formally made a national park. It will still need quite a bit of work to bring it back as a functional park, however, based on its current state." During a walk through the property with this newspaper, Mr Starling noted an abundance of Mexican pepper, Indian laurel and morning glory throughout the property, with some of the plants growing into the buildings themselves. "I'm not a structural engineer, but I would be concerned that due to the lack of maintenance, some of them might not be structurally sound," he said. "They might have to be demolished, which is unfortunate. These buildings could have been used for a conference centre or a visitors centre, which could have brought in money, so it's disappointing to see them in this state. It's hard to say how long it would take to get it into shape given the overgrowth — it might be making it look worse than it is. I imagine it would take a year or two of dedicated focus." He suggested that the Royal Bermuda Regiment could be positioned to assist in a cleanup effort, saying: "They are supposed to train for post-hurricane operations including cutting fallen trees. This would be a great place for them to practice those skills and remove invasive plants at the same time." Meanwhile Stuart Hayward, of the Bermuda Environmental Sustainability Taskforce, said that last August Michael Dunkley, the Premier, said he would discuss the issue with the Minister for the Environment. "We have had signals that the induction of Southlands was imminent, but surely it is understandable that our patience has been wearing thin. More importantly, Southlands is becoming daily more subjected and vulnerable to vandals and exploiters. Mr Dunkley and new environment minister Sylvan Richards can and should fix this. We understand that all the prep work has been done and saving Southlands can be completed with a single stroke." He said the announcement was "good news", but given the history of the property he said BEST was tempering their enthusiasm with caution. "At this stage, we welcome the news but we can only believe it once it actually happens," he said. "We feel we have no choice but to scrutinize the fine print of the amendments before engaging in celebration." The Southlands estate had once been earmarked for a hotel development, but public outcry about the use of the "pristine" land for development led to a land swap agreement with the developers, opening the door for the Morgan's Point hotel project. When the agreement was finalized in 2011, Government stated that it hoped to turn Southlands into a park, with Michael Scott, then Minister of Government Estates, calling the move a "very interesting, urgent priority".
May 9. Want to watch the America's Cup free? If so there will be plenty of viewing points where the public can do exactly that.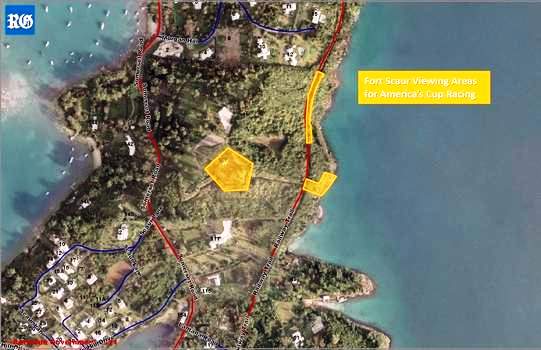 While thousands are expected to converge on Dockyard, where the America's Cup Village is located, others can witness all of the action without boarding a spectator boat or travel west. The Department of Parks has cleared several areas from which the public can enjoy unobstructed views of the races on the Great Sound. There will be no cost, and the public can use the areas on a first come first served basis. The specially cleared locations include an area of Spanish Point Park known as Pontoons, an area of the western Railway Trail near Five Star Island, and an area of the Railway Trail near Fort Scaur. Gibbs Hill Lighthouse Park will also be available. Environment minister Sylvan Richards said: "The America's Cup races will be amazing to witness, and the Department of Parks wanted to make sure that everyone who wishes to view the races could do so. There is no charge and these areas are open to the public. In fact, unless major safety concerns arise, all our National Parks under the remit of the Department of Parks will be open for the entirety of the America's Cup." Meanwhile, the department has advised that from May 26 to June 28, it will not be issuing special permission permits for events in the national parks — Spanish Point, Gibbs Hill Lighthouse, Fort Scaur and the Western Railway Trail. "This is to allow all patrons equal opportunity to enjoy the parks and view portions of the America's Cup events from these key vantage points," explained a statement. "As a reminder, under the protection of the Act and its regulations, parking along the Railway Trail is prohibited, as is motorized traffic. Parking in the vicinity is limited. The department would also like to remind the public to be mindful of the Bermuda National Parks Act 1986 and its 1988 Regulations while using our national parks. The public are advised that it is an offence to litter, park vehicles in unauthorised areas, destroy vegetation, play music or run loud generators to the annoyance of others enjoying our parks."
May 9. Weekend passes for the America's Cup are on sale for a special $17 price to celebrate 17 days to go before the sailing showpiece event.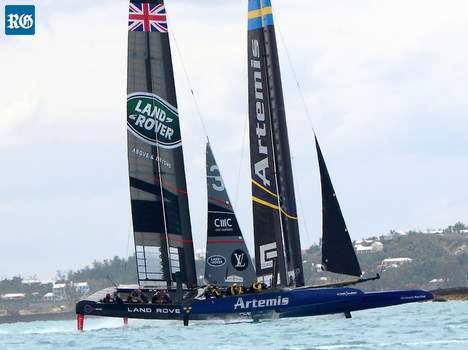 The tickets, for the weekend of June 3 and 4, are usually $34 but are being offered half-price today. According to a press release from the America's Cup Event Authority, passes give access to the heart of all the sailing action for two days, the scheduled final day of the Louis Vuitton America's Cup Qualifiers on the Saturday and the first scheduled day of the Challenger Play-offs on the Sunday. Jimmy Spithill, skipper of Oracle Team USA, said in a statement: "With just 17 days to go, you can feel the excitement ramping up around Bermuda. "From taxi drivers, to people you pass on the street, everywhere you go these days there's awareness, there's excitement, there's support. It's massive to have that home support from the people here in Bermuda. Last time around it made a huge difference and I think it will be a key factor again. Bermuda feels like home to us, because it is like home to us. We've met so many great people here over the past two-and-a-half years and we want to reward people here for the support they've shown by getting a good result." Seventeen is also the name of Oracle Team USA's America's Cup Class boat, the hydrofoiling catamaran that the defenders of the America's Cup will use as they go for their third victory in a row. Tickets are available via www.americascup.com/tickets. When checking your purchase there is a promo code option, but you do not need a promo code to buy the $17 ticket today — just proceed to checkout. If you have any issues, e-mail tickets@americascup.com and you will receive help quickly.
May 9. One Communications today announced that its 4G LTE network is now widely available across the island. The company first launched its ultra-fast 4G LTE wireless mobile network in the City of Hamilton, in May 2016. And with the awarding of additional spectrum by the telecommunications regulator, the company has now expanded its roll-out of the network outside Hamilton. "One Communications is committed to furthering its development of state-of-the-art telecommunications services in Bermuda. The best experience for smartphone customers will be on our 4G LTE network with far superior data speeds," said Frank Amaral, One's chief executive officer. The company encourages customers who have not yet updated their SIM cards to do so. Customers should also verify their phone's LTE settings in order to take full advantage of the network's benefits which include significantly improved smartphone data speeds, increased coverage and faster loading times for web pages. The SIM card exchange is at no charge and can be done at any of any of One's three store locations in Hamilton, Southampton and St George's.
May 8. A Bermudian is planning to file his banns in quick order after Friday's Supreme Court gay marriage ruling, telling The Royal Gazette: "I would love to get married in my own country." Eugene O'Connor, who was born and raised in Bermuda, joins many members of the LGBTQ community in celebration of the ruling which they believe marks the first step in stamping out discrimination. Meanwhile, Progressive Labour Party MP Wayne Furbert told this newspaper he is "deeply considering" re-tabling an amendment Bill that would solidify marriage as being between a man and a woman. The amendments, which were rejected by the Senate last year after winning approval from the House of Assembly, would state that nothing in the Human Rights Act would override the provisions in the Matrimonial Causes Act 1974, which stipulates that marriages that are not between a man and a woman are void. Mr Furbert added that he believes that a binding referendum should be held to give the public a chance to make the final decision. Last Friday, Puisne Judge Charles- Etta Simmons ruled in favour of Bermudian Winston Godwin and his Canadian fiancé, Greg DeRoche, who had fought for equal rights after the Registrar-General rejected their application to marry on the island. Yesterday, Mr O'Connor said he has filled out the information required to apply for his banns and will file them at the earliest opportunity. "It is quite significant for me, I would love to get married in my own country," he told The Royal Gazette. "It is definitely a step forward and a huge accomplishment. Speaking to my fellow gay friends, they are all ecstatic that it has finally gone through and that the judge actually went in with an open heart and realized what they were doing was wrong. We are consenting adults. Loads of Bermudians want to come back to Bermuda — this little act of bringing equal rights is making people want to come home. "We [my fiancé and I] spoke about it today and I have already filled out the form. Before the ruling we thought that even if we went away to get married we would come back to where we both live and it would not be recognized — we thought we shouldn't get married as an added expense because it wouldn't hold any legs in Bermuda. If it came to the point that it was that big of an issue, we even thought about relocating." Mr O'Connor said he comes from a religious background but his life decisions have not been directly impacted by this. He said: "I come from a very traditional family, my mother is Catholic, I was brought up in the Anglican Church. I am very spiritual and religious but there is a lot of biblical nonsense going on. I am a very conservative type. I don't push it in people's faces, I just think it is normal that I live my life and you live your life. Some have had it a lot worse than I have. "My lifestyle and choices are my business. My mother always used to say to me, 'Are they paying your Belco bill? So why do you care what they are doing?'" Mr O'Connor's fiancé, who wishes to remain anonymous, added: "I feel more secure and emotionally I can now give the relationship my all." Community activist and member of the LGBTQ community Linda Mienzer said that she also intends on having a same-sex marriage in Bermuda. And while she believes the ruling was "a victory for Bermuda", she believes the island still has a long way to go because of "religious hypocrisy". Ms Mienzer said: "My initial reaction was shock that after such a long journey we had finally arrived at this place. We still have a long way to go — we are supposedly a very religious country but I don't think that is challenged enough because the same people who would throw the bible at me are offenders of all sorts of rules of the bible. "We operate in a society where it's 'don't ask don't tell'. As long as you present the image of what people think you should fall into then we will just go along and be happy on our merry way. But if you step outside that box then you are ostracized and shunned — it is a very unhealthy environment. I come from a black community who are all up in arms about discrimination because of colour, but who are discriminating against me because me because of my sexuality — that is a very difficult thing to reconcile. Will this ruling fix all our ills? Absolutely not, but this is one step closer to acknowledging that people have a right to equal access." Ms Mienzer said a line has to be drawn between church and state: "Every religion is entitled to the freedom of how they want their churches to operate but I don't think they have the right to dictate how government services operate." She gave credit to Mr Furbert, saying he gave her a hug after the ruling, telling her he had nothing against her personally. Mr Furbert told this newspaper that he wants to speak with his colleagues before deciding whether to go ahead with his amendment. He said: "I am deeply considering it. I have had a lot of calls and e-mails suggesting I push this on. They are putting the pressure on me, that is for sure." But ultimately he wished for the decision on same-sex marriage to be put firmly in the hands of the public, criticizing the One Bermuda Alliance's decision to hold a non-binding referendum in June of last year. "We need another referendum that is binding. Why have a non-binding referendum? What are people going to come out for, a Sunday walk? They didn't take it seriously." Adrian Hartnett-Beasley, a gay Bermudian who married overseas, said he is proud of the courts for "building out a more just and equal framework, where the legislature failed us". However, he remained cautious in his optimism, adding: "While marriage equality is one of the issues facing Bermuda's LGBTQ community, there are many more that affect us on a day-to-day basis and the often hostile Bermuda environment makes simple matters difficult and legal avenues are just not often feasible." Action group Preserve Marriage strongly criticised the ruling on Friday, calling it "an attack on traditional marriage and an attack on Christian and other faith-based and traditional values". The group also highlighted that Bermuda has become the only country to introduce same-sex marriage through the ruling of a single judge. Mr Hartnett-Beasley added: "Preserve Marriage and MP Wayne Furbert have already publicly shown their discontent and disagreement with the decision. Neither the OBA nor the PLP have come out publicly with a statement of support; there are undoubtedly disagreements within each party on how to handle this topic, especially in an election year. Hopefully marriage equality and LGBTQ rights generally are not going to be a political football during 2017." Mark Anderson, a Bermudian who has stood up for equal rights for many years, told The Royal Gazette: "I never thought in my wildest dreams that this would happen — not in my lifetime. It is great for Bermuda." Mr Anderson said he will be organising a celebratory event on June 5 — one month after the ruling. And Joe Gibbons, a Bermudian who married his partner overseas, added: "For those who are married, it makes all the aspects of hetero marriage apply. It also makes it possible for same-sex couples to more comfortably adopt, and plan a future life. And despite the nonsense, the only people impacted by this change are LGBT. Otherwise life goes on as usual."
May 8. NEW YORK (Reuters) — Bermuda-based bond insurer Assured Guaranty, which has more than $5 billion at stake in Puerto Rico's debt crisis, has sued the US territory and its financial oversight board, objecting to a fiscal turnaround plan approved by the board in March. MBIA, a US bond insurer also filed a similar suit on the day after Puerto Rico announced a historic restructuring of its public debt, touching off what may be the biggest bankruptcy ever in the $3.8 trillion US municipal bond market. It followed similar actions by another US bond insurer, Ambac Financial Group, and other major creditors earlier in the week. At immediate issue in the lawsuit is the legality of the turnaround plan adopted by the oversight board installed under last year's US congressional rescue law, known as Promesa. The plan forecasts the island having only $800 million a year to service debt, auguring major haircuts for bondholders. It requires "illegal (fund) transfers by allowing the Commonwealth to simply misappropriate for its own general use special revenues that constitute property of its public corporations and their bondholders", said the complaint filed in federal court in Puerto Rico. Assured could be on the hook for as much as $5.4 billion in bondholder losses on defaulted debt, while MBIA's National Public Finance Guarantee Corp has about $3.6 billion of exposure. On Wednesday, Puerto Rico's oversight board filed a petition to protect the commonwealth from its creditors in US District Court in Puerto Rico. The filing was made under Title III of Promesa, which allows for a court debt-restructuring process akin to US bankruptcy protection. Puerto Rico is barred from a traditional municipal bankruptcy under Chapter 9 of the US code. It was not immediately clear just how much of Puerto Rico's roughly $70 billion of debt is included in the bankruptcy filing.
• Assured Guaranty reported first-quarter profit of $317 million. The company said last Thursday night it had profit of $2.49 per share. Earnings, adjusted for non-recurring gains, were $2.14 per share. Assured posted revenue of $527 million in the period. Its adjusted revenue was $375 million. Assured Guaranty shares have fallen slightly since the beginning of the year. The stock has climbed 47 per cent in the last 12 months.
May 8. Island-based insurer Enstar Group Ltd's first-quarter earnings rose by more than 20 per cent. The company posted net income of $54.7 million, or $2.80 per share, compared to $45.5 million, or $2.35 per share in the January-to-March period last year. The company, whose head office is on Queen Street, specializes in acquiring companies or books of business in run-off, and managing their assets and obligations. Enstar now has 1,300 employees in 26 offices around the world, after a history of making more than 75 acquisitions. Its total assets have more than doubled over the past five years and now total $14.9 billion Revenue for the quarter fell to $280.3 million from $290.3 million in the first quarter of 2016. But the company trimmed expenses by nearly $17 million to $211.5 million. Enstar's shareholders' equity at March 31, 2017 totaled $2.86 billion, or $146.62 per diluted share, compared to $2.8 billion, or $143.68 per fully diluted share, at the end of last year. After the company reported its results this morning, Enstar's shares traded 45 cents, or 0.2 per cent, higher at $191 in New York trading.
May 8. Island-based oil tanker operator Nordic American Tankers Ltd this morning reported a first-quarter loss of $3.4 million, after reporting a profit in the same period a year earlier. On a per-share basis, the company said it had a loss of 3 cents. Losses, adjusted for non-recurring costs, were 1 cent per share. The results did not meet Wall Street expectations. The average estimate of five analysts surveyed by Zacks Investment Research was for earnings of 3 cents per share. The firm, which has a fleet of 30 Suezmax tankers, posted revenue of $55.2 million in the period. It earned an average of $22,700 per day per vessel against a break-even figure of $11,500, including financial charges and administration costs. Last month, NAT declared a dividend of 20 cents per share for the first quarter. The company's shares were trading down by 30 cents, or 4.2 per cent, at $6.77 in mid-morning trading in New York.
May 8. A batch of Bacardi-owned Bombay Sapphire gin has been recalled in Canada after it was found to have nearly double the alcohol content listed on the bottle. Up to 6,000 bottles of the gin, famous for its distinctive blue bottle, are thought to have been affected by a production error at the bottling plant for Bombay's Sapphire, which is distilled in Hampshire, England. The affected bottles are listed as being 40 per cent alcohol by volume — but were bottled before being diluted, so have a 77 per cent level of alcohol instead. Bacardi, which is headquartered in Bermuda, said an isolated consumer complaint led to the recall and that it was conducting a review at the third-party bottling plant involved. A spokeswoman for Bacardi said: "Bacardi is committed to quality for all the premium products within its portfolio. The over-proof product inadvertently entered the bottling line during a short period of time when they were switching from one bottling tank to another." Ontario, Nova Scotia, Manitoba, Alberta, Quebec and Saskatchewan have been affected, according to Bacardi. The Canadian Food Inspection agency said the 1.1 litre bottles were sold only in Canada. The agency said customers should throw out affected bottles, which have identifiable product codes, or return them to the seller. Sellers have been told to remove affected bottles from their shelves. It added that no one had become ill as a result of drinking the gin. Bombay Sapphire has experienced double-digit growth over the past few years and now makes up eight per cent of sales for Bacardi, which is the world's fourth-largest spirits producer, making around 300 million liters of its brands a year.
May 8. Jim Davies expected a few raised eyebrows at Customs. He had travelled to Bermuda alone, yet his luggage was filled with what were clearly women's clothes. "The customs officer was quite fascinated with a 1937 cap I had in there," the Londoner said. "I was worried that he was going to ask why I was travelling with 12 lady's uniforms, but he didn't." Had he been asked, the 70-year-old would have had a reasonable excuse. The vintage uniforms were part of a fashion show commemorating British Airways' 80 years of service to Bermuda. "I'm not very good at packing," said Mr Davies, who travels the world promoting the airline's history for BA's London museum. "Inevitably, everything in my suitcase ends up lumped together. "But the uniforms look wonderful. They were meant to be taken off and put back on often." Imperial Airways started the Bermuda service on June 12, 1937 with a flight to New York. British Overseas Airways Corporation took over the company in 1939; in 1974 it merged with British European Airways Corporation, to form British Airways. The pilot uniform worn on the first Imperial Airways flight started last week's show at the Hamilton Princess. "Pilots on the flight wore khaki, considered more appropriate for tropical climates," said Mr Davies. "There were only stewards on the first flight, and they changed into white coats for dinner service." His favourite piece he brought with him was a uniform from the late 1940s "because it is a very elegant grey and has a lovely hat". A floral paper dress from the 1970s was another highlight. It was quite a change from the more severe uniforms of previous days, which were inspired by Second World War military uniforms. "I think it wasn't so much promotional as appropriate for the climate," said Mr Davies. "Stewardesses wore it down to Bermuda and to the Caribbean. "Stewardesses had to cut the dress out themselves and it had to come three inches above the knee." Things are slightly different today. Hair, hat, make-up and uniform have to be just so. Sometimes we get new cabin crew coming in, who have just qualified to fly," Mr Davies said. "They come in and they look absolutely textbook in their uniform. All their hair and lipstick is done and their hat is at just the right angle. I think they're probably more strict about uniform today. It's because the brand is so important." Mr Davies worked for BA for 35 years, in reservations and then in complaints. He still remembers the day he put the uniform on. "It was a big moment," he said. "Before that I'd been in the back so I didn't need to use one but when my training was done I was allowed to move to the counter to work with customers. I was 21 when I started. At that time the uniforms were almost a bit militant with rank bars on the sleeves. I had a thick, thin and thick bar, which meant I was at the lowest pay grade." One day walking through Whitehall in London in his uniform, a sentry saluted him. "I don't know whether he was mocking me or just saluted anything in a uniform, but I was quite embarrassed," said Mr Davies. "I never wore it in White Hall again. He retired in 2002 and started volunteering at the Speedbird Heritage Centre, BA's museum in Harmondsworth. He's fascinated by the old uniforms, some of which were donated and others bought from stores. They were initially designed by the Queen's dressmaker, Hardy Amies but revamped by modern designers in the 1980s and 1990s. "They went to a good dressmaker because uniforms are a very important part of an organisation's personality," said Mr Davies.
May 8. The Bermuda National Trust has been gifted a collection of more than 300 19th-century paintings and photographs painstakingly collected over 30 years. To celebrate the gift of the Bermuda Fay and Geoffrey Elliott Collection as well as Bermuda's nautical heritage, the trust, in conjunction with Chubb, will show a selection of highlights from the watercolour collection, some being publicly displayed for the first time. The selected pieces aim to give an insight into Bermuda's maritime history, along with important events and activities. Bill Zuill, executive director of the Bermuda National Trust, said: "Works include many fascinating depictions of the island and its people during the period of 1816 to 1857, making the exhibition a must-see for art lovers and history buffs alike. "Given that Bermuda is hosting a nautical extravaganza this summer, highlighted by the America's Cup, this show will resonate with sailing enthusiasts of all ages as well." Artists featured also include Thomas Driver, Admiral Sir Willoughby Lake, Michael Seymour and Gaspard Le Marchant Tupper. Many 19th-century army and naval officers were gifted artists which was vital for military planning and intelligence during a time that predated photography. The trust's museum manager Rohan Shastri, said: "As well as being an invaluable research tool, these images are also visually appealing and give us a sense of the land, sea and how residents of Bermuda worked and played together." Mr Zuill added: "We are incredibly grateful to Chubb for hosting this exciting exhibition and to the Elliotts for their generous gift of this important collection, their dedication to collecting early Bermuda watercolours has ensured that Bermudians and visitors to our island will be able to bear witness to Bermuda through the ages and our maritime heritage for generations to come. This exhibition marks the first in a series of showcases of art from the Elliott collection by the trust." The opening reception takes place on Thursday, May 11 in the Chubb Building at 17 Woodbourne Avenue, Hamilton from 5.30pm to 7.30pm. The exhibition will run until Friday, July 28. The Chubb Gallery is open to the public weekdays from 10am to 4pm. Group arrangements can be booked by calling 295-5200.
May 7. A team of industry experts, led by the Bermuda Business Development Agency, heads to Vancouver and Toronto this week to raise awareness about the value of captive insurance to Canadian corporations. The team visits Vancouver, BC, on Monday and Tuesday, holding an Executive Forum on Bermuda Captive Insurance Solutions on the second day to offer insurance buyers, risk managers and financial executives an opportunity to learn more about the captive benefits Bermuda offers as a blue-chip international financial centre. The group will also visit Toronto, on May 11 and 12 to meet with industry service providers. Captive insurance, or self-insurance, allows global corporations a cost-effective way to efficiently manage today's complex risks, including healthcare and cyber-risks, as well as enterprise risk management. "This initiative is part of BDA's ongoing effort to proactively raise awareness about Bermuda's sophisticated captive insurance market," said BDA business development co-ordinator Mark Darko. "We're looking forward to hosting our first forum in Vancouver, as well as revisiting established contacts in Toronto. Trends indicate that not only larger corporations, but also medium-sized businesses, are benefiting from self-insurance." Tuesday's Vancouver forum is scheduled for 8.30am to noon and features two sessions: the first, Captive Solutions & Strategies, explains what a captive insurer is, how to structure a captive, key reasons to set up a captive, along with common risks insured, citing several case studies. A second session focuses on regulatory, and tax and legal frameworks. "I'm pleased to be endorsing insurance captives as commanding vehicles for comprehensive risk coverage and financial proficiency for businesses," said Richard Daley, president, JLT Insurance Management Bermuda. "We'll be highlighting Bermuda as the leading domicile of choice within captive insurance services and I am confident that our industry professionals will provide profound market knowledge to this event." Along with Daley, industry speakers include Eric Bretson and Umer Islam of EY; Christiane Kenny-Post of ASW Law; Choisel Murray, of Aon Bermuda; Mike Parrish of Marsh IAS Management Bermuda; David Platt, former risk manager of EnCana; Leslie Robinson of the Bermuda Monetary Authority; and Mike Weiss of Liberty International Underwriters. "I am excited to be part of this BDA delegation," said Mr Islam. "The Vancouver forum will be an excellent opportunity for that region's industry players and service providers alike to learn more about captive solutions and the significant value Bermuda offers as the world's number-one captive insurance jurisdiction." Bermuda's captive insurance market is the global leader, with close to 800 companies generating more than $55 billion in annual gross written premiums. The presence of commercial insurance and reinsurance companies on the island allows captive owners and operators to access open-market underwriting capacity not found in other captive domiciles, making Bermuda a one-stop-shop. Notably, captives are also increasingly popular tools for wealth preservation and succession planning for HNWIs and family offices. There is no cost to attend the half-day forum in Vancouver.
May 7. Hurricane Preparedness Week will be observed this week, the Ministry of National Security has advised. The Ministry said the event is happening earlier than usual due in part to the increased activity surrounding the America's Cup and also to coincide with the United States' hurricane awareness observation. Senator Jeff Baron, the national security minister, convened an Emergency Measures Organisation to review Government's disaster readiness for the season, which runs from June 1 to November 30. EMO members in attendance included co-chair, Acting Police Commissioner Paul Wright, Deputy Governor Ginny Ferson, and key representatives from the Bermuda Regiment, the Bermuda Police Service, the Bermuda Fire and Rescue Service, the Ministries of Public Works, Tourism Development and Transport, Social Development and Sport and Belco. Matters discussed included the Bermuda Weather Service's 2017 storm overview, EMO agency readiness and Hurricane Preparedness Week activities. Mr Baron said in a press release: "Even though we are a few weeks away from the start of hurricane season, we felt it was important to convene an EMO meeting to assess our severe storm and hurricane protocols. As all of Bermuda can appreciate this is an incredibly busy time for our security services personnel, as representatives who are part of the EMO are also members of the Joint Agency Command Centre, the body charged with overseeing the safety and security of the America's Cup. There has been a great deal of agency collaboration over these past several months, so what is evident is that our emergency readiness and protocols are current. Our island historically has prepared well for storms, however our message as we head into hurricane season is not to become complacent. And we encourage members of the public to tune into the Emergency Broadcast Station to learn more about various aspects of preparedness which we believe will greatly assist the community." During Hurricane Preparedness Week, the Bermuda Government's Emergency Broadcast Facility 100.1FM will air from 2pm to 2.30pm, and will feature daily preparedness information including the following:
Monday: personal safety. Updating personal plans, ensure first aid kits are stocked, update medications, stocking up on hurricane supplies, securing pets and having adequate power sources for mobile phones, tablets.
Tuesday: family safety. Updating plans for families, seniors.
Wednesday: financial security. Overview of insurance of properties, vehicles, securing sensitive documents.
Thursday: strengthening homes. Undertaking repairs around the home, trimming trees, securing vehicles.
Friday: checking on the community and neighbors. Assisting vulnerable neighbors, assisting schools or churches in the community.
May 6. Moving Bermuda Day is a "common sense" step which would benefit both locals and potential visitors alike, according to one Progressive Labour Party MP. Michael Weeks, Shadow Minister of Community, Youth and Sports, will again this year present the Public Holidays Amendment Act in the House of Assembly. The Act calls for Bermuda Day to fall on the Friday before the last Monday of May each year. Mr Weeks said he canvassed the opposite side of the floor before he first brought it to the House in 2014. "Most on the other side were for it," he said of the One Bermuda Alliance. But when we got into the House, politics took over." Polls conducted a few years back showed an overwhelming public support for the change, he said. "Other issues of the day took precedence, so it just went to the backburner." Mr Weeks said he will present the Bill again on May 12. Moving the holiday, he said, makes sense for a number of reasons — including attracting tourists to the island. Book ending the Memorial Day long weekend marked in the United States, the move could help encourage American visitors. "We could promote sports tourism and a short getaway for the Americans," he said. The annual half-marathon, held on the holiday, could be more easily marketed as a destination event if the holiday were to coincide with a weekend, making it easier for race participants to recover, the MP said. Sports aside, a long weekend would make is easier for others to visit as well. "We have to compete as far as tourists are concerned," Mr Weeks said. "Our tourism product has suffered for the last 20 or 30 years. So we have to think outside the box if we are going to ever get back to those tourism numbers that we want to have." Residents would also benefit from the move for a variety of reasons. "It increases the local participation in the event and the celebrations," Mr Weeks said. "If we expect the locals to put time and energy into the parade, why not make it such that it's a win-win for all of us?" Research conducted, Mr Weeks said, showed that when the holiday fell during the week, school attendance was down the next day. "All this data came directly from the Ministry of Education." The holiday, which became Bermuda Day in 1979, was renamed to "help Bermudians grow in respect and appreciation for each other, and bring the community together" following a period of social unrest, Mr Weeks said. "Traditionally the old Bermudian looks at it as the 24th of May, but really it's not been the 24th of May since 1979," Mr Weeks said. He felt confident that the third time would be the charm for the Bill. "It comes a time when we must truly make Bermuda Day our own, and what works best for all Bermudians. It's time."
May 6. In her landmark judgment, Puisne Judge Charles-Etta Simmons set out draft declarations of how the Marriage Act and Matrimonial Clauses Act could be reformulated in light of the ruling. The judge also prefaced her suggestions by saying "I will hear from counsel on the precise terms of the final Order." Firstly the definition of marriage would be inoperative to the extent that it contains the terms "one man and one woman" and reformulated to read: "the voluntary union for life of two persons to the exclusion of all others". Secondly she said it would be appropriate for the court to declare section 24 (b) of the Marriage Act to be inoperative to the extent it refers to "man" and "wife" and further reformulate that section to read "and each of the parties shall say to the other in the presence of witnesses 'I call upon these persons here present to witness that I (AB) do take thee (BC) to be my lawfully wedded wife/husband/spouse'." Thirdly in the same vein, section 23 (4) of the Marriage Act should be reformulated to "I (AB) do take thee (CD) to be my lawfully wedded wife/husband/spouse". And fourthly because the Matrimonial Clauses Act reflects the common law definition of marriage, and for the reasons stated, it is appropriate for the court to declare section 15 (c) of the Act inoperative.
May 6. Lawyer Mark Pettingill hailed yesterday's Supreme Court ruling on same-sex marriage as a victory for human rights in Bermuda. Describing Puisne Judge Charles-Etta Simmons' ruling as "everything we could have wanted, and more", Mr Pettingill said that the successful outcome of the case was a major milestone for the country. "I cried on Thursday night when I read the draft judgment," he told The Royal Gazette. "It's been very emotional. Whatever I have done in my career, this is hands down the highlight. I have been an advocate of human rights and equality my whole life and this has very much been a human journey for me. It is one of those things that we could not have done without all the people that took part in the case and supported us from my junior Grant Spurling, to Rod Attride-Stirling, who brought so much to the table, to Shawn Crockwell and all the team at Chancery Legal. This discussion has been healthy for the country and I hope we can now embrace the judgment, embrace love and peace and move forward." Lawyer Rod Attride-Stirling, who acted for the Human Rights Commission during the case, lamented that the legislature had not acted on the issue of same-sex marriage to put the issue beyond doubt. "It is also a matter of great shame that the Attorney-General fought the case in the manner in which it was fought, ignoring the Bermudian cases on the proper interpretation of the Human Rights Act," Mr Attride-Stirling said. "This should not have been so. I am glad to see that the Bermuda court has followed the courts, first of South Africa, which decided this issue in 2005, and then the United States which followed suit in 2015. The message of hate and exclusion has been rejected. Human rights means human rights for all humans. Equally. No one is excluded. Gays who want to marry can now do so. "Bermuda owes a huge debt of gratitude to the two brave young men who brought this action, Winston Godwin and Greg DeRoche. They will always be remembered as heroes of the human rights movement."
May 6. The controversial issue of same-sex marriage finally came under the legal spotlight in the island's Supreme Court at the beginning of this year. Over three days of judicial review proceedings, lawyers representing Winston Godwin and his Canadian fiancé Greg DeRoche and the Bermuda Government clashed over the statutory interpretation of legislation governing marriage. Meanwhile, the Human Rights Commission and Preserve Marriage were also given the chance to voice their opinions in court on the hotly debated topic. Mark Pettingill, acting for the couple, urged the court to write the final chapter in the protection of gay rights in Bermuda. He said the couple's case encapsulates "the right to happiness, the right of all people to seek love and happiness". Mr Pettingill added: "The applicants say that religious arguments bear no relevance on civil contractual marriage. This is a matter of statutory interpretation. "It is time for the courts, fully armed with the legal protection of the Human Rights Act, to write the final chapter in the protection of the rights of gay people of secular orientation and all the rights that everyone enjoys to be the same." But the Government's lawyer, Deputy Solicitor-General Shakira Dill-Francois, told the court that the Registrar-General could not post marriage banns for gay couples because such unions are null and void under Bermuda's existing laws. She said that under section 33 of the Marriage Act 1944, it was an offence for the Registrar to authorise a marriage, knowing it was void. She added the Matrimonial Causes Act 1974, in section 15, clearly sets out the grounds on which a marriage was void, including if "the parties are not respectively male and female". Adding that the two pieces of legislation had to be read and understood together, Ms Dill-Francois asked: "Why would the Registrar proceed to register a marriage that is, in fact, void?" Preserve Marriage, which has campaigned to maintain marriage as between a man and a woman, and the Human Rights Commission were allowed to join the proceedings as "interveners". Preserve Marriage was represented by lawyer Delroy Duncan, who argued that changing the law on same-sex marriage could open the door for "multiple-partner marriages" on the island. "We have to ask ourselves whether this legislation is permissive of such marriages or whether or not what you are being asked to do could open the door to multiple-partner marriages," he said. Mr Duncan maintained that Parliament must decide on the issue of same-sex marriage "through the ballot box".
May 5. Ceremonial spades struck soil as the St Regis hotel broke ground in St George's today. Michael Dunkley, the Premier, said the day marked a "new lease on life" for the Olde Towne. "This is a day when the community's dreams become a reality, when years of dashed hopes and false dawns finally give way to a new beginning," he said. The project faced many obstacles and challenges over the last four years, the Premier said. "We kept at it because we believed that if we stuck to the task, we could see our way to results that create jobs, support families, build community, restores pride and grows confidence — all the things that give meaning to people's lives." Mr Dunkley called this a pivotal year for the parish. "I believe we can say that 2017 will be a breakthrough year for the East End and a new beginning for Olde Towne." Representatives of Government, Marriott International, and developer Hotelco Bermuda Holding Ltd, were joined by local business owners, representatives with the Bermuda Tourism Authority, Quinell Francis, Mayor of St. George's, and many others for the event at the former Club Med site. The new hotel will feature 122 rooms and suites, an 18-hole golf course designed by Robert Trent Jones, and casino, among other amenities. The project will be completed in three phases. Miguel Purroy, principal and director with Hotelco Bermuda Holding Ltd, said the resort would be completed in three years. "In 2020, on this very site, you will find a luxury hotel and at least two condominium buildings," he said. The project, he said, will create 300 construction jobs, "80 per cent of which are expected to be filled by Bermudians". Today's groundbreaking, Mr Purroy said, marked the "end of decades of uncertainty and the start of a transformation for the site". Senator Michael Fahy, Minister of Tourism, Transport and Municipalities, said the project would benefit St George's, as well as the island as a whole. "There is no denying that there is a tourism renaissance alive and well in Bermuda," he said. "After decades of decreased economic activity here in the East End, this Government is proud to incentivise projects that finally bring St. Georgians much needed relief." The project, he said, was past due. "I walk through this area almost every week, often annoyed at the abandoned hotel property on the hill," Mr Fahy said. "So, I am truly looking forward to this development becoming a reality." Kenneth Bascome, St George's North MP and Junior Minister of Tourism, said the "great project" would benefit all of Bermuda. "It is a project born in paradise," he said.
May 5. The executive director of the Bermuda Casino Gaming Commission has launched a defamation suit against an Australian gaming expert over comments made in an e-mail. According to a statement by the commission, the suit concerns a message sent by Timor Vertes on February 8 to Michael Dunkley, the Premier, Grant Gibbons, the Minister of Economic Development, and independent MPs Shawn Crockwell and Mark Pettingill. "The e-mail contained defamatory comments regarding the executive director of the Bermuda Casino Gaming Commission [Richard Schuetz]," the statement said. The commission claims that they subsequently sent a response to Mr Vertes requesting a retraction and an apology, but none of these were received. "Proceedings against Mr Vertes were therefore issued by the executive director, with the full support of the commission, on April 27 seeking an injunction and damages for defamation," the statement continued. "On May 3 Shawn Crockwell accepted service of the writ on behalf of his client, Mr Vertes. The commission is always open to listening to constructive suggestions and criticisms designed to assist us in our mission. However, it will not tolerate the surreptitious publication of defamatory material, the sole intent of which is to advance personal agendas and, at the same time, impugn the honesty, integrity and professionalism of those persons who are associated with and engaged by the commission. That is unacceptable behaviour and will be dealt with accordingly." The statement concluded that as the matter was now before the Supreme Court of Bermuda, they would not make any further comments on the issue. Meanwhile Mr Crockwell confirmed that Chancery Legal will represent Mr Vertes in relation to the writ, adding: "Mr Vertes will proffer a vigorous defence to these allegations." Mr Vertes came into the spotlight in Bermuda earlier this year during debates about casino fees. In an e-mail, shared by Mr Crockwell in March, Mr Vertes said he expressed reservations about the high cost of casino licences during a meeting with Mr Schuetz. Earlier this week, Mr Vertes was one of several panellists that spoke on the subject of problem gaming at a town hall meeting organised by the Progressive Labour Party. Earlier this week, Mr Vertes was one of several panellists that spoke on the subject of problem gaming at a town hall meeting organised by the Progressive Labour Party.
May 5. The Bermuda Government spending on foreign consultants has fallen steadily since the One Bermuda Alliance came to power but the amount could be on the increase this year. More than $7.3 million is expected to be paid from the public purse to overseas experts during this financial year, an increase of more than 9 per cent compared to last year's revised estimate. And annual spending on local consultants remains at a similar level to four years ago, soon after the OBA took over Government: $10.6 million then, compared to an estimated $10.4 million this year. The Ministry of Finance said it could not provide a detailed breakdown of who would benefit this year from the funds — or who would be paid other consultancy and professional service fees — as some items had "yet to go out to tender". A central plank of the OBA's economic plan before the last election in December 2012 was to cut spending on "overpaid consultants". The party pledged to immediately "cut down on the use of consultants by Government" as part of a strategy to eliminate wasteful spending and get the island's economy back on track. The promise came on the back of repeated criticism of the ruling Progressive Labour Party by the Opposition — both the United Bermuda Party and, later, the OBA — for its spending on consultants, here and abroad, after it came to power in 1998. In 2010, Bob Richards, when shadow finance minister, accused the PLP of "spending the public's money like a drunken sailor", including on "outside consultants to help them govern". The following year, Michael Fahy, now transport minister, described a "slashing of consultants as an absolute necessity across Government". A month after winning the election, in January 2013, Mr Richards pledged again to go after consultants. He said. "We are fully aware that we have been very critical of the Government in years gone by about consultants and we intend to reduce the number and cost of them. I can say that without hesitation." As Bermuda heads towards another election, possibly before the end of 2017, figures provided by the Ministry of Finance in this year's Budget book show spending on professional services overall has been almost halved during the OBA's term in office. For the financial year 2012-13, which ended on March 31, 2013, $95.9 million was spent on professional services, compared to the estimate for this fiscal year of just under $50 million. Mr Richards said last night: "We have cut the professional services budget. In the last year of the last administration, the budget allocation was $115 million. Last year we had it down to $58.9 million and this year the budget is for $49.9 million." The Budget book gives a line item breakdown for that overall figure, which includes amounts for local and foreign consultants, contractors and lawyers. The projected budget spending is across all ministries. For 2012-13, $23.2 million was spent on overseas consultants. This year's estimate of $7.3 million, although an increase on last year, still represents a decrease in spending of almost 70 per cent during this administration. The drop in spending for local consultants is far less significant: just 2 per cent, from $10.6 million in 2012-13, to an estimated $10.4 million this year. Spending on contractors in 2012-13 was $24 million and has been estimated at $14.6 million this year: a drop of almost 39 per cent. A Ministry of Finance spokesman said the contractors' allocation included contracts for items such as emissions testing, IT contracts and cleaning and maintenance contracts. There has been an increase in spending on legal services, a line item which the spokesman said included fees mainly for legal aid. In 2012-13, $4.3 million was spent on legal services, compared to an estimated $5.2 million this year, representing a 20 per cent rise. Last year's Commission of Inquiry into the misuse of public funds was set up, in part, after the Auditor-General discovered that millions of dollars were paid to consultants without approval during the PLP administration. Her office tested $2 million in payments to consultants during fiscal year 2012, out of a total of $33 million, and found none of the payments had the prior approval of the Cabinet Secretary, as required. The Commission heard current practice was for the Cabinet Office to give the Accountant-General's Department copies of each approved consultant contract and for the latter department to keep a log of all such contracts. But Accountant-General Curtis Stovell revealed to the panel that checks on payments worth more than $5K to ensure consultant contracts were on file had been temporarily suspended due to staffing shortages. The Commission concluded that was a matter "which ought be addressed and corrected forthwith". In their report, the panel wrote: "We would also endorse the Auditor-General's recommendation of an oversight committee on the retention of consultants, whether individuals, foreign or local, as well as companies."
May 5. Organisers are hoping to attract a record attendance to this year's Bermuda Captive Conference in September. The event is normally held in June, but has been moved to September due to the island's hosting of the America's Cup throughout June. Last year there were more than 800 delegates, of which half came from overseas. At the Risk and Insurance Management Society's conference in Philadelphia last week, the Bermuda booth in the exhibition hall featured a large wraparound poster featuring a Bermuda scene and details of the captive conference. And a coach that shuttled guests to and from the Bermuda networking reception at Rims, which took place on the historic Moshulu ship, also featured a large advert for the captive conference. David Gibbons, chairman of the Bermuda Captive Conference, said "We have always welcomed a lot of registrations and interest at Rims, but this year we decided to ramp up our outreach, and we're confident this will help attendee numbers in September surpass our 2016 record." The conference will highlight the topic "innovation". The keynote speaker is Philippe Rouja, the Bermudian anthropologist, who will detail the island's shipwreck history. The Bermuda Captive Conference will be at the Fairmont Southampton from September 11 to September 13. To register for the conference, visit bermudacaptive conference.com
May 5. The Rainbow Alliance declared yesterday's landmark gay marriage ruling a victory for all same-gender loving people in Bermuda. Saluting Winston Godwin and Greg DeRoche for their courage in taking on the Bermuda Government at the risk of being ostracized by the community, the Alliance issued a statement saying "love always wins". The organisation also released a comment from Mr Godwin, a Bermudian, and his Canadian fiancé Mr DeRoche, saying they hope the result gives more people courage to speak up or come out. The Alliance said it was "overwhelmed with joy" at the conclusion of the historic ruling. We applaud the landmark decision by Justice Charles-Etta Simmons. History has been made and love has won. This ruling is not only a victory for a brave young couple willing to fight for their love, Winston Godwin and his fiancé Greg DeRoche, this ruling is a victory for all same-gender loving people in Bermuda. In this decision, the courts have affirmed that the love between two consenting adults is worth protecting with law, regardless of gender. This outcome ensures that same-gender couples can enjoy the same legal protections as heterosexual spouses do. This outcome preserves the notion that love is the greatest force of all." It quoted Mr Godwin and Mr DeRoche as saying: "We appreciate all the positive affirmations and support. This has been a long process, but well worth the fight. Hopefully this brings forward hope and courage for those who were/are afraid to speak up or come out. This is a moment we are proud of and will never forget. This outcome could not be possible if it were not for the courageous decision of Winston to take on the government of his home and risk being ostracized by his community for the sake of love. We applaud Winston and Greg, the legal team that supported this challenge, and the many campaigners that have over the years fought for increased human rights, dignity, and respect of LGBTQ people. There is so much more work to be done, but today, we celebrate that love always wins."
May 5. A gay couple have won a landmark legal ruling that paves the way for same-sex marriage in Bermuda. Bermudian Winston Godwin and his Canadian fiancé, Greg DeRoche, embarked on their fight for equal rights after the Registrar-General rejected their application to marry on the island. They took their case to the Supreme Court, arguing that the Human Rights Act took primacy in Bermuda and protected their right to marry. Yesterday a packed courtroom in the Dame Lois Browne-Evans Building erupted into spontaneous applause after Puisne Judge Charles-Etta Simmons ruled in the couple's favour. "The common law definition of marriage, that marriage is the voluntary union for life of one man and one woman, and its reflection in the Marriage Act section 24 and the Matrimonial Clauses Act section 15 (c) are inconsistent with the provisions of the Human Rights Act as they constitute deliberate different treatment on the basis of sexual orientation," Mrs Justice Simmons said. "In so doing the common law discriminates against same-sex couples by excluding them from marriage and more broadly speaking the institution of marriage. On the facts of this case the applicants were discriminated against on the basis of their sexual orientation when the Registrar refused to process their notice of intended marriage. Same-sex couples denied access to marriage laws and entry into the institution of marriage have been denied what the Human Rights Commission terms a "basket of goods", that is rights of a spouse contained in numerous enactments of Parliament." The applicants are entitled to an Order of Mandamus compelling the Registrar to act in accordance with the requirements of the Marriage Act and a Declaration that same-sex couples are entitled to be married under the Marriage Act 1944." Mr Godwin described the ruling as a big step in the right direction and told The Royal Gazette that he and Mr DeRoche would be resubmitting their application to marry to the Registrar-General "within days. It has been a long time coming. This ruling, although it was in our favour ... there is still so much more to do in Bermuda. The ruling today is more than me and pieces of paper; it's more than any of that, it is what it means for Bermuda moving forward. Now we can begin to fix some of these issues. People are going to have their opinions about this and that is OK. I am not here to change people's opinions or how they think. I just want them to respect me and my relationship and my marriage that will happen here. This is a big step in the right direction and I cannot thank my legal team and my supporters enough. Hopefully, this brings forward hope and courage for those who were or are afraid to speak up or come out. This is a moment we are proud of and will never forget." Meanwhile, yesterday's 48-page judgment was welcomed by the Rainbow Alliance who declared the ruling as victory for all same-gender loving people in Bermuda. The group said "history has been made and love has won". Senator Jeff Baron, the Minister of National Security, added: "Today's ruling affirms that equality is for all — regardless of who you love, what you look like or who you pray to. And equality, when it's real, isn't conditional. Let's acknowledge that there's a tremendous amount of work to do, right here at home, to move barriers and heal our community. Let's keep working together, let's build this community of supporters and champions for equality. And despite hurtful attacks let us reach across and engage the most sceptical citizens and show them that Bermudian values; values of love, respect and inclusiveness, can be found in every corner of this island." However, Preserve Marriage labeled the ruling as an attack on traditional values, claiming it has worsened the divide in Bermuda. The group stated: "Today a single judge, Justice Charles-Etta Simmons, of the Supreme Court of Bermuda has decided to redefine the institution of marriage. By imposing this judgment, the court has ruled against many in the community of Bermuda." Mrs Justice Simmons noted that the Bermuda courts had already struck down legislation that discriminated against a same-sex male couple from adopting a child and treated a non-Bermudian same-sex partner of a Bermudian differently from a non-Bermudian opposite-sex partner of a Bermudian. The ruling states: "Against the legal, social and cultural back drop of changing attitudes regarding same-sex relationships and sexual orientation it is fair to say that notions such as marriage or the institution of marriage being predicated upon heterosexual procreation and marriage being the main and most effective means of rearing healthy, happy and well-adjusted children, to borrow a phrase from the Chief Justice, have been turned on their heads. "Their historic and insular perspective as reflected in the common law definition of marriage is out of step with the reality of Bermuda in the 20th century. "
May 5. British Airways marked 80 years of service to the island with a glitzy reception at the Hamilton Princess last night.
BA celebrates 80 years in Bermuda. Eight-decade partnership: pictured at last nights British Airways 80th anniversary reception are, from left, Stephen Humphreys, BA's head of global sales, John Rankin, the Governor, Michael Dunkley, the Premier, and Simon Brooks, BA's senior vice-president of sales for North America (Photograph by Akil Simmons)
And the airline marked the occasion by announcing a limited-time 20 per cent discount on fares for Bermuda-London flights. Michael Dunkley, the Premier and John Rankin, the Governor, and some of the island's major BA customers were among the guests who enjoyed a fashion show of sorts with models sporting the different BA cabin crew uniforms over the decades. Simon Brooks, BA's senior vice-president of sales for North America, who oversees the airline's Bermuda business, announced that customers could pay 80 per cent of the fare for flights connecting Bermuda and London across all classes to mark the 80th anniversary. This will apply to flights booked through May 14 for travel between August 4, 2017 and April 24, 2018. That means that fares will start from $780 round-trip in economy seats, including taxes and fees. Imperial Airlines, one of the predecessor companies that evolved into the modern BA, started off the Bermuda service in 1937, with a flying boat called Cavalier — but the route was not to London, rather to New York. London was considered too far from Bermuda for the Cavalier to fly. For that reason, the aircraft was sent to Bermuda in pieces, on board a ship from England, and assembled on the island. The Imperial Airlines flight cut the journey time from Bermuda to New York from 40 hours to five hours and first flew on June 12, 1937. In 1939, Imperial merged with British Overseas Airways Corporation, and three years later, as the Second World War raged, came one of the most famous episodes in BA's Bermuda history, involving Britain's Prime Minister of the time, Winston Churchill. In January 1942, Mr Churchill had visited the US and was on his way back to Britain. He took the BOAC Boeing 314 flying boat Berwick as far as Bermuda and the plan was for him to complete his Atlantic crossing aboard a British ship, which would take about another week. Mr Churchill was anxious to get back quickly and keen to fly the whole journey back to England. His request was eventually reluctantly agreed to by the Berwick's captain, Kelly Rogers, and the plane made it back to land in Plymouth, As part of last night's event, a photograph was displayed of Mr Churchill at the controls of the aircraft in Bermuda, with trademark fat cigar in mouth. Mr Brooks said Bermuda was a significant destination for BA and the route was among the longest-running continuous links in the BA network. "There are many destinations that have not lasted 80 weeks, so to last for 80 years is a great reflection of the strength of our partnership," Mr Brooks said. And he promised that customers had many improvements to look forward to, in addition to BA's move to its new home at London's Gatwick Airport, the South Terminal, which will feature upgraded lounges, 40 per cent more floor space and play areas for children, Mr Brooks said more investments were coming. "In the next two years, the product will change," Mr Brooks said. "In Club World, we will introduce new high-quality linens, pillows and duvets and we will be introducing a new upgraded seat. And we will also be investing in premium training for BA cabin crew in order to deliver a better quality of service to the customer." He said the airline worked closely with BTA to increase the number of visitors to the island. Mr Dunkley said the island would continue to be "a blue-chip destination" and said that with the new hotels being built on the island, "the next 80 years are looking better than the first 80".
May 5. Issues including the role technology can play in limiting problem gambling were explored by gaming industry experts at a town hall meeting this week. Organised by the Progressive Labour Party (PLP), the event examining safe and responsible gambling was held at Elbow Beach Resort on Wednesday night. Panellists Jason Seelig and Jamie Lee, president and vice-president respectively with Banyan Gaming, barrister and solicitor Tibor Vertes, and Damien Furbert, CEO of Gamebouts Electronic Sports, discussed some of the issues surrounding the coming of casino gaming to Bermuda. Kim Wilson, PLP MP and event moderator, said the event — the first of a planned series — was to look at whether Bermuda was examining gaming in the "safest way possible. This is where we are — we're going down this road and our questions have to be are we going to be doing it the best way possible," she said. The island, Mr Seelig said, is in a unique position. "Bermuda has one opportunity that most jurisdictions don't have right now — it's starting with a fresh plate," he said. Whereas most jurisdictions develop technology to meet existing regulations, Mr Seelig said Bermuda was not bound by this situation. "Theft, money laundering, gambling addiction — all the problems that are associated with gaming are addressable through technology. While technology allows the identification of problem gaming, it still requires people to help the player. It can, however, help to provide information before a problem gambler has hit rock bottom. One of the problems is by the time you find out, they've lost their money. To me, through technology, you can address that. We can see how people's betting behaviors are." The topic of cashless gaming also figured prominently into the town hall event. "You have the opportunity right now to say, this is how the business is going to be," Mr Seelig said. "If you do that, people will play on that system." As an island, Bermuda will have a "captive audience", Mr Lee said. "They're going to adapt any technology you do choose to move forward with." As an example to support implementing a cashless system, Mr Seelig pointed to "little old ladies" who carry hundreds of dollars worth of cash to casinos in the United States. "Think of how crazy that is," he said. "You don't pay your bills any more with cash. You use your phone and you pay your bill. Why? Because it's secure, it's safe." Mr Vertes said that the only people who wouldn't want a cashless system were those looking to launder illegally obtained money. Electronic sports were also discussed, including the possibility of casinos hosting events for their players. "This will also help increase Bermuda tourism," Mr Furbert said. Electronic sports, Mr Seelig said, were one of the fastest growing segments of the gaming business. "Every gaming company is looking at this right now."
May 5. Thousands are set to take to the streets and shores tomorrow for a good cause as the XL Catlin End-to-End celebrates its 30th year. Mandy Shailer of the event's organising board said they hoped this year would be bigger and better than ever as the public come out to raise money for four local charities. "I feel like it's the kick-off for summer, particularly when you get to Somerset and you see people lined up on both sides of the road," she said. "It's so heart-warming, and I love the variety of people you see come out from all walks of life. It really brings the people together for a common cause and everyone is looking out for one another. It's really wonderful." Ms Shailer said that the organisers had again put together courses for runners, walkers, swimmers, cyclists and paddleboarders, noting that, on average, between 3,000 and 3,500 people take part. However, this year in addition to supporting the Adult Education School, Age Concern, Greenrock and Raleigh Bermuda, participants will also be able to vote from a pool of four other charities to receive a $30,000 "people's choice" donation. "The best and the worst part of the job is selecting which charities to support, and there are always the last few we are arguing over. This is a way for us to help one of those that didn't quite make the final four, to give the participants the opportunity to pick between the Bermuda Society for the Blind, Bermuda Underwater Exploration Institute, Duke of Edinburgh and YouthNet, with the winning charity receiving funding from this year's event." Another change this year will be a move in the location of the swimming portion of the event, with Ms Shailer noting that organisers wanted to bring the finish line to Dockyard to better line up with the cycle and walking route. "We decided this year to put the focus back on ending in the West End, so we wanted to bring the swim event back to the same day as the run and back to Dockyard, It starts at Mangrove Bay at 11am and finishes at Calico Jack's Floating Bar, which I'm hoping is going to be a little extra motivation for our swimmers as they think about the beverages they will be offered when they make it on to the boat." Ms Shailer added that organisers were hoping for another change from last year's event — better weather. She said that, as safety officer, she had been keeping a close eye on forecasts this week, describing the wall of rain that greeted runners last year as a "small monsoon. It was the craziest weather we have ever seen for an End-to-End," she said. "There were 40-knot winds, thrashing rain and we were panicking as a board, fearing it would be a disaster. We cancelled the swim and the cycle, but the race continued and our volunteers were out there in force, in the rain, with their umbrellas and big smiles on their faces. It was wonderful to see that support. We were afraid everyone would just stay home. This year, it looks like we are going to have a nice breezy and dry day, but rain is forecast for the evening. I know we need it, but we are hoping it just holds off. At 5pm, it can rain all it wants, but if it holds off for the day, we're happy." She also said she was looking forward to the various teams who take part in the annual event in ridiculous costumes, which in recent years, have included elves and angry birds. "It's a tight-kept secret about what their costumes are going to be," she said. "We don't even know until the day. Last year, even with the rain, they came out . . . I felt bad for those guys out there getting totally drenched in their costumes. It was hilarious." While the event is rapidly approaching, she added that there was still time to sign up for the event online and on the morning of the race itself, in support of a good cause. "The most important part is the raising of the funds," she said. "We are always hoping to top what we raised in previous years. That's where the focus is."
May 5. Lloyd's of London insurer Neon is celebrating its first year in Bermuda. Chris Fisher, the chief executive officer, started the firm with just one other staff member. It now has a staff of six, with plans to recruit another. Mr Fisher hopes to grow the firm from its expected $20 million in gross premiums written this year to $100 million within three to five years, as well as increase staffing numbers to more than 20. Speaking at Neon's offices in Victoria Street, Hamilton, he said: "We're running out of space here. We probably have room for another three people at most, so potentially we may have to look at some additional space. "In three to five years, if we have 20-plus people, that doesn't seem unreasonable, although it's difficult to tell. Additional people have to be supported by business flow — but I have ambitions to grow this business into other lines of business when it makes sense." Neon, which is part of US-based American Financial Group, was set up last year under the leadership of Martin Reith to breathe new life into Lloyd's Syndicate 2468, formerly known as the Marketform syndicate, which had taken a hit from Italian medical malpractice business. Mr Fisher said: "He wanted to bring the balance of the syndicate's business to short tail lines of business, property insurance and reinsurance. "I was hired to do two things — start a Bermuda office for Neon and kick-start the platform here. I'm also head of property insurance underwriting for Neon globally. Through the balance of 2016, I began to write an amount of property insurance business with a focus on the larger Fortune 100 companies." Over the past year, Neon has expanded from property insurance into other areas, like property reinsurance and professional indemnity cover. Mr Fisher said: "We would love that reinsurance business to grow from a reinsurance perspective, but we may have an opportunity to grow into the insurance-linked securities space as well." He added that Nicholas Pritchard, appointed as head of reinsurance, had considerable experience in the reinsurance segment. "That's a potential growth area for us over the next two years or so. The commitment and support from London has been fantastic and Martin Reith has been here multiple times." He said the firm's local profile was due to be boosted by a special America's Cup reception for clients, due to be held at Commissioner's House in Dockyard next month. Neon is a member of Great American Insurance Group, which runs the insurance operations of parent AFG and had already benefited from the link-up. Mr Fisher said: "We are exploring areas where we can get some synergies going with Great American as well and access additional business to the island via their platform. We have done one deal with them on Canadian business, which we otherwise wouldn't have seen. At the moment, we're targeting for this year $20 million of gross written premiums for the Bermuda business, which wouldn't be a bad start at all. Market conditions have been tough — there is a lot of oversupply of capacity, but where we have the opportunity to build the company in a responsible way is through business where we have the ability to use the strength of our relationships to help carve out what we consider to be advantageous underwriting positions on programmes. For 2017, more than 50 per cent of the business will be lines of business we didn't participate in 2016. That shows you the amount of turnaround and change brought about by the revitalization of the syndicate. A big part of it is getting the right people on board and the team we have here at Neon Bermuda is first class." Mr Fisher said he was proud of the fact that the current staffing included only one non-Bermudian. "My commitment as CEO is whatever I can do to get suitably qualified Bermudian staff into this business, I will do. That's something I very much want to achieve. We want to make sure Bermudians are in as many positions in the company that they are suitably qualified and experienced to be in."
May 5. Bermuda's economy slipped back into recession — at least by one widely used definition — in the last quarter of last year, according to figures released by the Department of Statistics yesterday. In the fourth quarter of 2016, gross domestic product fell 2.4 per cent after inflation compared to the same period a year earlier, following a 1.8 per cent contraction in last year's third quarter. Recession is often defined as two consecutive quarters of negative real GDP growth. Bermuda emerged from a six-year recession when it returned to growth in 2015. However, Ministry of Finance forecasters expect last year's second-half dip to be short-lived. In the National Economic Report published in February, they predicted economic output would grow by between 1.5 and 2 per cent for 2017. Analysts from Standard and Poor's Ratings Services, in their commentary on the decision to affirm the island's A+ credit rating last week, also predicted real GDP growth of 1 per cent this year. And their views were backed up by economic expert Peter Everson, who sees multiple growth signals this year. Yesterday's release said GDP in the fourth quarter of last year totaled $1,442.9 million, up 0.2 per cent from the same period in 2015 — or down 2.4 per cent after inflation. Gross capital formation, defined as investment in fixed assets for use in production, was up by $26.8 million. This reflected higher investment in assets such as telecommunications equipment and industrial machinery. Household consumption rose slightly to $817.8 million year-over-year, reflecting increased expenditure on air transport and catering services. However, after inflation households spent 1 per cent less. Government consumption fell to $237 million, down 1.7 per cent from a year earlier, or down 3.3 per cent after inflation, due mostly to lower public expenditure on goods and services. The island's net trade surplus fell by $27.5 million, or 12.5 per cent, primarily because of a $37.5 million increase in payments for imported goods and services. Although such increasing demand indicates strength in an economy, the growth in the value of imports has a downward impact on GDP. And an increase in spending by tourists helped to boost the island's receipts from the export of goods and services by more than $10 million. Mr Everson, a close observer of the island's economy, said insurance mergers appeared to have had a dampening effect on GDP, particularly in the impact on employment income. He used the XL-Catlin combination as an example. "Towards the end of 2015 and into the first part of 2016, some well-paid people were being laid off and were receiving severance payments," Mr Everson said. These one-off payments helped to temporarily increase the island's employment income, which in later quarters fell off because of the loss of those positions. He backed this up with government statistics that showed international business employment income rose year-over-year in the fourth quarter of 2015 and through the first half of 2016. However, it slid 5.5 per cent in the third quarter of 2016 and 2.9 per cent in the fourth quarter, reflecting the job losses' impact. He was confident of a return to economic growth this year, driven by factors including major construction projects and the ongoing presence through the end of June of an increasing number of people associated with the America's Cup, accompanied by a marked improvement in tourism. "Bermuda's GDP is somewhere between $5.5 billion and $6 billion, so 1 per cent of that is $55 million to $60 million," Mr Everson said. "My feeling is that is the sort of pace of investment that will be going on at Caroline Bay, also at the airport and at the new hotel in St George's, so between them they could lift GDP by about 3 per cent. The America's Cup effect will be strong — from Wedco to mom-and-pop developments, there are a lot of things going on. There are people doing things like refurbishing an old child's bedroom to rent out on Airbnb, or giving their place a coat of paint. All this incremental activity will help to lift GDP." Mr Everson said GDP was not a perfect measure of the island's economic health. The most important things for the island were the number of people working and the number of people living here, he said. In its ratings commentary last week, Standard and Poor's was modestly optimistic, predicting real GDP growth of around 1 per cent for 2017. "We believe that tourism and construction will be important contributors to economic growth alongside the international financial services sector," S&P stated. "Major hotel construction projects will continue or begin and the airport will begin reconstruction. Despite this, we continue to view Bermuda as having below-average economic growth prospects compared with peers with similar high levels of GDP per capita."
May 5. A boy scout troop from the US has celebrated its 50th visit to Bermuda — a reward for completing a seven-year scout programme. The boys from Manchester, Connecticut make up Troop 25, all aged between 17 and 18. "This is the last hurrah for these guys," said Paul Maidment, scoutmaster emeritus. "They've been together for seven years. They've camped on the ground for seven years." Mr Maidment, born in 1958, visited the island when he was 17 as a member of Troop 25. Now more than 40 years later, he brought the scouts last month when they were out of school for spring vacation. He's been organising the trip for four decades. "It's something all of them look forward to, not only when they turn 17, but from the time they enter Troop 25 at age 11," he said. Evan Keeran, a member of the troop, said: "The first night you're in the troop you're told the whole idea of the Bermuda trip. You're given a hog penny — the penny that you use here [in Bermuda] — and it's really something everyone looks forward to and it's also something that everyone earns. " Troop 25 first came to Bermuda in the late 60s, getting to know the island's people and culture. The following year they tried Bahamas but decided unanimously to return to Bermuda because "it's closer, better and more memorable". They have chosen the island ever since. Dozens of the scouts have made Bermudian friends along the way, including Colin Anderson who hosted the entire group for dinner at his home. Andrew Helmin, one of those who visited in April, became enamored with island life and immediately took to wearing Bermuda shorts, complete with a necktie and blazer. "I would love to come back. Actually I want to live here because of how much of a paradise it is and because of the people here. I love the culture, I love the identity of Bermuda. It's not lost on us that Troop 25, and many other Bermuda loyalists, cite our people as the reason they keep coming back," said Glenn Jones, the Bermuda Tourism Authority's director of public and stakeholder relations. "The Bermudian hospitable spirit is part of the story our marketing team tells the world because Bermuda's people is what sets her apart from other destinations."
May 5. A Bermudian icon is set to be celebrated later this month in St David's — the Bermuda Onion. Onion Day will take place on May 27 at Carter House in St David's, with festivities beginning at noon and continuing until 4pm. The event, organised by the St David's Island Historical Society, will give attendees a look and taste of Bermuda's past with traditional food and tours through the preserved Carter House. Rick Spurling of the St David's Island Historical Society said the event began after the organisation decided they wanted to do something for Heritage Month. "It was Larry Mills, who built our Settlers Dwelling in 2012, who suggested Onion Day to celebrate the infamous Bermuda Onion, which was exported for years until competition from a similar onion in Texas put us out of business. It's also to celebrate Bermudians who are known as onions. Onions are harvested in May each year which enables us to have lots of donated onions which we sell. We have the 'biggest onion' contest and hope to have an onion-eating contest for which we have a trophy — but it is not that easy to get at least two willing participants." Several St David's staples will be available for purchase, including onion soup, Gary Lamb's fish chowder and a range of onion products and pulled "hog" sandwiches. Meanwhile, Mr Spurling will be on-scene with Mr Mills and traditional doll maker Ronnie Chameau, all dressed in period costume and ready to answer questions. "We ask Bermudians to come and celebrate their Heritage and visitors to come and learn a little about St David's and Bermudian culture — the Bermuda Onion — and the largely unknown, fascinating yet un-presented (except at Carter House) history of St David's."
May 4. A new digital portal designed to connect customers worldwide with Bermuda's insurance industry has been launched. The service, set up by the Business Development Agency in partnership with professional services firm Deloitte, will give easy access to brokers and a full range of insurance and reinsurance services. Jereme Ramsay, BDA business development manager, said the directory was an updated and re-launched version of the former Bermuda Market Solutions website and booklet. He said: "Building on the core principles of its predecessor, this website's advanced search mechanism, navigation and mobile optimization are designed to help drive new business to our world-respected jurisdiction. We're grateful to our partners at Deloitte, who gathered data from the Bermuda market for this project and all the participating firms across our risk industry. The concerted efforts of carriers, underwriters, brokers, BDA colleagues and our web developers have been instrumental to this project's success." The new site offers pull-down menus with access to more than 24 lines of business and listings for participating companies, a brokers' directory and a "find a broker" search tool, a requirement for market access by US clients. The site also features an overview of the island insurance market and links to key industry groups like the Association of Bermuda Insurers and Reinsurers, the Bermuda Monetary Authority and the Bermuda Stock Exchange and can be accessed through a desktop or mobile device. Bradley Kading, president and executive director of Abir, said he often received enquiries from potential clients about the Bermuda market. He said: "It's a thriving market, one of the world's top three, and this is the best way to figure out which carriers can best serve your needs." The BDA will work with Deloitte and design, website and advertising agency Cosmic to update the site every six months and increase the number of companies represented. Dan Roberts, senior manager, consulting at Deloitte, said: "The BDA has done a fantastic job in developing the new BRD website at brd.bm, which now offers an unparalleled overview of products offered by the insurance and reinsurance market in Bermuda." Sean Collier, managing and creative director at Cosmic, added: "Our goal is to encourage and support Bermuda's technological evolution to ensure its ability to not just compete, but lead in global markets." Bermuda-based companies interested in appearing in the directory can contact the BDA through the website or e-mail riskdirectory@bda.bm.
May 4. Like a prize in a game of pass the parcel, Ironshore Inc switched hands this week for the second time in two years. But it is all good, according to Mitch Blaser, chief executive officer of Ironshore Bermuda. "It is fantastic news for Ironshore overall," he said, a day after it was announced that Liberty Mutual Insurance's $3 billion acquisition of Ironshore has been completed. "The fact that Liberty Mutual has confidence in our brand and our operations to integrate their US operations into ours — that was a very strong vote of confidence in the strength of our brand and our business model," said Mr Mitch. He was referring to Liberty Mutual's decision to combine its existing Liberty International Underwriters US business and Ironshore's US specialty lines business under the Ironshore brand. "Clearly the retention of the Ironshore brand is another favorable aspect to our operations in the US, Bermuda and internationally." He is not alone in his positive outlook for Ironshore under Liberty Mutual's ownership. Ratings services have also weighed in. On Tuesday, AM Best removed Ironshore from "under review" and affirmed its "A" rating, while Moody's lifted a number of its ratings of Ironshore segments to "A2". Two years ago Ironshore was bought by Shanghai-based Fosun International. The global investment group then opted to sell the insurer last December to Liberty Mutual as it offloaded assets to "enhance" its financial flexibility. When asked if another change of ownership in such a short period of time was unsettling, Mr Blaser said: "We've been very fortunate because Fosun was a fantastic owner. They bought us with the idea to build the franchise and have us run as an independent entity, so the impact on our people was minimal post-acquisition. Now we have been fortunate again to have a company with the breadth and depth of Liberty Mutual buy us with the intention of keeping the brand intact and building on our franchise. From a business standpoint, and an underwriting standpoint, we've been very fortunate and the disruption as a result has been minimal. Our people are very enthusiastic about this latest change in ownership, and very motivated to grow the company." Ironshore, which has offices in 34 countries, was formed in 2006 in the wake of the catastrophic losses caused by Hurricanes Katrina, Rita and Wilma. In Bermuda it has offices on Front Street. There have been no announced changes to the company's operations on the island as a result of the acquisition. Mr Blaser sees opportunities to strengthen Ironshore's operations in Bermuda and globally. "It provides us with the platform with a very strong parent company, and balance sheet, to continue to expand our operations and build out the specialty businesses of Ironshore as part of Liberty Mutual, which will bode well for our Bermuda operations." He said Ironshore Bermuda will see opportunities to cross-sell to Liberty Mutual's client base. Mr Blaser, who is also COO of Ironshore Inc, added: "In addition, as of today we are globally a US company with so many of our clients and client-base emanating out of the US. From a Bermuda standpoint the closure of this deal provides for a growth platform in terms of the strength of our balance sheet, the strength of our ratings, access to the client base of Liberty Mutual and the strength of the resources that Liberty Mutual brings to Ironshore Bermuda and the rest of Ironshore." The combination of Ironshore and Liberty Mutual has created a global specialty business with about $6.5 billion in net written premiums. When asked if he thought mergers and acquisitions in the insurance and reinsurance sector would continue, with companies morphing into larger entities, Mr Blaser said: "Yes, it will continue. I don't know if this is the beginning or the middle, it's certainly not the end. It's very difficult for businesses in our industry to survive without the scale of resources and a strong balance sheet behind them. This type of consolidation has been evident in the reinsurance space probably for over five years. Now you are seeing it in the insurance space as well." He said that when capacity is widely available and it becomes difficult for a company to differentiate itself from competitors, then having a strong financial rating and balance sheet are increasingly important factors for clients and brokers deciding where to place business. "Those advantages and those resources help differentiate yourself with the customer and are the most important features today. That will force more consolidation." Ironshore is the official insurer of America's Cup defender Oracle Team USA. Looking ahead to the competition, which starts at the end of this month, Mr Blaser said: "We are very much plugged into and excited about the potential of the America's Cup for Bermuda, not only as a sponsor, but to support it in any way possible."
May 4. Representatives of the Bermuda Government, Marriott International and developer Hotelco Bermuda Holding Ltd joined together today to officially break ground on the planned 240,000 sq. ft. St. Regis Hotel and seven condominium buildings.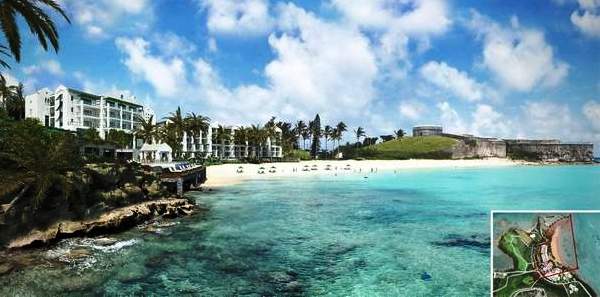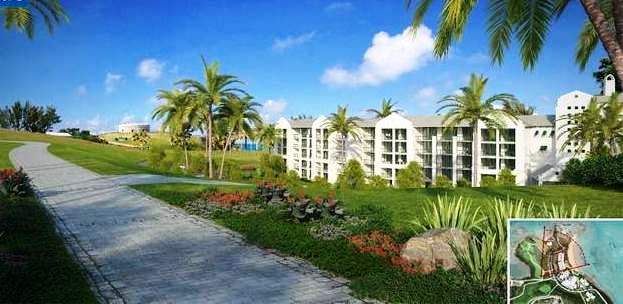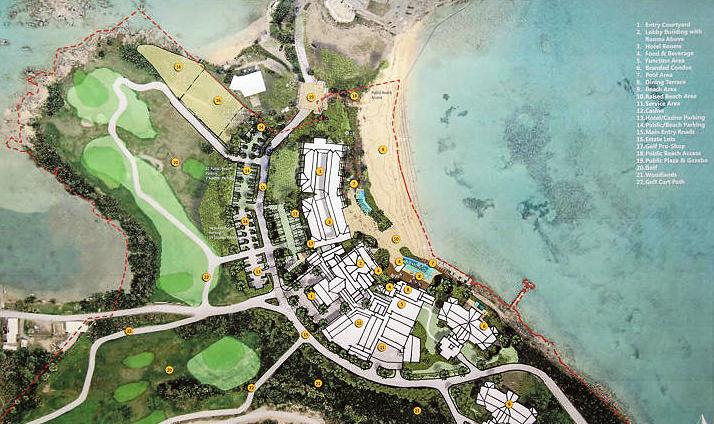 RG photos of pending new St. Regis Hotel, Resort and Residences
"The luxury hotel will feature facilities such as 122 rooms and suites, St. Regis restaurant, bar and wine vault, a casino and 3,000 sq ft of meeting space." a spokesperson said. "For guests looking to relax, the resort will feature an 18-hole golf course designed by Robert Trent Jones, a luxury spa and state-of-the-art fitness centre, a club for children and teens, and swimming pools for adult and families. The look and feel of the new St. Regis will reflect Bermuda's unique architectural style; OBM International, the master planning, architecture and design firm, has designed the property. The hotel will create economic opportunity in Bermuda even before it opens its doors, starting with 300 construction jobs required to build the project once the work is fully ramped up next year; 80 per cent of those positions are expected to be Bermudian. The project will rise in phases, with Phase 1 being the hotel and 28 residences [14 private and 14 fractional]. Phase 2 will include 42 private St Regis residences and Phase 3 will include 28 private St Regis residences. In addition, there will be seven lots for sale for luxury St Regis villas. St. Regis is part of Marriott International and the new luxury hotel is being developed by Hotelco Bermuda Holding Ltd. "After decades of uncertainty over the future of a hotel in St George's, I am excited to be breaking ground on the St. Regis hotel today. This marks the beginning of a new era in St George's that will revitalize the town and bring much-needed tourists and traffic to an important part of the island. The construction of the hotel will create hundreds of new construction jobs and we are thrilled about this" said Premier Michael Dunkley "Bermuda is a very special place for us. When we first saw the land three years ago, we knew that it was the perfect spot for a luxury hotel," says Miguel Purroy, Principal and Director of Hotelco Bermuda Holding Ltd. The beachfront location and the incredible history of the site right near the forts and the old town of St George's are a perfect combination for the resort. We are so pleased to be taking the first steps towards creating new history and guest memories on this site. "Marriott is excited to be working with Hotelco Bermuda Holding to bring this exciting luxury resort to life in Bermuda," says Tim Sheldon, President, Caribbean and Latin America, Marriott International. " St. Regis bridges generations by providing a luxury experience that combines modern conveniences and technology with timeless design and personalized service to appeal to a new generation of global, luxury travelers. We are delighted to be breaking ground on a new St. Regis hotel in Bermuda today, which will be a jewel in the St. Regis family." "The hotel is due to open in early 2020," the Government said.
May 4. Musical legend Gene Steede will star at the opening ceremony to the 35th America's Cup. A host of other local entertainers will join Mr Steede to set the scene on the first night of the month-long event that brings the eyes of the world on Bermuda on May 26. The band of the Royal Bermuda Regiment, H&H Gombeys and Gombey Evolution and the cast of Proud to be Bermudian will provide entertainment. The opening ceremony will be produced by David Durham of Yhoshi Productions with musical director John Woolridge. According to a press release, both have extensive experience of staging shows of this calibre in Bermuda. Comedian and entertainer Nadanja Bailey and Bermuda Tourism spokesman Glenn Jones have been named the two emcees for the night, as well as for every day that the America's Cup Village is open between May 26 and June 27. Mr Steede said in a statement: "The America's Cup is going to be an incredible event and I am so proud to be part of the show and I cannot wait to perform in front of the crowds who will be in the America's Cup Village for day one. It is going to be a huge party and I'm sure it will be the perfect start to the events that will turn the eyes of the world on our Bermuda home in May and June." From 7pm until the opening ceremony starts at 8.30pm, a range of Bermudian musical talent will perform, including Cindy Smith, John Seymour, Liv MisLu, Desmond "Rivah" Smith, Live Wire, John Seymour and Aimee Bento and Quinn Outerbridge. The official band of the 35th America's Cup, 4-Forty-1, will take to the stage to continue the party until 10pm with a spectacular firework display. Red Bull skydivers will also make an appearance, dropping in from the skies to join the party. Tickets for the first day of racing and the official opening ceremony are available from www.americascup.com/tickets for as little as $10 for general admission tickets at local pricing. The Louis Vuitton America's Cup Qualifiers begin at 5pm with Jimmy Spithill and Oracle Team USA taking on Franck Cammas and Groupama Team France in race one, with the on-water action scheduled to end at 7pm. More local Bermudian musical acts will be announced in due course and will play on the main stage until the opening ceremony itself starts at 8.30pm. On May 26, the America's Cup Village will open for business at 3pm and will close at 10.30pm, half an hour after the opening ceremony and party ends.
May 4. Preserve Marriage's name is not on the latest list of registered charities. The organization which campaigns against same-sex marriage and civil unions, applied to have its charitable status renewed earlier this year, as it was due to expire on April 6. Those responsible for deciding on status applications — Registrar-General Aubrey Pennyman and the Charity Commissioners — have since refused to comment on whether Preserve Marriage was successful or whether any objections to its application were received, after repeated requests from The Royal Gazette. A spokeswoman for the Ministry of Home Affairs said on April 27: "The Registrar-General will not be commenting on any organisation's application for status." Charity Commissioners chairman Richard Ambrosio also declined to comment. Applications for status renewal are considered by the Charity Commissioners and they make recommendations to the Registrar, who makes the final decision. The Royal Gazette understands, as previously reported, that the committee failed to reach a decision on Preserve Marriage at a meeting in early April and was to look again at the application at its next meeting, around April 18. It is not known if the commissioners were unable to reach a decision at the second meeting or if they made a recommendation which has yet to be approved by Mr Pennyman. The Charities Act 2014 gives the public the right to inspect, at all reasonable times, the charities' register, statements of accounts from charities and their annual reports. Yesterday, following a request from this newspaper, the Ministry spokeswoman shared the most recent list of Bermuda's registered charitable organisations, dated April 6. Preserve Marriage's name does not appear but that may not mean the organisation has lost its status. The name of OutBermuda, a group which promotes equality for the island's LGBT community, is also not on the latest list but it does have charitable status. OutBermuda's certificate of registration was signed on behalf of the Registrar on April 7, a day after the list was published. Preserve Marriage may have had its status renewed since April 6. But if it has not been given a decision yet, the law allows charities who apply for renewal at least one month before their status expires to continue operating as a charity until their application is decided by the Registrar. Earlier this week, Mr Pennyman warned the public about the illegal soliciting of money for charitable causes by those not registered to do so. The Registrar said in a press release: "The public should be aware that our office frequently receives requests from prospective donors, businesses, banks and event venues to confirm if an organisation is a registered charity. The Charities Act 2014 states that it is an offence for a person, other than a registered charity or person acting on behalf of such charity, to solicit members of the public for or receive from any member of the public in any public place, a donation for any charitable purpose or for any professed purpose which is otherwise benevolent. The exception is a person who has been issued a temporary fundraising licence by the Registrar-General. Persons who do not wish to obtain a temporary fundraising licence may enlist the assistance of a registered charity to engage in public fundraising on their behalf. Internet or online sites for fundraising for a charitable or benevolent purpose in Bermuda may also require a temporary fundraising license or charitable status." The Registrar said those who needed to should apply for a temporary fundraising license by picking up a form from his office in the Government Administration Building on Parliament Street in Hamilton. The number to call is 297-7739. At the start of 2016, before it became a charity, Preserve Marriage removed an online appeal for campaign funds after a request from the Charity Commissioners. It then applied successfully for charitable status, despite 31 letters of objection from members of the public. The organisation did not respond to an e-mail request for comment yesterday.
May 4. Better technology in public schools — equipping students for success in the 21st century — has emerged as a key demand at community conversations set up by the Department of Education. The need for more consistent leadership and greater equity across public schools were other issues raised in the meetings, designed to help formulate a strategic plan for public education. This is according to education commissioner Freddie Evans and teaching expert Jeremiah Newell, who was speaking with The Royal Gazette for the first time since he arrived on the island to facilitate the plan with the help of community engagement. High on the agenda for the parents, teachers and students who have participated throughout the past few weeks is the provision of classroom infrastructure and technological facilities. Dr Evans said: "Looking at our facilities is a consistent effort. We want to have the technology in the schools, the access to the science labs. That keeps on coming up — it is an echo of what the Score [School Reorganization] report did in looking at the primary schools. There is a lot of demand for some kind of technical product — whether it is a technical institute or more tech in schools. Once we decide what all this information tells us, we can begin to operationalise and address it." Dr Newell added: "We have heard a lot about modernization and infrastructure with the use of technology and materials and structural tools that can be used to meet the 21st-century preparation. We have to modernize that." Many have likened the education ministry to a revolving door, with Cole Simons becoming the twelfth minister in 19 years two months ago. Dr Newell, a graduate of the Harvard Graduate School of Education, told The Royal Gazette: "I have seen a desire that there is consistent leadership to move this forward and we need to know that we are going to see this through. The community is saying whatever is getting in the way, and we need to address it, regardless of who is in charge at that moment. What they are saying consistently across the island is that they are expecting the government of the day to enable those things to happen. It is important that communities are demanding improvement, and have ideas about how it happens." Dr Evans, who has been actively involved with the conversations along with Dr Newell, said the option of removing politics by introducing an independent public school system, an idea suggested by Mr Scott, was not off the table. He added: "Maybe education should be independent like the Bermuda Tourism Authority and be able to run autonomously outside of the scope of the politicians and government of the day." Equity across the public schools is also a cause for concern, with many stakeholders questioning why the standards are not consistent. Dr Newell said: "If there is one public education system, why are there variations between our schools? People are saying 'we want the same opportunities offered in private schools, we want the opportunity that once we leave school we are ready to be employed'." One more area of discussion has been the need to further ensure that Bermuda's public schools are able to cater for the diverse needs of its students. Schools are not one size fits all — they are places where the unique strengths of young people can be explored: technical, in the arts, vocational. We are embracing new kinds of learning — coding and technology reflecting the workforce as it is changing globally and helping our students to become global citizens. We must provide music and art programmes allowing artists to develop and demonstrate their gifts. I was speaking to one student who told me he wanted to be able to compete locally and internationally." Frank and open discussion is being encouraged by all stakeholders. Some 40 community conversations have taken place so far and more than 1,200 surveys regarding public education have been filled out. The next step will be the creation of multiple drafts and prototypes which will receive feedback before being revisited. Anyone wishing to host community conversations can call Lisa Smith at the ministry at 278-3300. She will provide a facilitator and scribe. The Board of Education invites the public to visit www.moed.bm to complete a strategic planning survey on public education in Bermuda.
May 4. Four people have appeared in court in Britain accused of running a multimillion-dollar money laundering operation involving Bermuda. Jeffrey and Samantha Bevan, Joel Ismail and Paul Charity are accused of laundering the proceeds of $2.5 million allegedly stolen from the Government of Bermuda between May 2011 and June 2013. The charges stem from a number of financial transactions allegedly conducted by Mr Bevan while he was employed in the office of the Accountant-General in Bermuda. The alleged theft was discovered after Mr Bevan and his wife left Bermuda after the funds were transferred by electronic means through a local financial institution. Mr Bevan, 49, and Mrs Bevan, 51, from Cwmbran in Wales and Joel Ismail, 41, and Paul Charity, 51, both of Leicester, appeared at Cardiff Crown Court on April 28 charged in connection with various money laundering offences. All four defendants entered not guilty pleas to the money laundering charges. Mr Bevan denied a further charge of stealing an additional £50,000, while Mr Charity pleaded not guilty to perverting the course of justice. A trial date has been set for January 8, next year, and all four were granted unconditional court bail. The charges follow a four-year joint international police investigation that has involved the Bermuda Police Service and the UK Regional Organised Crime Unit in Wales.
May 4. Five men reappeared in court this afternoon in connection with the protests outside the House of Assembly on December 2. It came as about 100 people carrying a Bermuda Public Services Union banner marched down Court Street towards the Dame Lois Browne-Evans building chanting: "What do we want? Justice. When do we want it? Now." Dornielle Farrel, Ernest Trott, Antoine Minors and Sherman Hill are all accused of obstructing police officers in the execution of their duty. Mr Farrel, 27, of Southampton, Mr Trott, 51, of Devonshire, Mr Minors, 34, of Devonshire, and Mr Hill, 58, of Hamilton Parish, denied the charges at a previous hearing. This afternoon after a short hearing they were told to reappear at Magistrates' Court on May 26 at 9.30am. All four men were released on bail. Jason Hayward, president of the Bermuda Public Service Union, also appeared for a brief hearing into his matter. Mr Hayward previously pleaded not guilty to obstructing police officers and interfering with ministers' access to the House of Assembly. He has elected to be tried at Magistrates' Court. This afternoon he was told to return to court on May 31 at 9.30am when a trial date will be set. Mr Hayward was bailed until that date. Dozens of supporters filled the courtroom this afternoon including Chris Furbert, president of the Bermuda Industrial Union and the Reverend Nicholas Tweed of the People's Campaign. Several Progressive Labour Party MPs were also present including opposition leader David Burt, Derrick Burgess and Wayne Furbert. Outside the court, demonstrators continued to arrive in a slow but steady trickle. One demonstrator commented: "This government has definitely got to go." Others held signs questioning why Mr Hayward is being "attacked", with another reading: "Unions are the protectors of the workers." After his hearing, Mr Hayward later left the building to applause from the demonstrators. Addressing the crowd, Mr Hayward said he had been informed that their march to the courts had been in breach of the law because they did not have a permit. He added that he was told if they marched back on the road police would take pictures and there could be prosecutions, saying he would be walking back on the sidewalk. He then returned along Court Street with supporters, remaining on the western sidewalk. The Bermuda Police Service maintained a presence outside the court throughout the proceedings.
May 4. It is not unusual to be handed a bag, set of cutlery, straw and cup all made of plastic during a single lunch trip in Bermuda. The environmental group Plastic Tides is hoping to put an end to the practice and even has aspirations to see Bermuda go virtually plastic free in the future. Plastic Tides' Gordon Middleton and Christian Shaw have been reaching out to local businesses to encourage them to opt out of offering their customers plastic items automatically — or go without plastic altogether — during the upcoming Devil's Isle Challenge paddleboard race weekend, also organised by Plastic Tides. Some businesses are already on board with Gosling's offering its customers reusable steel cups during the America's Cup, the Buzz group giving out reusable bags to its customers instead of its regular yellow plastic bags over the weekend and Devil's Isle Cafe distributing straws made of rye. The Devil's Isle Challenge takes place this weekend and businesses that participate in reducing plastic during the weekend will be listed on the Plastic Tides website. Mr Middleton told The Royal Gazette: "We have a couple of businesses spearheading what we are calling a plastic-free weekend, with the goal of a plastic-free island in the future. "We are challenging businesses, just as a starter phase, to do three simple things. One is to not 'auto straw' — unless someone asks you, don't give them a straw. Number two is don't 'auto [plastic] bag' — that is restaurants and hopefully we can get over to grocers as well. Number three is don't 'auto cutlery' for to-go orders. Businesses can do any one of those things or all three. Our hope is that they will let us know if they want to participate and we can put them on our website." The Devil's Isle Challenge aims to highlight plastic pollution in the ocean. Local and overseas participants will paddleboard 40 miles around the island, launching from Snorkel Park Beach. The event also aims to raise funds for the educational component, the Sup's Kids Paddling Programme, which is also making a return, giving schoolchildren the chance to learn the sport while gaining an understanding of the importance of ocean conservation. Host venue Snorkel Park Beach is dedicated to going completely plastic free during the event, serving drinks in steel cups. Gosling's will be using glass in its America's Cup bar and is purchasing steel cups for customers to use and reuse. Brand director Andrew Holmes said: "I think the initiative is awesome. We are surrounded by the water and plastic in the ocean keeps building up — we need to be conscious of that. We need to do every bit we can to reduce the amount of plastic we use. Being a beverage company, people consume a lot of beverages out of plastic cups and the guys at Plastic Tides turned me on to this stainless steel product which is really cool. We will be using them at the America's Cup now. In the America's Cup Event Village they have a Greenware plastic but there will be the opportunity to upsell and buy this souvenir cup that you can reuse. Plastic is used wherever glass can not be used. I think we are trying to encourage people to bring their own [safe] drinking vessels to the event to try and minimise the amount of even biodegradable plastic being used. We are aiming to get as many businesses as possible involved in our Plastic-free Weekend in order to raise awareness on island. So far we have been really happy with the engagement from local businesses. We decided to start small, just a weekend, to show the community that it is a possibility to make Bermuda a plastic-free island."
May 4. Zane DeSilva, Wayne Furbert, Lovitta Foggo, Rolfe Commissiong and Diallo Rabain are among those with new responsibilities in a revised Shadow Cabinet. Mr DeSilva takes on public safety, a role previously falling under the duties of deputy leader Walter Roban, who is now holding the public works portfolio. Mr Furbert is the transport spokesman, a position previously held by Lawrence Scott, who assumes responsibility for community and culture. Mr Commissiong has the portfolio for labour and workforce development, taking over from Diallo Rabain, who now has education; Lovitta Foggo switches from education to government reform. Opposition leader David Burt said in a statement: "The PLP is a team of diverse talent and as part of our election readiness effort it is important that our MPs demonstrate to the people of Bermuda that they are ready for any challenge. These changes will bring fresh perspective and renewed energy to holding the OBA minority government accountable for its record of broken promises." The full list: David Burt: leader and finance and technology; Walter Roban: deputy leader and public works; Dennis Lister: House leader and environment and energy; Lovitta Foggo: whip and government reform; Senator Renee Ming: Senate leader and municipalities; Walton Brown: home affairs; Derrick Burgess: seniors; Rolfe Commissiong: labour and workforce development; Zane DeSilva: public safety; Senator Tinee Furbert: disability affairs; Wayne Furbert: transport; Diallo Rabain: education; Lawrence Scott: community and culture; Michael Scott: justice; Jamahl Simmons: tourism and entrepreneurship; Neville Tyrrell: sports; Michael Weeks: social development and drug policy reform; Kim Wilkerson: economic development; Kim Wilson: health.
May 4. Kim Swan has been named as the Progressive Labour Party's General Election candidate for St George's West. Mr Swan, the former leader of the United Bermuda Party, was unveiled at a press conference at Mullet Bay Park yesterday and will fight for the Constituency 2 seat held by Nandi Outerbridge of the One Bermuda Alliance. It means he will be representing the party he once attempted to pass a motion of no confidence against and often fiercely criticised during his days as a long-serving Opposition senator and MP. Asked about this last night, Mr Swan told The Royal Gazette it was the responsibility of an MP to "speak on issues. You have to hold their feet to the fire. I did that, and I did that with respect for those whose feet I was holding to the fire." He said he believed it was this forthrightness that led to him being "embraced" by the PLP after he switched allegiances in 2014. "In the thrust of doing the people's business, I was always respectful to the people that I was challenging. Constituents were very pleased by my move to the party. I'm very humbled by the type of support that I'm finding." Yesterday's announcement followed the unveiling earlier this week in St George's North of Renee Ming, who ran for the PLP in St George's West at the last election. Mr Swan competed for that seat as an independent and received 214 votes, compared with 359 for Ms Outerbridge and 355 for Ms Ming. "You and I stand here in reclaimed land," Mr Swan told those in attendance yesterday. "This will be a reclaimed constituency for the Progressive Labour Party." He pledged to be accessible and responsive to constituent concerns. "Your issues will remain on the front burner," he said. Mr Swan touched on matters to be addressed, including the restoration of the St George's Golf Course, coastal erosion in Mullet Bay, and the call by residents for a pipeline to provide potable water to households west of Khyber Pass. Community safety was also discussed. "I will assist in ensuring that residents of St George's feel safe and secure in their homes and that our community is regularly policed," he said. Calling the Government "callously insensitive", Mr Swan said that the time had come "to lock arms and walk in step on behalf of marginalized Bermudians". PLP leader David Burt introduced Mr Swan as a " man committed to the well-being of St George's who had an enduring commitment to the people. He has proven to be committed to the Progressive Labour Party's vision of a just and fair Bermuda society — a vision that seeks to serve the other Bermuda, which has been forgotten by the One Bermuda Alliance," Mr Burt said. He described Mr Swan, a former professional golfer, as a man who "knows how to compete with dignity". Mr Swan's candidacy announcement yesterday fell just ahead of groundbreaking at the site of the St Regis Hotel — a project long since promised in the East End. Asked about the possibility of defeating the OBA in the parish, Mr Swan said that the people of St George's need and deserve representation. "I am just looking to the people of Bermuda to look past photo ops," he said of the groundbreaking ceremony. "I know they know what time it is." Mr Swan was the leader of the UBP from 2008 to 2011, towards the end of more than two decades of service with the now-defunct party. He first stood as a General Election candidate in 1983, and ran unsuccessfully twice more — as well as serving in the Senate for nine years — before finally winning in St George's West against Dean Foggo of the PLP in 2007. Shortly afterwards, he was elected party leader. After all but one of his colleagues quit in 2011 to form the One Bermuda Alliance, he remained party leader for several months, but the UBP eventually folded and Mr Swan ran as an independent in the 2012 election.
May 4. The 30th annual Catlin End-to-End race is coming this weekend, and for the event organisers are utilizing the pivot.bm app. According to a spokeswoman, the app will allow the creation of "personal digital experience" for participants throughout the route. "Engaging content from water stop sponsors, restroom notifications, and a voting platform for the anniversary People's Choice Charity award are just a few features to get excited about," the spokeswoman said. "Participants are encouraged to get ahead of the curve and download pivot.bm in the Apple App Store or Google Play Store and get used to a new way of discovering ETE special participant offers and adventures in the XL Catlin End-to-End event." This year there will be 20 water stops along the route from Kindley Field Road to Gray's Bay, with participants invited to vote for their favourite water stop. Nathan Moore, Bermuda End-to-End board member, said: "Pivot.bm approached us with the idea of sponsoring and creating an event specific app for us, which we are very excited to offer this year for our 30th anniversary. It is in keeping with our goal to be the leading community event on the island, fundraising for Bermuda charities. Our vow to keep all the funds at home and provide our participants with the greatest event day experience is highlighted with the app." Meanwhile Chris Bennett, founder of Dot bm, said: "I'm excited that pivot.bm is the companion app for the XL Catlin End-to-End. Through the use of iBeacons and Geo-Fences, we can scratch the surface of the app. I'm looking forward to seeing what Bermudian companies can do with pivot.bm, anything is possible." Those interested in learning more about the app are invited to visit pivot.bm for more information.
May 3. Bermuda-based reinsurance and insurance firm RenaissanceRe has posted profits of $92.4 million for the first quarter of the year. The figure, equal to $2.25 per common share, is down $35.6 million on the first quarter of last year. Kevin O'Donnell, CEO of RenRe, said: "We remained disciplined during a successful first quarter renewal and constructed an attractive portfolio of risk." He added: "Our first quarter results were impacted by an increase in our combined ratio with the Ogden rate change driving prior accident years and an increase in individual claims affecting the current accident year." But Mr O'Donnell said: "We have the right strategy to navigate a challenging reinsurance market and we are well positioned to continue to build shareholder value over the long term." Gross premiums for the period increased by $60 million or seven per cent to $922.1 million over the period compared to the first quarter of last year. Total investment result was a gain of $97.7 million for the quarter, a annualized total investment return of 4.1 per cent. Underwriting income amounted to $42.4 million, which included net adverse development on prior accident years of $33.5 million, attributed to the UK change in the Ogden rate.
May 3. Bermuda-based OneBeacon Insurance Group is to be bought by Canadian insurer Intact Financial Corporation in a $1.7 billion deal. The transaction will create a North American lender in speciality insurance with more than $1.5 billion of annual premiums. The two companies have entered into a definitive merger agreement, with Intact to acquire all outstanding OneBeacon shares for $18.10. Before the announcement, OneBeacon's stock yesterday closed on the New York Stock Exchange at $15.70. In January, Bloomberg News reported that OneBeacon was thought to be exploring a sale. The speciality insurer is controlled by White Mountains Insurance Group Ltd, which owns 75.7 per cent of its total shares. In a statement released through the Bermuda Stock Exchange, White Mountains said it had entered into an agreement to vote in favour of Intact's acquisition. The company said it expects to receive $1.3 billion from the transaction, which would increase its adjusted book value to about $107 per share. OneBeacon, which has its corporate headquarters on Reid Street, said the transaction would "bolster Intact's Canadian business with new products and cross-border capabilities, and better positions the company to compete with North American insurers". Mike Miller, chief executive officer of OneBeacon, said: "We are all very excited to join the Intact family. The opportunity to leverage Intact's deep technical, financial and technology capabilities makes this combination the perfect next step in the OneBeacon journey. Together, we will accelerate our pursuit in creating a leading speciality insurer in North America. We look forward to working with our US and Canadian independent agents and brokers to deliver market-leading capabilities to our targeted customers. Both companies are dedicated to ensuring a seamless transition and look forward to profitably growing our speciality portfolio going forward." While Charles Brindamour, CEO of Intact, said: "Today, we've taken an important step in building a world-class P&C insurer. The addition of OneBeacon is creating a leading North American speciality lines insurer focused on small-to-midsize businesses. OneBeacon is a strong strategic fit for Intact, with deep expertise in commercial and speciality lines, and shared values. We see significant growth potential from the combination of our speciality lines operations and we look forward to welcoming OneBeacon employees to the Intact family." The transaction, which was unanimously approved by OneBeacon's board of directors, is expected to close in the fourth quarter of 2017. It is subject to regulatory approval and other customary closing conditions.
May 3. Progress may finally be happening in St George's but, according to Renee Ming, voters remain concerned about a lack of inclusiveness from the One Bermuda Alliance. Ms Ming was yesterday unveiled as the Progressive Labour Party General Election candidate for St George's North, a seat held by junior tourism minister Kenneth Bascome. She said that while many constituents are feeling positive about construction developments taking place in the Olde Towne, they are also expressing disappointment at a sense of being left out by the ruling party. Speaking at a press conference at Barrack Hill, Ms Ming said: "I have been on the doorsteps and in the houses of many of the constituents in Constituency 1 and I have heard the call for a more inclusive government — one that works with the people and values the contributions of all. I know that for us to move forward as a country, we must recognise that everyone matters. I believe in inclusion and always seek to garner the thoughts and ideas from the people I represent." Ground was broken on the airport development last week while, after many years of failed promises, a project to build a new hotel will, at last, commence tomorrow. Speaking about local voters, Ms Ming said: "When they look at St George's, they are somewhat reasonably happy with what is happening, but then they look at Bermuda on the whole and it brings in that question of a lack of inclusion — not being heard and not being valued." After being elected as a councillor for the Corporation of St George in 2009, Ms Ming was appointed to a special committee to explore capital development opportunities. In May 2012, she was elected as an alderman before, in November 2012, becoming a candidate for St George's West, a position she lost to the One Bermuda Alliance's Nandi Outerbridge [then Davis] by just four votes. Ms Ming was appointed to the Senate in the same year, and promoted to Opposition Senate leader in November 2016. Opposition leader David Burt said: "This is what St George's needs, this is what Constituency 1 needs, and this is what Bermuda needs." Mr Burt described Ms Ming as "a born St Georgian with a deep passion for St George's and a proven track record of not only working for the St George's community but also getting results. What has impressed me most about Renee has been her driving passion to serve Bermuda without fear or failure. She is astute, she is trusted, she is a leader and she has demonstrated a track record of community service. Quite simply, she is the best choice to represent the Bermudians here in St George's North." Ms Ming described her appointment as "an honour and a privilege" stating: "Let me say what you all already know, I love St George's. St George's is truly special to me — it is the parish in which I was born and raised. I was schooled at the island's first public primary school — the best school in the universe — East End Primary School. I spent my formative years here and enjoyed the warmth and protection of family and friends in the homes and streets of this very constituency. Bermuda has been good to me and I feel compelled to do everything I can for her and her people." She said her priorities include improving the infrastructure of the Olde Towne, coming up with a working solution for the waste treatment centre, working with the Bermuda Police Service to ensure St George's crime is kept to a minimum, ensuring the well-being of seniors and championing quality education. She also pledged that good governance would be a key goal, adding: "Integrity, and I will say that again, integrity, is my core principle and the next PLP government will be committed to good governance. I will advocate for policies and procedures to ensure that we will be a good government for all of Bermuda."
May 3. A collection of historic, scientific drawings depicting Bermuda's sea life have gone on display in New York. The exhibition at The Drawing Centre, entitled Exploratory Works: Drawings from the Department of Tropical Research Field Expeditions, features a collection of 60 works, including several painted by artists in Bermuda. The works — painted by around a dozen artists working under the guidance of famed naturalist William Beebe — were created to illustrate the research of the Department of Tropical Research at the New York Zoological Society. Mr Beebe, together with Otis Barton, broke multiple world records for their dives in the bathysphere in Bermuda's waters in the 1930s. During the dives, Mr Beebe would describe the organisms he saw to people on the surface, with the artists using the detailed descriptions to depict the species, many of which had only previously been seen dead after being washed ashore or caught in fishing nets. Katherine McLeod, a curator for the exhibition, told the Smithsonian Magazine: "The images really speak to the transition in ecology in the United States between a kind of straight, systematic study of taxonomy to trying to figure out how to communicate and study ecological connections of organisms in their environment." The Drawing Centre, which is hosting the exhibition, describes the collection as "an archive of images that illustrate the formation of our modern definition of nature", highlighting Mr Beebe's efforts to "take the lab to the jungle" and his promotion of women in science. The official description of the exhibition states: "The structure of The Drawing Centre's exhibition will mirror the two salient stages of the Department of Tropical Research's investigations: jungle field station work and floating laboratories for marine biology — revealing that artists and scientists worked closely and productively in the near past and that scientists once understood art as a valuable tool for promoting ecological thinking to a broad public."
May 3. The island's first indoor golf training and entertainment centre has been officially opened. Michael Dunkley cut the ribbon at Island Kaddy on Hamilton's Reid Street, which offers a full golf store, as well as food, drink and three hi-tech golf simulators programmed with some of the world's top golf courses in its spacious sports lounge. The Premier, a keen golfer, said: "I expect that Island Kaddy is sure to be popular with our seasoned or novice golf players." Mr Dunkley, who was accompanied by his wife Pamela, added: "It was also very encouraging to see such an innovative business open its doors, which demonstrates to us that there is strong, entrepreneurial confidence in our community." Island Kaddy, which opened on Front Street two years ago, moved into its new and larger premises, the former headquarters of broadcaster VSB, last month. The store, owned by husband and wife team Anne Marie and Ian Forbes, both top amateur golfers and golf professional Scott Roy, features top brands and electronic gadgets. The stock includes GolfBuddy and GPS, as well clothing brands and kit for men, women and children from designers like J Linberg, Greg Norman and Nike and electric golf trolleys from Powakaddy.
May 3. Roland Lines went out to sea to look for some of the biggest animals in the ocean but ended up finding some of the smallest. Mr Lines was out whale watching on Challenger Bank with his friends Camilla Stringer and Rachel van de Weg on Saturday but despite the flat calm conditions that make it easier to spot the leviathans, they did not make an appearance in the area. However, Mr Lines did get a natural encounter on a much smaller scale. He spotted some plastic trash floating in the sea and, as per his usual routine, he headed over to collect it so it could be properly disposed of back on land. The good deed paid off because as he approached the debris, his crewmate Ms Stringer spotted a couple of juvenile flying fish in the floating sargassum weed. Mr Lines told The Royal Gazette: "We were out whale watching but I got my bucket and some nets because it is fun looking for little ocean critters, since the last time we went whale watching we never got a good fluke ID. It was a calm day and we wanted to see what else we could find out there. Then we found these flying fish under a raft of sargassum seaweed — I had never seen a sargassum fish before. We grabbed my net, I backed up and Camilla netted it and put it in the bucket. We took some photos and carefully put it back in the sea. It was a very nice surprise. We got them there swimming in the open ocean. We also saw a jellyfish-like critter — it was about 3mm across — that we have not identified yet."
May 3. A 28-year-old gang member will spend the next 25 years behind bars for the "senseless, heartless and useless" murder of wheelchair-bound Lorenzo Stovell. Travone Saltus opened fire at Mr Stovell as he sat in a minibus close to Woody's in Sandys in September 2012 to earn respect and "street cred" within the MOB gang. Yesterday, Saltus was jailed for life by Puisne Judge Carlisle Greaves at Supreme Court and told he would serve a minimum of 25 years in prison before he could even apply for parole. "Here we are in Bermuda faced again with another tragic, senseless, heartless, useless killing," Mr Justice Greaves said. "It seems that the hearts of men have hardened cold. These courts can only do what they have to do and hope the hearts of men warm again. Despite his condition, you found no sympathy for the victim, and with the assistance of your cohorts from the MOB gang, carried out this brutal shooting and murder." A jury found Saltus guilty of murder and using a firearm to commit murder after a two-week trial earlier this year. During that trial the court heard that Mr Stovell, 24, had been seriously injured in a previous shooting and left in a wheelchair. On the evening of September 23, 2012, he joined family and friends on a "pub crawl" around the island on a minibus. He was shot four times as he tried to lunge for cover in the minibus and died within a minute or two of the shooting. Witness Troy Harris told investigating detectives that Saltus had confessed to him that he had shot Mr Stovell just a few months after the murder. Harris, who is now serving a prison sentence in England for assaulting a female, told police that Saltus had done it for "street cred" so that people wouldn't talk down to him. Saltus never took the stand to give his version of events, nor did he say anything at his sentencing hearing yesterday. A victim impact statement written by Mr Stovell's sister, Laurie Stovell, was read out in court by prosecutor Kenlyn Swan. She described how her brother's death had left her and her family devastated and "broken-hearted. Lorenzo was determined to walk again. (On the day of his death) I pleaded with Wa-wa (Mr Stovell) at Social Club to get off the bus as it was not safe for him to go to Woody's. He refused to get off and stated the only thing they could do was kill him; they are words that I will never ever forget. The trial process resurfaced all the pain I felt on September 23, 2012. I still have no emotions towards the verdict. I do not get my brother back, now another family has to feel similar pain. No one wins in this situation." Detective Superintendent Sean Field-Lament, with the Bermuda Police Service, said the sentence sends a "clear and unequivocal message". It stemmed, he said, from the efforts of investigators and prosecutors, as well as members of the community and "the courage of witnesses. Despite this significant result, the BPS is mindful of the sobering fact that a life was tragically lost and another will now spend a considerable amount of time behind bars," Mr Field-Lament said. "On behalf of the BPS, I would like to express our sincere condolences to the family and friends of Lorenzo Stovell and hope that this outcome brings some closure."
May 3. All electric minicars could be available for rent at the Hamilton Princess from as early as the weekend. The news came as Current Vehicles handed over the first of 25 two-seater Renault Twizys to the hotel. "It's about giving our visitors what they want — the chance to explore Bermuda on their own, meet locals and experience our way of life," said Piers Carr, chief executive officer of Current Vehicles. He quit a job as a broker in the reinsurance industry to launch Current Vehicles. "I saw a great opportunity to help our visitors get around the island and we're very much behind pushing any electric vehicle we can because it's a necessity for Bermuda going forward." Now the vehicles will be introduced at the Hamilton Princess before going to smaller hotels, guesthouses and Airbnb properties across the island. The Hamilton Princess will have 25 of the vehicles, expected to rent at around $79 per day, compared to about $66 for a livery cycle, and Mr Carr said another 25 were en route to Bermuda. Mr Carr said: "Having spent enough time here, you see the demand for something a little safer — scooters are not for everyone. The Twizy keeps you dry, it's electric and it's just safer. It's about improving safety. We can brand them and it will be beneficial to Bermuda — people will take pictures of them and upload them to social media and that's a great way of getting our name out there as well as Bermuda's." Mr Carr said the booking process can be carried out online, with confirmation including safety information, Bermuda rules of the road, parking regulations and how to charge the vehicles and operate them safely. "Before tourists even land here they are initiated in the best ways of using our roads. We have had a great response from the public looking to rent these vehicles, but this is strictly a tourism initiative." He added the Twizy, launched in 2012 and a bestseller in Europe, had "a great track record. It's used by the police service in some countries — it's reliable. The fire department have a few in Dubai." One is now on display in the lobby at the Hamilton Princess. Allan Federer, general manager of the hotel, said: "Many of us in the hospitality industry, as well as many tourists to the island, have been waiting for this moment for a long time. The launch of this new service marks a new era in transportation for tourists. I would even go as far as to say that the launch of Twizy will be a game changer for tourism. It is incredibly important that we introduce these to meet the demands of our guests. Having these four wheel vehicles available will increase interest not only in the hotel, but across Bermuda as a whole. This new service coincides with continued efforts to offer a world class tourist experience in Bermuda. As one of the last tourist destinations to introduce a rental car option, this positions Bermuda well to continue to answer the needs of today's travelers." Chargers and special parking places will be available in the parking area at the Princess, with recharges included in the rental price. Twizys recharge in three hours and have a range of more than 80km, making all parts of the island accessible on a single charge. The car, designed by Renault's Formula 1 team, has seatbelts, a driver airbag, side impact protection bars and a special tubular chassis for rigidity. The vehicles are expected to be cleared for road use within the next few days.
May 2. The Bermuda Casino Gaming Commission has unveiled five Bermudians who will lead the Problem Gaming Council. Former deputy head of the civil service Judith Hall Bean will lead the council as chairman. She will be joined by Ernest Peets Jr, Sharon Apopa, Kevin Monkman and Kathleen Keane. Dr Peets is a long-serving family therapist and counselor, Dr Apopa is the executive director of the Mid-Atlantic Wellness Institute, while Mr Monkman was a long-serving civil servant. Mrs Keane, a retired lawyer, will serve as Secretary for the council. Richard Schuetz, the executive director of Bermuda Casino Gaming Commission, said that Ms Hall-Bean would provide the council with a "wealth of public service management experience", stressing the importance of the council's role. "One of our primary goals, since the inception of the Commission in 2015, has been to ensure that a Problem Gaming Council was established well before the opening of any casino on the island," he said. "We are pleased to have finally reached this stage in our progress, as it signals we are ready to move full steam ahead with gaming — and are doing our part to create a strong and successful gaming industry in Bermuda. Most importantly, we are proud with the abundance of talent, skill and experience that each of these council members brings to the table. They will ensure that no stone is left unturned when it comes to problem gambling and minimizing as much risk as possible to the people of Bermuda." The council will be tasked with ensuring that casino operators and employees are fully trained about problem gaming, making sure that treatment providers have the resources they require and working to make sure the public is aware of the risks of problem gaming and how to seek help. The Commission is still in the process of recruiting a Director of Problem and Responsible Gaming, who will be appointed on the advice of the council and serve as the conduit between the commission and the council. Their duties will also include overseeing the accreditation process for treatment providers, managing a gambling hotline and a self-exclusion list and community outreach.
May 2. Hundreds of people marched through Hamilton after leading figures appeared in Supreme Court in connection with the December 2 demonstrations yesterday. About 300 marchers rallied outside the Dame Lois Browne-Evans building, where Bermuda Industrial Union president Chris Furbert and the Reverend Nicholas Tweed of the People's Campaign were among the ten defendants facing charges earlier in the day. Bermuda Trade Union Congress leader Jason Hayward had started the rally by telling the crowd the authorities were refusing to release the defendants, leading to chants of "Let them out" outside the court building. Mr Furbert later clarified they were merely kept inside as a matter of protocol, with a well-placed source saying they were being processed by the court clerk after their hearings were adjourned. During a demonstration which lasted about two hours, marchers also walked through Front Street, where businessman Rick Olson became the subject of chants in relation to his controversial Facebook post of last month. The march, organised by the BTUC to mark May Day, began at Victoria Park at noon, after the ten defendants made brief appearances at the Supreme Court arraignments session. Mr Hayward told the crowd: "They refuse to let them out. As a result we will start the march outside the court." Asked for clarification on this point by The Royal Gazette, Mr Hayward said he did not know why they were being held or whether they were still inside due to protocol. Marchers gathered outside the court building, chanting "We shall not be moved" and calling for the release of the defendants, with one member of the crowd saying: "We are not leaving until they let them out. They are just trying to rile people up." Defendants could be seen from inside the building, fists raised while the crowd cheered. Prominent BPSU member Linda Mienzer, who addressed the marchers in the park to say the defendants were detained, told this newspaper: "I am here as a worker, and I support all events that support workers." By 12.45pm, the defendants had emerged from court to loud applause. Asked by this newspaper whether they were kept inside for any reason other than protocol, Mr Furbert replied: "Protocol." Mr Hayward then explained to the crowd that the defendants were going to BIU headquarters, saying: "I understand it's been a stressful morning. They need a minute to regroup." Marchers headed to Front Street singing "No to racism" and "Solidarity for ever, our union makes us strong". In reference to the two Front Street businesses owned by Mr Olson, they chanted: "Boycott Rick." After returning to Victoria Park, Mr Hayward reflected on the history of May Day, adding: "Why are our brothers and sisters before the courts this morning? The struggle is real. The OBA government is an enemy of the workers; they waged a war against workers in this country. The OBA have failed to address education in this country. The OBA has failed to address workforce development in this country. The OBA has failed to address the ageing population that are in need of affordable healthcare." Responding in a statement, OBA chairwoman Lynne Woolridge said: "Four years ago the OBA inherited an economy in shambles. Today the construction industry is thriving with developments from St George's to Dockyard. Tourism numbers are skyrocketing. Opportunities for Bermudians are opening in every sector of the economy and jobs are being created. Confidence in Government's fiscal management has been restored as Bermuda is on track towards a balanced budget by 2020. The result being an economic revival that benefits every Bermudian worker and their families. Not just May Day but every day. The OBA is focused on moving Bermuda and Bermudians forward together, not going back to the failed policies of the past." Mr Hayward urged the crowd to return for the next group of defendants, due to appear in court tomorrow at 2.30pm. Police maintained a presence throughout yesterday's proceedings, with vehicles parked outside court and on adjoining roads.
May 2. The first day in May will always be "our official Labour Day", union leader Jason Hayward told hundreds of marchers yesterday. About 300 workers had responded to a May Day rallying cry from the Bermuda Trade Union Congress by showing up at Victoria Park before marching through Hamilton throughout the afternoon. Bermuda's Labour Day celebrations take place in September, but last week the BTUC issued a call for support on May Day, claiming it was "ironic" that union leaders faced court charges on International Workers' Day. Mr Hayward, who succeeded Chris Furbert as president of the BTUC last month and is also president of the Bermuda Public Service Union, led the march. Addressing the crowd at Victoria Park, he said that regardless of the "powers that be" instituting Labour Day in September, "May 1 will always be International Workers' Day and our official Labour Day". International Workers' Day, or May Day, commemorates the 1886 Haymarket Massacre in Chicago — a peaceful workers' demonstration that erupted into violence — and represents the historic struggle of working people throughout the world. Mr Hayward said: "A hundred years later, the workers are still under attack. In 1982, with much pressure from the PLP, the UBP established the first holiday. For years we pushed for a May 1 holiday but the powers that be voted in our best interests to align with the US holiday in September. Whatever day they chose to select, May 1 will always be International Workers' Day and our official Labour Day." May Day is not recognized in the United States, Canada, and South Africa. Last year in Bermuda, the BTUC marked May Day with a symposium discussing the topic "What is a Living Wage?"; in 2015, the union held a rally outside City Hall; in 2014, the People's Campaign organised a May Day rally and march on Parliament. Opposition leader David Burt, who was present at the march yesterday, said that it was important for his party to support labour values. "The union partners have organised something and we support the unions. The PLP is a labour party and from that perspective, as I said inside of our Throne Speech Reply, we are born out of the labour movement and we will continue to support the unions and to support the aims and objectives of organised labour, for equality, fairness and justice — all things that a modern democracy requires. I think there are very large issues that the unions have brought up, especially when we are talking about income and inequality. On the day of International Workers' Day, when there are people celebrating this day around, the world I think it is particularly important."
May 2. The Immigration Reform Working Group is working with Government to collect data after a lack of available information slowed progress. Delivering an update on the group's work, chairman William Madeiros said that after a year of discussions, forums and submissions, calls for data about mixed status families in Bermuda were a "constant theme. All members take their responsibilities seriously and remain focused on making recommendations to the Government," he said. "No one expected to be working on these matters a year after we commenced. The group has spent hundreds of hours in deliberations, spoken to many outside agencies, studied numerous submissions and hosted ten productive public forums. To progress further, however, we need reliable data in order to make fair, well-conceived and multi-generational legislative proposals to the Government. The call for such information was a consistent theme during the many public meetings held last year. In the absence of relevant information being readily available, we are now developing, with Government assistance, a means to collect critically important data on mixed status families. Once collected, we will be able to advance our deliberations and come back to the public for its review and assessment. We have been challenged on our timeline, process and progress by some in the community. Our position is clear: we will examine the issues carefully, engage the public and arrive at informed positions on the issues at hand. Our mandate is to get the proposals right — inclusive of public consultation — and we know that Bermuda will allow us the necessary time to do so." Mr Madeiros said the group reports to Michael Dunkley, the Premier, through the Minister of Home Affairs, the Immigration Reform Action Group and the Bermuda Industrial Union, and has been regularly reporting on its deliberations to those parties, along with the Bermuda Public Services Union and the People's Campaign. The working group was formed in the wake of a week of protest outside the House of Assembly over proposed "Pathways to Status" legislation. Last June, the group presented its recommendations on adoption cases, and has since been working to examine the issue of mixed status families on the island.
May 2. Bermuda's first electric microcars were yesterday unveiled at the Hamilton Princess. The hotel will be the first on the island to offer its guests the French two-seater Renault Twizy as an alternative to the traditional scooter. A total of 25 cars will be available at the Princess, supplied by new company Current Vehicles, which has also supplied Twizys to the Groupama Team France America's Cup team. Allan Federer, general manager of the Hamilton Princess and Beach Club, said: "We are thrilled to be able to offer this new amenity. "Our aim is to provide our guests with the best amenities possible during their stay on the island. However, transportation has been a challenge for those who are not comfortable riding a scooter. Twizy allows all of our guests to explore the island on their own. We think it is a superb addition to the hotel and to Bermuda." John-Paul Doughty, director of operations at Current Vehicles, added: "We are excited to offer visitors the safest, greenest, and most enjoyable way to travel around Bermuda. These vehicles are safe and accessible and a good choice for those who are not comfortable on a scooter, but still want the freedom to explore the island on their own itinerary. And they are a lot of fun to drive." The cars, which boast seatbelts, an airbag and side impact protection, can be booked online and Current Vehicles have installed charging stations at the Princess and Beach Club.
May 2. A former Bermuda Police officer's medals which he won for bravery during the Belco riots have gone on public sale. Inspector Robert Ball won the Colonial Police Medal for Gallantry for his actions on February 2, 1965 when he tried to help a colleague who was being attacked by protesters. Inspector Ball ended up being attacked during the course of his actions and sustained serious injuries himself. Last week his gallantry medal, a Colonial Police Long Service Medal that he was given for 25 years in the Bermuda Police Service and other medals he won while serving in the military, went on sale on a global medal auction site. The asking price for the collection of Inspector Ball's medals is £3,500. Inspector Ball was one of four men of the Bermuda Police Service awarded the Colonial Police Medal for Gallantry in February 1965; the other three were PC Ian Davies, PC Michael Caulkett and PC Andrew Bermingham.
May 2. A 49-year-old man has admitted removing nearly $40,000 in criminal proceeds from Bermuda. Abdullah-Hasain Ali Virgil also pleaded guilty to converting $196,000 from Bermudian dollars to US currency and also possessing a further $10,000 in criminal property when he appeared at Supreme Court arraignments yesterday. The offences took place between April 2013 and August 2016. Virgil, of Pembroke, was remanded in custody until a sentencing date is set. Puisne Judge Carlisle Greaves ordered that pre-sentence reports should be completed before Virgil was sentenced. Meanwhile, in an unrelated case, Harry Lightbourn denied trying to smuggle cannabis and cannabis resin into Bermuda on March 17, last year. Mr Lightbourne, 55, of Southampton, denied two charges of importing a controlled drug and two charges of possessing a controlled drug with intent to supply. He was released on bail and will stand trial on July 17. Finally, in a third case, Chae Foggo pleaded not guilty to threatening to murder a woman in a phone message. Mr Foggo, 29, of St George's, was released on bail and is expected to stand trial later this year.
May 1. Motorists in St George's are warned of traffic delays and noise as Aecon begins preparing for the construction of a new airport terminal. Workers will unload materials at Penno's Wharf and truck them to the airport site, from tomorrow until Sunday, according to a press release. Fifteen trucks will operate over a 15-hour period, between 7am and 10pm, throughout the six days. A statement from Aecon said: "We expect this to affect traffic flow and we encourage people travelling to and from St George's to allow extra time for travel. This may also impact noise levels. We apologise in advance for any inconvenience caused." For further information, call Skyport on 293-2470.
May 1. Insurer and reinsurer Argo is to change its financial reporting — with just two segments, US and international. The change replaces the four reporting segments formerly used, with US figures now including excess and surplus and commercial specialty, while international figures will include the former Syndicate 1200, international specialty and Ariel Re. The new reporting method will take effect when the firm's first quarter results are released later this week. Mark Watson, Argo Group CEO, said: "This is an important step better reflecting the way we are managing our businesses and thinking about our operating platforms. Argo had made important enhancements with the addition of Jose Hernandez to lead its international business and the acquisition of reinsurer Ariel Re earlier this year. These recent additions, combined with the consolidation of our US operations under the leadership of Kevin Rehnberg, allows us to make this change. With these additions and operational changes, we are better positioned as a global underwriter of specialty insurance and reinsurance products."
May 1. Students finishing their studies at Warwick Academy were given a grand send-off by their peers and staff as part of a new tradition. On the last day of school, as part of their valedictory ceremony, school leavers were greeted by other students as part of the celebrations. The aim is to also encourage school leavers to continue their involvement in the school after they have left. Warwick Academy principal Dave Horan said: "The tradition started last year and was a huge success. We wanted to create a memory for the students that are leaving and create a link between being a student and being an alumni. "We would like to see our students play an important role in school life in the future whether its offering students career advice, providing connections, sitting on the board or donating — we want that connection. We have 353 years of history here. We thought it would be nice for the students to walk across the court, have a photograph and walk through the tunnel so when they leave school, it is a process. We line the corridors and the cloisters with the students and they cheer them along then we go up to Fourways and we do a sit-down lunch — Alumni Association sponsors the lunch and we give them a goodbye." Year 13 students at Warwick Academy have been accepted into a variety of colleges and universities in Canada, the UK and USA, ranging from Cambridge and Durham in the UK to Queens and UBC in Canada and Brown and College of Charleston in the USA. The students are pursuing a wide variety of courses including computer science, archaeology, architecture, engineering, product design and occupational therapy. Zach Myers is a first for Warwick Academy as he has a conditional acceptance directly into Kings College Cambridge University in England for English while Hannah Marshal has unconditional offers to both Ivy League Brown University and Stanford and has chosen Stanford in California to study Chemistry.
May 1. Asthma hospital admissions have fallen by 76 per cent since Open Airways began its education programme two decades ago. But the condition remains the leading cause for trips to the emergency room, with a total of 1,871 visits last year telling the charity that asthma management failed in those cases. As the organisation gears up to mark World Asthma Day tomorrow, co-founder Liz Boden stressed the need for people with asthma to take control and learn how to manage their condition. "Probably 50 per cent of the people who have got a prevention inhaler don't take it," the asthma nurse and educator told The Royal Gazette. "They take it only when they get asthma. So that's like getting a toothbrush out when you've got a toothache. The prevention is like brushing your teeth, it's every day." According to Mrs Boden, one in five school-age children in Bermuda have asthma, compared to one in ten in the US and one in 11 in the UK. And while she said the exact reason is unclear, asthma is usually genetic "and it is pretty hard to find a family in Bermuda where no one has asthma. Asthma is the number one reason for people visiting emergency with 1,871 in the last year, next is chest pain with 934 — so we have a big lead. Another 706 went to emergency with upper respiratory infections and 483 with pneumonia, so you can see how many are respiratory." She said infection was the leading cause for asthma sufferers visiting the hospital, with some attending the emergency department more than twenty times a year. "Every visit tells us we failed basically," Mrs Boden said. "We have failed you because you should know how to manipulate your dose." Asthma is a potentially life-threatening disease that affects people of all ages, although it is most common in childhood and among women in their thirties. People with the condition have inflamed airways, which leads to the airways swelling and they tend to react strongly to certain inhaled substances. When the airways react, the muscles around them tighten, narrowing the airways and causing less air to flow into the lungs. The cells can also make mucus, causing further narrowing. This chain reaction can lead to symptoms including coughing, chest tightness, wheezing — a whistling or squeaky sound while breathing — and shortness of breath. Put simply, Mrs Boden said asthma means you have "sensitive" airways. But she stressed that asthma is different for everyone and triggers vary from person to person. These can include dust mites, stuffed toys, pollen and grass, mould, pets, sprays and perfumes, air pollution and colds. Mrs Boden added: "Asthma is common, disabling, distressing, potentially life-threatening and treatable! No one need suffer with asthma." She said the key to getting control of the condition is learning how to manage it with an asthma action plan. "The asthma action plan is telling you how to fine-tune your treatment. It's not complicated but it has to be personalized. It's not something where one size fits all. Everyone must know how to fine-tune their treatment, as soon as they have symptoms or when they know they may get symptoms, for example if they are getting a cold or visiting grandma who has a cat." She also stressed the importance of understanding which inhaler prevents asthma and which one relieves the symptoms and how to use them correctly. "The Ventolin only works on the tight muscles from the outside. It doesn't stop the swelling. If people keep using this, it opens it up, that let's more triggers in. It wears off, you use it again, more go in and then because you've used it so much, you kind of train them to keep twitching. The standard now is if you use it more than twice a week you have poor control. This is not the treatment for asthma — this is just the rescue, the reliever. Good control means I'm not using this at all. The prevention inhaler, which is often orange or brown, have to be taken." She said many people only start taking their prevention inhaler again when they feel like they are getting a cold. Mrs Boden said this is too late because it can take up to two weeks to start working. Open Airways will join 80 countries around the world to mark World Asthma Day tomorrow and health professionals will be on hand to help teach people when and how to effectively use their inhalers, which they are encouraged to bring along. The organisation will also be giving away 100 pillows to the first 100 people who come for asthma education as part of the Pillows for Prevention programme.
May 1. Ten people appeared at Supreme Court arraignments yesterday in connection with the December 2 protest outside the House of Assembly. The group, which included Bermuda Industrial Union president Chris Furbert and the Reverend Nicholas Tweed of the People's Campaign, did not enter pleas before Puisne Judge Carlisle Greaves. The case was adjourned until Friday, May 26, at 2.30pm. In the meantime, all defendants have been released on bail. Arnold Smith, 57, and Alafia Toriano Henry, 41, are accused of interfering with ministers' access to the House of Assembly. Anthony Burgess, 52, Chris Furbert Junior, 38, and David Saltus, 57, are accused of interfering with ministers' access to the House of Assembly and obstructing police. Meanwhile, Mr Furbert, Mr Tweed, BIU organizer Glen Simmons, Lily May Bulford and Neville Goddard are accused of interfering with ministers' access to the House of Assembly and obstructing police. All defendants had previously denied all charges at Magistrates' Court. Scores of supporters dressed in red attended the monthly arraignments session at the Dame Lois Browne-Evans building. Among those in the packed public gallery were Progressive Labour Party MPs Zane DeSilva, Wayne Furbert and Derrick Burgess. A small crowd had gathered outside the court building yesterday morning. More defendants are due to appear at the Dame Lois Browne-Evans building tomorrow.
May 1. Two local teachers have turned the imminent America's Cup into a platform for youngsters to learn about Bermuda — and now want to share their package of lessons with the island's educators. The result is Let's Sail Away! Bermuda's Sailing History from the Sea Venture to the America's Cup. "We looked at the America's Cup and thought what a hands-on teachable moment we could create," said Lindsey Sirju of the Bermuda Centre for Creative Learning, who teamed up with Tina Harris, the head of the primary department at the Bermuda High School. Added Ms Harris: "There's no way you can pass up an opportunity as educators for something this huge in Bermuda." The two got together and started writing about Bermuda, basing their units on the international primary curriculum, which both schools use. "I love teaching IPC," Ms Sirju said. The format covers a swath of subjects at once, immersing children in the topic, and is geared towards youngsters learning about their home country. One lesson might incorporate science and history, while another weaves together art, English and music. "You transform not only how kids think about it, but you transform the space they work in by decorating it with the things they create." IPC also encourages children to go out and learn from places in the community, from the Masterworks Museum of Bermuda Art to the replica of the Deliverance in St George. The lessons are flexible, easy for teachers to adjust for their classrooms and the ages of their learners, and driven towards "inquiring-based learning", the two said. "Within it there are research projects, with the students given opportunities to choose the subjects they would like to explore," Ms Harris said. Lessons range from the menus for sailors to learning sea chanteys, knots and the maritime trades of early Bermuda such as whaling and piracy, and an America's Cup "boot camp" for physical education. The illustrated book provides everything from lesson plans and the hyperlinks to further resources, and even a pre-written letter for teachers to provide to parents.
May 1. Fentanyl is suspected in two overdoses treated at King Edward VII Memorial Hospital last week, a Bermuda Hospitals Board representative has confirmed. The drug — a synthetic opioid 50 to 100 times more powerful than morphine — is often used to cut heroin and can be fatal even in very small doses. Its arrival on the island has prompted warnings from health, law enforcement and government representatives alike. "BHB can confirm that it has treated two highly suspect overdoses of fentanyl in the last week," a spokesperson said in a statement provided on Friday. While believed to be fentanyl related, the hospital was not able to confirm the drug was responsible. "Work is under way to have on-island testing for this drug, but at this time we only have off-island testing options available," the spokesperson said. No timeline was provided on when test results were expected. Confirmation from the hospital comes following a media report last week that multiple inmates at Westgate Correctional Facility had suffered overdoses thought to be caused by the drug. On Friday, a well-placed source said that multiple inmates had overdosed at the prison sometime last week. The source, who spoke with The Royal Gazette on the condition of anonymity, also provided the name of one of the inmates. Due to confidentiality rules, the hospital was not able to provide any details on the two patients. Lieutenant-Colonel Edward Lamb, Commissioner of Corrections, confirmed to The Royal Gazette that a "number of inmates" were taken to hospital for treatment "for a variety of reasons. All of the inmates are safely back in Westgate," he said on Sunday. Senator Jeff Baron, Minister of National Security, had been "fully briefed" regarding the treatment of several Westgate inmates, a statement provided by the Ministry yesterday said. "The Minister continues to be kept abreast of any developments regarding this matter."
May 1. A collection of classic Bermuda notes — including a series of specimens never publicly released — will go on display this month. Peter and Linda Adderley are preparing to display their "Adderley Collection" of Bermudian currency around the island, starting with Fourways Inn, to highlight a small but notable part of local history. Among the more than 300 notes are everything from the common pound, shilling and dollar notes to rarities. Mr Adderley said: "It's a part of our history. If these notes could talk, they would tell a lot of stories. I thought it would be a shame to have such a collection and not let the youth of Bermuda or the wider community see this part of Bermuda's heritage. I love Bermuda notes, and we have some beautiful currency. The new currency has nothing on the old currency. It was really, really nice. You see the City of Hamilton and other places in Bermuda, Bermuda's heritage, whereas today you have fish and all that." Mr Adderley said that currency is just one of the items he collects, noting that over the years he has also amassed art, stamps and other antique items. However, he said that old Bermuda currency has always had a place in his heart. "My favourite would be the Bermuda notes," he said. "It would be the 1941 King George £5 notes. I have binders of currency from other nations, but Bermudian notes are a part of my heritage. It's where I'm from, money I used to use years and years ago. I know I used to sometimes spend my pennies buying candy. I find Bermuda's currency very unique. I enjoy collecting Bermuda currency. I get excited, because not too many people have it." He said that Bermudian currency is of high demand for collectors, in part due to the island's small size leading to bills being comparatively rare. "What brings demand to these things is supply and demand. The less supply, the more demand, and the more people are after it," he said. "These notes are sought-after all over the world. I go on websites and I see people from China, Singapore, Thailand, all looking for these notes." However, he was hesitant to estimate how much the bills would be worth, saying: "It's only ever worth what someone is willing to pay for it." While the collection is first set to go on display at Fourways Inn on May 7, he said it may later come to the island's hotels to give visitors a glimpse of Bermuda's past. "It took a lot of time, effort and expense to accumulate this, and I want other people to be able to appreciate it," he said.
May 1. Beachgoers are being warned to keep an eye out while enjoying the weather as Portuguese man o' war have made an unwelcome arrival. The bluish, balloon-like organisms, often mistaken for jellyfish, have been washing up on the island's beaches in increased numbers this week, with one member of the public counting 84 on Horseshoe Bay on Thursday afternoon. A spokeswoman for the Ministry of the Environment called on the public to take extreme care while in or near the ocean, noting the organism's painful sting. "Portuguese man o' war can be identified by their bluish, gas-filled float on top of the water," the spokeswoman said. "Their tentacles drift below the surface of the water and often they are difficult to see. These tentacles cause extremely painful stings. Stay away and do not touch these jellyfish even if they are on land as the tentacles can still be very venomous." Those who do suffer stings are advised to carefully remove tentacles without using bare hands to prevent further stings. The affected area should then be treated with seawater to flush away any remaining tentacles. To treat the pain, hot packs or hot water should be used for up to 30 minutes, followed by burn ointment and a light dressing. Pain relief medication can also be used. March to June are considered the peak month for Portuguese man o' war stings on the island, with the animals often being washed ashore after a storm or period of strong winds. While often referred to as jellyfish, man o' war are actually siphonophore — a floating colony of specialized individual animals called zooids or polyps. Each of these organisms are bound together so they require each other for survival. The organisms usually float on the open ocean, using the venom in their dangling tentacles to paralyze their prey. While individual stings can result in red welts on the skin that linger for up to three days and pain for several hours, larger numbers of stings can result in more serious issues.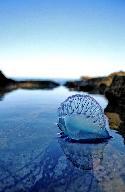 See above story
May 1. Scott "Skitchy" Barnes had to draw upon all of his experience to fend off a charging Austin Riley to win the 125cc Shifter class final at the Dockyard Grand Prix yesterday. Barnes, the Bermuda Karting Club president, withstood some fearsome pressure for the entire 14 laps of the Clocktower Mall circuit as Canadian Riley ensured there were plenty of thrills during the main event. For Barnes it was his second victory of the day, having won the Tag Senior class, and his first chequered flag in the shifters at a local Grand Prix since the maiden Dockyard street race in 2013. Barnes said that teenager Riley — a growing star and poster boy for autism — gave him a "run for my money" and admits he was close to surrendering his lead on a few occasions. "Austin is really fast and I felt him the whole race," said Barnes, who led from start to finish after qualifying in pole position. "I just had to hold my line and it was definitely a tough race. About halfway through my motor spluttered coming out of turn four and he got alongside me and we went down the whole straight pretty much side by side. We both held our line and I managed to get to turn one in front — I thought I was a goner there!" Barnes, who won all eight of his outings during the two-day event, which included practice races and heats, believes that Riley has a bright future in the sport and offered an interesting dynamic to the event. "Austin is only 17 years old and has been racing all around the world, raising awareness about autism, and it was definitely a big win," Barnes added. Barnes, 31, suffered a setback in the morning's practice, splitting his engine mount, and had to borrow parts from rival racer David Barbosa. "I hit a bump and my engine mount totally cracked in half," Barnes said. "Dave was good enough to lend me his back-up and that's real good sportsmanship." Riley, who had autism diagnosed at 14, has raced in England and Australia, his tours including presentations to schools about his condition which affects social interaction and communication. He finished a close second behind Barnes with Shannon Caisey in third. "It was probably the most challenging race weekend I've ever experienced," said Riley, whose car suffered problems the previous day, his team having to borrow a piston and front mount from fellow competitors. "It was a very, very tough battle and I thought I was going to have him, but I just couldn't get past. [Barnes] has some skill behind the wheel and managed to close the door on me — if he didn't I would have had the win." Barnes was also made to work in the Tag Senior final, finishing ahead of Barbosa in second and Bilal Binns in third. In the Cadet class, Jamie Newton — the son of Oracle Team USA sailor Joey Newton — claimed victory, with Nile Bean runner-up and Jacob Hines completing the podium. Nick Narraway won the Tag Junior in a race that Ryan Burgess walked away unharmed from a nasty crash, his car suffering significant damage. Canadian Rob Howden, from eKartingNews.com — the biggest karting website in the world — took the honours in the LO206 class, finishing ahead of second-place Jonathan Howes and AJ Durham in third. Howden, who also announced the races, said he became friends with Barnes after they met at the Rock Island Grand Prix in Illinois. "Scott has always said, 'You've got to come and race at our club', but my schedule is always so busy," Howden said. "He called in February and said, 'We'd love you to come' and I looked at my schedule and I actually had an open weekend. "I said, 'You know what, this year I'm doing it, I'm coming' and I've had such a great time. I do a lot of street races up and down the US and the passion and dedication of the Bermuda Karting Club is amazing. The track was super-fun; it wasn't overly technical but you couldn't afford to make any mistakes otherwise you'd lose position."


Last Updated: May 27, 2017.
Multi-national © 2017 by Bermuda Online. All Rights Reserved.