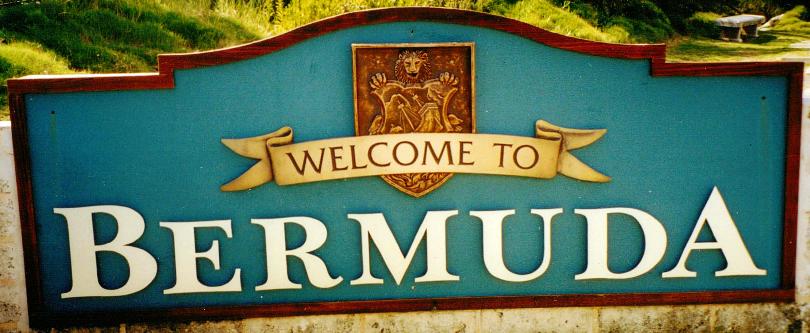 Click on graphic above to navigate the 165+ web files on this website, a regularly updated Gazetteer, an in-depth description of our island's internally self-governing British Overseas Territory 900 miles north of the Caribbean, 600 miles east of North Carolina, USA. With accommodation options, airlines, airport, actors, actresses, aviation, banks, beaches, Bermuda Dollar, Bermuda Government, Bermuda-incorporated businesses and companies including insurers and reinsurers, Bermudians, books and publications, bridges and causeway, charities, churches, citizenship by Status, City of Hamilton, commerce, communities, credit cards, cruise ships, cuisine, currency, disability accessibility, Devonshire Parish, districts, Dockyard, economy, education, employers, employment, environment, executorships, fauna, ferries, flora, former military bases, forts, gardens, geography, getting around, golf, guest houses, highways, history, historic properties, Hamilton, House of Assembly, housing, hotels, immigration, import duties, internet access, islands, laws, legal system and legislators, main roads, marriages, media, members of parliament, money, motor vehicles, municipalities, music and musicians, newcomers, newspaper, media, organizations, parks, parishes, Paget, Pembroke, performing artists, residents, pensions, political parties, postage stamps, public holidays, public transportation, railway trail, real estate, registries of aircraft and ships, religions, Royal Naval Dockyard, Sandys, senior citizens, Smith's, Somerset Village, Southampton, St. David's Island, St George's, Spanish Point, Spittal Pond, sports, taxes, telecommunications, time zone, traditions, tourism, Town of St. George, Tucker's Town, utilities, water sports, Warwick, weather, wildlife, work permits.

Bermuda's 2016 June History and News
Events that made the newspaper headlines in the sixth month of the calendar year
By Keith Archibald Forbes (see About Us).

See end of this file for all of our many History files
Bermuda's Royal Gazette newspaper is not published on Sundays or Public Holidays.
June 30. The Hamilton Princess has completed its $100 million renovation project, including a new spa set to open on July 5. Allan Federer, general manager at the hotel, said: "It looks like a completely new hotel compared to three years ago. The vision always has been to take full advantage of where we are located, next to the beautiful harbour, and to create a luxury destination that will compete with many leading resorts around the globe. To that end, the renovations have been a great success. We are proud of our new modern look and outstanding facilities. As the official hotel sponsor of the America's Cup, we know that the coming year will be an important time for Bermuda tourism and we look forward to welcoming business and leisure travelers as well as the community to enjoy their time here." The final stage of the renovations includes the new Exhale spa, which will feature nine treatment rooms and offer massages, facials, manicures and pedicures when it opens next month. The project also shows a new, brighter retail corridor with upscale shopping options including FH Boutique and RESORT Boutique, Astwood Dickinson, the official America's Cup store and the Sunglass Shop. Meanwhile, a new balcony has been installed for the Trudeau Ballroom, offering those who rent the space a 2,000 square foot outdoor terrace, and 11 suites in the Fairmont Gold wing have been renovated to include balconies overlooking the harbour. Previous stages of the three-year project have included renovated rooms, a new marina, two additional restaurants, new pool facilities and a collection of art, including works by Andy Warhol, Banksy and Damien Hurst. Mr Federer said that the guests had been excited by the new facilities, saying that the new guest rooms were long overdue. "We are getting happy feedback," he said, adding that the hotel is hoping to attract a new generation of return visitors. Michael Fahy, the Minister of Tourism, Transport and Municipalities, praised the Green family, who own the hotel, for their commitment to the project and the island, noting that the work was announced before Bermuda secured the America's Cup. "All you need to do is look around the fantastic facilities to see that their vision has become a success," he said. Asked about the recent announcement that the hotel had been named a "designated site" for potential casino development, Mr Federer said he looked forward to working with the Bermuda Casino Gaming Commission on the next steps. Sen Fahy, meanwhile, added that new legislation would be introduced to create a "prospective licence" system to assist hoteliers with integrated casino projects. "That is coming and no doubt that will assist the Hamilton Princess and others as they proceed," he said.
June 29. The Bermuda Tourism Authority has hired a local firm to manage the search for a new chief executive officer. Performance Solutions was selected after a "open and competitive Request for Proposals" process to choose a suitable successor to current CEO Bill Hanbury by the fourth quarter of this year. A statement released by the BTA said: "Performance Solutions has 16 years of distinguished experience in the Bermuda market as a boutique, full-service human resources consulting firm. "It has hiring expertise in the tourism sector and has successfully partnered with local and international companies across many sectors of the economy to support talent acquisition needs at all levels, from the C-suite to frontline staff." Mr Hanbury will finish his three-year contract at the end of 2016, but is expected to work side-by-side to transition the CEO designate into the new role.
June 29. Bermuda Press (Holdings) Ltd's profits more than tripled in the first half of its fiscal year, even as revenue slumped. The company, which owns The Royal Gazette, as well as commercial printing, retail and real-estate interests, said net income for the six months ended March 31, 2016, was $502,000, compared to $145,000 in the same period of the previous year. Revenue fell by $1.15 million, or 8 per cent, to $13.14 million during the half-year. In a statement, BPHL put the improvement in profitability down to a reduction in operating costs, particularly at Island Press Ltd, Bermuda.com Ltd and Bermuda.com Guide Ltd. The profitability of these three businesses, acquired from MediaHouse Ltd two years ago, improved by $450,000 year over year. It added that an increase in the cover price of The Royal Gazette from $1 to $1.50 from April, was expected to increase revenues in the second half of the year. BPHL said its most profitable segment was real estate, with its investment properties maintaining an occupancy rate of 98 per cent. Since its annual report, BPHL has reinstated a 5 cents per share dividend, after a dividend suspension since September 2014. The company also announced a $1 million share buyback plan on March 1, but said no shares had been bought back to date under this programme. The company added that it was working towards the Investors in People certification — an international set of human resource management standards. "Bermuda's economy remains fragile and the economic recovery is dependent on increasing the number of jobs and overall population," the company commented, adding that its future success is linked to growth in the local economy and increased consumer confidence.
June 29. A French naval aircraft that caught widespread attention after a low-altitude pass over and near the island on Friday evening is being investigated by the Department of Civil Aviation. However, the Captain of the vessel has apologized for any distress caused by the exercises. According to a spokesman from the Ministry of Tourism, Transport and Municipalities, the aircraft had earlier made several low-level passes alongside the departing Norwegian Breakaway cruise ship while still within Bermuda territorial waters. The aircraft was primarily conducting operations in connection with the French naval ship Monge, which was in Bermuda waters under diplomatic clearance from the UK. The spokesman added: "As regulatory matters of civil aviation are the responsibility of Government House, the Governor has requested the Department of Civil Aviation to investigate the matter, with a preliminary report already submitted. The Governor is following this up in consultation with the Ministry of Defence in London, while the investigation continues." In a statement released by the French Consul last night, the Captain apologized for any disturbances caused by the incident on behalf of the French Navy Falcon crew, and in particular to Government House and the Department of Civil Aviation. He was quoted as saying: "We understand that some Bermuda residents and visitors, in particular some cruise ship passengers, may have been surprised or scared, and for this we sincerely apologize." The statement explained that the Falcons are carrying maritime operations in support of the Monge. The aircrafts are used in support of a range of maritime missions, including operations against piracy, trafficking and pollution, fisheries control and maritime search-and-rescue. "Flying low and close to the ship is necessary to assist seamen in distress by dropping lift rafts to the water," the Captain's statement continued. "Our stay in Bermuda has been the most pleasurable and we wish to thank the many Bermudians we have met for their warm welcome."
June 29. Commissioner's House in Dockyard was officially reopened nearly two years after the old structure sustained major structural damage in back-to-back hurricanes. Michael Dunkley conducted an official roof wetting yesterday afternoon by pouring rum over the new roof of the building. The Premier was joined by several Cabinet colleagues including Sylvan Richards, Jeanne Atherden and Wayne Scott for the ceremony on top of Commissioner's House yesterday afternoon. "My colleagues and I were pleased to see the extensive repairs reach their conclusion and the team at the National Museum should be commended for their efforts," said Mr Dunkley. "These critical upgrades, refurbishments and improvements will help the historic building withstand future storm damage, and this will help greatly in protecting the invaluable artifacts housed in this great building." The National Museum was severely damaged in hurricanes in 2014 and 2015 when almost all the buildings in its upper grounds, including the Commissioner's House and the Curatorial Department, sustained major structural roof damage and flooding. Commissioner's House had been closed since October 2014 but opened to the public again on May 9, this year, while the Curatorial Department had to relocate into a small temporary office. Curator Elena Strong revealed that more behind-the-scenes roof strengthening would be carried out in the coming months as well as the refurbishment of the Curatorial Department. She said the museum should be fully operation by the end of the year. "For the past 18 months the museum has been carrying out extensive repair and restoration work on Commissioner's House in order to strengthen and conserve its largest artifact," she added. "Work entailed replacing the entire roof of Commissioner's House with a modern steel system and carrying out major restorative work on the cast-iron truss system. The 300 linear feet of cast-iron fascia and the cast-iron veranda pillars are also new. "
June 29. A reported lost payment for buses has been blasted by Lawrence Scott, the Shadow Minister of Transport, as "irresponsibility and incompetence at its highest". According to a Monday report by the online news site Bermuda Real, a $300,000 advance payment was made roughly a year ago, with a source stating that the Bermuda Government was "pursuing avenues of investigation and recovery". Mr Scott told The Royal Gazette he was filing "fast and furious" parliamentary questions to pursue the allegations, but lamented that the minister would have nine days in which to respond. Michael Fahy took over as Minister of Tourism, Transport and Municipalities in May, but transport-related questions have been fielded in the House by Grant Gibbons, the Minister of Economic Development. "Unless there is a statement in the House of Assembly this Friday, we won't hear anything until the next Friday," Mr Scott said. "We don't know if it's $300,000 or if it is as much as a million, which goes on top of the $18 million that went missing under Senator Fahy's watch." This was in reference to the Corporation of Hamilton's $18 million debt over a failed development at Par-la-Ville. "Could you imagine if this happened under a Progressive Labour Party administration?" he added. Mr Scott lamented that "no minister took accountability for this and came forward to tell the Bermudian people that a mistake had been made — it had to be found out by a journalist that this money went missing. What else is going on behind the scenes?" The revelation came in the wake of bus cancellations that plagued the island's fleet, already hit by mechanical troubles. The need for new buses was a point raised by the former transport minister, Shawn Crockwell, who told Parliament in January that no new vehicles had been purchased since 2009 — but that 16 new buses had been purchased with four new ones coming this year.
June 29. An estimated 250 asset management professionals and investors are expected to travel to Bermuda later this year for the first World Alternative Investment Summit Bermuda (WAIS Bermuda) at the Fairmont Southampton Resort. Slated for September 28 to 30, the event is hosted by Canada's Radius Financial Education (Radius) and supported by the Bermuda Business Development Agency (BDA). A statement from the BDA said the three-day event would bring together investment and business experts to network and share insights and ideas around the global alternative investment industry. Delegates will include asset managers, institutional and high-net-worth investors, hedge funds, family offices, banks, legal and accounting firms, and fund administrators. "Hosting this conference in Bermuda will further enhance growth in the asset management sector here, as well as to boost the island's corporate tourism," said BDA's chief executive officer Ross Webber. "Bermuda's world-respected fund business is strong and growing, and events such as this one help heighten our profile and signal our renewed drive as a jurisdiction to attract investment industry professionals." WAIS Bermuda now joins the Regulatory Compliance Association's (RCA) Regulation, Operations & Compliance Symposium, held in April, and the Global Fund Forum (October 24 to 26), organized annually by Hedge Connection, on the Bermuda asset management calendar. Additionally, the Convergence (November 9—11) event has become a yearly staple, geared to alternative reinsurance and insurance-linked strategies professionals. "The fact that we have these international events taking place here this year affirms we are back on the industry's radar," said Sean Moran, BDA business development manager, who led a delegation to Radius's WAIS Canada event in Niagara Falls, Ontario last September and subsequently secured its commitment to host a Bermuda conference in 2016. "Bermuda is once again a destination where fund experts are gathering to network, address pertinent issues, and have some fun in the process," said Moran. "Delegates are always impressed by Bermuda's natural beauty, but many are also impressed by its sophistication, talent and significance as an international financial centre — this leads to new business opportunities for local fund managers, directors, lawyers, administrators and other service providers." Tony Sanfelice, president of Toronto-based Radius, said: "We are committed to delivering a successful event that brings together alternative investment managers and investors. With Bermuda's formidable history as one of the world's leading financial jurisdictions, and its reputation for respected regulation and commitment to compliance, it is an excellent location to extend our success producing leading alternative investment management conferences." Radius has 14 years' experience producing leading financial conferences, including the annual WAIS Canada. Radius also produces the Niagara Institutional Dialogue, a flagship pension event attended by high-profile Canadian and global institutional investors and fund managers. Radius also produces Canada's flagship Exchange Traded Forum or ETF each spring.
June 29. Two same-sex couples are expected to apply to wed in Bermuda in the coming days and are likely to appeal directly to the courts if they are not given permission to marry. The couples — one female and one male — will be represented by former Attorney-General Mark Pettingill, the lawyer and MP who has vowed not to rest after last week's referendum result until there are equal human rights for all. The marriage applications and the likely court proceedings that could follow may settle the same-sex marriage issue without legislators getting involved, as many have predicted. The referendum on June 23 failed to officially answer whether Bermudian voters were for or against same-sex marriage or civil unions, as the turnout was less than 50 per cent. Mr Pettingill told The Royal Gazette he could not comment on the "anticipated" marriage applications but said: "I have always believed that marriage is a legal issue and not a religious issue. I believe that in light of that, it's a matter that will be best addressed by the courts. "Consequently, I take the view that the Human Rights Act has primacy and that the Registrar[-General] must provide services in accordance with the Marriage Act." The Marriage Act requires the Registrar-General to post notice of any intended marriage in the Registry-General for two weeks and to advertise the nuptials in a newspaper within three days of receiving notice of it. Mr Pettingill previously represented a different couple, Bermudian Ijumo Hayward and his American partner, Clarence Williams III, when they applied to wed here in December. The One Bermuda Alliance backbencher sent a covering letter with their application to Registrar-General Aubrey Pennyman, which said if their intended marriage was not advertised in accordance with the law, the couple would seek a Supreme Court order to force him to perform his statutory duty. Mr Pennyman did not issue the required notices and Mr Pettingill was told that the Registrar was taking advice from the Attorney-General's chambers. Mr Hayward and Mr Williams are already married in the United States and it is understood that their application is unlikely to proceed any farther. The two new couples to be represented by Mr Pettingill are not married and are likely to argue, if their cases come to court, that the Registrar-General is in breach of the Human Rights Act for denying them "goods, facilities or services" based on their sexual orientation. But the timing of any court proceedings relating to their applications could be critical since the Bermuda Government has already tabled legislation — an amendment to the Matrimonial Causes Act — which would allow discrimination on the basis of sexual orientation in relation to weddings. The proposed amendment, which is on the order paper of the House of Assembly, would remove the supremacy of the Human Rights Act in relation to section 15 of the Matrimonial Causes Act, which says a marriage is void if the parties are not male and female. Michael Dunkley would not comment yesterday on whether the Government would proceed with that piece of legislation, or with the draft Civil Union Act 2016, which was tabled for consultation purposes in February. The Premier told this newspaper: "I and my parliamentary colleagues continue to deliberate on [the] matter." The turnout for the referendum was 46.89 per cent, meaning the two questions on the ballot paper were deemed to be unanswered. Of those who voted, 69 per cent were against same-sex marriage and 63 per cent were against same-sex civil unions. Mr Dunkley said last week of the referendum: "Any outcome is the will of the people and will guide their elected officials accordingly. As we have said in the town hall meeting[s], if there is a 'no' vote, it will potentially open up challenges in the courts and the courts will ultimately decide." Mr Pettingill, meanwhile, told Parliament on Friday: "I won't rest until this issue is addressed."
June 29. Toughening laws on crime is the public's number one solution to solving Bermuda's gun violence problems, according to a new poll. The Global Research survey, commissioned by The Royal Gazette, found 24 per cent of people named stricter sentencing or better laws when asked: "What does Bermuda need to do to tackle its gun violence problem?" The next most popular answers, with 11 per cent each, were improving public school education at all levels, increasing police presence and tightening regulations at Customs. A further 9 per cent said Bermuda needed to address its underlying social issues, such as the breakdown of the family unit and the poor economy. The telephone survey of 402 registered voters took place between June 6 and June 13, and has a margin of error of +/- 5 per cent. About two weeks earlier, on May 21, Patrick Dill became the first fatal shooting victim of 2016 when he was killed in Crossland Lane, Pembroke. Mr Dill, a 26-year-old father of two who is believed to have had no connections to Bermuda's gang culture, was the 28th man to die in gun violence since May, 2009. Cup Match cricketer Fiqre Crockwell, 30, became the 29th on National Heroes Day last week, when he was shot dead in Woodlands Road, Pembroke. Mr Crockwell has also not been identified as being involved in any gang. Senator Jeff Baron, the Minister of National Security, has said that Team StreetSafe was infiltrating Bermuda's most volatile gangs and saving lives on a daily basis. The charity has been providing counseling support to families in an attempt to defuse rising tensions.
Full results
Stricter sentencing or better laws: 24 per cent
Improve public school education at all levels: 11 per cent
Increase police presence: 11 per cent
Tighter regulations on imports: 11 per cent
Address the underlying social issues such as breakdown of the family unit and poor economy: 9 per cent
More support for witnesses: 5 per cent
More positive activities and opportunities for youths: 4 per cent
Increase community support for police: 4 per cent
More discipline in the home: 3 per cent
Higher rewards in exchange for guns: 3 per cent
Seek overseas police assistance: 3 per cent
Better CCTV: 2 per cent
Control coastal lines more: 2 per cent
Take the guns off the streets: 2 per cent
Pinpoint those who are bringing in guns: 1 per cent
All parties should come together: 1 per cent
Legalise marijuana: 1 per cent
Concentrate more on gang members: 1 per cent
More metal detectors: 0.5 per cent
June 28. The Government's disputed airport redevelopment contract is to be investigated by a Commission of Inquiry along with contentious projects of the past — such as Bermuda Emissions Control and GlobalHue. That independent body, which held its first public hearing yesterday, had been tasked with probing allegations by Auditor-General Heather Jacobs Matthews that public funds had been mismanaged in the fiscal years ending 2010-12. Her reports, tabled in Parliament on November 13, 2015, highlighted a lack of control over various capital development projects in the final years of the Progressive Labour Party administration, also citing a disregard for financial instructions. However, as chairman Sir Anthony Evans laid out the top issues for consideration, the former Bermuda Court of Appeal judge said the commission's members felt their work could benefit by also considering contracts awarded before or after 2010-12. This would mean looking into certain contracts "where either payments made during those years represented Government outgoings under earlier contracts, or the Government's practice during financial years 2010-12 may have emerged before the period began, and may have continued after it ended", he said. PLP MPs Walton Brown, Derrick Burgess and Zane DeSilva were among those in the audience as Sir Anthony announced that the commission intends to pursue the following:
The Transport Control Department's emissions centre, condemned by Ms Matthews in 2011 for its cost overruns and a claimed lack of oversight;
The Port Royal Golf Course — a $24.5 million project that the Auditor-General said went $10 million over budget;
The Dame Lois Browne-Evans police and court building, opened in 2011 at some $26 million past budget;
Heritage Wharf, the Dockyard cruise ship pier completed in 2009 — the budget and design of which changed substantially and ended at close to $60 million;
The current airport development, which is the One Bermuda Alliance's proposal for a new terminal at L.F. Wade International Airport — the topic of recent Public Accounts Committee meetings that heard of widespread breaches of financial instructions. Sir Anthony was flanked by fellow commission members John Barritt, a former MP, as well as executives Kumi Bradshaw and Fiona Luck.
The commission is not tasked with resolving criminal issues, but to look into government affairs, refer potential violations of law or rules to the appropriate agency — and ultimately to be "assured that Government has learnt and moved on from any past mistakes about its own internal processes". With respect to alleged violations, Sir Anthony said: "In short, was the Auditor-General correct? If so, how did that occur, and why was the situation allowed to continue?" Yesterday's meeting in St Theresa's Church Hall was the last public hearing until September 28, when public hearings resume with witnesses. "The commission has many powers, such as the power to compel people to give evidence," Sir Anthony told the gathering. "We also have the power in exceptional cases to preserve the confidentiality and the privacy of individual witnesses who request it. I strongly urge any person who may be able to assist us to come forward, whether in person or by posting information on our website." The commission heard next from lawyer Narinder Hargun, who appeared as counsel to the group alongside Jeffrey Elkinson. Mr Hargun outlined a swath of requests made by counsel for government documents from the Cabinet Office, the Office of the Tax Commissioner, the ministries of finance, tourism, education and public works, and the Accountant General — in connection with projects including:
The 2009 commercial courts renovation at the Ministry of Finance;
The renovation of the Department of Human Resources;
The central laboratory contract;
GET Security arrangements;
Contractual arrangements with GlobalHue, Ambling Development Services and Bermuda Emissions.
GlobalHue was a United States advertising agency awarded a $28 million contract in 2009 for Bermuda tourism, with no rival firm to bid. The arrangement was sharply criticised in a 2012 PAC report faulting the firm's relationship with the then Premier and Minister of Tourism. The Atlanta-based firm Ambling Development, meanwhile, was taken on by the Government in a wide-ranging 2008 contract. Yesterday's sitting of the commission heard also from lawyer Venous Memari, asked by the Bermuda Public Services Union to assist with ten civil servants — three of whom are government department heads. A total of nine are entitled to representation, while the tenth may submit documents rather than appearing in person. The commission then formally adjourned until September. For details, or to make a submission, see its website, www.inquirybermuda.com
June 28. Legislation paving the way for the creation of a Civil Aviation Authority and a Bermuda Shipping and Maritime Authority was passed by MPs on Friday afternoon. The Bermuda Civil Aviation Authority Act 2016 provides the new CAA with quango status in a bid to boost revenue from the Bermuda Registry of Aircraft. Grant Gibbons, the Minister of Economic Development, told the House of Assembly that the new Act would make Bermuda more competitive in the global aviation market. However, Lawrence Scott, shadow Minister of Transport, expressed a string of concerns about the creation of the CAA, claiming the Bermuda Government was making the CAA answer to the minister. He also questioned why the Minister of Finance should be involved in appointing members of the board. "Government should not have any say over civil aviation," Mr Scott said. "They are trying to go outside their jurisdiction. This Bill falls short of doing what it is intended to do because the Government is too involved compared to other jurisdictions." However, One Bermuda Alliance MP Shawn Crockwell explained that Bermuda's CAA would be based on the UK's CAA model, in which the authority answered to the Ministry of Transport. Mr Crockwell described Mr Scott's assertions as "erroneous" adding: "We must put in the proper infrastructure so the authority and the register can grow. The register must operate like a business and Government must be prudent to make sure we do not lose this revenue." Finance minister Bob Richards told the House that the new legislation was designed to boost revenue to the consolidated fund. Meanwhile, the Bermuda Shipping and Maritime Authority Act 2016 will see the Department of Maritime Administration also given quango status. Dr Gibbons said the Bermuda Shipping and Maritime Authority will help the island compete more effectively in the growing shipping sector. "This Bill is intended to create an efficient, competitive and economically viable shipping registry that can meet the modern-day customer demands as well as the relevant national and international standards," he added. According to Dr Gibbons, Bermuda presently commands a fleet of 170 ships with more than 13 million gross tonnes. "The revenue earned by the DMA as fees from the registration of ships and other services provides is approximately $5 million annually with a net surplus of nearly $3 million annually." But compared with other international registries, Dr Gibbons said Bermuda's tonnage "is rather small, which provides the DMA great opportunity for expansion. With the proposed amendments in this bill, the DMA believes they should be able to compete more effectively and enhance Bermuda's shipping opportunities. After a number of difficult years, the global economy is now slowly growing and the shipping sector is expected to grow at a rate of 5 per cent per annum. Bermuda needs to be ready to compete and get a fair share of this tonnage."
June 28. The Bermuda Tourism Authority issued a progress report on its corporate objectives after Parliament's discussion of its incentive programme. Kenneth Bascome, Junior Minister of Tourism, informed legislators during Friday's session that every member of the authority, including chief executive Bill Hanbury, would have their performance judged against distinct criteria linked to growing local tourism. David Dodwell, chairman of the BTA, said the organisation had "brought the Bermuda tourism economy back from the brink of disaster". While Mr Dodwell stressed that a year-end conclusion for 2016 could not be made with the summer travel season still ahead, he pointed to some early successes. Air arrivals in the first quarter rose 14 per cent on last year, and were up 9 per cent through May 31, while 15 extra cruise calls were scheduled for Hamilton and St George's next year over 2016. Room nights booked as a direct result of BTA marketing had risen 45 per cent this year to date, Mr Dodwell added. Performance incentives must be met at the end of this year before any performance incentives will be paid, with a decision made in the first half of 2017, he said.
June 28. The Hamilton Princess and the St George's hotel project will be eligible to apply for casino licences after being named designated sites. Both locations were recommended for designation by the Bermuda Casino Gaming Commission and approved by Senator Michael Fahy, the Minister for Tourism, Transport and Municipalities. Mr Fahy said: "This is the start of the process that will allow Bermuda to realize the public policy goals envisioned in the Casino Gaming Act 2014, namely increased employment and investment for Bermuda and an enhanced tourism product." Legislation requires that in order to apply for a licence for an integrated resort casino — only three of which will be available — an applicant must first have their property deemed a designated site. Among the factors considered by the commission are the location's suitability for an integrated resort or, if the site is already home to a resort, its suitability to operate a casino, with the burden being on the applicant to prove their case. There is no limit to the number of designated sites that can be approved, but site designation does not guarantee that a casino licence will be granted. According to a statement by the gaming commission, HotelCo Bermuda Holdings Limited and Hamilton Properties Limited both successfully applied for site designation in regards to the site of the St George's hotel project and the Hamilton Princess respectively. Alan Dunch, chairman of the commission, said: "We at the commission are pleased to mark this milestone in the development of integrated resort casinos in Bermuda. I want to applaud both of the applicants and the commission staff for working together to advance these two projects to this stage. We see this as an important step in developing this tool of economic development for the people of Bermuda." The designated site application process opened in March. Richard Schuetz, executive director for the commission, said the body had seen "robust demand" for designation.
June 28. Low turnout at last week's referendum shows that Bermudians have deeper worries than same-sex unions, according to the LGBTQ group OUTBermuda. While voters turned down both same-sex marriage and civil unions, too few showed at the polls for the referendum to deliver an official answer. OUTBermuda, a charity for advocacy and education, said it underscored that "the majority of Bermudians have more pressing concerns, which are not at present being addressed". The group took Thursday's referendum as testament that most Bermudians did not feel personally affected by issues pertaining to same-sex families. "OUTBermuda rejects the suggestion that Bermudians lack the will and sophistication to address the multitude of issues affecting our community in a unified way," its statement added. "Equally, we do not believe that by supporting LGBTQ equality the community will neglect to address issues such as violence and antisocial activity, unemployment and economic inequalities, to name a few." The referendum's outcome emerged early in the vote counts, showing roughly half as much support for same-sex unions as those who came out against. OUTBermuda said it did not see the figures as a defeat, pledging to continue advocacy — including to support what the group prefers to term marriage equality. Support shown in recent weeks for LGBTQ people had been "unprecedented" in numbers and diversity. While "yes" votes had fallen short of expectations, OUTBermuda's statement pointed to similar precedents elsewhere. "We recognise that before there was marriage equality across the United States, there was Proposition 8 in California, which had been supported by the majority of voters there. Proposition 8 did not create a permanent barrier to LGBTQ equality, but instead galvanized support for it. The outcome of yesterday's referendum will equally not create a permanent barrier to LGBTQ equality in Bermuda." OUTBermuda thanked those that had sought "to better understand what it means to legally recognise the lesbian and gay families living on our Island".
June 27. A friendly society has lost an initial legal claim that it could offer members third party motor vehicle insurance. However, according to a court judgment, the final decision as to if the Bentley Friendly Society can provide members with third party insurance could be a matter for the Governor rather than the courts. The Bentley Friendly Society argued that the Friendly Society Act 1868 allowed them to provide motor vehicle insurance. The legislation enables the society to make good "any loss sustained by the members by fire, collision, tempest or shipwreck, or by any contingency whereby they sustain any loss or damage to their motor bikes, autos, real estate or boats" provided that investment of each member accumulate or be employed for the sole benefit of the investing member, their spouse or their beneficiaries. However, in 2014 the Transport Control Department stopped accepting their certificates of motor vehicle insurance on the advice of the Attorney-General, causing the society to launch a legal action against the department. In a preliminary hearing last month, the Bentley Friendly Society sought declaratory relief, asking the courts to find that their policies are motor vehicle insurance and, through the Friendly Society Act, they can provide insurance even if not compliant with the Motor Car Insurance (Third-Party Risks) Act 1943. That Act requires insurers to be approved by the Governor. According to a judgment on the point delivered on June 15, Puisne Judge Stephen Hellman found that should the friendly society gain the Governor's approval, there was no in-principle reason why it or other friendly societies cannot carry on insurance business within the meaning of the 1943 Act. "Before granting such approval, the Governor would be likely to consider whether the plaintiff was able to satisfy any third party claims which it is reasonably foreseeable that it might be called upon to meet," Justice Hellman wrote. "[For example] whether it could satisfy a claim for in excess of, say, $1 million. In considering this question, the Governor would no doubt form a view as to whether the funds available to satisfy a claim against a member would be limited to the value of that member's investment. The Governor would also be likely to consider whether the interests of third parties would be adequately protected if approval were granted, given that the plaintiff is not subject to any regulatory oversight. However, these are policy matters for the Governor and not the courts." He continued, stating that the question of if the objects enumerated in the Friendly Society Act include the provision of motor vehicle insurance with respect for third parties was an academic one. "If they do include such provision, it is nonetheless necessary for the plaintiff to obtain the Governor's approval under the 1943 Act," Justice Hellman wrote. "If they do not include such provision, the plaintiff can nonetheless apply to the Governor for approval: if such approval is forthcoming, obtaining certification from the Attorney-General and the allowance of the registrar will likely prove a formality." However, he added: "In my judgment, the objects enumerated the 1868 Act do not include the provision of motor vehicle insurance with respect to third party risks. In so finding, I give the words their natural and ordinary meaning. The plaintiff invites me to focus on the words 'any contingency', and suggests that they are broad enough to cover the provision of such insurance. However, I accept the defendant's submission that, considered in context, 'any contingency' means any event whereby the members sustain loss or damage to their assets. It does not refer to an event causing loss or damage to a third party." In summary, the judge found that the "motor car insurance" issued by the friendly society were not authorised under the 1943 Act and as a result do not comply with it, dismissing the claim for relief.
June 27. Premier Michael Dunkley has lamented the failure of MPs to stand up and "fight for what they live" as they debated the same-sex referendum on Friday night. The Premier noted that politicians past and present "have a lifestyle" in line with the same-sex community — but had not spoken out in support of them. Speaking during Motion to Adjourn at the House of Assembly, he also dismissed "catcalls" for his resignation by Opposition MPs as "absolute nonsense. We have members now and previously in the legislature, who have said what their beliefs are or the way they conduct their lifestyle, who clearly wouldn't stand up and support this issue. I find it very strange that people who have a lifestyle we are discussing at this time do not have the fortitude to stand up and fight for what they live." Earlier, the Premier had applauded PLP MP Walton Brown, who he said has always been very clear on his position, adding: "We need more people to speak like that." Progressive Labour Party MPs had questioned whether he should stand down in a similar fashion to British Prime Minister David Cameron after the island's non-binding referendum failed to attract enough voters to make it an official ballot. Mr Dunkley argued they were "way off base", before pointing out that when the Referendum Bill was debated it "passed with flying colours. Members on the other side say they didn't support it, well, I didn't hear them get up and vote against it. The most interesting thing about it is a member on the other side even tabled a similar bill for a referendum. I find it very strange that now you hear catcalls from the other side about this referendum and calls for me to resign. Although I've heard some very good comments from members on both sides of the House, I've heard hollow 20-minute speeches from too many members on the other side of the House who have now packed up their bags and left. For the Opposition to say that this has been an exercise that has to be called into question, my words again, I disagree wholeheartedly because you can't sit on both sides of the fence." Before the Premier's address, Mark Pettingill, a One Bermuda Alliance backbencher, had given an impassioned speech on same-sex marriage and civil unions in which he vowed to fight on for equal human rights for all people. "I won't rest until this issue is addressed. It is not done. This is a human rights issue." Mr Pettingill told the House he was "baffled" by how much energy Preserve Marriage had put into its "No No" campaign, but not surprised by the results. PLP MP Brown said that politicians had "failed the country", first by having the referendum and secondly by not taking a position on the issue and explaining it to the public. Mr Brown also urged the public to engage and reflect on Britain's decision to leave the European Union because he said it could have profound effects on the island. Patricia Gordon-Pamplin, Minister for Home Affairs, maintained that the rights of the majority should not be allowed to trample over the minority. "We don't just represent the ones we agree with or the ones that look like us," she said. "We represent everyone and that is our responsibility. And I feel we have failed, yes, as a people." Home affairs shadow minister Walter Roban and PLP MP Zane DeSilva were among those who questioned whether the Premier should resign as a result of the "failed" referendum. Mr Roban also maintained that some of Mr Pettingill's comments about Preserve Marriage's efforts "were at times a bit severe", adding that the group had the right to express and campaign for its views just as any group advocating same-sex marriage and civil unions did. He added: "I find it difficult to be critical of Preserve Marriage if they managed to be better resourced, and better able to get their point across and marshall more people in a more public way to show their position. Perhaps there are some people who say the honourable Premier here should make a visit up to Government House as well as this did not go the way that his Government presumably wanted to see."
June 27. Progressive Labour Party MPs rallied behind Ewart Brown, the former Premier, branding the police investigation into his actions a "witch-hunt". Several opposition MPs told the House of Assembly of their dismay at the arrest on May 19 of Mahesh Reddy, chief medical officer of Dr Brown's Bermuda Healthcare Services, during Friday's Motion to Adjourn. Zane DeSilva described the arrest as "a shameful act. Police have been investigating Dr Brown for almost six years and we have had no report from the police and no report from the Governor". He questioned how much the investigation had cost taxpayers and maintained that Dr Brown, Dr Reddy and staff at BHS deserved better. "The most important thing is that Bermuda does not have any time for this nonsense. We don't have millions to carry out someone's vendetta. I am asking the Government and the Premier, let's ask the Governor for an update. Dr Brown said it best when he said 'put up, or shut up'. This has gone on too long." Party colleague Rolfe Commissiong echoed Mr DeSilva's comments, adding: "What we are seeing here is a witch-hunt." He questioned how Dr Reddy could have been arrested without a warrant before urging Bermudians to stand strong with Dr Brown. Derrick Burgess also queried how much had been spent on the investigation on Dr Brown and described the search of Mr Reddy's house when he was arrested as "illegal". Walter Roban added: "Questions of justice were raised and I declare my interest, I too am a client of Dr Reddy, so the incident that happened with him brought extreme concern to myself to say it mildly." Responding to the comments, Michael Dunkley told the House that it was inappropriate for him to get involved with police investigations. "We heard a lot of talk about the investigation into Dr Brown," the Premier said. "And I am not going to get involved in that investigation, or any investigation at any time. If honourable members on that side expect me to answer a question about investigations, they won't hear it because the next question is 'why is the Premier getting involved?' It's not going to happen. The police do their job, politicians should stay out of the way of police investigations. While it's well and good for honourable members on that side to defend the former Premier, I think they need to tread very carefully about investigations of the police. We should not get involved. At least three honourable members on that side came to the defence of the former Premier and that's fine but why aren't honourable members standing up in here and asking questions every week on young men who are murdered in Bermuda and what's the status of the investigation?"
June 27. Social development programmes should be mandatory at sports clubs to help to curb violence and other antisocial behavior, the former president of Boulevard Community Club has claimed. Lou Matthews said that young men needed to be educated and encouraged to steer them away from criminal activity, and that many clubs in Bermuda failed to offer useful and progressive initiatives to their members. "It's a question which has to be taken a bit more seriously," said Mr Matthews, who also cofounded the community mobilization initiative Rise Above Bermuda. Bermudian sport has been tarnished in recent years by multiple incidents of violence either involving local athletes or taking place at sports clubs. International cricketer Fiqre Crockwell was fatally shot in Pembroke last week, following a National Heroes Day function at the BAA car park, although he has not been identified as being involved in any gang. Other incidents have included the murder of Rickai Swan, 26, who was shot outside Southampton Rangers Sports Club on October 23 last year, and two separate shootings on Remembrance Day in 2014 — one outside the National Sports Centre after the Dudley Eve Trophy final and the other outside Somerset Cricket Club. Mr Matthews pointed to the "large network of problems" contributing to the common eruptions of violence among young sportsmen. These included the high rates of unfinished education, unemployment and illiteracy, sowing the seeds for feelings of alienation and vulnerability. He suggested that tailored initiatives in sports clubs would offer young athletes a sense of purpose and direction for their future — with areas of focus including behavioural development, mentorship, therapy and job training. "Once you meet the needs of young people and address their skill sets, that goes a long way to giving them options against things like gang behavior," Mr Matthews said, adding that the programmes could be sponsored either privately or by Government. Mr Matthews stressed the importance of achieving long-term solutions rather than attempting quick fixes. "We have to recommit ourselves to the needs of the community. Sports clubs are actually the one place young men gravitate towards for mentorship and belonging, whether they're involved [in illicit activities] or not, and that means they already have a leg-up. If they don't fulfil their responsibility to build the capacity of these young men, then they are partly responsible for exacerbating the problem."
June 27. Opposition MPs have voiced scepticism in the House of Assembly over a $50,000 travel budget run up the Bermuda Casino Gaming Commission. Junior tourism minister Kenneth Bascome faced a grilling from the Progressive Labour Party, with the St George's North MP reminding Parliament that he remains new to the job. Mr Bascome's appointment was announced as part of a Cabinet shuffle on May 13. MPs on Friday queried the travel figures in connection with Richard Schuetz, executive director of the commission, as well as the courting of the Las Vegas giant Caesars Palace, as the island seeks to develop its own industry. According to sources close to the commission, the soliciting of Caesars has raised eyebrows locally, given its highly public bankruptcy struggles. In answer to Zane DeSilva of the PLP, Mr Bascome told legislators that the commission has spent $49,658 on travel since its inception, with $23,926 on air travel, and accommodation accounting for $21,227. Meals and ground transport covered the remainder. Mr DeSilva noted the "vast experience in the industry" brought by Mr Schuetz, who joined the commission in September 2015, having served previously as commissioner for the California Gaming Control Commission. "Why has he had such a more expensive travel schedule than necessary?" Mr DeSilva also queried why Mr Schuetz "invited Caesars to Bermuda to set up business", with Opposition MP Rolfe Commissiong flagging up Mr Schuetz's extensive background in the Las Vegas-based industries. "Does that not invoke potential conflicts of interest, bearing in mind that Caesars has been invited to look at the Bermuda market? PLP MP Derrick Burgess also asked if Mr Bascome was aware that the Caesars team had included Mr Schuetz's wife. Mr Bascome repeatedly told the House he could not answer the questions with authority, but pledged to bring the details to Parliament. "As I grow into this position, those honourable members will be aware, and have all the answers they are seeking," he said, stressing he had not been involved in "any in-depth discussion" — and that there had been limited opportunity to consult with technical officers before fielding parliamentary questions. Asked when casino training would commence for Bermudians, the junior minister said an ad hoc committee was in place, with members including Duranda Greene, president of the Bermuda College, and vice president of academic and student affairs Mark Van Den Hende, as well as Malika Cartwright of the Bermuda Hospitality Institute, with Julia Grant, Judith Hall-Bean and Mr Schuetz. Training for Bermudians will be drawn from a fee on would-be casino operators, to be included in regulations to the 2014 Act that would be brought to the House "as soon as practically possible". No numbers for Bermudians required have been set thus far, but "our fellow Bermudians will be given first preference for jobs" — and Mr Bascome told Parliament that he did not feel the continued absence of regulations caused the island any reputational risk.
June 27. The Bermuda Government must learn from its mistakes, the first public hearing of a Commission of Inquiry concerns over the handling of taxpayers' money heard today. Kicking off a brief session at St Theresa's Church Hall, chairman Sir Anthony Evans outlined the terms of reference for the Commission, which is looking into findings outlined by the Auditor-General from the final three financial years of the Progressive Labour Party administration. "In short, was the Auditor-General correct?" Sir Anthony said. "If so, how did it occur, and why was the situation allowed to continue?" Sir Anthony stressed that in surveying issues concerning the Government: "We want to ensure that the Government has learnt from its mistakes." After less than an hour, the sitting was adjourned until a series of public witness hearings will commence from September 28 to October 11. Ten unnamed civil servants, including three heads of department, have been notified that they may be able to assist the Commission, according to lawyer Venous Memari, who said she had been asked by the Bermuda Public Services Union to assist them. Nine are entitled to obtain representation for the public witness hearings, the chairman ruled. The Commission heard that witnesses are likely to be represented by a single counsel, unless potential conflicts of interest arise. Several projects have been identified from the outset, but the Commission's scope can include government projects outside the years covered by the reports: Sir Anthony specifically identified the TCD emissions centre, Port Royal Golf Course, the Dame Lois Browne-Evans building, Heritage Wharf and "the current airport development". The Commission will look at whether tenders were issued in accordance with financial instructions, and will look into potential links between successful vendors and the Government. Other members of the Commission are former MP John Barritt, businesswoman Fiona Luck and businessman Kumi Bradshaw.
June 27. The first public hearing will take place today of the Commission of Inquiry into concerns raised by the Auditor-General over the handling of taxpayers' money in 2010, 2011 and 2012. It will be held at St Theresa's Church Hall, Laffan Street, Hamilton, from 10am. The Commission is chaired by international jurist and former Bermuda Court of Appeal judge Sir Anthony Evans. Its members are lawyer and former MP the Honourable John Barritt, businesswoman Fiona Luck and businessman Kumi Bradshaw. More information about the Commission is available at www.inquirybermuda.com
June 25. The budget for the referendum would have been better spent on "trying to come to terms with the inevitable court decision" looming for same-sex unions, according to Opposition member Walton Brown. "As a pollster, I could have spent less than 10 per cent of its budget to find out what the public thinks," said the Progressive Labour Party MP. "With this, we didn't get the real public sentiment, because we had less than 50 per cent of the voters." The LGBT group Rainbow Alliance has cited a likely $350,000 price tag for Thursday's referendum, in which just under 47 per cent of voters took part. Saying he could have delivered an accurate survey on a budget of $12,000, Mr Brown added that his own polls had shown support for civil unions. He believed Thursday's voters failed to turn out in decisive numbers because "they felt it was inherently inappropriate to put minority rights to a referendum". That, combined with its non-binding caveat, plus "inadequate campaigning by those who wanted to create a more just Bermuda", and "serious misconceptions about what was proposed", resulted in a referendum with too few voters to obtain legitimate answers to the two questions posed. Asked if he felt the One Bermuda Alliance had been quietly banking on a "yes" vote for civil unions, Mr Brown said the OBA as a party had been divided on the issue. While some voting regions showed hope for civil unions, at the end of the referendum the count closed with 13,003 against and 7,626 in favour. Same-sex marriage fared worse, at 14,192 to 6,514. "The courts will have to decide about the need for a legal framework for same-sex couples and how they should be recognized by law," Mr Brown said. "That is going to be required or forced on us." Meanwhile, lawyer Peter Sanderson said the referendum had done nothing to remove the legal requirement for equality. The questions were put to the public after the Supreme Court found that the Government was required by the Human Rights Act to provide the same rights to permanent same-sex partners of Bermudians as those offered to opposite-sex spouses of Bermudians. Government did not appeal the ruling, but requested a period of time to implement the required legislative changes. That period ended earlier this year. Mr Sanderson, who represented the Bermuda Bred Company in that case, said yesterday: "The marriage referendum does not affect in any way the government's obligations as set out in the Bermuda Bred ruling. These obligations are to treat a permanent same-sex partner of a Bermudian equally to the spouse of a Bermudian in terms of work and residency rights." The comments echo those of Trevor Moniz, the Attorney-General, who stated earlier this month that regardless of the referendum, the government is obliged to find some form of legal foundation to accommodate same-sex couples who are in permanent relationships. Mr Sanderson also said that Britain's vote to leave the European Union would not impact Bermuda's obligation to follow the European Convention on Human Rights, saying the two are entirely separate. "Even if the UK does eventually leave the EU, it will still be a member of the European Convention on Human Rights unless it separately chooses to come out of that as well."
June 25. A Bermudian has been jailed in Britain for four years after punching his partner in the stomach because he was afraid she was pregnant. According to the Britain-based Dudley News, 25-year-old Troy Harris pleaded guilty in Wolverhampton Crown Court to two counts of assault causing actual bodily harm, two counts of common assault and another charge of burglarizing a friend's home in Birmingham. The court heard that Harris repeatedly punched the 18-year-old complainant in the face and stomach, telling her: "You are not having this baby." He also allegedly put his hands around the throat of another woman and held a knife to her neck. Regarding the theft charge, Harris reportedly stole £3,000 of computer equipment from a friend who had dropped his house keys in his car. A lawyer representing Harris said that he had sold the equipment for money to be sent to his seriously ill mother. The court also heard that Harris had been released from prison in Bermuda just months before the incident. Judge Nicholas Webb reportedly told Harris during a sentencing on Thursday he was "quite probably dangerous", jailing him for 51 months. The court heard that he will likely be deported back to the island on the conclusion of his sentence.
June 24. Bermuda's insurance and reinsurance sector could face a major international shake-up after the UK voted to leave the European Union. Brad Kading, president and executive director of the Association of Bermuda Insurers and Reinsurers, said: "Abir members will be reviewing corporate structures to determine what changes in their regulatory footprints may be necessary in order to conform with expected changes in European regulatory governance." Mr Kading was speaking after Britain voted by about 52 per cent to 48 per cent to quit the 28-nation EU, where it has been a member for 43 years. He said: "Bermuda's Solvency II equivalence finding by the European Union will service us well as the UK negotiates its multiyear transition out of the EU. The Bermuda equivalency is unaffected by the UK vote." Mr Kading added that Abir has "excellent relationships" with both the UK and EU policymakers and regulators. He said: "Abir members provide vital insurance capacity that makes UK and EU insurance markets more competitive. Meanwhile, we encourage the Bermuda Government and the Bermuda Monetary Authority to continue their wise investment in bilateral relationships that lead to important legal agreement on tax co-operation and transparency and recognition of robust BMA regulation that is in compliance with international standards. These essential actions are necessary to ensure we retain level playing field access to the world's markets." Ross Webber, CEO of the Bermuda Business Development Agency, added: "There is naturally much speculation and uncertainty over the vote's political implications, as well as its socio-economic impact, and industry around the world will be closely monitoring how this affects the markets and business landscapes of the EU, Britain and their respective trade partners. In a global economy, Bermuda is affected, like other nations, by such major events. Bermuda was better placed than ever to cater to the contemporary needs of international business." Mr Webber predicted: "Attributes such as our stand-alone Solvency II equivalence with the EU and our progressive path towards Alternative Investment Fund Managers Directive passport rights in Europe may now appear even more attractive than they were a day ago. These are examples of regulatory votes of confidence given to Bermuda as a robust jurisdiction in its own right and not contingent on our relationship with Britain. Bermuda had a good relationship with the EU's Brussels headquarters nurtured over decades of collaborative efforts by our government, industry and regulator. We stand ready to deal with myriad eventualities, No matter how the exit unfolds, we remind our business partners in the UK that Bermuda continues to offer the same, stable, attractive, effective and proven blue-chip international business domicile as it has for the past 70-plus years."
June 24. Bermudians' free movement within the European Union is the greatest cause of concern following last night's Brexit decision, Premier Michael Dunkley said today. The Premier told the House of Assembly much negotiating would take place after the British opted out of the EU. Under a June 2014 agreement with the British Government, Overseas Territories citizens are allowed to travel through the EU Schengen Area for 90 days. "The greatest concern for many Bermudians is the free movement within the EU for British Overseas Territory Citizens who possess British Citizenship as defined within the Treaty on the Functioning of the EU," Mr Dunkley told MPs. "For those who have obtained British Citizenship, the Treaty provisions state that every person holding the nationality of a member state shall be a citizen of the Union. It further outlines that 'citizens of the Union shall enjoy the rights and be subject to the duties provided for in the Treaties. This includes that every citizen of the Union shall have the right to move and reside freely within the territory of the member states. Clearly, there is a likely impact on the free movement of Bermudians through the European Union. As indicated earlier, there is still much to be negotiated in this regard." Mr Dunkley also said an EU withdrawal will not affect Bermuda's solvency equivalence. And he said he had been advised there is no reason why any equivalency or unilateral decisions of the EU on insurance, audit or fund management should cease to exist on or before UK withdrawal. Bermuda is already treated as a "third country" by the EU, he said.
June 24. Major Bermuda-incorporated insurers could take a significant hit as a result of Britain's decision to pull out of the European Union, a top ratings agency warned yesterday. AM Best said it did not expect to take rating actions in the near future as a result of the shock vote — but warned it would continue to monitor the exit process. The AM Best report said: "The decision has led to a sharp drop in Sterling and global equity markets. AM Best notes that the financial market volatility could have a material impact on insurers' half year and balance sheets, with most companies reporting their positions as at June 30. Solvency II's market-consistent approach to valuing the economic balance sheet means that financial market volatility will be closely reflected in European insurers' reported solvency capital ratios. AM Best will discuss the implications of this with rated entities, but will continue to incorporate a prospective view when assessing insurers' financial strength. The implications for the financial strength of insurers with regard to subsequent investment market volatility, currency fluctuations and increased economic uncertainly will be closely monitored." AM Best spoke out after the UK voted by around 52 per cent to 48 per cent to leave the EU, where it had been a member for 43 years. David Cameron, the British Prime Minister, who had backed a remain vote, resigned yesterday in the wake of the outcome, although he will remain until his Conservative Parry elects a new leader at its conference in October. Sterling plunged after the result was announced and European financial markets were thrown into turmoil, although it will take several years for Britain to negotiate its exit. The AM Best report said: "Also, as the terms of the exit are negotiated, AM Best will discuss with rated companies what prospective changes will mean for their competitive positions and ability to continue to access business in the UK and EU." Greg Wojciechowski, chief executive officer of the Bermuda Stock Exchange and the chairman of ILS Bermuda, said the island can offer a "safe harbour" amid fears over the future after the UK narrowly voted to quit the European Union. Mr Wojciechowski explained the British vote "in no way diminished" Bermuda's standing as a well-respected and well-regulated financial centre. "While the world wrestles with the Brexit vote, Bermuda will continue to offer innovative commercial solutions to clients and industry segments we support and we welcome future opportunities that might arise. Bermuda will continue to provide a safe harbour amid uncertainty for the foreseeable future. Bermuda's unique geographic position between two of the world's deepest capital markets and largest insurance centres has created commercial opportunity for the island as well as a solid platform to provide services to a global audience — and the Brexit result will not impact this. Bermuda will continue to offer innovative commercial solutions to clients and industry segments we support and we welcome future opportunities that may arise." The Royal Gazette's business magazine, The Bottom Line, reported last month that Bermuda could get an influx of reinsurance business into the EU if the UK voted to leave. And Lloyd's of London chief risk officer Steven McGovern warned that Britain would have to seek Solvency II equivalence if it left the EU — a privilege Bermuda already has on its own merits — and also cause financial turmoil in European financial markets. Bermudians who hold UK passports are also set to lose the automatic right to live and work in Europe on equal terms with Euro nationals, although those already resident will not lose that right under treaty provisions. Mr Wojciechowski said that the BSX would continue to work to improve the domestic capital market, including the insurance-linked securities class, where Bermuda is the global listings leader. "In the face of change, Bermuda's ILS platform remains a stable centre of excellence for the creation and listing of these structures and as an industry, we stand ready to provide collaborative support to overseas colleagues to help drive the global ILS market." Grainne Richmond, president of the Bermuda Insurance Management Association, said it was too early to comment on the full effects of Brexit as it will take years for Britain to untangle itself from Europe after 43 years as a member of the EU. As an economic bloc, the European Union is stronger with the United Kingdom in it, yet respect has to be given to the decision of the British people. It will likely take years for a full departure of Britain from the EU, therefore it remains premature to comment on any effects the vote will have on the captive insurance market. BIMA and our members will be monitoring the process closely in the UK."
June 24. The count ended just before 4am today, with the No campaign scoring a resounding success despite fewer than 50 per cent of the electorate making an appearance at the polls. The final numbers are: Same-sex marriage. NO 14,192. YES 6,514. Same-sex civil unions. NO 13,003. YES 7,626. Total vote count percentage. 46.89 (50 per cent required for a officially valid referendum).
June 24. Bermuda has not evolved and people want to stay in the "dark ages", activist Tony Brannon claimed last night as people overwhelmingly voted against same-sex marriage and civil unions. Speaking to The Royal Gazette at midnight, with 11 regions having completed their first count, ten their second and four their third, the campaigner said he refused to give up until the final count was in. But he added: "Obviously it's a very disappointing result so far, very disappointing for equality. It saddens me that Bermuda has not evolved. The people want to stay in the dark ages, that's their choice, but it's very sad. What else is there to say?" While noting that he is no lawyer, he said: "We're going to have to go to the courts. People are incapable of moving into the 21st century. Human rights need to be dealt with in the right way," he added, pointing to the Supreme Court ruling that legalized same-sex marriage in the United States. Yesterday morning, the Rainbow Alliance of Bermuda acknowledged the outpouring of "love and support" for the LGBTQ (lesbian, gay, bisexual, transgender, queer) community in advance of the referendum on marriage equality. "The results of this referendum are non-binding and no matter how it turns out, we will be grateful for an end to the divisive and often hurtful campaigning that this exercise has inspired," the group stated. "Regardless of the results, the Rainbow Alliance of Bermuda will remain committed to creating safer spaces and advocating for equity for the LGBTQ community. Our approach towards justice has always been one of intersectionality [tackling interlinked systems of oppression] and love. We hope that following this referendum, the significant amount of resources and energy that have been dedicated towards campaigning can be redeployed towards the many issues that are currently devastating our community." Speaking to this newspaper before the count began, activist Shari-Lynn Pringle stressed that the "work is never done" regardless of the referendum's outcome. "There is still so much work to do in Bermuda: there is gender identity, gender expression, gender issues that were my intention to tackle before the marriage equality issue came up. There is still more work to do depending on what decision the Government makes because it will determine what level of work we have to do on marriage equality. The Government is in a quandary and the courts are actually going to decide what is going to have to happen.
June 24. Bermudians overwhelmingly rejected same-sex marriages and civil unions by a greater than two-to-one margin in the referendum yesterday. However, the total number of votes cast was 20,804, or 46.89 per cent of the electorate, which is below the 50 per cent requirement to make the referendum valid. The final count, at around 4am today, showed that 69 per cent of those who voted, or 14,192 people, opposed same-sex marriage, with 6,514 voting in favour. That means out of 44,367 registered voters, 31.99 per cent were against, with 14.68 per cent in favour. Meanwhile, 63 per cent voted against civil unions in the second question. That equates to 29.31 per cent of registered voters, with 17.19 per cent voting in favour. There was some joy for the "Yes, Yes" camp in that Region 4 and Region 7 — the polling stations at Botanical Gardens and Dellwood Middle School — voted in favour of civil unions, while another two were defeated by the closest of margins. At midnight, Tony Brannon, a campaigner for same-sex marriage, lamented the results in the island's first referendum for 21 years. "We'll see where it goes — the count is not finalized yet," he said. "Obviously, it's a very disappointing result so far; very disappointing for equality. We tried hard." A total of 44,367 Bermudians were registered to vote in the referendum, however, the two questions would be deemed to be "answered" only with a voter turnout of 50 per cent or more. Representatives from Vote No Twice and Preserve Marriage were not available for comment last night as the results were being reported. Earlier in the evening they pledged to continue their community efforts, which they said would include outreach to the LGBT community. "We have a responsibility as a Christian community to extend love to all, and I believe that the group may be interested in developing a special ministry to the LGBT community," Dr Melvyn Bassett, chairman of Preserve Marriage, said. Thousands turned out to the 12 polling stations across the island during the course of the day to have their say on the issue of same-sex marriage and civil unions. Some early risers were knocking on the doors of polling stations before 8am, while others turned up after the 8pm deadline and missed the chance to vote. Most stations reported a steady stream of residents throughout the day, while the atmosphere was largely calm and friendly. Yesterday's referendum, which coincided with Britain's referendum on membership of the European Union, had previously come under fire from some quarters because it was "non-binding", although earlier this week Michael Dunkley, the Premier, had insisted: "Any outcome is the will of the people and will guide their elected officials accordingly." The Rainbow Alliance had condemned the exercise saying it would cost taxpayers $350,000. The process was also the subject of a Supreme Court challenge in which Chief Justice Ian Kawaley said holding a referendum on same-sex relationships broke a "fundamental principle" in relation to human rights. The ruling prompted the Bermuda Government into ditching the plan to use churches as designated polling stations. At the last referendum, on independence, held 21 years ago, 22,236 people voted, a turnout of almost 59 per cent. The result was a resounding 74 per cent no vote.
June 23. Bermuda non-binding Referendum on same-sex marriage. Voters were asked two questions: "Are you in favour of same-sex marriage?" and "Are you in favour of civil unions?" The result of the referendum was that Bermudians overwhelmingly rejected same-sex marriages and civil unions by a greater than two-to-one margin in the referendum yesterday. At 3am, 19,441 votes had been counted and reported by the Parliamentary Registrar. At that time, 69 per cent of those who voted, or 13,386, opposed same-sex marriage, whereas 6,055 had voted in favour. While 63 per cent of those who voted, or 12,253, had voted against same-sex civil unions and 7,120 had voted in support. The Region 11 polling station of Somers Isle Lodge, which was one of the three outstanding, endured a difficult start to the evening having failed to disclose results for several hours after the polls closed. No reasons were provided for this despite efforts to contact the Parliamentary Registrar. At midnight, Tony Brannon, a campaigner for same-sex marriage, lamented the results in the island's first referendum for 21 years. "We'll see where it goes — the count is not finalized yet," he said. "Obviously, it's a very disappointing result so far; very disappointing for equality. We tried hard." However, with only three counts to be presented by 3am, it was uncertain whether the required 50 per cent turnout figure of 22,184 would be reached to make the ballot official. A total of 44,367 Bermudians were registered to vote in the referendum, however, the two questions would be deemed to be "answered" only with a voter turnout of 50 per cent or more. Representatives from Vote No Twice and Preserve Marriage were not available for comment last night as the results were being reported. However, earlier in the evening they pledged to continue their community efforts, which they said would include outreach to the LGBT community. "We have a responsibility as a Christian community to extend love to all, and I believe that the group may be interested in developing a special ministry to the LGBT community," Dr Melvyn Bassett, chairman of Preserve Marriage, said. Thousands turned out to the 12 polling stations across the island during the course of the day to have their say on the issue of same-sex marriage and civil unions. Some early risers were knocking on the doors of polling stations before 8am, while others turned up after the 8pm deadline and missed the chance to vote. Most stations reported a steady stream of residents throughout the day, while the atmosphere was largely calm and friendly. Yesterday's referendum, which coincided with Britain's referendum on membership of the European Union, had previously come under fire from some quarters because it was "non-binding", although earlier this week Michael Dunkley, the Premier, had insisted: "Any outcome is the will of the people and will guide their elected officials accordingly." The Rainbow Alliance had condemned the exercise saying it would cost taxpayers $350,000. The process was also the subject of a Supreme Court challenge in which Chief Justice Ian Kawaley said holding a referendum on same-sex relationships broke a "fundamental principle" in relation to human rights. The ruling prompted the Bermuda Government into ditching the plan to use churches as designated polling stations. At the last referendum, on independence, held 21 years ago, 22,236 people voted, a turnout of almost 59 per cent. The result was a resounding 74 per cent no vote.
June 23. Bermuda appears to have delivered an extremely convincing "no" to both same-sex marriage and same-sex civil unions. However, today's referendum will only be considered "answered" if there is a turnout of 50 per cent or more. Bermudians were posed two questions: are you in favour of same-sex marriage in Bermuda and are you in favour of civil unions in Bermuda?
The polling stations are:
Penno's Wharf cruise ship terminal — St George's North (1), St George's West (2), St David's (3)
Francis Patton Primary School — St George's South (4), Hamilton East (5), Hamilton West (6)
Elliot Primary School — Hamilton South (7), Smith's South (8), Smith's West (9)
Botanical Gardens Horticultural Hall — Smith's North (10), Devonshire East (11), Devonshire South Central (12)
National Sports Centre Pavilion — Devonshire North Central (13), Devonshire North West (14), Pembroke East (15)
West Pembroke Primary School — Pembroke East Central (16), Pembroke Central (17), Pembroke West Central (18)
Dellwood Middle School — Pembroke West (19), Pembroke South West (20), Pembroke South East (21)
The Bermuda College Student Centre — Paget East (22), Paget West (23), Warwick South East (24)
Windreach — Warwick North East (25), Warwick South Central (26), Warwick North Central (27)
Heron Bay Primary School — Warwick West (28), Southampton East (29), Southampton East Central (30)
Somers Isles Lodge — Southampton West Central (31), Southampton West (32), Sandys South (33)
Somerset Primary School — Sandys South Central (34), Sandys North Central (35), Sandys North (36).
June 23. In UK, Brits voted in their referendum by 52-48% not to stay in the European Union (EU). Scotland and Northern Ireland voted strongly to remain but their vote was not made by political parties. Many in the Scottish National Party wanted to leave. Bermuda will not be much affected with the Brexit (break with the EU) announced early this am in the UK occurs although Bermuda itself, as a self-governing British Overseas Territory, unlike Britain, is not bound by any EU laws. Britain is expected to lose much financial business. President Obama of the USA earlier warned Britain of the trade consequences. The British Pound Sterling fell to its lowest point overnight since 1985.
June 23. Bermuda recorded its seventh consecutive year of job losses as the total number of posts held fell by 156, according to government statistics released today. The total number of jobs in the island's economy was 33,319, down from 33,475 in 2014, a fall of 0.5 per cent. The rate of job losses slowed markedly from the 802 jobs lost in 2014. The figures show that the island lost more than 4,000 jobs between 2011 and 2015. There were 257 fewer jobs held by Bermudians in 2015 than the year before, while non-Bermudians held 105 more. The bulk of the job losses could be attributed to the public sector, as the Bermuda Government's cost-cutting measures took effect. An ongoing hiring freeze and voluntary early retirement scheme may have contributed to the net loss of 227 jobs in the public administration sector, as well as a near ten per cent cut in the number of public-school teachers employed from 753 to 679. The financial intermediation sector was the biggest gainer, adding 116 jobs. The hotel industry recorded a net loss of 113 jobs. The wholesale trade industry saw a loss of 70 jobs, while retail had 46 fewer jobs and international business had 37 fewer positions. Jobs held by black people fell to 17,823 from 18,105, while employment among whites rose to 10,780 from 10,736 and mixed/other races advanced to 4,716 jobs from 4,634. The median gross annual income for employees working in organisations with ten or more staff fell by $240 to $63,657. Women earned more than men and the pay gap widened to nearly $4,600 last year. Median gross income for women was $65,927, compared to $61,330. Women's pay climbed 1 per cent last year, while men's fell 2 per cent. The breakdown according to race showed that blacks' median gross income was $57,673, more than $30,000 less than the $88,405 earned by whites. Mixed and other races earned $54,949. The highest-paying sector was international business, whose employees made median gross income of $128,871, up 3 per cent from 2014 and more than double the island's median gross income. Neck and neck in a distant second place were financial intermediation ($80,473) and the electricity, gas and water sector ($80,400). The hospitality industry was the lowest payer, with restaurant, café and bar workers seeing median gross income of $34,988, down 1 per cent from 2014, while hotel workers earned $36,883, up 3 per cent year over year. The figures were revealed in The Bermuda Job Market Employment Briefs, which highlights the findings of the 2015 Annual Employment Survey.
June 23. Parliamentary registrar Tenia Woolridge warned voters yesterday not to forward potentially "misleading" voice notes and videos that were circulating regarding the referendum. "The parliamentary registrar has been made aware that there are voice notes and videos being circulated on social media that appear to be misleading," she said. "Voters are asked not to forward these messages to others as it is an offence under the Referendum Act 2012. The questions for this referendum have not changed and are straightforward questions. They are: Are you in favour of same sex marriage in Bermuda? and Are you in favour of same sex civil unions in Bermuda? The voter has an option of answering either 'yes' or 'no' for each question by marking the appropriate box." Social media users, including Progressive Labour Party MP Diallo Rabain, also raised concerns about a voice note. Mr Rabain wrote on Facebook: "To the person or group who has created that voice note to deliberately confuse voters today, shame on you. Do not be fooled. The questions are straightforward and you either vote yes or no to the questions. Please get out and vote and not be discouraged by this foolishness." The Royal Gazette heard the short voice note, which featured an unidentified woman saying: "Good morning ladies, I pray that God is blessing you this morning. If any of you intend to participate in the referendum, please read the ballot carefully. It is rigged in a way that you will vote opposite. You have to put an X on the yesses if you want to vote no. Please read the ballot carefully. I've just gone into the polling station and read it and someone else warned me that you must read it carefully. And so I am sure that there are a lot of people that have voted yes for this civil union and they meant to vote no. Have a wonderful day." The polls opened at 8am for the referendum on same-sex relationships and closed at 8pm.
June 23. The debate over the Bermuda Government's airport development plan continued in the Senate yesterday, with the One Bermuda Alliance members challenging the suggestion that a new terminal was not needed. However, Opposition senate leader Marc Daniels reiterated that the Government must ensure the public are getting value for money. Opening the debate on the motion to adjourn, OBA senator Vic Ball noted that when the Progressive Labour Party was in power, an airport master plan was commissioned which found it was more cost-effective to build a new airport terminal rather than renovate the existing airport. "I'm trying to understand why they have said that it's better to renovate the airport when their own plan says it's better to build an new one," Senator Ball said. Responding, Senator Daniels said that he did not know the details of the plan created by the PLP government or who prepared the report, saying that the question remained if the Government was truly getting the best possible deal. "There are a lot of concern from members of the community about how the OBA is pursuing its plan," he said. Fellow PLP senator Renee Ming, meanwhile, mentioned the issue in her own closing speech, noting that the Government seems to be pushing ahead with the redevelopment project despite 75 per cent of the public being against the plan. The OBA's Georgia Marshall returned the conversation to the PLP master plan, which she claimed had estimated the cost of a new terminal building to be $424 million, compared to $476 million for refurbishments to the existing terminal. While she had previously given a figure of $115 million for refurbishment costs, she clarified that the figure would only include roof and mechanical repair work. "This Government is doing all it can to ensure the project we undertake will be on time, on budget and on spec," Senator Marshall said.
June 23. Robbers stole jewellery after smashing a display case in a St George's store yesterday. Three men burst into Vera P. Card on Water Street, damaging the case with blunt instruments, before making off on foot with a number of items at about 11.30am. One man was quickly arrested in connection with the robbery, while police continued to search for the remaining offenders yesterday afternoon. Business owners reacted angrily at the latest in a series of thefts in the Olde Towne. Jeff Baron, the Minister of National Security, responded by saying nearly $1 million would be invested in CCTV, with local MP Kenneth Bascome raising hopes for a police presence being placed within the post office. Carmen Furbert, a member of staff of the Salt Spray Soap Factory, located across from Vera P. Card, said she was in her store when she heard glass breaking. She saw several frightened tourists running out of the shop, which prompted her to run in the back. "I didn't know what to do, I didn't know what these boys were capable of," Ms Furbert told The Royal Gazette. "When I saw them getting ready to run out of the store I went outside and went next door. We are all just shaken up. It's ridiculous there is no police station in this area. Anything could have happened in those five minutes before the police came — somebody could've been shot, stabbed, anything." David Zuill, the owner of David Rose Jewelry, said he was fed up with a lack of protection after being a victim to the same crime twice himself. "I strongly believe that the same guys have been hitting the shops in this area because every time, a day or two before the robbery, the same ones come in looking for chains," Mr Zuill said. "I sell high-end jewellery so I don't usually get people in here looking for that. It's very suspicious. We've started to upgrade our security because I noticed a pattern. Yesterday, five guys came in asking the same questions. I had a strange feeling in my stomach on Tuesday night that something was going to happen. I don't feel safe anymore. We have zero faith in the police, zero faith in the Government for not having more patrols." Speaking at the scene, Mr Baron said: "Presence is the key here. Whether we can build a police station or identify a place for police to occupy, what is clear is that the presence is the major demand and I support that. These are crimes of opportunity. This Government has been very clear about wanting to close those opportunities down. We're about to make a $900,000 investment in technology for the town of St George's with regards to CCTV. That is going to close down opportunities for this type of opportunistic offending. We are also going to be making investments again looking at the policing plan, increasing patrols to St George's as well so that there is increased presence." Mr Bascome, a former Mayor of St George, said: "I've had some words with the new minister in regards to a police apparatus. The police station is infested with mould and I'm under the impression that we can use the top of the post office. After this, my people will be convinced that we need to put a police apparatus in the Town of St George." Mr Baron added: "The men and women of the Bermuda Police Service have provided highly professional service to this community and I want to recognise that in the midst of these events. Strong responses to incidents where the loss of life has occurred have been swift and investigations are already beginning to bear results. Enforcement is only one part of the response to incidents of this kind but the community can be confident in the Bermuda Police Service and their commitment to bringing offenders to justice." Witnesses or anyone with information should contact 295-0011.
June 23. Two men, aged 26 and 31, are in police custody in connection with the shooting of Fiqre Crockwell, who was killed in the early hours of Monday. Police said that authorities moved swiftly, with one arrested that same day and a second on Tuesday. Mr Crockwell, 30, a St George's Cup Match and former Bermuda cricketer, was fatally wounded in the area of Woodlands Road, Pembroke, shortly before 3am on Monday, as revelers left a Bermuda Heroes Weekend function at the BAA car park. Although an investigation continues, the victim has not been identified as being involved in any of the island's gangs. Meanwhile, the stabbing victim at the same incident has been identified as Kirk Butterfield. Mr Butterfield, a member of staff at Care Learning Centre, is said to be recovering well in hospital. The 46-year-old son of the former Progressive Labour Party minister Neletha Butterfield, posted on social media the news of his well-being and had no qualms last night in giving The Royal Gazette permission to republish an image of him in hospital. He was admitted after police discovered him with stab wounds in the same location. Like Mr Crockwell, he, too, has a prominent sporting past, having featured in the same Bermuda Under-18 football team that contained Shaun Goater in his early days as a professional with Manchester United. Police have not established whether the two incidents were linked, but will welcome any information from the public. "It's about putting the pieces together, no matter how small," said Acting Inspector Kenten Trott, who is the senior investigating officer in the case. The first alert of a disturbance was received by police at 2.57am, followed "moments later" by calls of a shooting. "There were people in the immediate area where the shooting took place," Mr Trott said. "We're appealing for all to come forward if they have not done so, and we would like to thank those witnesses who have come forward." Assistant Commissioner Antoine Daniels gave sincere condolences to the Crockwell family for their loss, which "obviously has been a very traumatic time for everyone — especially considering how this happened with a number of people present on Woodlands Road at the time. Mr Crockwell was a young man in the prime of his life — a father, brother, uncle, son and friend to many. It is the second shooting death of the year and the 29th gun death since 2009, when the shooting increases began," he said. "When we consider that 29 men have lost their lives to gun violence and 63 on our roads alone in the preceding six years, this has to cause concern in the Bermuda community." Anyone with information is asked to call 247-1739 or Crime Stoppers on 800-8477.
June 22. The Parliamentary Registry website has been "temporarily suspended", according to a spokeswoman, but is expected to return to operation by tomorrow afternoon. In a statement, the spokeswoman stated that polling station listings for tomorrow's referendum and general information are online at gov.bm, and voters can confirm their registration details either at a post office or at the Parliamentary Registry offices on the third floor of the Craig Appin Building on Wesley Street. Registered voters who seek to vote in tomorrow's referendum can do so at the following sites, based on their constituency:
Penno's Wharf cruise ship terminal — St George's North (1), St George's West (2), St David's (3).
Francis Patton Primary School — St George's South (4), Hamilton East (5), Hamilton West (6).
Elliot Primary School — Hamilton South (7), Smith's South (8), Smith's West (9).
Botanical Gardens Horticultural Hall — Smith's North (10), Devonshire East (11), Devonshire South Central (12).
National Sports Centre Pavilion — Devonshire North Central (13), Devonshire North West (14), Pembroke East (15).
West Pembroke Primary School — Pembroke East Central (16), Pembroke Central (17), Pembroke West Central (18).
Dellwood Middle School — Pembroke West (19), Pembroke South West (20), Pembroke South East (21).
Bermuda College Student Centre — Paget East (22), Paget West (23), Warwick South East (24).
Windreach — Warwick North East (25), Warwick South Central (26), Warwick North Central (27).
Heron Bay Primary School — Warwick West (28), Southampton East (29), Southampton East Central (30).
Somers Isles Lodge — Southampton West Central (31), Southampton West (32), Sandys South (33).
Somerset Primary School — Sandys South Central (34), Sandys North Central (35), Sandys North (36).
June 22. Jessica Lightbourne laughed when she was called "white honky" and "blacky" as a child; the bizarre words didn't match her identity. Joanne Wohlmuth's black parents were considered "odd" because they had three "white" children. They shared their experiences as part of the Department of Community and Cultural Affairs' Bermudian Heartbeats series last week. The series of talks, organized by Kim Dismont Robinson, are designed to explore Bermudian identity. Jessica Lightbourne was taught to think of herself as biracial. The 38-year-old daughter of a white English woman and a black Bermudian man grew up thinking "she had the best of both worlds". And so when a black friend called her "white honky" and a white friend called her "blacky", she laughed. "That's not how I identified," she said. It wasn't until she left Bermuda that she "became conscious of racial divisions. I would have probably been oblivious to it all had I never become friends with African Nova Scotians. Even though I self-identified as biracial, mostly everyone else in the community viewed me as black. I began to identify as black because in that environment that's how I was treated." She said the experience taught her to "assimilate". And so when she was having trouble finding a job, the young lawyer took advice received from a mixed-race friend to heart: "You either need to straighten your hair or cut it off." She cut it off and got a position. "I prepared a lot for my interviews but it makes you question," she said. "I grew up in a space that accepted me, but you get hard knocks when you're in a place where you don't have advocates. I don't think you can prepare your child for all of the hurts that are coming. I grew up in a household where members of my family had disabilities, so there was always dialogue about inclusion, dialogue about barriers. I realized that my experience as a Bermudian mixed-race person was completely different from those that grew up in the United States. A lot of people there were growing up in white spaces where they were the only 'other' and had to deal with not feeling worthy because of the way they looked." It was only after someone explained that "race was a social construct" that she came to grips with her situation. "I realized that more than being biracial, I was multicultural. I started thinking less in terms of race and my individual identity and more in terms of what my culture is. Culture is also a social construct that evolves and changes. If we can grasp onto that as a Bermudian community and start looking at those cultural things that we all share rather than looking at the various shades of colour, we can go a long way." Che Barker didn't consider himself biracial as a child. For years he felt like a "sore thumb/ There was no designation. You had to tick black or white or other. My whole life I've felt like an other. I had white friends, black friends and a black family, but I never felt fully accepted. I carried that with me for a long time." He eventually found his home in the theatre. "The theatre community and arts community is just a group of outcasts. I think I got to that biracial point that you're talking about. It didn't matter any more. I knew I was OK. And that's how I live my life today — accepting that everyone is different. If you're going to base it on colour or sexuality, you're missing the point of being human. You're isolating yourself like I was doing. You're cutting yourself off from the world. I'm hoping that through discussions like this, we don't end up with people like me who feel like they don't fit in." Joanne Wohlmuth calls herself black but her family portrait might indicate otherwise. She had three 'white' siblings, children from her father's first marriage. Although she also called her father black, he was in fact biracial. He was born in 1905, and raised by his white grandfather and black grandmother. In 1924 he married a white, Scottish woman and "had three children who looked very white". When his first wife died he married Mrs Wohlmuth's mother, a black woman. "My parents are black. My mother is black and my father is black," she said "So there were two black people with three white children in Bermuda — and then they had three others. So, in my family there was a big range of looks and we were constantly the talk of the town." She went to all-black schools in a still segregated Bermuda and then moved on to renowned black college Howard University. Entering the US in the midst of the Black Power moment, she was passionate about the cause. "I was right there in terms of wanting to be black and dealing with racism, but at the same time I had difficulty with disowning my white brother. I couldn't reconcile that, so I ended up leaving. I went up north and went to NYU. There I disappeared. Nobody saw me, nobody knew me. I was wrestling with these things inside myself. I had to learn to love myself and treat myself with the greatest dignity and respect. When I came back I was a pretty angry, black woman. [In my family] we were always trying to work out how we could be as one and love as one, but there was all this other stuff that came from society in the context that society had made it difficult for us to do that." Mrs Wohlmuth has an Austrian husband and two biracial daughters. "I realized it didn't matter who I was going to marry as long as I had someone that I knew I could relate to and could have a loving relationship with me." She felt her lighter siblings were "the ones that were valued" by society when they were children. she said. "That was the beginnings of this thing going on inside of me — that there's something not quite right about the way we treat each other. They were really given credence in terms of self-worth." She said it was her French teacher, a white, English man who helped her to feel her worth. "He introduced me to black books so I could learn about myself, to make me feel and understand who I was." She said the recent immigration protests in Bermuda dredged up a lot of those feelings. "Understand who you are, know who you are and move into this place of non-dualism knowing also that you have a rightful place like anyone else." Grace Edwards will never forget the time she and her mother crossed words on immigration. She spoke out against allowing foreigners into Bermuda — sentiments that she'd heard expressed by her peers. Her Filipina mother slammed on the car brakes, paused and reminded her daughter where she came from. "That's what put me in my place," said Ms Edwards, whose father is black. "I learnt that I'm not completely native to where I believe I'm native to. My right hand side is Filipino and my left hand side is Bermudian." The 22-year-old shifted from public to private education in high school and "that's when all the changes started happening. I came out of the closet. Being Filipina, black and openly gay has created so many different barriers for me. One minute someone is complaining about foreigners and I'm sticking up for foreigners, the next minute someone's complaining about Bermudians and I'm sticking up for Bermudians. And the next minute, Everybody's hating gay people. It's made life challenging at times. It's hard. I never considered myself as biracial simply because I never knew the word existed until this point. One thing I'll never forget is my primary school prefect. She said 'Your hair is so pretty. You're so cute. You're so pretty. You must be Indian'. "I said, 'No. My mum's Filipina'. And she said, 'Well that's why you're so pretty'. "I'll never understand where this idea came from that if you're part Asian — or part anything that does not have nappy hair — you're gonna be pretty." Andrew Simons believes it's impossible to have a discussion about race without looking at class. The 34-year-old went to black-dominated Berkeley Institute, a New England boarding school and then Stanford University. People here knew where he fitted. His father was Gerald Simons, a UBP MP who married a white woman; out in the world people struggled to "place" him because of his fair skin. He'd often have to answer "searching questions" as they tried to establish his ethnicity. "People constantly project different racial identities onto me. It's always something close to what they're familiar with, but not them. As people grapple with a sense of identity, people so often don't read me as black, so by some measure I 'pass', unwillingly." His teachers at Berkeley and beyond encouraged him to read black literature. "That was important. I can't have all of these experiences and so we read. That's how many people learn about different people and places. Those influences matter. That's been preparation for my experiences." Mr Simons recognized that he might have been unprepared for life's challenges had he grown up similarly as a "brown person in America". He said: "My experience is different; it is informed by privilege."
June 22. Cecilia Wollmann will be named in the Bermuda Olympic squad tomorrow but is still not over the shock of qualifying for the Rio Games. The teenage sailor secured her place in the Laser Radial fleet in January at the World Cup in Miami, but does not think the reality of the situation will sink in until the opening ceremony in August. Wollmann is likely to be the youngest member of the team, and said she was trying to think about the Games as "just another regatta". She said: "It is almost shocking that I have done that [qualified] when I am only 18. It always is quite a shock for me when people refer to me [as an Olympian] that way. It is getting more [real], people notice me, and congratulate me. I feel like walking into the opening ceremony will be the moment when it really hits me." Wollmann is in Rio this week and next preparing for the Olympics with Cristian Noe, her coach, and Mikey Wollmann her brother. The trio will use the time to study current and wind patterns, with the Wollmann siblings racing against each other in practice sessions. "He [Mikey] is in the girls' boat right now so that's useful for me, he's able to work with me so I always have to push myself," Wollmann said. "It's also helpful to see if it was a race, we can each go out to different sides [of the course] to see who ended up coming in first." As with any small nation Bermuda's presence in Brazil is nothing compared to that of other nations, and Wollmann said that she was used to the disparity. Her parents have supported her as much as they can financially, and Digicel Business and BTC have agreed to cover the family's communications costs during the Games. The staff at Alchemy Gym have also helped, getting her ready for the physical demands the Olympics will place on her. Wollmann, for her part, is Digicel's ambassador in Bermuda for Bring the Beat, the company's Olympic advertising campaign. Still, while there are few expectations on Wollmann at the Games, that does not mean there is no pressure on her to perform. "Qualifying just lets you know that you have a lot of work still ahead of you," she said. "It wasn't necessarily [the] easy [part], but it does take a little bit of pressure off knowing that you have qualified, and know you are going. I don't think there is as much pressure for me because I am so young, I have so many years that I could be competing. It wasn't expected of me to qualify, so it's pretty nice not having all that pressure." The work Wollmann has been putting in over the past several months at home and abroad has been geared to controlling as many elements of the race as she can, such as boat handling and having the right set-up with her ropes and sails. The unknowns come during the event itself, with the Bermuda sailor saying she had been told by past Olympians that "crazy things can happen, both good and bad". She said: "Most of them have said that you can't prepare really too much because it's going to be so different to all the other competitions, which will be neat to see."
June 21. Ken Read, the skipper of Comanche, believes he and his colleagues could have arrived in Bermuda sooner had it not been for a delayed start to the 50th Newport Bermuda Race. Jim and Kristy Hinze-Clark's 100-foot supermaxi slashed nearly five hours off the previous record of 39:39:18 — set by George David's Rambler in 2012 — after crossing the line off St David's Lighthouse at 4:22:53am on Sunday, in a provisional elapsed time of 34hrs 42min 53sec. "If we would have started at normal time, which is usually about 3pm, we could have shaved another four or five hours off the record because we would've gotten ahead of a little high pressure off the coast," Read said shortly after Comanche docked at the Royal Bermuda Yacht Club. "The high pressure became our challenge and once we got through it in really good shape we put a brick on the accelerator pedal, held on and let the boat do its thing. Once we got out of that little high pressure area off the Rhode Island coast and Nantucket it was a dream ride. This time of year you don't get many north-easterlies like that, that hold for the entire race. It was a really fun, fast reach." The Newport Bermuda Race elapsed time record has now swapped hands three times in the past 14 years. "It's an honour to be mentioned with the Pyewackets, Ramblers and Boomerangs who have all broken the race record and good to put Comanche on the list with all those boats," Read said. "When the Clarks built this boat one of Jim's stated goals was to try to beat records in great races, and this race obviously is one high on the list. It was really fun and this boat did exactly what it was made to do." Comanche's line honours victory in the Newport Bermuda Race was in stark contrast to the yacht's come-from-behind victory in January's Sydney Hobart Race when it retired after damaging its daggerboard and steering system during heavy squalls before rejoining the race after a group of crew jury-rigged a repair to the steering system. "There was no drama this time," Read grinned. "We didn't break a single thing or person, and so we're very happy." A total of 133 yachts in 16 classes started this year's Newport Bermuda Race in Narragansett Bay, Rhode Island on Friday afternoon, among them local entries Spirit of Bermuda and Bermuda Oyster as well as the US Merchant Marine Academy yacht Metolius, which is being skippered by local sailor Dr Stephen Sherwin. Paul Hubbard's Bermuda Oyster is competing in the St David's Lighthouse Division, Metolius in the Cruiser Division and Spirit of Bermuda in the Spirit of Tradition Division along with America, a replica of the yacht that inspired the America's Cup. "We're rocking and rolling doing about ten knots with our spinnaker up," Ben Fairn, director of the Bermuda Sloop Foundation, who is among Spirit of Bermuda's 32-member crew, said yesterday. Spirit's crew were treated to a rare sighting of great white sharks that came up close to the sloop off the coast of Newport. "Initially we saw one go across our bow and we were all standing right over looking at it," Fairn said. "Then, five minutes later two more came by and the first was like 20 feet! "It was a big shark and we were all pretty stunned. Nobody wanted a fishing line and no one went swimming!"
June 21. NEW YORK (Bloomberg) — Aon chief executive officer Greg Case, who moved the insurance broker to London from Chicago four years ago, said Britain's centuries-long leadership in the industry would be damaged if voters choose to leave the European Union. "The UK has been at the centre of insurance and risk management since maritime trade and shipping was insured at Lloyd's in the City of London more than 325 years ago," Case said in a letter posted yesterday on the company's website. "Leaving the EU jeopardizes the UK's leading position in the epicentre of our global service economy." Industry leaders have been stressing the benefits of global commerce, along with the risks of isolationism, ahead of the June 23 vote. American International Group CEO Peter Hancock said last week that he'd consider establishing a European operations hub beyond London if the "Leave" side prevails. Case said Aon may not be able to provide the same coverage options to clients if trade barriers increase. He also said the company would find it harder to recruit and retain top talent. Aon moved its headquarters to the UK in 2012, citing improved access to Lloyd's of London and emerging economies. Lloyd's is the world's oldest insurance market and is used by businesses seeking to guard against large or complicated risks. Aon's shift also provided tax benefits. Case's company acts as a middleman in the insurance industry, helping clients arrange coverage to guard against risks ranging from natural disasters to bed bugs to lawsuits. It is the second-largest broker by market capitalization to New York-based Marsh & McLennan Cos. "In our world, risk is inevitable and we manage it accordingly," Case wrote. "But leaving the EU is an unnecessary gamble." Aon climbed 95 cents to $107.81 in New York, extending its gain for the year to 17 per cent as global stocks rallied after weekend polls showed "Remain" prevailing in the UK vote. Marsh & McLennan rose 76 cents to $66.62 and is up 20 per cent since December 31.
June 21. Lloyd's of London-based insurer Neon has opened a new office in Bermuda. And the firm aims to expand its on-island two-strong team as it targets the US market. Neon has recruited Bermudian Chris Fisher, an underwriter with 25 years of experience in the insurance industry in Bermuda, Britain and the US, to head up the Bermuda operation. He was previously chief underwriting officer of insurance for Ariel Re in Bermuda. Mr Fisher said: "I'm delighted to be joining Neon to open and head its new Bermuda office. We believe that the existing expertise of Neon's Lloyd's syndicate, in conjunction with the strong Lloyd's financial rating and our stated goal of building upon our local underwriting talent, means that we will be able to offer a compelling and relevant proposition to this strategically important market." Mr Fisher's office, in Victoria Street, will write direct and facultative property insurance on a global basis as an approved cover holder for Lloyd's Syndicate 2468. Business will be considered on a primary quota share and excess of loss basis with critical catastrophe line sizes up to $10 million and fire capacity up to $25 million. Martin Reith, CEO of Neon, said: "Opening the Bermuda office is a strong statement of our intent to expand Neon's international presence and grow the business. In Chris, we have a highly regarded local underwriter with strong relationships on the island as well as in the US. We have bold ambitions to grow our Bermuda platform and anticipate adding both personnel and product lines in the near future." Mr Reith added: "More broadly, opening in Bermuda, which follows the completion of our strategic review, is a further sign of the momentum within Neon as we continue to make encouraging progress with the strategic turnaround of the business. It's an exciting time for the group and we look forward to updating the market with further news demonstrating this positive trajectory. We think it's a great outpost for us as we continue to build our new branded company name. Given the significance of the Bermuda market in the global insurance and reinsurance stage, it seems to be a logical next step for us." Mr Fisher has also previously worked for Ace, now known as Chubb, in various senior underwriting and executive roles, and he started his career at BF&M.
June 21. By Bryan Dooley is senior portfolio manager, with LOM Asset Management. Opinion. "It has been quite some time since the global financial markets have faced such a widely-anticipated, major binary decision expected to propel securities prices sharply in one direction or another. I am, of course, referring to this week's 'Brexit' vote. On Thursday, the United Kingdom decides whether to remain in the European Union or to begin pulling out and this landmark referendum has policymakers and investors on the edge of their seats. If the majority of British citizens vote to remain in the EU, everyone can go back to working within a known framework which has arguably served Britain well over the past few decades. However, if the UK votes to exit the commonwealth, a series of somewhat unknowable events will then begin to unfold. At a minimum, an exit vote will be disruptive, causing an extraordinary number of contracts to be rewritten. After that, possible outcomes range from a near term slump in trade to a severe downturn in the British economy potentially leading to a fundamental breakdown of the European Union if other member states follow suit and break with the pack. Even taking the most draconian scenarios off the table, a "leave" vote creates immediate challenges. The British government would likely believe it necessary to calm the markets and move swiftly to invoke a policy response. Analysts believe the Bank of England would begin by cutting interest rates and increasing its quantitative easing programme to a larger amount. The Institute of Fiscal Studies predicts the British economy would contract by two to four per cent over the next few years with trade disruptions and labour supply challenges resulting in tens of billions of dollars in additional debt being added to the government balance sheet. In the event of a leave vote, economic growth would not only be stunted, but other EU member nations could begin considering independence referendums of their own, thereby adding additional pressure on Europe's already fragile recovery. In recent years, forward progress in Europe has been bumpy at best, giving rise to a growing faction of "Eurosceptics." The increasingly vocal anti-establishment proponents are fundamentally opposed to the EU structure believing many of the member countries would be better off on their own. Some think the regional authority has betrayed its constituents by allowing the southern states to break fiscal rules and creating open border policies which have contributed to an escalating immigration crisis. If Britain can successfully break free, other countries may be encouraged to do the same. At this late hour, the outcome is still too close to call. The Brexit Poll Tracker poll of polls gives the "leave" camp an edge at 48 per cent versus 43 per cent for "remain" as of this writing. However, about eight per cent are still undecided. On a more positive note, the betting odds, where individuals stake real money, favour a 'remain' vote by about a two-to-one ratio. Market volatility has been increasing in front of the referendum. Global stock markets have been trending downward with European bourses declining the most. The British pound recently fell to a low of around $1.41. "Implied volatility", a standard measure of daily price movement, for the pound recently soared to 21 per cent, a level not seen since the global credit crisis in 2008. In the stock market, British and European-based companies have dramatically lagged their multinational counterparts. The British stock market, as measured by the FTSE 100, has under performed the US-based S&P 500 by over ten per cent in the past month and portfolio managers have been tactically under weighting European risk assets in general. The best way to play Brexit, depends on an investor's risk appetite. Since early last month, we have been encouraging more conservative investors to take profits in lower quality securities following the March and April risk rally. We suggested rotating towards higher quality securities and raising some cash. Conservative investors with a shorter term time horizon should still consider adding to safe havens assets such as investment grade bonds or even UK gilts if they have existing Sterling currency exposure. Initiating or increasing exposure to sterling at these levels may ultimately prove to be smart play longer term. The present Sterling/US dollar exchange rate represents an historically attractive level. The pound could take another leg down if Britain votes to leave, but that is not yet certain. Half positions are a safer bet here, buying some now with the idea of adding more on weakness. Selectively, British and European equities are worth a look at these levels, especially those well diversified globally. In reality, the geographic revenue distribution of many large UK-domiciled companies does not look a whole lot different, than, for example, most large cap US multinationals. And yet, the FTSE 100 index is much cheaper than the S&P 500. A less aggressive strategy is to simply wait until just after the vote and play a rebound if "Bremain" prevails. A leave decision would likely require more time for markets to settle out. Ultimately, Britain can survive on its own with or without membership in the EU as it had for the many centuries prior to joining European Economic Community in 1973. Compromise is a possibility, too. Norway pays into the EU budget and benefits from a portion of the bloc's trade policies without actually having to be a member. On a long-term basis, making big bets against sterling might be unwise. The British pound has existed for hundreds of years while the euro is only 17 years young. When the dust settles, as it always does, there will be opportunities. But investors should proceed gingerly and stay focused on their ultimate objectives."
June 21. St George's Cup Match and Bermuda cricketer Fiqre Crockwell died after being shot in Pembroke yesterday. Mr Crockwell, 30, was fatally wounded near DeSilva Close, in the area of Woodlands Road, shortly before 3am. He was taken to King Edward VII Memorial Hospital, where he succumbed to his injuries. A second victim, a 46-year-old Pembroke man, was in hospital yesterday after police discovered him with stab wounds in the same location as Mr Crockwell. Yesterday afternoon, police said he was recovering in a stable condition with injuries that were not life-threatening. A Bermuda Police Service spokesman said: "It is unclear whether the shooting victim and stabbing victim were involved in the same incident or separate incidents." Officers are appealing for witnesses, or anyone who left a nearby function at Goose Gosling Field at about 3am, to get in touch. Mr Crockwell is the 29th man to die as a result of gun violence in Bermuda since May 2009 and the second this year, after Patrick Dill on May 21. The Governor, George Fergusson, called the attacks "desperately sad". Mr Fergusson said in a statement: "I condemn in the strongest terms those who go about with illegal guns. "There is not the slightest reason or excuse and the lack of respect for life, which it implies, is appalling. I send my condolences to Mr Crockwell's bereaved family. I also pay tribute to the work of the police and others in preventing other tragedies of the same kind in the recent past. Only a few people appear to be involved in this. But everyone can play some part in stopping it. Anyone who knows anything about today's attacks should contact the police or Crime Stoppers. But I hope everyone can pause to consider how to help, either by advising someone at risk of committing such offences to change course; or to consider less direct but important things like volunteering with youth groups and mentoring programmes, or informally helping a family or young person. All this can help. We can't just accept these events, or decide it is for someone else to fix." Senator Jeff Baron, the Minister of National Security, said: "It is heart-wrenching to confront another tragic loss of life. Our thoughts and prayers will hopefully bring some measure of comfort to Mr Crockwell's family and friends. It will be important for any witnesses to make every effort to assist the police while such terrible events are fresh in their minds." Mr Baron added that he expects to be briefed by police today. "I am confident in the full investigation that is already under way," he said. Mr Crockwell was a wicketkeeper-batsman at club and international level, and also a key player for St David's, whom he helped to victory in a top-of-the-table match against Bailey's Bay as recently as last weekend. He last represented the country in June 2015 while on tour to Jamaica in preparation for the ICC Americas Division One Twenty20 Championship in Indianapolis. The Bermuda Cricket Board said: "The Bermuda Cricket Board expresses its shock and sadness at the loss today of Fiqre Crockwell. We extend our sympathies and condolences to the family and friends at this difficult time." Anyone with information should contact Acting Inspector Kenten Trott on 717-2345 or the confidential Crime Stoppers hotline on 800-8477.
June 21. On Thursday, the people of Bermuda will go to the polls for the referendum on same-sex marriage and same-sex civil unions. Jonathan Bell and Sam Strangeways spoke to residents on either side of the debate to find out why they will be voting "yes" or "no". Voting "yes" on both same-sex marriage and civil unions is strictly a rights issue for advocates who shared their views with The Royal Gazette. Ravi Pachai, Steven Boyce and Chen Foley accept that participating in a referendum on rights will not be easy for many voters. "The compromise is you can be sensitive to the religious community by voting 'yes' for civil unions," Mr Foley said. "But you can also recognise that full equality is a good thing, by voting 'yes' for marriage equality." The issue, he said, boils down to "family rights, such as people being able to visit their partners in hospital, rights to inherit property, applications for widowers' pensions". Added Mr Pachai: "We want members of the LGBT community to be able to live with dignity and legal recognition." Mr Pachai said he understood why people were uncomfortable and said a new group, OUTBermuda, would be formally announcing its launch after the referendum to help to facilitate urgently needed conversation. That conversation "has to be done", Mr Boyce said: "There's still work to be done in Bermuda in making it a safer and more welcoming place." The group emerged, they said, out of the Bermuda Bred Company immigration case for same-sex couples — so called because it was brought to the courts by people born and raised on the island. OUTBermuda, Mr Foley stressed, is a new charity still finding its feet, and keen not to be overshadowed by the referendum itself — but the three support a "yes, yes" vote. Former City Hall councilor Kathryn Gibbons is also a supporter, informed by the civil rights movement of the 1960s. "Social customs and mores evolve in a democratic society," she said. "It takes time and many protests." Ms Gibbons maintained that same-sex marriage issues "are really a matter of social justice and equal rights", and called it "grossly unjust" to deny same-sex couples the same benefits heterosexual spouses enjoy. Zakiya Johnson Lord, a Bermudian who lives in New York, has been helping to co-ordinate the "yes, yes" campaign from there. She is gay, married and she and her wife have a son. She worked at the Human Rights Commission and Centre for Justice when she lived in Bermuda and is on the board of directors of OUTBermuda. Bermuda's legal framework and absence of options contributed to her move overseas, she said. "I was married since 2011 but my marriage isn't recognized there in a way that would provide stability and comfort," she said. "I would say that our options are far more limited based on my sexual orientation." She added: "It's quite frustrating. If I could vote, I would fly home to do so. But because I live overseas I'm not technically supposed to vote so I won't. It [the referendum] does impact my life. It's a civic duty to take part. It directly affects my life and the lives of those I care about." Ms Johnson Lord added that the lack of recognition for her marriage meant she could be faced with a choice in the future of caring for her mother, who is on the island, or for her son. "That's the reality. My wife can't come and my son isn't Bermudian," she said. "I would have to choose between who I would care for and my straight friends don't have to do that. That's important." Voting "no" twice in Thursday's referendum is a deeply held imperative for Allan and Mildred Hunt of Heart to Heart Marriage Mentoring Ministries. Both firmly disavow hate speech towards homosexuals, but just as firmly consider tampering with marriage to be a gateway to disaster. "The argument about human rights is an excuse," Mr Hunt told The Royal Gazette. On issues such as inheritance between same-sex partners, Mr Hunt advised couples to "do your due diligence and ensure that whoever you love is in your will". Added his wife, with whom he shares a 46-year marriage: "To redefine marriage, to me, is wrong. If you desire to go somewhere else and get married, do so. For small Bermuda, there is no chance of being insulated from it; everything is going to be right in your face." The Hunts pointed to examples of businesses in the United States going bust for finding themselves morally unable to cater to same-sex couples. They also voiced alarm at a surprise ruling by Canada's Supreme Court this month, in which justices for a man appealing a bestiality conviction found that sex acts upon animals were only illegal if penetration was involved. Tampering with marriage, Mr Hunt said, could genuinely "open the floodgates". "Nobody would have ever, ever thought that would have happened in Canada; I could not believe it," he said. "The first marriage recorded is in the first book of the Bible, between Adam and Eve," he added, concurring with his wife that marriage is "most definitely" fundamentally religious, as well as "natural common sense". The two are uncompromising on civil unions, which they feel inevitably leads to the erosion of marriage. "Civil unions are precursors to same-sex marriages," Mrs Hunt maintained. However, at a prayer vigil last week by the group Preserve Marriage, Mr Hunt insisted that "if anyone had started up with hatemongering, I would have asked them to leave". The group also prayed for the victims of the mass shooting at the Florida gay nightclub, Pulse, that left 49 dead that same day. Although the Hunts believe that homosexual sex is an affront to natural law and in some cases medically dangerous, they are adamant that they love all without exception as Christians, and would not be swayed even if same-sex marriage were passed. Mrs Hunt is an educator, while her husband is an engineer, but the two have a long career as marriage counselors, and both said they recognized that marriage takes hard work. They summed up their view as "healthy marriages create healthy family, and healthy marriages create strong children". "If you strengthen marriage, you have healthier families," Mrs Hunt added. Asked how he responded to the view that homosexuality is inherent and cannot be a choice or lifestyle, Mr Hunt said: "I don't know about DNA and I'm not prepared to make a statement on something I don't know. We can never draw a conclusion in any way to be hateful." He drew an analogy to tree limbs, which will alter their direction of growth if tied into new configurations, adding: "To change the order of things to satisfy the desires of adults is equally as wrong as children being abused for the same reasons. I draw my case again to what is happening in Canada, which is something I would never have realized. What's next?"
June 21. Deryn Lavell has been appointed the new Head of School at Saltus Grammar School. Ms Lavell, who will start in the summer of 2017 subject to immigration approval, has been the Head of The Bishop Strachan School, in Toronto, since 2009. Her previous roles at BSS include Vice Principal of International Programmes, Assistant Head, Institutional Advancement and Principal of Junior School. She said in a press release: "Needless to say I am just thrilled to be joining Saltus Grammar School and beginning life in beautiful Bermuda. It will be an exciting adventure for my husband Steve and I and we are looking forward to getting to know the community and to becoming part of the SGS family. The history, the stories and the ongoing commitment to excellence and innovation that distinguish SGS are remarkable and my goal is to continue leading in that tradition and working with you to chart a fresh path for the next phase of the journey." Gil Tucker, the chairman of the Board of Trustees, said that Ms Lavell would work closely with current Head of School Ted Staunton, who was brought back to Saltus while the search for a permanent head took place. He added: "We look forward to introducing Deryn and Steve to our community in the fall when she will be here for a visit. Deryn and Ted will also work closely together to plan a successful head transition, and I am sure we will see Deryn at Saltus on key occasions throughout the next year."
June 21. More than a thousand people took advantage of a break in the wet weather to take part in the Parade of the Bands in St David's on Saturday. Huge crowds dressed in their carnival best took to the streets, dancing to soca music and celebrating the National Heroes holiday weekend. Despite a late start, the event was hailed as a roaring success by attendees. Starting near the entrance of St David's, the parade went through Southside to Clearwater Beach, with a collection of seven bands providing musical entertainment — each surrounded by themed groups of dancers in extravagant and often revealing costumes. Colin Flood said that while the rain that dampened the weekend may have reduced the number of spectators, the atmosphere was otherwise straight out of the Caribbean. "Everything from the music to the costumes are on point," he added. "Everyone is having a great time. I'm just hoping that next year is even bigger and better." Lori Greer added: "I was worried things would get cancelled, but we've got the sun peaking out from behind the clouds, we've got some music in the air, folks are dancing. It's everything you would want."
June 21. Liquidators for Riddell's Bay Golf and Country Club have sold two residential plots separate from the closed course. Deals on the two areas of land, fronting the Great Sound, were closed last Friday. Joint liquidators Alison Tomb and Simon Conway of professional-services firm PwC, added that they had been talking to "a number of interested parties" about the sale of the rest of the golf course's assets. PwC said they were now in the process of requesting the submission of "indicative non-binding offers" over the next two weeks. Queries should be addressed to Anton Schmitz or Alison Tomb at PwC Bermuda in Hamilton. PwC were appointed liquidators of the troubled golf course after a Supreme Court hearing in March.
June 19. Bermuda will host the 2018 Moth World Championships after beating Argentina and Australia in the bid process, the International Moth Class Association announced today. The event featuring the foiling Moth dinghy will be held in the Great Sound, venue for the 35th America's Cup, in May 2018. "This is fantastic news not only for Bermuda, but we know that the sailors are all keen to sail on the waters in the Great Sound, which is fast becoming known as one of the pre-eminent sailing locations in the world," said Andy Cox, chairman of the regatta on behalf of Royal Bermuda Yacht Club. Meanwhile, it was also announced today that the MS Amlin International Moth Regatta will be returning this year and will take place from December 3 to 9 in the Great Sound. "Last year's regatta was such a success that everyone wanted a repeat, and that has now become a reality thanks to our sponsors," Cox added. "Bermudian hospitality and our sailing conditions make this a unique venue for these high-performing foiling boats." A fleet of about 75 will challenge for the title and the $10,000 in prize money on offer. Rob Greenhalgh, of Britain, is back to defend his title, while the field will also boast compatriot and newly crowned 2016 world champion Paul Goodison, of Artemis Racing. Goodison is one of several America's Cup sailors participating, as members of Oracle Team USA, defender of the "Auld Mug", and challenger SoftBank Team Japan will also be among the racing fleet. The regatta is being organized and hosted by RBYC and sponsored by MS Amlin, the Bermuda Tourism Authority and Gosling's.
June 18. Michael Dunkley described Caroline Bay as "a sign of greater things on the horizon" at a groundbreaking ceremony for the luxury resort yesterday. Attending the event at Morgan's Point alongside the Premier were representatives from the Ritz-Carlton Company, whose $400 million Reserve resort will be built on the property. The group included Herve Humler, co-founder and president of the company, market vice-president Katherine Monahan and area vice-president of sales and marketing Graeme Benn. During his address, Mr Dunkley noted Mr Humler's longstanding ties with the island, having started in the industry by working at the Hamilton Princess in the early 1970s. "From Government's perspective, this project is so much more than just bricks and mortar," he said. "The Ritz brand in Bermuda will provide significant opportunity for Bermudians." Recounting the history of the project, Craig Christensen, chief executive of Morgan's Point, pointed to the vision of former premier Alex Scott, who was integral to the start of the proposed development. "Then Premier Scott had the vision to suggest to swap Southlands for Morgan's Point," revealed Mr Christensen. "These talks were kept strictly confidential and today we can disclose that the Government and Southlands sought to develop Morgan's Point and preserve Southlands. Unknown to BEST we were all working for the same outcome. We have to thank Alex Scott for his support and vision. The road has been long and hard, but we have always received the support of both sides of the political divide. This is unique, and greatly appreciated. Developed by Bermudians, supported by Bermudians for the benefit of Bermudians. This is Bermuda's project." Mr Dunkley said the project would bolster our tourism product, while also helping its construction and hospitality sectors. "I am extremely encouraged by the progress we have made to date with this project [although] we still have a ways to go," he added, pointing out that the venture will be managed in phases. The first phase, expected to be completed by the end of 2018, will include 35 branded condominium residences, a new marina that includes 77 berths with capacity for an additional 21 mega-yachts, and a five-star, boutique, 79-room Ritz-Carlton Reserve hotel. "Our entire island should feel excited about the confidence that Ritz-Carlton has demonstrated in Bermuda," Mr Dunkley said. "This has truly been a journey and we look forward to a strong, lasting and successful relationship." Mr Humler added: "We are deeply honored to become members of the fibre of this great destination and to enhance the glamour of Bermuda, not only for today's most affluent travelers, but for Bermudians. I began my hospitality career in Bermuda, so this is a very special moment not only for the Ritz-Carlton, but for me personally. We come not just as global hoteliers presenting a stunning, five-star luxury property, but also aspiring to be active members of the local community."
June 18. Parliamentarians have approved the formation of a joint select committee to investigate the issue of establishing a living wage. Progressive Labour Party MP Rolfe Commissiong opened the debate on his motion at the House of Assembly last night, sparking a discussion among members that lasted more than three hours. Among Mr Commissiong's points of interest were the widespread use of low-cost foreign labour, the erosion of the middle class and economic migration to Britain. "As depressed wages and benefits become commonplace, poverty will only increase, and the horizons of our people will continue to diminish," he said. "The concept behind a minimum wage is simply to raise those at the lower end of the economic spectrum out of poverty to a level of dignified living." Patricia Gordon-Pamplin, Minister of Home Affairs, noted that the Bermuda Government had already agreed to bring together a committee to look into creating a living wage, after protests in March. "I'm not totally persuaded to say that we need another joint select committee of the House because of the committee that I mentioned," she said. "I would like for members in the House to send and present their thoughts about how we can improve matters and situations. I would like for people to bring their ideas to the committee that has been established for this exact purpose." She proposed for the motion to be changed from one calling for a joint select committee to a take-note motion through which the matter could be discussed. PLP backbencher Kim Wilson responded that MPs should play an active part in collecting information and making recommendations. "Not to say that this committee that the honourable member was speaking of wouldn't have the same gravitas, but we are the ones that are elected," she said. Her comments were echoed by the PLP's Michael Scott, while One Bermuda Alliance backbencher Shawn Crockwell said he would support the call for a joint select committee. Ms Gordon-Pamplin subsequently withdrew her proposed amendment. PLP MP Derrick Burgess, meanwhile, noted the vast wage disparity between white men and black men, adding that there were some people living on "slave wages. The poor are not making it in Bermuda. They are not making it worldwide. In Bermuda we give tax exceptions to the rich. Some of the employers get relief even if they owe the Government money." Jamahl Simmons, the Shadow Minister of Economic Development, meanwhile, said he was disturbed to see the falling wages on the island, adding that the country must address the dependency on cheap foreign labour. "A livable wage can transform Bermuda in so many ways," he said. "It can help to make things better. Bermuda's way forward cannot be the development of a permanent underclass who cannot afford to live here." Bob Richards, the Minister of Finance, said the issue of foreign labour was not exclusively Bermudian and that there was an element of competition that needed to be considered given increasing globalization. He added that if a decision was made that hurt the economy, it would be the poorest Bermudians who would bear the brunt of this. "The most we can do is try to some extent to ameliorate the impact on us, but we cannot change the force of globalization. We cannot stand here and make lofty statements without facing the reality of what's on the ground here." Mr Richards said a more effective way of addressing the issue was to reform the tax structure so those who made less were taxed less than the wealthy — something the Government is already working on and hoping to introduce next year. After the motion passed unanimously, Mr Commissiong thanked MPs for their support. "We're here to serve the interests of our people and to advance the common good. I hope that our committee will meet the expectations of Bermudians up and down this island."
June 18. Teachers union leader Mike Charles has condemned the Minister of Education's "lame" plan to address serious failings in the public school system. "Once again, we have a minister planning to have a plan," said Mr Charles yesterday of Wayne Scott's review of the school reorganization report. "After taking the country through all this anxiety, to come up with something as lame as that is really disappointing — it demonstrates that the minister and Government either don't have a clue or don't really care." Mr Charles further argued that the possibility of closures, which he said the Bermuda Union of Teachers did not object to, had simply been deferred without specifics. On Wednesday, Mr Scott had ruled out school closures and mergers as he shared his consideration of the Score report, which had exposed widespread failings, including serious infrastructure problems, in primary schools. Expanding in the House of Assembly yesterday, Mr Scott pledged that a "clear visionary direction for public school education" was being drawn up for implementation in the 2017/18 school year. The minister said that school closures, long a subject of worry for parents, would not be considered until "an education strategy is developed that will form a blueprint for the direction of the Bermuda public school system". He conceded the Bermuda Government had a long and unproductive history of devising plans for the school system, and told MPs there had been "a plethora of reports". Responding to an observation from Walton Brown of the Progressive Labour Party that "we seem to be re-examining and re-examining", Mr Scott said: "I have a report from 1989 — I could cross out the date and put 2016 on and it would be accurate." Noting that the independent Hopkins Report of 2007 had found "too much overhead", Mr Scott said he was committed to cutting the bureaucracy in the Department of Education. While the Score report released in February highlighted a lack of data in assessing the financial viability of schools that might be closed, Mr Scott told the House: "I do not believe we should be making changes to schools just because of financial implications. The financial review that the Score committee wanted to do on a school by school basis — that's not something I support. That granular type of information will not be used in any decision that I make." Mr Charles, the secretary-general of the BUT, lamented that the minister's statements on school reorganization amounted to "non-statements". The only item to get high marks was the suggestion that a school could be repurpose as an alternative learning centre, with the Ministry of Education in-house. Mr Charles said he supported moving the ministry from its East End location to somewhere more central, but said such a move would require a relatively large premises. Calling schools "dilapidated", tainted with mould and in need of better supplies, particularly in technology, Mr Charles criticised the Government for moving swiftly to upgrade the Cabinet building while schools had to wait. MPs heard yesterday that maintenance plans in tandem with the Ministry of Public Works aimed to complete "as much work as possible during the summer break. The Government tells us we have a third-world airport but the majority of our schools are older than the present airport. Teachers were having to dip into their own pockets for basic supplies. I am aware of one teacher who had resorted to paying for wi-fi in a school. I wrote to the premier, quoting from the OBA manifesto and what we see as the reality for schools, asking him to give us even half the care that goes to the America's Cup. I said the America's Cup is an event; it's not the future. His reply was totally about the America's Cup, and he went on to tell me that it is about our future. I think it just proved my point. Teachers had grown numb to it. There are people that will tell you they're starting to lose their voices by the time they go home, that their noses are burning. There are rooms in schools that are just shut down because nobody can go in there." Asked in the House about meetings and consultation with the BUT, Mr Scott said Mr Charles had been present at every public meeting. "Mr Charles knows my cell phone number. I have him on my WhatsApp. I have an open-door policy and I'm available to meet and discuss at any time."
June 18. Bermuda Heroes Weekend kicked off with a splash of soca last night at the Five Star Friday concert at the National Sports Centre. The party at the North Field ran from 6pm until midnight, with revelers letting their hair down as they opened the three-day weekend. Festivities are set to pick up again today with the Bermuda Heroes Weekend Carnival Parade of Bands at Southside, and the Bermuda Government has warned that Clearwater Beach, Turtle Beach and the Cooper's Island Nature Reserve will all be closed to the public during the event. The Ministry of the Environment and the Department of Parks said those areas would be closed between 8am and 8pm, reopening tomorrow. Southside Road from the junction at St David's Road and Southside Road (at the old No 2 gate location) to the junction at Cooper's Island Road and Pepper Hall Road will be closed to traffic from 1.30pm until 6pm today. Meanwhile, due to forecasts of wet weather tomorrow, the Government has announced that the National Hero Induction and Proclamation Ceremony will take place at the Anglican Cathedral of the Most Holy Trinity in Hamilton. The event, during which former premier Sir John Swan will officially be proclaimed a national hero, had been scheduled to take place at Camden. The ceremony is due to begin at 4pm, followed by a reception at the Cathedral Hall. For more information on festivities, see bermudaheroesweekend.com.
June 18. Imagine swimming around Bermuda for 21 hours straight. This is exactly what open water swimmer Lori King accomplished on Wednesday. With a support crew of 11 people by her side, Mrs King, 40, took to the water at Elbow Beach at noon to begin the longest, most challenging swim of her life. Her inspiration, she said, was resident Sean O'Connell, who was the first and only person to have completed the swim 40 years ago. "I read his story and I had been thinking about doing a 24-hour swim," she said. "I'm from New York and I had been to Bermuda for the Round the Sound event for the past six or seven years and it holds a special place in my heart. So, I knew when I thought about doing a swim and reading that one other person had done it and it was possible, that this was the place. It's special to me, I love the people and the water." The swim was planned and certified through the Bermuda Open Water Swimming Association, with president Nick Strong acting as event co-ordinator and first observer. Devon Clifford, on-site coach and support swimmer, described some of the challenges they faced. "Lori swam counterclockwise around the island and throughout the swim she missed Portuguese man o' wars, there were two to three foot swells coming into the boat that she was swimming through. Going around Fort St Catherine, starting off in the north shore of the island, it was very rough." They also dealt with multiple kayak rescues and their boat hitting a reef because of the high winds. Mrs King was overwhelmed with emotion as she thanked her crew and the residents who had supported her in becoming the first woman to ever complete the swim. "I am just totally indebted to these people, I don't even know how to repay them."
June 17. Bermuda was represented at the world's largest shipping conference, held in Greece. The island's ship register was showcased at Posidonia 2016 at the Metropolitan Expo, held in Athens. The four-day conference attracted an estimated 20,000 attendees including ship owners, brokers, bankers and investors who converged to discuss the future of the shipping industry. Bermuda was taking part for the first time and was represented by the Bermuda Business Development Agency, together with Bermuda Government and industry colleagues. The island's shipping industry, including the jurisdiction's historic British Red Ensign Group vessel registry, proved to be of interest to conference attendees, as was the island's hosting of the 2017 America's Cup. "We had an extremely successful experience as a first-time exhibitor at this event," said Kevin Richards, a BDA business development manager. "Attendees sought out our booth to meet with our experts and learn more about the Bermuda Ship Registry and the benefits of company incorporation in our blue-chip financial centre — as well as to find out how to get to Bermuda for next year's America's Cup. The ability to connect with the entire shipping value chain separates Bermuda from our competitors. Our strong financial foundation makes our jurisdiction favorable to banks and financiers when leveraging an offshore facility in a new building or ship-financing transaction. Our leading regulatory standards also make Bermuda an attractive option for residency and trust incorporations for high-net-worth individuals connected with this industry." Mr Richards was joined at the event by Edward Robinson, Registrar of Shipping with the Department of Maritime Administration, and London-based DMA senior marine surveyor Chris Boreham. Also attending was Victor Richards of Conyers, along with Nicole Conrad Morrison and Sophie Burt, of the BDA conferences and events team. Bermuda's ship registry is a Category 1 member of the British Red Ensign Group, supporting a worldwide portfolio of vessels, including large cruise ships, oil, gas and chemical tankers, container ships, bulk carriers, offshore vessels, cruising and megayachts. Ships or yachts registered in Bermuda fly the red ensign, or the red ensign with Bermuda's coat of arms. Other members of the REG include the Isle of Man, Gibraltar, Cayman Islands, British Virgin Islands, Guernsey, Jersey, Anguilla, Turks and Caicos, Falkland Islands, St Helena, Montserrat and the UK. Pre-conference activities at Posidonia allowed the Bermuda team to network with key companies. Organizers staged a sailing race, a running event and golf and soccer tournaments. Mr Richards, a former Bermuda national team player, took part in the latter, joining the "Shipsoccer" team of global accountancy firm Moore Stephens. The team went undefeated during group stage, but lost out in the quarter finals. "We were able to solidify key relationships with senior leaders of major shipping companies," said Mr Richards, who will attend the 29th annual Marine Money Week in New York City starting on June 21. That event is one of the world's largest gatherings of the international ship-financing community, attracting more than 1,300 leading ship owners, private- and public-equity investors, and commercial and investment bankers. He said: "Our agency looks forward to working with new and existing partners to continue to grow the shipping industry in Bermuda."
June 17. Government's bid to grant status to overseas residents was flawed, a former top Bermudian banker said yesterday. Philip Butterfield, former chief executive officer and chairman of HSBC Bermuda, said: "I think it was wrong in how it was addressed to date because it hasn't been a transparent process and it has ignored a major constituency." Mr Butterfield was speaking at a Chamber of Commerce meeting held to discuss proposed "Pathways to Status" legislation by Government. He said: "I doesn't have a 'we' element and that's what needs to be changed, in my view." Mr Butterfield added that attendees at the Chamber meeting, held at the Hamilton Princess, had come out because of community interest in the proposed legislation. He said: "The reason they are here is because they have an interest in the topic and they are hearing a range of views. That's how we get a solution, by hearing a range of views." Mr Butterfield added that Government had failed to communicate with the public over the controversial plans. He said: "When you are politically tone deaf and don't have effective communication skills, these are the choices you make," The panel included Lynn Winfield of anti-racism group Curb, Mr Butterfield and Bermuda College economics lecturer Craig Simmons. Mr Simmons said: "It was good to have some open and frank dialogue on the topic at hand. I think we gave a balanced perspective. People have doubts about the original proposal, now we have had time to reflect. I think we need to have more consultation and more discussion on what it means for Bermuda. If we believe in collaboration, we will get the best outcome, rather than it being discussed in small circles." The Chamber of Commerce in March backed the legislation, designed to give non-Bermudian residents who met minimum residency limits on the island a degree of permanence. The Chamber argued that an ageing population meant that Government needed to increase the population in order to meet increasing social costs and that more people living and working in Bermuda meant more economic activity. Mr Wight said: "The purpose of this meeting was to create a forum for members of the Chamber of Commerce and non-members to hear the views of high-profile names in our community to help shape their views on immigration policy. I think it's very difficult to determine whether people are in favour or not. The main objective is to raise the level of debate. It was very productive and useful for people who attended." Government withdrew the original bill after days of strike action and major protests outside the House of Assembly. Redrafted plans will first deal with children who were born in Bermuda or arrived at an early stage, as well as mixed status families and adoptions. The second stage will deal with the granting of permanent residence certificates for residents of 15 years standing, while a third stage will deal with the granting of Bermudian status for residents of 20 years. Ms Winfield said that Bermuda continued to be affected by "ongoing, structural racism and implicit bias". She added that it was estimated that between 3,000 and 6,000 black Bermudians had moved overseas for economic reasons. Ms Winfield said: "This type of brain drain predominantly occurs in developing countries. It is noteworthy that in Bermuda's highly developed economy educated black Bermudians feel forced to look overseas for opportunities. This brain drain must be reversed and Bermudians encouraged to return. Creative plans for the provision of job opportunities, introduction of robust legislation to protect black Bermudian work opportunities, an urgent focus on integrating young Bermudians into the workforce, introduction of a living wage and protection for Bermudians who are increasingly being hired for part-time or temporary work with employers sidestepping the need to provide benefits, must all be put in place." Ms Winfield added that the protests over the proposed amendments to immigration law underlined the racial divide in Bermuda. She said: "The people protesting the proposed legislation on the hill understood the very real risk of disenfranchisement. Curb's research on immigration and demographics has show that this fear has a very real and frightening foundation based on historical oppression and current economic marginalization."
June 17. Replacing the crumbling Swing Bridge with a hydraulic counterpart could provide a "50-year fix", Craig Cannonier suggested last night at a town hall meeting in St George. "I am very much in favour of a hydraulic bridge," the Minister of Public Works said, citing benefits such as its simple mechanisms and quiet functionality. The Swing Bridge — which links St David's to St George's — has been closed to ships for two years. Motorists can cross it one lane at a time, and a weight limit is in place due to the structure's fragile state. Fixing the problem has been estimated at $20 million. "The maintenance of the Swing Bridge is going to be astronomical as we move forward. It is an old bridge with old technology," Mr Cannonier said. "If we fix the Swing Bridge, we'll probably have a maximum of 30 years [lifespan]. I'd much prefer we get a 50-year span for a few million more dollars and a little more time." In the meantime, Mr Cannonier said that a steelwork contract would be awarded in the next week for a company to strengthen the undercarriage of the Swing Bridge. He estimated that the fortification works would take eight to ten weeks, adding that the weight limit would be lifted once they were finished. To fix the traffic issue, the minister said that he was looking into the possibility of transferring outbound traffic from St George's via the Severn Bridge at Stokes Point. Another feasibility study involved the removal of one of the Swing Bridge's pillars to increase its 63-foot span, allowing larger ships to pass through. Hosted by Quinell Francis, the Mayor of St George, the meeting at Penno's Wharf also featured presentations by Jeff Baron, the Minister of National Security, and Michael Fahy, the Minister of Tourism, Transport and Municipalities.
June 17. Civil marriages will be allowed to take place at any suitable venue in Bermuda, after a Bill passed at the House of Assembly. Until now, the Marriage Amendment Act restricted couples seeking a non-religious marriage to performing the ceremony at the Office of the Registrar General in Hamilton. Civil marriages account for roughly one in four marriages (23.2 per cent) on the island, explained Patricia Gordon-Pamplin, the Minister of Home Affairs. Ms Gordon-Pamplin insisted that the Bill was not tabled as a "sinister" effort to pre-empt Thursday's referendum on same-sex marriage and civil unions. Instead, she argued it would help to improve Bermuda's tourism industry as well as generating revenue for wedding-related businesses by allowing people the freedom to choose where they marry, rather than restrict them to one sterile environment. "Bermuda might be viewed as a more attractive wedding destination for tourists if there were more options for venues at which civil ceremonies could be performed," Ms Gordon-Pamplin said. The Bill drew support from both parties, with Progressive Labour MP Michael Scott calling it "a modernising step", while his party colleague Wayne Furbert said the move makes sense. "I am hoping that the passage of this Bill will serve as a good omen of things to come," One Bermuda Alliance MP Shawn Crockwell said. His fellow OBA backbencher Mark Pettingill called it "a move in the right direction". Ms Gordon-Pamplin conceded that regulations to discern appropriate wedding locations had not been set in stone as yet. "I know as individuals, we have some weird foibles at times," she said, adding that any bizarre or inappropriate locations would likely be vetoed by the Registrar. "We just want to make sure that the dignity of a ceremony is not usurped in the process."
June 17. Regardless of how the public vote in the referendum next week, the Bermuda Government will be obliged to find some form of legal foundation to accommodate same-sex couples who are in permanent relationships. Trevor Moniz, the Attorney-General, said last night that the One Bermuda Alliance had tabled its consultation Bill on civil unions because it was felt that the majority of Bermudians would favour the partnerships over outright same-sex marriage. "We were trying to show the courts we were doing our level best to meet the requirements of the law as enunciated by the Chief Justice in the Bermuda Bred case," Mr Moniz told a gathering at the Bermuda College, where home affairs minister Patricia Gordon-Pamplin was presenting information on the June 23 referendum. That ruling by Chief Justice Ian Kawaley found that non-Bermudian same-sex partners of Bermudians who are in permanent relationships are entitled to live and work in Bermuda free of immigration control. Asked if this meant that civil unions were unavoidable, Mr Moniz said: "It's not inevitable. There must be some sort of legal framework for same-sex couples in same-sex relationships. If we don't provide a framework, then the courts will step in. In each case as they come up, if same-sex couples are treated differently from heterosexual couples, then the courts will strike them down as discriminatory. It might be inheritance or owning land, or any one of hundreds of different ways." If the Bermudian public vote no on both same-sex marriage and civil unions, the Attorney-General and the Cabinet would face a quandary, given amendments two years ago to the Human Rights Act, which outlawed discrimination based on sexual orientation. "Do we want to go backwards by trying to undo the amendment to the Human Rights Act, or be in breach of the European Convention? Is there some other form of legal framework that might be acceptable if civil union is not acceptable? We will have a difficult decision to make." If the Government failed to settle on some arrangement for same-sex couples, Mr Moniz said the court challenges that would follow would amount to "a death by a thousand cuts".
June 17. The campaign against same-sex marriage has an eight-point lead over the campaign in favour, according to a poll commissioned by Bermuda's newspapwe The Royal Gazette. However, those in favour of same-sex civil unions outnumber those against by 13 percentage points, in the survey carried out by Global Research between June 6 and 13. Pollsters asked 402 registered voters the same two questions they will face at the referendum on Thursday next week. Responding to the first question, "Are you in favour of same-sex marriage in Bermuda?" 41 per cent said yes, 49 per cent said no and 10 per cent did not know. Responding to the second question, "Are you in favour of same-sex civil unions in Bermuda?", 52 per cent said yes, 39 per cent no and 9 per cent did not know. The margin of error for the poll is +/- 5 per cent. The same-sex marriage question has produced close results in all surveys commissioned by this newspaper over the past year. Three months ago, 45 per cent of people said they were in favour, with 48 per cent against. Last October, 48 per cent were in favour, with 44 per cent against. A breakdown of the new results shows most support for same-sex marriage comes from whites and younger people. Among whites, 71 per cent were in favour and 19 per cent against; among blacks, 25 per cent were in favour and 66 per cent against. Among people aged between 18 and 34, 50 per cent were in favour and 44 per cent against; among people aged over 65, 27 per cent were in favour and 63 per cent against. Among men, 42 per cent were in favour and 47 per cent against; among women, 41 per cent were in favour and 51 per cent against. Regarding same-sex civil unions, the white population was overwhelmingly in favour, with 82 per cent agreeing and 12 per cent opposing. Among blacks, 35 per cent were in favour, with 53 per cent against. Our poll also canvassed people's opinions on whether or not a referendum on same-sex should even take place; the Centre for Justice has argued it breaches the constitution, the Human Rights Act and common law. More people were in opposition to the idea of a referendum, with 43 per cent supporting it, 45 per cent against it and 12 per cent unsure. In the previous poll in March, 58 per cent agreed with a referendum, 34 per cent disagreed and 8 per cent did not know.
June 17. Ewart Brown challenged police yesterday to charge him with a criminal offence or end years of "fruitless investigation", claiming the recent "unjust and unwarranted arrest" of one of his staff members was really an attempt to discredit him. Flanked by his supporters, the former Premier of Bermuda told a press conference he believed "millions" of dollars had been spent on investigating him by the Bermuda Police Service and the arrest on May 19 of Mahesh Reddy, chief medical officer of Bermuda Healthcare Services, was "an extension of the witch-hunt that has followed me for years". Asked if he was aware of rumours that he too was likely to face arrest, he said: "I have not heard, but I would not be surprised if that were to happen at any time." He said a police inquiry launched almost five years ago into his activities and aimed at uncovering "bribery and political corruption" was now targeting his business. The Bermuda Police Service last night confirmed an investigation, launched four years ago into allegations made by David Bolden at a theft trial, remained ongoing. Dr Brown said: "This nonsense must stop and I have appointed high-level legal counsel to challenge this harassment. Of course, no one should be above the law and, if there are charges, let me face them now. After many years of fruitless investigation, it is time for the prosecutors and the police to put up or shut up and let us get on with the vital business of helping people with their healthcare needs." Dr Brown claimed his political enemies in Bermuda and Britain were seeking to discredit him through a campaign of harassment. "They have tried many times to prove I have done something wrong but not one of their claims has ever been substantiated." Asked to name his enemies, he said: "There are those I can identify and those I cannot identify so I won't name anybody." Pressed further, he replied: "No. Whoever it is. Whoever it is. There was a saying years ago ... 'those who know, don't tell and those who tell, don't know' ... There is nothing new about the effort to destroy me. They don't like me. They don't like the fact — and I'm not saying anything about the other [black Progressive Labour Party] premiers — but my substance and style was different. I think they saw me as defiant. I think they saw me as a troublemaker, therefore they do not want history to record that I got away with it." Dr Brown said Dr Reddy's home was raided by eight police officers at 7am on May 19, on suspicion of "overusing MRI and CT scanners to make more money". Lawyer Jerome Lynch, who was in attendance at the press conference, said the officers did not have a warrant and Dr Reddy was "neither charged nor interviewed". Mr Lynch said: "[He was] taken to the police station and then released, having seized goods from his home without any proper authority. Why on earth couldn't they go to a magistrate and ask for a warrant to be issued? Why just do it? No warrant; no warrant at all. He's on bail. He is being treated like some kind of common criminal without any respect being given to a man who has served the country for 16 years. It's an extraordinary turn of events." The attorney, from the Trott and Duncan law firm, said police could keep Dr Reddy on bail "as long as they like", but he planned to challenge their actions. "Watch this space," he advised. Dr Brown told reporters: "I want to make it absolutely clear that these suspicions are completely unfounded. No patients and no insurance companies that pay for the scans have ever made one single complaint concerning these very necessary diagnostic procedures." He later added: "In most places where a medical facility is being investigated for something like that, you would have had at least one medical organisation as part of it. But here it's the police and, as far as I know, they don't have a background in MRI and CT." The former Progressive Labour Party leader said of Dr Reddy, "I have no doubt he will be vindicated." He described the arrest of his staff member — "a distinguished medical practitioner who has devoted many years to the people of Bermuda" — as the "last straw". Dr Brown said: "There has been a long string of malicious slurs and false allegations, with the real target being me because of my past political views as former Premier." He said the police inquiry began after disgraced financier David Bolden, whom he described as a "convicted liar", claimed under oath in 2011 that Dr Brown tried to bribe him. "The then Governor, Richard Gozney, instigated an investigation and he promised the people of Bermuda that when that investigation was completed that the findings would be revealed to the Bermuda public," Dr Brown said. "He said that the investigation might go beyond Bermuda, and I know for a fact that it has gone beyond Bermuda. But, all of a sudden, we now find the focus is Bermuda Healthcare Services. It was bribery and political corruption. Having found nothing there, the effort is now aimed at the source of my income, which is Bermuda Healthcare, and there will be other things that you will see in the future that will confirm that." The Governor, George Fergusson, told this newspaper yesterday: "There was an official statement in January 2012 confirming that a police investigation was under way into allegations made at the trial of Mr David Bolden and related matters. I am advised that that investigation continues. I cannot say anything further." Dr Brown told the press conference: "I have kept my counsel on this until now, assisting investigations and providing complete transparency in accounts and paper trails I have given, but the arrest of Dr Reddy is too far. Enough is enough." Asked how he had assisted investigations and whether he had met with police, he said: "I have never in my life been interviewed by the Bermuda Police." He said he had shared documentation with "anybody who asked" but did not say who had asked him. "The police would have to ask me," he said, adding that Dr Reddy had made himself available to officers for questioning. "We believe that the issue of intimidation is playing a part in this because eight officers coming to a physician's house at seven o'clock in the morning is a little much," he claimed. Dr Brown added: "You can never underestimate your opponents. Of course, the intention of intimidation is to change the course of action of those people that you would intimidate. But Dr Reddy is a strong man, he is a spiritual man and he is an excellent physician. I have advised him to continue doing what he does best, that is taking care of patients. Let me handle the fight." He would not give further details on the allegations regarding Dr Reddy, who remains at work but was not at the press conference. He said the physician would be "seeking redress in terms of compensation for the wrongful arrest and the distress that has been caused to himself and his family". The former Premier told reporters he was aware that retired Metropolitan Police officer John Briggs, who was involved in the corruption inquiry in Turks and Caicos, had been brought here to investigate him. A request by The Royal Gazette for an interview with Mr Briggs was turned down by the Commissioner of Police on May 31. This newspaper made a public access to information request this month to find out the cost so far of the police inquiry prompted by Bolden's claims of corruption against Dr Brown, and we await the response. A Bermuda Police Service spokesman said last night: "The BPS has previously confirmed that an investigation was commenced in 2012 into allegations made at the trial of Mr David Bolden. That investigation is still being conducted and as such no further comment can be made at this time."
June 17. The former post office at Harrington Sound has been approved for sale at $700,000 by the House of Assembly. Public works minister Craig Cannonier told MPs this afternoon that marketing of the 0.2-hectare site with its 864-square foot main building was begun on May 11 last year, and closed six weeks later. The Government expects to raise $10 million from the sale of 30 properties over the next three years. Eight government properties have been identified for this fiscal year. Speaking for the Progressive Labour Party, MP Dennis Lister said the Opposition had no problem with the sale of government lands, noting that the minister had informed him that a stretch of roadside land had been retained from the property in the event that a sidewalk might be needed in the future.
June 17. Tourists and locals will be prevented from entering Clearwater Beach, Turtle Beach and the Coopers Island Nature Reserve throughout tomorrow as the Bermuda Heroes Weekend Carnival Parade of Bands takes place. The Ministry of the Environment and the Department of Parks said those areas would be closed between 8am and 8pm. They will reopen on Sunday.
June 16. There will be no Argo Group Gold Cup this year. The future of the event has been hanging in the balance ever since the World Match Racing Tour switched to M32 catamarans last year, from the one-design yachts that were used previously. Organizers had been hoping to find a way to hold the regatta, with Peter Shrubb, the Royal Bermuda Yacht Club rear commodore, saying in April he was "hopeful the Gold Cup will carry on". However, discussions between the WMRT, the RBYC and Argo Group Limited, which has sponsored the event for the past eight years, have come to an end without agreement. Hakan Svensson, the tour's owner, was scheduled to visit the island to "thrash things out", but even then there were too many questions that had yet to be answered. "There's too many things up in the air at the moment with the World Match Racing Tour," Shrubb said at the time. "There haven't been any decisions made as to whether the yacht club can actually move forward with a decision on whether we can hold the Gold Cup this year in the same format as last." Argo has also committed to sponsoring Artemis Racing in their challenge to win the America's Cup next year, and Andy Cox, the chairman of the Gold Cup regatta, said that was where the sponsor's priorities presently lay. "With Bermuda playing host to the America's Cup next year, the focus and energy is on that right now," Cox said. Mark Watson, the Argo chief executive, said he was proud to have formed a partnership with Artemis, when his company's sponsorship was announced in mid-April. "We are excited to work with Artemis Racing and particularly pleased to be involved in a series that will see the best sailors in the world compete right here in Bermuda during the America's Cup," Watson said. There is no suggestion, however, that this one-year hiatus signals an end to the regatta, and Cox is hopeful it will return to the match racing calendar next year. "We are looking forward to meeting with Argo Group and Mark Watson in the spring of 2017 to plan for upcoming Argo Group Gold Cup regattas. It's great to have a partner that is committed to the Gold Cup and sailing in Bermuda." The King Edward VII Gold Cup is the oldest match racing trophy in the world for competition involving one-design yachts, and former winners have included America's Cup trio Sir Russell Coutts, Jimmy Spithill and Sir Ben Ainslie.
June 16. NEW YORK — Dan Loeb's Bermudian-based Third Point Reinsurance Ltd said scrutiny of the industry's offshore tax advantage has lessened after hedge fund manager John Paulson closed a venture that stood out as an "outlier" for its aggressive use of strategies that were criticised as abuses. The Paulson reinsurance operation, based in Bermuda and known as PaCRe, "had no employees, they wrote very little business and they had a big amount of capital sitting offshore. And I think that got a lot of attention," Third Point Re chief executive officer John Berger said yesterday at a conference held by Morgan Stanley. "Well, that's off the table now, they shut that down. So I think the pressure to do something about that has diminished." US senator Ron Wyden has urged the Treasury Department since 2014 to crack down on operations that help hedge fund managers minimize taxes on some trading profits when the investments are tied to insurers in locations such as Bermuda. The IRS has never clearly defined how much insurance a company must sell to qualify for the favorable tax treatment. Validus Holdings Ltd., which partnered with Paulson on a reinsurance venture, said in January that his PacRe Ltd. was shut down. Berger has long sought to distinguish his company from PacRe. Bermuda-based Third Point Re, which counts on Loeb to oversee investments through his hedge-fund strategies, takes on underwriting risks from US mortgage guarantors and auto insurers and has added staff to win more contracts. "If you take any reasonable test of what is a real insurance company, we pass it, from the amount of business we're writing to the amount of reserves we have," Berger said. The CEO said he's heard nothing new recently from the Internal Revenue Service about the industry's tax treatment and that action may have been stalled amid the presidential race. Representatives for the IRS, Paulson and Wyden, an Oregon Democrat, had no immediate comment. Berger acknowledged that competition has made it more difficult to find profitable underwriting opportunities. Third Point Re is headed for its third-straight annual decline in New York trading and still trades below its 2013 initial public offering price of $12.50 a share. The stock closed at $11.28 yesterday, down 9 cents from Tuesday's close.
June 16. A Bermudian real-estate firm has drummed up business in Las Vegas. A team from Rego Sotheby's International Realty has just returned from a major event in the Nevada city for members of Sotheby's International Realty network. And the firm's Ben Rego said: "In terms of referrals, we really drive business that way." He added that on his flight home he spoke to two people who had also attended the conference who said they knew an American family in Bermuda who wanted to sell their home. Mr Rego said: "We can also refer Bermudians to purchase abroad and connect them with the top agents worldwide to assist with their real estate needs." He added that the conference also highlighted the latest in video technology and growing networks. Mr Rego said that it was also valuable to judge the state of the real-estate markets in other countries. "I certainly think worldwide things have been hit. It's not just the Bermuda market. The good news is that our main feeder markets, the East Coast of the United States, Canada, and the United Kingdom, are also seeing strong signs of recovery. The metropolitan areas of many of these locations have seen their markets stabilize and in many situations they are seeing growth. The hope is that this renewed confidence in the industry from our key referral markets will encourage more foreign investment coming into Bermuda's stabilizing market as well." Mr Rego added that the firm had seen three successive rises in both sales and average prices between 2012 and last year — signs that the market was recovering. The Las Vegas conference attracted around 2,300 members of Sotheby's International Realty from more 165 of the brand's companies from 40 countries. Rego Sotheby's chief Buddy Rego said: "Attending allowed us the opportunity to connect with the world's most talented real-estate professionals and to learn more about the industry on a global level. We realise the endless advantages offered through the Sotheby's International Realty network and the brand's vision for the future, all while creating lasting friendships and a valuable global referring business." Philip White, the president and CEO of Sotheby's International Realty Affiliates, added: "This year's conference was our most attended ever and it is incredible to see how members of our network continue to utilise the resources we provide, take the reins and develop their own new opportunities and continue to grow their business. We are proud of our network, our heritage and our future and the success of this year's global networking event is the culmination of it all."
June 16. Bermuda's Supreme Court yesterday celebrated its 400th anniversary with a special sitting. But while Chief Justice Ian Kawaley said the justice system had made great strides during its long history, he warned that more work was needed to ensure Bermuda was not left lagging behind other jurisdictions. In particular, he noted a lack of fiscal autonomy found in other regions and the physical state of the court facilities, which he said were no longer fit for purpose. He said the courts still shared offices with Parliament and other government departments, and at least one facility was "unhealthy and unsafe". However he pledged to fight to make sure the island didn't fall further behind sister jurisdictions. Mr Justice Kawaley also said the island was still grappling with the lingering effects of slavery and segregation in the courts, saying that the descendants of slaves appeared before the criminal courts in disproportionate numbers. And he praised the Bermuda Bar, saying that many of the advancements in Bermuda's legal system came as a result of lawyers bringing significant cases to the courts. Responding later in the ceremony Trevor Moniz, the Attorney-General, said that the government was doing what it could to turn the economy around and had made numerous steps to keep the island's legal system up to date. "We recognise that these courts work in very difficult circumstances. The Cabinet Office has been closed because of mould and those sorts of things. Those are the circumstances in which Cabinet have been working." Mr Moniz added that the Government was working to address the issue of crime, noting that the number of people incarcerated on the island has fallen in recent years. Also addressing the court during the special sitting was Donald Lemons, the Chief Justice of the Supreme Court of Virginia, who noted the shared legal history of the island and the state. He said anniversaries were important as they gave us an opportunity to look back on the lessons learnt, and those lessons that have been forgotten. Meanwhile Sir Dennis Byron, the president of the Caribbean Court of Justice, noted the steady evolution of the law and human rights internationally, and Lord David Pannick noted that much like Bermuda, Britain was still struggling to resolve issues stemming from historical injustice and discrimination. Sir Scott Baker, president of the Court of Appeal, noted that while Bermuda law was birthed from British law, it had over the years adopted elements from the Caribbean, Australia and Canada.
June 16. Progressive Labour Party Senate leader Marc Daniels yesterday accused the Government of employing "parlor tricks" during the latest row over airport redevelopment plans. Speaking in the Senate, he criticised the One Bermuda Alliance for its refusal to release full details of the Airport Redevelopment Agreement, as it hashes out negotiations on the $250 million L.F. Wade International Airport project with the Canadian Commercial Corporation. "I personally don't think it's right that the current deal is being dealt with in such a confidential manner," he said. Sen Daniels compared the issue to a lawyer withholding crucial information from his or her client. "We're not talking about a tender process where various numbers are being touted; we are negotiating with one (corporation). Why any terms would be concealed makes no sense. It almost neglects why the OBA were voted in: to serve people." Sen Daniels mocked the Government's argument that a modernized airport would bolster visitors' first impressions of Bermuda. "I don't know a single tourist to Miami or New York who has talked about the airports as their first impression," he said. "I just find the politics to be almost childlike. All I see is a whole lot of parlor-tricking to advance something where the people are showing a lot of trepidation." Senator Michael Fahy, the Minister of Tourism, Transport and Municipalities, hit back at Sen Daniels' claims, saying that the new project "doesn't have to be a JFK (airport). Anybody that negotiates contracts has to keep certain things confidential," he said, "so to suggest something is being hidden is parlor tricks in itself. I think the Opposition knows that. It's a good horse to ride, but it's the wrong one." Sen Fahy pointed out that the airport's infrastructure lifespan ended in 2008, something which had been forewarned in a report ordered by the PLP. "The fact that they commissioned a report tells you that they knew there was something seriously wrong at that airport. The Opposition knows that the airport as it exists is a joke. It's a terrible place to work and an unsustainable building. What I have not heard from the Opposition, who are being so nitpicky, is an alternative vision. Give us something that will work for the people of Bermuda. The OBA was put into power to fix things, which we are doing, despite all the noise."
June 16. The Corporation of St George is set to host a town hall meeting today, which will include information about the Swing Bridge. In addition to Quinell Francis, the Mayor of St George, the meeting will feature presentations by Jeff Baron, the Minister of National Security, Craig Cannonier, the Minister of Public Works, and Michael Fahy, the Minister of Tourism, Transport and Municipalities. Each of the ministers will provide information about initiatives in their respective ministries that will affect the town, including the issue of the Swing Bridge. "This is the perfect opportunity for our constituents to hear first-hand what is in store for our town and its impact for the future," Ms Francis said. "As always I encourage all businesses and residents of St George to come out and participate in the town hall meeting. I want all of our constituents to be well informed and the ministers have graciously agreed to be a part of our quarterly town hall meeting. Residents should take full advantage of the opportunity to be heard." The meeting is scheduled to take place at Penno's Wharf terminal building, from 6.30pm.
June 16. A grocery store has had its liquor licence revoked after residents complained that the sale of alcohol had prompted antisocial behavior, traffic disruption and increased littering. The owner of Belvin's Variety was also chastised by the Liquor Licensing Authority for illegally selling miniature bottles of spirits to customers at both its Glebe Road and Happy Valley stores. George Swan's application to renew The Glebe Road store's licence was refused, while an application to renew the liquor licence for the Happy Valley Road store was allowed, but with a string of conditions attached. LLA chairman Juan Wolffe emphasized in his ruling that grocery stores were not permitted to sell miniatures. Referring to The Glebe Road premises, Mr Wolffe added: "This [selling miniatures] is of immense concern to the LLA because when the LLA carried out a site visit on October 2015 it brought to Mr Swan's attention that, as The Glebe Road store is a grocery store, he should not be selling miniatures. "Mr Swan's reasoning for selling miniatures, which is just as egregious as the act itself, is that he attended other grocery stores and saw that they were selling miniatures and so he decided to continue to do so. Not only is this reprehensible conduct by Mr Swan a blatant disregard for the directions of the LLA, but it is a contravention of the Act, which clearly states that a grocery store should not sell miniatures." The Glebe Road store was first granted a liquor licence in November 2015 despite objections from local MP Walter Roban, churches and residents who claimed it would have a negative impact on the community as well as traffic flow. At the beginning of this year one resident, who lived directly across from the store, catalogued a list of adverse affects from granting the store a liquor licence. Mr Wolffe said: "He complained of trash in his yard, beer bottles in his trash can, people parking in front of his driveway, increased traffic flow, fights and acts of violence outside the doorway including the brandishing of knife and machete, drunk people sitting on walls outside his home, noise and profane language. He claimed The Glebe Road Belvins was essentially a liquor store masquerading as a grocery store." At a hearing before the LLA last month, Mr Swan said he had banned numerous people from the store and placed three cameras outside. Mr Wolffe concluded the initial fears about the granting of the licence had been brought to realization. He added: "We are satisfied that the objections raised show that as a direct result of intoxicating liquor being sold from the Glebe Road store that there has been undue noise, disruption to traffic flow, the accumulation of trash and disturbances attributable to alcohol use. We seriously question whether the Glebe Road store is operating primarily as a grocery store. The fact that Mr Swan would state that it would not be financially viable for him to not sell single bottles of intoxicating alcohol is indicative of the conclusion that the selling of intoxicating liquor is crucial to the viability of the store. This should not be the case for grocery stores." Meanwhile, despite objections from some local residents the LLA decided to renew the Happy Valley Road store's licence on condition no intoxicating liquor was sold before midday and no single beers or miniatures were sold. Some residents had complained of antisocial behavior around the shop and large numbers congregating nearby "displaying intimidating behavior, urinating in public and using profane language". A statement from one concerned neighbor revealed a man had a knife pulled on him and that "this type of violent activity has made residents afraid to speak out for fear of retaliation." Mr Swan maintained that he had tried to address the problems and had spent $20,000 on interior cameras. "We have a great deal of sympathy for the plight of the [local residents] and we are satisfied in large part their objections are sustainable," Mr Wolffe said. "We are also satisfied that the unruly conduct of those who congregate near the store is attributable to the misuse of alcohol which is purchased by them from the Happy Valley store. However, we are reluctant to place all the blame at the feet of Mr Swan or the store employees. From what we understand, the property on which these persons congregate is Government property and despite pleas from Mr Swan and the residents, Government officials have for some reason been unable or reluctant to deal with the problem. Therefore this may be a problem which is beyond the control of Mr Swan. However, we are of the view that Mr Swan can and should go further in attempting to address the problem. He must actively place restrictions as to the sale of intoxicating alcohol at the Happy Valley store, even if it may negatively affect his financial bottom line."
June 16. School closures or mergers have been definitively ruled out by Wayne Scott, the Minister of Education, for the coming academic year. "Absolutely not" said Mr Scott of the 2016/17 year — after lingering worries from parents that consolidations were in store. The minister also said it was more important for now to focus on "what's being taught in the classrooms, and how" rather than classroom size. Mr Scott said his decisions were based on widespread consultation solicited by the ministry, along with the school reorganization, or Score report, released in February, that exposed widespread failings. A clear direction for change was essential, Mr Scott said, beginning with a strategic plan that would include a review of the Department of Education's structure. One school could be re-purposed as an alternative learning centre, with the ministry incorporated into the same facility, as concern had been raised that the ministry's present location in St David's made it inaccessible. Preschools are to be relocated to primary schools where feasible, and primary schools are to be equipped with holistic programmes that include music, art and physical education. Health and safety issues, a prominent feature of the Score report, are critical. "We started working on that immediately," said Mr Scott, with a maintenance schedule on the ministry website. The narrative emerging from consultation throughout this year was "quite different from some of the prevailing perceptions of our public school system. Children are having rich educational experiences that have helped to make schools important to them, important to their parents and to our communities." Further details are to be given tomorrow, with a ministerial statement in the House of Assembly.
June 16. A mistake at the threshold of the advanced polling station almost deprived one voter of their say in next week's referendum. Grenville Lines, travelling for his son's graduation on June 23, admitted the onus had been on him to acquire the right paperwork before heading to the station at the Bermuda College. "I was met at the door by a very nice man and asked for my ID and my advanced voting certificate," said Mr Lines of Monday's 9am stop at the college. It was the first time he'd heard of the certificates, which are also required to vote early in elections. However: "I was also told that I had to get it last week, and they were no longer issuing them," Mr Lines said. Identification, with proof of travel, had to be taken first to the Parliamentary Registry in the Craig Appin building, where advanced polling certificates have been issued since June 6. A look through the registry's website found the requisite details — but "because of what I was told at the polling station, I would have probably given up on voting". A co-worker persevered and found that the certificates were still being issued, enabling Mr Lines to return to the college with the right documents. "I was greeted by the same man as before," he said. "I questioned him on telling me I could no longer get the certificate, and he admitted he had made a mistake. I asked him how many others he had told that to and he swears it was only me. He should have been aware of the procedures." Added Mr Lines: "I don't think the procedures and the need for a certificate were well advertised. That information was at the very bottom of a long Royal Gazette article after the point that most people get bored and stop reading. "Even if you know the procedure, it's not very voter-friendly. Forcing people to go to Craig Appin to get the certificate and then go to Bermuda College to vote would be difficult for some elderly or less mobile people. Why couldn't they set up an office to issue the certificate right at the Bermuda College? It could be in a second location, away from the voting." Advanced voting continues today at the college's student centre, from 8am to 8pm.
June 16. An American tourist found himself in Magistrates' Court this morning after threatening a police officer at the LF Wade International Airport. Michael Huppé Jr, 40, pleaded guilty to charges of behaving in a threatening manner to customs officials and verbally threatening police in an incident yesterday. The court heard that the Farmington, New Hampshire, resident was at the airport at around 1pm to catch a flight home when he was stopped for a search by customs officials. However Huppé became visibly frustrated and began to use profane language towards the officers. At one stage, he reportedly clenched his fists and assumed a fighting stance before slamming his fist into a table. Due to his behavior, police were contacted and came to the airport. When Huppé was later told that he was not going to be able to catch his flight, he pointed his middle finger at the customs officers, saying: "F*** you all." He then turned to a police officer, saying: "Don't look at me like that. When we are outside it will be a whole different story. You will see what happens then. You are going to end up in hospital. I will f*** you up." Told that he was going to be arrested for his behavior, Huppé told the officers: "What the f*** ever. I'm going to jail for this bulls***?" While prosecutor Alan Richards suggested either a short, sharp shock or a fine would be appropriate given the facts of the case, duty counsel Ken Savoury said his night at the police station was a sufficient shock and that any further penalty should be in the form of a fine. Mr Savoury added that Huppé was very remorseful for his actions, which were born out of his frustration about being repeatedly searched and missing his flight. Huppé himself told the court: "My behavior the other day was uncalled for. I was upset. It was the third time I was searched and they had me for longer than I expected. I was missing my flight and had no money to get another flight." He added that he had apologized to the officer, saying that he realized he had done the wrong thing. Senior magistrate Juan Wolffe chided Huppé for his behavior, saying that he himself is often searched at the airport. "What would have happened if you went into any airport in the US and did the exact same thing?" he asked. "In some areas of the US, when officers are threatened they take action." Mr Wolffe fined Huppé a total of $1,000 for the two offences, ordering that the sum be paid before he is released from custody.
June 15. The wave of mergers and acquisitions in the insurance and reinsurance sector will continue and there will be casualties. That was a blunt assessment that emerged during an insurance and reinsurance review at the Bermuda Captive Conference. One of last year's big mergers was the $4.28 billion deal between XL with Catlin Group. Patrick Tannock, head of XL Catlin's Bermuda insurance operations, said the continuing M&A activity will broadly deliver three outcomes. Some companies will do well by merging to enlarge themselves and benefit from bigger scales of economy and enhanced market presence, he said. But there will be a second category of companies that feel they also need to operate at a larger scale but will fail horribly. The third outcome, according to Mr Tannock, will be small companies that remain in place and pick up smaller pieces of business or niche market share. While the XL Catlin deal was a market-shaker in 2015, it paled by comparison to the $29.7 billion merger of Chubb and Ace Ltd, which was completed at the beginning of this year. Judy Gonsalves, chief underwriting officer of Chubb Bermuda, was also on the panel, and agreed the three M&A outcomes suggested by Mr Tannock were a likely scenario. She said many companies are seeking ways to use deploy excess capital, and one way was to buy or merge with another company. "A lot of clients are looking for a partner in their programme. You need to grow scale and sometimes M&A is the only way to do that" because growing organically is usually too slow. Ms Gonsalves and Mr Tannock were on a three-strong panel that discussed the Bermuda insurance and reinsurance market during a session at the three-day captive conference. The third panelist, John Berger, chief executive officer of Third Point Reinsurance, said there will always be small, agile companies in the insurance and reinsurance market. He expressed a strong belief that M&A will continue, and said a driving "synergy" was the lowering of costs, often achieved by reducing the number of employees. "[M&A} is going to be very active in the future, but we are going to see some unlucky people stub their toe," he warned. Cyber-risk was a concern raised by one of the conference attendees. He asked how insurers and reinsurers are responding to captive clients seeking cyber-risk coverage. Panel moderator Joe Rego, the CEO of Aon (Bermuda), replied: "We have seen development of significant capacity. It's an evolving landscape. We are not there yet." Mr Tannock said the industry did a good job covering tangible risks, but was still grappling with intangible risks, such as cyber with its many complexities. However, he said his company offers cyber-risk coverage and has done for some time. He acknowledged the industry might need to do a better job "getting out there and telling people" about what cyber-risk coverage is available. Likewise, Ms Gonsalves said Chubb provided cyber-risk capacity. She said it was a complex and evolving business and noted that price levels could be a challenge. "Pricing in this class of business is not attractive to a lot of clients — it might not be at a price that is economically attractive for some." Regarding the overall downward pressure on premium rates that has existed for a number of years, Ms Gonsalves said: "I'd love to say we have hit the floor, but I don't think we are there yet. " However, she said: "There's far more to the risk transfer puzzle than price. I don't think there is any room for complacency here. We must stay focused on underwriting discipline." Bermuda is known for providing reliable, long-term capacity and must hold on to that distinction and reputation, said Ms Gonsalves. Meanwhile, Mr Tannock said alternative capital has smoothed some of the peaks and troughs from the market. He echoed the need for underwriting discipline, but also adaptability. The panelists agreed that Bermuda is the world's most effective and responsive insurance and reinsurance centre. Mr Tannock said the island had "made its own luck" by being proactive, embracing analytics and adapting. Noting the island's reputation for innovation, he said: "Bermuda is the best market in town in terms of speed to market." Mr Berger described how Third Point Reinsurance had come to Bermuda 4½ years ago, at a time when XL had moved its corporate centre of gravity to Ireland [it is now in the process of redomiciling to Bermuda], while other big names, such as Allied World Insurance and Ace, had favored Zurich. "It was a dark day [for Bermuda]. It looked as though people were going away." Mr Berger said Third Point had looked at Dublin and Zurich, but "there was no comparison with Bermuda". He cited the high standing of the Bermuda Monetary Authority, the island's proximity to the US market and its concentration of industry talent, as factors that swayed Third Point's decision to make Bermuda its home. He said the rest of the world has discovered insurance, reinsurance and risk appetite. He said the question now was how to put it together more efficiently. "There's going to be radical changes in the next four or five years," said Mr Berger, and he predicted Bermuda would be an exciting place for young people entering the sphere of insurance and reinsurance. The Bermuda Captive Conference at the Fairmont Southampton started on Monday and ends today.
June 15. Premier Michael Dunkley is visiting Rhode Island this week in the run-up to the Newport Bermuda Race. The Premier will join Bermuda Tourism Authority members and others local organisations in support of the historical sailing event. During his trip, Mr Dunkley will meet with representatives of the Mayor of Newport's Office, as well as attending the traditional Commodore's Dinner and inspecting the Bermuda boats, including the Spirit of Bermuda. The Premier will return on Thursday, one day before the competition begins. The 635-mile biennial Newport Bermuda Race is the world's oldest regularly scheduled ocean race. Founded in 1906, the event will be held for the 50th time this year, with about 190 yachts competing from around the globe.
June 15. In an effort to understand the economic climate in Bermuda, the island's business community has been invited to take part in the fourth wave of the online survey, Bermuda Business Confidence Index. The survey was first launched in 2014 and is sponsored by HSBC Bank Bermuda Limited. The Bermuda Business Confidence Index is a comprehensive survey of business owners and executives across industries, providing insight into current economic conditions. The Chamber of Commerce and the Bermuda Economic Development Corporation have come on board and are inviting their members to take part. The more data collected produces a more in-depth understanding of the current business climate on island, said Total Research Associates in a statement. Any business wishing to complete the survey can contact Margaret Chapman, of Corporate Research Associates at mchapman@cra.ca, or call Total Research Associates at 278-8891 to be included in the panel. The survey runs until the end of this month.
June 15. Sir John Swan will vote in favour of same-sex marriage and civil unions in next week's referendum, he declared yesterday. The former Premier, political icon and Bermuda's 2016 national hero told The Royal Gazette that he had "evolved" since he voted against the 1994 Stubbs Bill, which struck down the island's anti-sodomy laws, and now recognized the "most important aspect of life is natural justice" for all. "The gay issue is not an issue in my house," Sir John said. "Everybody is the same. I have three children. They don't have a lick of reservation in supporting this measure. Nor do I. I very clearly and emphatically support the 'yes' vote. We all should be treated equally." Sir John, who was Premier of Bermuda from 1982 to 1995, outlines his position in an opinion piece on page 4 of today's newspaper, explaining how he made his decision on the Stubbs Bill with his head and not his heart, but would now be voting "with my head and my heart in favour of same-sex marriage". His declaration comes little more than a week before referendum day on June 23, when voters will be asked to say if they are in favour of same-sex marriage and if they are in favour of civil unions. Early polling, for travelers and incapacitated voters, began yesterday at Bermuda College and will continue today and tomorrow. Those against same-sex marriage include the campaign group Preserve Marriage. Among opponents is Pastor Terence Stovell, of the Better Covenant Christian Fellowship, who said that he had based his personal view on the maxim of Christian author Myles Munroe that all things in life have purposes — and that "where purpose is not known, abuse is inevitable". Mr Stovell said he had used that concept in tandem with the idea of an original intent for humanity. "Is the original design of male and female in line with an intent that speaks to the reason why we exist?" asked Mr Stovell, whose opinion also appears on page 4 today. "Is there a self-evident truth, and is scripture in line with that?" Mr Stovell said the justifications for human sexual design were laid out along with the original intent for man's existence on the Earth in the book of Genesis. "While that is not the only reason for our sexual design, it certainly is a key reason for why men and women are designed the way they are — what I would call a natural fit." Sir John said back in 1994, as leader of the country, that he had much sympathy with the private member's Bill tabled by John Stubbs, a member of his Cabinet, but also had sympathy with the churches, which opposed the legislation. He revealed he told Dr Stubbs: "If it needs my vote to pass, I'll vote for it, but if it doesn't, I'll support the churches. I, as the leader, decided to support the wishes of the Church by not supporting the Bill." The Stubbs Bill passed by 22-16, with Progressive Labour Party leader Frederick Wade voting in favour of it. Sir John said he did not regret the way he voted then because "they were different times". He added: "The world has made a significant change. My ideas have evolved and I have always believed in natural human justice, but then I felt as though the Church was a major institution in our society that you just couldn't ignore. I have evolved and recognized that the most important aspect of life is natural justice. Through my experiences with my own children, who have a number of friends who are gay, and my own experiences, as I have gay friends who are contemporaries, there is a whole encompassing of my relationship with the gay community. I never could see myself as doing something that would curtail their right[s]." The former United Bermuda Party leader said that he had a safe seat in Paget in 1994 and made his decision to vote against the Stubbs Bill not for personal political gain, but for the "interests of the country". He said: "I always wanted to hold the country together. I voted last time with my head. I made a calculated decision to try to hold on to the institutions of our community, at the same time knowing that the Bill was going to get through Parliament. I had a split personality in the process. I don't have a split personality now; I have a very definitive personality. That's the way Bermuda was at the time. People evolve. We have all evolved. I am no longer the leader [of the country] and I'm doing something that, in all good conscience, maybe I should have done then. The fact that I did something 30 years ago doesn't mean I should do it today." He said Bermudians would have to exercise their conscience next week. "It's an individual decision," he said. "I would ask them to step back and think what would happen to their children and grandchildren if they were in the same boat. Nature does not promise us a straight line. There are deviations in nature, as in anything else. What you have to decide is: what is the message I'm giving to my children or my grandchildren or my relatives or friends or their children. Should we not all, in the eyes of God, be treated like his children?" Asked how the result of the ballot might reflect on Bermuda elsewhere in the world, Sir John said: "A vote of conscience is right for the individuals and, therefore, right for Bermuda. We can't put the emphasis just on what the outside world sees. Let's take a look at ourselves." The run-up to the referendum has given birth to the emergence of two campaigns: Preserve Marriage's call for the electorate to vote "no" to both questions and campaigners such as Tony Brannon and Shari-Lynn Pringle urging a "yes" vote. Michael Dunkley, the Premier, has said he would vote yes to civil unions, but few other politicians have stated their position. Marc Bean, the Leader of the Opposition, has voiced his opposition to same-sex marriage in the past, but he has been on medical leave since March and has not revealed how he will vote.
June 15. No churches will be used as polling stations for the same-sex referendum, home affairs minister Patricia Gordon-Pamplin announced today. Mrs Gordon-Pamplin told a press conference schools would largely be used for voting purposes as she gave details on the process for the referendum, which takes place next Thursday. The island's 36 constituencies will be split into 12 regions comprising three constituencies each. To cast a ballot, voters must bring valid government identification. Stations will open from 8am to 8pm. Questions in the referendum will be deemed affirmative if 50 per cent or more of voters turn out for the referendum, and if more than 50 per cent vote yes. Education on the referendum will be given at a public meeting at three town hall meetings: 6.30pm tomorrow at the Bermuda College North Hall, at the same time next Tuesday in Francis Patton School and on Wednesday at Sandys Secondary Middle School. The referendum is non-binding, but will allow the Government to "hear the feelings of voters", Mrs Gordon-Pamplin said. The constitution, recent rulings from the Supreme Court, and the European Convention on Human Rights are also considerations, as well as petitions for and against. Mrs Gordon-Pamplin said that the Government's Matrimonial Causes Amendment Act, which would confirm marriage as exclusively between a man and woman, remains on the orders for the House of Assembly to be debated "at the appropriate time". Asked about her own voting intention, the minister said: "I have no problem sharing my personal stance, but for the purposes of today it's important that I take a very neutral perspective. My job as minister is not to show any bias but rather put the information forward."
June 15. Expect the British pound to plunge against the US dollar if Britain votes to leave the European Union next week, an investment expert said yesterday. Henk Potts, director of global investment strategy for Barclays Wealth, also warned that the impact of a Brexit could lead to a further fragmentation in the European Union. Speaking at the Bermuda Captive Conference yesterday, as four polls in the UK showed the "leave" campaign forging ahead, Mr Potts said investors would need to be ready for effects that reached far beyond Britain in the case of Brexit. Mr Potts said Britain had been a bright spot in the global economy in recent years with the strongest rate of growth in the developed western world, but the weakness of its exports was a concern. "There has been a significant reduction in internal and external investment in the run-up to the referendum, but if Britain votes to leave there will be much more disruption as trade agreements will have to be rewritten," Mr Potts said. "This will put extra pressure on the under-performing export sector and the two years we would have would not be enough to negotiate better trade agreements, in my opinion." In terms of policy response from the Bank of England, Mr Potts said there would be a change of course from the central bank's aim to raise rates, probably by the second quarter of next year. "In the case of Brexit, we would expect the Bank of England to cut rates down to zero and increase its asset purchase programme by £100 billion [$141 billion]," Mr Potts said. "Sterling has fallen by 9 per cent against the dollar since November and would probably fall another 10 per cent. As growth slows and sterling weakens, the Bank of England would then probably have to raise rates, which would further weaken the economy." However, Mr Potts warned that Brexit should not be viewed as solely a UK issue, but rather "through the lens of the EU". A breakaway Britain would heighten fragmentation risk, he said, especially with national elections coming up in Italy, France and Germany over the next two years. While his firm Barclays had no view, Mr Potts said that in his opinion Britain would be better off staying in the EU, which is the largest trade bloc in the world with 500 million residents. The free movement of labour allowed a "big talent pool to choose from" and Britain had been a major beneficiary of investment within the bloc, he added. Mr Potts and Ryan Wang, of US economist for HSBC Securities, gave conference delegates an overall outlook for the global economy that could be summarized as "more slow growth". Both experts believe the US Federal Reserve will raise interest rates by 25 basis points in September. Next year, Mr Wang expects two more quarter-point increases, while Mr Potts sees the Fed funds rate climbing to 1.5 per cent by the end of 2017. Mr Wang said industrial output had pulled back sharply in the US over the past two years. Net exports had become a negative factor in economic growth, while business investment was slowing, exacerbated by the shrinkage of the US energy sector in response in the plunge in oil prices since mid-2014. Consumption and housing were the biggest drivers of US growth, while government spending had become a positive factor in growth for the first time in five years. The most recent non-farm payroll figures from the US Department of Labour shocked the markets with just 38,000 new jobs created in May. Mr Wang said this could signal a natural slowing down of job growth after a vigorous period of job creation. "In 2014 and 2015, we averaged about 240,000 new jobs per month — that's the equivalent of around 2 per cent jobs growth per year," Mr Wang said. "That rate is not sustainable, with unemployment below 5 per cent, and so we may be seeing a slowdown to a more sustainable rate of job growth. We do see job gains continuing, but at the 200,000-plus rate." Wage growth was ticking higher, between 2.5 per cent and 3.5 per cent, according to different surveys, boding well for continued consumer strength. However, productivity growth of only 0.5 per cent was a major concern for the economy. Mr Potts said Barclays expected the US economy to grow by 1.8 per cent this year and 2.4 per cent in 2017. While earnings for S&P 500 companies had pulled back this year, he expected it to rebound — with growth of around 14 per cent — next year. He added that the S&P 500 was trading at around 16.8 times earnings. The past 15 times the market had traded at this level, it had gained by between zero and 32 per cent over the next 12 months, he added.
June 15. The spiraling cost of Bermuda's healthcare could be cut using lessons learnt in America, an expert said yesterday. Joe Flower, an international authority on healthcare, said that the US, like Bermuda, was being forced to tackle the huge cost of healthcare — in the US, a $3 trillion year doctors' bill. He added that employers should act more like customers to help cut the cost of healthcare. Mr Flower said that the cost of healthcare in the US spiked in the 1980s after diagnostic related groups — a system of codes and charges for services — was introduced, a system which was intended to control healthcare costs. He added: "Somehow, it was exactly the opposite. One thing that would do, it would encourage physicians in hospitals to do things that weren't strictly necessary." Mr Flower added that around $1 trillion of the $3 trillion healthcare spend in the US was wasted on unneeded procedures — which inflated costs. He said: "I don't mean waste by using too many Band Aids in ER. I mean doing things that we don't need to do." And he added countries like France and Germany, which proportionately spend around half the US healthcare budget — had better health outcomes than the US. Mr Flower said: "In the United States healthcare system, even reformed as it now is, it's still possible to not really have access to healthcare at all. And it's still possible for even people who are well insured to go bankrupt because they have fallen foul of the manically complex healthcare system we have in the United States." Mr Flower said that cost of an MRI on an ankle in Washington DC varied from $400 to $2,183, while the cost of a hospital room also varied massively across the country, with prices ranging from $1,500 a day to $12,500 a day, with no difference in quality. He added: "We have to reinvent medicine and people have to reinvent the relationship to medicine. Medicine has to drop this code-driven, fee-based model." He said that groups of employers getting together to fund GP clinics for employees on site was one way of reducing costs. And bundled pricing — payment of healthcare providers on the basis of expected costs for clinically defined episodes of care — could also reduce costs for employers and employees, rewarding healthcare providers for the best results at the lowest cost. Mr Flower added that reference pricing, a form of defined contribution health benefits, where plan sponsors pay a fixed amount or limit their contributions towards the cost of a specific healthcare service, and health plan members must pay the difference in price if a more costly healthcare provider or service is selected, also cut costs dramatically. He said: "You change the inputs to a system, the system will change. It doesn't matter if people inside the system think that's the way to go. It will change." He added: "If employers in Bermuda are paying for healthcare, they could try these strategies. I don't know, but I think employers could find some of these resources available to employers, consulting companies and such, that can tell them how to do it. I would be surprised if some of these weren't willing to give the same advice to Bermuda employers." Mr Flower was speaking after he delivered the keynote speech at the annual Bermuda Captive Conference at the Fairmont Southampton yesterday. "The measure of the urgency is how much it's impacting people. The shift in that line, the drop in the relative costs, did not happen under Obamacare, it happened before it. The things that are pushing costs down, or keeping them flat, are largely not government-generated ones. It's generated through shifts in the way employers and pension plans are paying." Costs had gotten too high for employers. It was impacting their bottom line. It's also because they began to see it was becoming a national conversation. This sped up the private sector's activity with these kinds of engagements."
June 15. The Senate unanimously approved a new tax today to ensure the proper upkeep of the City of Hamilton's sewerage system. Senator Michael Fahy, the Minister of Tourism, Transport and Municipalities, presented the Hamilton Sewerage Amendment Act 2016 to his colleagues at Sessions House this morning. He confirmed that the new tax would go towards capital improvements of the ageing system rather then on operating expenses, which total $778,000 for the 2016 fiscal year. Mr Fahy explained that the levy for commercial properties with an annual rental value of more than $100,000 would likely reach a maximum of $250 annually. Accordingly, properties with an ARV of $30,000 would be charged around $75 a year, and $20,000 ARV properties around $50 annually. He anticipated that the Corporation of Hamilton's annual revenue from the new tax would be approximately $400,000 per year. A Bill to reduce the threshold at which houses come under rent control was also passed. The Partnerships and Companies Amendment Act 2016 will lower the annual rental value ceiling from $27,000 to $22,800. Patricia Gordon-Pamplin, the Minister of Home Affairs, had explained in the House of Assembly: "This became necessary when the revised land tax rates brought into operation by the Land Tax Amendment Act 2016 on January 1, 2016, lowered the ARVs of many properties. "By lowering the ARV ceiling, we will maintain the number of rental units under rent control. Those will be relatively unchanged at 17,061 units." Finally, legislation to provide more flexibility for the management and operation of Bermuda partnerships was approved. The Partnerships and Companies Amendment Act 2016 also clarifies the legal impact of certain changes in the constitution of limited partnerships, as well as certain activities of limited partners.
June 15. Ramy Ashour, a three-times world champion, will be the star turn at next week's Axis Squash Challenge and Professional Exhibition. Ashour will take on Ryan Cuskelly, the world No 16, in the main game at the Bermuda Squash Racquets Association in Devonshire next Saturday. Micah Franklin, the Bermuda champion and world No 173, will face fellow islander Noah Browne, the world No 287, in the opening match of the night, a replay of last year's National Championships final. Patrick Foster, the BSRA director of squash, has no doubt that Ashour, 28, will deliver a masterclass of squash for the spectators. "Squash stars don't come much bigger than the mercurial Ramy Ashour, known on the PSA [Professional Squash Association] World Tour as "The Artist" for his amazing skills and ability to return impossible shots from impossible positions. "We're all really excited for the exhibition night to see young Bermudian professionals on the big stage, as well as a star like Ramy here on the Bermuda courts. The event looks like it's lining up to be a big success as always and will be topped off with a fantastic night of squash with the professionals." Cuskelly has had a stellar season climbing up the world rankings after eight PSA World Tour titles. "I'm so glad to get the chance to come back to beautiful Bermuda, meet the players and kids here and have the opportunity to get on court with Ramy again," Cuskelly said. The four-day challenge features 16 teams made up of four players, with individual handicaps to level out the standards and provide the best competition possible. This year's competition will also include an AXIS Junior Challenge, running the same format and being held after school. Both the adult and team events are sold out with a maximum of 96 players taking part. Tickets for the exhibition night, costing $50, are on sale at the BSRA. For more details visit bermudasquash.com.
June 14. Bermuda could be in line for a new name in banking, it was revealed yesterday. The news came after a round-table discussion on the state of the Bermuda captive market at the record-breaking Bermuda Captive Conference. Ross Webber, CEO of the Bermuda Business Development Agency, said: "We are talking to some banks, and they are household names, we're talking right now. "We're hopeful at least one of them will set up some private banking and some extra corporate banking options." Mr Webber was speaking after a round-table discussion on the trends in the captive market and its future at the Bermuda Captive Conference, The conference, which passed the 800-delegate mark for the first time, earlier heard from Alan Gier, president and chairman of the General Insurance Company and vice-president of the Bermuda Captive Owners Association, who said, in response to a question on what Bermuda needed to do better, that the island needed more choice in banking. Mr Gier said: "Maybe one of the areas would be some banking options. There are only three on the island, or three that I know of, that's the thing that probably most interests me at the moment. But our experience has been very positive — we haven't had a lot of issues we haven't been able to sort through them." Mr Webber said afterwards: "I completely agree. Any new banks that on island, of course, need to be vetted by the Ministry of Finance and the Bermuda Monetary Authority. I hear this request for companies that are already here, as well as from new companies coming in. It's unquestionable that people want more banks, both on the corporate side and the private bank side." Mr Webber added: " the key factor for any new banking presence is that they are in line with the island's strict rules on transparency and up to speed in areas like anti-money laundering and antiterrorism financing. The important thing is that any new players don't embarrass the jurisdiction. Major banks pulling out of areas perceived to be high risk, like some parts of the Caribbean, presented a chance for Bermuda to attract more business. This presents a very good opportunity for Bermuda to capitalize on a flight to quality. With the contraction of a very large number of banking operations in the Caribbean, it's a good opportunity to augment our already prestigious destination. Existing island banks would welcome competition. The answers I have been given from the higher echelons of both HSBC and Butterfield have been 'bring it on' — they haven't been resistant at all, which is encouraging." Mr Gier added that his company had been trying to streamline the number of banks it has relationships with. He said: "We don't have a relationship with a bank on the island. We had to get a deviation from our policy group. We haven't run into that in other parts of the world. If they were more bank options that would alleviate that problem. I am unsure if the problem might put other companies off Bermuda. I don't know if they have that concern or if it is a problem. But for some companies it is." And he added that more competition in the sector would benefit bank clients. The conference was opened by Michael Dunkley, the Premier, who told delegates: "You'll already know that you are doing business with the finest captive professionals in the world — not just the excellent captive and insurance managers, but also the accountants, lawyers, bankers, brokers and other individuals who make up our industry. Our leading insurance professionals are known for their innovation and exceptional service and you can be assured that you are part of a vibrant Bermuda market. We have globally respected risk-based regulation with an accessible and proactive regulator. We're proud of our blue-chip jurisdiction — a place where people with world-class talent work for innovative companies that are fulfilling a critical role in the worldwide economy." The Premier also joined conference chairman David Gibbons in presenting the Bermuda Captive Hall of Fame awards to 16 companies. And Jill Husbands, head of office and managing director of Marsh Bermuda, was awarded the first Fred Reiss Lifetime Achievement Award. The conference held at the Fairmont Southampton, which started yesterday and runs until tomorrow, pulled in not only a record number of delegates, but 70 sponsors and was responsible for booking a total of 900 bed nights in island hotels.
June 14. A "very well-received" anti-bullying drive for the island's workplaces has been launched by the Bermuda Public Services Union. Jason Hayward, the BPSU president, said that a special-edition resource magazine printed for the campaign had been in high enough demand to need an extra printing. "What we would ultimately like to see in the workplace is a change in behavior from those who bully and harass others," he said. "Hopefully, when they see the poster or read the magazine, they think twice." Every worker has a right to fair treatment in a workplace free of bullying and harassment, but the union continues to field complaints and concerns from its members over the "unacceptable" issue. Accordingly, two union representatives were sent for training in British Columbia to develop the campaign and its strategies. It marks the first large campaign since the BPSU joined the Quality Public Services global drive in 2011.
June 14. Hospitality guru Herve Humler will discuss careers with students at CedarBridge Academy on Friday. Mr Humler co-founded the Ritz-Carlton Company in 1983 and serves as its president and chief operating officer, as well as being president of Bulgari Hotels and Resorts. He is responsible for leading the brand's global growth, which includes the $400 million Ritz-Carlton Reserve resort being built at Morgan's Point, as well as presiding over 92 Ritz-Carlton properties. At CedarBridge Academy's Ruth Seaton James Theatre, Mr Humler will talk about his work and answer questions from 9am to 10am. The presentation is open to all students in grades M3 and up. To book your spot, e-mail Malika Cartwright at mcartwright@bhi.bm or call 295-5049.
June 14. There is no substitute for blood in the immediate aftermath of a serious medical emergency that requires a transfusion. With the donor population declining and patients still dying from blood loss, Edward Schultz, the chief of emergency medicine at King Edward VII Memorial Hospital, is calling on the community to give blood. Dr Schultz, who spoke to The Royal Gazette as Bermuda marks World Blood Donor Day, said: "None of us intend to be involved in road traffic accidents, none of us ever intend to be shot but things do happen in our community and you can require a large amount of blood very quickly under some clinical circumstances. No one is immune. Anyone may require blood at some point in their life and they may require it on an emergency basis where that blood has to be available. And if it's not, there is really no good substitute for not having blood and people will die unnecessarily, people who could be saved if we had available blood. So it's very, very important for our community to donate blood." According to Dr Schultz, a total of 552 units of blood were crossmatched for use by emergency physicians in 2015. This is a third of the total collected by the hospital last year. The Department of Surgery used 23 per cent, while the Department of Medicine used 41 per cent. Pointing to stricter criteria for donating blood and an ageing population, Dr Schultz said: "A lot of the people who traditionally donated in Bermuda can't anymore, which is an issue." And he added: "Young people don't think about blood donation but actually it's young people who may be more likely to be in major trauma where they require blood. We still have situations where people die in the emergency room from exsanguinating haemorrhage. It happens most often with trauma: road traffic accidents and gunshot wounds." Dr Schultz said shortages can occur when patients on the medical or surgical service require a lot of blood, when there is a major trauma patient in the Emergency Department or a series of back-to-back major trauma patients. "Some of the gunshot wounds to the abdomen with injuries to the major vessels have required large amounts of blood. Potential donors who fulfil the criteria are screened before the blood is drawn in a relatively painless procedure". The blood is then checked to ensure no diseases are being transmitted. According to Dr Schultz, patients who have been injured in serious road accidents, have a severely ruptured spleen or a lacerated liver may need as many as six or seven units (500 millilitres per unit) of blood. Patients with ruptured major vessels may require "well in excess" of ten units of blood. But other medical problems such as bleeding ulcers or excessive anticoagulant use can also result in massive bleeding. Cancer, sickle-cell or kidney failure patients suffering from complications of their chronic disease may also need periodic transfusions. "But the emergency department is certainly a major user of blood and blood products," Dr Schultz said. "When managing seriously injured trauma victims who are bleeding, our goal in the emergency room is to stabilize the patient enough to get them as quickly as possible to the operating room where the haemorrhage can hopefully be controlled surgically. The goal of administering blood is to maintain perfusion — blood flow — to the vital organs, so that patients don't go into irreversible shock, and to provide them with oxygen-carrying capacity and clotting factors." When blood is collected it is divided up into packed red blood cells, platelets and fresh frozen plasma. Depending on the circumstances, patients are given one or more of these components. "The problem with red blood cells is because they are banked, they have oxygen carrying capacity but they don't have clotting factors," Dr Schultz explained. "So if you start to give blood to people, you start to dilute out their clotting factors which can make them bleed more. In some settings where limited bleeding occurs because of coagulation problems, we may only transfuse fresh frozen plasma, which contains clotting factors — instead of packed red blood cells. For example, this may be required with bleeding related to Warfarin use, which is a common anticoagulant that a lot of people are taking for atrial fibrillation, after artificial heart valve replacements, or blood clots in their legs and lungs. But if you have somebody that is having massive bleeding, you have to replace clotting factors, so you have to give platelets and fresh frozen plasma as well." What happens when you decide to donate?
Bermuda uses about 35 to 45 units of blood per week (one unit is one donated pint of blood)
Most healthy people between 18 and 70, who weigh a minimum of 50kg, can donate blood.
Globally about 6 per cent of the population (or 45 people out every 1,000) donate. In Bermuda, less than 2 per cent of the total population donates (about 17 out of every 1,000).
When you donate blood, one pint is taken which is then separated into different components.
Donors replenish the volume of blood donated within 24 hours and can safely donate blood once every two months.
To ensure a donor is healthy enough to give blood, donors are asked to fill out a questionnaire, and their blood pressure and haemoglobin is checked.
The entire process, including pre-testing, donating and refreshments afterwards takes about half-an-hour.
The average adult contains ten to 12 pints of blood, which contains many substances including red blood cells, white blood cells, platelets and plasma.
June 14. The education system and black history were among the issues tackled during the island's first "Speakers' Corner" on Sunday afternoon. Dozens turned up to the Loyal Gazette event at Loyal Hill Field in Devonshire, which allowed members of the public a platform to discuss the island's topical issues. Former Progressive Labour Party MP Dale Butler joined residents from across the island to take part in the unique event that is loosely based on London's Speakers' Corner in Hyde Park. The event began with a prayer, before Pamela Richardson, of Southampton, took to the platform to urge Bermudians, especially men, to abstain from alcohol. "We need to eat properly. Too many are dying of cancer. A 33-year-old black mother with a young baby was buried this week." Ms Richardson called on Bermudians to "stop the gossiping and stop ridiculing each other". Dr Muriel Smith then spoke about a "falsified curriculum for our children" and maintained that African history needed to be taught in schools in Bermuda. "We have to care about our children. We need to dismantle the education system and replace it with something designed for our children." Meanwhile, Mr Butler gave a passionate speech about the need to find solutions to the island's problems. "Rather than pointing fingers, where is the solution? It is not good enough to just criticize without a solution." Event organizer, Keith Simmons, who is also chairman of the Devonshire Community Field Trustees, said he hoped word would spread about the event and more would attend the next Speakers' Corner, planned for July. "I hope we can take this and build on it," he said. "We have had some great speakers, but we need more speakers from across the community."
June 14. The ferry schedule for National Heroes' Day on Monday has been released by the Department of Marine and Ports Services. Blue Route: Operating on the weekday schedule between Hamilton and Dockyard, from 7.10am from Hamilton. The last departure from Hamilton is 8.30pm. Orange Route: Operating on the Monday schedule between Dockyard and St George's, from 9.30am from Dockyard. The last departure from St George's is 5.30pm. Pink Route: Operating on the public holiday schedule between Hamilton, Paget and Warwick, from 10am from Hamilton. The last departure from Hamilton is 6pm. Green Route: No regular ferry services to or from Rockaway, Cavello Bay and Watford Bridge.
June 14. "Ageing and end of life" will be the subject of the fifth and final ageing forum hosted by the Peace and Social Justice Committee of the Roman Catholic Church of Bermuda. Presenters for the event at St Theresa's Church Hall, Hamilton, on Friday, are geriatrician David Harries, Senior Advisory Council chairwoman Marian Sherratt, Friends of Hospice executive director Cathy Belvedere and Roman Catholic Bishop Wesley Spiewak. Explaining the areas up for discussion, organizers said in a statement: "End of life is an inevitable last step for all persons, and is of particular concern for the ageing citizens in our Bermuda community. How do we as community manage end of life issues? Do we adequately care for these most vulnerable citizens? What is our attitude towards grief and grief relief, death and the dying in Bermuda, and how do these attitudes impact and affect us in the way we live our lives here and now? Does Bermuda have respect for the ageing citizens in our community, those closest to the end of life? What do we need to do now as individuals and community to improve our attitude and better prepare ourselves for the inevitable — a life which ultimately must experience death in the end. A community is known by how it treats its most vulnerable citizens. This forum is expected to cast a light not only on the ageing persons and their loved ones, but on the whole Bermuda community as well." The event begins at 7.30pm. A group think tank workshop session will also take place on Friday, July 8, to discuss social, spiritual, economic and political concerns.
June 14. Kenneth Smith likes to call himself a "do-what-you-got-to-do fellow". He's 94, but when his grass needs mowing, he mows it; when his garden needs ploughing, he ploughs it. His garden is his passion. "When I get up in the morning the first thing I do is look out the window," he said. "Carrots, onions, string beans, cristophines, cucumber ­— I grow it all." As a young man he wasn't the least bit interested. His father, Arthur Smith, would ask for help in the garden and he'd suggest hiring someone. His focus was firmly on music. "My father was the band leader for the Warwick Amateur Marching Band," he said. "They would play on Sundays. I couldn't play a note, but at 13 I would march along behind trying to play any instrument I could. The other band leaders tolerated me because I was the band leader's son, I suppose." Around this time, his father gave him a choice about his future. "He said do you want to go to Berkeley or join the Dockyard Apprenticeship Scheme?" said Mr Smith. The scheme trained young boys in trades that were useful to the Dockyard such as engineering. "I don't know why, but I answered Dockyard. I had no idea it would mean getting up at 5.30am to pedal to the ferry to make 7am in Dockyard." The apprenticeship took up a lot of his time, but he did manage to take piano lessons for two years. Then the Second World War heated up and there was no time for scheduled lessons. He often worked until 9pm as a ship machinist on submarines, battle cruisers and other vessels. But he was determined to continue with music in some way, so he taught himself to play the drums. "In 1940, I bought a gramophone and bought some old recordings," he said. "I used to wind up a gramophone and try to beat the tune I heard. My mother used to get irritated by the noise and slam the door." At first he played casually with friends but in 1945 Ernie Leader, one of the top band leaders in Bermuda at the time, invited him to play with his orchestra. "I said 'Are you kidding? I can barely play'," said Mr Smith. "But he said, 'Nonsense. If you can read music, you can play the drums'. "When I started playing with him some of the other members grumbled and said, 'Where did you get that country boy, Ernie?'" He left after six months, playing with well-known band leader Al Davi at Belmont and later, the Freddie Matthews Band at Castle Harbour. He was then approached by piano player Earl Darrell to help form a new group, the Aldarnos. "There was another guy in the group called Arnold Laws, and an American I only knew as 'Big Herb'. They called him that because he was big as a house. I became the band manager." After Mr Darrell retired from the band, Mr Smith changed its name to Aldano Sextette. Other members came and went, but he stayed from 1955 until 2004. He was awarded the Queen's Badge of Honour in 2002 for musical contributions. He also received numerous citations over the years although, as a drummer, he was never in the spotlight much. "I was a background fellow," he said. "Very rarely I would stand up and announce the band. I did it on special occasions. In 1982 the Bermuda Musicians' Union gave me an award and asked me to make a speech. I told them I am not a man of words, I am a 'do-what-you-got-to-do fellow'. After that, people started calling me Mr Do What You Got to Do. He and his wife Lorraine have been married 43 years and between them have three daughters, and one son and 11 grandchildren.
June 14. Some new pension applications were not processed in time for this week's payment, the Department of Social Insurance has advised. The delay is a result of the Department's switch to a temporary office at Global House. New applicants who submitted their application for a benefit before March 31, and whose 65th birthday was before April 1, should contact the Department if they do not receive their payment tomorrow. Call the Department at 294-9246 to expedite the payment.
June 13. Almost $15 million of tax concessions have been approved by the House of Assembly to allow the redevelopment of two hotel sites. A total of $11.8 million in concessions for the Elbow Beach Hotel were approved to support a $38 million redevelopment, including the reopening of the main hotel building. Meanwhile, another $2.5 million on concessions were approved for the former Surf Side hotel complex to support a proposed $35 million revamp. Detailing the redevelopment plans and the concessions, Kenneth Bascome, the Junior Minister of Tourism, said that both projects would result in additional jobs for Bermudians and hotel beds in time for the America's Cup in 2017. Regarding Elbow Beach, Mr Bascome said that the hotel owner had lost millions of dollars in the resort over the years and had considered closing the site. However, with the concessions, the hotel owner seeks to invest more than $38 million in the site, opening 68 luxury suites inside the main hotel building along with reopening the hotel lobby and main hotel restaurant. The project would also include refurbishing the 102 existing rooms on the property. Mr Bascome said that the suites would be created by bringing together and refurbishing guest rooms in the hotel building, which was closed in 2010. Work is hoped to be completed before next June when the America's Cup takes place on the island. In addition to construction and design jobs associated with the redevelopment project, he said the renovations would create 30 hotel jobs for Bermudians. In the case of the Surf Side Beach Club, the property closed last year due to the downturn in the economy and difficulty finding investors. However, Mr Bascome said that Bermudian developer John Bush III is interested in upgrading and redeveloping the Warwick site to create a new luxury residential hotel property — Azura Bermuda. Mr Bascome said that Mr Bush has made a commitment to invest $20 million in the acquisition of the property and the first phase of development, and the second phase is expected to cost between $13 and $16 million. "The developer has redevelopment plans that will add 12 new suites and six new hotel residences that will potentially increase the Azura Hotel capacity to 69 keys, or 138 people with the potential for more as the configuration of the suites are either studio, one, two or three bedrooms," he said. The first phase of development, hoped to be completed in time for the America's Cup next summer, will include converting the old rooms and readying new rooms to create a 48-room hotel, with further rooms being added in a second phase of development.
June 13. Government says it will extend its voluntary early retirement scheme for those eligible in the public service. Submission deadline is August 29 this year and termination date is September 30, with the exception of Education where termination will be June 2017. The early retirement programme applies to Government employees between ages 55 and 64 years old. Employees must have attained the age of 55 by September 30, 2016, or must be members of the Police, Corrections or Fire Services and who are entitled to receive a pension upon retirement from the public service on the grounds of age or years of service on September 30, 2016. The Cabinet Office introduced the voluntary early retirement scheme as a cost-saving measure in 2014.
June 13. The Commission of Inquiry has issued a procedural statement, outlining its process for investigating the Auditor-General's report. The statement, which follows meetings with CoI chairman Sir Anthony Evans during his visit to Bermuda last week, includes details on public hearings, beginning with the first one on Monday, June 27. People who have already been contacted by the Commission will no longer have to appear at the hearing, and a second hearing will follow in either September or October. The report will look into how the Consolidated Fund was run in 2010, 2011, and 2012, including potential mismanagement. Sir Anthony, an international jurist and former Bermuda Court of Appeal judge, said: "Although this somewhat extends the length of our investigation, it was determined that further time was required in order to collect and analyze documentary material relating to the issues which the Commission will be investigating."
June 13. Victims of a massacre at one of Florida's landmark clubs were honored last night at a quiet ceremony by the Cenotaph on Front Street, organized by local artist Mark Anderson. The mass killing targeted the gay community, claiming 49 lives at Pulse, Orlando's highly popular gay nightclub. The names of the dead were recited before a gathering of about 60 as a gentle rain fell. "As an entertainer and activist, I wanted to show respect to the victims and their families, and show our love, support and prayers to our fellow people," said Mr Anderson, who recalled attending the club as a performer in 2004 — the year that it opened. Pulse is a prominent establishment known as a safe space for lesbian, gay, bisexual and transgender people in the city of 2.4 million residents. However, in the early hours of Sunday, it became the scene of the deadliest gun rampage in recent American history when the shooter, identified by United States authorities as Omar Mateen, opened fire on revelers. "Everyone is some way is affected by this tragic, senseless act against the LGBT community," said Mr Anderson, familiar to Bermudians as the man behind the persona Sybil Barrington. Pulse, he said, was famed for drag shows: Kenya Michaels and Roxy Andrews, well known contestants from RuPaul's Drag Race, are regulars there. Adding to the grief, Mr Anderson added, was the fact that the killings coincided with Gay Pride Month, held in recognition of the Stonewall riots of 1969. Mourners, some sporting rainbow umbrellas, joined him in a show of solidarity at the monument to Bermuda's war dead, where Mr Anderson shared memories of performing on the club's stage. "As an entertainer, you're used to looking for the exits in case anything was to happen. They had several exits in the back dressing room, where club goers unfortunately did not know about them." Ages were read off along with victims' names, and the youth of many of the slain drew shock from some of those gathered. Prayers were given by Canon Norman Lynas of the Anglican Cathedral, and Father Paul Dean of Holy Trinity Church. Tony Brannon, a vocal campaigner in support of same-sex marriage, used the occasion to appeal to people to vote in favour of the unions at the June 23 referendum. Meanwhile, the Rainbow Alliance of Bermuda issued a statement, describing the group as deeply shocked and saddened by the hateful mass shooting. In a small community like Bermuda, we know how important it is to cultivate safer spaces where LGBTQ people can feel free to express their true selves. It is a shocking violation for those spaces to be brutalized with homophobic and transphobic violence. The attack was a blow against the global LGBTQ community during the month of Pride. This attack was also not solely the result of one man's gun, but the end result of systems and cultures that spread homophobia and transphobia. When LGBTQ people are seen as less-than-human, as not deserving equal human rights and respect, a target is painted on our backs. In Bermuda, we need to tackle these systemic roots of homophobic violence, to see each other all as equals deserving of equal rights, if we truly want to stand in solidarity with the victims of this shooting. The Pulse massacre is heartbreaking. The Rainbow Alliance of Bermuda would like to remind our LGBTQ community and allies that we do not tolerate hate, Islamophobia, or religion bashing. We exist solely in the realm of love, and for that reason, love must win. Be proud. Love and light to Orlando."
June 13. A Hamilton club has been stripped of its members' club licence after the Liquor Licensing Authority found it had failed to provide sufficient written proof it was doing work to benefit its members or the community. The Ambiance Lounge on Angle Street, run by Carlton Simmons, was run more like a business than a members' club, according to LLA chairman Juan Wolffe. Mr Simmons told The Royal Gazette that he had appealed against the ruling. "We have appealed the decision of the Liquor Licensing Authority up to the Supreme Court, but we can not say anything more about it at this time," he said. In a written ruling by the authority Mr Wolffe said: "From the documentation provided it would appear that the sole or principal purpose of the club is to sell or supply alcohol. When one compares the revenue and the profit generated by the club from bar sales with the woefully small expenditure on community programmes, the impression that is left is that far more emphasis is disproportionately placed on the sale and supply and consumption of alcohol rather than on providing a benefit to the members or the community. It is unclear to us what actually is the purpose of the club. In our view the business model envisioned by Mr Simmons certainly is not allowed or contemplated by the Act." The Ambiance Lounge first applied for a members' club licence in February 2012 despite objections from residents who said the area "was saturated with establishments that currently hold liquor licences". The LLA initially refused the application and Mr Simmons applied again in November 2013, saying the purpose of the club was to fund his charity Youth on the Move. In March 2014, Ambiance Lounge was granted a members' club licence, which was renewed in May 2015 following a hearing. In March of this year Mr Simmons applied to renew his licence again. The LLA then asked him to provide a raft of documentation showing membership, subscriptions, minutes, account books and programmes to demonstrate it was a bona fide member's club. "It appears that the only income of $285,655 comes from bar sales," said Mr Wolffe. "The club gained a profit of over $37,000 yet it is unclear as to what extent this profit was used for the benefit of the members of the club. Mr Simmons stated that going forward the subscriptions and dues will be accounted for. In our view this comment is vacuous as Mr Simmons and other executive members should have been well aware of their statutory obligations." The LLA's written ruling continued: "It would appear from the minutes of March 2016 that it [Youth on the Move] is not even in operation," Mr Wolffe said. "When the applicants applied for renewal of its members club licence last year, YOM figured quite prominently as justification by the applicants there was a significant charitable component to their licence. It would now appear that for part or maybe all of 2015/16 that YOM was not even in activation. We are not satisfied that the club has organized sufficient programmes for it members or the community at large. The height of their contributions to the community are to the Bermuda Squad dance group, the Bermuda Triple Challenge and Soul Food Productions for a total of $1,200. This in our view is low compared to the revenue and profits generated from bar sales." Mr Wolffe said it was unclear who actually owned the club property and that the letters relating to its joint ownership were unsigned and "lacked legitimacy". The LLA ruled that membership information and subscription details were "deficient" and that minutes and financial statements were insufficient. Mr Wolffe said: "The sign-in book is simply unhelpful in establishing who the members are and whether the persons who used the club were members or were accompanied by members for the licencing period 2015/16. Where the names are legibly written they bear no resemblance to the membership lists provided by the applicants. In many instances the writing gives the appearance of pure doodling. We are not satisfied that the secretary of the club has kept a proper subscription book."
June 13. Financial services investment firm Somers Ltd logged a loss of $1.7 million for the first six months of its financial year. The loss, covering September last year to the end of March, narrowed nearly $6 million from the same period in 2015. Somers Ltd said the loss so far this year was due to currency fluctuations and the British pound's decline against the dollar. The figures equate to a diluted loss per share of 14 cents compared to a loss of 65 cents per share for the same period last year. Somers' board declared an interim dividend of 18 cents a share, the same level as last year. Somers owns Bermuda Commercial Bank, Waverton Investment Management, and Ascot Lloyd Holdings. Total revenue for the period for BCB was $13.5 million compared to $13.9 million for the same timeframe in 2015. Somers said the bank's core earnings — which strip out one-off items — improved, but a reduction in the value of the bank's investment portfolio left BCB with a net loss of $3.9 million for the six months, compared to net income of $2.1 million in the prior-year period. Waverton Investments Management made a pre-tax income of £3.7 million, or $5.8 million, compared to £4.8 million, or $6.85 million, a year earlier. Waverton's assets under management at the end of March this year totaled £5.5 billion, or $6.42 billion, compared to £4.3 billion, or $6.13 billion, in the same period in 2015. The firm's latest acquisition, Private and Commercial Finance Group in the UK, had a 12 per cent increase in business originations to the end of March, up from £56 million, or $79.9 million, to £63 million, or $89.9 million. Warren McLeland, chairman of Somers, said: "Excluding the impact of currencies, results were flat with dividend income received from the investment portfolio largely offsetting a net reduction in portfolio valuations. The foreign exchange losses resulted in a 4 per cent decline in our diluted net asset value to $17.03 from $17.74 at September 30, 2015. A number of our larger investments, in particular Waverton and Ascot Lloyd, are denominated in sterling and during the six month period ended March 31, 2016, sterling declined by 5 per cent versus the dollar. Currently, the Sterling-based investments are not hedged but the board is considering a more active hedging policy. We continue to carry a relatively low level of debt on our balance sheet and we expect to maintain this position at least in the short term. As capital grows and our profitable investments return cash, we will look to use these funds to diversify our portfolio." The company had dividend income of $2.5 million during the period, compared to $1.6 million a year ago. The extra income offset a $2.2 million loss on the investment portfolio, a figure which totaled $5.4 million in the same period last year. The company report said: "Investment gains and losses result from changes in the valuations of the company's investments and during the period a reduction in the carrying value of BCB outstripped valuation increases at Waverton and Ascot Lloyd. BCB's valuation includes its subsidiary PCFG and an increase in PCFG's share price in the current quarter should have a positive impact on BCB's overall valuation."
June 13. Flora Duffy produced a storming performance to finish second in the World Triathlon Race in Leeds, England, yesterday. The Bermuda triathlete spent much of the race out in front, but ultimately could not hold off Gwen Jorgensen on the run, despite having a 1min 40sec lead after another impressive display on the bike. Jorgensen, who is favourite to take gold at the Olympic Games in Rio in August, overcame the largest deficit in WTS history to claim the win in 2hr 0min 33sec. Duffy was less than a minute behind in 2:01:24, with Vicky Holland, of Britain, third in 2:01:57. "Starting the run with Gwen [Jorgensen] behind you is always a bit of a terrifying thing, but I am happy with how things went today," Duffy said. "I had to do a lot of work on the bike. The British girls were not working with me; they had some team tactics. They were told they had to ride a certain way, so I was the only one who could put in work. If I had help, perhaps I could have run a little bit better and perhaps we could have had a little more time. But that is racing; that is team tactics." Duffy hopes one day to have some help of her own, but said the chance to run wearing the gold number 1, which she wears as the overall WTS leader, made for a "great day". Second place earned Duffy 740 world ranking points, taking her tally for the season to 2691, Jodie Stimpson is second on 2513, while Jorgensen stays in third on 2340. "I am the only Bermudian," said Duffy. "Some day I hope there is an army of Bermudians to help, but yeah it was a great day for me. I am super happy. It is a really cool moment for me to be able to wear the gold number. My parents are here and it is the first time that they have seen me race this year, so to be able to wear the gold number and be leading the race, it feels incredible." Duffy and Jorgensen will take their battle to Rio this summer, and the United States athlete said that being pushed all the way in Leeds would ultimately help in her quest for the gold medal. "It was no surprise to me that some people were going to go for it, especially Flora," Jorgensen said. "I knew she was going to go for it on the bike and get as much time as she could. Rio is the focus for the year, so it is great to come into these races and get exposed a little bit and see where I can improve." While Duffy led for most of the race Jessica Learmonth and Lucy Hall took charge early on in the water, with the Bermuda triathlete close behind. Jorgensen, Sarah True, and Holland were in a pack of nine women further back, and despite a tight transition the front three were able to get out on the bike with a reasonable lead. The trio charged forward together and created enough distance to hold off the chasers behind them. While another bike trio of Jorgensen, Holland and Emma Moffatt were able to ride together for the first lap, they were eventually caught by 11 more riders, which included Andrea Hewitt and Jodie Stimpson. Duffy and the two British competitors hammered through the seven-lap bike course with a lead of more than two minutes for five of the seven laps. However, as the three entered the second transition zone, they were working with little more than 90 seconds. Always the powerful cyclist, Duffy then took her momentum and blasted out of the gate and onto the run as the top contender. For the first two laps she was able to keep Jorgensen at bay. However, it took Jorgensen only five kilometers to overhaul Duffy to put herself in the lead of a WTS race once again. Holland and Stimpson were left to battle it out for third, with Holland eventually breaking clear in the final 200 metres. "I was really disappointed that I could not make that break out of the swim," Holland said. "I was right there but I had a few troubles getting my wetsuit off, so it ultimately cost me making that breakaway pack. And from there 1:45 is a lot of time to chase down, especially when you have Gwen in that pack as well, she is such a phenomenal runner so I am just happy to be back with the rest today."
June 13. Bermuda's significant contribution to the global economy makes it different from many of the other offshore jurisdictions it is often lumped in with. That was the message that Grant Gibbons, Minister of Economic Development, delivered to prominent figures in Chicago over the past few days. Dr Gibbons, who was accompanied by Ross Webber, chief executive officer of the Bermuda Business Development Agency, went to the "Windy City" for events surrounding the Louis Vuitton America's Cup World Series event on Lake Michigan over the weekend. With Bermuda hosting next year's America's Cup finals, it gave the island an opportunity to take advantage of some mid-west limelight to reinforce its message. Events included an interview on an early-morning business radio show, and meetings with Steve Koch, deputy mayor of Chicago, and economist Philip Levy of the Chicago Council on Global Affairs, an influential think-tank. "We were certainly made very welcome," Dr Gibbons said from Chicago. "We were able to dispel a few myths, but I think there's a recognition that Bermuda is special among offshore financial centres." Dr Gibbons added that Mike Winfield, chief executive officer of America's Cup Bermuda Ltd, and his team were also working in Chicago over the weekend. Last Thursday night, the BDA also partnered with the Bermuda Tourism Authority and Gosling's to host a Bermuda networking dinner for Chicago-area corporate and tourism representatives, including several former Bermuda residents. In the meeting with Mr Koch, a former Wall Street financier, Dr Gibbons said parallels were drawn between the major pillars of the Chicago and Bermuda economies — trade and tourism. Mr Koch, himself a keen sailor, "gave us a hard time", quipped Dr Gibbons, given that Chicago was one of the rival venues that lost out to Bermuda in the selection for the home of the 2017 America's Cup. Mr Webber said the deputy mayor also recognized that "Bermuda is thought of differently when compared to other offshore domiciles" and "has a reputation for quality". Mr Webber added: "That is something that he volunteered, so it was very encouraging." In the meeting with Dr Levy, Dr Gibbons said he stressed the value of Bermuda in terms of reinsurance claims paid for catastrophes like the Gulf Coast hurricanes of 2004 and 2005, and earthquakes in Japan, Chile and New Zealand. Many in Chicago are familiar with Bermuda's role in the global insurance industry, given that the headquarters of global broker Aon are in the city. Dr Levy is a senior fellow on the global economy at the Council, a nonpartisan think-tank that seeks to connect Chicago to the world and the world to Chicago, according to its LinkedIn page. He also served as a senior economist for trade for President George W. Bush's Council of Economic Advisers. Dr Gibbons also mentioned Bermuda's worldwide treaty partnerships, Organisation for Economic Co-operation and Development affiliations and historic beneficial ownership register in their conversation.
June 11. Bermuda's reputation as a quality jurisdiction was reinforced during media interviews, high-level business meetings, and networking events in Chicago heading into this weekend's Louis Vuitton America's Cup World Series. Economic Development Minister Dr Grant Gibbons and Bermuda Business Development Agency CEO Ross Webber took part in several meetings and interviews as part of an ongoing advocacy campaign to differentiate Bermuda from other international financial centres and underscore its globally-respected record, said a Government statement. Among the highlights, the Minister was a guest on The Opening Bell with Steve Grzanich show on Chicago's WGN radio station on Friday. Mr Gibbons and Mr Webber also held meetings with international economist Philip Levy of the Chicago Council on Global Affairs, and Deputy Mayor of the City of Chicago Steven Koch. "It has been a genuine pleasure to meet some key Chicago figures and share information with them about Bermuda and what makes it unique as a business domicile. We appreciate their time and interest in Bermuda," said Mr Gibbons, who was interviewed by Mr Grzanich, a veteran radio newsman who anchors the early-morning business show geared to "investors, entrepreneurs and investors." The Minister spoke to Mr Grzanich about Bermuda's quality reputation as an international financial hub, particularly in the wake of attacks on offshore centres related to the Panama Papers, as well as Bermuda's global economic contribution, the island's reinsurance sector, its respected regulatory environment, and the America's Cup 2017. "These were messages he and Webber underscored in fruitful conversations with both Deputy Mayor Koch and Dr Levy," added the statement. "Chicagoan Koch is a former Wall Street financier who spent more than 20 years with Credit Suisse specializing in mergers and acquisitions and investment banking, before being named to his current post by Chicago Mayor Rahm Emanuel in August 2012. Dr Levy is a senior fellow on the global economy at the Council, a nonpartisan think-tank that conducts research and influences public discourse on critical global issues. He previously served as a senior economist for trade for president George W Bush's Council of Economic Advisers and was a member of US Secretary of State Condoles Rice's Policy Planning Staff; he currently is also a professor at the Kellogg School of Management at Northwestern University, Evanston, Illinois. Mr Gibbons and Mr Webber discussed Bermuda's advantages and challenges as an offshore centre with Dr Levy, as well as the island's global economic contribution, worldwide treaty partnerships, OECD affiliations and historic beneficial ownership register, along with global economic issues and Bermuda's historic relationship with the United States. Mr Koch, an avid sailor, invited the Minister and BDA CEO to his office at Chicago City Hall on Friday afternoon, where they discussed Bermuda's 2017 hosting of the America's Cup and its projected economic benefits, as well as tourism initiatives and perceptions of Bermuda in the US. "Deputy Mayor Koch was very familiar with Bermuda's blue-chip reputation and he recognized its elite status and the fact that in the financial community, Bermuda is thought of differently when compared to other offshore domiciles," said Mr Webber. "That was reassuring, and it pays tribute to the efforts Bermuda and its international business sector have made to ensure the jurisdiction is known as a quality brand." Noted Mr Gibbons: "Chicago and Bermuda, despite their obvious differences, share many economic synergies, including a reliance on trade and tourism. The America's Cup is also a strong connection, as Chicago was one of the contenders to host the 2017 event. Deputy Mayor Koch was gracious about Bermuda winning this honour, and we had an in-depth talk about the event's economic benefits. We also shared useful information on mutual efforts to increase business investment and tourism competitiveness in both our jurisdictions." The BDA also partnered with the BTA and Goslings to host a Bermuda networking dinner for Chicago-area corporate and tourism representatives on Thursday night, including several former Bermuda residents.
June 11. Royal Bermuda Regiment soldiers were front and centre on Saturday as Bermuda celebrated the Queen's Birthday with a parade in Hamilton. Troops fired the traditional feu de joie — a rippling rifle salute — and a 21-gun salute with the RBR's ceremonial 25-pounder guns, while the RBR Band and Corps of Drums performed a selection of military music and the national anthem. Bill and Laurie Koehn, visiting the island from Philadelphia for the first time, were surprised by the pomp and pageantry of the occasion. "It was great, impressive," Mr Koehn said. "We just got off the ferry from Dockyard. We heard the guns and walked over to see what was happening. You've got a strong heritage and culture here and you should be proud of it." Ms Koehn added: "I can't believe how impressive it was, the dress and the marching. I don't think we see that too often at home. It was fun to see it." Cyril Rance, 82, of Pembroke and a former soldier in the Bermuda Rifles, one of the two predecessor regiments of the RBR with the Bermuda Militia Artillery, brought his two young granddaughters to watch the parade. Mr Rance said: "I haven't seen the parade for a few years, so I brought my granddaughters down to see how it's done." Granddaughter Anabelle Morgan, 10, enjoyed the spectacle. "I liked it," she added. "It's for the Queen's Birthday." Terence and Elizabeth Horn, visiting family in Bermuda from the Cotswolds area in England, watched the parade from Front Street. "It was absolutely splendid," Ms Horn said. "We were watching the one in London on the BBC this morning and the Trooping of the Colour, but the Bermuda parade was very impressive." Jovette Trott, from Pembroke, saw her son Jokiya Trott, a member of the Regiment Police, take part in the parade, which also included detachments from the Junior Leaders, the Bermuda Police Service and the Sea Cadets. "It was nice," she said. "It's my first time being able to see the parade. I enjoyed it. I liked it all. It was really exciting. I liked the cannons most." Governor George Fergusson took the Royal Salute and Michael Dunkley, the Premier, and the heads of the other services, as well as Charles Gosling, the Mayor of Hamilton, watched from the stand at the Flagpole on Front Street. RBR commanding officer Lieutenant-Colonel David Curley said: "It went very well. It was a great day and the weather provided good conditions for it. Everyone on parade looked good. Our soldiers were the recruits who just completed recruit camp in January, so I'm particularly proud of them. It's a very important tradition and the soldiers are very proud to get dressed up in their ceremonial uniforms and perform. It's one of the roles the regiment has, but behind the scenes we've also been preparing ourselves for hurricane relief if the worst happens this year. We are versatile and ready for a variety of tasks."
June 11. Leading Bermuda figures have been recognized in the Queen's Birthday Honours, including Martha Dismont and Carol Everson. Mrs Dismont, the executive director of Family Centre, and Mrs Everson, a welfare case worker with the Bermuda Legion were both appointed a Member of the British Empire. Meanwhile, Veronica "Ronnie" Chameau and Deborah Lyn-Ann Gillett were awarded the British Empire Medal for their contributions to Bermudian culture and mental health respectively. Ms Chameau has received wide acclaim for her banana leaf dolls and her promoting of Bermuda history, while Ms Gillet has served and volunteered in numerous capacities within the Project 100 charity. Gary Douglas Staines was honored with the Queen's Police Medal for his services to policing on the island, while Calvin Lee Smith and Gregory MacArthur Grimes were each awarded the Overseas Territories Police Medal. Also honored were Vivlyn Cooper, Edward "Eddie" Fisher, James "Jay" Kempe, Malcolm Kirkland, Troy Lewis and Alda Raposo, who each received a Queen's Certificate and a Badge of Honour. Ms Cooper taught on the island for 41 years, working at Dellwood Primary School, the Berkeley Institute and Harrington Sound School during her career, while Mr Fisher not only started a cosmetology training programme for Bermudians but cofounded Childwatch, a group dedicated to highlighting the importance of fathers. Mr Kempe and Mr Kirkland were both founding members of the Bermuda Sloop Foundation, while Mr Lewis was credited for 20 years coaching football and working in football administration in organisations including the Bermuda Football Association. Last but not least, Mrs Raposo served as President of the Hospital Auxiliary of Bermuda's Board and was part of a team who oversaw the renovations of the Pink Café and the new Barn. This year will mark 48 years of service by Mrs Raposo to the Hospital Auxiliary of Bermuda — an estimated 13,000 hours. George Fergusson, the Governor, said: "I am very pleased to send my warm congratulations to all those being honored in Her Majesty's Birthday Honours List. This is a remarkable group of remarkable people, all richly deserving of the honours being bestowed on them for their hard work and commitment to the people of Bermuda."
June 11. The referendum on same-sex relationships will go ahead, Chief Justice Ian Kawaley ruled yesterday. However, the advanced polling station has been switched to Bermuda College from the Seventh-day Adventist Church Hall on King Street. In a short hearing at Supreme Court, Mr Justice Kawaley turned down an attempt by the Centre for Justice to stop the ballot taking place on June 23. The civil proceedings were brought against the Attorney-General on the grounds that such a referendum would breach the constitution, the Human Rights Act and common law. But he accepted the Centre's criticism of the use of churches that were openly opposed to same-sex relationships, and where campaign literature urging people to vote no was available, as polling stations. His decision was based on an "issue of unfairness". Mr Justice Kawaley said during a Supreme Court hearing this week that though it was "contrary to principle — general principle — to hold a referendum on a matter that affects human rights", he was not convinced by a legal bid to stop the ballot taking place altogether. Yesterday, he announced an order "quashing the decision of the Parliamentary Registrar to designate six church halls as polling rooms on the grounds that, inter alia, it was unreasonable and/or contrary to and/or implied provisions of the Referendum Act 2012". In his judgment, Mr Justice Kawaley spoke on the reasons he refused the application, that the referendum would be void and inoperative for contravening the constitution, the Human Rights Act and/or fundamental common law rights. He said: "The principle that referendums ought not to be used to obtain mandates for human rights issues is not a legally enforceable principle but rather possesses the status of a constitutional convention. It also admits of exceptions, for example, when a constitutional amendment is required to create new rights or modify existing ones. The referendum is not concerned with the existence or scope of rights which are protected by the constitution and which Parliament is not competent to hear. Convening a referendum which might result in a diminution or extinction of rights presently enjoyed under the Human Rights Act 1981 through a change in the law is legally permissible. Decisions relating to the convening of referendums are matters falling within the province of the executive and legislative branches of Government." He went on to say that the court did have powers to ensure a referendum is conducted in a lawful manner but said the applicant failed to demonstrate that it could not be held in a manner which met the minimum requirements of the constitution, the Referendum Act and/or common law. Advance polling is due to start on Tuesday at Bermuda College following the publication of a notice in the local newspaper. Voters will be asked two questions in the June 23 referendum: "Are you in favour of same-sex marriage?" and "Are you in favour of civil unions?" The result of the referendum will be non-binding.
June 11. A police deployment at City Hall during last month's protest consisted of 18 officers, three of whom were plainclothes detectives from the Special Branch. Details came from Michael Dunkley, in response to questions from Walter Roban, the Shadow Minister for National Security. The premier said there had not been any external request for police resources on May 18, when more than 100 people gathered outside City Hall to protest against the airport project. "This was a police operation to preserve the peace in response to calls for protest on social media by a group identifying itself as 'Move'," the response added. There was an overtime cost incurred of $755.The protest came while One Bermuda Alliance members met inside City Hall for a presentation by Bob Richards, the Minister of Finance, on the proposed redevelopment of the terminal for LF Wade International Airport.
June 11. Sir John Swan's "significant contributions in the business arena and the world of politics" befit his designation as the island's latest national hero, according to Sylvan Richards. Mr Richards, the Minister of Social Development and Sports, made the remark as he responded to Opposition MPs' questions on the selection of the former Premier for the accolade. Mr Richards said the guidelines for choosing a national hero were "not mandatory processes that have to be followed". "When I look at all the different years going back to 2009 it was all over the map," he said. "Some years public submissions were requested; other years there were none. Some years there were national heroes named; other years there were none." Yesterday, Michael Dunkley, the Premier, was grilled by journalists when he announced Sir John as the national hero, after saying that he had been the only person to nominate anyone. Mr Richards today maintained that submissions could be made at any point during the calendar year, and said the Government was not held to any deadline for submissions. The minister agreed to a suggestion by Opposition MP Walton Brown that the "archaic" award system merited being enhanced, and said he would be open to reviewing it with him. Progressive Labour Party MP Wayne Furbert asked if the Premier had used an official nomination form in submitting Sir John's name, to which Mr Richards said he did not know — repeating that nomination guidelines had not been "the ten commandments" in the history of National Heroes Day. Acting Opposition leader David Burt pointed out that requirements on the ministry website included deadlines for submissions, to which Mr Richards repeated his commitment to look at the regulations. Mr Richards invited MPs to attend the induction ceremony of Sir John on June 19, at 4pm on the grounds of Cabinet House.
June 11. Bermuda Golf Association President Craig Brown said that deciding to cancel this year's Bermuda Open was one of the "hardest decisions" he has had to make. He announced the move yesterday, citing a lack of sponsorship and dwindling resources as the main reasons behind the removal of the association's flagship event. Brown though hopes the event will return in 2017 and eventually become a "crown jewel of golf in Bermuda". An event that has diminished considerably in stature during the past decade, the Open suffered from the arrival of the PGA Grand Slam of Golf in Bermuda and the change in the qualifying for the professional tours. With constant changes to the event's place in the calendar and an ongoing fight to secure funding, the BGA has finally decided that enough is enough. "Over the years, the BGA has needed to make a large financial commitment to stage the Bermuda Open, and given the current financial position of the association, this is no longer a viable option," Craig Brown, the BGA president, said. "It's not sustained itself at a level you would expect a national championship to be at. We don't have the finances, nor do we have the resources to pull something together that we feel warrants that [title]." Although the Open should be the island's premier golfing event, in reality it has been pushed to the side as the Bermuda Tourism Authority pursues the visitor numbers and exposure that can be gained by supporting events such as the Bermuda Golf Classic, the Gosling's Invitational and the Nike Golf PGA Team Championship of Canada. These, and a host of other smaller events which have proven to be more sustainable both financially, and in terms of golfer interest, have taken precedence. "It's been an ongoing struggle for the association to raise the funds, even though we have a good working relationship with the BTA," Brown said. "It's been difficult to raise the level of funding that we feel makes it [the Open] attractive [for players] and sustainable for the association, that's really what it's about." Brown hopes the tournament will return bigger and better than it has been before. However, that move will not be rushed and the overriding determination is to provide a tournament that is "of a standard befitting the title". Preliminary talks with minor tours, such as the PGA Tour Latinoamérica, have reportedly taken place, with the Bermuda Golf Association hoping to find a partnership that will elevate the Open's standing and secure it a place in an already hectic global schedule. "We're still in discussions to discover what part of the season we can get the best traction, but it's also about putting on the right event for Bermuda," Brown said. "We've got big plans, we know where we want to go with it. We know the idea and vision, but we also want a tournament that the whole island can be proud of. "That's where we are trying to get to, and hopefully we can make it a very strong event." While the desire is to see the tournament return next year, there is a stronger desire to ensure that it is only brought back when it can meet the high standards that the BGA expect of the event. There is a definite shift to put it back on the calendar for 2017, but again we are committed to getting it back to a standard that we feel will befit a national championship and the island. Everyone involved will have to agree that is the right time to get it back in to the rotation. We are fully committed to preserving the rich history of the Bermuda Open, and we are confident that a collaborative approach will ensure that when the Bermuda Open does return to the calendar it will be a much-improved event of which we can all be proud."
June 11. Bermuda's seniors will be getting a 5 per cent raise in their pensions as of August this year — the first increase for five years. However, the hike will come at a cost for employees and employers. Minister of Finance Bob Richards told the House of Assembly this morning that contributions would go up by 7.5 per cent — meaning the worker will have to pay an extra $2.40 each week, the same as the employer. "After carefully reviewing the Contributory Pension Fund 2014 Actuary Report, I propose to increase CPF benefits and contributions by 5 per cent and 7.5 per respectively, effective August 2016, when benefits under the plan are traditionally amended," said the minister. The maximum benefit is currently about $1,399.14 per month, said Mr Richards. Altogether, some 12,365 seniors currently receive benefits. Mr Richards noted that the cost of living had increased by 7.9 per cent since August 2011, when the last increase was granted. He said: "Although the benefit increase does not fully cover the prevailing rate of inflation, the Government is of the view that this increase should meet the important policy objective to assist our seniors and strikes the right balance between fiscal and social responsibility. The 7.5 per cent increase in the contribution rate is based on actuarial advice and is intended to maintain the long-term viability of the CPF. The current policy is to increase contributions by 2.5 per cent more than any benefit increase awarded. The 7.5 per cent increase represents a rise in contributions of $2.40 per week payable by the employee and an increase of $2.40 payable by the employer. The employer would be responsible for submitting the total weekly increase in contributions of $4.80 and would have the authority to deduct up to $2.40 from each employee. As at March 31, 2016, the fund had total assets of over $1.623 billion, representing approximately 11.7 times the annual value of benefits paid in the 2014-15 fiscal year." He noted the next actuary review of the CPF was scheduled for the period ending July 31, next year. "I wish to assure members, and more importantly, current and future pensioners that the Government is sensitive to the challenges facing pension plans of this nature and will endeavour to take the appropriate steps to enhance the benefits paid from the scheme as well as ensure the fund has the ongoing ability to pay for such benefits." Mr Richards also told MPs that the financial performance of the CPF had exceeded expectations of the last three years. That, he said, was because of "higher investment returns, lower administrative and investment expenses, lower levels of inflation and lower net benefit/contribution cash outflow". He explained the main purpose of the 2014 Actuarial Review had been to "consider the implications for future contribution rates of maintaining benefits at their present levels in real terms and to consider the long-term sustainability of the fund. The review includes projections of contribution income and expenditure (on benefits and administration), projections of the fund balance (allowing for an assumed rate of investment return), and projections of the number of years' outgo secured by the fund." The Contributory Pension scheme played an important role in Bermuda's pension arrangements, he said, "providing a first tier or basic pension to more than 10,693 seniors and other beneficiaries the majority of whom live in Bermuda. There are also disability pensions, and non-contributory benefits. Even though the actuarial review is an excellent tool in overall pension management, it is important to recognise that the financial projections for future years are based on reasonable assumptions and they should not be taken as forecasts of the outcome. The projections should be updated at successive actuarial reviews in light of the latest information available." The main findings of the actuarial review was that the fund's contributor base fell by 3 per cent due to the downturn in the economy. And both the benefit and contribution rates remained unchanged during the three-year review period 2012 to 2014 except contribution rates were increased in August 2012. "Based on the population projection figures, the pensioner support ratio has declined marginally since the last review. The ratio was 4.4 in 2011 versus 3.9 in 2014. The ratio is projected to decline to 1.5 over the next 50 years. The comparative ratio using the actual contributors and beneficiaries of the fund declined by 11.8 per cent from 3.4 in 2011 to 3.0 in 2014. This was due to the decline in the number of contributors as a result of high unemployment in the 2010/2011 period. Contribution income ($107.4 million) decreased by 8 per cent and benefit expenditure ($133.7 million) increased by 16 per cent over the three years since the last review. Total expenses for the three years averaged 0.52 per cent of the average fund, down from 0.66 per cent over the previous three years. Pure administrative expenses averaged 0.24 per cent of the average fund over the three years and were 0.19 per cent of the average fund at the review date. As a percentage of contribution income, total expenses have been relatively stable over the last ten years at 7.7 per cent. The net assets of the fund grew 18 per cent over the three years from $1,532.8 million to $1,802.3 million. This was 2.9 per cent above the projected value from the previous review. The fund earned a nominal rate of return of 7.2 per cent per annum and a real rate of return of 5.0 per cent per annum over the three years since the last review (6.6 per cent and 4.4 per cent respectively if investment and administrative expenses are excluded). This compares with the real rate of return assumption of 3.5 per cent per annum. The Asset/Expenditure ratio is a static measure of the size of the fund to annual expenditure or the number of years cover provided by the fund based on the current annual expenditure. This ratio increased over the three years from 12.3 years to 12.6 years. Compared with 14 other regional social security schemes in a 2013 study, Bermuda's ratio is better than 9 of these countries (average 7.5 years). By comparison, the ratio for the Canada Pension Plan in 2013 was 4.98 years. The viability of the fund in the short to medium term is good with the fund being able to cover at least 12 years of the current expenditure and being positive for the next 25 years. However, recognizing the long-term challenges of the fund the ministry will continue to closely monitor the performance of the fund."
June 10. Next week's Bermuda Captive Conference is shaping up to be the best attended in the event's 12-year history. There are more than 750 attendees confirmed, and that number could reach 800 by the time the three-day conference begins on Monday at the Fairmont Southampton. The conference's continuing success is largely attributable to the collaborative nature of the reinsurance and captive sectors coming together in Bermuda to help stage a quality event, according to David Gibbons, who is chairman of the Bermuda Captive Conference. Bermuda exerts further pull as the world's leading offshore captive domicile, and its reputation as a leading global hub for insurers and reinsurers. International healthcare and technology futurist Joe Flower will be the keynote speaker on Tuesday. The author and consultant is expected to be a big draw for local and overseas attendees as he explores the future of healthcare and the impact of technology, pharmaceuticals and diagnostic techniques. Bermuda-based captives support an estimated 25 per cent of the US medical insurance and reinsurance market and increasing numbers have come from Canada and Latin America. Mr Gibbons anticipates there will be keen interest in discussions about healthcare, energy and cyber-risk. All three hot topics will be discussed during sessions at the conference. "A lot of people want to hear from those who have expertise in these areas," said Mr Gibbons, who is managing director and captive insurance leader at PwC Bermuda. "The energy session, with Anne Chalmers, of Teck Resources, will look at where energy prices are going and the impact of that." The conference will look at a range of emerging issues and trends, such as ILS, Latin America, oil and gas risk, and new captive developments and opportunities. Another session shaping up to be popular is the insurance and reinsurance review, which will be hosted by Joe Rego, chief executive officer of Aon (Bermuda), and features a panel involving Judy Gonsalves, chief operating officer of Chubb Bermuda, Patrick Tannock, head of XL Catlin's Bermuda insurance operations, and John Berger, chairman of Third Point Reinsurance. Other conference speakers include Ross Webber, CEO of the Bermuda Business Development Agency, and Craig Swan, the managing director of supervision at the Bermuda Monetary Authority. Mr Gibbons and Michael Dunkley, the Premier, will provide opening comments at the conference on Monday. On Monday afternoon the inaugural Fred Reiss Bermuda Captive Lifetime Achievement Award will be presented to Jill Husbands, who leads Marsh IAS Management Services (Bermuda). Beyond attracting hundreds of captive owners, risk managers and insurance professionals to the island, and promoting Bermuda as a business destination, the conference will boost the island's hotel and hospitality sector with hotel room night bookings attributable to the event expected to be upwards of 900.
June 10. The acquisition of Bermudian-based Ironshore by Chinese conglomerate Fosun International is to be scrutinized in the US on national security grounds. The Shanghai-based company, headed by billionaire Guo Guangchang, is to appear before the US Federal Committee on Foreign Investment in the United States, which is reviewing the purchase. In a statement posted on its website, the Chinese insurer said that both it and Ironshore "have voluntarily notified CFIUS regarding Fosun's acquisition of Ironshore, a US-based provider of casualty and speciality lines of insurance. "The parties have been working closely with CFIUS and providing CFIUS with all the information it needs for its considerations." CFIUS is an inter-agency committee authorised to review transactions that could result in control of a US business by a foreign person in order to determine the effect of such transactions on the national security of the United States," according to the CFIUS website. A spokeswoman for the committee declined to comment on any review of Fosun's acquisition of Ironshore. Fosun International bought Ironshore at the end of last year for $1.84 billion. Ironshore was founded in Bermuda ten years ago with $1 billion in capital. It has expanded globally since, with around 30 offices in the US, Canada, China, Britain, Ireland, Japan Singapore, Australia and Dubai and writes around $2.3 billion in premiums a year.
June 10. Empty for years and in danger of falling into disrepair, a house at the back of Portland Lane in Sandys is soon to become a home. Members of the Bermuda Mental Health Foundation gathered there yesterday with friends to celebrate the building's revival for persons with mental illness to take up independent living. "We were fortunate that the basic structure was sound, but we still had to do a lot of work," the foundation's chairman, John Macdonald, told The Royal Gazette. For now, freshly refurbished rooms are decorated only with pictures from before, showing the work that went into their repair. The group will still need help, including donations of furniture and appliances, to move clients into its five units with the assistance of the Mid-Atlantic Wellness Centre. Among guests was Dennis Lister, MP for Sandys North Central, who commended the group for saving a property that could have become an eyesore. Mental health remains a topic "swept under the carpet", said Winston Rogers, a clinical manager for MWI's community mental health services rehabilitation team. "One in four persons in any society, Bermuda included, suffers from some form of mental illness," he said. "On any given day, any one of us could step across." The property has yet to be given a new name, and the foundation is looking for donors to assist. Foundation member Donald Scott, looking back on nearly a year's hard work, singled out some of the main contributors for special thanks: Gerald Burt, of Burt Construction; Calvin Edwards, of Insight Painting; Anthony Hayward, of Ace electrical; Everard Todd, Jr of EL Todd Construction, plumber Delroy Reid and Yvonne Gilbert of Made for You Cleaning. The hardest work may be done, but help is needed with the final stages: to pitch in. Contact Jodi Lewis, the foundation's spokeswoman, at 400-5684, 705-2816, or info@bmhf.bm
June 10. Southcote's sturdy structure dates back hundreds of years and if its walls could speak they would tell tales of the birth of Charlie Chaplin's wife, Oona O'Neill, and the visits of American novelist George Washington Cable. The old Bermuda cottage is steeped in a unique history that grew from its construction in the early 18th century as it has been passed down from generation to generation. Now the Paget property is being offered for sale on the open market for the first time in its history. "I was just 18 months old when my family moved in and I have fond memories of playing in the beautiful gardens," Monica Jones, one of the property's co-owners, said. "We had so much space and privacy and a strong sense of community too. There were always lots of children and playmates around, and animals too. My father always had a cow when we grew up. As children we were not really aware of its history, we knew it was an old house, but it gave me a real appreciation of beautiful and elegant buildings." In the 1920s Southcote was rented to several noteworthy visitors and Caroline Frith Smith's memoirs document a heavily pregnant Agnes Boulton, wife of the Nobel and Pulitzer prize winning playwright, Eugene O'Neill, renting Southcote in 1925. A week later, their daughter, Oona, was born and delivered by Bermudian doctor Bill Tucker, who was a Harley Street doctor, and one of the Queen's physicians. The family subsequently purchased Spithead Lodge in Warwick as their permanent Bermuda home, while Oona O'Neill went on to marry the US film star Charlie Chaplin. Mrs Smith's memoirs also record Bostonian Henry Richards and his wife spending several winters at Southcote and its neighboring property Fairmount. Mrs Richards was the daughter of Julia Ward Howe, the author of The Battle Hymn of the Republic. Through the Richards family the American novelist, George Washington Cable and his family came to Bermuda for several winters and rented Southcote. Mr Cable, a native of New Orleans, wrote novels concentrating on life in the South, with particular emphasis on racial equality and interracial relationships. Ms Jones told The Royal Gazette: "It is hard from an emotional perspective putting the house up for sale, but I think it's time for another family to make their memories in this lovely house. It certainly played a big part in my childhood before I moved out in 1973 when I got married." An open house is being held at the house at 12 Southcote Road, Paget on Saturday from noon until 2pm.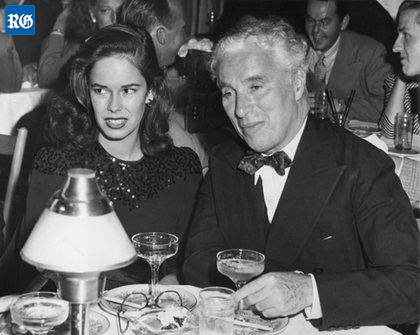 Charles and Oona Chaplin
June 10. Recreational and charter boats will be forbidden from discharging any sewage overboard in the Great Sound, Little Sound, Harrington Sound and Castle Harbour. From next year, shore-side pump-out facilities are being introduced for all new marinas, including five in the South Basin for the America's Cup, environment minister Cole Simons told the House of Assembly. Sewage may only be discharged overboard beyond 500 metres from the closest land.
June 9. The Queen's Birthday Parade is set for Saturday morning along Front Street in Hamilton. The parade will bring out the pageantry of the Royal Bermuda Regiment, the Regiment Band and Corps of Drums, the Bermuda Police Service and Bermuda Police Reserves, and others. It commences at 10.30am, meaning traffic restrictions will be in effect from early Saturday morning.
June 9. Sir John Swan has been named Bermuda's 2016 national hero for his lasting contributions to the island and her people. Sir John said yesterday that he was "deeply honored" to have been chosen. "I am particularly honored because this is coming from my country, which I have tried to serve as best I can," Bermuda's longest-serving premier said. "That recognition I consider to be something not just of myself but the many, many, many people who have lifted me on their shoulders and helped me to become what I am. I hope I can continue to be of service to my country in whatever capacity that allows me to look out for Bermuda's best interests." Michael Dunkley was grilled by journalists at a press conference announcing the news yesterday on why the public were not officially invited to submit nominations this year, to which he replied that the nomination process is open year-round. Asked how many members of the public nominated Sir John, the Premier responded that he was the only one and his recommendation was approved by the National Heroes Committee and then by Cabinet. Mr Dunkley described Sir John as a political luminary, a philanthropist and real estate entrepreneur whose impact is still felt today. One of his biggest contributions, he said, was in the negotiations of the US Bermuda Tax Convention Development, which launched the island's insurance and reinsurance industries. Speaking at the press conference, Mr Dunkley said: "I am genuinely delighted to announce that on June 19 there will be an addition to the distinguished list to Bermuda's national heroes — a man who has undoubtedly done so much for Bermuda and Bermudians. His contributions have significantly shaped Bermuda and its development. He has been recognized not only locally but internationally as well for his work. Known for his entrepreneurial mind, Sir John began his business career in real estate in 1962 when he founded the John W. Swan Agency. Through this venture, Sir John was able to help countless Bermudians secure their own homes because his company developed houses." Mr Dunkley highlighted other noteworthy accomplishments made by Sir John throughout his career: that he was a founding member of the Bermuda Monetary Authority, a director of the Bermuda Chamber of Commerce and a director of the Bermuda Tourist Council. Mr Dunkley continued: "Sir John's political career began back in 1972 and he spent 25 years of active and relentless service to the people of Bermuda. He demonstrated tremendous expertise during his tenure holding portfolios first as a Minister of Marine and Air Services, and Minister of Immigration and Home Affairs. He became the Premier of Bermuda in 1982 and served in that capacity for 13½ years. One of his most significant milestones during his political legacy was achieved in 1996, when he pioneered the negotiations of the US Bermuda Tax Convention to its completion. This agreement resulted in the development of the insurance and reinsurance industries and established the island as a major offshore financial centre, thus creating a foundation for the island's stable economy and a well-developed infrastructure and regulatory framework. Sir John's contributions have been profound; moreover he embodies the criteria that had been established under Bermuda's National Heroes guidelines to help determine national heroes." Sir John will become the first living person to be inducted as a national hero. He joined a distinguished list that includes Dame Lois Browne-Evans, Dr Pauulu Kamarakafego, Dr E.F. Gordon, Sir Henry Tucker, Sir Edward Richards, Gladys Morrell and Mary Prince. There were no other nominations made this year in a process that traditionally has solicited the nominations of the public. As for the unprecedented decision to nominate a living person as a Bermuda national hero, Mr Dunkley added: "In this case, Cabinet believes it is fully appropriate and I fully support it. National heroes should come from the ranks of the living and those who have moved on to a greater reward." Mr Dunkley invited the public to the induction ceremony on the grounds of Camden on June 19 at 4pm.
June 9. A New York-based global blockchain consortium believes Bermuda could use its reputation to become a "fintech" leader. The Agentic Group has held preliminary meetings with the Bermuda Monetary Authority about Fintech-associated opportunities. Fintech is the commonly used term for financial technology. The group is seeking to assist the island in developing a strong digital currency and blockchain technology ecosystem. It hopes to have follow-up meetings with other Bermuda Government bodies. In a statement, the consortium said it had met with the leadership of the BMA earlier this month. The release noted: "Rik Willard, Agentic Group founder and managing director, traveled to Bermuda with US-based members of the blockchain consortium to educate the Monetary Authority on the global development of digital currencies, blockchain technology and its current capabilities and future promise. The consortium suggested ways that Bermuda could leverage its reputation as a prominent financial player on the world stage to become a fintech leader in the 21st century." Mr Willard said: "We were delighted to meet with the BMA to discuss how these growing industries could put Bermuda on the map as one of the leading fintech hubs, specializing in cryptocurrency and blockchain. We look forward to working closely with government to establish both a digital currency incubator and blockchain start-up facility in Bermuda." The BMA confirmed that it had met with the consortium after a request from Agentic "with a view to educating Authority representatives about the growing global fintech industry, specifically in relation to digital currencies and blockchain technology. In a statement, the BMA said it appreciated the educational information session.
June 9. Senators have roundly endorsed new legislation aimed at prohibiting discrimination on the grounds of mental illness. The Human Rights Amendment Act 2016 was debated by the Senate yesterday and received support from both the Bermuda Government, Opposition and independent members. The amendments are designed to protect those who suffer from mental illness from discrimination by changing the definition of disability to include mental disability. Independent senator Joan Dillas-Wright said the legislation was long overdue, but also a "wonderful day in our history", while Jeff Baron, the Minister for National Security added: "If this can erase the stigma attached to mental illness then I am proud to be part of the this process." Progressive Labour Party senator Kim Wilkerson also welcomed the inclusion of mental disability into the human rights legislation and said she hoped that the elderly would soon be included in the Act. During yesterday's session senators also passed legislation paving the way for the merging of the Department of Environment Protection and the Department of Conservation Services and the creation of a new tourism event liquor licence. The new Liquor Licence Amendment Act 2016, which also increases the fees payable for other kinds of liquor licences with the exception of member's club licences, allows successful applicants to sell alcoholic drinks for up to three days. PLP Senate Leader Marc Daniels questioned how a tourism event would be defined, and why the chairman of the Bermuda Tourism Authority was involved in the process of certifying an event as a tourism event, but said the Opposition supported the new legislation. Finally senators also passed the Government Fees Amendment Regulations, which makes up for an error contained in the initial legislation that provided incorrect prices relating to the Public Access to Information Act requests.
June 9. Representatives from the Bermuda Industrial Union and Menzies Aviation are meeting after a dispute involving ramp workers at LF Wade International Airport. Some staff at the private company, which is contracted by airlines to provide ground handling services, stopped work today due to a negotiation dispute over a new Collective Bargaining Agreement. A spokesman for the Ministry of Tourism, Transport and Municipalities said that flights will continue as normal, as Menzies has enough remaining workers and management to process flights. "There has been no disruption or delays to scheduled flights as a result of the action," he added.
June 9. Should Bermudian supermarkets be legally obliged to donate their unsold food to charity? Eighty-nine million tonnes of food are wasted every year in the European Union, according to a 2014 study. In February, to help combat the problem, France became the first country in the world to ban supermarkets from throwing away their unsold food. Instead, the nation's shops must donate their goods to charity — thereby feeding huge numbers of people in need as well as reducing wastage. Italy followed suit a month later, while two online petitions at Change.org calling for Britain to adopt the law have amassed a combined one million supporters. But would the move be feasible for Bermuda's supermarkets? In May last year, the Good Samaritan (Food Donation) Act passed unanimously in the House of Assembly — easing liability for organisations that donate food to the needy. The Act, proposed by Shadow Minister for Health Kim Wilson, simplified how restaurants, hotels and supermarkets can give their leftovers to charity. Yesterday, Ms Wilson said that a law requiring the island's food service providers to donate surplus items would be "the natural next step" in cutting waste. Carole Paynter, executive director of the Eliza DoLittle Society charity, said there was a "definite need" for the law in Bermuda. "Unfortunately, even with the introduction of the Good Samaritan Act, there is still a lot of food wastage occurring — and the number of struggling people is rising every day," she added. Martha Dismont, executive director of community charity Family Centre, cautiously welcomed the possibility of a new law. "I believe that this society should do everything within its power to ensure that no one goes hungry. However, I also believe there are many questions to answer before advocating for legislation on private entities such as supermarkets." Ms Dismont added that the amount of waste produced by supermarkets would need to be researched, as would the capability of food banks to process the extra donations and the required additional infrastructure. "If such a law could work here, it would be a welcome addition to support the needs of families. But those needs should be assessed to get it right," she said. Sandy Butterfield, co-founder of addiction charity Focus, said that the introduction of the legislation would be "wonderful. I would definitely support it," she added. "We feed around 20 people a day, breakfast and lunch, so we're ever grateful for food donations. Receiving unsold food from supermarkets would be of real benefit to Focus. We'd be able to give people a little more variety in what they eat." Sheelagh Cooper from the Coalition for the Protection of Children foresaw potential logistical problems in the initiative. "I'm not crazy about trying to legislate these sorts of things," she said, "but it would increase enormously the availability of perfectly good food which is slightly damaged or slightly old." Fern Wade from Southampton-based charity Hands of Love Ministry, which has been helping Bermuda's families in need since 1979, voiced her support for the law. "That's as long as the leftover food was given to as many charities as possible," she said. "The only roadblock is to ensure that the food and the process get tested, so people don't get sick. The Government should look into it."
June 9. Bermudian students studying for careers in the medical field will find out whether they have been awarded a prestigious scholarship when the Bermuda Health Foundation host their 14th Annual Salute to Service Awards luncheon next Friday (June 17). The Foundation raises funds every year to assist local students and this year some 65 of them have submitted applications for the scholarships. To date the Foundation has presented 39 scholarships totaling almost $400,000. In addition to the scholarship awards, the Foundation will honour John Wight, president and CEO of BF&M Insurance Group with their Annual Salute to Service Award for his contribution to the insurance industry and the Bermuda community generally. Mr. Wight is also the president of the Bermuda Chamber of Commerce. "Because of his contribution to the business community in Bermuda, the Foundation is expecting a sell-out audience at this year's luncheon," said a Foundation spokesperson. Also on the agenda is the popular Foundation Charity Golf Tournament which has attracted some of Bermuda's top golfers as well as international players. This year's prizes for the top three teams include travel vouchers in the amount of $500 for each winning team member, four golf watches for the second placed team, and golf bags for the team finishing third. Last year's winners, the Belco team, will defend their title. Tickets for the luncheon are available at $125.00 each and the entry fee for the golf tournament is $150 per person or $600 per team.
June 9. Chief Justice Ian Kawaley may order the Bermuda Government to change the location of some polling stations in the referendum on same-sex relationships so they are not held on church premises. Dr Justice Kawaley indicated during a Supreme Court hearing yesterday that though it was "contrary to principle — general principle — to hold a referendum on a subject matter that affects human rights" he was not persuaded by a legal bid to stop the ballot taking place altogether. But he suggested he would consider a request to prevent voting taking place within churches, since it raised an "issue of unfairness". He will deliver his judgment this afternoon. Advance polling for the referendum for those travelling or undergoing medical procedures on referendum day — June 23 — is due to begin on Tuesday at the Seventh-day Adventist Church Hall on King Street. It will take place on Tuesday, Wednesday and Thursday next week. Lawyer Gregory Howard, representing the Attorney-General, said if the Chief Justice did make a decision on the location of polling stations it would not be possible to get a notice gazetted today for the advance polling. "The advance polling has been set," he said. Yesterday's civil proceedings were brought by the Centre of Justice against the Attorney-General to try to stop the referendum taking place on the grounds that it would breach the Constitution, the Human Rights Act and common law. The Centre also criticised the use of churches that were openly opposed to same-sex relationships — and where campaign literature urging people to vote no was available — as polling stations. The Chief Justice said holding a referendum on same-sex relationships broke a "fundamental principle" in relation to human rights, telling Mr Howard: "You are then compounding it by organising the referendum in a hasty way, which, arguably, makes it difficult to have a fair poll. And then, on top of that, you have the vote taking place on premises that are party to the issue. "It just is absolutely absurd. I don't see how you can seriously seek to defend it." Mr Howard replied: "That's a very strong statement. We do contest the issue of fairness. We do contest many of the issues that Your Lordship has made." But Dr Justice Kawaley also said there was no "constitutional peg" for the Centre's case and he was not persuaded by its argument that the risk of "undue influence" on voters from church leaders made it impossible for the referendum to take place. The Centre's lawyer Alex Potts said: "I'm not a fantasist. I detect a sense of judicial antipathy to the merits of some of the arguments." His claim that the very act of holding a referendum on same-sex relationships would infringe on the rights of a minority had earlier been refuted by Mr Howard, who said it was "perfectly permissible" to ask the electorate how the Government should recognise same-sex unions. Mr Howard described the Centre's case as an "attack on a legitimate administrative decision" by the Government to hold a vote on a single issue. Mr Potts claimed the referendum was "an exercise in state-sponsored discrimination. It's not an exercise in information-gathering," he added. Two charities applied to be heard as "interested parties" in the application for judicial review: same-sex marriage and civil-union opponents Preserve Marriage and OUTBermuda, which promotes LGBTQ rights. Delroy Duncan, representing Preserve Marriage, said the proceedings involved a "much vexed question". He said: "Same-sex marriage is not something that's culturally or traditionally known in the more Christian traditions of the Caribbean." And he insisted his clients, with their strong Christian faith, did not view their opposition to same-sex marriage as discriminatory. "There is a real difference in conceptual approach to this, which is why it has been so fraught in this community," Mr Duncan said. He said two churches involved in Preserve Marriage and chosen as polling stations — First Church of God on North Shore and Calvary Gospel Church — had been spoken to by the Parliamentary Registrar and told to remove any campaign or proselytizing literature before the polls opened. Peter Sanderson, for OUTBermuda, said those against same-sex relationships got a "head start" on their campaign because they were the ones who pushed the Government to hold the referendum. Dr Justice Kawaley asked Mr Howard yesterday why a committee was not formed to ensure the referendum was conducted fairly, as the legislation allows. The committee, he said, could have considered the date of the poll and where people would vote. Mr Howard said the date of June 23 was chosen by the Premier, Michael Dunkley, in accordance with the law. "This is a matter for the executive and a Cabinet decision based on the legislative agenda, based on other factors that are better known to them," he said. "We submit it's not a matter for the court to inquire into these sorts of matters. These are matters for the executive." The Chief Justice said the timing of the vote, and whether it was prejudicial to those wanting to vote yes, was central to the issue of fairness. "The other side of the debate seems to have no coherence to it," Dr Justice Kawaley said of the "yes" side. But Mr Howard said: "They were on an equal footing, we submit." Voters will be asked two questions on June 23: if they are in favour of same-sex marriage and if they are in favour of civil unions. Mr Dunkley has said the result will be non-binding.
June 9. This month's referendum could lead to a constitutional crisis if the majority of ballots are against same-sex marriage and civil unions, a court heard yesterday. With less than a week to go before early polling on the June 23 referendum begins, the Centre for Justice argued at a Supreme Court hearing that the single-issue vote would breach the Constitution, the Human Rights Act and common law. The Centre's lawyer Alex Potts also claimed before Chief Justice Ian Kawaley that a negative result could lead to Britain's intervention to make Bermuda comply with international human rights law. But Gregory Howard, representing the Attorney-General, said the Centre's application for judicial review of the referendum was "premature". He said it was "perfectly permissible" to ask the people of Bermuda "what sort of recognition" should be given to same-sex relationships by asking them if they were in favour of same-sex marriage and if they were in favour of civil unions. The civil proceedings taking place this week have been brought against the AG by the Centre for Justice, an organisation which promotes human rights, civil liberties and the rule of law. Two charities have also applied to be heard as "interested parties": same-sex marriage and civil union opponents Preserve Marriage and OUTBermuda, which promotes LGBTQ rights. Mr Potts said the Bermuda Government had repeatedly stated in recent months its obligation under international law to recognise same-sex relationships and the same view was expressed in the Chief Justice's own landmark Bermuda Bred court ruling last year, which concerned the immigration rights of same-sex partners of Bermudians. But he said the Government would be "paralysed in its ability to do what is right" if the referendum showed the majority of the public were against recognizing same-sex relationships. "What would happen here is, essentially, a constitutional crisis," he said, adding that either the Centre or OUTBermuda would have to appeal the issue all the way to the European Court of Human Rights in Strasbourg. He said the UK had already legislated for same-sex marriage because it believed it was a human right and may intervene to make Bermuda, a British Overseas Territory, follow suit. The Centre's legal bid to challenge the Act of Parliament which has paved the way for the referendum to be held — the Referendum (Same-Sex Relationships) Act 2016 — was "unprecedented", said Mr Potts, but that did not mean it was without merit. He argued that the Government decided to hold the vote after pressure from religious lobbyists because it realized it would be "politically expedient" to do so. But even posing the questions infringed the rights of a minority, he said, adding that the country had a Premier who was "paying lip service to the idea that his government supports human rights". Describing the two questions on the ballot paper as suffering from a "complete lack of definition", Mr Potts said the referendum would confuse voters and would not give them a "proper opportunity to voice their feelings, concerns [and] opinions" on the topic. And he said having polling stations based in churches which are openly opposed to same-sex relationships — where pamphlets urging people to "vote no twice" were available — was "an example of undue influence. It's all been rushed through without scrutiny or reflection," he claimed. Mr Howard said a reasonably well-informed person would have "no doubt" about what the questions meant. He added that the referendum result was non-binding. "Although in broad brushstrokes the referendum raises issues of fundamental rights, [the questions] only obliquely touch the fundamental rights themselves. The legislature is competent and can comply with its international requirements." Peter Sanderson, for OUTBermuda, complained that Bermuda's LGBTQ community was not consulted over whether a referendum should be held, yet Preserve Marriage made presentations on the matter to Cabinet. "One side is clearly getting their audience," he claimed, adding that Preserve Marriage got a head start on its referendum campaign, while the "other side" — a "small minority of the population" — had very little time to fundraise and organise. Mr Howard's submissions are expected to continue when the hearing resumes today, followed by Delroy Duncan, representing Preserve Marriage.
June 8. An island delegation is flying the Bermuda flag at a major shipping conference in Greece. The Department of Marine Operations, with the Bermuda Business Development Agency, businesspeople and the shipping industry, are at the Posidonia International Shipping Exhibition in Athens, Greece, for the first time. Senator Michael Fahy, the Minister of Tourism, Transport and Municipalities, said: "I believe it's important that Bermuda's business community joins with the Registrar and other officials to fly the Bermuda flag at events like these. "It is a key strategy in building the island's shipping registry, which is a worthwhile goal of this Government." The biennial exhibition is one of the largest of its kind in Europe and is expected to attract nearly 20,000 delegates this year. Attendees include ship owners, operators and managers, as well as ship builders, experts in maritime law, shipping registries, engine and equipment manufacturers for Europe and around the globe.
June 8. For the first time, an all-Chinese team will race in the Newport Bermuda race which marks its 50th anniversary this month. Started in 1906 as one of the three most famous offshore sailing racing competitions, this year's "Thrash to the Onion Patch" is going to share its special anniversary with the first Chinese entry in its history — Team Noahs. Located in Lujiazui Finance and Trade Zone, Shanghai, Noahs Sailing Club built their team as the first with all Chinese members, from skipper and crew to sponsors. Furthermore, the club has been the first and only owner of a TP52 boat in China. In this year's race, they will sail a chartered J44. In addition to competing in the international fleet of top-level regattas, Noahs Sailing Club also stands as the messenger to bring awareness of the Chinese spirit and sailing culture. The team have chartered a J44 yacht from the Massachusetts Maritime Academy and will take their place in the highly competitive class alongside five other J44's racing for the coveted St David's Lighthouse Trophy. The silver lighthouse replica is awarded to the corrected time winner of the largest division in the race. Newport Bermuda has no overall winner, but has winners in all six of its various divisions. The St David's Lighthouse Division is the largest with 113 entries. On October 9, 2015, the Audi China Coast Regatta in Hong Kong was the beginning for Team Noahs. It was the first time they had joined an international regatta. After that the team participated the Audi Hong Kong to Vietnam Yacht race on October 15, which is known as the most aggressive offshore sailing competition in Asia. Completing this race also meant the young Noahs had finished its first international top-level offshore race. On December 26, Noahs sailing team was one of the entries in the Rolex Sydney Hobart Race which is one of the best-known sailing events in the world. Now Team Noahs is coming to Newport, Rhode Island, for the Bermuda race, another of the three top-level offshore races in the world. And this year the Bermuda Race is expected to be the third largest "Thrash to the Onion Patch" in its 110-year history, with 192 entries having registered. This means the competition will be very intense. Looking through the entry list, there will be many returning sailors and boats, such as Ken Read, the line honours winner in 2012 now sailing Comanche, and George Sakellaris, the owner of the 2014 line honours Maxi 72 winner Shockwave in his new Maxi 72 racer Proteus. There is also Michael Cone, the 2014 St David's Lighthouse Trophy winner, in Actaea a Hinckley Bermuda 40. Dong Qing is the captain for team Noahs, an experienced sailor who started sailing in 2003. Chen Fulin, who has been sailing since 2014, will be the navigator. Both of them raced the team's TP52 in the last year's Sydney Hobart Race. "It will be a great honour for young Noahs team to have this chance to be amid this large fleet with those famous and respected sailors and their teams," Dong Qing, the skipper, said. "In addition, we are sure that Noahs sailing team can also bring to the Bermuda race the values of branding and promotion to the Chinese audiences." At the end of this year, Noahs Sailing Team are going to Australia to compete in the Sydney Hobart Yacht race. Yachts racing in the Newport Bermuda Race may still enter the entire Onion Patch Series or choose to add either the NYYC regatta as a warm-up or the RBYC races as a unique racing opportunity in Bermuda. Both events offer racing divisions or the second edition of the Navigators Series with "round the cans" courses.
June 8. NEW YORK (Bloomberg) — Puerto Rico's bond insurers — including Bermuda-based Assured Guaranty — are urging the commonwealth to negotiate with creditors as speculation increases that the island will default July 1 for the first time on general-obligation debt. While commonwealth officials, investors and bond-insurance companies have been negotiating for months on how to reduce Puerto Rico's $70 billion of debt, specific talks over addressing next month's general-obligation payment have yet to occur, Nader Tavakoli, president and chief executive officer at Ambac Financial Group, said during a Debtwire conference in Manhattan yesterday. Such talks could allow Puerto Rico to avoid lawsuits, put off some of the payment, or restructure debt before next month's deadline. "There really have been no good-faith discussions," Mr Tavakoli said. He said avoiding a default will be "an uphill climb". The lack of communication with creditors, out-of-date financial information and a local debt-moratorium law that allows the governor to temporarily suspend principal and interest on commonwealth debt ignores the rights of investors, Dominic Frederico, chief executive officer at Assured Guaranty, said during the conference. "I've never seen behavior at this level with the treatment of creditor rights," Mr Frederico told a packed room of about 150 participants. "The current behavior will really impact the ability to access the market for a hell of a lot longer than five years." Governor Alejandro Garcia Padilla has said the island is unable to repay $805 million of principal and interest due July 1 on the securities, which have the highest legal priority, and also continue providing essential services for the island's 3.5 million residents. Those payments are part of $2 billion owed by Puerto Rico and its agencies next month. The default could become the biggest yet for the Caribbean island, which began skipping payments in August on some bonds with the weakest legal protections. The anticipated lapse comes as Congress is advancing legislation aimed at resolving Puerto Rico's fiscal crisis by giving a federal control board power to oversee the government's budget and a potential restructuring of its debt. Melba Acosta, president of the Government Development Bank, which is overseeing the island's debt restructuring, said during a separate panel discussion that the island is in constant talks with creditors. "We are in fact in conversation," Mr Acosta said. "We are in fact negotiating."
June 8. Bermuda Chamber of Commerce will host a panel discussion on the controversial Pathways to Status bill next week. The event on Thursday, June 16, at 8am at the Hamilton Princess, will feature a panel of community activists and industry professionals, including Citizens Uprooting Racism in Bermuda president Lynne Winfield, economist Craig Simmons and former HSBC Bermuda chief executive officer Phil Butterfield. The session will be moderated by Chamber of Commerce president John Wight. A press release said the immigration bill had caused a "stir in the community, with strong views and opinions ... from all sides" and the panel would "weigh in on how this bill would impact Bermuda socially, politically, and economically". Registration fees for the panel discussion are $50 for chamber members and $75 for non-members. Member tables of 10 are available for $500 per table. Registration is online at bermudachamber.bm or by calling 295-4201 or e-mailing slee@bcc.bm.
June 8. Jill Husbands, the winner of the inaugural Fred Reiss Lifetime Achievement Award, said she feels honored to have been chosen. And she hopes that young people seeking an insurance-sector career will look beyond the big name insurers and reinsurers and consider entering the world of captive insurance, which was pioneered in Bermuda by the late Mr Reiss. Ms Husbands is a shining example of what can be achieved. She has been with Marsh for 32 years and now leads Marsh IAS Management Services (Bermuda). Her career in the captive industry has been a fulfilling journey. She started as an administrative assistant before becoming an underwriter and broker and then advanced her career further at Marsh. And she has seen many changes since stepping into the world of insurance during the 1970s. However, insurance was not initially on her radar as she was preparing to leave school. She first wanted to be a physiotherapist, but then changed her mind. Instead, she took a job as an administrative assistant, working under the head underwriter. "Within a short time I decided I liked insurance, and I took my professional qualifications," she said. She is an associate of the Chartered Insurance Institute of the United Kingdom. Gaining qualifications helped her to be taken seriously in an industry that at the time was dominated by men. Lloyd's of London, for instance, only admitted its first female broker in 1973. "There were very few women in the industry," she said, explaining that her parents had instilled in her the belief that anything is possible. In 1978 she moved to Bermuda after receiving a telephone call asking if she would be interested in working on the island. Having already traveled a great deal, she took relocating to Bermuda in her stride and immediately felt at home on the island. She was impressed by the "community of very strong women" she found. In the late 1970s and early 1980s the island's insurance industry was much smaller than it is today, but was still a significant part of the economy. And the island's captive sector, started by Mr Reiss in 1962, was steadily growing. Six years after arriving on the island, Ms Husbands joined Marsh in 1984. She started as an insurance officer with responsibility for a diverse portfolio of captive companies, reviewing policy documentation and making sure companies were robustly insured. She progressed to manager of the insurance and claims department, before becoming involved in business development and then was appointed head of office in 2007. Along the way she had three children: Marcus, who is at university, and Steven and Ryan, who have careers in the insurance and reinsurance sector. Ms Husbands praised Marsh not only for the way it allowed her career to flourish, but also for giving her the time and opportunity to look after her children as they were growing up. "I have never felt that I could not progress. There was a time when my sons were very small, when I did not want to progress because I wanted to look after them — and that was fine as well." She feels she has been "listened to" at Marsh and "been able to fulfill my professional and personal aspirations". Today, as chairwoman and managing director of Marsh IAS Management Services (Bermuda), she believes young people setting out on a career in the insurance sector should consider opportunities available in the captive space. "Captive insurance is not always seen as the glamorous side of insurance. We are the quiet industry. However, captive insurers were here long before the big insurers and reinsurers, and I believe they offer a wonderful career for young people," she said. Touching on her own experience, she said: "Every day you should learn something new. In my professional career I wanted to continue to grow and learn, and that's another thing about captive insurance, because every client is different, and they can come from different industries." Ms Husbands sees a promising future for captives as risk management develops across regions such as Latin America, Asia and Africa. "Globally there is a huge future for captives," she said, pointing out that Bermuda, as a significant insurance and captive centre with a high level of expertise, is ideally placed to cater for growth in the sector. Ms Husbands said she had seen many positive changes in the industry, particularly in terms of workforce diversity. "It has changed for the good. Diversity in the broader sense has changed significantly for the better. And Marsh globally supports diversity of all kinds," she said. From the moment she arrived in Bermuda she felt at home. She said: "Bermuda has been very good to me. I have never felt any barrier to progress." Ms Husbands will be presented with the Fred Reiss Lifetime Achievement Award at the Bermuda Captive Conference, which takes place at the Fairmont Southampton from June 13 to June 15. The award is named in honour of Mr Reiss, an American engineer who conceived of the idea of "self-insurance", by which corporations could manage their own risks through a dedicated subsidiary and pursued the concept in Bermuda, launching the first captive in 1962. Ms Husbands never met Mr Reiss, who died in Bermuda in 1993, however she knows his son Jonathan very well, and her first boss in captive management, Brian Hall, worked with the late Mr Reiss. In a statement released last week, David Gibbons, the conference chairman said: "Jill is an incredibly deserving recipient of this first-time award to mark Fred's legacy. Her contribution to this conference, our industry, and Bermuda as a whole has been invaluable and, like Fred himself, she is a remarkable professional who has set an example for all of us in this industry." When asked how she reacted to being named as the first recipient of the lifetime achievement award, Ms Husbands said: "I was shocked in a good way. I thought there might be other people more worthy. My peers in the industry chose me for the award and it is a tremendous honour." And regarding the three-day conference, she said: "It is tremendous and it is going from strength to strength. It's very important to our industry and enables us to showcase Bermuda."
June 8. Royal Gazette. In our Opinion. "In many ways, the United States Constitution and the entire American experiment can be argued to be the supreme products of the Age of Reason. From its birth, America has been a society predicated on enlightened principles, one that has continuously evolved as it has strived to realize the "more perfect union" envisaged by its founders. This evolution hasn't, of course, been seamless or without great human cost. It's occurred in a sometimes halting, fits-and-starts manner over the course of 240 years. But throughout that time, America has managed to maintain a forward and progressive momentum, always inching ever closer to fulfilling its original promise to all of its people. So why, the rest of the world is asking, are so many Americans now seeming to embrace unreason as personified by the deeply troubling Donald Trump in the run-up to this November's elections? The 2016 primary election season came to an end last night in California, formalizing the businessman and professional self-promoter's once unimaginable lock on the Republican presidential nomination. It was the undramatic and long-anticipated epilogue to an unprecedented insurgency campaign, one that resulted in the mainstreaming and political legitimization of a denizen of the outermost fringes of American crackpottery. Trump's serial recklessness and blasé contempt for convention, political propriety and even objective facts, which have the temerity to run counter to his blustering pronouncements, have gone from provoking mirth to prompting increasingly deep concerns on both political and substantive grounds. Any laughter you hear about the man now is likely to be of the decidedly nervous variety. Any one of numerous inflammatory outbursts caused by his rampant political form of Tourettes, for instance, would have been sufficient to disqualify any other putative candidate months ago. Where Trump is concerned, though, whatever did not kill his candidacy simply seemed to make him stronger. Given he will be facing the competent but uninspiring and supremely unlovable Hillary Clinton — also confirmed as the Democratic Party's nominee last night — in November, many are now pondering what once seemed unthinkable: the prospect of a Trump administration being sworn into office next January. History would seem to preclude such an eventuality. But then history also appeared to preclude the possibility of Trump emerging from the primaries as the Republican standard-bearer. Even now an embarrassed but shameless party establishment is closing ranks behind the man they were deriding only weeks ago as, among other things, "an embarrassment to the Republican Party", "a madman who must be stopped", "a delusional narcissist and an orange-faced windbag", "a cancer on conservatism" and even "our Mussolini", despite his proclivity for making questionable public statements and employing repellent racial and religious stereotypes remaining entirely undiminished. To some, he is the bad-haired, big-mouthed monster from the id of the Republican Party's extreme wing, giving strident voice to long-suppressed cultural resentments and animus, and myriad post-recessionary economic and social frustrations. For them, Trump is the inevitable reductio ad absurdum of the Republican establishment's politically expedient but always dangerous flirtation with social and cultural zealots in recent decades. They view him as the embodiment of a particularly ugly form of political brutalism or what could be termed "strongmanism", common enough in many other countries that have gone through prolonged periods of economic and social upheaval, but entirely new to the American experience, at least at such an elevated level. To others, he's simply an unscrupulous showman, a man bereft of all guiding principles and instead driven by an insatiable need for self-aggrandizement. Whether he himself is a bigot, a racist or a misogynist is ultimately immaterial, these commentators contend. What's important is that, like all true opportunists, he has no qualms about making use of others' intolerance to serve his own political ends. And Trump has routinely and brazenly exploited racial, religious and cultural tensions in the US from the very day he announced his presidential bid, a candidacy seemingly so far-fetched and so very foredoomed that few took it seriously until he began racking up primary and caucus victories this year. Of course, Trump benefited immeasurably by running against so large and lacklustre a field in the Republican primaries. Then his manufactured celebrity, his ability to make himself stand out from the pack, even if only in terms of his deliberately cultivated outrageousness and his undeniable expertise at dividing opponents to conquer — often only by hair's-breadth pluralities — proved to be of considerable value when he was facing up to 16 other contenders. In the one-on-one contest he faces now, however, he will be scrutinized, analyzed and criticised as never before. And he will have to demonstrate a mastery of more than just crude generalizations and snide insults if he is to have any possible chance of prevailing in the general election. He is now the presumptive Republican presidential candidate, after all, not a seat-of-your-pants outsider running a vanity campaign as outsized as his ego. As an insurgent on his party's primary campaign trail, he had the luxury of being able to be openly contemptuous of the complexities of political and economic processes while running against establishment names closely identified with Washington gridlock, stagnant wages, declining social mobility and a dwindling US manufacturing base. He won applause and votes by playing to the more marginalized elements of the Republican base, those who felt most dissatisfied and neglected, by repeatedly expressing fire-and-brimstone impatience with the finer details and nuance of statecraft. But socioeconomic and political realities cannot be ignored or simply insulted out of existence, particularly by the occupant of the Oval Office. Reality, after all, is that which does not go away just because you stage a tantrum and refuse to believe in it. It's been said of Trump that this "Master Persuader was able to continuously warp reality until he got what he wanted" in the primary elections. He will find this a much harder feat to pull off in the general election campaign when he needs to put together a demographically, culturally and geographically disparate nationwide coalition to prevail at the polls. He will also, of course, require an outright majority of the votes cast to be elected in a one-on-one match up, not the simple plurality of party members sufficient to secure him the GOP nomination in a very heavily contested field. Given his demonstrated ability to insult and to alienate some of the very constituencies he will require to put together such a grand coalition — women, Hispanics and even many other Republicans — the odds of Trump being able to seal this particular deal with the American people are probably on the same order as those of Bermuda playing in the next World Cup final. And winning. And that is why those in Bermuda concerned about the prospect of a Trump presidency probably needn't lose too much sleep, at least not just yet, and conclude the unique and always improbable American experiment is about to end in failure."
June 8. Efforts to implement roadside sobriety testing and checkpoints are still under way, according to the minister of transport, Senator Michael Fahy. In response to shadow transport minister Lawrence Scott calling on the Bermuda Government to put the measures in place before Cup Match, Mr Fahy told The Royal Gazette that he is continuing to meet with stakeholders to try and move the necessary legislation forward. "I am working on it," he said, adding that he met with the Bermuda Road Safety Council on Monday and would be meeting with CADA this week as well as the Bermuda Police Service next week. Mr Fahy added that although there are still "some suggestions about constitutional issues" regarding roadside sobriety testing and checkpoints, work continues to overcome these. He said Mr Scott "is well aware of this", having spoken with the Road Safety Council at the former Minister's invitation, and said he was disappointed that the topic was being used for "political point-scoring". Speaking in the House of Assembly on Friday, Mr Scott urged the Government to introduce roadside sobriety testing and checkpoints before Cup Match, when there is a "traditional, historic, statistical spike in road traffic accidents, motoring incidents and drunk-driving. We cannot afford to go into another major holiday without having roadside sobriety checkpoints in place. This Government needs to bring roadside sobriety checkpoints to fruition prior to the Cup Match holiday." Mr Scott said former transport minister Shawn Crockwell had gone on record saying that the Government was going to bring roadside sobriety testing and road side sobriety checkpoints this year. He added that other former ministers, as well as the Bermuda Road Safety Council, had thrown their weight behind the issue without results. "I understand that there were some challenges but they should be overcome. It's not a constitutional issue — that's what some people want you to believe that it is a constitutional issue." Although Shawn Crockwell, the former minister of transport, encouraged Mr Scott to keep pressing the issue, he also insisted that there were still constitutional issues that needed to be overcome. "There have been multiple previous ministers on both sides of the aisle that attempted to implement roadside sobriety testing and there is some disagreement within the attorney-general's chambers and the DPP's [Director of Public Prosecutions] office in relation to some constitutional issues and the implementation of it," he said.
June 8. Bus depot staff are working "even more feverishly" to get other buses on the road after several were pulled out of service as a result of a wheel coming off a bus, according to the transport minister. Senator Michael Fahy spoke to The Royal Gazette after it was announced that buses of the same make and year as the one involved in the incident in Sandys on Friday would be subject to a "thorough inspection". He also dismissed claims by shadow transport minister Lawrence Scott that budget cuts were to blame for continuing problems with the island's fleet. "As a result of these buses being taken out of service, the depot is working even more feverishly to get other buses into service," Mr Fahy said, adding that swift action had been taken to rectify the problems that led to Friday's incident. And while the Department of Transportation aimed to keep the service running smoothly, he said that in the event of any cancellations or disruptions "appropriate notifications will be made to the public if possible". But Mr Fahy also stressed that maintenance "has always been an ongoing issue", with previous transport ministers admitting and accepting that the island has an ageing fleet In response to comments by Mr Scott, who blamed continuing issues with the public transportation vehicles on a lack of funding for maintenance and claimed the One Bermuda Alliance Government had shown an "historic" record for bus problems, Mr Fahy pointed to numerous incidences under the Progressive Labour Party administration. These included 18 buses being out of service because of a shortage in tyres in June 2012, mechanical problems with the bus fleet leaving primary students stranded in September that same year, and an incident in January 2012 that saw an empty bus roll into a Washington Street building. He also noted that, in September 2011, the transport ministry said it would be looking to bring in overseas mechanics to help retrain local mechanics because about 50 of the island's 119 buses were off the roads. "Based on what Lawrence Scott said, it is a falsehood to suggest that any of the bus maintenance issues have just arisen," Mr Fahy said. "I dismiss what he said wholeheartedly. The past speaks for itself. It is really just an ongoing maintenance issue. It's not a new problem as is being suggested by the shadow. We have buses in service since 1998. Given this ageing fleet, the mechanics at the depot do a fantastic job with what they have to work with." He also stressed that safety is paramount and added that a process was under way to identify other buses that may be more appropriate for Bermuda.
June 8. The Bermuda Society for the Prevention of Cruelty to Animals is urging the public to get their pets microchipped this month as part of Microchip Your Pet Month. While the law requires all dogs to be microchipped and correctly registered to their owner, the charity said microchipping other pets was "optional but highly recommended". Jodi Corbett, humane education officer at the charity, said: "The SPCA receives reports daily of lost, found and deceased animals, if they are not microchipped we have no way of identifying an owner and no proof of ownership should there be a dispute. We believe that microchipping is a major part of being a responsible pet owner." The microchips used to tag pets are slightly larger than a grain of rice, and are implanted in the loose skin between the pet's shoulder blades. When a tagged animal is found, veterinarians or animal wardens can use a database to identify who the pet belongs to. A spokeswoman for the charity said: "If a chip is found and your details are up to date then you will get a call letting you know where you animal is. If there is no chip you may never be reunited with your pet again and there is a chance he or she will be legally rehomed after a mandatory four-day waiting period." All cats and dogs at the SPCA are spayed/neutered and microchipped before leaving the shelter as part of the medical care included with every adoption. For more information about the importance of microchipping visit www.spca.bm or call your vet to make an appointment for your pet to be microchipped.
June 7. A groundbreaking Supreme Court judgment could pave the way for some criminal suspects who have been held in custody while awaiting trial to receive legal aid. Last month Chief Justice Ian Kawaley ruled for the first time that being in custody was a relevant factor to be considered when the Legal Aid Committee looked at an application. However, the Chief Justice stressed that the success of such an application would depend on the "facts of each case". His judgment followed a legal challenge by a defendant, who can't be named for legal reasons, who was refused legal aid and had been in custody for more than seven months. The committee ruled the man could not receive legal aid as when he initially applied for it he was living with his parents and was part of the family's household, and therefore the household's income needed to be taken into account. As a result the applicant launched an application for judicial review against the Attorney-General in the Supreme Court. Mr Justice Kawaley found that the committee had "erred in law" by determining that he was part of his parent's household relating to his eligibility for legal aid. "I accordingly find that the committee erred in law in reconsidering the applicant's application for legal aid in March 2016 on the basis that he was at that time still to be regarded as part of his parents' household for eligibility purposes," said Mr Justice Kawaley. "This finding should not be taken to suggest that the mere fact that an applicant is remanded in custody operates, without more, to effect a change of the household to which he belongs. Whether such a change has occurred will depend on the facts of each case. The applicant is entitled to an order of mandamus directing the Legal Aid Committee to issue him a legal aid certificate in respect of the case." In his judgment Mr Justice Kawaley said the committee should not be criticised for the way it handled the application. "The applicant did not present the most coherent or consistent series of applications and the present picture is somewhat different to that which confronted the committee in its deliberations." The applicant's lawyer, Peter Sanderson, told The Royal Gazette that the judgment did not address the broader issue of who is included in a "household" generally. "It establishes for the first time that being in custody is a relevant factor when considering whether a person is still part of a household on the outside," said Mr Sanderson. "This is of assistance only to people of limited means who have been remanded into custody. The judgment does not address the broader issues of who is included in a household generally. Further, legal aid is only available if the household income is less than $18,000 after some modest deductions, and very few households are under the threshold."
June 7. Intensive seafarer training lies ahead for a host of Marine and Ports staff. Training is proposed for more than 70 employees who operate vessels, including captains, engine drivers and leading seamen. The first six of 20 planned for this year are already at Britain's Warsash Maritime Academy, one of the world's top centres for maritime training. The Standards of Training, Certification and Watchkeeping course will better prepare them for their duties aboard the nine Lloyd's class vessels in the Marine and Ports fleet. The basic STCW training started on Monday, ends on June 10 and has been arranged through a partnership with the Department of Workforce Development. Minister of Tourism, Transport and Municipalities Michael Fahy said the training would benefit the travelling public and bring the Marine and Ports the professional backing in line with seafarers worldwide. "Warsash is one of the most highly regarded institutions for maritime teaching and this type of training is also great for career mobility," Senator Fahy said. Bermuda is a signatory to the 1978 STCW International Convention, which was the first to set qualification standards for masters, officers and watch personnel on seagoing merchant ships. Warsash Maritime Academy is a part of Southampton Solent University with a campus in the village of Warsash on the east bank of the River Hamble, near the English cities of Southampton and Portsmouth.
June 7. Tropical Storm Colin — now a post-tropical cyclone — is not a threat to Bermuda, although it is still forecast to pass well to the north of the island. According to the National Hurricane Centre, the storm was moving away from the East Coast of the United States this evening. In its 6pm advisory, the Bermuda Weather Service said the weather system was then expected to continue on a northwesterly track, with its closest point of approach to Bermuda expected to be at about 11pm today, passing 395 nautical miles to the northwest of the island. Strong winds with gale force gusts, along with showers and a chance of thunder, can be expected tonight through tomorrow.
June 7. Volunteers from two local firms recently lent a hand at the National Museum of Bermuda, helping to preserve 25 historical cannon. Despite the bad weather, teams from Aon Benfield Bermuda and KRyS Global — about 35 volunteers in all — went to the museum on Friday to paint the cannon as part of their community outreach days. With tourists looking on, the volunteers took on the 19th-century cannon and gun placements scattered along the ramparts, plus the slightly more intricate work painting the 18-tonne rifled muzzle loader and its carriage at Bastion F. Cecilia Cumigad, vice-president in Aon's financial services department, said: "It's good to do these things once in a while to give back to the community. I was telling my husband that it's good to learn how to paint and to do away with our calculators for the day." Meanwhile, Mathew Clingerman, KRyS managing director, called the Museum a Bermuda icon and said the volunteers were happy to do whatever they could to help. "This is just one small way in which we can benefit local families and tourists alike who would like to understand and appreciate important parts of Bermuda's history," he said.
June 7. A Sandys man has admitted cannabis possession this morning after the substance was discovered in his car, his house and his waistband. Levi Robinson, 48, was driving along Cricket Lane in Somerset when he was stopped by police at the junction with Broome Street on November 25, 2012. As officers began to perform a search, the defendant advised them to check in the trunk of the car, where they found one plastic twist and one paper twist. After being arrested, Robinson was seen in his police cell removing a quantity of cannabis from his waistband and trying to destroy it with his feet. Upon searching his residence, officers found more plantlike material, which was later confirmed as cannabis along with the other samples. Although Robinson at first denied any knowledge of the drugs, which weighed a combined 24.48 grams, he later admitted that they belonged to him. Magistrate Khamisi Tokunbo spoke of his wariness in granting the defendant bail, pointing out that the last time this happened he went "missing for two years". However, taking into account Robinson's guilty plea, his lack of previous convictions and the small quantities of cannabis in question, Mr Tokunbo released him on $5,000 bail with a like surety. As well as ordering a Social Inquiry Report and a drug assessment, Mr Tokunbo instructed the defendant to report to police every Monday, Wednesday and Friday until his sentencing on July 22.
June 7. Police have responded to a report of willful damage at a public male bathroom, located at the junction of Victoria Street and Washington Street. It appears that over the weekend someone entered the bathroom and wrote what are being described as hateful comments on the walls, said a police spokesman. An investigation into the matter is now under way and police are appealing to the public for assistance in finding the person or persons responsible. Anyone with any information is encouraged to call police on 295-0011 or the confidential and anonymous crime stoppers hotline number on 800-8477.
June 7. Theo Wolffe from Warwick Academy earned the top scholarship at the 15th Annual Alpha Beautillion awards which took place on Sunday at the Ruth Seaton James Auditorium. The scholarship, sponsored by Digicel, was worth $5,000 with five other boys sharing $8,000. Male students from schools across the island had been participating in a six-month all-inclusive skills and leadership programme to compete for the educational scholarships. The six young men who represented their schools were Enrico Escolastica from Berkeley Institute, Alfred Trey Maybury from Saltus Grammar School, Rollin Nathan Junior from Bermuda Institute, Jordan Simmons-Trott from CedarBridge Academy, Chakote Wainwright from IMPACT Mentoring Academy and Theo Wolffe from Warwick Academy. An Alpha Beautillion scholarship spokesperson explained that since January, the students had been mentored by the Brothers of the Epsilon Theta Lambda Chapter of Alpha Phi Alpha Fraternity, and community partners such as Digicel, Deloitte, Butterfield & Vallis and Bermuda Toastmasters Club. They also regularly visited the Matilda Smith Williams Rest Home to assist staff with the residents. The preliminary marks comprised of community service, deportment, a written essay, attendance of workshops and selling ad/ticket sales for the awards ceremony. The finale consisted of an introduction, a prepared speech, an impromptu Q&A on a topical subject and a step show exhibition. A panel of judges marked each segment, which was tallied up and combined with the preliminary scores to determine the winner. Overall winner Theo Wolffe said: "The Beautillion was an amazing experience as I not only gained valuable skills but I also formed a strong friendship with other motivated student. "I would like to thank all the Brothers for their valued mentorship throughout the Beautillion and hope that the programme can continue for many years. I am going to use this generous scholarship to attend University in Canada and pursue a Masters in Business Administration. It's my hope to open my own business in Bermuda to contribute to the island that raised me." Runner-up, Jordan Simmons-Trott was awarded a $3,000 scholarship and second runner-up Enrico Escolastica took home a $2,000 scholarship. All of the participants received a $1,000 scholarship and the chance to attend a global leadership conference in New York later this year. Judges included Veronique Sotto, Operational Excellence Director at Digicel; Sylvan Richards, Minister of Social Development and Sport; John Barritt, former MP and lawyer; Jessica Mello, Director, Consulting at Deloitte; and Karla Lacey, Chief Operating Officer at the, Bermuda Tourism Authority. This year marked the 15th year since the 'rights of passage' scholarship programme run by the Fraternity was launched. Since 2002, the programme has mentored a total of 76 young men and raised over $165,000 towards university scholarships. Alpha Phi Alpha Fraternity was established in 1906 as the first intercollegiate Greek-letter fraternity for men of African descent in America.
June 6. Bermuda's rating has been downgraded to A2 from A1 by Moody's Investors Service. The high level of interest repayments the Bermuda Government makes to service the island's debt of more than $2.2 billion was among the determining factors that led to Moody's decision. The island's rating has now been lowered by Moody's four times since April 2009. The agency said Bermuda's outlook remains stable. Rating downgrades generally make it more expensive for the government to borrow money. Bob Richards, the finance minister, said it was disappointing that Moody's had downgraded the island, but stated he would not swerve from his plan to balance the island's budget by fiscal year 2018-19. Bermuda's lower economic strength, relative to A1 peers, was one of the rationale for the downgrade identified by Moody's. In a statement, the agency noted that the island's economy of $5.8 billion was significantly smaller than the A1 median of $256 billion. "Even as the country emerges from recession, we do not think that the negative impact of its size on its credit profile will be compensated for by growth: we forecast that Bermuda will grow on average 1.8 per cent annually in 2016-20, lower than the 3 per cent median forecast for A-rated peers," stated Moody's. "The latter factors weigh on the island's overall economic resilience and point to Bermuda's higher susceptibility to shocks than A1-rated sovereigns." Moody's noted that the island's debt-to-GDP ratio has been about 40 per cent since 2013, and was a debt burden in line with the median for A1-rated peers. However, Bermuda's narrow revenue base means the interest burden on its debt, the interest payments-to-revenue ratio, is above 12 per cent. That is the second highest among A-rated sovereigns, where the A1 median is 4.5 per cent. "The need to devote greater resources to servicing its debt leaves Bermuda with considerably lower fiscal flexibility than its A1-rated peers and less able to absorb shocks," stated Moody's, which last lowered the island's rating two years ago. Reacting to the news, Mr Richards said: "Given the momentum we continue to gain in reducing the deficit, as outlined in the government medium-term expenditure framework, it is disappointing that Moody's has chosen to downgrade Bermuda." Moody's noted that the island's economy was in recession from 2009 to 2014, contracting by 3.3 per cent annually, however it estimated the economy grew by 1.5 per cent in real terms last year. Moody's reported: "Positive economic momentum should carry into 2016 and 2017 supported by increased tourism activity related to the 2017 America's Cup, as well as by increased investment on tourism-related and public infrastructure projects. Moody's expects that the economy will accelerate to 2.3 per cent on average in 2016-17 and will grow 1 to 2 per cent during the following three years." Regarding the stable outlook, Moody's attributed this to "our view that with economic prospects beginning to improve and the government's consolidation programme expected to support a gradual improvement in the fiscal position, debt metrics will remain stable over the rating horizon". Mr Richards, who is also the Deputy Premier, said the report would not change his plans to balance the budget by fiscal year 2018-19. He said: "Keys to getting Bermuda back on a balanced footing include avoiding becoming too aggressive in cutting expenditure, because that would mean huge layoffs and/or cuts to government programmes such as financial assistance, health and education. Also we must not excessively increase taxes, because that would only put a burden on our people and discourage foreign direct investment." He added: "Standard & Poor's affirmed our rating at A+ and furthermore, in February of this year, Moody's published a glowing report on Bermuda titled, Bermuda's Fiscal Consolidation Efforts Bear Fruit, a Credit Positive. It would therefore seem inconsistent that Bermuda should be downgraded by Moody's now." Moody's lowered Bermuda's rating from Aa1 to Aa2 in 2009, and to Aa3 in 2013. A year later the rating was downgraded a further notch to A1, where it remained for two years until the latest downgrade. Countries that have Moody's "Aaa" top rating include Australia, Canada, United States, and Switzerland. Isle of Man is rated Aa1, while Cayman Islands is Aa3. Countries that are A2 rated include Poland and Slovakia, while Ireland, Malta and Malaysia are a notch lower at A3.
June 6. Bob Richards, the Minister of Finance, has defended his position in face of accusations that he did not adhere to financial instructions over the release of key information about the Bermuda Government's airport plans. Shadow minister and chairman of the Public Accounts Committee David Burt took Mr Richards to task in the House of Assembly over details he believes should be released with regards to the deal with Canadian Commercial Corporation. Accountant-General Curtis Stovell originally maintained that while he had waived protocol in the Government's early dealings with CCC, he was not asked for later waivers in writing, hence financial instructions had not been adhered to. However, in December 2015, financial secretary Anthony Manders insisted that Mr Stovell's approval at the start had covered the entire deal with CCC — including CCC's selection of Aecon, a Canadian contracting company, to build a new terminal at LF Wade International Airport. In Friday's House session, Mr Richards read out a quote from Mr Stovell that was printed in a Royal Gazette article on December 18, 2015. In the article, Mr Stovell conceded that communication should have been much better than it was, but said he had since been given the necessary information. Mr Richards read Mr Stovell's quote that Mr Stovell was "not saying that we are not currently in compliance". Mr Burt said he did not see reference to the quote in the official transcript and challenged Mr Richards to produce the evidence at a later date. Mr Burt said: "The Government is able to set their policy, however it is our responsibility to hold them accountable. He [Mr Richards] is frustrating the will of the elected body, he has delayed on a request by your very own PAC committee meeting which was passed unanimously, and now he has ignored a summons which was voted on in another meeting. Nothing from the civil servants, nothing from the minister, all we hear is we have to get Aecon's permission." Mr Richards retorted: "His story is that the Bermuda Government has not got the permission of the Accountant-General for waivers for financial instructions — he keeps saying that we are operating outside of financial instructions and that is not correct." The minister then made reference to another situation it reminded him where Mr Burt was unable to "differentiate between truth and fiction." He raised the issue of Mr Burt's previous assertions that members of the One Bermuda Alliance had not contacted him about being unable to attend a meeting of the Public Accounts Committee meeting, when in fact, they had. Mr Burt accused Mr Richards of misleading the House, saying that members had even claimed they would be turning up to lay motions. But Mr Richards pushed on: "The honourable member can't seem to differentiate between truth and fiction because he said that he had not been communicated to by them and then when The Royal Gazette reporter produced the e-mails that they sent him he said, 'oh yes'. You can't have it both ways." When Speaker of the House Randy Horton disciplined Mr Richards for calling into question Mr Burt's integrity, the minister said "I am not commenting on his integrity, I am commenting on his veracity" to which Mr Horton said there was little difference.
June 6. Bermudians are remembering "an inspiration", "a formidable fighting spirit" and "the greatest champion ever to have lived" with the passing of boxing legend Muhammad Ali. The great sportsman, who passed away on Friday, visited Bermuda in 1965 and 1974 and made a lasting impression on those who were lucky enough to meet him. During his visits, the American icon did not shy away from the limelight — he took time to visit a number of schools, including Robert Crawford and Central School (now Victor Scott Primary), and to make a speech at the Clayhouse Inn while wowing the staff and guests at the former Hamilton Princess where he was staying. Trailblazing promoter Olive Trott brought Ali here in 1965 to take part in a boxing exhibition at the Tennis Stadium. She asked her friend and former police officer Wentworth Christopher to "provide assistance" throughout his visit. While Ali was at the Hamilton Princess during his three-day trip to the island, he was faced with contempt by some of the hotel guests because of the memory of his stance against the Vietnam War, which cost him 3½ years out of the ring when he was at his peak. One of the things that stood out in Mr Wentworth's memory was how Ali had those same guests "feeding out of his hands" in a few moments. Mr Wentworth recalls: "Some guests were not too friendly disposed to him due to the 'draft-dodging' situation and it was interesting to see how he was able to win over those guests — people were looking at him in mystery and contempt, but he soon had them feeding out of his hands." Mr Christopher was able to remain in proximity to Ali throughout his stay and was even the target of his playful humour. Recalling the incident, he laughed: "I wasn't too happy about that ... I was dressed in a three-piece suit and Muhammad was in a tracksuit. We were leaving Burnaby Street going towards Cedar Avenue and I was walking at a dignified pace. All of a sudden, he started running and, of course, I couldn't let him run ahead and leave me walking at a dignified pace, so I had to run in my three-piece suit. It must have been a sight for people to see." According to Mr Christopher, Ali's visit was spurred by a healthy interest he had paid to the contestants of Miss Universe event, who shared a gym with him in Miami Beach. Ms Trott, the founder of the Miss Bermuda contest in 1965 and a woman whom Ali affectionately called "my Bermuda mama", set a challenge for her friend Ali. "Olive Trott was at the Miss Universe contest and he had his gym in the same building," Mr Christopher said. "She saw how he was admiring all the contestants, so she told him if he came to Bermuda and put on an exhibition, he would get to see more of Miss Bermuda. That was in July of 1965 and he was here in September." The boxing exhibition itself was a success. Ali faced Kid Gavilán in the ring and the match was refereed by Bermudian Freddie Thomas, the father of Marico Thomas, of Four Star Pizza, and a boxer himself. Speaking on the loss of Ali, Mr Christopher added: "It was a sad experience. It was tragic even when you saw him at the Olympics [as a torchbearer at the Atlanta Games in 1996], when a man who was so fast on his feet was a shell of his former self, even though you could still detect that formidable fighting spirit that was within him. I remember a great man, a man of character. He was kind-hearted and easy to get along with. Most people who interacted with him were in awe of him." During his visit to The Central School in 1974, he certainly had the young boys who attended the school in awe. Brownlow Adderley was one of those boys, and he said he was so excited to see him that he was "jumping up and down". During the assembly, one of the other boys, whom Mr Christopher believes to be Troy Clark, started doing the "Ali Shuffle" and Ali told him to come up on stage and do it. He said to the boy: "You think you can beat me?" The boy nodded and Ali promptly got down on one knee and told him "go ahead and see if you can knock me out". Mr Adderley recalled that the boy went at him "furiously and fearlessly", causing Yvonne Simmons, the school principal, to attempt to intervene, but Ali said "no, let him go". Troy managed to catch Ali with a punch and the Champ played the role of being out for the count. Ali then raised the boy's hand and said he is the new world champion. Mr Adderley said: "I was amazed; I wanted to be the kid on the stage." But he got to have an even closer encounter with the man who became known simply as "The Greatest". After Ali's visit, the teachers told the children to return to their classrooms, but Mr Adderley had other ideas. "I didn't care if I got punished, I just wanted to get close to him, so I bolted after him and some of my friends followed me," Mr Adderley said. "We ran up to his car and he wound down the window and said, 'You wanna piece of me, too?'". Mr Adderley, who had a stutter back then, was so star-struck that he couldn't get a single word out. He added: "Then he just said: 'Stay in school and learn all you can'." Describing himself as a "sports fanatic", Ali was an inspiration but he inspired the young Mr Adderley in other ways. "As children we live in our own world and are not subjected to the struggles our parents went through," he said. "Then you learn more about history and my admiration for him grew." Mr Adderley had a chance encounter with Ali was years later in New York when he was in the city with "baseball fanatics" John Ray and Anthony Mouchette, and Ali stepped out of a yellow cab on Broadway. "Tony recognized him from the back of his head," Mr Adderley recalls. "No one has the same-shaped head as him. I went up to him and said, 'Hey, champ' and I saw his hands were shaking from the Parkinson's. He gave me a signed Muslim leaflet." On hearing the news of Ali's death, Mr Adderley said: "I was very saddened — it is hard to deny that he was the greatest. He was magnificent." Harry Patchett was a young teacher of English at Robert Crawford school when Ali visited. "He spoke to the students and staff for 45 minutes without a script or notes of any kind," he recalls. "The students were spellbound throughout his presentation, hanging on to his every word — the boys at Crawford in 1974 were a tough crowd, but he had them in the palm of his hand." Premier Michael Dunkley paid tribute to Ali saying: "All of Bermuda should pause for a moment to be thankful for the life of Muhammad Ali, perhaps the greatest fighter and personality of our time. Generations will recall the excitement and love he brought to the world. Muhammad Ali was a man of principle, unafraid and courageous ... He brought this same spirit of commitment to global causes, and through his generosity, many young men and women have benefited. For people everywhere, of every race, nationality and age, Muhammad Ali was a charismatic hero, a freedom fighter and a true role model. The world is better for his life. May he rest in peace." Peter Larder took part in a karate demonstration in the same ring as Ali during the exhibition in Bermuda on his first visit. "I met Ali briefly in the changing room and he was charming, boasting to me that he was faster than any karate man," Mr Larder said. "I remember him as light-hearted yet fully focused on his two 'bouts' in front of a fairly small but admiring Bermudian crowd." A man called Ali Muhammad met with Ali's unforgettable humour when he met him as a young boy at Chicago's O'Hare International Airport. "I remember Muhammad Ali asking me my name," Mr Muhammad said. "I said in the proudest voice I could muster, 'Ali Muhammad'. I'll never forget what he said ... 'Oh, you must be the lover, not the fighter; that's why it's the other way around.' "Whenever I introduce myself to this day, I still repeat that quote." Ali's memory of Bermuda remained strong even after he was stricken with Parkinson's disease and confined largely to a wheelchair. When he was approached by a Royal Gazette reporter at a media event during the Sydney Olympics in 2000 and asked of his trips to Bermuda, he flashed a broad smile. Barely able to speak at that point, he clearly remembered his Bermudian friends, who followed his legendary career right until his final bout.
June 6. By the RG's Adrian Robson. "It wasn't quite a baptism of fire but it felt like it; certainly as the evening wore on the temperature soared. Staring at the fastest fists in the world, I could feel beads of sweat running across my forehead. This wasn't just the suffocating humidity. I'd plunged into the lion's den. As a 21-year-old reporter, perhaps still wet behind the ears, not familiar with the surroundings or the people, I had arrived on the island just weeks earlier. On this evening, I had volunteered to cover an event that surely would have whetted the appetite of any self-respecting sports journalist — although, apparently, neither my editor nor my sports editor were particularly impressed. The Clayhouse Inn on North Shore had been chosen as the venue where hundreds of Bermudians would gather to hear the gospel as preached by a man who had already been afforded the moniker "The Greatest". As I looked around, I couldn't help but notice that I was the only Caucasian in the room. There may have been others, but none were remotely close. Unfortunately, Muhammad Ali had made the same observation. With notebook in hand, it was also clear I was on assignment. Picking his moment, and pointing to me, he asked why I been had sent to his presentation. Surely, there were equally capable Bermudians who could do the same job. There was no logical answer, if any. As Ali pursued the subject — expats competing for jobs with the natives — my agitation might just have become visible and, kindly and thankfully, he diverted to another issue. Anxious to make my escape after Ali stepped down from the stage, and wary of any potential confrontation with those in the crowd, I climbed aboard my newly acquired moby and sped back to the office. What would transpire over the next 24 hours has been embedded in the memory bank for the past 42 years. If that night was one to remember, then the events of the next day would be mind-numbing. A morning phone call from someone within the Ali entourage — it might even been his trusted trainer Angelo Dundee, the same trainer who years later would turn his attention to a young Bermudian fighter, Troy Darrell — demanded I meet Ali in his Hamilton Princess suite. Why, I wondered. If he wanted to grant an interview to the local newspaper, surely, given his comments the night before, he would have advocated a Bermudian get the job. But he specially wanted the reporter whom he had met at the Clayhouse. Upon entering the hotel, I identified myself to Ali's security guards and was quickly ushered to his room where he stood alone, waving away the guards before closing the door. In the light of day, the Champ appeared even bigger, taller, more muscular — a giant of a man who had terrorized and tortured almost every boxer he had confronted in the ring. Yet, over the next hour he revealed a nature that few could imagine. Humble beyond belief, he apologized for the comments made the previous evening and any embarrassment he had inflicted. How could I respond? I wasn't embarrassed or humiliated. I was terrified! As we spoke, I hung over his every word. This wasn't an interview, merely a conservation, he insisted. He spoke of Joe Frazier, how they had to fight again to decide once and for all who was the greatest. He threw off his shirt, performed the "Ali Shuffle", skipped around the sofa and shadow-boxed in front of a mirror, before thundering a fake left hook, which came within a hair's breadth of dislodging my nose. Smokin' Joe would have to deal with all of that and very much more. Those comical antics eventually gave way to a more somber discussion. He touched on civil rights and religion — he had converted to Islam, changed his name and spent three years in the boxing wilderness after refusing to fight in Vietnam. "Why would I want to kill innocent people who had never harmed me?", he had previously protested. But most of all, he talked of his family. He went to a drawer, pulled out a wallet that contained pictures of his wife and children and proudly showed them to me, one by one. This was his second marriage. His first, to Sonji Roi Clay, had ended in divorce, 16 months after they married. Now he was with the former Belinda Boyd, whom he married in 1967 and was still with her after the birth of their four children — twin daughters Jamilla and Rasheda, another daughter, Maryum, and their only son, Muhammad Ali Jr. It was these pictures that he carried wherever he traveled. Belinda went the same way as Sonji. Ali married twice more and in total fathered nine children. Boxing was his passion, but family overrode anything else in his life. Some 45 minutes passed, and I could have listened for the rest of the day, but he had to meet the journalists who had gathered in the lobby for an informal conference. We traveled together down the elevator, I thanked him for his time and slipped out of the exit. There was no point in staying. Whatever he would say to the remaining press gang couldn't compare to what I had experienced. And there was no point in hurrying back into the office. Eric Hopwood, then the editor, had made it clear, no matter what Ali said, it wouldn't be worth reporting at length. Twenty-two years passed before I would see Ali again. The change in health and appearance had been devastating. The constant pounding to the head, according to doctors, had triggered Parkinson's disease. As he lit the Olympic torch to signal the opening of the 1996 Atlanta Games, his body trembled. A sad sight for a man who, quite literally, had ruled the world. We would meet again at the Sydney Olympics in 2000, in more intimate surroundings. A small function had been arranged for a group journalists at the Rosehill Gardens Racecourse outside the city. Ali made his entry in a wheelchair, his head bowed, his smile weak. I waited some 20 minutes before approaching his daughter and asked if I could have a brief, private conversation with the man who had enthralled so many Bermudians when he visited in 1974 and the times he had flown into the island in the 1960s. Mere mention of Bermuda had piqued Ali's interest. His speech was impaired but clearly his mind wasn't. I wondered whether he could have recalled our meeting at the Princess. It was unlikely, but for me it was unforgettable. I'd had the privilege of interviewing some of sports greats — Pelé, Jack Nicklaus, Brian Lara, Jimmy Connors and many others — but by far Ali was The Greatest. He always will be."
June 6. The Bermuda Government is investigating after a Public Works vehicle was photographed with a sticker supporting the Preserve Marriage campaign. The bumper sticker on one of the Government's Toyota vehicles, urged people to "vote no twice" in opposition to same-sex marriage and civil unions at the referendum on June 23. After it became the focus of a social media debate over the weekend, the Ministry of Public Works issued a statement on the matter yesterday. "The ministry can confirm that bumper stickers or other messages affixed to government vehicles other than ministry or department detail are not permitted. Therefore, the Ministry of Public Works will take the necessary steps to investigate this matter."
June 6. Shadow transport minister Lawrence Scott has blamed budget cuts for continuing problems with the island's bus fleet. It comes after a Ministry of Transport spokesman revealed yesterday that a number of buses would be taken out of service for inspection after a wheel came off a bus in Sandys on Friday. The incident took place less than nine months after the number of buses off the roads surged to 53 because of problems ranging from electrical issues and overheating to accidents. However, the spokesman was unable to confirm how many passengers were on board the bus and how many buses would be pulled out of service as a result. "This is a reflection of the budget cuts that the OBA Government has made in relation to preventive maintenance and necessary maintenance on these buses," Mr Scott told The Royal Gazette. According to Mr Scott, the OBA administration had shown an "historic" record for problems with island's complement of buses. "We've never had a bus catch on fire before or this many buses out of service at any given time," he said. Mr Scott also referenced an incident in June 2015, when an empty bus ploughed into a building on Washington Street after its brakes failed. And he estimated that at least 80 per cent of the motoring public would be able to recall a broken down bus on the side of the road with no one in it under the OBA Government. "That is not something we saw before," he added. "The PLP had the strongest economy this country has ever seen under Alex Scott. And you didn't see buses breaking down under former minister Ewart Brown. The OBA touts itself as being good at business. How can you say you are good at business if you are running a department where reliability is key but there is no reliability? Under the OBA, we've had people waiting for buses that never came," he said, adding that there was no forewarning this would happen. Mr Scott said he had urged the Government to spend its money wisely during the Budget debate and yet it "seems that this Government likes to cut budgets for the sake of cutting budgets. Which means there is inefficient and ineffective management of the public purse. This coming from the Government that supposedly has all the business-minded and business-savvy people." He added that the incident was also a reflection of the Government not listening to its people, the frontline workers and laborers who have spoken out about "what they need to be successful". According to the Government spokesman, all buses of the same make and model as the one involved in the incident on Friday will be inspected. "The Ministry has liaised with personnel in the Department of Public Transportation who are actively investigating a reported incident in Sandys parish involving a parked bus in the White Hill area bus lay-by," the spokesman said. "Initial reports indicate that a wheel was dislodged, causing passengers to board a second bus. The DPT has undertaken to pull all the vehicles of that make and year out of service to carry out a thorough inspection before they are put back into the fleet." The spokesman added that the DPT was "committed to providing the most efficient service and regards the safety of the passengers of the utmost importance" and will endeavour to keep the service running "as smoothly as possible while remedying the situation". The Royal Gazette approached Transport Minister Michael Fahy, but he was unable to comment.
June 6. Rolfe Commissiong has suggested that the Employment Act needs to be amended so that employers are obliged to pay overtime rates to employees working in excess of 40 hours a week. During the motion to adjourn in the House of Assembly on Friday, he said the practice of employers being able to negotiate overtime rates with their employees could be detrimental to Bermudians who insist on proper overtime rates. He referenced The Royal Gazette article about Bermudian carpenter Pernell Grant who had been discriminated against on the grounds of his nationality. Mr Grant said he believed the reason he was not being given overtime opportunities "may have been caused by his insistence of being paid one-and-a-half times the base wage for work beyond 40 hours while other workers receive straight time". Mr Commissiong said: "Overtime pay for overtime work should be considered a right, not a privilege". Referring to the Employment Act, Mr Commissiong pointed out that exemptions could be made for overtime rates under agreement of the employer and employee. "This is where the tyre hits the road," Mr Commissiong said, adding that the clause in the Act should be "amended or eliminated. These practices have gone on for decades and it is time for them to stop. Some practices were going on when the PLP were in power, too. Practices that impact negatively on Bermudians and black Bermudians in particular." In response to Mr Commissiong's comments, the newly appointed Minister for Immigration, Patricia Gordon-Pamplin, firstly highlighted that the employee in question was employed with the company during the Progressive Labour Party's reign but went on to say: "I don't wish for our people to be left wanting in terms of their employment experience but you can be assured that as we go through our weekly meetings, as we go through the discussions about what happens down at Workforce Development, we will make sure and put this right."
June 6. Progressive Labour Party MP Diallo Rabain has accused the Bermuda Government of issuing "essentially illegal" work permits to motor mechanics, landscape gardeners, electricians and welders. Mr Rabain said he was shocked to learn from responses to parliamentary questions that 217 work permits had been issued in those categories since 2013, including 180 for landscape gardeners. According to Mr Rabain, these professions fall under the National Occupation Certification Act, which states that workers must have national certification or a proven equivalent certification. A violation of the law allows for a fine of up to $10,000, he added. "When this was put in place back in 2009, it was an important step in leveling the playing field," he told the House of Assembly on Friday. It meant that anyone applying for a work permit had to compete against a Bermudian who was already deemed certified in that particular category. But there was no information available about how many of the 217 work permits issued had qualified or been issued national certification. This is amazing to me. It's amazing because we have a law in place that says you have to be certified. We have a law in place that will fine you as a potential employer for hiring anyone under these fields, and there's supposed to be a list of everyone that is certified kept at the Department of Workforce Development and on their website, so you can check and see if they've been registered. So to come back with an answer that there is no data, means that they haven't been registered. This Government has allowed this to happen right under their noses. There's been a policy put in place to protect Bermudian jobs by leveling the playing field and they have run roughshod over that policy. What do we tell our people who are looking for these employment? What do we tell our people who are our there getting their national certification, who are paying their fee to get nationally certified and they are letting people come in here, get permits and not have to go through the same process. And they're not policing the process and fining the employers that are deliberately circumventing this law." Mr Rabain questioned how this could be reconciled with the former Minister of Home Affairs making statements "almost weekly" about "the great job we're doing" and "protecting Bermudian jobs", "all the while circumventing the law, all the while allowing employers to be issued work permits that are essentially illegal". Mr Rabain added that the One Bermuda Alliance Government insists "they have all the answers. The answer we are getting so far is, let's figure out a way to circumvent the law, let's figure out a way to say that we have over-employment because we are issuing out all these work permits, but we're issuing out work permits that contravene the very things we put in place to protect jobs for our people. 217 permits have been issued since 2013 and not one of them they can prove have either a qualification that exempts them from being nationally certified or that they've even been nationally certified. What are we going to do?" Mr Rabain also questioned the effectiveness of the Bermuda Job Board after the responses to his questions about the total number of jobs advertised there in 2014 and 2015 were that these numbers yielded no information. He said there was no data for how many jobs listed were filled by a Bermudian not registered at the Department of Workforce Development or the Job Board, a Bermudian registered at either one, or how many work permits were issued or renewed. While One Bermuda Alliance MP Jeff Sousa defended the "hard-working" staff at the Department of Workforce Development, he also stressed that Bermudians needed guidance about choosing professions with employment opportunities. "We need people to be landscape gardeners. This is something a lot of Bermudians don't want to do. And that has been the way for the past 40 years. When I was at the Department of Agriculture and Fisheries, you could count on one hand how many people were involved in horticulture in that department." While Mr Sousa said there had been positive changes since then, "more can be done". He suggested uniform job listings when it comes to professions such as landscaping, adding that he "hates" seeing job advertisements requiring landscapers to know how to graft citrus or to "not be afraid of large dogs. That is ludicrous and should not be tolerated."
June 5. A tradition dating back to 1849 — the Blessing of the Boats — took place this morning at the Chapel of Ease dock in St George's Harbour. The Right Rev Nicholas Dill, Bishop of Bermuda, and the Rev David Raths conducted the blessing after being rowed respectively by the Bermuda Pilot Gig Club in Harry Fox, and by members of the St George's-based TS Admiral Somers Sea Cadets in Lady Stockton. Parliamentarian Suzann Roberts-Holshouser helped to conduct the service, along with Demi Wight, Dylan Holshouser and Henry Hayward, while music was provided by members of the St George's Corps of the Salvation Army. The event dates back to the consecration of the Chapel of Ease. With no bridge connecting St George to St David's, four sons of clergymen volunteered to row the bishop across the harbour. As he passed through, the bishop blessed the boats that had gathered to watch. The tradition is now carried out every year, usually accompanied by a codfish breakfast. Visiting boats are invited to take part in the event, but are asked to first collect a flag from the Visitors Information Centre in St George's. Each boat in attendance was blessed and received a Certificate of Blessing saying, "Bless o lord this vessel and all who sail in her; may she be a trustworthy and safe servant."
June 5. Residents looking to beautify their neighborhoods can now participate in an innovative initiative managed by the Bermuda Tourism Authority. The Neighborhood Beautification Project, launched today, invites the public to submit applications online to receive support in making their areas look better. According to a BTA press release, successful submissions will get the tools and expertise of local businesses and organisations to plan, organise and implement a series of activities resulting in the beautification of the roadway in their area. BTA chief operating officer Karla Lacey said in a statement: "Not only does this initiative serve a practical purpose, such as clearing and beautifying roadsides in Bermuda, it also serves to reconnect residents by providing an opportunity to create and maintain something special together that directly impacts where they live. "The outcome will be beneficial to their neighborhood and to Bermuda and our tourism product as a whole." Eligible neighborhoods must be near a visitor destination or in a tourism transportation corridor. The neighborhood also must designate a team leader who will be responsible for organising volunteers and ensuring beautification standards are maintained throughout each phase of the three-part initiative. A full list of criteria is available on the BTA's corporate website where applications can be submitted electronically. Resident volunteers from Horseshoe Road and Lighthouse Road participated in the Neighborhood Beautification Project as pilots earlier this year with the BTA reporting diverse resident engagement, clear aesthetic results, and positive feedback. Dave Blakeney, neighborhood leader at Lighthouse Road, said: "These efforts are done out of love for our Island," said. "We are Bermudians and residents working together to shine our light for the community and tourists who visit our island." SAL Limited, Keep Bermuda Beautiful, Bermuda Landscaping Association and Southampton Parish Council have all partnered with the BTA during the pilot process. Applications will be accepted online until June 30. Successful submissions will be notified at the beginning of August and prioritized to enter the program from September onward.
June 3. Sessions House, the home of Bermuda's Parliament, is due for renovations. The House of Assembly building will have its windows replaced, and its terracotta exterior restored, while the southeast entrance has been closed off for restoration works. Suzann Roberts-Holshouser, the One Bermuda Alliance MP and member of the House and Grounds Committee, said renovations will continue on the first floor throughout the year. Certain offices, including the office of the Speaker, will be moved to the Swan building on Victoria Street as of August 1. Meanwhile the Senate is expected to temporarily relocate to courtroom two while the Cabinet Building undergoes its own renovations.
June 3. Regulators have ordered Belco to phase out special discounts given to employees and hotels over the next two years, arguing that the public is effectively paying for them. The Energy Commission has also demanded the electricity provider scrap its "convenience fee" on credit card payments. The revelations came in the EC's 76-page filing, just published on the government website, which shines a light on almost a year of deliberations that ended with Belco being given permission to raise electricity tariffs from this month. The document also reveals that Ascendant Group, parent company of Belco, plans to use a captive insurance company to try to reduce its insurance costs. And the EC is also calling for Ascendant to provide more details on shared services within the group to address concerns that Belco customers might effectively be subsidizing Ascendant's other businesses. The EC, whose chairman is Michael Leverock, is due to hand over regulatory responsibility for the electricity sector to the Regulatory Authority this year. As a regulated utility, Belco must adhere to the regulator's directives. In the filing, the EC states on discounts: "The Commission finds that the embedded staff and special hotel discounts are not in the public interest whereby the public pays for these discounts without regulatory approval." In its final ruling, dated May 13 this year, the EC orders Belco: "All staff, hotel, special groups, or any other discounts applied to both the base and fuel adjustment rates (with the exception of the waiver of the facilities fee to the Bermuda Government's Social Assistance programme and the quick payment discounts) shall be phased out over a two-year period commencing on the date of this letter." All customers receive a 5 per cent discount for early payment, but some get additional help, Belco's submissions reveal. The Bermuda Government, for example, receives an additional 5 per cent discount, which enables it to save more than $1.5 million on its annual bill. Bermuda Hotel Association members also get a 5 per cent discount during the November-to-April shoulder season, due to end when government payroll-tax concessions for the hospitality industry are halted. Two hotels, the Hamilton Princess and the Fairmont Southampton, receive an additional 5 per cent discount, all year round. A submission from Belco in the filing states: "This was originally negotiated in the early 1990s when the hotels were seeking to self-generate and disconnect from the grid. The disconnection would have caused a shift in the costs to the remaining customer base and this was agreed an incentive for them to remain on the system." Belco employees receive a 25 per cent discount on their electricity bills on top of the early-payment discount, a deal the utility said was "initiated as an agreed alternative to base salary increases during union negotiations. The company pays for this cost and does not recover it as a part of the cost of service to customers," Belco added. "All non-Belco entities in the group of companies pay Belco for the costs of any employee electricity discounts they have." On credit-card payments, the EC directed: "The convenience fee charged to customers for the use of credit cards for bill payments shall be discontinued. "Efforts shall be made simultaneously to facilitate the use of all credit and debit cards currently utilised in the market as soon as practically possible." Belco customers can pay with MasterCard and a fee of 2.04 per cent is applied. The EC argued the fee is a disincentive to using credit cards to pay the bill and that it would be in the public interest to discontinue it. Belco had argued that scrapping the fee would result in many more people using cards to pay bills. And the fees applied by credit-card companies would have be spread across the whole customer base, or "socialized". This would "unfairly allocate costs" to those paying by other means, Belco said. "Currently the expense to those who use cards to pay their Belco bills is approximately $45,000 per year as a group," Belco stated. "This could instead exceed a million dollars if costs are socialized." Ascendant's plans to insure some of its own risks — initially coverage of plant, property and equipment — through a captive insurer were also outlined in the filing. "Belco is spending in excess of $2 million per annum on this business class with a $750,000 deductible per incident," Belco stated. "Belco also has currently uninsured lines of business including the distribution system, which incurred unplanned expenses of more than $4 million in 2012, funded from the balance sheet and unrecovered from customers." Actuarial analysis of Belco's claims history indicated a forecasted loss of $531,000 per year. "Ascendant agreed to finance the risk at the $500,000 premium level, providing a maximum $750,000 of cover per annum for claims," the firm stated. "The analysis suggests a 40 per cent chance of no claim within in given year hence any premium payments retained could be accumulated and used to offset the larger and less frequent events that require significant cash to pay for unplanned events and damages." Ascendant Bermuda Insurance Ltd is licensed by the Bermuda Monetary Authority as a captive insurer and was incorporated in April 2014, according to the Registrar of Companies. "The captive represents a transition from our historic 'pay as you go' mode of operating for the first loss/deductible, which requires unexpected financing from our balance sheet, to a vehicle that offers to smooth out some of that volatility," Belco argued. On shared services, the EC demanded greater transparency from Belco on cost allocation. "The Commission finds the perception remains that Belco substantially subsidies its parent entity. Shared services, loans and insurance risks are examples. Efforts to regularize cost/benefits would be encouraged to place Belco in a more favorable position in this regard." Ascendant said that some services were shared among the whole group, including finance, IT, human resources and transportation and that this "results in savings for Belco and its customers". Such services were budgeted and costs allocated to various businesses taking into consideration system usage and budgeted effort, for example. Ascendant director costs were attributed 50 per cent to Belco, while the cost of group executives was charged out on an allocated effort basis. Asked for an update yesterday, a Belco spokeswoman said: "Belco is in the process of developing responses, initiatives and timelines around each of the Energy Commission's directives and will be getting back to the Commission with proposals to address all of the directives." The filing is also loaded with technical analysis. The EC approved an allowed return on equity of 7 per cent for 2016 and 8 per cent for 2017. The new rates, which will take effect this month, will result in residential customers paying 8.7 per cent more for the first 250 kilowatt hours used. For the next 550 kWh used, there will be a 5.7 per cent increase and for the top tier — anything over 700 kWh — a 17.7 per cent hike will apply. The graduated facilities charge will also rise by between $5 and $20 per month, depending on the amount of electricity used. Commercial rates will go up between 16.6 per cent and 22.4 per cent.
June 3. A Bill that could see "modest" taxes on the City of Hamilton's sewerage system bring in $400,000 annually was passed in the House of Assembly yesterday. During the debate of the Hamilton Sewerage Amendment Act 2016, Grant Gibbons, the Minister of Economic Development, said the levy for commercial properties with an annual rental value of more than $100,000 would likely reach a maximum of $250 a year. Properties with an ARV of $30,000 could expect to be charged around $75 a year. "It's important to stress that what we're talking about is a capital tax to provide a revenue base for upgrades to the sewerage system," Dr Gibbons said, calling the charges "pretty modest". Roughly 2,300 valuation units within the city are connected to the system. There are 28 commercial premises and seven residential units outside the city connected. The city generates about 45 per cent of the total sewage, which is ultimately pumped off the South Shore, a practice that Dennis Lister of the Progressive Labour Party said was "long past its shelf life" — although the Opposition supports the legislation in main. Mr Lister said the system needed to move beyond screening the sewage to proper treatment, and referred to incidents in which waste matter had washed up on beaches. Sewage from Hamilton is dumped offshore via the Seabright Outfall, just west of Hungry Bay in Paget. "The system is ageing, and its risk of breaches or other problems increases year on year," Dr Gibbons said. "Given the increasing age of many parts of the sewerage system, the City of Hamilton envisions increasing risks of failure to one or more parts of the system." Hamilton's sewerage system includes significant entities outside the city limits, Dr Gibbons told the House, including schools, hotels and King Edward VII Memorial Hospital.
June 3. Some form of reprieve for pitbulls could be among the amendments now under consideration for Bermuda's dog legislation. However, Cole Simons, the Minister of the Environment, has refused to commit to calls from the Opposition to halt the policy of euthanising banned dogs. "I am currently assessing the policy, and will come back with recommendations," Mr Simons told the House of Assembly yesterday. The minister told The Royal Gazette that animal wardens were putting down 80 to 100 dogs a year. "Let's make clear: I am an animal lover; I have horses, dogs and geese, and I am empathetic on this issue. If you look at the Act, it says that the minister looks out for the welfare of dogs. But we have to abide by the law and the policy that is there to protect the best interests of the community." Mr Simons said it was his intention to have changes to the law gazetted during the present session of Parliament, but stressed that suggestions from canine advisory boards were being examined, and had not been committed to. He told MPs that "shortcomings" in the 2008 Dogs Act would be quickly addressed, allowing the Bermuda Government to revisit controversial breed-specific policies. PLP MP Dennis Lister voiced support for the amendments, noting that he had been minister when Bermuda's list of banned breeds was first enacted in 2003. Mr Simons agreed to Mr Lister's suggestion that the 2015 recommendations of the canine advisory committee be tabled in the House. Parliament heard in January that recommendations from the committee included allowing "pitbulls of appropriate temperament" to be taken off the list. But the minister said dog owners needed to "take ownership of the misdeeds", noting that a 2001 to 2012 tally of dog incidents showed that pitbulls were responsible for 772 offences ranging from the biting of humans to threatening behavior. The next breed category, German Shepherds, were blamed for 134 incidents. "That's a big gap," Mr Simons said. "The statistics speak for themselves." After consultation, the Act is to come back before legislators to help "bridge the gap between the desires of those who want to own a prohibited or restricted breed, and the need for the Government to maintain security in the community". Amendments to both the Act and the prohibited list will be presented "in short order", Mr Simons added. The seizing and putting down of banned dogs has a long and emotive history, although dog owners now have the option of exporting their animals as an alternative. The House heard in May 2015 that owners of seized dogs had on occasion camped outside the government kennels, and even attempted to break in for their pets. Opposition MPs tried repeatedly in yesterday's session of Parliament to get Mr Simons to give a yes or no answer on calling off the euthanising of dogs, which Acting Opposition Leader David Burt said was a ministerial policy that could be called off at any time. Mr Simons refused to be drawn on the issue, saying merely that he was assessing the policy — and that "all options are on the table at this time."
June 3. A Canadian airline passenger has admitted assaulting three police officers minutes after landing in Bermuda. Madeline Masters, 28, also pleaded guilty to offensive and indecent behavior, after urinating on one of the officers she had just assaulted. Masters landed at L.F. Wade International Airport at 1.47pm on Thursday aboard a WestJet flight from Toronto, and was due to enjoy a five-night holiday staying with a friend in Knapton Hill, Smith's. Once the plane had stopped, the defendant — who had been unruly during the flight — bolted to the front and stepped outside. She proceeded to behave aggressively towards security and customs officials, who had been informed of her conduct and were standing by. Five officers from the Bermuda Police Service arrived shortly afterwards and tried to arrest Masters, who told them: "Get your f*****g hands off me." The defendant then threw herself backwards, causing one officer to hit her head on the ground. While she was on the floor, Masters began kicking out violently — catching one officer in the face — until a third officer managed to restrain and handcuff her. As police were leading her away, Masters bit an officer on the forearm, leaving two two-inch marks, and said: "Let my f*****g hands go." She then kneed another officer in the stomach and urinated on her once she was down. After Masters had been taken to Hamilton Police Station, a half-empty bottle of Jack Daniels was discovered in her luggage. In Magistrates' Court yesterday morning, defence lawyer Charles Richardson explained that Masters had been travelling alone and bought the whiskey at duty-free to help cope with her severe anxiety of flying. He added that the veterinary nurse had not shown any indication of a substance abuse problem, and had instead been "overmedicating", which led to her "totally unacceptable" behavior. "I think the regret and the remorse is self-evident," said Mr Richardson of Masters, who appeared highly shaken and had extensive bruising on her arms and legs. "Worse than that, she's downright ashamed." He added that the incident was "totally out of character", that Masters did not remember it and that she would not have believed her behavior if anyone other than police officers had told her of it. The charges against her were whittled down to four, after prosecutors agreed to drop one count of using threatening words, which stemmed from the defendant telling officers: "I'm going to f*****g kill you." When asked to explain herself in court, Masters said: "I'm really sorry. I regret everything. I'm ashamed, embarrassed and disgusted with myself. That's not me. I spoke to my mum last night — she's upset and she's disappointed." The defendant also apologized to her friend, who accompanied her to the hearing, and said that she would seek help from a therapist on her return to Canada. She added: "This was one time and I will never do this again. I don't ever want to drink again, because I'm afraid this will happen." Senior magistrate Juan Wolffe agreed with the prosecution that a fine would be the most appropriate course of action. He warned Masters of the serious nature of assaulting police officers, but added that he was taking into account her guilty pleas, her expression of remorse and her clean criminal record. Mr Wolffe also said that he believed the incident was a one-off, that it stemmed from an anxiety of flying and that the defendant would seek professional help. He fined Masters a total of $3,000 — $750 each for the three counts of assault and the one count of indecent behavior. Mr Wolffe added that he would allow immigration services to handle the defendant's exit from Bermuda, where she has formally been denied entry.
June 3. Thieves stole a collection of historic coins from the Bermuda Historical Society Museum for the second time in two months. Now president Andrew Bermingham is questioning the future of the museum. The coins, which he described as "Bermuda treasures" with some dating back to 1200, were taken after thieves smashed through the rear window on Wednesday night and accessed a glass cabinet inside the building. Mr Bermingham told The Royal Gazette: "We seem to be in a phase right now where nothing is sacred. Frankly, given the fact that we run this on a purely volunteer basis, one wonders whether it is all worthwhile. "The issue is I have to take into account the welfare of the predominantly female volunteers who work here. "There have been some unsavory moments and the volunteers are fearful. I can't expect volunteers to man a museum in security and safety if we are going to be subject to this wanton theft of historic Bermuda treasures. We open every weekday of the year January 1 to December 31 as a public service to Bermuda. The museum charges nothing for admission and is done as a free service for Bermuda, its residents and visitors. We have security plans for ourselves but if this type of behavior is a trend that we cannot combat then I will have to think about its long-term future. We cannot sustain this sort of loss when we have to fund our own way." Mr Bermingham was visibly distraught adding: "If people have a conscience they can return the items to the museum." This society was founded in 1895 and its been in its city centre location since 1957. The Bermuda Police Service said that it was investigating the incident.
June 3. Caribbean-based multinational financial services firm Sagicor is next week set to back a move to Bermuda. Shareholders of the Barbadian company will vote next Wednesday on redomiciling after the firm was hit by the downgrading of Barbados's sovereign credit rating to B from BB- last year. Bermuda's sovereign credit rating was in April affirmed as A+ by Standard & Poor's. The Barbados downgrade meant that Sagicor Life's rating also dropped, from BB+ to BB-, while Sagicor Finance Ltd's $150 million ten-year senior unsecured notes were rated B as "ratings on life insurers are capped at two notches above the sovereign rating of the country of domicile". The firm, which has been registered in Barbados for 170 years, would have earned a sovereign credit rating of BB+ based on its own performance. Sagicor, in a statement to shareholders, said: "In order to improve the company's ratings, both corporate and securities, the company is seeking approval to redomicile into Bermuda, which is an investment grade-rated country. This would be achieved via a corporate migration, or continuance, of the company in Bermuda and the discontinuance of the company in Barbados. It is anticipated that on successful continuance into Bermuda, which has a stronger and more stable sovereign rating when compared with Barbados, Sagicor Financial Corporation could reasonably expect to receive a Standard & Poor's rating lift to BB+ unhindered by the restrictions of the current Barbados rating." The company statement added: "Improvement in the company's rating would result in reduced cost of capital, increased attractiveness to regional and international investors and all the attendant ancillary benefits flowing therefrom. Accordingly, the board is pleased to present this re-domiciliation proposal to all shareholders for approval." Only holders of common shares and convertible redeemable preference shares of the company will be allowed to vote and the Sagicor board is confident they will back the proposal at next week's meeting. But the change is unlikely to bring a major jobs boost to Bermuda as the firm would retain its base in Barbados and continue to be taxed there, although it would require an address and resident representative on the island. The statement said: "No physical relocation of any SFC business in Bermuda is required. Additionally, the continued Sagicor Financial Corporation will have a registered office in Bermuda." Sagicor examined relocating to several locations, including Britain, Ireland, Switzerland, Luxembourg, Canada, Trinidad & Tobago and Holland, before deciding on Bermuda. The company said that Bermuda was chosen due to the ease of redomicilation, tax impact, ratings stability and reputational risk, as well as its good rating internationally. Sagicor said: "Bermuda is rated investment grade, it has a very tax-friendly regime, it had no regulatory hurdles for our business and the ease of continuance meant it could be achieved in the most efficient way." The company operates in 22 countries in the Caribbean, the US, Britain and Latin America.
June 2. The Premier will today ring the closing bell at the New York Stock Exchange. Michael Dunkley has been invited to perform the traditional afternoon ceremony at the world-famous exchange after he takes part in a major conference on disaster recovery in the city. The New York Recovery and Resilience Leadership Forum, organized by Bermuda-based reinsurer RenaissanceRe, takes place today at the NYSE and will involve nearly 200 policymakers, insurance industry experts, scientists, and environmentalists. Mr Dunkley will speak about Bermuda's major role in the property and catastrophe reinsurance market and its supply of services to US insurers. The Premier will also be interviewed by Bloomberg, the prestigious business newspaper the Wall Street Journal and others. The conference was organized to discuss lessons learnt after Superstorm Sandy hit New York four years ago, causing massive flooding and damage. Other speakers include Samantha Med lock, of the US White House Office of Management and Budget. Kevin O'Donnell, RenaissanceRe's chief executive officer, said: "As the 2016 Atlantic storm season commences and with the impact of Sandy still being felt, this Forum and these conversations are timely. RenaissanceRe will continue to work with our clients, brokers and other partners worldwide to accelerate resiliency and to close the natural disaster insurance coverage gap that leaves communities too exposed." Stephen Weinstein, group general counsel at RenaissanceRe and chairman of its Risk Sciences Foundation, added: "The rising risks of natural disasters are too material to be solved by any one stakeholder group and open discussion among government officials, business leaders, researchers, environmentalists and others is critical to both identifying solutions and seeing to their implementation. We are grateful for the participation of so many committed leaders at this forum."
June 2. The Supreme Court has upheld a finding that a construction company only hired "black faces" to justify requests for work permits. In a 2012 ruling, the Human Rights Commission found that Apex Construction Management Limited had discriminated against Bermudian carpenter Pernell Grant on the grounds of his nationality. Appeals were filed by the company and two other respondents — Andrea Battiston, the company's operations manager, and Kevin Mason, the site superintendent — however, the court heard the company was struck off the register before entering the compensation phase of proceedings. During the initial hearings, Mr Grant complained that the respondents offered him employment on terms less favorable than those offered to Polish and Canadian contract workers. He further alleged that he was denied the opportunity to work overtime and suffered reprisals based on staged or false complaints. Mr Battiston was said to be directly involved in hiring and managing employees while, according to Mr Grant, Mr Mason was on occasion responsible for allocating overtime. In a 15-page ruling, a Board of Inquiry stated: "The respondents had absolutely no intention of training or promoting Bermudians generally, or black Bermudians in particular. "We are under no doubt at all that the respondents wanted 'black faces in the hole', that is black workers on the site in order to support their claims for work permits for contract workers." However, the board found that Mr Grant's complaints about not being given overtime opportunities may have been caused by his insistence on being paid one-and-a-half times the base wage for work beyond 40 hours while other workers received "straight time". In a judgment issued on Tuesday in the appeal by Mr Battiston, the Chief Justice Ian Kawaley found that while Mr Battiston had a central role in the case, it was unclear on what basis Mr Mason could have acted in a discriminatory manner in any systemic sense. He added that the board should have distinguished his position from that of the company and Mr Battiston. And while the Chief Justice found other "imperfections" in the board's handling of the matter, he wrote that the technical errors discovered caused "no substantial injustice". "The board found that discrimination was proved; not on the primary pay-related grounds (which were not made out), but on the subsidiary ground that black Bermudian workers were hired as a low-grade employee class with no promotion prospects and with a view to obtaining work permits for foreign workers to do the 'real work'," the judgment stated. "It is almost always possible to find fault with a decision rendered by a fact-finding tribunal. In the present case this court is satisfied that no substantial injustice flowed from the decision of the board in the course of the hearing to focus on the ancillary non-pay related discrimination issues which were dealt with in evidence and any imperfections of expression in the way the crucial conclusory findings were recorded in the board's decision." Dr Justice Kawaley concluded: "The board bemoaned the fact that the parties were not prepared to proceed immediately to the compensation phase. This anxiety was propitious. The three respondents to the complaints all filed appeals which they did not pursue for two years until the respondent applied to strike them out. The respondent's corporate employer, the company, had by then been permitted by its owners to be struck off the register. They have, apparently, left a former senior employee to 'carry the can' on his own. Hindsight suggests that tribunals should insist that when complaints are proved the relief stage is dealt with as soon as possible thereafter before any appeal rights in respect of liability are pursued."
June 2. Nicole Stoneham has become the island's latest justice of the Supreme Court, after a brief ceremony held in Government House. "This is a special occasion, for the about-to-be Justice Stoneham, but also for Bermuda," the Governor, George Fergusson, told the gathering. "We don't have so many judges, and the arrival on the scene of a new judge is a big landmark." Yesterday's swearing-in, with Mrs Justice Stoneham reciting the traditional oath before family, friends and colleagues, was the first new addition since the appointment of Puisne Judge Stephen Hellman in 2012. Mrs Justice Stoneham, who has served in Magistrates' Court since 2010, then joined the Supreme Court to applause, with Chief Justice Ian Kawaley rising to congratulate her, and mother Carol Stoneham looking on. Puisne judges are appointed at the recommendation of the island's judicial and legal community, Mr Fergusson noted, also congratulating the recently retired Norma Wade-Miller for her years of service to the courts.
June 2. The Deliverance, a top East End historical attraction that suffered serious damage in the 2014 hurricane season, has been given a boost for its restoration. The first ever Marine Expo in St George drew more than 2,500 people on May 1, with some of the proceeds earmarked for repairs to the replica ship by the St George's Foundation. Foundation member Peter Frith thanked expo organizers for the group's inclusion as a lead attraction in the roster of events on land and sea. Mr Frith also thanked the Bermuda Economic Development Corporation, along with sponsors, for the donation to the landmark vessel. The expo drew more than 50 vendors, ranging from boat dealers, government agencies and water sports groups to children's activities, the Bermuda Institute of Ocean Sciences, and children's sailing courtesy of the Endeavour Programme. America's Cup sailors were on hand for a race, autograph signings and to meet with the public. Ray Lambert, the BEDC economic development officer for the Olde Towne and a member of the expo committee, commended the community and business owners for rallying around the Deliverance, an icon of the island's early maritime history. Jermaine Simons, sales manager of RUBiS Energy Bermuda Limited, said the company had been all too happy to pitch in as the lead sponsor. "One of the aims of the expo was to honour the maritime history of Bermuda. The Deliverance represents a key turning point of our maritime history. We feel that it is important that generations of Bermudians and visitors should be able to imagine life in the 17th century. RUBiS is very proud to assist such a memorable replica of our past."
June 2. The rusted building materials by the St George's swing bridge are a "precautionary measure" while strengthening work takes place, the Ministry of Public Works has said. A spokeswoman added that although the Bailey bridge materials were originally intended to relieve the weight restriction on the corroded infrastructure, engineers had since developed a better alternative. Instead, the fortification work will be done from below, helping to reduce traffic build-up and improving emergency vehicle access. "This also frees the Bailey bridge to be used for its intended purpose — for emergency situations during the hurricane season," she said. The swing bridge — which links St David's to St George's — has been closed since April 2014, allowing motorists across but not opening for ships attempting to pass through. Minister of Public Works Craig Cannonier has described the structure as "seriously compromised" and promised that the issue has been assigned priority status. February's 2016-17 Budget statement revealed that $20 million has been set aside to fix the swing bridge. The spokeswoman added that the construction parts did not rust due to being left outside since January, but that the disassembled Bailey bridge was more than 30 years old, having been acquired from the British Army. "Some components now require refurbishment or replacement," she said. Regarding the upcoming strengthening work, the spokeswoman added: "A contract for these interim works is expected to be awarded shortly, and will take roughly eight to 12 weeks to perform. Requests for proposal are in development for the replacement of the actual bridge, and a temporary bypass route to allow the work to take place."
June 2. Bermuda's overburdened care home system has "collapsed", leaving many elderly Bermudians "virtually refugees in their own country", a seniors advocate has claimed. Carol Everson, a welfare caseworker for the Bermuda Legion, called for a drastic overhaul of the island's policies. "Bermuda does not just need more care homes, it needs better-equipped, staffed and managed homes," she said. With plans falling through for a veterans' nursing home in St George's, Keeona Belboda, the manager of Ageing and Disability Services, also warned that the island's existing homes are "at capacity", and that there is a "real gap" in dementia and Alzheimer's care. "We have an abundance of residents out there who need placement, but there's nowhere for them to go," Ms Belboda said. "That's something we have to look at in the very near future. The three existing nursing homes that are properly qualified to take in patients with dementia — Westmeath Residential and Nursing Care Home, Sylvia Richardson Care Facility and Lefroy House — are full to capacity with closed waiting lists. Families are calling every day in the hope of securing a vacancy for a loved one," she said. Increased life expectancy, a trend occurring throughout the Western world, is placing a corresponding strain on services for the elderly. This problem is exacerbated in Bermuda by a decrease in budgets across the board, as the Government attempts to reduce its deficit, a move that Ms Everson condemned as "deplorable". The last Government census, compiled in 2010, revealed a 29 per cent increase in the number of seniors on the island since 2000. In terms of the overall population, senior numbers rose from 11 per cent to 14 per cent. The Department of Statistics suggested that by 2030, this figure may spike to 22 per cent. Some 22 homes with a total of 399 beds are listed under the authority of the Chief Medical Officer. According to the Ministry's most recent data, provided by the Care Home Administrators, there are 368 seniors currently in homes and 31 available beds in the community; the majority of these are rest homes or assisted living beds. The waiting lists are held by individual homes. "As the number of vulnerable seniors increases, the situation steadily worsens," Ms Everson said. She added that the Bermuda Legion is aiming to raise funds for a dedicated nursing home to help to care for some of its more than 200 Second World War veterans and their widows. Plans were discussed to buy the Jerry's House in St George's from addiction charity Focus in late 2015, but the 3.3-acre property was ultimately withdrawn from sale. "The present support structure for the elderly has collapsed under the weight of numbers," Ms Everson said. "Too many elderly Bermudians are now virtually refugees in their own country, with only a very uncertain future to look forward to in their final days." Ms Belboda said that ADS is attempting to offset the issue by encouraging families to look after their elderly relatives at home — with benefits and financial assistance offered to ease the burden of cost. And although ADS does not place residents into care homes directly, its case managers can serve in an advisory capacity when required. "When an individual's needs change, and they may require a more skilled level of care, then we have to look at potentially transitioning them into a residential care home," Ms Belboda said. "We make suggestions to families about the care needs of their relatives, and on the beds that are available in the community. The family is then responsible for orchestrating the move." Prospective care home operators looking to meet the market's demand must be driven by passion rather than profit margin, she advised. "Rent, staffing, utilities — all of the costs add up, and there's not a lot of wiggle room left. We're very frank with people who want to run a care home, so they are very clear on what it takes to run one successfully." As well as considering new proposals, ADS is attempting to raise the quality of the island's existing care homes. Facilities that were found to be beneath the acceptable standard have been given one year to reach full compliance or face closure. "We have monthly meetings with each care home administrator, and they're really making strides to improve their standard of service," Ms Belboda said. "It's not going to happen overnight, but we have to be fair to our process and give them time to do so." A Ministry spokeswoman added: "The Ministry is keenly aware of the limitations of existing legislation and enforcement with respect to the regulations of homes. Accordingly, the 2015 Throne Speech noted our commitment to amend legislation to strengthen the protection of seniors, including modernizing the residential care homes and nursing homes regulations to improve standards and enforcement powers. This work is under way, building on the Seniors Law Reform recommendations from the Seniors Advisory Council. The work is at early stages and the Ministry will update the public at the earliest opportunity."
June 2. Governor George Fergusson has paid tribute to two sailors with strong Bermuda ties that perished in the infamous Battle of Jutland during the First World War. Mr Fergusson's comments came as a special service was held in Orkney on Tuesday to mark the centenary of the largest naval battle of the two-day conflict, in which more than 8,500 British and German servicemen died. "Bermuda's links to the sea and the Royal Navy are part of its historic identity," said Mr Fergusson. "Tuesday's anniversary of the biggest naval battle of the First World War, at Jutland, is a reminder of that and of Bermuda's sacrifices in times of war. Two Bermuda-linked Petty Officers, Walter Ernest Newton, and George Temple, born in Somerset and later of Portsmouth, England, were killed on 31 May, in HMS Fortune and HMS Invincible respectively. Their deaths and those of more than 6,000 Royal Navy colleagues and 2,500 German counterparts, were marked on Tuesday at a ceremony in the Orkney Islands, where the Royal Navy fleet was based. The first Bermudian casualty of the First World War was also in the Royal Navy; William Edmund Smith of Sandys Parish, on HMS Aboukir in September 1914." Petty Officer Temple was born in Bermuda on December 31, 1879. His father had also served in the Royal Navy and it is believed that is why Petty Officer Temple was born on the island. He went on to live in the naval city of Portsmouth in England and was 37 when he died in the Battle of Jutland. Meanwhile, little is known about Petty Officer Newton's Bermuda links, although the Commonwealth War Graves Commission states that he was "son of Walter John and Ellen Maria Newton of Bermuda, late of Portsmouth and husband of Ellen Newton, Whitworth Road, Alverstoke, Gosport." Mr Fergusson added: "On a more personal note, my great-uncle, James Fergusson, served at Jutland on HMS Thunderer, and survived to serve in the Navy in Bermuda in the 1920s; and a cousin of that generation, Alexander Boyle, served in the battle in the New Zealand ship HMS New Zealand. My guess is that very many Bermudians would find, if they have access to their family history, or talk to some of their older relations, that they had links to this battle. It was a crucial battle in the war, but the loss of life was appalling; and the conditions must have been grim and terrifying."
June 2. The head of a car sales firm has stepped down after 15 years in the driving seat. Bermuda Motors' general manager Michael Butler has been replaced by Krishna King, who has moved up from his role as after-sales manager for parts. David Gibbons, chairman of Bermuda Motors, said: "I would like to thank Michael for his considerable contribution during his time with the company. He has guided us through the significant challenges presented by the recession and the slump in vehicle sales and now leaves Bermuda Motors with a very sound foundation and pre-eminent position in the industry. Going forward, I look forward to working with Krishna to build on the legacy left by Michael." Mr Butler, who will remain at Bermuda Motors in a consultancy role until the end of the year, is to return to his native UK with his family. Mr King has worked for the firm for more than 25 years, starting part-time while still a Bermuda College student, and has been parts manager for 12 years. He said: "I have certainly seen a lot of changes in automobile technology including the modernization of logistics in parts and service, going from fax and e-mail to instant ordering, website uploads and live inventory checking with our manufacturers. The globalization of our business and sourcing of parts provides constant challenge to keep that balance of service and cost to keep our customers satisfied." Mr King added that he had learnt about the Japanese principle of kaizen — continuous improvement — while on a training course in Japan in the 1990s. He said: "Over the years, I have tried to apply this principle in all I do and will continue to do in my new role as general manager. Equally important for me is to recognise our staff and help them reach their full potential by working with kaizen in our processes, operations, facilities, products and service to building better customer service and strengthening our manufacturer relations. That is my goal. I look forward with confidence to the new challenges ahead and wish Michael much success as he starts a new chapter in his life." Mr Butler said: "I have thoroughly enjoyed the challenge as general manager of Bermuda Motors. I am particularly proud of the fact that I helped Bermuda Motors become the leading vehicles sales company on the island. During a period of great technological change and a challenging economy, we increased our range of models and have led the island in private car sales for the past three years. I've enjoyed working with a dedicated and talented team to greatly improve our level of customer service, after sales and the complete modernization of our paint and body shop. I wish Krishna all the best as general manager and I hope he can take the company to even greater heights." Bermuda Motors, based in Hamilton, distributes BMW, Fiat, Ford, Kia, Lexus, Mini and Toyota cars, vans and trucks, as well as Kymco motorbikes and scooters."
June 2. Drinks giant Bacardi has launched a fresh salvo in a rum war with Cuba. For Bacardi is to mount a major marketing push for its Havana Club brand — a trademark whose ownership is disputed with the Communist regime in Cuba. The trademark originally belonged to Cuban rum-makers Jose Arechabala, whose family company was seized and nationalized after the Fidel Castro-led revolution in 1959. The family left Cuba, stopped producing rum and allowed the US trademark to lapse in 1973. The Cuban government registered the trademark in the US in 1976 and it was assigned to French partners Pernod-Ricard in 1993. Since 1994, Cuban Havana Club has been sold around the world — but not in the US. Bermudian-based Bacardi obtained the Arechabala family's remaining rights in the brand in 1994 and began selling limited amounts of Havana Club in the US, which sparked a legal battle with Pernod Ricard, which was successful in two of the first three court decisions in the matter. After further legal battles, the Cuban government's US trademark registration expired in 2006. But in January, the US government gave the Cuban government rights to the Havana Club name — a decision Bacardi insists should be reversed. Fabio Di Giammarco, the global vice president of rums at Bacardi, said: "This is the ultimate convergence of two Cuban families in exile coming together to continue the legacy of this incredible brand and introduce it to a new generation." He added: "It is an honour that the Arechabala family has entrusted us to continue their family's legacy and have no doubt that we'll be able to bring to life all the things that make it a legendary brand." Bacardi maintains that the renewal breaches a 1998 Act of the US Congress designed to protect trademarks taken over by Cuba after the revolution which deposed dictator Fulgencio Batista. The company told a US House of Representatives committee in February that the approval had been granted by the US Patent and Trademark Office after "years of inactivity" within 48 hours. The Havana Club national launch by Bacardi, which includes new bottle packaging and the introduction of a dark rum variant, Havana Club Anejo Clasico, which was launched in Florida yesterday. The rum will be introduced across the country over the summer. Jose Arechabala, great-grandson of the brand's founder, said: "Our family could not be happier that Bacardi is launching Havana Club Anejo Clasico, which is based on the original recipe created by the Arechabala family in 1934 and made in Puerto Rico, to be sold alongside the existing Havana Club Anejo Blanco. "Our families knew each other before we were both exiled from Cuba and with Bacardi being the premier rum company in the world, it's only fitting that they continue our legacy by paying proper homage to the capital city of Cuba, a place we once called home." The brand will be launched with a new campaign "The Golden Age, Aged Well", which evokes the glamour of pre-revolution Cuba, and includes the slogan "Even A Revolution Couldn't Topple the Rum".
June 1. America's Cup teams will take centre stage for a showpiece event in Dockyard on June 25. Foil Fest 2016, will be hosted by America's Cup Bermuda, in conjunction with West End Development Corporation, and will feature Artemis Racing, Oracle Team USA and SoftBank Team Japan. People will be able to witness the incredible speed and technology of the hydrofoiling catamarans, as well as tour the Dockyard bases of Oracle and Team Japan. Artemis Racing will have a public presence at the event. A free event village will offer other family-friendly activities, while all three teams will also have their AC45 catamarans on moorings at Dockyard for public viewing. The sailing teams will then take to the water later in the afternoon for a series of drag races to showcase the incredible speed of the race boats that are in the testing phase at present, as the teams design and build their official boats for next year's finals. Mike Winfield, chief executive officer of ACBDA, said in a statement: "The boats will do their speed runs right next to the cruise ship docks in Dockyard so that the spectacle can be enjoyed as easily on the shore as on the water. "These boats are much more powerful, and faster, than the ones we saw in October and the teams are all very excited about showcasing them to the people of Bermuda, one year out from the America's Cup in 2017." On shore, there will be a series of events, including free zip line and kids zone, food, beverage and other vendors, plus taster sessions with the America's Cup Endeavour programme will ensure something for all ages. Andrew Dias, general manager of Wedco, said: "We're looking forward to having the public come out to Dockyard and get another taste of America's Cup excitement. There's been so much progress in Dockyard this year and people will enjoy getting a feel for that, too." Mr Winfield added: "We've come up with a concept that will allow broad participation both on shore and on the water. It's going to be a lot of fun for all who participate, including the America's Cup teams. This is being specially planned and presented for the people of Bermuda, so we don't want anyone to miss it." Foil Fest 2016 will take place from 11am to 4pm on June 25. More details concerning parking, the schedule of events and transportation will be shared in the coming weeks.
June 1. Bermuda will face a massive test of its defences against dirty money linked to money laundering and terrorism next year. And David Harper, a director at professional services firm KPMG and an expert in the field, warned that the inspection by the Caribbean Financial Action Task Force was crucial to the island's future as a major financial centre. Mr Harper explained that real estate agents and high value dealers like jewelers and boatyards will come under more scrutiny as part of an international effort to crack down on crime. He said those involved in the financial sector, like banks, law firms and accountants, were already regulated with checks to ensure they were not used to launder dirty money. Mr Harper added: "If you add all that up, it's a huge proportion of the business population. That's going to mean a lot of work on compliance programmes. Other sectors will now come under the same kind of safeguards as banks, which now demand considerable amounts of personal information before accounts are opened. If people buy real estate, they will request that from them, if they a boat with cash, the boat dealer will ask for it. People shouldn't be concerned — it's just part of the process whereby companies can demonstrate they know who their customer is. The 2018 inspection is hugely important for Bermuda and will and will influence its status in the international community to a huge degree. A lot of international business would consider leaving the island if we don't get a good report on that. One of the requirements for continued EU Solvency II equivalence, which guarantees Bermuda a level playing field when doing business in Europe, depended on anti-money laundering law in line with the EU's. It could impact on our ability to continue having Solvency II equivalence." Mr Harper was speaking as KPMG prepare to launch a series of round-table discussions for different sectors of the business world to highlight what needed to be done to keep in line with new and tougher rules. He said: "It's an opportune time to continue to raise awareness of what's happening and the importance of it. A similar inspection to next year's CFATF probe had been carried out by the International Monetary Fund in 2007 — which resulted in a poor report. We've done a lot of work since then and Bermuda's compliance regulation is a lot better as a result. As a jurisdiction, compared to similar offshore jurisdictions, we are in a relatively good spot, but that's not to say it can be taken lightly. It's important to get a good report. That's why so much effort is going into it and all these other companies are being brought into it. A good report could enhance the jurisdiction and attract more business. It's all about trying to achieve a positive outcome."
June 1. A vintage Bermuda map depicting how the island looked more than 300 years ago will go under the hammer next week at an international auction in the United States. The hand-colored and copper-engraved map has belonged to frequent Bermuda visitor Jan Trifero and her husband Jack for the past two decades since they were given it by a friend. They hope that news of the auction will spark interest back in Bermuda and that the map could end up making its way home to its rightful place. "I had a strong working link with the island and specifically hotels and the department of tourism in the 1980s and the 90s," Ms Trifero said. "I would visit Bermuda three or four times a year. In 1996 a friend of ours gave the map to me because he knew how much I loved the country and for the last 20 years it has proudly hung on the wall of our library in our Connecticut home. Now we are moving home and thought it would be good to pass on this lovely map for someone to love for the next 20 years." The map was included in Montanus' De Unbekante Neue Welt of 1673, and is based on Blaeu's chart of 1635. Blaeu's map is one of the most influential early maps of the island based on the famous 1618 survey by John Norwood of the Bermuda Company. It shows the division of the island into its original "tribes" and lists various landowners in a table below the map. The Roanoke colony is also depicted on the map and mentioned in the title. The old map will be put on auction today at Bonham's auction house in New York and is expected to fetch between $1,200 and $1,800. "We hope it ends up coming back to Bermuda," said Mrs Trifero. "It would make a great exhibit in a museum or somewhere like that."
June 1. Bermuda Medical Council will take legal advice at a meeting next week regarding arrested physician Mahesh Reddy. Council chairman George Shaw told The Royal Gazette that Dr Reddy's arrest and release on police bail would be top of the agenda when the full council meets on June 9. Dr Reddy is understood to still be seeing patients at Bermuda Healthcare Services, where he is medical director, after his arrest in connection with a financial investigation being conducted by police. Dr Shaw said no complaint had been made about the GP's conduct to the council, which regulates the island's doctors, but it was aware of his arrest and would seek advice from lawyer Jeffrey Elkinson, the council's legal representative. "My understanding is that at this point, given the circumstances, there is nothing for us to do until we meet and formally look at it," said Dr Shaw. "We will be doing that. I am sure it will be at the top of the list. I have been on the council for quite a while. This is a first." The law governing doctors is the Medical Practitioners' Act, which was amended earlier this year. Dr Reddy is a longstanding physician with Bermuda Healthcare Services, which was founded by the former Premier, Ewart Brown, the executive chairman. A police spokesman told this newspaper: "A 42-year-old man has been arrested in connection with an ongoing financial investigation. "He since has been released on police bail while further inquiries are being made." Dr Reddy is treasurer of the Bermuda Medical Doctors' Association and, according to the website of Bermuda Healthcare Services, a member of the Indian Medical Council. He was registered to practise medicine in September 2000, according to the official list of Bermuda's registered physicians.
June 1. The 2016 Atlantic Hurricane season formally begins today with two named storms already on record. And while seasonal forecasts by the American-based National Oceanic and Atmospheric Administration have predicted a near-average season with between ten and 16 named storms, even a single storm can have devastating consequences. So far this year two named storms have been recorded — Hurricane Alex, which passed through the North Atlantic in January, and Tropical Storm Bonnie, which weakened to a Tropical Depression before making landfall in South Carolina this weekend. In advance of any storm the public is urged to take precautions, making sure insurance policies are up to date and stocking up on medication, drinking water and non-perishable food. Before any forecast impact, the public should check on elderly neighbors to ensure they are safe, secure outdoor furniture and block down pipes on Bermuda roofs to prevent salt water contamination of the water tank. The public should listen to the Government Emergency Broadcast Station on FM100.1 MHz for updates. Stay away from windows and sliding glass doors and it is also recommended to keep one window on the leeward side of the building a few inches open. Once the storm has passed, the public should clear their driveways and streets — unless there are downed power lines in the area — check on any elderly neighbors and continue to listen to the radio for further updates.
June 1. Retail sales volume rose for the 15th month in a row in March. Sales went up 4.9 per cent to $92 million, compared to the $87.7 million recorded in March 2015, with six of the seven recorded sectors logging increases. After accounting for inflation, retail sales volume was up 3.6 per cent. After adjustment for inflation, which was measured at 1.1 per cent for March, the volume of sales increased by 3.6 per cent. Building materials retailers registered the largest gain, up by 13.3 per cent, but clothing stores recorded a fall of 4.3 per cent. The rise in the building sector was linked to increased inventory, as well as an increase in DIY projects and small contractor business. Motor vehicle sales were also up, by 6.8 per cent compared to the same month the previous year. The number of vehicles sold went up by 8.2 per cent. Government statisticians said: "The increased sales were due to a wider variety of motor vehicle models available for sale and promotions during the period." Sales receipts from liquor sales went up by 6.9 per cent and sales revenue for food stores increased by 5.6 per cent. Sales of volume at liquor stores rose by 4.9 per cent, with the volume of food sales up 3.4 per cent. The increased sales were attributed to Easter falling in March this year. Sales receipts in the all other store types category went up 6.2 per cent year on year, with gross receipts for marine and boat supplies jumping 65.5 per cent, attributed to an increase in sales of large vessels. Tourist-related stores also showed an increase, up 14.9 per cent, put down to higher demand for discounted items. Gross receipts in pharmacy stores went up 6.9 per cent, while furniture, appliances and electronics sales rose by 0.1 per cent. After allowing for inflation, sales volume in the all other stores category increased by 5.2 per cent. The value of fuel sales at service stations went up 0.8 per cent, with the rise in revenue attributed to a 3.8 per increase in the volume of fuel sold. Returning residents declared $3.4 million on overseas purchases in March, down from the $3.7 million in the same month last year.
June 1. The organizers of the Appleby Bermuda Half-Marathon Derby are considering bringing forward the start of the annual race after last week's humid conditions sent several competitors to hospital. Many found the heat unbearable, with some runners failing to complete the trek from Somerset to Bernard Park. Now the race committee is looking into the possibility of starting the race early to avoid having the slower runners finishing in the midday heat. Even the juniors who ran the two-mile race from Front Street to Bernard Park looked to be struggling as they came through Cedar Avenue. One thing that could have contributed to the excessive humid conditions last Wednesday seemed to be the heavy rain that fell in the days before the race. Puddles at Bernard Park proved to be a blessing as some runners soaked in them to cool off. However, a change in time will not be made without discussions with the Bermuda Bicycle Association who hold their popular Sinclair Packwood Memorial Race on the same day. "We've been thinking about it for a while, it's just taking the steps to work with all the stakeholders and get everyone involved in the discussions about how much earlier," said Dr Gina Tucker, president of the Bermuda Half-Marathon Derby committee. "We're considering it for so many reasons, especially the health and safety of the participants. The weather is not like it used to be. We will speak with them [BBA] and they will have to adjust to us, all of the times will have to move according to the adjustments. Of course, we have not had the conversation with them as yet but it is about having a conversation with all the parties involved, especially the police." An alteration to the 107-year-old race was made just a year ago when it was decided to reintroduce a start in the East End after almost 30 years. Now, the race will come out of the East in alternate years, starting again in St George's next year, taking the runners over a course many feel is more challenging than Somerset to Bernard Park. The cyclists start at 8.50am, individual runners at 9am, with relay runners starting ten minutes later. Lamont Marshall, a first-time men's winners, and Ashley Estwanik, who clinched her sixth women's title, both toiled in the heat as dozens more were either taken to hospital or simply abandoned the race. Jennifer Alen, a top contender in the past, was one who pulled out early because of the conditions. Estwanik ran sensibly to retain her title. "I felt like I was overheating right from the beginning, so it was more about finishing this year than a good time," Estwanik said. "I just really struggled from very early on, but thankfully took a lot of water. I took every single bit of water I could get. I was dumping stuff on my head and people were giving me ice, which I really, really needed." Trey Simons, who finished second to Marshall, admitted it was tough along the course. "I've only been back for about a week and Atlanta was hot, but not as humid as this," the college student said. Larry Marshall, a 2007 winner, echoed those sentiments: "It was hard, I really struggled but I wanted to finish," he said. "For me it was brutal, extremely hot out there and I thought I had a much faster time under my belt but from the warm-up in Somerset I just felt flat." Dr Tucker added: "It was a brutal morning of heat and humidity. The combination was definitely not one to take lightly and even the best of runners, who were highly trained, could feel the pressure. We're going to begin the conversation and as soon as it can happen it will. It's a matter of continuing the conversation because we have raised it in previous years. Now we just have to determine how we can make it happen. The safety of the participants is our priority.

History & daily newspaper reports

Authored, researched, compiled and website-managed by Keith A. Forbes.
Multi-national © 2020. All Rights Reserved