January 19. A dispute over a decision by the Hamilton Princess to cancel a venue for same-sex marriage opponents has flared up once again. The hotel maintained that the original reservation had been made under an alternate name, and it later broke off the agreement. However, Preserve Marriage has insisted that its e-mail records confirm that the booking had been made in its name, and it provided The Royal Gazette with a copy of a communication showing so. In November 2015, the hotel withdrew a booking for Ryan Anderson, a visiting American speaker and prominent opponent of same-sex marriage. Allan Federer, the hotel's general manager, said subsequently that the Preserve Marriage event had been originally reserved under "a different guise". On that occasion, Mr Federer said the Hamilton Princess booking would "never have been accepted if the group had disclosed its intentions at the time of the reservation. The Hamilton Princess does not accept any booking that promotes discrimination of any kind," he added. Dr Anderson's lectures subsequently went ahead in the Heritage Worship Centre hall. Preserve Marriage said they had met Mr Federer and requested a retraction of his remarks, which he declined to do. Meanwhile, Preserve Marriage was said to be contemplating a formal complaint to the Human Rights Commission. In a statement yesterday, the group said it had been identified from the outset. Preserve Marriage also said they had met Mr Federer and requested a retraction of his remarks, which he declined to do. In response to yesterday's announcement, the hotel said: "Hamilton Princess stands by its previous statement."
January 19. By Bill Zuill. Although Bermuda's economy is beginning to recover, that does not mean that unemployment is a thing of the past, or that people don't need help navigating the jobs market. Although young people have been hardest hit by the recession, those who are 54 or older have also suffered. Fortunately, the jobless rate for people aged 54 to 65 has dropped — from nine per cent to four per cent between 2014 and 2015, The number of people working in this age group also rose — from 6,430 to 6793. Still, it remains the second largest group of unemployed after 16-24 year olds, and faces unique challenges. In terms of demographics, this group constitutes the bulk of the baby boomers — the people born when the birth rate surged between 1945 and 1964. Older members of this group are already of retirement age, but many more are now racing towards that milestone. In the meantime, they still need to work and to prepare for retirement. The recession has also come as a shock to this group, who spent their adult lives in Bermuda in a period of rapid economic expansion for Bermuda as first growth in the tourism industry and then in international business produced a healthy jobs market and many opportunities to build businesses. Several local and global trends have converged to knock confidence. Globally, increased automation and efforts to flatten business hierarchies has resulted in the redundancy of man of the middle management jobs that people in this age group would have expected to hold. Changing technology has also been difficult for some to grasp, where their young colleagues have a more intuitive grasp of the changes and adapt more easily to new software and job processes. Locally, employers may also have been eager to shed older workers, given their higher wage expectations (or demands) and the likelihood that an ageing workforce would add to health costs. Older people face challenges in getting new jobs. These include:
A reluctance by employers to hire older people because they do not believe they will remain in the job market for very long
A preference by employers for people who are more comfortable with technology.
The cost of health insurance for older workers.
A perception that older workers will be less flexible than their younger, hungrier peers.
Against that, older workers have several advantages that they need to emphasize:
A good work ethic and strong soft skills (timekeeping, strong communication, experience within organisations)
Versatility — this is the generation which has moved from typewriters and telexes to fax machines to the most modern technology.
Experience — they have seen it all before. They have been through periods of growth and crises.
Still, people in this age group need to be prepared for some scepticism. They should emphasize their experience, but not to the point that they appear too old — or overqualified for the job they are seeking. They must make sure that they have kept their skills up to date. This is true for software like Microsoft Office, but also industry specific tools. They should emphasize their ability to multitask and to work with little. If they are back in the job market after a long absence, they should also make sure their resumes are up to date, that they are prepared to interview and have a plan for their job search. It is also vital that they show that they have energy and enthusiasm. Remember that Donald Trump destroyed Jeb Bush's campaign basically by describing him as "low energy." Older people should not let the same thing happen to them. What they need to know is that they are very strong candidates in this jobs market. They have tremendous strengths that they need to emphasise. They should not feel that age is a hindrance — it is an asset.
Bill Zuill is a director of Bermuda Executive Services Ltd, one of Bermuda's leading business services companies. It was named Bermuda's best employment agency for 2015 by The Bermudian Magazine. He will be speaking at Age Concern on Thursday on the subject of this weeks' column.
January 19. The lean post-Christmas period and the recession's lingering effects have contributed to the recent spike in robberies, according to a business owner affected by the crimes. Six incidents have taken place over the past four weeks, including raids on Four Star in Warwick, KFC in Hamilton and Empire Grocery in Devonshire. Marico Thomas, the president of Four Star, had warned such crimes would continue to plague the community when a knife-wielding thief escaped with $300 on Boxing Day. Yesterday he reflected that, while he did not condone their actions, he understood why some people had turned to crime. "There are those who do not feel that the recession has ended, and that can be a very frustrating message for the have-nots," he told The Royal Gazette. "It can be very disheartening not being able to put food on the table, and that's a reality that some people have to live with." Referring to the early calendar months as "absolutely a more dangerous time of the year", Mr Thomas said that people overextending their finances at Christmas could lead to "embarrassment mixed with desperation" the next month, when there was less money circling in the economy. "There are those who want great things for their families, and sometimes they may go about it the wrong way. It's appropriate that the powers that be paint a very optimistic picture, but it's tough. There are those who are still living with what the recession did day-to-day." Interviewed shortly after his store was robbed, Mr Thomas told this newspaper: "This is a difficult time of year and I would encourage everyone to be vigilant. In January and February, when business is slow, people start looking for other means of income." Yesterday, criminologist Sheelagh Cooper, from the Coalition for the Protection of Children, suggested that the level of property crime within a society tended to correlate directly with its income disparity gap. "These types of crime are usually driven either by general economic stress, which is always heightened during and after Christmas, or it can reflect an increase in the use or cost of drugs, as many of those involved in this type of offence are drug-dependent. There is no question that the bottom third of the population, economically speaking, is under increased stress. So many are unemployed, marginally employed, or even employed full-time but receiving wages well below what they require to face the increasing cost of living." Gita Blakeney-Saltus, executive director of Smith's-based addiction charity Pathways Bermuda, echoed Mr Thomas's sentiment that an "alternative reality" existed for some of Bermuda's poorer residents. "When people are feeling desperate, they start doing desperate things," Ms Blakeney-Saltus said. "People are extraordinarily challenged right now economically, which is the undercurrent of it all." While pointing out that crime and addiction are not intrinsically linked, Ms Blakeney-Saltus said that the demands and excesses of Christmas could prove detrimental to addicts. "The holidays put more pressure on people — there are people who are very stressed or very despondent during that period, as they're unable to meet all the demands. We have people who are in pain, and they numb the pain and seek a distorted reality that gives them some comfort. People in Bermuda are definitely struggling. That's the real issue here." Robberies this year so far:
January 3: A masked thief slipped through the back door of KFC at about 11pm and made off with cash.
January 4: A 49-year-old man was threatened on Brunswick Street by a passer-by carrying a sharp object. The thief fled with an iPod and a gift certificate.
January 12: A man attempted to rob Empire Grocery on North Shore Road, Devonshire, with a knife, before being struck by a customer and fleeing without any cash.
January 14: A taxi driver was robbed at knife-point on South Road in Southampton, near the Gulfstream restaurant.
January 17: A 65-year-old man was forced to the ground and robbed near his home in the area of North Hill, Pembroke.
January 19. A 56-year-old tour operator is behind bars today after admitting possessing heroin worth more than $250,000 with intent to supply. Michal Tucker, of Paget, pleaded guilty to having 86.38 grams of the drug in St George's on December 13 last year. Deputy director of public prosecutions Cindy Clarke told the court that the drugs would have had a street value of $253,380 if sold in Bermuda. Magistrate Khamisi Tokunbo remanded Tucker, who runs Affordable Ride Minibus Tours, into custody and ordered a social inquiry report as well as a drug assessment. Sentencing was adjourned to March 10.
January 19. A public meeting on money management and home ownership is being held tonight at Heron Bay School. Zane DeSilva, the Progressive Labour Party MP for Southampton East, said many Bermudians considered owning their own house to be "an unobtainable goal". The discussion is due to cover personal finances and taking the first steps to home ownership. The meeting will be held at Heron Bay School hall from 7.30pm.
January 19. A fire protection company is to highlight tough new safety rules on commercial properties. Brendan Stones, general manager of Air Care, said new legislation, likely to be passed later this year, will give the Bermuda Fire & Rescue Service (BFRS) new powers to promote fire safety and protection in buildings from design to construction. "There is no doubt that the Act has the potential to have a significant impact on all commercial buildings and landlords really should make themselves aware of what they might have to do in order to comply," said Mr Stones. The new Fire Safety Act will adopt standards set by the US-based global National Fire Protection Association, which cover all commercial buildings, ranging from office blocks to shelters for the homeless and warehouses. A new building will also have to comply with the new standards before it is given a fire certificate, which will have to be renewed every five years. Air Care will join forces with representatives with the BFRS and overseas partners of Air Care at a seminar on the legislation at the Bermuda Underwater Exploration Institute on January 26. "The Fire Service will give a presentation on the new Act which, I think, will be invaluable to commercial property owners. The new Act is all encompassing and is excellent in terms of improving safety," said Mr Stones. He added that, while Air Care is best known for heating, ventilation and air-conditioning services, it also has a fire safety division specializing in fire alarms, and fire sprinkler and pump maintenance and testing. Furthermore, the company works with Canadian firm Troy Life and Fire Safety to install alarm and sprinkler systems. "With the new fire code that will likely be enacted this year, we are taking a proactive approach to fire safety which is why we have also invited the Bermuda Fire & Rescue Service along to this event to provide additional information," said Mr Stones.
January 19. Parental anxieties fuelled by rumours over possible school closures have influenced the latest public school application figures, according to one principal. Romelle Warner, who led the School Reorganization Advisory (Score) Committee that has just reported to the ministry, also said that "people have been jumping the gun" when it comes to the issue. "The report will give people other kinds of ways to look at the whole picture," Ms Warner said, stressing that "absolutely no decision" had been made on schools. The Score report on primary school performance, as well as school closure or consolidation, was handed in last week to Wayne Scott, the Minister of Education. The document, which will be used in decisions made for the coming academic year, is to be made public once consultation is complete. Ms Warner said it would not be appropriate to comment further until the report was in the public domain. Her remarks came as figures published yesterday in The Royal Gazette showed which schools had experienced the lowest applications for the 2015 academic year. Heron Bay Primary School, one of the smallest in the system, trailed at the bottom of the figures for the western zone, with eight applications for 2015 but 18 students enrolled in 2014. However, Lisa Swan, the school's principal, cautioned that some parents had unfounded jitters over the school's future. "That 2015 figure is not indicative of our actual enrolment — to some extent, that is parents feeling skittish over school closures," Ms Swan told The Royal Gazette. "This is, of course, something that is out of my control, but I came in with the understanding that no decision had been made. Some parents came to see me and said that their child would not be coming to Heron Bay because of this rumor. As a parent, that makes some sense to me. As an administrator, I say that the school is open and doing great. When parents hear of the possibility of schools closing, they think of the smallest schools. Heron Bay is small, but for us that is a pro and not a con. Comparatively, even to the surrounding schools, our numbers are strong for the last four years. Because our name has gone out in the rumor mill, then we have taken a hit." Heron Bay typically admits 15 to 19 students a year: for 2011 and 2012, the figure was 15, and it rose to 19 for 2013, Ms Swan said. "Parents are naturally trying to get ahead of the game," she said. "They hear these rumours and they don't want to send their child to a school just in case, which is unfortunate. In this immediate community, Heron Bay is first choice. We are going full speed ahead."
January 18. Ukrainian Valentyna Poltavska said it was a "wonderful feeling" after becoming the first woman to win the Bermuda Marathon yesterday. The 44-year-old finished the 26,2-mile race in a time of 3hr 4min 2sec to etch her name in the annals of Bermuda Marathon Weekend history. Bermuda resident Rose-Anna Hoey came second in 3:06:56 to set a new record in the Bermuda Triangle Challenge, with American Tim Price the first man to the line, finishing third overall in 3:07:24. Poltavska, who won the women's marathon in 2014 in 2:56:25, said she was confident of victory in the absence of any other "elite" runners in the field. "I'm very happy and feel wonderful," Poltavska said via a translator. "After the first loop I understood I could be first and beat the fastest man. I knew there wouldn't be too much competition and decided that winning was my aim and not running a particularly fast race." Poltavska, whose personal best stands at 2:38 at the Detroit Marathon in 2004, said the conditions were perfect, a welcome change from the sub-zero temperatures in her homeland. "I love Bermuda, I love the people and everyone is happy and smiling," said the former track athlete who started running marathons 14 years ago. "The weather here is perfect. Back in the Ukraine it is very cold so I came here to enjoy the experience." Gideon Kigotho, a Bermuda resident, was fourth overall, posting a time of 3:14:31. Jordan Chipangama breezed to a third half-marathon title in four years yesterday, crossing the line in 1:11:46 to follow on from his win in Saturday's 10K. Chipangama trailed behind Laura Paulsen, a United States Olympic Games trialist, for the first four miles before taking the lead. It was the Zambian's second 10K triumph in three years, with the 27-year-old also finishing third in the KPMG Bermuda Invitational Mile on Friday night. "It was a successful weekend for me and I was pretty impressed with my performances," said Chipangama, who will compete in the marathon at this summer's Rio Olympic Games. "I'm pretty happy although I would have loved to have won the elite mile." Paulsen's impressive display earned her the women's half-marathon title, finishing second overall in 1:18:29, in her first appearance in Bermuda. "I was weird [at the start of the race]," she said. "I was wondering where everyone was and I wasn't even going that fast. I just felt fine." In third place was Byrne Decker, of the United States, who posted a time of 1:22:42, with Bermuda's Spencer Butterfield placing fourth in 1:23:36. For Hoey, it was a weekend to remember, with the Irish runner shattering Dawn Richardson's 2009 Bermuda Triangle Challenge record. "I felt like crying to be honest," Hoey said. "I saw my husband and son, and that was a bit emotional. I'm so pleased, I just want to thank everybody, my family and friends, who supported me. I broke the record and I'm so pleased."
January 18. Rose-Anna Hoey broke Dawn Richardson's 2009 Bermuda Triangle Full Challenge record with about five minutes to spare after finishing yesterday's marathon in 3hr 6min 56sec. Hoey pumped her fists in the air as she broke the tape well under the target of 3:12:27. She was immediately congratulated by her husband David and young son Matthew as she savored the moment. Hoey did the half-marathon loop in 1:31:24, which left her with a target of about 1:40 for the second loop in order to stay on course for the record. She managed 1:35:36. "I did the wrong thing in a marathon, and I would never advise it, but I planned on running a positive split which means running the second half slower than the first half," Hoey said. "The reason being is there is nobody out there on the course in the second half so I had to settle into a pace and keep going. I realized I had some time to spare [after the first loop], so just relax and try to run a 7.20 pace and knew if I did that I would run under 3:10." At the finish line Hoey could not control her emotions as fellow runners Victoria Fiddick, her coach, Deon Breary and Tamika Miranda all came over to congratulate her. "I felt like crying to be honest, I saw my husband and son, and that was a bit emotional," she said. "I'm so pleased, I just want to thank everybody, my family and friends, who supported me. The second lap was lonely but my friend Chris, who was out for a Sunday morning run, joined me for a few miles to keep me company." Hoey kept in contention for the record by recording a time of 42:16 in Saturday's 10K race in blustery and rainy conditions. The time was 56 seconds slower than Richardson's time of 41:20 seven years ago. "The wind started picking up on the North Shore so you take what you can get, I broke the record and I'm so pleased," she said. Breary was the first local female finisher in the half-marathon, coming across the line in 1:29. "I'm happy with my time, I was aiming for 1:28, didn't make it, but I'm pleased with the 1:29," Breary said.
January 17. The Progressive Labour Party has applauded the Bermuda Government for reversing a tax increase affecting senior landowners, but has questioned whether the initial hike was down to a legislative "error", as claimed by finance minister Bob Richards. Diallo Rabain, who is running for Constituency 13 against the One Bermuda Alliance's Andrew Simons, said tonight in a joint press statement with David Burt, the Shadow Minister of Finance: "While I am pleased that the OBA have reversed their ill-advised tax increase on our seniors, it is disappointing that the OBA cannot own up to the mistake and are now calling it an 'error'." The Government stated in a press release on Friday: "The Land Tax Amendment Act stated an incorrect value for the maximum ARV allowed for the exemption afforded to Bermudians 65 years and older, as per section 3A of the Act. "The corrected ARV limit for the seniors' exemption is $42,000, not $29,000 as tabled." Mr Rabain continued in his statement: "The voters of C-13 have told me on the doorstep that they are very concerned about the cost of living and making ends meet. "They have seen their healthcare costs rise, their health insurance has skyrocketed, their fees have been raised and they have yet to receive an increase in their pensions from the minister, Bob Richards. While this change from the OBA on land tax is a victory for seniors, there is much more that we need to do to ensure our seniors can live their lives in dignity. I will continue to be an advocate for seniors and look forward to continuing to share the PLP's vision for our seniors on the doorsteps of C-13." We did not receive a response from the Government by press time.
January 16. A move by the Bermuda Government to block unions from staging walkouts has been turned down by the courts. However, the mass walkout in January last year over the explosive issue of continued furlough days in the public sector has been branded "unlawful" by Ian Kawaley, the Chief Justice. Dr Justice Kawaley refused to grant a permanent injunction against walkouts, one year on from the mass demonstrations sparked by a standoff over furloughs. A letter from Bob Richards, the Minister of Finance, called for a swift decision by unions on the issue and kept it as a cost-saving measure, sparking widespread marches and days of occupation by unionized staff of the grounds of the Cabinet Office. With yesterday's ruling, the Chief Justice effectively cast blame on both sides, noting that the evidence suggested both had "failed to fully appreciate their respective most compelling concerns as the 2014/15 Budget approached". Dr Justice Kawaley found that the minister's letter had been "provocative", while a statement from the Bermuda Trade Union Congress described it as "one of the most explosive pieces of correspondence in the history of industrial relations in Bermuda". While the Government's demand was received as an insult to the Island's labour movement, the Chief Justice wrote: "It is difficult to avoid the suspicion that the unions were, to some extent at least, secretly delighted to seize on the January 23, 2015, letter as the perfect tool to motivate public officers to display a massive show of impromptu support. "It was, in once sense, a belated Christmas gift from the Government, which was supplemented by the only marginally less provocative 'no-show' at the January 27, 2015, resumed negotiations." He added: "The 'Occupy Cabinet Office' campaign proudly described in the Bermuda Public Services Union pamphlet was doubtless a morally justified triumph in labour terms as regards the narrow issue in question. "I am, however, bound to find that it was not a lawful response to a provocative letter which merely threatened future, not imminent, wrongful conduct on the Government's part." Dr Justice Kawaley also ruled that employers, including the Government, should respect unions and deal with them in good faith, in a "non-provocative manner. Against this background, the January 23, 2015, letter was, on any detached and objective view, a wholly surprising and disproportionately confrontational communication," he wrote. He further acknowledged that the BTUC's position must have proved "very frustrating" for a minister charged with reducing costs while saving jobs. "Having advanced proposals designed to reform the public service and make substantial cuts while protecting workers through creating alternative private employment, he was not only met by a union response which both opposed these essential structural changes," he said. "The comparatively minor furlough day measure, itself designed to save jobs, was itself under attack." The Chief Justice found that both sides were at cross purposes, which ultimately led to the dispute. While both parties were aware of the urgency, that awareness never translated into a "meaningful meeting of the minds". Dr Justice Kawaley concluded that a "generalised risk of future irregular strike action" remained, and that the Government still had the potential to provoke union walkouts. "There is no credible evidence before this court that the respondents will, without the sort of extreme provocation which occurred on January 23 and January 27, 2015, abandon a consensual negotiation process in favour of unlawful strike action," he said. "In my judgment it is impossible to imagine circumstances in which unlawful industrial action could properly be said to be imminent in the requisite legal sense when there is no current or pending dispute which it is clear the parties cannot resolve through negotiations or other forms of consensual dispute resolution."
January 16. The Corporation of Hamilton has missed the deadline set to pay back the $18 million owed over the failed Par-la-Ville hotel project. However, Charles Gosling, the mayor, said last night that the client now appeared to be "more understanding in terms of what we need to do". Mexico Infrastructure Finance's legal team told the corporation last week that if it failed to settle the debt, it could sell the Hamilton Fire Station, the Chamber of Commerce building and the Custom House. Mr Gosling said it was unlikely that MIF would seize any property at this stage. He said repayment of the debt would have an impact on the ability of the corporation to provide services to the city, but added that he would do everything in his power to avoid job losses. He told The Royal Gazette: "They have been accommodating and more understanding in terms of what we need to do. They are not pleased with the speed at which we are getting these things accomplished and neither are we, but we are trying to speed up the process as much as we can. The one thing I dislike about the whole process is that this guarantee is going to take us many, many years to pay off — it is going to be a 15-term loan and it is going to have an impact on the abilities of the corporation to do capital projects for a period of time. When I first got into office I had a staff meeting. I told the staff it was certainly not my objective to have any of the staff laid off because it was not the fault of the staff that got us in this particular situation. With regards to that, I am going to do my darndest to make sure that that does not happen. I want to save jobs and services because I want to make sure the ratepayer — even though there will be changes in our rates and service fees — I really want to ensure they get as efficient service that they are currently getting or that we can actually improve it." Asked whether MIF had made any claims over corporation property, Mr Gosling said: "No, but they made very clear that they want this situation to end as quickly as possible and we are trying to make that happen. I am certain that we can find a solution. We have a particularly good term sheet from the bank that we are dealing with." Corporation secretary Ed Benevides said he hoped that the situation would be resolved by the end of this month. "We have been able to demonstrate how far we have got and what pace we are working at and, even as of yesterday, we had the banks, the Government and ourselves in the room. There are certain things we have to do legally but to speed it up we are doing a number of things in parallel. We would love to have it all wound up by the end of the month, that is what we are aiming for." On July 9, 2014, developer Par-la-Ville Hotel & Residences Ltd entered into a credit agreement with MIF to borrow the $18 million for a hotel in Hamilton. On the same date, the corporation entered into a guarantee of the loan and, as security for that guarantee, it provided MIF with a first mortgage over the Par-la-Ville car park. However, that loan was later recalled, making the corporation liable for the $18 million owed to MIF with interest of about $3,450 a day.
January 16. Adam Bitchell timed his kick to perfection to emerge victorious in one of the most "epic" finishes to the KPMG Bermuda Invitational Front Street Mile. It was almost impossible to tell who had crossed the line first, with just a tenth of a second separating the three runners competing in last night's elite mile race. So close was the finish, Welshman Bitchell and runner-up Drew Soucy, of the United States, recorded the exact same time of 4min 26.51sec, with third-place Jordan Chipangama, of Zambia, just a split second behind. With about 400 metres remaining, Soucy and Chipangama had established a small lead but it was Bitchell, coming up on the inside, who finished the strongest, treating the spectators lined along Front Street to a thrilling finale. "It was an epic finish," said Bitchell, a first-time visitor to Bermuda. "Three men going neck-and-neck, everyone all out, it was a great race to be a part of. It was tough in the middle part, it was windy and uphill and as soon as we turned with 600 [metres] to go it was just an all-out sprint. I wanted to sit back, this was my first race for about six months and I had no idea how it was going to go. They got about five metres on me with about 400 to go and I just thought, save a bit more until the last 200, and I felt I timed my kick perfectly." Bitchell praised the tactical nous of James Thie, his coach and two-times Front Street Mile winner, who helped plot his exciting victory. "James is a tactical master and he told me to sit back early on," said the 24-year-old. "We've always worked on winning races more than anything else. Even if there are guys who have a gap on me early doors, my main aim is always to win the race. I'm sure he will be pleased I managed to pull through in the end." Bitchell, who represented Wales at the 2014 Commonwealth Games in Glasgow in the 10,000 metres, vowed to return to Bermuda next year to defend his title. "I came in on Wednesday and I've loved being on the Island," said Bitchell, who will be among the contenders in today's 10K. "I would love to come back next year and do it again. "I think the 10K will be more difficult. There's quite a few guys who have come over as part of an England team and they will be in good shape. I'll see how the legs recover and see what I can do." In the local men's competition, Spencer Butterfield won his first Front Street Mile since setting a still-standing record time in the Primary School race in 1999. Butterfield, the brother of two-times Olympic triathlete Tyler Butterfield, stormed across the finish line in 4:33.99, ahead of defending champion Stephen Allen in 4:41.53 and third-place Christopher Hands in 4:43.38. Darico Clarke, who has represented Bermuda at the Carifta Games, came fourth in 4:47.22. "People like to joke, I won when I was 11 but haven't raced it since," Butterfield said. "I raced the Bermuda Triangle Half Challenge two years ago and did a similar time to tonight." Butterfield said he prepared well for the race as he knew the field would be competitive. "I knew the top four were strong competitors and I knew Stephen Allen would be mixing it up," said Butterfield, who will run the 10K today and half-marathon tomorrow. I wasn't sure what kind of homework he'd done but I figured he would be fit." In the local male over-40 race, Christopher Harris reigned supreme in a time of 5:09.23, with Craig Rothwell second in 5:27.41 and Dean Smith third in 5:38.66. Harris said he was over the moon to defend his title. "It's nice to be able to win a race, it doesn't happen very often!" said the 46-year-old. "I felt pretty good going into the race as I'd been running some longer distances. I had my family and friends out tonight and it's always a fun event."
January 16. Heather Kampf stormed to a fourth consecutive Bermuda Invitational Front Street mile title in the elite women's race in front of another bumper crowd last night. The American ran a very smart tactical race and used her knowledge of the local conditions to her advantage to become the first woman to claim four titles in the popular event. Kampf was forced to come from behind after trailing Kenia Sinclair, the Jamaican race record holder, most of the way, before surging ahead down the final stretch as her rival's gamble to break away from the field early ultimately backfired. The 2016 Olympic Games hopeful led the field across the line in 4min 42.68sec to successively defend the crown she first won in 2013. "Every time I come back it is even more special because this place feels like another home to me," an elated Kampf said. "We had a lot of new athletes who had never been here before, and so I felt like I was the tour guide, and the local, which was really fun too. But definitely having experience on this course and understanding how it works was helpful to being successful again." Kampf's winning time was not her best, not that it mattered on a night that belonged to her. "It was not a personal best," she said. "But maintaining at this time of year is good and then you want to see the improvements as your season goes on." Sinclair, who was making her first appearance in the race in five years, threw the gauntlet down when she broke away from the field from the start and threatened to run away with the race. Kampf, however, had other thoughts in mind and after gradually chipping away at Sinclair's lead fired up the afterburners, charged to the front and never looked back as her Jamaican rival faded when it mattered most. "Kenia took it out there and I just tried to respect the distance and make it shorter and shorter the whole way until I was ready to make my final move," Kampf said. Sinclair, who set the race record of 4:33:61 en route to her third title in 2011, had to settle for second after crossing the Flagpole finish line in 4:46.43, while Kampf's compatriot, Jamie Cheever, crossed in 4:47.68 to round off the podium. Having retained her Elite Women's Mile crown, Kampf will now bid to defend her Bermuda Marathon Weekend 10K and half-marathon titles she won for the first time last year. Today's 10K race starts at 9am from outside the National Sports Centre, while the marathon and half-marathon start at 8am on Front Street tomorrow.
January 16. The beaming smile and glow on Tamika Miranda's face pretty much summed up how much winning last night meant to her. With her parents, family and some of her Heron Bay School students cheering her on from the sidelines, Miranda secured the top spot on the podium in the local women's mile after holding off Jennifer Alen, the defending champion, in an exciting sprint to the finish. The great-niece of road running legend Sir Stanley Burgess executed a well thought out game plan to lead the field across the line in a winning time of 5min 20sec. "Tonight was more a strategy-type race and I think we were all making sure we can win and we all did that, so it was not like we went out really fast," Miranda, the national 800-metre record holder, said. "When we ran through the quarter I saw the clock and I think we were probably over 1:20, which is not going to give five minute miles. I think when you do a race like that it becomes a strategic race to see who can kick it at the end, and that's what happened tonight. We probably should have had faster times considering the conditions. It was a beautiful night and it's usually raining and really, really cold." Miranda was among a small bunch that also included Alen and Deon Breary which broke away from the field from the outset. Breary, the past Bermuda Day Half Marathon winner, eventually fell off the pace at the halfway stage, leaving Miranda and Alen to battle it out between them. The race was still wide open less than 500 metres from the finish line, before Miranda finally took control and held off the charging Alen coming in. Miranda was delighted to put on a dazzling show on the big stage, especially for her students who were thrilled to see their teacher stand tallest on the podium. "I had all my students, my parents and family out watching and it was very, very special night," Miranda said. "In my classroom this morning the kids were asking me all these questions and it's really an awesome feeling to know that I can share that experience and share what it's like to race like this — especially with my girls." Alen took second in 5:23.6 and was followed across the line by Breary who retained her masters' title in 5:37.1.
January 16. Local diners marked the end of an era with the closing of Dorothy's, a well-loved café tucked away in Chancery Lane. Its hamburgers were the stuff of legend, and the atmosphere everything guests could expect of a family business run for 40 years. For Dorothy Emery-Middleton and her niece Claudette Trott, the time has come to hang up their aprons and take a break. "It's amazing that a place known for the best burgers on the Island has closed its doors," said Kendaree Burgess, the executive director of the Bermuda Chamber of Commerce, echoing the sentiments of many. "Dorothy's represented that old-school brand of Bermuda's mom and pop eating establishments, a place where the food was as real as the people. You knew what to expect and you were never disappointed. I wish them well and hope that the closure was a choice, a retirement of sorts." Businesses close by said there had been no shortage of crestfallen diners, but the closure was voluntary and a welcome breather for the establishment's owners. In a notice in The Royal Gazette, Dorothy's loyal customers were thanked for their years of support — along with voting the venue the home of Bermuda's Best Burger for more than 18 years. Film critic David Poland, who used to visit the Island for the Bermuda International Film Festival, said yesterday that Dorothy's was one of the things he loved most about coming here. "I'm so sad to hear that Dorothy's is gone," he added. "There are many things I love about Bermuda but Dorothy's was always right there at the top — best burger anywhere. I would tell people about Dorothy's and how good it was and they would invariably laugh at me. Then they would have the burger and, with few exceptions, agree with me completely. None of us could understand why this burger was so much better than others, it just was. How many times did I look at all the 'Best of Bermuda' signs and wonder what happened in the few years in which they didn't win 'Best Burger in Bermuda'? I courted my wife at Dorothy's. When we brought our three-month-old to Bermuda, one of our first stops was, of course, Dorothy's. The ladies who worked there were known for not saying much but, over the years, I could see the look of familiarity in their eyes when I returned each year. They were nice to me. After many years of Dorothy's, Dorothy's, Dorothy's, we added Art Mel's to the lunchtime schedule, but Dorothy's owns my heart. The closing of Dorothy's is the end of an era. A good friend who I visited whenever I could, never to be seen or tasted again. Film festival guests from around the globe will join me in mourning."
January 15. RG Editorial. "The most striking element of Barack Obama's final State of the Union address as President of the United States was the declaration to take the fight against the world's most skilled and elusive killer to unprecedented levels. Some proclaimed that Tuesday's was the best of Obama's seven addresses, while others surmised that the finest orator of the world's leaders remains simply that, but is out of touch and out of ideas. It is very likely that Obama's legacy may not be determined until after the next election, with a Democratic victory essential to him being viewed in a favorable light. What the political pundits could agree on, though, was that it is right to dream that the scourge of cancer can be defeated — and soon. Cancer has accounted for more lives lost than all world wars, civil wars and terrorist atrocities combined. We feel it acutely here in Bermuda. Almost every family and every workplace is living with cancer and its effects. And it comes in more than 100 forms, with lung cancer, breast cancer, prostate cancer, thyroid cancer and brain cancer being among the more common. At present incurable. Imagine the devastation were there more than 100 terrorist organisations, all active, with no way of eradicating them. Imagine the world if the likes of Isis were to realize their ambition of creating a caliphate. It does not bear imagining, but the world has been agonizing over a cure for cancer since Hippocrates, the "father of medicine", discovered its existence more than 2,000 years ago. The United States has spent more than $200 billion on cancer research since Richard Nixon signed into law the National Cancer Act of 1971. However, there was only a 5 per cent drop in the cancer death rate in the 55 years to 2005. But now Obama, lampooned as a dreamer by the worst of his critics, thinks mankind is in a position to crack an age-old problem, equating the quest to America's commitment to putting a man on the Moon despite being beaten into space by the Soviets. The Apollo programme cost an estimated $206 billion in today's money, and Obama is advocating that a similar seismic shift in spending can put an end to cancer. His right-hand man, Joe Biden, is entrusted with the challenge of seeing this through, the Vice-President having added motivation after the death of his eldest son, Beau, from brain cancer last year. "For the loved ones we've all lost, for the families we can still save, let's make America the country that cures cancer once and for all," Obama said before taking a glance back towards an approving Biden and adding, "What do you say, Joe? Let's make it happen." Curing cancer is not even a single task; there are many kinds of cancer and many different ways that a cell can go wrong before metastasizing. Remember, this is the human body; not man-made but created by a being we have yet fully to comprehend or appreciate. It was very reasonable for John F. Kennedy to proclaim that if the US were willing to spend enough money on the project, it could get to the Moon in relatively short order. A cure for cancer may not be possible, but Obama's policy change, on the back of the National Institutes of Health being given a shot in the arm by Congress, will lead to bucket loads' more money being thrown at scientists to determine so once and for all. Does it matter who gets there first? It didn't when the Soviet Union launched the unmanned Sputnik 1 in 1957 and then sent Yuri Gagarin as the first man in space four years later. And it didn't when the Americans, at the peak of the "Space Race", put Buzz Aldrin on the Moon. In the end, it benefited all of the world, as would that much sought-after cure for cancer."
January 15. Insurance giant Ace has completed a $29.5 billion takeover of Chubb to create the world's largest publicly-traded property and casualty insurance company. Ace was an early flag-bearer for Bermuda's insurance sector after placing its operating headquarters on the Island in 1985. It still has a strong presence here, although it is now headquartered in Switzerland. The Ace name and logo will go, to be replaced by the Chubb brand for the new firm, which has a market capitalization of $51.2 billion. The new firm will also adopt a new Chubb logo in a variety of colours. Former Ace chief executive officer Evan Greenberg, now chairman and CEO of Chubb, said: "ACE and Chubb are now one and we could not be more excited about moving forward together with our new colleagues and our new brand. We are a global leader in commercial and personal property and casualty insurance with an exceptionally balanced product portfolio, a broad and deep global presence, extensive distribution channel capabilities and the ability to serve a diverse array of commercial and personal customers. Because we are creating a new path, we needed a visual expression to bring our new vision to life. It starts and ends with the Chubb name. Our identity — who we are — comes from our name, which is a symbol of quality and strength. So we have chosen a new logo that is a simple expression of our name, with no extra symbols or visual distractions. To balance the simplicity of the new Chubb logo, we have chosen an out-of-the-box approach with colours. There will be many colours to represent the new Chubb brand — nine to be exact. These colours reflect the diversity and energy of our culture, our thinking, global presence, the many different customers we serve and the many products we offer." Although Ace's operating headquarters came to Bermuda in 1985, the company was officially domiciled in the Caymans. It moved the seat of its operations to Switzerland in 2008, but maintains a significant presence in Bermuda through its landmark headquarters in Hamilton. Mr Greenberg said: "We are creating a new identity from our shared DNA. Our new identity is vibrant and full of life, anchoring us to our future, not to our past. We look forward to focusing on our craft of insurance to create significant value over time for our shareholders and to deliver unmatched quality and service to our customers and distribution partners."
January 15. Martin Luther King, Jr, the American Civil Rights leader who was assassinated in 1968, would have turned 87 today. Dr King's work extended far beyond battling segregation: he campaigned for economic empowerment and the betterment of inner-city communities. This drew Dr King to the work of Bermuda's own Canon James Francis who, as a priest in the Episcopalian church in the United States, devoted many years to poor neighborhoods. "He was known as the 'hoodlum priest', because he would go everywhere, among everybody, mobilizing people, kind of like some of the work Dr King did," his nephew, Elbert Richardson, recalled. In the 1960s, Mr Richardson went to live in Cincinnati, Ohio, with his uncle, then known as Father Francis, and his wife Audrée. One area where Canon Francis often went to help families was the predominantly black neighborhood Lincoln Heights, which was "a rough place", Mr Richardson said. Rex Darrell, then a young Bermudian student living close by, recalled the notoriety of Lincoln Heights as "one of the worst black communities in America". "Canon Francis had a reputation in that area of Ohio for the contributions he made," Mr Darrell said. "He was dealing with families, helping people get organized." Mr Darrell lived nearby in Dayton with his uncle Winton Williams, a Bermudian educator. Both men had abundant experience with the racial climate of the day, he said, recalling how Mr Williams had previously been "run out of town" in Camden, South Carolina, where he had been in charge of a predominantly black school. Hostile white residents had once tried to force his car off the road, Mr Darrell said — while his own presence at the lunch counter in a Walgreen's Drug Store resulted in the police being called. In that instance, Mr Darrell remembered being questioned by deputy sheriffs who were bemused to discover that he was Bermudian, and ultimately led him back inside. "But black people were not allowed to sit at the counter," he added. Come 1963, when Dr King took interest in the work of Canon Francis in Lincoln Heights, the preacher from Georgia was viewed as "a good preacher, a motivator, but with nowhere near the prominence that he gained later", Mr Darrell said. "There were a lot of people that simply didn't believe in his philosophy of nonviolence. But the word got to him about what Canon Francis was doing in the community. Whether or not that was the sole reason Dr King came, I suspect so. But he was noteworthy throughout the whole area." Invited by Canon Francis, Mr Darrell and his uncle drove 70 miles to hear Dr King speak at a gathering of Cincinnati churches. "His speech was spiritual," Mr Darrell said. "I can't remember the details, but with the booming voice that he had, he certainly got your attention." Dr King viewed Canon Francis's work with the community in Lincoln Heights as an example of what could be achieved elsewhere, said Glenn Fubler of the community group Imagine Bermuda. "More than removing segregation, Dr King was looking to develop communities," Mr Fubler said. "The state of the church that Canon Francis had taken over was bad; there were some who thought the church and school might have to be closed down, but he was able to revive both." The famous March on Washington came next, where Dr King's "I Have a Dream" speech propelled him to national and global prominence. Five years after the young Mr Darrell was able to listen to his words, Dr King was assassinated in Memphis, Tennessee. Days later, the US Congress passed the Civil Rights Act of 1968. Dr King's legacy will be marked on Monday, which is observed as Martin Luther King Day.
January 15. The Departments of Civil Aviation and Maritime Administration are both set to become quangos this year, according to Shawn Crockwell. Speaking with The Royal Gazette, the Minister of Tourism Development and Transport said the move was intended to make the departments — which control Bermuda's ship and aircraft registries — more efficient and more capable of adapting to the market. "Both of these registries can grow exponentially by not having the weight of a government, because it's quite sluggish in making the adjustments necessary to meet the demands. By making them nimble, putting them into a quango so they can be somewhat autonomous in making their decisions, then they can grow these registries. We have been working on this since 2013. Our timeline is to have both of them up and running by April 1, and we are pretty confident that we are going to meet that timeline. It's something we are quite excited about. They are going to grow, create more business opportunities and more revenue for the government." Quangos, such as the West End Development Corporation and the Bermuda Land Development Corporation, are financed by the Bermuda Government but operate independently.
January 15. Bermuda's murder rate has halved over the past five years but it is too early to say the Island has turned a corner on violent crime among young black men, according to commentators. There were four murders on the Island in 2015, compared with a peak for the past decade of eight in 2011, and Bermuda's per capita murder rate of 6.1 is now just below the global average of 6.2. But former race consultant Rolfe Commissiong and former police commissioner Jonathan Smith told The Royal Gazette that although the gang and gun problems appeared to be improving, there was still much work to be done. Mr Commissiong said the upsurge in murders five or six years ago was attributable to the major restructuring of Bermuda's economy in the mid to late 1980s, from tourism to international business. "Black Bermudian males, who were already somewhat of a marginalized group, became more marginalized, particularly working-class black males," said the Progressive Labour Party MP. "Heretofore they could go into construction, the hotel industry, and, in many cases, earn a middle-income standard of living. That began to change." He said the altered economic landscape led disenfranchised young black men into crime, particularly gang-related, and although the violence appeared to have now "abated somewhat" it was by no means solved. Mr Smith, former junior national security minister under the PLP government, said the peak in the 2010-11 period was directly attributable to the prevailing gang problem. "The urge for retribution was rife and deadly. Strategies in the form of tough new legislation, advances in DNA collection and analysis, arrests and policing tactics themselves, all saw the decline in firearms incidents start in approximately 2011 and have generally continued a downward trend ever since. Much work remains to be done. The murder rate, even in the past three to five years, remains excessive and way beyond historic rates seen in prior decades.. There were other complex and multi-layered reasons for the decline in the number of murders. Several prolific priority offenders or killers were imprisoned several years ago or have been shot dead since. Potential victims or killers themselves have fled the Island; the number of potential targets has declined simply as the death toll took hold. Community-led and public-funded initiatives to ameliorate the effects of gangs and reduce the conveyor belt into the gang lifestyle have had some positive, yet mixed success." Mr Commissiong had a similar analysis, attributing the decline mainly to an exodus of young black males to Britain and the successful conviction of many perpetrators. But he cautioned: "It's very rare that a society can incarcerate itself out of the problem. Until you deal with the underlying factors that are driving it, you won't solve it. The verdict was still out on whether the decline would continue. It's too early to say we have turned a corner. It's too early to say that represents a permanent trend. You may have found that between 1998 and 2014 there may have been a number of years where it appeared to be abated. You may find other periods within the respective years where there were three or four and then it exploded again. The underlying social factors that led young black men into gangs, as detailed in the 2009 Mincy Report, still needed to be dealt with and the focus should be on educational reform and more resources for workforce development. This phenomena largely has been ring-fenced around Bermuda's black community," added Mr Commissiong. "That of itself points to us having to have a larger conversation about that and target our remedies within that respective community." Mr Smith, now an author, said the Bermuda Police Service had the right investigative focus and resources were directed where they needed to be: on the gangs and the criminality associated with specific elements within those gangs. "That focus has been there for 15 years and has intensified in almost every year since. Are we there yet? No. Much work remains to be done. This might very well take a generation to uncoil." Five years ago, when gun and gang crime were at their peak, The Royal Gazette reported that Bermuda's per capita murder rate had skyrocketed to almost double the global average, which was then 6.9. The Island's rate is now 6.1, based on an estimated population of 65,000, and compares to the 6.2 worldwide average given in the UN's 2013 Global Study on Homicide. All four of last year's murders remain unsolved, with the families of victims Job-Solomon Tucker, 23; Johnathan Darrell, 27; Rickai Swan, 26; and Dejion Stange-Simmons, 26, still waiting for justice. Bermuda Police Service declined to comment on the statistics this week other than to confirm that there were four murders last year.
January 15. Authorities tasked with tackling cyber-bullying in Bermuda are becoming increasingly concerned over the prevalence of "sexting" among young pupils in schools. Police and staff from the Department of E-Commerce go into primary schools, as well as middle schools and high schools, to warn students of the perils of exchanging sexually explicit images. They have warned that the distribution of sexual or pornographic images could result in serious, long-term consequences for pupils, including prosecution and criminal proceedings. Meanwhile, community officers urged parents to be aware of their children's cyber-activities and try to create an open dialogue about their online interactions. Marisa Stones, director of the department of E-Commerce, told The Royal Gazette that the prevalence of mobile phones and the myriad of apps now available had facilitated sexting as well as cyber-bullying. "I would say that sexting in schools is our most serious concern in Bermuda at the moment. It seems to involve younger and younger students. When we first started talking about the phenomenon in schools, a few did not want us to talk about it, but now they realize it is an issue. Now we have to talk about it at primary schools because it is happening at primary schools. It's upsetting when you have it going on in primary schools, although middle schools are the area where, sadly, a lot of this is going on. That is where we really try to encourage the teachers to have discussions on a regular basis with pupils about the long-term consequences that their actions can have for them, and we get that information to the parents, too. Unfortunately, sometimes when we speak to students, they do not see that their actions have serious consequences." The three-strong E-Commerce team works with police community action teams (CAT) across the Island to provide teachers and pupils with guidance on the subjects of cyber-bullying and safe internet usage. They also meet with parent-teacher associations to help to educate parents, and can respond directly to specific incidents at schools where teachers have raised concerns. Pc Cerepha Bridgeman, who is part of the Western CAT, said: "The level of fear within students at middle schools over what they are doing, whether it is sexting or cyber-bullying, is not very high. The fear of the legal consequences of exchanging these kind of sexually explicit pictures does not register with them or mean a lot. That is why the role of the parents is so vital. Parents and guardians can empower their children and set an example of the standards of behavior they expect on social media or online." Pc Adrian Haynes, who is part of the Central CAT, added: "The exchange and circulation of explicit images or pictures where a person's privacy has been invaded is a very serious situation. If you are participating in this kind of behavior, you must stop because it can have legal and criminal repercussions, regardless of whether you delete the message or not. Once it is in cyberspace, it is there for good."
January 15. The Bermuda Monetary Authority (BMA) last year registered 64 new insurers and reinsurers — one down on 2014. A total of 22 of the new companies are limited purpose insurers or captives, six up from the 16 registered the previous year. Shelby Weldon, director of licensing and authorizations at the regulator, said: "Registration of captives is on the increase because they not only reduce insurance costs but are important components of the parent companies' burgeoning risk management programmes." He added that captives registered in the last six months of 2015 covered a range of risks, from oil and gas drilling in Canada to drivers' insurance in Peru. Mr Weldon said: "It is encouraging to see continuing registrations from Canada and Latin America, as these regions have been targeted by Bermuda's business development efforts." But he said the US is still the biggest source of captive formations for the second half of last year. Bermuda captives remain out of the scope of the EU Solvency II supervisory rules, which only apply to the Island's commercial insurers, reinsurers and insurance groups. The BMA registered 13 new commercial general business insurers and reinsurers last year, compared with 11 in 2014. Long term life insurance and reinsurance companies recorded nine new entries to the market, the same as the year before. Among the new life insurers and reinsurers is a Chinese firm designed to reduce the cost of cancer treatment in the country. And a total of 20 special purpose insurers were registered in 2015, down eight on the 2014 total. New asset management funds totaled 83 last year, up slightly from the 80 logged for 2014. Last month saw a total of 11 new registrations in insurance and reinsurance.
January 15. Cyber risk, energy trends and new business opportunities in Canada and Latin America will be among the topics for the annual Bermuda Captive Conference in June. Keynote speaker Joe Flowers will look at the future of healthcare, the impact of technology on the sector, pharmaceuticals and diagnostic techniques. He is an international expert in the field. David Gibbons, the conference chairman and managing director at PwC Bermuda, said: "Our speakers and panelists will be discussing topical and emerging issues such as cyber risk, oil and gas risk, Canada, Latin America, insurance-linked securities, taxation treatments, legal issues and recent claims and investment trends." He said Bermuda is the top global jurisdiction for captives, with 800 registered, supporting primarily Fortune 500 firms in the US. In 2014 they generated in total more than $48 billion in annual gross written premiums in 2014. Bermuda-based captives support an estimated 25 per cent of the US medical insurance and reinsurance market and increasing numbers have come from Canada and Latin America in recent years. Mr Gibbons said: "We plan to capitalize on these trends with a compelling agenda that will attract, educate and engage delegates at this year's event, to be held at the Fairmont Southampton between June 13 and 15. Other sessions at the conference will focus on the impact of climate change and the evolution of catastrophe events and losses. There will also be a "Bermuda Shorts" series of briefing sessions on specific lines of business, technical issues and targeted topics identified by captive owners and professionals.
January 15. The Island's courts have refused to grant a permanent injunction against walkouts by members of the Bermuda Trade Union Congress. However, unions acted unlawfully in a mass walkout a year ago during a standoff with the Bermuda Government. According to a statement issued by the BTUC, Ian Kawaley, the Chief Justice, also described correspondence sent to the unions calling for a decision on continued furlough days as "provocative". That letter from Bob Richards, the Minister of Finance, was "one of the most explosive pieces of correspondence in the history of industrial relations in Bermuda", the statement added. The letter sent on January 23, 2015, in which the Bermuda Government kept public sector furlough days as a cost-saving resort, sparked days of marches by unionized workers. Dr Justice Kawaley ruled that employers, including the Government, are "required to respect the right of trade unions to represent their members and to deal with the unions in good faith, in a non-provocative manner", the statement said. However, the Chief Justice also found that the unions did not act lawfully in walking off the job. Dr Justice Kawaley also wrote in his judgment: "It is difficult to avoid the suspicion that the Unions were, to some extent at least, secretly delighted to seize on the January 23, 2015 letter as the perfect tool to motivate public officers to display a massive show of impromptu support. It was in one sense a belated Christmas gift from the Government." A temporary injunction on walkouts has been in place since last year. A spokeswoman for the Ministry of Home Affairs released the following statement this afternoon: "Today the Chief Justice issued his ruling in the case of Minister of Home Affairs v BIU, BPSU, BUT, Prison Officers Association and Fire Officers Association. Members of the public will recall that these proceedings were brought about by Government when the Bermuda Trade Union Congress called on public sector workers to leave their workplaces and attend Cabinet Office grounds for three days in January 2015. They did so in response to Government's request of the Unions to extend the agreement on furloughs. The Chief Justice today made the following declarations:
THAT the [BIU, the BPSU and the Fire Officers Association], as regards their divisions or units which are essential services, on or about January 28, 2015, acted unlawfully, contrary to section 9(1) of the Labour Relations Act 1975, in taking irregular industrial action short of a strike;
THAT the [BIU, the BPSU and the BUT] acted unlawfully, contrary to section 19 of the Labour Disputes Act 1992, in taking irregular action short of a strike.
In summary, the court declared that these public sector unions acted unlawfully during the events of 26 — 28 January 2015. Although the Government's application for a permanent injunction was not granted, the court was clear that Bermuda's labour legislation provides requirements that must be met by public sector unions before a strike will be legal. The Chief Justice said that, "the war against a public debt crisis which could, if not addressed, ultimately transfer control of the country's finances to its lenders, remained to be fought." This case has long been made by the Minister of Finance. The Chief Justice concluded that all parties should take this case as an opportunity to engage collaboratively going forward. The Minister of Home Affairs Sen. the Hon. Michael Fahy JP, upon learning of the decision said, "The Government agrees that this represents an opportunity to create better relationships with the Unions and looks forward to engaging with them to build on previous collaborative efforts in order to deal effectively with our public debt crisis through prudent fiscal measures and sustainable public sector finances."
January 15. The real-estate market has bounced back, according to a new report from a major industry player. But Coldwell Banker Bermuda Realty said the recovery had a long way to go before it matched pre-recession boom years in the property market. Agency manager Susan Thompson said sales by the firm rose 60 per cent last year compared to 2014, with 37 per cent of the transactions being cash purchases, compared to just two per cent in 2010. She added the anticipated Island-wide total of 300 properties sold in 2015 was up from the 209 logged in 2012 — the worst year on record — although way below the 714 recorded in 2008. "The real estate market has suffered tremendously over the past few years," she said. "The latest figures are a very promising sign when you look at the confidence people are showing in their spending transactions and that 37 per cent of the transactions were in cash." She added: "There may be a couple of overseas buyers in there, but the vast majority of that 37 per cent are Bermudians and people living on the Island — permanent resident certificate holders and spouses of Bermudians." Ms Thompson was speaking after Coldwell Banker released its sales market update yesterday. The report said: "While we cannot confirm that the Island is out of recession, we can support the positive indications of a healthier economy." Ms Thompson said: "What has happened is a couple of things — people were not confident in Bermuda and the economy for a period of time and they were holding on to their money. For a while it was tougher to get money out of the banks. Now people have seen that prices have gone down over the years: 25, 30 per cent and some have gone down more. People are getting back to work and there are people coming to the Island. People were holding onto their money and looking and waiting for the right opportunity. Some of these people buying with cash have perhaps sold a property which is higher in value and are downsizing. In some cases, they may have sold a property which adds to the cash flow they have." The update noted that sales of commercial property and vacant lots had also gone up, with the highest demand for smaller spaces of between 1,500 and 4,000 square feet. Ms Thompson said: "People who have bought commercial property have bought for occupation, not investment. These are people, once again, who have been prudent. They are looking at growth opportunities or asking why they are renting when they can buy a property which is affordable. Demand is definitely on the smaller end. We're not getting huge demand for large spaces of 5,000 square feet and above. But it's smaller companies coming on the Island, starting their businesses and maybe growing." She added there was also a trend of companies opting for smaller office spaces, but that "we are seeing more people coming onto the Island, which is positive because there is more money coming to the Island." The report said the average price of a family home now stood at $1.2 million and that, despite a large inventory, the average price for condominiums was $655,000 last year. It added: "Contrary to popular belief, condo inventory is in fact selling and makes up approximately 27 per cent of total sales." The report added that rental demand was strong in Hamilton, increased rental activity in the west, the focus of the America's Cup, while there had been an overall increase in single-bedroom properties rented across the Island. "There is still a need for stand-alone, three-plus bedroom family home inventory and our four dedicated residential rental representatives have reported an increase in rental activity in the western end of the Island," noted the report, which also recorded an increased Bermudian level of interest in the luxury end of the market. About 60 per cent of homes sold for more than $2 million going to Bermudians. The update predicted that 2016 will see continued momentum at the top end as Coldwell Banker staff are at present negotiating new sales and preparing to close on six luxury homes.
January 15. Restaurant Weeks begins today. Forty-five restaurants are participating in the annual event, which is now in its fifth year. Bermuda-inspired dishes, mystery reviewers and the People's Choice Award all add to the fun of the three-week dine-around. Last year's top chef Enworth Davis spoke with Lifestyle about what's on offer at Muse. Q: Are you worried about defending your title? A: I'm not worried about it at all. [The award is] called "People's Choice", for a reason; people are responding according to their impression. There's always a chance that someone else comes out the winner — I appreciate the process. I'm just happy to be part of something that celebrates what I do, practising the culinary arts. I'm okay with sharing the experience with other people. Q: What was the basis for your menu this year? A: The menu, this year, I approached with the theme of foraging in Bermuda. I wanted it to be another pride piece for Bermudians and also an educational piece for Bermudians and practising culinarians. It's often said that there's only codfish and potatoes and fish chowder here. But French cuisine isn't exclusively all "French". There were things that sailors brought back which, over time, became part of the French culture. Bermuda is no different. There are lots of things that are grown wild here and not utilised; many because people don't even know they are there. Q: Such as what? A: Gooseberries grow in the wild everywhere; there are natal plums, often called Chinese plums — some people still believe they're poisonous but when they're ripe they're perfectly fine. Prickly pears are not utilised a lot. There's bay grapes, wild fennel, loquats and Surinam cherries and spinach — there's lots growing wild at Daniel's Head, Spittal Pond. Q: Was the menu difficult to come up with? A: I'm always cooking in my head. I can say it took a long time [but I] pretty much just put what was already in my head on paper so it was not hard for me to come up with the ideas. I'm always inspired. It's really a matter of fitting what's in my head to meet all the criteria so it really didn't take that long but I had to put thought into it to make sure it was original and truly reflective of what was being asked. Q: Mystery reviewers will weigh in on dishes for the first time. Nervous about that. A: Not worried about it. I'm sure they will be true to my menu. As long as the reviews are fair, I just hope that what they experience is what's reflected. It comes down to what their objective is — a firm and fair assessment of their experience.
January 14. US Democratic presidential hopeful Hillary Clinton has bashed Bermuda in an attack on tax loopholes. Ms Clinton said that she planned to crack down on tax avoidance to boost the US economy. Her official website said: "High income money managers have used loopholes related to foreign reinsurance — often located in Bermuda — to avoid paying their fair share. And they take advantage of complex derivatives trades to lower their tax bill. Clinton would build on proposals from both Democrats like President Obama and Republicans in Congress to close down these two loopholes." Several hedge fund managers have established Bermuda reinsurers with a primary focus on managing investments and have derived tax benefits on investment gains as a result. The statement added that she will beef up the "Buffet rule" — coined by super-rich investor Warren Buffett — which said that those making $1 million or more a year should not pay a tax rate less than their secretary, which meant a rate of at least a 30 per cent rate. It said: "Hillary will call for strengthening the Buffett rule by broadening the base of income subject to the rule and end the 'Romney loophole', which allows the wealthy to shelter millions of dollars in retirement accounts. This means immediately closing egregious loopholes, like the Bermuda reinsurance loophole and the 'Romney loophole' that let the most fortunate avoid paying their fair share. Unfortunately, far too often, our tax code is rigged to favour multimillionaires and billionaires who can exploit loopholes and shelter income in order to avoid paying their fair share. There is essentially a private tax system for the wealthiest Americans that lets them lower their tax bills by billions, while working families play by the rules and pay their fair share." The website said that 2013 figures showed that the 400 highest-income taxpayers — those making more than $250 million a year on average — paid an effective tax rate of just 23 per cent, in part because of tax gaming and sheltering to reduce their tax bills. "Some multimillionaires can pay lower tax rates than their employees," the website adds. "Clinton believes that at a time when pay has risen far too slowly for working families, when America is under-investing in our young people and our infrastructure, it is outrageous that the wealthiest can exploit loopholes and avoid paying their fair share. Hillary is committing to shutting down the private tax system for the ultra-wealthy by closing loopholes that exist today and remaining vigilant for new loopholes lawyers and accountants try to find next. The ultra-wealthy should not be able to exploit loopholes and leave middle-class families who play by the rules holding the bag."
January 14. Tourism minister Shawn Crockwell said he was optimistic about visitor arrivals in the coming year, despite reduced guarantees for airlines. Speaking to The Royal Gazette, Mr Crockwell said that the Bermuda Government had "significantly reduced" its Minimum Revenue Guarantee (MRG) liability, through which airlines are guaranteed a minimum return for their service. "Normally when you have new flights or new gateways there has to be some form of subsidisation," he said. "I am proud to say — and some people may say this is not a good thing — that we have as a government significantly reduced our MRG liability. Most tourism destinations have a significant MRG liability because you want to preserve your flights, but quite a few of our flights have been doing well, and therefore we have not been forced to pay out those MRGs. We do have MRGs, and you will see them in the budget, but they are significantly less than what we have paid out year after year. Of course I am the tourism minister, and I would tussle with the finance minister for MRG if we need a flight that would spur additional air arrivals." Mr Crockwell said that there has been an increase in flights to the Island, saying there will be additional flights out of New York next month and work is under way to ensure direct flights from Baltimore and Washington DC year round. He said by adding additional flights and carriers, the cost of travel to the Island should fall. "The only way to get the cost of flights down is by adding competition to that route," he said. "We saw that very successfully occur with Air Canada and WestJet. That almost cut the cost of flights in half and those flights continue to be very successful. We are still looking to get an additional flight coming from the UK to put some competition to British Airways, but we are still working very closely with British Airways because they are one of our major partners. We are happy with the direction the flights are going. I know people always want more flights because that is an issue. When you come to Bermuda it's not like other destinations where you can fly in, spend two days and fly out. You kind of get trapped in Bermuda sometimes because there are only flights on certain days." Meanwhile, he said the Ministry was looking forward to a bigger cruise ship season this year, noting that the Island is expected to be visited for the first time by the new Anthem of the Seas. "They will be coming for the first time, and that's why we had to do the dredging of the North Channel. All of that got done very successfully, so they will be coming this year and bringing visitors to the Island." While Mr Crockwell said the Bermuda Tourism Authority may have had a rocky start, he believes Bermuda will start to reap the benefits of their hard work this year. "The projections that I have seen already are very encouraging," he said. "The BTA are laying the foundation for year-on-year growth rather than making knee-jerk reactions to the market to boost numbers. Sometimes you have to plan your way forward for long-term, sustainable growth. One of the things we didn't do, we didn't look at group business and prepare for group business two or three years in advance, but that is what you have to do to attract group business. There was a gap of a few years when there was no real, aggressive marketing and recruitment for group business. The BTA have stepped in, they have filled that void, and the information I have is we should see a significant uptick in air arrivals for the entire year. You don't turn 30 years of decline overnight, or even in two or three years, but the hard work they have done, we will start to see the benefits of this year."
January 14. People making planning applications will soon be required to display a notice of their proposed development on site, the Department of Planning has announced. Signs should be installed clearly and visibly as soon as possible, once the wording has been provided by the Department. They must stay in place until at least one week after the appeal period for the development has ended. The Department said: "This new initiative addresses an objective of the Public Access to Information Act which is to have more information placed in the public domain as a matter of routine. It also meets the Department of Planning's objective of providing a more efficient and customer-friendly planning regime; and it addresses the concerns of the public and NGOs which are that newspaper advertisements alone are insufficient to properly notify the public of proposed developments across the Island." The initiative will come into effect on January 25.
January 14. The Bermuda Government has pledged to clean the canal that has contributed to flooding problems in the Mill Creek area, according to local businesses. Mill Creek Road firms said they had received a letter from the Government last Friday, indicating it will clear the canal, flood-box and sluice gate of debris, and make relevant infrastructure repairs by the end of March. According to businesses, the Government advised that it will issue a request for quotation to contractors this week, to provide quotes within the next three weeks for:
removal of trash and debris from floodbox and along canal;
cutting down vegetation adjoining Mill Creek Road to facilitate assessment of the canal;
inspection of sluice gate to ensure it is operating properly.
sealing walls, repairing cracks and building a concrete structure next to the bridge
construction of wall at junction of Pitts Bay Road bridge and Mill Creek Road for pedestrian and vehicle protection.
Ed Faries, on behalf of the Mill Creek Road businesses, stated: "We are delighted that Government is finally moving forward with the upkeep of the canal and would like to thank the Minister of Public Works for making this a priority. "We are happy to see that the project started on Tuesday and to seeing its completion before the end of March, as promised. We were also pleased to read in The Royal Gazette that Government will set up a small team of enforcement officers to crack down on contractors and land owners who break planning rules. Construction throughout Hamilton has contributed significantly to the canal issues that we face today. The ministry has also advised us that it will meet with the Department of Planning regarding the permitted planning applications that are granted contrary to planning policy." The Government has also advised that additional works may be necessary as the project progresses, for which it will aim to allocate funding. Mr Faries added: "Moving forward, we hope that appropriate funding will be included in the Ministry's annual budgets for the ongoing upkeep of the canal. It is important to note that maintaining the canal benefits all flood-prone areas of Pembroke, not just Mill Creek. We look forward to seeing this outlined in next month's budget debate."
January 14. A five-year plan for reforming Bermuda's healthcare is to be presented tomorrow at a health symposium. Jeanne Atherden, the Minister of Health, Seniors and Environment, said the Bermuda Health Strategy lays out 14 goals to be achieved by 2019. "Moving that forward, we have an action plan that talks about the actual initiatives that we are working on right now, for better health, better spending and more access. It's not just about spending money. We are trying to change the emphasis from care to prevention." Ms Atherden will open a forum at the Bermuda Underwater Exploration Institute to speak about the plans, which follow from the National Health Plan that came out in 2011. The minister said the plan had been "tweaked" and changed from "a conceptual plan to an action plan." The symposium, a joint effort between the ministry and the Bermuda Health Council, follows the priority given by the World Health Organisation to chronic non-communicable diseases. Asthma, diabetes, chronic kidney disease, hypertension and heart disease can be headed off in many cases by a healthier lifestyle, she said. Healthcare quality, insurance access and premiums will also be discussed at the gathering of more than 100 health stakeholders, which will be held at no cost. Asked if Bermudians were showing signs of a turnaround in health, Tawanna Wedderburn, acting CEO of the Bermuda Health Council, said there were some improvements evident, such as a reduction in smoking. The council is also able to analyze the financial cost of specific chronic conditions on the healthcare system. "Prevention is definitely the way we have to go, because the care is becoming very expensive for us," Ms Atherden said. Ms Wedderburn will make a presentation tomorrow, as well as the chief medical officer, Cheryl Peek-Ball; Calvin White, the acting director of the Health Insurance Department, and chief of staff of Bermuda Hospitals Board Michael Weitekamp. A panel discussion will follow.
January 14. Health professionals have spoken out about the benefits of planning ahead for pregnancy. According to the nurses at the Hamilton Health Centre, unplanned pregnancies can be stressful and family planning can assist the health and well-being of parents and their children. "We're not saying 'don't have children' but rather pick an optimum time so that children, who are one of our greatest future resources and blessings, have the best options available to them," Gloria Burgess said. "Family planning allows parents to choose the best time psychologically, physically and financially to have a family." Ms Burgess is the family planning and maternal health co-ordinator at the clinic. She is assisted by a team, including public health nurses Rachel Card and Debora Oriol. As the clinic continues to see a high rate of unplanned pregnancies, they are urging women to plan ahead and chose a secure time to have children so they can benefit from the best head start possible. "Family planning is always about empowering women and their partners to choose the optimum time for having a child or children," Ms Burgess said. "We realize that mistakes can happen and we don't judge but we want the public to know that knowledge and planning are powerful tools in life." Ms Card added: "Give your child the best head start possible, is what we're saying." According to Ms Burgess, the Hamilton Health Centre last year saw 109 unplanned pregnancies out of 120 total pregnancies. This is a slight decrease from 2012 and 2013, which both saw 113 unplanned pregnancies out of a total of 124 and 120 respectively. While the numbers are not representative of the Island, the nurses said the highest rate of unplanned pregnancies they see is among women in their twenties, many of whom have either limited insurance or no insurance. According to the nurses, unplanned pregnancies can be very stressful for parents, which can impact a mother's psychological, physical, social and financial health, as well as the health of the child. It can lead to social health issues, with pregnant women finding it harder to get work and sometimes not being supported by their partners or families. Unplanned pregnancies can also result in "low self-esteem and general frustration from not being able to meet personal goals including educational goals. Often the frustration can be passed on to the children and partners in the form of abuse," Ms Burgess added. "There may be food insecurities — unhealthy food choices and insufficient food for families because finances are often challenged. We can assist by offering free non-judgmental counseling. Our staff are experienced and skilled. We have an excellent rapport with other healthcare agencies to assist clients who have additional challenges." While unplanned pregnancies can be the result of incorrect contraception usage, or not using it in the first place, the nurses stressed that the cost of birth control is much lower than pregnancy. According to Ms Oriol, the clinic sees a high demand for the morning-after pill, which is only 84 per cent effective. This not only puts women at risk of falling pregnant, she said, but also susceptible to contracting sexually transmitted diseases. The nurses are therefore encouraging women to choose more reliable forms of contraception to look after their health and to empower them to make a conscious decision about when to have children. "We really try to work with people and help find what suits them best."
January 14. Stances on same-sex marriage were among the tough questions fielded by the two candidates for Devonshire North Central as they faced the area's seniors. Diallo Rabain of the Progressive Labour Party and Andrew Simons contrasted notably on this and other issues, with three weeks remaining before constituency 13 voters go to the polls. "It's not a question I thought would come up," Senator Rabain told the audience of roughly 100 people. "I am not a proponent of same-sex marriage, but I am a proponent of this issue going to a referendum so that the people can decide." Mr Simons countered by saying he was in support of marriage equality when it came to civil marriage. With concerns over medical costs running high among older residents, Mr Simons pointed out that people's partners were often their primary caregivers in later life. Sen Rabain repeatedly asserted that accommodating the needs of seniors pinched by rising costs was about "your priority, and what you as a Government care about". Challenged by voter Valerie Pethen to name where he would make cuts to provide for seniors, Sen Rabain replied that he would cut "tax concessions that have been given for 20 years for some businesses who are earning profits." Mr Simons, who served on the OBA's shadow health board and is deputy chairman of the Bermuda Health Council (BHeC), outlined government initiatives already under way to head off rising health insurance premiums, as well as the drain inflicted by young workers leaving the country. "Fundamentally, the people of this constituency need an MP who understands the issues that concern everyone here, and who has access to government ministers," Mr Simons added, saying he had "a record of getting things done through the political process." He pointed to his efforts with the BHeC to track down and penalise employers who break the law and withhold paying health insurance for their staff. "All I can promise is that I will keep doing what I've been doing," he said. However, Sen Rabain chastised the governing party for the failure to increase pensions in line with the cost of living since 2011, while withdrawing special concessions for seniors. "They said during the election campaign that they would protect seniors," he said. "That is something that the OBA needs to answer for." Asked by Charles Jeffers, yesterday's moderator at Christ Anglican Church, to identify the most pressing issue voiced by seniors, Sen Rabain told the crowd it boiled down to "making ends meet." Stressing the complexity of the challenges, Mr Simons spoke of the hardships faced by working families supporting seniors, and the need for an ongoing coordination of support services into a more comprehensive strategy. The incumbent MP, Glenn Blakeney of the PLP, announced his resignation early in December. Both candidates have been canvassing the district in the weeks since. Mr Simons said it had been a humbling process door-knocking and meeting with residents. Voter concerns, he said, ranged from worries over "how they can live out their old age and maintain their existing standards, while for some it's the state of the economy. There is some sense that things are improving, and a lot of people want to insure that we continue that," he said. Sen Rabain said the Opposition team had been canvassing Devonshire North Central "a tremendous amount. The single thing on people's minds is just the cost of living, and getting the feeling that Bermuda can be a place where you can make your own way. There are people giving up on Bermuda and feeling there's nothing here for them. That's the trend that we need to reverse."
January 14. The cost of groceries continues to rise in Bermuda with some products doubling in price in less than a decade, according to the latest Digest of Statistics. But farmers and supermarket bosses say the figures are not a fair reflection of the prices paid at the tills and maintain they are subject to a range of global forces outside of their control. The digest suggests the cost of rice, cooking oil, butter, frozen beans, flour and vegetable soup all nearly doubled between 2005 and 2014, with rice going up from $3.46 to $6.88 and cooking oil increasing from $3.68 to $7.23. Zach Moniz, manager of the Lindo's Group of Companies, told The Royal Gazette that the idea of supermarkets driving the price of groceries up was simply wrong. "The figures in the digest are a little misleading. I have looked back at our price history on some of the items listed and they haven't changed since 2011," he said. "The price of flour has not changed since 2012, rice has been the same since 2013. Produce and meat are entirely market-driven, so unless whoever did this research is in the supermarket every week they are not getting a true average. Meat price has increased, while bird flu has had a major impact on the cost of eggs, but it is really out of our control." According to the Bermuda Government statistics, between 2013 and 2014 sliced peaches, corn niblets, chicken legs, butter and vegetable soup underwent the largest per cent increase in price, with the cost of sliced peaches increasing by 24 per cent. A loaf of bread increased from $4.74 in 2009 to $5.88 in 2014, while half a gallon of milk increased from $4.79 to $5.30 in the same period. Mr Moniz said: "We had strawberries in just before Christmas priced at $15.99. The reason was the yield coming out of the fields was terrible and they would have been rotten if we shipped them in. We had to make a decision whether to bring them in by air, which sends the price through the roof. But people buy them at that price and if we don't have them they will go somewhere else. The digest prices don't take into account the many specials on offer. A better way of doing this comparison would be to look at most frequently purchased items and sizes. It's also important to note that nowadays people have less disposable income than 20 years ago to spend on groceries because of cable and mobile phone bills." William Cox, president of Miles Market, described the Department of Statistics' valuation as "narrow", adding that it did not reflect the broad array of value items that stores try to provide. "The rice market is a varied market from white rice to brown and speciality rices and as the consumer becomes more health conscious the variety increases, as does pricing variation," he said. "The same can be said for healthy cooking oils and speciality butters so these statistics need relevance and fair comparatives. Our goal has been to remain effective in reducing operating expenses including shipping, electricity and the cost of delivery of service to keep the prices as manageable as possible. The food industry is most likely the most competitive from a pricing perspective. Prices are affected by world markets and operating conditions many of which are not controllable." The latest digest reveals the price of apples, salt, tomato soup, evaporated cream and eggs went down in price between 2013 and 2014. It also shows that potatoes have increased from $5.16 in 2005 and $6.33 in 2014 and broccoli has gone up by more than $1 in the same period. Over the past decade, food, beverage and tobacco imports have steadily risen from $175 million in 2004 to nearly $200 million in 2014, while the value of goods exported has dropped from $25.27 million in 2006 to $11.97 million in 2014. Although Government announced plans to revitalize the crop and dairy industries in the Throne Speech, farmers maintain concessions are needed to rejuvenate the sector. Junior Hill, who owns J & J Produce, said there was very little farmers could do to lower prices, but revealed that bad weather and unprecedented crop theft often dented their bottom line. "We are part of a small scale supply chain that involves a great deal of physical handling and labour cost and in an industry with tremendous unpredictability starting with the imported base price of seed or chilled live plants. "In some cases we've seen a price doubling year over year for no clear reason even before we begin to actually plant and grow a crop. When the price of oil decreases we really don't feel a benefit that we can pass on to the consumer in terms of our truck and tractor fuel usage. We do not get concessions on fuel, electricity, payroll tax, social insurance and health insurance. We must also endure necessary regulation and inspection regimes as dictated by Government. Like it or not this gets passed along to the consumer. Any retail price that we set in a small local market like Bermuda is largely taking into account weather effects. We occasionally lose entire fields of nearly mature crop after months of work and not always because of obvious weather events like tropical storms. But that's the nature of farming." Tom Wadson told this newspaper he took the latest digest statistics "with a pinch of salt. Agriculture in Bermuda needs a proper succession plan rather than just being mentioned in the Throne Speech now and again. We are fighting against commodities worldwide, while fuel, work permits and health insurance are other factors we have to consider. Our expenses are affected by what happens globally."
January 14. Popular businessman Michael Adolph Smatt died on Monday at the age of 67. Mr Smatt was the owner of Smatt's Cycle Livery, having taken over the business from his father Adolph during the 1980s. He was well-known for introducing helicopter tours to the Island. Mr Smatt leaves behind mother Emily, wife Leeann, two children and five grandchildren. His funeral takes place tomorrow at St Anthony's Church, Warwick.
January 14. A letter cover featuring a rare Bermuda stamp dating back more than 150 years is set to go on the auction block this month. The American-styled date stamp, reading "Paid at Ireland Island/Bermuda", was found on a mourning envelope from Midshipman John Hemery Robinson to his mother in New Brunswick dated January 22, 1863. Midshipman Robinson died at the age of 25 in late 1870 while serving on board the HMS Endymion, and was buried in the Sea of Japan. A description of the item by Spinks Auction House in London described the date stamp as an "incredible rarity", estimating a sale price of between £12,000 and £15,000. "This item shows a fine strike of the previously unrecorded American-style 32mm 'Paid at Ireland Island/Bermuda' circular date stamp and with locally made hand struck '6d', the latest recorded date of use, at upper right, both struck in red," Spinks said. "A remarkable cover only discovered in among an original family correspondence in the mid-1990s. In 2000, Geoffrey Osborn provided evidence confirming the purchase of an Ireland Island Paid date stamp in records for the year ending October 1863, the cost of the instrument being £1/19/6d." Research has suggested that the stamp used on the cover was obtained from an American source by the Bermuda postmaster-general for use at Ireland Island. Bermuda was one of the first jurisdictions in the world to introduce a uniform postal rate in 1842, only two years behind the United Kingdom and three years ahead of America. The earliest Bermuda stamps, Perot stamps, were named after William Bennett Perot, who served as Bermuda's first postmaster-general from 1818 to 1862. Only 11 Perot stamps are known to still exist, and they can fetch more than $100,000 at auction. The cover is set to go to auction as part of Spink's Philatelic Collector's Series sale, which begins on January 27.
January 14. RG Comment. "It's difficult to go for very long without hearing about the millennial generation. Loosely described as people now aged between 20 and 35, there seems to be a widespread fascination with how they live and what they want from work. Type "what baby boomers want" into the Google search engine and there are 9.8 million hits. Replace "baby boomers" with "millennials" and you get 15.8 million. The research tends to suggest that millennials are a principled and demanding bunch, who want work with meaning beyond financial profit that will fit into their life and not dominate it. As US researcher Intelligence Group found, 88 per cent of millennials want "work-life integration" (apparently different from work-life balance, as mobile technology has now caused work and life to be more interwoven than ever before) and 74 per cent want flexible work schedules. An overwhelming majority also want a collaborative working culture, rather than a competitive one. And nearly two-thirds say it is a priority for them to make the world a better place. Some in older generations may scoff at such demands and regard millennials as a bunch of mollycoddled, uppity youngsters with an overdeveloped sense of entitlement. However, there are good reasons why Bermuda — and Bermudian employers in particular — should concern themselves with what millennials want. In the coming years, the Island will lose a wealth of workplace experience as baby boomers reach retirement. More than 40 per cent of the workforce was over 50 years old in 2014, according to figures in the Bermuda Digest of Statistics, published by the Bermuda Government. Those people will need to be replaced and the battle for talent will be won by those who can offer millennials opportunities that are consistent with their values. Those who do not change from the traditional way of doing things will lose out. Millennials, sometimes referred to as "digital natives", are the first generation to grow up with the digital interconnectedness that has fundamentally changed the way we communicate and consume. Understanding them will aid businesses selling to them as well as employing them. From a global perspective, the millennials form the largest generation in history. More than half of the world's population is under 30. The long-term repercussions of failing to appeal to millennials has certainly dawned on the insurance industry, a major driver of the Bermuda economy. In the US, the industry will lose about 400,000 employees to retirement over the next five years. Replacing them with young, talented individuals is essential to drive the innovation necessary for companies to avoid being driven into oblivion by the forces of disruptive technology that are rapidly reshaping entire sectors of the economy. Look at what Amazon has done to bricks-and-mortar retailers, what the likes of Priceline and Expedia have done to travel agents, and what Uber has done to taxi drivers around the world. There is a widespread nervousness among business leaders in many industries about falling victim to disrupters and the insurance industry is no different. Recruiting from the millennial cohort — the generation most likely to think like the disrupters — will strengthen organisations' ability to modernize themselves before some techie innovator does it for them. Unfortunately for the insurance sector, it seems that most millennials find the industry boring. A survey last year found that only 5 per cent of millennials would consider a career in insurance. As Brian Duperreault, Hamilton Insurance Group's chief executive officer, said at a conference last month in Hamilton: "If we don't pay attention to what they're telling us about our workplaces and work policies — and this includes our attitude towards diversity and inclusion — they're going to continue to snub our industry. We can't afford to let that happen. Not only are they our future workforce, they're our current and future customers." Mr Duperreault is one of the driving forces behind an insurance industry careers initiative that will span the month of February. More than 250 firms are backing the careers month, which will include millennials already employed in the industry going on to college campuses bearing the message that insurance, far from boring, fits well with the millennial desire to work in a "purpose-driven" business. Another reason why older generations should listen to what millennials want is that they quite simply envision a better world in which to live and work, one which is now more attainable than ever, thanks to technological advances. Charlotte Valeur, a corporate governance adviser, said at an insurance conference last month: "What millennials want is nothing new — it's what women in the workforce have wanted for 50 years. But it was just coming from one gender. The difference with millennials is that it's what both genders want." In practice, the proliferation of instant mobile communication has made free time less free for many of us. However, with the reorganization of traditional working practices that mobile technology has made possible — and that millennials will force to happen — that same technology could yet prove to be liberating."
January 13. Cheaper flights to the Island and strong international branding are the keys to rebuilding Bermuda's hotel industry. Speaking to The Royal Gazette as part of a series of interviews on the status of the tourism industry, hoteliers Paul Telford, Sally Kyle and Clarence Hofheins all gave their thoughts on how the industry could be strengthened. Mr Telford, the managing director at Rosewood Tucker's Point, feels the Island is in transition and needs to develop and focus its brand to better sell itself as a destination. "Bermuda over the last few decades has kind of lost its way," he said. "We lost the definition of what is 'Brand Bermuda. If you ask 20 different people to define 'Brand Bermuda', you'll probably get 20 different answers. Ferrari makes cars. They make phenomenal sports cars. Ask anyone about Ferrari and they'll tell you they make sports cars, they're fast, they look amazing, the finest materials. They can identify it, they can define what that brand is. Bermuda needs to know what its brand is, and we need to determine who is out there looking for our product. Bermuda's so small that it has to be one brand, it has to all work together. We are starting to create 'Brand Bermuda' based on all of our strengths. We are starting to identify who our market is and we're starting to align the brand to what our market is demanding. We are now getting to the point where we can communicate it out there effectively and build the interest and build the demand to get these people here to Bermuda." Ms Kyle, of the St George's Club, said the keys to rebuilding the industry were to provide good value for money, and make it easy and affordable for visitors to get here. "Obviously, the air service is hugely important for us," she said. "We have the advantage that we are a safe Island, with everything else that's going on in the world, and we are so close to the eastern seaboard. At certain times of the year the price to get here on the airlines has a negative impact. Certainly it does for the European traveller. And with the European traveller there is an advantage because they will always come for a week, perhaps ten days, and often two or three weeks." Mr Hofheins, the general manager at Cambridge Beaches, also stressed the importance of lowering the cost to fly to the Island, along with rebuilding Bermuda's group visitor business. "The next thing is to get those airline rates to a point where once people click on it, they want to come to Bermuda," he said. "There has always been an adage that Bermuda's hotels are too expensive. Now we have such a variety of guesthouses, small properties and big hotels, there is a wide range of rates. If someone wants to come to Bermuda, based on their economic situation, they can find a property. It's getting the people here, that's the issue. We need something that is going to change the game for Bermuda and the only thing that is going to change the game is somehow being able to offer our guests coming to Bermuda an affordable flight from the eastern corridor. If you can go out and get a flight from the east for $300 round-trip, that will change the game. Whether it is offering deals like your companion flies free, whether it is offering a $200 credit. If we are able to do that, then you will see it change on the Island. It's really easy to say that. There's a lot more to it. If it was that easy, it would be done. I would love to see the hotel industry, not just the BTA [Bermuda Tourism Authority], get together and figure that out and make it happen. That will increase business, it will increase arrivals, everyone will benefit." All three hoteliers praised the BTA's work, but acknowledged that turning around the tourism industry would not be easy. Mr Hofheins said: "They are between a rock and a hard place. They have a huge challenge ahead of them. I really like the team. They are doing everything they possibly can. For the first time I feel that they have gone out and got credible data and they are now using that data to make their decisions. That was one of my big criticisms in the past, people had that data and didn't use it, and they didn't make the decisions based on that data." Ms Kyle said: "We are an amazing destination and the word is out there now, which it perhaps hasn't been in the past. The BTA had a lot of ground to cover and it won't happen overnight."
January 15. A legislative "error" which would have impacted on seniors is to be amended by finance minister Bob Richards. The Bermuda Government announced Mr Richards will present changes to the Land Tax Amendment bill, which was tabled on December 16, but contains an "error which would have unintentionally impacted Bermuda's senior citizens who are land owners". The press release stated: "The Land Tax Amendment Act stated an incorrect value for the maximum ARV allowed for the exemption afforded to Bermudians 65 years and older, as per section 3A of the Act. "The corrected ARV limit for the seniors' exemption is $42,000, not $29,000 as tabled." According to Government, based on the new land tax rates which were also tabled in the amendment, the maximum dollar value of the exemption provided for seniors is $1,569, annually which is in line with the previously existing exemption of $1,566. Government stated: "Therefore, although the ARV value has been lowered, the dollar value of the exemption provided to seniors has been maintained."
January 13. Arguably his entire adult life was a work of art in continual progress. On and off the stage, David Bowie was one of the great showmen of modern times, maybe of all time. He channeled his prodigious creative energies not only into his work but into his many public guises and was one of the best-known cultural figures in the world when he died this week at the age of 69. The one-time Bermuda resident was also a man of many contradictions. He was the mercurial Ziggy Stardust, Aladdin Sane and The Thin White Duke, an international superstar, a canny businessman and a charter member of the glitterati. He was also an inveterate reader, a chess player and a gardening enthusiast (wife Iman used to call him, not unkindly, a "homebody"). As a singer, songwriter and performer, his albums and concerts were as much informed by performance art, cabaret, inspired fashion choices, surrealism and musical theatre as they were by pop and rock trends. An avant-garde artist, he was also a mainstream pop star, a Broadway and film actor, and a highly regarded painter. A serious student of classical culture, he was first awakened to the transformative power of art when he heard Little Richard. His ceaseless efforts to reinvent himself — both as a performer and, sometimes, in real life — made him a style icon and muse to designers and fashionistas around the world. But he often cheerfully schlepped around his Bermuda home dressed in nothing more elegant than his bathrobe and socks. Through every costume change and each new stage persona, through every shift in musical direction and abrupt creative departure, Bowie remained thoroughly consistent only in his sometimes wild inconsistency. His malleability and unpredictability, his dizzying stylistic transformations, served to make him both the "chameleon of rock" and one of the more endlessly fascinating and, ultimately, elusive figures in popular culture. His first act of reinvention was when shy, socially awkward David Jones, born to working-class parents in London's Brixton district, took "Bowie" as his stage name in the 1960s. He immediately set about remaking his image as a type of exercise in living theatre, an extended one-man show played out in the public eye. His artistic mission was entirely in keeping with the inventiveness and audacity that soon came to characterize his newly minted Bowie alter ego: he wanted to become the musical patron saint of lost causes and lost people, to make others who felt different embrace and celebrate those differences. Where David Jones had been another would-be folk-rocker in a "Swinging London" milieu top-heavy with office clerks who aspired to be the next Mick Jagger, David Bowie quickly emerged as his own man with his own idiosyncratic brand of music and stagecraft ("All my big mistakes are when I try to second-guess or please an audience," he once said of his trademark, experimentalist approach to music. "My work is always stronger when I get very selfish about it."). If, as Oscar Wilde said, most people are other people, their thoughts someone else's hand-me-down opinions, their lives acts of mimicry, their passions quotations, David Bowie was always a leader of trends, never a follower. And if David Jones lacked in confidence, the self-invented David Bowie persona had a surfeit of it. "I suppose for me as an artist, it wasn't always just about expressing my work," he once said. "I really wanted, more than anything else, to contribute in some way to the culture I was living in." Contribute he did. From the outset he boldly championed the alienated and the marginalized in his work and in his life. His musical styles may have changed — and changed radically — over the years, but Bowie's songs were always thematically consistent, underpinned by conviction, fearless sincerity and a boundless sympathy for the misfits, the nonconformists and the rejected. Frequently awash with romanticism and a sense of the possible, his irresistible melodies and defiant lyrics made for songs that became anthems to generations of the displaced. Armed with uplifting and hopeful tracks such as Win, Fame, Changes, Heroes and Rebel, Rebel and his larger-than-life stage personae, he repeatedly stormed the citadels of conformity and helped to expand the bounds of the culturally acceptable. For decades, Bowie was a glamorous and tireless champion of women, racial minorities, gays and creative but lonely teenagers the world over (actress Tilda Swinton spoke unwittingly for millions when she said his appeal to her as a shy and insecure adolescent lay in that "he looked like he came from the same planet as me"). Ultimately, Bowie became a towering and transcendent figure. He was embraced by the mainstream and counterculture alike, respected by the hip-hop and LGBT communities and completely at ease sharing stages with acts as diverse as Bing Crosby, Luther Vandross and "godfather of punk" Iggy Pop. He defied easy categorization — and actively despised the idea of ever being pigeonholed into a neat, easy-to-market creative niche. Beneath the various masks and costumes and glitter, Bowie was a man of sparkling intelligence, impeccable taste and retiring and unassuming habits. Former Bermuda Attorney-General Michael Scott lived next door to Bowie and his Somalian-born supermodel wife Iman in Sandys parish after they relocated here for a period in the 1990s. Mr Scott has said of his power couple neighbours: "He was always a fascinating artist, but when I met him he was just a husband and a father. I didn't see the David Bowie who was this great international artist; I saw the husband. I was always in awe of what he had accomplished as an artist and what Iman had accomplished as an international model, but that didn't get in the way of us talking about ordinary things. I was enchanted by his easygoing manner, his warmth, his sense of humour, sometimes sense of mischief. He was a deep thinker and had a powerful capacity for inquiry; he definitely possessed an inquiring intellect. So to be around David was an impactful experience: never boring, always pleasant." As Mr Scott went on to point out, Bowie, who married Iman shortly before the couple moved to Bermuda, was intent on creating a stable family life with his new bride after a long period of casual and short-term relationships and rock 'n' roll excesses. Bermuda was the perfect setting for them to embark on married life together, to cement their relationship away from the flash of paparazzi cameras ("You would think that a rock star being married to a supermodel would be one of the greatest things in the world," Bowie once joked. "It is."). Mr Scott continued: "It struck me that it was David's supreme honour to be Iman's husband. He was Iman's protector, consort and prince. Their time in Cambridge Road had as one of its aims, in this tranquil setting, to conceive their child, and Alexandra was born shortly after they left Bermuda." Bermuda respected the privacy of one of the most recognizable couples in the world. And Bowie and Iman found a home, a haven and what he once called a little bit of heaven here — "We loved it in Bermuda," he said. "Quiet, respectful, a dreamscape atmosphere out in the part of the Island where we lived." Playing David Bowie in all of his many manifestations was arguably David Jones's greatest artistic achievement. And if his death came too soon, if the life that ended this week was an unfinished symphony of sorts, those who knew, loved and admired him can at least take solace in that the creative fires and desire for artistic expression burnt almost until his final breath (his last album, Blackstar, was released two days before his death as a "parting gift" to his fans; the new single, Lazarus, opens with the lyrics: "Look up here, I'm in Heaven ... "). The master showman went out as he wanted to: still plying his craft, still entertaining us, his capacity to surprise completely undiminished.
January 13. Bermudians and work permit holders are not getting value for money when it comes to healthcare, according to Tawanna Wedderburn. Addressing Hamilton Rotary's weekly meeting, the chief executive of the Bermuda Health Council gave a presentation illustrating the Island's annual health expenditure. Seeking to explain the "health insurance puzzle", Ms Wedderburn produced figures that outlined how the costs were distributed within health services, an effort to answer the questions, "What is that used for? Where does it go? We are not receiving value for money," she said. "This is something the Bermuda Health Council will have to address in addition to our partners and stakeholders." Bermuda's total yearly health expenditure is $693 million. She compared the Island with Japan, where residents have the highest life expectancy, of close to 87 years, and are spending less than $3,500 per capita annually. While the United States marks the extreme at almost $8,500 per capita, "Bermuda is not in very good company", she said. Our life expectancy is just below 80 and we are spending a little less than $7,000 per capita. The Organisation for Economic Co-operation and Development average shows that 8.9 per cent of a country's GDP is spent on health expenditure — in Bermuda we are just below the US, spending 12.7 per cent of our GDP on health," Ms Wedderburn showed. "It is imperative that we bring life expectancy up and the cost of healthcare down, an outcome I believe is achievable." She also announced that the BHC has a number of new initiatives in place. She said they had investigated complaints and employed a strategy of publishing the names of "non-compliants" on their website. "Of the employers that have been published on our website, 72 per cent have successfully reinstated their coverage, so we know that publication is working," she said. "We have an obligation at the Health Council to ensure that those employed persons do actually have access to health insurance and the way we do that is through compliance." While she maintained that excellent care was available in Bermuda, "we have to look at contributing factors to poor health and a lower life expectancy. Part of the perception people have is that we don't have good local care, when indeed we do. We have some well-trained practitioners," she said. She said there was "no question of the connectedness between mental and physical health" and that the BHC was working towards regulating other professions within the health industry. Ms Wedderburn told The Royal Gazette: "One of the primary reasons has to do with lifestyle choices. We have to acknowledge that we do not make some good lifestyle choices. Those lifestyle choices are primarily related to our exercise and our diet. If we're not making good lifestyle choices it invariably influences the degree to which we get sick and the degree to which we are able to manage that sickness. We are clearly seeing that if people are more stressed and if people have mental health issues then that obviously contributes as well to the extent to which they require care and whether or not they can access care." Ms Wedderburn also suggested that patients "shop around." The prices set by healthcare professionals are not regulated and making important decisions means knowing how much it will cost, she said.
January 13. The Corporation of Hamilton has announced a "slight tax increase", which reportedly came into effect at the start of the year. In a statement yesterday, mayor Charles Gosling said the resolution was necessary as a part of the City's strategy to increase revenue, which has plummeted in the last ten years. He noted that wharfage income alone had fallen by more than 40 per cent in that time. A spokeswoman for the municipality noted that Ordinance amendments have not yet been published, adding: "We anticipate that will occur in the coming days and we are therefore preparing the public for the change. "The changes were only approved in the last two weeks and over the holiday period. Among the announced changes are a 2 per cent tax increase, a restructured "tiered" residential tax structure similar to land tax and a 5 per cent increase in rental rates at city venues such as Pier 6, the Earl Cameron Theatre and the various parks and streets in the municipality. Property owners will be responsible for the full municipality rates and will be authorized to collect the tenants' portion through the rent. "Where the property is not tenanted, commercial owners may apply for a refund," the statement said. "This change is in effect because property owners often do not update the city on tenant changes and this will reduce City of Hamilton administration time and costs." Residential parking permits will now include a $25 per year administrative charge. Handicapped parking will switch to the full rate, however handicapped spaces will be converted into two-hour parking. The administrative charge for a handicapped parking permit remains unchanged. The statement said that sewage connection fees and concession stand fees have also been changed, adding that the City will communicate the changes to affected parties.
January 13. A firm has threatened to start selling off Corporation of Hamilton land if it does not receive the $18 million it is owed over the failed Par-la-Ville hotel project by the end of Friday. Mexico Infrastructure Finance's legal team has told the corporation and the Bermuda Government it has no choice but to sell Hamilton Fire Station, the Chamber of Commerce building and the Custom House if the debt is not settled. In a letter seen by The Royal Gazette, the firm's legal team expresses extreme disappointment at the conduct of the city's administration for "failing to engage in any constructive dialogue". MIF also accuses the corporation of going against the Supreme Court judgment that entitles it to an extra $800,000, on top of the $18 million, in receivership revenue and expenses over the failed hotel deal. Last night, Hamilton mayor Charles Gosling confirmed discussions between the two sides were continuing and the corporation had offered "every reassurance" that it was making "every effort" to settle the $18 million judgment. Mr Gosling pointed to recent legislation increasing the amount the corporation could borrow from $20 million to $30 million. He told this newspaper: "The corporation has also kept MIF abreast as best as possible in relation to its discussions with the lending institution for the securing of the funds as well as the ministry in relation to amending various legislation that would permit the corporation to borrow the necessary funds — while permitting them to continue with the day-to-day operations. "The corporation is confident that they will be in a position very shortly to pay all funds owed to MIF as they are fully aware of their commitment under the court judgment." Mr Gosling's pledge was endorsed by Michael Fahy, the Minister of Home Affairs, who said he remained confident in the mayor's ability to see the matter resolved. Last week, senator Fahy told this newspaper the corporation could reach an agreement within days to satisfy its debt over the matter. Yesterday, he stated: "The ministry has separately kept MIF's lawyers advised of efforts being made by the corporation to satisfy its obligations and more recently I commented publicly as to those efforts." However, in its letter to the corporation and Government at the end of last week, MIF maintained it would take steps to execute the judgment "without further notice" if it did not receive the money owed on or before the close of business on Friday. "In light of these developments you have left our client with no other option but to proceed to execution which will include the sale of your client's properties including Hamilton Fire Station, the Chamber of Commerce building, and the Custom House, as well as the garnishment of its income," the letter states. "In an effort to provide your client with one last opportunity to meet its obligation, our client will hold off taking such action until close of business on January 15. Payment of the judgment of $18 million together with accrued judgment interest and net of receivership revenues and expenses of $817,935, as of January 15, must be received by our client, otherwise steps to execute against the judgment will commence without further notice." On July 9, 2014, developer Par-la-Ville Hotel & Residences Ltd entered into a credit agreement with MIF to borrow $18 million for a proposed hotel development in Hamilton. On the same date, the Corporation entered into a guarantee of the loan and, as security for that guarantee, it provided MIF with a first mortgage over the Par-la-Ville parking lot. That loan was later recalled, leaving the corporation liable for the $18 million owed to MIF with interest of about $3,450 a day. The letter from MIF's legal team further states: "Our client is extremely disappointed that your client has declined to engage in any constructive dialogue in connection with the repayment of our client's $18 million judgment, together with accrued judgment interest net of receivership revenues and expenses, which stands at $769,606 for a total obligation of $18,769,606 as of January 1, 2016. No sensible timeframe has been provided, this despite the fact that your client promised to repay our client either at the end of 2015 or during the first week of January. Further, our client is deeply disappointed to now learn that your client is not intending repaying the judgment interest to which our client is legally entitled. It has been clearly agreed that if our client would refrain from commencing execution proceedings on its judgment, that the entirety of our client's judgment would be repaid including the 7 per cent judgment interest according to law."
January 13. John Prato, the Canadian Consul General in New York, has arrived in Bermuda for a short visit. Mr Prato called at the Cabinet Office to meet with Michael Dunkley, the Premier, and Bob Richards, the Deputy Premier, as well as other officials from the Bermuda Government. According to a press release from Government, Mr Dunkley stated that Bermuda has enjoyed an enduring relationship with Canada over many years and he expects that the mutual respect will continue in the future.
January 13. Political parties would have to disclose who funds their election campaigns under new legislation proposed by Marc Bean yesterday. The Opposition leader called a press conference to push for a new good governance law to outlaw corruption and shine a light on political party funding and politicians' financial interests. In 2009, MP Wayne Furbert called for a law to force political parties to disclose financial donations above a certain amount and reveal where they came from but the idea never gained traction. Mr Furbert was an independent at the time and now represents the Progressive Labour Party. The Island's MPs and senators declare their personal financial interests voluntarily on a register which can be viewed by members of the public at Sessions House. It was introduced after a long-running one-man campaign by MP Trevor Moniz, who is now the Attorney-General. Mr Bean, flanked by members of his shadow cabinet, said a new law was needed to:
ensure full transparency on political campaign finance;
require MPs and senators to declare all their financial interests, including those held in trusts;
widen the definition of corruption to make unethical behavior illegal;
create tougher sentences for Cabinet ministers, MPs, civil servants and members of the public found guilty of corruption;
stop politicians profiting from their government knowledge and contacts once they have left office.
"Good governance protects the public purse, protects the interests of Bermudians, raises the standards of governance and enhances investor confidence," Mr Bean said. "Good governance is good for Bermuda." Asked why such robust legislation was not introduced when the PLP was in power, he said the party started the process of improving governance but it was a step-by-step process. "Unfortunately it seems as if the One Bermuda Alliance have been very reluctant to implement good governance," he added. "Why? You'd have to ask them." Mr Bean said his party backed the recently announced Commission of Inquiry into the handling of public funds between 2009 and 2012 and would initiate its own commissions into historic land theft, the airport development, Jetgate and the Hamilton waterfront "fiasco" if elected back into power. He said the commission into the Auditor-General's findings of numerous breaches of financial instructions needed to be longer than three months and more like six to nine months to ensure it was thorough and could not be dismissed as a whitewash or cover-up. "It is important that the truth be revealed, and if any wrongdoing has occurred, that it be exposed," he said. "Our position is that anyone engaged in corruption, malfeasance or insider dealing must be exposed, convicted and punished to the fullest extent of the law, whether they are UBP, PLP or OBA." He said some would be surprised at the PLP's support of the Commission of Inquiry because "generally speaking, the public narrative is that the PLP would defend the indefensible, despite the fact that we are the only party to take a definitive stand on good governance".
January 13. A former senior Cabinet official and British Army Colonel Donald Ralph Pudney has died at the age of 88 after a battle with cancer. He died last Tuesday — six weeks after receiving his diagnosis. Mr Pudney moved to Bermuda in 1971 working across the health and home affairs ministries as well as the Cabinet Office. His eldest daughter Elaine Pudney recalled that her father was a stickler for the rules yet possessed a gregarious character. "He was very strict with us growing up because he was army. That background gave my brother, my sister and I huge insights and we had to move to a new location every few years. He was particularly strict with us when we were in Bermuda because it was such a free Island in the 70s, so he read the riot act to us. My father was an amazing chef and he would cook for all the dinner parties and he was such a jovial host. He was a real storyteller — he had some amazing stories — he was in the Korean War just after my brother was born." Mr Pudney, a freeman of the City of London, was the last officer to be commissioned into the British Army in the Second World War, and the youngest Captain. He served in Korea and claimed to have "been shot at in most parts of the world." He retired from the British Army in 1971 and moved to Bermuda. His first role here was as permanent secretary for the Ministry of Health. He later worked for the Bermuda Regiment as an administration officer before moving to the Ministry of Home Affairs as co-ordinator for security services including the police, Regiment and fire services. He moved to the Cabinet Office as assistant secretary to Cabinet under the leadership of Sir John Swan. Mr Pudney worked within the private sector before retiring and leaving Bermuda for England in 1987. Sir John Swan said of his former colleague: "I was impressed with his promptness and punctuality, and the importance he placed on fulfilling his responsibilities. He obviously had a very strong military background. He joined me at Home Affairs and subsequently joined Cabinet as assistant secretary to Cabinet — that is my working history with Donald. He did a great job in making sure that we made the most efficient use of our human resources through our relationship with permanent secretaries. He was always there to assist and meet the requirements of the Cabinet's responsibilities which were rather vast at the time because the Cabinet's job was to co-ordinate all the functionalities of the various ministries. Pudney played a role in maintaining that process in an orderly fashion." Quinton Edness was health minister while Mr Pudney was PS within the ministry. Mr Edness said: "He was my permanent secretary when I was in the Ministry of Health. He was a very efficient man — he was a soldier. When he gave an instruction he meant it — he was Colonel Donald Pudney. He loved people and had a tremendous personality. He had one of the world's best classic toy-soldier collection. It was a phenomenal collection — it was just tremendous. He loved Bermuda." A scholar of British Regiments Mr Pudney's collection featured more than 9,000 figures. He leaves behind his wife June, son Steven, and daughters Elaine and Susan Hill. He has five grandchildren and eight great-grandchildren.
January 13. Animal advocacy group Punish the Deed has renewed its call for a dog amnesty after helping to arrange for the export of two seized dogs from Bermuda. Both pets, which would have faced euthanasia had they remained on the Island, were flown to a temporary foster home in Ohio where it is hoped they will be re-homed. It comes after the Ministry of Health confirmed its policy had been modified to allow owners of banned breeds to export their pets when it is "logistically and financially viable". Punish the Breed welcomed the move by the Bermuda Government, but insisted it was not a long-term solution to the problem. "While we are extremely thankful that the export policy has now been amended to allow for this opportunity when these breeds are seized, we recognise this is not sustainable long term," the group said. "Punish the Deed has been petitioning to the minister to request an amendment to the prohibited breeds list in the hope of ushering in a new era of responsible ownership and animal welfare. While this policy remains enforced it allows for an endless cycle of distress within the local community of Bermuda. We would like to stress the need for an immediate amnesty while the current policy is under review. This is our hope for 2016." The group has pledged to help owners of banned breeds that have been seized to export their pets.
January 13. A real estate firm has launched a pioneering company to rent furniture to new Island residents. Albert and Debbie Moura, who run Moura & Associates, spotted a gap in the market in catering to overseas workers. Now they aim to provide customized packages named after Island beaches for properties ranging from studios to large family homes through TurnKey Furniture Rentals. Ms Moura — who has a background in interior design — said: "The packages are fixed to include the pieces of furniture deemed necessary to fill a space. "There is a level of flexibility through different rental options, with the option to add on a TV and TV stand if needed." Mr Moura said that furniture rental businesses — popular in North America — had never taken off in Bermuda, despite its large expatriate population. He added: "In our line of business, we see a lot of people moving to the Island for only one to five years and, because of their relatively short stay, a lot are less than eager to purchase new furniture or go through the expense of importing their own furniture and paying duty on it. To help alleviate the stress of finding furniture, TurnKey provides the opportunity for new residents to have their homes or apartments completely furnished quickly and cost effectively." And he added that the service meant not only less time hunting down furniture, but co-ordinated packages featuring a dash of style as well as convenience. TurnKey also arrange delivery and pick-up. The company will be run on a day-to-day basis by the couple's son Justin. And Turnkey aims to expand the business in the future to include small kitchen appliances and accessories, as well as outdoor furniture.
January 13. F John Barritt was one of Bermuda's best-known Speakers but, according to his daughter, Alzheimer's robbed him of his admirable voice. Jennifer Johnson lost her father, a former Speaker of the House of Assembly, almost two years ago. She spoke to The Royal Gazette to shed some light on the condition, which is becoming better understood thanks to Action on Alzheimer's & Dementia (AAD). The local charity has sought to educate the community on Alzheimer's since founder Elizabeth Stewart lost her own mother. A neuro-degenerative disease, it is the most common cause of dementia and cannot be stopped, slowed or prevented. Data suggests that people who have strong social support are less likely to have dementia symptoms. "To understand what's going on with someone, you have to live with them," Mrs Johnson said. When she lost her mother in 2006, Mrs Johnson and her husband Richard moved into her old family home to stay close to Mr Barritt. "My dad, he was very good at hiding things. He didn't really want us to know that his brain wasn't working properly. There were little things that happened that made us aware as a family to understand what was happening to him," she said. Mrs Johnson is one of four siblings, including her brother, John Barritt, former One Bermuda Alliance leader and United Bermuda Party MP. She said that the charity's weekly meetings gave her knowledge that enabled her family to fully support her father after she felt disappointed by resources at the hospital. "I was desperate for help at that point, she said. "He was a very gentle person but the Alzheimer's made him very aggressive — very unusual for my dad. Normally he was the sweetest man. It turned him into a monster at times. It really did. He would have been horrified that he became like that." When she took him to a gerontologist for a formal assessment he felt that he was being tested. "That upset him a lot," she said. "He felt that he failed. "He was the most wonderful speaker. I know that he's my hero, but my dad could speak so well. In the end, he couldn't speak, he couldn't talk to us. It robbed him of everything. That was tough for me. To see that happen to my dad. Mrs Johnson attended the charity's monthly meetings and described them as "a constant source of support and help." "They're very, very good at not just the talk — they do something. They care," she said. "They didn't just help us and then walk away. I just can't speak more highly of them. I couldn't have managed without them. "Mrs Johnson said the experience has left her wary. "I can identify things that my father began to struggle with like paperwork and filing and stuff like that. I'm beginning at 69 to find that a challenge, so I'm scared. I've got to make sure and my husband's aware — because we don't have any children — that there's a plan in place. It's not stopping me from living but there is that worry in the back of my mind. I just want to make sure that I have things in place and my husband knows my wishes." The charity's occupational therapist, Marie Fay, also emphasized the importance of a correct diagnosis. It is important for a number of reasons," she said. "It helps people to access services such as ours but it also helps people plan for the future too. Because, if this is dementia, dementia is a progressive condition and people are going to require more hands-on assistance over time. Having people make decisions about who's going to make decisions for them if they're not able to." AAD offers therapeutic programmes such as music therapy, art therapy, pet therapy and exercise classes. These non-pharmacological therapies are currently believed to be the best form of treatment for dementia. "And we really are educating that people are still there," Mrs Fay added. "They're still in there. They may withdraw because they've had a lack of human connection over a long period of time, but it's still possible to reach people. We see that a lot in therapy programmes that we offer. People that staff would say haven't even opened their eyes or lifted a finger in some time, given the opportunity to come to the table and be given a paintbrush or to sit and listen to music. It's amazing how that can draw people back out."
January 12. Opinion by Bill Zuill. "Bermuda received a lot of good economic news last week, confirming that the Bermuda economy is emerging from "The Great Recession", some seven years after the stock market crash of late 2008. Much of the positive news was encapsulated in an excellent analysis in Saturday's Royal Gazette, but for those who may have missed it, the positive news included:
Real economic growth in the third quarter of 2015 of 4.4 per cent — the third consecutive quarter of growth.
Improved balance of payments, partly because of the decline in oil prices which also lowered prices for a range of goods and services — inflation in October was just 0.6 per cent.
An earlier report of strong retail sales in October (thank you, America's Cup), the eleventh consecutive month to record an increase in the volume of sales.
Also released was the executive summary of the Labour Force Survey, and here the news, while positive, was more nuanced. One of the signal features of this recession around the world has been how jobs growth has lagged behind economic growth. The same is true in Bermuda. Typically, unemployment is measured by the number of people who file for benefits or unemployment insurance. Bermuda does not offer unemployment benefits, so that cannot be used as a measure. Instead, the Labour Force Survey takes the estimated working population and subtracts the number of people in work to determine the number of unemployed. So it is an estimate — as good an estimate as we are likely to get, but still an estimate. The number of filled jobs in 2015 fell by 37 jobs or 0.1 per cent between August 2014 and August 2015. In statistical terms, that means the number of jobs was flat, which in itself is positive after almost 500 jobs were lost between 2013 and 2014. In the meantime, the unemployment rate fell from 9 per cent to 7 per cent. Because the Bermudian workforce is shrinking as more people (baby boomers) leave the workforce than are coming into it, the result of a decline in the birth rate which started more than 20 years ago and whose effects are being felt now. Thus, the available labour force in 2014 was estimated at 36,927. In 2015 it was 36,028 a decline of 2.4 per cent. Because the workforce shrank faster than the drop in jobs filled in 2015, the unemployment rate fell as well. Digging deeper into the numbers, some other statistics stand out. The number of non-Bermudians in work increased by 377, but the number of Bermudians in work fell by 413. On the surface, this may look like Bermudians being replaced by non-Bermudians, which would be political dynamite, especially in a recessionary environment. But in fact it reflects the long-term trend of a declining birth rate, and the idea that one Bermudian leaving the workforce can be automatically replaced by another is simplistic. Nonetheless, it is worrying that Bermudians are not getting employed as fast as non-Bermudians. Although the number of unemployed in all but one age groups declined, unemployment among 16-24 year olds remains high at 23 per cent, or almost one in four. That is better than the 28 per cent recorded in 2014, but is still far too high and Bermuda runs the risk of creating a group of people who have never worked and will become unemployable over time. That's bad for them and bad for Bermuda. Also bad for Bermuda is the continued racial divide, with an unemployment rate of 9 per cent among blacks and 4 per cent among whites. To be sure, in 2014, black unemployment was 12 per cent, so it has declined by a quarter, while white unemployment has actually increased, but the social ramifications are serious. Male unemployment also remains higher than female unemployment at 8 per cent compared to 5 per cent. Female unemployment decreased by three percentage points compared to 2014 and the number of working females increased. By comparison, male employment fell slightly. None of these patterns are new in Bermuda, and the long-term causes are familiar. The fact that black males tend to be less highly educated than other demographic groups is the primary reason that this section of the population is experiencing higher levels of unemployment. This educational disparity was masked when Bermuda's economy, and especially the construction sector, was booming, because relatively unskilled but well paid jobs were there for the asking. With the virtual collapse of construction some four years ago, unskilled or low skilled males in their 20s and early 30s are those most vulnerable. And what skills they do have are not very transferable. The long-term answer to this is obvious. As Tony Blair, the former British Prime Minister, once said, his top three priorities were education, education and education. Nothing has changed. Although the employment figures suggest the job market has finally reached a bottom, and there are real signs of recovery, the likelihood of jobs growth is still uncertain. At the top end of the market, the wave of reinsurance mergers over the last 18 months is likely to see continued job reductions in that vital sector. Although there are signs of an increase in new businesses setting up, it is not yet clear if they will be sufficient to replace the jobs being lost. Much hope is being pinned on hotel construction, but until ground is broken in St George's, at Morgan's Point and elsewhere, those chickens cannot be counted. More broadly, the move to utilise technology and automation continues apace and in the short term this may lead to job losses. In the long term, it is necessary if high-cost Bermuda is to be competitive, but it will mean that job and skill requirements will become more and more demanding. The America's Cup has had a significant impact, but was never going to create thousands of long-term jobs — its effect was and is to kick start the economy and put Bermuda back on the map for tourism and international business. What may make the difference is the increase in confidence, both among consumers and business owners. If consumers spend more, businesses expand and hire. If businesses are confident, they expand and hire, and create their own virtuous circle. There are signs of growing confidence, so 2016 should see the long-awaited expansion in jobs, but its growth has to be carefully nurtured.
Bill Zuill is a director of Bermuda Executive Services Ltd.
January 12. Global reinsurance capital, a matter of huge importance to Bermuda's international insurers, has fallen back from its $575 billion peak, recorded in 2014, and is now estimated to be 2 per cent lower at $565 billion. The reason for the $10 billion drop is unrealized investment losses, together with adverse foreign exchange movement, according to the latest report from Aon Benfield. During the past 12 months alternative capital has continued to grow, albeit at the slowest rate since 2010, and hit $69 billion. That was only an 8 per cent rise, but Aon Benfield maintains its prediction that alternative capital will jump to between $120 billion and $150 billion by 2018. "Over-capitalisation" is often cited as one of the reasons for the soft reinsurance market. The figures in the "Reinsurance Market Outlook" report are based on data up to and including the third quarter of last year. The reinsurance intermediary and capital advisory firm has a positive outlook for reinsurance buyers at April 1 renewals. "Insurers are likely to find improvements in pricing terms and conditions that are similar to what we achieved for clients at January 1," the company stated in its report. During last year there were discernible trends within the alternative capital space, with sidecar capacity increasing the most, up 30 per cent, and a smaller increase in insurance loss warranties. There was a small decrease in catastrophe bond capital. Growth opportunities seen in 2015 included more insurance and reinsurance transactions focused on US residential mortgage default risk and the increase in demand for cyber risk insurance coverage. There was also a growing privatization of public risk, as shown by Florida Citizens Property Insurance Corporation having now placed $3.9 billion of risk transfer into the private market, compared to $575 million in 2011. Last year, the Florida Hurricane Catastrophe Fund secured reinsurance capacity from the private market for the first time. Aon Benfield expects to see more non-insurance corporate sponsors in the catastrophe bond market. US railroad company Amtrak was an example of this during 2015. Every major region of the world sustained below average annual insured losses last year, and for a second consecutive year there were no major catastrophes that registered insured losses above $5 billion. The costliest insured event for the US was a February winter storm that resulted in $2.1 billion of insured losses, making it "the lowest 'most expensive' annual individual insured loss event sine 2000", the report noted. Insured global catastrophe losses were at their lowest level since 2009, with a tentative figure of $32 billion, compared to the 10-year average of $61 billion. The US continues its record-setting streak of consecutive hurricane seasons without a major hurricane landfall. The last major hurricane to strike the US was Wilma in October 2005. Global flood losses were identified as a major growth opportunity due to the low insured-to-economic loss ratio. Looking ahead, Aon Benfield said leading reinsurers had invested heavily in skills and processes to allow more of clients' risks to be managed in the reinsurance market. "These commitments will need to continue and broaden beyond the early movers to allow us to continue to meet growing demand in six areas." Those areas are US mortgage credit risk; life and annuity risk; government risk depopulation and risk transfer; regulatory and rating agency capital model adoptions and enhancements; tactical reinsurance transactions; and cyber and corporate giga-liability risk programmes. "Differentiators for reinsurers going forward are increasingly apparent. Underwriting expertise, breadth and depth of coverage, and responsible servicing translate to strong broker and client relationships," Aon Benfield stated. The company further noted that many reinsurers "have put even further focus on client intimacy, enhanced risk analytics, broader product and distribution capabilities, and capital market relationships while at the same time simplifying and streamlining their businesses wherever possible to maximize operating efficiencies."
January 12. John Wight, the chief executive officer of BF&M Ltd, is take over as president of the Bermuda Chamber of Commerce. Mr Wight replaces Kristi Grayston, who died suddenly last month. He said yesterday: One of the objectives I have is to raise the profile of the chamber and enhance the value of membership for our members. There are many issues affecting Bermuda's future that I think needs elevating to higher and broadened discussion. Each quarter, starting this quarter, there will be an article in The Royal Gazette focusing on my opinion about a topical issue relevant to Bermuda. This will be followed by a panel discussion with qualified speakers for our members to attend and participate in. We will then survey our members on the particular topic in question and take any action following that we deem necessary on behalf of our members." Kendaree Burgess, the Chamber's executive director, said: "We look forward to welcoming John as president — he has been an avid supporter of the chamber in the past year. "John's passion for and leadership development will enable us to further develop our member engagement strategies." Mr Wight, a qualified accountant and property and casualty underwriter, is also a council member of the Bermuda Stock Exchange and a member of the Ministry of Finance insurance advisory committee. He is also a past chairman of CPA Bermuda and a past president of the Bermuda Insurance Institute.
January 12. Political parties would have to disclose who funds their election campaigns under new legislation proposed by Marc Bean yesterday. The Opposition leader called a press conference to push for a new good governance law to outlaw corruption and shine a light on political party funding and politicians' financial interests. In 2009, MP Wayne Furbert called for a law to force political parties to disclose financial donations above a certain amount and reveal where they came from but the idea never gained traction. Mr Furbert was an independent at the time and now represents the Progressive Labour Party. The Island's MPs and senators declare their personal financial interests voluntarily on a register which can be viewed by members of the public at Sessions House. It was introduced after a long-running one-man campaign by MP Trevor Moniz, who is now the Attorney-General. Mr Bean, flanked by members of his shadow cabinet, said a new law was needed to:
ensure full transparency on political campaign finance;
require MPs and senators to declare all their financial interests, including those held in trusts;
widen the definition of corruption to make unethical behavior illegal;
create tougher sentences for Cabinet ministers, MPs, civil servants and members of the public found guilty of corruption;
stop politicians profiting from their government knowledge and contacts once they have left office.
"Good governance protects the public purse, protects the interests of Bermudians, raises the standards of governance and enhances investor confidence," Mr Bean said. "Good governance is good for Bermuda." Asked why such robust legislation was not introduced when the PLP was in power, he said the party started the process of improving governance but it was a step-by-step process. "Unfortunately it seems as if the One Bermuda Alliance have been very reluctant to implement good governance," he added. "Why? You'd have to ask them." Mr Bean said his party backed the recently announced Commission of Inquiry into the handling of public funds between 2009 and 2012 and would initiate its own commissions into historic land theft, the airport development, Jetgate and the Hamilton waterfront "fiasco" if elected back into power. He said the commission into the Auditor-General's findings of numerous breaches of financial instructions needed to be longer than three months and more like six to nine months to ensure it was thorough and could not be dismissed as a "whitewash or cover-up". "It is important that the truth be revealed, and if any wrongdoing has occurred, that it be exposed," he said. "Our position is that anyone engaged in corruption, malfeasance or insider dealing must be exposed, convicted and punished to the fullest extent of the law, whether they are UBP, PLP or OBA." He said some would be surprised at the PLP's support of the Commission of Inquiry because "generally speaking, the public narrative is that the PLP would defend the indefensible, despite the fact that we are the only party to take a definitive stand on good governance."
January 12. The Bermuda Broadcasting Company has announced it is to partner with the British Broadcasting Corporation to offer World Service News and premium BBC Radio and Television content. "This is a very exciting time for the Bermuda Broadcasting Company as we embark on this partnership with one of the world's most established news and content organisations," executive director of sales and marketing at The Bermuda Broadcasting Company Anthony Mocklow said. "We have spent the past several months negotiating this exclusive partnership, bringing The BBC World Service News back to the 'free-to-air radio community'. It is a giant leap forward, and we are thrilled with this development." Bermuda Broadcasting plans to bring on-board new technology and new studios throughout 2016. Mr Mocklow added: "We will soon be in a position to announce the schedule of BBC World Service programming for radio, starting first with the news, and then following this up with further programming content additions. The BBC World Service partnership is a very positive step in the direction of providing a complete and quality radio experience and we are excited to be able to relaunch this very valuable service."
January 12. Premier Michael Dunkley and Minister of National Security told this year's recruits for the Royal Bermuda Regiment that he felt proud to be Bermudian after meeting with its first all-volunteer trainees. "Stay safe, don't injure yourselves and have fun," he advised the 66 recruits on their second day of training at Warwick Camp. It was the Premier's fourth time coming to recruit camp, but this one represented a historic change for the force. "I'm delighted to be here with these volunteers for the first camp where conscription has not been used, and I'm proud to see them working through a very different process in this changing system." Numbers are smaller because there is a higher rate of retention for the Regiment — testament to efforts to make a career in the Regiment more attractive to men and women. Mr Dunkley was accompanied by Ginny Ferson, the Deputy Governor, and Jeff Baron, the Junior Minister of National Security. "The atmosphere here is both identical to every other camp and yet significantly different in one aspect," Senator Baron said. "There is yelling, there is drilling, there's fatigue and nervous energy in the air, but the men and women who are experiencing all these things are here voluntarily and proudly. This is a huge step. But again, we have to continue to work extremely hard with national security stakeholders and the community so that this beautiful thing is sustainable." Among the volunteers was 51-year-old Ian Blakesley, who said he counted himself fortunate to live in Bermuda and joined to give back to his community. "I'm looking forward to the challenge and the skills I can learn," Mr Blakesley said, adding: "I may regret it in about a week's time." Lieutenant-Colonel Michael Foster-Brown, the Regiment's Commanding Officer, said there was great positivity and enthusiasm in the air. "I've always been impressed at how much they achieve in two weeks," he said, noting that as well as being the first all-volunteer camp, the recruits were also the first to drill with the Regiment's new weapons. This year's recruit breakdown consists of 50 men and 16 women. Of the 66 recruits, six were Junior Leaders and 13 conscripted persons chose to join as volunteers. Thanking them on behalf of the Bermuda Government, Mr Dunkley said he looked forward to seeing the recruits again at the passing out parade in the next couple of weeks.
January 12. Christine Francisco said she was just 19 when she was hired to cook and clean for the Jones family, who had moved into a home on Cambridge Road. It was only after she agreed that she learnt the Jones family was actually David Bowie and his wife, Iman. "I was asked if I could handle it and I said no problem," she said. "Nothing made me be prepared for his world. I was to report in at 5am every morning to make Bowie his fresh bread and then run to the market and buy the fruit for the morning. Nothing was ever kept in the fridge except water, wine and the small carton of milk for his coffee. Iman was focused on keeping everything fresh." Mrs Francisco said that Mr Bowie deeply loved his wife and son, Duncan. While she said Iman ran the house, and was usually strict about Mr Bowie's diet, he would have Mrs Francisco make fudge brownies for him when she went away on business trips. "I grieve today for he was a brilliant man who knew what he loved in life and made sure to achieve it. My condolences go out to Iman and the family and I wish them much love and that my prayers are with them that they find some way to say good bye and remember all the good times."
January 12. The world knew David Bowie as an iconic performer, but in Bermuda he was a loving husband, a fan of the arts and a welcoming neighbor. While he will be celebrated as one of the most influential musicians of all time, yesterday Bermudians fondly recalled a charming and humble family man whose unassuming personality belied his rock-star status when he resided in Somerset during the 1990s. From chance meetings in furniture stores and art galleries to invitations for codfish breakfast, readers of The Royal Gazette shared with us their anecdotes of Mr Bowie — born David Jones — who died on Sunday, aged 69, after an 18-month fight against cancer. During his nearly 50-year career, Mr Bowie produced more than 100 singles, including Let's Dance, Space Oddity, Starman, Modern Love, Heroes, Under Pressure, Rebel, Rebel and Life on Mars, and acted in a number of films including Labyrinth and The Prestige. Despite his battle with cancer, he remained creatively active. His latest album, Blackstar, was released last week and a musical co-written by Mr Bowie and featuring his music, Lazarus, premiered in New York late last year. Among the cast is Bermudian actor Nick Christopher. Mr Bowie moved to the Island shortly after he made the unusual move to issue bonds for his future earnings in 1997, with investors buying $55 million in "Bowie bonds", backed by income from his back catalogue. He lived in the house Seaview on Cambridge Road, where he recorded much of his 1999 album Hours ... in a home studio. While the album drew mixed reviews, it made history by becoming the first album by a major artist to be officially sold as an internet download. Mr Bowie also recorded a cover of John Lennon's song Mother while on the Island. The song was intended to go on a tribute album for Mr Lennon, who both co-wrote and sang on Mr Bowie's hit song Fame. While the album was never formally released, the recording is available online. Among the locals paying tribute yesterday were Christina Francisco, who worked for Mr Bowie in his home and called him a "brilliant man who loved life", and former neighbor Michael Scott, the Progressive Labour Party MP, who described him as both a fascinating artist and a humble family man. Asked about the Island, Mr Bowie once said: "We loved it in Bermuda during our time there. Quiet, respectful, a dreamscape atmosphere out in the part of the island where we lived. Nobody ever bothered us. But, of course, I have the best protective camouflage in the world. I am married to Iman. Do you think when we were walking along the street together in Hamilton anybody ever gave me a second glance? Do you think anybody even noticed me? Honestly?"
January 11. The Island has been featured as one of this year's 20 must-see places by a top travel magazine. National Geographic Traveler lists Bermuda in its Best Trips 2016 among the likes of Cote d'Or in Burgundy, France; Rio Grande do Norte, Brazil; the Danube River; Eastern Bhutan; Capability Brown's Gardens, Britain; Hokkaido, Japan and the Philippines. "Whether it's Botswana's Okavango Delta or Brazil's beaches, these 20 go-now destinations will get you packing," the feature states. Introducing the Island under the title "Because Life Is Shorts", Chaney Kwak gives Johnny Barnes a mention and quotes taxi driver Larry Rogers as saying, "We may seem very proper but we are also an eccentric island." Mr Kwak writes: "Indeed, scratch the immaculately gardened surface of this British overseas territory, and you'll find a place brimming with personality. Every year, participants in the Non-Mariners' Race vie to construct the shoddiest vessels to see who sinks fastest; descendants of Native Americans proudly hold powwows; and policemen and businessmen insist on wearing knee-high socks with their shorts, no matter what the rest of the world may think. You can beat the crowd headed to Bermuda for 2017's America's Cup by going now, and don't forget to say hello to Johnny." The feature also offers travel tips about when to visit, how to get around, where to stay, eat and drink and what to buy as a keep sake. Underwater thriller The Deep, which is set in Bermuda and shows several scenes shot on the Island, is the recommended film to watch before you go. Bermuda's plentiful shipwrecks, including a Confederate blockade-runner that sank in 1864, get a special mention and the cultural tip offers advice about the dress code, stating it is a "more formal take on casual". "When in doubt, wear a pair of TABS."
January 11. Violent crime has risen with the start of 2016, including violence perpetrated by women, the Centre Against Abuse has noted. Remarks from the centre's executive director Patrice Frith-Hayward came after police observed there had been a "small uptick in violent crime" with five incidents in five days. "There have been two cases of girls attacking each other, which we do have from time to time," Ms Frith-Hayward told The Royal Gazette. "However, this has included an extremely violent incident where we have someone in hospital after being struck in the head with a baseball bat. We have had someone else in hospital after being stabbed. All of them raise concern with us, in terms of reaching these individuals so that they can see there are other routes rather than violence. Unfortunately, all of these incidents are something that they all could have walked away from. You don't need to take out your anger and hurt on somebody else." Ms Frith-Hayward was referring to two recent incidents: on Friday, an 18-year-old Pembroke woman required hospital treatment after two women are alleged to have set upon her with a baseball bat. The attack occurred at a residence on Curving Avenue at roughly 2.45am. Both suspects were arrested later. Meanwhile, on Sunday, police reported that a 24-year-old Devonshire woman sustained stab wounds to the face in the Cedar Park neighborhood after being struck by 21-year-old woman. The suspect was still being sought by police yesterday. In other incidents, a 37-year-old man was treated in the Intensive Care Unit for multiple gunshot wounds after a Saturday night shooting on Happy Valley Road, Devonshire shocked the neighborhood. Additionally, RoseAnn Edwards, a councilor for the City of Hamilton, was stabbed on the night of January 5, with a man charged in court three days later. Police said that in most cases, the victims had a relationship with the suspects and appeared to be specially targeted by a person they knew. A spokesman for police said that the service planned to work closely with its community partners over the coming days "to see what can be done to address this trend of domestic violence. Emotions often run high in domestic relationships — situations emerge where anger management and conflict resolutions skill are tested.. No amount of violence is acceptable in resolving domestic disputes." He said community outreach programmes such as Family Centre, the Centre Against Abuse and the Bermuda Police domestic violence officer were available for counseling and support. Ms Frith-Hayward said that Christmas tended to be a quieter time while "come the new year it picks up a bit. It goes in peaks and valleys but this year has been greater than in previous years," she said. "I'm not sure of any trend, or if it's just a sign of the times that people feel they can take matters into their own hands. When it comes to the perpetrators of violence, those are the ones who need to be reached. In particular with young girls, that's who we are trying to get to when we speak in schools and educate young people on what a healthy relationship looks like. We discuss that with boys as well in terms of how they wish to see their mothers and sisters to be treated. We already have a close relationship with police but we're definitely looking forward to talking with them further and seeing how we can work more closely with them." The centre's help is available during the day at 292-4366, and around the clock at their 24-hour hotline, 297-8278. Meanwhile, police intend to deploy officers from the Community Action Team to areas that have been affected by violence, in a bid to help out. Anyone who may have information is invited to call police at 295-0011, or the independent and confidential crime stoppers hotline on 800-8477.
January 11. The Minister of Health gave permission for hospital chiefs to hire a non-Bermudian as chief financial officer without advertising the job, The Royal Gazette can reveal. The Bermuda Hospitals Board told this newspaper that David Thompson was given the "very senior position" for a two-year period after his predecessor Delia Basden resigned in 2014. A spokeswoman said: "The current BHB CFO, Mr Thompson, was initially seconded from PricewaterhouseCoopers as an interim CFO in 2013 while the Auditor-General carried out an investigation and the existing CFO, Ms Delia Basden, was on administrative leave. BHB was not able to hire a new CFO during this time as Ms Basden was still a BHB employee. Ms Basden subsequently tendered her resignation in 2014. Given the very difficult financial challenges that BHB was dealing with, and the amount of time a full recruitment process and orientation for this very senior position would take, approval was sought by the board from the Minister of Health to appoint Mr Thompson as CFO for two further years. The post was therefore not advertised in 2014." The spokeswoman confirmed that Mr Thompson, who specializes in public sector financial management, was a work permit holder. She said the CFO position was legislated in the Bermuda Hospitals Board Act 1970 and appointment of the position was the responsibility of the board and required the approval of the health minister. Mr Thompson's biography on the board's website states that he was seconded to cover the CFO position in March 2013, having more than 20 years experience in public practice and having acted as director of finance for two UK government departments. In April 2014, then BHB chairman Jonathan Brewin said Mr Thompson would continue as interim CFO while the "board considers the best long-term solution for the post to meet [the] needs of BHB and ensure it continues on the path towards financial sustainability." Jeanne Atherden became Minister of Health in May 2014 and Mr Thompson was appointed as CFO two months later, according to the BHB website. His two-year contract will end in June this year. The BHB spokeswoman said: "The board is currently deliberating on the expertise needed to fill this critical position in what remains a very challenging financial situation. "Due process has been followed consistently throughout. The board will decide whether it will continue to appoint this position through a secondment or hire substantially into the role." The BHB revealed in June 2013 that it was facing a cash crisis and Ms Atherden told the House of Assembly in March last year that it was expected to run out of cash "in the near future." A six-month unaudited financial update released last week showed revenue of $156.5 million and expenses of $151.6 million. The results of the Auditor's 2013 review of BHB's finances have yet to be made public. The Royal Gazette asked Ms Atherden for comment but a ministry spokesman said that "no further comments can be made" on the statement. The BHB spokeswoman did not respond by press time to a question about the amount of the CFO's salary.
January 11. Bermudian jobseekers will be able to apply for work-permit positions coming up for renewal under an initiative being launched this month. The scheme, which is designed to help locals equip themselves with the skills to take advantage of job opportunities, will involve details of the post being put on the Jobs Board. Senator Michael Fahy, the Minister of Home Affairs, told The Royal Gazette the move was part of the Bermuda Government's "more transparent" approach to immigration that has recently seen scores of immigration appeal decisions put online. He said he expected the number of work permits issued to rise "slowly and steadily" in 2016, but maintained that employment opportunities for Bermudians would also increase as a result of major hotel developments. His comments came as the latest Bermuda Digest of Statistics revealed that 9,767 work permits were issued in 2014: the lowest number since 1998. "We have seen an uptake in work permit applications in 2015," Mr Fahy said. "With the low birth rate recently reported we need to have more immigration to be able to sustain our economy and our services because most are paid for by payroll tax. We are cognizant of tailored job adverts and under phase two of the Jobs Board people will be able to see details and qualifications required of work permits coming up for renewal. This will help Bermudians put themselves in a position to get the job and will be incredibly useful. For 2016 we will continue to see a take-up of work permits especially as we see the various hotel projects come to fruition but these projects will also provide opportunities for Bermudians. Work permits for international business will continue to go up slowly but surely as small start-up businesses set up in Bermuda." The Government implemented a raft of immigration reforms in April 2014, including establishing new regulations for work permits and civil penalties for employers that flout the rules. Mr Fahy said he had been "surprised" by the number of offences reported and admitted it was challenging for his department to keep on top of the present caseload. He added: "The intent of the legislation was to change a mindset, and I was hoping it would change a little faster. That is obviously bad for someone's business, but good for Government coffers. Since the new legislation was brought in we have about 130 ongoing matters, while around a dozen have been resolved. As everyone knows we have had a hiring freeze in Government and these cases take a long time. We are working on fixing the situation and continually look at how we can restructure the department's work and reallocate staff. At the height of business opportunity in 2008 we had 55 members of staff. Now we have 37, with a budget for 43 and we had to fight hard to get that additional staff on. With this new regime people are actually being caught, whereas previously you heard about this going on but nothing was done. It is as successful as we could have hoped and has been well received."
January 11. Residents of Happy Valley Road have been left "traumatised and frightened" after the shooting on Saturday night that put a 37-year-old man in intensive care. Police officers responded to a report of several gunshots heard in that area of Devonshire at about 10.45pm. A Bermuda Police Service spokesman said last night that the victim sustained eight bullet wounds to his arm and leg. At noon today, he was in a stable condition in the Intensive Care Unit at King Edward VII Memorial Hospital. Glen Smith, the MP for Devonshire North West, spent the day visiting residents yesterday after the incident. "I have been visiting constituents who live on Happy Valley Road, including those near where the incident took place," he told The Royal Gazette. "Many are traumatized, worried and frightened. I wanted to offer my thoughts and prayers to those who were affected by this. We will be working with the Bermuda Police Service to see if anything needs to be done to improve safety in the area." One area resident, who wished to remain unnamed, told The Royal Gazette: "I heard several gunshots and I was terrified. I called 911 and told them I heard gunshots. I heard some shots, there was a break then I heard more. The police came promptly; they were here within minutes. I was terrified afterwards — I couldn't sleep. I don't feel safe at all in this area — it is too dark on Happy Valley Road. We need more street lighting and more police to be present in the area. It used to be a quiet, peaceful and loving area — it has changed. It is so scary." Jeff Baron, junior minister for National Security, said: "I trust MP Smith will bring any of the concerns from residents forward to the ministry and to his colleagues across the House of Assembly. "I am certainly very concerned by this incident. There are many who daily will tell us that this is unacceptable, that this is not what they expect in their neighborhood and their Island and we agree. We will continue to work with everyone in the community, with the social stakeholders, community champions and the law-enforcement community to make sure we continue our strategy to suppress violent crime and particularly gun violence. Our strategy is the right one and we are going to see it through." In a joint statement issued last night, Walter Roban, the Shadow Minister of Home Affairs, and Michael Weeks, the Opposition spokesman for community affairs, called for witnesses to come forward and assist law enforcement "in getting these shooters off our streets. In what is becoming an all too frequent occurrence, another act of gun violence has tarnished the peace and tranquility of our community," they said. "It is evident that something is deeply wrong and requires a community effort to change the mindset that believes disputes must be settled with guns. Our prayers are with the family and friends of the victim." Police are interested in speaking to anyone who saw individuals on two cycles acting suspiciously, then fleeing the area. Anyone with information is asked to contact police on 295-0011 or the Crime Stoppers hotline on 800-8477.
January 11. Belmont Hills Golf Course has teed off a $1.5 million renovation programme. The Warwick course is to demolish its existing clubhouse and restaurant and rebuild bigger and better facilities. The development will feature a larger members' lounge and bar along with a new restaurant and pro shop. At the same time, Blu Bar and Grill, which shares the building, will expand into the present pro shop to add around 2,000 square feet to its floor space to create a new private dining room. Larry Doyle, the Belmont Hills owner and US businessman, said: "The members of Belmont — most of whom have been loyal to the club for many years — have waited a long time for the much needed upgrade in this area and I am happy to be able to do this for them." Mr Doyle, a hedge fund manager who already owns the old Lantana property in Somerset, sealed the deal for the Newstead Hotel and Belmont Hills last year with a price tag thought to be as high as $18 million, although the terms were never disclosed. He said: "When I invested in Newstead and Belmont back in 2014 I said my intention was to invest further. I am pleased that my building plans were approved and I can now do this." The existing Shanks restaurant will be "razed" and rebuilt with more space and higher ceilings, while a new pro shop will also be built to replace the existing one, located next to Blu on the upper floor of the complex. Mr Doyle said: "The restaurant downstairs was really tired and needed a big upgrade. I just think the members have been very loyal to the place and it was really beyond tired. It had been neglected for years — I was hoping to get it done a year ago, but it took time to get all of the approvals." Mr Doyle added that the expected America's Cup boost to tourism in 2017 had not been factored into the plans, as he had designs on improvements before the Island was chosen as the venue for the coveted sailing event. But he added: "We feared the America's Cup might take construction crews away from us, so we thought we'd better get on with it." Mr Doyle said that Blu, run by the Dining Bermuda chain, which also includes Little Venice and L'Oriental in Hamilton, as well as the luxury yacht Venetian, would be reopen in three months, while the golf course improvements would be completed by mid-August. Belmont general manager Bushara Bushara added: "I'm excited about this major improvement for our members — expect more news about other improvements during 2016." Dining Bermuda partner Constanzo Di Meglio, who manages Blu, said that taking over the present pro shop would also mean a bigger patio area, with views over the golf course and the Great Sound, the venue for the America's Cup finals. He added: "We wanted a larger and more beautiful terrace. It's a beautiful view and I think unique in Bermuda. It will also be facing where the America's Cup is going to be held." And Mr Di Meglio said: "We will be refurbishing the lounge — it's going to be more like a living room than just tables and chairs."
January 11. Chris Estwanik and Deon Breary were the winners of the first Gosling's to Fairmont Southampton Road Race, setting formidable course records. Estwanik, who has been taking a cautious approach to racing after suffering an Achilles injury last year, cruised to victory in 37min 11secs yesterday. That gave him a winning margin of just over five minutes. Breary was almost as dominant in the women's race, finishing in 47:04, a fraction over three minutes clear of her nearest rival. The 7.2-mile road race was a refashioned version of the former Princess to Princess event that started in 1978, and which became known as the Fairmont to Fairmont Road Race in later years. Organizers kept the distance the same. The only change to the course was in the first quarter of a mile as runners started near Union Square on Dundonald Street, running past the headquarters of Gosling's before turning onto Cedar Avenue and then to Front Street. From there it was the same route as it has been for the past 38 years, taking Harbour Road and Middle Road to the Fairmont Southampton and finishing at the Ocean Club. Estwanik, 35, became the first to lift the Peter Lever Trophy, named in honour of the original race director and talented runner who died last March. "I felt like it was a good race. The downhill hurt a bit, but when I was running on the flat it was fine," said Estwanik, regarding his Achilles. "I'm trying to be sensible and take it from day to day. Hopefully it will hold up. I want to keep in shape," he added, explaining that maintaining a high level of performance means pushing the body close to the edge without going over it and getting injured. I want to do the best I can. The weather was great and the course is good, although there are hills." Although he has run a minute quicker on the old Fairmont to Fairmont course, he was pleased with his winning time. He is now looking to run the New York City half-marathon in March. Spencer Butterfield was runner-up in 42:32. He also took part in the relay race, running the first leg for his team, as did third-placed Neil De Ste Croix. The two ran together initially, but Butterfield pulled away in the latter stages and by the time he reached the half-mile hill leading up the Fairmont Southampton, he was on his own. That meant he did not feel too much pressure as he tackled the race's hardest section. "I was well warmed up by then and I didn't have anyone [in sight] ahead I could chase, and no one close behind," he said. De Ste Croix, 50, finished in 44:47, and was first senior master. Women's winner Breary, 45, said she went out aiming to run 6:40-minute miles, and bettered that by averaging 6:32 as she finished seventh overall. She won the Jim and Debbie Butterfield Trophy, named after two of Bermuda's great long distance runners. Breary's nearest rival was Gayle Lindsay, who was sixteenth overall in 50:18. For much of the race there was a tight chasing pack of leading women, which included Lindsay and third-placed Kristi Dyer. "Kristi was with me most of the way, but in the last part of the race I got away," said Lindsay, 27. Tackling the energy-sapping final hill she kept her focus on a number of runners ahead of her, which helped to keep her momentum going up the steep incline. Third woman was Dyer in 50:39. The race walk was won by Mike Watson in an impressive 1:11:55, ahead of Joseph Matthew in 1:20:19 and Robert Thomas in 1:20:21. The first woman was Rebecca Perry in 1:21:18, followed by Sheena Young in 1:28:23 and Gina Bradshaw in 1:29:35. The junior 3K race was won by Quincy Kuzyk, 14, in 8:45, followed by Ryan Outerbridge, 13, in 8:50 and Tommy Marshall, 11, in 9:14. The first girl was Lynsey Palmer, 15, in 9:33, followed by Jessie Marshall, 13, in 9:59 and Holly Bruton, 13, in 9:59. The men's relay race was won by The De Ste Croix team in 44:38. The first women's relay team were the Black Seals in 51:17, while the mixed relay team event was won by Beauty and the Beefcakes in 48:19.
January 11. Don Wilson and the crew of Convexity came from behind to win stage one of the 2016 M32 Series North America in the Great Sound yesterday. Wilson and his team-mates trailed Sally Barkow, the former Olympic sailor and Rolex Yachtswoman of the Year, and crew of The Magenta Project for the lead at the top of the five-team leaderboard on a tie break after the first day of racing was completed. However, the Chicago-based skipper struck form when it mattered most on the final day of racing to pip Barkow by a solitary point. Charlie Enright, the Volvo Ocean Race skipper, and crew of 11th Hour Racing rounded off the podium in third. Conditions throughout the regatta ranged from 20-14 knots, which kept the racing fleet on their toes. Wilson and Barkow each posted six bullets. However, Barkow's fourth place finish in the eighth and final race on Saturday proved decisive as it gave her rival just enough room to go on and claim early bragging rights in the 2016 M32 Series North America, which is being held in Bermuda for the first time this year. "What a great event the M32 Series Bermuda turned out to be," read a post on the M32 Series Facebook page. A huge thanks to the organizers, the volunteers, staffs, umpires, race committee and more that make the M32 Series Bermuda a success." Organized by the M32 North America in conjunction with the Royal Bermuda Yacht Club, the 2016 M32 Series North America comprises of four stages that will run from January to April with one event per month. The fleet will return to Bermuda next month for the second stage of the series to be held February 19-21. The third stage runs March 11-13 and fourth and final stage April 15-17. The M32 Series was formed to create a professional sailing series on a regional level and is contested in 32-foot open, one-design catamarans sailed by a crew of four or five. The first M32 was launched in local waters last October during the World Match Racing Tour sanctioned Argo Group Gold Cup. Among the field for next month's second stage of the M32 Series North America is Ian Williams and GAC Pindar, the past Gold Cup and five-times WMRT champions.
January 11. RG Editorial. "Not one death on Bermuda's roads is acceptable. And after a weekend when the country has buried one young man, while two fortunate others are recuperating in hospital, our leaders must continue to grapple with ways by which we can reach farther into the minds, hearts and tucked-away brain matter of our citizens. It is OK for the Bermuda Police Service and road safety officials to be slapping themselves on the backs for 2015 representing an 11-year low for deaths on our ultra-dangerous roads. But, hold on. Tell that to the families of Jereme Cumbermack, Richard Thomas, Arai Joell-Johnston, La-Nae Woodley, Troy Hewey, Leon Smith and Philip Benjamin James. Don't get us wrong, we are not having a pop at the police or the likes of the Road Safety Council and Cada, Encouraging Responsible Alcohol Behavior. They are doing good things and are to be commended for their perseverance against a tide of indifference, but in reality they are chasing their tails because too many of the selfish among us — and that is a staggeringly high percentage — just don't want to know. This country should not be burying men and women of adolescent years because we struggle perennially to get the message across. Such behavior speaks to Einstein's definition of insanity: doing the same thing over and over again and expecting different results. There was something truly disturbing about Ben James's photograph appearing in the obituaries section of Friday's newspaper, surrounded as it was by many dearly departed who had lived their lives to the fullest — five in their nineties, three in their eighties. Then there was this 21-year-old, looking handsome and proudly donning a graduation cap, the universal signal that a young person's best years are ahead of them. It looked desperately out of place. But there he was, no longer with us, and laid to rest yesterday. Every Bermudian and Bermuda resident should look upon that montage of deceased and acknowledge that something is not right. It can't be. And then they should feel anger, and no small helping of shame. Shame because every household should bear some responsibility for sending out on to our roads people who have no regard for their safety and the safety of others. Days such as yesterday at the Seventh-day Adventist Church in Southampton are all so avoidable. Yet the numbers we have racked up through the years are frightening, and even more damaging statistically than those brought about by the truly reprehensible cowards who have terrorized the Island with guns, knives and baseball bats for the past decade or more. So how do we tackle this? What more help can be given to the authorities, who must be at their wit's end with every road fatality, intertwined with the voluminous reports of crash victims who keep the hospital's A&E department in gainful employment. You may note that it is with intent that the word "accident" is not used here as opposed to "crash", given that there is little accidental about travelling at dangerous speed. Joseph Froncioni proposed last year during the road safety summit that it should be made harder for would-be motorists to gain their licences by way of the introduction of a comprehensive graduated licence programme. The belief is that it is too easy for a licence to be granted and statistics that show that those between the ages of 16 and 18 represent the age group with the greatest number of A&E incidents appear to support that. It is true that there is no age bias in relation to deaths on our roads, but bad habits and disregard for safety must start somewhere, and that is most likely to come from the outset of the motoring experience. So one obvious solution is to raise the minimum age to ride an auxiliary cycle from 16 to 18. Were that the case in 2015, Arai Joell-Johnston would still be with us and the two 17-year-olds involved in that horrific crash last Tuesday would not be in hospital still recovering from a near-death experience that no teenager should have to endure. For it to work, the public transportation system would have to be overhauled to cope with a sudden rush of demand, with a slew of additional students aged 16 and 17 relying on it to get around. It is worth adding, by way of showing that too few of our young people are heeding the tragic events of the past, that the most recent crash was just about where La-Nae Woodley was killed last year and not very far from the crashes that claimed Jereme Cumbermack and Richard Thomas, with Arai Joell-Johnston the width of Manse Road away in the same zone on Harbour Road. It almost begs for a return of the deathly manikins that were placed in danger spots and areas where there had been fatal crashes to remind those who feel invincible what could happen on any given day when they put themselves first and everyone else, including family, second. As gruesomely graphic as possible, please. It may not be the most appealing sight for a tourist to happen upon, but it may be of assistance to them, too. Anything to present a daily reminder — shock and awe, if you will — that we have not advanced as far in the adherence of road safety as we should have by now. Tradition is that the 15-year-old cannot wait for that 16th birthday present — a brand new, shiny bike. But Bermuda has shown that it is too immature and too backward to stop gift-wrapping our children death sentences. So let's have them wait for a few years and save some lives in the process while making the roads more tolerable in one fell swoop. The education gained in the intervening years, not to mention greater maturity, would bode well so that future generations never have to laud that "only seven" people were killed over a 12-month period on an island that has a 20mph (35km/h) speed limit. No parent should have to bury their child. It is time for the "children" to appreciate that."
January 10. A flight from Germany to Jamaica was diverted to Bermuda this afternoon. Air Berlin flight 7356 arrived at LF Wade International Airport at about 3.35pm, according to the airport duty officer. She said it diverted because of a sick male passenger, who was taken to King Edward VII Memorial Hospital. The aircraft had 282 passengers and 12 crew on board and was en route from Munich airport. It left the Island at about 5.10pm and is expected to arrive in Montego Bay later this evening.
January 9. Bermuda's economic growth is accelerating, according to the latest government figures. Gross domestic product in the third quarter of 2015 was $1.35 billion — up 6.3 per cent on the same period in 2014. Real GDP growth — that is, adjusted for inflation — was 4.4 per cent. It was the fourth successive quarter of real GDP growth, coming out of a six-year recession. After real GDP growth of 1.5 per cent in the first quarter and 1.6 per cent in the second, it puts Bermuda firmly on track for its first year of economic growth since 2008. The low global price of oil helped to boost third-quarter growth, as Bermuda spent less on fuel, contributing to a 13.5 per cent fall in the amount paid for imported goods. This added nearly $32 million to the Island's trade surplus. A 3.5 per cent increase in exports of services also helped, as a result of increased compensation for employees in international business and reinsurance premiums sold to overseas customers. Exports of services totaled $644 million in the third quarter, up by almost $22 million from the $622.2 million recorded in the same period of 2014. The value of imported goods fell to $207.5 million from $239.2 million, thanks mainly to a slump in fuel costs. The price of US crude oil fell by more than 50 per cent between the third quarter of 2014, when it was more than $100 a barrel, and a year later, when it was around the $45 mark. Bermuda residents have seen the benefits in the form of a lower fuel adjustment rate on their electricity bills and cheaper fill-ups at the gas station. The Bermuda economy looks set to continue into this year, with global oversupply continuing to drive the crude oil price lower. Today oil was trading at around $33 a barrel in New York. The GDP statement from the Department of Statistics added that household consumption increased 3.8 per cent to nearly $779 million in the July-through-September period, reflecting greater expenditure on durable goods such as motor vehicles, non-durable goods such as food purchased in stores and services such as accommodation and catering. After adjusting for inflation, household consumption rose 2.7 per cent. Government consumption weakened 0.3 per cent to $238.6 million, thanks mostly to lower spending on goods and services. After adjusting for inflation, government consumption fell 1.1 per cent. Investment in fixed assets fell by about $1 million to $163 million. While investment in construction rose by $2 million to $88.3 million, investment in machinery and equipment fell by $2.8 million to $74.6 million. In real terms, gross capital formation contracted 1.4 per cent. The trade surplus grew by $53 million, or 45.2 per cent.
January 9. A battle to secure visitors made 2015 a difficult year for Cambridge Beaches, according to general manager Clarence Hofheins. While the resort was able to increase its occupancy over the summer months by lowering room rates, the move only increased the site's cost to operate. "It has been a real struggle for all of us," Mr Hofheins said. "We were hoping that we would see an increase and we haven't seen that. We had to literally struggle through the year." Mr Hofheins said 2015 started positively, but increased competition from the larger hotels during the summer proved to be costly. "Our biggest thing is in the summer months, when we make our money, our business is linked not just to occupancy but to rate," he explained. "What happened this summer was some of the large hotels had a lot of inventory that was not filled up with the group business that they have had in the past. They had to jump in and fight for our business. They went out with an aggressive rate, which drove the rates down for everywhere else. Here at Cambridge Beaches we had to make a decision whether we were going to try to hold our rate or if we were going to compete, and we chose to compete. We actually increased our occupancy, but we had to give up a significant amount of rate on a daily basis to get that business. I'm afraid that it's going to happen every year now. We are hoping that next year the bigger hotels do have more group business than they did this time, but we have to prepare ourselves if that doesn't happen and we have to continue to fight in the summer for these guests. We need to make changes to adapt to that, and it's all about trying to cut costs." Hotel manager Richard Quinn added: "While we're dropping down our rates, our operational costs aren't lower at all. We're operating at a higher cost for a lower revenue base." Moving forward, Mr Quinn said the resort plan to continually reinvest in their facilities to ensure a quality experience for guests. "That's particularly important given the age of the plant," he said. "We've been here since 1947." Mr Hofheins said the resort has been working to promote itself locally as well as internationally, noting that their Monday night barbecues have proven popular among residents. He also said that management are working hard to ensure visitors get value for money. "Even if people have the money, they want to make sure that whatever they are spending they are getting a good value," he said. "We have got to have a product that matches our rates, so we are renovating our rooms, our common areas, some of our restaurants, all to be able to compete in 2016 and 2017, with the America's Cup coming." Mr Hofheins said he is optimistic about the potential impact of the prestigious event, particularly because of the resort's proximity to Dockyard, adding that they did receive a boost in visitors from the World Series event in October. Casinos could also make a difference to business, he said, although he added that he does not believe that Cambridge Beaches would qualify as a casino site. "One way or the other, I would love to see a casino in the west end," he said. "If it's in Dockyard, or somewhere by Port Royal or the Fairmont Southampton, that would be great. That's fine for us." Both Mr Quinn and Mr Hofheins said that they would welcome the construction of new hotels, saying that such investments in the industry would help increase flights to the Island. "We need a bigger room base to attract more flights," Mr Hofheins said. "That's what airlines want. It's competition for us, but it builds on the perception of Bermuda. If you look at 2007 and 2008, we had all that building going on. We had Newstead, Tucker's Point, The Reefs. Granted, the recession hit, but 2007 and 2008 were the best years for Bermuda. If we can get some of those other hotels building, it would be great."
January 9. The completion of the Morgan's Point clean-up operation is something that all of Bermuda should take pride in, according to Craig Christensen. Mr Christensen, president and CEO of Morgan's Point Ltd, said it was noteworthy that local workers had been responsible for the major three-year remediation programme of the former United States military base. The project has involved the removal of container loads of asbestos and old oil tanks as well as the demolition of abandoned, dilapidated and vandalized buildings on the property. "Bermuda should be proud of what we have done in taking a brown field site and bringing it back to life to the appropriate high standards of cleanliness," Mr Christensen told The Royal Gazette. "This is a final tick in the box for us to move forward with this development. We anticipate making further positive announcements very shortly." The completion of the remediation work, which was conducted by the Ministry of Public Works and several contractors, paves the way for construction of a new luxury hotel to start this month. The project will be a phased development and will start with the building of 157 waterfront residences, a 79 room ultra-luxury branded hotel and amenities that include restaurants, a spa and a marina that can host 77 boats along with 21 mega-yachts. "We are extremely pleased that this stage has now been completed," Mr Christensen said. "We never imagined that it could create a potential impediment for financing when it was being remediated, even though Government had agreed to complete it. But it was an issue. It has been a long process and now it is done that impediment is cleared and that is a big relief." Morgan's Point Ltd obtained the land in 2008 as part of a land-swap agreement under the condition that the Bermuda Government remediate the former base lands to residential standards. Work on the clean-up project began in 2013 with a number of companies hired to carry out the work. The land has been remediated to New Jersey standards with international consulting firm Langan Engineering and Environmental Services overseeing the project. Craig Cannonier, Minister of Public Works, said: "This is a monumental step in bringing the proposed development into fruition — a development that will equate to more jobs for Bermudians and a first-class tourism product for Bermuda." Vince Yarina, vice-president of Langan Engineering and Environmental Services, said the New Jersey remediation standards were very stringent. He added: "Using New Jersey standards in Bermuda was unique, but Langan's knowledge and extensive experience working with these standards was successfully applied to ensure the safe clean-up of the site for the future benefit of the residents and tourists."
January 9. The Centre for Justice is to host a private panel discussion for members of the Bermuda Bar Association on Monday. Supported by The Oxford Research Centre in the Humanities (TORCH) Race and Resistance network, the event marks a growing interest in the history of race and resistance in Bermuda. A seminar that focused on the Bermuda Civil Rights Movement was held at the university's Pembroke College in May and has since spurred an ongoing series of events exploring race, law and history on the Island. The session will explore the intersection of these three lines of inquiry hoping to provide a unique historical perspective on the Bermudian legal system. This will be the third event of its kind and will give an historical overview of race-related legislation in Bermuda. Chief Justice Ian Kawaley will lead the event with his talk "400 Years of Courts in Bermuda (1616-2016): Towards a Non-Racial Vision of Justice." Dr Justice Kawaley said: "Consideration will be given to the evolving role of the courts from initially being required to uphold discriminatory laws to their current obligation to apply the law in a non-discriminatory manner." Ben Adamson, a director in Conyers, Dill & Pearman's litigation department, will attempt to bring out the lesser-known legal issues that lie behind a story which has become part of Bermuda's heritage. "The story of The Enterprise is one of the most inspiring moments in Bermuda history, certainly when it comes to the interplay of race and the law," Mr Adamson said. "The events are well known: the anchoring of The Enterprise in Hamilton harbour; the writs of habeas corpus; the court sitting until midnight; the liberation of the slaves; and the jubilation in the streets." Venous Memari, managing director of the Centre for Justice, will examine whether "colour blind" legislation is equal to racial justice and Walton Brown will survey the laws passed in Bermuda since Emancipation. Mr Brown, a Progressive Labour Party MP, said: "The quest to sustain white hegemony led to race-based electoral laws buttressed by similarly rooted immigration legislation. These laws have had a determinant effect on the 21st century political landscape." Kimberley Caines will be looking at the suffrage movement in Bermuda. The litigation lawyer co-founded the Women's Legal Network and will be analyzing what impact race had on the suffragette movement. Bermudian organizer Alexa Virdi is a PhD student at Oxford University and was at the forefront when they celebrated the acquisition of a collection of books on the Island's history in August. She is keen for Bermuda's history and "ongoing struggle for racial justice" to be given a platform. Chairman of the event is Chen Foley, a lawyer at Sedgwick Chudleigh and director at Centre for Justice a non-governmental, non-profit, non-partisan organization whose aim is to promote the rule of law, human rights and civil liberties in Bermuda in accordance with the Bermuda Constitution and the rights proclaimed in the Universal Declaration of Human Rights and other international human rights instruments such as the European Convention on Human Rights and Fundamental Freedoms.
January 9. The Royal Bermuda Regiment's commanding officer is gearing up to welcome a record-breaking number of volunteers for his last recruit camp. Lieutenant Colonel Michael Foster-Brown, who will be handing over command to Major David Curley in February, said he was "thrilled to be leaving on a high with among other things the first ever all-volunteer recruit camp". A total of 64 recruits — 48 men and 16 women — are expected to start their training at Warwick Camp tomorrow morning. They are the first recruits to join the newly designated Royal Bermuda Regiment, which was awarded the title as part of its 50th anniversary celebrations in September last year. Col Foster-Brown said this year's number of volunteers exceeded last year's record of 61 volunteers out of 115 recruits. He added that the RBR had been able to reduce its intake to a minimum of 50 recruits because more soldiers were choosing to stay on after their minimum three years of service. And the smaller number of recruits means that there will only be two platoons instead of three. "Our aim, as with the wider Regiment, is to build soldiers up, not break them down, so they will have a busy but rewarding two weeks of training while they make the transition from civilian to trained soldier," Col Foster-Brown told The Royal Gazette. "Throughout there will be an emphasis on teamwork, which is encouraged through section and platoon competition and sport. The recruits will be trained on the new SA80-A2 weapons which we received in the summer from the United Kingdom." The programme includes shooting, field craft and drill, as well as fitness and military skills. Recruits will also spend an extra night deployed in the field this year. Col Foster-Brown added: "As with the last two years, we will be posting periodic video updates on our website so that families and supporters of the recruits can follow their progress."
January 9. Establishing the ramifications of a recent Supreme Court ruling on the South Basin development will be a priority for the West End Development Corporation's new board in 2016. The Bermuda Environmental Sustainability Taskforce (BEST) recently won its appeal against how the project was handled and specifically the end uses that the infrastructure would be put to. However, it remains unclear what the long-term practical effects of the judgment will be on the development in Dockyard that will be used as the America's Cup Village in 2017. Andrew Dias, the general manager of Wedco, said: "We have been able to have one board meeting where the ruling has been brought up as a topic we will need to deal with moving forward. "We have had preliminary discussions and at the beginning of this year once the new board has been appointed, we will make it one of our primary items to address and move forward. It is important we look at the whole picture before making any decisions." Earlier this year, BEST launched a legal action against the Development Applications Board (DAB) and the minister responsible for planning regarding the environmental impact of the West End project. While the Bermuda Government had said the project was environmentally sound, BEST argued that the assessments that had been carried out were inadequate. At the time of the Supreme Court ruling a spokesman for BEST said: "The court action permits the South Basin landfill and its interim use for the America's Cup Event village, but rejects the end uses that developer Wedco had in mind, namely a commercial boatyard, a luxury marina and the consolidated offices and maintenance facility for the Marine and Ports Department. "The core factor for BEST was that in a major development such as this one, the DAB had a mandatory and legal obligation to obtain the best possible environmental information on which to base its decision. However, the Environmental Impact Assessment that was initially conducted for the project was substandard and inadequate to uphold that obligation. The court's decision vindicates BEST's stance." Work on the project has already begun, with materials collected from the dredging of the North Channel as well as aggregate from overseas, being deposited in the South Basin.
January 9. Camiko Smith is looking to put on a good show when he tees off this weekend in the Bacardi National Par 3 Tournament at Fairmont Southampton's Turtle Hill Golf Club. Smith, who has been playing in qualifying tournaments overseas the past few years, trying to qualify for the PGA Tour, is looking forward to two competitive rounds of golf against some of the Island's top players, including last year's winner Anthony Mocklow, Dwayne Pearman and Jarryd Dillas. "I'm hitting the ball pretty solid and it's nice to be one of the favorites," said Smith who has been back home since the Gosling's Invitational at Belmont Golf Course in November. "I've been practicing a good bit at Port Royal, working a lot on my short game, trying to sharpen that up, and also on my putting, just basically trying to manage my game better. I've been here for a few months and got to spend Christmas with my family. I'm looking forward to the new year, trying to do some things and to get some more financial support so that I can try to qualify for the PGA Canada Q-School which is in late March. The PGA Canada Q-School is in different spots and the one I'm looking to do is at Reunion Golf Resort in Orlando, and there are others on the West Coast and another in Palm Beach, Florida." Mocklow, a former pro at Turtle Hill, used his knowledge of the course to win the 2015 tournament by one stroke ahead of Dwayne Pearman and Nick Jones, after a four-over-par 58 left him eight over part for the 36-hole tournament. Smith is relishing the challenge of the par-three tournament. It puts a good test on your short irons to see how accurate you are," he said. "Fairmont Southampton is a really good golf course, always in good shape so it will be a good test this weekend. The weather is supposed to be a bit muggy, but it will be like that for everybody so we'll see how it goes. Dwayne Pearman, Anthony Mocklow, Jarryd Dillas, and Jevon Roberts in the amateur division, are all playing so it should be fun. Once you get on the golf course it is all business, after we finish then we'll talk." Ryan Roberts topped the professional qualifying for the tournament ahead of the likes of Dwayne Pearman, Mocklow, Cornell Bean, Smith and Brian Morris. The Bacardi National Par 3 Tournament has been qualifying since last September with golfers trying to qualify every time they play. The favorites among the amateurs are Mark Phillips, Jevon Roberts and Dillas, who leaves on Monday with Walker Campbell to represent Bermuda at the Latin American Amateur Champions next weekend in the Dominican Republic. In the Senior Division, Craig Christensen and Alan DeSilva will be two to beat in the contest for the Lionel Pengelly Seniors Trophy. Ebonie Burgess, last year's women's winner, may be a doubt following the death of her mother, Andrea Burgess, earlier this week. Last year Burgess overcame a seven stroke deficit to take the title by three strokes over Katrin Burnie, who carded a 13-over par 67 in the second round which left her 19-over for the tournament.
January 9. Multihull racing will take centre stage in the Great Sound today with the opening races of the 2016 M32 Series North America, which is being held in Bermuda for the first time. Five teams will put their skills to the test on the high performance M32 catamaran on the racecourse for the 35th America's Cup. With today's weather forecast calling for a mix of sun and cloud, with 14 to 18 knots of wind, the hope is that the conditions that prevented yesterday's practise session will have changed. "Everyone is very keen on getting out pretty bright and early, and we'll do as many races as we can," David Doucett, the M32 North America spokesman, said. "The races are really short and we'll do five to six races." Among those competing is Charlie Enright, the Volvo Ocean Race skipper. After the Volvo Ocean Race, we have been looking for ways to keep some members of our team together and the M32 Series Bermuda is a natural fit: exciting racing, close to our east coast base, and on the M32 which is really taking off as an exciting class in the sport," he said. "We look forward to this new challenge and to pushing the other teams on the Great Sound." Also among the fleet is Sally Barkow, the former Olympic sailor and Rolex Yachtswoman of the Year, who is competing with an all-female team in preparation for the upcoming 2016 World Match Racing Tour. "Our team will be in Bermuda to gain as much experience as possible in the M32s as well as enjoying the America's Cup excitement in Bermuda and racing on the Great Sound," Barkow said. Today's moderate northwesterly breezes should prove ideal for the M32 catamaran, which sails faster than the true wind speed. "The ideal conditions of these boats are 12-15 knots," Doucett added. Yesterday's official practice races were cancelled due to strong gales, which did very little to dampen the spirits of the sailors who will be keen to get stuck in some serious racing when the starter's gun fires today. The M32 is a 32-foot open, one-design catamaran sailed by a crew of four or five. The multihull racing yacht doesn't have a jib for sailing upwind which would create drag and reduce both speed and maneuverability. The first M32 was launched in local waters last October and could potentially replace the International One Design racing sloop as the class for the WMRT sanctioned Argo Group Gold Cup. The M32 Series was formed to create a professional sailing series on a regional level. The 2016 M32 Series North America comprises of four stages that will run from January to April with one event per month. Following this weekend's racing, the second stage will be held February 19-21, the third March 11-13 and fourth and final stage April 15-17. The series is being organized by M32 North America in conjunction with the Royal Bermuda Yacht Club. Leatrice Roman is the new commodore of the Royal Bermuda Yacht Club. The seasoned sailor is only the second woman to serve in the top post behind Jane Savage, who now heads up the Bermuda Red Bull Youth America's Cup committee. Roman succeeded Somers Kempe as the RBYC's commodore on New Year's Day, and will hold the position for the next two years.
January 9. The Bermuda Government has no plans to extend voting rights to Bermudians living permanently abroad. At the end of last year, absentee ballots allowing students to vote were proposed for the new legislative year by the One Bermuda Alliance. However, Michael Fahy, the Minister of Home Affairs, told The Royal Gazette that the Government has no immediate plans to widen it out to include those living overseas long-term. "Because they have moved their place of residence, the constitution is clear, as is the Parliamentary Election Act, that those ordinarily living outside Bermuda cannot vote in Bermuda elections," Mr Fahy said. "We believe it's fair that only students who are officially resident in Bermuda should get that right to vote. Giving people living outside Bermuda that right could cause problems especially if they are registered at their parents' house or have property of their own. We don't want to get into those kind of difficulties." The argument for absentee ballots was part of a raft of political reforms, which included fixed-term elections, backed by the OBA before its victory in 2012. In last year's Throne Speech, the OBA said extending the vote to registered voters studying overseas at "recognised educational institutions" would strengthen participation and help to build a more inclusive Bermuda. Mr Fahy added: "In other countries it is a different situation. I don't see how it could work in Bermuda, but that does not mean it will never happen. We have given the opportunity to students studying abroad and that is a good move and a good start."
January 9. Persistence and resilience are the key to St George's Preparatory School's success, according to principal Mary Lodge. The primary school celebrated its 140th anniversary yesterday with a special assembly announced by David Frith, the Town Crier and former chairman of the board of trustees. "The Prep" is now the highest ranked public school in the Cambridge Checkpoint examinations. Ms Lodge told The Royal Gazette: "School is not just about Cambridge results, though we are very proud of them. The school is about making sure that the children find what is their joy and what makes them want to work for us. For some it is music, for some it is sports." Former student Finn Smith, who frequently performs with the national orchestra and the Bermuda School of Music, performed a violin solo by Bach and celebratory favourite Bermuda is Another World. After the performance, Mrs Lodge said: "Those of you who are thinking about not practising, there's a good reason to get up and practise so that you can play like that." The school opened on January 10, 1876, as a one-room schoolhouse in the former Sunday school of the Ebenezer Methodist Church. Known simply as "the school" in those days, it was officially recognized by the Ministry of Education in 1880 and renamed the St George's Grammar School. The present school was built in 1923, as a community effort; it stopped taking senior students in 1966 when it became known as the St George's Preparatory School. The school has strong family ties. The Spurling family have kept an "unbroken line" as trustees of the school since the beginning, with Ann Spurling now sitting on the board. During the anniversary assembly, teacher Natalie Roberts shared the story of her family's tangled history with the school. It was where her grandmother, Barbara Roberts, met her grandfather, Freddie Roberts, along with his brothers and sisters. She would catch the Daisy ferry from St David's because there were no bridges linking St George's and St David's to one another or the mainland. Her father, Larry Roberts, and her uncle also attended the school, and she and brother Andrew followed in their footsteps. As she finished the story, she asked her son, Oliver, to stand, then her nephew Ryan, niece Emma and second cousin Samantha. Ms Lodge said the year marked another historic landmark: 50 years ago the Bermuda school system became desegregated. "The integration of our school and the richness and the diversity that brought to our school is a huge part of who we are today and what we celebrate today. Although we celebrate that, I would not feel correct to not acknowledge the inequities of the past. Let me make this in a way that you children can understand. You all love Papa Waldron right?" she asked students as she pointed to a familiar face in the audience. The students answered in unison: "Yes! "When Papa Waldron went to primary school he would not have been allowed to come to St George's preparatory school. That is what I'm talking of. That was not right, for which we apologies and we are grateful to have you and all the other families of St George's Prep. We're a very resilient school," Mrs Lodge said, discussing the devastation wreaked upon the campus by Hurricane Fabian in 2003. The school was partially destroyed and was repaired using insurance money and donations. "Children, all of P1, P2, both P3s and Miss Middleton's room blew down, just like somebody stomped on a sandcastle," she said. "At first we just cried and we didn't know what to do. I'm always telling you have to be resilient and you have to be persistent and we were determined we would have to rebuild. I was sitting at home and there were very few phones that were working and the calls started coming in all asking, 'What can we do to help?'."
January 9. A private school is to scan the fingerprints of hundreds of secondary students in order for them to be able to get hot lunches and take out library books. Warwick Academy confirmed yesterday it was introducing the "totally voluntary" system this term, mainly to ease lunch queues, and said full fingerprint information would not be retained, only a set of unique points identifying each student. David Horan, head of secondary at Warwick, told The Royal Gazette: "It's all coded. It's all binary. It is nothing that can be used by a forensic service. It's not fingerprinting." Students were told about the scheme at an assembly earlier this week and an e-mail was sent to the parents of 462 pupils on Wednesday. "We had seven who got back and opted out of it," said Mr Horan. "Most said they just wanted to research it further. One changed their mind and a number are reviewing the initiative." The e-mail, shared with this newspaper by Mr Horan and principal Maggie McCorkell, told parents to get in touch with the school if they felt their child should not be part of the initiative. "The software scans the finger for unique features," said the letter. "It does not store a copy of the fingerprints. Instead, the software creates a template of the unique fingerprint characteristics. These templates are stored in the school's database with the same high level of security of all of your child's records. When your child graduates or is no longer enrolled in the school system, the templates are deleted. At no time is a fingerprint image stored. No fingerprints can be created/recreated or delivered to any agency (governmental or otherwise) nor can it be used for forensic investigation." Mr Horan said "serious issues" with queues for lunch and lost lunch cards had prompted the introduction of the technology. If it works well, it could be extended for taking out library books, as lost library cards are another problem. "That's as far as we want to go with it," he said. Mrs McCorkell said: "The thinking about this initiative came out of a whole school survey we sent out last term in which parents voiced concerns about our lunch queue and the lunch ticket system. This was echoed by students and staff. Right now it is only to be used to help fix our lunch queue problem. We felt this would be a good place to start the initiative. Parents can opt their child out; it is totally voluntary. Whilst new to Bermuda, the technology is widely used in the UK and USA. The figure we found was that 40 per cent of schools in the UK use this type of technology. This is thousands of schools." Biometric finger scanning authorization programmes are used by schools around the world but have not been without controversy. In the UK in 2013, the Department for Education ordered schools to obtain parental permission before taking fingerprints and other biometric data. At the time, according to the Department, about 30 per cent of secondary schools and five per cent of primary schools were using fingerprinting or face-scanning systems for reasons including recording attendance, checking out library books, paying for school meals or accessing certain school buildings. At Warwick, it will initially affect about 120 students who have chosen to have hot lunches. The primary school is not involved.
Warwick Academy is using identiMetrics software to scan and store biometric data on students. According to literature from the company, a student has a finger scanned by a biometric finger scanner and the software then develops a grid of intersection points from the swirls and arcs of the scanned finger. A template is created by the software showing the intersection of the unique points on the finger and the fingerprint image is destroyed. The template is converted to a binary number and the binary number is encrypted and stored. When the student returns to be identified, the finger scanner again scans the finger. The computer software now compares the new template with the other templates in the database. When a matching template is found, the student is identified. According to identiMetrics, this identification and matching process takes under one second to complete. The company uses flat images of two fingers to create templates and requires only a minimum of unique identifying points in order to make a match. It says such fingerprint data cannot be taken off a computer and used to re-create a fingerprint as only unique points are stored. It says data cannot be taken from its software and used on another fingerprinting system as it uses a proprietary algorithm that only works with identiMetrics.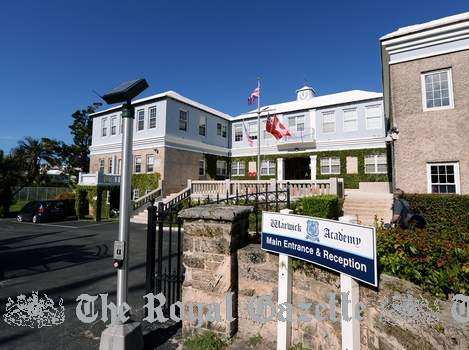 Warwick Academy, see story above.
January 9. Bus services will be improved, and overtime for drivers reduced, after the Bermuda Government and the Bermuda Industrial Union finally agreed on a new schedule. After years of dialogue, transport minister Shawn Crockwell said the union and the Department of Public Transport have come to an agreement on the timetable which will be in place this summer. Mr Crockwell told The Royal Gazette: "I know they are still working on the winter component of it, but in terms of the summer, which was the most contentious part, I have been advised that all parties are in agreement with the new summer schedule. We actually came to an agreement at the beginning of summer last year, but because we had already started the summer schedule we didn't want to disrupt it with a new schedule. We will be implementing it this coming summer." BIU president Chris Furbert confirmed that a schedule had been approved, saying: "It's something that has been in the making for a long time, but we have come up with something that is workable. It's something that has to be tweaked as we go along, but both the management and the unions deserve a hats off." There have been numerous efforts to update the schedule, which was first introduced in 1999. In 2005, there was talk of a walkout after an alleged effort by the Government to enforce a new schedule, which would have cut down on breaks and increased night shifts for drivers. Two years later, another proposal ran into challenges because of a reported lack of consultation with drivers. Another schedule was presented in 2012 after continued dialogue, but the drivers expressed concerns over some elements and did not ratify it. Over the past 15 years, a "grey schedule" of non-rostered trips have been introduced to help improve service, but the changes reportedly resulted in increased overtime. Last year, Mr Crockwell said that the Government's overtime liability averaged more than $2 million per year, which he described as "simply not sustainable". Several previously discussed elements are believed to be included, with routes to Barnes Corner and Grotto Bay extended to Dockyard and St George's respectively. Asked about the details of the new schedule, Mr Crockwell said: "The basic chromosomes of the schedule that has been knocked about for many years are still there, but there was a give and take with the management of the department and the union. The union put up some ideas that were of value. There was a quid pro quo throughout the process, and I'm happy that happened. In due course we will lay it out, and we are hoping that it will have a positive impact. We know that it will have a positive impact on the overtime situation that we have been experiencing." Mr Crockwell also said that four more buses will be introduced to the fleet this year, which will help to address the issue of buses being out of service which resulted in up to 40 cancelled trips per week. "There have been no new buses purchased since 2009, and that has had a major negative impact on the fleet," he said. "You end up overusing your older buses, so you can't maintain them as systematically as you would like. We purchased 16 new buses. We will get the final four this year, and we are looking to order some more. Despite the austerity measures that are in effect, we need to have new buses come into the fleet." He also noted a training initiative at the Department of Public Transport, which he believes will help to improve maintenance of the fleet. "We brought in a German mechanic consultant who is helping to train the mechanics we have there now, so we really believe that we are setting ourselves up to be able to address the mechanical issues in an effective and expeditious way. Although we are on a tight budget, we still have to provide a service to the community, and as the Ministry of Transport we have an onerous burden to have an efficient, effective and timely public transportation system."
January 9. A small team of enforcement officers will be set up to crack down on building contractors and land owners that break planning rules. The move is part of a raft of measures, including providing the director of planning with the ability to impose civil penalties, that have been proposed by the Bermuda Government to tackle developers who flout planning regulations. Michael Fahy, the Minister for Home Affairs, told The Royal Gazette that the penalties from breaching planning laws would be in line with fines for breaching immigration rules. "I was disappointed that we did not get these changes through in the last year, but it will be done this year," he said. "To ensure we see it through we will likely need to appoint a small team of enforcement officers to develop and handle cases. We simply do not have the capability to deal with all the offences and we are not as proactive as we would like. We have not set the scale of the civil penalties as yet, but if you take immigration where a first offence is a $5,000, a second offence is $10,000 and then it becomes a criminal matter, it will probably be something similar." Government's more robust approach to planning infringements has been welcomed by the Bermuda Environmental and Sustainability Taskforce. The group's chairman, Stuart Hayward, said more still needed to be done to inspire understanding of the policy and encourage "voluntary adherence to the rules." Senator Fahy added: "The aim here is to change a mindset as people start to get fined and are held to account quickly. The other big thing about these changes is that we will look to enforce against the contractor as well as the landowner depending on the facts."
January 9. It was not the tropical storm that some believed but severe weather hit transport from flights to ferries across the Island yesterday. Gale-force winds from a swirling body of low pressure that passed north of Bermuda caused sporadic power outages, and had many wondering if hurricane season had somehow come back. Several incoming flights were forced to turn back as gusts neared 60mph, and the Bermuda Government had to issue an advisory assuring residents that the Causeway would remain open. Drivers using two-wheeled transport were advised to use extra caution, with police reporting that at least one person was blown off their vehicle. The storm, now headed off to our east, packed winds of tropical storm strength and churned up sea heights of 20ft and more outside the reef line. A small craft warning remains in effect, while several ferry services were suspended yesterday afternoon. Belco had a busy evening responding to scattered power cuts, and the Paget stop lights were intermittently knocked out. The storm skirted 75 miles to Bermuda's north in the afternoon, and may potentially develop as it heads farther out into warmer waters. The Atlantic hurricane season ended officially on November 30, making the extra-tropical low pressure system a comparative rarity.
January 8. The reinsurance industry is still under pressure from low prices, a top executive said this week. Aspen Re chief underwriting officer Emil Issavi added the year started with a "benign" natural catastrophe environment, a more stable economy and stable inflation. "The industry, however, continues to suffer from the low interest rate environment and excess capital," Mr Issavi said in a conference call hosted by Macquarie Securities to discuss reinsurance renewals. "The pricing challenges created by this excess capital continued during January 1 renewals, although the impact differed by line of business and geography. While there was a slowing of price decreases in certain lines, pricing in many areas of business was disappointing." Mr Issavi added, however: "Terms and conditions generally remained reasonably stable, mitigating some of the negative effect from rate movement. In addition, clients continued their consolidation of reinsurance panels, choosing reinsurers capable of delivering a broad range of products with local distribution reach." Mr Issavi said that relative pricing for most lines of business had held up better in the US than internationally, and even loss-affected portfolios had seen positive movements. He added: "There are signs of a market that has maintained some discipline despite the soft conditions. In addition, original underwriting rates generally remained more stable, allowing reinsurers to benefit when participating on a pro-rata basis. In these cases the commissions increased on better programmes but the industry showed discipline and stability compared to prior soft markets. January 1 also saw greater requests for multiyear deals, potentially signaling the bottom of the market for certain lines." Mr Issavi was speaking in a general discussion about the state of the industry. He said that property catastrophe did better than last year's renewal season, with rates falling by around five to ten per cent. The rates in the US generally fell by between 2.5 and 7.5 per cent while the international market dropped by five to 15 per cent. Mr Issavi said January was a bigger renewal date for Europe than in the rest of the world and that terms and conditions had remained "broadly stable. The market appears to have held some ground despite coming off three years without a major catastrophe loss. Additionally, the renewal season saw some higher retentions but overall this does not appear to be a significant trend and was largely consistent with expiring levels." In the property per risk and property proportional segments in the US, per risk rate changes ranged from flat to down five per cent and the market saw pressure on treaty terms and conditions, although the market pushed back successfully in many instances where it felt terms and conditions were unreasonable. Internationally, rates declined by between five and 15 per cent on loss-free portfolios, with the largest rate declines registered in Europe, followed by Latin America and Asia. Mr Issavi said: "In all regions, main terms and conditions generally remained in line with expiring ones. Portfolios with risk losses had more difficult placements and were less affected by negative rate movements." In property proportional, rates were generally down, but appeared to be leveling off, with larger drops in outside the US. Mr Issavi said: "As expected, the January renewals saw continued pressure on price. Terms and buying habits in general did not see significant changes. Although there was broad pressure on most lines of business there was little that occurred outside of our expectations."
January 8. This year's World Rugby Classic looks set to be a star-studded affair with some of the sport's most decorated names lined up for the tournament. Keven Mealamu, a two-times World Cup winner, Shane Williams, Wales' record try scorer, and Gordon D'Arcy, the former Ireland centre, are some of the names to have been approached up by the event's organizers. Also expected to feature are South Africa locks Victor Matfield, who made his debut at the 2013 classic, and Bakkies Botha, as well as All Blacks players Brad Thorn and Ali Williams. Andy Haden, the New Zealand coach, is looking to strengthen his side having suffered a 22-5 mauling against the Lions in last year's final. A player of Mealamu's calibre should make a real impact on a side that struggled to beat Italy in their opening game at last November's tournament, before a hard-fought 20-14 win over the Classic Springboks in the semi-finals. Mealamu led the Haka in the final of last year's World Cup against Australia, which the All Blacks won 34-17 at Twickenham. The 36-year-old made 132 appearances for his country. Matfield also featured at last year's World Cup, helping South Africa reach the semi-finals, where they lost to New Zealand 20-18. He had the honour of captaining his country in the third-place play-off game against Argentina in his final appearance for the Springboks. The 38-year-old was part of the Classic Springboks team that won the World Rugby Classic during his brief retirement in 2013, beating the Classic Pumas 14-7. Williams, the International Rugby Board's player of the year in 2008, is another behemoth of the game sure to set pulses racing. Winning 87 caps for his country, Williams is third on the international list of leading try scorers and toured with the Lions on three occasions. Joining Williams in what should be a formidable backline for the Lions will be D'Arcy, who partnered Brian O'Driscoll in the centre for Ireland, winning 82 caps for his country. This year's Classic will be held from November 6 to 12. The 43rd George Duckett Memorial match will be played at Police Field tomorrow. The game, in honour of the former Commissioner of Police who was assassinated in 1972, starts at 3. 30pm, with Bermuda Police playing a Bermuda Select XV. There will be several other games tomorrow afternoon, with the Police women's team playing The Rest, and Police 2nds against Bermuda Under-19s.
January 8. The Corporation of Hamilton could reach an agreement with a lending institution "within days" to satisfy its $18 million debt over the Par-la-Ville hotel debacle, according to Michael Fahy, the Minister of Home Affairs. Senator Fahy said that the city's council was still in discussions with a local bank to secure a loan to pay off monies outstanding to Mexico Infrastructure Finance (MIF) over the deal. He told The Royal Gazette he was confident the corporation would endure despite its present financial difficulties. "The corporation is still in discussions with a local bank to provide a loan to satisfy the $18 million debt with Mexican Infrastructure Finance over the Par-la-Ville hotel. This has to happen in short order and we hope it will happen in the next few days. I feel confident that the Corporation of Hamilton will survive. "f I did not, we would not have done all the things we have. It would have been far easier to close them down but that was not the option we wanted to take." Recent legislation passed by the House of Assembly and the Senate has enabled the Corporation of Hamilton to increase its borrowing limit from $20 million to $30 million in order to help pay off the MIF loan. Sen Fahy said that Government enjoyed a good relationship with the corporation's new administration, and maintained there was still a place for municipalities in Bermuda. "In my opinion Bermuda is slightly over-governed already but the municipalities still have an important role to play in the community. Down in St George's there is a real community spirit — it is its own little Bermuda. There is so much history there and the council is full of hard-working individuals who are paid very little but make a huge community contribution. The marina development is fantastic and has been driven by the corporation and the developers. It does not matter what political affiliation the council members have, that is the beauty of the municipalities. They are there to look after the community. Hamilton has the America's Cup to look forward to and help revitalize the city. The city will continue to reinvent itself although it is difficult because it does have financial difficulties. But the city thrives when Bermuda thrives as a business place and we are seeing progress in this area. I believe the municipalities do have longevity and so they should."
January 8. A businessman has launched a new water purification service for homes and commercial properties. Miguel Pereira — whose R&M Maintenance Group of companies already includes construction and landscaping arms — has expanded the business with new venture Waterite. Mr Pereira said that Waterite offers state-of-the-art water purification using the latest technology. He added: "We've just opened the water filtration company — as far as I know, there are only two in Bermuda including us. It's basically water filtration for businesses and homes — Bermuda's water is hard and not the cleanest you can get. It contains a bunch of particles. The water here is very hard and damages a lot of equipment like coffee makers, dishwashers and restaurant equipment." Mr Pereira's system includes an eight-stage ionization and purification system and uses ultra-violet light to ensure water is crystal clear. He said: "You can have the system connected to your faucet and have purified drinking water instead of buying these big jugs that take up space. We install the filters and the water is always clean. It comes out of the tap completely cleaned — not only are people reducing costs, the filters' lifetime is three to six months, so they would be looking at a service maybe twice a year." Mr Pereira explained that he planned Waterite two years ago — but put off the launch due to the recession and economic conditions on the Island. He said that water in the City of Hamilton could contain impurities like calcium, iron and other particles. "That's why at the moment so much bottled water is being purchased and consumed. We collect water from our roofs, which have pollution on them and store it in tanks, which are sometimes not the cleanest." But Mr Pereira added the firm could also install a filtration system at the water pump, ensuring clean water throughout a home or business, as well as under-the-sink systems in kitchens. And he said that Waterite had already opened negotiations with several companies with a view to installing purification systems. Mr Pereira added: "There is a demand because, due to the amount of hardener that the water carries, it damages a lot of elements in machines — anything in a kitchen — and it corrodes, so it raises costs. We are also providing a product that people know is clean. If somebody is serving someone a glass of water in a restaurant with a meal, it's clean and not contaminated with things you can't see or taste." Mr Pereira said Waterite also offered a water cooler that draws moisture from the air and produces close to six gallons of water a day. He explained: "Within 24 hours of plugging it in, it can produce 5.8 gallons a day and the water can be delivered either hot or cold. The water is filtered and treated with ozone, which is a very effective water disinfectant. It's as clean as you can get."
January 8. A Bermudian educator has been recognized for her contributions in forming the new history of Kingston. Nominated by citizens of Kingston, Ontario, as part of the Sir John A Macdonald Bicentennial, Judith Brown (née Wellman) was singled out as a Kingstonian who is leading change. A teacher for more than 30 years, Mrs Brown has taught in Bermuda, Ontario, Egypt and China, in places as varied as the Prison for Women, Beechgrove Children's Centre, Queen's University's McArthur College and for three years at Francis Patton School. But it is her work as president of Kingston's Afro-Caribe Foundation that has earned her this recent recognition. Mrs Brown has found that she is busier in retirement than as a full-time teacher. "I just cannot sit still!" she said. "I've become involved in so many things." She said that the foundation's main function is to provide scholarships for students of Queen's University and St Lawrence College of African or Caribbean ancestry. As she gears up for Black History Month celebrations in February, she told The Royal Gazette: "The Queen's scholarship is named after Robert Sutherland, a lawyer of Jamaican heritage. He saved Queen's University at a time when they were in dire straits and possibly would have closed or merged with the University of Toronto." Mr Sutherland, a Queen's scholar, had practised in an area of Canada where many settled from the underground railroad and he bequeathed his entire fortune to Queen's. "That's what saved Queen's University. Saved by this black guy," she said. The second scholarship honours another black man, Alfie Pierce, a coach and mascot for the Queen's football team, sleeping under the bleachers in the summer and in the boiler room in the winter. The pub at Queen's is named Alfie's to honour him. "What I'm trying to do is I'm trying to have blacks have a more prominent role here in Kingston," she said. "I'm encouraging our members to get on boards and in order to do that I said, Judy you've got to do it yourself." The former Berkeleyite now sits on the Kingston Frontenac public library board and is president of all-ladies club, Probus, for retired professionals. She has made a name for herself within the community, last year earning mention in the house of parliament. "That was quite an honour," Mrs Brown said. The educator said she enjoyed international teaching because it provided access to other cultures and an opportunity to travel. She applied for the position to begin an early childhood programme in Egypt after she had ruled out early retirement. The mother of four said: "My children were out of the way and I thought this is a great time to key in on this opportunity. I loved it." She originally fell into kindergarten teaching after returning from maternity leave — it was the only position available. I fell in love with those little ones and from then on I was hooked. I did courses in early childhood and like they say, the rest is history." After Egypt she was made adjunct professional at Queen's University where she taught early childhood education. But she missed being overseas and applied for a position in China after a year. She stayed in Shanghai for seven years. "I returned to Canada because I was beginning to have grandchildren," she said. "I said, if you want those grandchildren to know you, they've got to know you when they're young." I don't know when to sit myself down," she said, laughing. "I'm busier now than when I was teaching, but I enjoy it. I really enjoy it. If I didn't do this what am I going to be doing? Sitting around and getting bored with myself? It's good to have a purpose." The feature in the Kingston Whig-Standard reads: "Brown provides passionate and inclusive leadership. She is a warm and welcoming mentor who embraces new community members and demonstrates respect and collegiality to all who work with her. Her capacity to motivate and engage others is outstanding. Brown's passion inspires — and it leads change."
January 8. Tributes have been paid to Iris Davis, an iconic figure who persevered through segregation to become the Island's senior nurse, who has died at the age of 94. Miss Davis, well known to generations of families as a midwife and school nurse, was hailed as a powerful example for black people, particularly black women, throughout her trailblazing 40-year career. She was the second black Bermudian nurse, after Sylvia Richardson, to be taken on at the government Health Clinic, and was appointed MBE in recognition of her service in 1974. Describing Miss Davis as "an icon in the community", historian Walton Brown told The Royal Gazette: "We take a lot for granted today, but during that period of rampant segregation, she represented a powerful example for black people and for black women." Nursing was an early dream from her humble origins in Somerset, where her father, William Davis, emerged as a pivotal early figure in the Island's labour movement. As a midwife she helped bring generations of Bermudian babies into the world, and she grew familiar to later generations of schoolchildren as the nurse who brought the vaccination shots. Preferring to be addressed as "Miss", as she never married, she was famously private but known around Bermuda for the lovingly restored 1961 classic Austin Cambridge that remains in her garage today. She won recognition only after pressing ahead through arduous training at a time when even qualifying was segregated, and King Edward VII Memorial Hospital refused to accept black nurses. Miss Davis obtained her initial training at the Cottage Hospital, followed by a year's study at Lincoln Hospital in New York — her first departure from the Island. However, as veteran nurse Cecille Simmons recalled, she "trained three times before she could get a job here", because of discrimination. "She could not get enough work to sustain herself, so she worked as a midwife — her father had a room at the house where she could even deliver at home. When I asked her how she got her instruments, she said that her father got Dr EF Gordon — an early icon in Bermuda's civil rights and labour struggle — to buy them for her." In 1956 she went to St Giles Hospital in London, where she won a prize as the best second-year nurse, receiving her award from Lady Macmillan, wife of the Prime Minister Harold Macmillan. Discrimination persisted at home, Mrs Simmons said, but Miss Davis "really was the one who put her foot down." She recounted how during one delivery, Miss Davis found complications with her patient and called a white doctor to take her and her patient to the hospital in a horse-and- buggy for a Caesarean. "They wouldn't let her come into the operating room, but she refused to budge, for her patient," Mrs Simmons said. "She was one of the most determined forces in my nursing career. It's amazing — she refused to talk about it. I spoke to her last year and told her she needed to tell me this stuff." Miss Davis, she added, was "a very forceful woman who believed in the importance of attention to detail, to documenting things, to professionalism — she worked hard and expected that from the rest of us." Her great-nephew Rudolph Cann, Warden of Pilots at the Department of Marine and Ports, remembered her prevailing at a time when "people of colour were not allowed to practise in the hospital. She had a memory and mind that you could not imagine, and if you stepped out of line she very quickly put you in your place. At the same time, she was the kindest person in the world." After retiring from the Health Department she worked for Trimingham's department store, Mr Cann said. "She was nicknamed Checkpoint Charlie. She was the first person you saw in the door and the last person out. Upon retiring from there she just relaxed and dedicated her time to her family." Her father William Davis, a carpenter who helped lead workers in protest against their wages at the United States base, subsequently helped organise workers into a group that became the Bermuda Workers Association, later the Bermuda Industrial Union. DelMonte Davis, her godson, recalled that Ms Davis's mother, Isabella, was connected with the work of Marcus Garvey, a Jamaican-born figure in the Pan-African movement. Mr Brown, a Progressive Labour Party MP, said of Miss Davis: "Her demeanor, her selflessness, were fully recognized by the community, as we saw just last year when she was honored at the Emancipation Ceremony. It would be entirely appropriate to have a more permanent and fitting tribute to her, such as a scholarship in her name." Miss Davis diligently attended the Presbyterian Church in Warwick, where her funeral is to be held this Sunday at 3pm.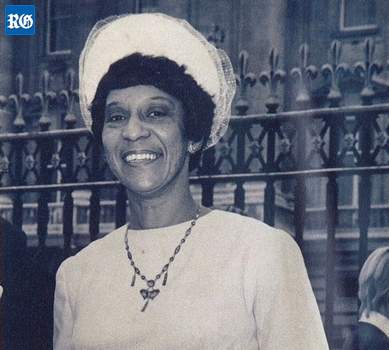 The late Iris Davis, MBE
January 8. Business leader Cyril Whitter has resigned as a member of two Progressive Labour Party committees — telling chairman Maynard Dill "the leadership of my beloved party stinks." This is according to correspondence seen by this newspaper, e-mailed by Mr Whitter to Mr Dill on Tuesday, shortly after former shadow tourism minister Zane DeSilva was "removed" as a member of the PLP's finance committee. In what is understood to be his resignation e-mail from both the finance committee and candidates committee, Mr Whitter told Mr Dill: "Please consider this my final communication. I hereby resign as a member of both the finance committee and the candidates committee with immediate effect. The leadership of my beloved party stinks. You are proving woefully inadequate and lacking in the wisdom needed to navigate our challenges. On the parliamentary group side, the leadership challenge is the same. Because I love both you and Marc [Bean, the PLP leader] dearly, I am hopeful that your transitions into roles within the party, more suited to your skill sets, will happen sooner rather than later." The message was sent to 11 people, including Mr Bean, deputy leader David Burt, Mr DeSilva, and MPs Walter Roban and Dennis Lister. When contacted by The Royal Gazette, Mr Whitter, who is president and chief executive at management services facility Independent Management Ltd, would not confirm or deny his resignation, telling us he did not wish to discuss internal matters in a public forum. However, he did say: "I am completely and fully committed to the PLP and I continue to work to ensure that the party is strong. It is my intent to continue to work with the party and for the party indefinitely. I am going to ensure that I can do everything that I possibly can as a member and an engaged person within the party." Mr DeSilva was one of seven MPs to quit the Shadow Cabinet last month, announcing publicly that he could no longer serve under Mr Bean. The e-mail chain from this Tuesday begins with Mr Dill writing to Mr DeSilva: "I regret to inform you that you have been removed as a member of the finance committee, effective immediately. I wish to thank you for your valued service." Mr Whitter replied that such a move would "weaken the team", explaining: "I have been totally impressed with Zane's energy and commitment to the PLP finance committee." Mr Dill responded: "The final decision of all committees rests solely with the leader." While Mr Whitter refused to talk about why he decided to resign, he told this newspaper: "Every organization goes through its challenges and difficulties — the UBP went through it and the OBA. We have to work through, as organisations, the challenges that we face. It is no different from the country. We as a country have to work through the challenges that we face as a country. A party is just a microcosm of the country." Mr Dill and Mr Bean, through the PLP's public relations office, did not respond to a request for a comment yesterday.
January 8. A Butterfield Bank supervisor wept yesterday in Supreme Court as she recalled coming face-to-face with a gunman during a robbery. Gregory Tucker is accused of using an imitation firearm to rob the bank's St George's branch on June 9 last year, and accidentally leaving the weapon's barrel behind at the scene. The incident happened shortly after midday on a quiet Tuesday at the bank, where eight employees and one summer student were working. The court was shown CCTV footage from inside the building, which captured the event in full. Supervisor Beatrice Signor told the court that the robber leapt over the counter and ran towards her with a gun in one hand and a brown paper bag in the other. The criminal was wearing a red-hooded sweatshirt and black trousers, and had a dark cloth covering all of his face except his eyes. "I was afraid. I didn't know if he was going to shoot," she said. "He had a coarse voice and a Bermudian accent. He was shouting, 'Give me the money and open the safe'. I was terrified." As this happened, Mrs Signor's fellow supervisor Nigel Turuni emerged from his office to check on the commotion. The robber turned the imitation firearm on Mr Turuni, and demanded that he hand over "all the money" into the paper bag. Mr Turuni opened the cash drawer of teller Laura Bottelli and proceeded to give him the money that was available. "He had a weapon, so I did as I was told," Mr Turuni told the court, adding that he felt "threatened, frightened, and afraid for my life and the lives of my colleagues." The money he handed to the robber consisted entirely of Bermudian currency in bill form: $2, $5, $10, $20 and $50 notes, which were held together by paper clips and elastic bands. "I was very nervous and very afraid, but I knew I had to remain calm," said Mr Turuni. "He seemed satisfied and left." Immediately after the robber escaped on to York Street, Mr Turuni pressed a security alarm and helped Mrs Signor to lock the front doors of the building. However, the gunman accidentally dropped the barrel of the imitation Beretta pistol used in the robbery, and forensic investigators swiftly took it away as a potentially key piece of evidence. Mr Tucker was arrested on July 2, when Detective Constable Cheryl Beech spotted him walking along King Street, Hamilton. At Hamilton Police Station, officers seized a cell phone and $210 in Bermudian currency from the defendant, while DC Beech took a DNA swab from his mouth. On Wednesday, prosecutor Nicole Smith pointed out that Mr Tucker's DNA was found to be a "major contributor" on the pistol barrel which was left behind during the robbery. However, defence counsel Charles Richardson suggested to DC Beech that the defendant had an alibi in Richard Basden Jr, who had told officers that he was with Mr Tucker when the robbery took place. The court also heard that Mr Tucker and Mr Basden had been stopped twice by police on the day of the robbery, the first time near the RAA Club in St George's just 30 minutes after the robbery took place. Mr Tucker denies robbery and using an imitation firearm to commit an indictable offence. The case continues.
January 8. RG Editorial. "Did he or didn't he? That has been the question that world leaders and those who fear for our future well-being will have been pondering since Kim Jong Un announced on Wednesday that he had tested North Korea's first hydrogen bomb. The truth of the matter, according to the "experts", is that the supreme leader of the Democratic People's Republic of Korea — aka Dennis Rodman's best mate, which gives credence to the notion that there are more than a few screws loose — simply has authored the North's fourth atomic test. All illegal since it withdrew from the Nonproliferation Policy Treaty in 2003. The test is believed to have caused an earthquake of a 4.8 magnitude on the Richter scale and an explosive yield of 6.0 kilotons, which is smaller than the hermit state's previous test in 2013 and smaller than what would normally be expected of a hydrogen-based fusion device. To put that into a local context, were such a device to detonate over Bermuda, it would kill approximately 3,280 people and injure 9,020 others, with more than 25,000 caught in the PSI (Pollutant Standards Index) range. A direct hit might be less severe in terms of its overall reach, with radiation fallout taken into consideration, but there would be as many as 350 more fatalities. Almost half of the Island's population affected. Kim is a madman who seeks to be relevant, and most leaders acknowledge that, particularly those who have seats on the United Nations Security Council. It is not so much the bang that Kim professes to be packing, but that he is packing at all that has the international community anxiously wringing its hands. He wants a seat at the table of nuclear powers, but they have repeatedly refused entry to a dictator who, when he is not entertaining one of the oddest personalities to come out of the ranks of professional basketball, is persecuting and starving his own people. Bermuda, and the wider world, can be grateful that South Korea and the United States are close enough to see to it that any damage he inflicts is minimal; South Korea because it possesses a far superior military than does Kim and the US not only because it has troops and jets in support of the South, but it also has more troops and an aircraft carrier fleet in Japan. However, the least that Kim could accomplish were his grubby hands allowed to press the red button is the destruction of Seoul, and that would send South Korea's economy into a tailspin from which it might take generations to recover. What's more, China, seen to be Kim's greatest ally — if for no other reason than to limit American influence by preventing the South from turning the two Koreas into one — is not impressed by the actions of its "little brother" or by its leader's boast of producing an "H-bomb of justice". The world's second superpower is best placed to make North Korea feel the pinch through economic sanctions, but that would only worsen the plight of the impoverished innocents of the Kim dynasty, as junior, who turned 33 today, continues on a path to following in the footsteps of his equally despotic predecessors — grandfather Kim Il Sung and father Kim Jong Il. The consensus among scientists is that North Korea's previous three tests were of relatively small atomic weapons of the fission type dropped on Hiroshima and Nagasaki. Hydrogen, or thermonuclear, warheads, which make up most of the world's nuclear arsenals, use nuclear fusion to create a far more powerful explosion. The claim that it is a "smaller" bomb implies that the North has mastered a technology that for many years it was assumed to lack — the ability to miniaturize warheads to the extent that they can be mounted on a missile. That is worrying. More so if the intelligence agencies that are meant to be observing Pyongyang's every move fail to predict it. The US, with some justification, can be viewed to be the biggest and baddest on the planet when it comes to nuclear arms. The leader of the free world is joined by China, France, Russia and Britain as the officially recognized nuclear weapon states, but they and the Russians, in particular, can be said to be culpable for not having reduced their stockpiles of warheads to virtually zero as originally promised. It has spawned a belief by North Korea and those who never signed up to the treaty, including UN member states Israel, India and Pakistan, that they can do pretty much as they please. The existing sanctions against North Korea have done little to slow what has become a ritual testing — 2006, 2009, 2013 and now 2016. It is time for the consequences to be less of a threat and more real, more hard-hitting; all without resorting to war."
January 8. A man has been charged with an attack that left a Hamilton councilor with serious injuries. Ottis Walter Bell, 61, from Devonshire, appeared in Magistrates' Court this morning charged with wounding RoseAnn Edwards with intent to cause her grievous bodily harm on Tuesday. Mr Bell was not required to enter a plea as the matter must be heard in the Supreme Court. No application for bail was made, and he remained silent throughout proceedings. Magistrate Archibald Warner sent the matter to the Supreme Court for the session starting next month. Mr Bell remains remanded in custody.
January 8. Extended hours for MRI patients are being offered by Bermuda HealthCare Services while MRI is temporarily unavailable at King Edward VII Memorial Hospital. The extended hours will be available for the next two weeks. "We are here to serve the community and we are happy to accommodate patients who would normally go to the hospital," said Mahesh Reddy, the medical director at Bermuda HealthCare Services. Referrals should be made by calling 236-2810 during the clinic's normal working hours. All inquiries should be sent to Marynell Goolsby.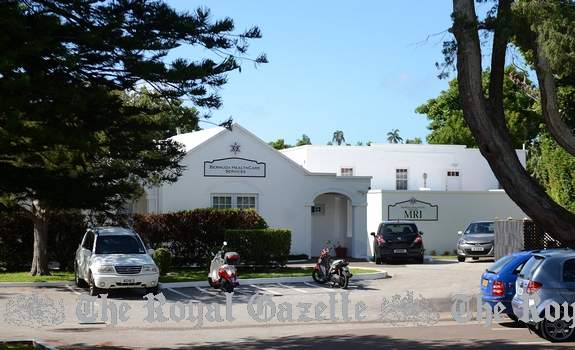 Bermuda Healthcare Services, see above story
January 7. Premier Michael Dunkley yesterday explained his decision to hold the upcoming Commission of Inquiry behind closed doors. The Premier, who announced the independent investigation into the handling of taxpayers' money under the former Progressive Labour Party administration last week, told The Royal Gazette: "Giving evidence is a highly stressful experience for anyone, especially in a public forum. In planning this commission, we felt the inquiry's informational and evidential needs would be best served by holding its meetings in camera. If the commission decides to hold public meetings, then it will have licence to do so but we felt the in-camera provision was important for the fulfillment of its work." He said it was important to note that the commission's full report would be made public. The Commissions of Inquiry Act 1935, which determines how the investigation must be conducted, requires a report in writing to be made the Governor. Mr Dunkley said last week that four commissioners, including a lawyer and an accountant, would be appointed by mid-January, with a report due in less than four months. The commission will look at how government money was managed by civil servants for the financial years ending March 31, 2010, 2011 and 2012, after what the Premier described as a recent "disturbing report" by Auditor-General Heather Jacobs Matthews. Mrs Matthews found that public officials violated the rules on the spending of millions of dollars of taxpayers' money so often that it became the norm for which there are no consequences. Previous reports from the Auditor also revealed breaches of financial instructions but Mr Dunkley said the commission would be limited to the three years covered by her most recent inquiry because it was the first report tabled while he was Premier and the first since the law was changed to allow the Premier to call for a Commission of Inquiry. "Once the commission completes its investigation of the three financial years in question, there will be opportunities to decide on further action," he added. He disagreed with a claim by Jeremy Deacon in an opinion piece on Bernews this week that he had done a U-turn after stating to the news website in November that investigating the breaches was "not something that a government should do. "My position on this matter starts with my responsibility as Premier to uphold the highest standards of accountability across all government departments," Mr Dunkley told this newspaper. "At the time, I said I'd been in discussions with the head of the Civil Service on the matter and that I was intending to meet with the Auditor-General about ways to improve the situation. "I also said I supported an appropriate investigation into the situation. With that in mind and after further discussions with colleagues and the Governor and a continuing review of the Auditor-General's report, I announced our intention to form a Commission of Inquiry. This is to be an investigation independent of government, following terms of reference that we hope will produce recommendations to break the back of bad habits and restore accountability to the centre of government business. This is an initiative that has received support from virtually every sphere of Bermuda public life." The Premier said there was no estimated cost for the inquiry, as the commission was still being put together. "The final cost of the inquiry will be determined by the amount of time it takes and the resources needed to gather information," he said. "Our aim is to see a report produced three months after the appointment of a commission but we've said we are prepared to extend the time needed in order for the commission to fulfill its terms of reference. While cost is a factor in taking this initiative, particularly at a time of extremely tight budgets, the Government decided an inquiry was in order for the very compelling reasons we outlined in our December 29 announcement. These reasons include serious problems of budget accountability and control that perpetuated inefficiencies and ineffectiveness across government and the failure to obey financial instructions." Asked for the cost of previous commissions, a Ministry of Finance spokesman said the information was not readily available.
January 7. RG Editorial. He was the Flo Ziegfeld of the disco era, the Richard D'Oyly Carte of rock operas and the Brian Epstein figure to some of the biggest names in popular music, including the Bee Gees, Eric Clapton, Cream, The Who, Rod Stewart and David Bowie. The New York Times once described him, "a combination of P.T. Barnum, Mike Todd and Jay Gatsby", an impresario with the Midas touch and more than a bit of the cheerful huckster about him: a self-made man with a glittering self-invented public persona. His business acumen was such that one rival said trying to get the better of him on a deal was as futile an undertaking as attempting to fight a Great White Shark sporting tungsten dentures. Robert Stigwood was certainly all of these things. But he was also an extraordinarily kind, cultured and thoughtful individual. As is often the case with people who live their lives in the public eye, the veneer of glitz and glamour hid an extremely private and sometimes painfully shy man. Additionally, as former Premier Sir John Swan said when Stigwood died on Monday at the age of 81, he was one of Bermuda's most high-profile and tireless champions in recent times. "Robert lived here for many years and, as those who crossed his path know, he was a huge supporter of Bermuda and Bermudians," he said. "He was a friend, a genuine friend, to people from all walks of life during the time he spent here. Obviously he was a pivotal figure in the international entertainment industry in the 1970s and 1980s, and when he was travelling abroad he was also an exemplary ambassador for the Island. He encouraged a lot of influential individuals to visit here and a lot of major companies to do business in Bermuda." His list of credits was as prodigious as it was impressive. Stigwood was the producer of Saturday Night Fever and the film adaptation of Grease, along with the stage and screen versions of Evita and Jesus Christ Superstar. He was the man who helped to launch and guide the careers of countless pop acts and actors, including John Travolta, the musical theatre writing team of Andrew Lloyd Webber and Tim Rice, and it was he who repackaged the Britcoms Til Death Do Us Part and Steptoe & Son for American audiences as All In The Family and Sanford & Son.
He was the unlikely Australian-born, British-based tastemaker who transformed the four-on-the-floor beat of disco from a dying mid-Seventies musical fad into a worldwide pop culture phenomenon. He first came to Bermuda in 1976. At the time, he was in the midst of consolidating his transition from Sixties pop music magnate into a major international power player in stage, movie and television production. The pressures of running a burgeoning global entertainment empire necessitated that Stigwood travel constantly between London, New York and Los Angeles. So Bermuda became both a convenient stopover point for him as well as a business-savvy jurisdiction where his increasingly complex international deals and tax obligations could be co-ordinated by the emerging offshore financial services sector. When he first arrived here, he was planning a slate of new films, including a low-budget street musical of sorts based on a magazine article he read about the American disco subculture. The magazine piece chronicled how Brooklyn teenagers increasingly were spending their weekends at gaudy discotheques to find temporary release on the dance floors from their dead-end existences and sterile surroundings. Journalist Nik Cohn's article had been called Tribal Rites Of The New Saturday Night. The film script was, mercifully, retitled Saturday Night Fever by the searingly brilliant screenwriter Norman Wexler after a Bermuda confab with Stigwood. Stigwood had long managed the career of the Bee Gees, British-born, Australian-raised brothers Barry, Maurice and Robin Gibb. Known for their seraphic harmonies and solid songwriting, in the mid-Seventies the group were increasingly flavoring their music with R&B/disco inflections and danceable beats. So Stigwood commissioned the trio to provide songs for the soundtrack of his disco opus while they were visiting him in Bermuda that summer. "Give me eight minutes — eight minutes, three moods," he said when describing his concept for the title track to the group. "I want frenzy at the beginning. Then I want some passion. "And then I want some w-i-i-i-ld frenzy."
The Bee Gees immediately obliged. They retired to a quiet a corner of Stigwood's rented Palm Grove estate in Devonshire and wrote the bulk of what was to be titled Stayin' Alive, a song that later came to be described as "the national anthem of the Seventies." All of the other Bee Gees songs on the film's soundtrack were sketched out here as well (for good measure, Bee Gees de facto leader Barry Gibb and youngest brother Andy, who was honeymooning in Bermuda and just signed as a solo act on Stigwood's RSO record label, also wrote the two songs that would go on to be his first international chart-toppers at Palm Grove that summer). When it was released, Saturday Night Fever was less a film than a global cultural event, inspiring trends not just in music but in fields such as fashion, hairstyling and jewellery as well. Its influence was unavoidable in the late 1970s and its presence was everywhere. Even the notoriously hard-to-please, high-brow film and cultural critic Pauline Kael was enchanted. And she went on to explain the almost gravitational attraction the movie and soundtrack exerted on audiences around the world as well as anyone. "These are among the most hypnotically beautiful pop dance scenes ever filmed," she said in a New Yorker review. "At its best, Saturday Night Fever gets at something deeply romantic: the need to move, to dance, and the need to be who you'd like to be. "Nirvana is the dance; when the music stops, you return to being ordinary."
Stigwood had tapped into something primal and almost fundamental in the collective psyche of a generation while developing his idea for a little disco film in Bermuda during the summer of 1976. As lyricist Tim Rice said, the film's success epitomized Stigwood's largely unerring ability to both anticipate and guide public taste. He had "a genuine love of what's popular. He doesn't have to pretend that he likes what's commercial. If he likes it, it'll be commercial." His reputation as an entertainment industry colossus was firmly cemented by the film and its soundtrack album, which sold 40 million copies, as was his fortune. Now wealthy beyond the wildest dreams of British tax collectors, he decided to move to Bermuda on a semi-permanent basis. The year after Saturday Night Fever's release, Stigwood sailed down the Thames on his elegantly appointed yacht, Sarina, and into tax exile in Bermuda, remaining here for the next 14 years. Bermuda was not just an advantageous tax jurisdiction for Robert Stigwood, but a mid-Atlantic base of operations for his international deal making and power-broking. The Island was also very much his home, perhaps the first real home he had since leaving Australia as a young advertising copywriter in the 1950s to seek his fortune (or, if the usual odds had applied, his almost certain ruin) in the British entertainment industry. He bought and lovingly restored the sprawling but entirely dilapidated Wreck House estate in Sandys parish. The refurbished house assumed a grandeur it had never known, even during its Georgian heyday and immediately became one of Bermuda's premiere showpiece properties. "I'm a perfectionist," Stigwood said. "I'd rather not do something than not do it properly. I never do anything to be defeated." Also after moving Bermuda, he supervised the two-year, multimillion-dollar overhaul of a second classic motor yacht, Jezebel, launched in 1929, which he purchased from Loel Guinness, the British politician and business magnate. The result was what The New York Times called "a floating fantasy", produced with the same finesse and cool elegance that characterized Stigwood's theatre and movie projects. Lavishly furnished in English country style with fabrics from London, antiques from France, marble from Italy, oriental rugs, priceless works of art and a mahogany grand piano (bolted down, of course), the 271-foot vessel — a throwback to an age of grace and luxury that had seemed gone for ever — became a regular sight in Bermuda waters. Frequently moored alongside the Flagpole on Front Street, the parties that Stigwood hosted aboard Jezebel have become the stuff of Bermuda legend. If Robert Stigwood gave us glamour, celebrity and more than a touch of international show business élan during his time in Bermuda, we provided him with tranquility and soul-soothing respites from the high-octane, high-pressure world of entertainment. For this most public of men in the 1970s and 1980s, Bermuda allowed Robert Stigwood to enjoy something very close to a normal private life — or at least as normal as a jet-setting multimillionaire's private life can ever be. Here he was left largely unmolested by the armies of wannabes, hangers-on and assorted lickspittle toadies who plague the great, the good and the not so good of the entertainment field in most communities.
Stigwood really did walk with kings — members of the Royal Family were guests at his West End home, along with show business royalty. But he not only retained the common touch, he reveled in it. Always very much engaged in the Bermuda community, he never stood apart from the people of his adopted home — all of the people. His choice in friends was every bit as much democratic as his choice in the musical styles he chose to champion. He was as comfortable at black-tie dinners where the cuisine and wine were as top-drawer as the guest lists as he was sitting at the kitchen table of a modest Bermuda home, sipping coffee and listening with genuine interest to advice from gardeners on how best to get his citrus trees to produce more fruit. A quiet but unfailingly generous benefactor to any number of local cultural organisations, charities and individuals, this flamboyant one-man global industry wasn't just a good corporate citizen of Bermuda, he was a good citizen, period. Stigwood's eventual departure for the Isle of Wight in 1992 marked the end of a glorious period both for him and Bermuda, one never to be revisited. In failing health in his final years after a botched hip replacement operation, he eventually left the Isle of Wight and divided his time between a property near London and a home in France. "Passion is the key to life," he once said. "You don't just make a film or promote a musician or back a stage production for the sake of money; it's belief." And as those who knew him in Bermuda can attest, he brought this unflagging passion, this belief, to everything he did. "He was such an enthusiastic person," Sir John Swan said. "He loved people; he was a people person. He was just a down-to-earth, highly approachable individual." The former Premier added: "Robert was a very good friend, not only to me but to Bermuda as a whole." – TIM HODGSON.
January 7. A Bermuda-based hotel firm has bought Boston's Mandarin Oriental Hotel for $140 million. Mandarin Oriental has managed the hotel on the city's upmarket Boylston Street since it opened in 2008. But now the company, part of the Bermuda-based Jardine Matheson empire, has bought the freehold and hotel business from CWB Hotel Ltd Partnership. Mandarin Oriental also manages the 85 privately-owned "Residences at Mandarin Oriental" which are linked to the hotel. Mandarin Oriental chief executive Edouard Ettedgui said: "We are delighted to acquire the property that houses our luxury hotel in the heart of Boston." Mandarin Oriental operates or has under development 47 hotels in 25 countries with a total of 11,000 rooms. It also operates or is developing 17 residential developments connected to its properties.
January 7. The search for a new owner for Rosewood Tucker's Point is continuing, but managing director Paul Telford remains upbeat about business at the resort. While what happens next will be up to the eventual owners, Mr Telford said there is still room for growth at the Hamilton Parish site. "We have been open for almost seven years, and what we have noticed is that there's a lot of business with families," he said. "We're seeing the grandparents coming in with the kids and the grandkids, and we have tried to build on that. We have a number of suites — we have 20 suites in total — and we can make up one-bedroom suites and two-bedroom suites. Certainly in July and August we sell a lot of that. Really, what we're doing here at Rosewood Tucker's Point is trying to build the group base — group business is the base that most of the hotels on the Island need to build on — and then fill in with transient visitors on top of that. We are trying to build the social aspect as well with birthday parties, families, destination weddings, that sort of stuff, but we are seeing growth in that business, that family business." Asked about recent planning applications, which proposed the addition of further convention facilities, he said: "The plans that were put in were more about the things that a new owner could potentially do. I don't know that it will necessarily happen. It is certainly a possibility, but the resort hasn't sold. If we had a little bit more function space or meeting space that we could use to cater to groups, we could cater to multiple groups at one time in the hotel. In the long-term, once you are able to have that ability to cater to groups, then you can increase the room inventory and you are able to take more group business. We have a pretty good infrastructure here. Our kitchens are big and we have our own laundry which can support the whole resort and then some. We have the beach club and the golf club, so we have a good base, core infrastructure on which to build. That's why we want to start off by building that shoulder period and groups and maybe looking at getting more function space. Then might come the moment when we think we might need to add more rooms. That's the long-term, but we have to get through receivership and the sale first. Hopefully a new owner will subscribe to that long-term strategy and put some funds towards it." Mr Telford also said that the subject of seeking a casino on the property would be up to the eventual purchaser of the resort. While he emphasized that casinos would not be a cure-all for the tourism industry, he said it could be a positive element, providing visitors with something else to do on the Island. He said the America's Cup in 2017 should also give the industry a needed boost, saying that the World Series event last October had helped visitor numbers. "We did get a boost from it, so it did contribute," he said. "We were advised by the America's Cup Event Authority that typically with the series races that we would not see as much of a blip on occupancy as we will see for the finals. Obviously they are not as big a draw, but we did see a boost. That bodes well for America's Cup. If we can expect to see some busy days with the America's Cup, that's great. We are looking forward to it." Asked if he was concerned by the distance between the resort and Dockyard, where the bulk of America's Cup activities will take place, he replied that the issue could be rectified. "It's a long distance by land, it's not by water," he said. "You could get someone from here or Flatts Village to there in 15, 20 minutes. It's a challenge that I think Bermudians can resolve. I think it would be huge to make that kind of connection, and if we can it would be great."
January 7. A total of eight Bermuda female business leaders have been listed in a prestige global top 200 of power women. The 2016 list compiled by London-based business magazine Citywealth includes Kimberley Durrant, UK representative for the Government of Bermuda, Fozeia Rana-Fahy, director of law firm MJM and Vanessa Schrum, a partner at law firm Appleby. Also included were Michelle Wolfe, managing director of Meritus Trust Company, Helen Cooper, director at law firm Conyers Dill & Pearman, Hamilton Trust managing director Linda Longworth, Caroline Foulger, a former partner in professional services firm PwC, now a non-executive director of insurer Hiscox and Freya Giffen, managing director of Codan Trust, part of Conyers, Dill & Pearman. Citywealth founder and chief executive officer Karen Jones said: "Congratulations to the women who made the list this year. "By highlighting their achievements we aim to remove barriers for their continued advancement and pave the way for others to follow in their success." The list includes views from some of the awardees on issues like quotas for women, their role models and charity work. The list was drawn up using information gathered from last year's awards and the 2015 edition of the Citywealth leaders list. They were combined with recommendations from leading figures in the financial services industry and a call for submissions last year. Citywatch said the list, which covered 25 countries, was listed alphabetically by jurisdiction and surname. Ms Longworth said that she backed quotas as "one of the most efficient tools available to create a more level playing field for women and men" and cited her mother as a key influence for her "stability, work ethic and independent spirit". Ms Schrum added: "Unfortunately, quotas for women are still probably quite necessary given the lack of women in top management jobs and CEO positions. The world is changing gradually and more and more women are entering the legal, accounting and other wealth management professions and qualifying for top jobs, so I believe and hope that in due course the need for these sorts of quotas will be a thing of the past." Ms Wolfe said: "I believe quotas can help when executed in a way that recognizes a woman's merit and contribution. Women can bring in fresh ideas and a different perspective from their male counterparts. They may even become role models for other women who are striving in their field. But the pitfall is that people might feel a woman was hired to fill a quota, especially if she was not as qualified as a male applicant. That causes resentment and in the end the woman may garner less respect from her colleagues."
January 7. A seven-strong team of hospital doctors and marine experts worked around the clock to give a stricken loggerhead turtle a fighting chance of life. The spectacular 60kg marine creature was rescued by free divers Shaun Holland and Aaron Bean off the North Shore on December 30 and brought to the aquarium. Scans conducted at King Edward VII Memorial Hospital the next day revealed a hook deep in the turtle's trachea that had caused her left lung to hyper inflate and right lung to partially collapse. The turtle underwent a three-and-a-half-hour operation to remove the hook on Tuesday night and although she is still in a critical condition, is making good progress. Experts think the turtle could have swallowed the longline hook as long as a year ago and been in pain for some time. "She was in a pretty bad way when the guys brought her to the aquarium," said Ian Walker, curator of the Bermuda Aquarium, Museum and Zoo. "Loggerheads are endangered species and typically we don't see ones this big in Bermuda. It was obvious she had serious breathing and buoyancy issues. We knew we had to act fast if we were to help her." The next morning Dr Walker contacted the diagnostic imaging department at the hospital and the turtle underwent a series of scans to determine the cause of the problem. The scans showed her left lung was hyperinflated, while her right lung had partially collapsed and showed signs of pneumonia. They also revealed a 4cm long piece of metal at the base of the trachea partially blocking the airway. "The CT scans were vital in showing us exactly where the obstruction was," said Dr Walker. "It would have been impossible to know otherwise. We really appreciate the work of Earlington Raynor, the senior imaging technologist, Renee Butterfield, manager of diagnostic imaging, Maureen Burke, consultant radiologist and Daniel Stovell, the director of radiology, in getting the scans done. The trouble we then faced was that the hook was located down the trachea more than 12 inches from the nostrils and was blocking the left lung. From a surgical perspective the difficulty was gaining access to the area where the hook was and removing it." On Tuesday evening surgeon Boris Vestweber, anesthetist Andrew Spence and surgical nurse, Andrew Westhead, from KEMH joined Dr Walker and veterinary technician Roma Hayward, senior aquarist Choy Aming and aquarist Ryan Tacklin for the operation. Dr Vestweber initially tried to use a bronchoscope to go down the turtle's throat and remove the hook, but the metal object was wedged in position. As a result they had to turn the turtle on to her back and perform an emergency tracheotomy to remove the hook before then repairing both tissue and skin damage caused by the incision. "It went as well as we could have hoped," Dr Walker said. "The turtle is still in a critical condition, and is certainly not out of the woods yet but has a much greater chance of survival as a result of the surgery. After the operation she was monitored around the clock by our staff and we were able to put her in water again by the morning. I'm cautiously optimistic at the moment, but we still have a long way to reaching a point where we can release her back to the wild again It's certainly the first time I have ever had a turtle as a patient, and was an extremely different procedure from my normal day. But the spirit of co-operation and seeing how everyone stayed well beyond the time they could go home was very rewarding. It is lovely to be able to give this turtle a chance of life again and it was truly a team effort." Dr Walker told The Royal Gazette the case highlight the dangers longline fishing posed to turtles. He said: "It may well be that this turtle swallowed the hook a year ago and has been swimming around ever since in a great deal of pain. The trouble is that when fishermen accidentally catch turtles on longline hooks they simply cut the line and throw them back in the sea — this seems to have been what happened to this animal with potentially fatal consequences."
January 7. Registration is now open for the Island's only third sector conference. Presented by the Centre on Philanthropy, the Building Hope conference aims to strengthen the charitable sector. "This conference is important because it is the only conference of its kind in Bermuda," Elaine Butterfield, the Centre on Philanthropy's executive director, told The Royal Gazette. "Although we hold workshops and panel discussions all year, this event brings everyone together from different areas and even from different sectors. The conference objectives go beyond this one day event," Ms Butterfield added. "We are collaboratively building hope for the organisations that provide the essential human services to our community." The Centre on Philanthropy is inviting non-profit leaders, staff and board members, corporate and individual donors, faith-based organisations, volunteers, activists, government and public sector workers, and social entrepreneurs to come along. "Attendees will spend the day collaborating first hand with experts and peers to strengthen our sector," Ms Butterfield said. Opening with a "lively and thought-provoking" PechaKucha Bermuda session, the event will see philanthropists, economists and industry professionals lead keynote presentations, panel discussion and breakout sessions to explore a series of topics. These include capacity building, programme development, fundraising, compliance, and the present and future social state. A new programme to support collaboration and consolidation within Bermuda's charitable sector will also be revealed. "The Centre on Philanthropy will unveil a new programme to provide more robust support to our membership, and to assist charities with the administrative support required to facilitate amalgamation processes up to mergers," Ms Butterfield said. The Building Hope third sector conference, which is sponsored by the Bank of Bermuda Foundation, Gill and Allan Gray, XL Catlin and the Bermuda Donor Forum, will be held at the Hamilton Princess on January 29. Tickets for Centre on Philanthropy members cost $175 and $200 for non-members. Prices will increase to $200 and $225 when the early bird special ends after January 15. For more information or to register visit the Centre on Philanthropy's website or call 236-7706.
January 7. A suspected bank robber has been linked to the crime by the barrel of a toy gun accidentally left behind at the scene, a court heard. Gregory Tucker is accused of robbing the Butterfield Bank in St George's and making off with cash on June 9 last year, and using an imitation firearm to commit the crime. Yesterday, on the first day of Mr Tucker's trial, a jury at the Supreme Court was shown CCTV footage of a man in a red-hooded sweatshirt entering the bank, leaping over the counter and brandishing a weapon at staff members. After money was handed over to the robber, whose face and body were mostly covered, he made his escape to York Street, where he was filmed on CCTV shortly after midday. Detective Sergeant Peter Thompson, a member of the forensics support unit, told the court that he attended the scene after the robbery and found "what appeared to be a weapon" on the floor next to a teller's chair. It was later discovered to be the barrel of a toy gun. Mr Tucker, 24, was arrested almost one month later in connection with the incident. Prosecutor Nicole Smith said: "He was swabbed for DNA, and was found to be a major contributor on that piece which was left behind during the robbery." Ms Smith told the jury that they were dealing with a "circumstantial evidence case", suggesting that Mr Tucker was either the man who robbed the bank, or that he aided, abetted or enabled an unknown person to commit those offences. "He'd be just as guilty," she said of the latter possibility. Ms Smith added: "He was in St George's Parish at the time, he was unemployed and rolls of money were found at his place of residence a few days after the robbery." Mr Tucker denies robbery and using an imitation firearm to commit an indictable offence. The case continues.
January 7. Older voters stand to present a decisive force in the upcoming contest for Devonshire North Central, according to the advocacy group Age Concern. Constituency 13 candidates from the governing One Bermuda Alliance and the Opposition have been invited by the group to field questions from area residents aged 50 and above at a meeting next week. "Bermudians are getting older, and it's the seniors who are going to hold quite a sway," said Charles Jeffers, director of Age Concern. "If people vote as they have voted all their lives, we will have similar results. But if they vote on issues, Bermuda would be better off. I believe we could become a potent voice if we could get people to break with tradition." Pensions have not kept up with the rising cost of living, medical insurance and prescription drugs, he said. Diallo Rabain, the Progressive Labour Party hopeful, and Andrew Simons, who is canvassing for the OBA, could face tough questions at next Wednesday's forum in Christ Church hall. Mr Jeffers said the OBA's performance at the polls on February 4 would serve as a "barometer" for the its brief record as a Government. Meanwhile, anything short of victory for the PLP in a district it has long held would come as a major blow to the Opposition, according to former PLP senator Jonathan Smith. Mr Jeffers cautioned that the by-election, called after the resignation of PLP Member of Parliament Glenn Blakeney, would nonetheless be a difficult call. "It's not uncommon to find a lower turnout than in a General Election," he said. "It's difficult for people to get really worked up because they know it can't change the Government. The governing party will do their best to get this as confirmation that they are doing a good job and the Opposition will want to keep it. Senator Rabain has the fact that a lot of people already know him. Mr Simons is a relative newcomer, although he lost by only a few votes in 2012." Mr Jeffers was referring to the slim, four-vote margin by which the PLP's Walton Brown won Pembroke Central against Mr Simons in the General Election. "That was very close, and that was in a fairly strong PLP district," Mr Jeffers pointed out. "I think the PLP have the most to lose in this one because they lost the government in 2012." Anthony Francis, the OBA's last challenger for Devonshire North Central, is understood to have been passed over in part because he would have to resign his government job if elected. However, Mr Francis continued canvassing after his election loss, while Mr Blakeney's ability to knock on doors was hampered by his business interests and heavily political workload.
January 7. A new $57 million private catastrophe bond has been launched in Bermuda. The bond transaction used Willis' Resilience Re cat bond issuance platform, which was launched in October last year. It was listed on the Bermuda Stock Exchange (BSX) on December 31 last year and sits under a newly listed Resilience Re insurance-linked securities note programme. Resilience Re was set up to cover property catastrophe risks by Willis Capital Markets and Advisory, a catastrophe bond, ILS, mergers and acquisitions and investment banking unit of global reinsurance broker Willis. Willis, which has offices on Pitts Bay Road, Pembroke, officially merged earlier this week with Towers Watson, a professional services company with an office on Par-la-Ville Road, Hamilton.
January 6. Two major firms with a presence in Bermuda officially merged yesterday in an $18 billion deal. Insurance and reinsurance firm Willis, which has offices on Pitts Bay Road, Pembroke, started operations in partnership with Towers Watson, a professional services company with an office on Par-la-Ville Road, Hamilton. The move creates a global advisory and brokerage firm serving 80 per cent of the world's largest companies in more than 120 countries. The official launch of the new company — Willis Towers Watson — came after shareholders in both voted to approve the merger. John Haley, the chief executive officer of Willis Towers Watson, said: "Willis Towers Watson is uniquely positioned to see the connections between talent, assets and ideas and how they can lead to strong performance and growth for our clients. "We intend to help our clients manage risk and engage their people in a whole new way. We believe we can change our industry by delivering solutions that are driven by data and analytics and are integrated, innovative and tailored to meet the evolving needs of our clients." The joint company expects to make merger-related savings of between $100 million and 125 million a year.
January 6. The oil price crash is not proving to be an unmitigated disaster for all sections of the oil service industry. On the contrary, for ship operators and owners it is proving to be a lucrative time, and things are looking rosy for at least another year. While oil prices tumbled 35 per cent last year, the average earnings for shipping firms involved in hauling oil, for all sizes of tanker, was $67,366 per day, the highest it had been in six years. While this is expected to slip to around $46,000 this year, that would still make it the second best year for daily rates since 2009. According to analysts estimates compiled by Bloomberg, carriers' earnings will double to bring an additional $5 billion in revenues across the entire world fleet this year. That is good news for major oil tanker companies, such as Bermuda-based Teekay Tankers, Nordic American Tankers and Frontline Management. Of course, there is always the danger of unexpected events trashing expectations, such as an outbreak of hostilities in the Middle East involving a major oil producer. But all things being equal, the oil tanker industry appears to be heading for another bumper year for revenues. "A steadily growing demand for the transportation of oil meets more or less stable capacity, leading to a remarkably strong increase in charter hire rates," said Jens Alers, group director of Bernhard Schulte Shipmanagement (Bermuda), which has offices in Par-la-Ville Road. The maritime services company manages a global fleet of more than 674 ships, which include a number of oil tankers varying in size up to very large crude carriers (VLCC). When asked for his observations on why the sector is up despite the oil price collapse, Mr Alers said one factor was the continuing glut of oil as producers pump at record levels. That has resulted in the price of Brent crude oil falling from more than $100 a barrel to around $37 in the space of the past 18 months. "Consumers have taken advantage of low oil prices. As a result demand for oil has risen steadily, yet not dramatically. Increased consumption in India and China has more than made up for reduced consumption in Europe," said Mr Alers. Coupled with this, there has been only marginal growth in the size of the world tanker fleet since 2011, due to older ships being scrapped and deliveries of newly built ships being subdued. However, that favorable situation could soon come to an end, warns Mr Alers. "Shipowners are betting on a strong tanker market for 2016, but I would be cautious beyond that. The number of new building orders placed at shipyards for large crude oil tankers — suezmaxes and VLCC's — in the course or 2015 is quite high. These ships will be delivered in 2017 and lead to a reduction in charter hire levels for these types of vessels, unless there is a significant change on the transportation patterns leading to higher ton miles." A year ago, shipping operators were benefiting from a market structure known as "contango", where tankers were filled with crude oil and used as floating storage in the expectation that the oil, bought at a low price, would be sold at a later date when oil prices had rebounded, therefore capturing a profit. The continuing oil rout has made this a riskier bet, although it is still an industry play, particularly as many storage facilities on land reached their maximum capacity. Tankers are being used by some investors as floating storage.
January 6. A new hotel in the East End — and the resurrection of the St George's Golf Course — are finally paving the way for a brighter future for the St George's Club, according to club president Sally Kyle. After years of difficult business in the former capital, hopes of a resurgence are high with work due to begin on a five-star resort in the coming months. "I think we're pretty excited about the possibility of the golf course reopening," Mrs Kyle said. "That really has made a huge dent in our business. A lot of our original members joined because there was the golf course, so a lot of members didn't renew their leases. It hasn't looked very pretty over the last couple of years, so I think that's all very positive. And it was a lovely course." Mrs Kyle gave an interview to The Royal Gazette to kick off a series of articles with hoteliers assessing the state of the tourism industry at the beginning of 2016. She reflected on the East End's difficulties after the golf course closed in the light of the Club Med implosion in 2008. While efforts were made to maintain and reopen the course, with the support of local residents and St George's MP Kenneth Bascome, Mrs Kyle said the cost of keeping it open was just too high. "We partnered with the Chamber of Commerce and a few local businesses, and they were supportive, however with the recession it was difficult for people to continue to commit and it was costly," she said. "It's a big undertaking. The fact that there was no water catchment there meant we couldn't water and those were the years when there was drought. When you've got droughts and the hurricanes, it's hard." Mrs Kyle said that the proposed resort would not be viewed as a rival, noting that it would serve a different niche. "St Regis is very high end, so you're looking at a five-star resort," she said. "We have our niche because we are value for money for families who want to come here. I think it would be great marketing for the Town of St George and that's good for everybody. I think all of us in the Bermuda Hotel Association feel that we are not necessarily individual resorts, but that Bermuda is the resort. We have all got something different to offer and even if someone doesn't stay in our hotel they might come and eat at our resort." Mrs Kyle said that business has been up and down in 2015, saying that a reduction of winter flights had hurt the number of visitors, but she said she believed the Bermuda Tourism Authority is moving in the right direction. "Certainly Bermuda is out there as a destination, which is helpful to all the hotels," she said. "In the past, we very much had to rely on doing our own advertising, and if the destination is not out there, frankly it's a waste of our money." She said that while casinos could also be beneficial for the Island, the St George's Club does not intend on seeking a licence to operate one. "It's not something I would feel the need to have," she said. "It's an expensive product to put in, the infrastructure would be very costly, which is why it makes sense for it to be with a new development." Mrs Kyle also expressed hope about the potential boost from the America's Cup. While she said the hotel didn't receive a huge boost from the World Series events in October, she believed the 2017 event could be much more positive. "The St George's Club, as all the hotels on the Island, have had to commit to having a certain number of rooms a night for the five weeks, and obviously not everybody can be in the West End or Hamilton, so people will be in the east and they will have to lay on some extra ferries and water taxis to take people down. I think there may even be some extra cruise ships in just to cope with everybody. I think the October weekend was a great indication of how exciting it is. Hamilton was just buzzing. We didn't see much of a boost, I have to say. I think it was always going to be centred around Hamilton, and certainly the hotels in Hamilton felt the difference."
January 6. A customer who brought his car for a check-up got an unpleasant surprise yesterday after finding it crushed by a shipping container. High winds on Monday evening managed to slide the container off a stack at a depot at TC Associates in Industrial Park Road, Southampton. According to sources in the area, two cars were badly damaged in the fall, which occurred at around 5.45pm as squalls blew across the Island. One car belonged to a worker in the business complex, while the other is understood to have been brought to a mechanic's shop on the road. No injuries were reported, but one source said that a truck had been driven past not long previously — adding that containers had been toppled at the site before by strong winds. It comes as further high winds are forecast for later in the week, with potential for gale-force winds starting tomorrow evening.
January 6. The MRI scanner at King Edward VII Memorial Hospital will be out of service for about three weeks. According to a Bermuda Hospitals Board spokeswoman, a "major component" of the scanner needs replacing. "Unfortunately this will result in the MRI scanner at KEMH Acute Care Wing remaining out of service for approximately three weeks," she said. "BHB clinicians will work collaboratively with Bermuda Healthcare to secure access to another machine for urgent cases. BHB will issue a release when the scanner service resumes. We apologize for the inconvenience this may cause."
January 6. Bermuda Health Council has said it will investigate allegations of unpaid employee health insurance at Sandys 360 if former staff of the defunct sports facility get in touch. The Royal Gazette yesterday reported claims by a former employee who said staff were paying their own health insurance before the centre went bust in late 2013. Employers who fail to provide their staff with health insurance are breaking the law and the council announced last year that it would begin naming delinquent employers online. Asked last month if Sandys 360 was being investigated, acting CEO Tawanna Wedderburn said: "The Bermuda Health Council responds to all health insurance-related queries as per the Health Insurance Act 1970. Please be advised that we are not currently investigating any active complaints about Sandys 360's health insurance policy. If the employees of Sandys 360 are concerned about their health insurance policy, they may contact us on 292-6420 and we will follow-up accordingly."
January 6. RoseAnn Edwards, a councilor on the City of Hamilton, is being treated in King Edward VII Memorial Hospital after being stabbed last night. Ms Edwards, 60, is said by friends to be recovering well in the Intensive Care Unit. The incident, described as a domestic matter, occurred at about 10.25pm yesterday at her Angle Street residence in Hamilton. The alleged offender was subsequently arrested.
January 6. Road fatalities in Bermuda fell to an 11-year low in 2015, as seven people died while travelling on the Island. Although public figures praised the Bermuda Police Service for reducing casualties — down from 15 in 2014 — they also called for increased action in 2016 to further curtail loss of life. Inspector Robert Cardwell credited the drop to the BPS's Road Safety Strategy, which began last January and involved community groups and the Bermuda Government to address a "bad driving culture." A total of 7,867 motorists received a court summons in 2015, which equates to roughly one in eight Bermuda residents. A further 3,146 Motorist Advice Notices were given, in which officers warned drivers over relatively minor traffic offences, while a new records management system monitored the performance of both units and individual officers. Yet, Inspector Cardwell acknowledged that the service's greatest challenge lay in halting drunk and reckless drivers. "The majority of road deaths typically involve alcohol or speed, in some instances both," he said, adding that this message had been widely spread across multiple media platforms. Anthony Santucci, the executive director of the Council on Alcohol and Drug Abuse, called for the BPS to consider new ideas in the fight against drunk drivers. He said: "Cada is clearly pleased to see that the number of road fatalities has been reduced in 2015. We certainly hope this is a continuous trend, keeping in mind that since 2007 we have been asking for roadside sobriety checkpoints, the inception of an alcohol bureau of control, and blood tests for all individuals involved in accidents which result in injury." Mr Santucci added that the proposed bureau could be paid for by a sales tax imposed on Bermuda's alcohol sales, concluding, "Our objective is to change Bermuda's relationship with alcohol".
January 5. Longtime former Bermuda resident Robert Stigwood, the international music, theatre and film impresario, has died at the age of 81. Friends of the Australian-born manager of legendary bands the Bee Gees and Cream have paid tribute to a "giant" of popular culture. "He was a very good friend," said former Premier Sir John Swan, "not only to me but Bermuda as a whole." Sir John described Mr Stigwood as: "A great ambassador to Bermuda, who spoke very highly of the Island. He was quite an impresario who produced many stage and screen musicals, managed the careers of many pop bands and had a very keen eye for the arts. He encouraged a lot of people to come and visit Bermuda and, obviously, was a hugely influential figure in the world of global entertainment." Sir John said his good friend was a generous donor, who quietly supported many cultural projects on the Island. "He was an enthusiastic person. He loved people; he was a people person. He was just a down-to-earth, approachable individual." Mr Stigwood was a frequent presence in Bermuda during the 1970s and 1980s, living first at the Palm Grove estate in Devonshire before purchasing the Wreck House property in Sandys. His two luxury yachts, Sarina and Jezebel — the latter once described as "a floating fantasy" by The New York Times — were familiar sights in Bermuda's waters for many years. Musical promoter and former nightclub operator Tony Brannon became close friends with Mr Stigwood during his time in Bermuda and stayed in touch with him long after Mr Stigwood, who was known to many as "Stiggy", left the Island in the early nineties. "He was a giant in the pop world," Mr Brannon told The Royal Gazette. "He was a giant in the West End music theatricals. He was really good at getting the best out of his artists. He was friendly with everybody. He knew all the governors and hosted Princess Margaret when she was here. He was very, very generous and very, very kind." Mr Brannon fondly remembers going for lunch at Mr Stigwood's Wreck Hill property with the likes of John Travolta and Duran Duran frontman Simon Le Bon, as well as the "famous parties" Mr Stigwood hosted on board his yachts, which were often seen moored alongside The Flagpole on Front Street. Mr Stigwood left his native Australia for London in the 1950s to pursue a career promoting pop acts. His transition from a rock band manager and producer to multimedia entertainment magnate started in the late '60s when he saw the musical Hair on Broadway and decided to produce it in London's West End. He went on to produce the stage and movie versions of Jesus Christ Superstar, a film adaptation of The Who's rock opera Tommy and brokered the deals which repackaged British TV shows Til Death Do Us Part and Steptoe & Son as All In The Family and Sandford & Son on American television in the early 1970s. A 1976 Rolling Stone magazine profile described Mr Stigwood "as constant traveller, a bachelor with homes in Los Angeles, New York and Bermuda … a peripatetic power broker with a penchant for style and a fondness for life in the grand manner." And the New York Times once called the self-made tycoon "a combination of PT Barnum, Mike Todd and Jay Gatsby" — a description which delighted Mr Stigwood and one he often quoted. In a lengthy career profile focusing on Mr Stigwood's time in Bermuda, The Royal Gazette's editorial consultant Tim Hodgson said that Mr Stigwood was planning a slate of new movies when he first arrived here in 1976. One of those films was a low-budget production based on a New York magazine article about the disco subculture called Tribal Rites Of The New Saturday Night; the film's title was later changed to Saturday Night Fever. Starring a relatively unknown John Travolta, the film told the story of a Brooklyn paint store clerk who escapes his dead-end existence on the disco dance floor. A massive commercial and critical success when it was released in 1977, the film became an international pop cultural phenomenon. It popularized disco music around the world, spawned trends in everything from dancing to fashion to hairstyles and turned Mr Travolta into a superstar. The Saturday Night Fever soundtrack album, released by Mr Stigwood's RSO recording label, featuring four new songs by the Bee Gees and two previously released hits, sold more than 40 million copies worldwide. Some Bee Gees songs from the soundtrack — How Deep Is Your Love, Night Fever and More Than A Woman — were sketched out in Bermuda when the band stayed with Mr Stigwood at Palm Grove in the summer of 1976. And the infectious theme song Stayin' Alive — which topped the US singles charts for a month and was once famously described as "a kind of national anthem for the '70s" — was largely completed here. Speaking to a Netherlands radio interviewer in 2002, the late Bee Gee Maurice Gibb said Stayin' Alive was "really born, I think, more in Bermuda than anywhere else. We finished it off in France." Also while in Bermuda Mr Stigwood produced the '50s-era rock'n'roll movie musical Grease, which co-starred John Travolta and Australian singer Olivia Newton-John, and the West End and Broadway versions of the stage show Evita along with a later film adaptation starring Madonna. He hosted such visiting luminaries as the Duchess of York, Mr Travolta, film director Ken Russell and pop star Cyndi Lauper at his Wreck Road mansion before moving to the Isle of Wight in the 1990s. Mr Stigwood lived near London at the time of his death.
January 5. Bermuda-based insurance and investment firm Old Mutual has been bought by Beechwood Bermuda. Old Mutual, which has more than $1 billion in assets, closed for new business in 2009. Now Beechwood, a major provider of international investment plans that has more than $2 billion in assets, has completed the buyout of the firm for an undisclosed price. Beechwood chief executive officer Mark Feuer said: "This transaction offers a unique opportunity to strengthen our position as a global leader and demonstrates our dedication to providing innovative financial solutions for international investors. "Our scale and resources will allow us to continue to meet and further develop client demand for our products for years to come." Beechwood has pledged continuation of service support for Old Mutual products over the next three years, backed up with support from Beechwood's wealth management business. As part of the agreement, Old Mutual will reinsure certain policy guarantees until they mature in 2017 and 2018. Beechwood said it will contact Old Mutual's distribution partners to discuss the transition and introduce Beechwood's Accumulator Plus and Escalator Plus investment plans, which it said offer attractive rates and unique investment features such as principal protection guarantees. David Lessing, executive vice president of products and services at Beechwood, commented: "The growing client demand for the Beechwood products reinforces our decision to make a significant commitment to this business in support of our distribution partners and their financial advisers." Beechwood Bermuda is a long-term insurer based in Hamilton. The company also owns Caymans-based Beechwood Re. The companies were formed to service demand from non-US high-net-worth investors seeking innovative, guaranteed investment products, and US and international insurers in need of attractive capacity in the life insurance and annuity reinsurance market.
January 5. Even with the arrival of January renewals there seems to be no end in sight to the soft market conditions that reinsurers have endured since 2012. In a blunt assessment, Willis Re has concluded that hopeful forecasts for a "softening in the softening" at this month's renewals has proven illusory in all but a few cases. "The January renewals have unfortunately confounded the hopes of commentators that the market was reaching a pricing floor," said John Cavanagh, global CEO of Willis Re. In the latter half of last year there were mixed forecasts about the likely direction of pricing heading into 2016. At the industry's Rendezvous gathering, in Monte Carlo, in September, the talk was of rate reductions of between 5 and 7.5 per cent. However, a month later, at the Baden-Baden Reinsurance Meeting in Germany, it was suggested double-digit pricing reductions could be the reality. That was warning expressed by Nick Frankland, of Guy Carpenter & Company. Two weeks later, and underlining the divergence of views, Hannover Re put forward a more hopeful outlook when it said pricing might be stabilising. This week Willis Re released its 1st View report on renewals, along with commentary on key trends in reinsurance. In a statement, it said: "Despite the signs of pricing stabilization in peak property catastrophe zones at the June/July 2015 renewals, the forecasts for a 'softening in the softening' in reinsurance pricing have proved illusory." According to the report, rates have continued to decline across the majority of markets, with few examples of any slowdown in pricing deterioration. "Reinsurers have faced difficult renewal dynamics in the global speciality markets, especially within the aviation and energy sectors, as large losses and reductions in original rates have yet to dissuade the inflow of additional capacity," according to Willis Re, which is a division of Willis Group Holdings. "Casualty markets have also not offered reinsurers any relief from further rate reductions, despite an increase in adverse results across a number of non-motor classes." While a pricing floor remains elusive, Mr Cavanagh commented: "However, as reinsurers look to close their 2015 accounts, most will likely report reasonable headline results. But looks flatter to deceive. As the Willis Reinsurance Index for the first half of 2015 demonstrated, underlying RoEs [return on equity] of reinsurers are at an extremely low 5.1 per cent after adjusting for reserve releases and abnormally low catastrophe losses. The 2015 full year analysis is likely to show further reductions as under-reserving issues start to appear at both a primary company and reinsurer level." He noted that while some insurers are making the most of reduced pricing to buy more reinsurance, a few larger companies continue to increase their retentions. "While improved risk management is largely driving this trend, it is possible that some potentially misplaced optimism around underwriting results also exists as original rates reduce," he warned. Property catastrophe pricing is trending downwards in all seven countries and regions represented by charts in the 1st View report. Regarding speciality lines, the report states that the direct aviation insurance market "continues to soften at an alarming rate" with risk-adjusted reductions in excess of 20 per cent commonplace, while in non-marine retrocession "some clients are reducing their exposure to ILS funds, preferring traditional markets". And in the life catastrophe sphere, the report notes: "On catastrophe covers, evidence that longstanding market leaders have reached 'walk away' pricing, but aggressive competition remains with new capacity entering the market." Mr Cavanagh said that, not withstanding the deterioration of the pricing environment, mergers and acquisitions continue. "Asian-sourced capital is helping to drive valuations, as are buyers looking to buy scale and market relevance as deals drive yet more deals. The current high valuations are increasing the inherent risk in M&A transactions. This should give potential acquirers without very clear strategic targets and strong nerves even more reason to proceed carefully, but many remain confident." On a brighter note, he said there were two positive developments, one being Lloyd's plan to launch a trading index "to help stimulate the development of a secondary trading market" and attract interest of the capital markets. The second development is the announced creation of an industry-led task force to develop company disclosures for investors to assess physical, liability and transitional risks from climate change and related policies. This initiative was announced by Mark Carney, the governor of the Bank of England. The task force is to be led by Michael Bloomberg, the former New York City mayor.
January 5. The demise of the Sandys 360 community centre has left former staff, some facing severe financial challenges, unpaid and unable to get answers. "It has been two years since Sandys 360 closed and quality of life for the staff is bad," said one, a struggling parent who asked not to be identified. "Staff still have not been paid. Staff were paying their own insurance. We would get to the end of the month, get $750 and be told 'this is it — hang in there, be patient a little longer'." Saying they were owed one year's salary, the source added: "If you look at the Employment Act, they were meant to pay insurance for the period of redundancy, which was four months. On average, if you listen to staff, I don't think there is anybody at this point who is owed less than $30,000." Former employees of the West End sports facility, opened to acclaim in 2009, are reluctant to rock the boat, the ex-member of staff said. Some held back out of a fear that a whistle-blower is not employable, "We have just kept hoping that at some point we are going to get what's coming to us. However, there are no answers to questions, no communication. Surely by now they must have some sort of plan." Melvyn Bassett, who had served as managing director of the facility, declined to comment on the issue last night. Staff were initially told that wages and electricity costs were taking an unsustainable toll. Belco, which disconnected power in November 2013, had refused to restore electricity without one-third of the utility bills paid off. Enough power was provided to keep the pool circulating. HSBC bank refused to loan any further to cover operating costs, creditors had lost patience, and Sandys 360 depended on government grants for its survival. The facility still receives unspecified government help, and a mistaken duplicate payment of $807,000 made in 2012 was never recovered, as reported by this newspaper last month. According to a February 2015 letter to staff from acting chairman Stanley Lee, the facility had been "deemed insoluble" after a review of its finances by KPMG. Staff were told that HSBC bank had "a proposal for Government", and that the Bermuda Government intended to have a possible solution by the close of the fiscal year in March 2015. "HSBC have the advantage as they hold the mortgage and any adverse action taken by any creditor will most likely produce a negative result," the letter added. "At this stage, there are no finances available to us for any matter." The former member of staff, who is supported by family, said there had been no communication since. Blaming its collapse on mismanagement, the source said numerous outside parties had made overtures to preserve Sandys 360, without success. "The hours were too long and the fees not high enough," they said, noting that an offer to install solar heating — which would have drastically cut electricity costs for a large heated pool — came at a point where insufficient funds remained to install it. Other sources said that there was insufficient population using Sandys 360 to support such an ambitious community centre.
January 5. The management buyout of the fiduciary arm of legal firm Appleby, backed by London-based private-equity firm Bridgepoint, has been completed. The deal means the fiduciary and administration segment of the offshore law firm, which has 350 employees, part of which is based in Bermuda, will be spun off. Farah Ballands, a former Appleby partner based in the firm's Jersey office, will lead the new independent business. She said: "Appleby Fiduciary Business has grown significantly over the years with over 350 staff located across nine offshore jurisdictions. "With Bridgepoint's expertise and support, we look forward to building on this success and investing in new infrastructure to give our clients an unrivalled standard of service. The Appleby group has provided us with a solid foundation from which to build our new fiduciary brand, which we expect to launch in the first quarter of 2016. The team is also busy working on a number of strategic initiatives that we look forward to communicating over the next few weeks, including the appointment of our new chairman." Bridgepoint partner and head of its financial services team William Paul said: "The buyout brings significant opportunity for Appleby Fiduciary Business as a stand-alone business to accelerate its growth organically and via acquisition in what remains a strongly growing market." Appleby Fiduciary Business provided offshore management and administration services to wealthy clients, private companies, funds and global corporations for more than 25 years. The business unit is also a significant player in the Island's booming insurance-linked securities market. Although neither side was prepared to discuss the cost of the buyout, is estimated to be worth around $370 million.
January 5. Two golf professionals with millions of online followers are coming to Bermuda to film a show for their YouTube channel. Piers Ward and Andy Proudman are co-founders of meandmygolf.com, a website that offers instructional tips and video blogs of their travels. The pair have been invited to the Island to film golf courses, restaurants, and hotels, with Bermuda Tourism Authority hoping it encourages more people to visit Bermuda to play golf. Ward, a British professional, has spent more than 15 years helping golfers, and, after years of learning from the best coaches around the world, has developed a simple approach to improve golfers. According to the website, his greatest skill is understanding people's needs which allows him to deliver "their best lesson". Proudman has similar experience, and has worked as a touring professional coach over the past 11 years. As well as playing the Island's courses, and filming instructional videos for their website and social media accounts, the pair, whose reach extends to both sides of the Atlantic Ocean, will also host a question and answer session for local golfers.
January 5. Cherokee's Ironman lived up to his name after clinching the most coveted title up for grabs during the New Year's Day Stakes Races at the Bermuda Equestrian Centre. Arnold Manders's gelding won the Aged Stakes title awarded to the pony with the fastest average time on the day with driver Tyler Lopes at the helm. Cherokee's Ironman also equaled its best showing for the season and the season's fastest time en route to the title to give Lopes a maiden stakes victory. "All four ponies in the Aged division ran one of their qualifying races on Boxing Day in a 1:03/3 or 1:03/4, so we knew it would be a close final come New Year's Day," Lopes said. "Ironman felt the best he's felt all year. He ran the first heat of the final in a 1:03/3 which matched his fastest time on the track here in Bermuda that he did on Boxing Day." Lopes refused to take the credit for Cherokee's Ironman latest success. "The credit has to go to his owner and trainer Arnold Manders," Lopes said. "He puts in a tremendous amount of time with Ironman to keep him at full fitness and make sure he's always ready to go." Roque Family's stallion, GV Crystal Ball, finished runner-up behind Cherokee's Ironman, with Full Throttle Racing's mare, IC's Shakedown, rounding off the podium. Simsfield Hardtimes won the three-year-old stakes title which was awarded to the pony with the fastest average time from both the Boxing Day and New Year's Day Stakes races. Guiding the Simsfield-owned stallion to victory was driver Ryan Burrows with second and third going to Whited Family's mare, IC's Overextended, and Burrows Family's stallion, Royal Caribbean. Claiming the stakes title for four year olds — also awarded to the pony with the fastest average time from both the Boxing Day and New Year's Day stakes races — was Full Throttle Racing's mare, Pocket de Gold, with driver Philip Correia in the sulky. Rounding out the podium finishers in the four-year-old division was Andy Stoneham's stallion, Custard the Dragon, and Manders's gelding, Touch of Red. Harness racing continues at Vesey Street on Sunday with the finals of the Best-of-Three Series. Post time is 12pm.
January 5. Team Oracle USA threw open the doors of its Bermuda headquarters — giving the media a glimpse of their America's Cup preparations. The state-of-the-art facility in Dockyard offers everything from a fully-kitted gym to loft space offices to vast warehouses for boats and sails. All this to ensure the team's sailors and engineers follow up their 2010 and 2013 wins in Valencia and San Francisco respectively with first place next year, as the world's most prestigious yacht race comes to Bermuda.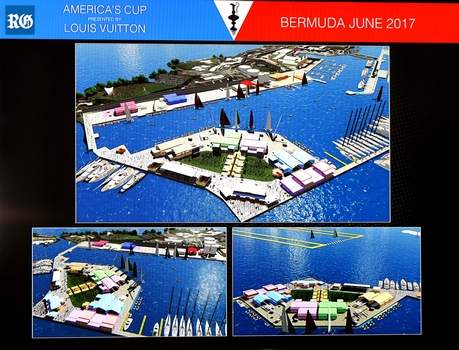 Team Oracle USA Bermuda HQ
January 5. The Masterworks Museum of Bermuda Art received what a spokesman is calling a "momentous and culturally significant" Christmas present in the form of a major collection of works by one of the Island's most acclaimed contemporary painters. The Botanical Gardens gallery has been gifted 40 paintings by Bermudian artist Bruce Stuart, most of them depicting Bermuda's architectural heritage. "We were fortunate enough to have been given these works by a patron who prefers to remain anonymous," the museum spokesman said. "He had lovingly put the collection together over the last three decades. He wanted to ensure the paintings remained together as a testament to Bruce Stuart's talent as well as a record of the unique architecture of Bermuda — some of which has already been lost to the ravages of time, the elements and man since these works were painted." Mr Stuart, 55, remains one of Bermuda's best-known modern artists. A former president of the Bermuda Society of Arts, the Island's built heritage was the primary focus of his acrylic paintings from the time he began exhibiting in the early 1980s until 2006 when he moved to Mexico with his wife, Claudia. He took part in dozens of exhibits locally and one of his murals can be seen at LF Wade International Airport's arrivals hall. Mr Stuart now runs an art gallery out of his home in San Miguel de Allende, Mexico — Stuart Fine Art Studio. "As accomplished as he is popular, Bruce Stuart has been one of the major artistic exponents of Bermuda-themed artwork in recent decades," the Masterworks spokesman said. "His first exhibition at Susan 'Sudie' Curtis's old Windjammer Gallery in Hamilton — which also, coincidentally, featured work by Masterworks founder Tom Butterfield — was a huge success with the lines snaking out the doors onto Reid Street. All of his paintings had sold within a couple of minutes of the exhibit opening. This was understandable as his paintings are beautifully executed realist studies of houses and buildings across the Island which appeal every bit as much to the emotions as to the eye." All 40 of the donated works will be on display commencing Saturday, January 23, at the Paget gallery.
January 5. An after-hours robber at KFC in Hamilton made off with cash after slipping through the fast food restaurant's back door on Sunday night. Police described the suspect, who entered the establishment near 11pm, as wearing a dark colored hoodie and mask. It is not known whether he was armed, and no one was injured during the robbery. However, the man ordered a member of staff to lay down on the floor and searched the eatery before making good his escape. Employees said that business hours for the Queen Street KFC end at 10pm and most staff have left by 10.30pm. Cleaning staff and supervisors remain on the premises until later. Police are asking anyone with information about this incident to call the Criminal Investigation Unit at 247-1252, or the confidential Crime Stoppers number at 800-8477.
January 4. Climate change could put Bermuda at risk of greater economic damage and dent its sovereign credit rating more than many countries and islands. That is the finding of a speculative report by Standard & Poor's Ratings Services. Using direct damage data from Swiss Re, the agency estimated the possible adverse effect of climate change on 38 countries. It based its measurements on the expectation of a once-in-250-year natural catastrophe event striking, and the impact being exacerbated a further 20 per cent to represent the magnified additional damage expected to be inflicted due to climate change. Projected out 35 years to 2050, the report suggests the costs associated with a once-in-250-year hurricane would increase Bermuda Government's debt by 16 per cent of gross domestic product. That assessment jumps a further 8 per cent once the additional damaging impact of climate change is factored in. Bermuda's sovereign credit rating would be negatively impacted by 1.48 notches by such a catastrophic hurricane, and by a further 0.79 as a result of the added impact from climate change. That places Bermuda squarely among countries and islands most likely to feel significant pressure on their rating. While the report is highly speculative in nature, and is the first such survey undertaken by S&P, its findings give an interesting overview of potential future scenarios. "In terms of average impact of climate change by peril, our simulations show that tropical cyclones and associated storm surges will be more damaging than floods as the Earth's temperature rises. Geographically, ratings of sovereigns in the Caribbean and Southeast Asia appear most at risk," said Marko Mrsnik, a S&P credit analyst. The report, named The heat is on: how climate change can impact sovereign ratings, notes that wealthier nations should withstand climate change impacts, something picked up by Robert Hartwig, chief economist at the New York-based Insurance Information Institute. "There are going to be countries that will be more vulnerable than they are today because of climate change," he said. "Poorer and smaller nations will be vulnerable. But while Bermuda is one of the top ten [most affected] listed the effect on it might have been exaggerated, because Bermuda is in a different economic class than the others." The Bahamas, Dominican Republic, and Jamaica are among other countries in the top ten list of those facing the greatest potential impact. "Bermuda is easily the most affluent among the top ten and is probably in a better position to invest in ways to mitigate the worst effects," said Dr Hartwig. This point was also reflected in the thoughts of Grant Gibbons, Minister of Economic Development. He said: "Bermuda is likely to be less affected and more economically resilient to hurricanes than other Caribbean sovereigns who feature in the report. "In fact, Bermuda's damage ratio and vulnerability have generally been a fraction of other Caribbean islands that don't build to our standards. In addition the report notes the mitigating impact of higher insurance coverage on the economic consequences of cyclones — and again, Bermuda, on average, has high insurance cover penetration both for Government and the private sector." Dr Hartwig warned the report should be taken with a pinch of salt as it focused on possible events 35 years into the future. Furthermore, he said geopolitical and economic situations, as opposed to natural disasters, were normally the primary agents of change regarding sovereign credit ratings. Likewise, Dr Gibbons noted that S&P said its report was "merely partial analysis of how climate change would affect sovereign ratings", was a simplified model and should not to be taken as the company's definitive view on likely future ratings trajectories. However, he also observed: "The general view among both the public and most climate scientists is that global warming will likely make hurricanes more severe and possibly more frequent, so there's no doubt that Bermuda needs to be well prepared, given our historical exposure."
January 4. Bermuda can play a part in tackling climate change with a more progressive approach to energy generation and energy conversation. This is likely to see a decreased dependence on fossil fuels for bulk electricity generation, and a boost in the use of renewable sources, such as solar power. Grant Gibbons, Minister of Economic Development, introduced the New National Electricity Policy in June, and tabled the Electricity Act 2015 in the most recent parliamentary session. He said the two initiatives "set out clearly the Government's intentions for Bermuda to play its part in alleviating the causes of climate change by providing the legislative and regulatory framework that will facilitate the introduction of more sustainable, renewable energy sources, as well as energy conservation measures in our Island's future energy mix". The Island has long been reliant on fossil fuels to generate electricity, but rising costs, greenhouse gas emissions and vulnerability to supply and price shocks has acted as a driving force to find alternatives for the Island. Aims of the Electricity Act include promoting effective and sustainable competition among energy producers, and the adoption of renewable energy and greater energy efficiency. Dr Gibbons said: "Competition will be introduced for utility-scale or 'bulk' generation. In addition to renewable energy technologies, independent power producers will be able to propose any means of generation that can yield high-quality, sustainable and affordable electric power. Independent power producers may also provide other services, such as storage, to the grid. Long-term power purchase contracts will be standard, which will give investors the confidence and regulatory certainty that will encourage capital investment, both local and foreign." Bringing in renewable forms of energy production will decrease the Island's reliance on fossil fuels for its bulk electricity production. As a result, Bermuda will lower the amount of carbon emissions it produces. Carbon emissions are seen as a major contributing factor to climate change. Dr Gibbons said an example of renewable bulk generation is the proposed "utility-scale photo voltaic generating facility planned for the 80-acre former munitions pier at the airport. A solar power farm on the strip of land, which is widely known as "The Finger", at LF Wade International Airport, could produce a sizeable portion of the Island's energy requirements. Although the exact amount of the energy to be supplied will not be known until we go out for competitive tender in 2016, estimates suggest that the area has the potential to supply roughly 20 to 30 megawatts — equivalent to roughly 25 per cent of Bermuda's peak demand during daylight hours," said Dr Gibbons. "Issues relating to the design of the facility, the need for storage and interconnection to the grid will all need to be worked out in the RFP process."
January 4. RG Editorial. For decades, Bermuda has been a hostage to the vagaries of the global oil market. The biggest impact of the price of oil can be seen in our electricity cost, which in turn impacts the running costs of every home and business. The cost of filling up the tank at the gas station, the profit margins of hauliers and taxi drivers and the air fares our valuable visitors must pay to get to Bermuda are other direct impacts. A stunning collapse in the price of oil — the US crude price collapsed from more than $100 a barrel to around $37 a barrel in the space of the past 18 months — has effectively been a tax cut for everyone in Bermuda. The fuel adjustment rate on our Belco bills has come down by about a third, for example. While we are beneficiaries of today's global energy market, it would be wise to remember that in a more normal environment we play the role of helpless victim, paying up what is required by a market completely out of our control. Our dependency on fossil fuels remains a vulnerability of our economy. With that in mind and looking to the year ahead, it is encouraging to think that 2016 is set to be the year that Bermuda makes its largest step yet in changing this situation. The Electricity Act 2015, which was tabled in the House of Assembly last month by Grant Gibbons, the Economic Development Minister, offers the potential for a much greater role for renewable sources of energy in our future, as well as a more open electricity market with competition and greater energy efficiency. As Dr Gibbons told MPs last June when he released the Government's electricity policy document: "The share of renewable generation is projected to be 35 per cent by 2025 and 38 per cent in 2035." Such ambitious targets will require a transformation of the Island's electricity system, with benefits for the Island that will be economic as well as environmental. A major early move will come this year, when Government invites bids to build a new utility-scale solar farm on an 80-acre site, known as "The Finger" near LF Wade International Airport. In an article in today's Business section, Dr Gibbons said: "Although the exact amount of the energy to be supplied will not be known until we go out for competitive tender in 2016, estimates suggest that the area has the potential to supply roughly 20 to 30 megawatts — equivalent to roughly 25 per cent of Bermuda's peak demand during daylight hours." The weakness of most renewables is their intermittent nature — solar panels do not generate electricity after the sun goes down, for example. For that reason, baseload capacity driven by a fuel like natural gas or diesel-burning generators will continue to be needed. However, if the solar farm can deliver the kind of output suggested by Dr Gibbons, it will be a hugely significant step forward. The perceived high cost of solar panels has put people off installing them, even those who find the idea attractive and economically sensible on this sun-kissed island with relatively high electricity costs. However, it is encouraging that costs are coming down — quite rapidly in some parts of the world — with the enhancement of the technology. As Walter Higgins, the chief executive officer of Belco's parent company Ascendant Group, said last summer, the cost of building a photovoltaic facility such as that planned for "The Finger" has come down by more than 50 per cent in a short time. "A utility-scale solar facility would have cost about $5,000 per kilowatt in the US a few years ago, now it can cost as little as $2,000," Mr Higgins told The Bottom Line magazine. For Bermuda, this is exciting news, as are the advances in technology to more effectively store electricity from renewable sources, offering the potential to cut down the demands on the oil- or gas-powered generators when the sun is not shining and the wind is not blowing. Renewables are just one element of the energy policy, which calls for the formulation of an Integrated Resource Plan to decide how our electricity supply will be generated in the years to come. The choice of baseload fuel, which could change from heavy oil to natural gas or perhaps liquefied petroleum gas, and a conservation campaign are also significant pillars of the policy. The process will be overseen by the Regulatory Authority and there will be opportunities for public input along the way. During these tough times for the economy, the Electricity Act offers the exciting prospect of starting out on a road to saving vast amounts of money, with the benefits spread across the community. Dr Gibbons has suggested that if the policy's targets are achieved, the cost of the electricity supply over a 20-year period could be reduced by as much as 6 per cent — or about $7 billion in total. The prospective combination of economic and environmental advantages should generate the public and political support to drive these plans forward and to encourage broad participation in the debate as alternatives are discussed.
January 4. Hospital authorities have revealed information about 13 adverse events in the past five years which, in some cases, led to the death or permanent injury of patients. The Bermuda Hospitals Board disclosed the information in response to a public access to information (PATI) request from The Royal Gazette for details of all "serious or untoward incidents" at King Edward VII Memorial Hospital since 2011. There were two such events in 2011, one in 2012, five in 2013, two in 2014 and three in 2015, according to the board. The list provided shows that of the 13 patients involved in the incidents, five died as a result of the hospital's actions and one, who was given surgery on the wrong part of their body, died as a result of their original ailment. One patient suffered permanent harm and another long-term harm which was potentially permanent. In one case there was no adverse outcome to the patient, while four patients suffered temporary harm and made a full recovery. Although this newspaper asked for details of each event, the BHB shared limited information on the circumstances. In three of the cases where patients died as a result of the hospital's actions, there was a delayed or missed diagnosis. In another fatal case, a patient fell and the hospital concluded that the event was "likely unpreventable". A fifth fatal case was described as a "monitoring event" which prompted the development of "improved monitoring procedures" at KEMH. In the case involving permanent harm, a patient fell. The incident led to a review of the process for patient's getting permission to leave a clinical unit and "strengthened communication" among staff. The case which resulted in long-term harm involved a surgical site infection and led to an "intensive review to identify a definitive cause" though no cause was identified. The hospital also made "small changes to possibly prevent future recurrences" after a general review of all infection control practices. One incident involved a patient who developed ABO incompatibility, a red blood cell disease usually caused by a transfusion of the wrong blood type. The individual came to no harm but the case prompted "re-education" throughout the hospital on "blood product compatibility". A BHB spokeswoman told this newspaper: "BHB welcomes the opportunity to share accurate data, whether through Pati or its own regular reporting. We want patients to know they also are part of the solution for higher quality care. "No hospital has yet achieved the much desired zero patient harm figure, so wherever your health challenges take you, at BHB or overseas, ask questions, raise concerns, point out anything that doesn't seem right." She said patient safety was the BHB's number one priority and it saw any incident of patient harm as "unacceptable". "Like BHB, hospitals around the world work hard to avoid incidents of patient harm, but no hospital has yet resolved how to do so completely," said the spokeswoman. "It has been, however, much more common for adverse event information to be published in many countries and this has helped drive patient safety initiatives. Our hope is that it will be no different here in Bermuda."
January 4. Bermuda's community needs educating about Alzheimer's so sufferers can be given adequate support, according to Marie Fay, an occupational therapist for Action on Alzheimer's & Dementia. Ms Fay said some people end up disappearing from day-to-day society because their loved ones are afraid they will be embarrassed due to the stigma surrounding the disease. Speaking with The Royal Gazette to try to shed some light on the condition and its impact on Bermuda, Ms Fay said: "There are still individuals within the community in Bermuda that would prefer to hide their loved ones away than have them embarrass them. "That's why people start disappearing from church and disappearing from previously enjoyed social activities. What we should be doing is educating the community so that we can better support these people because there's nothing we can do to cure or fix people right now. It's about us changing and the environment changing to support them better." Elizabeth Stewart founded Action on Alzheimer's & Dementia in 2012 after discovering there was not a lot of support or awareness about dementia in Bermuda when she cared for her own mother, who had early onset Alzheimer's. Ms Fay said: "We've done an awful lot of education since the charity started just because people thought it was a normal thing. They thought it was something that inevitably happens when you get older. If you live long enough you're bound to become senile, which is certainly not the case. It's not a natural part of ageing. That's what we really try to hammer home. Things do change a little bit over time, but if people are having significant issues with memory, difficulties with their daily activity, that's not normal, no matter how old you are." Alzheimer's is a disease of the brain and, like cancer or diabetes, it needs to be properly diagnosed and treated, she said. "Sometimes we're brought in when people are quite young, exhibiting mild cognitive impairment," Ms Fay added. "The relationship between dementia and depression is a complicated one. Data suggests that people who have strong social support and are socially active are less likely to have dementia symptoms. Once people start experiencing cognitive deficits, they may withdraw and feel lonely — which can increase their risk of depression and dementia. Similarly the loss of partners or loved ones can leave a void that is difficult to fill. Ms Fay said that loneliness can affect the stimulation side of the disease, particularly in the transition to retirement "when your time and routine is yours to fill. We provide a lot of education trying to get people to remain active within their communities and find meaningful roles." Researchers have found social isolation is a risk factor for disease and premature death and multiple studies indicate that a lack of social connection poses similar risks to physical indicators such as obesity. From an evolutionary standpoint, our reliance on our social circles has ensured our survival as a species. "The research is showing that keeping socially connected to your community, whether it be through church or seniors programmes or the activities programme that we run specifically for people that have memory impairment is just as vital as being physically active," Ms Fay said. "And challenging yourself too — trying new things, joining new clubs, learning a language — those are all things they're saying is the best in terms of prevention." These are termed as non pharmacological therapies and are touted as the best form of treatment for dementia. Music therapy, art therapy, pet therapy and exercise classes are all offered within the charities therapeutic programmes.
January 4. White collar union leader Jason Hayward last night held out a 2016 olive branch to Government — and pledged to work with Ministers to reduce the cost of public administration. Mr Hayward, president of the Bermuda Public Services Union, said that 2015 was "a rough year" for industrial relations. But he added: "The protection of workers is the union's priority — however, that will not prevent us from working with the Government." Mr Hayward said: "Both sides should commit to more harmonious relations in 2016." He added: "The union recognizes that wages and salaries are a huge expenditure item for the Government. As a result we have worked with the Government to reduce that line item through supporting voluntary early retirement, wage freezes, pay cuts and supported reducing the services through attrition." Mr Hayward was speaking after economist Craig Simmons last week warned that attempts to cut the Civil Service to reduce the Island's billion-dollar-plus debt would spark fierce protests from the unions. Mr Simmons added that — although Bermuda's gross domestic product (GDP) had risen for three successive quarters and retail sales had also increased, signaling an end of recession — the working classes continued to struggle to keep their jobs. Mr Simmons said that debt reduction could not happen without "a restructuring of the Civil Service". And he added that the number of Ministries and departments would have to be "reduced, consolidated or eliminated altogether", while government services would have to be "rebalanced", with some scaled back and others expanded. Mr Hayward said: "On paper, the economy does seem to have stabilized, technically bringing an end to the recession. This is supported by the reported quarterly GDP growth. However, that does not translate into an end of economic hardship for many and Bermudians will continue to suffer until the number of jobs increase in the economy. The recession caused real hardship to Bermudians. Many remain unemployed, many are underemployed, persons have lost homes, some persons have racked up large amounts of debt and others have left the Island to reside overseas." Mr Hayward said that the Government had to look at the services it provides and warned that "across-the-board" job cuts, as opposed to looking at service provision, would not work.
January 4. In the second and final part of the Royal Gazette's question-and-answer session on the Island's economy, Bermuda College lecturer Craig Simmons shares his hopes for 2016. QUESTION: To what extent do we have reason to be optimistic or pessimistic for the year ahead? ANSWER: As a general rule of thumb, when market participants are overly optimistic — as they were in the real estate market prior to the recession — you should, at the very least, veer on the side of caution. And, when market participants are overly pessimistic — as they are now — you should be optimistic. Few people alive today have had or will have the opportunity to purchase commercial or residential real estate or equities at today's low prices. At the heart of people's negative outlook is the inability to think and act independently or courageously. Pluralistic ignorance has us trapped into thinking what we think other people think. John Keynes used the metaphor of a beauty contest, in which the winner is the person who picks the contestant that others think is most beautiful, to make this point. This is one of the reasons why entrepreneurship and investing aren't for everyone. QUESTION: What would you like to see done to improve our chances of economic recovery? ANSWER: The speed with which one is able to discharge one's debt is painfully slow. This is what distinguishes the United States economy from most others and helps explain how they were able to throw off the effects of a financial crisis that started in late 2007 and move into recovery mode by the second quarter of 2009 — for a mere 18 months in recession versus our 60 months. One indicator of this painfully slow process is the speed with which non-performing loans are decreasing. The ability to fail quickly and move on to the next prospect is a feature of a dynamic economy. Except for the international business sector, the local economy is far from dynamic. Technological innovation is the most important source of productivity and growth. It is more important than education, foreign investment, or the size of the labour force. For an economy as small as ours, the law is an important source of technological innovation. Limited liability company statues were a boon for growth in jurisdictions that adopted them. Our international business sector has grown precisely because of legal innovations in the areas of captive insurance, reinsurance, fund management and insolvency law. Elements of Bermudian law are on the cutting edge — especially in respect of regulatory competition. But, when it comes to simple discharging of household indebtedness, Bermuda is a laggard. Small and medium-sized enterprises could benefit from the creation of a loan and equity facility designed specifically for the challenges they face. I prefer equity financing since it creates a better alignment of incentives between lender and borrower than debt financing. As a result, an equity financier has greater skin-in-the-game as part owner, sharing in the profits if and only if they are earned. Unlike large enterprises that need credit for purchases of plant and equipment, SME, more often than not, need loans or equity to cover operating losses associated with establishing their place in a chosen market. Further, SME are major job creators and, without knowing it, they provide economic stability. For example, the restaurant business is volatile — it has a high turnover. But, at any point in time, there is never a shortage of restaurants — the bad ones quickly go out of business. Volatility at the micro-level leads to stability in the sector as a whole. Large businesses, like large mammals — elephants and whales — do not handle volatility well. They need a steady stream of large revenues to stay afloat. Empirical work by Thomas Åstebro sheds light on the performance of SME. Of 500,000 businesses founded in 1996 in a US Census Bureau sample, 50 per cent had failed within six years, less than 10 per cent achieved sales of more than $1 million, and 1 per cent had achieved more than $10 million in sales. The entrepreneurs running these SME earn, on average, low returns on their investment. Even when encountering losses, they persist for long periods before giving up. Only a few are extremely successful. It is entrepreneurs' uncalculated risk-taking and their willingness to accept the downside — bankruptcy and humiliation — for the sake of others that makes them the engine of growth and some of the most respectable people in our society. The extent to which government should involve itself in a loan or equity facility for SME is unclear. Governments around the world have tried copying the success stories of South Korea, Israel and California's Silicon Valley. We will have to find our own way, perhaps by relying on the top 1 per cent of income earners for sources of venture capital and private equity to this most worthy of causes.
January 4. The wrong dates for this year's Cup Match holiday are being given by a number of publications and websites (but not by this website as it was correct to begin with for 2016), the Cabinet Office has said. The annual Cup Match holiday is observed on the Thursday and Friday before the first Monday in August. Emancipation Day and Somers Day 2016 will thus be observed on Thursday, July 28 and Friday, July 29.
January 4. Rubis Energy Bermuda's managing director David Rose has retired after 44 years in the fuel industry. He started out as a management trainee with Shell Bermuda in 1971. Under the direction of marketing manager Stanley Marshall, who is now also retired, he progressed through the ranks and became managing director of Rubis when it purchased the assets of Shell Bermuda in 2006. Mr Marshall said: "David proved to be the ideal choice as he progressed in the various positions under the programme. His training encompassed all areas of the fuel business in Bermuda and he attended numerous overseas courses designed to enhance his knowledge. Over the course of David's career he served in a number of positions including aviation manager, outside services manager, and health, safety and environment adviser for the local company as well as several other islands in the Caribbean."
January 2. "To be silly. Not too silly. Just the right amount of silly." That was the promise made between husband and wife Cullen and Kaitlyn O'Hara as they exchanged vows at their New Year's Eve wedding. The short ceremony was peppered with kisses — each vow punctuated with an embrace — the unconventional couple unable to wait until the finish. "We're making it up as we go along," Dick Okada said of what he called "Wedding 2.0". A relative by marriage, Mr Okada unofficially officiated the service at the World Heritage Centre in St George. The pair had an authorized union at the government offices in Hamilton. In their self-penned oath, the pair pledged "to be good, kind and loving, "To provide hugs, scratches and snacks. To tell jokes and continue to find even better jokes." And finally, "To be your best friend and loving companion forever and ever." Mr O'Hara called the wedding a celebration of his "legendary" wife. He said: "It's been fantastic to celebrate in St George's whilst the onion drop was going down. It created a really lively and fun atmosphere for all of our guests. We couldn't be happier with how things turned out. It exceeded our expectations with flying colours and gold stars." Mrs O'Hara said the pair had fallen in love with the St George's community. "The charm and the history reflects on our relationship and love. We didn't even think of doing it anywhere else. It's the best place on the Island," she said, adding: "Plus, front row seats to the fireworks." The bride told The Royal Gazette: "Cullen is my rock. We were married from the day we met."
January 2. Mutiny, murder and cannibalism are just a few of the cheery topics in Graham Faiella's new non-fiction book, Ate the Dog Yesterday. The Bermudian author extensively researched all manner of maritime dramas for his latest release, delving deep into the archives of Lloyd's List shipping journal and the Lloyd's Register directory. Although sailing today may conjure images of the Royal Bermuda Yacht Club and the America's Cup, historically the ocean proved a far more perilous place for seafarers. "Life at sea was hard, often fatal. It was fraught with dangers," said Mr Faiella, speaking to The Royal Gazette from his home in Wimbledon, Great Britain. The Somerset-born writer began his investigation in 2007, intending to pen a book about the two wrecked ships at Black Bay, Southampton. However, during his time sifting through microfilms at London's Guildhall Library, Mr Faiella found himself distracted by the casualties recorded in Lloyd's List. "Some of them were just so dramatic," he said. "Collisions between ships, collisions with icebergs, men being washed overboard in storms. I began transcribing anything that had drama about it. If it didn't have at least three or four corpses, I wasn't interested." To narrow down his research, the 64-year-old picked a timeframe from 1869 to 1906 — a nod to the lifetime of the Black Bay boats. One chapter of the book concerns messages in bottles which had washed ashore and been reported in Lloyd's List. "The vast majority were from sailors writing their last words, as the ship was sinking," said Mr Faiella. "Some were absolutely pitiable and some were really plaintive." The book's quirky title is taken from one of these messages. It was written by a castaway sailor travelling from Liverpool to Jamaica in 1873, whose vessel hit "a reef of rocks about 1,000 miles from land." Found on the coast of the Gulf of Mexico two years later, the bottle message began with the words "Ate the dog yesterday ..." and concluded "God save us!" "This book is really about what happens to seamen when peril strikes in a most dramatic way," said Mr Faiella. "Sailing was like the coal industry of the day. People, by and large, didn't choose to do it for the adventure. A lot of seamen were the down-and-outs, the lowest of the low, and they were desperate to earn a living." This is not Mr Faiella's first book about the ocean, having previously written works including Moby Dick and the Whaling Industry of the Nineteenth Century and Fishing in Bermuda. Asked what fascinates him about the subject, he replied: "There are an infinity of answers. The sea is a place where the laws and social norms of humanity are challenged. It's primitive and isolated, and there's always the possibility of danger."
January 2. Developing his career as a boat builder has been a labour of love for 23-year-old Alton O'Connor, but perseverance has paid off as he nears the conclusion of his first big job. "You've got to do what you love," Mr O'Connor told The Royal Gazette. "I have to do it — it would hurt me too much to do anything else." It started in high school with his desire to go out fishing on the weekends. Five years ago, as a student at the Berkeley Institute, he was commended in Bermuda's Senate for his first creation: a fishing boat assembled from scratch in the school's carpentry workshop, with training from teachers Trevor Haynes and Gregory Sargeant. At the age of 17, Mr O'Connor put together a 13ft by 5ft vessel. He used a design he had found online and modified. Berkeley staff felt he was ready to join the industry by the time it was finished. In 2011, the former Sea Cadet went on to study traditional wooden boat building at the Landing School on the shores of the Kennebunk River in Maine. Graduating in 2013, Mr O'Connor decided to venture into his own business back home: Boatbuilder Marine. His first major job, the restoration of a 29ft sailboat at Jew's Bay, has been an opportunity to learn and develop his own personal style. With the aim of manufacturing customized boats, Mr O'Connor plans to come up with his own catalogue of designs for next year. "Right now I'm working on restoration that we hope will be done by March or April," he said. "My ultimate goal is to become a manufacturing company."
January 2. City officials have declared North Hamilton's big night on New Year's Eve a spectacular success. The festivities pulled in close to 1,000 people without incident and were well endorsed by area businesses. Charles Gosling, the mayor, said the Corporation of Hamilton "had to pull out all the stops" to lay on such an ambitious event. City councilor RoseAnn Edwards also acknowledged the risks involved in closing off traffic to several blocks of Court Street and their surrounding roads. "Things went well, and I'm glad — I have in the back of my mind an idea which I'd like to start working on, to get some events in the calendar for Northeast Hamilton," Mr Gosling said. The mayor added that he planned to speak with area stakeholders on whether New Year's Eve or a night prior to Christmas would deliver better value. Organizers said street crowds of such size had been unseen in the area since the Progressive Labour Party's electoral victory celebrations of 1998. Ms Edwards vowed to push within the Corporation for its continuation. "Unity in the community was displayed that night," she said. "Let's look to the year ahead and keep building it. I want to wish the people of North Hamilton a healthy and happy 2016, and thank all the businesses and people for making the night a success." Organizers recruited the people of the neighborhood as marshals and did not have to hire security for an open-air event that mixed children and adults, she noted. "The fact that Governor George Fergusson came walking through quite comfortably goes to show what the community is like." For businessman Orande Nesbitt, whose shop Eru At'ile specializes in artisan soaps and African clothes, the night brought welcome foot traffic. "There should definitely be a repetition of this," he said. "You can't just expect people to embrace uptown culture once in a blue moon." Selecting some of his wares, a woman shopper said the night had afforded her a chance to look into places she normally just drove past. Ricky Clarke of Nadz Beauty Salon said: "It's cool — we've got more people coming here. Something like this for December 24 might be a good idea." Judith Burgess of Sports 2000 Kids 2000 said she had been pushing for more than 12 years to see such a night. "We need to keep it going, and let people know more in advance. I just found out the other night. But I'm surprised how many people turned out. A lot of people came in who had never been in my shop before." Between performing, maintaining the fun castle outside and running her shop, Street Vybez, "Tiny T" was having a "hectic" night — but she called for street festivals on an end-of-month basis. "The music in the street brings Court Street alive," she said. "It's nice to have it Back of Town, it's very good for business, and I hope it keeps going." Kim Knights of Gombey Urban echoed the sentiment: her custom design shop had opened for Christmas, but with hundreds thronging outside, visits held steady. "I would love to see more of this come here," she told The Royal Gazette. The three proprietors of the plus-size clothes shop Intersection 45, which recently opened, said the night had brought "a lot of new faces." Giving her name just as Kita, one said: "Regular events that went without problems would encourage people to come. People who come to Court Street for the first time might be worried, but when it goes without incident, they come back. The community wants somewhere safe to go and really experience something. This will never be like Front Street but it's full of culture. The people who hang out here are colorful and the only thing they require from us is respect. All you have to do is say hello and they'll be your friends for life." Eugene Dean, one of the night's organizers, said there were already discussions brewing with the Corporation of Hamilton for next New Year's Eve. "Naturally, they were watching this event very closely and it appears that last night's success has left a positive impression on us all," he said. Mr Dean noted that a large event had been achieved "relatively organically in a very limited time period, with minimal budget, and virtually no traditional promotion. So many people were thanking us for bringing an event of this scale to North Hamilton and others took pride in sharing stories about major events that took place in North Hamilton in the past. The entire evening was incident-free, businesses were thankful for the additional traffic, and residents were very appreciative of the fact that their interests were being acted upon. The police had a consistent presence throughout the evening and they worked well with the team of volunteers from the area who dressed in uniform and acted as marshals at the road closures and gave general security and assistance throughout. Everyone was so co-operative and willing to help. People in the area event cooked for us. The love that we received was very much appreciated and truly heartfelt." Meanwhile, in St George's hundreds of partygoers enjoyed a night of music and fireworks.
January 1. A colorful display lit up the East End for New Year's Eve as the Corporation of St George welcomed 2016 with fireworks. Restaurants throughout the Olde Towne held their own parties to usher in the new year. In King's Square, a night of DJs and other entertainment culminated in the traditional Onion Drop — followed by pyrotechnics.
January 1. Cherokee's Ironman lived up to his name after clinching the most coveted title up for grabs during the New Year's Day Stakes Races at the Bermuda Equestrian Centre. Arnold Manders's gelding won the Aged Stakes title awarded to the pony with the fastest average time on the day with driver Tyler Lopes at the helm. Cherokee's Ironman also equaled its best showing for the season and the season's fastest time en route to the title to give Lopes a maiden stakes victory. "All four ponies in the Aged division ran one of their qualifying races on Boxing Day in a 1:03/3 or 1:03/4, so we knew it would be a close final come New Year's Day," Lopes said. "Ironman felt the best he's felt all year. He ran the first heat of the final in a 1:03/3 which matched his fastest time on the track here in Bermuda that he did on Boxing Day." Lopes refused to take the credit for Cherokee's Ironman latest success. "The credit has to go to his owner and trainer Arnold Manders," Lopes said. "He puts in a tremendous amount of time with Ironman to keep him at full fitness and make sure he's always ready to go." Roque Family's stallion, GV Crystal Ball, finished runner-up behind Cherokee's Ironman, with Full Throttle Racing's mare, IC's Shakedown, rounding off the podium. Simsfield Hardtimes won the three-year-old stakes title which was awarded to the pony with the fastest average time from both the Boxing Day and New Year's Day Stakes races. Guiding the Simsfield-owned stallion to victory was driver Ryan Burrows with second and third going to Whited Family's mare, IC's Overextended, and Burrows Family's stallion, Royal Caribbean. Claiming the stakes title for four year olds — also awarded to the pony with the fastest average time from both the Boxing Day and New Year's Day stakes races — was Full Throttle Racing's mare, Pocket de Gold, with driver Philip Correia in the sulky. Rounding out the podium finishers in the four-year-old division was Andy Stoneham's stallion, Custard the Dragon, and Manders's gelding, Touch of Red. Harness racing continues at Vesey Street on Sunday with the finals of the Best-of-Three Series. Post time is 12pm.


Authored, researched, compiled and website-managed by Keith A. Forbes. Last Updated: July 6, 2020
Multi-national © 2020. All Rights Reserved