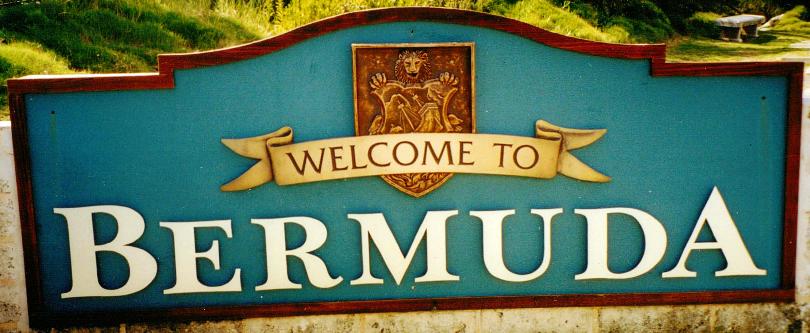 11165+ web files, a regularly updated Gazetteer, overall an in-depth description of our island's internally self-governing British Overseas Territory 900 miles north of the Caribbean, 600 miles east of North Carolina, USA. With accommodation options, airlines, airport, actors, actresses, aviation, banks, beaches, Bermuda Dollar, Bermuda Government, Bermuda-incorporated businesses and companies including insurers and reinsurers, Bermudians, books and publications, bridges and causeway, charities, churches, citizenship by Status, City of Hamilton, commerce, communities, credit cards, cruise ships, cuisine, currency, disability accessibility, Devonshire Parish, districts, Dockyard, economy, education, employers, employment, environment, executorships, fauna, ferries, flora, former military bases, forts, gardens, geography, getting around, golf, guest houses, highways, history, historic properties, Hamilton, House of Assembly, housing, hotels, immigration, import duties, internet access, islands, laws, legal system and legislators, main roads, marriages, media, members of parliament, money, motor vehicles, municipalities, music and musicians, newcomers, newspaper, media, organizations, parks, parishes, Paget, Pembroke, performing artists, residents, pensions, political parties, postage stamps, public holidays, public transportation, railway trail, real estate, registries of aircraft and ships, religions, Royal Naval Dockyard, Sandys, senior citizens, Smith's, Somerset Village, Southampton, St. David's Island, St George's, Spanish Point, Spittal Pond, sports, taxes, telecommunications, time zone, traditions, tourism, Town of St. George, Tucker's Town, utilities, water sports, Warwick, weather, wildlife, work permits.

Bermuda's 2019 June History and News
Events that made newspaper headlines in the sixth month of this calendar year
By Keith Archibald Forbes (see About Us) exclusively for Bermuda Online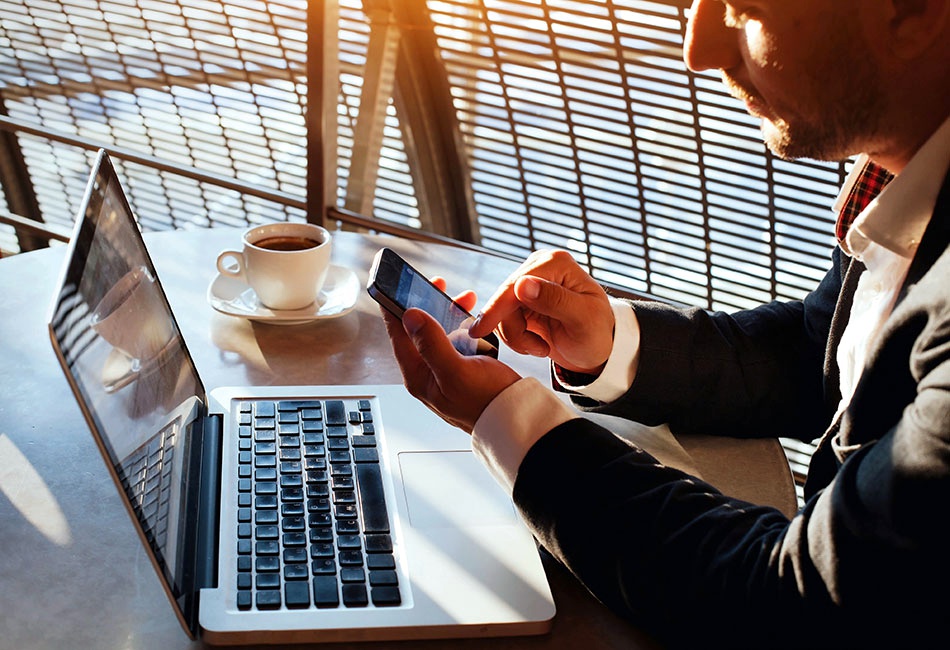 Benefit of website linkage to Bermuda Online while traveling
See at end of this file all our many History files
Bermuda's only newspaper, the Royal Gazette, is not published on Sundays or Public Holidays but sometimes has some Sunday and/or Public Holiday news online.
June 20

June 19

The Government asked organisations to show how they could help fund the replacement of Longbird Bridge and Swing Bridge, according to documents published on its website. A request for information issued through the Ministry of Public Works also appealed for fabricators, project managers and suppliers from around the world to express interest in the projects, as the existing structures in St George's were both expected to reach the end of their useful lives in 2021. It said detailed designs for the bridges were almost complete and a package of drawings for tenders was scheduled to be published this year. A separate request for proposals invited bids from contractors to demolish and remove Longbird Bridge, which has been closed to traffic for more than a decade. The public RFI for the replacement project was issued on June 7 and an accompanying document, titled Moving Bermuda Forward, explained: "The Ministry of Public Works, Government of Bermuda, intends to replace two of their main access bridges. The new bridges will be structural landmarks to be used by locals and visitors for years to come. The ministry is looking to partner with international experts to work on these interesting projects. After the successful completion of an options study and a feasibility study, the design team has now entered into the detailed design phase. This design phase will result in a tender drawing set scheduled to be made public in the third quarter of 2019. The Ministry of Public Works is looking forward to bringing new members to the construction team to finance, fabricate and build these bridges." Interested companies were also told that limited resources meant most construction materials were imported to the island. The document added: "The local labour is relatively expensive and specialization in bridge construction and complex infrastructure is limited. Hence, the ministry believes that high-level prefabrication will enable this project to achieve an economical solution and help reduce construction risk." The RFI, which was posted on the procurement notices page of the Government's website, said that the ministry wanted to gather "information about the marketplace" to help determine "future purchasing options or requirements". It explained that the ministry sought "new members to supplement the design team in regard to financing, fabricating and building two new bridges". The document invited expressions of interest from disciplines including general and professional contractors, bridge or steelwork fabricators, financiers, project management, independent checkers, trades and suppliers. It added: "This is an opportunity for suppliers to enter into a dialogue with the Ministry of Public Works, present their capabilities/experience, and gain a better understanding of an exciting upcoming opportunity. The ministry intends to use information gathered during this RFI process to guide the procurement strategy for the bridges' supply/fabrication/construction." Respondents have until 3pm on August 30 to submit information. It was announced in December 2017 that three UK companies, Ramboll, the lead consultant, as well as Knight Architects and Eadon Consultants, would work together on the bridge replacements. Blueprints for the structures were unveiled last September when it was thought construction on the crossings would begin this summer. It was estimated then that the Longbird Bridge on to St David's Island from the Causeway and The Main, the largest island in the Bermuda archipelago, would take two years to complete. Construction time for the Swing Bridge from St David's to St George's Island was expected to be 30 months. When asked about costs during a public information session when the plans were revealed, in September, Lieutenant-Colonel David Burch, the Minister of Public Works, believed it was too early to provide an estimate He said: "We're not prepared to do that until we have the detailed designs for the bridge and know what materials we are going to use." The separate RFP for the demolition of Longbird Bridge was issued on June 10 and has a submission deadline of 3pm on July 19, 2019. It said the public works ministry was "inviting tenders from experienced contracting companies for the demolition, removal and safe disposal of the Longbird Bridge superstructure, piers, approach slabs, walls and services". The RFP explained that the present structure was built by the US Army Corps of Engineers and was officially opened in December 1952. It said: "When the US Naval Air Station left Bermuda in 1995, they handed over maintenance responsibility to Nasa, who left Bermuda in 1998 and abdicated responsibility. The Government of Bermuda's requests for urgent maintenance went unanswered, and the Government assumed responsibility for the bridge, by default ,in December 1998. Rehabilitation works were completed in 2001, but by 2007 the bridge had once again fallen into disrepair. In May 2007, the bridge was closed to marine traffic, and vehicular traffic was reduced to one lane. On July 31, 2007, the bridge was permanently closed, with vehicles diverted to the two newly constructed panel bridges which are still in use today." The RFP said the agreement was expected to be carried out on September 30. The Royal Gazette asked for information about the proposed budgets for the projects, if the public works ministry had revised its timetable for the construction scheme and further details about how the bridge replacements will be financed. A government spokeswoman said the ministry declined to comment.

A man who was imprisoned for serious sexual assault after his attempt to rape a woman was foiled by passers-by is to be freed next week. Junius Carman Caines will be released from Westgate Correctional Facility on Monday. Kathy Lynn Simmons, the Minister of Legal Affairs, announced the move today in line with her power to alert the public about sex offenders who are "considered to present a risk of significant harm". Caines was sentenced to three years and four months in prison last July for an offence that happened in August, 2016. The public notice said: "The minister is empowered to disclose information in relation to sex offenders who are considered to present a risk of significant harm to the health or safety of the public, an affected group of people, or an individual. In accordance with this power, the minister, after consulting with the Commissioner of Police, has determined that the public should be notified of Mr Caines's release." It said the 50-year-old, who will live in Pembroke, was convicted and incarcerated for serious sexual assault. The notice added: "Based on this and on other information received, the minister has determined that the Ministry of Education should be provided with information regarding this offender, to ensure that relevant schools are notified about his impending release." When Caines, who had psychiatric problems, was sentenced last year, Puisne Judge Charles-Etta Simmons said the court must recognize its duty to protect the public and also balance the interests of the offender, who acknowledged that the justice and mental health systems "curtailed the court's ability" to treat him in "an approved programme in the community". The Supreme Court heard that Caines's victim, who cannot be identified for legal reasons, was walking home in the early hours of August 6, 2016, when she saw him acting strangely in Hamilton. She crossed the street, but Caines began to shout and follow her. The woman reached her home and went through the front door, but Caines grabbed her from behind and threw her to the ground. The court heard he told her: "I want to rape a white woman." A group of passers-by heard the noise and came to the woman's aid, but Caines escaped. The court heard the assault lasted less than a minute and the victim suffered minor physical injuries and psychological injury. Later that night, while still with police, the victim saw Caines and pointed him out to officers, who arrested him. The court heard police attempted to interview Caines, but he "rambled nonsensically" and was later sent to the Mid-Atlantic Wellness Institute. Prosecutors said the case had moved slowly due to a question mark over Caines's ability to plead and secure legal aid. Caines pleaded guilty to a charge of serious sexual assault in July 2017. The court heard he had previous convictions, some for violence, but none for sexual offences. Mrs Justice Simmons said the starting point for sentencing should be five years and that Caines was entitled to a 30 per cent discount due to his guilty plea. She also ordered the term to be followed by a five-year supervision order that required him to take recommended treatment programmes.
• UPDATE: The Ministry of Legal Affairs issued the following press release today:
The Ministry of Legal Affairs today moved to clarify the press release issued in relation to Junius Carman Caines.
Mr Caines was convicted of a serious sex offence not for a child sex offence. However, based on feedback received from members of the public, a Ministry spokesperson stated that the reference to the Department of Child and Family Services in the press release, has been misconstrued.
The spokeswoman added: "The public is advised that in all cases involving the release of sex offenders, where public disclosure is made by the Minister of Legal Affairs and the individual is considered a high risk, the Ministry of Education has requested notification of the impending release of the offender.
"The reference to the Department of Child and Family Services is related to that request and is intended to provide useful information regarding child safeguarding and will appear on all notices."

A Warwick man admitted handling more than $290,000 of drugs with intent to supply. Luri Scott, 24, pleaded guilty at Supreme Court yesterday to handling cannabis, cannabis resin and tetrahydrocannabinol, the active ingredient in cannabis, at his home. He also admitted having drug equipment, specifically a digital scale. The offences were said to have taken place on December 15, 2017. Acting Puisne Judge Craig Attridge ordered a social inquiry report and a drug assessment on Scott and released him on bail until August. But he warned Scott: "You should not take from that any indication that you will not be sentenced on this matter to a custodial sentence."

Eight motorists were arrested for drink-driving over the National Heroes Day holiday weekend. They were arrested at sobriety checkpoints conducted in six parishes from Thursday through Sunday evening. There are no road sobriety checkpoints planned for this weekend. Police urged members of the public to not drive, ride or operate a boat under the influence of alcohol, for the safety of all.

A "close" examination of the circumstances that led to a crash between a police motorcyclist and a visiting American pedestrian was under way yesterday. The Bermuda Police Service revealed that the officer involved was one of two riders responding to a call when the incident happened on Burnaby Street at about 5.25pm on Monday. A police spokesman said the Police Complaints Authority was also made aware of the crash. The 36-year-old pedestrian was said to be stable and recovering in hospital yesterday, while the officer was treated and discharged. Footage taken in the aftermath of the crash was aired on ZBM News and the broadcaster said the clip was earlier shared on social media. It showed a woman, who was believed to be visiting the island with a group for the carnival events, on the ground in the middle of the road as others offered assistance. The woman was treated at the King Edward VII Memorial Hospital for a leg injury and suspected head injury. A police spokesman said last night: "The investigation regarding the collision involving a police motorcyclist and a 36-year-old visiting American woman on Burnaby Street, Monday afternoon, continues and the circumstances of this unfortunate incident are being closely looked at. The officer in question was one of two police motorcyclists responding to an urgent service call at that time. As per legislation, the Police Complaints Authority has been notified and the Bermuda Police Service is currently assessing witness accounts and all other evidence as part of this investigation." Witnesses to the collision were asked to contact Sergeant Caleb Jean-Pierre on 717-2368 or by his e-mail cjnpierre@bps.bm as soon as possible.

Facebook is to launch a global cryptocurrency next year, and it has been greeted as a positive for Bermuda's own ambitions in the digital asset and fintech space. The new currency is called Libra, and its structure resembles that of Ven, the world's first digital currency, which was created by Bermuda-based Hub Culture in 2007. Stan Stalnaker, founder of Hub Culture, said the new currency would introduce more than two billion internet users to digital currency at a time when Bermuda had positioned itself early in the world of digital assets. While Chris Garrod, head of fintech at Conyers, described the news as likely to be an "overall positive" in terms of impact on Bermuda's fintech efforts. Libra will be fully-backed by a basket of global currencies and other assets with the aim of giving stability to its day-to-day value. It is being built on blockchain technology, and people will be able to send, receive spend and secure their money in what is described as a" more inclusive global financial system". Among organisations involved in the project are Visa, Mastercard, PayPal, eBay, Uber, Lyft and Coinbase. Those companies and others are part of The Libra Association. It is a not-for-profit organisation that will have a role in the operation of the Libra blockchain. It will be headquartered in Geneva, and have offices in California. Yesterday, Facebook also unveiled a digital wallet called Calibra, designed to work with Libra, that will allow anyone with a smartphone the ability to send the digital currency as easy as sending a text message, and at low or no cost. Facebook said that for many people around the world, financial services and access to credit are out of reach. It said Calibra aimed to address that challenge. Mr Stalnaker, chief strategy officer of Hub Culture, said: "The Facebook Libra project is set to make waves in the world of cryptocurrency and in the traditional world of banks." He said it was a long anticipated move after Telegram, a chat network that rivals Whatsapp, announced its intention to enable payments with a cryptocurrency called Grams. "The development of Visa, PayPal and Mastercard nodes to the system points to the arrival of a payment network that can function between payment networks, changing how payments occur. It is likely to have global reach through Facebook Connect, not just Facebook itself, meaning that single-click payments on the internet are about to become much easier." Mr Stalnaker brought Hub Culture's Innovation Campus, and its Innovation Sprint to Bermuda in 2017 and 2018 respectively. He said Facebook's Libra project sends a strong signal to the world that crypto "is both here to stay and ready for the world's biggest payment ecosystems". He added: "With transparency and major networks opting in, its hard to see how Libra could fail to become a major force in banking and payments from its inception. This has a strong industry affect; by introducing over two billion internet users to digital currency, its likely that some of them will find their way to bitcoin, Ven, ethereum, EOS and other assets. "If Facebook's coin then enters trading markets, it's a natural way for other currencies to find liquidity relative to the Libra project, boosting their markets in the process." Mr Stalnaker noted the similarity between the structure of Libra and that of Ven, which has remained remarkably stable in value during its 12 years of existence. He said Ven had shown how stable such a strategy can be. "So it is validating to see parts of the Ven model being adopted by other players in the market. Regardless of the relative size of Facebook's effort to Ven, the community oriented focus of Ven and the values it represents around individual data ownership, transparency and security will continue to differentiate Ven." As for the impact to Bermuda. He said: "Every moment counts in the world of digital assets and the stakes are very high, but it is great to see Bermuda positioning itself for the new world of finance early, so that the right frameworks are in place to capture the gigantic opportunities that are emerging in the space." Last week Jeremy Cox, executive chairman of the Bermuda Monetary Authority, said the island's Digital Asset Business Act legislation was produced "in a very short period of time to help the Government to promote the jurisdiction as one of those first-mover jurisdictions to be accepting this type of business". Speaking at the Bermuda Captive Conference, he added: "That's one area of business that we are going to see develop, and I think Bermuda is a wonderful place for that type of business to expand into other areas." Meanwhile, Mr Garrod, of Conyers, reacting to the news about Facebook's digital currency, said: "It is fascinating and certainly, on the face of it, could be seen to be a rival of other cryptocurrencies. However, it is actually very different from them if you delve into detail. Cryptocurrencies such as Bitcoin, to date have really only attracted the attention of millennials and those who really don't use traditional banking. A major player such as Facebook at least will assist with the overall acceptance and usability of blockchain technology, such as crypto and digital assets, those who would never have dipped their toes into this space before. In terms of its impact in the Bermuda space, you'd have to say it is overall positive. It helps provide continuing creditability in the financial world regarding blockchain generally and the way new digital currencies such as Libra can use it. Based on Bermuda's fairly recent leap into the fintech world, it's hard to point to any negatives."

Insurance industry veteran Scott Cobon is the new managing director, Bermuda, for Bermuda-based insurance managers, Artex Risk Solutions. Mr Cobon moves into the position formerly occupied by Rob Eastham, who is taking on the new role of executive chairman, Artex Bermuda. The changes are among four senior leadership announcements made within Artex's international division. Artex also announced that Paul Eaton has been appointed managing director, ILS, and Mike Matthews has joined the company as commercial director, Artex International. Peter Mullen, chief executive officer of Artex, said: "These appointments position our team for even greater innovation and growth in the coming years." Mr Cobon will have responsibility for the continued success and development of the growing Bermuda office, which handles a diverse range of insurance management products, including captives, insurance linked securities and commercial structures. Having more than ten years of experience in the Bermuda insurance management industry, he has been pivotal in the growth of Artex's ILS business, the company said. He previously worked as a treaty reinsurance broker in Sydney, Australia and began his career with PricewaterhouseCoopers in Brisbane. Mr Eastham is an industry veteran with 38 years of experience in the Bermuda insurance industry, and is a well-known leader in all aspects of the ILS and captive industry, the company said. Artex said Mr Eaton will have responsibility for driving the strategy, planning and growth of Artex ILS business across all locations. The company has a complement of more than 20 ILS insurance professionals within its Bermuda, Cayman and Guernsey offices. Mr Eaton joined Artex in 2004 after a 13-year career with RSA in various underwriting and management roles. More recently he headed up Artex's international business development. Based in Guernsey, he is a director of Artex Guernsey's ILS cell companies. Mr Matthews takes on a newly established role, where he will be responsible for the strategy, planning and delivery of growth for the international business, the company said. The role encompasses sales, marketing, product development and supporting client services. He began his career at AIG and is a seasoned industry professional with more than 30 years' experience in structuring and developing complex and innovative captive insurance solutions, Artex said. Artex, which claims to be the fastest-growing insurance manager in the world, has had an annual growth rate of 17 per cent over the last seven years, tripling in size over that term. The company serves some 1,500 customers with captive management and alternative risk management solutions through more than 1,000 risk-bearing entities. Licensed in 32 jurisdictions, it has more than 400 staff in 15 offices worldwide.

AS Cooper & Sons Ltd has agreed to sell part of its business to fellow retailer Brown & Co, a subsidiary of The Phoenix Stores Ltd. Effective September 1, The Phoenix Stores Ltd will take over the lease, inventory and staff of the A.S. Cooper's 7,500 square-foot, ground floor business located at 59 Front Street. Both companies have stressed that all jobs are secure. The Phoenix Stores will operate 59 Front Street as a stand-alone store. Somers Cooper, AS Cooper's managing director, said: "All ground floor staff and two buyers will become employees of the new entity under the same terms and conditions as their current employment. It will be sad to say farewell to so many loyal and hardworking members of the Cooper's staff family but gladly nothing materially changes apart from the signature on their pay cheques. This move allows us to focus solely on our clothing and fashion businesses." Included in the transaction are exclusive cosmetic and fragrance brands such as Estee Lauder, Clinique, Bobbi Brown, La Mer, Jo Malone, Bare Minerals and Shisheido, a statement said. Also included are exclusive china and crystal brands, Waterford, Wedgwood, Villeroy & Bock, Kate Spade and Portmeirion alongside fashion jewellery lines Swatch and Swarovski Crystal (jewellery, accessories, watches and figurines) as well as the Picturesque Bermuda book and print business. Remaining AS Cooper retail locations include the ladies' department at 26 Reid Street, AS Cooper Man at 29 Front Street, Vineyard Vines at 27 Front Street and branch stores in Dockyard and the Fairmont Southampton Resort. Mr Cooper added: "Despite the global downturn in brick-and-mortar retail, we see strength locally in certain segments and brands. We will continue to invest in growth opportunities in the sector and aim to keep offering the buying public great name brand fashions at US prices." Mr Cooper said it was bittersweet to sell this part of the business, which was started by his great grandfather, Alexander Samuel Cooper. He said: "Beginning in 1897 he based the business on his love of fine china, crystal and glassware. Growth occurred when tourism took hold in Bermuda in the early 20th century. By then he had established strong relationships with European brands, some of which still exist today. As an example, we are Wedgwood's oldest customer in the western hemisphere." George Grundmuller, president and chief executive officer at The Phoenix Stores Ltd, said: "Our team is excited to add the ground floor of AS Cooper's 59 Front Street to our group of stores and welcome its employees to our family. We believe this acquisition will complement our Brown & Co operations and will add many world-class brands to our portfolio of exclusive lines. We intend to expand the business in the coming years and will work with suppliers to make this a top-notch retail location for Bermuda. Customers can expect the continuation of perfume and cosmetic lines offered at US duty-free prices with new brands available shortly." Once the transaction is complete on September 1, a statement said, customers can use their existing Phoenix Stores charge and gift cards for purchases at the new location. AS Cooper gift cards will no longer be accepted on the ground floor as of September 1, but they will still be redeemable at all other AS Cooper locations. AS Cooper gift card holders with questions or concerns are asked to e-mail info@ascooper.bm or contact Somers Cooper at 295-3961 ext 268.

A total of 48 athletes will represent Bermuda at next month's 18th NatWest International Island Games in the British Dependent Territory of Gibraltar. The Games will take place from July 6 to 12 with Bermuda having competitors in badminton (10), bowling (8), tennis (5), track and field (4), shooting (1), beach volleyball (8), triathlon (1), squash (6) and sailing (4). Injury forced runner Tilly Norman to pull out, leaving Quincy Kuzyk, Brianna Mendes, Shianne Smith and Sean Trott to compete in track events. Smith has enjoyed success at the Island Games, winning four medals, including three gold, when Bermuda hosted the Games in 2013. Smith provides the experience in an Island Games team that includes Kuzyk as one of the youngest members of the Bermuda team at 18. There are also two 17-year-olds, Aaron Simmons in badminton and Jordan Etemadi in sailing. Tennis will be led by top singles player Gavin Manders, along with the experienced David Thomas and Samuel Butler while Scott Redmond is the youngest tennis player at eighteen. At the other end of the age spectrum, bowler June Dill is the oldest at 69. Gibraltar has a population of 30,000 in an area of just 2.6 square miles. It is adjacent to Spain's Costa del Sol coast, and has long been a strategic military position for the British. The views to the south of Gibraltar are of the Atlas Mountains of Morocco, from which Gibraltar is separated by just 11km of ocean. In addition to their indoor sports hall, the facilities include a rackets centre, a 50 metre pool, an athletic track, a football pitch, a cricket pitch and a rugby pitch. In addition they have recently opened the University of Gibraltar. The move to new housing for the British military stationed in Gibraltar has given the organising committee a Games Village for the visiting athletes. Bermuda has ten players and three officials representing them in badminton while there are eight ten-pin bowlers and eight volleyball players also traveling to represent the island.
Island Games team
Officials: Jon Beard, Juanita Blee, Georgina Francoeur, Geoffrey Blee.
Track and field: Quincy Kuzyk, Brianna Mendes, Shianne Smith, Sean Trott
Badminton: Sinclair Ball, Harold Minors, Rebecca Pantaney (officials), Rowena Cespedes, Mark Haugen, Danial Hughes, Andy Lau, Emma Lee, Hiral Parekh, Aaron Simmons, Denzel Simons, Jin Sun, Zichen Wang
Beach volleyball: Danielle Miller (official), Meghan Calhoun, Daniel Fiddick, Keiran Hamilton, Kyle Hamilton, Allison Lacoursiere, Joshua Malpas, Elisabeth Rae, Allison Settle
Sailing: Jordan Etemadi, Kalin Hillier, Scott Mello, Adriana Penruddocke
Shooting: Vivian Smatt (official), Adrienne Smatt
Squash: Rachel Barnes, Anthony Fellowes, Greg Fitzgerald, Judith Furtado, Meagan Jackson, Stephen Smith
Bowling: Steven Riley (official), June Dill, Damien Matthews, David Maycock, Blake Raynor, Lamar Richardson, Florence Simons, Jennifer Stovell, Earlene Tucker
Tennis: Rickai Burrows, Jovan Jordan-Whitter (officials) Samuel Butler, James Finnigan, Gavin Manders, Scott Redmond, David Thomas, Tucker Murphy

A teenager hurt by a boat propeller over the holiday weekend has been treated and released from hospital. According to a police spokesman, the 17-year-old girl suffered leg injuries after she was struck by a propeller at Raft-Up at Shelly Bay on Saturday afternoon. Marine police, Bermuda Fire and Rescue Service and ambulance personnel all responded to the incident and assisted with initial medical care. The spokesman said she was admitted to the general ward at King Edward VII Memorial Hospital, but has since been discharged.

Today marks 75 years since United States forces towed a captured German sub, U-505, into Bermuda waters under a cloak of secrecy. The U-boat was brought into the Great Sound with 57 prisoners, as well as its Enigma code encryption machines and code books that allowed the Allies to crack German messages. It was less than two weeks after troops had fought their way ashore at Normandy on D-Day, June 6, 1944, and the Allied invasion of Nazi-held Europe was raging. But two days before the biggest maritime invasion in history, the prize catch of U-505 had been forced to the surface under American fire 150 miles off the West African coast. Its German crew had to abandon their stricken sub before it could be scuttled, delivering U-505 to the Allies with her precious cargo intact. The US Navy needed to hide their find, which they reported as sunk, and brought it to their Naval Operations Base in Southampton, at what is today Morgan's Point. Derek Waller, a retired air commodore with the Royal Air Force, has spent years writing about the U-boats that came into Allied hands. "U-505 was not part of the ten that were allocated to each of the three main Allies: the USSR, the USA and the UK," Mr Waller said. "It was captured, rather than surrendered." Absent from the list of prisoners brought on shore to Bermuda was Ewald Felix, 21, a junior crewman who Mr Waller's research reveals had helped keep the damaged submarine afloat and thus aided the Allied side in its capture. Felix was taken separately on board the USS Guadalcanal, while his fellow crewmen were told that he had died and been buried at sea. Mr Waller writes that Felix was concealed from colleagues who "might well have punished him harshly for facilitating the capture". A German historical magazine, Kristall, claimed in 1956 that Felix had been killed in a prison camp by his fellow prisoners of war as punishment for being an informer. In fact, he had been spirited to a PoW camp in Norfolk, Virginia. By 1956, Felix was living in Poland with his parents. He later moved to Germany, where he resided until his death in the 1990s. Mr Waller said that it was "imperative" that the capture be kept secret "lest the Germans would discover that fact and change their U-boat code books before June 6. Thus, the US Navy decided to tow it to Bermuda and keep the whole event totally secret." The Americans held the rest of U-505's crew under wraps in Bermuda for the six weeks. The sub's commanding officer, Lieutenant Harold Lange, who had been seriously wounded and lost a leg, was also separated: he stayed nine months on the island, while the rest of the crew were interned in Camp Ruston, Louisiana. Their confinement broke the terms of the Geneva Convention of the treatment of prisoners of war, but the US Navy stuck to security as a pretext. The Royal Gazette reported in 2014, for the 70th anniversary of U-505's landing here, how Captain Lange befriended Kate Perinchief, a Bermudian woman who lived near the base, and exchanged letters with her after the war. Another article from the Gazette, which never reached publication, was written at the time of the landing by Ford Baxter, a reporter tipped off by a lighthouse keeper about the incoming U-boat. US authorities threatened him with arrest after receiving Mr Baxter's query about the vessel. With the intercession of Lord Burghley, the Governor, the story was quietly held. Mr Waller said he had explored the history of U-boats, and U-505, as a hobby during his wife's illness, and had contacted local historians such as Edward Harris and Andrew Bermingham as part of his research. The full story of U-505 was published in the July 2018 in Volume 21 of The Bermuda Journal of Archaeology and Maritime History, maintained by the National Museum of Bermuda.

June 18

Haiti 2 Bermuda 1. Bermuda's players looked a dejected bunch as they made their way back to the dressing room at the Estadio Nacional after succumbing to a second-half revival from Haiti. Their heads, however, were held high, and rightly so. Bermuda had done themselves and their island proud. They fully deserved their one-goal lead by virtue of a Danté Leverock header on the stroke of half-time but were undone by chief tormentor Derrick Etienne, a second-half substitute, who had a hand in both of Frantzdy Pierrot's goals. Haiti, a team ranked 101st in the Fifa rankings, 73 places above Bermuda, and winners of the tournament in 1973, were heavy favourites heading into the group B curtain-raiser. They had, after all, finished top of the Concacaf Nations League qualifying standings with four successive victories, including a 2-0 win over Nicaragua, whom Bermuda meet in their final group game next Monday. It was Bermuda, however, who looked the superior side during a stirring first-half performance, as they dominated Haiti, creating — and missing — a hatful of scoring opportunities. Such was their profligacy in front of goal, relief rather than unbridled joy was the overriding emotion when Leverock, the Bermuda captain, headed home Osagi Bascome's left-wing corner right before the interval. "We created many chances in the first half, but we didn't take them," Kyle Lightbourne, the Bermuda coach, said. "My biggest disappointment was that we didn't hit the target. We got in some very good positions. I can remember four or five chances in the first half. If we take them, it's a different ballgame." Aside from an early scare when Pierrot blazed over when bearing down on goal, Bermuda outplayed their opponents during the first period and could have put the game out of reach had they shown greater composure in the critical moments. Zeiko Lewis was at his impish best, driving through the middle after being put through by Lejuan Simmons before firing straight at Johnny Placide, the Haiti goalkeeper. The diminutive wide man went close again moments later, linking up well with Calon Minors down the left before befuddling his marker with a piece of skill so audacious it drew an audible gasp from the crowd. His brazen trickery was undermined, however, by another finish that lacked any real conviction, as he squirted his effort wide with the outside of his left boot. Nahki Wells was the next to find himself with a clear sight of goal. The talismanic striker created space inside the box after a clever one-two, but, he too, let Haiti off the hook, slicing his shot horribly wide. A virtual bystander for most of the first half, Dale Eve, the Bermuda goalkeeper, had to be alert to palm Pierrot's scissor kick over the bar during a rare Haiti attack. Leverock did at least ensure Bermuda had something to show for their first-half ascendancy when he stole a march on his marker to plant a header into the bottom corner. Whatever words Marc Callot, the Haiti coach, said to his players at half-time certainly seemed to have had their desired effect, as did his decision to introduce Etienne, whose pace and vision changed the entire complexion of the game. Pierrot looked far more threatening after the break, as Haiti switched to two strikers, moving Duckens Nazon into a more central position to accommodate Etienne. The New York Red Bulls forward, a former team-mate of Lewis, was simply the spark that ignited Haiti's comeback; his mere presence appeared to lift his team-mates, who raised their tempo and began moving the ball with pace and purpose. "We knew about their No 11 [Etienne]," Lightbourne added. "He was a big difference when he came on. They utilized the flanks a lot better. We tried to shut him down but, on the day, he was the difference between the two teams." There was a sense of inevitability when Haiti leveled in the 54th minute courtesy of an Etienne free kick, delivered to the back post and headed in by Pierrot. The free kick was taken by Steven Sabat, with Etienne making a decoy run that worked to perfection. Etienne, again, was the orchestrator of Pierrot's second goal in the 66th minute, twisting and turning the hapless Donte Brangman before cutting the ball back for Nazon, who forced a fine save from Eve. Unfortunately for Bermuda, the loose ball fell invitingly into the path of Pierrot, who had peeled away from defender Jaylon Bather and made no mistake from close range. Eve was in fine form, twice denying Etienne with an outstretched boot to keep his side in the game. Surely it is only a matter of time before the former Stoke City prospect makes a return to the professional ranks. On this evidence, in arguably the biggest game in Bermuda's footballing history, he is too good to be playing at the domestic level. Bermuda offered little in the way of attacking intent in the second half other than a half-chance from Milan Butterfield, which he snatched at, thus continuing a frustrating trend from the first half. Their hopes of advancing to the quarter-finals of the competition, as one of the top two qualifiers, are now hanging by the slightest of threads. "A lot of good things have come out of that game," Lightbourne added. "I think we surprised a few people with the way we played and I'm proud of my team even though we lost. It's about us building and getting better. That's the most important thing for me." There is no escaping that this was a missed opportunity for Lightbourne's side. Perhaps that in itself represents a small victory for the smallest nation competing at the tournament.
SCORERS
Haiti: Pierrot 54, 66. Bermuda Leverock 45+2
TEAMS
Haiti (4-5-1): J Placide — C Arcus, R Ade, M Jerome (sub: J Geffrard, 14min), W Guerrier — B Alceus, Z Herivaux, C Herold (sub: D Etienne, 46), S Sabat, D Nazon (sub: J Desire, 87) — F Pierrot. Substitutes not used: A Alexis, H Bazile, J Duverger, B Bissainthe, M Cantave, A Jean-Baptiste, D Clerveaux, A Christian, I Simon. Booked: Guerrier.
Bermuda (4-2-3-1): D Eve — D Brangman, D Leverock, J Bather, C Minors — O Bascome (sub: J Smith, 76), W Clemons — L Simmons (sub: J Donawa, 58), R Lambe (sub: M Butterfield, 62), Z Lewis — N Wells. Substitutes not used: C Basden, R Lee, J Harvey, J Hill, C Robinson, T Ming, L Evans, M Warren, Q Hunt. Booked: Donawa.
Referee: D Parchment (Jamaica).

Revellers hailed the fifth annual Bermuda Carnival as being among the best of its kind, an organizer said yesterday. Jason Sukdeo welcomed the "positive feedback" from partygoers who were treated to packed schedule of events. The Bermuda Carnival president spoke to The Royal Gazette as the Parade of Bands snaked its way through Hamilton ahead of entertainment from DJs at the Last Lap in the car park of City Hall, where the weekend officially started three days earlier with Five Star Friday. Hundreds of people took to the water at Shelly Bay for the Raft-Up on Saturday and Sunday's activities included a Wetta event at Tobacco Bay and the all-night J'Ouvert Celebration in Dockyard. Mr Sukdeo said: "The weekend has been really good so far, no major incidents to report. We've had good weather, the bands have been on the road today — another great day. I'm hearing stories from people who have been experiencing it and they said it's definitely one of the best carnivals they've ever been to. From the concert on Friday night, the raft-up on Saturday ... it has all been positive feedback." Mr Sukdeo said the carnival weekend was growing "year after year" and he believed it attracted visitors to the island as unique events like the raft-up proved popular attractions while streamlining transport options also set Bermuda apart. "We have more of a united set-up and make things easy for someone to participate. I can tell that folks do enjoy the simplicity of Bermuda's carnival and it makes the experience better for them." He said the event's team will take time to assess how it can improve or adapt in the future. However, Mr Sukdeo assured fans: "We can definitely say that we're looking to go again next year." Macdonald Stovell, 81, from Pembroke, "thoroughly enjoyed" the parade, which he watched with wife Janice, 76. He said: "I was looking for joy and happiness, I found it — immensely. I like the excitement and all the costumes. People like to relax and express themselves after a long winter." Denise Wilson-Adams, 52, thought the new location, after the event moved from Southside, was "amazing". The senior accounts administrator, of Devonshire, said: "It's a different kind of routine this year than it has been in previous years. With this format you get to see it differently, it's more spaced out." Beverley Richardson, 56, enjoyed the energy, colors and "wide variety" of people who took part. She added: "I love soca." Karthika Griffith, from Warwick, took part in the parade and was joined by friends from the US and Britain after the group met on the "carnival circuit". The 32-year-old accountant said: "I love the fact that it brings people to the island. I love the fact that it's a happy time in general, all the negativity gets pushed to the side and people are having a good time, there are positive vibes." Ms Griffith's friend Vicky Gunraj, 29, from Miami, was at her sixth carnival in a row, after taking part in festivities in Jamaica, the Bahamas, the Cayman Islands, Guyana and Trinidad. The policewoman said it was her third year at the Bermuda Carnival. She added: "I love Bermuda. It's safe, it's clean." Gabrielle Virgo, 59, visited from Maryland with her husband Ernest Carter, who celebrated his 65th birthday yesterday. She said: "We came for his birthday and here we have a festival, so it worked out wonderfully. We did not know the carnival was on this weekend until we got here, it was a very pleasant surprise. I like the colors, the culture, the camaraderie — it's a lot of fun."

Insurer BF&M Ltd posted a $4.8 million profit for the first quarter of 2019, up from $3.1 million in the corresponding period last year. John Wight, the company's group chairman and chief executive officer, said: "BF&M reported good results for the first quarter of 2019. Our earnings were driven by the strong performance of both the property and casualty operations and our life and health business. This, combined with solid investment results, helped to offset higher overall loss experience in the quarter." BF&M offers property and casualty products as well as health, life, annuities, pension products, investment advisory and financial planning services. Three of the group's four main operating companies — BF&M General Insurance Company Ltd, BF&M Life Insurance Company Ltd and Caymanian-based Island Heritage Insurance Company Ltd — are rated A by ratings agency AM Best, while the Insurance Corporation of Barbados Ltd is rated A-. Mr Wight added: "BF&M continues to hold the highest ratings attributed to domestic insurers in Bermuda or the Caribbean. This reflects our ability to be there for our customers when they need us — a message that is all the more meaningful at the start of the 2019 hurricane season." Equity attributable to shareholders at March 31 this year was $279.5 million. BF&M said general fund assets totaled $1.2 billion of which $140.8 million was held in cash and cash equivalents. Gross premiums written for the period were $98 million, driven by growth in home insurance business experienced in several islands in the Caribbean. With increased premiums written, the company also benefited from increased commissions on business ceded to the reinsurance market. Commission and other income increased from the prior year by 6 per cent to $13.7 million. Shares of BF&M closed at $17.05 on the BSX yesterday, giving the company a market valuation of about $150.5 million. The stock is up 5.2 per cent this year to date.

A pedestrian was in hospital this evening after a crash with a police motorbike in Hamilton. The woman, who was thought to be an American visitor, suffered a leg injury as well as suspected head injuries. A police spokesman said it appeared the officer was responding to "a call for service" when the crash happened as the pedestrian tried to cross Burnaby Street, near DHL Express, at about 5.25pm. He added she was understood to be receiving treatment at King Edward VII Memorial Hospital. It was reported earlier that the motorcyclist suffered "abrasions" and the bike was also damaged. The spokesman said traffic was diverted for two hours while investigations were carried out. Witnesses were asked to call police on 295-0011.

A 13-year-old boy was punched by an armed robber who also attacked his mother and stole her bag yesterday. Police said the pair were exploring Blue Hole Hill Park in Hamilton Parish and left a paved path to take a dirt trail, which led to a cave entrance. The teenager and his 32-year-old mother, of Paget, came across a man in the trees, who pushed the woman to the ground and brandished a knife. A struggle broke out and the boy tried to help but he was punched by the stranger. The woman managed to fight off the attacker and run to the road where she flagged down a passing motorist, who called 911 at about 5.30pm. Her son also ran to get help and neither of the pair were seriously hurt but the man ran off with the mother's beach bag, which contained personal belongings. A police spokesman said: "The scene has been processed and a search of the Blue Hole Hill Park area by police officers, with the assistance of a K9 unit, concluded Sunday evening without locating the perpetrator, but efforts to trace his whereabouts continue." The attacker was described as about 40 years old, 6ft 2in, with a caramel complexion. He wore an olive green camouflage shirt, which had the sleeves cut off at the shoulder, and similar coloured cargo pants. It was initially reported that another child — a girl — was with the mother and son but police confirmed later that only the two were involved. Witnesses, residents of the area or anyone with information that could help were asked to call the Criminal Investigation Department on 247-1744 or Crime Stoppers on 800-8477.

Three women, including an 81-year-old, thwarted a robbery when an armed man targeted a liquor store in Hamilton Parish. Police said the suspect went into Howzat on North Shore Road at about 8.40am on Sunday "brandishing an unknown object covered by a white cloth", possibly a firearm. The man demanded money from a staff member, a 57-year-old woman from Smith's, and a struggle broke out. She was helped by her 81-year-old mother as well as her colleague, a 28-year-old Warwick woman. The would-be robber was forced to flee empty-handed on an unknown motorcycle along North Shore Road." He said none of the three were seriously hurt but the 57-year-old woman suffered scrapes to her arms during the struggle. The suspect is black, slim, about 5ft 8in and wore dark clothing and helmet. Anyone with information is asked to call the Criminal Investigation Department on 247-1744 or CrimeStoppers on 800-8477.

Performing artists will attempt to put a smile on faces in a polarized world through the 45th Annual Bermuda Festival next year. The event, which will take place from January 17 to March 14, will have the theme "Come Together". Festival chairman David Skinner said: "We wanted a theme that would reflect unity and collaboration. In an increasingly polarized world, we recognize the power of the performing arts in bringing people together and we thought this theme would be timely and would convey that message." Organisers also hope to encourage more Bermudian talent through a new proposal process for potential artists for the 2020 or 2021 Festivals. Mr Skinner said: "The Festival receives hundreds of submissions every year from overseas based artists, members of the public and even visitors to Bermuda who attend the Festival. Our office team, along with the Programming Advisory Committee, diligently review these submissions and seek to include as many local artists as possible in each upcoming year's programme. We recognize, with pride, that there is world-class talent emanating from our own shores as evidenced by the number of Bermudians over the years who have gone on to develop brilliant internationally acclaimed careers in the performing arts. It is difficult in Bermuda to get the type of exposure needed to develop one's talent and skills in these areas, and the Festival wants to encourage local artists to put their best foot forward. We hope that standardizing and publishing the criteria for selection will help." There will be potential openings for artists within three categories: headline acts, opening acts and pre-show acts. The submission process will require all prospective artists to submit a written proposal and supplemental information. For more information, e-mail to adminoffice@bermudafestival.org or call 295-1291.

An American who has been pen pals with a Bermudian for 52 years has set foot on the island for the first time. Marsha Thomas, 64, from Sparta, Illinois, describes Juliana Swan, 63, from Pembroke, as "family" and says she has fallen in love with Bermuda. Ms Swan first wrote to Ms Thomas when she was just 12 years old after reading a pen pal column in an Archie comic book her parents had forbidden her to read. The pair stayed in touch ever since and she has visited Ms Thomas in Illinois on several occasions. Ms Thomas recalled: "When Juliana wrote to me I thought, 'Bermuda, that's cool'. She sounded very interesting so I wrote back and we have written back and forth, and sent each other pictures and mementoes over the years. We have both raised children and she has been to visit me. This is my first time here. I just retired and it was on my bucket list." Ms Swan, who worked in the medical field, as a reserve officer and now for the Ministry of National Security, said: "The first letter was basic, 'Hello, I live in Bermuda and got your name out of the comic book. Then we would write about our schools, grades, brothers, sisters. My first visit was when her daughter got baptized in 1978 — I just had a baby in '77 and I flew out. It was exciting — it felt like my family. Nowadays we keep in touch through Facebook. The first time we met it was like the long-lost sister you hadn't seen for ever." Ms Thomas, who worked for the Department of Children and Family Services in Illinois for 30 years, arrived in Bermuda last Thursday and the two pen pals have been touring the island. She said: "I am still amazed at how blue the water is. My favourite part so far was going to Horseshoe Bay. I'm impressed with the colors of the houses and everything is so clean here, too. It seems like she knows everybody here. She was tooting everyone in the car. I love it." Ms Swan recalled how she took her young daughters to Illinois 36 years ago because they wanted to see snow. Ms Thomas laughed: "It was one of the coldest winters we'd ever had! My husband and I picked them up at the airport and there was slushy snow on the parking lot. The girls were so excited, but it was just this dirty, grey snow. But when we got home they played in the white snow." Ms Swan, who is godmother to Ms Thomas's eldest daughter, added: "Marsha met both of my daughters again today. They still remember that trip vividly." Both pen pals reflected on the dying art of letter writing. Ms Swan said: "People seldom write letters now. I wrote a letter to my friend the other day in Atlanta — she asked why she didn't call her on the phone. She had been down about stuff. I didn't ask about it, but she said it made her cry and that it was the nicest thing anyone could have done for her. I get friends little cards when I go away." Ms Thomas added: "I think people are just too busy for it nowadays. I still send cards to my friends." Asked whether she intends to return to Bermuda, Ms Thomas said: "I would like to, and I'll bring my husband next time."

Rising costs and a drop in sales have forced a garden and pet supply store to close, its owner said. Jennifer McCarron said that Animal & Garden House, on Cemetery Road, Pembroke, would end operations this month. She said that keeping the business open had "become a daily struggle". Ms McCarron added: "You're just pouring out money and there's no Band-Aid right now to fix it. There's nothing coming down the pipeline to give a boost to the economy. It's just another family business that's forced to close its doors." Ms McCarron said the store has three employees and that her children often help out as well. She said that breaking the news to her staff had been hard. Ms McCarron, who has owned the business since 2009, said she had decided to close a few weeks ago. She said that decision felt like "a huge weight off my shoulders". The Warwick resident explained: "You try to find all sorts of ways just to try compete and stay in business." However, she said that her business did not have the buying power of her larger island competitions. Ms McCarron added: "People look at the differences in prices. Our overhead is totally different than theirs." She said that a number of factors, including higher rent, bank fees and health insurance, as well as decreased traffic to her store, had led to her decision to close shop. Ms McCarron added the business had seen a drop in sales for "well over a year. You just don't see anything in the economy changing. Nothing is coming down the pipeline bringing people to the island — because that's what we rely on." Ms McCarron said that the growth of online shopping had also hit her business. She said: "It's such an easier way of shopping these days. People don't have to leave home any more to do their shopping." Ms McCarron said she had mentioned her business closure to David Burt, the Premier, at a meet and greet for constituents held in Warwick at the weekend. She said that Mr Burt had suggested a future meeting between the two. But she added: "It's just too late. The wheels don't work fast enough to make changes. The sales decline has gone on for well over a year now." Ms McCarron said that she will be looking for a job as of next month. She added: "Finding jobs out there is another difficult matter." The store will have a closing sale on June 30.

Bad news for lionfish eaters — the local supply of the delicious nuisance fish is about to shrink. Reefsweeper, a remote operated vehicle used by company Atlantic Lionshare to spear, collect and sell lionfish, is moving to Destin, Florida. "This was always part of the plan," said Elizabeth Martin, who founded Atlantic Lionshare with her husband Darius in 2014. "Florida gave us $50,000 towards our research and development. Part of that contract specified that we had to be in Florida, around June 2019, removing fish for them. We have stayed here as long as we can, but we do have obligations to go to other places." Mr Martin and his son Nick, plan to drive their $320,000 ROV to Florida on the company boat, Atlantic Security, later this month. "It should take about a week to get there," Mrs Martin said. Mr and Mrs Martin are Bermudian, and will continue to live here. "No one is quitting their day job," Mrs Martin said. She said Florida's lionfish problem is much worse than Bermuda's. "They had a tournament in Florida a couple of weeks ago, and in four days divers caught almost 20,000 fish," she said. By contrast, their ROV only picked up 48 lionfish over a 7-hour fishing expedition last week. Bermuda has a lionfish problem because the Gulf Stream has brought them up from Florida, so Mrs Martin reasons that solving the lionfish problem down south, will benefit Bermuda. Atlantic Lionshare will be working with the Florida Fish and Wildlife Conservation Commission to cull the lionfish around Florida and the Gulf of Mexico. Mrs Martin said they are taking their time as a company, right now, but will probably have to buy more boats and build more ROVs like Reefsweeper, to keep up with the problem there. She said despite all the lionfish in Florida waters, divers still have trouble collecting enough fish, consistently, to keep restaurants supplied. "If they want to make a menu item they need to keep consistent amounts and be able to offer that consistent plate of food," she said. "If they can't count on the fish showing up every week they can't do that." The Martins first had the idea for the lionfish-catching ROV, in 2014. "I asked my husband if he had time on a Friday to get us a lobster for dinner," Mrs Martin said. "He had just enough time to go out and hit one of his honeyholes." But when Mr Martin got there he was disappointed to find a lionfish living in his favourite lobster hole. "Lobsters and lionfish like the same kind of holes," she said. "If a lionfish kicks a lobster out, he won't go back in. So we discussed the problem, what needed to be done and jumped in." They had an entrepreneurial spirit, but no experience with lionfish. Mrs Martin is an insurance broker at Atlantic Security Ltd in Hamilton. Mr Martin runs Island Pool Service, and his son Nick runs Bermy Blue Pool Service. They found a robotics team in Dexter, Michigan to help build their ROV. "The concept was to build an ROV that would successfully remove lionfish in commercial numbers at deep depths with no bicatch," she said. The first prototype arrived in 2017, but didn't work properly. "That was a suction-only machine," she said. "It had an amazing amount of suction, but it wasn't enough." What they hadn't taken into account was that lionfish spend their entire lives fighting back strong suction in the form of tidal currents and surges. "The little stinkers stuck their fins into the side of the rock and just held on," Mrs Martin said. "I said okay, round two." From a boat, operators use cameras and lasers to spot the right fish, aim, and shoot it with a spear. The fish is then sucked into a collection basket. "Our shallowest fish was caught in 63ft and our deepest was in 490ft," Mrs Martin said. She urged Bermuda to continue to support local cullers, and the Bermuda Lionfish Taskforce. "Without their efforts, lionfish will destroy our reefs," she said. "Our lionfish population is not as bad as Florida or the Bahamas, but it would be without all the local efforts going into controlling the numbers."
• For more information see atlanticlionshare.com or their Facebook page.

June 17, Public Holiday

June 16, Sunday

A multinational task force tackled a simulated bomb alert at a hotel in St Vincent at the weekend as part of their Tradewinds training exercise. Troops from the Royal Bermuda Regiment joined forces with Caribbean, American and French forces on a security exercise which featured an abandoned suitcase leaking fluid in a hotel lobby. The security team, which evacuated the Blue Lagoon Hotel in the Ratho Mills district of St Vincent and the Grenadines, and bomb disposal experts were delivered to the scene in an RBR vehicle with a police escort. Private Camille Jones, an RBR signaler who acted as the team's communications specialist, said: "I'm with the Explosive Ordnance Disposal team and transmitting what's going on to the commanders back at base." The 24-year-old bank customer services assistant from Smith's added: "I'm enjoying the trip and the adventure. It's been amazing. It's been great working with all these different countries. I've met people from all over the world." Private Jones is part of the 120-strong RBR contingent on phase two of Exercise Tradewinds, a major security and disaster relief training programme involving 22 countries. Corporal Douglas Caesar of the Royal St Vincent and the Grenadines Police Force, who was among the first responders to arrive at the scene of the bomb exercise yesterday, said he had participated in the annual Tradewinds exercise, run by the United States military's Southern Command, when it took place in Antigua and Jamaica. He added: "I'm not directly involved this time, but I know it's a useful exercise. You never know when you might be called on to assist your sister countries. It's training everyone to one standard so there won't be any hiccups. It's also building bonds of friendship with places like Bermuda." Bermudian soldiers joined troops from other countries in reaction to a scenario based around a terrorist mass shooting at a cricket match at the Arnos Vale sports stadium in Arnos Vale. A sweep of the stadium found a "bomb" and RBR soldiers deployed a cordon around the stadium. RBR medics set up an emergency triage post and prepared to treat casualties from the incident while bomb disposal experts disposed of the device. RBR Lance Corporal Donavin Trott-Burchall, of Boat Troop, but seconded to B Company for Tradewinds, said: "We're doing a perimeter check, looking for the suspects — six people in two vehicles. I'm enjoying the whole experience. I like traveling to new places and the people here are really nice." The 26-year-old from Devonshire added: "The great thing about the Regiment is that you get to travel, meet new people and you build lifelong relationships with your fellow soldiers." Captain Shaun Richards of the Trinidad and Tobago Defence Force, who acted as part of the Regional Observer Assessment Team, said the different countries involved were still in the early stages of working together. He added: "There are things which will need to be worked on, but this is a learning experience. I am sure everyone involved is learning a lot and it's good for all the countries taking part in Tradewinds." Edward Rodgers, the US Southern Command deputy divisional chief for training and exercises and a former US Marine Corps officer, said after the stadium scenario: "Each day everyone is getting better. There was some good training today. They were able to respond in a timely manner and the casualties were treated as fast as possible. It's an improvement on yesterday and we expect more improvements as the exercise goes on." Tradewinds was designed to build increased regional co-operation in complex multinational security operations, as well as humanitarian assistance and disaster response work. Countries taking part include Antigua and Barbuda, the Bahamas, Barbados, Belize, Bermuda, Britain, Canada, Colombia, Dominica, the Dominican Republic, France, Grenada, Guyana, Haiti, Jamaica, Mexico, the Netherlands, St Kitts and Nevis, St. Vincent and the Grenadines, Suriname, Trinidad and Tobago and the USA.

June 15

Premier David Burt will travel to Costa Rica to watch Bermuda's historic first Concacaf Gold Cup match against Haiti tomorrow. The Premier also announced the Government had provided $100,000 to the Bermuda Football Association to support the national team's preparation for the tournament. He said: "This is historic, Bermuda's first appearance in Concacaf's most prestigious competition. This is a tremendous accomplishment for these young men, they have made all of Bermuda proud." Mr Burt said sports minister Lovitta Foggo would attend Bermuda's third group match, against Nicaragua in New Jersey on June 24. Other ministers and MPs will attend games at their own expense. The Premier hosted a farewell reception for the team at Barr's Bay Park last week. He added: "I am grateful to have met with the players and coaches during the farewell reception to offer my warmest congratulations on their success. Bermuda has played well, fought hard, and they have earned a well-deserved spot at the Gold Cup. This is an exciting opportunity and we wish our young men the best." He also thanked the companies that released players from their work responsibilities to represent Bermuda.

Community homes for mental health treatment in Bermuda are to be funded by the Government, the Premier pledged. David Burt said that funding for the homes would come in the "very near future". The statement drew applause from the audience at the second day of the Adverse Childhood Experiences conference at the Hamilton Princess & Beach Club. The event examined the lasting impacts of traumatic events in childhood. Mr Burt told attendees: "The Government will be funding, and making sure that we make funding available, in the very near future — at the latest at the next Budget session, but possibly even before — through the Social Development Committee, to fund community homes so there can be mental health treatment inside of communities, because we know that that is a significant gap right now inside of our community." He said that one of Bermuda's challenges was how Aces present themselves in mental health challenges for youth and adults. Mr Burt added the homes would help to solve "the lack of that continuum of care for persons once they pass 18". He said that support services offered in Bermuda "are not enough". Mr Burt added: "Our system of social support is under stress." The Premier said that in his two years as leader he had heard the "traumatic stories" of parents who were trying to help their children who struggle with mental health and behavioral issues. He added: "It became evident, after the first I would say year in office, that we needed to do more from the Government on the social services side. We have challenges here in this country that have to be addressed and the resources have to be put in place in order to address them." Mr Burt said that a Cabinet committee dedicated to social development issues had started its work. He added: "The lens in which we will view all of our policy implementation is one that makes sure that we address these issues which so many of our helping agencies are facing." Mr Burt said that Aces were a health risk that had a "tremendous impact on future violence, victimization and perpetuation, and lifelong health and opportunity". He said that untreated Aces were also responsible for increased healthcare costs to the Government and employers, loss of job productivity, and loss of earnings for employees who miss work. Mr Burt added: "The wide-ranging health and social consequences of Aces underscore the importance of preventing them before they happen. Safe, stable and nurturing relationships and environments for all children are essential and can have a positive impact on a broad range of health and behavior-related issues, and on the development of skills that will help our children reach their full potential." Mr Burt said that it was not always possible to prevent trauma. He added: "We can control the procedures, programmes and support that is put in place to combat and mitigate these Aces. It is our job as a Government, and also as a society, to help guarantee that children in need are given the necessary support to thrive. This is our opportunity to build that better future." Martha Dismont, executive director for Family Centre, closed the ceremony saying she was encouraged by Mr Burt's invitation to her to meet regarding the way forward for mental health treatment in Bermuda. She said: "I always have mixed interactions with Government. The Government doesn't typically involve the social sector aside from Government, but he has a listening ear — so we want to ask questions about that. I told everyone in the room he has invited me to a meeting and I want as many of you to come as possible and I am serious about that. We need to talk about these real issues."

Hundreds of elated Bermuda fans will cheer their team from the stands for the island's historic first appearance in the Concacaf Gold Cup. Sports lovers told The Royal Gazette they will bring pink and blue to Bermuda's biggest matches in decades and watch history unfold. Bermuda kick off their campaign tomorrow against Haiti in San José, Costa Rica, at 7pm Bermuda time. They will also play group matches against Costa Rica in Frisco, Texas, on Thursday, and Nicaragua in Harrison, New Jersey, on June 24. The advice from David Sabir, the Bermuda Football Association general secretary, was: "Make it a Bermuda day." The biggest Bermuda contingent is expected for the final group match against Nicaragua at the Red Bull Arena in New Jersey. Among them will be veteran coach Paul Scope, who hopes to witness "the one that decides whether we go through to next round — even if we don't manage before that, that's the one that's winnable". Mr Scope said: "The Gold Cup is huge. I've been in Bermuda for 35 years; I've been in football all that time. I came in 1983 and heard about the team [in 1967] that went to the Pan American Games. We had some talented players — that was the last golden era." Bermuda could only advance so far towards the World Cup, Mr Scope said: aiming for the Gold Cup was "more realistic. Here we are, all these years later, deservedly qualifying. We're a much more resilient team now." Mr Scope said he saw that same mettle in Bermuda's historic qualifying win in March against the Dominican Republic. A win against Haiti would be "unbelievable", he said. But even coming home from three narrow defeats would do Bermuda proud. "A lot of friends are making a holiday of that and Dallas, and I hear there's a lot of people going to New Jersey, as well as people that used to live in Bermuda. There's a real buzz, for sure." Mr Scope said draping himself in the flag was not his style. "I'm a coach at heart," he said. "I'll be analyzing the game." With a capacity of 25,000, the Red Bull Stadium, purpose-built for football, promises a "great atmosphere" for the crowd, Mr Scope added. Nick Ingham and other Robin Hood footballers are banding into a posse of ten for their trip to Dallas for the Costa Rica match, which begins at 10.30pm Bermuda time. He said: "I've never got the opportunity to see my country play in the big stadium. For us, it's a boys' trip to support Bermuda and have fun." Mr Ingham, who plans to buy a pink Bermuda replica jersey as well as shirts advertising Barritt's Ginger Beer, said his contingent will bring "cheers, chants and singing" to the stands in Texas. "It's a real mission to go — two flights, then add in the hotel, so you want to make the most of it," he said. "I know the coach [Kyle Lightbourne, the former Robin Hood coach] and a couple of players on the team. They'll know we're in the stands. We'll give them the support and see a smile when they hear their names." Teddy Terceira, general manager of the Rubis Warwick Gas Station, said: "As soon as they qualified, me and some buddies put a group together. We're traveling to Dallas and then to New Jersey to watch Bermuda play. It's a big deal; it's the first time we've qualified in my lifetime for a proper tournament. Without a doubt, we'll have flags, shirts, hats, air horns. They will hear us; we will get a good voice in the stadiums." Mr Terceira added that he hoped to see "at least 500 Bermudians, if not 1,000, in New Jersey". Stephen Simons, president of the Robin Hood Football Club, said of the national team: "They know they've made a bit of history. There's that excitement. I think we can catch a few of these teams and upset the applecart." Mr Simons's group of 15 is headed to Costa Rica and then Texas to "cheer for our boys". He added: "I've played internationally, so I know how it feels to have friendly faces in the crowd. We're taking the flag, for sure, and we're bringing quite a few things to make noise. Anything to be loud." Mr Sabir said this week that the BFA had sold "well over 100" tickets to the New Jersey match, with 30 for Costa Rica and 20 for Texas.

Finance minister Curtis Dickinson will highlight opportunities for bilateral trade and investment on a trip to Toronto. Mr Dickinson will lead a delegation of government, regulatory and industry representatives at a multi-industry forum hosted by the Bermuda Business Development Agency at The Ritz-Carlton Toronto on Wednesday. The group will also attend scheduled business development meetings around the city. The forum will feature panel discussions, thought-leadership sessions and networking opportunities for investors and businesses interested in learning more about the island. It is the sixth in a series of overseas multi-industry showcases, following similar events in London, New York and Miami over the past two years. It is the first in Canada. BDA CEO Andy Burrows said: "We're looking forward to meeting civic leaders, media, investors and industry executives during the forum and related meetings. The aim is to increase awareness of Bermuda as a gold-standard international financial centre and underscore our jurisdiction's historic and mutually beneficial relationship with Canadian markets." The Consul General of Canada in New York, Phyllis Yaffe, will help launch the forum with a fireside chat-style conversation with Mr Dickinson. Lucia Gallardo, a fintech entrepreneur who has partnered with the United Nations to leverage blockchain systems to help resettlement of refugees, will make a keynote presentation. Industry sessions include participants from more than 30 Bermuda-related entities, including AMBIKA, Aon, Appleby, ArcTern Ventures, ASW Law, AXA XL, the Association of Bermuda Insurers & Reinsurers, Bennett Jones, the Bermuda Insurance Management Association, Bermuda Monetary Authority, Bermuda Tourism Authority, Butterfield Bank, ChainThat, Conyers, CryptoScan, Deloitte, Estera Services, Exponential Ventures, EY, Fasken, Insurance Bureau of Canada, KPMG, Kroll Bond Rating Agency, MQ Services, Outlier Canada, PwC, Quest Management Services, RGAx, SALT Lending, and Shyft Network. The BDA said Canada is one of Bermuda's most significant economic partners, with two-way trade between the two nations amounting to $2.6 billion in 2017, and $37 billion in mutual assets and investments. Bermuda supports an estimated 25,000 jobs in Canada, including 15,000 from multinational companies in Bermuda and their Canadian affiliates and represents Canada's fifth-largest export market in trade and services. Only the United States, Britain, Germany and France are greater Canadian export markets.

The Bermuda Monetary Authority has fined Estera Services (Bermuda) Ltd $500,000, the financial-services regulator announced yesterday. The BMA said the civil penalties were imposed under the Trusts (Regulation of Trust Business) Act 2001 and relate to deficiencies in the corporate services provider's anti-money laundering and antiterrorist financing programme. Estera was formed in 2016 by a management buyout of what was previously known as Appleby Fiduciary Services. The BMA said the deficiencies "predated the acquisition". In a statement yesterday, Estera said: "The fine relates to missing the deadline for the documentary remediation of historical client files. Our client records have now been fully updated and independently reviewed and Estera Services (Bermuda) Ltd can confirm the portfolio is compliant with regulatory requirements. Estera has invested significant capital and resources to implement enhanced client-related procedures to maintain the highest standards of compliance." The BMA stated: "The civil penalties have been imposed for the company's failure to adequately comply within a specified timeframe with certain requirements of the Proceeds of Crime (Anti-Money Laundering and Anti-Terrorist Financing) Regulations 2008 (the Regulations), and specifically the regulations relating to the application of customer due diligence and enhanced due diligence, internal controls, and risk assessment." The regulator said it had required the deficiencies in the AML/ATF programme to be rectified by the end of 2017, but Estera failed to make deadline. The regulations had been in effect since 2009, and that this case highlighted the importance of licensees having up-to-date AML/ATF measures in place and that they should deal with shortcomings identified by the regulator "within reasonable time frames".

Construction will proceed at the Caroline Bay residential development at Morgan's Point under an agreement to revive its financing, the developers announced yesterday. It came the day after Curtis Dickinson, the Minister of Finance, sounded the alarm over a "standstill" in financing for the development. Mr Dickinson said the Government faced risk from its $165 million guarantee on the project. The development is part of a complex at the former United States military base, which was downscaled last year after costs outpaced its financing. Contractors linked with the project have gone unpaid, sources told The Royal Gazette this month. A spokesman for the developers said: "Caroline Bay Limited, its board of directors, and board chairman Brian Duperreault, announced today that it has entered into an agreement which will provide the financing to continue construction of the Caroline Bay development. Since the outset of this project, our commitment to and confidence in Caroline Bay has been steadfast. We appreciate the patience that our construction partners have shown and are grateful for the ongoing co-operation and assistance of Government. We look forward to continuing the work at Caroline Bay." The developer declined to elaborate on the source or amount of the financing.

Hundreds of people packed out Shelly Bay for a fun-filled National Heroes Weekend Raft Up today. Nearly 100 boats rafted up for a lively feast of pure soca in the sea despite the looming threat of rain throughout the day. Residents and visitors turned up early to stake their place on the beach as the music barge and pleasure craft made their entrance into the bay. Jasmine Earle and Nikki Baker travelled to Bermuda from Toronto and Atlanta respectively to attend the holiday weekend's carnival events. Ms Earle said: "It's our first time in Bermuda, it's a really beautiful island. Everyone is really nice and super hospitable. We go to all of the carnivals, we've been to Trinidad, Jamaica, St Lucia. I think it's great that Bermuda has its own carnival now, I think every country in the Caribbean area should have their own carnival. You can't compare them — each country has its own take on it. There's always going to be a different feel. I thought about coming to Bermuda before but when I saw it had a carnival I thought I would kill two birds with one stone." Larraine Stevens, a Bermuda resident, was there with her six-month-old son Xi'on Stevens Simons early in the day. She said: "I love coming to the raft up because it's a family event and I enjoy the atmosphere. When I came last year I was still pregnant with Xi'on. We are here with a few friends and also my eldest son and we'll be here all day. I'd like it a bit sunnier but at least there's no rain." Kejon Trott, who was in a party mood, told The Royal Gazette: "I love the raft up for the women and the music — I'm a soca fiend. I love the atmosphere here. I will also be playing mass in the parade. I'll be with Party People." As the day wore on the party atmosphere revved up a notch and the MC got everyone in the mood for drinking and dancing. Shondenae Woods had two tanks strapped to her back that she was about to fill with alcohol. She said: "The liquor comes out of these two taps at the side. There's three of us girls and we are going to hydra-bike the liquor out to the everyone in the water. It's really nice here today. Everyone looks like they are having a lot of fun." John Filson, Jean Mutombo and Jonathon Camacho were visiting from London and preparing to go for a swim and dance in the water. Mr Camacho said it was one of many carnivals they had visited. "The music is good, the scene looks good and the atmosphere is sublime. Bermuda's carnival is in its fifth year and it is still finding its feet." Leslie Simon from Houston, Texas, brought with her a gigantic inflatable chill island to float on the ocean with her girlfriends. She said: "We came especially for carnival. It's my first time, I love it. We were going to go to Aruba but it was too expensive. We are staying in a B&B which works out a bit cheaper. I'm impressed by the people in Bermuda and the culture and I love that you have the English accent with a little bit of Caribbean. I love the accent." Despite the cloud cover throughout the day the temperature was hot and Jazzy Treats served up cold snacks including snowballs and sherbet shakes. Alfred Butterfield, the stand owner, said: "It started off slow today but its really hot and people are getting thirsty."

The executive of the Bermuda Cricket Board has announced the appointment of new marketing and fund development manager, Rajan Simons. In this new role, Simons will be responsible for event management, media schedules, website maintenance and social-media management, marketing campaigns, content creation, sponsorship proposals. Simons joins the Bermuda Cricket Board from The Royal Gazette, where she was a digital content specialist for the print commercial products for two years. "The opportunity to work at the BCB is unique — providing the opportunity to combine my passion for marketing and digital content with Bermudian culture and sport. I intend to make the most of my experience using my skills as a young creative, at an organisation that is a strong pillar in the community." On her appointment, Calvin Blankendal, the executive director, said: "The BCB welcomes Rajan Simons into her new role and looks forward to having her promote the sport of cricket in Bermuda. In addition to her marketing expertise, she will aid the BCB in maintaining excellent relations with stakeholders and foster new partnerships with corporate entities." Also joining the team as a summer intern is 22-year-old Nilson Vieira. Having already completed an associate degree in sport administration at Niagara College in Canada, Vieira will be returning in the autumn to study for an associate in business. "I hope to work with sports organisations in Bermuda in the future and I am excited to have been chosen to do an internship at the Bermuda Cricket Board." Viera said.

Two competitors from the 1960s will take centre stage at the 75th Edward Cross Long Distance Comet Race on Monday. Colin Pearman, 87, who took part in the 1964 race, which features the two-person, Comet class one-design. Mr Pearman competed in Oriole, which he built himself, and this time will be the official starter when the race gets under way at the West End Sailboat Club on Watford Island, Sandys at 11am. Warren Foggo Jr, 79, who competed in his own boat, Iona, in 1969, will present the awards after the race finishes at East End Mini Yacht Club after 3pm. Organizer WESC, said older members were invited to get involved in recognition of their efforts getting sailing clubs up and running. Mr Pearman said: "It's an honour to start the race. It gives me the opportunity to give back to the comet organisation the joy I got from sailing." Mr Foggo said: "I feel very good about making these presentations. I feel honoured to be asked." Mr Pearman recalled how he fell in love with sailing after being introduced to it by a friend when he returned to Bermuda from college. He said: "I enjoyed it so much that I thought about getting a Comet of my own. I couldn't afford to buy one, but I knew a little carpentry so I decided to build one." He had that boat for about ten years. Mr Pearman described Comet racing as an important part of Bermuda's history. He said that all Comet racers built their boats in the early days of the sport, and often used them socially and for work. Excluded from the island's sailing competitions because of segregation, the clubs organised their own race for the mid-June Queen's Birthday holiday. He said: "It was quite popular back then especially for those who did sailing. This was what the black guys did at the time. The Comet provided a springboard for many to race and sail." He said all boats are now imported, but added: "It has changed for the better." Mr Foggo built Comets for other people as well as his own. He recalled the excitement of the race throughout history, and said up to 40 boats participated when he raced 50 years ago. Noting that 16 boats will take part this year, Mr Foggo added: "There aren't as many boats now as it was in my time." A spokesman for WESC said: "This year's race has proved to be an opportunity to bring the clubs and the community together in a very special way. This race honours and celebrates those members of the various clubs who have worked hard to keep this race going for this its 75th year." Participants in this year's race include last year's winning skipper, Malcolm Smith, sailing for WESC in Summer, and the most successful skipper in the race so far, Stevie Dickinson, sailing for EEMYC in Kitty Hawk.

Every business on the island should understand the wider consequences of traumatic childhood events because of the huge financial impact, a data analyst said yesterday. Tara Hines, of the Bermuda Health Council, explained that the country's healthcare spending included treatment of conditions, like chronic diseases, that were linked to challenging circumstances during younger years, which included abuse, bullying and witnessing a road crash. She delivered the preliminary results of a survey carried out by the BHeC in partnership with Family Centre at the second day of the Adverse Childhood Experiences conference and said that industries were affected. The council's national health accounts report showed that 11.5 per cent of GDP was attributed to healthcare costs in 2017, a total of almost $723 million and equivalent to more than $11,000 per person. Ms Hines, a project associate in data analytics and outcomes research, pointed out that Bermuda did not have "the highest life expectancy, but we certainly spend a lot". She added: "The question is about the quality of the dollars that are going in to an experience that is lacking the social determinants understanding." Ms Hines told the conference: "Whether or not this is out of pocket, insurance coverage, financial assistance, government pieces, this is all getting paid for, we are constantly shelling out dollars to ignore the impact of adverse childhood experience." She said the issues were important to "every single industry" because companies pay for half of their employees' health insurance standard premium rates. Productivity loss, healthcare, legal activities including the criminal justice system, child welfare and special education, also contribute to the lifetime costs, which Ms Hines explained could be anywhere from $124 billion to $598 billion over a lifetime "due to childhood maltreatment and adverse childhood experiences". She added: "I realise that these numbers probably start to run together but I don't know a more motivating way than to look at that and say, 'maybe this is important'." Ms Hines explained that the survey questionnaire, which had more than 600 respondents, often asked if people had directly experienced the adverse experiences as well as whether they had seen or heard them. She added that in the context of Bermuda "trauma was just as powerful ... if people were indirectly experiencing it as if it had occurred to them directly themselves". Ms Hines said almost 50 per cent of those asked said that at some time they experienced bullying. She added: "For bullying it was more likely that anyone who identified as black had directly experienced it and anyone who identified as white had witnessed it, so I think that that is a very telling and important point." The questionnaire also considered racial pressures by asking how often the individual felt that race impacted their emotional or mental wellbeing and how often they felt they were treated unfairly as a result of their race, both as a child and today. Ms Hines said: "These questions have never been a component of the adverse childhood experience research previously. This does provide some small avenue to be able to assess this in relation to chronic disease, in relation to people who report the inability to concentrate or to function or to leave their homes, the inability or the pessimism that we see when somebody indicates that they do not feel that their overall health is of good quality and yet have not listed a single diagnosed condition with that feeling," Ms Hines explained. "I think that those kind of details really speak volumes." She urged more men to take the survey, which is still available through Family Centre's website. Ms Hines added that she also hoped the Government and its Department of Statistics will offer more backing and introduce the research on a national level.

June 14

Bermuda's solders took their place among 22 other countries for the opening ceremony of a massive international disaster relief exercise in the Caribbean today. Island soldiers lined up alongside representatives of the armies, navies, coastguards and air forces of regional participants in Exercise Tradewinds phase two in St Vincent & the Grenadines. Private Gayon Burrows, who carried the Bermuda flag at the ceremony, said he was proud to represent his country and be a part of the exercise. He added: "It's been great so far. It's something new for me – it's my first overseas trip with the Regiment, so I'm pretty excited." The 21-year-old from Hamilton Parish, a drummer in the RBR Band & Corps of Drums as well as a member of humanitarian aid and disaster relief specialists B Company, said: "Apart from meeting people from different countries, I'm trying to get more discipline and an idea of what I can do as a soldier as well as a musician." Pte Burrows, a two-year veteran of the RBR, added: "If I hadn't joined the Regiment, I would never have done anything like this. I made the choice to join and I've never regretted it." Edward Rodgers, the deputy divisional chief of training for the US Southern Command, which organised the exercise, earlier told the opening ceremony for Tradewinds that it was an excellent training opportunity. He said: "We come together once a year to exercise. That's very critical. It builds friendships, trust and partnership with everyone else." It is the first time Bermuda has taken part in the exercise having only observed the training nearly 30 years ago. For the first time, Bermuda has deployed a full company of about 120 soldiers from Bravo Company. Mr Rodgers, a retired US Marine Corps officer, added: "It's good to see that Bermuda was able to attend and be a big part of phase two of the exercise. They have come with a good force, ready to train. We're very happy to have Bermuda back in the Tradewinds exercise." 1st Lieutenant Jishar Obergh of the Suriname Navy, said: "This is our first time here and we're enjoying meeting people from other countries like Bermuda." Leading Seaman Brad Northrup, a diver with the Royal Canadian Navy, added: "It's been pretty cool to see all the different aspects of life, how they do things and how it all comes together." Tradewinds was designed to build increased regional cooperation in complex multinational security operations, as well as humanitarian assistance and disaster response work. Nations participating in the exercise include Antigua and Barbuda, the Bahamas, Barbados, Belize, Bermuda, Canada, Colombia, Dominica, the Dominican Republic, France, Grenada, Guyana, Haiti, Jamaica, Mexico, the Netherlands, St. Kitts and Nevis, St. Vincent and the Grenadines, Suriname, Trinidad and Tobago, the United Kingdom and the United States.

Taxpayers could be left with a multimillion-dollar bill for the Caroline Bay residential development at Morgan's Point, whose financing has reportedly ground to a standstill. "Should the project go unfunded, we will be on the hook for $165 million," said finance minister Curtis Dickinson, who reminded at a hastily called press conference yesterday that the Government had signed on as a guarantor under the One Bermuda Alliance administration. "Genuine efforts by the developers have been made to secure financing and these efforts are ongoing. In the interim, the principals of the company have continued to fund their obligations mindful of the importance of keeping some work going on at the site. This funding appears to now be at a standstill. As such, this accounts for the sums owed to contractors and subcontractors who have, in good faith, done the work required. Understandably, some have now lost their patience. However, in addition to the issues surrounding non-payment to contractors and subcontractors, I have a wider concern based on my responsibility to safeguard the public purse, and to avert the risk to which the Bermudian taxpayer has been exposed, first, by the former government, and now, by delays in the project." Craig Cannonier, the Leader of the Opposition, warned against "pointing fingers". Mr Cannonier said: "Let's get everyone working again on this project." He added that the guarantee had been provided "if all else failed". Mr Cannonier said: "That does not mean that at every hiccup the project has that Government needs to pay out. An agreement was made. However, Caroline Bay must do all it can to secure financing. Had a guarantee not been provided, it may not have received the support it has been given up until now." Both the OBA and Progressive Labour Party have shown tremendous support for the project and what is needed now is to ensure we all work together to get things moving again." One of the contractors for the West End development said that he was still owed "not insignificant" sums. "We did grow impatient," said the man, who spoke to The Royal Gazette on condition of anonymity. "We also recognize that the best hope for it ending well is that a new deal gets done so that the project can continue." The contractor added that potential new investors had given "some assurance" that funding for the development could be revived. He pointed to similar scenarios at Tucker's Point and at Newstead Belmont Hills, where the developments were unable to meet financing targets, causing investors to step in and put the projects into liquidation. He said: "A lot of debtors were left holding the bag. The difference with this project is that the Government has guaranteed this sum. That is why financing needs, really badly, to come off." He added: "The potential investor's feedback on dealings with the Government were that they had been professional and extremely diligent." Construction was downscaled at Caroline Bay last year when costs overtook financing. Mr Dickinson said the Ministry of Finance was taking advice, and had met with Caroline Bay Development principals last Friday to discuss the "advanced" stage of negotiations for project funding. "We are doing everything prudent to protect the Government's position," he said. "There is much more to be done, however, to first secure financing to complete the project and to ensure a successful conclusion of the construction phase of the project." Asked by The Royal Gazette whether a scaled-down version of the development was under consideration, Mr Dickinson said: "The developers are looking at a number of potential alternatives — looking at the project as originally contemplated and also the potential of revising it." Mr Dickinson also said he wished to deal with "speculation" that the Government was preventing the deal from being finalised. A ZBM News report on Wednesday suggested that Cabinet was sitting on approval for licences in relation to financing and immigration. The finance minister said: "I am not allowed to discuss Cabinet deliberations, so I won't. I am not aware of any delays on any applications with respect to licences that have been delayed or even submitted." A series of crunch talks with developers took place in February 2018 based on a forecast that work on the site was likely to stop, workers could be laid off and contractors not get paid. Mr Dickinson said: "The persistent demands of the Government was that this could not be allowed to happen, as this country could not then, and cannot now, afford to see more Bermudians out of work. As part of the process to shore up the management of the project and other aspects of the operation of control of the development, the Government mandated changes to the corporate governance of the development company, and the marketing of the reconstruction unit was made the responsibility of a strengthened, more experienced team of realtors. While work continued at the site, the pace and scope consistently reduced to the point where it is now stopped altogether."

Lawyers for a man fighting for Bermuda status told London's Privy Council that his lack of status was "unfair" and an "anomaly". Richard Drabble, QC, told the court that Bermudian-born Michael Barbosa cannot apply for Bermudian status because he was born on the island to non-Bermudian parents. Mr Drabble argued that while those in Mr Barbosa's position are not listed in the Bermuda Constitution as "belonging" to Bermuda, the list was not exhaustive. He said: "There is a common-law category of belongers, Section 11.5 is a deeming provision. It puts beyond doubt that all those in the list are belongers and have the rights contained in the section. The language of 11.5 does not have the natural effect of excluding people from the category of belongers. The language is one of deeming, which brings people in." But James Guthrie, for the Ministry of Home Affairs, said the law was clear and unambiguous. Mr Guthrie agreed it was an "anomaly" that Mr Barbosa had lesser rights under the section than his wife, who was born in the Philippines. But he said Mr Barbosa was not "stateless" as he had British Overseas Territory citizenship and the right to live in Bermuda indefinitely. He said: "The question is what can be done about it if in the face of clear constitutional provisions? The answer is not to say the Constitution means something it doesn't mean." The case hinges on whether the list of "belongers" in the Bermuda Constitution excludes non-naturalized British Overseas Territories citizens who acquired their citizenship through their connection to the island. Courts in Bermuda heard that Mr Barbosa was born in Bermuda to non-Bermudian parents in 1976 and is a citizen of the United Kingdom and Colonies by birth. He was granted British Overseas Territories citizenship in 2002 and given indefinite leave to remain in Bermuda in 2013. But he launched a legal action in 2015 because he was not eligible to apply for Bermudian status or a Permanent Resident's Certificate. Lawyer Peter Sanderson argued at the time that Mr Barbosa belongs to Bermuda on the basis of common law. Bermuda's Supreme Court ruled in Mr Barbosa's favour in 2016 and found that he "belonged" to Bermuda, but the Court of Appeal overturned the decision later that year. Mr Drabble said that Mr Barbosa was a "belonger" by virtue of the fact he obtained British Overseas Territory citizenship by his birth in Bermuda. He said Section 11.5 of the Bermuda Constitution establishes several categories of people who can "belong" to Bermuda, but does not exclude those who obtain it under common law. Mr Drabble said: "It doesn't matter what the draftsman of the Constitution actually thought at the time of drafting. The constitutional principles that we have to apply are that Section 11 as a whole should not be construed in a way that cuts down the rights granted in Chapter 1 of the Constitution unless the language explicitly produces that result. The natural meaning of 'deemed' is to bring things in, not to exclude them." He added: "Mr Barbosa is not the only one affected by the anomaly. Our best estimate is some 300 people are in roughly the same circumstances and at least potentially the beneficiaries of a ruling on the section." Mr Guthrie however said the section is intended to define who is Bermudian under the Constitution and not to "bring in" more categories as suggested. He said: "We say the Court of Appeal were quite right to conclude that it is what it is and it cannot reasonably be read as anything else but intended to provide a list of those persons who belong to Bermuda. That is really that. It's not capable of enormous elaboration." The panel reserved their judgment until a later date.

After two oil tankers with links to Bermuda were apparently attacked in the Gulf of Oman yesterday, a shipping expert has expressed growing concern. He warned that freight rates and prices related to some commercial marine insurance could spike if blast incidents involving tankers in the region continue. A month ago, four tankers in the same area were damaged in what has been described as a "sophisticated and co-ordinated operation". In separate incidents yesterday the Front Altair, a tanker owned by Bermudian-headquartered Frontline, and the Kokuka Courageous, a tanker operated by Bernhard Schulte Shipmanagement, which has an office in Bermuda, were damaged by explosions that caused the evacuation of their crew members. It is not clear what caused the blasts. However, Mike Pompeo, US Secretary of State, said: "It is the assessment of the United States Government that the Islamic Republic of Iran is responsible for the attacks that occurred in the Gulf of Oman today." A senior Iranian official told the BBC that Iran has no connection with the incident. Iran said it helped rescue the crew members affected. The Kokuka Courageous was reported to have a breach of its hull above the waterline. The Panama-flagged tanker is operated by Bernhard Schulte Shipmanagement Singapore, and was transporting methanol from Saudi Arabia to Singapore. Although not directly involved, Jens Alers, group director of Hamilton-based Bernhard Schulte Shipmanagement (Bermuda), expressed concern at the incident in the Strait of Hormuz. "If this happens more often, the so-called war insurance rates go through the roof. You will then have an enormous increase in the cost of freight, especially out of the gulf," he said. The Joint War Committee, which comprises underwriting representatives from Lloyd's and IUA markets who write marine hull war business in the London market, has the Strait of Hormuz listed as an area of "perceived enhanced risk". This is due to enmity between Iran and Saudi Arabia, which are on opposite shores of the waterway, and tensions between the US and Iran. Neil Roberts, of JWC, said the enhanced risk listing means underwriters now require ships entering the Gulf to notify them, and "insurers then have the opportunity to assess the specific vessel and voyage and may change terms and conditions accordingly". Meanwhile, Mr Alers wondered what would happen if the Strait of Hormuz is closed. "All these kind of questions pop up when tensions rise," he said. "That area is not a war zone, but if it is declared a war zone, and it is a hot war zone because ships actually get attacked there, then rates will go up." He said if the Straits of Hormuz were closed it would impact about 30 per cent of the world's oil that is transported in and around the region. "It would cause a dramatic spike in oil prices if they were to do that." When asked about concern the latest incident will cause for the shipping industry, Mr Alers said: "In the context of last month, there was no need to evacuate the crews. These attacks must have been at a level that caused the captains to immediately abandon ship. "If this happens more often, no one will want to go there, or there will be extremely high freight rate. There is no trend line yet, but we have now had six ships attacked in four weeks." Frontline's Front Altair, suffered three explosions yesterday and was on fire. The tanker was said to have been carrying 75,000 tonnes of the petrochemical product naphtha. Robert Hvide Macleod, Frontline Management's chief executive officer, told shipping newspaper TradeWinds: "We don't know the reason for the explosion and work to clarify through thorough investigations." The Royal Gazette was unable to reach the Norwegian company's management offices in Oslo, and no details were available from its Hamilton office, or an operations branch in Glasgow, Scotland. The Marshall Islands-flagged tanker was being chartered by Taiwan's state oil refiner CPC. It was off the coast of Fujairah, in the United Arab Emirates, when the incident occurred. The United Kingdom Maritime Trade Operations, which is part of the Royal Navy, said it was aware of the incident involving the two tankers and is was advising ships moving through the area to exercise extreme caution.

Frontline Ltd, the Bermuda-based oil tanker operator whose Front Altair vessel burst into flames in the Strait of Hormuz after an explosion, today said the fire has been put out with no pollution and that all crew members are safe. The ship was one of two tankers in the area to be left stricken by explosions that the US Government has blamed on Iran. The company said the cause of the incident remained unknown. In a statement released this afternoon, Frontline said: "Most importantly, the 23 crew members on-board the Front Altair are unharmed after being rescued by the cargo vessel Hyundai Dubai and subsequently carried by an Iranian naval vessel to the port city of Jask. "We commend our highly-trained crew, the vessel master and ship managers, for following protocol and operating according to the highest standard during this distressing and very serious incident. Frontline is profoundly grateful to all parties who have contributed to ensuring the safety of our colleagues." Emergency responders put out the fire on the vessel within hours of the incident and ensured no pollution resulted, Frontline said. The vessel remains afloat and is being attended to by a salvage vessel. Frontline added: "The company's modern vessels are designed to withstand catastrophic events in order to ensure the safety of crew and cargo." A rescue tug reached the Front Altair today and two further support vessels will arrive on scene tomorrow with a specialist team to inspect the tanker and make recommendations. "The cause of the explosion remains unknown to the company, although we have ruled out the possibility that it was caused by mechanical or human error," Frontline stated. "The incident will be thoroughly investigated by the company along with third parties, including governmental officials, to determine the cause." Frontline added: "The Strait of Hormuz is one of the most densely trafficked sea routes in the world and serves as the passageway for greater than 25 per cent of the world's seaborne crude oil. As geopolitical tensions rise in the Persian Gulf, the company is intensely focused on the safety of our colleagues in this region. Until further information is received regarding the cause of the explosion and the security of this important shipping lane is secured, Frontline will exercise extreme caution when considering new contracts in the region and the company will consider all possible measures to insure the safety of our vessels currently operating in the area. The company is consulting with regional security experts to ensure the safety of our crew, our vessels and our cargo."

The US Federal Reserve needs to "act like the parent, not the teenager" after appearing to be increasingly swayed by the whims of the financial markets. That's what delegates at the Bermuda Captive Conference heard as two economic experts exchanged views on global events and markets. They were also told that Alan Greenspan, who was chairman of the Fed Reserve from 1987 to 2006 — the second-longest tenure in the position, would be "disgusted" by the position the US central banking system finds itself in today. Those opinions were shared by Henk Potts and Daragh Maher, the speakers at the Economists' View session at the conference, which was held at the Fairmont Southampton. On the one hand, investors don't need to panic as the next recession still looks to be on the distant horizon, according to Mr Henk, an equity strategist with Barclays, as he gave an overall view on financial conditions. He acknowledged there is a "a lot of turbulence", such as the trade tariff wars, signs of slowing US growth, policy mistakes and social unrest in a number of countries. Mr Maher, HSBC's head of FX strategy in the US, was not so upbeat and said there is cause for worry. He said: "We have US equities at or close to all-time highs, US treasuries not far off all-time highs in context of price and low yields. At he same time we have gold for the most part doing really well. So, all things that should not be moving in the same direction are all bid. Either people don't have a clue, or people are worried and are buying treasuries and gold, but are also truly confident that we can be rescued. That's what we should be worried about." Mr Maher said there is a "huge presumption" about the effectiveness of central bank policy, and that they will ultimately rescue investors from whatever they might face. "Given the starting point for central banks, that's a big leap to make. That's where the wheels come off. If there is reason to be nervous it is that lack of policy response if things are truly as bad as some in the market are suggesting." More meat was added to the argument when the discussion zeroed in on the US economy, and a shared view that it was not going to do spectacularly well or spectacularly badly. Mr Daragh said that being the case, it was curious that the financial market has come to the conclusion "that we are teetering on the brink of something horrific in the US". He cautioned that one of the signals touted as foreshadowing such a thing is the inverted yield curve on bonds. Mr Maher said it is a different environment today than in the past, due to quantitative easing and the "tightening and messing with the balance sheet. The signal is muddied from the yield curve, but also it reflects the financial markets — they hate the idea that nothing was going to happen." Mr Maher said the Fed in December had decided it was going to raise rates three times this year, but then said it was not going to do very much at all. For a while the financial markets accepted that change of sentiment. "Then very quickly they said 'No, we think you are going to have to cut — and cut really quite quickly and aggressively'," Mr Maher said. The Fed responded that it might do so, but would first wait to see if the [economic] numbers got worse. There is an impatience and immaturity in the financial markets that always something needs to be happening; the Fed cannot do just nothing. It is going to be very important for the Fed communication not to let the tail wag the dog. At the moment, and in December, that's what happened — the financial markets said 'Here is how we think you should be behaving. You should be a lot more dovish than you are right now,' and the Fed finally capitulated. Now the markets are saying again 'Hey, we think you should cut really aggressively'. I think it's for the Fed to behave like the parent rather than the teenager and say 'actually no, we are looking at the data, we are going to wait, we have told you what we are doing'. Whether that plays out, at the moment there is a risk that the financial markets always get their way. The Fed needs to regain the agenda and drive market expectations, rather than market expectations driving the Fed. Mr Potts agreed, and said: "Alan Greenspan would be absolutely disgusted by the position the Fed finds itself in today. There has been such a dramatic change in communication that we have seen from the US central bank." The Fed has hiked rates nine times since the end of 2015, most recently in December. Mr Potts said the Fed had at the end of 2018 continued to normalize its policy in response to the US economy's strong growth profile and tight labour market. That left it with "ammunition for the next time there is an economic downturn. Maybe we should ask what has changed so substantially over the course of the past few months. Now the Fed points to risk for the global economy from trade wars, they point to tighter financial market conditions. Inflation is still benign in the US." He had heard some analysts mention the potential for a 50 basis point rate cut as early as next month, and that markets have been pricing this in, and that there could be another 25 basis point cut in September. Mr Potts said there has been significant change in market expectations around the Fed, and added: "I find it bizarre that they have got themselves into this position."

A Warwick man accused of a 2017 fatal shooting was unanimously found guilty by a jury yesterday. Kiari Tucker, 22, was found guilty on charges that he murdered Morlan Steede and used a firearm to commit an indictable offence after 5½ hours of deliberation. Puisne Judge Carlisle Greaves remanded Tucker into custody for sentencing on July 16. The Supreme Court heard Mr Steede, 30, was chased through the Deepdale area of Pembroke at about 9.40pm on November 3, 2017 by a gunman who shot him at least three times. He was rushed to hospital and treated for gunshot wounds, but died of his injuries. Born in Jamaica, Mr Steede was a married father of one who lived in Hamilton Parish. His death was the 35th caused by gun violence in Bermuda since 2009. CCTV cameras from the area recorded a man walking up Two Way Deepdale in a full-face helmet at 9.14pm. Half an hour later, the same camera recorded a foot chase from One Way Deepdale to Parsons Road. Footage from minutes after the shooting showed bystanders on Parsons Road, where Mr Steede collapsed. Tucker was arrested for the attack the next day after police found him hidden under clothes in a closet in his godmother's apartment. Tests later showed particles consistent with gunshot residue on his hands, along with items of clothing found at his home. Prosecutors claimed Tucker was the man seen on camera walking through Deepdale and chasing Mr Steede. They argued mobile phone records placed Mr Tucker in the area at the time of the murder and evidence from a British forensic gait expert who identified similarities between his walk and that of the suspect. They told the jury that Tucker stalked and killed Mr Steede before he returned to Court Street, where he was seen without a jacket he had worn earlier in the evening. But Tucker denied the allegations and said he was not involved in the murder. He told the jury he spent most of the evening selling crack cocaine on Court Street, but went to the Deepdale area during the evening to buy cannabis. Tucker said he saw the victim there, but returned to Court Street after he bought the drugs. The defendant said shortly after he returned he walked to Curving Avenue to prepare more crack for sale and accidentally left his jacket at a "gambling spot" on his way back to Court Street. He admitted that he hid from police, but said he did so because he was afraid of going back to jail, not because he had shot Mr Steede. Tucker said he had no idea how gunshot residue could have got on to his clothing.

The man who introduced National Heroes Day praised the team behind what has been called "the world's fastest-growing carnival" which coincides with the Bermuda heritage event. Dale Butler believed it was important for younger generations to develop their own celebrations and said if others found the costumes too revealing they could make alternative plans. The former Cabinet minister added that the island probably boasted a maximum of only three more people who had done enough to earn the national hero honour but hoped the Government would help to increase awareness of the eight already on the list all year round. Mr Butler, who was the minister responsible for cultural affairs and was charged with setting up the award, said there had been a "longing" for a carnival-style gathering in Bermuda, which was heightened as young people gained experience of similar festivals during visits to other parts of the world. The former Progressive Labour Party MP added that they had the drive to turn ambition into reality. Mr Butler said: "They came along and they've developed this carnival and they're bringing it to Hamilton, which means it's really growing — I can only salute them for the energy. I'm just glad that they've put some energy in it so that it doesn't die. I know that there's a group in Bermuda ... the older generation, who expected us to be a little bit more sedate, are somewhat concerned that the costumes are revealing, which comes with the territory of having a carnival. There's nothing whatsoever that prevents anybody else who doesn't like a carnival celebration from doing something else." Mr Butler said he commended the people for staging the Bermuda Carnival because they would have been "left out" otherwise. The event is headed by soca DJ Jason Sukdeo and was launched in June 2015 as a "celebration of Caribbean carnival" which incorporated National Heroes Day festivities. However, the words "heroes weekend" were dropped from the name last month when organisers said it was being rebranded as a tribute to supporters. The team added: "All together, your participation made this festival the fastest-growing carnival in the world." On Monday, which is National Heroes Day, a Parade of Bands and Last Lap will allow people to enjoy performances and soak up the party atmosphere in Hamilton. A Bermuda National Heroes tribute staged by the Government is to take place at the World Heritage Centre in St George's two days earlier. Lovitta Foggo, the Minister of Labour, Community Affairs and Sport, said the event tomorrow will "remind the community of the importance of National Heroes Day" and is to include tributes that show how the heroes have inspired others. The late Dame Lois Browne-Evans was the first person to be named as a national hero in 2008. A committee was later set up to review and select more people for the list, and in 2010 the public was invited to suggest nominees. It was the next year that another three heroes were named, E.F. Gordon, Roosevelt Brown, who would become Pauulu Kamarakafego, and Sir Henry Tucker. Mary Prince joined the group in 2012 before Gladys Morrell and Sir Edward Richards were added in 2015 and Sir John Swan a year after that. No one has been named since 2016 and Mr Butler believed the number of candidates was finite. He said: "You're not going to find more than ten national heroes. You've only got about two or three left unless they watered down the criteria." Although he noted that banners highlighting national heroes were on show around Hamilton, Mr Butler thought more could be done. The former minister said: "I think we've reached a nice level but we're not doing enough to promote those who are national heroes on a regular basis. All year round you should be hearing about these national heroes, there are a lot of creative ways to do that." Mr Butler suggested that CITV, the government-owned television station, could regularly broadcast features on national heroes and that special debates could be held for people to discuss their lives. He raised the possibility of regular homework assignments, a national heroes scholarship for academic studies and even a game on the subject. Mr Butler claimed people who made significant contributions to the island but were not selected for the honour could also be recognised as part of a wider programme. He added: "Bermuda has a lot of very outstanding people that just missed, by a mark or two, being designated as a national hero."

Two young men sent from Bermuda to an American reform school have told how they were beaten and humiliated by teachers, with one alleging he would lie in bed at night hearing students raping other children. Both were sent to Glen Mills Schools in Pennsylvania by the Department of Child and Family Services when they were in their teens, almost 20 years ago. The men claimed government officials on the island knew about the mistreatment, yet boys continued to be sent there by the department until 2017. The school was ordered to shut in April this year amid a raft of allegations about violence against children and cover-ups. One of the men, aged 33, said he spent "six months of hell" there when he was a 16-year-old. "They used to beat us," he alleged of the staff. "They used to take us in a room behind closed doors and tell us to square up and then they'll punch us in our chests." The other, who went to the school aged 15 and is now 34, claimed: "Some of the kids were being raped by the older boys. We all knew about it. I never saw anyone being raped, but you heard it. We could all hear it. "You could tell what was happening but we were not allowed to get out of bed or you get beat. That was one of the rules. So it wasn't like I could have gone and stopped it. You would just have to lie there, even though you knew a kid was being raped. I am telling you, that place was evil. In the morning you could tell who it had happened to because the kid would be all sad and quiet and would keep to themselves for a while. The kids would all talk about it too. When I went to bed at night, I never knew if it could happen to me." The first man said he experienced first hand and witnessed physical and verbal abuse at Glen Mills but was not aware of and did not witness anyone being raped. A spokeswoman for the Ministry of Legal Affairs, which is responsible for the DCFS, said yesterday: "The Department of Child and Family Services and the Ministry of Legal Affairs are deeply concerned with the allegations being raised through the media. We condemn any actions that would harm a child physically or emotionally. We encourage those individuals to come forward and file a formal complaint, to enable a proper investigation to occur." Like almost all children sent overseas as part of the department's psycho-educational programme, the two former teens who spoke to the newspaper did not have independent legal representation when they were sent away. Lawyer Saul Dismont, who has made repeated calls for youngsters in care to have attorneys and litigation guardians, said he was aware of "reports of sexual assault [at Glen Mills] and of ... Bermudians making such allegations". Mr Dismont added: "But I don't know whether Bermudian boys were ever the direct victims. Anyone can understand why such offences are very difficult for the victims to disclose. Imagine how hard it is for children who feel they have no one and have been abandoned. If it is found that it was epidemic at Glen Mills then, unfortunately, I think it would be inevitable that a Bermudian child would have been a victim. They were sent there for decades." The department said in April that boys from Bermuda went to Glen Mills for more than 35 years until 2017 but it was too "time prohibitive" to find out how many attended the school. It said it had not received "any information related to any children sent to Glenn Mills being abused or mistreated" and that it only became aware of allegations in February this year when it was informed by the school. But the two men, during separate interviews with The Royal Gazette, detailed the violence they endured and said they knew before attending the school from other Bermudian boys who had been that it had a brutal reputation. The 34-year-old said: "All that was done to me was being abused, hurt, humiliated — and it broke my spirit. Glen Mills has been the worst experience of my life." The 33-year-old man said he told the DCFS staff over the telephone about the violence but was made to retract the allegations under duress by workers at Glen Mills. He also called his sister, whom he had told about the abuse, to retract what he had said. "My sister was more the smarter one. She asked me 'they are making you do this, right?'. I answered yes. It wasn't on speaker phone. She called [the DCFS] and went 'get him out of this place'. A couple of days later somebody called up and was like 'we are coming to get you Sunday'." The allegations come amid a renewed call for an inquiry into the Department of Child and Family Services and its programmes. Children's rights campaigner Sheelagh Cooper said an independent public inquiry, perhaps even a royal commission of inquiry, was needed. She said: "We need a complete overhaul in the way we address what has clearly become a serious situation. I suggest we take the bold step of a non-partisan, public, professionally driven and independent inquiry to look into the multiplicity of issues raised here, including the representation of children, the practice of utilizing offshore 'treatment' facilities, the overall competency of the Department of Child and Family Services and the questionable location of the department within the Attorney-General's Chambers." Her remarks follow a similar call made by Shadow Attorney-General Scott Pearman in Parliament in April. The Opposition MP said then: "Enough is enough. If Bermudians are to have any confidence that these allegations are being treated seriously, the Attorney-General must appoint a well-respected, senior lawyer or judge to conduct a proper, thorough and independent investigation." David Burt, the Premier, told Parliament on May 10 he was "happy to discuss" making public the results of internal investigations into the DCFS conducted last year. He said of the findings: "Possibly, it might be something that a parliamentary committee may be able to request." The Royal Gazette asked the Premier and the Governor yesterday if either would establish a commission of inquiry into the DCFS. Mr Burt said: "As per my statement in the House of Assembly, the best way forward is for the standing committees of Parliament to look into the matter." No response was received from John Rankin, the Governor, by press time. We put the allegations of violence and child on child sexual assault to Glen Mills Schools yesterday. School spokesman Jeff Jubelirer said: "As this is the first time we are hearing of these troubling allegations, it is difficult at this time to comment further. We continue to co-operate with all agencies conducting independent inquiries." The school has denied allegations about the mistreatment of students in a detailed appeal filed with the Pennsylvania DHS Bureau of Hearings and Appeals.

June 13

The Ministry of Health announced a plan of action today to encourage Bermudians to receive vaccination shots. Kim Wilson, the health minister, said that Bermuda's Strategy on Vaccination Hesitancy would aim to increase Bermuda's vaccination coverage by 10 per cent by 2021. The plan was put together after the ministry conducted research on the delay or refusal of vaccinations. Ms Wilson said health officials would:
Develop a phone application to provide reliable information on vaccines, clinic services, child growth and real-time news updates
Implement a client exit survey to understand the delivery of vaccination services
Organize programmes where health professionals will take the lead in receiving vaccinations
Create public forums for people to express concerns about vaccination
Ms Wilson announced her intention to increase vaccines for children under the age of six months in April. She said that the number of children who received the measles, mumps and rubella vaccine had dropped to 87 per cent — below the 95 per cent global target. Ms Wilson added yesterday that the decreased global target, when combined with our status as a popular travel destination, made Bermuda more vulnerable to outbreaks of disease. She said: "Not only is measles at our doorstep, being one flight away considering the recent outbreaks in New York City, but also because in Bermuda we have detected high levels of vaccine hesitancy, which means that not enough people have been vaccinated to give our people herd immunity."
Ms Wilson issued the following advice:
Parents should ensure that their children are vaccinated according to the recommended MMR vaccination schedule
Travelers should have the appropriate vaccinations before traveling and be aware of their health when returning home
Seniors should obtain the vaccinations they need to live well
People in occupations at higher risk of exposure to vaccine-preventable diseases should be aware of their vaccination status

A Bermuda Government agency that supports small and medium-size business start-ups with advice, funding and loan guarantees is to be given greater powers. In some instances, the exercise of those powers may include taking an equity stake in the start-ups. The Bermuda Economic Development Corporation Amendment Act 2019 has been tabled in the House of Assembly. It empowers the BEDC to form subsidiary companies in partnership with entrepreneurs and businesses, and gives the BEDC power to enter into formal corporate arrangements, in association with other persons, for the purpose of aiding those persons in the development of a new business or a new undertaking. Once the legislation passes, the BEDC will be able to purchase shares in, or incorporate, a local company, and be admitted as a member, or form, a local limited liability company. If involved in a company, the BEDC will be appointed a director and chief executive. Where it is involved in a local LLC, the BEDC will be appointed manager. The BEDC, the legislation says, shall divest itself of all of its shares in a local company, or resign its membership in a local LLC, where the BEDC deems that it has fulfilled its purpose under the Act, or at any other time for any reason it deems fit. The organisation must receive prior written approval from the minister having responsibility for the BEDC, before it purchases shares, incorporates a company, is admitted as a member of an LLC, or forms an LLC. It must also receive such approval before it divests itself of shares in a company, or resigns from an LLC. David Burt, the Premier, has ministerial responsibility for the BEDC. He said: "Increasing numbers of entrepreneurs are seeking more than investment capital or loan guarantees in support of their endeavor. To take advantage of the protections afforded to incorporated entities, entrepreneurs often seek the added assistance of the BEDC as more than a lender or guarantor. Currently the BEDC has, through section 5, subsection 2 of its Act, the power to borrow money; to lend money; to make grants or guarantee loans; to acquire, hold and dispose of personal and real property. The BEDC can also do anything incidental to any of its powers. Whilst the broad power currently contained in section 5 of the BEDC's Act may already lend itself to create subsidiaries, it was recommended that out of an abundance of caution, the specific power to create subsidiaries be included in the Act. The proposed amendments would also allow the BEDC the specific power to engage in the incorporation of entities in support of public/private partnerships. In addition, as part of the incorporated entity, the BEDC would have the opportunity to exercise greater oversight in support of the businesses supported through its existing powers. The amendments will only focus on local companies or LLCs. This, with the goal of specifically assisting in the development of new businesses or ventures." Mr Burt said that the BEDC would "in some instances" take an equity interest in a start-up that it is assisting. He said: "If we are forming companies to assist start-ups and facilitate PPPs, then BEDC will essentially be owners in that business and as such, will have the capability to enjoy the full rights of that business including an equity stake if that makes sense. Each company will be different and so each negotiation on the best framework and structure of the company will be customized to that company." Depending on the framework and structure negotiated for the company at the time it is formed, Mr Burt said, the BEDC's options for consideration upon divestment or resignation will include transferring its interest to the start-up's co-owner for a nominal fee or selling it for the going market rate. Mr Burt said money realised upon divestment or resignation will be used to "assist BEDC, through its annual budgeting process, to continue to have adequate funds to provide advice, resources, and support for Bermuda's local small and medium-sized businesses, which will help inspired entrepreneurs to build and run successful businesses which fuel Bermuda's economy". He added: "We are determined to open avenues for business success for entrepreneurs. The BEDC will have the ability to provide additional support to new businesses in their start-up phase and this is critical to our objective of promoting small-business growth and economic diversification."

Senators have voted to change legislation that enshrines in law the chance for Cabinet ministers to appoint experts and political advisers. Nick Kempe, of the One Bermuda Alliance, moved an amendment to the Premier, Ministers and Opposition Leader Personal Staffs Act 2019, which was passed by MPs last month. It would mean that the law stated an annual report tabled in Parliament will include the name, job description and pay of everyone who had been a staff member as defined in the Act in the previous fiscal year, instead of only those appointed from the previous January to December. Opposition and independent senators joined forces to approve the amendment, outvoting the objections of government members six to five. Vance Campbell, the Progressive Labour Party's finance spokesman in the Senate, presented the Bill for its second reading in the upper house yesterday. He said it was largely similar to the Premier and Opposition Leader Personal Staffs Act 1983 but provided that ministers, with written approval from the Premier, could hire up to two members of personal staff to offer political or other expert advice, in line with the Ministerial Code of Conduct. Mr Kempe, the shadow finance minister, said the original version of the Bill stated that the annual report "only names those people that were appointed during the previous year". He added: "That manner of wording would fail to publish on report people that had been appointed, say, two years ago but continued as a personal staff member of a minister or the Premier or the Opposition Leader." Mr Kempe also pointed out that ministerial personal staff would be deemed government employees for the purposes of healthcare and pension obligations "when they were not before". Mr Campbell read from a member's proof of the Hansard record of the House of Assembly from May 31, when he said David Burt, the Premier, told MPs: "I will state the undertaking which I will give, and given that the Hansard is recording this, on each and every time that this report is given, it will show the persons who were hired under this Act, under that calendar year whether or not they were appointed that year or appointed the year before and all the rest." Mr Campbell said that based on that commitment, government senators saw no reason for making any amendment. Mr Kempe said the "whole point" of the proposed legislation was to strengthen existing practices and suggested there was an opportunity to "correct it while we can". He added: "Having the assurance of a person is a far less important layer of good governance for the public than actually codifying that undertaking in the Bill that we're debating today." His amendment also stated that the annual report would be laid in Parliament on or before May 31, instead of March 31, to align with the fiscal year and that it would include the "gross" remuneration "for the entire fiscal year". The amended Bill will be returned to the House of Assembly for MPs' agreement.

About 120 soldiers from the Royal Bermuda Regiment arrived in the Caribbean today to join a major multinational disaster relief exercise. The troops bedded down in the disused ET Joshua Airport on St Vincent before phase two of Exercise TradeWinds 19, which will involve a variety of tough scenarios, starts in earnest tomorrow. Lance Corporal Gary Dowling, a bandsman and member of the humanitarian aid and disaster relief company, said: "We're still waiting to be tasked but I know there is a lot planned. It's a really brilliant spot. They've tried their hardest to give us a relatively comfortable standard of living to help us get off to a good start." Exercise TradeWinds, in its second phase after an intensive planning session in the Dominican Republic, involves soldiers, sailors and airmen from over 20 countries. It is the first time a contingent from Bermuda has had any involvement in the annual exercise, run by the US Southern Command for almost 30 years. Other countries represented include the UK, Canada, Jamaica and France, as well as forces from the host country Private Marketa Raynor, 36, of Hamilton Parish, said: "I love it so far. The scenery is fantastic and the atmosphere is awesome, much better than I expected. Pte Raynor, a housekeeper at the Elbow Beach Hotel in civilian life, added: "The military from the other countries have been really cool. It's like being around Bermudians you haven't seen for a while. The accommodation is quite basic but much better than living in the bush." Private Adam Curley, 30, added: "I'm looking forward to the exercise. It's always good to meet new people and hopefully we will learn from each other. The RBR has a huge amount of experience with hurricanes." RBR Commanding Officer Lieutenant-Colonel David Curley said the first tasks for the RBR contingent would be to refresh their skills and rehearsals for scenarios, which will include practical exercises and tests of knowledge. He added: "The soldiers are very enthusiastic — it's an adventure for them, it's a different country, culture and the climate has already begun to test their resilience as it is already hot and very humid. We will be working closely with Caribbean agencies and security force and at the end of it our soldiers will be a lot stronger in all aspects of disaster relief and humanitarian aid. If we are ever called on to do this for real at home or overseas, we will be well prepared." Colonel Curley said the scenarios used to test the RBR's skills were still being kept secret — but predicted a grueling workout. "We needed to do something different and TradeWinds was an operation which was ideal. We performed really well during the first phase of the exercise and that leads directly into phase two. We are a modern and forward-thinking force and have restructured to be better organised to face the threats to Bermuda that we're most likely to see. We also want to provide interesting, enjoyable and testing training to our soldiers and to develop skills that they can easily transfer to civilian life."

Two oil tankers that were apparently attacked in the Gulf of Oman today have links to Bermuda. The Front Altair, which is operated by Bermuda-headquartered Frontline, suffered three explosions and was on fire. Its 23 crew members have been rescued. The tanker was said to have been carrying 75,000 tonnes of the petrochemical product naphtha. Robert Hvide Macleod, Frontline Management's chief executive officer, told shipping newspaper TradeWinds: "We don't know the reason for the explosion and work to clarify through thorough investigations." The Royal Gazette, was unable to reach the Norwegian company's management offices in Oslo, and no details were available from its Hamilton office, or an operations branch in Glasgow, Scotland. The Marshall Islands-flagged tanker was being chartered by Taiwan's state oil refiner CPC. It was off the coast of Fujairah, in the United Arab Emirates, when the incident occurred. The other vessel damaged was the Kokuka Courageous. It was reported to have a breach of its hull above the waterline. The crew was evacuated from the ship. The Panama-flagged, Japanese-owned tanker is operated by Bernhard Schulte Shipmanagement through its Singapore office, and was transporting methanol from Saudi Arabia to Singapore. Bernhard Schulte Shipmanagement also has an office in Hamilton. It is not clear what caused the blasts in the separate incidents. The United Kingdom Maritime Trade Operations, which is part of the Royal Navy, said it was aware of the incident involving the two tankers and is advising ships moving through the area to exercise extreme caution. Today's incidents come a month after another four tankers were damaged in the same region, in what has been called a "sophisticated and coordinated operation". At the time, the US accused Iran of direct involvement in those incidents, an accusation Iran denied. A senior Iranian official today told the BBC that the country has no connection with today's incident.

The process of finding a successor to Jeremy Cox, the executive chairman of the Bermuda Monetary Authority, has begun. For the past nine years Mr Cox has headed the BMA and guided the financial-services regulator to important milestone including, in the insurance space, achieving jurisdictional equivalence status with the European Union, and qualified status with the US. He began a three-year term as executive chairman at the start of this year, which combined his previous role as chief executive officer. He succeeded Gerald Simons, who retired as chairman of the board at the end of 2018. Mr Cox's achievements with the BMA were hailed on Tuesday when he was awarded the Fred Reiss Lifetime Achievement Award and received a standing ovation at the Bermuda Captive Conference. He returned to the conference yesterday as a keynote speaker. When asked by The Royal Gazette about the succession issue, he said the BMA board has begun the process and before the end of September there will likely be an advertisement for a CEO-designate. The aim is to have a person in position for a "handoff" period with Mr Cox before his three-year term comes to an end. In his keynote address, Mr Cox spoke about "game-changers" the BMA has dealt with during its 50-year history. The first came soon after the authority was formed in 1969 when, the following year, the UK ended its sterling area-based exchange control laws. "It was a surprise move that left Bermuda out on its own and excluded from sterling area privileges. We were no longer part of a club that was thought, in those days, to be the source of our economic stability," Mr Cox said. The BMA introduced the Bermuda dollar, effectively replacing the British pound as the island's currency. Its second job was to assume responsibility for supervising the banks, while the third was taking over responsibility for vetting company licence applications, and the fourth job was exchange control. Its responsibilities increased over the years, and it took responsibility for the island's insurance industry in 2002. Mr Cox said the second game-changer was the global financial crisis of the late 2000s. "From the early days of captive insurance companies, to the arrival of the large commercial reinsurers, and more recently to fintech and alternative capital, we have refereed a game in which the goalposts were constantly being moved." He said that since 2005 — the year of hurricanes Katrina, Rita and Wilma, and the introduction of insurance sidecars — the BMA's function has become more complex and challenging. "Goalposts are now considered a luxury, and one that we have had to learn to live without. Now the focus is on understanding the elegant, but often esoteric, definitions of what actually constitutes a goal." Looking back on the financial crisis, Mr Cox said the island had been fortunate to have, in the BMA, an integrated supervisory architecture; one regulator for all financial services. "What that meant was the left hand knew what the right was doing," he said. He contrasted this with what was happening elsewhere, where there was separate supervision for banking, insurance, and regulation for other financial services. He said that was a situation "which was eventually blamed for the regulatory arbitrage that contributed to the great recession". Many authorities today no longer favour supervision by different independent agencies When Bermuda set its sights on full equivalence to the EU's Solvency II standards for its commercial insurance regime, it was a tough challenge. "But we never gave up," Mr Cox said. The aim was achieved in 2016, and it included a negotiated carve out for the captive sector. "Solvency II served as a major rallying point, bringing private industry and the markets regulatory teams together on common ground like never before," he said. Today, Bermuda and other jurisdictions are getting to grips with EU concerns about economic substance. "Only time will tell whether meeting the challenge of economic substance — which in my view ranks as game-changer number three — will have the same unifying effect as Solvency II." Regarding the regulations, he said all Bermuda companies engaged in relevant activities, such as banking, insurance, fund management and other financial services activities, will be required to meet an economic substance test. In March, the island was placed on the EU's list of non-cooperative jurisdictions for tax purposes as a result of a typographical error in economic substance regulations submitted by the Bermuda Government to the EU. The island was removed from the list last month. "The damage our jurisdiction sustained on March 12, when we were temporarily placed on the EU blacklist, is not irreparable. But it served as a warning that, despite the close relationships we've developed with the world's financial authorities, we are not immune to reputational setbacks. We cannot afford to become complacent." He said the EU has forced every offshore financial centre in the world to change its game. "We have to respond by showing that we apply an appropriate level of vetting. We have to show that even though our technical analysis may cost us in lost clients here and there, we will not accept business that even remotely resembles a sham." Mr Cox, referring to an earlier observation that the BMA had become guardian of the Bermuda brand as well as regulator of the market place, told conference delegates: "I want you to consider that we are all guardians of the Bermuda brand — regulators and regulated. "The brand is not just what you say and do in customer-placing situations, it is also reflected by what you say and do to each other. So let's take joint ownership and responsibility. That's my call to arms."

The sharing of information on accounts in offshore financial jurisdictions like Bermuda is bringing in billions of dollars in tax revenue for the home countries of the account holders. The island joined a global effort to improve transparency on matters of taxation by signing up to automatic exchange of information agreements. "We really are moving closer to a world where there is nowhere left to hide," Ángel Gurria, secretary-general of the Organisation for Economic Co-operation and Development, said. The OECD reported last week that more than 90 jurisdictions participating in a global transparency initiative under the OECD's Common Reporting Standard since 2018 have now exchanged information on 47 million offshore accounts, with a total value of around €4.9 trillion ($5.53 trillion). Voluntary disclosure of offshore accounts, financial assets and income in the run-up to full implementation of the AEOI initiative resulted in more than €95 billion in additional revenue (tax, interest and penalties) for OECD and G20 countries over the 2009 to 2019 period. This cumulative amount is up by €2 billion since the last reporting by OECD in November 2018. Automatic exchange of information has also caused deposits held offshore to fall, according to preliminary analysis by the OECD for a full report that will be published later this year. Deposits held by companies or individuals in more than 40 international financial centres increased sharply over the 2000 to 2008 period, reaching a peak of $1.6 trillion by mid-2008. These deposits have fallen by 34 per cent over the past ten years, representing a decline of $551 billion, the OECD dead, as tighter transparency standards took effect. "A large part of that decline is due to the onset of the AEOI initiative, which accounts for about two thirds of the decrease," the OECD stated. "Specifically, AEOI has led to a decline of 20 per cent to 25 per cent in the bank deposits in IFCs, according to preliminary data." Mr Gurria said there was now "an unprecedented level of transparency in tax matters, which will bring concrete results for government revenues and services in the years to come. The transparency initiatives we have designed and implemented through the G20 have uncovered a deep pool of offshore funds that can now be effectively taxed by authorities worldwide. Continuing analysis of cross-border financial activity is already demonstrating the extent that international standards on automatic exchange of information have strengthened tax compliance, and we expect to see even stronger results moving forward. These impressive results are only the first stocktaking of our collective efforts. Even more tax revenue is expected as countries continue to process the information received through data-matching and other investigation tools. We really are moving closer to a world where there is nowhere left to hide."

Findings from an investigation into Bermuda's child protection agency are prevented by law from being released, senators heard yesterday. Kathy Lynn Simmons, the Attorney-General and Minister of Legal Affairs, said legislation meant the report of an inquiry into the Department of Child and Family Services, could not be shared publicly. She was responding to Nick Kempe, the Opposition Senate Leader, who cited an article in The Royal Gazette, which reported yesterday that it asked the Government under public access to information for the "full report" into allegations against Alfred Maybury, the DCFS director. Mr Kempe quoted from the story when he told senators it showed that the legal affairs ministry refused to disclose whether a record existed because to do so would "add unnecessary confusion to misinformation which is already present in the media and public domain". Mr Maybury was suspended last August after being accused of ignoring allegations about the DCFS staff mistreating children in care. He returned to work in January after the Government announced that a "thorough investigation" had found the claims against him were "not substantiated". Mr Kempe said: "I'm struggling to understand how the release of an investigation would add more confusion. One would think that if there's concerns about rumor and innuendo, that releasing a report would put to bed any confusion and, in the name of transparency, allow the public to understand what it is exactly the government investigation has uncovered or not, and would provide people with some insight into why certain decisions were made or not made." He also referred to earlier comments from Ms Simmons in the Senate, when Mr Kempe said she spoke about "requesting the newspaper to not ask essentially uncomfortable questions". The Attorney-General claimed last week that the Gazette was "fishing overseas" as part of its inquiries into a government psycho educational programme that sends vulnerable children abroad. She urged then: "Please do not harass these institutions. Please do not try to obtain information that is detrimental to what we are trying to accomplish." Mr Kempe said yesterday: "That approach to asking questions, whether it be a source of journalism or the Opposition, I think is entirely counterproductive to the checks and balances that we've built into our society." Ms Simmons said she listened to his remarks with "great dismay". She explained: "We cannot characterize an investigation as something that is fraught with innuendo or respond to reports that put it in a category of information that should be dealt with outside the parameters of the law. The Internal Audit Act 2010 prohibits release of the report pertaining to the investigation into child and family services. From a legal perspective, we are not allowed to disclose the report." Ms Simmons offered reassurances that the department "always" acted in the best interests of the children it served and ministry officers would not respond to stories reported by individuals to the press with details that would provide "clarity to the situation but which would also involve having to release personal information about the child or family situation". She added: "Last week, I spoke about the reporting that did nothing to advance our interests, and when I say our interests I mean our collective interests in terms of the efforts that we make to support and protect our children." Ms Simmons said she planned to offer a statement about her trip abroad to visit children's facilities but was "daunted" and "had to put the brakes on" when she learnt from one of the overseas facilities that inquiries were made about a child "who was there some time ago, which breached all protocol". She indicated she was distracted by providing the establishment "reassurance that Bermuda remains a committed partner". Ms Simmons said treatment for some children was not available on the island. She explained: "We simply don't provide the programmes, resource, expertise that would be able to address the very intricate dysfunction and problems and psychological issues that arise with respect to some of our children. So we are actually very pleased that we have these relationships, but I can say hand on heart I don't know one child who would ever jump with glee and happiness if they were told that they were being sent overseas for assessment, if they were told that they had to leave their family and their friends." In the House of Assembly last Friday, Craig Cannonier, the Leader of the Opposition, suggested there be a "shuffle in the management" at the DCFS. Mr Cannonier said: "I do believe that there are certainly some realities that Bermuda has to face. I am sure that everyone in this House of Assembly does not appreciate when they open up the paper and they once again are seeing that we are having challenges within the DCFS, that we see there are people, individuals, private citizens speaking out about some of the conduct and some of the things that were going on within this ministry. I believe that at this time, having looked at the newspaper just now, that it is extremely challenging. I am encouraging this government, and it is my opinion that there needs to be a shuffle in the management within that department."

Youth activist and soon-to-be law graduate Eron Hill was sent abroad as part of a controversial government programme for vulnerable children — and credits it with turning his life around. Mr Hill told The Royal Gazette he was compelled to share his story after reading reports of youngsters alleging they were tricked or forced to go to overseas schools by the Department of Child and Family Services and mistreated while there. "I have seen the news," said the 23-year-old. "My experience is different. I credit where I am and what I have been able to achieve today to my experiences out there. I owe that to the [DCFS] director [Alfred Maybury]. I am indebted to the director. The fact that I have a positive outlook on my experience doesn't negate any story of any other individual. Other people have legitimate concerns." Mr Hill grew up without a father, clashed with his mother as a teenager and ran away from home in 2011, aged 15. I was the average 15-year-old, struggling with a bit more at home. I was struggling with the absence of my father. That really affected me. I felt here is somebody who brought me into this world and they don't care about me. At the age of 15, being the rebellious young man that I was at that time, [I was not] really wanting to listen to authority." After 12 days at a cousin's house, Mr Hill went to lawyer Elizabeth Christopher's office to seek advice. He said she notified the authorities he was safe and he was then taken into the department's care. The teenager and his mother consented to him leaving the island within about a week to go to the Discovery Academy, a therapeutic boarding school in Utah in the United States. Unlike almost all participants in the DCFS's psycho-educational programme, Mr Hill had independent legal representation, in the form of Ms Christopher and lawyer Saul Dismont, who then worked in her chambers. Mr Hill said he was academically gifted and not diagnosed with a mental health condition but was sent abroad because of "behavioural and social" issues and his inability to "best utilize the leadership skills" he had. Being removed from Bermuda was the best choice for him, he said, because of the social stigma he felt was attached to staying in a local children's home and a need to have some distance from island life. But he said: "I resisted the programme [at Discovery] for a bit. The facility is relaxed [but] my first three months, I struggled." Mr Hill transferred from Discovery for a short stint in a "wilderness programme" at Redcliff Ascent in the same state. The Royal Gazette reported yesterday the story of a young man who claimed he was tricked into going to Redcliff as a teenager, where he dealt with harsh living conditions and "children caught up in crime or self-harming". Mr Hill said Redcliff marked a turning point for him. "I would sit there in my sleeping bag at night, looking at the stars and you think 'I'm a long way from home'." He said he came to realise the department was trying to help him and that he needed to help himself, return to Discovery and complete his studies. Back at the Discovery Academy, he lived in a house with 12 other at-risk boys from the US, Canada and the Caribbean facing "many difficulties. That was, in itself, an education. It was a learning experience for me." He said none of the students, including him, really wanted to be there but he began to view it as an opportunity, applying himself to his studies, his chores and forging relationships with his peers and teachers. He had weekly calls with his mother and other relatives. "For me, it was growing up that was necessary," he said. "I grew up quickly. I'm grateful for it. You had to learn to compromise. There are lessons that I would never forget and friendships that I would never forget." Mr Hill said he graduated at the top of his class at Discovery, a year earlier than his peers at Bermuda Institute, where he had been a student. Aged 17, he was allowed to observe law classes at a nearby university, solidifying his long-held ambition to become a lawyer. He is now the chairman of Generation Next, an organisation for young professionals, and credits his time abroad with harnessing his leadership potential and mending his relationship with his mother. Mr Hill now talks to youngsters involved in the psycho-educational programme to help them prepare for going away. "You have got social workers or even the Family Court panel who have never been to these facilities. I think it's my responsibility to talk to these young people. I tell them 'the river doesn't drink its own water, neither does the sun shine for itself. I have to ask myself: why did I go through that? I always tell young people 'success requires sacrifice'. I tell them 'I was just like you'. I don't want to sound like it's all great. But for me, this is my reality." He questioned whether Bermuda had the right facilities to deal with some young people's challenges and insisted there was often a benefit in going abroad. "I am not a proponent of scrapping that arrangement should it be befitting," he said. Mr Hill, who will graduate next month with a degree from the University of Law in London and will soon start a nine-month Bar course, said he wanted youngsters facing time overseas to have a "full picture" and not assume the worst. "A lot of the time, we as 15-year-olds tend to believe we know what's best for us. The reality is that I wouldn't be where I am today without what happened to me. That experience taught me invaluable life lessons." A spokeswoman from the Ministry of Legal Affairs, which is responsible for the DCFS, said: "The Department of Child and Family Service Psycho-educational Programme provides children and youth with protection, care, and nurturance by licensed therapeutic overseas facilities. It affords us the opportunity to have external input with regard to therapeutic intervention and aftercare services. Sending young people overseas is not the first phase of intervention, the decision to use the services of overseas treatment facilities is determined when local services are unavailable. The department's first priority is to protect the welfare of children who require intervention and need additional care outside of what is being provided at home. Since the programme started, we can point to numerous positive outcomes. However, we are not at liberty to publicly release information or discuss those cases. It is up to individuals to share their stories."

One in three people said they experienced some form of sexual abuse as a child, according to a new survey. More than 600 people took part in the adverse childhood experiences research conducted by the Bermuda Health Council in partnership with Family Centre. The survey, which has been running on Family Centre's website since March, also found:
One in four people witnessed a parent or household member being physically abused, while three out of five people directly experienced physical abuse during childhood
One third lived in a household where substance abuse was an issue, while one in ten lived in a household where a member was sent to jail or prison
Three quarters saw or heard of someone injured in a road traffic collision, and half lost a friend or family member in a traffic collisions
One in five people said cost prevented them from seeing the doctor when they needed to within the past year
More than half of the people felt they were treated unfairly because of race sometimes
The research will be shared during a two-day conference on the issue starting today, organised by Family Centre, Citizens Uprooting Racism in Bermuda and the Inter-Agency Committee for Children and Families. Tara Hines, project associate in data analytics and outcomes research at the Bermuda Health Council, said that the research showed that adverse childhood experiences have caused trauma not only for victims, but the wider community. It indicated that children have not only suffered trauma from personal experiences, but from things that happen to others around them. Ms Hines told The Royal Gazette: "We are seeing a lot of people who are reporting on trauma they have experienced almost second hand." Ms Hines said that residents appeared to share the burdens of the community, and added: "This may speak to the culture of Bermuda." She noted that 78 per cent of the respondents were women and said the survey would be extended to hear from more men. Ms Hines said: "We would really love to have more men participate in the research." She identified road crashes as a main area of trauma that impacts on both the victim and the wider community. And she said that people from all social backgrounds were at risk of developing a chronic illness. Ms Hines added: "The trends that we are seeing are that there are actually higher chronic disease burdens among the most educated." She said this was not a trend observed in other countries. People who have experienced two or more traumas were more likely to develop a chronic disease. Ms Hines said that findings in the research — which will be released to the public — could be used to shape policies to reduce the cost of healthcare. The first day of the conference will focus on understanding and addressing racial trauma, at HSBC on Front Street, from 9.30am to 5pm. The second day will focus on the economics of adverse childhood experiences, at the Hamilton Princess and Beach Club from 9am to 4.30pm.

A lifelong devotion to the environment has earned the former head of the Bermuda Environmental Sustainability Taskforce a top award from the Catholic Church. Stuart Hayward, also a former independent MP, attended his presentation of a Peace and Justice award at St Theresa's Cathedral in Hamilton despite recent illness. He told the gathering: "Thank you for making me feel special." Heather DeSilva, of the Peace and Justice sub-committee at St Theresa's, told Mr Hayward: "Thank you, Stuart, for your inspiration over the years. Thank you for what you have done. Thank you for inspiring our diocese." She added the Catholic Church would work to cut waste at special events and reduce the use of harmful chemicals on its properties. Mr Hayward, also cofounder of Eco Bermuda and Save the Garden Campaign, was said to be an inspirational influence on many people who had since joined the fight to protect the environment. Stuart Kriendler of green energy firm BE Solar, said: "You are like Captain Bermuda." Mr Hayward, 77, explained he opted to become an environmentalist because "Bermuda was such a near-perfect environment when I grew up". He told the audience at the event last Thursday that there were no fast cars or bikes and no electronic noisemakers. Mr Hayward added there was "lots of blues and greens". He said: "These assets helped Bermuda to be a near perfect environment." Mr Hayward's mother helped him to develop strong environmental values. He said her maxims such as "waste not, want not" and "wilful waste brings wilful want" had stayed with him. Mr Hayward, who cofounded BEST, worked for decades to protect Bermuda's "near-perfect environment" and was the driving force behind many projects designed to protect natural heritage. He founded the Admiralty House Park Association with residents who wanted to keep the property in public ownership and control. The former chairman of the National Trust's Environmental Committee and member of the Government's Roads Advisory Council also started Save Open Spaces in 1982 to reduce or stop the use of public open spaces for roads or houses, or other purposes that were not environmentally sound. Jamie Beacon, Mr Hayward's wife, said he had been involved in other work to benefit Bermuda. Mr Hayward was instrumental in the creation of the Transcendental Meditation Centre and a cofounder of the Bermuda Leadership Forum. She said: "While Stuart may be best known for his outstanding environmental work and advocacy, he also did much for the people in his community as well."

A tenpin bowling pioneer who headed the first office of Parliamentary Registrar after it separated from the Registrar General has died, aged 83. Lionel Dowling traced his bowling career back to 1962 and led the sport in Bermuda as an administrator for decades. He founded the popular American Airlines Spectacular and ran it for 28 years before stepping down in 2006. Mr Dowling was a longstanding president of the Bermuda Bowling Senate, affiliated with the National Bowling Association in the United States. His contribution to the sport was recognized in 1989 with a special achievement award at the Government Sports Awards. Mr Dowling was appointed Parliamentary Registrar in 2000, and the separate office opened in 2001, in the wake of legislative changes allowing voters to sign on to the electoral roll at any time of the year. His new title made Mr Dowling responsible for elections, as well as campaigning to keep voters registered with up-to-date details. His career in the Civil Service began in 1976, when became an inspector in the social insurance department. Marlene Christopher, the former Registrar General, worked with Mr Dowling as her deputy before the separation of offices. She recalled Mr Dowling as "a meticulous person who just got on with what had to be done. He was a good civil servant who adhered to the ideals of good service given in a pleasant and congenial way. He was a team player who worked with professional skill, liked by the staff, who kept people to the code of dress as well as conduct." Hattieann Gilbert, a champion bowler, said Mr Dowling had been key in getting the sport organised in Bermuda. She added: "He was a quiet man who helped everybody come together as one big happy family. There's not too many left from that time. Lionel was a leader to us. He was great for getting things organised." Mr Dowling pushed for the creation of the Bermuda Bowling Federation, incorporated in 1997, to move the sport into the mainstream. His dedication showed after a serious fall on the job in 2000, when he was treated in the intensive care unit. At the time, Mike McCallum, the president of the Bermuda Bowling Association, told The Royal Gazette it had come just before the American Airlines tournament presentation. Mr McCallum added: "Do you know that while barely conscious, and at a time when he seemed to be slipping back, that man was more concerned about how the presentation would go than himself? That's typical Lionel. More worried about other people than himself, always willing to go that extra yard to do for others." Traci Lambe, the head of the Bermuda Junior Bowling Association at the time, said Mr Dowling "always had bowling at heart and put his heart into bowling — he's been very instrumental as to where we are today". Mr Dowling's inspiration for the tournament was his hope to see as many players as possible represent the sport in Bermuda. He also planned bowling events such as the Canada Dry Special, the Non-Bowlers Tournament and a Bowl-A-Fun tournament for the Bermuda Government. Mr Dowling told the Gazette in 2003: "I said to myself, why not have a special tournament that would benefit the lower-average bowlers and give them a chance for glory?" Mr Dowling's funeral will be held today at the St Paul AME Church in Hamilton at 2pm.

June 12

The fight over the legal representation of the patients of Ewart Brown returned to the Court of Appeal yesterday. Mark Pettingill, who represents patients whose medical records were seized by police, called on the court to quash a ruling that he and Victoria Greening, both of Chancery Legal, had a conflict of interest in the case. He told the court: "It's not in the interest of justice to let a perceived 'obvious' conflict of interest to ripen and then take issue two years later after significant litigation and expense." But Mark Diel, for the Bermuda Police Service, argued that the Court of Appeal should uphold the decision of the Supreme Court because Mr Pettingill and Ms Greening had both received confidential information about the case in their previous posts. Mr Diel added: "The fact that they don't remember it is neither here nor there." The Supreme Court heard in affidavits that Mr Pettingill had been briefed about investigations into Dr Brown while he was the Attorney-General. Ms Greening was said to have been given information about the case while she worked at the Department of Public Prosecutions. Assistant Justice Kiernan Bell ruled in May that both lawyers had a conflict of interest and could not represent the patients, but they launched an appeal against the decision. Mr Pettingill told the appeal court he received no information during his time as Attorney-General that would give him any advantage in the case. He also told the court that even if there had been a conflict, the police service had waived it because they had not raised it for more than two years. Mr Pettingill highlighted a February 2017 letter Chancery Legal sent to the police about the seizure of the medical records on behalf of a patient. He said: "The purpose of that was laying down the gauntlet by way of a challenge. We were challenging their legal ability to take our clients' property and they responded to that challenge." Mr Pettingill said he did receive some information about investigations into Dr Brown, a former Premier of Bermuda, but he did not receive details about allegations of over-scanning at his clinics. He added that he resigned as Attorney-General in April 2014, about three years before the police raided the clinics. Mr Pettingill said: "I unequivocally have no knowledge into any investigation into these claims. Most certainly I didn't know any details of it." However, Mr Diel told the court: "The defence of 'I have no recollection of it' is not a defence. It doesn't get you out of the problem of the conflict." He told the court that Ms Greening accepted she had a meeting while at the DPP with members of the investigation team and that Mr Pettingill had been briefed about matters related to the investigation of Dr Brown. Mr Diel said when Chancery Legal became involved in the case as interveners, the focus was on the rights of the patients to privacy. He said: "Our position at that time has been given that we were talking about patient confidentiality — the issue of conflict of interest didn't arise. At that stage all the parties were working to try to guarantee patient confidentiality. What they knew about the investigation was not relevant. Then circumstances changed." Mr Diel said the patients had since expressed an intention to take over the judicial review, which caused the conflict of interest to arise. He said: "It's knowing the other side's hand in a game of poker. We have counsel that were working with police and know we have the same counsel working for the interveners who want to take over the judicial review and work in direct opposition to the police in this matter." The hearing continues.

Information Commissioner Gitanjali Gutierrez will decide whether the Department of Internal Audit was right to keep secret the findings of its inquiry into the head of the island's child protection agency. Alfred Maybury, director of the Department of Child and Family Services, was suspended last August after being accused of ignoring allegations about DCFS staff mistreating children in care. The Ministry of Social Development and Sport launched an inquiry the same month but the ministry was later abolished. The DCFS moved to the Ministry of Legal Affairs and that ministry was understood to have taken over the investigation. In November, the Department of Internal Audit, in the Cabinet Office, revealed it was conducting a "review into the Department of Child and Family Services". Mr Maybury returned to work in January after the Government announced that a "thorough investigation" had found the claims against him were "not substantiated". It said the claims were that Mr Maybury failed to perform his duty regarding the care and safety of children at a residential facility, and that he was not following financial instructions. The Royal Gazette asked the Government under public access to information for the "full report into allegations of misconduct against Alfred Maybury, which was conducted by the Ministry of Legal Affairs and Department of Internal Audit". Legal Affairs refused to disclose whether the record existed because the ministry said to do so would "add unnecessary confusion to misinformation which is already present in the media and public domain". It said such investigations had to remain highly confidential so as not to prejudice or undermine future investigations. Marva O'Brien, permanent secretary at the ministry, did not respond to a request for a review of that decision in the six-week time frame required by the Pati Act. The Department of Internal Audit said records it obtained or created in the course of carrying out its functions were exempt from Pati. Cabinet Secretary Marc Telemaque reaffirmed that decision after an internal review. The newspaper appealed Mr Telemaque's decision and Ms O'Brien's lack of a decision to the Information Commissioner's Office. Ms Gutierrez's review into Legal Affairs will be limited to whether Ms O'Brien failed to make a decision in accordance with the Pati Act and will not consider whether the report into Mr Maybury should be released. Her review into Internal Audit will look at whether the department was right to refuse to release the report under section 4 of the Pati Act. A spokeswoman for David Burt, the Premier, said: "Internal Audit reports are exempt from Pati under section 4 and, as such, are held internally for use by the Government for its decision-making purposes in accordance with the Internal Audit Act 2010 and international internal auditing standards and code of ethics." A Ministry of Legal Affairs spokeswoman said: "We do not discuss internal personnel matters publicly."

The Bermuda Police Service has denied a claim that officers had accessed medical files seized from Ewart Brown's clinics. A spokesman for the patients claimed on Monday that they were "shocked" to discover that "police were going through" seized files without the patients being notified. She said: "Neither the police nor their lawyers bothered to inform us. This is nothing short of outrageous. "We think this was deliberate to try to make our appeal to have our files back, worthless." The spokeswoman added: "Who can we trust if we cannot trust the Police Commissioner? Who can we trust if we cannot trust the Governor?" Stephen Corbishley, the Commissioner of Police, said the Bermuda Police Service has acted strictly according to a court-ordered protocol, as agreed by lawyers for the clinics and the patients. He said: "If the clinics and others are under a misunderstanding as to the position in relation to the protocol, their misunderstanding is not due to any fault of the BPS. The BPS is fully observant to both the required undertakings in these matters and the sensitivities in respect of patient confidentiality. In this regard, examination of evidence is being facilitated by an independent overseas expert and the BPS has no access to the material within patient files." Police seized the health records of 265 patients from Dr Brown's two clinics in February 2017 as part of an investigation by police into allegations that the clinics ordered unneeded diagnostic imaging scans to boost profits. Those files were sealed on the orders of a judge after civil proceedings were brought against the police by Mahesh Reddy, the medical director of Bermuda Healthcare Services, and the clinics. A group of 150 patients, represented by Chancery Legal, were given permission to intervene in the case in November last year. The patients sought to block access to their files by police and to have the medical records returned. In February, the parties agreed on a protocol through which selected files of 75 patents would be uploaded to a secure server. Under the protocol the server was to be set up and managed by the National Crime Agency in the UK and, once the files were uploaded, the BPS would have no further access. Two independent doctors appointed by the BPS would have access to the files in order to prepare expert reports on whether patients were over-scanned. But in a letter send by Dr Reddy to the patients at the Bermuda Healthcare Services and the Brown-Darrell Clinic which said "the BPS have undertaken not to access your files".

Bermuda Industrial Union members have endorsed the collective bargaining agreement settled by their negotiating team, after hundreds met to vote this morning. The gathering, which began at 10.30am, ended at noon with the overwhelming majority of members opting for the terms as negotiated. Chris Furbert, the president of the BIU, said about 600 members turned out for the meeting at St Paul AME Centennial Hall. "They accepted the proposal that the BIU negotiating team presented to them," Mr Furbert said, estimating that 95 per cent of attendees had agreed, The session had an impact on some government services, including:
Bus service interruption from 10am to 1pm and ferry service interruption from 9am to 1pm;
Minor disruption to garbage collection in central parishes;
Dog wardens;
Custodians and store personnel in schools, and Dame Marjorie Bean Hope Academy bus drivers and crossing guards;
Mail delivery.

A tribute to Bermuda's national heroes will be held at the weekend. The event will recognize the island's National Heroes, Dame Lois Browne-Evans, EF Gordon, Pauulu Kamarakafego, formerly Roosevelt Brown, Sir Henry Tucker, Mary Prince, Gladys Morrell, Sir Edward Richards and Sir John Swan National Heroes Day is on Monday. Lovitta Foggo, the Minister of Labour, Community Affairs and Sport, said: "We are hosting a recognition event where we intend to use the opportunity to remind the community of the importance of National Heroes Day and to share tributes that will highlight how our National Heroes inspired those who will be participating in the ceremony. "This is an event that is open to the public and we are encouraging people to attend so that they can learn more about the legacy and contributions of Bermuda's national heroes." The event will be held at the World Heritage Centre, St George, on Saturday from 6pm. The celebration will feature contributions from historians and family members of some of the national heroes, as well as a musical performance by Joy T. Barnum.

Jeremy Cox received a standing ovation at the Bermuda Captive Conference as he received the Fred Reiss Lifetime Achievement Award. The executive chairman of the Bermuda Monetary Authority was visibly moved after he received the acclaim of hundreds of delegates. Mr Cox joined the BMA in 2002 after working as the Bermuda Government's Registrar of Companies. Named chief executive officer in 2010 and executive chairman this January, he has led the authority through market milestones, most notably, its 2016 achievement of full equivalence with Europe's Solvency II insurance regulatory regime. The BMA marks its 50th anniversary this year. Mr Cox received the award onstage in the Amphitheatre at the Fairmont Southampton from Curtis Dickinson, the finance minister, and Mike Parrish, the conference chairman. He said that before the event, the knowledge that he would be honoured with a lifetime achievement award had not really hit him. "As I sat there reflecting on the 26 years I have been involved in regulation in Bermuda ... it's hit me now," Mr Cox said. "It's quite an emotional moment." When he joined the financial services regulator 17 years ago, he said there were just 35 staff — as of the end of last year, there were 196. "They have been a phenomenal group of people over all the years I've been there," Mr Cox said. His award reflected their success, he added. He also paid tribute to Brian Hall, last year's Fred Reiss award winner, whom he described as "one of my mentors". Mr Cox first worked as an auditor at Arthur Andersen & Co in Bermuda, before joining the Registrar of Companies, where he served as technical officer in the insurance division, and later inspector of companies, and finally Registrar. In this role, his responsibilities included providing technical support to the finance ministry on all insurance-related matters. After joining the BMA in 2002, Mr Cox served as executive director and supervisor of insurance, becoming deputy CEO in 2008, and CEO in 2010 until taking up the role of executive chairman this year. In addition, four captive insurance companies have joined the Bermuda Captive Hall of Fame, having completed 25 years of business on the island. The companies are Fairtide Insurance, Iboba Insurance, Pitts Bay Insurance Company, and Trimark Insurance.

A former head of communications at the Bermuda Business Development Agency has been appointed to a top job at the Bermuda Tourism Authority. Rosemary Jones is the BTA's new director of corporate communications and strategy. She said: "It's a real honour to join the BTA's talented team and help build on its already impressive achievements. Travel and tourism have always been big passions of mine, so I'm thrilled to have this opportunity to tell our story, encourage national dialogue, and support the industry and its stakeholders as we take Bermuda's tourism economy to the next level." Ms Jones will replace Glenn Jones, who was promoted to chief experience development officer in April. Her responsibilities will include oversight of the National Tourism Plan and media communications. Ms Jones will join the BTA on July 1. Ms Jones served as the head of communications and marketing at the BDA for four years. Her responsibilities included national PR plans, content production and campaigns. Kevin Dallas, the chief executive of the BTA, said: "Rosemary's reputation for excellence precedes her and we're thrilled to bring her on board at the BTA. We know she will be a great addition to the team and will help us continue the momentum of moving our National Tourism Plan forward in a passionate and sustainable way as well as connect with relevant stakeholders to ensure all voices are heard." Ms Jones earlier worked as a journalist for a variety of media, including Te Royal Gazette, Broadcast News Toronto, The Bermudian magazine and Bermudian Business magazine.

A vulnerable teenager "dumped" overseas by the island's child protection agency claimed yesterday that social workers tricked him into going and then "abandoned" him for years. The youth, whose mother died when he was a child, said in an account to The Royal Gazette that when he was 13, the Department of Child and Family Services told him he was being taken to a "kids' camp in the US, where I would go skiing and do other fun activities for a couple of weeks". The young man alleged: "It wasn't a kids' camp and they dumped me in the US for 2½ years." He claimed he was sent to a wilderness programme in Utah for "children caught up in crime or self-harming" and then to an academy in Tennessee where most other children already had criminal records and were linked to gangs such as the Bloods or Crips. The boy alleged that letters he sent to social workers pleading to let him come home made no difference and that no one from the department visited him the whole time he was in the United States as part of DCFS's psycho-educational programme. A Ministry of Legal Affairs spokeswoman said yesterday she could not comment publicly on individual cases. The ministry earlier said the department vetted overseas institutions every year and that children had weekly conference calls and were visited every six months by a case worker. It said the psycho-educational programme was for children "who could not be effectively serviced locally or those who had exhausted all local available therapeutic services". But the boy said in the letter: "I felt real bad, very far away, alone and that no one cared about me. The department never made me feel like it wanted me or cared about me. They would say they were spending a lot of money on me, like I should thank them for it." He added: "I don't want any other kid to be treated like I was ... I really don't want it to happen to any other children. There may be some that might need treatment in a special place but it should be a nice place." The teenager said: "And keep them in Bermuda. Sending them away will make things worse. And when they come back they have nothing and are just dropped." The youngster spoke out after Attorney-General Kathy Lynn Simmons told the Senate last week that The Royal Gazette should not "harass" schools involved in the psycho-educational programme or "try to obtain information that is detrimental to what we are trying to accomplish". Ms Simmons, the Senate leader and Minister of Legal Affairs, said: "We've had parents speaking out, we've had The Royal Gazette fishing overseas and undermining the operations of the Government ..." She said she and Alfred Maybury, the DCFS director, were impressed when they visited more than six overseas institutions last month. But the teenager said: "I was in care for most of my life and the director sent me away to those places. So I know more about it than a quick visit and a show by those places that Bermuda makes rich." And he told the department: "You all know why the parents are speaking out and why the media are asking questions." He claimed: "You have just been throwing children away in those places. And you leave us there. When we complain you don't listen. When we ask for help, you tell us you are there to help us. Then you do nothing. You know you can ignore us because most of us have no one, not even parents. And then when adults try to help us or the media ask you questions, you attack them. And you all care about children? You're jokers." The letter details how the boy lived with a variety of relatives before he was sent to a residential home on the island. He was in foster care for a short time but he said he did not think Mr Maybury ever tried to find a family to adopt him. After he got into trouble at school, mainly for fighting, he said the department raised the subject of going abroad. The DCFS must apply to the courts and explain why the youngster should be sent away to remove a child from Bermuda. The letter-writer, like almost all the children who have taken part in the psycho-educational programme since it began before 1999, did not have independent legal representation during court proceedings. He said: "I never knew how it happened. I didn't have a criminal record. I had never even been arrested before but the director sent me to a wilderness programme with American children caught up in crime or self-harming. It was at Redcliff Ascent in Utah in the middle of nowhere with just trees and bushes. There were no toilets and just cold water. The other children were all messed up. Some had slash marks all up their arms. One tried to commit suicide while I was there. It was a lot for me to deal with. I was only 13." He added: "I kept asking why I was there but no one ever gave me a real reason. I wasn't a criminal. I had never even been arrested before. I wasn't self-harming. I wasn't crazy. I was just there because the director didn't know where to put me. I was missing my mama and angry about what was happening to me. All I wanted was for someone to come and get me." The youth completed a five-month programme at Redcliff and then went to Natchez Trace Youth Academy in Tennessee. He claimed: "It looked OK from the outside but really it's kind of like a prison and a school. Everything was crazy there. I felt like a criminal. I was still only 13 but you're put with all ages up to 18 and a lot of the other children had already been convicted of criminal offences and were linked with Bloods or Crips gangs. There was a lot of 'street' behavior, with fights every single day." His final stay was at Devereux, an advanced behavioral health centre in Florida, which he said was a "better place". But the teenager claimed there was no plan to reintegrate to Bermuda when he returned and he took to crime and ended up in the Co-ed facility. He said he avoided going to Glen Mills in Pennsylvania, the reform school recently shut down amid child abuse allegations, only because he got a lawyer, Saul Dismont, and an independent litigation guardian, social worker Tiffanne Thomas. The ministry has said that the DCFS "implements an aftercare programme" which consisted of "reintegration to the education system, ongoing individual and family support and referrals". The young man, who no longer lives on the island, said: "I'm older than 18 now and I have started learning a trade. I am trying to not get caught up and stay out of jail. But I'm not going to lie, it's hard. You do what you have to do to survive. That is what I was taught at the department and when I was away. I also learnt not to trust them too and how to look after myself on the street." We contacted Natchez Trace and Redcliff Ascent by e-mail and telephone yesterday. Anthony Troutt, Natchez's director of risk management, said: "While we cannot share details on any individual youth or circumstances due to privacy laws, we are committed to providing appropriate care and structure for each individual entrusted to us. This includes facilitating a link between the youth receiving care and their family members." Mr Troutt said the Natchez Trace Youth Academy was a 115-bed behavioral residential treatment centre on 123 acres, serving adolescent males 12 to 18 years of age. He added: "Our most important responsibility is and always will be the wellbeing of our youths. We are committed to our mission of providing high-quality treatment programmes and services to youths with special, and sometimes complex, mental health needs. We have been in operation for almost 20 years." Steven DeMille, Redcliff Ascent's executive director, was not available for comment.

Bermuda must do more to improve access for the disabled, a new non-profit group set up to help people who have lost limbs said this week. LeKiesha Wolffe and Ryan Gibbons, of A New Life, said very few places were designed to be accessible to people with disabilities. Mr Gibbons added that wheelchair-bound people — and even those who were physically fit — faced an "assault course" in Hamilton. He said: "You can go around the city and there are very few places with real ramp access. There's always one stair or a lip. We get it that the infrastructure is old, but at the same time are we just supposed to throw up our hands and not do anything about it?" Mr Gibbons, an award-winning bartender who lost his leg as a result of a 2008 motorcycle crash, said legislation intended to improve accessibility needed more teeth. He said: "There's a place on Front Street that just got a design award — a new construction in an older building — and there is no access to get to the bathroom. You still need to go up a flight of stairs to get to the toilets. These businesses are not taking local people with disabilities into account, but there are also thousands of cruise ship passengers coming and some of them have handicaps. You have people who want to buy your products that can't get into your building to buy your products." Ms Wolffe, the executive director of A New Life, said she had encountered regular problems since she lost her leg in a 2013 motorcycle crash. She added: "My first year I was wheelchair-bound and it was horrible. I had a meeting a few weeks back while I was still on crutches. I went to go into the bathroom at a restaurant and I wasn't able to get into the bathroom because the doorway was too tight. The stall was so small I couldn't turn around. I have a small wheelchair, but it would never have been able to fit, either." Ms Wolffe said she was in the maternity ward at the King Edward VII Memorial Hospital three years ago to give birth — and found the ward did not have a wheelchair-accessible bathroom. She added: "They were building a bathroom in the maternity ward so that I could have access to a bath and a shower. All these years there have been other people who are handicapped having babies. I couldn't go in with my wheelchair. I had to go in and hop with these stitches from my Caesarean section, with the possibility of tearing my stitches." Ms Wolffe said the lack of resources to help the disabled sometimes meant she could not do things with her young children without assistance. She added: "People have these great ideas, fantastic things for Bermuda, but handicapped people don't seem to exist when you're building a business." Ms Wolffe said that there should be tougher penalties for those who park illegally in disabled bays. She added: "That fine should be up to $1,000. Do that, and I guarantee you no one would park in that bay. I go to park outside the post office and have people tell me they are just running in. You're in a handicapped bay, honey." Ms Wolffe said that there were not enough disabled parking spaces and obvious spots, such as outside the office of the Department of Financial Assistance, had none.

Bermuda's first march to celebrate gay pride is to be held this summer. LGBTQ people and same-sex marriage campaigners said the Bermuda Pride event would help to reinforce that gay people are part of island society. A spokesman for OutBermuda, the main sponsor of the march, said: "OutBermuda is proud to support Bermuda Pride 2019. There is an inherent value in a public celebration of our LGBTQ community in Bermuda as a reminder that we exist and that we are members of the Bermuda community. It is also a beacon of hope to LGBTQ youth and others who feel that they are alone. OutBermuda will continue to promote and support the wellbeing, health, dignity, security, safety and protection of the LGBTQ community in Bermuda, for as long as we are needed." The march, to be held on August 31, will follow World Pride day in New York this month — which will also mark the 50th anniversary of a police raid on the Stonewall Inn, a gay bar in Manhattan, that sparked large-scale demonstrations and disorder which led to a more tolerant attitude towards gay people. Winston Godwin-DeRoche, who challenged Bermuda's same-sex marriage ban with his husband, Greg, said a march in Bermuda was "a huge step in the right direction". He said: "In Bermuda we are so quick to sweep things under the rug if they challenge the status quo. People argue why isn't there a straight Pride, and I say, really, be thankful you don't need one. Pride originated from Stonewall and the LGBTQ community fighting back and resisting police because they'd had enough. Pride has now become a celebration of that and remembering what it took to get where we are now. We are still fighting for equality in Bermuda." The march was organised by equal rights campaigners Liz Christopher, David Northcott and Chen Foley. A spokeswoman for gay rights group the Rainbow Alliance said: "Gay pride events exist globally as celebrations of visibility, progress, and the continued struggle for LGBTQ equity within hetero-normative society. "The Rainbow Alliance advocates for safer spaces in Bermuda and applauds the organisers of this summer's Pride celebration." Pride parades are now held around the world, with some of the largest in the US, Britain and Europe. Mark Anderson, a Bermudian entertainer, who is gay, said he was "ecstatic" that a parade would be held in Bermuda. He added: "I think this is the right timing for it. Now Bermuda is going to be put on the map with all the other jurisdictions around the world — it will be recognized that Bermuda is joining the world in taking a stance with gay pride." He added: "I would like to see every Bermudian living abroad make a great effort in coming home and supporting this parade and if they do, be sure to put it on their immigration slip. Adrian Hartnett-Beasley, who married husband Shane in New York in 2015, said the couple would attend the parade. He added: "We are looking forward to celebrating, with our LGBTQ community, all the accomplishments of the last few years and especially as we reflect on the 50th anniversary of the Stonewall riots in 1969 — so much that we have now has come at great cost to those who came before us. Mr Hartnett-Beasley said: "I believe that Bermuda Pride is a good opportunity for allies to show up for us in a visible way and I will be encouraging my straight friends and family to march with us in celebration of who we are as people and in solidarity in the face of the very real obstacles we face on a daily basis."

Perfumery Lili Bermuda has launched Nautilus, the first summer fragrance designed for men that it has released in more than a decade. Nautilus is a fragrance inspired by the relationship between man and nature, the company said. It is a young, but fierce fragrance inspired by the Colours, sounds, and energy of a summer Bermuda storm. The fragrance reflects the supernatural energy of the crashing waves, which have sculpted so perfectly our idyllic natural landscape, Lili Bermuda says. It is a gift from nature with its most dramatic expression of power and beauty. A fusion of water, air, and woods, Nautilus is characterized as a Fougere, one of the main olfactive families of perfumes, with vetiver and white musk. It opens up with top notes of refreshing bergamot, green verbena leaf, a dash of ginger, and sparkling petit grain. Its heart is composed of a cool aquatic salty accord with blue sage, lavender flower, geranium, and sea notes. It ends with vetiver root, a touch of fig leaf and sensual amber. Isabelle Ramsay-Brackstone, master perfumer for Lili Bermuda, is the creator of Nautilus. She said: "Nautilus is a personal and intimate part of how I see and admire the good and strong men of my universe. I wanted this fragrance to be an oceanic reflection of Bermuda and I wanted to give it a very masculine aura." Whether young or old, son or husband, Nautilus is suited for the boy who yearns for adventure in the wide-open sea, she said. Nautilus is available as an eau de toilette and as a refillable travel atomizer. It is available from the Lili Bermuda perfumery in Stewart Hall, Queen Street, St George's, at the Lili Bermuda boutique in Butterfield Place shopping concourse, 67 Front Street, Hamilton and from AS Cooper & Sons, Brown & Co, Gibbons Company, and the Bermuda duty free shop.

A grandmother restaurant cook relived her terror after a man with what appeared to be a handgun charged at her and demanded cash. The woman said: "I thought he was joking — like it was somebody just playing games — but then he put the gun up. "He had it wrapped up in a red scarf, so I don't even know if it was a real gun or a play gun." She added: "This is the first time that something like this has ever happened, that's why we were so shocked." The staff member at Grannie's Kitchen take-out was speaking after a man in a dark helmet robbed the restaurant in North Shore Road, Pembroke, at about 11am yesterday and escaped with $80 in cash. The woman, from Somerset, who asked not to be named, said the raider was accompanied by another man, also wearing a dark helmet, who walked out of the restaurant before the robber demanded cash. She added: "He ran around the other side of the counter and asked for the money. I said 'we don't have any money, we use the till' and showed him where the till was. He couldn't get the till open, so my boss opened the till and threw the money at him, almost like she was shooing him away. When she threw the money at him it all fell on the floor. He only picked up some and then left the rest of it there." The cook said that the thief and his accomplice escaped on a motorcycle. She added that, although nobody was hurt, the staff were stunned by the ordeal. The woman explained: "I really thought it was a joke, because everybody jokes around. We have people who come here that mess around all the time. Everybody's fine now, but it was upsetting when it happened." The woman added that the area was a "beautiful" community and staff did not often have to deal with troublesome customers. She said: "They wait for their orders, they don't grumble and we don't argue or anything. The customers are great." Grannie's Kitchen was bought by Debbie Bean in 2015 and is staffed by several members of her family. Kee Bean, also a chef at the restaurant and a niece of the owner, said local people had rallied round after the robbery. She added: "A lot of people have been calling and saying that they're outraged that this happened to Grannie's. We've even had people tell us that they were willing to cover the cost of what was taken." Ms Bean said that the restaurant had CCTV cameras outside but they were taken down two weeks ago for repairs. She added: "You'd think that something like this wouldn't happen to you because you do good for the community and that they would do good for you." Michael Weeks, a Progressive Labour Party backbencher and the MP for the area, said anyone with information about the robbery should contact the police. He added: "Let's make a difference and assist in any way that we can to aid in eradicating these criminal acts."

When Shawnette Simmons Smith opened the Green Lite Café and Eatery across from the Somerset Cricket Club in Sandys, she really wanted to create an all-vegan eatery. But the previous occupant, the Shabazz Bakery, had left too much of a meat-lovers legacy. "I didn't want to put the community into shock," Ms Smith laughed. So in 2015, she compromised, keeping Shabazz' signature dishes such as steak and take, but adding lots of meat free dishes. Her vegan dishes are made from scratch, and include several different types of burgers including lentil, chickpea, black bean and black eye pea. There's also a vegan salad bar on offer, and vegan quiche and lasagne. "I pride myself in using all fresh vegetables and all natural products that are not processed in any way," she said. "I make my own soy cheeses and soy mayonnaise." Four years ago a customer asked her if she would provide vegan food for It's Only Natural, a health food store on Princess Street in Hamilton. "At first it was just Friday but then it grew and now it is on Wednesdays and Fridays," she said. But last week she relocated the town service to the Ambiance Lounge on Angle Street, on Wednesday and Fridays from 12 to 3pm. The offerings are strictly vegan. "When I was at Ambiance on Wednesday, for the first time, I had quite a few first timers," she said. "They came back on Friday, and said they'd be back again. They complimented the burgers." She feels that interest in veganism is growing in Bermuda, but local restaurants aren't keeping pace. Finding somewhere I can sit down and enjoy a full vegan meal is difficult," she said. "My favourite place is the Fairmont Southampton. They have a Mexican falafel wrap. I love it. I go there quite a bit. Other than that, if I go out I have a pasta or a salad. I do patronize the Adventist bookstore in Hamilton and buy a lot of supplies from them. They have a really good fish cake made from chickpeas. Other than that I basically just eat my own food." Her mother, Myra Muhammad ran the Shabazz Bakery with another lady. In her childhood she ate the steak and takes, fish and chicken at the bakery, the same as everyone else. But when she reached her teens she became more health conscious, and also concerned about the treatment of animals. While living with the Hebrew Israelites in Israel for 20 years she was able to explore veganism more. "That community really helped me to be able to embrace the things I was feeling," she said. She returned to Bermuda in 2006, with her four daughters. "They were raised as strict vegans," she said. "But since we moved back to Bermuda, they found they love cheese. That is their weakness, but for the most part they try to stick to a vegan or vegetarian diet." Her daughters now help her at the restaurant, when they can. During the week her clients are mostly from the Sandys area. Surrounded by four schools, including Dalton E Tucker, she sees a lot of teachers popping in for a bite at lunch time. Her biggest challenge is that the cost of doing business in Bermuda is escalating. "In the Somerset community there is not a lot of business going on," she said. "I have to rely on the same clientele to patronize us. Every now and then we get different people. On the weekends we see people from all over the island, but during the week it is mainly people in the Somerset area." She said recently she had to let one staff member go because she couldn't afford to pay them. "I am trying to diversify enough to sustain myself without losing myself completely," she said. "In the establishment here, I do pizzas, paninis, quesadillas." Her ultimate goal is to open a second location in Hamilton. She came close last year, but then her mother, Myra Mohammad, became ill in January and needed care. "That just took the wind out of my sails," she said. But she hasn't given up on the idea yet.
• Green Lite, at 15 Cricket Lane, in Sandys, is open from 8am to 9pm, Monday to Saturday. For more information see their Facebook page or call 234-1211.

The wife of a former Governor of Bermuda has been praised for her support for charity on the island. Jennifer Masefield, who died in April, aged 79, the wife of former governor Thorold Masefield, was given a service of remembrance last week at St Saviour's Church in Brockenhurst, Hampshire in England. She lived in Bermuda during Mr Masefield's governorship from 1997 to 2001 and both were keen supporters of Pals, the cancer charity. Ann Smith Gordon, the former executive director of Pals, said Ms Masefield was patron of the charity during her time on the island. Ms Smith Gordon said she invited the charity's five oncology nurses in turn to regular lunches at her home with Mrs Masefield. The gatherings were followed by individual visits to each nurse's patients. Ms Smith Gordon said: "It was a huge boost to the patients, who were thrilled to have the Governor's wife visit. We took photographs if they wanted, and the next time we visited we would see the picture prominently displayed. She and her husband were very supportive of anything I asked of them, and they became very dear friends." Mrs Masefield, an orthopaedic nurse and physiotherapist, was awarded an MBE in the 2002 New Year's honours for her services to charity. Ms Smith Gordon said Mrs Masefield developed Alzheimer's disease in her later years, but was "such a happy soul when I visited and was always smiling. Mr Masefield himself looked after her so well and she managed right up to the end. The loss has left a hole in his heart — she was his soul mate." The couple had three children, Nigel, Sally and Roger. Her obituary in The Times of London said she was "an inspirational, multitalented author, nurse, needlewoman and consummate diplomatic hostess". The service in her memory was held on June 7.

June 11

An expert panel has urged Government to review the possible linkages between immigration policy reform and sustained economic growth. Members of the Financial Policy Council made the recommendation after their latest meeting. The prospect of declining demographics represent a major risk to Bermuda's government finances, in particular as it relates to sustained funding for healthcare and pension benefits, the council said. FPC members also discussed Bermuda's fiscal situation and debt outlook at the meeting. While noting the improvement in the medium-term fiscal outlook in the wake of decisions taken in recent budgets, FPC members urged Government to continue to identify ways of making progress in reducing the large level of outstanding government debt. Several areas of Bermuda's emerging fintech sector were also discussed during the meeting, including the regulatory framework for digital asset business firms and initial coin offerings. Members reviewed some international comparisons and examined the balance of risks and opportunities emerging from fintech, and how best to promote the further development of Bermuda's fintech sector, while ensuring that Bermuda's reputation as a world-class international financial centre was robustly protected. FPC members also discussed the work under way in Bermuda aimed at strengthening the jurisdiction's resilience to cyber incidents, including measures taken by the Bermuda Government, regulated financial institutions and the BMA, as well as activities under way at the Ministry of Finance and the BMA with respect to continuing with the development of a resolution framework for Bermuda banks. Set up in 2015, the role of the FPC is to assess possible threats to Bermuda's financial stability, and to identify policies and actions to mitigate or eliminate such threats. It also advises Government on the development of the financial stability framework in Bermuda, and makes policy recommendations designed to support the general economic and financial wellbeing of the country. Curtis Dickinson, the finance minister, chairs the FPC. He is joined on the council by deputy chair Sir Andrew Large, former deputy governor of the Bank of England, and now an adviser to central banks and governments; Jeremy Cox, the BMA executive chairman; Michael Butt, chairman of Axis Capital Holdings Ltd; businesswoman Dame Amelia Fawcett, who is also a non-executive member of Her Majesty's Treasury Board; chartered accountant Gil Tucker, former Bermuda managing partner at Ernst & Young, and now on the board of HSBC Bermuda; and DeLisle Worrell, former governor of the Central Bank of Barbados, and now a member of the Bretton Woods Committee. Dr Worrell also worked with the International Monetary Fund, focusing on monetary policy, financial stability and stress testing.

The Privy Council in London has ruled that the Bermuda Bar Council was wrong to deny law firm Walkers Bermuda Ltd a certificate of recognition. The Bar Council had argued that the law firm was not controlled by Bermudians as required because of a licensing agreement with Walkers Global, based in the Cayman Islands. The Supreme Court had found in favour of WBL but the Court of Appeal ruled that a company owned and directed by Bermudians could be controlled, directly or indirectly, by non-Bermudians through commercial arrangements and WBL appealed to the Privy Council. However, Lord Hodge said in a written judgment: "The board has sympathy for the predicament of the Bar Council when faced with a proposal which, despite the robust protestations to the contrary, appears to amount to a franchise arrangement by which WG seeks to extend the provision of legal services under its brand into Bermuda. The board sees no reason to disagree with Sir Christopher Clarke's conclusions in his judgment that there is a prospect that almost everything other than local legal work will be carried out by WG offshore and that the financial obligations on WBL under the licensing agreement are likely to confer very substantial power on WG over the conduct of WBL. But, agreeing with Chief Justice Ian Kawaley, the board concludes that the proposed arrangements regulating the operation of WBL as a professional company are not contrary to the Companies Act 1981." The Privy Council decision, delivered yesterday, said that the Supreme Court ruling by then Chief Justice Ian Kawaley had been correct and that the Bar Council should have granted WBL recognition. Lord Hodge said in the judgment that the issue of legal control, not commercial control, was crucial to the case. He explained: "If it were sufficient to establish non-Bermudian control by commercial control alone, a local company might face intolerable uncertainty as to whether it was carrying on business legally or was committing an offence. "For example, if a primary producer in Bermuda were to enter into an exclusive supply agreement with an overseas buyer which made it dependent on the commercial decisions of the buyer, the latter would have considerable influence over the supplier's commercial decisions and in one sense have the potential to control the quantity and quality of the supplier's products. If such control by itself sufficed, the legality of the supplier's business would depend on the way in which the overseas buyer chose to exercise its commercial influence." Lord Hodge added that a similar problem would arise if a local company borrowed money from an overseas lender and found themselves in financial difficulty. He said: "There would be great uncertainty as to what actions of, or advice by, the lender would amount to control thereby causing the local company to commit an offence." Michael Hanson, managing partner of international law firm Carey Olsen Bermuda, said the ruling could benefit Bermudian-based businesses. Mr Hanson said: "The Privy Council has in essence concluded that so long as non-Bermudians do not have legal control over the manner in which directors and shareholders vote in the conduct of a local company's business, local companies may confer upon non-Bermudians de facto control by commercial arrangements. Time will tell, but this looks to be a significant decision and one that could have wide-ranging implications for local companies. There will be polarizing views as to its impact, but our initial assessment is that it will likely increase the range of options available to entrepreneurs and local businesses seeking capital or foreign investment." WBL was incorporated in Bermuda in 2015, with all shares owned by Bermudian barristers. The Cayman firm would not have any legal control over or beneficial interest in the shares of WBL, but WG would lend up to $5 million to WBL to fund its start-up under the terms of the proposed licensing agreement. WBL applied to the bar association for a certificate of recognition, but was refused in June 2016 on the grounds that their agreement with WG would contradict the Companies Act, which requires island-based companies that carry on business in Bermuda to be controlled by Bermudians.

A man stabbed 13 times in an attempted robbery was just one millimeter away from paralysis or death, he revealed yesterday. Borislav Angelov, who was attacked as he came home from work as a bartender, said one of his stab wounds just missed penetrating his spine. He added: "I was so lucky. One of the stabs hit me exactly on the spine. If it went deeper, just a millimeter more, I would be paralyzed for life. And I already told my wife I don't want to live paralyzed." Mr Angelov was attacked in the early hours as he rode his bike along Harbour Road, Paget. Two men on a bike chased him and attacked him on his patio. Mr Angelov said his helmet and backpack probably saved him from even worse injuries. He said: "There were a few more cuts in the knapsack. And there were probably more in the helmet. He got me the first time hard and after that he didn't have a chance to go deep again." Mr Angelov, originally from Bulgaria, added that the attack ended only when his wife, Deborah, who was recovering from a broken leg, heard the noise and turned on the patio lights. He said: "If she didn't flick on the lights, I would be dead." Mr Angelov was rushed to hospital after the attack, in the early hours of October 23 last year and doctors battled to save him. He said: "When I got into the hospital, I wasn't sure what was going to happen. I don't think anybody thought I would survive at the time. I have to thank the doctor — he put me back together. If it was not for him, I would not be speaking today." However, Mr Angelov said the emotional and psychological scars left on him and his wife by the attack may never heal. He used to be able to tell visitors with confidence that Bermuda was the safest island in the Atlantic. But Mr Angelov said: "How can I say this today? A lot of people say it is very unlikely to happen to you, but how can I say it is not going to happen to someone else? I can't say the same thing to the tourists. I can't say this is the most safe place. I can't." He was speaking less than a week after Alex Wolffe, 20, was sentenced to ten years in jail after he was convicted of wounding with intent to cause grievous bodily harm. Wolffe, from Southampton, was also sentenced to five years for attempted robbery and 12 months each on two charges of intimidation, but the sentences will run concurrently. Police continued the hunt for Wolffe's accomplice after the trial. Mrs Angelov said the attack still terrified her. She added: "Never in your life do you think you would see something like this. And with a broken leg so you can't ... I don't know what I would have done if I didn't have a broken leg. If I opened the doors, would they have stabbed me? Would they have shot me?" Mrs Angelov said: "Many people say many things. They say what they would have done, but they don't know what they would have done. How many people would stand through 13 stabs? Most people would collapse after one or two, but he just kept going." She added: "They didn't expect him to fight back as hard as they did, but he did. Most people would just surrender." The couple praised the police and paramedics for their fast response. Mr Angelov spent ten days in hospital after the attack and the court heard he still suffered side-effects, including "constant pain" on one side of his body and no feeling on the other side. He also suffers flashbacks and memories of blood running down his back and legs. Mr Angelov flew to Bulgaria after he was released from hospital because he wanted to tell his family about the attack in person. He said: "My mother, she didn't know anything until I went back to Bulgaria. It has been very emotional. Nobody expects this. They didn't expect me to be home. It's very hard to explain to your mother you almost died, you know? I can see how it has changed the way she acts. Every time I call she thinks something happened. She expects me to tell her something bad." But Mr Angelov said: "I hope I will be the last victim of these type of crimes. That's what I hope. Lets hope Bermuda has a better future. I'm not angry, I'm not upset. I'm very happy I'm here still today and can enjoy Bermuda with the time I have." However, the couple no longer feel safe in their home. Mrs Angelov said: "We are in the process of moving. I can't be there any more. He can't be there. Too many bad memories. I look outside and I can hear the scraping of chairs. I know it sounds really crazy and stupid, but every time I hear something move, I jump. And with the trial and everything you worry if they are coming back." Mrs Angelov warned the public that they needed to be careful, particularly late at night. She said: "I hope this is a lesson to the community, that people take heed and don't think casually about what can happen. We can't do the things we used to do. The days are gone where we left our windows open all night and our doors unlocked." Mrs Angelov added: "I feel bad for the children and families of those who are doing this to others. It must be devastating and mortifying."

A man who stole a police car for a "joke" was not laughing when he was jailed for six months yesterday. Ross Parsons, 47, took the car from Court Street, Hamilton, after police officers left it unattended with the keys inside as they carried out a routine licence check at the Spinning Wheel bar, Magistrates' Court heard Parsons, from Warwick, who also admitted a drink-driving charge, apologized to the court and admitted that his actions had been dangerous. He said: "I've been deterred from getting into the front and the back of a police car. I meant it as a joke, but the joke was on me." Shocked officers found their patrol car missing when they returned and reported it. A later review of CCTV camera footage spotted Parsons taking the car and driving away. He abandoned the car on nearby Elliot Street. Police found Parsons outside the Spinning Wheel with the car keys still with him and arrested him. The incident happened on April 28. Parsons was fined $1,000 and banned from the roads for 18 months on the impaired driving charge. Senior magistrate Juan Wolffe also sentenced Parsons to three months in jail on a separate charge of having an offensive weapon. The court also heard that Parsons was caught by police swinging a metal baseball bat in the car park of the King Edward VII Memorial Hospital on April 8. Parsons pleaded not guilty to the offensive weapon charge when he appeared in Magistrates' Court on April 10. But he was found guilty after a trial on May 6. Parsons told the court yesterday that he had the bat to protect himself and his girlfriend as he walked her home. However, Jason Outerbridge, for the prosecution, said that was not reasonable grounds. Mr Wolffe ordered that the two jail terms should run concurrently. He said: "I could've given you more, but I accept that this is an incident that you regret."

Armed robbers stole a motorcycle and personal items from a 20-year-old man. The pair, who were riding a motorcycle, approached the man as he sat on his bike in the parking lot of Bermuda Squash Racquets Association on Middle Road, Devonshire. Police said the pillion passenger held what appeared to be a firearm while the rider demanded "everything". The pillion passenger escaped in the direction of Vesey Street on the stolen motorcycle and his accomplice rode off on the bike they had arrived on. The incident happened at about 8.30pm on Sunday. The pair were wearing dark clothing and dark helmets. Police have appealed for witnesses.

A woman who complained about a leaky roof for years has won a $38,000 case against her condo management firm. Maria Rose Hill said the leaks had caused her years of distress and discomfort and resulted in thousands of dollars of damage. Flamingo Court Ltd, the company that managed the property, admitted it had an obligation to maintain the roofs, but could not afford to carry out the work. Assistant Justice Mark Diel, in a judgment dated May 27, said: "One does not, fortunately, need to be a legal scholar to realise that while this may be the reason for not repairing the roof, it is not an excuse." The court heard that Ms Hill, of Ferrars Lane, Pembroke, had made "requests too numerous to particularize" about the problem. She asked the court for $19,575 for roof repairs, $17,692 for kitchen cabinet replacement and $1,500 for temporary accommodation while the work was carried out, a total of $38,687. Colin Jones, a director of the company, accepted in a witness statement that there were leaks caused by a combination of termite damage and ageing and that the roof needed to be repaired. He said: "The defendant does not have the funds to properly repair the roof over the plaintiff's unit or any unit and there is no consensus on how to raise the funds. It is one thing to say that the roof must be fixed. It is quite another thing to say that funding for repairs is available." Mr Jones admitted that the company had a duty to repair the roof, but had failed to do so. Mr Diel said that given the financial hardship of the company, a ruling against them could result in it looking to tenants, including Ms Hill, for the funds to award Ms Hill, or the company being wound up. He added: "While I am not unsympathetic to the financial plight the company finds itself in, I do not see how this is a matter for the court in these proceedings. Even if I had some discretion on this matter, it would be remiss of me not to comment upon the defendant's conduct. Clearly the plaintiff cannot and should not be expected to continue under the current state of affairs." Mr Diel was also critical of Ms Hill's conduct during the proceedings and said she had been warned at least three times about being in contempt of court. He added: "I have little doubt if her conduct was as bad as it was in court, it could only have been worse when dealing with the company representatives over the years." Mr Diel found in favour of Ms Hill and awarded her the amount she had claimed. He said: "The defendant does indeed, as it accepted, owe a duty to the plaintiff to maintain and/or repair the roof. It has breached and continues to breach that duty."

Bermuda's captive insurance know-how gives it an edge in an industry that has become increasingly competitive. That is the view of Brady Young, chief executive officer of Strategic Risk Solutions, who added that changes in US tax rules had helped to make onshore US captive domiciles more attractive. "Bermuda's sustainable competitive advantage is the expertise among it's service provider and regulatory community," said Mr Young, who was speaking to Captive International ahead of the three-day Bermuda Captive Conference, which started at the Fairmont Southampton yesterday. "Few if any domiciles have the breadth and depth of knowledge and experience that can be found in Bermuda. Also the accessibility and convenience of Bermuda continues to be attractive to captive owners, especially on the East Coast of the United States." Mr Young added: "The above bodes well for the more demanding and sophisticated clients who need what Bermuda can provide. The challenge for Bermuda is remaining competitive for those less complex clients who have the option to implement their captive programme in various onshore domiciles." US domiciles such as Vermont, Utah, Delaware, North Carolina and Tennessee have seen significant growth over the years. A number of states have also been modernizing and updating their captive laws to facilitate new business. Mr Young's company has offices in Bermuda, the Cayman Islands and Vermont, as well as many other captive domiciles. US tax reform that took effect the start of last year increased the compliance burden for offshore captives, which has become an additional consideration in forming a captive and may drive captives to redomicile onshore, Mr Young added. He added that Bermudian captives have more flexibility than those onshore to do third-party business, an area in which he is seeing more growth. "Many clients continue to like the ability to meet and access reinsurers and excess insurers in the same market at the same time they are doing captive business," Mr Young said. He added that the Bermuda captive market is seeing some "exciting developments" and is well placed to benefit from the changing landscape of players in the insurance supply chain. "Mature captives are being used to solve new problems such as gaps in cyber-risk programmes and in response to the hardening market to access alternative sources and forms of reinsurance and capital,"

A new history book written to highlight ignored Bermudian stories is to be distributed to public and private schools and libraries. Prudent Rebels: Bermudians and the First Age of Revolution (1774-1849) by Bermudian historian Clarence Maxwell, with contributions from Bermudian Theodore Francis II and Alexandra Mairs-Kessler, has been launched by the Government's Department of Community and Cultural Affairs and the National Museum of Bermuda Press. A spokeswoman for the national museum said: "Prudent Rebels contextualises previously ignored Bermudian narratives and examines the ways in which different groups of Bermudian mariners and merchants, enslaved and freed, black and white, used the events taking place during the Age of Revolution to further their own prospects by growing their personal networks, purchasing their freedom, and increasing their social status through financial gain and land ownership." The book depicts aspects of the last decades of the 1700s to the first half of the 1800s, when the Atlantic World experienced a period of intense revolutionary activity. The spokeswoman explained that a Humanitarian Revolution grew out of the unrest, inspired by the Haitian Revolution and decades of anti-slavery campaigns in Europe. This resulted in an attack on slavery and the commerce of human trafficking that fed it, and the legislation that abolished both in the first half of the 1800s. It also placed on the agenda civil rights for all men and women, regardless of race. The book, which took more than ten years to produce, explores the role and response of Bermudians during the Age of Revolution. It is the first book to be launched under the National Museum's new education strategy, which was designed to make history accessible, relevant to the public and reflect the diversity of Bermuda's cultural heritage. The National Museum spokeswoman said there was a genuine Bermudian contribution to the changes, which were a self-interested rebellion whose consequences would shape the island long after 1834. The authors gave a free lecture at Bermuda College on Thursday night. A teacher's guide to the book is expected to be available in the near future. The book is available from the National Museum of Bermuda Press at 234-1333, info@nmb.bm, the Department of Community and Cultural Affairs at 292-1681, and from bookstores island-wide. The publication and its accompanying resources were backed by Bank of Bermuda Foundation, the American Friends of the National Museum of Bermuda and private donors.

June 10

Ministerial questions from the House of Assembly on Friday, June 7
Question to Lieutenant-Colonel David Burch, the Minister of Public Works, on the West End Development Corporation.. Susan Jackson, the Opposition Whip and Shadow Minister of Government Reform: "I was just wondering if the Minister might be able to give us any insights into the development or otherwise of the eastern-facing shoreline where the dry dock is? So right now ferries are brought up on dry dock in public boats and I know that at times there had been some concern about the safety of tourists and residents walking across that dry dock area, and then also just for beautification purposes, opportunities for maybe some sort of small boardwalk with restaurants and such, and I was just wondering whether that was still on the plate or otherwise." Colonel Burch: "There are no immediate plans to move that area at this time."
Question to Zane DeSilva, the Minister of Tourism and Transport, on the PGA golf tour. Craig Cannonier, the Opposition leader: "On the second page the Honourable Member says that the Bermuda Tourism Authority has signed a five-year agreement. I guess what I was curious about, do we know what that cost is now for the PGA Tour since we will be the title sponsors here in Bermuda? Mr DeSilva: "Yes, the cost is $3 million a year." Mr Cannonier: "I'm sorry, could you repeat that?" Mr DeSilva: "The cost is $3 million per year." Mr Cannonier: "Considering that, is the Minister aware or have any additional funds been asked of Government to act and to contribute to this?" Mr DeSilva: "No there haven't." Mr Cannonier: "Once all finalised, would the Honourable Member be willing to at least table the agreement so that we're aware of all of the details?" Mr DeSilva: "Unless there is any sensitive information I would be happy to do that and I'll be happy to share with the Opposition Leader."
Question to Wayne Caines, the Minister of National Security, on Exercise TradeWinds. Sylvan Richards, the Shadow Minister of Home Affairs and Environment: "Would the Honourable Member inform the Honourable House what was the size in terms of numbers of the Bermudian contingent to attended Exercise TradeWinds in the Dominican Republic?" Mr Caines: "It was ten, including myself." Mr Richards: "Would the Honourable Member advise whether there will be a similar-sized contingent that will attend phase two in St Vincent and the Grenadines?" Mr Caines: "As per the statement, the second part would be the significant part where we have taken an entire company down. We expect we are actually chartering a plane, as the Bermuda Regiment does every year, to take the soldiers on overseas camps. We believe an entire company — I'm not sure the numbers we're working with, we believe it to be about 120 soldiers — will be going to the second phase of TradeWinds in St Vincent."

Tributes have been paid to a beloved receptionist at the Cabinet Office, who has died, aged 69. Premier David Burt said in the House of Assembly on Friday that Beunice Crockwell's spirit would "brighten even that place". The Premier told MPs: "She was kind to every person who came into the Cabinet Office, regardless of party or who you were. She loved life." Craig Cannonier, the Leader of the Opposition, said that Ms Crockwell was a "lovely and spirited person" with a love of travel, and offered condolences to her fellow Cabinet staff. Leah Scott, the Deputy Leader of the Opposition, said Ms Crockwell was a "ray of sunshine — an always welcoming woman". Renée Ming, the Progressive Labour Party MP for St George's North, said Ms Crockwell was "an avid St George's supporter" at Cup Match. Christopher Famous, a PLP backbencher, called her "a Belco mom" to Garrett Crockwell, his colleague at the power plant. Michael Weeks, of the PLP, told the House that Ms Crockwell would "always remind us that we are doing the people's business". Scott Simmons, a government MP, hailed her "mischievous wit, big smile and deep laugh". Tinée Furbert, the Junior Minister of Disability Affairs, said her passing was a loss to the community at Duck's Puddle in Hamilton Parish. Ms Furbert added: "She was my aunt, as the stepsister to my mother." Jamahl Simmons, the Minister without Portfolio, called her a close family friend and "cruising buddy" to his parents. Michael Scott, the PLP MP for Sandys North, said that Ms Crockwell had been a close friend of the late PLP leader Dame Lois Browne-Evans. Both were now gone, Mr Scott noted. "Love conquers death," he added. Ewart Brown, the former Premier, recalled Ms Crockwell as "the only Cabinet office receptionist with whom I ever worked as Premier". Dr Brown added, in a statement sent on Monday: "She was also the only person I can recall who wore a bright, wide smile everyday no matter the climate in the office. I clearly recall the day when angry demonstrators against the Uighurs being allowed into Bermuda filled the Cabinet grounds and employees were concerned. Ms Crockwell remained calm and with that ever-present smile said, 'Premier, don't worry, you can handle it. She was a delight to work with and I will always be grateful for her love and support. Wanda and I wish her family strength and understanding during this difficult time."

Six high-flying undergraduates will intern at the Cabinet Office this summer under a programme offered by the Department of Workforce Development. The scheme, announced in the 2018 Throne Speech, coincides with two other programmes to develop the talent of Bermudian youth. Students interested in social and public policy, strategy, business and management science or law were encouraged to apply via the Bermuda Job Board website. The successful students are:
Ailey McLeod: a graduate from University College Utrecht who majored in Anthropology and Political Science and minored in History;
Stephen Symons: a senior from Point Park University majoring in Business Management and Political Science;
Ryley Tannock: a rising senior attending St Mary's University and studying Criminology and Psychology;
Kezia Battersbee: a fourth-year student attending Acadia University, majoring in Political Science and minoring in Sociology;
Halle Teart: a rising sophomore majoring in Sociology and Africana Studies and minoring in Social Policy and Entrepreneurship and Management at Johns Hopkins University;
Khari Place: a graduate from Oakwood University who studied Applied Math and plans to complete a Master's in the future.
David Burt, the Premier, said the summer programme afforded young people "applicable experience in public service as well as exposure to great career opportunities for those interested in the inner workings of government and making real changes in Bermuda". Mr Burt added: "I look forward to working with them and benefiting from their policy work and research." Ms McLeod noted that there was "a lot of emphasis on engaging with the youth in Bermuda". She added: "There's a desire for insight and opinions that come from young people of Bermuda, and that's really exciting."

A government plan to issue 20 temporary taxi permits to boost the number of cabs on the road has been put on hold. The news came after Zane DeSilva, the transport minister, held a meeting with 300 members of the Bermuda Taxi Owners' Association to discuss improvements to the service. Taxi drivers said they were concerned about the $4,000 cost of a temporary permit compared with about $100,000 for a standard permit. David Frost, the president of the BTOA, said: "There is a lot more to just putting an extra 20 cars on the road — you are talking about a $100,000 taxi permit being devalued because you are putting a $4,000 taxi on the road. We have 600 registered taxi permits in Bermuda and we have to make sure that we have 600 taxis on the road before we start moving to bring other taxis on the road. The minister knows why they are not on the road — you have taxis in probate, taxis that are not insured and taxis that are owned by drivers, including government workers, that are not on the road during the day. They should be, but it comes down to enforcement." Mr DeSilva said: "It is some people's perception that this move would devalue their permits. I am a listening minister. If we don't get to a stage where we can move people around without waiting hours on end for transportation then we are going to have to make some moves. I would prefer to do it with the taxi drivers than to make that decision. Maybe we need to change the law to say if you own a taxi we need to know who you are going to leave it with when you die. Or maybe if the taxi is not used, the permit gets returned to TCD and we give them a prorated refund." Mr DeSilva added that the law on taxis "needs to be blown up and rewritten, which I will do". The meeting was held at Warwick Workmen's Club last Thursday. Taxi drivers also discussed the need for better regulation of the industry by the Transport Control Department, night-time taxi availability, as well as abusive taxi drivers and badly behaved passengers. Mr DeSilva said that after a Green Paper on transport was unveiled last month he would issue 20 special taxi permits for use during restricted hours to help boost taxi numbers because only 556 out of 600 taxi licences issued were being used. Taxis owners are required have their vehicles on the road for 16 hours a day, but they are not monitored after a policy decision was made in 2010 by the TCD. But Mr DeSilva said that a decision had now been made to collect information from dispatchers on the hours that individual taxis were on the road. He added: "We are compiling the information. Once we start seeing the trends and seeing who is working and who isn't then we are going to take action." Mr DeSilva said that he planned further meetings with the BTOA.

A number of factors including Brexit could be driving up prices on some prescription drugs in Bermuda, it is feared. Pharmacists said medication recalls and manufacturing issues also played a part, after one patient reported that the cost of his treatment had soared by more than five times. A wholesaler explained that it was not unusual for access to supplies to be limited by events in other countries. The Bermuda Health Council confirmed it was aware of challenges and hoped to improve the prescription drug industry "in the near future". One drugstore customer said: "I went to renew a prescription and the cost of the prescription that I normally obtain had risen from $13 to $71. The pharmacist actually drew my attention to it, explaining that this was an impact of the Brexit events, that their supplier in the UK was stocking up on this particular type of medication and was not able to provide it, so they had to source it from the US initially and that resulted in the increase in cost. Given that people were interested in the cost of health at the moment, I thought this is something that was a bit beyond the reach of our government to control." The Government Employee Health Insurance scheme member wrote to Kim Wilson, the Minister of Health. A health ministry spokeswoman confirmed that the customer's concern had been raised. She added: "We are observing the situation as it has not been a problem across the board." Ricky Brathwaite, the BHeC acting chief executive and health economics director, said: "The health council is aware that there are sometimes challenges with getting prescription medications from the international market. As a small country with a population of 63,799, Bermuda is sometimes not the priority for the manufacturers and suppliers that have the inventories. And to make the situation even more complicated, when there are times when the world is buying up certain medications because of political or economic uncertainty, the demand leads to higher global prices. During those times we do not have the buying power by ourselves to combat those increases in prices or the ability to negotiate to the best of our ability because of the relatively small quantity of those medications we want to purchase." Dr Brathwaite said the council's recommendations included consolidating orders and reducing an "affinity" towards brand name medications. He added: "We understand that many of the issues in the world are out of our direct control. The council will continue to work with our pharmacist, hospital and physician partners to make improvements to our prescription medication industry in the near future so that we can do our local part to reduce the costs of medications to our consumers and their families. We will also work with our international partners ... on better procurement strategies to mitigate the roller coaster that can exist in medication pricing." David Ugwuozor, the Bermuda Pharmaceutical Association president, believes stockpiling took place before the original date for the UK's exit from the European Union, which was March 29. He added: "In Bermuda, people did buy in anticipation that Brexit was going to go wrong." The pharmacist at Robertson's, in St George's, said: "I don't think it was everyone, but some pharmacies did panic buy for sure — the last thing we want is to be short here." Mr Ugwuozor explained that the UK sourced much of its medication from Europe, so changes in regulations, tariffs or trade relations could affect the purchase of drugs, which would create problems for Bermuda because it orders from the British market, among others. He added: "We're a small island, the knock-on effect would be significant." Mr Ugwuozor said various factors appeared to be affecting a number of drugs. "This fluctuation is quite bad for the patients, especially if they're struggling to pay, so I can understand the concern. They would not really understand why it's happening ... not just Brexit, there are tons and tons of issues — supply issues, manufacturing issues, stockpiling — those are just three factors that would affect distribution of drugs, which in turn affects price." He added that concerns had been raised with the BHeC and the industry would keep watch in the coming months as the new Brexit date of October 31 approaches. A UK Department of Health and Social Care spokeswoman said that "robust contingency plans" were in place and if they were followed there should be no interruption to medical supplies when the country leaves the EU. She advised that suppliers were asked last August to stockpile six weeks' supply on top of their usual buffer stocks ahead of a possible "no deal" Brexit but that should not impact the ability to meet demand from other countries. Jon Turner, who covers pharmaceutical supplies at BGA Wholesale Distributor, said: "There's always something that's causing problems for supply for pharmaceuticals to Bermuda. We have had challenges and we have done our best to divert supply to other jurisdictions to resolve those." It was unclear if disruption caused by Brexit was the cause. Mr Turner explained: "I wasn't really getting a specific message from my suppliers, the order comes through unfulfilled so BGA, with it's experience and expertise, makes alternative arrangements as best as we can to maintain supply for pharmaceuticals in the community, but that can be a demanding task. I would say it's the normal ebb and flow of supply." Terry-Ann Waite, at People's Pharmacy, said the issues were also linked to "global shortage and several manufacturing companies having problems with their plants". She added that the FDA had recalled some hyper- tensive medication, which had become "extremely hard" to source. Ms Waite said: "For the ones you can get, the prices have gone up." Although a finance ministry spokeswoman said the GEHI scheme had no "specific carve-out" for generic prescription medication, the programme's benefits schedule suggested policyholders paid 20 per cent of the total cost. In comparison, most Argus, Colonial and BF&M policyholders are covered 100 per cent for generic prescription drugs and 80 per cent for brand name medication. An Argus spokeswoman said: "While we generally see an upward trend in medication costs, we have yet to experience any unusual spikes in our prescription claims." A BF&M spokeswoman added that the company was not aware of cost increases that could be attributed to Brexit.

In the UK, the British Broadcasting Corporation, holding the British Government's absolute monopoly as the only beneficiary (with none of the other TV or broadcasting companies getting a penny of it) of the UK's infamous TV tax, announced that most UK pensioners over 75 years old will no longer get free TV as they have had for years. Only those who have applied for and get Pension Credit - a top up of the UK's not generous State Pension - will qualify. Until 2019, any pensioner over 75, without any means-testing, could get free TV. All households have to pay about £150 every year to both use and have a color TV, irrespective of channel selected, BBC or not. Without such valid annual TV tax they are also breaking the law if in the home they use any laptop or desktop computer or cell phone or iPad or tablet or online game or record any shows. Members of Parliament, representing millions of constituents over 75, recently ignored their constituents by voting for the BBC, no longer Government as before, to decide who should and should not pay, even though the BBC is the only recipient of the TV tax. It has caused a national and international uproar. No such tax is imposed by Bermuda or USA or Canada or any Caribbean island. It applies in most of the European Countries but their very old or disabled residents can obtain a waiver without means-testing. It is yet another indication that any Conservative Party replacement for Prime Minister Theresa May who has been forced to resign by the end of July 2019 will have a very short tenure.

With two weeks to go until the third event in the inaugural calendar, SailGP has announced an exciting collaboration with Bermuda Tourism Authority as an Official Event Partner for New York SailGP. Taking place on June 21 and 22 from 5 to 6:30pm., SailGP will bring the world's fastest sail racing to the East Coast, with Brookfield Place in Battery Park City serving as the hub of spectator activity. Six national teams will compete in New York City on the Hudson River, just off the Battery and north towards Rockefeller Park, with Ellis Island and Manhattan's iconic skyline serving as a stunning backdrop. "Aligning with SailGP in New York City makes perfect sense. Not only is the island just a 90-minute non-stop flight from New York City, but it is our top feeder market," said Bermuda Tourism Authority CEO Kevin Dallas. "Bermuda has long been a top destination for sailing and luxury. As such, many of SailGP's sailors are familiar with Bermuda's turquoise waters. Ideal weather conditions, gorgeous waters, deep connections with the international sailing community and host to major sailing events go well together with island life." SailGP is equally committed to hosting world-class events as well as looking to build the next generation of sailing enthusiasts. During the two-day event, Bermuda will present an immersive activation space in the New York SailGP Race Village, which will be the best place for fans to experience the thrilling racing excitement onshore. Located at Brookfield Place in Battery Park City, this free-to-the-public event will be the hub for all activity over the race period, offering access to big screens showing live race coverage and commentary, concessions, the official merchandise shop, the awards ceremony, and other athlete appearances and activities. For those who are watching from home, global race coverage spans 91 countries across five continents and is also available via the innovative SailGP APP and social channels. A full list of viewing options can be found here. Bermuda will be visible during the global broadcast via on-course brand signage, along with TV advertising spots. In addition, all six boats will feature Bermuda branding on both sides of the wing mast. "We are excited to add the Bermuda Tourism Authority to our partner roster for New York SailGP," said SailGP CEO Russell Coutts. "I've been going to Bermuda since 1989 and have gotten to know the island and the Bermuda spirit well. It's a beautiful island, a brilliant sailing venue and a fabulous getaway for New Yorkers. New York is shaping up to be an event that fans won't want to miss, whether they are enjoying it from the Race Village on the shore or from one of the ticketed on-water experiences. We are hoping that fans will turn out to support their home team and witness something that's never been seen before in New York City." For all the information on New York SailGP or to purchase tickets, visit SailGP.com/NewYork.

Eleven police officers have been promoted to the rank of Sergeant. A promotion ceremony was held for them at the police headquarters in Prospect, Devonshire, on Friday. Dignitaries in attendance were: John Rankin, the Governor, Wayne Caines, the Minister of National Security, Stephen Corbishley, the Commissioner of Police, Darrin Simons, the Deputy Commissioner Designate, and Antoine Daniels and Martin Weekes, Assistant Commissioners. Family, friends and colleagues of the officers being promoted turned up to the Police Recreation Club hall in support. The newly promoted Sergeants are Sergeant Lennox Ince, Sergeant Mark Tomlinson, Sergeant Nidol Barker, Sergeant Cerepha Bridgeman, Sergeant Rohan Henry, Sergeant Bernadette Lawrence, Sergeant Dominique Simons, Sergeant Francis Blackman-St John, Sergeant Caleb Jn Pierre, Sergeant Christopher Thompson and Sergeant Windol Thorpe.

Soldiers from the Royal Bermuda Regiment have spent their first week as part of an international disaster relief exercise in the Caribbean. Seven soldiers are in the Dominican Republic in the run-up to the deployment of more RBR soldiers for the second phase of Exercise Tradewinds, to be based in St Vincent and the Grenadines. Lieutenant-Colonel David Curley, the RBR's Commanding Officer, said Bermuda's soldiers were on parade for the opening ceremony at Las Calderas Naval Base before he and Wayne Caines, the Minister of National Security, were given high level briefings by the US Southern Command (Southcom), based in Miami and responsible for operations in the Caribbean region. Colonel Curley added: "I was proud to see the RBR contingent lined up alongside service personnel from 12 other countries." He said: "The Minister was very impressed at the sight of RBR troops in various locations working with Southcom and other units from different countries." The RBR group includes Major Ben Beasley, the Second in Command of the Regiment, and Captain Gordon Emmerson, who joined the RFA Mounts Bay, a logistics ship, when it visited Bermuda last month. Two medics, Sergeant Husayn Muhammed and Lance Corporal Sivakumar Senthamaraikannan, joined forces with medics from other armed forces for training and teaching sessions. Captain Emmerson, along with Colour Sergeant Curtis Grant, worked with troops from the elite 24 Commando Royal Engineers on the use of explosives and tactical and operational planning. Colonel Curley said the second phase would involve soldiers from the reorganized RBR humanitarian aid and disaster relief (HADR) B Company, who will fly to St Vincent and the Grenadines on Wednesday (JUN 12). He added: "This will test the RBR in all aspects of training and operations and will strengthen our abilities in all areas of HADR, which is crisis management at all levels. I have no doubt the exercise will make us even better prepared to tackle natural disasters and hurricanes, both at home and overseas, in the future." A Regiment career offers recruits opportunities to travel, acquire skills useful in civilian life, test themselves to their limits and competitive rates of pay, as well as a $500 bounty for new volunteers. For more information, call 238-1045 or visit bermudaregiment.bm.

City of Hamilton Press release. " The City looks to welcome over 10,000 carnival revelers and spectators, including international visitors to the City over the Carnival Weekend next week. Those businesses that are capitalizing on the influx of foot traffic are encouraged to contact the City with any in-store promotions, special events or discounts they may be offering so that the City can cross-promote their events. Any information can be sent to info@cityhall.bm. The City advises the motoring public that there will be numerous road and car park closures in the lead-up and throughout the duration and break-down of this Friday night's Five Star Friday event in City Hall Car Park as well as the Parade of the Bands event on Monday, June 17th. The City Hall Car Park will be closed from 6:00pm on Wednesday, June 12th and will not reopen until 6:00am on Tuesday, June 18th. Dismont Drive will be closed to through-traffic from 6:00am on Thursday, June 13th and will reopen at 6:00am on Tuesday. Parking on Dismont Drive will be available at times but will be limited. Parking will be prohibited all day on Wesley Street on Friday, June 14th and the street will be closed from 12:00pm until 6:00am on Saturday. Church Street will be closed between Par-la-Ville Road and Queen Street starting at 5:30pm on Friday and will reopen by 4:00am on Saturday morning. Victoria Street will be closed between Washington Street and Wesley Street starting at 12:00pm and will reopen at 4:00am on Saturday morning. Motorists exiting from the Washington Mall parking lot will have access to Church Street. Access to the walk-in health clinic on Victoria Street will be permitted. On the public holiday, Monday, June 17th, the Parade of the Bands and Last Lap will incur numerous road closures in the City starting at 6:00am until 2:00am on Tuesday - Front Street, between Par-la-Ville Rd and Court Street, Court Street between Front and Reid Streets, Reid Street between Court and Queen Streets, Parliament Street between Front and Dundonald Streets, Dundonald Street between Parliament Street and Par-La-Ville Road at the Serpentine Road round-a-bout, Par-La-Ville Road between the Serpentine Road round-a-bout and Front Street and Church Street between Par-La-Ville Road and Parliament Street. City Hall Car Park will remain closed for the Parade of the Bands and Last Lap. As a result of the road closures there will be no access or parking on the affected streets located within the perimeter of the parade route during the times noted. Motorists to the City are encouraged to park in Bull's Head and Elliott Street Car Parks. The City has engaged the Traffic Wardens as well as Traffic Enforcement to be extra vigilant in ticketing offending vehicles that violate parking regulations starting on Thursday. With the closure of City Hall Car Park, short-term parking on Thursday, Friday and Saturday will be limited to street parking, Par-La-Ville Car Park and No.1 Car Park. Bull's Head, Elliott, Cavendish and King Street car parks will remain open at all times. Police, emergency services, security personnel, diversion notices, signage and barricades will all be in place during the BHW events in Hamilton. The City apologizes for any inconvenience caused during these closures and restrictions and kindly asks the motoring public to exercise patience and understanding as the Bermuda Heroes Weekend celebrations get underway.

Argus Group Holdings Ltd bounced back to profitability with annual net earnings of $14.2 million compared to a net loss of $18.6 million in the previous year. The year ended March 31, 2019 closed with net equity at $120 million, an increase of $14.1 million compared to the previous year end. Alison Hill, Argus Group's chief executive officer, said net operating income was $18.1 million, "a significant return to strength from 2018's year of tough decisions". The Argus board declared a dividend of nine cents per share for shareholders of record as of July 31, 2019 payable on August 23, 2019. Ms Hill said: "This year has seen us act strategically and decisively to enhance the long-term economics of our business. We have controlled the cost of our healthcare business in partnership with One Team Health, and are strengthening our international presence through the acquisition of FirstUnited Insurance Brokers in Malta." She added that the employee benefits division performed well, while the health division working hard to reduce the cost of claims. "Against the backdrop of hospital financing reform, we experienced a challenging health renewal, where premium rate increases were necessary for many clients in order to keep pace with global health cost inflation," Ms Hill said. "We work closely with our valued clients to ensure plan benefits fit their evolving needs and take our role as custodians of their health dollars very seriously. We also work closely with our health members to support healthy lifestyles. Supporting healthy lifestyles helps to control the cost of healthcare and promote a better life for our members." Argus added that client retention rates were over 90 per cent. "Our position of financial strength, and capital in excess of regulatory requirements, has given us the robust foundation to accelerate investment in our future," Ms Hill said. "We continue to focus on putting our capital to best use, making responsible and judicious choices to further our strategic aims, whilst ensuring long-term sustainable shareholder value." The company was investing in new technologies and new ways of doing business to improve service and value to customers, she added.

CURB Press release. 2CURB applauds the announcement by the Premier, The Hon. David Burt, on the establishment of a Commission of Inquiry into the historic losses of citizens' property in Bermuda. This is a historic and important announcement and a part of what CURB sees as a national healing, which includes acknowledging the harm, loss and trauma of the past, whilst looking at ways to repair the damage that was done. Understanding that land is crucial to a people's economic development, the denial of access to land historically, and then the dispossession of property that occurred following Emancipation up until contemporary times, under girds the ongoing economic disparity today. CURB sees the establishment of this Commission as one part of a process that the people of this country need and must go through in order to find a way forward, hopefully together. The history of white colonial land dispossession is documented worldwide, and Bermuda had its own form of dispossession, which resulted in poverty, homelessness, insecure land tenure, and the destruction of communities and the undermining of personal and collective identities. Land ownership in Bermuda was skewed by historical practices that favored giving/selling land along racial lines or to the connected few. Legislation targeting people of African Bermudian descent was passed ensuring that land ownership was denied for years. This was followed by resolutions, proclamations, and laws which played a key role in legitimizing land/property dispossession, the Tuckers' Town land grab in the early 1900s being a prime example and the taking of land from St. David Islanders in the 1940s. Land grabbing needs to be understood in the context of power and the desire for profit, this overrides existing meanings and uses of land that were rooted in local communities. This history of land dispossession and segregation were key to the creation of a racially and spatially divided Bermuda. Addressing the trauma and legacies of that past is essential to not only helping repair the harm that was done but is needed to bring about acknowledgement and closure around a shameful part of our history. We urge that part of the Commission's mandate is to collect and collate narratives from the people of Bermuda to create a historical record of what occurred and happened. It may be that many of these stories are unable to be validated by documents or the 'proof' required by the legal system to correct past injustices. However, part of the healing process must be in the telling and recording of these stories so that it is not forgotten, and future generations understand the injustices of the past and acknowledge the need for racial equity and justice moving forward. We urge both political parties to ensure that the Commission is not used as a political football, and instead embrace and support the need for this reparative work for our society to heal."

Collie Buddz, one of Bermuda's most successful musicians, has topped Billboard's Reggae Album charts. The reggae star's third album, Hybrid, was released on May 24 and has been at the top of the charts for a week. The self-produced ten-track album follows on from his 2017 song Good Life and includes a rap by Tech N9ne and collaborations with Russ, B Young and Ghanaian Grammy-nominated singer Stonebwoy. Collie Buddz, whose real name is Colin Harper, was born in New Orleans, but moved to Bermuda as a child after his father passed away. He was soon influenced by reggae music and when he was 19 attended Full Sail Academy in Orlando to pursue an audio engineering degree. Since then he has toured the world with his music supporting artists including Cyprus Hill, Rebelution and Matisyahu and has played at major music festivals, including Lollapalooza and Summer Jam. He continues to record new music, which he releases on his own record label Harper Digital and owns Bermudian radio station Vibe 103 on top of being a father.

June 9, Sunday

A female visitor is being treated in hospital for suspected head injuries after a serious crash this afternoon on South Road, Southampton. The rental scooter crashed at about 3pm near the Fairmont Southampton. An update on the woman's condition is anticipated in due course, and as of 4.30pm traffic was being diverted from the scene. Any witnesses are encouraged to call the main police telephone number 295-0011.

June 8

Bermuda's "historic wrongs" that deprived citizens of property are to be investigated by a commission of inquiry, Premier David Burt announced yesterday. The Premier told the House of Assembly that some victims might have died, along with "those who committed wrongs". However, he added: "It is never too late for justice." Mr Burt said that the House had approved a commission in July 2014. But it was turned down by George Fergusson, then the Governor, which sparked a protest march on Government House. The House passed a Bill authorizing the Premier to approve a Commission of Inquiry in 2015. Mr Burt said the commission would "likely" consist of a judge, an expert in conveyancing, a land title officer and two lay members, as well as a secretary. The Premier told MPs that a budget was being prepared. The answer came in response to questions from Craig Cannonier, the Leader of the Opposition. Cost was one of the reasons given by Mr Fergusson for his rejection of a commission five years ago because it was suggested that the Britain should cover the expenses for the inquiry. His veto led to demands from the Opposition for the Governor to be recalled, which was followed by a Progressive Labour Party boycott of Parliament. Mr Burt told the House that costs would be "prudently managed" and said he hoped to bring further updates during this session of Parliament. He added that the selection process for commission members and administrative planning had already started. The original push for a formal investigation came from Walton Brown, a government backbencher who was then an Opposition MP. The Premier said yesterday that Mr Brown had "quietly kept attention to it" since the PLP returned to government in July 2017. Mr Brown declined to comment yesterday, but told The Royal Gazette last year that the commission would hear testimonies from "people who had land stolen from them". He added: "It all emanates from the fact that we had lawyers and realtors who conspired to deprive Bermudians of property." Lieutenant-Colonel David Burch, the Minister of Public Works, highlighted the same practices when he announced updates to the land title registry last year. Mr Brown has maintained that allegations of a property swindle clouded the compulsory purchase of 500 acres at Tucker's Town in Hamilton Parish, which was approved by Parliament in 1920. The family of Etoile Burch said last year that they believed they had been unjustly deprived of land in Warwick that included the site of the Grand Atlantic development. Mr Brown said in January that budget constraints prevented the commission from going ahead. However, Mr Burt told the House yesterday that "technology will play a large part in keeping costs down".

Trooping the Colour from London. From 10:30 am GMT, Horse Guards Parade. Broadcast live from the BBC London at https://www.bbc.co.uk/programmes/m0005xdz. Televised worldwide for about 3 hours. Trooping the Colour, see https://www.householddivision.org.uk/trooping-the-colour. Celebrates the Sovereign's, Her Majesty the Queen's, official birthday (her actual birthday is on 21 April, when she was 93 in 2019). (It has traditionally been held in June, for better weather)..See the full majesty, military precision, pomp and splendor of the London ceremony. Invited guests include all adult members of the Royal Family, some on horseback and/or in military uniforms, British Commonwealth heads of state or their representatives. The ceremony dates back to at least the early 18th century when the colours (flags) of the battalion were carried (or 'trooped') down the ranks so that they could be seen and recognized by the soldiers. The Queen attends in a horse-drawn carriage and the regiments of the Household Division, her personal troops, parade in front of her. Note how the lines of troops are somewhat ragged, not precisely straight. Over 1100 soldiers are on parade, plus 200 horses and over 400 musicians. A 41 Gun Royal Salute is fired by the King's Troop, Royal Horse Artillery in Green Park at 1252 hours GMT.

4 hours later. Queen's Birthday Parade, Front Street, Hamilton. Always an event for visitors to watch Bermuda's British militia salute Her Majesty for her Official Birthday. The Royal Bermuda Regiment was front and centre today for the traditional celebration of the Queen's Birthday. RBR soldiers and the RBR's Band & Corps of Drums led the parade from Cabinet Office in Hamilton to Front Street watched by hundreds of onlookers. Ingo Wiedermann, 48, a tourist from Frankfurt, Germany, said: "We stopped by accident and it was a pleasure to get a chance to see it. I was aware Bermuda is still a British Territory. It's showing tradition — there is a lot of ancient history here." The RBR led the parade, which also included the RBR Junior Leaders, the Bermuda Police Service and the Sea Cadets, and fired the feu de joie, a rolling rifle salute in honour of the anniversary. Governor John Rankin, with David Burt, the Premier, and Cabinet members, Leader of the Opposition Craig Cannonier and other dignitaries, watched the parade from the flagpole stand on Front Street. Chris Jones, a property manager from Southampton, added: "This is a tradition that Bermuda should honour." Sharon Craig, his partner and a corporate administrator, added: "I love the band. I'm a big fan of the Regiment band." The event was a special day for Sergeant Major James Van-Lowe, who was awarded the Queen's Certificate and Badge of Honour in the Queen's Birthday Honours List for 43 years of service to his country, most of it in the RBR band. Sgt Maj. Van-Lowe, 59, from Warwick, who has retired as band Sergeant Major, but still plays, said he could not single out a highlight in his career. He added: "Everything's been a highlight." Sgt Maj. Van-Lowe said the news of the honour came as a shock. He added: "I was minding my own business and the phone rang — I was surprised. But it is a honour to be recognized." Colour Sergeant Sheldon Fox, trainee Bandmaster in the Regiment, said: "The Band always knows how to put on a good show at any performance because we serve the people of Bermuda. The Band is heavily involved in creating a marvelous tourism experience. We perform regularly throughout the year at events like Beating of the Retreat, the Queen's Birthday, the Peppercorn Ceremony in St George's and Remembrance Day. We are proud to represent the Royal Bermuda Regiment and our country."

A work-to-rule by bus operators has ended, Minister of Transport Zane DeSilva said yesterday. It was confirmed in a statement today by the Department of Public Transportation, which said that during the nine days of industrial action, management and the Bermuda Industrial Union had engaged in "constructive dialogue". The Minister of Transport, responding to comments made on a Green Paper in Parliament, said he had visited the St George's bus depot on Thursday. He said the building had a notice posted on the door stating that it was condemned from July 2014. Mr DeSilva said the problem would be remedied within the next week. The bus operators started a work-to-rule last month, over what Mr DeSilva said was "a myriad of issues".

A veteran sergeant-major in the Royal Bermuda Regiment Band has been honoured after more than 40 years' service. James Van-Lowe, who joined the regiment in 1976 and mainly served with the Band & Corps of Drums, was awarded the Queen's Certificate and Badge of Honour. He was joined by Delano Ingham for services to broadcasting; Patricia Petty for services to sport and triathlon; and Muriel Richardson for services to tourism. Retired Deputy Commissioner of Police Paul Wright was awarded the Queen's Police Medal for Distinguished Service. John Rankin, the Governor, said: "I am pleased to congratulate each of the recipients for their distinguished service and well-deserved awards. Each has made a very valuable contribution to the community in their respective fields and their achievements should be rightly celebrated." Mr Van-Lowe started as a part-time volunteer with the regiment and switched to full-time in 1995. He assisted with the band in administrative roles, played a key role in recruiting and retaining members, and served as coach and mentor to band members. He was named Senior Non-Commissioned Officer of the Year in 2009 for his engagement with the community. He was also recognized for his work in producing the Bermuda Tattoo the same year. Mr Ingham started his career with broadcaster ZFB in 1965 as a trainee engineer and was involved in Bermuda's first live broadcast in 1966. He became managing director in 1981 and later served as operations manager and chief engineer at ZBM until his retirement in 2005. He has worked as a consultant since 2007 and assisted the Bermuda Government with broadcasts on CITV. Mr Ingham assisted victims of Hurricane Katrina in Louisiana and Mississippi in September 2005 and was recognized for his volunteer work at WindReach Recreational Village and for his work in prison ministry. Ms Petty has been a dedicated volunteer at triathlons for the past 38 years. She was a founding member of the Bermuda Triathlon Association in 1981 and has served in numerous capacities including team manager for more than 23 international triathlon events between 1990 and 2013, including the World Championships, Commonwealth Games, Olympics and Pan Am Games. Ms Petty served as a technical official for the International Triathlon Union, the world governing body for the sport, between 2006 and 2018. She was the only ITU-qualified technical officer in Bermuda when she organised the first official training scheme in 2017. That clinic qualified 16 officials in preparation for the Continental Cup held in Bermuda in 2017 and the World Triathlon Series event in 2018. Ms Richardson retired as general manager of the award-winning Rosedon Hotel in 2016 after 37 years of service. She was one of the few woman Bermudian hotel managers and was the first female Hotelier of the Year and the only woman president of the Bermuda Hotel Association. Ms Richardson was also member of the Board of Governors of the Bermuda College, director of the Caribbean Hotel Association, a member of the Bermuda Tourism Board, a member of the National Tourism Action Group and chairwoman of the Bermuda Hospitality Institute. Ms Richardson was a founding board member of the Investors in People Programme in Bermuda, a founding member of the Bermuda Employment Tribunal, served as a member of the Employee Assistance Programme and still serves as a director on the board of Bermuda Press (Holdings) Limited. Mr Wright retired as deputy commissioner late last year. During his 40 years of police service, 34 of which were in Bermuda, he helped to modernize the management of the Bermuda Police Service and the methods for tackling the threat of gang and drug violence in Bermuda. He was also chairman of the Firearms Working Group of the British Overseas Territories Commissioners' Council.

Prison officers marched to the House of Assembly yesterday in protest over longstanding issues relating to pay and work conditions. Timothy Seon, president of the Prison Officers Association, said in a Bermuda Broadcasting Company report that no formal pay offer had been made and refused a request by the Government for the officers to pay into the Government Employee Health Insurance plan. Mr Seon said that he did not understand why they were at an impasse and that work to rule would continue. David Burt, the Premier, was present on the lawn outside Parliament along with Wayne Caines, the Minister for National Security, and other Cabinet Ministers to hear Mr Seon speak of the "deplorable conditions" they are working in, a decade-long pay freeze, and requests for GEHI payments. Mr Seon told Mr Caines he wanted to express on behalf of his membership, the displeasure with the way negotiations had developed. Mr Seon is heard during the report saying: "We don't know how we have gotten into this current situation of being in a labour dispute — we were in mediation with a labour relations and then we received a letter on June 4 saying that we were at an impasse and in a dispute. The men and women simply want to be treated with human dignity and to be able to work in a safe environment. It is a calling and a passion that the men and women are tirelessly doing behind those walls to reinforce security in this British territory and we have been coined as the forgotten service. When Government called for our assistance in the matter of furloughs we rose to the occasion, when they asked for the wage freeze we also complied. We have been working for ten years without a wage increase and now we are expected, working in the deplorable conditions that we work in, to pay into the GEHI benefit. Twelve years, sir, we have been working in mould infested facilities. We have seen other facilities and other government agencies shut down in these conditions." The Premier said he was confident that Mr Caines, along with Lieutenant-Colonel David Burch, Minister for Public Works, are working to rectify the issues. Mr Burt said he had spoken yesterday with the Public Service Negotiating Team and today with the Minister to make sure that they could "advance the resolution of these issues as soon as possible". Mr Burt said: "I understand very deeply the work that you do is not easy. During the election campaign, I said it was an injustice that public officers had not had pay increases for a long time. The government will ensure that at least the offer that is on any table will be for any pay increases that have been given to other public sector workers that have not accrued to yourselves — we will make sure that they are part of any particular offer that is going to go forward. That is something that we will commit to." Mr Caines added: "I believe that we have a workable plan. My door remains open — I know that we are at an impasse now and it is our desire to resolve it."

A female police officer has been arrested on suspicion of conspiracy to pervert the course of justice, the Bermuda Police Service said yesterday. The 27-year-old officer, who works at Hamilton police station, was alleged to have had an accomplice, a 43-year-old Smith's man, who was also arrested for the same offence. A police spokesman said: "Detectives from our Specialist Investigations Department are investigating the matter and no comment will be made while the investigation is ongoing. The Bermuda Police Service is committed to upholding and enforcing the highest of professional and ethical standards. We hold our officers to account through our code of ethics and when it is believed that conduct falls into the criminal realm, we will take positive action to uphold the law." Commissioner of Police Stephen Corbishley said: "I am confident that the BPS is a professional public service with integrity. However, it is essential that each and every day we protect the public's trust in our services and when serious wrongdoing is suspected it will be investigated robustly to identify the facts of the matter."

A tearful tourist grandmother apologized as she was fined $2,000 yesterday for the importation of drugs. American Wendy Incatasciato told Magistrates' Court she was sorry for her actions and that she used the drug to help relieve the symptoms of migraines and stress. Senior magistrate Juan Wolffe told the 65-year-old, from Staten Island, New York, to take home the message to other potential visitors that Bermuda did not tolerate people who tried to bring illicit substances to the island. Kenlyn Swan, for the prosecution, said customs officers on duty at Heritage Wharf in Dockyard carried out routine checks on the gangway of the Norwegian Escape cruise ship on Wednesday. They searched Incatasciato's bag and found three rolled cigarettes inside a black spectacles case. Ms Swan said: "She admitted the cigarettes were hers and that they contained marijuana." Officers also found electronic vaporizers with cartridges, which Incatasciato admitted belonged to her and contained oil with THC — a main constituent of cannabis. The prosecutor added: "When asked, the defendant admitted to customs officers that she also had a little marijuana in her cabin on the cruise ship." Officials searched the cabin and found further substances and plant material, which were later sent for analysis. The court heard police were called and Incatasciato was arrested and taken to Hamilton Police Station, where she confirmed that the items all belonged to her. Ms Swan said results from tests of the substances showed that the total amount of cannabis found was about 9.3 grams. Incatasciato admitted the offence. Vaughan Caines, the duty counsel, said his client appealed for "the mercy of the court". Incatasciato, who was accompanied by her daughter in the courtroom, said: "I truly apologise ... I'm really so sorry. I've never been in trouble, I'm a grandmother of two." She told the court: "I get very bad migraines, I have a severe stress disorder and it helps me, especially with the migraine headaches." Mr Wolffe confirmed that she was aware that the offences could lead to a jail sentence and asked: "Why shouldn't I lock you up?" Incatasciato, who fought back tears, said: "I'm begging you, please, let me get back to my ship. I promise I won't ever come back here." She added: "I've never been in a court, I've never been in a police station." Mr Wolffe fined her $1,500 for the cannabis charge and a further $500 for the THC. He said: "You need to send the word back to Staten Island, New York, that we have some very harsh laws in Bermuda when it comes to drugs."

A man was fined $500 for stealing 25lbs of sweet potatoes. Normando Simons, 63, admitted taking the vegetables from a farm in Somerset owned by J & J Produce. Magistrates' Court heard that Simons, from St George's, was caught when a government inspector spotted him digging up the potatoes with a hand rake. The inspector took photographs and confronted Simons, who said that he had permission to harvest the crop and left with a bag of sweet potatoes. The inspector alerted one of the owners of the farm and sent her pictures of the thief. The woman co-owner said that neither she nor her husband had given permission to harvest the crop and they contacted police. Simons was later arrested for theft and admitted the offence while in custody. The incident happened on February 21. Simons apologized for his actions and told the court: "It was a foolish thing to do." Magistrate Juan Wolffe ordered Simons to pay the fine by June 28. Roland Hill Jr, an owner of J & J Produce, said that he was glad that justice had been done. He explained: "Every day, every farmer faces this problem. I figure about $500 every day is stolen from me. Mr Hill added: "The bigger problem is that they might steal 50 pounds of broccoli, but they damage just as much as they take." Mr Hill added that security on farmland was a problem. He said: "I farm from Somerset to St George's and I can't be everywhere all the time. Just because my business doesn't have walls protecting it doesn't mean you can walk into my farm and take something."

June 7

A Commission of Inquiry will be set up to look into historic land grabs. David Burt, the Premier, told the House of Assembly a group will investigate the loss of citizens' properties through theft, dispossession and other unlawful means. Mr Burt said: "Unearthing historic wrongs may be inconvenient for some. It may well be that some of those who were victims and those who committed wrongs have since passed on. But it is never too late for justice." The Commission will consist of a judge, an expert in conveyancing, land title officer and two lay members. Mr Burt said the process of identifying Commission members and administrative planning had begun. He said he hoped to bring further updates during the present session of Parliament.

The House of Assembly is expected to hear about status of the stalled Ritz-Carlton Caroline Bay hotel resort at Morgan's Point in Southampton. A statement on the development will be given this morning by Curtis Dickinson, the Minister of Finance. A construction source told The Royal Gazette this week that the project had stalled and that money was owed to subcontractors who worked at the site. Walter Roban, the Minister of Home Affairs, will update the House on the sale of Belco to Algonquin Power & Utility Corporation, a Canadian utility group. Mr Roban will also table amendments to the Electricity Act. Lieutenant-Colonel David Burch, the Minister of Public Works, is to speak on the West End Development Corporation, while David Burt, the Premier, will make a statement on technology in education. Legislators will also debate the recommendations of the Green Paper on transport, which was brought to the House last month by Zane DeSilva, the transport minister.

An attempt by Attorney-General Kathy Lynn Simmons to shut down questions about vulnerable children sent abroad without legal representation was criticized yesterday, including by a teenager who claimed he was made to go overseas under false pretences. The 18-year-old said he strongly disagreed with comments made by Ms Simmons in the Senate on Wednesday about the Department of Child and Family Services' psycho-educational programme. Ms Simmons accused The Royal Gazette of "fishing overseas and undermining the operations of the Government". The teenager, who asked not to be named, said: "I know what those places were like and I know what the department is like." He alleged: "When I was 13, the department told me I was going on holiday in the US. Instead they just dumped me at those places for years. When I came back to Bermuda, my friends thought I had died." Ms Simmons, the Senate leader and Minister of Legal Affairs, said she travelled abroad last month to visit Bermudian children at "more than" six places and was impressed with the facilities. But the 18-year-old said: "She doesn't know what she's talking about. She's there a minute and thinks she knows everything. What did she think they were going to say to her? 'Oh by the way, we treat children badly here'?" Lawyer Saul Dismont, meanwhile, said a client of his who has a child at one of the centres told him that "neither the AG nor the [DCFS] director [Alfred Maybury] spoke with [the child] when they visited". The Ministry of Legal Affairs says the psycho-educational programme "precedes 1999" but it has shared figures on the number of children sent abroad since 2013 only. The ministry said in November it had 30 referrals between 2013 and 2018. It said 50 youngsters were sent abroad between April 2014 and November 2018, only two of whom had legal representation. Mr Dismont said: "It should make us all very uncomfortable to know that there is missing data about vulnerable children being sent abroad and that only two of at least 50 children had representation. It should also make us uncomfortable that answers are not being provided. There is nothing more important than our children and the public are entitled to know that all those children sent abroad are there legally and are safe." Independent social worker Tiffanne Thomas, who has acted as a court-appointed advocate for at least 35 children since 2014, said: "This is a matter of public interest, as taxpayers are funding the practice of sending countless children overseas through the psycho-education programme. It is unfortunate that there has been a shroud of secrecy associated with this. To state that this programme has been in existence since before 1999 and then only provide empirical data for 2013 to 2018 is alarming." The Royal Gazette has interviewed programme participants who claim to have been tricked or forced to go abroad and mistreated while there. Some attended Glen Mills Schools, in Pennsylvania, which was recently shut down amid allegations of child abuse. Ms Simmons told the Upper Chamber "we've had parents speaking out" and that there have been "numerous reports, negative reports, about our operations". Ms Thomas said: "To minimise the disclosures made by persons who have been sent overseas, or those directly affected by a child being sent overseas, is not only insensitive, but it suggests that we lack the capacity to value or validate the experiences of others, and that we do not truly care about the welfare of children." Children's rights campaigner Sheelagh Cooper questioned the "reluctance to respond to basic questions from the press". She asked: "Is not this the role of the press in a democratic society?" Ms Cooper added: "This must not become a political issue. The lives and safety of our children must transcend all of those kinds of debates. Who can possibly argue that children can be removed from Bermuda without representation?" A mother whose teenage son was sent to Utah in the US by DCFS said she welcomed public scrutiny of the programme. The woman, who did not want to be identified, alleged: "They dump the children out there and it's like out of sight, out of mind. 'See you when you are 18'. They don't want to deal with the issue [in Bermuda] so they send the children overseas." In the Senate, Ms Simmons urged The Royal Gazette: "Please do not try to obtain information that is detrimental to what we are trying to accomplish. If you have a legitimate question, I'm more than happy to answer it." We asked the Attorney-General for an interview on Wednesday and yesterday but have yet to receive a response. Shadow Attorney-General Scott Pearman said Ms Simmons had been silent on allegations about DCFS for months. "When she finally chooses to speak, she instead attacks the media for asking the questions that need to be asked. She says that she will answer 'legitimate' questions. What can be more legitimate than those asked already?"

Bermuda's final court of appeal will hear a case next week which could open the door for British Overseas Territories citizens to apply for Bermudian status. The applicant, Michael Barbosa, will argue that parts of the Bermuda Immigration and Protection Act 1956 discriminate on the basis of place of origin. Peter Sanderson, Mr Barbosa's lawyer, said the case could affect hundreds of people born in Bermuda, but who have no route to Bermudian status. He added: "If it is successful in the Privy Council, then it would immediately impact a very limited number of people who were born in Bermuda prior to 1983 and so have a Bermuda passport, but who for whatever reason have fallen through the cracks and have been unable to obtain PRC or status. It could also impact on around 300 to 400 children who were born in Bermuda after 1983 and lived here for the first ten years of their life. These children are able to register as British Overseas Territories Citizens, but in many cases have no pathway to status." Bermuda's Supreme Court ruled in Mr Barbosa's favour in 2016 and found that he "belonged" to Bermuda, but the Court of Appeal overturned the decision later that year. But Mr Barbosa appealed to the Privy Council, which is scheduled to hear the case next Thursday. The case will hinge on whether the list of "belongers" in the Bermuda Constitution excludes non-naturalized British Overseas Territories citizens who acquired their citizenship through their connection to the island. Five law lords, Lord Reed, Lord Kerr, Lord Lloyd-Jones, Lord Kitchin and Lord Sales, will sit on the bench for the case. Mr Sanderson said the case would address the issue of "third-class citizens" with no rights in Bermuda. He said: "If somebody is naturalized as a British Overseas Territories citizen, for example, because they are a PRC holder or spouse of a Bermudian, then they will be considered as somebody who 'belongs' to Bermuda and have constitutional protection to live and work without restriction. Bizarrely, the same is not the case for somebody who was born as a British Overseas Territories citizen." He added that the legal team was working on a "very limited budget" and invited anyone who wanted to help to donate. Courts in Bermuda heard that Mr Barbosa was born in Bermuda to non-Bermudian parents in 1976 and is a citizen of the United Kingdom and Colonies by birth. He was granted British Overseas Territories citizenship in 2002 and given indefinite leave to remain in Bermuda in 2013. But he launched a legal action in 2015 because he was not eligible to apply for Bermudian status or a Permanent Resident's Certificate. Mr Sanderson argued at the time that Mr Barbosa belongs to Bermuda on the basis of common law. Puisne Justice Stephen Hellman found in favour of Mr Barbosa, ruled that he belonged to Bermuda and that he had been discriminated against. Mr Justice Hellman also granted Mr Barbosa the option to apply to the courts for a remedy if the Bermuda Government did not provide a legal remedy before the end of the parliamentary session. The judgment was believed to clear the way for other British Overseas Territory citizens to apply for Bermudian status. Patricia Gordon-Pamplin, then the One Bermuda Alliance government's Minister of Home Affairs and Mark Pettingill, the Attorney-General at the time, launched a successful appeal later that year. They argued that Mr Justice Hellman had interpreted the Bermuda Constitution too broadly and that he could not add to the categories of people who "belong" to the island. The Court of Appeal judgment, written by Appeal Judge Desiree Bernard, said section 11(5) of the Constitution was legislatively a list of those who qualify as "belongers". She wrote: "It sought to make clear and remove doubt about those whom the Constitution regarded as belonging to Bermuda. I do not agree with Mr Justice Hellman that the list is not exhaustive. Unfortunately, persons such as the respondent who was born in Bermuda of parents who did not have Bermudian status were not part of that list."

The Prison Officers Association said last night it was not aware that a labour dispute notice had been gazetted by the Government and that a work-to-rule by prison staff continued. A spokesman for the POA confirmed it was "not aware of any reported labour dispute as gazetted." The executive of the POA is expected to meet with David Burt, the Premier, today to discuss the dispute. A notice was published by the Minister of Labour, Community Affairs and Sport on Monday that a labour dispute existed between the Department of Corrections and the Bermuda Prison Officers Association. The notice said that "after its publication any lockout, strike, or irregular industrial action short of a strike is unlawful and any person who takes part in, incites or in any way encourages, persuades or influences any person to take part in, or otherwise acts in furtherance of, a lockout, strike or irregular industrial action short of a strike that is unlawful under this section is guilty of an offence". The move came after prison officers started a work-to-rule in a bid to get the Ministry of National Security to tackle concerns in the prison service, including safety, maintenance of buildings, salary rates and government employee health insurance payments. Police officers are being used to carry out duties such as the transfer of prisoners to court. Wayne Caines, the national security minister, announced prison officers had started a work-to-rule on April 29. Mr Caines said the industrial action came after the POA met a day earlier to discuss "working conditions and outstanding issues with reference to the prison service". The industrial action came days after three prison officers were attacked by inmates at Westgate prison.

Bermuda's emergency agencies are prepared for the threat of major storms as the hurricane season gets under way, Wayne Caines told the House of Assembly today. Mr Caines, said he had chaired a meeting of the Emergency Measures Organisation Executive this week. He said: "All preparedness activities being under taken by the 60-plus agencies that form the wider EMO, are being coordinated and documented by the Disaster Risk Reduction and Mitigation Team which works out of Ministry headquarters. The Bermuda Weather Service reports that the latest hurricane forecast by international agencies have predicted an average season with thirteen named storms, six hurricanes and two major hurricanes." The hurricane season runs from June 1 to November 30.

Almost 20 buses were cancelled this afternoon, according to a Government alert. A total of 19 buses scheduled to be released between 4.11pm and 10.20pm have been cancelled. Affected routes include Routes 8, 9, 7, 11, 10, and 4. The alert was released at about 4pm. A Transport Green Paper, which details planned changes regarding public and private transportation, was submitted this morning during the House of Assembly. It has been the first comprehensive review of transportation since 2002. Changes suggested to the bus system included GPS tracking, access to wi-fi, and cashless bus fares. For a full list of this afternoon's bus cancellations, click here. Chris Furbert, the president of the Bermuda Industrial Union, said earlier this week that a work-to-rule by bus operators would only be lifted if two portable air-conditioned restrooms were made available for staff in St George's. He added the BIU had made Zane DeSilva, the transport minister, aware of the condition.

Bermuda's oldest church has appealed for help to repair the flagpole on top of the 17th-century building. The pulley system on the flagpole at St Peter's Church in St George was damaged after the flag became entangled in the ropes last year. Gillian Outerbridge, the parish administrator, said that the flagpole's position on top of the church made it "dangerous and inaccessible". She explained: "The flagpole's at the top of a tower where the only place to stand is on this tiny little balcony that runs around the top. Ms Outerbridge added: "From that you need to get up another ten to twelve feet to reach the bracket that the flagpole is on, and once you release that 15ft pole from the bracket you've got a long, heavy pole that you can't control. It's really quite a dangerous situation, and certainly we don't have anybody on the staff of this old church who could do it." Ms Outerbridge said that the flag became tangled around the flagpole in heavy winds during a storm last December. Church staff said they expected the flag to untangle itself over time, but instead the weight of the heavy fabric snapped the rope pulley. Ms Outerbridge added that the congregation did not have the skill or manpower to remove the pole themselves. She said: "It's almost like a piece of sailboat equipment, like a mast or a boom, and if you haven't got good control of it, it's just going to fall and crash through the roof or take somebody down with it." Ms Outerbridge added that the parish hoped a construction company, the Bermuda Fire & Rescue Service or the Ministry of Public Works would help the church out so the flagpole could be repaired and repainted. She added that anyone who sponsored the repair work would get the chance to re-hoist the flag once repairs were completed. The flag design was granted to the church on its 2012 400th anniversary by the Queen, which coincided with her Diamond Jubilee. The church was given the title "Their Majesties Chappell" and the special flag, a St George's Cross with the depiction of the 1609 wreck of the Sea Venture, which led to the island's colonization by the English, taken from the church's chalice in one of the quarters. Ms Outerbridge said that the flag had become a fixture at the church, part of the St George's Unesco World Heritage Site, and its absence was "quite depressing". She said: "It's a very distinctive flag. It's very high up above the ground and it's a very significant part of St George's, so people recognize when it's missing. It's like Buckingham Palace: people look up and say 'where's the flag?'."

A Moldovan man admitted four charges of bank fraud and attempted fraud yesterday. Magistrates' Court heard that Lurie Rogojina, 34, stole $167.50 from Clarien Bank and $780 from Butterfield Bank. He also admitted an attempt to steal $4,315 from Clarien Bank and a further $4,150 from Butterfield Bank. The offences happened between May 11 and 12 in Smith's and Hamilton Parish. Alan Richards, who appeared for the prosecution, told the court that Rogojina had not worked alone. Magistrate Maxanne Anderson remanded Rogojina in custody until June 16 for sentencing.

The Ascendant Group sale must be approved under ministerial directions, home affairs minister Walter Roban said today. Mr Roban told the House of Assembly the Regulatory Authority must give consent to the licence transfer of the utility group, which is the subject of a takeover bid from Algonquin Power & Utility Corporation of Canada. He continued: "If the RA approves a licence transfer without adhering to ministerial directions, the only remedy to the Government is to appeal to the Supreme Court. " Mr Roban added that the Government would ensure that any sale would promote "economic efficiency and sustainability" in order to reduce reliance on fossil fuel, increase the use of renewables and make electricity more affordable.

A petition for the Government to legislate a renewable energy target in Bermuda has been backed by hundreds of people. Stuart Kriendler, the managing director of green energy firm BE Solar, one of the main supporters of the petition, said more than 700 signatures had been collected by yesterday. The petition, launched on May 24, asked the Government to require that 70 per cent of the country's electricity is produced from renewable energy sources by 2040. Mr Kriendler said: "Bermuda currently spends approximately $80,000,000 per year to purchase fossil fuels for electricity generation. If that money stayed in our economy, likely 1,000 jobs could instead be created with that money. In essence, transitioning to renewable energy is a climate and social justice issue as well as an economic one: a win-win-win." He said the threat of climate change had forced countries around the world to take steps to help to save the environment, but that Bermuda had lagged behind. Mr Kriendler added the petition was in line with Government's plans for a greener Bermuda. Less than 2 per cent of Bermuda's electricity is produced with renewable resources at present. A small amount is produced by incinerating waste and the rest is generated using imported fuel. With Belco to be sold and its Integrated Resource Plan, a 20-year energy plan, expected to be finalised in the next few weeks, BE Solar has partnered with environmental charity Greenrock to launch the petition. BE Solar joined forces with UK-based sustainability engineering firm Etude last year to produce a 56-page report as an alternative to the Integrated Resource Plan. The document set out a proposal for an offshore wind farm six miles west of Dockyard and increased use of solar power. But with the Belco energy plan, which relies mainly on fossil fuels, expected to be accepted, the petition was started to encourage the Government to legislate for the use of renewable energy in Bermuda The petition said that parts of Bermuda were predicted to be underwater within the next 25 years due to rising sea levels caused by climate change. It added that Bermuda had some of the highest electricity costs in the world and a reliance on expensive imported fuel. A supporter of the petition, who asked not to be identified, said that a cut in the use of fossil fuels would also improve health. The supporter said: "Living close to Belco, we suffer the harming effects on a personal level added to our deep concern of the impact on a global level." They added that a daughter had suffered health problems and had tested as allergic to benzene, a component of oil. Salayah Stange and Katarina Rance, Bermuda High School pupils who have lobbied for environmental changes, said they supported the petition. Salayah said: "For years, Bermuda has been asleep when it comes to the topics of sustainability and renewable energy. We are not nearly invested enough in the conservation of fuels or environmentally friendly production methods. It has been announced by the UN that in 12 years, the effects of climate change will become catastrophic and irreversible. It is my generation, Gen Z, that will ultimately have to bear the consequences of years of pollution and harmful emissions. We cannot leave this for later, as there may be no 'later.' Action needs to be taken now. I support this petition because I believe it is our responsibility to our island, our environment and our younger generations to do our part in combating climate change, and it is time Bermuda did this."
• The petition can be found at betterenergyplan.bm.

Bermuda-based holding company Colonial Group International has received regulatory approval for the acquisition of a minority interest in The Beacon Insurance Company Ltd of Trinidad and Tobago. The approval was issued by the Central Bank of Trinidad and Tobago after it secured approvals from each of the jurisdictions in which Beacon operates. The deal provides Colonial with access to Eastern Caribbean markets where Beacon is licensed to do business, including Grenada, St Vincent, St Lucia, Dominica, St Kitts and Nevis, Barbados and Trinidad and Tobago. Colonial's presence expands to 12 jurisdictions across the Caribbean region, the company said, enabling Beacon to leverage Colonial support to strengthen product offerings in health insurance and to introduce new and innovative products related to life insurance and pension services. The Colonial-Beacon partnership is expected to generate significant growth opportunities for both insurers, Colonial said. Naz Farrow, chief executive officer of Colonial, said: "This partnership significantly extends our market reach while allowing us to combine Colonial-Beacon attributes to strengthen our products for the benefit of existing and new customers. Integral to this partnership is a mutual people-first approach to service. Beacon has a strong and experienced management group that has enabled it to build a successful business by putting people first. That is precisely the approach we take here at Colonial and this business synergy bodes well for meeting customer needs." Gerald Hadeed, chief executive officer of Beacon, said the partnership "enables us to expand and deepen the range and quality of our products. This development is a significant positive for both our companies and the people we serve". Colonial Group has commercial operations in Bermuda, the Cayman Islands, The Bahamas, the British Virgin Islands, Barbados and the Turks and Caicos Islands. The group offers property and casualty insurance, employee benefits for pensions and health, life assurance and personal investment products. Beacon was founded as the Caribbean Insurance Company in 1972. It has branch offices in Barbados, Grenada and St Lucia and agency operations in St Vincent and the Grenadines, St Kitts and Nevis and Dominica. Beacon provides general insurance for both individual and institutional clients including motor, property, marine cargo and hull, employee benefits and all commercial lines.

June 6

75 years ago today, from the UK's southern coast, the UK, USA, Canada and other military units from the British Commonwealth of Nations including Bermuda invaded and began the liberation of Europe. Yesterday, at Portsmouth, England, with Queen Elizabeth, other members of the royal family, President Trump of the USA and other world leaders in attendance including the Chancellor of Germany and President of France, commemorated that occasion. Significantly, Britain will soon be liberated from Europe, but the 2019 cost will be not free, as France, Belgium, Holland, Germany, etc. got entirely free of charge in 1944 for the liberation of Europe from and with the geographical and enormous military aid of the UK Instead, today, about £38 billion is being demanded by the EU for Britain to leave the EU with a deal, despite three years notice to the EU of the UK's stated intention to leave. There are many now in the UK who are insisting publicly that either the EU should be forgiving Britain that £39 billion "debt" for services rendered in 1944 and later, or that the EU prepare for both a no-deal Brexit and a £38 billion additional cost of funding NATO instead of the USA and UK alone bearing 70% and 20% respectively of NATO's cost as they do now, with some EU countries paying nothing at all, such as Ireland.

Some of the seized medical records of 75 patients of Ewart Brown and Mahesh Reddy have been sent overseas for review by two independent doctors, with the rest under way, police confirmed yesterday. The announcement came after patients of Bermuda Healthcare Services and the Brown-Darrell Clinic were sent a letter by Dr Reddy last week to tell them that "the BPS have undertaken not to access your files". But Stephen Corbishley, the Commissioner of Police, said that was not the case. He said it was true the police agreed to take no further action on the files at a February court hearing pending an attempt by the patients to appeal an order made by Puisne Judge Shade Subair Williams to allow the medical files to be reviewed. But Mr Corbishley said the patients' application to appeal was rejected and the police undertaking lapsed on March 1. He added: "Since then the matter has been progressing as ordered by the court in the manner as agreed by counsel for both the clinics and the patients." The health records of 265 patients were seized from former premier Dr Brown's two clinics in February 2017 as part of an investigation by police into allegations that the clinics ordered unneeded diagnostic imaging scans to boost profits. The files were sealed on the orders of a judge after civil proceedings were brought against the police by Dr Reddy, the medical director of BHCS, and the clinics. A group of 150 patients, represented by Chancery Legal, were given permission to intervene in the case in November last year. The patients wanted to block access to their files by police and to have the medical records returned. Mrs Justice Subair Williams issued an order in February which set out a protocol for how the patient files could be used by the police, agreed to by lawyers for the police, the clinics and the patients. The order said selected files of 75 patients, represented by Chancery Legal, would be uploaded to a secure server by Detective Sergeant James Hoyte, Detective Constable Paul Fenwick and consultant John Ashington, who made the first copies of the medical records. The secure server was to be set up and managed by the National Crime Agency in the UK and, once the files were uploaded, the BPS would have no further access. Two independent doctors appointed by the BPS would have access to the files in order to prepare expert reports on whether patients were over-scanned. The order said: "The medical experts shall anonymise only the files in which the expert considers further investigation is required, by redacting the names, address, telephone numbers, occupation and other material, including family history, that might lead to identification of the patient." Mr Corbishley said yesterday: "If the clinics and others are under a misunderstanding as to the position in relation to the protocol, their misunderstanding is not due to any fault of the BPS." Dr Reddy's letter to patients said: "We will continue to fight tooth and nail to protect what we all believe to be your fundamental, constitutional right to confidentiality, which was unnecessarily breached by the BPS." He did not respond to a request for comment yesterday. Dr Reddy and Dr Brown have denied any wrongdoing and have never been charged with any offence. Chancery Legal was ordered by a judge last month to stop acting for the patients because lawyers Mark Pettingill, a former attorney-general, and Victoria Greening, a former prosecutor, had a conflict of interest. The law firm was told at a Supreme Court hearing yesterday that it could represent the patients at an appeal against that ruling in the Court of Appeal on June 11. A spokesman for Chancery Legal said last night: "We continue to fight a number of battles on many fronts and are very pleased that the court has ruled we are able to act for the patients on this current appeal. We are addressing this latest issue and will fight to preserve our clients' rights in accordance with the court's ruling."

The Attorney-General asked The Royal Gazette yesterday to stop inquiring about a government programme that sends vulnerable children overseas and about child-abuse allegations at some of the schools used. The youngsters go to institutions abroad as part of the Department of Child and Family Services' psycho-educational programme after social workers decide they have exhausted all the services available on the island. Almost all of the children involved had no legal representation. Kathy Lynn Simmons said in the Senate: "Please do not harass these institutions. Please do not try to obtain information that is detrimental to what we are trying to accomplish. If you have a legitimate question, I'm more than happy to answer it." She said there had been a "very unfortunate narrative and dialogue" on the psycho-educational programme. Ms Simmons, the Senate leader and Minister of Legal Affairs, was speaking during the motion to adjourn. The Human Rights Commission criticized the psycho-educational programme in an affidavit filed in the Supreme Court in 2017. The HRC said sending youngsters to secure institutions in the United States was a "disturbing practice". The commission also alleged that some children were forced to take medication and denied contact with family and friends. The Royal Gazette has since interviewed several children involved in the programme who claimed they were tricked or forced into going abroad and abused and mistreated while there. The Gazette reported in April that vulnerable boys were sent for decades to American reform school Glen Mills, in Pennsylvania, which has now closed down after allegations of child abuse and cover-ups. Ms Simmons said there had been "all kinds of negative comments made about why, how, where, who?" She added: "We've had parents speaking out, we've had The Royal Gazette fishing overseas and undermining the operations of the Government, with respect to the services provided to our children." Ms Simmons said she travelled overseas last month to visit Bermudian children at "more than" six facilities. She was accompanied by Marva O'Brien, the legal affairs permanent secretary, and Alfred Maybury, the DCFS director. Ms Simmons said she "will applaud until the end of time" the relationships created by Mr Maybury with overseas institutions "to provide services that we do not and cannot provide for our children". She said visits were made to residential care facilities, psychological assessment facilities and hospitals. She also highlighted sex offender programmes. Ms Simmons said that one programme focused on children with "various sexual disorders — things that I've never even heard of". She added: "I got a lesson on the effects of pornography and I intend to come back to this chamber with real details and to speak about it publicly." Ms Simmons said that there were problems in Bermuda "that surpass political partisanship". She added: "There have been numerous reports — negative reports — about our operations, about the staff of child and family services. I can say hand on heart where there is ever a misdeed it is dealt with, with the procedures that are in place to deal with it." Mr Maybury was suspended on full pay last August after he was said to have ignored allegations about the mistreatment of children in care by some DCFS staff. He returned to work in January after an investigation found the claims against him were "not substantiated". The Government has refused to release the inquiry's findings under public access to information. Two staff members who were disciplined after allegations of abuse and neglect against them were "substantiated" are understood to have returned to work. Ms Simmons told the Senate that the people overseas responsible for the island's children were "dedicated, committed and were so happy to see that Bermuda actually cares". Ms Simmons added: "We are actually miles ahead." She said she would introduce legislation to protect children in "the months that come" and that she had invited several of the specialists she had met overseas to visit Bermuda. Ms Simmons told senators there was "much work to do". She added: "There are issues and matters pertaining to our children and the socioeconomic condition of this country that we must partner and move forward on in the interest of the country." The Royal Gazette has asked overseas institutions about allegations of mistreatment, as well as for information about their treatment programmes. None of the children involved in psycho-educational programmes have been identified. The DCFS refused to reveal the list of institutions where it sends children last November on the grounds it would be a "breach of confidentiality and directly impact the children and parents who currently have children overseas". Questions were vasked, but only some answered. The Royal Gazette has asked the Ministry of Legal Affairs a series of questions about the Department of Child and Family Services' psycho-educational programme. They included:
When did the psycho-educational programme start?. The Government said: "The establishment of the psycho-educational programme preceded 1999."
How many children have been in the programme since? We received figures for 2013 to 2018 only.
How many of those children had legal representation? The Government said two of 50 children sent overseas since April 2014 were represented. None had representation before that date.
Which institutions and countries have the children at present in the psycho-educational programme been sent to? The Government refused to provide a list.
Did each of the children in the programme get representation by a litigation guardian and lawyer in the legal proceedings which led to them being sent overseas? No answer was received.
The late Nelson Bascome, then the health minister, in 2003 talked about plans for a $9 million care centre for "delinquent youth" to be called the Youth Pathways Village. He said: "A number of children with high-risk behaviour problems we have had to send abroad because we do not have the facilities in Bermuda to facilitate them. The Youth Pathways Village ... will offer greater security than we have now to cater for them."
The ministry was asked what happened to the Youth Pathways Village plan. No answer was received.
Was the $9 million allocated for the centre spent on anything else or was it not spent at all? No answer.
How many children have been through the psycho-educational programme since 2003? We received figures for 2013 to 2018 only.
Does the Government have any plans for an island-based alternative for the children in the psycho-educational programme? No answer.
How many children from Bermuda have been sent by the DCFS to now-closed reform school Glen Mills, in Pennsylvania? The Government said: " ... at this time the number of young men that have been sent there is unknown and time restraints have not allowed us the opportunity to obtain the number. This would need to be manually done and is time prohibitive."
Had any of the children sent to Glen Mills over the past 35 years committed a crime before they were sent there? No answer.
Did any of the children sent there have legal representation in the form of a litigation guardian and/or lawyer? No answer.
The Philadelphia Inquirer reported in August 2018 that the Philadelphia Department of Human Services had stopped sending children to Glen Mills because of allegations of violence against youngsters in its care. Was the department aware of this report? DCFS said it found out about the allegations only in February this year.
The Inquirer reported that in 2000, Glen Mills overhauled its staff training and safety programmes after eight children told inspectors they were physically abused. Was the department aware of these allegations and of the changes that Glen Mills put in place at the time? No answer.
A film made to highlight the proposed development of a marine protected area by 2021 has been released. Walter Roban, the Home Affairs Minister and Deputy Premier, is featured in the short movie talking about the Bermuda Ocean Prosperity Programme the Government has launched with the Washington DC-based public policy group the Waitt Foundation and the Bermuda Institute of Ocean Sciences. Mr Roban said in the four-minute film: "Our history in protecting the ocean goes back to the beginning of settlement — we were protecting sea turtles back in the 1600s. We are very excited that the Bermuda Government is partnering with Waitt and BIOS around the development of a marine spatial plan and also the development of our blue economy. How can we ensure that our area of the ocean is used in a sustainable way to make us more prosperous? How can we ensure responsible use of our ocean? We can develop an economy around the ocean that will allow Bermuda in the 21st century and beyond to be sustainable — that creates a great opportunity to protect the ocean that is such a part of who I am and all Bermudians are." The MPA could see at least 20 per cent of Bermuda's Exclusive Economic Zone, 90,000 square kilometers out of 465,000 square kilometers of ocean, turned into a marine protected area. The plan also featured the development of ocean industries such as tourism and sustainable fishing. The tie-up with the Waitt Foundation is part of Blue Prosperity Coalition, an organisation set up to create long-term partnerships with governments to implement marine protection schemes for 30 per cent of seas around the world. The coalition said 30 per cent of the oceans must be protected to maximize fisheries and allow marine resources to recover. Ted Waitt, founder and chairman of the Waitt Foundation and Waitt Institute, said: "On behalf of the Blue Prosperity Coalition, we are really excited that the Bermuda Government recognizes that the key to its long-term economic growth is protecting its ocean and you can do both at the same time. You can build prosperity for all citizens and do so in a very holistic manner that not only protects the environment but builds the economy for its citizens for a long time."

A man convicted of a brutal knife attack on a bartender outside his home was jailed for ten years yesterday. Acting Puisne Judge Juan Wolffe said Alex Wolffe, 20, had shown no remorse for the attempted robbery of Borislav Angelov, who was stabbed more than a dozen times as his wife watched from the house. He said: "The sheer number of times the victim was stabbed, combined with the words and actions of the defendant who brandished what appeared to be a gun, puts the case on the borderline of being attempted murder." Mr Justice Wolffe was speaking after Wolffe, 20, was convicted of wounding Mr Angelov with intent to cause grievous bodily harm on October 23 last year. Wolffe was also convicted of attempted robbery and two charges of intimidation. Mr Justice Wolffe said: "It's clear from the victim impact statements that what happened to them was horrendous and words cannot convey how they were feeling on October 23, or how they have felt since. No matter what the amount of time that has elapsed, they will probably never forget that dreadful night." He sentenced Wolffe to ten years behind bars for wounding with intent to cause grievous bodily harm. The judge further sentenced the defendant to five years for the attempted robbery, and 12 months each on the two counts of intimidation. He ordered the sentences to run concurrently, with time in custody also taken into account. Prosecutors told the court the defendant and an unidentified man, who were on a motorbike, chased Mr Angelov's motorbike along Harbour Road, Paget, as he returned home from work in Dockyard after midnight. The two attacked Mr Angelov on his lawn, but Mr Angelov fought back and the fight moved onto his patio, where one of the men stabbed Mr Angelov 13 times. The attack ended only after Mr Angelov's wife Deborah turned on the patio lights and the men fled. Mr Angelov said one of his attackers pointed what appeared to be a gun at him as they ran and warned him not to move or he would be shot. A witness, who cannot be identified for legal reasons, earlier told the court that Wolffe confessed he was involved in the attack while they were both in Westgate prison. The witness added that Wolffe said he had suffered an injury to his hand as he tried to stop his accomplice's attack on Mr Angelov. But the defendant in court denied any involvement in the incident and insisted he had not been near the Harbour Road area on the night of the attack. Larissa Burgess, for the Crown, said Wolffe had "terrorised members of the public" in an act of "monstrous social deviance". She suggested a sentence of between ten and twelve years was appropriate given the serious injuries suffered by Mr Angelov. The court also heard victim impact statements from Mr Angelov and his wife, Deborah, who said the attack has had a lasting impact on their lives. Mr Angelov said: "Life since that day has never been the same. I have constant pain on one side of my body, I have no feeling on the other side. I have constant flashbacks of the incident and a feeling of warm blood running down by back and legs and into my shoes and screaming for my wife that I am going to die and I love her. I find myself constantly looking over my shoulder and wondering what the person behind me is up to. It is no way to live life." He added: "Every day I look in the mirror and see the scars. My wife has told me not to take off my shirt around her because she cannot bear to see them." Ms Angelov said in a written statement that she had seen a "sea of red" on the couple's patio when she turned on the lights. She said: "This was an image that will never go away for the rest of my life. I can still hear the scraping of the furniture on the patio and him screaming for me to call the police." Susan Mulligan, for Wolffe, said that her client maintained his innocence and would appeal the conviction. She added that the sentence suggested by the Crown was excessive given the defendant's clean record, youth and a number of letters that highlighted his good character. Ms Mulligan said: "People are shocked. They are saying that they cannot believe that he could have done anything like this." She asked the court not to deliver a sentence that would "crush" him and instead suggested three years in prison, followed by a long probation period and a community service order. Ms Mulligan also said that, according to the Crown's case, Wolffe had injured his hand in an attempt to stop his accomplice from stabbing Mr Angelov. But Ms Burgess said the Crown's case was that he only did so after Mrs Angelov had turned on the porch lights. She added: "I don't think it's fair to say he was a good Samaritan after 13 stabs." Mr Justice Wolffe said it was "neither here nor there" if the defendant had attempted to stop the attack. Detective Sergeant Jason Smith said the attack was an outrage and that police were still on the hunt for the other man involved. He added: "The investigation is still open, and for that reason we continue to make our appeal for members of the public who do have information that might be able to assist us bring the second perpetrator to justice to come forward."

Prosecutors have dropped proceedings against a man accused of threatening to kill someone in a message to a government MP. The news came after Perry Smith was earlier charged in a case that related to Michael Scott, the elected member for Sandys North. But Larry Mussenden, the Director of the Department of Public Prosecutions, said last month: "A nolle prosequi was entered in this matter meaning that the Crown will not proceed with a prosecution at this time." Mr Smith was charged on indictment and his case was called in the Supreme Court in March. He was accused then of causing Mr Scott to receive a written threat towards "a person" on or around August 10 last year and pleaded not guilty. Mr Smith, 56, also denied being in possession of a knife sharpener on September 8, 2018. Mr Mussenden confirmed last week: "The nolle prosequi applies to both counts on the indictment." Mr Smith appeared in Magistrates' Court in connection with the alleged offences last September and was charged with two counts of making written threats to kill Mr Scott on or around August 10 and 19. He was charged with possession of a knife in the parish on September 8 and with stalking Mr Scott between August 10 and September 8. But only the two modified charges were on the Supreme Court indictment.

Bermuda is one of 129 countries and jurisdictions to have agreed on a road map aimed at modernizing international tax rules for the digital age. The Organisation for Economic Co-operation and Development/G20 Inclusive Framework on Beps [Base Erosion and Profit Shifting], of which Bermuda is a member, produced a 40-page document that it hopes will be the foundation to creating a global deal on an outline for tax changes by January next year. The "programme of work" has a particular focus on digital commerce multinationals, who have been able to book profits in low-tax jurisdictions, largely avoiding tax liabilities in the larger economies where most of their users and customers reside. Alphabet, the parent company of Google, has become a poster child for internet giants' tax avoidance by channeling tens of billions of dollars in profits to its Bermuda entity, which employs no one. The road map agreed by the inclusive framework countries at its meeting on May 28 and 29 will be put to finance ministers of the Group of 20 economic powers next week. The aim is for international agreement on an outline for the overhaul of cross-border tax rules by early next year, with the more technical negotiations over the details to take place in the months after. The document sets out two "pillars". The first is focused on how to divide up rights to tax a company where the good or service is sold even if it does not have a physical presence in the country. Under the second pillar, if companies are still able to book profits in low-tax jurisdictions, countries could then apply a global minimum tax rate at a level to be determined. The move comes at a time when international pressure is being ramped up on multinational companies using entities in low-tax jurisdictions to reduce their tax bills. Bermuda is one of many jurisdictions to have introduced economic substance rules which will require companies in several target sectors to have "adequate" staff, office space and economic activity, or face penalties.

The Bermuda Health Council issued this press release. "Today, the Health Council launched a campaign #ImagineBermuda, about their vision of Bermuda's health system. The campaign provides a timely reminder that the youngest and the oldest amongst us can still impact and even create the Bermuda we want to see for tomorrow. We want to give Mr and Mrs Bermuda, and all Bermudians alike, a voice to shed light on the many issues and opportunities within our communities. This is a great opportunity for everyone to promote their hopes and dreams; and a great opportunity for our kids, youth, adults and seniors to share their version of an economically strong and healthy population. The campaign encourages members of the public to create and post a social media video, no more than 60 seconds, about what they imagine for the future of Bermuda. This video does not have to focus solely on the health system but rather any hopes you have for making this the best Bermuda, for all. To learn more about the Health Council's campaign, visit their Facebook @BDAHeatlhCouncil or Instagram page @BDAHealth."

People aged 50 and older with chronic conditions could be missing out on crucial advice on how lifestyle changes could boost their health, it was revealed. A survey by Age Concern Bermuda found that although almost 80 per cent of respondents had seen a medical professional in the past year, 70 per cent of those asked were not told how healthier living might help. Claudette Fleming, the charity's executive director, unveiled the results at a session that focused on high blood pressure — or hypertension — yesterday and said that the findings were "a big eye opener". Age Concern carried out health checks at several locations across the island in 2017 and 2018, when some participants responded to a questionnaire about their wellbeing and use of medical services. Dr Fleming said 51 per cent of people reported high blood pressure, 28 per cent said they had high cholesterol and 21 per cent reported diabetes. But she added that on the day that people were checked, 62 per cent had hypertension stage 2, which is the level just below hypertensive crisis. Dr Fleming said that 79 per cent of respondents reported that they had seen a doctor or medical professional in the past year. She added: "We knew that, for the most part, these are individuals who are tuned in. They are going to health providers, and interestingly it was the reverse in terms of, have you been to the emergency room in the last six months? 79 per cent said, 'no I haven't'." From what we could see, our assumption is this is a pretty responsible group of individuals who know that they have a chronic disease of some kind — hypertension in particular — and they are dealing with the medical profession accordingly." She said 73 per cent of the respondents said they were taking prescription drugs for high blood pressure. Dr Fleming told the session: "We can see this picture now — you are going to the doctor, you have been diagnosed with this condition for quite some time and you are managing it and you're taking medications. 70 per cent of participants across all of the health checks said during the last 12 months, 'although I have this condition I have not been given any advice on lifestyle change'. We kind of knew this intuitively but you proved it for us. That was a big eye opener for us." Dr Fleming explained that Age Concern wanted to look at ways to tackle health problems and that she had managed to end her own use of hypertension medication. She said: "We want to provide awareness around what you can do differently, not just check your health, because you don't necessarily have to be on these prescriptions for the rest of your life, there are things that can be done." Annabel Fountain, an endocrinologist whose work includes treating people with hypertension, highlighted the importance of reducing salt intake, particularly for people of west African descent. She said that customers needed to "demand" that food served in restaurants and at deli bars was healthier. Dr Fountain added that being overweight, a lack of exercise and high stress levels increased the risk of hypertension. Leonard Gibbons, a doctor who specializes in preventive care and lifestyle coaching, also spoke at the event, which was supported by insurance giant Chubb.

The Queen's Birthday Parade will take place in Hamilton on Saturday. Traffic restrictions will be in place for the parade, which starts in Front Street at 10am. The parade will feature the Royal Bermuda Regiment, Royal Bermuda Regiment Band and Corps of Drums, Bermuda Police Service and Bermuda Police Reserves, Bermuda Fire and Rescue Service, Royal Bermuda Regiment Junior Leaders and the Bermuda Sea Cadet Corps.

A total of three food outlets were shut to carry out improvements after random health inspections found problems with their food and hygiene routines. The three were among six food sellers ranked "D", the lowest score, in the latest grades on licences list by the Government's environmental health department. It was the first time the lowest of the four categories has been used since the programme started in 2017 and is given where the inspector considered closure or decided that urgent action was needed. The list, published on the Government's website last month, showed that D grades were awarded to Chopsticks Restaurant on Reid Street, Casablanca on Washington Lane, Pasta Basta on Elliott Street West, Sung Sing Restaurant on Victoria Street and The Pie Factory on Parliament Street, all in Hamilton, and Crow Lane Bakery in Hamilton Parish. The list did not identify which three restaurants had closed their doors on a temporary basis for work to be carried out to come up to standard. A Ministry of Health spokeswoman said yesterday that "substantial improvements" were made after the inspections. She explained that a range of problems were found at the D-graded establishments, including poor cleaning standards, food cross contamination, poor temperature control, evidence of pests and unsafe conditions that could lead to accidents. The spokeswoman said: "It should be noted that not all of these contraventions were found in all of the establishments. Three of the six establishments closed in order to carry out works necessary to remove any risks to public health and to become compliant with the legislation. The other three did not have to close, but still had to carry out the necessary works. All of the establishments have been re-inspected and substantial improvements have been noted. However, they must retain their grade for at least three months before they can apply for a re-insertion for the purposes of regarding." The government website explained that the scheme was introduced to let the public know how well Bermuda's food suppliers maintained sanitary standards. Environmental health officers mark each outlet on factors like personal hygiene practices, protective clothing for staff and vermin control in annual and unannounced visits. Premises can score up to 100 points with deductions made for violations dependant on their significance to public health. An A grade is awarded for 90 to 100 points, 80 to 89 points would get a B, and from 70 to 79 rates a C. The website added a D grade was "below 70 points and urgent action or consideration of closure is usually indicated for such a score". It said: "Some critical violations must be corrected immediately to remove an imminent risk to health." Kara Simmons, the manager at Chopsticks, said problems found included fridge temperatures and the location of thermometers. She added: "Once the lady told us all of the things that were wrong, we did a voluntary closure. We closed our kitchen, did what we had to do to get it where it needed to be." Ms Simmons explained that the company was re-inserted a week later and "passed with flying colors". Sonja Seaman, owner of The Pie Factory, said it was the first D grade she had been given in more than 20 years of business. She added: "I was so upset, I was depressed because I've never had anything lower than a B, so I took it very personally ... it's not characteristic of The Pie Factory." Ms Seaman, who was not at the café when the inspector visited, explained that concerns related to frozen meat left out to thaw, a delivery of meat "sitting on the floor" and workers unaware of where the first aid kit was kept. The businesswoman said she had held meetings to ensure staff knew what was expected of them and to encourage greater teamwork. Amre Elsayed, the owner of Casablanca, insisted the company had "fixed everything" since its Washington Lane restaurant was graded about three months ago. He said the problems related to dating items to go in the fridge and the need for mats on the floor. Mr Elsayed added: "We did exactly what they asked us to do and we had another inspection and they passed us." A manager at Crow Lane Bakery said concerns over the North Shore Road premises included painting and were "more cosmetic stuff than anything else". A manager at Pasta Basta said it was up to the owner to comment, but he was "at sea" and a woman who answered the phone at Sung Sing said no one was available to answer questions. The health ministry spokeswoman said a re-inspection application must include details of the improvements made before an unannounced visit by a senior Environmental Health Officer. She added: "It should be noted that a better or worse grade can be awarded or the grade can remain the same depending on the hygiene conditions found at the time of the re-insertion." Of the 307 establishments listed, 142 were graded A, 132 were B, and 23 were C. Two were marked with "0" but the spokeswoman explained that one had closed and will be removed from the list. She said the other one, Blackbeards Hideout, St George's Beach Club, was not operational when the list was published. The spokeswoman added: "It has since reopened and has been inspected and has been awarded an A grade. We will update the list to reflect this." Two venues were listed as "new" and will be monitored over six months to achieve a grade.

Bus operators will continue a work-to-rule until safety problems at the St George's bus depot are tackled, the president of the Bermuda Industrial Union said yesterday. Chris Furbert was speaking after bus service BIU members gathered yesterday for talks as part of a dispute that has seen a work-to-rule imposed. Mr Furbert said that the work-to-rule would only be lifted if two portable air-conditioned restrooms were made available for bus staff in St George's. He added the BIU had made Zane DeSilva, the transport minister, aware of the condition. Mr Furbert said the workers were not comfortable using the facilities in St George's because of health and safety fears. He added: "It is my understanding that place has been condemned twice. They have to use the facility every day, that's where they sign on and off." He said workers were also concerned about the poor condition of the depot in Dockyard. Mr Furbert added that bus staff also wanted changes to their job descriptions and complained about radios which are not working, lack of security for cashiers, the flooring in eastern depots and roaches on the buses. Mr Furbert said drafts of new job descriptions would be available by tomorrow. He said 16 new staff members were also expected to be hired to ease a shortage of 25 staff members in maintenance and operations. The bus operators started a work-to-rule last Thursday, over what Mr DeSilva said was "a myriad of issues". Cancellations of bus routes this week have included school services. The DPT announced a total of 46 cancellations on Tuesday afternoon and 20 on yesterday.

A veteran pilot who steered ships into Hamilton Harbour for decades has died. John Kennedy, who retired in 1989 at the rank of pilot warden, was 95. Department of Marine and Ports staff said he was a mentor who left a mark on the Bermuda Branch Pilot Service. One of his sons, Robert Kennedy, said that "the service was his life". Mr Kennedy grew up fishing with his uncle at Spanish Point, but his career at sea began at the start of the Second World War in 1939. His son said: "He wanted to avoid getting called up, so he got on a cargo ship at St George's." Mr Kennedy pretended to be older to get accepted — which led to a lifelong confusion over his year of birth. But the sea was no sanctuary, as convoys of cargo ships became prime targets for German U-boat attacks. Mr Kennedy told The Royal Gazette in 2014: "You would be down shoveling coal and then you would come up and see that there were one or two ships missing from the convoy. They had been sunk." Mr Kennedy said he was a keen fisherman with his own boat and that seafaring was "in my blood". He became an apprentice pilot in 1952 under pilot Walter Darrell and worked his way up the ranks. His son said he built his house, Hard-a-Port at Tablerock Avenue in Pembroke himself and the view over North Shore allowed him to keep watch on shipping. His son added: "Life for him had to be work, even exercise — he would lift concrete blocks and cut the hedges instead of going to a gym. "Piloting was literally his life. He always wanted to be on the move. In later years he loved to drive." A tribute from Marine and Ports said he served "unselfishly and with pride" and trained pilots over a 37-year career. Mr Kennedy's favourite ship to pilot was said to be the Royal Caribbean Cruise Line's Veendam. Branch pilots like Mr Kennedy relied on lighthouses and islands as landmarks for navigation before modern navigation technology. The narrow channel of Two Rock Passage in St George's proved an especially challenging job. He told the Gazette: "In the early days, you had to climb a rope ladder called a Jacob's ladder to board the vessel, which could be unnerving if the wind and waves were up. Other than that, everything was very good." Mr Kennedy's family and friends were recruited to drive him around after he retired. He also enjoyed hailing passing ships by radio from his home. Mr Kennedy had a son, John-Arthur, with his first wife, the late Mildred Musson. He married the late Barbara-Jean "Niecey" Smith in 1965, and the couple had two children, Jacqueline and Robert. David Burt, the Premier, offered his condolences to the family in the House of Assembly last Friday. Mr Burt said: "I do hope that his loved ones find comfort."

June 5

A "lack of confidence" in the public-school system is to blame for the loss of pupils to private institutions, the education minister said last night. Diallo Rabain said: "There is a belief that the private schools are better. That's why we see that flight. Our job is to change that mindset. Our job is to put a system in place that produces a quality of graduates, the quality of grades, that people can now say 'I can trust my child to be here'." Mr Rabain was speaking at a town hall meeting on education held last night. The event, organised by the Progressive Labour Party, took place at the Bermuda Industrial Union headquarters. Several dozen people attended, including principals, teachers and parents. Mr Rabain disagreed with the suggestion from an audience member that the private-school system was better than the public. He added: "One thing that I do want to make clear — the direct apples-to-apples comparison is just not possible at this time." Mr Rabain said that there were problems related to pupil needs that private schools "do not have to deal with. The Education Act states that as long as the student has the ability to learn, we have to figure out a way to teach them." Mr Rabain said that public-school classrooms were made up of pupils that included the "high flyer" as well as pupils with special learning needs. He added: "The private schools, they only have one type of student. And that really is the biggest difference there." O'Brien Osborne, the principal at Somerset Primary School, asked Mr Rabain to "dispel this myth" that all students in private schools are smart. He said: "And when I say smart, I mean above average. That is not true. I am a former teacher in the private-school system." Mr Rabain said that the Government will start to collect more in-depth pupil and school data to allow for public and private schools to be more accurately compared. Other topics raised by event attendees focused on middle schools, pupil assessments, class sizes, school zones, special education and how resources are distributed. Mr Rabain thanked the teachers in attendance. He said: "Teaching is the only profession that teaches all other professions. We have a great admiration and respect for our teachers. We might not get along at times, we might butt heads, but at the end of the day I think we all have the same thing in mind, and that is to ensure that our students get the best that they can get." A second town hall event will be held at Somerset Cricket Club on Thursday at 6pm.

Buses will be off the roads for two hours today as bus drivers hold a union meeting. The bus service, already on a work-to-rule, will down tools between 10.30am and 12.30pm. The Department of Public Transportation said there would be an interruption of service as staff were updated on "matters of concern to the employees" in an effort to end the industrial action. A spokesman added: "The DPT look forward to resuming full bus services and apologise for the inconvenience to the traveling public." The announcement came yesterday as 46 bus routes, including school runs, were cancelled.

Bermuda's register of beneficial company ownership cannot be released under the island's public access to information law, according to a decision due to come out today. Gitanjali Gutierrez, the information commissioner, said the Bermuda Monetary Authority was right to refuse The Royal Gazette access to the register after a public access to information request was made in February 2017. The BMA denied the request on the grounds that the secrecy provision in section 31(1) of the Bermuda Monetary Authority Act prohibited disclosure. The authority said in its denial letter: "Under that provision, the servants and agents of the authority shall preserve and aid in preserving secrecy with regard to all matters relating to the affairs of the Government of Bermuda or the Bermuda Monetary Authority or of any person that may come to his knowledge in the course of his duties. The authority continued: "Breach of this provision amounts to a criminal offence." Ms Gutierrez said she was "satisfied that the BMA's denial of public access to the records was justified". The commissioner said the Pati Act allowed records to be withheld if their disclosure was prohibited by other legislation. She added public authorities did not have to weigh up whether there was a public interest in release of the records in such cases. Ms Gutierrez examined the BMA's database, which holds information on the real owners of Bermuda-based companies, as part of her review and said she was satisfied it came under the secrecy provision of the BMA Act. The Foreign Affairs Committee of the British Parliament recommended this year that Britain should order all its Overseas Territories to make their beneficial ownership registers public. The committee said: "We believe it is a matter of national security, because there is evidence to suggest that money tied to autocratic regimes has been connected to OT-registered companies, and that considerations of competitiveness cannot prevent action. The public in the UK and elsewhere have a right to see beneficial ownership information and we are calling on the Foreign Secretary to lay out plans for achieving this." Ms Gutierrez said the committee's recommendations, in its Global Britain and the Overseas Territories: Resetting the Relationship report, concerned a "policy proposal and do not reflect the existing legislation applicable in Bermuda". She added: "The statements by the committee do not carry any weight in this review." The commissioner added that Parliament had amended several laws in recent years to remove beneficial ownership records from the scope of the Pati Act, including the Companies Act 1981, the Limited Liability Act 2016 and the Partnership Act 1902. Secrecy over offshore company ownership came under renewed scrutiny in 2017 after the "Paradise Papers" revelations by the International Consortium of Investigative Journalists and other media organisations. Almost 100 news outlets around the world revealed how the rich hid their money after client information hacked from Bermuda's Appleby law firm was made public. The reports, and comments by Jeremy Corbyn, the leader of the Labour Party, branded Bermuda as one of the world's most secretive jurisdictions. The British Parliament later agreed to issue an Order in Council in December 2020 to force British Overseas Territories to establish public registers. The Bermuda Government has argued that the order will breach the Bermuda Constitution and damage the island's economy. Lord Ahmad, Britain's Foreign Office Minister for the Overseas Territories, said on visit to Bermuda in April that the territories would have until 2023 to establish public registers and that the UK would push for that to be the international standard.

A total of $330,500 in uncashed cheques were left "in a drawer" at a government department, a report to Parliament has revealed. The report by the Efficiency Committee said only $50,000 of the owed cash was claimed back and accused the Government of "poor management of staff and inadequate central controls". The group's report, tabled last Friday in the House of Assembly, added the pile of uncashed cheques included one for $6,369 that dated back to December 2006. The committee also found that the financial assistance department had continued to pay allowances to rest homes after residents had died because of a lack of co-ordination between departments. The report also said revenue was left uncollected at the offices of the Tax Commissioner and Registrar of Companies because of a lack of trained staff and old-fashioned technology. And unassessed stamp duty on 1,590 property conveyancing files added up to "a huge backlog of work with the resulting loss in significant amounts of revenue". The nine-member team's recommendations, drawn up after the yearlong review, included:
An update for Bermuda's intellectual property legislation, last revised in 1993, which one IP lawyer said could bring the island an extra $1.3 million in business
Get-tough measures for companies more than 60 days behind on social insurance payments, including the Transport Control Department refusing to renew company owners' driving licences
Centralization of the purchase of materials and supplies for Government, rather than scattering it across departments
A system where all budget expenses must be justified for each new period at the Office of Project Management and Procurement to control spending in government departments
A spokeswoman from the Ministry of Health said last night the ministry had made changes after an internal policy review. She said: "The amounts owing are now significantly lower. The Department of Financial Assistance has identified these gaps as outlined in the Efficiency Report and internal policy reviews, and are working to recoup any outstanding funds." James Jardine, the independent senator who wrote the consolidated report, said that "overall, no matter who it is, the Government needs an overall strategic plan for the next five years. A problem I see is the confusion over just what they necessarily want to achieve in each department. Each time the Government changes, their goals change, and ministries and departments have to reign their thought processes." Mr Jardine said that the IT systems in government departments worked in isolation. He added: "They don't talk to each other. So when they are trying to collect outstanding taxes, there is no one system bringing it all together." The committee's report recommended that the Government should "invest in a completely new tax software system". It also highlighted staffing problems across departments, which included a lack of manpower at the Attorney-General's Chambers to collect outstanding debts on behalf of the Department of Social Insurance. Mr Jardine added that the committee had "resurrected" the findings of past reports, including the Spending and Government Efficiency Commission, or Sage, compiled six years ago. The committee highlighted that the Sage report had suggested a plan to get isolated departments of the Government to work together. The Efficiency Committee agreed with Sage's statement that the need "cannot be over-emphasized". Their report also said there should be a review of previous reports where "little may have been done to implement their recommendations". The committee's review of the Office of the Tax Commissioner quoted concerns raised in the report of the Tax Reform Commission, tabled last November, which said the OTC was "understaffed and under resourced". An earlier report by the Caribbean Regional Technical Assistance Centre, released in October 2015, recommended major improvements to Bermuda's tax billing and collection systems.

A violence-hit sports club has been ordered to shut its bar at 9pm six nights a week as a condition of its alcohol-licence renewal. Southampton Rangers Sports Club was also subjected to a string of requirements by the Liquor Licensing Authority after the police objected to its licence renewal based on concerns over "gang-related activities and antisocial behavior". The club was told after a five-hour hearing last week that "having recognized and accepted that Rangers is working diligently to put necessary safety measures in place to protect its patrons", the LLA was prepared to grant the licence with conditions. They included that alcohol will be served in plastic cups and none will be served after 9pm, except on Thursdays when it can be sold until 11pm. The club was also ordered not to open the bar during youth-team training sessions or games — a stipulation that the club said it had already met. The hearing heard last week that the CCTV system at the club was of "poor quality" and that police had found it impossible to identify troublemakers from its footage. The LLA, now chaired by Marc Daniels, added that the club's management team must install new, high-definition security cameras within three months and continue to ban individuals who commit, or threaten, anti-social behavior or violence. The club was also told to have security personnel present at all sporting events and club members should be prepared to show their membership cards on demand. The LLA added the club's executive should continue to work with the police to take steps to ban individuals who may be members of, or associated with, gangs. The ruling was issued to The Royal Gazette yesterday. The LLA added that it was prepared to crack down on any social club where violence or bad behaviours became a problem. The authority said: "We therefore put all establishments, inclusive of Rangers, on notice that should they have infractions going forward, especially those that may be tied to antisocial behaviours and violence, they are at risk of having their licences revoked, or amended, in the interest of public safety." Inspector Alex Rollins, a police intelligence expert, told the renewal hearing that the club was "a hub" for gang members and associates and that its position between rival gangs in the central parishes and western parishes had led to violence at the club. The LLA report added that Mr Rollins "offhand" had identified at least four gang members or associates on the club's membership list. Shannon Dyer, of legal firm Walkers, who represented the club, told the LLA hearing that the South Shore club was active in its community and provided assistance to seniors and food to people and families who struggled. Mr Dyer added that a refusal of a liquor licence would result in "effectively shutting Rangers down" due to its reliance on bar sales to fund its community programmes. The 15-page LLA report also highlighted that Jason Wade, the club president, had "highlighted concerns that all members' clubs face, which calls for standardization across the community in relation to similar establishments". The report added: "Mr Wade demonstrated that he was a member of our community who recognized our challenges and was committed to steering his club through its current pitfalls with the view of restoring its legacy and true purpose within the community. A spokesman for the club said last night: "Southampton Rangers Sports Club acknowledges the conditions imposed by the Liquor Licensing Authority and shall endeavor to adhere to all of the conditions that have been ordered." The Bermuda Police Service said last night that it was reviewing the Liquor Licensing Authority ruling regarding the renewal of Southampton Rangers' licence and would make a statement today.

A prevailing view that new economic substance regulations will have minimal impact on captive insurers in Bermuda is to come under closer consideration next week. An expected 800 delegates and speakers will attend the Bermuda Captive Conference, and the topic of economic substance and how it might impact the sector will be discussed. "Economic substance is very topical. We have a panel of three people talking about it," said Michael Parrish, chairman of the conference. Bermuda has grappled with the issue of economic substance since the European Union raised concerns last year, and earlier this year it was temporarily placed on the EU blacklist of non-cooperative jurisdictions due to a typographical error in its economic subsistence regulations. The mistake was corrected and the island is no longer on the list. The island has more than 700 captive insurers, who directly employ upwards of 550 people in Bermuda. The sector annually contributes an estimated $174 million into the economy. At next week's conference, a panel will explore and answer questions related to the Economic Substance Act, and address key requirements that may apply to captives, and discuss how Bermudian-based service providers support captives and their owners in demonstrating Bermuda substance. One view is that economic substance legislation will not impact the captive industry, to the degree that captives compliant with the Insurance Act and Companies Act are deemed to be compliant under the economic substance legislation. However, Mr Parrish cautioned that view has not been endorsed by anyone. The three-day conference at the Fairmont Southampton starts on Monday. One session will look at emerging issues, including the shared economy, autonomous driving, terrorism and cybersecurity, which fits with the conference's 2019 theme of "elevate". Mr Parrish said: "The idea is to get people to elevate their thinking, to move away from thinking that captives are just a mechanism for traditional property and casualty risk, [and] to move on to other things, such as developing areas — cyber, employee benefits, autonomous vehicles, and crypto commerce." While the captive market in Bermuda, and generally, has not grown notably in terms of captive numbers in the past year, premiums have increased, and captives are being used in more areas. Mr Parrish said: "We have seen new developments for crypto commerce. We have seen a captive being set up in Bermuda for digital assets, covering a digital asset deposit taker. That's a crypto captive, probably the first one. That is going to be a developing area. It's an area where people in that industry find it very difficult to buy traditional insurance. There are traditional insurance companies that don't like insuring that industry because it is so new and a lot of the companies are start-ups and do not have track records." The Bermuda Captive Conference is marking its fifteenth year. It is the biggest industry conference held on the island, and about half of attendees come from overseas. This year, as part of a sustainability drive, the event will introduce water stations allowing delegates to refill water bottles. Mr Parrish said he attended a large overseas conference and calculated that thousands of complimentary plastic water bottles ended up as trash after each was used only once. A number of innovations introduced at the conference last year will continue, including the improved layout of the exhibition hall and more functionality in the mobile app that gives opportunities for networking among delegates, and proving live feedback during sessions. As part of its outreach, the conference is encouraging some high school and Bermuda College students to come along, particularly to parts of the programme where they can connect with panels discussing opportunities for jobs in the sector, especially for young people. A charity programme that debuted last year, is back. This time Big Brothers Big Sisters will be supported and have the opportunity to secure a presence at the event. Keynote speakers are Tripp Crosby and Jeremy Cox. Mr Crosby is a well-known YouTube comedian whose business-related material includes the video sketch A Conference Call in Real Life. While Mr Cox is the executive chairman of the Bermuda Monetary Authority. Mr Cox will also receive the fourth Fred Reiss Lifetime Achievement Award. In addition, four captive insurance companies will join the Bermuda Captive Hall of Fame, having completed 25 years of business on the island. The companies are Fairtide Insurance, Iboba Insurance, Pitts Bay Insurance Company, and Trimark Insurance. "We salute these companies and their longstanding commitment to our market," Mr Parrish said. This is his second year as conference chairman. He said: "It's been a very good experience. There is a committee that frankly does all the work. This is the fifteenth year of the conference and there are people involved who have been here for every one. The chair just needs to make sure that all the moving parts come together on the day. It's a great event, and it is testament to the influence and importance of the captive industry to Bermuda."

A senior has denied sexual assaults on two girls more than 30 years ago. The 81-year-old man pleaded not guilty in Magistrates' Court yesterday to three counts of sex assault on the girls, who were aged under 14 at the time of the alleged offences. The man, from Hamilton, who cannot be named for legal reasons, is alleged to have committed two of the offences between May 1981 and April 1983. The third offence is alleged to have happened between May 1984 and May 1985. Magistrate Maxanne Anderson adjourned the case until July 1 and released the defendant on $6,000 bail. She also ordered him to have no contact with the alleged victims.

An attempt to create a special clinic for amputees in Bermuda has been launched, The Royal Gazette can reveal. Ryan Gibbons, of the non-profit organisation A New Life, said a prosthetics clinic would make a huge difference to the 300 people on the island who have lost a limb. The organisation will hold its first tag day today and has launched a GoFundMe page to help raise funds for the clinic. Mr Gibbons, an award-winning bartender who lost his leg as a result of a 2008 motorbike crash, said yesterday: "I just ran May 24. Afterwards, I was bleeding from behind my knee where my prosthesis is. That could be fixed if I could go into a clinic right now, but I don't have access. The only way I get that is if I either send my device up to Boston, which means I can't do anything until it's done, or I have to fly away and get it sorted and then I'm losing work." He explained that an on-island prosthetics clinic would be able to measure patients for artificial limbs, make them and keep them in good working order without the need for patients to leave the island or ship their prosthetics overseas. Mr Gibbons said the clinic would also help to keep costs down for patients. He explained: "There is no full-time clinic for prosthetics here, and insurance offers roughly $100,000 for prosthetics, but in some cases the companies don't want to make that portable. So there's no one who makes prosthetics here, but if you want to go away, that means you won't be covered by insurance all the time." He added that many people are unaware of the high cost of artificial limbs, and their sometimes limited use. Mr Gibbons said the artificial limb he used to run cost around $30,000 and if he wanted to do other sports he would need a different one. He added: "Triathlon people have asked me why I don't get into the biking. To get another device for biking would be another $20,000 and insurance doesn't necessarily want to cover it." Mr Gibbons said in addition to assisting those who need artificial limbs, a clinic would be able to help those who needed orthopaedics, which would help make the project more economically sustainable. "We see with the cancer centre how it is reducing some of the costs. It is definitely reducing the patient stress levels because they don't have to travel out of their comfort zones." Mr Gibbons and LeKiesha Wolffe, the executive director of A New Life, who lost a leg in a 2013 motorbike crash, said artificial limbs suffered wear and tear which was worsened by Bermuda's humidity and the salt in the air. Ms Wolffe, a mother of two, said having her leg shipped overseas for repairs or travel overseas affected her family life. She said: "I have to go back to Boston in a few weeks because it is causing lumps under my skin and I'm not sure if I'm allergic to the silicone piece I'm using. I have two kids, so I have to find someone to watch them. I need someone to travel with me because I'm an above-the-knee amputee and I need someone to help me with my wheelchair." She added that the additional expenses might not be covered by insurance which left some patients with an extra financial burden. Ms Wolffe said A New Life did not know how much it would cost to open a clinic but had set an initial fundraising target of $200,000 to get started. Mr Gibbons said the figure would "just scratch the surface", but it would mark the first step towards a service that would improve people's lives. He added: "While I've been running the miles, LeKiesha has been putting in the paperwork. Now it's about coming together to serve people and help them find their best quality of life."
For more information about A New Life, which has been issued temporary fundraising licence number T2055, visit a newlifebda.org or phone 292-5570 ext 224. Donations can be made at Butterfield Bank account 0604002420010

June 4

Payments made to members of the Bermuda Government's efficiency committee were optional, and did not include civil servants. Wayne Furbert, the Minister for the Cabinet Office, said yesterday that all MPs who sit on government boards and committees were remunerated for their work. He added: "This is nothing new. It's been done since time immemorial." The report from the nine-member board, chaired by Mr Furbert, was given to Parliament on Friday showing a return of more than $12 million in government revenues. In response to Opposition questions, the House of Assembly heard that the minister garnered $5,000 per month for the one-year job, while committee members received $2,000 a month. Edward Ball, the general secretary of the Bermuda Public Services Union, clarified that he had not taken any payment in his role. Mr Ball said: "I made it clear from Day 1 that I would volunteer to sit on the board. Sometimes you get remuneration, but I did not receive one cent, nor would I accept it." He added: "I have served on several boards over the course of 30-plus years. Sometimes there is a stipend, but nothing like $2,000 a month. I cannot speak for anyone else." Mr Furbert told The Royal Gazette that civil servants such as Cherie-Lynn Whitter, the Permanent Secretary of Government Reform, received no extra payment. He said: "They got paid for their regular pay. Mr Ball and others were there representing their organisations." Glenn Simmons, representing the Bermuda Industrial Union, said he had found the experience "very helpful". He said: "For example, we looked at savings for blue-collar workers' uniforms. We suggested issuing them biennially as opposed to annually. All the different members brought a lot of different knowledge." He declined to say whether he had accepted payment. James Jardine, another committee member, said he had opted to take payment for his work. Mr Jardine, an independent senator, added: "I didn't think it was an unreasonable sum. I'm happy to serve on boards for free, but I gave a lot of time." Mr Jardine said he had given several hundred hours to Spending and Government Efficiency Commission. "On this commission, I ended up writing all the reports, which was a lot of work. I also prepared 13 appendices." Mr Furbert's salary for the job drew criticism on Friday from the One Bermuda Alliance. Mr Jardine said that was "a matter for him and for the Government", adding: "He spent a lot of time on it personally. I hope that people read the report and that the Government takes on all our recommendations." In the House, Mr Furbert said the efficiency committee's work had cost roughly $130,000. He said that the millions recovered marked a return on investment of more than 9,130 per cent. A government spokeswoman said last night said $2,000 per month stipends were also paid to Richard James, and Karamoko Darrel-Dickens, an IT specialist, who was paid for two months at the end of his government service. The two trade union representatives who served on the board elected not to receive compensation. She said the efficiency committee "focused on areas where the greatest value could be achieved and made 93 recommendations covering a wide range of departments. This was excellent work, great value for money and resulted in $12 million additional revenue for the people of Bermuda." The spokeswoman concluded: "Members of Bermuda government boards and committees are paid; this is not unusual. However, public officers who sit on boards are not paid, as they are giving guidance in the context of their jobs."

A law firm was told yesterday it needed to lodge an appeal in the Supreme Court to dispute a ruling that they could not represent patients of Ewart Brown who had their medical records seized by police. The Court of Appeal ruled that Chancery Legal should apply in the Supreme Court to stay a decision that barred them from involvement in the case while it tried to have the decision quashed. The finding came after the Supreme Court decided last month that Mark Pettingill and Victoria Greening, lawyers from the firm representing the patients, had a conflict of interest. Assistant Justice Kiernan Bell found the law firm had been in contempt of court after it applied for a stay of the decision so it could be appealed. The Court of Appeal found that the law firm could represent the patients in an application for leave to stay the ruling's effect so it could appeal the decision. Mark Diel, who appeared for the police, asked the Supreme Court to bar Mr Pettingill, a former Attorney-General, and Ms Greening, a former prosecutor, from representing the patients. Mr Diel argued that they had access to confidential information on the long-running police investigation into Dr Brown's clinics through their former roles, which the court accepted. Mr Pettingill and Ms Greening will now have to ask Supreme Court for permission to argue their case in the Court of Appeal. A draft judgment said: "Since those applications are to be made to the Supreme Court, they are not applications of which we are currently seized. But, it seems to us right to say that, in our view, although it will be a matter for the Supreme Court judge, it would be appropriate for the judge to hear Chancery Legal on behalf of the client make an application for leave to appeal and an application for a stay, because, although that would be contrary to the terms of the existing order, it is that very order which the client seeks to appeal. That observation is subject to the proviso that Chancery Legal has undertaken that, pending the appeal, it will not discuss with the client or any co-counsel, anything other than the appeal itself." The appeal court panel added that, if permission for a stay and an appeal were granted, the Court of Appeal would be able to hear the case this month. If the applications to the Supreme Court were refused, the firm will still be able to appeal the refusal to the Court of Appeal. The firm represented 150 of the 265 patients whose records were seized in raids on Dr Brown's two medical clinics, Bermuda Healthcare Services in Paget and Brown-Darrell Clinic in Smith's, in February 2017. The raids were part of an investigation by police into allegations that the clinics had ordered unneeded diagnostic imaging scans to boost profits. Dr Brown and BHCS's medical director, Mahesh Reddy, have denied any wrongdoing and have not been charged with any offences. The patients represented by Chancery Legal were given permission by the Supreme Court to intervene in a civil case brought by Dr Reddy and the clinics against Bermuda Police Service. The patients wanted to stop the police from getting access to their files and to have the medical records returned.

A former client of a bankrupt lawyer said yesterday he had never paid her any money on the more than $63,000 that a court ruled was owed to her. Lynda Swan added that she feared barrister Rick Woolridge would never pay back the cash as ordered by the Supreme Court in 2014. Ms Swan said: "I don't think he intends to pay me at all." She added that she needed the money. Ms Swan said that Mr Woolridge continued to practise law after the 2014 judgment and that "my salary a week doesn't even add up to one hour that he charged". She added: "Mr Woolridge was allowed to work in order to pay his debts — his creditors. And he was working and not doing it." Ms Swan was speaking after a bankruptcy order was made last month against Mr Woolridge by Chief Justice Narinder Hargun. Mr Woolridge told The Royal Gazette last month that the bankruptcy was sparked after Ms Swan took legal action. Ms Swan, 69, from Hamilton Parish, said Mr Woolridge's statement was true. She added: "I'm not the only creditor." Ms Swan said that there were "12 or more" creditors owed money by Mr Woolridge. She added: "We had a meeting with the Official Receiver. We have been to court several times, and Mr Woolridge promises that he is going to do this and do that ... and doesn't do it." Mr Woolridge was ordered to repay Ms Swan after the Supreme Court ruled that he had overcharged her by more than $60,000. Ms Swan complained that Mr Woolridge had billed her at 5 per cent interest a month instead of a year for legal services. Mr Woolridge argued at the time that Ms Swan had agreed to pay a higher interest rate and that she still owed him more than $24,000. But Ian Kawaley, then the Chief Justice, found that Ms Swan and Mr Woolridge had never reached an agreement on the interest rate and awarded Ms Swan $63,498.60. Ms Swan said that Mr Woolridge was supposed to register all his clients with the Official Receiver. Mr Woolridge said yesterday that he was under a court order about his bankruptcy. He added: "I shall, as always, abide by the law." Mr Woolridge said that any questions Ms Swan had about her money should be directed to the Official Receiver. He added: "Of all the creditors, she is the only one who attended court on each occasion. It was at her insistence that the bankruptcy order was applied for as they told her that it would disrupt my work. Her reply was that she did not care. She has now achieved her aim." Lawyers who are declared bankrupt lose their practising certificate under the Bermuda Bar Act. Mr Woolridge said last month that he planned to apply for a temporary certificate. He added that he had also hired a debt collection agency to try and recover unpaid bills from clients. Mr Woolridge said that he was owed $1.7 million by "hundreds" of clients and that he would pay his bills once he had collected the outstanding cash.

Southampton Rangers Sports Club succeeded in its application to keep selling alcohol, a member told The Royal Gazette yesterday. The Liquor Licensing Authority had been mulling the club's liquor licence after police raised concerns about some of its patrons and its security cameras at a meeting last Thursday. But the club member confirmed last night that, while it had not received official documents, the club had been granted its licence. LLA chairman Marc Daniels said on Thursday that a decision would be issued in writing the next day. The LLA has not provided any details about its decision or any conditions with the licence since then. Club president Jason Wade is overseas and could not be reached. A Bermuda Police Service spokesman said the police were awaiting the official ruling from the Liquor Licensing Authority before making any public statement. At the five-hour hearing, Mr Daniels said the board had received a list of 21 serious incidents at Southampton Rangers dated from January 2017 to April of this year. The club argued it was an active community club that had several programmes. It added that it had banned troublemakers, kept working with police and security firms and closed earlier on Sundays in keeping with recommendations by the LLA last year. Christopher Famous, who is a member of the board, told the House of Assembly last Friday that many sports clubs had their reputations tarnished because of non-members who visited and caused trouble. Mr Famous said club members were volunteering to help make clubs a success, and called on MPs to support the clubs in their constituencies.

Ascendant Group has accepted a takeover bid worth around $365 million from a Canadian utility group. Yesterday's announcement of the intended sale to Algonquin Power & Utility Corporation marks the conclusion of a four-month evaluation of "strategic alternatives" by Ascendant. The deal signed by Ascendant is worth $36 a share to shareholders, representing a premium of more than 63 per cent over last Friday's closing price of $22 on the Bermuda Stock Exchange. Shareholder and regulatory approval is needed before closure of the deal, which Ascendant expects to happen in the second half of this year. The common shares of Algonquin, which is based in Oakville, Ontario, are listed on both the Toronto Stock Exchange and the New York Stock Exchange under the ticker symbol "AQN". The company has approximately $10 billion worth of total assets and operates natural gas and water utilities, as well as electricity companies. Algonquin states that it is "committed to being a global leader in the generation of clean energy through ownership of or investments in long-term contracted wind, solar and hydroelectric generating facilities representing over two gigawatts of installed capacity". An Ascendant spokesman said: "Algonquin has the capital resources, operational knowledge and experience in technological innovation necessary to advance the company's efforts to introduce renewable energy and meet future challenges that will benefit the community as a whole." He added: "They currently own and operate 54 energy facilities, of which approximately 90 per cent are renewable." The spokesman said Algonquin had pledged to run Ascendant's businesses from Bermuda and retain the Bermudian employee base. Algonquin added it would also introduce advanced training, to be carried out in Bermuda and abroad. The Ascendant spokesman said: "The company will continue initiatives such as the voluntary early retirement programme but is committed to no company-initiated job cuts." He added that Algonquin's commitment to renewable energy and power storage development would help the island to achieve a move away from fossil fuels and boost employment in new technologies. Angela Berry, chairwoman of The Regulatory Authority, which oversees the electricity sector, said: "As the RA regulates Belco, we will evaluate the proposed change of control of Belco in accordance with the provisions of applicable legislation and any ministerial directions. The next step in the process, from the RA's perspective, will be for Belco to submit a formal application for a change of control, so that the RA can make an informed decision." Walter Roban, the Minister of Home Affairs, whose responsibilities include the Department of Energy, said: "I note the announcement around the sale of Ascendant Group Ltd today. There are considerable steps before this is finalised. I am confident that once an application is made to the Regulatory Authority, there will be a robust review, to determine that Algonquin Power & Utilities Corporation has a strategy that is in line with the IRP and this Government's commitment to drive down energy costs for the Bermuda public and ensure a more affordable and sustainable energy future for the island." Mr Roban told the House of Assembly in March that the new owner would be expected to be "transparent, inclusive and collaborative" and referred to labour disputes over the dismissal of several Bermudian staff last year. Asked about other bidders considered by Ascendant, a spokesman for the company replied: "The process was very robust — and there was interest from many reputable international firms. We do not want to comment further for the sake of confidentiality." Ascendant said that the integration of additional low-cost renewable energy into Belco's supply mix was "expected to contribute to lower energy costs". The company added: "For Bermuda, Algonquin has committed to introducing modern energy technologies and will look to accelerate the introduction of renewables, conservation, and battery storage for the island. The current board has provided the strategy that has brought Ascendant this far. We have laid the foundation for reliably powering Bermuda in cleaner, more efficient, and more cost-effective ways. Algonquin will bring the knowledge, the experience and the capital necessary to carry Ascendant into the future. All parties will work diligently to obtain all necessary approvals so the transition can happen in a timely manner to minimise any disruption to our companies, employees and our customers." Ian Robertson, chief executive officer of Algonquin, said: "The acquisition of Bermuda Electric Light Company builds materially on our international growth programme through the addition of this high-quality utility, an acquisition which will be immediately accretive to earnings. In addition to Ascendant customer and employee benefits coming from the scale of our existing utility operations, we are confident that our demonstrated capability in renewable energy development can help Bermuda realise on its carbon reduction. aspirations."

A timely trade on the Bermuda Stock Exchange is set to pay off handsomely for whoever bought 37,300 Ascendant Group shares last Friday. The shares, worth $820,600 at Friday's closing share price of $22, look like a good buy with the news yesterday morning that Ascendant Group had agreed a $36-per-share takeover offer from Algonquin Power & Utility Corp. At that price the same stake would be worth $1.34 million. If the takeover is approved by shareholders, regulators and the Bermuda Government, the gross profit on Friday's purchases would amount to $522,200, representing a gain of more than 63 per cent. Greg Wojciechowski, chief executive officer of the Bermuda Stock Exchange, said the BSX routinely monitors share trading. He added that insider dealing was a criminal offence and in breach of the BSX's rules. Under amendments made in 2004 to the Criminal Code Act 1907, penalties for insider dealing include up to seven years' imprisonment and fines of up to $175,000. "In the course of its normal activity, the BSX monitors market activity and makes inquires when it deems that circumstances require further investigation to ensure compliance to BSX regulations," Mr Wojciechowski told The Royal Gazette. "In addition to its typical oversight processes, the Exchange has monitored trading in Ascendant shares from January 28, 2019 when the company announced it was 'evaluating strategic alternatives'." He said the principal function of the BSX was to provide a fair, orderly and efficient market for the trading of securities issued by both domestic and international issuers. "The BSX operates and oversees activity on the exchange's electronic market platform to ensure compliance with its regulatory framework," Mr Wojciechowski added. "The BSX Operations and Compliance Departments are tasked with ensuring that BSX regulatory requirements are met by all users of the exchange."

Advice on how to become a successful entrepreneur will be shared by leading keynote speakers from across North America and Bermuda at the first Bermuda Entrepreneurship Summit. Among the speakers will be Elyse Archer, of Brand Builders Group, who is a personal branding strategist with clients including Shark Tank's Kevin Harrington and No. 1 New York Times best-selling author Lewis Howes. Also lined up is Tim Francis, the founder of ProfitFactory.com and GreatAssistant.com, who will explain how to avoid burnout and take more time off from work, and also assist corporate executive with hiring, delegation, and the development of effective methods for training staff. The all-day event on November 21 will teach practical skills related to personal and corporate branding,; health and wellness; networking and professional relationship-building; marketing and business development; and time management for executives and "intrapreneurs" alike. It will also teach how to successfully run a small business in Bermuda, and how to best support women and minorities starting new companies on the island. The summit will be held at the Hamilton Princess & Beach Club, and coincides with Global Entrepreneurship Week. Interest in the event is high, and has resulted in early bird tickets selling out. However, general admission, VIP and bulk ticket packages are available. Organisers say attendees will have the opportunity to participate in facilitated networking sessions and connect with hundreds of talented individuals from Bermuda's business community, including the government and corporate sectors. Among those attending from across North America will be founders of feature film funds, executive coaching practices that work with Fortune 500 financial institutions, chief financial officers, TED speakers and certified cryptocurrency experts. Among Bermudian keynote speakers will be Gaynette Jones, author of Lucky Code, and founder and chief executive officer of GAME Changing Industries, together with Kidist "Pinky" Emery, owner of Salon Pink, and Erica Smith, executive director of the Bermuda Economic Development Corporation. Ms Smith and Ms Emery will be among Bermudians participating in a discussion on "Business In Bermuda", which is to include advice on how to transition from a side hustle to small business ownership. Meanwhile, another overseas speaker will be athlete Matt Thomas, a weight division chess boxing world champion, and captain of Team USA Chess Boxing. He is cofounder of the summit, and also founder of Brawl For A Cause, an organisation hosting charity boxing tournaments to raise money for worthwhile non-profit. Jared Kleinert, an award-winning author, entrepreneur, and TED speaker who has been dubbed "Most Connected Millennial" by USA Today, will also be a speaker. He is a co-founder of the summit and a frequent visitor to the island, where he has spoken at sell-out events at the Bermuda Underwater Exploration Institute, City Hall, and private events for the Bermuda Business Development Agency. In March, Mr Kleinert was a keynote speaker, along with David Burt, the Premier, Brian Duperreault, CEO of AIG, and Michael Bloomberg, former mayor of New York, at the BDA's Executive Forum in New York. More speakers are expected to be announced on the event website in the coming months. General admission tickets include lunch, coffee, and healthy snacks throughout the day, and a full day's agenda of keynote speeches, breakout sessions, and facilitated networking opportunities. There is also access to private attendee Facebook group, a digital download of select resources from the speakers, and access to a post-summit webinar on "How To Follow Up With Other Attendees". The event will be on November 21. Organisers said those who attend will be "part of the collaborative effort to make Bermuda one of the premier destinations in the world for starting and scaling a business". CEOs and senior executives are being encouraged to consider the VIP and corporate ticket packages in order to "invest in your team's professional development, so they can become more 'intrapreneurial' and thus add more value to your firm through their work, then this is a great opportunity to engage rock star employees".
Tickets and further information is available at the event website BermudaEntrepreneurshipSummit.com.

June 3

The selection of consultants and advisers for the Premier, Opposition leader and ministers is to be set in law in a Bill passed on Friday by MPs. It came under fire from the Opposition as enabling ministers to appoint themselves an "entourage". But David Burt, the Premier, called the criticism "misinformed" and "making a political meal" of the issue. The Premier and Opposition leader are to appoint "such number of persons as he deems fit", while ministers, with the Premier's approval, can take on one or two personal staff. Under the Premier, Ministers and Opposition Leader Personal Staffs Act, their payment shall not exceed a cap designated by the legislature. Personal staff would not be part of the public service, but would be treated as government employees for pension payments and payroll tax, as well as having access to government health insurance. The Bill also affords advisers access to confidential information to carry out their work. It provides for an annual report detailing the appointments, including pay, to be brought to the House by the Premier "on or before" March 31. Mr Burt told the House that a code of conduct for "special advisers" had been drafted, and would be shared with the public. Craig Cannonier, the Leader of the Opposition, queried the need for an annual report, while Patricia Gordon-Pamplin, the shadow health minister, said the announcements of an appointment would be better made "up front". Mr Cannonier said while he welcomed an annual report, when appointments are made, announcements should be made in the House "to avoid rumors and rhetoric" in the past. Trevor Moniz, a One Bermuda Alliance backbencher, went on the attack over taking on government staff when "this country is in economic trouble". Mr Moniz said there had been cases of "nepotism", adding: "The people have seen through it." He said of the government side: "They see this as a rearguard action to paper over the cracks." Sylvan Richards, the shadow environment minister, told the House: "Where this government is falling down is staffing levels." Mr Burt responded: "There is no entourage. This is putting a structure around a particular process." He called it "offensive" to suggest nepotism in hiring personal staff. Mr Burt said: "Ministers have to trust the person who is their personal staff. Personal staffs have access to minister's e-mail accounts." He added that ministers would not be expected to hire people they did not know and give them access to personal information. Mr Burt said while there were no immediate plans to expand personal staff, he encouraged ministers to have personal staff so they can focus on transformational initiatives and not on matters that would not necessarily require their attention. On the issue of reporting appointments as they were made, the Premier said: "We felt it makes the most sense to lay it out in one document on an annual basis — and that is the decision we have come to."

An interactive wellness programme for government employees will be launched next month in an effort to tackle the $12.8 million cost of public sector sick leave. Workers were urged to take on the team-based challenge as part of a Throne Speech pledge that would place them at the front of a "strategic plan to halt the rise of obesity and diabetes in Bermuda". A Cabinet Office spokeswoman explained that 42,681 days were lost through illness last year, after employees each took an average of 9.6 sick days, and the figures were unsustainable. Covering food choices, exercise, sleep and stress management, the scheme will be the first of its kind in the island's public service and is designed to develop long-lasting habits in a "culture of wellness". The spokeswoman said: "We must find ways to encourage healthy lifestyle choices and do all that is necessary to help make the more than 4,000 public officers as healthy as possible." She explained that in 2017 the Progressive Labour Party administration's Throne Speech vowed: "The Government will engage all sectors of society in a coordinated, strategic plan to halt the rise in obesity and diabetes in Bermuda. The Government will lead the way in wellness by encouraging its employees to make healthy choices, and will contribute to their wellbeing by offering programmes, incentives and education to support the journey to a healthier public service." An employee wellness committee was set up last year and members carried out "extensive research" before they settled on a scheme that addressed the needs of their island-wide colleagues. The spokeswoman said that the cost of certified sick leave in 2018 was $9,687,287, with the Government's 4,455 employees each taking an average of 7.2 paid days. Uncertified absence through illness was found to be worth $3,115,304, accumulated by an average of 2.4 days per worker. Government Employee Health Insurance claims amounted to $63 million, the spokeswoman added. She said: "The health-related numbers within the public service are unsustainable and must be addressed from the front end." The spokeswoman added: "If you look closely at the numbers you will see that more than $9,600,000 was spent on certified sick days. This is indicative of an ageing workforce together with employees who have long-term illnesses. Our goal is to reduce these numbers by improving employees' health." She said the wellness committee, with the support of Derrick Binns, the head of the public service, and senior managers — introduced a Wellness in 2019 programme with a yearlong Global Challenge that will start with a "kickoff event" for participating staff members on July 10. Teams will be made up of seven people, and the cost of $113 per head can be shared between the participant and the Government. The spokeswoman added: "For 31 cents a day, we hope to see small changes in participants' health. Through the programme they will learn to make healthy food choices, understand the importance of adequate sleep, increase physical activity and begin to effectively manage stress, among other sustainable lifestyle choices. This is an important step for the public service. We want to create a culture of wellness. While there have been other options in the past, this is the first time we are introducing a holistic approach to managing the health of employees." The Global Challenge programme is run by Virgin Pulse, which is part of Sir Richard Branson's Virgin Group and "designs technology that cultivates good lifestyle habits for your employees", according to its website. It explained: "For over 15 years, this 12-month programme has been improving lives, boosting culture and camaraderie, increasing job satisfaction and productivity and reducing employee stress levels. Through an immersive and engaging experience, the Global Challenge addresses key elements of employee wellbeing including physical activity, nutrition, sleep and mental wellbeing." The website said that the team aspect created "healthy competition", a support network and provided accountability. Group members will each receive a starter kit that includes a Max Buzz activity tracker to monitor steps, sleep and the number of calories burnt. Employees will find out how to assess their own health as they embark on the programme and will be able to measure their progress. The Virgin Pulse website added: "Real-time reports allow employers to monitor overall health improvements across their workforces." Public servants will have access to an online platform and a smartphones app where they can take advantage of tips and advice and share their experiences with others involved in the scheme all over the world. The Bermuda Government spokeswoman said employees still had time to sign up and should contact their head of department to show their interest. She added: "With the introduction of this healthier living lifestyle tool, we anticipate public officers will, over time, adopt healthy choices." The sick leave total value of more than $12.8 million was an increase from the sum revealed in the 2013 Sage Commission report on spending and government efficiency, which said that employees' illness rates cost more than $10 million a year. It said then that Bermuda public workers took an average of eight days off sick annually.

Increasing the retirement age to 70 could reduce the need for immigration as a growth strategy, David Burt said on Friday. The Premier told the House of Assembly: "Those who simply say we need more people living and working in Bermuda do a disservice to that argument when they fail to include those men and women in this community age 65 and over who can and want to continue working." He added: "They, too, will continue to contribute to the economic activities in Bermuda." MPs debated a motion on the issue after Mr Burt tabled a report from the Labour Advisory Committee recommending that the retirement age should be increased from 65 to 70 over a ten-year period. People would retain the option to retire at 65. Mr Burt noted the Progressive Labour Party had pledged in the Throne Speech last year to "revise mandatory retirement age to take account of longer life span, the necessity to add additional stability to pension funds and to promote greater choice among the working population". He said the average life expectancy for Bermuda had climbed from 71 to 81.3 over the past 30 years. Mr Burt added: "Living longer, and certainly beyond the age of 65, is a demographic reality that must now be married with economic reality." He added that moving the age of retirement would ensure equality in recruitment, hiring compensation, benefits, training and working conditions. Mr Burt said: "Age discrimination is real in Bermuda. It is not just for those persons who may reach the age of 65 and then wish to retire, it is for those in their 50s, who may have been let go from their previous job, and who want to work, and who may be qualified and are not given the job because of their age, because they are 55 or close to retirement." Derrick Burgess, the Deputy Speaker of the House, agreed that age discrimination would be addressed through an increased retirement age, but said it may need to be done on a case-by-case basis. Mr Burgess said a policy now exists to allow people in public service to continue working beyond 65, provided they have medical clearance, but that it was not being fully enforced. He said only 14 employees were now employed in public service beyond the age of 65. Mr Burgess said: "That is ridiculous. It's shameful, embarrassing to have a policy just for show. The way we have treated seniors in this country is criminal. You are competent at 64, but come 65 all of a sudden you become incompetent." He pointed out that the Bermuda Hospitals Board had access to this policy, but was not using it even with a shortage of nurses worldwide. Mr Burgess said: "You are telling nurses they have to go at 65, but you have doctors in surgery at 70. It makes no sense. It makes a mockery of the whole system." Craig Cannonier, the Leader of the Opposition, said he supported the motion, but that there was a need for early retirement planning. Mr Cannonier also said a balance must be created because young people also face age discrimination. One Bermuda Alliance MP Patricia Gordon-Pamplin pointed to the importance of job creation and her colleague, Jeanne Atherden, said that the Government should make sure that seniors are prepared for the jobs that will be available. Rolfe Commissiong, the PLP backbencher, said that Bermuda was struggling with a "demographic winter" of an ageing population and a low birthrate. He said: "This issue is going to transform Bermuda in a way that hardly anyone can imagine." Mr Commissiong added that as more people retire there will be extra pressure on pensions and healthcare. He said: "There are no easy options left for Bermuda in a lot of key matters."

The Government has been ordered to make public a report into the finances of a failed sports centre that cost taxpayers millions of dollars. Information commissioner Gitanjali Gutierrez, in a decision due to be released today, told the Department of Public Lands and Buildings to provide The Royal Gazette with a copy of the report by audit firm KPMG by July 8. Taxpayers funded Sandys 360 to the tune of at least $5.3 million, and possibly even more, before it closed its doors because of financial problems in November 2013. Ms Gutierrez, noting that the Government is now in the process of buying the centre for $1 million from the trustees of Sandys Secondary Middle School, said: "The Government has provided limited rationale and factual information concerning its decision-making around Sandys 360, primarily provided during parliamentary debate. The public has not received, for example, an executive summary of any assessment, factual information provided in advance of a town [hall] meeting or consultation period, and so on Disclosure of the KPMG report will undoubtedly close the knowledge gap in a number of areas for the public concerning the spending and decision-making related to Sandys 360." The KPMG report was commissioned by the trustees of the middle school, who own the freehold of Sandys 360, after the short-lived West End sports centre closed down just four years after opening. The report was passed to the Government but was never made public. The Department of Public Lands and Buildings rejected a public access to information request from The Royal Gazette for the document in February 2016, claiming it was exempt from disclosure because it was provided in confidence. The newspaper appealed the decision to the information commissioner and, during her review, KPMG and the school trustees also objected to the report's release. But Ms Gutierrez concluded there was "no express communication or understanding that the report was given in confidence to, and would be kept confidential by, the department or Government". She said: "With respect to the actions the Government may have taken, KPMG and the trustees reasonably could have expected any number of circumstances to have arisen which would have led to public disclosure of some or all of the KPMG report. This includes disclosure during public consultation on the options concerning Sandys 360, in connection with the parliamentary debate on a decision to purchase the land and buildings, and so on. Both KPMG and the trustees were aware they were negotiating with a public body, and that the processes applicable to a public body's financial commitments of this nature may be subject to future consideration or inquiry." The commissioner said releasing the report would further the purposes set out in part 2 of the Pati Act, which included promoting accountability for public spending and government decision-making. Ms Gutierrez also ordered the department to issue a decision on whether it would share records about payments made to Sandys 360 from the public purse and the amount the centre owes the Government.

Releasing personal details under public access to information about sex offenders who have served their jail terms would not be fair to those individuals, according to information commissioner Gitanjali Gutierrez. Ms Gutierrez, in a decision due to be made public today, upheld a refusal by the Department of Corrections to provide The Royal Gazette with a list of all convicted sex offenders released from prison between November 2006 and November 2016. The commissioner said: "All of the individuals were released between three and 11 years ago. Disclosure may place them at risk for retribution and violence, or further negatively affect their efforts or ability to reintegrate into society." She added: "The information commissioner is mindful that convicted prisoners who have served their sentences, and have no other legal restrictions placed upon them — eg, probation requirements — have their rights fully restored when they are released from prison. These individuals should not be held to have lesser rights in relation to their privacy and personal information than another class of individuals." The newspaper submitted its Pati request to the department of Corrections in November 2016, after the Government opted not to notify the public that convicted pedophile John Malcolm "Chalkie" White had left prison after not taking part in any rehabilitation during his 12-year stint at Westgate. The Gazette reported then that the power to issue a notice and picture of a sex offender to the public had been law for 15 years but had never been used until Michael Dunkley, then the Premier, released White's photograph in response to a request from this newspaper. Ms Gutierrez said in her decision she accepted that there "can be a strong public interest in the public being notified of the release of a sex offender where that offender presents a significant risk to the community". But she said it would require "very significant public interests" to overcome an individual's privacy rights. Ms Gutierrez said a protocol for assessing and disclosing information about sex offenders, including where individuals presented a significant risk, was established by the Ministry of Legal Affairs in 2008. "The information commissioner defers to the assessment under the protocol of the need to release an individual's personal information to safeguard the community," Ms Gutierrez said. She added: "Disclosure of the records requested in this Pati request ... cannot be necessary to achieve the public interest in disclosure of released sex offenders who present a significant risk." Attorney-General Kathy Lynn Simmons became the first minister to issue a public notification about a dangerous sex offender, in early 2018. She issued a second notice in February this year.

Teachers will return to schools today after industrial action on Friday. The Ministry of Education said yesterday that all public schools would be open and ready to receive students today. Diallo Rabain, the Minister of Education, said: "I want our parents to be assured that the Government is committed to ensuring incidents like Friday's are relegated to the past. Discussions with the Bermuda Union of Teachers also revolved around changing the nature of the relationship between the Ministry of Education and the BUT. Clearer lines of communication will be put in place, allowing more access to myself and the entire body of teachers. The disruption of our children's education is unfortunate under any circumstance, and we must do what is necessary to prevent this from happening again. I am happy we could discuss these outstanding issues and look forward to a renewed and reformed relationship with the BUT, as was discussed in our meetings on Friday." The Bermuda Union of Teachers said yesterday that the decision was made for its membership to return to classes after their meeting with David Burt, the Premier, two days ago. Shannon James, the president of the BUT, said: "As a result of the discussions led by the Premier on Friday evening, we are asking teachers to report to school as per normal on Monday." A Ministry of Education spokeswoman said discussions with the BUT on Friday regarding the issues that led to teachers not reporting to class on Friday, was positive and fruitful. She added: "Over the next few weeks, attention will be brought to several issues that have been outstanding for many years, as well as plans put in place on how to address other items before the start of the 2019-20 school year." Teachers did not turn up for school on Friday after the BUT called an emergency meeting at 8.30am to discuss a range of issues including support staff and mould. Parents were asked to pick up their children at noon.

World-class athlete Hazel Clark has found her calling in Bermuda. Ms Clark, an 800-metres runner, represented the United States at three Olympic Games, and was a seven-time national champion and five-time NCAA champion. But it's only now, as director of sports business development at the Bermuda Tourism Authority, that she feels she's found her niche. "I did not like running," Ms Clark says. "I did it because I was good at it, it made my parents proud, and it made my sponsors happy. Now, for the first time, I am doing something I truly enjoy. I feel that I found a lane that is perfect for me." Ms Clark was speaking in the Trudeau Ballroom at the Hamilton Princess and Beach Club. She was the first presenter at the hotel's new business breakfast speaker series. Ms Clark says she "fell in love" with Bermuda while here as a guest speaker for International Race Weekend in 2015. "I thought 'I could live here'," she recalls. She met her now-husband, Bermudian land surveyor Shane McIlwain, on that trip — and moved to the island. They have a daughter, Hazel. Ms Clark leads a BTA team charged with bringing targeted sports events to the island as well as attracting teams to Bermuda for sports training opportunities, and camps/retreats. The BTA also promotes the island as a place to hold sports conferences. Golf, endurance sports, sailing and tennis offer the entire "vertical" from pinnacle events to leisure, she says, while rugby, soccer, swimming, track and field, field hockey and lacrosse offer team-training opportunities. While high-profile events like the America's Cup and MS Amlin World Triathlon Bermuda are part of the sports tourism equation, so is the World Sailing Conference, the annual meeting of the sport's global governing body, scheduled to be held here in October. Ms Clark said the BTA evaluates events based on criteria including direct spending impact, value of brand exposure, level of engagement, environment/stability, infrastructure/legacy (eg the America's Cup Endeavour youth sailing programme), and inclusivity. Funding is provided for events where a business case can be made. "It comes down to getting people here," Ms Clark said. A priority for 2019, Ms Clark says, is a "pinnacle" golf event. "We are close to the finish line," she says. The BTA has built a database of coaches with organisations having a budget to travel internationally. Ms Clark travels widely, attending conferences and other events in order to market Bermuda. Contacts she made informally during her years as an athlete, and later as a sports executive, event producer and brand ambassador are proving valuable. Shortly after she took up the post 11 months ago, for example, a 38-strong group from USA Track and Field visited Bermuda for a retreat. The BTA has produced a "lure guide" that outlines what Bermuda has to offer — and has developed a facilities inventory detailing island amenities as well as hotel and transportation options. In a competitive sports tourism market, Ms Clark said the BTA must help visitors plan an itinerary that shows off Bermuda's attributes. "We want people to leave Bermuda saying they enjoyed great hospitality, that the cuisine was fantastic, the beaches were amazing, and the spas were breathtaking," she says. Ms Clark says Bermuda's competitive advantages include proximity to the East Coast of the US, as well as safety, cleanliness and a reputation for hospitality. "We also have a dedicated sports team to ease the process, a destination manager to help with logistics on island, and connectivity to our national governing bodies as well. Those are all important pieces of the puzzle. Not many places do it like we have done. We see that as a differentiator." Ms Clark grew up in a family of achievers. Older sister Joetta is a four-time Olympian, sister-in-law Jearl is a five-time Olympian — and her father is inner-city educator Joe Louis Clark, who inspired the hit film Lean on Me, starring Morgan Freeman. Her mother, Ms Clark says, helped her to develop her confident, outgoing nature. "It was so challenging for me as a young girl," Ms Clark says. "I'd leave the house, and there were cameras everywhere. The president of the United States was calling the house, Morgan Freeman was at the house to meet my father. As a kid, I wondered 'how can I live up to this'? I didn't run track until I was 16. I couldn't face it, the weight of expectations. My dad calls me a 'reluctant champion'." Ms Clark's competitive spirit is now being channeled for the benefit of her new home. "I know that I am supposed to be here doing this," she says. "My daughter is Bermudian, and I want to do this for the island, for sports tourism, and help to drive this positive impact on Bermuda through sports. There is no limit to the potential that Bermuda has in the area of sports tourism."

The struggle for equality endured by Bermuda's pioneering female police officers was acknowledged in a ceremony. The tribute on Saturday was organised by retired officer Tracey Armstrong to "recognise all the police women who have broken the glass ceiling in the Bermuda Police Service. Our accomplishments have gone unnoticed," Ms Armstrong told The Royal Gazette. "I will not say it is intentional, but just an oversight." She said part of her inspiration for the tribute came from the eulogies delivered at the funeral of a former colleague. Ms Armstrong said: "Listening to the glowing comments about him, I wondered if they ever told him these things while he was living." She looked at female colleagues who made "inroads in the service", as well as the young female officers who now make up close to half the force. Ms Armstrong, who joined the force in 1974, recalled thinking: "It would be nice if they knew how they got where they are today." Plaques were made for 21 retired female officers, bearing their names and "whatever ceilings they broke", Ms Armstrong said. Among them were Jean Vickers, who turns 85 tomorrow, Bermuda's first policewoman who joined the force in 1962 and retired in 1987. The former inspector said of her career in the force: "I would not have wanted any other job." Ms Vickers was recruited by George Robins, the Commissioner, who had advertised seeking female officers, and selected her out of the 13 candidates. "That man had it together," she remembered. "I was young, 27, and very sheltered; I don't know what he saw, but he told me I was the type of person they needed. Nobody ill-treated me or was mean to me. It was a beautiful experience." Roseanda Young, who became the island's first and only female deputy commissioner, said it was "difficult for the men to accept us doing all the same things they did" when she joined in 1978. Ms Young added: "We couldn't just be police women — we had to be exceptional." She said she signed up on a dare after her brother-in-law spotted an advertisement. "I said they'd never take me," she said. "They were taking very few women." Her career spanned almost 30 years: she retired in 2007. Ms Young, 64, said: "I feel very humbled to be recognized. We were in a predominantly male organisation. Whatever women did was not significant to them. But it obviously was for the evolution of the service." Women were excluded from departments such as the marine police and the motorcycle department, but more and more joined the force. Gertrude Barker, a former superintendent, joined in 1966, becoming one of eight women officers. Now 74, she retired in 2003. Initially women were a separate department, under the leadership of a British inspector, Isabelle Lee. Ms Barker said: "Over time it evolved, and we became a fully fledged part of the service. It was the usual male-dominated society. It could be challenging patrolling with males, but it was certainly not challenging when it came to my ability to do the job." She added: "I'd like to think I was a role model because of my ability to move upward. Police women should get the recognition they deserve. Some of the things we did in the service were momentous. I broke a lot of ceilings." Ms Armstrong, organizer of the tribute, told the Gazette that she joined "to make a difference in the community and for the island by trying to help people". She said: "Back in the day, if you were a single female with a child, they would not take you on the force; you would not even be entertained. If you were on the force and became pregnant, that was it for your career." The uniform of a black skirt, white blouse and "black shoes with a small heel" came with drawbacks. Police women were tasked with tracking down young people who had run away from home. "There were times we had to run after them. It wasn't easy running in a skirt and those shoes." A woman transferred to the marine section complained that she could not ride a boat wearing a skirt, and gradually trousers were adopted. "I served 27 years in just about every department — central, eastern, western, narcotics, CID and traffic. I was transferred to traffic, which was male-dominated, with another female, Coralie Trott. There were no women. We were stepping into uncharted territory. The men did not help us in any way. We were just left driving around, doing nothing. I got tired of it and went to Chief Inspector Derek Taylor, who was in charge, and told him, we make the same money as the men, and we want to feel productive." Ms Armstrong said: "From that day, we were regular police officers like anybody, handling accidents, domestic complaints, whatever we had to do." She added: "There was no problem at all from the public. It was a new thing to see two women driving around. They were fine; they didn't give us any hassle." The recognition ceremony was held at the Bella Vista Bar and Grill in Southampton. Of the retired officers honoured, Ms Armstrong said: "These women broke glass ceilings. The girls today need to know whose shoulders they are standing upon, and what we had to go through."

Having benefited from the expertise and history that Bill Jewell's letter to The Royal Gazette dated May 7 provided on the complex subject of the past and future of Bermuda's electricity supply and the need for maximizing use of renewables in our rapidly changing world, Sir John Swan and Michael Murphy took advantage of Mr Jewell's holiday visit to the island to discuss with him further many questions, history and disclosure of facts still needed to provide clear answers to the public on this most important subject. Mr Jewell, a retired former senior managing engineer of Belco with a varied lifetime experience in all aspects of power-generation transmission and delivery prepared the commentary hereinafter, building on the discussions As widely publicised, Belco launched an intensive propaganda campaign in 2013 to promote a transition from fuel oil to liquefied natural gas. This message appeared in its annual reports and press articles. The previous government was seemingly influenced by this initiative, despite no valid justification being provided and a refusal to discuss any aspects of this with the public. Various unanswered challenges were raised, since LNG is generally recognized as being unsuitable for a small and remote island utility such as Bermuda, with similar jurisdictions focusing on energy conservation and renewable-energy solutions to reduce emissions and dependence on fossil fuels. This extreme change of direction resulted in the Government's 2011 White Paper being ignored, and its ambitious demand side management and renewable energy targets not acted on. The public were assured that they would be given the opportunity to participate in achieving the best energy solution for Bermuda after the Regulatory Authority of Bermuda was established and the Electricity Act 2016 passed. This would be achieved by the requirement for Belco to provide a comprehensive Integrated Resource Plan that would meet the stringent requirements of section 40 of the Electricity Act. These IRP study requirements included consideration of all possible resources, with a range of renewable energy and efficient generation options. The basis of selection is to include least cost solution and environmental impact, with expectation of study being carried out in an unbiased and transparent manner with opportunity for invited feedback from the public and other interested parties after its submission to the RA. So what could go wrong? It was not a promising start when Belco boldly stated in its 2013 annual report that it had commenced preparation of an IRP and it would demonstrate natural gas — LNG — as the favored choice. This gave the appearance of being a biased one-horse race. So Belco appointed its consultant Leidos to prepare the IRP that was eventually submitted to the RA in early 2018. This voluminous report was several hundred pages long and included numerous computer printouts. Its executive summary stated it had made a case in favour of LNG, albeit by a slim margin and with an evaluation process that factored in a very subjective qualitative assessment element. Needless to say this was heralded with press releases claiming LNG was shown to be the way forward for Bermuda's next 20-year energy-planning scenario. It is unlikely that members of the public were inclined to read the whole of this massive report, and would be tempted to settle for the contents of its executive summary. I was intrigued as to how a case favoring LNG could possibly be made, with its obvious disadvantages of extremely high capital cost, major safety concerns — with particular reference to citing of a very hazardous regasification plant — and supply problems with mismatch of available LNG tanker sizes owing to Bermuda's relatively small consumption. Sir John Swan was particularly interested to see how it could outrank obvious choices such as renewable solar PV and offshore wind options, together with the fallback of LPG — LPG/propane is already on island and avoids LNG problems. So how can the winning odds be improved? The best method of improving winning odds is to eliminate likely contenders wherever possible. So offshore wind was immediately dismissed, with the excuse of the need for a more detailed study. Similarly no ambitious solar PV and energy efficiency options were considered. Bearing in mind Belco commenced offshore wind studies in 2000, and the Bren Bermuda offshore wind energy study was carried out in 2014 with promising results, there was ample opportunity for Belco to have included the additional offshore wind studies within the IRP study brief, with probable commitment of one year and costs of about $250,000. The IRP was under preparation for five years at a cost of more than $2 million. So this still left LPG (propane) as a very serious contender that we expected to rank above LNG. Sir John Swan said: "While I had reservations that inadequate capital costs were assigned to the LNG case, I conducted a thorough analysis review of the IRP based on the Leidos study data provided. Its quantitative results clearly show the LNG scenario as the most expensive of all options in levellised cost ($/MWh) terms, which was no surprise. I then scrutinized its qualitative scoring assessment against the alternative propane fuel case, and immediately identified extreme bias and fudged results. For example, one of the five factors it evaluated was "logistics" defined as "evaluate the degree to which the asset provides ease of logistics and implementation". It scored ten for the LNG case and only five for the partial conversion to propane, whereas clearly a transition to LNG is a far more challenging case. Similarly, it scored LNG higher for "economic development" — defined as contribution to the economic development of Bermuda with focus on job creation. The propane case was assigned a lower score, whereas in reality the lower-cost propane option would both focus on local spending and facilitate future investment on renewable options to benefit Bermuda. My reassessment of these qualitative factors dramatically change the scoring from its results favoring LNG over LPG to a clear demonstration that LNG ranks the lowest by a large margin. Since it is vitally important that Bermuda's 20-year energy development plan is based on the best possible and reliable information, the RA commissioned an independent consultant, Oxera, to carry out a review of the IRP proposals' compliance with the guidelines. Its report was issued to the RA on May 1, 2018 and was posted for inspection by the public. Its review expressed considerable concerns, with particular reference to a very subjective qualitative assessment having a large influence on selecting the preferred scenario. These concerns were heightened since the qualitative influence on results was magnified by the small dispersions of the quantitative analysis results. It was clearly not convinced by the qualitative scoring procedure and allocations provided by Belco's consultant, Leidos. Oxera gave an example of the very high capital cost favoring the LNG project by providing more employment. (I would further suggest this would principally consist of overseas specialist labour, whereas the low-cost alternatives would provide a higher percentage of local labour and also allow funding of other projects to benefit Bermuda such as renewables.) Oxera's reservations in its closing statement: "We recommend that the Authority undertakes further detailed analysis of the IRP proposal in order to determine whether the proposal represents the least cost capacity expansion plan for the electricity market of Bermuda" In response to the RA's invitation for feedback on the IRP, I submitted a 12-page detailed analysis on May 17, 2018, in my capacity as both a minor Belco shareholder and a professional engineer with extensive international power engineering consultancy experience. This independent analysis clearly demonstrated that the LNG option should be reassigned the lowest, and not highest, ranking. Should further steps be taken such as the apparent need to significantly increase the study capital cost assigned to the LNG case, or introduce new qualitative scoring factors such as "safety implications", then the LNG case would score even lower in any unbiased analysis. Hence, there is very strong evidence that any reference to LNG being the favored choice should be deleted with immediate effect. The RA has not replied to my independent detailed analysis submission, nor has it provided any evidence of the independent IRP analysis review stated as a requirement by its independent consultant, Oxera. After receipt of more than 900 invited feedback comments on the IRP, the RA is mindful that the vast majority of participants wanted to see far more emphasis on renewables and less use of fossil fuels. Belco has been liaising with the RA over the past few months to finalize a revised IRP by the end of June 2019 that demonstrates more emphasis on renewables. However the RA has already stated it will allow offshore wind to be omitted at this stage since the follow-up detailed offshore wind study has not yet been carried out. Imminent important decisions and actions to be taken by the RA and government ministers will require the provision of full and accurate information in this vital process. Hence, the aforementioned independent IRP analysis review(s), as recommended by RA consultant Oxera will be an absolute requirement. The Electricity Act 2016, Section 40, and RA procedures purport that Bermuda's energy-planning decisions will be conducted in a transparent manner with opportunities for the public and interested parties to participate with feedback on the IRP. Access to the independent IRP analysis review would be welcomed since full disclosure is considered essential for the public to view. Based on the foregoing comments, the public will have lost confidence in the process, but will still be expecting delivery of a viable and validated IRP that reflects a different and unbiased mindset. This crucial decision-making process that will shape Bermuda's energy future needs to comply with a plan that is in the absolute best interests of Bermuda as a whole and reflects the feedback already received and reported on. It is crucially important to disregard any unsubstantiated, flawed or erroneously derived claims that support LNG. It is expected that, with the deletion of LNG, Bermuda's energy plans will thereby revert to resembling the earlier 2011 White Paper on energy. A detailed explanation is required on how it will be possible to select from the bidders a purchaser of Belco in the near future in the absence of a viable IRP. Full transparency is also required on the potential purchaser's experience in renewable-energy installations and demonstration of a track record of reducing reliance on fossil fuels."
• Sir John Swan, a businessman, was the former Premier of Bermuda between 1982 and 1995, and a former Belco board member. Michael Murphy, a former attorney for American International Group, was the chairman of the Association of Bermuda Insurers and Reinsurers between 1985 and 2005. Bill Jewell, a chartered engineer, is a retired former Senior Manager, Engineering and Planning, at Belco. The former international consultant held the position for 11 years, with the final two spent developing renewable and new technology and business opportunities

A series of bus routes were called off this afternoon, including school routes. Affected schools include CedarBridge Academy and the Berkeley Institute. According to the Government's website, linked here, 44 routes were cancelled. The move comes to a backdrop of industrial action over what Zane DeSilva, the transport minister, said on Friday were "myriad" issues.

June 2, Sunday

The letter floor section of the General Post Office will close for six weeks to test a new system. All postal services will be provided at the General Post Office's parcel post section, on the basement level of the GPO, from tomorrow until July 12.

June 1

The Member of Parliament in charge of a committee set up to save Government cash and improve efficiency was paid $5,000 a month for a year, the House of Assembly heard yesterday. Wayne Furbert, made the Cabinet Office minister in April after a stint as junior finance minister, netted the $60,000 for his role as chairman of the Efficiency Committee. Other members were paid $2,000 a month. Craig Cannonier, the Leader of the Opposition, criticized Mr Furbert's extra salary. He told The Royal Gazette: "I take note it's a former United Bermuda Party member receiving this and I wonder how the rest of the back bench feels. They have to be questioning what the Premier is doing with these kinds of appointments. We have a sitting minister who at the time was junior minister, but a minister all the same. While receiving a junior minister's salary he has been appointed to this committee and it was not made transparent. We found out through questioning." Mr Cannonier added: "Had the One Bermuda Alliance taken a junior minister and paid them this, we would have heard a lot of people screaming 'conflict of interest'. But this government feels it's OK." Mr Furbert revealed his paycheque for the committee work after questions from Patricia Gordon-Pamplin, the shadow health minister. Mr Furbert told The Royal Gazette: "This is nothing new. I come with expertise. I am a certified public accountant, and I can ask questions because of my training that allow me to get things done. We met 32 times as a committee, but I was working continuously on it, on a daily basis. The taxpayer has achieved significant returns on the work." Mr Furbert earned a total of $67,410 as a junior minister, which rose to $156,864 when he became Cabinet Officer minister, according to the Bermuda Parliament website. Mr Furbert earlier told MPs that more than $12 million had been recouped by the committee, which sat 32 times in the year ended on March 31. He added among reviews included the Office of the Tax Commissioner, the Registrar of Companies, Social Insurance, and the Office of Project Management and Procurement. Mr Furbert said the Tax Commissioner's Office had an $8 million backlog in stamp duty, staffing and IT that there were "significant deficiencies". Mr Furbert said another problem was the processing of alien licences for the purchase of Bermuda property, which the committee had recommended should be automated. Mr Furbert added: "Further discussions with realtors led to a more progressive way of calculating leases." He said the committee made 93 recommendations, 24 of them for "immediate change". He was speaking as a report on the committee's work was tabled in the House. Mr Furbert said the committee had cost a total of about $130,000 and provided value for money. Michael Dunkley of the OBA questioned during the motion to adjourn why Mr Furbert was paid $60,000 for his work on the committee. He added: "While the people of Bermuda struggle, while we discuss a living wage, while we discuss the cost of living, while we realize that there are brothers and sisters out there in our community that are finding it hard to make ends meet and find it hard to get a job, we learn that somebody is paid $60,000 to sit on a committee and do the work that is expected to be done anyway. I would ask the Honourable Premier to identify all extra payments to members who sit on committees because the public has a right to know."

Opinion. By Craig Cannonier, MP, Leader of the Opposition and the MP for Devonshire South Central (Constituency 12). "Today the Government will effectively go into the healthcare business. It has been a rushed process and its consequences were not thought through. Why rushed? There were only a few weeks separating the introduction in the House of Assembly of the Health Insurance Amendment Act, which changes the way healthcare has been funded for decades, and its date to come into effect. The insurance companies all complained about a lack of proper consultation and there were a couple of public meetings, one of which was held at an apolitically neutral location. The result has been confusion among Bermudians about what is happening, why, and its impact on them and their wallets. In addition, the subject of a $65 million fund as back-up should the Bermuda Hospitals Board spend its full $330 million grant was introduced only the night before this legislation was debated in the House. It meant there were many unanswered questions — for instance, how is this $65 million going to be funded? Given that the latest BHB report from 2013-14 has only just been tabled in the House, how do we know if the right checks and balances are being applied? Will we be told how pricing is being calculated? How will we know if all of the $330 million is being apportioned to healthcare in a cost-efficient way? For an issue as important and as complex as healthcare, the rush in passing this legislation looks like an attempt to railroad something through — never mind the consequences. Bermudians have every right to be angry about these tactics. Just because the Government has a large majority, it does not mean it should be allowed to ride roughshod over the people. That is supremely arrogant. One of the consequences of rushing legislation is that its implications are not fully considered. Whatever the Government says, whatever the reasons given, people are not seeing healthcare premiums decreasing. This affects those in the private sector much more than in the Civil Service and is in contradiction to the Progressive Labour Party's promise to lower the cost of living, notwithstanding the pledge to reduce healthcare costs. As a result, yet another burden is being added to the increasing woes of businesses and Bermudians. On top of things such as the sugar tax, the dividend tax and the increased land tax, banks are passing on the cost of the increased charges that were levied by the Government in the last Budget and charges are now being passed to Bermudians paying their tax with a credit card. At the same time, there is no sign of the Government reining in its spending and, while fintech may eventually produce jobs, it is not going to do so anytime soon, nor with the kind of numbers we need. There appears to be no Plan B. That leads to the other key issue here: the need for more people on the island to increase the pool and spread the cost of healthcare. Despite the Immigration Reform Group's report being tabled almost 18 months ago, the Government is yet again asking for feedback and engaging in even more consultation. It is clearly all at sea over this and cannot reach a solution that satisfies different factions within Cabinet and the party. We are on course to spend $1 billion a year on healthcare, the burden of which will fall on fewer, and older, people unless the population is increased. The $1 billion figure is staggering for a population of some 60,000. Why are we heading there? It's largely because of overuse of medical services — a crucial issue that this government has done nothing to address. We are approaching a tipping point, with our future uncertain as the burdens being placed on Bermudians increase. I am very concerned for my country."

Industrial action launched by bus drivers on Thursday is likely to be resolved early next week, the transport minister said yesterday. Zane DeSilva was speaking after bus drivers voted for a work to rule after a midweek meeting at the Bermuda Industrial Union. A work to rule means that staff stick to their contracts and minimum duties. Mr DeSilva said that the drivers were concerned about a number of problems. He added: "It's a myriad of issues — facilities at the east and west ends, roaches on the buses, and not having hot water at some facilities." The transport minister said he had inspected the West End depot on Thursday and planned to visit the St George's terminal next week. He added that he and Lieutenant-Colonel David Burch, the public works minister, had agreed a schedule to tackle problems with bus service buildings. Mr DeSilva said: "We'll look at these issues in terms of infrastructure and get them sorted out quickly." He added that if bus drivers were "confident that we will move on this, we will see a resolution". His remarks were made just before 29 services were cancelled yesterday afternoon.

Children were dropped at school yesterday by parents unaware that there were no teachers to look after them because of an industrial dispute. Many principals across the schools system were forced to look after 100 or more pupils before the Ministry of Education advised parents to collect their children at noon. One woman with a son at a primary school said: "As a parent who is heavily involved in my children's lives and by extension their school, I empathize with the teachers. However, today was an example of how not to keep that bridge open. I understand the need to take action to make sure their voices are heard but never at the expense of my child's wellbeing. My children had a grandparent to go to, but many people didn't and, with the buses working to rule, some parents were still trying to find out where their kids were at lunchtime." The Bermuda Union of Teachers gave notice of a meeting over grievances just before 6pm on Thursday. A Ministry of Education spokeswoman said at 7pm that teachers were expected to report to school for a regular day. The grandmother of a six-year-old boy said she found out by chance that there was a potential problem after she logged on to her computer to check her e-mails. She said: "His father dropped him off thinking everything was normal. He would not have had a reason to question why anything might be different. I called the school and asked where in the world is he now? The receptionist said he's in the classroom, maybe with the principal or the deputy. This is the third or fourth time he's been dropped off and the teachers haven't been there. This is beyond ridiculous. The woman asked: "What kind of message is this sending to the children when it comes to education, discipline and order?" One woman, who has children in primary and high schools, said she supported the teachers, but the last-minute notice of the meeting was "a recipe for chaos". She said: "My child in high school is preparing for end of year exams so he's missing critical work reviews. It's not a major issue as it's only one day out of class. Thankfully we have a strong support system and were able to keep our children home and not miss work." But the woman added: "It's annoying that the BUT could not organize better communication to parents so that we could plan appropriately. I'm in full support of the teachers in having their issues addressed. But as a parent I would prefer full transparency and disclosure so we can help where we can." One senior education official in the public-schools system said: "Most of the deputy principals will be in the schools supporting the principals. Sometimes some of the PTA members will stand in as well at times like this."

A decision on whether schoolchildren will return to the classroom on Monday is in the hands of teachers, the education minister said last night. Diallo Rabain, speaking after teachers downed tools as part of an industrial dispute, said: "That was something that was not finalized in our discussion." Mr Rabain added that he had asked Department of Education employees to come up with a contingency plan if teachers did not return to their schools on Monday. But he said: "We are very hopeful that we have answered the questions sufficiently enough for the Bermuda Union of Teachers that they will come into the classrooms on Monday and get back to doing what it is they do best." Mr Rabain added: "We have held up our part of the bargain." He was speaking yesterday afternoon after a meeting between government education figures and the BUT. Shannon James, the president of the BUT, said after the meeting that progress had been made. He added the two sides "were in a much better space" and that a statement from the union would be released later. The talks followed an emergency meeting held by the BUT yesterday morning where teachers identified nine urgent problems they wanted tackled. These included problems with teaching assistants, contracts and job evaluations. Enrolment and staffing problems at Elliot Primary School and the reopening of TN Tatem Middle School were also identified as stumbling blocks. Mr James offered his "humblest and sincerest apologies to the parents and students of Bermuda" at the teachers' meeting. He said that teachers would much rather be in the classroom. But Mr James added: "We believe that the ministry has left us no other choice." He said that the union had voted to demand a meeting with leaders of the education department, including Mr Rabain, Kalmar Richards, the Commissioner of Education, and Valerie Robinson-James, the permanent secretary. Mr James added: "We demand that this meeting take place with the entire BUT membership." Teachers picketed Parliament after the union meeting. David Burt, the Premier, announced outside the House of Assembly that the meeting would take place. In a letter dated yesterday addressed to Mike Charles, general secretary of the BUT, Mr Burt said he had previously invited the union to speak to him before "things escalate to this point. This offer has not been taken up in this instance and I would hope and implore that you would do this in the future. When teachers in our public education system withdraw their labour, this causes immense strain and hardship on parents and support staff who have to make alternate plans at incredibly short notice. Industrial action which leaves very little space for parents and other persons to plan cannot be seen as ensuring that we are as productive as possible. In the best interests of our children, we need to return relations between the BUT and the Government to a collaborative place where walk outs are not needed." Mr Rabain said that better communication was needed between the Government and the BUT. He added: "We need to change the dynamic of this relationship. We cannot continue to have situations arise where we have things that are disrupting our children's learning. The only people who suffer are our children." Mr Rabain earlier accused teachers of going "absent without permission". He told the House of Assembly that principals were "holding the fort" at schools while teachers attended their meeting. Mr Rabain added: "The simple fact is that school is not off." But a spokeswoman for the education ministry said at noon that a decision had been made to close public schools for the rest of the day "in the interest of the safety of students, teachers and other school staff". She added that the ministry had been informed that teachers would not return to class until a meeting was held with the minister and officials.

The Government could take over land to grant public access to a beach cut off by private property, the public works minister said yesterday. Lieutenant-Colonel David Burch said the Government would step in over a long-running controversy at Gibbet Island Beach, also known as Police Beach, and would acquire the land with a compulsory purchase order if necessary. He told the House of Assembly: "When the opportunity arises, even in a very small way, to take steps to correct past injustices, we must. It is never too late to do the right thing and I believe we are doing so in this case." A sign posted on the property next to Police Beach already permits access "at the discretion of the owners". The sign said that there was no night access and banned loud music and "antisocial behavior" on the beach. The property is owned by Jeremy and Helen Wright, who declined to comment yesterday. Police Beach, which is public below the high water mark was rented to the Police Recreation Club for a peppercorn rent of $1 in 1977, which is how it acquired the name. Colonel Burch said the arrangement had allowed police "almost exclusive access to the beach". He added: "In practical terms, that meant white policemen only." The lease agreement with the Police Recreation Club agreement ended in 1992. Colonel Burch said that the ministry planned to approach the property owners to "gauge their interest in selling it". He warned the Government would pursue ownership under the Acquisition of Land Act 1970 if the owners were not prepared to sell. Colonel Burch also told MPs that a portion of the Railway Trail in the same area was about to be made public. This applies to a separate property with different owners. He said the section of trail had been leased to a private trust in June 1998 for 21 years to allow access to a privately owned property. He added: "The grant of this lease effectively blocked access to that entire portion of the Railway Trail to the general public, who cannot access it without traversing land that is now privately held." Colonel Burch said that lease expired at midnight last night and would not be renewed. He added: "The former leaseholder, like any other member of the public, will still be able to access their property from the trail."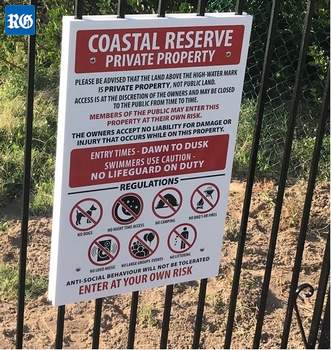 Gibbet Island/Police beach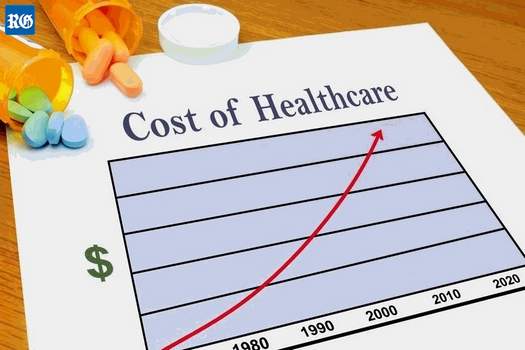 Opinion. By Martha Harris Myron CPA CFP JSM: Masters of Law — international tax and financial services. Dual citizen: Bermudian/US. Pondstraddler Life, financial perspectives for Bermuda islanders and their globally mobile connections on the Great Atlantic Pond. Finance columnist to The Royal Gazette, Bermuda. All proceeds earned from this column go to The Reading Clinic. Contact: martha.myron@gmail.com. "Today is the day that your monthly pay-cheques will become smaller. This reduction is due to the significant increase in health insurance premiums caused by Government's mandatory (now legislated) decree that private insurers remit each month almost 70 per cent ($231.33) of the SHB (standard health benefit premium for each insurance subscriber) to Government for further dispersion in the form of a $330 million grant to Bermuda Hospitals Board. Public servants are required to contribute as well, to a lesser amount of $50 per month. You didn't have any choice or say in this decision; nevertheless, without your consent, your health insurance premiums are increasing again to compensate for this reduction in the amount of remaining premium available for the rest of your health insurance benefits. The Bermuda Hospitals Board will now undertake to care for its clients and bill itself for the same client claims. It does not matter if you never use the local hospital, a significant component of your health insurance premium paid by you is now allocated to pay across the demographic health pool for everyone else who does utilize hospital services. Regardless of how it is explained: more cost-effective, fair and equitable, effusive statements of new health benefits and so on, this is an implied unequal, divisive tax of anywhere from 8 per cent to 15 per cent (or possibly more) on you: retirees, and working people of all ages in the private sector, particularly the middle class. There is much community frustration, probably some real depression in those just managing to get by, facing the continued spiraling of the cost of living in Bermuda. One only has to read the social media commentary to see that working people (and their employers) are feeling the impact. An indicator of financial stress was last week's money lender legal filings against defaulted borrowers, distressing to read. No one benefits from such news, nor is it small consolation to know that in similar reports from our neighbours: 40 per cent of adult Americans do not have $400 saved for an emergency, in Canada, 50 per cent have less than $200, and in the United Kingdom, 25 per cent have no savings. So, you, dear readers, with your household survivor determination may now be considering what you can do to manage the financial fallout from another unexpected dent in your budget. The new health expense hurdle for the middle-class Bermuda islanders — the drivers of the economy — is probably out of your control, but you can take action on what you can control.
Exercise your privilege to express your serous concerns to your constituency representatives.
Review healthcare plan choices with your health representative; you may want to opt for a less expensive plan, but keep in mind that those may require higher co-pays. Those medically necessary overseas treatments/surgery have co-pays ranging from 25 per cent to 40 per cent of the total bill. This means that a rainy day savings fund is very necessary. For an idea of costs see Statista: cost of various surgeries in the United States as of 2018, etc
Readers and clients over the years have stated, "well, what about moving to another country: say, Canada, or the UK, they have free health insurance". No, they do not! Healthcare is paid from taxes collected from everyone. One Bermuda family was shocked to learn that income and other taxes are significantly higher in both those jurisdictions, and, generally, any income they bring into their new country, as well as what they earn in the future, will be subject to taxation. Notice I stated income, not assets — but more on this later — cross-border planning is a complex, complicated topic.
You can consider controlling your consumerism further. If your wages are reduced 10 per cent — then a 10 per cent reduction in your budget has to be taken along the line items.
The five basic necessities for humans: are sunlight, air, water, food, and shelter. We've got the first two in abundance, hallelujah. The third, water, is carefully regulated. We can't control the cost of shelter (rent or mortgage) as much as we'd like, but we can be more mindful of how much emphasis we place on food consumption.
Eating less food will lower your food bill. The average adult female requires 1,600 to 2,400 calories per day, while an adult male needs between 2,000 and 3,000 calories.
Make simple foods. Avoid highly processed, more expensive foods.
You are eating to live, not living to eat.
The article, "Ultraprocessed foods are easy, cheap and could be killing you", by Susan Scutti of CNN cites two studies in the British Medical Journal. UPFs are more expensive; add 500 calories or more to your diet every day, causing weight gain, and promote an increased risk of cardiovascular disease and early death. Everyone is challenged to control the costs of, and better management of healthcare. We know that Bermuda has a massive health problem with third highest expenses per capita in the world — behind just the US and Switzerland. Diabetes, mobility problems, cardiac issues, and related are all concerning. There is a rising incidence of kidney disease that brings with it enormous financial cost. The Fiscal Responsibility Panel's annual assessment for 2018 stated that fewer than 200 individuals were on dialysis in Bermuda, but that this cost more than $20 million. Dialysis costs were 60 per cent higher than the US and four to 12 times higher than in Jamaica or Barbados. Diabetes, type two, particularly, is well entrenched, but a healthier lifestyle can have a positive effect. Think less co-pays, fewer hospital visits, fewer doctor appointments, lower costs. The Bermuda Diabetes Association is always there to assist Bermuda islanders in this health challenge. These two ordinary steps — listed above — can lead to better overall health. Change can be overwhelming. Start small positive steps by using this opportunity to become more focused on yourself and your family's well being, while keeping your budget controllable. As for the government healthcare change transitions, we'll just have to see how it all shakes out. Still too many questions and too few answers. Many thanks to all who have written to me. I encourage you to share your stories and keep me posted on your progress at martha.myron@gmail.com. Remember, always confidential."

A teenager was arrested after three people were hurt in a three-vehicle crash yesterday. Police said a 19-year-old man was taken into custody after he was discharged, having had treatment at King Edward VII Memorial Hospital. Two motorcycles and a car were involved in the crash on Stowe Hill in Paget at about 12.55pm. A man riding the other bike and his female pillion passenger were taken to hospital for "medical assessment" of injuries that were not life-threatening, police said. Traffic diversions were in place while police carried out their investigation, but at 3.30pm the road was clear. Police have appealed for witnesses.

A motorbike rider has been fined almost $3,000 for a string of roads offences. Thurston Minors, 47, pleaded guilty to two counts of driving an unlicensed motorcycle and one charge of having no third-party insurance, as well as a speeding charge. Magistrates' Court heard on Thursday that Minors, from St George's, was stopped by police on December 8 last year when he was found driving an uninsured bike without third-party insurance. Minors was stopped for the same offences on August 5 last year. The defendant was also caught speeding at 80km/h, more than twice the speed limit of 35km/h, on April 18. Minors pleaded guilty to all the offences except for driving without insurance in August, which was accepted by the court. Senior magistrate Juan Wolffe fined Minors $500 for speeding, $1,500 for not having third-party insurance in December and a total of $700 for the two unlicensed motorcycle offences. He ordered Minors to return on June 6 to provide proof of insurance for last August. Minors was also ordered to pay an outstanding fine of $1,000 that dated back to 2013 by the end of the day.

Artists and performers have been given a new way to promote their work. The Creative Catalogue, at website creatives.bm, will allow artists, performers, musicians and designers to create free online public profiles. The site, set up by the Department of Community and Cultural Affairs, was unveiled yesterday at a home-grown talent showcase at the Blue Waters Anglers Club on East Broadway. Lovitta Foggo, the Minister of Labour, Community Affairs and Sport, said: "All month long we've been celebrating Heritage Month and Bermudian excellence. We couldn't think of a more appropriate time to launch this Bermudian talent-focused website. We are looking to create supportive spaces for the cultural and creative community in Bermuda so we have designed a unified platform aimed at bringing together local creatives so they can represent themselves. The site is free for the artists who wish to sign up and we believe that this tool in some small way will help develop and uplift Bermudian national pride." The site will also include a search function for several creative categories and enable the viewer to see who is available for hire. Some of the artists who will be featured on the site include Wendell "Shine" Hayward, Imari, Live Wires, Mugzydancer, Brixx and Alan Smith. Ms Foggo said she also wanted to promote "less established creatives, who are considered younger Bermudians doing unique and big things in small pockets across our community". She added: "Ultimately, we want to get creatives in a space to mingle and network with each other."
• Anyone interested in signing up for the site should visit creatives.bm

Portuguese reggae star Richie Campbell is to star at an event to mark the 170th anniversary of the Portuguese in Bermuda. Joe Carolo, one of the organisers, said: "We have had a few comments about Richie already. People are already asking when tickets will go on sale. The Portuguese are excited to have him come down to Bermuda. This will be his first time here." Richie Campbell is considered a leading figure in Portuguese reggae after he became the first artist in Portugal to sell out a major venue, Campo Pequeno. He has notched up hits with Heaven, Slowly and Midnight in Lisbon. Mr Campbell, who has recorded five albums, will come to Bermuda with his backing group The 911 Band. Award-winning albums such as Focused in 2012 and In The 876 three years later led him to tours of Britain, Poland, France, Switzerland, Sweden, Italy, Austria, Luxembourg, and also Jamaica and Barbados. Jamaican reggae artist Romain Virgo will also perform at the concert. The organisers, which include the producers of the Cup Match Summer Splash, said they decided to have Virgo because they wanted to attract the entire Bermudian community. Declan Harris, promoter of Summer Splash, said: "I think they complement each other quite well — both their styles of music are non-offensive. They are true entertainers." Mr Virgo, 29, won the Jamaica Digicel Rising Stars competition aged just 17 and has since made three albums, two EPs and released several singles. He has performed in the United States, Europe and Africa. Mr Harris said the event would be family-oriented one with a Portuguese flavour to food and drink. He added: "If you want burger and fries that day, that will not be the place." The venue for the event has not yet been decided, but Mr Harris said it will be in Hamilton and that the promoters were in talks with the City of Hamilton. Early-bird tickets for the November 3 concert will go on sale today with general admission $65 and VIP tickets at $150. Bermudian performers will include Cdaynger and YGS, who are of Portuguese decent, along with Rusty G. Tickets can be bought at bdatix.bm or from Cafe Acoreano and the Vasco Da Gama Club, both Hamilton.

A utility pole fell on to a home after a sanitation truck crashed through a wall today. The vehicle knocked over two poles in the incident near Dub City on North Shore Road, in the Crawl Hill area of Hamilton Parish, at about 6.25am. Police said no injuries were reported, but the house and wall were seriously damaged. Traffic was reduced to one lane while Belco staff repair the poles. Both lanes were open again by 2pm. Belco said no customers lost power. Witnesses should call police on 295-0011.


Last Updated: June 20, 2019
Multi-national © 2019 by Bermuda Online. All Rights Reserved