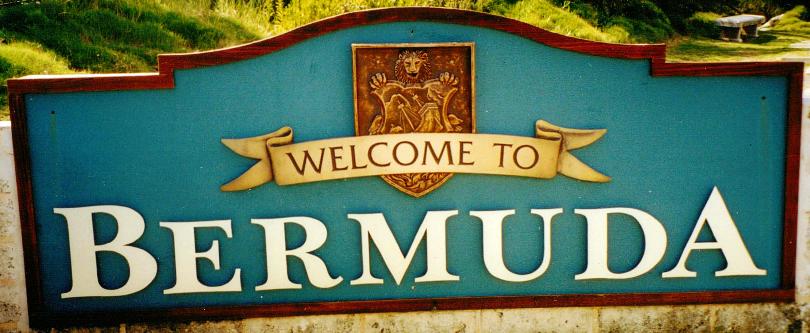 11165+ web files, a regularly updated Gazetteer, overall an in-depth description of our island's internally self-governing British Overseas Territory 900 miles north of the Caribbean, 600 miles east of North Carolina, USA. With accommodation options, airlines, airport, actors, actresses, aviation, banks, beaches, Bermuda Dollar, Bermuda Government, Bermuda-incorporated businesses and companies including insurers and reinsurers, Bermudians, books and publications, bridges and causeway, charities, churches, citizenship by Status, City of Hamilton, commerce, communities, credit cards, cruise ships, cuisine, currency, disability accessibility, Devonshire Parish, districts, Dockyard, economy, education, employers, employment, environment, executorships, fauna, ferries, flora, former military bases, forts, gardens, geography, getting around, golf, guest houses, highways, history, historic properties, Hamilton, House of Assembly, housing, hotels, immigration, import duties, internet access, islands, laws, legal system and legislators, main roads, marriages, media, members of parliament, money, motor vehicles, municipalities, music and musicians, newcomers, newspaper, media, organizations, parks, parishes, Paget, Pembroke, performing artists, residents, pensions, political parties, postage stamps, public holidays, public transportation, railway trail, real estate, registries of aircraft and ships, religions, Royal Naval Dockyard, Sandys, senior citizens, Smith's, Somerset Village, Southampton, St. David's Island, St George's, Spanish Point, Spittal Pond, sports, taxes, telecommunications, time zone, traditions, tourism, Town of St. George, Tucker's Town, utilities, water sports, Warwick, weather, wildlife, work permits.

Bermuda's 2019 April History and News
Events that made newspaper headlines in the fourth month of this calendar year
By Keith Archibald Forbes (see About Us) exclusively for Bermuda Online

Benefit of website linkage to Bermuda Online while traveling
See at end of this file all our many History files
Bermuda's only newspaper, the Royal Gazette, is not published on Sundays or Public Holidays but sometimes has some Sunday and/or Public Holiday news online.
April 17

April 16

A new Visitor Services Centre has opened in St George's. The facility, in York Street, gives visitors electronic information on the Olde Towne and across Bermuda, helps them book activities and sells Bermuda-branded products. It was set up as part of the Bermuda Tourism Authority's plan to make information more readily available for tourists. Tourism minister Zane DeSilva said: "St George's is one of the best places in Bermuda to spend the day wandering through the town, shopping at locally owned businesses, visiting the beach, and mingling with the locals. One of the biggest challenges that has faced the Town of St George's is how to share the wealth of information and activities in and about the Olde Towne with our visitors. We needed a location with the necessary technology and features, while maintaining the Olde Towne's architectural charm. We needed a location that was more aligned with our younger, fresher Bermuda brand. Our visitors now have a central location in the heart of St George's to learn about the history of St George's and to plan and book their personalised Bermuda experience. The new VSC will encourage visitor spending and enhance awareness of the incredible experiences available in the East End and across Bermuda. It provides a place where our visitors can discover all that is on offer and make purchases or reservations with the touch of a button." Mr DeSilva said visitor satisfaction levels had improved since the opening of the Dockyard Visitor Services Centre.

Easter lilies picked at a Bermuda farm will be sent to the Queen tonight. Governor John Rankin took part in the annual picking event at J&J Produce. The flowers will be on the British Airways flight to Gatwick this evening, and are expected to reach Windsor Castle tomorrow morning.

April 15

Health minister Kim Wilson will make a presentation on healthcare costs at a town hall meeting. The Progressive Labour Party's political education committee is organising the event at Alaska Hall on Monday, from 6pm to 7pm. Ms Wilson has said changes to the island's health financing would save millions for the hospital while the Government's mandated premiums remain unchanged. Insurance sources have warned the overhaul effectively shifts costs from government-backed insurance schemes to private healthcare insurance.

A pilot programme to give problem drinkers a chance to avoid a driving ban could be discriminatory, an addiction counsellor has warned. Fiona Elkinson, who runs her own drink-driver education programme, said the new Driving Under the Influence Court, pioneered by senior magistrate Juan Wolffe, allowed drink-drivers who admitted they had an alcohol problem to keep their licences if they underwent an intensive treatment course. Ms Elkinson said the scheme could penalize drink-drivers who do not have an addiction problem if they were not given a route to allow them to retain their licences as well. Ms Elkinson, who has run her DUI education programme for 20 years, added: "I stand by mandatory education courses for everyone convicted of drink driving-related offences, but it wouldn't be sensible if people who have a drinking problem can get on the road while people who do not have a drinking problem cannot." She said that the DUI Court's pilot programme had good intentions, but if motorists who did not have a serious problem had no way to avoid a ban, it would be unfair. Mr Wolffe did not respond to a request for comment on the DUI Court, how it would be organized and how eligibility would be assessed. The Ministry of Legal Affairs and the Ministry of National Security also declined to comment and referred questions to Mr Wolffe. Mr Wolffe said in February: "DUI Court is not for people who want to stay on the road. It's for people who want to deal with their drinking problem. If you don't have a problem, then it's not for you." Ms Elkinson, who met Mr Wolffe to discuss the drink-driving court but is not part of the pilot, said: "I think the reason it was set up was to get people the treatment that they need and allow the court to have power to make people get the level of treatment that they need and that is a positive thing. Mr Wolffe knows that people can change and with counselling and education they do step up and make change." Statistics from the Coroner's Office show about 75 per cent of road deaths in Bermuda involve alcohol or drugs. Magistrates' Court deals with hundreds of drink-driving cases every year. Mr Wolffe said last year that he wanted to break the cycle of repeat offending with the new court and that fines and bans on their own were not a sufficient deterrent. He added that the DUI Court would be similar to the Drug Treatment and Mental Health Courts and give magistrates more sentencing options. But Ms Elkinson questioned why the drug court could not deal with the DUI defendants. She said: "It seems to me that the DUI Court is the same programme — you are doubling up on the same thing. If it is only for people with problems then why are they not in the Drug Treatment Court?" Ms Elkinson added that several of her clients had complained that problem drinkers would be able to retain their licences after a conviction, but they could not. She said one client, a truck driver who did not have a serious drinking problem, had told her he wanted to go through the DUI Court and was prepared to follow the same regime as problem drinkers to keep his licence. Ms Elkinson said some of her clients convicted of drink-driving could have their roads bans reduced by three months if they completed her course. But she added there was no way for them to avoid a ban, other than through the discretionary power of a magistrate. Ms Elkinson said that there should be a range of drink-driver courses designed to reflect the seriousness of the offences. She explained: "There needs to be a level one DUI programme for first offenders and a level two DUI, which is more intensive, for second offenders. Level three would be virtually probation with drug testing because they have had three alcohol-related arrests." Commissioner of Police Stephen Corbishley declined to comment on sentencing policy because it was a matter for the courts. But he said: "There has been significant progress in tackling drink-driving since Bermuda's introduction of roadside sobriety tests. Culturally, we see far more awareness of this agenda and I am encouraged by some of the changes taking place. We need to do more to continue to tackle this problem ... and in turn to support partners and the media in getting the message across that drinking and driving is dangerous and has serious consequences."

A dozen driving offences cost a teenager $7,270 in fines and an 18-month ban at Magistrates' Court on Friday. Chez Rogers, 18, also had 57 points added to his driving licence. Rogers, from St George's, admitted dangerous driving, failure to stop for police, driving an unlicensed motorbike and not having insurance on September 3 last year. He further admitted speeding at 58km/h, failure to wear a helmet and having no driving licence. Rogers also pleaded guilty to dangerous driving, failure to stop for police, driving an unlicensed motorcycle and not having insurance on July 25 last year. Magistrate Maxanne Anderson heard that the defendant was also stopped on May 12 last for speeding at 59km/h. The legal limit is 35km/h. Ms Anderson ordered Rogers to pay the fines by May 13..

An energy plan will include a mix of ways to generate power, the Minister for Home Affairs has signaled. Walter Roban said the energy blueprint would take elements from all eight energy generation proposals submitted to the Regulatory Authority of Bermuda to get ideas for an integrated resource plan, expected to be unveiled in the summer. Mr Roban said: "It needs to be appreciated that there is no one plan that has been submitted that is going to be endorsed. It will not be BeSolar's plan or Belco's plan, in fact it should look very different. The RAB is going to come up with an IRP that is going to incorporate a number of them — a hybrid incorporating the submissions." Proposals included the use of wave energy, a ship-based regasification power and water plant, wind and solar energy, multi-fuel power using liquefied natural gas and oil, biomass technology using wood pellet fuel and hydrogen-based steam generation with water recovery. Public views on the submissions showed overwhelming support for a plan drawn up by UK sustainable energy firm Etude on behalf of the Bermuda Engineering Company, the parent firm of BeSolar. The submission proposed that 64 per cent of Bermuda's electricity should come from wind and solar power by 2038. Monique Lister, senior legal analyst at the RAB, said: "The authority has taken the alternative proposal submissions and public comments into account when performing analysis and developing further scenarios." Mr Roban added: "Part of the impetus of the RAB is to promote the uptick of renewables. It is a legal objective so we can't go back towards more fossil fuels. That is not legally the objective or the purpose of the RAB. Part of their remit is to diversify the energy market and also to pursue cleaner, more affordable and more renewable forms of energy for the country as well. Two years from now we could be doing this again, technology changes as advancements come. Perhaps there will be more opportunities to do wind and marine types of generation and it will create an opportunity for us to do a new IRP to see how we incorporate other new energy technologies as well and further move away from fossil fuels." Mr Roban said that there would still be a need for traditional forms of power generation and Belco staff trained in old technology would also get the chance to retrain in new types of energy production. He added: "It is our desire to expand the energy market so the fact we have been running on one type of energy for the past 100 years doesn't mean there are no opportunities for diversification for some of the people currently working in the energy business. There will be new jobs but also Belco is not going anywhere. They may not dominate the energy generation market in the way they have in the past, but they are still going to be a necessity until we can go 100 per cent renewable."

Hundreds of people turned out for the Bermuda National Trust Palm Sunday Walk under sunny skies in the West End yesterday. Bill Zuill, the executive director of the BNT, said the annual walk was a huge success and that about 2,300 people took part. He said: "The response has been overwhelmingly positive. The weather was definitely on our side and we got a very good turnout." The event, which started in the 1970s, provides a chance for participants to see parts of the island that might not be often opened to the public. Mr Zuill said that much of this year's walk took participants over West End Development Corporation property "which is generally fairly accessible". But he added: "Even then, there are parts of Ireland Island, and Boaz Island, that most people never go to." The five-mile route took participants past several points of cultural and natural heritage, including cemeteries, historic buildings and secluded nature spots. The circular route started and ended at Cross Island in Dockyard. Mr Zuill said that the length of the walk was tailored to make it easy to finish. He added: "You see many families, several generations, all out walking together. It's also extremely diverse with people out from all walks of life." This year's event was sponsored by insurance firm Sompo International. A spokesman for Sompo said the company was proud to support the trust in "preserving the island's open spaces and rich heritage. Sompo International supports numerous local services, projects and events that benefit the broader Bermuda community and looks forward to the annual spring walk as a way to promote both environmental awareness and physical and mental health." Drinks firm John Barritt & Son supplied refreshments to walkers.

Ideas from members of the public could help to shape the Agricultural Show in the next few years, one of the organisers said at the weekend. Jeff Sousa, a spokesman for the event, predicted that after its successful 80th anniversary, the show would only get "bigger and better". He said: "There's no place that you truly see the mosaic that makes up Bermuda more than the Ag Show, in my opinion. It's part of the fabric that makes this beautiful island." Before the event closed and visitor numbers were totaled on Saturday, he said the committee was "very pleased" with the turnout but attendance did not appear to be the "record crowds" of last year. Mr Sousa said: "What's so nice about a community event like this — and people know the principles involved — I received in the last few days, let alone in the last few years, so many ideas from the general public. This is truly Bermuda's community event so we will put these things to the board and see if we can get them implemented. Bermuda has changed over the 43 years since I was entering. You had so many vegetables, so many flowers — that's starting to be rekindled. The poultry barn has been packed all day because it's right in the middle of the show and it's very popular. People are amazed to see how many different types of chickens and ducks there are. And the pigs have always been a fan favourite." Mr Sousa thanked all the corporate sponsors and credited insurance firm Axis Capital and HSBC for helping to ensure entry was free for children and seniors. He said the international attraction The Canine Stars dog stunt show from the US was a "huge draw" that delighted visitors of all ages. Sharon Smith, 53, watched the performance with her twin sister Karen Smith, who was with her 11-year-old son, Dakari Zuill-Smith. She said the dog act added variety to the traditional event. Ms Smith, from Warwick, said: "It was terrific, I liked when they were competing in the racing and also the dancing. I love dogs, I'm a dog lover." Erica Minors, 35, from Sandys, said it had been several years since she attended the Ag Show but hoped her one-year-old son, Caiden, would enjoy it. She said: "We're out today because of him, he loves animals and it's some Bermuda culture." Her husband, Darrin, 42, added: "We were all raised up on coming to the exhibition so this keeps the tradition alive, we bring the little one and get him introduced to it. It has been a great atmosphere and you run into friends you don't tend to see regularly. They're with their children and it becomes a big family outing." Hugh and Sheelah Hassell, from Sandys, also found themselves meeting people they had not seen for a while. Mrs Hassell, 76, said she looked forward to seeing the roses and vegetables on display. Her 80-year-old husband said: "The animals are looking good, so are the flowers and the fruit. It's a lovely atmosphere, everybody seems to be talking friendly to each other."

A Cup Match legend and former Progressive Labour Party MP passed away at the weekend. Lloyd James died at the age of 82. Betty James, Mr James's wife, said her husband of nearly 59 years was a sincere man, but that he knew how to joke around. She said: "He could tell a story and make things up as he went along." Joanne Rego, Mr James's daughter, said her father was a "real family man" with a great sense of humour. She said: "He loved to tell tales, jokes, make people laugh, pull pranks. He liked to spin tales." Ms Rego said, in addition to his noteworthy cricket career, her father played golf, gardened and had enjoyed fishing with his brothers in his younger years. Tim James. Mr James's nephew, said his uncle was a "gentle giant". Mr James explained: "He never had to raise his voice. He was very tender, very kind. He was always pleasant, he always had a smile on his face. He was always Mr Optimistic." He added that his uncle was a "true gentleman and a true sportsman". Mr James held the record for the highest individual score in Cup Match in 1962 with 173 not out for St George's, which passed the previous record of 170 not out set by Timmy Edwards. Mr James's record stood for 39 years before Janeiro Tucker passed the milestone in 2001. He scored 988 runs from 28 innings in a Cup Match career that spanned 19 years before he retired in 1974 — only 12 runs short of being the first batsman to score 1,000 runs in the annual classic. Mr James was inducted into the Bermuda Sports Hall of Fame in 2007. He was elected to represent Warwick East alongside Walter Brangman in December 1980 under the former two-seat constituency system. A PLP spokeswoman said the party "joins the community in mourning" Mr James's death. David Burt, the Premier, said that Mr James was a "true gentleman". He added: "His dominance in the game of cricket was matched with his time in representative politics when he served the people of Warwick at a time when to do so on behalf of the PLP required unique sacrifice. Whether in business, education or sports, Lloyd James served with distinction." Sports minister Lovitta Foggo said: "Mr James was admired as an icon of our sporting fraternity. He was an outstanding cricketer who represented Bermuda with dignity and grace. Lloyd James was not only a great cricketer he was also an outstanding golfer and his poise on the greens was truly admired. Bermuda and our sporting community have lost a legend." Craig Cannonier, the leader of the One Bermuda Alliance, said that the death of Mr James was a loss for the island. He said: "We have lost a great ambassador for Bermuda and for Bermudians." Mr Cannonier added: "Lloyd was a good friend of mine and I grew up admiring him as one of the best cricketers Bermuda produced." He also founded James Water Services with his older brother, Winfield, in 1979. Mr James had five brothers and sisters — Elvin, the former PLP Cabinet Minister and Cup Match player, Leon and Winfield, Lillian Grant and Cynthia Lightbourne. He is survived by Betty, daughters Joanne and Ria Mayes, and four grandchildren.

A 21-year-old man killed in a crash with a police vehicle in the West End in the early hours of this morning has been identified. Antoine Seaman of Granaway Drive, Southampton, was killed when his motorbike was in collision with a police car on Somerset Road, Sandys, near the Willowbank resort about 2am. A Bermuda Police Service spokesman said the crash happened as a woman police officer headed west in a marked patrol car on her way to a report of a disturbance. Police denied social media claims that Mr Seaman was being chased by police when the crash happened. Mr Seaman was rushed to the King Edward VII Memorial Hospital, but was pronounced dead by doctors at about 2.30am. He is the fourth roads death of the year. The scene was cordoned off as police launched an investigation led by roads policing unit officer Sergeant Dorian Astwood. Mr Astwood said this morning: "The BPS confirms that a full notification has been passed to the independent body the Police Complaints Authority. However, this is normal practice as required by legislation and ensures full transparency. This applies to incidents involving death or serious injury where an officer acting in the execution of his or her duty causes, or appears to have caused, death or serious injury to any person. The Commissioner of Police shall, as soon as practicable, give the authority a written notice setting out particulars of the incident in which death or serious injury was caused." Mr Astwood declined to comment on the circumstances of the collision. He said: "We understand that this collision occurred less than 12 hours ago and there is a family mourning at this time, so it is correct we show compassion and don't pre-empt any decisions or suggestions as to the circumstances at this time." Mr Astwood added the officer, who was uninjured, was alone in the patrol car at the time of the accident. He said police wanted to speak to anyone with knowledge of Mr Seaman's whereabouts from 11pm on Sunday. A family liaison officer has been assigned to the family. Anyone with information that could help the inquiry should contact Mr Astwood on 247-1009 or 717-0849.

April 14, Sunday

April 13

At least 15 pupils and staff at a middle school plagued with mould have become sick, the head of the parent teachers association said yesterday. Albert Wilson, the president of the TN Tatem Middle School Parent Teacher Student Association, said he was aware of 11 teachers and four children who had reported illness at the school — which is to be off limits for the rest of the academic year. Mr Wilson said: "If people are getting sick, what is causing them to get sick? That's the grave concern." He added that the total number of teachers was "about 11" and that the education ministry had been informed. Mr Wilson said he did not have an exact figure for the number of children who reported feeling ill. He added: "I know just from parents complaining to me, that by my own estimate there's four." But he said: "There probably is more, but parents haven't come forward yet." Mr Wilson was speaking after Diallo Rabain, the education minister, said yesterday that the Warwick school, which was closed on Tuesday after a walkout by teachers and pupils over health fears, would stay shut until the end of the school year. The closure order was sparked by a letter from the PTSA to education officials that highlighted "grave concerns about the health of the learning environment". Cole Simons, the shadow education minister, claimed earlier this week that mould had made two teachers sick and questioned if pupils at the school had suffered similar problems. Mr Rabain said yesterday that he was unable to say if conditions at the school had led to pupil or staff sickness. He insisted: "We are unaware of any teachers that have been made ill, based on the reports that we have received." Mr Rabain said that school staff had provided health and safety reports this week. He added: "We are in the process of reviewing them." Mr Rabain said that the health and safety of TN Tatem staff and pupils was of "paramount concern We are taking these steps with that in mind." Mr Rabain said most of the work needed to fix problems at the school — including structural and water problems — were scheduled for the summer. He added: "If we are able to repair, we have a reasonable understanding that they shouldn't occur again." He said that surveys would be conducted to see if the school could be made ready for the next school year. "If we cannot get the school ready for September subsequent announcements will be made." Shannon James, the president of the Bermuda Union of Teachers, said that the union backed the closure of the school for the rest of the year. We do ask that the necessary attention be given to the school so that the teachers and students do not find themselves in this predicament two years from now. There are so many variables involved but the Government must ensure that they do everything in their power to ensure that the building is properly remediated. This cannot continue to happen." But Mr James questioned the use of Hamilton Fire Station as a temporary location for some TN Tatem pupils. He said: "Since it will house the youngest of the students, the M1s, we do hope that things like how they can adjust with the new bus routes were taken into consideration." Kalmar Richards, the Commissioner of Education, said emergency accommodation for the school had been arranged. Pupils from the M3 class will go to Purvis Primary School in Warwick on Monday and M2 pupils will attend Heron Bay Primary School in Southampton. Ms Richards said that M1 pupils would be taught at Hamilton Fire Station. She added that Garita Coddington, the TN Tatem principal, would meet parents of M1 and M2 pupils at Bermuda College on Monday at 5.45pm. "At that time, she will provide specific details of next steps." Ms Richards said Ms Coddington would meet the parents of M3 pupils a week later. She added that Ms Coddington would meet school staff on Monday to discuss the relocation. Ms Richards said "All of the staff will be given some time to plan and to prepare for the transition, which we certainly hope will be a smooth one. We hope that the transition to other schools will be smooth for students and staff." But Mr Wilson said that he was concerned about disruption for pupils and that parents should have been consulted. "The parents have not been a part of the conversation before these decisions were made. A political blame game on who was responsible for the crisis at the school was a total waste of time. What happens is that we get caught up in the politics and we forget about the children. Whether you're OBA or PLP, all your kids are part of this education system."

Schoolchildren alleged to have sold e-cigarettes to classmates at two public schools have been identified, the education minister said yesterday. Diallo Rabain added that "appropriate actions were taken". He said: "The students were brought in, their parents were brought in." But he added: "I can't talk about what happened to the students." Mr Rabain said that he could not comment on the intended use of the vapor pens or how many had been confiscated. He added that police had launched an investigation. Police announced on Wednesday that vapor pens, often used as a cigarette substitute, had been sold at Dellwood Middle School in Pembroke and CedarBridge Academy in Prospect. The pens are designed to heat a liquid until it is vaporized and can be inhaled. The liquid often contains nicotine, as well as flavors and other additives, although products without nicotine are also produced. The US Surgeon General has warned products can contain harmful and potentially harmful ingredients, including heavy metals such as nickel, tin and lead, ultra fine particles that can be inhaled into the lungs. E-cigarettes also contain diacetyl, a chemical linked to lung disease. The devices have also been linked to the consumption of illegal drugs, including marijuana.

A 53-year-old man was convicted yesterday of sex offences against a schoolgirl more than 20 years ago. Pernell Brangman committed a string of sex offences against the woman, who was aged 10 and 11 at the time. The Supreme Court jury returned a unanimous verdict after less than two hours of deliberation. They found Brangman, from Southampton, guilty on two charges of sexual exploitation of a minor and one count of unlawful carnal knowledge. The offences happened between June 1997 and September 1998. Brangman was aged 31 and 32 at the time and a footballer for Southampton Rangers. The victim, who cannot be identified for legal reasons, told the court that Brangman "manipulated me into doing some hideous sexual acts". The woman told the court that over the two summers she had been left home alone and the defendant would stop by on a regular basis. She told the court that she had complained several times about only having bologna sandwiches for lunch and the defendant offered her fast food and "trinkets" if she let him perform sex acts on her. The woman testified that she eventually told him to stop and revealed her ordeal to no one for more than a decade. She said she did not file a police report until 2017 because she felt "ashamed" and that she had done something wrong. She told the court: "I kept seeing him in public. It just ate me up every time. I finally knew that it was time to report it so I can continue to heal and move on with my life." Brangman did not give evidence and remained silent as he was taken from the court in handcuffs to a waiting prison service van. He will be sentenced at a later date.

A woman tourist seriously injured her leg after a rental bike collided with a car. The 35-year-old American, a passenger on a bike driven by a US man, also 35, was hurt after a crash on Malabar Road, near Craddock Road, in Sandys. The driver of the bike and the car driver were uninjured, but the woman was taken to the King Edward VII Memorial Hospital for treatment. The crash happened about 2.30pm on Thursday. A police spokesman said yesterday the woman was "stable" on a general ward. Police have appealed for witnesses.

A bartender screamed for his wife to call the police as he was stabbed 13 times in an attempted robbery outside his home, Supreme Court heard yesterday. Borislav Angelov said he was attacked by two men after they chased him along Harbour Road. He said he was stabbed several times from behind as he fought with one of the attackers on his patio. Mr Angelov told the court: "I just started to feel hot, very hot in my body. I felt some heat come all over my body in seconds. The blood started coming out on to my shoes and everywhere. I got a chair and started to put the chair to the head of the guy. I started screaming to my wife to call the police, call 911." Mr Angelov said his wife turned on the patio lights and the men retreated. He added that the man in the red scarf pointed something that looked like a handgun at him and warned: "If you move I will shoot you." The men got on their bike and fled. Mr Angelov said after the men left he took off his shoes and they were filled with blood. He tried to take off his jacket and helmet, but was unable to remain on his feet .Mr Angelov said: "I lost a lot of blood. I asked my wife to throw me some towels because I could feel the blood just pumping out from all of the stabbing which I had. Just before I laid down, I screamed to her — she was on the 911 call — I shouted the number of the bike. I told her ten times to make sure they knew it." Alex Wolffe, 20, denies charges of wounding, attempted robbery and two counts of intimidation in connection to the incident. Mr Angelov said the incident started as he rode his motorbike home from work in Dockyard in the early hours of October 23. He and another co-worker had ridden next to each other until Burnt House Hill, when Mr Angelov turned on to Harbour Road. Mr Angelov said he noticed two motorcycles traveling in the opposite direction when he was near the Belmont ferry stop. One of the motorcycles had two people on board, but Mr Angelov said the passenger did not have a helmet and had a red scarf wrapped around his head which left only his eyes visible. Mr Angelov said he continued riding east when the motorcycle pulled alongside him and the passenger tried to snatch his necklace. He said: "The guy in the front of the bike, he tried to push me to fall down with my bike. I didn't fall. They started screaming at me to stop. I just sped up." Mr Angelov said the two bikes raced along Harbour Road at high speed until they neared Mr Angelov's home. He told the jury that he planned to slow down, let the other motorcycle overtake him and pull into his yard. But he said the other motorcycle pulled in front of him, braked and the two bikes collided. Mr Angelov added: "That's the moment I saw the licence plate number of the bike." He said he pulled into his yard and got off his bike, but the men parked their bike on the street, followed him and attacked him. Mr Angelov said during the struggle the man with a helmet got on to Mr Angelov's bike. He said: "My bike was still on. The key was in the engine, so I pushed him off my bike. The guy with the red scarf, he started to attack me in my back. He started to beat me, so I left the guy with the helmet and started to fight the guy with the scarf." He said the fight moved to his patio and, as he scuffled with one of the men, the man with the helmet came from behind and stabbed him. Mr Angelov, who spent ten days in hospital as a result of the attack, showed the jury scars on his lower back and both sides. He said: "I need to thank the doctors who did pretty much the impossible to bring me back to life. I pretty much lost all my blood. Still until today I have no feeling in the back of my body. There was nerve damage." The trial continues.

An injured grey seal found near Tobacco Bay last month has been flown to the US for release back into the wild. The female seal, named "Lou-Seal" by the staff at the Bermuda Aquarium, Museum and Zoo, was taken to the US on Wednesday on a chartered flight organized by Cargojet. Patrick Talbot, curator at the BAMZ, said: "The simple fact that this animal was able to cross the open ocean, through winter storms, with nothing to eat, and find the one minuscule piece of land in the Atlantic Ocean, where she could actually receive rehabilitative care, is miraculous. There was and continues to be a huge amount of local support for our first-time visitor. Bermudians are known for their friendliness and love for their environment and it was not long before people rallied to help her." Lou-Seal made headlines when members of the public found the emaciated animal on the rocks in the East End on March 19. Veterinarians at BAMZ said the animal was dehydrated and had suffered several small wounds. Grey seals are common in the North Atlantic, but she was the first to be recorded in Bermuda. The US National Oceanic and Atmospheric Administration Fisheries, US Fish and Wildlife, Bermuda's Department of Environment and Natural Resources the US Consulate and Customs and Border Protection in Bermuda worked together to fly the seal to the Mystic Aquarium in Connecticut. The international effort was aided by the BAMZ and the Mystic Aquarium's Animal Rescue Clinic. Ainsley Smith, the stranding co-ordinator for NOAA Fisheries Greater Atlantic Region, said: "We appreciate Mystic Aquarium's willingness to assist BAMZ with the rehabilitation of this out-of-habitat seal. This is another great example of multiple organisations working together in the animal's best interest." After Lou-Seal cleared inspection with the US Fish and Wildlife Service, Mystic Aquarium veterinary and Animal Rescue Programme staff drove her to Mystic's Animal Rescue Clinic. Lou-Seal will get further care to help improve her health and regain body weight at the clinic. Janelle Schuh, Mystic Aquarium's Animal Rescue programme manager, said: "We have many years of experience caring for grey seals in our Animal Rescue Programme, so we are very familiar with the species — however, this will be the first time that we provide care to an adult grey seal in the clinic. Our team of veterinarians and dedicated clinic staff and volunteers will put this expertise to work to continue the great care she received in Bermuda to ensure that her long journey culminates with her return to the ocean. Any time that you can help an animal in need it is rewarding, but to be a part of such a huge collaborative effort to help this wayward seal is really something. It is truly inspiring how so many people worked together towards the success of this animal."

The son of the singer dubbed "the King of Soul" is to perform in Bermuda next week. Otis Redding III, son of Otis Redding, will share the stage with Bermuda's Wall Street Band at a concert in Hamilton. Robert Atwood, director of the Wall Street Band, said: "You can expect his father's classic hits and some songs that people might not know that his father wrote but didn't sing." Redding joined the Bermudian band when he came to the island last month for rehearsal sessions that vocalist Chandra Maybury said were relaxed and "down-to-earth". She added: "He was fun, laughing and joking around — he has added his own twist, with musical arrangements different to his dad's. He still has that same spirit." Dino Richie, a guitarist with the band, said: "Playing with Otis has to be the most exciting musical event for a local band — we're honored and excited to be part of the show." Richie added: "Otis was great to work with, and has made some nice music that Robert has emphasised by creating some beautiful musical arrangements." Redding will perform next Thursday at the Earl Cameron Theatre in Hamilton City Hall, backed by the Wall Street Band and with music from Bermudian entertainers Olivia Hamilton, Vance Goater and Sounds of Sweetness. Otis Redding shot to international fame with classics such as Respect and (Sittin' On) The Dock of the Bay. He was aged only 26 when he died in a plane crash in 1967. His son, now 55, has forged his own career as a singer and helped keep his father's musical legacy alive. Danilee Trott, the chief operating officer of promoters Savvy Entertainment, said the night was expected to launch a series where classic performers were brought to the island. She added: "We really wanted to bring that old-school soul. We took a step back, looking at that generation as a target audience." Savvy Entertainment has worked with Otis Redding III in the United States and Ms Trott said the singer "loved the idea" of being the debut artist for the series. She said Redding's music captured a time when "words to a song really meant something". Goater had grown up with five brothers singing music from the 1960s and 1970s, including the senior Redding, James Brown, the Jackson 5 and the Temptations. He said: "Otis Redding was one of my favourites. There are some songs that only he can sing. We'll be doing songs of that time and some that will be a bit of a surprise. A lot of preparation has gone into the show. I want to give the best I can do." Goater also wants to show that island artists have the talent to perform alongside international stars. He said: "When it comes to that music, I want to be like a stepping stone for the ones coming behind."
• The doors will open at 7pm for a 7.30pm start time. Tickets are $75 from ptix.bm.

Families started new traditions and seniors kept up time-honored habits as visitors of all ages flocked to the Ag Show today. The animals drew in many of the youngsters while some of the older attendees were attracted by the array of flowers. Erica Minors, 35, of Sandys, said it had been several years since she attended the event but hoped her one-year-old son Caiden would enjoy it. She said: "We're out today because of him, he loves animals and it's some Bermuda culture." Her husband Darrin, 42, added: "We were all raised up on coming to the exhibition so this keeps the tradition alive, we bring the little one and get him introduced to it. It has been a great atmosphere and you run into friends you don't tend to see regularly. They're with their children and it becomes a big family outing." Hugh and Sheelah Hassell, also of Sandys, also found themselves meeting people they had not seen for a while. Mrs Hassell, 76, said she looked forward to seeing the roses and vegetables on display. Her 80-year-old husband said: "The animals are looking good, so are the flowers and the fruit. It's a lovely atmosphere, everybody seems to be talking friendly to each other." Sharon Smith, 53, was there with her twin sister Karen and her 11-year-old son Dakari Zuill-Smith. The Warwick family watched this year's special attraction, the Canine Stars stunt dog show from the US. Ms Smith said the performance added variety to the traditional event. She added: "It was terrific, I liked when they were competing in the racing and also the dancing. I love dogs, I'm a dog lover." Visitors also enjoyed a range of food stalls, local entertainment, face-painting and fun castles.

A sports club is to be shut by police for the second time in three months after two men were injured in separate incidents last weekend. Southampton Rangers Sports Club was ordered to close for 24 hours from midnight tonight. Acting Assistant Commissioner of Police James Howard, who is in charge of the BPS's tactical operations division, issued the temporary closure order yesterday under the Liquor Licence Act. Police acted after a 20-year-old man was stabbed inside the club on Sunday and a 22-year-old man suffered cuts to his hand when a broken bottle was "wielded during an altercation at the establishment" the previous Friday. Southampton Rangers was shut by police for 24 hours in February after an early hours brawl in which several men were injured. Seven people were arrested after the incident and the closure also meant two football matches were played elsewhere. A club spokesman said this week th at the management had done everything asked of it by the authorities to tackle antisocial behaviour. A spokesman added the club needed support and claimed armed police at the grounds on Sunday "did nothing" when the incident happened. However, the police said yesterday that officers acted as soon as they saw an injured man leave the club. A police spokesman explained: "The BPS implemented an island-wide policing plan last weekend, which included patrols around the Southampton Rangers Sports Club. In delivering the plan, police officers entered the sports club earlier in the evening to liaise with security personnel and conduct a liquor licence check. "They then exited the premises and remained in the area. A short while later an incident occurred inside the club. As soon as officers saw an injured man exit the club, they responded immediately by providing first aid and transporting the man to hospital. Additionally, police officers re-entered the establishment to speak with management, staff and security." The spokesman added: "The BPS continues to work with the management of Southampton Rangers Sports Club in an effort to create a safe environment." He declined to comment if the officers stationed at the club were armed. Police said earlier that the 20-year-old man left the venue at about 9.15pm on Sunday with a stomach wound "after apparently being stabbed during an altercation with another man inside the sports club". The police said on Wednesday that the man was taken to King Edward VII Memorial Hospital and in a stable condition. A spokesman for the sports club said later measures such as earlier closing, use of security staff and bans for known troublemakers had all been introduced. He added that a police presence was requested on Sunday because officials expected a busy night after the football team won the First Division title race in front of a large crowd. The club spokesman claimed: "Security broke the incident up within ten seconds of it occurring inside the club. We had four security guards separating the individuals and the police never entered." Police said yesterday inquiries into the incident continued and appealed for witnesses.

April 12

The Agricultural Show started yesterday — with good weather expected to replace the rain that hit the opening morning. Antwan Albuoy, one of the organisers of the three-day Botanical Gardens tradition, said the day started off slowly as a result of the rain, but that "people still came out". He added the crowds increased around noon when the rain stopped. Mr Albuoy said the show was expected to continue with its usual large crowds today and tomorrow and that good weather was forecast for the next two days. Canine Stars, America's top dog stunt show, will perform on every day of the event. Jeff Sousa, the spokesman for the Ag Show, promised the show offered something for everyone. Mr Sousa said last week that a wide range of poultry and pigs were among the animals on display, as well as flowers, art and a wide range of food. Children aged 16 and under and seniors 65 years or older will get free entry to the showground's after insurance firm Axis Capital and HSBC offered sponsorship. Other sponsors include Gibbons Company, the OIL Group of Companies, Harrington Hundreds supermarket, Care@Home Services, Stoltzfus Feed and Supply, Kirk Kitson, Neil and Carla Stempel, Gilbert Lopes and Alan Burland. Sousa's Landscape Management and Sousa's Gardens are the main sponsor for Canine Stars.

A lawyer in the Cayman Islands said a Privy Council ruling in favour of same-sex marriage in Bermuda would help the fight for marriage equality in the Caribbean territory. Leonardo Raznovich, a barrister, added that he would not be surprised if the Privy Council refused to hear Bermuda's appeal in light of the Foreign and Commonwealth Office's push towards equal rights to marriage in the Overseas Territories. He said: "I am struggling to see why the Privy Council would step in, other than for stating that it agrees with the local court in Bermuda, in which case, of course, it would have a positive impact in the Cayman Islands." Dr Raznovich added: "In this particular case, the local judiciary unanimously held that equal marriage is required and paradoxically the local executive wants the imperial court to step in and reverse what the local court unanimously has done. I have not seen in my whole life a worst case of reverse colonialism." Dr Raznovich added the legal arguments for same-sex marriage in Bermuda and the Cayman Islands were different due to differences in their constitutions. He said the Cayman Islands' constitution was more modern and based on the European Convention of Human Rights, while Bermuda's constitution is a "first generation" text. Dr Raznovich said: "It may be the case that the Privy Council takes this opportunity to modernize the case law that deals with constitutional constructions in situations such as the text in Bermuda." The Bermuda Government asked the Privy Council to hear an appeal on an island Court of Appeal ruling that rejected clauses in the Domestic Partnership Act designed to block same-sex marriages in Bermuda. The Privy Council has not yet said if it will hear the Bermudian case. The Cayman Islands have had a similar dispute between the legislature and the judiciary on same-sex marriage. Cayman Chief Justice Anthony Smellie found in favour of same-sex marriage at the end of last month in the case of Chantelle Day and Vickie Bodden Bush, a same-sex couple who were rejected permission to wed last year. The ruling was celebrated by marriage equality campaigners, but the Cayman Islands Government has launched an appeal against the ruling. The effect of the ruling was formally stayed by the Cayman Islands Court of Appeal on Wednesday. Alden McLaughlin, the Premier of the Caymans, said last week that Mr Justice Smellie may have exceeded his powers under the Caymans constitution. He added: "If left unchallenged, the implications for the Cayman Islands' constitution are significant and potentially far-reaching and go well beyond the rights of same-sex couples." A spokesman for the Foreign Office said after Mr Justice Smellie's judgment that the UK government was disappointed by the decision to appeal the ruling. The spokesman added: "The court judgment permitting same-sex marriage in the Cayman Islands puts the territory among the most progressive societies in the region in terms of LGBT equality. The UK Government is committed to equal rights, including LGBT rights, and welcomes the judgment. We are therefore disappointed by the decision of the Cayman Islands Government to appeal." Jonathan Cooper, a barrister who advised the two women who brought the Caymans case, said the UK Government should have legalized same-sex marriage in the Caymans before the case came to court. Mr Cooper said: "Chantelle and Vickie should not have been forced to litigate in order to have their relationship recognized in law. It's a scandal that the Foreign and Commonwealth Office made them do this." Mr Cooper added: "The Foreign & Commonwealth Office could and should have insisted that all British Overseas Territories recognize LGBT relationships in law. Instead, they dragged Chantelle and Vickie through the courts. It's brilliant what Chantelle and Vickie have achieved, but it's also demeaning to have to compel your government to recognize your love."

The Ministry of Education is reminding all students that the deadline for Government Scholarship and Award opportunities is quickly approaching - with applications closing on Monday, 15 April, 2019. Scholarship and Award opportunities are outlined below:
Minister's Achievement Scholarship: For graduating public school students. This scholarship is valued at $25,000 for overseas post-secondary study.
Minister's Exceptional Student Award: For graduating students, school leavers or persons with disabilities up to the age of 25. Applicants must demonstrate financial need. This award is valued at $5,000 for local post-secondary study and $25,000 for overseas post-secondary study.
Minister's Technical and Vocational Award: For graduating public school students or recent public school alumni attending Bermuda College with a strong interest in technical and vocational studies. Students must demonstrate financial need. This award is valued at $5,000 for local post-secondary study and $25,000 for overseas post-secondary study.
Minister's Applied Tech Scholarship: For graduating public school dual-enrolment students in Bermuda College's Applied Technical Programme valued at $5,000 each. These scholarships will fund the cost of students to complete an Associate's Degree at the Bermuda College once they have graduated from senior school.
Bermuda Government Scholarships: For graduating senior school students or college or university students for post-secondary education. This scholarship is valued up to $35,000 towards the cost of tuition and basic accommodation.
Teacher Education Scholarship: For promising Bachelor of Education students studying subjects where there are shortages of local candidates, such as social studies, geography, English language arts, mathematics, modern foreign languages and special education. Recipients are required to return to Bermuda and teach within the Bermuda Public School System. Applications will be accepted from persons with and without financial need. This award is valued at $20,000.
Further Education Awards: For students with at least one year of college or university credits, pursuing overseas post-secondary study. Applicants must demonstrate financial need. This award is valued at up to $10,000.
Non-Traditional Student Award: For persons aged 25 and older who need a first or second chance to attend college or university. Previously, applicants had to be 35 years of age and possess sophomore standing. Applications for study at accredited institutions for online education will now be accepted.
Minister's Bermuda College Book Awards: To assist students in financial need to purchase books for successful study.
For more detailed information about scholarships and award opportunities, including eligibility and application requirements, visit www.Bermudascholarships.com. All questions should be emailed to: scholarships@moed.bm.

The education minister stayed tight-lipped yesterday over the closure of a middle school because of mould. Diallo Rabain was sent several questions about TN Tatem Middle School, which was closed on Wednesday. Mr Rabain was asked when pupils and staff would return to the Warwick school and if the school would be safe to attend. He was also asked about what was being done to tackle mould at the school and what would be done to make sure that it did not return. The minister was also asked whether conditions at the school caused illness in pupils or staff members. But responses to the questions were not received. Mr Rabain said last night on ZBM that an announcement would be made today on what would be done with the school. Cole Simons, the shadow education minister, claimed on Wednesday that mould at the school had caused one teacher to leave due to illness. The One Bermuda Alliance MP added that a replacement who had taken over from the former teacher in January had also been affected by breathing problems. The claims were backed up by a source at the school. Michael Weeks, the former minister of social development and sport, blamed the former OBA government for the problem. He said: "The mould issue is a legacy issue from the OBA administration. Most alarming is that the recommendations from the OBA's own 2016 report were never fully implemented by the OBA and that is the cause for the re-emergence of the issues we have now." Mr Weeks accused the Opposition of an attempt to "exploit this extremely serious issue for political gain". He said that the Progressive Labour Party since it won power in 2017, had started renovation work and carried out tests at the school in February and March "to ensure the building was being worked on in order to be fit for students and staff". Kalmar Richards, the Commissioner of Education, said on Tuesday that the school would be closed on Wednesday and Thursday. Public schools are closed today. She said the closure came after education officials got a letter from the school's Parent Teacher Student Association that highlighted "grave concerns about the health of the learning environment".

E-cigarettes should not be in the hands of children, the head of an anti-drug abuse charity for young people said yesterday. Truell Landy, the interim executive director at Pride Bermuda, said: "These devices are not for children and should not be sold to or used by children. The research on the impact of the use of vapor pens is still being conducted and initial results show that the chemicals in the devices can be potentially harmful." She was speaking after police said on Wednesday that vapor pens, often used as a cigarette substitute, had been sold at two public schools. Ms Landy explained that children were "very curious and risk-takers". She said: "Educating our youth on the dangers of using substances before their brains have fully developed will help them make better choices. Pride Bermuda will continue to do the work of advocating and aiding in the prevention of substance abuse and health-risk behaviours in children." A spokesman for the police said that staff at Dellwood Middle School in Pembroke and CedarBridge Academy in Prospect "reported confiscating a quantity of e-cigarette-type devices that were allegedly being sold by one student at each school to their respective peers". It is understood that 50 pupils may have been involved at Dellwood. The pens are designed to heat a liquid until it is vaporized and can be inhaled. The liquid often contains nicotine, as well as flavors and other additives, although products without nicotine are also produced. The US Surgeon General has warned products can contain harmful and potentially harmful ingredients, including heavy metals such as nickel, tin and lead, ultra fine particles that can be inhaled into the lungs. E-cigarettes also contain diacetyl, a chemical linked to lung disease. The devices have also been linked to the consumption of illegal drugs, including marijuana. Police declined to comment on the number of devices seized or what the pens had been used for. A police spokesman said: "Due to ongoing inquiries, no further comment can be made at this time." Wayne Caines, the national security minister, also declined to comment on the police inquiry. However, he said: "I can say the sale of any narcotics, or cigarette-related products, are prohibited in our schools, and anyone found selling them will be prosecuted to the fullest extent of the law. We will do everything in our power to ensure our students are in a healthy and safe school environment." E-cigarettes are classified as a cigarette product under the Tobacco Control Act 2015 and their sale is forbidden to anyone aged under 18. Kenneth Caesar, the principal at CedarBridge, and Tina Duke, the principal at Dellwood, did not respond to requests for comment yesterday. A representative of the Dellwood Parent Teacher Student Association said that the matter had been dealt with by school staff. The spokesman added: "The PTA has nothing to add at this time." The CedarBridge Parent Teacher Student Association did not respond to a request for comment. Kalmar Richards, the Commissioner of Education, said on Wednesday that the incidents were "very serious" and that the Department of Education had requested "detailed reports" from both schools.

A woman sobbed in court yesterday as she told a jury she was a victim of repeated sex assaults that started when she was aged just 10. The woman, who cannot be identified for legal reasons, said she performed sex acts for fast food and "trinkets" on an almost weekly basis for two consecutive summers. She told the Supreme Court: "He manipulated me into doing some hideous sexual acts. It happened frequently. Maybe once a week, once every other week. He would convince me to do it by offering me different things, like different food. He would say different things, like if I let him do this, then he would take me to Mr Chicken to get whatever I wanted." The man alleged to have abused her, now 52, denies two charges of sexual exploitation of a minor and one charge of unlawful carnal knowledge. All of the incidents are alleged to have happened between June 1997 and September 1998, when the woman was aged 10 and 11. The woman told the court that over the two summers she had been left home alone and the defendant would stop by on a regular basis. She told the court that she had complained several times about only having bologna sandwiches for lunch and the defendant offered her fast food if she let him perform sex acts on her. The woman said that he had sex with her on one occasion, but she had told him it hurt and asked him to stop. She added that at the time of the offences she did not realize they were doing anything wrong. She said: "Over the two years that it happened, eventually I realised that it was wrong and it shouldn't be happening, so I told him that he was never to touch me again. That's when it stopped." The witness added she and her family had remained in contact with the defendant afterwards and she did not tell anyone about the sexual contact until 2010 or 2011. She said she spoke out after a friend noticed a small hole in her bedroom door and a second in a bathroom door. The woman added she told her mother about the holes and confronted the defendant the next day. The witness told the court the defendant at first tried to blame a young child for the holes. She said he later admitted: "It must have been me then." She added she had visited the Women's Resource Centre and got counselling, but did not make a complaint to the police until 2017. The witness said: "I felt a little ashamed. I also felt as if I had done something wrong. For a while, I just didn't know what to do. I just lived with how I felt. I kept seeing him in public. It just ate me up every time. I finally knew that it was time to report it so I can continue to heal and move on with my life because I had held on to it for so many years." Vaughn Caines, lawyer for the defendant, suggested that if anything had happened to her, she was mistaken about his client's involvement. She told the court that she had been a victim of sex abuse before the incidents with the defendant and had reported it. The woman said: "Something did happen. I just told you what happened the hour I spent standing here testifying. When I was previously assaulted it had nothing to do with this case. That assault has nothing to do with why we are here today." The woman also denied that she had not been left at home alone over the two summers, but had instead been looked after at another house. The trial continues.

Bermuda's blacklisting by the European Union will not have an impact on the re/insurance industry — provided the island comes off the list next month, as the Bermuda Government expects. That is the view of analysts from credit ratings agency Fitch Ratings, who visited the island this week. "Long term it could be significant, if it's not resolved, but it sounds like it's expected to be resolved next month," Brian Schneider, senior director, insurance, for Fitch, said in an interview. "I don't see any negative repercussions in the near term. The fact that Bermuda has Solvency II equivalency — and that doesn't seem to be threatened — gives approval to the Bermuda model. So it was a bit unusual to see them take this step to blacklist Bermuda." Bermuda's insurance regulation earned "third-country equivalence" with the EU's Solvency II insurance regulations in 2016. Equivalence allows international insurance groups based on the island to compete on a level playing field in the EU. The EU put Bermuda on its list of countries deemed to be non-cooperative on tax matters last month, because of a "drafting error" in Bermuda's economic substance regulations. David Burt, the Premier, said Bermuda is compliant with the EU's demands and expects the island to be removed from the list when EU finance ministers meet next month. US tax reform is another external threat that the island's flagship industry has been dealing with. Changes that slashed US corporate tax rates and at the same time levied taxes on premiums ceded from the US to non-US affiliates of international re/insurance groups were introduced at the start of last year. Jim Auden, managing director, insurance at Fitch, said the impacts were largely structural. "We've seen international groups, not only from Bermuda, ceding less premium to affiliates," Mr Auden said. "Folks have adapted to it. I'm not aware of anyone who lost business because of it. It's largely been a matter of restructuring." Mr Schneider said Bermudian companies had responded well to the changes. "They shifted some of their business to other jurisdictions but also retained more business in the US," he said. "The ability to move the capital around is something that Bermuda companies value." The Bermuda re/insurance landscape has changed dramatically in recent years with a series of mergers and takeovers, leaving fewer companies. At the same time, capital markets money has flowed into the industry in the form of insurance-linked securities such as catastrophe bonds, dampening price increases after catastrophic events. Market conditions will continue to drive consolidation, said Mr Schneider, who would not be surprised to see more big deals announced this year, as companies seek scale, larger client bases and diversification. Capital market activity is a major driver of M&A, Mr Schneider said. "There's a lot of capital supply and although demand is rising, it's not enough to really tap into all that capacity," he said. "So there's not a lot of pressure on pricing. We've seen capital being reloaded by some of these capital markets vehicles, but also companies have been better capitalized than we believe they were ten or 15 years ago." While high stock valuations, relative to book value, were something of an inhibitor of deal making right now, Mr Schneider said there were still several re/insurers who could attract a premium multiple. "To that extent that companies find a good strategic match, I think they'd be willing to pay 1½ times to two times book value," Mr Schneider said. Mr Auden suggested that some of the remaining stand-alone companies were not keen to sell up. Typically, it's not an industry in which hostile bids have been successful," Mr Auden said. "So you need willing sellers and right now there's an imbalance of willing buyers and sellers." While the ILS market, with Bermuda at its centre, continues to thrive, Mr Schneider said the catastrophe losses of the past two years, which triggered some cat bond losses, had curbed the enthusiasm of some investors. "It's not clear yet whether the capital markets completely understand what they're getting into," Mr Schneider said. "Certainly they've been tested in the last couple of years and we've seen a bit of a pause in the ILS market from January. We'll have to see how that plays out and the big one will be the June renewals, when we see the Florida book, which represents more than half of the property-cat premium in the world. Even if alternative capital does pause a bit this year, we believe it will still continue to grow its share of the reinsurance market." Mr Schneider said most re/insurers had chosen to partner with third-party capital and exploit its advantages, such as a lower cost of capital and the ability to transfer risk off a reinsurer's balance sheet, while creating the opportunity to earn fees. Mr Schneider said there are good reasons to believe that Bermuda will remain a global re/insurance hub, with its ace card being the regulatory environment. "Working with the Bermuda Monetary Authority is something that companies find is much easier than dealing with the large number of US regulators," Mr Schneider said. "We've seen some new companies being formed in Bermuda, not the large companies we would have seen after large events in the past, but more specialty type companies which find Bermuda to be attractive from a regulatory perspective. Bermuda will always continue to have its place in the industry. There's a lot of expertise. For example, look at a company like RenaissanceRe, which remains a Bermuda company and they make it very clear they want to remain one." In the past, waves of new companies after a major loss were normal for Bermuda, as occurred after Hurricane Andrew in 1992 and the 2001 terrorist attacks on the US. The expanding role of alternative capital makes it unlikely that this will ever happen again, Mr Schneider said. However, in the event of a major market dislocation, Bermuda would again be the place for new capital to congregate, Mr Schneider believes. He said: "If we did see a mega-catastrophe and a $200 billion type loss, then Bermuda would still have the structure in place to be able to recapitalize things."

BF&M Ltd has announced an increase in the quarterly dividend, for declaration on June 28, 2019, from 22 cents per share to 24 cents per share, payable to shareholders on July 15, 2019. John Wight, the insurer's chief executive officer, said: "In reflection of the company's strong financial performance for the year ended 2018 and the strength of our capital position, the board has elected to increase the quarterly dividend by 9 per cent." BF&M shares last traded at $15.05 on the Bermuda Stock Exchange. At that price, the newly raised dividend will represent a 6.37 per cent annualized yield.

Bermuda's bee population is on the increase, a bee expert said yesterday. Jonathan Hitchcock, a cofounder of Wild Island Apiaries, said work to protect the island's bees, including the importation of disease-resistant queens, appeared to have paid off. Mr Hitchcock said: "We've been seeing an increased amount of feral and wild hive activity, something which only a few years ago became somewhat of a rare sight. Along with an increase in numbers, the steps that the Government took a few years ago, by importing a handful of more resistant queen bees, seem to be paying dividends as those genetics seem to have made their way into the existing colonies on the island. We've been collecting what appear to be reproductive swarms since the beginning of March. The season is just getting under way so it's still early to draw comparisons to past years, but we are anticipating a busy season based on overall hive health on the island." Mr Hitchcock explained that island bee colonies, like others around the world, had been damaged by the varroa mite, a parasite that can lead to the collapse of the colony. He said the use of pesticides and weed killers had also harmed bees, but that increased public awareness had helped to curb excessive use. Mr Hitchcock added that calm weather in recent years had also helped colonies get bigger and stronger. He said: "We've had very mild weather in both 2017 and 2018, so the foliage in Bermuda should be primed to provide excellent forage for the bee population locally this year." Mr Hitchcock added a bigger bee population would mean more swarms, clouds of bees that form when a queen sets up a new colony. Mr Hitchcock said swarms could alarm people, but they were unlikely to be aggressive and compared them to "moving house. From around mid-March right through until June and July we will see an active season, with the fiddlewood, Bermuda palmetto, Chinese fan palm and a limited amount of Brazilian pepper all going into flower. The abundance of food triggers swarming, which is the natural method of reproduction for bee colonies, and is a magnificent sight to behold." Mr Hitchcock explained bees form a ball or group when they land and hang from surfaces such as tree branches and windows while scout bees search for a new home. "Wild Island wants to remind the public that if a swarm lands nearby, call a local beekeeper in your area, not an exterminator. We are always eager to respond to swarm calls, and to give these calls a priority response. Wild Island will remove swarms and established colonies for free. We are of the opinion that preserving Bermuda's bees is so important that it shouldn't be an option for only those who can afford an unexpected expense." He emphasised the important role that bees play in the natural world and food production beyond honey. "The statistic is that bees are responsible for one-in-three bites of food that we consume. For those of us who enjoy our fruit and vegetables, this is an important statistic to remember."
Wild Island can be contacted on 536-0140, on social media @wildislandfarms or at bees.bm

A free seminar on Parkinson's disease will be held today. Diana Apetauerova, director of the Movement Disorders Programme at Lahey Health and Medical Centre, will discuss deep brain stimulation, the main treatment for Parkinson's. She will also talk about signs and symptoms of Parkinson's disease and provide new information and treatment options. People will also be able to put questions to Dr Apetauerova. The Bermuda Medical Specialties Group organized the event at its offices on Reid Street from 10am to noon. Arlene Basden, medical director at BMSG, said the long-term degenerative disorder affected almost a million adults in the US. Early symptoms of Parkinson's include cramped handwriting or other writing changes, tremors, uncontrollable movements during sleep, limb stiffness or slow movement, voice changes, a rigid facial expression and stooped posture. Patients may have difficulty walking and talking and suffer mental and behavioral changes, sleep problems, depression, memory difficulties and fatigue as the disease progresses. There is no cure for Parkinson's but treatments are available to help manage the symptoms and maintain quality of life.
• Anyone interested in attending the event should register in advance at bermudamedical.com/Parkinson's or call BMSG on 541-2674.

Plans to build a gazebo and improve access for seniors and the disabled at Shelly Bay Beach were welcomed by residents last night. The proposed scheme would include "water wheelchairs" and removable non-slip mats that reach the water. About 60 people attended a public meeting at Francis Patton Primary School, where Lieutenant-Colonel David Burch, the Minister of Public Works, said the plans were not "cast in stone" and that he welcomed the views of area residents. He said that seniors and beachgoers with physical problems were the priority "because Shelly Bay lends itself to catering for that constituency". The new ideas came after a pressure group blocked a plan by the Bermuda Tourism Authority for concessions housed in shipping containers at the Hamilton Parish site. Blake Lambert, an architect and assistant project manager at the Bermuda Housing Corporation, who drew up the plans, said his goal was to "create some accessibility and community aspects" at the beach. He added the proposals included the erection of a gazebo and a building for bathrooms that would also encompass storage space for water-accessible wheelchairs and Mobi-mats, which are portable and can be rolled out to create a pathway over sand for people in wheelchairs or with other disabilities to reach the sea. Mr Lambert explained that by planting dense foliage, the bathroom building would be well-concealed once the plants matured. LaKiesha Wolffe, who lost her left leg after a near-fatal road accident nearly six years ago, said Shelly Bay was one of the few beaches that suited her for swimming because of its hard sand. She told the meeting she used crutches, a cane and a wheelchair and said she hoped consideration would be given to making sure that the bathrooms were built with the disabled in mind. Ms Wolffe later added she supported the proposals, but that she was worried about details like the level of sinks in the facilities, effectiveness of railings and availability of parking close to the beach. Mr Lambert said the bathroom designs would conform to standards laid out in the Americans with Disabilities Act. He added the doors to the restrooms would be on the water side of the building, in response to a question from a member of the public who was also concerned about accessibility. Esme Williams and Cheryl-Ann Griffin, who were part of a group that pushed for the proposals as an alternative to the BTA plans last year, were delighted with Mr Lambert's blueprint. Ms Williams said: "Whatever we said, he just envisaged. When we saw the plan, we thought, wow."

More than 30 students and volunteers learnt about one of the island's national parks while they gave it a facelift. A group from the Mirrors Programme joined members of the Hamilton Lions Club for a clean-up at Southlands Estate in Warwick. Their goal was to clear natural debris, trash and abandoned furniture from the park, as well as to share knowledge about the history of the park and its endemic and invasive plants and trees. Kim Jackson, the Mirrors Programme manager, said: "Our service day is a wonderful opportunity for us to spend time with members of the community who are united with us to support Bermuda's young people and preserve Bermuda's architectural and ecological heritage. Only through the power of community can we preserve the finer elements of our heritage and pass them on to a younger generation empowered with the skills to protect them and bear them into the future." Mirrors aims to help young people reach their potential and promotes healthy relationships as well as positive contributions to society. A total of 33 students, volunteer life coaches and community volunteers joined the Hamilton Lions Club members for the event last Saturday. Kathy Lynn Simmons, the Attorney-General and Minister of Legal Affairs, congratulated the programme for continuing its 12-year tradition of demonstrating the benefits of giving back to the community. She said: "Since 2007, Mirrors students have engaged in completing a service project. I am pleased that this year Mirrors chose to partner with the Department of Parks to clean Southlands for the enjoyment of our fellow Bermudians and visitors. Our island home is world-renowned for its cleanliness and beauty. As Bermudians, we take great pride in that fact and, as we know, it requires all of us to do our part to keep that stellar reputation. Thank you for volunteering." Craig Burt, the acting director for the parks department, said: "We are really passionate about maintaining the ecological heritage of this park and preserving it for the enjoyment of future Bermudians and tourists alike. We are grateful for the partnership of the Mirrors Programme for pushing this project forward." For more information about volunteering or enrolling your child into the programme, contact Nicola Paugh, the Mirrors office manager at nmpaugh@gov.bm, phone 294-9291 or visit mirrors.bm.

Hundreds of people will explore the West End in the Bermuda National Trust Palm Sunday Walk this weekend. The five-mile walk will begin in Cross Island at 2pm, no later than 3pm, and should take 2½ hours to complete. Organisers say it will provide breathtaking views and visit spectacular sites of national significance, important cemeteries, secluded beauty spots and countless historic buildings and structures. There is no charge for participation, although donations of $5 would be appreciated. Parking will be at Cross Island but people are encouraged to take the ferry from Hamilton. Participants are advised to wear sensible shoes. The route is not suitable for strollers and dogs are not permitted. Road users in the West End are urged to use care. Sompo International, the sponsor for the event, described itself as a supporter of the Bermuda National Trust and its role in preserving the island's open spaces and rich heritage A spokeswoman said: "Sompo International looks forward to the annual spring walk as a way to promote both environmental awareness and physical and mental health." John Barritt & Son Ltd will provide refreshments but people should bring their own drinks containers as water will be provided. Sweet Saak hot cross buns will be available for a $2 donation. For more information, visit www.bnt.bm.

April 11

Users of Bermuda's air freight terminal were advised by the customs department yesterday that it will close at lunchtime. A government spokesman said that from Monday, and until further notice, the terminal would shut every day between 12.30pm and 1.30pm. He added: "Requests for perishables or emergency goods will be facilitated and released as normal."

Plans for a small concession area in Shelly Bay Park will be unveiled at a meeting this evening. The Ministry of Public Works will also present plans for access for seniors and the disabled at the beach at the event, to be held at Francis Patton Primary School. A ministry spokeswoman said: "The ministry is keen to ensure that any proposed additions or enhancements to the Shelly Bay Park area receive public input." Tonight's meeting will be held in the school's gymnasium with a start time of 6.30pm. A Bermuda Tourism Authority plan to install concession stands at Shelly Bay Beach has sparked opposition from some residents near the popular Hamilton Parish attraction. A group of residents staged a protest at the BTA bid to use shipping containers to house temporary concessions by the North Shore beach as part of its plan to boost the beach economy. The residents proposed an alternative, which included improved beach access for the elderly and the disabled. The pressure group also requested improved restrooms for the park and said they would not oppose a lunch wagon.

An investigation was launched after vape pens were reportedly sold at a middle school and high school, the Commissioner of Education confirmed last night. Kalmar Richards said a number of agencies were involved in the inquiries that focused on Dellwood Middle School and CedarBridge Academy. It is understood an adult had given the smokeless devices to a pupil, asking the child to sell them. Ms Richards said: "These are very serious incidents of which the Department of Education has requested detailed reports from each school. We can further confirm that the Bermuda Police Service were notified and an investigation has commenced. As this matter is under investigation by the BPS, the Department and Ministry of Education, and other relevant agencies, it would be inappropriate to comment further at this time." Vape pens are a form of electronic cigarettes in which a flavored liquid is heated to give off a vapor. They have soared in popularity in recent years with people trying to give up smoking. Diallo Rabain, the Minister of Education, said last night that "preliminary investigation" had shown that an adult passed on vaping pens to a student to sell at Dellwood. He added: "We've subsequently learnt that the same adult had passed vaping pens to a student at CedarBridge Academy and asked for the same thing. We're in the process of collecting the data to see exactly what has gone on." A BPS spokesman said last night: "Police officers attended Dellwood Middle School and CedarBridge Academy today after Dellwood and CedarBridge school officials reported confiscating a quantity of e-cigarette-type devices that were allegedly being sold by one student at each school to their respective peers." Anyone with information was asked to call 295-0011.

A spin doctor for the crisis-hit public schools system is to be appointed, it has been revealed. The post-holder will be expected to use social media and podcasts to tell people about the work of the Government's education department. The education ministry said it wanted to hire a communication consultant to help promote achievements by teachers, pupils and other staff and highlight the achievements of Government's Plan 2022 for schools. Education authorities have battled problems over the past few months, including staff sick-outs over a lack of teaching assistants, a work-to-rule by principals working over fears that the behaviours of some pupils was a safety risk, mouldy classrooms and a catalogue of delays in the introduction of standards-based grading. A request for quotations was posted to the Government's online procurement page last week with a deadline of April 22 and a start date in July. The contract will run for a year with a possible six-month extension. The RFQ said: "The Department of Education is seeking a suitable organisation or individual who is able to provide reliable strategic communication services that are aligned with international best practices and who will ensure that all stakeholders and our community at large are informed and kept abreast of the progress with Plan 2022 and the work that is being carried out at the Department of Education and in our schools." The RFQ explained that the work would include the design and delivery of a communications plan and data collection. Plan 2022 was announced in December 2017. Diallo Rabain, the Minister of Education, told MPs in the House of Assembly last month that the plan included an increase in pupil engagement, making sure pupils were ready for college or careers and improvements to school buildings. The successful bidder will be expected to "use various social media to communicate key messages and information to key stakeholder groups" and "create public awareness videos and podcasts". The individual or organisation will work with the Government's Department of Communications and "liaise with their representatives to collaboratively prepare media content". In addition, the consultant will "develop relationships with the local media and prepare positive stories about schools for the print, television and electronic media." The RFQ added that the charm offensive was expected to include "enlisting persons to tell stories about public-school education and unearth new and interesting stories". And it said teachers and staff could also be taught how to play a part in the promotion of the schools system. A list of requirements in the RFQ included: "In collaboration with the Department of Communications provide advice to schools, department managers, officers and staff regarding effective internal and external communication strategies." It added that the contractor would be expected to "set up a protocol and procedure for sharing communication strategies with senior leaders that they can use with those they supervise." The consultant will also have to develop marketing materials, create an electronic database that will include pictures and newsletters and set up a data collection system to monitor the "information interests and needs of the community". A separate request for information was issued last month by the Cabinet Office and asked members of the media how they could help the Government highlight its work. The notice explained: "The Department of Communications is looking to work with local media outlets to create new avenues to share news and information with the public. The department wants to hear creative and diverse suggestions on how your organisation can help us to reach your audiences. The objective of this request for information is to get the right information to the right people at the right time." The Government has a fee-for-service contract with Inter-Island Communications, which is owned by Glenn Blakeney, who was a Progressive Labour Party MP for more than a decade. A spokeswoman said last month about $24,000 had been spent with the broadcaster on radio adverts and interviews with "personalities". She added that other media organisations, including The Royal Gazette, were also paid to promote campaigns since the agreement with Inter-Island Communications started in December last year. The Department of Communications, which has seven full-time employees and a $3.15 million budget for 2019-20, is under Walton Brown, the Cabinet Office minister. But Cabinet colleague Jamahl Simmons was given responsibility for keeping the public informed in a ministerial shake-up last November. David Burt, the Premier, said then: "To reflect the importance of communication, consultation and public engagement in governance in this modern era, I have invited minister Jamahl Simmons to focus on these matters as Minister without Portfolio." The Government also has social-media sites and a television station, CITV, which features programmes about its work. In a statement today, Kalmar Richards, the Commissioner of Education, said that during public consultation before Plan 2022 was released it was decided the department would "increase high-quality communication to parents and all education stakeholders", which was spelled out in section 5.3.1 of the strategy. She explained: "The RFQ released by the Department of Education for a local communications consultant is a direct response to this consultation-driven recommendation. Having a dedicated expert to carry out Strategy 5.3.1 will enable the department to meet the overall goals of Plan 2022. It also reinforces the Ministry of Education's aim to create job opportunities for Bermuda residents. The successful candidate will learn about the intricacies of the Department of Education and communicate information within the context of the work that we do, achievements as well as challenges, and with improved timelines. We are excited to have someone come on board to execute this particular Plan 2022 strategy. It is an indication of commitment to Plan 2022 and additional evidence of the progress that we are making on behalf of Bermuda, and for Bermuda."

Mould at a middle school has made teachers sick, the shadow education minister claimed yesterday. A source at TN Tatem Middle School backed up the claim and the One Bermuda Alliance's Cole Simons questioned if pupils at the school had suffered similar problems. Mr Simons said that a teacher, who has since left the school because of her illness, was forced to wear a mask at work after she contracted bronchitis sparked by mould. He added that a replacement had taken over from former teacher in January, and had also been affected by breathing problems. Mr Simons said: "She was not aware of the challenges faced by the previous teacher in the same classroom, and she is now faced with similar bronchial attacks." A source at the Warwick school confirmed that a teacher had left because of health problems and that her replacement had experienced "similar, but early symptoms". Mr Simons and the source were speaking yesterday after the school was evacuated over health and safety fears. Kalmar Richards, the Commissioner of Education, said on Tuesday that the school would be closed yesterday and today. She said the closure came after education officials got a letter from the school's Parent Teacher Student Association that highlighted "grave concerns about the health of the learning environment". Requests for comment sent to the president and vice-president of the PTSA were not responded to by press time yesterday. Ms Richards said that the Cabinet safety and health official was expected to carry out inspections at the school yesterday morning. Mr Simons said: "We have tests after tests performed by the Government's health and safety officers, water consultants and other local and international consultants. The scale of the problem has been identified and well defined, but Government's remediation plans are not working. As a consequence, our students and teachers continue to be at risk." Mr Simons said he understood that 12 teachers and three pupils had reported health and safety concerns to the education ministry. He said that the school was in a "chronic state and needs immediate attention and lasting remediation plans". Mr Simons added: "Just lowering the levels of mould to acceptable levels and respective species counts is not good enough as this only addresses the symptoms of the problem and does not address the root cause." He said that a proper remediation plan had to be created or the school must be "repurposed". Mr Simons added: "This state of affairs just cannot be allowed to continue." The TN Tatem closure was the latest in a string of mould incidents at the school. A spokeswoman for the Ministry of Education insisted in February that the school was "safe for teaching and learning". She said then: "While there may be some ongoing minor challenges, the school's administration, with the steadfast backing of the ministry and Department of Education and the full support of the Minister of Education, will continue to make the safety, health and wellbeing of teachers and students alike, a top priority." The spokeswoman was speaking a day after education officials revealed that a room at the school had been closed "for an extended period of time" after "potential mould" was found. The ministry said that a mould assessment programme by Bermuda Water Consultants would start on February 18. The independent firm's report said that the "root cause of the current and past problems of excessive mould and poor indoor air quality ... is directly related to inadequate routine and general maintenance at the facility". It added: "The issues that we noted today are the same issues which we noted back in 2013 and are the same issues that closed the school in 2017." The report highlighted six causes for the mould and air-quality problems, including water leaks and faulty windows, as well as "inadequate housekeeping". TN Tatem staff and pupils in December 2016 were forced to relocate to Clearwater Middle School, St David's, for several weeks amid health fears. Diallo Rabain, the Minister of Education, did not respond to a request for comment yesterday.

KPMG Bermuda and one of its managing directors have been fined and censured by the USA's Public Company Accounting Oversight Board, see http://www.royalgazette.com/assets/pdf/RG401689410.pdf, the firm's regulator for the audits of American public companies. KPMG has been fined $250,000 while Damion J Henderson, who was in charge of the firm's ethics and independence department, has been fined $10,000. The PCAOB requires KPMG to "undertake and certify the completion of certain improvements to the firm's system of quality control", while limiting Mr Henderson's role in the firm's system of quality control for a period of two years. The PCAOB issued its "Order Making Findings and Imposing Sanctions" on Tuesday. The order said disciplinary proceedings were instituted pursuant to the Sarbanes-Oxley Act 2002, as amended, and the PCAOB rules, on March 21. A day later, the order said, KPMG and Mr Henderson made offers of settlement, which the PCAOB accepted. The order said: "The Board is imposing these sanctions on the basis of its findings that, from 2014 to 2015, KPMG Bermuda's system of quality control failed to provide reasonable assurance that firm personnel would comply with applicable professional standards and the firm's standards of quality, including with respect to performing all professional responsibilities with integrity. "Through his acts and omissions, Henderson directly and substantially contributed to the firm's violations. Respondents' violations related to current and former firm personnel re-executing and backdating certain independence affidavits to replace misplaced original documents that they had previously executed, in advance of, and because of, a Board inspection." The order said the matter came to light during an inspection of KPMG Bermuda in the spring of 2015. According to the order, the PCAOB opened an informal inquiry after which KPMG conducted an internal investigation and ultimately located substantially all of the 27 misplaced original affidavits, which were substantially similar to the re-executed documents. None of the misplaced originals that were located, the order said, identified violations of independence policies. The affidavits were intended to provide assurance that auditors maintained independence in their work and the policy requiring them was part of KPMG Bermuda's system of quality control, the order explained. KPMG Bermuda issued a statement yesterday in response to enquiries by The Royal Gazette. "KPMG in Bermuda today acknowledged the issuance of a Settlement Order (Order) by the Public Company Accounting Oversight Board, its regulator for audits of US public companies. The order relates to the loss of certain independence confirmations in 2014, and the re-execution of these confirmations in 2014 and 2015. Since then the firm has introduced an electronic tracking system to manage the timely receipt and retention of independence confirmations. These changes mitigate the risk that these confirmations could be misplaced in the future. The firm is satisfied that there was no breach of the auditor independence rules by the firm or any employee as a result of this matter. KPMG in Bermuda looks forward to a continued positive working relationship with the PCAOB."

Two teenagers remained in police custody yesterday in connection with an attack on lambs. Police said they are still searching for more people in connection with an incident at Westover Farm in Sandys, captured on a video that circulated on social media last week. A police spokesman said the two men arrested on Tuesday were aged 19 and 17. Officers earlier said the younger man was 16. He added: "The appeal continues for persons with relevant information to come forward as additional individuals are being sought regarding this matter." Anyone with information should contact PC Melvin Best on 717-2385 or Somerset Police Station on 234-1010.

April 10

Staff and pupils staged a walkout at a mould-infested middle school yesterday. Classes were called off at TN Tatem Middle School after teachers and pupils left the Warwick premises over health and safety fears. School sources said staff returned from spring break and noticed a strong smell of mould — a problem in several classrooms since 2016. Staff brought pupils out of the building at about 8.30am. One source said mould had hit "the exact same three rooms" closed off two years ago, when pupils were transferred to Clearwater Middle School in St David's as an emergency measure. Kalmar Richards, the Commissioner of Education, said last night that she had seen a letter of concern sent to senior officials on Monday by parents and staff that highlighted "grave concerns about the health of the learning environment". The education ministry said M3 pupils should report to nearby Purvis Primary School today and tomorrow. Pupils from M2 should go to Heron Bay Primary School in Southampton and M1 pupils should attend at Paget Primary. The letter to the ministry, signed by the Parent Teacher Student Association president Albert Wilson with the school's health and safety co-ordinator, asked for air quality and mould tests, as well as repairs. The source said the move was backed by TN Tatem parents. The source added the walkout underlined a persistent mould problem at TN Tatem, despite a clean bill of health from the Government in February. The school source said cleaning had been inadequate. The source added: "They changed the ceiling tiles, they changed the drywall, but they never got to the source of the damp." Air checks two years ago found aspergillus and penicillium mould, as well as toxic strains chaetomium and stachybotrys. Staff and students walked to Purvis PS to finish their school day and Diallo Rabain, the Minister of Education, met staff from both schools. Ms Richards said that the Cabinet Safety and Health Officer would inspect the school this morning and hold a training session for staff after school. She emphasised that health complaints were taken "very seriously", and thanked staff at Purvis Primary, Heron Bay and Paget Primary for their help. All public schools will be shut on Friday for the Agricultural Exhibition.

A woman sent overseas for residential care when she was aged just 12 said the move felt like a punishment and left her unprepared for adult life back home. She explained that her only childhood problems were emotional and that she was "tricked" on to a flight to the United States with a promise of a swimming pool. The woman said three of her own children were sent overseas years later after decisions made by the Department of Child and Family Services. The woman told The Royal Gazette all three were traumatized by the experience. She said: "They're broken, they're trying to put the pieces together. They know they don't matter, they know they've been forgotten, they know they're just a number. Myself and my family, we're still not living, we are in a place of stagnation. The judicial system has failed us, the children and the parents. The judicial system put these people in control of your children's care, in control of your children's lives; you can't say anything, you can't do anything." A difficult childhood meant that the woman, who asked not to be named, was in foster care and institutional care, including the former Sunshine League home and the government-run Brangman residential centre. The woman said she was not given independent legal representation and "the next thing I remember I was overseas". She added: "I think they had made a decision that they didn't have facilities to deal with my emotional issues, which stemmed from maternal deprivation, and they didn't have things in place for that. They tricked me into eventually getting on the plane, I used to be into swimming a lot, they said there's a pool over there, you can swim whenever you want. I was excited, it was going to be something new, then when I got there it wasn't anything like I thought. It was like a prison. I thought, 'what did I sign up for?'." The child went to Wiley House in rural Pennsylvania, later renamed KidsPeace. The woman, now in her forties, said: "I tried to run away many times because I was in the middle of nowhere with no family, nobody was calling, nobody was checking on me. It was like they sent me somewhere and I disappeared. I wasn't even remembered on birthdays or Christmases. Once we got over there we were forgotten." She said that between two and four girls shared a room, but up to 20 used the same bathrooms. School classes were held at another site, but the woman said the standard was "way beneath normal level learning". She added: "I didn't feel I was being challenged or taught anything. When I came back to Bermuda, I couldn't function in a normal school environment. I put myself through education after the fact." The woman said: "I learnt a lot of stuff I probably shouldn't have learnt about because I wasn't meant to be in that type of place. I was exposed to a lot of issues." The mother claimed that some restraint techniques used by staff "would get kind of out of hand", such as three adults to one child. Punishments, the woman claimed, could include isolation and excessive or unpleasant tasks like cleaning the bathroom with a toothbrush. The woman said some of the staff members were "really nice" and a number of fellow residents helped support her. She admitted: "I challenged what they tried to enforce in the beginning. "At times they wouldn't let us talk and when we were leaving our units to go to the main hall to eat, we were walking like robots. We were not allowed to communicate or be within a certain space of each other; it was extreme." The woman said that the children would be taken for weekend outings. She added: "I ran away on a few of those activities. I didn't know where I was going, I just wanted to be free. In order for me to get home, I had no choice but to conform. I had no choice but to push everything I was feeling, needing, wanting, to the pit of me and become their robot." The woman returned to Bermuda just before her 16th birthday after three years at two KidsPeace institutions. She said no provision was made for her care and that, at just 15, the family court ruled she could have legal responsibility for herself. She said: "I spent a lot of years trying to find out who I was. Because I was exposed to so many different personalities and issues, I felt like I had to separate myself from people in order to do that." The woman insisted she was ill-equipped to cope with life back home. She said: "They sent us somewhere, they brought us back and then they chucked us into the world. We had no preparation for that, except for when we were overseas we learnt basic things like how to make our bed, be extremely clean, to wash dishes; basic stuff, but no real life skills." Robert Martin, the director of communications at KidsPeace, said privacy regulations prevented comment on individual clients. He added: "We are licensed by the Pennsylvania Department of Human Services and we are a healthcare organisation which follows the regulations and is under the oversight of that entity." A government spokeswoman said that the Ministry of Legal Affairs and the DCFS had nothing to add after a statement last week that overseas schools were licensed by "their respective licensing body and are accredited through an accrediting body" and regular visits were made by Bermudian staff. She added: "It is the policy not to disclose any public information regarding individual cases." The Gazette asked the Government if children from Bermuda were still sent to KidsPeace but no answer was received.
• Were you sent to an overseas institution by the Department of Child and Family Services or do you know someone who was? If you want to share a story in confidence, e-mail fmcwhirter@royalgazette.com

A woman's three children were separated and sent overseas to a string of different institutions for up to seven years without any legal representation, she has revealed. The mother said the Department of Child and Family Services wanted to place the children at care homes in the United States, at first for short-term assessments, but that two of the youngsters remained abroad for several years. The trio were all preteens when they left the island and one was sent to an institution in a different state from the others. Their mother said she had been sent to the US for residential care when she was just 12 and told The Royal Gazette that the family still struggled to recover from their experiences. She said: "When they were overseas, all of them felt like they were being punished and when I was overseas, I felt like I was being punished because it felt like my mom couldn't love me and my daddy didn't want me." The woman added: "When my children came back to me, they were broken." Her children went into foster care as she struggled with a difficult divorce, but after a family trauma, they were sent abroad. The mother said the children, now adults, were sent abroad and spent time in a total of six institutions between about 2008 and 2015 for various periods. It is understood that the DCFS needed assessments that it said could not be carried out in Bermuda. The mother said her daughter's experience was similar to her own. She explained: "She still, to this day, is struggling to figure out who she is; she's still trying to take off the layers. When you're in places like that, you have to harden up yourself or you will get hurt; it's like being in jail for real. You need to protect yourself in all of the ways you can." The youngest of the children was said to have returned to Bermuda after a few months, but the mother said the oldest was overseas for up to seven years. He was 17 when he returned and the mother said he still had problems with adjustment to a normal life. She added: "They ruined him more than he was already, then they dropped him at my door and left me to pick up the pieces." The overseas care homes her children were sent to included the Family Foundation School in New York, which was renamed the Allynwood Academy and closed in 2014 after a "truth campaign" by former students. Alleged abuses including public humiliation, social isolation or menial labour, were reported in The New York Times last year. Other punishments included being forced to bury rocks in the ground one day and being told to dig them up the next. Oxbow Academy in Utah, and the Pines Residential Treatment Centre, in Virginia, which changed hands in 2010 and is now known as the Harbour Point Behavioral Health Centre, were other care homes where the woman's children were sent. The other three institutions were in Massachusetts, including the Germaine Lawrence campus, which media in the state reported last August was to be closed, a Devereux Advanced Behavioral Health centre, and Stetson School. The woman said that the DCFS could have done more to support her own mother and herself as teen moms, rather than get involved after problems started. The woman was speaking after it was revealed that youngsters sent abroad at the request of the DCFS before 2014 were moved without any legal representation. The vast majority of cases, 48 out of 50 children, who went overseas as part of the department's psycho-educational programme between April 2014 and November 2018 were dealt with without a legal representative. The woman said she spoke out because she wanted the authorities to make sure there was enough funding available for every child in need of an independent advocate, known as a litigation guardian, to get one. The woman said: "Children need someone to speak on their behalf. Not every situation is textbook, not every place that a child comes from is textbook. You can't make the same decision for every child and expect it to work. It was incredibly difficult for me to speak out, but I did it in the hope that other children will have a voice and so that other parents can have support in place for their children." Bill Stock, the vice-president for government and community relations at Seven Hills Foundation, which affiliated with Stetson School seven years ago, said six Bermudian youngsters had been admitted there between 2005 and 2012. He added that the children were referred to the school by the DCFS and the main contact was department director Alfred Maybury. Mr Stock added: "As with any referral from a government entity, it is and was Stetson School's understanding that each youth's legal rights had been upheld." A spokeswoman for Devereux, which provides "medical care for children with behavioral healthcare needs", said US privacy laws barred her from discussion about young people treated there. She added: "Generally speaking, Devereux doesn't engage in the issue of legal representation as part of our process of admission because we operate medical programmes. Placements were entirely voluntary". A spokeswoman at Harbour Point said the change of ownership meant she had no access to Pines' records. Youth Villages, which merged with Germaine Lawrence in 2012, did not respond to a request for comment. A spokesman for Oxbow Academy said he could not discuss anyone who had been in the institution "based on confidentiality and respect for the families we serve". The former president of the Family Foundation School could not be contacted. The Ministry of Legal Affairs and the DCFS declined to comment. A government spokeswoman said: "It is the policy not to disclose any public information regarding individual cases." A DCFS spokeswoman said last week that all overseas institutions used by the department were licensed by "their respective licensing body and are accredited through an accrediting body", and children overseas were visited by DCFS staff on a regular basis. She was speaking after the Glen Mills Schools in Pennsylvania, also used in the past by the DCFS, had its licence revoked in the wake of an investigation into abuse allegations.

Bermuda-based Velocity Ledger Holdings Ltd has been approved to conduct an initial coin offering, or ICO, by the Ministry of Finance. One of VLHL's subsidiaries, VL Financial, wants to launch a digital asset exchange in Bermuda that would support asset-backed investment and real estate tokens. The company has applied to the Bermuda Monetary Authority for a digital asset business licence. The coin offering is intended to fund the operations of VL Financial and another subsidiary, VL Technology Ltd, a private blockchain enabled platform for the generation of tokenized assets, secondary trading and settlement of trades. A white paper on the offering on Velocity Ledger's website states that the token exchange rate will be one token to one Bermuda dollar. Investors can buy tokens either with dollars or with the cryptocurrency ethereum. "The maximum amount that the offering can raise is $22 million, assuming that all the tokens offered for sale are sold without discount," the white paper adds. A statement issued by the company said that VL tokens may be used for payment for licensing VL technology platform and services. Benefits include revenue sharing and monthly distribution of newly minted tokens to stakeholders. Over the five-year revenue-sharing period, from January 2020 to January 2025, the white paper states that 833,333 tokens will be distributed among users every month. The VL token sale was approved on March 22 this year and the ICO is expected to start this month and continue through July 2019. "Bermuda has adopted pragmatic, non-restrictive frameworks for digital assets that provide regulatory certainty to market participants," Shawn Sloves, CEO of Velocity Ledger, said. "Bermuda will be a focal point for blockchain initiatives globally." David Burt, the Premier, said: "Velocity Ledger represents the exact kind of company that Bermuda is pleased to attract. They have a traditional finance industry pedigree and are building solutions for the institutional finance market. Their platform will showcase the potential of what fintech and Bermuda have to offer. I am pleased that they have been granted a licence to issue an ICO and will be proceeding to apply for a digital asset business licence. I look forward to them developing their business and creating jobs in Bermuda."

Ed Noonan, the former chairman and chief executive officer of Bermuda-based reinsurer Validus Holdings, has taken a new role as chairman of global specialty insurer StarStone. StarStone is predominantly owned by Bermuda-based Enstar Group, which has a 59 per cent stake in the company, along with the Trident Funds, managed by Stone Point Capital, which own a 39.3 per cent stake. The company simultaneously announced that Dick Sandford, the former chairman of PartnerRe US, will take the role of president of StarStone. Chris Rash has also been promoted to CEO of StarStone International and deputy group CEO. One of StarStone's underwriting platforms is StarStone Insurance Bermuda Ltd, a Class 4 insurer, based at offices in Windsor Place on Queen Street, Hamilton. The company also manages Syndicate 1301 in the Lloyd's of London market and also has a presence in the US and Liechtenstein. Validus was acquired by American International Group last year in a deal worth more than $5.5 billion. Mr Noonan had been chairman and CEO of Validus since its founding in 2005. Mr Noonan has more than 30 years of industry experience. Before he joined Validus, he was CEO of American Re from 1997 to 2002, after joining the firm in 1983. Before that, he worked at Swiss Re from 1979 to 1983. Mr Sanford will oversee StarStone's global underwriting and reinsurance strategy. He has 35 years of insurance-market experience and began his career as a casualty underwriter at AIG in 1984. He has since held a succession of senior roles including, executive vice-president, TIG Re/Odyssey America Reinsurance and vice-president, Cologne Reinsurance Company of America, before he joined PartnerRe in 2000. Mr Rash, who joined StarStone in August 2018, will lead StarStone's international business, and operational strategy at group level. He has more than 20 years of industry experience, having held numerous financial and operational leadership positions, including 15 years at RSA, and as group CFO at MS Amlin. In a joint statement, Enstar and Stone Point, said: "The experience that Ed and Dick bring to StarStone is considerable. Their appointments demonstrate our collective investment and commitment in realizing StarStone's ambitions, and we are very pleased to welcome them to the Group." John Hendrickson, group CEO, StarStone, said: "This is a pivotal moment for StarStone. As we reposition StarStone to deliver profitable growth, Ed and Dick bring a wealth of knowledge. Their respective contribution, together with Chris's financial and operational expertise, will prove invaluable as we continue to provide highly professional, bespoke specialty solutions to our clients, locally and globally."

Triathlon star Flora Duffy wants to return home to race in Bermuda, her mother said yesterday. Maria Duffy said Duffy was "thrilled" to be coming home to compete in the MS Amlin World Triathlon Bermuda. She added: "She loves Bermuda — she's an ambassador wherever she goes." Ms Duffy was speaking yesterday at a pep rally held at Hamilton's City Hall to promote the endurance event, scheduled to start on April 27. The race will include 100 athletes who will compete for Olympic qualifying points and more than 600 people are expected to take part in the weekend event. Ms Duffy said that her daughter, a two time world champion and Commonwealth Games gold medal-winner, would wear Bermuda colors for the race. She added: "The bike's pink and blue, the bathing suit's pink and blue." Ms Duffy said that the City of Hamilton was a superb venue for a triathlon and last year's event was a huge success. She added: "People still stop me in the street now and say what a great event it was a year on. It's wonderful." Ms Duffy said that the event also showcased the sport to Bermudians. She explained: "It's not just a swim, bike, run. It's a swim, bike, run done with frenetic pace, great camaraderie and the lead changes constantly." Ms Duffy added that the it was not the first swimmer out of the water that would win the race. She said: "There's lots of changes that can happen. So it's anybody's race. You just never give up." Ms Duffy said she would take part this year as a competitor in the Olympic Distance race — the same distance as her daughter. She added: "I think she's got to be excited, proud. Not everybody's mom is out there at 66." Charles Gosling, the Mayor of Hamilton, said the race was "the most highly anticipated and prestigious international sporting event that Bermuda has ever hosted". He told the crowd: "Bermuda put on a great show last year and we're ready to do it all over again." Mr Gosling said people should to come out and cheer on the competitors and attend an event designed to highlight Hamilton businesses on April 28. He added: "Our restaurant and retail community are deserving of our support." Mr Gosling said: "It is my hope that all of our city's business, residents and workforce embrace this opportunity to share and showcase just how great our Bermuda home is. Each of us can be the best island ambassador. All you have to do is be proud of who and what we collectively are, and be willing to share it with our visitors." The MS Amlin World Triathlon is one of several World Series Triathlon events scheduled for the island over the next two years. The ITU Grand Final and Age Group World Championships will be held in 2021.

April 9

An emergency meeting of the Bermuda Police Association was held yesterday amid concerns over the state of employment negotiations. Leaders of the organisation sought feedback from its members on how best to proceed. Sergeant Andrew Harewood, the chairman of the association, said: "The executive of the BPA are not happy with the way negotiations are going so that's why the emergency meeting was called — to get directions from the membership." The Progressive Labour Party committed to finishing negotiations with public sector unions on terms and conditions in its 2017 General Election platform. David Burt, the Premier, said last July that the promise, which was to be fulfilled within the PLP's first 100 days in government, was mostly completed but that negotiations with the police association continued.

Alternative classroom have been found for students at TN Tatem Middle School in Warwick after a walkout this morning over ongoing problems with toxic mould inside the building. On Wednesday and Thursday of this week, M3 students will report to Purvis Primary school; M2 students will report to Heron Bay Primary School; and M1 students will to report to Paget Primary. This afternoon Kalmar Richards, the Commissioner of Education, issued a statement, saying a letter of concern had been sent on Monday evening by parents and staff to officials at the ministry and the Department of Education. The letter, which was signed by the Parent Teacher Student Association president and the school's Health and Safety Coordinator, expressed "grave concerns about the health of the learning environment". A request was made for testing indoors for air quality and levels of mould, as well as repairs. Ms Richards said alternative learning venues were also requested. The letter included a request for response by noon tomorrow. Students and staff returned on Monday from their spring break to a smell of mould throughout the school, The Royal Gazette understands. A source at the school said mould had returned in "the exact same three rooms" that were closed off two years ago, when TN Tatem was temporarily relocated to Clearwater Middle School. Teachers arrived at school this morning, but later on brought students out at about 8.30am. An officer from the Department of Education went to hear concerns, while staff and remaining students were sent to Purvis Primary School, within walking distance, for the remainder of the day. Diallo Rabain, the Minister of Education, met with staff at both schools, along with a host of education staff. According to the source, TN Tatem parents supported the move, which was done for health and safety reasons. "They changed the ceiling tiles, they changed the drywall, but they never got to the source of the damp," the source added. The ministry advised that public schools will be closed on Friday for the Annual Exhibition. The statement continues: "Students should attend their respective sites with a packed recess and lunch. Parents must give their children clear instructions for the after school dismissal plan, specifically students who will be at Paget Primary as the bus route is different. All after school programmes, which normally take place at TN Tatem, have been cancelled for the remainder of the week. Tomorrow, the Cabinet Safety and Health Officer will carry out inspections at TN Tatem in the morning, and conduct a training session with staff after school. When it comes to health and safety, the Ministry and Department of Education are taking the concerns raised by teachers and parents very seriously. Any time the health of our students, teachers and staff is potentially at risk, and the learning of our children is disrupted, we have an obligation to listen, assess and take the appropriate action. We also thank the leaders and staff of Purvis Primary, Heron Bay and Paget Primary for opening their doors to the staff and students from TN Tatem."

Teachers have accepted a pay rise and leave for new parents in line with other public sector workers, it emerged last night. Mike Charles, the general secretary of the Bermuda Union of Teachers, said that negotiations with the Government had "paused" after an agreement was reached on three issues. He explained that talks are to resume this month because a number of concerns remained outstanding. Mr Charles said: "To say that we've reached an agreement is sort of a half-truth. After two years of negotiating, we reached agreement on three items and we had a myriad of items." He said teachers were offered a pay rise at 2 per cent, which was accepted after other public service unions agreed to the same amount. Mr Charles added: "Unfortunately, teachers have already lost that 2 per cent because in January premiums on the Government Employee Health Insurance went up. We were able to agree on two other items and that's maternity and paternity leave, which the government workers union the [Bermuda Public Services Union] agreed on before, so really it just brought us up to the standard of other government workers." Mr Charles explained that there was "no fanfare" when the terms were reached towards the end of last month. He added: "Imagine accomplishing that after about two years of negotiating, so there wasn't much to celebrate. We closed off on that so that at least our teachers can receive the 2 per cent — that's the main reason why we paused negotiations. We didn't say we reached an agreement because there are a number of other important items which we have to get back to the table to discuss." Mr Charles explained that the priority was to secure better salaries for para-educators. He added: "They work with students who, in a lot of cases, other people can't work with. They do a lot of work that other teachers can't do or won't do, so they need to be remunerated properly." Mr Charles said a meeting with the Public Service Negotiating Team had been scheduled for today but was postponed to April 30. Diallo Rabain, the Minister of Education, said in an interview with ZBM News that aired last night: "Negotiations with the BUT have concluded; they were concluded late in March." He said the parties were waiting for terms to be signed off on paper. Mr Rabain explained: "Obviously that brought about the closure of the negotiations that have been going on since June of last year and I'm happy to report that the Bermuda Union of Teachers have agreed to a 2 per cent uplift, which was what we had put on the board last year in June, when we first started. And I do believe the other part of the negotiations is that the maternity leave will now be on par with their BPSU counterparts."

A reform school where vulnerable boys from Bermuda were sent for more than 35 years will be closed by the authorities in Pennsylvania. Glen Mills Schools was told it had demonstrated mistreatment and abuse of children in care, gross incompetence, neglect and misconduct in operating a facility and had failed to comply with Department regulations. The Royal Gazette reported last week that the Department of Child and Family Services requested boys from the island be sent to Glen Mills as recently as 2017. Cathy Utz, deputy secretary for Children, Youth and Families at the Department of Human Services in Pennsylvania, said that an investigation into the school had concluded. She wrote to the school yesterday: "Please be advised that after investigation and as a result of the Department of Human Services' investigations between December 2018 and March 19, 2019, the Department has made a decision to revoke all 14 Certificates of Compliance to operate Child Residential Facilities at the Glen Mills Schools." Allegations about Glen Mills were reported in the Philadelphia Inquirer newspaper last August. A further report in February claimed "serious violence is both an everyday occurrence and an open secret at Glen Mills, and has been for decades". The report sparked the emergency removal of the 383 boys at the school last month. The school denied the allegations in a detailed appeal against the emergency removal order filed with the Pennsylvania DHS Bureau of Hearings and Appeals. The Department of Child and Family Services said it only became aware of accusations of staff violence against the care home residents in February. A spokeswoman said last week: "DCFS has not received any information related to any children sent to Glen Mills being abused or mistreated."

Two teenage males were arrested yesterday in connection with an attack on lambs at a farm, police said last night. A spokesman for the Bermuda Police Service said a 19-year-old and a 17-year-old had been detained in custody as the inquiry into the attack continued. He added: "The Bermuda Police Service would like to thank the public for their assistance so far and continue to appeal for persons with relevant information to come forward, as additional individuals are being sought regarding this matter." The arrests came after a video of an attack on lambs at Westover Farm in Sandys appeared on social media last week. The police spokesman said: "The public should be aware that cruelty to animals is an offence under the Care and Protection of Animals Act 1975, which carries penalties of up to 12 months in prison and/or fines." The video, which lasted about two minutes, showed a series of attacks on the Dorper lambs. The clip showed an unidentified man lift a lamb by the tail and throw it to the ground and a chase that ended with another animal being thrown into a cactus bush. Another sequence showed the unidentified man push two terrified lambs to the edge of a rooftop as another man encouraged him to "push it off". The video continued with the first man seen to throw one of the lambs off the roof. Richard Bascome, the manager and part owner of West-over Farm, said yesterday that the punishment for those behind the video was a matter for the courts. He said: "I'm just trying to get back to normal and hope that it doesn't happen again." Mr Bascome said he had got a number of calls from members of the public worried about the condition of the lambs. He said that both animals were in good shape. Mr Bascome added: "I don't want to sound dismissive, but I think it's affected people more than them." He said that the animals were moved on Thursday from where the video had been recorded as part of pasture rotation and that none of the animals showed evidence of injury. Police launched an investigation into the incident with the Department of Environment and Natural Resources. Anyone with information that could help should contact police on 717-2385 or 234-1010.

A sustained attack on defenseless lambs while onlookers laughed was condemned yesterday. But police said they had identified some of the people involved and expected to make an arrest yesterday. The move came after a viral video surfaced on social media last Friday that showed the attack on the lambs, which are owned by Westover Farm in Sandys. Richard Bascome, manager and part-owner of the farm, said: "I can't understand why someone would do that to a defenseless animal. It is way beyond youthful mischievousness. We have never come across anything like this; I was outraged. It is our livelihood, they are raised for meat, but we bend over backwards to make sure that they are humanely treated until the end." The video, which lasted a little more than two minutes, catalogued a series of attacks on the animal. The clip showed a man lifting a lamb by the tail and throwing it to the ground and a chase that ended with another lamb being thrown into a cactus bush. A man behind the camera laughed at the first attack and said: "That's my boy." Another sequence showed a man pushing the two terrified lambs to the edge of a rooftop as another man encouraged him to "push it off". The video continues with the first man throwing one of the lambs some distance off the roof. Mr Bascome said all the lambs at the farm had since been checked and appear to be well. Commissioner of Police Stephen Corbishley said on Twitter yesterday that investigations by police and the Department of Environment and Natural Resources had been launched. He added: "This is a shocking and abhorrent video. We believe we know the identity of the person involved and are seeking his arrest today alongside the person filming." Mr Corbishley said later: "This is a shocking video of continuous and intended cruelty with no consideration to anything other than hurting or indeed causing the death of defenseless animals. The BPS is taking the matter extremely seriously, including tracking down the person responsible for taking the video who is complicit in this offence." Libby Cook-Toppan, an animal rights campaigner and former employee of the Society for the Prevention of Cruelty to Animals, said there was an established link between animal torture and abuse of people. She added: "Acts of cruelty towards animals who cannot defend themselves are particularly disturbing. In addition to increased punishments for perpetrators, psychological help should be required and provided. As a community, we must join together in condemning this behavior as cruelty. Animals are sentient beings and they feel pain and suffering." Ms Cook-Toppan added she was also shocked by the people heard to laugh as the abuse onslaught went on. She said: "I think the laughter is abhorrent while these poor, defenseless beings were being treated in the most disgusting manner." Laura Henagulph, a psychologist at Hamilton's Atlantis Psychiatry, backed Ms Cook-Toppan. She said that "cruelty to animals is a marker for other abusive, controlling behaviours towards people". Ms Henagulph added: "People who have been abused or neglected often have difficulty in recognizing their own emotions. This also means that they struggle with recognizing emotions in other beings, whether they are people or animals. In therapy, we call this the ability to mentalist — to see that others have feelings and intentions that are different from your own. In extreme cases, an inability to mentalise and a severe lack of empathy means that others are treated like objects to be used. In treatment, we would use centralization-based therapy, based on attachment theory, to increase a person's capacity to see others as separate beings and to empathize with them. This would also increase a person's insight into themselves and their ability to tolerate uncomfortable feeling states, such as fear or helplessness, without acting out in such a horrifying way." Ian Walker, curator at the Bermuda Aquarium, Museum and Zoo, who emphasized he was speaking in a private capacity, said: "I do hope they catch the individuals — you wonder what may have happened in those people's lives to be that callous." Inspector Ian MacFarlaine, of the SPCA, declined to comment because he did not want to "prejudice the prospect of a successful trial for their actions since success may rest on the identification of the accused". Wayne Caines, the national security minister, said he had found the video "deeply disturbing" and that he expected someone to "appear in the Magistrates' Court in the not too distant future". Police said today they were investigating in conjunction with the Department of Environment and Natural Resources. A spokesman said: "The Bermuda Police Service is taking the matter extremely seriously and efforts are ongoing to bring the individual being filmed committing the offence into custody — as well as to track down the individual behind the camera. The public should be aware that cruelty to animals is an offence under the Care and Protection of Animals Act 1975, which carries penalties of up to 12 months in prison and/or fines. Witnesses or anyone with information should call Constable Melvin Best on 717-2385 or via the Somerset Police Station on 234-1010.

A man who lashed out at police officers and booted a patrol car door after he was thrown out of a Front Street bar was fined a total of $5,000 and given a two-year conditional discharge yesterday. Magistrates' Court heard that police got involved after they spotted Ross Smith, 39, involved in an early hours scuffle with security staff outside Hamilton's Bermuda Bistro. Smith, of St George's, was heard to shout and swear as a woman tried to pull him away from the scene. Officers warned him to leave the area, but Smith refused and tried to push his way back into the bar. He was arrested after a struggle where officers were forced to use a Taser to subdue him. But when Smith was put in the back of a patrol car he continued to lash out and kicked an officer in the face and the patrol car door. Smith pleaded guilty to charges of affray, violently resisting arrest and wilful damage in connection with incident, which happened on February 17 just after 3am. Alan Richards, for the Crown, suggested a total of $4,000 in fines for the offences, plus a restitution order for the damaged car door. Rick Woolridge, who appeared for Smith, said a conditional discharge would be appropriate. Mr Woolridge added: "He didn't drink much, but at that point in time he hadn't been drinking and he found himself completely hot." Smith apologized to the court and to the officers involved. He said: "That night I drank more than my body could handle and I could handle. I was out of order and belligerent. I'm responsible for my actions." Magistrate Maxanne Anderson gave Smith a two-year conditional discharge for the offences of affray and violently resisting arrest. But she recorded a conviction against him for causing wilful damage and ordered him to pay a $500 fine and $500 for the damage to the police car.

Plans for a small concession area in Shelly Bay park will be unveiled at a meeting on Thursday. The Ministry of Public Works will also present plans for access for seniors and the disabled at the beach at the event at Francis Patton Primary School. Lieutenant-Colonel David Burch, the public works minister, will join local MPs in attendance. A Ministry spokeswoman said: "The Ministry is keen to ensure that any proposed additions or enhancements to the Shelly Bay Park area receive public input." The meeting will be held in the school gymnasium at 6.30pm.

A Hamilton Parish beach could be more user-friendly for the elderly and disabled in time for the summer. LaVerne Furbert, a member of a pressure group that mounted a successful campaign against Bermuda Tourism Authority plans for concessions housed in shipping containers at Shelly Bay in favour of better disabled access, said she had still to hear if the alternative proposals would be adopted. Ms Furbert, a trade union official, added: "We haven't stopped meeting. Our position has not changed. We don't want those containers down there and we want to do something for the people who are physically challenged. We look forward to something happening in the summer. When we met with Lieutenant-Colonel David Burch last year, he seemed to be accepting of what we proposed. Hopefully, it will be in time for this summer, but we have not had a response." The BTA Beach Economy Vision plan would have included concessions offering food, drinks and beach equipment. But the group opposed the scheme and suggested better access for the disabled instead. They also asked for new toilets, sensory rails for the blind and special mats designed to allow wheelchairs access to the water. A government spokeswoman said: "The Ministry of Public Works continues to review and assess any proposed enhancements regarding Shelly Bay."

Charity leaders believe they have found a property that could house "invisible" homeless families, it was revealed yesterday. Habitat for Humanity of Bermuda and the Women's Resource Centre said their project would also provide mothers with support and training to help move them on in their lives. The move came after a think-tank last April that involved several organisations found that there was an average of 66 appeals for housing every month. A spokeswoman for the two charities said: "The number included single men and women and families, but as a group we recognized that the most desperate and underserved homeless population are mothers and children. While single homeless individuals are more visible to the community, families without housing are often 'invisible' to public consciousness." She added: "It was also determined that the demand far outweighs the current supply of housing for the homeless of Bermuda." Sheelagh Cooper, the chairwoman of Habitat for Humanity, said: "We often are called upon to renovate derelict apartments only to discover that there are maybe three families sharing a small and totally inadequate space. Effectively two of those families are homeless. They are not on the street but they do not have an adequate place of their own." Ms Cooper, a veteran of nearly 40 years of advocating for families, added: "These arrangements understandably are not sustainable and these families are constantly on the move when crowded conditions result in strained relationships. The impact of constant moving and housing insecurity on mothers, and even more so on the children in these families, is devastating." The plan to tackle the problem was developed after the two charities set up a steering committee that included three mothers who had been or are homeless. Elaine Butterfield, the executive director of the WRC, said a programme called Transformational Support Services will make sure that women and their families who have fallen on hard times "not only have a hand out, but a hand up". She explained that the scheme will include assistance with life skills, academic training — such as job and employability coaching — as well as ongoing support and help to move on. The services will be based on the needs of each individual or family and will be provided by a range of agencies. Ms Butterfield said: "The overall objective of the programme is for participants to leave the programme possessing the tools needed to lead more sustainable lives. Ultimately, the programme will address not only housing, but support, healing and empowerment that would enable them to support and sustain their families with a renewed sense of self-assurance." The pair added: "Our next step was to find a location that could house as many families as possible while still providing a nurturing environment with lots of space for children and accessible to schools and work opportunities." Ms Butterfield and Ms Cooper said that they had found a suitable property in the central parishes and that they hoped to make a further announcement later this month "once all arrangements have been completed". The WRC and Habitat backed concerns raised in The Royal Gazette last week by Martha Dismont, the chief executive of Family Centre, who feared that the island's high cost of living meant hundreds of people were homeless or lacked the means to "survive normally". Ms Dismont said that increased homelessness has led to more people squatting or living on a temporary basis with friends or family. She highlighted the case of a mother of three whose family faced eviction from their home for non-payment of rent but had not been able to find alternative accommodation. Gina Spence, a prominent community activist, agreed there had been a rise in homelessness and warned that former foster children were among those most at risk.

Leroy Simmons, a gospel artist, broadcaster and staunch advocate for local musicians, has died at 58. David Burt, the Premier, commended him as "an inspired, consummate star musician". Mr Burt added: "He will be remembered also as a champion of rights of Bermudian entertainers, as the president of the Bermuda Entertainers Union." Mr Simmons was also known across the island for his Sunday inspirational radio show Get Your Praise On, which aired on HOTT 107.5 since inception. Mr Burt extended condolences on behalf of the Bermuda Government and people of Bermuda to Mr Simmons's wife Yvonne and his entire family. Mr Burt said: "His musical touch and heart for music education will always be remembered." Glenn Blakeney of Inter Island Communications told The Royal Gazette: "Today marks a very sad day for many in the community on the passing of Leroy Simmons. Leroy has left an indelible mark on his legacy given the incredible contributions he selflessly made as a proficient music teacher, concert promoter, consummate broadcaster and more recently as president of the Bermuda Entertainment Union, where he became a fierce advocate for performing artists and local entertainers. Moreover, Leroy was an invaluable member of the Inter-Island Communications, Ltd family, and was the longest serving employee of the company until his passing." The BEU also issued a statement: "It is with heavy hearts that the executive of the Bermuda Entertainment Union acknowledge the passing this morning, Tuesday April 9, 2019 of our president, Bro Leroy Simmons. We take this opportunity to express our condolences to his beloved and most supportive wife, Yvonne, his mother, brother and the rest of his family. Bro Leroy had unfinished business, but with the help of the Bermuda public we hope to bring his vision to fruition. Our Tribute of Song and Word will take place on Sunday April 14th 2019 as planned in Bro Leroy's honour." The Progressive Labour Party said: "He is remembered for his heroism as he fought for the rights of Bermudian entertainers as president of the Bermuda Entertainment Union. In addition to his activism, Brother Leroy travelled all over the world touching lives as a minister of music, recording artist and music educator including Florida, Georgia and New Jersey. For many years he was an active member of the Stellar Awards Gospel Music Academy, Bermuda Education Council, St George's Cricket Club, the Bermuda Government Labour Advisory Council and the Bermuda Trade Union Congress where he invested countless hours and was known for his passion and commitment. The public will fondly recall his Sunday inspirational radio show Get Your Praise On which aired on Hott 107.5 since inception. Brother Simmons has left an indelible imprint on the hearts of so many. Our community remembers him as a passionate musician and one who insisted on inspiring others to find their purpose in life and to meet everyday challenges through biblical principles and personal testimonies. The PLP I extends heartfelt condolences to his wife Yvonne Simmons and his entire family on the loss of their husband, father, and friend."

Bermudians gathered to boost spirits today ahead of an international sport event to be held in Hamilton this month. More than 100 people took part in the lunch hour pep rally at City Hall ahead of the MS Amlin World Triathlon Bermuda. The event takes place on April 27. Maria Duffy, the mother of Flora Duffy, the two-times world champion and Commonwealth Games gold medal-winner, was on hand for the event. Charles Gosling, the Mayor of Hamilton, also took part. The event served as the official kickoff to this year's race, which will see 100 athletes compete for Olympic qualifying points. More than 600 total participants are expected to take part in the weekend event. The MS Amlin World Triathlon will be the second of three annual World Series Triathlon events that Bermuda will host. The ITU Grand Final and Age Group World Championships will be held in 2021.

April 8

The Minister of Finance said yesterday he expected Bermuda to be removed from the list of uncooperative tax jurisdictions after he completed a round of discussions in Europe. Curtis Dickinson said the visit included a meeting with the chairwoman of the EU Code of Conduct Group on business taxation, who said she anticipated a recommendation for removal to go to the European economic and financial committee this week. The Code of Conduct group raised concerns about Bermuda's Economic Substance Regulations 2018 in January, after the rules became operational but before the EU agreed it was satisfied with them. Mr Dickinson had a meeting with Lyudmila Petkova, the group's chairwoman, as well as with the finance ministries of Germany and France. The summits came after David Burt, the Premier, met Pierre Moscovici, the EU Commissioner for Economic and Financial Affairs, Taxation and Customs, in Brussels last month. A Government spokeswoman explained: "These meetings demonstrated the level of co-operation and the economic links between the European Union and Bermuda and reaffirmed that Bermuda should be removed from the EU list of non-cooperative jurisdictions for tax purposes at the earliest opportunity. The chair of the COCG indicated that she expected the April COCG meeting to make a positive recommendation to the next Economic and Financial Affairs Council." A website for the European Council and Council of the European Union showed that the Code of Conduct group was expected to meet on Thursday. Mr Dickinson said: "This round of meetings strengthens Bermuda's close and productive relationship with the European Union. I have every expectation that Bermuda will be removed from the list of non-cooperative jurisdictions for tax purposes at the earliest opportunity and we look forward to continued engaging with the Code of Conduct group in relation to Bermuda's framework for collective investment funds. I want to thank once more, all the stakeholders from industry for their unity and close co-operation during this EU process and encourage them to continue their valuable collaboration as we are approaching Bermuda's removal from the EU list." Mr Burt and Mr Dickinson explained last month that a "minor technical omission" in Bermuda's economic substance regulations was not spotted and meant the island's submission to the EU was incomplete. They said the matter was rectified and an amended version was sent in time for proper consideration by the EU's Economic and Financial Affairs Council, or Ecofin. But, around the same time, the list of non-cooperative tax jurisdictions was revised and Bermuda, said to have not delivered its commitments on time, was among the ten countries to be added. Mr Burt said last month that Mr Moscovici had seemed "surprised" that the island was on the list. The commissioner also signaled that he expected a positive recommendation would be made to the Code of Conduct group. Ecofin could approve Bermuda's de-listing next month.

Children from Bermuda have been sent to schools and institutions overseas for decades when social workers here deem them to have exhausted all available local services. Health minister Kim Wilson told MPs last month that children who go abroad for "therapeutic placements" as part of the Department of Child and Family Service's psycho-educational programme are "not able to be serviced in a traditional school environment". She said all such youngsters were now assessed for psychiatric and medical conditions at the University Neuropsychiatric Institute at the University of Utah Health but gave no information on where they then go for treatment. The department told The Royal Gazette in November it wouldn't disclose the list of current facilities as it "could be determined as a breach of confidentiality and directly impact the children and parents who currently have children in overseas facilities". Few of the children sent overseas have had any legal representation. Sources have shared details with the newspaper of some schools where they are understood to have been sent. Devereux Advanced Behavioral Health has facilities in 13 states in America, catering for "tens of thousands" of families, with the DCFS believed to have primarily sent youngsters to the Florida campus. On its website, Devereux states that it "changes lives — by unlocking and nurturing human potential for people living with emotional, behavioral or cognitive differences". Allegations of the mistreatment of students at its Pennsylvania Kanner Centre have been reported by the media, with five staff members facing charges in November of assault or failure to report child abuse, according to CBS Philly. A Devereux spokeswoman described the accusations yesterday as "categorically unacceptable" and that the organisation had learnt from the experience. She added that no children from Bermuda had ever been served there. The spokeswoman also said that "very differently" from the Glen Mills Schools — which the Gazette reported last week was under investigation after accusations of staff violence against students — it "does not provide juvenile justice or reform" programmes. She added: "Every programme we offer is staffed by clinical and, or medical professionals and is offered in open, non-secure, therapeutic medical settings." The spokeswoman said that because its programmes were medical, rather than corrections or reform-based, Devereux did not generally engage in the issue of legal representation before a child being admitted. Discovery Ranch in Utah caters for boys aged from 13 to 18 and on its website states its goal is to "help troubled teens and their families heal mentally, physically and emotionally". The school tackles issues including depression, trauma, addiction, attention deficit hyperactivity disorder and difficulties in parent-child relationships. A spokesman said teenagers had attended from many different countries and "there may have been some students from Bermuda". He explained most teenagers were placed there by their parents, adding that in his experience it was not common practice for children in care in the US to have legal representation, as the state was expected to act in their best interests. Natchez Trace Youth Academy in Tennessee calls itself a "highly structured residential treatment facility" offering a "cognitive behavioral programme" for boys aged 12 to 17. We demonstrate integrity, care, compassion, fairness and consistency in all we do and provide a highly structured programme," says its website. "Accountability and responsibility are the cornerstones of our treatment process." In February 2018, Humphreys County Sheriff Chris Davis was quoted in a news report as saying that problems with teens escaping from the school were ongoing. The sheriff was quoted as saying officials weren't alerted for hours in some cases and thousands of dollars of taxpayer money was being used on search efforts. The school could not be reached for comment yesterday. In November, The Royal Gazette reported the story of a woman who claimed she was sexually abused as a teenager at a now-closed Eckerd Youth Alternatives centre in Atlanta, Georgia. The DCFS said Eckerd was no longer used by island social services. An Eckerd spokesman said: "Eckerd no longer accepts placements from the Bermuda Department of Child and Family Services and was not aware of allegations that children were sent outside of Bermuda without legal representation and procedural due process.

Vulnerable children are likely to continue to be sent abroad without any legal representation, according to Shadow Attorney-General Scott Pearman. Mr Pearman said despite the Government allocating $242,000 in this year's Budget for independent advocates, known as litigation guardians, for youngsters involved in court proceedings, it was no guarantee that those being sent overseas by the Department of Child and Family Services would be represented. Mr Pearman asked health minister Kim Wilson in the House of Assembly last month if it was the case that "going forward, no Bermudian child will be sent away for treatment unless that child has a litigation guardian". Ms Wilson, speaking on behalf of senator Kathy Lynn Simmons, the Attorney-General, who is responsible for the DCFS, replied: "That is not correct." Mr Pearman told The Royal Gazette: "My question was intended to establish whether the ministry would commit, from now on, that no Bermuda child would be sent to an institution overseas without first having had the benefit of a litigation guardian to advise that child in Bermuda. I was hopeful that such commitment would be given to at least provide a local safety net. The ministry, via minister Wilson, would not agree to commit to that in the House." The One Bermuda Alliance MP added: "It therefore remains the case that Bermudian children may and likely will continue to be sent away without first having had the benefit of a litigation guardian to protect their interests as they proceed through the court system." Mr Pearman said the Children Act 1998 required the Family Court to consider in every case involving a child whether they needed a litigation guardian and lawyer. He said the promised funding allocation of $242,000 was unlikely to meet the costs of an attorney, even working at Legal Aid rates. "There is some doubt that there will be any funding for an attorney to act for the litigation guardian," he said. In the House on March 13, during debate on the Ministry of Legal Affairs budget, Mr Pearman said: "I am not sure we got an answer as to whether or not the budgeted figure that had been indicated of $242,000 was going to include attorneys or not and if it does not, where [are] those costs included? But just on this idea of children being sent away ... and we have seen a lot in the press about people themselves who have been sent away, it is right that going forward no Bermudian child will be sent away for treatment unless that child has a litigation guardian? Is that to be the position going forward?" Ms Wilson replied: "That is not correct in that the litigation guardian actually is the voice of the child in the court proceedings, as you said, and they are not involved in the day-to-day case management of the child. Counsel under the current legislation can be appointed for children who are able to give instructions if the court deems it necessary to do so." Mr Pearman said: "So the answer to my question was no?" Ms Wilson replied: "You are absolutely correct."

A children's advocate said yesterday that a scheme for government staff to visit vulnerable youngsters placed in overseas schools was "woefully inadequate". Tiffanne Thomas believed the level of contact could lead to feelings of abandonment and knew of young people who recalled never having seen anyone from the Department of Child and Family Services during their time in treatment abroad. She raised concerns after The Royal Gazette reported last week that boys from the island were for decades sent to Glen Mills Schools in Pennsylvania, which is now under investigation for alleged child abuse and cover-ups. On Friday, The Royal Gazette reported that the DCFS became aware of allegations of violence by the US reform school's workers against students in February. An article in the Philadelphia Inquirer newspaper last August included accusations from a 17-year-old boy that he was choked and punched by a counsellor while other employees held him down. Ms Thomas, an independent social worker, said yesterday it was "deeply disturbing" to think "abuses of power, position and authority" could take place despite licensing requirements. She added: "Further, it is unsettling to consider Bermudian young people may have been victimized, either directly or indirectly, during their time at this institution." Ms Thomas said youngsters were reportedly threatened against informing others about what they saw and "forced to say that they wanted to remain at the school". Glen Mills Schools denied the allegations in an appeal filed with the Pennsylvania Department of Human Services, which issued an emergency removal order in relation to the 383 boys at the facility last month. Alfred Maybury, the director of the DCFS, said last week no child from the island had been admitted there since 2017 and none were there now. A spokeswoman for the department explained that all overseas schools to which children from Bermuda were sent were licensed and accredited. She said that in each case weekly conference calls were held with the school and child, a DCFS worker visited the youngster every six months from the date they were admitted and in addition the director visited them at least once a year. Ms Thomas, who has acted as a litigation guardian in 35 cases involving minors since 2014, claimed: "Respectfully, this benchmark is woefully inadequate as an intervention for safeguarding and can be experienced as abandonment for children who have already been identified as vulnerable. To remove a child from Bermuda, their home country, and that child not have any contact with anyone from the organisation who sanctioned overseas treatment for at least half a year, is unacceptable. Notwithstanding this, this has not been the reality for the children whom I have been appointed to represent. Many of the young people I represent recall experiences of never seeing anyone from Bermuda throughout their stay in treatment, periods that extend beyond one year. I can appreciate that I have only been appointed to a small percentage of the cases of children who have been sent overseas. However, the notion that every child is visited does not ring true for those whom I have previously represented." Ms Thomas explained that litigation guardians acted as an independent voice of a child and that they could access records held by the DCFS director, allowing them to monitor the frequency and extent of contact, as well as whether there was any cause for concern. "It is my belief that when it comes to child protection, moreover the protection of children's rights, we have quite a way to go, which is disheartening considering that we are a developed, sophisticated country that should be more than capable and competent to protect the legal rights of children." Scott Pearman, the One Bermuda Alliance's Shadow Minister of Legal Affairs, said the OBA had repeatedly called on Kathy Lynn Simmons, the Attorney-General, to launch an independent investigation into allegations at the DCFS. Accusations emerged in 2018 that Mr Maybury failed to ensure the safety of children in the department's care and did not follow financial instructions. He was suspended last August but returned to duties at the department in January, when a ministry spokeswoman said: "These claims leveled against the director were not substantiated." A spokeswoman later explained that a two-pronged inquiry included investigations by the Department of Internal Audit and by the permanent secretary responsible for the DCFS. It emerged earlier this year that two staff members at the department were disciplined after allegations of abuse and neglect against them were "substantiated". Mr Pearman said on Friday: "It is sickening to learn that Bermudian children have been sent overseas to a Pennsylvanian institution now embroiled in allegations of child abuse. Our island is already reeling from revelations that individuals at child and family services are accused of having abused and neglected vulnerable children in the department's care. Now we have fresh revelations that Bermudian children sent away for treatment may also have been victims in this overseas scandal. Enough is enough. If Bermudians are to have any confidence that these allegations are being treated seriously, the Attorney-General must appoint a well-respected, senior lawyer or judge to conduct a proper, thorough and independent investigation." Lawyer Saul Dismont, who wrote the letter of complaint that triggered the DCFS inquiry, said yesterday: "In 2016, one of my clients was due to be sent to Glen Mills. The difference is he had a lawyer and a litigation guardian, so he was never sent. How much more does it take? How many more children are going to have to suffer before there is some action? Our children deserve a commission of inquiry." The Government was contacted for comment yesterday but no response was received by press time.

The Regulatory Authority has proposed scrapping a price comparison website for phone and internet services in Bermuda. It is seeking public input on whether the website is needed in a consultation period that ends on April 12. In a consultation document posted on its website, the RA details its decision to decommission the website, pricecheck.bm, citing dwindling use by the public and less need for the site, because there are fewer service providers. Maintenance costs of $26,000 a year are "disproportionate to any 'transparency' benefits that are achieved for consumers" by the website, the RA argues. The purpose of the website, which was launched in 2015, was to improve transparency in the pricing of telecommunications services, and related terms and conditions, to enable the public to make more informed decisions and comparisons between services. At the time the website was launched there were ten companies offering electronic communications services, the RA states. The market consolidation that has taken place since means that "mobile, television and broadband market share is now primarily serviced by two sectoral providers (OneComm and Digicel Group) who maintain comparable rates and plans", the report adds. "Furthermore, the Authority has observed that sectoral providers have gone to great lengths to ensure that their service and tariff information is easily accessible on their websites," the RA states. The price-check website was little used in the nine months after its launch at the end of March 2015, with just 256 visits. Usage picked up in the calendar years 2016, when there were 4,437 visits and 2017, when visits totaled 5,017. In 2018, utilization dropped by more than half, as there were 2,018 visits. The consultation invites answers to questions on the accessibility of service tariff rates, recommendations on how service providers can be more transparent in their pricing and conditions for services such as roaming charges, and whether an independent price comparison tool is necessary. The consultation period opened on March 29, when the document was posted on the RA's website, rab.bm. No press release on the request for public feedback was received by The Royal Gazette at that time or since. The deadline for responses is Friday this week. The RA has a separate consultation on opening up the telecommunications sector to new service providers by lifting the moratorium on the issuing of new licences. That consultation closes on April 26.

New businesses could enter Bermuda's electronic communications sector when a freeze on the market ends soon. Walter Roban, the Minister of Home Affairs, instructed the Regulatory Authority to lift a moratorium on the granting of both Communication Operating Licences and Integrated Communication Operating Licences. He said yesterday: "This move will ultimately result in the opportunity for new entrants into the Bermuda telecommunications market. This is in keeping with meeting this government's objective of attracting inward investment, supporting economic diversification and growth, and creating jobs for Bermudians." Mr Roban explained that when the RA started its work in 2013 the approval of new ICOLs was suspended. He said: "The rationale at that time was that there were already about 20 licensees at that point, and more would simply dilute the market even further. Over the years, with that moratorium in place, Bermuda has gone from a vibrant and competitive environment to one far less dynamic, and, arguably, less competitive — all through a series of mergers and acquisitions, where the electronic communications market has become an oligopoly, perhaps not serving the public as well as it might. Examining market conditions, I decided to direct the Regulatory Authority to lift the moratorium, ultimately reopening Bermuda's electronic communications sector to accept new entrants into the market. " A RA spokeswoman said: "The RA has begun the process of establishing the framework to apply for and issue new licences to deliver electronic communication services to the Bermuda marketplace. Prior to granting the licences, the RA will hold a consultation period from April 5 to April 26 to gain feedback from the public regarding the criteria, conditions, requirements and procedures necessary to receive a COL or ICOL. Following the consultation period, the authority will make decisions and recommendations back to the Minister about the required policy and regulations." Denton Williams, chief executive at the RA, added: "One of the mandates of the RA is to promote and preserve competition in the interest of residents and consumers of Bermuda and to promote the development of the economy, Bermudian employment and Bermudian ownership. "Reopening the electronic communications sector to new entrants is directly in line with our mandate."

A light bulb exchange initiative has been set up to promote energy efficiency. The Department of Energy teamed up with retailers so customers could exchange one incandescent light bulb for an LED alternative without charge. It is hoped that the swap will encourage regular use of LED lights in the future. Walter Roban, Minister of Home Affairs, said: "By working with local retailers we found that the LED equivalent to a standard 60 watt A19 bulb was used by most households. An LED equivalent uses about nine watts. Using a 60 watt incandescent bulb for five hours a day equates to spending $46 each year to run that light. Switching to an LED equivalent it is about $6.90 for a year. That adds up to 85 per cent less energy being used. A single LED would pay for itself in just a few months and after that, the savings will accumulate over time. We hope that the public will take advantage of this unique opportunity to see how energy efficiency can work for them." Mr Roban said that the government had committed sufficient resources to allow about 30 per cent of all households to participate. Participating retailers include ATS LED Supplies, Baptiste Building Supplies, Encon, ESC Lighting, Gorham's, Lindo's in Devonshire and Warwick, MarketPlace in Heron Bay, Shelly Bay and Hamilton, Masters, Telford Electrics and the Greenhouse Bermuda. Mr Roban said that LEDs bulbs last about 30,000 to 50,000 hours while incandescent bulbs last about 12,000. He added: "We need to think about how we spend our hard earned money taking into account operating and life cycle costs. Some argue that LED do not look nice or that they are not the same size or the same style. I can assure you that is no longer the case. LED technology has improved very much over the recent years."

Boaters are being warned not to swim with whales. The Government said it has received increasing numbers of reports about people entering the water to swim with the large mammals. It warned whales can be unpredictable if disturbed, and that getting too close to them can also disrupt their activities or injure them. Senior marine conservation officer Sarah Manuel said: "Watching these majestic animals, spouting, breaching or swimming along slowly with a calf is a thrilling experience. While well-meaning boaters and swimmers may not intend to be intrusive, getting too close to the whales can actually disrupt feeding, nursing and migrating behaviours, and boats, in particular, can cause unintended injuries to the whale. Furthermore, while it might be very tempting to get up close and even get in the water with these amazing animals, they are wild animals and can be unpredictable, particularly if perturbed." The season from mid March to the end of April is the peak time for humpback whales to be spotted around Bermuda. Ms Manuel said: "They swim through our waters on their journey from their breeding grounds in the Caribbean to their feeding grounds on the eastern seaboard of North America, and for some as far north as Greenland and Iceland." It is an offence under the Protected Species Act 2003 to disturb or harass a humpback whale. The Department of Environment and Natural Resources advised that people should not chase a whale if tries to leave the area. Behavior that indicates the whale is agitated or no longer interested in staying near a vessel may include:
• Regular changes in traveling direction or speed of swimming.
• Hasty dives.
• Changes in respiration patterns.
• Increased time spent diving compared to time spent at the surface.
• Changes in acoustic behavior.
• Certain surface behaviours such as tail slapping or trumpet blows.
• Repetitive diving.
The Department has developed guidelines for whale watching which are at https://environment.bm/whale-watching-guidelines.

T.J Armand, executive director of the Bermuda Festival, will leave the organisation after a year in the role. Mr Armand will instead focus on recording projects and a musical, Sama, in New York and London. He said: "I am grateful for the opportunity to have served as the executive director of the festival's 44th season and I strongly believe the festival will continue to bring the very best of the performing arts to the island and passionately support Bermudian youth with student outreach programmes. I'm truly gratified about what our team has achieved, and I will look back at season 44 with pride for years to come." David Skinner, festival chairman, said: "Mr Armand has served in the position for the past year and has cited the need to tend to his recording projects, along with the development of his long-awaited musical, Sama, in New York and London as the reason for his departure. While I'm sad to have a valued leader in our organisation depart, TJ's achievements with the Festival has been abundantly documented by the great reviews of the Festival productions." The Bermuda Festival has begun the process to fill the vacancy.

Emergency services were called to meet a flight from London on Saturday after a passenger became unwell. Other travelers reported seeing a man escorted off the British Airways service by police after it landed at LF Wade International Airport. A BA spokeswoman said: "On flight 2233 from London on Saturday night, our crew looked after an unwell customer and had requested emergency services to meet the aircraft." A police spokeswoman had no further information.

Anthony Mello, who has died at 72, will get a fitting sendoff today with a flotilla of family and friends taking him for a burial at sea. The popular racer, pleasure boat captain and father of two, who worked for Bermuda Charters, earned his "All Round" nickname from twice winning the Round the Island Power Boat Race, as well as a life spent on the water. Heidi Shelley-Mello told The Royal Gazette: "My dad played with boats all his life — he couldn't buy them so he built them and hoped they floated." An innovator who assembled the island's first inshore racing boat, he "never made a normal engine", she said: everything was modified to his tastes. Mr Mello trained in search and rescue with the US Coast Guard for Search and Rescue, and assisted local police with rescues throughout the 1970s. He was also a volunteer fireman. His racing prowess included winning the Marlboro 400, which was Bermuda's first international powerboat race in the 1970s. Mr Mello thought nothing of racing in rough conditions and in 2000, as part of a seven-man Wildcat catamaran team from Philadelphia to Bermuda, braved 20ft waves, later telling The Royal Gazette: "The rougher, the better." He also enjoyed sports fishing and relaxing on the water, and "absolutely loved" the Christmas boat parade. Shelley-Mello said he met her mother, Lynn, at the Sherwood Manor hotel in Fairylands, and together they created the Lee Bow Riding Centre in Devonshire. In the 1970s, Mr Mello became the official pilot for Lord Martonmere, the former Governor of Bermuda. Mr Mello served as captain for more than 20 years for H. Ross Perot, the billionaire Texan with a local property who ran twice for US president. A devoted ambassador for the island, Mr Mello cruised with an array of celebrity guests over his career, including the late British Prime Minister Margaret Thatcher; Silvio Berlusconi, the former Prime Minister of Italy. Mr Mello also cruised with the "king of pop" Michael Jackson with the actor McCauley Culkin, before settling with his own boat, AJ's Wings, with Bermuda Charters. His daughter recalled him as "a happy-going guy" with a famous recipe for rum swizzle, whose one anxiety was lateness. "He loved telling tourists all about Bermuda," she added. Mr Mello worked with the late diving legend Teddy Tucker, including on the 1977 film The Deep, shot in Bermuda. From making kites, carving cedar bottle openers and building furniture to rope splicing, Mr Mello "never stopped", Ms Shelley-Mello said. At 12.30pm today, a horse-drawn hearse will bring him to PW's Marina in Hamilton, with a memorial flotilla to take "Captain All Round" out through Two Rock Passage at 1pm for a sea burial. The family requested that no black be worn, but white shirts. Attendees are also asked to refrain from parking at Miles Market.

April 7, Sunday

Police have launched an investigation after several Warwick residents reported hearing gunshots today. Officers were called to Khyber Heights at about 3.05pm and confirmed that a firearm had been discharged. Police said there were no reports of injuries. Detectives and forensic officers are investigating at the scene. Anyone with information or who saw anything suspicious is asked to call 295-0011 or the confidential Crime Stoppers line on 800-8477.

A unique Bermudian event, the annual Peppercorn Ceremony in St George's, comes with a special twist this month. The Bermuda Tourism Authority announced that an enhanced VIP package would be included for the April 24 festivities, offering visitors "a cultural experience they can't get anywhere else". Tashae Thompson, the BTA's produce development manager, said last year nearly sold out, and 2019 would come with "a few additional tweaks". The ceremony features the Freemasons' Lodge paying its annual rent of a single peppercorn to the Governor for use of the Old State House. Attendance is free, but the VIP package will include:
• Reserved seating to view the ceremony, Royal Bermuda Regiment Band the Freemasons led by Scottish bagpipers;
• Private access to the exclusive garden party featuring local live entertainment;
• Complimentary drinks and refreshments;
• The chance to mix and mingle with Freemasons and other local dignitaries;
• A private tour led by a local Freemason of the State House
To book the VIP package, visit ptix.bm/peppercorn.

Winners of the Bermuda Triple Challenge weekend were honored on Friday after the fundraiser gained more than $37,000. The three-day obstacle course race last month raised a total of $37,647 on behalf of six different Bermudian charities. The top nine winners met charity representatives and event organisers for a prize-giving ceremony in Hamilton. Jason Correia, an organizer for the fundraiser, said: "We exceeded the amount of money raised over the last couple of years and that is a very welcomed improvement that we hope to grow upon. "I think the charitable aspect of the weekend sometimes gets lost." The weekend fundraiser, held between March 15-17, saw a total of 393 volunteers complete a different obstacle course each day. Teams and individuals were given points based on the amount of money raised, as well as the time needed to complete the course. Top winners of the Corporate and Non-Corporate Division got a grand prize of $1,000 and the winners of the Corporate division donated their prize to a Bermudian charity. Mr Correia said that the money will be split between The Reading Clinic, the Centre Against Abuse, Windreach Bermuda, Tomorrow's Voices, Raleigh Bermuda and the Bermuda Foundation For Insurance Studies. He added that 39 participants from overseas had already registered for next year's event, which showed the effect of "international publicity". Mr Correia said: "People are starting to rave about Bermuda as a destination obstacle course race and as a result we're getting a significant interest from overseas. It's honestly a great position for us to be in." Mr Correia said that he hoped to raise $50,000 from next year's Triple Challenge. The 2019 Bermuda Triple Challenge winners were:
Non-Corporate Division, in 1st, 2nd and 3rd places:
Reid Robinson: 11,714 points; $4,380 raised — elected to donate his winnings equally towards the six Bermuda Triple Challenge charities
Zooming Zebras: 8,475 points; $3,350 raised. (Lyndsay Faries, Ashley Gillis, Laura Burns & Zoe Kempe-Gibson)
Martin Jones: 8,440 points; $790 raised
Corporate Division, 1st, 2nd, 3rd:
HP Royals (Hamilton Princess, Bermuda): 7,285 points; $1,412 raised — elected to donate their winnings equally towards the six Bermuda Triple Challenge charities. (John Herbert, Kristian Baboolal, Frances Smith & Shonette Higgins)
Spare Change (Clarien Bank): 6,665 points; $0 raised. (Simon Van de Weg, Belaun Foggo, Nicoy Anglin & Shane Burrows)
Die Antwood (Deloitte): 6,352 points; $0 raised. (Laura Graham, Daniel Swanepoel, Franco Kwan & Marni Swart)
Junior Division, 1st, 2nd, 3rd:
Warwick Boys: 5,912 points; $150 raised (Jack Harvey, Brian Desmond, Caleb Ingham & Nick Pilgrim).
Take 2: 5,721 points; $40 raised (Trent Harris, Joshua Lipschutz, Samuel Lipschutz & Alexander Southern).
Worst Pace Scenario: 5,396 points; $705 raised (Macy Aicardi, Anna Francoeur, Gianna Webbe & Holly Wakely).

April 6

Fed-up bus users have blasted the new bus timetable — and predicted the service will get worse in the peak summer tourist season. Passengers added that the new schedule, which uses fewer buses, appeared to have hit the West End of the island hardest. The Royal Gazette spoke to Stacey Dunn, 54, from Southampton, at Hamilton bus terminal at lunchtime on Wednesday. She said: "It's not working. Fortunately for me, I am not making early hours, but for the people making 9am, it's tough." Ms Dunn added: "I was in Somerset last summer and you had buses coming out of Dockyard full of tourists. What's going to happen now if you lessen the number of buses? There's the possibility for a lot of locals that once it comes out of Somerset, there won't be any room." A 61-year-old woman, also from Somerset, said she had used a bus a week earlier and that it was "horrible". She explained: "This was a one-off because my husband was working late. I thought I would leave a little early from my job in town because I had heard how the new schedule was not working. I got there at 5pm and both the Number 7 and the 8 were full, no seats." The woman, who asked not to be named, said: "They got rid of the express, which was very convenient for St George's as well as Somerset. So now the lines get ridiculously long." She added: "I have to give credit to the female bus driver, because she made the students get up to give people seats. She was complaining about the schedule, too. Who wants to stand on a bus all the way from Hamilton? So I'm sad to say that catching the bus is going to be my absolute last alternative." A hospital worker from Warwick's Marley Beach, about 5pm the same day said he was waiting on the No 7. He added morning and evening rush hour buses were often full. The man said: "A lot of people go into town early on this route. It's wisest to get the first one in, because you're not sure if the next one is going to be full." The man added that many hospital staff came into Hamilton to catch a bus because the buses were often packed to capacity by the time they reached the hospital in Point Finger Road, Paget. He said: "Sometimes it's even full by the time the bus gets from the terminal to Church Street." A 26-year-old man who works near Crow Lane and lives in Sandys backed the hospital worker. The man said he had to catch a bus or walk into town at 5pm in a bid to get on board a No 7 or 8 bus because buses were full by the time they left the city. He added that it was "okay right now because schools are out — but it will be worse next week". The Department of Public Transportation said yesterday that passenger views on the new schedule, introduced on March 18 by Zane DeSilva, the transport minister, were being reviewed. A spokesman for the DPT said that problems identified with the timetable, which cut the number and frequency of buses, would get "immediate adjustments" where possible and that "others are noted for future iterations of the schedule". The spokesman insisted there were fewer delayed services this week and that sweeper buses had been "effective in relieving capacity issues during peak times". The second of eight new buses will arrive on April 14, with another to follow every three weeks. The Riviera cruise ship, with a capacity of just 1,400 passengers, arrived in Dockyard yesterday. But the Carnival Pride, with about 2,500 passengers on board, is scheduled to moor at King's Wharf for two days from next Wednesday. It will joined by the Norwegian Getaway with 3,900 passengers on Thursday. Leah Scott, the Shadow Minister of Transport, said the new schedule was "a disaster". The Southampton East MP said: "The minister put out a message claiming that people were happy with the routes, but my constituents, particularly seniors, having been calling me upset because they're not getting around. Kids aren't getting to school on time and workers are having the same thing with their jobs." Ms Scott said she suspected senior management at the DPT had contributed to the transport problems. She said: "Mr DeSilva is an astute businessman. He would not allow his own business to run this way." Ms Scott added: "I'm glad they are only imposing this for 18 months. At the same time, I can't understand why we don't have a permanent schedule with the consultants we hired." The Royal Gazette reported last week that Canadian firm Schedule Masters, which took in $1.6 million over 17 years to draw up the schedule, never had a contract with the Bermuda Government. Ms Scott said: "That went on under the One Bermuda Alliance as well as the Progressive Labour Party, That's unacceptable under either government. You can't continue to pay out money and, at the end of the day, still not have a satisfactory product."

Specialists from the US Lahey clinic who have partnered with the Bermuda Medical Specialities Group pledged yesterday to help tackle the island's epidemic of diabetes and heart disease. Dinamarie Garcia-Banigan, an endocrinologist, said: "Having the opportunity to practise on the island has enabled me to learn about Bermuda's healthcare system, Bermudian culture and the services available. A specialist in reproductive health, diabetes, osteoporosis and thyroid disorders, Ms Garcia-Banigan added: "However, wherever you practise, diabetes is a big issue. It's reflected all over the world." The BMSG signed an agreement with the Massachusetts-based hospital last month, but Dr Garcia-Banigan said she had been working with the local clinic for two years. She said the arrangement would enable local patients to have access to other Lahey specialists where needed. Dr Garcia-Banigan will visit the island on a regular basis but also use technology to communicate with patients. She added: "I am also planning to build upon my diabetes education programme with one-on-one education." Michael Levy is a cardiologist and vascular medicine specialist. Dr Levy said his expertise would help fill "a huge need for the island". BMSG will also offer screening for heart patients — another area of expertise. Both doctors are scheduled to attend a BMSG forum at the Hamilton Princess & Beach Club today. The free event will start at 9.30am, followed by talks at the BMSG clinic on Reid Street, from 2.30pm to 4.30pm.

The Bermuda Tourism Authority has revealed more than $12 million in external contracts as part of requirements of public access to information legislation. The contracts included a total of $5.4 million for marketing and promotions, $4.7 million in rent for officers in Bermuda and in New York and $390,000 in funding for local events. Of the 23 BTA contracts detailed in The Official Gazette last week, the largest was related to rent. The BTA paid $3.553 million to Royal Realty Corp for office rental in New York — a fee that covers the period from November last year until November 2029. The authority also paid $1.144 million to Washington Properties (Bermuda) Limited for its on-island office. The contract started in January 2014 will end next January. A multiyear co-operative marketing agreement with JetBlue cost the BTA $2.745 million. The agreement came into effect in January 2017 and will continue until the end of this year. The BTA also paid MMGY Global LLC, a company with offices in the US and Spain, $1.02 million for marketing and advertising services from last January until the end of this year. Saks & Company, the company that owns upmarket store Saks Fifth Avenue, travel planning business Virtuoso Ltd and hospitality software company Cvent Inc were also hired for marketing and promotional work, and got $250,000, $75,866 and $53,813 respectively. US-based travel marketing firm Miles Partnership signed a $575,340 contract with the BTA for website hosting and digital marketing. Expedia Travel, a US-based travel website, were awarded two contracts worth a total of $300,000, both started in January and will run until the end of the year. Reach Global Marketing got an $85,000 contract to promote the island in Canada between January last year and the end of this year. Britain's Media Agency Group, which highlighted the island with a high-tech billboard campaign in the UK, got a $304,198 contract that ended in January. The BTA also hired the US-based Turner PR group for public relations with a two-year $504,000 contract which will finish at the end of next year. The authority also made cash contributions to several events on the island. The Bermuda Festival of Performing Arts got $75,000 for its 2019 festival and Pink Sand Entertainment was given $100,000 for its Made in Bermuda events last year. The Bermuda National Athletics Association were awarded $160,000 for the 2019/2020 Bermuda Marathon Weekend, the Royal Bermuda Yacht Club will receive $55,000 for the 2019 Argo Group Gold Cup and the BTA will pay $300,000 for the BDA 3's World Team Championship tournament as part of a multiyear agreement. The BTA also agreed to sponsor Bermudian athlete Flora Duffy through a multiyear sponsorship agreement valued at $160,000. Other contracts listed included $78,000 to Associated Luxury Hotels International for a single-year membership in its global alliance, $159,300 to Total Research Associates for data entry of landing cards and $104,100 to Destination Analysts Inc for air and cruise exit surveys.

The Agricultural Show will mark its 80th anniversary this year — by going to the dogs. Jeff Sousa, the spokesman for the Ag Show, said that Canine Stars, North America's top dog stunt show, would headline the show at the Botanical Gardens in Paget. Mr Sousa said: "We have four dogs who are coming in and these are some of the best dogs in the world. We have a dog coming from South Korea, we have one coming from Belgium, we have one coming from Canada and one from the United States. If people have seen the videos online, then they know how impressive the show is." Mr Sousa said he was convinced the Canine Stars would be a huge hit because of the island's fondness for animals. He said: "Bermudians love dogs. We have every breed you can imagine here, because we all want to have something different. We are totally dog people if you think about it. Just go down to Noah's Ark pet store on a weekend and you'll see it." Mr Sousa said the stunt show would be held in the event's main ring twice a day but that spectators would also be able to meet the dogs after the show. He said: "Our host hotel for the four dogs and the trainers is the Fairmount Southampton, who have very generously taken care of their accommodations. Fairmont Southampton is a dog-friendly hotel now. With any international act like this being flown in there are, of course, lots of expenses and we would like to thank our sponsors for this special international attraction to help us celebrate the 80th Ag Show." Mr Sousa said Sousa's Landscape Management and Sousa's Gardens were the main sponsor for the stunt show, but other sponsors stepped forward including the Gibbons Company, the OIL Group of Companies, Harrington Hundreds supermarket, Care@Home Services, Stoltzfus Feed and Supply, Kirk Kitson, Neil and Carla Stempel, Gilbert Lopes and Alan Burland. He added that the dog stunt show would be only one part of the three-day event. "We're still going to have the pigs. The poultry barn will be packed with every type of bantam that you have ever seen and some that you never knew existed. There will be the orchids, which are always amazing to see. Some people skip over them, but there are the roses which people really shouldn't miss. There are the cakes, the arrangements, the art and in the lower area we will have all sorts of entertainment for the full three days of the show." Mr Sousa also promised a wide range of food, from fried fish to Portuguese doughnuts — malassadas — with a portion of the profits from all of the stalls going towards charity. He said: "Over the years, thousands and thousands of dollars have been donated to worthwhile charities." The Ag Show will start next Thursday and run until Saturday. Mr Sousa said the show was usually held later in the month, but that organisers decided to bring it forward to avoid conflict with the MS Amlin World Triathlon Bermuda. Mr Sousa said the Ag Show had evolved over the years and was still an important event on the Bermuda calendar. He said: "There really is something for everybody. To me, it's the largest community event in Bermuda. You really see the mosaic of Bermuda not only come out but participate." Mr Sousa added that 80 years ago men would have been out on the field with their horses to demonstrate their ploughing skills. "Their grandchildren are now out there jumping with world-class show horses."

An Italian coffee maestro showed a group of trainee chefs how to brew the perfect cup in a class organized by the island's Little Venice Group of restaurants. Juliano Batticari, a veteran barista and café owner from Venice, Italy, demonstrated his skills to the Bermuda College students at the upmarket Fourways Inn in Paget. He showed the trainees the way to make the perfect cappuccino and different brewing techniques. Mr Batticari, the owner of two cafés in Venice, said that he was invited to Bermuda to run coffee-making workshops at Café Four in Hamilton, also owned by the restaurant group. He added that Café Four customers could watch him make coffee on televisions inside the restaurant. Mr Batticari said: "I've taught classes like this many times before. But it's not as much fun as teaching here in Bermuda." Bermuda College student Elisha Smith, 26, said she enjoyed learning the skills behind the perfect coffee and had picked up new information, despite second-hand experience with the craft. She explained: "I've seen it done before because I've had a family member work as a barista for a good few years. Still, I didn't realize there were various brewing styles for coffee, like Italian and French styles." Ms Smith, from Southampton, said that she attended the class, held on Thursday, to expand her knowledge of culinary skills. She added that events like the coffee master class helped her better judge the quality of restaurants. Ms Smith said: "Some people try to sidestep something, so now that I know the proper method I can say 'they're not doing that right, I'm not going there any more'." Tremayne Bailey, 27, said that he appreciated a good coffee and signed up for the class to learn the proper techniques. He added that the course was a good way to acquire knowledge that could be applied throughout his career. Mr Bailey said: "It's always good to have those kinds of knowledge on the back-burner because when you're in the kitchen you have to be creative, so it opens up a whole new creative aspect." He added the course had made him want to experiment more with coffee. Mr Bailey said: "There's a whole new world open to me now." Andreas Detzer, the general manager at Fourways, said events like Mr Batticari's classes were a vital learning experience for Bermuda students. He added: "Coffee has a big role in the culinary experience, so I thought that it might be very interesting for the culinary newcomers to get a little more exposure. It's very, very important for the students to come in here, see a real kitchen and see how people actually work in the hospitality industry."

A new playground designed to be useable by the disabled could be completed by the end of this month. The attraction, at the WindReach centre for the disabled in Warwick, will feature an area for music, a mini-theatre, diggers able to be operated by wheelchair users and a "wonky mirror" room. Chrissie Kempe, the executive director for WindReach, said: "We had a wonderful tree house before but it had definitely done its time and we needed to start afresh. This has the value of being an inclusive and accessible space that really does support our mission to improve the quality of life, the focus is to encourage outside play for everybody. It is a perfect fit for us here." The project, in the works for two years, was spearheaded by the Meet a Mum Association's Boundless Bermuda arm, which raised $350,000 and managed the construction. The playground, designed by UK firm Capco, was created to be open to the disabled and able-bodied. Extra-wide slides, huts, bridges and a tower are already in place and only the filling of sand pits, the installation of soft safety surfaces and the installation of the digger have still to be completed. Ms Kempe said: "What is great about this playground is that it is completely customized and there is no other one like it. Capco really worked with us to understand what our users and participants would enjoy and ensured that there was something meaningful and engaging in all aspects of it." Becky Lucking of Mama's Boundless Bermuda added: "None of this would have been possible without the incredible generosity of our donors. We were delighted that Mark Cloutier and Brit Insurance kicked off our fundraising and they have been widely supported by the business community including Validus, Sompo, Butterfield & Vallis, GreyCastle and MS Amlin. We have also been overwhelmed by the kindness of children donating their birthday money, local sports clubs and everyone who has volunteered countless hours at our fundraisers. Ms Lucking also singled out Nikki Murray Mason and the team of volunteers who created a mosaic mural designed to highlight Bermuda's wildlife as well as animals at WindReach such as horses. The playground will also be hired out for private parties.
• For more information, e-mail Paige Eversley at peverseley@windreach.bm or call 238-2469 ext 211

April 5

Premier David Burt discussed Bermuda's efforts to build its relationship with the United States when he met members of Congress in Washington, yesterday. The Premier said the island's co-operation with the US on tax transparency and its assistance in helping with disaster recovery came up in conversations. Mr Burt said the series of meetings was "mainly a part of our continued engagement with members of Congress to make sure that they understand the business of Bermuda". Mr Burt added he was accompanied by John Huff, the president and chief executive of the Association of Bermuda Insurers and Reinsurers, and Abir members. He said: "We spoke about the matters that are important for Bermuda's financial services industry." One of his meetings was with Democratic congressman Richard Neal, who waged a campaign against the "Bermuda loophole", which he claimed helped American companies to dodge US taxes. Since January, he has been the chairman of the House Committee on Ways and Means, the chief tax-writing committee of the US House of Representatives. The representative for Massachusetts' 1st congressional district and former mayor of Springfield, the congressman made headlines this week when he exercised his constitutional right, as committee chairman, to requisition President Donald Trump's tax records from the Internal Revenue Service. Mr Burt, who had a joint meeting with Mr Neal and party colleague Congressman G.K. Butterfield, said yesterday the meeting went well. He said: "I'm not going to discuss the contents of individual meetings, but I would say overall the meeting went well. The opportunity to speak to the chairman of the Ways and Means Committee is always a great thing. We had a good discussion over Bermuda and the contributions it makes to the US economy, especially in times of natural disaster." Mr Neal said in a TV advert in 2012: "There are American companies that have chosen to move to countries like Bermuda and the Cayman Islands for the purpose of sophisticated tax avoidance. All you have to do is set up a post office box. I filed legislation to address the issue and we won." Mr Burt said stricter rules on economic substance, the physical presence of companies doing business in Bermuda, was "not much of a talking point". He added: "It was not raised by any member in any meeting. However, I did update chairman Neal on Bermuda's Economic Substance regime in light of the forthcoming rules from the OECD." Mr Burt also met Democratic Congressman Lacy Clay, the chairman of the Financial Services Sub-committee on Insurance, to "reinforce that Bermuda will continue to assist communities in the United States to rebuild after natural disasters and is happy to work with the new Congress to expand coverage". The Premier also had talks with Congressman Emmanuel Cleaver, a Democrat and the chairman of the Financial Services Sub-committee on National Security, International Development and Monetary Policy to "discuss the impact of de-risking on Bermuda". He met Congressman George Holding a Republican from North Carolina, to "discuss ways that the Bermuda insurance market assists disaster recovery efforts in the United States". Mr Burt said the changes in the political landscape since the 2018 mid-term elections, which saw the Democrats take control of the House of Representatives and the Republicans increase their majority in the Senate, had not affected Bermuda's relationship with Washington. He said: "We meet with the Democrats and the Republicans. We don't limit ourselves to any particular party or caucus because for Bermuda it is necessary to build relationships on both sides of the aisle." Mr Burt added that he hoped Bermuda would be taken off a European Union blacklist of non-cooperative tax jurisdictions. He said: "We have every expectation that we will be removed from the list at the earliest opportunity."

Vulnerable boys from Bermuda were for decades sent to an American reform school now under investigation for alleged child abuse and cover-ups. The children went to Glen Mills Schools in Pennsylvania at the request of the island's Department of Child and Family Services, which said yesterday it became aware of accusations of staff violence against students only in February. An article in the Philadelphia Inquirer newspaper in August last year included allegations from a 17-year-old boy that he was choked and punched by a counselor while other staff held him down in an incident said to be caught on a surveillance camera. The August 2018 article also revealed that Philadelphia's Department of Human Services had stopped sending children to Glen Mills and was investigating the operations of the Delaware County residential institution. A special report in the Inquirer published on February 20 contained interviews with 21 past and present students and counselors, and detailed several cases of children alleging serious assaults by staff. Youngsters from Bermuda were sent to the school for more than 35 years and as recently as 2017. The Inquirer report claimed "serious violence is both an everyday occurrence and an open secret at Glen Mills, and has been for decades". The report sparked some of the inquiries now under way, as well as the emergency removal of the 383 boys at the school last month. In the emergency removal order issued by the Pennsylvania Department of Human Services on March 25, the department said it had verified attacks by staff on children involving choking and punching, as well as a child being forced to lie about the cause of his injuries. The order added a staff member had failed to intervene in a student-on-student assault which resulted in a broken jaw. The school, which is about 30 miles from Philadelphia, denied the allegations in a detailed appeal filed yesterday with the Pennsylvania DHS Bureau of Hearings and Appeals. Alfred Maybury, the director of the Department of Child and Family Services, told The Royal Gazette the last child from Bermuda was admitted to the school in 2017 and that none were there now. He said in an e-mail: "Glen Mills was at one time a very highly respected institution and that is why, prior to 2017, DCFS used their services. Over the past few years, DCFS has used local resources and services for children in need." A department spokeswoman could not provide a figure on the number of children from the island sent to Glen Mills over the years by press time. However, the spokeswoman said all overseas schools where children from Bermuda were sent were licensed by "their respective licensing body and are accredited through an accrediting body. The policy of the department with all overseas schools is to have weekly conference calls with the school and child. The worker from DCFS visits the child every six months from admission date and the director has a face-to-face visit with all children at least once a year in addition to the staff visits. DCFS has not received any information related to any children sent to Glen Mills being abused or mistreated." The news about Glen Mills came after The Royal Gazette revealed in November that 48 of the 50 youngsters sent abroad by DCFS as part of its psycho-educational programme since April 2014 had no legal representation. None of the children sent overseas before then had legal representation. The House of Assembly heard last month that 17 boys and 3 girls received treatment at various overseas centres in 2018 for a "complexity of issues" that involved mental disorders. The website for Glen Mills said it was the oldest school of its kind in the US and catered to "court-referred youth" from 120 different jurisdictions, including counties in the US, as well as Germany, Switzerland, Austria and Bermuda. The school, founded in 1826, added it had a "stunning campus" and "impressive athletic facilities", and had used "peer pressure and group confrontation" techniques to tackle antisocial behavior since 1975. It said in its appeal against the emergency removal order that Glen Mills had been "one of the most visited, regulated, inspected and scrutinized programmes of its time" for the last 40 years. Contrary to recent media coverage, Glen Mills' success has not been built on a foundation of abuse, intimidation or violence against students. To believe that foundation exists, would be to accept that all of the ... people who actually visited, toured and inspected the campus were completely and utterly duped into believing that it was a safe place." Kathy Lynn Simmons, the Attorney-General and the minister responsible for DCFS, did not respond to a request for comment. Were you sent to Glen Mills or another overseas institution by the Department of Child and Family Services or do you know someone who was? If you want to share a story in confidence, e-mail sstrangeways@royalgazette.com.

A prison officer convicted of an attempt to smuggle a mobile phone to an inmate has lost an appeal in the Supreme Court. Kadeem Abraham admitted that he had accepted an item to take to an inmate, but claimed he only took it so he could examine it. Marc Daniels, lawyer for Abraham, argued Magistrates' Court did not take his client's story — that he had taken the item as part of his duty as a prison officer — into account. But Assistant Justice Jeffrey Elkinson found that Abraham had broken the rules when he did not at once stop the inmate and inform the chief prison officer. Mr Justice Elkinson said in his April 1 judgment: "The court below heard evidence of the proper procedure that is to be followed and there appears to be no question that specified immediate action should have been taken by Abraham upon receiving into his possession the package from the remand prisoner. On its face, what he did is inexcusable, not only in the light of the training which he had received and what the rules are, but common sense." Magistrates' Court heard at Abraham's trial that in July 2016, Abraham was working as a prison officer at Westgate jail. The chief officer received "certain information" on the day of the incident and brought Abraham to the boardroom in the prison's administration area. Abraham denied having anything on him and emptied his pockets but, from the last pocket, he produced a blue-and-white mayonnaise packet wrapped in plastic wrap. After officers found a small mobile phone inside, Abraham named the inmate who gave him the package and said he had been asked to take it to another inmate in the maximum security area of the prison. He insisted he only accepted it so he could examine the package, but never got the chance. Abraham was found guilty after trial, but appealed the verdict. Mr Justice Elkinson added it was "not surprising" the magistrate had dismissed Abraham's defence. He said: "The decision of the magistrate was correct and in light of the evidence given, not least by the appellant himself, little elaboration was needed." He ordered Abraham back to Magistrates' Court for sentence. The maximum penalty for smuggling contraband in prisons on a summary conviction is 12 months in jail.

A corrupt customs officer convicted of cocaine dealing has been ordered to hand over nearly $180,000 in assets as the proceeds of crime. Roberto Marques was ordered by Supreme Court to pay the total sum within six months, with the cash to be added to the Confiscated Assets Fund. Marques, who was sentenced to ten years in jail two years ago, will have to pay $45,000 immediately, with the rest, about $130,000, to be paid within six months. Puisne Judge Carlisle Greaves ruled that if Marques failed to pay up, he would serve an extra seven years behind bars. The order came after the Bermuda Police Service asked for a Supreme Court confiscation hearing. Acting Superintendent Nicholas Pedro, of the Bermuda Police Service, said: "We welcome this decision and note that we are committed to using our resources to fairly and transparently remove the proceeds of criminal conduct from the financial system of Bermuda." Marques was a serving customs officer when he was caught with the drug in 2016 and was jailed a year later. Mr Pedro said that the BPS Financial Crime Unit gave evidence that Marques had benefited from his criminal activity over a six-year period and his take from crime amounted to more than $255,000. Assets that were restrained included a Bermuda property, a property in the Azores, a vehicle valued at $18,000 and bank accounts holding balances of more than $15,000. Mr Justice Greaves declared Marques's realizable assets at $179,240.46 and ruled that they should be forfeited to the Crown.

Prison officers could take industrial action over conditions at Westgate jail, the head of their representative body warned yesterday. Tim Seon, the chairman of the Prison Officers Association, said he could not rule out the potential for labour disruption if a string of problems were not dealt with. Mr Seon added: "We are going to exhaust all avenues. There is a growing frustration and if we don't see any movement soon, that is where it could go. I have to call another meeting with my membership in about three weeks." Mr Seon was speaking after he invited politicians to tour Westgate to see the conditions officers and prisoners had to put up with. Mr Seon predicted a tour of the prison would shock MPs and ministers. The veteran officer said he had been in talks with the Government's Public Service Negotiating Team and the Bermuda Trade Union Congress over disputes that dated back 20 years. He said that a tour of Westgate would be a good way for those responsible for the prison service "to see exactly what it is that we do, and the conditions in which we work". He added: "They see black and white. They crunch the numbers and they don't see how it affects the people on the front line actually doing the task. I find that to be the biggest issue, right now." Mr Seon said: "If they take us up on that offer, they are going to see the truth. They are going to see the problems that are facing the men and women who work behind those walls and, even worse still, the individuals who have to live there. There are very inhumane conditions behind those walls. They say Bermuda is another world, and behind those walls, it is very much true." Mr Seon added that prison officers have not had a pay increase for a decade, had hit a wall in negotiations over health insurance and that health and safety at the prison was compromised by a range of problems, including mould. He said that the BTUC had also written a letter to the Government in support of the association's plea for better pay and conditions. Mr Seon added: "The BTUC has agreed to put forth a formal letter in regards to the negotiation process with the outstanding associations. We have not had any salary increase in ten years; we are working roughly at about 22.5 per cent below the cost of living. It is encouraging to have the support of the BTUC, I'm a bit more optimistic. I don't think the Public Service Negotiating Team fully understands our need for the Government Employee Health Insurance benefit. Prison officers are working in sick buildings with mould. We have seen other government services refuse, or even close down, because of mould. That includes schools, the police department, and the Chief Justice refused to work out of Supreme Court Three because of mould. We are stuck here because where are you going to put the inmates?" Mr Seon said that Wayne Caines, the Minister of National Security, had asked to meet him to discuss complaints. Mr Caines issued a statement on Sunday to say that his ministry recognized "the critical and important work that the members of our uniformed services undertake on a daily basis." He highlighted that the ministry had met with the Prison Officers Association five times last year to discuss the matters raised with some success including the hiring of 21 new prison officers over the year and the commencement of a recruitment drive for 25 more. Mr Caines added: "To ensure continuity and focus, this ministry championed the creation and implementation of a strategic plan. And to ensure transparency and collaboration we invited the POA to be a part of the strategic planning process." Mr Caines highlighted progress in security at the facility including updated CCTV and fire alarm systems, and infrastructure upgrades including tank repairs, air quality tests and a "stringent" cleaning regime.

The public is being encouraged to participate in a survey that could improve care for patients in Bermuda's health system. The Adverse Childhood Experiences research looks at the link between adverse childhood experiences and the risk of disease later in life. It is hoped that it will lead to better care for chronic conditions such as heart disease, diabetes, obesity, mental health disorders, cancer and asthma. It is being carried out by the Bermuda Health Council in partnership with Family Centre. Tara Hines, the programme manager of data analytics and outcomes research at the health council, said it is hoped 5,000 people will take part. She said, so far, more than 300 people have participated in the research, which started last month and continues until June. Ms Hines added: "We are continuing to increase efforts to have respondents submit their questionnaires, by reaching out to organisations and taking advantage of multiple media outlets, including radio and social media. The nature of this type of information is deeply personal and specific to its respondents and can only benefit from more people being involved. Because this is a countrywide questionnaire, we hope that Bermuda can see this as a community opportunity to be involved and improve our health together." People of all ages are welcome to participate, particularly adults who lived in Bermuda during any portion of their childhood. Ace research assesses different types of adverse childhood experiences including physical abuse, verbal abuse, sexual abuse, physical neglect, emotional neglect, racism, bullying, poverty as well as family member-related substance abuse, domestic violence, imprisonment, mental illness, negative facets of divorce and death or abandonment. Stephanie Guthman of Family Centre said this research is important for the charity which has been at the forefront of advocating for the issues facing children and families. Dr Guthman said: "The concept of unresolved trauma, also known as Adverse Childhood Experiences, and its consequences has continued to evolve and become increasingly apparent in our communities for more than twenty years. The time is now ripe for Family Centre to continue this momentum and, along with the Bermuda Health Council, we aim to shed light on what Aceand the effects of Ace look like in our community. A major strength of the current study is the opportunity to explore the impact of Ace in a unique and insular population and to do so in a manner that is comprehensive and informative." Dr Guthman said people have been responding to the survey and are willing to participate. She added: "The issue of Adverse Childhood Experiences has been a longstanding issue facing our Bermuda community. People in our community are eager to hear whether the data reveals similar results to what the US Ace study revealed." Family Centre has approached the Inter-Agency Committee for Children and Families, non-profit organisations, and government agencies, asking individuals to send the survey link to members of their network. The Ace survey link is on Family Centre's website, tfc.bm/acesssurvey. It can also be found on Twitter and Facebook.

The Green family have completed the purchase of the former HSBC Building on Front Street in Hamilton, and said the property will be "comprehensively renovated and renamed Point House." The Green Family — who also own the Hamilton Princess — said the plan is to make the building "more visually attractive," with the ground floor to provide retail and leisure space, while the upper floors would be leased to office tenants. A spokesman said: "Botelho Wood Architects have been retained to re-design and renovate the 80,000 sq. ft building. The design brief being to once again make the building the central point of Front Street with a more aesthetically attractive external design while completely reworking and modernizing the interiors for both current and future discerning Bermuda office tenants," a spokesperson said. It is intended that the ground floor should provide some retail and leisure space, with access directly from street level and offer magnificent views of the harbour. A separate and distinctive entrance will cater for the upper floors, which would be leased to office tenants. The outside of the building will be made more visually attractive with a substantial addition of glass. There are plans to incorporate distinctive design features, such as a sculpture underneath a new canopy on Front Street, which would provide shade and weather protection to pedestrians and patrons of the building. Balconies will be added throughout the building to add outside space and additional cachet to the offices. The offices are planned to have increased levels of natural light and boast unrivalled views up and down the harbour. Some underground parking is also planned." Alexander Green, on behalf of the Green family, said: "We are pleased to be able to announce this exciting new office and retail development in Hamilton. We are confident that Point House will be an attractive, first-class addition to Front Street and to the city's economy." The building will be made fully accessible and will be equipped with low-energy and energy efficient lighting to ensure sustainability, the Greens noted. The renovations are expected to take 18 months to complete, once ground is broken on the project. All rental enquiries should be directed to Penny MacIntyre at Rego Sotheby's International Realty at [441] 299-1508 or on email pmacintyre@regosir.com.
Point House, once HQ of long-past Bank of Bermuda Ltd now HSBC Bank of Bermuda

A plan to turn a former preschool into studio apartments and lofts has been submitted to planners. The Bermuda Housing Corporation said it wanted to convert the old St David's preschool on Battery Road and a building next door into 14 homes. The corporation proposed seven single-bedroom lofts, six studio apartments, a two-bedroom villa and, additionally, a maintenance office. Keino Furbert-Jacobs of the BHC wrote a note in the application.: "This is one of a series of instalments which targets accommodations for active singles, ie professionals, seniors, active and semi-active adults." The project would also include the construction of a new water tank, cess pits and landscaping of the area. The work would also include the removal of the pavement separating the two buildings.

Attention to pitbull owners who break the law could prevent future attacks by the dogs, a shadow minister said yesterday. Cole Simons, the One Bermuda Alliance spokesman on education, added that, although the Government had tightened up the Dogs Act, there were still attacks by pitbulls. He said: "In my mind, if dog owners continue to flout our dog laws, they must be punished. They must feel the pain, and the full weight of the law should be bestowed upon them." Mr Simons said the Government had to make sure there were sufficient resources to enforce regulations. He added: "If we do not follow through on the enforcement, our canine management laws will be ineffective. Our Dogs Act will not change the behavior of irresponsible dog owners. As a result, our community will continue to be at risk." Mr Simons said he sympathized with schoolboy Aston Jones-Williams, aged 9, who was attacked and bitten several times by two pitbulls last month. He added: "I can't imagine how this young boy felt during the attack and the resulting trauma he experienced." But Mr Simons said that people had expected attacks. "It was inevitable as a handful of irresponsible dog owners have allowed their dogs to wander and have not secured their properties to the level required." Mr Simons, whose King Charles spaniel was savaged and killed by a pitbull last March, said several small dogs had been mauled by the breed over the past two to three years. An elderly man attacked by a pitbull last month backed Mr Simons' call for owners of pitbulls to be more responsible. Sterlin Smith, 79, said the attack was a traumatic experience and that other people, especially young children, should not have to deal with a similar ordeal. Mr Smith, of Southampton, said: "It is an experience I wouldn't wish on my worst enemy. "When I think about it, it's like I relive the whole thing." Mr Smith said he loved dogs but added: "If they are going to have these dogs, they should be really carefully contained." The real estate agent was attacked on March 14 as he visited a property for sale in Paget. He said the owner was not home, but that he had visited the property before and knocked on a tenant's door instead. Mr Smith explained the dog that attacked was chained about 40 feet from the tenant's home but because of the length of its chain it was able to get to him. He said: "I've had some close encounters with dogs but nothing like this." Mr Smith was bitten on an arm and a leg as he tried to fight off the animal and the attack only ended when the tenant came to his rescue. He added: "If I had fallen then God knows what would have happened." A spokeswoman for the Department of Environment and Natural Resources said the department did not know if there had been an increase in the number of dog attack reports because statistics for 2018 and the start of this year were still being compiled. A survey in 2014 suggested that pitbulls were responsible for 141 of 259 of serious complaints made in 2012 and 2013. Department records show that there are 574 pitbulls or pitbull-type dogs on the island, 6.3 per cent of the dog population. The spokeswoman warned the figure might not be a "wholly truthful statistical representation" as that only represented dogs known to the department. She explained: "The figure will not include dogs which we have never encountered and which have never been licensed. If people think a particular animal is a threat to people or other animals, they can contact the Animal Warden, who will probe the complaint." Owners of dogs which cause death or injury to other dogs or people, or damage to property, can face a maximum fine of $10,000 for a first offence and $20,000 for subsequent offences. Offenders may also be liable for civil penalties.

Hamilton Princess and Beach Club's 1609 Bar & Restaurant reopens tomorrow, following upgrades to the space, including additional covered areas. The restaurant and bar now offers guests protection from the elements throughout the entire space, without losing its open-air element. These upgrades mean that 1609 will be available as an event space all year round, the Princess stated. The upgrades were carried out by principal local contractors, D&J Construction under the supervision of Botelho Wood Architects and involved an average of 24 employees throughout the project and roughly 9,000 man hours. The "Impossible Seekh Kebab" is a new vegetarian addition to the menu, joining favourites such as golden fried shrimp and fish tacos. The restaurant is open seven days a week from 11am until 10pm, serving lunch, dinner and drinks. For more information, call 298-2028 or e-mail ham.diningreservations@fairmont.com

April 4

Supreme Court cases will no longer be heard in historic Sessions House after the building is renovated, the Speaker of the House of Assembly confirmed yesterday. Dennis Lister said that the 200-year-old courtroom would be used by the legislature after work is completed later this year. The news came after the judiciary highlighted in its annual report that a lack of court space had contributed to a backlog of criminal cases. A source who was close to the planning of the Dame Lois Browne-Evans Building in Hamilton more than a decade ago claimed an opportunity to move Supreme Court sittings to the new court complex was rejected by the Chief Justice. Mr Lister said Sessions House, built in about 1819, needed urgent work. He added: "The building is in need of major modernization renovations, like any building of that age that has never been fully renovated. The concern is to bring an old building up to today's standards, to preserve the old building and save the old building. If we don't preserve it, one day we will lose it." Mr Lister said: "When the building is completed, the entire building will be for the purposes of housing the legislature and all the infrastructure that is required for supporting the legislature." Mr Lister explained that would not only include the Speaker's office, which "should be there anyway", but also space for clerks and other staff. The original plan for the Dame Lois Browne-Evans Building was that it would be shared by the Magistrates' Courts and the police. But Lieutenant-Colonel David Burch suggested the addition of Supreme Court to the premises when he was the works and engineering and housing minister in 2006, which would have made Sessions House for the legislature only. That plan was later ruled out. A source close to the work at the time claimed this week that former chief justice Sir Richard Ground opted not to relocate to the new building. It was reported in 2010, more than a year before the Dame Lois Browne-Evans Building opened, that Sir Richard ­— who has since died — had been "pushing for a new Supreme Court" since he took up the top judge post in 2004, although he admitted that the new Magistrates' Court building was "the right priority". The Bermuda Judiciary Annual Report 2018, published in February, highlighted concerns that the closure of the appeal court on Front Street had lead to backlogs for criminal matters after sittings were moved to Court 1 in Sessions House, which is the second criminal Supreme Court. Further disruption was expected to result from the relocation of Court 1 during the upcoming renovation works and beyond. Alexandra Wheatley, the courts registrar, said in the report that the judiciary had been told that Parliament did not want it to return to Sessions House "in any capacity". Scott Pearman, the One Bermuda Alliance Shadow Minister of Legal Affairs, asked about the removal of court space from Sessions House in Parliament last month. He said yesterday: "The news that historic Court 1 in the House of Sessions will cease to be a courtroom is unfortunate news in its own right. But when you place this decision in the larger context, with two other courtrooms having already closed in the past two years, this reveals a lack of any co-ordinated approach to Bermuda's court system. Our island will soon have three fewer courtrooms. Where and how does the current Government plan to take up the strain of lost space? And why has this decision to close Court 1 been so shrouded in secrecy?" The One Bermuda Alliance MP said his party asked "very specific" questions in the Budget debate on March 13, including: "Will the judicial department under this ministry have one fewer courtroom than it already does? Or will this disappearing courtroom be moved elsewhere?"Mr Pearman added: "Sadly, Bermudians did not get any answer to this important question. So we are left with a basic failure by the Government to identify how or where these significant gaps will be filled. This puts a strain on the whole court system. This, in turn, impacts upon the public, which the courts already struggle to serve. When a person goes to court, it is usually because trauma has touched their lives — perhaps a divorce, or a criminal charge, maybe the collapse of a business, or where someone suffers a personal injury. These are not easy life experiences. Bermuda needs a court system that ensures access to justice for those who are already facing difficult personal circumstances. Ultimately, it is the public who will suffer." Kim Wilson, the Minister of Health who led the House of Assembly debate on behalf of the legal affairs ministry, said then that the Department of Public Works was working with the ministry to make sure that "the responsible renovations and the relocation of the courts" happened as quickly as possible. She added: "The technical staff are in consultation with the registrar to ensure that the needs of the judiciary are being addressed." The Ministry of Public Works said last Sunday that the "preservation of the historical aspects of the building" would be prioritized while works are carried out at Sessions House, but declined to comment further yesterday.

Special parts are needed to repair the out-of-order landmark clock at Sessions House. The time showed about 12.30pm when a photographer from The Royal Gazette took a picture just after 1.30pm yesterday. It is understood the clock has been stopped since at least Monday. A spokeswoman for the Ministry of Public Works said yesterday that the department was aware of the problem and was "awaiting specialized parts which are needed to repair a mechanism". She added: "The ministry regrets any inconvenience caused to the public." The clock suffered similar problems at the end of last year, when the clock was either stopped or running too slow. Sessions House was built about 1819 and the addition of a clock tower, to commemorate Queen Victoria's Golden Jubilee, was proposed in 1887. But work on the project, which also included the red Florentine-style façade, started late and construction was not completed until 1893.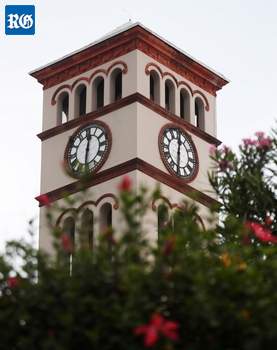 Clock atop Sessions House, see above article

A team from Canada could assist the Department of Immigration in providing Bermudians who require biometric data to work, visit or study in Canada. The announcement came today from Walton Brown, the Minister for the Cabinet Office. Canada unveiled the new requirements last year, meaning that local residents carrying any type of British passport, including British Dependent Territories Citizens, would be required to submit fingerprints and a photograph with their applications after December 31. The biometric information would have to be renewed once every ten years. The cost to provide the information was CAD$85 for individuals and a maximum of CAD$170 for family applications. However, Bermuda has no facilities to take biometric information, meaning locals would have to travel to the United States to provide the data. Mr Brown said that Bermudians applying for Canadian visas faced "hardship, economic and otherwise" by having to go to the US. He added: "With Bermudian families already sacrificing to meet the high costs of educating their children, an added burden or roadblock is not something that they should have to take on by themselves." The requirement affects a variety of travelers, but is mandatory for all foreign students in Canada. The minister said: "The Bermuda Government has stepped in and is currently in discussions with the Canadian Consulate in Bermuda to address the issue of Bermudians having to travel to the US to collect the biometric data. Ultimately we are advocating for a Canadian team to come to Bermuda to collect the biometric data, or exploring the possibility of the Department of Immigration or another entity becoming an authorized Canadian Visa Application Centre or Application Support Centre. Our Canadian partners have been receptive and we are hopeful that we will find a good balance. I look forward to updating the public on further developments."

A Bermudian convicted of possession of child pornography in the United States should have to register as a sex offender if he returns to the island, the head of a child sex abuse prevention charity said yesterday. Debi Ray-Rivers said it should be mandatory for Andrew Charlton and every other convicted child sex offender to register as a sex offender with the Bermuda Police Service, regardless of their sentence. Charlton pleaded no contest to a charge of possession of child pornography at a Rhode Island court last month. He was sentenced to two years' probation and will also be placed on the state's public sex offender register. The 32-year-old was arrested in late 2017 after detectives discovered he was using his laptop to share files of child pornography on a peer-to-peer file-sharing network. Evidence of more than 100 images of child pornography was found on his computer after it was seized, including some that involved very young children. The conditions of his probation mean Charlton, of Crane Terrace, Narragansett, Rhode Island, must not live with children, have any contact with children, including electronically, or loiter or live inside 300 feet of a school, daycare centre, playground or other place where children congregate. Ms Ray-Rivers, the founder and executive director of Saving Children and Revealing Secrets, told The Royal Gazette: "Given Andrew Charlton's conviction of possessing child pornography, and the restrictions and conditions placed on him in Rhode Island, if he should return to Bermuda, those same restrictions and conditions, in our view, should apply here in Bermuda. "Also, it should be made mandatory that he register with the police as a registered sex offender. These are the types of restrictions and conditions we would like to see with every convicted child sex offender." Antoine Daniels, the Assistant Commissioner of Police, said Bermuda law required only people who were sentenced to prison overseas for sex offences to be added to the island's non-public register if they become a resident here. He added: "However, the Bermuda Police Service in collaboration with both its local and overseas partners continues to monitor these types of cases and gather as much information as possible, which allows for the assessment of potential risk, enabling a proportionate response in reducing future threat and harm to our local communities." Mr Daniels said the BPS was aware of Charlton's conviction and of his name being added to the RI sex offenders' register. He added: "The BPS has a number of information-sharing agreements with law enforcement agencies in America, together with other foreign jurisdictions, and are currently in the process of seeking official notification in relation to this particular case." Ms Ray-Rivers said Mr Daniels's comments were "encouraging". She added police did not have the resources to track the movements of all child sex offenders so all adults had to take precautions to protect children. Ms Ray-Rivers said: "Parents must educate themselves in prevention. They need to talk to their children about body safety early and often and also talk to them about where they go on their devices and monitor them closely. Youth-serving organisations should screen volunteers and employees, do reference checks, mandate prevention training and implement codes of conduct and have the employee or volunteer sign it. Sometimes those that suffer with addiction of any kind, suffer with control. We can only pray and hope that Mr Charlton does not move from viewing children — which is against the law and harmful enough — to direct involvement and scarring them." Kelly Hunt, the executive director of the Coalition for the Protection of Children, said that although Bermuda had a sex offenders' register, "putting it mildly" there were still major loopholes. She explained Bermuda was "still limited" in what could be done to stop convicted pedophiles from "working with or being around children". Ms Hunt said that children's camps, churches and other private institutions were "particularly susceptible because they are not bound to a vulnerable person's policy, or background checks. We cannot rest until this safety net is secure and child protection is strengthened as a priority for Bermuda. Without these preventative measures in place, we remain concerned for the safety of our young people. It is our responsibility to protect children, but they are still the victims in these horrible crimes. Unfortunately, there is much more work to be done to keep our children safe." Rhode Island State Police said because Charlton lived in Rhode Island there was no requirement to notify authorities in Bermuda of the court's action or his placement on the state's sex offenders' register. Charlton is the son of Ray Charlton, a former One Bermuda Alliance election candidate and the former chairman of the West End Development Corporation.
• Scars lists every child sex offender whose conviction is made public through media reports on its website at www.scarsbermuda.com/scars-news

Hundreds of people could be squatters in abandoned buildings, the head of a family charity said yesterday. Martha Dismont, executive director for Family Centre, said increased homelessness has led more people squatting or living on a temporary basis with friends or family. Ms Dismont said that statistics on the problem were hard to come by, although it was clear there had been a jump in the number of homeless people over the last decade. She added: "We do know that there are many, many people who are homeless or who do not have what's necessary to survive normally in this high-cost economy and consequently they are finding other ways to survive. We know that there are people that pop up every day that are in circumstances like this. I suppose we can estimate they're in the hundreds, to be honest, but we don't know for sure." Ms Dismont said economic conditions and the high cost of living had hit some people hard. She explained: "Many of us are seeing that Bermuda hasn't prepared itself for circumstances where the economy has drastically changed in the last ten years, in terms of the cost of living, in terms of the way in which you earn a wage and the job skills. It's a lack of job skills, it's a lack of, in some cases, education to even develop new skills. The question is, whether they're seniors or the individuals without the job skills or the education, what are we going to do?" Ms Dismont was speaking after a homeless man was charged in connection with an alleged incident at the former prison service headquarters in Pembroke's Happy Valley Road last week. She added she had been contacted last Friday by a mother of three whose family are facing eviction from their home for non-payment of rent but had been unable to find alternative accommodation. Ms Dismont said: "Therefore we suspect that there are lots of people in these circumstances that become desperate and many of them may squat on someone else's land or building and so they will run into the police, unfortunately. The thing that I think is the worst scenario is for it to become just a police matter because then it's about criminality, anger, disappointment, frustration and behaviours getting out of control. It needs to be more of a social matter that we work together with the police to resolve." She added: "I think it's part of the reason why no one agency has tackled the problem, because you have to have a solution." Gina Spence, a prominent community activist, confirmed the rise in homelessness. She said that former foster children were most at risk. She explained: "There's a lot of children who are in foster care and after 16 or 18 a foster parent does not have to keep them. So, a lot of young adults actually find themselves parentless and homeless after they age out of the system. A lot of young men in particular just go from house to house where they're just staying with a friend or someone's letting them sleep in their basement or the cellar." Ms Spence said that homelessness could affect anyone who struggled to make ends meet. "It is not restricted to those who sleep on the street. Sometimes there may be a married household and someone gets sick. Then all of a sudden the cost of helping this person affects your ability to meet your other financial demands. There are a lot of reasons why people end up without a place to live. They are not all because they don't work or they don't care. Countries with less wealth than us have given a second chance at life to those that want to live in a safe, clean environment. In those housing shelters you do find self-worth. There are programmes, there are opportunities, there are ways to kind of regain your life." A spokeswoman for the Ministry of Public Works said that the Bermuda Housing Corporation provided two housing complexes for those in need. She said that Langley House, at Southside, St David's, provided multi-unit accommodation for men and Gulfstream, also in St David's, provided homes for families.

Members of the public will have limited access to the grandstand at the National Sports Centre as it undergoes remediation work. One million dollars has been allocated to the project which is being overseen by the National Sports Centre's board of trustees, with the work expected to be completed in August. The work involves power-washing, sandblasting, painting, and replacing all parts relating to the integrity of the steel roof truss members and is being carried out by Bermudian firm, Sunrise Construction. "As a result of the work, some parts of the grandstand will be closed at various times," said Craig Tyrrell, National Sports Centre operations manager. However, we will give the public as much notice as possible regarding the affected areas, which will be cordoned off during the project. This will be quite extensive work and will give the grandstand, which was originally built in 2002, a much needed facelift to ensure it continues to be a fantastic facility for the community."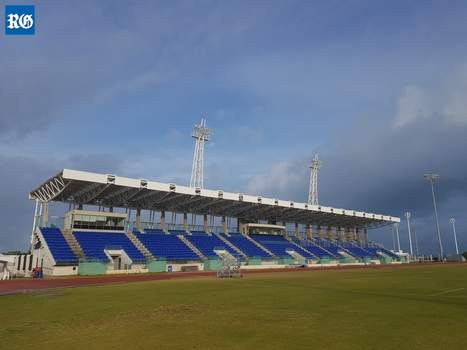 Hamilton Re, the re/insurance platform of Bermuda-based holding company Hamilton Insurance Group, has announced that it has secured $65 million of collateralized capacity through the issuance of the Series 2019-1 preference shares from its special purpose sidecar vehicle, Turing Re Ltd in a syndicated private placement. Turing Re will provide support for Hamilton Re's global property treaty reinsurance portfolio, the company said in a statement. "We're pleased to be able to take this next step in the evolution of Turing Re and our broader third-party capital strategy," said Kathleen Reardon, chief executive officer of Hamilton Re. That we were able to secure this capacity amid more uncertain conditions in the insurance-linked securities market is a testament to the quality of our approach and of our platform." TigerRisk Capital Markets & Advisory acted as sole structuring and placement agent on the transaction, while Willkie Farr & Gallagher LLP acted as legal counsel to Hamilton Re, the company said.

Insurance industry veteran David McManus knows a thing or two about risk. But when the Belfast-born president and chief executive officer of Bermuda-based insurance manager Artex considered who should succeed him in the top job, well, let's just say he knows a sure thing when he sees it as well. Mr McManus, 65, has assumed the role of non-executive chairman of Artex to facilitate the return to the fold of Peter Mullen, who began his term as CEO on March 21. Now 58, Dublin-born Mr Mullen cofounded Artex as a wholly owned subsidiary of brokers Arthur J Gallagher and Co in 1997 with Mr McManus and Jennifer Gallagher, now the president of Artex North America. He left in 2011 when Aon Captive Insurance and Management offered him their CEO position. "The timing was right," Mr Mullen recalled. "David was not going anywhere, and I had to decide, at my age, if I should go and test myself and see if I could run my own shop. I got the usual good offer, the challenge was there, so I bit the bullet and jumped." In 2016, Mr Mullen topped magazine's Power 50, a ranking of the most influential individuals in the captive insurance industry. "There couldn't be a better successor for Artex than Peter," said Mr McManus, who met Mr Mullen when they worked together at AIG in the 1980s. He has all the knowledge of Gallagher and Artex from the founding, and taking into account the expertise you get when you run a global insurance manager like Aon, it was a bit of a no-brainer for us. You don't bring a guy like Peter in and ask him to be number two. Now that he is on board, the transition feels good to me. A bond exists between Jennifer, Peter and I. Peter is running things now. I am excited to see what leadership he brings on the way to the next $100 million. Coming back to work with friends was attractive to me. Gallagher's and Artex have been terrific in terms of the welcome. It's almost like the prodigal son coming back." Our internal headline when we made the announcement was 'Peter's coming home'," Mr McManus said. Mr McManus will be an adviser, providing what he calls the "three Cs. Compass, the strategic perspective, to be clear where we are going," he said. "Context, there is background to this and I can fill it in. Combinations, that's how we refer to mergers. I have expertise with acquisitions. The decisions will be Peter's but I can help him out." Mr Mullen returns to a company with an annual growth rate of 17 per cent over the last seven years, tripling in size over that term. Artex serves some 1,500 customers with captive management and alternative risk management solutions through more than 1,000 risk-bearing entities. Licensed in 32 jurisdictions, it has more than 400 staff in 15 offices worldwide. Globally, the company's clients are approximately 60 per cent commercial insurers and 40 per cent captives. The split in Bermuda, Mr McManus said, is 50-50. "We are the fastest growing insurance manager in the world, so it's very attractive to come back, get inside Artex, and keep growing," Mr Mullen said. "The challenge is to make the transition, keep the momentum going, and not clog up the works. I am pretty busy already." While the number of captives registered in Bermuda, and their cumulative gross written premium, has declined recently, Mr Mullen said Artex is a net grower of captives. A dedicated, full-time sales force of ten people in Chicago supports the Artex programme, they said, adding that they are seeing growth in the upper middle market. Still, there are challenges, Mr Mullen said. "Bermuda is a mature market, so it suffers at the end of the day. There have been a lot of combinations over the last ten years. When a new captive comes in these days, there's more than likely a matching exit. There is a lot of competition from US domiciles — 40 states now have captive regulations. At Artex, we see more coming in than going out. And Bermuda remains in top spot globally with Vermont, Cayman and Guernsey following. If a company stayed exclusively in captives, apart from stealing someone else's chips, you're not growing more than 2 or 3 per cent annually," Mr McManus said. "Captive management is stable and low growth. The way to see revenues increase is through the broadening of services so you bring greater value and grow revenue from existing sources." As in other jurisdictions, the OECD's base erosion and profit shifting, or BEPS, project has caused a stir in Bermuda. "Substance presents both a challenge and an opportunity to provide greater turnkey services for capital looking to operate in any jurisdiction," Mr McManus said. "The good thing about the directives of the OECD and EU is that they are a level playing field. All jurisdictions have got to show substance, so there is an opportunity in every domicile to seamlessly provide it. That will be a challenge for some of the smaller managers because capital now needs more than just regulatory compliance and accounting services. There is an opportunity to provide underwriting expertise, recruitment, serviced offices, and IT. If you can be a manager turnkeying those services, it could be very attractive. Not everybody will survive," Mr Mullen said. "There will be companies that decide that they don't see the value proposition any more. "But at a firm like ours, we might also see clients double down if they see value in the structure we're managing and decide that we need to turnkey more to establish substance in the jurisdiction." Latin America, Asia and Canada have been mooted by some as the next captive industry frontiers. "Latin America has been the next frontier for the last ten years, hasn't it?" Mr Mullen said. "Latin America is growing for us," Mr McManus added. As for Asia: "We'll probably talk about it for the next ten years as the next frontier," Mr Mullen said. Adds Mr McManus: "In Asia, if capital enters ILS, they'll be comfortable in Singapore. Canada ... I just don't think it's that big an economy," Mr McManus said. Terrorism, cybersecurity, and the shared economy are often identified as emerging issues. "Those three, plus political risk, you've got to keep an eye on them," Mr Mullen said, "but the business in the upper middle market is more traditional lines: mortgage compensation, general liability and auto liability. While you keep an eye on cyber, it's written by only 2 or 3 per cent of captives globally." The "shared economy" perplexes the market, Mr Mullen said. "The traditional insurance market can't get their heads around Uber and Uber Eats. The owners must take significant skin to get the market to come along for the ride. It's not easily written. It's best understood by the companies themselves, so a captive is the ideal solution." Some 22 years on from their cofounding of Artex, Mr McManus said the company "is the best of both worlds. We are owned by Gallagher, are supported by them, but have an independent brand," he said, still marvelling that Artex got the go-ahead to set up. It was ground-breaking for Gallagher's," Mr McManus said. "Brokers don't take risk. Uncle Bob' Gallagher wore a T-shirt that read 'death before risk'. I mentioned that once to his nephew, Pat, who said: 'T-shirt? No, it was tattooed on his chest."

Opinion. By John Wight, president of the Bermuda Chamber of Commerce. "Bermuda's retail business needs a fix. Last month, the Government released retail statistics to the end of 2018. It showed ten successive months of decline, with sales values now reaching a low not seen since 2016. This is a serious concern: declining retail sales are a clear warning that our economy is declining, too. Retail sales are one of our most important economic indicators: consumer spending is a key driver of our economy. The retail industry is also a significant employer, with 3,000-plus people working in it. Because it is one of the Department of Immigration's closed job categories, retail employees are almost all Bermudians. Retail provides numerous entry-level jobs to young workers. Opening a shop is a favored type of entrepreneurial venture. And retail is a significant contributor to government revenues — not just through payroll taxes, but the customs duty stores pay on the merchandise they import. Finally, retail is an important part of our tourism product. Shopping is a tourist activity; most Bermudians traveling abroad go shopping, and the same applies to tourists coming to Bermuda. A broad array of retailers is an important part of the island's attractions. Visitors like to wander through local shops to browse and to purchase goods. Good shopping is also important for people living here, and for those considering moving to Bermuda. It is a myth that Bermuda's falling retail figures are simply an indicator of a global retail trend, with the traditional bricks-and-mortar retail format shrinking in favour of online sales. In fact, online sales here and abroad make up a small amount of total retail sales. Online purchases represent approximately 10 per cent of total retail sales in the United States and 15 per cent in Britain. And newly released figures by the Department of Statistics show that both online purchases and goods purchased overseas and brought back to Bermuda by travelers make up approximately 18 per cent of retail sales. Worldwide figures also show the value of bricks-and-mortar sales grew by almost 22 per cent over the past four years, a trend that appears set to continue. However, this is taking place in a changing environment, with some of the largest retailers failing, while others gain market share. Those that have succeeded have invested money in personalizing the shopping experience and engaging in creative ways to meet the ever-increasing demands and expectations of customers who can literally shop anywhere at any time, thanks to the internet. Bermuda's retailers are well aware of these features. They know that to compete, they must offer in-store experiences as compelling and personalized as the most successful retailers in other parts of the world. But declining sales and profits, the cost of doing business in Bermuda, and a sense of responsibility to keep people in jobs have left little room for investment and progression. Too many stores are now dated and lagging behind in what they can do to entice customers in to make purchases. So what steps do we take for change in Bermuda? How do we stop more retailers falling by the wayside, leading to vacant buildings, job losses and a bigger hole in government income? Recent payroll tax concessions in the 2019-20 national budget will help the larger retailers, but we still need to look deeper into the industry picture for solutions for the entire sector. A few steps by the Government can make a big difference to all of Bermuda's retailers:
Tax breaks on retail improvements. This should not only apply to the physical improvement of a store, but also investments that are aimed at improving and growing the business such as digital technology. The idea here is to help move businesses forward, increase sales and in turn create more jobs
A deferred customs duty allowance for all retailers. Retailers have one of their biggest outlays before earning a penny — purchasing of goods, paying for freight and paying customs duty before the product has made it to the store to make a sale. The introduction of even a partial delay in customs payments for all retailers would allow for some cash relief. Incoming containers could be released as long as a certain percentage of the duty was paid, with the balance due by the end of a certain period
The breakdown of import data from customs. Although the Government has just released a partial breakdown of the value of off-island goods purchased by individual shoppers, it has not outlined what categories these goods are. Knowing this would enable retailers to learn customer online and off-island shopping habits, and help stores to tailor their buying to meet the true demands of Bermuda customers
Population growth. Our ageing and shrinking population pool continues to take a toll on retail sales. Young families spend more on food, clothing and household goods than retirees. By addressing long-overdue immigration reforms to tie long-term expatriate residents to the island and attract new population, the Government can help to increase the number of people who live and acquire goods here
Physical shopping still remains a social activity. Nothing beats visiting the shops and getting a direct sense of the look and feel of the merchandise we are considering as a purchase — and being able to interact with people who can help. If we can combine this with some smart application of digital technology and enhanced customer experience, Bermuda can step into the new age model for retail, enjoying and reaping the rewards of the growth that is happening in other parts of the world. It is important to remember if we do not use and enhance our retail industry, the repercussions to both our community and economy will be severe.

Work on a new footbridge over Flatts Inlet has started, Friends of the Railway Trail said yesterday. But Mike Murphy, a spokesman for the charity, added: "There's some scaffolding up there, but we are still in the initial stages. We have put in all of our applications and we have approval for the two phases of the plan. We don't really have a time line. Our time line is one step at a time." The bridge is one project promoted by the Friends of the Railway Trail. Earlier work included two bridges over Bailey's Bay and Store Hill. The group has also created a series of smaller bridges along the north shore of Hamilton Parish. Mr Murphy said that the organisation was working on improvements in the West End of the island to keep the trail accessible. He added: "We are working, dealing with the hillsides at the side of the trails, the embankments. We have done a couple of sections already and we hope to continue. This is all about reconnecting the trail. We want to connect the trail for people to use. It helps people to improve their health, it's something that benefits tourism. There are really a lot of benefits." The bridge over the inlet is the second phase of the project, which began with two smaller bridges — one across North Shore Road and another over a nearby driveway. The first phase of the project was opened last November. The bridge over Flatts Inlet would use the same pillars as the original railway line, although additional piers will be needed. It will stretch 730ft and stand 22ft above the low-tide mark, similar clearance to Watford Bridge. The planning documents said the bridge would be high enough to allow tour boats to pass under it and all but one of the boats moored in the inlet to clear it. But the owner of the boat too large to use the bridge said she would move it to another mooring before work started. A planning assessment said: "The bridges will allow for further connecting of the historic Bermuda Railway Trail to be achieved, which will benefit members of the public and visitors alike. It will enhance the existing experience for users of the trail and encourage further use while also allowing visitors another glimpse into the historic railway and beautiful vistas which would have been afforded to users of the railway at the time."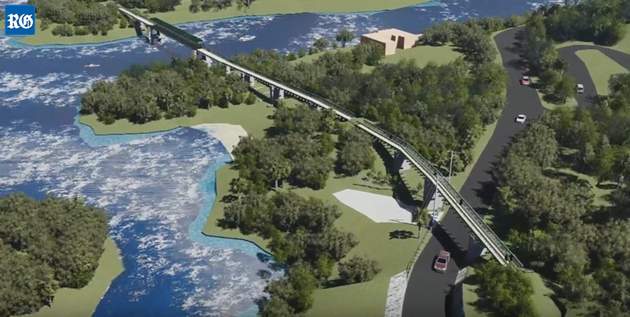 Artist's impression of proposed new Flatts Railway Trail Bridge. See above article.
Terrett "Terry" West, a businessman and volunteer who ran for political office in the 1990s, has died. Mr West was 66. Mr West and his first wife, Yvonne, also founded the Bermuda Montessori School in 1986, a preschool in Pembroke that remains in operation. Mr West was born in Bermuda and educated in Canada, where he pursued a career in football and qualified in physical education at the University of Ottawa. He became involved in the world of sport when he returned to the island in 1985 and served on several local boards. Mr West founded Windward Management, an investment management firm, with his second wife, Susan, in 1996 and became the firm's president. Mr West's son, Eric, said the father of three grew up around Harrington Sound before the family moved to Canada, where he excelled at football. He played at the University of Ottawa and later turned professional. But he also started work with market research company AC Nielsen before he returned to Bermuda and climbed the ranks at the Bank of Bermuda. Eric West said: "Like a lot of high-ranking people in business at that time, he didn't have a business degree." Mr West became corporate production manager at the Bank of Bermuda. He then headed its Bermuda funds division before he founded Windward. The Bermuda Montessori School was founded on the family's property on Rosemont Avenue, with Eric West, who spoke only Canadian French, as its first student. Eric West said: "He was a hard-nosed business guy. He really liked to participate in the community. He pushed me and my brother Scott and sister Nathalie quite hard. The gift he gave us was his drive to contribute and give back." Mr West presided over the Youth Sports Programme and helped found the World Rugby Classic. He was also a past president of the Bermuda Junior Golf Association and the Bermuda Golf Association. He headed the governance committee for the Council Partners Charitable Trust, chaired the addiction service Fair Havens Treatment Centre for Women, and served on the National Drug Commission. Mr West was also a former vice-chairman of the National Dance Foundation and a chairman of the Tourist Board marketing committee, the Air Transportation Policy Review Commission and the Cruise Ship Policy Review Commission. Ariane West, a niece, said Mr West was "an incredibly social, outgoing person who loved being around people — that was probably the essence of his personality". She added: "He loved his kids. There was nothing he would not do as a father, and as an uncle as well." Mr West was chairman of the former United Bermuda Party's Pembroke West Central branch and contested a Paget West primary for the UBP in 1992, but lost out to Tim Smith. He said at the time: "I think it's time to be involved. I think this country is going to go through a significant period of change. Capable people have to step forward. And the more there are, the better."

A woman has died after she fell ill on a flight from Barbados to the United States. The flight was diverted to Bermuda yesterday. The 63-year-old was on a JetBlue flight to New York when she became unresponsive in the early hours. The plane made an emergency diversion at LF Wade International Airport at 12.55am. The woman, who has not been named, was rushed to the King Edward VII Memorial Hospital, but later was pronounced dead by medics. The JetBlue flight resumed its journey to New York later yesterday.

April 3

Premier David Burt will hold key meetings with members of Congress in Washington, DC, tomorrow. The Premier will discuss national security and financial services with the office of senator Tim Scott, the chairman of the Senate Subcommittee on Financial Institutions and Consumer Protection. He will also meet Congressmen George Holding of Ways and Means, and Lacy Clay of Housing, Community Development and Insurance. The Government said the Premier would also "renew Bermuda's strong connection with the Congressional Black Caucus" when he meets with Congressmen GK Butterfield and Emmanuel Cleaver, chairman of the House Subcommittee on National Security, International Development and Monetary Policy. Mr Burt said: "This day of meetings balances out our recent engagement in Europe and provides an opportunity to further promote Bermuda's interests in Washington where the political landscape has changed since 2018's midterm elections. We've seen the value of keeping these connections strong and it is important that we continue to build relationships on both sides of aisle."

Food allowance payments for people on low incomes were delayed because of an end-of-financial-year glitch, it was revealed yesterday. But a spokeswoman for the Department of Financial Assistance said the money was transferred to food retailers on Monday and had now been received. Several people expressed concern on social media after Judith Chambers posted a copy of a notice that the funds had not arrived in stores on the Facebook page Dispossession in Bermuda — Our Story. Ms Chambers, the administrator of the group, said some people who benefited from the food allowance did not know about the delay. She said she was not aware of the circumstances and would not be critical, but asked that, if there was a repeat in the future, that adequate notice be given. She added: "I hate to think of someone who would have gone there on Monday morning and it was not there." Ms Chambers said she sympathized with the people affected and that something as critical as food, they should have been warned in advance. Craig Cannonier, the One Bermuda Alliance leader, added that the Government should work to avoid a repeat. He said: "These are the most vulnerable people that we have; any day missed is impactful to them, so it is important that we give it as much attention as possible to avoid such instances. People in the positions of needing assistance, quite frankly, they don't want to hear 'administrative issues', because this is routine, March 31 comes every single year. Any one day lost is seriously impactful on families who are living day to day." A government spokeswoman said: "During the interim situation, food vouchers were available to financial assistance clients." She added the credit or debit style cards normally used were back in use yesterday. The notice, posted in stores this week, said that "Food Allowance for the April 2019 period (First Run) will not be available until later this week." People were asked to contact the financial assistance department for more information. A Ministry of Health spokesperson explained: "The Department of Financial Assistance operates on a cashless basis." She explained that the funding to top up a person's card is sent directly to stores, which ensure the correct amounts are provided to claimants. The food allowance cards work like a credit or debit card and will decline when there are insufficient funds available. Financial assistance recipients can also visit the online sites of stores to check their balances before they shop. People who do not have access to computers can use a computer at the Department of Financial Assistance or visit the National Library on Hamilton's Queen Street or the Department of Workforce Development.

A Southampton man accused of drug smuggling was released on bail this afternoon after his Supreme Court trial ended with a hung jury. Edward Jaloni Albouy, 25, had denied charges of smuggling MDMA — also known as ecstasy — cannabis and cannabis resin into Bermuda on September 3, 2017. He was also accused of possessing the drugs — said to be worth more than $430,000 — with intent to supply. But the seven man, five woman jury told acting Puisne Judge Craig Attridge that they could not come to a majority verdict after several hours of deliberation. Mr Attridge released the Mr Albouy on bail until May 1, when he will appear before the Supreme Court again.

A fire inside the Bermuda Tourism Authority's new visitor service centre on Front Street yesterday had to be tackled by firefighters. The minor blaze, caused by welding work, damaged a bathroom ceiling but no one was injured. The BTA said the three-storey centre near the ferry terminal was still on course to open later this week. The alarm was raised just before 1pm and work on the centre resumed later that afternoon. The centre, built from shipping containers used for the 2017 America's Cup Artemis team headquarters, will serve visitors from the ground floor. The other two floors will be used for events and concessions.

Ascendant Group Ltd is looking for a buyer among a select group of companies. Who those prospective new owners are and how many they number, Ascendant has declined to say. However, names of potential acquirers have surfaced from a source who spoke to The Royal Gazette and also via a report by broadcaster ZBM, who cited a source inside Ascendant. Among them are US-based Twenty First Century Utilities, Australian investment bank Macquarie Group and Canadian utilities group Fortis. The potential takeover comes at a pivotal time for the future of the Bermuda electricity sector. The Integrated Resource Plan, a blueprint designed to meet the island's energy needs for the next 20 years, is close to completion. The IRP proposal submitted by Belco as the sole transmission, distribution and retail licensee, favored natural gas as the principal generation fuel with a growing proportion of renewables. A public consultation overseen by the Regulatory Authority produced eight alternative IRP proposals, with a common theme of renewable energy playing a greater role. Public support was greatest for BE Solar's plan, whose centerpiece was an offshore wind farm. After the public consultation, the RA suggested changes to the IRP to Belco on January 25 and Belco is due to submit a revised IRP this month, which will in turn be analyzed by the RA before the final IRP's publication on June 30. Against this backdrop, who ends up owning Belco is of great importance to the island. Of the three companies reported to be interested, Washington, DC-based TFC Utilities is probably the most familiar to readers, after its attempt to acquire Ascendant with a $15-per-share bid a year ago. Two months ago, Joe Garcia, a spokesman for TFC, confirmed to The Royal Gazette that the company was still interested. After TFC's bid for Ascendant was turned down last year, Mr Garcia, a former US congressman who has served on America's National Association of Regulatory Utility Commissioners, said the firm's approach was based on investing in energy efficiency and renewables, creating a decentralized grid that was shaped by the preferences of customers. On its website, TFC states: "We transform regulated utilities with a 21st-century model that drives mass adoption of clean, low cost energy producing and energy saving technologies, while optimizing the grid." Another of those involved with TFC's bid was Dennis Lister, a strong advocate for green energy and the Speaker of the House of Assembly. TFC also has financial backing from Fortress Investment Group, a New York-based investment house with more than $42 billion of assets under management, as of September 30 last year. Fortress is also manager and general partner of the Bermuda Infrastructure Fund, an entity set up in November 2017 with the target of raising $100 million from Bermudian-based insurance companies to fund island infrastructure projects. Macquarie Group, the Australian investment bank, has large energy and infrastructure interests in Australia and around the world. It is the second largest physical natural gas trader in the US and also has a growing interest in green energy. For example, in 2015, Macquarie Group acquired a stake in Baltic 2 offshore wind park from German electricity supplier EnBW for €720 million. Macquarie also bought Britain's Green Investment Bank for £2.3 billion. On the group's website, Anthony Felton, portfolio manager for Macquarie Investment Management's global listed infrastructure team, says: "Renewables are two-thirds of the way towards solving the energy trilemma, being affordable and clean. The third objective, reliability, is still a work in progress." Macquarie says it expects large-scale storage system solutions to become sophisticated enough to "manage the intermittency of renewables generation. This has sparked a new wave of innovation in the sector which will revolutionise the global power market and allow consumers to shift from being passive to active participants in their energy networks," Macquarie adds. Fortis, another of those thought to be interested in acquiring Ascendant, has grown out of its roots in Newfoundland, Canada, to become one of the top 15 utility companies in North America with 3.3 million customers and $53 billion in assets. It owns several utilities in Canada and the US, as well as two in the Caribbean: FortisTCI in the Turks and Caicos Islands, and Caribbean Utilities Company in the Cayman Islands. It also owns a one-third stake in Belize Electricity Ltd in Central America. Cayman utility CUC's website said it relies on diesel-fuelled generators to supply the islands. Its shares trade on the Toronto Stock Exchange and it has a market capitalization of about $485 million. Fortis makes no secret of its acquisitive ambitions, saying on the homepage of its website that "we seek additional opportunities to diversify our asset base and grow our company both within our existing franchise territories and beyond". FortisTCI has options for customers to benefit from producing solar energy for the grid. Its "customer-owned" programme gives residential and commercial customers a credit on their monthly bill equivalent to the avoided cost of generation. The "utility-owned" programme involves the customer leasing out roof space to FortisTCI. The utility owns the solar panels and the customer receives a credit on their monthly bill for use of the rooftop space. The political element will inevitably be a factor in the sale. Walter Roban, the Minister of Home Affairs, speaking in the House of Assembly last month, spoke about "policy directions" he is giving to the Regulatory Authority relating to the sale of Belco. These include ensuring the "adequacy, safety, sustainability and reliability of electricity supply in Bermuda", encouraging energy conservation, promoting cleaner energy sources including renewables, protecting the interests of customers and allowing others with "non-discriminatory interconnection" to the grid. The new owners would be required to adhere to the IRP. Mr Roban added: "While the IRP is being developed by the Regulatory Authority and not this Government, we can state quite emphatically that we look forward to more renewable energy, for example, solar energy which is abundantly available in Bermuda." A marginal improvement to the status quo "will not be acceptable to this Government, nor can it be acceptable to our people," Mr Roban added. "We will look forward to in whatever form, a better electric utility that shares the government's vision of increased adoption of renewables, a fairer electric utility, all for a better and fairer Bermuda." Whether or not Ascendant's board accepts one of the offers, Bermuda's electricity sector is sure to see some fundamental changes in the coming years.

A British subsidiary of Bermuda-based re/insurer Arch Capital has completed the acquisition of UK managing general agency Axiom Underwriting. Arch Insurance (UK) Ltd had initially acquired a 60 per cent share of Axiom in 2015. The terms of the deal for the remaining 40 per cent were not disclosed. Axiom generated about £20 million ($26.2 million) of gross written premium in 2018. It will become part of the recently formed Arch UK Regional Division, focused on commercial property, casualty, motor, professional liability, personal accident and travel, Arch stated. The transaction will involve 20 Axiom employees moving to Arch. "We are pleased to announce the completion of the acquisition of the remaining shares in Axiom, which was the origin of Arch's decision to become more visible in the UK regional markets," Steve Bashford, chief executive officer of the Arch UK Regional Division, said. "The Axiom team has been led by Mike Bottle for 15 years and, having worked alongside Mike for the last five years, we are delighted to not only welcome his team into Arch but also to see him assume a senior role in the UK Regional Division as senior vice-president and head of strategy and distribution," Mr Bashford added.

This week, Robertson's Drug Store in St George's pulled the plug on a dirty habit — plastic bags. On Monday, the store announced it would no longer be offering plastic bags or plastic straws to its customers. If customers need something to carry their purchases, Robertson's has paper bags on offer. Store manager Joy Rothwell said the move was made purely out of concern for the environment. "It has been a discussion between us and the staff for a long time," Ms Rothwell said. "Obviously, we are very aware of what is going on in the environment and the amount of plastic bags you find on beaches and in the ocean." She said they'd been putting it off for some time, but after watching various documentaries about the environment and trash in the ocean, decided it was time to go ahead with it. Sales floor supervisor, Amba Smith, was one of the employees spearheading the move. "We estimate we were looking at 8,500 plastic bags a year," Ms Smith said. "Sometimes customers would use a plastic bag for a newspaper, or a pack of gum. I just think that quite a few people don't get the concept that a lot of these things, do end up in the ocean. Especially for us being an island, we have to be considerate of the ocean." Ms Smith spends a lot of time on the beach during the summer, and is always horrified by the amount of garbage she sees there. "The only people who can change that is us, as humans," she said. "There has to be a better way." Ms Smith said reusable bags are available all over Bermuda. "I keep mine in my bike, or in my bag or purse," she said. "It only takes a few seconds to pull it out and pop a purchased item in." Robertson's is not the first store in Bermuda to change its plastic habit. Last year, several Hamilton businesses either ceased importation of plastic bags, or started charging a small fee for them, offering reusable bags instead. Ms Rothwell said Robertson's started warning their customers about the change, last year just before Christmas. When the store posted the move this week on their Facebook and Instagram pages, it received mainly supportive messages, such as "awesome" and "good on you!" This week, Robertson's is offering a free useable bag for purchases over $30. "It is a very hardy bag," Ms Rothwell said. "It should last well. That promotion is for this week, or for the next ten days if stocks last." After that, reusable bags will be available for $7.50 each. "It's a good price," Mr Rothwell said. "It is not just some thin bag that rips easily. It is made of thick, neoprene material that will be reusable." They are working on one day offering reusable bags with their own design and logo. As part of their promotion they will be doing a beach clean-up day on Sunday, April 14. "It is a voluntarily thing for the staff," Ms Rothwell said. "And whoever wants to join us can. It will be at one of the beaches in St George's. We are not sure which one yet, but will post that information on our social media pages. We have already had a couple of customers to say they will come." Robertson's next move is to look at their sun block products to make sure they are reef friendly.

A son of former One Bermuda Alliance election candidate Ray Charlton has been convicted of possessing child pornography in the United States. Andrew Charlton, 32, pleaded no contest to the charge at a Rhode Island court and was sentenced last month to two years of probation. He must register as a sex offender in the state and take part in a sex-offender counselling programme, according to court documents obtained by The Royal Gazette. Authorities here have not been notified of his conviction. Rhode Island State Police spokeswoman Laura Meade Kirk said yesterday: "Given that Mr Charlton lived in Rhode Island at the time of his arrest, there would be no requirement to notify authorities in Bermuda of the court's action, nor his placement on the RI sex offender registry." Court documents show the unemployed Charlton was arrested in late 2017 after an undercover investigation by officers at the Rhode Island internet Crimes Against Children Task Force. Detectives identified a device on a peer-to-peer network that was sharing files of suspected child pornography and traced the IP address to Charlton, of Crane Terrace, Narragansett, Rhode Island. They executed a search warrant at his home on November 21, 2017, according to a report filed with Washington County Superior Court by police detective Kevin Kojoian. "Detectives spoke with the defendant," Mr Kojoian said. "The defendant admitted to downloading child pornography using the file-sharing software Shareaza. The defendant further admitted possessing child pornography on his laptop computer. Analysts located child pornography on the defendant's laptop." A report by investigating officer John Nappi said Charlton answered the door and allowed detectives in, before admitting that he had downloaded child pornography on his laptop. "The files were downloaded, then deleted right away," Mr Nappi said. "Andrew told us he was molested as a child and downloaded child pornography out of curiosity. Andrew went to a counselor approximately ten years earlier and talked to the therapist about child pornography. He lost his job in April of 2017, had lots of free time and found himself searching for child pornography again. He searched for preteen, 11 years old and up." The report said Charlton was taken into custody and later released on $5,000 bail on condition of limited internet use, no unsupervised contact with children and surrender of his passport. His laptop was seized and evidence of more than 100 images of child pornography was found. Some of the images involved toddlers. Ms Meade Kirk said Charlton was initially arrested on two charges that were both felonies, transfer of child pornography and possession of child pornography, with each count being punishable by a prison term of up to 15 years and/or a fine of $5,000. Court filings show he was arraigned on May 9 last year when he pleaded not guilty. He retracted the not guilty plea on March 13 this year and entered a plea of no contest to a charge of possessing child pornography. A charge of producing child pornography was dismissed. Charlton agreed to pay costs of $273. Ms Meade Kirk said she could neither comment on the sentencing, as that was at the discretion of the judge, nor on the severity of the case. Special conditions of his probation require Charlton not to live with any children aged 17 or under without the court's permission or have any contact with children, including electronic contact. He cannot loiter or reside within 300 feet of any school, daycare centre, playground, swimming pool, arcade, theme park, skating rink, toy store or any other place where children might regularly congregate. He is restricted to owning one computer or tablet and one cell phone during his probation, and must report all his e-mail accounts and computer and cell phone passwords to his probation officer. Charlton's probation will end in March 2021. His LinkedIn account shows his past employment as a commercial credit analyst at three Rhode Island banks, a bank teller and an assistant pavilion manager at Narragansett Parks Department. He went to school in Narragansett between 2000 and 2004. Ray Charlton, 60, was the OBA's election candidate for Sandys North in 2012 and 2017. He lost by just eight votes to the Progressive Labour Party's Michael Scott in 2012 and by 280 votes in 2017. He also served as chairman of the West End Development Corporation for more than four years. He stepped down in April 2017 because of "constant negativity" from parts of the community, despite what he described as "incredible progress" in Dockyard.

New York Times best-selling author Deepak Chopra will be in Bermuda this week for a sold-out talk on health. The event on Saturday, organized to highlight Colonial Group International's Zest Wellness programme, will see Dr Chopra discuss his latest book, The Healing Self. Dr Chopra said: "I am very much looking forward to coming to Bermuda. Together, we will explore how to create a more peaceful, just, sustainable, and happier world, and it begins with each of us choosing to heal and transform ourselves." Dr Chopra is a New York Times best-selling author with more than 85 books translated into more than 43 languages, including 22 New York Times bestsellers. He is the founder of The Chopra Foundation and co-founder of The Chopra Centre for Wellbeing. Dr Chopra is also a Fellow of the American College of Physicians, a member of the American Association of Clinical Endocrinologists and a Clinical Professor in Medicine at the University of California, San Diego. Jacqueline Perreault, the corporate wellness director at Colonial, said the company took Dr Chopra to the Cayman Islands last year. She also added: "The event was so successful we decided straight away that we wanted to repeat it, but this time in Bermuda. CGI has invested significantly to provide cutting edge preventive medical services. Its wellness programme, Zest Wellness, is available to most Premier Health members and offers resources and tools to create long-lasting healthy habits in the community, which will benefit everyone in the long-run."

April 2

Paradise Games betting shop retained its licence yesterday but its lawyer, Eugene Johnston, was threatened with getting held in contempt of court. The decision by the three-member Betting Licence Authority to renew the licence was not unanimous, according to its chairman, Juan Wolffe, who chastised the shop's management for a late application. The senior magistrate also told the hearing, on the day the shop's licence expired, that the behavior of the applicants' counsel had been "atrocious". Mr Wolffe said the lawyer had "bordered on being contemptuous of this court", adding that the authority "came very close to taking this matter further". He warned: "Be mindful of your animated behavior — it sometimes comes across as being disrespectful to the court." Five months ago, Mr Johnston went public about spending a year without work in the wake of censure from the Court of Appeal. In November 2017, he was accused by the court of "unreasonable and improper" conduct in an appeal on behalf of Ayo Kimathi, a firebrand American speaker banned from entering the country after a controversial public address in September 2015. Yesterday, Mr Johnston clashed with the betting authority over its powers to revoke a certificate or make demands of applicants, saying those "fall to the minister, not the authority". Paradise Games on Court Street, which is owned by Marc Bean, the former leader of the Progressive Labour Party, was ordered at a hearing on Friday to bring approval from the Ministry of Finance, along with a detailed report on its business operations, and a second guarantor backing its business reputation. Mr Johnston had argued previously that the petition was a renewal rather than a first application, and thus did not require extra. Yesterday, he produced a certificate from the ministry that was the same as one issued in May 2013. Wayne Furbert was acting minister in the stead of Curtis Dickinson, and Mr Johnston told the authority that "the minister agreed with our position that once a certificate is granted with a renewal, they do not issue a further certificate". Mr Wolffe queried how the same certificate could be used "ad infinitum" without the ministry doing its due diligence. He said the ministry had signed a document from 2013 without investigating, and could not have affirmed the reputation and stability of Paradise Games over a weekend. Mr Johnston produced a second guarantee attesting to the soundness of Paradise Games but said that, under the law, they did not have the right to "look behind it". The chairman said: "I think you're wrong and, with all respect, the minister is wrong. The narrative is that this authority was not regulating betting shops. The point being made is that is not our function. It's the function of the ministry. We want to dispel the myth that money laundering is rife within betting shops, and what is the authority doing — again, it's not our function to do that; it's a function of the Ministry of Finance." Mr Wolffe also pointed out that the shop's business had changed over the years since 2013, including dropping the Florida Lottery Powerball. "You have this notion that we have done this before. Accept what we're saying and let's move on." Elizabeth Christopher, who sits on the authority with Peter Barrett, said the authority wanted businesses to "apply their minds on an annual basis as to what activities are conducted in their shops. Otherwise they are not taking it seriously." Mr Johnston maintained that concerns over money laundering rested with the ministry, adding: "You might feel it necessary for your powers to be exercised, but they are not." In the meantime, Paradise Games had been forced to "go back and forth", he said. Mr Wolffe said: "For your client to have the temerity to question going back and forth when it is they who submitted their application late, is quite rich." Ms Christopher accused Mr Johnston of "playing to the gallery", and the chairman said his conduct "could very much dictate whether your client operates as of today". The authority ultimately approved the shop's licence, but only by a majority decision, Mr Wolffe said. "Any person who comes before these courts must be mindful of their conduct," he said, adding that Mr Johnston "came very close to bringing these proceedings into disrepute, and particularly his work as a lawyer".

A new drink-driving court is being piloted to give offenders a chance to avoid a driving ban. The Driving Under the Influence Court will allow drink-drivers to stay on the road if they take part in a "robust programme", senior magistrate Juan Wolffe wrote in the Bermuda Judiciary Annual Report 2018. But yesterday it remained unclear how offenders are assessed for eligibility for the programme. Mr Wolffe indicated in a recent Magistrates' Court hearing that only those who admit having a drink problem can qualify. Drug-abuse prevention experts stressed the need for professional assessment of offenders to determine who should go on the programme, while road safety campaigners argued mandatory bans serve as a deterrent. Mr Wolffe wrote in the judiciary report, published in February: "By implementing a pilot DUI Court, offenders will be able to retain their licence if they participate in a robust, structured programme that addresses their drinking and driving impulses. By doing so, they are able to continue to be employed and to take care of their families, or to continue to transport their loved ones to school or to the hospital." Mr Wolffe told one Magistrates' Court hearing last Friday: "DUI Court is not for people who want to stay on the road. It's for people who want to deal with their drinking problem. If you don't have a problem, then it's not for you." Truell Landy, executive director for substance abuse prevention charity Pride, said she was not aware of the programme. Ms Landy said: "From a preventive perspective, there should be an evaluation on where the individual is and what is their relationship to alcohol. The assessment would have to be from someone working in substance abuse treatment. Then you are looking for a programme that is going to fit so they are able to benefit from the programme itself and it's not just an automatic 'send'. It's time for us to accept that we have a problem with alcohol in Bermuda. We can't just give it a brush under the carpet or slap on the wrist — it is time for us to look at it and use the evidence to drive our processes forward." Anthony Santucci, executive director for anti-alcohol abuse charity Cada, said: "I agree and the assessment agency should be the Bermuda Assessment and Referral Centre. Barc should know if someone has been flagged as having a substance abuse issues. A decision should be made as to whether they should get their licence back based on the assessment results. If the assessment results say that someone has an alcohol or addiction problem, they should be automatically put into a treatment programme." According to Cada research based on data from the Coroner's Office, between 70 and 75 per cent of road fatalities involve alcohol or drugs. Legislation introduced in 2013 made sure that people who were convicted of driving while impaired would be banned from the roads for at least 18 months. A separate DUI education programme is available to drink-drivers that grants them three months off their ban on completion. A spokeswoman for The Royal Gazette's Drive for Change road safety campaign said: "Mandatory driving bans gave a strong message to the community that drink driving will not be tolerated. While the DUI programme is likely well-intentioned, if not properly implemented it could merely help drink-drivers skirt their driving bans so we would like to see more information on it. We do not believe that someone should necessarily be eligible for the programme based on their job. Professional drivers who spend more time on the roads including those who are responsible for safely transporting members of the public should face as much scrutiny as the rest of us while being given access to treatment." Shari-Lynn Pringle, campaign manager of road safety campaign A Piece of the Rock, added: "Part of being personally responsible for your actions is understanding exactly what you stand to lose when you take the decision to drink and drive." Mr Wolffe said in an interview with Drive for Change last year: "If a taxi driver comes into the courtroom, taking their licence is something that can reduce their income substantially. If they don't have any income, how are they going to pay their bills? How are they going to care for their children? There is a balancing act we have to play." The Ministry for Legal Affairs said that all questions about the programme should be directed to Mr Wolffe. Mr Wolffe declined to comment "at this time".

A woman denied importing cannabis and other substances to Bermuda when she appeared in court yesterday. Ranae Furbert faced six charges during arraignments at the Supreme Court. She was accused of bringing cannabis into the island on January 11, 2018, and it was further alleged that she imported a substance containing tetrahydrocannabinol and cannabis resin on the same date. Ms Furbert, 27, of St George's, denied the charges, as well as counts of possessing each of the substances with intent to supply. Puisne Judge Carlise Greaves set another hearing of the case for later this month and extended Ms Furbert's bail. Meshach Crichton, of Warwick, also appeared during the session. He denied wounding Kevin Davis in the parish on February 26. The 20-year-old, who had no lawyer, was remanded in custody and his case will call again in May.

Four people were arrested after police seized "a substantial amount of drugs" from homes in two parishes, authorities reported yesterday. Police said 18.4lbs of plant material and 6oz of white powdery substance and pills were found in properties in Devonshire and Pembroke last Thursday. A Bermuda Police Service spokesman said officers were awaiting a report from analysts to confirm the types of drugs found.

An elderly man who had a seven-hour stand-off with police at the former prison headquarters in Pembroke was denied bail when he appeared in Magistrates' Court today. James Dallas, 69, was charged with trespassing on a government property, four counts of throwing a corrosive substance at police and one count of threatening police on Happy Valley Road last Thursday. Mr Dallas did not enter a plea as the matter will be heard in the Supreme Court on May 1. Senior magistrate Juan Wolffe denied him bail.

A new Aide-de-Camp to the Governor has started his tour of duty at Government House. Lieutenant Alex Gibbs of the Royal Bermuda Regiment took over the role from Captain Paolo Odoli, who stood down after more than three years in the job. Lieutenant Gibbs, who was conscripted in 2011, said: "It's a massive honour because it's a personal selection by the Governor. I feel very fortunate. It's quite early in my Regiment career as an officer to have reached this point." The 28-year-old said he might not have considered a career in the Regiment had he not been conscripted, but he decided to make the most of the opportunity. Lieutenant Gibbs added: "Eight years later, I'm in full-time employment with the Regiment and loving every minute of it." As Aide-de-Camp, Lieutenant Gibbs will be the personal staff officer to the Governor, responsible for the security, transport and logistics along with the running of Government House. Captain Odoli, 34, said the job also involves helping new Governors get to know the island and its culture. He said: "The job is really important in terms of representing not only the Regiment, but also the country in a role that's recognized in Bermuda and overseas. Captain Odoli, who will take the post of Adjutant at Warwick Camp, but he said he enjoyed his time at Government House. He said: "Some of the highlights for me were being able to serve in the Regiment in a very public facing capacity. The job involves facilitating the Governor's participation in a lot of high profile events." He added that a major memory was the visit of the Princess Royal, Princess Anne, to the America's Cup in 2017.

The City of Hamilton has reminded those City tax-payers that own or occupy commercial property in the City that they must register in order to cast their vote in the May 9th municipal election. Registration will close on Wednesday, April 3rd at 5pm. Registration for the business-rate-payers is not automatic. No registrations or changes to the register will be accepted after this date. If business rate-payers have not registered by this time, they will not be afforded the right to vote. Registration forms can be obtained from the Parliamentary Registrar's office in the Craig Appin House on Wesley Street. Those businesses that were registered to vote in the 2015 municipal election are encouraged to confirm their registration with the Parliamentary Registrar's office by visiting their website at www.elections.gov.bm under the Municipal Elections heading or by calling their offices at 293-VOTE (8683). Businesses must also amend their registration if they wish to or need to appoint a new nominee. Business rate-payers must ensure that their nominee appointed to vote on their behalf will be on island on May 9th (Polling Day) in order to vote. Nominees for companies must be listed on the Parliamentary Register. The City's Resident rate-payers are automatically registered to vote if their name and address appear on the Parliamentary Register as resident in the City. Anyone who has recently moved to the City or residents that have turned eighteen since the last parliamentary election should be sure they are on the register with the correct information.

Ascendant Group is officially seeking a buyer after the company's board invited a group of prospective new owners to make takeover offers. The news came yesterday afternoon in a statement from Ascendant. In January, the parent company of power utility Belco started a review of its strategic options, including consideration of a potential sale. Trading of Ascendant's shares was suspended yesterday morning by the Bermuda Stock Exchange at the company's request ahead of the afternoon announcement. The BSX ended the voluntary suspension, with immediate effect, this morning. Ascendant stated: "The board, with the assistance of its financial adviser Guggenheim Securities LLC, following a robust assessment process, has decided to invite a select group of globally respected firms to each submit a definitive proposal to purchase the company. "The board is impressed with the number and quality of firms that have expressed an interest in Ascendant." The company did not identify the interested parties, nor say how many firms wanted to enter the bidding. "Through these proposals, the board will seek access to the capital resources, operational knowledge and technological innovation necessary to advance the company's efforts to reduce the cost of electricity and meet future challenges that will benefit the community as a whole," Ascendant added. "Whatever strategic option is pursued, the board will fully consider the interests of the company's customers, employees, shareholders, and the community. Whether the board ultimately recommends the sale of Ascendant will be dependent on the outcome of the process. We will continue to work cooperatively with all stakeholders, including our regulators, throughout this process to ensure the best outcome for Bermuda." The company added that it had suspended its share repurchase programme. Last year, the company invested more than $10 million on buying back its own shares, as the share price doubled.
Appleby Global Listing Services (Bermuda) Ltd has joined the BSX as a listing sponsor, with immediate effect. Greg Wojciechowski, the BSX's chief executive officer, said: "AGS joins a growing group of companies that have identified a commercial opportunity to provide their client base with an exciting listing venue alternative through the BSX. The BSX's commercially sensible support of listed issuers underpinned by a fully electronic trading and settlement system, coupled with numerous international recognitions has resulted in a significant increase in the listing of a variety of asset classes including international debt and insurance-linked securities." Tim Faries, chairman of Appleby Global Services Bermuda, said: "We are pleased to join the BSX as a listing sponsor and look forward to contributing to the growth of Bermuda as a jurisdiction for issuers in both the debt and equity capital markets."

April 1

Access to justice will be "crippled" if there is no swift solution to a lack of adequate court space, authorities warned. Concerns raised in The Bermuda Judiciary Annual Report 2018 centred on the loss of appeal court space from Front Street, which also affects the criminal division, and a threat to Sessions House occupancy. The Ministry of Public Works said people will be relocated while extensive refurbishments are carried out in the historic Sessions House, and pledged there would be "minimal disruption". But one lawyer described changes forecast for next month as a "significant blow to the administration of justice". Alexandra Wheatley, the registrar, explained in the report that the Court of Appeal was moved from Court 2 at Sessions House to 113 Front Street in March 2018. Two months later, it was forced to vacate that premises for health reasons, but without an alternative the judiciary "scrambled" to hold an appeal court sitting in Court 1 last June, temporarily closing the second criminal Supreme Court. Ms Wheatley added: "This created a further backlog of criminal matters hence curtailing the public's access to justice." Although the registrar was grateful for work that made the space "far more suitable" for the appeal court's judges, she said: "Neither a short-term nor long-term viable solution has yet to be proposed to remedy this situation which is most reprehensible." She also explained that Court 1 at Sessions House became the location for the criminal registry. Ms Wheatley said: "To my utmost dismay, I was advised at the end of 2018 that renovations to Sessions House were forthcoming in 2019 between May and December. During this time, the dual-purpose Supreme Criminal Court and Court of Appeal would have to vacate this space. We have further been informed that Parliament does not wish the judiciary to return to Sessions House in any capacity, despite it being used as a court for time immemorial and being purpose built for the courts. Whilst alternatives were proposed, this has yet to come to fruition." Ms Wheatley added that her objectives for the year included the relocation of the appeal, supreme, civil and commercial courts to the Dame Lois Browne-Evans Building "so that the entire judiciary is located in one space rather than being fragmented between three or four different locations". The annual report, which was published in February, stated: "Every effort will continue to be made to advocate for the resolution of the current untenable position of not having a dedicated Court of Appeal as well as the potential loss of another criminal court. "Should this not be done in the very near future, the consequences will be devastating not only for the criminal courts and the Court of Appeal, but for the people of Bermuda whose access to justice will be crippled." Puisne Judge Charles-Etta Simmons wrote that the criminal division would be "severely affected" if it was moved out of Sessions House. She added: "The backlog that we so valiantly and successfully fought to eliminate under former chief justice Richard Ground's guidance would not compare to the potential backlog that would result from having only one trial court. The judiciary likely would fail to provide defendants with the constitutional guarantee of a fair hearing within a reasonable time." Mrs Justice Simmons explained that the Court of Appeal sits for about three weeks, three times a year. She said that the result of it taking over Court 1 in 2018 was that three criminal trials were rolled over into 2019. Richard Horseman, is a director and senior counsel at Wakefield Quin. He told The Royal Gazette: "Following the loss of the court premises located at Front Street, the indication that Court 1 at Sessions House will also be unavailable from May 2019, perhaps permanently, is a significant blow to the administration of justice in Bermuda. It is difficult to see how the criminal justice system will be able to function in an efficient manner. We seemed to have turned the corner in securing fairly quick turnarounds of criminal trials a few years ago. But it seems that we are about to take a huge step backwards." He added: "It is really quite sad to hear that the Government does not want the courts to return to Sessions House. Court 1 is steeped in history and tradition and it would be a shame to lose it permanently. I just don't see how the judicial system will be able to sustain the current caseload unless some drastic steps are taken to find new suitable premises urgently." Mark Diel is a director at Marshall Diel & Myers. He said: "If you haven't got the court rooms to have jury trials then you're going to end up with a backlog." He warned that failing to ensure justice was executed swiftly could mean an accused person was remanded in custody for unduly long before trial. Mr Diel explained that if the delay was successfully challenged on constitutional grounds, the indictment would be quashed. He added: "Then there's no trial for someone who is potentially guilty. Certainly there's no appearance of justice being done, not to mention people being locked up without trial." Chief Justice Narinder Hargun also noted his concerns about court infrastructure at the start of the new legal year in February as he anticipated the Sessions House renovations. A Ministry of Public Works spokeswoman confirmed that "extensive refurbishments and upgrades" will be conducted to Sessions House "in the upcoming months. This is an ageing building which requires significant renovations to ensure the safety and wellbeing of those who occupy the facility. The preservation of the historical aspects of the building will be an utmost priority during the renovation process. The upgrades will require the relocation of the existing staff and occupants of the building and the ministry will work to ensure the transition results in minimal disruption."

Bermudian precedents helped bring the legalisation of same-sex marriage in the Cayman Islands, according to local lawyers. Rod Attride-Stirling, who was involved in several landmark marriage equality cases in Bermuda, said he assisted lawyers involved in the Cayman Islands case. He said: "The Cayman court relied very heavily on the Bermuda court judgments. It is unquestionably the case that Bermuda has led the way on the development of a freedom of conscience right to marriage, which includes same-sex marriage." Mark Pettingill, another lawyer involved in the local cases, said he was thrilled to see Bermuda's fight for same-sex marriage used to aid other jurisdictions. Mr Pettingill said: "I'm very pleased that they made use of what happened in Bermuda. We have three judgments now so it's no wonder that they are being used. All of them are very strong." Mr Pettingill said he was very happy to see the Cayman Islands "get on the human rights bandwagon" and he expects other jurisdictions to follow the same path. He added: "Hopefully, Cayman will just leave things where they are now and accept it." Bermudian Roderick Ferguson, an applicant in the case which overruled the Domestic Partnership Act, said he was excited to hear that his case was used to help open the door to same-sex marriage in the Cayman Islands. He said: "I feel a deep sense of gratitude knowing that our case played a role in the Cayman Islands ruling. As the fight for the rights of LGBTQ people continues to unfold, it is gratifying to know that we have helped pave the way for further victories, just as those before us helped pave the way for ours." The Cayman case was launched by Chantelle Day and Vickie Bodden Bush, who applied to be married in the Cayman Islands last year only to be rejected on the grounds that they were a same-sex couple. The couple argued that Ms Bush, a British national, was denied a spousal visa because they were refused the right to marry. Meanwhile Ms Day, who jointly adopted a daughter with Ms Bush in the UK, could not be recognized as the child's mother in Cayman. In a judgment released on Friday, Cayman Chief Justice Anthony Smellie — who also sits on Bermuda's Court of Appeal — found that their rights had been violated. As such, Mr Justice Smellie ordered the Marriage Law be changed immediately to allow same-sex marriage. Leonardo Raznovich, a Cayman barrister and same-sex advocate, said yesterday: "The judge found that the Marriage Law's definition of marriage was unconstitutional because it breached the right to private life and family and freedom of conscience and was discriminatory. It did mention the Bermuda case in the summary that he read in court." Dr Raznovich said he did not know if the Cayman Government would appeal the decision, although he had faith that any appeal would be unsuccessful. He said: "Whether the Attorney-General and/or Registrar will appeal will become a decision of the Premier. His government had ample opportunity to address this issue but have consistently failed to act. The court has now done the job that the Government was unable, or unwilling, to do. As a matter of law and as a matter of politics, any prospect of appeal is set to fail and to constitute a hemorrhaging of money that the Government should instead use for health, education or other areas that will benefit all Caymanians." Peter Laverack, a part of the legal team that represented the couple, said: "Chantelle and Vickie's relationship finally has been recognized. For too long, they and their daughter were denied what loving couples and ordinary families take for granted. The Chief Justice's judgment beautifully combines the common law and European Court case law, with a healthy dose of common sense. Equality means equality. Love is love." The judgment echoes similar decisions in Bermuda courts, which legalized same-sex marriage and struck down the Domestic Partnership Act, intended to ban same-sex marriage and replace it with domestic partnership. In the latter case, Chief Justice Ian Kawaley ruled that the DPA infringed on the constitutional freedom of conscience. The Bermuda Government has filed for permission to appeal to London's Privy Council, but that court has yet to accept or refuse the application.

The Department of National Drug Control is to target young people to prevent alcohol and drug abuse. Attorney-General Kathy-Lynn Simmons made the announcement at a press conference this morning highlighting Alcohol Awareness Month, which runs throughout April. Ms Simmons added that the department would conduct a National School Survey 2019 of middle and senior school students on alcohol, tobacco and other drugs in the latter part of this year. She said that 52.6 per cent of M2 to S4 students reported that they had used alcohol at least once in their lifetime. About a third of those reported use in the last 12 months. Ms Simmons said: "These results are very concerning as alcohol use and abuse remains one of the greatest challenges facing Bermuda's youth. Parents: set a positive example, get involved in your children's lives. Get involved in their activities, know their friends, know where they are going and what they are doing. Create clear, consistence expectations and enforce them. Talk early and often about drugs and alcohol, discuss the consequences and show you care enormously about what choices your child make." Ms Simmons said the Drug Prevention Unit of the DNDC will host community education activities at sporting events and at the senior school level to "create awareness and to encourage our community to get educated about the harms associated with alcohol and to seek assistance for alcohol related problems". Anthony Santucci, executive director for anti-alcohol abuse charity CADA, said that the theme of this year's Alcohol Awareness Week was "Help for Today, Hope for Tomorrow". Mr Santucci said: "Alcohol Awareness Month provides a focused opportunity across Bermuda to increase awareness and understanding of alcohol addiction, its causes, effective treatment, and recovery. During this call to action, parents need to know that progress is being made in the struggle to address underage drinking in our community. Research shows that kids who learn about the dangers of underage drinking from their parents are up 50 per cent less likely to experiment than kids who don't. So, help connect the dots for your kids about alcohol use. It's worth it." To learn more about underage drinking, visit cada.bm.

BBC London. Minimum wages rise in UK but bills go up too. See business-47746093. Of interest to Bermuda as members of the government are considering the introduction soon of a living minimum age geared to Bermuda's socio-economic conditions.

Glenn Jones has been promoted to the Bermuda Tourism Office's next chief experience development officer, replacing the outgoing Pat Phillip-Fairn. He will officially begin in the post on April 29. Mr Jones joined the BTA in January 2015 as the director of public and stakeholder relations and was promoted to the director of strategy and corporate communications last May. Kevin Dallas, the BTA CEO, said: "It was very clear to me and our board that Glenn was the right candidate to build on our existing destination management efforts and take us to the next level, guided by his knowledge of the National Tourism Plan. His passion for the island is boundless and underpins his commitment to ensure that Bermuda will offer diverse and memorable experiences, inspiring people to visit year-round. A thoughtful transition is under way and our stakeholders should be confident the forward momentum in visitor experience over the past five years will continue seamlessly." Mr Jones said he had worked with the product and experience team closely since he joined the BTA, and was excited to lead the team. He added: "I'm a passionate advocate for the youthful entrepreneurship that is flowing back into tourism and I will look to that sector for building industry growth going forward. The overriding goal will be winning the hearts and minds of our visitors through strategies that put the customer first and position Bermudians at the forefront of economic opportunity."

Demolition work has stopped at a landmark Hamilton building after asbestos was discovered. The Canadian Hotel, on Reid Street, which was built in the early 1920s, is being demolished after sitting derelict for more than a decade. Patrick Cooper, city engineer for the City of Hamilton, said: "There is a stop-work order placed on the site — evidenced by the notice affixed to the site." A spokeswoman for the Department of Planning said: "There were public safety concerns at this site regarding the demolition work. We have a report confirming asbestos. The Department of Health issues licences, monitors and controls asbestos abatement." All buildings on the site, owned by Thomas Powell of Stonehaven Development Company, are being levelled. Demolition work was expected to have been completed by March 31. Mr Powell, who is also the owner of The Spot Restaurant, has sought investment in the building for several years with no success. The Canadian Hotel served as a boarding house for many years until closing in 2006 after Mr Powell found himself facing a $1.5 million bill to renovate and insure the premises. A Special Development Order was obtained for the site in 2008. Mr Powell blamed the island's "loss of confidence for foreign investment" on the lack of developers willing to purchase the site. It has since fallen into dereliction and was further damaged by a fire in 2012. Philanthropist James "Dick" Richards built the Canadian Hotel after purchasing property on Reid Street in 1918. The Canadian Hotel was built in stages, but the four-storey first section with a lion on top was completed in 1921. Mr Richards owned the Canadian Hotel until his death in 1965. The Royal Gazette asked the Department of Health about the levels of asbestos on the site, what threat it poses to the public and what work needs to be done in order for demolition to continue, but did not receive a response by press time. Mr Powell could not be reached.

ILS Capital Management Ltd, the Bermuda-based manager of insurance-linked securities investments, delivered a double-digit return to a major investor last year. Bob Jacksha, chief investment officer of the New Mexico Educational Retirement Board, a $12.9 billion pension fund, said their investment with the Bermudian fund manager produced a return of 11.4 per cent in 2018. ILS Capital Management was founded by Don Kramer, the reinsurance veteran who is the company's chairman. Speaking to the Chief Investment Officer website, Mr Jacksha explained why he had included reinsurance exposure to his fund's portfolio. Last year, he implemented a new category called "Other Diversifying Strategies" of which reinsurance was part. "First of all, it's not correlated with the stock market. It's more correlated with natural disasters, hurricanes, what have you," Mr Jacksha said. "In addition, it's correlated with where you are geographically." The returns were achieved in a year in which the reinsurance industry paid out claims on hurricanes and devastating California wildfires. On its website, ILS Capital Management states: "We combine traditional portfolio management techniques with disciplined security selection and risk management to create long-term value for investors." The company has offices in the Swan Building on Victoria Street, Hamilton, and also in London and Greenwich, Connecticut.

The battle between Bermuda-based Argo Group International Holdings Ltd and activist shareholder Voce Capital Management is heating up. The San Francisco-based hedge fund owns about 5.6 per cent of Argo, and earlier this month attacked what it called a "spendthrift culture" at the company by citing what it called "inappropriate corporate expenses". Among the examples given were the use of corporate aircraft, housing allowances, and sponsorships, with Voce claiming that company resources were being used to support the lifestyle of Mark Watson, Argo's chief executive officer, at the expense of shareholders. Now, in a regulatory filing with the US Securities and Exchange Commission, Voce has claimed that two director appointments made by Argo are invalid under company bye-laws and Bermuda law, called for the company to rescind the appointments of Samuel Liss and Tony Latham. Voce added that the assignment of invalidly appointed director Mr Latham to the company's special nominating committee meant the committee's recommendations should be annulled and the committee dissolved, and said the company has still to refute its claim that corporate assets are being misused. In the filing with the SEC, Voce said: "We will be publishing in due course our plan to unlock significant additional value at Argo through the dramatic improvement of its operations and capital allocation. In the meantime, we have nominated five highly qualified, independent director candidates that we believe will restore accountability, independence and integrity to Argo's board: Bernard C. Bailey, Charles H. Dangelo, Admiral Kathleen M. Dussault, Carol A. McFate and Nicholas C Walsh. We look forward to the opportunity to make our case to Argo shareholders at this year's annual meeting." In reply, Argo filed the following statement with the SEC: "It is disappointing that Voce Capital continues to engage in a campaign of misinformation to support its activist campaign to remove members of Argo's well-qualified and experienced board. "As publicly announced on February 20, 2019, the board properly appointed Messrs Latham and Liss to fill two vacancies, bringing the number of directors up to 13 as authorized by Argo Group's bye-laws and Bermuda law. Voce's assertions challenging these appointments are simply incorrect. It is telling that Voce waited five weeks to raise its latest attempt to distract Argo's shareholders. Our board remains focused on continuing Argo's strong performance and looks forward to continuing to engage with all shareholders in the coming weeks."


Last Updated: April 17, 2019
Multi-national © 2019 by Bermuda Online. All Rights Reserved